I've Got Scars Famous Quotes & Sayings
List of top 82 famous quotes and sayings about i've got scars to read and share with friends on your Facebook, Twitter, blogs.
Top 82 I've Got Scars Quotes
#1. What do you know about him, Celeste?" "I know what I see when I look into his eyes. He's haunted, Nicole. You've seen it, too, haven't you?" She recalled the horrible scars on his back and chest and spoke quietly. "Yes. - Author: Emily March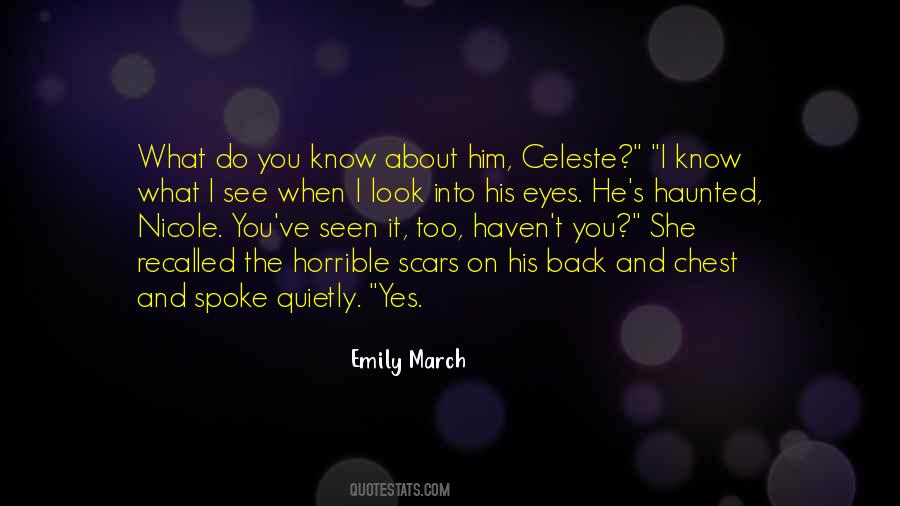 #2. I saw darkness in her beauty, and she saw beauty in my darkness. Yin and yang. Black and white. Beauty and scars; fury and forgiveness. She should've been my nemesis, but in her, I found something I didn't know I was looking for. - Author: Keri Lake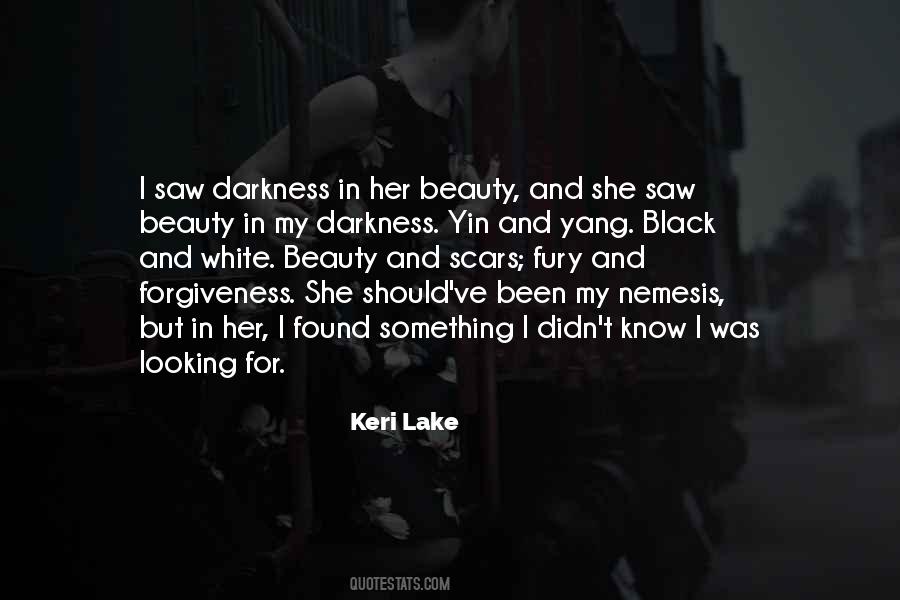 #3. Touch all of your scars and remember their birthdays, remind yourself how far you've come. - Author: Key Ballah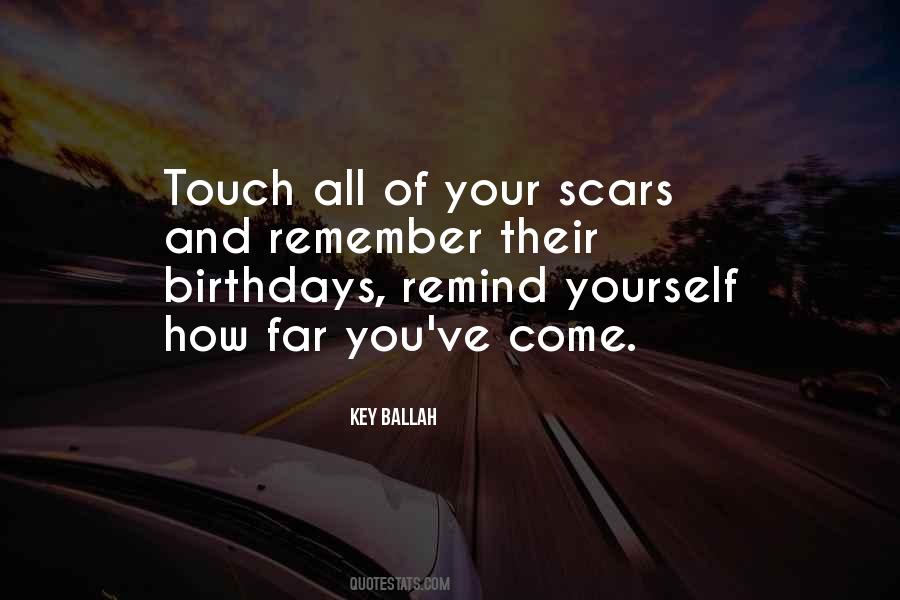 #4. You can't look at someone and tell what they've been through. The scars that hurt the most are never visible on the surface.
~Caillen, page 243. - Author: Sherrilyn Kenyon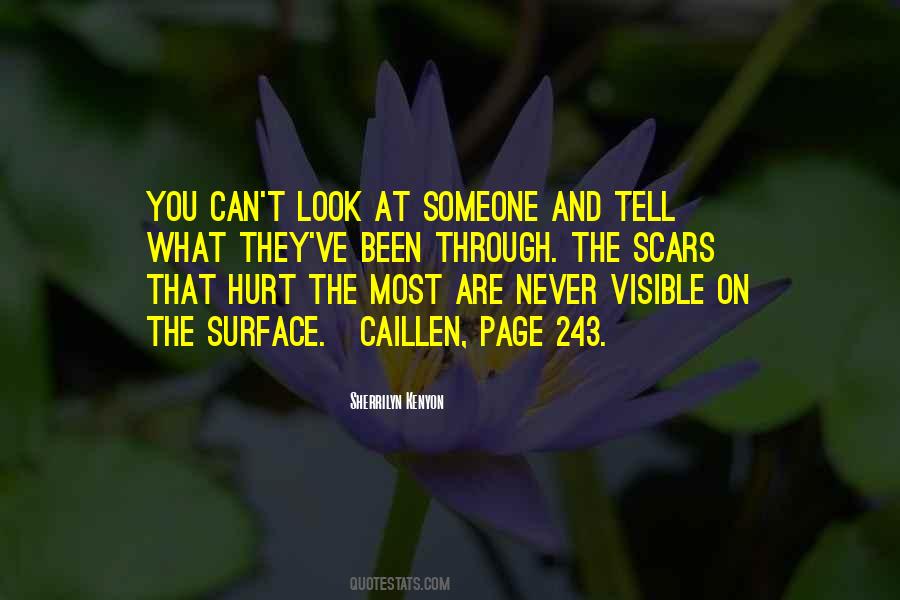 #5. You want to know how I got these scars. I swallowed my pride and then it crawled its way out of my mouth. - Author: Rudy Francisco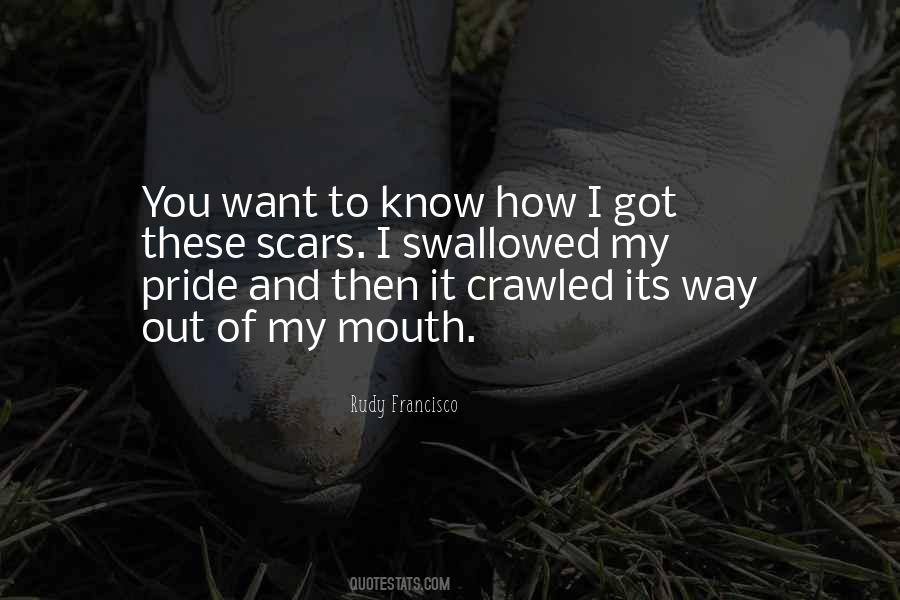 #6. All your mistakes, all your scars, everything you've done wrong, that's what makes us who we are. - Author: Christopher Herz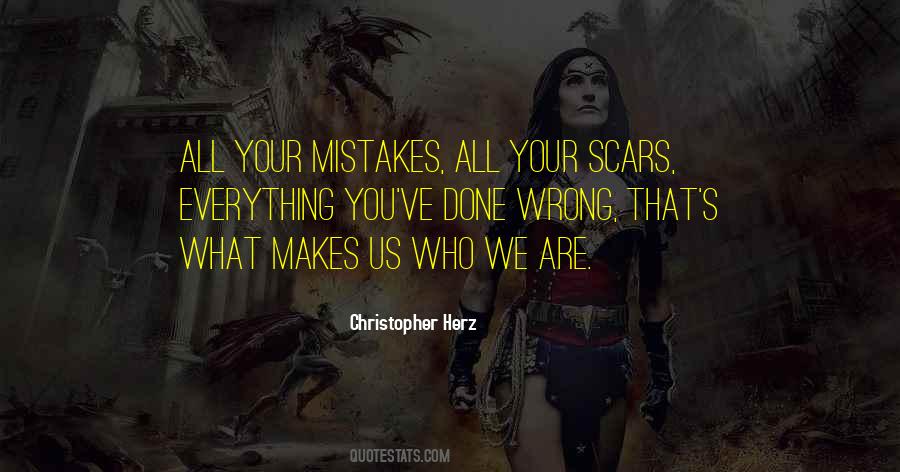 #7. Scars are just a treasure map for pain you've buried too deep to remember. - Author: Jodi Picoult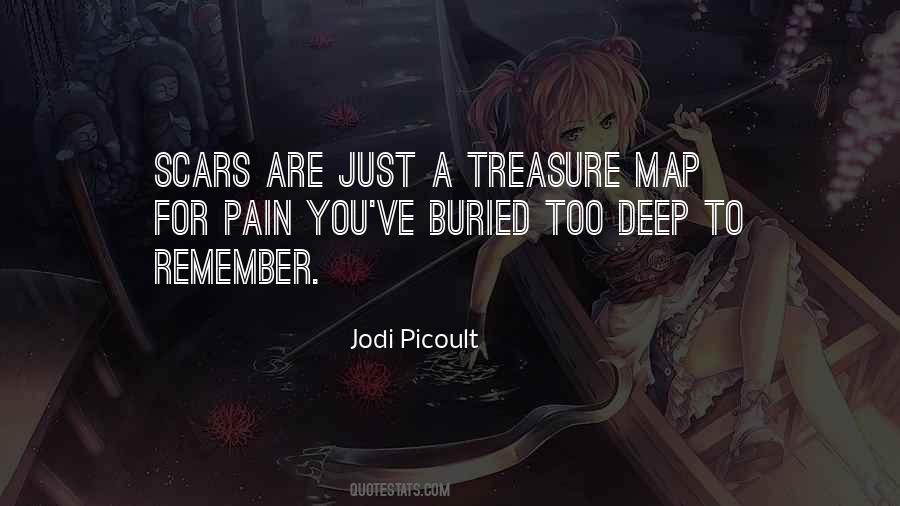 #8. It's easy for someone to joke about scars if they've never been cut. - Author: William Shakespeare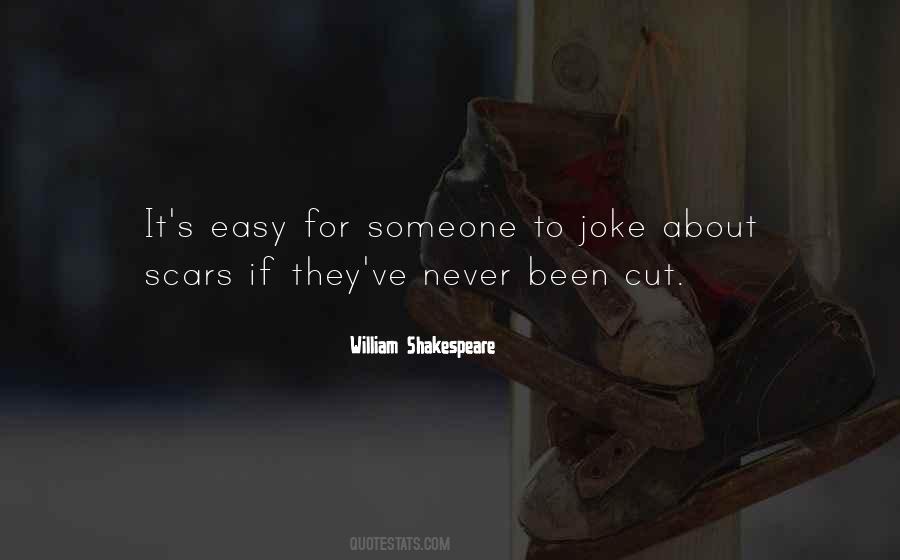 #9. The old creation lives by pride and retribution: I stand up for myself, and if someone gets in my way I try to get even. We've been there, done that, and got the scars to prove it. - Author: N. T. Wright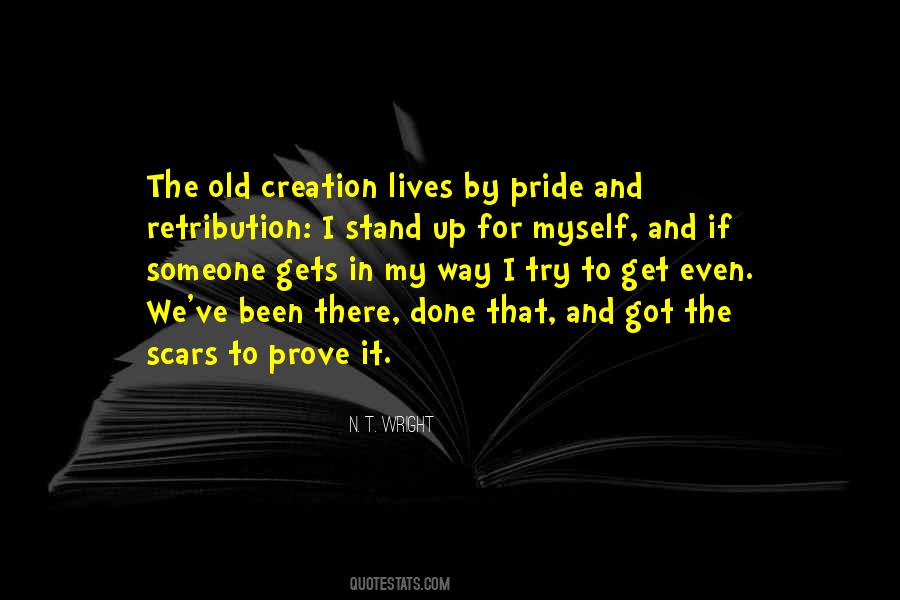 #10. I'm a grown woman. I've earned my experiences, my scars. - Author: Tori Amos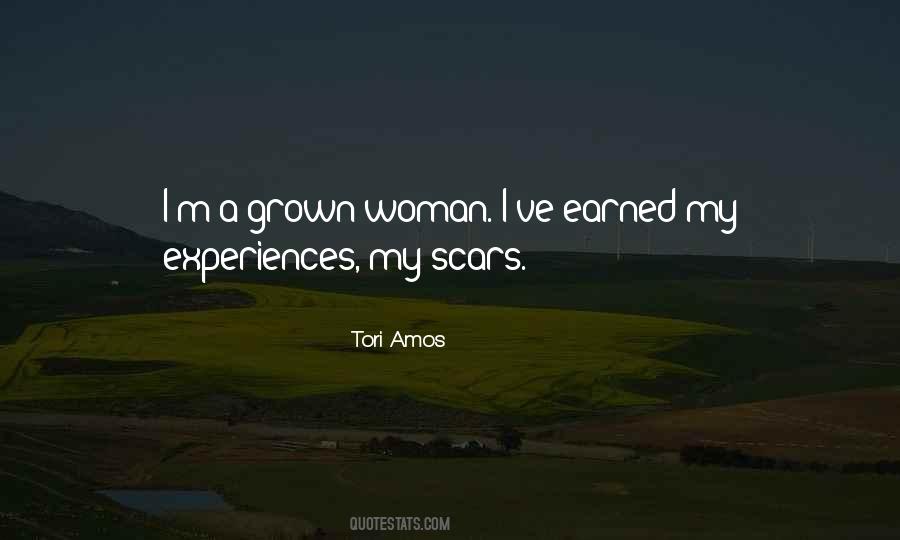 #11. More people care about you than you know, Scarlet. No matter how you got your scars." I covered my cheek, looking at her. "Not just those scars. The ones that make you think you're unlovable. - Author: A.C. Gaughen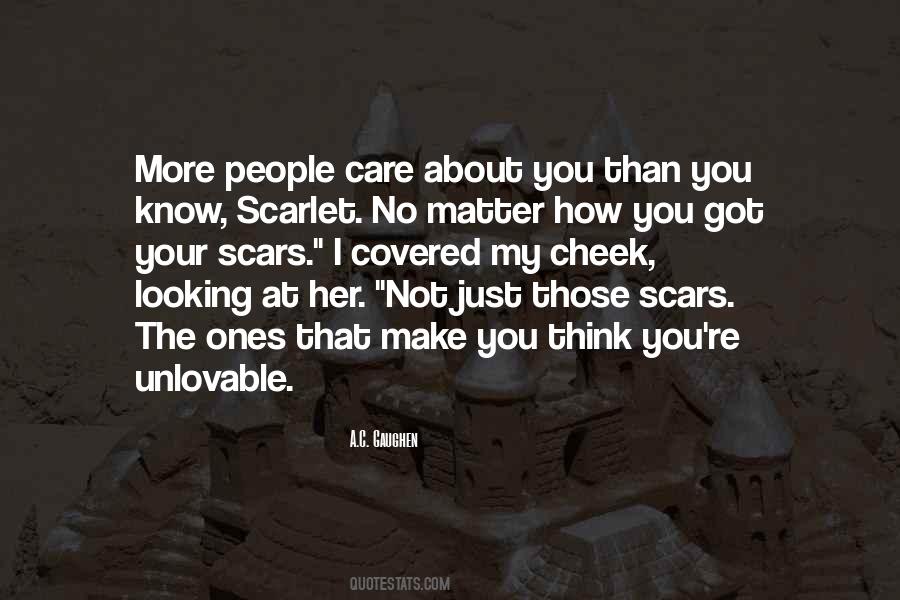 #12. I don't think I've ever dared to write down what I see in the ruins of me, or tell in any detail the scars and all their secrets. - Author: Ashly Lorenzana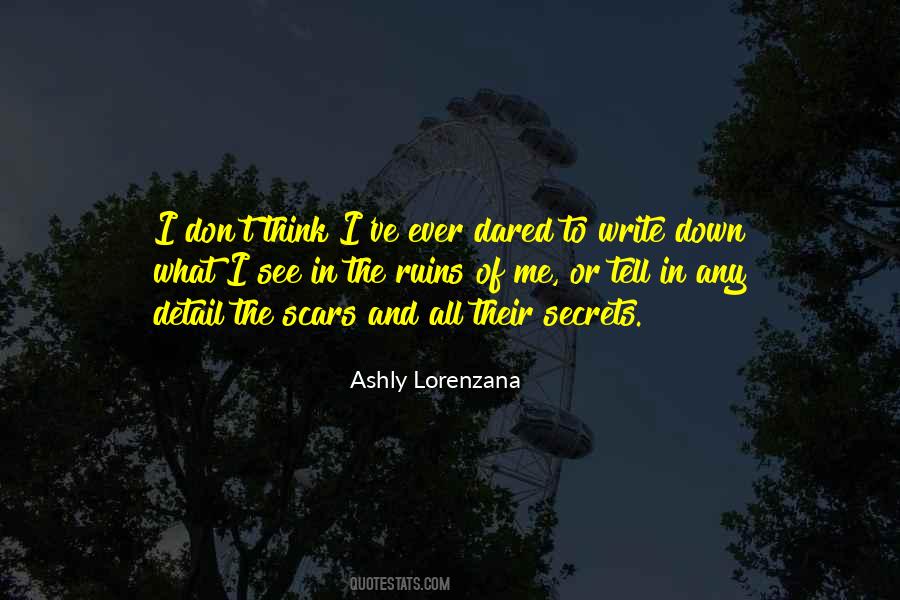 #13. I always thought my jaw line was manly. I have this pockmark on my chin from when I was 9. I used to get freaked out about it because people thought it was a pimple. But those are the things I've become really comfortable with as I've gotten older. My scars. - Author: Rosario Dawson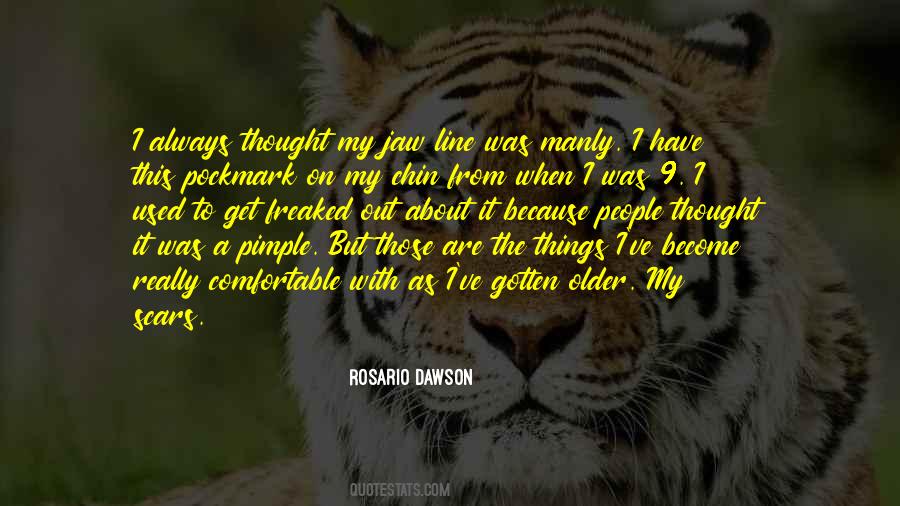 #14. This is how sad my life is: I got a scar from scratching my chicken pox too much. That's my big scar story. I really have no major scars. - Author: Lewis Black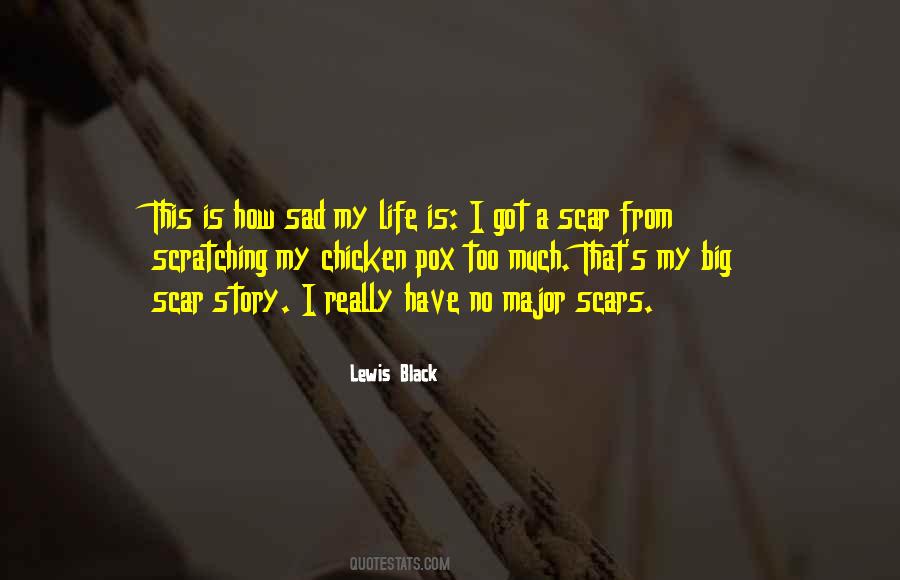 #15. I met an angel in Morocco and all I got were these lousy scars. - Author: Laini Taylor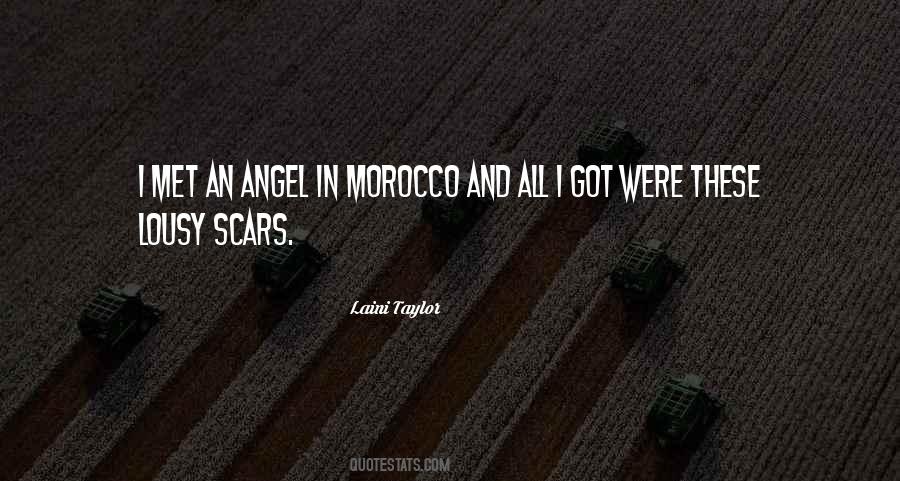 #16. How 'bout you, Jena?" He leaned closer, speaking in an exaggerated whisper. "We could go somewhere private. I know you probably got some scars from being shot, but you can't see a scar in the dark, right?"
The dickwad was offering her a pity fuck in a darkened room? - Author: Susannah Sandlin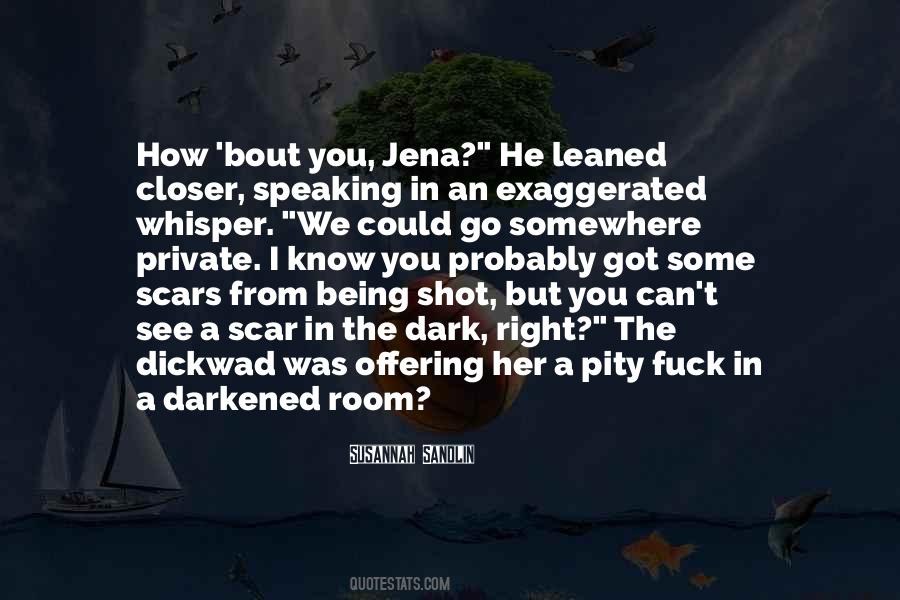 #17. I swear, I end up feeling empty, like you've taken something out of me and I have to search my body for scars. - Author: Richard Siken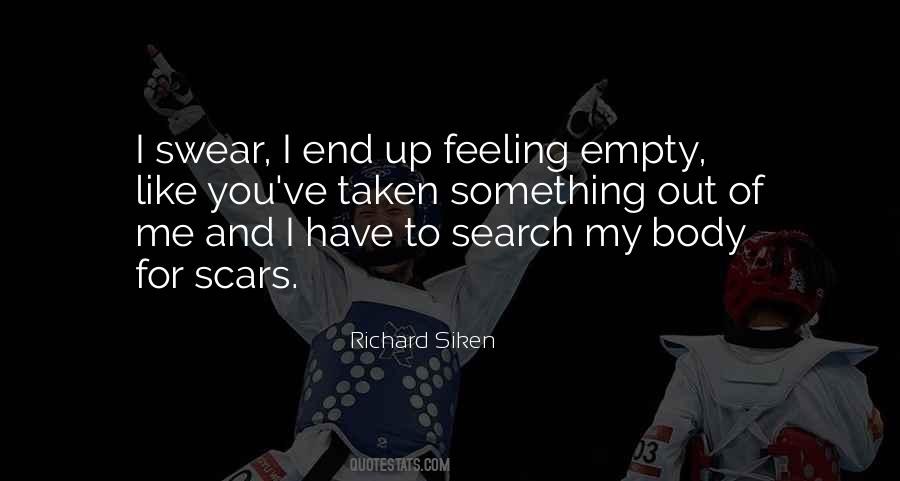 #18. You know, I've always thought scars were beautiful. Really. They remind me of my Saviour. You know, without scars, Jesus would look like any other man. His scars proved his love for you and me. He became marred and disfigured by choice, because of his love. - Author: J.E.B. Spredemann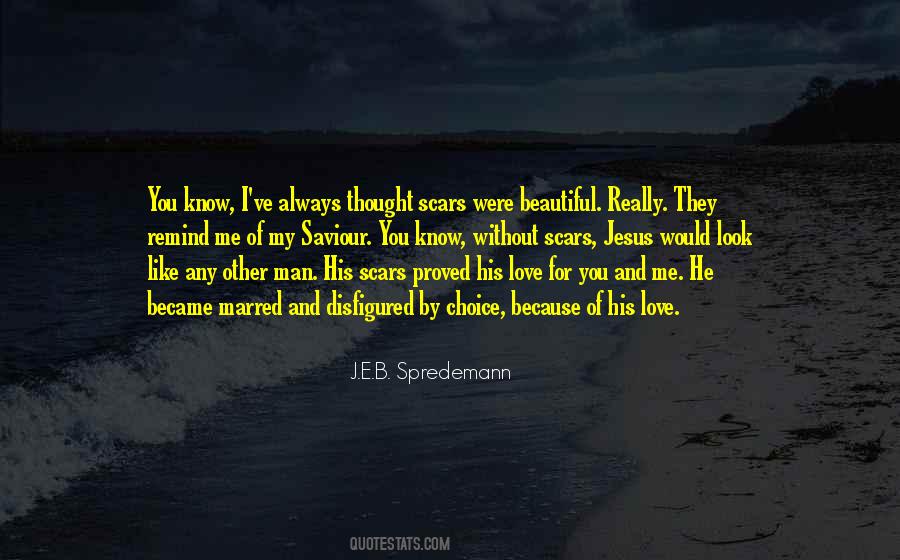 #19. We've been through a lot, and though many of the wounds have healed, the scars they've left behind still throb every now and then. - Author: Neha Yazmin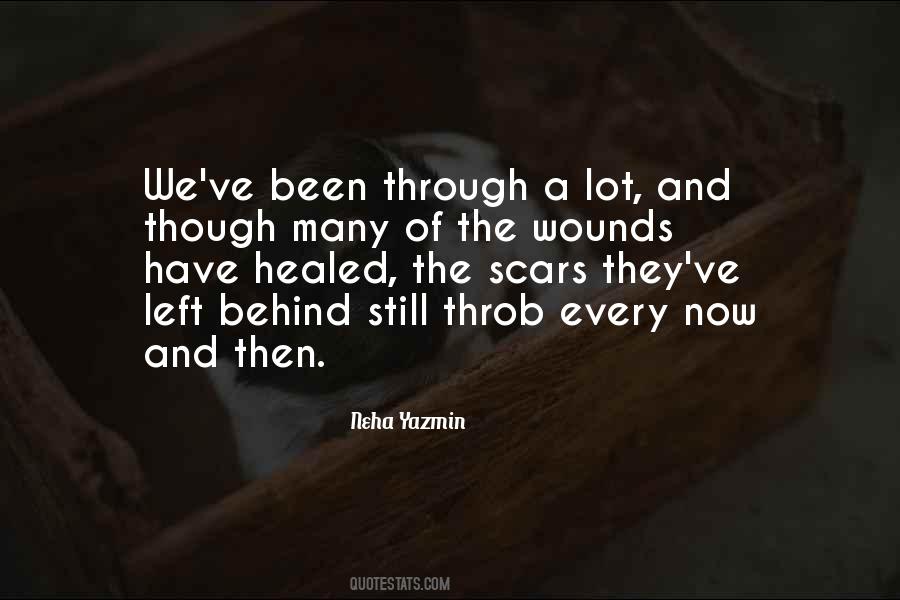 #20. I think that all of the scars and all of the layers that I've built over the years made me the person that I am today, and I'm pretty happy about that person. - Author: Nick Carter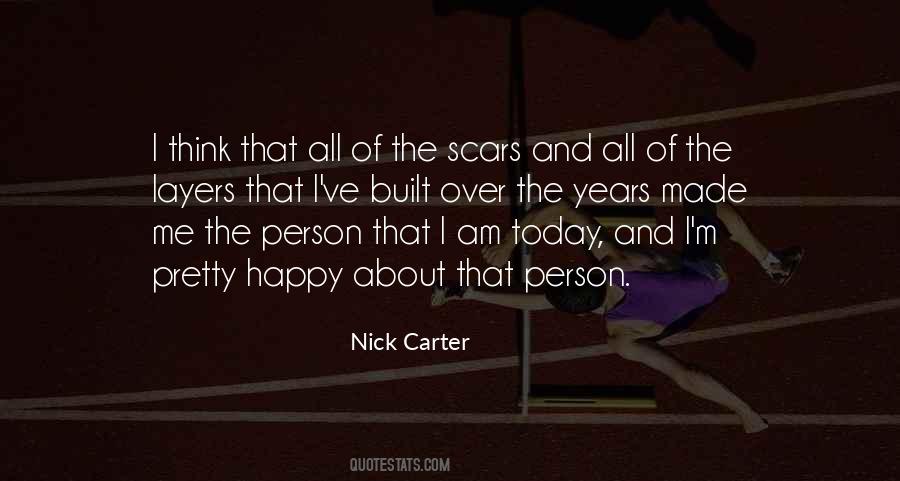 #21. Biting my lip, I trace the cigarette-butt scars along Jeb's bared torso. I've often wished he could replace all those bad memories with the good ones we've made together since. But now, more than ever, I realize how important every memory is, bad or good, because they shape who we become. - Author: A.G. Howard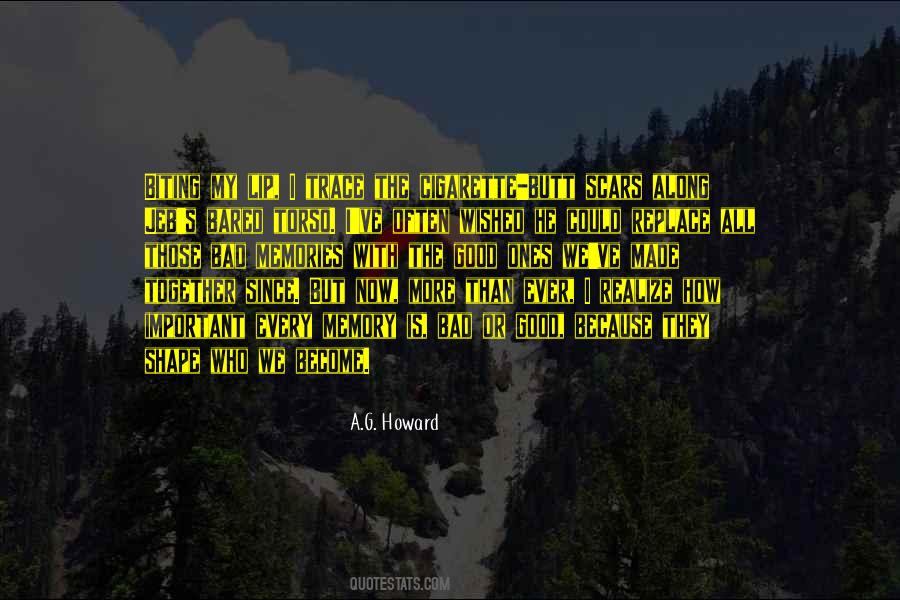 #22. Life is one long series of punches to the gut. You either learn how to duck, or you figure out how to hit back. I've been hitting back so long, at this point I've got a mean left hook and more than my fair share of scars. - Author: Julie Johnson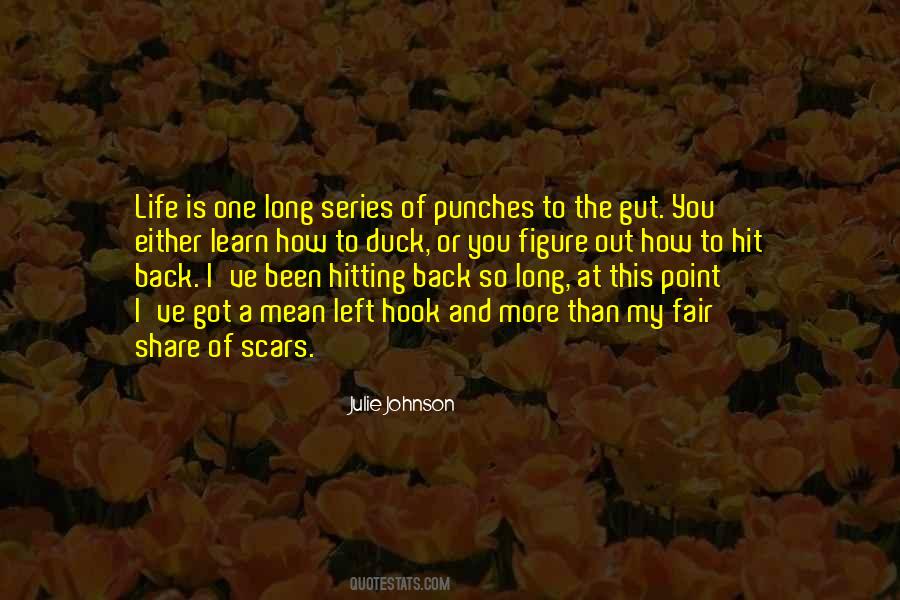 #23. You've got scars, you're beat up, you're a different person, but you're through it. - Author: Ron Koertge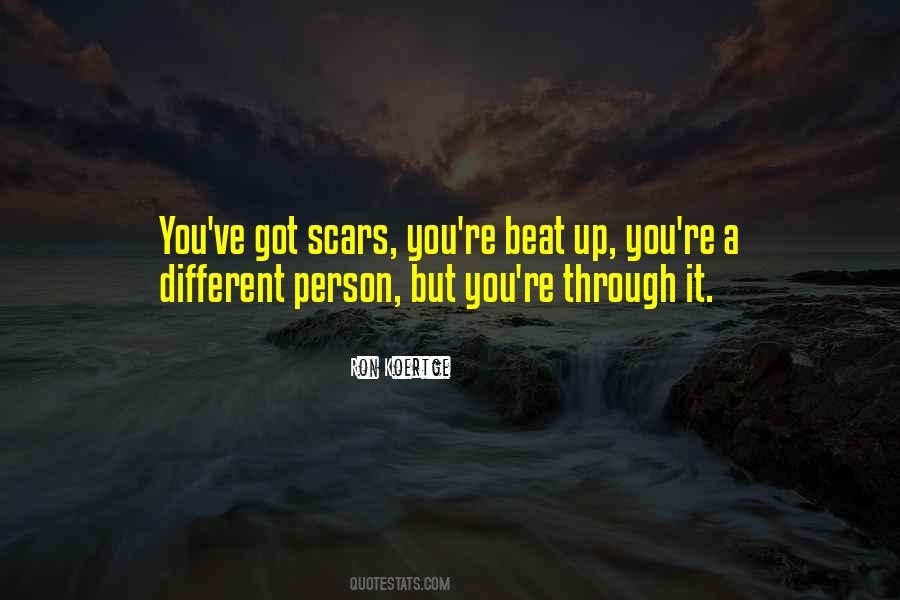 #24. I've seen Emily's scars, and that's more than you can say.
Fairfield shrunk back from the anger in Anjan's voice. "I meant well," he whispered.
Anjan leaned forward across the desk until he was an inch from the other man. "Mean better. - Author: Courtney Milan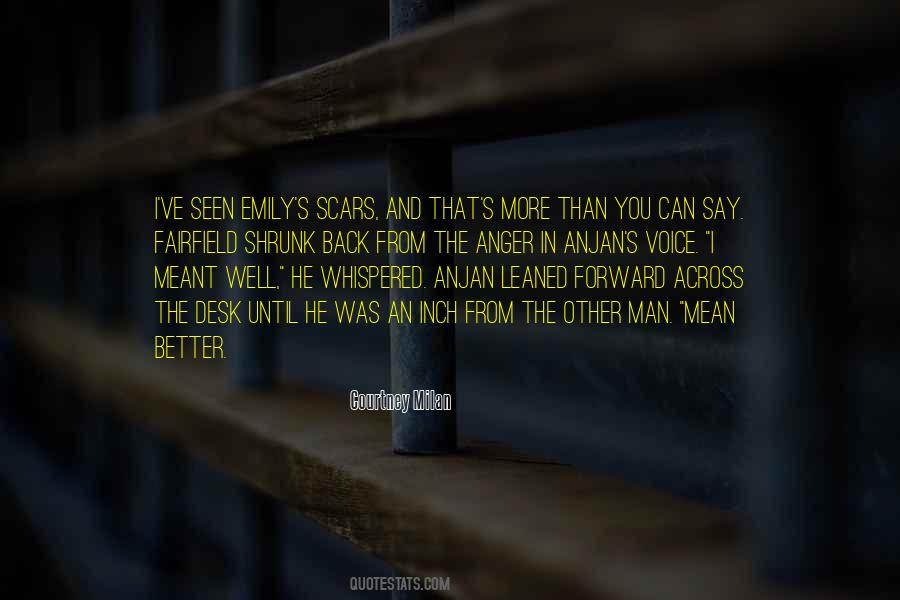 #25. I've got so many mountains to climb and goals to conquer. I've got so many scars I want to leave on the planet. I just feel like I'm not there yet. I feel like I am just getting started. - Author: Nikki Sixx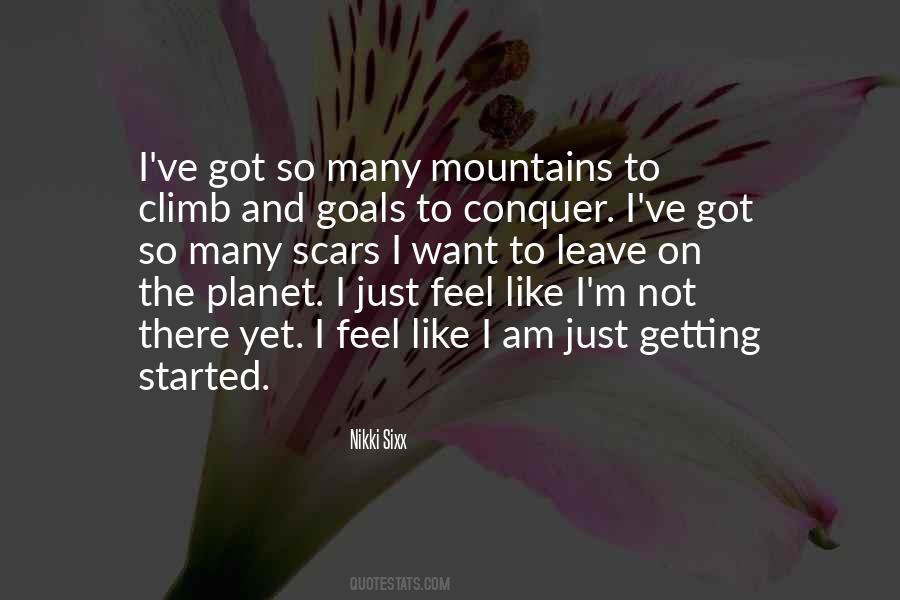 #26. When I was at Babbo, I was covered in scars and scabs and burned bits - melted hair, ribbed burns I got reaching across the top of a hot skillet ... I sliced off the tip of my finger. I cleaved my forehead - a deep, ugly wound. Luckily, it regenerated. - Author: Bill Buford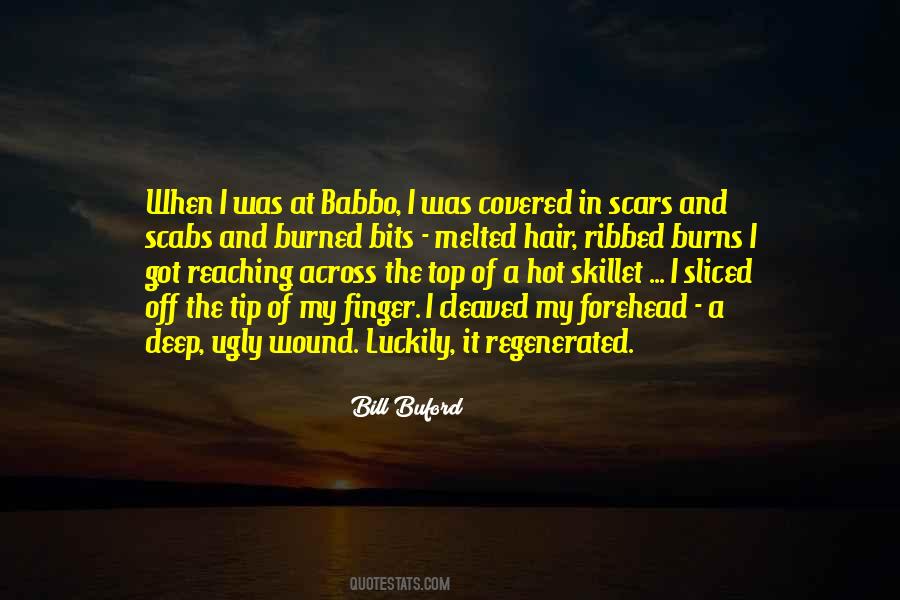 #27. I'm not as hard on myself anymore. I'm comfortable exactly where I am, though it took me until I was 34 years old! I still have things I'm really insecure about, but I've changed by loving me - C-section scars, stretch marks, and all. - Author: Jenny McCarthy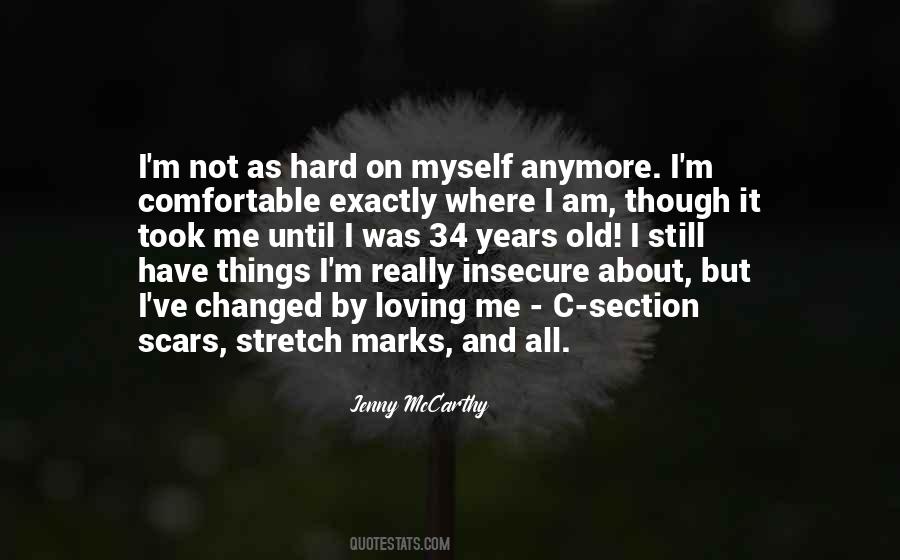 #28. I got scars on my face that tell some kind of story. I'm looking in the mirror, and I got one scar that's really two scars - half from a baseball bat and half from playing football in college. I'll tell you, though, after a while, your face gets so wrinkled up you can hardly see them. - Author: Kris Kristofferson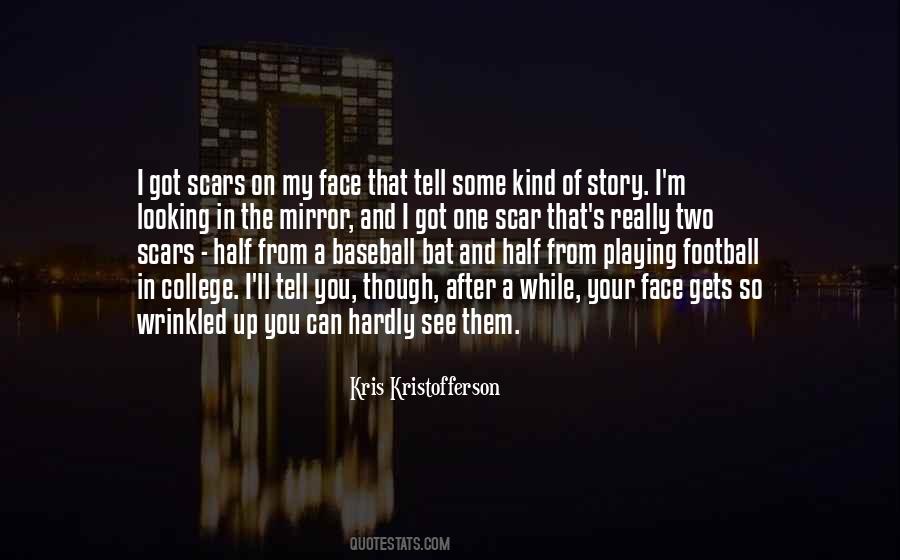 #29. Everyone asks about how I'll feel about the tattoos and scars in thirty years. I always say: "I'll like them." I've always loved damaged monuments, in architecture and in humans. - Author: Emma Forrest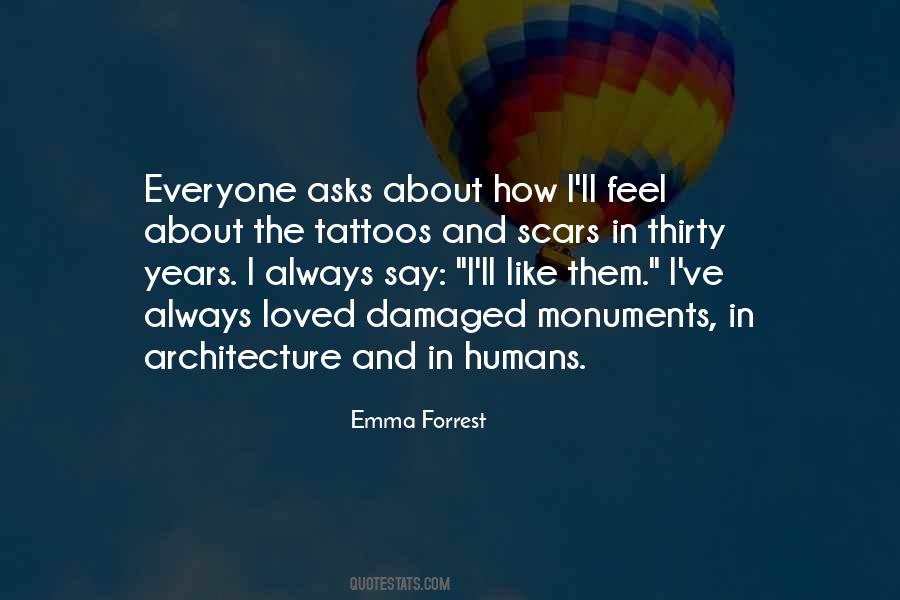 #30. Scars show toughness: that you've been through it, and you're still standing. - Author: Theo Rossi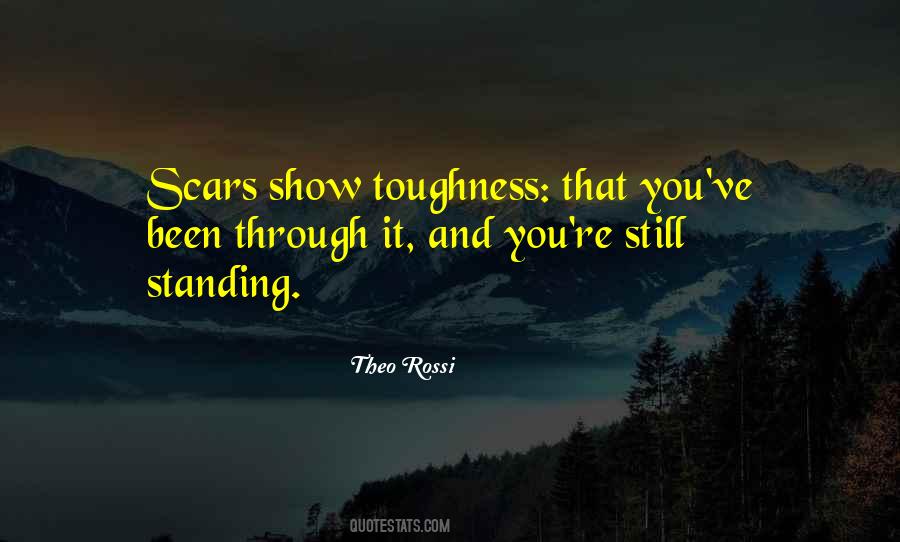 #31. Be proud of your scars. They have everything to do with your strength, and what you've endured. They're a treasure map to the deep self. - Author: Clarissa Pinkola Estes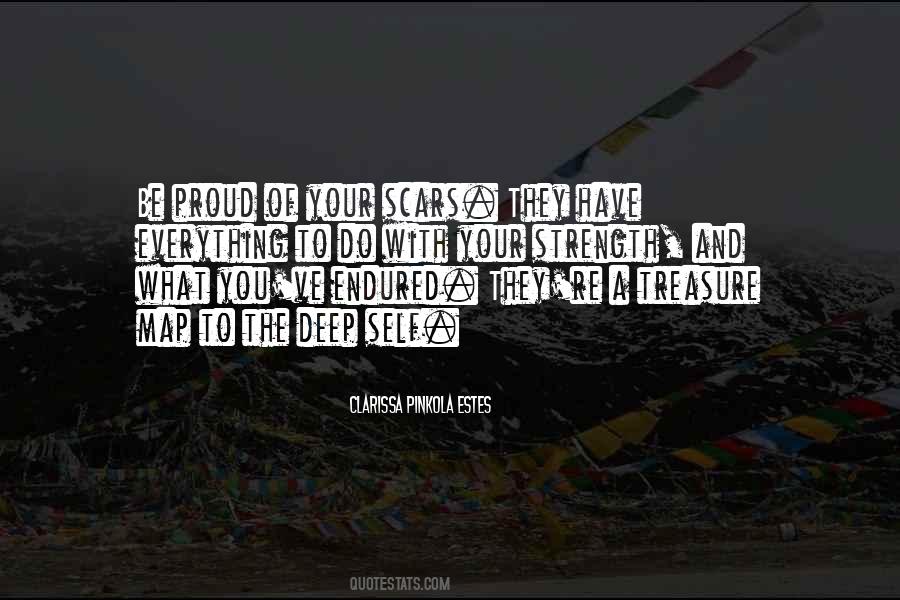 #32. I got shot saving you. That should speak very clearly about my feelings. After all, I'll bear the scars of loving you for the rest of my life. - Author: Shayla Black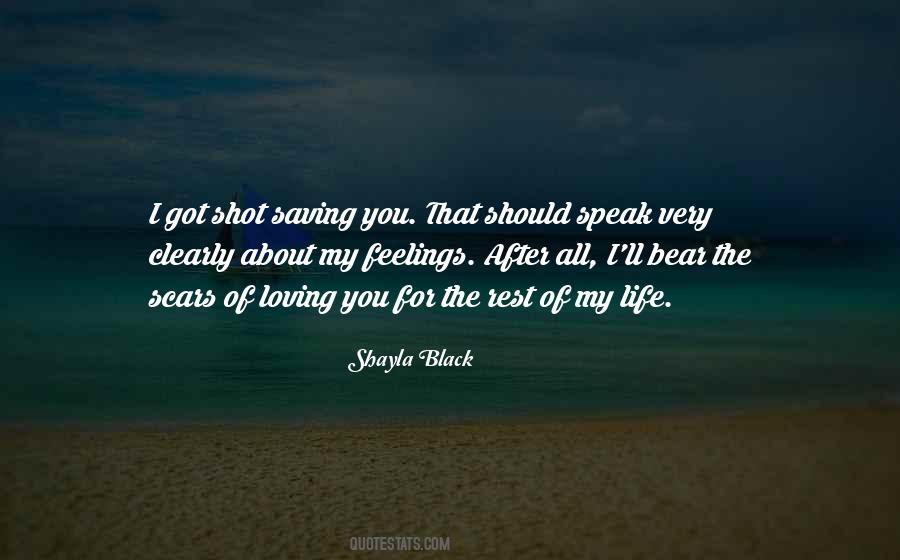 #33. Scars remind us where we've been - they don't have to dictate where we are going. - Author: Joe Mantegna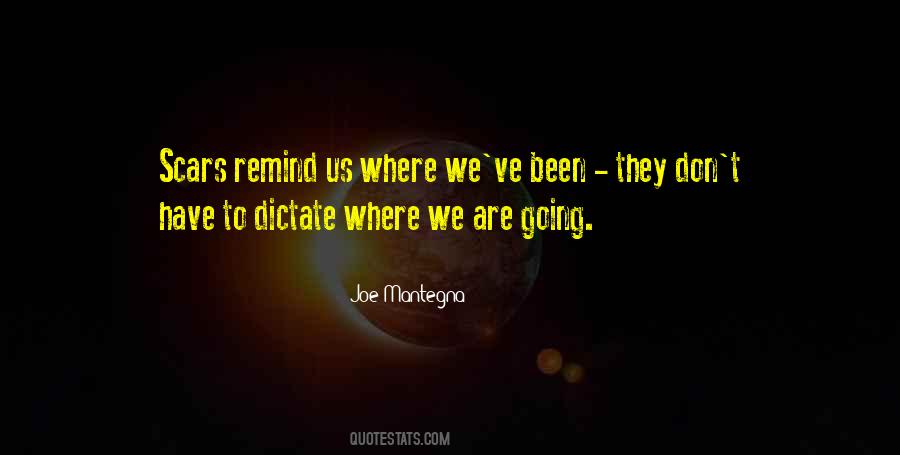 #34. It got to the point where it became logical: if a woman was fiercely intelligent, outspoken and passionate, I'd look towards her arms for the scars. They were almost always there. - Author: Sabrina Chapadjiev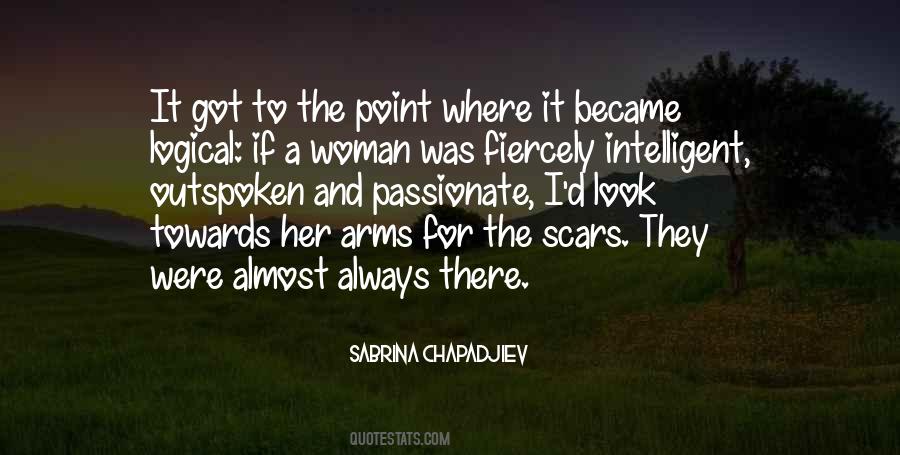 #35. I stare at the way the tracks of her tears break across her jaw and along her neck, at how it looks like her face, once shattered, has been carefully put back together. And I wonder if that's what my scars really are: proof that I've put myself back together again. - Author: Carrie Ryan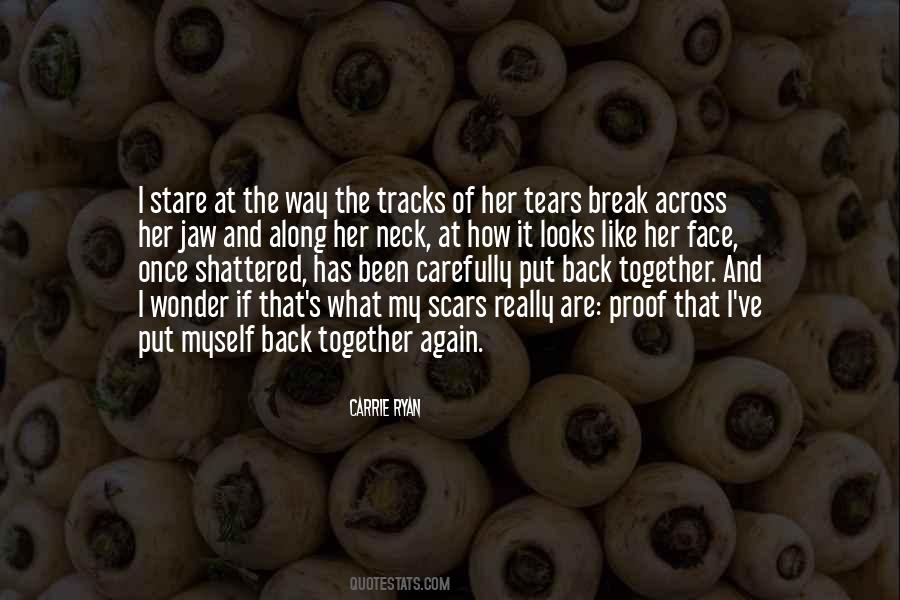 #36. - except for the fact that your scars mean you've been hurting, I am one-hundred-percent cool with having them in the painting. Some models, especially the professional ones, it's like painting air-brushed people. Give me something raw any day. - Author: J. Kenner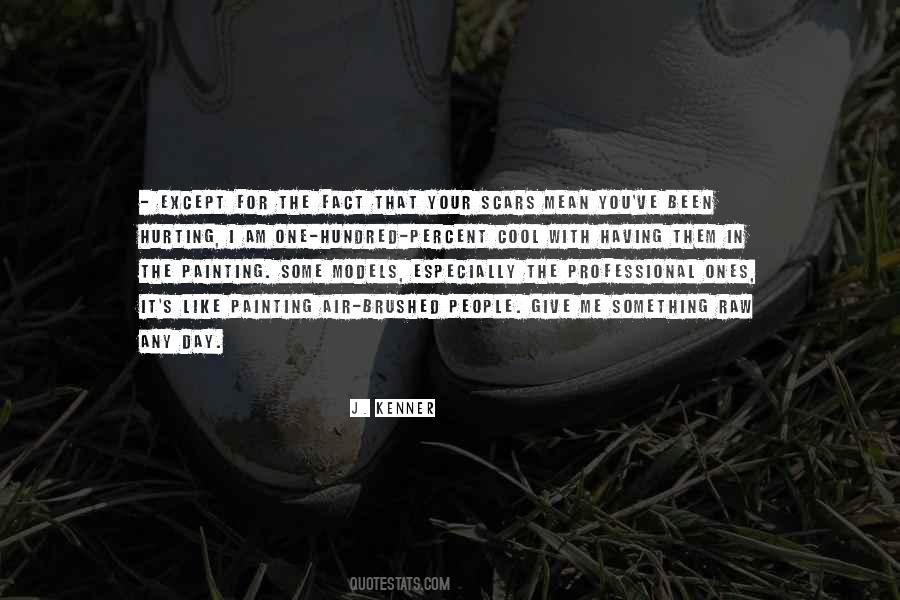 #37. Most of all, I think of how much I've needed all of those things, and of the scars I now bear as testament to my weakness. - Author: J. Kenner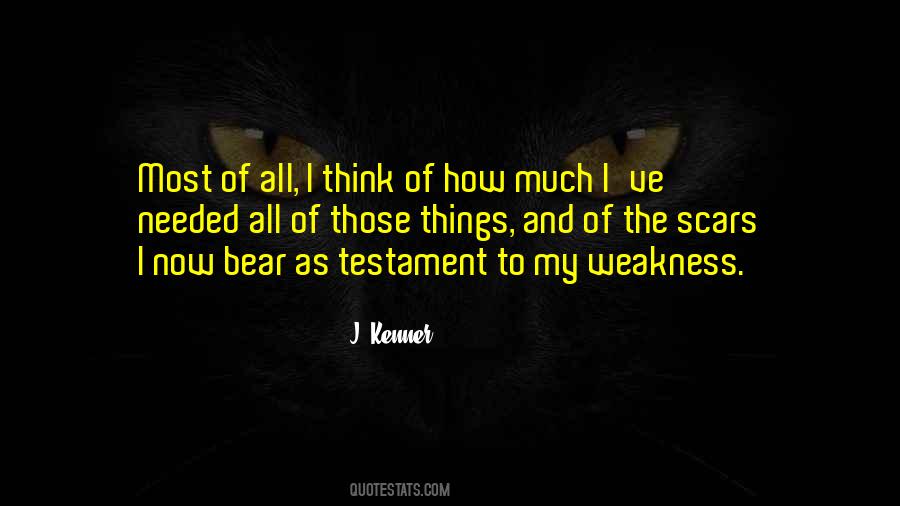 #38. Our scars don't point us in the direction were headed, Cass, they simply remind us of where we've been - Author: J. Sterling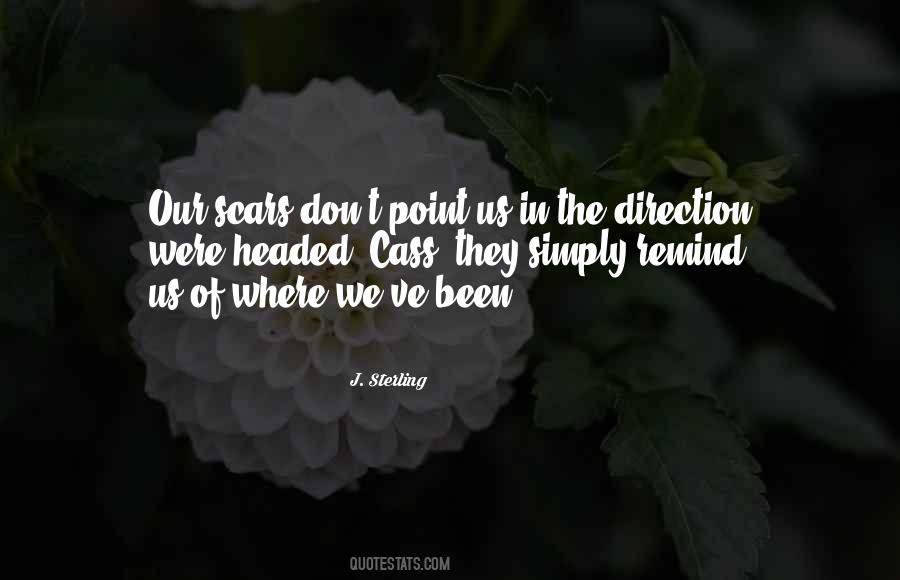 #39. I think you've got to get out whatever's hurting you through your art, so it doesn't twist you up inside. - Author: Cheryl Rainfield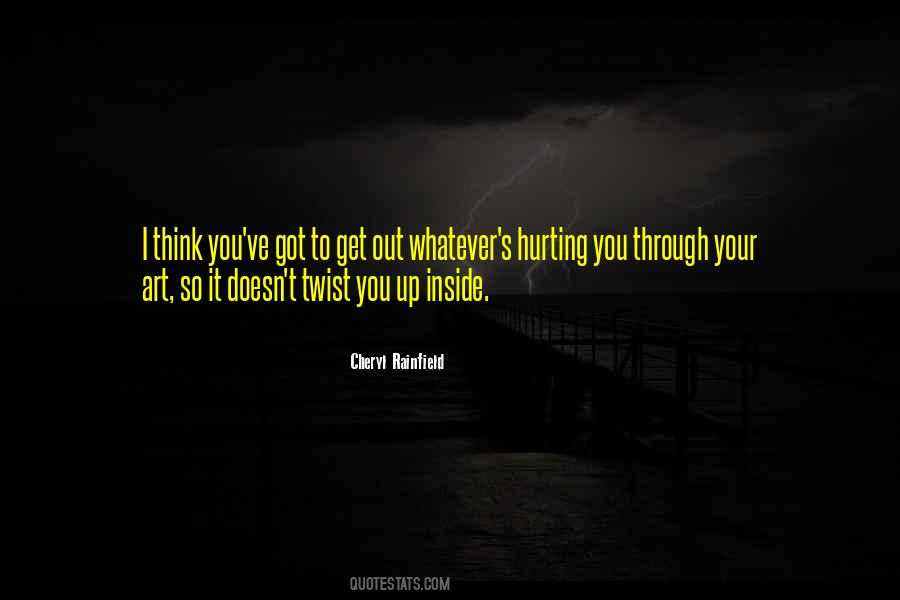 #40. All the battles and wars I been through, and all the battle scars I got it's been a learning experience. Everything I been through made me the man I am so if it was different I would be different so I would say that I really learned something from every situation. - Author: Kurupt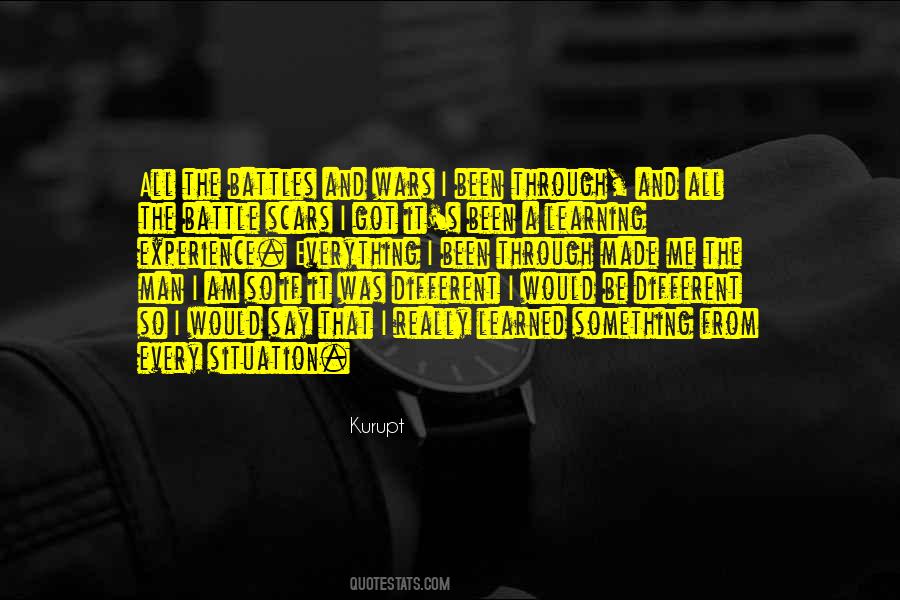 #41. We're only lucky enough to see the wonders of nature's canyons because they're gracious enough to show us the places they've been damaged. - Author: Curtis Tyrone Jones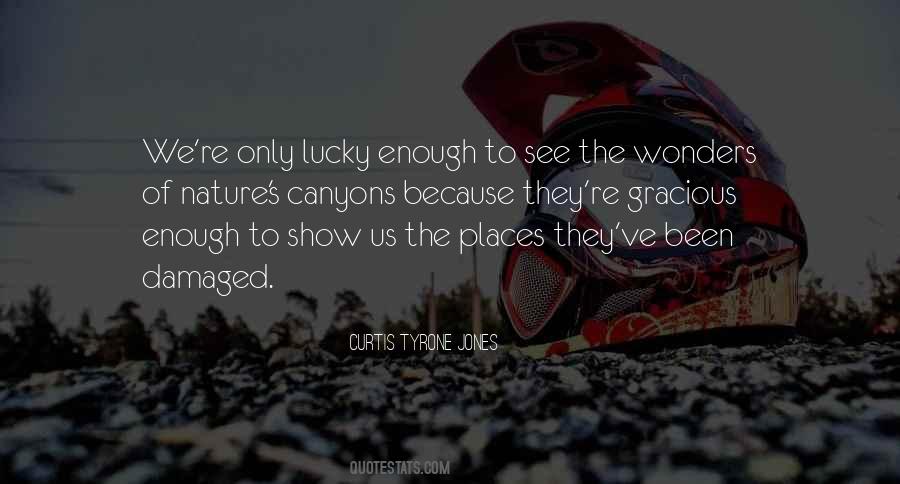 #42. You used to think your scars were your kryptonite. To me they've always made you seem like a superhero. - Author: Posy Roberts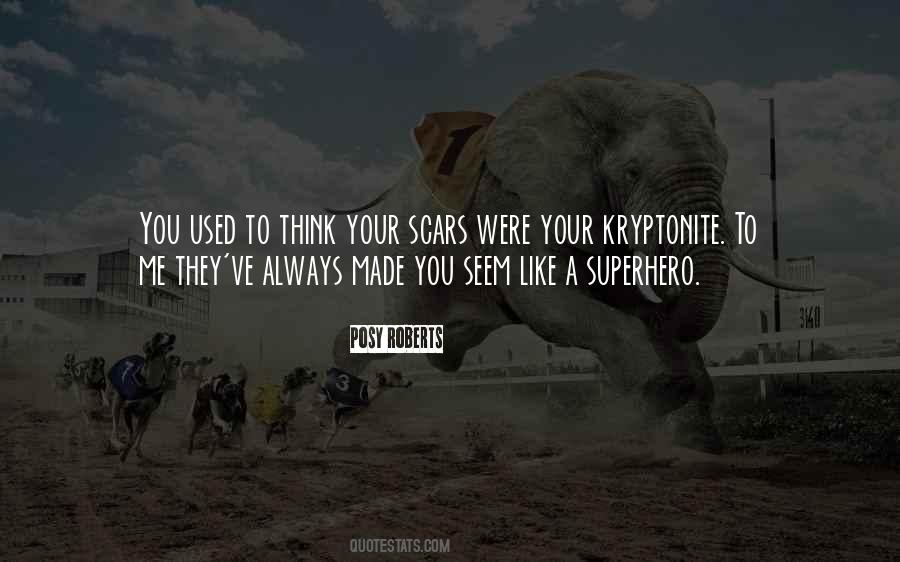 #43. ( ... the non-conformist, how do you keep from getting scarred?)/i don't! i got a scar here ... and uh i got a scar on my knee ... and uh a few scars on my soul. - Author: Marlon Brando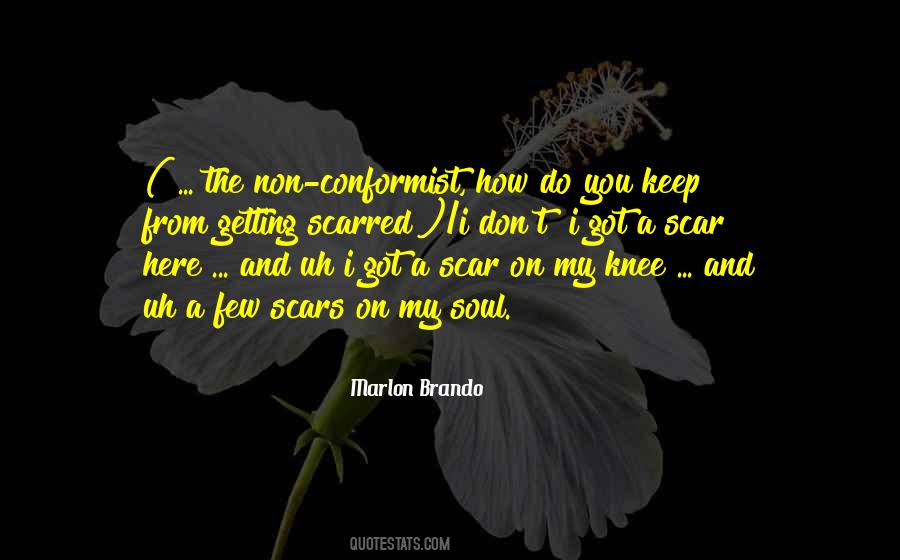 #44. Scars speak for you. They say you're strong, and you've survived something that might have killed others. - Author: Gena Showalter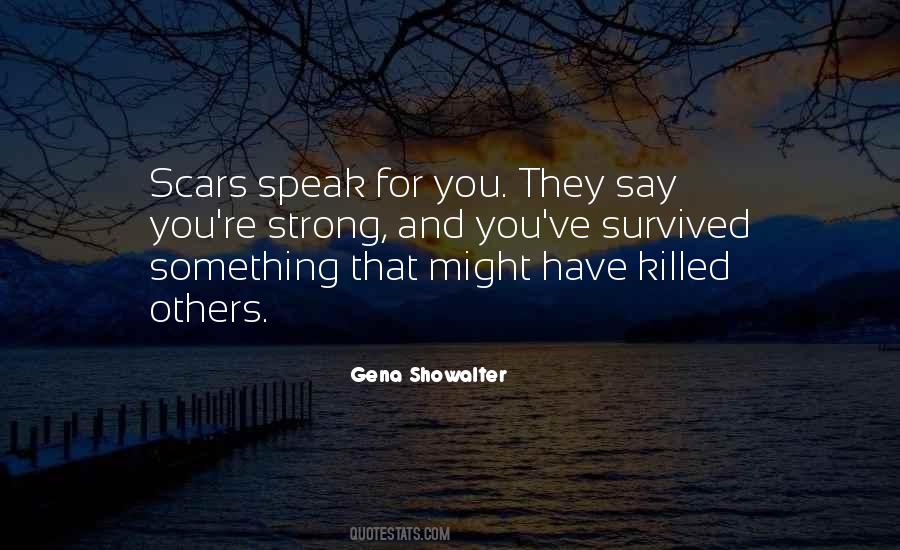 #45. She took part of my pain and made it her own. I didn't want her to hurt, but to share my scars with another human was a relief that I hadn't even known I needed until I got it. - Author: Mia Sheridan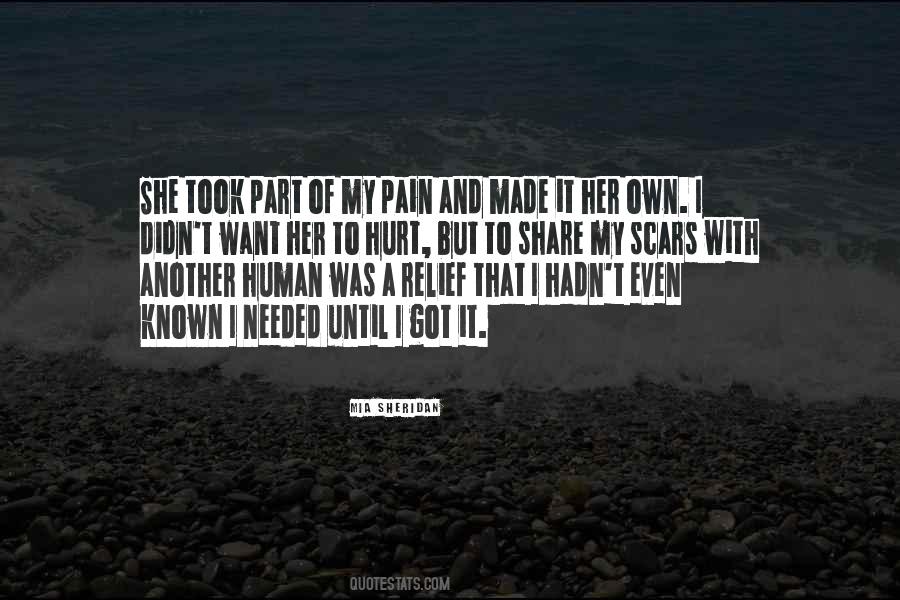 #46. I don't need no surgery, or tattoos. I already got the marks and scars of the Universe on my face and body. - Author: Robert Black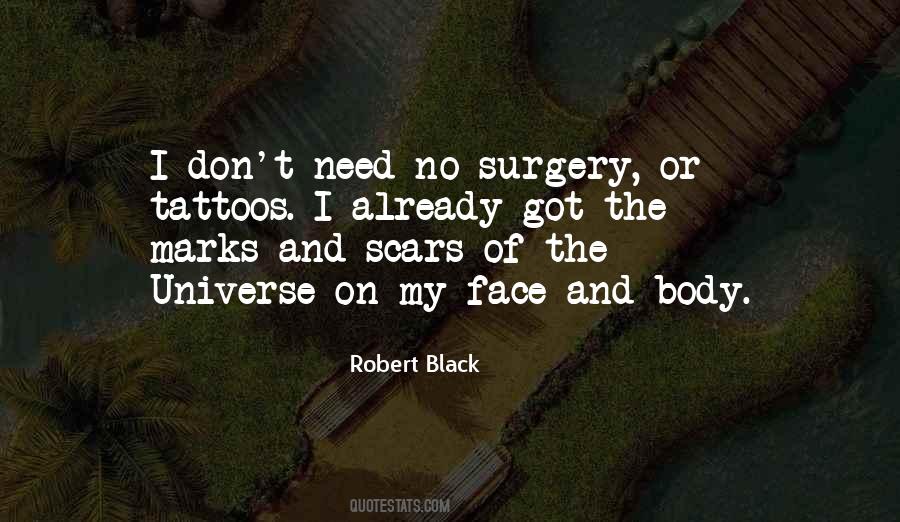 #47. Life leaves scars. Sometimes you don't see them until later. Sometimes you don't know where they've come from. Sometimes they fade before your eyes. But the world leaves its mark on us. - Author: Karina Halle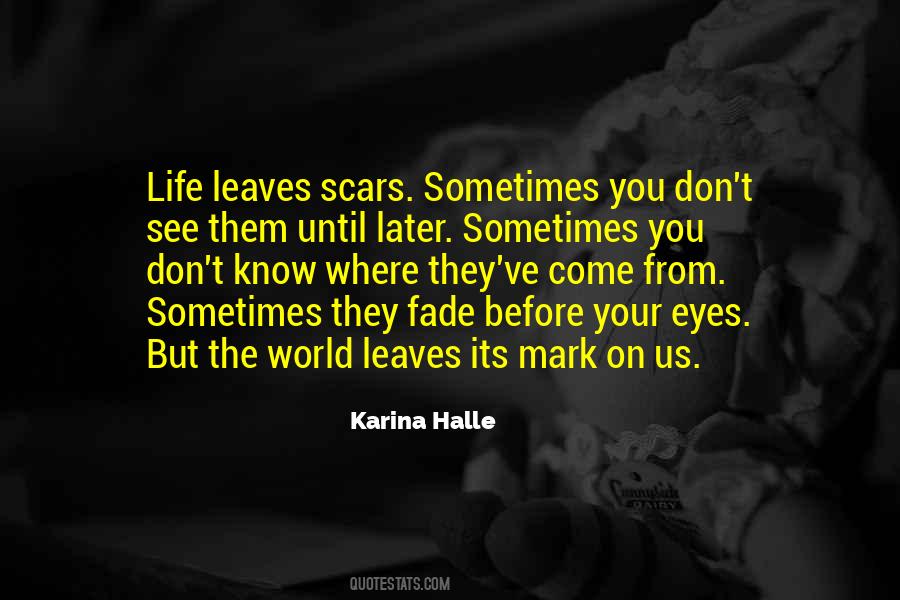 #48. I think scars are like battle wounds - beautiful, in a way. They show what you've been through and how strong you are for coming out of it. - Author: Demi Lovato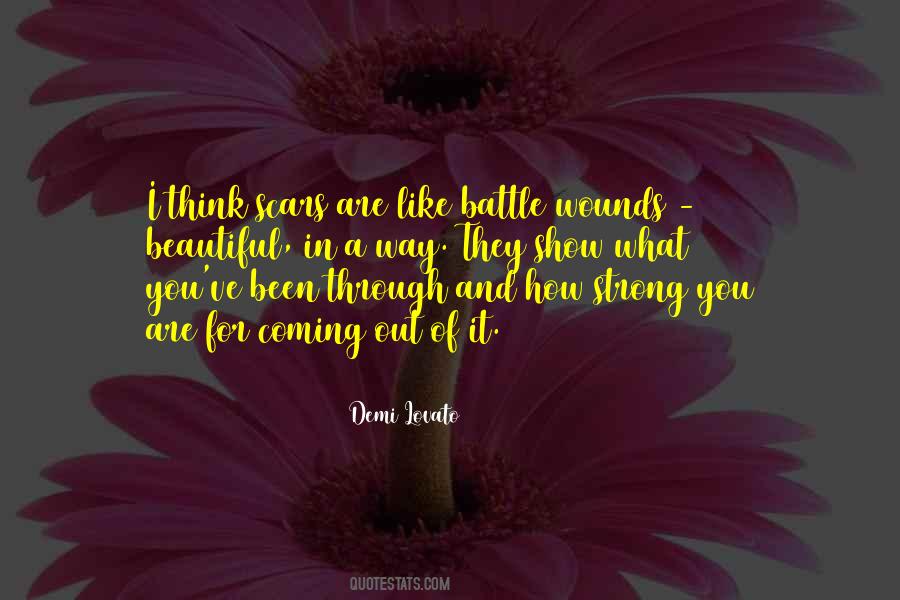 #49. Maybe your past isn't perfect. Maybe it was brutal. Maybe you were brutal. Maybe you've got more scars than you thought one skin could hold. You can't linger on those thoughts. You will drown in them. After all, it's only an interesting backstory if you can get past it. - Author: Jessica Hagy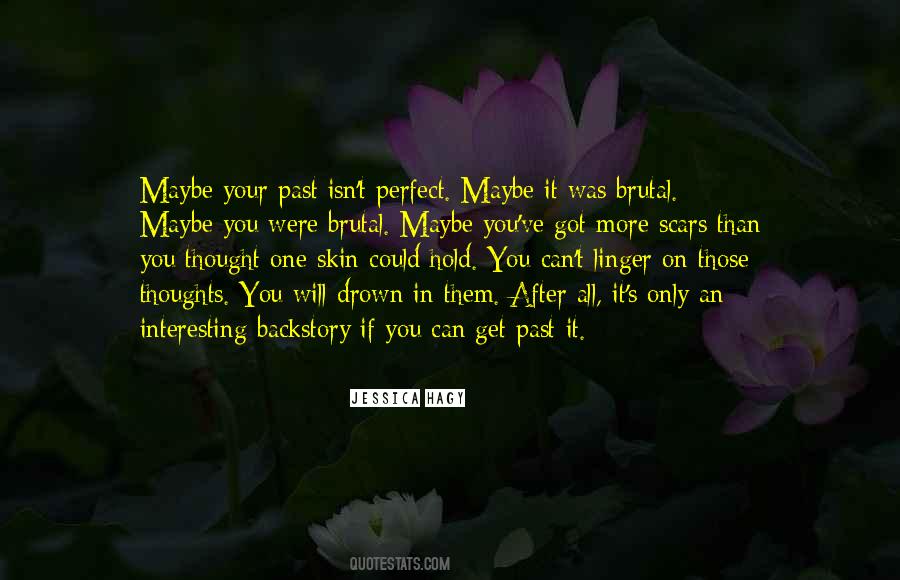 #50. Success demands a price that only a few are willing to pay ... blood, flesh, time, money, pride, heartbreak and energy. Anyone who has ever succeeded has the battle scars to prove the sacrifices they've made. - Author: Toni Sorenson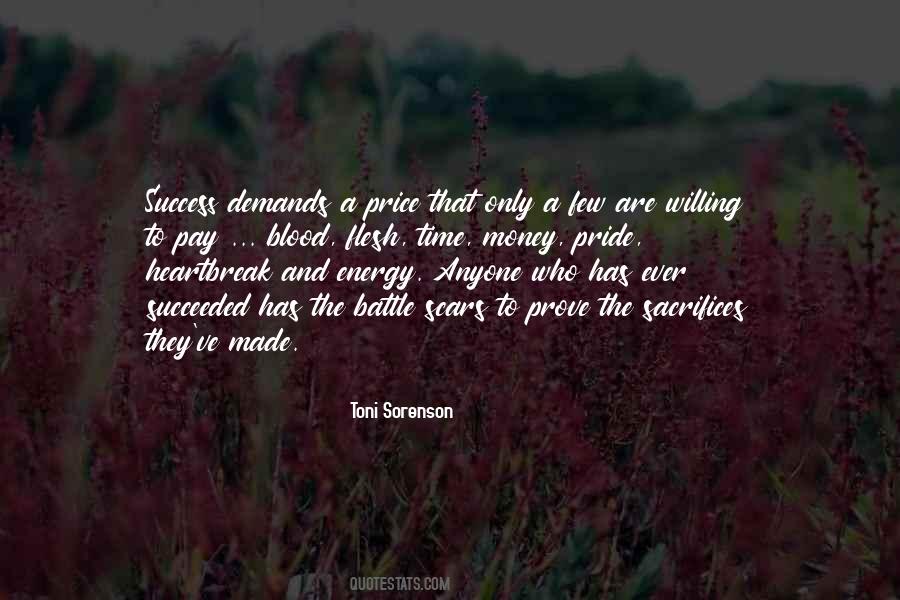 #51. Don't fret none, darlin'. I got your back."
"You said that in Budapest. I still have the scars, too. - Author: Shelly Laurenston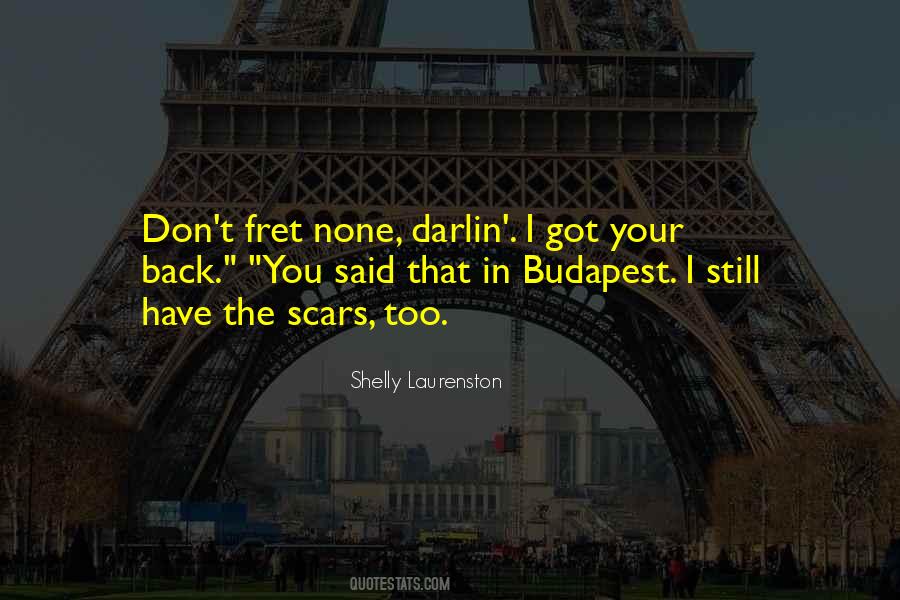 #52. Over the years, I've had about 80 stitches in my head and face from football incidents and bar incidents, so I have lots of scars. I don't think I look intimidating, but I'm sure other people have their opinions. - Author: Vinnie Jones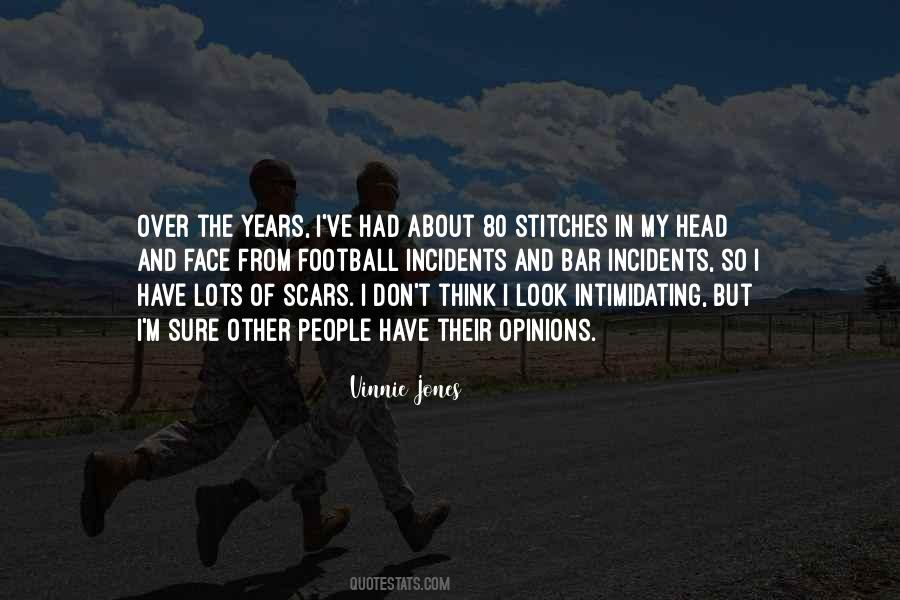 #53. He hadn't hit her in several years, but when you've been beaten you never forget it. The bruises go away but the scars remain, deep, hidden, raw. You stay beaten. It takes a real coward to beat a woman. - Author: John Grisham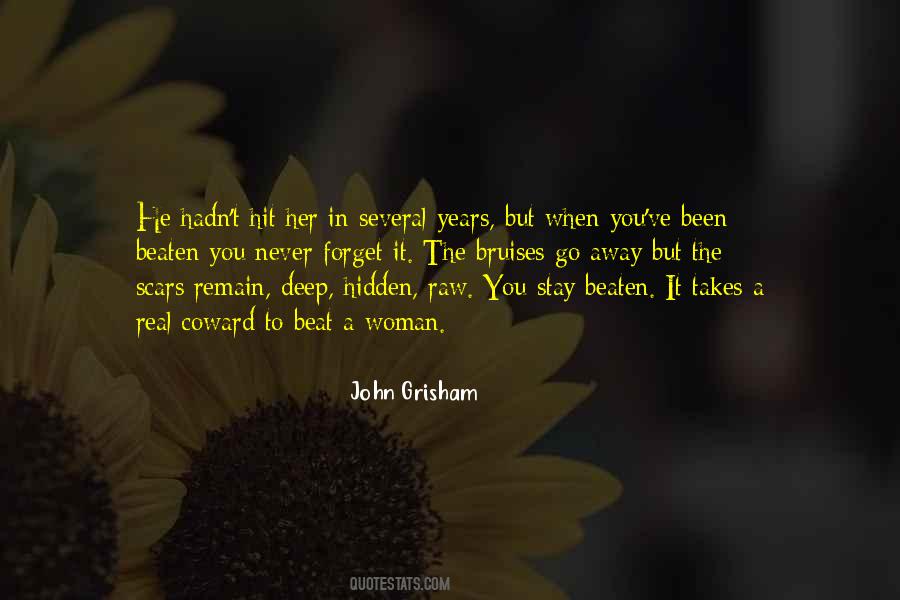 #54. I would expect another Scars album before another System album. - Author: Daron Malakian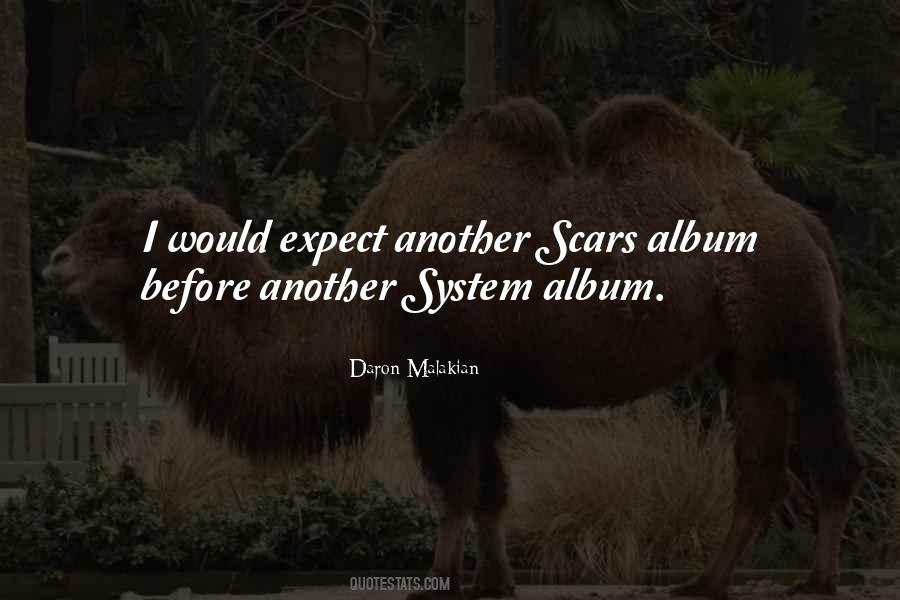 #55. Never mind. The self is the least of it. Let our scars fall in love - Author: Galway Kinnell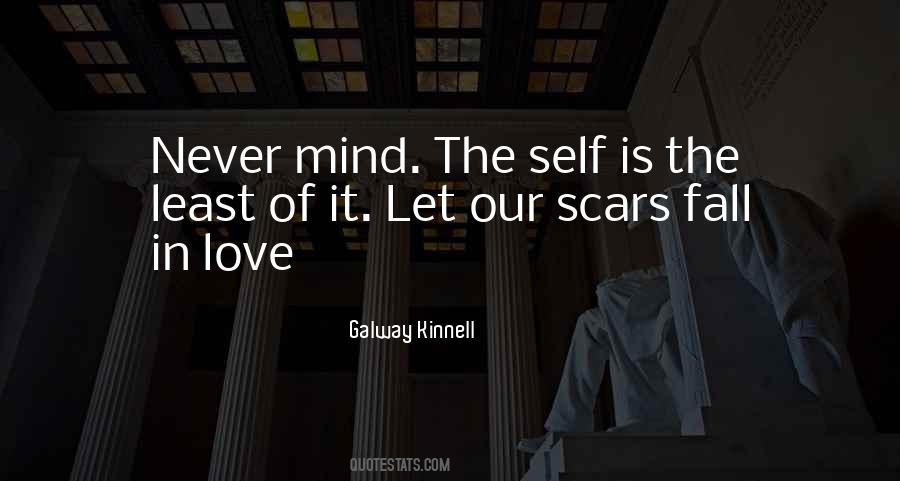 #56. Scars are badges of honors. They tell people you've lived a full life - Author: Lizzy Ford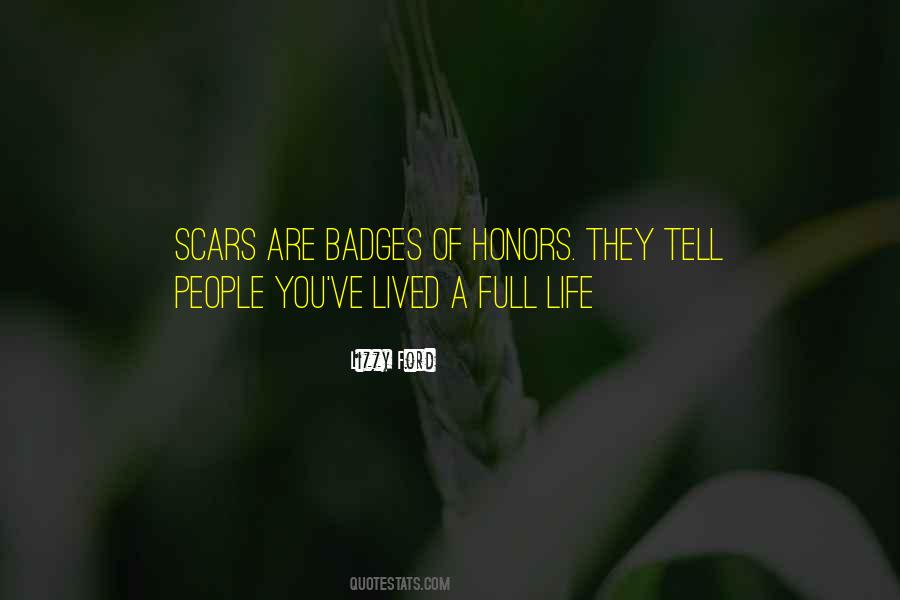 #57. My scars tell a story. They are a reminder of times when life tried to break me, but failed. They are markings of where the structure of my character was welded. - Author: Steve Maraboli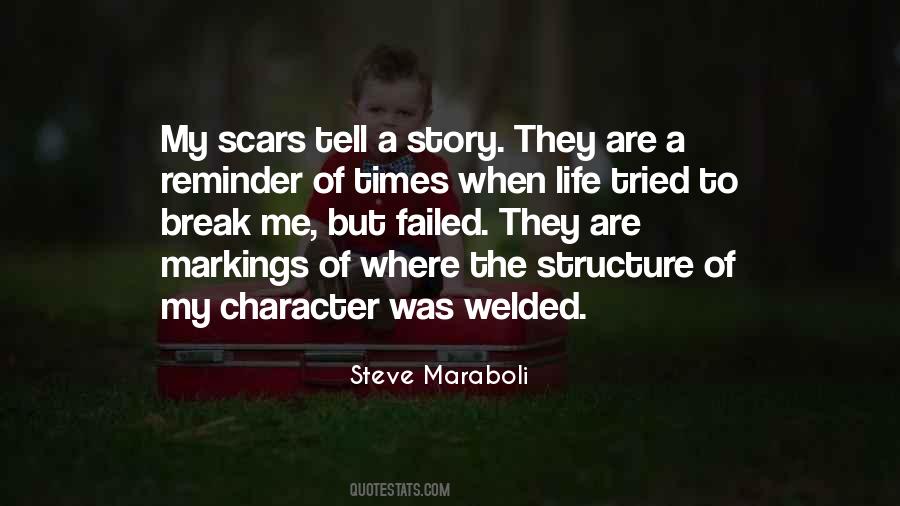 #58. The wound is the place where the Light enters you. - Author: Rumi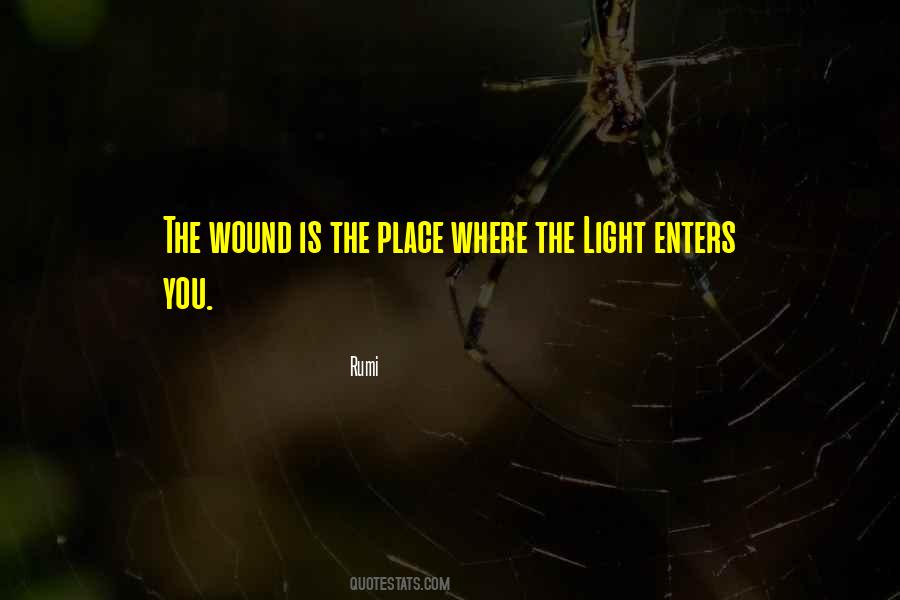 #59. I'm sorry. (Valerius) It's okay. We all have scars. I'm just lucky most of mine are on the outside. (Tabitha) - Author: Sherrilyn Kenyon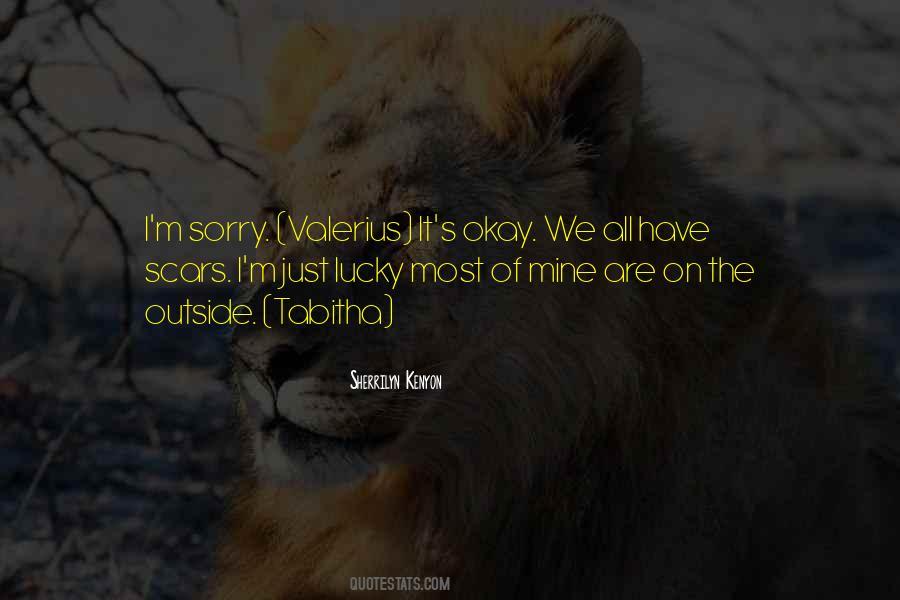 #60. A scar is a wound that has healed. We need to bring our wounds to Jesus, let Him heal them, and use our scars for Jesus. Our scars may be our greatest ministry. - Author: Adrian Rogers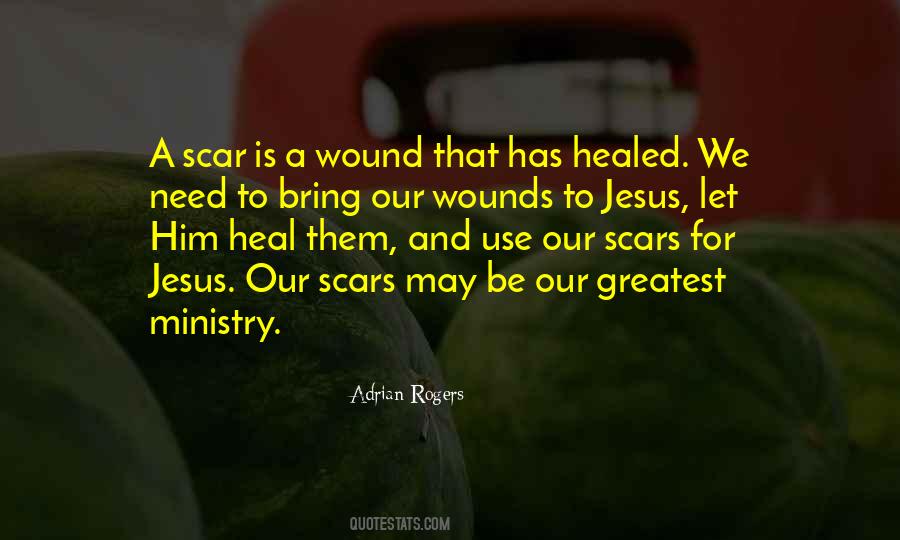 #61. What doesn't kill you leaves scars, ruins your lungs, dries out all your tears, leaves you lying awake at 4 in the morning
wishing you weren't alive. - Author: Walt Whitman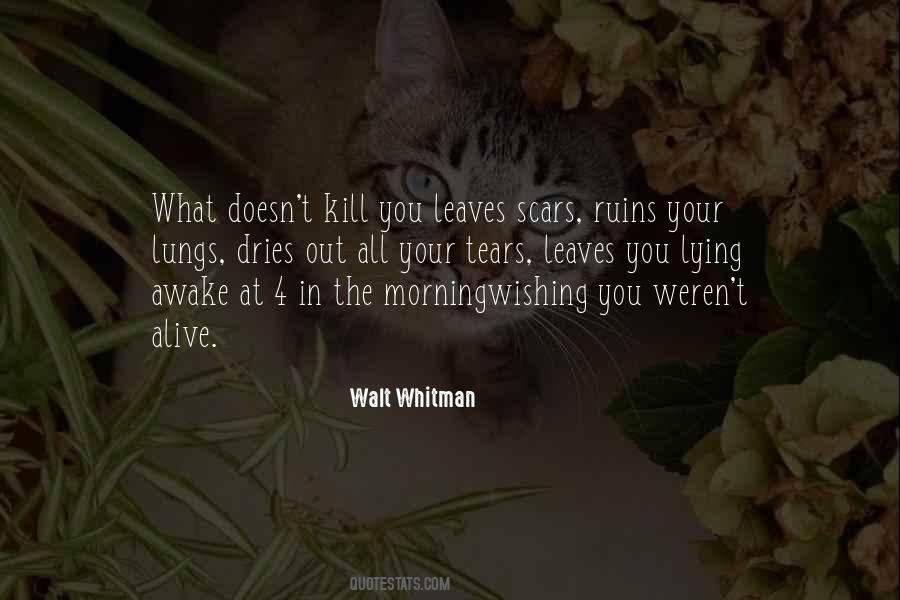 #62. Segregation ... not only harms one physically but injures one spiritually ... It scars the soul ... It is a system which forever stares the segregated in the face, saying 'You are less than ... 'You are not equal to ... ' - Author: Martin Luther King Jr.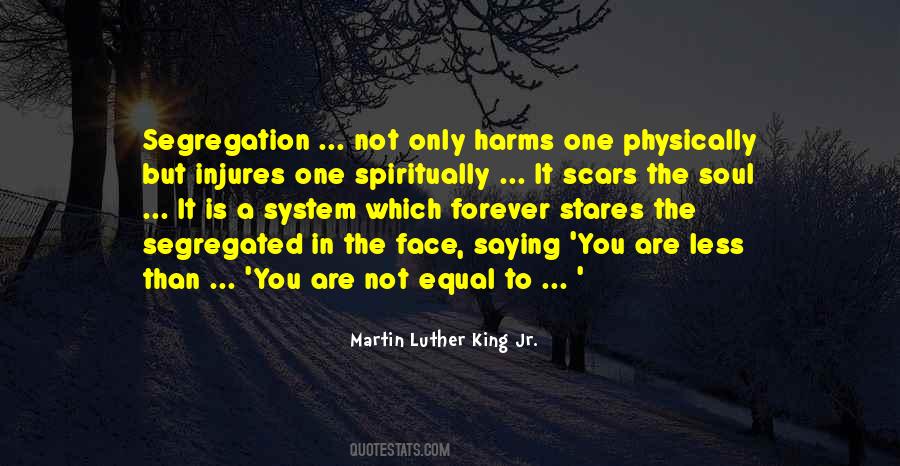 #63. But I keep thinking love should be like a tree. You look at trees and they've got bumps and scars from tumors, infestations, what have you, but they're still growing. Despite the bumps and bruises, they're--straight. - Author: Lorrie Moore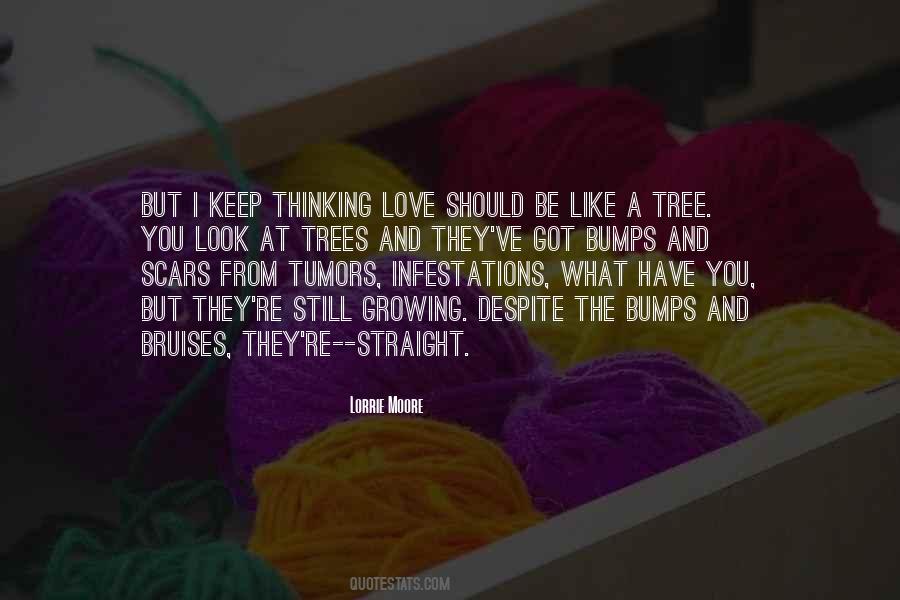 #64. Pink ribbon scars
That never forget
I've tried so hard
To cleanse these regrets
My angel wings
Were bruised and restrained
My belly stings - Author: Billy Corgan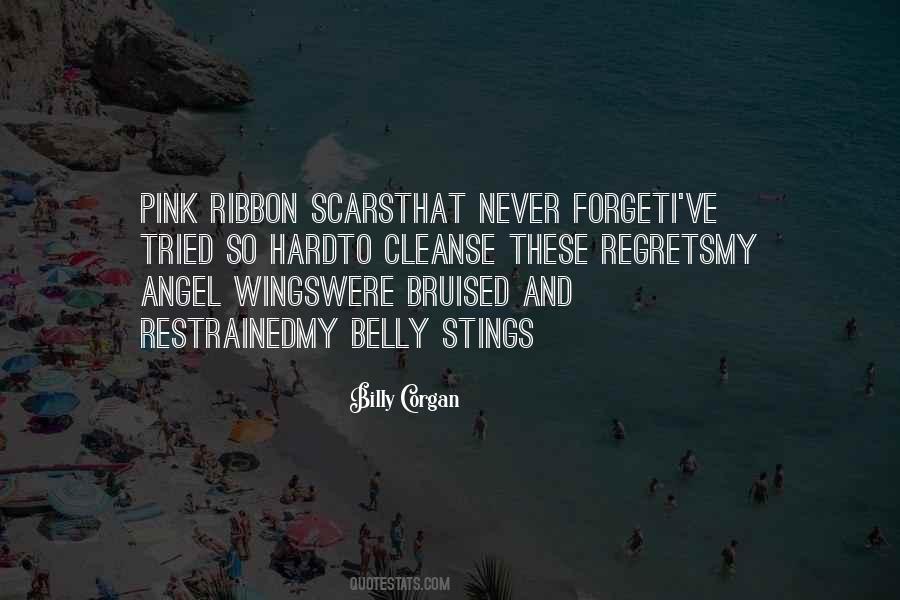 #65. How can you make light of it? I says.
What should I do? She says. Cry fer the rest of my life? Molly of the Many Sorrows? ... You got battle scars. This is mine, she says. You know what it tells me? I'm a survivor. - Author: Moira Young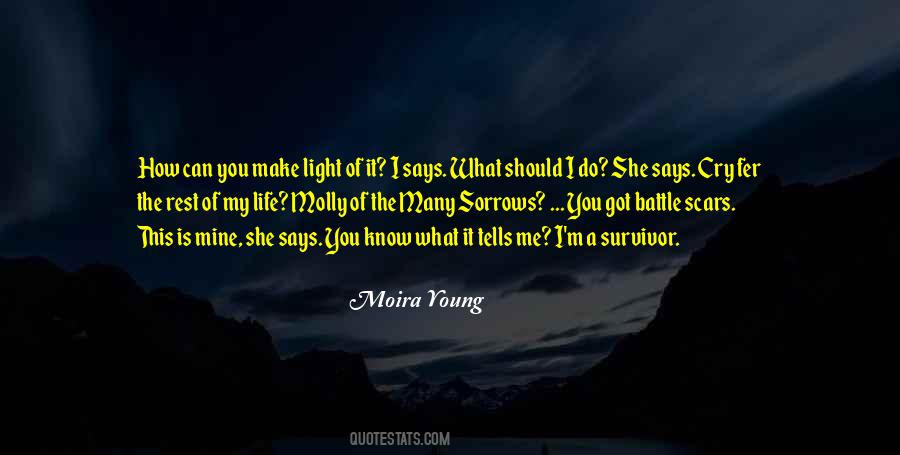 #66. Some of the imperfections will be visible, but this house has been here a long time. I see no reason to cover up the dings and scars. We've all got 'em. - Author: Chris Coppernoll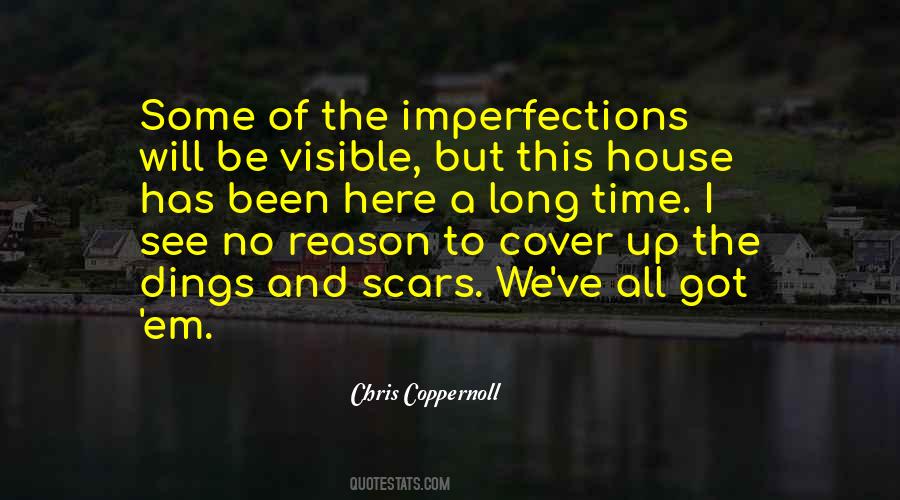 #67. Acheron always says that our scars are there to remind us of out pasts, of where we've been and what we've gone through. But that pain doesn't have to drive or determine our future. We can rise about it if we let ourselves. It's not easy, but nothing in life ever is. -Sundown - Author: Sherrilyn Kenyon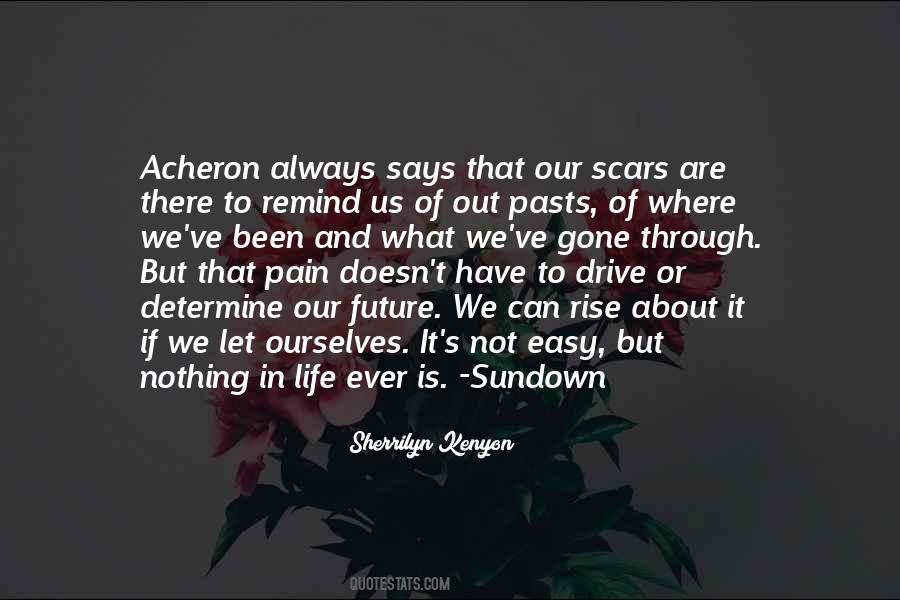 #68. Look up here, I'm in heaven!
I've got scars that can't be seen
I've got drama, can't be stolen,
Everybody knows me now
( ... )
This way or no way
You know I'll be free
Just like that bluebird
Now, ain't that just like me? - Author: David Bowie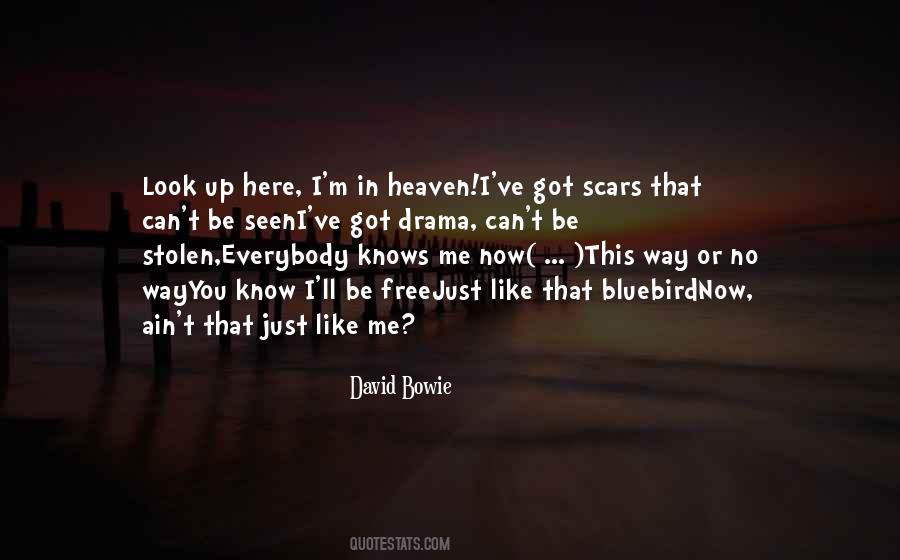 #69. We understand each other, Nelly. We've both lost someone we love. We both have scars and regrets and anger. We can do this together. - Author: Jasinda Wilder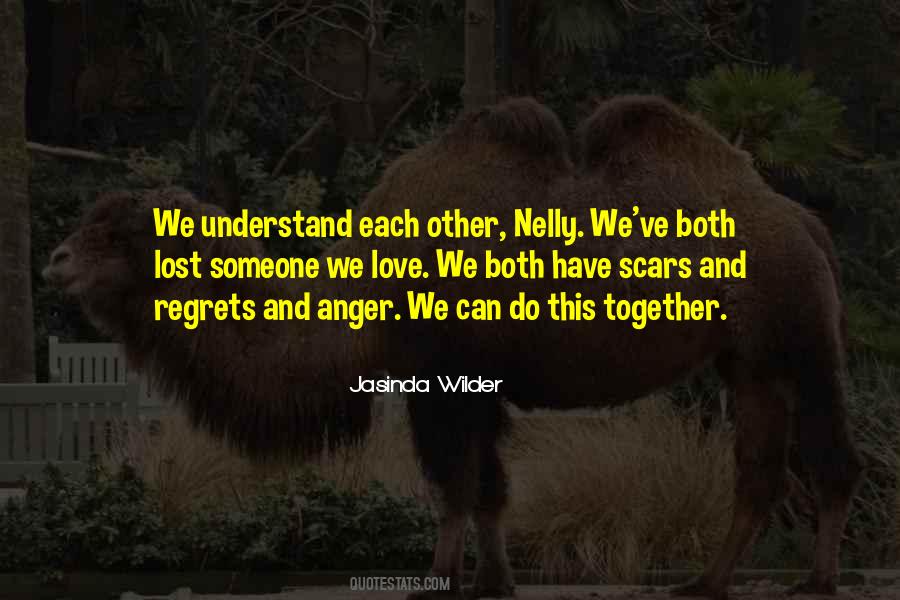 #70. I'm not going to pretend that I know what you've gone through. But after reading those pages, I can assure you that you aren't the only one who was scarred in that fire. Just because he chose not to show you his scars doesn't mean they don't exist. - Author: Colleen Hoover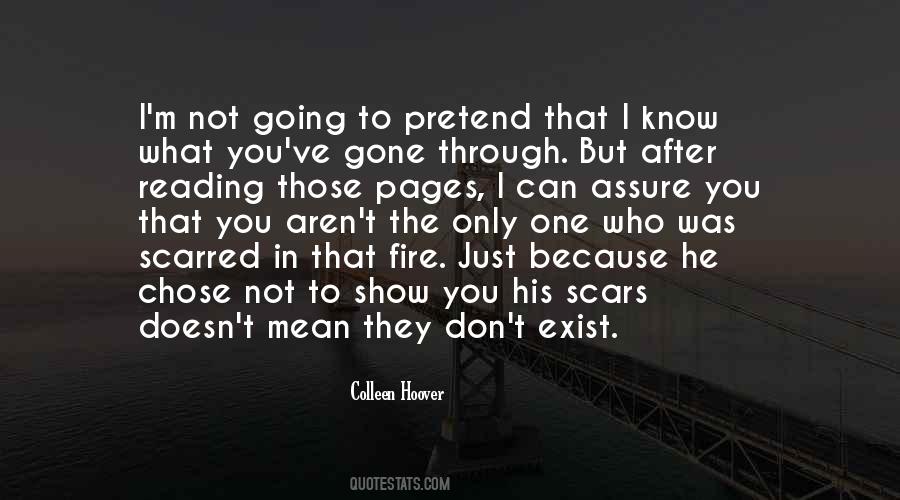 #71. You want science and studies? Fuck you. I've got scars and blood and vomit. - Author: Jim Wendler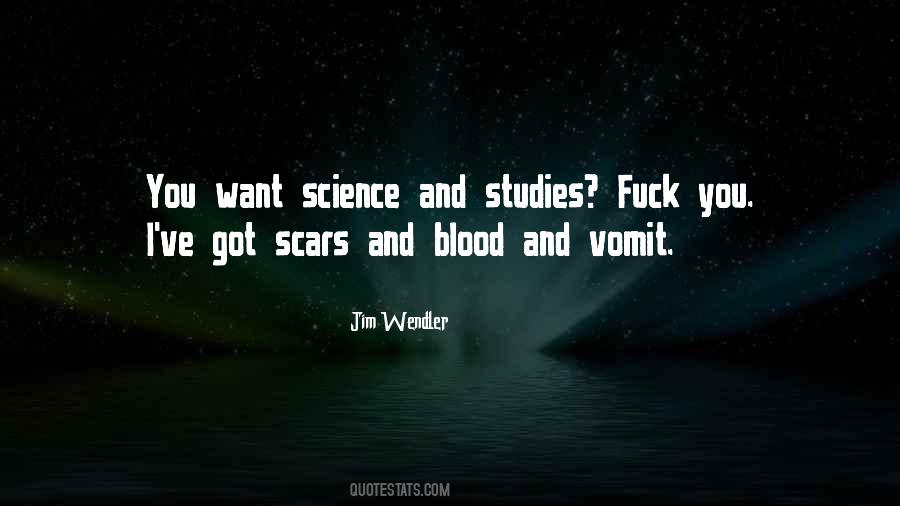 #72. Hate isn't the opposite of love, apathy is. Hating doesn't free you from feeling anything. You have to carry it around, using every scar, every little memory like a building block. Like a stone in a wall, until you've created a new person, a new life that you can live with. - Author: Rasmenia Massoud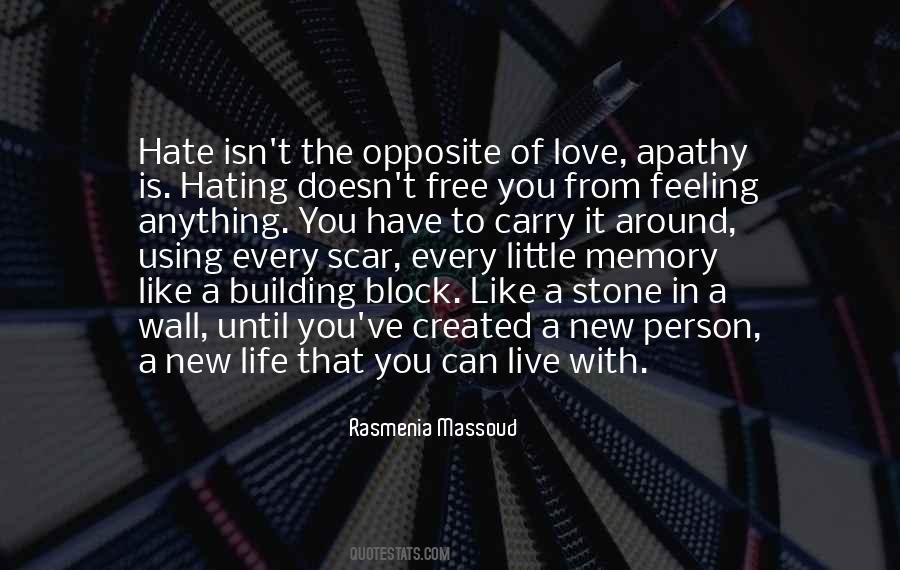 #73. Betrayal is a more subtle, twisted feeling than terror. It burns and eats, but terror stabs right through. - Author: Wendy Hoffman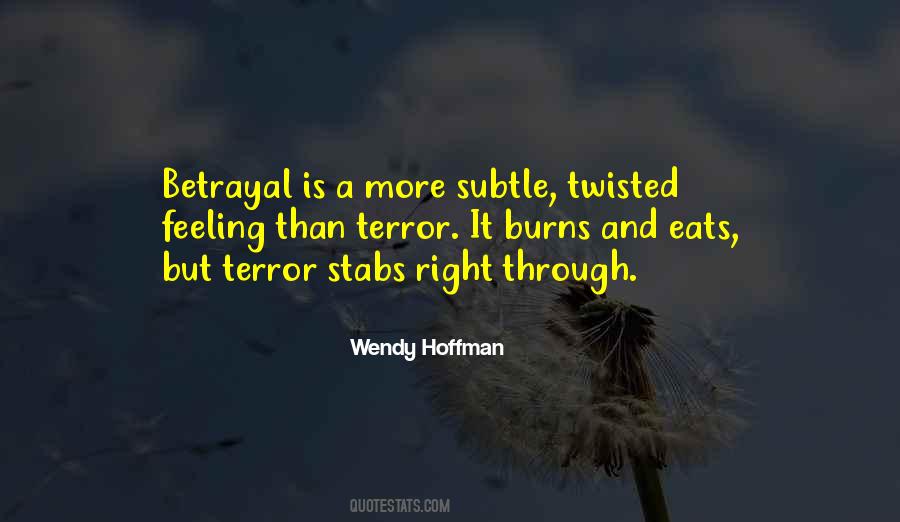 #74. Scars are reminders of the obstacles we've overcome. Wear them proudly. - Author: Ashton Kutcher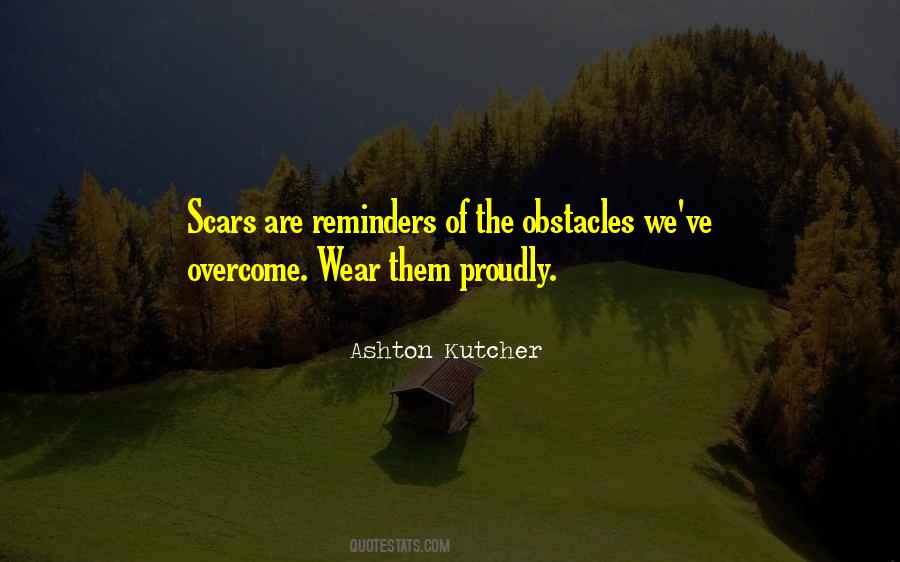 #75. Life for all its gains
pierces in ways that leave scars,
where I've bled, I've lived - Author: Jim Ross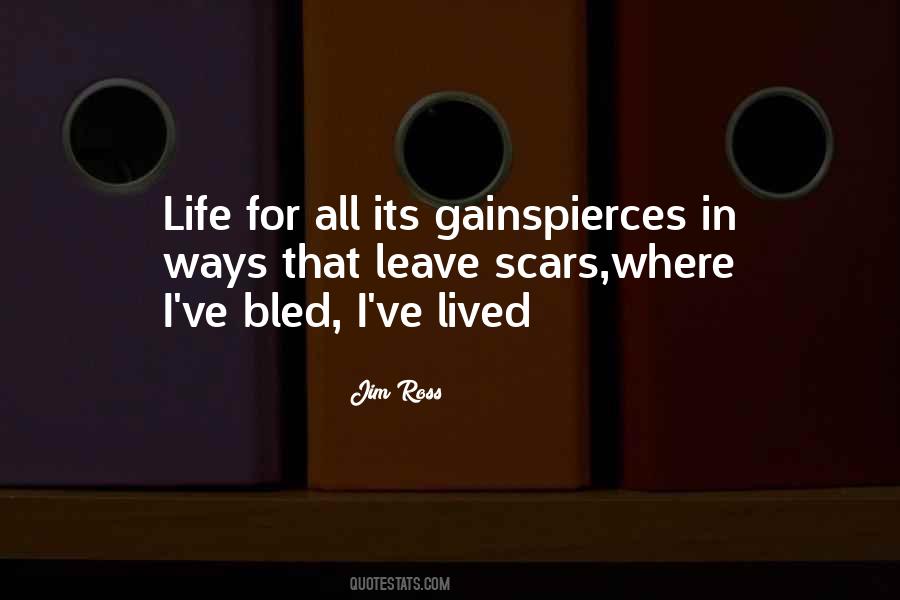 #76. I got a body covered in scars, but then who doesn't? If you don't have a few scars, you haven't really lived. - Author: Lexi Blake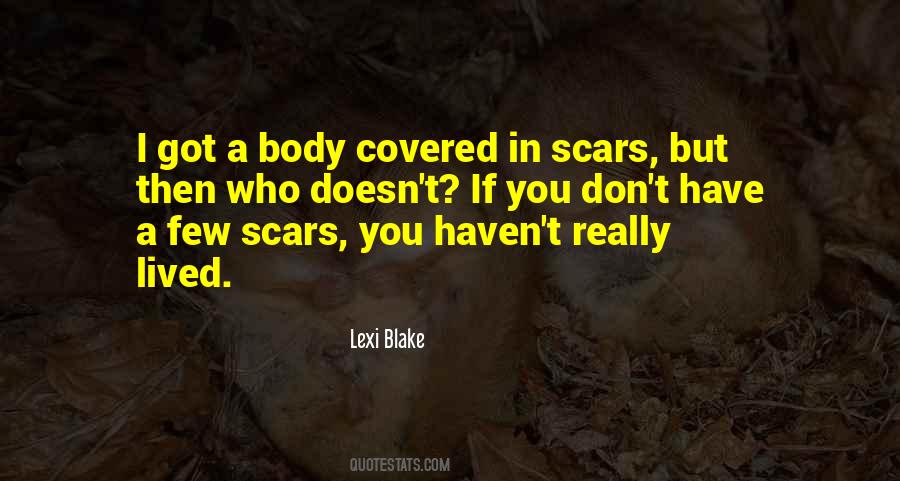 #77. Scars remind me of just how far that I've come. - Author: Shakira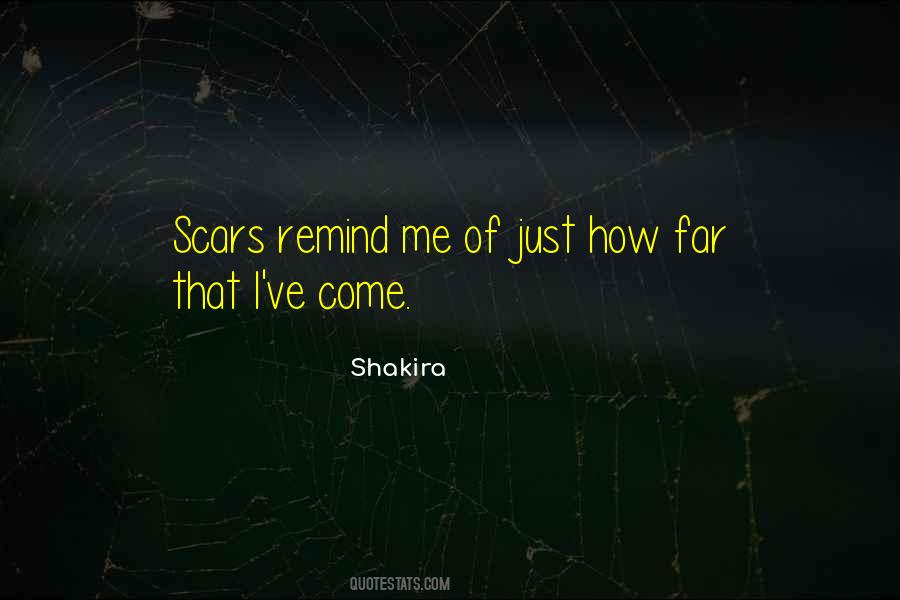 #78. Aunt Joan broke her hip a few years back. Don't get me wrong, she's still pretty damn fierce. Lightning fast with her cane, in fact. I've got the scars to prove it. - Author: Victoria Schwab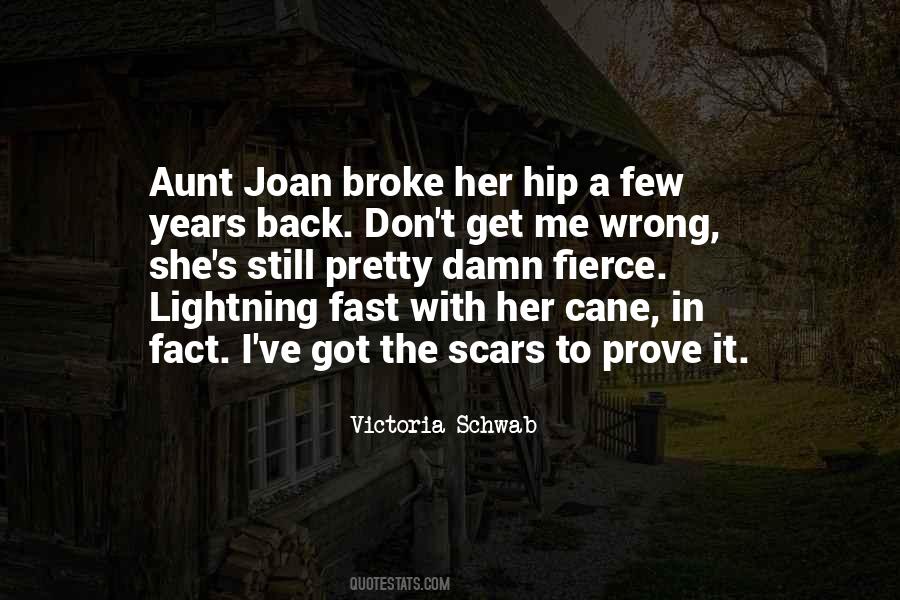 #79. You're a fighter. Your scars aren't about the rounds you've lost. They're about the ones you walked away from. The ones you survived. - Author: Keri Lake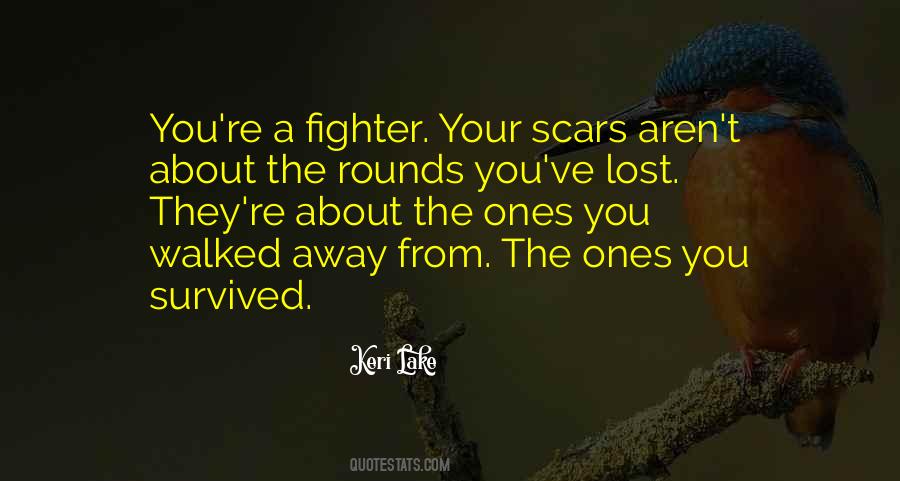 #80. Sure, scars can be painfull to look at, reminding you where you've been, but they also remind you of how far you've come. - Author: GirlDrawsManga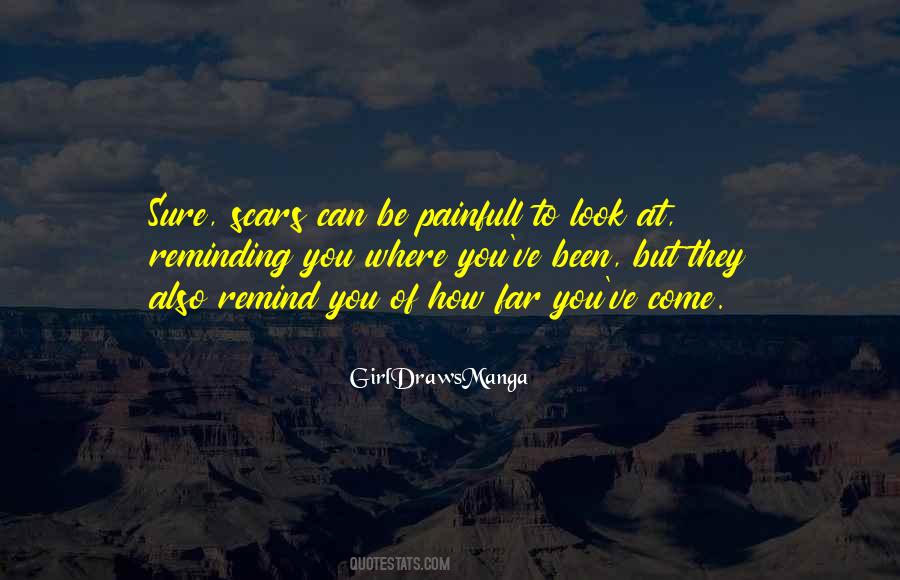 #81. My teeth have never been touched. Why did I tell you that? Knock on wood. I've got a few scars over the eyes, a couple on the chin, a few on the beak and one across the cheek. But my luck is running out. - Author: Brett Hull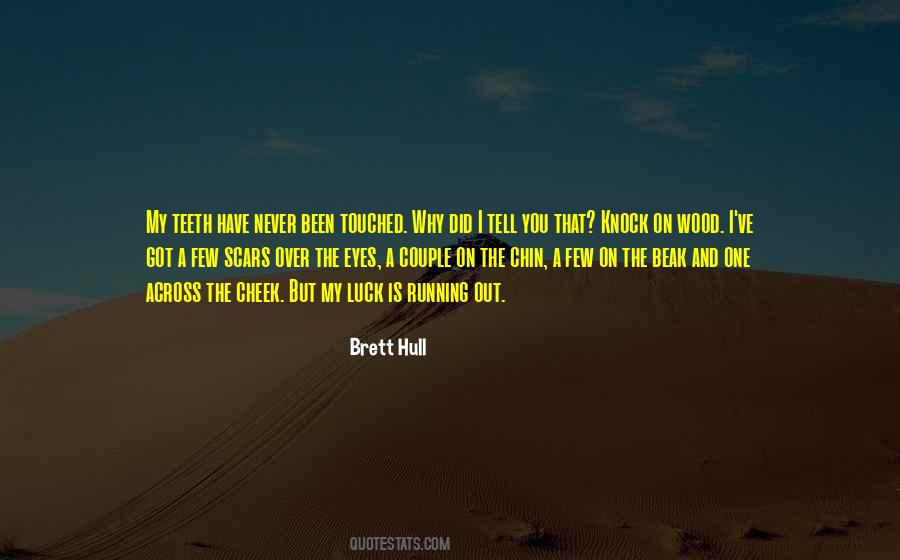 #82. Scars are just a treasure map of pain we've buried too deep to remember. - Author: Jodi Picoult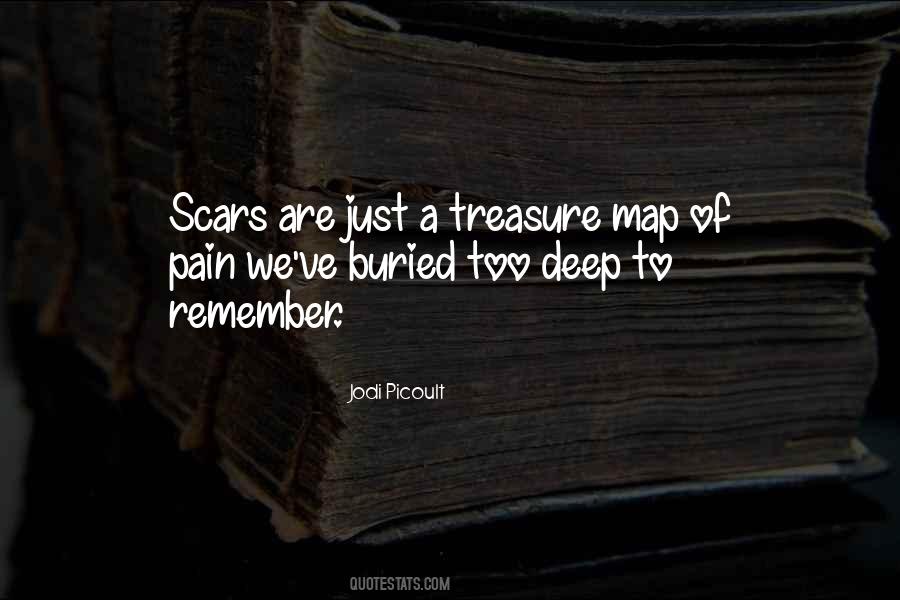 Famous Authors
Popular Topics