Right Doing Famous Quotes & Sayings
List of top 100 famous quotes and sayings about right doing to read and share with friends on your Facebook, Twitter, blogs.
Top 100 Quotes About Right Doing
#1. It's all very Italian (and decidedly un-American): to insist that doing the right thing is the most pleasurable thing, and that the act of consumption might be an act of addition rather than subtraction. - Author: Michael Pollan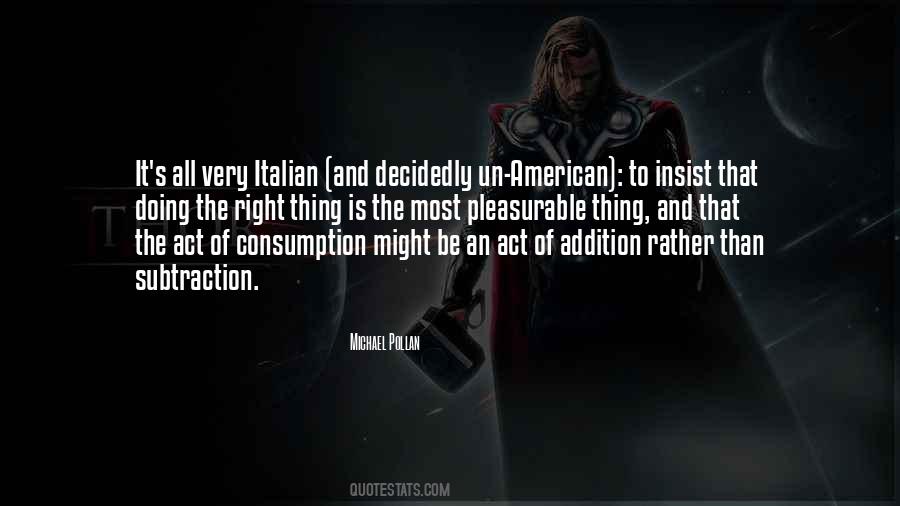 #2. Motherhood is a choice you make everyday, to put someone else's happiness and well-being ahead of your own, to teach the hard lessons, to do the right thing even when you're not sure what the right thing is ... and to forgive yourself, over and over again, for doing everything wrong. - Author: Donna Ball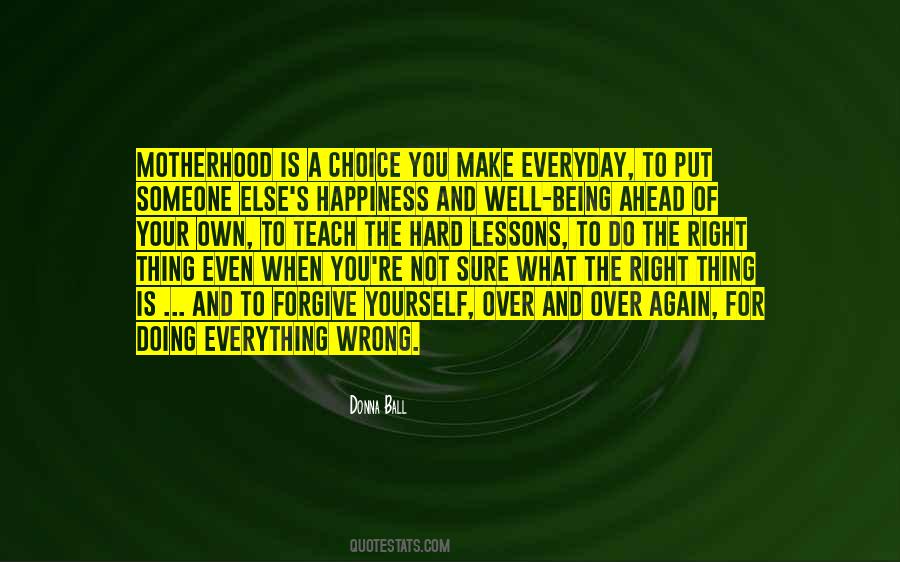 #3. If there is to be no satisfaction in pleasure, none in wisdom, none in ambition, none in the golden mean, what then? Ah, where then? In duty. In doing right because it is right. - Author: Lyman Abbott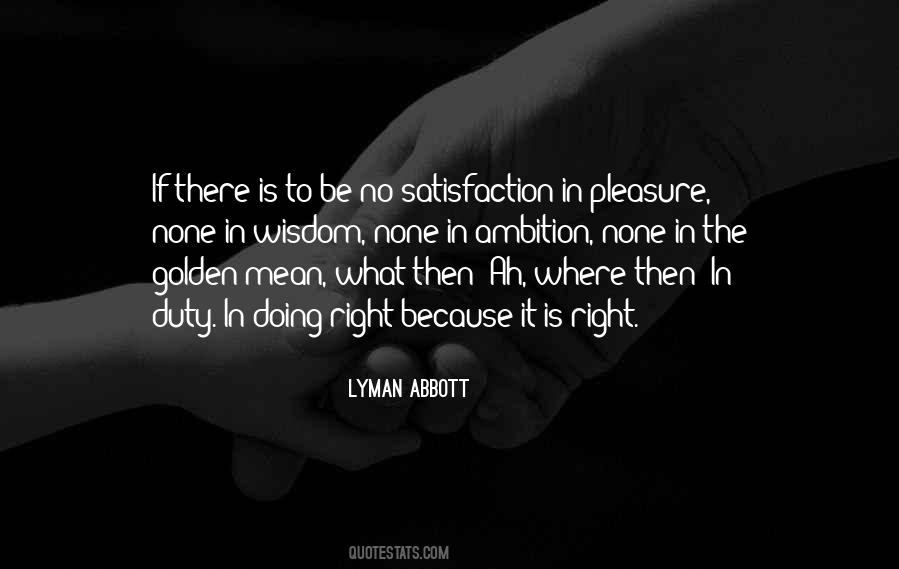 #4. If I can start my day out by saying my prayers and getting myself focused, then I know I'm doing the right thing. That 10 minutes helps me in every way throughout the day. - Author: Mark Wahlberg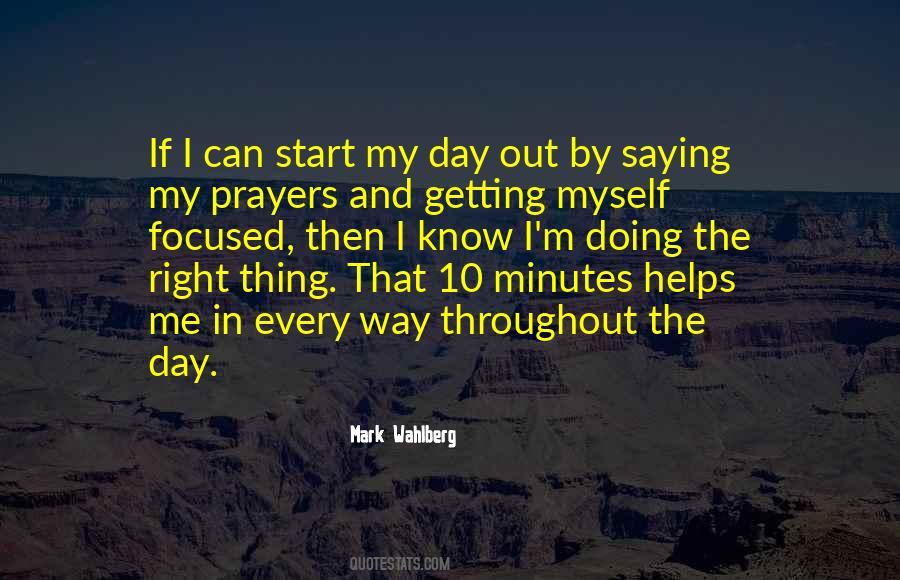 #5. The fear of doing right is the grand treason in times of danger. - Author: Henry Ward Beecher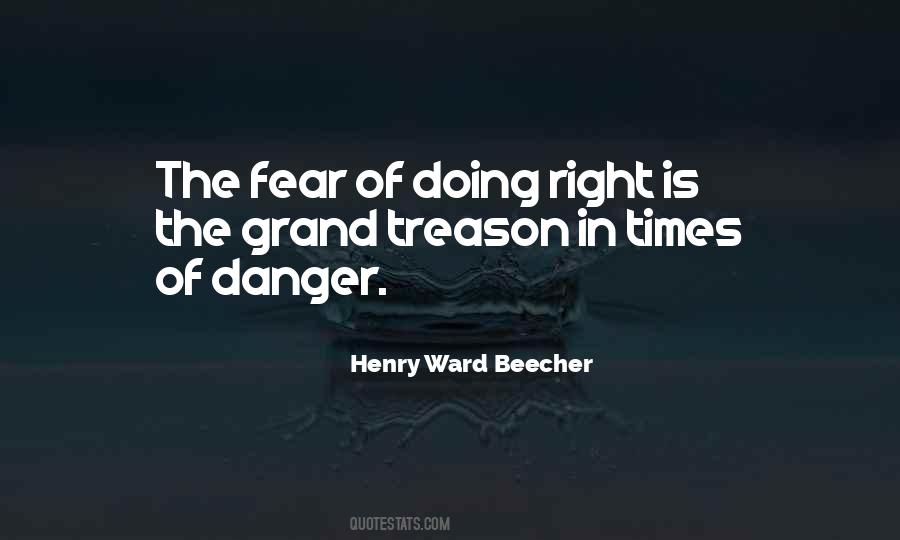 #6. Hate crimes are the scariest thing in the world because these people really believe what they're doing is right. - Author: Cher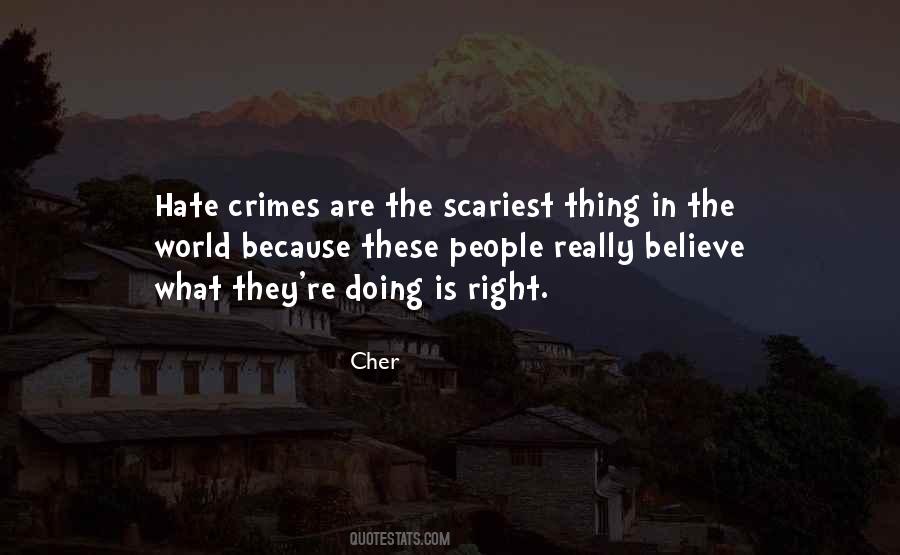 #7. I've seen a lot of LA and I think it's also a place of secrets: secret houses, secret lives, secret pleasures. And no one is looking to the outside for verification that what they're doing is all right. - Author: Victoria Tennant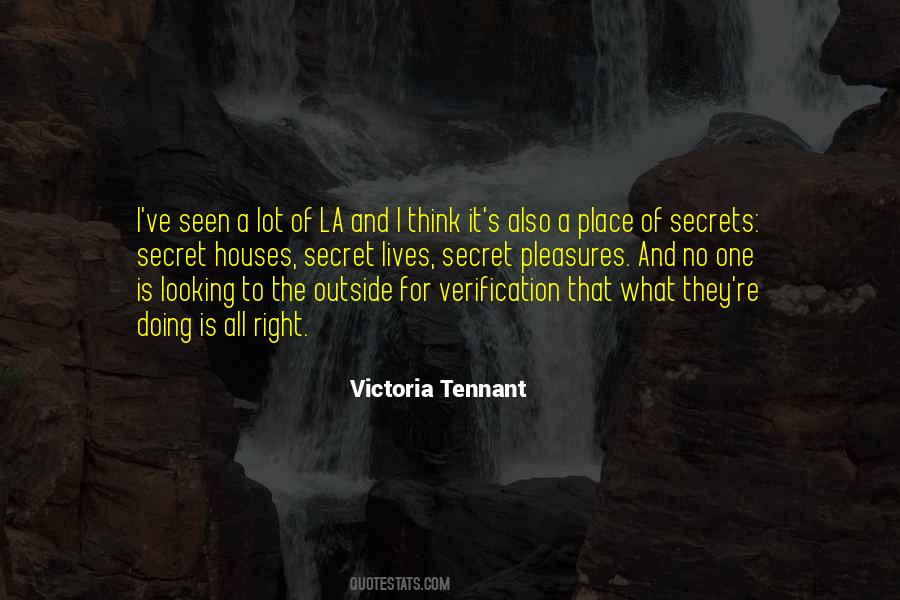 #8. They might have been all-right people doing the best they could, but I got to tell you, you got a dead cat lying in your yard you ought to bury it. That's my motto. - Author: Joe R. Lansdale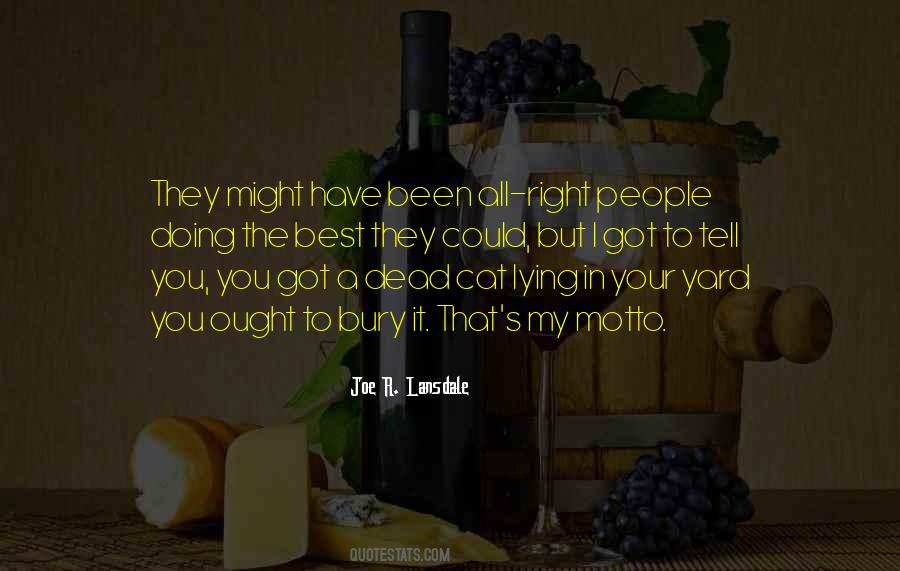 #9. He kissed me back. It lasted just a moment, but he kissed me back, right away, without hesitation, as though we'd always been doing it. - Author: Morgan Matson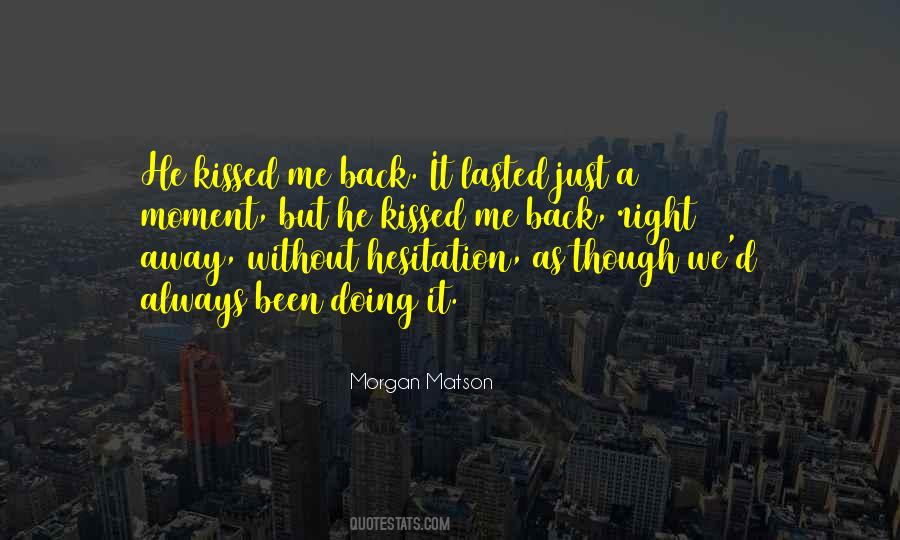 #10. So that all the people who say, you know, "All the media hates America." A lot of the media does hate America but this is a case of, actually, the press doing its best, I think, to do the right by national security. So good for them. - Author: Tucker Carlson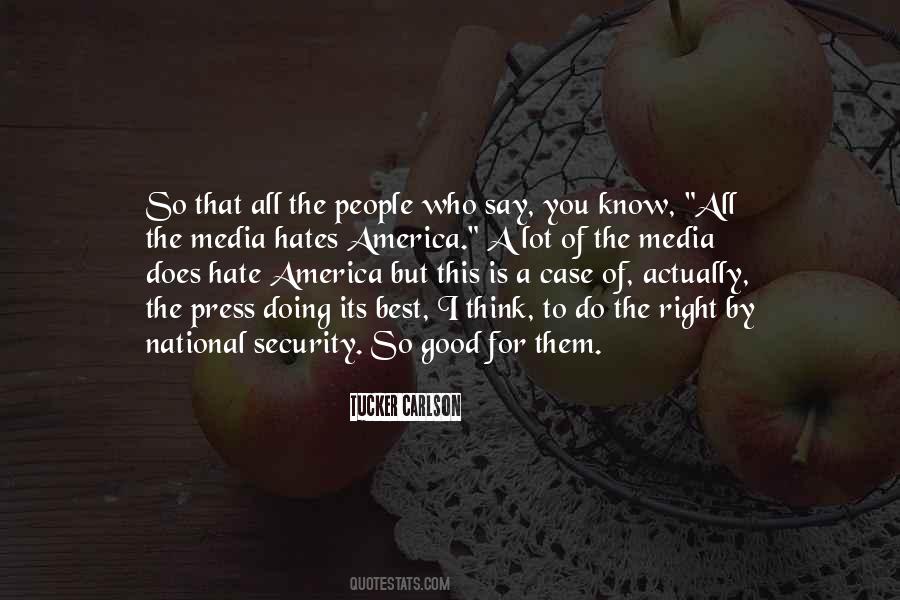 #11. Successful people do what is right no matter how they feel, and by doing right, they feel good. - Author: John C. Maxwell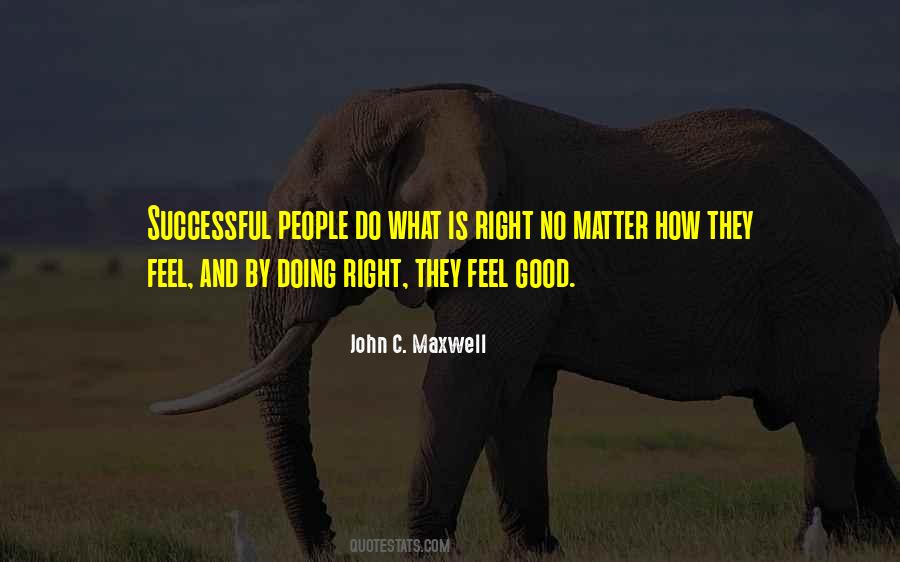 #12. The greatest thing about where my life is right now is it's very relaxed and chill. I'm just hanging out, being myself and doing my work. - Author: Lucas Grabeel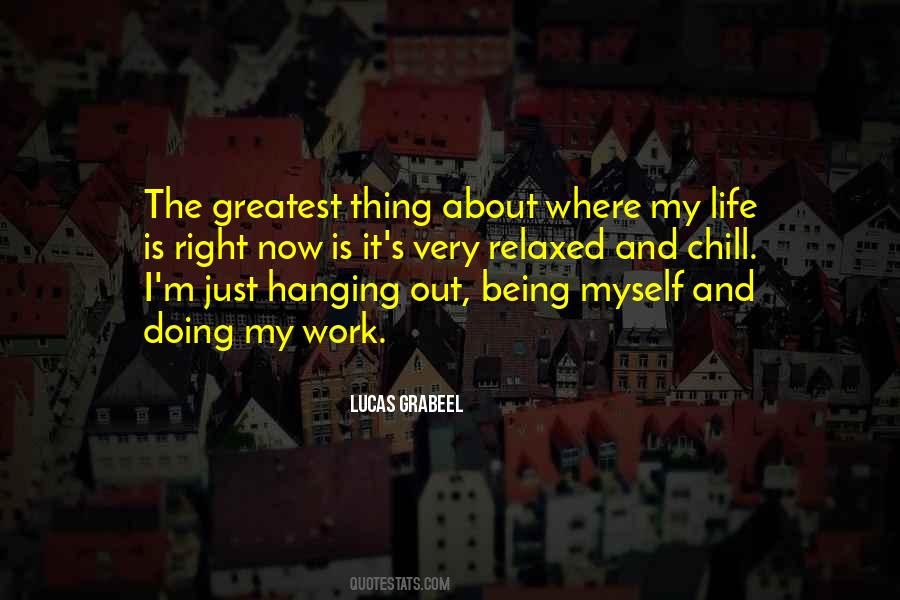 #13. Ever since I've left, I've been doing nothing but this film and traveling, promoting and doing festivals. So the good thing is that I'm not sitting around pining over whether I made the right choice in leaving. I'm moving and grooving. - Author: Eriq La Salle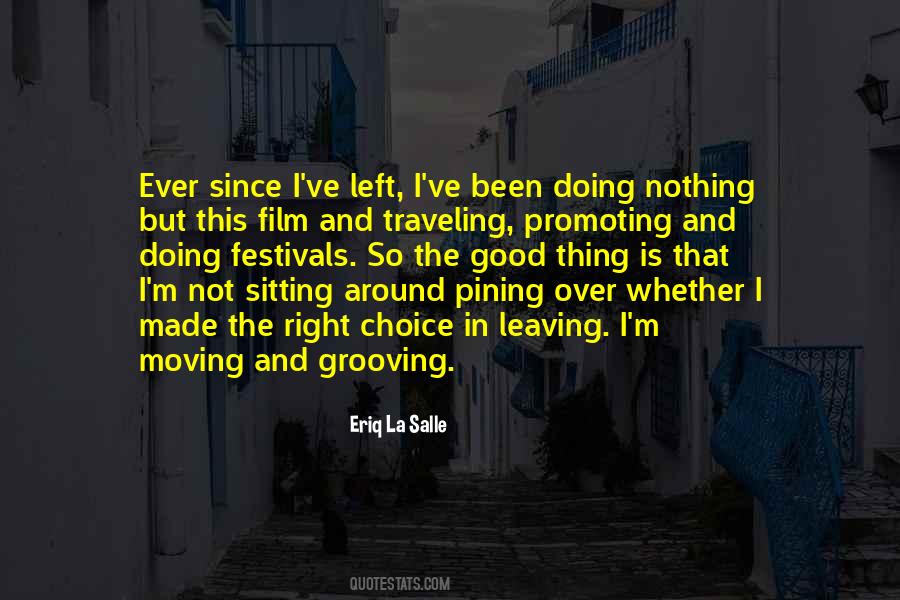 #14. Why does doing the right thing feel so bad? - Author: James Patterson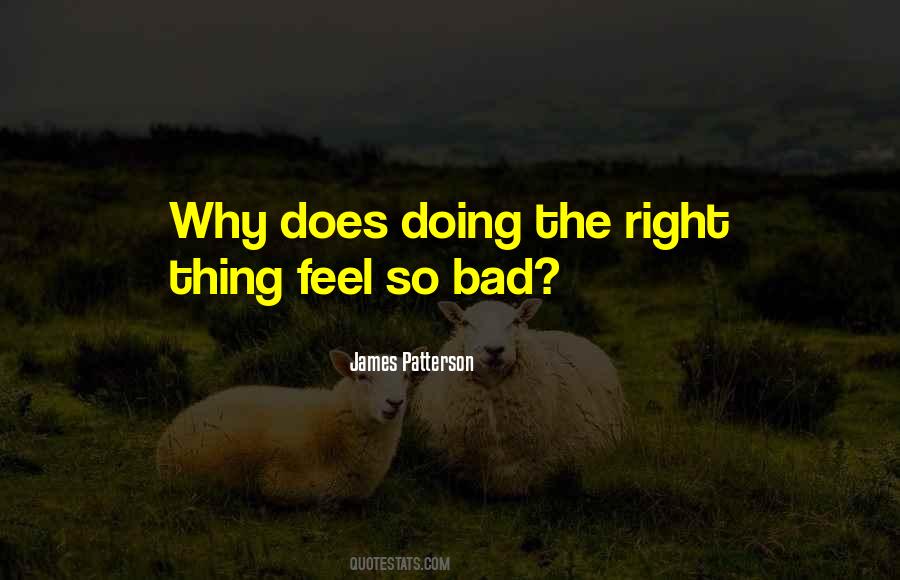 #15. Doing what's right should be easy. It shouldn't be just another big mess like everything else. - Author: Patrick Ness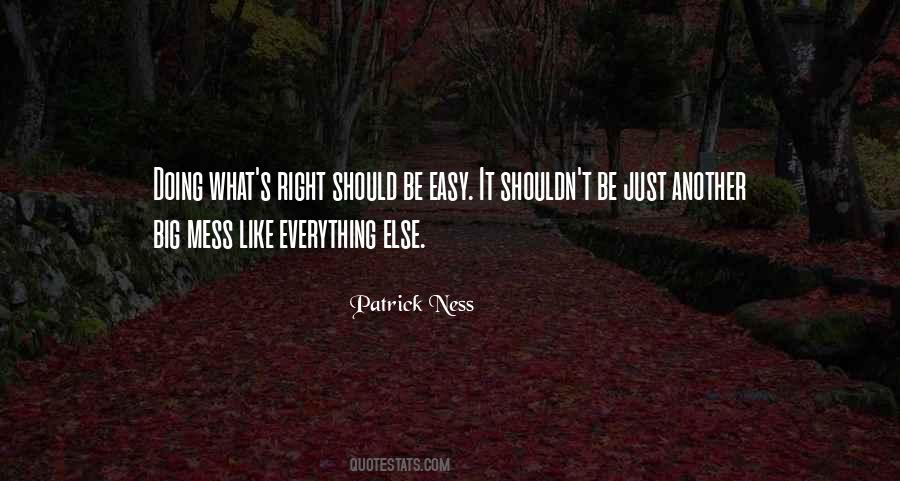 #16. Compassion is the ability to see what needs doing right now and the willingness to do it right now. - Author: Brad Warner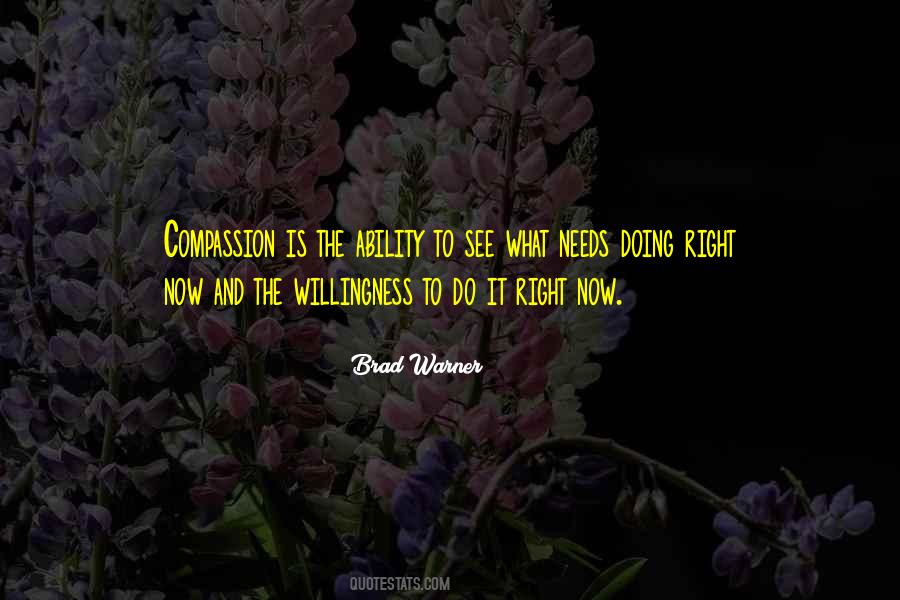 #17. Fuckhead:
The name's MariKETA.
Go to hell,
The WITCH, doing a creepy spell somewhere right now. - Author: Kresley Cole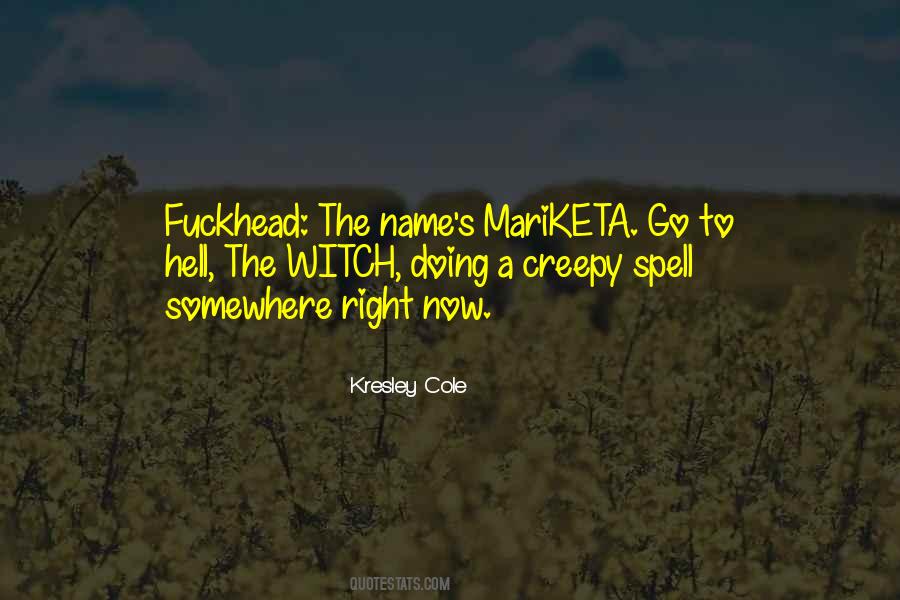 #18. Life is not about things we do or do not have to do; it's about doing what we should do, about doing the right thing. - Author: Quinn Loftis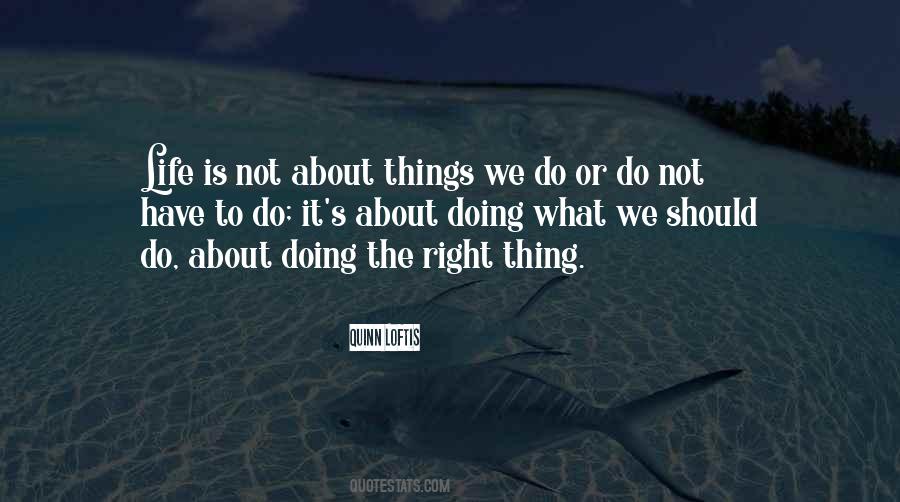 #19. Let's do, let's get some handles. I don't know why I'm talking about this stuff. Look, I love you and I miss you and you're doing the right thing. It's costing you too, I know that. I'm here and I'll be here whenever you come home, or I'll meet you anywhere, anytime. That's what. - Author: Thomas Harris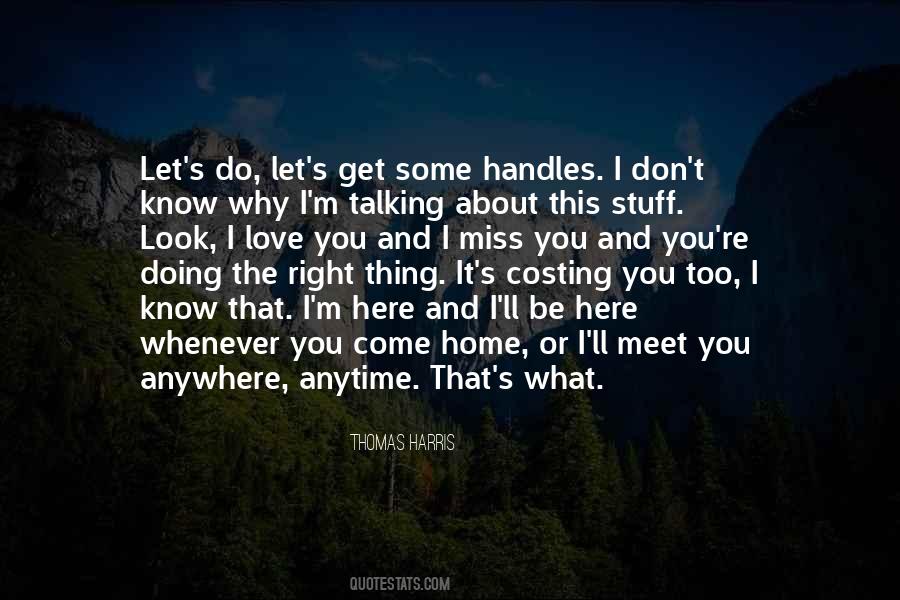 #20. You are to make your own way prosperous ... Even God cannot do it for you; you will have to do it yourself by doing the right things; taking right decisions, talking right, thinking right, being at the right place with the right-kind of people and by reading the right materials. - Author: Jaachynma N.E. Agu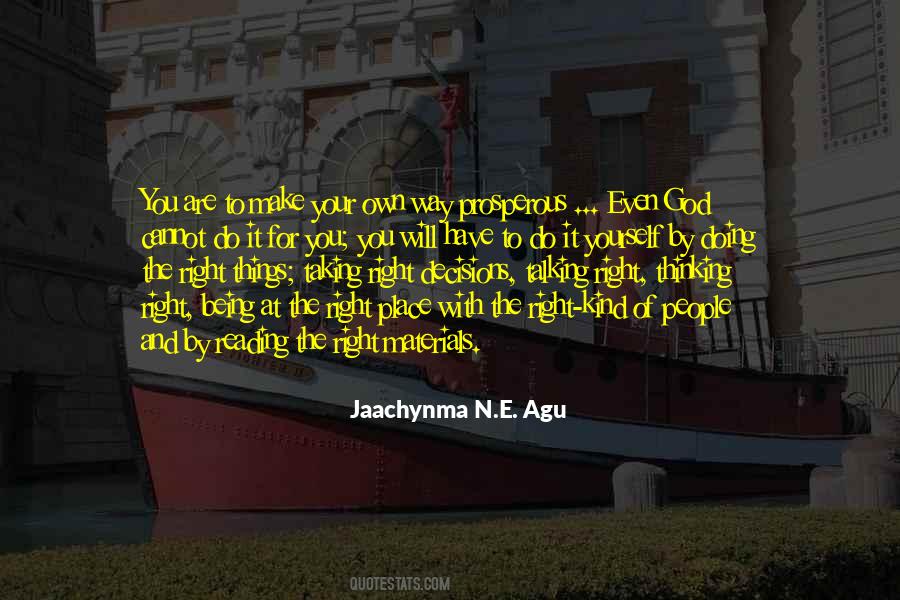 #21. You've won all creation. It's yours to do with it as you please- and you discover what pleases you most is doing the right thing for all creation in moment after moment. - Author: Brad Warner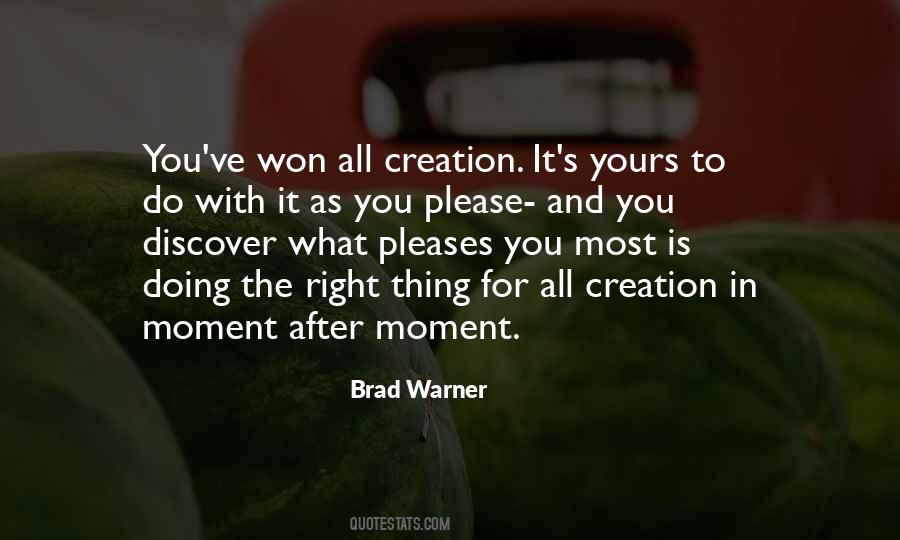 #22. Nobody learns anything by doing everything right. - Author: Linda Robinson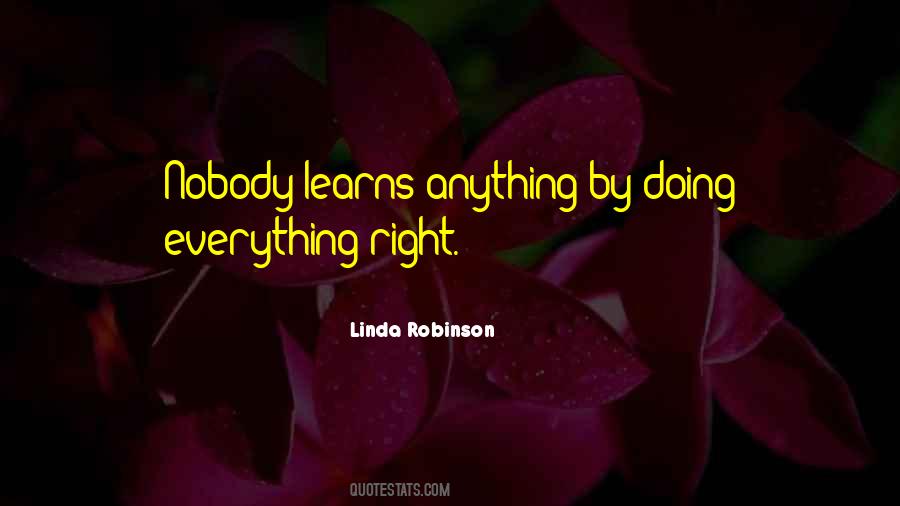 #23. I hate to sound sort of diffident about it but it strikes me that a lot of people on the right have got active lives and are doing other things. - Author: Karl Rove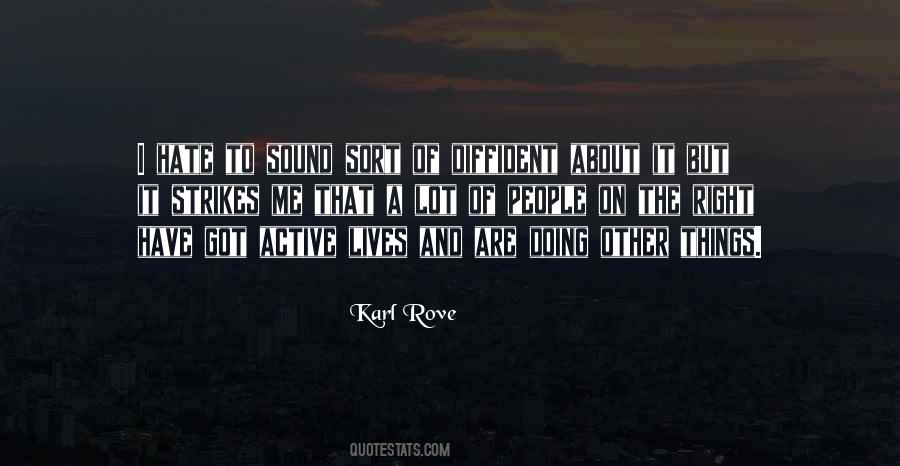 #24. There was no question that in our house doing well, doing it the right way, school, sports - there was an expectation. One of the things I've taken away from that is that I'm unafraid to expect a fair amount from people. It makes them so much better - you're doing them a disservice if you don't. - Author: James McNerney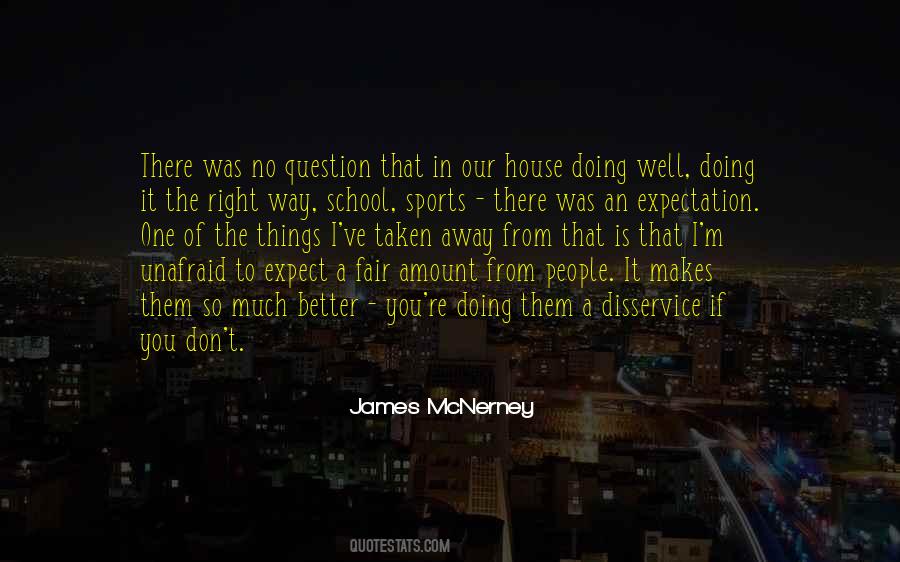 #25. We're going to have to look very seriously at what we're doing right or wrong because we just keep losing. - Author: Eddie Bernice Johnson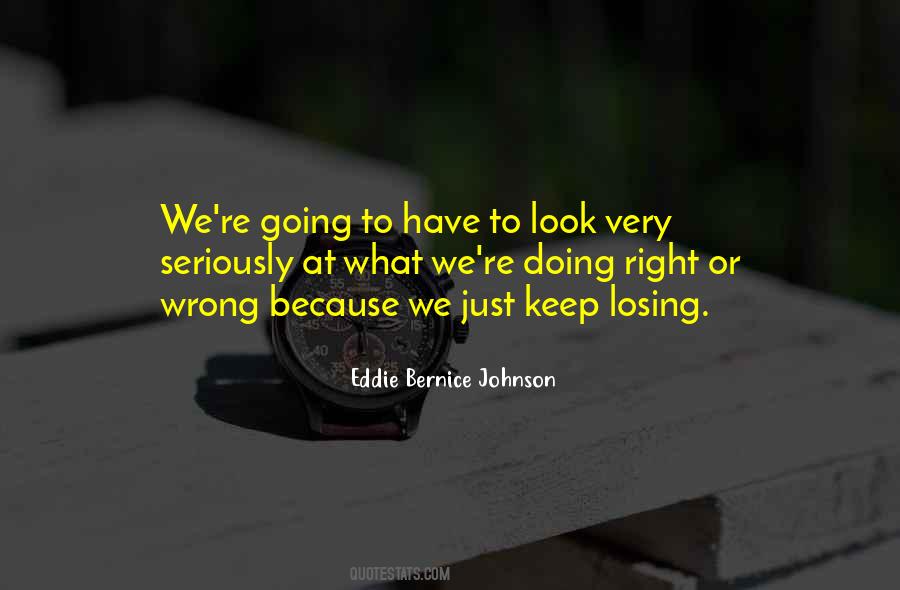 #26. All right," Marcus said, like he was doing me a grave favor. "But take it slow, sister. Any sudden moves and we'll drop you like a used-up ho on the corner of Fifth and Bridger. - Author: Vicki Pettersson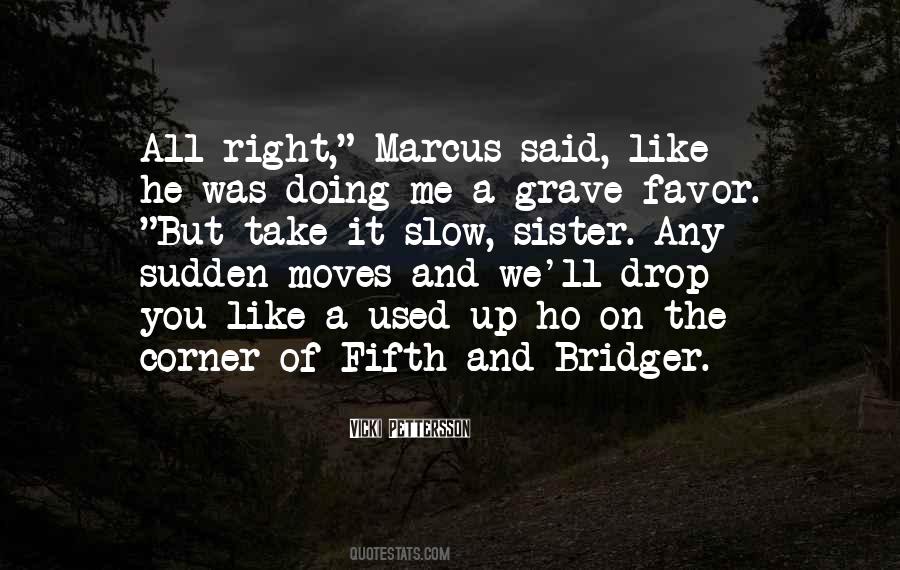 #27. Once you've postponed doing what's right, you become a big part of what's wrong. - Author: Elizabeth Kelly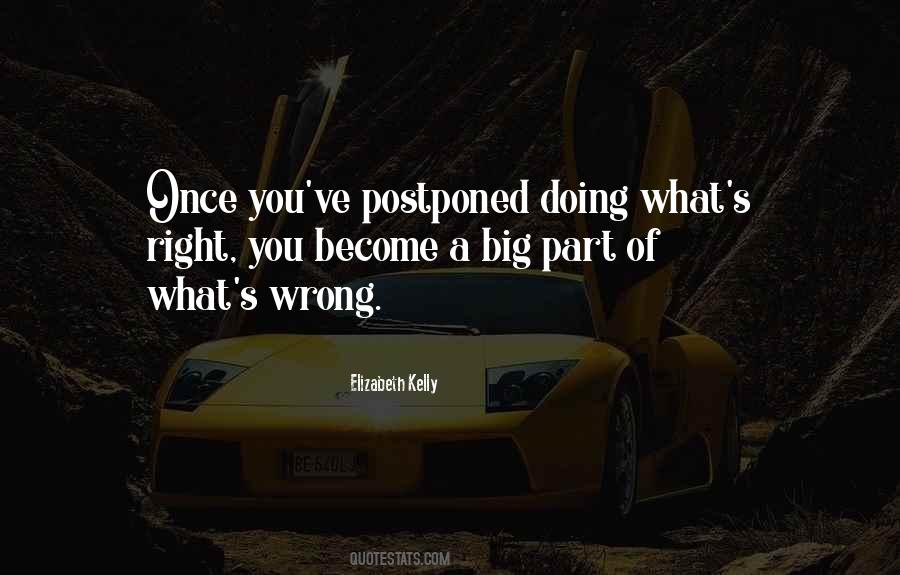 #28. Networking isn't synonymous with partying. If you're doing it right, partying seems libraryesque in comparison. - Author: Jarod Kintz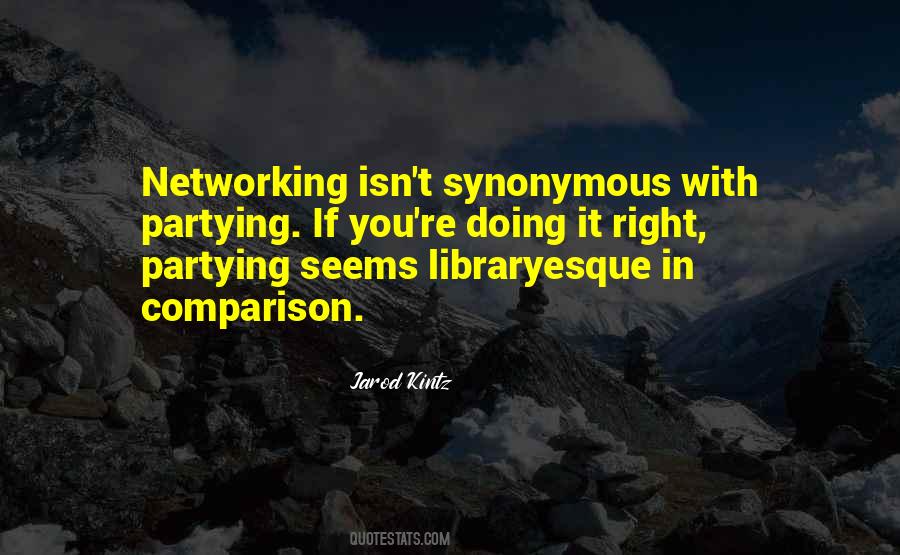 #29. The brutal truth is, we're scarcely 'educating' children at all. Even if you overlook the guilt, fear, bigotry, and dangerous anti-intellectual flapdoodle being funneled into young brains by schools on the religious right, what we're doing is training kids to be cogs in the wheels of commerce. - Author: Tom Robbins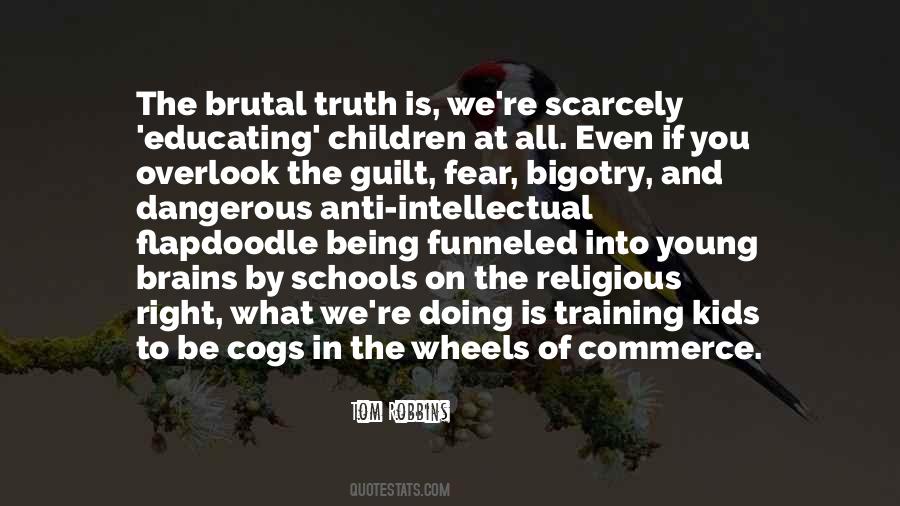 #30. She knew it was the right decision, even though she was still scared. Doing nothing would achieve nothing. - Author: Tim Bowler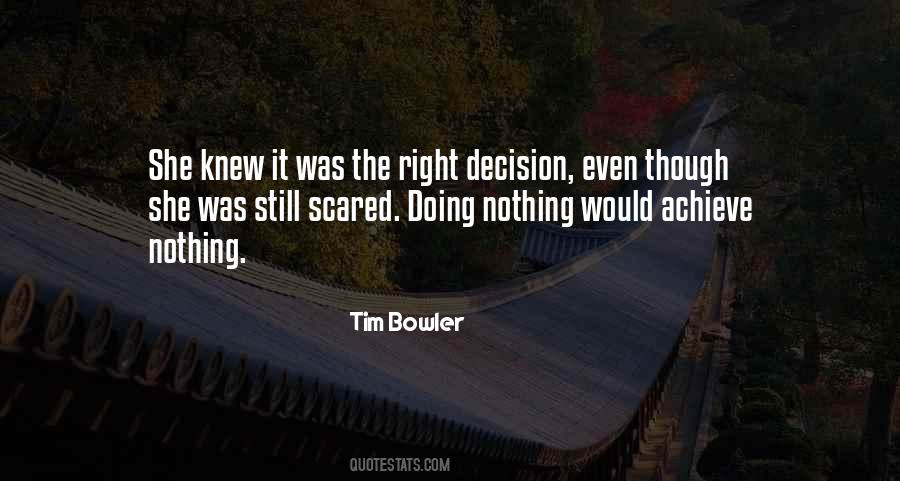 #31. I really enjoy acting, and whether it's TV or films, I feel lucky to be doing it at all. In the end, I'd love to do films, but I'm not going to work just to do work. I only want to do something that I feel right about. - Author: Amanda Bynes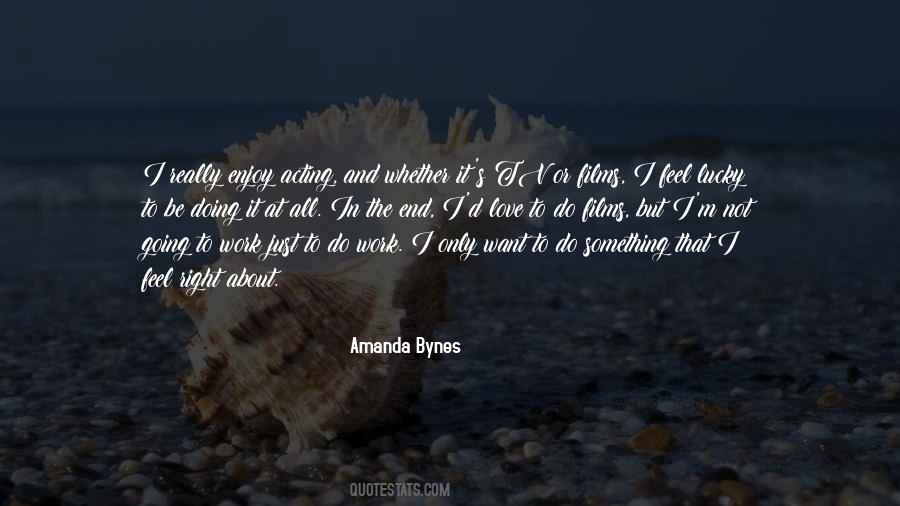 #32. When you do something moral and upright and wander off by yourself, well, everyone doesn't always follow you, do they, right? You pat yourself on your sanctimonious back but it doesn't mean the crowd rewards you for doing what you think is right. - Author: Amity Shlaes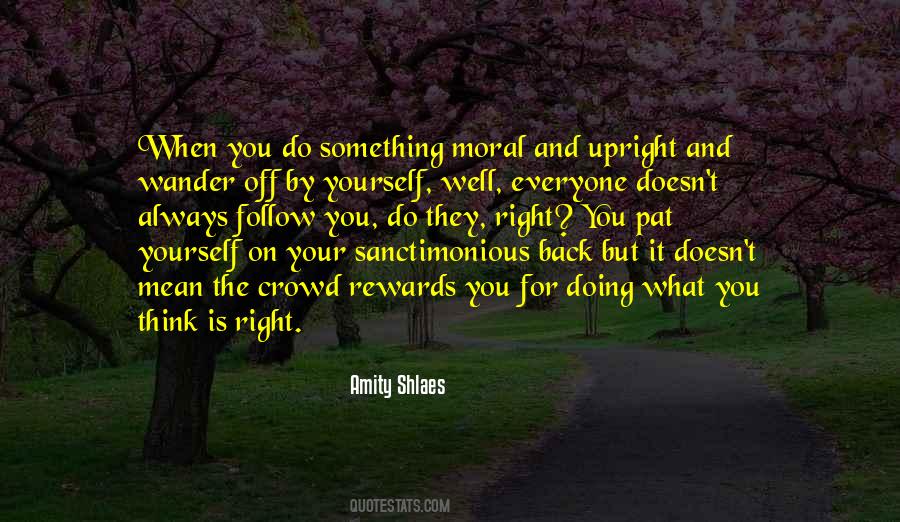 #33. But in the new (math) approach, the important thing is to understand what you're doing, rather than to get the right answer. - Author: Tom Lehrer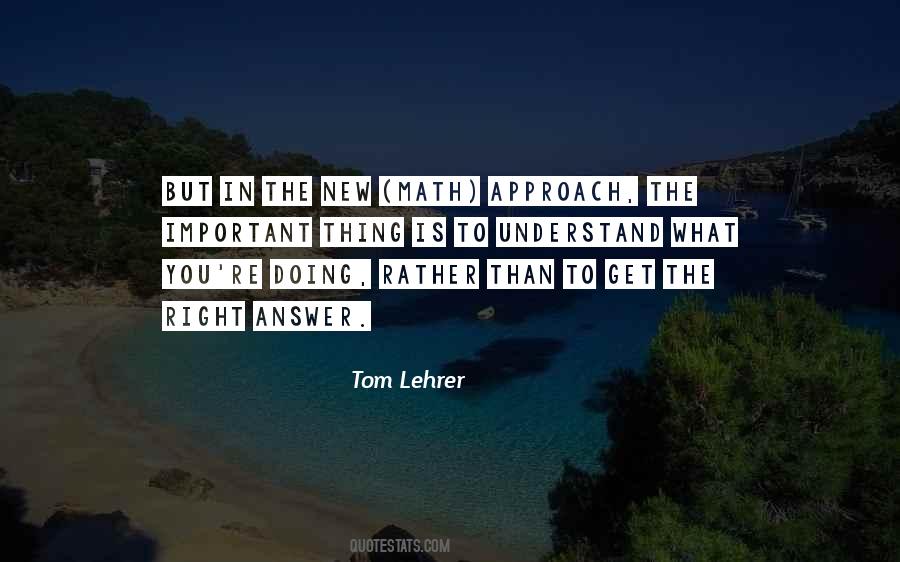 #34. The more efficient you are at doing the wrong thing, the wronger you become. It is much better to do the right thing wronger than the wrong thing righter. If you do the right thing wrong and correct it, you get better. - Author: Russell L. Ackoff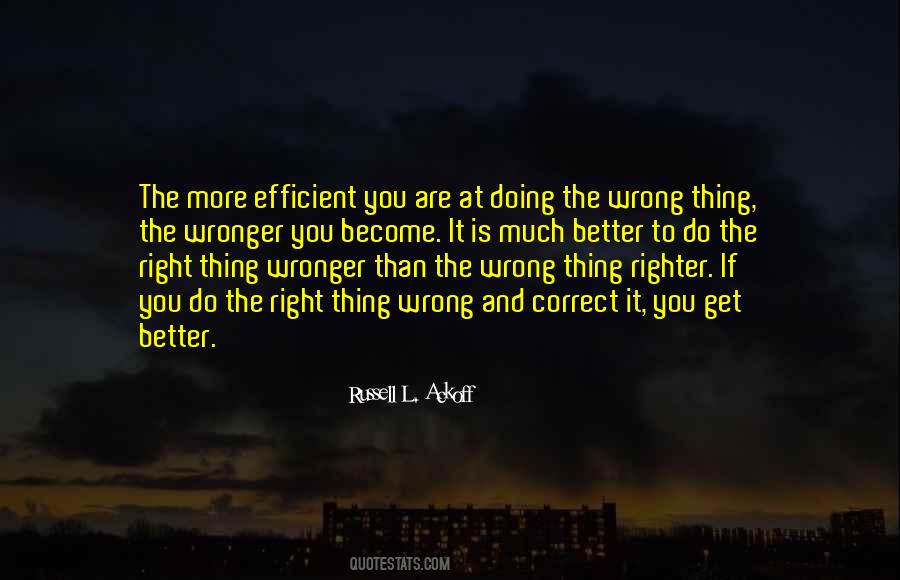 #35. Both Miss Lavinia and Miss Clarissa had a superstition, however, that he would have declared his passion, if he had not been cut short in his youth (at about sixty) by over-drinking his constitution, and over-doing an attempt to set it right again by swilling Bath water. - Author: Charles Dickens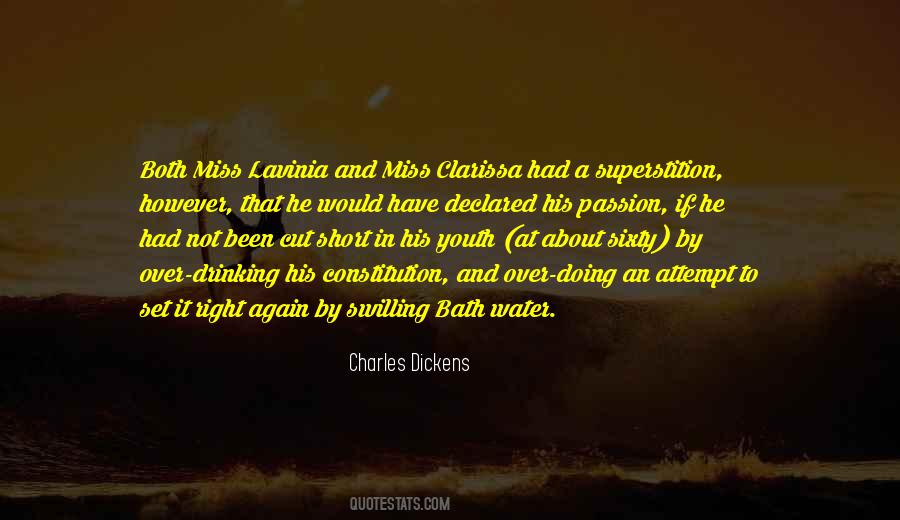 #36. The secret of success lies not in doing your own work, but in recognizing the right man to do it. - Author: Andrew Carnegie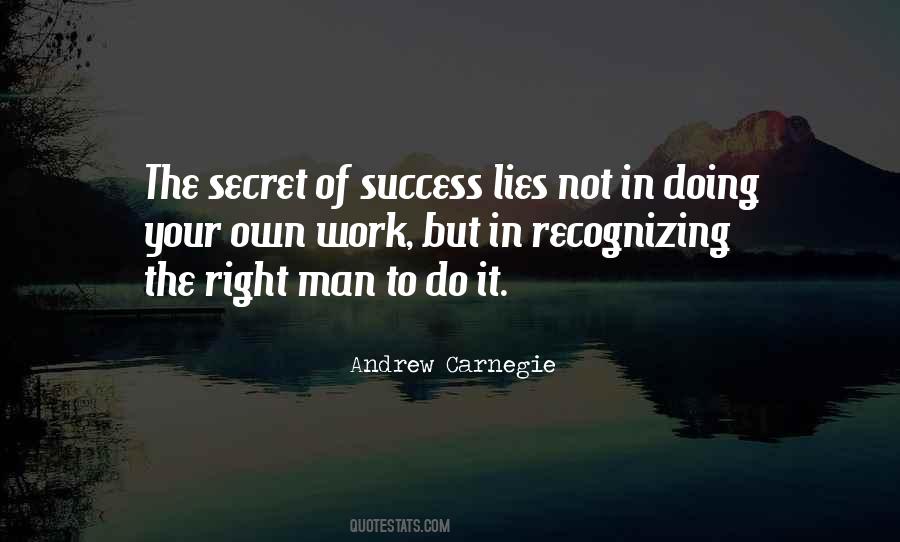 #37. Ask the guys who are doing serious triathlons if there are any limits to what can be done. The limit is right here. You've got to get physically fit between the ears. Muscles don't know anything. They have to be taught. - Author: Jack LaLanne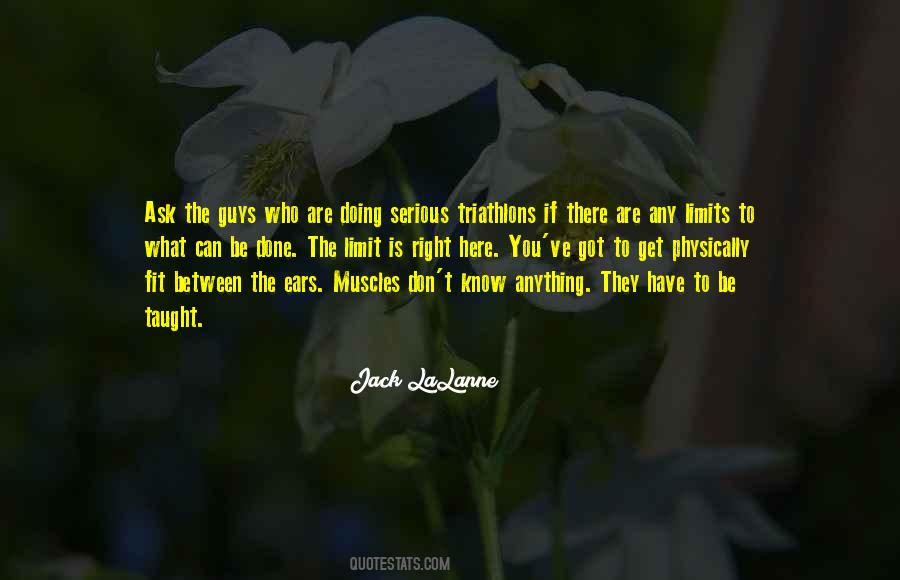 #38. Life comes down to honesty and doing what's right. That's what's most important. - Author: Bob Feller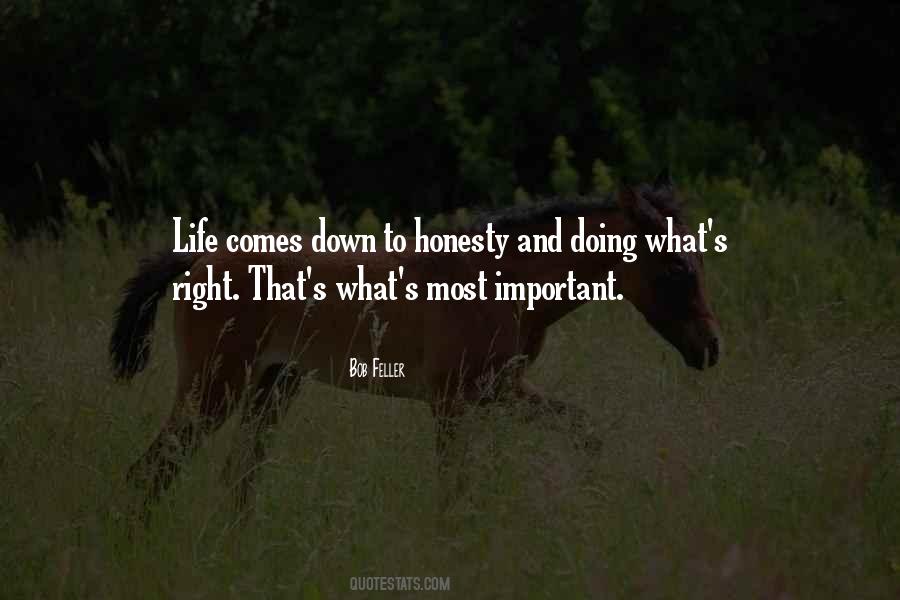 #39. Country music is the combination of African and European folk songs coming together and doing a little waltz right here in the American south. They came together at some cotillion, and somebody snuck a black person into the room, and he danced with a white lady, and music was born. - Author: Ketch Secor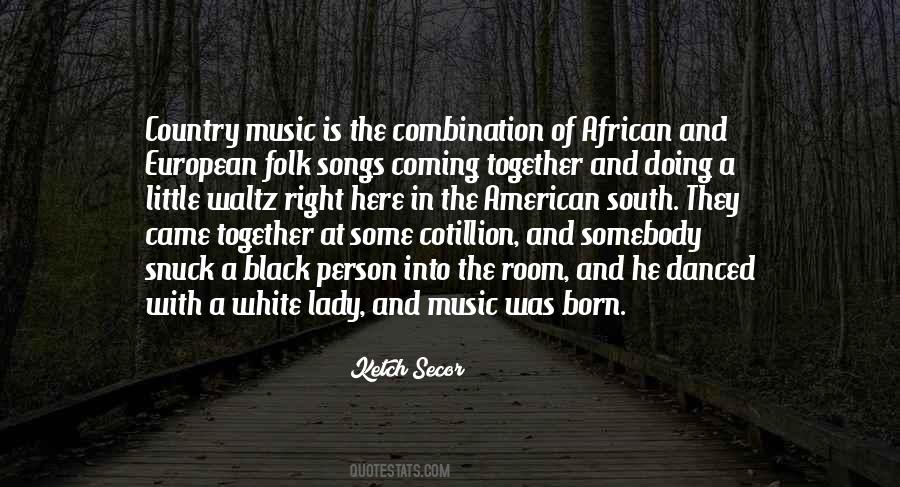 #40. I love to learn. But just going back into school because of what I do I'm so set in this path that I'm on right now and I'm so excited about it and I love doing it so much that I like to focus myself on one thing at a time. - Author: Hayden Panettiere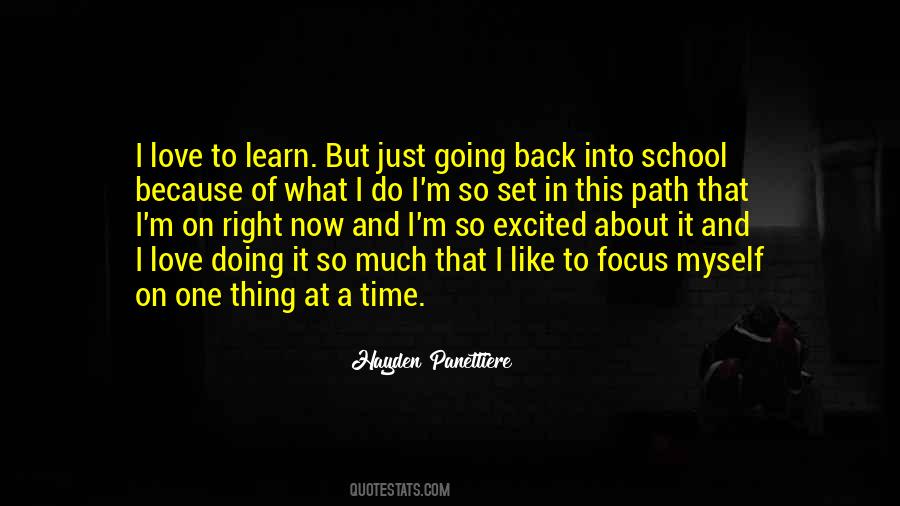 #41. Oh, honey, being scared but still doing the right thing is what being brave is all about. - Author: Kerry Alan Denney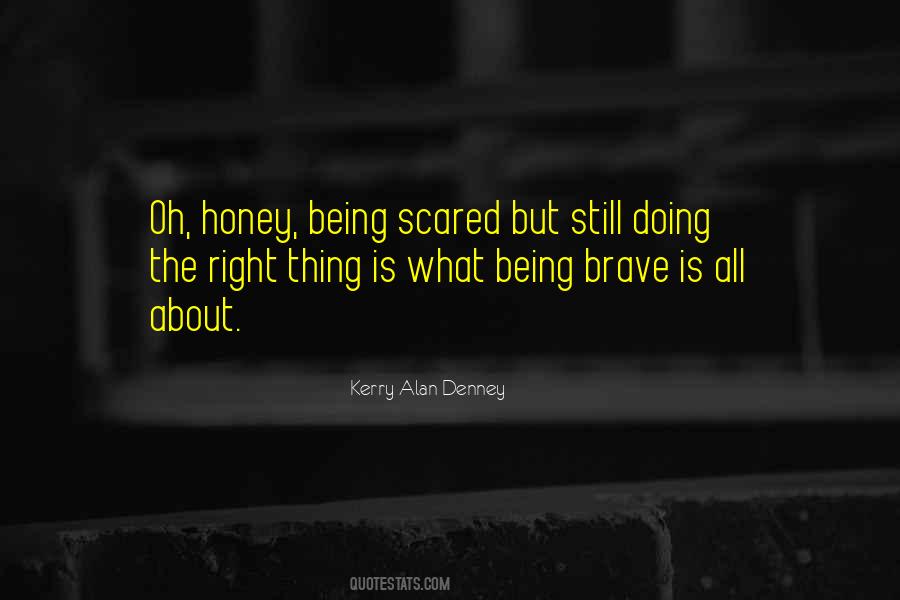 #42. Becoming a man means doing the right thing even though it may be hard or difficult. Boys do what is easiest. A man does what is right, whether easy or not. - Author: Carew Papritz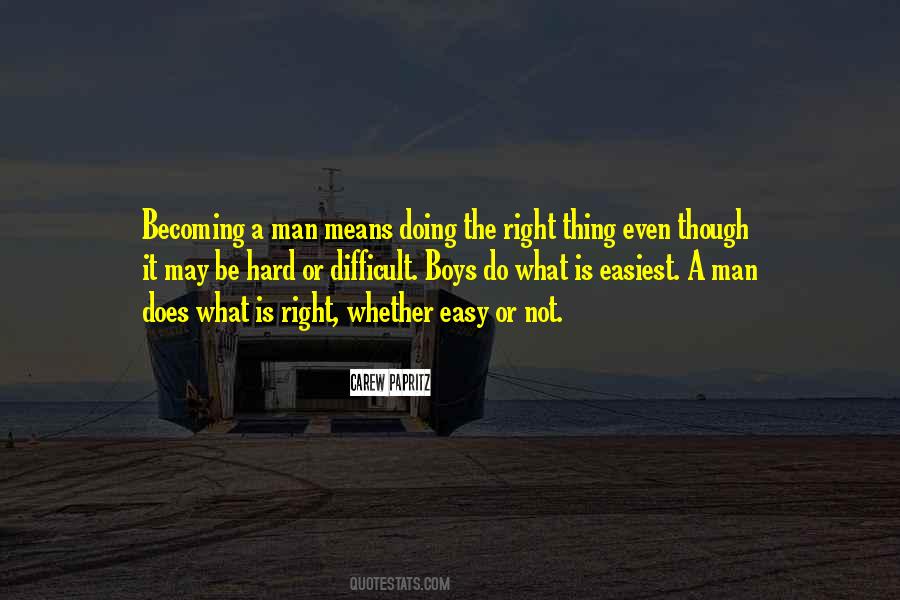 #43. Money is another pressure. I'm not complaining, I'm just saying that there's a certain luxury in having no money. I spent ten years in New York not having it, not worrying about it. Suddenly you have it, then you worry, where is it going? Am I doing the right thing with it? - Author: Dustin Hoffman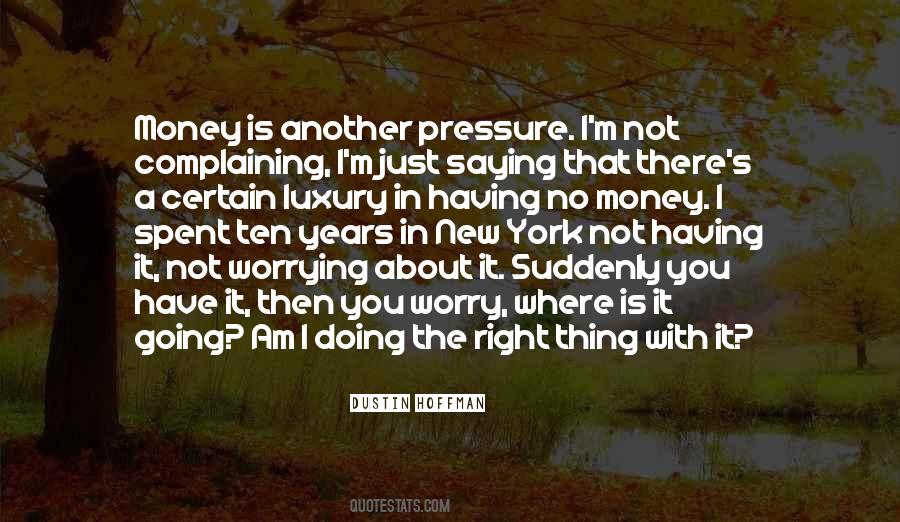 #44. He's finding out, he's doing all right, he'll go to school but nobody's going to teach him anything. - Author: William, Saroyan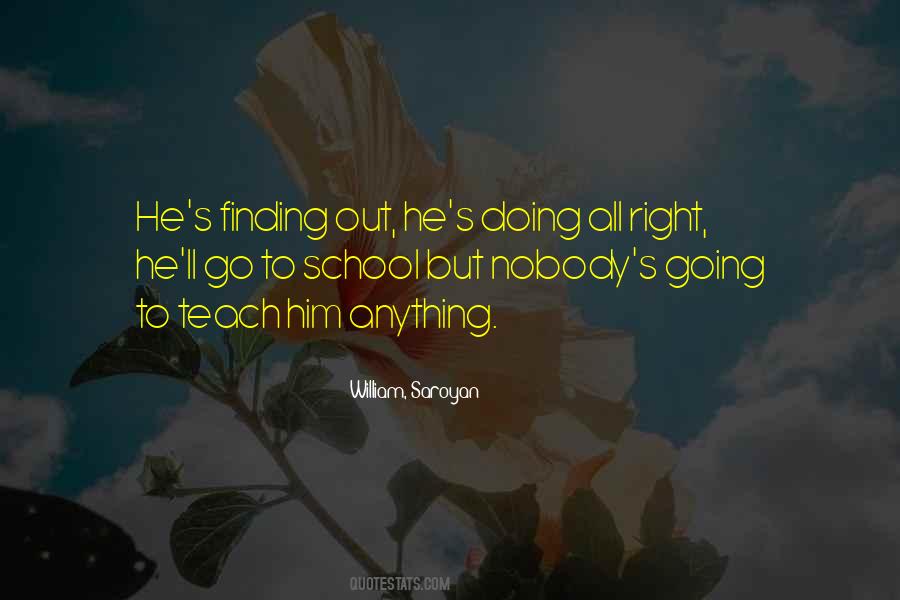 #45. I try to do something good, but when it doesn't go good, then I go like too much into myself, what I'm doing right, wrong, instead of thinking more what I have to do with the ball, - Author: Dinara Safina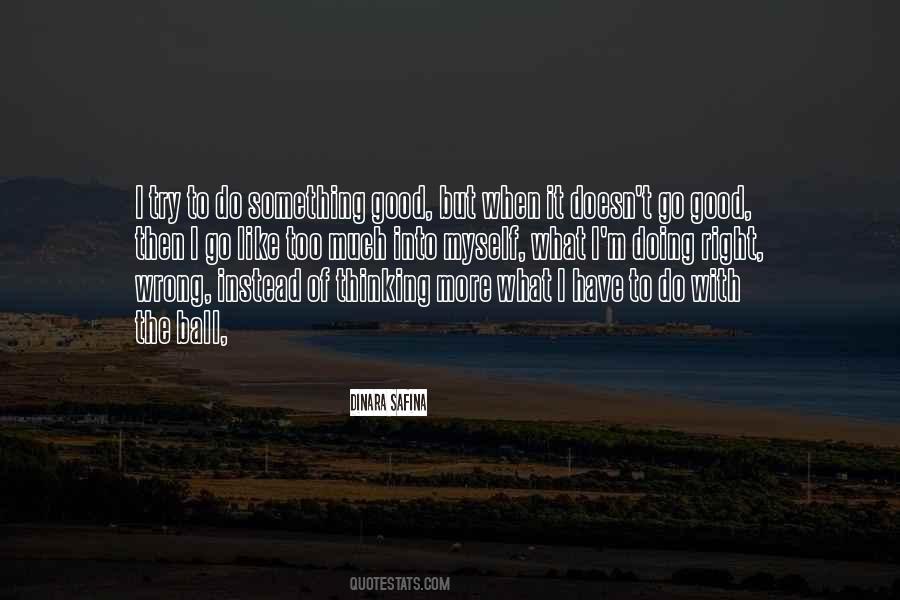 #46. If people are looking forward to my films, then I am happy, and I must be doing something right. - Author: Abhishek Bachchan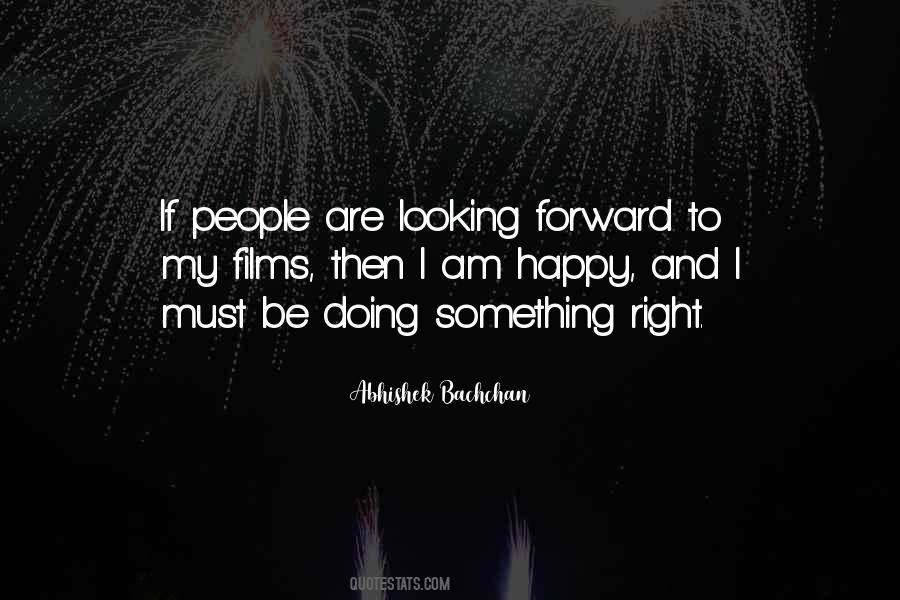 #47. When I rehearse, it ends up doing more harm than good. I think I work a little bit better when it's right off the bat. Mostly, I try to wrap my head around a role as much as I can without rehearsing and then kind of make it as fresh as possible on the day. - Author: Charlie Tahan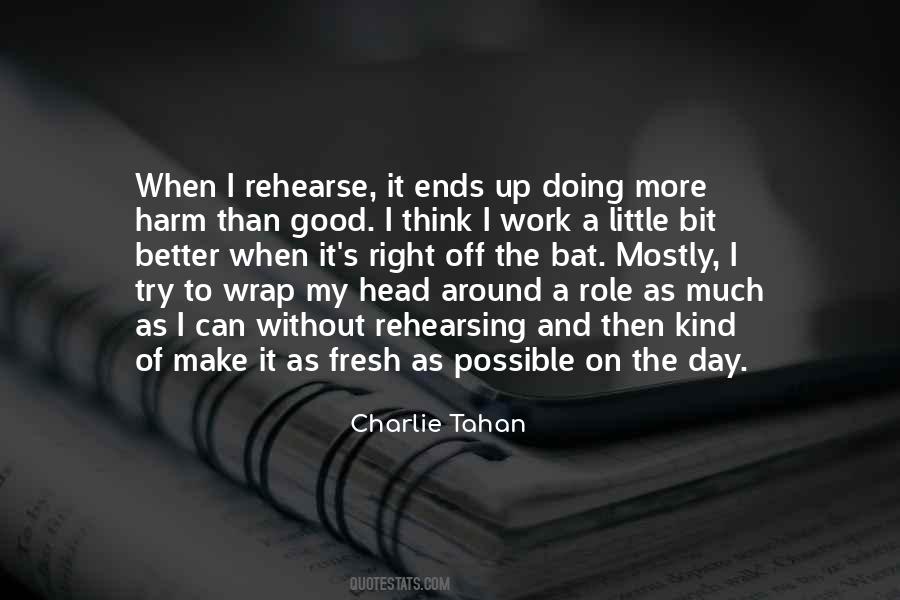 #48. There's so much negative imagery of black fatherhood. I've got tons of friends that are doing the right thing by their kids, and doing the right thing as a father - and how come that's not as newsworthy? - Author: Will Smith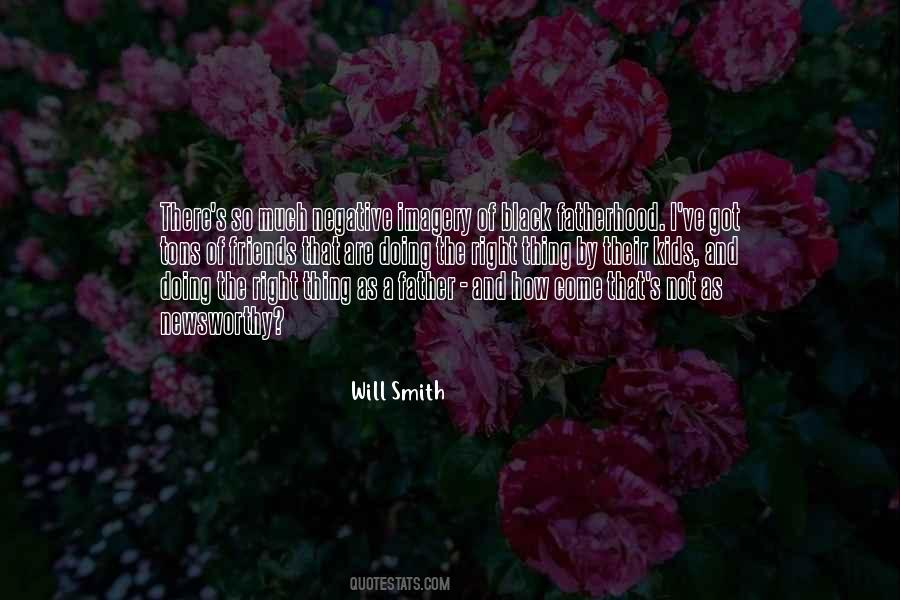 #49. If you have to do it, then you're doing the right thing. - Author: Kathy Valentine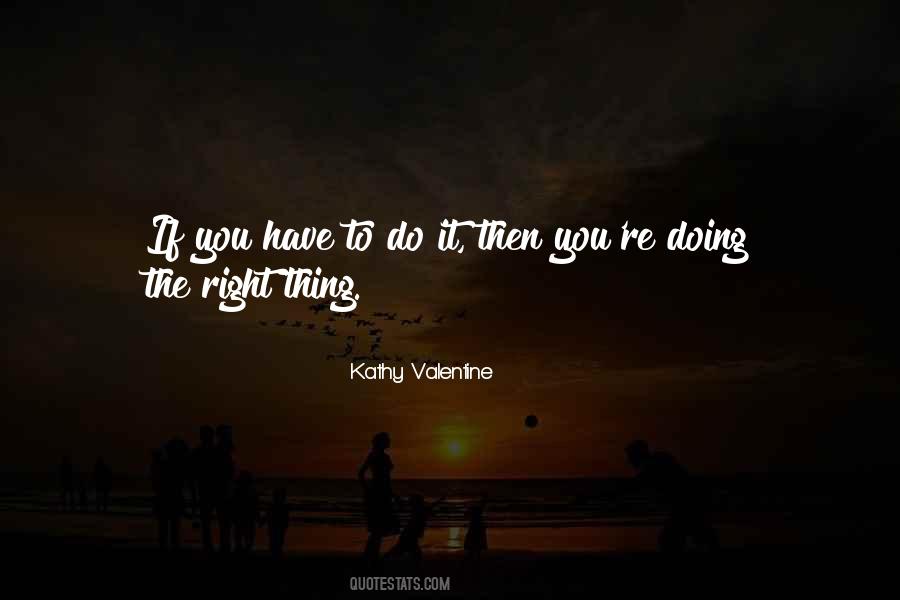 #50. There were times when I wondered if I was doing the right thing, studying when I could have been going to auditions. - Author: Eve Hewson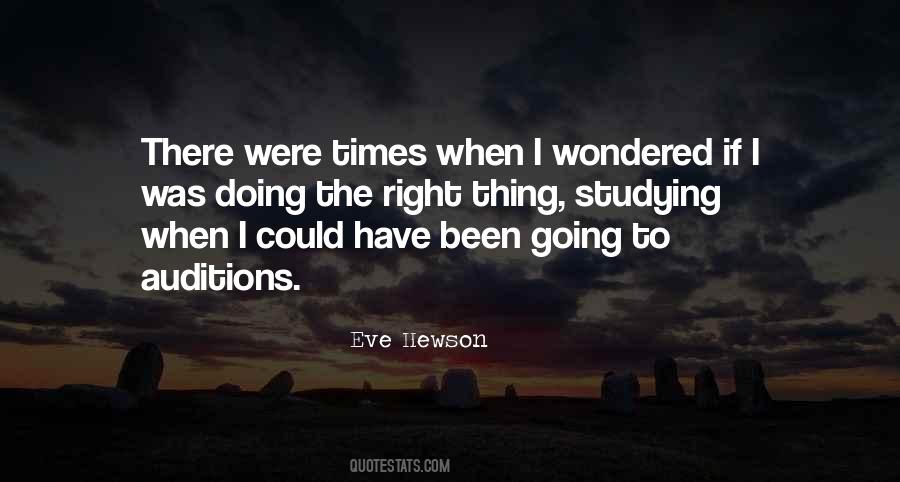 #51. According to most studies, people's number one fear is public speaking. Number two is death. Death is number two. Does that sound right? This means to the average person, if you go to a funeral, you're better off in the casket than doing the eulogy. - Author: Jerry Seinfeld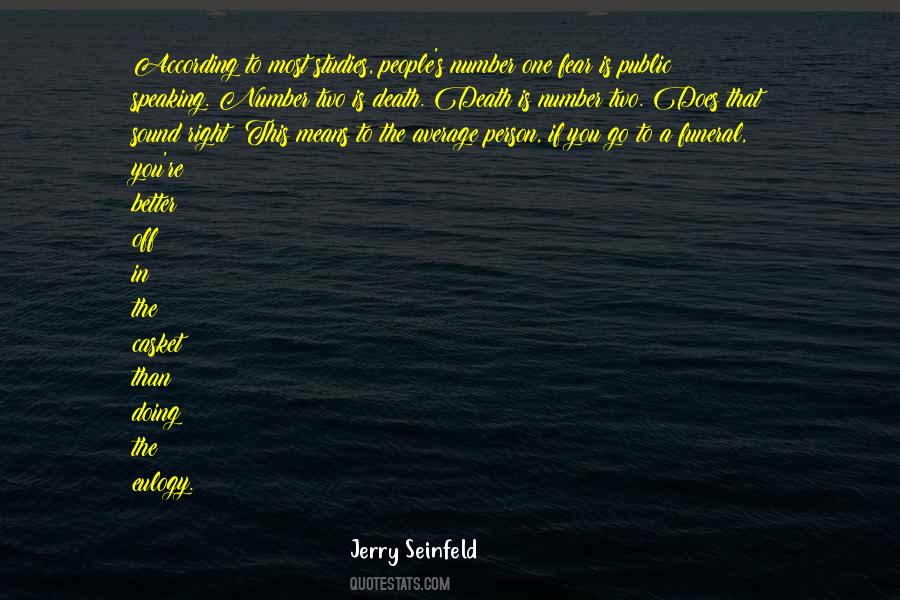 #52. (In schools) There is an emphasis on doing things right rather on doing the right things. - Author: Thomas J. Sergiovanni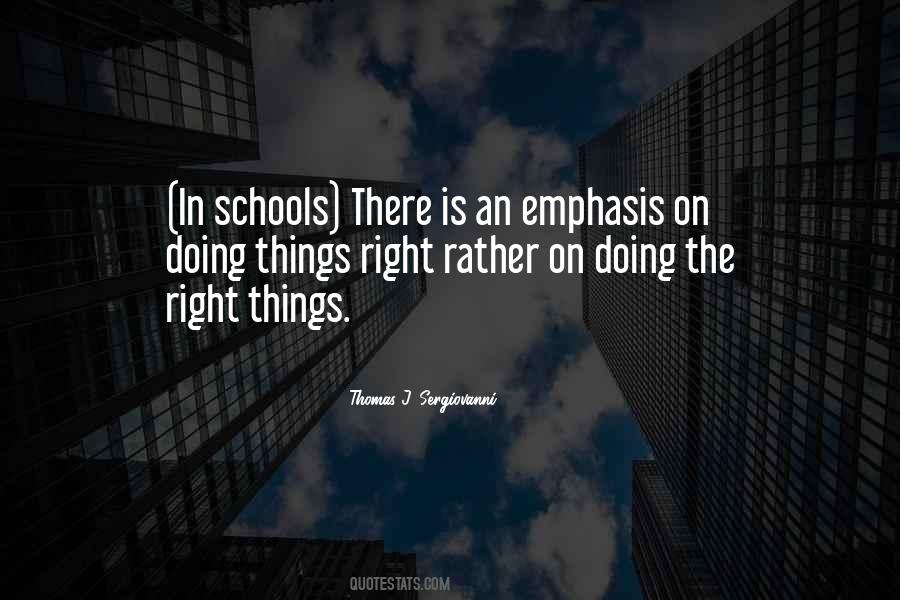 #53. All the decisions you makehow many of those decisions are based on you doing simply what's right in your own eyes, and how many times specifically have you gone to Scripture looking for the answer, with regard to anything? - Author: Paul Washer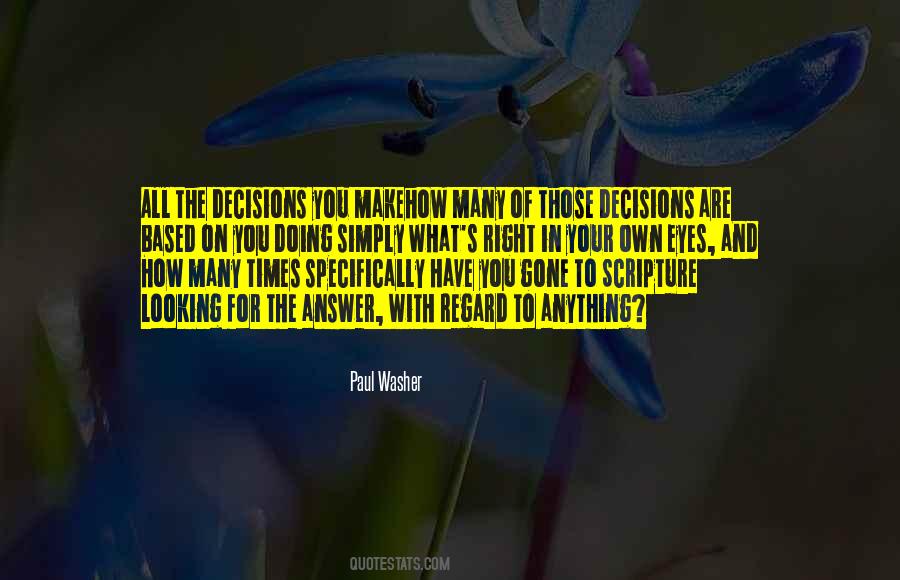 #54. The story being told in 'Star Wars' is a classic one. Every few hundred years, the story is retold because we have a tendency to do the same things over and over again. Power corrupts, and when you're in charge, you start doing things that you think are right, but they're actually not. - Author: George Lucas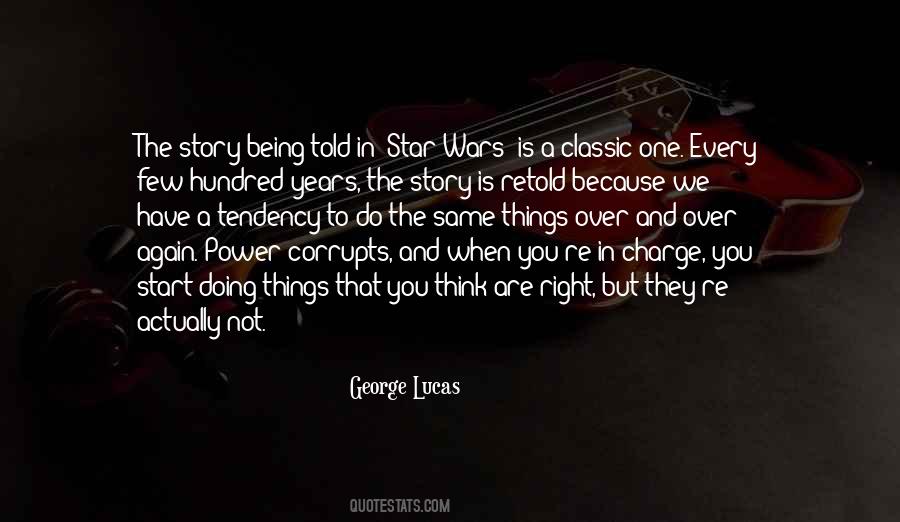 #55. Well, none of us, as far as I can see, are doing what we intended to do right now, but I think we'll make out just the same. It's a poor person and a poor nation that sits down and cries because life isn't precisely what they expected it to be. - Author: Margaret Mitchell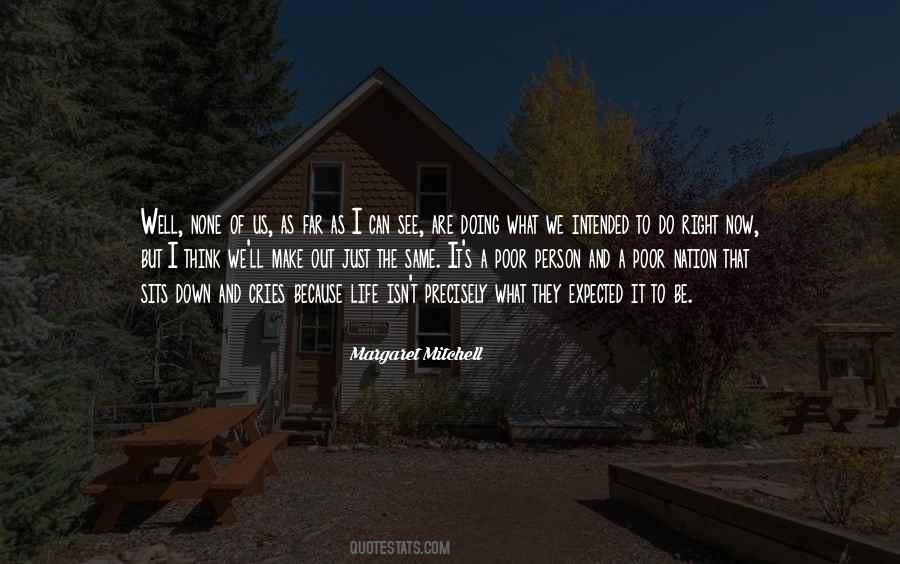 #56. Ruby is the littler one, right?" said Erika's mother in her regular voice. "How old is she? Two?" "Yes," said Clementine. "What happened? Nobody saw her fall in? Where was her mother? What was Clementine doing? - Author: Liane Moriarty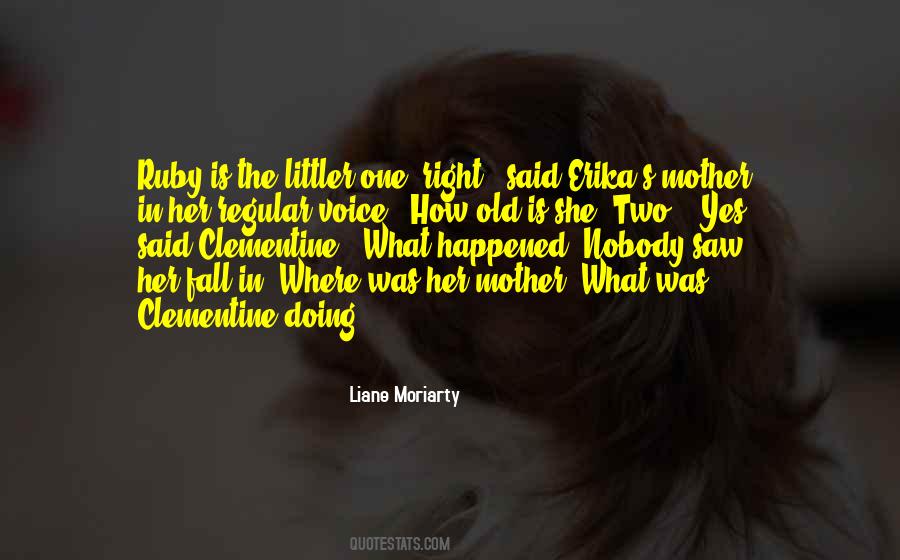 #57. Fine blunderers in ethics we are, so generally conveying to children the basic impression that pleasantness must be wrong, and right doing unpleasant! - Author: Charlotte Perkins Gilman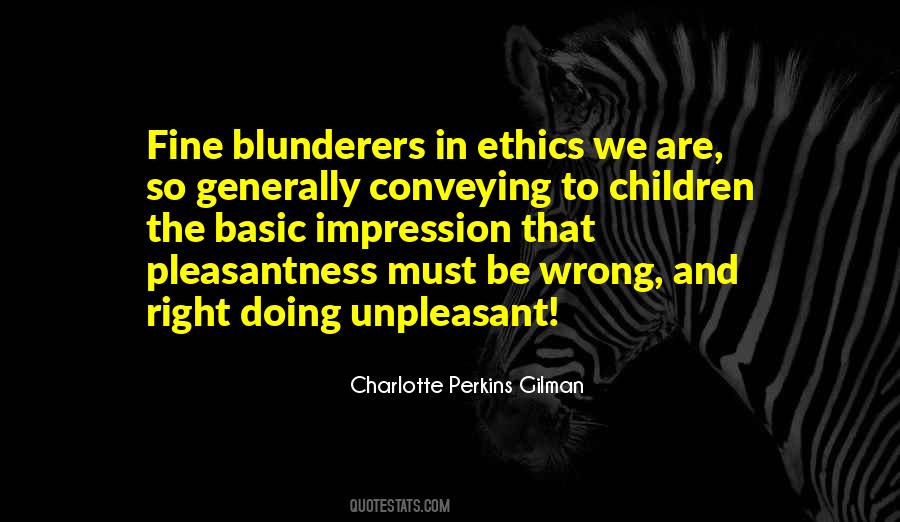 #58. You may think you're doing the right thing, and hell, you may even be right, but when you don't let anyone watch over your shoulder, how the fuck are the rest of us supposed to know? - Author: Mira Grant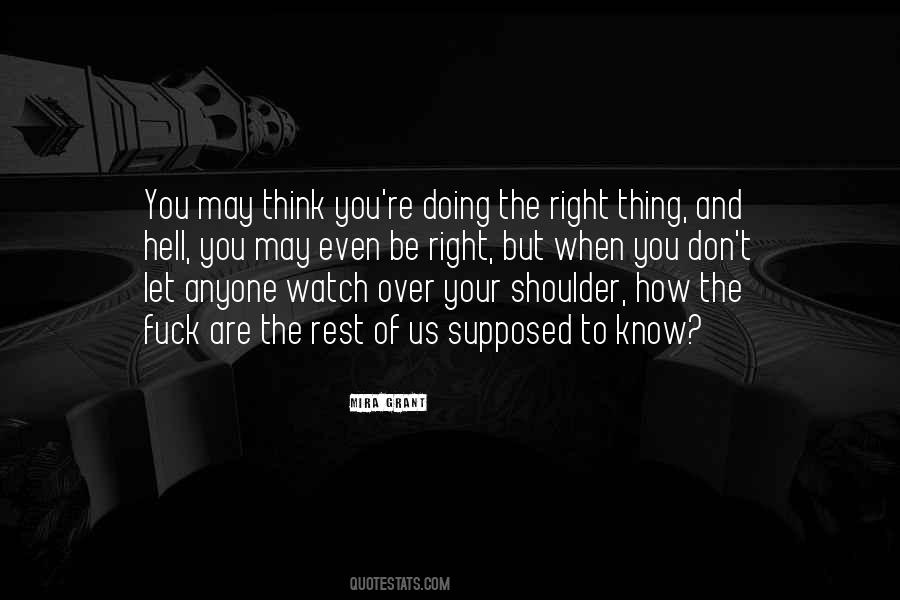 #59. When I was just starting out in the business, I used to love to watch Lorne Greene doing the Macy's Thanksgiving Day Parade. I said right then, 'That's what I want to do someday,' and it's been one dream that has come true. - Author: Willard Scott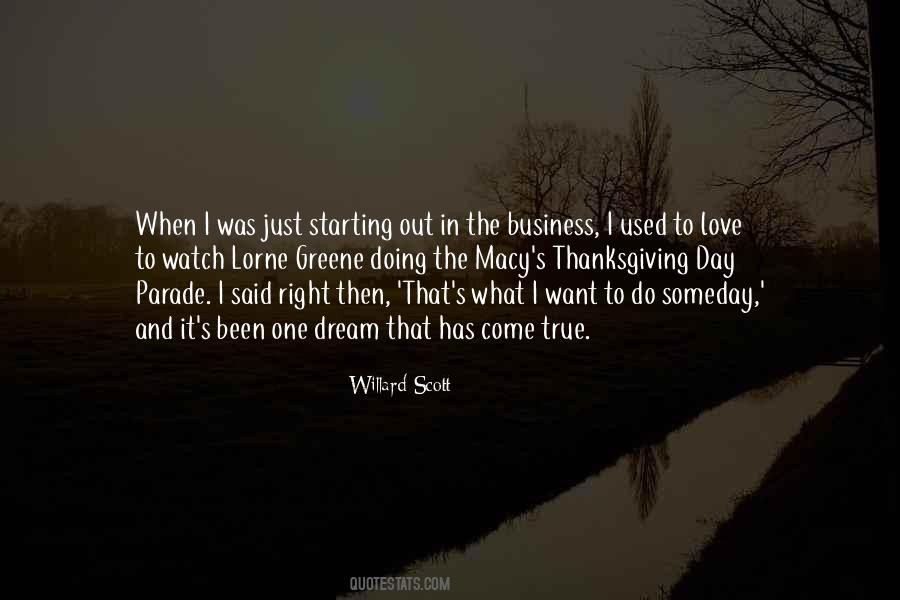 #60. You know what I know? I know that whenever someone tells you they are doing 'what's best for you', you're screwed. Those are not words you want to hear. It's right up there with 'it's not you it's me'. - Author: Caroline Hanson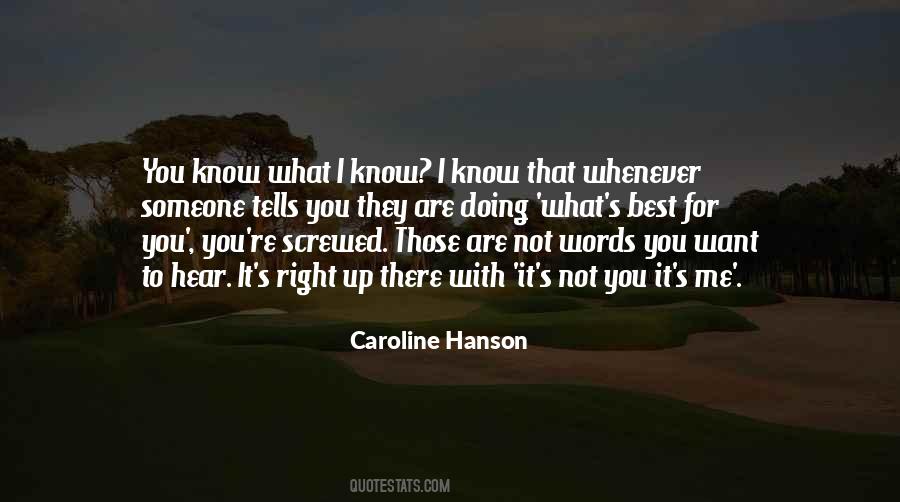 #61. True productivity is not first about efficiency - doing things right and doing them quickly - but effectiveness - doing the right things. - Author: Matt Perman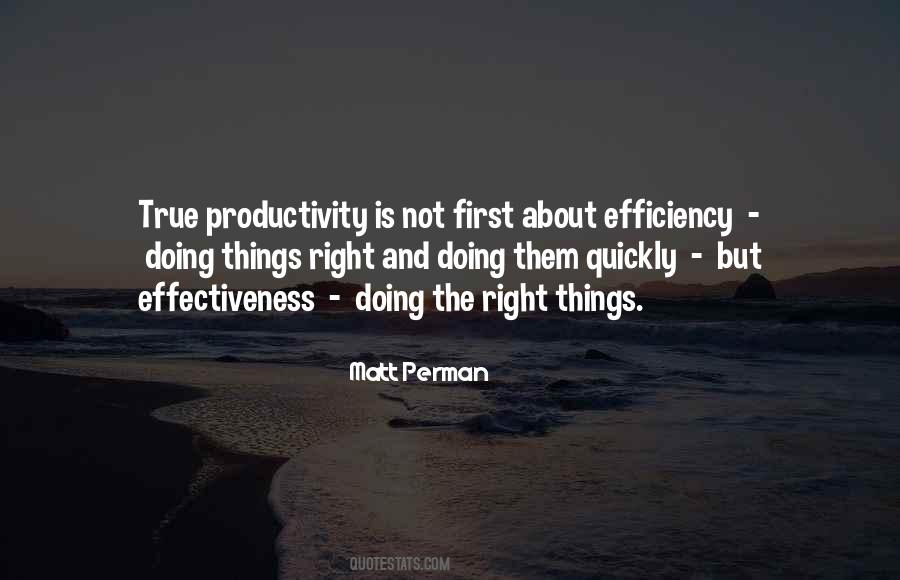 #62. I like acting too much and it's too, I'm just too busy doing that and I'm too hungry for it, to get behind the camera. I mean, unless I could act in it, too. I don't think I've got the right brain. I'm too disorganized. - Author: Rachel Weisz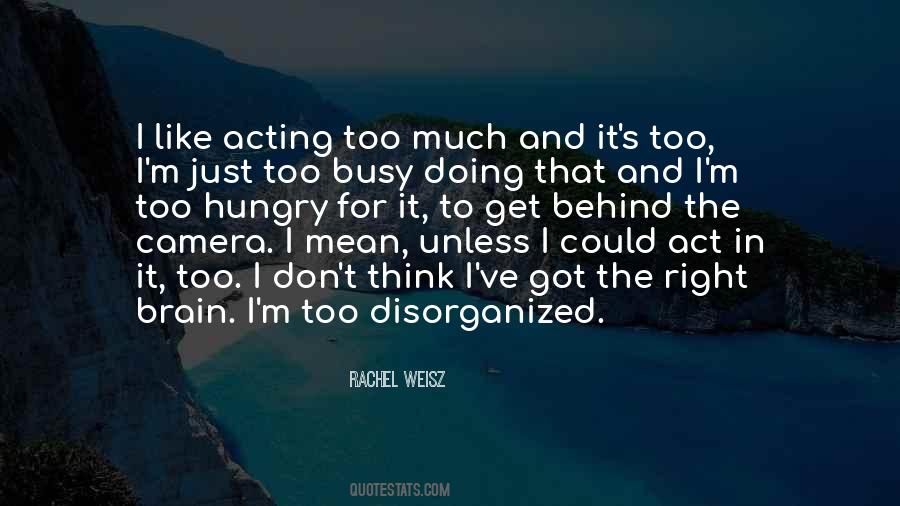 #63. No matter how extreme things get, it still has that ring of truth about it that backs the characters - even though they're despicable and what they're doing isn't right you still care for their fate. - Author: Andy Serkis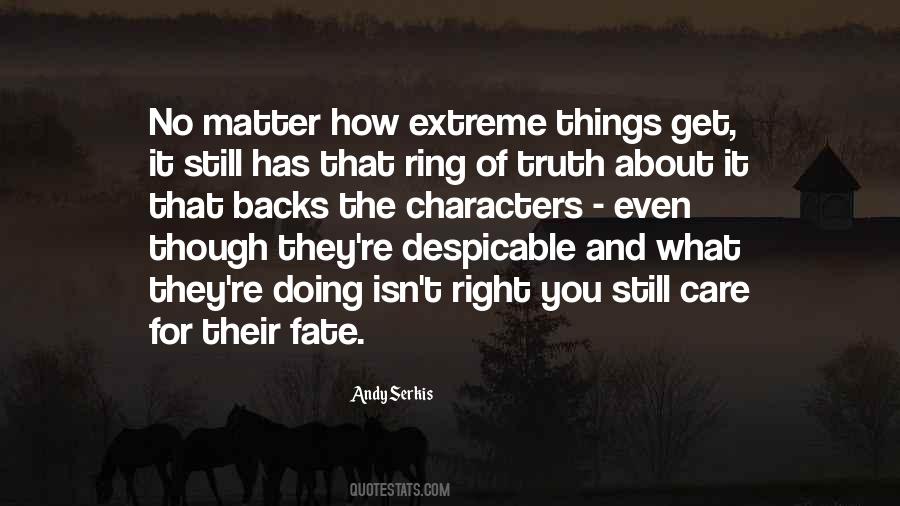 #64. You can't be right by doing wrong; you can't be wrong by doing right. - Author: Thomas S. Monson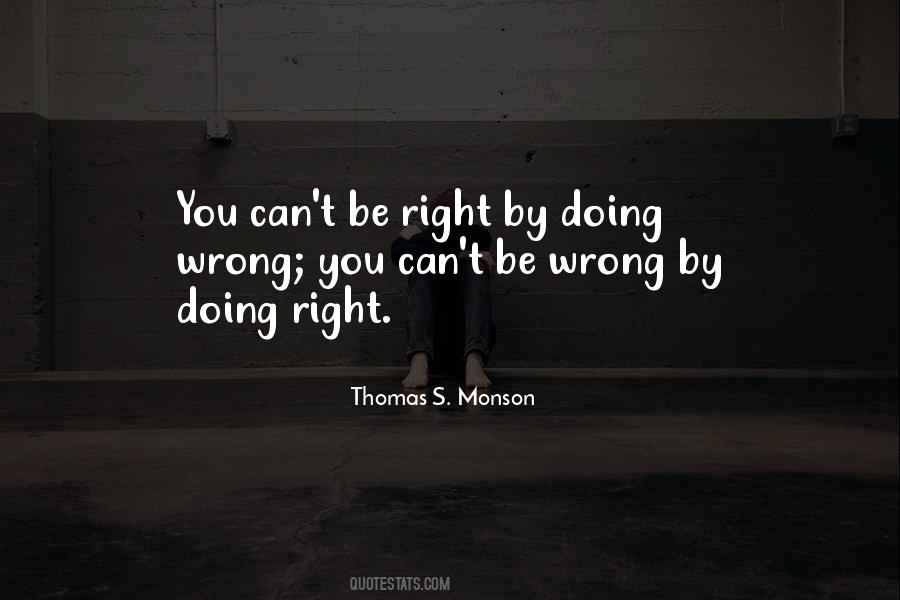 #65. Be the hero of your children's story. Never let them believe for a minute that honor, courage and doing what is right is only reserved for other fathers and mothers. - Author: Shannon L. Alder
#66. Most of the time most people know the right thing to do ... its the doing of it that gives them trouble - Author: Harry S. Truman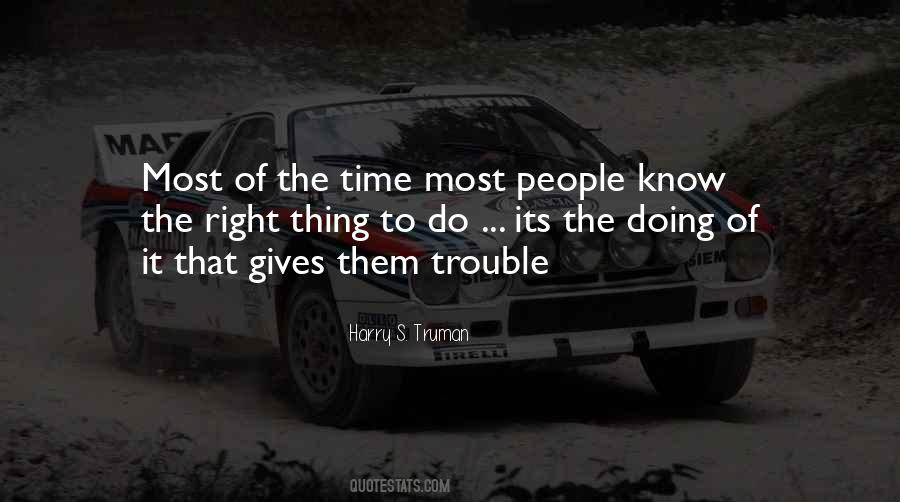 #67. Doing the right thing is fun. If nothing else, it surprises people. - Author: Thomas Sowell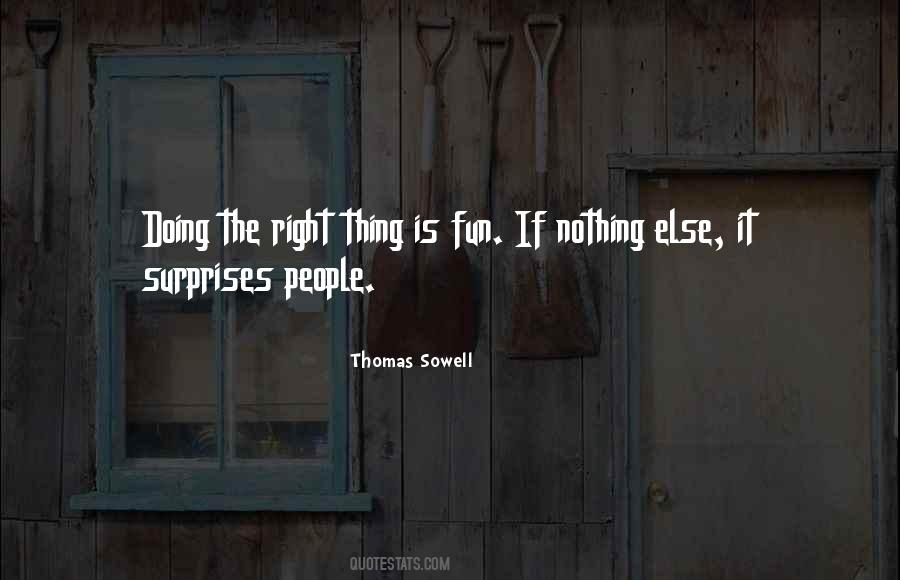 #68. You know your duty and you are doing it. It isn't your fault if Althea can't appreciate that. - Author: Robin Hobb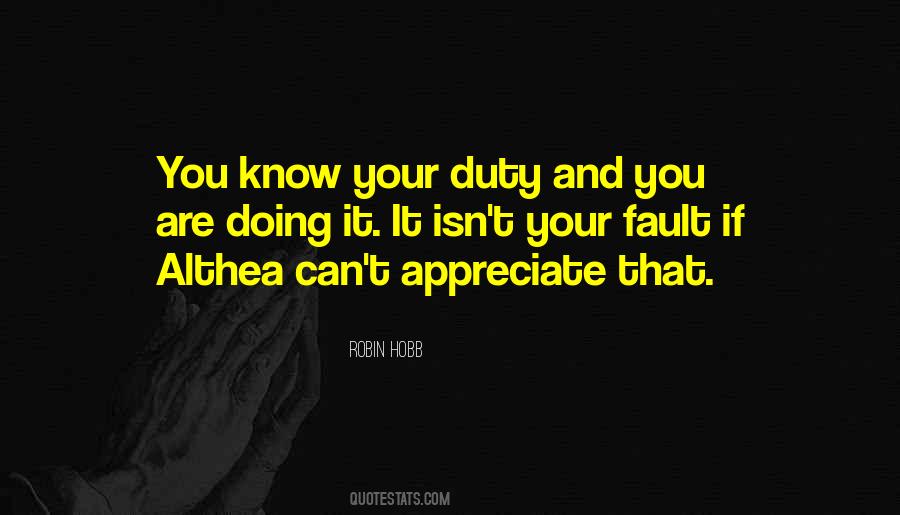 #69. There's no statute of limitations on doing what's right. - Author: Louie Gohmert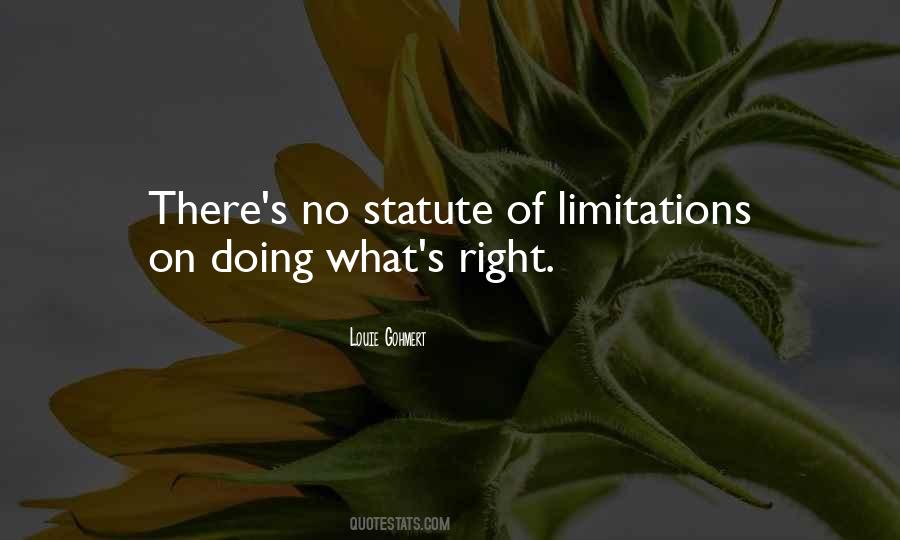 #70. IF YOU'RE DOING SOMETHING THAT TERRIFIES YOU, MOST LIKELY YOU'RE DOING THE RIGHT THING. - Author: Amber Tamblyn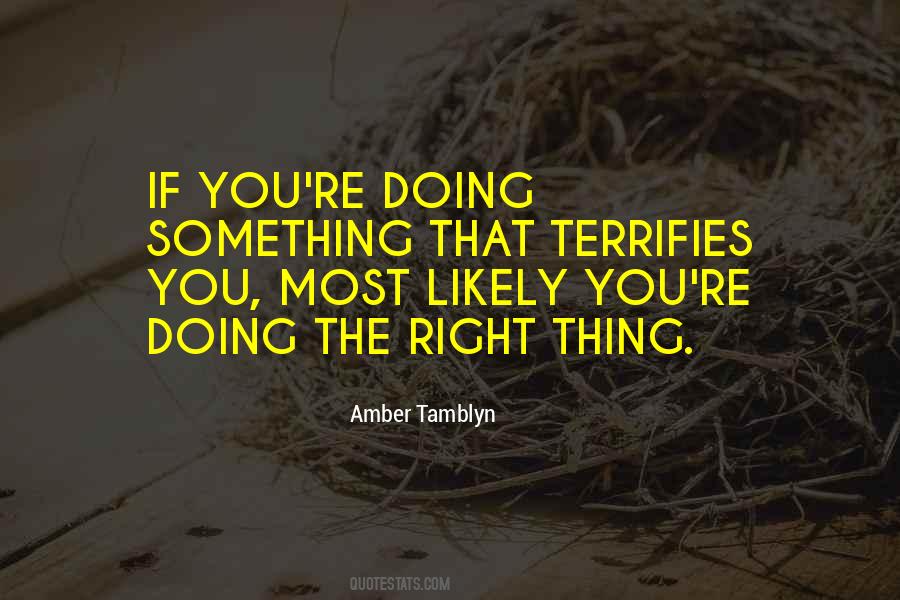 #71. Obeying orders just to obey is the mark of a person who has ceased to think. Remember, it is better to suffer for doing what is right rather than for doing what is wrong. - Author: Ilsa J. Bick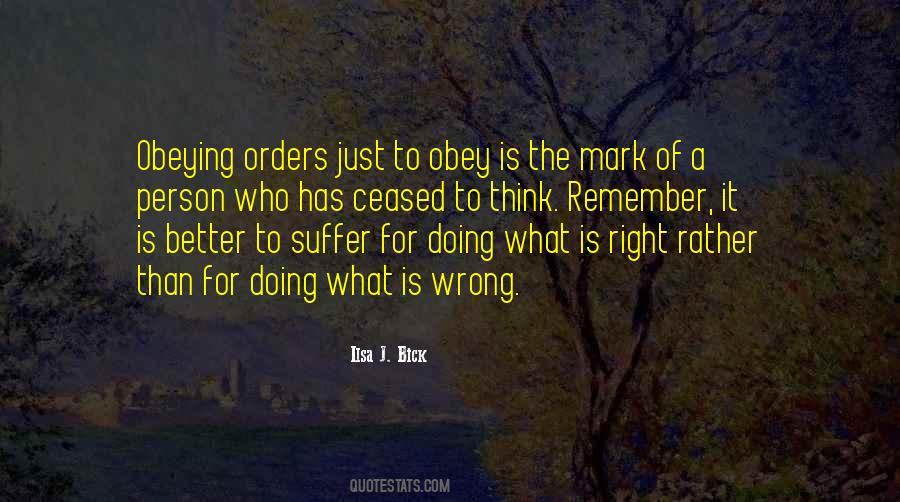 #72. Do not let go of your right to make your own decisions, because by doing so you are letting go of who you really are. - Author: Sameh Elsayed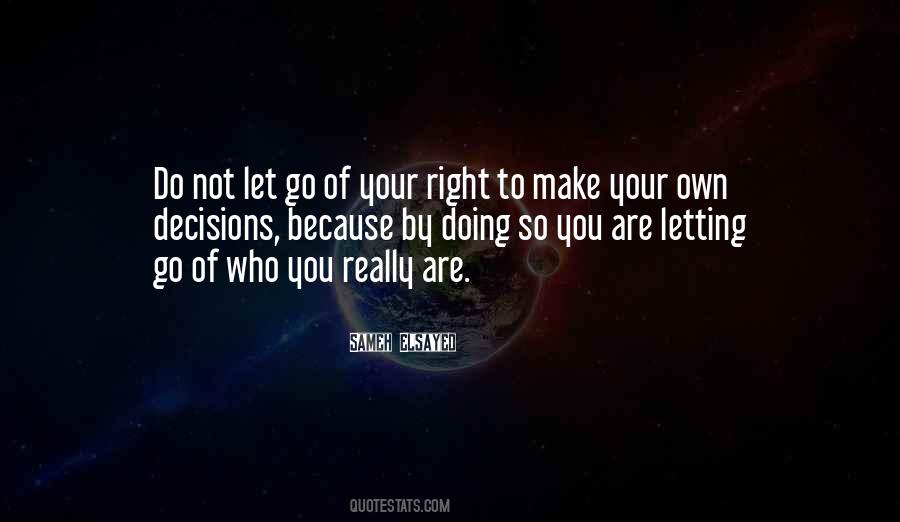 #73. Evil is a broad church. There are so many different ways to be evil. Sometimes it's fun to be the guy who doesn't know that he's bad, like the character I played in True Blood. He was pretty angsty about it, but he thought he was doing the right thing. - Author: James Frain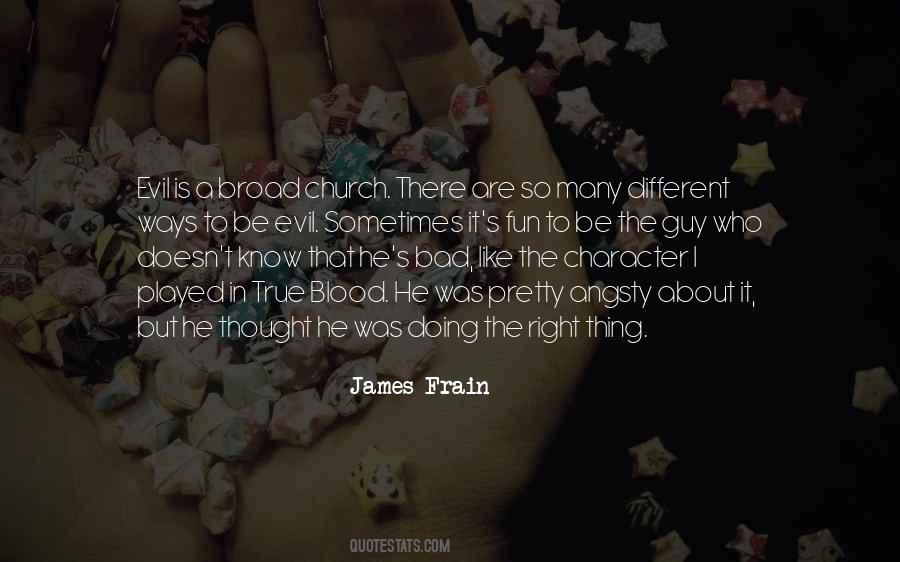 #74. I did toy with the idea of doing a cook-book ... I think a lot of people who hate literature but love fried eggs would buy it if the price was right. - Author: Groucho Marx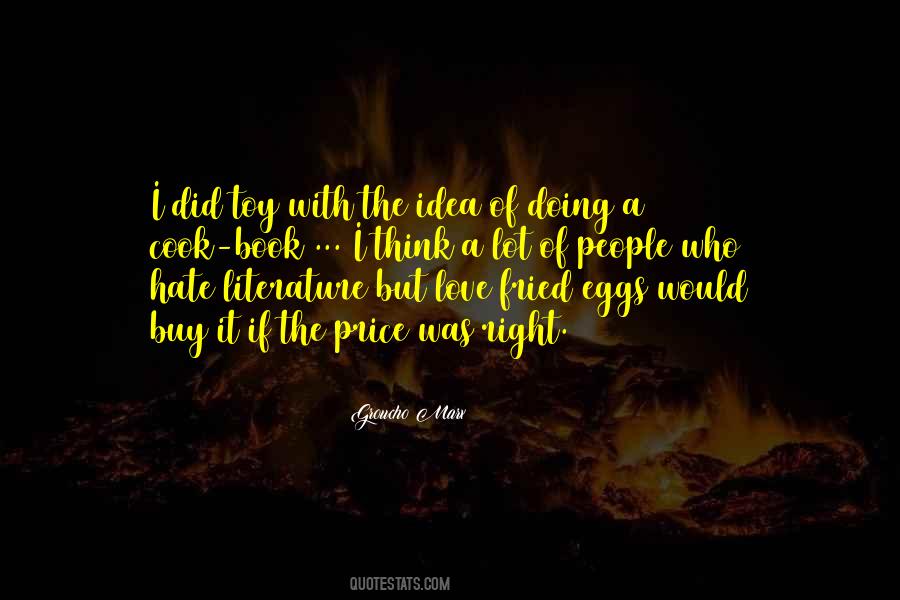 #75. It's like a telescope. My dad, no matter what he's doing, zooms right in so he can't see anything except what's right there with him at that minute. My mom, she's always on wide angle. - Author: Jodi Picoult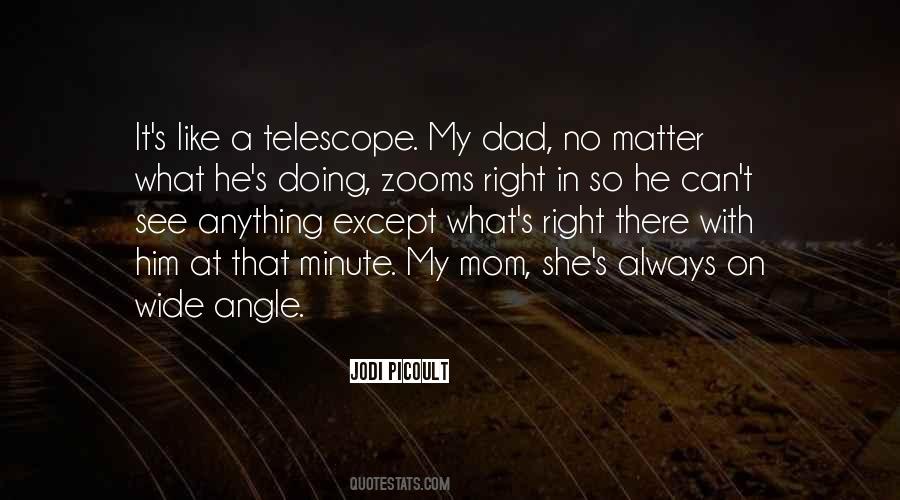 #76. Freedom consists not in doing what we like, but in having the right to do what we ought. - Author: Pope John Paul II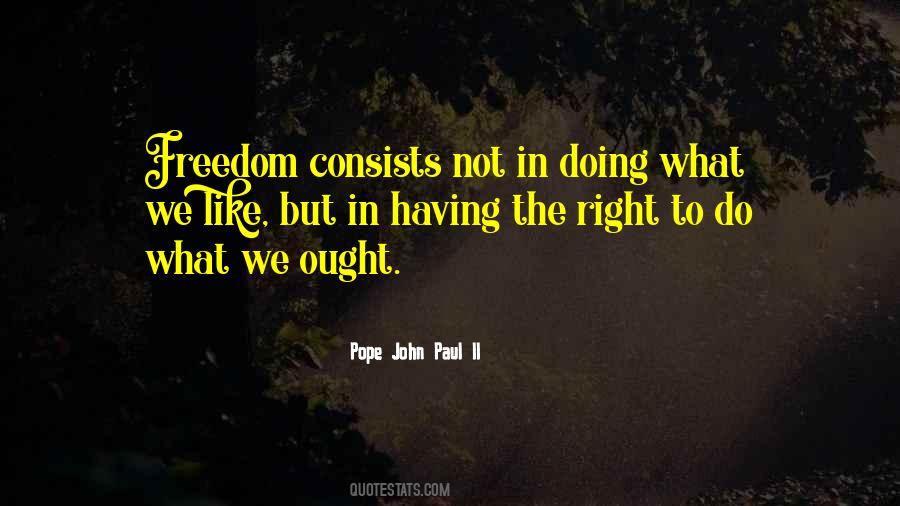 #77. You've got to coach worrying about your entire team: whether that gets you a championship or whether that gets you fired. I think it allows you to coach free. You're coaching with freedom because you know you're doing what you think is right. - Author: Doc Rivers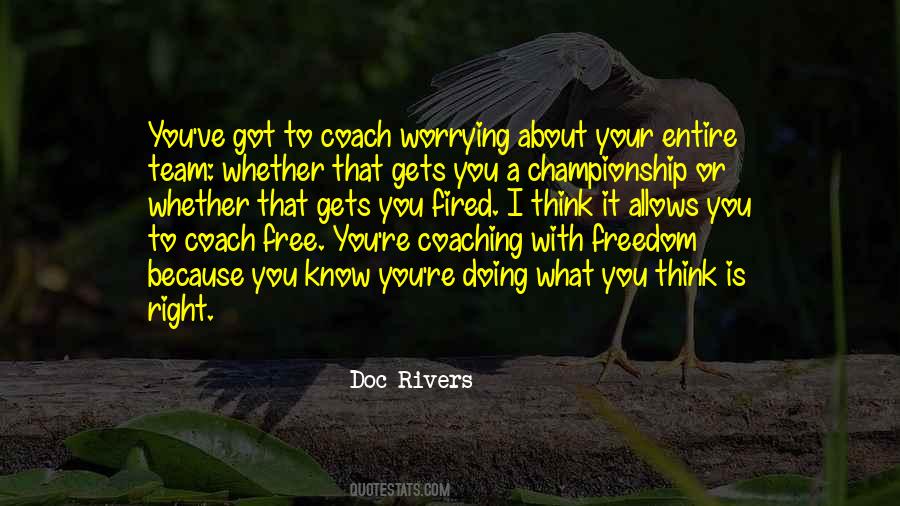 #78. If we focus our efforts on doing, we will always fall short of our real potential. We can do all the right things, but if we do not do them for the right reasons, they will never have the power to change our internal view of life. - Author: Rand Olson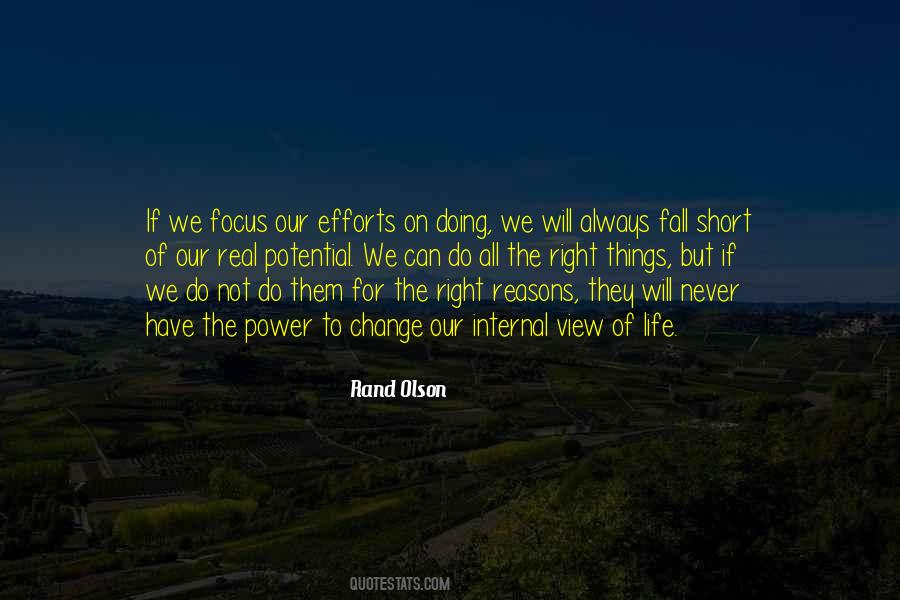 #79. Skulduggery was right by Valkyrie's elbow, but remained quiet. She appreciated that. Any other man would have leaped in to defend her honour. Valkyrie was quite capable of doing that herself. - Author: Derek Landy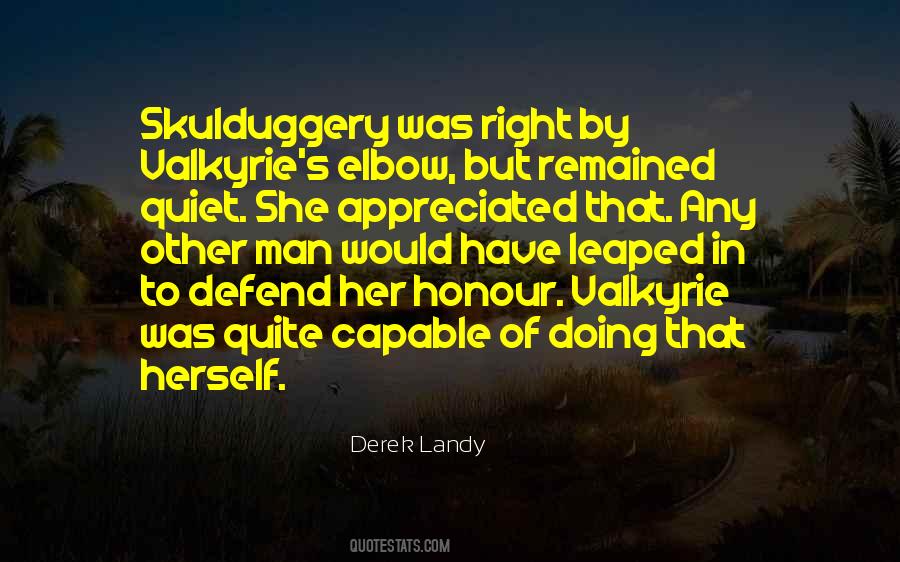 #80. Honor is doing the right thing, when no one is looking. - Author: D.B. Corey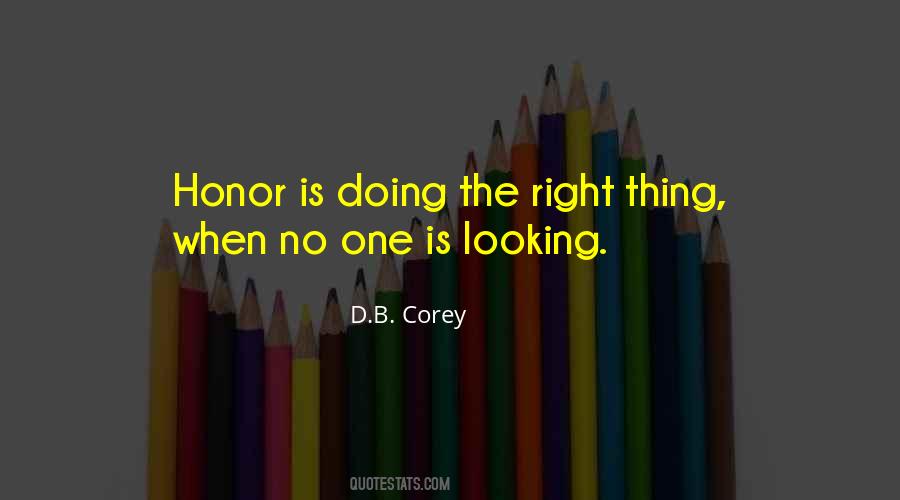 #81. Societies that have condoned male cheating and condemned female cheating are simply male-dominated cultures. Cheating is cheating, no matter who is doing it. It's wrong. - Author: Cathy Burnham Martin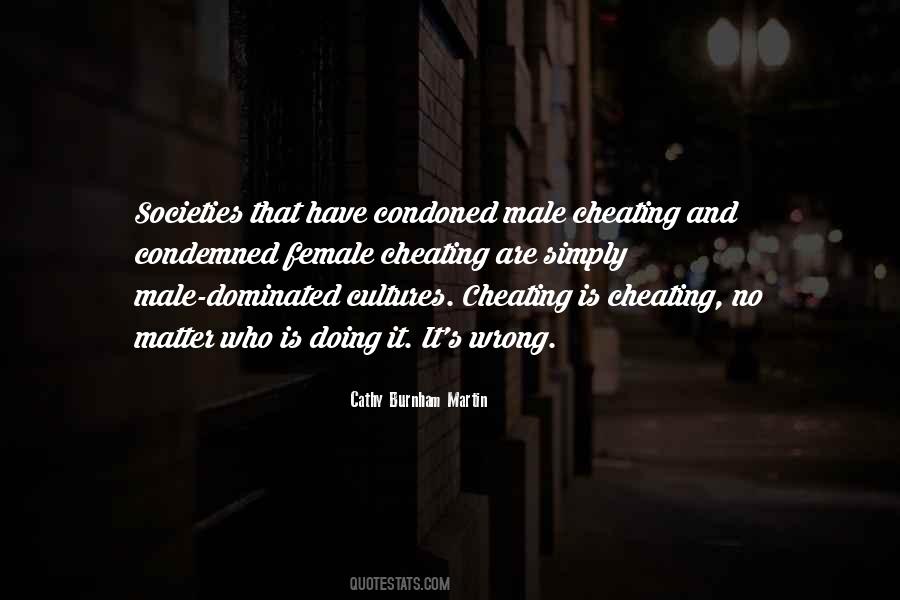 #82. Doing the right thing has power. - Author: Laura Linney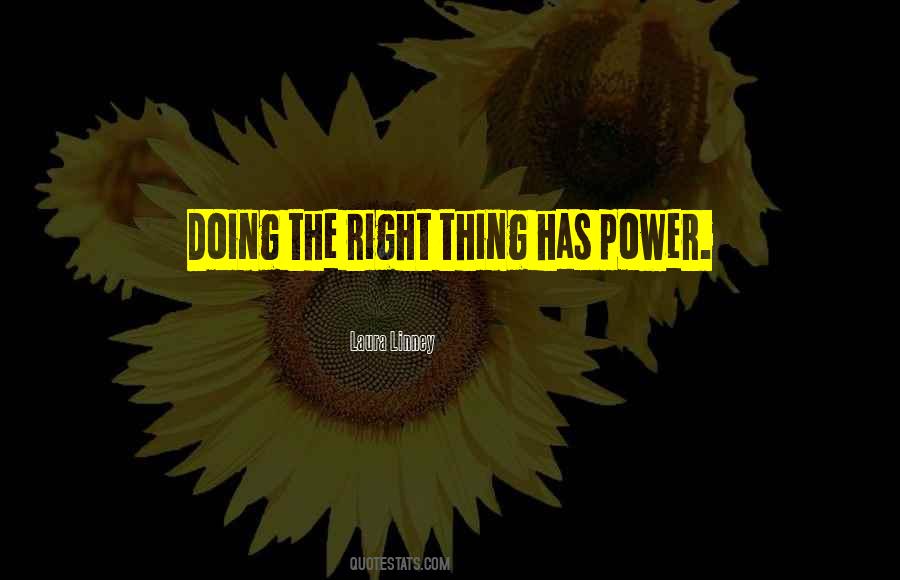 #83. Liberty is the right of doing whatever the laws permit. - Author: Charles De Secondat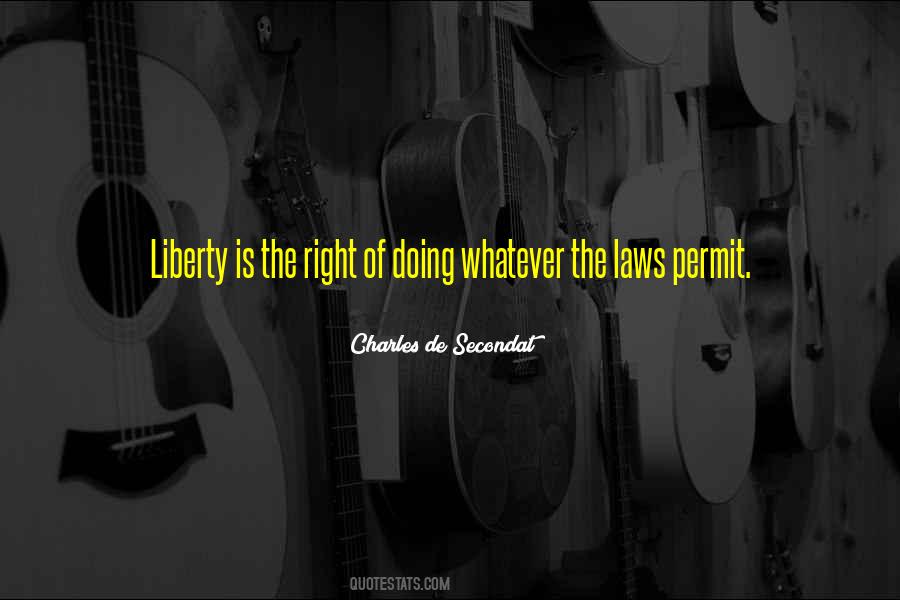 #84. Being right can never compete with doing well. - Author: Henry Cloud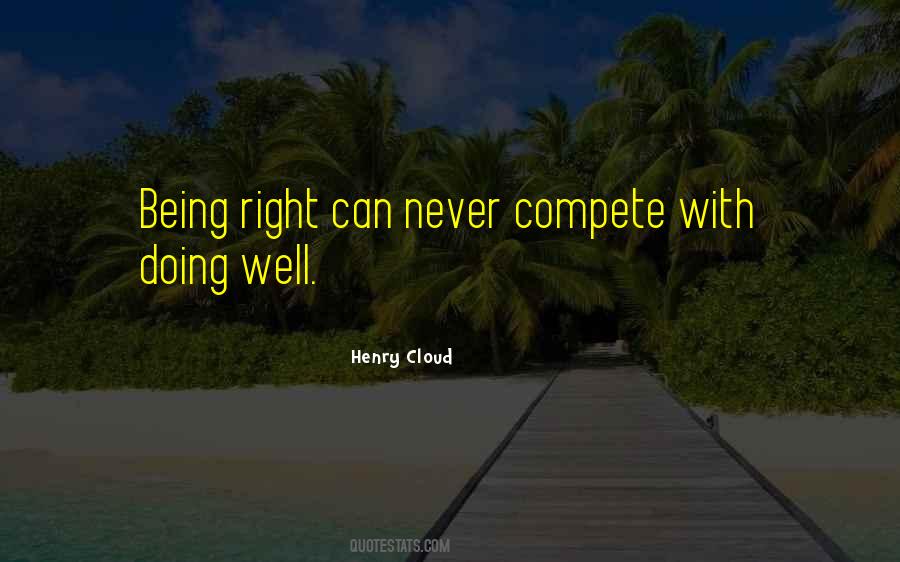 #85. Doing what's right is always simple. Not easy, perhaps, but simple. - Author: Helen C. Johannes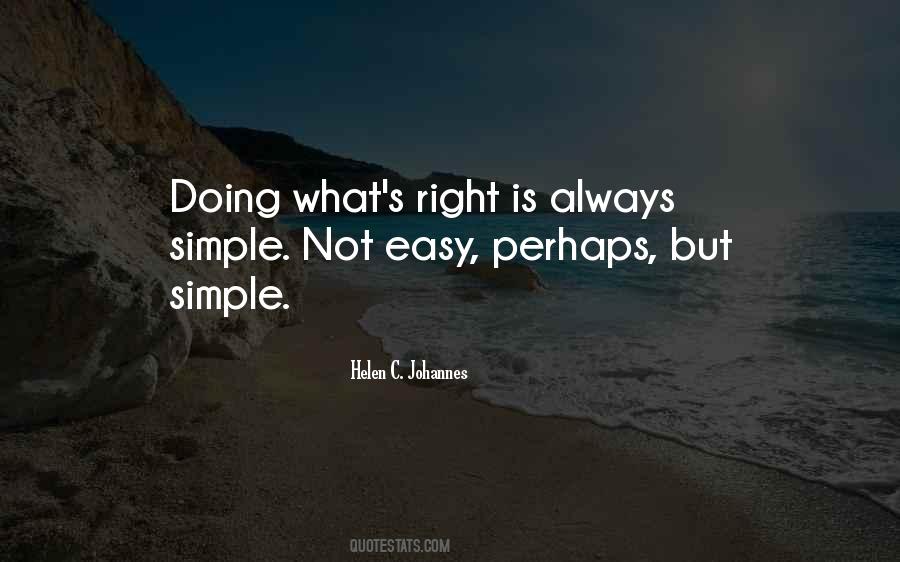 #86. When we do good - even when others are doing wrong - God will bless us. - Author: Billy Graham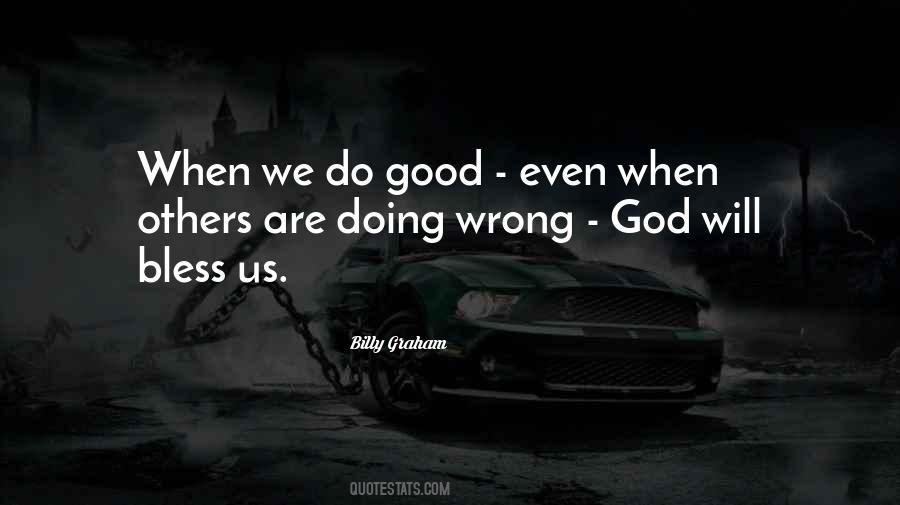 #87. Hustle isn't just doing the things you love all the time. Hustle is doing the things you don't enjoy sometimes to earn the right to do the things you love. - Author: Jon Acuff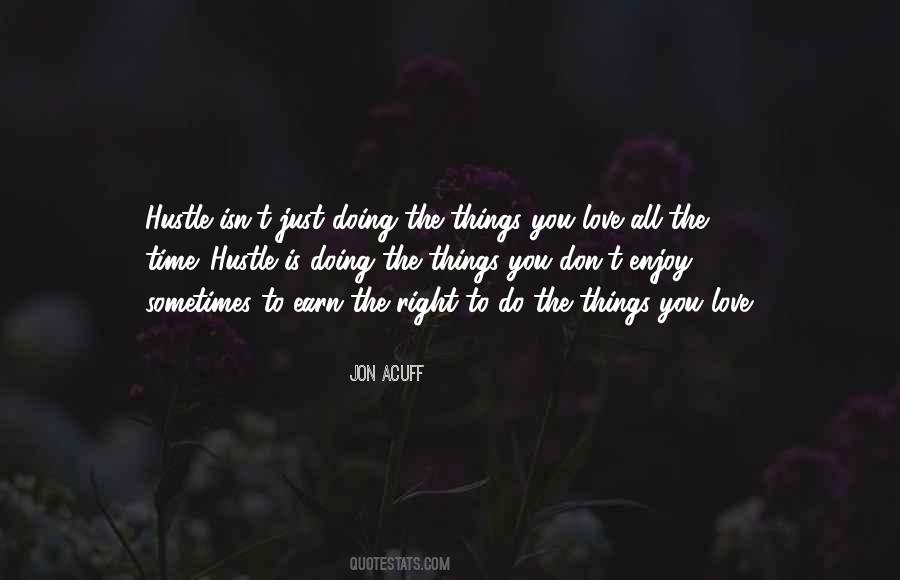 #88. Doing the right thing isn't always easy - in fact, sometimes it's real hard - but just remember that doing the right thing is always right. - Author: David Cottrell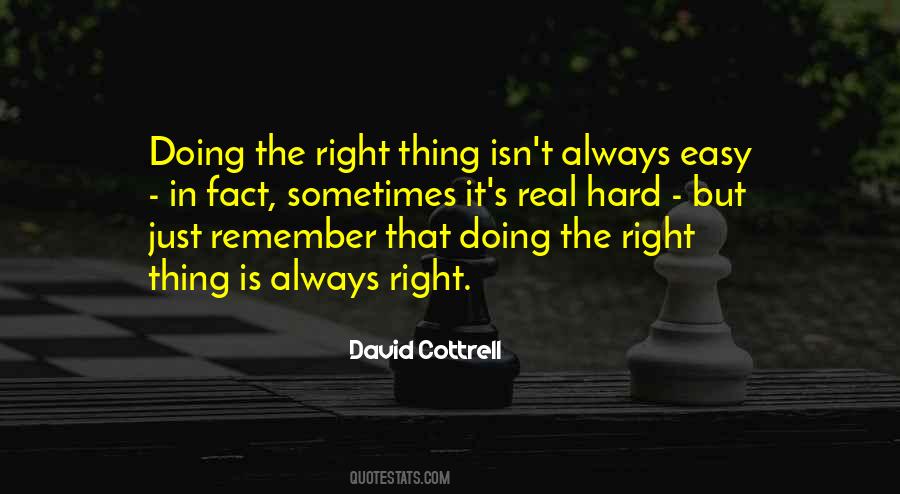 #89. I'm really into the idea of playing sit-down drums again. I don't know if it'll end up that way, but as of right now, that's what I'm interested in doing. - Author: Panda Bear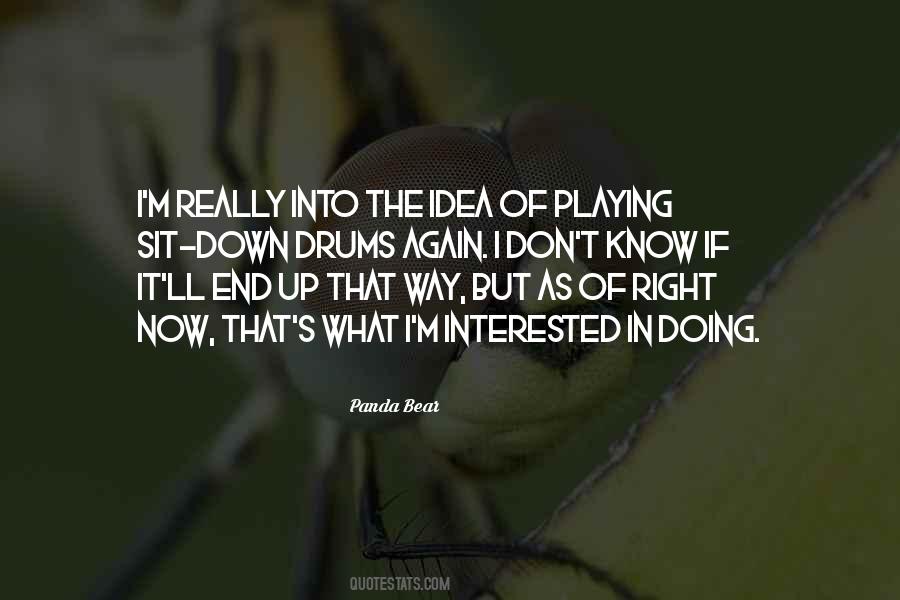 #90. I pride myself on doing character-driven movies and, when my movies have worked, it's been because of the right casting and the right character, and it just clicks. - Author: Doug Liman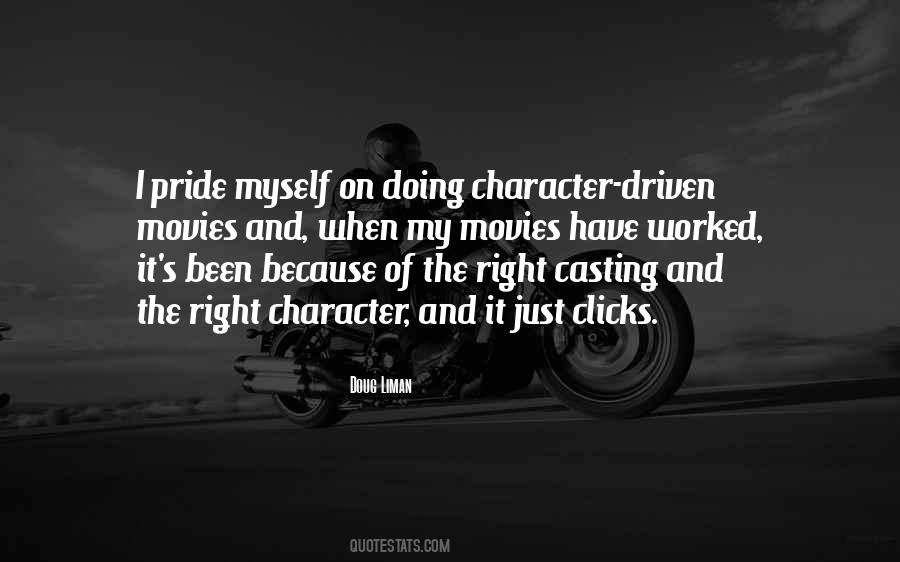 #91. I know my Easts and Tom Brown, you see, and they're never happy unless their morality is being tried in the furnace and they can feel they are doing the right Christian thing and never mind the consequences to anyone else. - Author: George MacDonald Fraser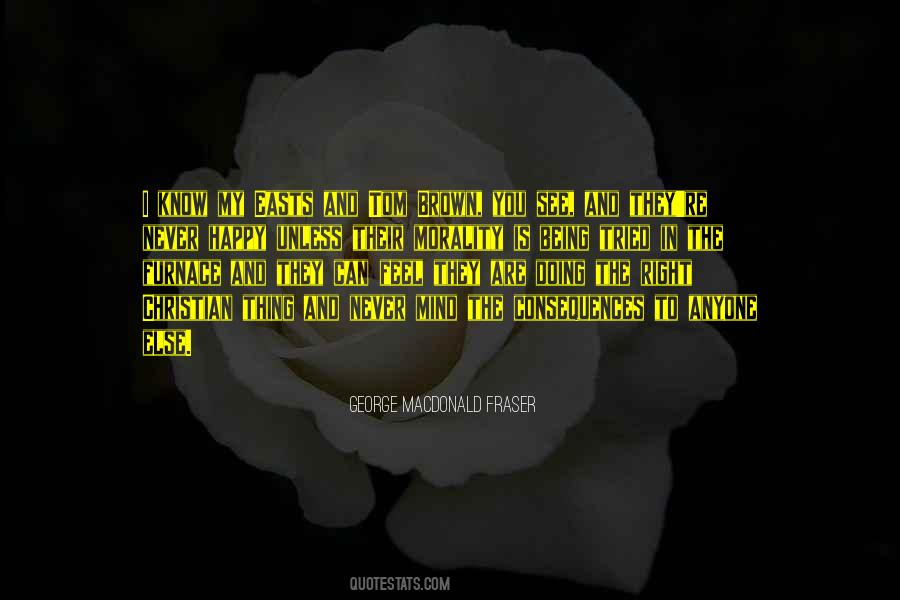 #92. Each of us has about 100,000 [kinesins] running around, right now, inside each one of your 100 trillion cells. So no matter how lazy you feel, you're not really intrinsically doing nothing. - Author: David Bolinsky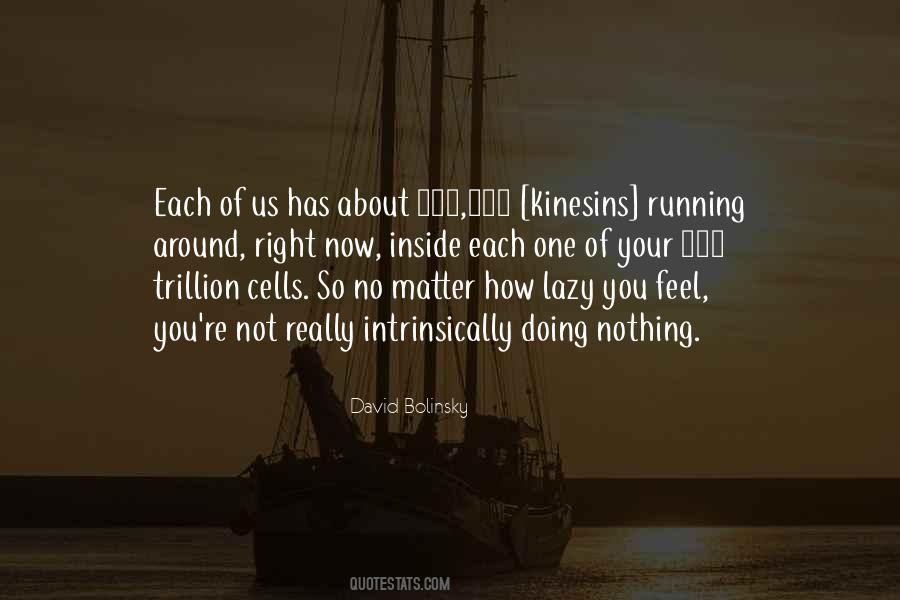 #93. Somebody's going to be reading, right? Wrong. They're FBing. Doing a Number Two. Maybe I shouldn't have had those chilli peppers. Hope y'all having a good day! - Coming from a toilet not far from you. xxxx - Author: Hope Barrett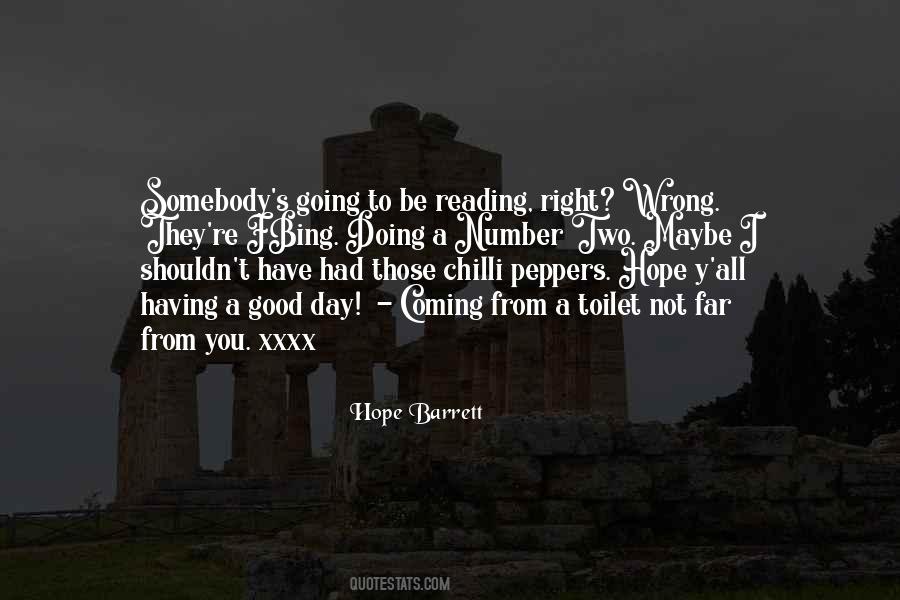 #94. I remember my very first audition for a film. I was in Seattle. They were taping the session, and I just went crazy. The director finally said, 'Zoe, what are you doing? The camera's right here. Just talk to me.' And it took that director saying that to me to change everything. - Author: Zoe McLellan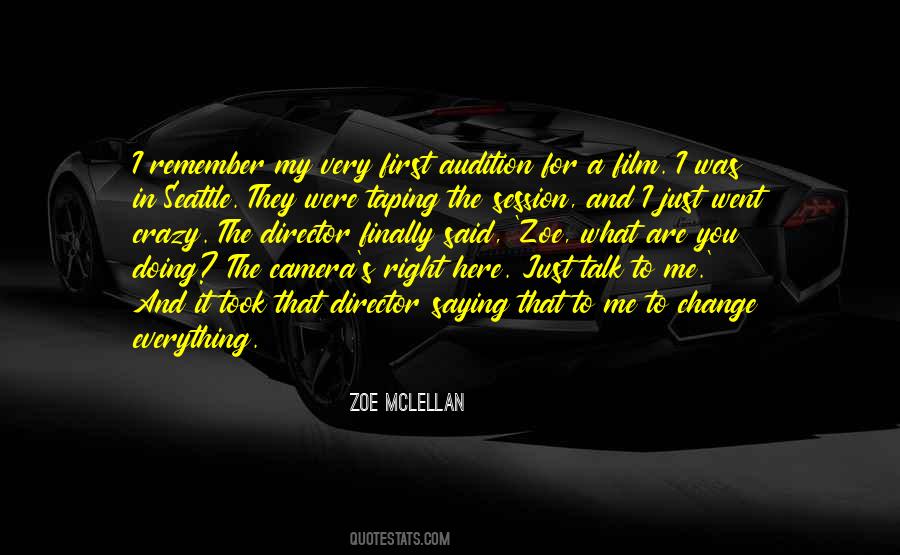 #95. We're all whirling merrily through the void on a dying planet, and gay people are just doing their usual number, being shamelessly trendy as always. Right out in front on the cutting edge of death. - Author: Lawrence Block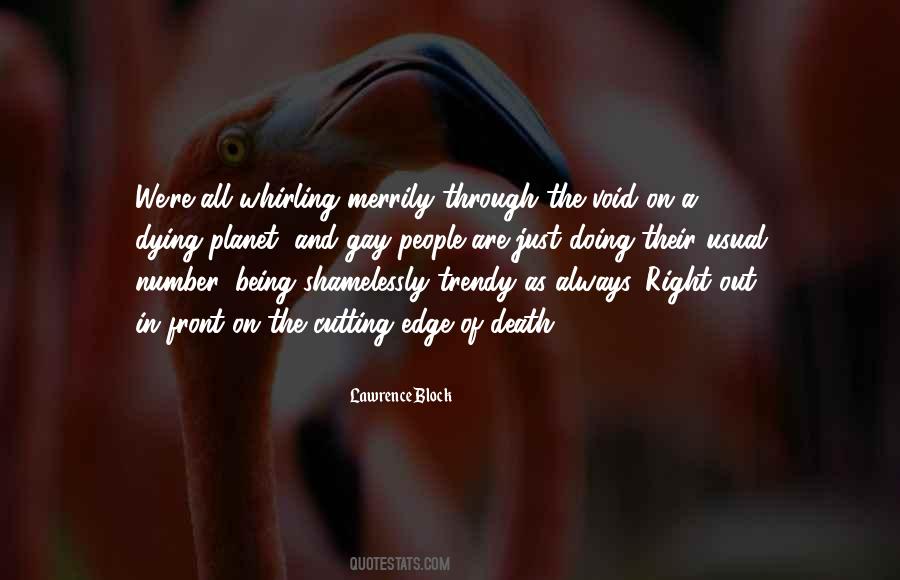 #96. Perhaps the worst sin in life is knowing right and not doing it. - Author: Martin Luther King Jr.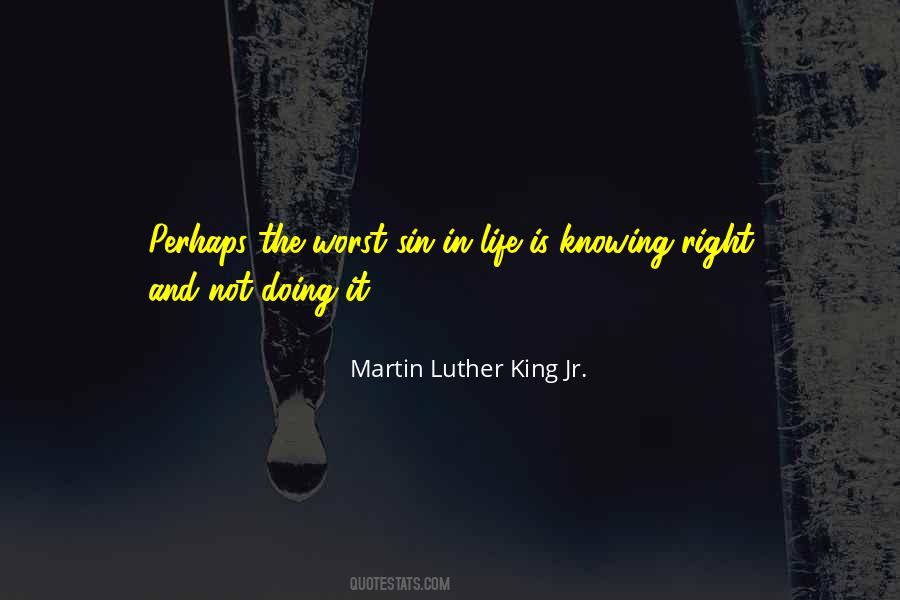 #97. Study the habits of the people you want to be like and then imitate them. If they are succeeding, they must be doing something right. - Author: Dave Ramsey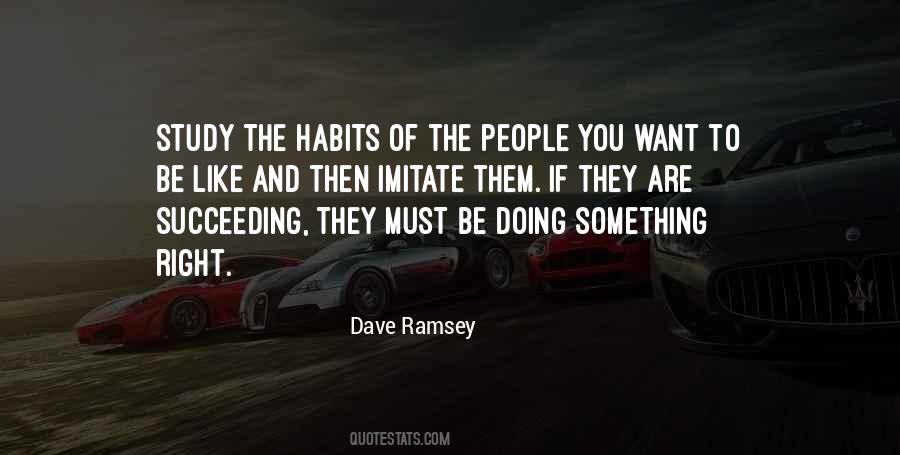 #98. You discover that when you are doing the right work, you are the right person. - Author: Thomas Moore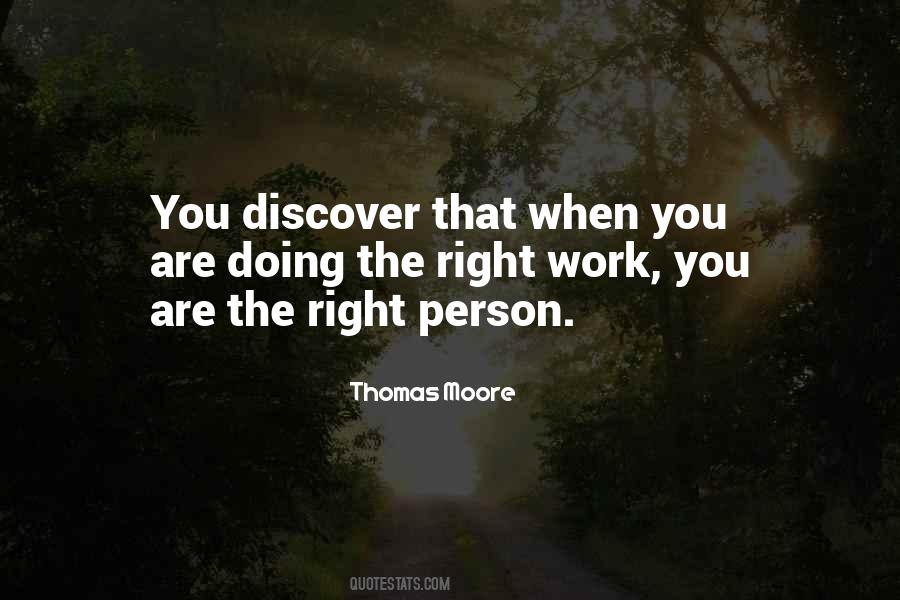 #99. Fear is the devil's most powerful tool because he can't always convince a good man to do wrong, but he can paralyze his will with fright, keeping a good man from doing what is right. It eventually results in the same end. - Author: Richelle E. Goodrich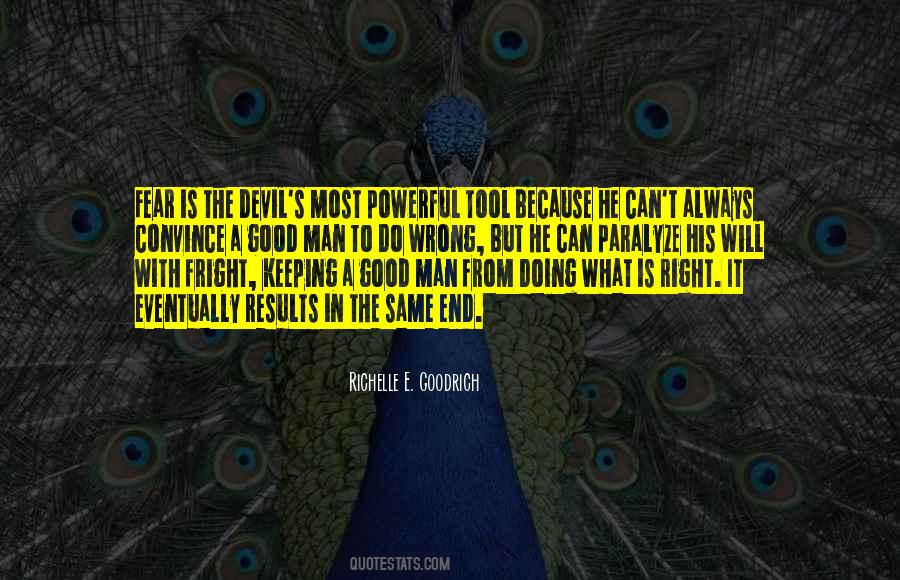 #100. Learn to let your intuition-gut instinct-tell you when the food, the relationship, the job isn't good for you (and conversely, when what you're doing is just right). - Author: Oprah Winfrey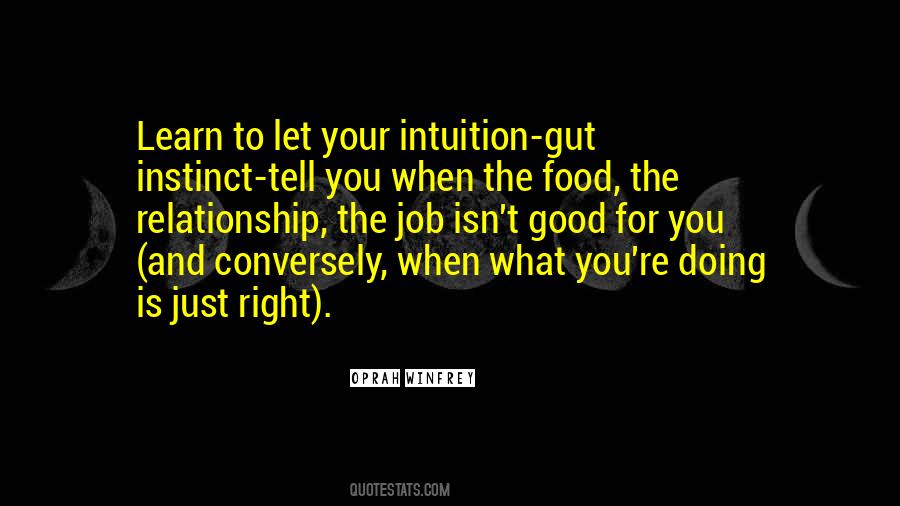 Famous Authors
Popular Topics