Respecting Others Famous Quotes & Sayings
List of top 96 famous quotes and sayings about respecting others to read and share with friends on your Facebook, Twitter, blogs.
Top 96 Quotes About Respecting Others
#1. Love is yet another name for Respect. If you cannot respect a person for what they are; you can never ever truly, madly, or deeply love that person. - Author: Nikita Dudani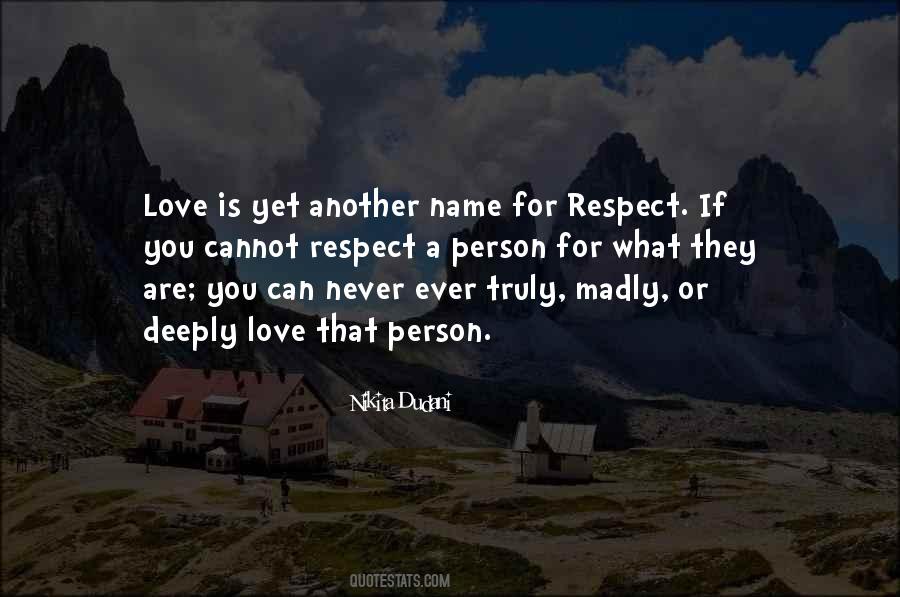 #2. The ultimate truth is that we are individuals who can choose to respect ourselves, and others, with or without regard to bloodline, wealth, tribe, or community. - Author: Omar Saif Ghobash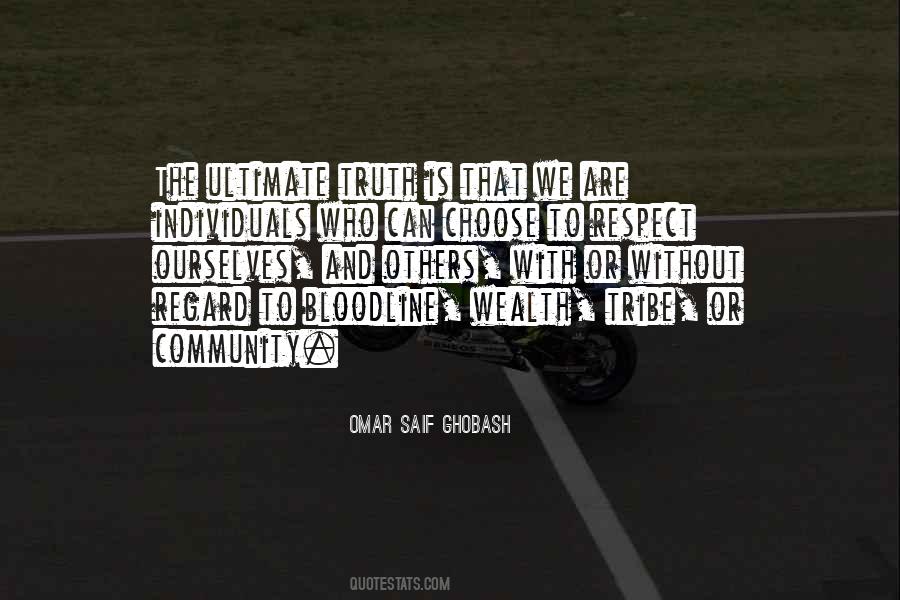 #3. The bully mind is not capable of loving or respecting others nor can it love or respect itself. Life's subtleties and the means of survival require its pretense of both these qualities. - Author: Rick Stein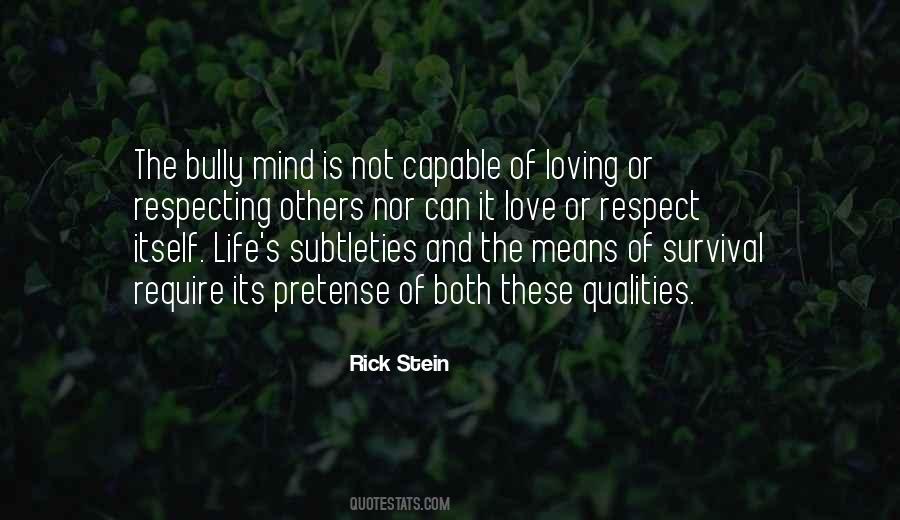 #4. The traits that bother you in other people are the Coping Skills they developed automatically, as a result of their life experience. - Author: Odille Rault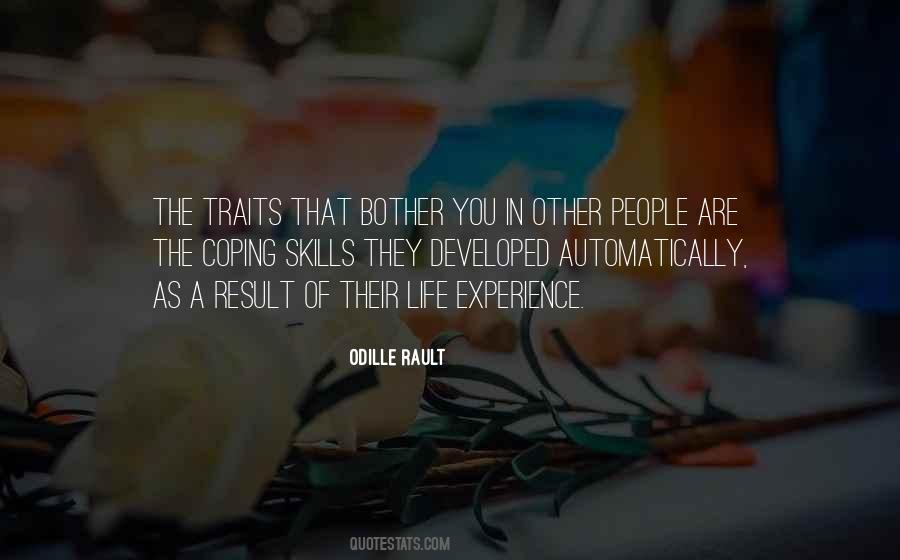 #5. Conceited men often seem a harmless kind of men, who, by an overweening self-respect, relieve others from the duty of respecting them at all. - Author: Henry Ward Beecher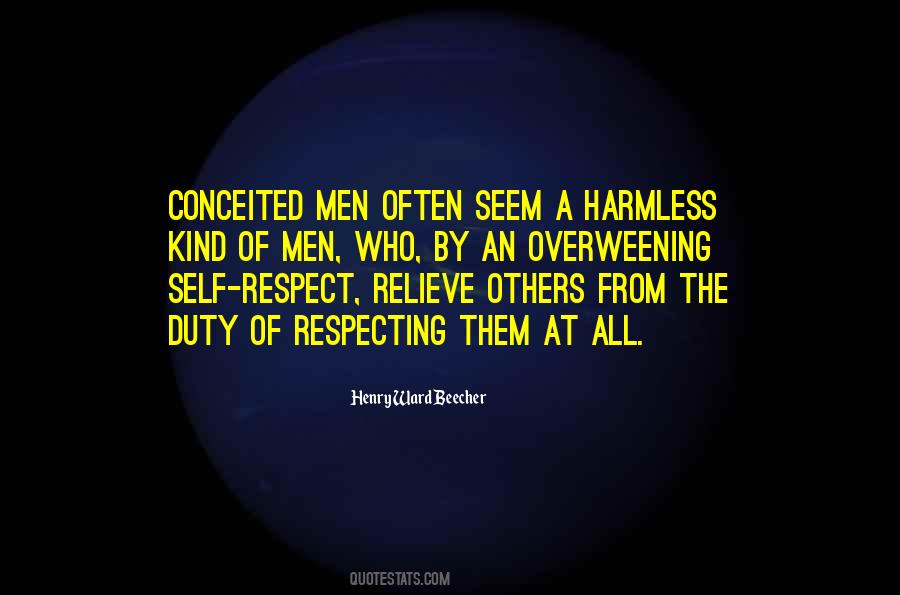 #6. Heroes represent the best of ourselves, respecting that we are human beings. A hero can be anyone from Gandhi to your classroom teacher, anyone who can show courage when faced with a problem. A hero is someone who is willing to help others in his or her best capacity. - Author: Ricky Martin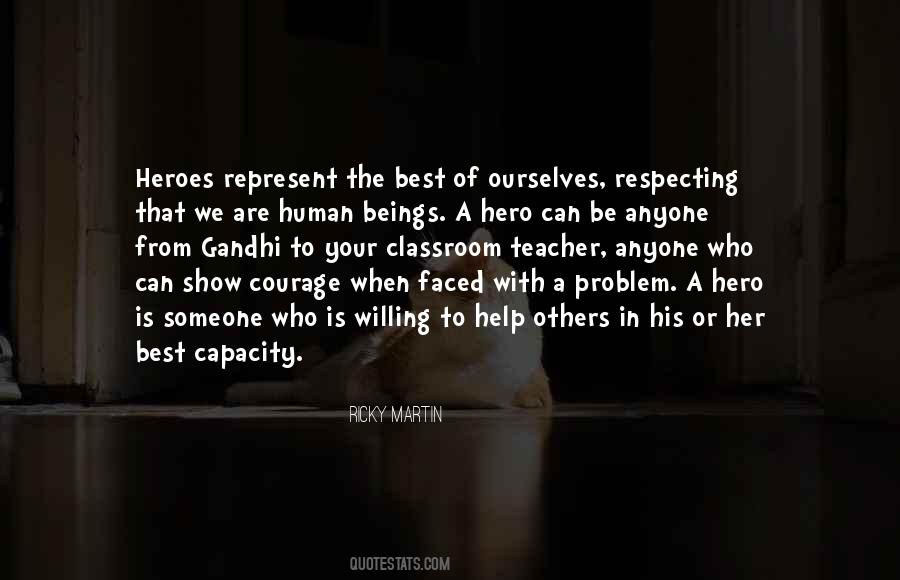 #7. They that live at the source of a great river shall always take the great river for granted but they that live at the estuary of the great river shall always watch the great river in awe and admiration! - Author: Ernest Agyemang Yeboah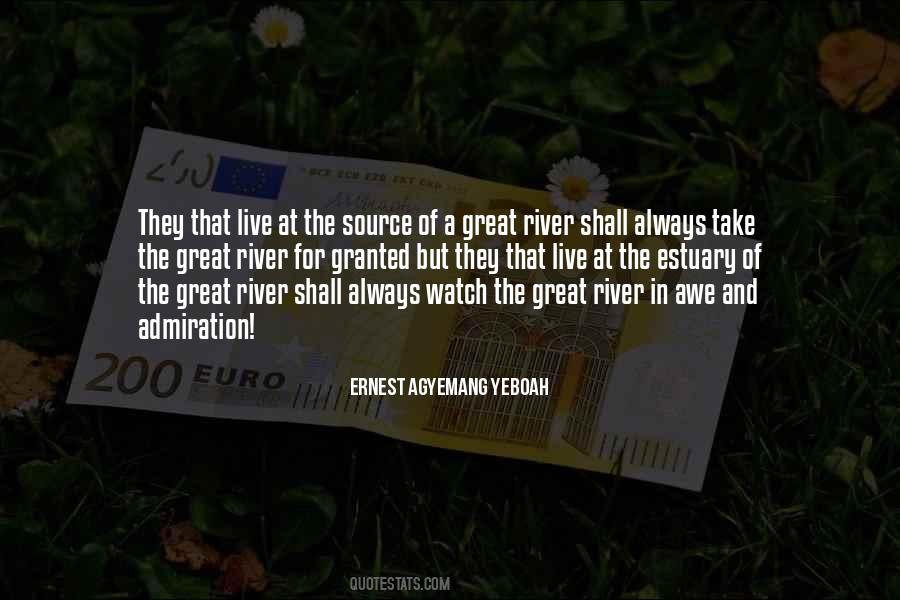 #8. I finally know the difference between pleasing and loving, obeying and respecting. It has taken me so many years to be okay with being different, and with being this alive, this intense. (xxvi) - Author: Eve Ensler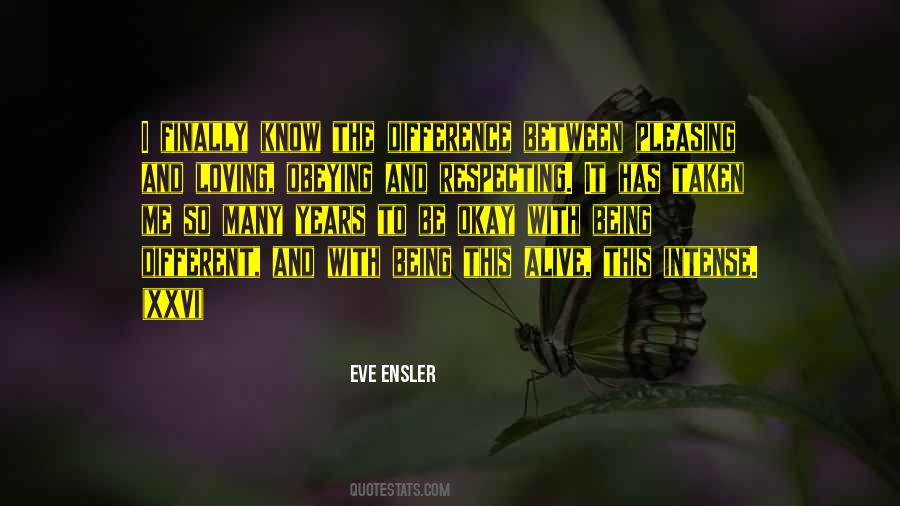 #9. Democracy feeds on argument, on the discussion as to the right way forward. This is the reason why respecting the opinion of others belongs to democracy. - Author: Richard Von Weizsaecker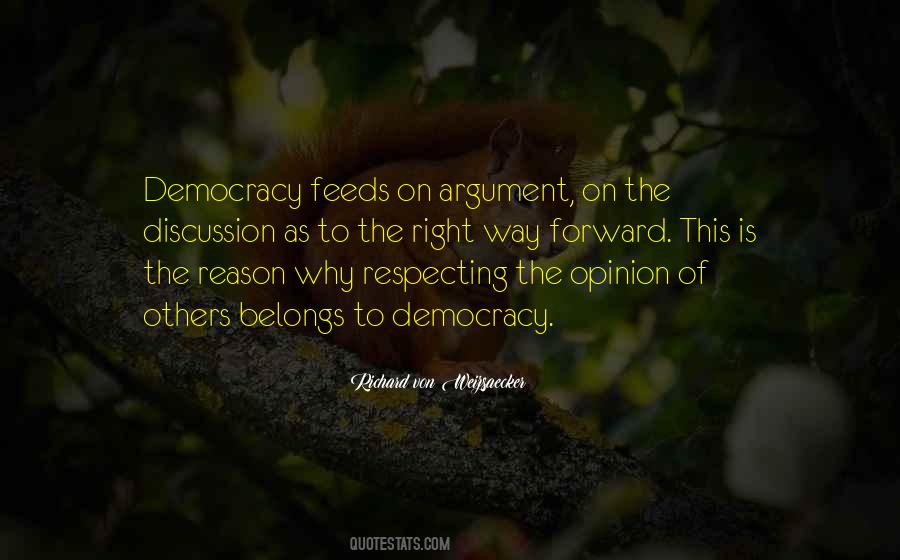 #10. All of us, as human beings, seek to be respected. Even those who do not respect others have a deep seated desire to be respected. - Author: Abhishek Ratna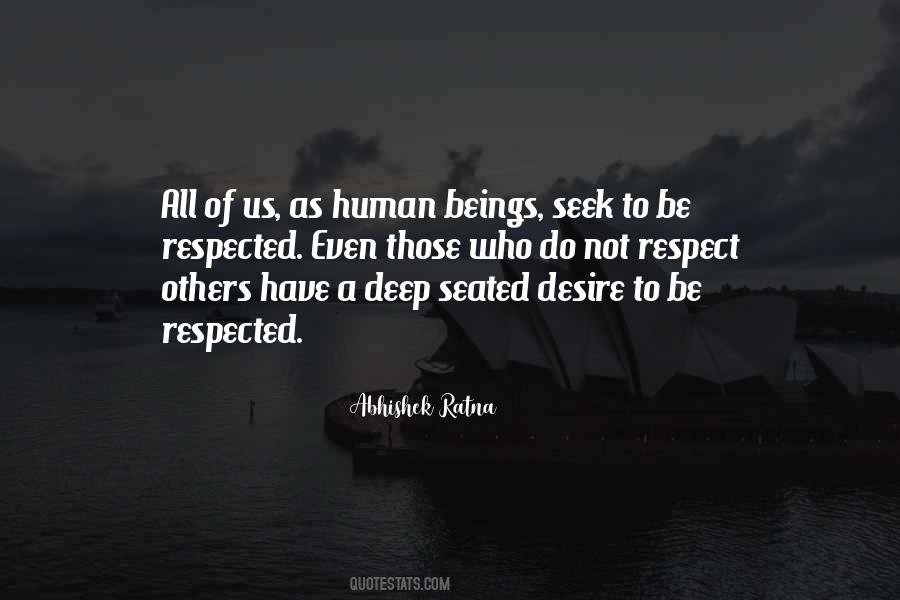 #11. If he or she doesn't see or respect your present value nor your future dream the moment you connected there is little or no chance that he or she will do in future. - Author: Bernard Kelvin Clive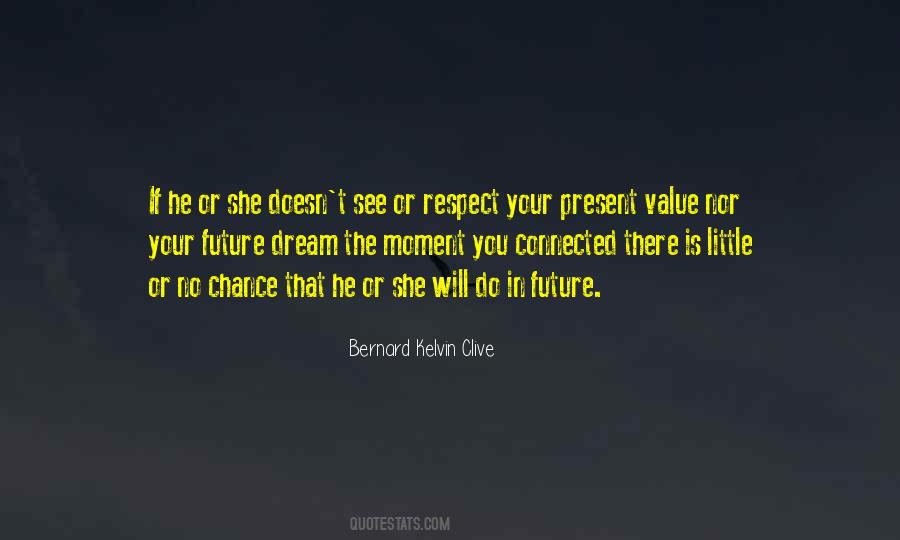 #12. Love is a prayer, begin it with self. If you can worship yourself without shame or guilt, you will be able to respect others. - Author: Vishwas Chavan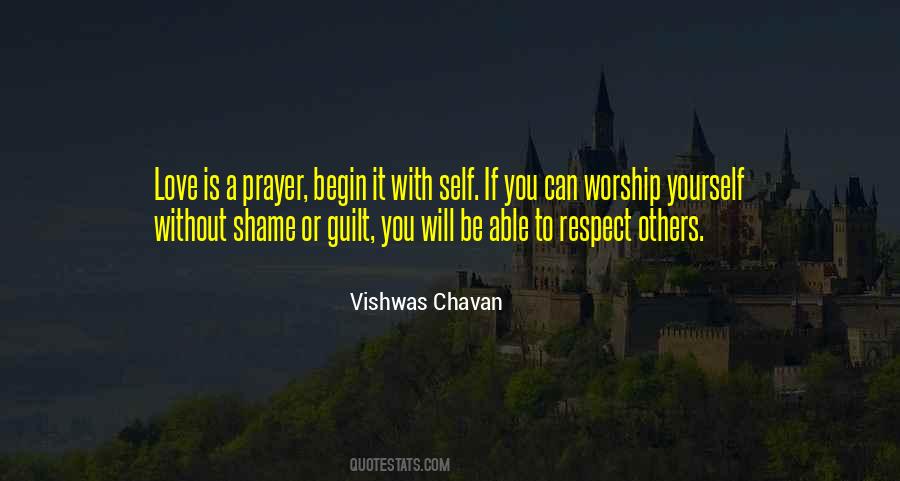 #13. I never meet a ragged boy in the street without feeling that i may owe him a salute, for I know not what possibilities may be buttoned up under his coat. - Author: James A. Garfield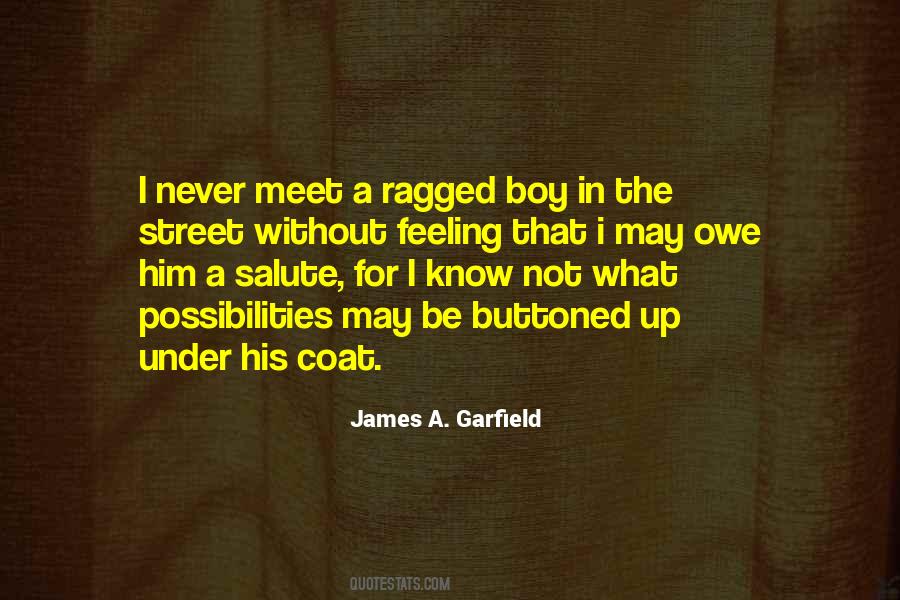 #14. Contrary to the common misconception that loving yourself equates to being self-absorbed and lacking empathy or consideration for others, the true meaning of self-love is about caring, respecting and knowing yourself, taking responsibility for your life, and ultimately, your happiness. - Author: Miya Yamanouchi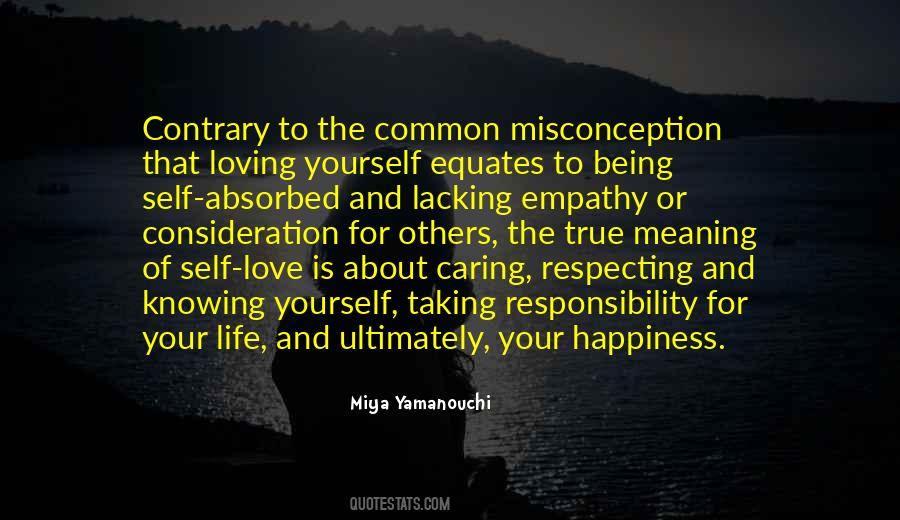 #15. Help others while respecting the Sacred Law of Free Will. By recognizing and honoring God in others, you recognize and honor God within yourself. - Author: Human Angels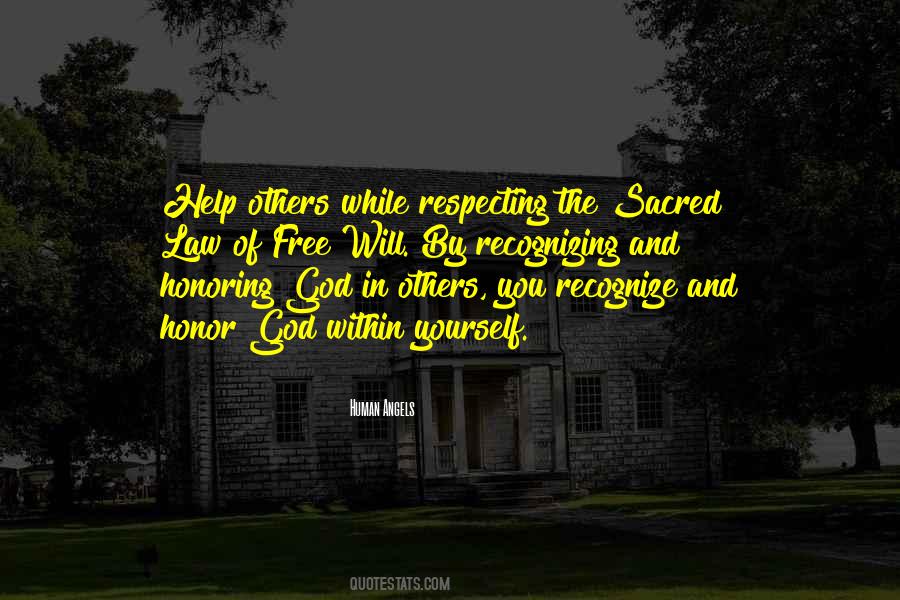 #16. Self-respecting people do not care to peep at their reflections in unexpected mirrors, or to see themselves as others see them. - Author: Logan Pearsall Smith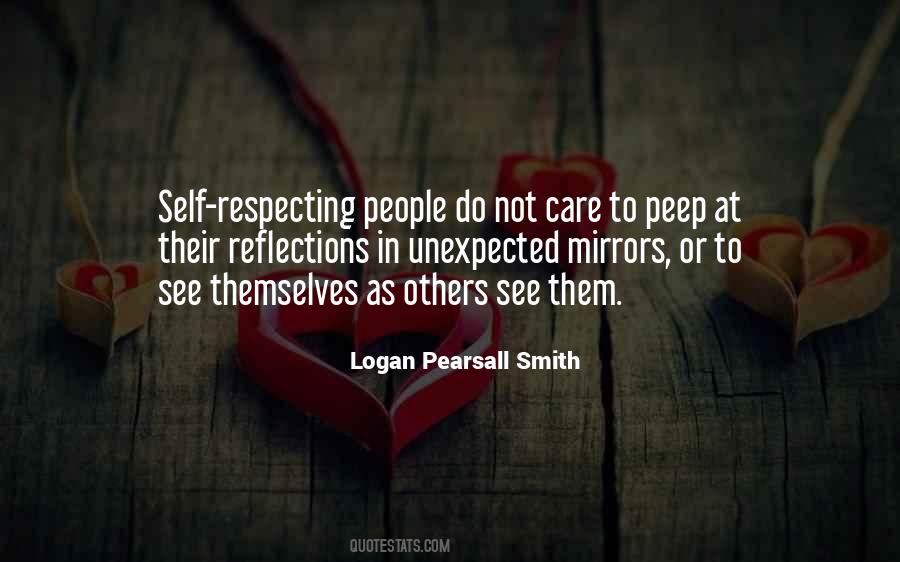 #17. People can only live fully by helping others to live. When you give life to friends you truly live. Cultures can only realize their further richness by honoring other traditions. And only by respecting natural life can humanity continue to exist. - Author: Daisaku Ikeda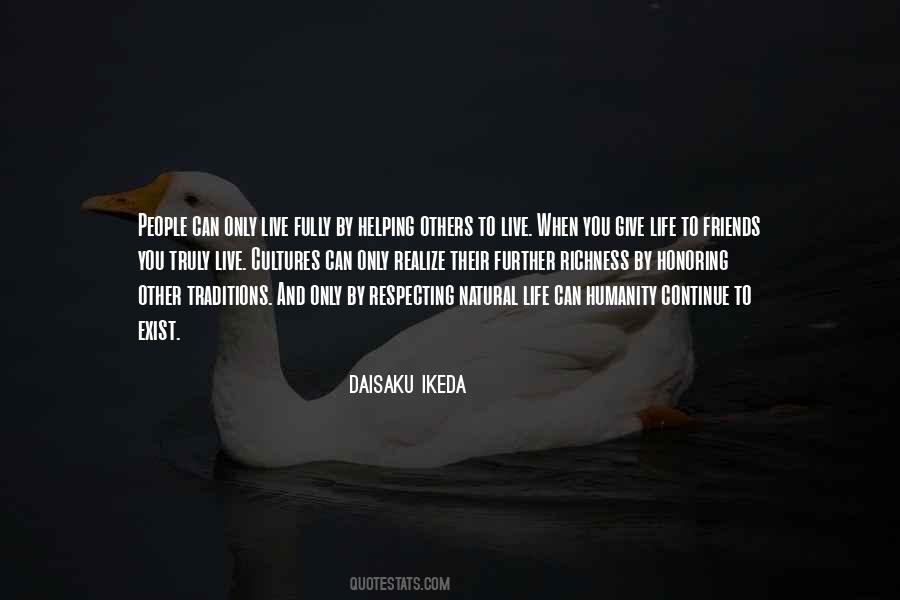 #18. People use words to do battle and to hurt one another terribly, tragically and even mortally. - Author: Bryant McGill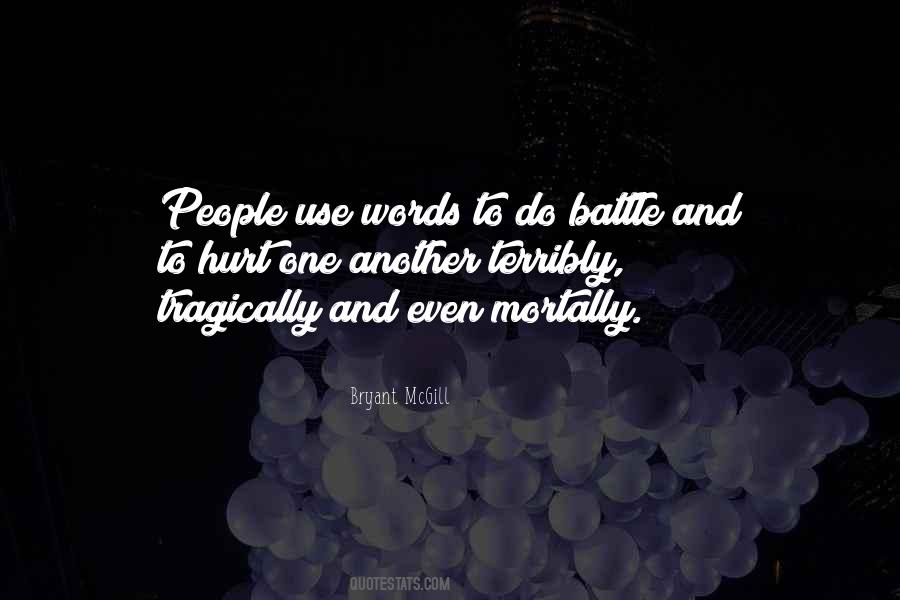 #19. I'm not concerned with your liking or disliking me. All I ask is that you respect me as a human being. - Author: Jackie Robinson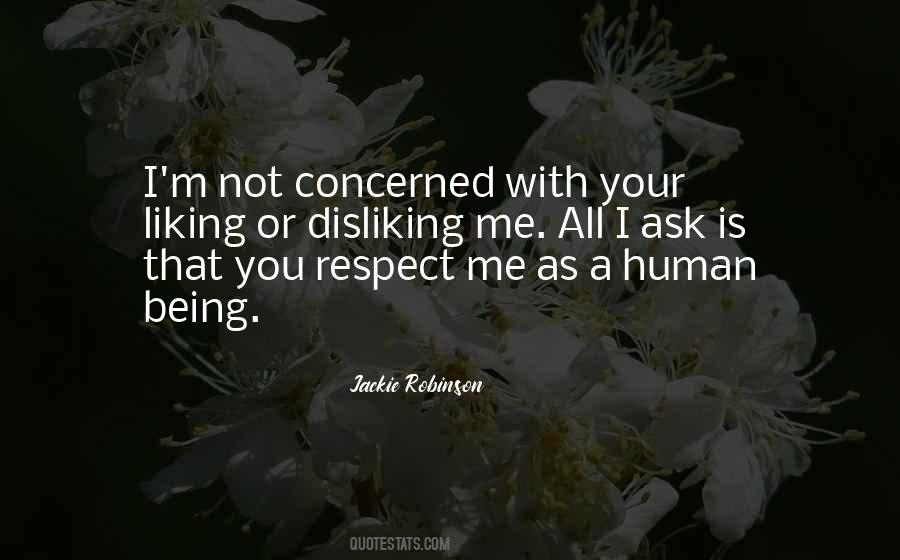 #20. If we aren't trustworthy to our own words
and values, why should we expect others to trust us with their resources, let alone with their lives? - Author: Assegid Habtewold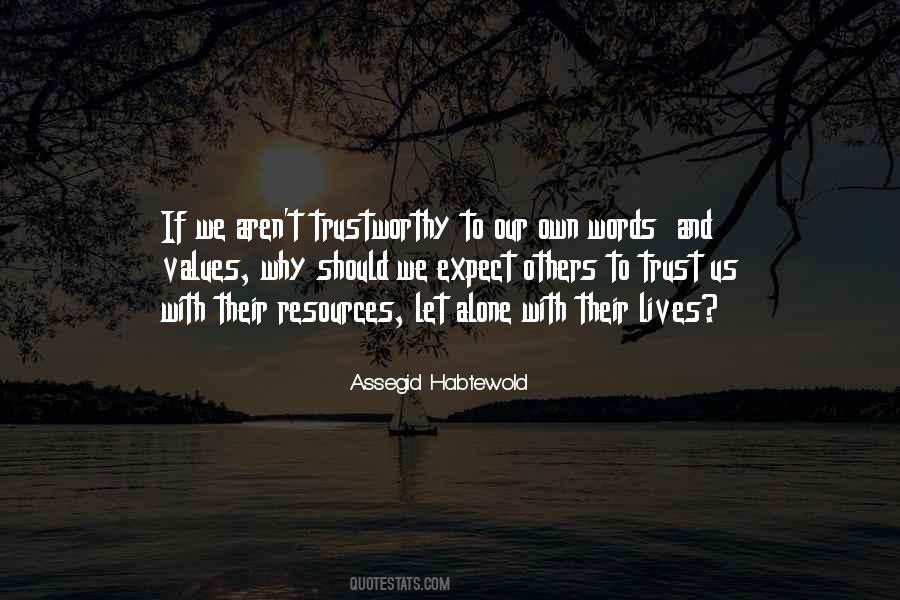 #21. Give and take.
Oil and water.
Yes, it is that simple! - Author: Melody Carstairs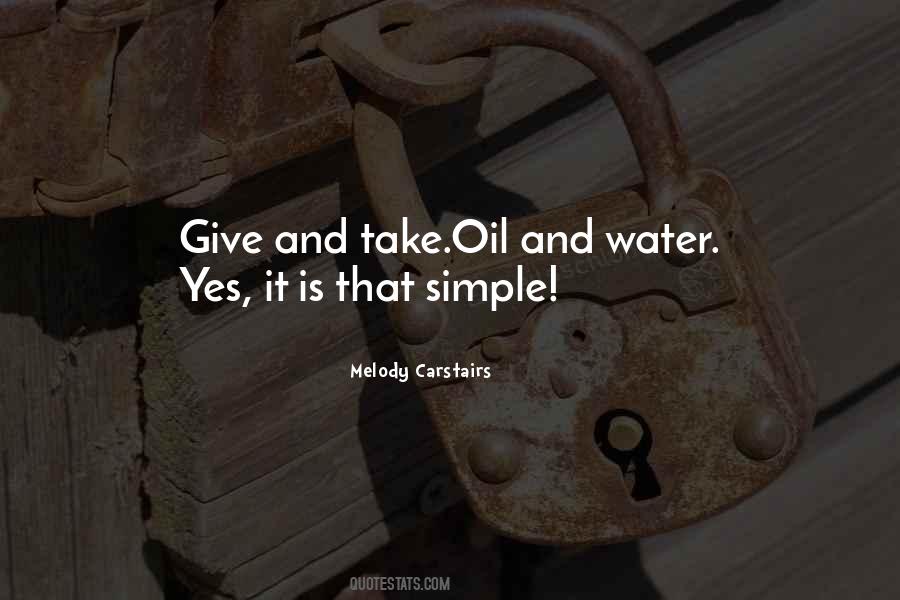 #22. Respecting others is the biggest discipline. - Author: JP Joshi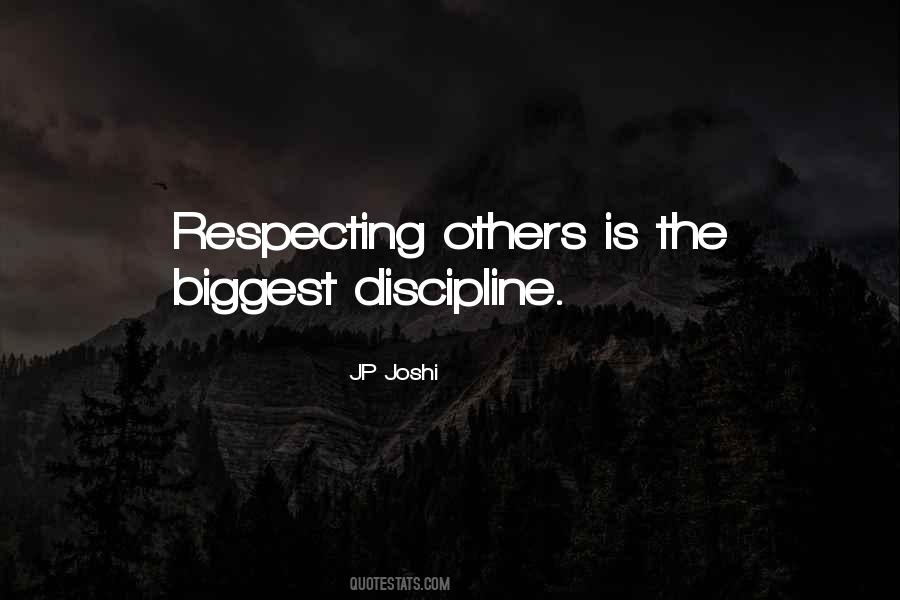 #23. If there's one value that is immutable, it's integrity or respect, for others and for yourself. - Author: Jacqueline Novogratz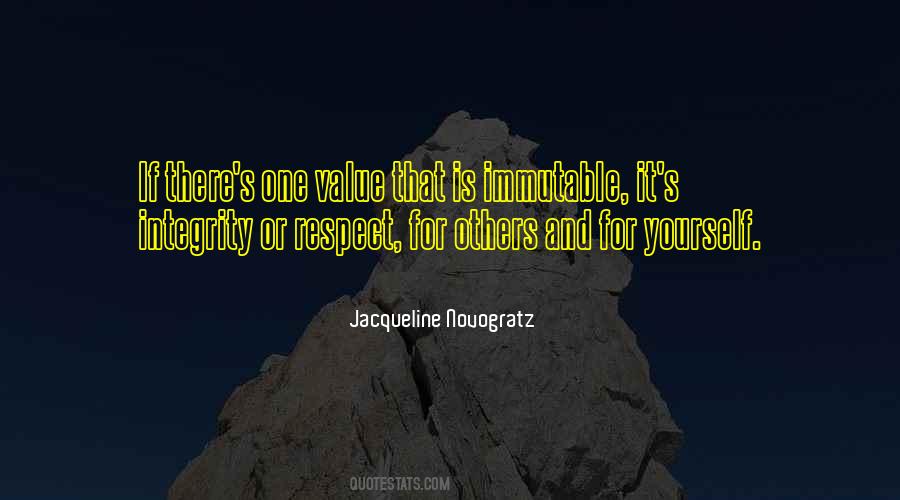 #24. It doesn't kill you to be nice, kind, loving, caring and respectful. Try it! - Author: Lily Amis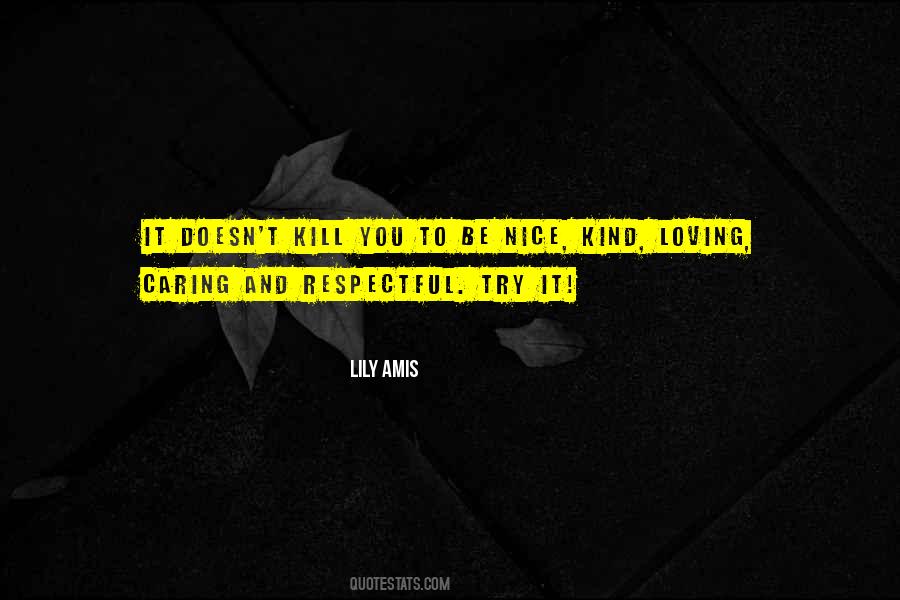 #25. Respecting others' opinions doesn't mean being untrue to our own. - Author: P. M. Forni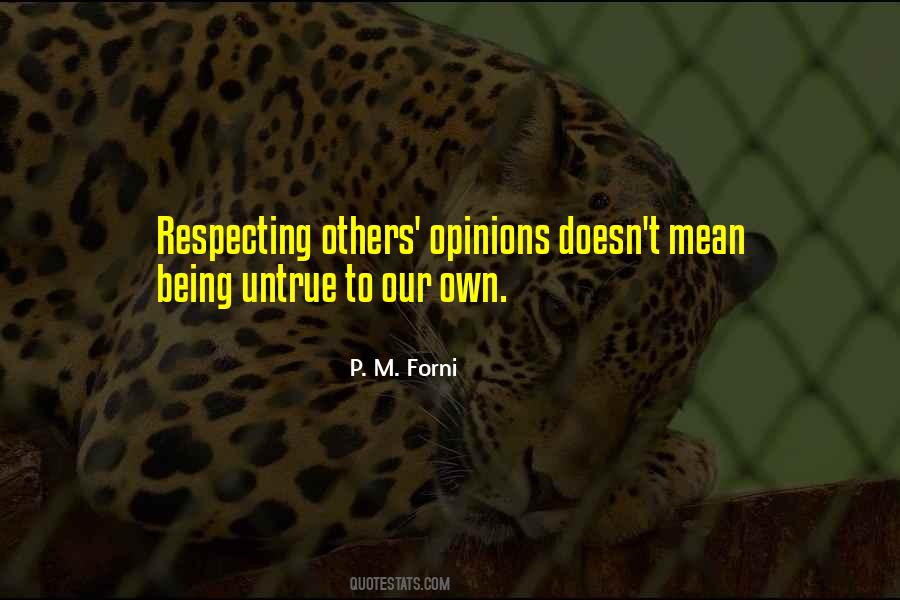 #26. Whether or not we are religious, respecting others should be seen as just as important as looking out for ourselves, yet it requires discipline to change our bad habits that cause pain to animals. - Author: Ingrid Newkirk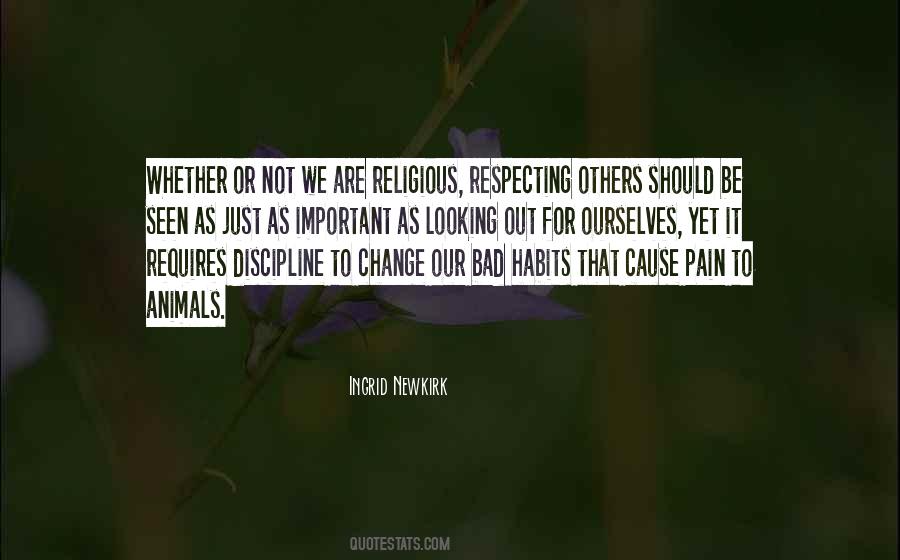 #27. After a war, the silencing of arms is not enough. Peace means respecting all rights. You can't respect one of them and violate the others. When a society doesn't respect the rights of its citizens, it undermines peace and leads it back to war. - Author: Maria Julia Hernandez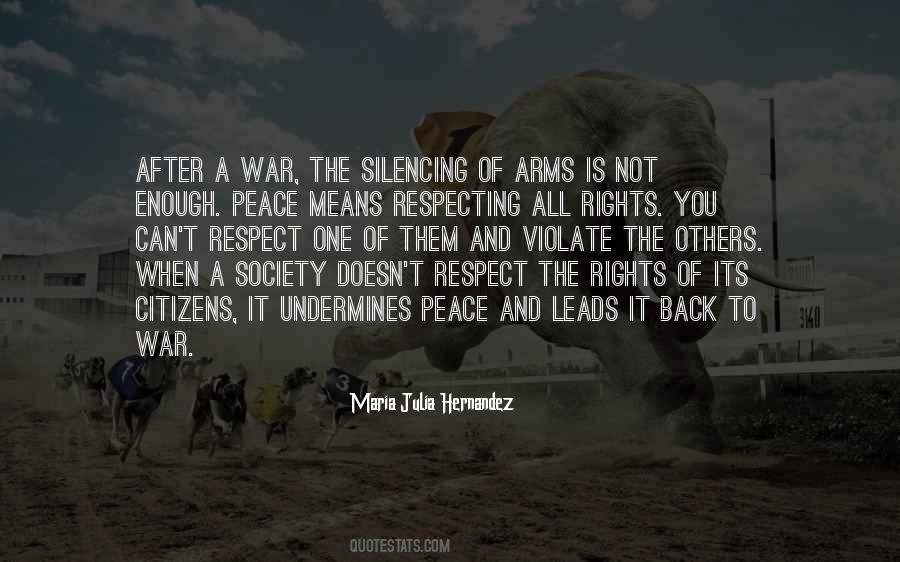 #28. Barking at people earns their respect about as effectively as staring into the sun improves your vision. - Author: Richelle E. Goodrich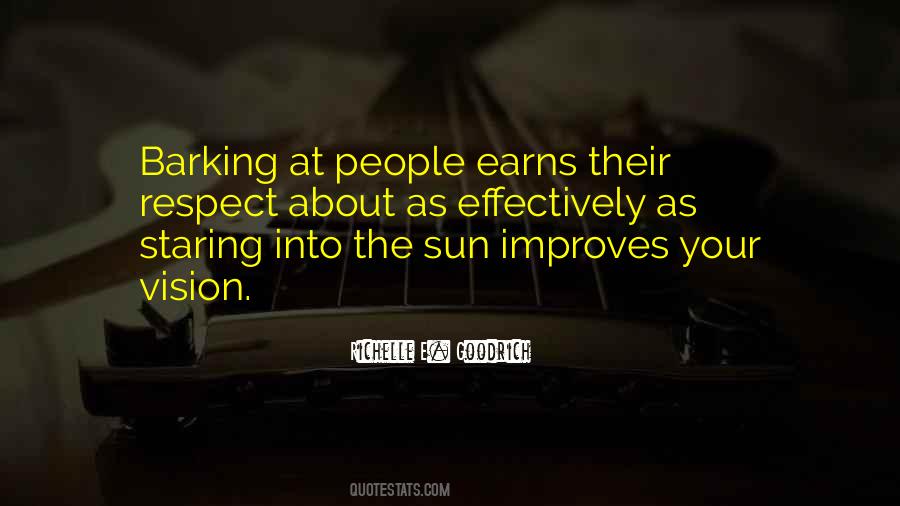 #29. Don't despise people because of their defects or because of their lack of talents and gifts. Imagine if people did it for you, how many friends would you be left with? - Author: Bangambiki Habyarimana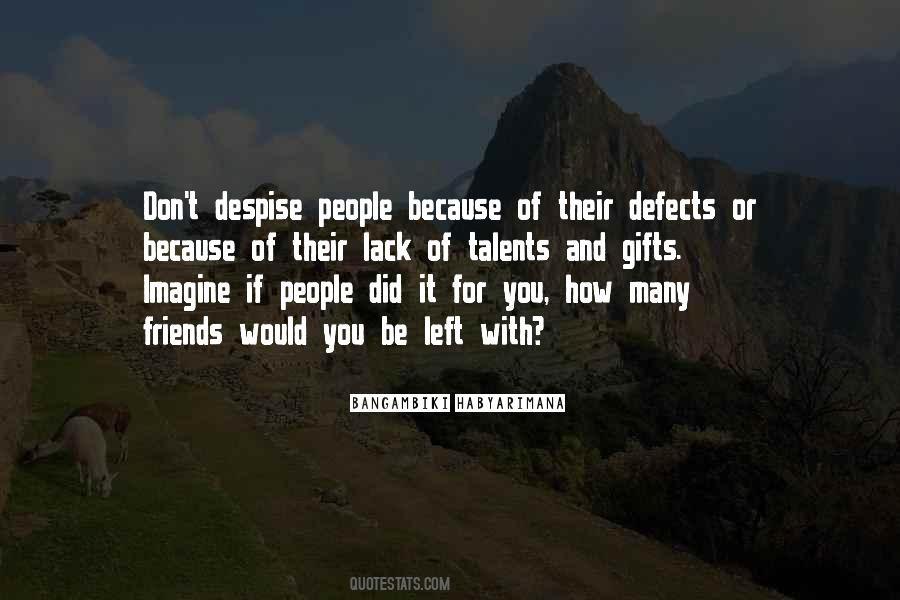 #30. In the end, those who demean others only disrespect themselves. - Author: D.B. Harrop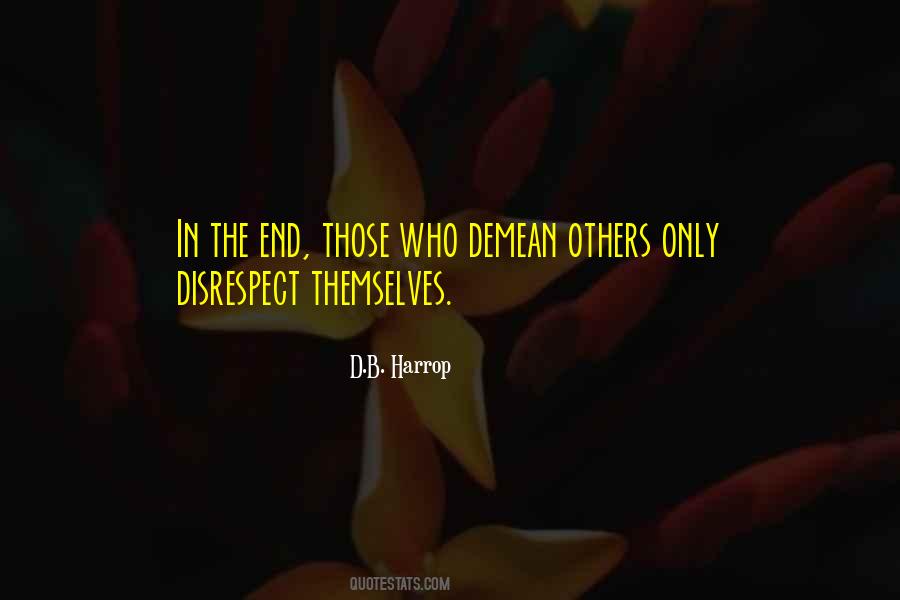 #31. Respect at the cost of others is disrespect in effect. - Author: Muhammad Tariq Majeed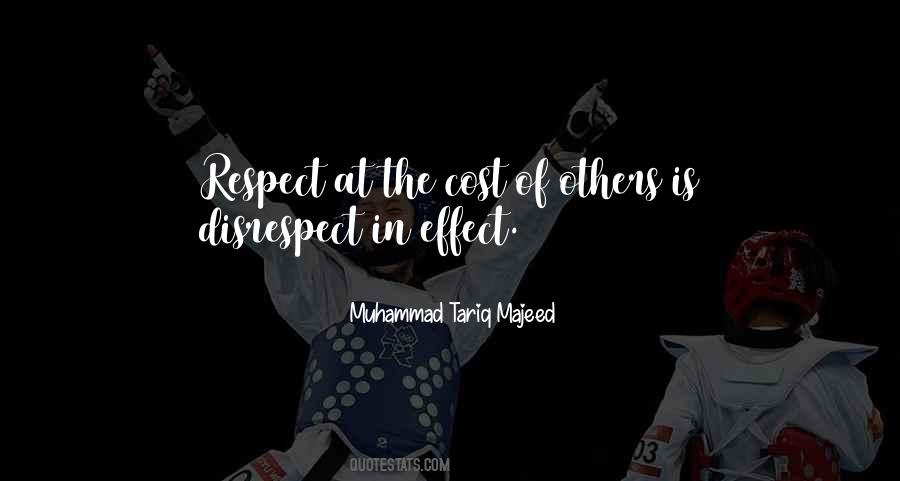 #32. Respecting other people's rights is peace. - Author: Dolores Huerta
#33. All anyone really wants is to feel appreciated. So if you want to create real, long-lasting relationships, do that. - Author: Charles F. Glassman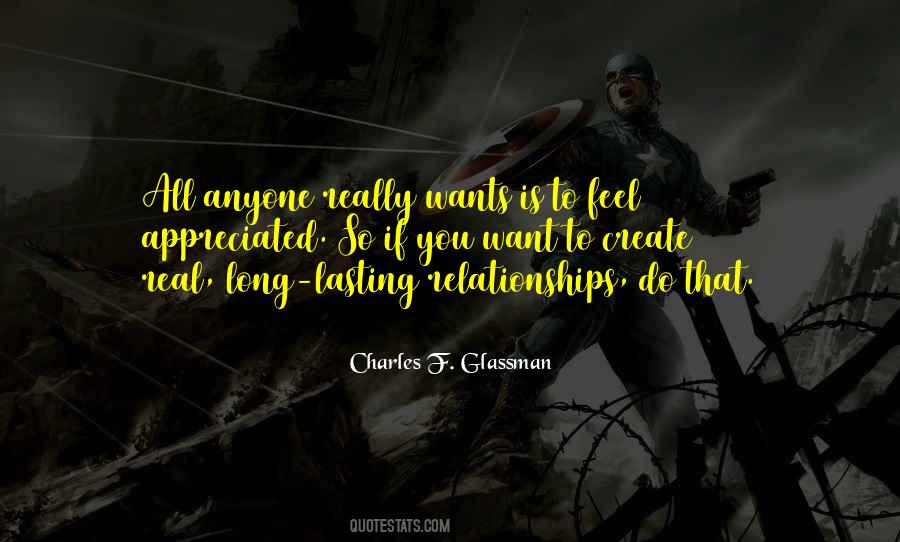 #34. Expressing an opinion with an empty soul can complicate your duty of respecting the opinions of others. - Author: Vasilios Karpos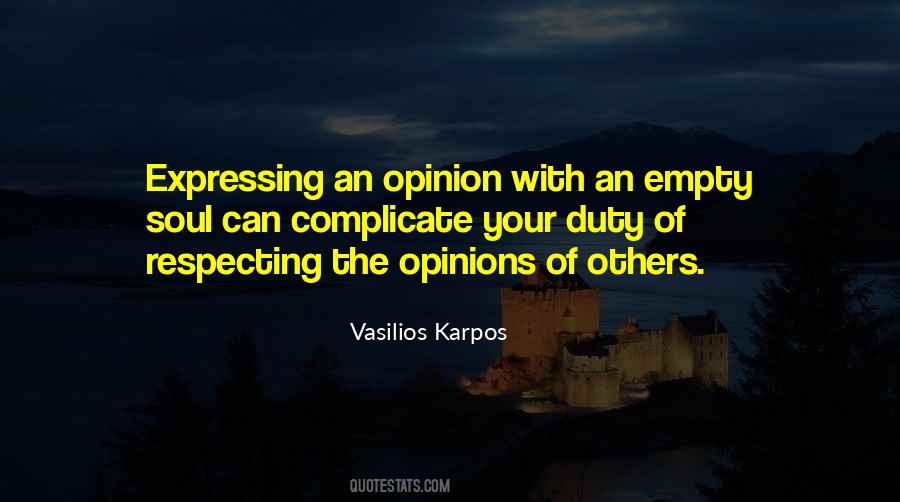 #35. Maturity is developed by respecting others and accepting responsibility for violating that respect. - Author: Wes Fesler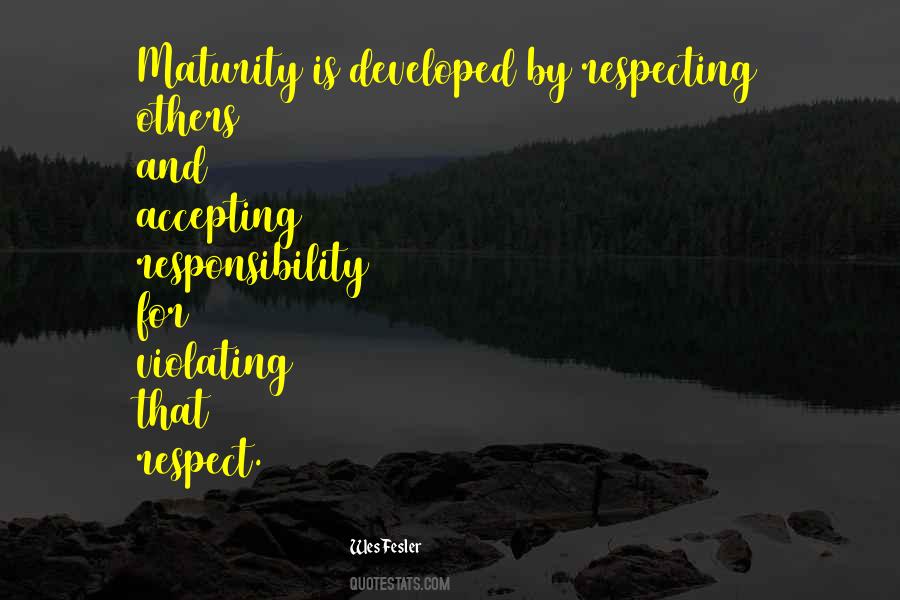 #36. Speak graciously to young men as you would to your brothers. - Author: Lailah Gifty Akita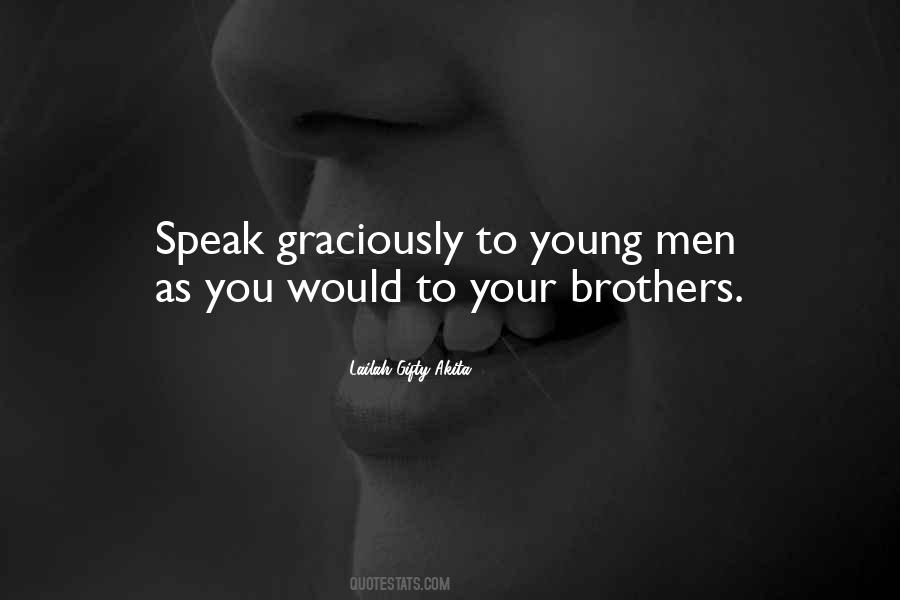 #37. When you stop comparing yourself with others, you begin respecting your own uniqueness. - Author: Vishwas Chavan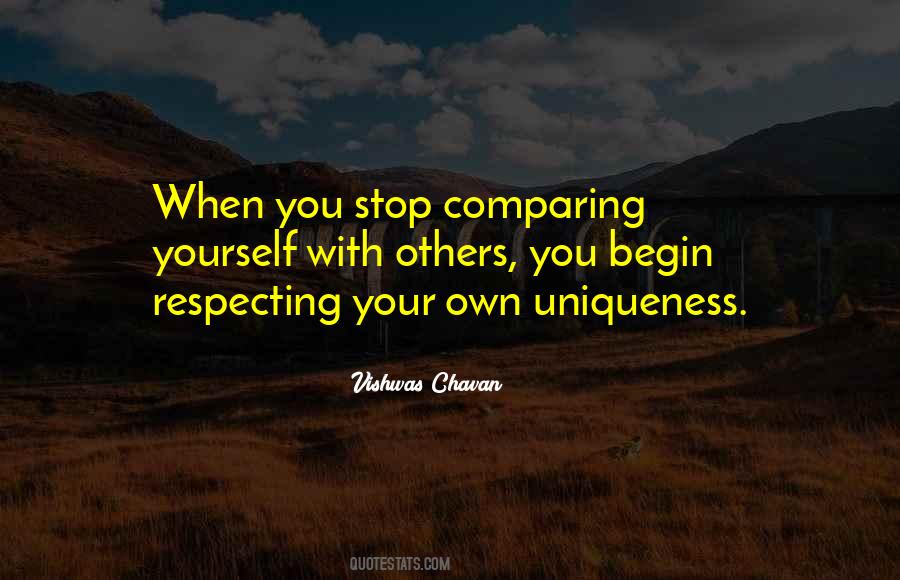 #38. Appeal with respect to elderly people as you would to the members of your own family. - Author: Lailah Gifty Akita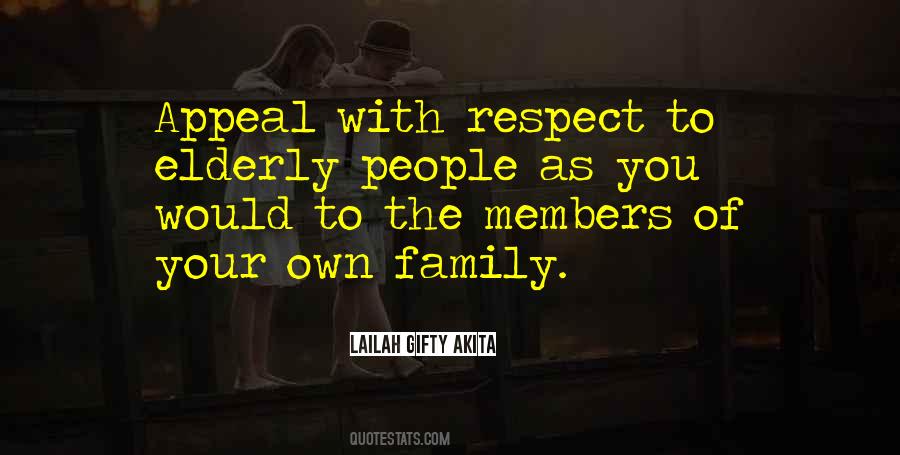 #39. Respect flows two ways and can mean as much to the giver as to the one receiving. - Author: David Anthony Durham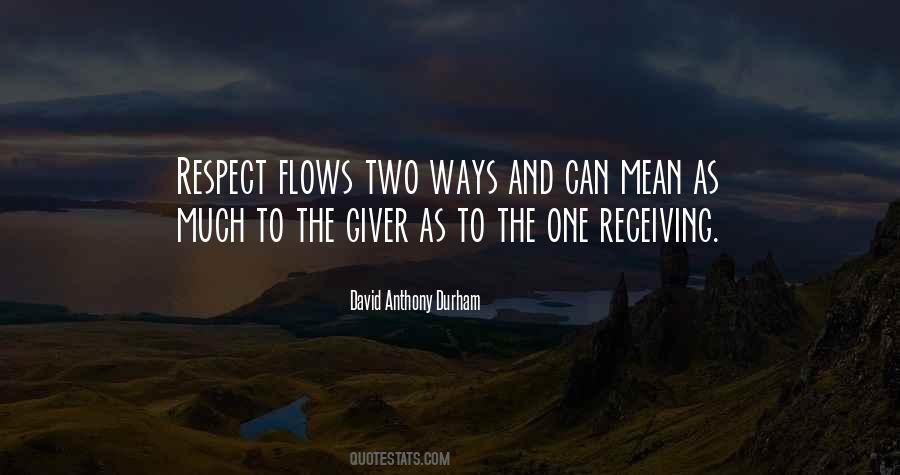 #40. We nurture our own being by respecting all people and consciously working to mitigate the pain of the world. - Author: Kilroy J. Oldster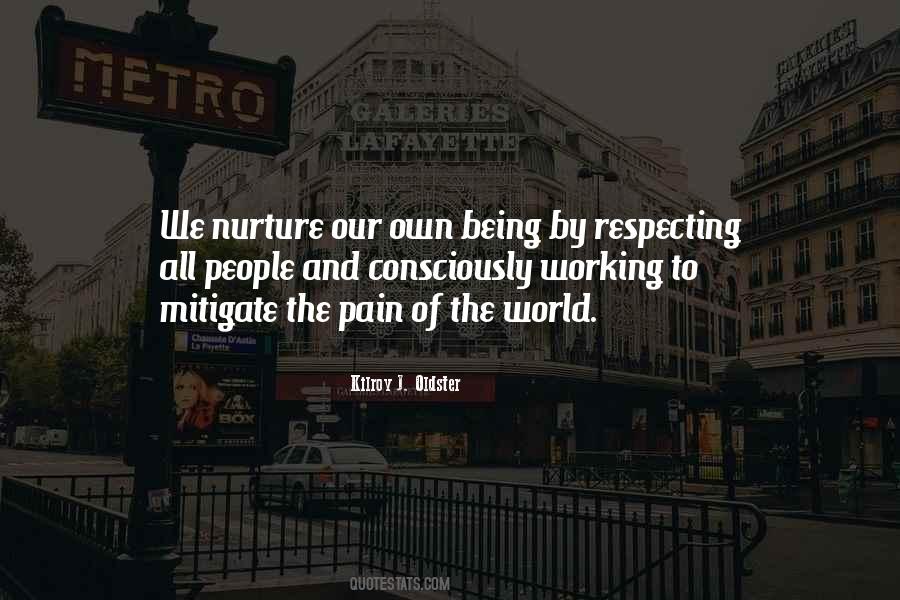 #41. But it's important, while we are supporting lessons in respecting others, to remember that many of our youngest kids need to learn to respect themselves. You learn your worth from the way you are treated. - Author: Anna Quindlen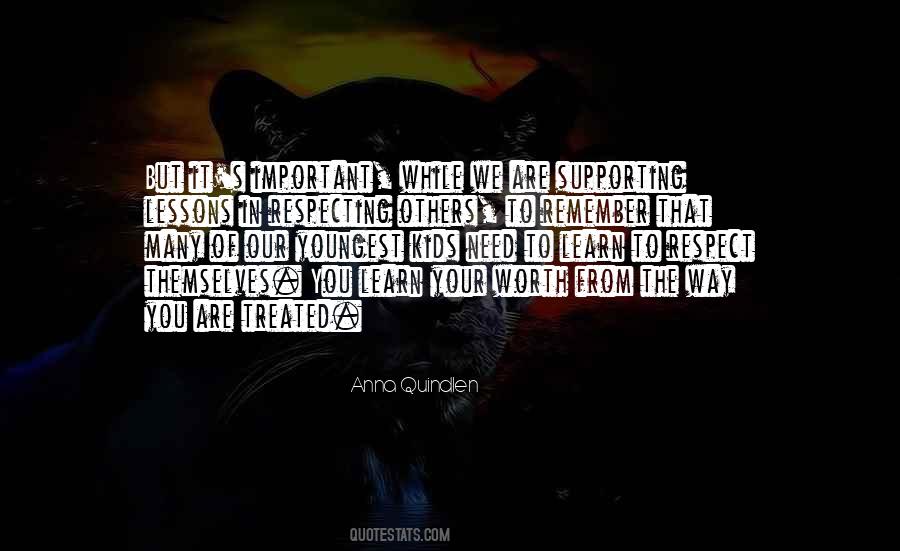 #42. Love is a two-way street, but not everyone deserves a license. - Author: Carlos Wallace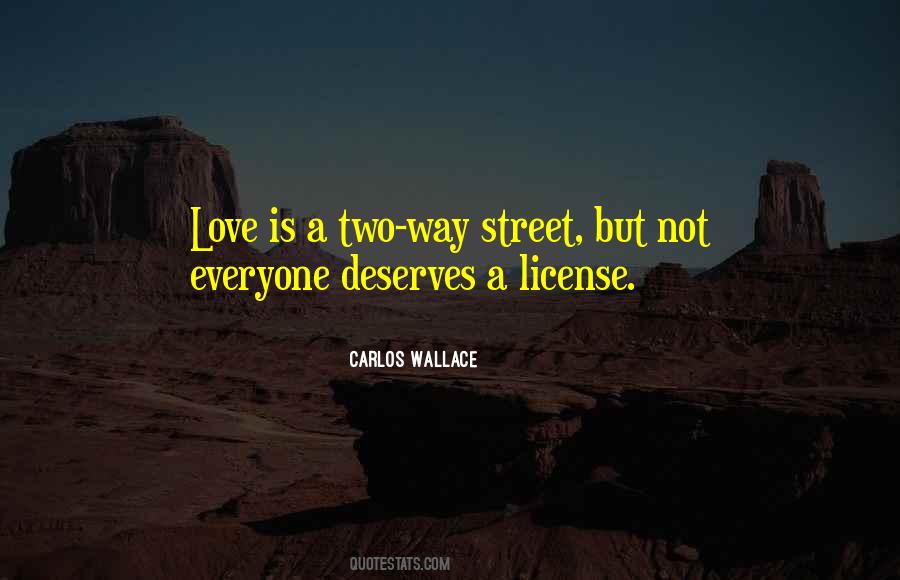 #43. You will never gain anyone's approval by begging for it. When you stand confident in your own worth, respect follows. - Author: Mandy Hale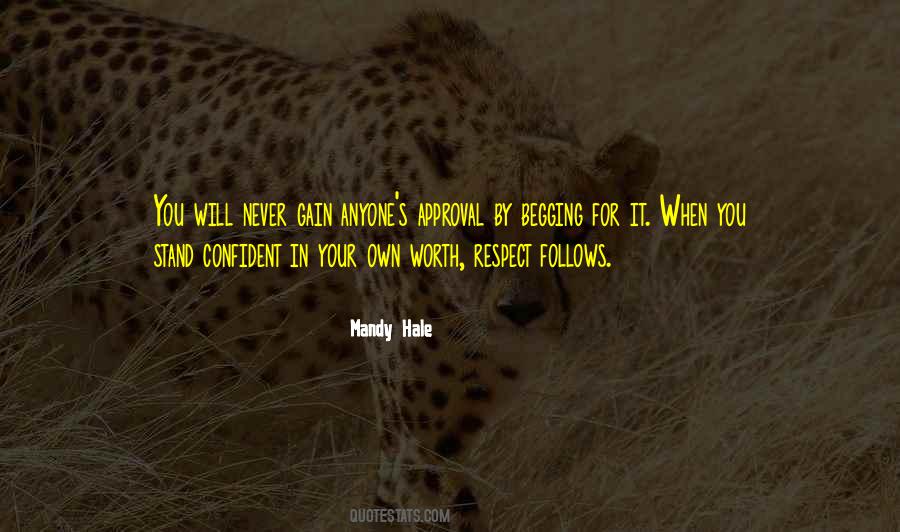 #44. Individuals set boundaries to feel safe, respected, and heard. - Author: Pamela Cummins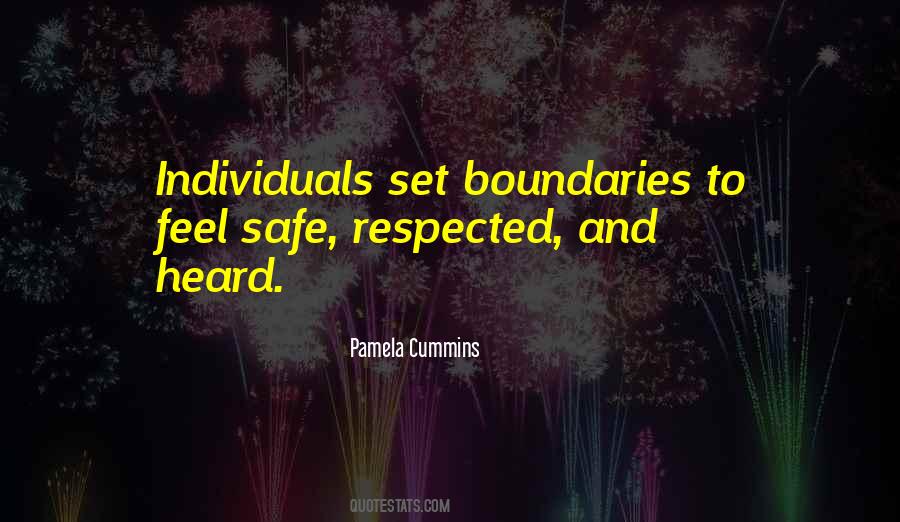 #45. I respect a woman who can respect me when I'm not around. - Author: Mark W. Boyer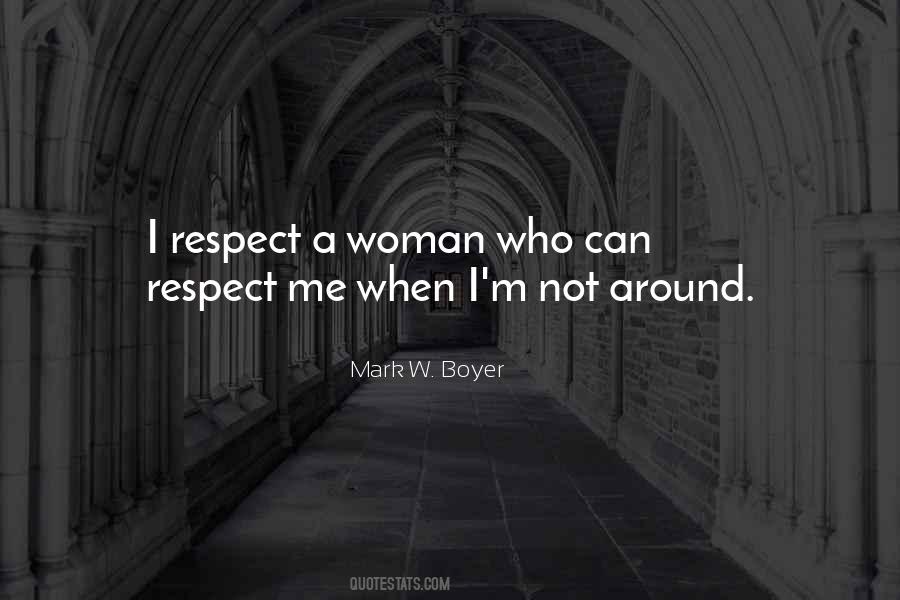 #46. The only true disability is the inability to accept and respect differences. - Author: Tanya Masse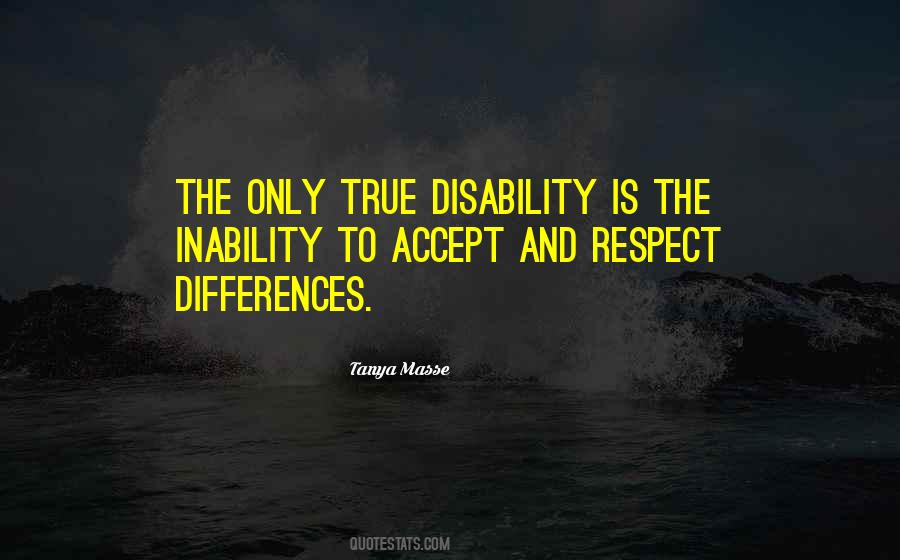 #47. Self respect by definition is a confidence and pride in knowing that your behaviour is both honorable and dignified. Therefore when you harass or vilify another person, you not only disrespect them, but you also. -Respect yourself by respecting others. - Author: Miya Yamanouchi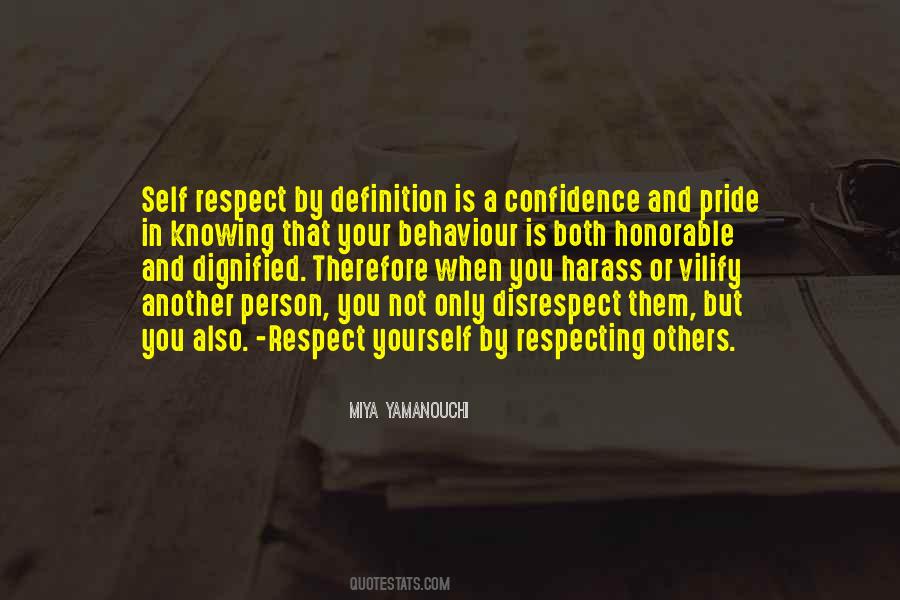 #48. You least obtain something great from the great thing you regard as least though such great thing can give you something great - Author: Ernest Agyemang Yeboah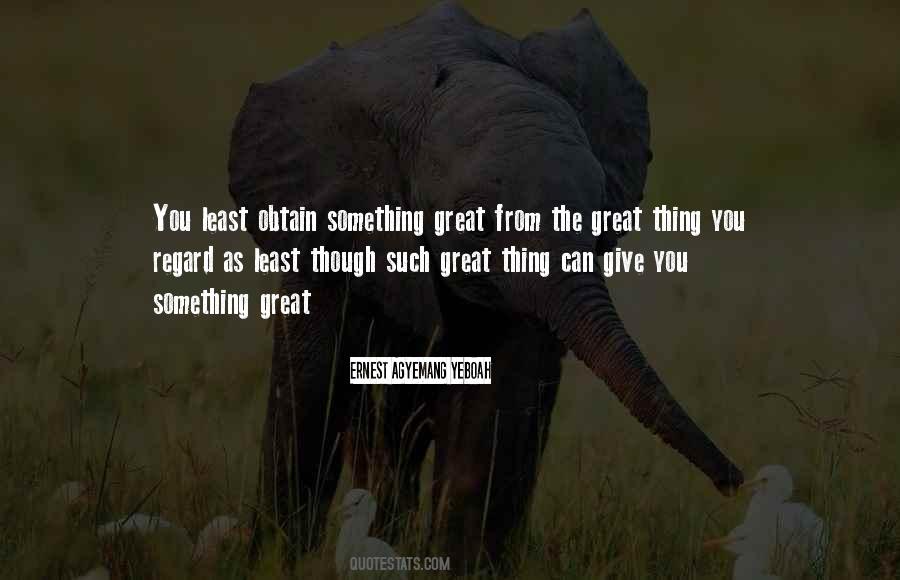 #49. If I say I don't want to read the book, I don't want to read the book. - Author: Gillian Flynn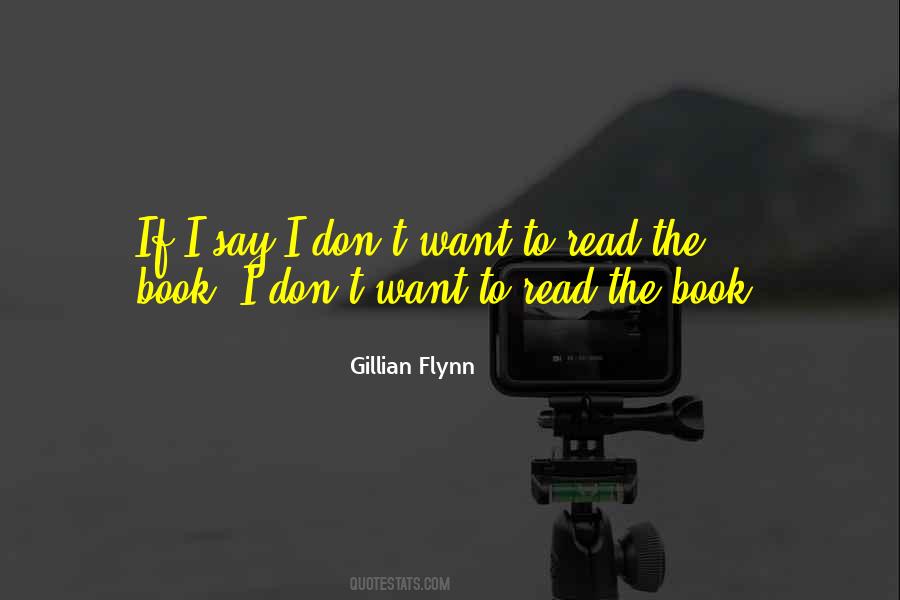 #50. As I've been telling your, son, you get nowhere looking at clothes and the color of the skin to judge a man. It won't tell you nothing about what's inside. That's where a fellow's mettle is, and that's what counts. - Author: Richard Puz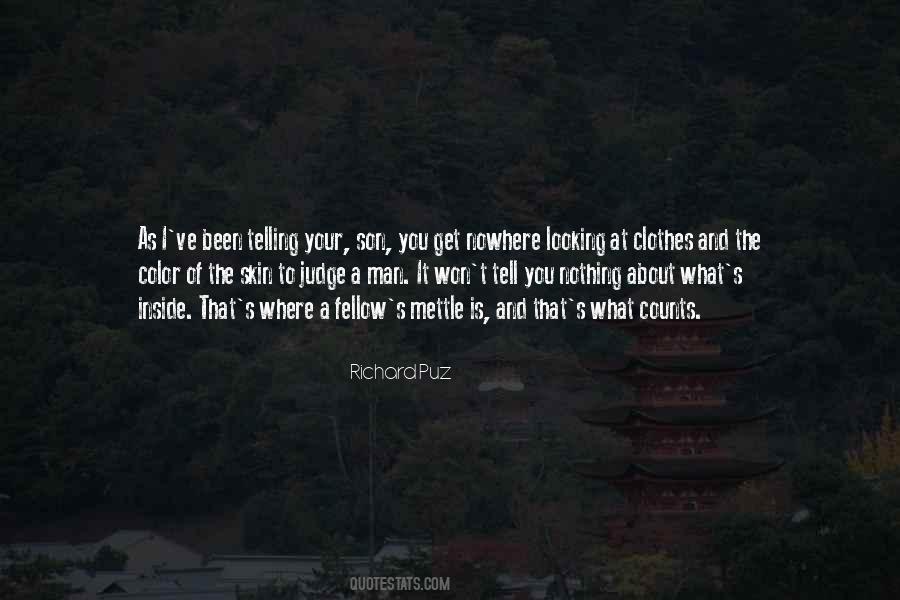 #51. The true measure of a man is how he treats you when others are not looking. - Author: Alessandra Torre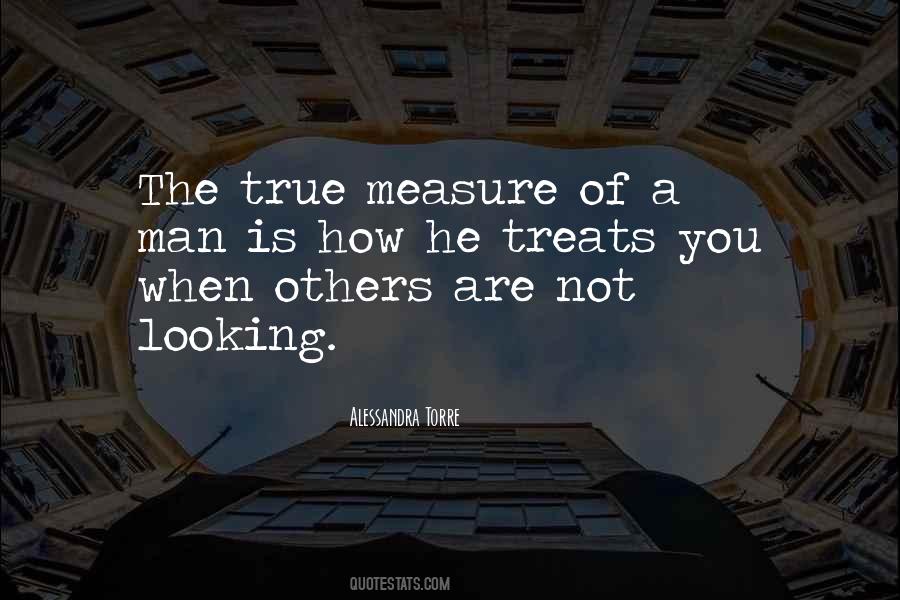 #52. As the master creators on this planet, we can improve conditions for all and learn greater respect for others. - Author: Bryant McGill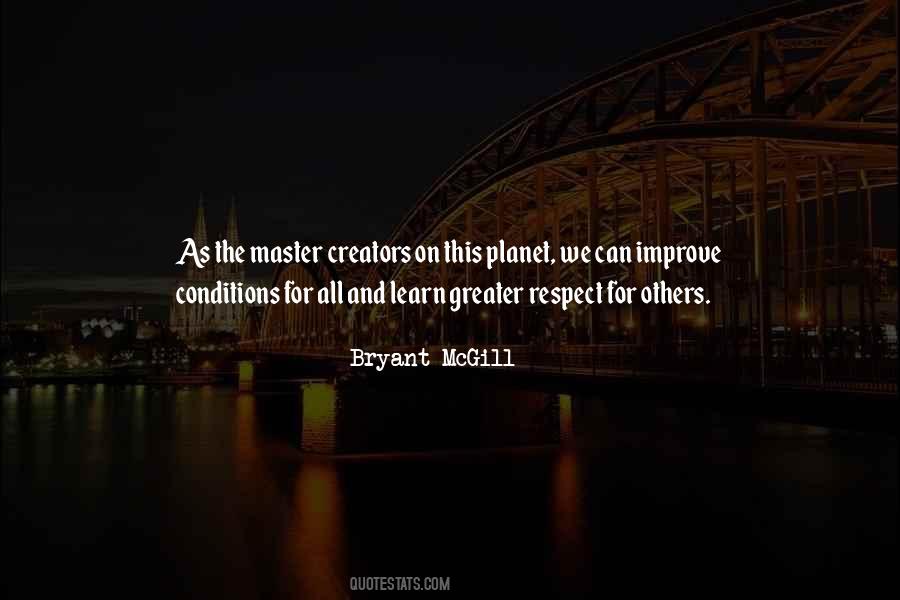 #53. A lot of the powerful religious leaders, from Jesus to Buddha to Tibetan monks, they're really talking about the same things: love and acceptable, and the value of friendship, and respecting yourself so you can respect others. - Author: Jena Malone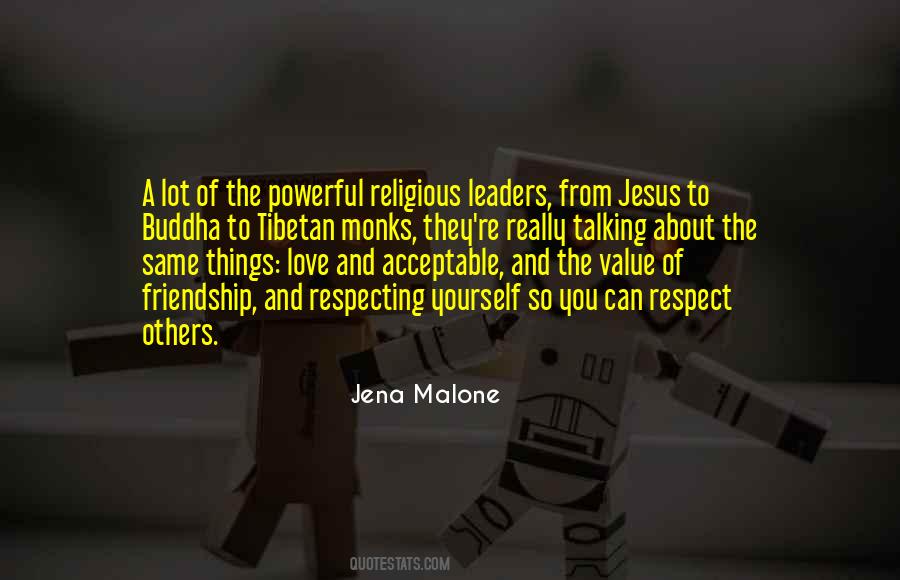 #54. If you treat your subject with seriousness and respect, other people tend to treat it the same way. - Author: Vanessa Friedman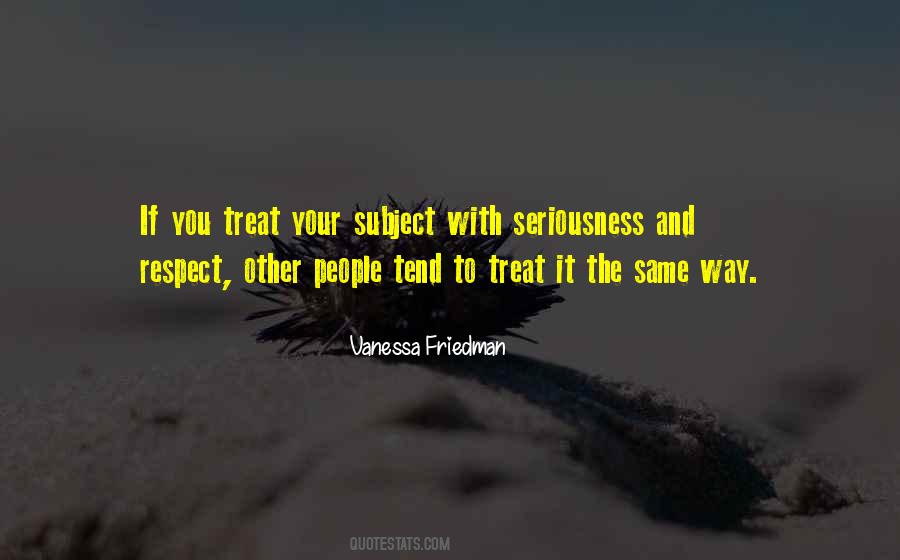 #55. When we continue to hate, we continue to lose. When we amplify mutual respect and love, we have a lot to gain. Quite simply, there is more for us to gain through love than hate. - Author: Suzy Kassem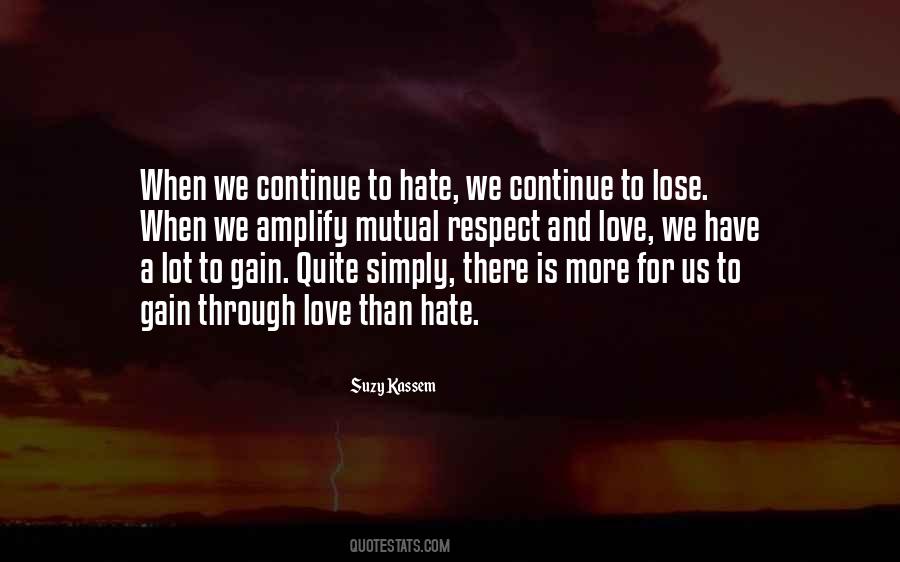 #56. to be respected be respecting - Author: Himanshu Arora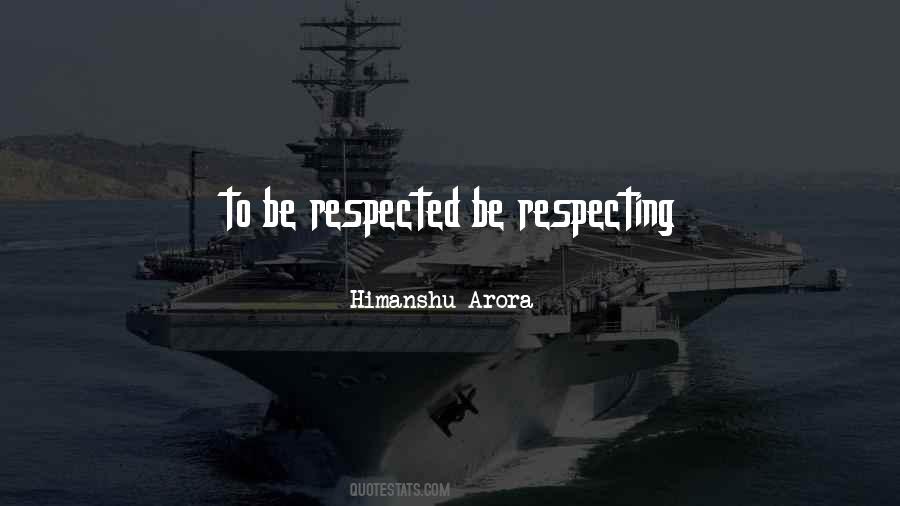 #57. Let us make a pledge now to help Fiji through this very important next stage of its journey. We can do this by promising to be patient, calm and tolerant and by respecting the views of others, even if we disagree with them. - Author: Josefa Iloilo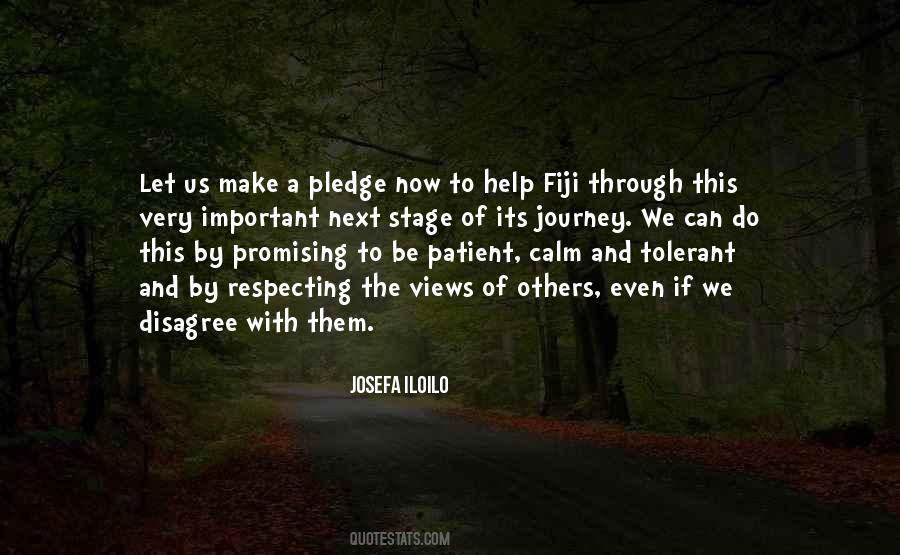 #58. Democracy is not merely a form of Government.
It is primarily a mode of associated living, of conjoint communicated experience.
It is essentially an attitude of respect and reverence towards our fellow men. - Author: B.R. Ambedkar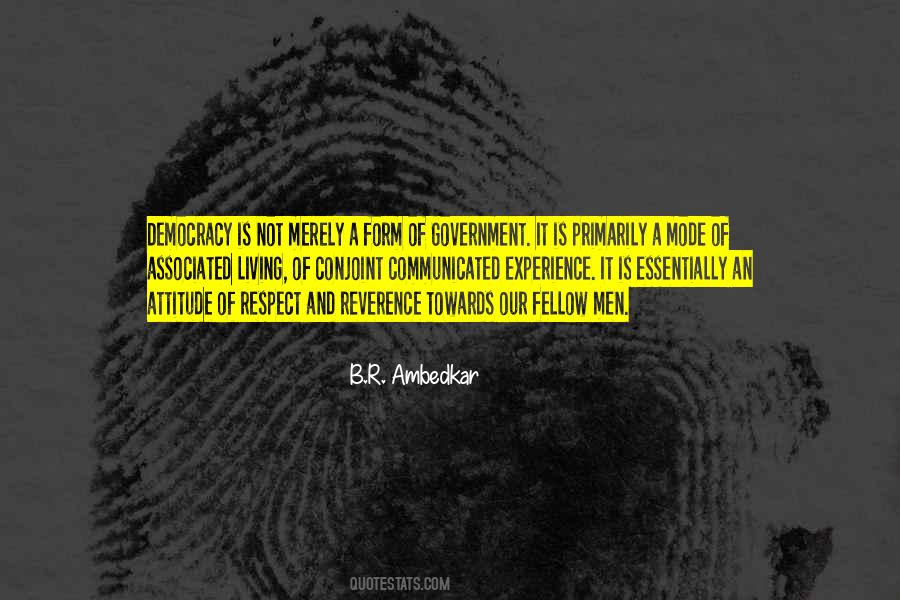 #59. From the moment I could even understand what "respect" was I knew it was not a choice but the ONLY option. - Author: Carlos Wallace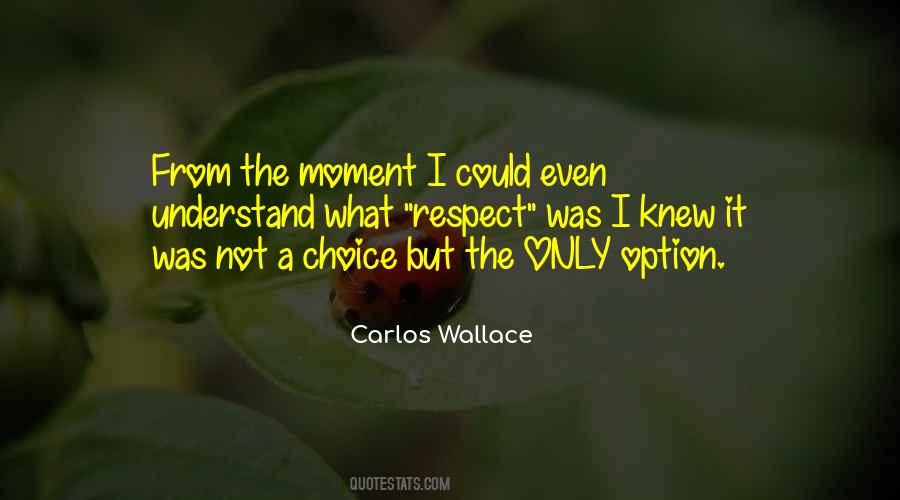 #60. The most common lie you will ever tell God is your opportunity to do the right thing was taken from you. - Author: Shannon L. Alder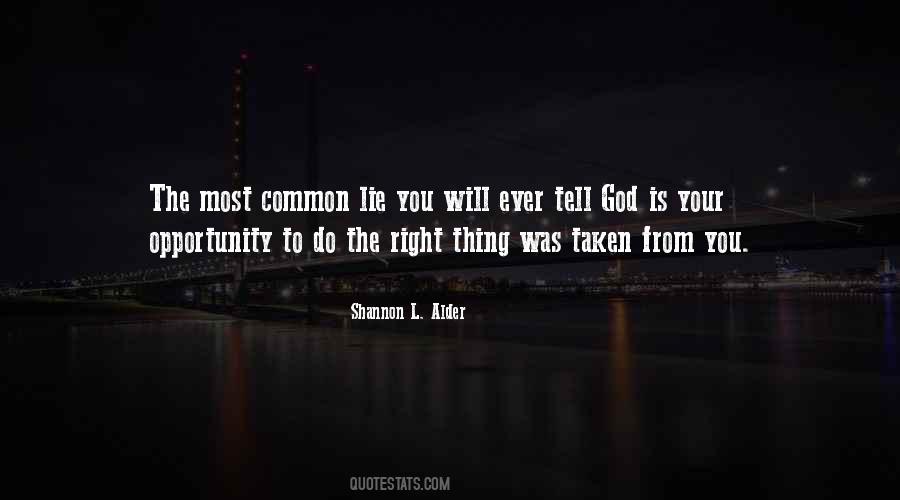 #61. In a servant leadership culture we learn by choice or example that if we want to be great, we have to serve others respectfully. - Author: Vern Dosch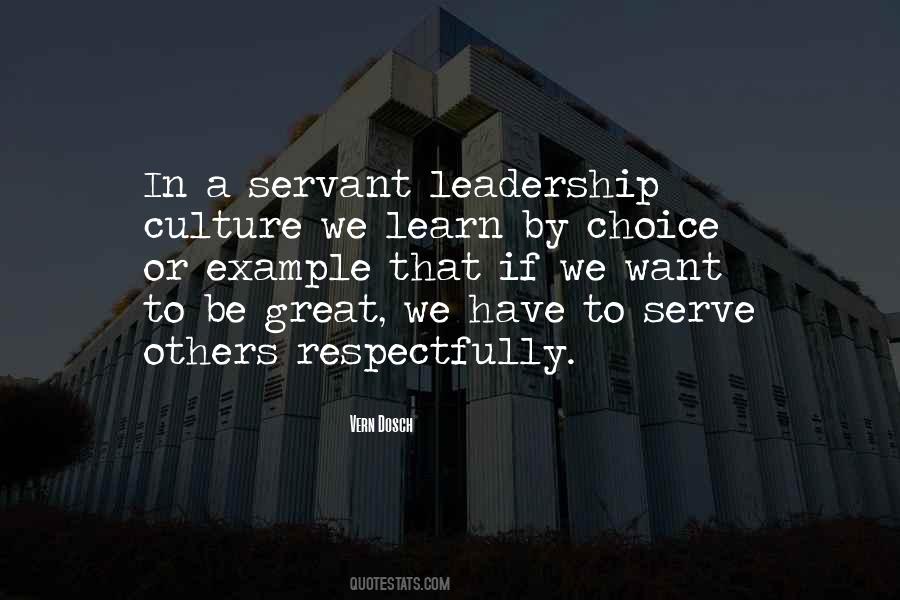 #62. The most effective way to be self disciplined, is to submit yourself to your words. - Author: Auliq Ice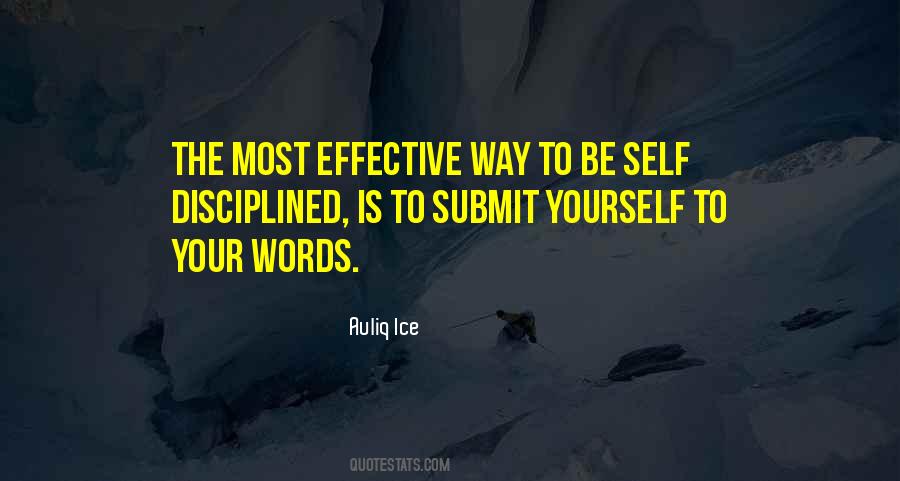 #63. Regardless of what you've been through we all process energy differently. - Author: Turcois Ominek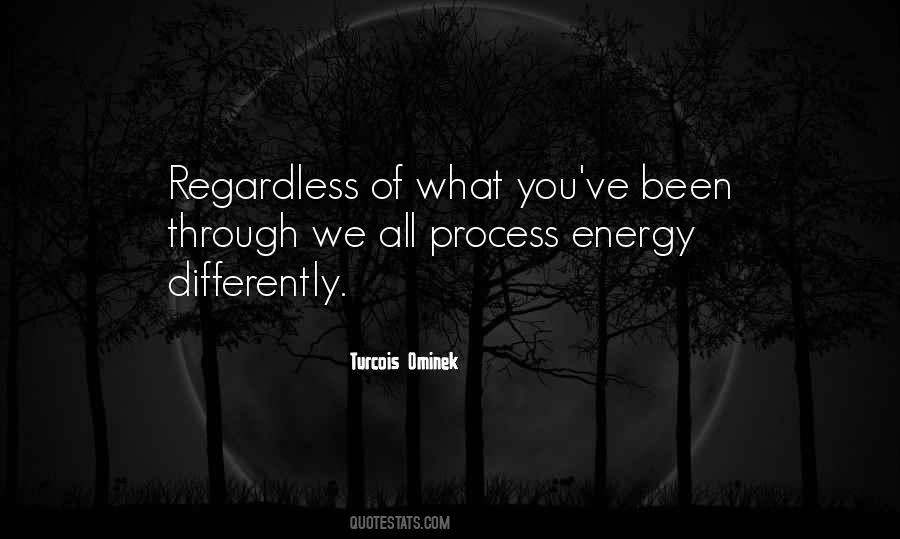 #64. If we not Respecting Ourselves how can give Respect to Others. - Author: Jan Jansen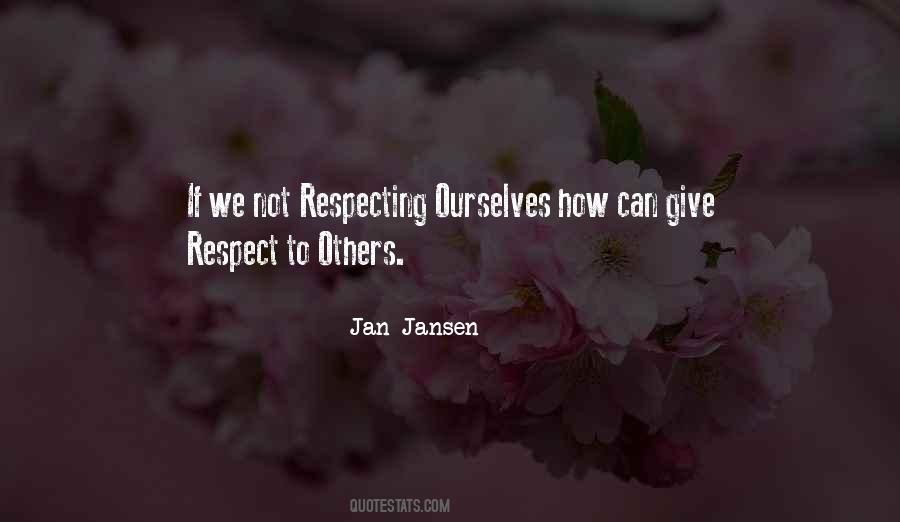 #65. Have a big enough heart to love unconditionally, and a broad enough mind to embrace the differences that make each of us unique. - Author: D.B. Harrop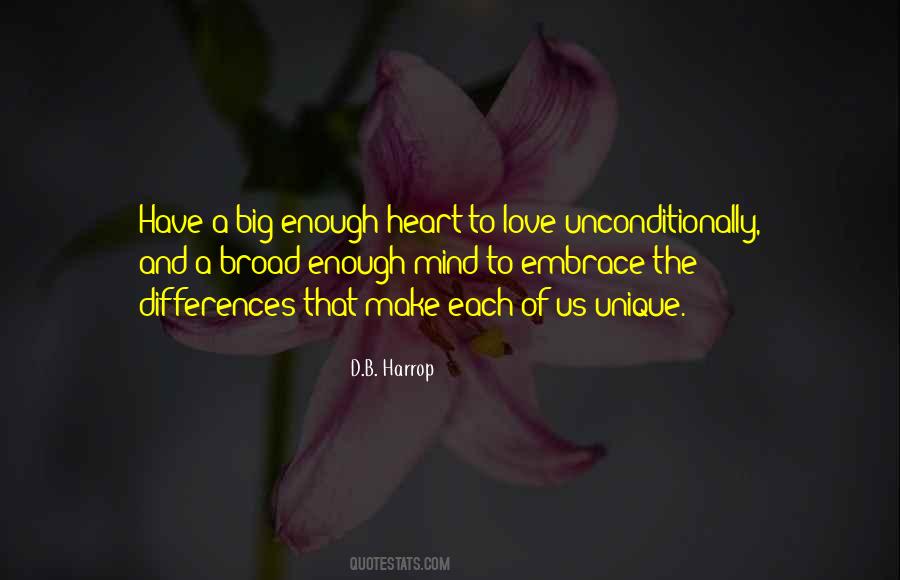 #66. The first step to liberty is respecting the rights of others. - Author: Brian McGreevy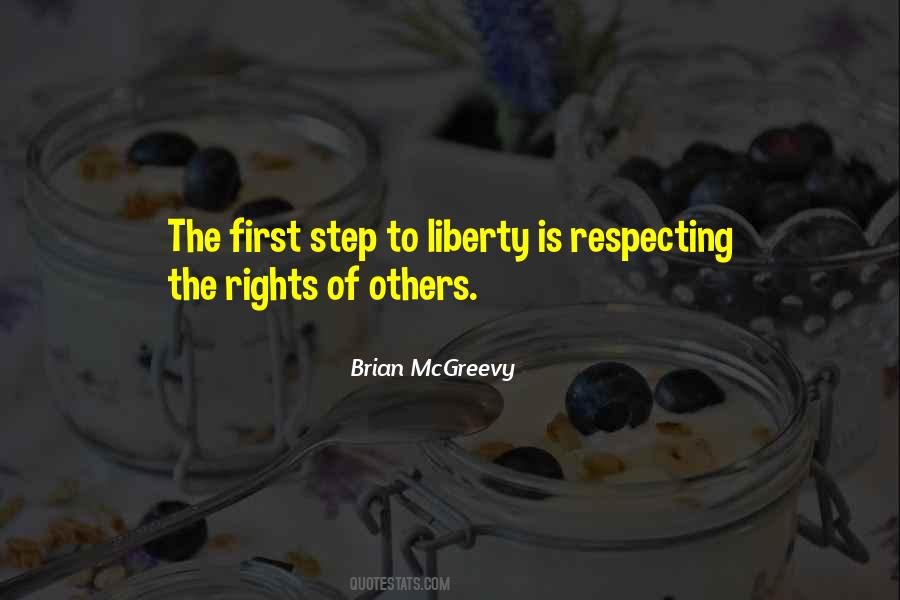 #67. You know Schmeckle, people are like feet. Most everyone has a pair and yet feet are so unique. So, we must treat all people with respect and accept their unique way. - Author: Ellen Newhouse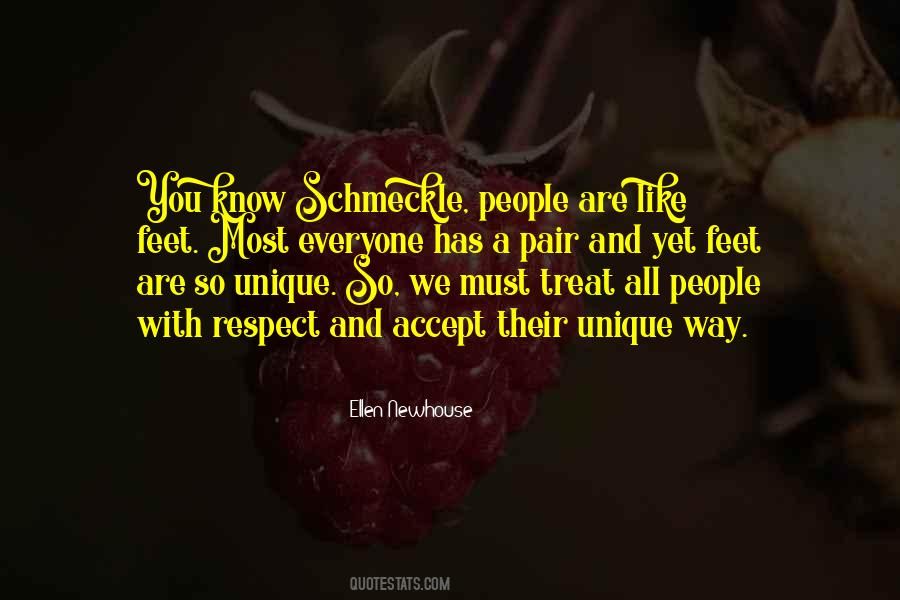 #68. As we grow as unique persons, we learn to respect the uniqueness of others. - Author: Robert H. Schuller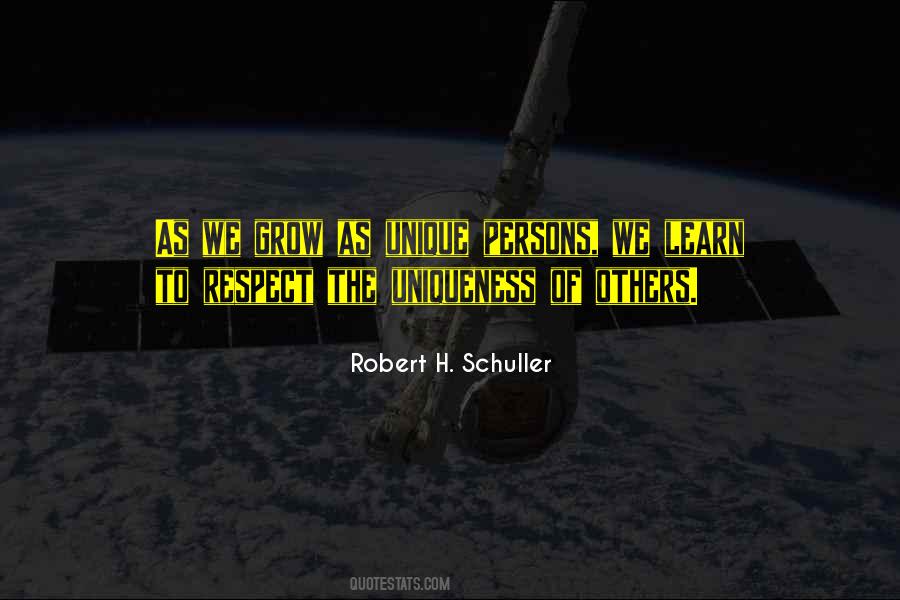 #69. I have to respect other's opinions even if I don't agree with them. - Author: Nathaniel Branden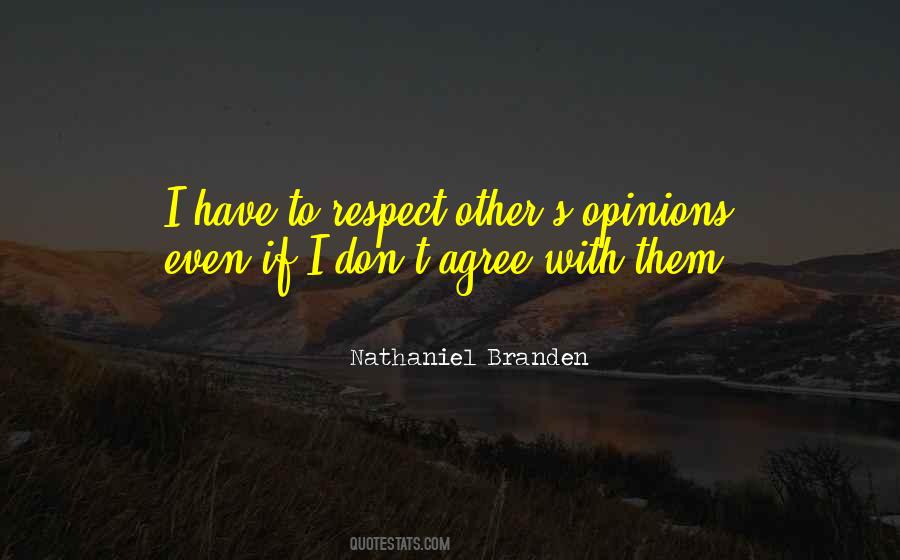 #70. He who respects others is respected by them. - Author: Mencius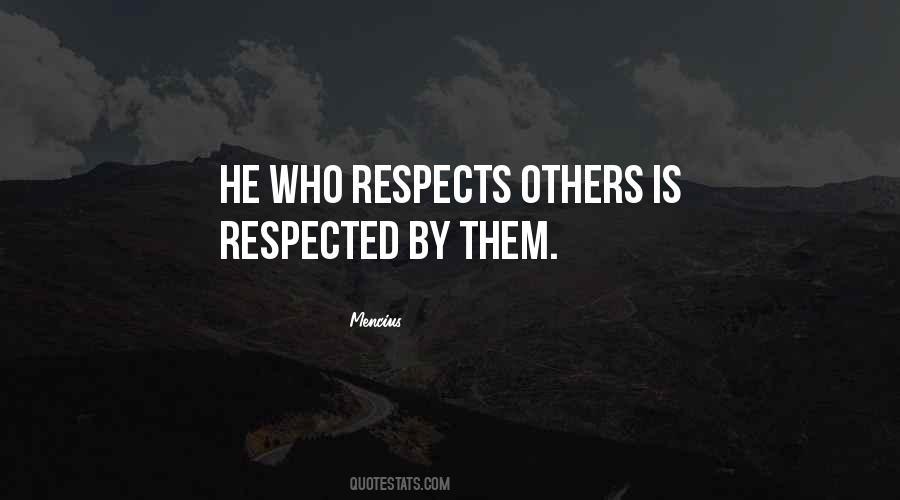 #71. It is vain for you to expect, it is impudent for you to ask of God forgiveness on your own behalf, if you refuse to exercise this forgiving temper with respect to others. - Author: Benjamin Hoadly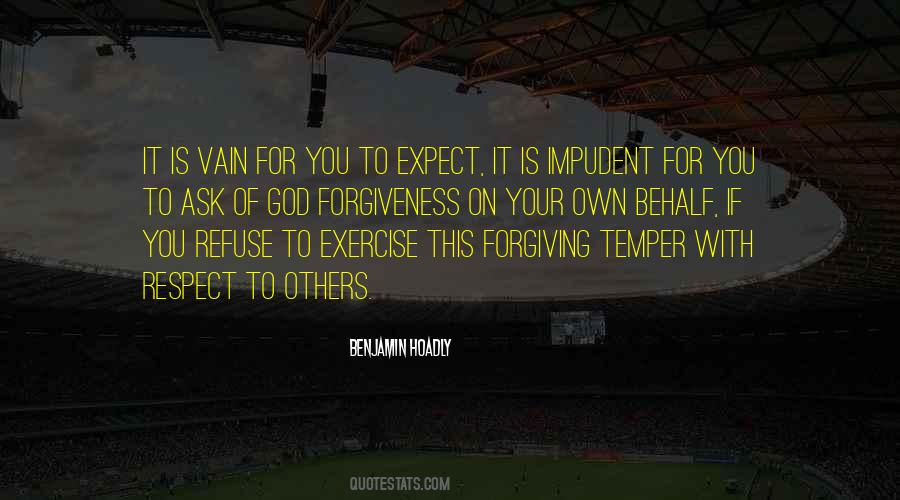 #72. Give yourself permission to change your world and others around you, in a positive way, with love and respect. - Author: Tasha Hoggatt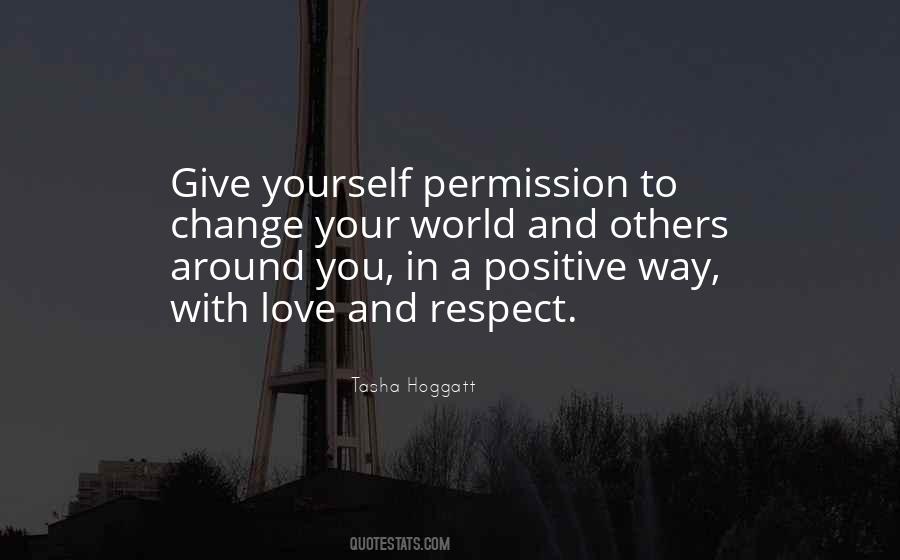 #73. All respect is earned, even self-respect. - Author: Bohdi Sanders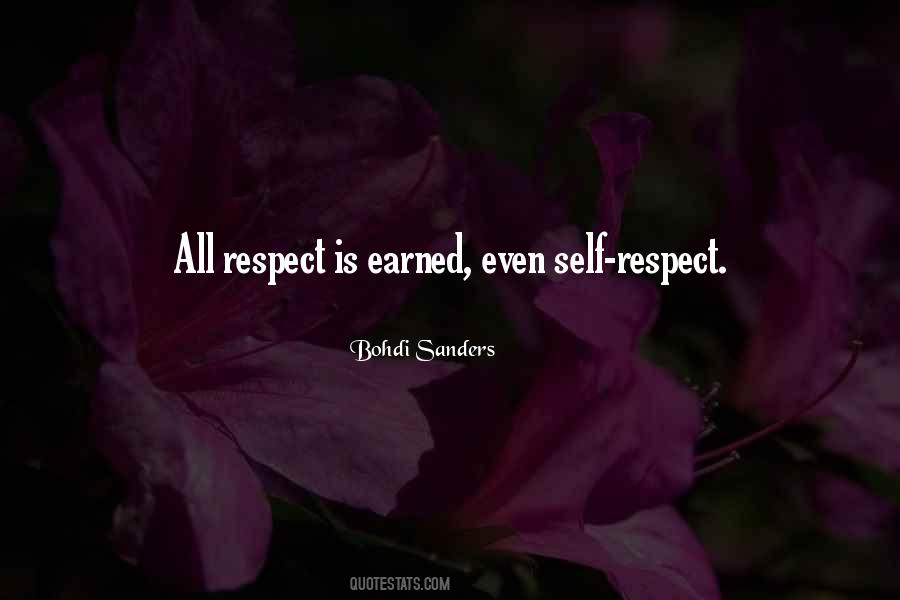 #74. Speak kindly to with adult women as you would to your mother. - Author: Lailah Gifty Akita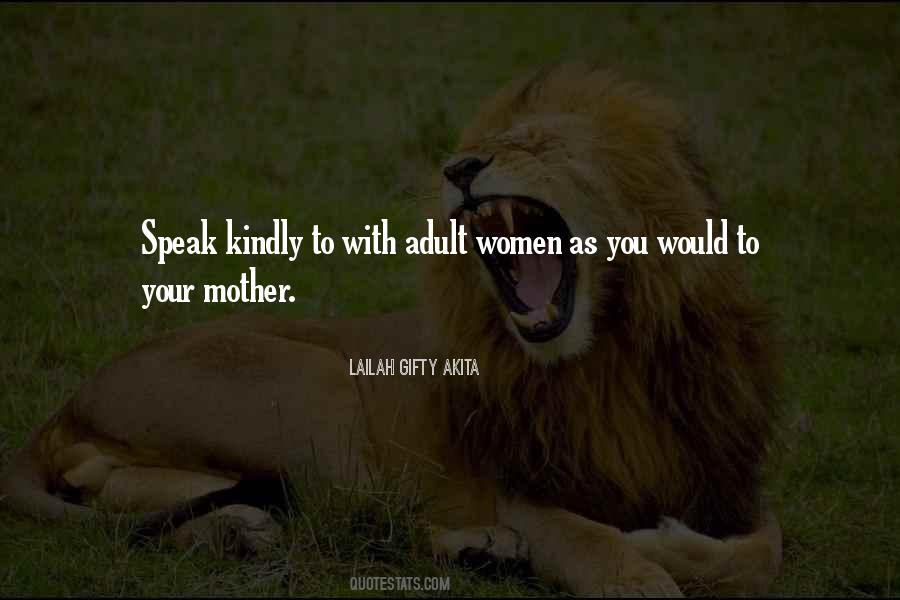 #75. I don't like disrespecting other teams. - Author: Urban Meyer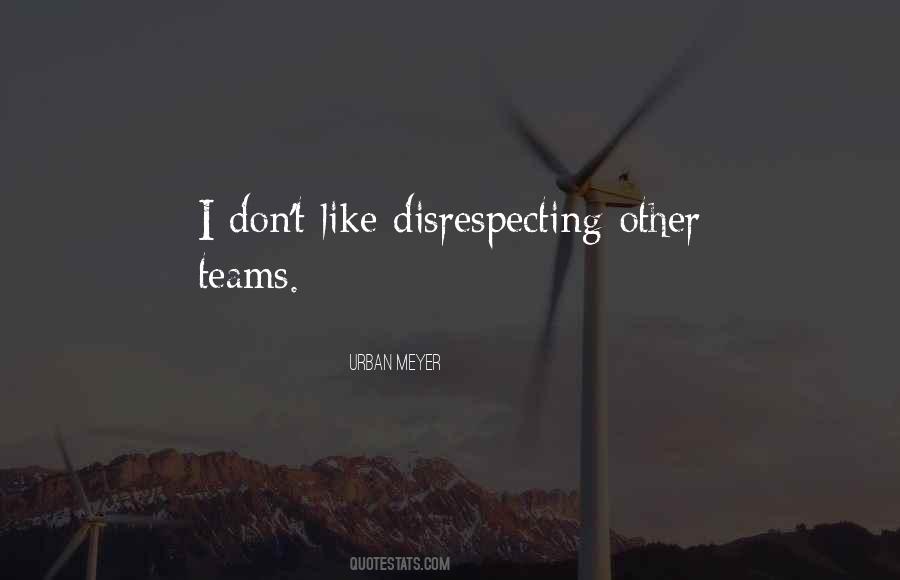 #76. Speak gently to young women as you would to your sisters - Author: Lailah Gifty Akita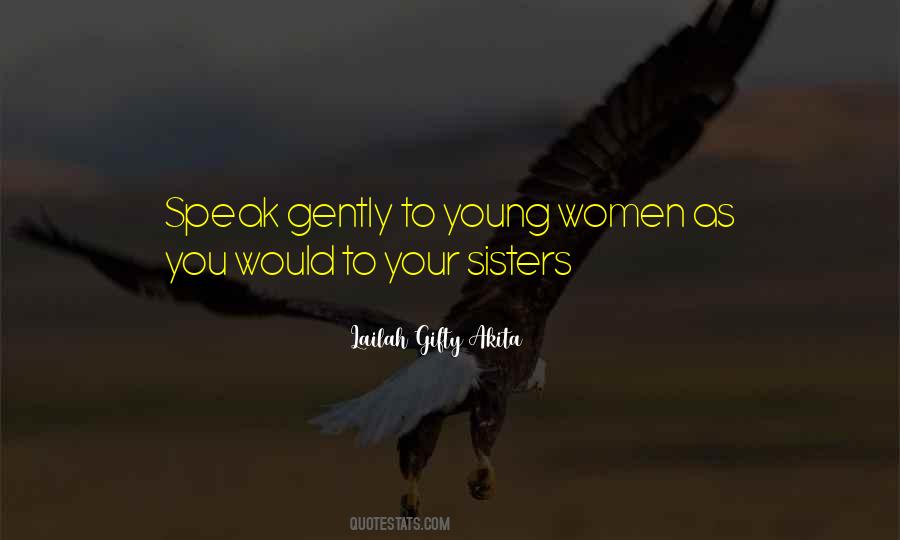 #77. Observing someone doesn't mean that you know them. Too many folks think they know you when they really don't know you. - Author: Werley Nortreus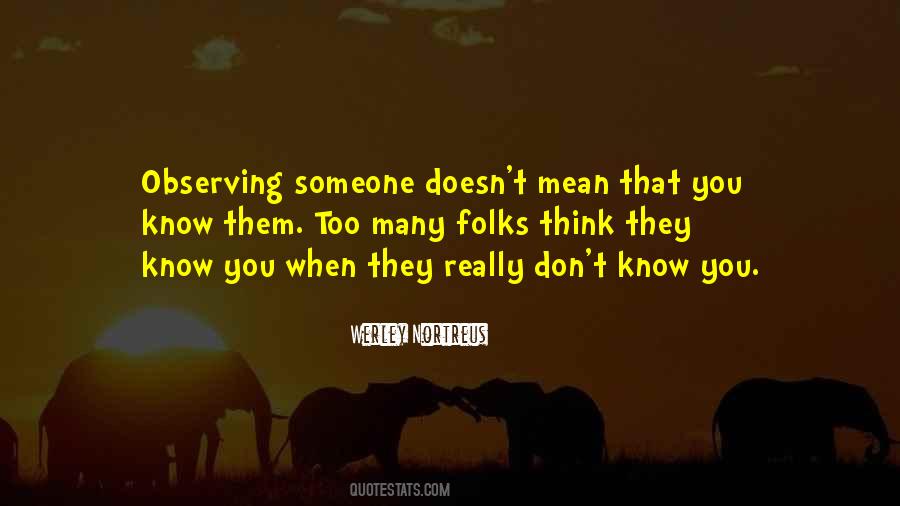 #78. Consideration is the basis of etiquette, and it starts at home. If you can't show consideration to your spouse, child or family member any consideration you show outside is shallow and a farce. - Author: Chinha Raheja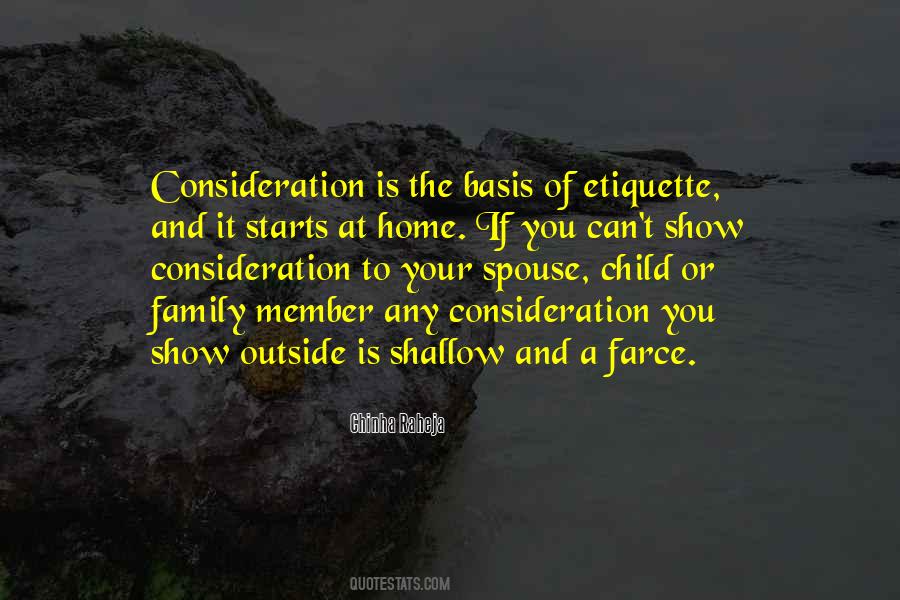 #79. I have never bought into the idea that blood is thicker than water. Love and respect are meant to be earned from our children, our spouses, our families, and our friends. - Author: Raquel Cepeda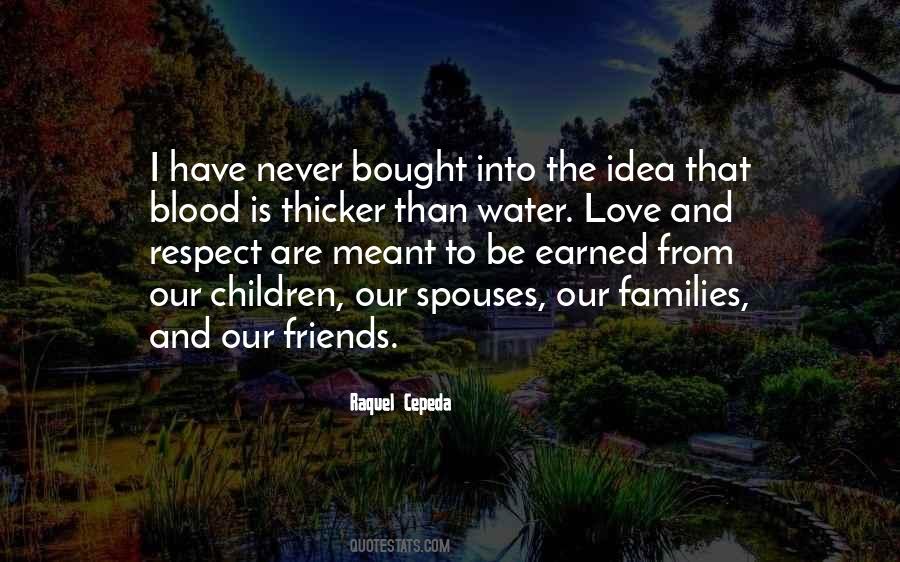 #80. The virtuous man takes the middle road between the two extremes, making a point of being respectful of his own ideas without changing his personality or style. - Author: Auliq Ice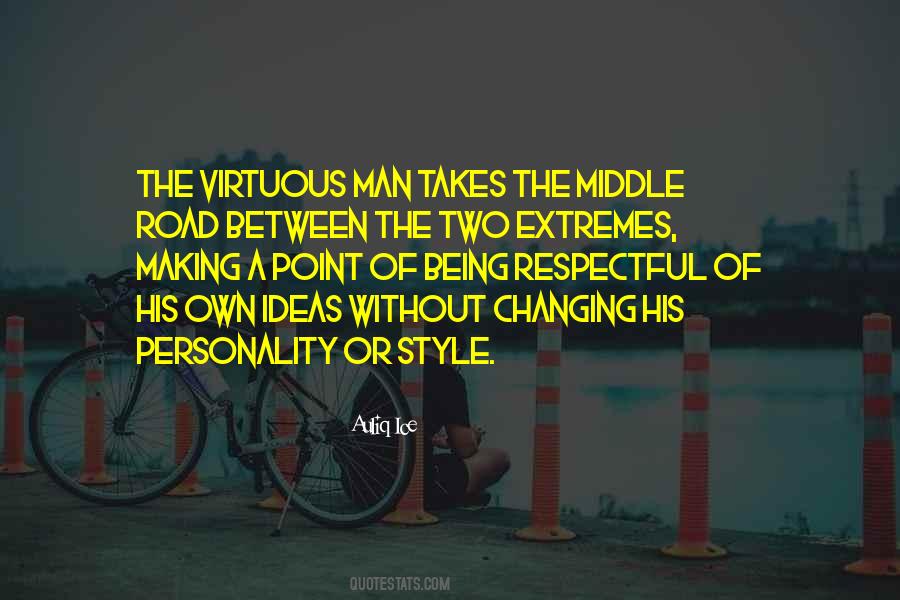 #81. A good motivation is what is needed: compassion without dogmatism, without complicated philosophy; just understanding that others are human brothers and sisters and respecting their human rights and dignities. That we humans can help each other is one of our unique human capacities. - Author: Dalai Lama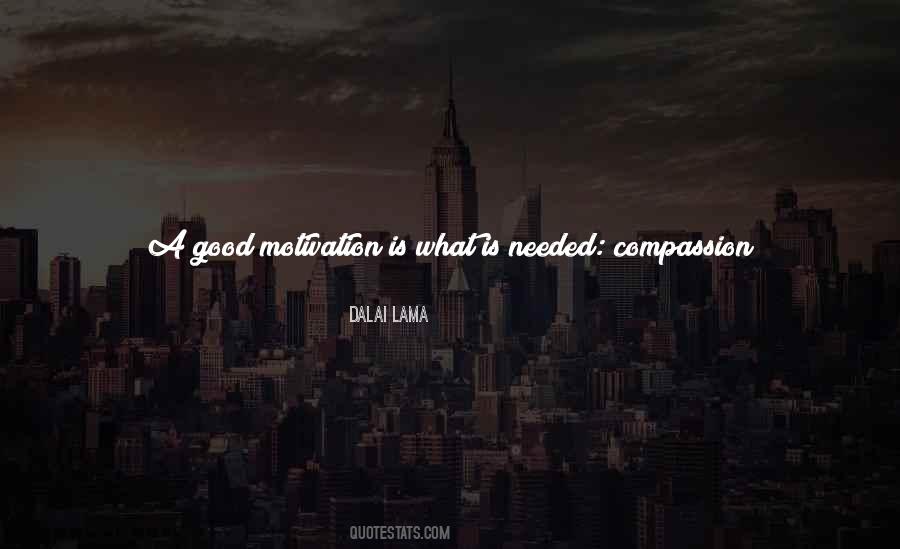 #82. He saw people living for their sake, saw them achieving endless things for their sake, traveling, waging wars, suffering endlessly, enduring endlessly, and he could love them for that; - Author: Hermann Hesse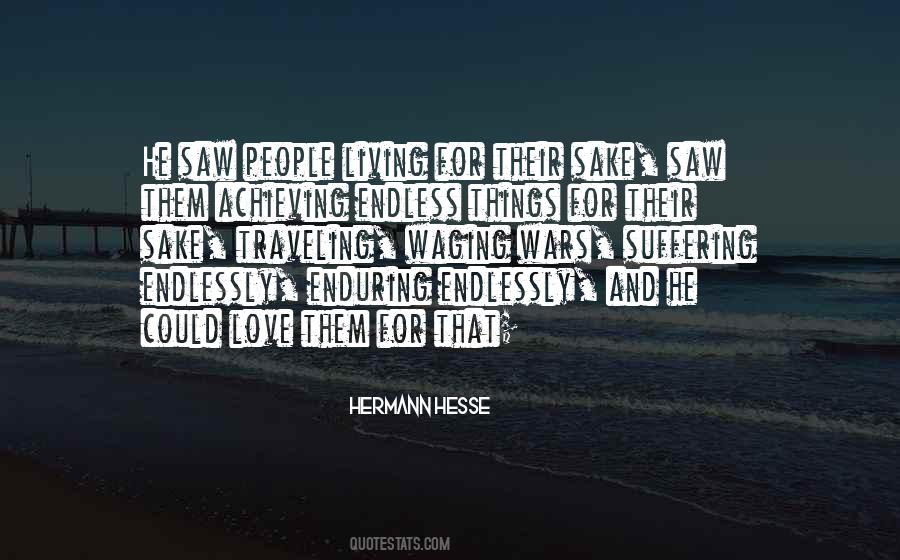 #83. The right to be respected is won by respecting others. - Author: Vasyl Sukhomlynsky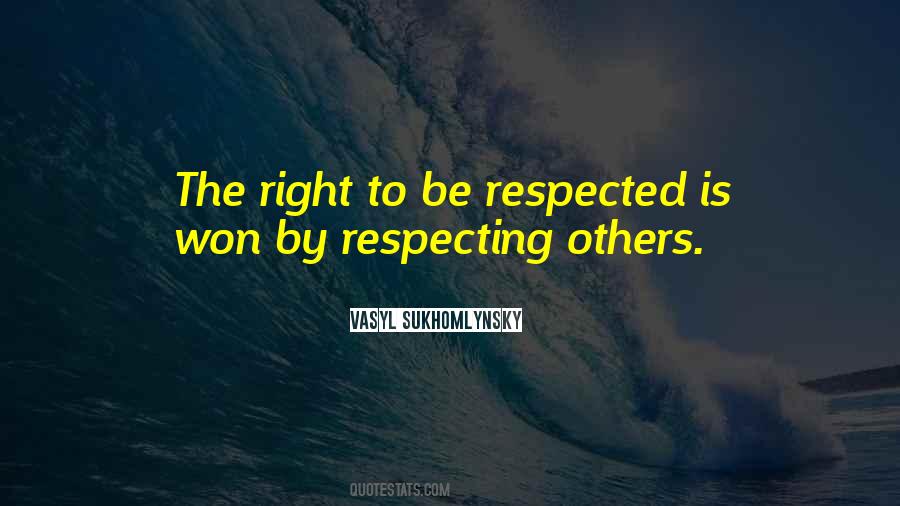 #84. He who loves others is constantly loved by them. He who respects others is constantly respected by them. - Author: Mencius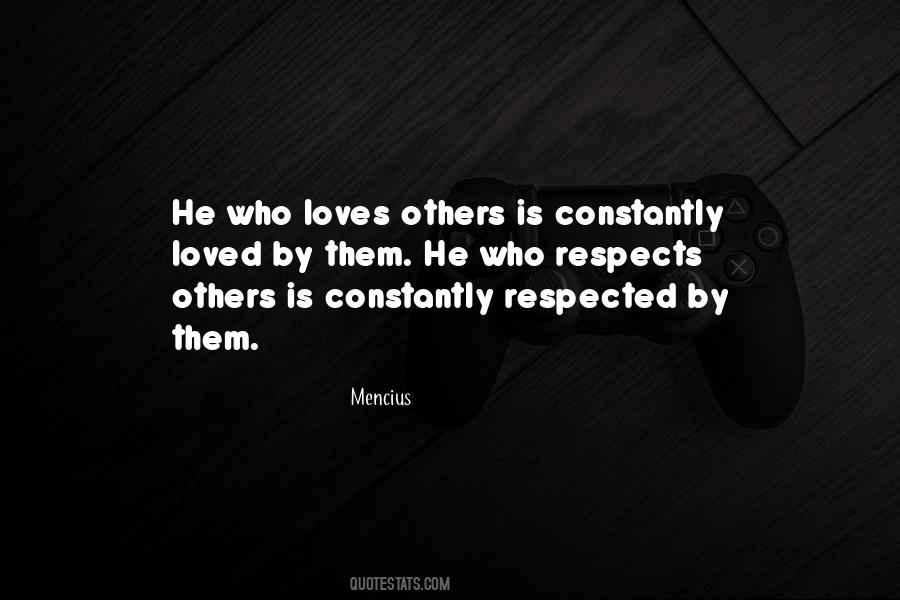 #85. A person fully awakened to the jewel-like dignity of their own life is capable of truly respecting that same treasure in others. - Author: Daisaku Ikeda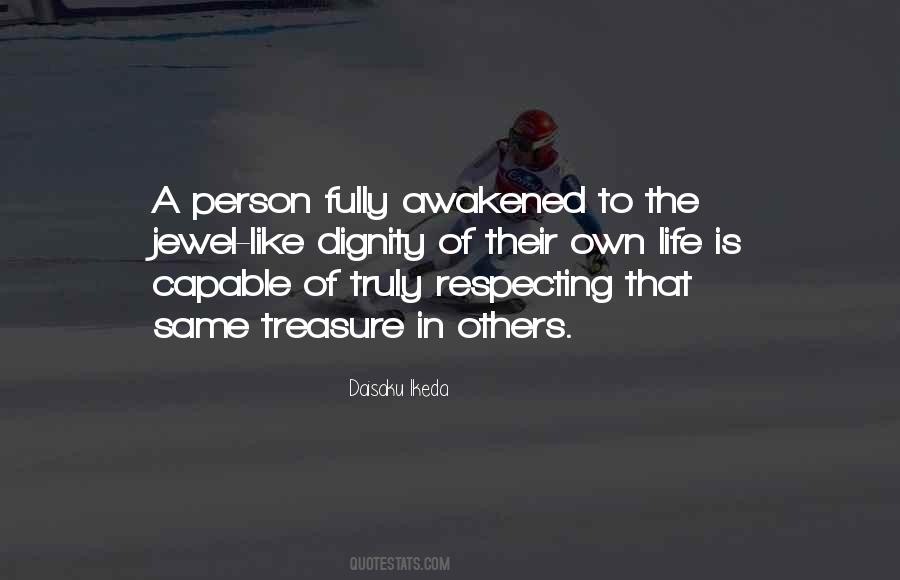 #86. Self-respect governs morality: respect for others governs our behavior. - Author: Joseph Alexandre Pierre De Segur, Viscount Of Segur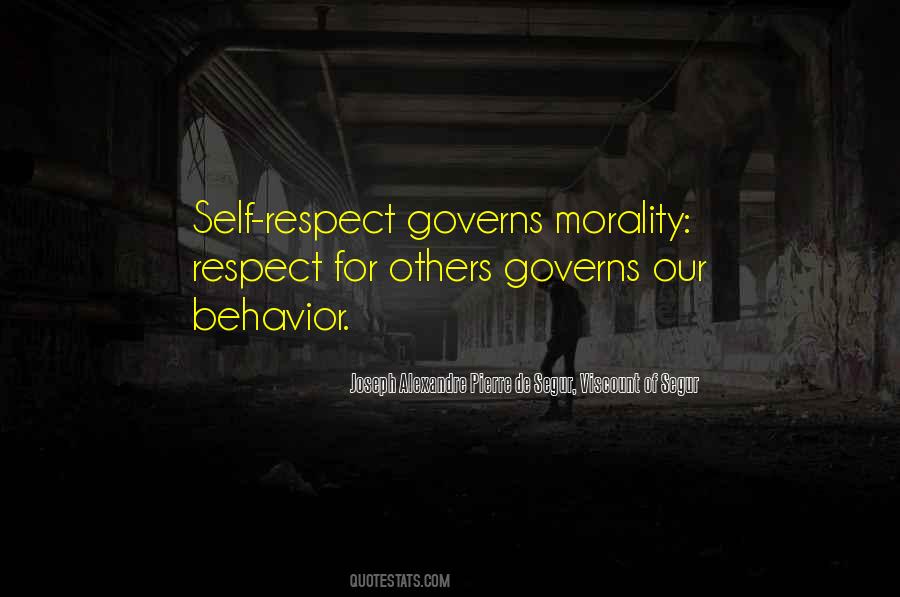 #87. Some of the most unkind,judgmental people I've ever known go to church every Sunday and read the Bible.
I don't know how some people are able to
disassociate their own cruelty and shortcomings from their religious obligations and convictions, but many are able to do that. - Author: Judith McNaught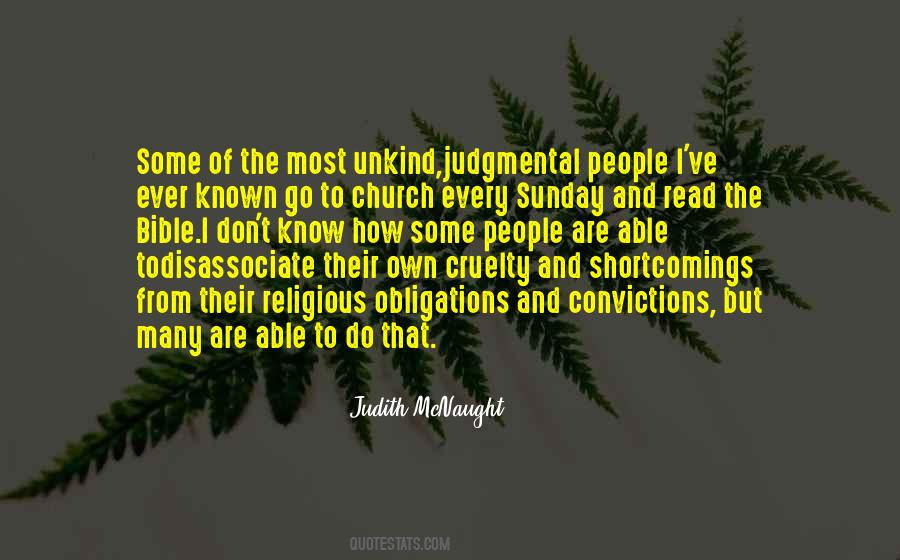 #88. Respecting the opinions and beliefs of another, even if they differ from yours, is a genuine sign of love. - Author: Charles F. Glassman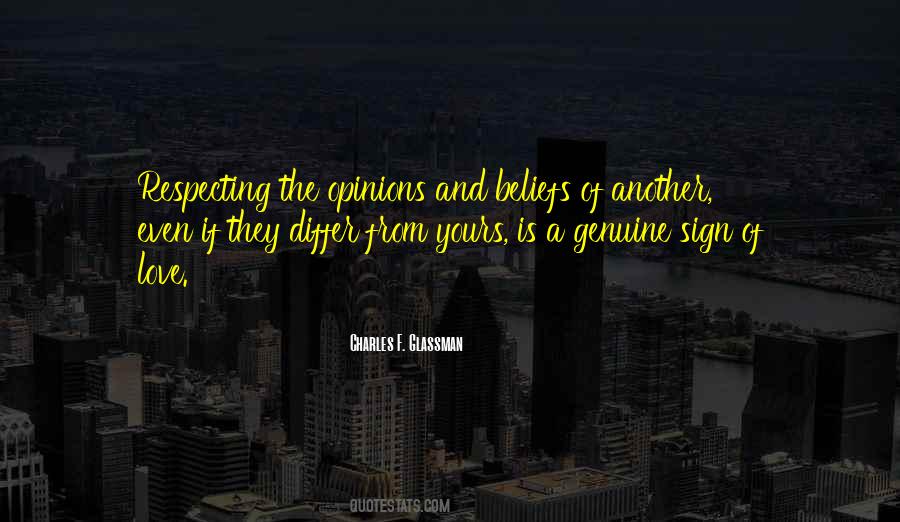 #89. Warriors respect each other. They give dignity to each other either in a win or in a defeat. - Author: Avijeet Das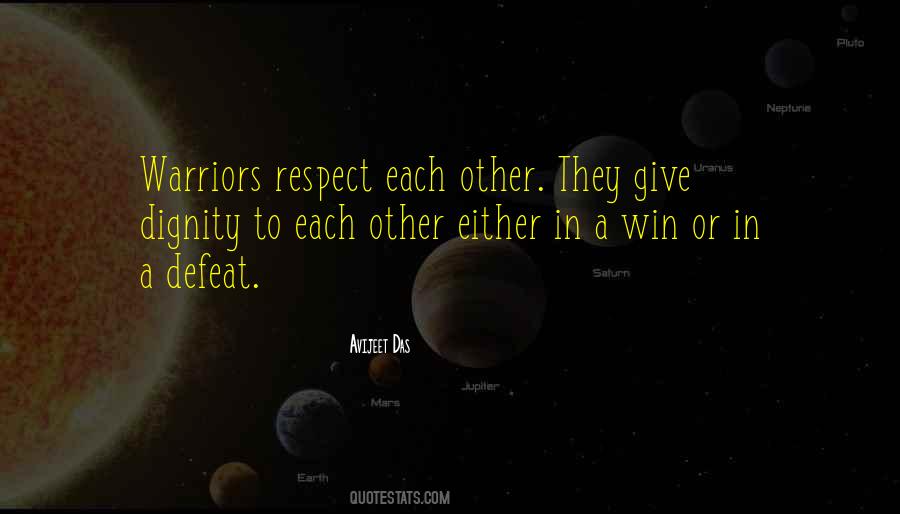 #90. Respect is love in action - Author: Bangambiki Habyarimana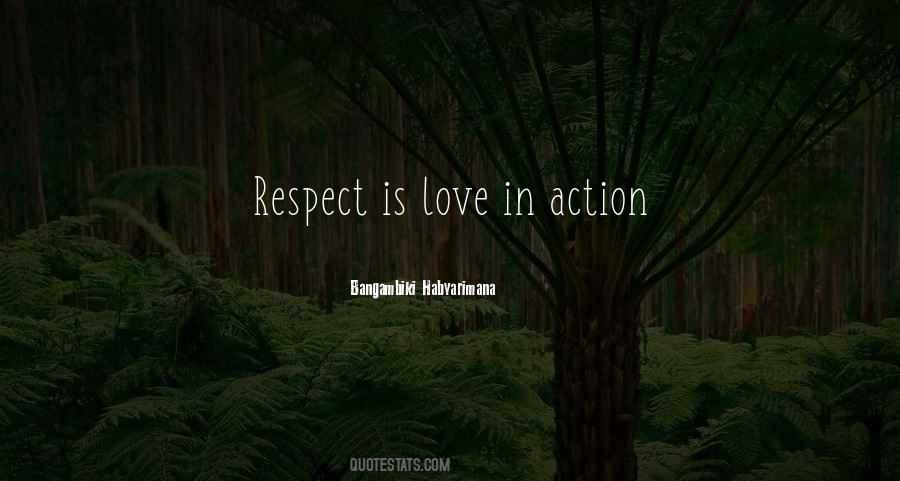 #91. Recognizing and respecting differences in others, and treating everyone like you want them to treat you, will help make our world a better place for everyone. Care ... be your best. You don't have to be handicapped to be different. Everyone is different! - Author: Kim Peek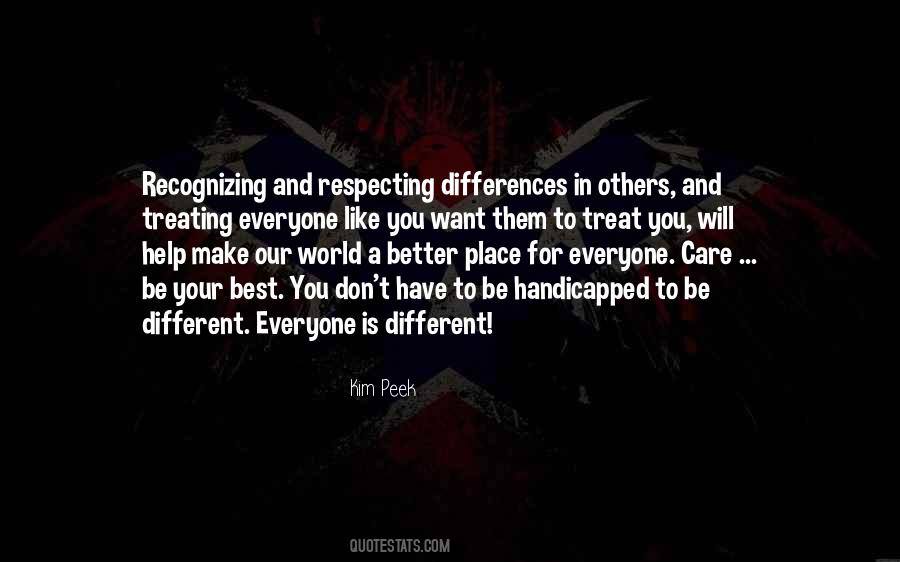 #92. Do everything with your whole heart, or not at all. Don't put up with lies or with people who lie to you. Don't risk hurting people just for the fun of it. And lastly, your best foot shouldn't be put forward; it should be with you at all times - right there beside the other one. - Author: C. JoyBell C.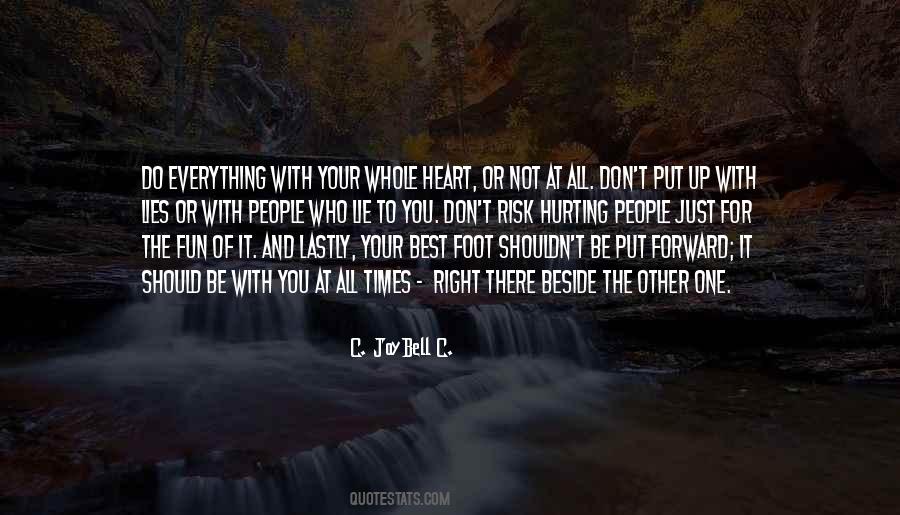 #93. If you truly have character and respecting others is your core value, you respect everybody regardless of who they are, what they believe and how they behave... - Author: Assegid Habtewold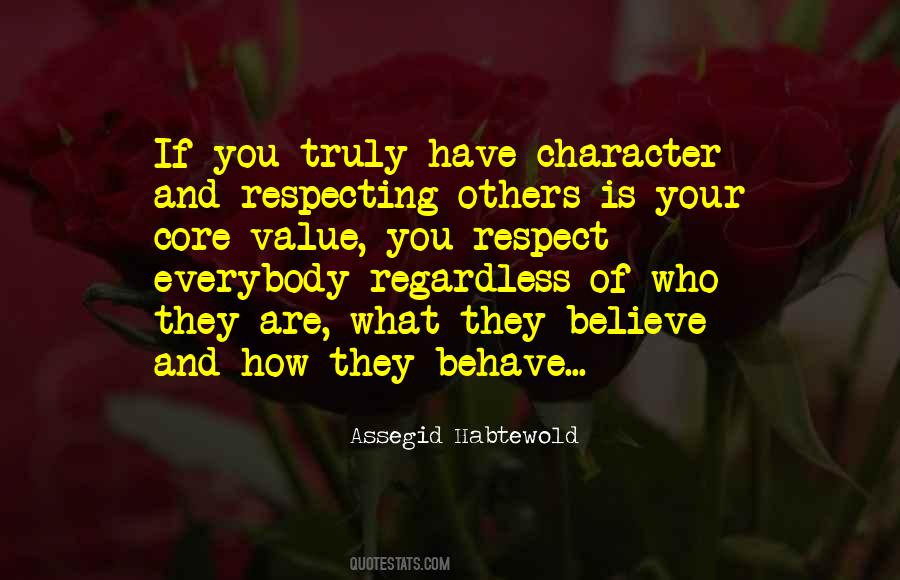 #94. The One that not Respect Goodness in Another Person will sooner or Later feel how Hard is the Wall they go Walk against. - Author: Jan Jansen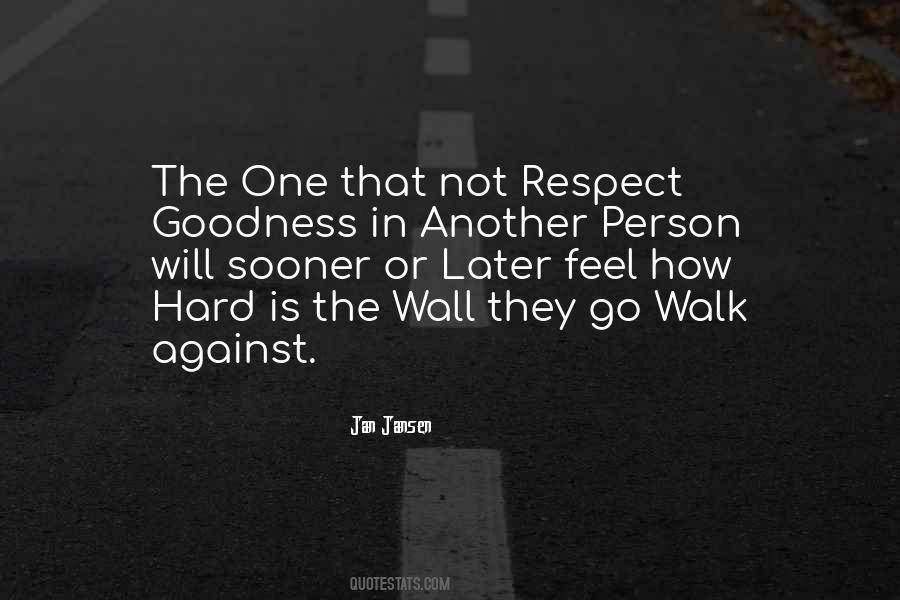 #95. I've never been out with a married woman, never. I respect others properties. - Author: Michael Caine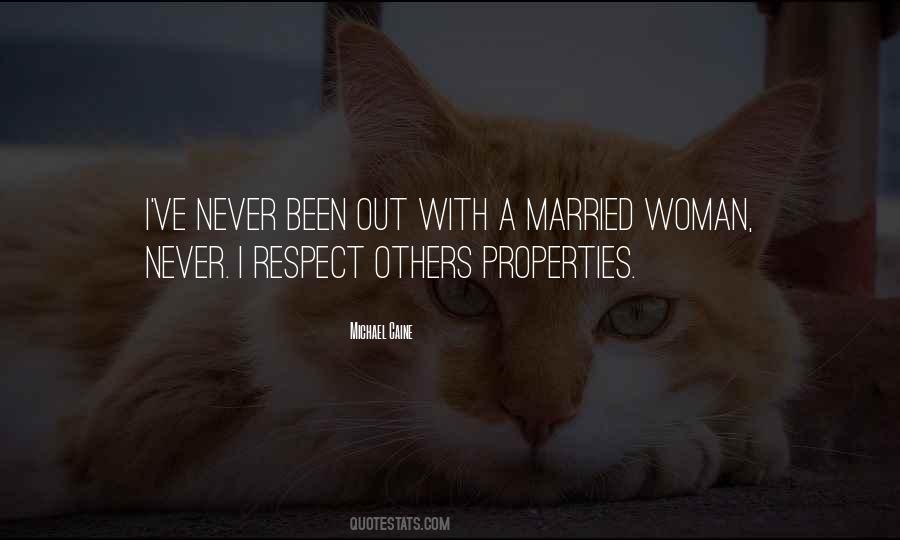 #96. Since many of you do not belong to the Catholic Church and others are non-believers, from the bottom of my heart I give this silent blessing to each and every one of you, respecting the conscience of each one of you but knowing that each one of you is a child of God. - Author: Pope Francis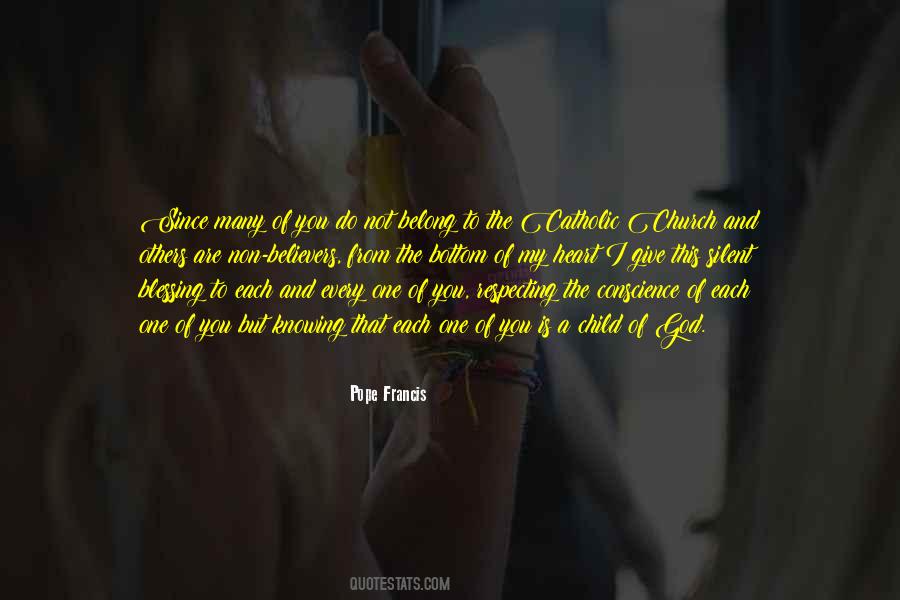 Famous Authors
Popular Topics