Reality And Love Famous Quotes & Sayings
List of top 100 famous quotes and sayings about reality and love to read and share with friends on your Facebook, Twitter, blogs.
Top 100 Quotes About Reality And Love
#1. The issue of animal use and abuse can seem insurmountable, it is tragic and it is complex. We love our companion animals and we value wildlife but we are generally blind to the realities of what goes into the food we eat. - Author: Liz Marshall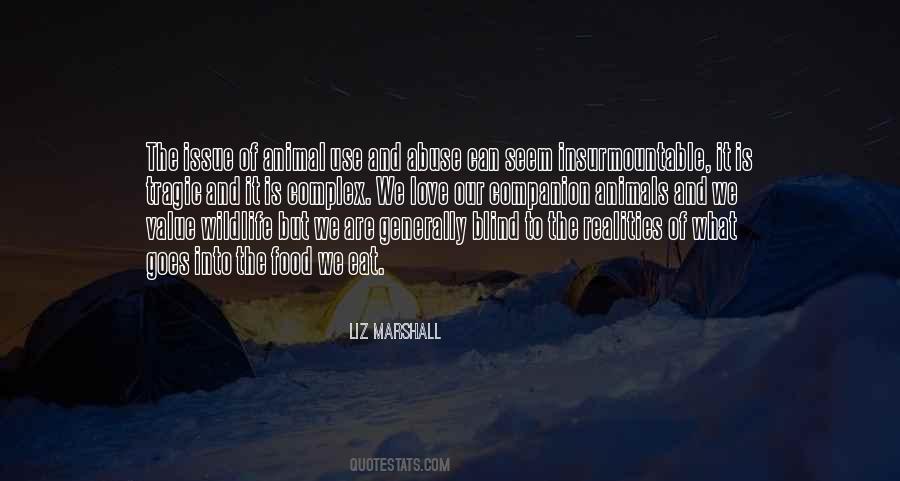 #2. How can you not love reading? It's wonderful. An excursion, an adventure ... an escape from reality.' She adored reading and had a hard time grasping anyone not loving it. - Author: Robin Caroll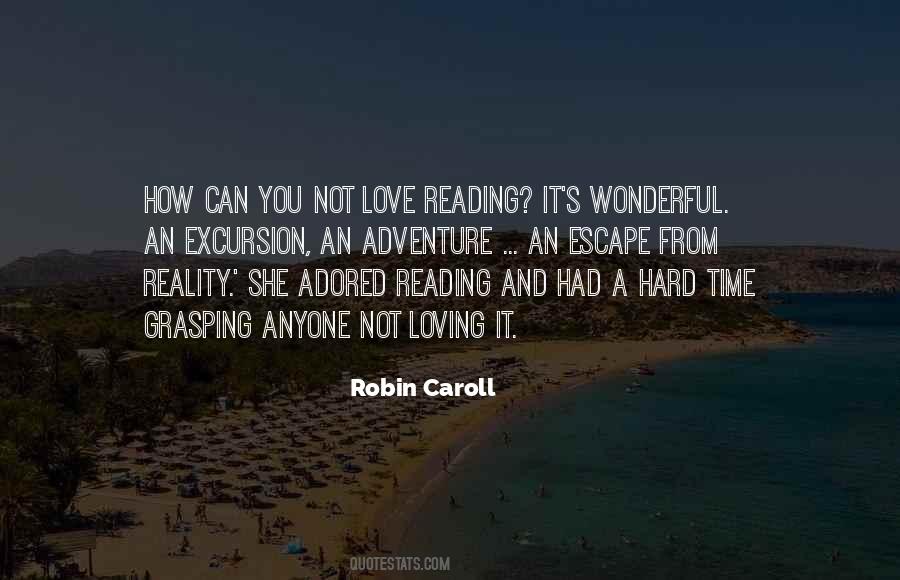 #3. And this," cried Darcy, as he walked with quick steps across the room, "is your opinion of me! This is the estimation in which you hold me! I thank you for explaining it so fully. - Author: Jane Austen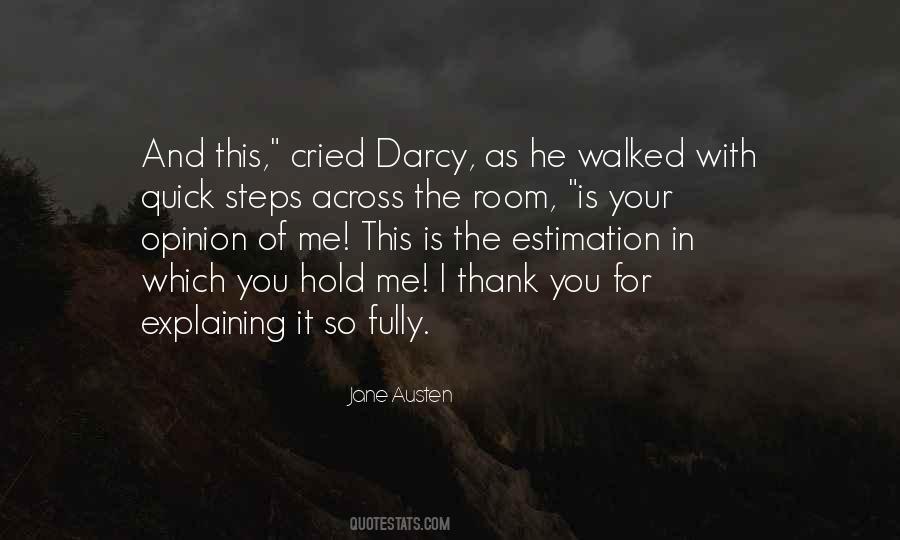 #4. It is only a matter of time till the reality of the rest of the world comes home. And all the while we are called by Christ to go to them, love them, sacrifice for them, bring the gospel to them. The Great Commission is not child's play. It is costly. Very costly. - Author: John Piper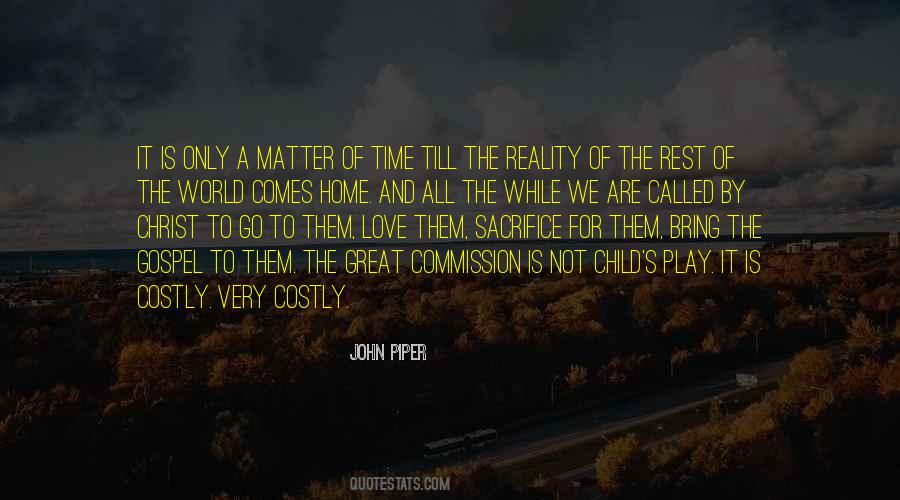 #5. What we love is that Glenn Geller admits to being a superfan of Big Brother and obviously he seems to be a big fan of reality TV, which is fabulous. He's been really, really excited and has just been smiling through all of our meetings so it's always a lot of fun. - Author: Allison Grodner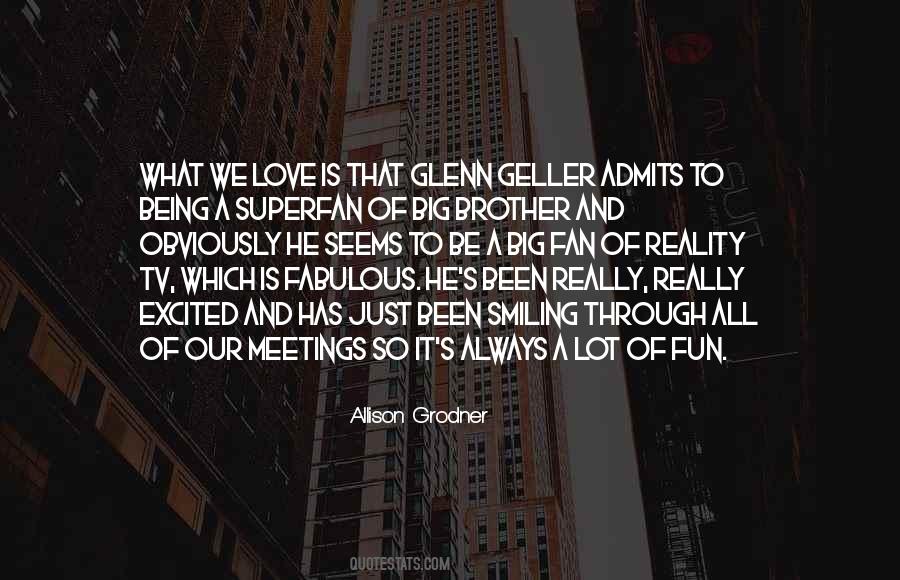 #6. Growth in love comes from a place of absence, where the imagination is left to it's own devices and creates you to be much more then reality would ever allow. - Author: Coco J. Ginger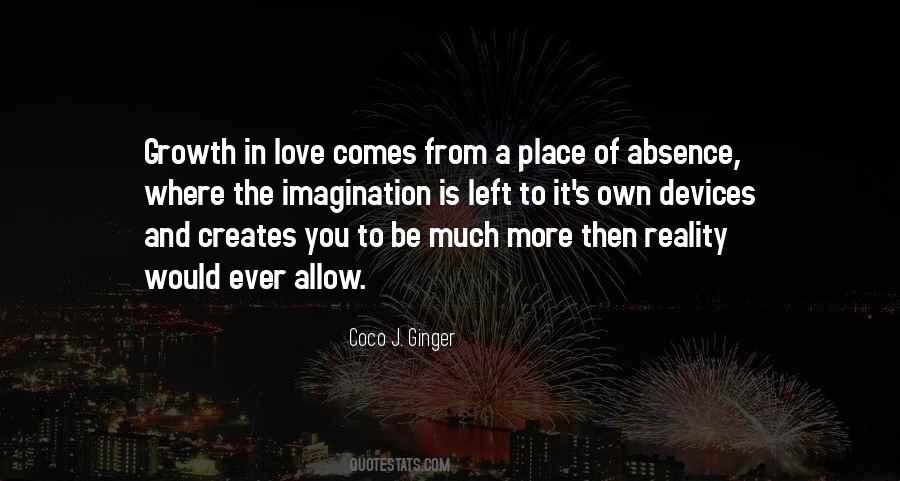 #7. Love is the only constant, the only reality, and when you accept and understand that you will know it. - Author: Frank Natale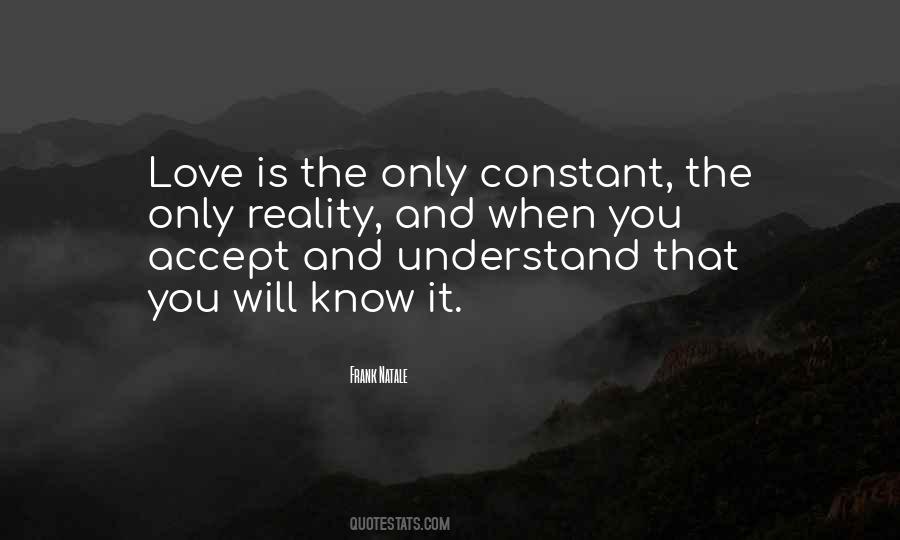 #8. Never let yourself be swayed by emotions,' her mother had said. 'Emotions are fleeting. They come and go. But reality stays with you forever. - Author: Monica Fairview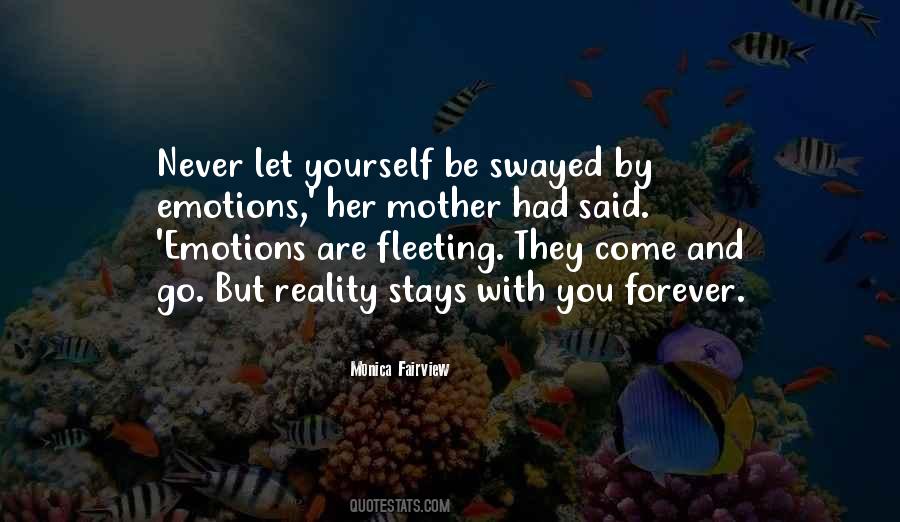 #9. I think that sometimes, romantic comedies have to be really broad, and that the plot of people falling in and out of love or whatever is not enough. 'Enough Said' had that stuff, but I wanted it to be fun and funny while also grounded in reality. - Author: Nicole Holofcener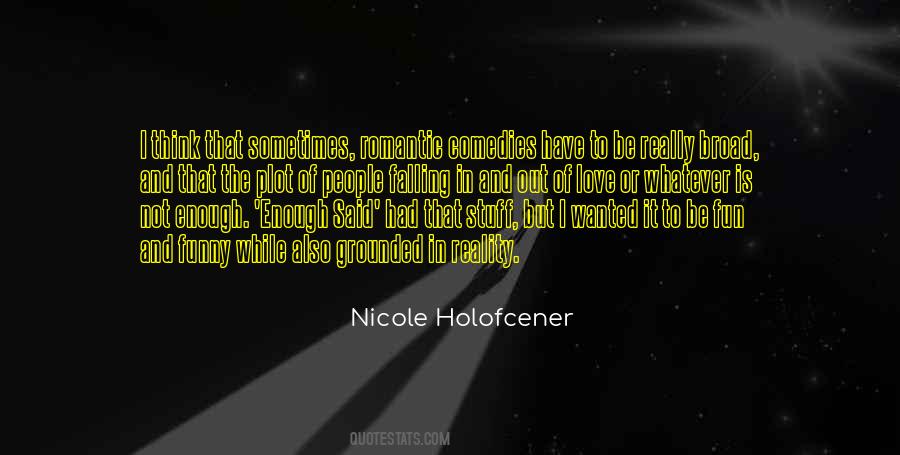 #10. Is this love reality
Or a dream?
I cannot know,
When both reality and dreams
Exist without truly existing. - Author: Ono No Komachi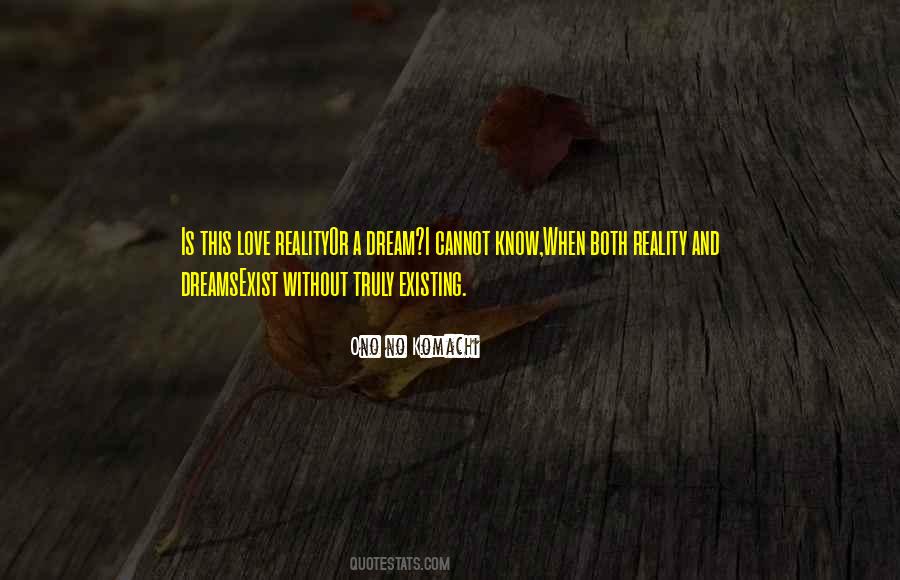 #11. How can love survive in such a graceless age? The trust and self assurance that lead to happiness, they're the very things we kill. - Author: Don Henley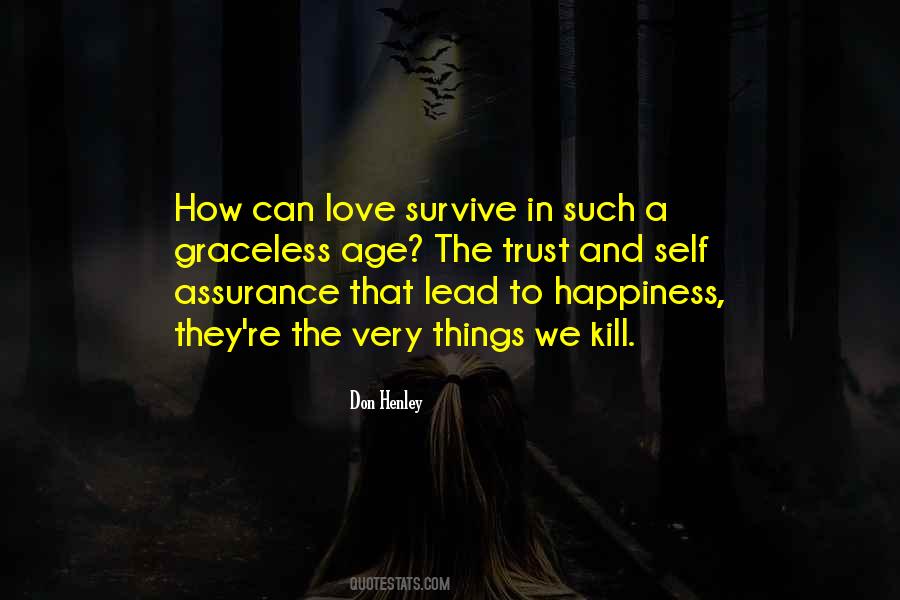 #12. I love zombie films like Danny Boyle's '28 Days Later' - I thought it was so brilliantly done and so grounded in reality. I was definitely thrust into the zombie world watching that film. - Author: Teresa Palmer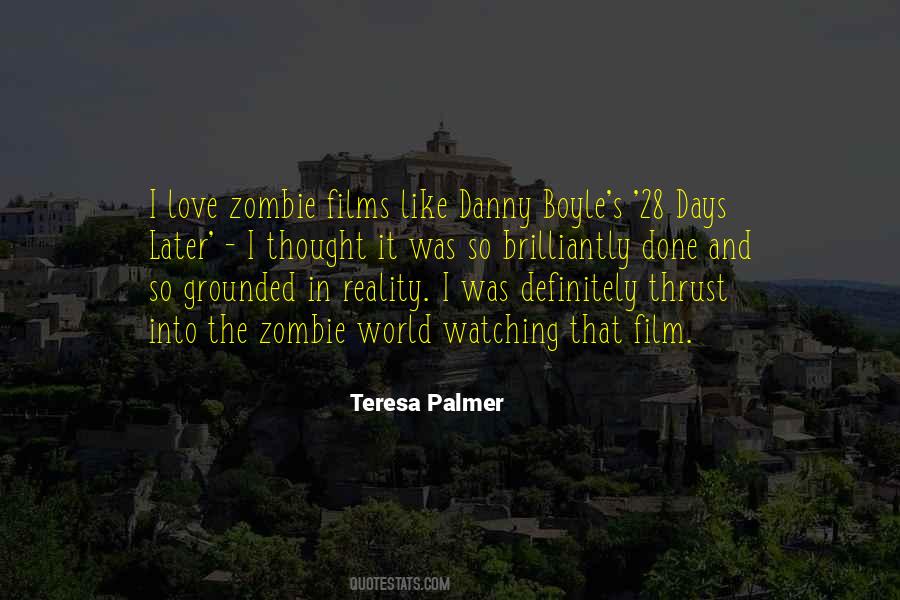 #13. Do you know what happens when an Arabian woman dances? She does not dance: she protests, she loves, she cries, she makes love, she dreams, she goes away from her reality, to her own world, where love is really meant and she does not want to come back, because that is her reality. - Author: Armand Nassery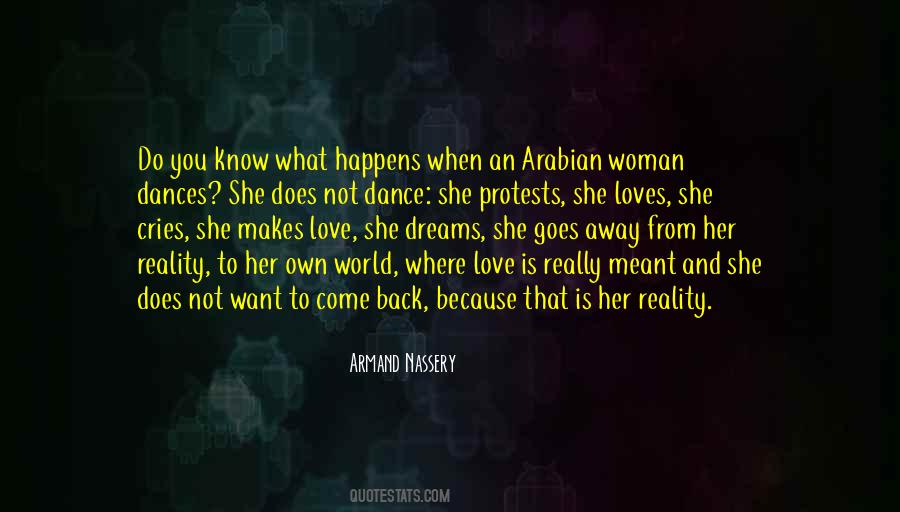 #14. The debris of her married life was enough to sever the tie between reality and dreams, the fine line between desire and temptation. Where did she draw the line? When did she admit defeat and surrender? - Author: Callie Hunter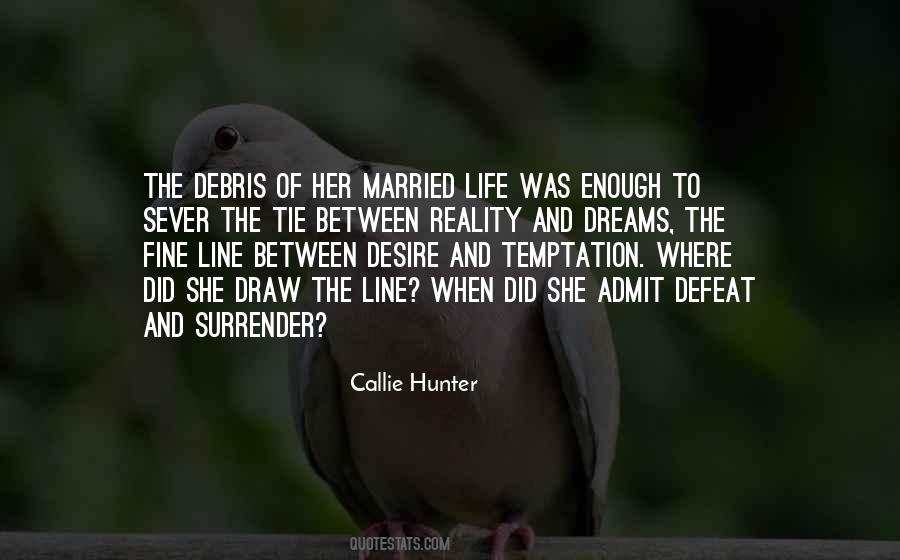 #15. I tell ya! The road to success is an endless battle for you and me. - Author: Steven Jackson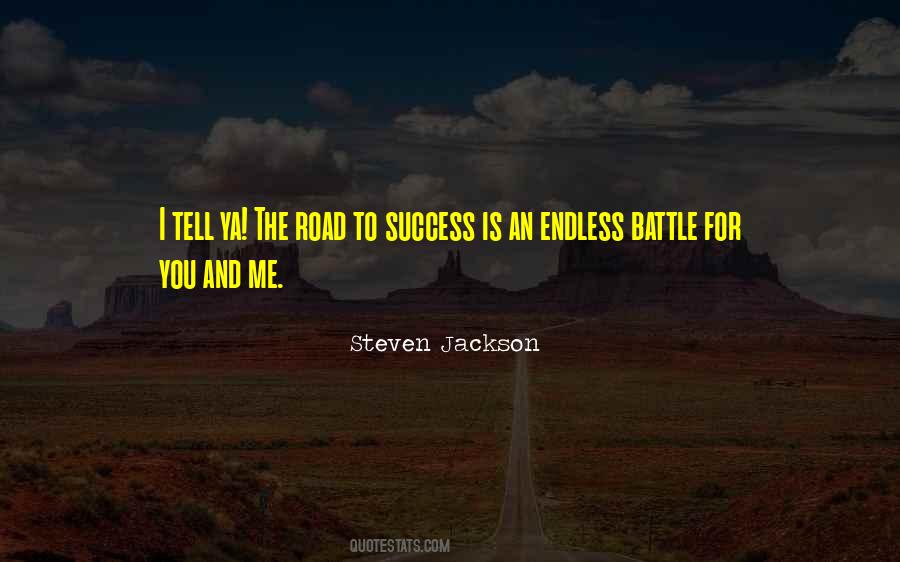 #16. Love is fantasy ... Life is reality - Author: Richard Allen Whisenant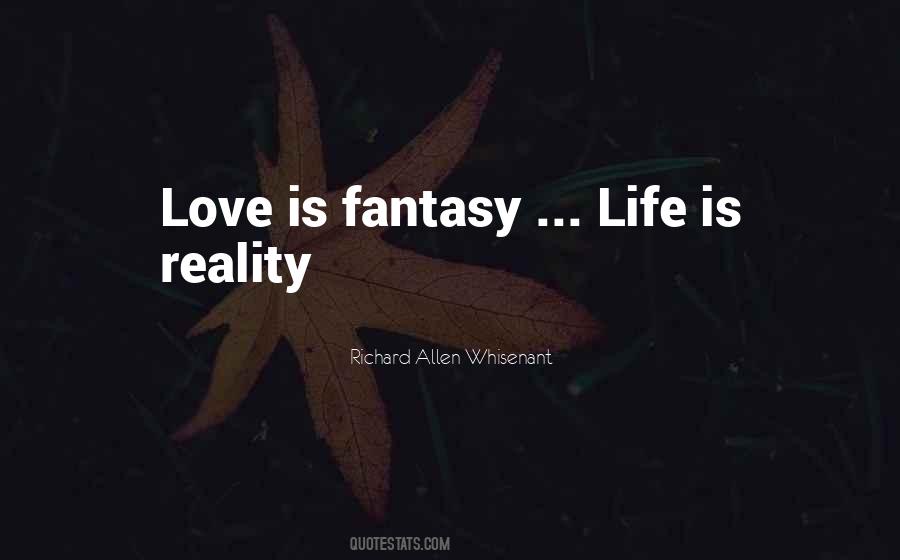 #17. You are infinitely capable. You don't live in the universe. You are the universe. You are the entire universe experiencing itself through the eyes of one human. And thus, you are free to create the reality you choose. - Author: Michael Sanders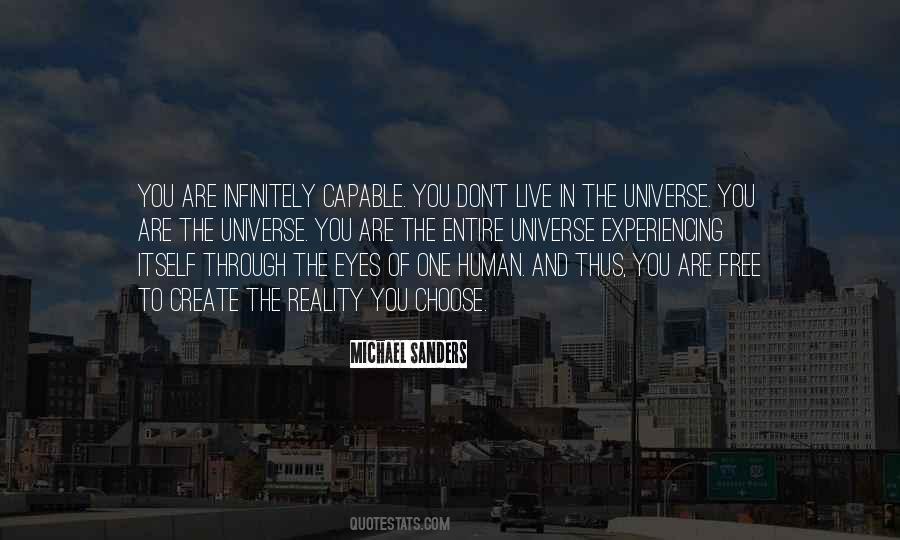 #18. Folks love fantasy. Beasts the shit outta reality and day of the week. - Author: Garth Ennis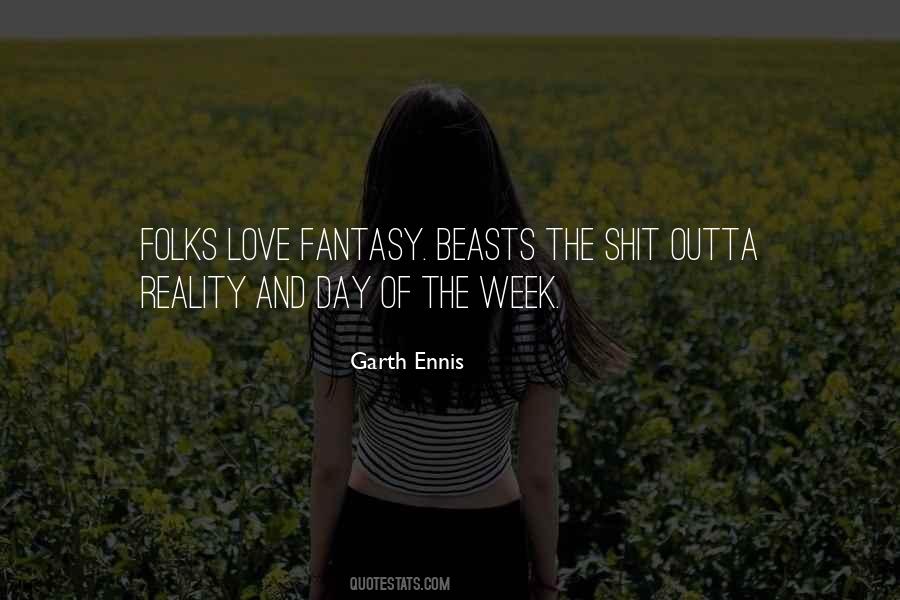 #19. A book had always been a door to another world ... a world much more interesting and fantastical than reality. But she had finally discovered that life could be even more wonderful than fantasy.
And that love could fill the real world with magic. - Author: Lisa Kleypas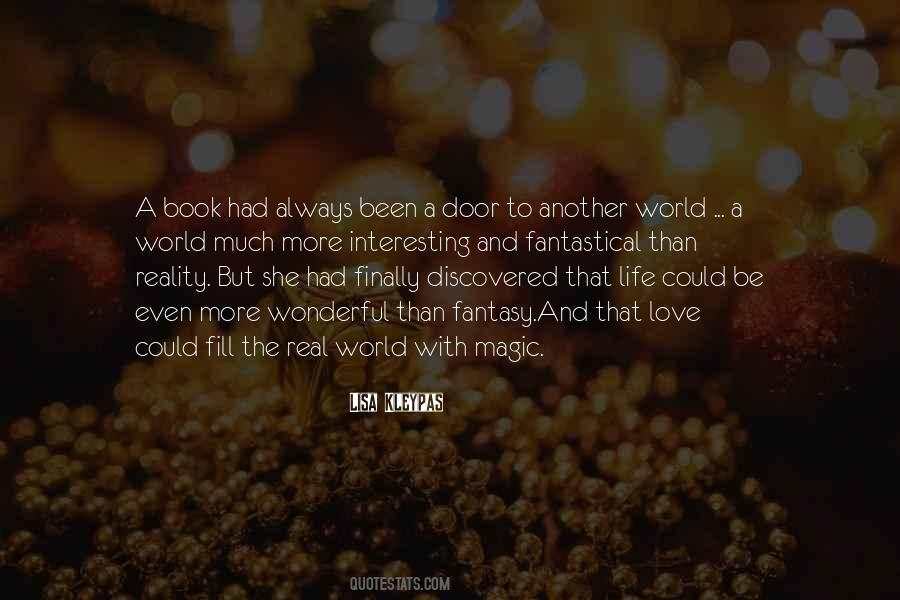 #20. To know reality is to accept it, and eventually to love it. - Author: George Wald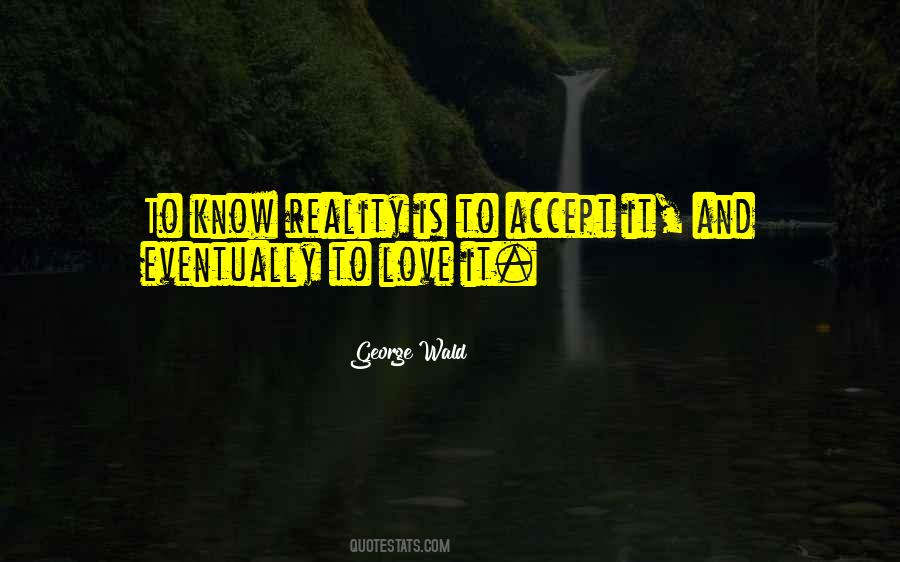 #21. Therefore the whole apparatus of piety, Hindu and Moslem alike - the temple and mosque, idol and holy water, scriptures and priests - were denounced by this inconveniently clear-sighted poet as mere substitutes for reality; dead things intervening between the soul and its love - - Author: Rabindranath Tagore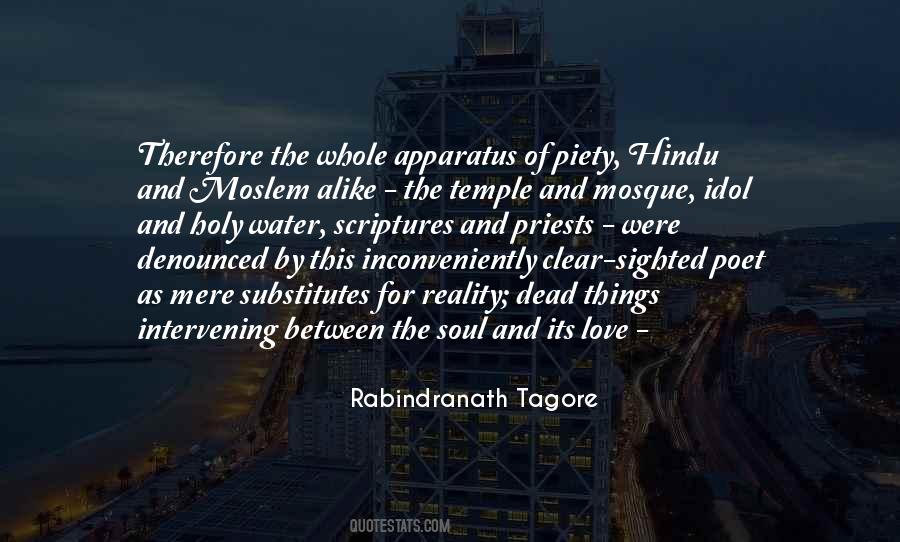 #22. I want to be somebody when I grow up. Somebody with grown-up dreams and screams for these dreams to be crossover dreams into reality. - Author: Nyambi Nyambi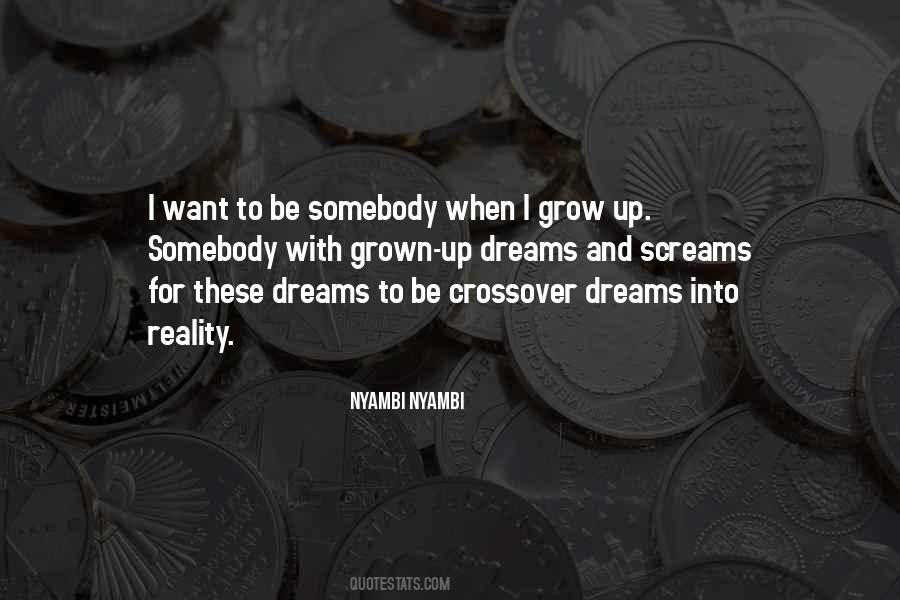 #23. Because of her, there is no bridge between dreams and reality. In reality, because of her, drinking a glass of water has taste. In a dream, it doesn't have taste, unless she's in it with me. I do not have to dream about her, because all of my dreams about her, is my only reality. - Author: Lionel Suggs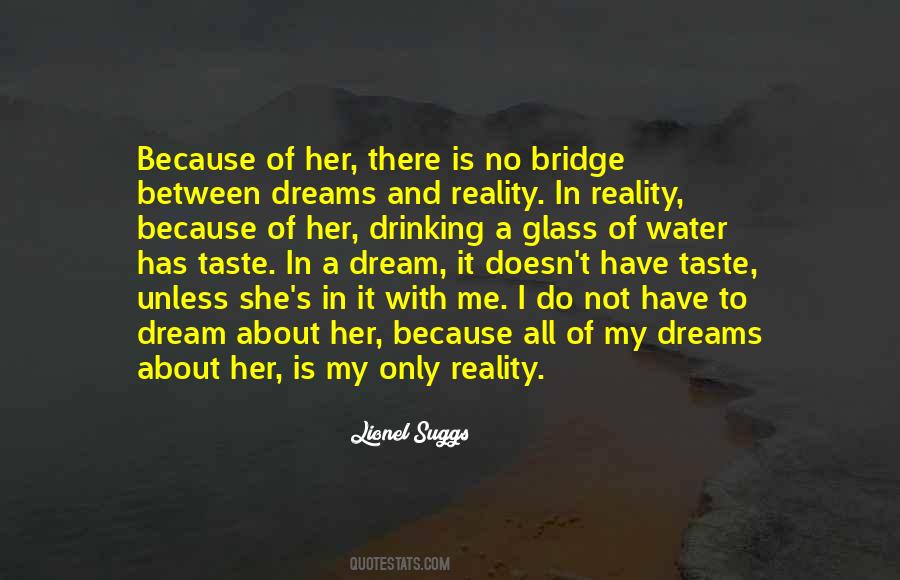 #24. I build boxes
and place them at your feet,
to measure the distance
between dreams and reality. - Author: Jessica Kristie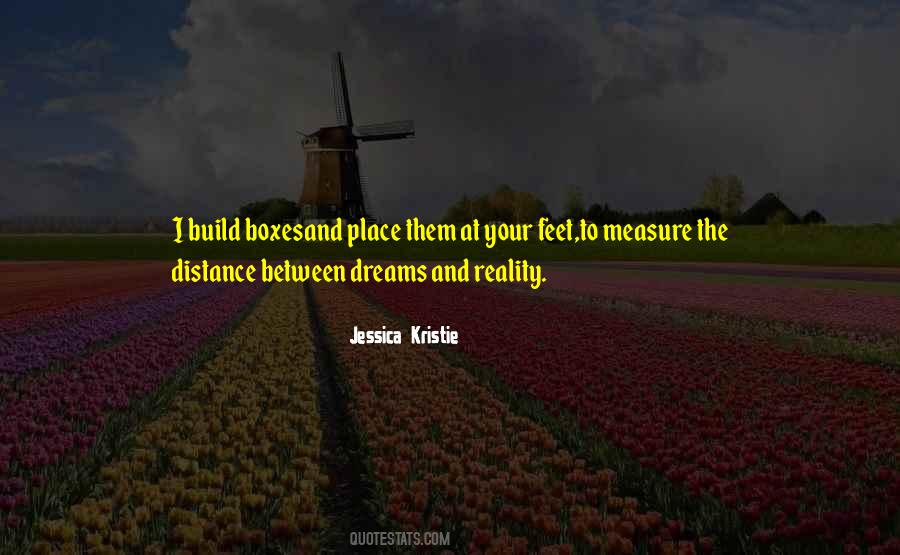 #25. There is a fascination here that holds rich and poor, strong and weak captive,not with chains and fetters but by an almost touchable solace ... - Author: Barbara Woodall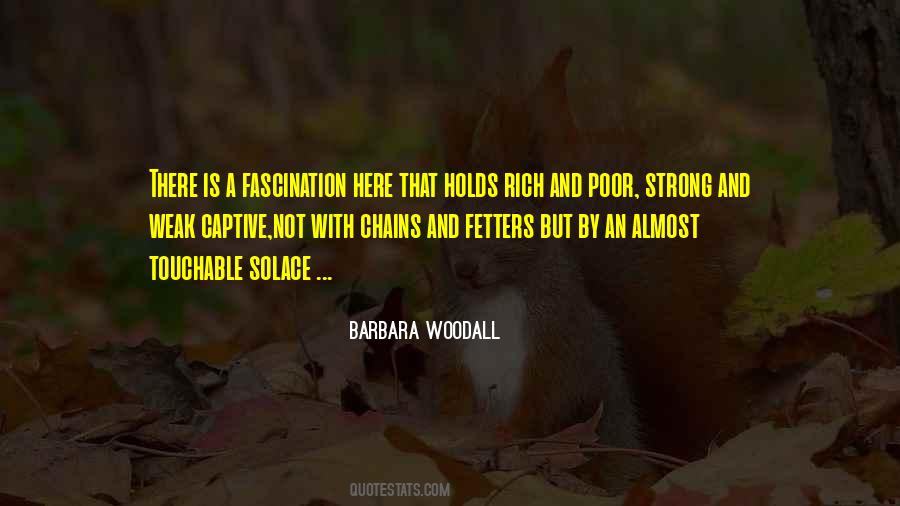 #26. All history is defined by shifting modes of reality and time and how things change. That's what I love about cinema. It changes in the moment. - Author: Ira Sachs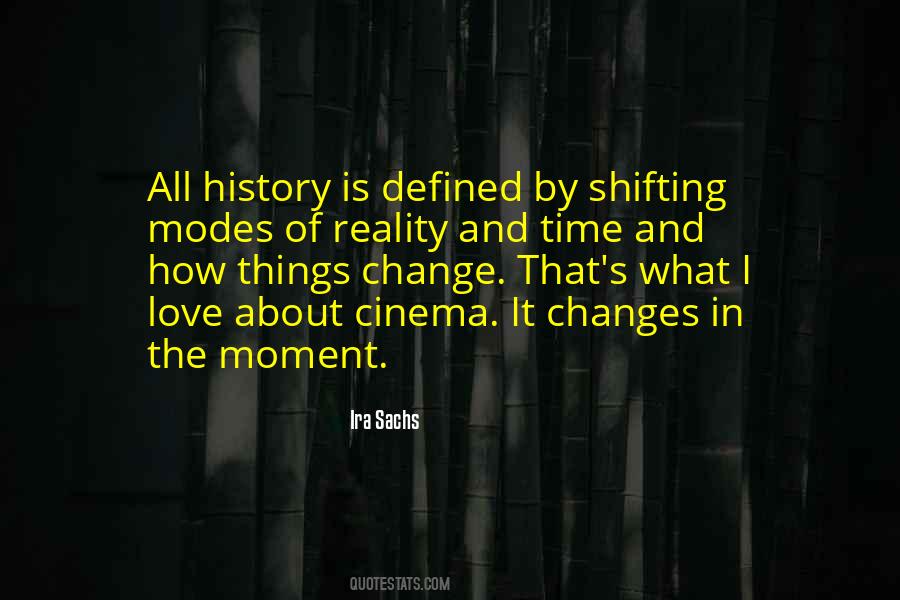 #27. I am indebted to my wife Coretta, without whose love, sacrifices, and loyalty neither life nor work would bring fulfillment. She has given me words of consolation when I needed them and a well-ordered home where #Christian love is a reality. - Author: Martin Luther King Jr.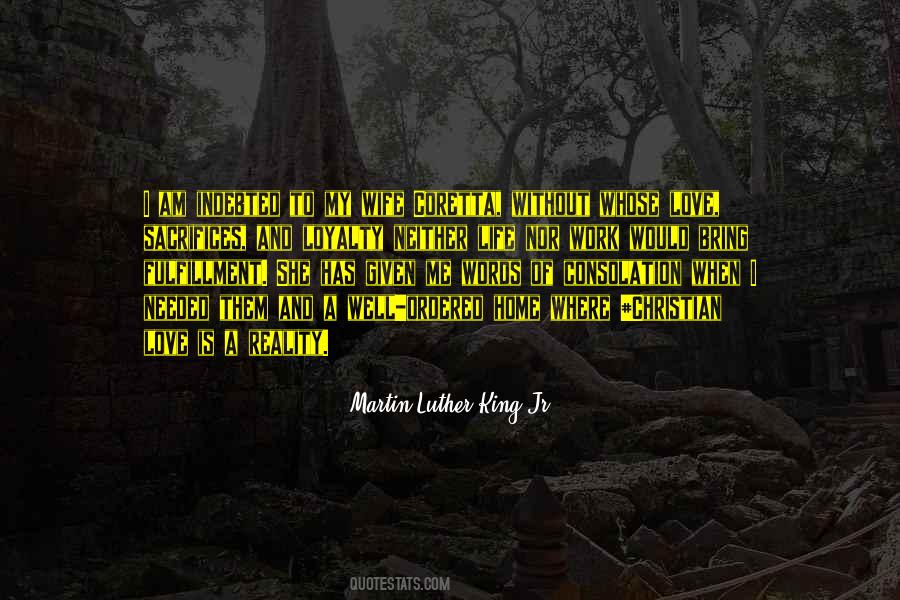 #28. If you love a person, you love him in his stark reality, and refuse to shut your eyes to his defects and errors. - Author: John Macmurray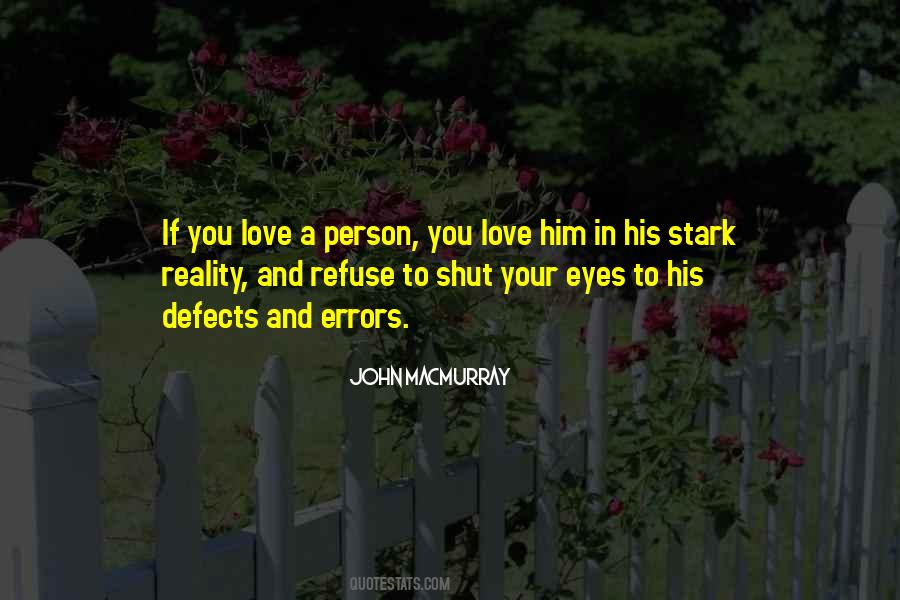 #29. Everything has happened, is happening, and will happen FOR YOU (if you BELIEVE and ACTIVELY LIVE by this mentality)! - Author: Shay Dawkins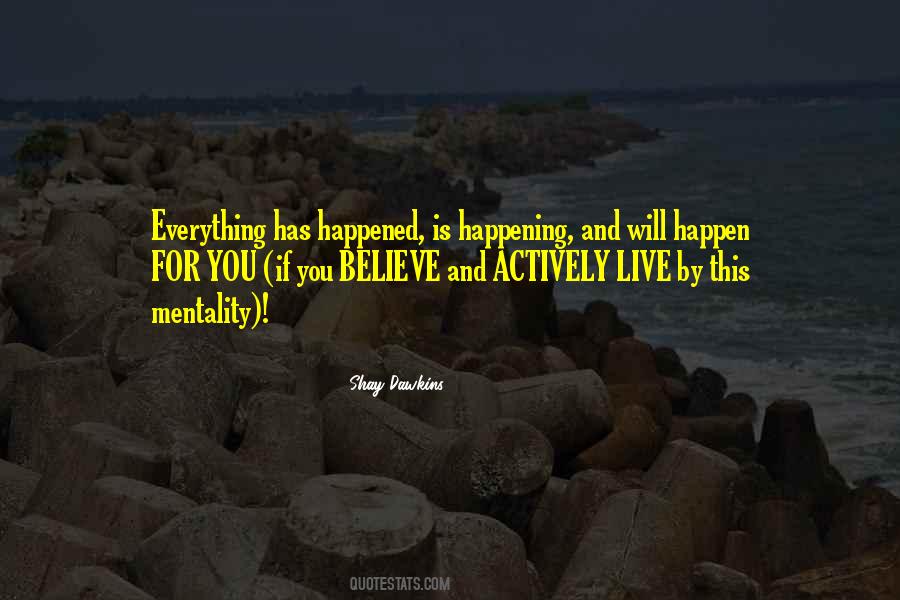 #30. Peepo Choo is avant-garde! ... It is both comedy and drama! It is both the wildest fiction and the most sobering reality! It's about love and hate! About passion! About being human! It's about life!!! - Author: Felipe Smith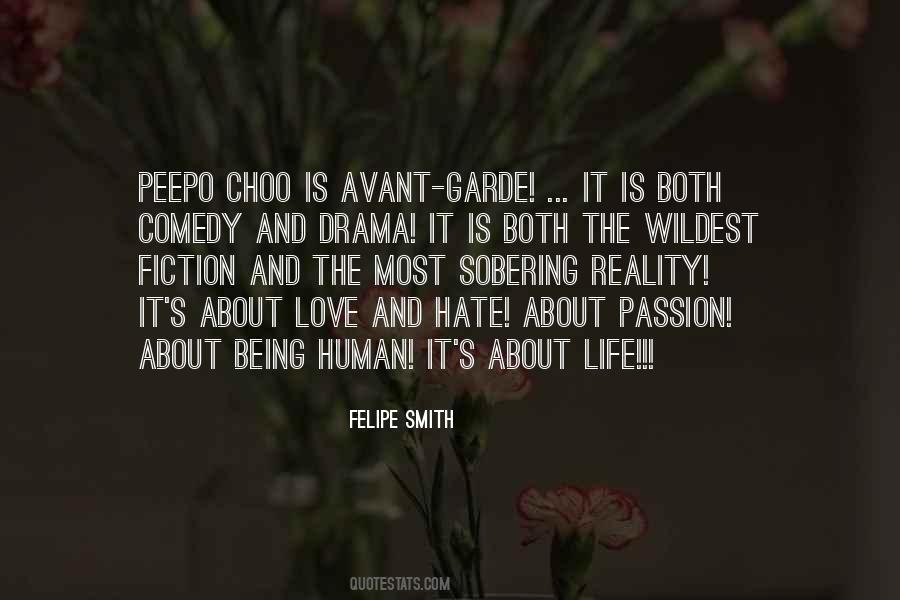 #31. Sometimes we all get dusty by a few mundane and tiring affairs - and merely need a gentle soul wash to see, and get deeply entangled with, the fervors of life again. - Author: Pawan Mishra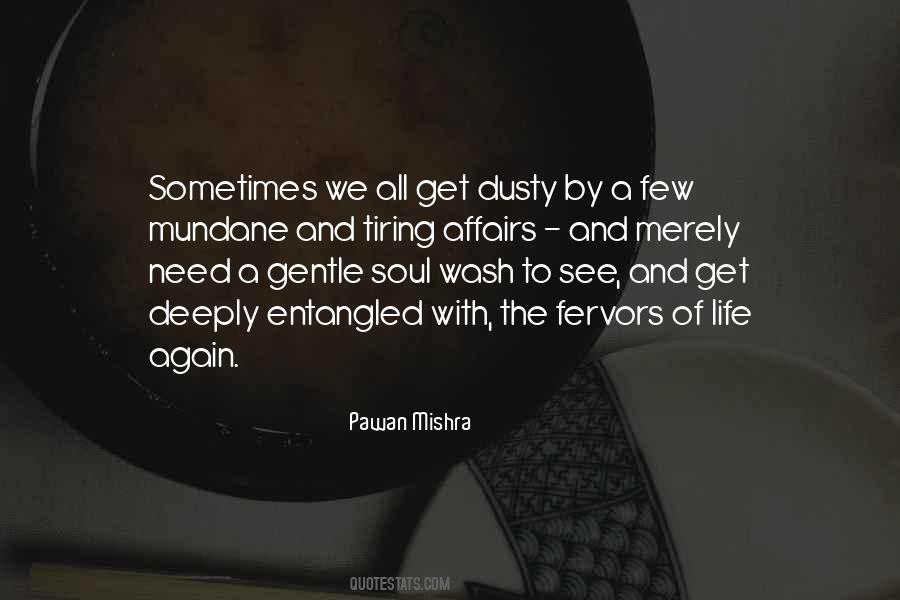 #32. If we live rooted and established in His love, we don't just have knowledge of His love in our minds, but it becomes a reality that anchors us. - Author: Lysa TerKeurst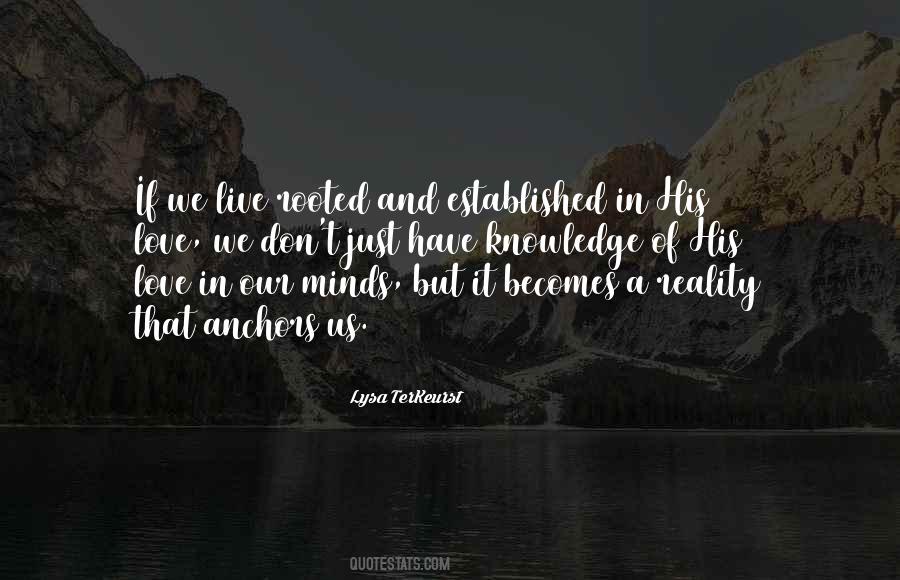 #33. I love adventure, so I'm excited to be working on something new and making the transition from reality show contestant to host. - Author: Rob Mariano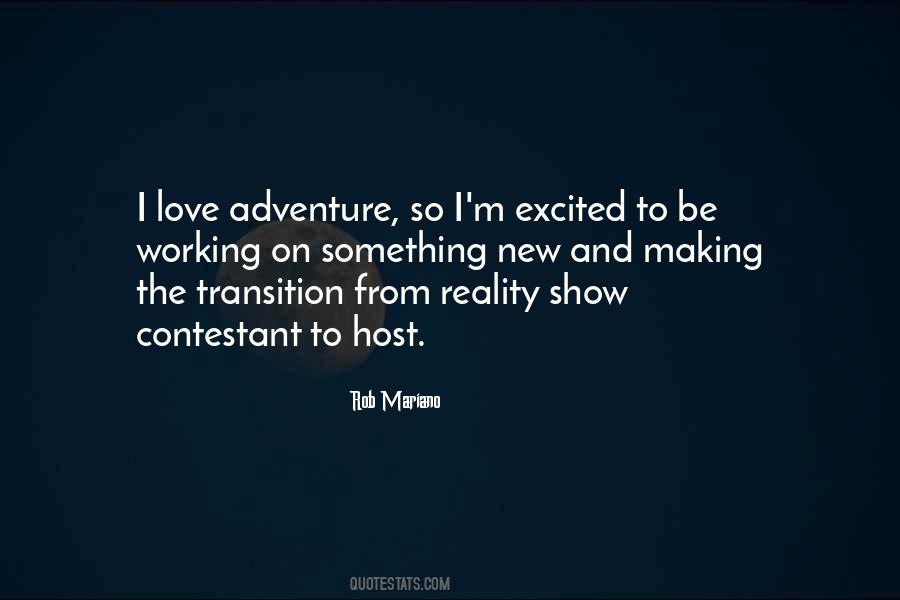 #34. Aiden had filled a part of my heart that I hadn't known was empty. And for that I'd be forever grateful. Beneath the pain was the reality of the end of whatever it was we'd shared. I missed him, and his absence was profound. He was everywhere, yet he was nowhere at all. - Author: Lilly Wilde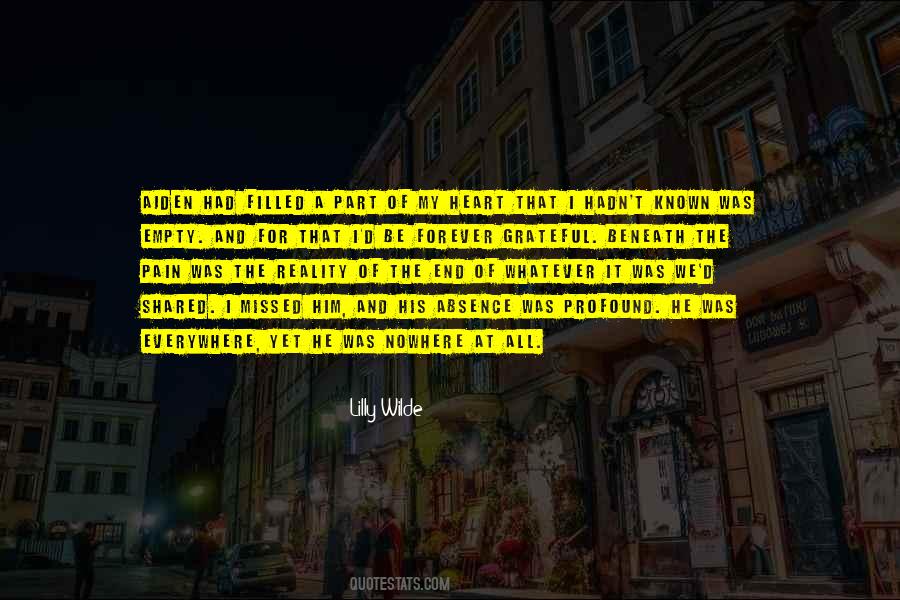 #35. In a fairy tale, the story can't be altered. The prince and princess will never have a fight. You'll never hear the queen raise her voice. No on ever gets sick; no one ever gets hurt. Maybe love is only safe in places where it can't change. - Author: Jodi Picoult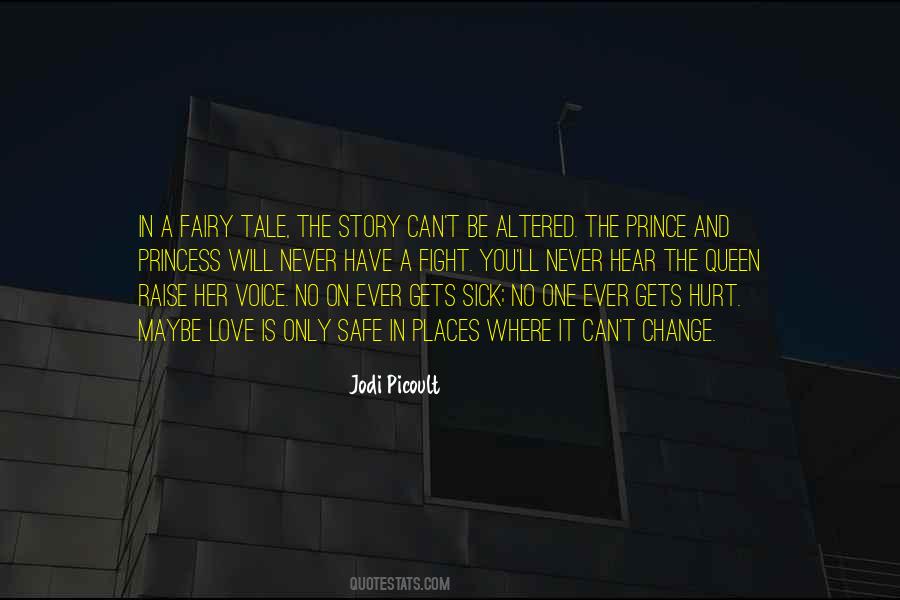 #36. Marriage is - among other things - a study in contradiction and disappointment, and inside that reality there is space for us to truly learn how to love. - Author: Elizabeth Gilbert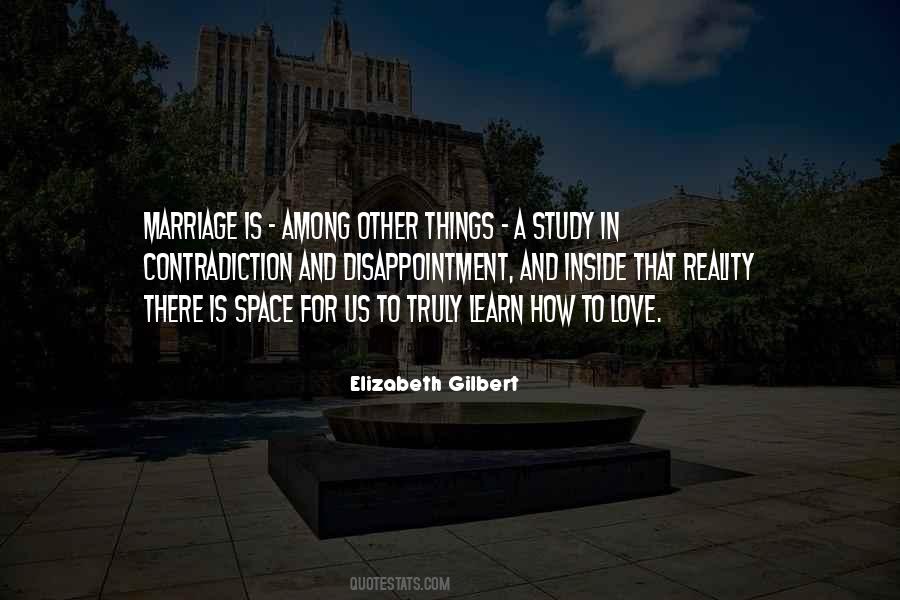 #37. It had been a slow and painful business, discovering that the theory of love did not match the reality of life. It was like expecting to be able to write a symphony because you had once read a handbook of composition. - Author: Julian Barnes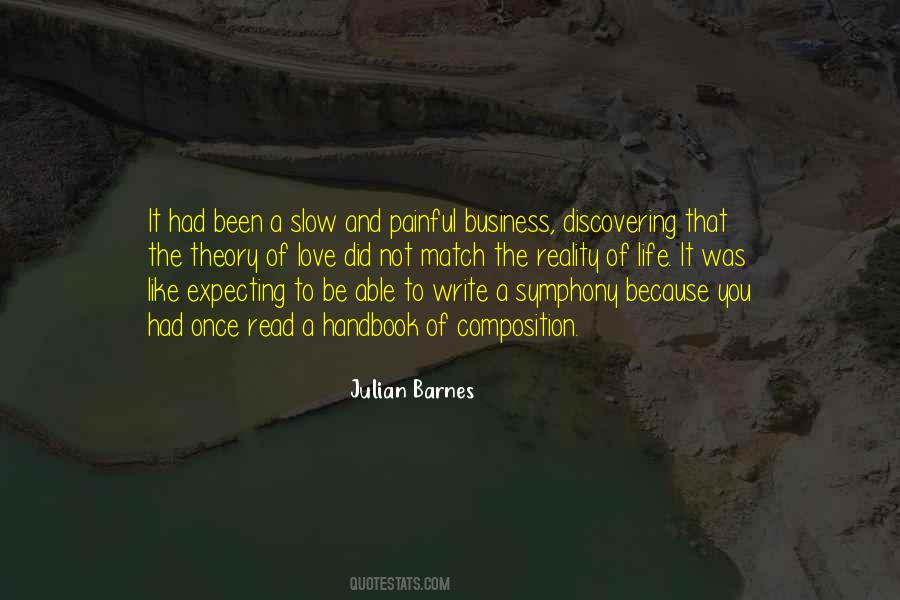 #38. The complementary movement towards divine love is growth in humility which is the acceptence of the reality about ourselves, our own weakness and limitations. - Author: Thomas Keating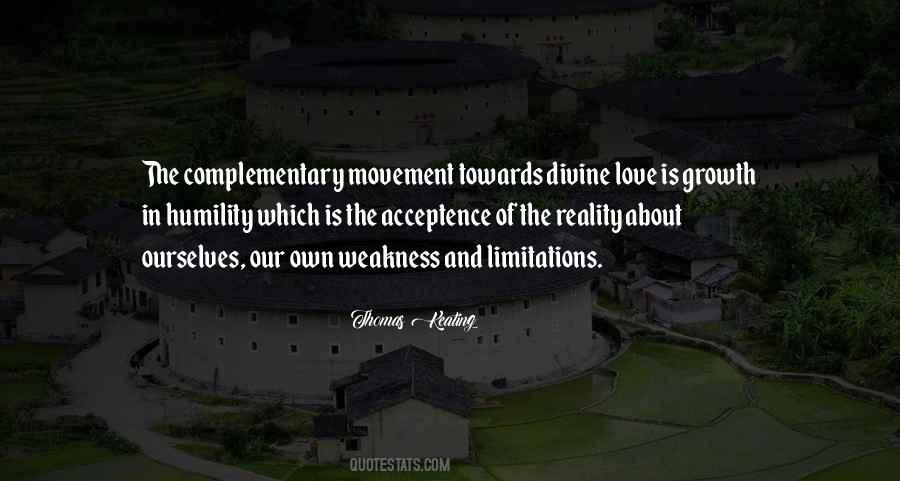 #39. Venereal: From Venus, the goddess of love, this word refers to the reality of desire. With the rise of Protestantism and science, the word disease was tacked on in a revealing combination of categorization and moralizing. Which disease? The disease of love. - Author: John Ralston Saul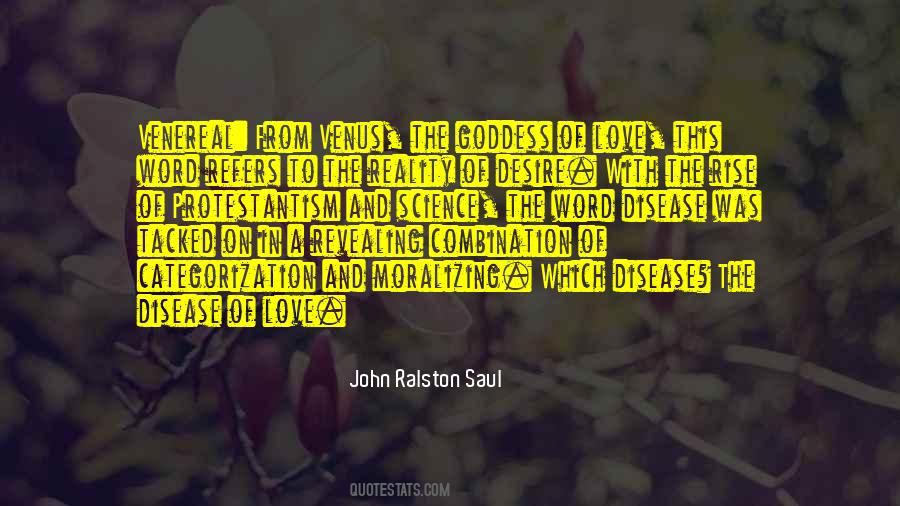 #40. Love is just a mask. All we search is a Comfort, Acceptance. Consolation. Affirmation. Assurance. Indulgence. Isolation. Absolution and Remission. - Author: Sarvesh Jain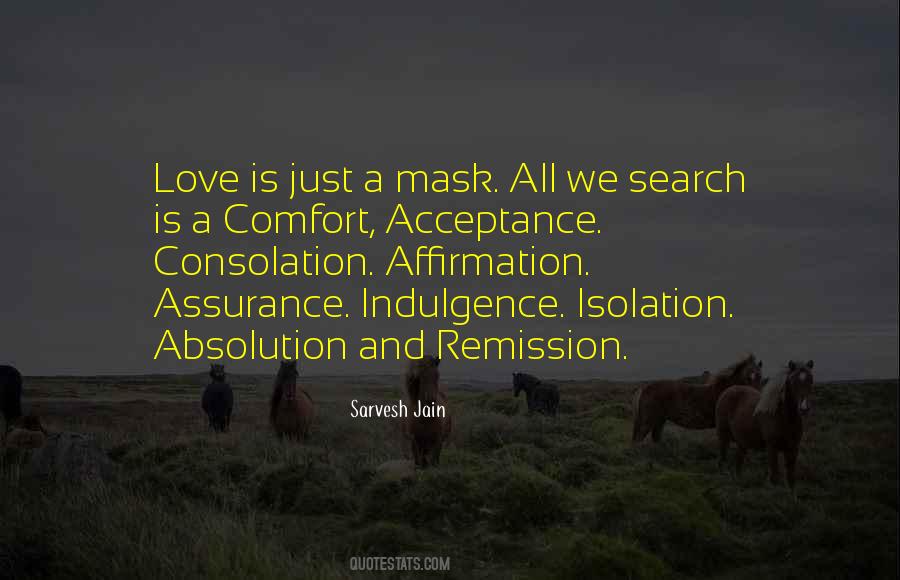 #41. Love is a sweet dream until the hand of reality wakes you up - Author: Bangambiki Habyarimana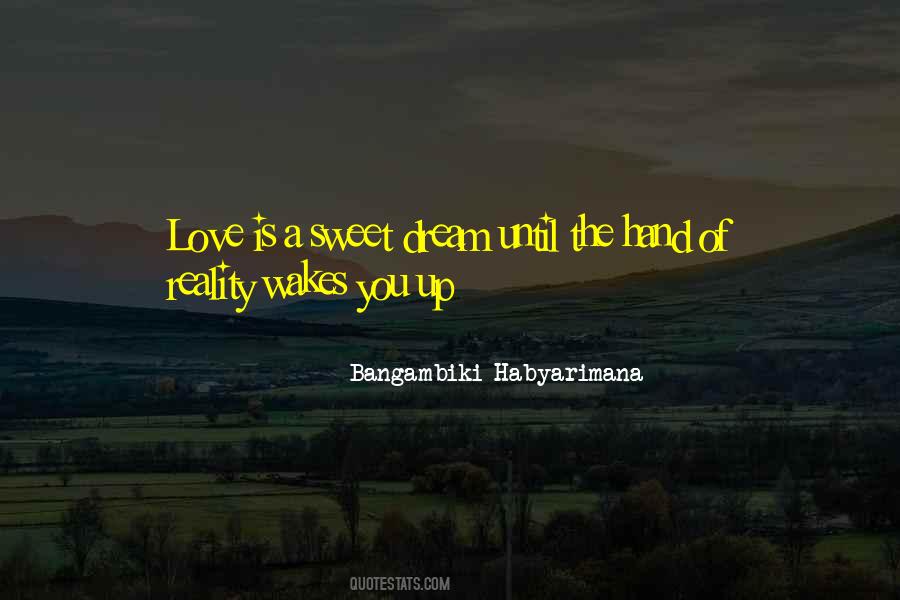 #42. The life of the mind is reality, and love without romantic illumination is a spiritless matter. - Author: Ellen Glasgow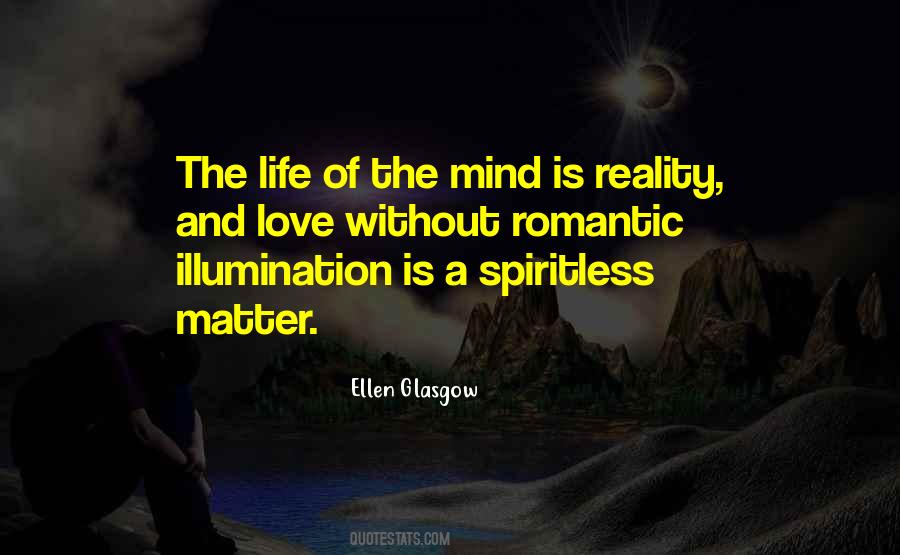 #43. Even if yesterday existed, today is just real, not a fantasy like the past. - Author: Michael Bassey Johnson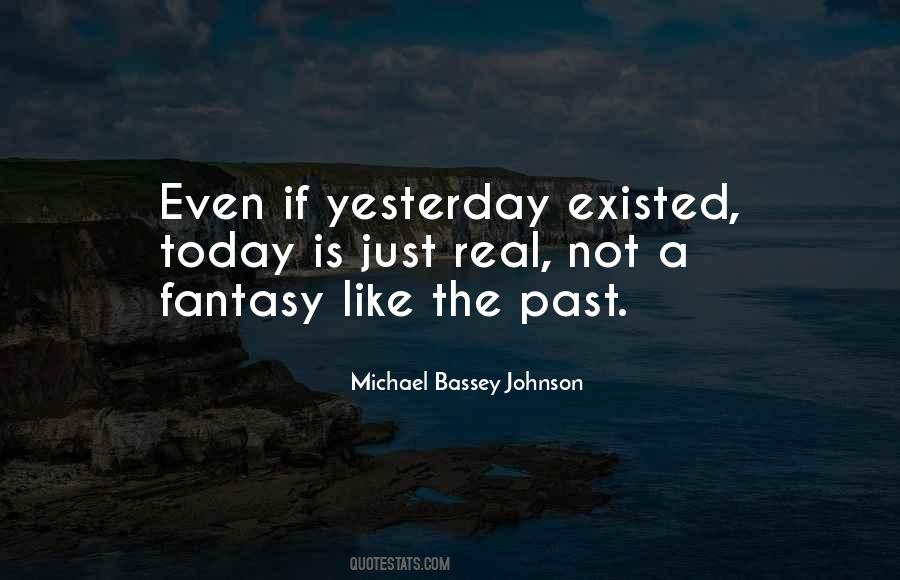 #44. What's the reality of being inside a zoo, for the animals and for the people who love and care for those animals? There's a lot of joy, and there's a lot of loss. - Author: Thomas French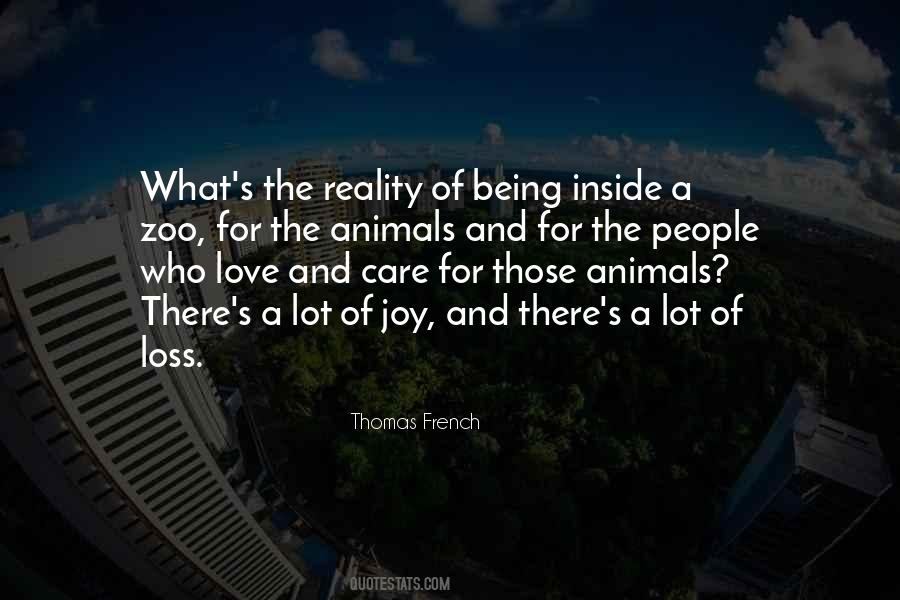 #45. Reality prior to my language exists as an unthinkable thought ... life precedes love, bodily matter precedes the body, and one day in its turn language shall have preceded possession of silence. - Author: Clarice Lispector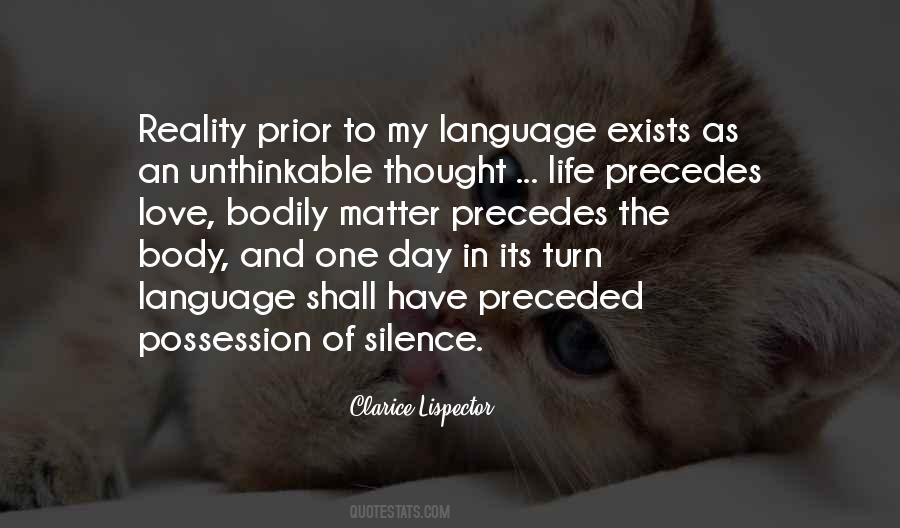 #46. They looked and seemed like a perfect match in every way possible.
I wanted that. I wanted to find someone who belonged with me like the stars belonged with the sky. Someone I could get lost in, who would make me forget about reality for a while(...) - Author: C.J. English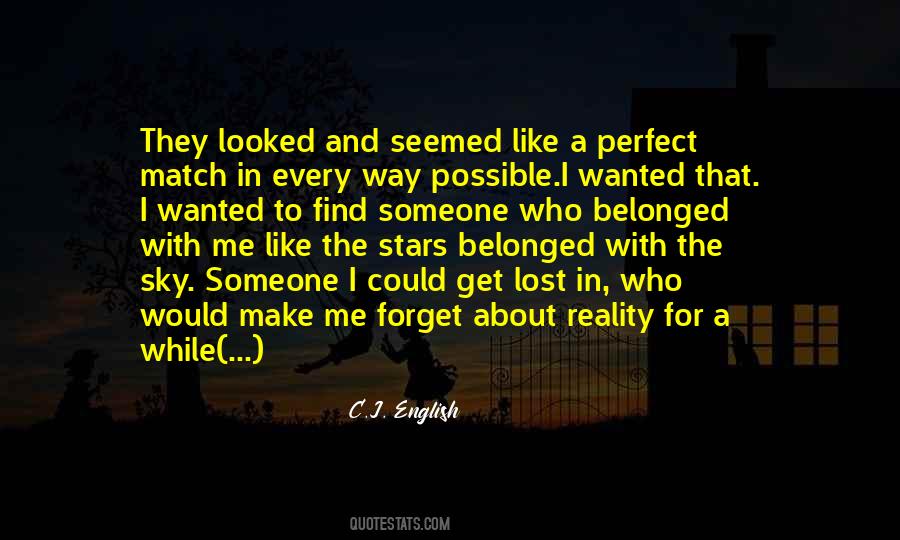 #47. We must step out of our digital avatars, and come together and have face-to-face dialogue as often as possible. - Author: Bryant McGill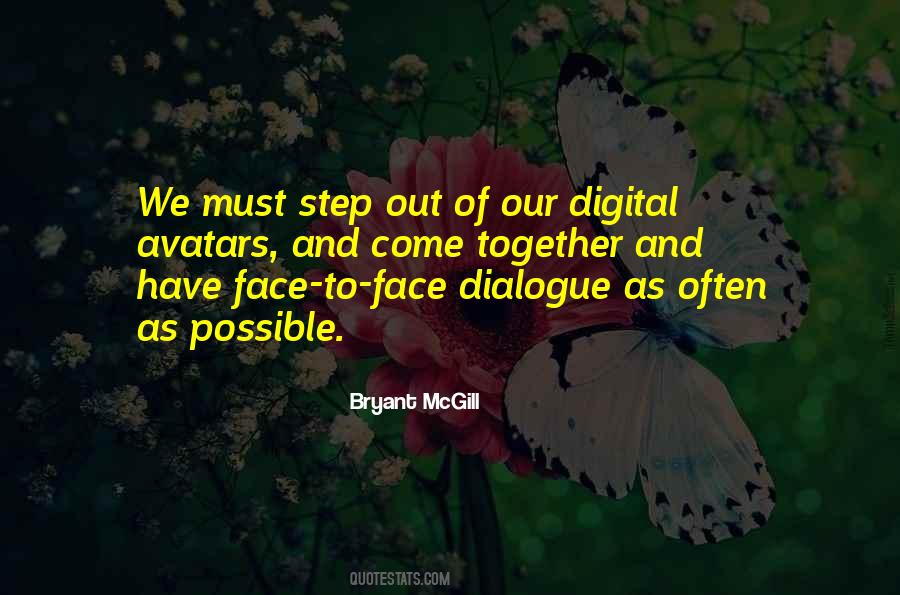 #48. But Love is the final reality; and anyone who does not understand this, be he writer or sage, is a man flawed in wisdom. - Author: Sheldon Vanauken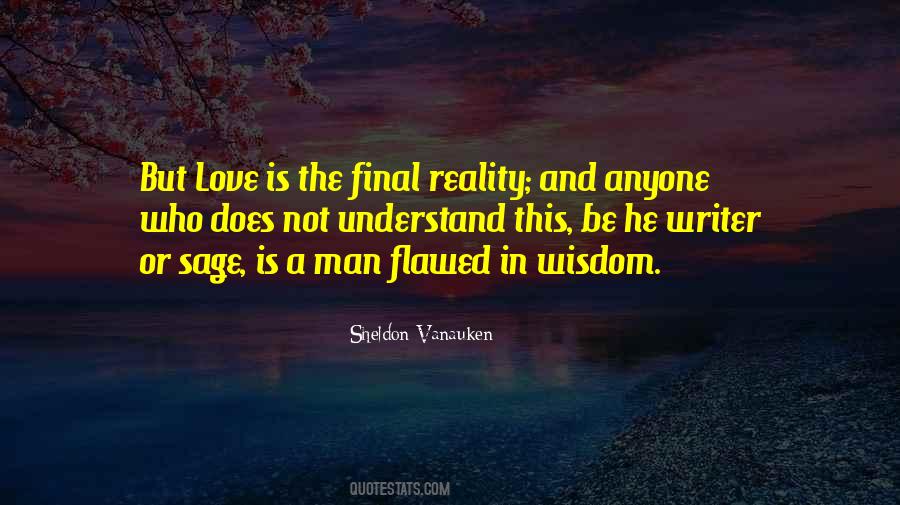 #49. Impending doom, it was a familiar sweater, we all wore it and as scratchy as it felt against our skin, we kept it on. - Author: Holly Hood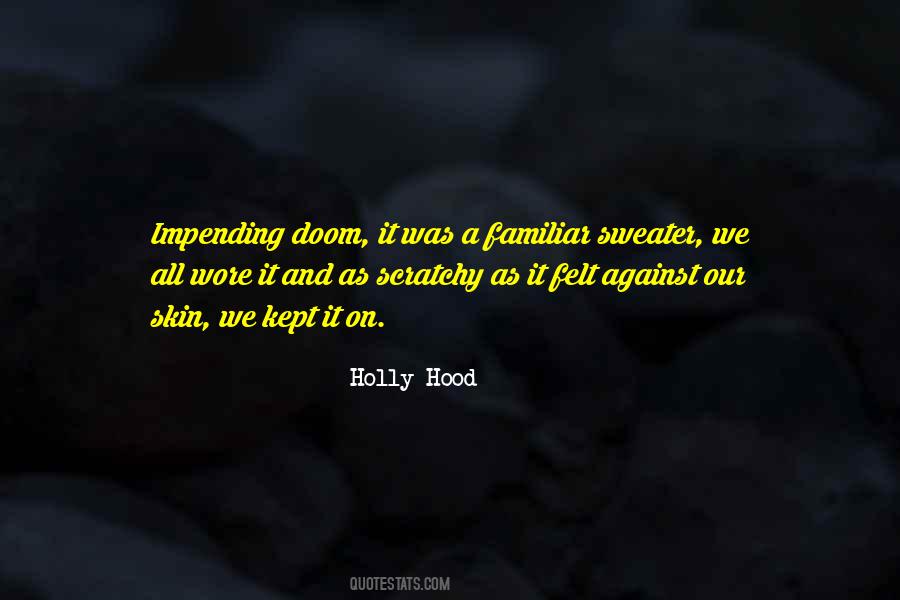 #50. I do it because I love animals and I saw the reality. And I just couldn't ignore it anymore. I'm healthier for it, I'm happier for it. I can't imagine that if you're putting something in your body that is filled with fear or anxiety or pain, that that isn't somehow going to be inside of you. - Author: Ellen DeGeneres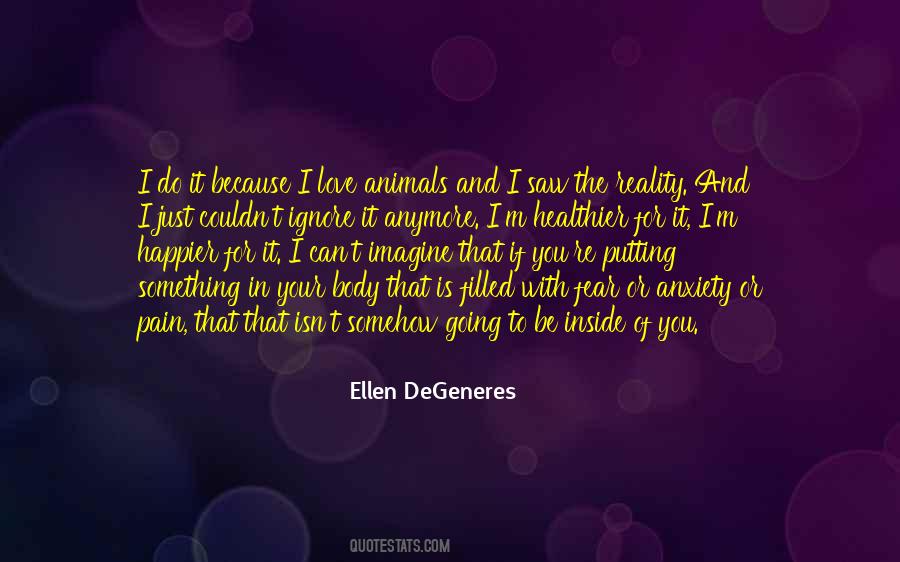 #51. The first six months are what I call the La La Land phase. This is what a lot of romantic novels, songs, and movies are based upon. Enjoy the courtship, nights out, and fun. You will eventually come back to reality. - Author: Pamela Cummins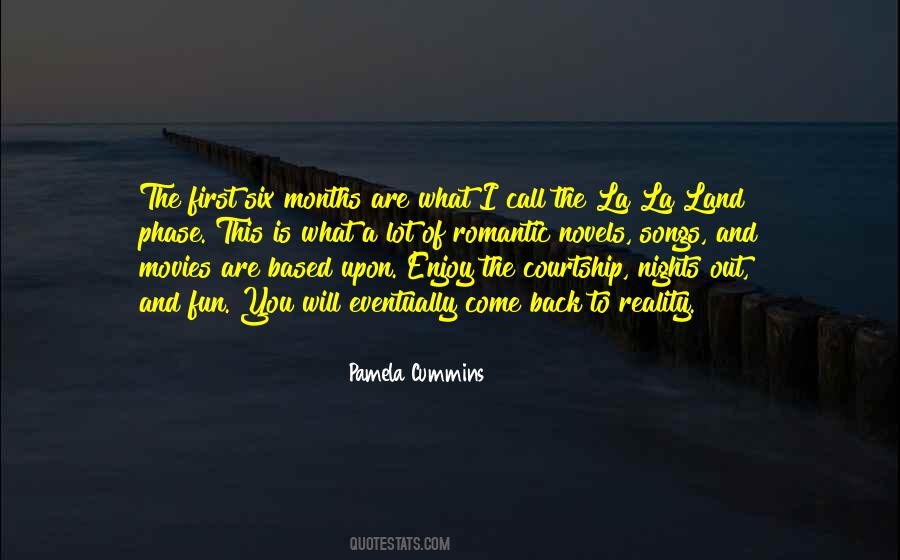 #52. I live always in my dream,
so reality is my dream and dream is my reality. - Author: Debasish Mridha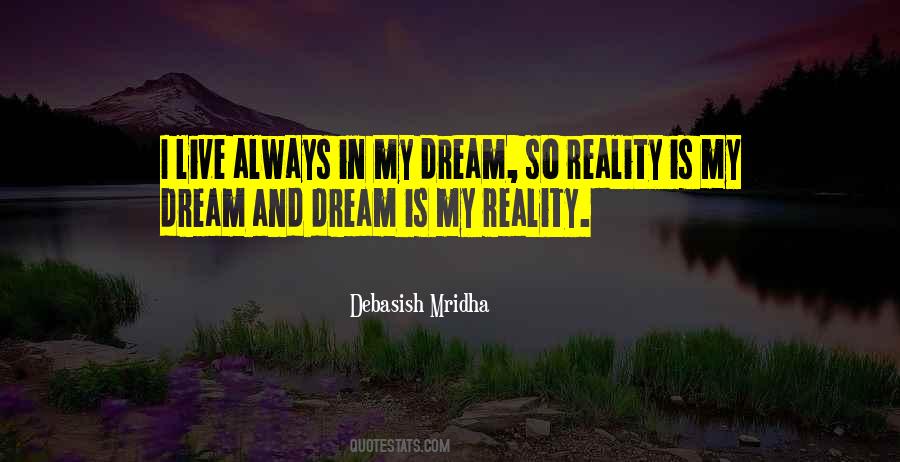 #53. Prenups are so unromantic - a sign of distrust, not love. Time for a reality check, my friends. First, drawing up a prenuptial agreement together is a sign of incredible trust and financial openness - you're fooling yourself if you think you can achieve complete intimacy without it. - Author: Suze Orman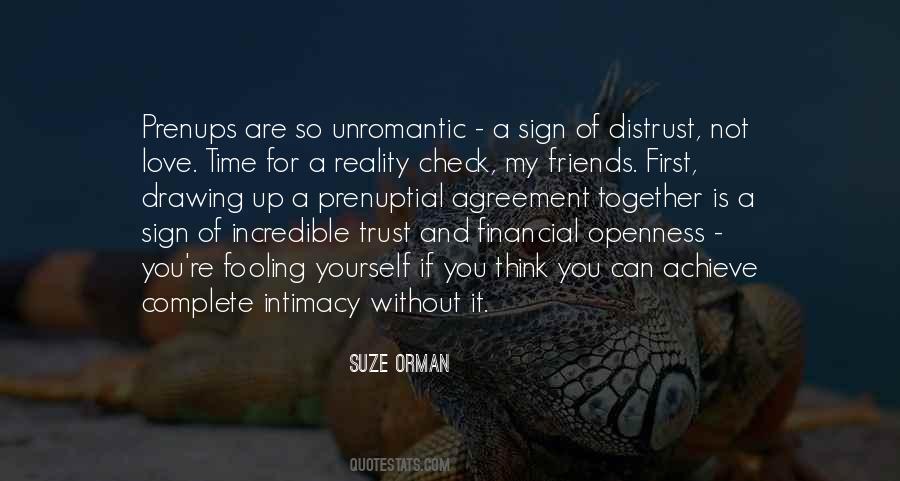 #54. Willy DeVille knows the truth of a city street and the courage in a ghetto love song. And the harsh reality in his voice and phrasing is yesterday, today, and tomorrow - timeless in the same way that loneliness, no money, and troubles find each other and never quit for a minute. - Author: Doc Pomus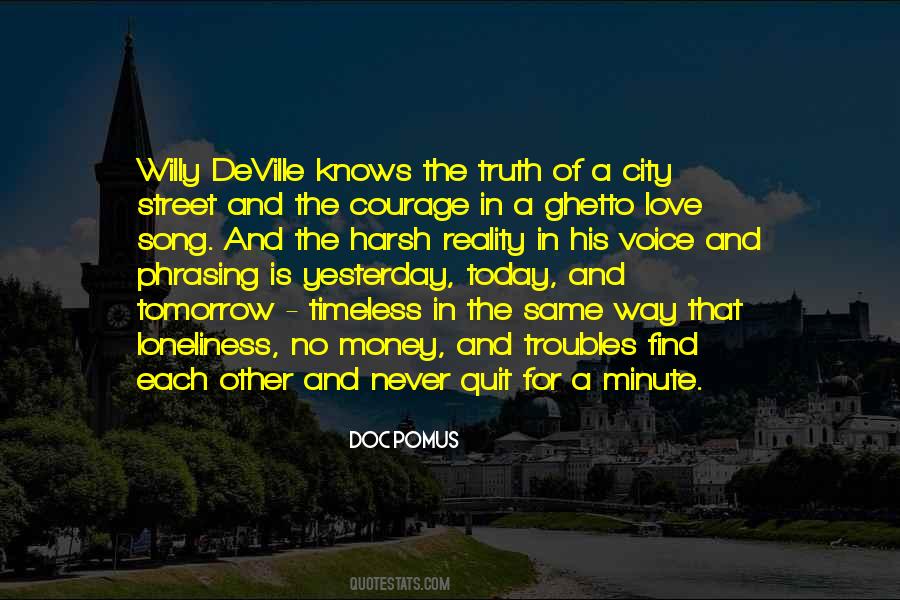 #55. Love me like today is the last day we can see stars in the sky, let us sleep under them and throw ourselves into the oblivion and never again reach out for reality. - Author: Akshay Vasu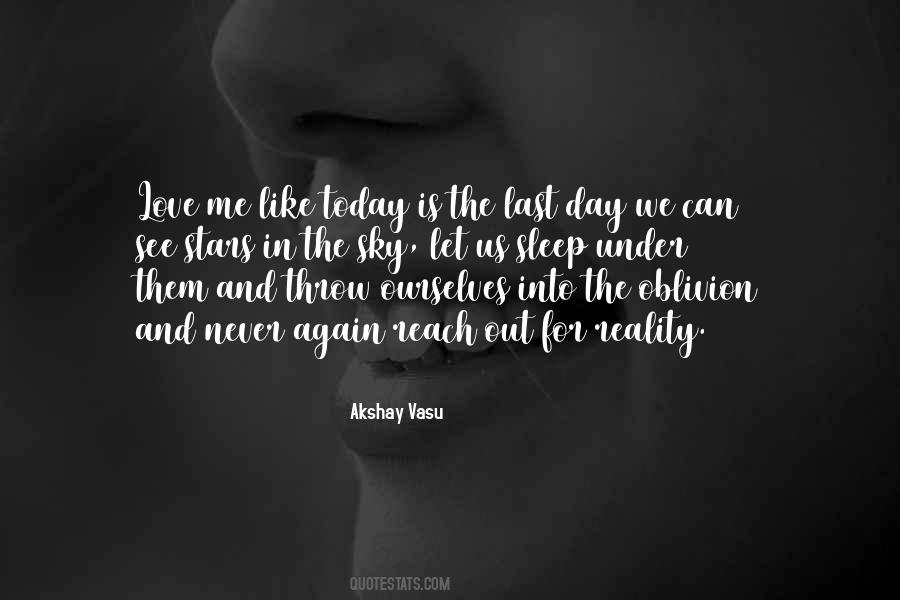 #56. Reality rebounds, and things turn out the opposite of what they seem and what people expect. Strength becomes weakness; love becomes pornography; pleasure becomes boredom; and so on. - Author: Os Guinness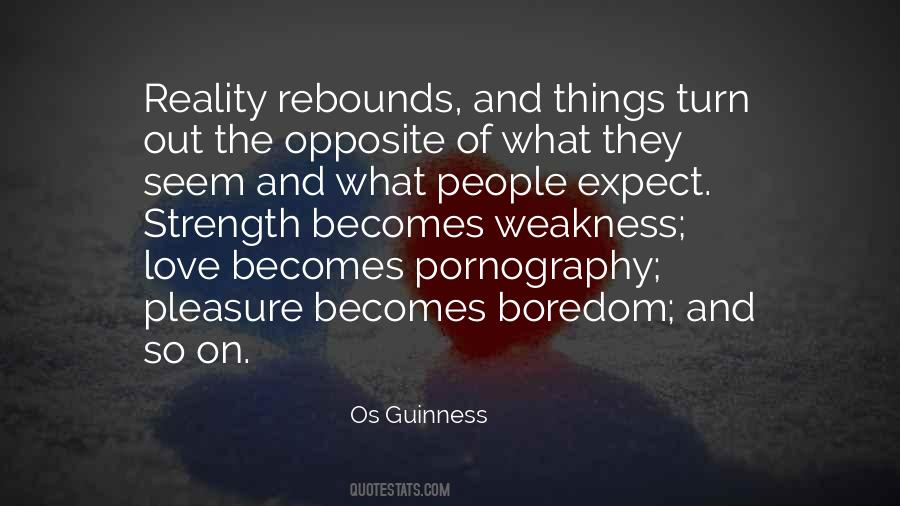 #57. Love makes reality invisible and no one around you can understand why you do the things you do, for something that can cause you so much pain. Because you know after all the fighting, tears, and uncertainty, it's all worth it. - Author: Auliq Ice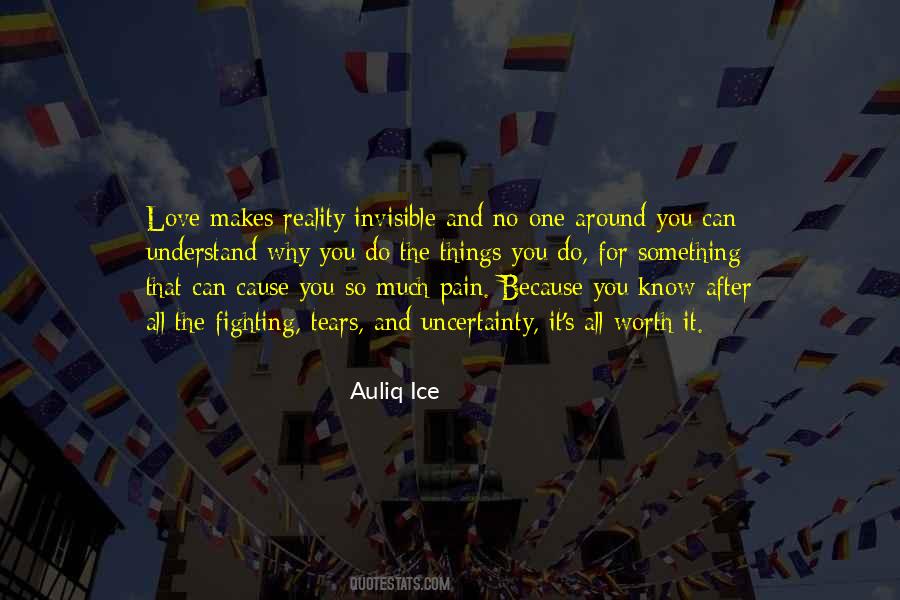 #58. Music speaks of Platonic truth - the ideal river rather than the polluted reality, love as we dream it rather than we experience it, grief noble and uplifting rather than our distracted weeping. It is necessary to our survival and our sanity. - Author: Pam Brown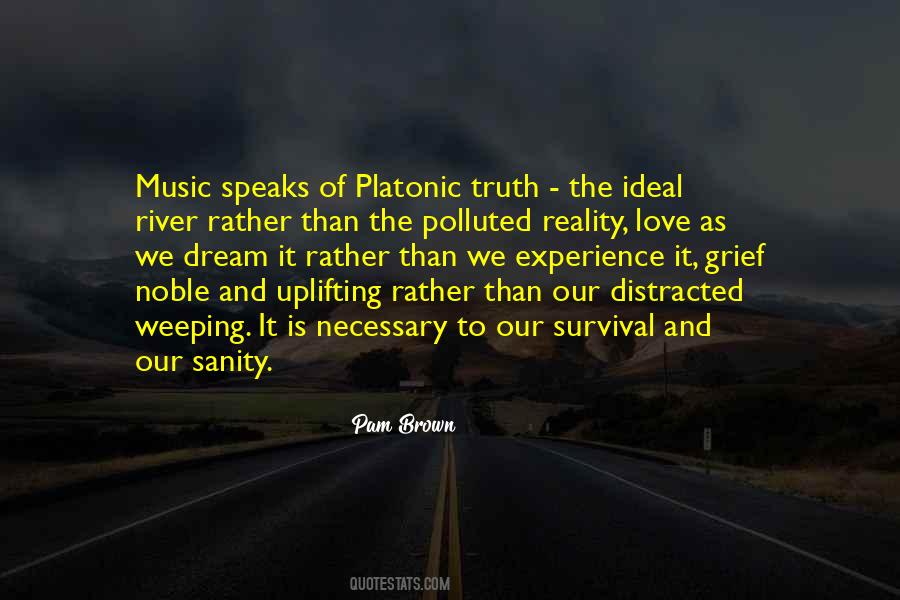 #59. In fact, "father" and "mother" are two aspects of the same reality. Father is more expressive side of wisdom or understanding, and mother the side of love or compassion...Without understanding there cannot be true love, and without love there cannot be understanding, - Author: Thich Nhat Hanh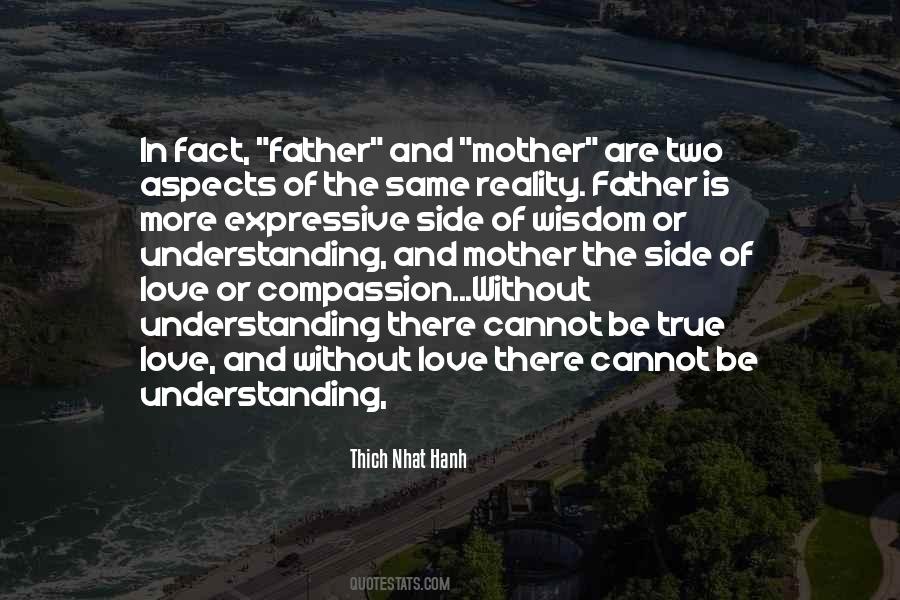 #60. My films must let every man, woman, and child know that God loves them, that I love them, and that peace and salvation will become a reality only when they all learn to love each other. - Author: Frank Capra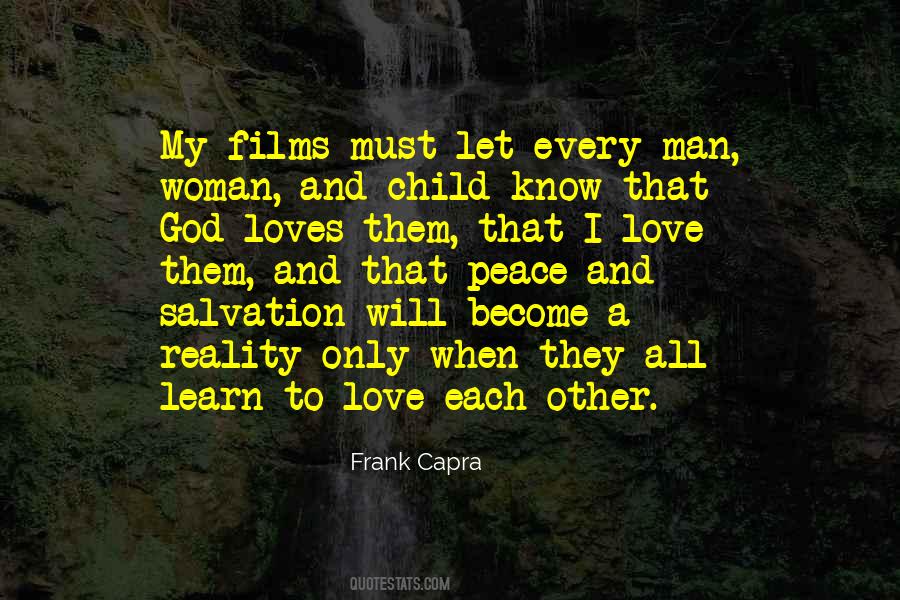 #61. - I believe in unlimited discovery and achievement.
- I believe that dreams can become reality.
- I believe in true love.
- I believe in kindness and intelligence.
- I trust life, regardless. - Author: Elysse Poetis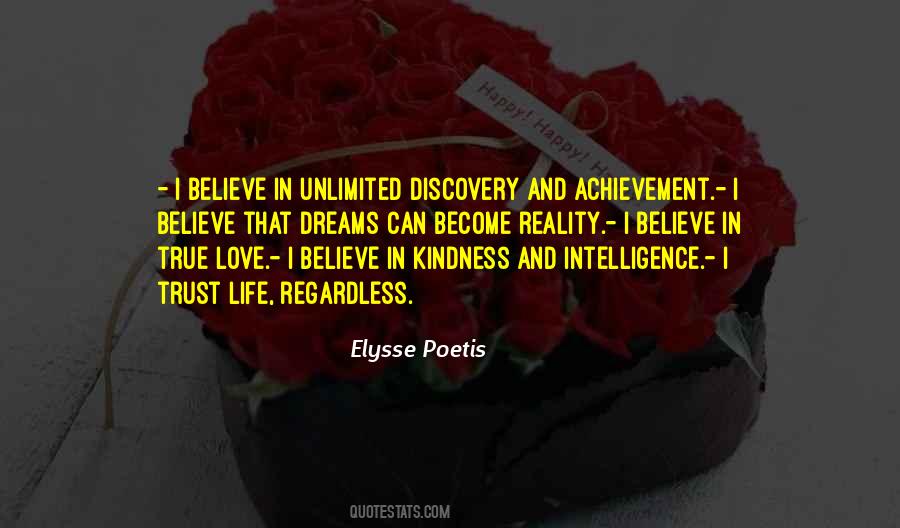 #62. ...A canonical leader is someone whose exemplary rule might have appeared to be for the alleviation of the pains and miseries of a particular group, but which in reality is for the advancement of humanism... - Author: Janvier Chouteu-Chando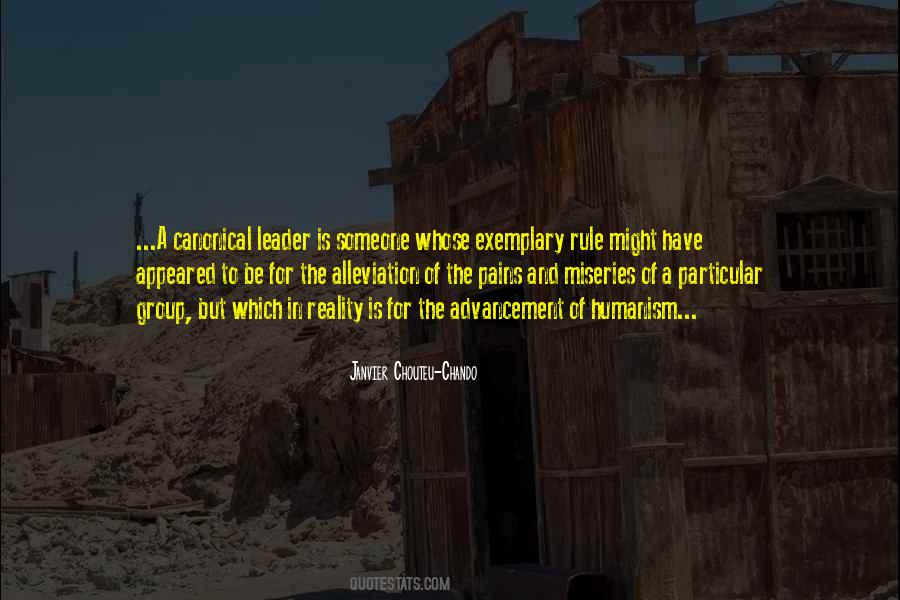 #63. Seize the moments of happiness, love and be loved! That is the only reality in the world, all else is folly. It is the one thing we are interested in here. - Author: Leo Tolstoy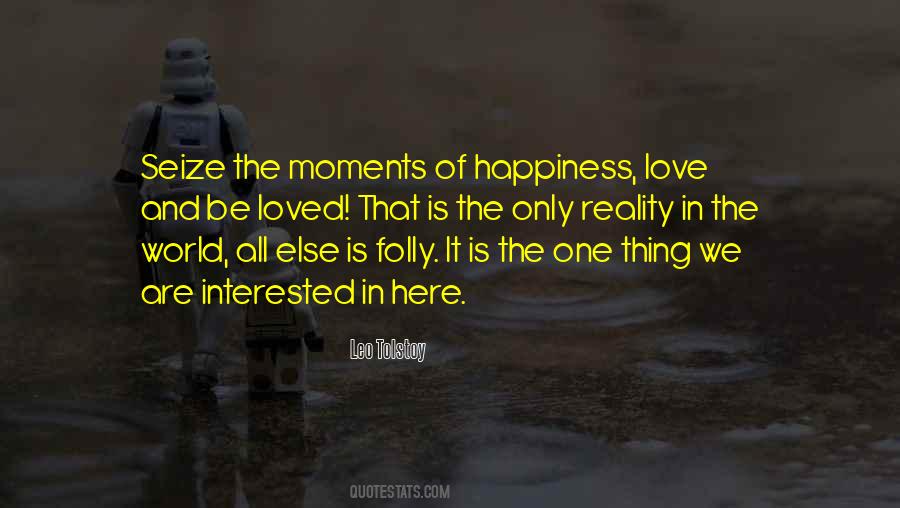 #64. I have been waiting a long time for this. It's been my dream forever. Now that it's a reality, I love it. I haven't been burnt out at all and I have a bunch of guys with me that feel the same way. - Author: Dierks Bentley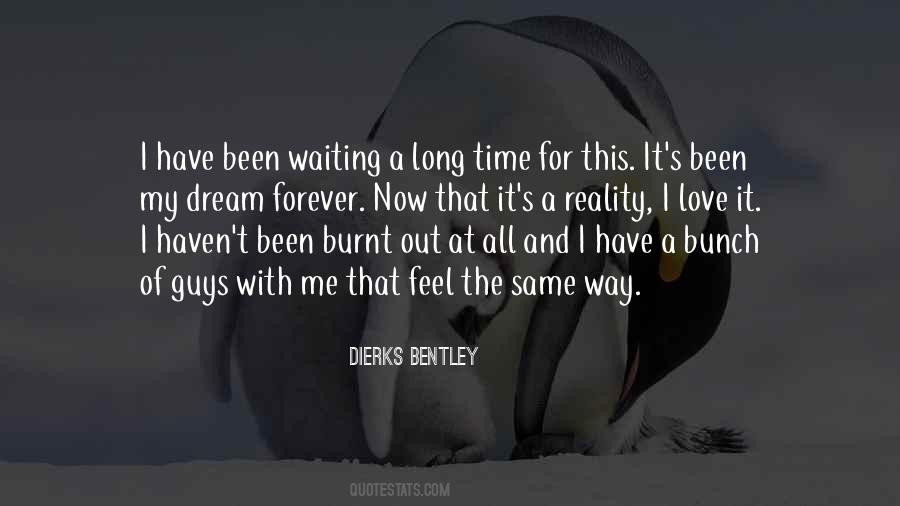 #65. When I make a film I'm always in reality among the trees, and among the people like yourselves. There's no symbolic or conventional filter between me and reality as there is in literature. The cinema is an explosion of my love for reality. - Author: Pier Paolo Pasolini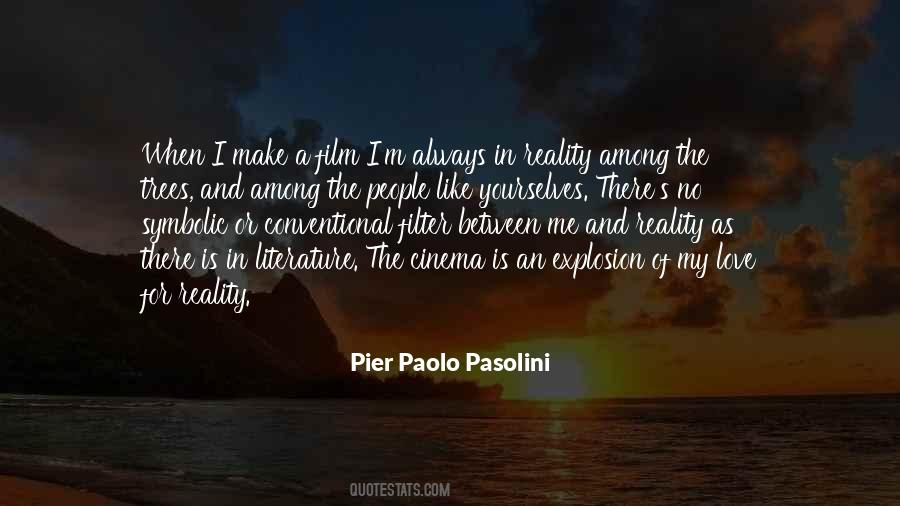 #66. Thou are my only reality
all other people are but shadows to me: all events and actions, in which thou dost not mingle, are but dreams. - Author: Nathaniel Hawthorne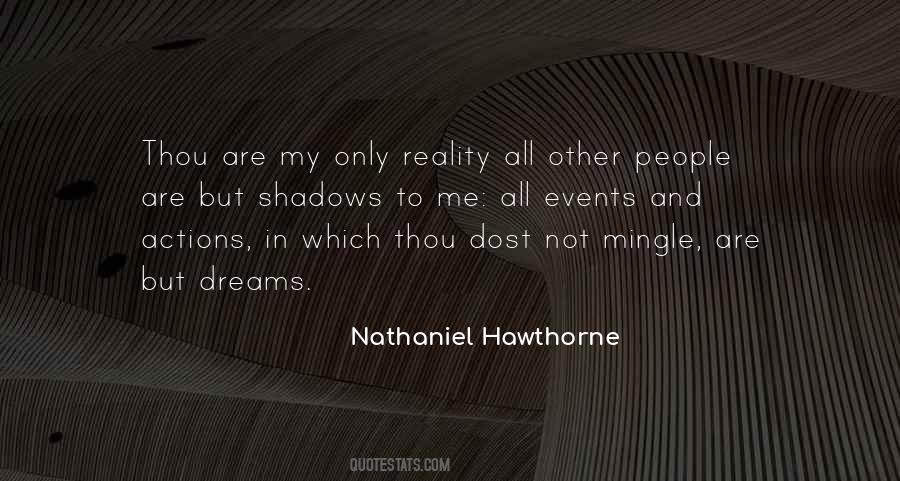 #67. In reality, serendipity accounts for one percent of the blessings we receive in life, work and love. The other 99 percent is due to our efforts. - Author: Peter McWilliams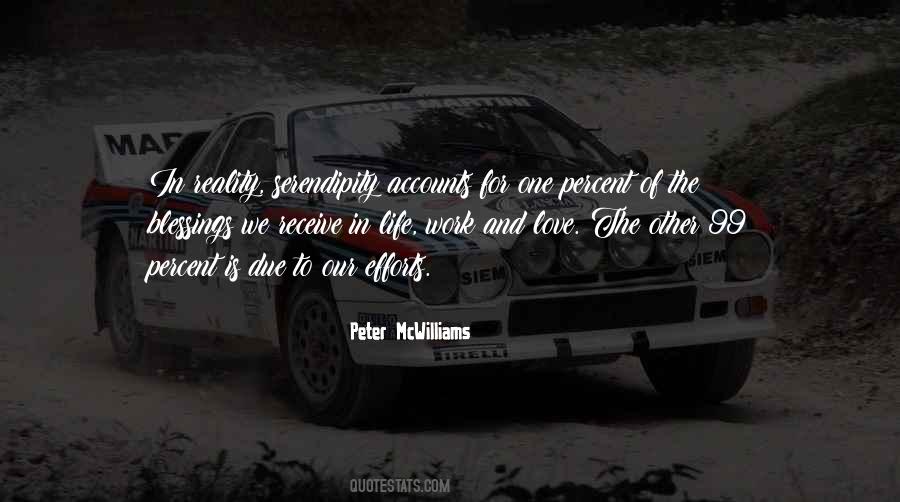 #68. Thus ended the first and adventurous part of his existence.
What followed was so different that, but for the reality of sorrow which remained with him, this strange part must have resembled a dream. - Author: Joseph Conrad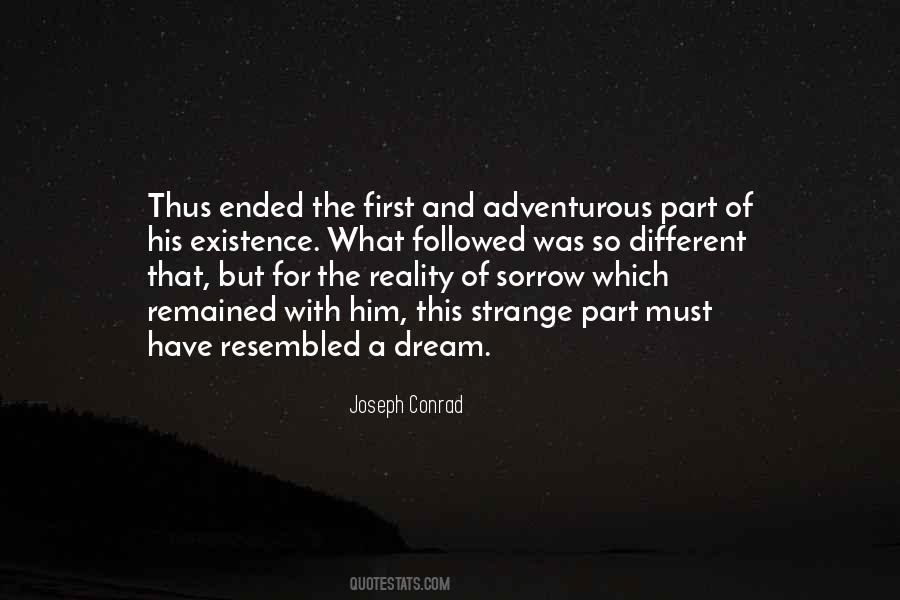 #69. You are born with infinite possibilities. Take responsibility for turning these possibilities into reality, and you will be bestowed with success, love and eternal peace. - Author: Vishwas Chavan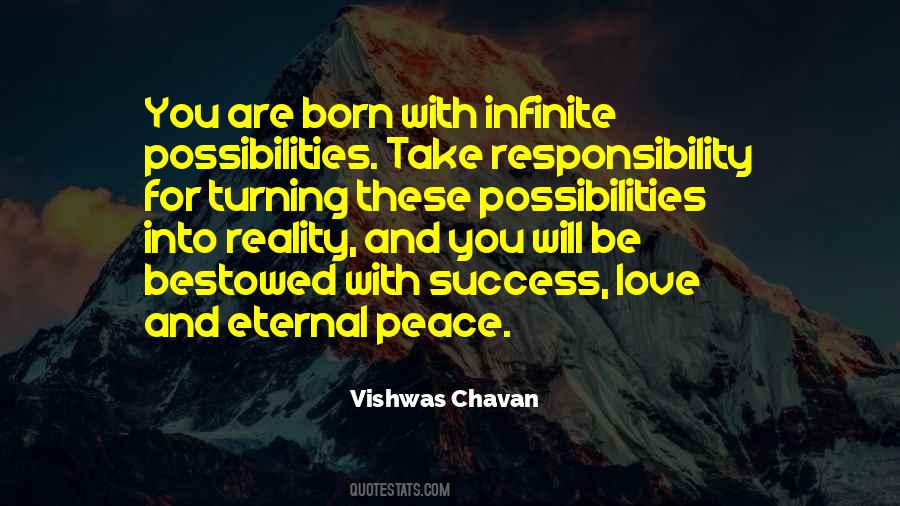 #70. There comes a time in your life where you
have to live without the wo/man of your
dreams and have to live with the one in your reality.
That is called maturity - Author: Nomthandazo Tsembeni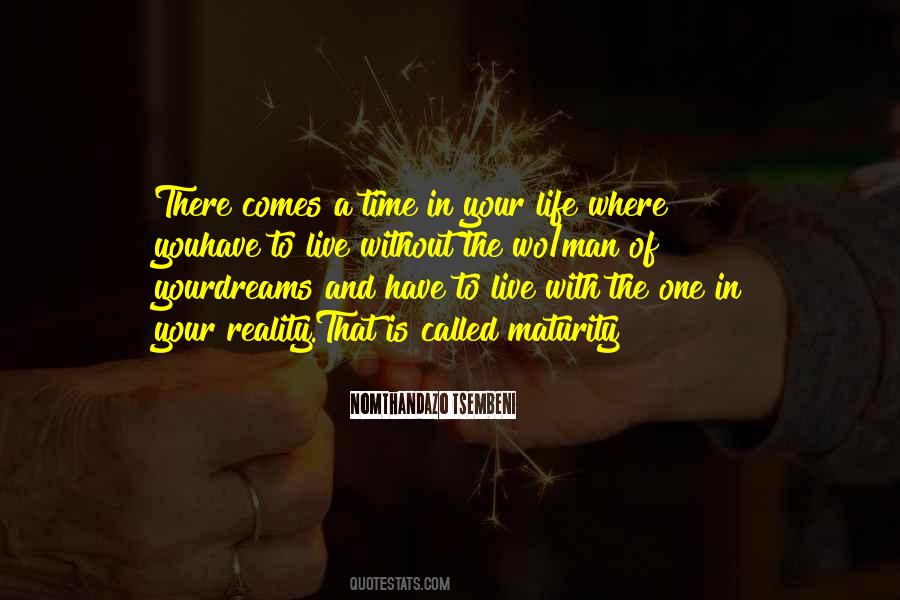 #71. Reality and truth are not products of rational or linear thinking. They are derived from absolute wisdom as it manifests itself spontaneously, coming from the light of the Spirit. - Author: Nirmala Srivastava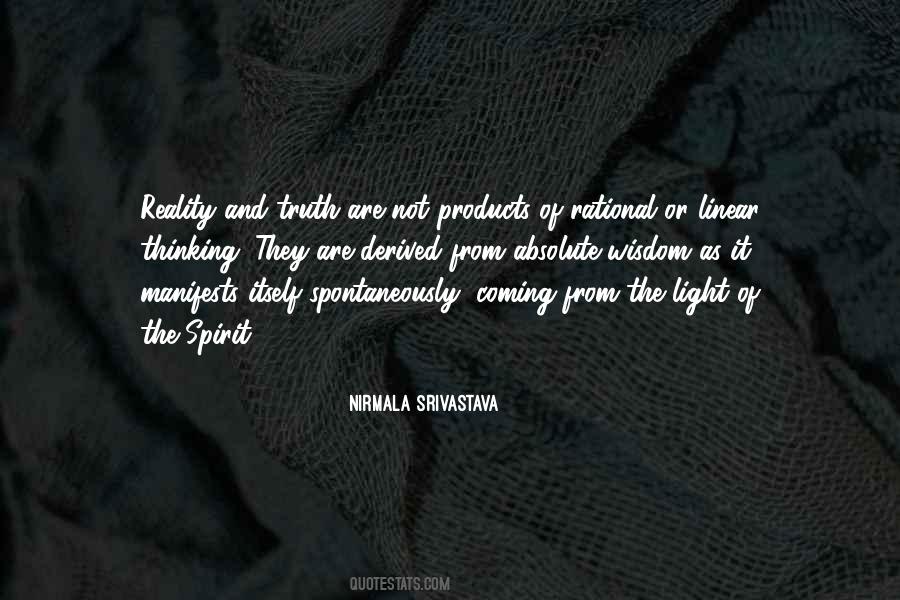 #72. I want you to love me." I said softly. "But if not, then I want to be the closest thing to you loving me. I want your loyalty. I want your honesty. I want you by my side and no one else's. I want your body. I want your mind. I want to know your hopes and dreams so I could one day make them reality. - Author: J.J. McAvoy
#73. I've longed for you so, while my connection to the rest of reality has torn. It is that you have lost me. And I have lost you, longing for more than my enough. - Author: Brandi Gomez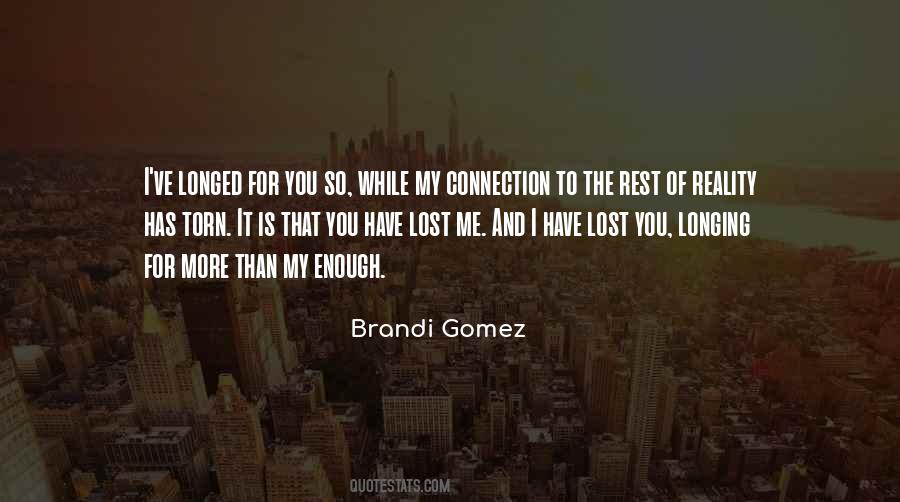 #74. Nirvana manifests as ease, as love, as connectedness, as generosity, as clarity, as unshakable freedom. This isn't watering down nirvana. This is the reality of liberation that we can experience, sometimes in a moment and sometimes in transformative ways that change our entire life - Author: Jack Kornfield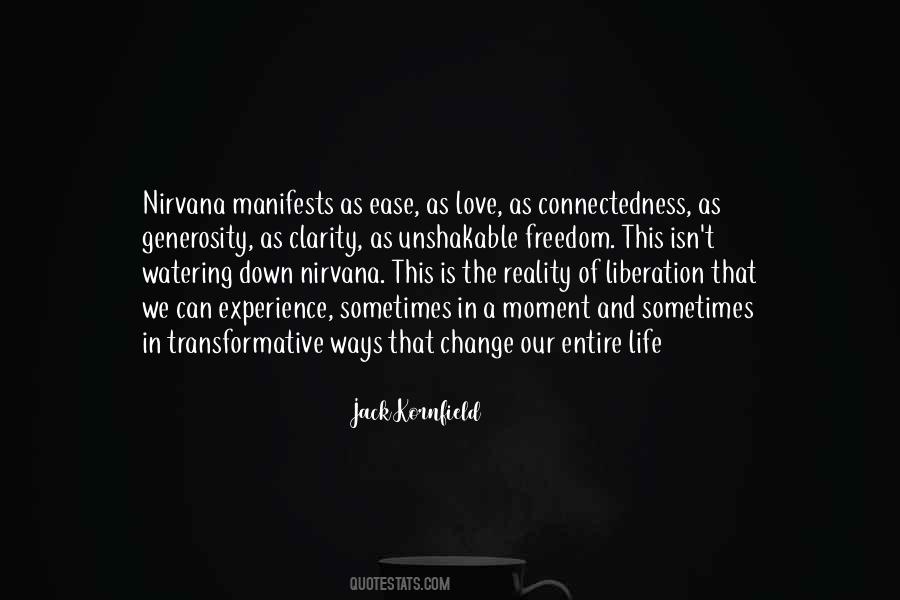 #75. Love that sets forth the soul like springtime and ripens it like summer. Love as rarely exists in reality, as if a master alchemist has taken it and distilled out all the impurities, every petty disenchantment, every unworthy thought, into a perfect elixir, sweet and deep and all-consuming. - Author: Laini Taylor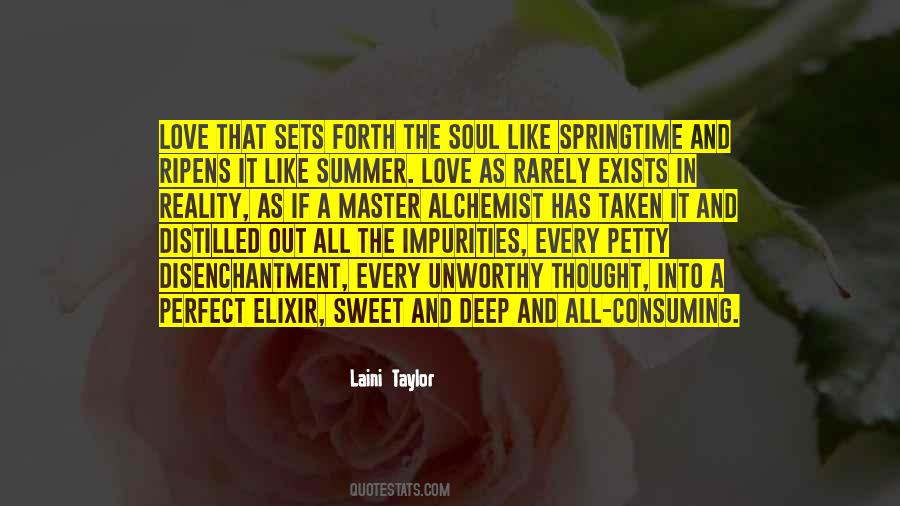 #76. Each day I'm thankful for nights that turned into mornings, friends that turned into family, dreams that turned into reality, and like that turned into love. - Author: Drake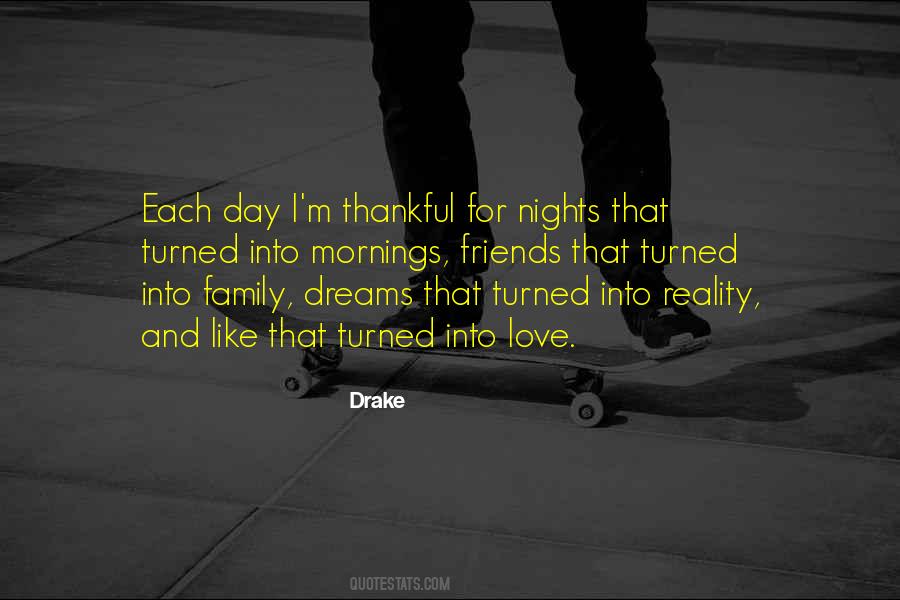 #77. You can love someone and not like spending time with them. - Author: Will Fetters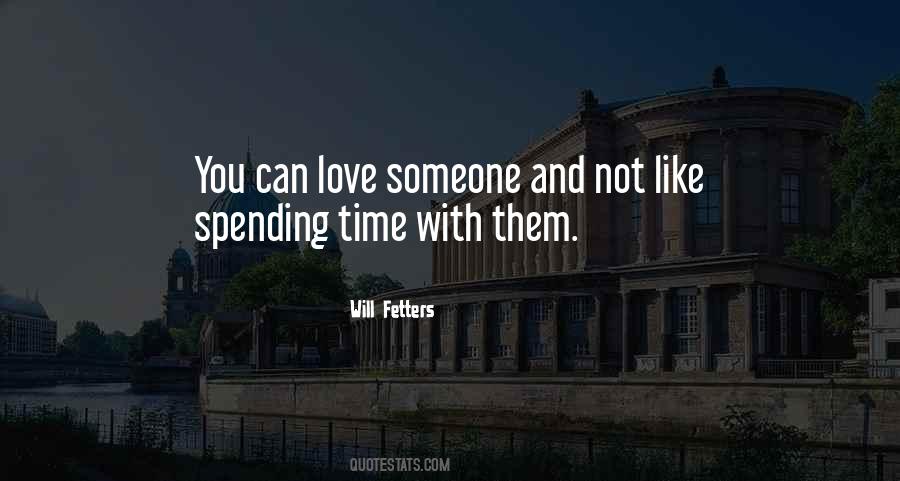 #78. I'm all for setting goals and making plans for the lives we want to become a reality. I love vision statements and life maps, but I have also discovered the power of a woman who does just one thing. - Author: Nicki Koziarz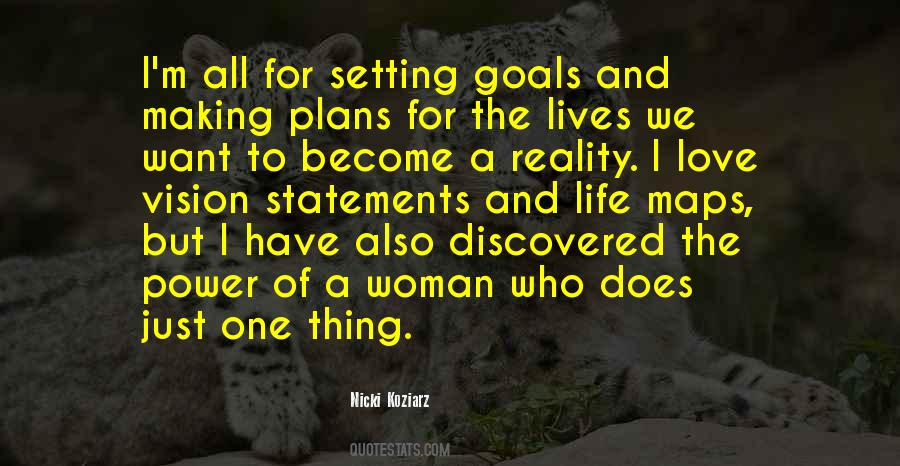 #79. I love talk shows and hosting. I would want to do something like that. I'm not sure I would want to be a reality star continuously. - Author: NeNe Leakes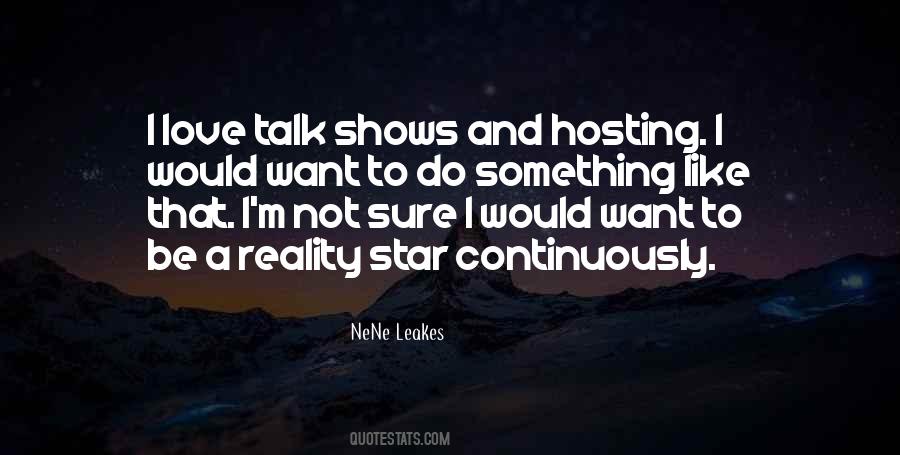 #80. You understand your place in it, and you feel an incredible love for everyone and everything, and you're just sublimely happy, and then you're suddenly jolted back to reality, and you've got to deal with the world as it is - Author: Larkin Grimm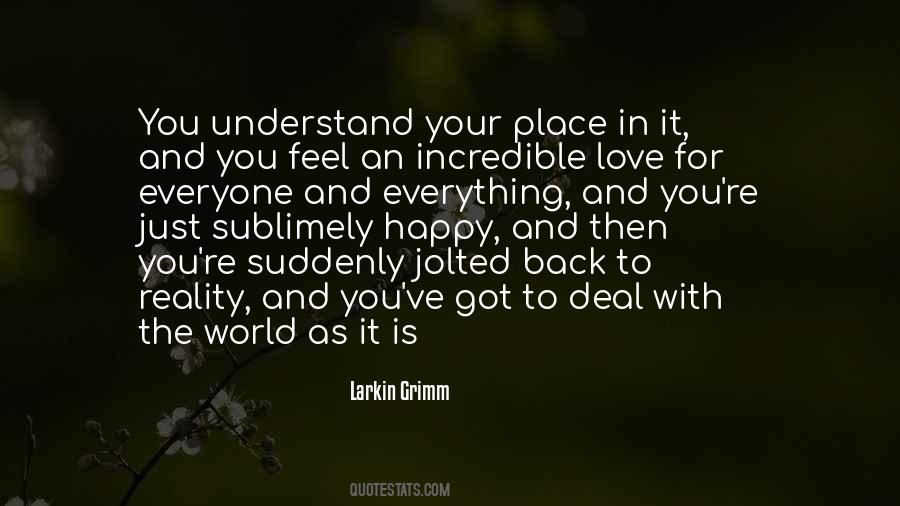 #81. As lightly toned by reality as the women on 'Sex and the City,' the bold, soigne characters on 'The L Word' suggest that L is also for limerence, that rapturous state of early love when the entire world is glowing and delectable. - Author: Stacey D'Erasmo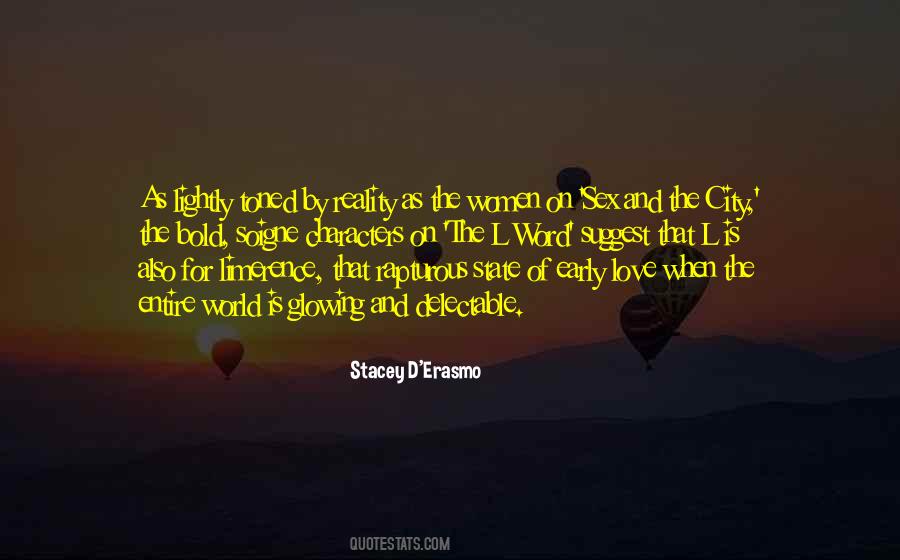 #82. After two decades there she was, in front of him, almost within touching distance, not faded like in his dreams, but bright and clear and vividly real, looking comfortably, almost defiantly, the same as she always had and then everything she had never been. - Author: Tan Redding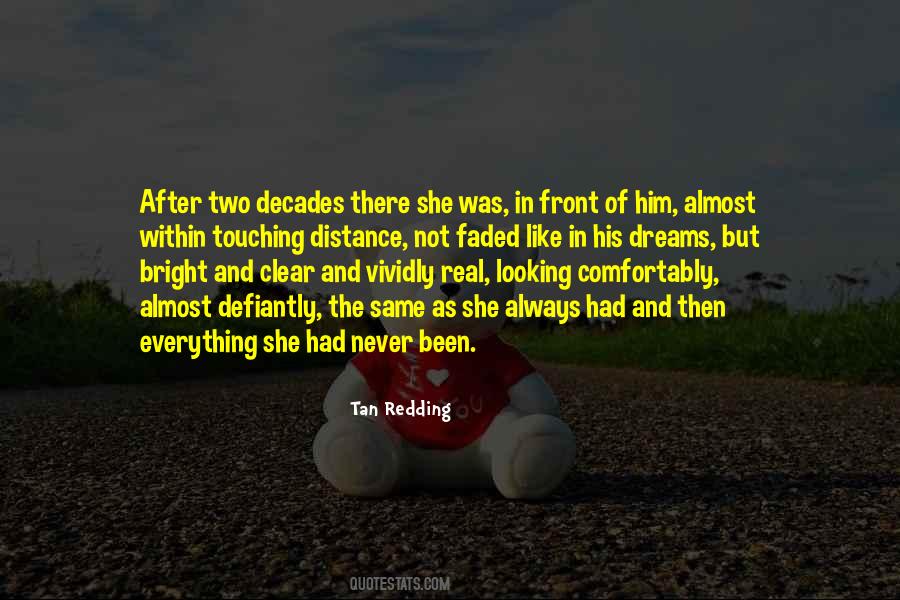 #83. Passion, emotion, love and romance they all look better in movies; in reality all you need is a big dick. - Author: M.F. Moonzajer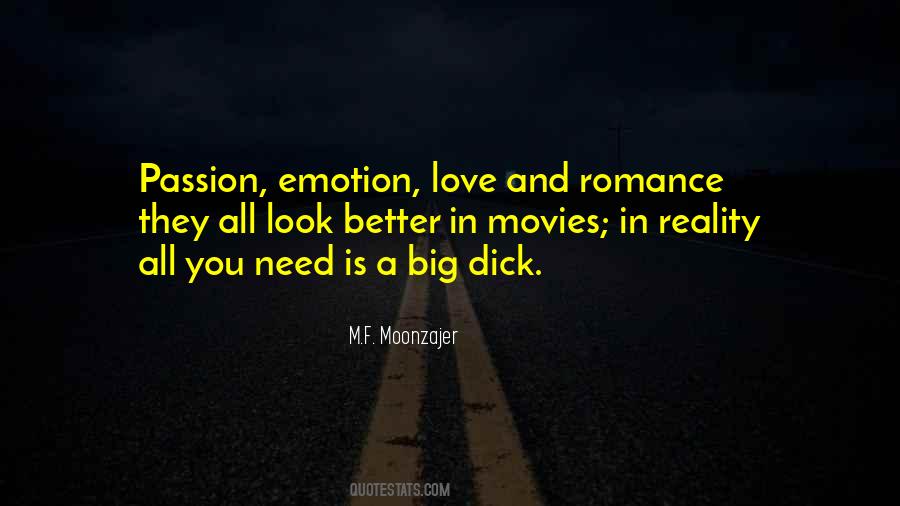 #84. Comic-book pages are vertical, and movie screens are relentlessly horizontal. But it's all the same form. We use different tools, but we get the job done. I'm completely in love with CGI. It's great for conveying a cartoonist's sense of reality. - Author: Frank Miller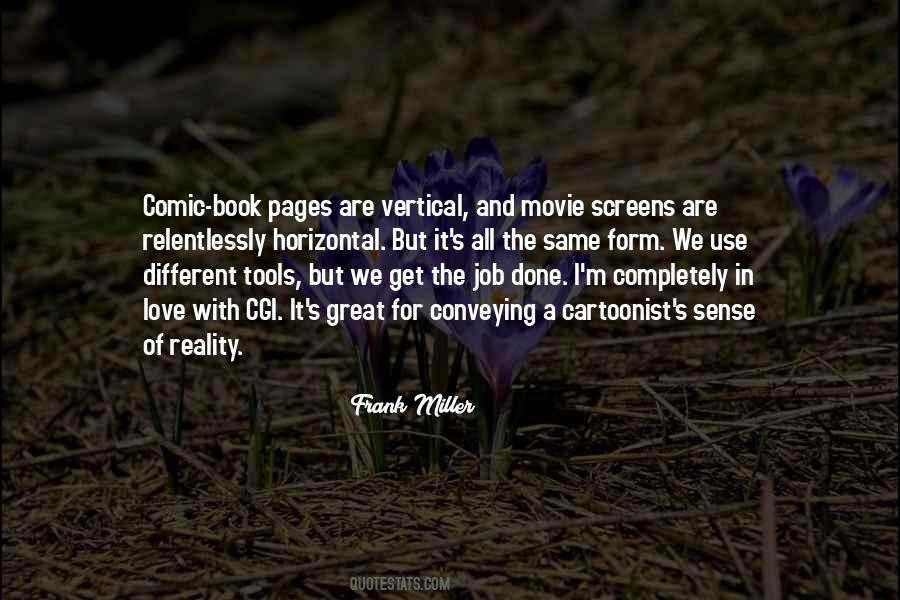 #85. Never go for someone that represents something that is more of a fantasy than reality in this crazy world of lonely people, unless it is for the shortest time possible, and unless you have clearly figured out an exit strategy. - Author: Janvier Chouteu-Chando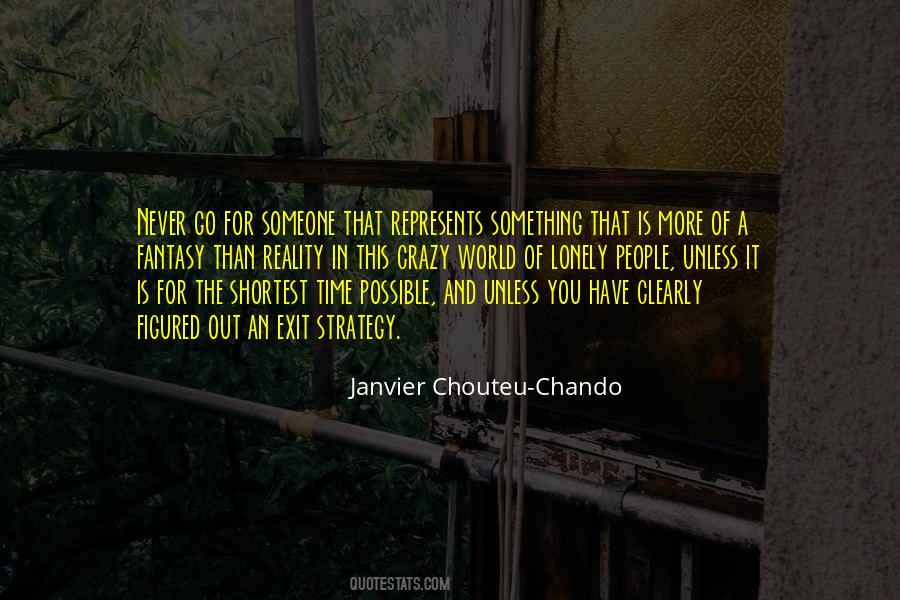 #86. I actually hate reality TV! I know people love it, but when I watch, I'm analytical, and I'm like, 'This can't be real because of the camera position! And I see the cuts!' - Author: Kathryn Prescott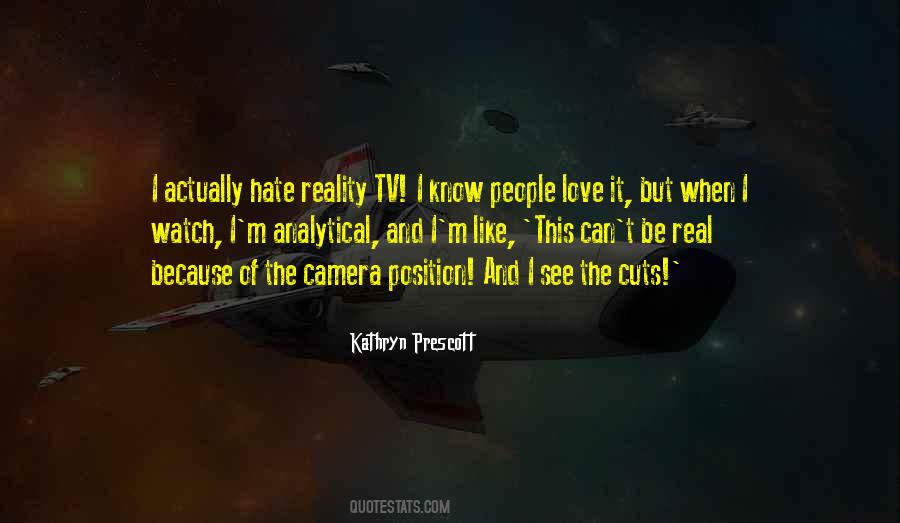 #87. Everyone creates realities based on their own personal beliefs. These beliefs are so powerful that they can create [expansive or entrapping] realities over and over.~Kuan Yin - Author: Hope Bradford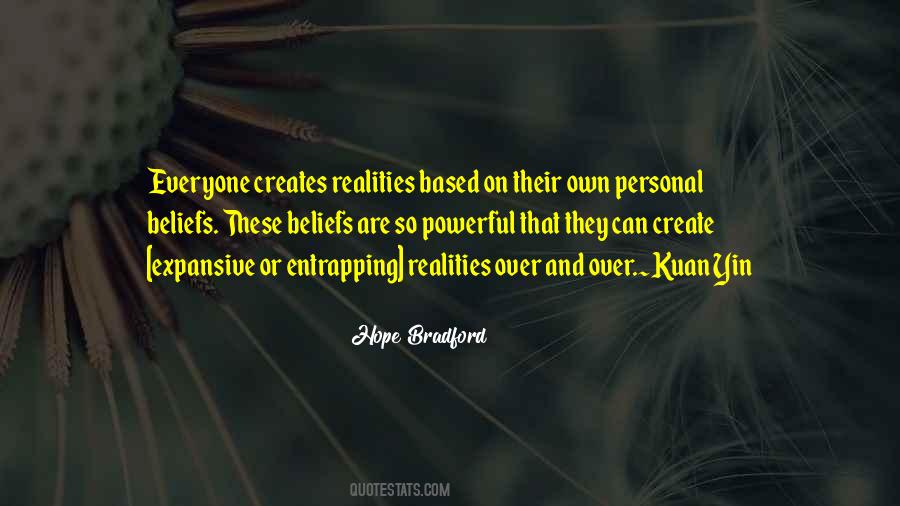 #88. I love watching reality shows - I'm up to date with 'America's Next Top Model' and I love 'Project Runway.' But the shows where they're just sitting in a house aren't as fun to me! - Author: Emma Bunton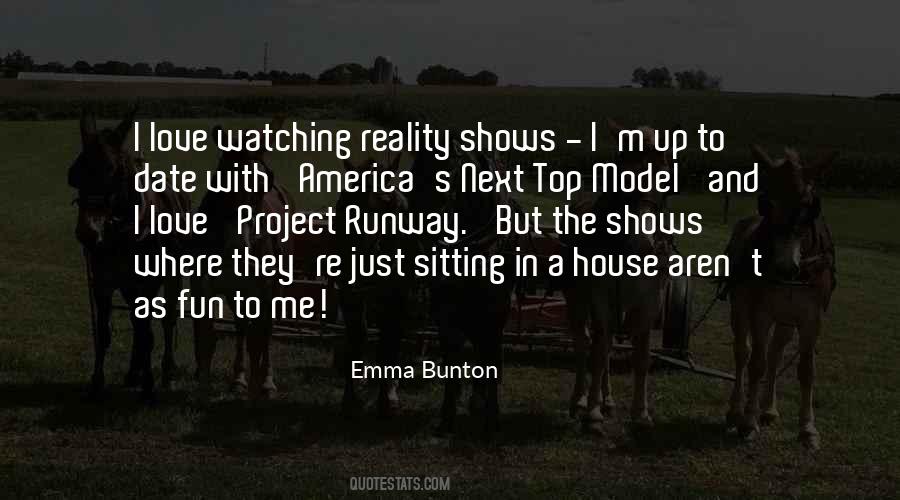 #89. There is no religion
There is no reality or lack of reality
There is no start or finish
There is no me or you
There is only everything
And the only thing that is that reality
Is divinity itself
And it is all for the love of God. - Author: Steve Vai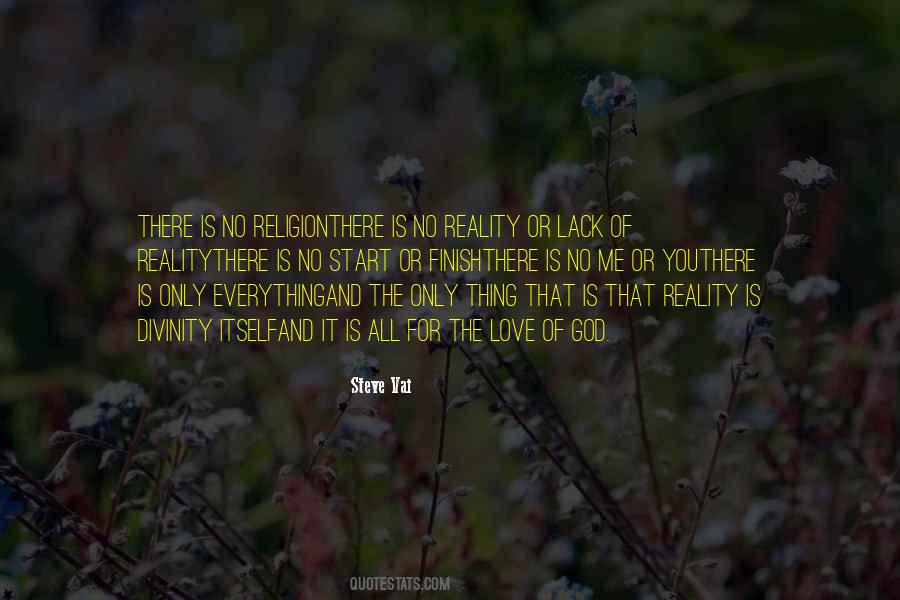 #90. The way to embody love completely is to see and appreciate life just as it is, and not as you believe, fear, or desire it to be. - Author: Eric Micha'el Leventhal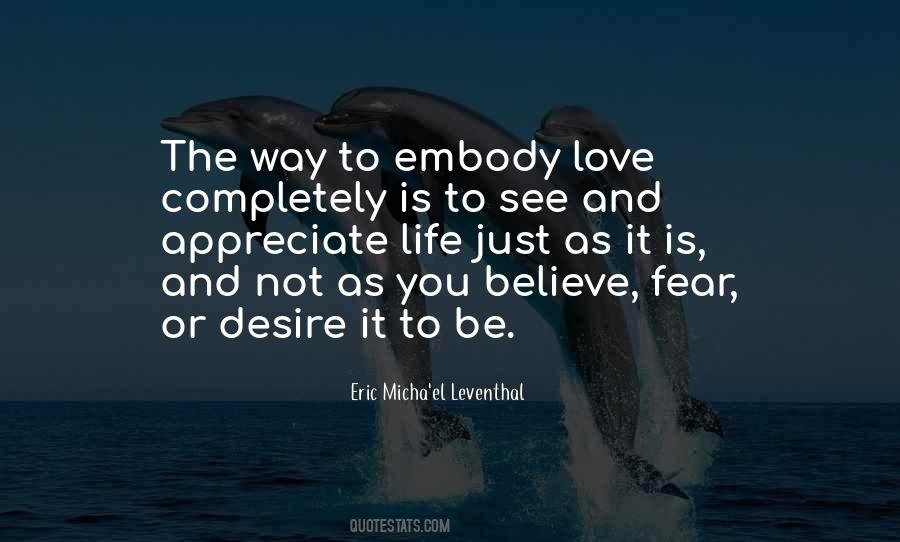 #91. True love is a fairy tale, which can be transformed into reality by rewriting each chapter by hearing the whispers of each other's heart, by believing in those whispers and absorbing the aches that lie within. - Author: Balroop Singh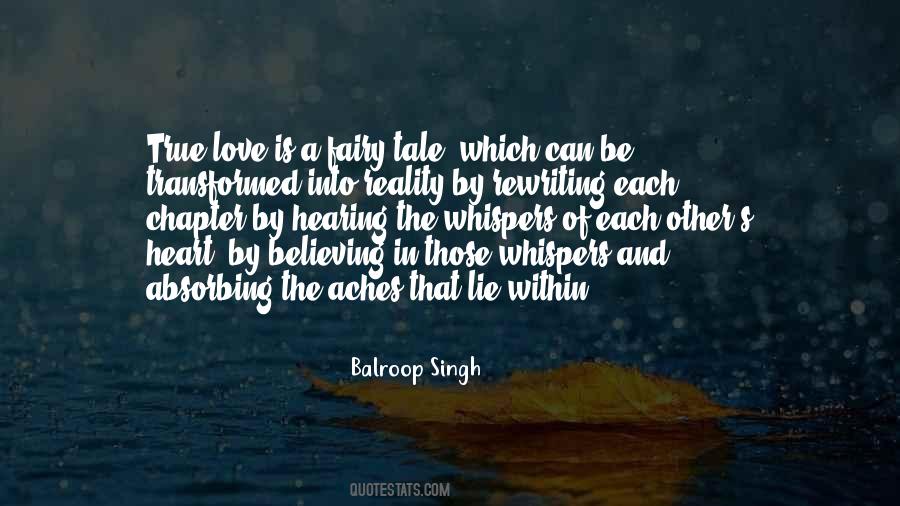 #92. Love is who we are, and when we deviate from that love we're deviating from our ultimate, essential, eternal reality. - Author: Marianne Williamson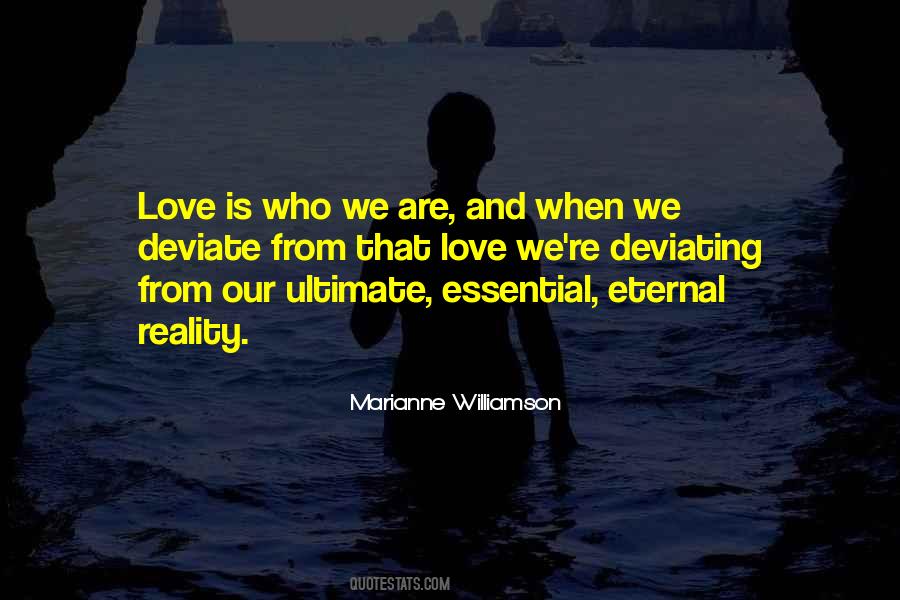 #93. Our perception of celebrities in Hollywood is not the reality. The reality of our lives is so much like everyone else's life. We have family members we love, everyone gets up in the morning, they have three meals a day and they go about their business. - Author: Sissy Spacek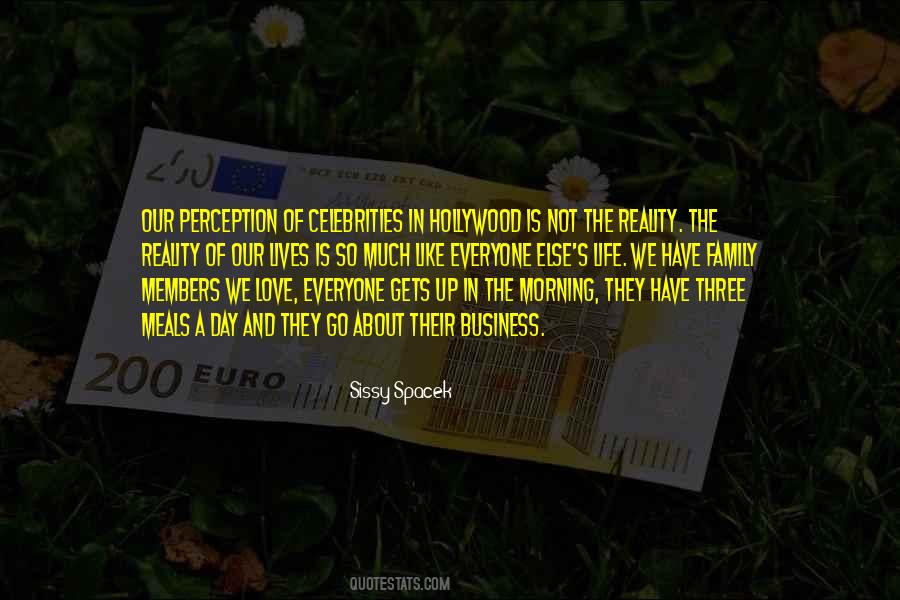 #94. It really is great. Especially having people who we make fun every week come on and poke fun at themselves is really cool, I love that. No reality star has been mad at me yet for making fun of them. I'm sure that one day soon though, someone is going to take a swing at me. - Author: Joel McHale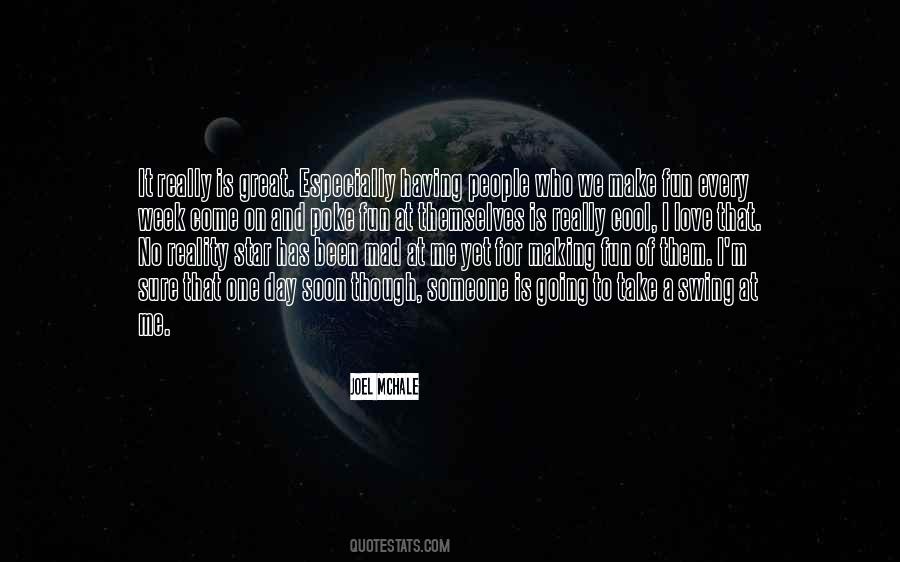 #95. No one is capable of loving you like you can love you. Embrace your uniqueness; your uniqueness is what makes you special and great. - Author: Shay Dawkins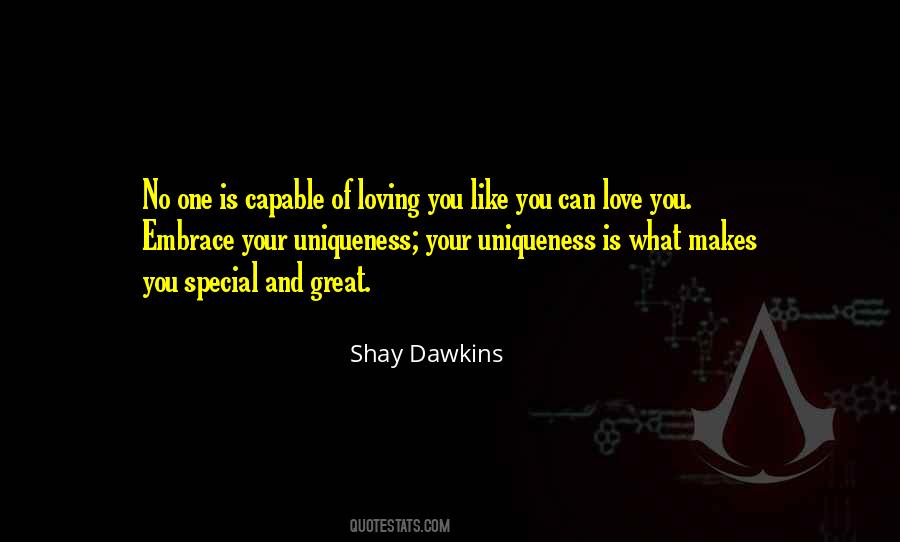 #96. I am a lover of love and I am a lover of words, and the two together spin visions of airy castles, but also may pierce the heart of hope. And so I remind you that I am a fool, a poet, and what matters is reality, not lovely words. Words are full of promise, yet empty of matter. - Author: Waylon H. Lewis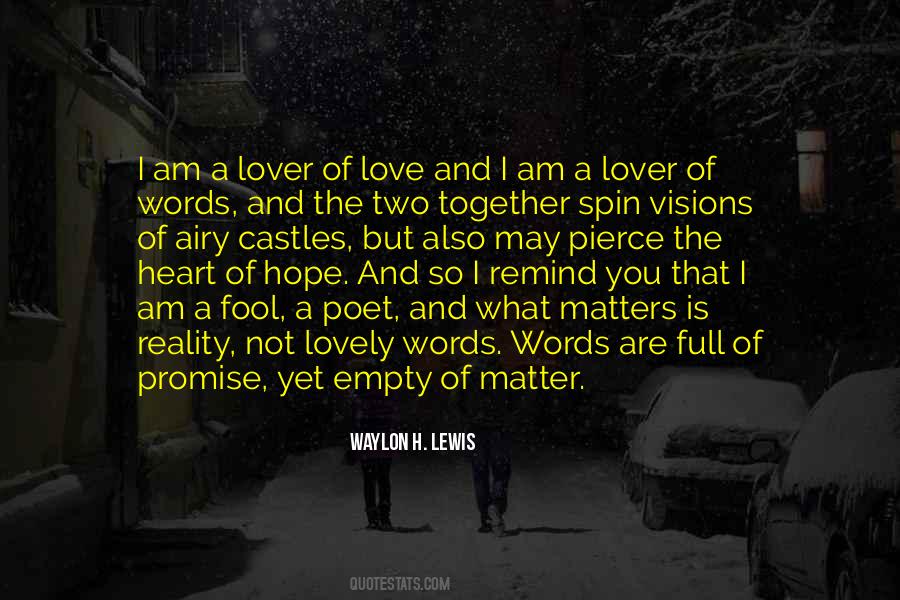 #97. We have faith in the potentialities of others, of ourselves, and of mankind because, and only to the degree to which, we have experienced the growth of our own potentialities, the reality of growth in ourselves, the strength of our own power of reason and love. - Author: Erich Fromm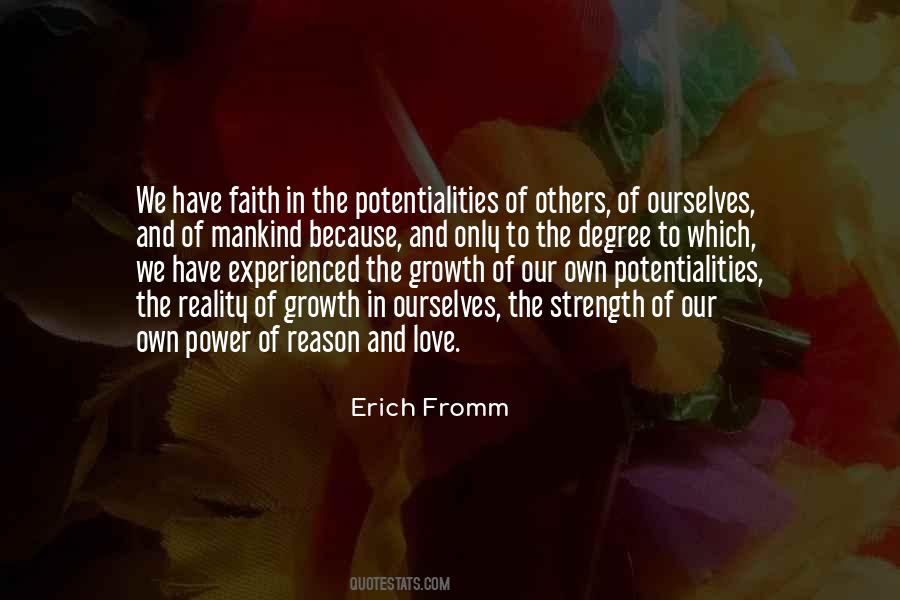 #98. It's not TIME that heals everything, it is SLEEP ...
Sleeping is the perfect answer to all doubts and troubles.
Leaving the world of reality behind and disappearing in to a world of make-believe and imaginations, is a solace you get from nothing else ... - Author: Sanhita Baruah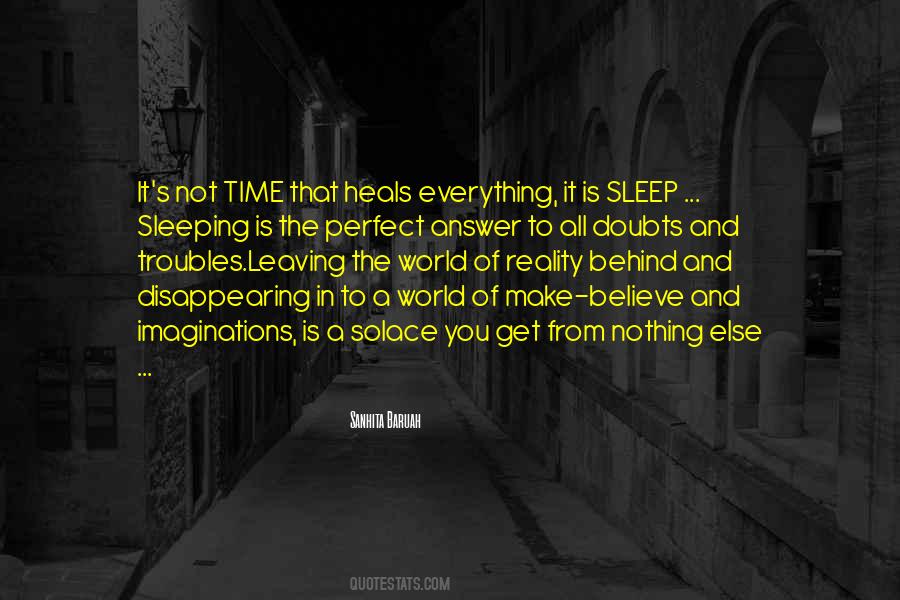 #99. I'm a huge gamer! I love playing 'World of Warcraft.' It helps me wind down and escape reality for a few. - Author: Agnes Bruckner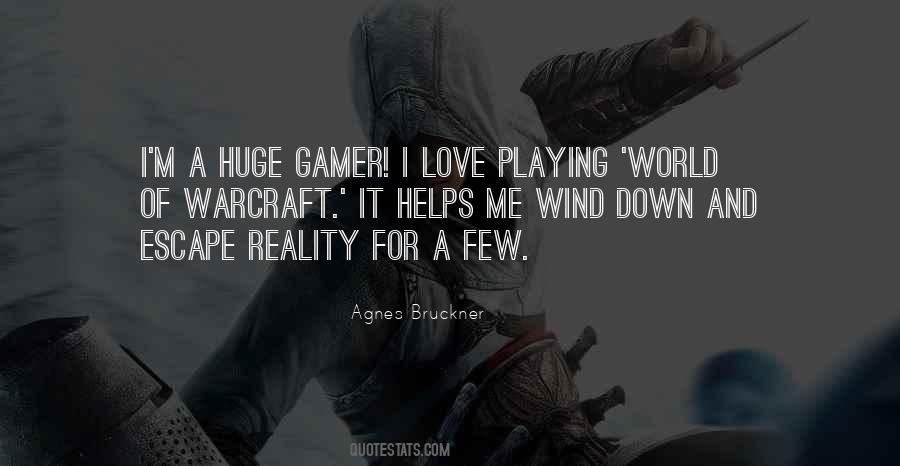 #100. Young ladies ... who fall in love, never consider whether there is sufficient "to make the pot boil" - probably because young ladies in love lose their appetites, and, not feeling inclined to eat at that time, they imagine that love will always supply the want of food. - Author: Frederick Marryat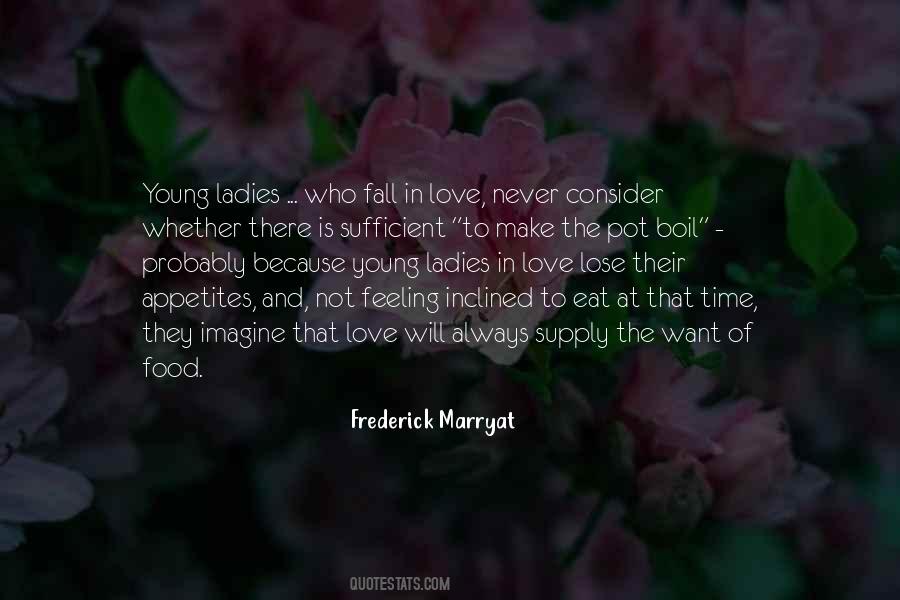 Famous Authors
Popular Topics