Racehorse Famous Quotes & Sayings
List of top 35 famous quotes and sayings about racehorse to read and share with friends on your Facebook, Twitter, blogs.
Top 35 Quotes About Racehorse
#1. Some people show evil as a great racehorse shows breeding. They have the dignity of a hard chancre. - Author: Ernest Hemingway,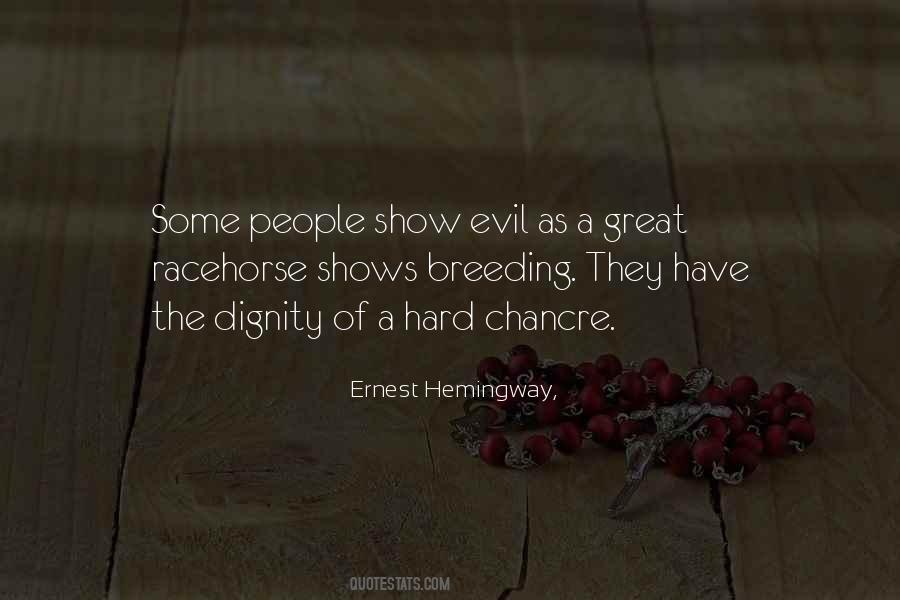 #2. Every man in the back of their minds would like to own a bar or a racehorse. - Author: Graydon Carter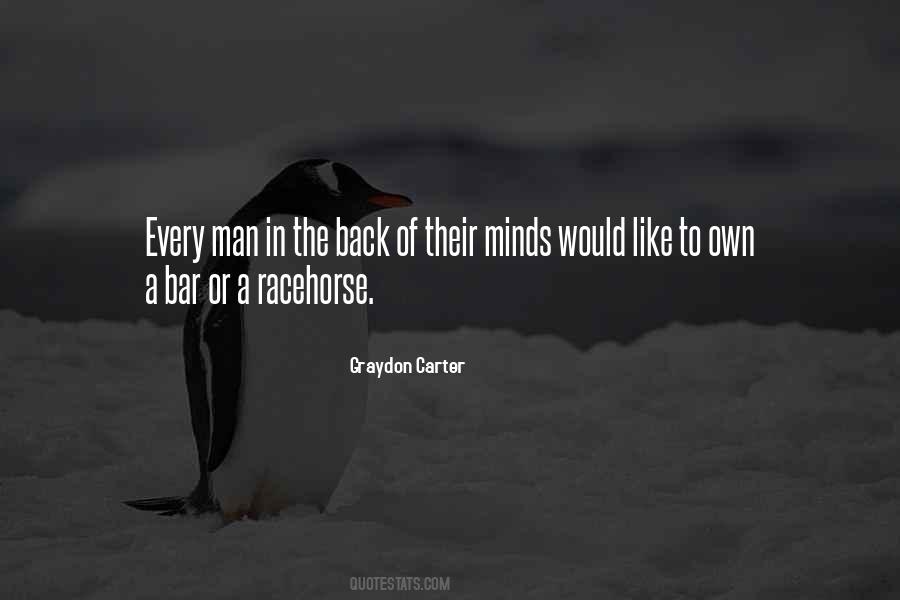 #3. To sentence a man of true genius, to the drudgery of a school is to put a racehorse on a treadmill. - Author: Samuel Taylor Coleridge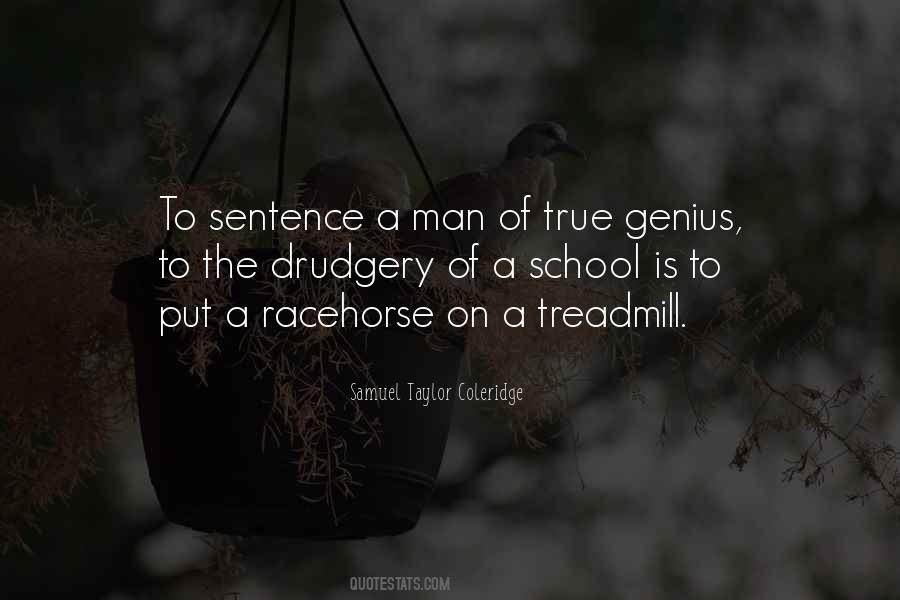 #4. But like a high-strung racehorse who needs extra weight in her saddle pad, I like a handicap and relish the aesthetic challenge posed by the limitations of the ordinary. - Author: Sally Mann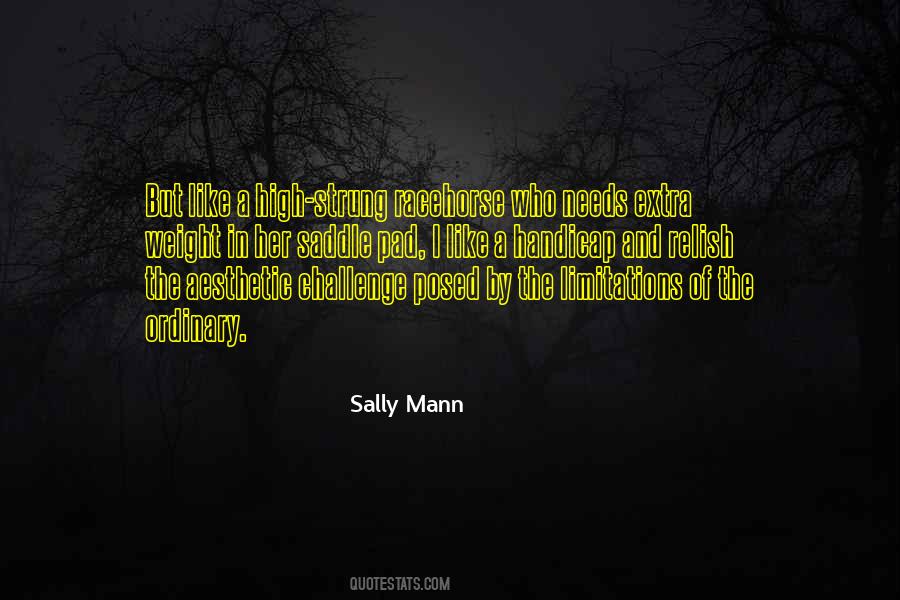 #5. Comparing John to James is like comparing a racehorse to a jackass. - Author: Donna Andersen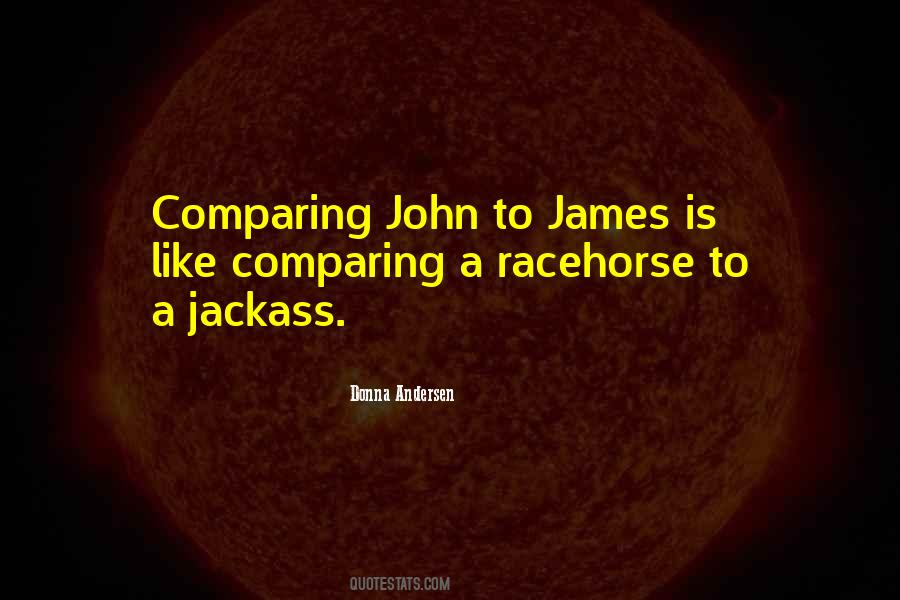 #6. after reading an article about Ulbrickson's nutritional regimen, and contemplating his boys' success, a horse trainer named Tom Smith would go in search of hay with a high calcium content for a racehorse named Seabiscuit. - Author: Daniel James Brown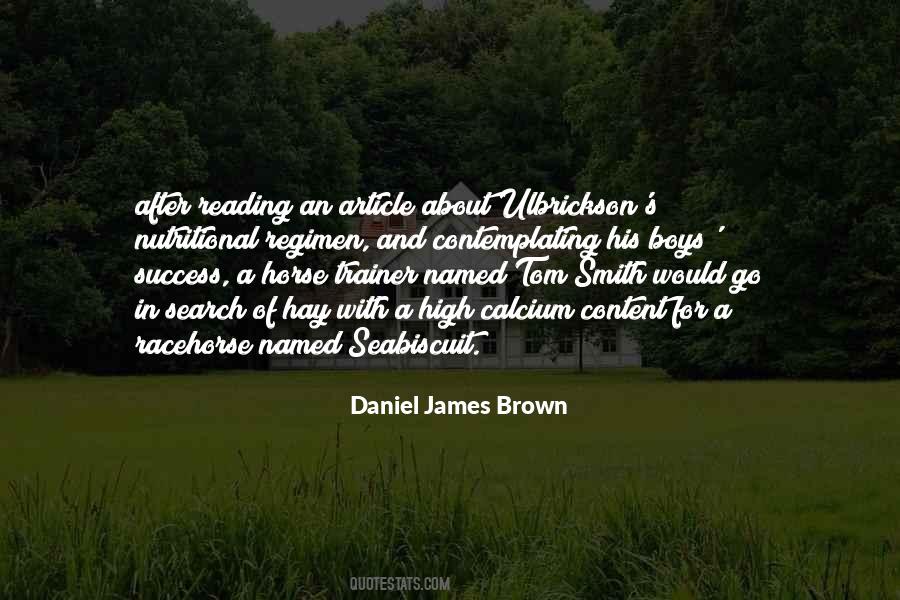 #7. To see a thoroughbred racehorse up close is to see a supreme example of a living piece of art.-Serena Jade - Author: Serena Jade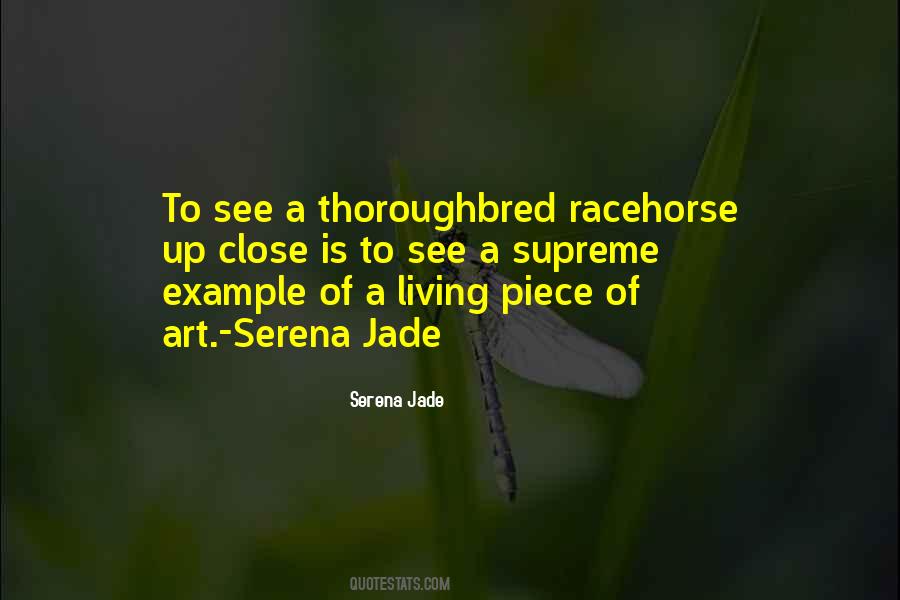 #8. We wait for the tortoises to come. We wait for that lady who walks them. That's how art works. It's never a jackrabbit, or a racehorse. It's the tortoises that hold all the secrets. We've got to be patient enough to wait for them. - Author: Pat Conroy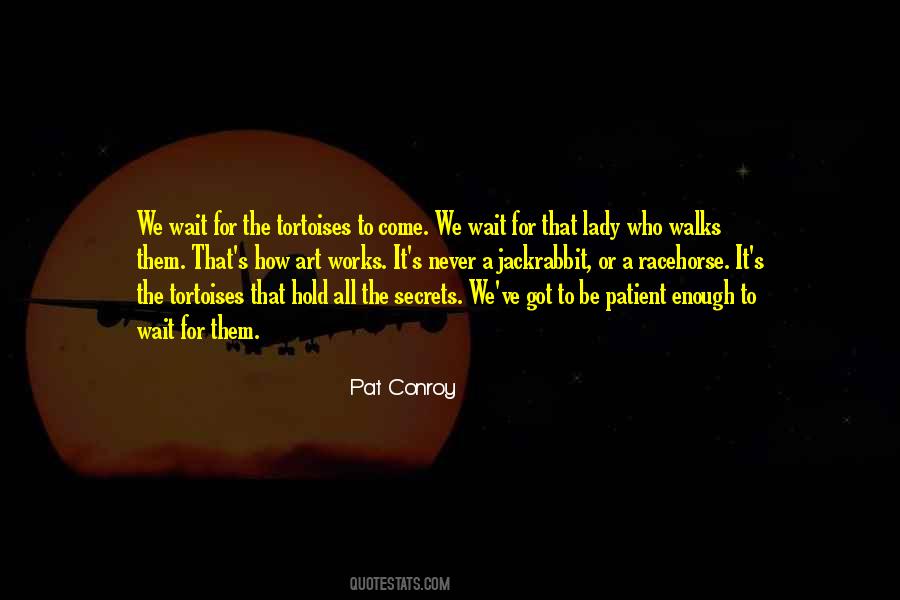 #9. Time is a racehorse, eating up the furlongs as it gallops towards the finish line. Look away for a moment, be preoccupied for a moment, and then imagine what has passed you by. - Author: William Boyd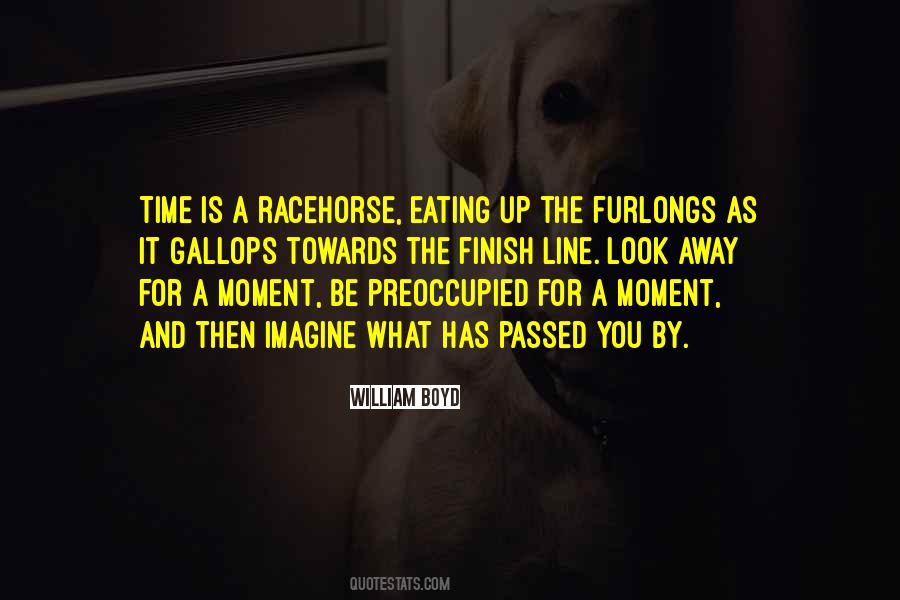 #10. I bought a racehorse, Tropical Saint, that belonged to the Queen Mother. I used to go down to Banbury and watch him train, but during a televised race, his jockey pulled up and said there was something wrong. They put him in the grass to try and settle him but found him dead in the field. - Author: Rick Wakeman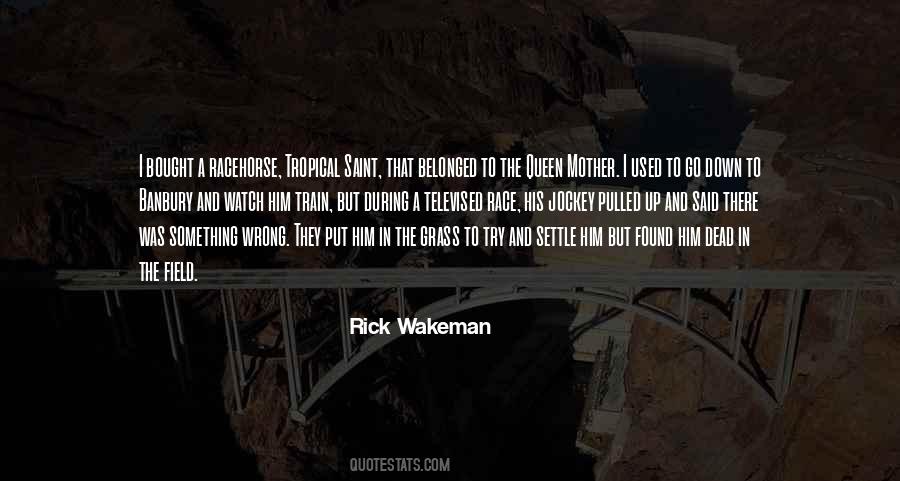 #11. Had to pee like a racehorse at an Iced Tea convention. - Author: Stephen Colbert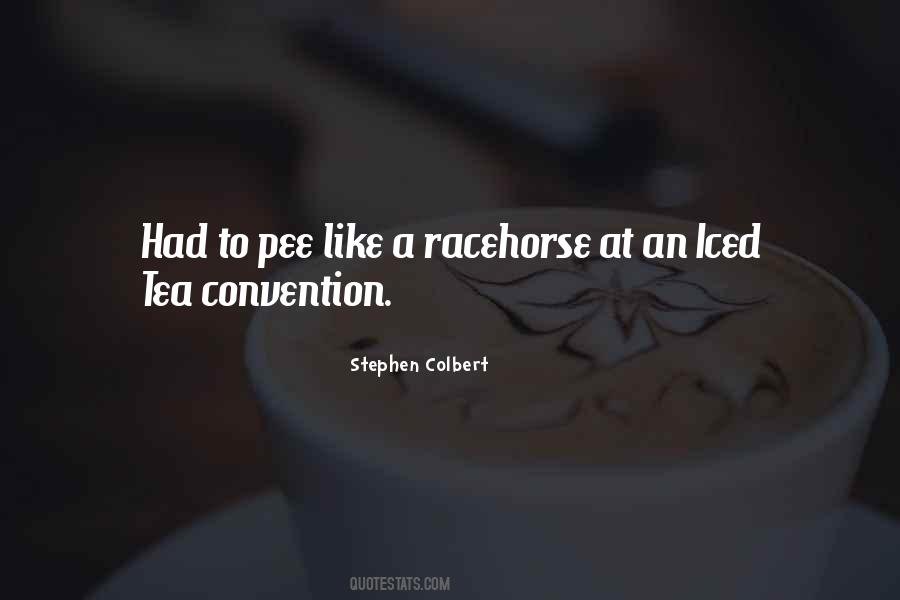 #12. A real racehorse should have a head like a lady and the behind like a cook. - Author: Jack Leach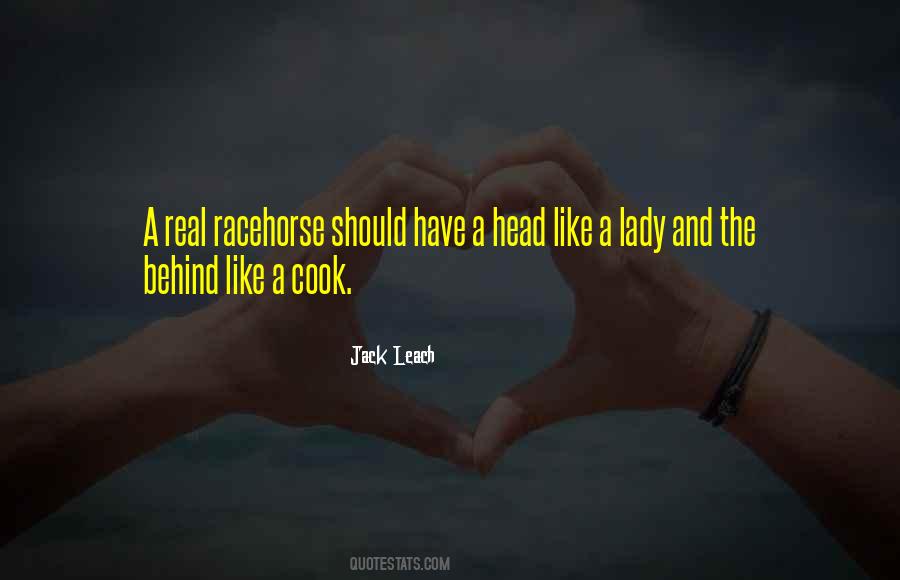 #13. I felt like a racehorse in a world without racetracks or a champion college footballer suddenly confronted by Wall Street and a business suit, his days of glory shrunk to a little gold cup on his mantel with a date engraved on it like the date on a tombstone. - Author: Sylvia Plath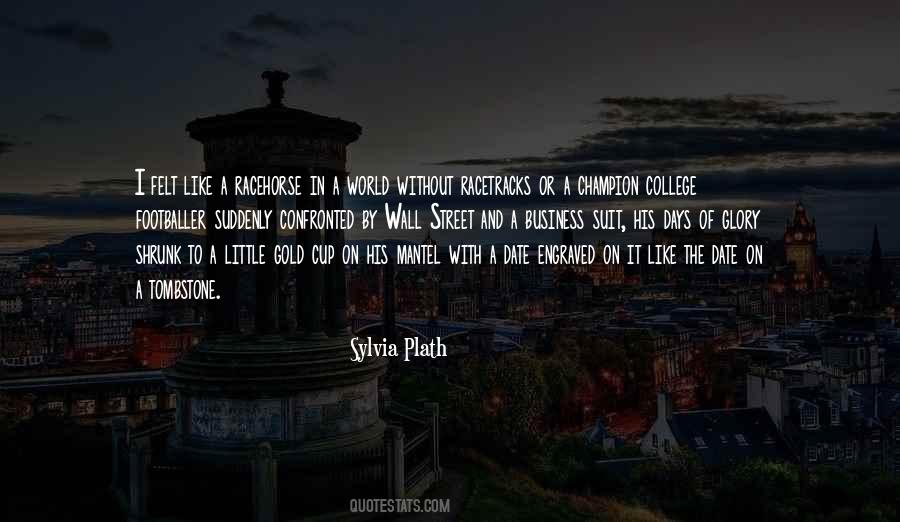 #14. The twins ran as fast as their legs could carry them. The Blissworm held on to Conner's helmet like a jockey clutching the reins of a racehorse. It even slapped Conner's bottom as if that would make him run faster. "Cut it out!" he said. "That hurts! - Author: Chris Colfer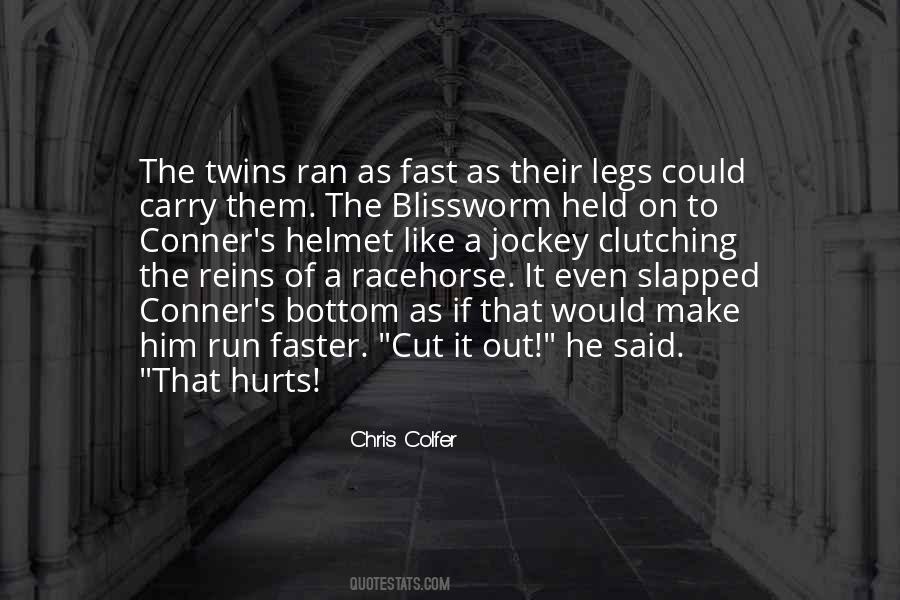 #15. The racehorse, by virtue of his awesome physical gifts, freed the jockey from himself. When a horse and a jockey flew over the track together, there were moments in which the man's mind wedded itself to the animal's body to form something greater than the sum of both parts. - Author: Laura Hillenbrand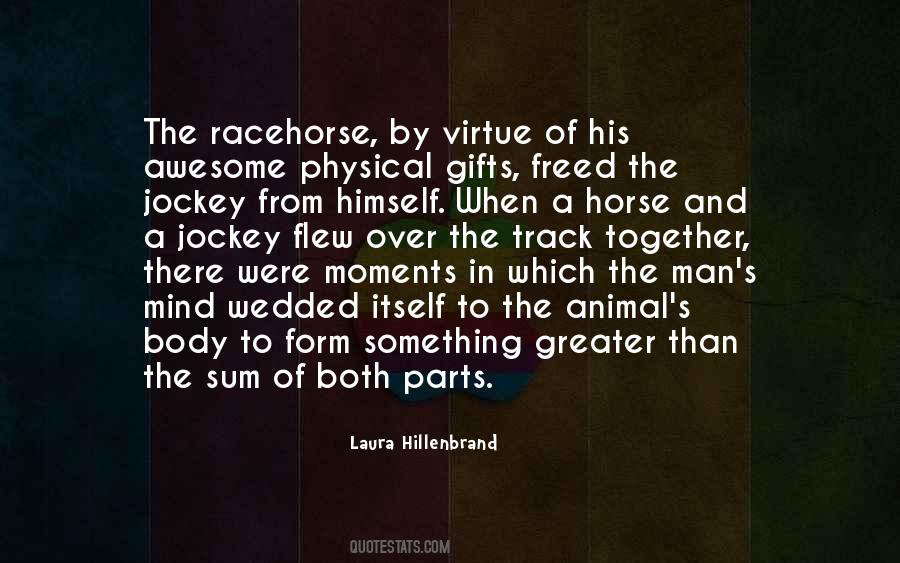 #16. You can't make a racehorse out of a pig. But if you work hard enough at it you can make a mighty fast pig. - Author: Bob Akin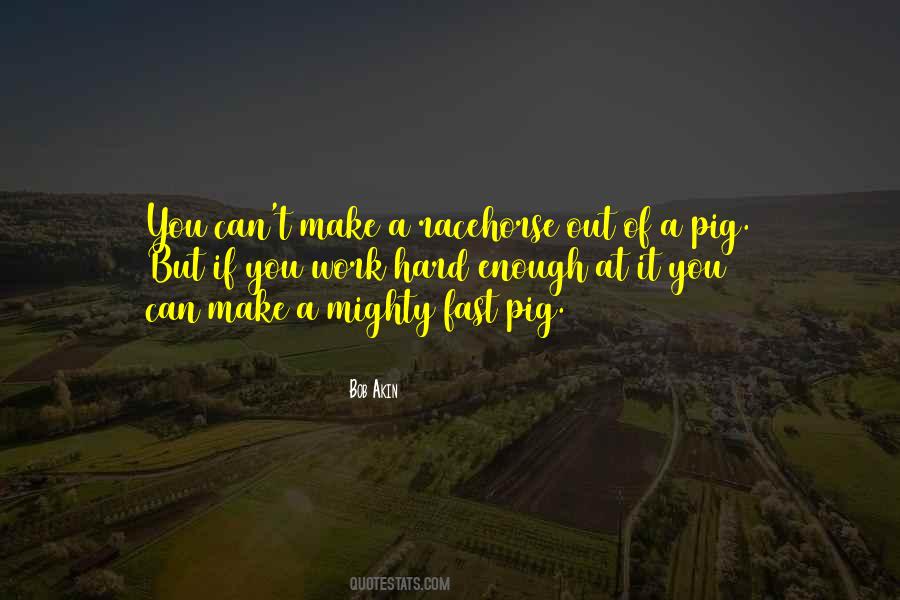 #17. What a pity people don't take as much trouble with their own breeding as intelligent racehorse owners do. But then I suppose it is bordering on fascism to think like that. - Author: Jeffrey Bernard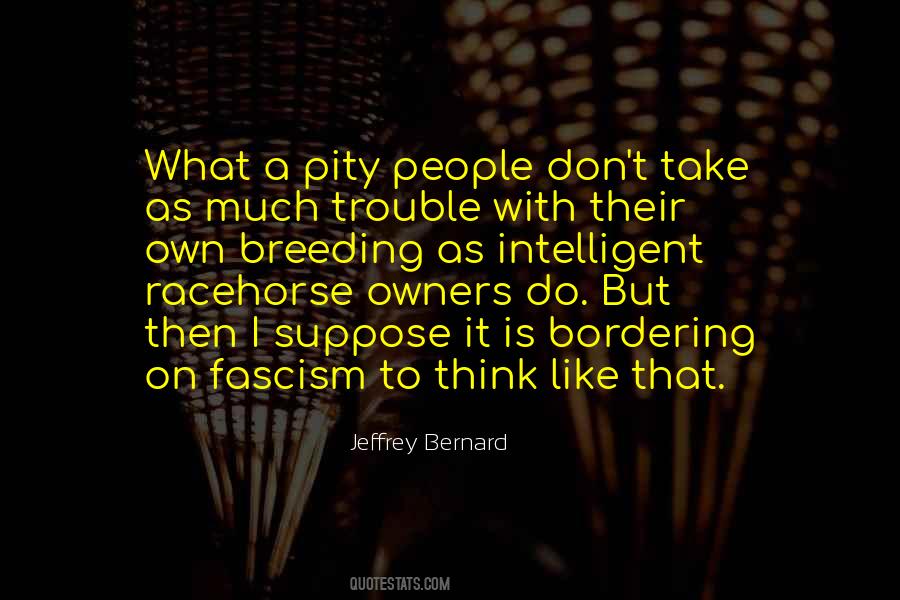 #18. He loves her like a gambler loves a fast racehorse or a desperate man loves whiskey. That kind of love eats a man up. - Author: Dorothy Allison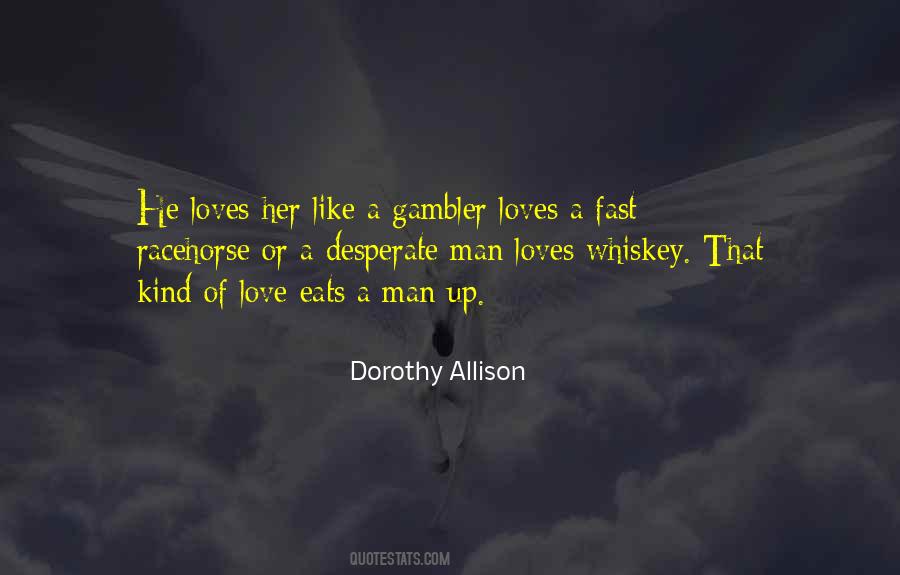 #19. I'm used to being the center of attention wherever I go. I've been told I could charm the shoes off a racehorse midstride, and yet you seem impervious. - Author: Leigh Bardugo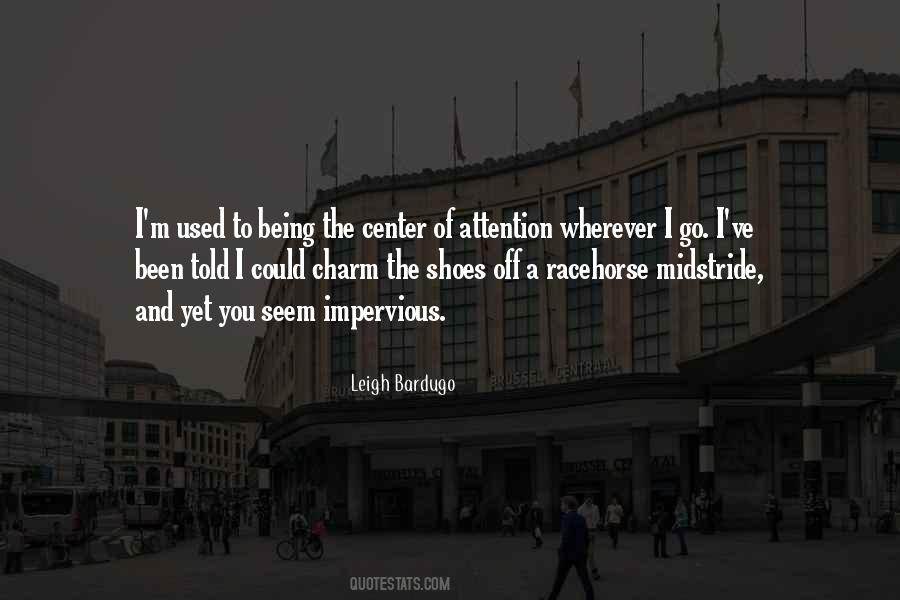 #20. I personally would like to bring a tortoise onto the stage, turn it into a racehorse, then into a hat, a song, a dragoon and a fountain of water. One can dare anything in the theatre and it is the place where one dares the least. - Author: Eugene Ionesco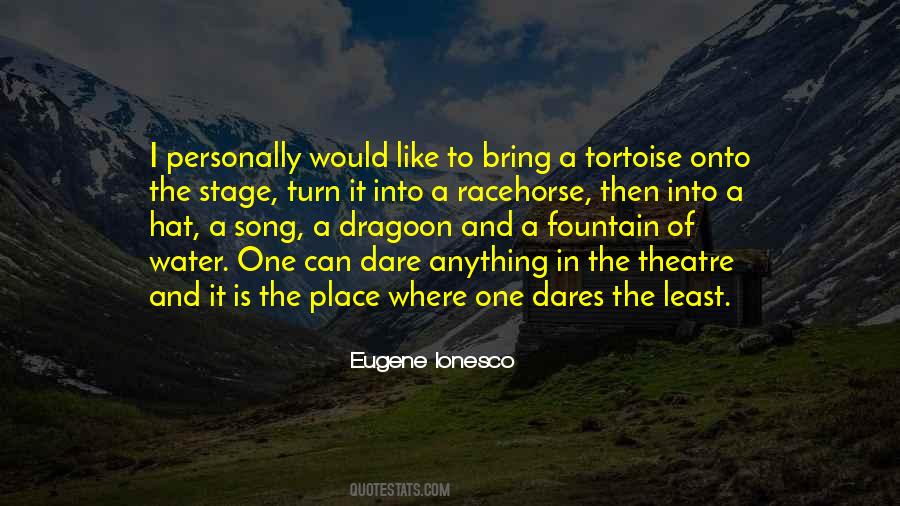 #21. A racehorse that consistently runs just a second faster than another horse is worth millions of dollars more. Be willing to give that extra effort that separates the winner from the one in second place. - Author: H. Jackson Brown Jr.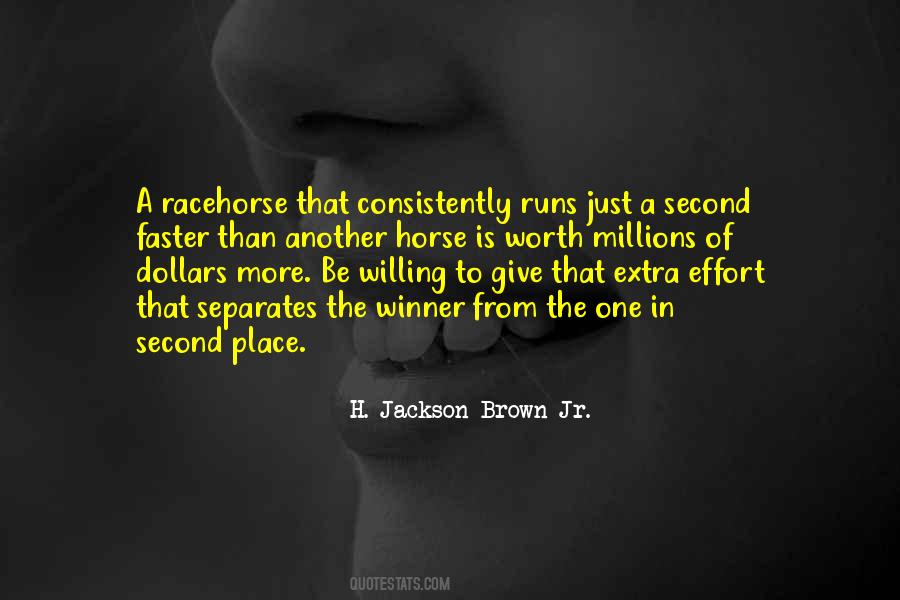 #22. I'm magnificent! I'm five feet eleven inches and I weigh one hundred thirty-five pounds, and I look like a racehorse. - Author: Julie Newmar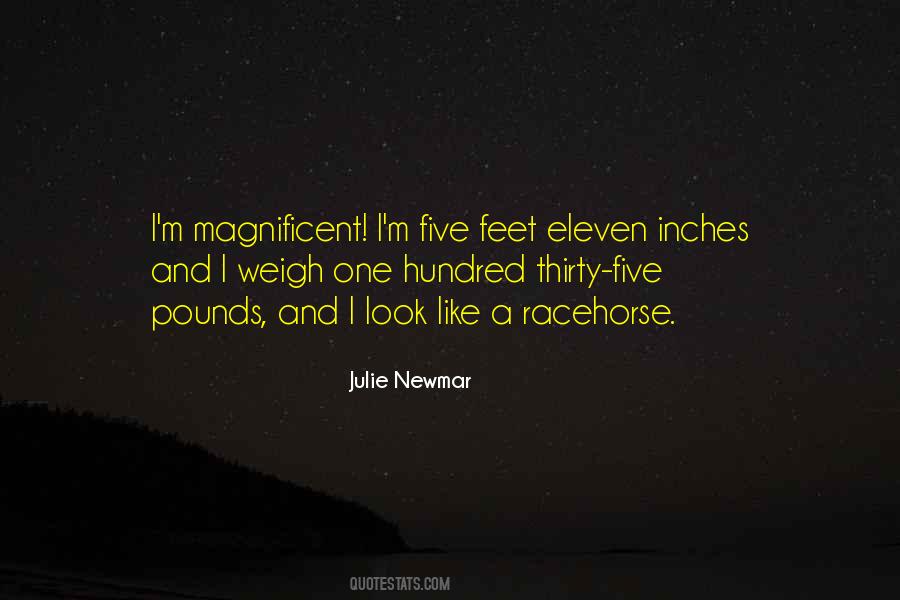 #23. Owning a racehorse is probably the most expensive way of getting on to a racecourse for nothing. - Author: Clement Freud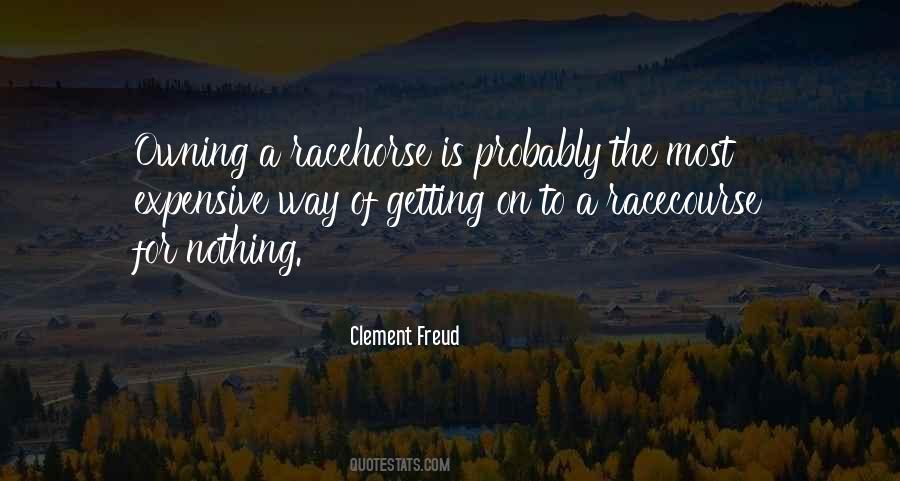 #24. Man is preoccupied with freedom yet laden with handicaps. The breadth of his activity and experience is narrowed by the limitations of his relatively weak, sluggish body. The racehorse, by virtue of his awesome physical gifts, freed the jockey from himself. - Author: Laura Hillenbrand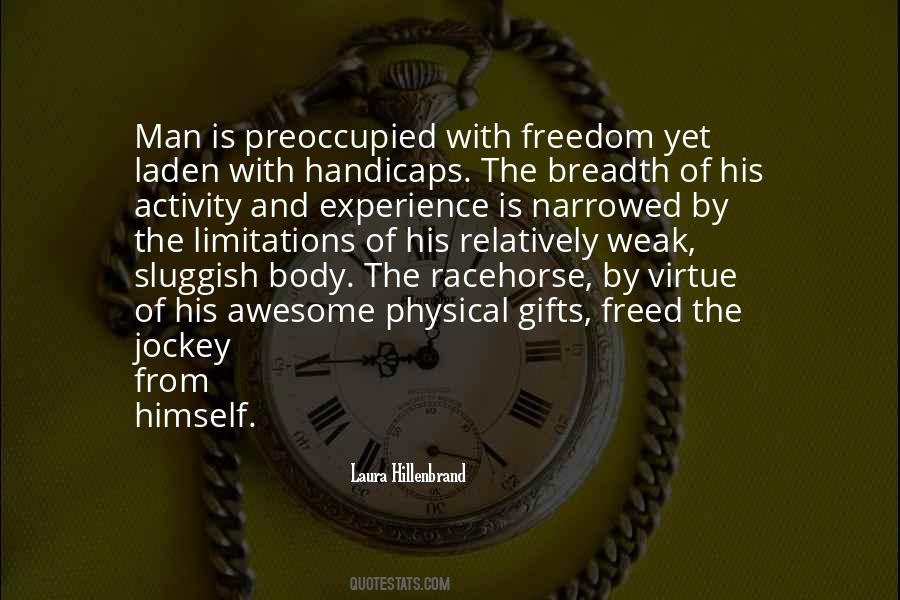 #25. In 1938 ... the year's #1 newsmaker was not FDR, Hitler, or Mussolini. Nor was it Lou Gehrig or Clark Gable. The subject of the most newspaper column inches in 1938 wasn't even a person. It was an undersized, crooked-legged racehorse named Seabiscuit. - Author: Laura Hillenbrand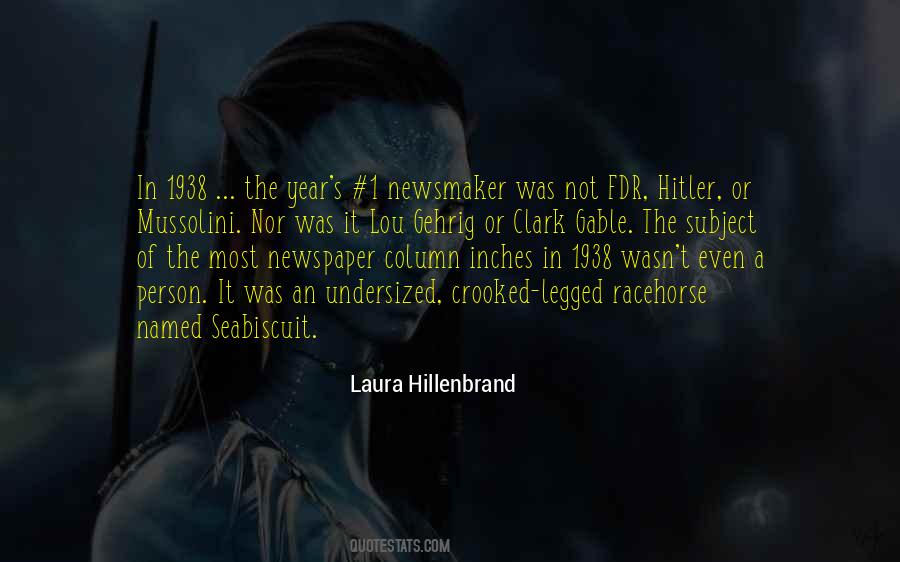 #26. She looked like a human racehorse. - Author: Jojo Moyes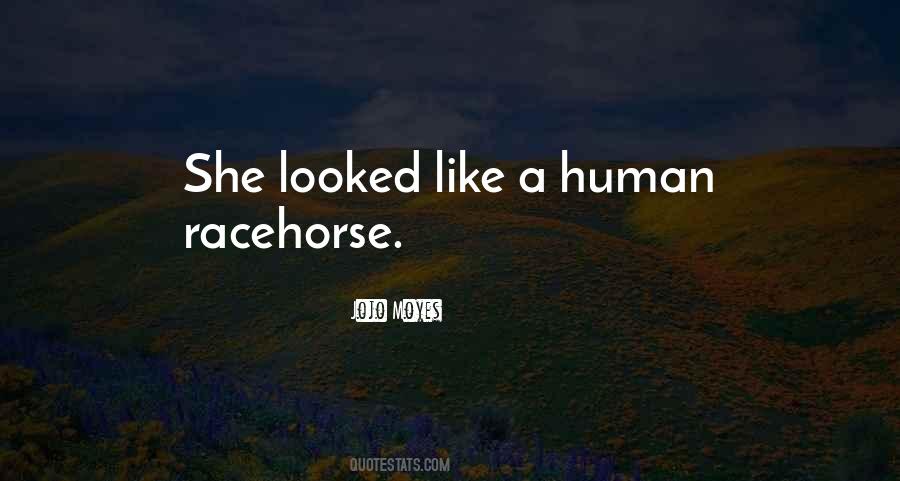 #27. The short amount of time I'm out on the runway is like going on a rollercoaster. It's such a happy, exciting feeling. I'm more like a racehorse ready to go - I just want to get out there. - Author: Erin Heatherton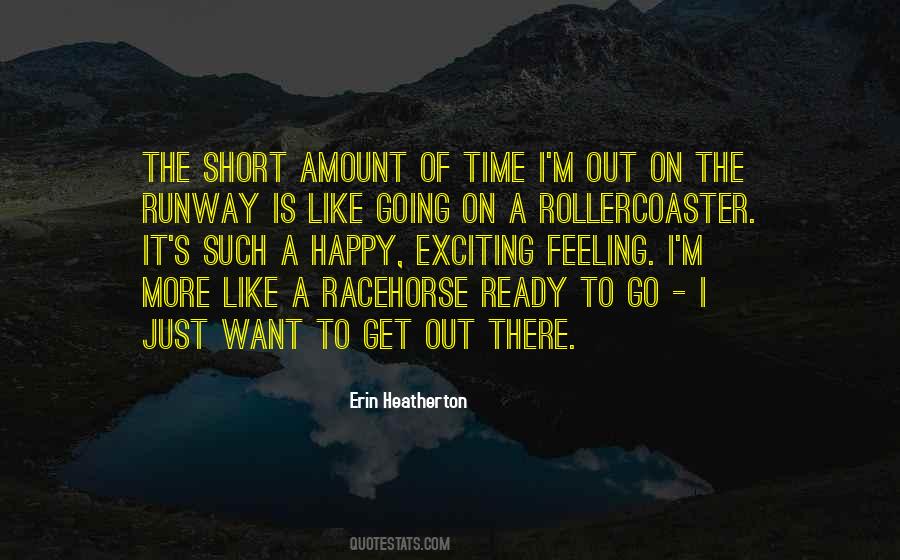 #28. In a few generations you can breed a racehorse. The recipe for making a man like Delacroix is less well known. - Author: Pierre-Auguste Renoir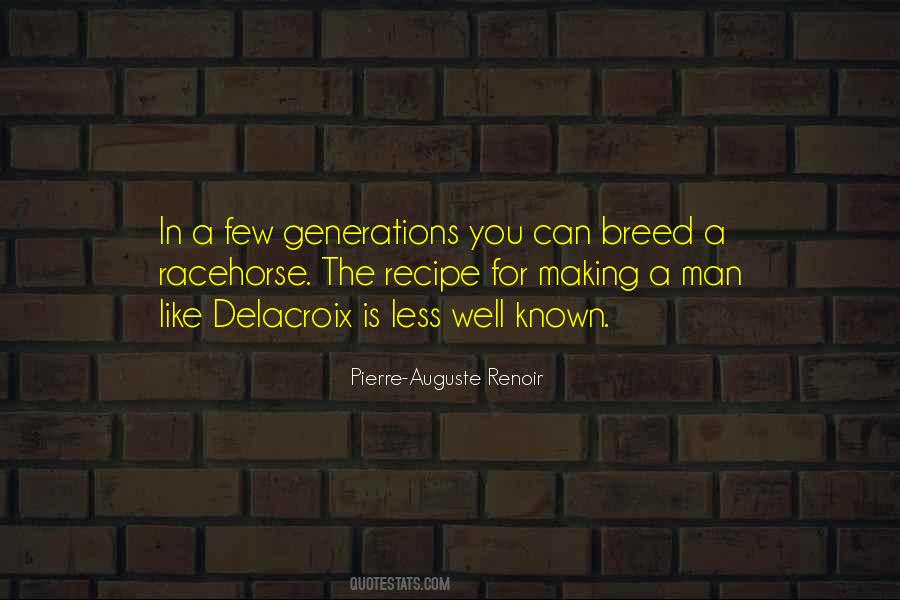 #29. I'm not in a contest. I make movies. I'm not a racehorse ... - Author: George Lucas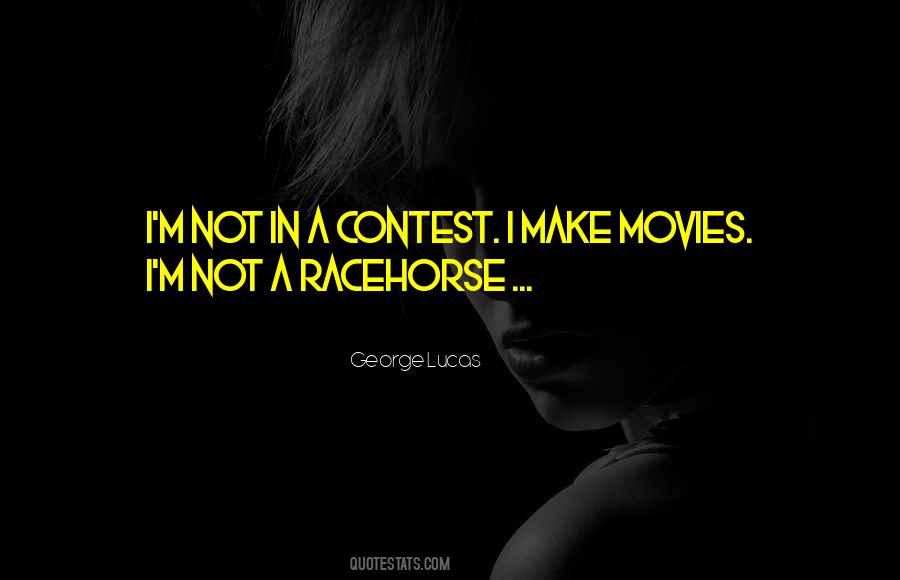 #30. Man O' War was a great racehorse, but if I put a extra 20 pounds on him they would say I was cruel to the animal. So don't ask me to do that to Chavez. - Author: Don King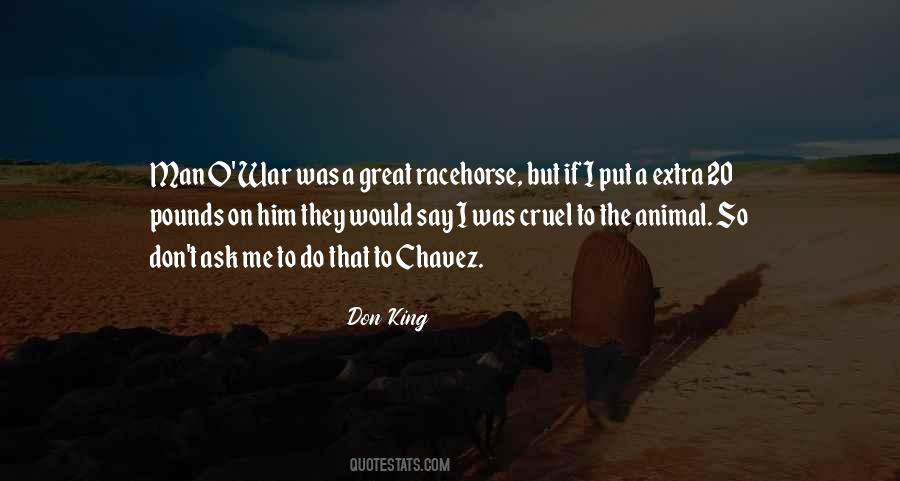 #31. A digital camera has to be kept in check like a racehorse. - Author: Rene Burri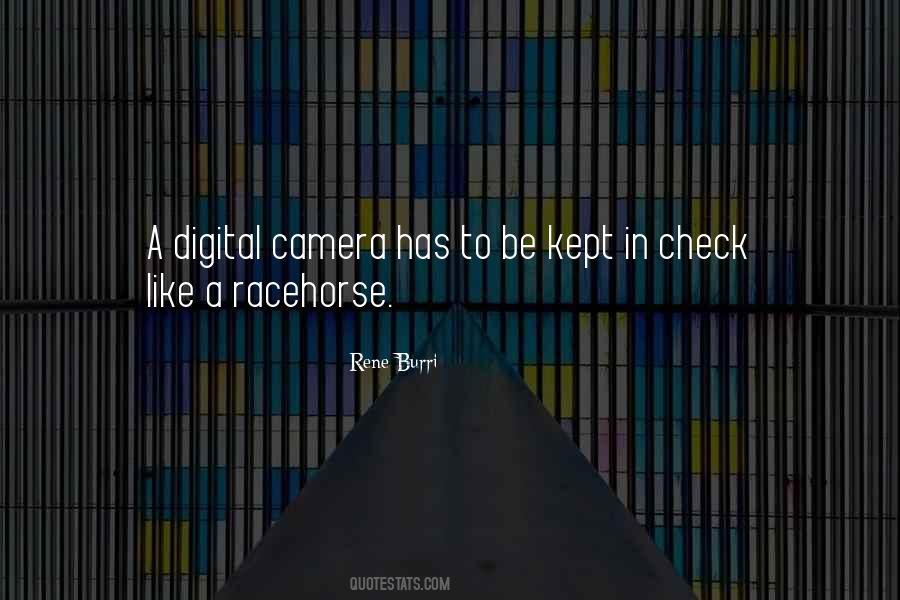 #32. I'm magnificent! I'm 5' 11 and I weigh 135 pounds, and I look like a racehorse. - Author: Julie Newmar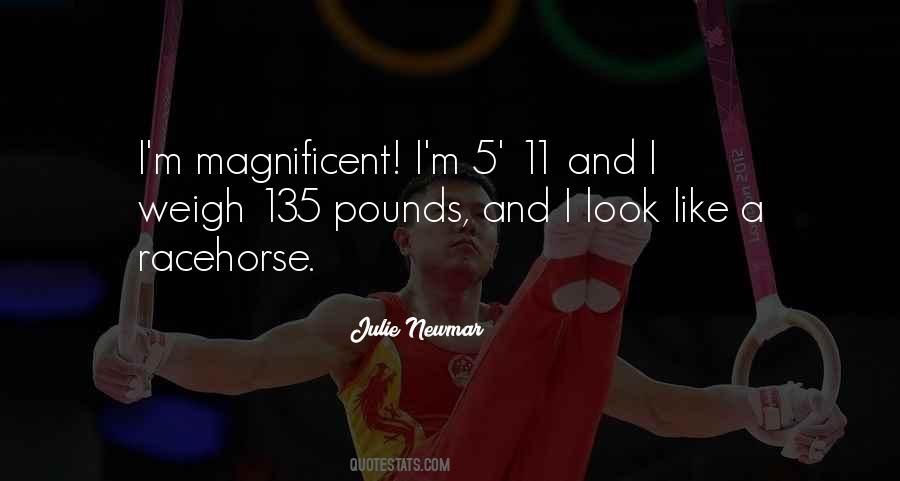 #33. I feel like a racehorse crashing out of the gates, bent on gulping every moment the world has in front of me right now.
Life is good. - Author: Neil M. Hanson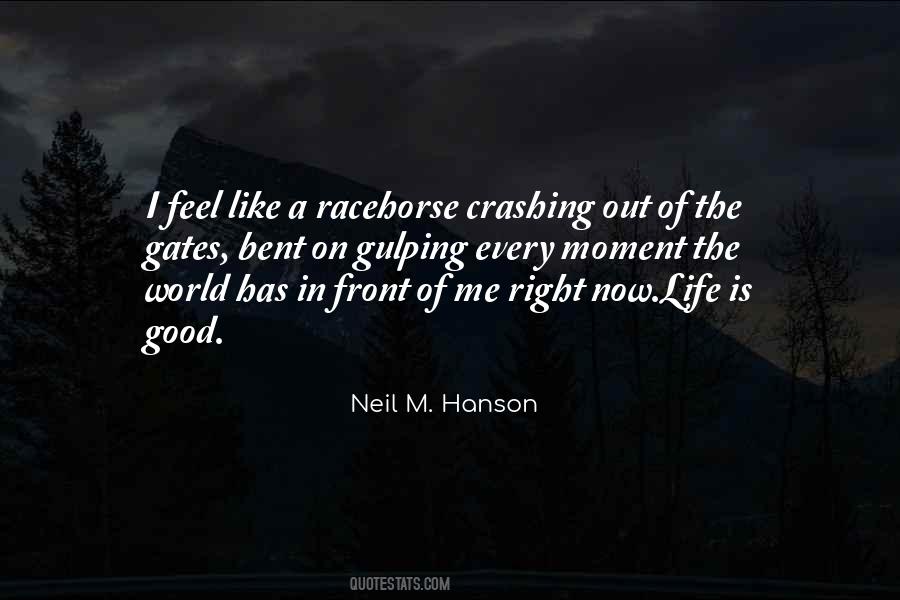 #34. I mourn for the quicksilvery racehorse passage of time. Its swiftness has caught me with the same ineffable start that comes to every man and woman who lives long enough. It remains as the single great surprise of any life. In - Author: Pat Conroy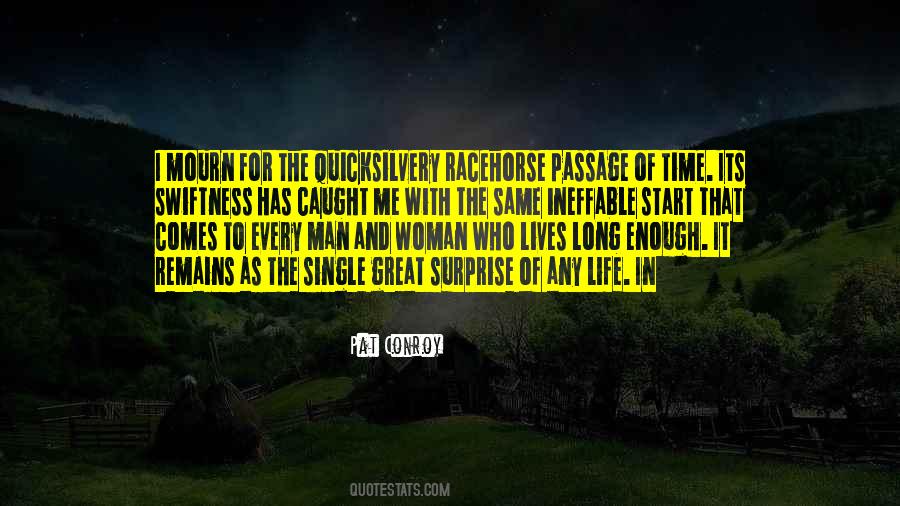 #35. I'm a racehorse fanatic rather than a football fanatic. - Author: Steve McManaman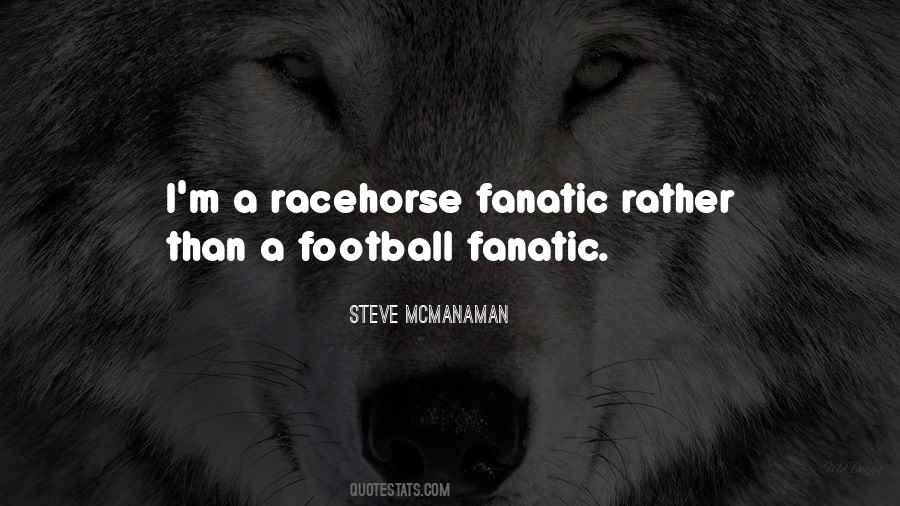 Famous Authors
Popular Topics