Playing Famous Quotes & Sayings
List of top 100 famous quotes and sayings about playing to read and share with friends on your Facebook, Twitter, blogs.
Top 100 Quotes About Playing
#1. I love Denver. There's not a better place to hit, better place to play. I'm a West Coast guy, so I like playing in the NL West. - Author: Garrett Atkins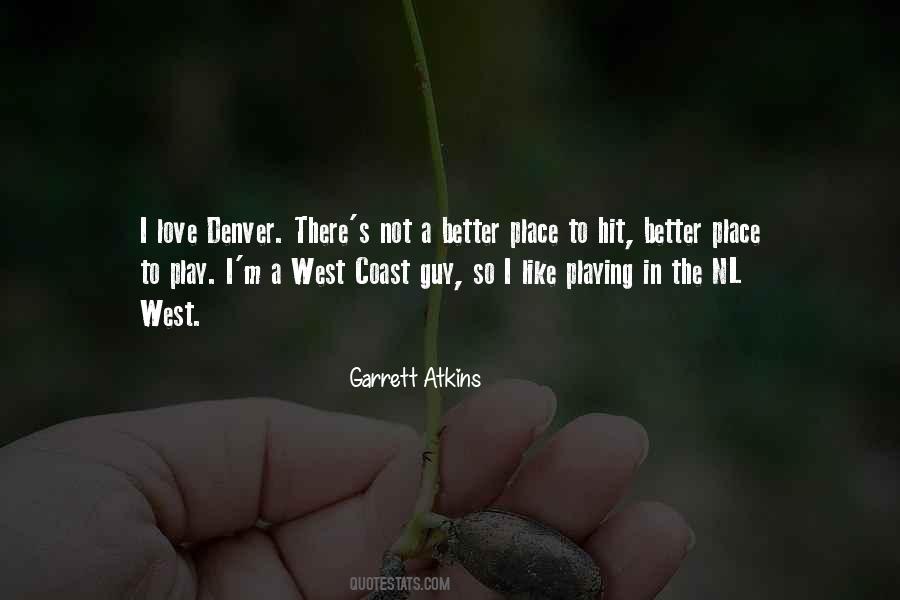 #2. You've got to pay me to leave my house, spend the night in hotels and fly in airplanes. That's what I get paid for. Playing I actually do for free. - Author: John Oates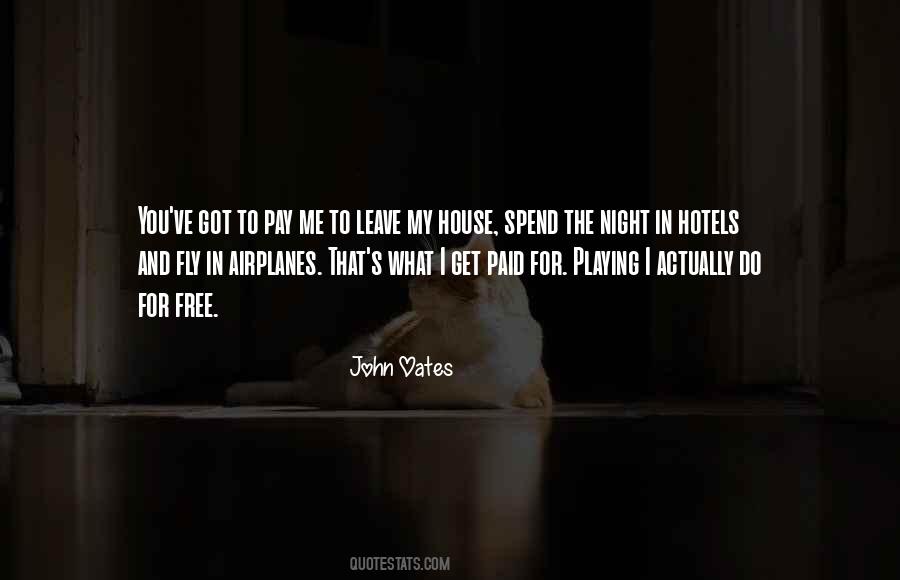 #3. As an actor, acting is like playing a sport. You do this thing that's intangible, and while it's happening, it's great. But then when it's done, there's really no tangible product. Someone else is capturing it and turning it into something tangible. - Author: Chris Evans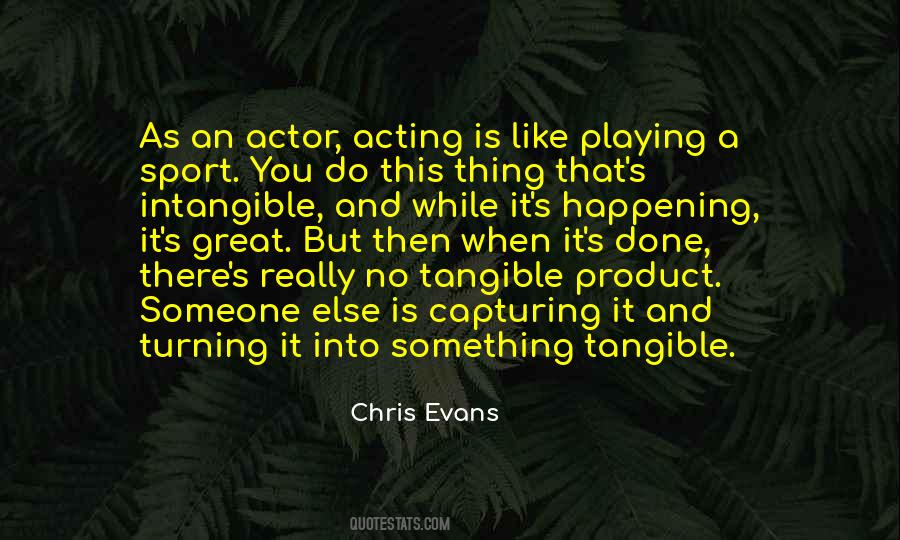 #4. As the youngest of six kids, I grew up spending summers on Martha's Vineyard, and I was always topless. All the pictures are of me in jean shorts, no shirt - with my brothers, playing football. - Author: Chelsea Handler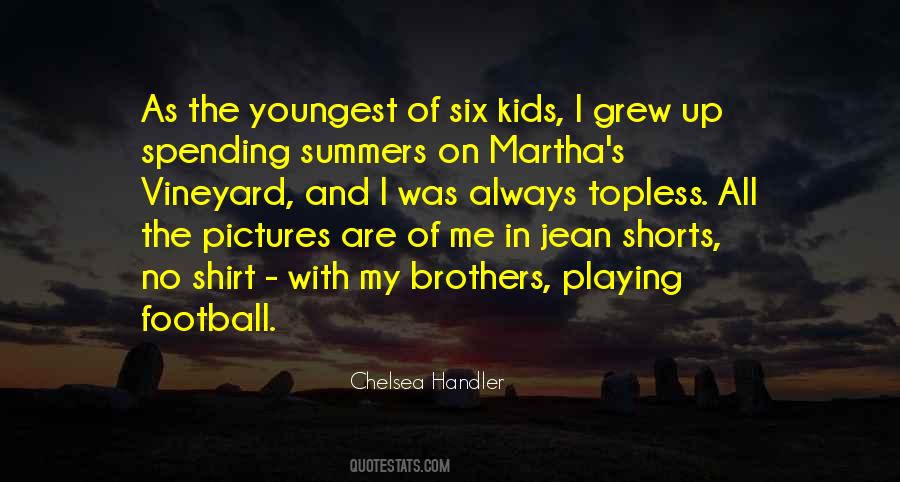 #5. When you are playing a detective, particularly as a woman, you either are going to embrace the fact that it's a man's world you are jumping into, or you're going to ignore it. - Author: Roberto Orci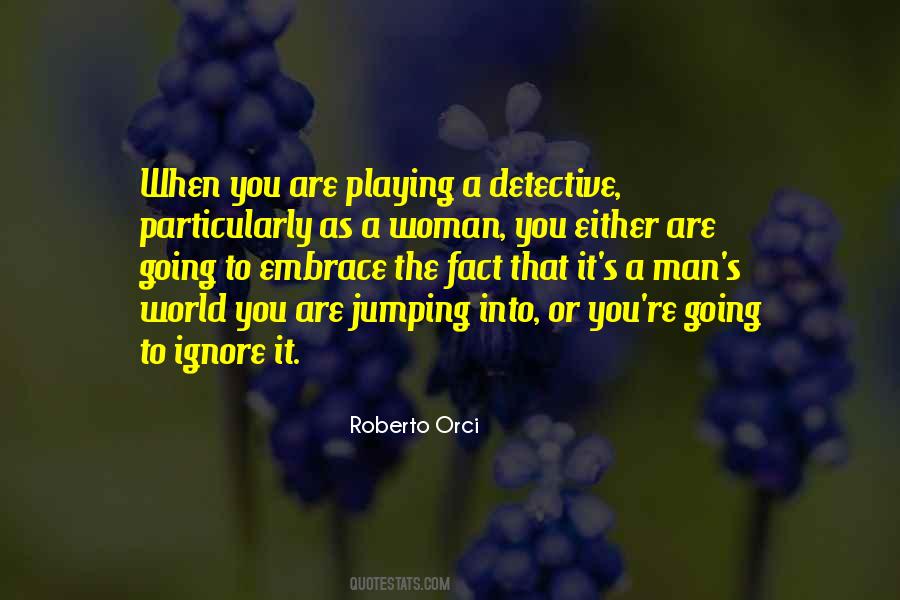 #6. When I'm done playing football, I just might be the couch potato dad. - Author: Troy Polamalu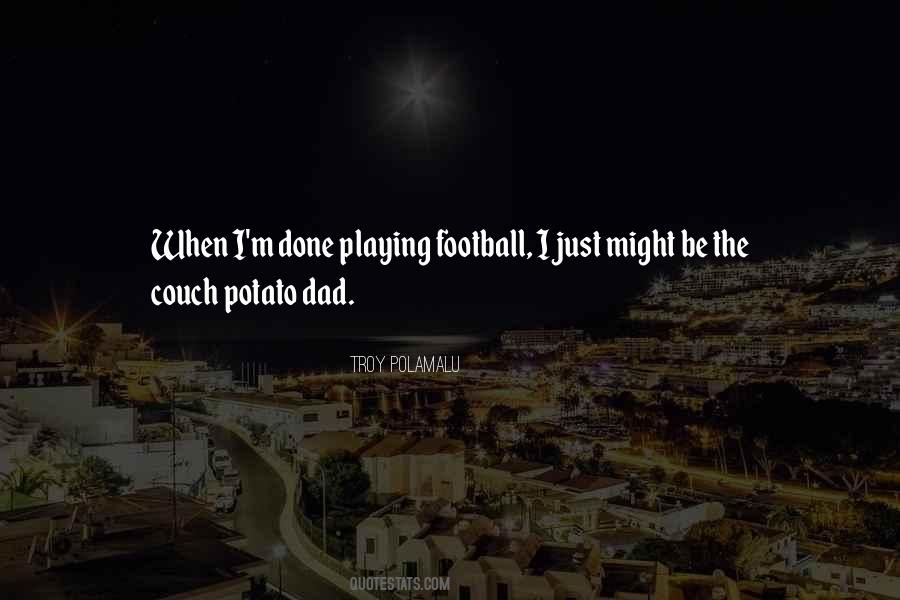 #7. When my first semester grades came out, my mom and dad told me I wouldn't be playing football. - Author: Joe Biden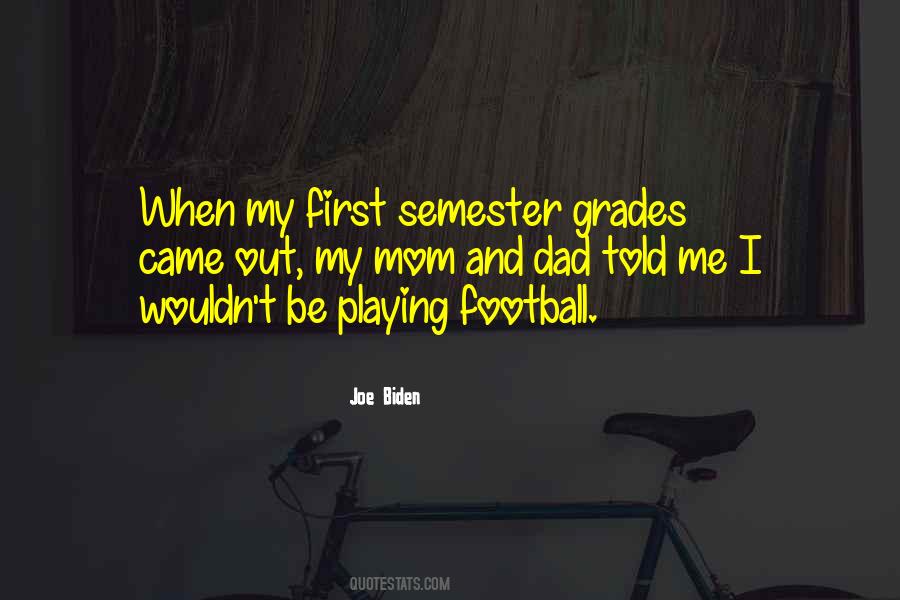 #8. WE'RE SORRY YOU WEREN'T HOME. WE'LL FIND YOU AND KILL YOU. HAVING FUN PLAYING THIS GAME? - Author: Demian Schatt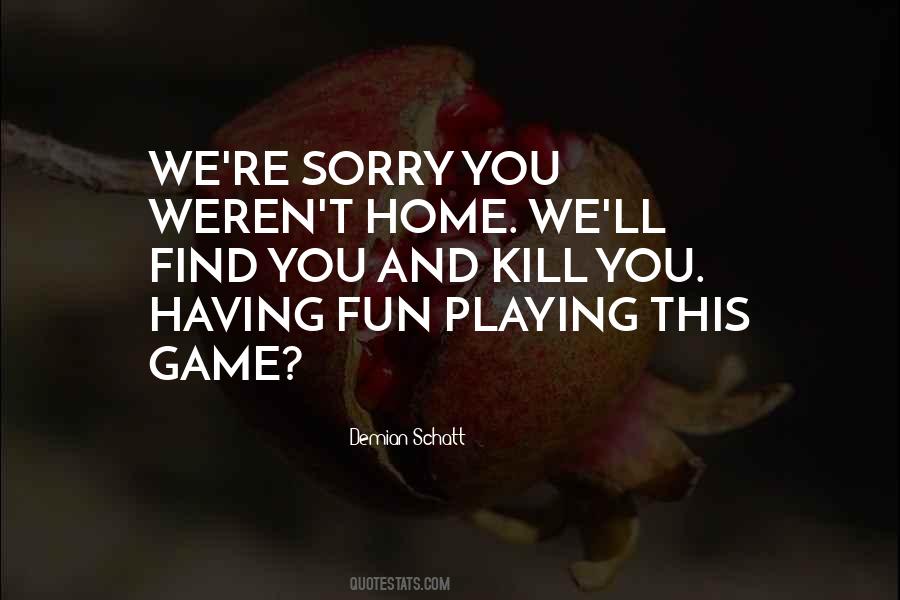 #9. For me, acting in scenes with other people is like playing soccer with a bunch of legless five year olds. It's not really fair to them, but what else can I do, you know? - Author: Zach Braff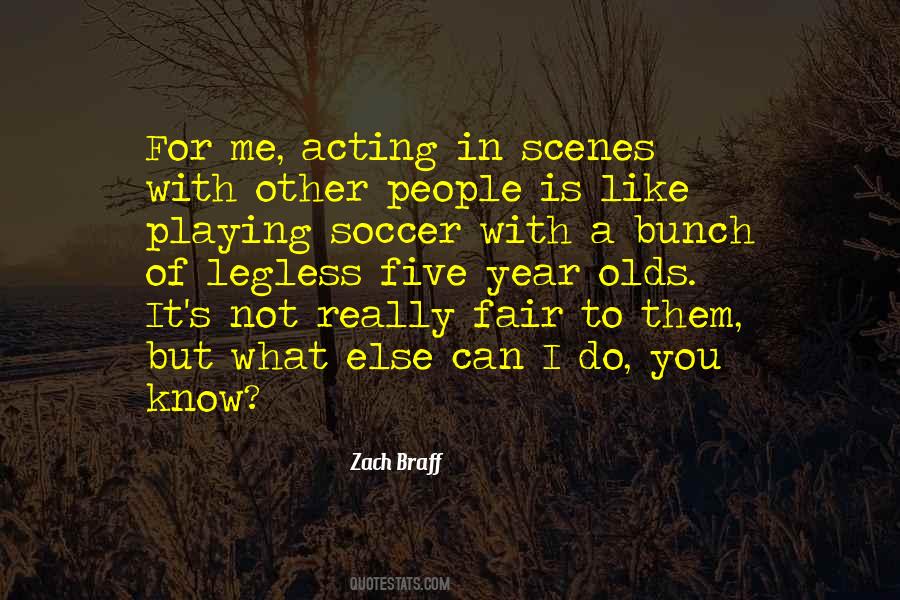 #10. I don't care what Einstein said about God not playing dice; If he exists, he's addicted to craps. - Author: Henry Mosquera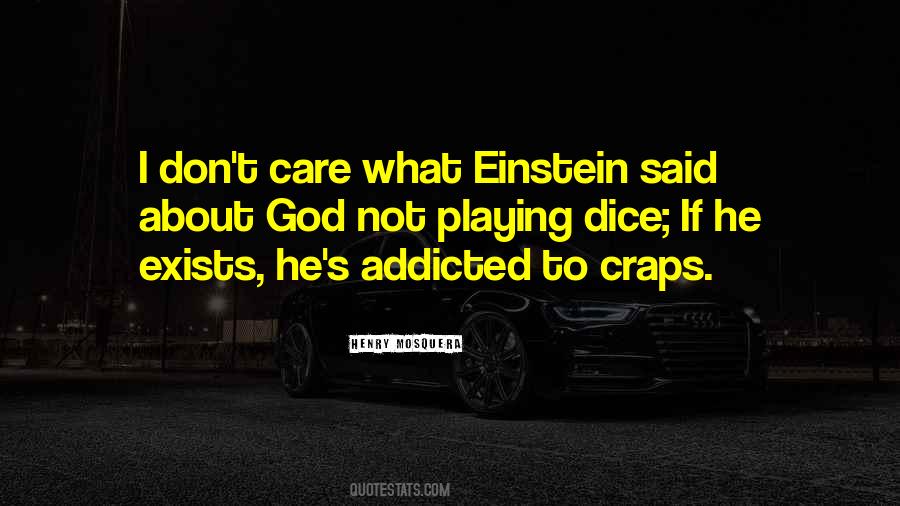 #11. There's nothing like a player playing the game of life with a coach rooting them on. - Author: Nicole A. Walker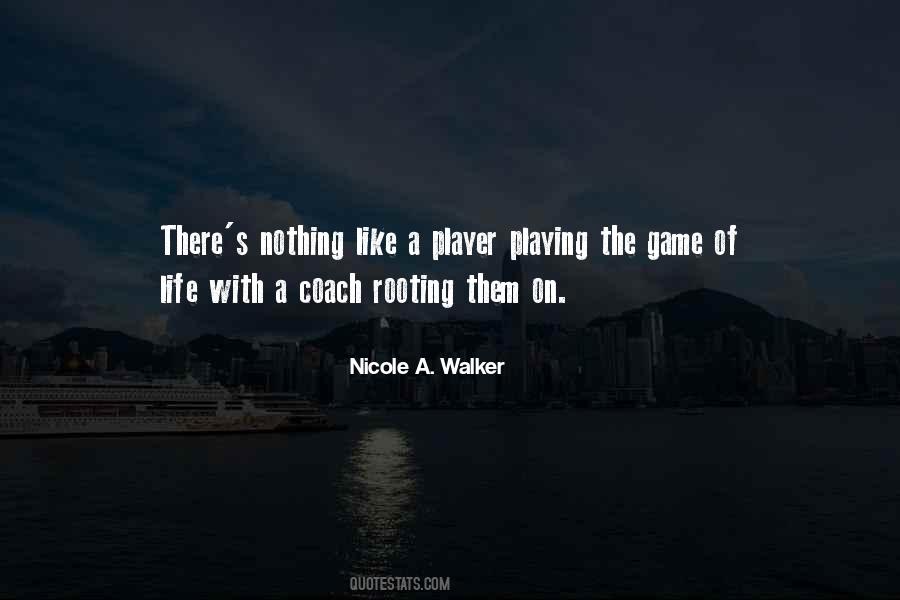 #12. I need to work with great directors and actors, people who are better than me, so that I am challenged. It is like playing sports - surfing, basketball, it doesn't matter what it is, if you play with people who are better than you, then you get better too. It is the same thing with acting. - Author: Paul Walker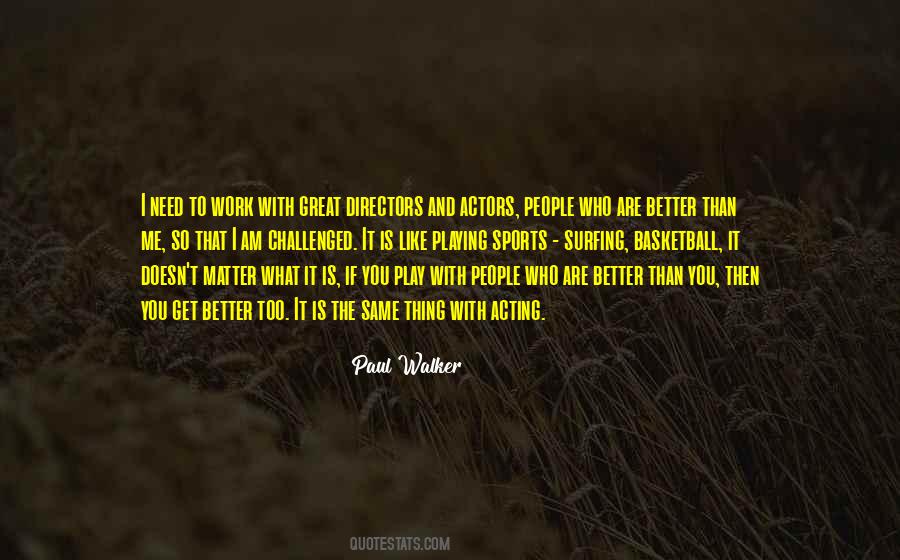 #13. This generation is so dead. You ask a kid, 'What are you doing this Saturday?' and they'll be playing video games or watching cable, instead of building model cars or airplanes or doing something creative. Kids today never say, 'Man, I'm really into remote-controlled steamboats.' - Author: Jack White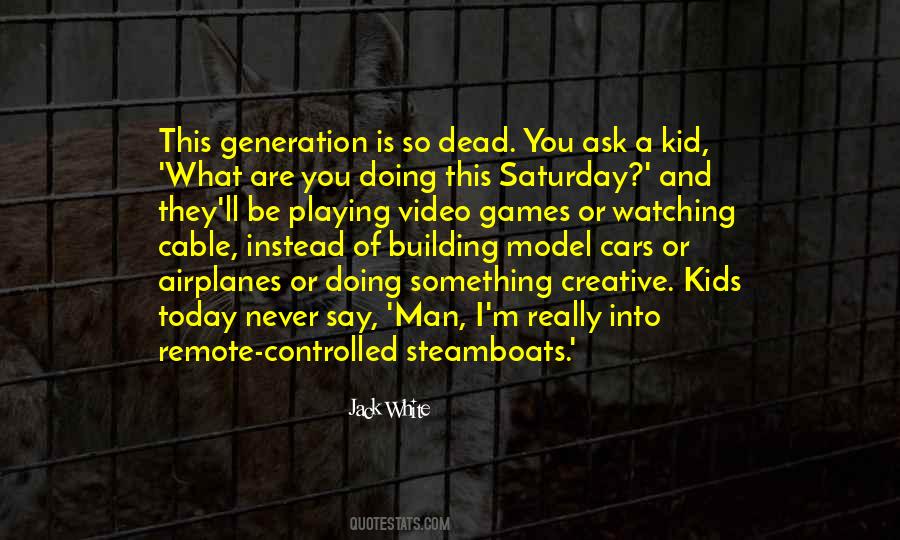 #14. One of the most interesting things for me in playing another species is that you want to make them different enough to be alien but have enough human qualities to be relatable. This really forces you to look at what it is to be human from a totally new perspective! - Author: Jaime Murray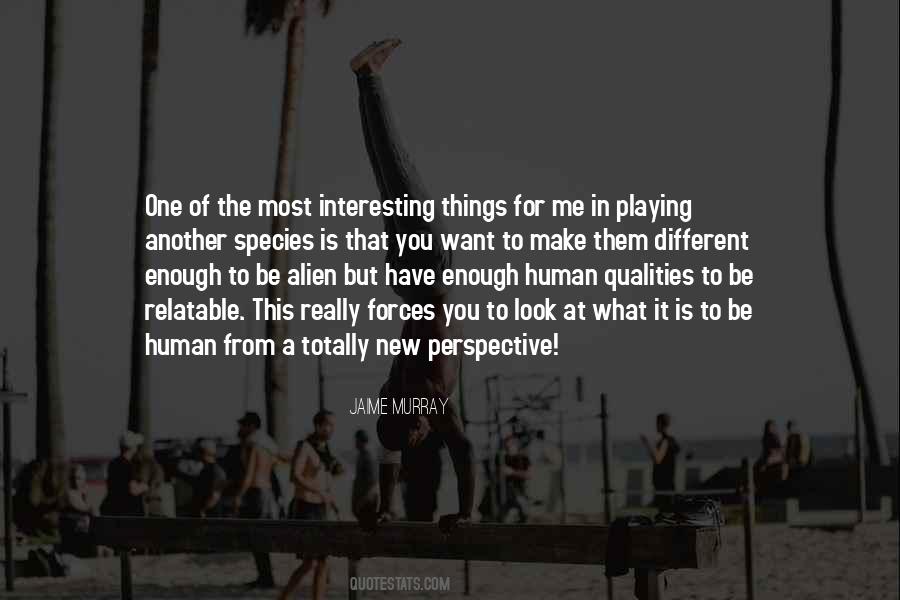 #15. I'm just attracted to playing people who are ostensible unlikable. That's not to say that there's something in there that makes you care. It might be that you just find them so awful that you just can't stop watching, like a car crash. - Author: Steve Coogan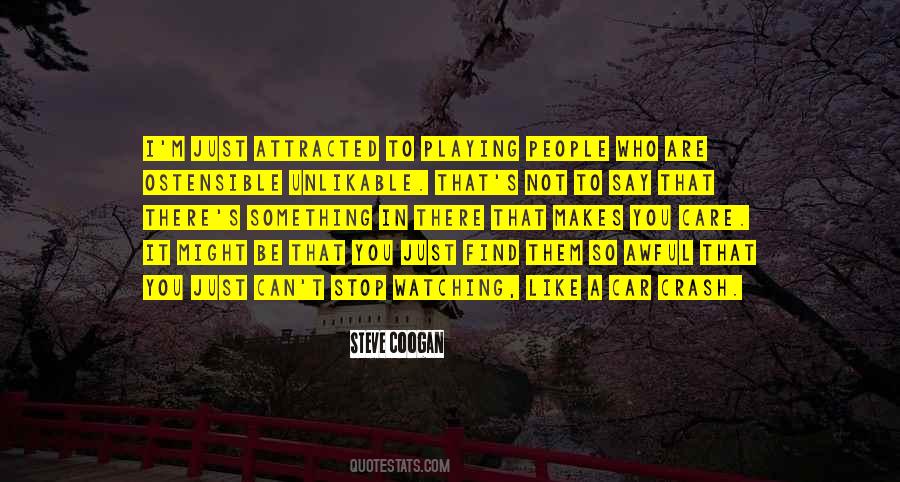 #16. As an English actress constantly playing Americans, you already had to step way out of your box in that way. - Author: Minnie Driver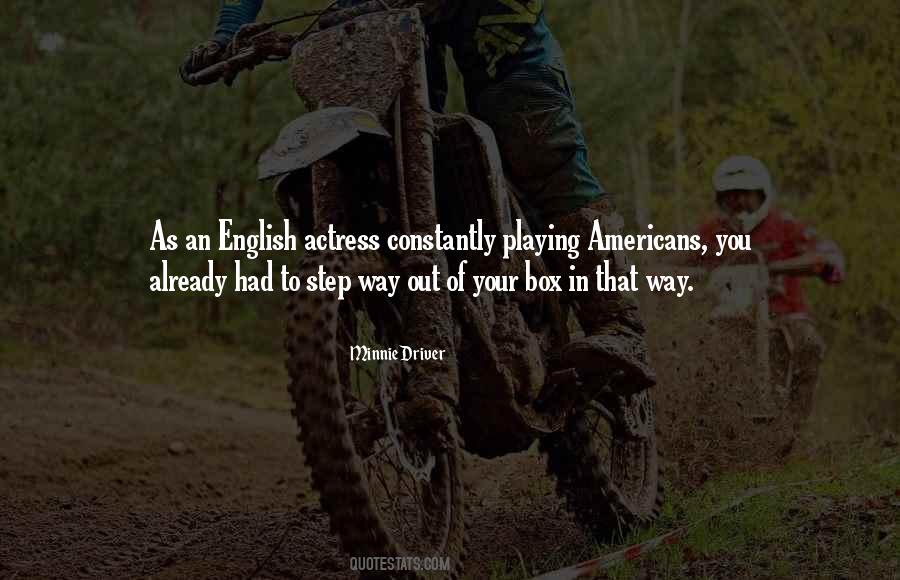 #17. I never thought I would get married and have kids. I thought I was going to be a gypsy actor, traveling all over the world playing the great roles. I ended up having a kid very young, and it put things in perspective. - Author: Bobby Cannavale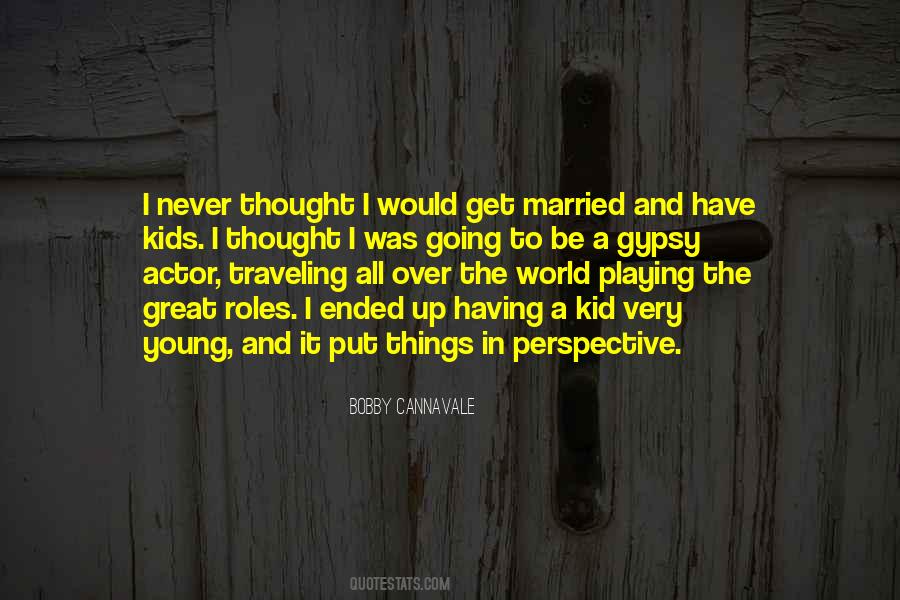 #18. As long as I have fun playing, the stats will take care of themselves. - Author: Ken Griffey Jr.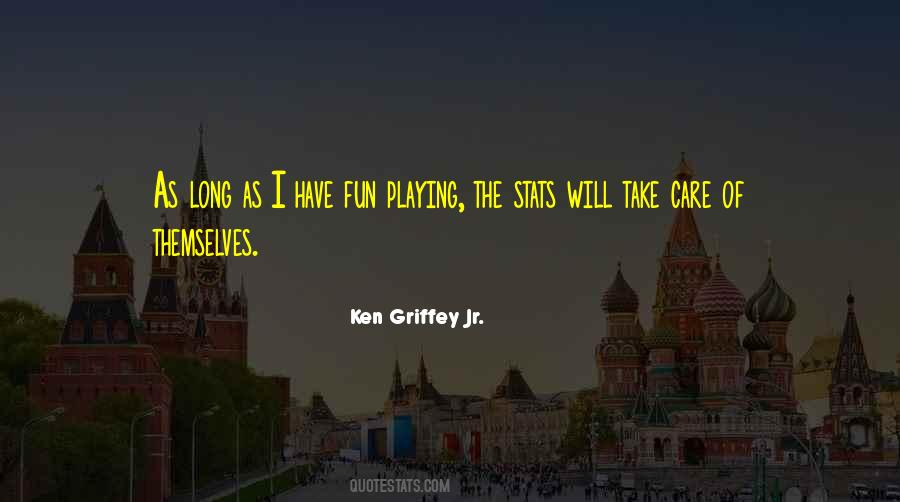 #19. It took a while to find a passion for another career that was as strong as the passion that I had for football. Once I found it in acting, it was simple. Use the tools you were given from playing football and apply it to your new passion. I have done that through acting, producing and writing. - Author: Maurice Hall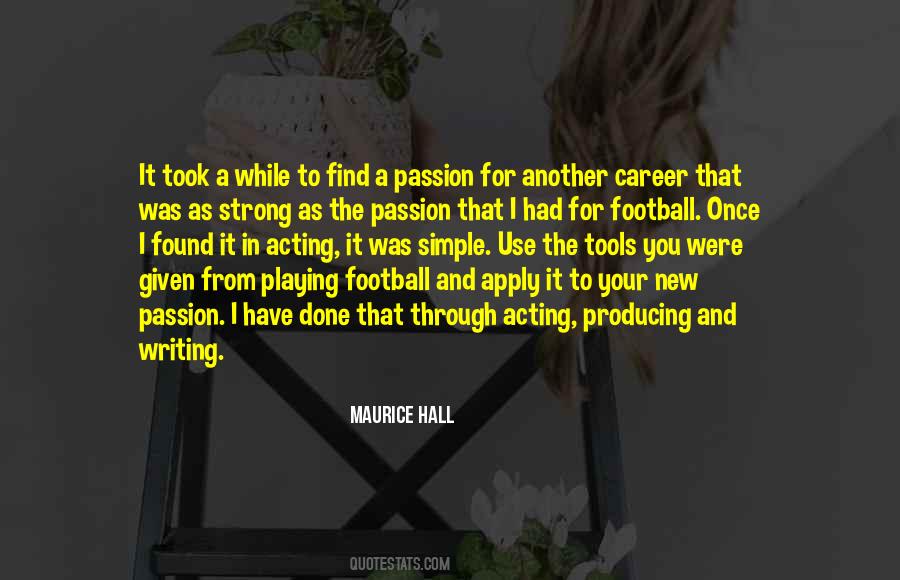 #20. [ ... ]but instead of apologizing, I said, 'It's your own fault for playing tennis. - Author: Karin Slaughter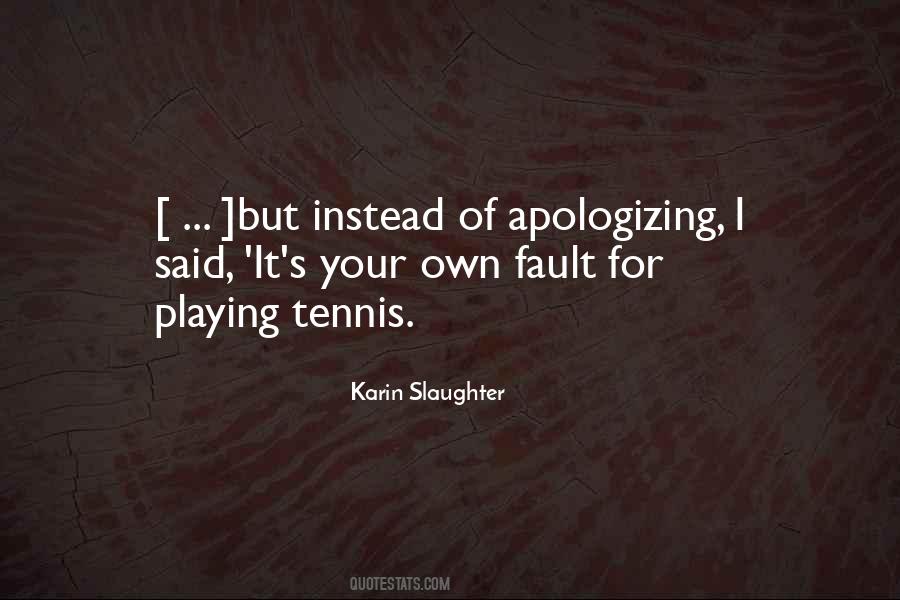 #21. I like playing Vernon Dursley in 'Harry Potter,' because that gives me a license to be horrible to kids. I hate the odious business of sucking up to the public. - Author: Richard Griffiths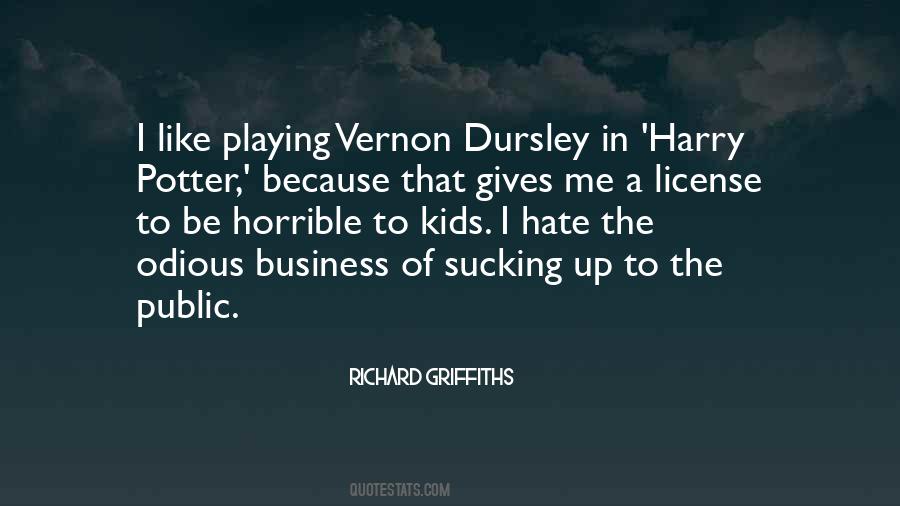 #22. If I am not playing at one hundred percent, it is going to be very difficult for me to win. - Author: Rafael Nadal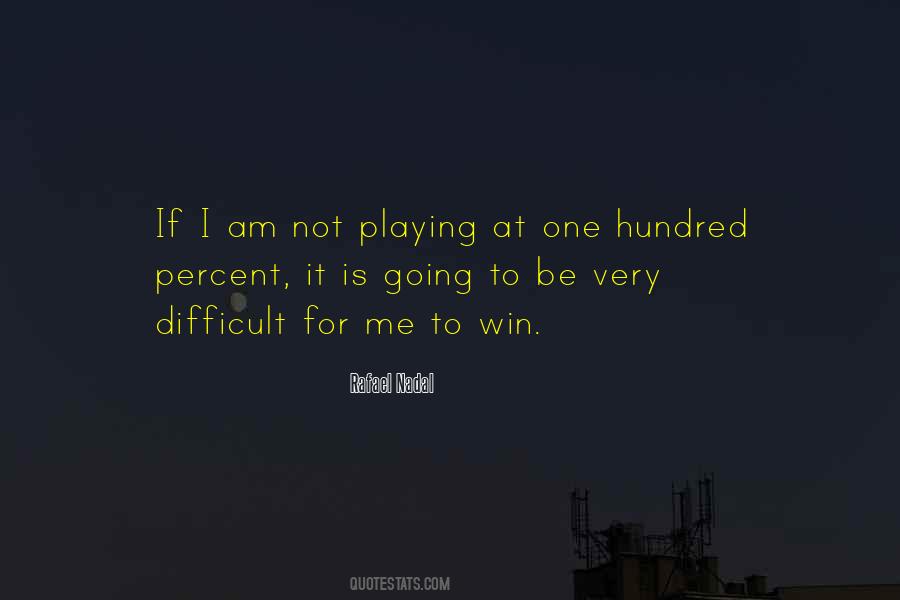 #23. The Tinted Windows shows were very fun but it's very different for me as a performer. I'm not playing music - I'm just singing and I missed that. I miss rocking out on keys, drums, guitar ... whatever it is. - Author: Taylor Hanson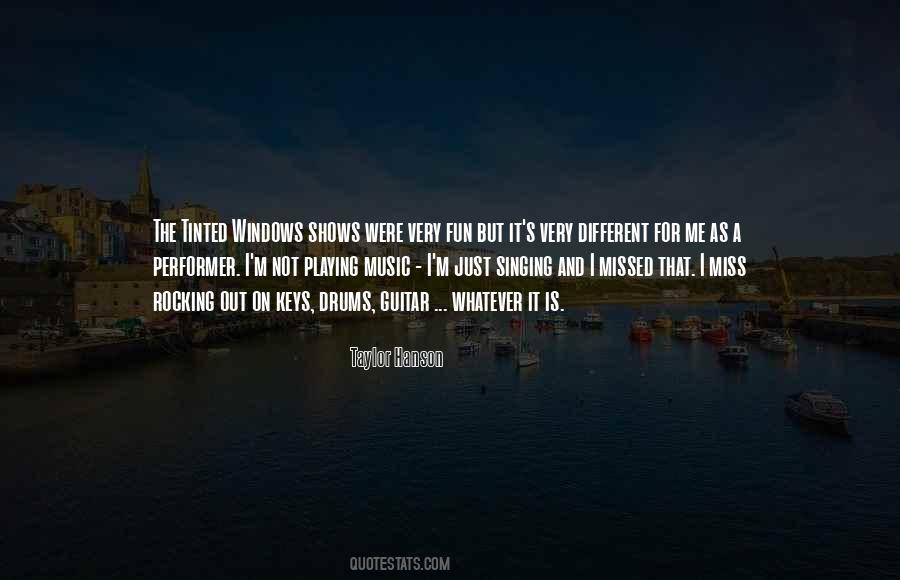 #24. You were playing your instruments? Or do you have tape recorders under your seats? - Author: Prince Philip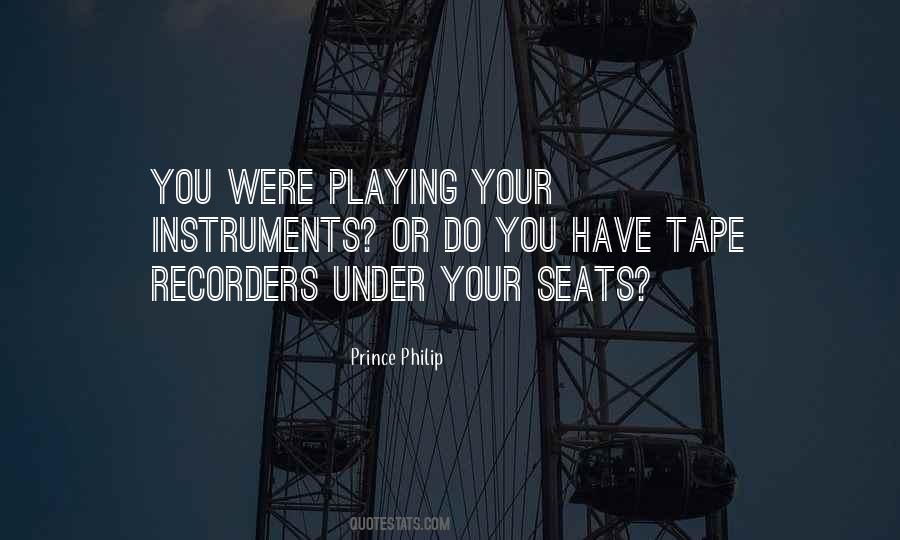 #25. You draw on whatever's relevant to the part you're playing; it makes it more personal. - Author: Robert De Niro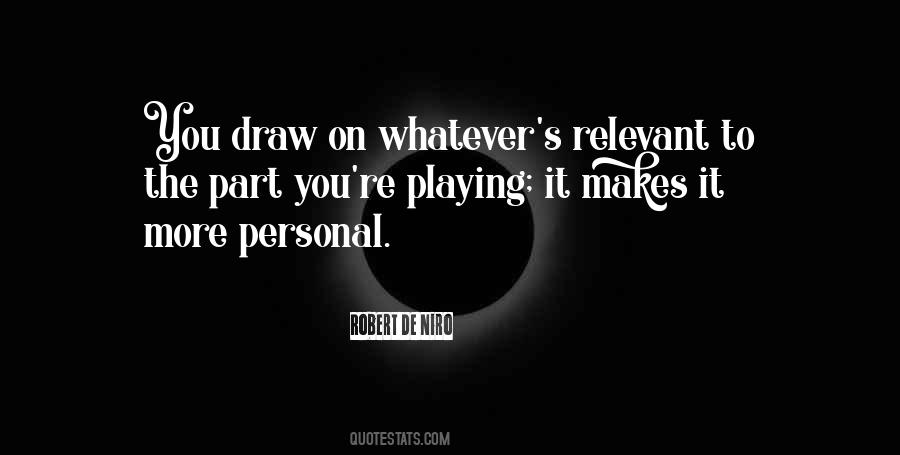 #26. When kids were busy playing at the age of 11, I was singing for the heroine of 'Shastra.' - Author: Sunidhi Chauhan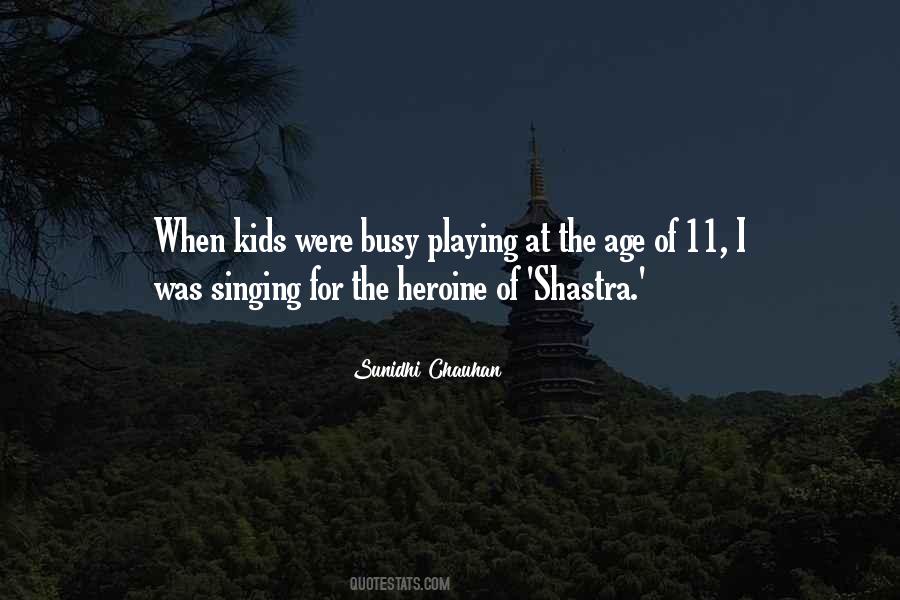 #27. My strongest hope is for a cameo as a band playing in a club visited by the detectives on 'Law & Order: SVU' during the course of an investigation, maybe during sound check, or something, so they can force us to stop playing while they question the sound guy. - Author: John Darnielle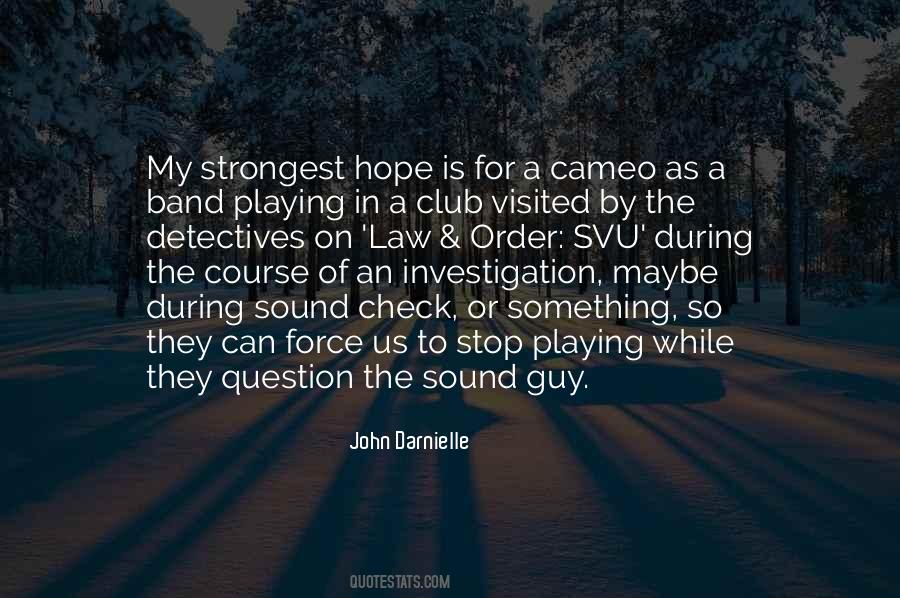 #28. Instead of becoming depressed that I was in the locked ward of a mental hospital, I pretended I was playing a role in a movie, possibly on my way to an Emmy. - Author: Augusten Burroughs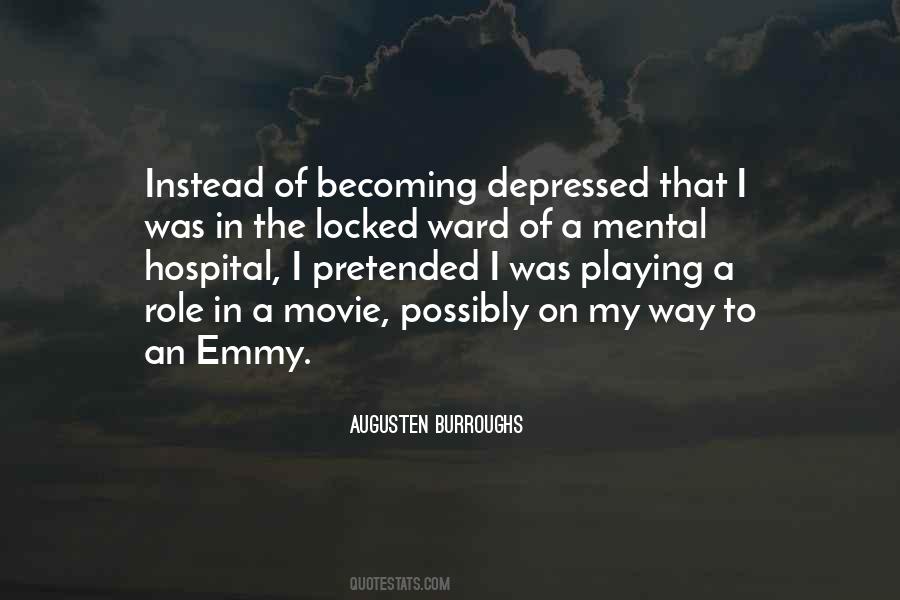 #29. I am married,' she shouted, 'to the cupboard under the sink.' A remark made more mysterious to Mrs Barnes by the sound of a passing ice-cream van playing the opening bars of the 'Blue Danube'. - Author: Alan Bennett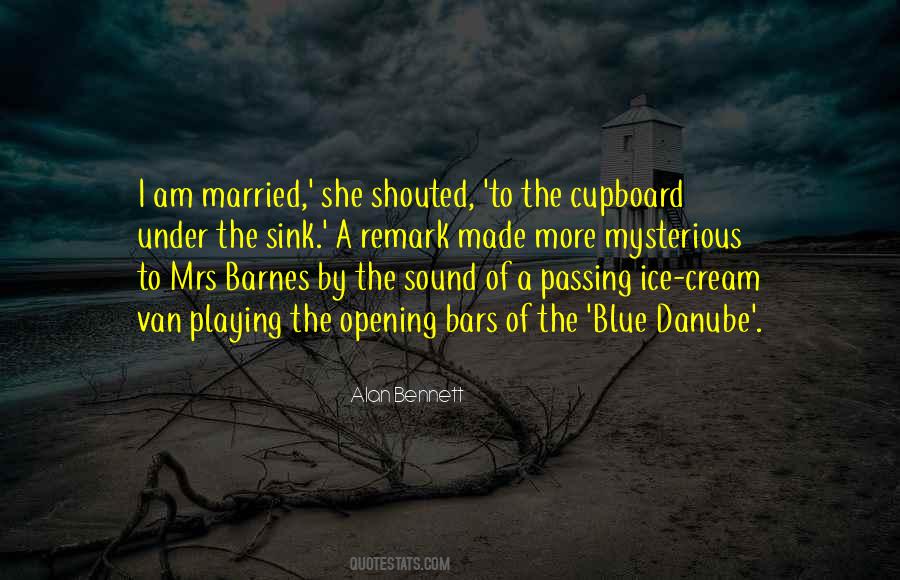 #30. More and more good actors are now transmigrating into the videogame space and playing roles there because it's where my generation of kids get stories from. - Author: Andy Serkis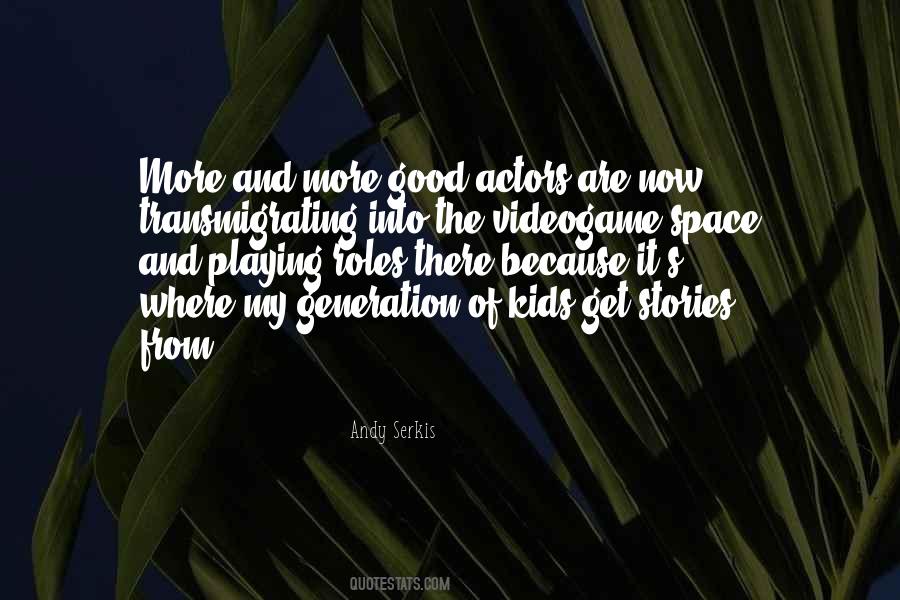 #31. Many jazz artists go to L.A. seeking a more comfortable life and then they really stop playing. - Author: Sonny Rollins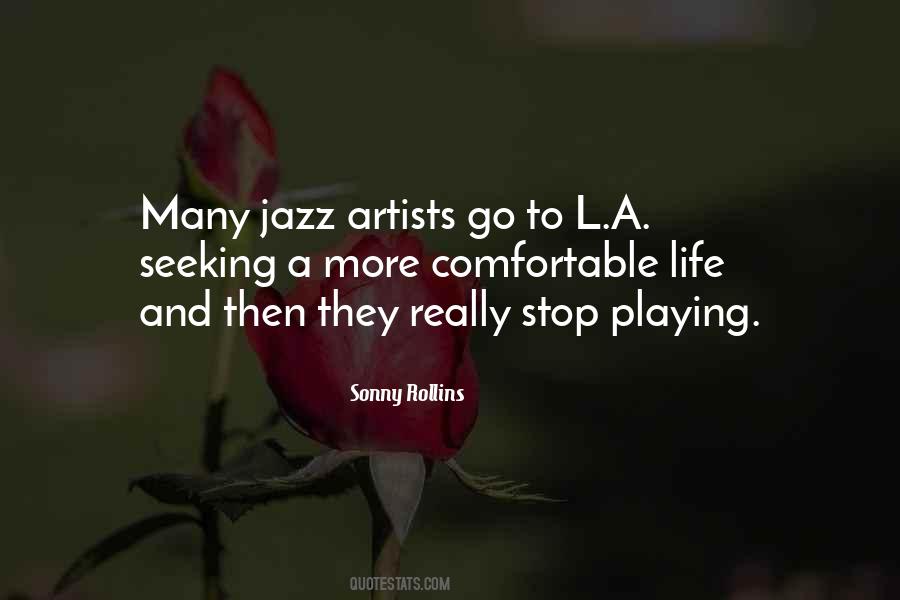 #32. Sometimes the rain
falls
just for you and me

to be the violin
playing
in the background
of our loneliness's song. - Author: Sanober Khan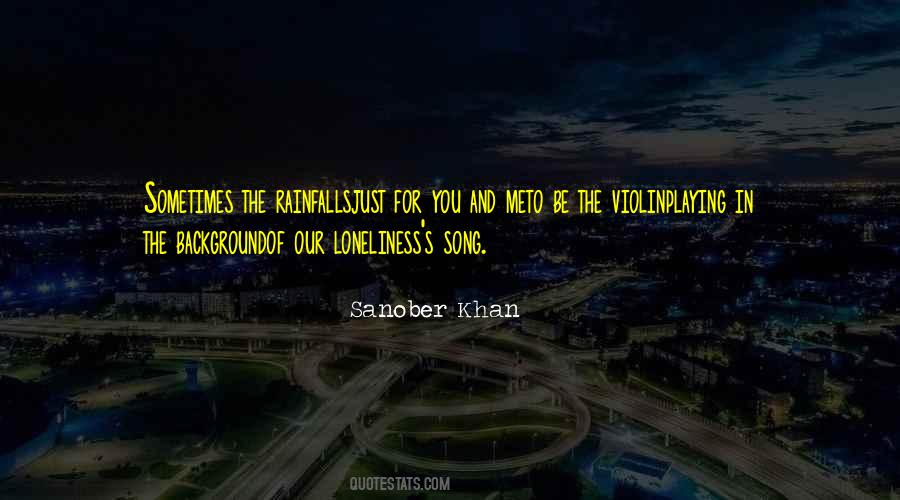 #33. My work is really simple, actually. I'm just playing with forms of changing. - Author: Nikki S. Lee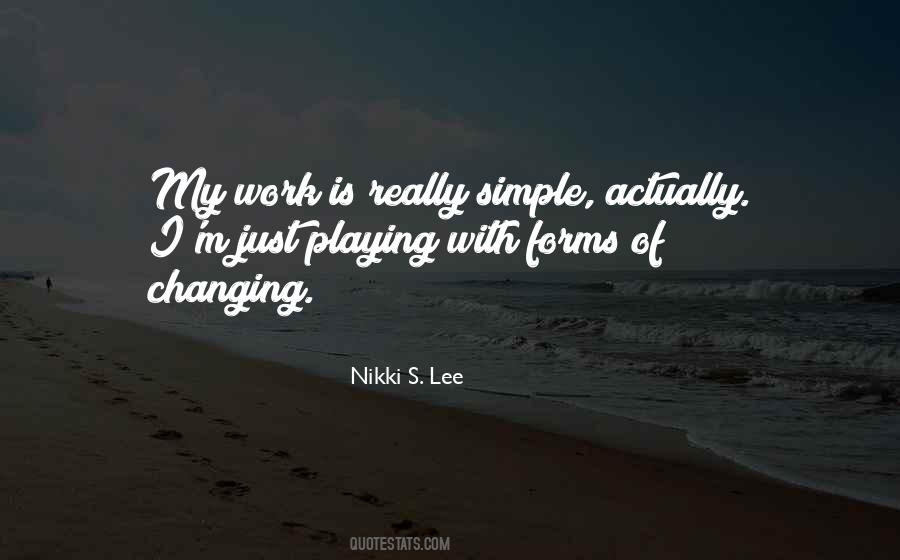 #34. The old chess is too limited. Imagine playing cards, black jack for example, and every time the dealer has the same starting hand you have the same starting hand. What's the point? - Author: Bobby Fischer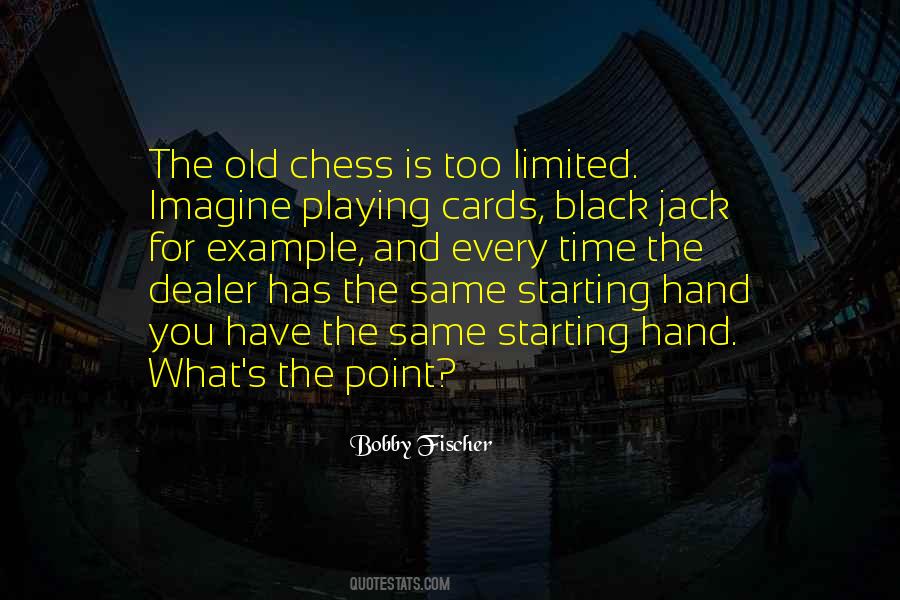 #35. From the time I started playing, I've always been the high-energy, never-stop-moving guy. - Author: Peja Stojakovic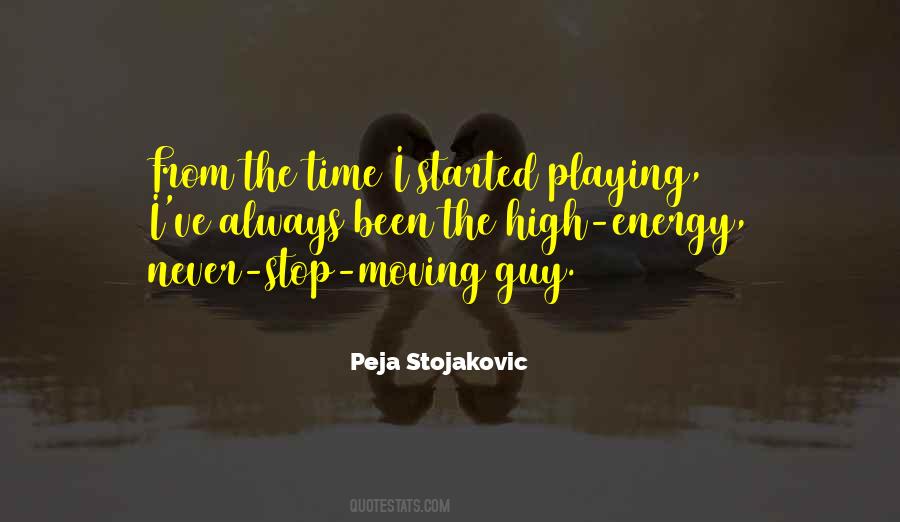 #36. There's this total manwhore phenomenon happening, where even the geeks are player now. It's like Manhattan is this giant playground and guys want to keep playing forever. - Author: Susane Colasanti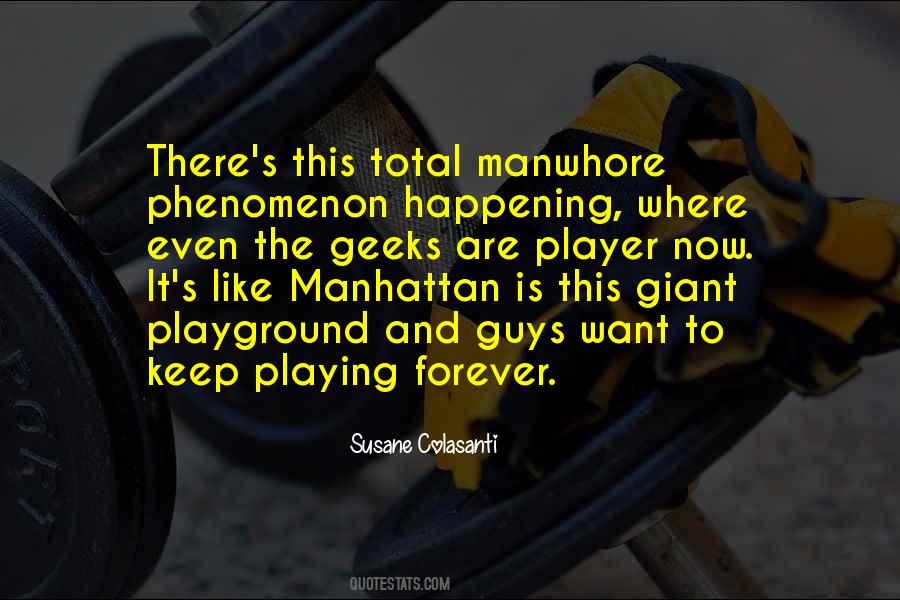 #37. All summer long we spent dancin' in the sand, and the jukebox kept on playing Sergeant Pepper's Lonely Hearts Club Band. - Author: Johnny Ramistella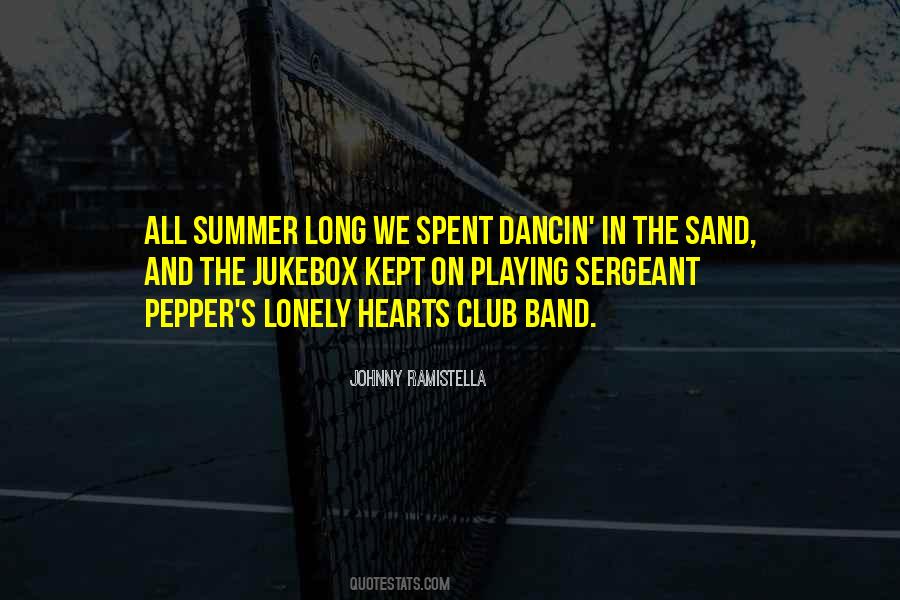 #38. Music herself should be silent when Nicholas speaks. (on why he had stopped playing during a performance with Tsar Nicholas I in attendance) - Author: Franz Liszt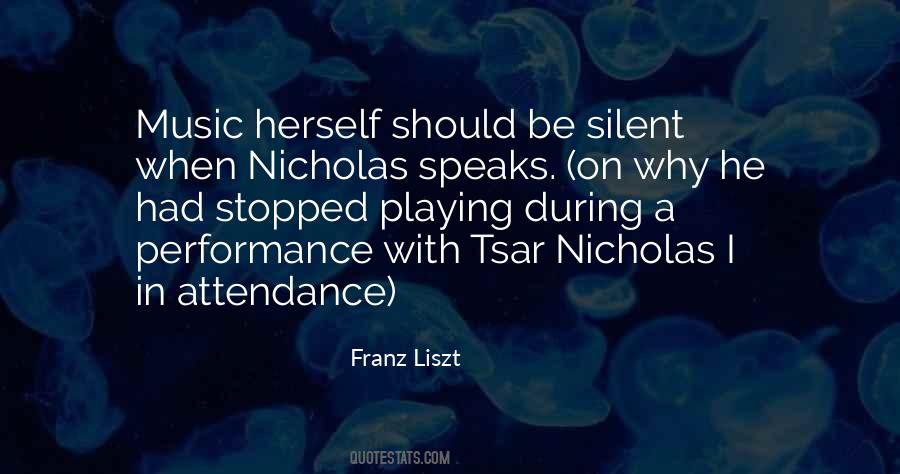 #39. Clarence once mentioned to me during a negotiation but he should be paid not only for playing but for being Clarence. - Author: Bruce Springsteen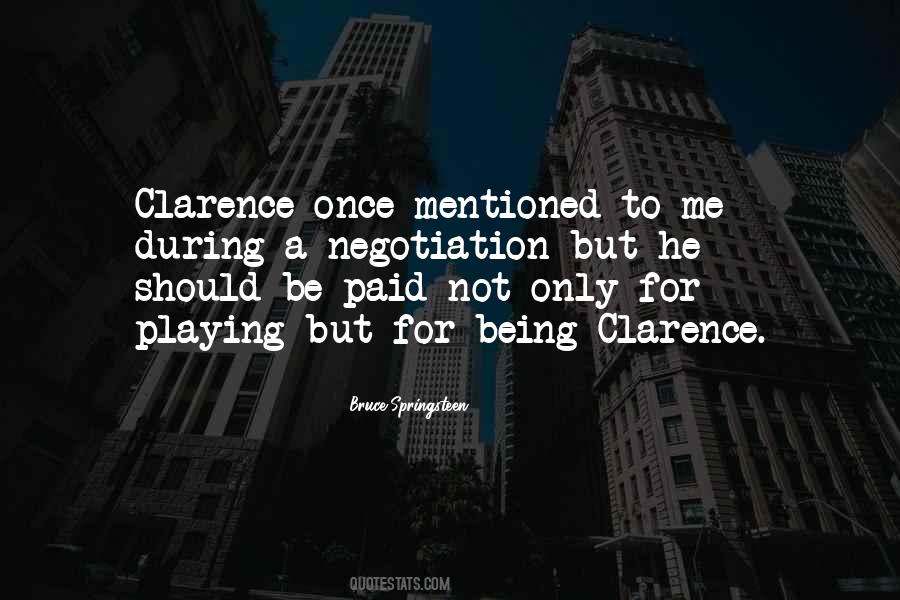 #40. If I would have listened to other people back in 2000 telling me I should have stopped playing basketball because of a kidney disease, I wouldn't have won a world championship. - Author: Alonzo Mourning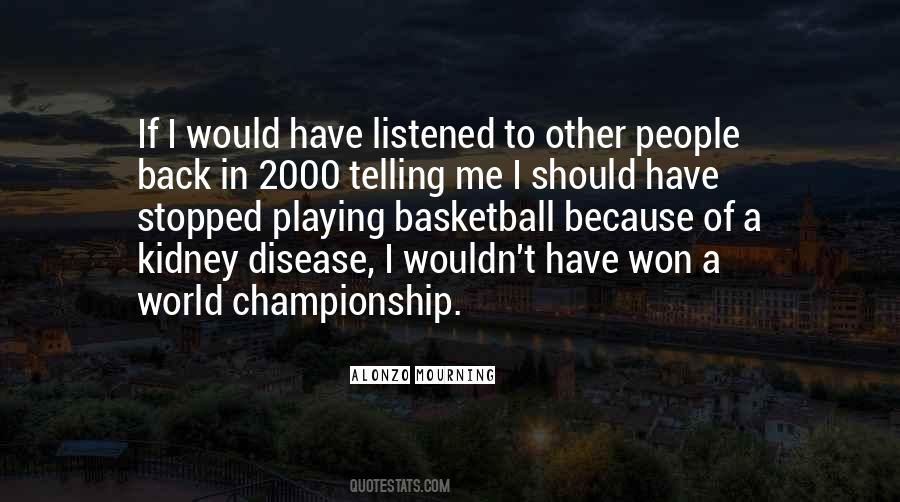 #41. Concert. It was a benefit for the string-playing - Author: Jan Swafford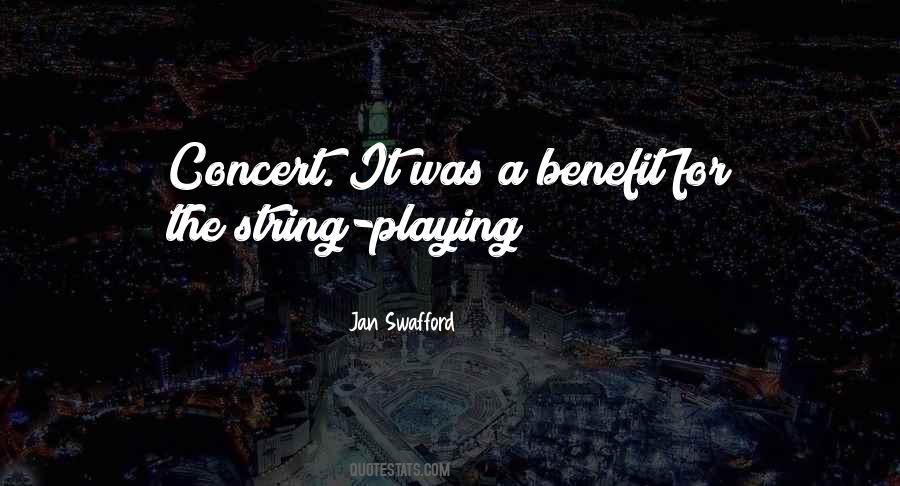 #42. The very first concert I ever went to on my own was actually Rory Gallagher. In a one-month period in 1973 or '74, I saw him, Thin Lizzy and the Rolling Stones. I wasn't really a big Rory Gallagher fan, but I thought his guitar playing was fabulous. But Thin Lizzy, they were fabulous. - Author: Robert Smith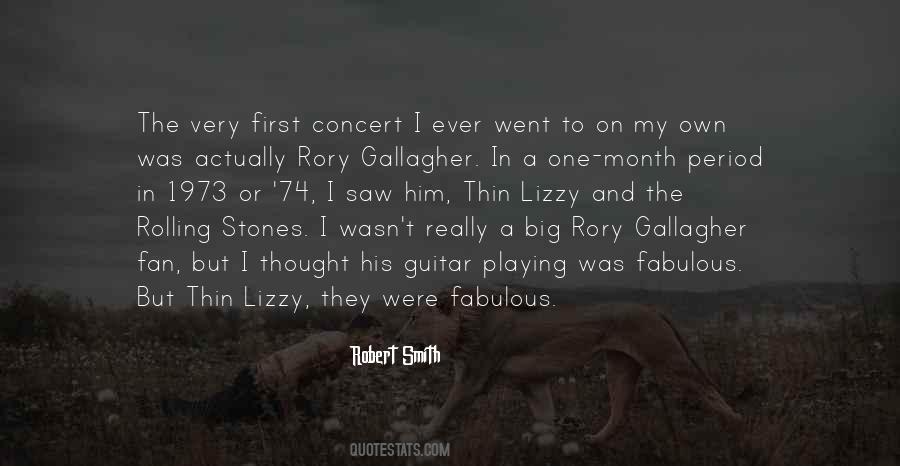 #43. I think one of the most difficult things for anyone who's played baseball is to accept the fact that maybe the players today are playing just as well as ever. - Author: Ralph Kiner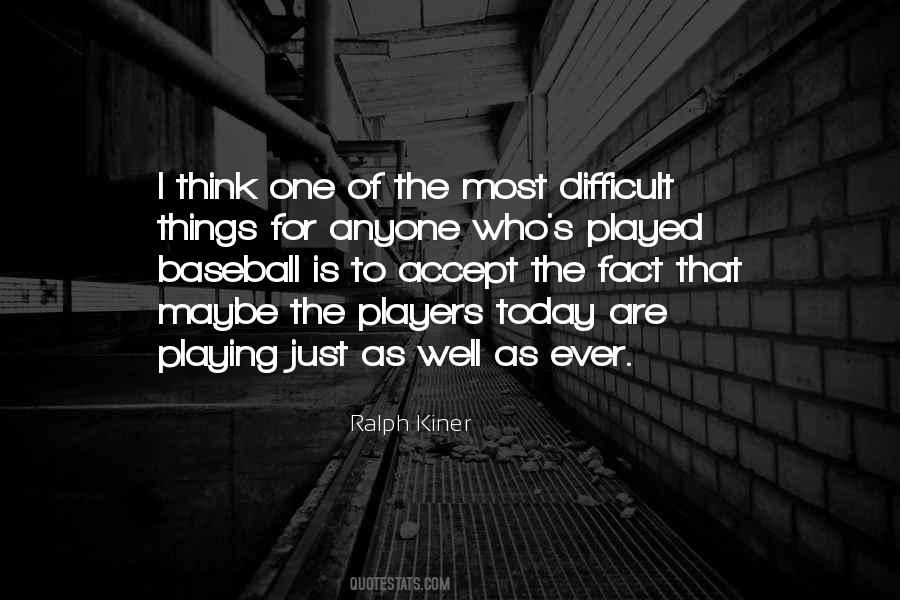 #44. I've been playing against older and stronger competition my whole life. It has made me a better tennis player and able to play against this kind of level despite their strength and experience. - Author: Maria Sharapova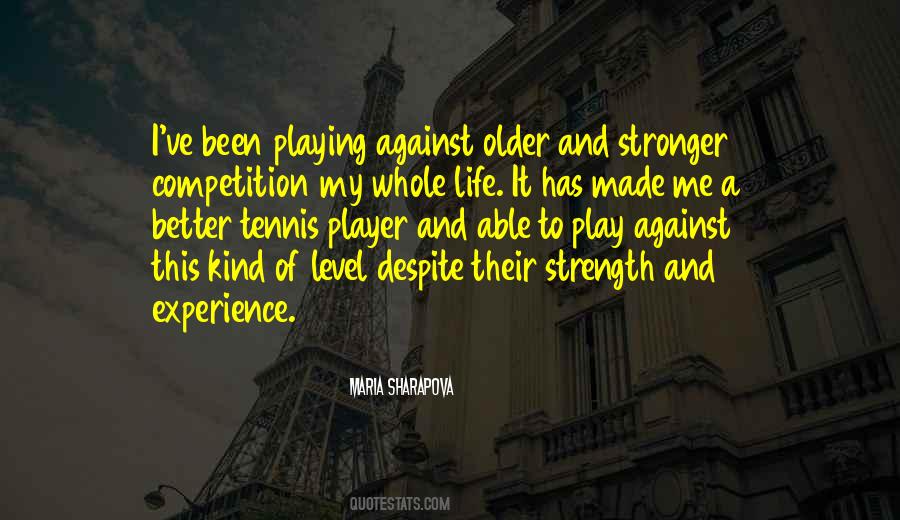 #45. It was an experience being on a Beatles tour. They weren't very good. The singing was great, but the playing was a bit weak. - Author: Robin Trower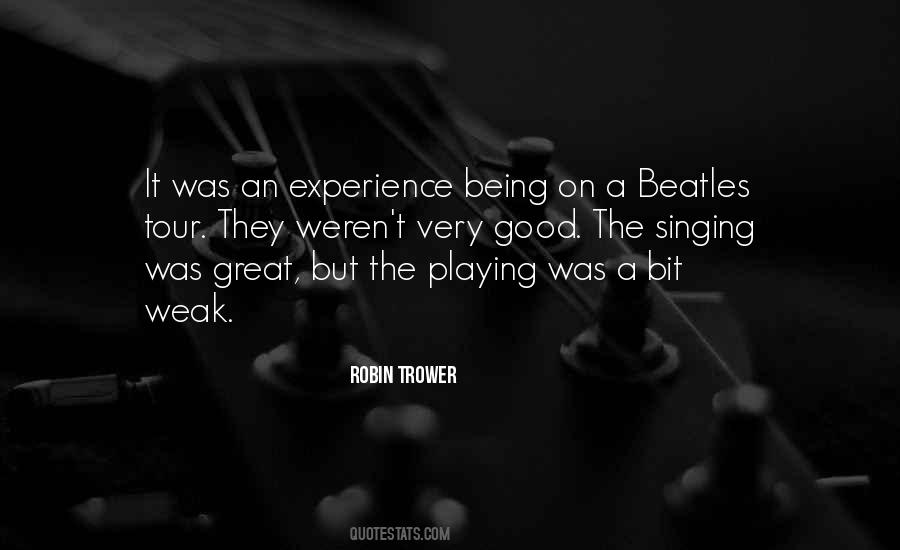 #46. I think that we need to change the culture, not blame the people that are playing the only game that exists. - Author: Gloria Steinem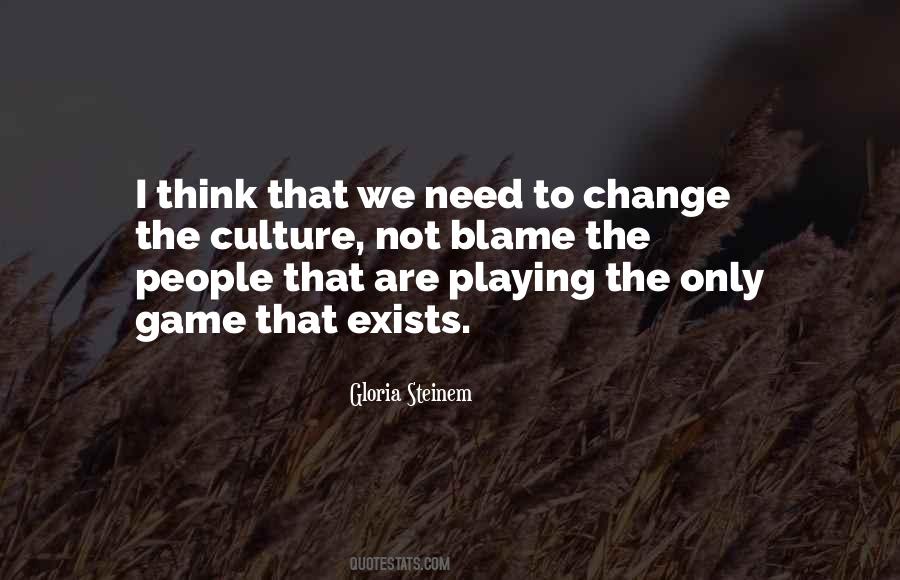 #47. That's the ideal. Not to get stuck in a rut playing the same role. - Author: Laura Osnes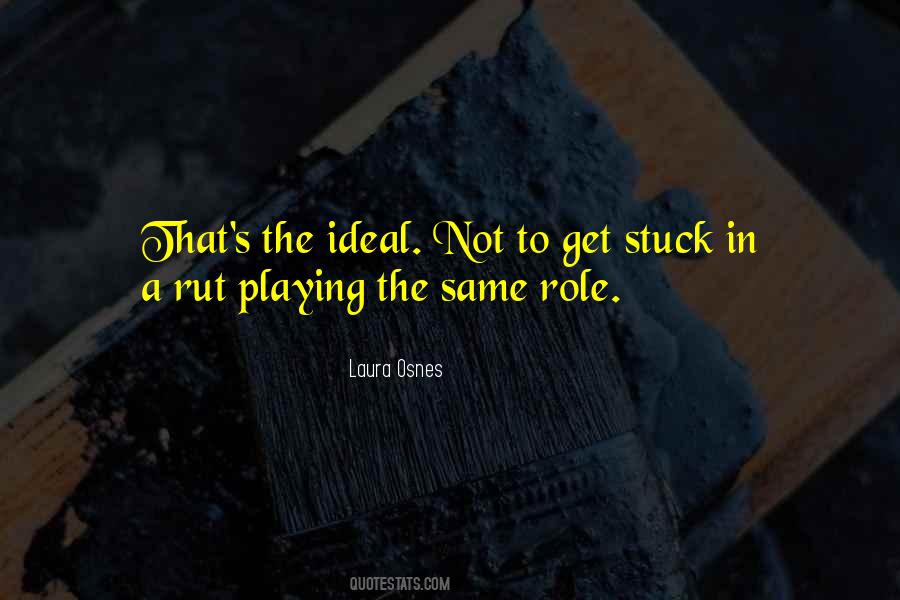 #48. You've got no chance of reaching the top if you're just playing for money. - Author: Gary Lineker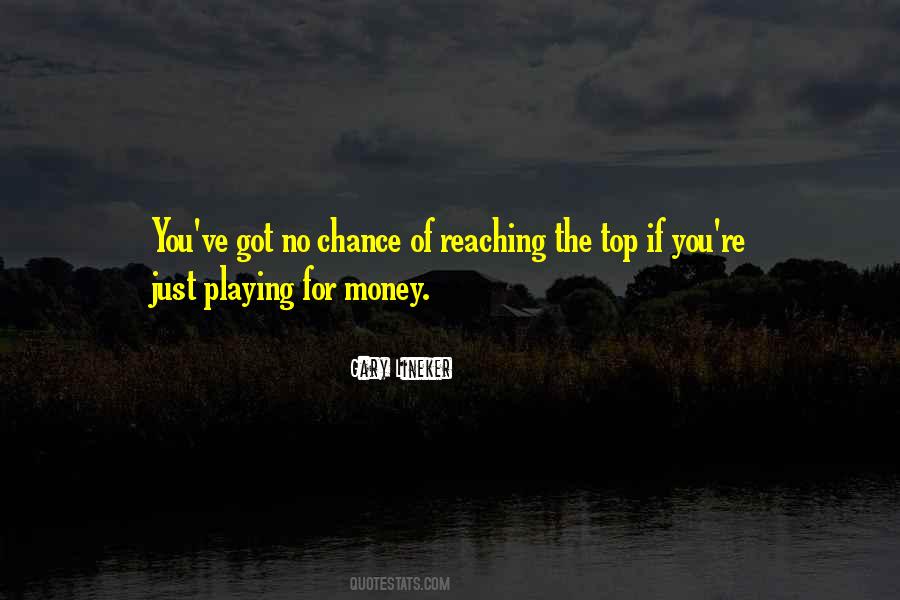 #49. Madly in love after so many years of sterile complicity, they enjoyed the miracle of loving each other as much at the table as in bed, and they grew to be so happy that even when they were two worn-out old people, they kept on blooming like little children and playing like dogs. - Author: Gabriel Garcia Marquez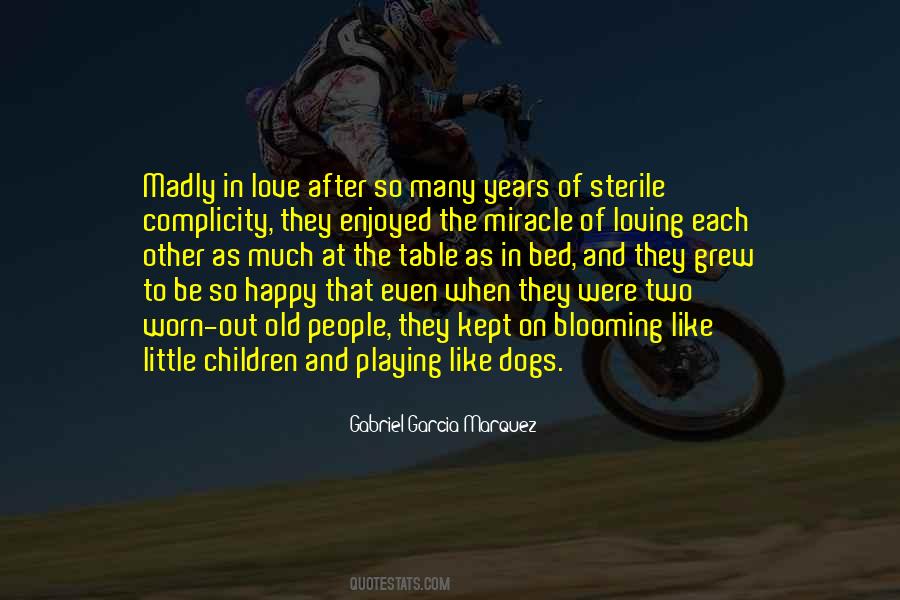 #50. When we signed our deal in 1974, we'd already been together for six years. When they lowered the drinking age in Ontario in 1971 to 18 years, we went from playing two or three high schools in a month to playing clubs two or three times a week. - Author: Alex Lifeson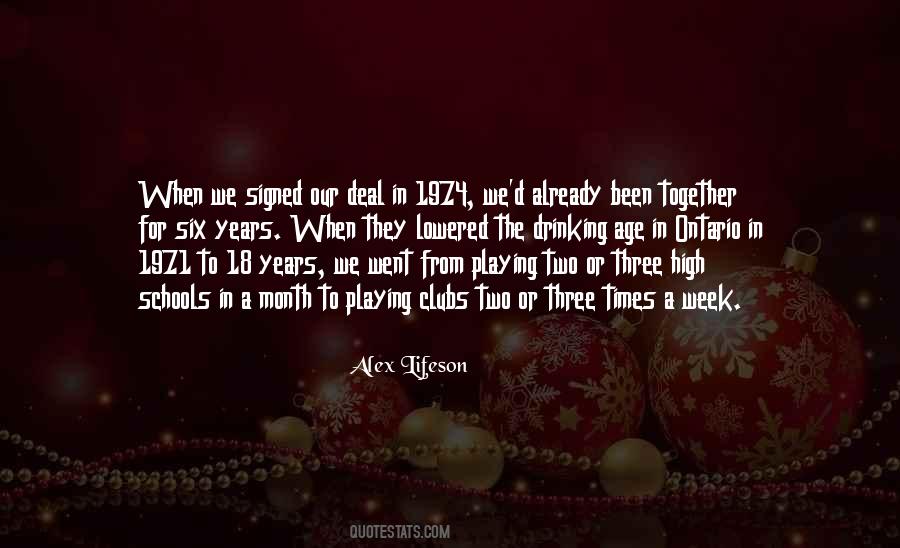 #51. I'm only interested in heavy metal when it's me who's playing it. I suppose it's a bit like smelling your own farts. - Author: John Entwistle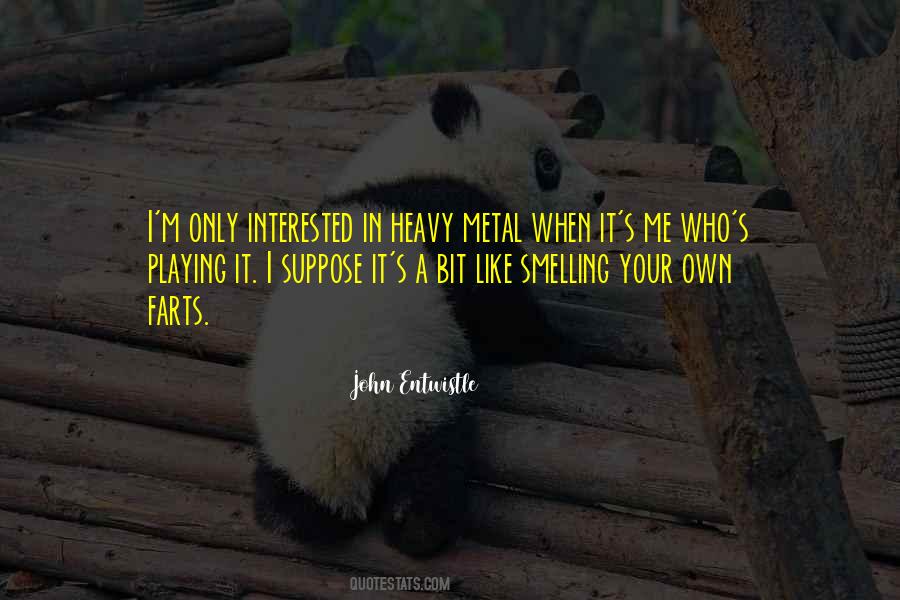 #52. Too many people, right now are playing it small. If you want to be SUCCESSFUL, Live BIG, Think BIG, & make every day of your life COUNT! - Author: Joel Brown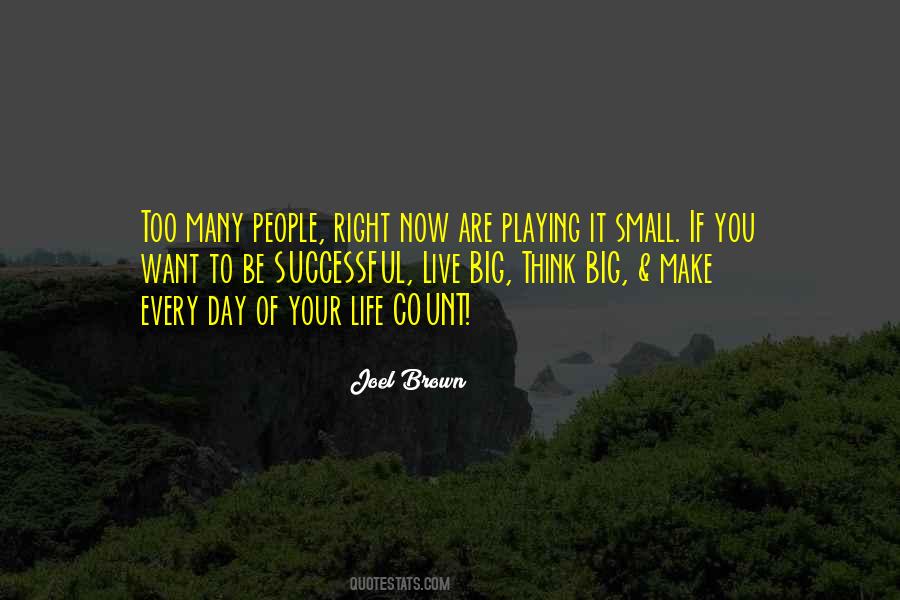 #53. If you let fear dictate your decisions, you will live defensively, reactively, cautiously. Living by faith is playing offense with your life. - Author: Mark Batterson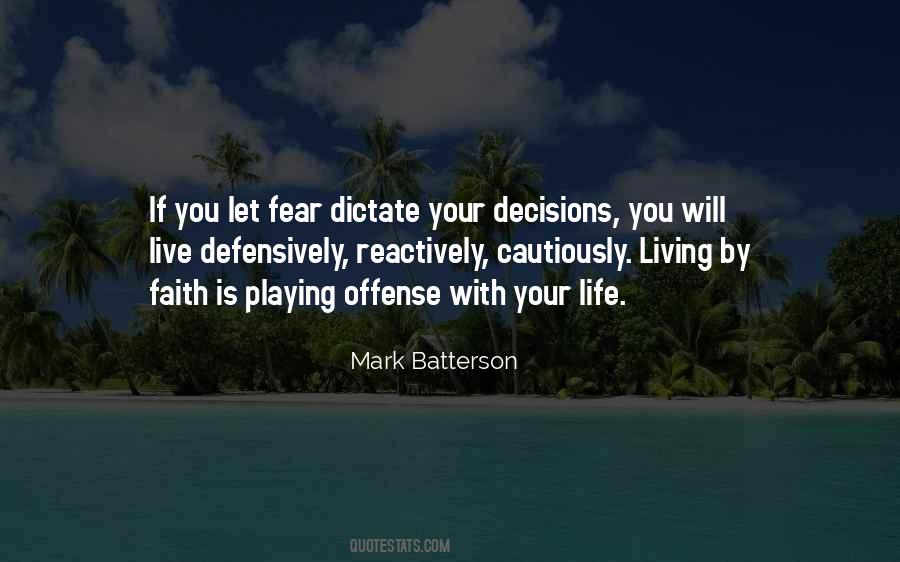 #54. Somewhere there is a drummer calling to you too, and playing your special beat. - Author: Pooja Ruprell
#55. I can't believe I survived, not only my life, but I am still playing football 'cause half of those eight or nine years I don't even remember. - Author: Brett Favre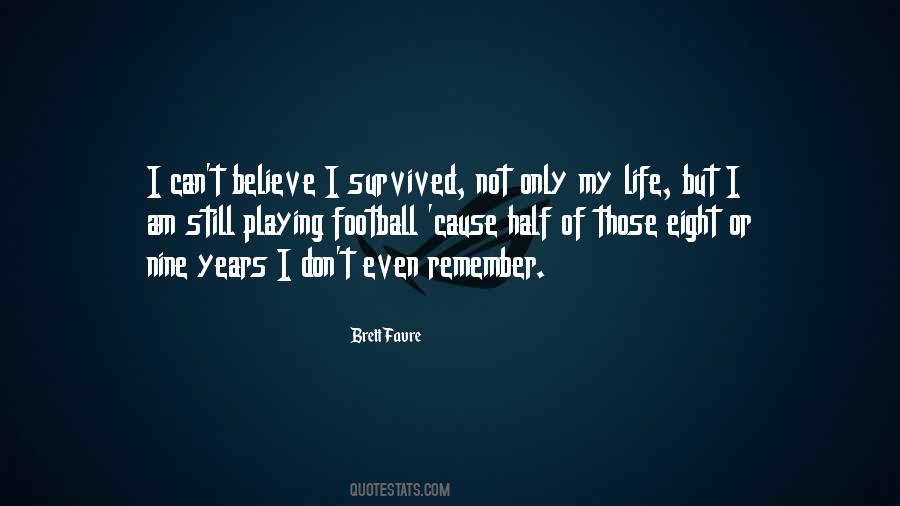 #56. I could not be more determined and robust about this. I want more children to play cricket and to have the chance to compete. I want them playing on the correct pitches with hard balls and proper headgear. - Author: Tessa Jowell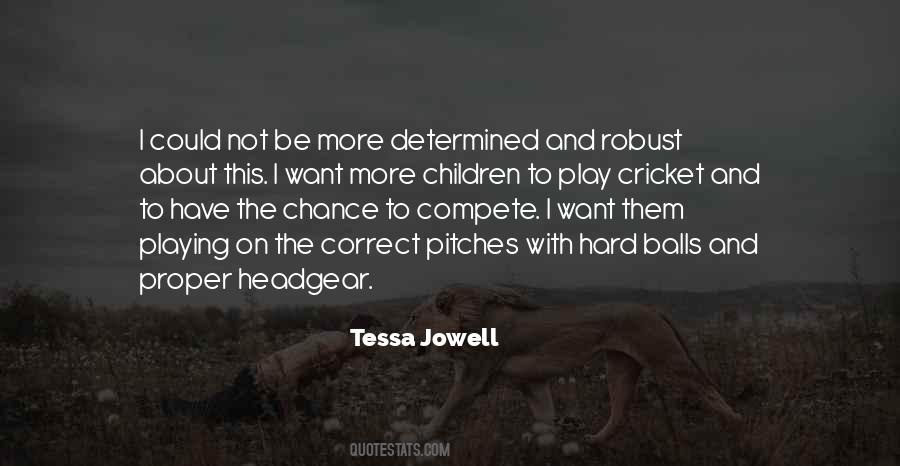 #57. The strange thing is, if I was speaking to drama students about the thing that you should do if you're lucky enough to know or to meet the character that you're playing, I'd say, 'It's obvious: you quiz them diligently about their experience.' - Author: Rhys Ifans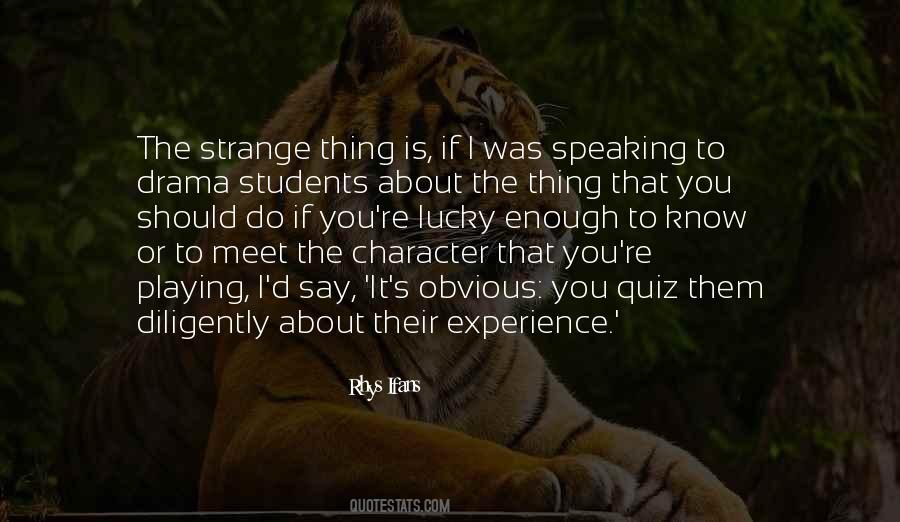 #58. What I want to do is play roles as a black man, instead of playing black man's roles. You know? - Author: Jim Brown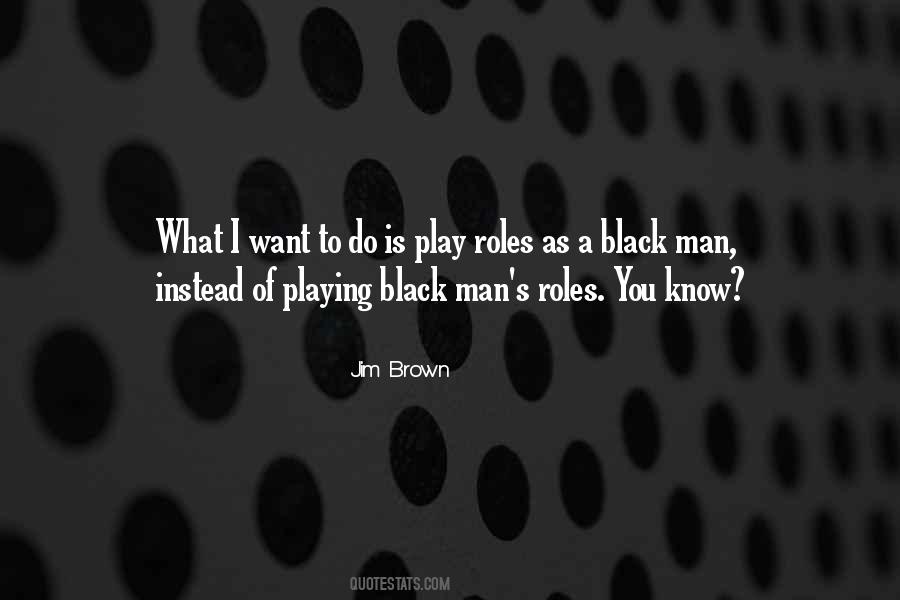 #59. I feel like I've always played within the rules. I would never do anything to break the rules. I believe in fair play and I'll always believe in that for as long as I'm playing. - Author: Tom Brady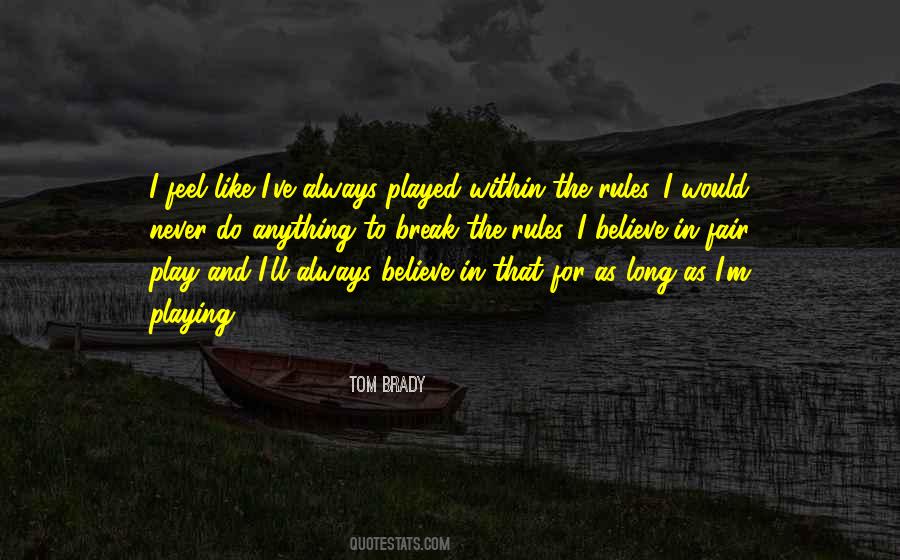 #60. London as an actor, writer, and part owner of the playing company the - Author: William Shakespeare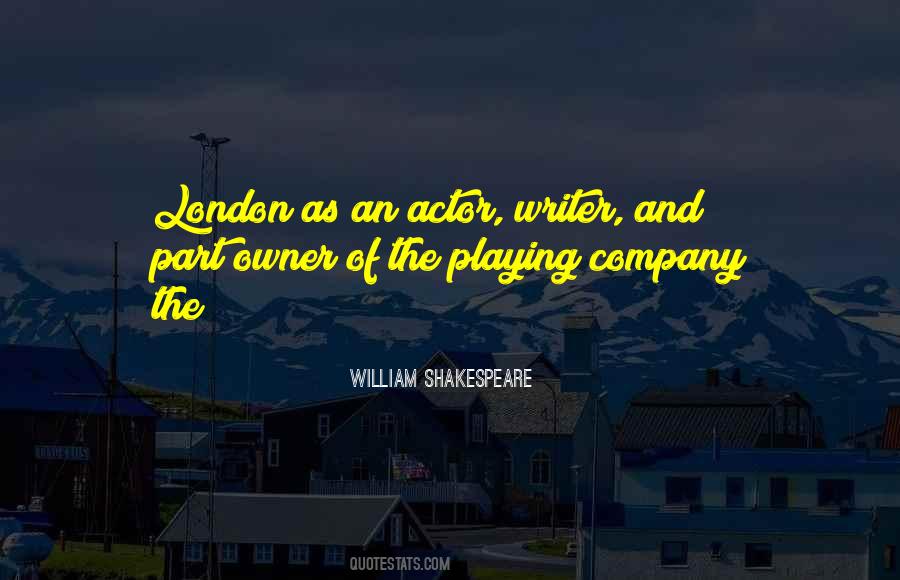 #61. As soon as I had a guitar I loved it, and I started playing in every spare moment. - Author: David Rawlings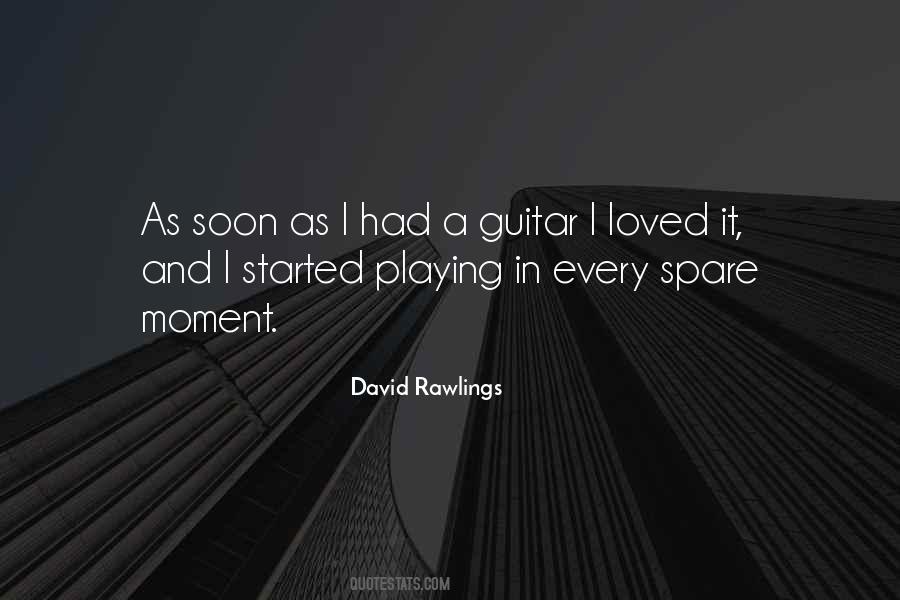 #62. When I opened up in "Gaslight," for instance, playing that narky maid, that all came about from my experience and my training up to that point, and so nothing was wasted. - Author: Angela Lansbury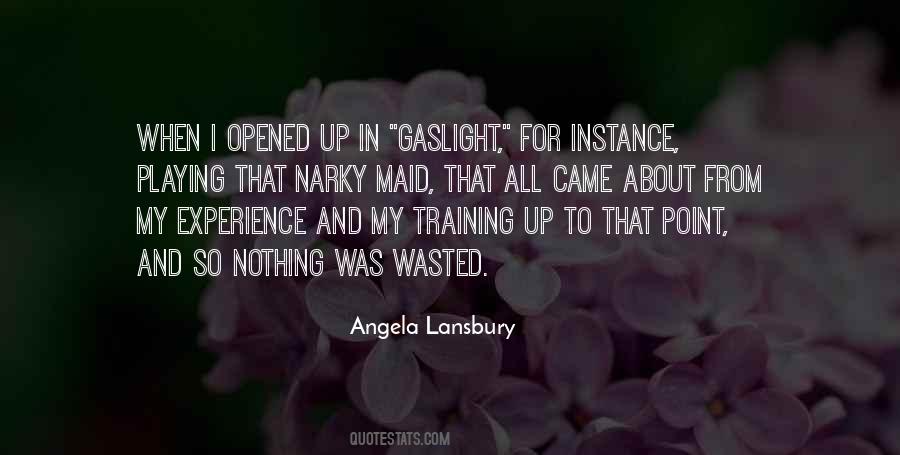 #63. I'm not supposed to be playing, the music is supposed to be playing me. I'm just supposed to be standing there with the horn, moving my fingers. The music is supposed to be coming through me; that's when it's really happening. - Author: Sonny Rollins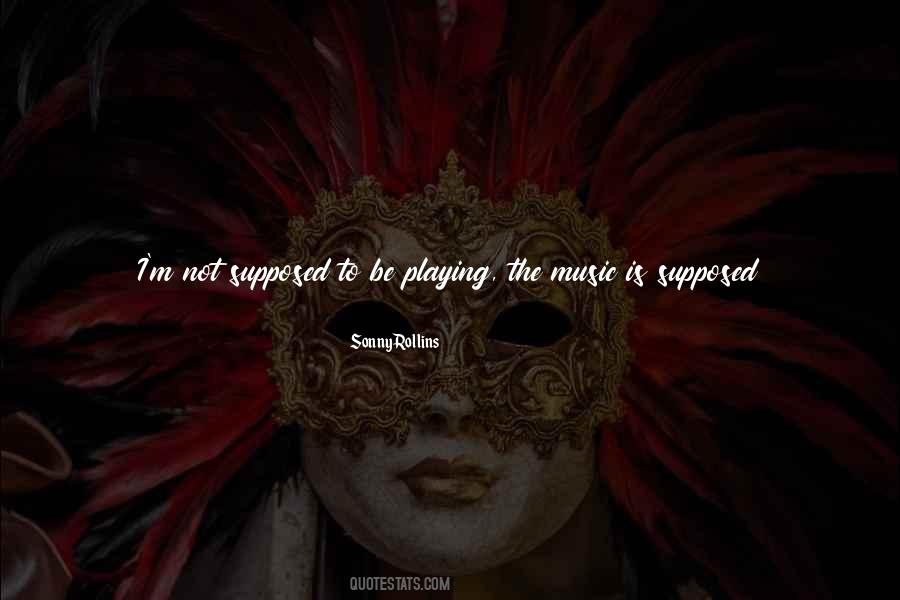 #64. Sometimes I feel like a melody doesn't have anything to do with me, but it's just something that comes, is accumulated from me playing on the piano, and then this little creature just appears. - Author: Agnes Obel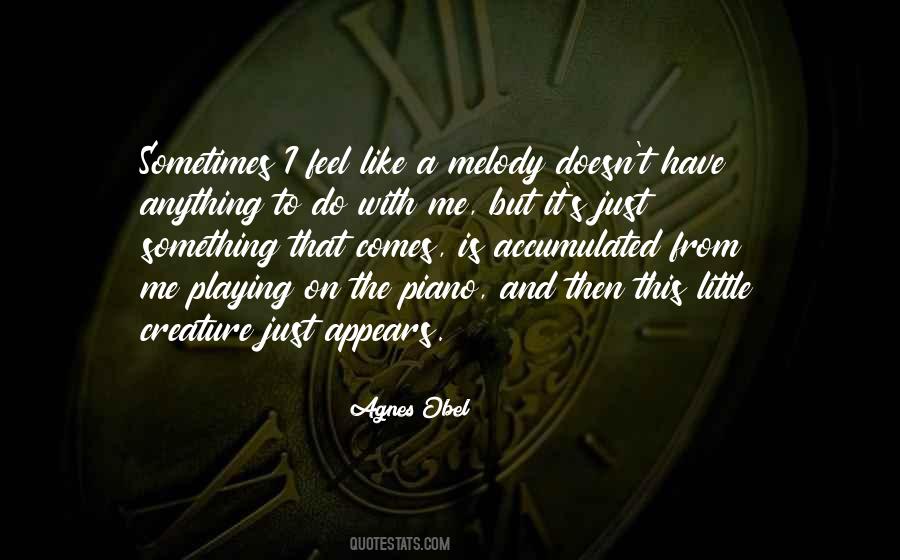 #65. I am tired of women playing action heroes like men, because they are not men. But sometimes they are written like men. - Author: Katee Sackhoff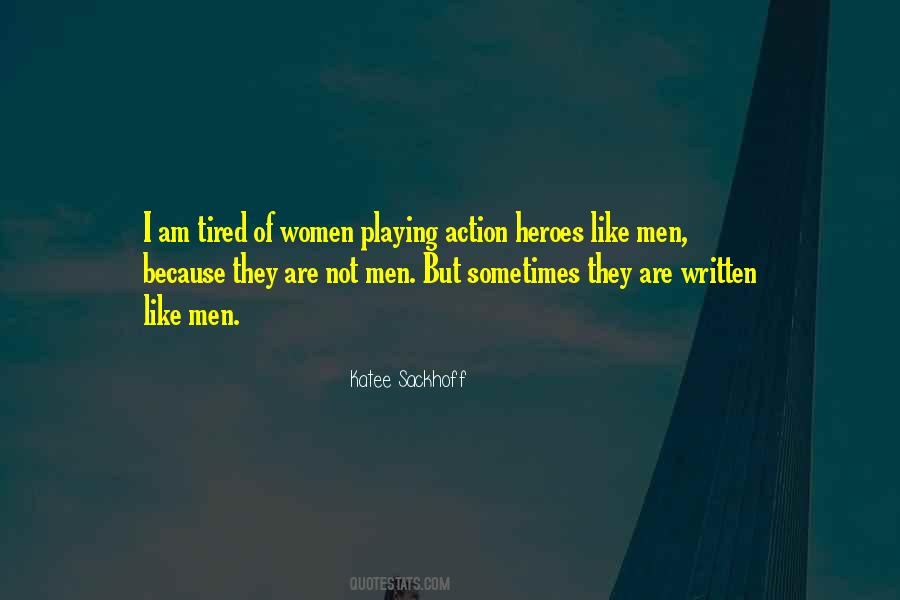 #66. I started rapping when I was about 12 or 13, just playing around with it. - Author: Young Buck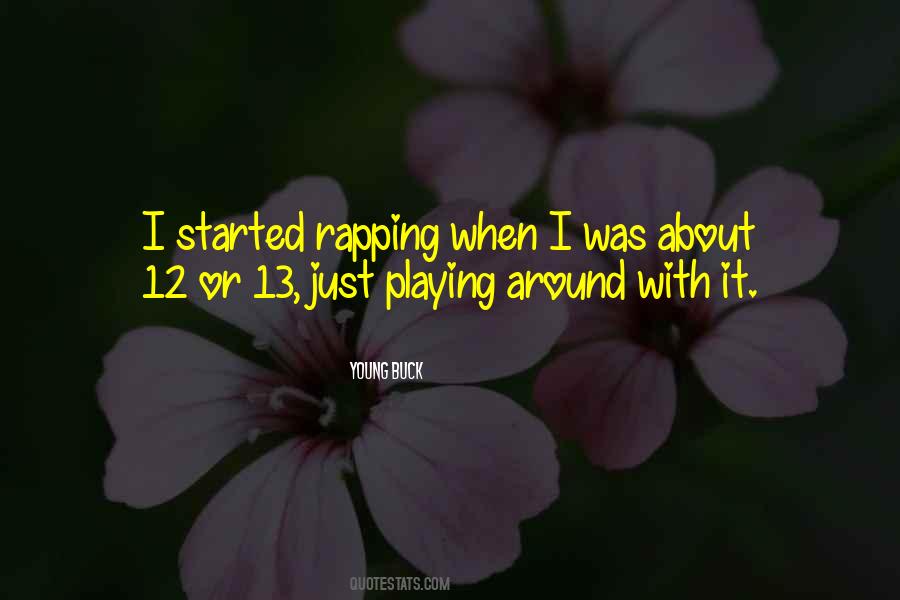 #67. I've always been taught to just play the truth of the situation. If comedy comes out of that, or drama, whatever comes out of it, at least I'm playing the truth of the moment-to-moment reality. - Author: Ving Rhames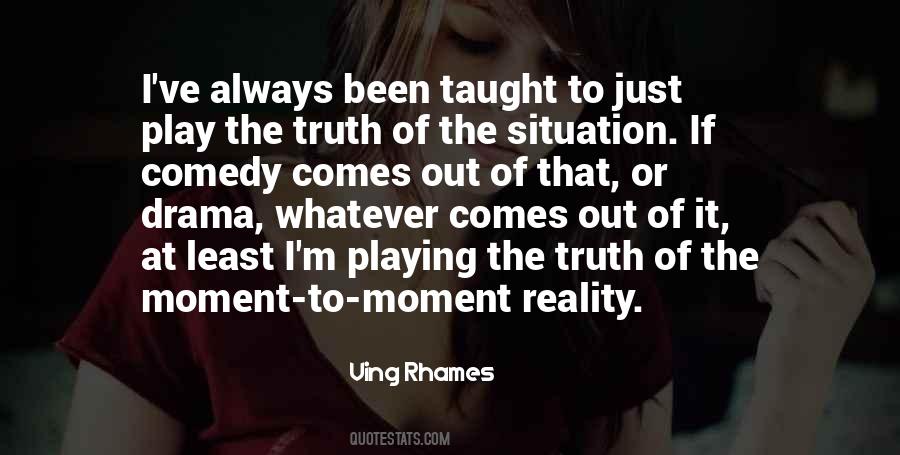 #68. I'm naturally athletic, and I think playing strong, female roles just kind of happened. - Author: Adrianne Palicki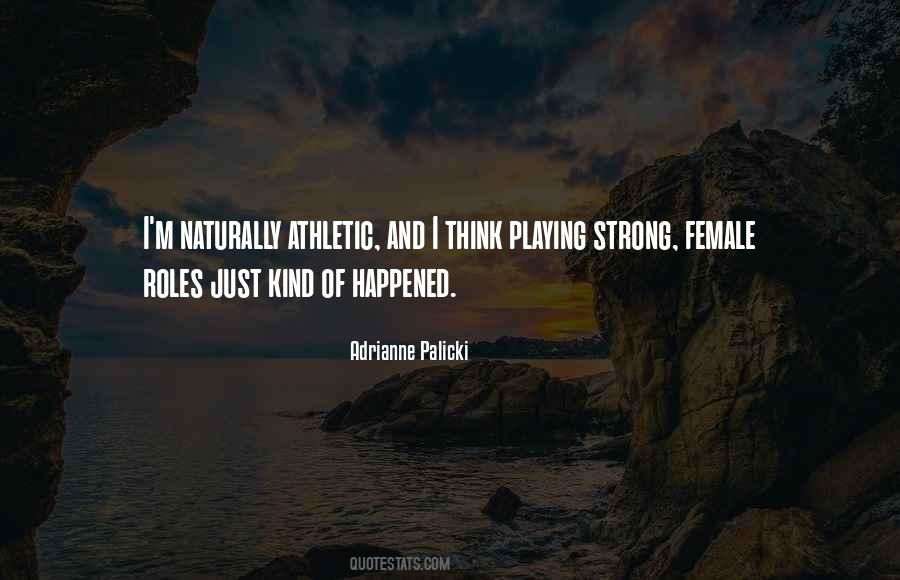 #69. Playing on her femininity and making him feel uncomfortable seemed highly effective. - Author: Sara Sheridan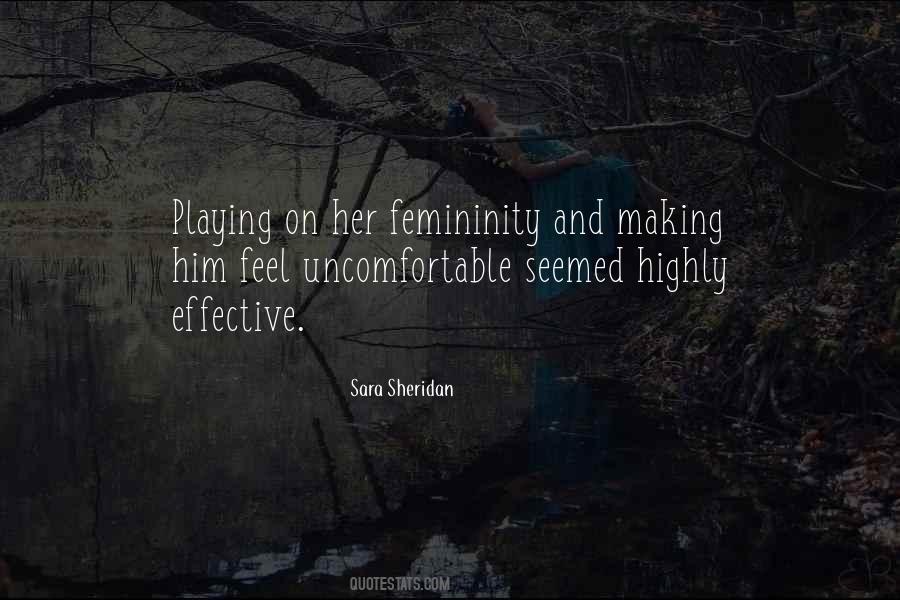 #70. You know, I'm just 6'9 and 260. And just so happen to be very good at playing the game of basketball. - Author: LeBron James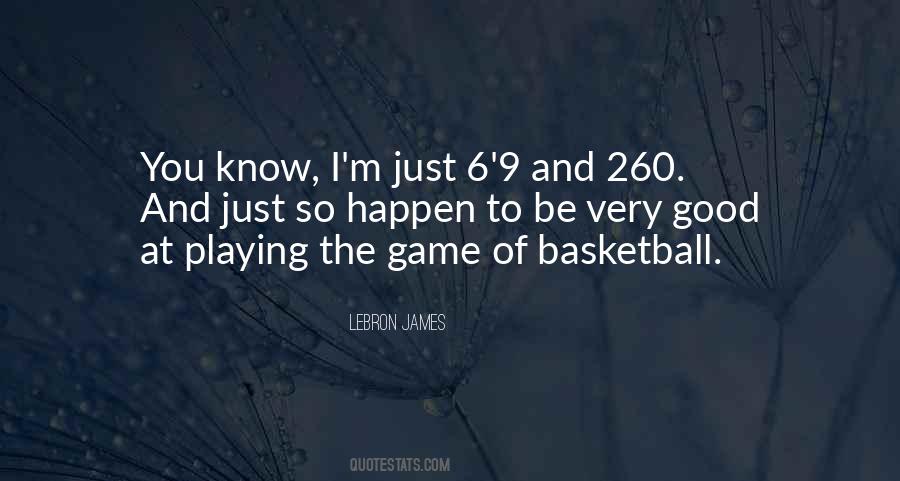 #71. Every kid in America dreams of playing in the big leagues and they don't, just because. It's not because they blew out their knee. It's just because they didn't make it. - Author: Marc Blucas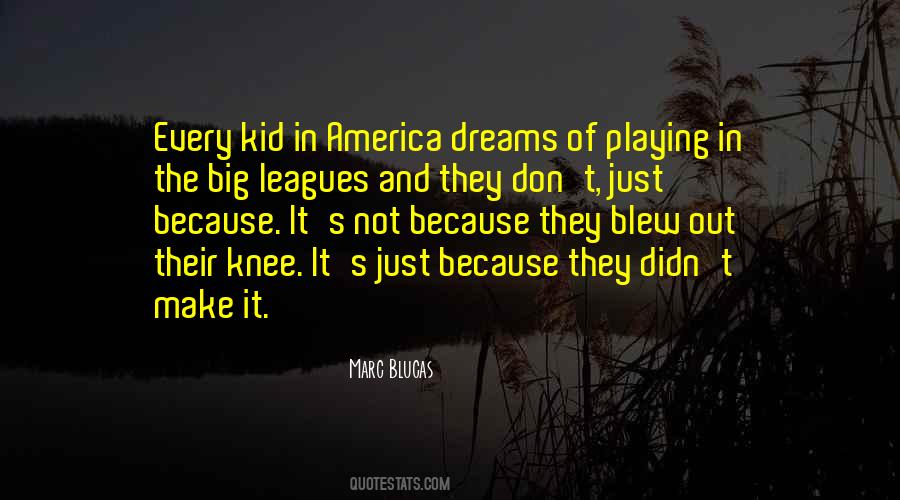 #72. Personally, I've found that the kind of thing that I like is going into somebody else's area and not playing their music but doing whatever I do in their area. - Author: Derek Bailey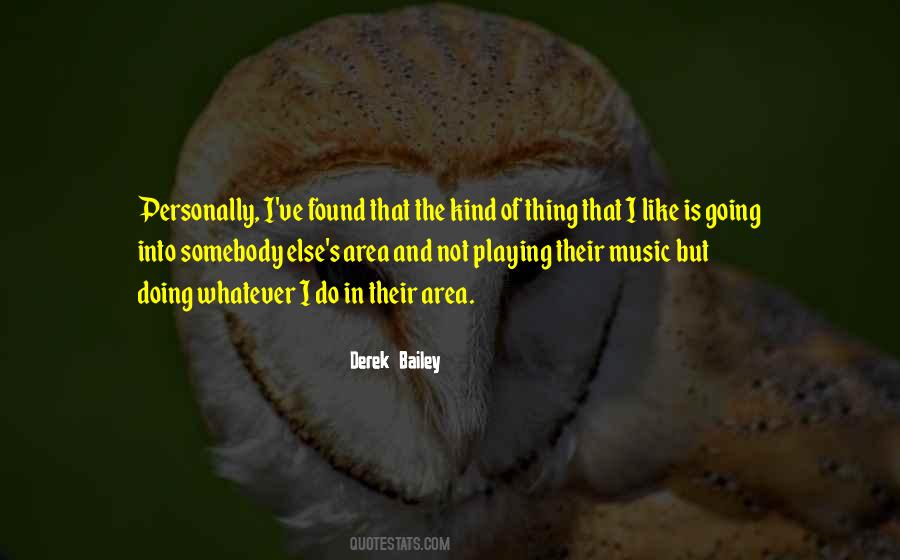 #73. Good people don't spend their time being good. Good people want to spend their time mowing the lawn and playing with the dog. But bad people spend all their time being bad. It is all they think about. - Author: Alan Furst
#74. What I don't like is when I see stuff that I know has had a lot of improv done or is playing around where there's no purpose to the scene other than to just be funny. What you don't want is funny scene, funny scene, funny scene, and now here's the epiphany scene and then the movie's over. - Author: Paul Feig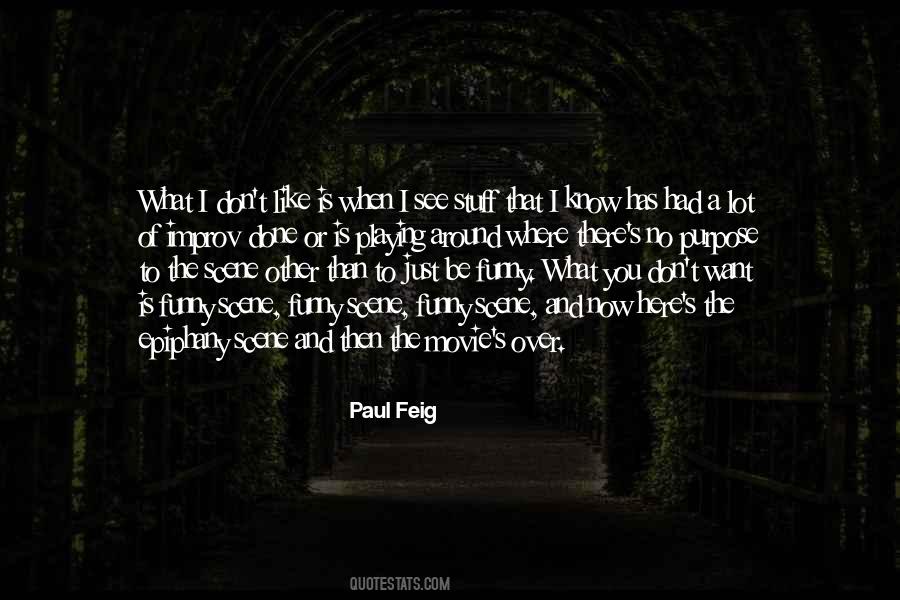 #75. Home court will be tremendous. That will be a big relief, playing at home in front of the energy and the fans. - Author: Reggie Evans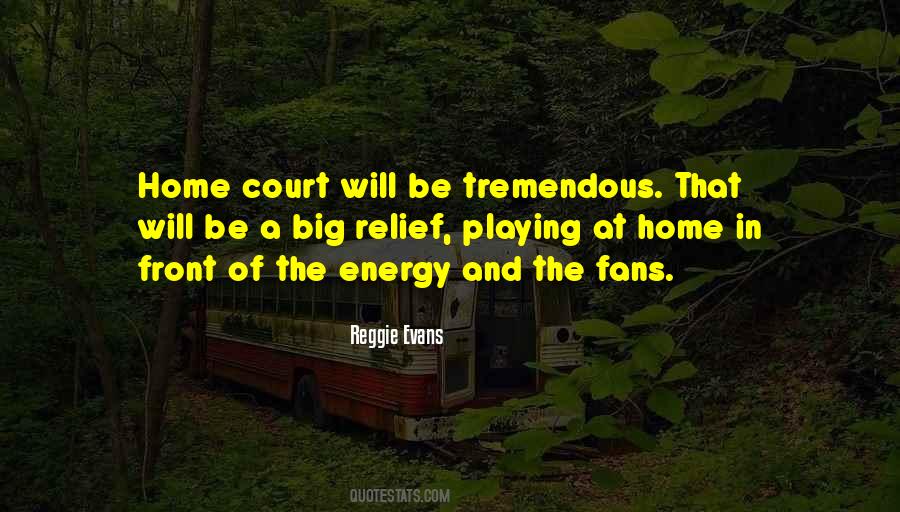 #76. But it doesn't mean anything without someone beside him. It's not a game if he's the only one playing. - Author: David Levithan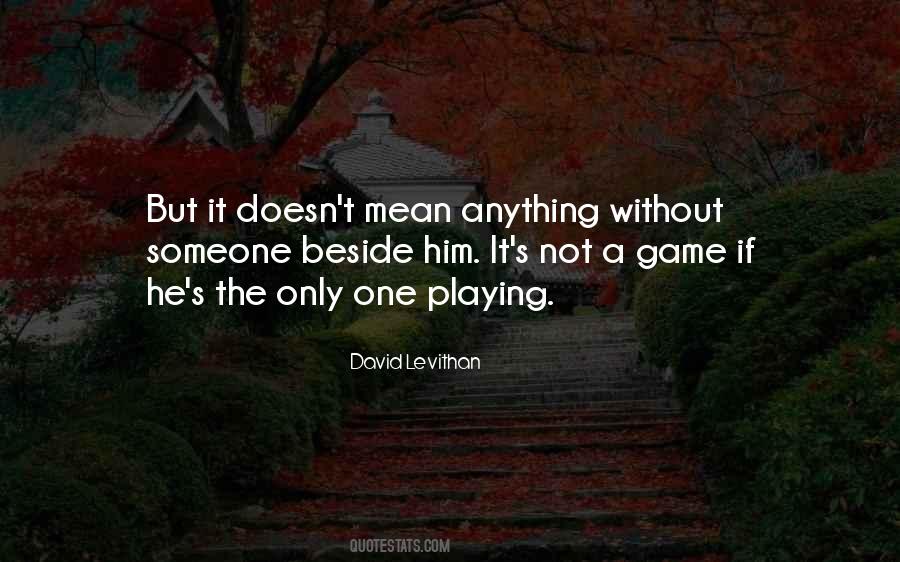 #77. Like an actor who transforms into the character that they're playing, you can transform into yourself. - Author: Leeza Gibbons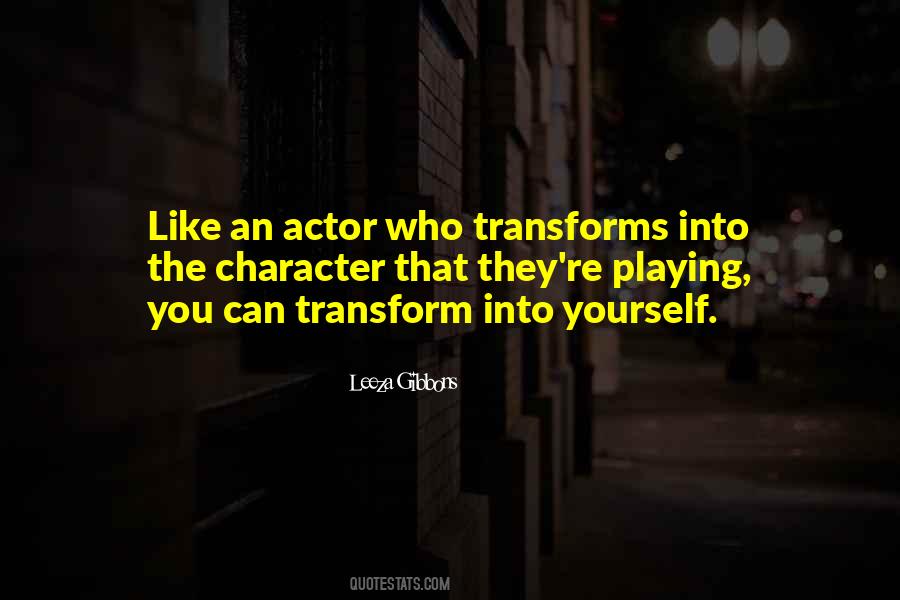 #78. On the field, blacks have been able to be super giants. But, once our playing days are over, this is the end of it and we go back to the back of the bus again. - Author: Hank Aaron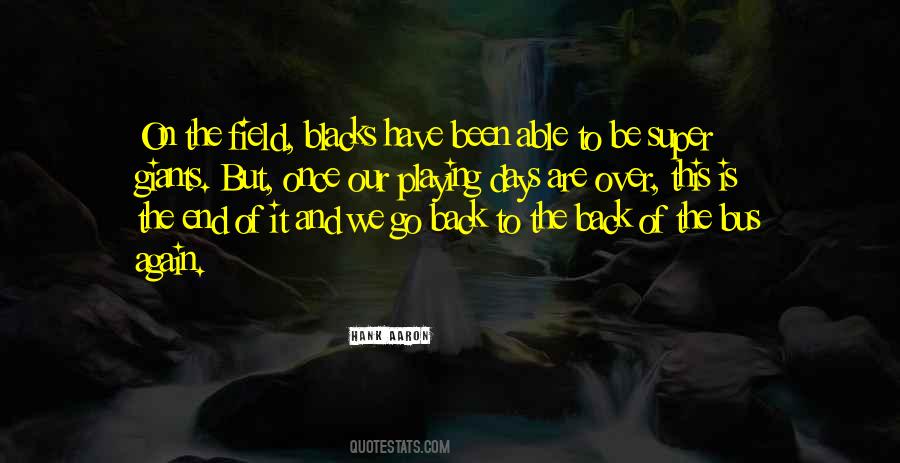 #79. He had a passion for cricket right from his childhood and liked nothing else but playing with the bat and the ball. I wanted him to study hard and get into a government service. But, he wanted to do something in cricket and earn a name for himself. - Author: Bill Vaughan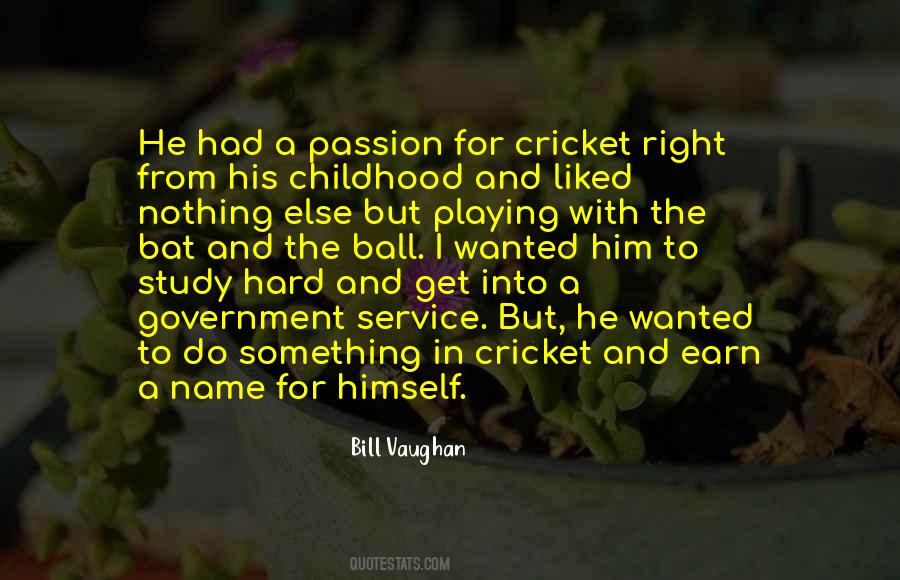 #80. I watched him playing with the long blades of grass, weaving them into patterns as he hummed an unfamiliar song, a waltz.
"What are you doing?" I asked him.
"I'm letting you get used to the idea of me," he said idly. "I'm pretending to be harmless. Is it working?"
"Until you smile," ( ... ) - Author: Delilah S. Dawson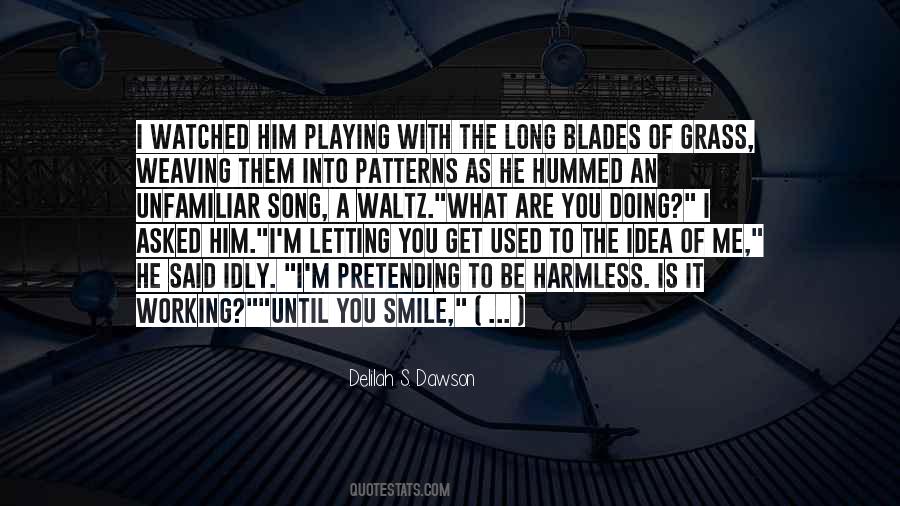 #81. What I am doing is not acting. I am playing myself. - Author: Charlotte Rampling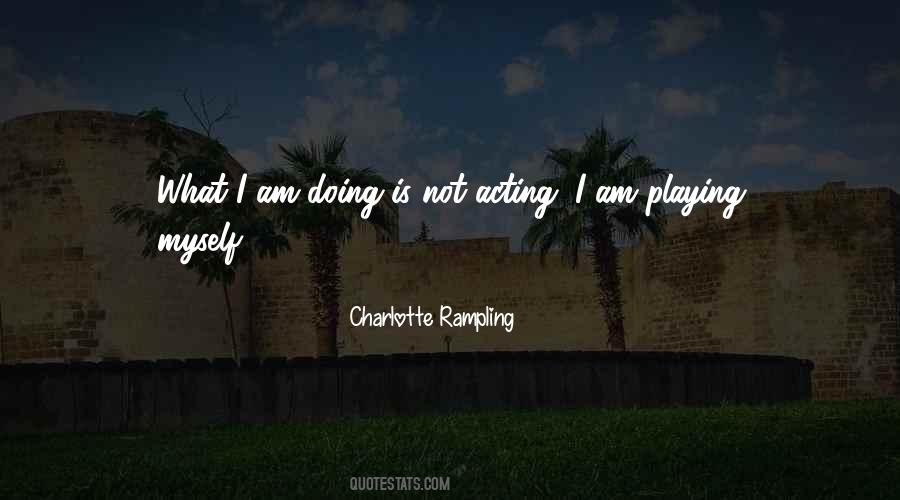 #82. Playing with fire Kitten? - Author: Jeaniene Frost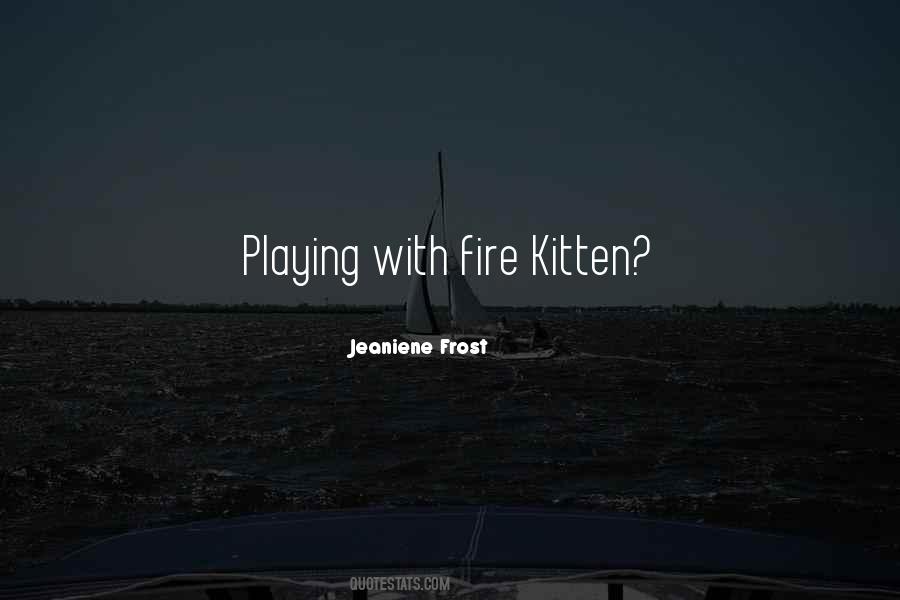 #83. Playing my drums is therapy. - Author: Travis Barker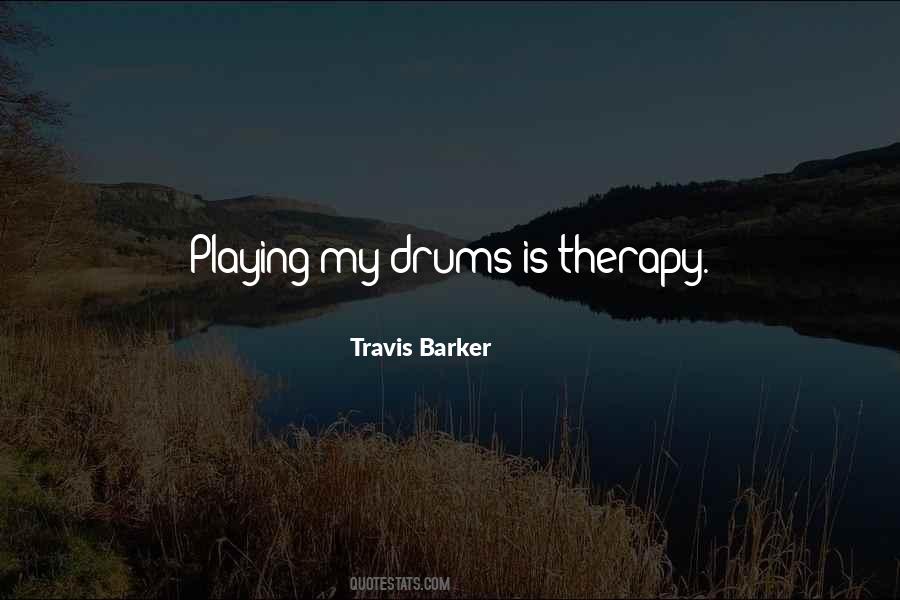 #84. I worked hard at that through most of the '80s, and in 1990 my house burned in New Hampshire, and my studios and my offices. I had to decide at what level to rebuild, and I decided that I was going to stop trying to be all things to all people, and just go back to playing the guitar. - Author: Tom Rush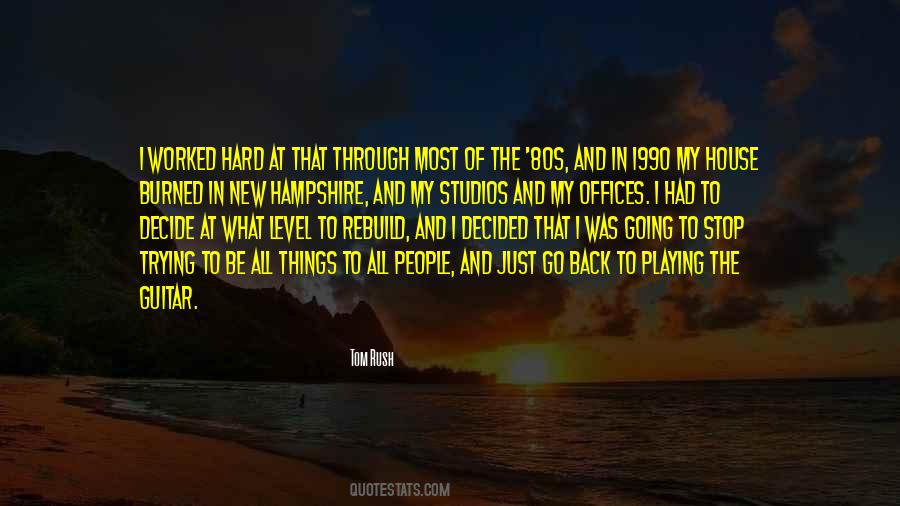 #85. I like writing songs. I like the camarderie of the and. I like touring. I love playing bass. And then there's free beer. - Author: Keanu Reeves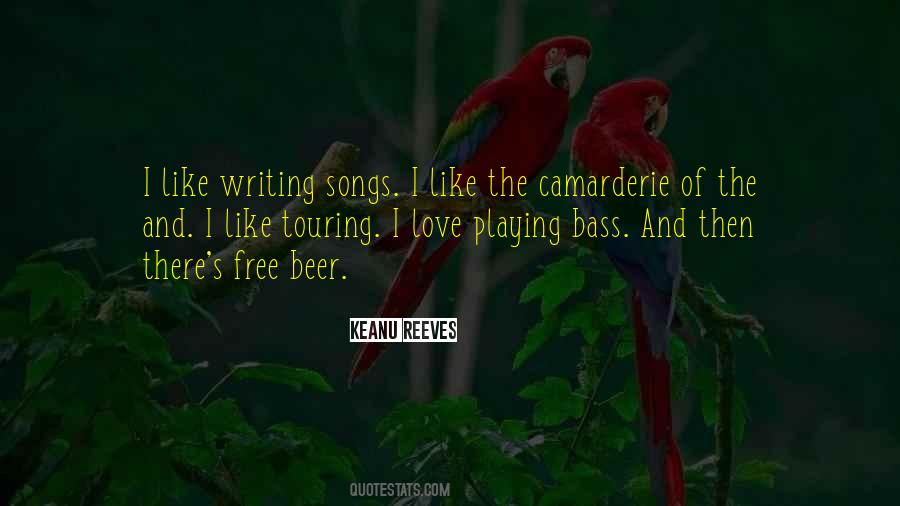 #86. If you begin to think you are solely responsible for keeping your loved one alive and safe, you will eventually find yourself playing God. This phase can develop into an unhealthy, codependent relationship. - Author: Gail Sheehy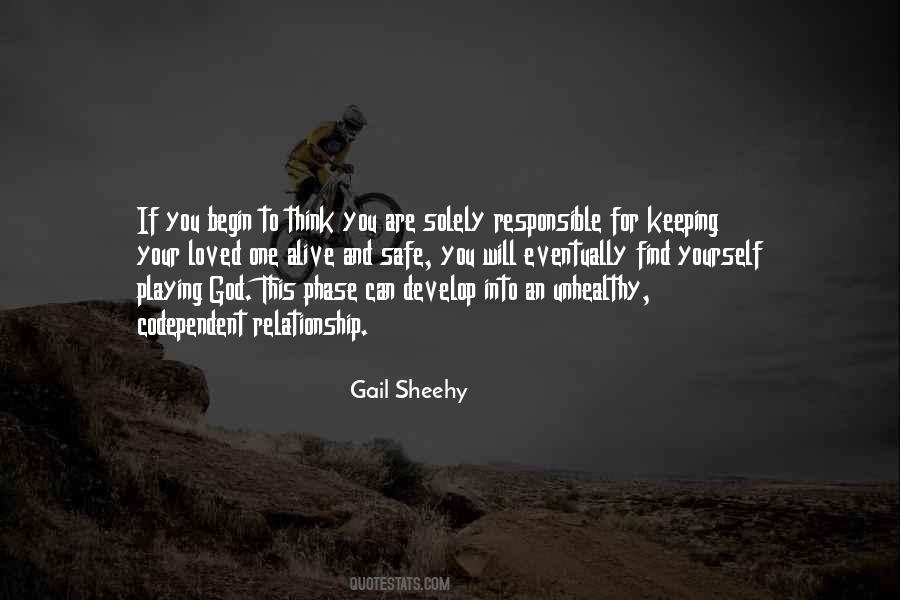 #87. Imagine yourself sitting on top of a great thoroughbred horse. You sit up there and you just feel that power. That's what it was like playing quarterback on that team [the Pittsburgh Steelers]. It was a great ride. - Author: Terry Bradshaw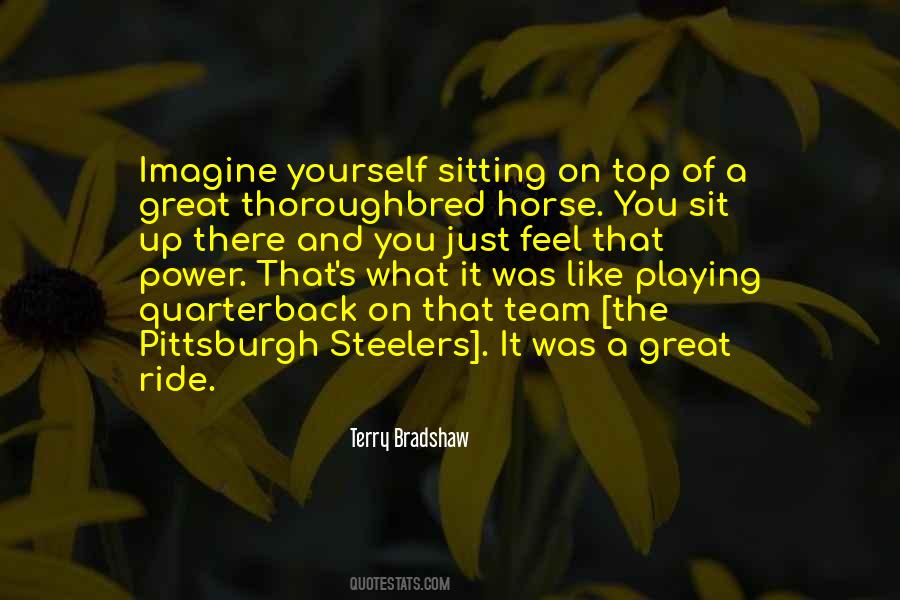 #88. I've just always loved really good projects. The things that draw me into a new project have very little to do with genre and have more to do with the characters I'll be playing, the people I'll get to work with and things like that. - Author: Jewel Staite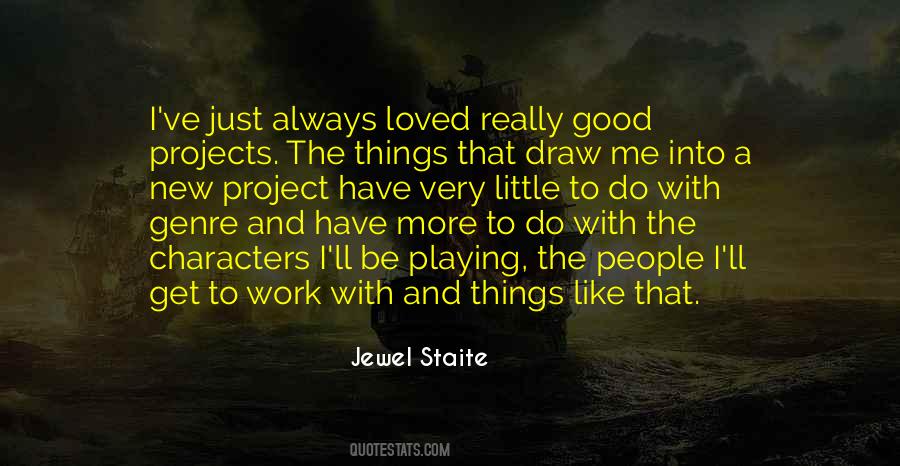 #89. New England has two factors to get them ready to play. They've consistently been, if not the best, the second best team all year and they're playing confidently. And a lot of those guys were on field when they lost to LA. They'll take motivation in that. - Author: Landon Donovan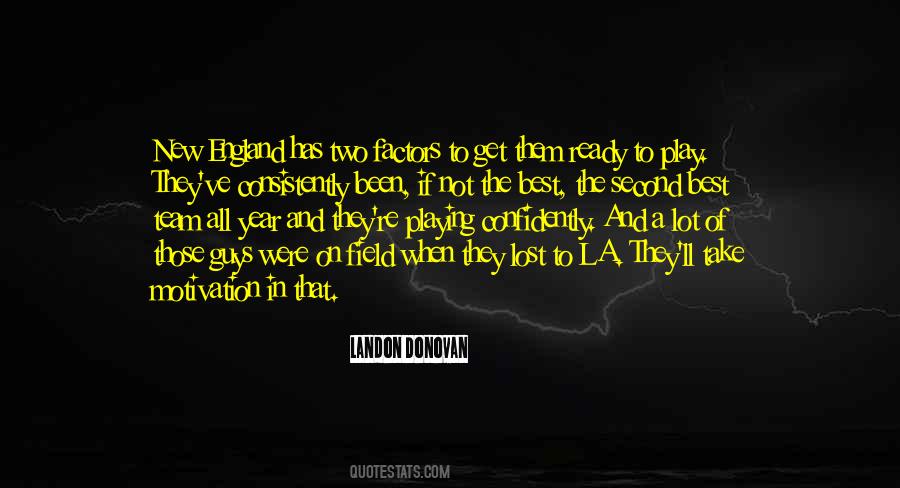 #90. I even found it difficult to watch myself playing on TV because I couldn't identify with the person on the screen. I couldn't get to grips with it. It was as if it was all happening to someone else. - Author: George Best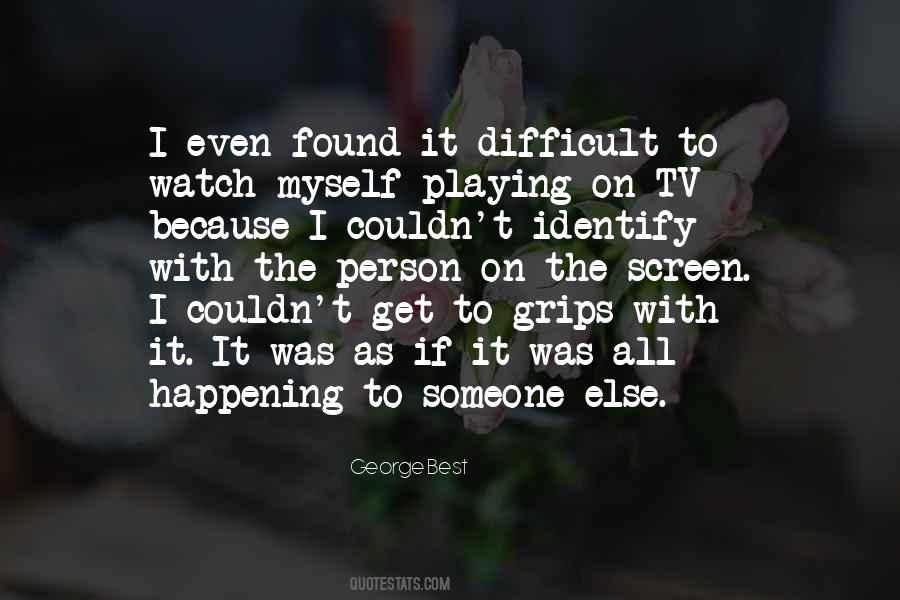 #91. My eyes locked on his and I seemed to get caught in his gaze. We didn't speak, I just looked at his handsome face and memorized every inch of it. The music playing in the background, the stars shining down on us, the solitude, all of it was perfect and almost magical. - Author: Kirsty Moseley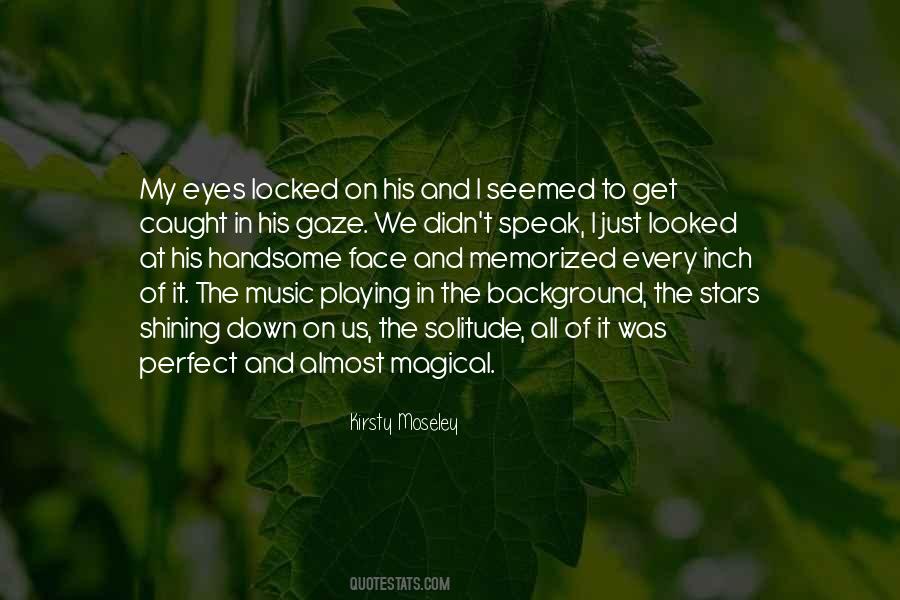 #92. Do not be disingenuous with me, Colonel Graff. Americans are quite apt at playing stupid when they choose to, but I am not to be deceived. - Author: Orson Scott Card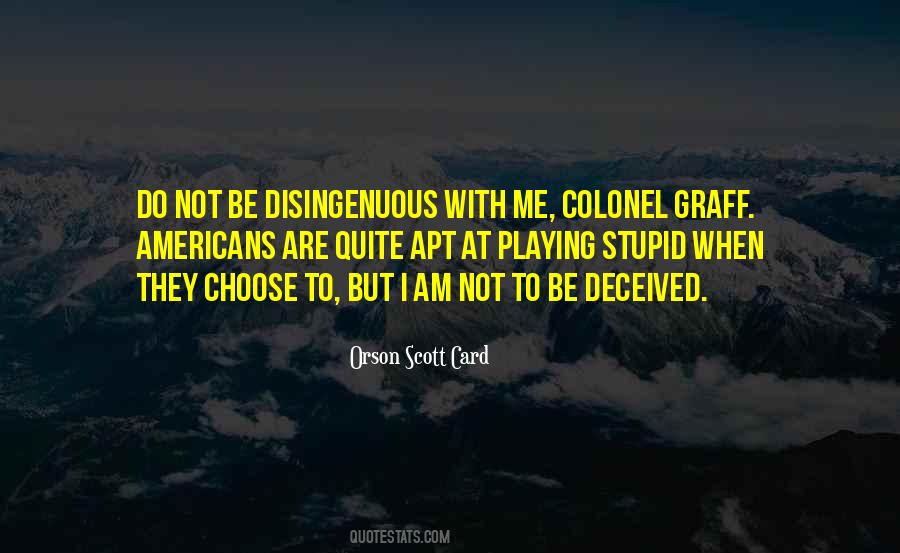 #93. I can't divorce myself from my childhood. I try to write as much fiction as I possibly can, but there are so many things that are touchstones of my childhood like being on the swim team and playing soccer and the particularities of sports season and environments that make their way into my books. - Author: Jeff Kinney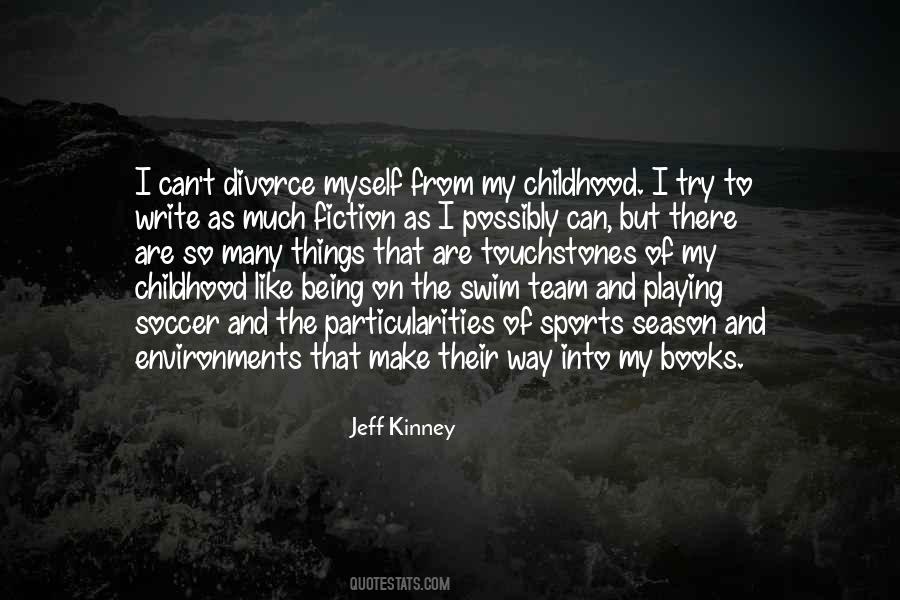 #94. Enjoy the movie. I hear the guy gets the girl" I said, my tone bold and flirtatious.
"Which guy?" She laughed, playing along. I could hear her smile through the phone. It felt good to make her smile. Really good.
I paused before answering, "The one who deserves her. - Author: Melissa Brown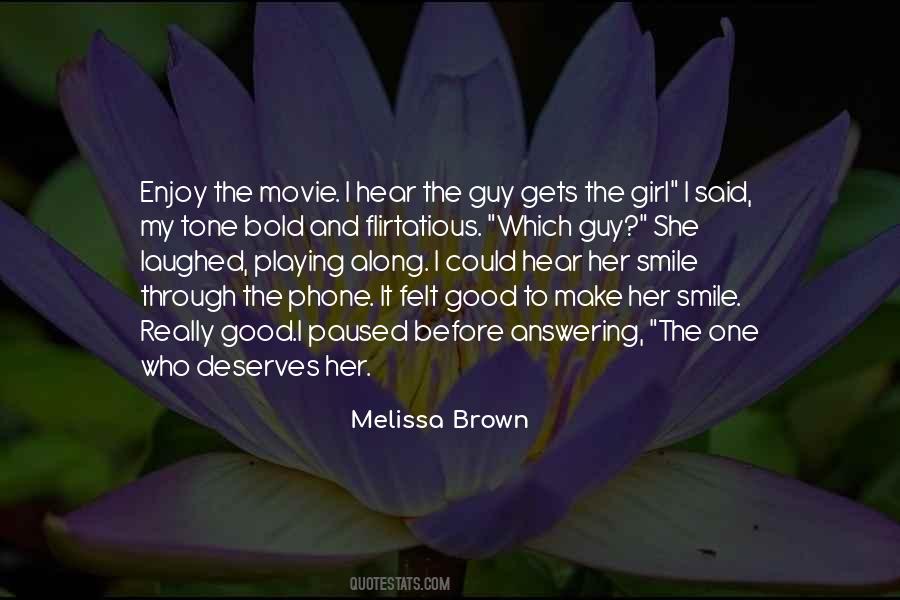 #95. I'm not interested at all in playing more than 12, 15 tournaments a year on an annual basis because like all the old guys out here on this Tour, we've played golf for nearly 30 years of our lives. - Author: Greg Norman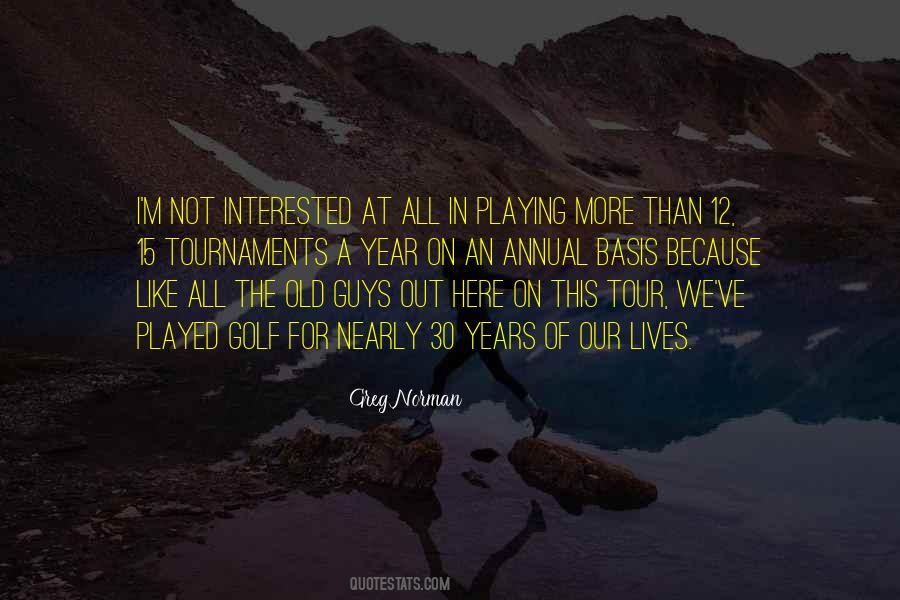 #96. At one point, I was seriously considering playing Huck Finn in a production in Northern Maine in the dead of winter. - Author: David Walton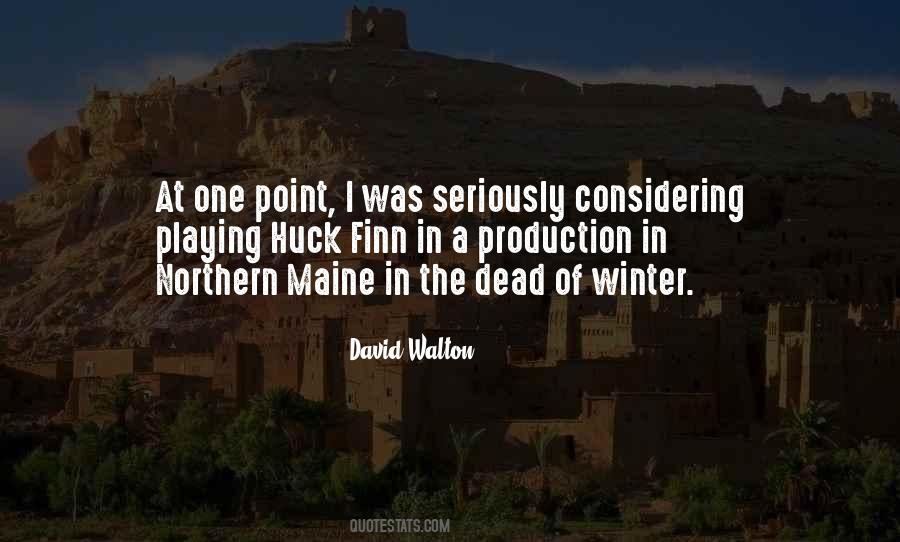 #97. Playing a concerto with Zubin is like being surrounded by a well-loved, cashmere-lined silk glove. - Author: Isaac Stern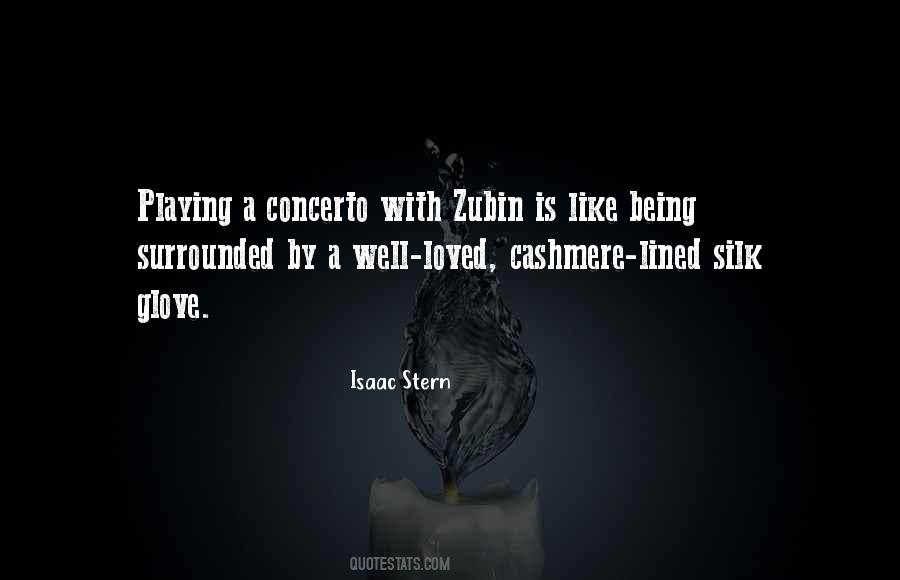 #98. Age isn't a barrier to playing the bass, and I've definitely improved over the years, although maybe I'm not as flash as I once was. But looking back, I can't imagine a life without a guitar. - Author: Suzi Quatro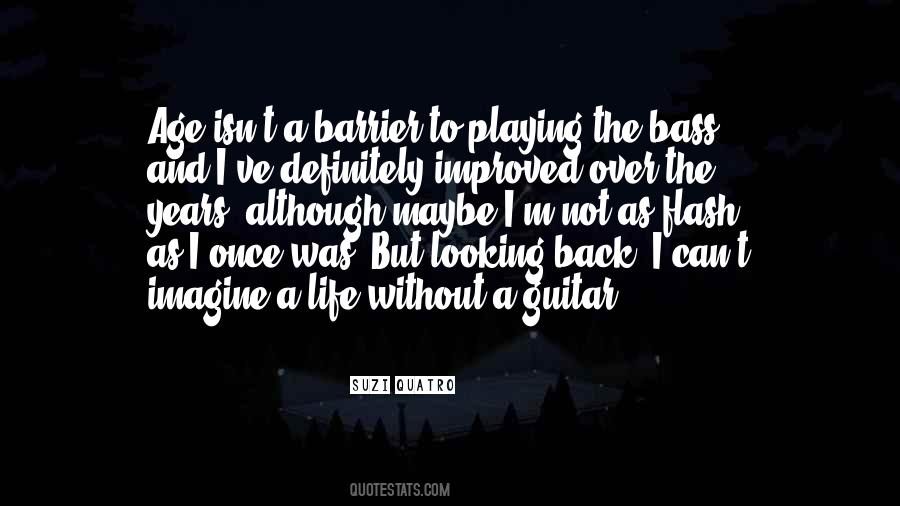 #99. If you've been playing poker for half an hour and you still don't know who the patsy is, you're the patsy. - Author: Warren Buffett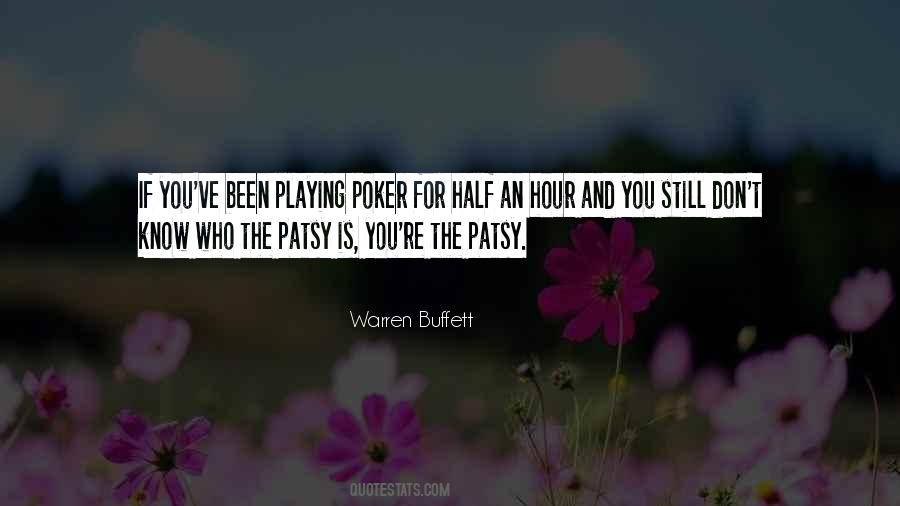 #100. Whether we're stuffing our faces with Kogi tacos or playing a pickup game of football outside the stages, there's never a shortage of fun behind the scenes on 'Murder In The First.' - Author: Ian Anthony Dale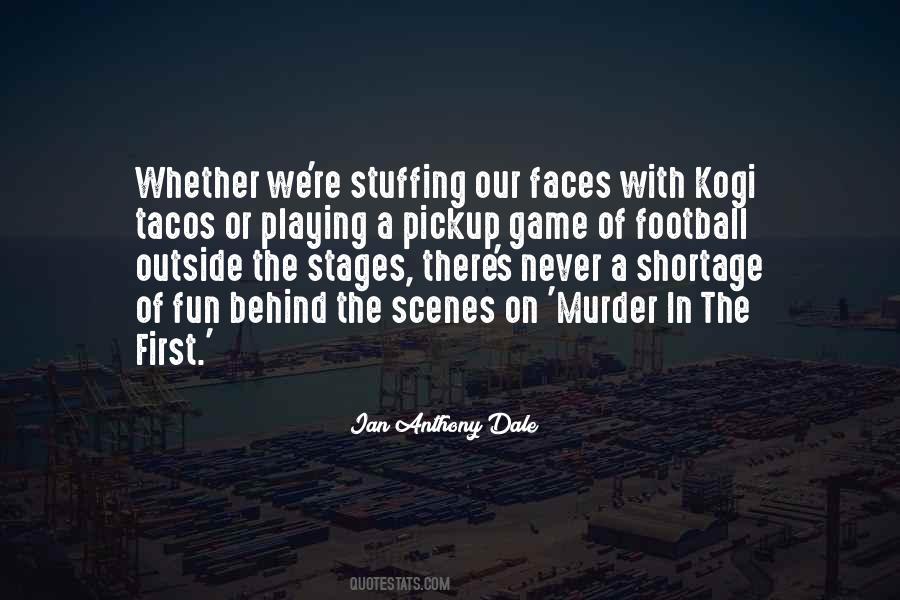 Famous Authors
Popular Topics