Pictures And Words Famous Quotes & Sayings
List of top 100 famous quotes and sayings about pictures and words to read and share with friends on your Facebook, Twitter, blogs.
Top 100 Quotes About Pictures And Words
#1. The importance of reading, for me, is that it allows you to dream.
Reading not only educates, but is relaxing and allows you to feed your imagination - creating beautiful pictures from carefully chosen words. - Author: Eric Ripert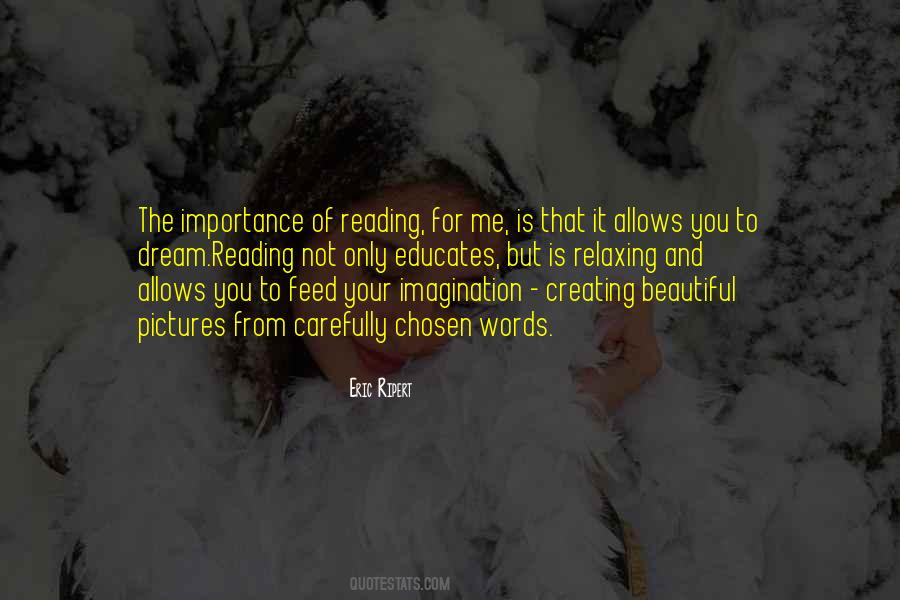 #2. The sky was like ebony and the only illumination was the harsh white light of the central streetlamp, which cast shadows so hard it seemed you might cut yourself on them. - Author: Jasper Fforde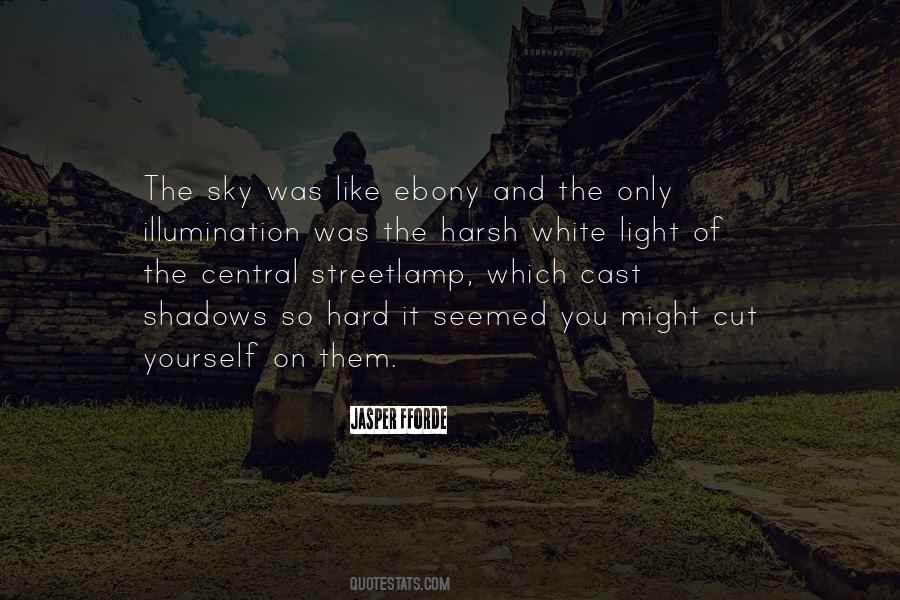 #3. When I am in the process of conceiving a story, I make sure it can be told with words and pictures. The story has to be creative, original and interesting in both areas. Many stories get rejected because they feel derivative. - Author: Nicholas Sparks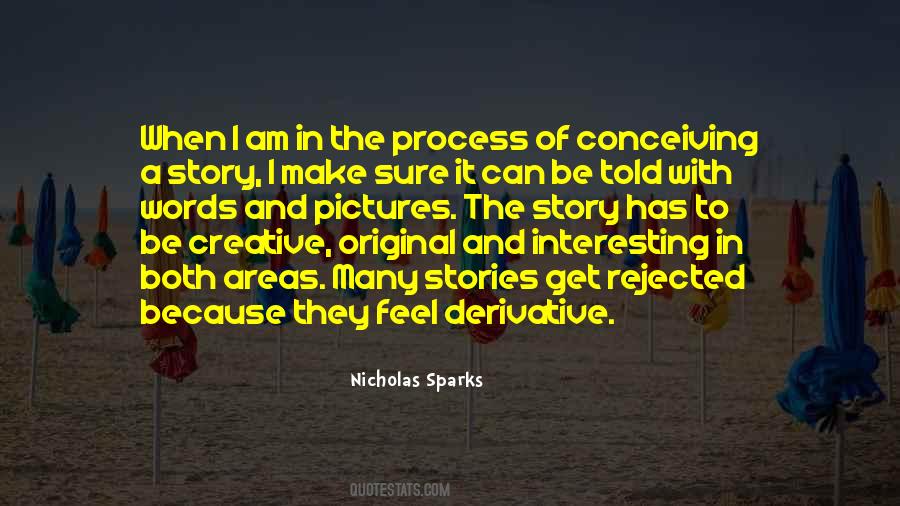 #4. Because even very young people are expert readers of pictures, you can convey very complex and subtle messages through pictures that you'd need loads of words to explain. Making a picture book is also a bit like making your own film - and you can make anything you want happen, however impossible! - Author: Mini Grey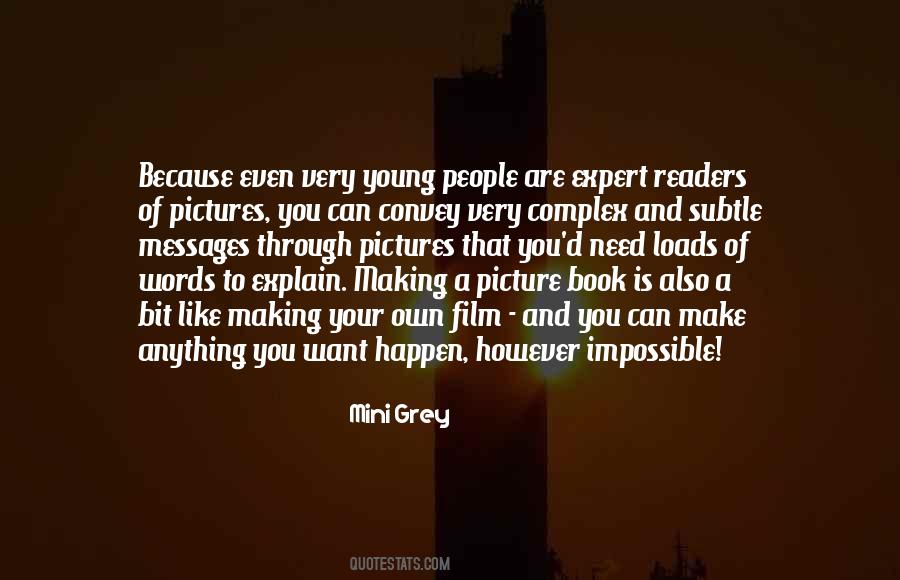 #5. Genuine courtesy is a creation, like pictures, like music. It is a harmonious blending of voice, gesture and movement, words and action, in which generosity of conduct is expressed. It reveals the man himself and has no ulterior purpose. - Author: Rabindranath Tagore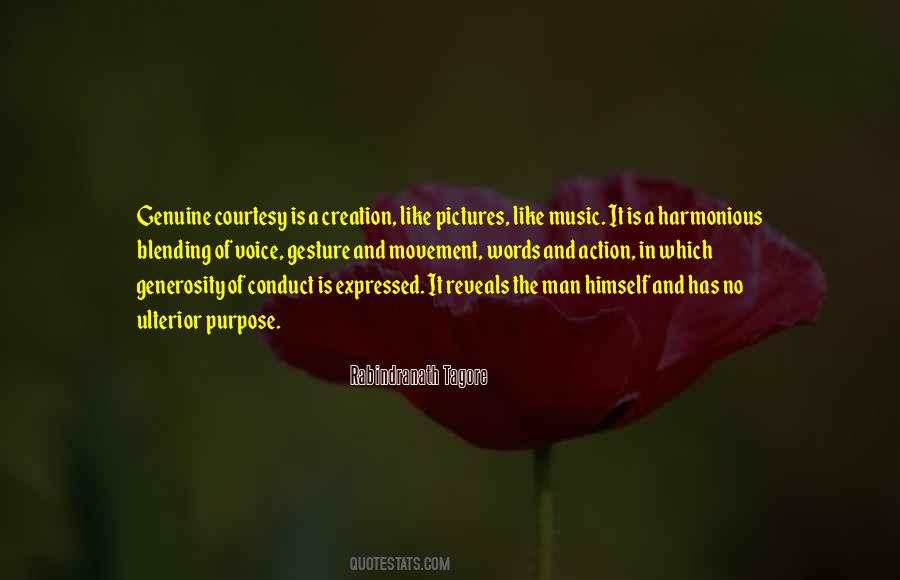 #6. I love the interplay between words and pictures. I love the fact that in comics, your pictures are acting like words, presenting themselves to be read. - Author: Gene Luen Yang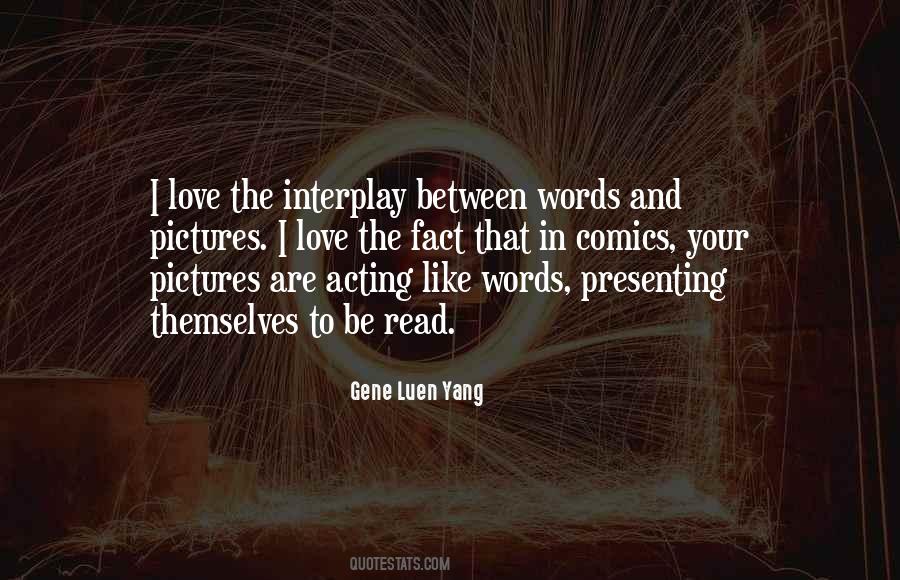 #7. Thinking in pictures is, therefore, only a very incomplete form of becoming conscious. In some way, too, it stands nearer to unconscious processes than does thinking in words, and it is unquestionably older than the latter both ontogenetically and phylogenetically. - Author: Sigmund Freud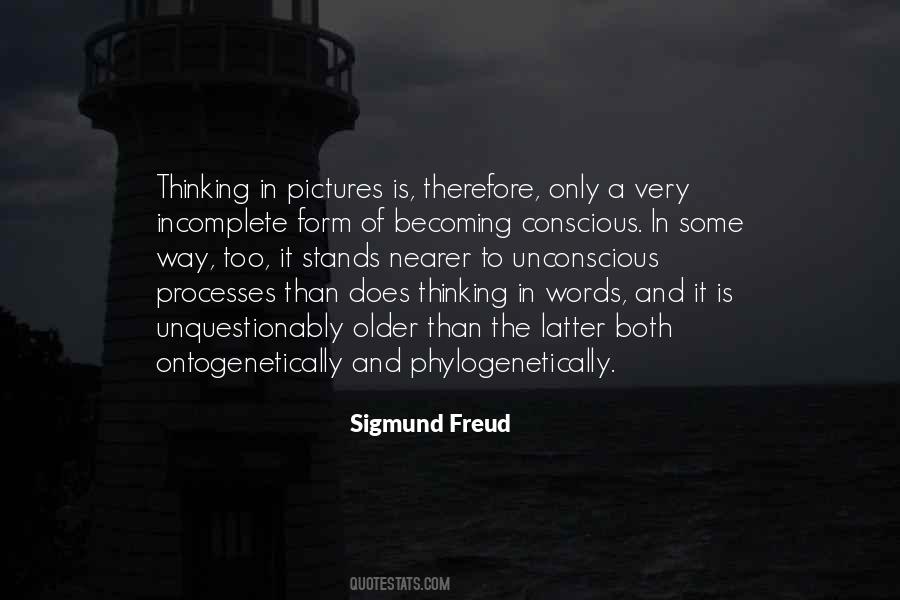 #8. Comic books, graphic novels, involve constant toggling and it's hard work. You get tired reading comic books, but you never get tired looking at pictures or reading words. - Author: Peter Schjeldahl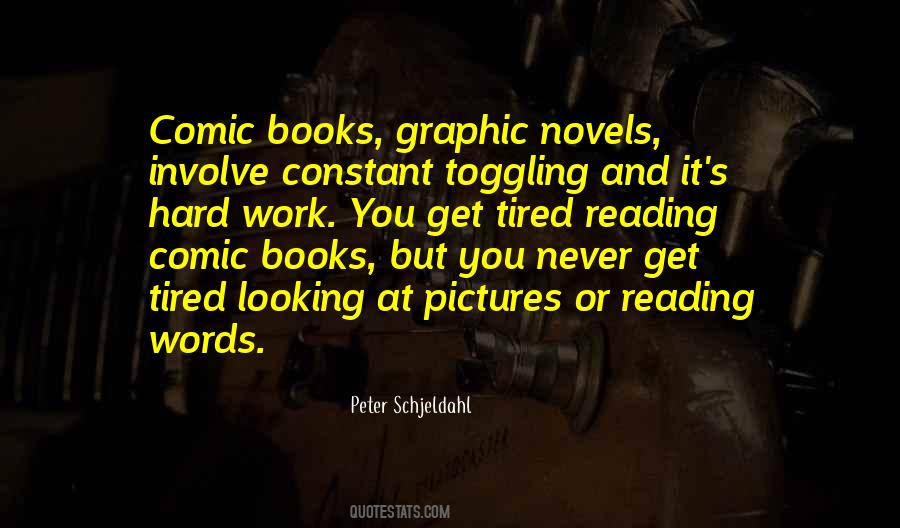 #9. Just give me a thousand words and you may make your own pictures. - Author: Erica Goros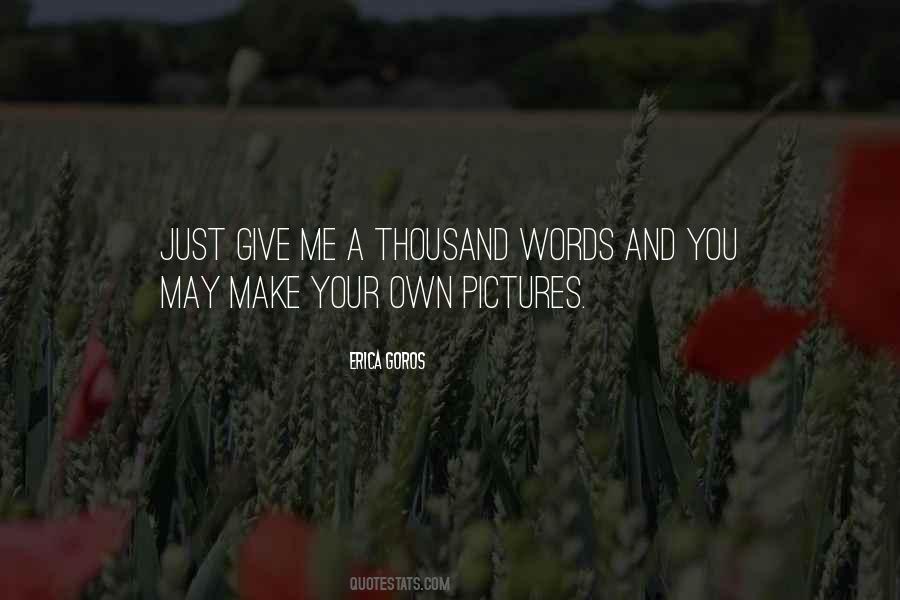 #10. For me, each book is kind of like a silent film. If you were to remove the words and just look at the pictures, you should be able to tell what the story is about without having to read a word of text. That's what I think I brought from doing artwork for film to doing artwork for books. - Author: Kadir Nelson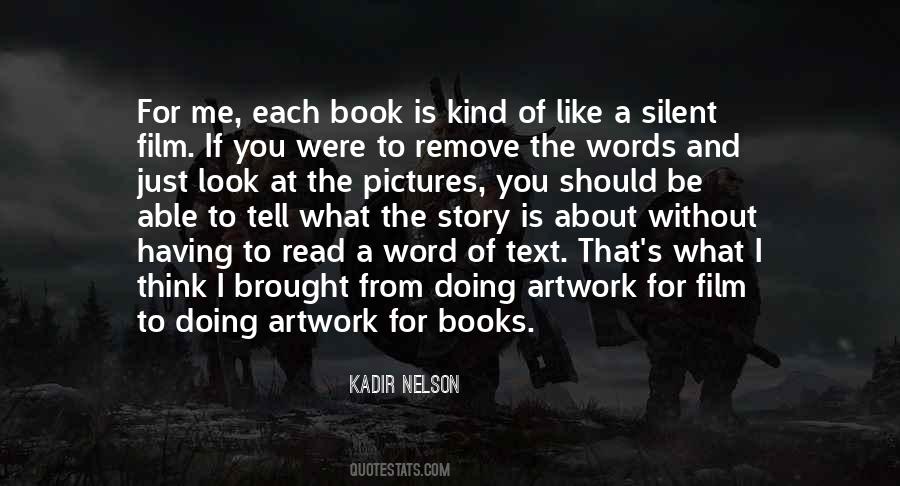 #11. You were alive for such a short time and then you went back into the great silence. The only ones who didn't vanish were the artists. While you were reading their words and looking at their pictures they were still alive, and you shared some of their life too. - Author: Kate Grenville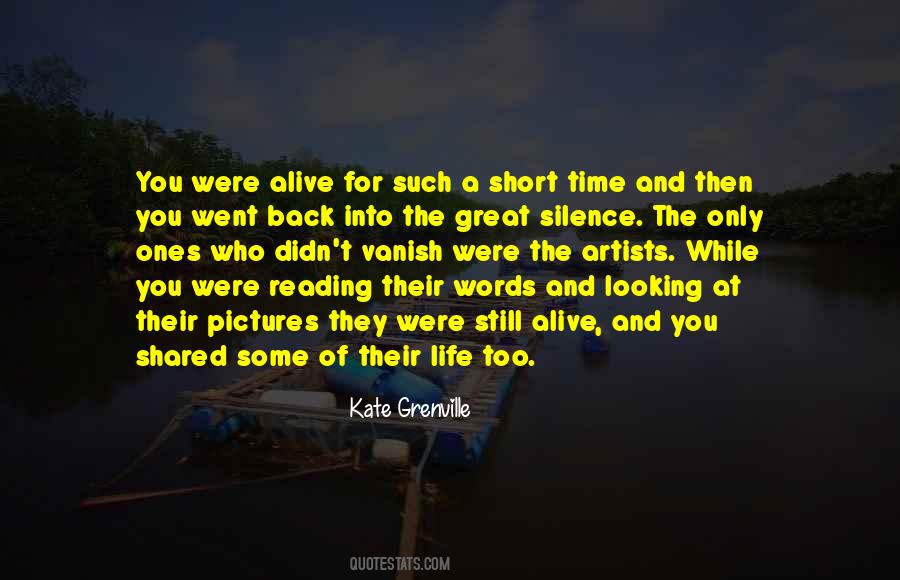 #12. The secret of all effective advertising is not the creation of new and tricky words and pictures, but one of putting familiar words and pictures into new relationships. - Author: Leo Burnett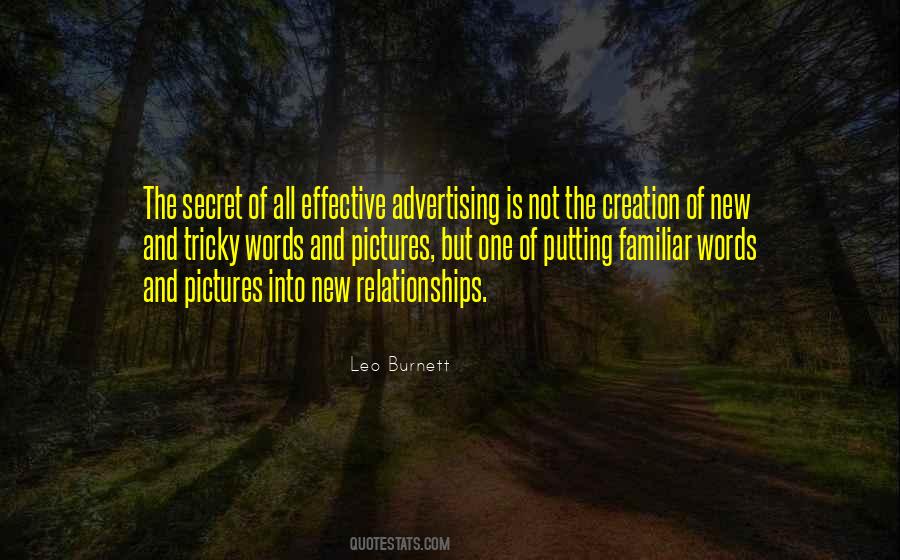 #13. I don't like pictures in books. I feel that the pictures diminish the words, and the words diminish the pictures, and it doesn't work. - Author: Paul Auster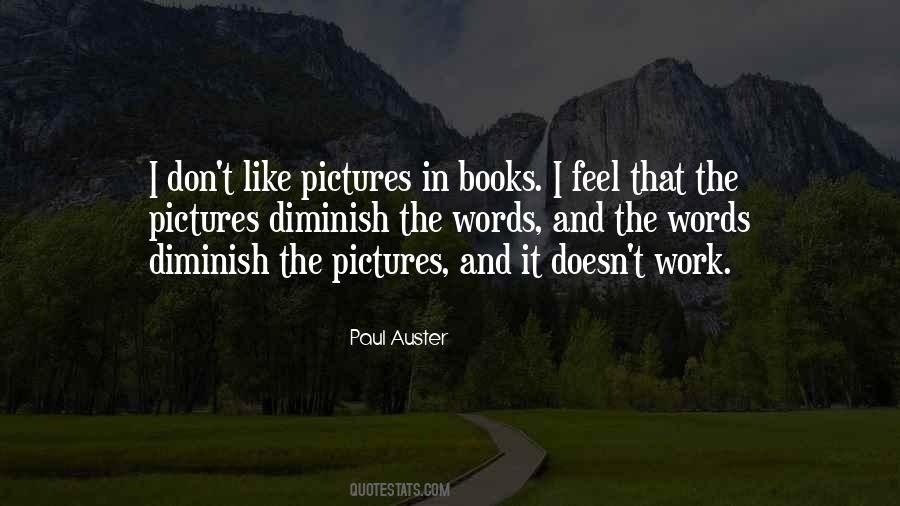 #14. Why would a novel - which is all about the inward processes of people's developing feelings and developing relationships - why would you be able to portray that in pictures with as few words as possible, which is what the best films are? - Author: Sebastian Faulks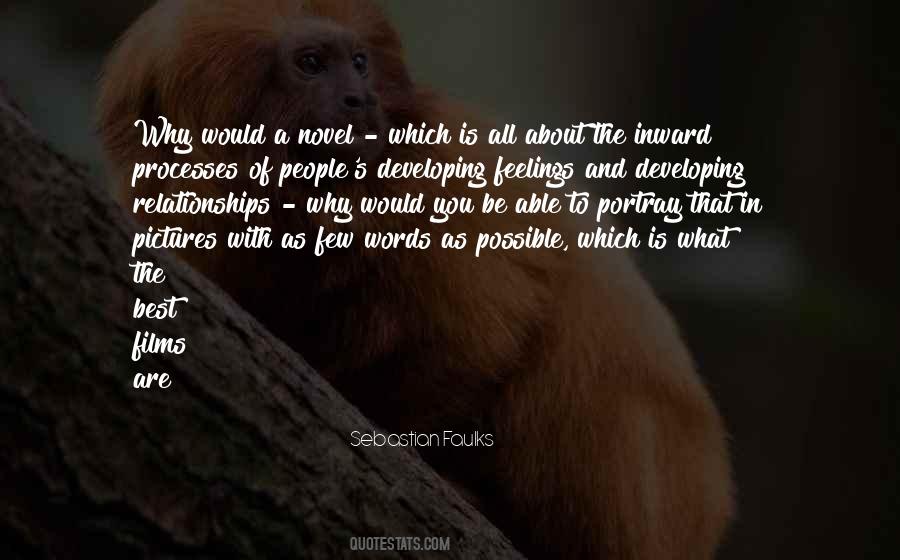 #15. I have long believed that celebrity, the way we worship and package and sell our pop stars, is what filled the need for gods that was once filled by the pictures in stained glass. Hollywood is post-Christian Venice - in other words, a pantheon of saints without the hassle and heartache of religion. - Author: Rich Cohen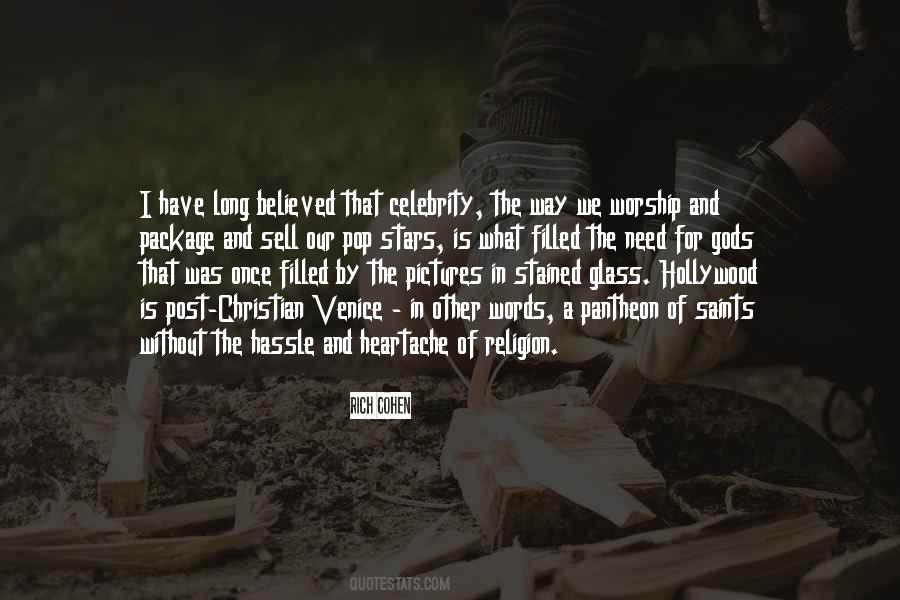 #16. Harmonious words render ordinary ideas acceptable; less ordinary, pleasant; novel and ingenious ones, delightful. As pictures and statues, and living beauty, too, show better by music-light, so is poetry irradiated, vivified, glorified', and raised into immortal life by harmony. - Author: Walter Savage Landor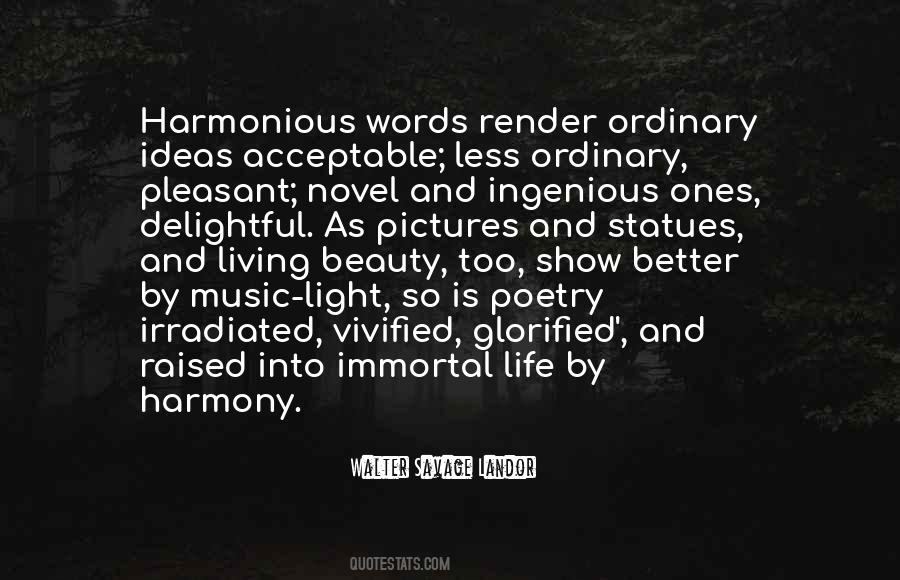 #17. Pictures rarely told the truth. They were like gold lacquer over Styrofoam, making things seem shiny and bright, disguising the fragility beneath. A picture may be worth a thousand words, but it still wasn't worth a whole hell of a lot. - Author: Amy Harmon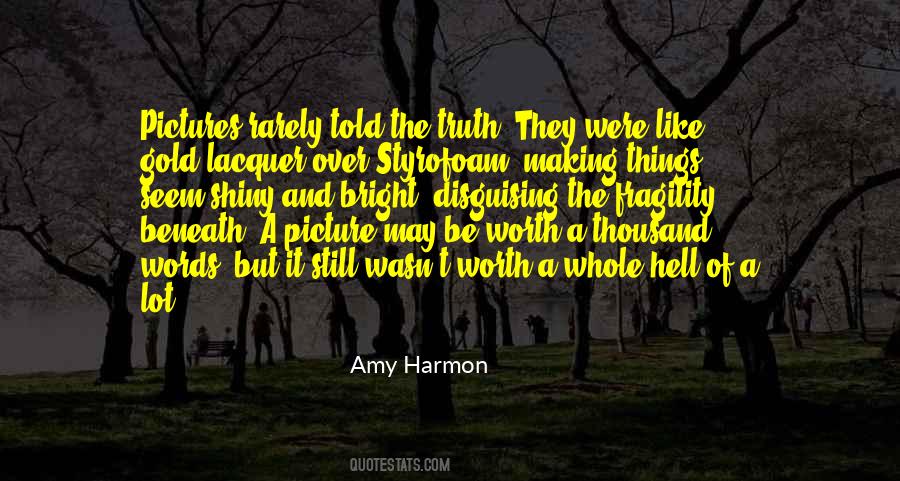 #18. News, after all, is a spin of words and pictures. It's a kind of music. There are beats in a newscast, a newspaper story. Ed Murrow sounded like Ed Murrow. Huntley and Brinkley sounded different. Anderson Cooper, different still. - Author: Robert Krulwich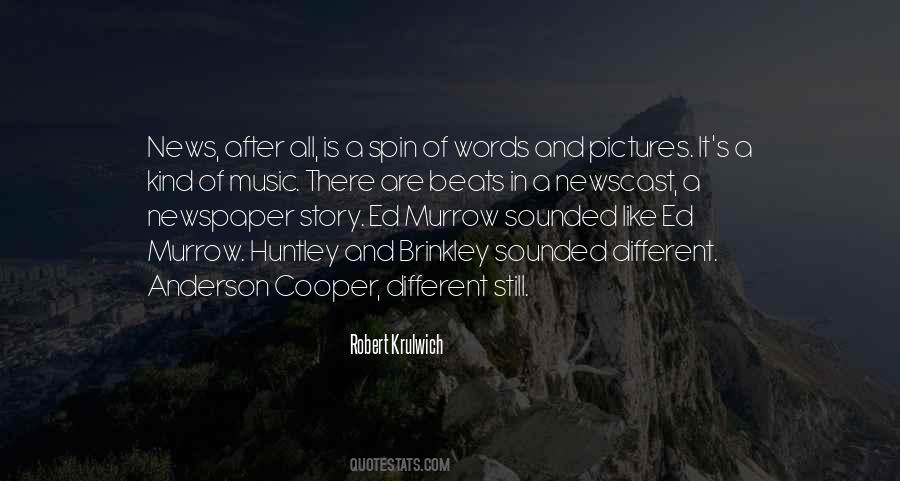 #19. The Words 2012, one world is ruin and one new world is build. One twisted pictures, one couple which loved each other... just their relationship dies... And another person just steal somebody's life and then he finds the truth... - Author: Deyth Banger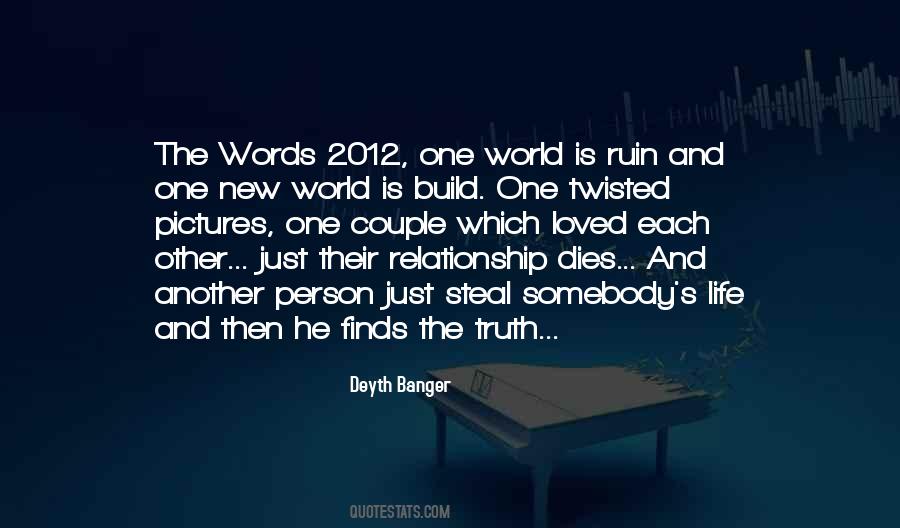 #20. My words aren't only words. They're pictures and tears and imperfect offerings of love and self-inflicted shots to my brain. - Author: Miriam Toews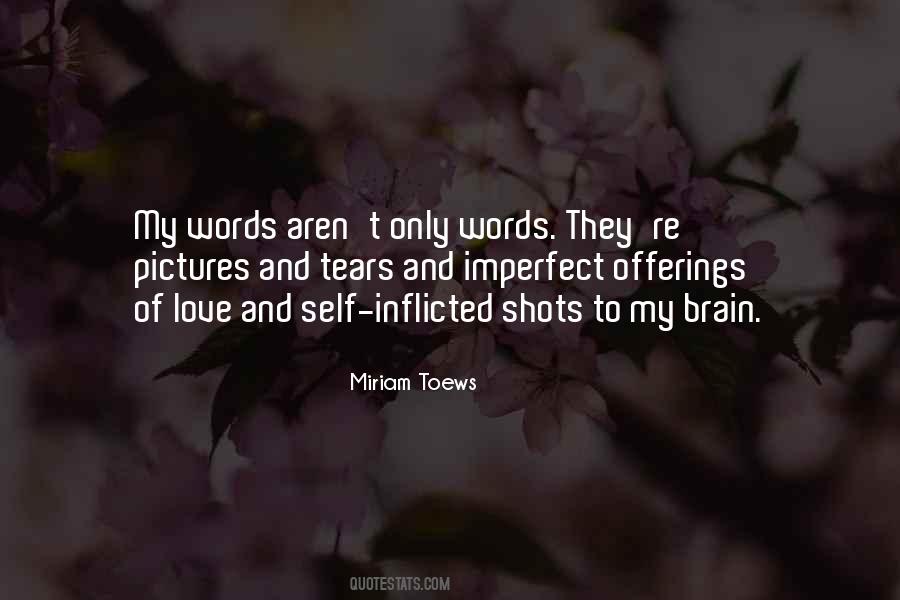 #21. Pictures and words don't hurt anyone, except for those who are afraid of history. - Author: Katherine Govier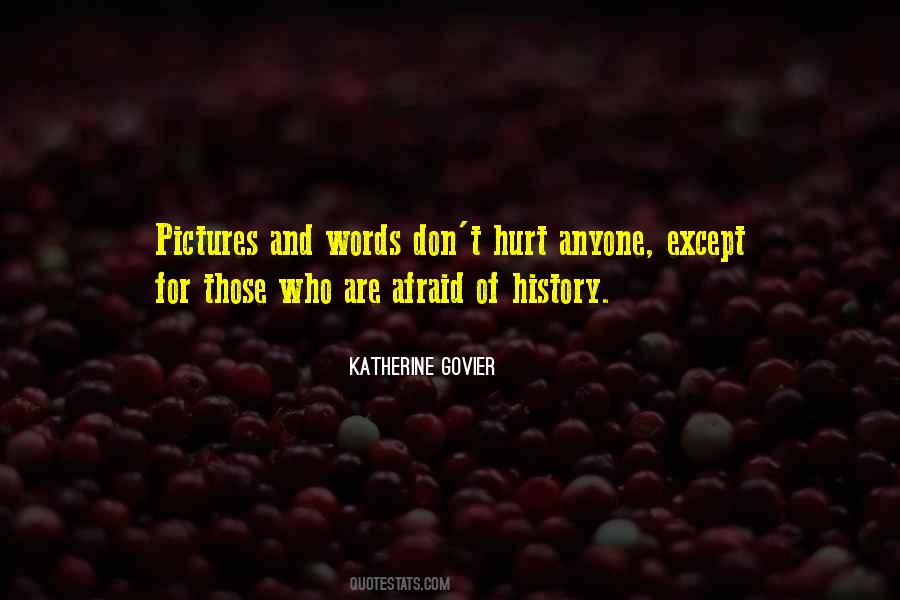 #22. As writers, we do our best to conjure a world so vivid that the reader can practically walk through it - but we're still only using words and relying on readers to do a lot of work of imagining. Providing pictures as well as words offers a whole new dimension to the experience of consuming a story. - Author: Sharon Shinn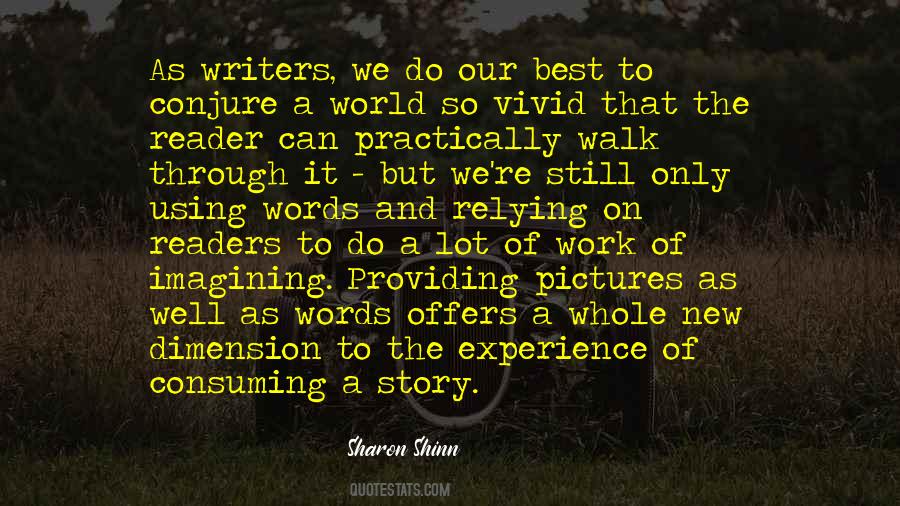 #23. Words and pictures are yin and yang. Married, they produce a progeny more interesting than either parent. - Author: Dr. Seuss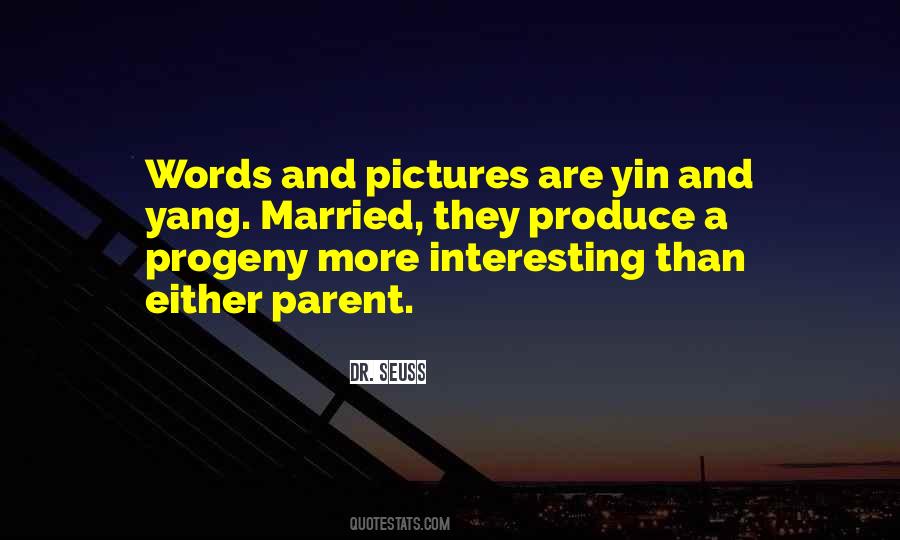 #24. Like all of my previous work - which I also hope is a bit hard to categorise - 'The Oopsatoreum' is an illustrated book, so a combination of words and pictures that tell a kind of story. - Author: Shaun Tan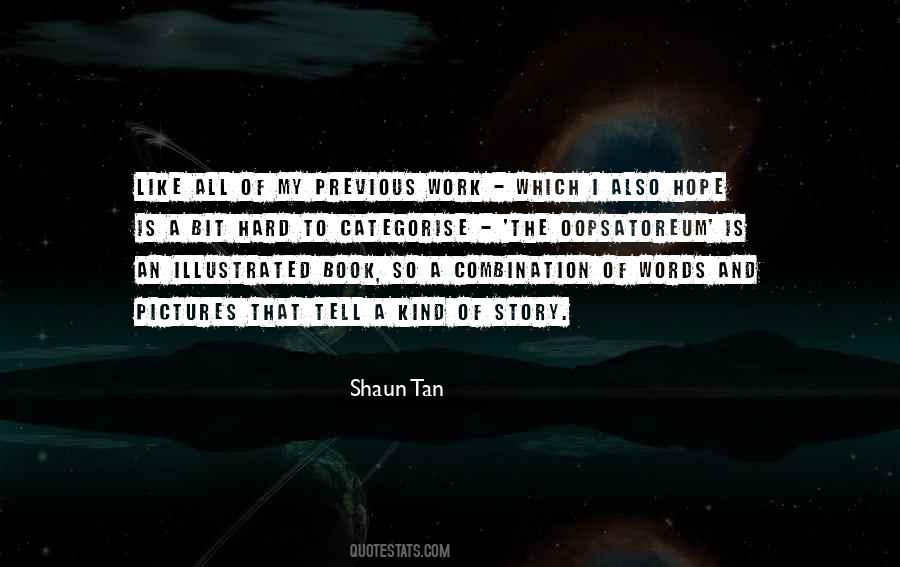 #25. Of all the languages that have existed upon the Earth, the Hebrew language is unique and extraordinary in its ability to paint vivid pictures with words that lodge within the heart conveying deep and profound Truth".

~R. Alan Woods [2012] - Author: R. Alan Woods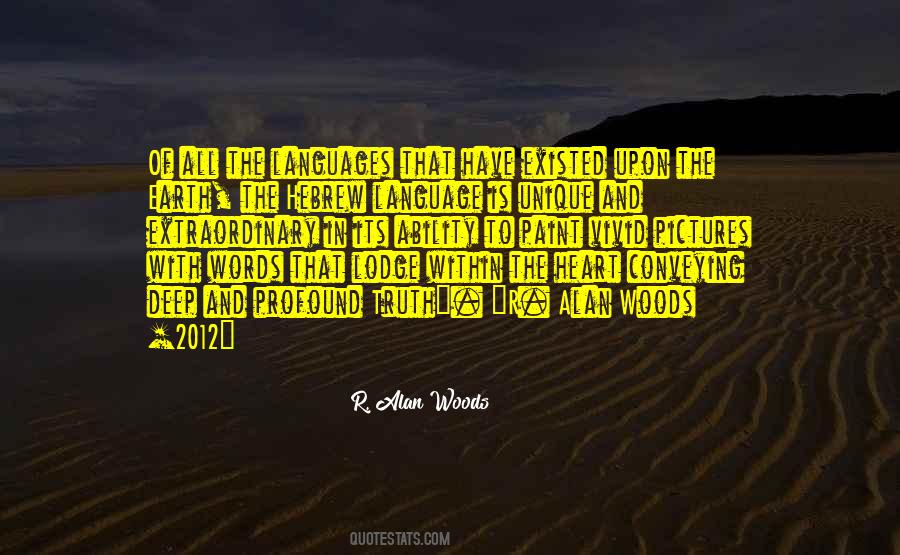 #26. This is something I learned when I was working at a newspaper: when you put something on paper, whether it's words or pictures, and it's staring back at the reader, they are now alone in the room with them for as long as it takes them to turn the page. Whereas on television, the images fly by. - Author: Brian Michael Bendis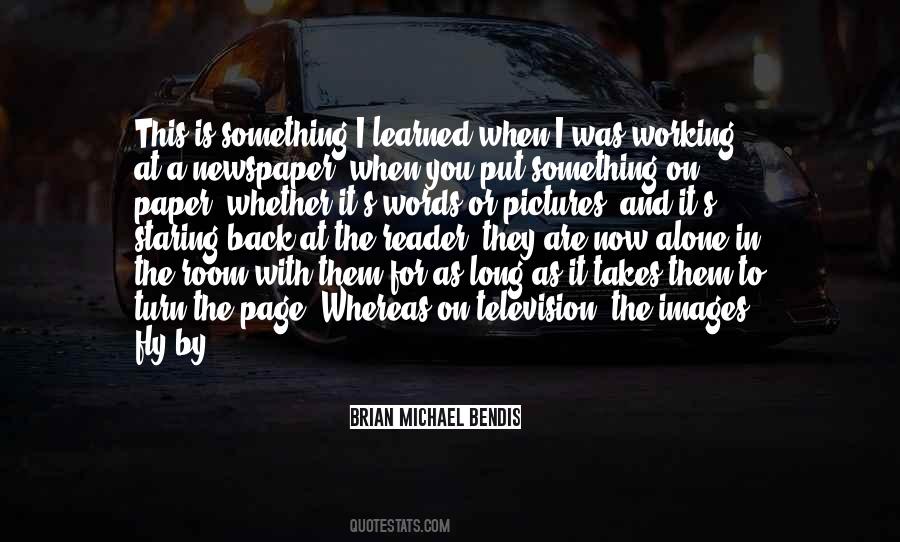 #27. My iPhone stays on. All my friends and family know that I hate the phone, so no one calls me on it. I just use it to play Words With Friends and take pictures of cute shoes. - Author: Jasika Nicole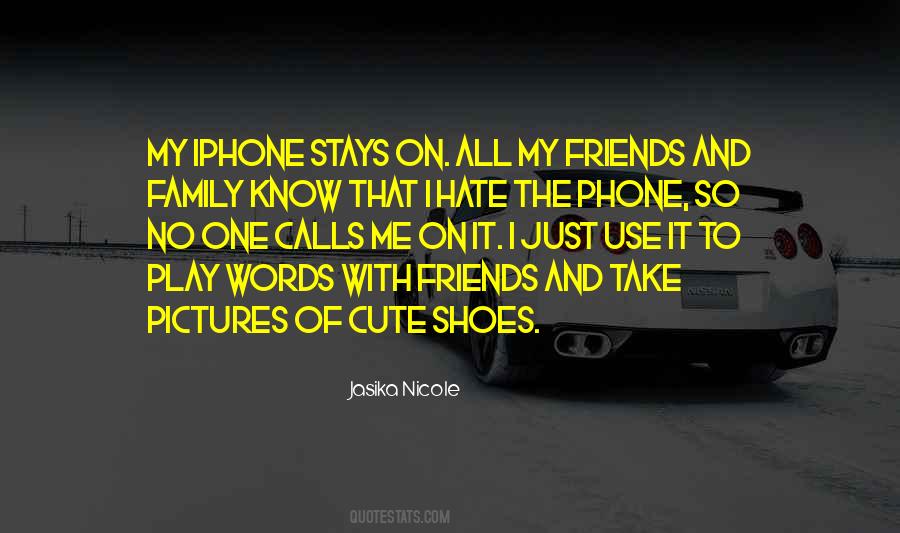 #28. A picture's worth a thousand words. But a single word can make you think of over a thousand pictures in your mind, over a thousand moments, a thousand memories. - Author: Rebecca McNutt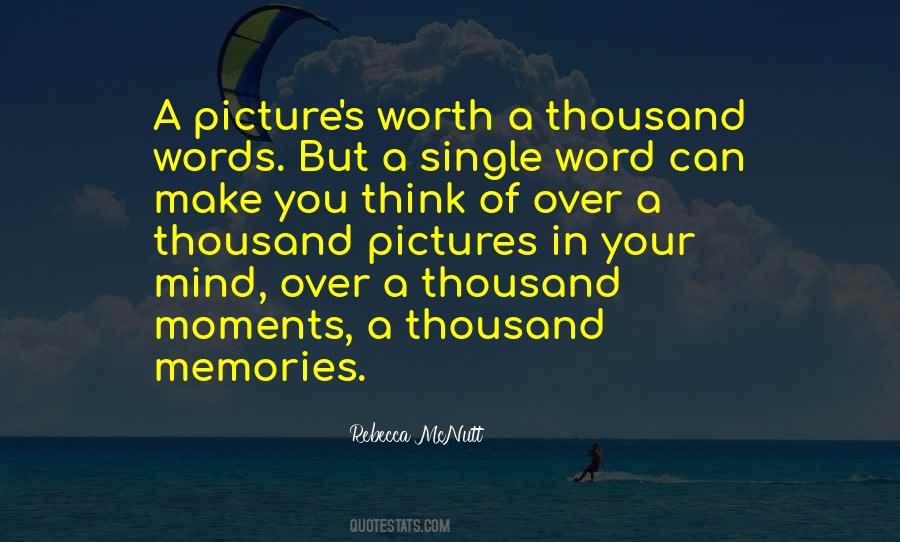 #29. I make books because I love them as objects; because I want to put the pictures and the words together, because I want to tell a story. - Author: Audrey Niffenegger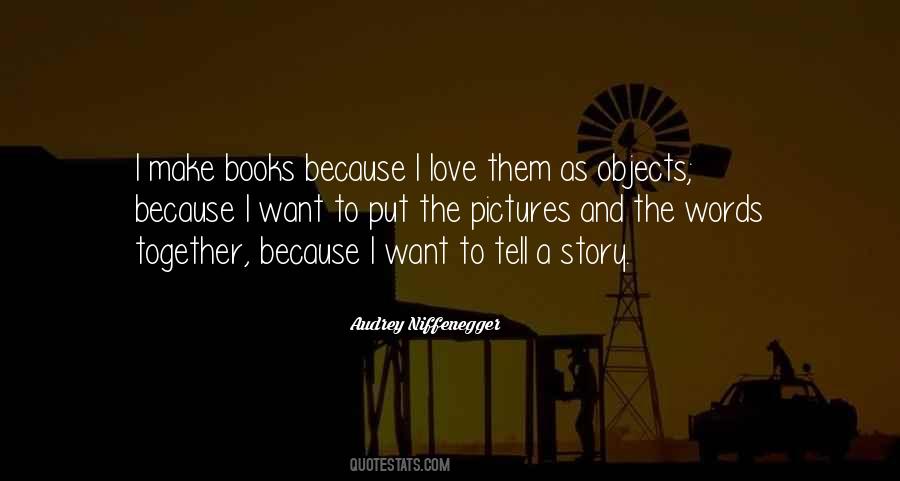 #30. According to Ruth, Nabokov changed the way she read and wrote: "He used words to paint pictures. Even today, when I read, I notice with pleasure when an author has chosen a particular word, a particular place, for the picture it will convey to the reader." Ruth remembers - Author: Ruth Bader Ginsburg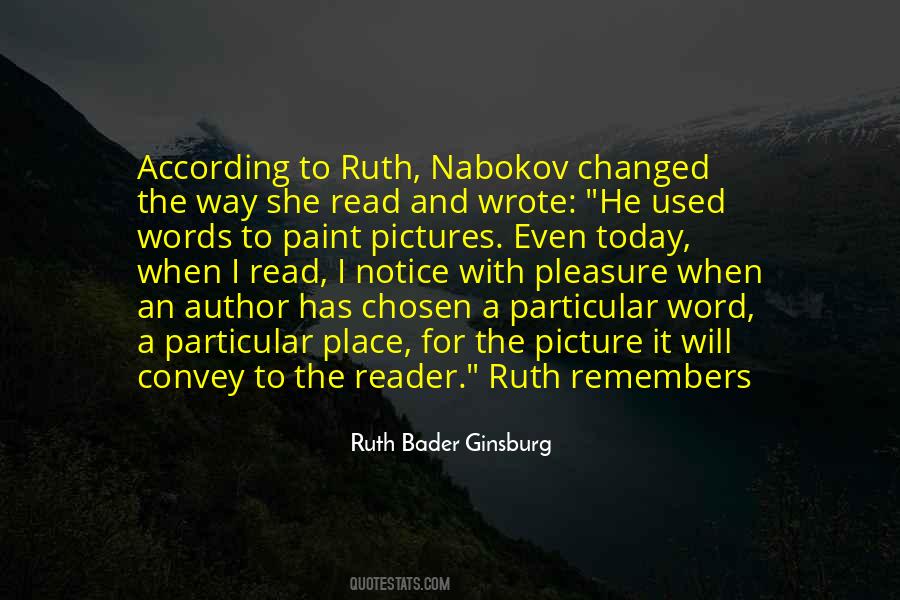 #31. It's very much a character-based play. Conor's writing is almost musical and paints pictures at the same time. It's a joy as an actor to be able to say the words. It's very conversational but at the same time, tells a story. - Author: Sean Mahon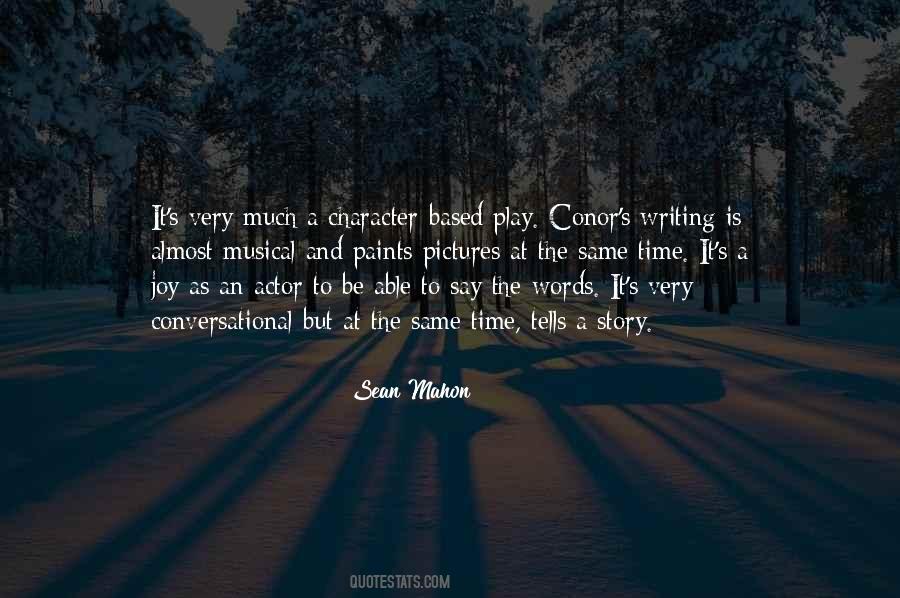 #32. The so-called language of Barbara Kruger is vernacular language. Obviously, I pick through bits and pieces of it and figure out to some degree how to objectify my experience of the world, using pictures and words that construct and contain me. - Author: Barbara Kruger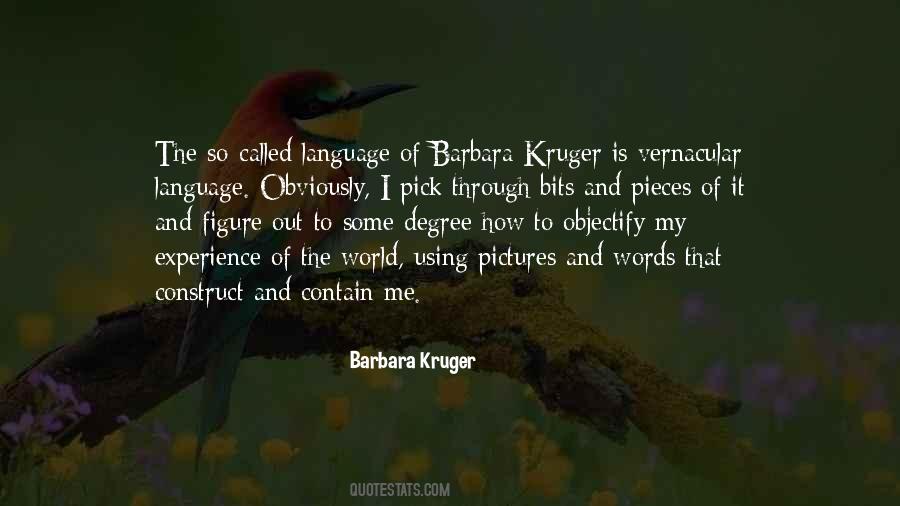 #33. Human behavior in the midst of hardship caught my attention very early on, and my first stories were all pictures, no words. - Author: Wally Lamb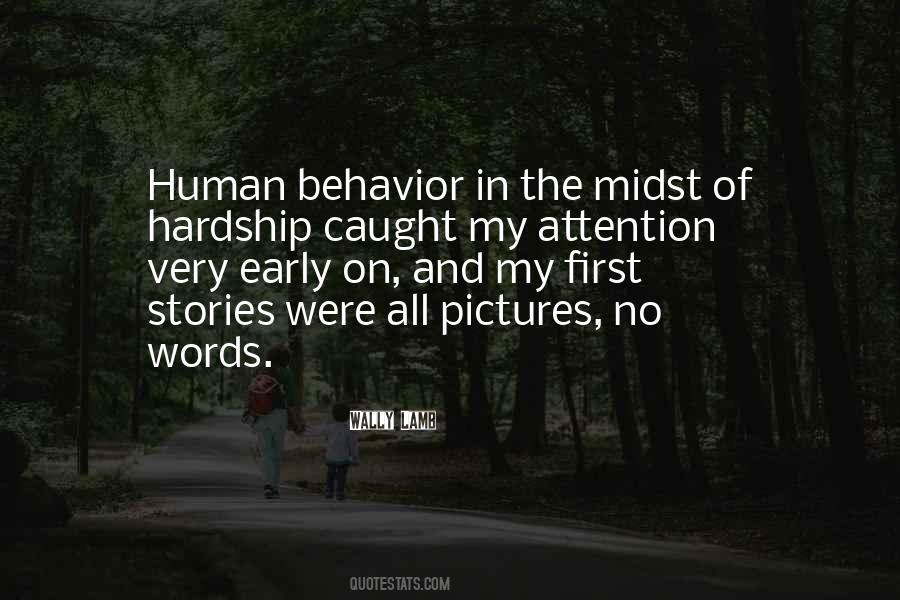 #34. When the simple word processors came in, writing became crisper, less dense - just because of the way we could instantly edit on the screen. Now the ability to mash up words and pictures and links and songs and tweets is what matters. I can't imagine what writing will be like in 2154. - Author: Gail Collins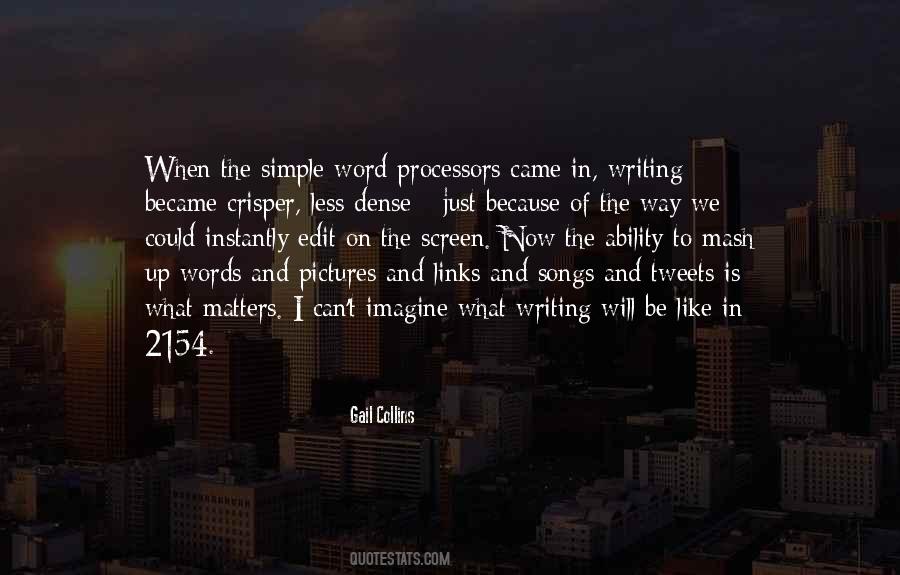 #35. My transition from wanting to be a cartoonist to wanting to be a writer may have come about through that friendly opposition, that even-handed pairing, of pictures and words. - Author: John Updike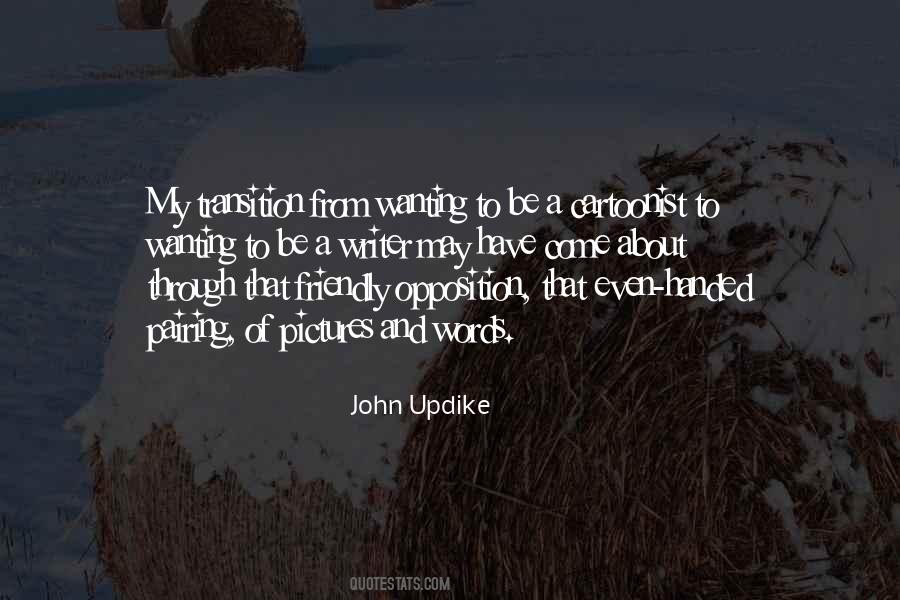 #36. Media censorship is a prohibition of words and pictures. The war on drugs is a complete failure, and so is the American war on words. When you forbid a word, you give it power. Self-proclaimed rebels will use words like shit or fuck, simply to shock and sound cool. - Author: Oliver Markus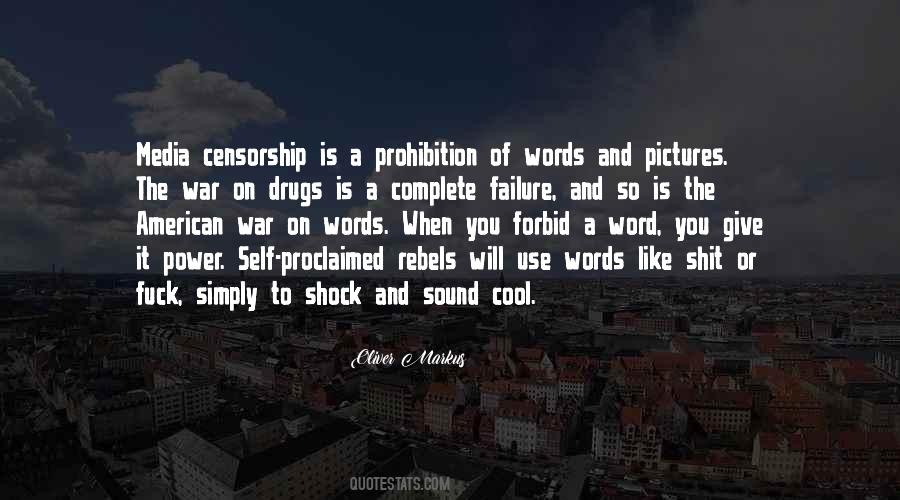 #37. A newspaper is lumber made malleable. It is ink made into words and pictures. It is conceived, born, grows up and dies of old age in a day. - Author: Jim Bishop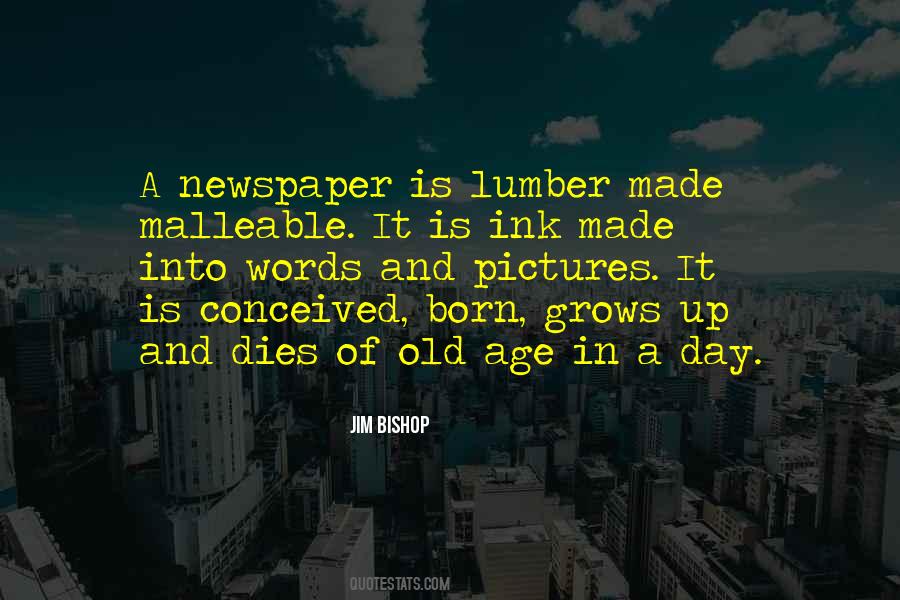 #38. It entered the visual vocabulary of photographers, painters and sculptors and focused on what pictures and words look like and what they can mean. - Author: Barbara Kruger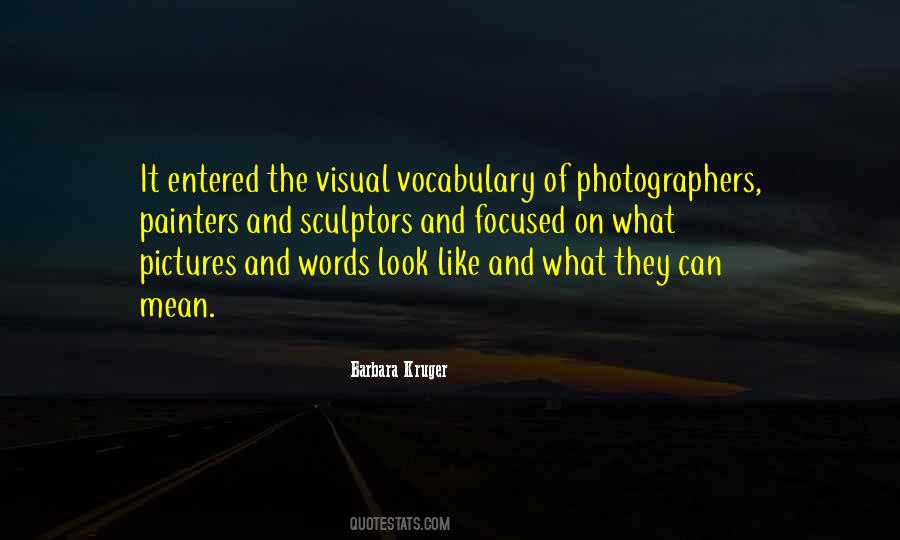 #39. There ain't no answer. There ain't going to be any answer. There never has been an answer. That's the answer. (Gertrude Stein: In Words and Pictures) - Author: Gertrude Stein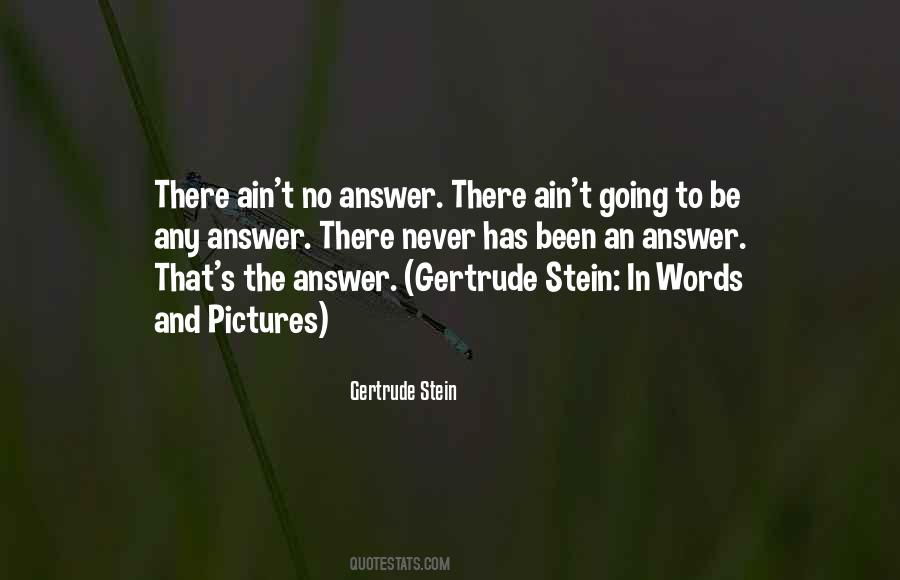 #40. Great journalism will always attract readers. The words, pictures and graphics that are the stuff of journalism have to be brilliantly packaged; they must feed the mind and move the heart. - Author: Rupert Murdoch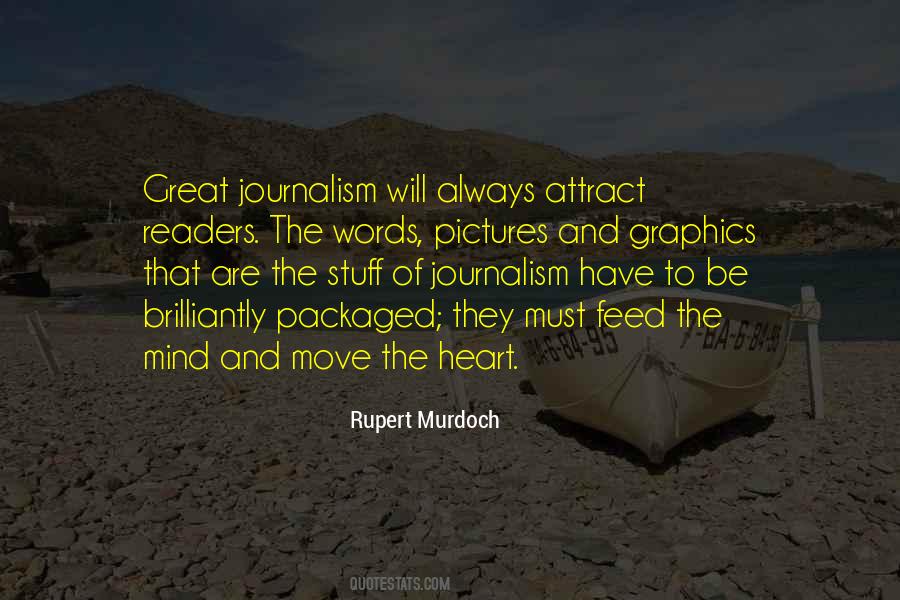 #41. All of the life-changing awesome
words and pictures and ideas
inside your library are useless
without just one word outside
your library: Open. - Author: Mo Willems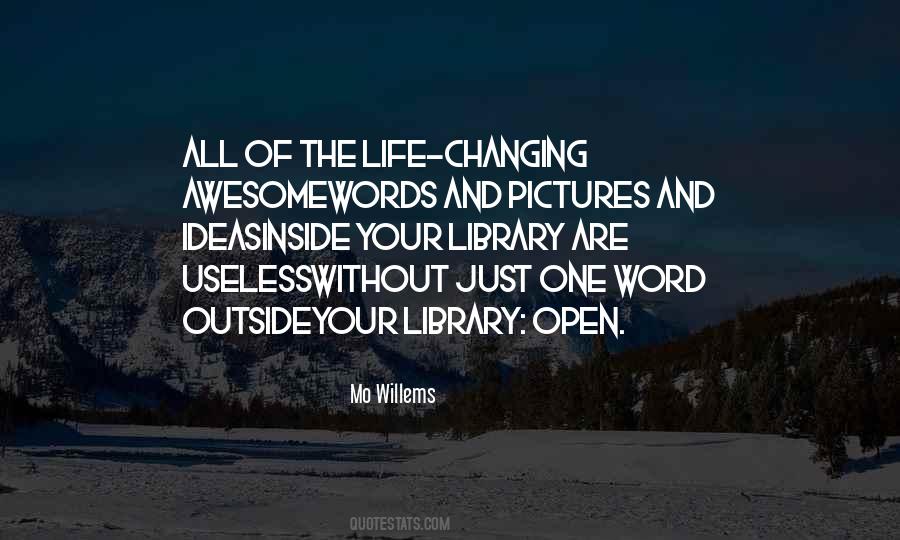 #42. Words also are filters. They have to be translated. Even in the original language, there is interpretation and some ambiguity. If there's a cultural difference between the writer and the reader, that might come out in words. But with pictures, there's more efficiency. - Author: Marjane Satrapi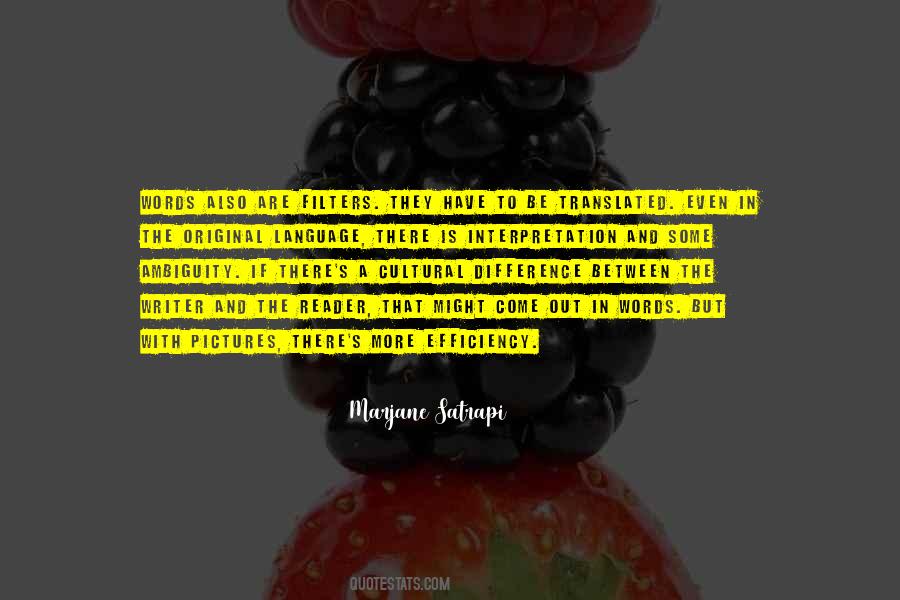 #43. I hope for quick, fluent copy and memorable pictures. The words would not 'describe' the pictures; the pictures would not 'illustrate' the words. Together, they would carry a stamp and tell a story. - Author: Muriel Rukeyser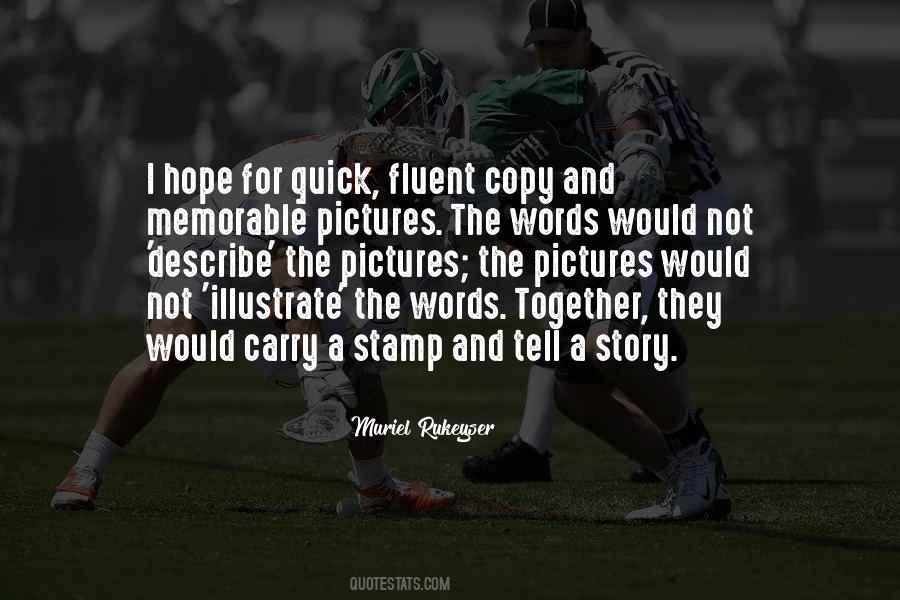 #44. My parents both work in publishing, and I was a bright, academic kind of kid, and I read a lot of books, and when you read a lot, I guess the muscle that gets exercised is where you can hear the voices in your head. You can turn words into pictures and into sounds and into colours and smells. - Author: Harry Lloyd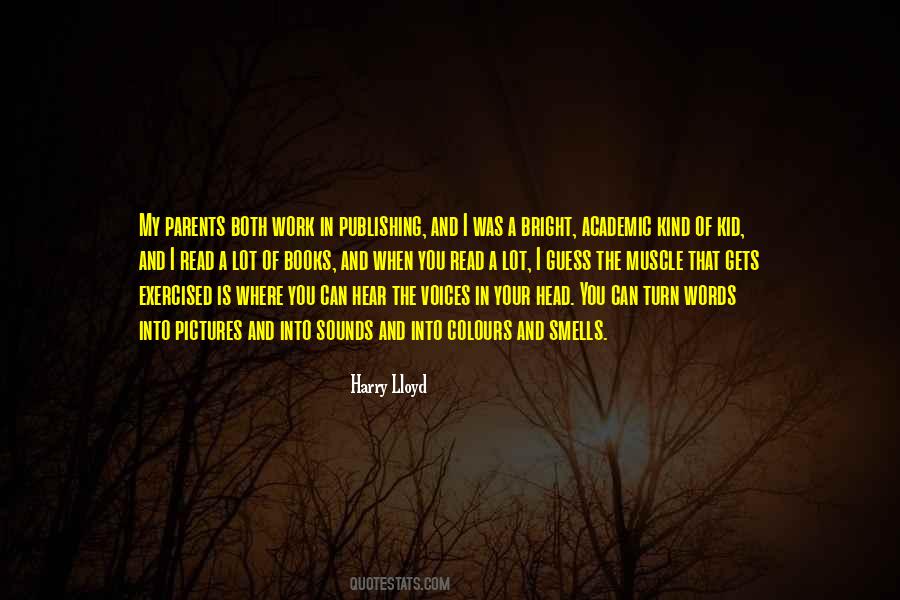 #45. Few pay attention to the histories and the root pictures words can release. These neglected qualities are there, however, and the poets have always found them a self-delighting source of excitement. - Author: John Ciardi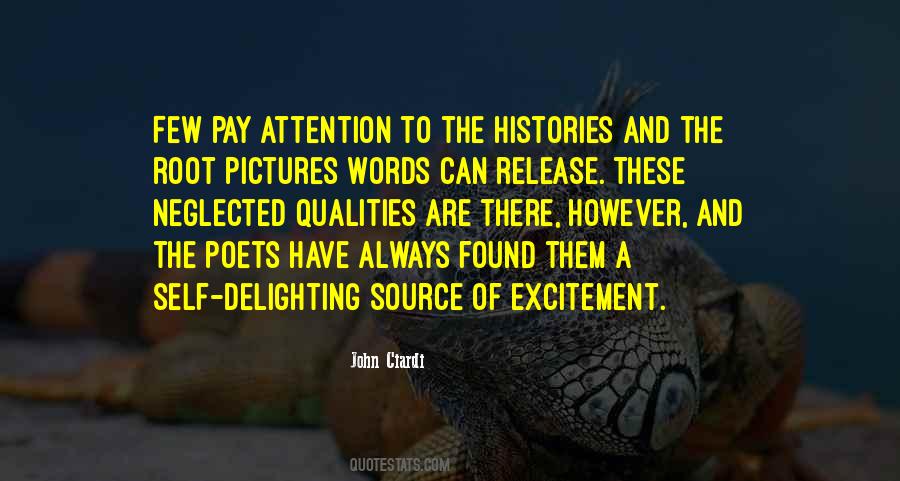 #46. If a woman liked to play with words and set them in patterns and make pictures with them, and was taking care of herself and bothering nobody, and enjoyed her life without a lot of bawling children around, why shouldn't she? - Author: Kate Bolick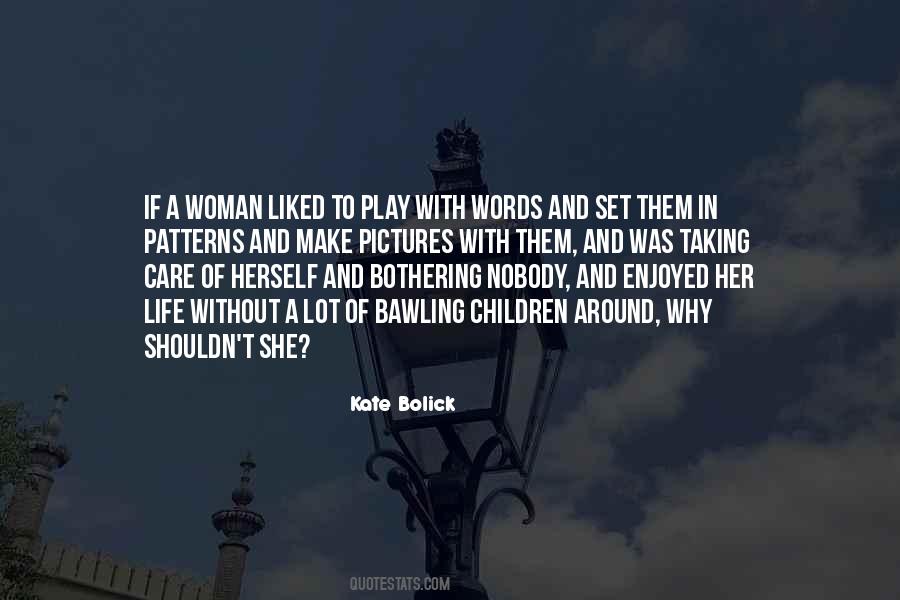 #47. Video is a funny thing. It's one thing to be an artist, singer-songwriter, and use words and create pictures in people's minds. And then be asked to do video for it, to actually give a certain visual for your song. - Author: Melissa Etheridge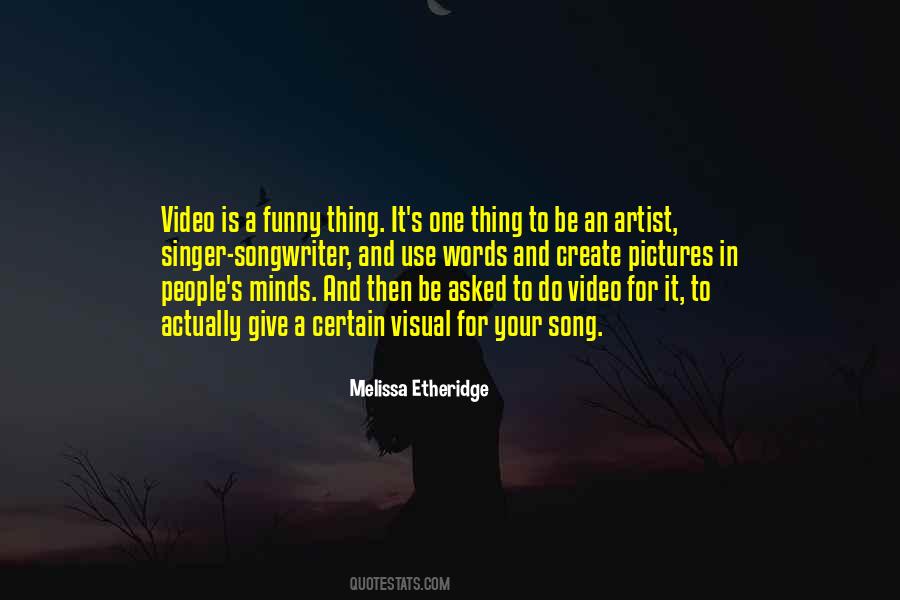 #48. A poet is an artist that paints pictures by mixing thought, imagination, and emotion with words. - Author: Debasish Mridha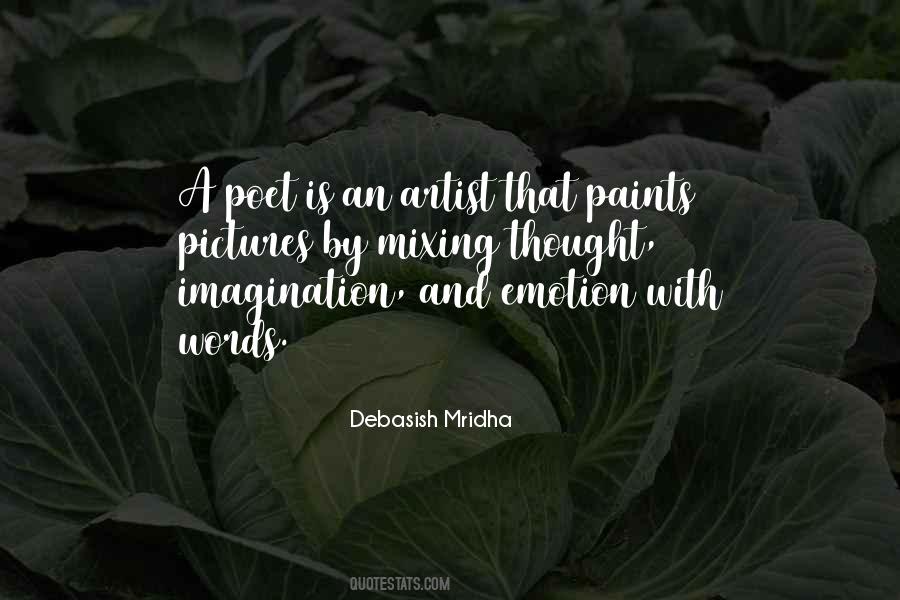 #49. As a kid, during the school year, my head was often buried in a textbook or Judy Blume book; the words and pictures were the perfect, barrier-free environment for me. - Author: Marlee Matlin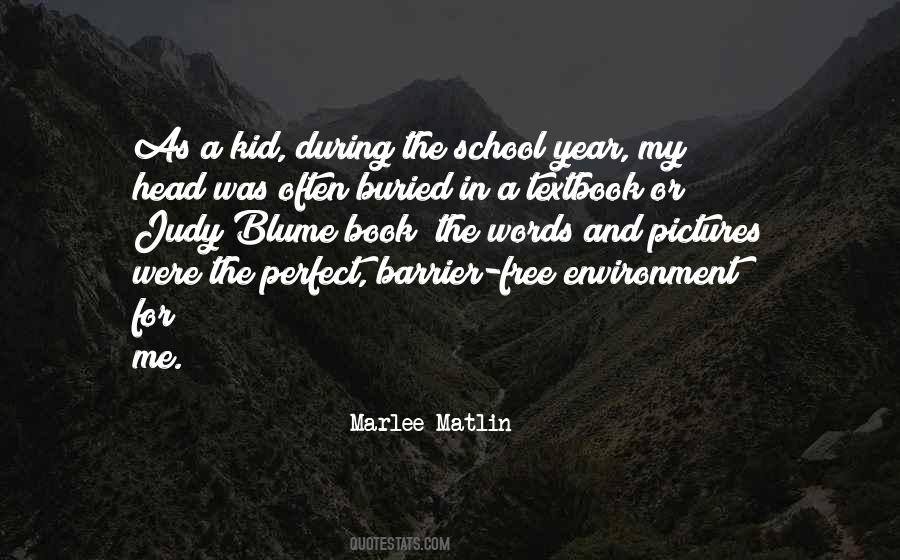 #50. I have written a few children's books. The first book that I wrote was for children. It was called 'The Package', and it was a mystery story in pictures. It had no words. - Author: Laurie Anderson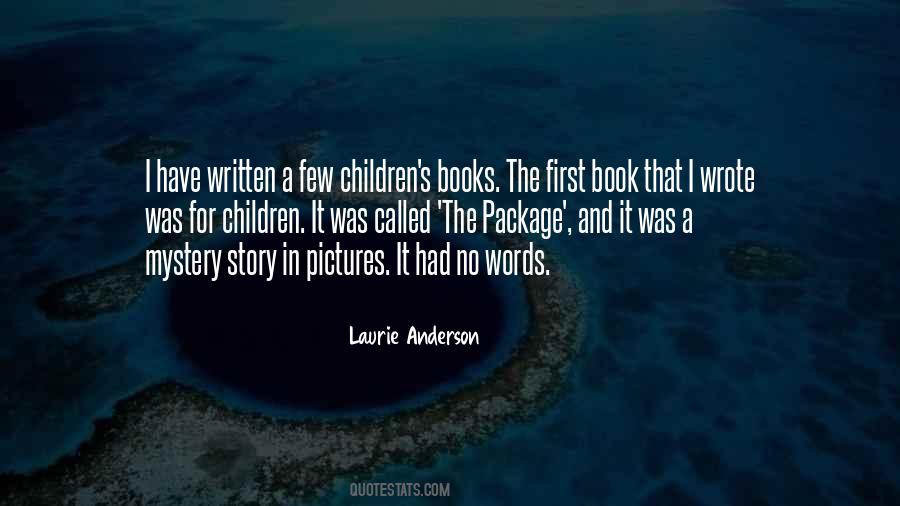 #51. The secret to productive goal setting is in establishing clearly defined goals, writing them down and then focusing on them several times a day with words, pictures and emotions as if we've
already achieved them. - Author: Denis Waitley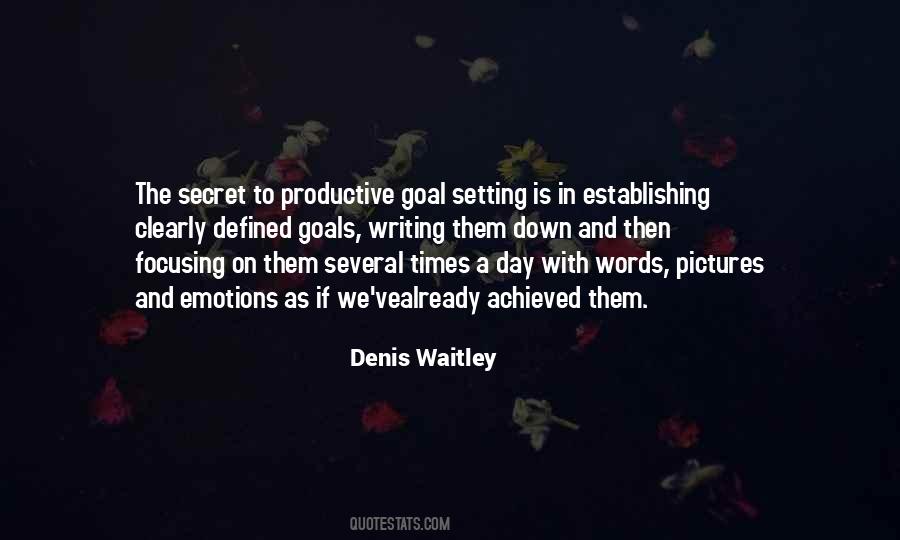 #52. I pray and wait for an answer in pictures, words or ideas. - Author: Akiane Kramarik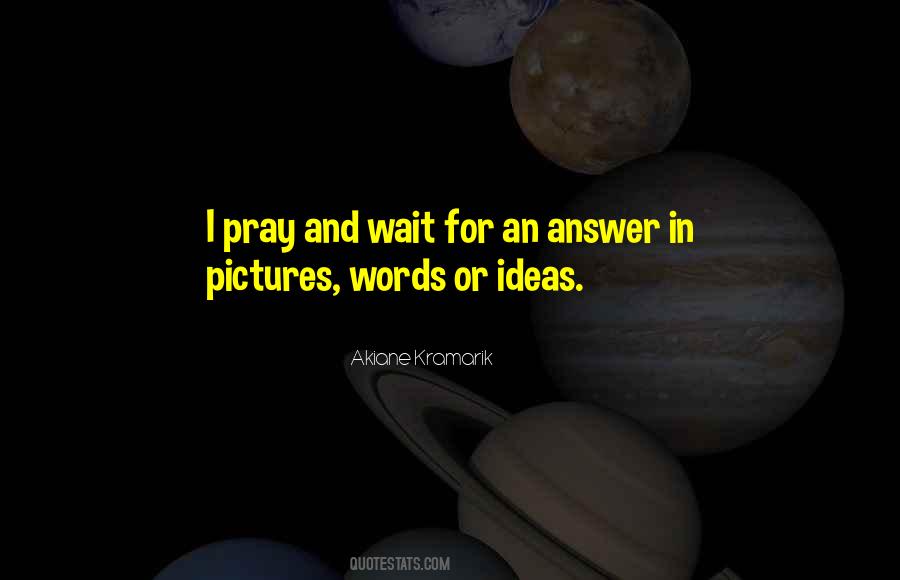 #53. Words and pictures can work together to communicate more powerfully than either alone. - Author: William Albert Allard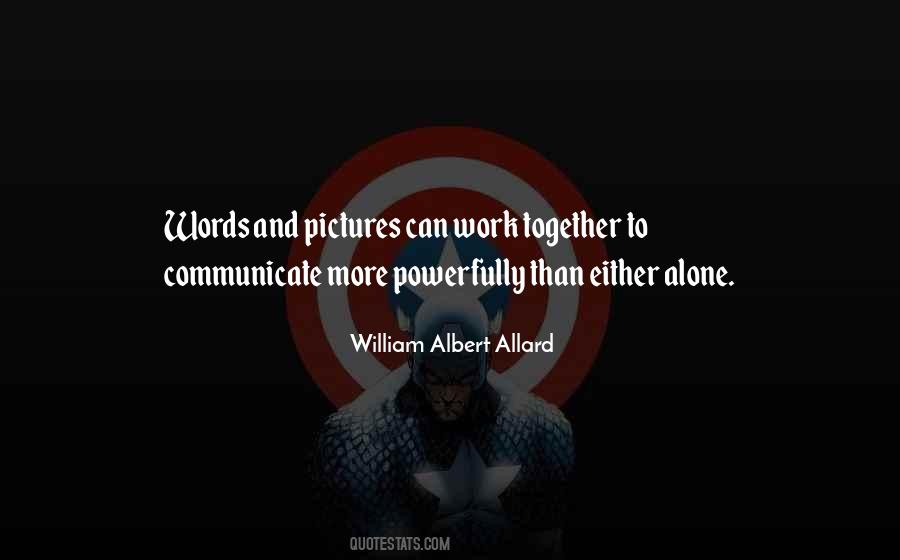 #54. I've always loved the wild rumpus in 'Where the Wild Things Are' by Maurice Sendak, because the words disappear, the pictures take up the whole page, and we move forward in the story by turning the pages. - Author: Brian Selznick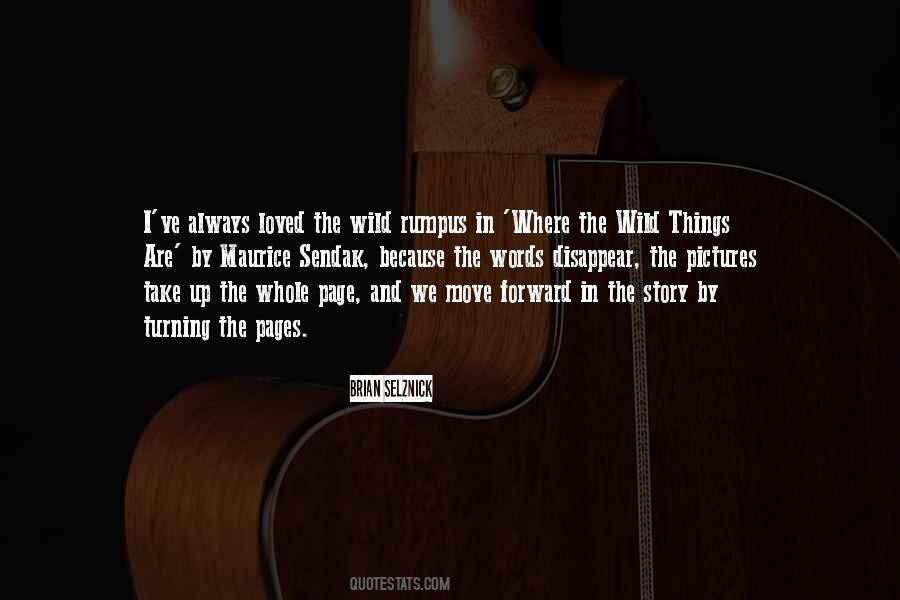 #55. Open your eyes at last and see ... now I will open the book of the world for you,there are no words in it,just pictures - Author: Oskar Kokoschka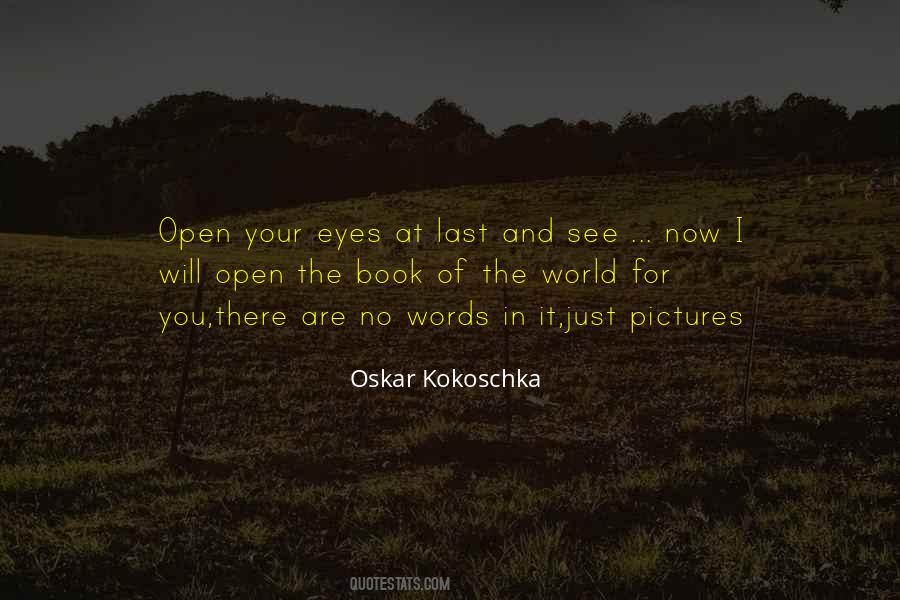 #56. Pictures rule, but words define, explain, express, direct, and hold together our thoughts and what we know. - Author: Don Watson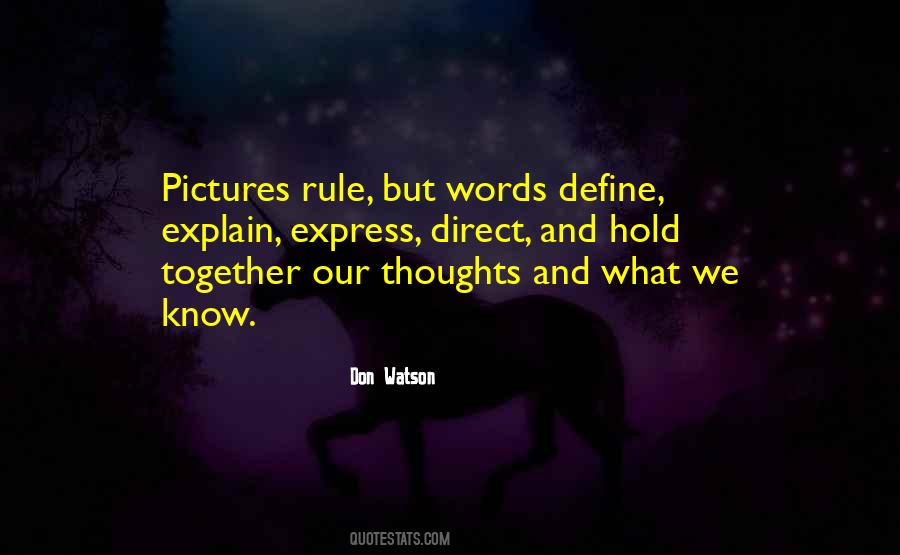 #57. Books are not fixed objects: they transmit words and ideas. Their effect on each reader is unique. They put pictures in our minds. They take root. You - Author: John Connolly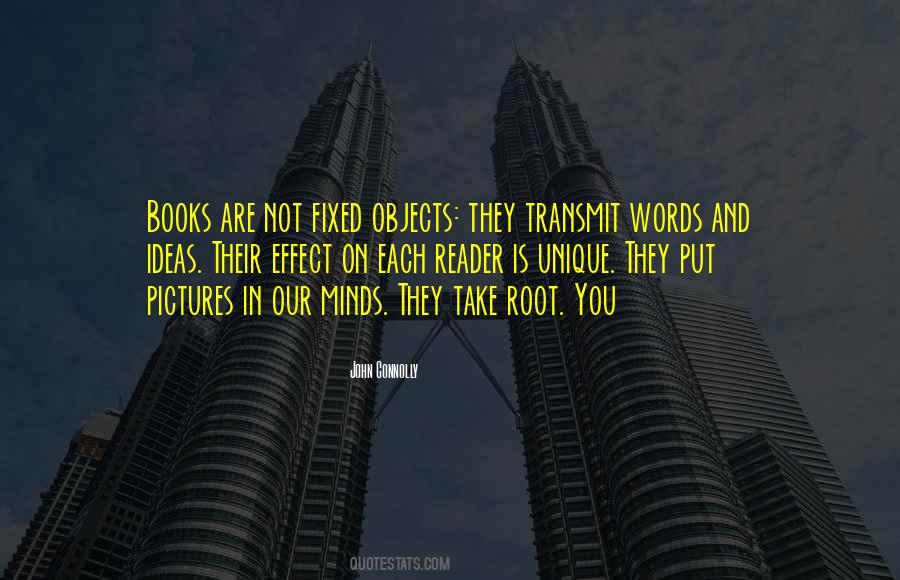 #58. You've got to find a difierent approach. You've got to create some interest in your language, in the words and pictures you create. If a candidate can't give a 10-minute speech and have reporters reaching for their pens in the first 90 seconds, he probably shouldn't be running. - Author: Roger Ailes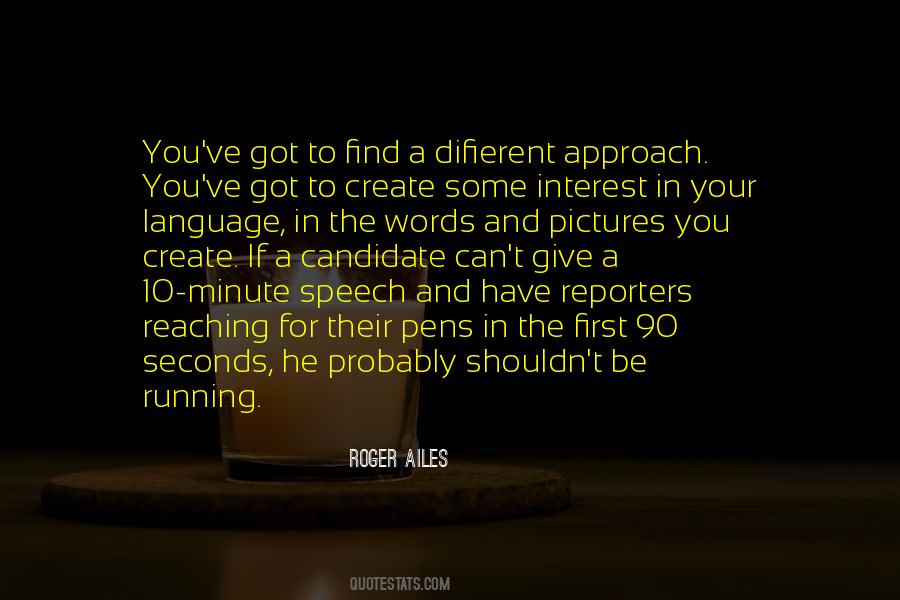 #59. I think film writing, you're thinking in pictures, and stage writing, you're thinking in dialogue. In film writing, it's also, you only get so many words, so everything has to earn its place in a really economical way. I think for stage writing, you have more leeway. - Author: Zoe Kazan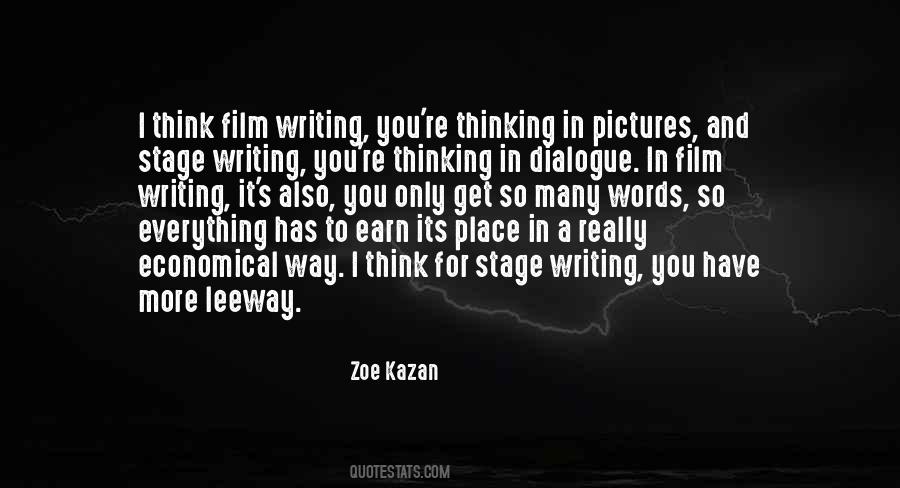 #60. I try not to be overly literal. When I'm writing songs, I write down a lot of words, and then I try to simplify it. I like to give people hints or words that make visual pictures for them. - Author: Neko Case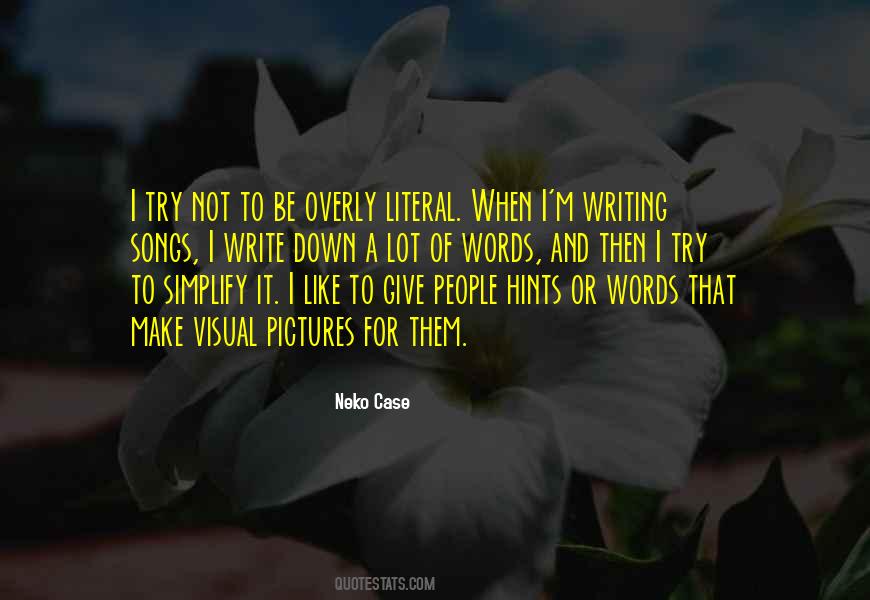 #61. What excites me about picture books is the gap between pictures and words. Sometimes the pictures can tell a slightly different story or tell more about the story, about how someone is thinking or feeling. - Author: Anthony Browne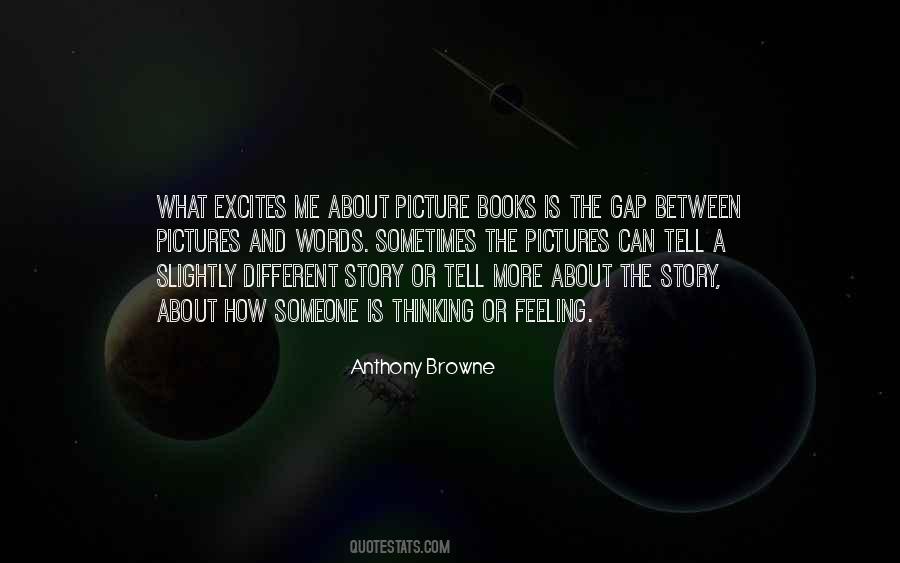 #62. People become fascinated with pictures and words, and wind up forgetting the Language of the World - Author: Paulo Coelho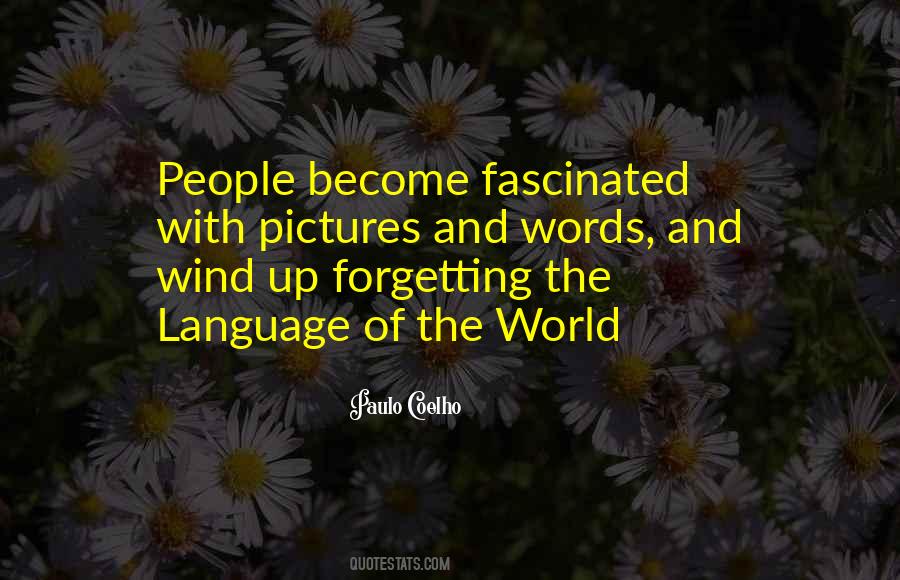 #63. Other lives wind themselves into your own and then leave for distant places or wink out like extinguished lamps, and then all the evidence you have that there was ever any time is a few scribbled words and a few blurred pictures. Then those burn in fire or blow away in wind and you have nothing. - Author: Dexter Palmer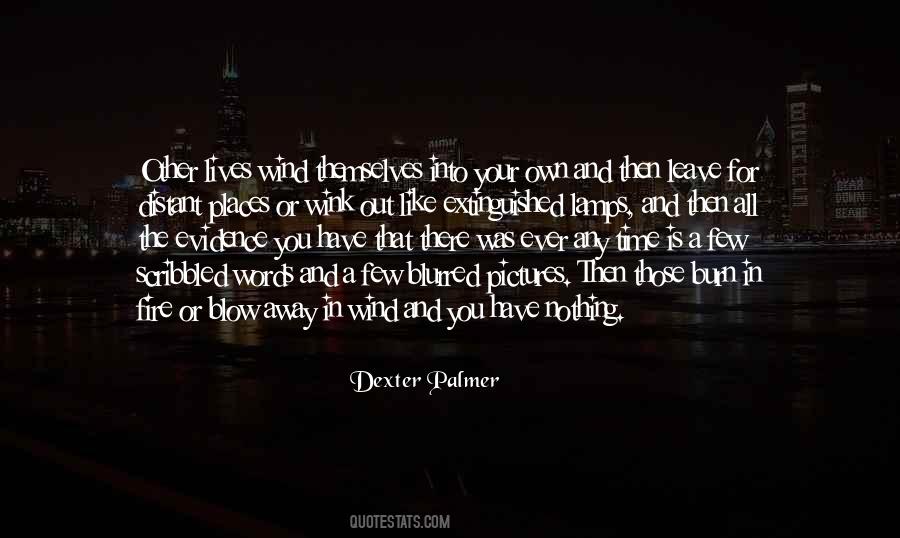 #64. I'm a storyteller. I love to tell stories about brands. I love to tell stories, period. I like painting pictures through the words, and that's what I do. - Author: Gary Vaynerchuk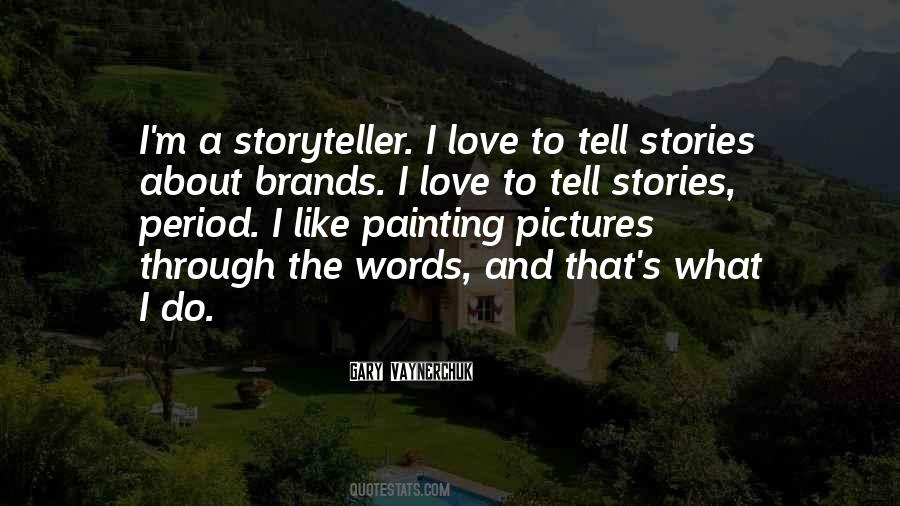 #65. Writers used to make such wonderful pictures without all that swearing, all that cursing. And now it seems that you can't say three words without cursing. And I don't think that's right. - Author: Ernest Borgnine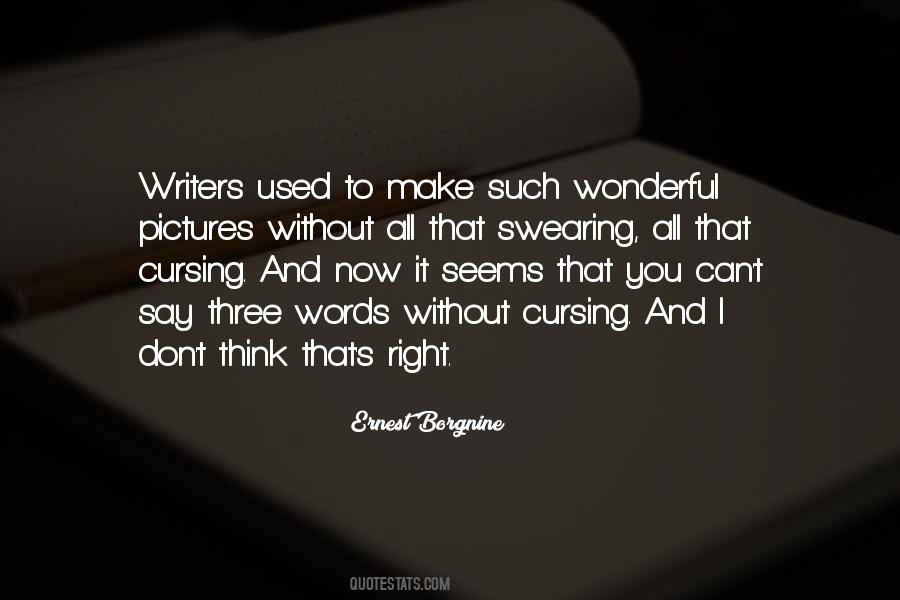 #66. I think pictures and words have the power to make us rich or poor. - Author: Barbara Kruger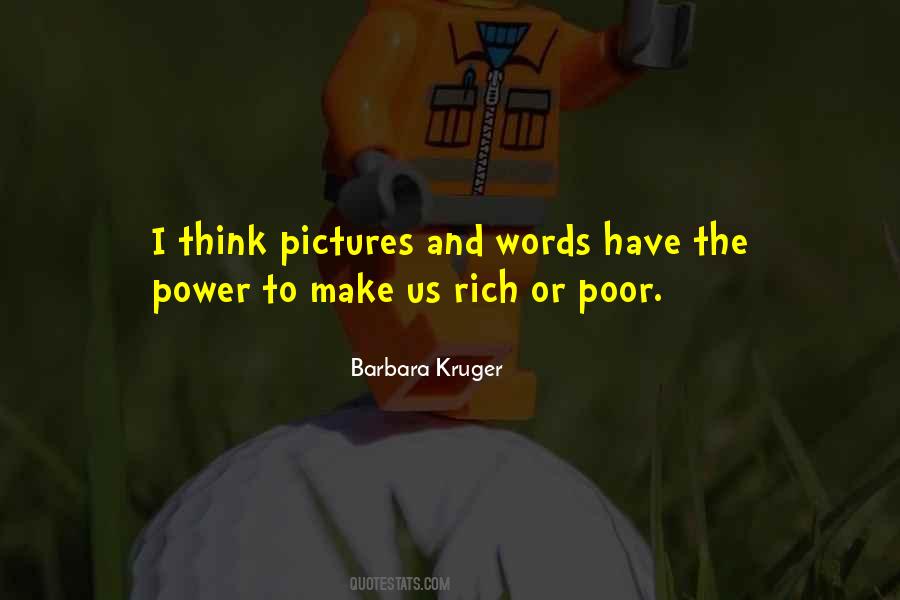 #67. I foresaw the financial crisis. I get messages in my sleep, in pictures and words. I understood that I have a mission and a role in ensuring human existence. I received a message that people would soon start to go crazy. - Author: Shari Arison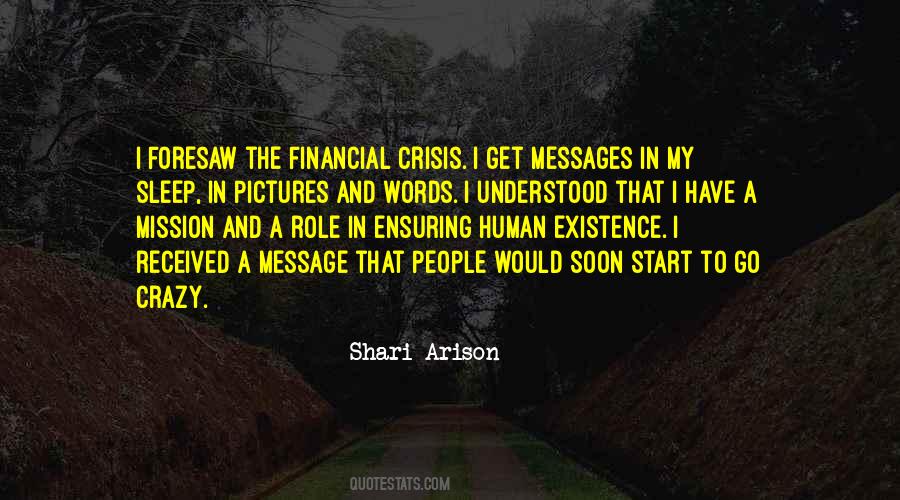 #68. Vietnam is often called our only uncensored war, but that only means that the government wasn't vetting the pictures and words. - Author: Bruce Jackson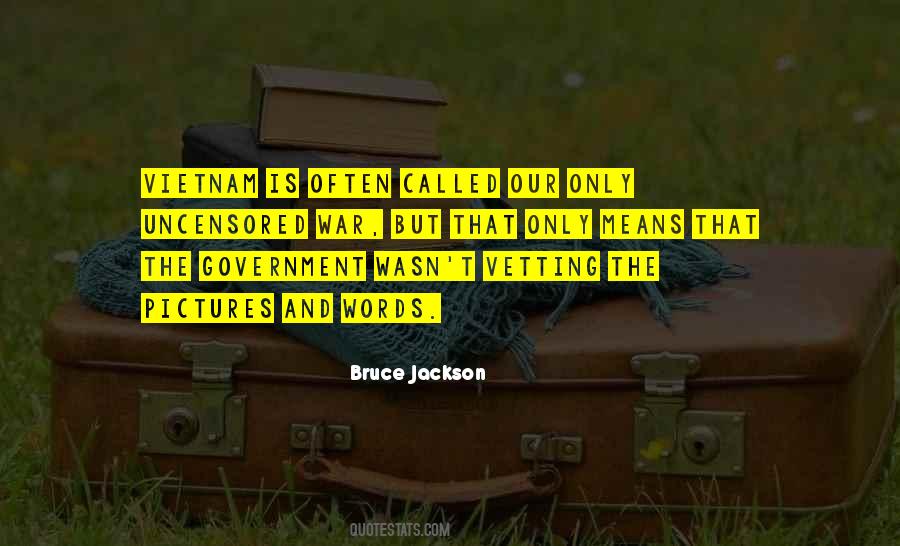 #69. Picture books are for everybody at any age, not books to be left behind as we grow older. The best ones leave a tantalising gap between the pictures and the words, a gap that is filled by the reader's imagination, adding so much to the excitement of reading a book. - Author: Anthony Browne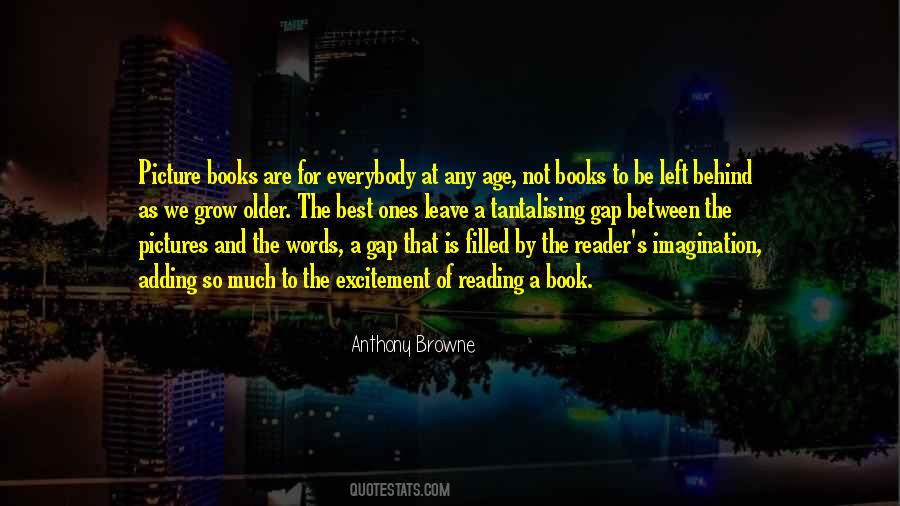 #70. Things don't fall apart. Things hold. Lines connect in thin ways that last and last and lives become generations made out of pictures and words just kept. - Author: Lucille Clifton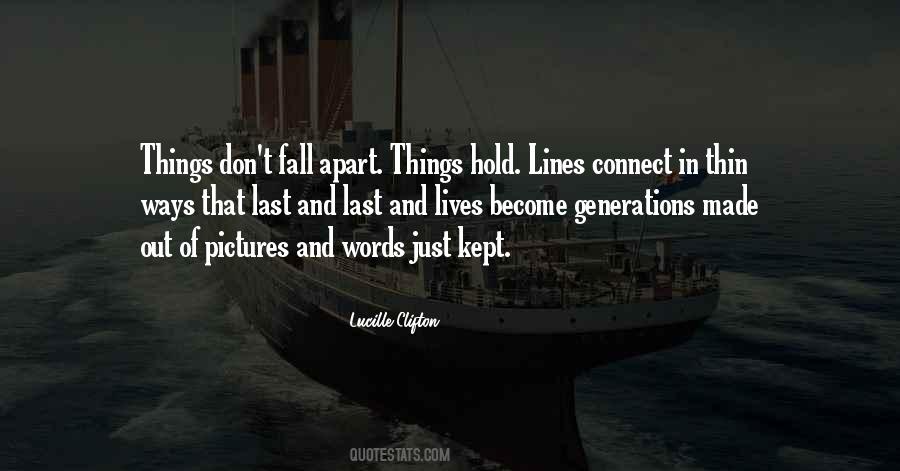 #71. Television isn't inherently good or bad. You go to a bookstore, there are how many thousands of books, but how many of those do you want? Five? Television's the same way. If you're going to show people stuff, television is the way to go. Words and pictures show things. - Author: Bill Nye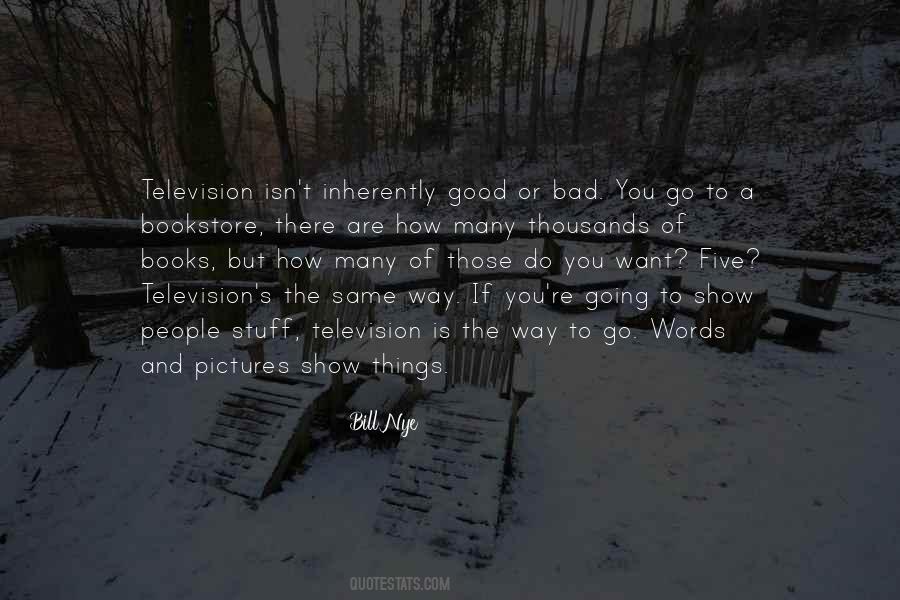 #72. The surest way to arouse and hold the attention of the reader is by being specific, definitive, and concrete. The greatest writers - Homer, Dante, Shakespeare - are effective largely because they deal in particulars and report the details that matter. Their words call up pictures. - Author: William Strunk Jr.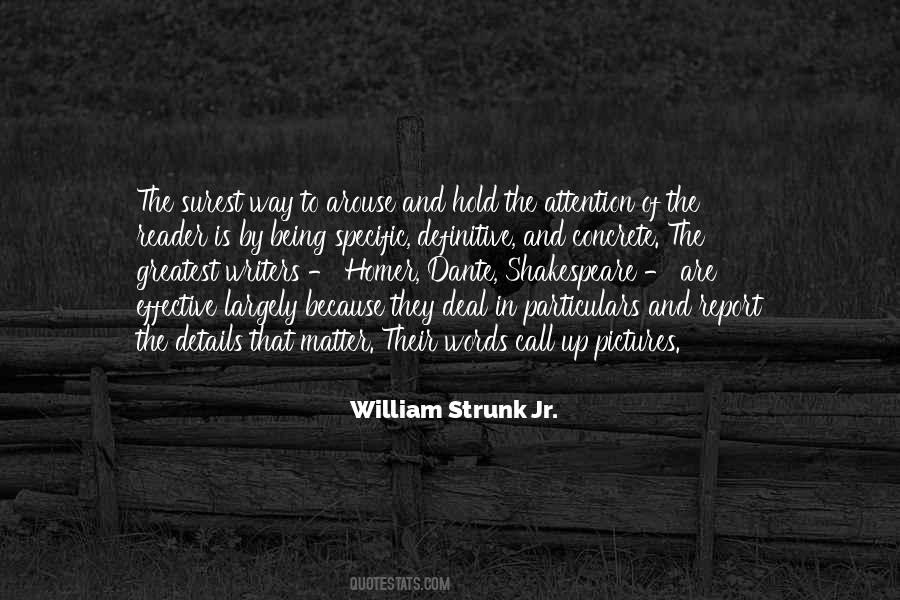 #73. You cannot rise about your words. A lot of people use foul, pornographic, filthy, language and you SEE, all of those words paint pictures and they reveal the internal thinking of the person on the inside. YOU cannot RISE (forward, onward upward) above your words. - Author: Zig Ziglar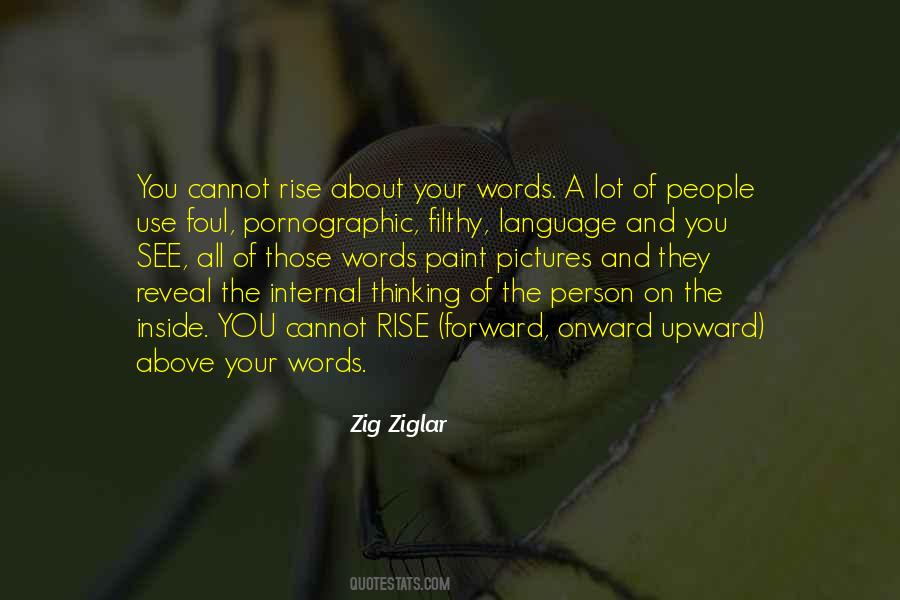 #74. When you read a book, the neurons in your brain fire overtime, deciding what the characters are wearing, how they're standing, and what it feels like the first time they kiss. No one shows you. The words make suggestions. Your brain paints the pictures. - Author: Meg Rosoff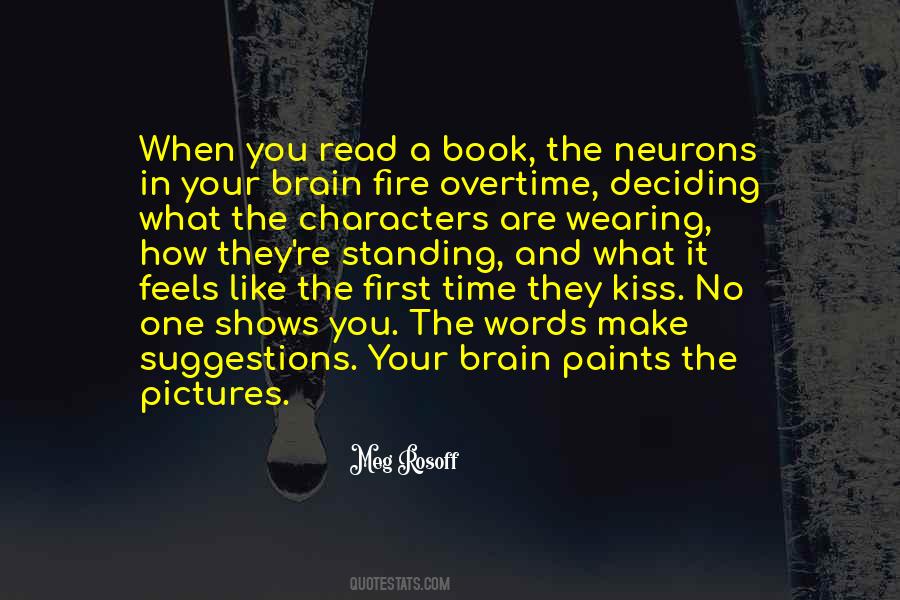 #75. Notebooks allow for all kinds of record-keeping, and I kept one myself as a kid. I was attracted to mixing up words and pictures freely, since that's how I think. - Author: Marissa Moss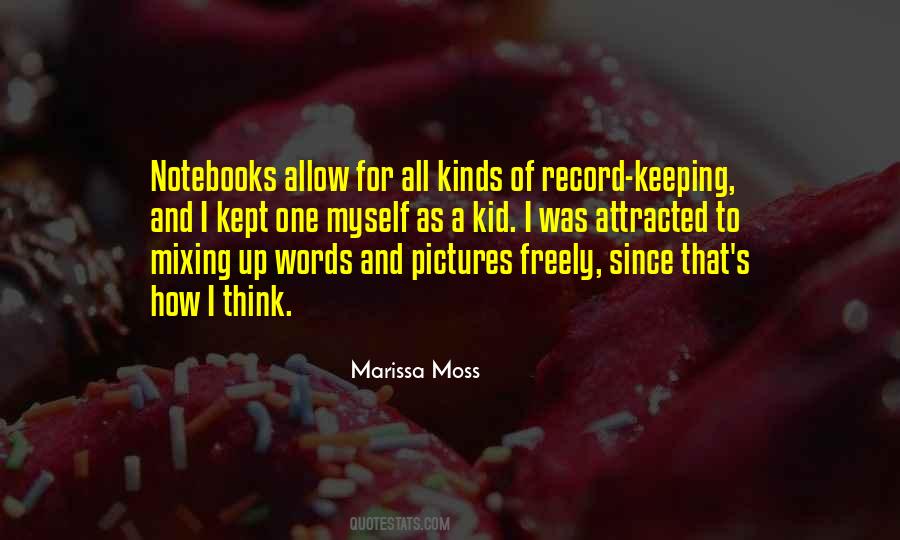 #76. My movies more often are told through pictures, not words. But in this case, the pictures took second position to the incredible words of Abraham Lincoln and his presence [ ... ] I was less interested in an outpouring of imagery than in letting the most human moment of this story evolve before us. - Author: Steven Spielberg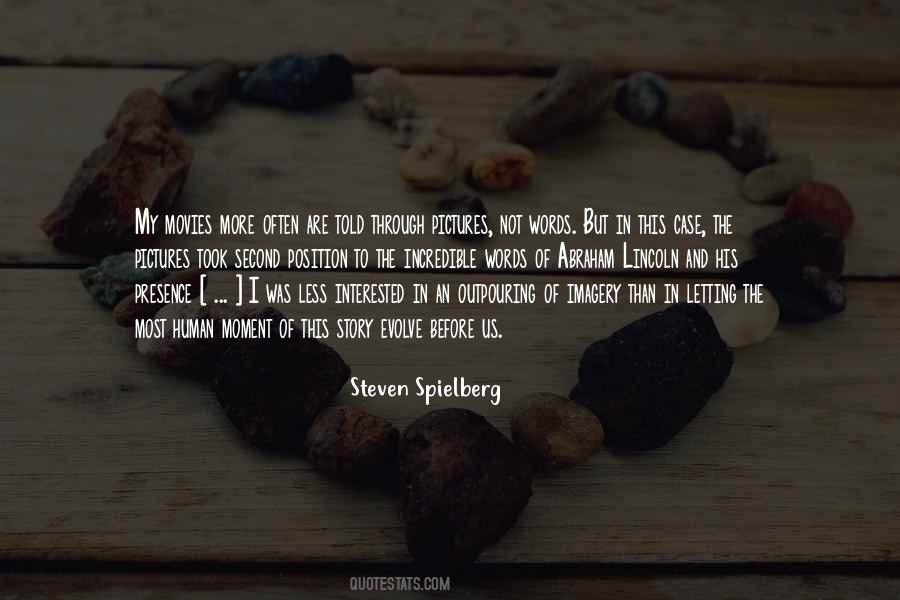 #77. A novel is a relationship, you know? When you read a book, the writer has done half the work, and you're doing half the work. You're providing the imagination, the words are turning into pictures in your mind, there's an active relationship that's going on. - Author: Noah Hawley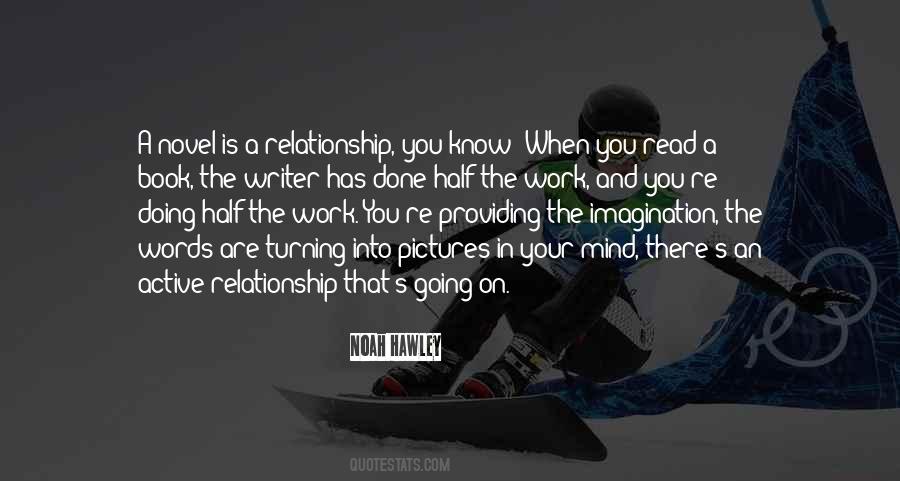 #78. Dichotomies are an inherent part of comics, aren't they? Comics are both pictures and words. They blend time and space. Many feature characters with dual identities like Bruce Wayne/Batman. Cartoonists also tend to live dichotomous lives because many of us have day jobs. - Author: Gene Luen Yang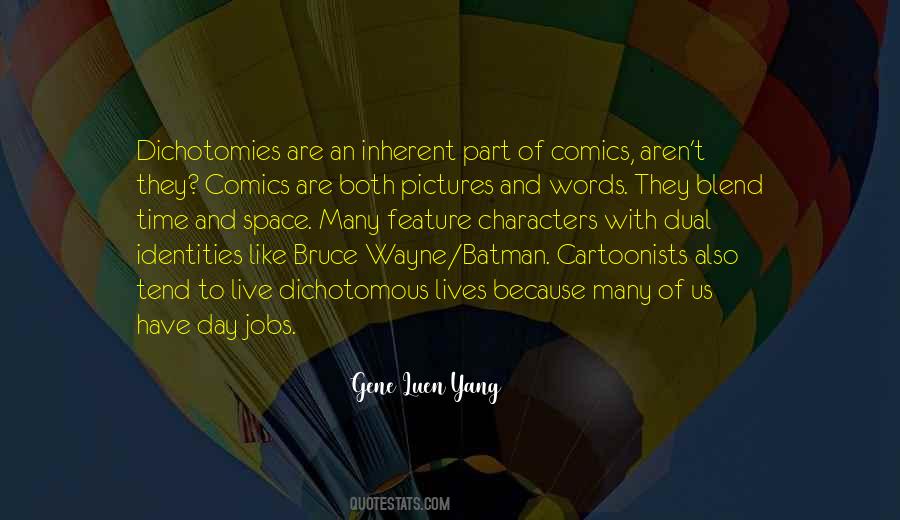 #79. I love picture books - with picture books, you can use words and pictures as a double act, even tell two different versions of a story at the same time. - Author: Mini Grey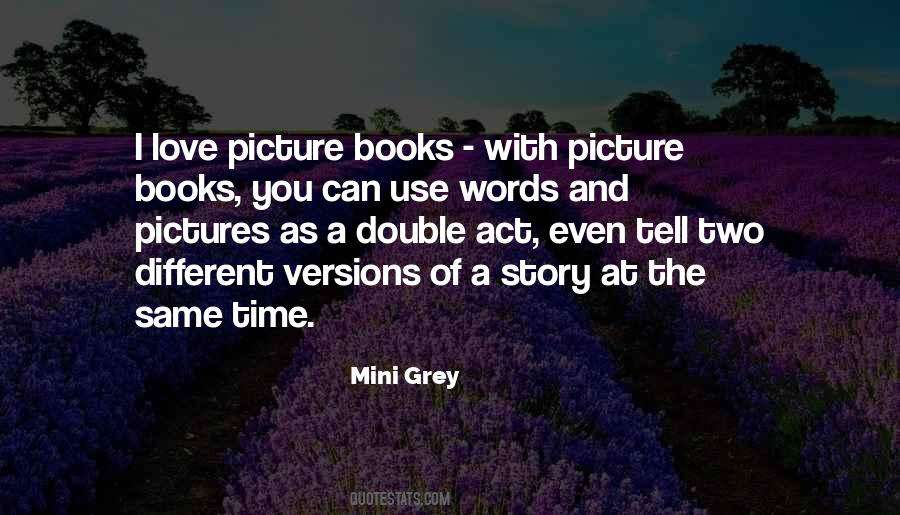 #80. I'm an artist who works with pictures and words. Sometimes that stuff ends up in different kinds of sites and contexts which determine what it means and looks like. - Author: Barbara Kruger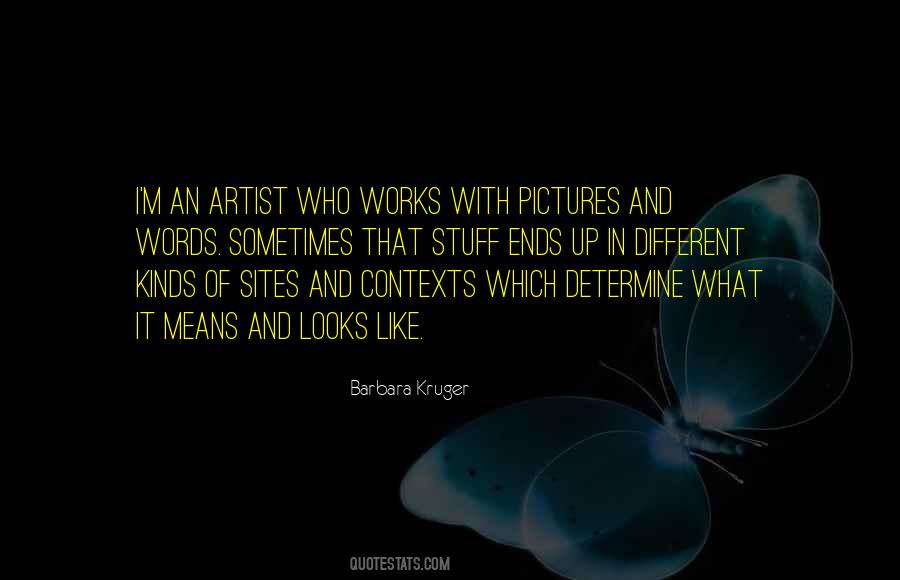 #81. I see too many things. I always have. Words and pictures connect together in my mind in strange ways and I notice details wherever I am. - Author: Ally Condie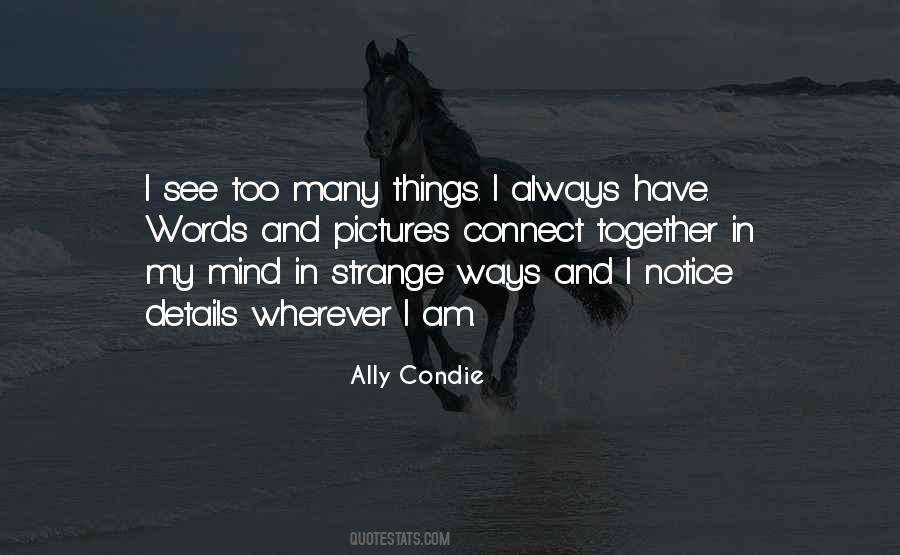 #82. The combination of pictures and words together can be really effective, and I began to realise in my career that unless I wrote my own words, then my message was diluted. - Author: Galen Rowell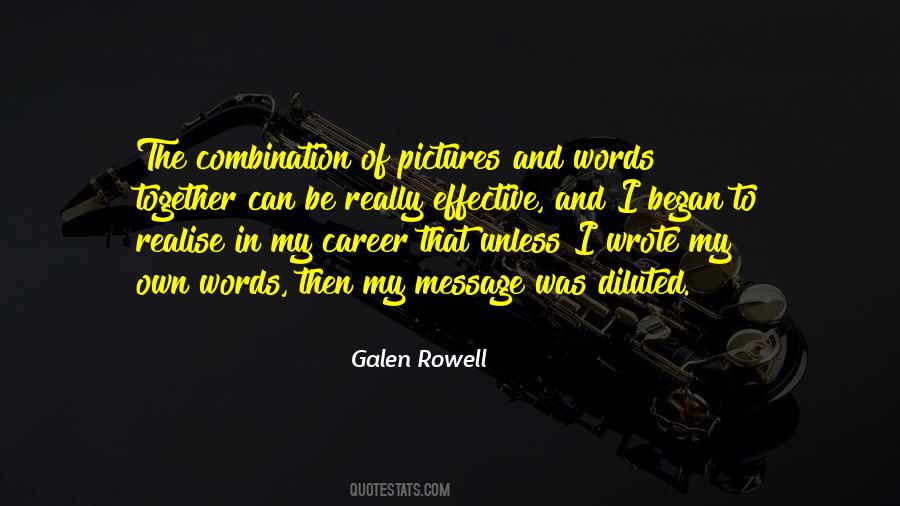 #83. A picture story is a sequence of images combined with text in such a way that pictures and words reinforce each other.
They produce a planned, organized combination giving detailed account of an event, personality or aspect of life. - Author: Arthur Rothstein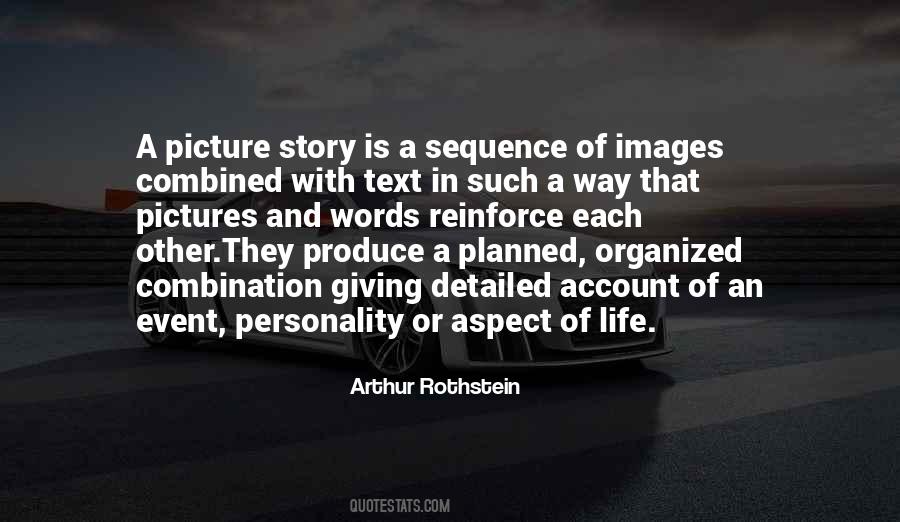 #84. On the single strand of wire strung to bring our house electricity, grackles and starlings neatly punctuated an invisible sentence. - Author: John Updike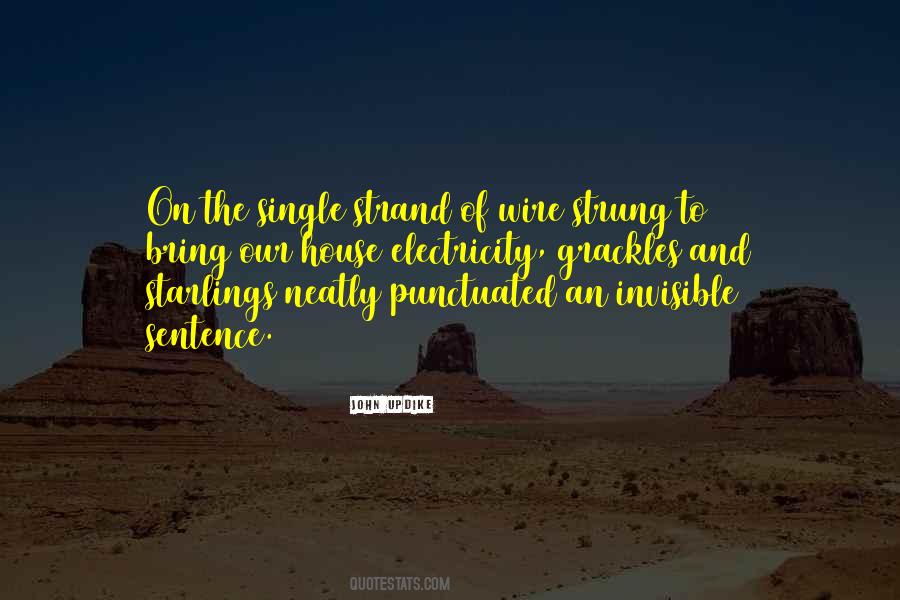 #85. The great poet is a great artist. He is painter and sculptor. The greatest pictures and statues have been painted and chiseled with words. They outlast all others. - Author: Robert Green Ingersoll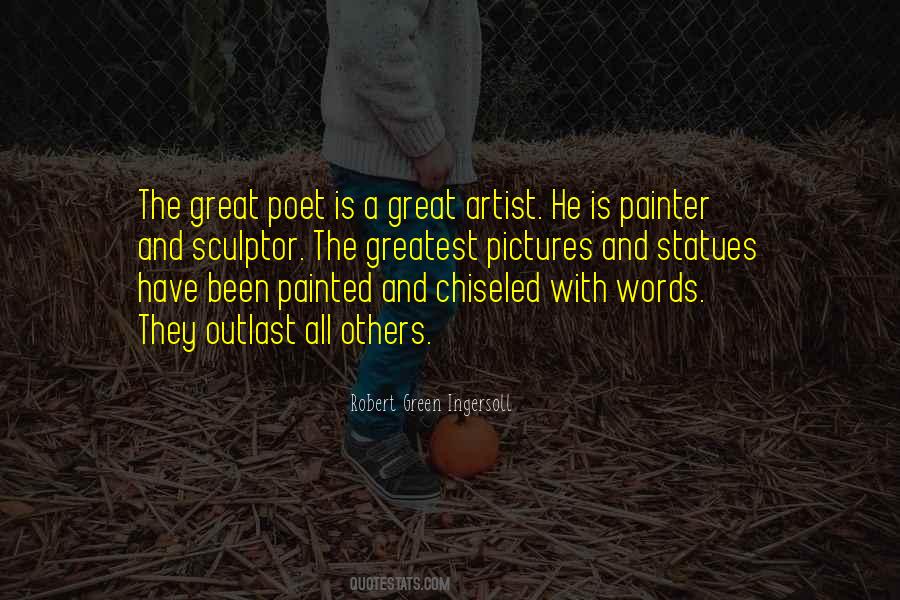 #86. The mind has so many pictures Why can't I sleep with my eyes open? The mind has so many memories Can you remember what it looks like when I cry? I'm trying, trying to tell you All that I can in a sweet and velvet tongue But no words ever could sell you Sell you on me after all that I have done. - Author: Rufus Wainwright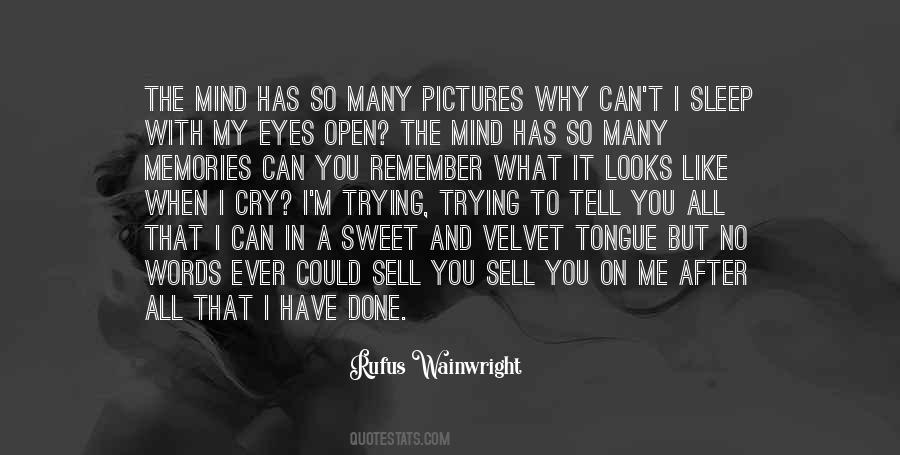 #87. Designers can create normalcy out of chaos; they can clearly communicate ideas through the organising and manipulating of words and pictures. - Author: Jeffrey Veen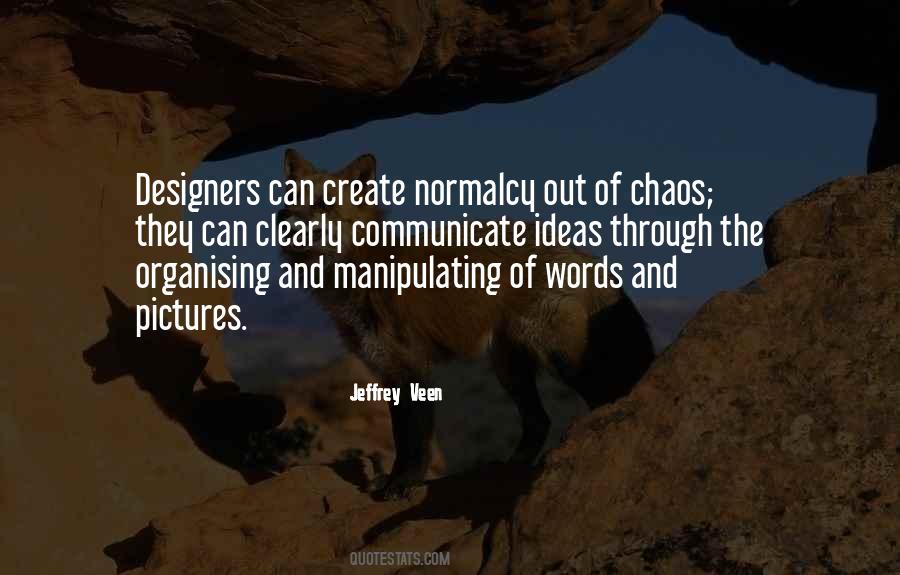 #88. When I'm writing, I'm creating the story and its character with words. I'm thinking about what the pictures will be like, but I never begin to sketch. The pictures are all in my head. - Author: Kevin Henkes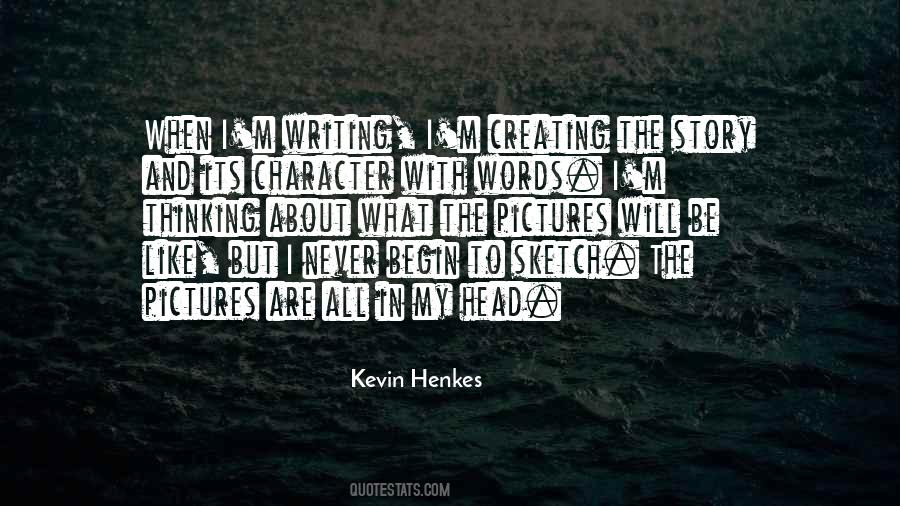 #89. What you radiate outward in your thoughts, feelings, mental pictures and words, you attract into your life. - Author: Catherine Ponder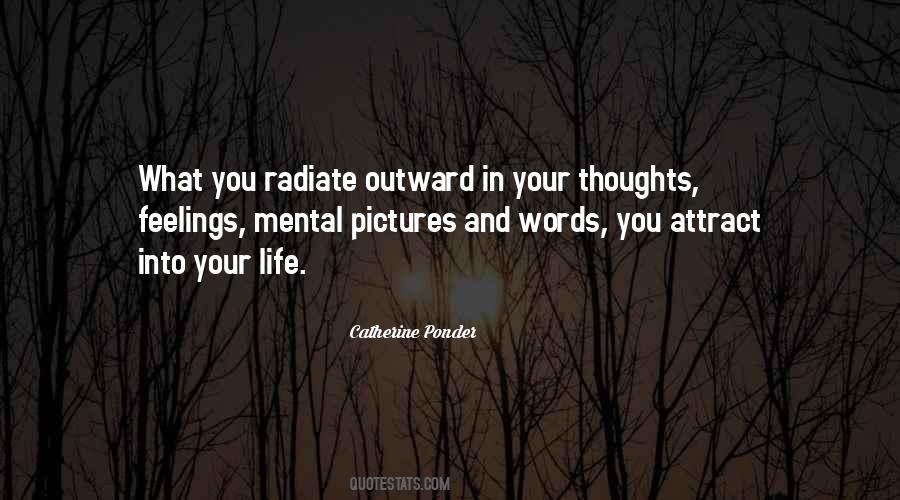 #90. I+V=R (Imagination mixed with Vividness becomes Reality.) The speaker pointed out that the mind thinks in pictures, not in words. And as we vividly picture in our mind what we desire, it will become a reality. - Author: Glenna Salsbury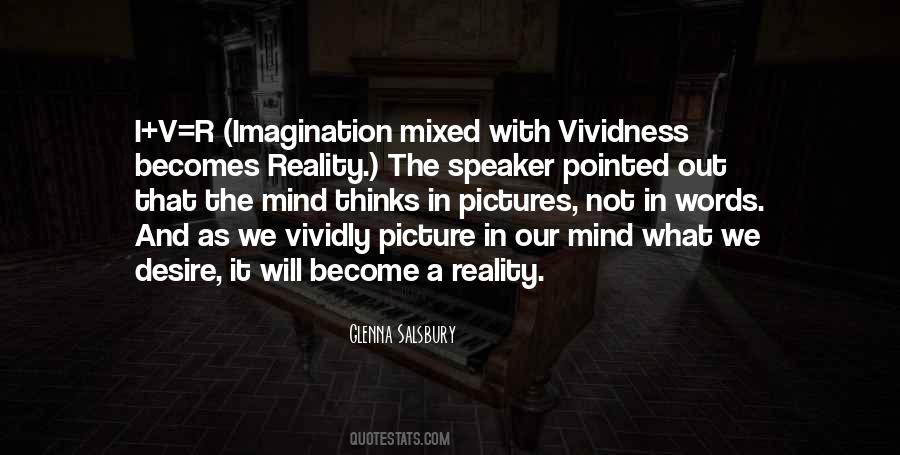 #91. Hasn't stopped us before. And besides, if they wanted to kill us, we'd be dead by now and would be having an entirely different conversation. I wonder if I'd still be mad at you, or if we would talk in words or pictures. Maybe in smells. That would be cool. -Janco - Author: Maria V. Snyder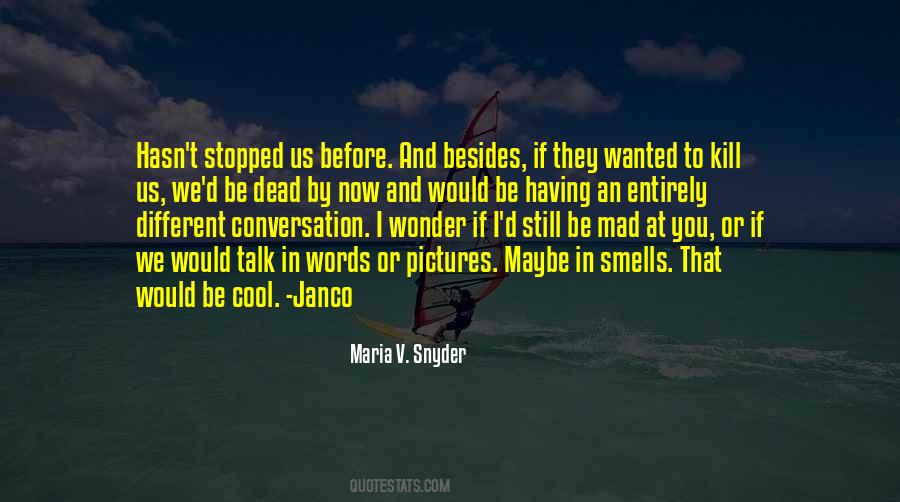 #92. In practically every film you experience, you can see the director following the text. Illustrating the words first, making the pictures after, and, alas, so often not making pictures at all, but holding up the camera to do its mimetic worst. - Author: Peter Greenaway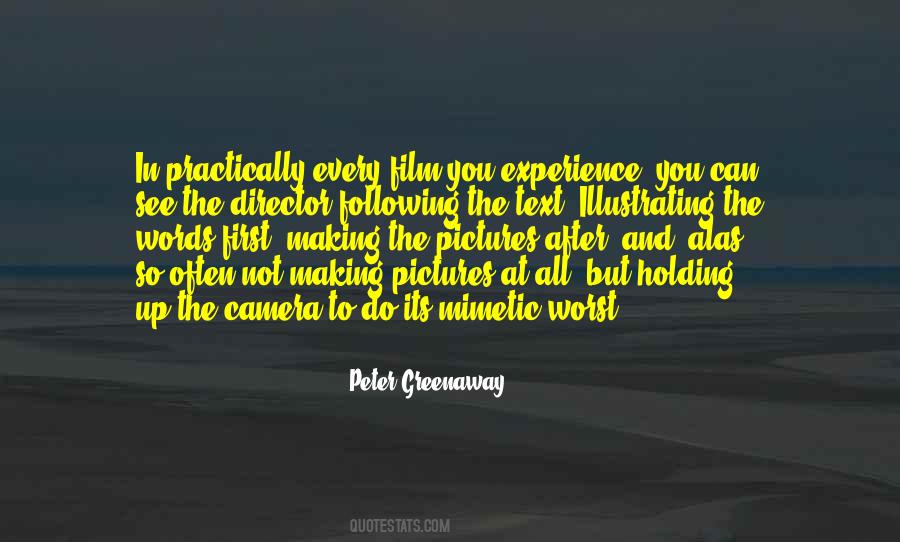 #93. In Bulgaria, they use the Cyrillic alphabet, which is completely different from ours. You can't sound the words out, so you can't read street signs or packages in the grocery store! You have to rely on pictures and guesses. - Author: Katherine McNamara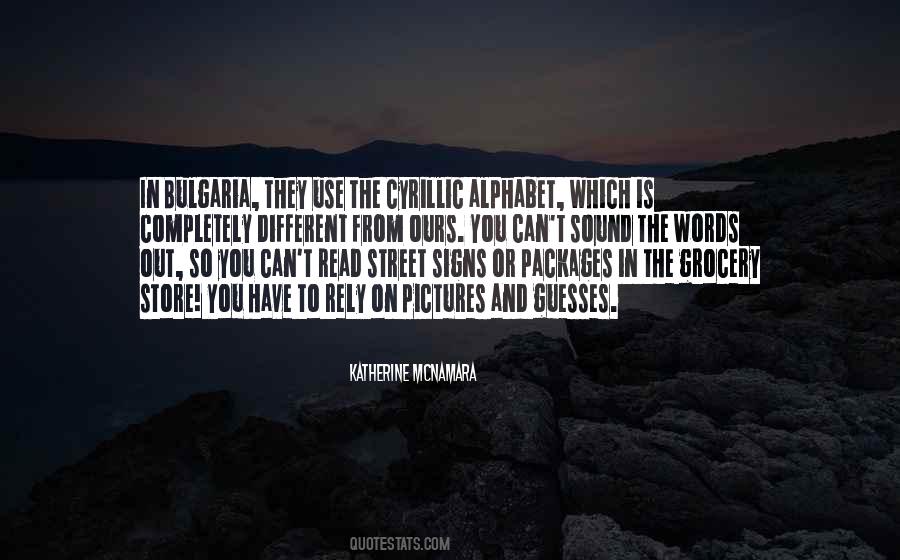 #94. Make sure you take lots of pictures, and if you come back using words like 'queue' or 'lorry', I'll be very upset. - Author: Rachel Hawkins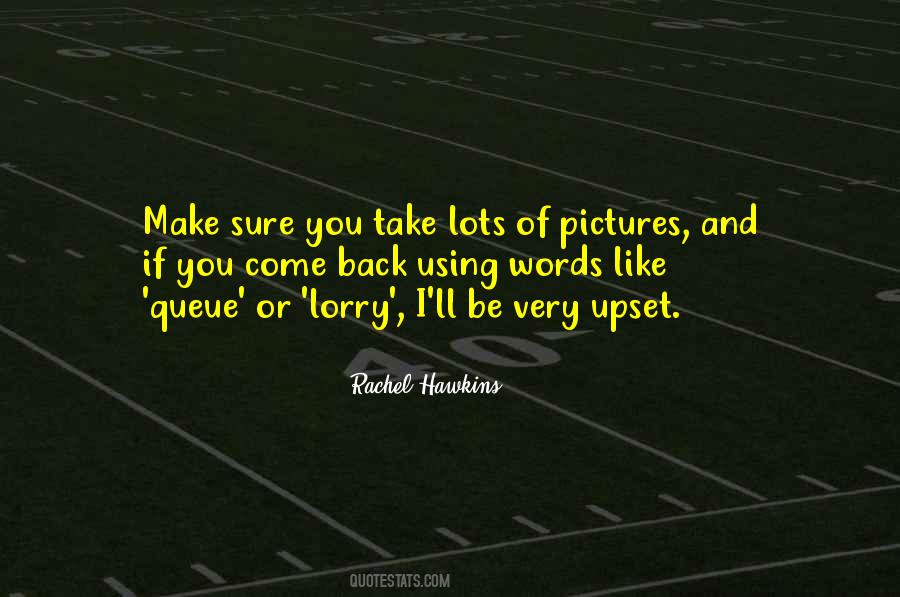 #95. My thoughts and ideas are floating images in my mind. I find when it difficult to convert the pictures into words. - Author: Tina J. Richardson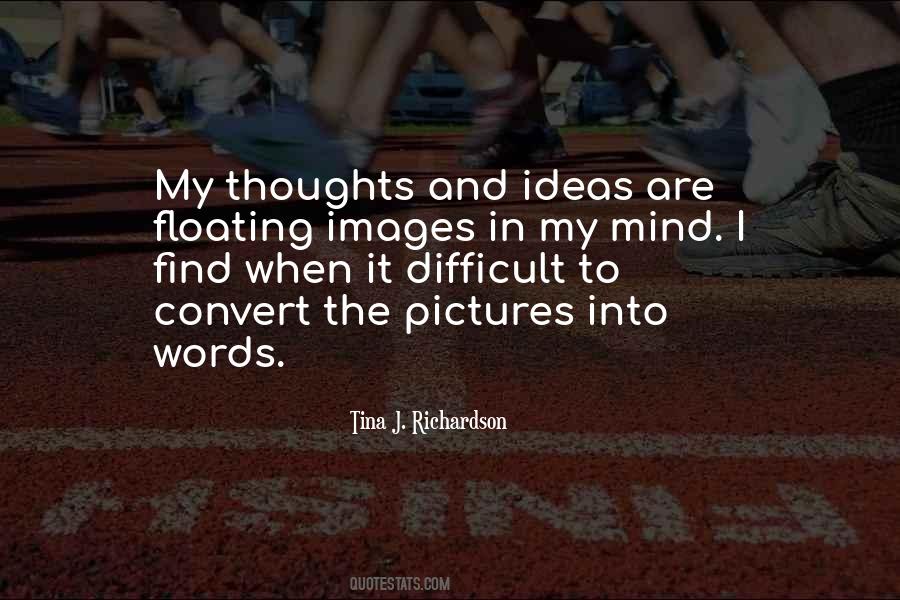 #96. The difference between the world of pictures and the world of printed matter is extraordinary and hard to define. A picture is like the masses: a multitude of impressions. A book on the other hand, with its linear advance of words and characters seems to be connected to individual identity. - Author: Don DeLillo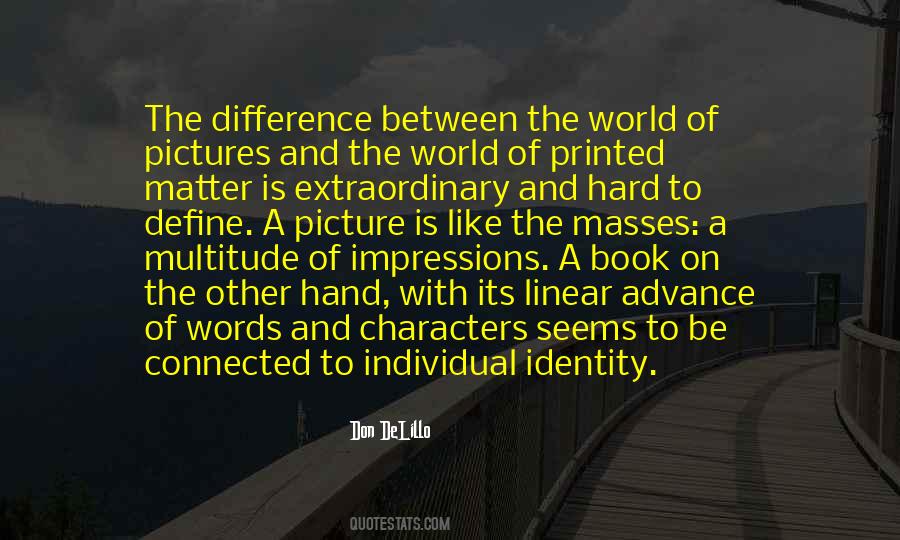 #97. There are many challenges I face while working on a book. Working within deadlines and schedules is certainly one of the bigger ones for me. I want to create the best possible book I can for my readers with words and pictures - and that takes time to get it just right. - Author: Tony DiTerlizzi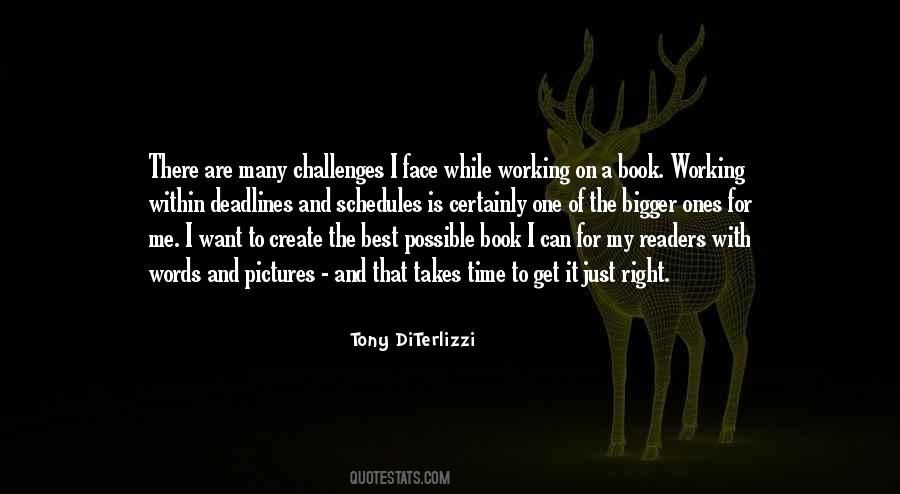 #98. Poetry is an art that uses words to paint vivid pictures of perceptions and emotions. - Author: Debasish Mridha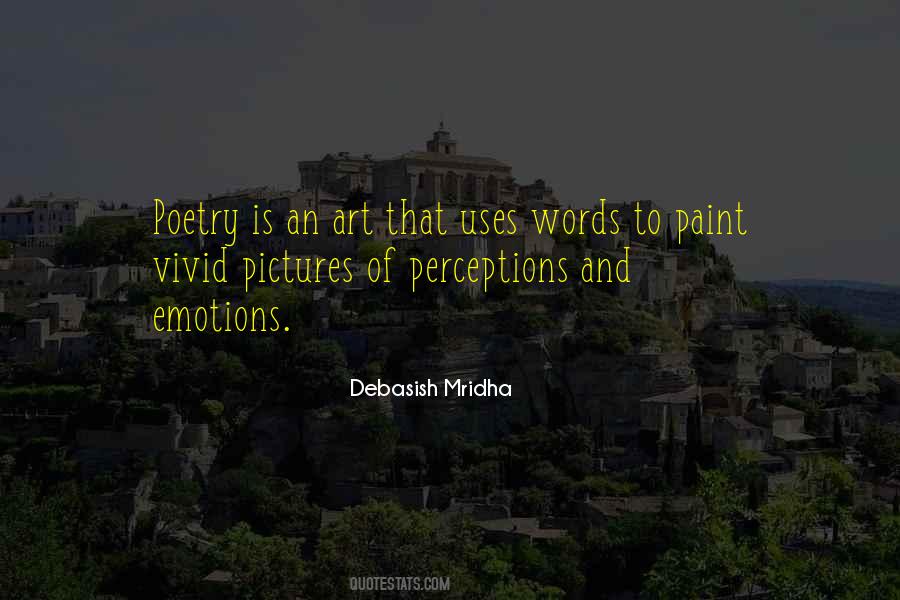 #99. Ladies and gentlemen, a picture is not worth a thousand words. We found some pictures that are worth 500 billion words. - Author: Erez Lieberman Aiden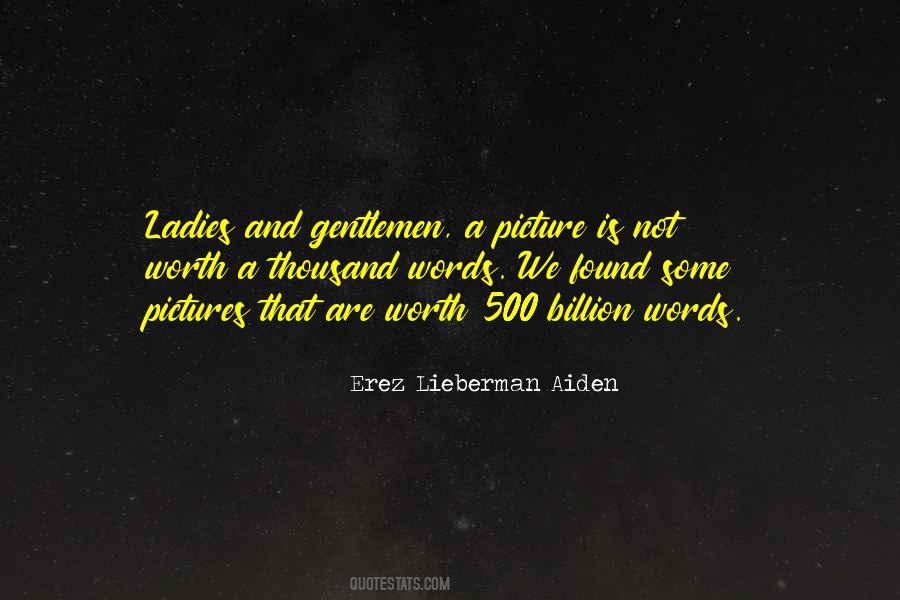 #100. I work with pictures and words because they have the ability to determine who we are, what we want to be and what we become. - Author: Barbara Kruger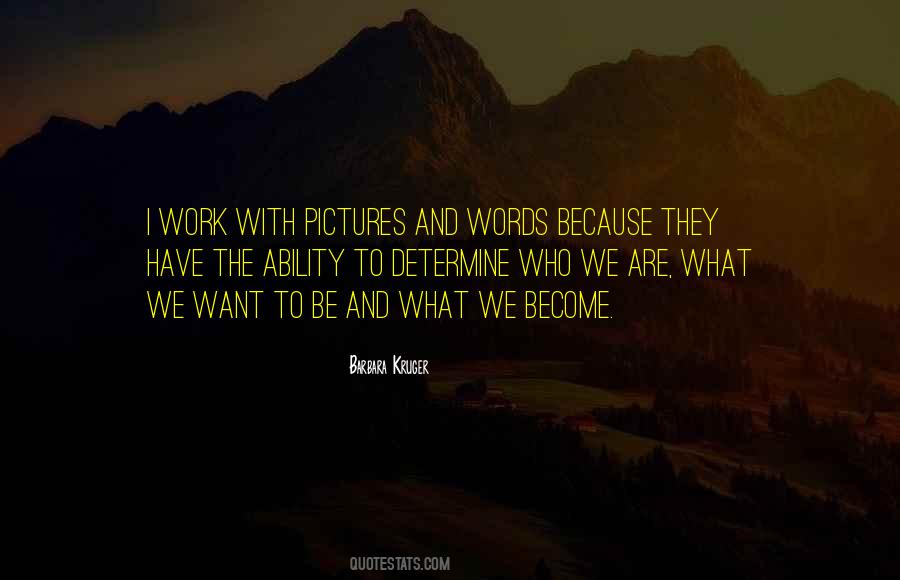 Famous Authors
Popular Topics