Open Space Famous Quotes & Sayings
List of top 100 famous quotes and sayings about open space to read and share with friends on your Facebook, Twitter, blogs.
Top 100 Quotes About Open Space
#1. I even hung mobiles, banners, and wind chimes from the ceiling in any wide open space." In an aside she commented, "Moving objects especially mess with their ability to pull themselves together." "Is that so? Now you're the expert on ghost prevention?" "I guess so. It worked. - Author: Rhonda Hughes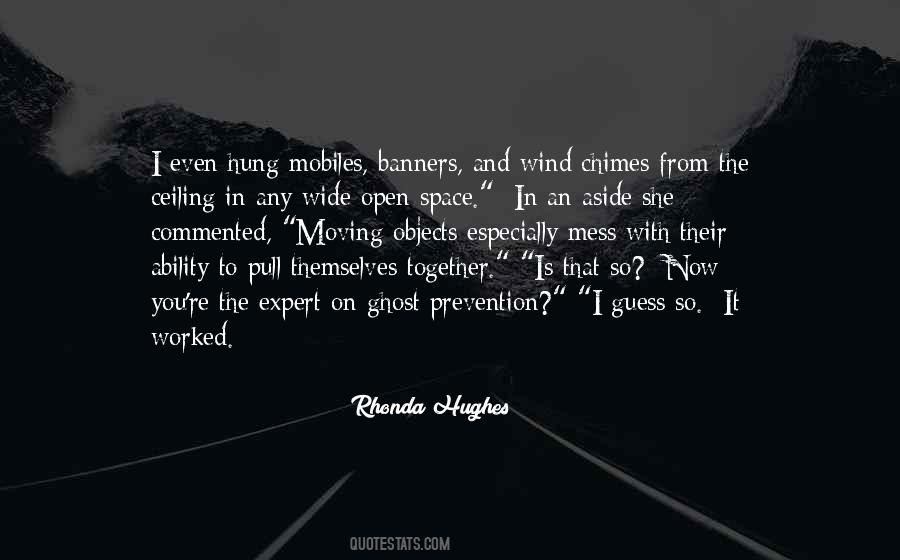 #2. It was just a colour out of space - a frightful messenger from unformed realms of infinity beyond all Nature as we know it; from realms whose mere existence stuns the brain and numbs us with the black extra-cosmic gulfs it throws open before our frenzied eyes. - Author: H.P. Lovecraft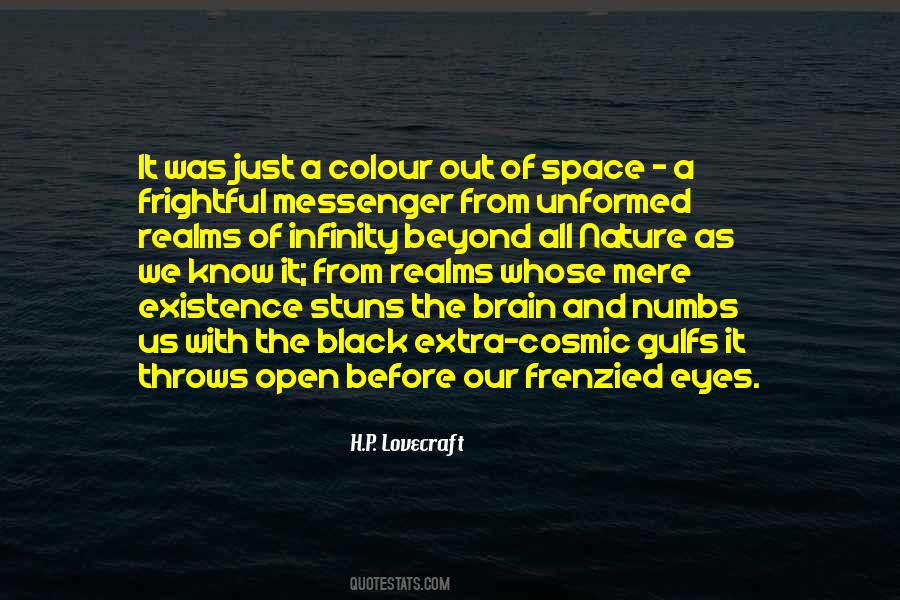 #3. If someone wanted to have a grudge against me, or didn't agree with my lifestyle, the way I breathed, the space I took up on this planet, they had an open door to 'report' to the powers that be. - Author: Mark Alders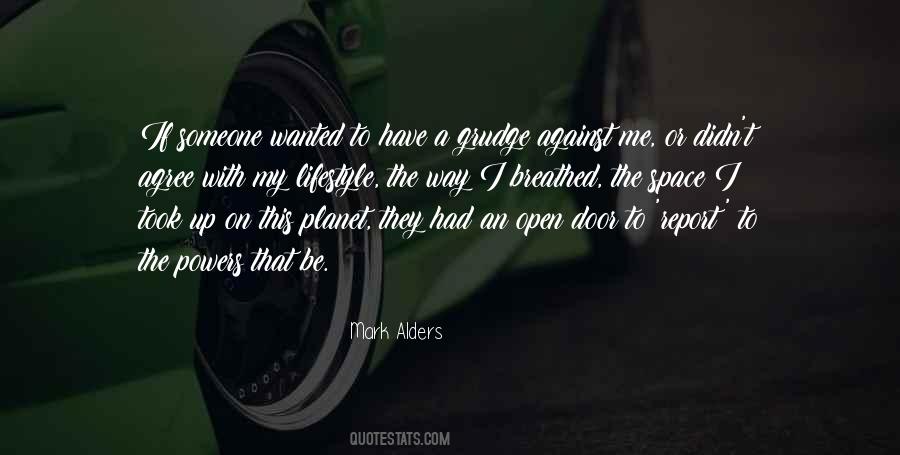 #4. When we spend our lives (knowingly or unknowingly) pushing away vulnerability, we can't hold space open for the uncertainty, risk, and emotional exposure of joy. - Author: Brene Brown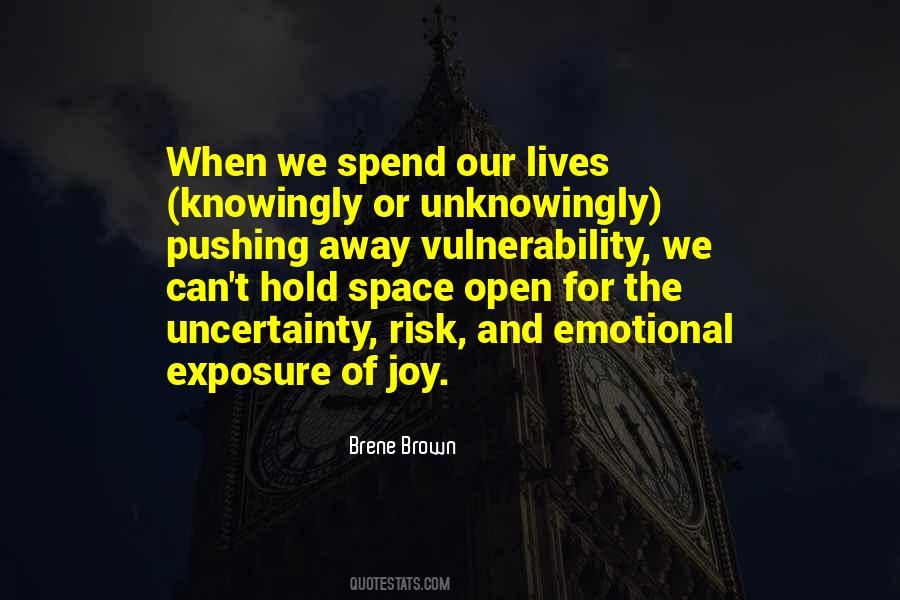 #5. Put two ships in the open sea, without wind or tide, and, at last, they will come together. Throw two planets into space, and they will fall one on the other. Place two enemies in the midst of a crowd, and they will inevitably meet; it is a fatality, a question of time; that is all. - Author: Jules Verne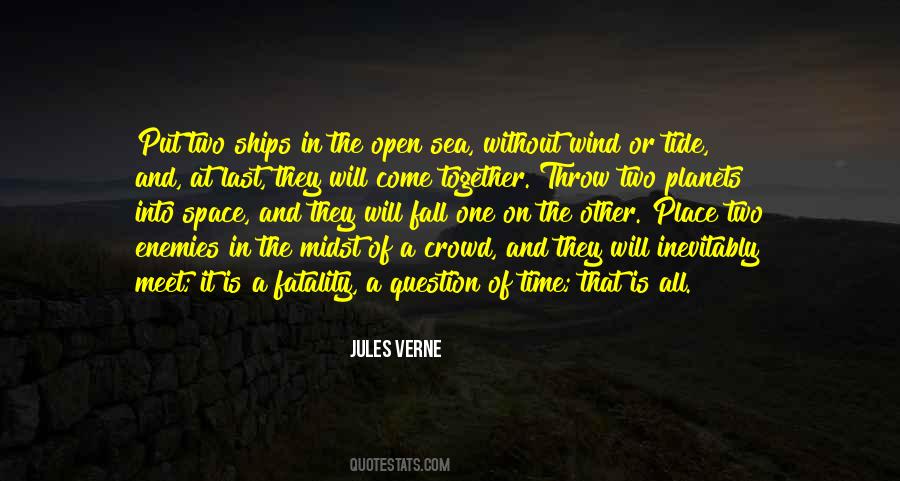 #6. Now, space has its own unique smell. So whenever a vehicle docks, or if guys are out doing a spacewalk, the smell of space when you open up the hatch is very distinct. It's kind of like a burning-metal smell, if you can imagine what that would smell like. - Author: Scott Kelly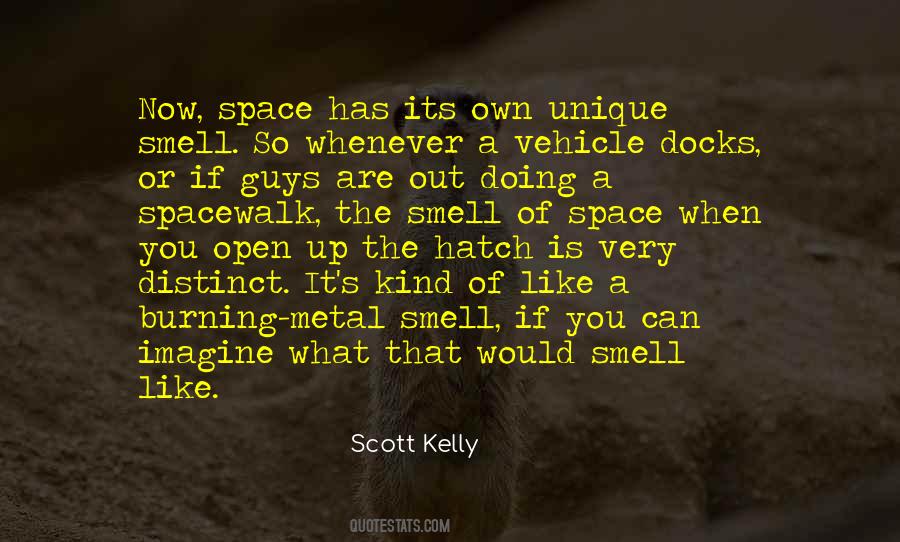 #7. There must be an open space in the paintings - an entry space for the viewer, or even for me. Just white space where you can get into it. - Author: Norbert Bisky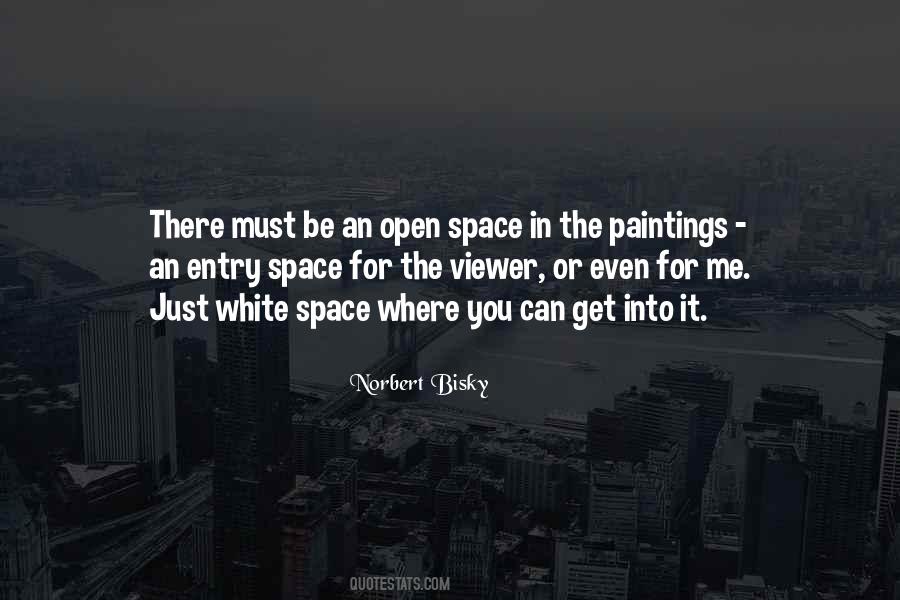 #8. Growing Greener doesn't produce money for farmland preservation or open space preservation. - Author: Ed Rendell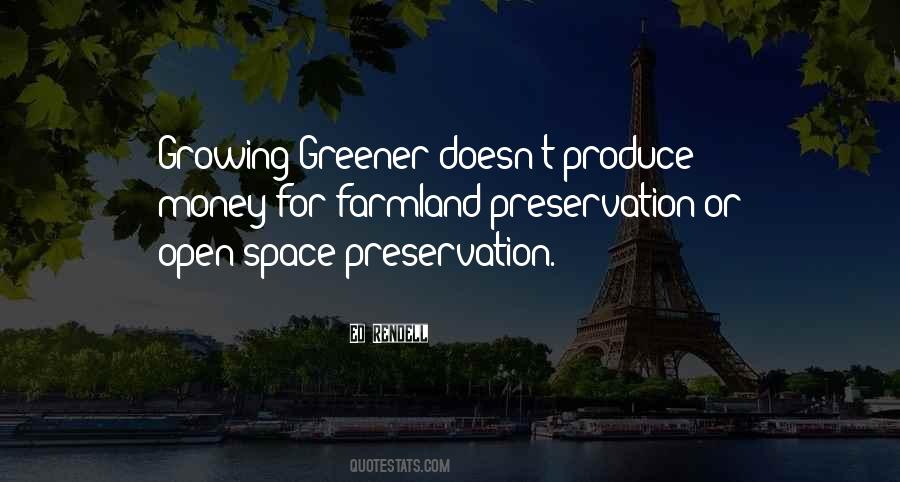 #9. I lived in Dallas, and it's a big city, but you can jump on any freeway and drive in any direction for about 30 minutes and you are in the country - open space, wide open, very open, nothin' around. - Author: Stark Sands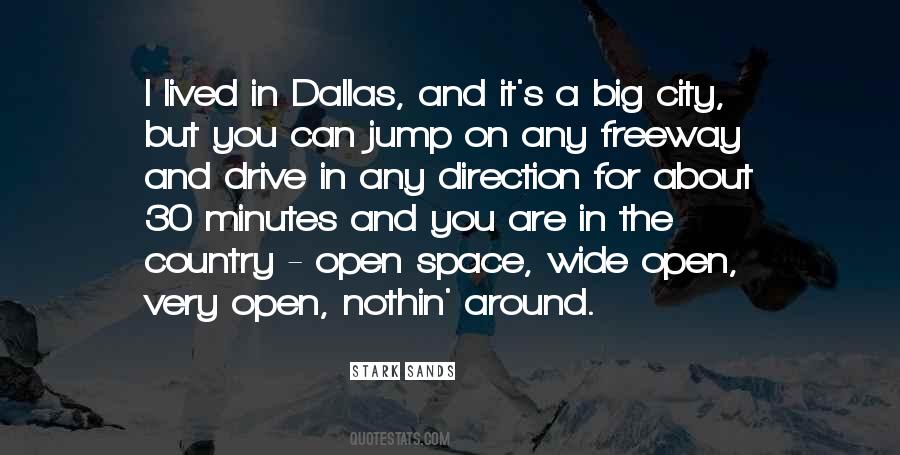 #10. The way is open, comrades, free as Space
Alone is free. The only gold is love,
A coin that we have minted from the light
Of others who have cared for us on Earth
And who have deposited in us the power
That nerves our nerves to seize the burning stars. - Author: Philip Jose Farmer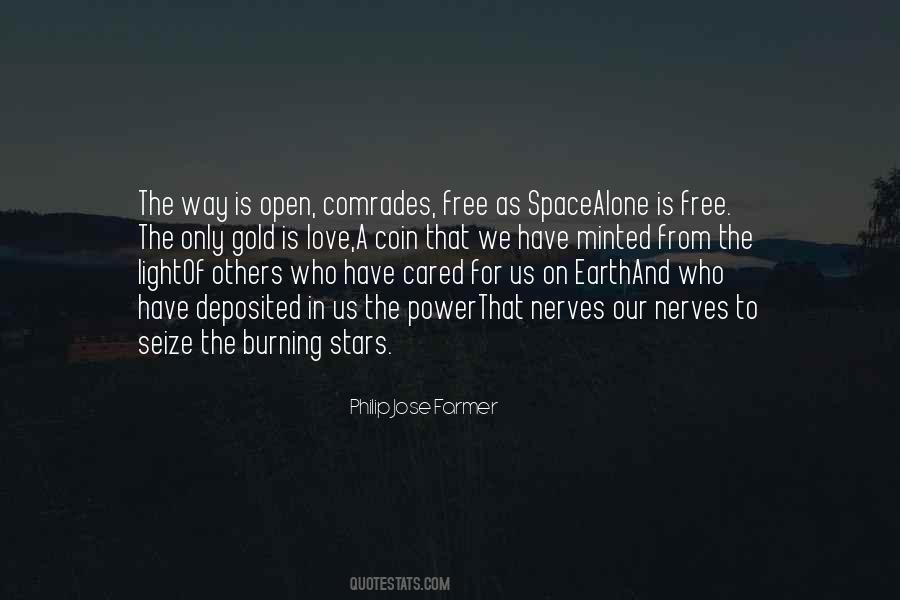 #11. Southly thru shrubby heath we tromped now till we got to wideway. Wideway I'd heard o' from storymen an' here it was, an open, long, flat o' roadstone. SAplin's'n'bush was musclin' up but wondersome'n'wild was that windy space. - Author: David Mitchell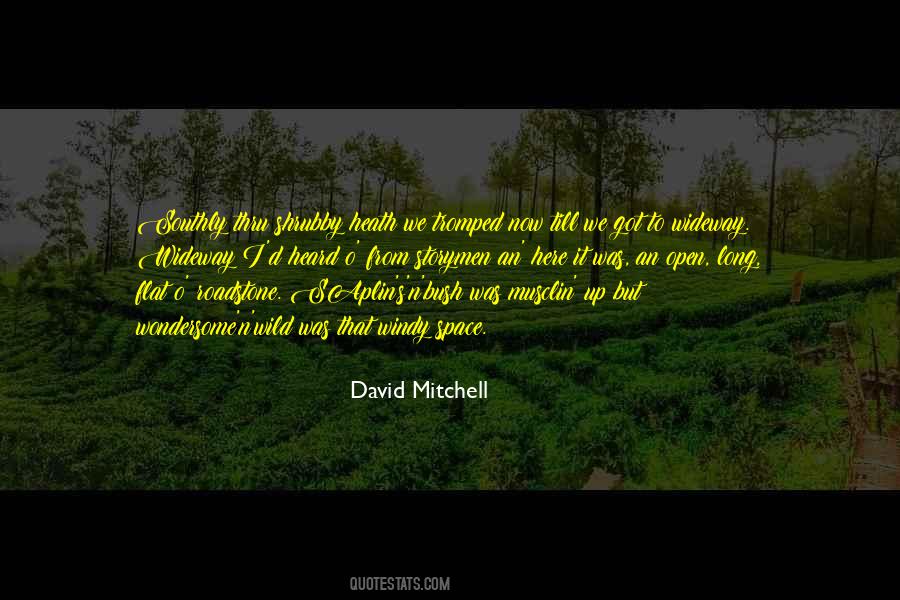 #12. Light was everything. Sunshine, windows with the blinds open. Pages with short chapters and lots of white space and
Short.
Paragraphs.
Light was everything. - Author: Matt Haig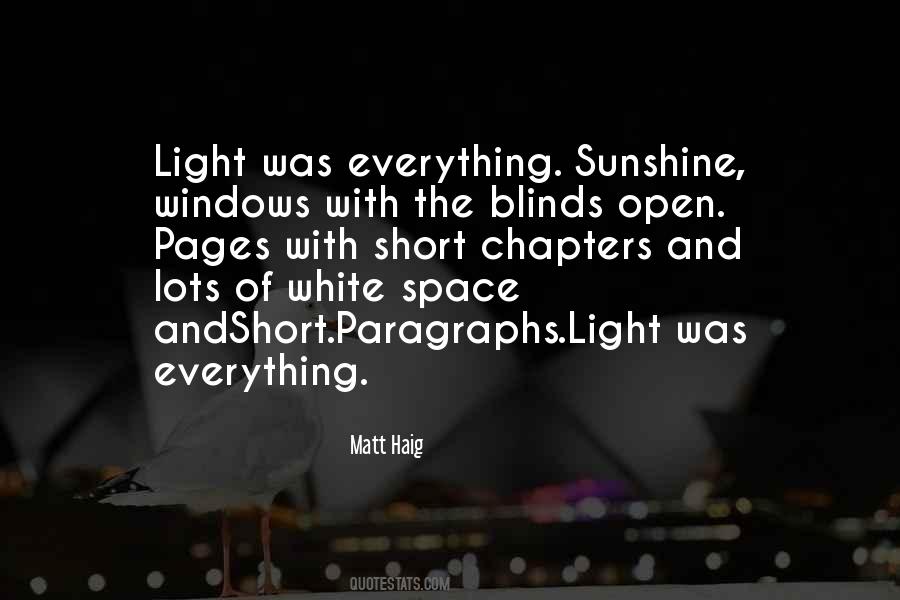 #13. In order to fly you have to create space in the open air so that your wings can really spread out. It's like a parachute. They only work from a high altitude. To fly you have to begin taking risks. If you don't want to, maybe the best thing is just to give up, and keep walking forever. - Author: Jorge Bucay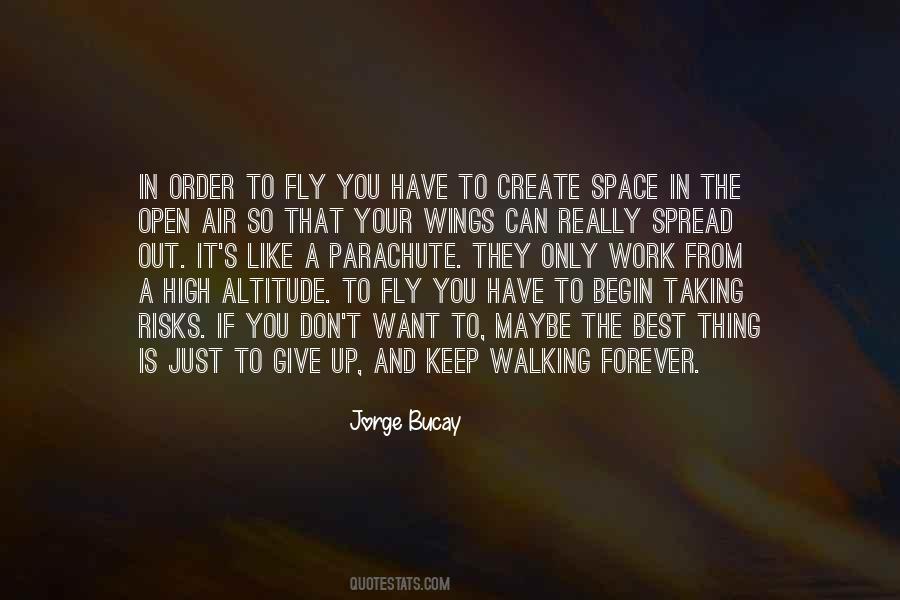 #14. Silence ... leads us to make a gift of self rather than a selfishness that has been gift-wrapped ... Silence does not mean running away but rather recollecting ourselves in the open space of God. - Author: Madeleine Delbrel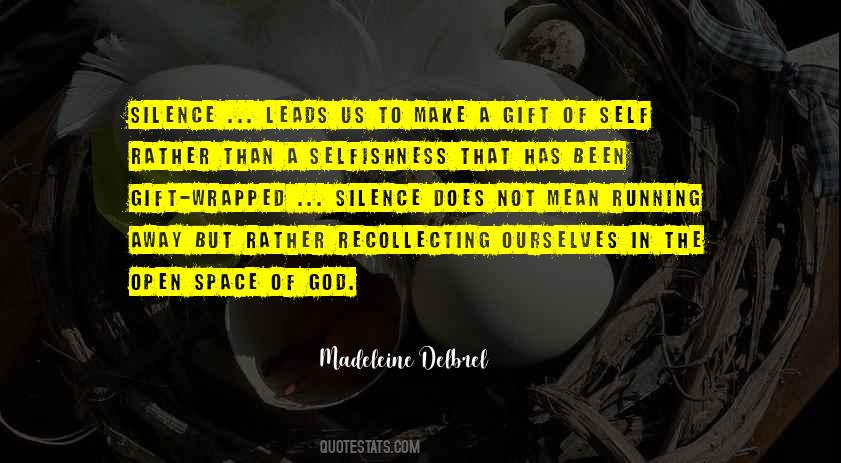 #15. I was thinking between 3 and 4 this morning, of my 55 years. I lay awake so calm, so content, as if I'd stepped off the whirling world into a deep blue quiet space and there open eyed existed, beyond harm; armed against all that can happen. - Author: Virginia Woolf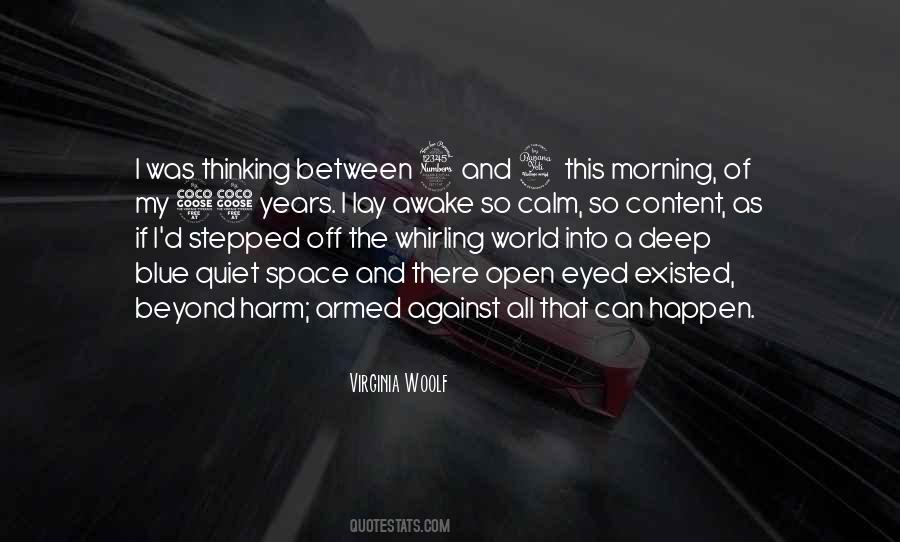 #16. The most powerful argument of all for saving open space is economics; in most states, tourism is the number two industry. - Author: Jim Fowler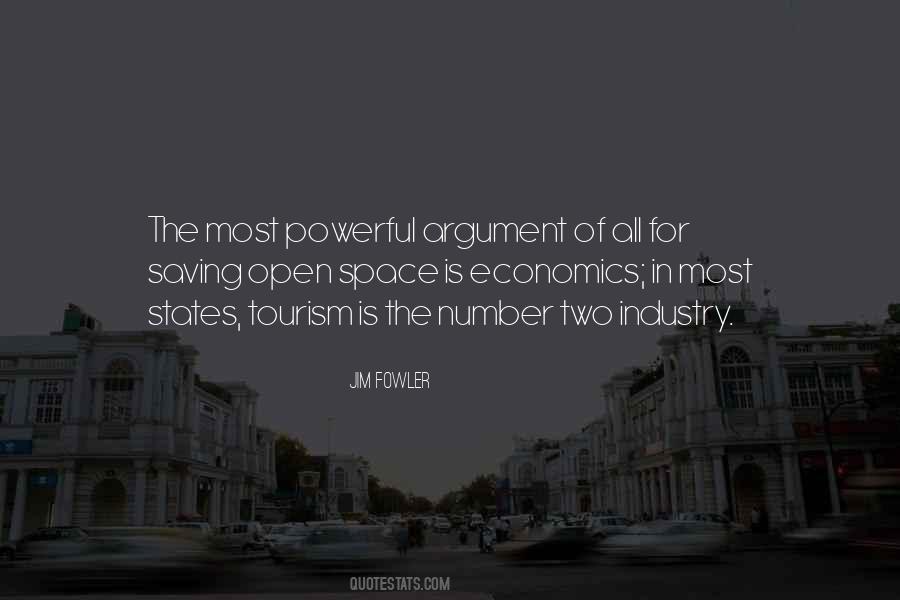 #17. Open collaboration encourages greater accountability, which in turn fosters trust. - Author: Ron Garan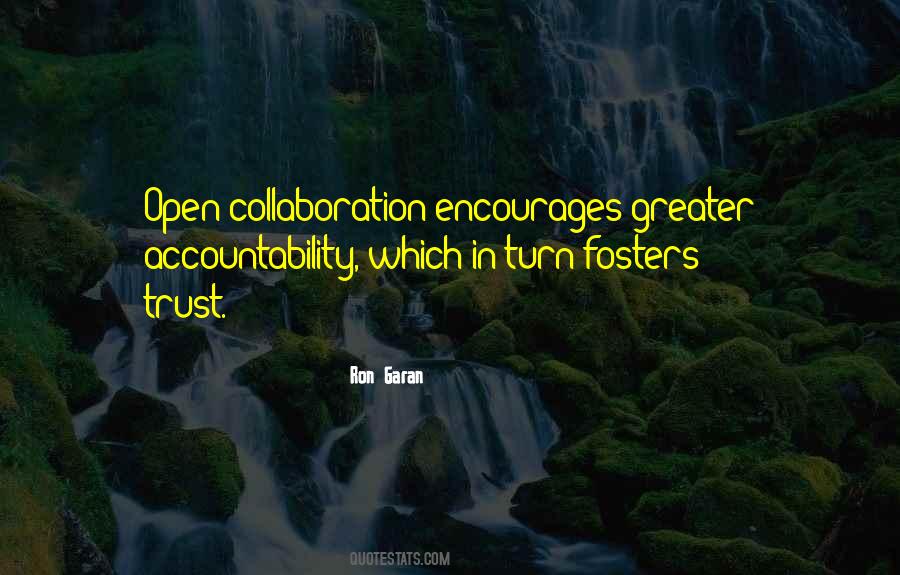 #18. Friends can feel such things in times of peril, as if a long, thin string holds them carefully together, tugging at one another through the open space of a dangerous world. The - Author: Patrick Carman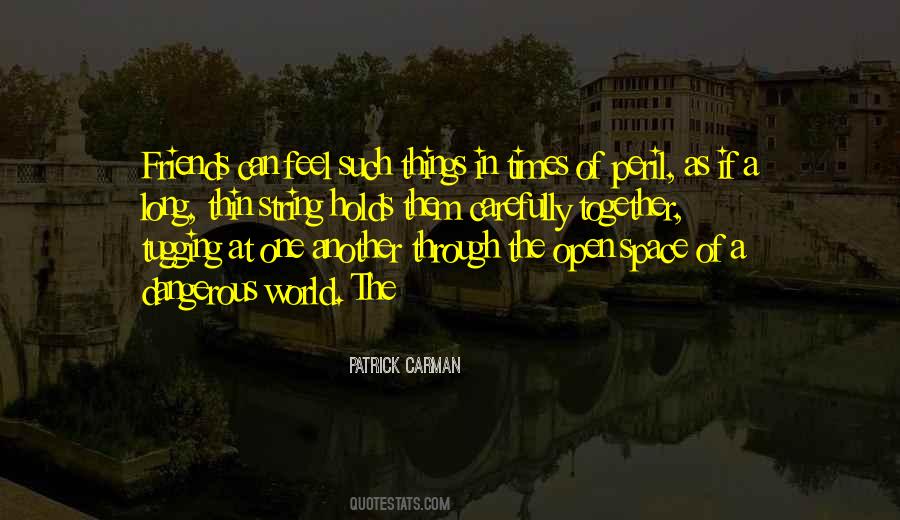 #19. My father was a great inspiration, and there was a bit of competition between us. He'd work in his studio, and I'd work in my space, but the door was always half open. - Author: Jamie Wyeth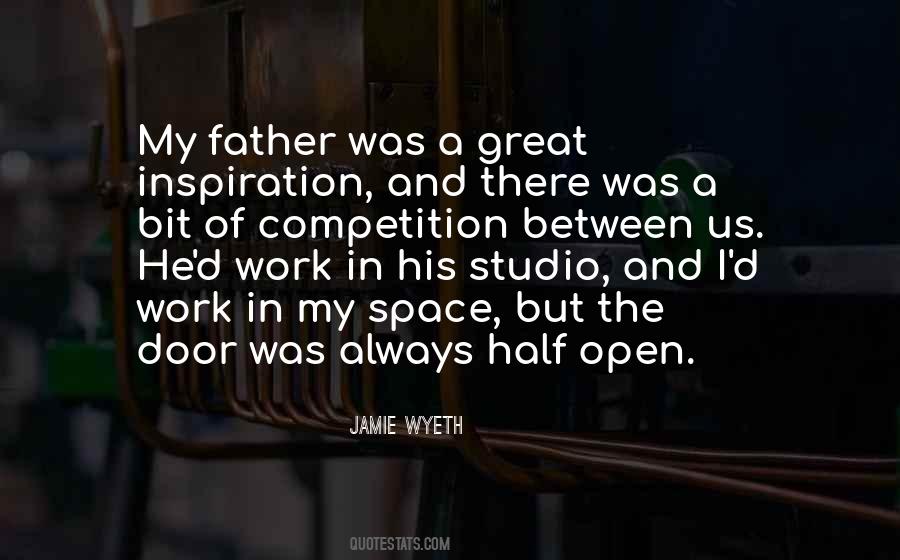 #20. I grew up in Lake Orion, Mich. What was best about Lake Orion where, where we grew up was it was a suburb of Detroit but had a lot of open space around. - Author: Andrew J. Feustel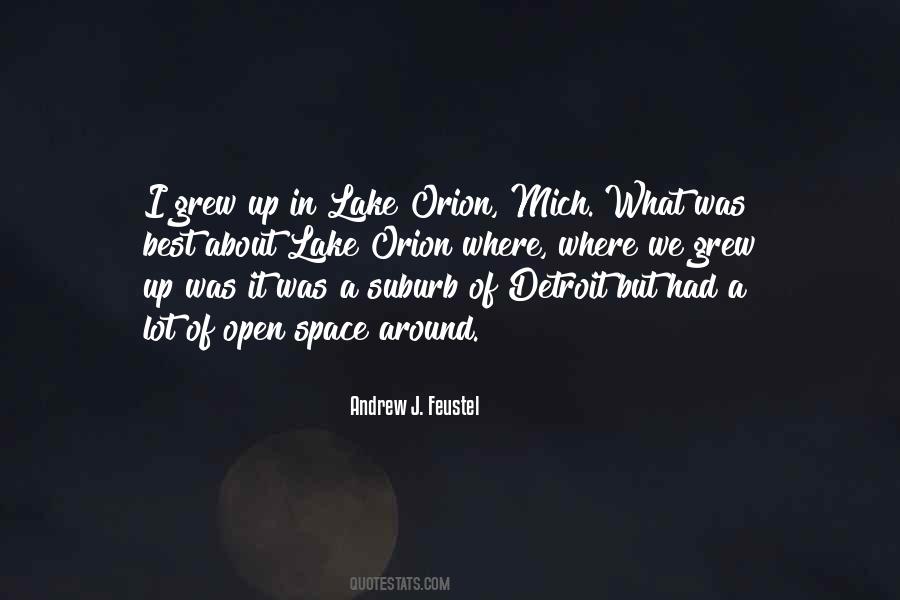 #21. With 'Acid Rap,' I allowed myself to be really open-minded and free with who I allowed into my musical space. I wanted to make a cohesive product, but I also just want to make a bunch of dope songs inspired by whatever sounds I liked. - Author: Chance The Rapper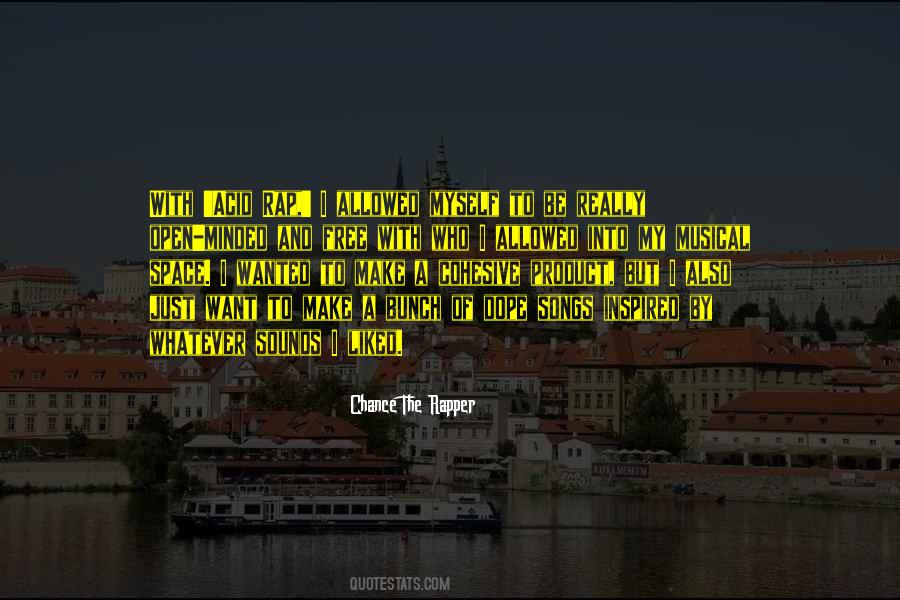 #22. To put it crudely, 'The Act of Killing' would blast open the space for the more delicate film, 'The Look of Silence,' to do its work. - Author: Joshua Oppenheimer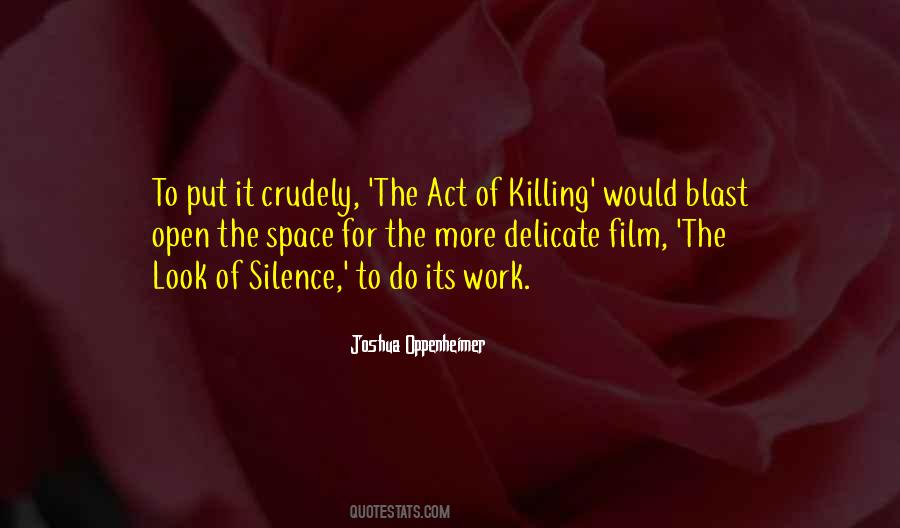 #23. The cemetery is an open space among the ruins, covered in winter with violets and daisies. It might make one in love with death, to think that one should be buried in so sweet a place. - Author: Percy Bysshe Shelley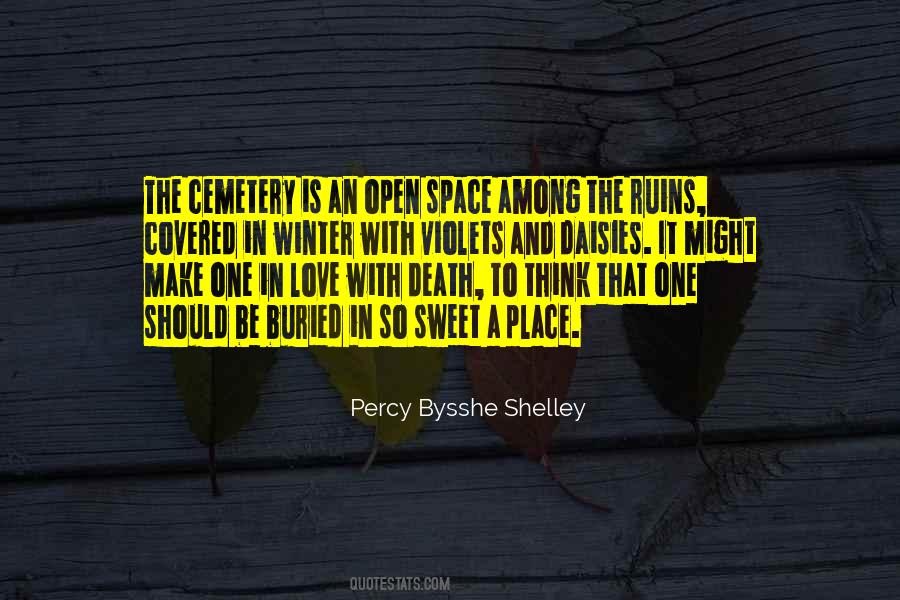 #24. Letting go is not about giving up, being lazy, or sacrificing yourself... Letting go doesn't have to mean losing; it can be about coming into a new, open, clean space from which you can create. - Author: Rebekah Elizabeth Gamble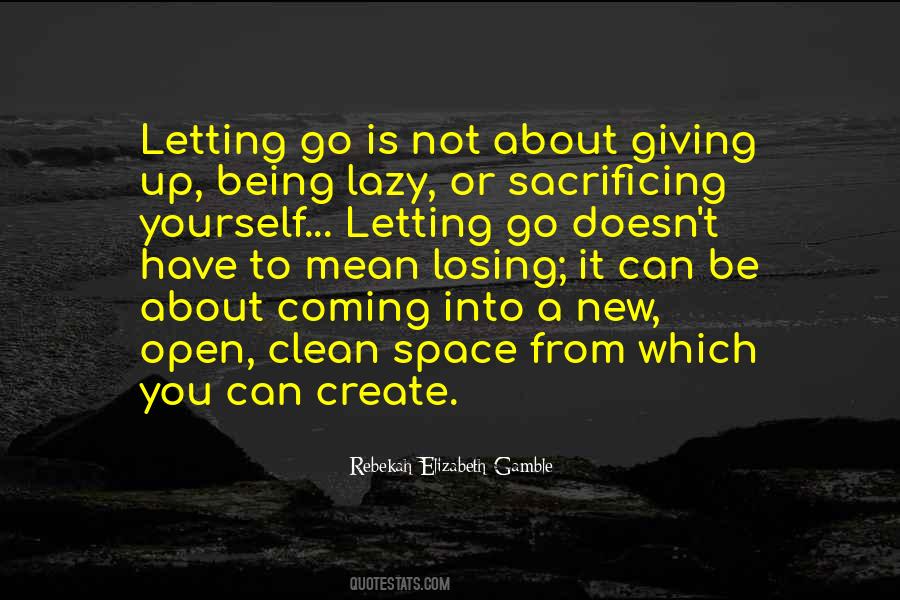 #25. In the center of that open space, a bony woman in a threadbare garment was hunched over a dead plant.
Sword of Divine Fire's reaction was succinct: "Fuck!" The woman cringed as if he'd hit her with a bullwhip. Then: "What has happened to our potato? - Author: Neal Stephenson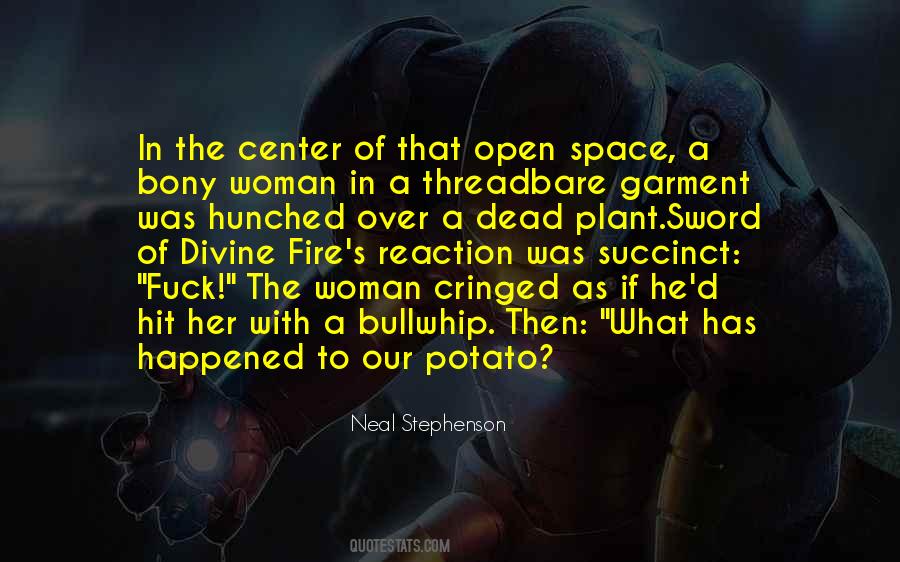 #26. I move onward, through the colors and cheers and music, floating into my future, and it is a clear, open space that stretches wider that the sky and higher than the Andes. - Author: Laura Resau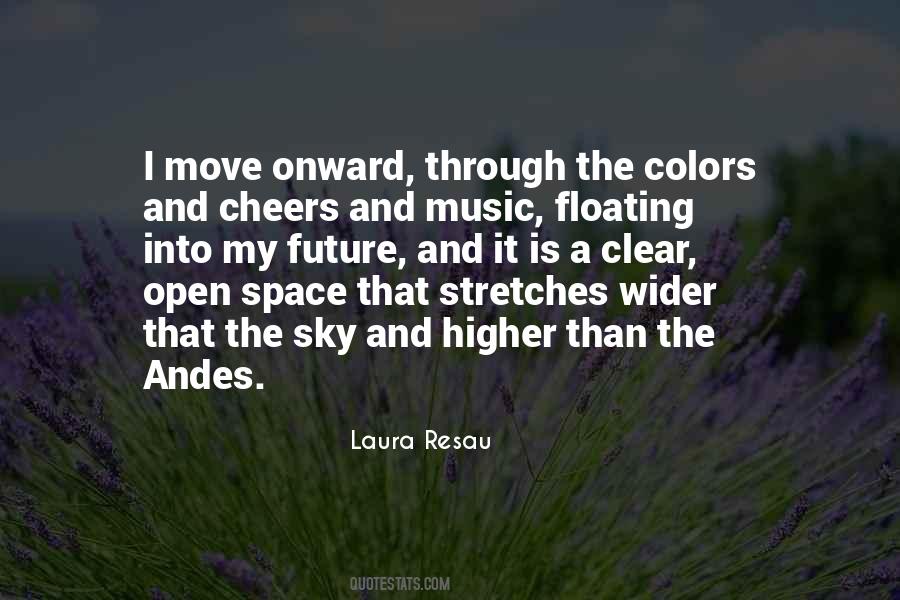 #27. A state of grace is when everything imperfect disappears, leaving just stripped-down harmony. One is left empty, with nothing except a fluid open sensation, similar to becoming the sound from a tuning fork piercing through space. - Author: Darrell Calkins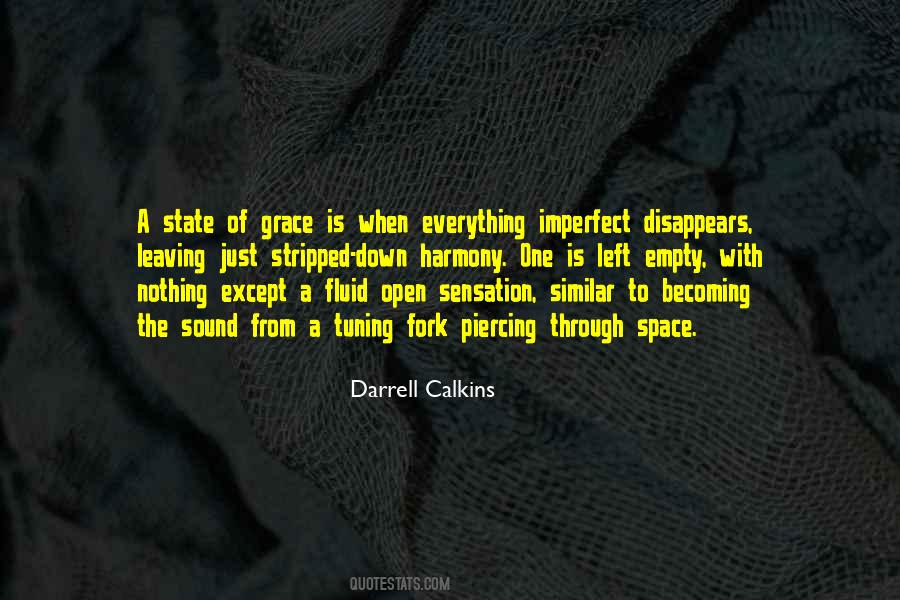 #28. There was some open space between what he knew and what he tried to believe, but nothing could be done about it, and if you can't fix it you've got to stand it. - Author: Annie Proulx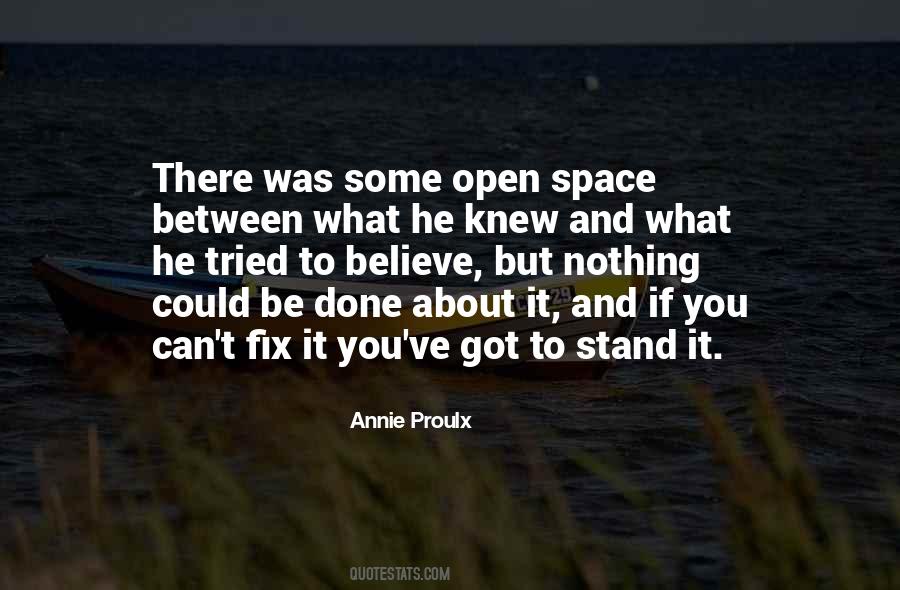 #29. Living in a rural setting exposes you to so many marvelous things - the natural world and the particular texture of small-town life, and the exhilarating experience of open space. - Author: Susan Orlean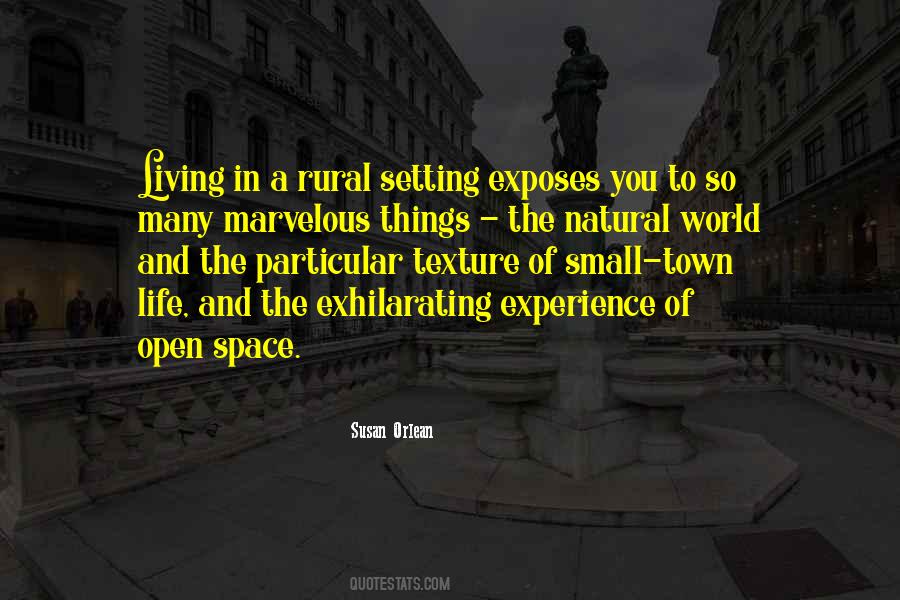 #30. She pivoted right, and sensed the vast, open space of the wasteland stretching before her under the opaque sky, a darkness as thin and final as the velvet lining of a shroud (360-361). - Author: Caragh M. O'Brien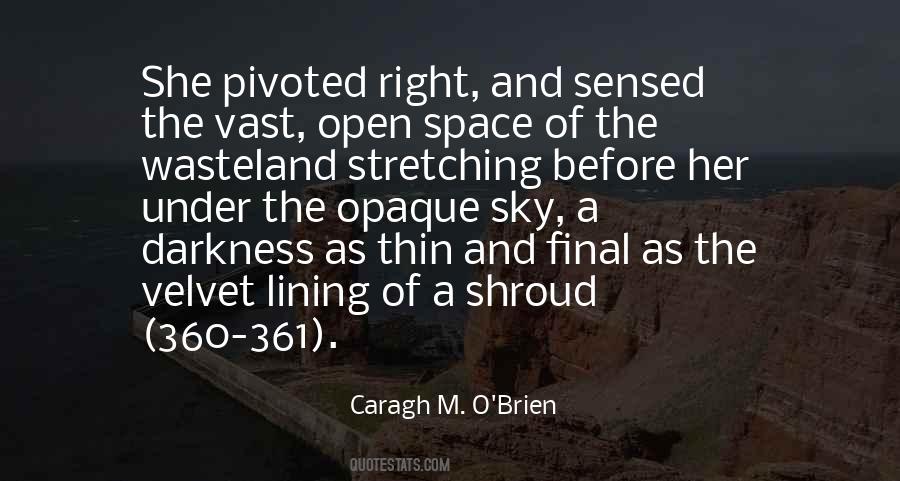 #31. Somewhere inside me, there was still preserved a broad, open space, untouched, for Naoko and no one else. - Author: Haruki Murakami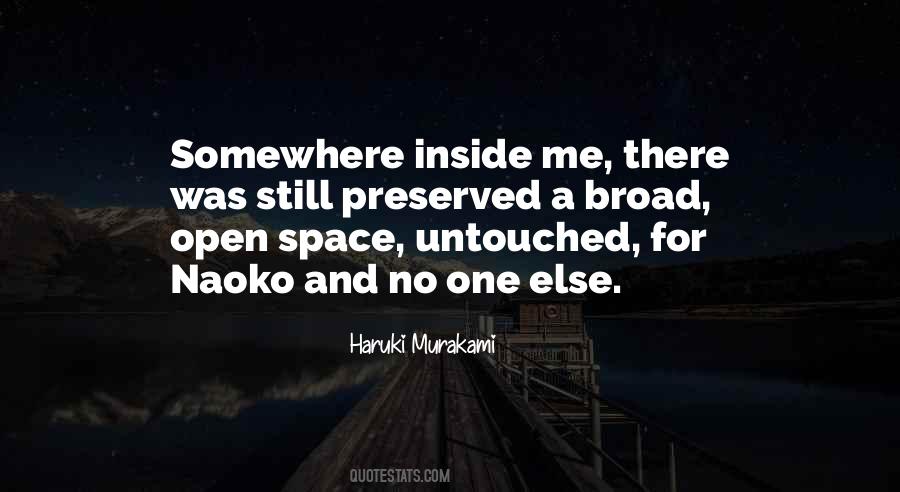 #32. Amid the scattered property and the crowd on the open space, she in her rich satin cloak with a bright lilac shawl on her head suggested a delicate exotic plant thrown out onto the snow. She - Author: Leo Tolstoy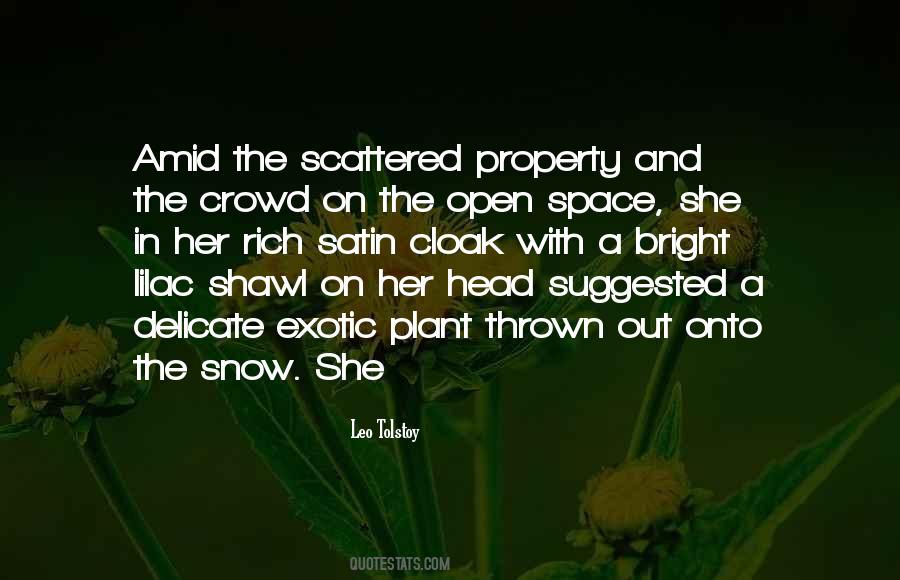 #33. If someday rockets should open the gates to space, then we must be oriented as to its environmental conditions and their possible biological effects. To study this, and to find means of protection, is one of the tasks of space medicine. - Author: Hubertus Strughold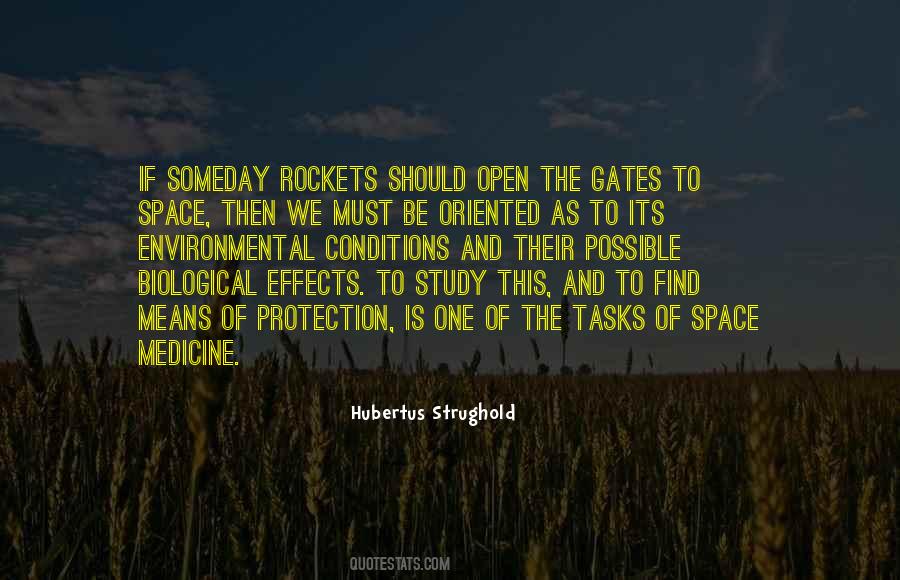 #34. My two primary areas of focus have been open-space conservation and education, and I expect those to remain my priorities in the future. The Irvine open space and parklands provide serenity and balance to our unique Orange County lifestyle. - Author: Donald Bren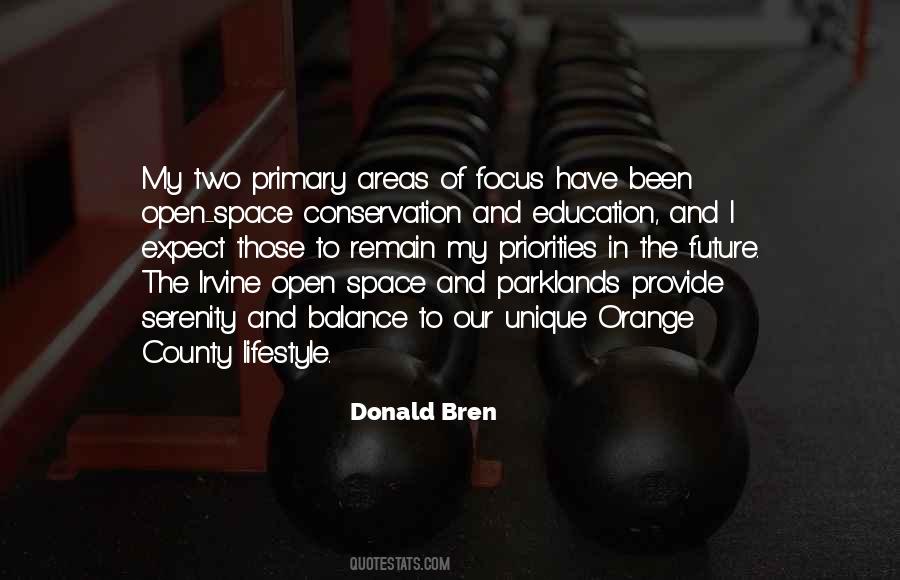 #35. Open-plan offices have been found to reduce productivity and impair memory. They're associated with high staff turnover. They make people sick, hostile, unmotivated, and insecure. - Author: Susan Cain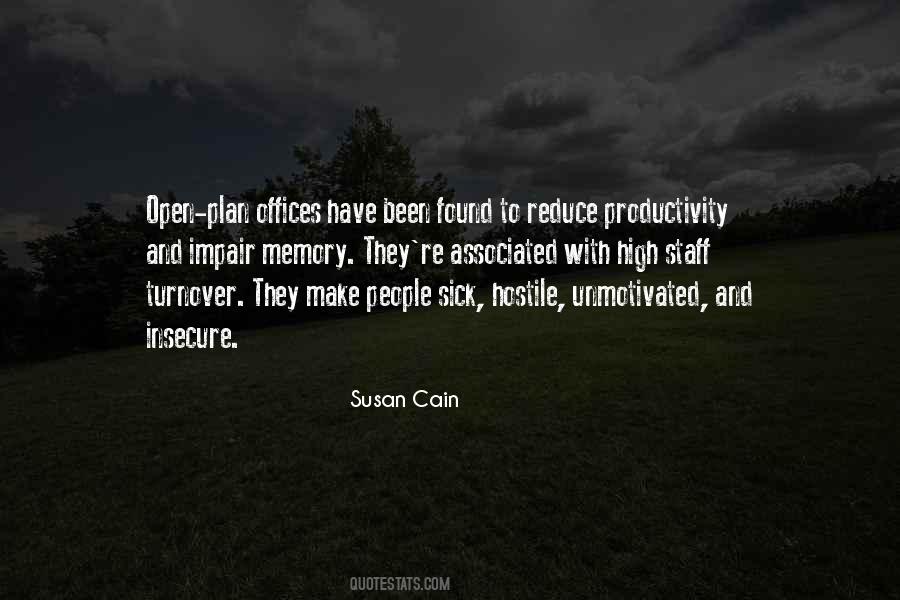 #36. Find a space where you can be creative and a place where you are open for free thinking, you want to enjoy what you are doing and do what you are best at. - Author: David Karp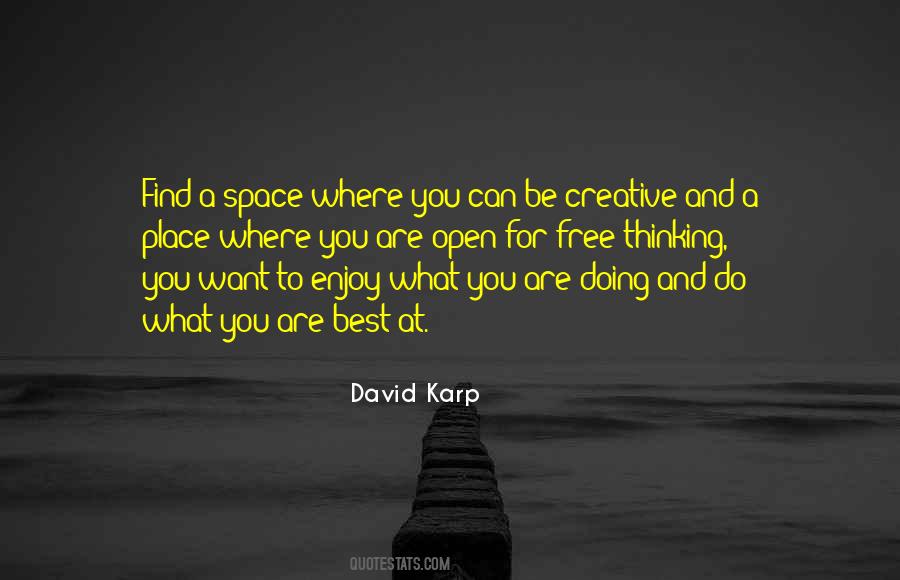 #37. The kindness sent from one compassionate soul to another during the time of loss of one held so dear allows the sorrow-filled heart to open wide, filling the space of emptiness that grief may have created with a renewed sense of peace, compassion, and love. - Author: Molly Friedenfeld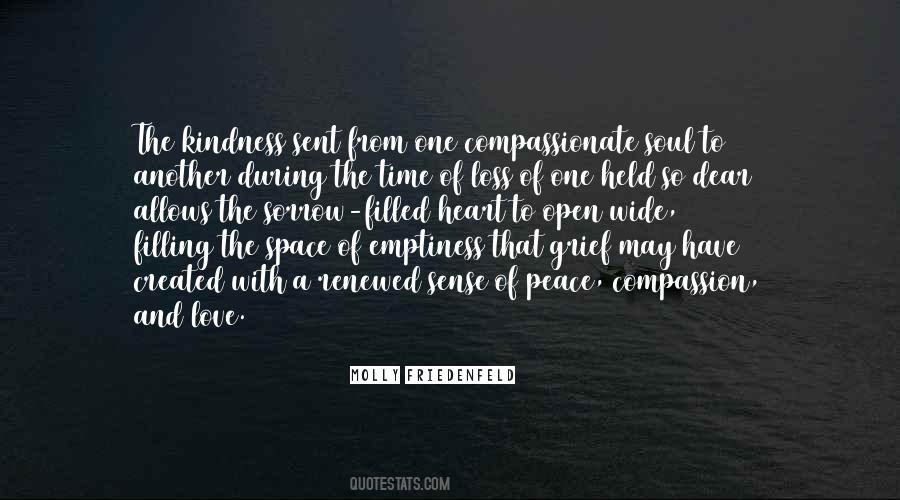 #38. What was once an open space between law and freedom, one governed by character and truth, is now deserted, so law must now do what character has abandoned. - Author: David F. Wells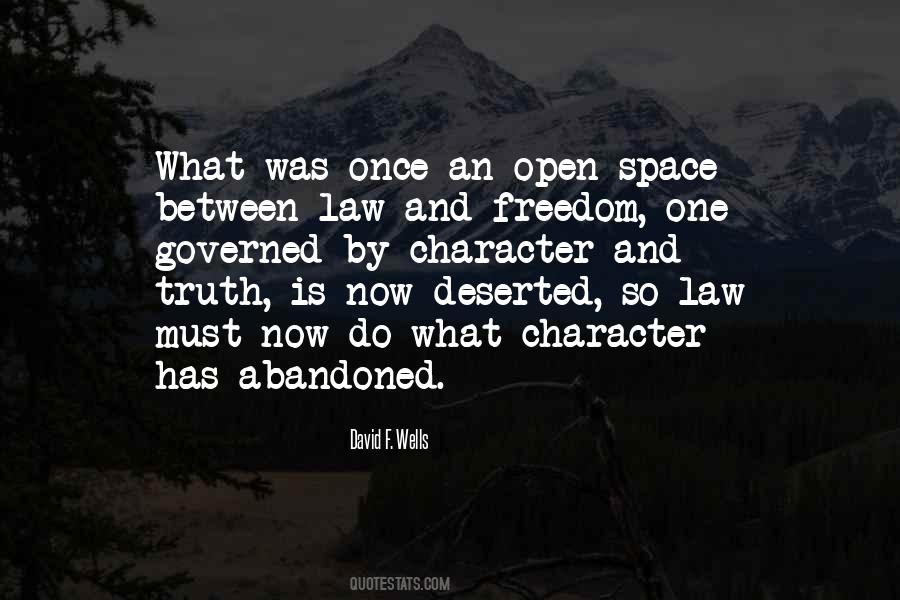 #39. Companies believe that more open space will boost productivity and creativity, but they have no evidence to prove it. - Author: Anonymous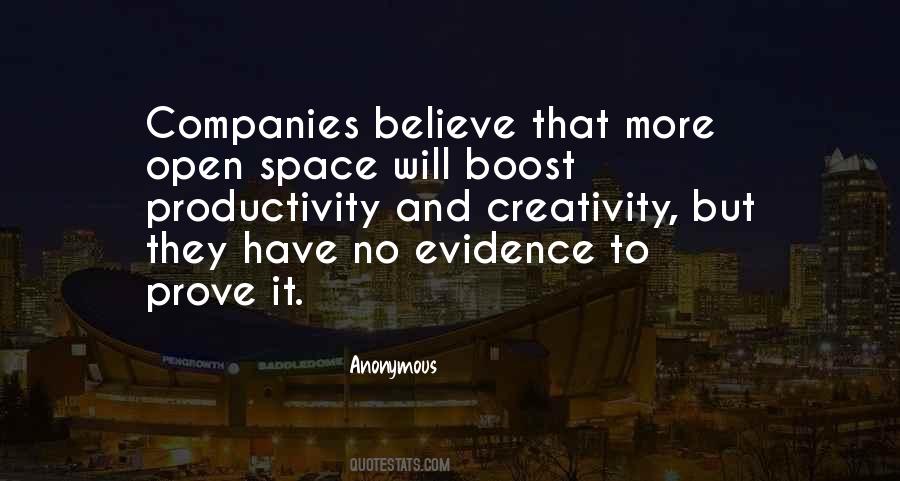 #40. Only in an open, nonjudgmental space can we acknowledge what we are feeling. Only in an open space where we're not all caught up in our own version of reality can we see and hear and feel who others really are, which allows us to be with them and communicate with them properly. - Author: Pema Chodron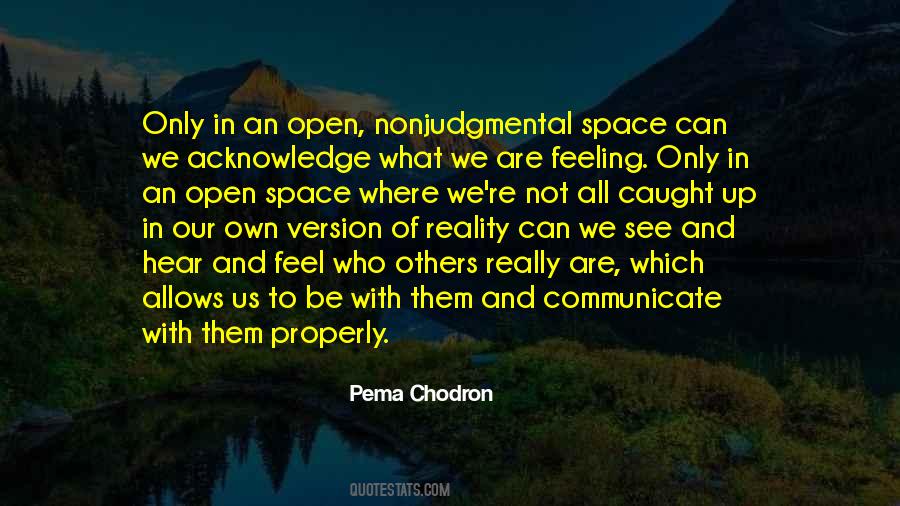 #41. Down the hall, third door to your left.'
'Much obliged,' she said sarcastically, noticing that there was nothing but air beyond the railing to her right - as if the core of the house was one huge, open space. - Author: Nalini Singh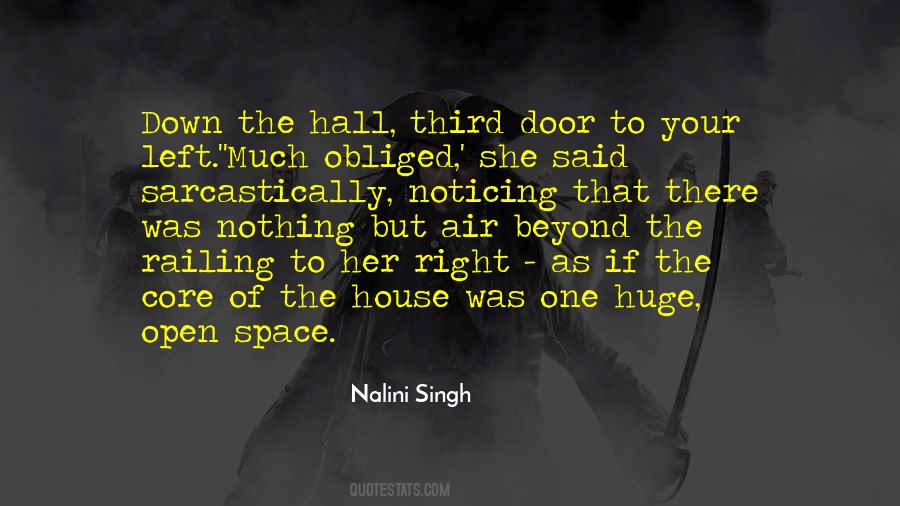 #42. Each man has his own vocation; his talent is his call. There is one direction in which all space is open to him. - Author: Ralph Waldo Emerson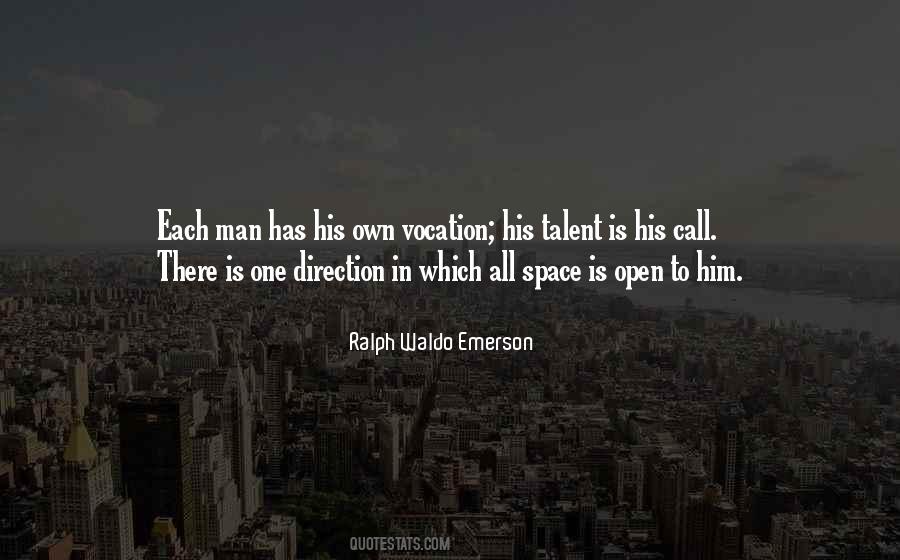 #43. Films can't change the society; they can simply open the space for the discussion which can lead to social change and can start new forms of social activism. - Author: Joshua Oppenheimer
#44. Who is not afraid of pure space - that breathtaking empty space of an open door? - Author: Anne Morrow Lindbergh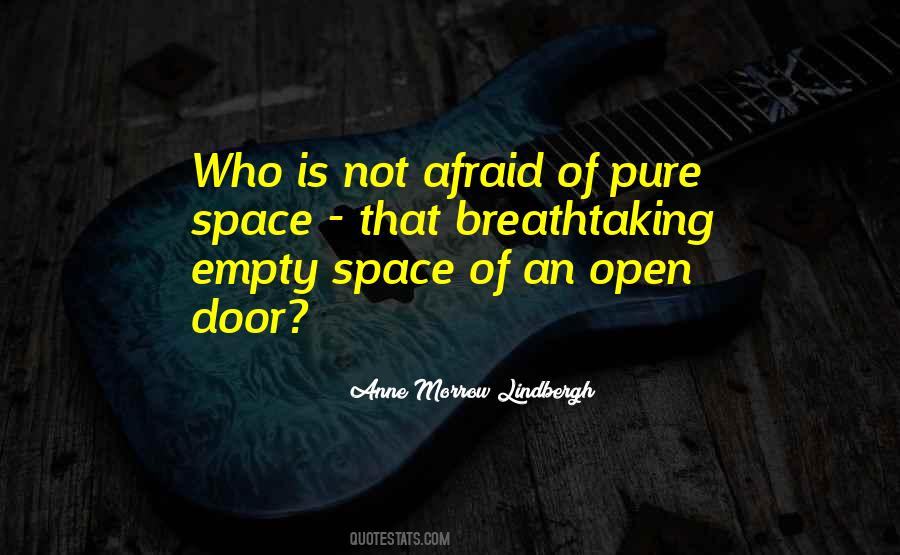 #45. She looked all around. It was so strange to feel trapped in the middle of so much open space. But that was exactly how she felt. - Author: Chris Kurtz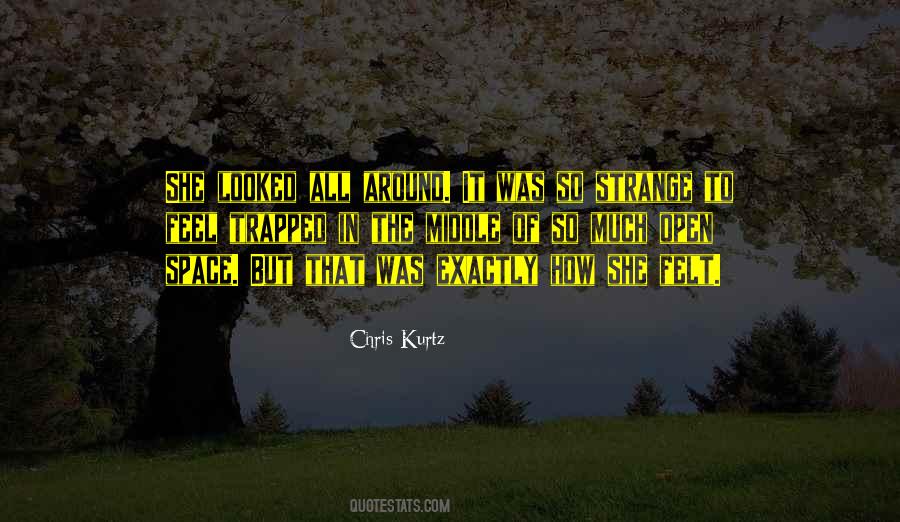 #46. The earth isn't solid. It is made of molecules and atoms, tiny universes filled with space. It is a place of mystery, light, and magic, if you only open your eyes. - Author: Dan Millman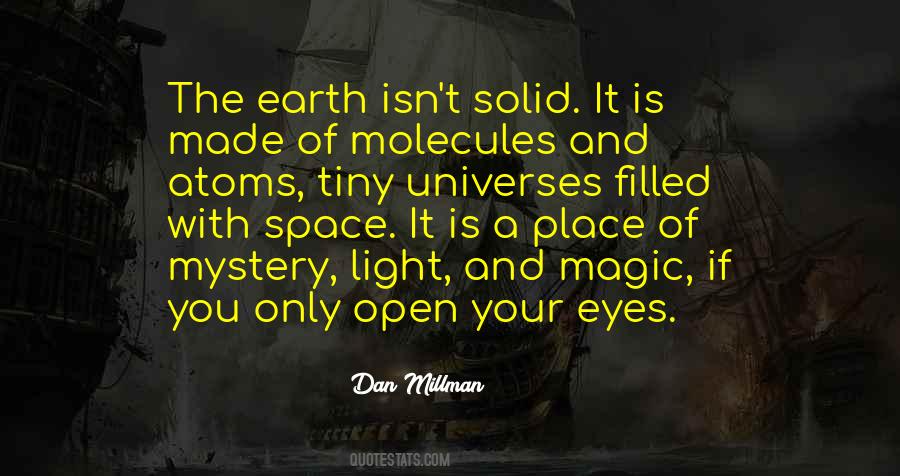 #47. If we can allow some space within our awareness and rest there, we can respect our troubling thoughts and emotions, allow them to come, and let them go. Our lives may be complicated on the outside, but we remain simple, easy, and open on the inside. - Author: Tsoknyi Rinpoche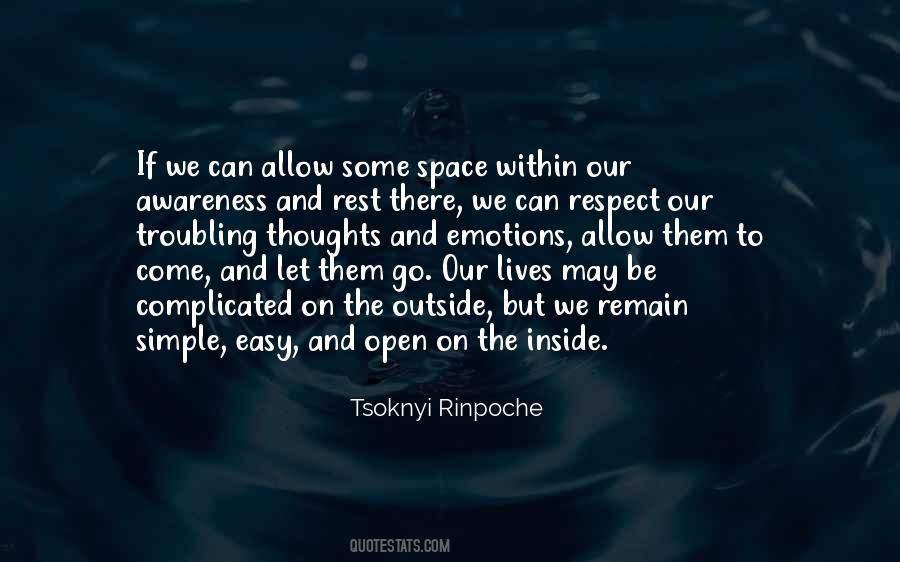 #48. Throughout the open space, and a two-story fireplace. The bedrooms all have mountain vistas, and the patio has a multimillion-dollar view of a great, green, tree-studded lawn. Edmund Washburn, a big teddy bear of a man, had fired up the - Author: James Patterson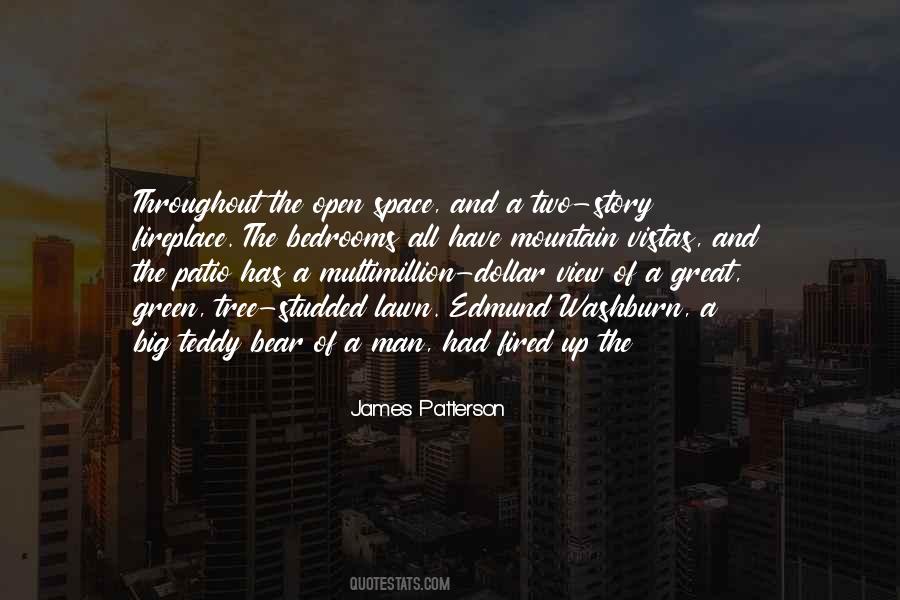 #49. For an object under the eye will appear very different from the same object placed above it; in an inclosed space, very different from the same in an open space. - Author: Vitruvius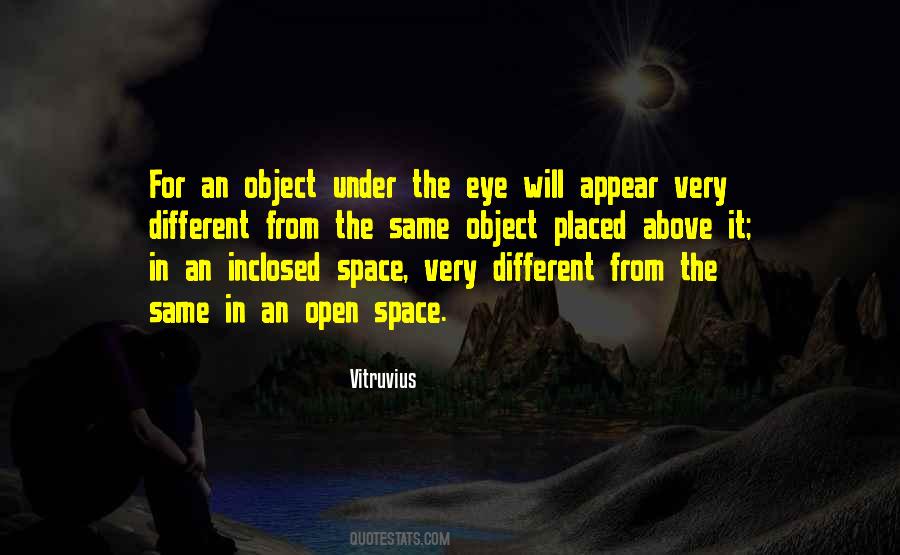 #50. Amani." My eyes flew open. Jin was standing in the gates to Fahali. His face cleared as he saw me, and he ran toward me, relief written all over him. "Thank God."
"You don't believe in God," I said. It came out half a croak just as he closed the last of the space between us with a kiss. - Author: Alwyn Hamilton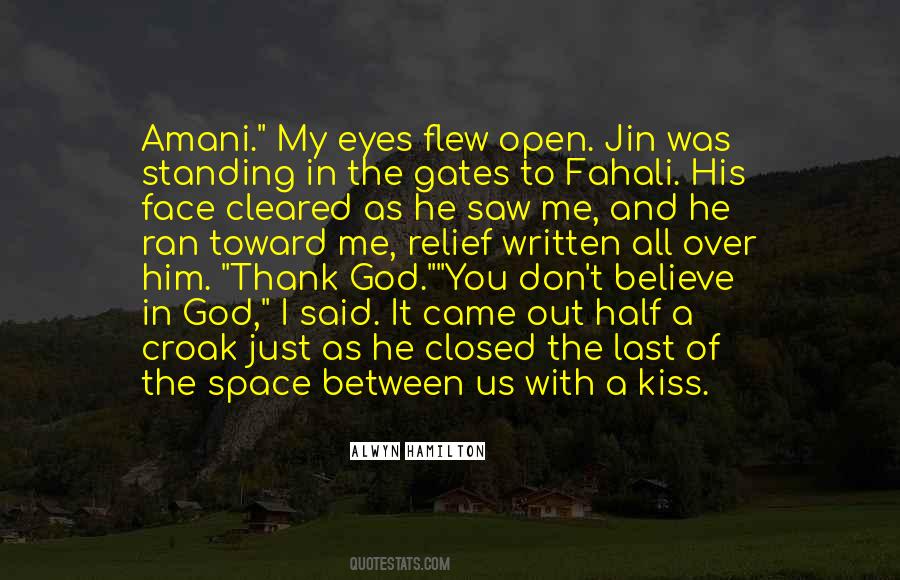 #51. I try to force my eyes open, but there's not much point - all I can see is a watery blur before my reflexes kick in and my eyelids close. In the space of just a few minutes, I've gone from 20/20 vision to blind. In space. Holding a drill. - Author: Chris Hadfield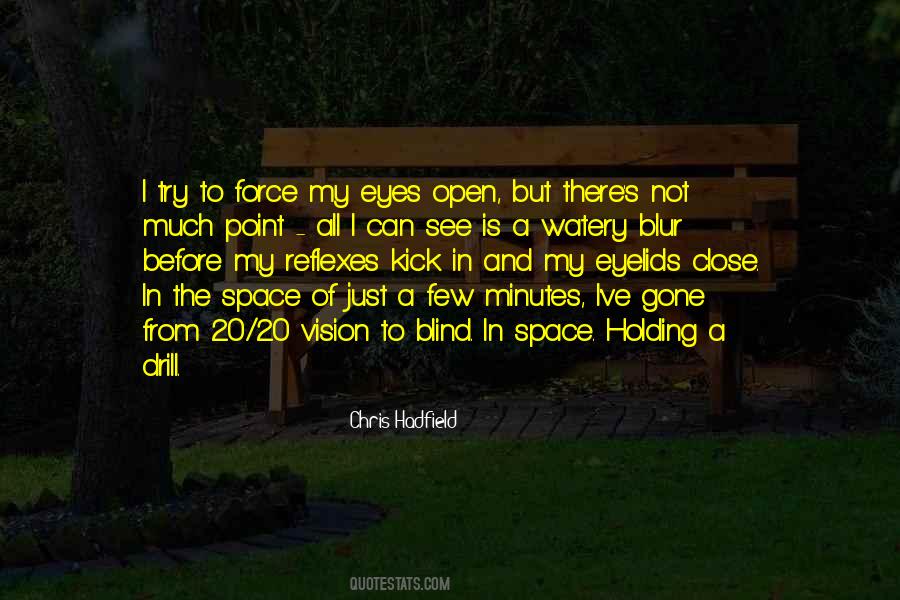 #52. Every time we open our hearts, we create the space for a global alternative. - Author: Marianne Williamson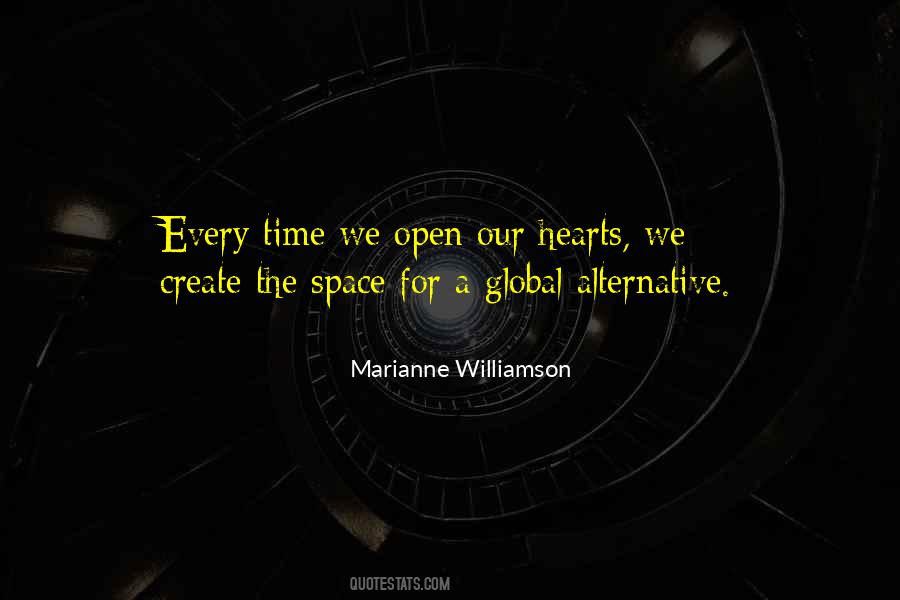 #53. Although many, we might even say most, strangers in this world become easily the victim of a fearful hostility, it is possible for men and women and obligatory for Christians to offer an open and hospitable space where strangers can cast off their strangeness and become our fellow human beings. - Author: Henri Nouwen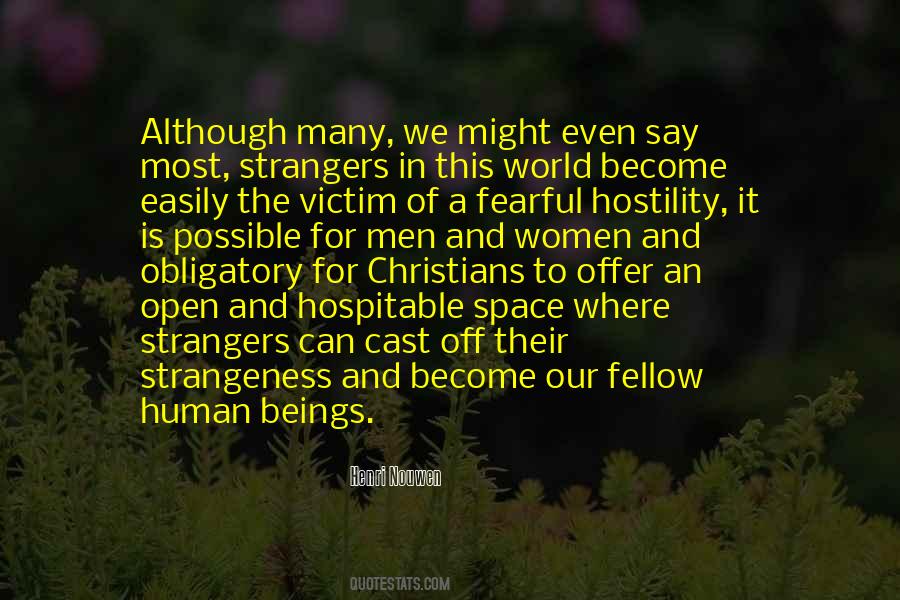 #54. I'm still working out my opinions - it's always a question mark. I leave loads of space open, and people don't like that. - Author: M.I.A.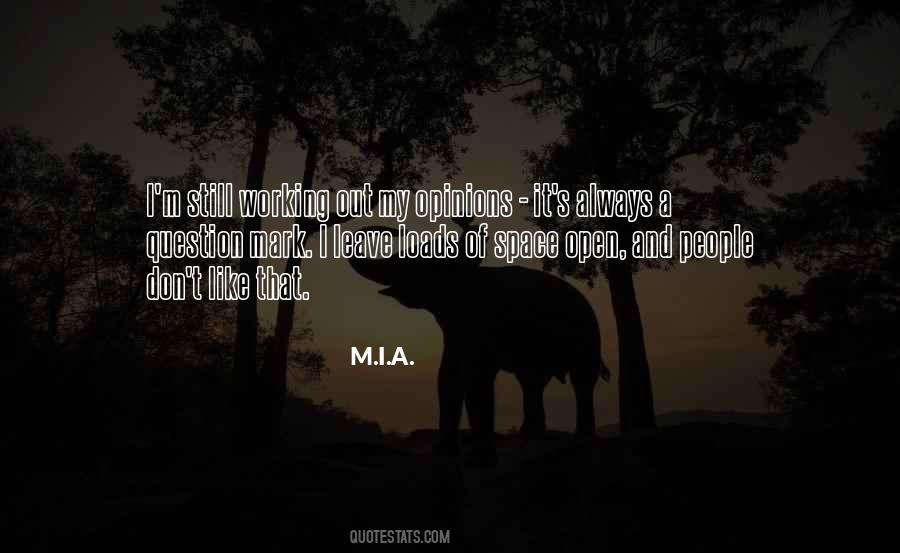 #55. Questions are places in your mind where answers fit. If you haven't asked the question, the answer has nowhere to go. It hits your mind and bounces right off. You have to ask the question - you have to want to know - in order to open up the space for the answer to fit. - Author: Clayton Christensen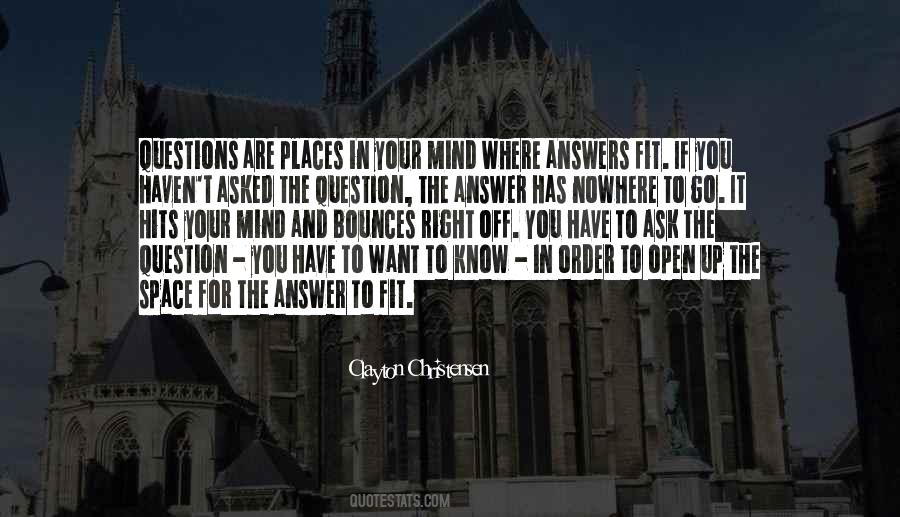 #56. For many of us, once we have made a decision, then we are attached to that decision forever. I have found that often the last thing a really dominating left hemisphere wants is to share its limited cranial space with an open-minded right counterpart! - Author: Jill Bolte Taylor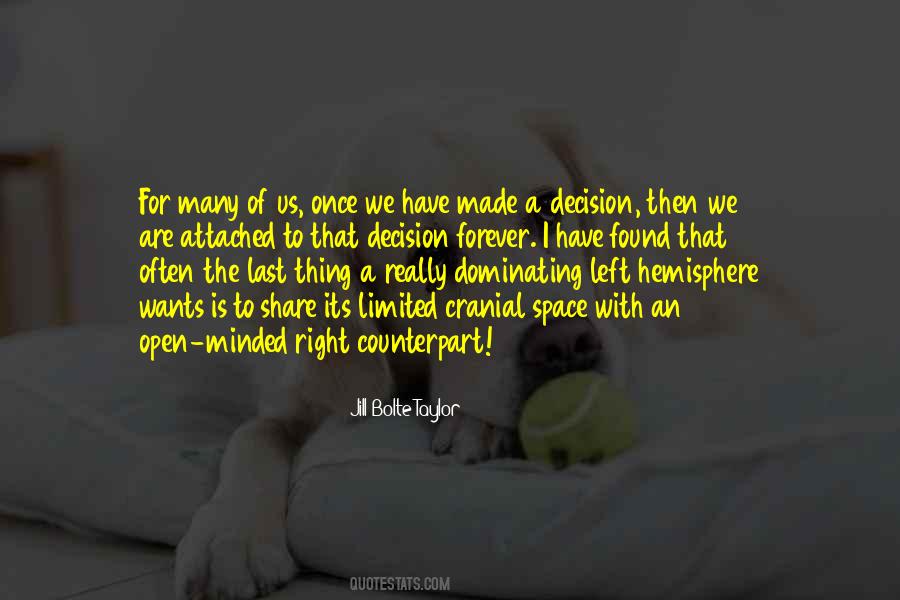 #57. Steam in an open space would just simply scatter in different directions. Steam contained in an engine can move a whole train. Success comes from One-pointedness and Constancy of Aim and Effort. - Author: Choa Kok Sui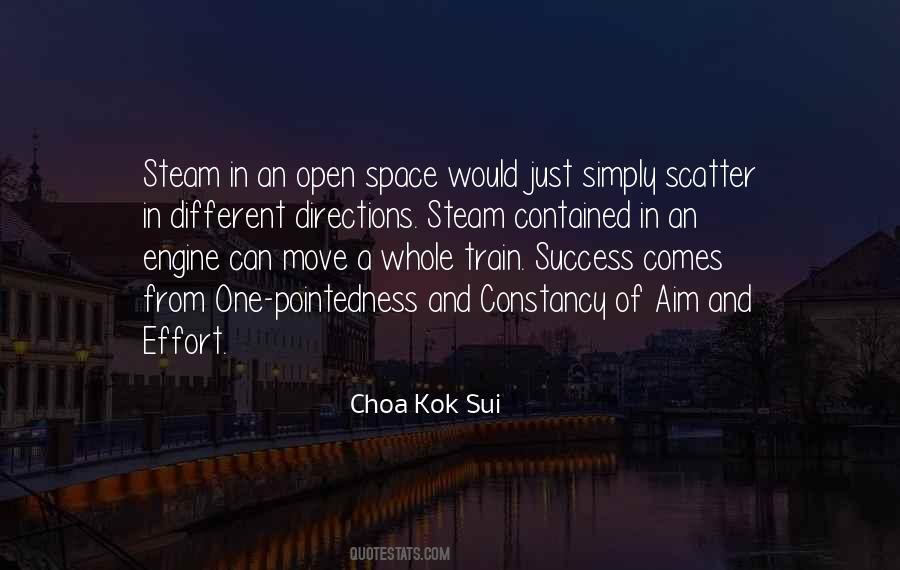 #58. The trouble with America is that there are far too many wide open spaces surrounded by teeth. - Author: Charles Luckman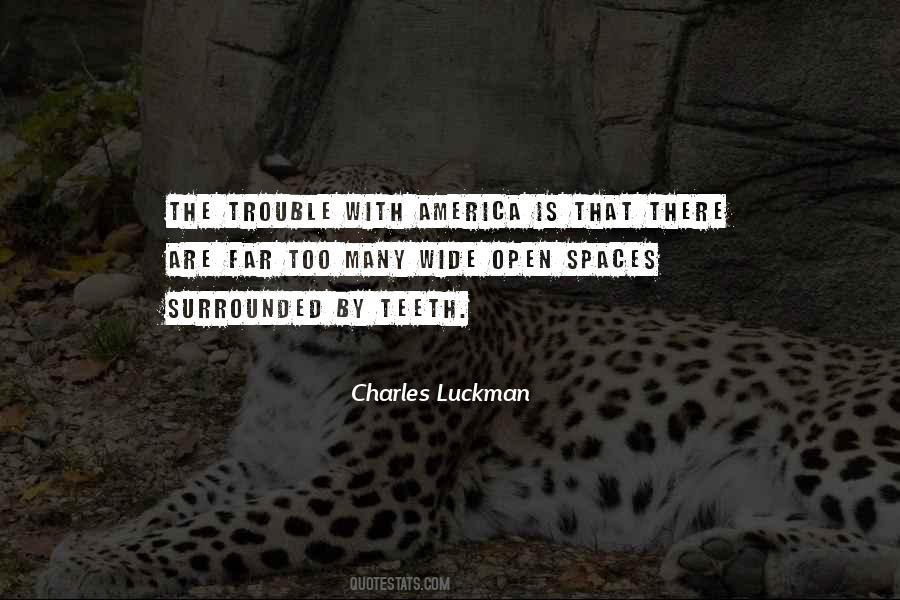 #59. As our cities and suburbs relentlessly expand, those priceless open spaces needed for recreation areas accessible to their people are swallowed up-often forever. Unless we preserve these spaces while they are still available, we will have none to preserve. - Author: Richard M. Nixon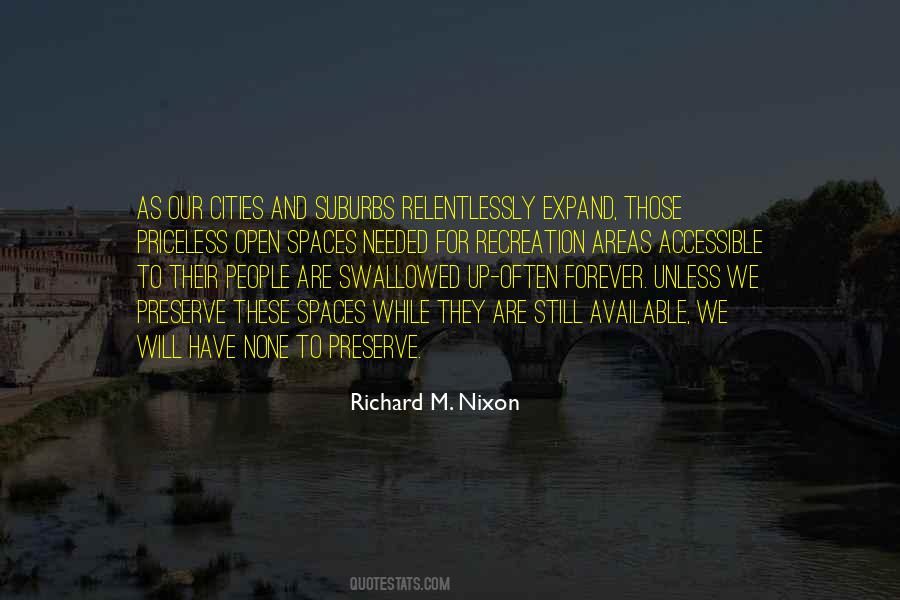 #60. The quicker we humans learn that saving open space and wildlife is critical to our welfare and quality of life, maybe we'll start thinking of doing something about it. - Author: Jim Fowler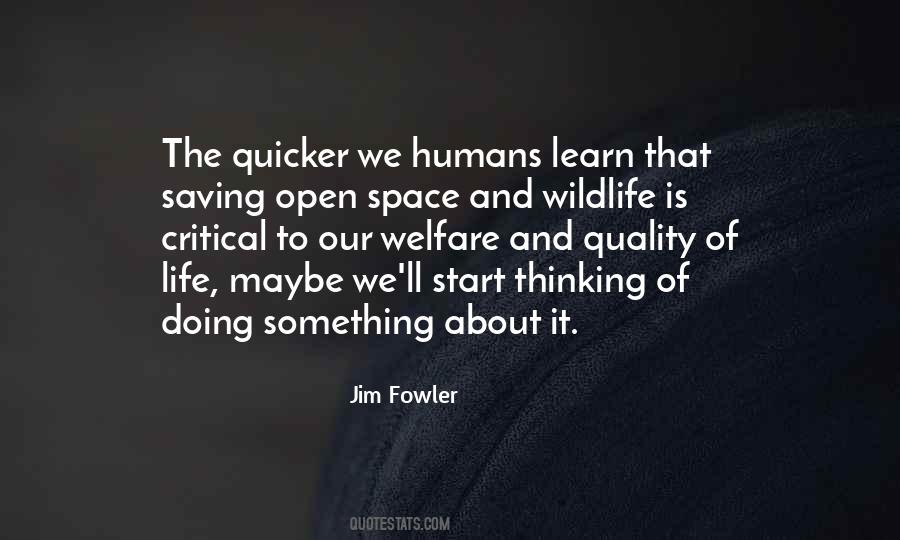 #61. I open my scuttle at night and see the far-sprinkled systems, All all I see multiplied as high as I can cipher edge but the rim of the farther systems. Wider and wider they spread, expanding, always expanding, Outward and outward and forever outward. - Author: Walt Whitman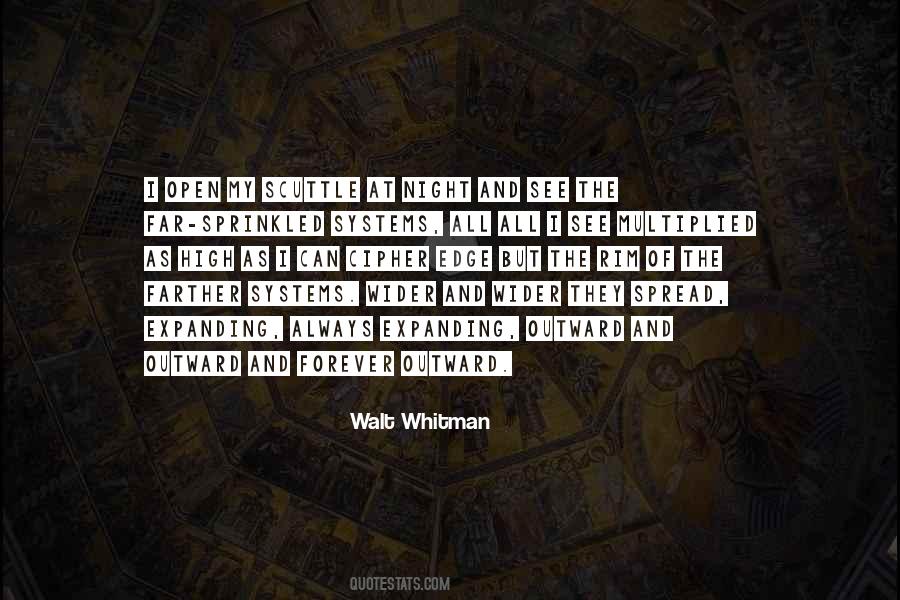 #62. The huge sadness of the northern plains rolled down on him
and
There was some open space between what he knew and what he tried to believe,but nothing could be done about it,and if you can't fix it you've got to stand it.
Close Range, Brokeback Mountain and other stories. - Author: Annie Proulx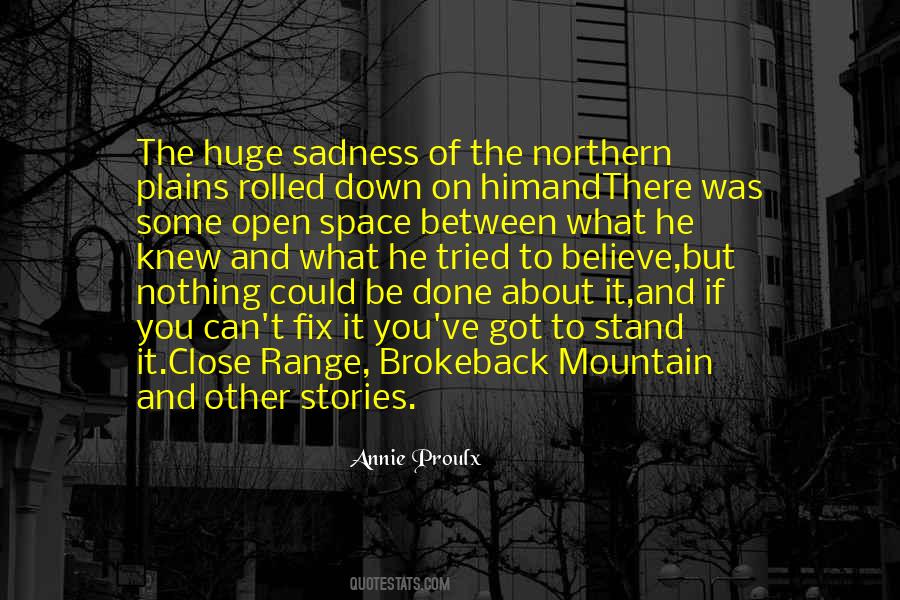 #63. Beyond happiness or unhappiness, though it is both things, love is intensity; it does not give us eternity but life, that second in which the doors of time and space open just a crack: here is there and now is always. - Author: Octavio Paz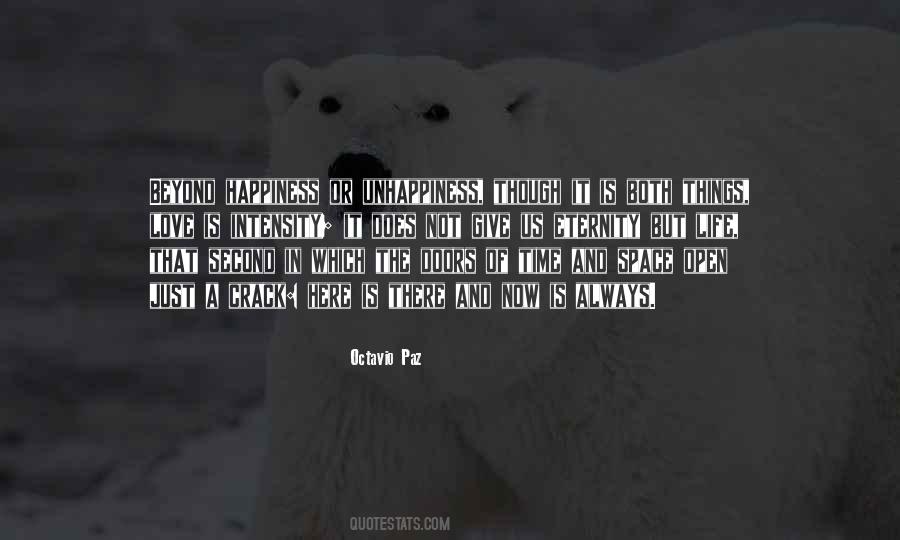 #64. We find true refuge whenever we recognize the silent space of awareness behind all our busy doing and striving. We find refuge whenever our hearts open with tenderness and love. We find refuge whenever we connect with the innate clarity and intelligence of our true nature. - Author: Tara Brach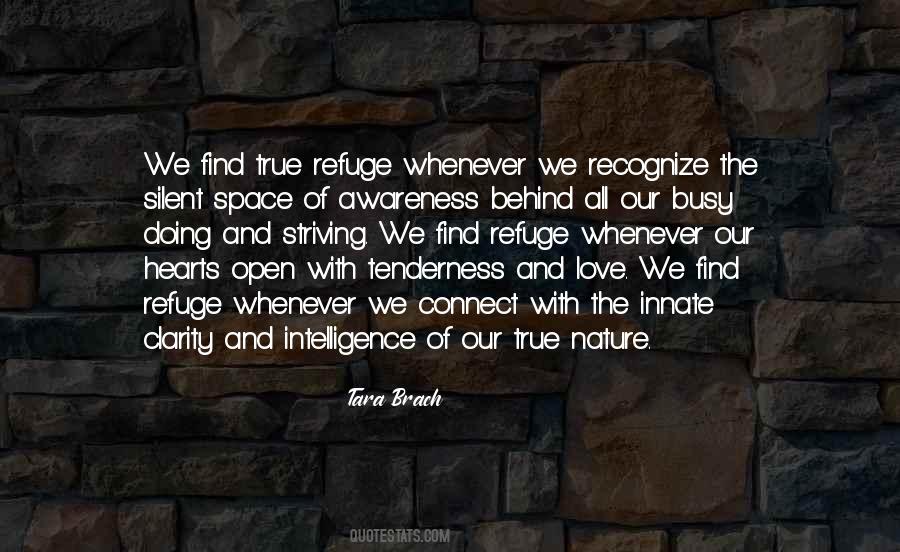 #65. I'm always open, and will criticize myself, too. And I just think being that honest with everybody puts you in a different space than somebody who's just shooting venom at a certain group or a certain amount of individuals. - Author: Ice Cube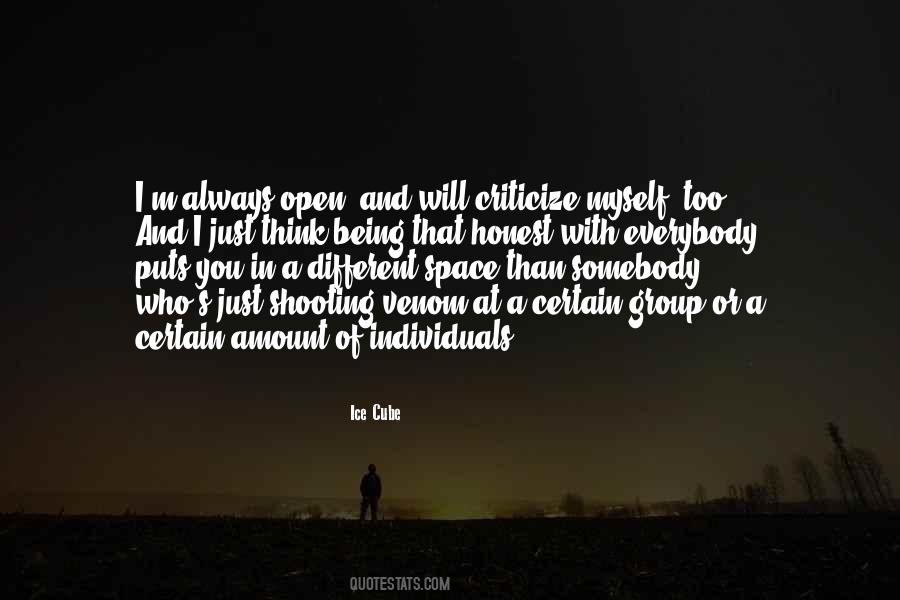 #66. Many of the green places and open spaces that need protecting most today are in our own neighborhoods. In too many places, the beauty of local vistas has been degraded by decades of ill-planned and ill-coordinated development. - Author: Al Gore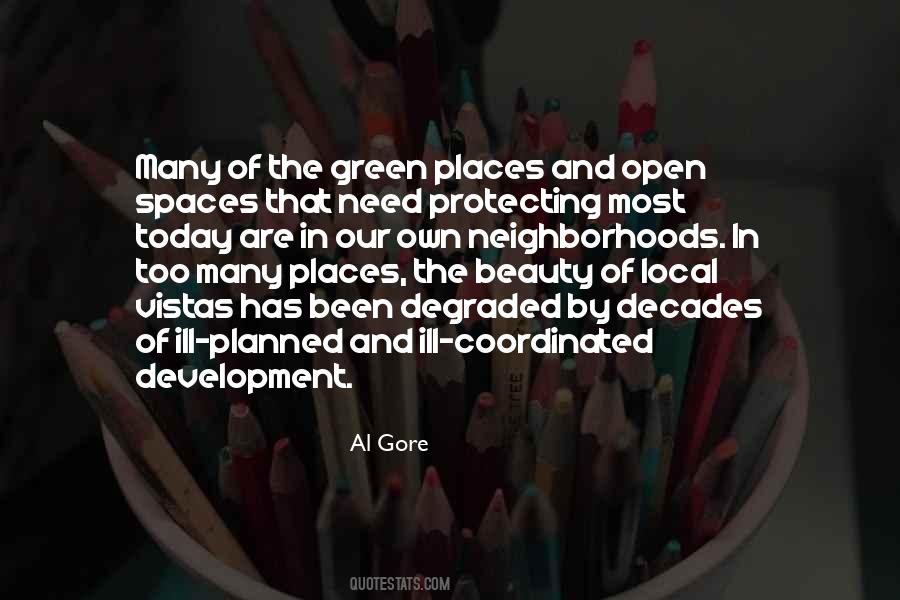 #67. Bassist Steve Uccello's Symmetria is filled with cool and unique sounds, textures, and musical ideas, evoking an imagined atmosphere of open spaces influenced by Ry Cooder's desert dusty roads as much as anything a bassist could conjure up. It fits a mellow, contemplative mood perfectly. - Author: Bryan Beller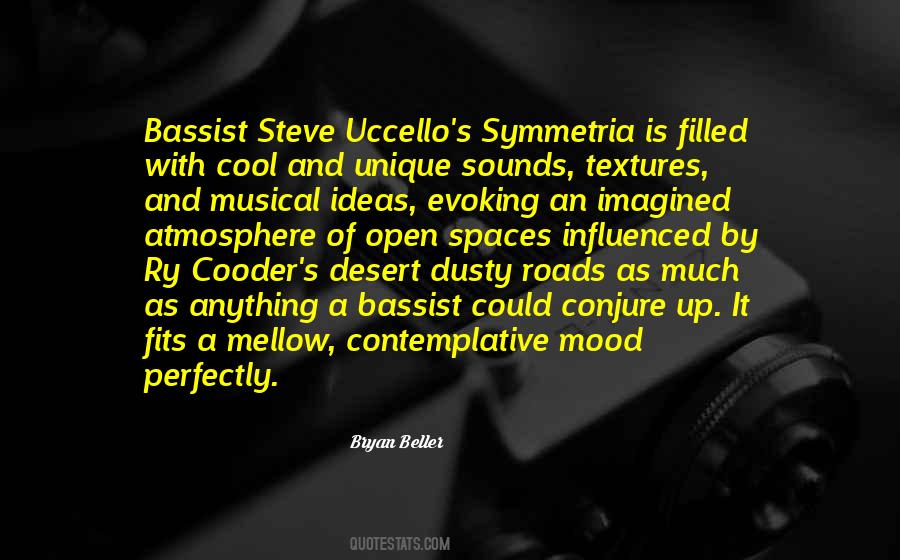 #68. In the presence of real tragedy you feel neither pain nor joy nor hatred, only a sense of enormous space and time suspended, the great doors open to black eternity, the rising across the terrible field of that enormous, unanswerable question. - Author: Michael Shaara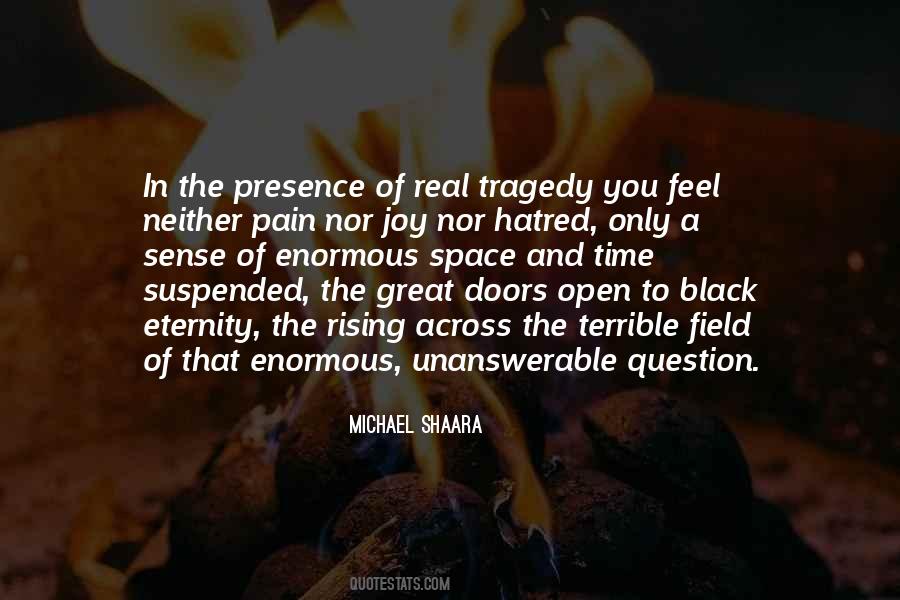 #69. Social work is all about leaning into the discomfort of ambiguity and uncertainty, and holding open an empathic space so people can find their own way. In a word - messy. - Author: Brene Brown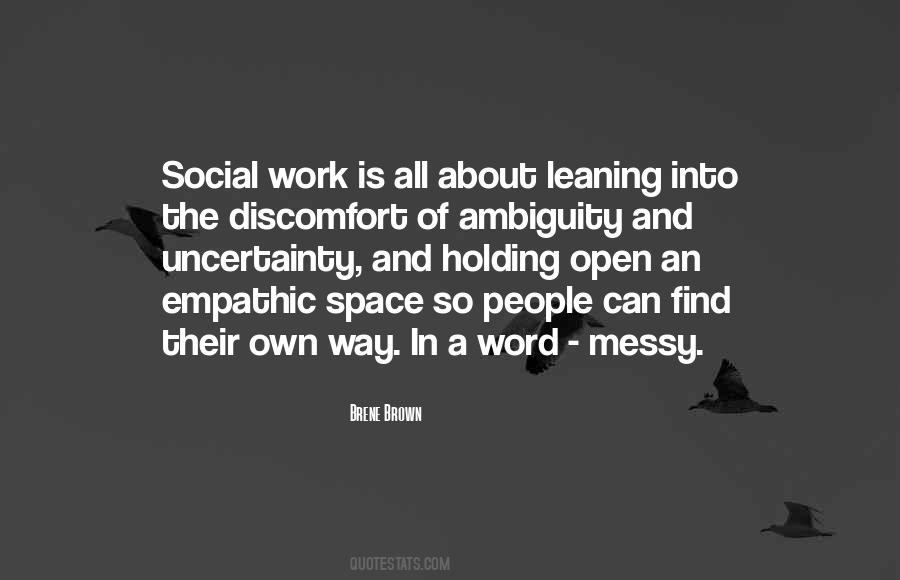 #70. There are a lot of teams that don't want to play, that only want to defend against Barcelona, and that makes it difficult. We're always looking for the open space. A lot of times we'll face six defenders and four midfielders. - Author: Xavi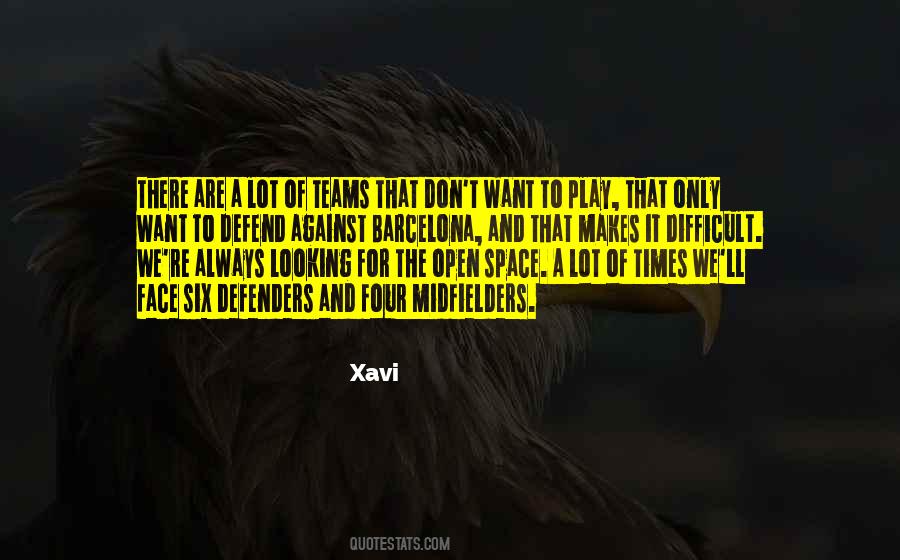 #71. Due to the failure of politics, which has become a process of middle-management, art has become one of the last open spaces to question core beliefs and to design a viable future. Art becomes an open space where we can ask fundamental questions about ourselves. - Author: Antony Gormley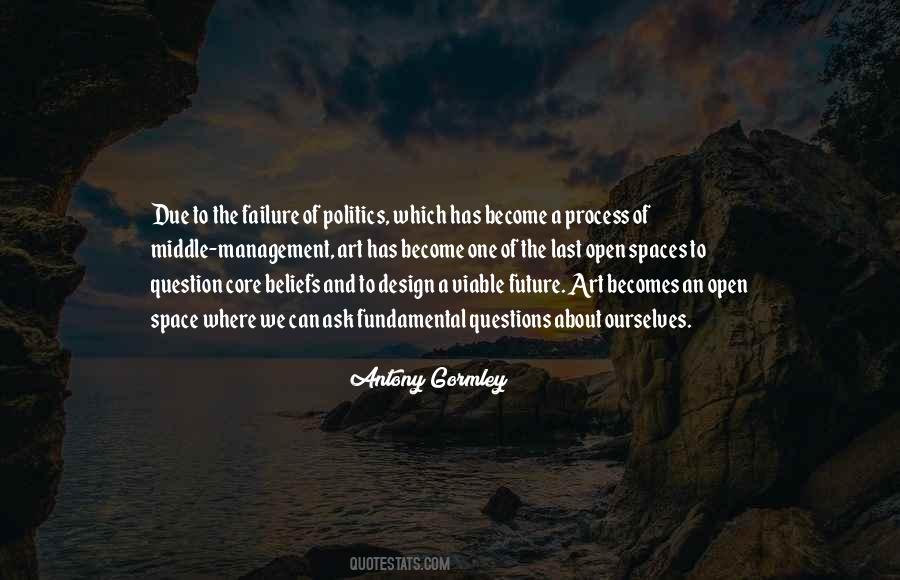 #72. God, the Great Giver, can open the whole universe to our gaze in the narrow space of a single land. - Author: Rabindranath Tagore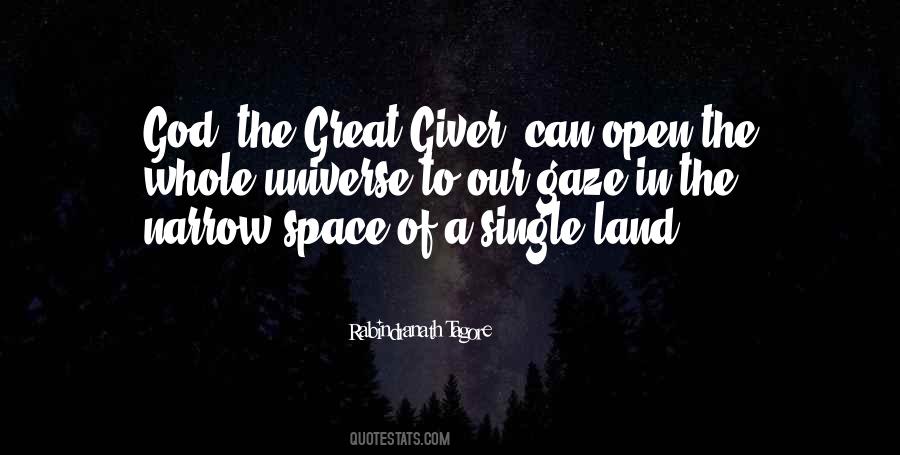 #73. Los Angeles County is one of the most park-poor urban areas in the nation, and the San Gabriel Valley - stretching from Pasadena to Pomona - is especially starved for open space. - Author: Frances Beinecke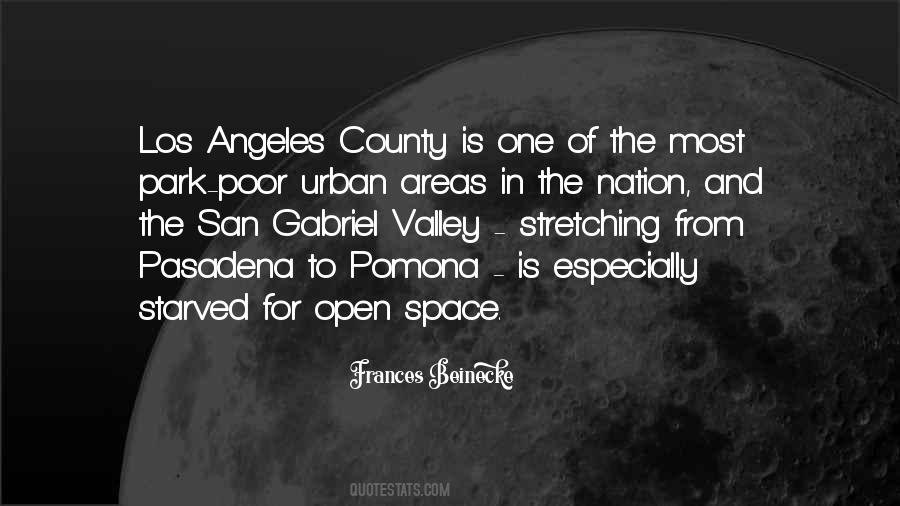 #74. It seems to me that the sad event of 9/11 has created a huge opportunity for the revitalization of lower Manhattan - new world class contemporary buildings, more open space and pedestrian connections, more sustainability, more culture and the rejuvenation of New York on the world stage again. - Author: Paul Goldberger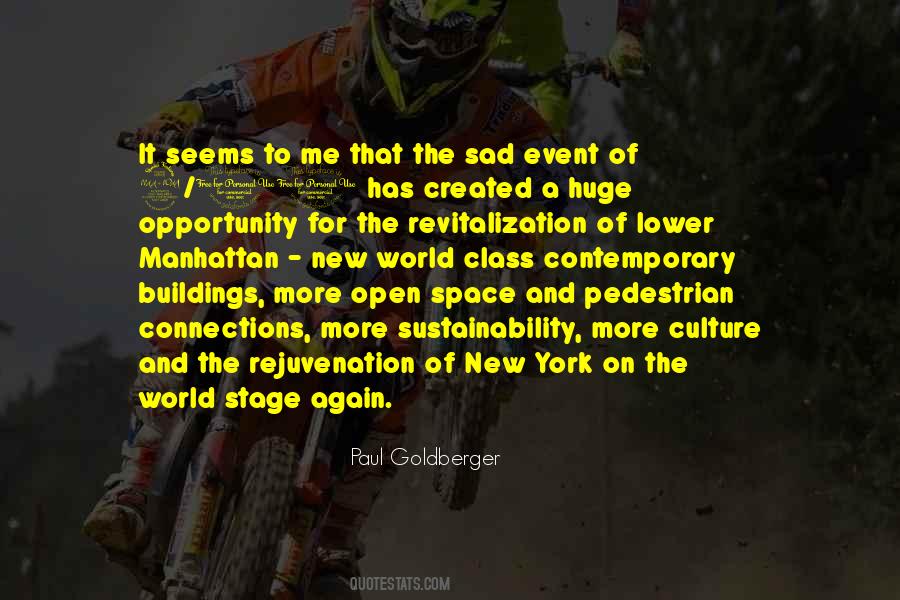 #75. Be open to ideas and thoughts you disagree with. It will unleash a debate in your mind and soul. - Author: James Kirk Bisceglia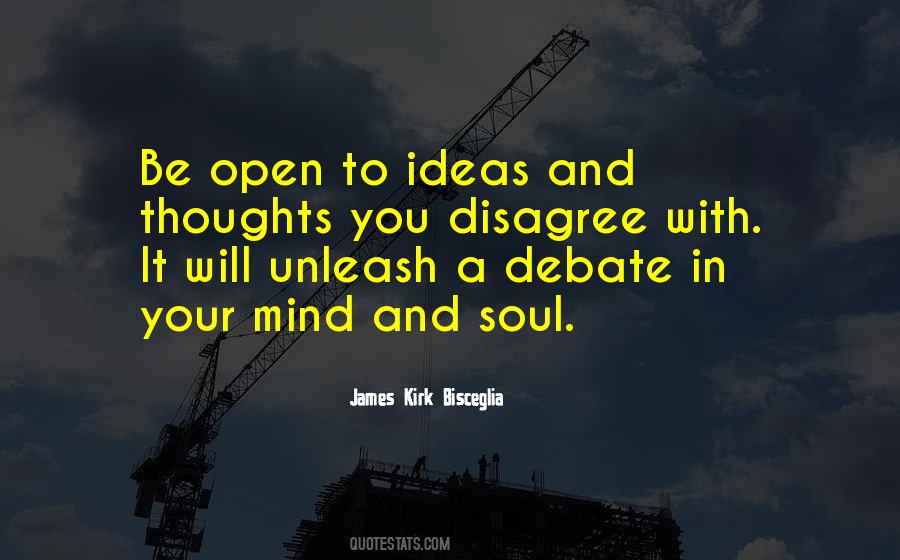 #76. I noticed that I got a better space in the line in Starbucks when I had my tattoo. People associate tattoos with a certain edge. Then I open my mouth, and something completely different comes out. - Author: Wentworth Miller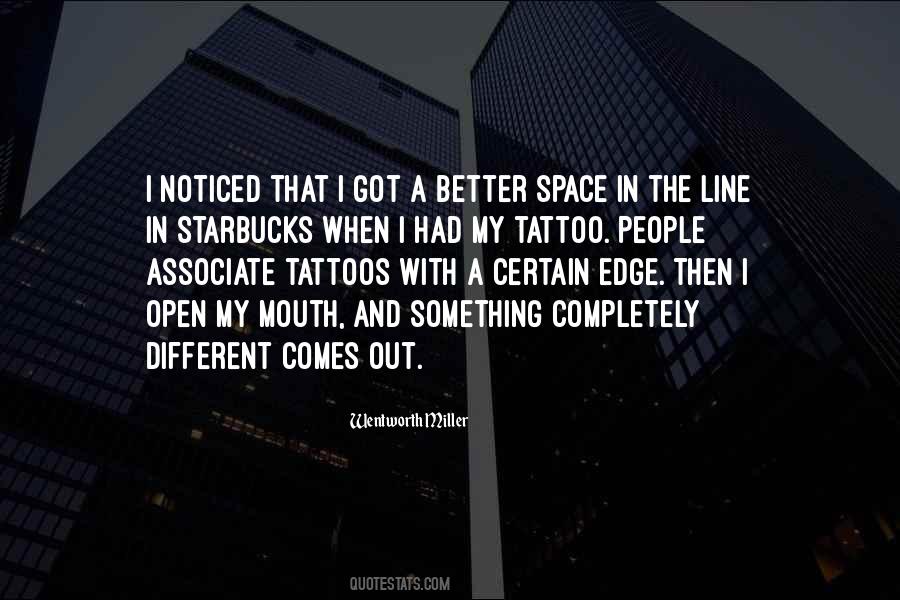 #77. For a second something deep and old rises inside me and I could fall on the ground and weep for joy, or open up my arms and spin. After being enclosed for so long, I want to drink in all the space, all the bright, empty air stretching around me on all sides. - Author: Lauren Oliver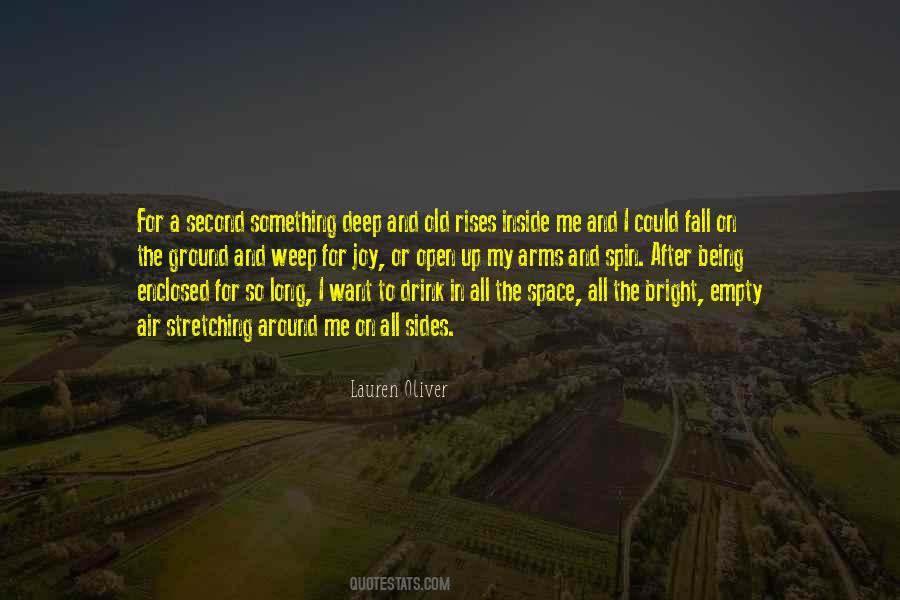 #78. It's time to open the space frontier to citizen explorers. - Author: Buzz Aldrin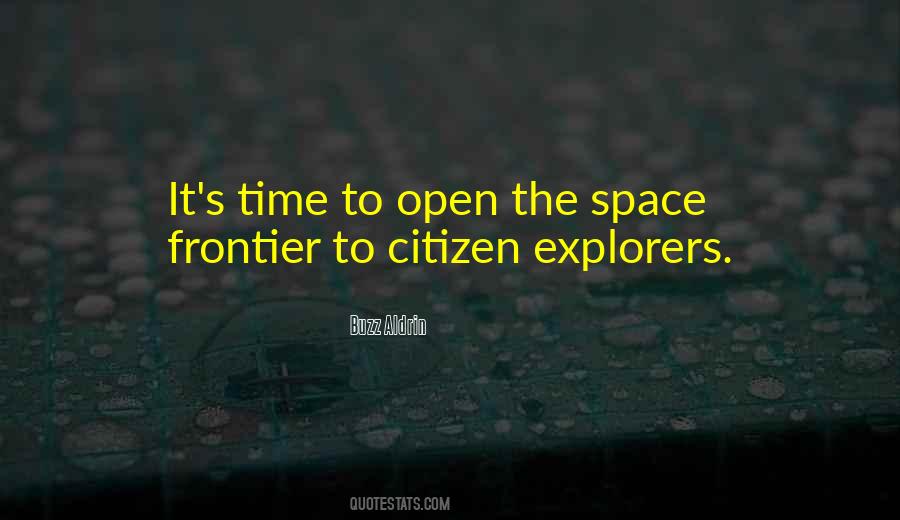 #79. Thus, discipline is the creation of boundaries that keep time and space open for God. Solitude requires discipline, worship requires discipline, caring for others requires discipline. They all ask us to set apart a time and a place where God's gracious presence can be acknowledged and responded to. - Author: Henri J.M. Nouwen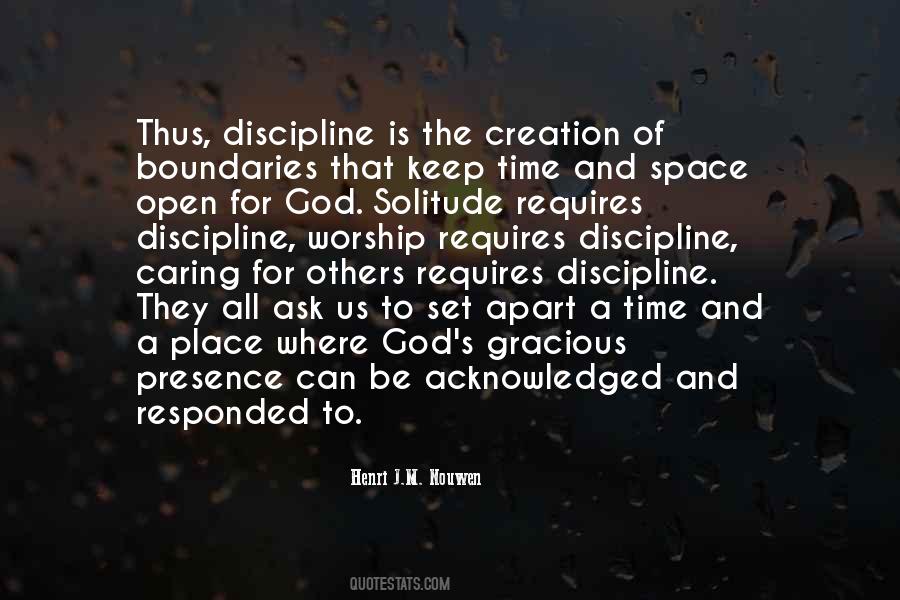 #80. I love traveling. I like to keep moving. I love the big open spaces in America. - Author: Anthony Hopkins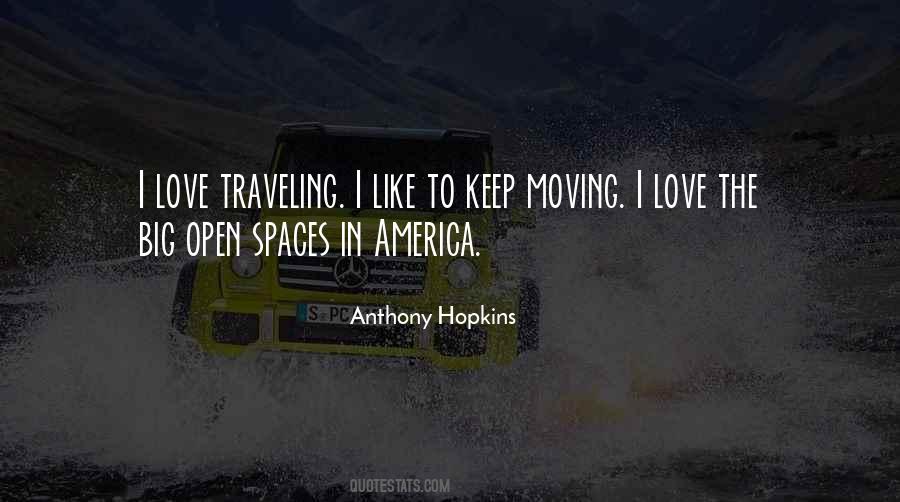 #81. King-sized? It would take up all my space. I need wide-open spaces.
She glanced at Kane for help, but he was rolling around on a matress and moaning in a loud, orgasmic manner. She rolled her eyes and heaved a sigh. - Author: Christine Feehan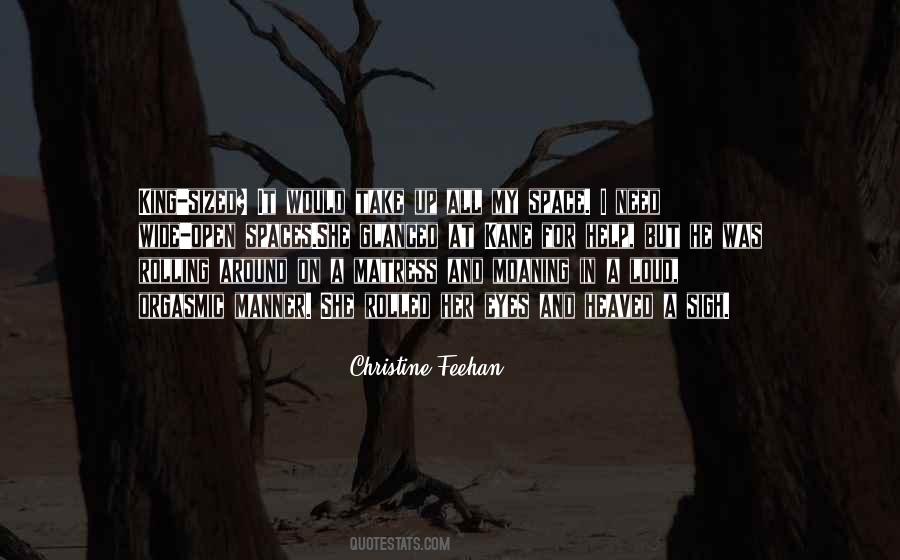 #82. I almost try to explain another untranslatable word--sunyata--to Jonas. The idea has Buddhist roots and several meanings, depending on context. I think emptiness is the closest word, but, in English, we infer emptiness as a void, a lack. Sunyata is open with possibility, a meditative space. - Author: Emery Lord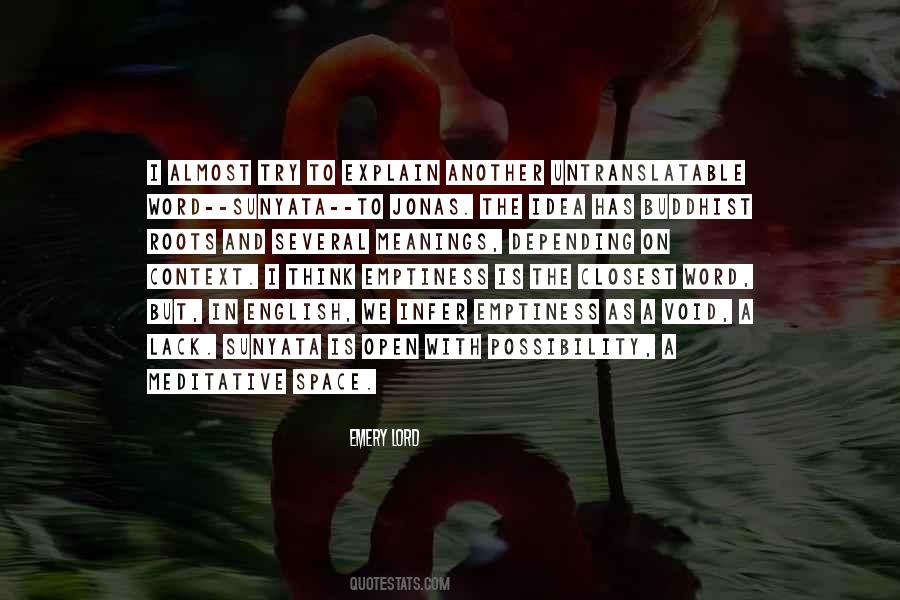 #83. The morning light pours down through the tall trees onto the open space in front of the cabin, sunbeams everywhere and mist floating like freshly minted souls. - Author: Haruki Murakami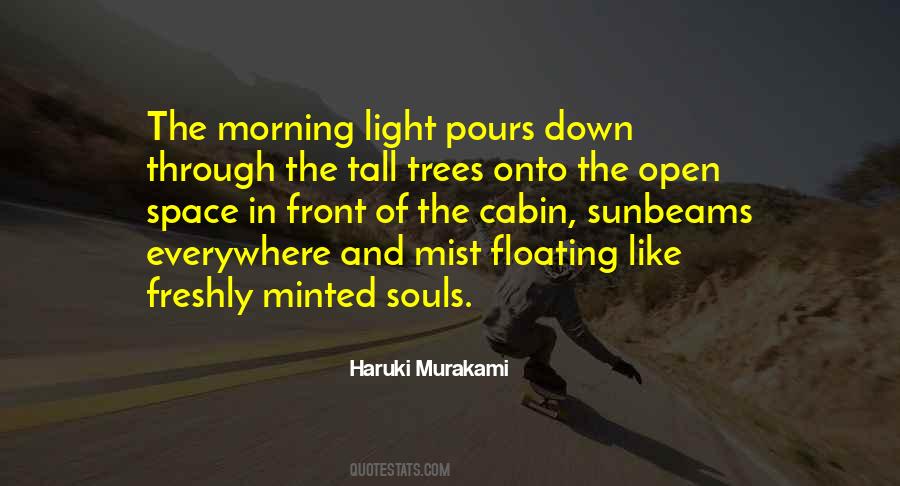 #84. Space is the twin sister of time. If we have open space then we have open time to breathe, to dream, to dare, to play, to pray to move freely, so freely, in a world our minds have forgotten, but our bodies remember. - Author: Terry Tempest Williams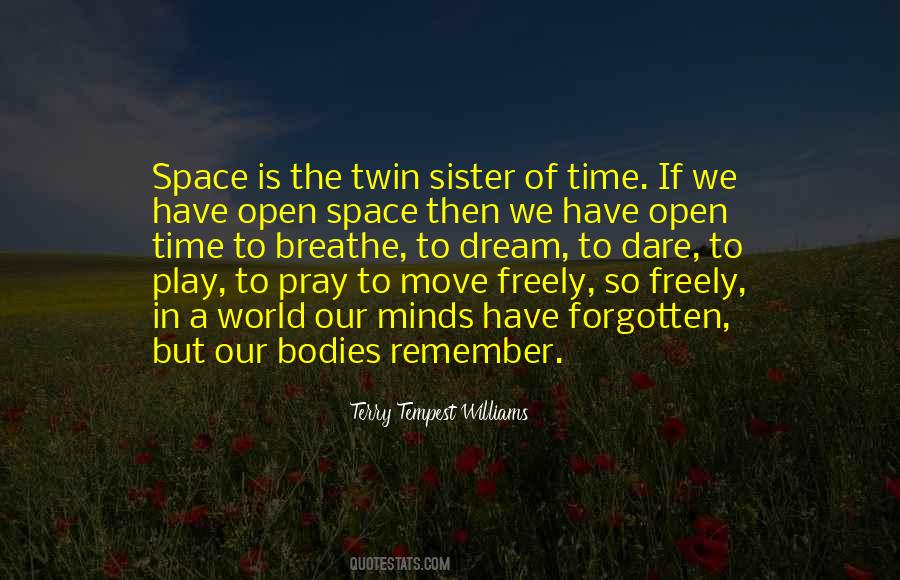 #85. America is still a frontier country of wide open spaces. Our closeness to nature is one reason why our problem is not repression but regression; our notorious violence is the constant eruption of primi-tiveness, of anarchic individualism. - Author: Camille Paglia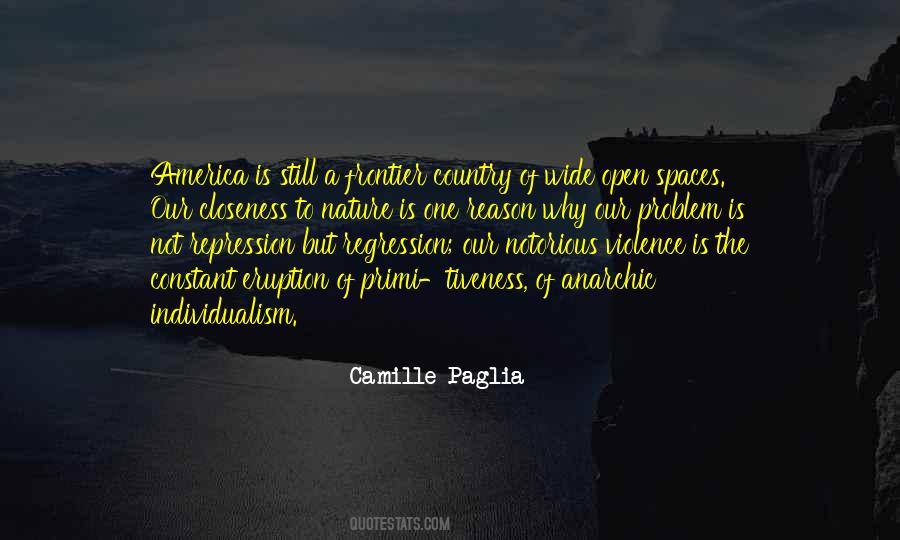 #86. The dogmatic and, therefore, invulnerable core in Islam is understandably simple: acknowledgement of faith, prayer, charity and fasting. Almost everything else is open to interpretation and modification in space and time. - Author: Tariq Ramadan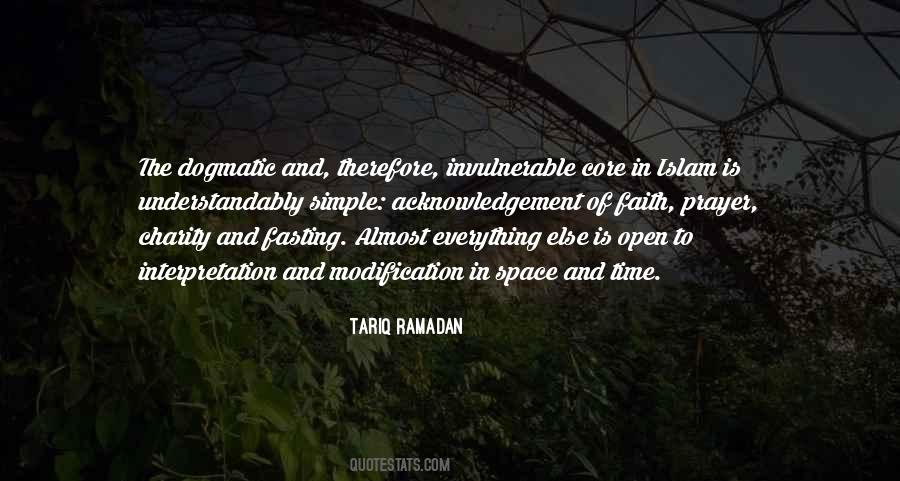 #87. L.A. is a great place to write because you have a lot of space. I have a big office at home, I can leave the doors open. Flowers bloom all year. But it's unglamorous in all the right ways. - Author: Rachel Kushner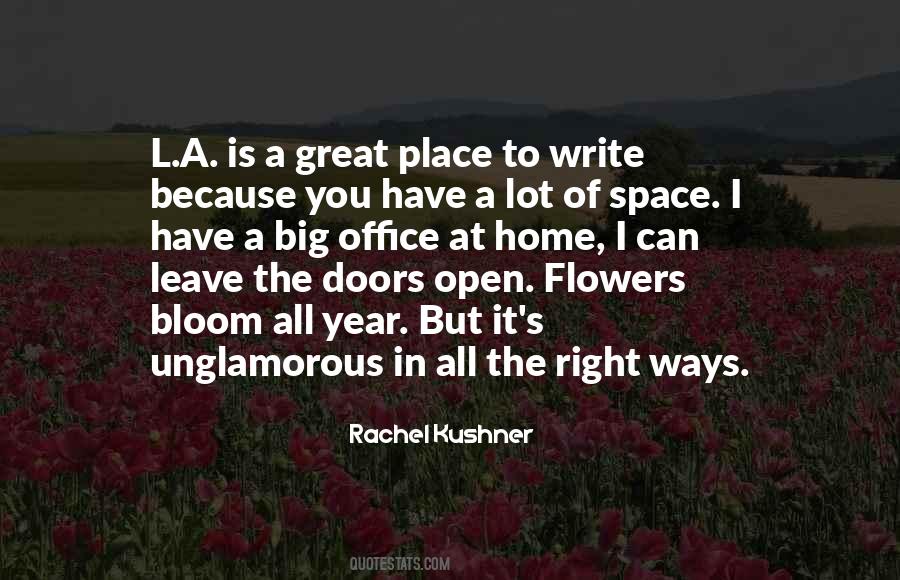 #88. Tonight or every night if you wish you can have a very distinguished guest from the space: Just open your curtain at night, then the Moon will visit you! - Author: Mehmet Murat Ildan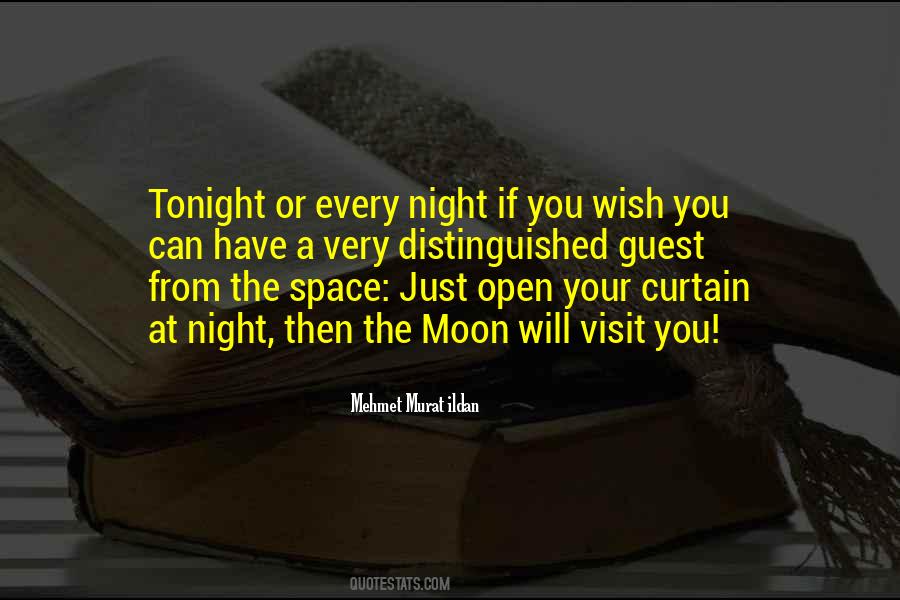 #89. The San Gabriel Valley, stretching from Pasadena to Pomona, is especially starved for open space. The valley has a rich array of ethnically diverse communities, but it also has some of the highest rates of childhood obesity and diabetes in the state. - Author: Frances Beinecke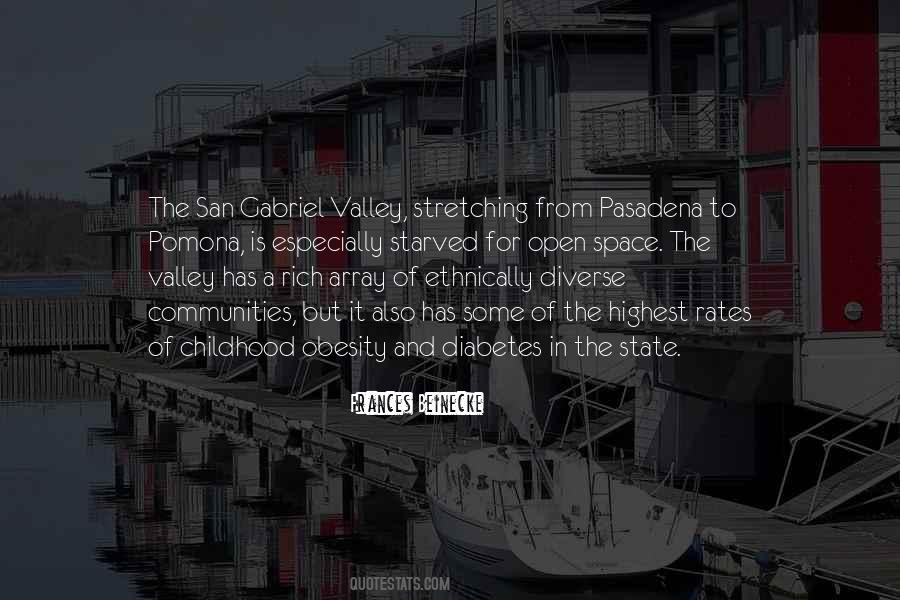 #90. Every time I see open space I see a mat on the floor - Author: Renzo Gracie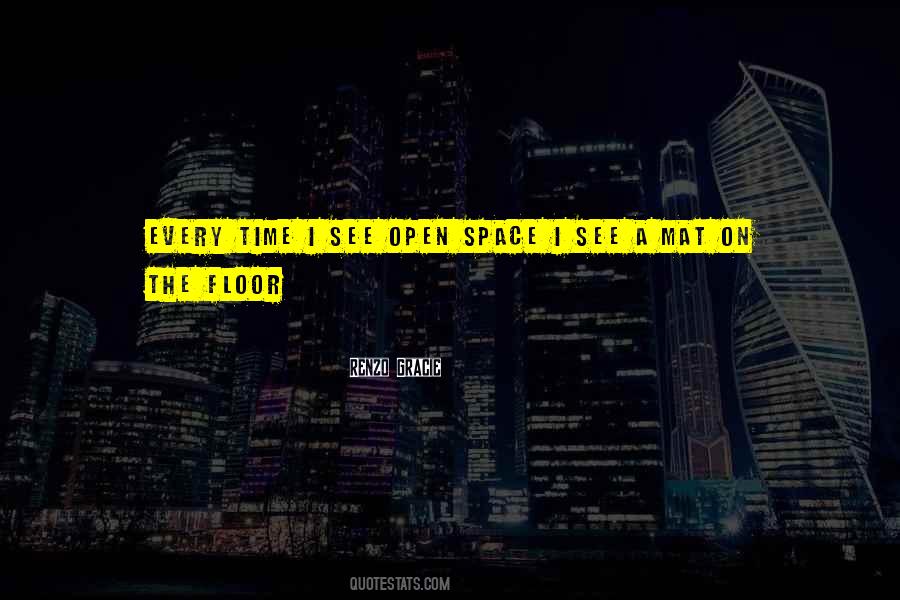 #91. The space elevator's not just another competitive technology, promoted by people who simply like the idea of diminishing the luster of the thrusters. It would open wide the doors to space. - Author: Seth Shostak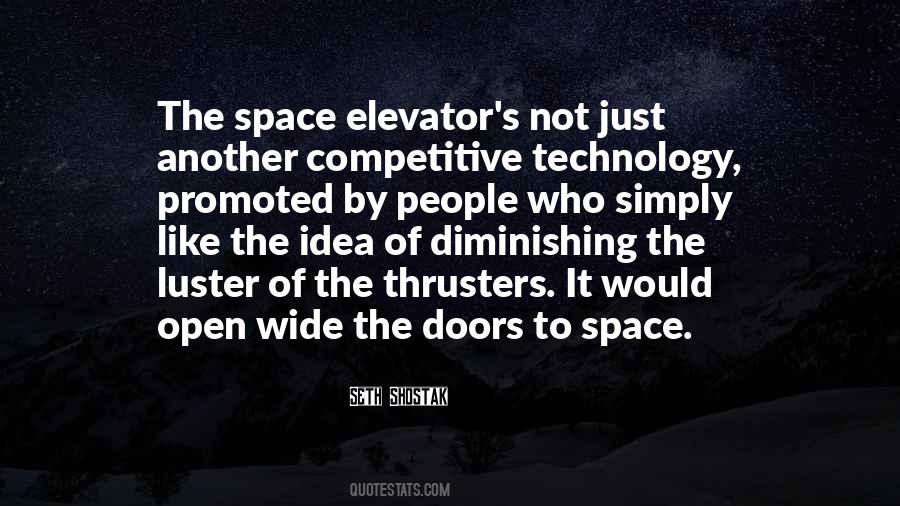 #92. As the master builder of your own life, build an open space, with room for your soul to breath, and be free. - Author: Bryant McGill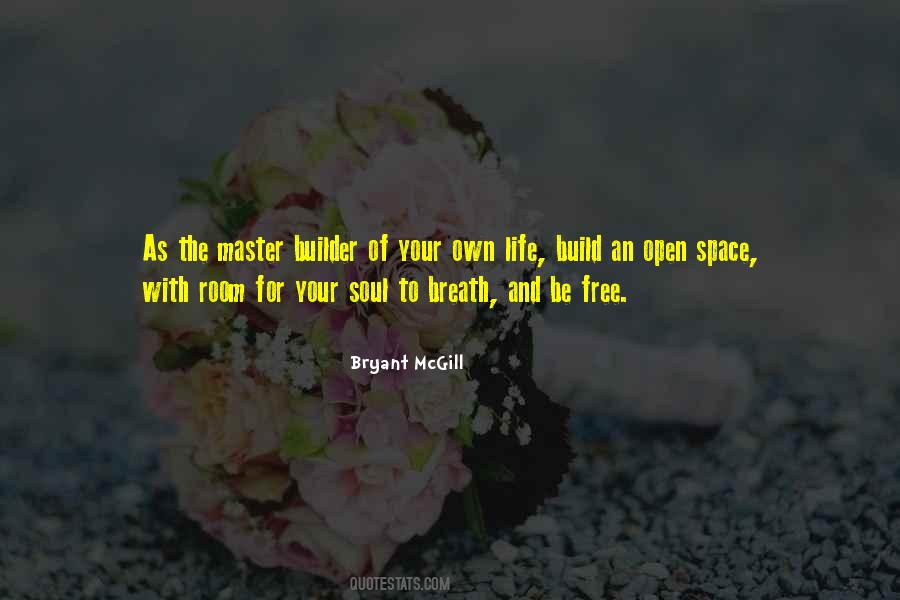 #93. Solitude The creation of an open, empty space in our lives by purposefully abstaining from interaction with other human beings, so that, freed from competing loyalties, we can be found by God The - Author: Richard J. Foster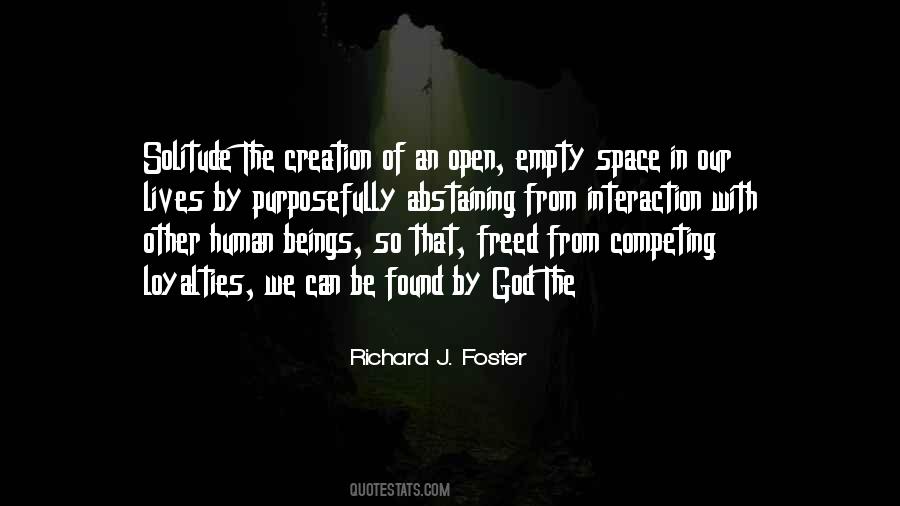 #94. Kurtz pulled the glove compartment open and handed a set of thermal-imaging goggles to Aleks. He pulled his own pair on over his face. "You get smarter every day: It's light outside, comrade space cadet. - Author: Jack Silkstone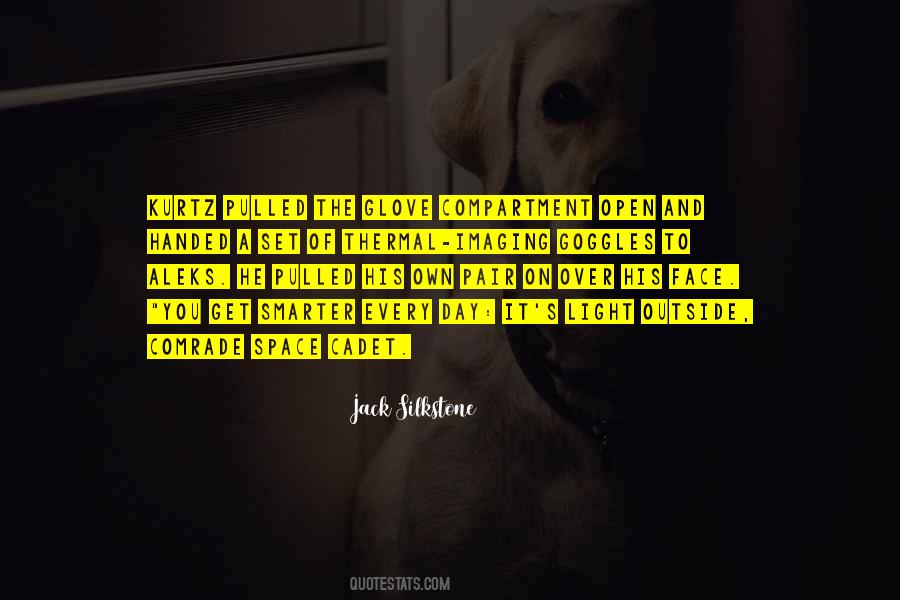 #95. A monkey is unaware that atoms exist. Likewise, our brainpower may not stretch to the deepest aspects of reality. The bedrock nature of space and time, and the structure of our entire universe, may remain 'open frontiers' beyond human grasp. - Author: Martin Rees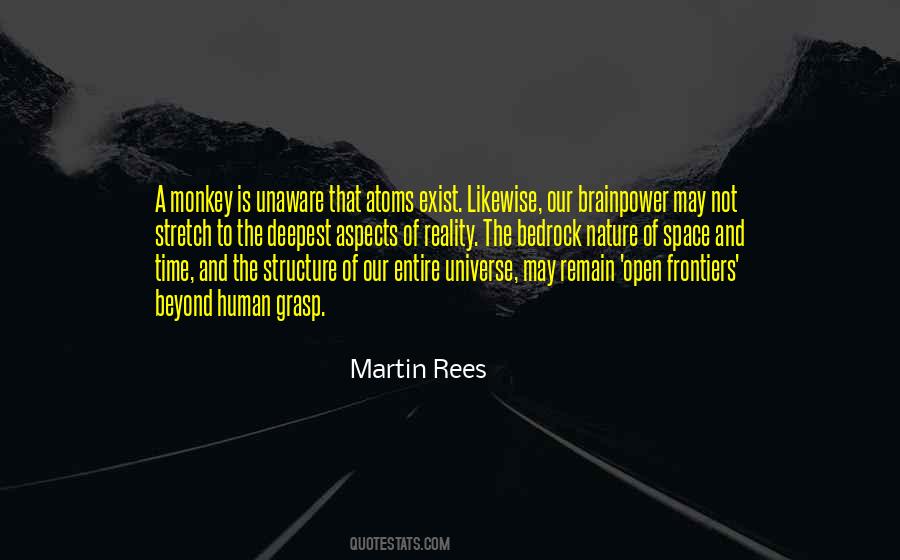 #96. Take it from me, if you are in an open space with no weapons and a grizzly comes for you, run. You may as well. If nothing else, it will give you something to do with the last seven seconds of your life. - Author: Bill Bryson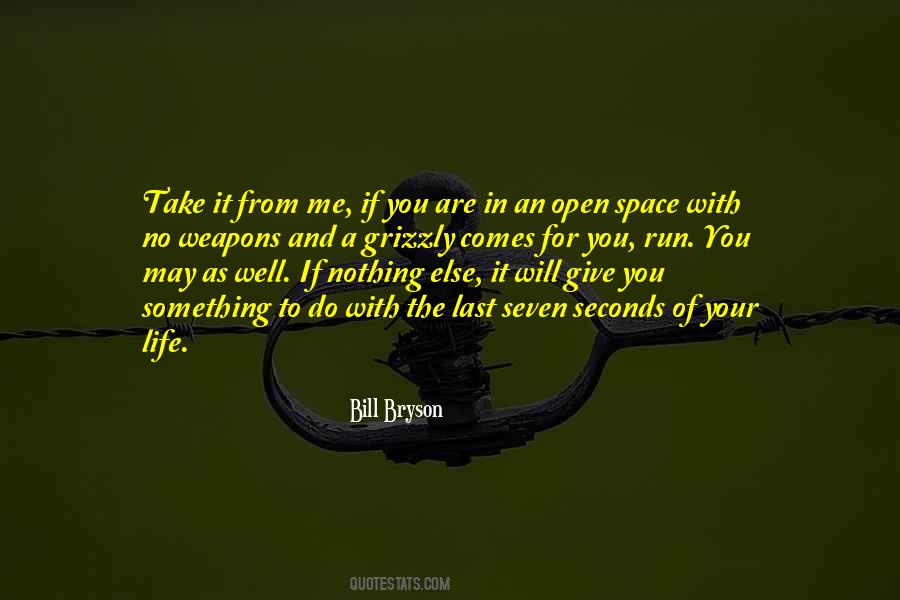 #97. In blue Light nature space the whole world, wide grazing land, the open spaces wind across the land and the sky, blue, high - Author: Nils-Aslak Valkeapaa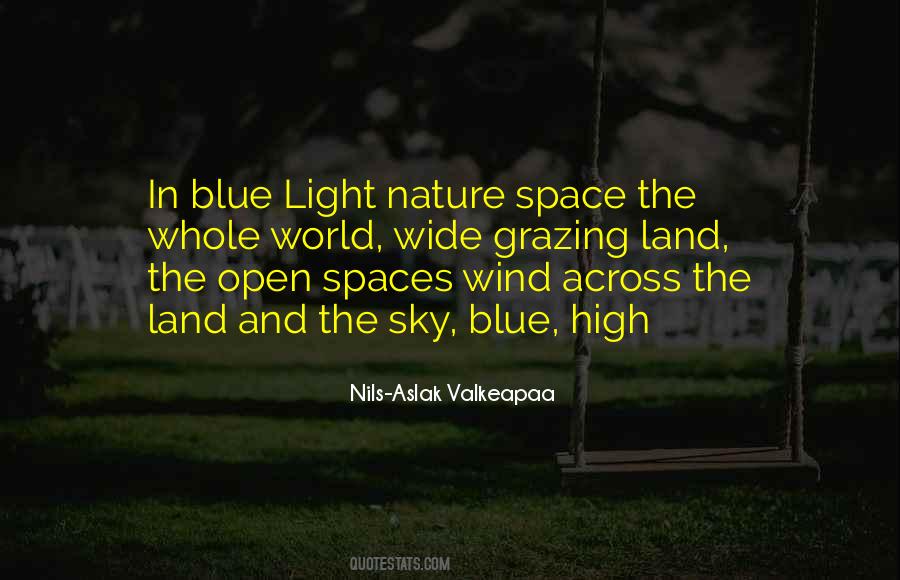 #98. Two things I'm obsessed with are the countryside and fields and being in the open space and body parts, so you'll hear me mentioning body parts and human anatomy. I've listened to my songs and I think I am quite visual and I talk about bones and flesh a lot. - Author: Ellie Goulding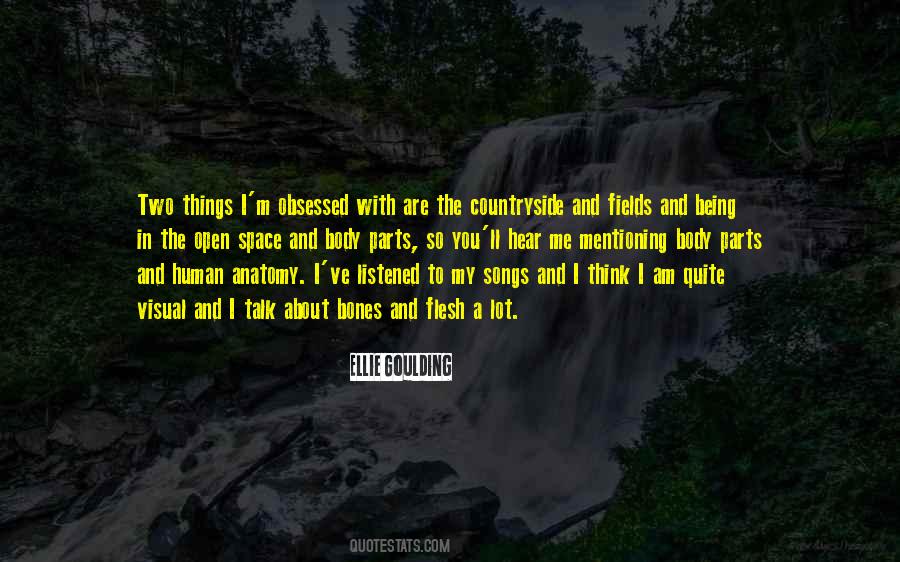 #99. To express open creativity, you first need to create your own space of seclusion. - Author: Anthony Liccione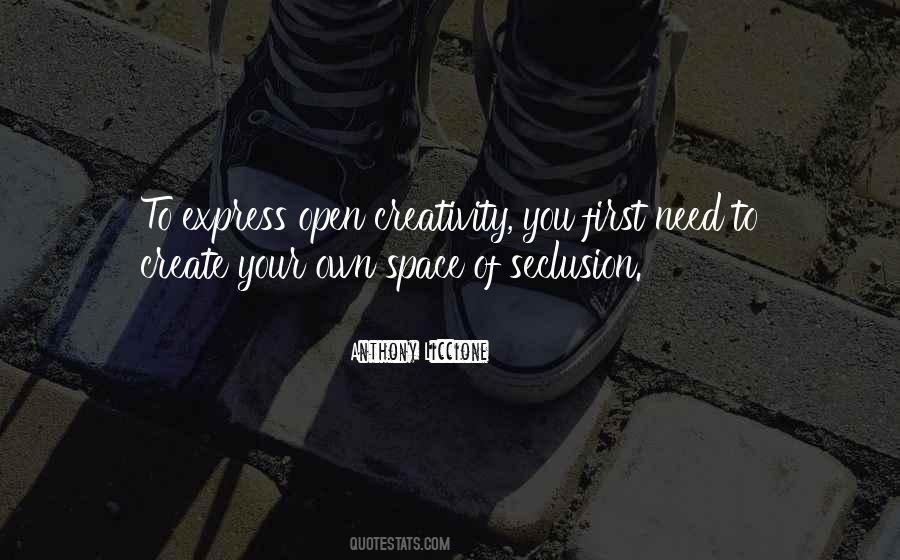 #100. I'll make love to you in all good places, under black mountains and open spaces. - Author: Jethro Tull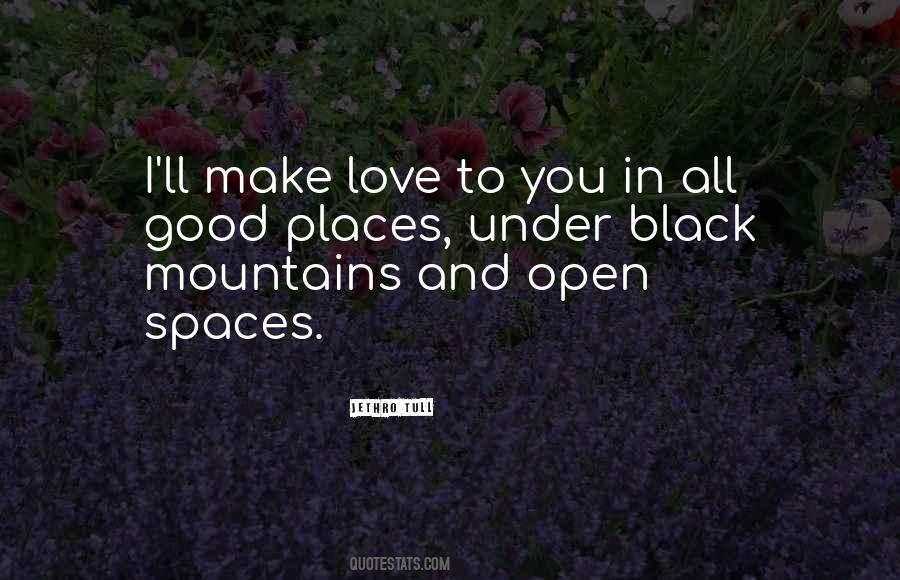 Famous Authors
Popular Topics