My Little Sisters Famous Quotes & Sayings
List of top 65 famous quotes and sayings about my little sisters to read and share with friends on your Facebook, Twitter, blogs.
Top 65 Quotes About My Little Sisters
#1. The two had been together since they were little girls, and so loved and hated each other like sisters. - Author: Christopher Moore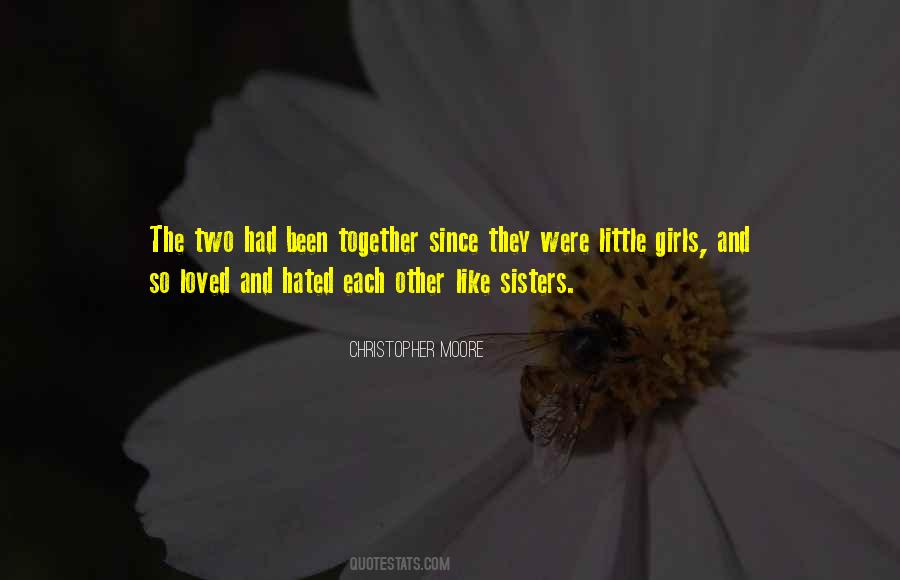 #2. In 'Sisters of War,' I got to do one of my own stunts. Running out of the building because the Japanese were firing, with all these little spark plugs are going off, looking like explosions and bullets flying down. That was really fun. - Author: Sarah Snook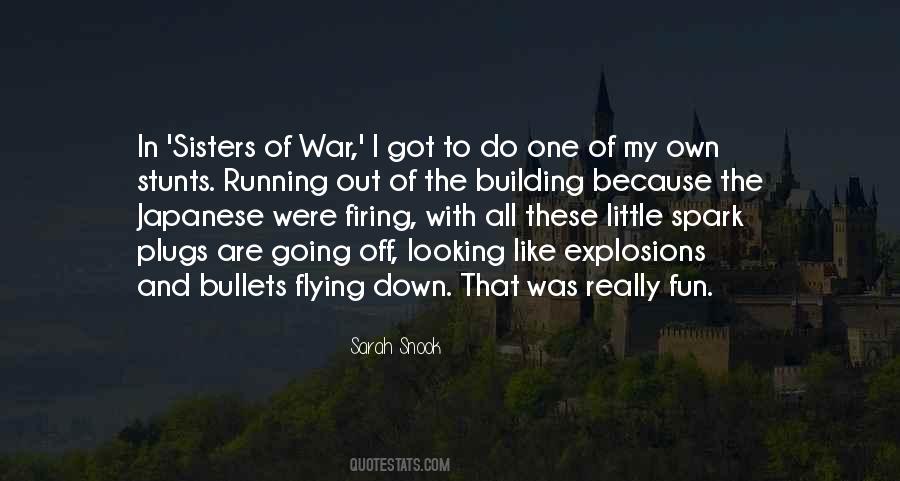 #3. My dad was very religious growing up and a little bit closed minded, and I think me being in the theater, two of my three sisters are dancers, so being in the arts world has changed and opened him up in a lot of ways. - Author: Frankie J. Alvarez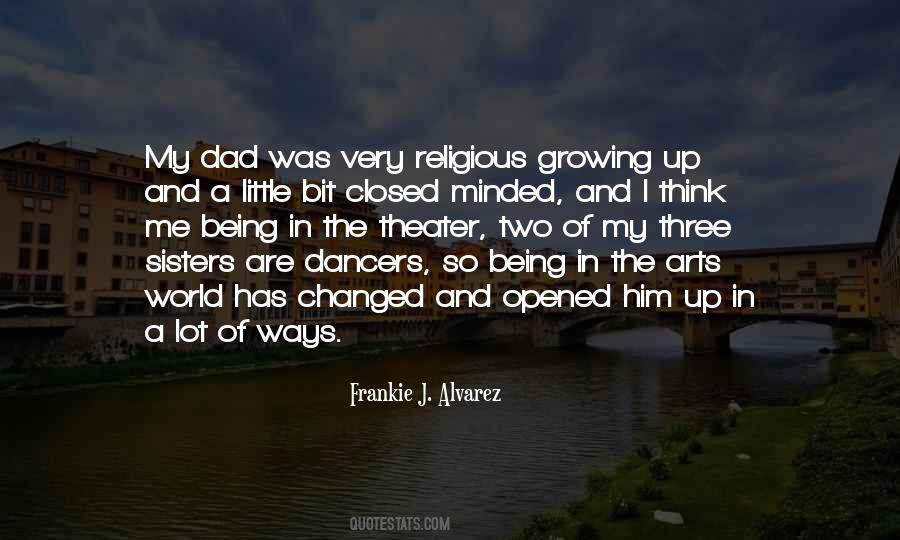 #4. My dad's name is Vernon and my mom liked the initials, V. V. My sisters and I got named Victoria, Valerie and Vincent so we'd be V. V.'s, too. But, then when you start getting pets' names that start with a 'v,' it's a little embarrassing. - Author: Vince Vaughn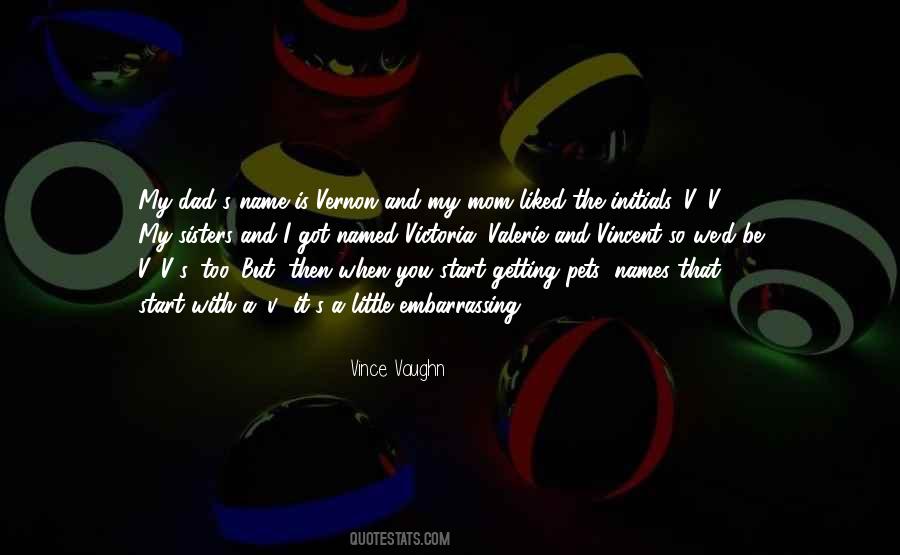 #5. Once upon a time there were three little sisters,' the Dormouse began in a great hurry; 'and their names were Elsie, Lacie, and Tillie; and they lived at the bottom of a well
' 'What did they live on?' said Alice, who always took a great interest in questions of eating and drinking. - Author: Lewis Carroll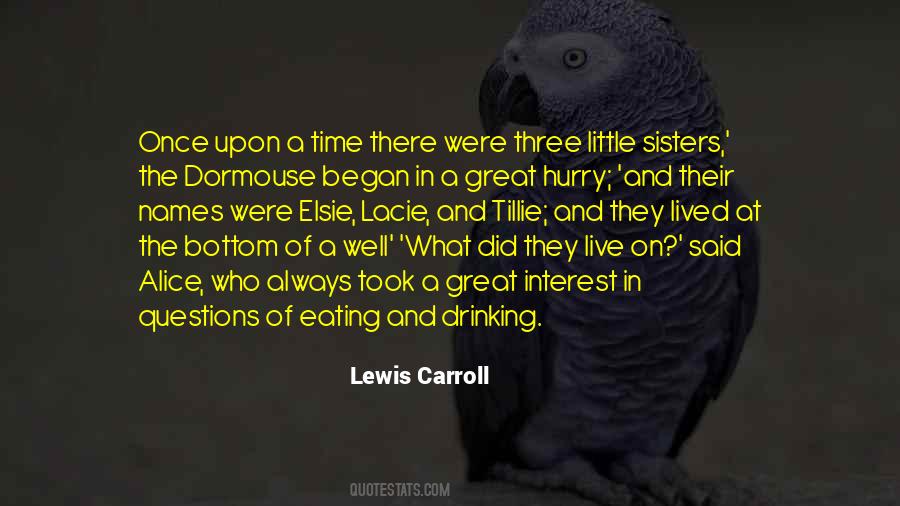 #6. Do you know why the big brother is born first? It's to protect the little brothers and sisters that come after him. A brother telling his sister, "I'll kill you" ... You never, ever say something like that. - Author: Tite Kubo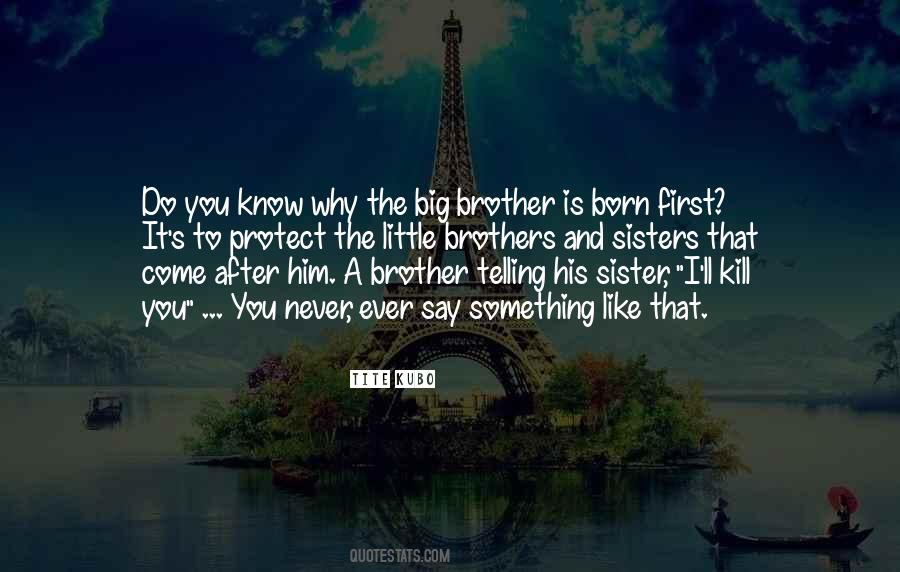 #7. A chuckle escaped Meredith's lips as Cassie swung from sleepy little girl to sympathetic confidante to vengeful angel all in the course of a single minute. - Author: Karen Witemeyer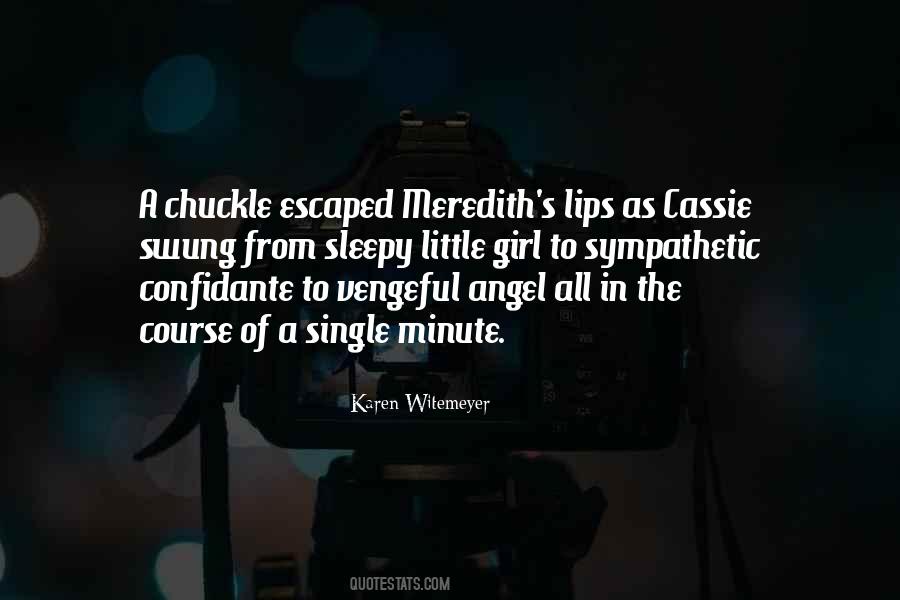 #8. Ever since I was really really little, I was just singing all the time. Like one of my favorite games when I was little would be to just have one of my sisters pick a title, and I would impromptu create that song. - Author: Kina Grannis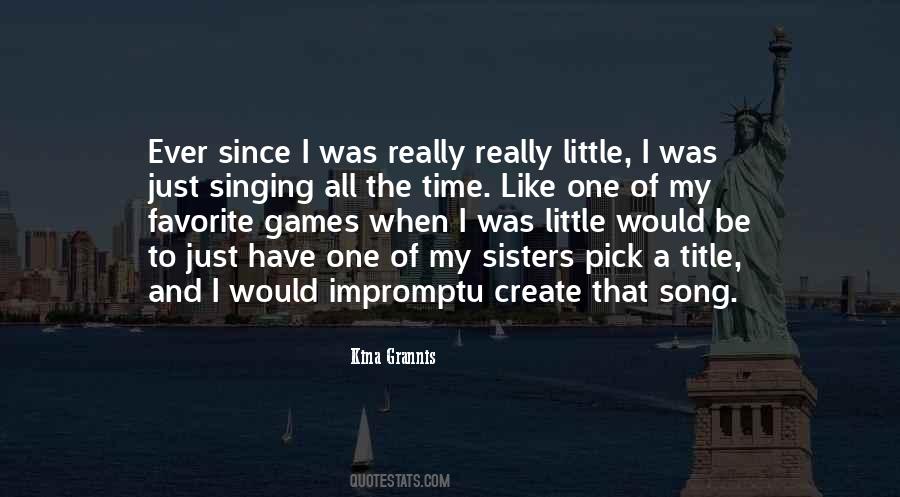 #9. Little Sisters' Survival Guide, rule number thirty-seven," Skylar said. "Scream before they hit you. - Author: Jennifer Lynn Barnes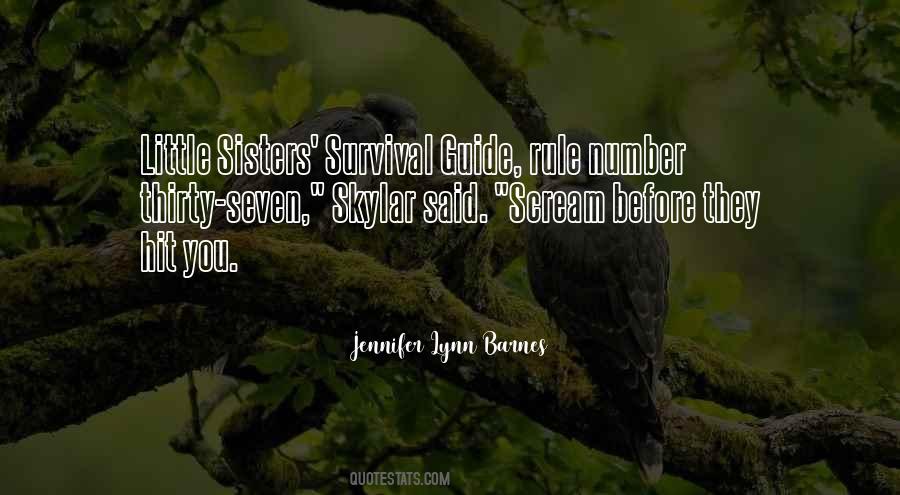 #10. Big brothers are the ones who are supposed to pull their punches. Little sisters - well, we should be able
to hit as hard as we like, shouldn't we? - Author: Rick Riordan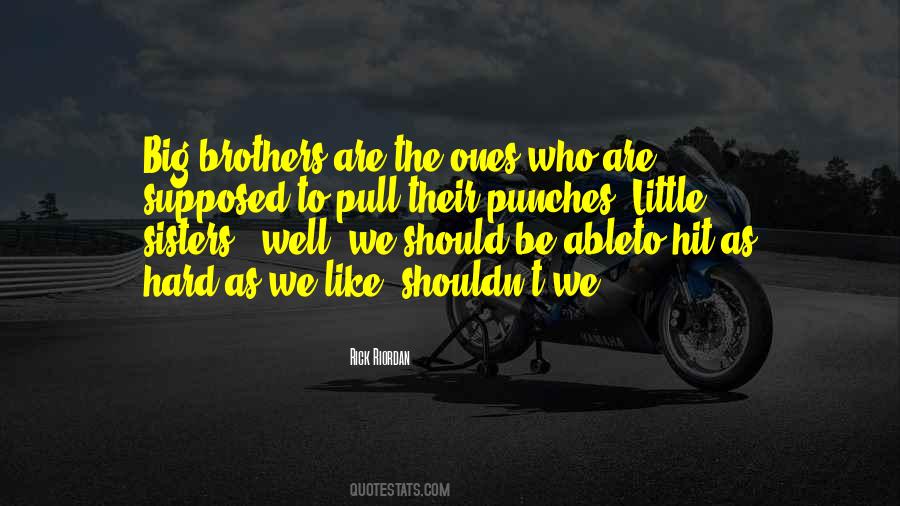 #11. If I could wish for anything else, it would be a little more moderation, a little more tolerance, and a little more of the trustful innocence of that boy who learned his prayers at the knee of the gentle, kindly old priest at the Sisters' Convent school. - Author: Jack Black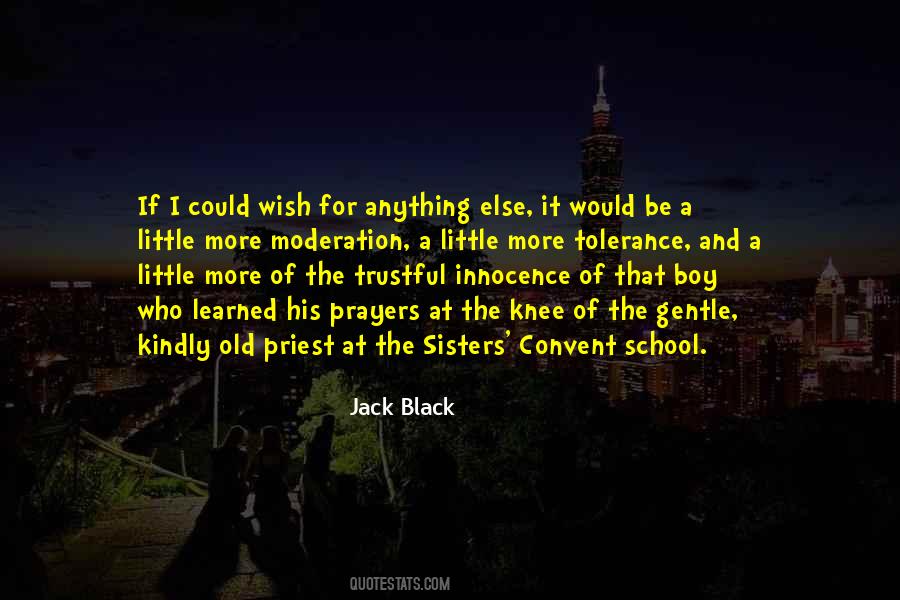 #12. What silly little things sometimes take on meaning in life, suddenly, out of nowhere. And you know they're little nothings, and you laugh at them, but all the same, you go on feeling them, you can't stop ... - Author: Sarah Ruhl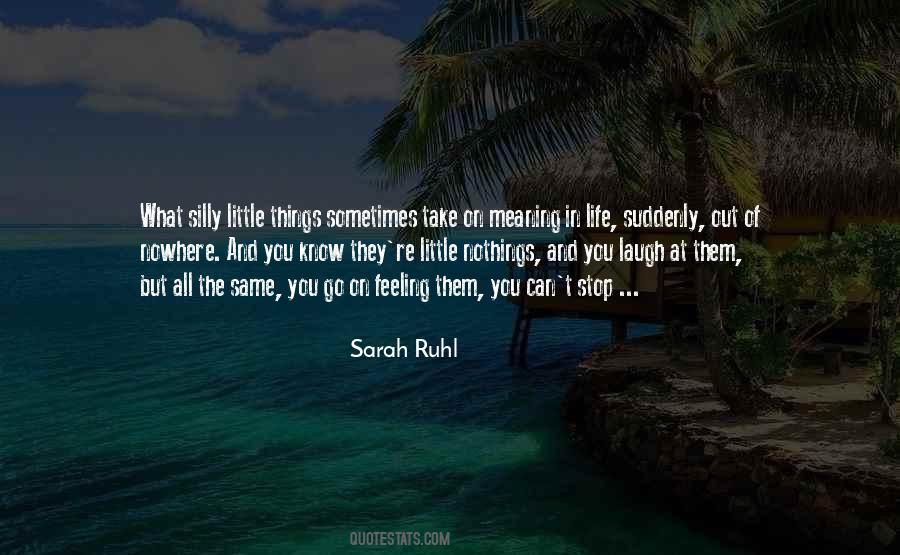 #13. Four little chests all in a row,
Dim with dust, and worn by time,
Four women, taught by weal and woe
To love and labor in their prime. "
"Four sisters, parted for an hour,
None lost, one only gone before,
Made by love's immortal power,
Nearest and dearest evermore. - Author: Louisa May Alcott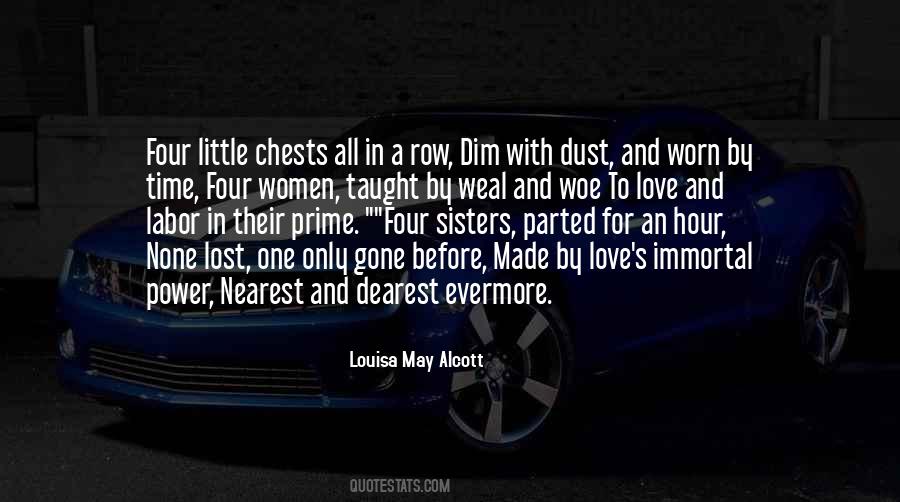 #14. I can't wait for my little sisters to start dating, because it will really be fun to pick on their boyfriends. - Author: David Gallagher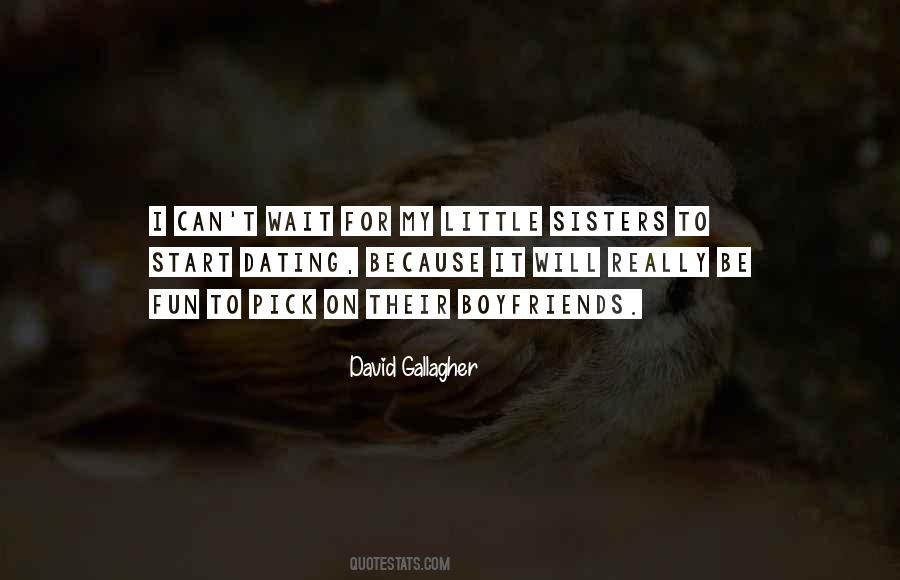 #15. All the animals and creatures of this earth are our former brothers and sisters but because we believe that we have "dominion" over them, we have become cruel little emperors. - Author: John O'Donohue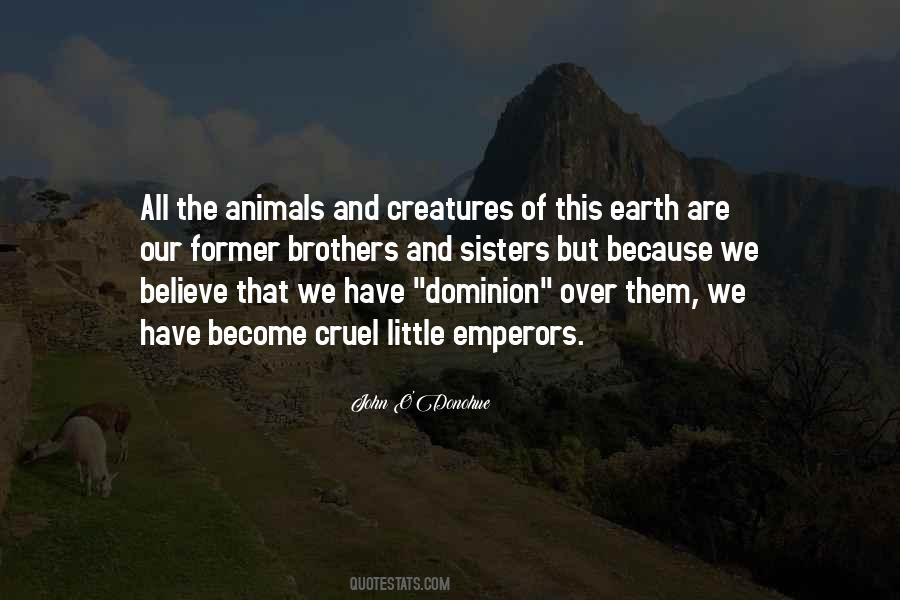 #16. I don't believe in looking past anybody - I wouldn't look past the Little Sisters of the Poor after they stayed up all night. - Author: Al McGuire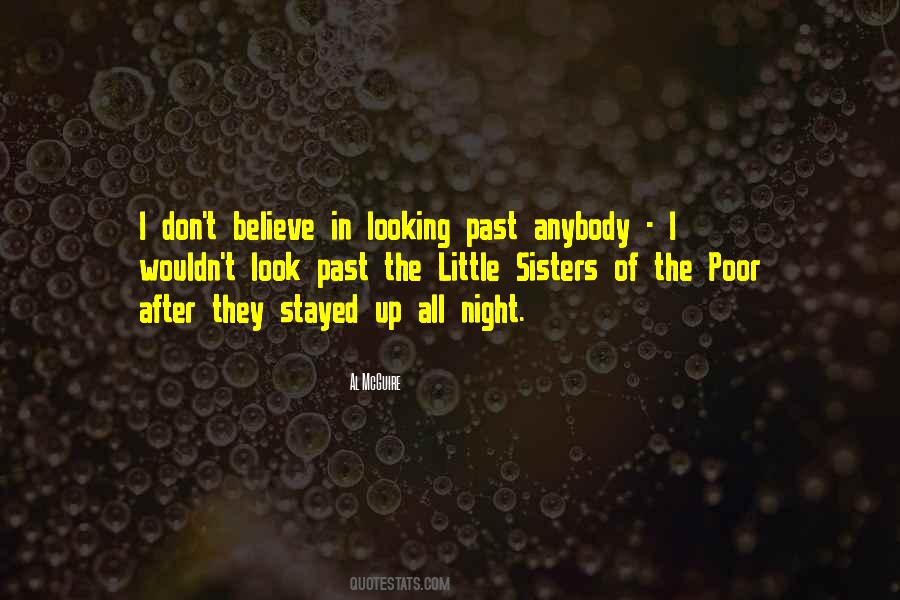 #17. That's the best thing about little sisters: They spend so much time wishing they were elder sisters that in the end they're far wiser than the elder ones could ever be. - Author: Gemma Burgess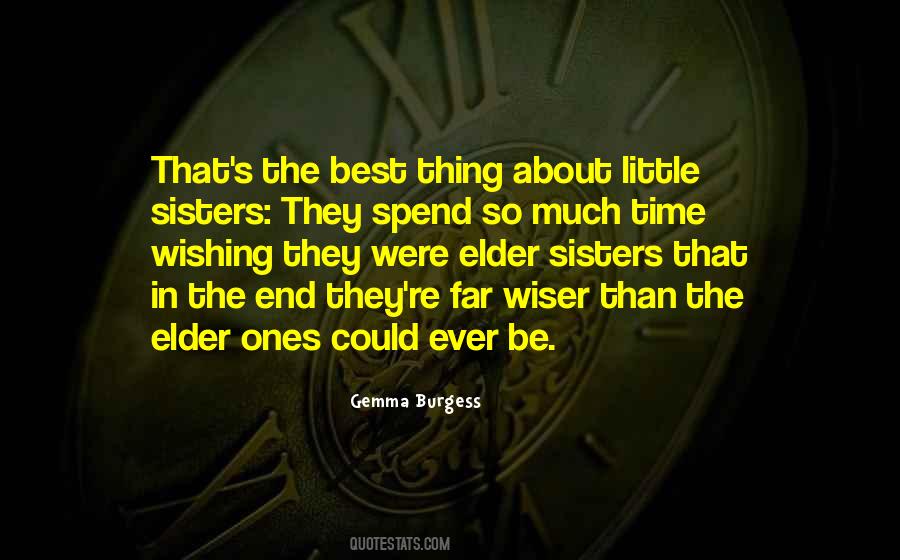 #18. You want to be an alchemist so badly? Don't wait to react to the immediate problem.
Plan ahead. Look at the big picture and you won't ever have to deal with that problem.
Better to save yourself from a major catastrophe than drag your feet over a bunch of little inconveniences. - Author: Richelle Mead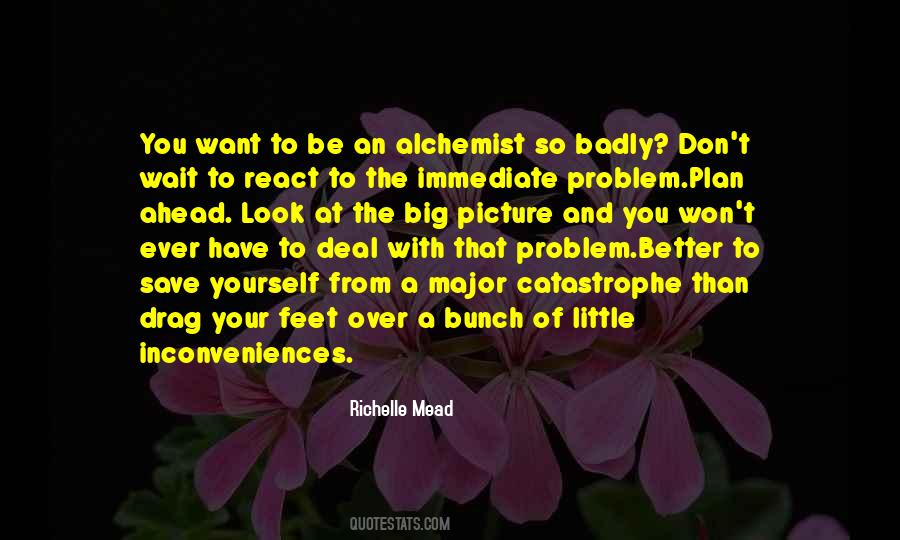 #19. I grew up in a bus, traveled with various circuses and freak shows. I was a trapeze artist, and that was my dream. We just traveled the whole world, me and my mom and my little brothers and sisters. It was an adventure. - Author: Neon Hitch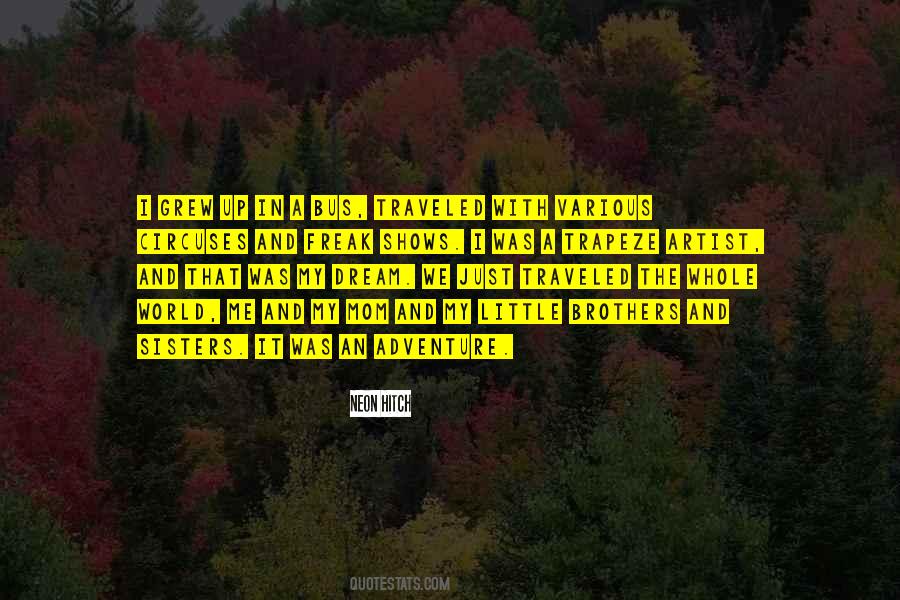 #20. It made the Baudelaire sisters a little sad to see all those books sitting in the library unread and unnoticed, like stray dogs or lost children that nobody wanted to take home. - Author: Lemony Snicket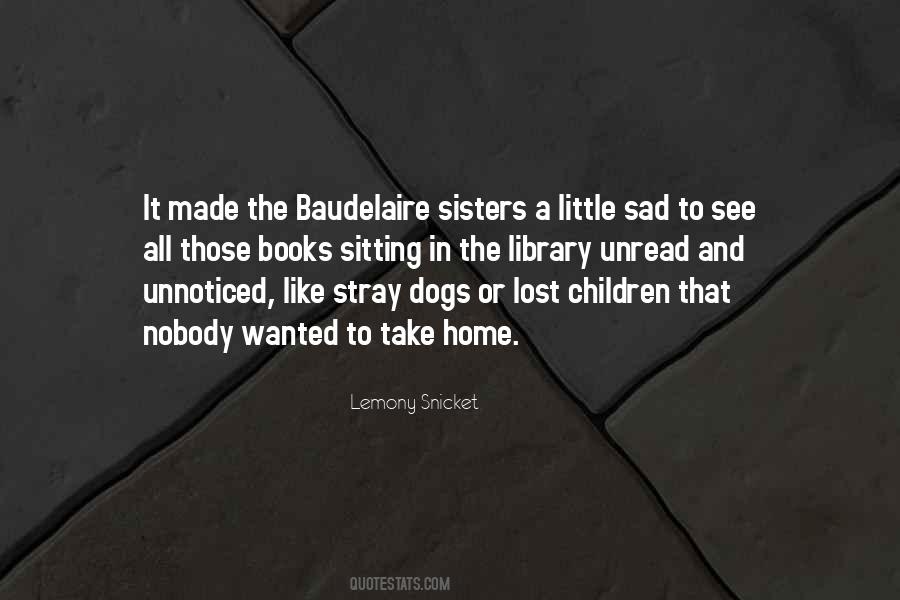 #21. It's always the idle habits you acquire which you will regret. Father said that. That Christ was not crucified: he was worn away by a minute clicking of little wheels. That had no sister. - Author: William Faulkner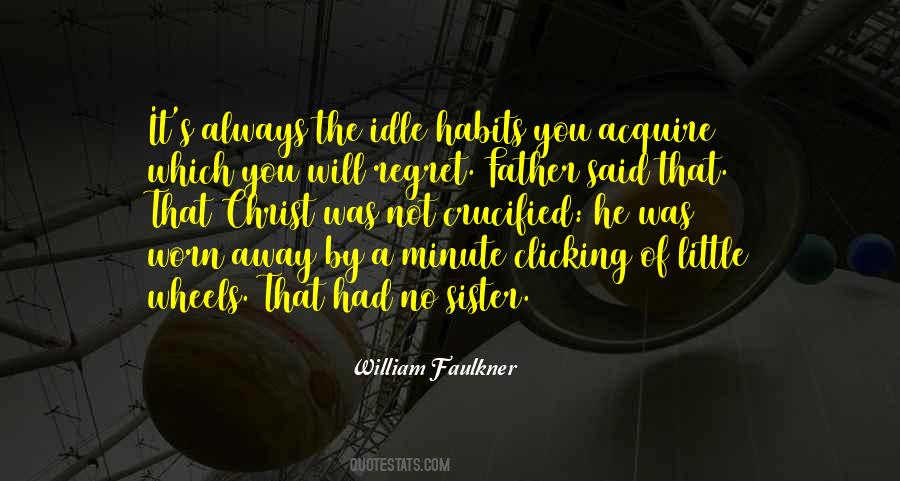 #22. We played a festival in Ireland once, and in the middle of 'New Slang,' the Scissor Sisters kicked in across the field on this mega stage. It was a little distracting. It was hard to keep track of what I was supposed to sing. - Author: James Mercer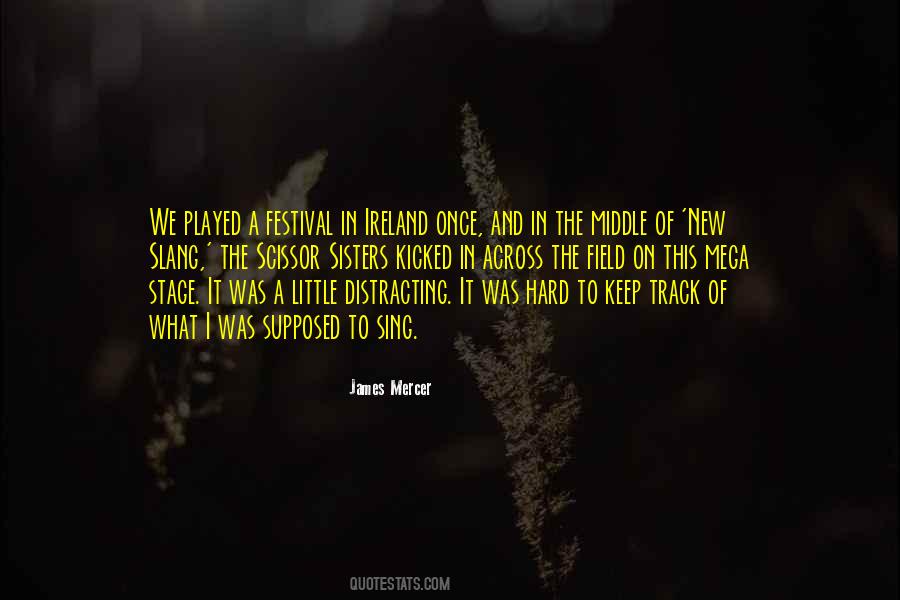 #23. So pretty," Nika said to her sisters. "But such a big baby about a little hair. - Author: G.A. Aiken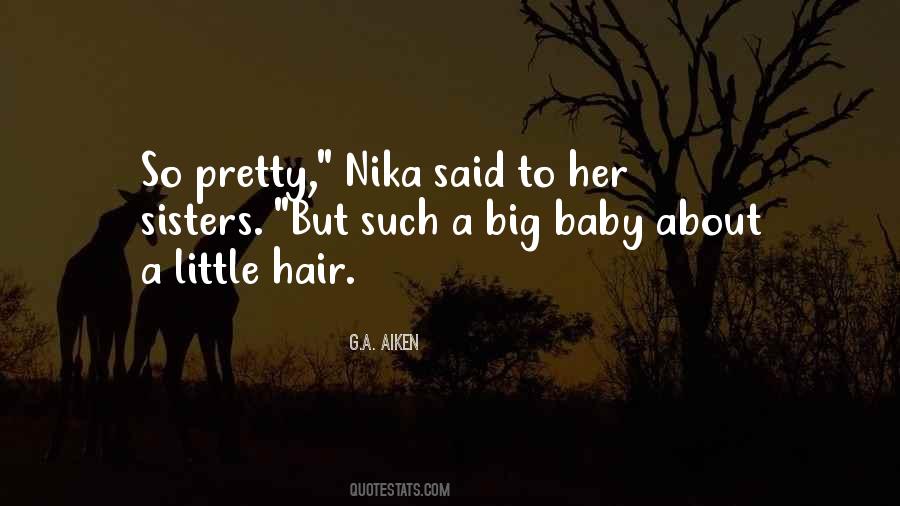 #24. There was a kid that had five brothers and sisters, and the family was missing for like five days. I was watching TV, they [found each other] and now they're in San Antonio. So I bought them a little apartment in San Antonio. But I'm doing stuff like that all over. - Author: Shaquille O'Neal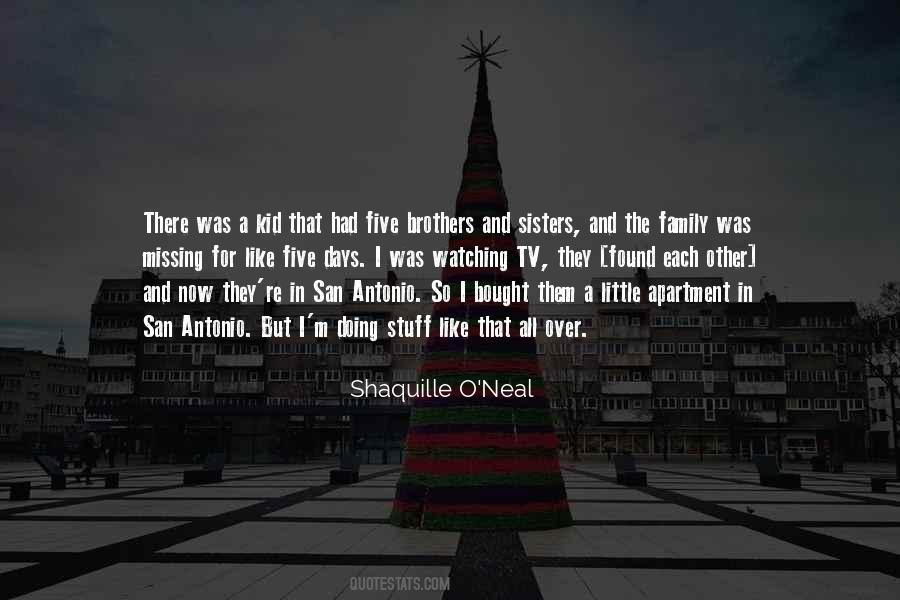 #25. 'The Sisters Brothers' started out as a little bit of dialogue between these two men who became Eli and Charlie Sisters. - Author: Patrick DeWitt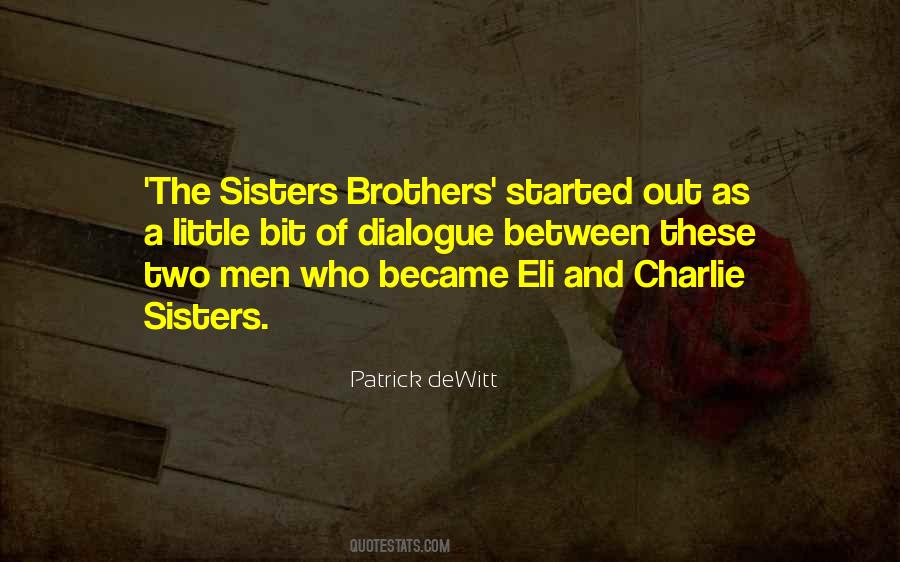 #26. I'd rather give her new ones, for I think she is a little bit proud and might not like old things. If she was my sister it would do, because sisters don't mind, but she isn't, and that makes it bad, you see. I know how I can manage beautifully; I'll adopt her! and Rose looked quite radiant with - Author: Louisa May Alcott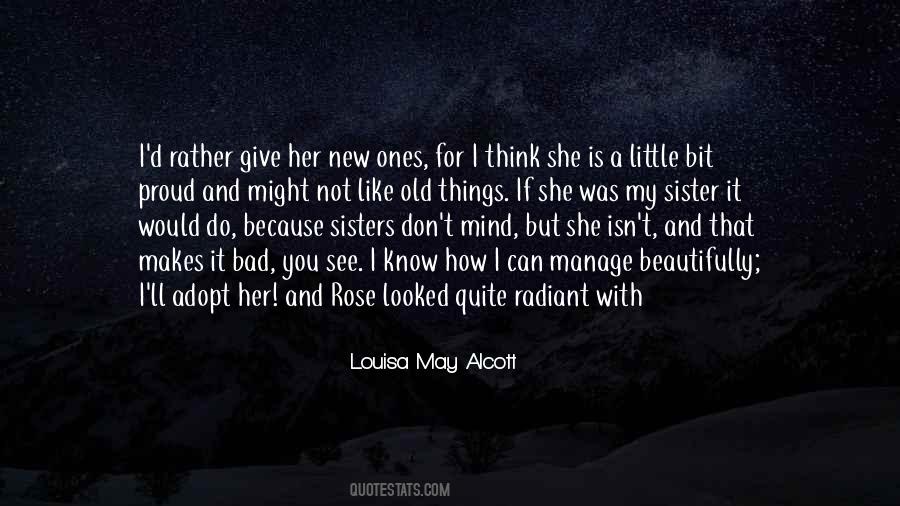 #27. When we were little, people said we looked just like twins for no better reason than we might have been wearing the same color shirt. You had to wonder if they were truly looking at us. - Author: Susan Gregg Gilmore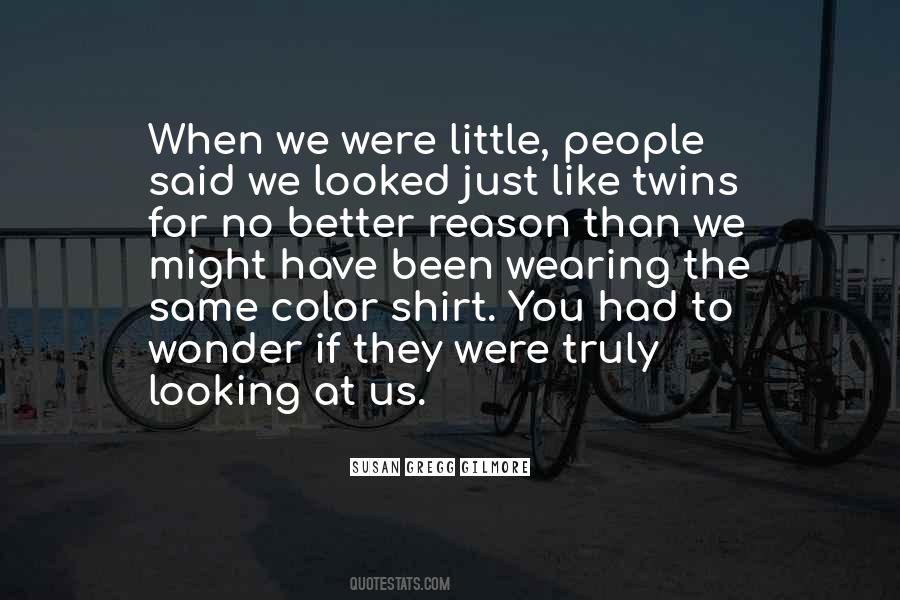 #28. I got two older brothers and two younger sisters, and we grew up in the country, and we were a little feral. So as long as the car didn't end up in the rhubarb and you didn't get caught for doing whatever you were doing, you were fine. - Author: Diego Klattenhoff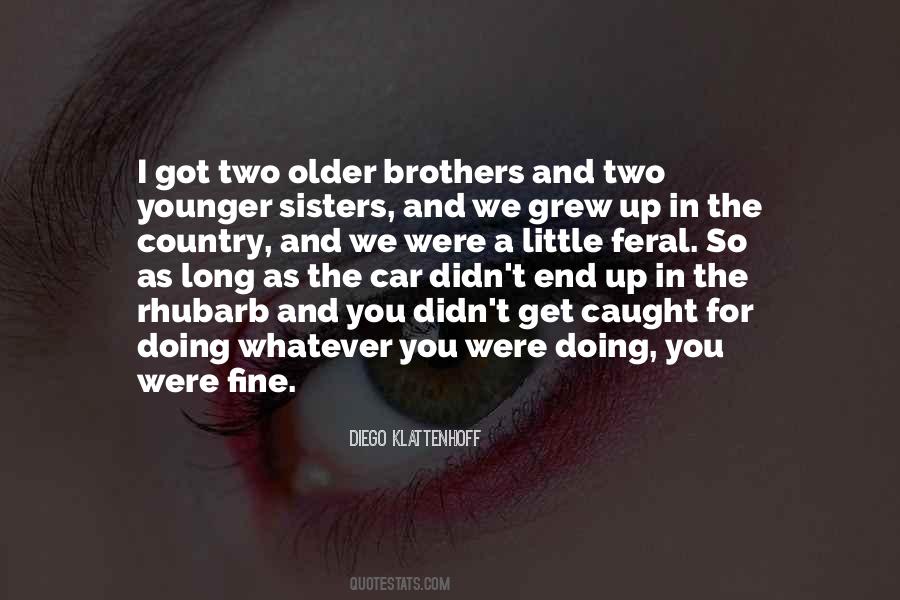 #29. Rock 'n' roll offered me a platform to speak what I felt. It also offered me a platform to support my mama and my brothers and sisters - twelve children. - Author: Little Richard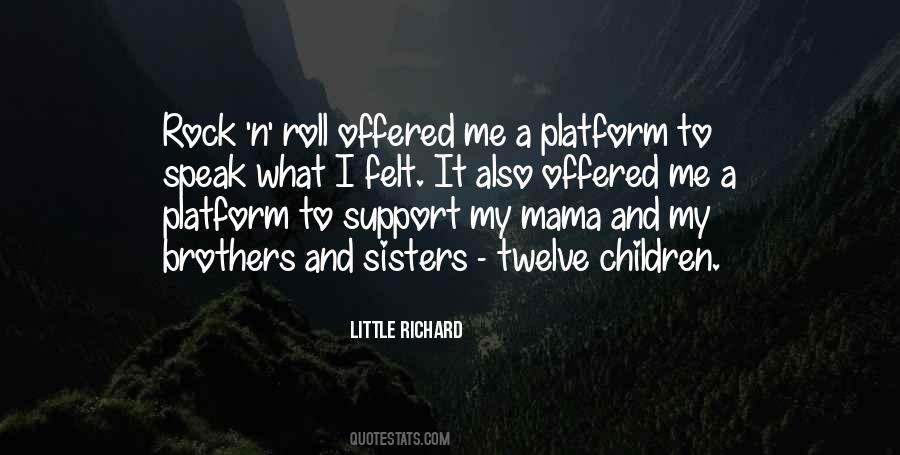 #30. I'm not just saying this because I'm in the movie, but I really would recommend 'Secretariat.' It's fun, inspiring, and it's a great movie to take your little kids, brothers, sisters, or nieces and nephews to see that actually has real people in it and not animated characters. - Author: Kevin Connolly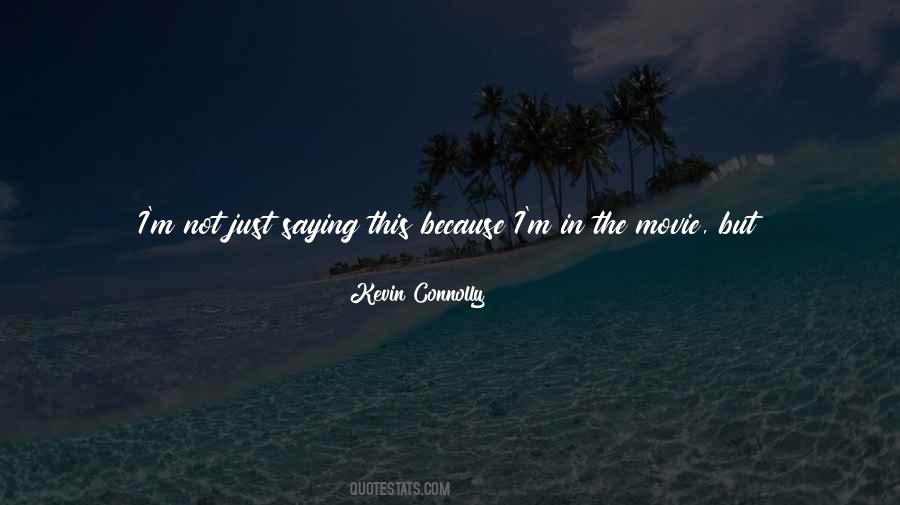 #31. There isn't a hotel, massage parlor, ktv, or conference hall in town that isn't frequented by "little sisters" (xiaojie), escort personnel (baopo), hostesses (peinv), or other types of prostitutes (jinv). - Author: Thorsten J. Pattberg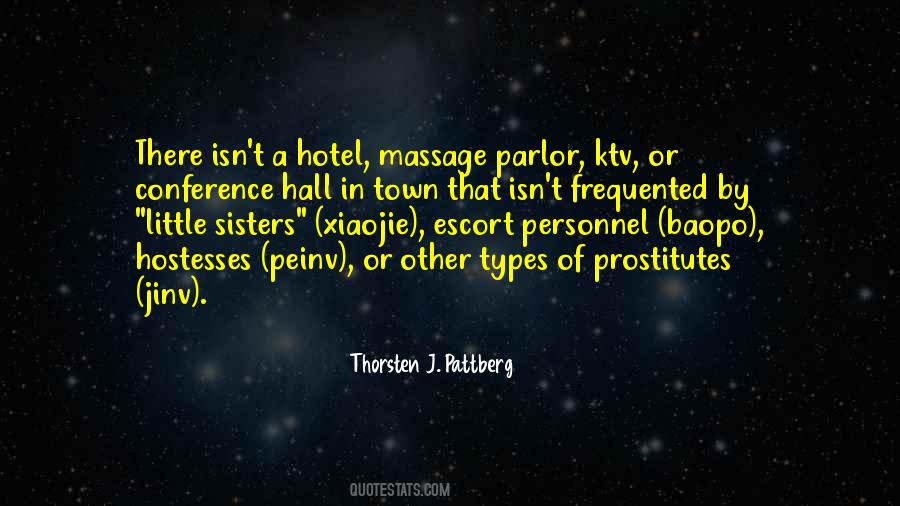 #32. Whether it was Little League or playing with your brothers or sisters, that was always a problem. If I would lose - because I very rarely lost - then everything would go crazy. - Author: Cal Ripken Jr.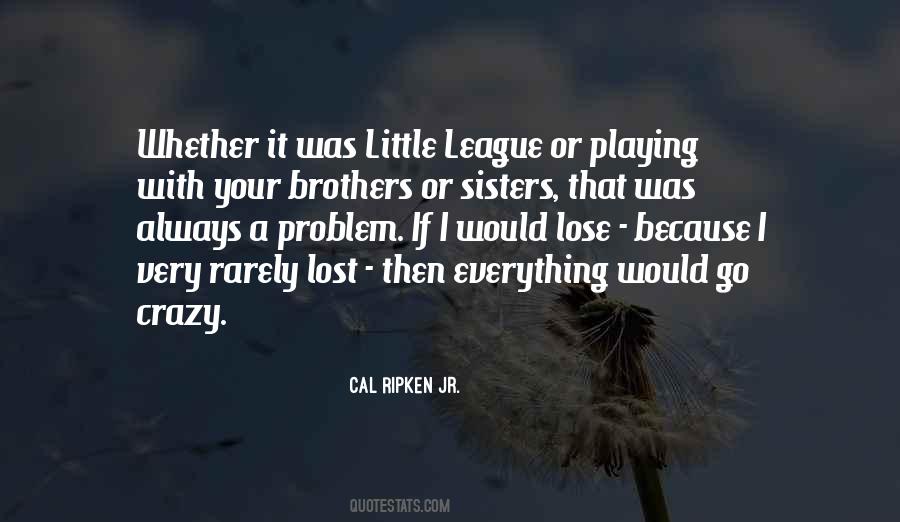 #33. When I was a kid, my sisters and I used to get a little present in our stocking each day of December, usually an ornament, some sweets, or a little toy. - Author: Birgitte Hjort Sorensen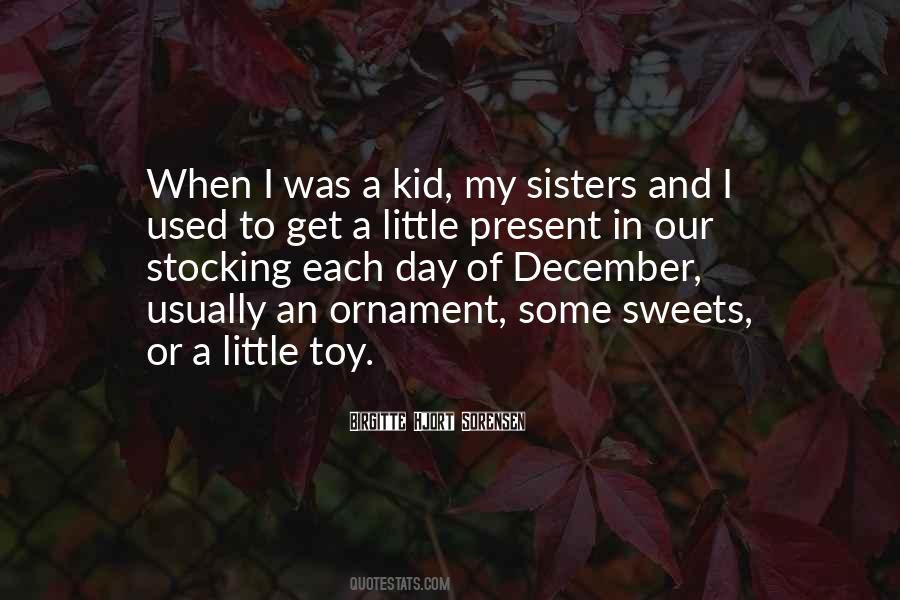 #34. I'm definitely close to Jen [Lawrence]; we're like sisters on set. Every day, she hugs me three times before she leaves, and does little things that are really sweet. - Author: Willow Shields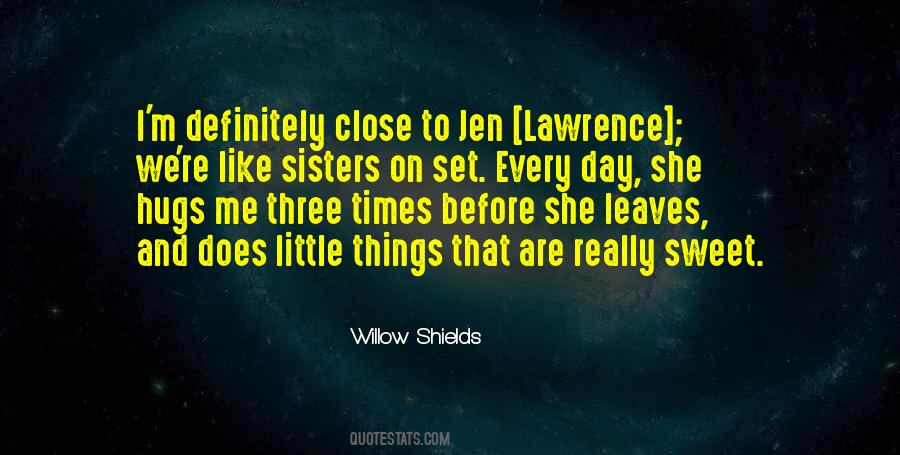 #35. I always loved the guitar, from when I was quite little. My dad had a G banjo at the house that he played. When he had parties, my sisters always played piano, and my dad played banjo. - Author: Dave Davies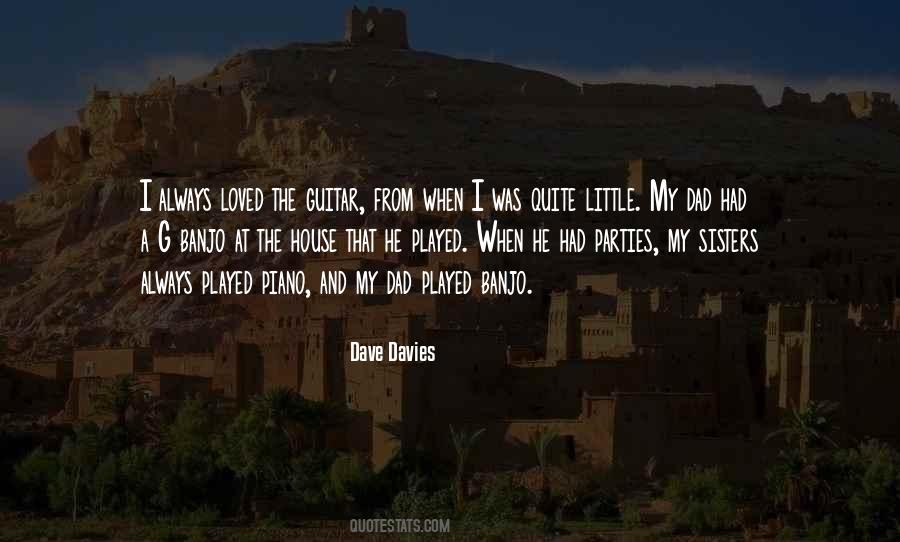 #36. I want to say a little something that's long overdue, the disrespect to women has got to be through. To all the mothers and the sisters and the wives and friends, I wanna offer my love and respect till the end. - Author: Adam Yauch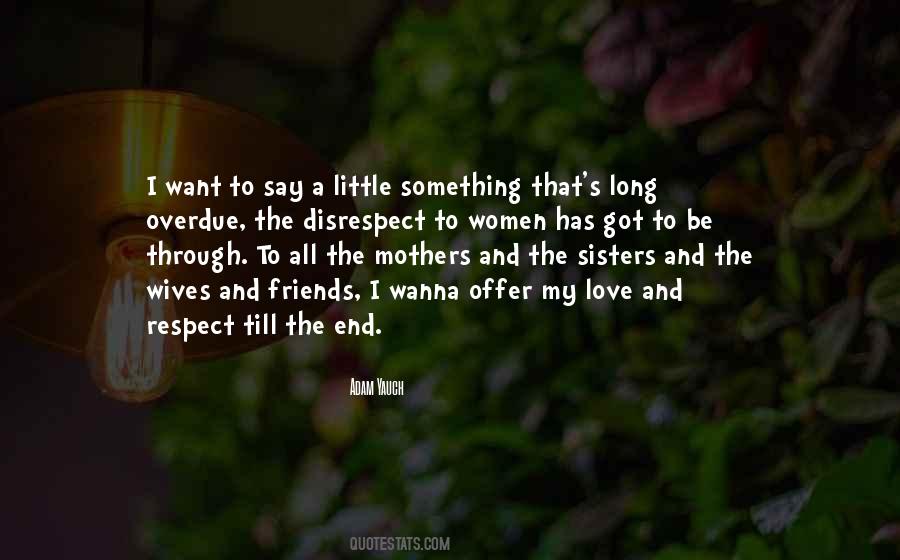 #37. What on earth are you wearing? Did you take orders in a convent since we spoke last? Little Sisters of the Drab and Homely. - Author: Tessa Dare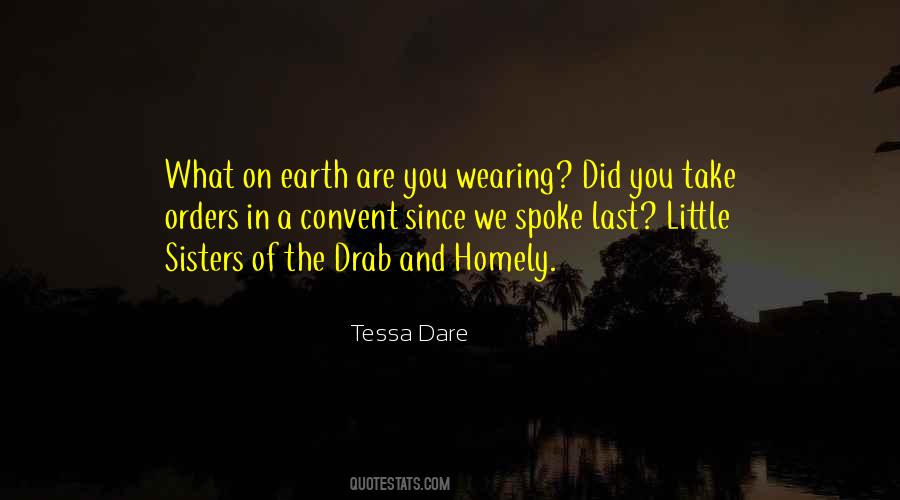 #38. We went our several ways," said Lady Dedlock, "and had little in common even before we agreed to differ. It is to be regretted, I suppose, but it could not be helped. - Author: Charles Dickens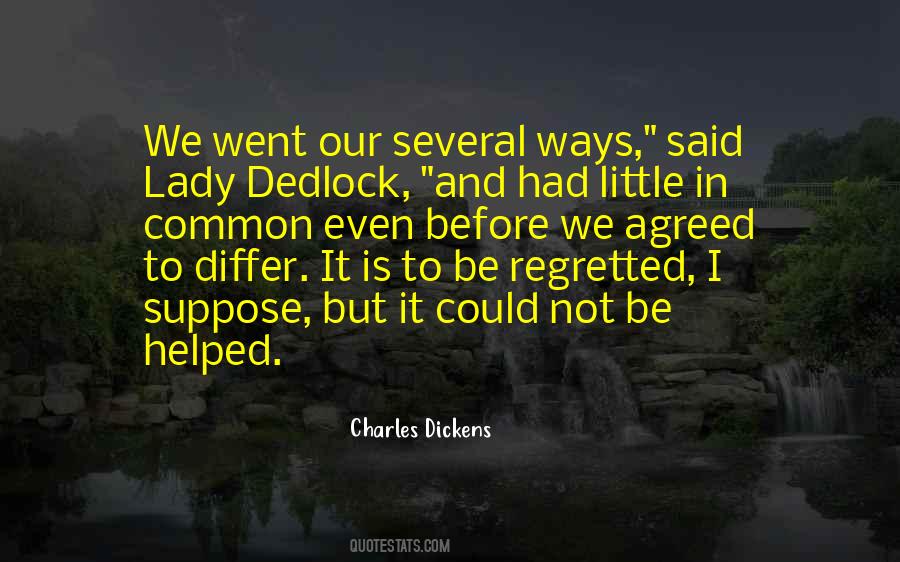 #39. It comes down to a choice between the Little Sisters and Big Brother, and I'm going with the Sisters. - Author: Jeb Bush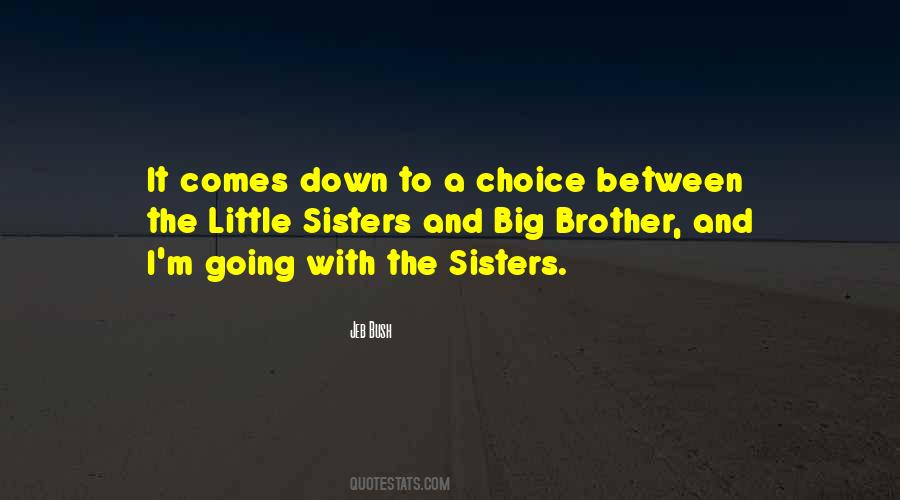 #40. Don't duh me!" Puck snapped. "Trying to figure out what you're thinking from one day to the next takes more brains than I have."
Well, maybe you should stop. I'd hate to burn out that little peanut in your head. - Author: Michael Buckley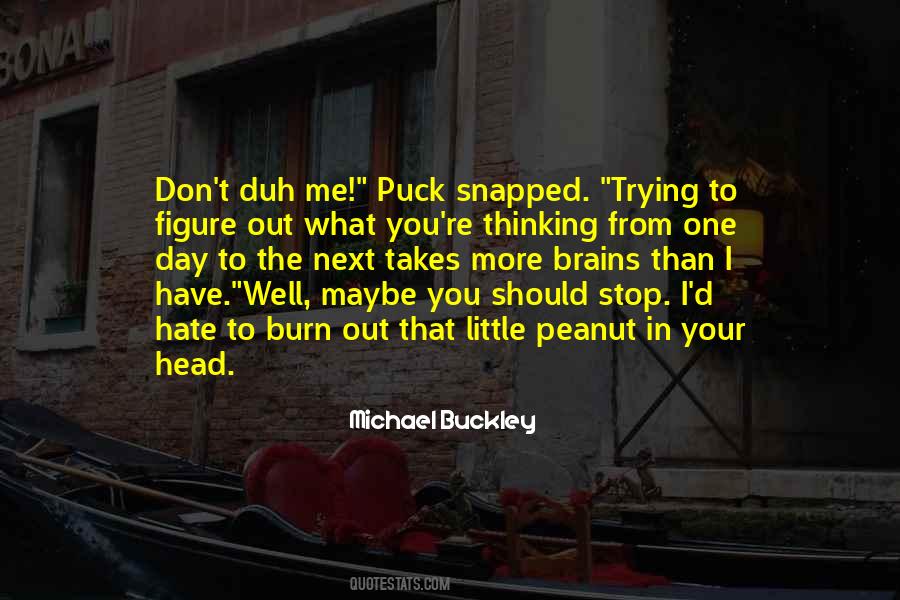 #41. LET something be done for them; but THAT something need not be three thousand pounds. Consider," she added, "that when the money is once parted with, it never can return. Your sisters will marry, and it will be gone for ever. If, indeed, it could be restored to our poor little boy
- Author: Anonymous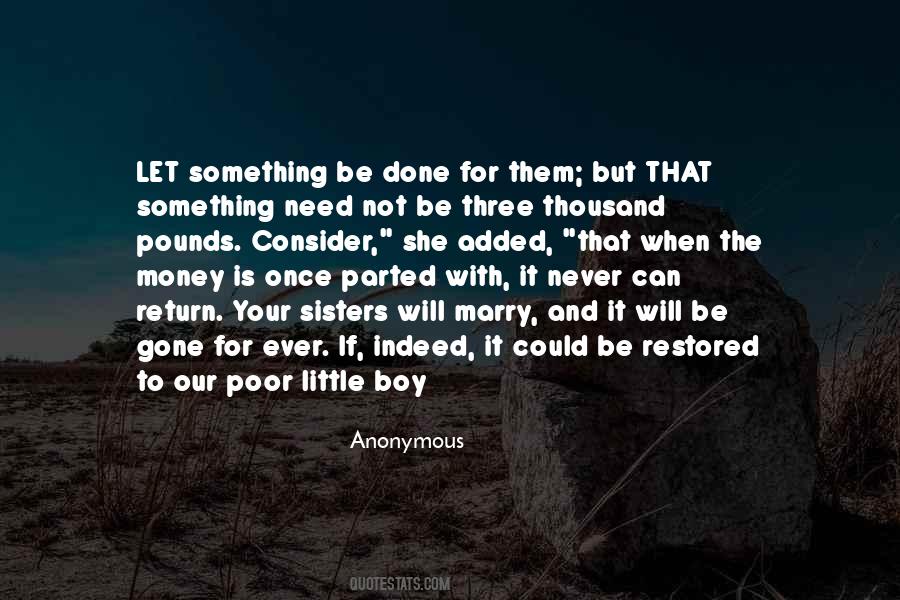 #42. I grew up in a family of ten. You had to have, like, a burst appendix to get the floor ... My brothers and sisters are very quick, intense, brilliant, very sarcastic people. And they were always right there with you, right there, missing not one little throat clearing. - Author: Mary Robison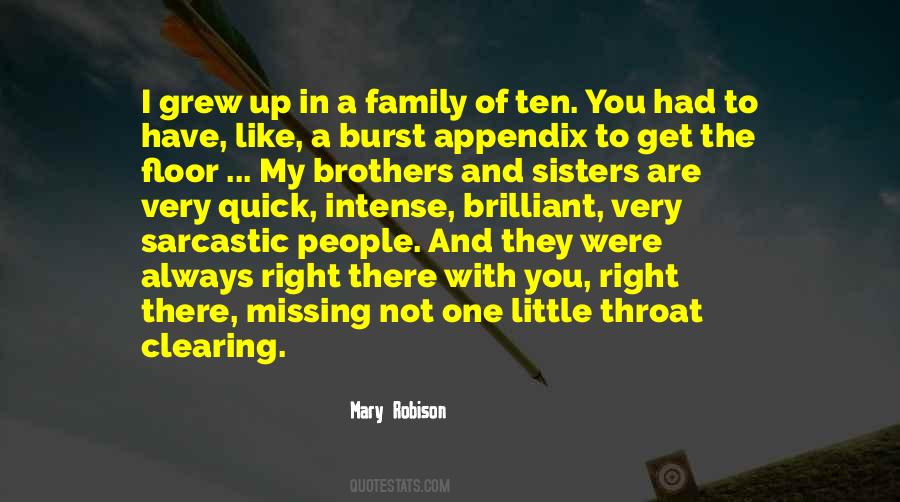 #43. They seem nice, though, your sisters, really,' Porcelain remarked.
'Ha!' I said. 'Shows what little you know! I hate them!'
'Hate them? I should have thought you'd love them.'
'Of course I love them,' I said ... 'That's why I'm so good at hating them. - Author: Alan Bradley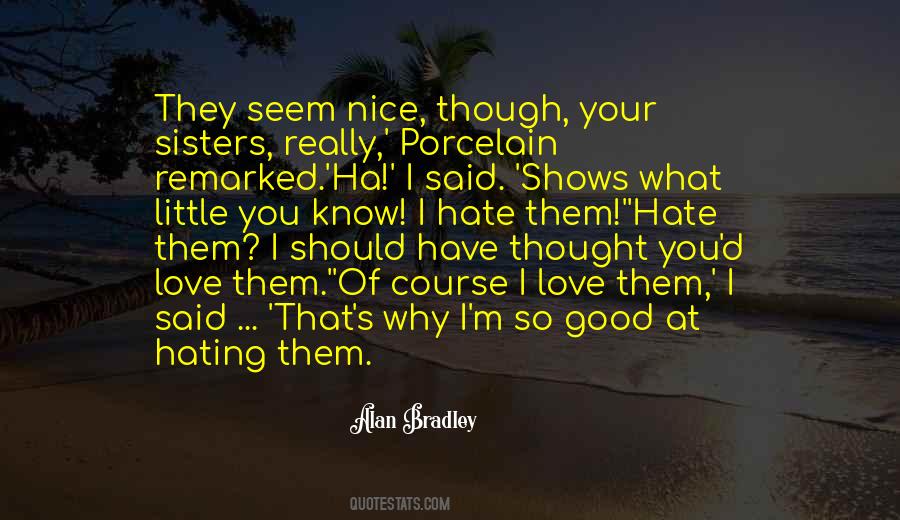 #44. My sisters like cooking at my place. It has a bit more room, and the food tastes a little bit better. A big pot of spaghetti and sauce, some warm French bread - works all the time. I think I've been eating pasta for 26 years. - Author: Tom Brady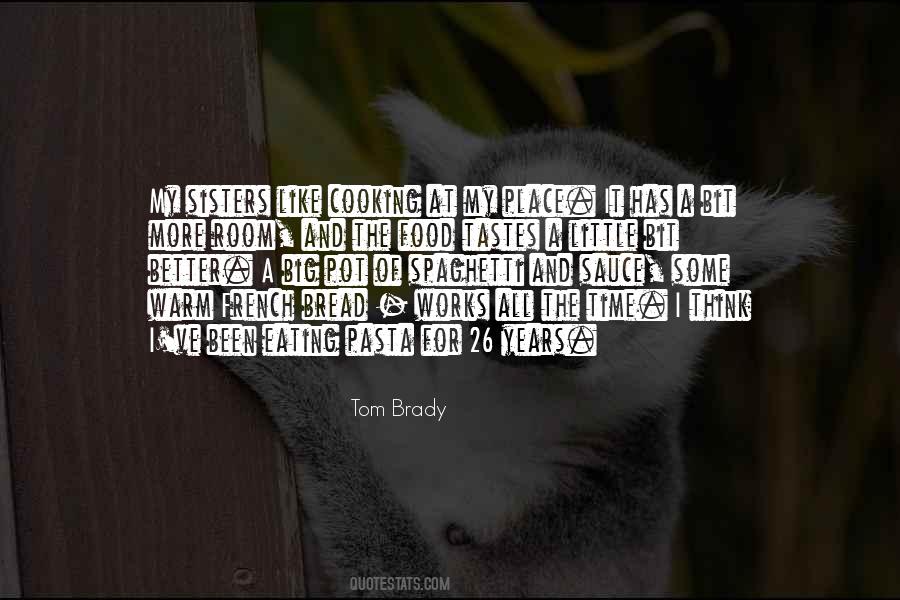 #45. On the road, the WWE is a family. The divas are my sisters, and like any big brother, I don't want creeps around my little sisters. - Author: CM Punk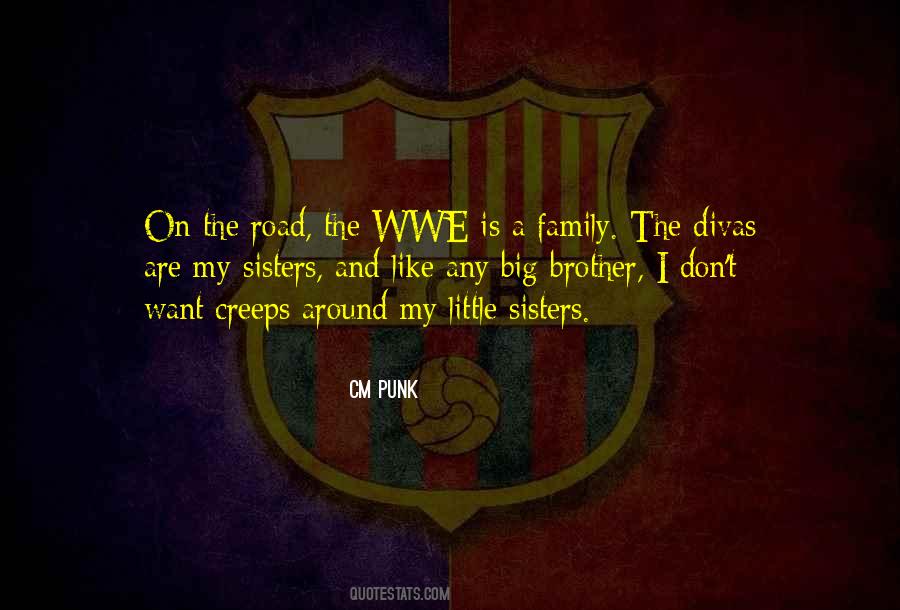 #46. Three dark queens
Are born in a glen,
Sweet little triplets
Will never be friends

Three dark sisters
All fair to be seen,
Two to devour
And one to be Queen - Author: Kendare Blake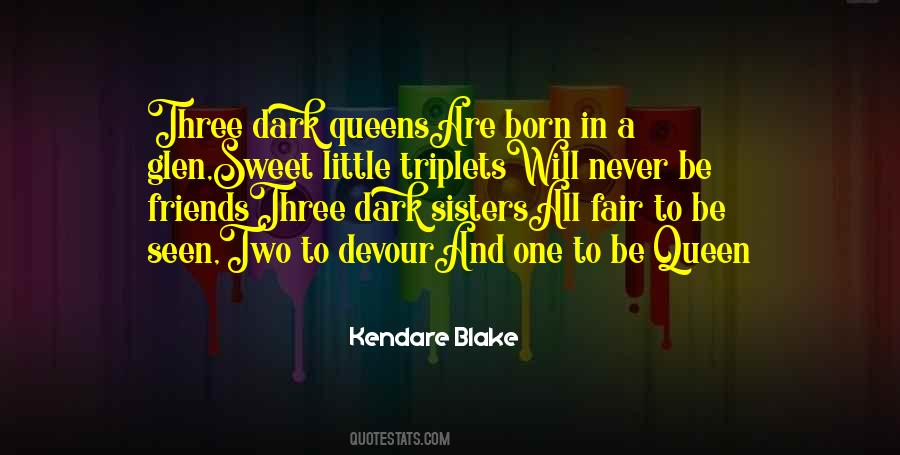 #47. I'm unbelievably ticklish. When I was a little kid, my sisters would hold me down and tickle me until I peed my pants. - Author: Ronda Rousey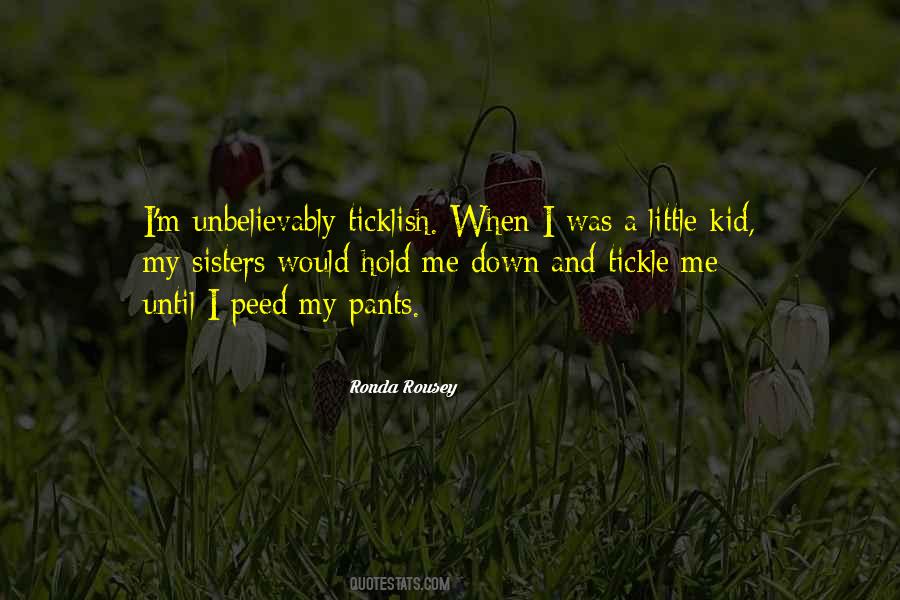 #48. Oil and Water, Daddy calls us. At four years younger than me, Katie is only fourteen and she already has half the boys in town eating from her pretty little hand. She tells me I am too tall and too wicked looking to capture the heart of any sensible young man. - Author: Gwenn Wright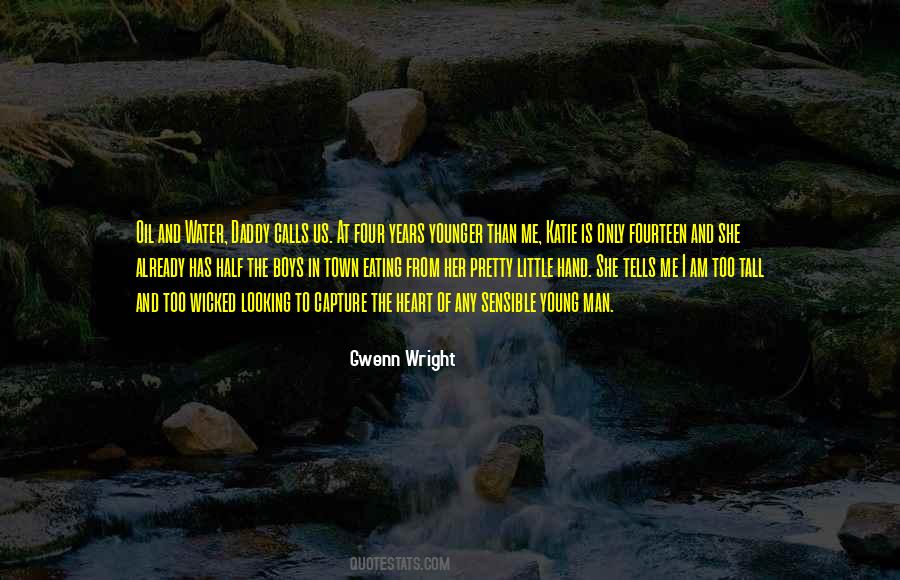 #49. I love letters from little kids. Adults never proclaim themselves 'your #1 fan! - Author: Lauren Baratz-Logsted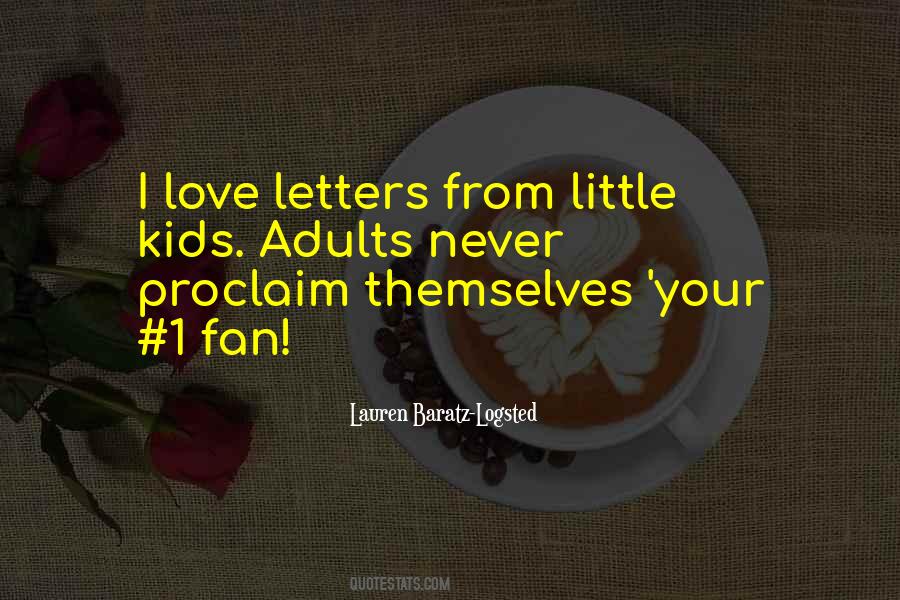 #50. The Burgess sisters arrived together. Tara and Lainie do a little bit of everything. Sometimes dancers, sometimes actresses. Once they were librarians, but that is a subject they will only discuss if heavily intoxicated. - Author: Erin Morgenstern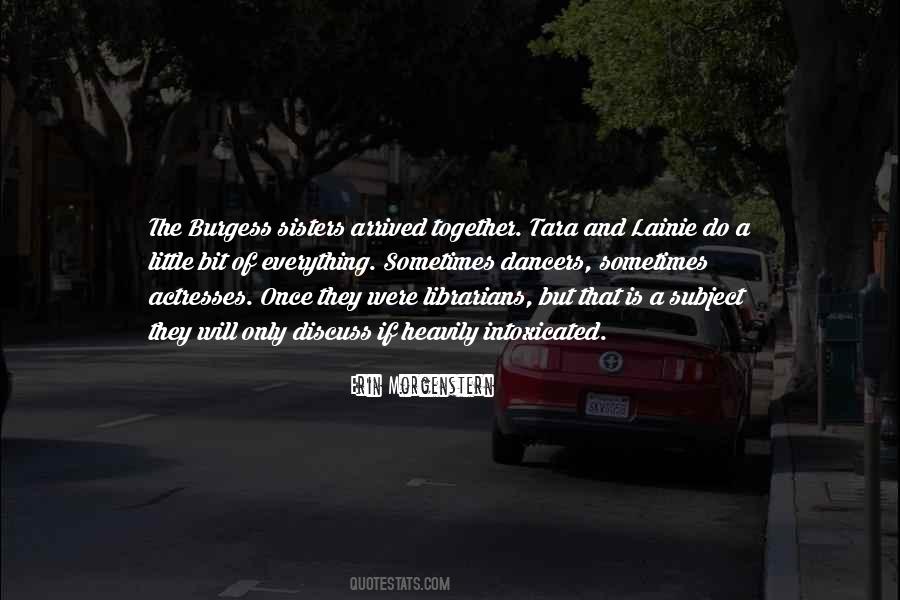 #51. I don't know about you, but I'm betting that when it comes to doing the right and good thing, the Little Sisters of the Poor know better than the regulators at the Department of Health and Human Services. - Author: Jeb Bush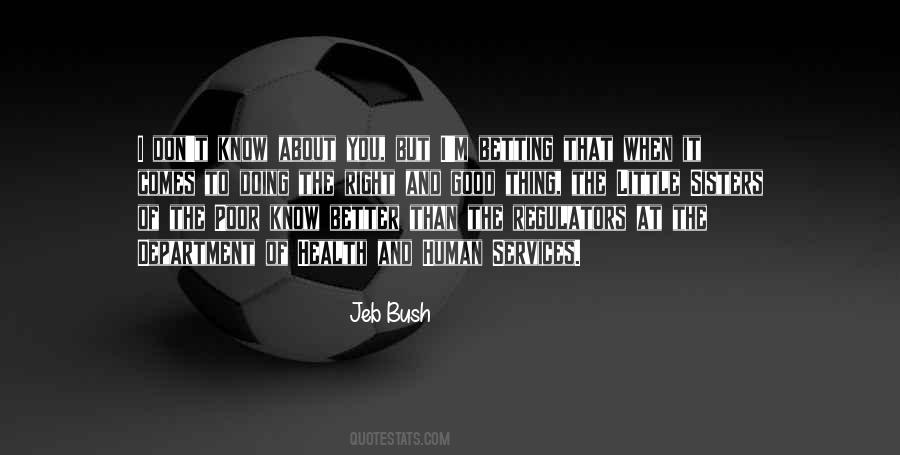 #52. She could always talk me into anything. My sister made me a little starstruck. - Author: Stacie Ramey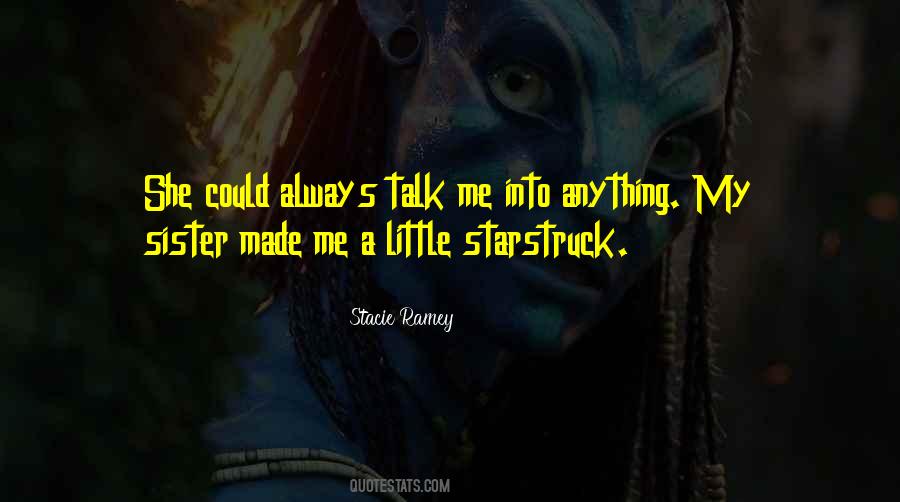 #53. You ignorant little rodent! This isn't just an old book. This is the book of Everafter."
"Sorry, I haven't read it. I'm waiting for the movie," Puck said. - Author: Michael Buckley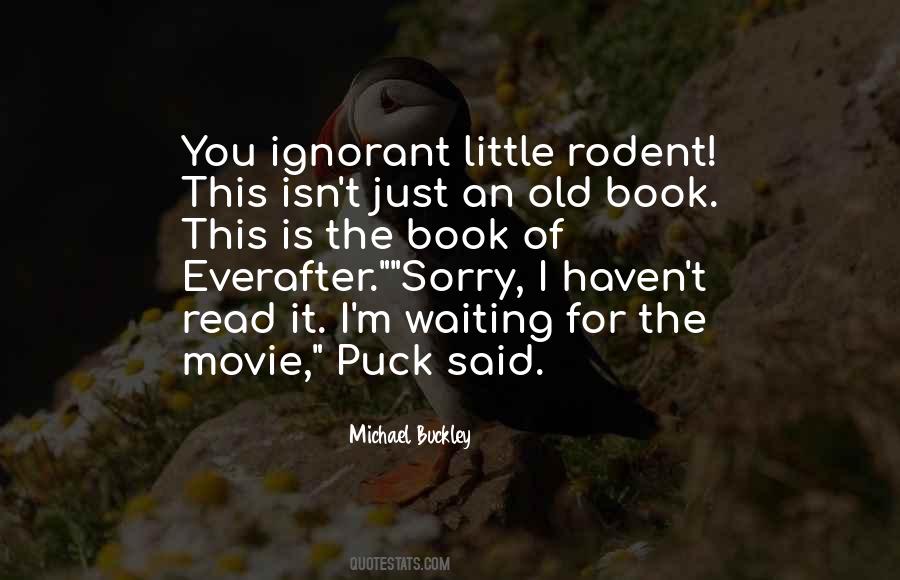 #54. There are certain things we owe our little sisters. - Author: Claire Hennessy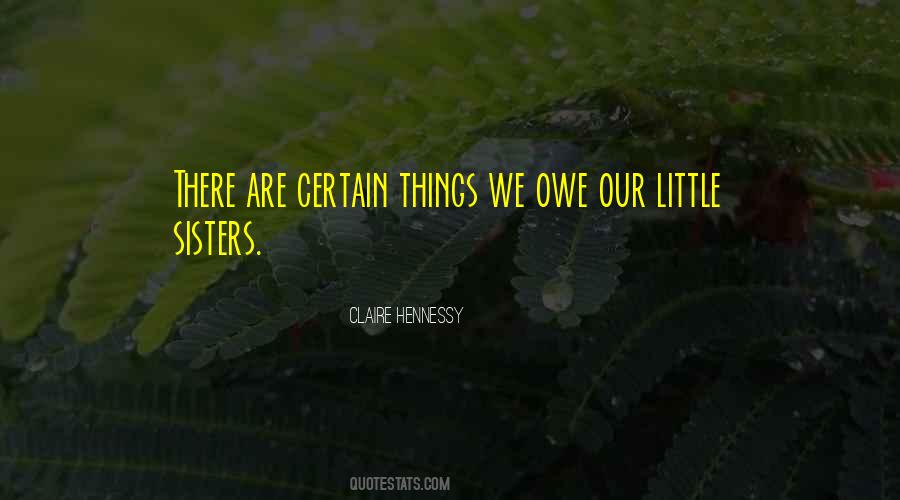 #55. I thought of all the summer evenings I'd spent sitting in the chairs under the trees beside the trailer, reading books that helped me escape Creek View, at least for a little while. Magical kingdoms, Russian love triangles, and the March sisters couldn't have been further away from the trailer park. - Author: Heather Demetrios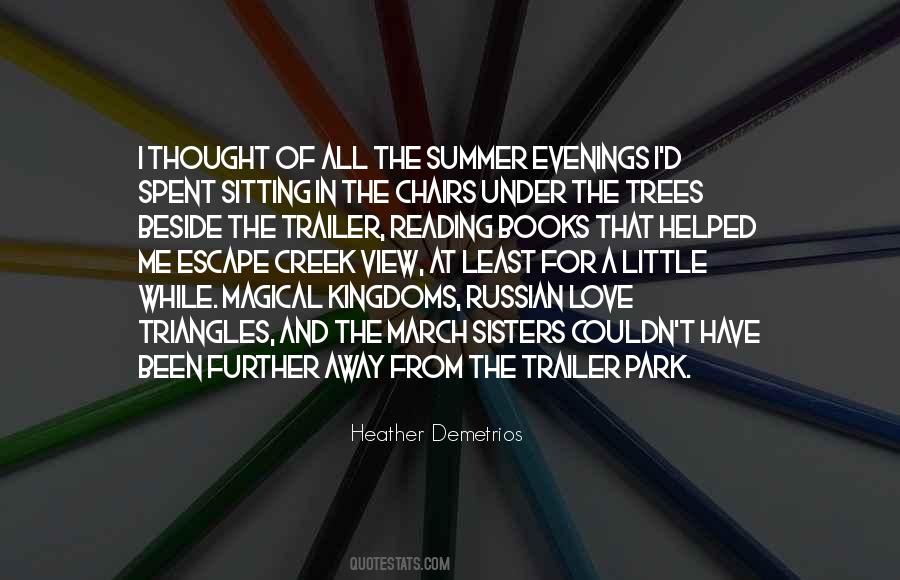 #56. When you snatch happiness in little bits, fits and starts, and lose it, like me, you become coarse, little by little, you become hateful. - Author: Sarah Ruhl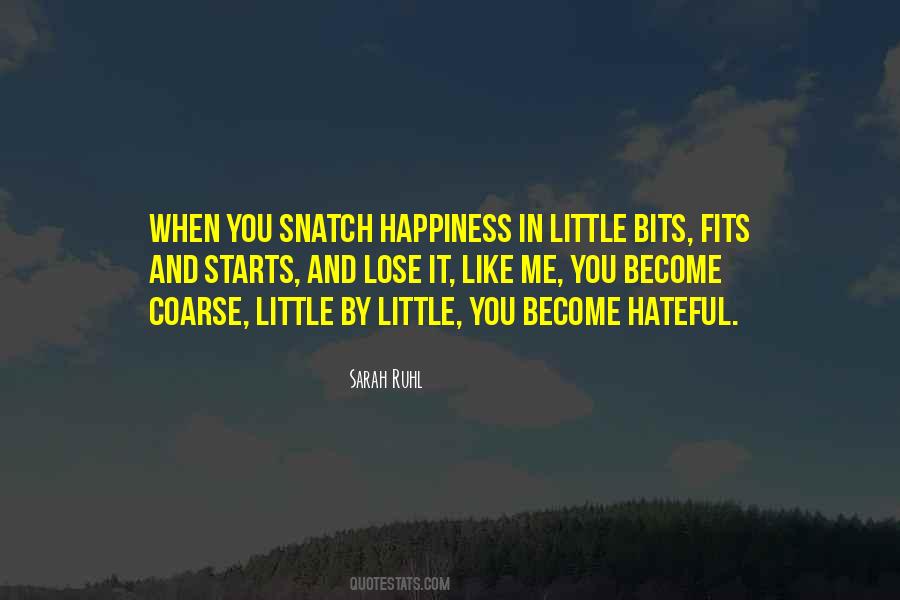 #57. ... she'll go and fall in love, and there's an end of peace and fun, and cozy times together. - Author: Louisa May Alcott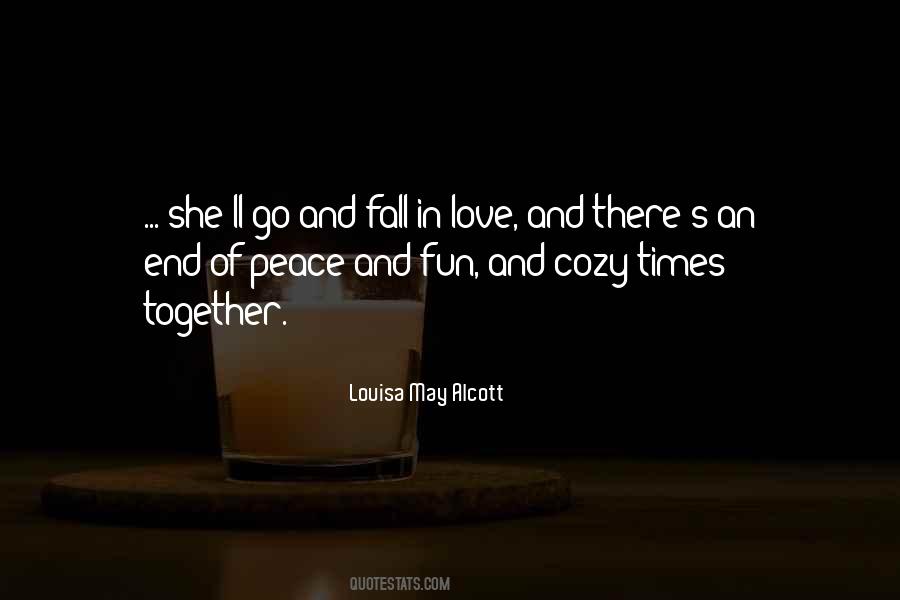 #58. That's the function of big brothers ... to help their little sisters when their worlds are collapsing. - Author: Susan Beth Pfeffer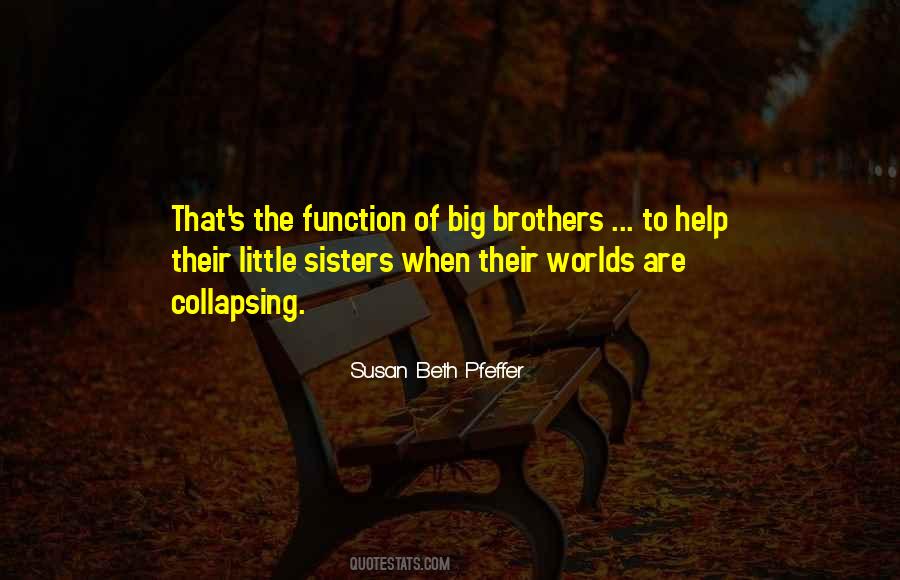 #59. It is only the women whose eyes have been washed clear with tears who get the broad vision that makes them little sisters to all the world. - Author: Dorothy Dix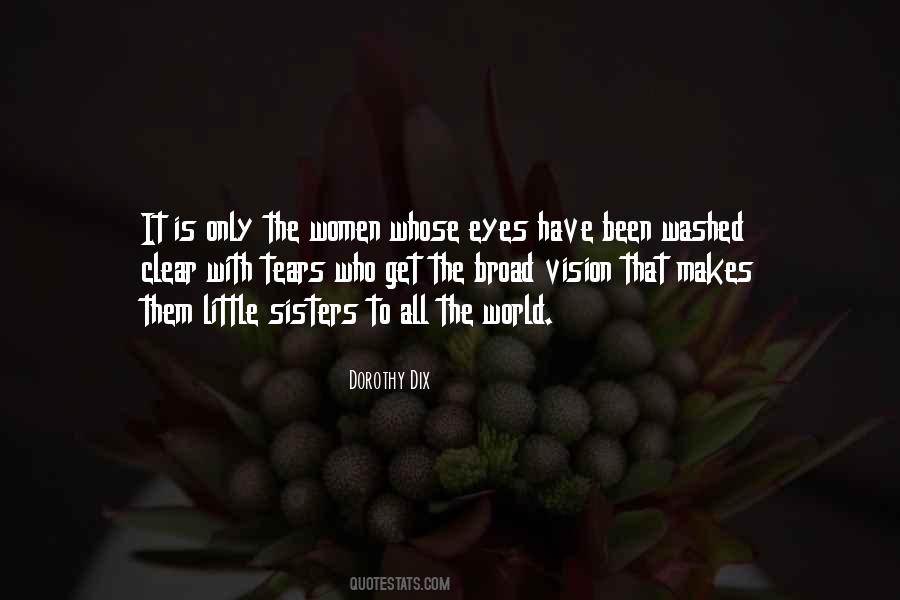 #60. Both my sisters and I were in Stage Door plays, and we did that together, just in, like, little small plays together. And we did that, and it was really fun, and we kinda did commercials, and it kinda took off from there. It was great; it's what I love. - Author: Joey King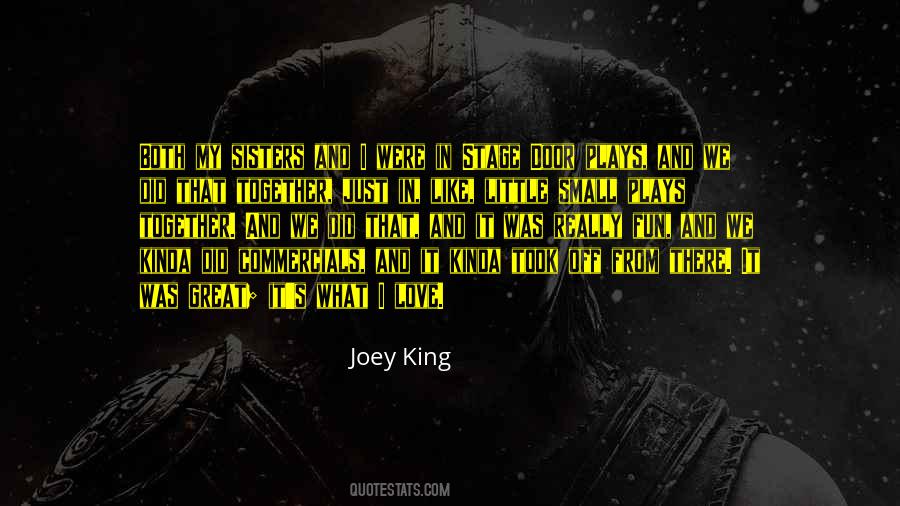 #61. I love babies, and I have my nephews that I love. I have a great mom and she has raised three kids, so if I take lessons from her, I think I'll be great. All my friends have little brothers or sisters. - Author: Jamie Lynn Spears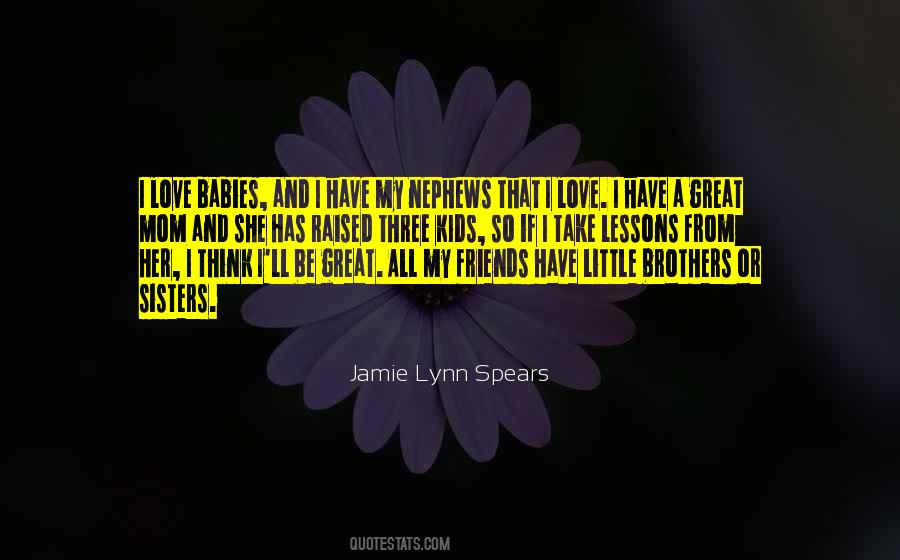 #62. We moved there a year ago, just as a weekend place. Then we decided to move out of London completely. We will eventually have to work it out a bit more, because you can't have a little boy living with his sisters like that, can you? But we like the idea of closeness. - Author: Linda McCartney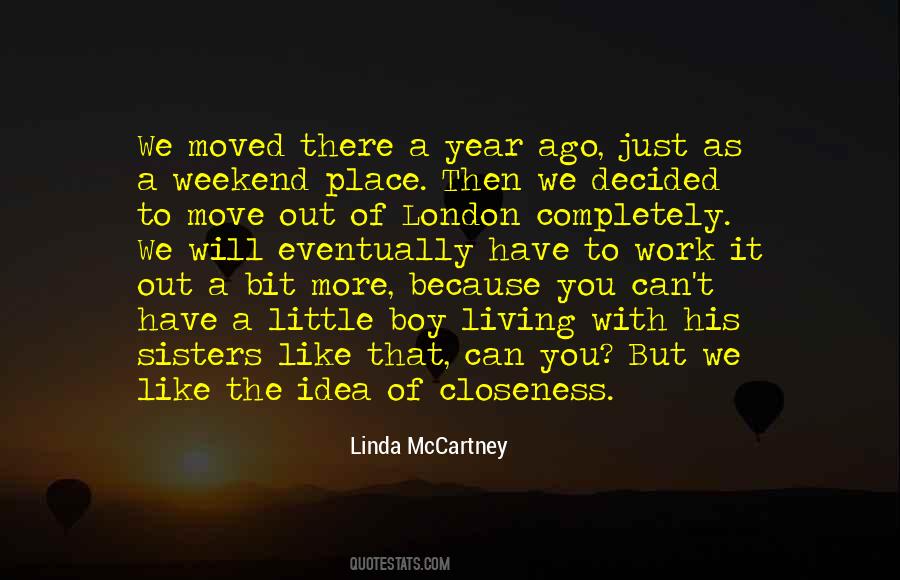 #63. She's my little sister. Mine to torture and mine to protect. - Author: Julia Quinn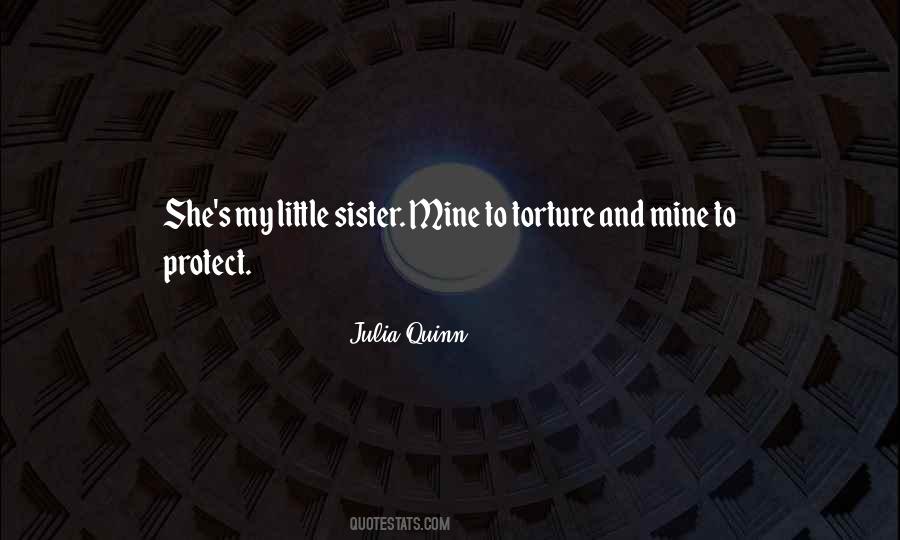 #64. The ones the listeners loved most of all in those early years were the four Lennon girls who became the whole nation's little sisters. - Author: Lawrence Welk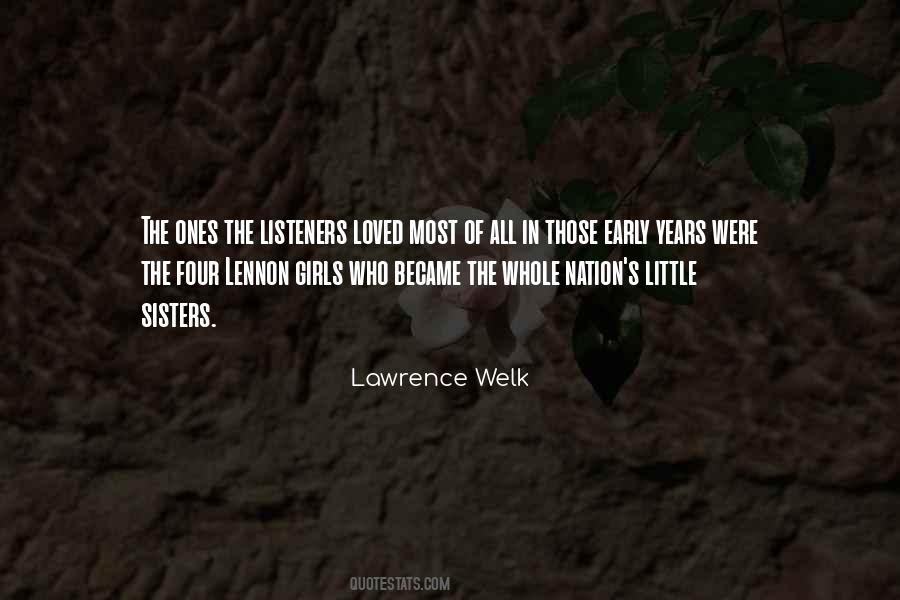 #65. Little sisters," Carter said. "If they talked too much, the Egyptians threw them to the crocodiles. - Author: Rick Riordan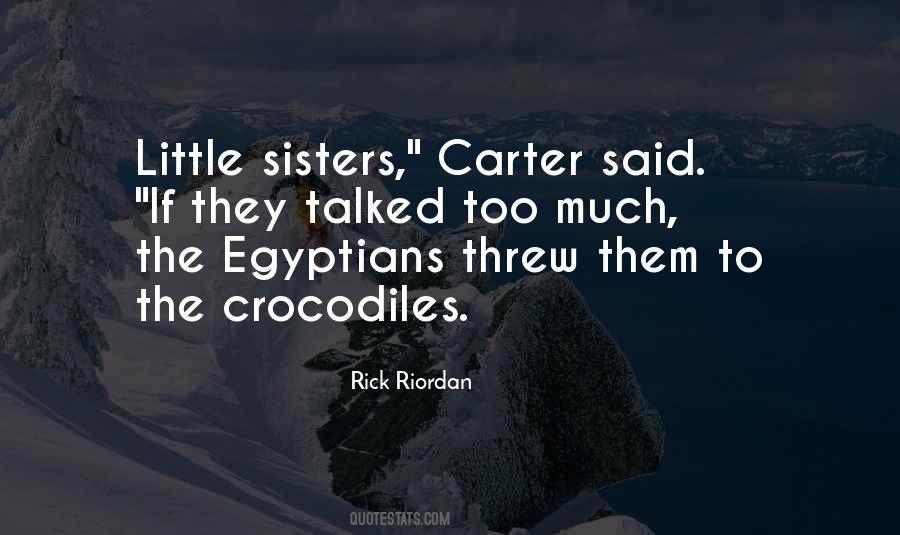 Famous Authors
Popular Topics