Mistakes Of Others Famous Quotes & Sayings
List of top 100 famous quotes and sayings about mistakes of others to read and share with friends on your Facebook, Twitter, blogs.
Top 100 Quotes About Mistakes Of Others
#1. People say there are two kinds of learning: experience, which is gained from your own mistakes, and wisdom, which is learned from the mistakes of others. - Author: John C. Maxwell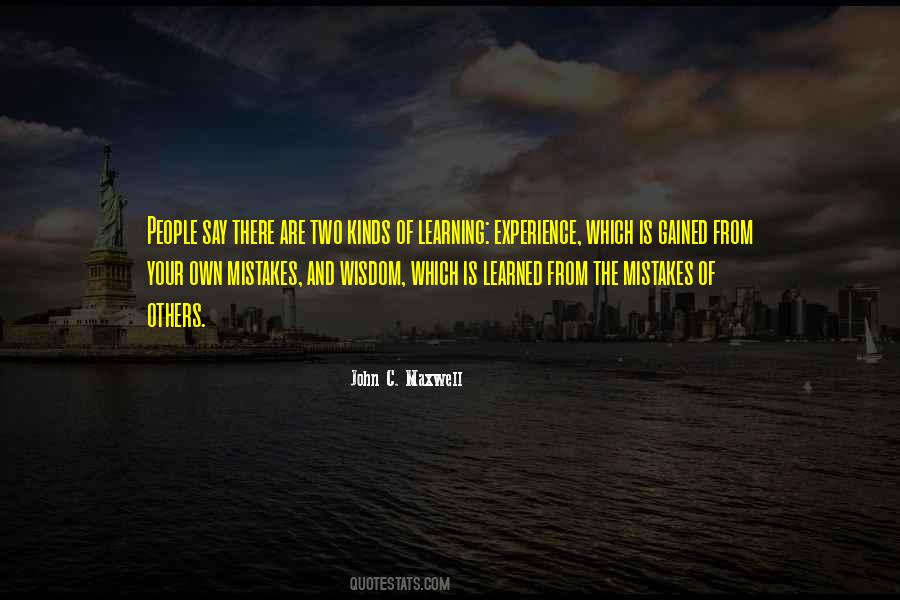 #2. He who dishonors himself [by lying about his opinions] for the sake of being honored by others will find that two mistakes have been made - one by himself, and the other, by the people. - Author: Robert Green Ingersoll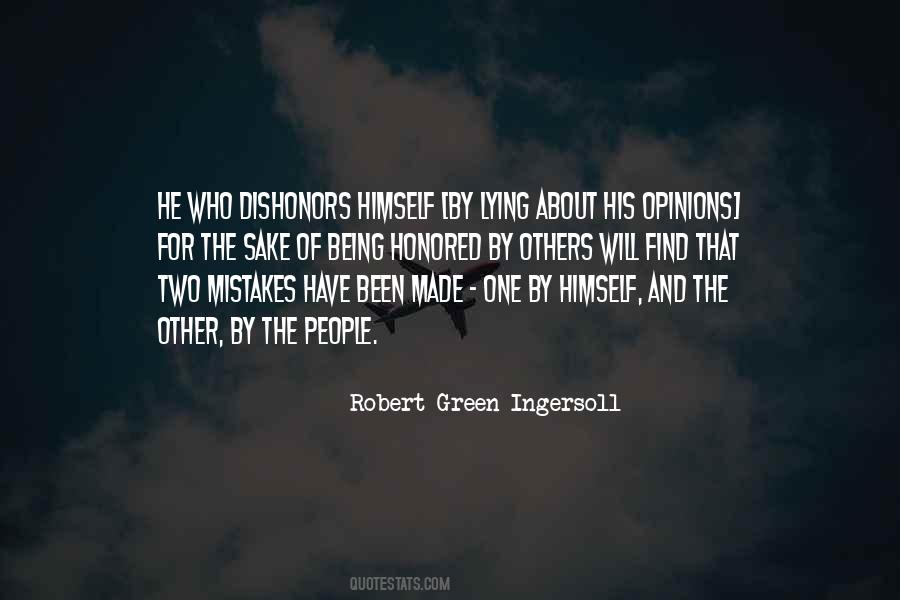 #3. None of us are bad people. We float around and we run across each other and we learn about ourselves, and we make mistakes and we do great things. We hurt others, we hurt ourselves, we make others happy and we please ourselves. We can and should forgive ourselves and each other for that. - Author: Dan Harmon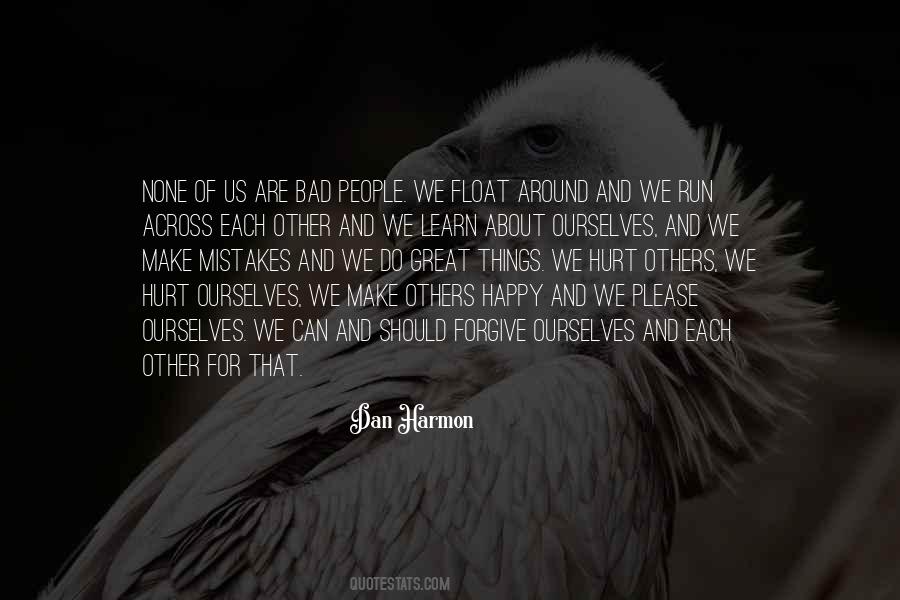 #4. People seldom learn from the mistakes of others-not because they deny the value of the past, but because they are faced with new problems. - Author: Ilya Ehrenburg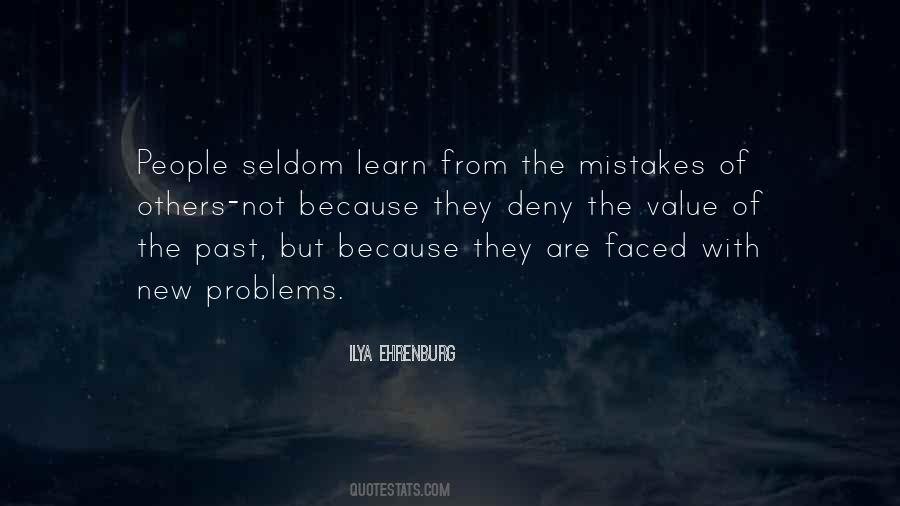 #5. Successful people have always been the ones to learn from the mistakes of others as well as from their successes. - Author: John Patrick Hickey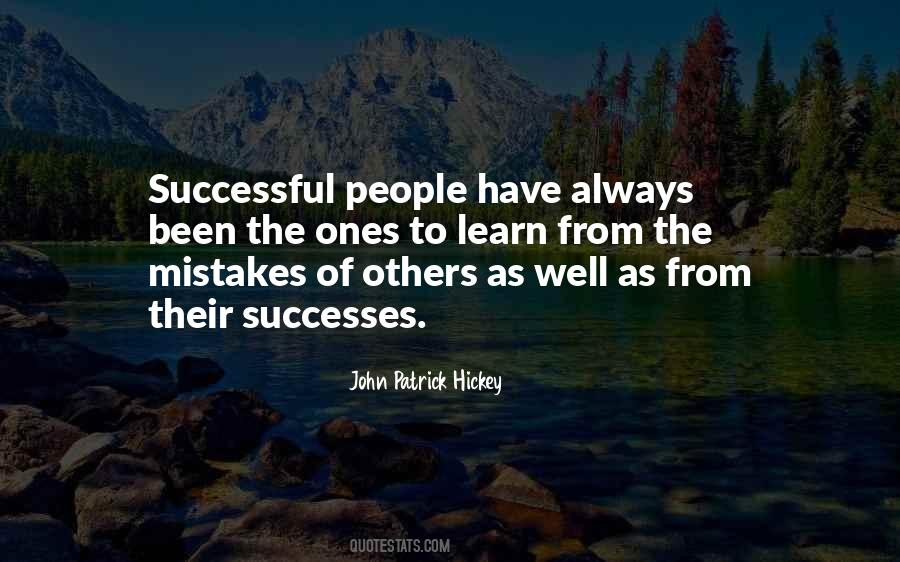 #6. We have all made mistakes in our many incarnations that have caused us to retrace our spiritual steps. Some have made more mistakes than others. But it's part of the experience to spiritually fall from time to time. - Author: Martin Barbara Moraitis Dimitri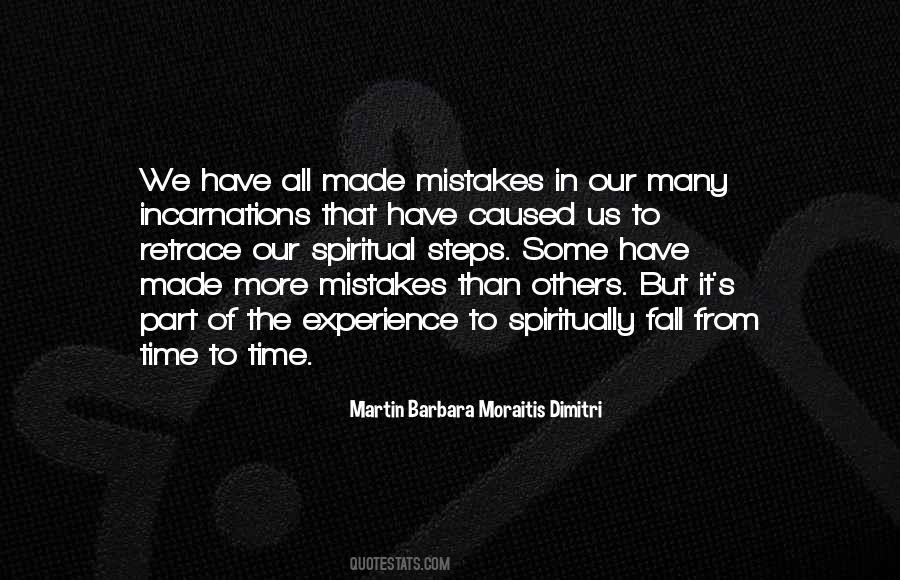 #7. Do not feel bad about your mistakes or those of others. Love them! Remember that one: they are to be expected; two: they're the first and most essential part of the learning process; and three: feeling bad about them will prevent you from getting better. - Author: Ray Dalio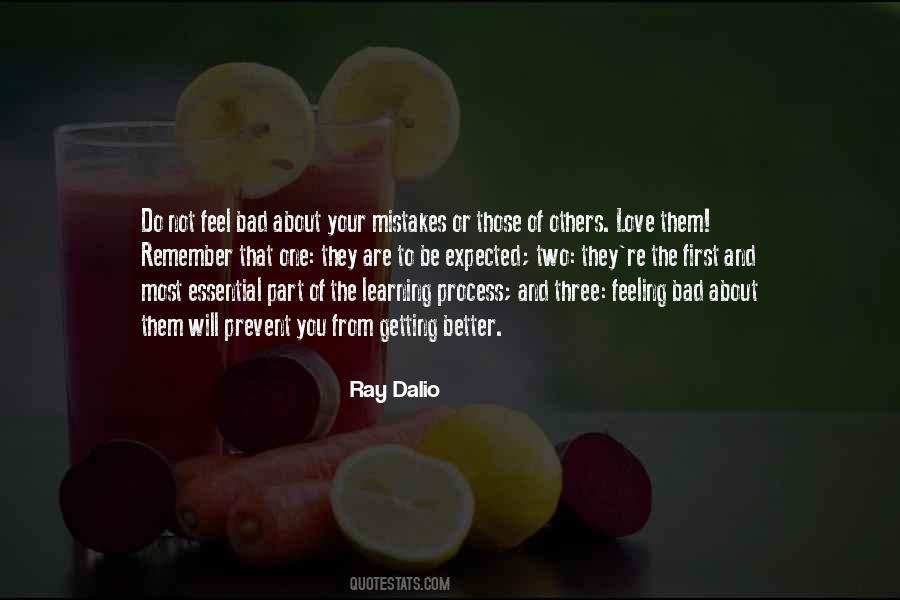 #8. We need to reinvent itself
We make mistakes,
But to give others the blame of own fault
While we do not recognize own fault
and continue to blame others
Until then we can not succeed in life..!! - Author: Shubham Singh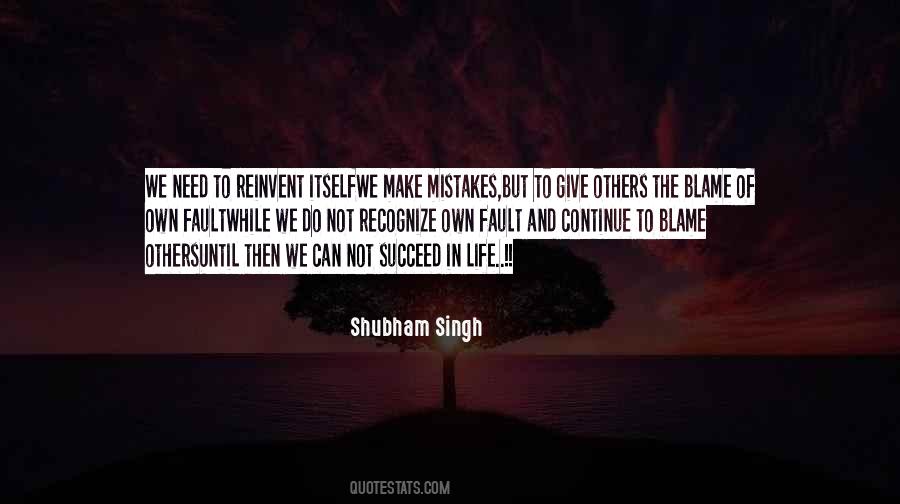 #9. It is good to have a reason for every action you perform other than blaming others for your faults. - Author: Auliq Ice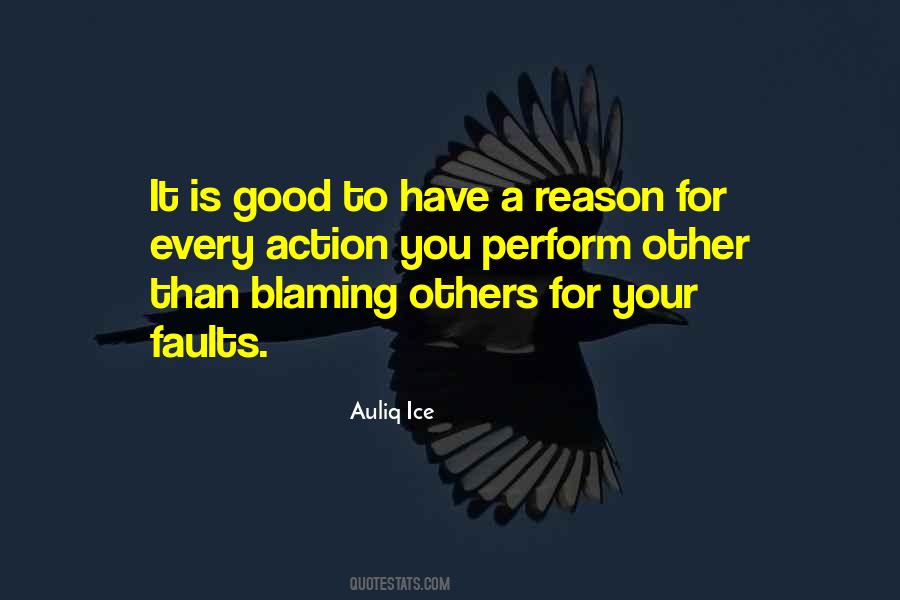 #10. Let go of the mistakes and the sins of others. You'll have plenty of time to make your own mistakes, the rest of your life to commit your own sins. - Author: C. JoyBell C.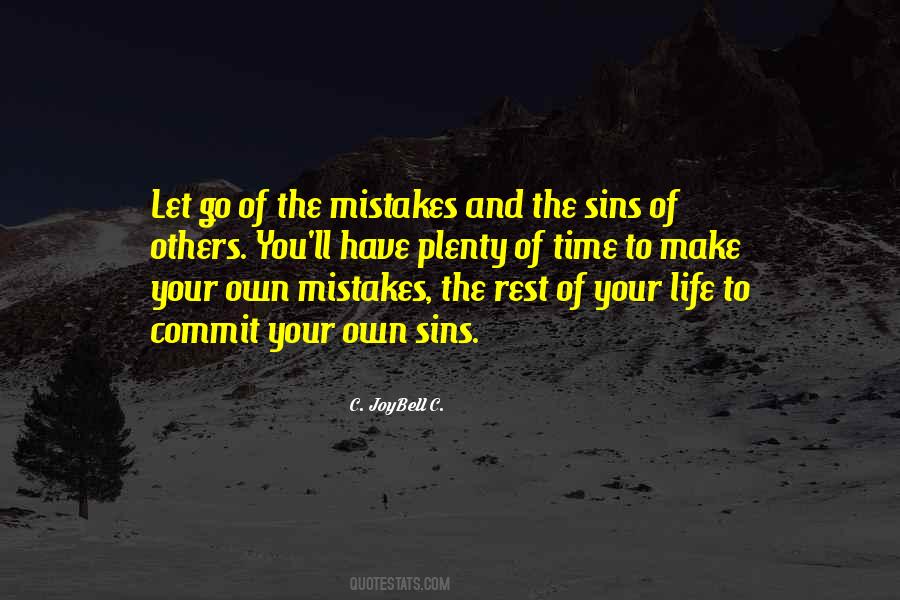 #11. A man cannot impart the true feeling of things to others unless he himself has experienced what he is trying to tell of. - Author: Jack Kerouac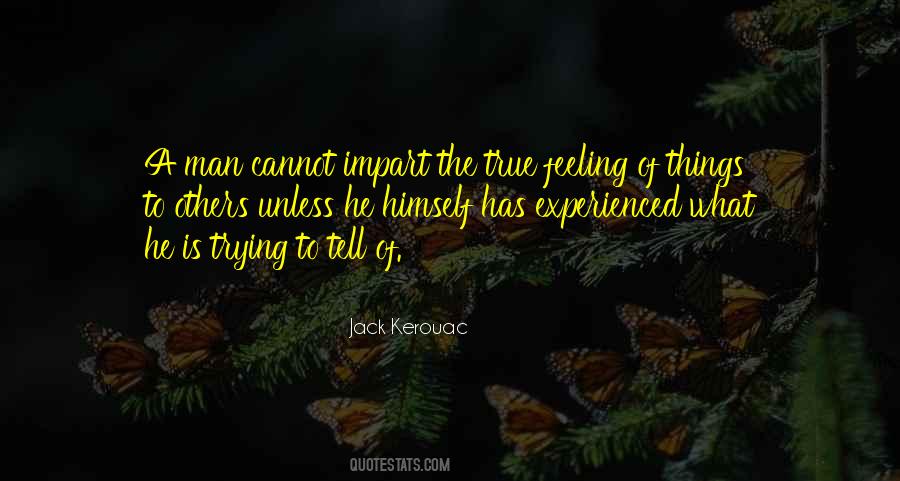 #12. The wise learn from the mistakes of others, it's the fool that wants to make their own mistakes. - Author: Tony Gaskins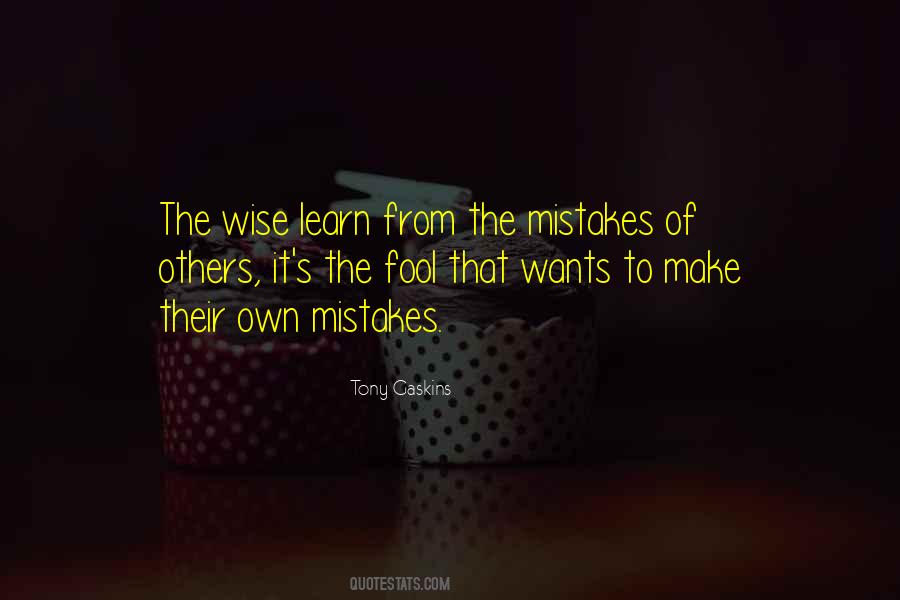 #13. Promise yourself you will talk health, happiness, and prosperity as often as possible. Promise to think only of the best, to work only for the best, and to expect only the best in yourself and others. Promise to forget the mistakes of the past and press on to greater achievements in the future. - Author: John Wooden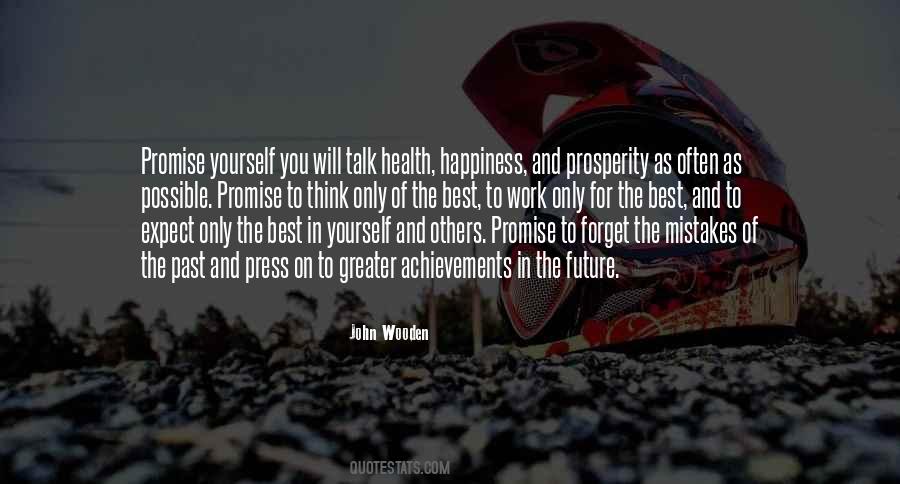 #14. If one takes responsibility for the mistakes, he is the true person, isn't it? Do not insist. Instead of insisting, instead of blaming others, take the responsibility of the mistakes on your head! - Author: Dada Bhagwan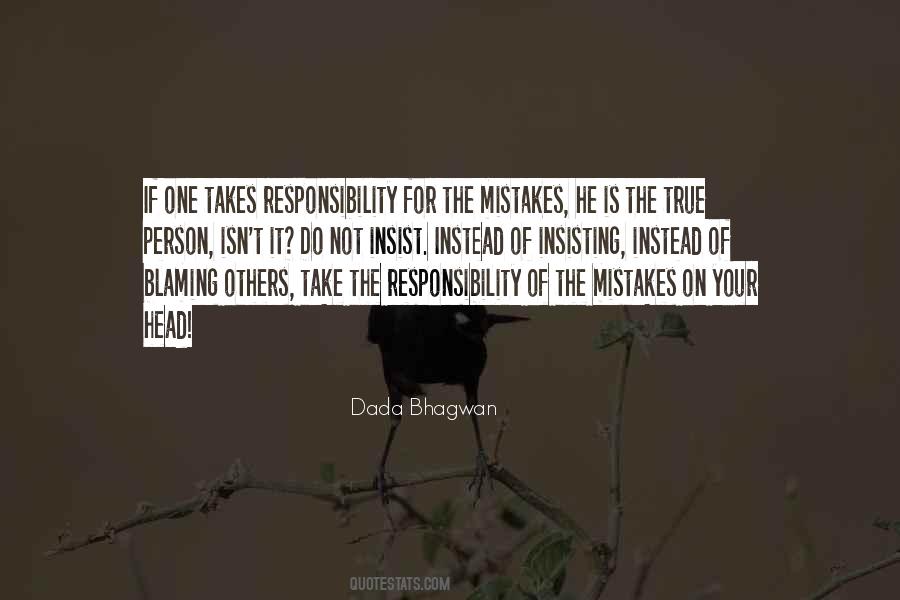 #15. Have compassion and forgive the mistakes of others. If you cannot forgive ignore but never hate them, because hatred will always lead to destruction. - Author: Alok Jagawat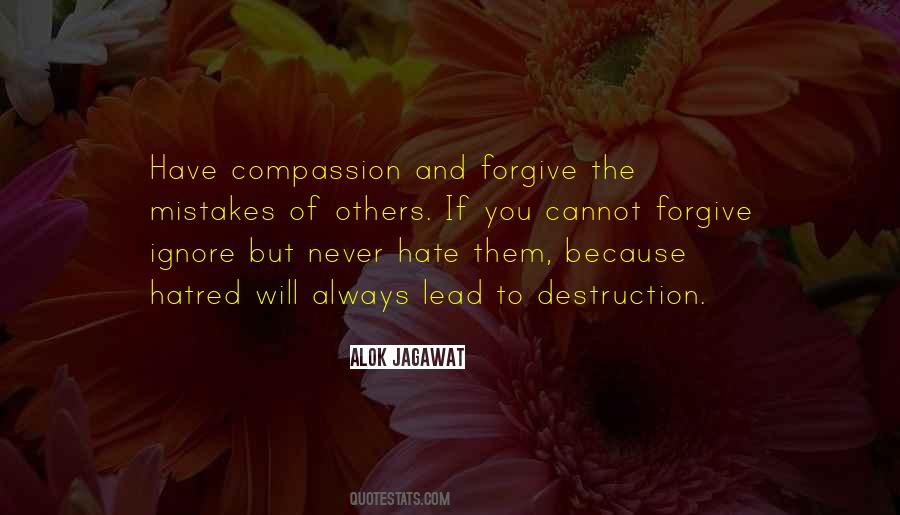 #16. You make all your mistakes with your own children so by the time your grandchildren arrive, you know how to get it right. Plus, once you turn fifty, you kind of stop giving a shit what others think. - Author: Liz Fenton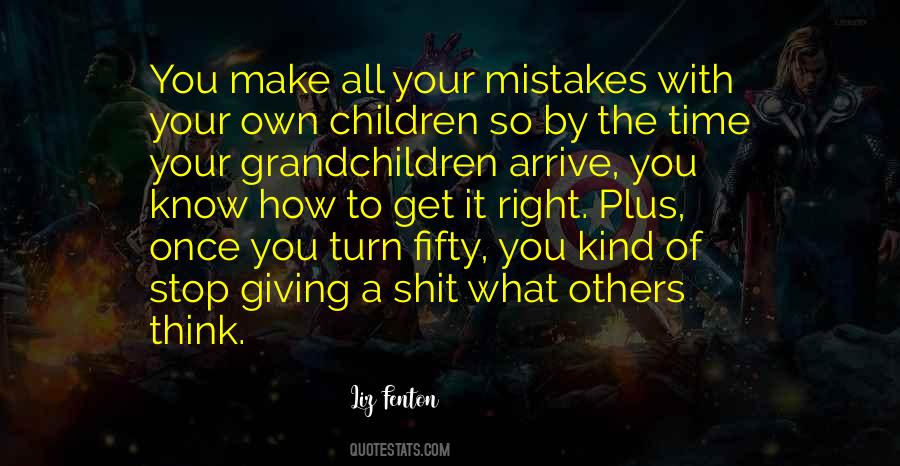 #17. When you're acting, you're subjective; when you're a director, you're more objective.You're kind of watching from the outside and helping others, and therefore I learn my mistakes through others, and also my assets through others. - Author: Philip Seymour Hoffman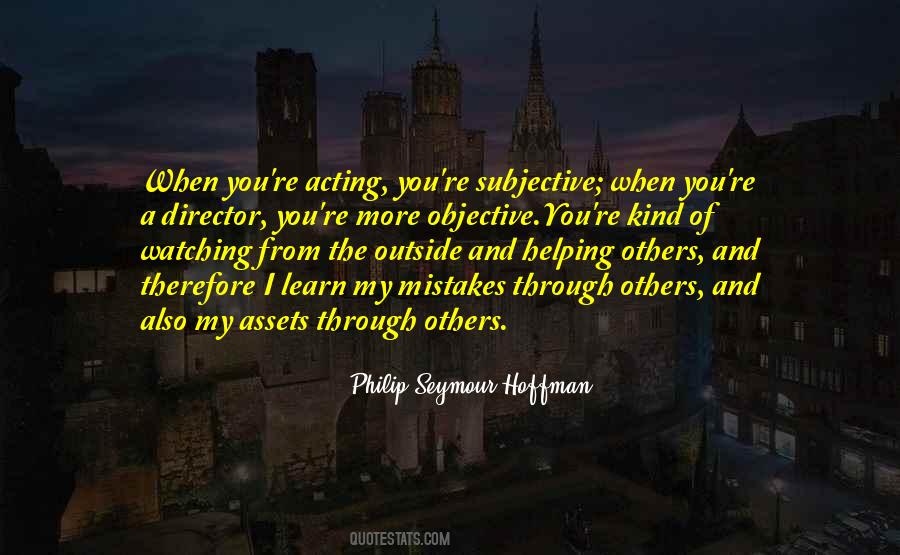 #18. We can only learn from mistakes, by identifying them, determining their source, and correcting them ... people learn more from their own mistakes than from the successes of others. - Author: Russell L. Ackoff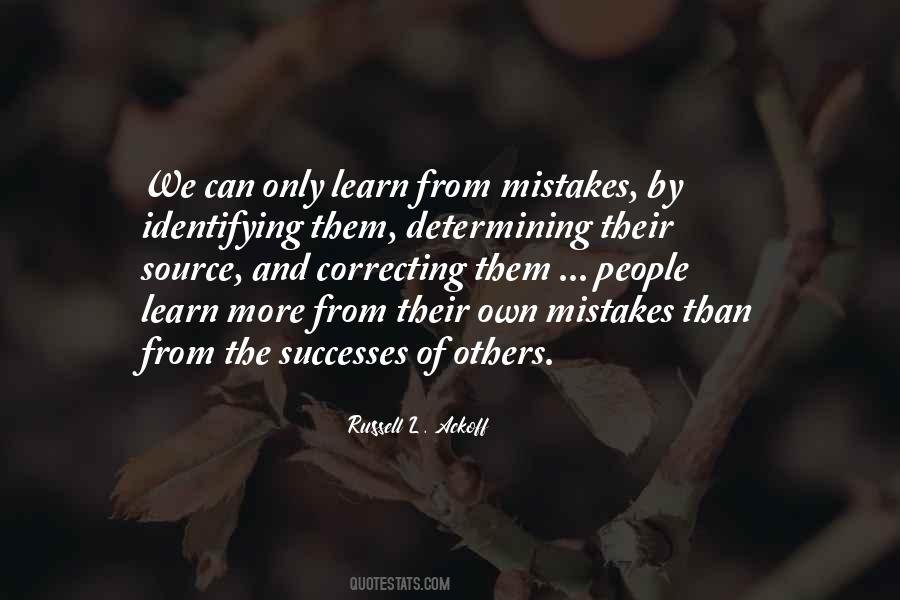 #19. I'd become one of those mistakes you sometimes find in an office, a not unpleasant but mostly unproductive presence bobbing along on the energy tides of others, a walking reminder of somebody's error in judgement. - Author: Sam Lipsyte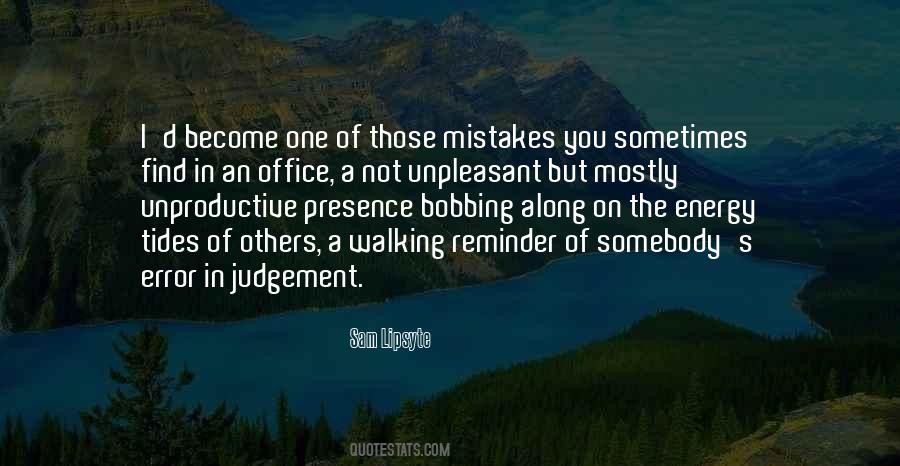 #20. One of the most wonderful things you can do in this world is forgive others. We are designed to have flaws and make mistakes. If we emulate God, we are led to forgive. Giving someone the ability to recapture their dignity can transform lives. Do it often. - Author: John Fairclough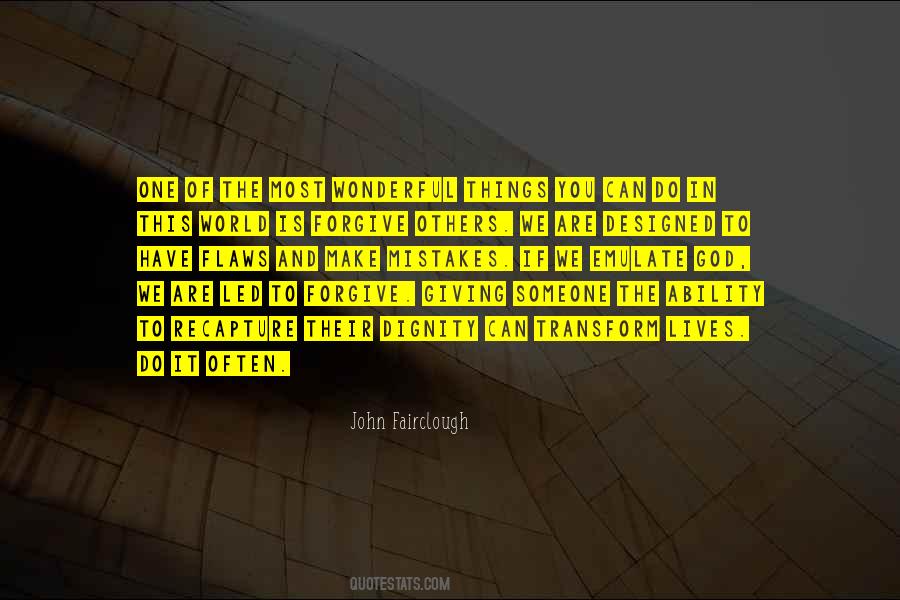 #21. I know I can't change the past. Not my mistakes or the mistakes of others. But I can begin by changing me. - Author: Mary Alice Monroe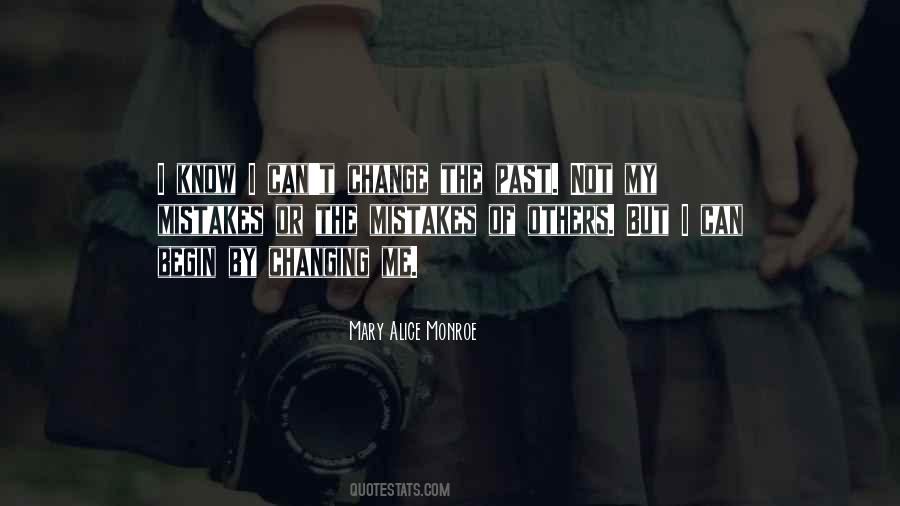 #22. It's a persons ego that leads them away. So I should say, let your mind be open to those things that affects your ego. Learn how to accept your mistakes and learn how to understand mistakes of others. - Author: Jayson Engay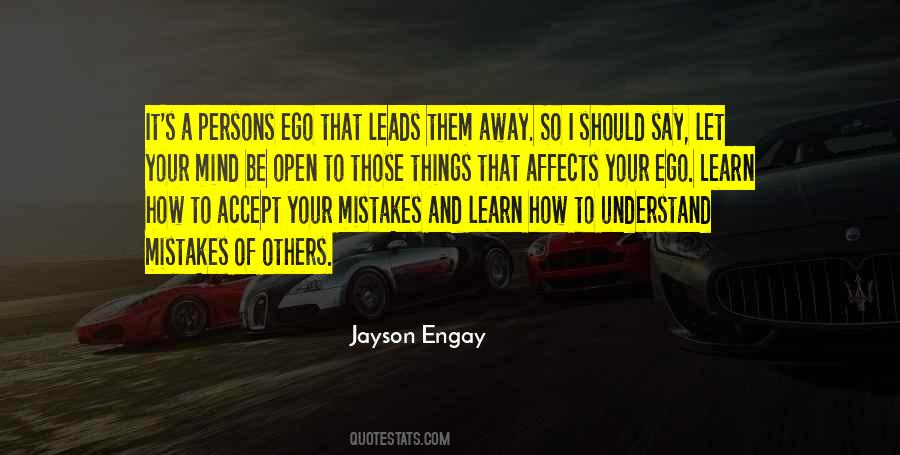 #23. Fools you are. To say you learn by your experience. I prefer to profit by others' mistakes and avoid the price of my own. - Author: Otto Von Bismarck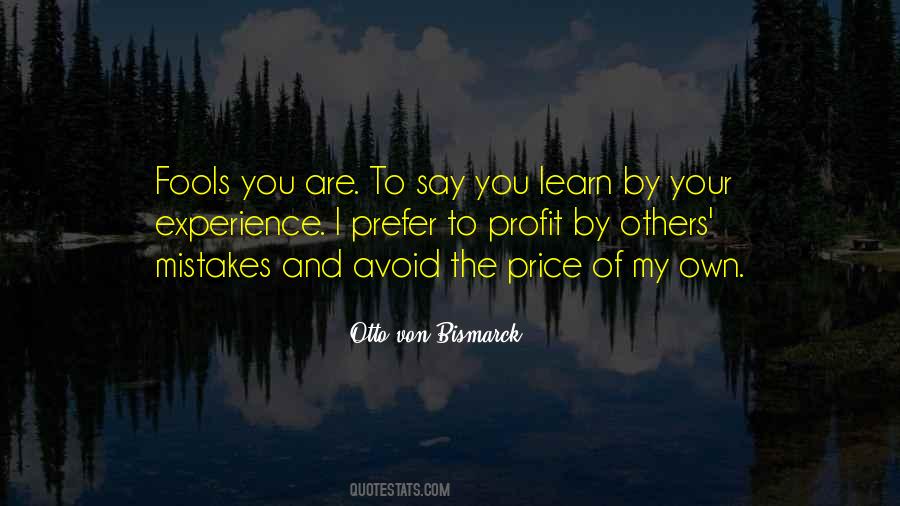 #24. Failure is a great teacher; but never insist on hiring one for yourself. Learn vicariously from others' teachers. - Author: Ashok Kallarakkal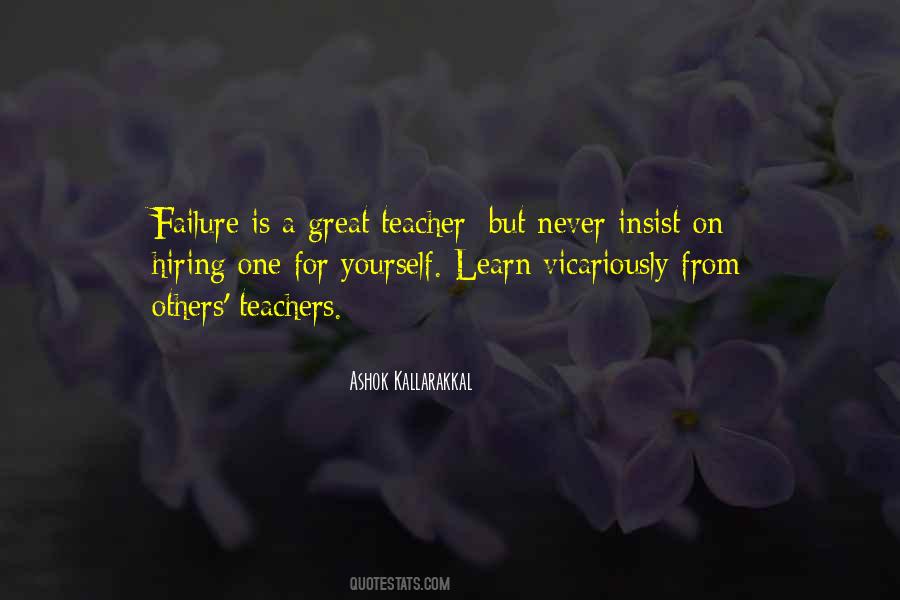 #25. We are very good judges for the mistakes of others, but very good defence lawyers for our own mistakes. - Author: Nicky Gumbel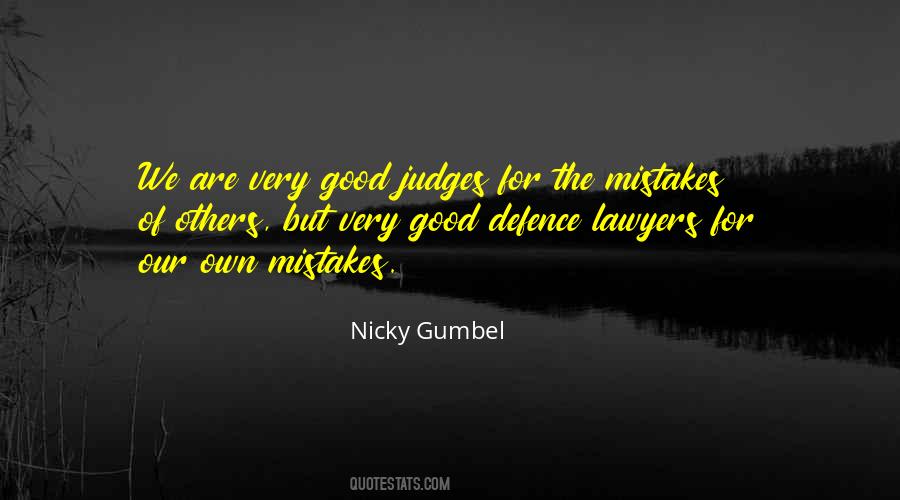 #26. Wanting everything that's mine to actually be mine and not at the mercy of others and their mistakes. - Author: Cecelia Ahern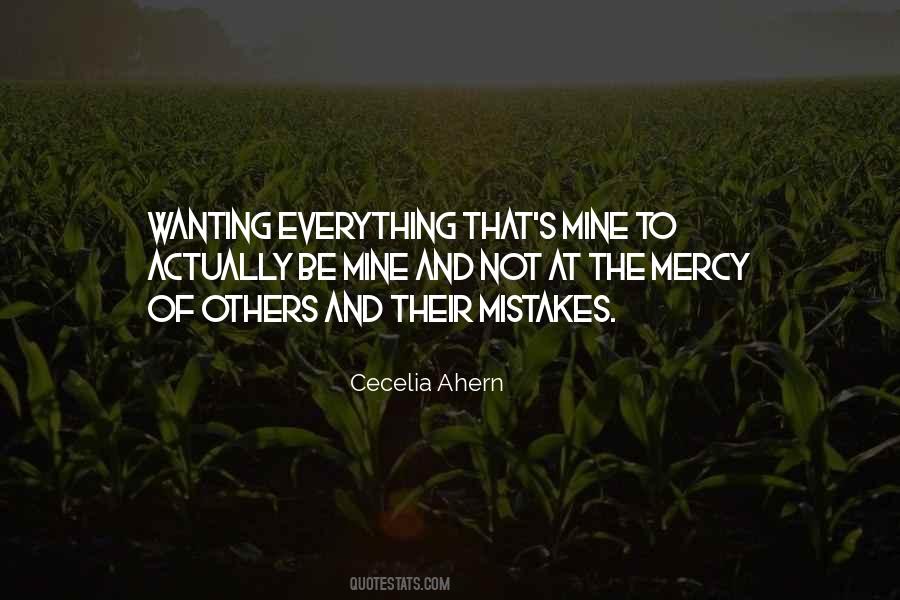 #27. Learn from the mistakes of others. You can never live long enough to make them all yourself. - Author: Groucho Marx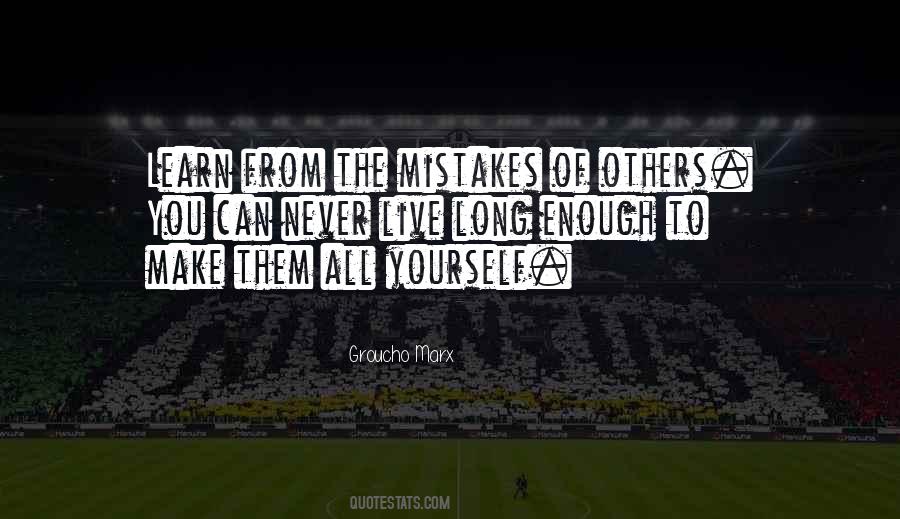 #28. Failure is an opportunity. If you blame someone else, there is no end to the blame. Therefore the Master fulfills her own obligations and corrects her own mistakes. She does what she needs to do and demands nothing of others. - Author: Laozi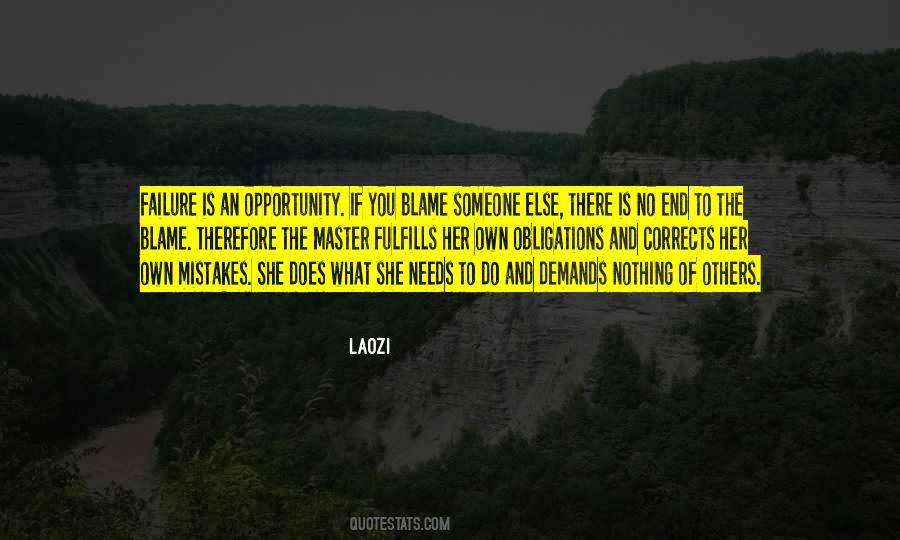 #29. It is often easier to learn from the mistakes of others than from our own. - Author: Clarence H. Burns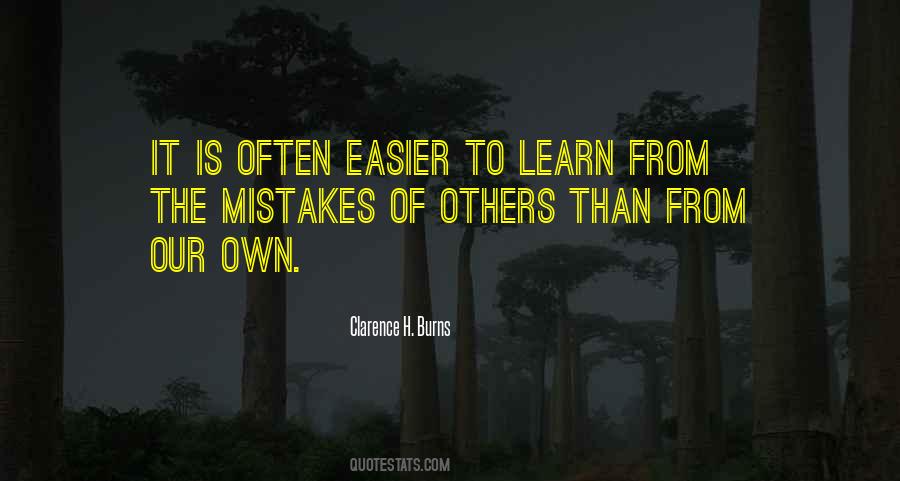 #30. You can make of fool of others but not you. ... You can forgive others for their mistakes, but not you for your own mistakes. - Author: Girdhar Joshi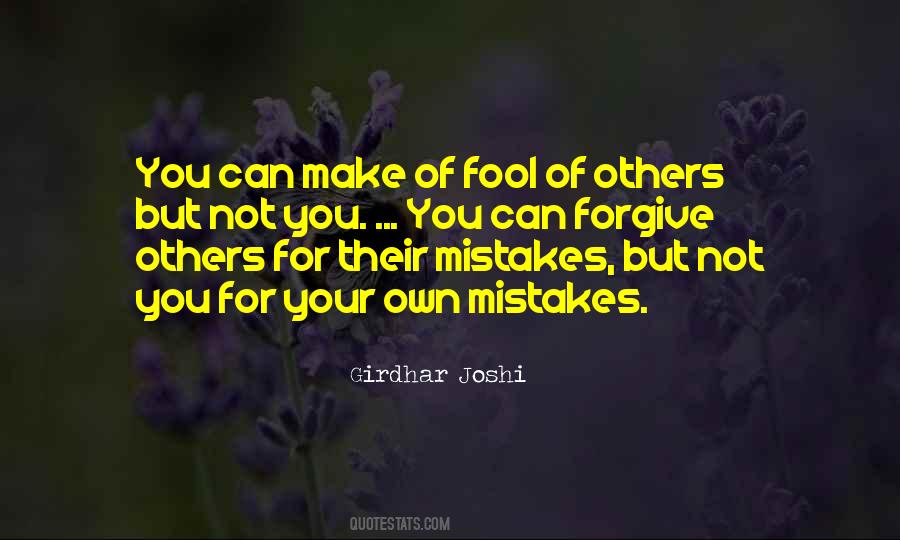 #31. It's said that a wise person learns from his mistakes. A wiser one learns from others' mistakes. But the wisest person of all learns from others's successes. - Author: John C. Maxwell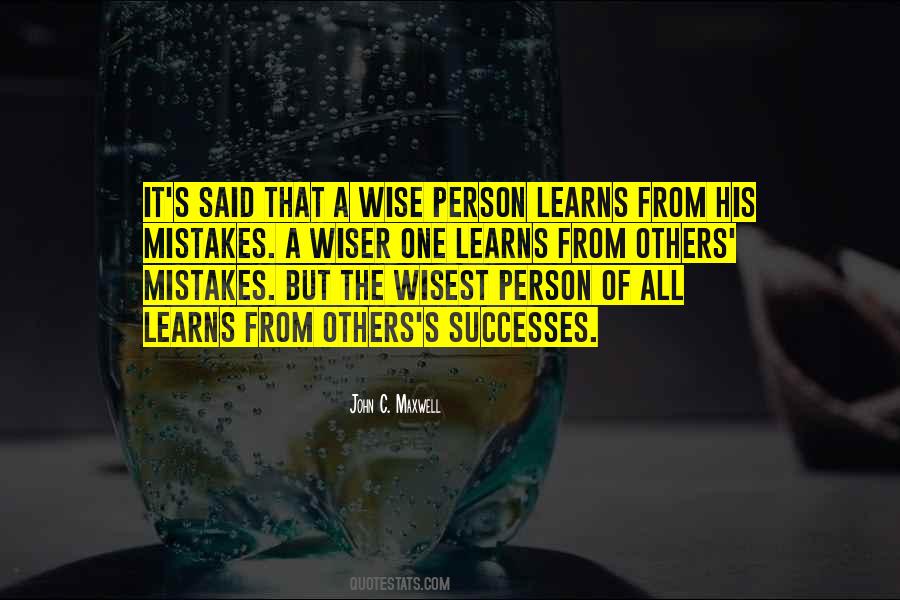 #32. It was curious how some people had a highly developed sense of guilt, she thought, while others had none. Some people would agonise over minor slips or mistakes on their part, while others would feel quite unmoved by their own gross acts of betrayal or dishonesty. - Author: Alexander McCall Smith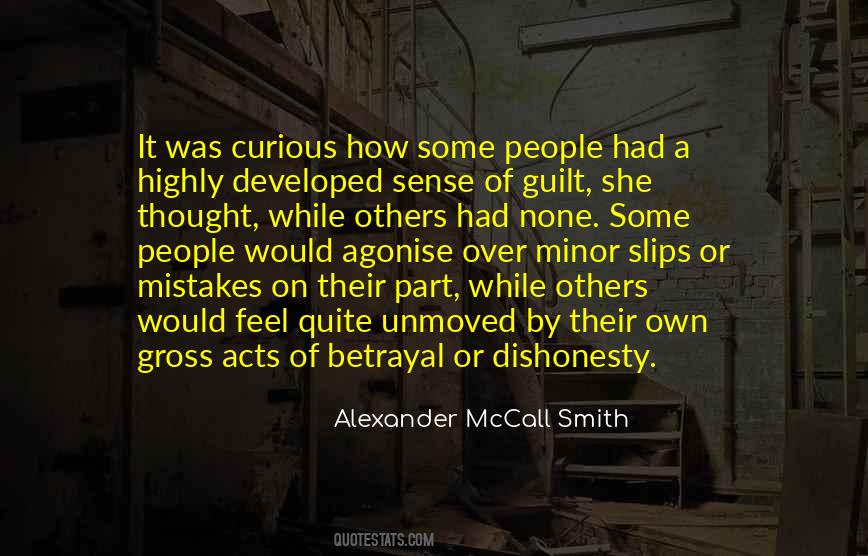 #33. Only a fool learns from his own mistakes. The wise man learns from the mistakes of others. - Author: Otto Von Bismarck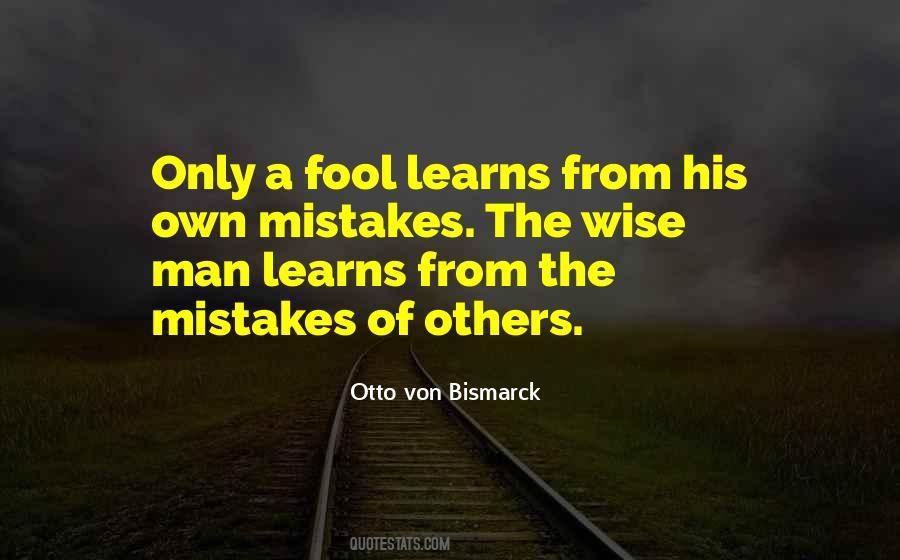 #34. Blessings will never cease to shower upon those who mind their own life with humility of accepting mistakes versus those who find joy in judging others to divert attention from their miserable lives. - Author: Gloria D. Gonsalves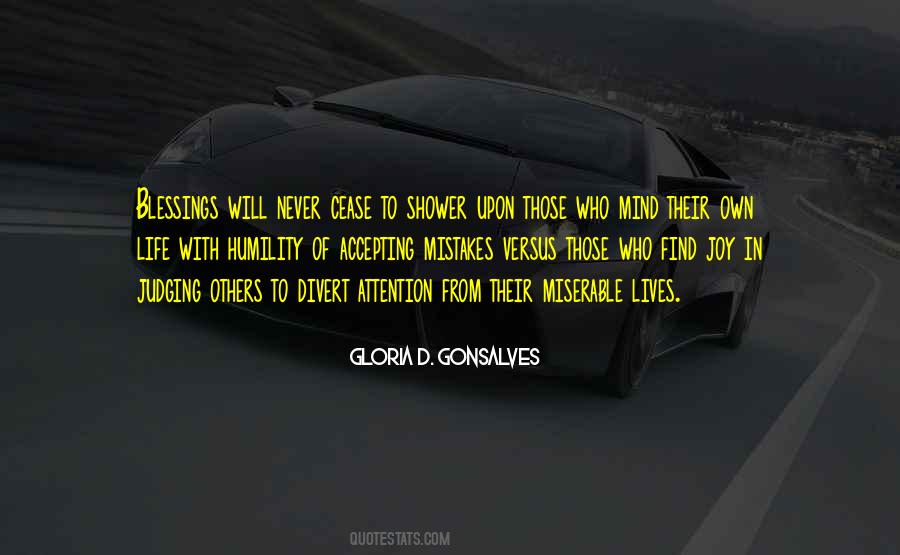 #35. Profit by your own mistakes and profit by the mistakes of others. The referees were calling ball handling violations like they were getting commissions. - Author: John Kessel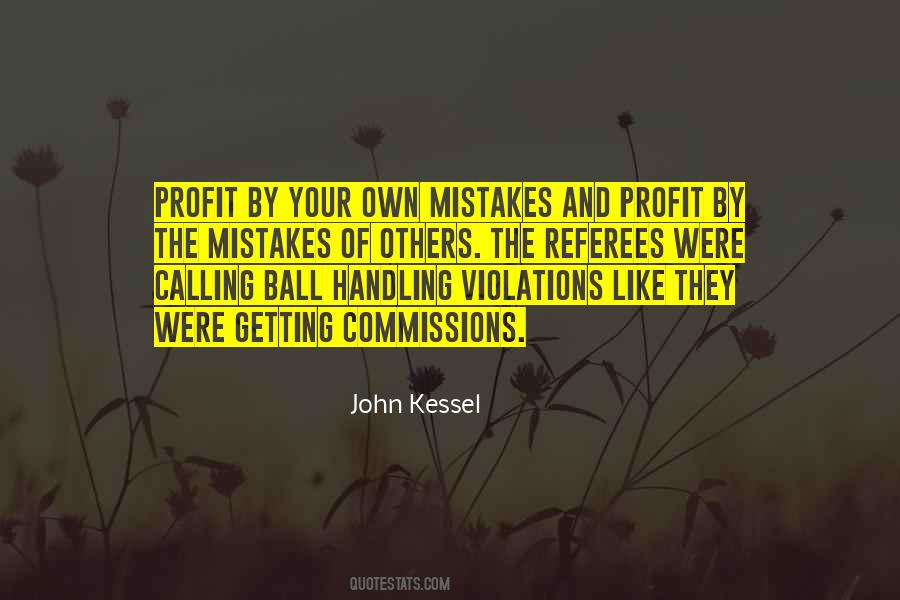 #36. Some people learn from books, some listen to the advice of others, some learn from mistakes. - Author: Janet Evanovich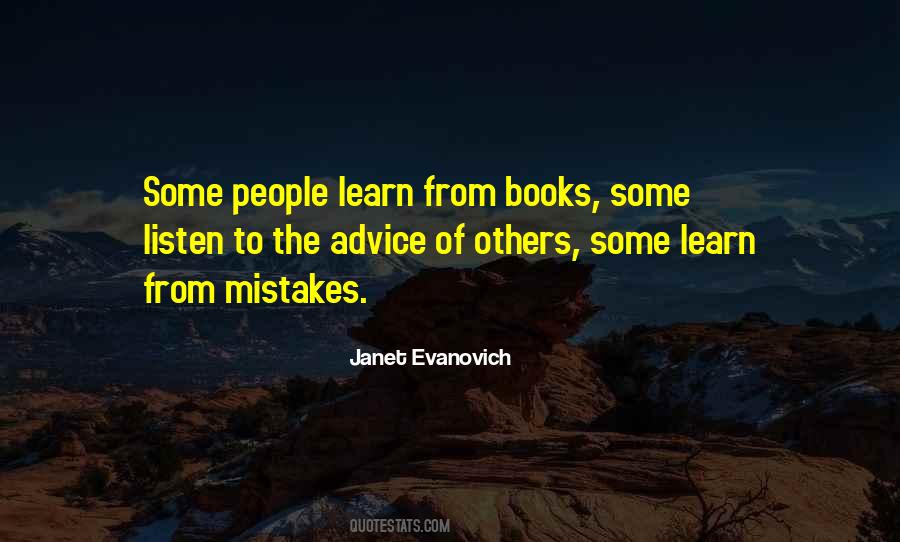 #37. Be sensitive to your mistakes. Put it on the wall for a couple of weeks. It may be that you can learn more from the study of your own work than from others. - Author: John French Sloan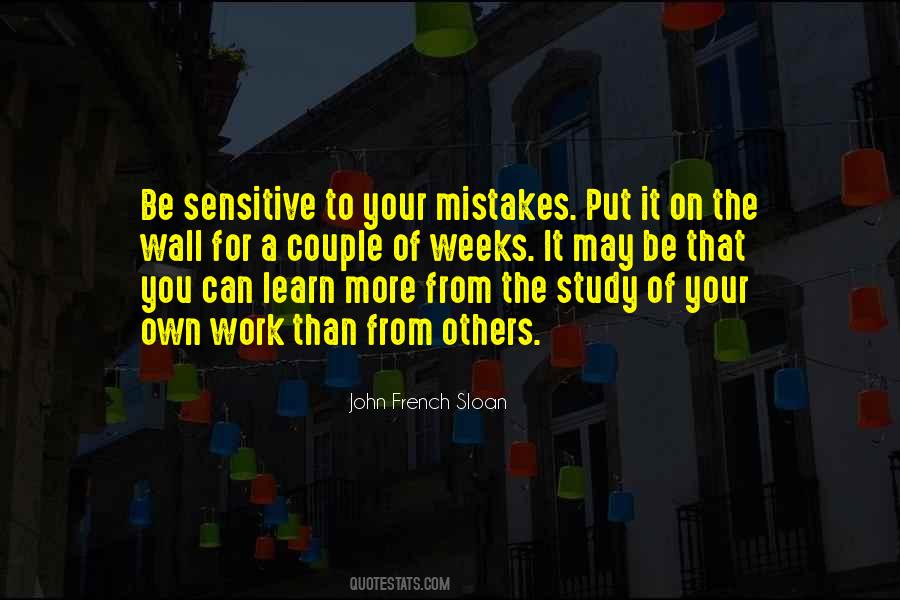 #38. We all make mistakes, some bigger than others, but none of us is perfect. - Author: Cecelia Ahern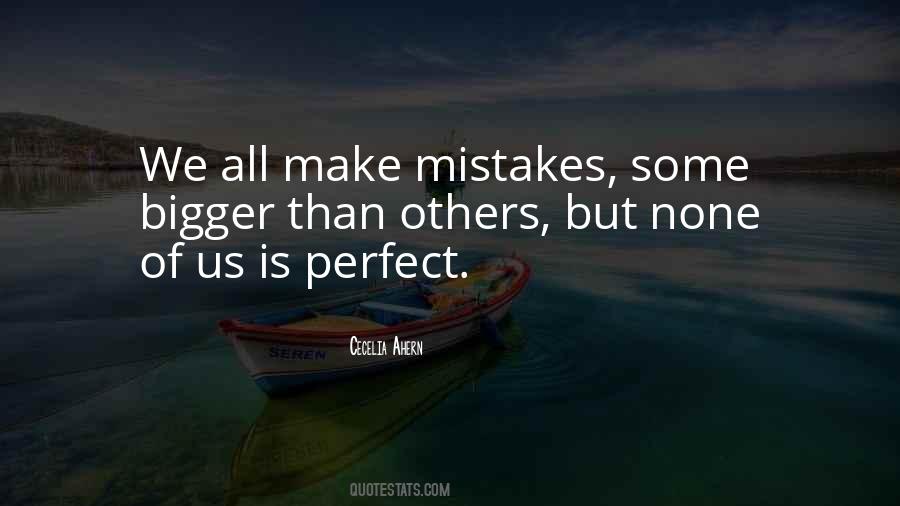 #39. Only the foolish insist on making their own mistakes when they can learn from the mistakes of others. Only the wise will understand that success leaves clues, and those clues are there for you to use to achieve great things. - Author: John Patrick Hickey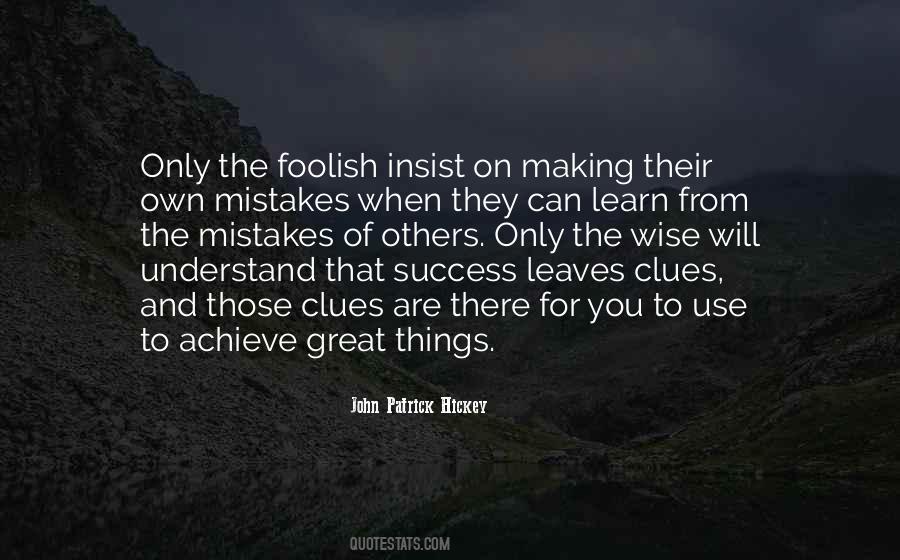 #40. By and large, I seem to have made more mistakes than any others of whom I know, but have learned thereby to make ever swifter acknowledgment of the errors and thereafter immediately set about to deal more effectively with the truths disclosed by the acknowledgment of erroneous assumptions. - Author: R. Buckminster Fuller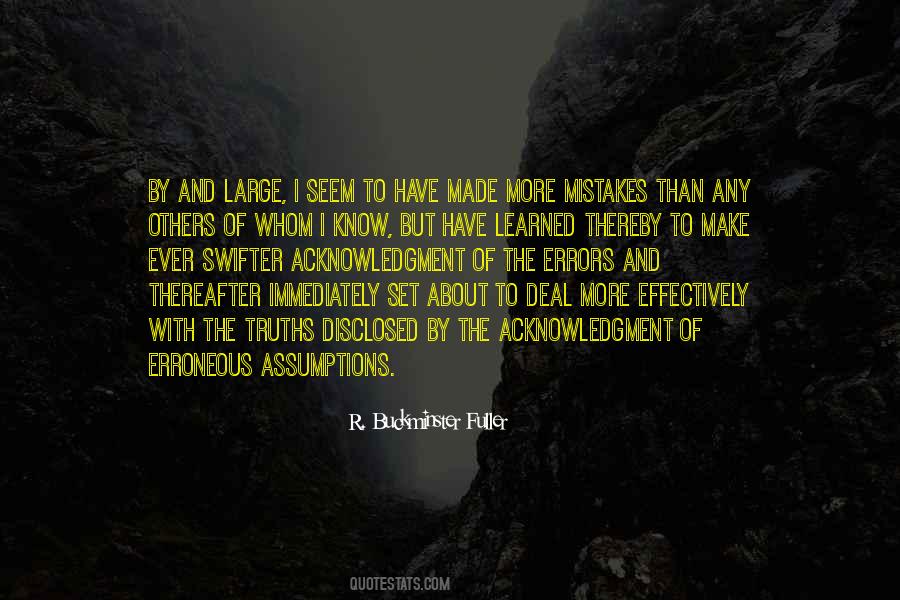 #41. Shame often causes me to hide my mistakes from others. But really, when I make a mistake, I should make it loud and clear, so I can see that it didn't work as a strategy, and be able to make a course correction, either by myself or with the help of others. - Author: Sharon Weil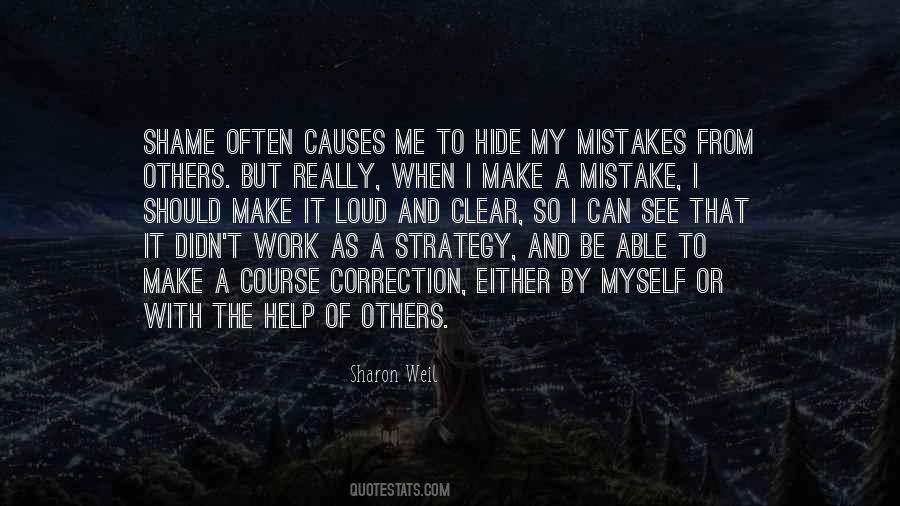 #42. Personal growth centers on two types of people, the ones we like and the ones that drive us crazy. - Author: Auliq Ice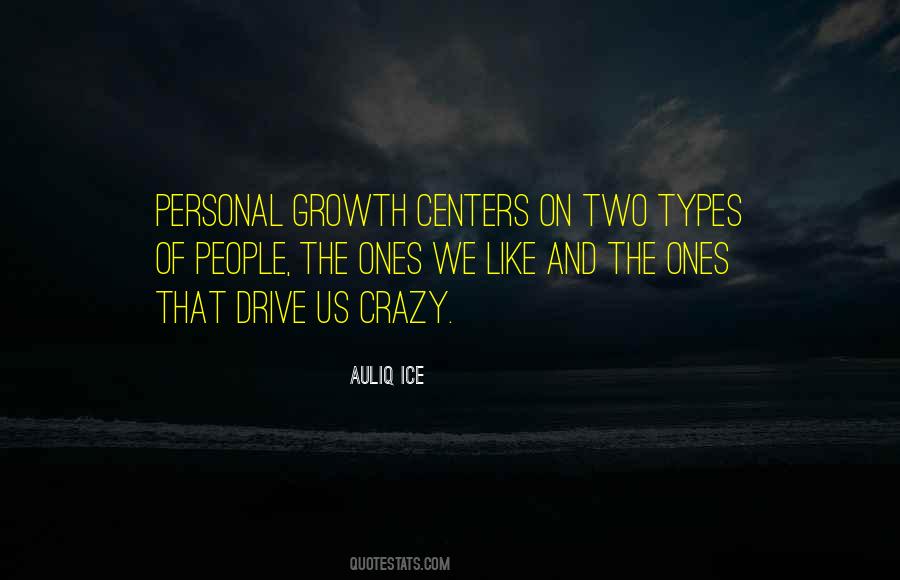 #43. A man thinking with the core of his heart is always willing to change to accept his mistakes while others just crib and duck the mistakes to find fault with others only. - Author: Anuj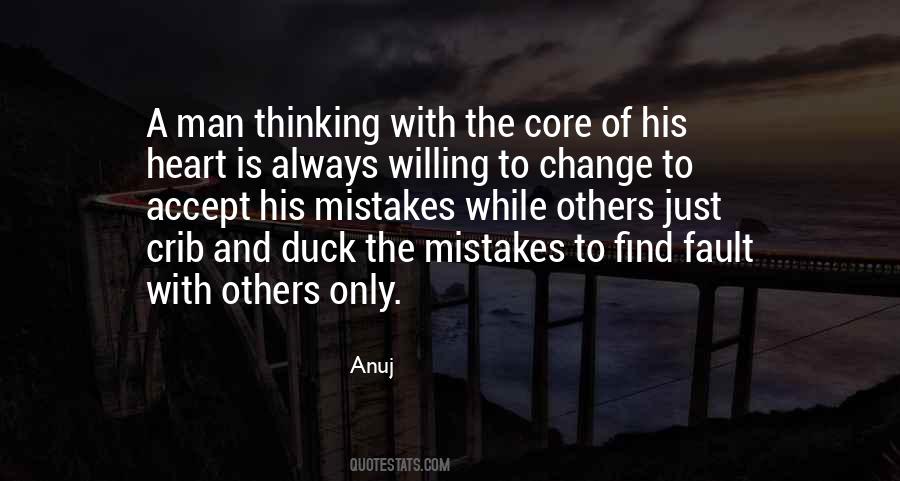 #44. Even when we make mistakes, we hope others will love us in spite of our shortcomings - even if we don't deserve it. - Author: Joseph B. Wirthlin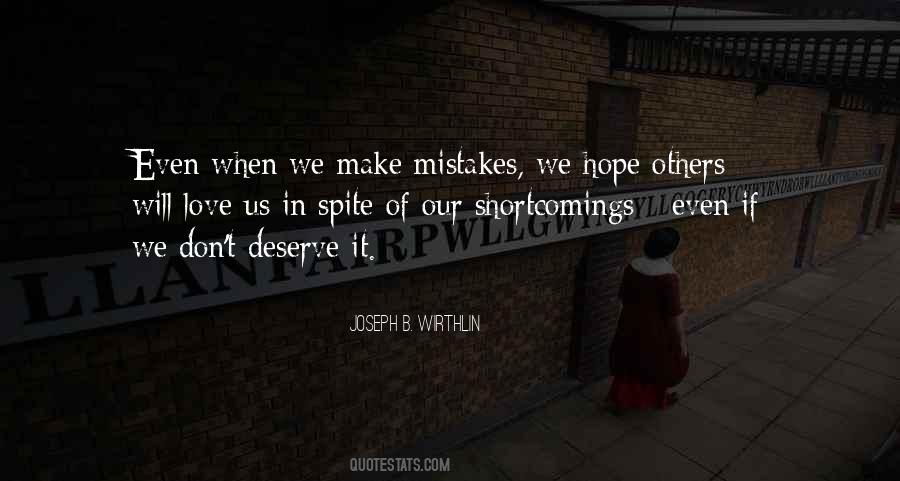 #45. people seemed to be especially prone to making mistakes when they judged the accuracy of their own perceptions if those perceptions were of themselves and not others. - Author: Anonymous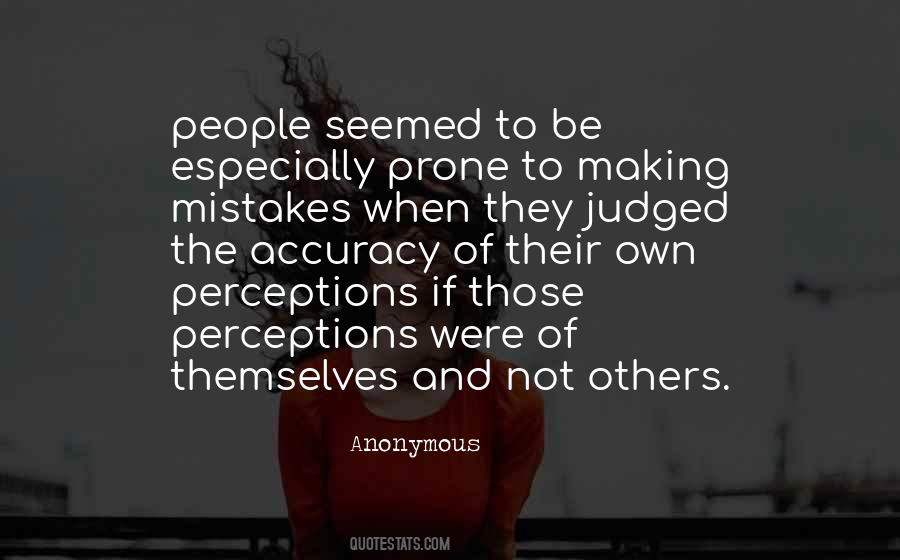 #46. I urge people to learn from the mistakes of others. Please drink responsibly and it's never acceptable to drink and drive! - Author: Kim Kardashian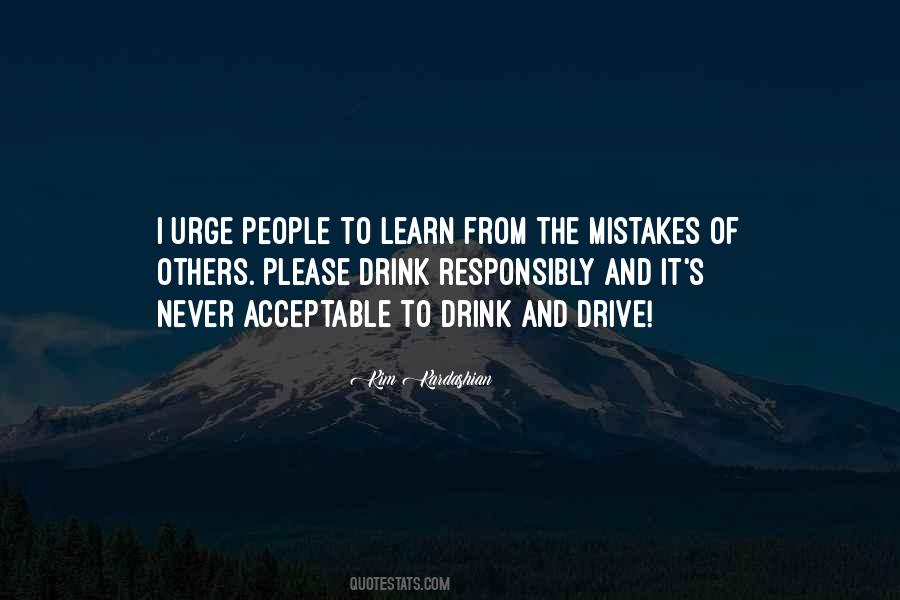 #47. Science, however, is not just a matter of making mistakes, but of making mistakes in public. Making mistakes for all to see, in the hopes of getting the others to help with the corrections. - Author: Daniel C. Dennett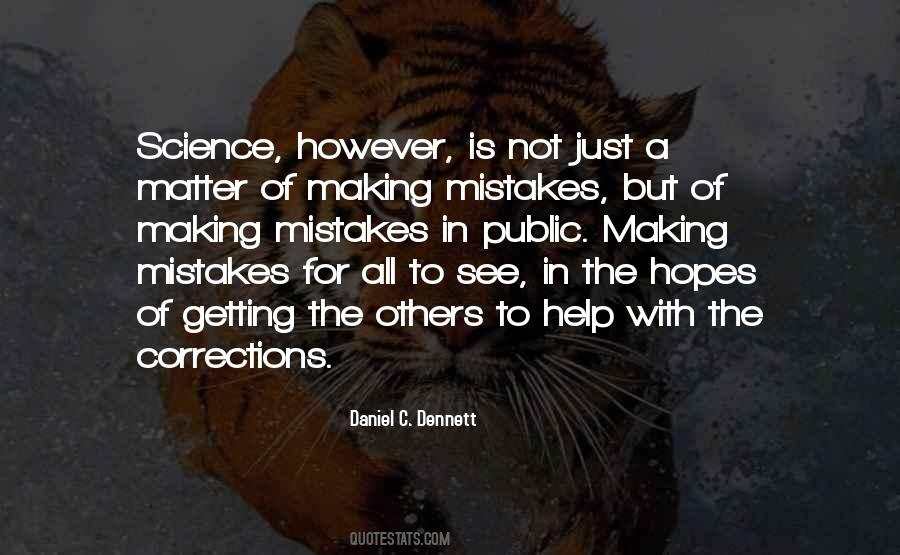 #48. To others, being wrong is a source of shame; to me, recognizing my mistakes is a source of pride. - Author: George Soros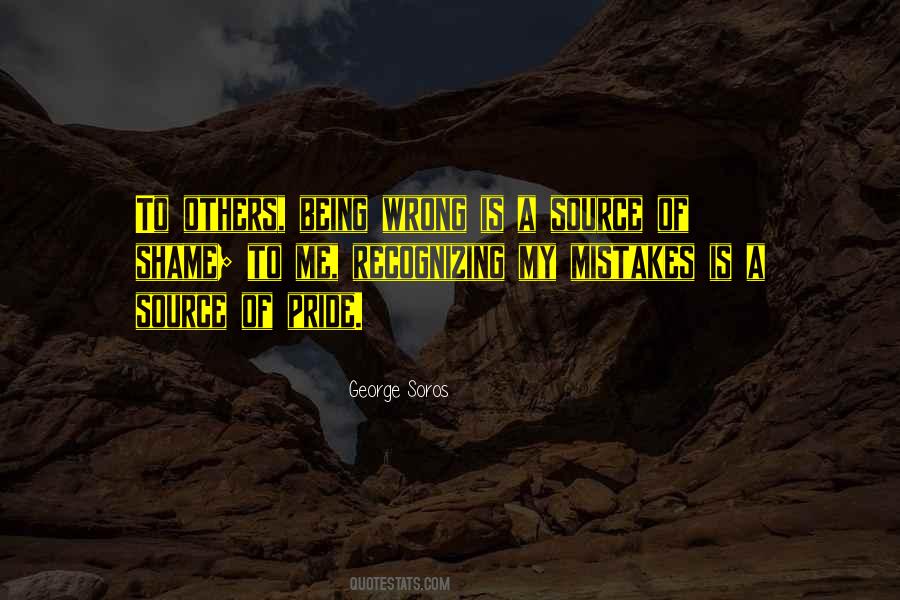 #49. A wise person learns from the mistakes of others, a normal person learns from their own, and a fool learns nothing, ever. - Author: Robert J. Crane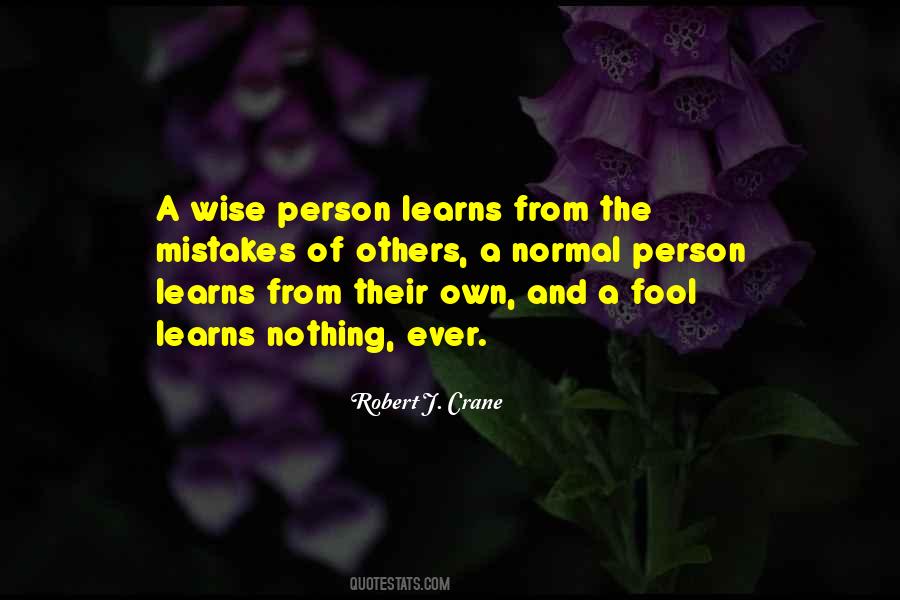 #50. He understood that in walking to atone for the mistakes he had made, it was also his journey to accept the strangeness of others. - Author: Rachel Joyce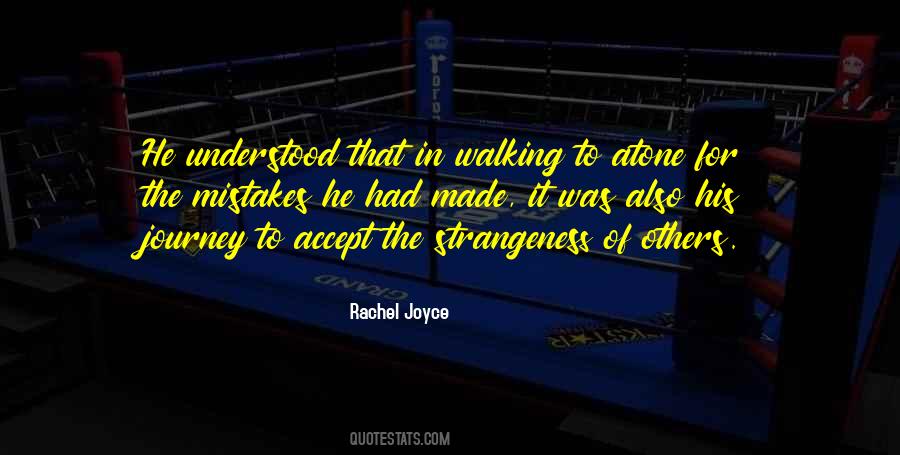 #51. Terrorists act as they do because they don't have great power at their easy disposal. The result is that they rely upon the ability to exploit the mistakes of others. - Author: William F. Schulz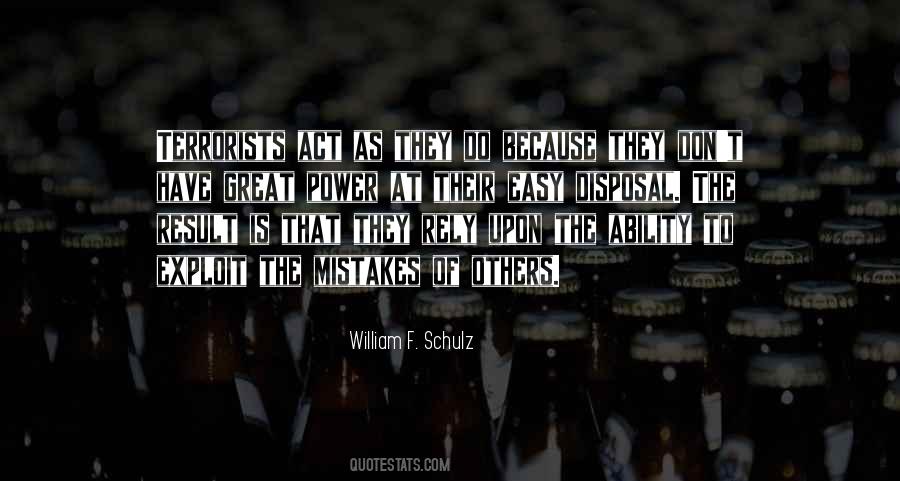 #52. I was doing what I have done for most of my life, which is to cover for the mistakes of others when they don't know they have embarrassed themselves. - Author: Elizabeth Strout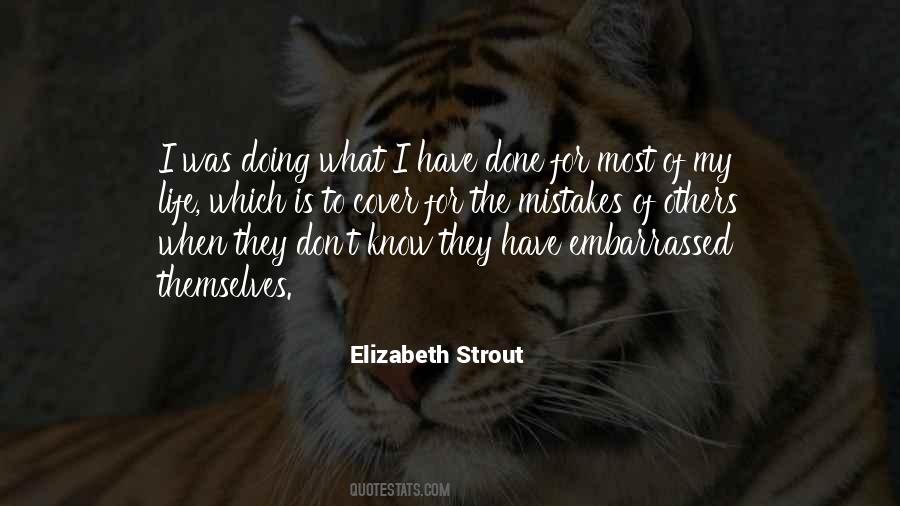 #53. Some people learn by the mistakes of others, but most of us are the others. - Author: William Prescott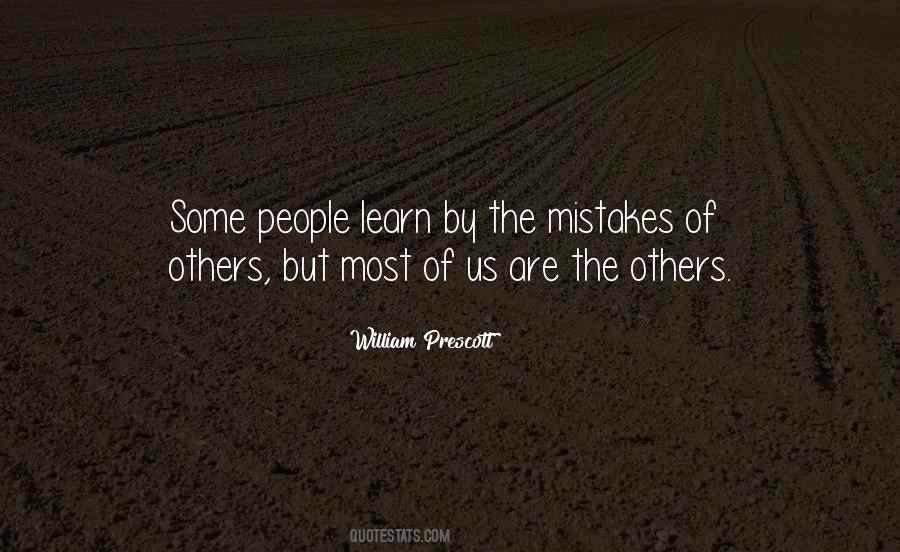 #54. It's taken years, but part of my own personal growth has involved deciding that I can learn something from even the most annoying person. - Author: Auliq Ice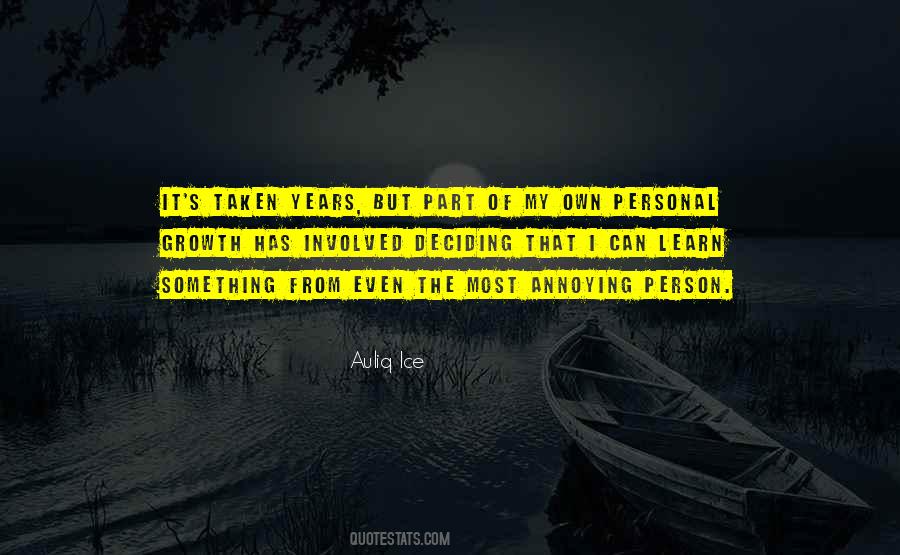 #55. Why be concerned with gossip? Because it is much easier, as well as far more enjoyable, to identify and label the mistakes of others than to recognize our own. - Author: Daniel Kahneman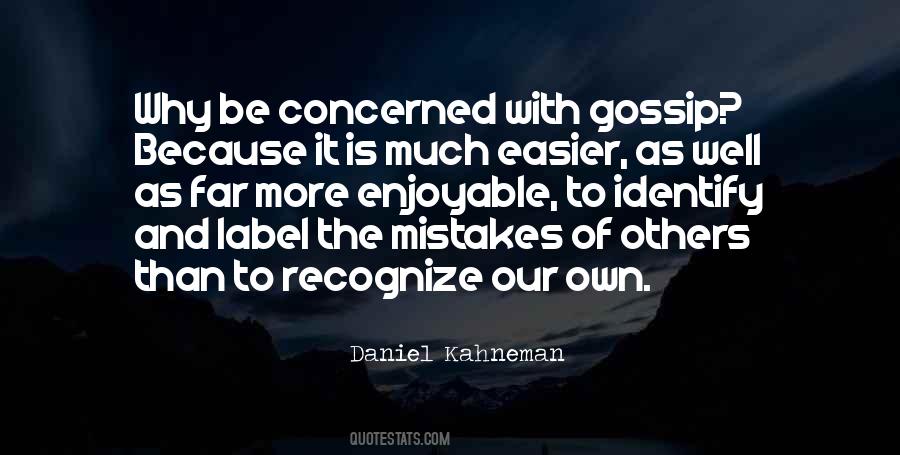 #56. Learn all you can from the mistakes of others. You won't have time to make them all yourself. - Author: Alfred Sheinwold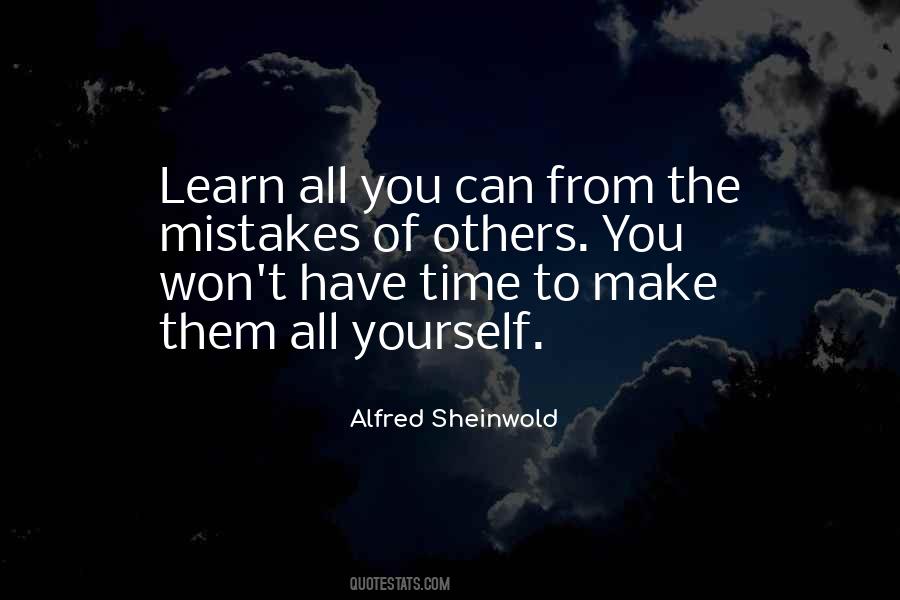 #57. Recognize that there will be failures, and acknowledge that there will be obstacles. But you will learn from your mistakes and the mistakes of others, for there is very little learning in success. - Author: Michael Dell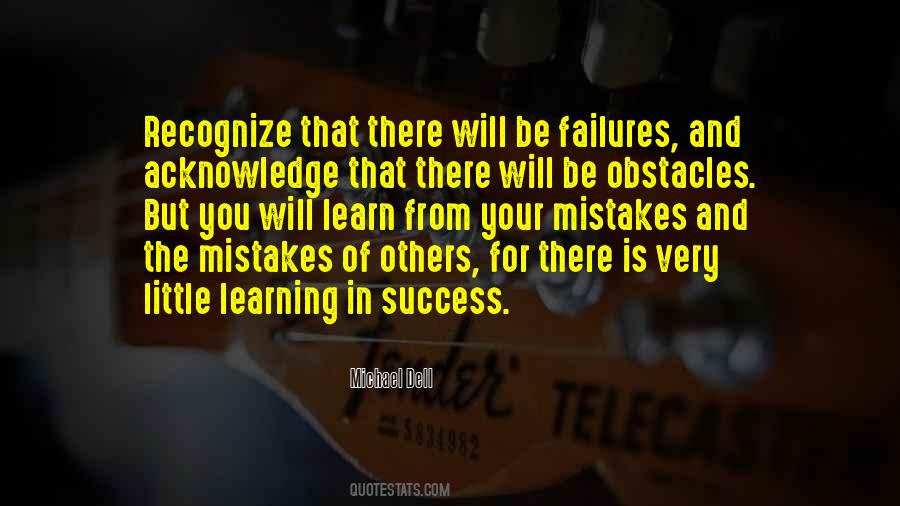 #58. I feel a deep sense of responsibility to share everything that we've learned from TOMS, so that others can learn from both our mistakes and the counterintuitive principles that have guided our success. - Author: Blake Mycoskie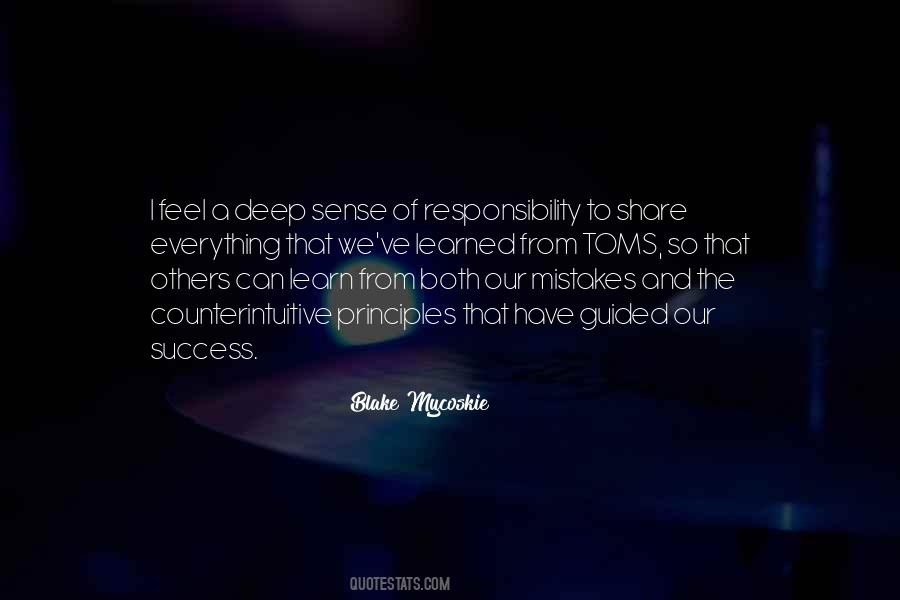 #59. If you rely exclusively on the advice of others, you may make terrible mistakes. Your heart knows what you need. Other people have other agendas. - Author: Brian L. Weiss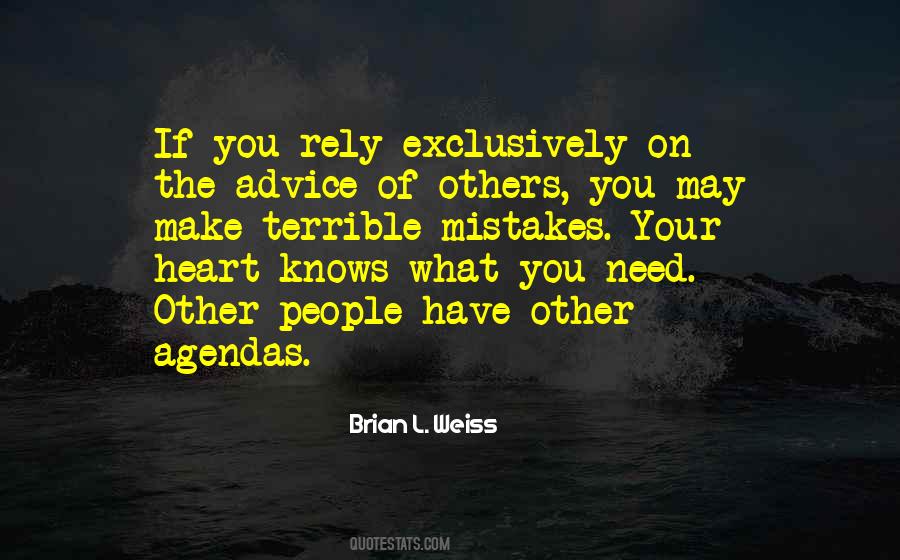 #60. It's human to make mistakes and some of us are more human than others. - Author: Ashleigh Brilliant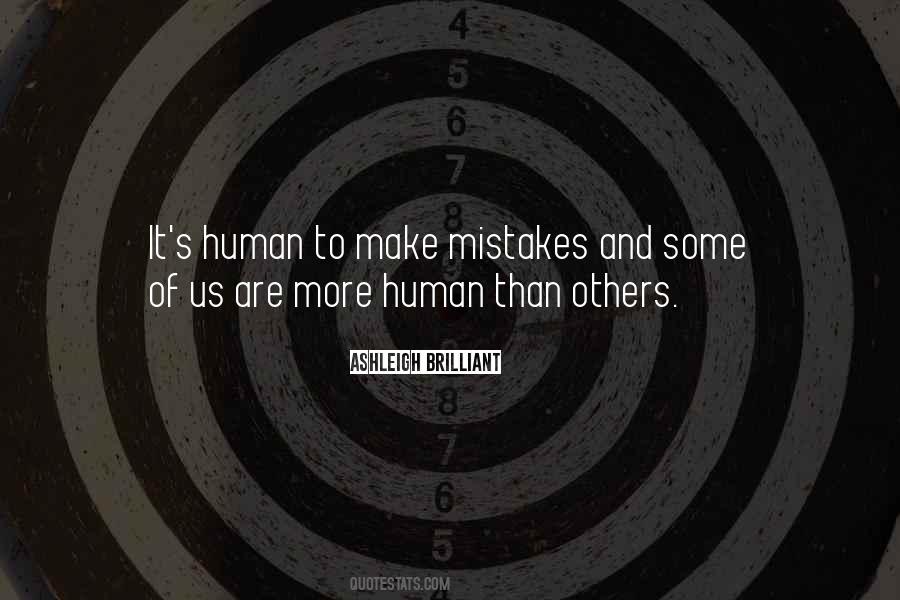 #61. As you have seen the treachery of love because of me, I have seen my cruelty because of you. But you learned mercy from me, and from you I learned resilience. As you came to understand me enough to know the value I placed on selfless love, I understand your nature better. - Author: D. Morgenstern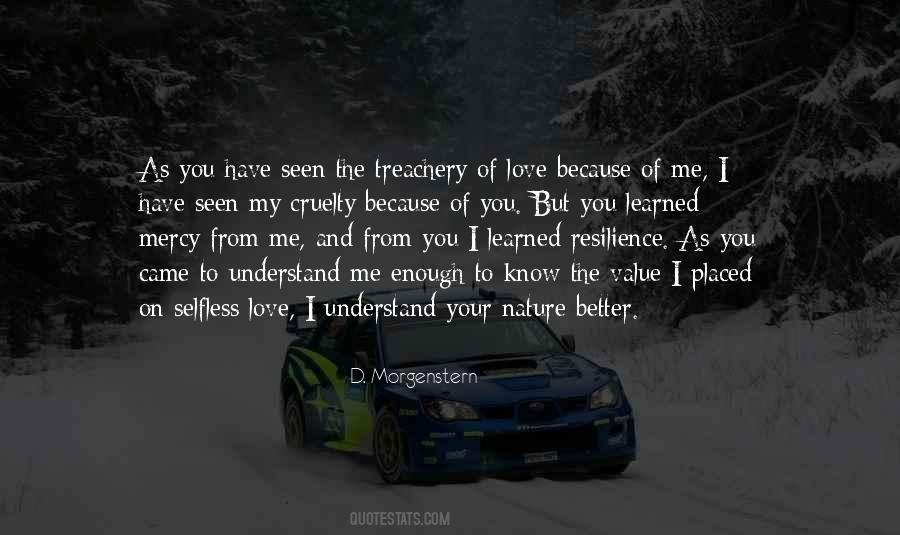 #62. We know well that mistakes are more easily detected in the works of others than in one's own. - Author: Leonardo Da Vinci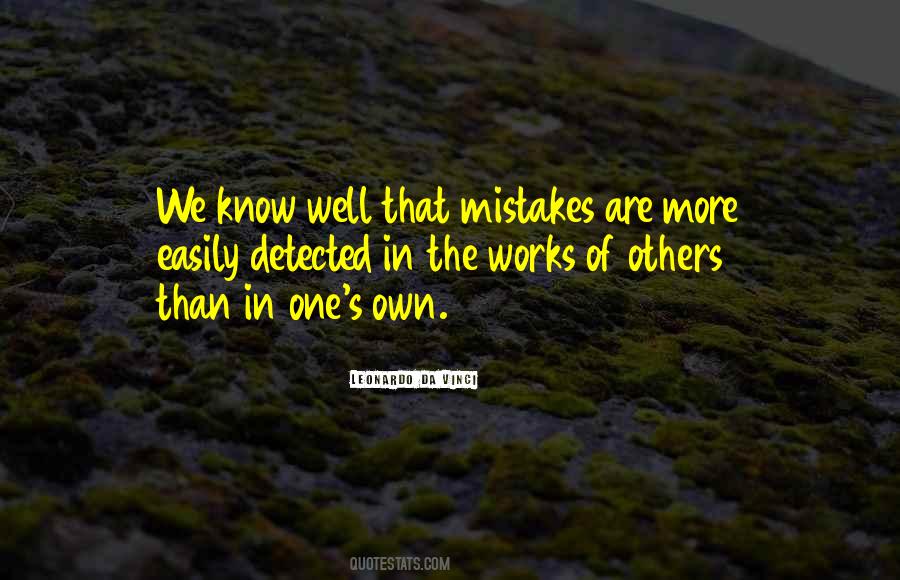 #63. Happy will be those who take a lesson and warning from the mistakes and misfortunes of others and seek, nevertheless, to adopt the good they offer. Wisdom, wherever he finds it, it's a believer's goal, because he is more worthy of it than anyone else. - Author: Yusuf Al-Qaradawi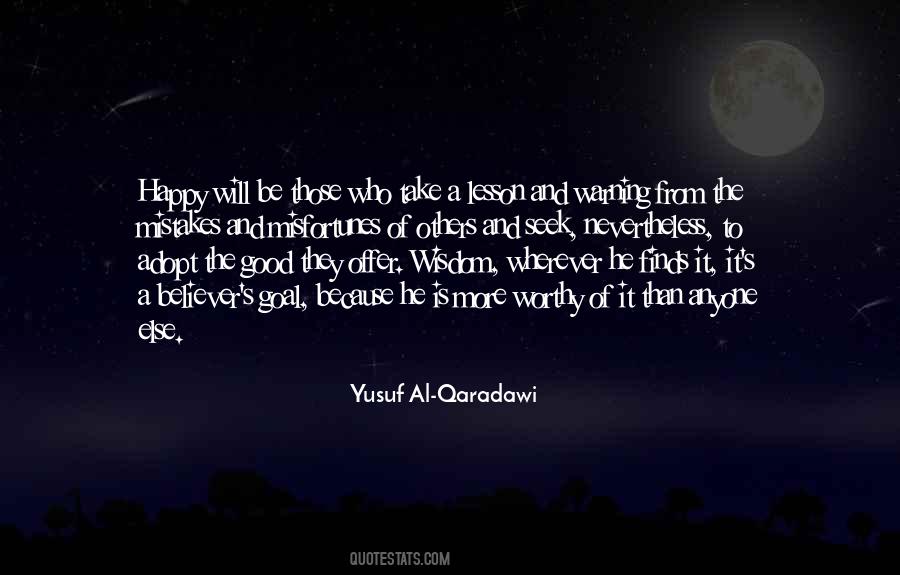 #64. It is part of the human nature always to judge others very severely and,when the wind turns against us,always to find an excuse for our own misdeeds,or to blame someone else for our mistakes. - Author: Paulo Coelho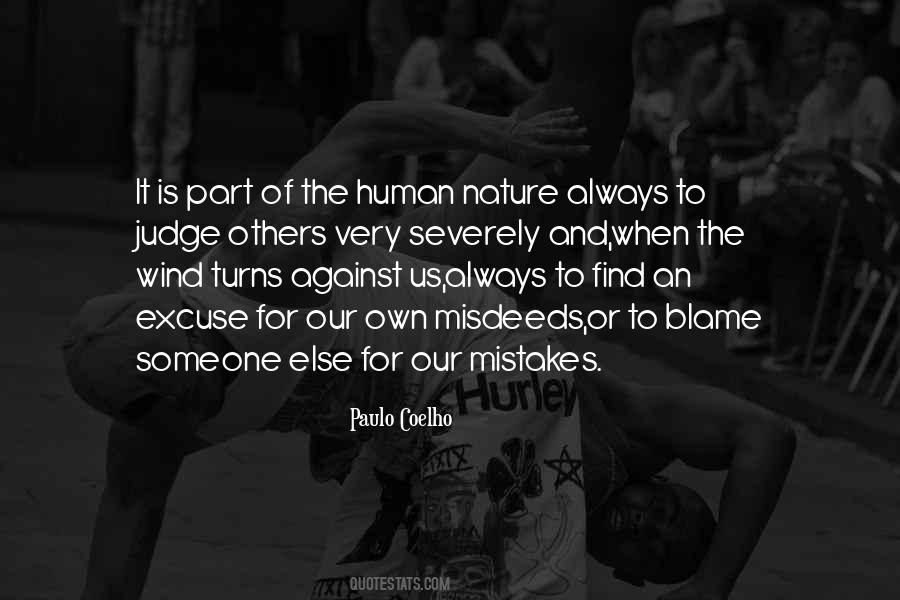 #65. I'd like to say it is only average people who revel in the mistakes of others. - Author: Sibel Kekilli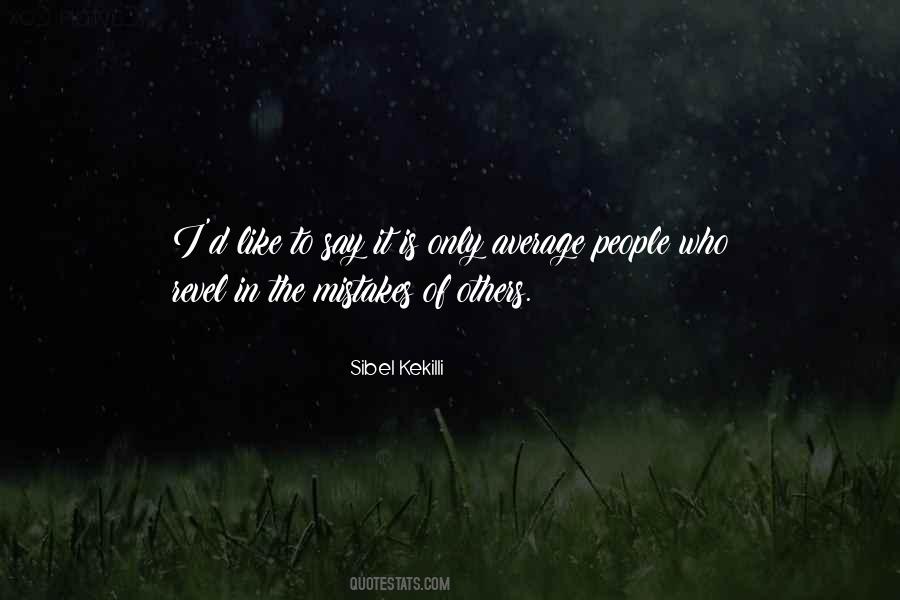 #66. If something is buried in the past, leave it buried ... Such dwelling on past lives, including past mistakes, is just not right! It is not the gospel of Jesus Christ ... In cases of marriage and family, ... we can end up destroying so many others. - Author: Jeffrey R. Holland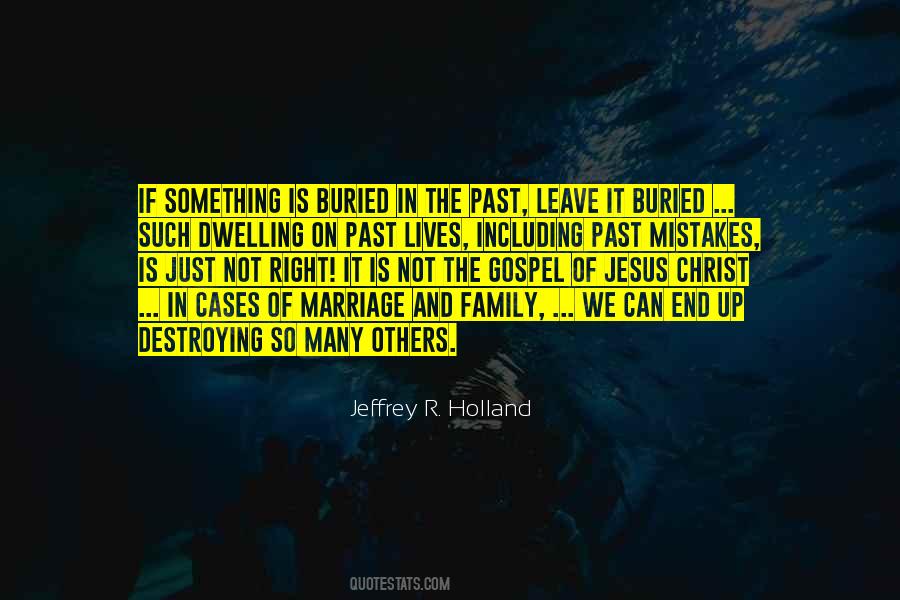 #67. Amateurs are not afraid to make mistakes or look ridiculous in public. They're in love, so they don't hesitate to do work that others think of as silly or just plain stupid. - Author: Austin Kleon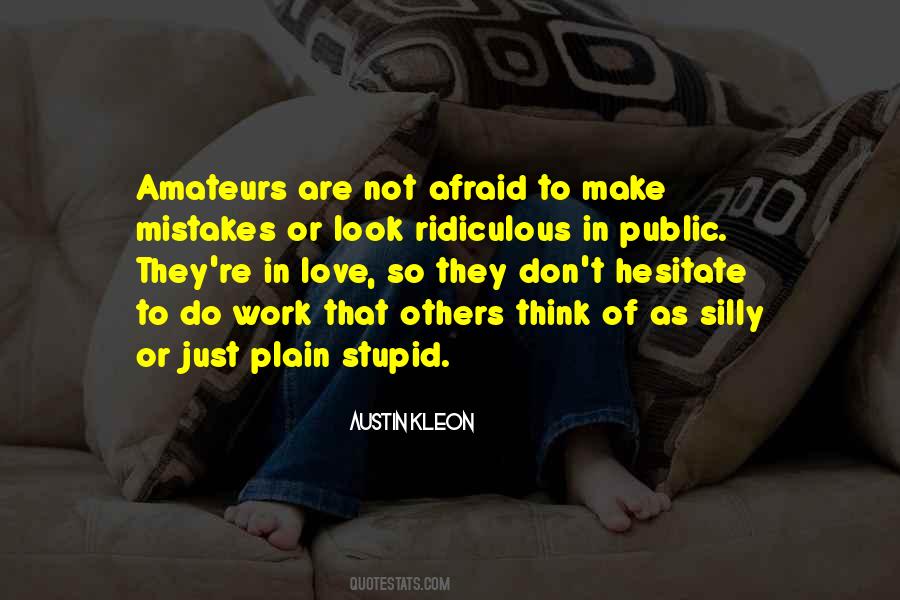 #68. Be daring enough to be different,
humble enough to make mistakes,
wild enough to be burnt in the fire of love,
real enough to make others see how phony you are. - Author: Brennan Manning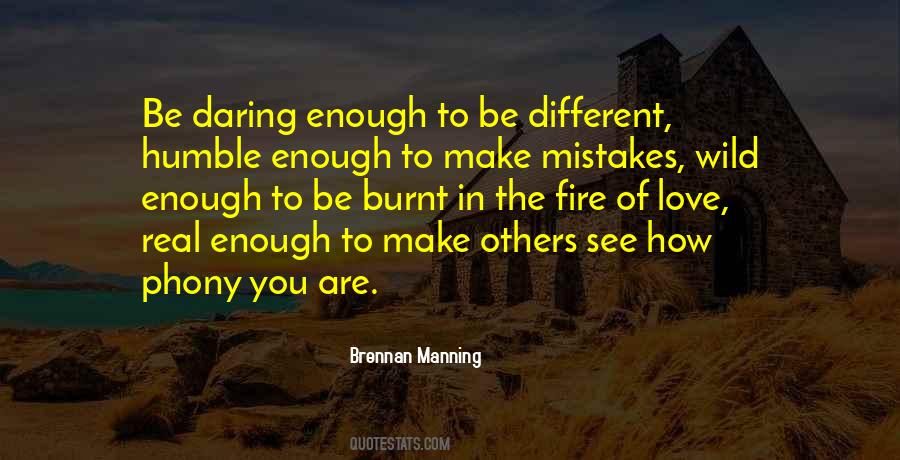 #69. One of the most paralyzing mistakes we make is thinking that our problems somehow disqualify us from being used by God. Let me just say it like it is: If you don't have any problems, you don't have any potential. Here's why. Your ability to help others heal is limited to where you've been wounded. - Author: Mark Batterson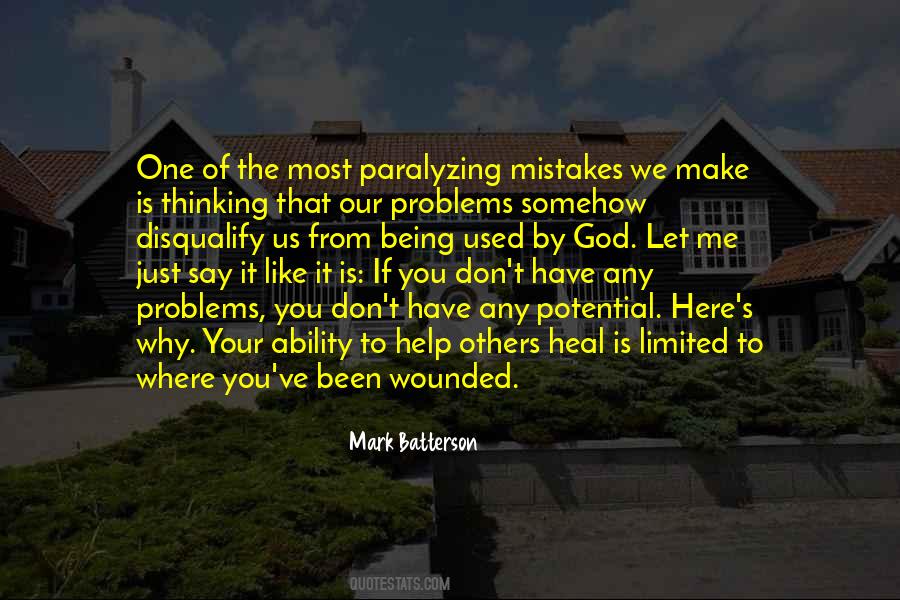 #70. Some mistakes ... Just have greater consequences than others. But you don't have to let the result of one mistake be the thing that defines you. You, Clark, have the choice not to let that happen. - Author: Jojo Moyes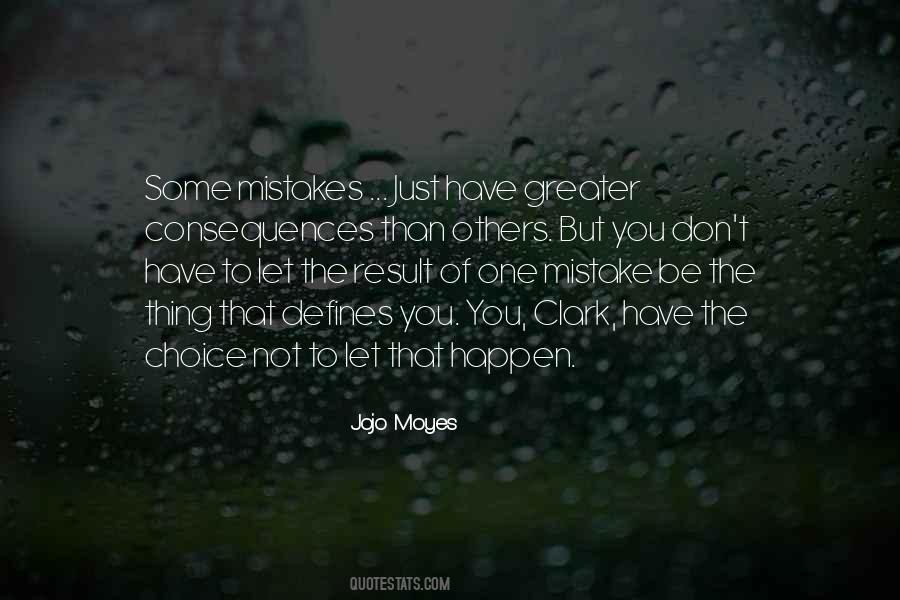 #71. To incessantly blame others for my shortcomings is cowardice borne of fear, fed by fear, and haunted by fear. To be steadfastly accountable for my shortcomings is bravery borne of God, fed by God, and blessed by God. - Author: Craig D. Lounsbrough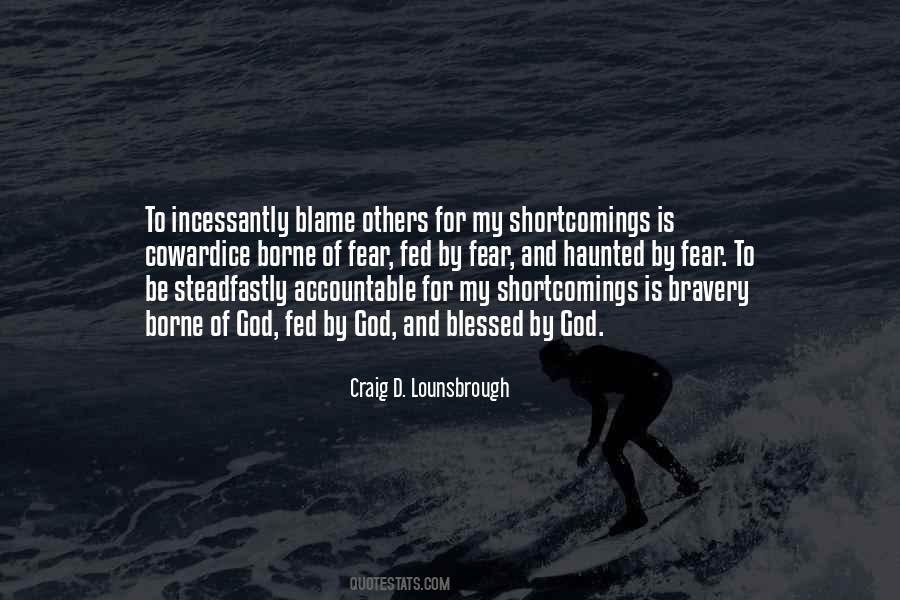 #72. Smart people learn from their mistakes. But the real sharp ones learn from the mistakes of others. - Author: Brandon Mull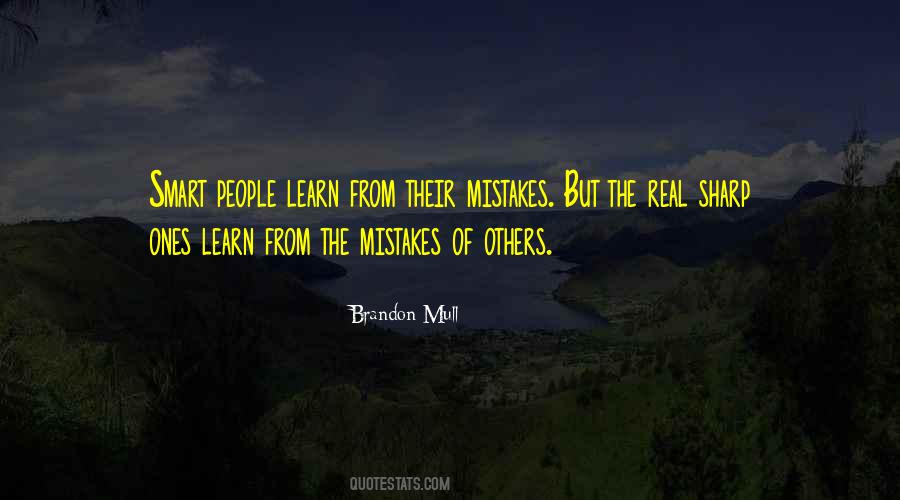 #73. If one cannot learn from the mistakes of others, one might as well become a Democrat. - Author: Esther M. Friesner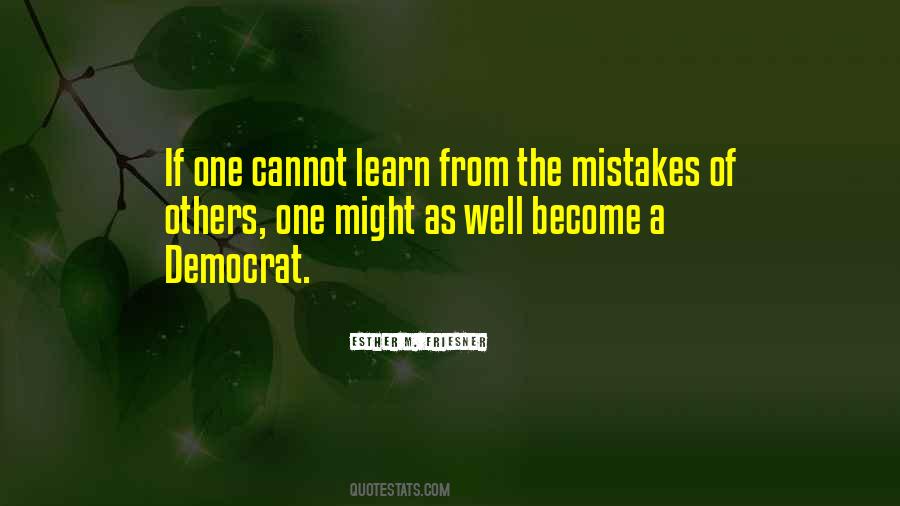 #74. Mistakes,' he said with effort, 'are also important to me. I don't cross them out of my life, or memory. And I never blame others for them. - Author: Andrzej Sapkowski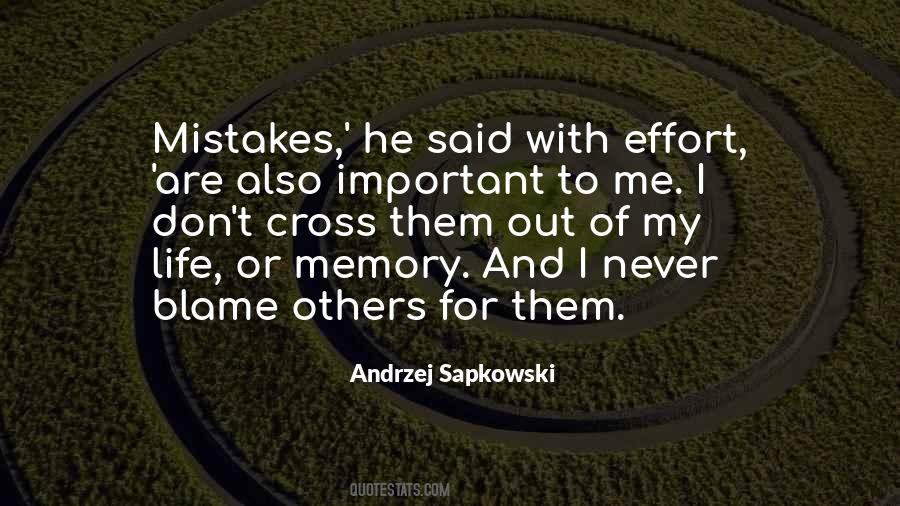 #75. Do not spill thy soul in running hither and yon, grieving over the mistakes and the vices of others. The one person whom it is most necessary to reform is yourself. - Author: Ralph Waldo Emerson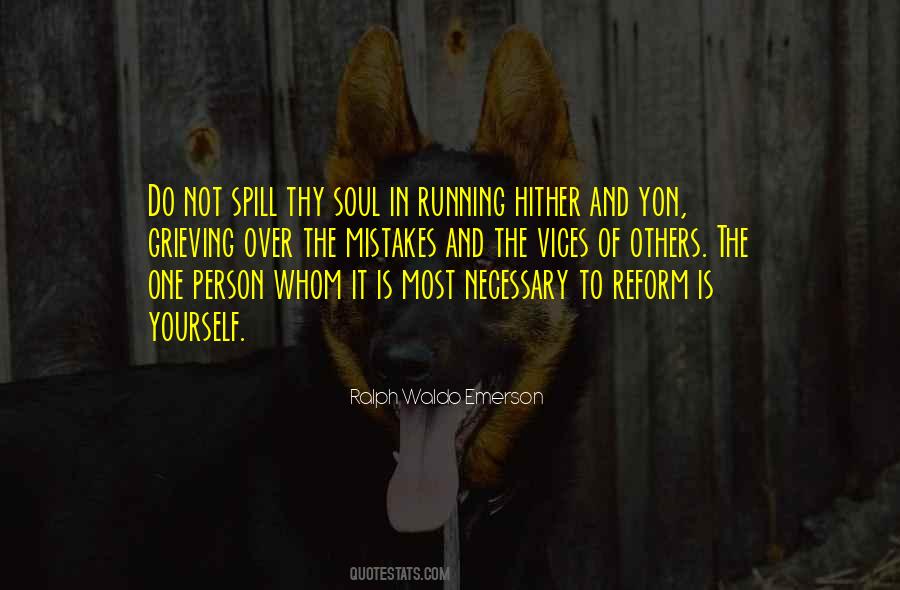 #76. I have known men who could see through the motivations of others with the skill of a clairvoyant; only to prove blind to their own mistakes. I have been one of those men. - Author: Bernard Baruch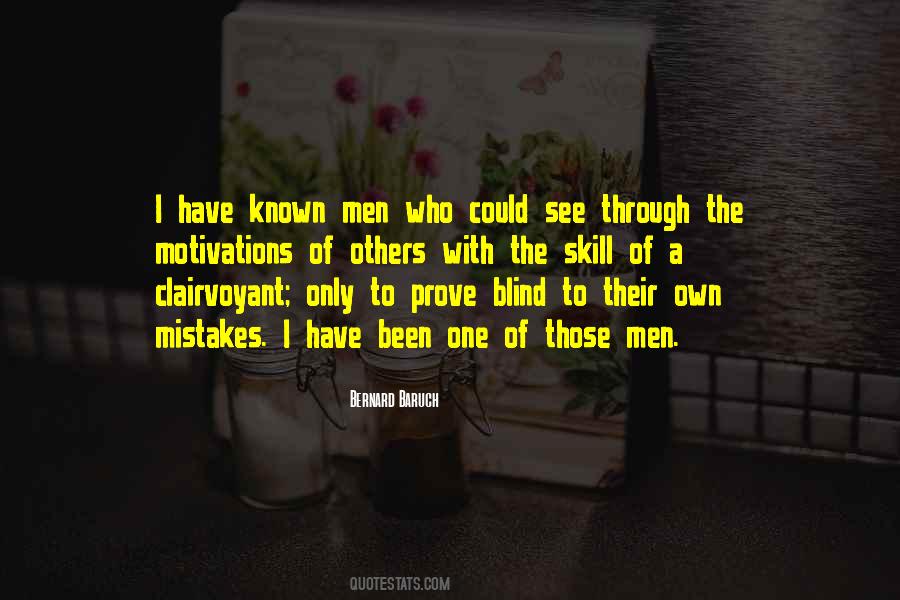 #77. Everyone makes mistakes, Ronnie. Some of us just realize it sooner than others. The important thing is that when we do, we try to make amends for the hurt we've caused. That's all any human being can really ask of another.

Asuka. - Author: C.M. Stunich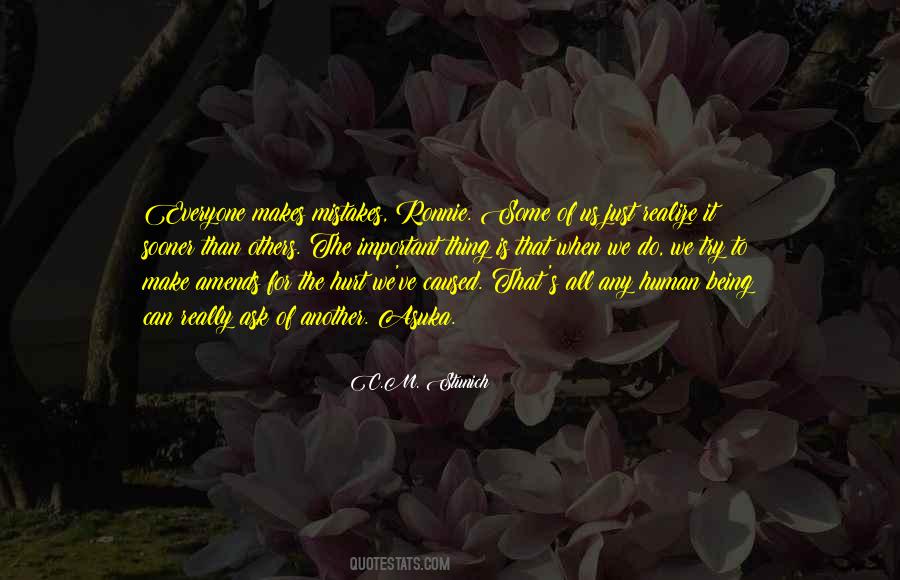 #78. Mistakes are a part of being human. Precious life lessons that can only be learned the hard way. Unless it's a fatal mistake, which, at least, others can learn from. - Author: Al Franken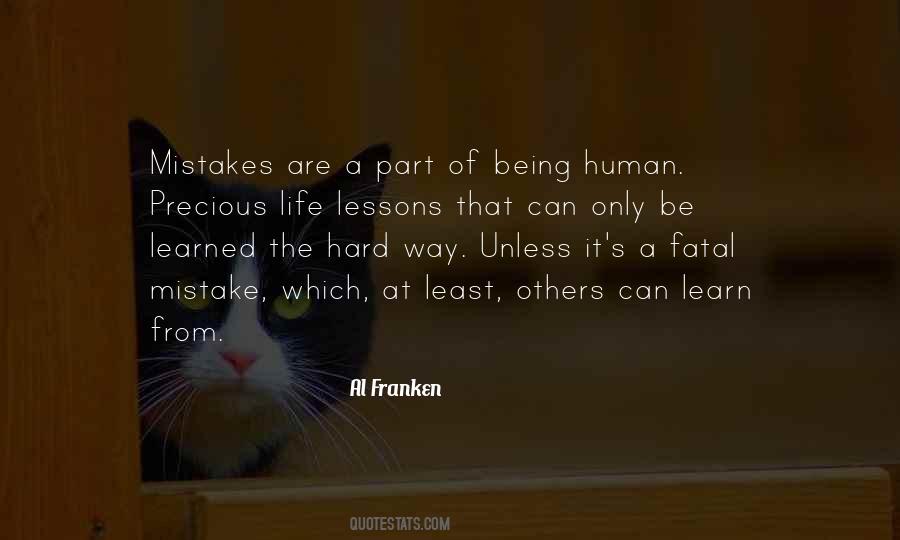 #79. You are a bit like that painting, Minnow. Remember how lovingly and carefully formed you are. Your thoughts, your talents, your memories, your mistakes ... they all make the complete canvas of you. Even though others may mistake your worth, you must never value yourself any less. - Author: Michelle Marcos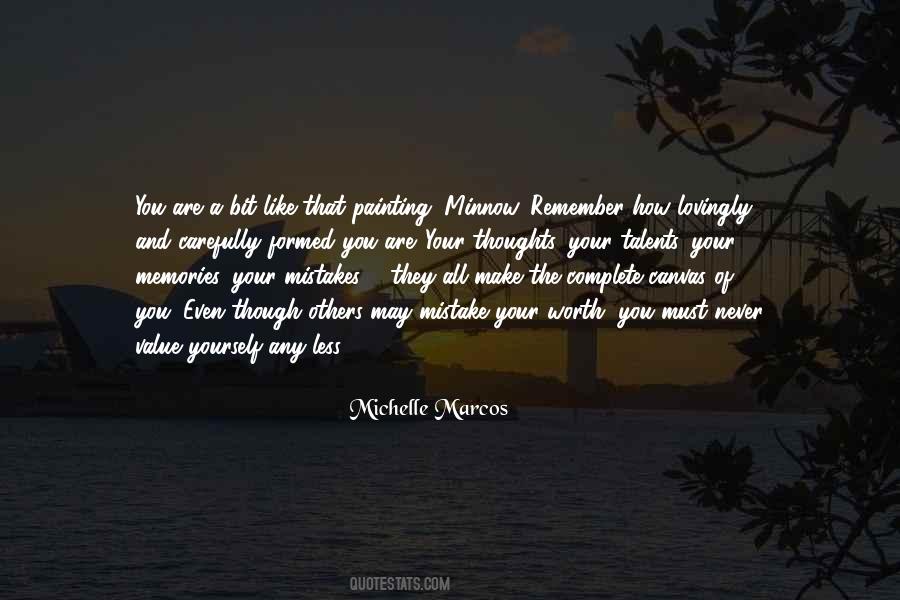 #80. Too often, our minds are so burdened because of the mistakes we have made that we do not take the time to forgive ourselves and others and start over again. - Author: Ernest Holmes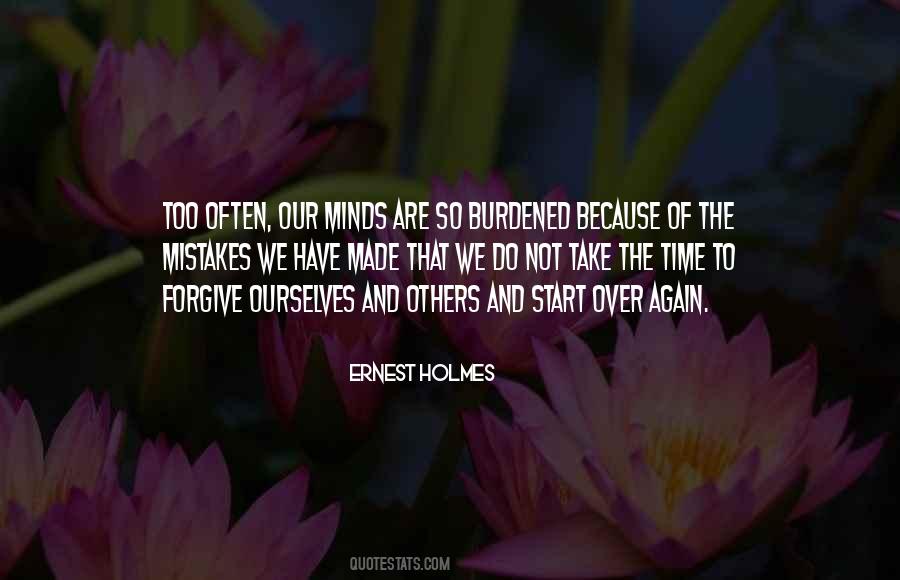 #81. There is no common standard for education about diagnosis. Distinguishing between bipolar depression and major depressive disorder, for example, can be difficult, and mistakes are common. Misdiagnosis can be lethal. Medications that work well for some forms of depression induce agitation in others. - Author: Kay Redfield Jamison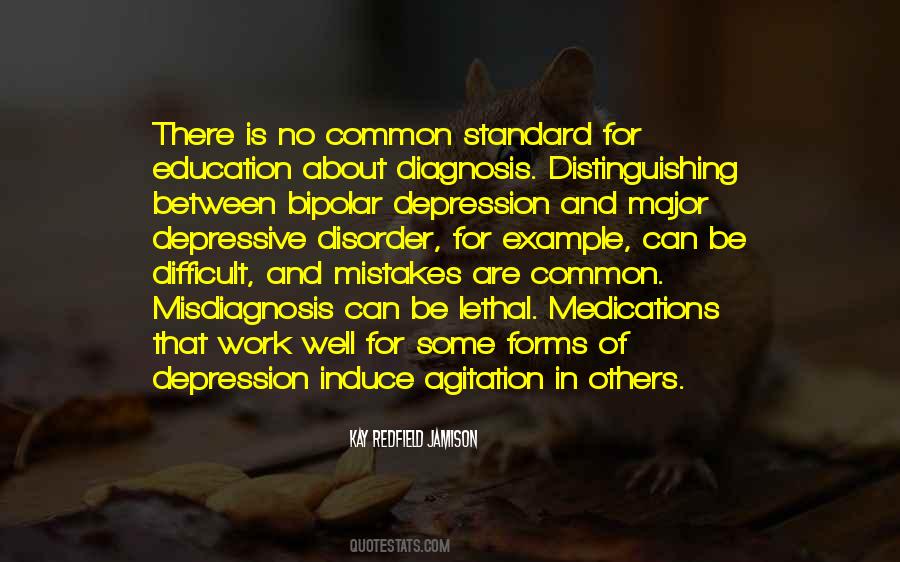 #82. Once he got there, he stopped and looked back. You know, the thing about manners is that we only seem to notice the lack of them in others. It's a lot harder to see mistakes in ourselves. - Author: Rose Wynters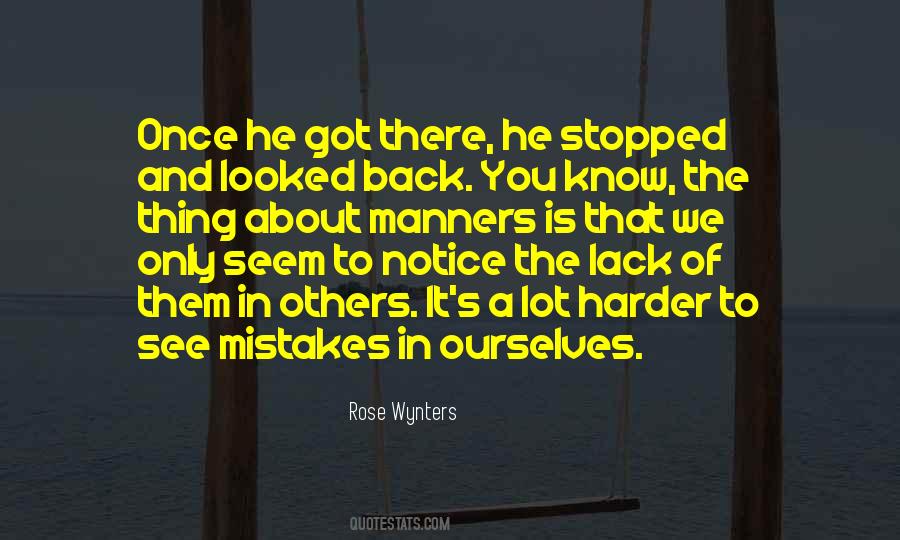 #83. It's easy to never make a mistake, when you are hiding yourself away from the possibility of making mistakes. It's those who jump out of the nest who will fall and fly. Never judge the quality of an individual based upon how many mistakes they have made. It's easier not to make any. - Author: C. JoyBell C.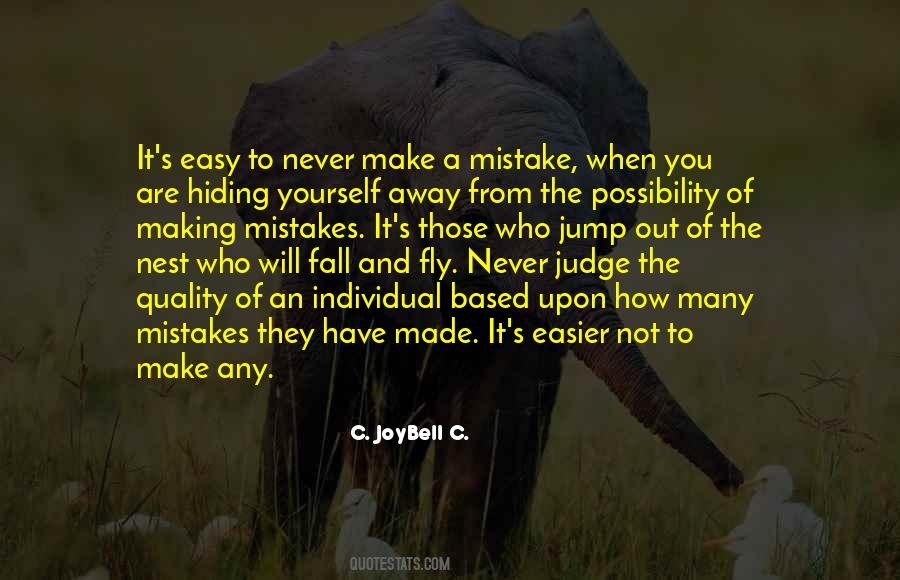 #84. Does vengeance or blame ease the sorrow of heart-ache? We all make mistakes. Life can't be lived without harm to others. - Author: Janny Wurts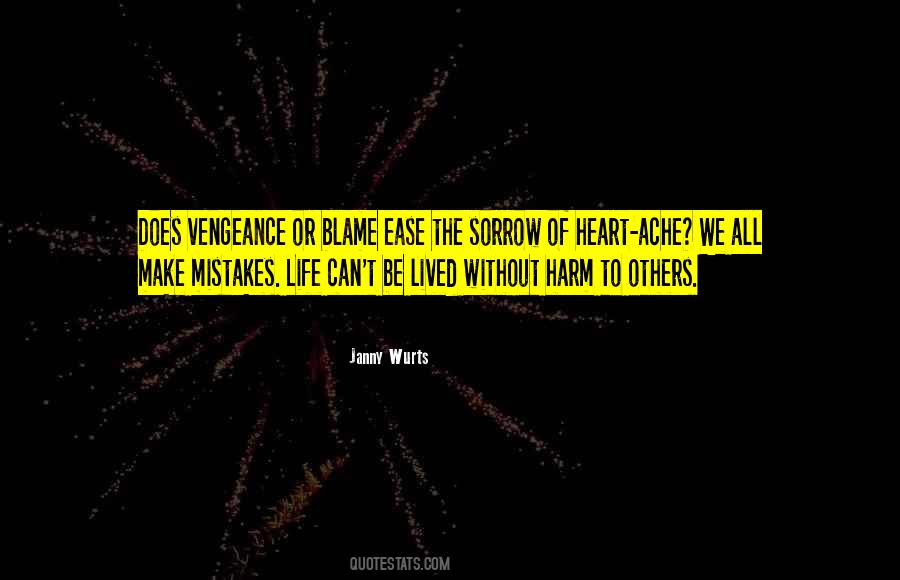 #85. It is often the mistakes of others that benefit the rest of us and, sadly, not them ... For the antifragile, harm from errors should be less than the benefits. - Author: Nassim Nicholas Taleb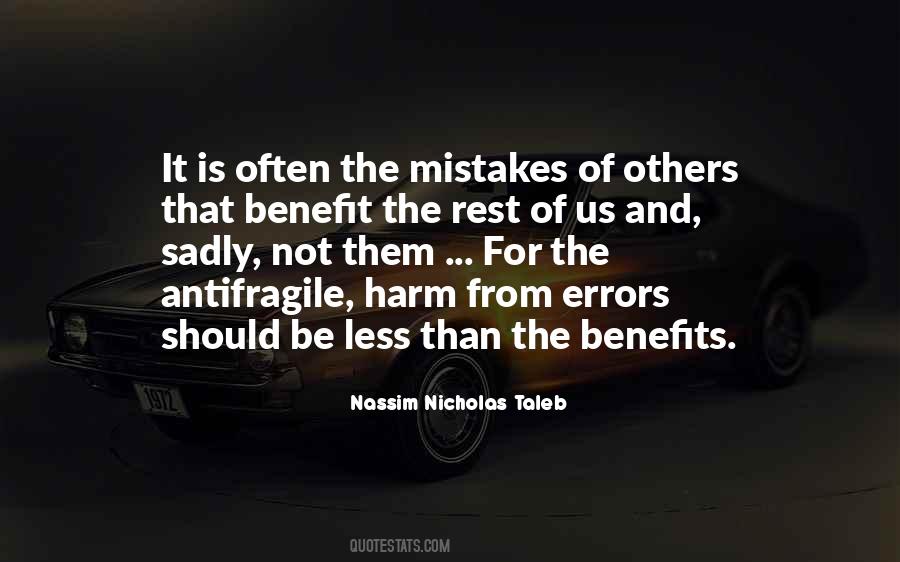 #86. Learn from the mistakes of others, and avoid being one whose mistakes are used as lessons by others. - Author: Abu Ammaar Yasir Qadhi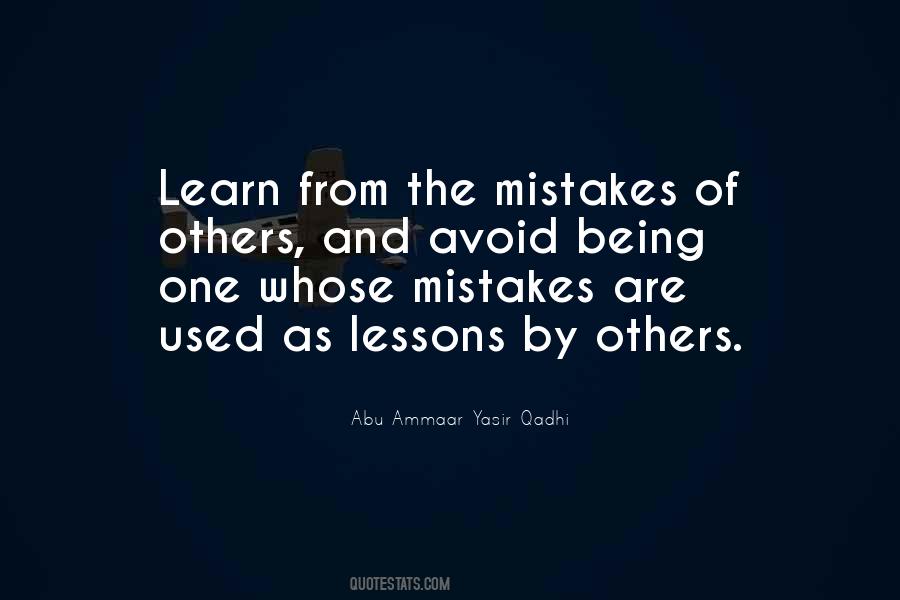 #87. Everybody does stupid things in life. Some of us more than others. You think you're going to get away with it. Or one or both of you just stop thinking. But it happens. And when it does, you can keep drinking it like poison, or you can put it behind you and go make the most of the rest of your life. - Author: Claire Cook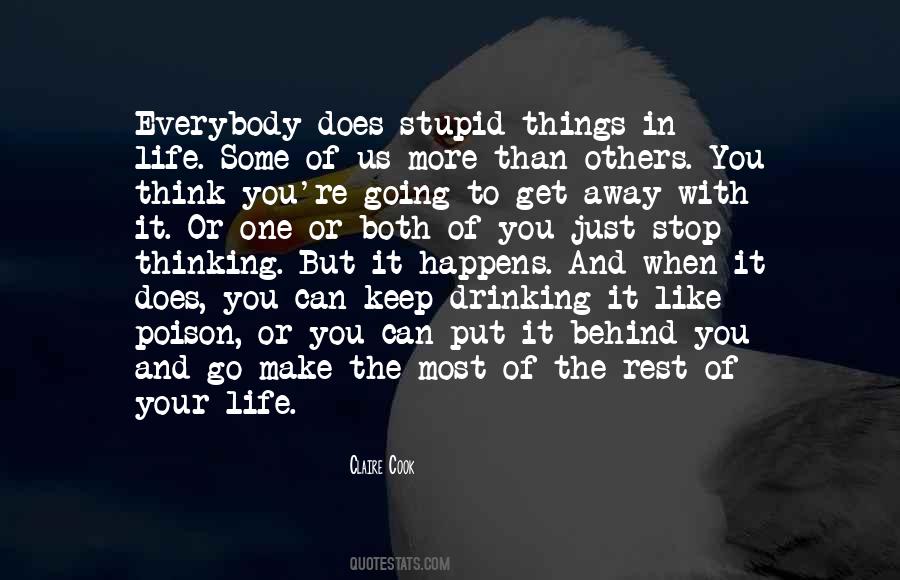 #88. Because it is much easier, as well as far more enjoyable, to identify and label the mistakes of others than to recognize our own. Questioning what we believe and want is difficult at the - Author: Daniel Kahneman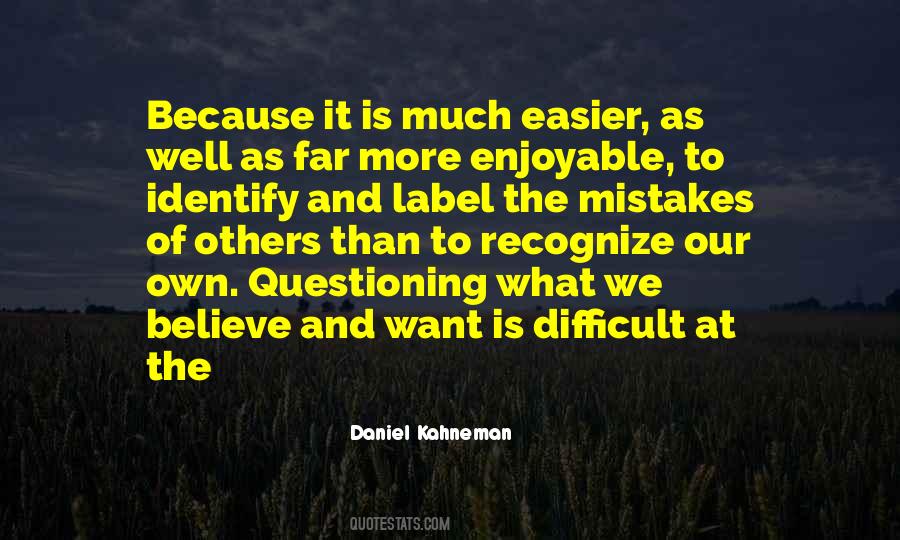 #89. Fools you are who say you like to learn from your mistakes. I prefer to learn from the mistakes of others, and avoid the cost of my own. - Author: Otto Von Bismarck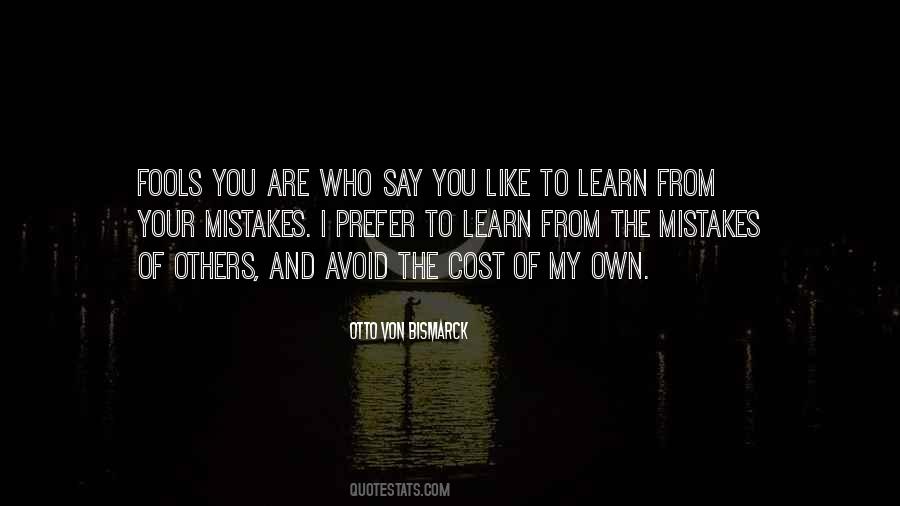 #90. I incline to an aristocratic republic. This would satisfy the ambitious spirit among our people. We shall learn from the historic mistakes of others in the same way as we learn from our own; for we are a modern nation and wish to be the most modern in the world. - Author: Theodor Herzl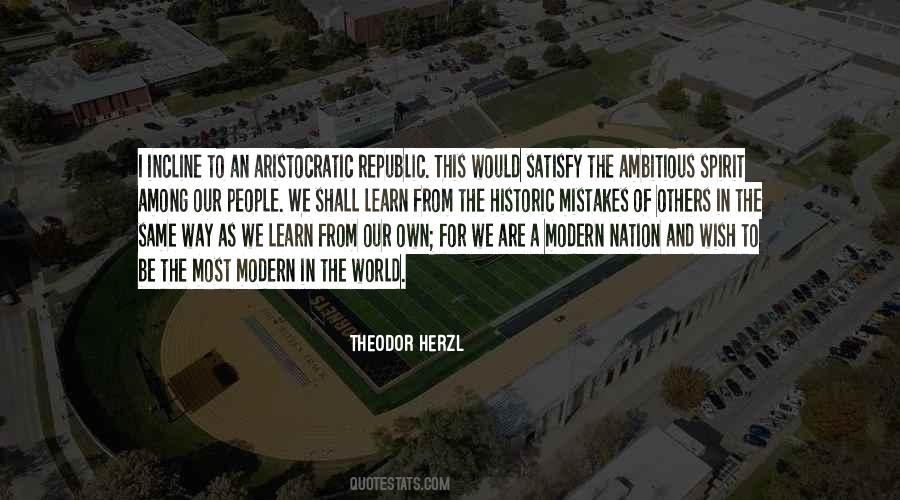 #91. It was then that I knew. Without a doubt in my mind, without worry of what others would think, and having no fear of mistakes or consequences, I smiled at the words I would say. - Author: Jamie McGuire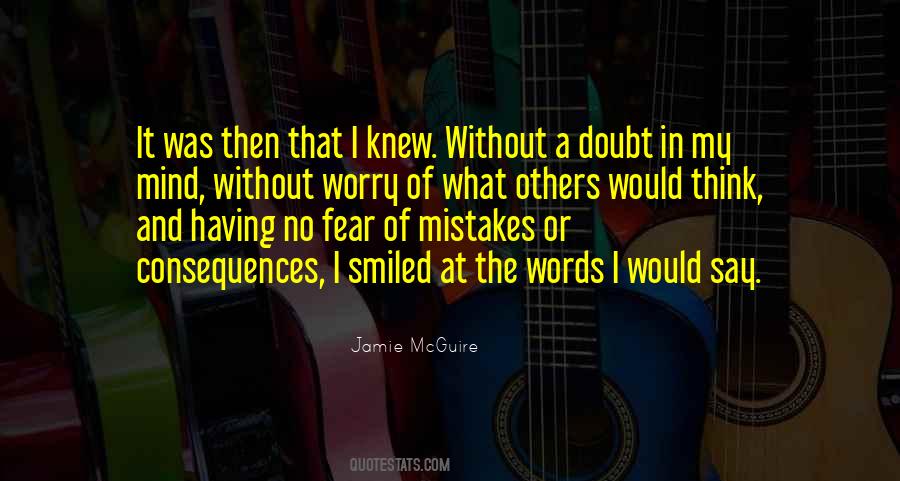 #92. I suspect I said nothing because I was doing what I have done most of my life, which is to cover for the mistakes of others when they don't know they have embarrassed themselves. I do this, I think, because it could be me a great deal of the time. - Author: Elizabeth Strout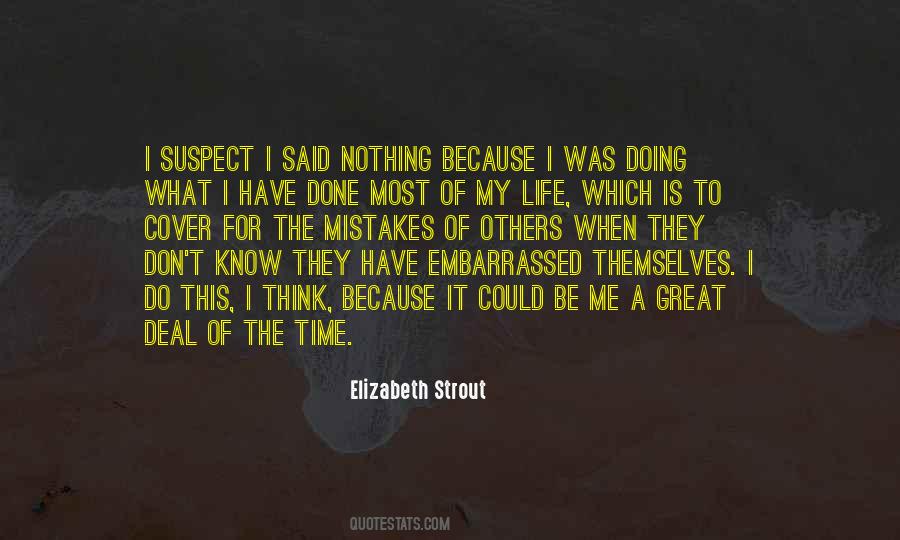 #93. I'm doing what I've always done. Learning from the mistakes of others who take my advice. - Author: Nitya Prakash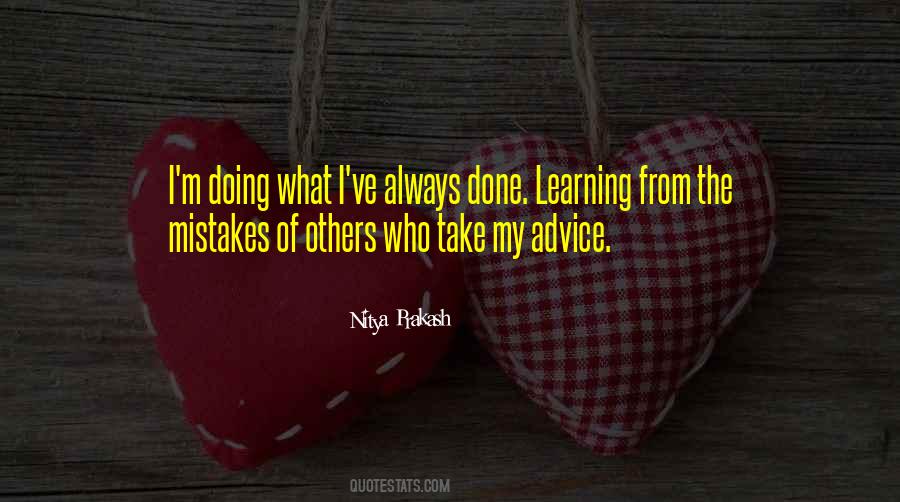 #94. My life has been filled with countless mistakes, but also success. I have been a coward at some points but brave at others. I have loved and been loved; I have failed to love and to accept love. Above all else I have tried my best, every step of the way. - Author: Carolyn Lee Adams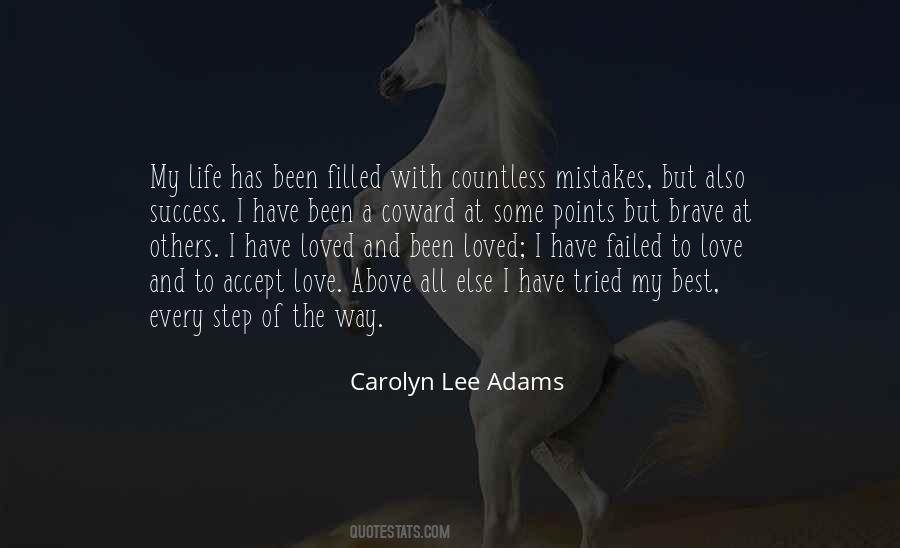 #95. The strong tendency to blame others is a barrier, an obstacle for the comprehension of our own mistakes. - Author: Samael Aun Weor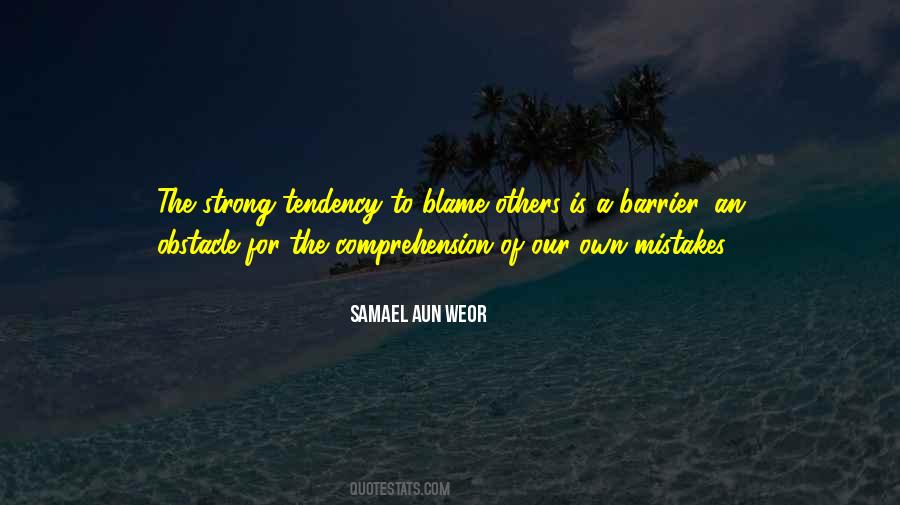 #96. Continuous understanding goes with love, courage, respect, discovery and acceptance of mistakes. - Author: Auliq Ice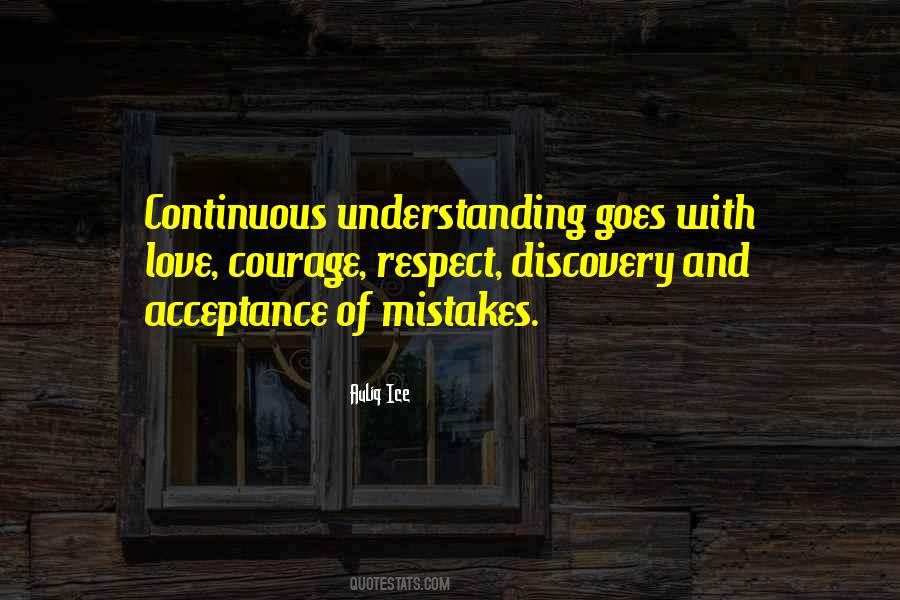 #97. All nations are more tolerant of their own mistakes and weaknesses than of the mistakes and weaknesses of others. - Author: Arthur Hays Sulzberger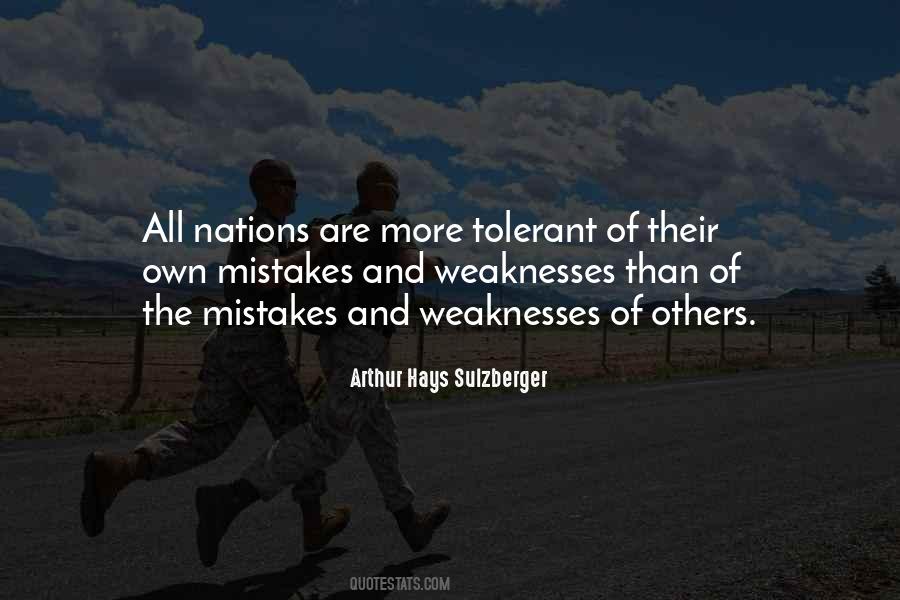 #98. We learn a lot from the mistakes of others, but even more from our own. - Author: Fausto Cercignani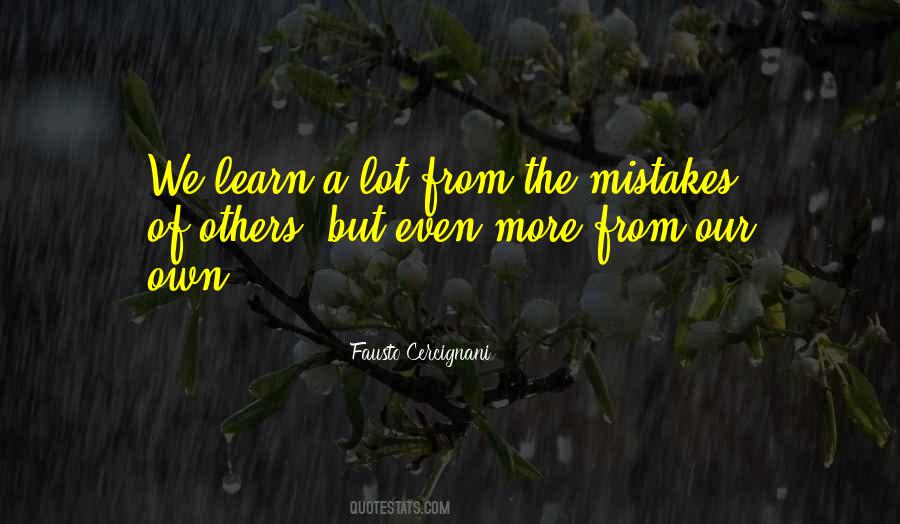 #99. It seems the great advantage of people who annoy us is motivation to engage in reflection. - Author: Auliq Ice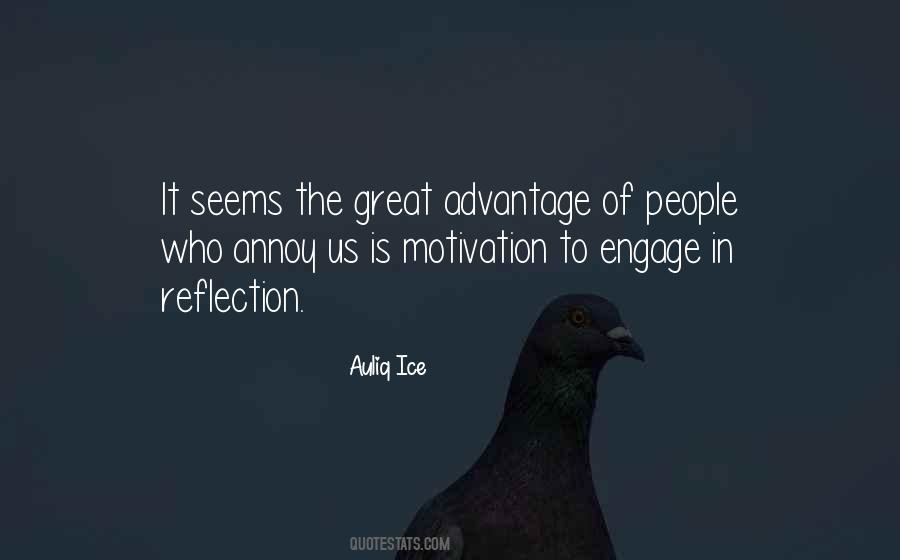 #100. Critics hang around and wait for others to make mistakes. But the real doers of the world have not time for criticizing others. They are too busy doing, making mistakes, improving, making progress. - Author: Wayne Dyer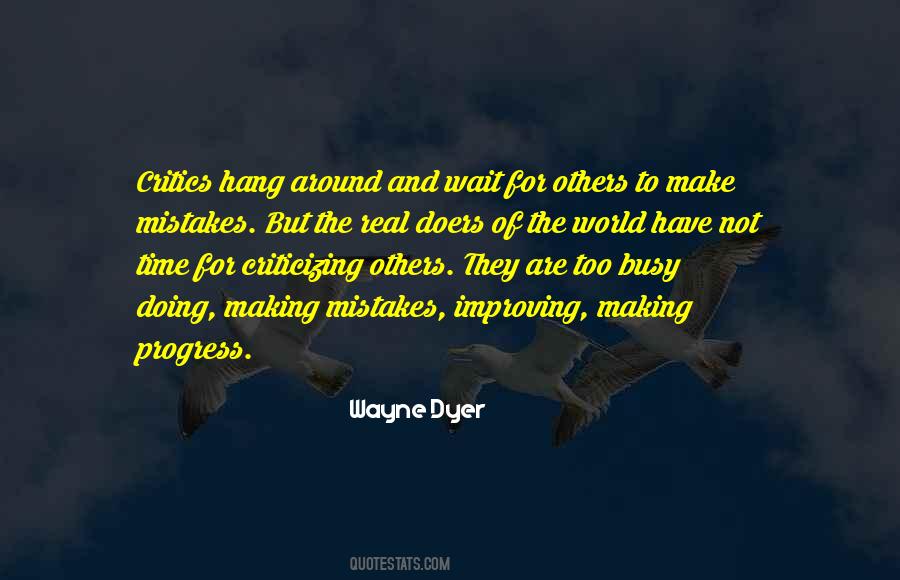 Famous Authors
Popular Topics