Love One Another Famous Quotes & Sayings
List of top 100 famous quotes and sayings about love one another to read and share with friends on your Facebook, Twitter, blogs.
Top 100 Quotes About Love One Another
#1. Falling in love was simple; one had only to yield. Digesting another person, however, and sustaining love, was bloody work, and not a soft job. - Author: Hanif Kureishi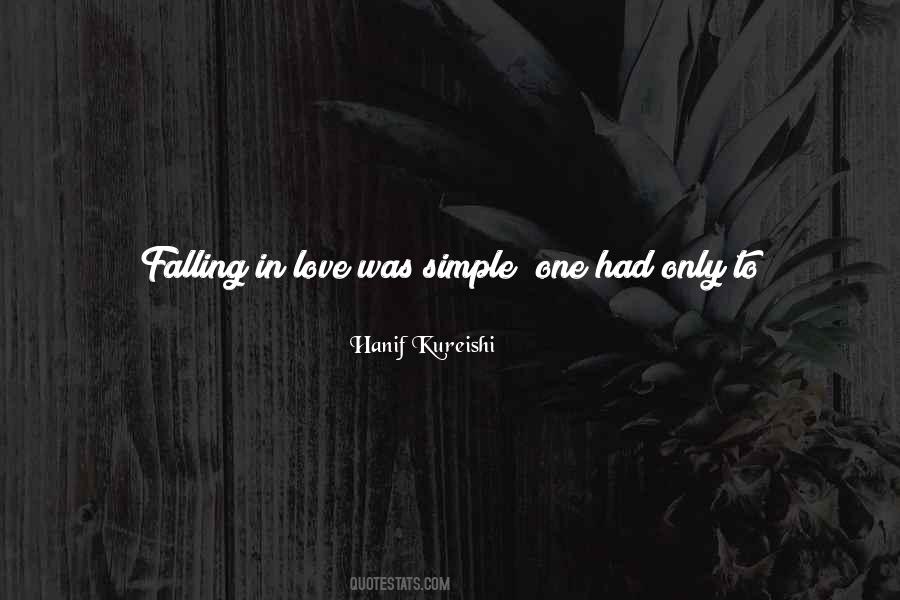 #2. And all knowledge is vain save when there is work, and all work is empty save when there is love; and when you work with love you bind yourself to yourself, and to one another, and to God. - Author: Kahlil Gibran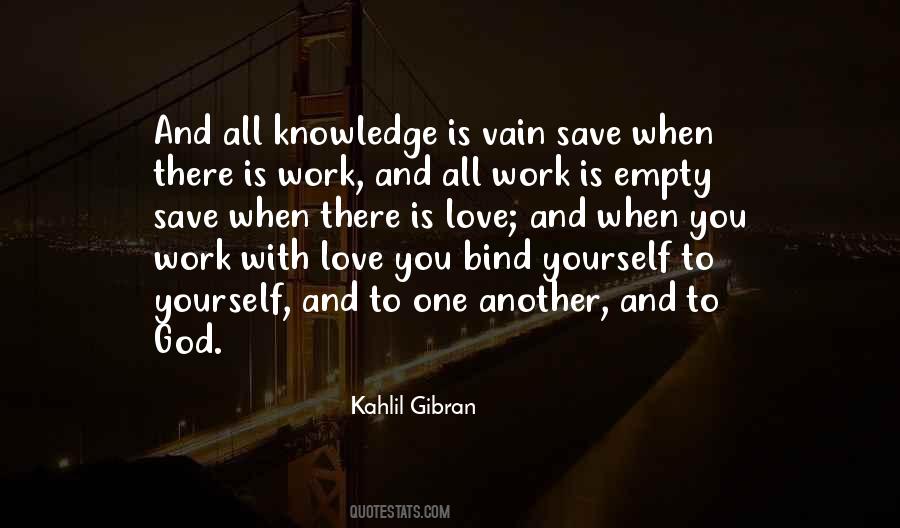 #3. No holy place existed without us then,
no woodland, no dance, no sound.
Beyond all hope, I prayed those timeless
days we spent might be made twice as long.
I prayed one word: I want.
Someone, I tell you, will remember us,
even in another time. - Author: Sappho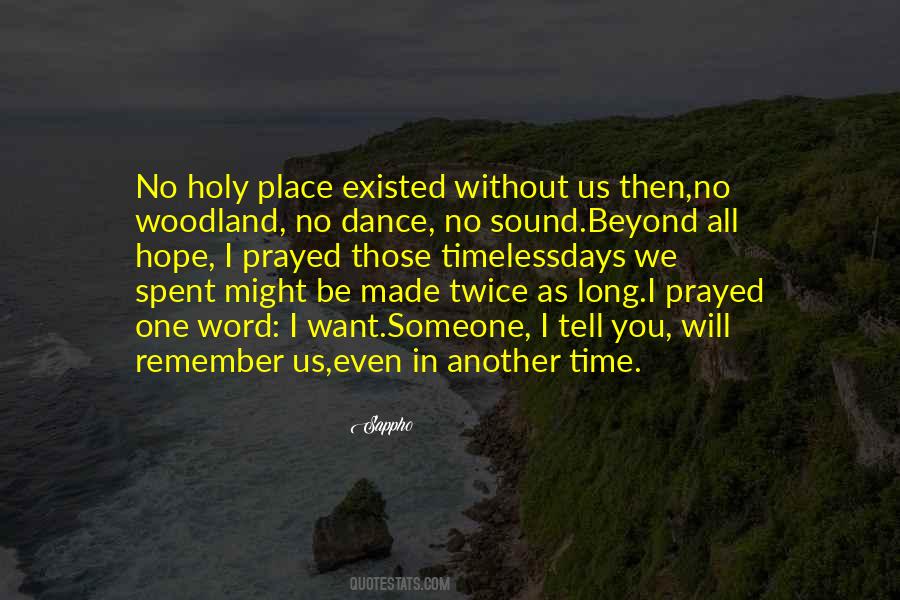 #4. But over time people break apart, no matter how enormous the love they feel for one another is, and it is through the breaking and the reconciliation, the love and the doubting of love, the judgment and then the coming together again, that we find our own identity and define our relationships. - Author: Ann Patchett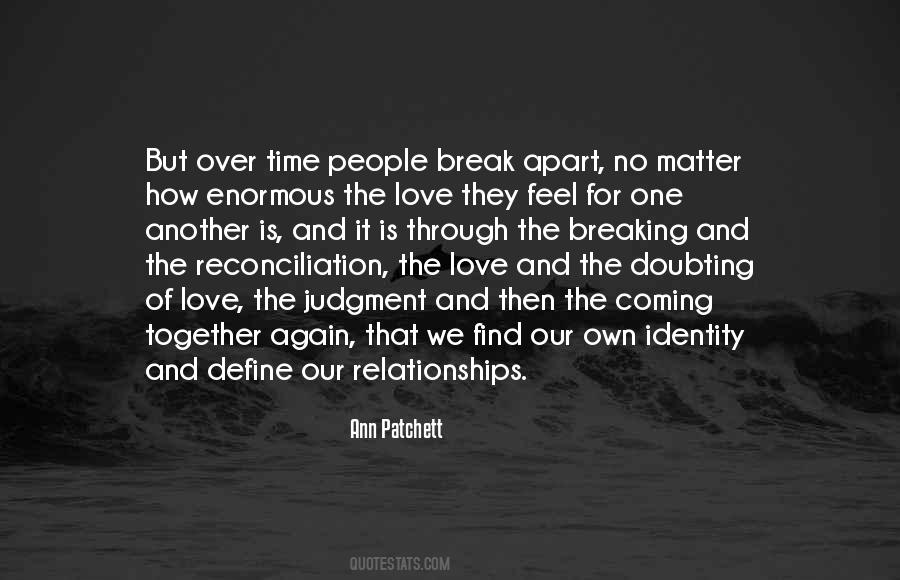 #5. humans are fully capable of loving cats and dogs and tropical fish. If they can love something much less intelligent than humans that does not talk and looks nothing like them, why can they not love one another? Certainly, - Author: Hiroshi Yamamoto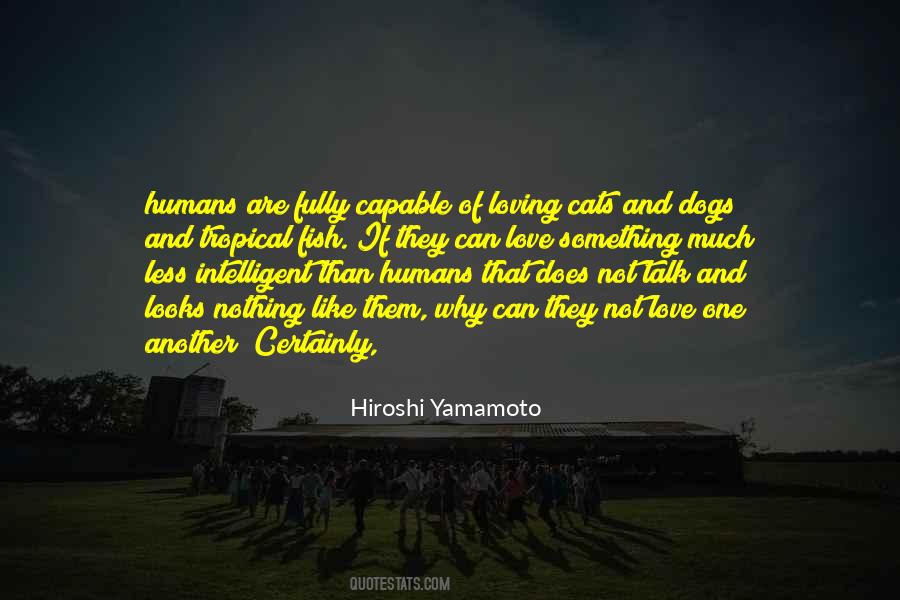 #6. Spirit-led Jesus followers recognize that they are imperfect Christians working with other imperfect Christians to serve a perfect Christ. When we love and give to one another, then we grow as individuals and as the family of God.136 - Author: Mark Driscoll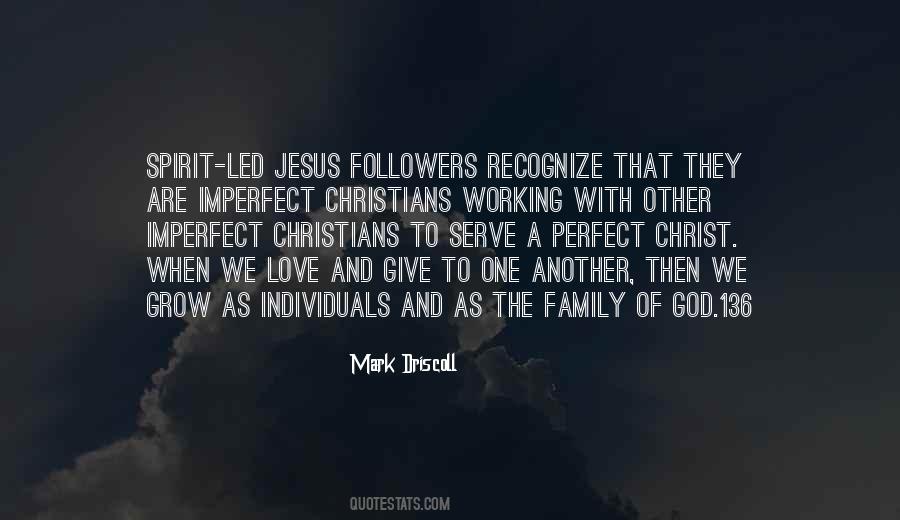 #7. Life is so precious. Please, please, let's love one another, live each day, reach out to each other, be kind to each other. Peace be with you. God is great. - Author: Julia Roberts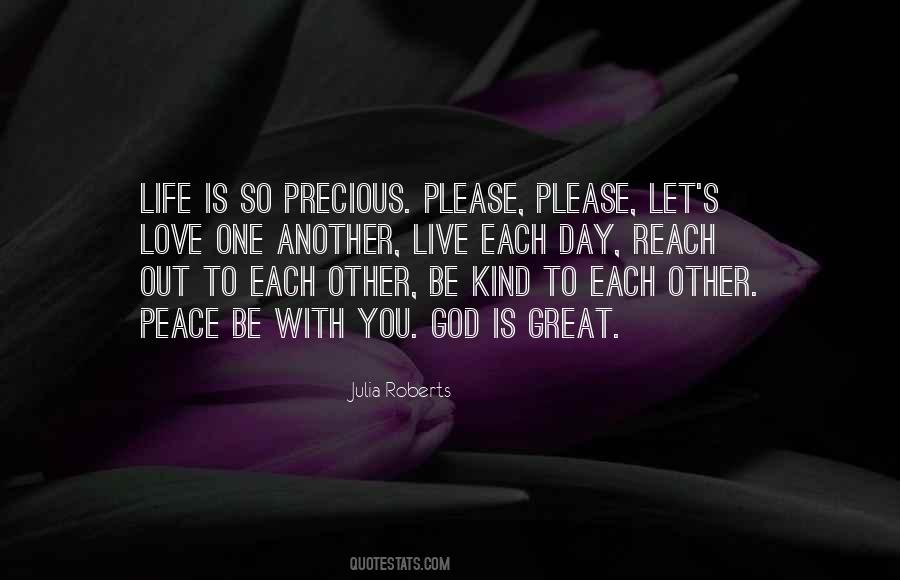 #8. We are not trapped or locked up in these bones. No, no. We are free to change. And love changes us. And if we can love one another, we can break open the sky. - Author: Walter Mosley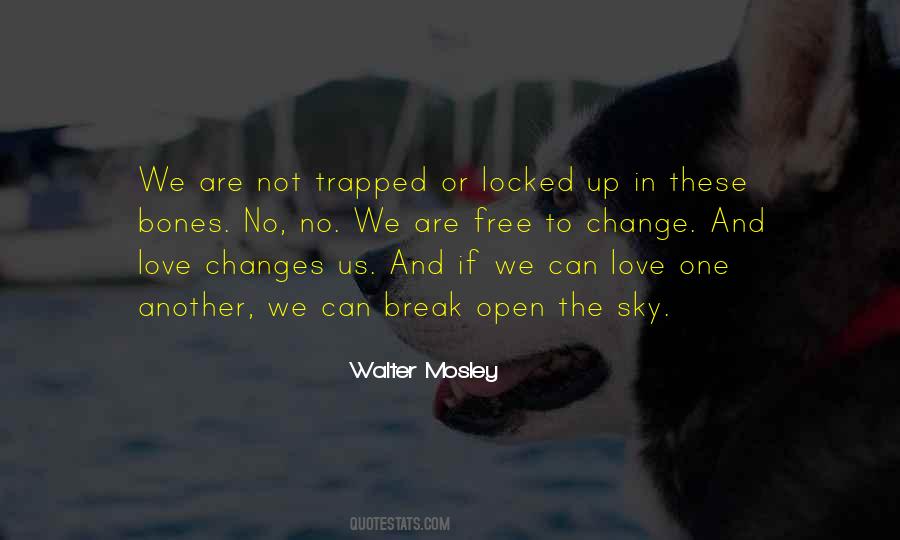 #9. May we embrace one another with love, a smile and a warm hug? - Author: Lailah Gifty Akita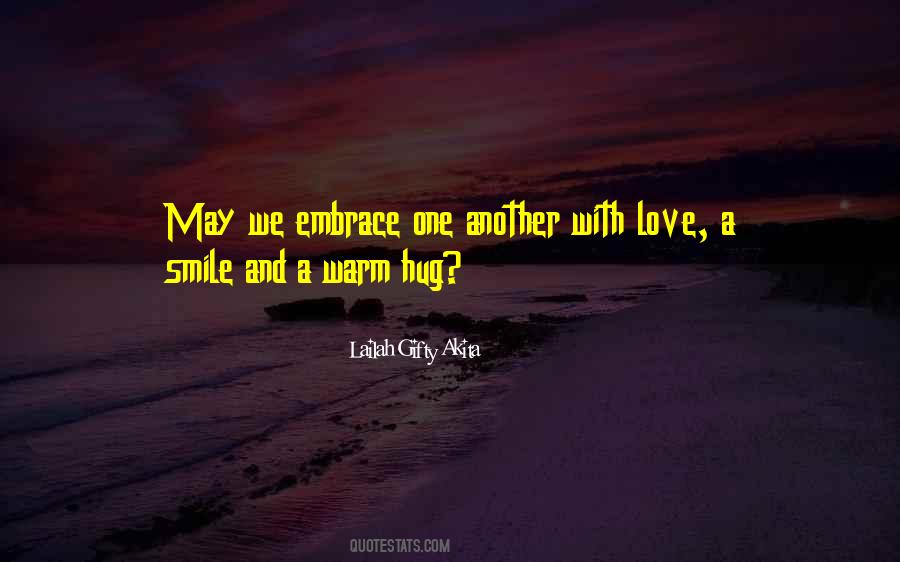 #10. Bear one another's burdens, and so fulfill the law of Christ. Ladies and gentlemen, this is what Christianity is all about. God never intended for us to walk this world alone, and Christ did not die for us to keep His love all to ourselves. - Author: Jen Stephens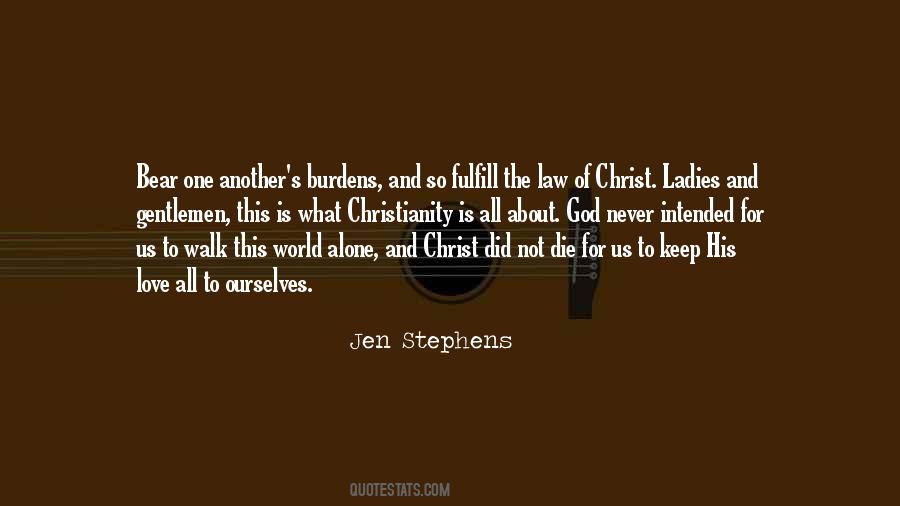 #11. The things that trip a person into love aren't the grand, sweeping traits you expect (must adore Waugh, display altruism, respect my space). The truly endearing properties are the small and apparently trivial gestures and habits that differentiate us one from another. - Author: S.A. Jones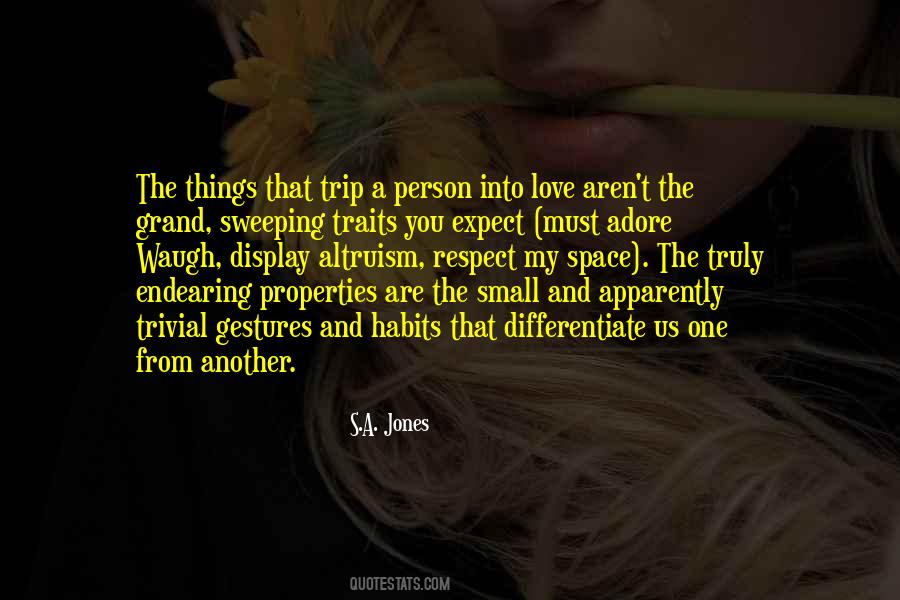 #12. Love is the mistaken belief that one woman differs from another. - Author: H.L. Mencken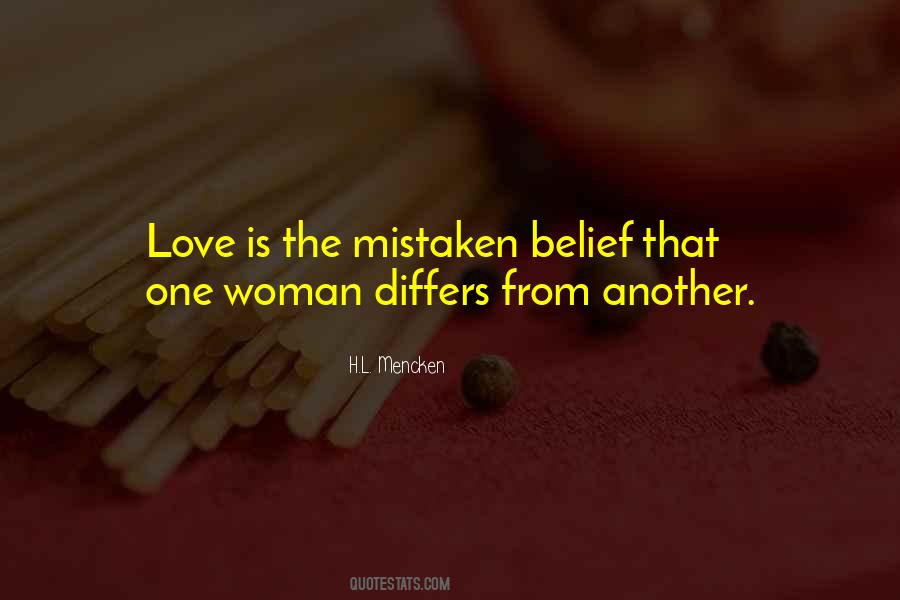 #13. Taking care is one way to show your love. Another way is letting people take good care of you when you need it. - Author: Fred Rogers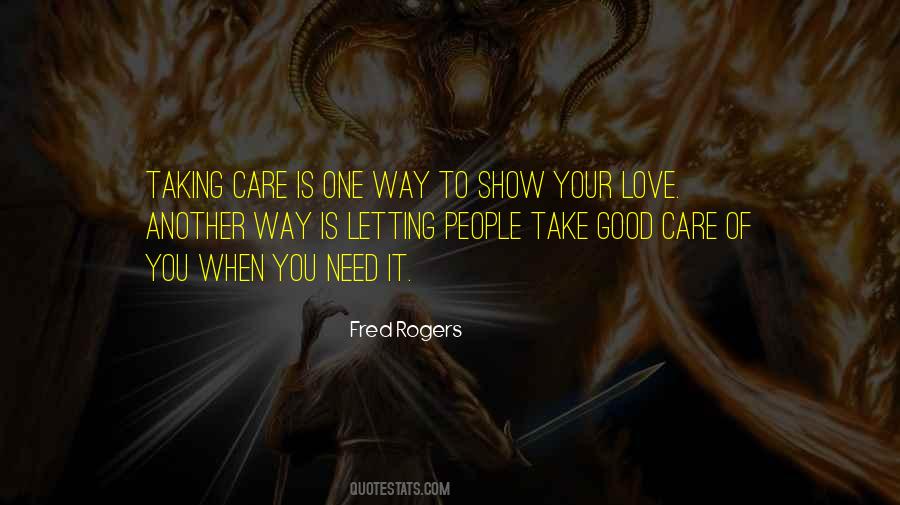 #14. I had so much fun doing Django, and I love westerns so much that after I taught myself how to make one, it's like, 'OK, now let me make another one now that I know what I'm doing.' - Author: Quentin Tarantino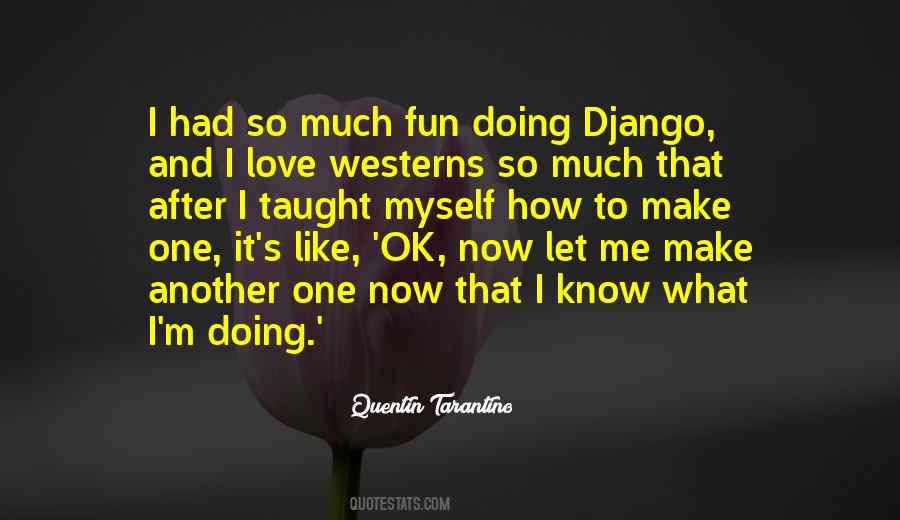 #15. Love one another dearly, always. Nothing else in the world really matters but that: to love one another. - Author: Victor Hugo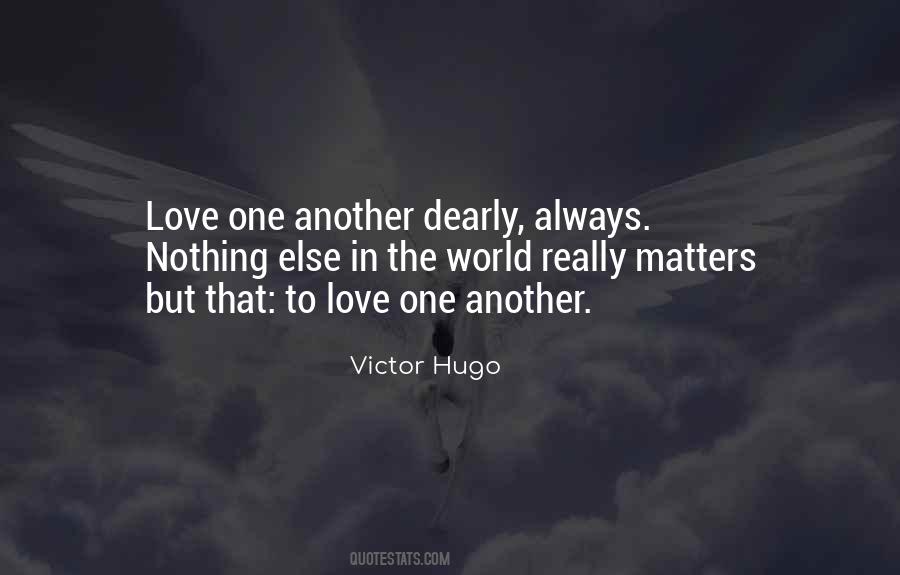 #16. Our interactions with one another reflect a dance between love and fear. - Author: Ram Dass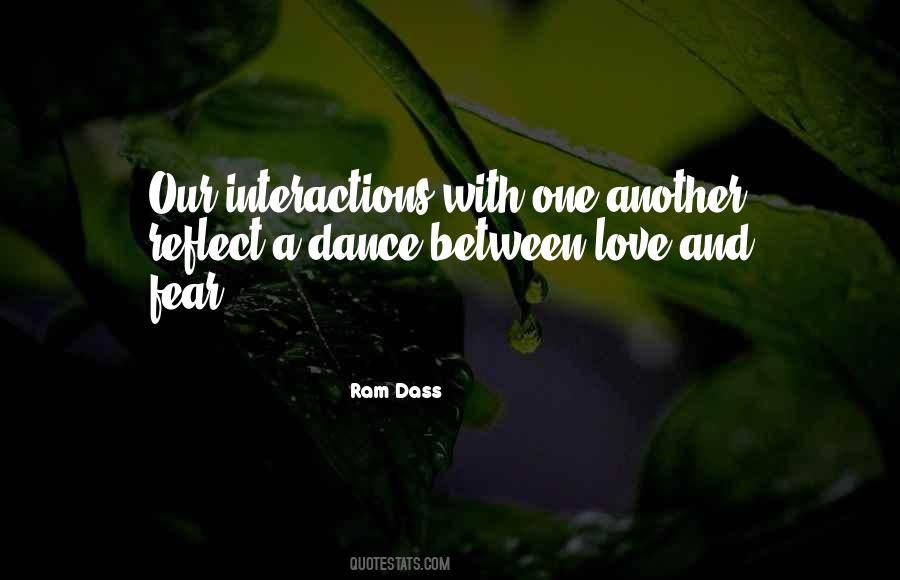 #17. In my opinion, the ability to love another person is one of God's greatest gifts, and I thank God every day for enabling me to give and share love with the people in my life. - Author: Anderson Cooper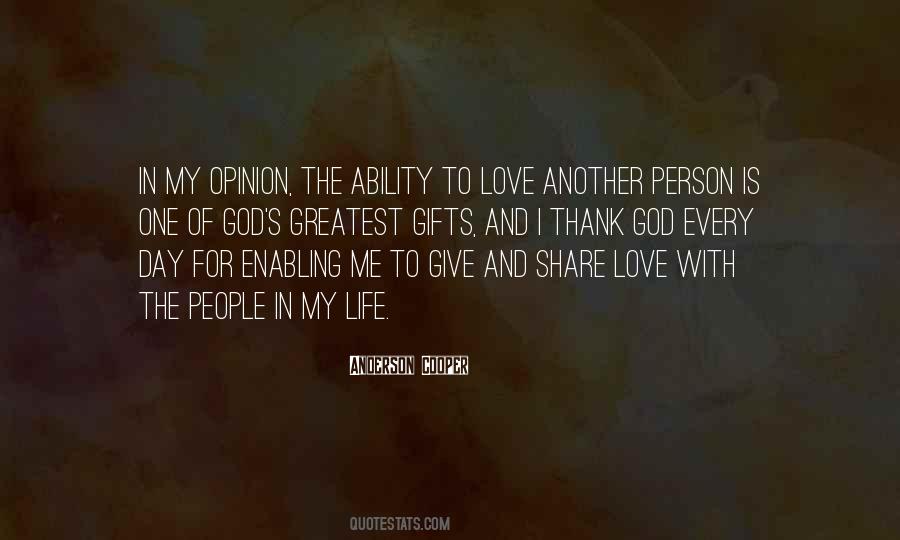 #18. The best kisses in the world take place at night, in the ocean, with two naked bodies coiled around one another, only the stars to keep them company. - Author: Hugh Howey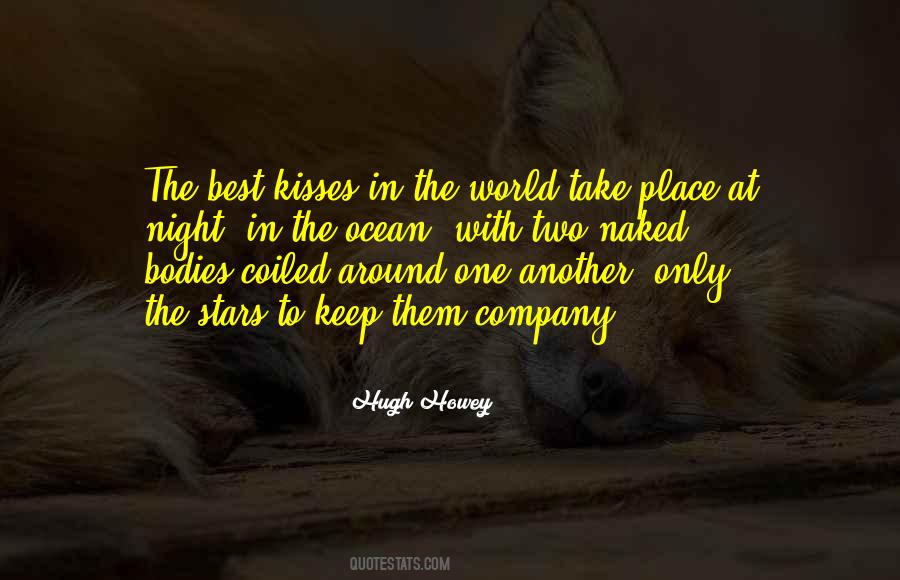 #19. You see them," James said. "The way they all love one another. I used to think everyone loved that way. The way it is in fairy tales. I used to think that love was giving and generous and good. - Author: Cassandra Clare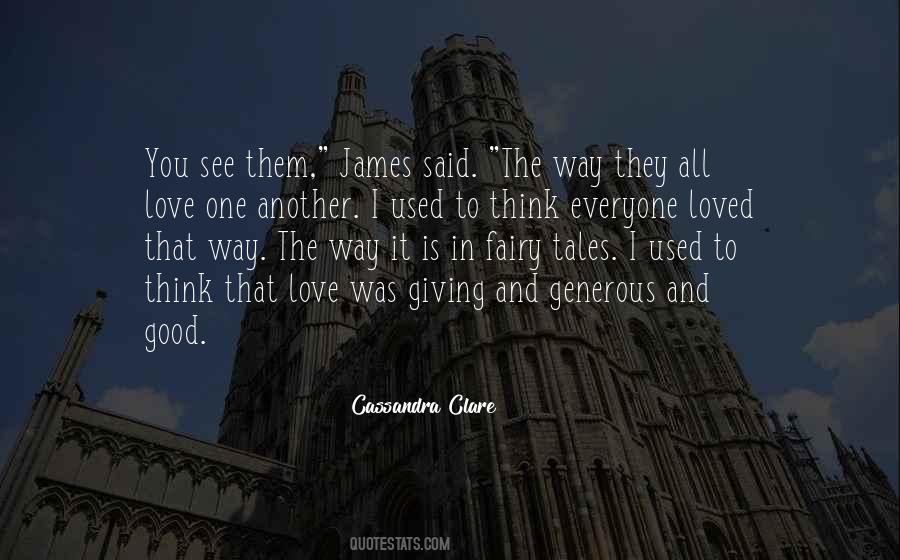 #20. Will you dance with me?" The charms on Sahara's bracelet clinked against one another as she lifted her arms to link them around his neck, her love for him proud and open.
Deep inside, even the part of him that was the void, merciless and dark and broken, knew happiness, knew joy. - Author: Nalini Singh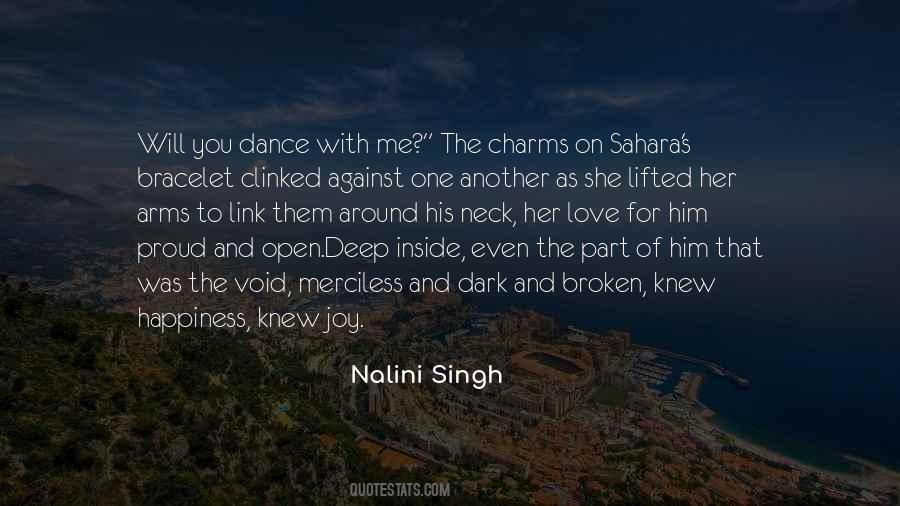 #21. I'm in love with everyone I've ever met in one way or another. I'm just a crazy, unhinged disaster of a human being. - Author: Edie Sedgwick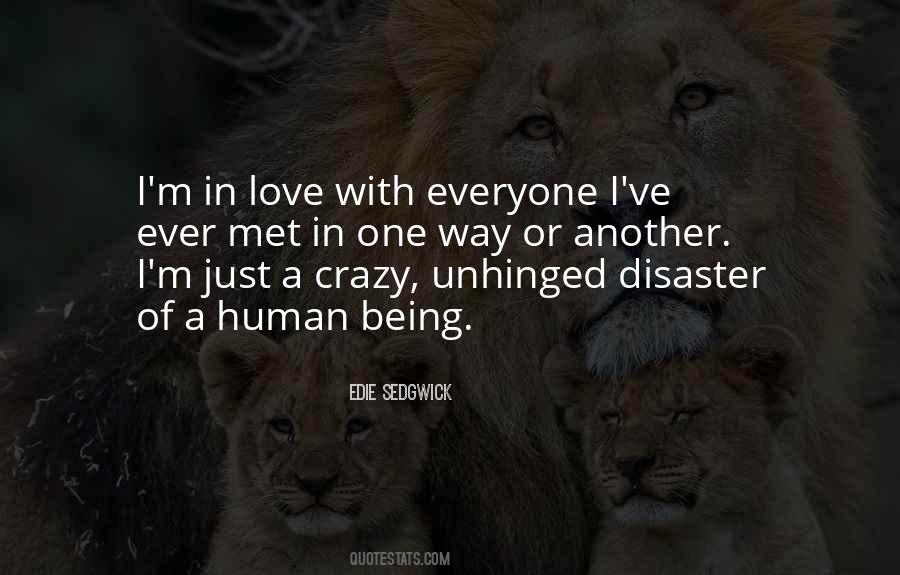 #22. We labor hard for certain but the work is rote and our tomorrows are mostly settled and the way we love one another is cast by the form of our excellent contiguity, a rigorous closeness that only rarely oversteps its bounds. - Author: Chang-rae Lee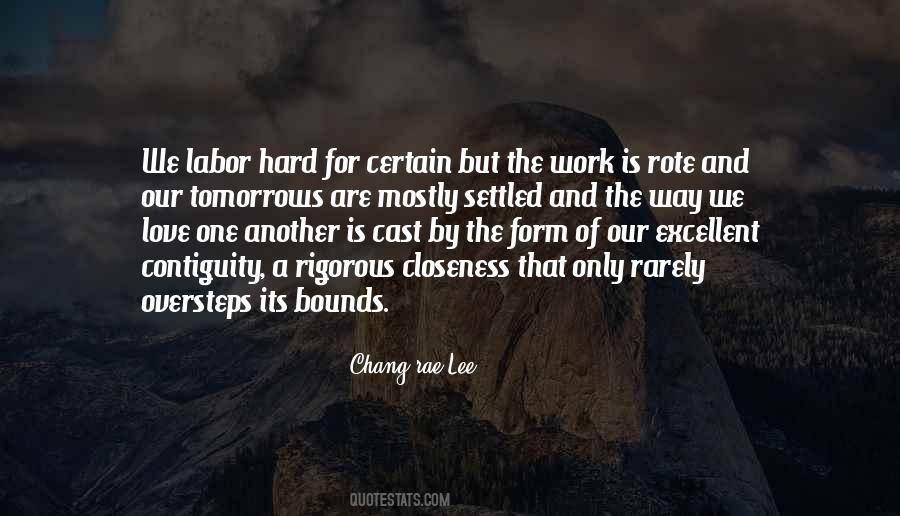 #23. The two of us were everything that we needed to be to one another as we sat behind those strings. - Author: Courtney Giardina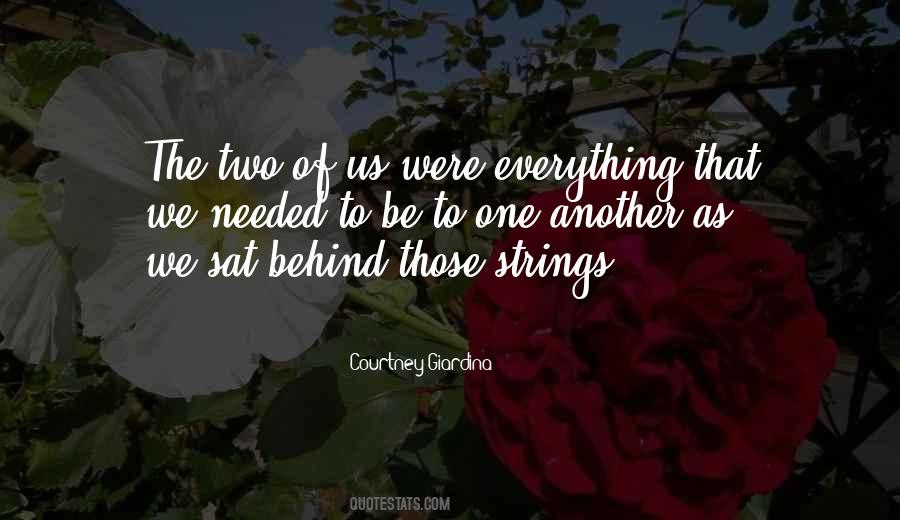 #24. The First and Worst sin couples commit against one another is not adultery but Negligence because it's Negligence that breeds adultery..watch it couples , do not hold back in giving that care and attention. - Author: Jaachynma N.E. Agu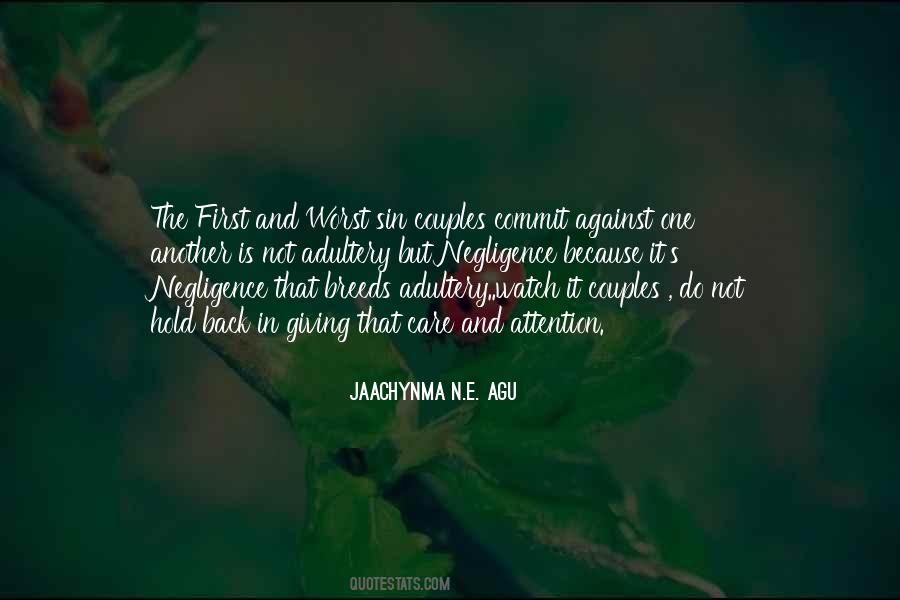 #25. Come on sweetheart
let's adore one another
before there is no more
of you and me - Author: Rumi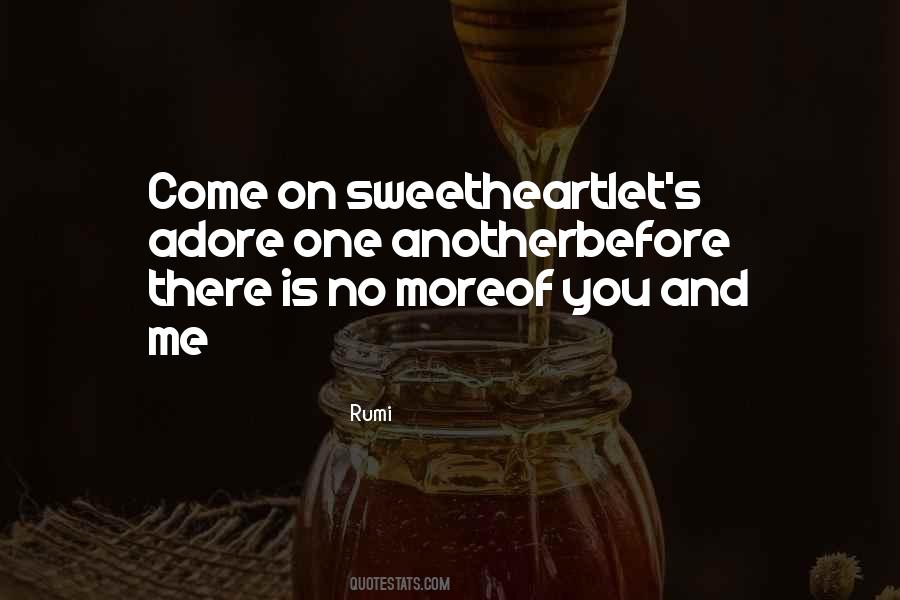 #26. the preferable way to treat one another is with love and kindness; that pursuit of material gain is ultimately empty when measured against eternity; and that somehow, as human beings, we are all connected spiritually. - Author: Christopher Moore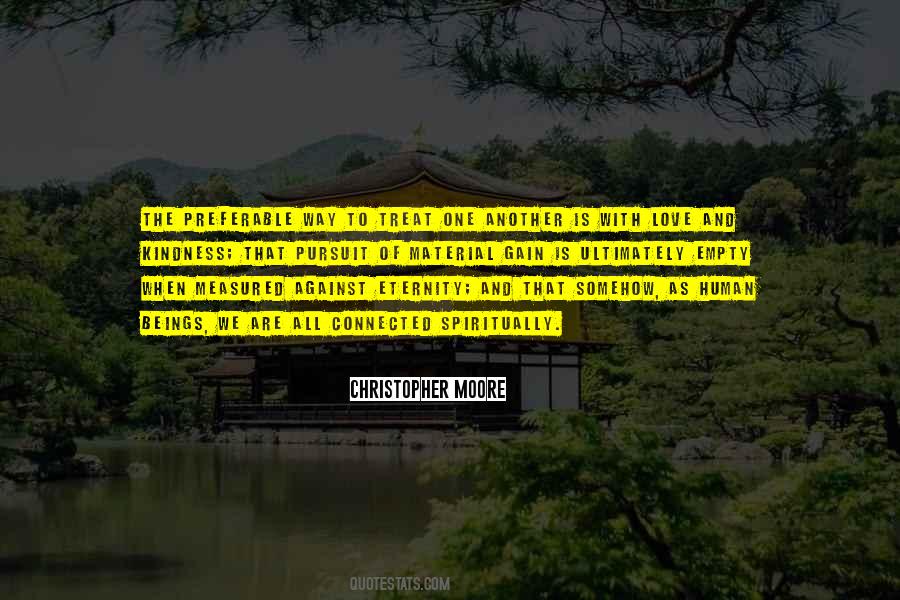 #27. Mma Ramotswe decided to go back into her office. There was a curious thing about male conversation that she had noticed - men often ended up poking fun at one another. Women did this only rarely, but men seemed to love insulting one another. It was very strange. - Author: Alexander McCall Smith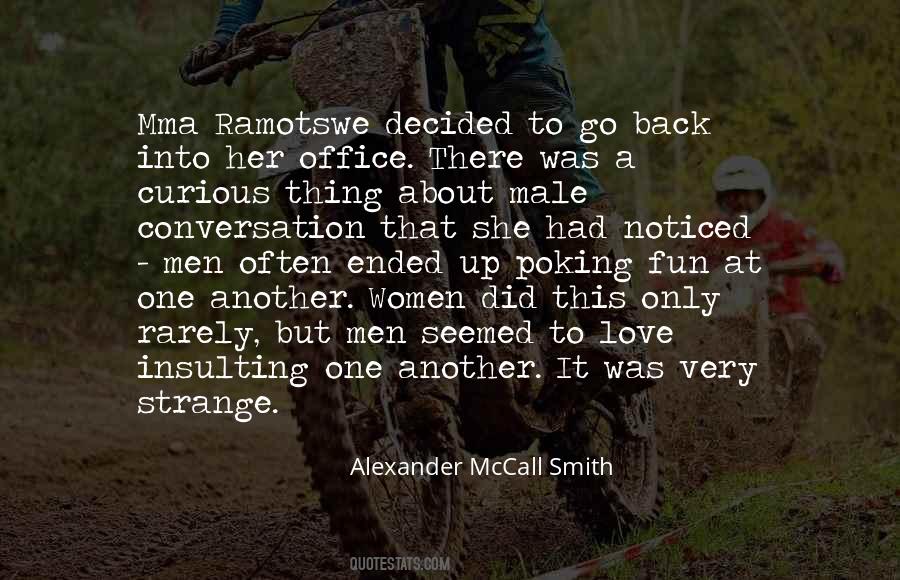 #28. I have defined love as the will to extend oneself for the purpose of nurturing one's own or another's spiritual growth. Genuine love is volitional rather than emotional. The person who truly loves does so because of a decision to love. - Author: M. Scott Peck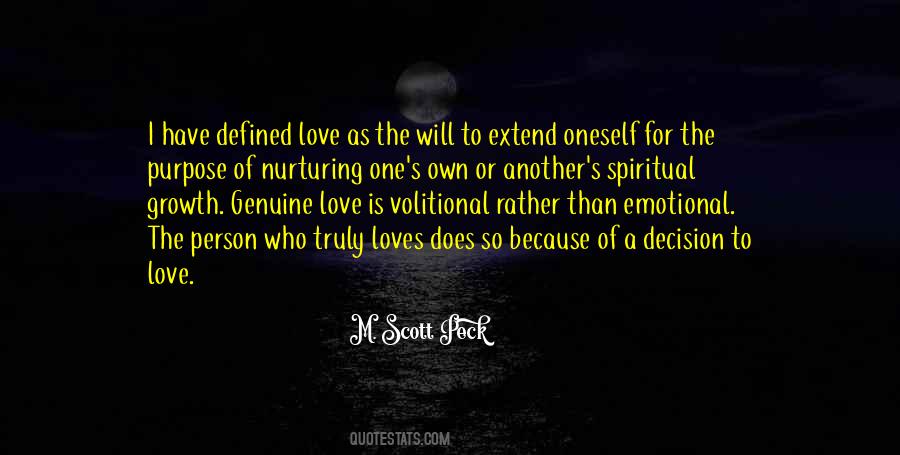 #29. When we are young, we make gods and goddesses of one another, then we soon come to realize that we are all merely human and imperfect. - Author: Elizabeth Aston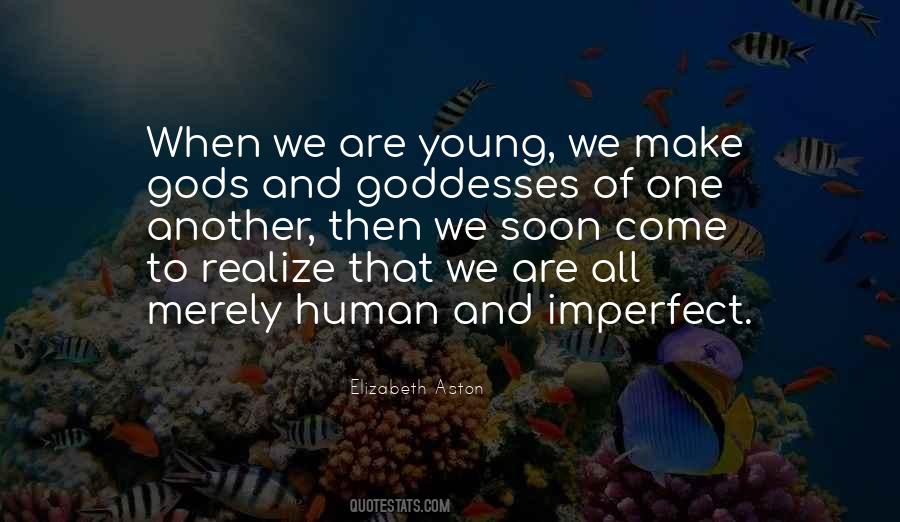 #30. Once your heart overflows with love, another heart will follow. And so it goes.

Yeshua: One Hundred Meaningful Messages for Messengers - Author: Janet G. Nestor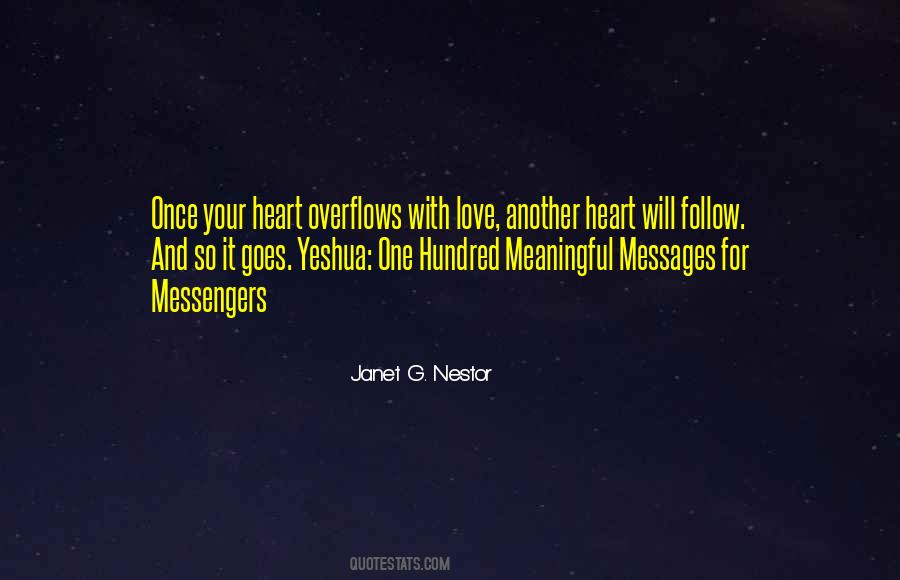 #31. One song bled into another and they remained locked together, neither willing to break the intimacy that surrounded them, concealing them in the small space the two occupied. - Author: Maya Banks
#32. Letters do love one another. However, due to their anatomical differences, some letters have a hard time achieving intimacy. - Author: Ellen Lupton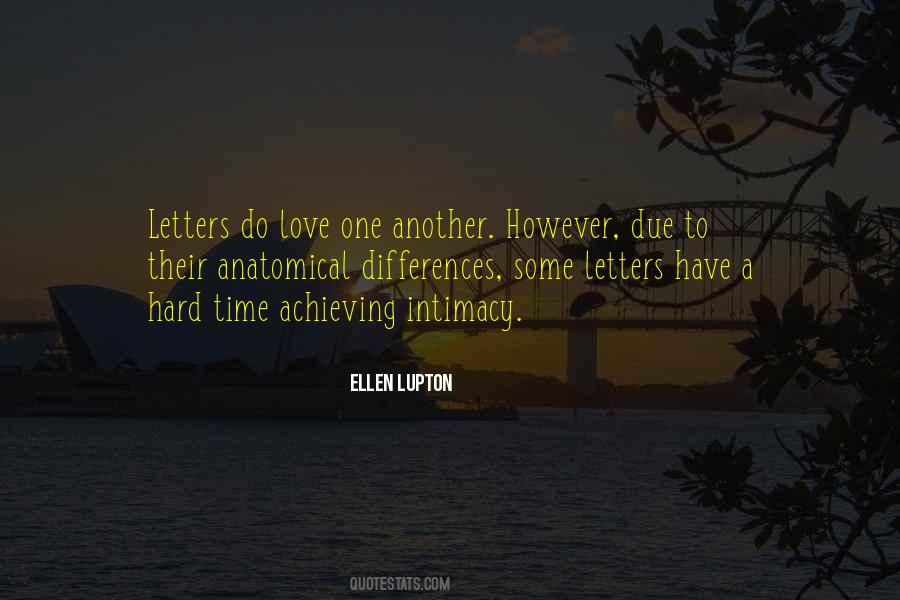 #33. I love TV, don't get me wrong. But with film, you're just banging out this one product and you're not waiting on another script. You have your script. It's great, in that way. - Author: David Anders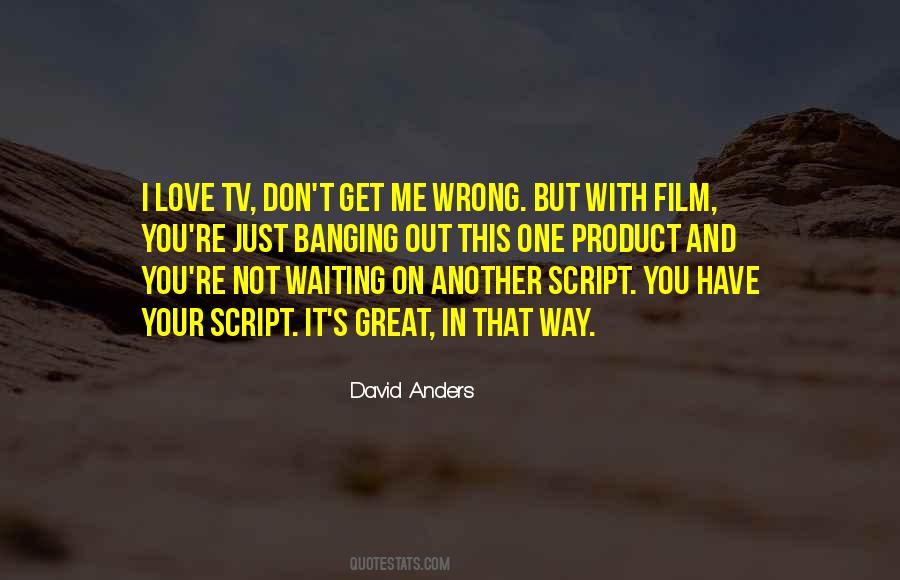 #34. We are on a stroll, hand in hand, in a garden, in the moonlight and the sole purpose of such a venture is to come together in love. - Author: Anuradha Bhattacharyya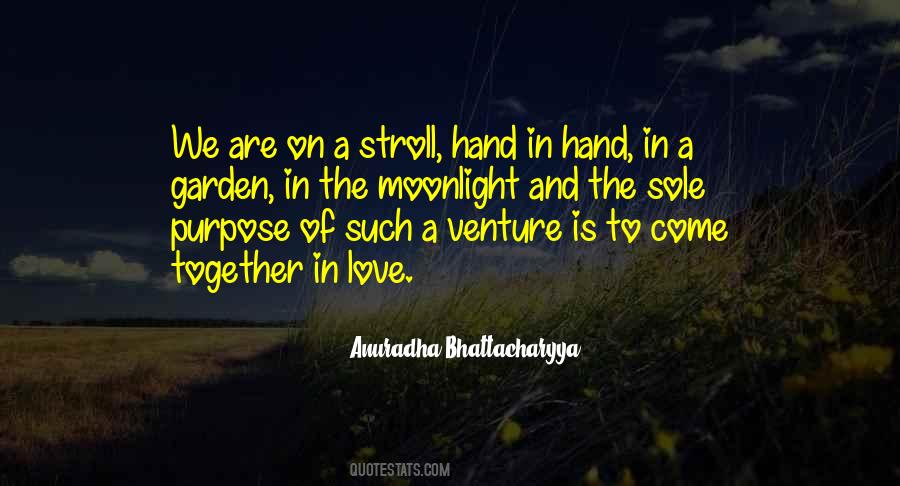 #35. Everyday should be Christmas. Christ first loved us, we ought to love one another. - Author: Lailah Gifty Akita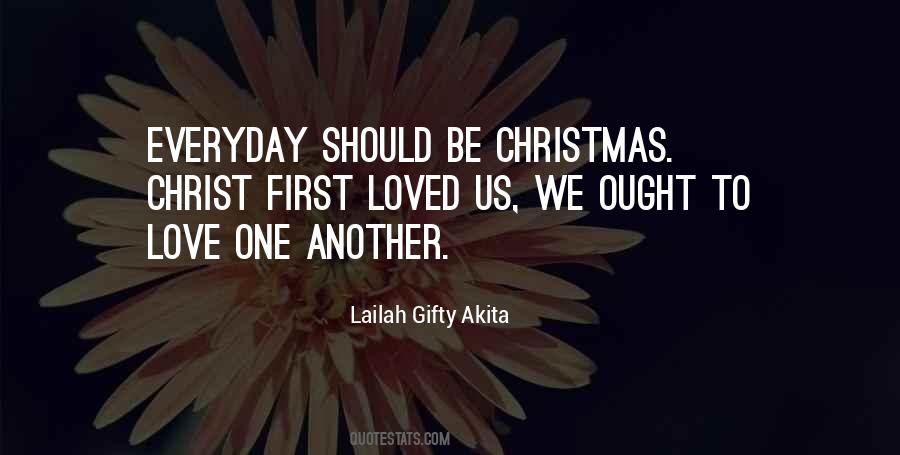 #36. Thank you for giving me another chance."
"Thank you for deserving one. - Author: Kiersten White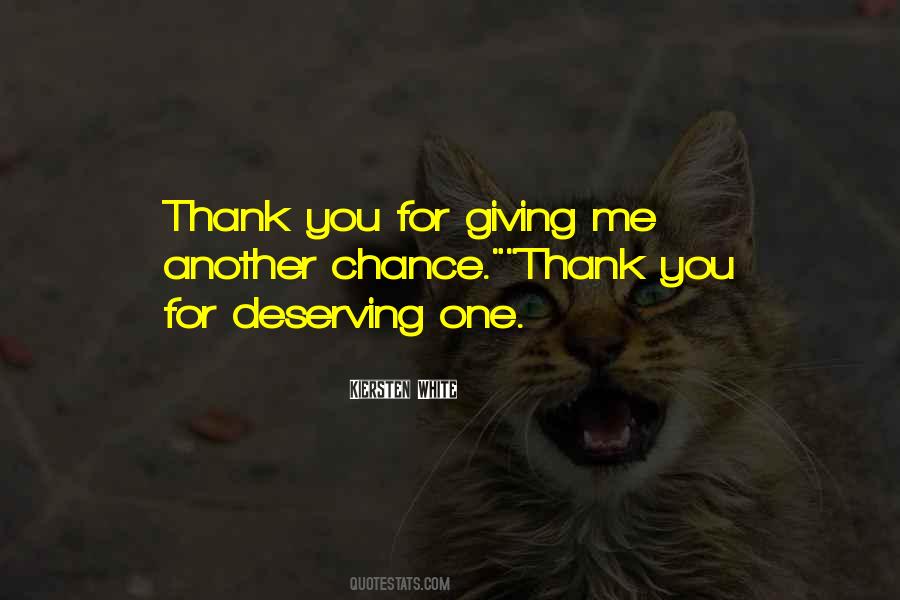 #37. Love one another, Jesus said. Sometimes it took a lifetime to learn how. Sometimes it took someone to hit rock bottom to make someone reach up and grasp hold and be lifted from the mire to stand on a firm foundation. - Author: Francine Rivers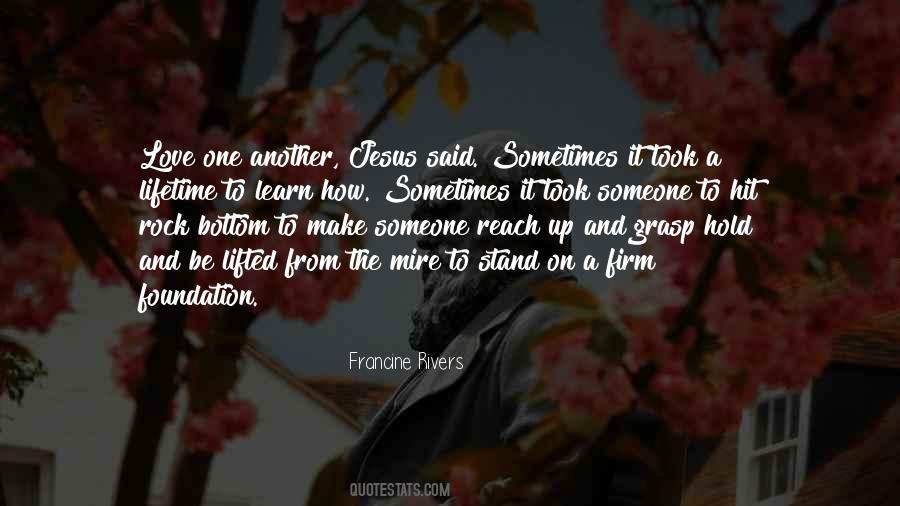 #38. Sometimes the simplest solution out of conflict is becoming someone's friend, instead of saying goodbye forever. - Author: Shannon L. Alder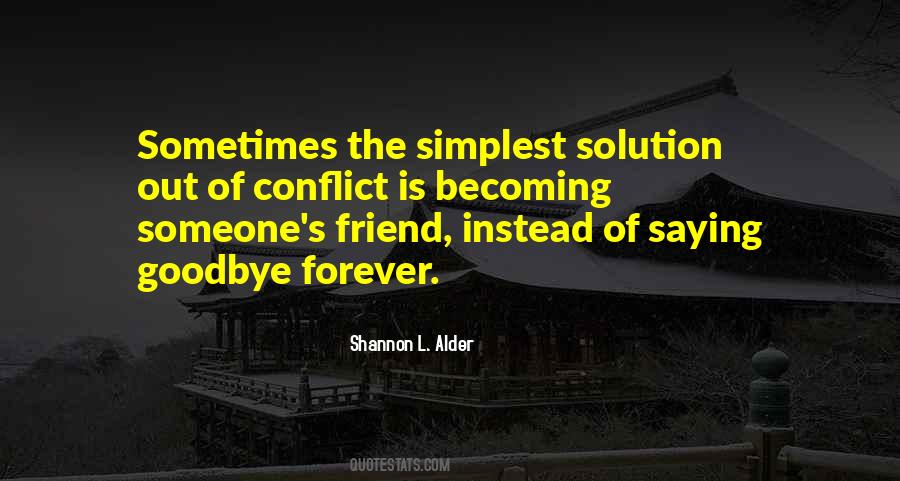 #39. You're married to a woman who has no objection to another woman joining the couple. Then she brings in her boyfriend. Suddenly you realize - my God! - you can love more than one person. In fact, you can love several people at the same time. - Author: Volkmar Sigusch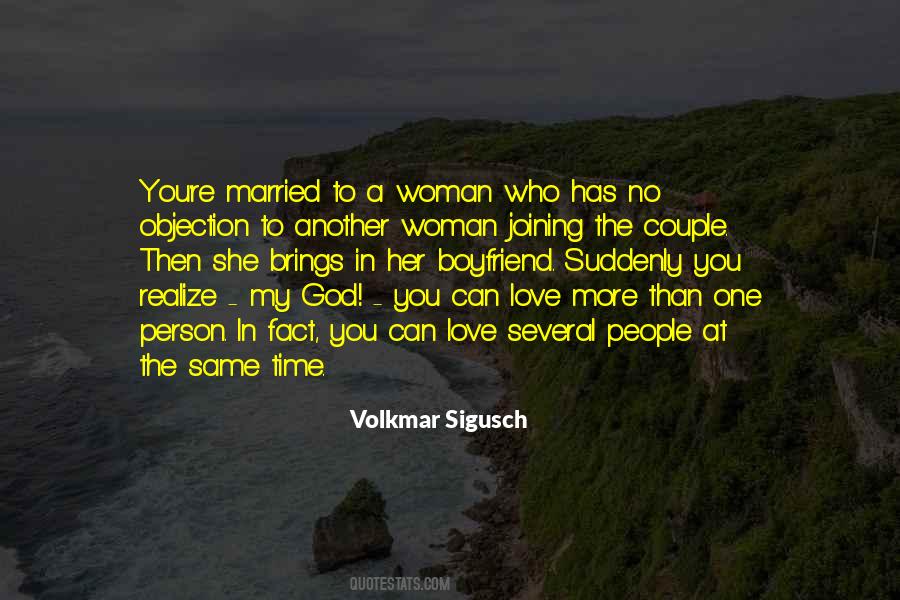 #40. We can never truly or completely know or feel what someone else thinks. This is why we must leave the judging to the only One who can know another person's heart. - Author: Toni Sorenson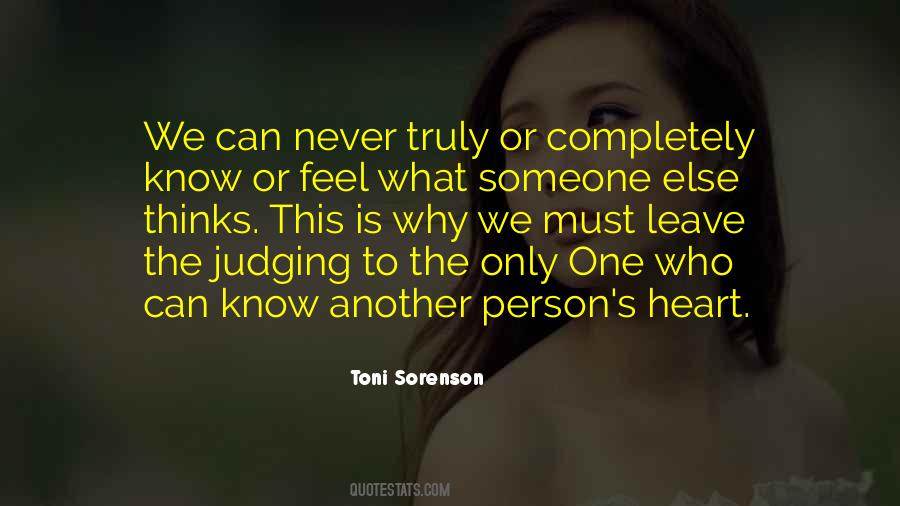 #41. Friends are a special kind of love because they are there for one another like no other relationship can be. - Author: Danielle Barone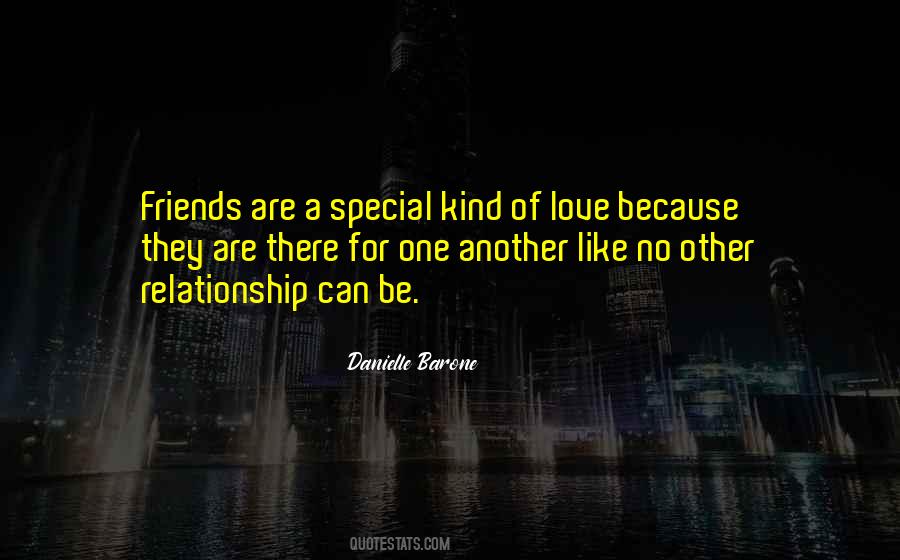 #42. Love is when you can completely trust one another, you feel like you can conquer the world together, you know that person will be there for you, and most importantly, you make each other laugh. - Author: Chelsea Krost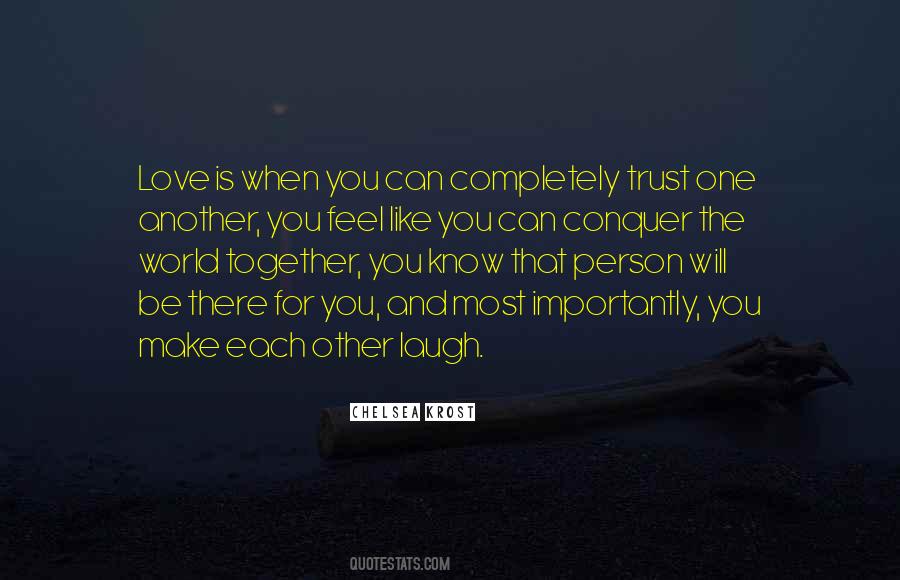 #43. Love one another and you will be happy, it is as simple and as difficult as that - Author: Michael Leunig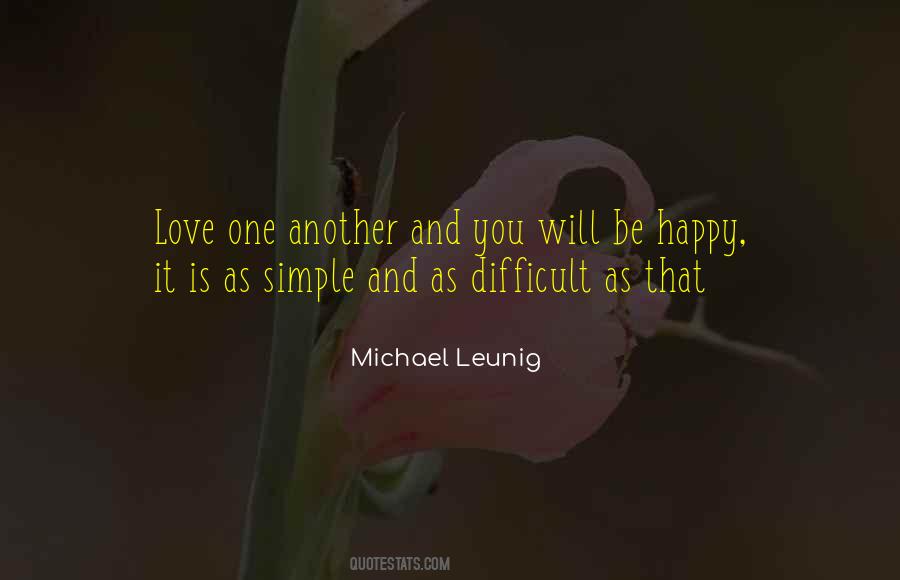 #44. Humans pull together in an odd way when they're in the wilderness. It's astonishing how few people litter and how much they help one another. Indeed, the smartphone app to navigate the Pacific Crest Trail, Halfmile, is a labor of love by hikers who make it available as a free download. - Author: Nicholas Kristof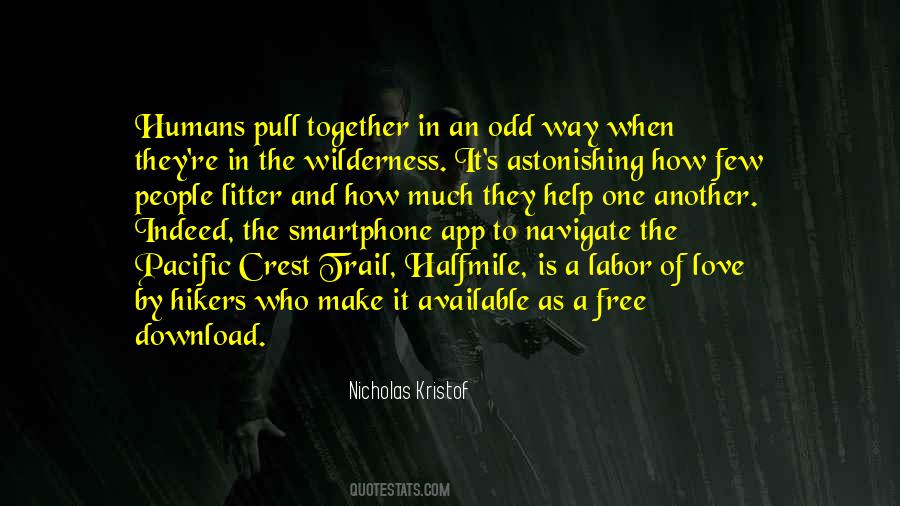 #45. Have you ever lost someone close to you? Someone who is at the core of your universe, the hero of all your stories...when that happens, it isn't just the loss of one life, it's the loss of two lives - one who found another world, perhaps...and one who is left behind. - Author: Faraaz Kazi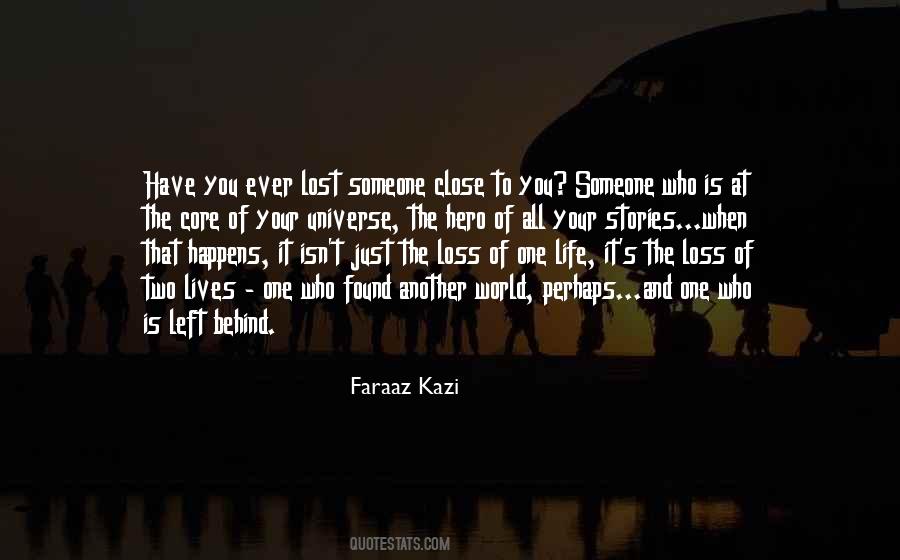 #46. Why does anyone commit murder?' he asked in a low voice.
'I-'I blinked.'How should I know?'
'Three reasons,' Christopher said. He held up one finger. 'Love.' Another finger. 'Revenge.' And finally, a third finger. 'Profit ... - Author: Meg Cabot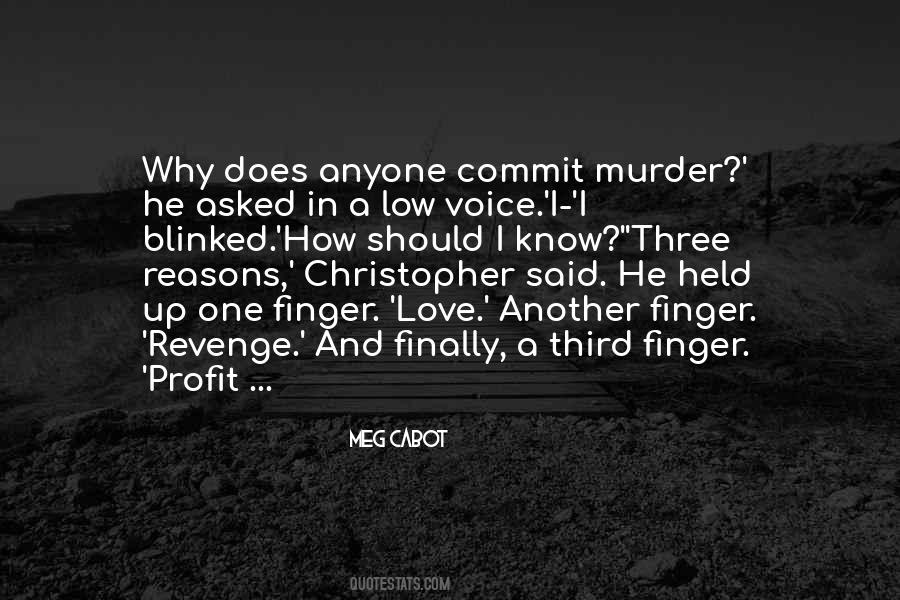 #47. Conor, I could search the world for another swashbuckling scientist, but I doubt if I would find one like you. - Author: Eoin Colfer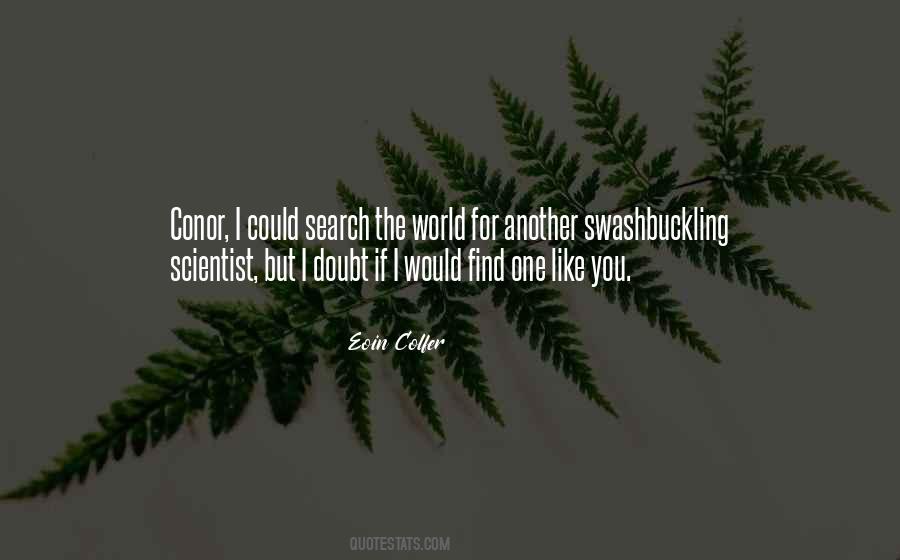 #48. A powerful truth is that if we love the Lord, love His Word, love His people, and love one another, we won't want to gossip. - Author: Elizabeth George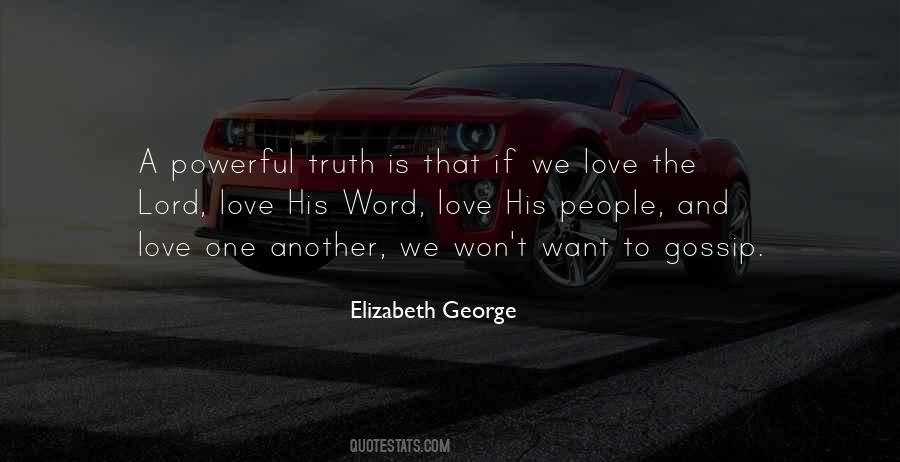 #49. I love a natural look in pictures. I like people with a feeling one way or another - it shows an inner life. I like to see that there's something going on inside them. - Author: Marilyn Monroe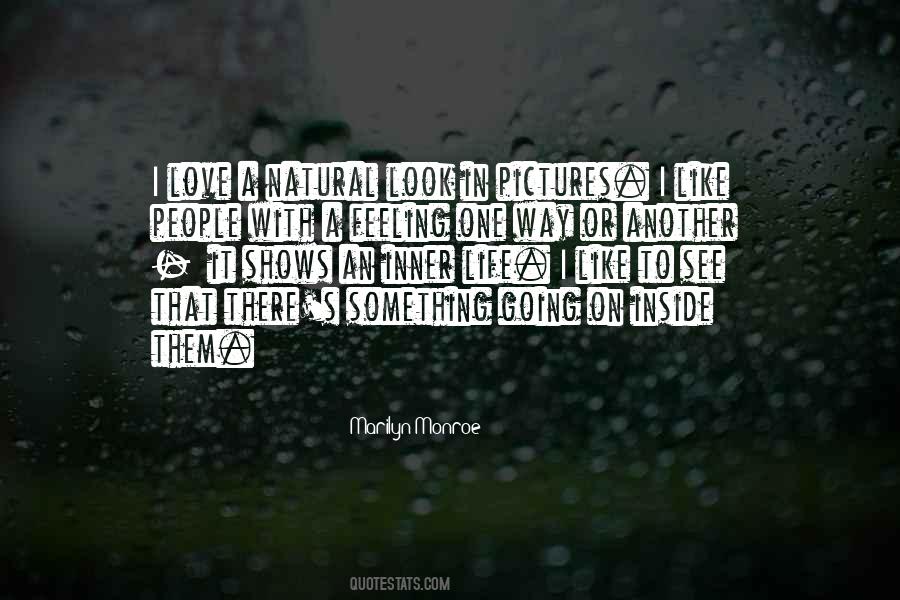 #50. On some level we trade passion for security, that's trading one illusion for another. It's a matter of degree. We can't live in constant fear, but we can't live without any. The fear of loss is essential to love. - Author: Esther Perel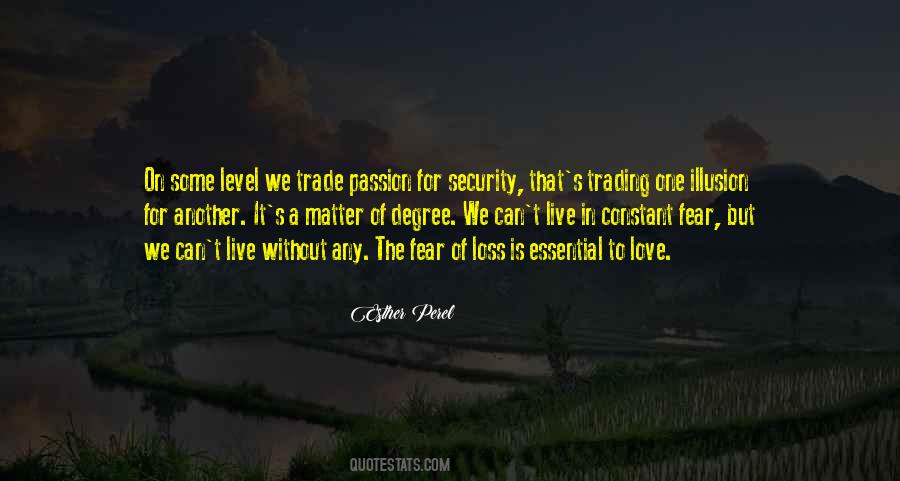 #51. ...we'd be okay. Not perfect, not entirely healthy, not even rational where our love for one another was concerned. Just okay. Merely sufficient, at best. But there'd be only acceptance - never shame - in being two divine failures as we emerged from slumber, perfectly flawed, and wide awake. - Author: AngstGoddess003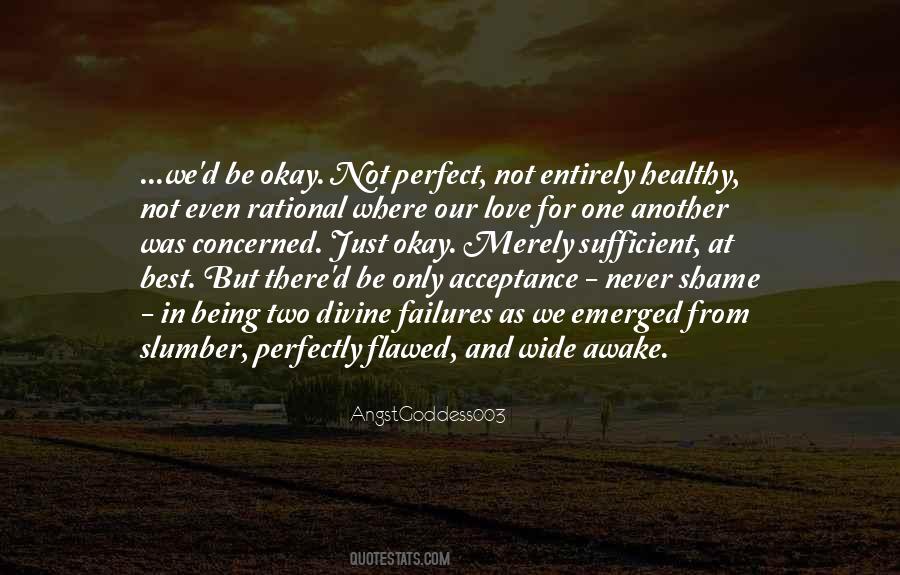 #52. True love is a lack of desire to check one's smartphone in another's presence. - Author: Alain De Botton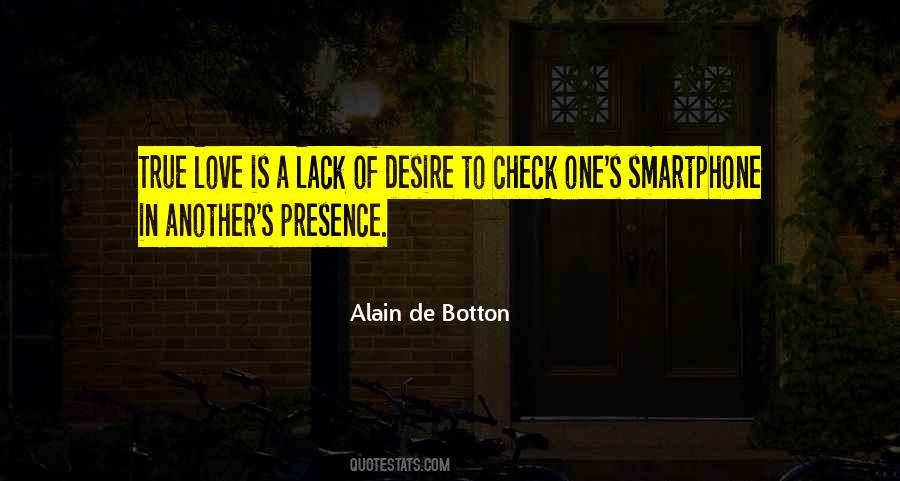 #53. Love is an activity, not a feeling ... True love is not the helpless desire to possess the cherished object of one's fervent affection; true love is the disciplined generosity we require of ourselves for the sake of another when we would rather be selfish. - Author: Stephen L. Carter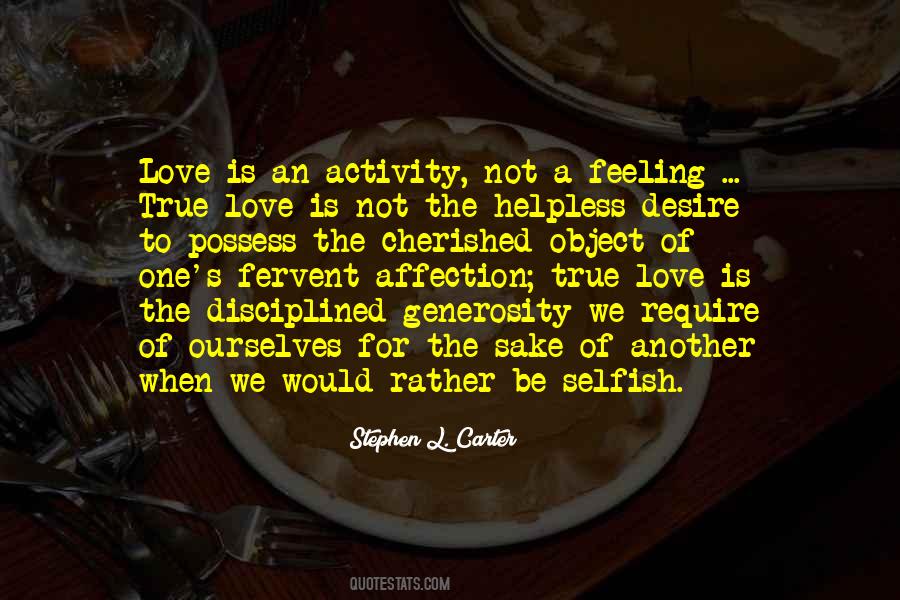 #54. To be a disciple means that we deliberately identify ourselves with God's interests in other people. That ye love one another; as I have loved you ... - Author: Oswald Chambers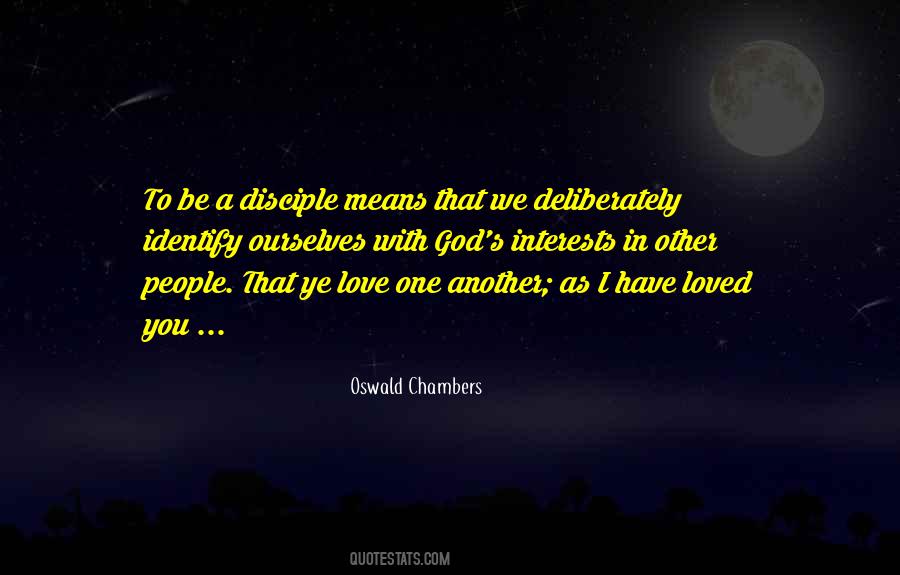 #55. Now let me teach you another thing about my daughter. I love her very much but she has the ability to hide as expertly as a sock in a washing machine. No one knows where it goes, just as no one knows where she goes, but at least when she decides to come back, we're all here, waiting for her. - Author: Cecelia Ahern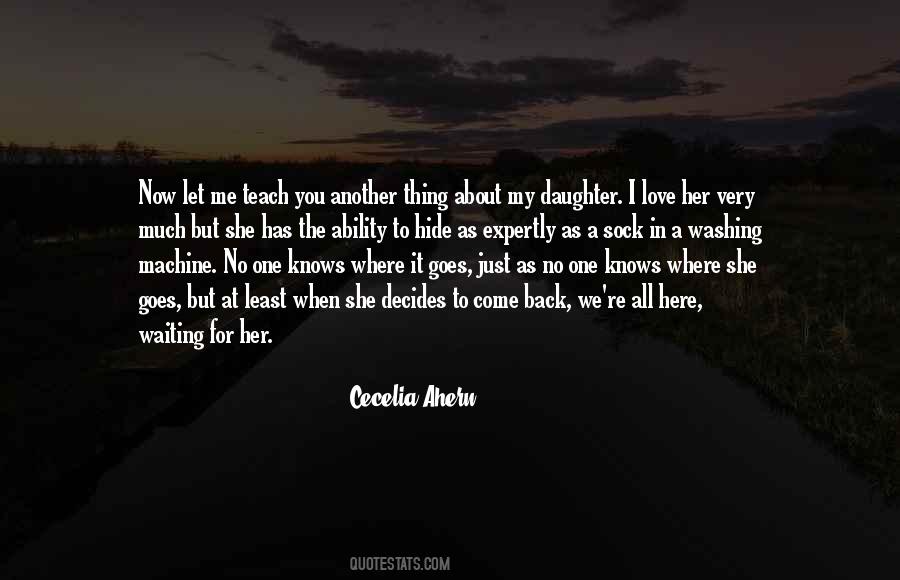 #56. He perched the bat on his shoulder, giving a nod that he understood I needed his help. With one loud yell and a couple swings of the bat, he cleared me another path. - Author: Holly Hood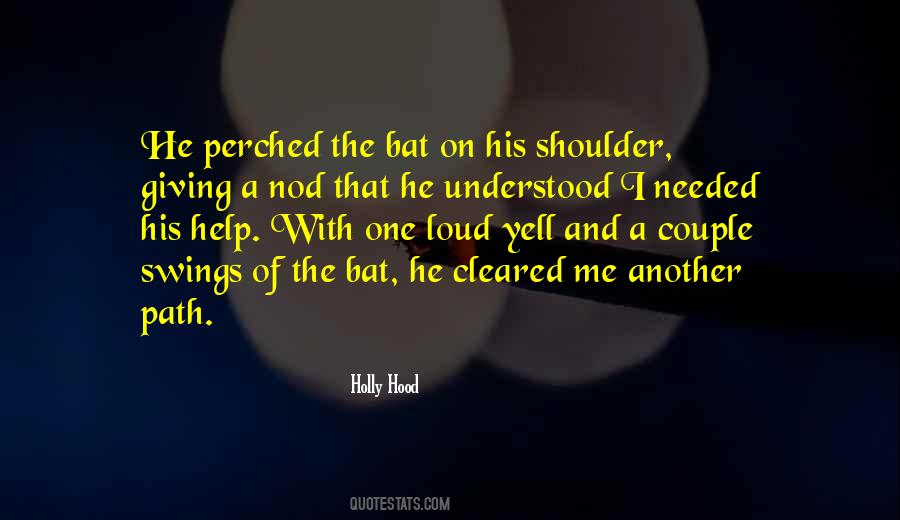 #57. We ought to recognize that our greatest battle is not with one another but with our pain, our problems, and our flaws. To be hurt, yet forgive. To do wrong, but forgive yourself. To depart from this world leaving only love. This is the reason you walk. - Author: Wab Kinew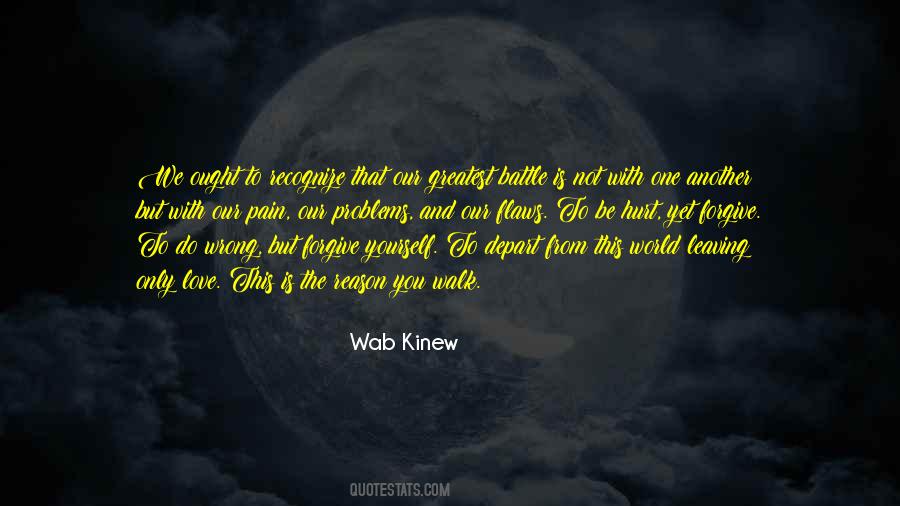 #58. Those beautiful words we said to one another are hidden in the secret heart of heaven. One day, like the rain, they will pour our love story all over the world. - Author: Jalaluddin Rumi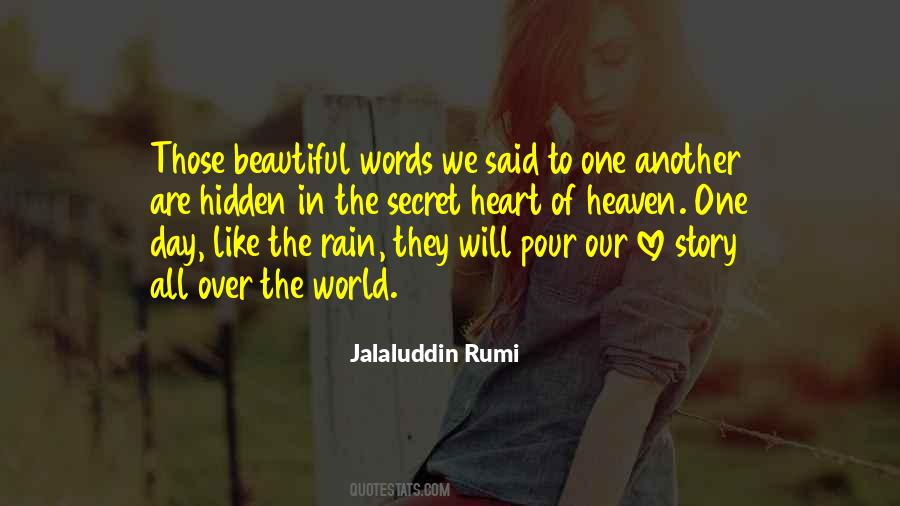 #59. Meg," he whispered. "It wouldn't be real love if there weren't the possibility for another response to him. If we couldn't choose not to love him, then our love would be empty. That's why there's evil in this world, because there's free choice in this world. He allows the one to prove the other. - Author: Laura Anderson Kurk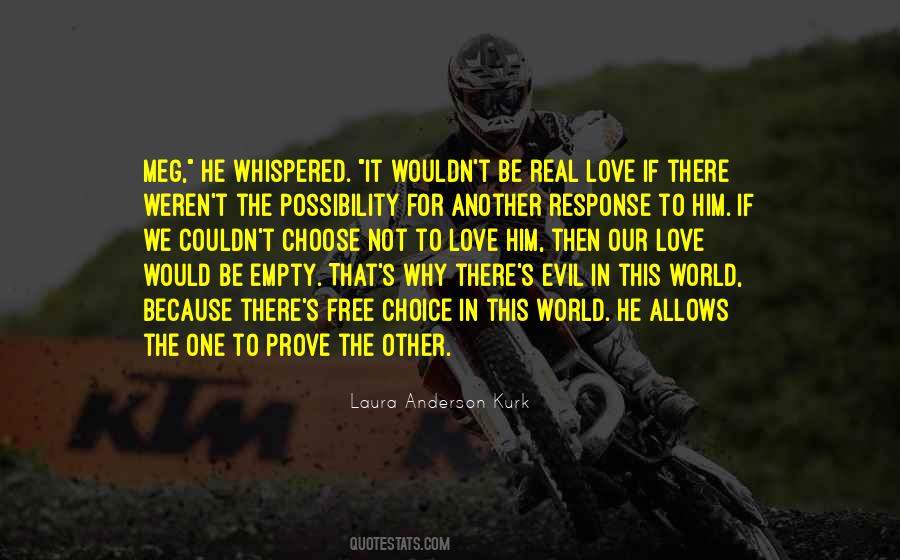 #60. Abby: In another life, I could love you.
Travis: I might love you you in this one. - Author: Jamie McGuire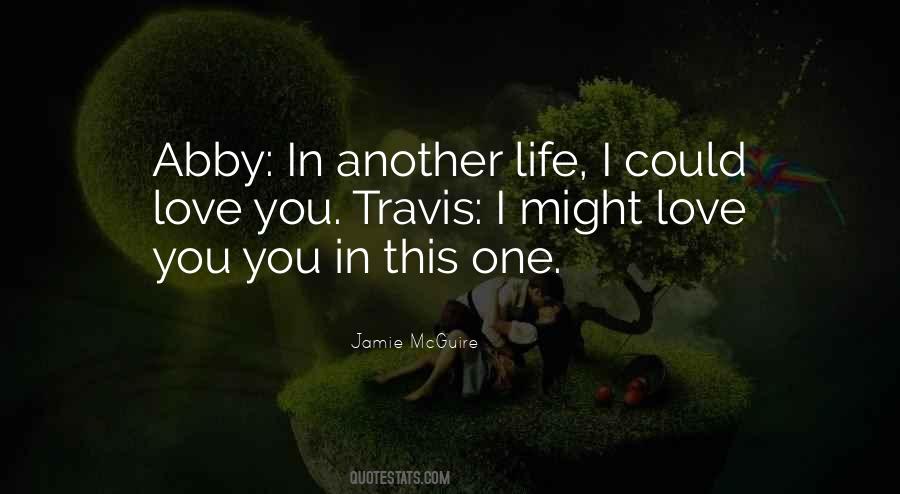 #61. We kind of fell into one another, not even realizing it was happening. - Author: Ashley D. Wallis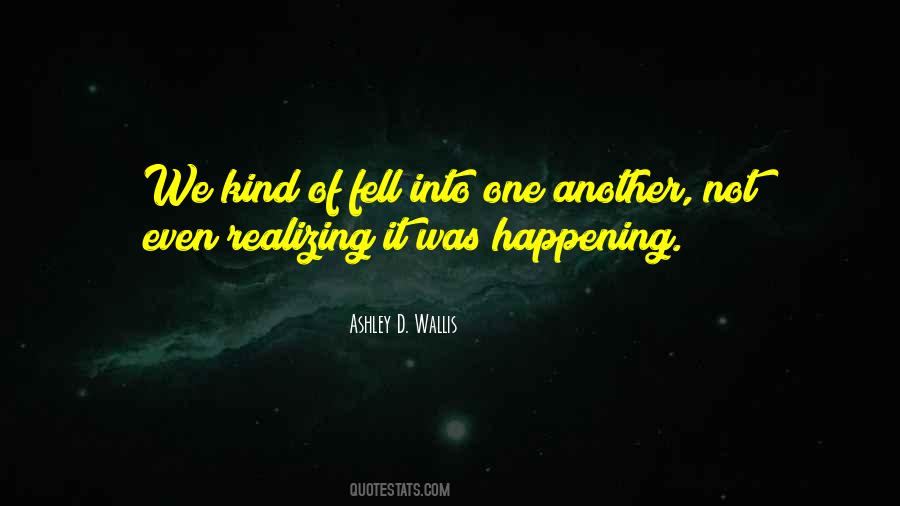 #62. Life is one fool thing after another whereas love is two fool things after each other. - Author: Oscar Wilde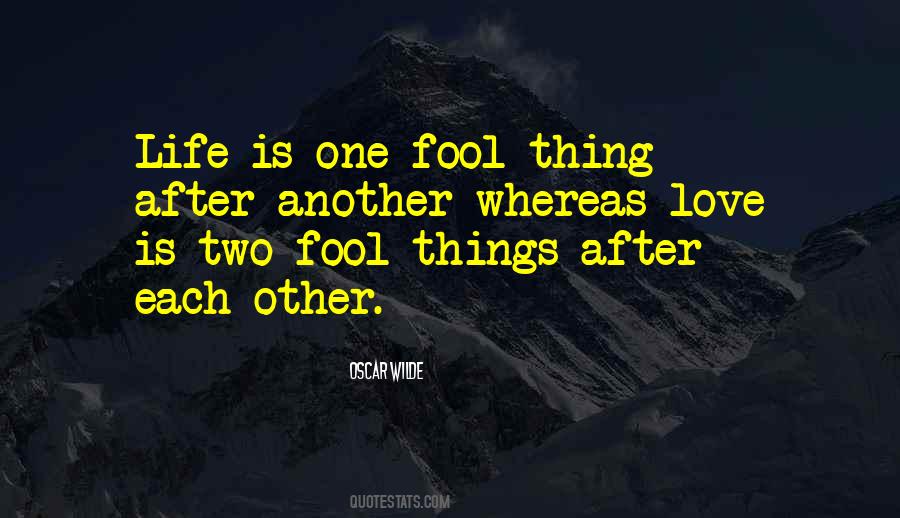 #63. When the sun died, I went up to heaven and saw God and all the people who had died a long time ago. God told me to come back and tell my people they must be good and love one another, and not fight, or steal, or lie. He gave me this dance to give to my people. - Author: Wovoka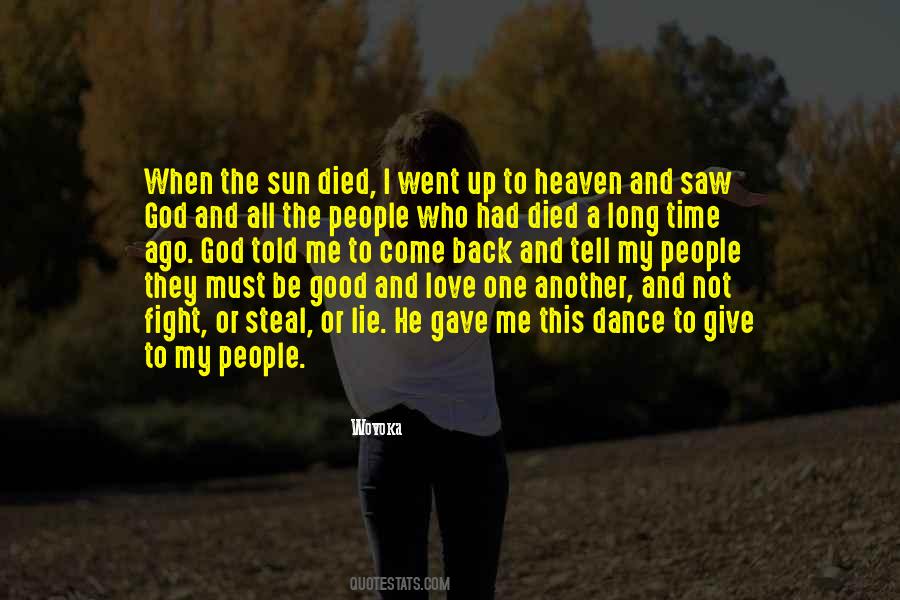 #64. The best theology is probably no theology; just love one another. - Author: Charles M. Schulz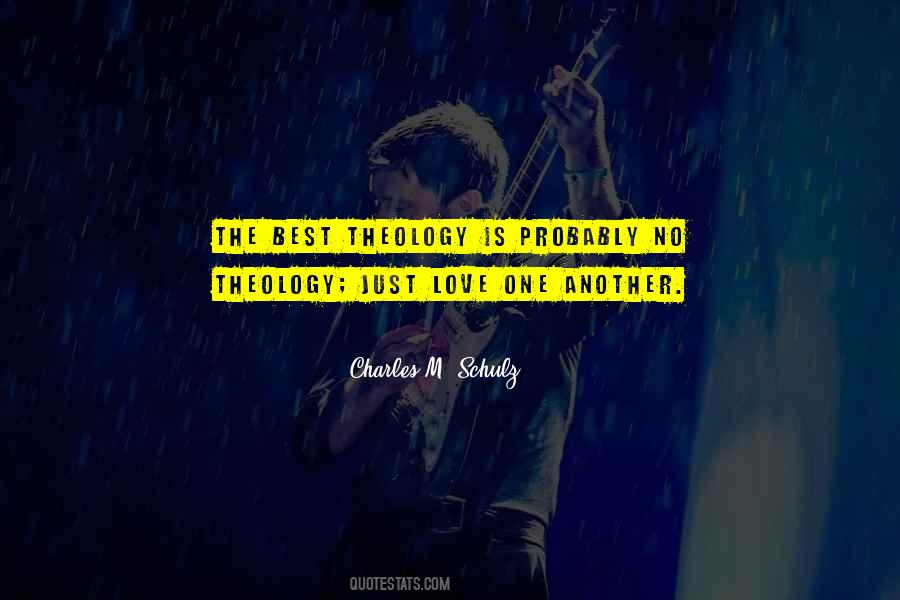 #65. When I woke up and the dark wasn't gone yet, and the dark seemed so big, then she sang soft and made the dark small again.
That is the best of all things we can do for one another: Make the dark small. - Author: Dean Koontz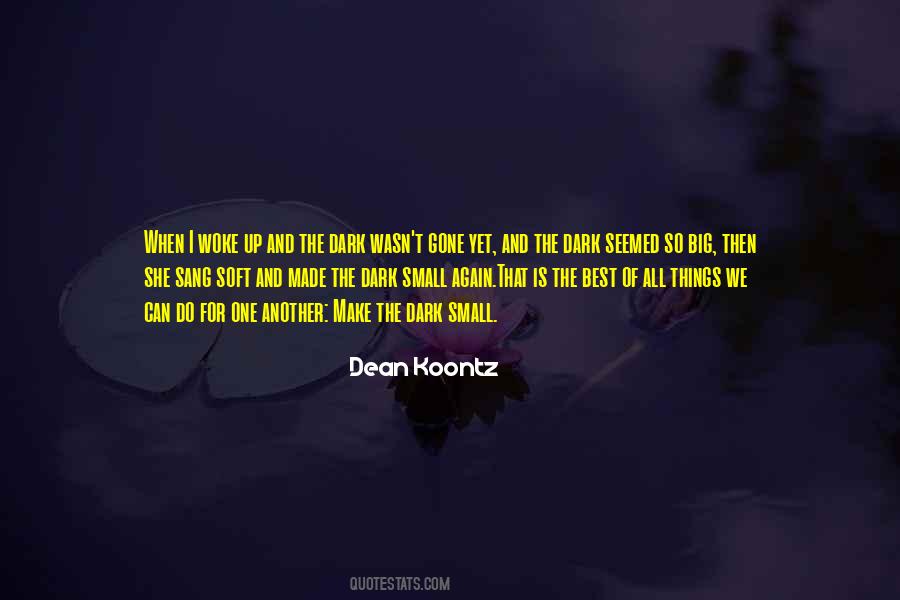 #66. In all your dealings with one another, speak the truth in love, that you may grow up. - Author: Anonymous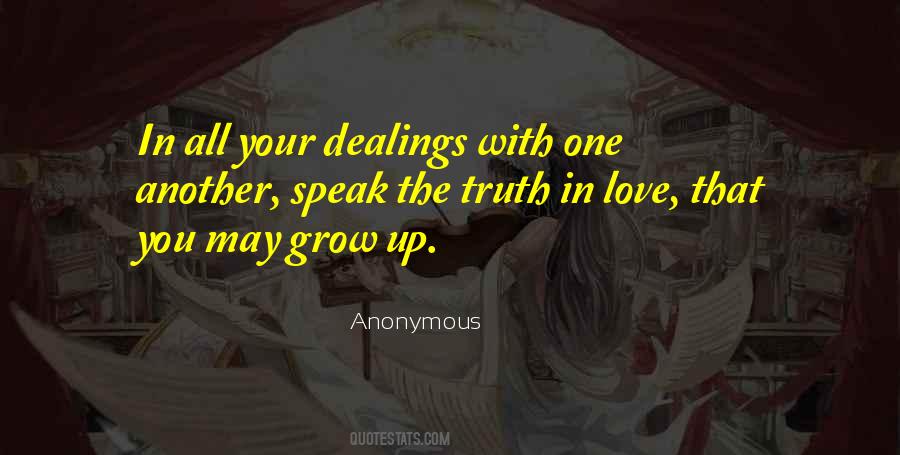 #67. Relationships based on selfish reasons will not give you love, fulfillment or inner-happiness. - Author: Hina Hashmi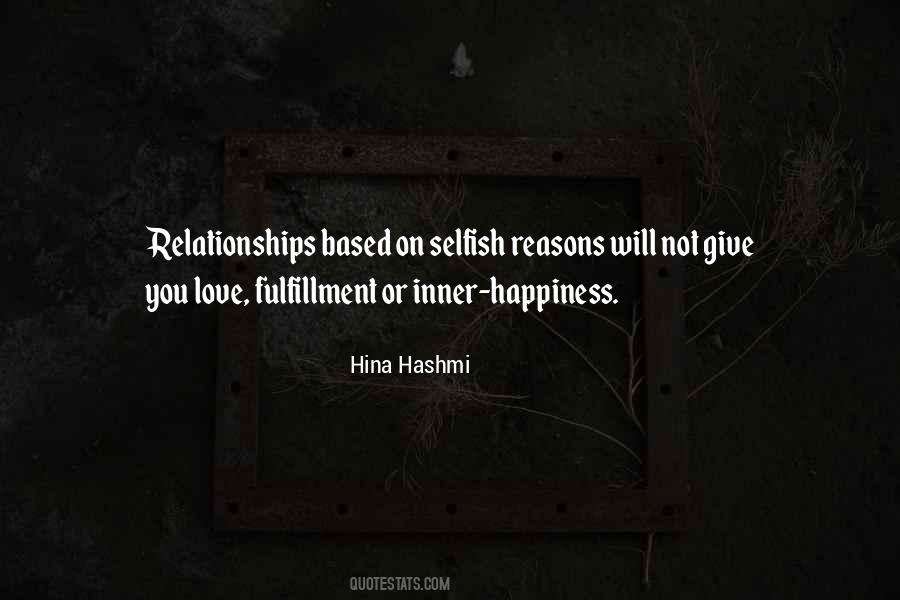 #68. My mother's view on love appalled me. It suggested love had more in common with the boiling of an egg than the discovery of another person from whom one couldn't bear to live apart - Author: Rachel Joyce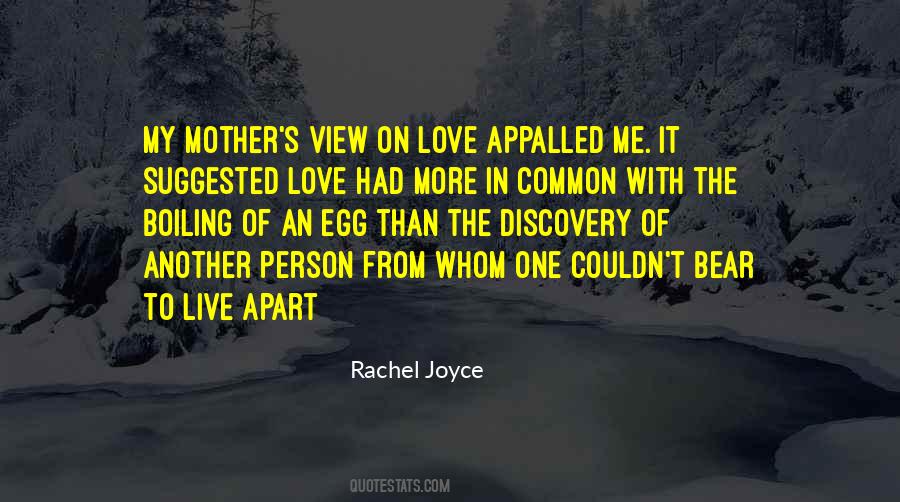 #69. Owe no one anything except to love one another; - Author: Malcolm Gladwell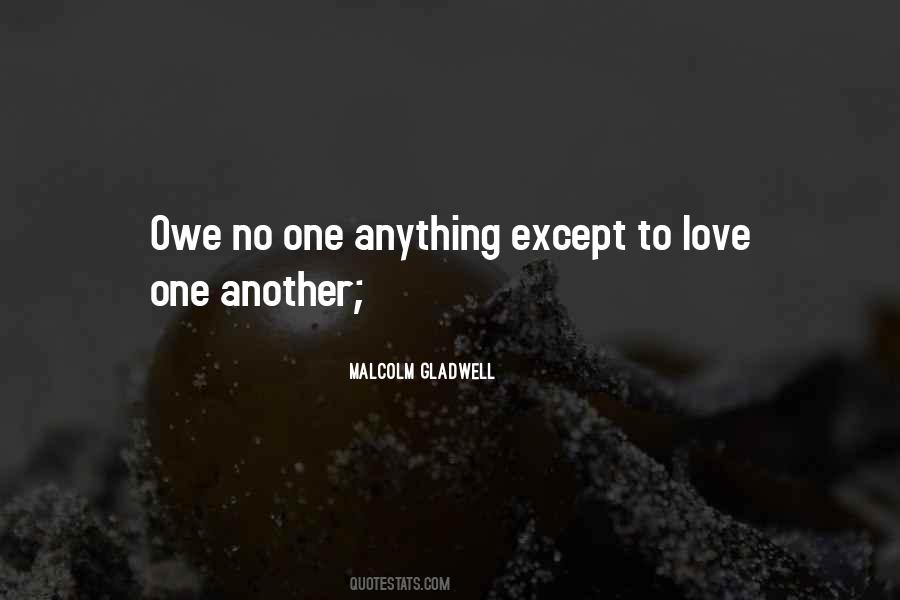 #70. Love of another is merely empty flattery and self-deception for one who cannot accept himself without pretense. - Author: L.E. Modesitt Jr.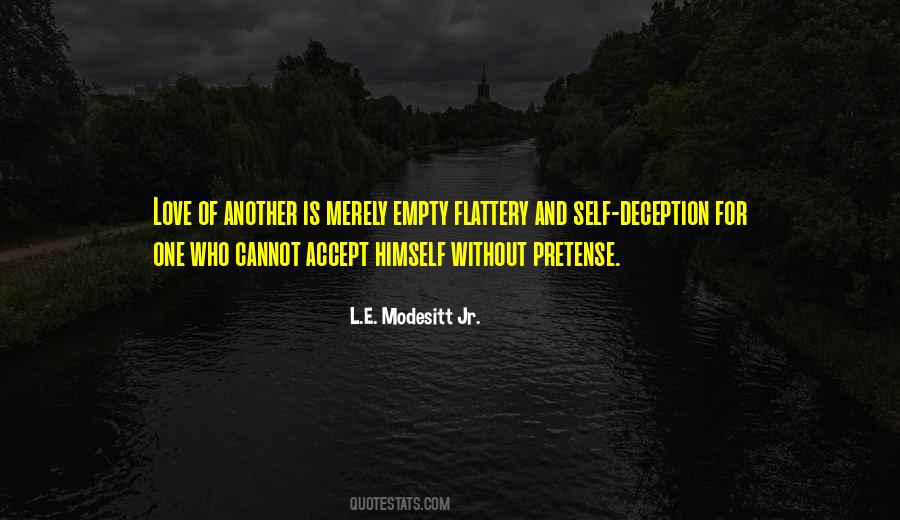 #71. Saving a worthy relationship is easier than trying to start a new one. - Author: Dennis E. Adonis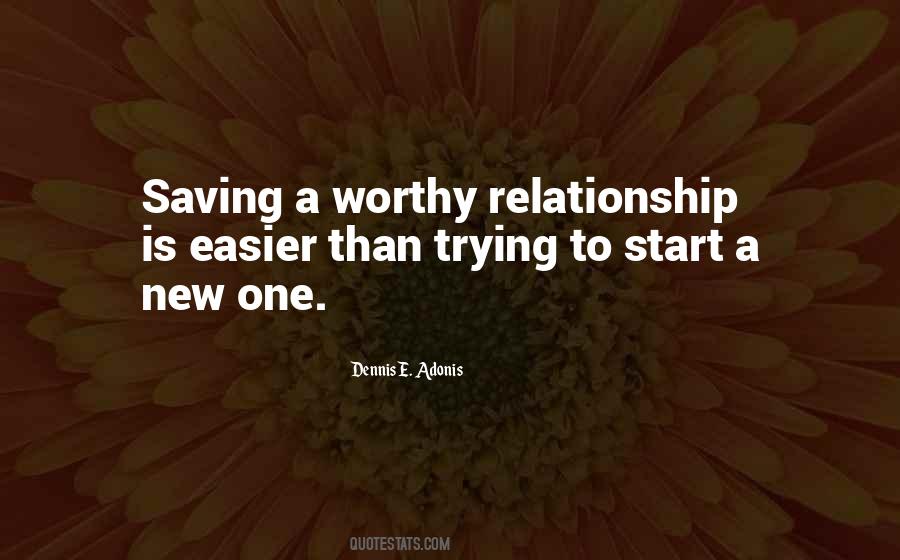 #72. And so love and sacrifice is the law of Christ. "Bear ye one another's burdens, and so fulfill the law of Christ." The law of Christ is the bearing of others' burdens, the sharing of others' griefs, sacrificing yourself for another. - Author: A.B. Simpson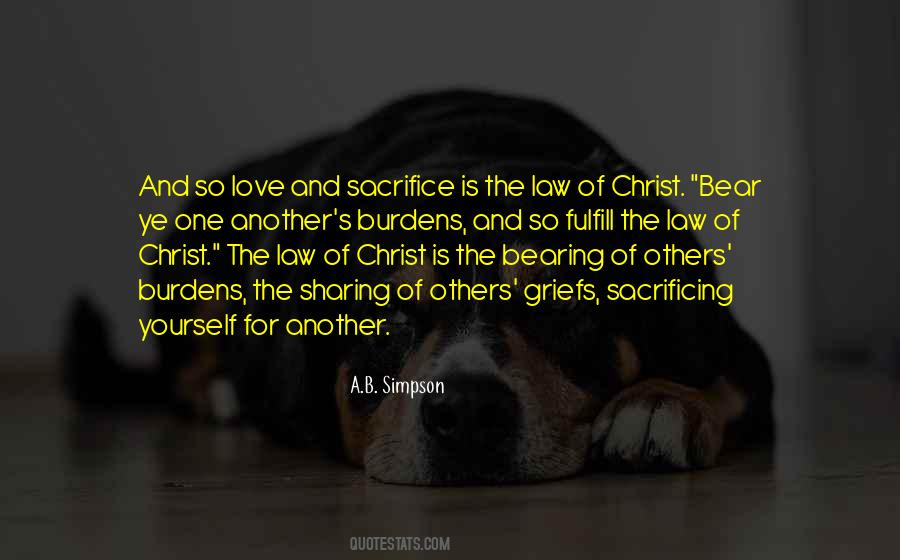 #73. Love one another (His last words) - Author: George Harrison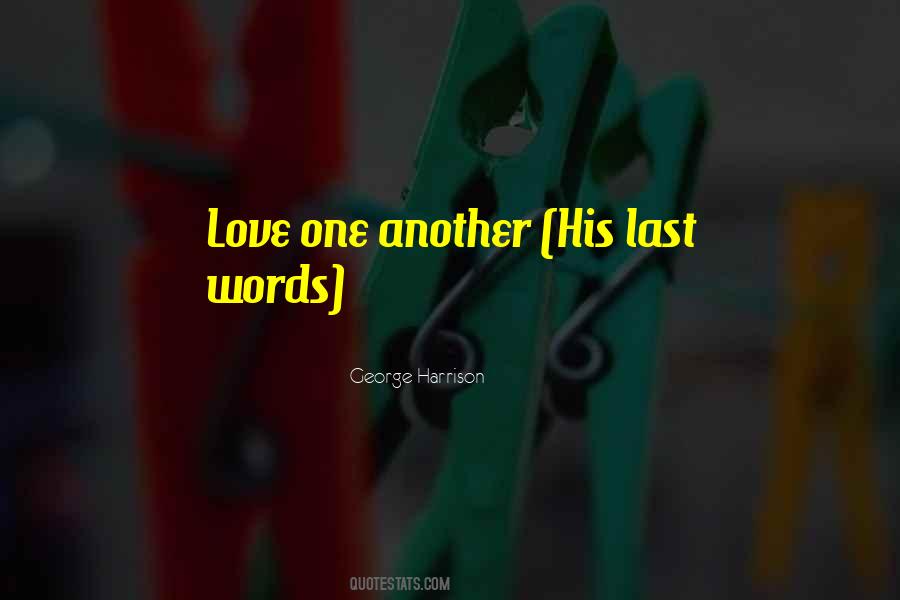 #74. No one thought of anything but themselves. My happiness, my future was the only thing you heard. Real love is to offer your life at the feet of another, and that's what people today are incapable of. - Author: John Ajvide Lindqvist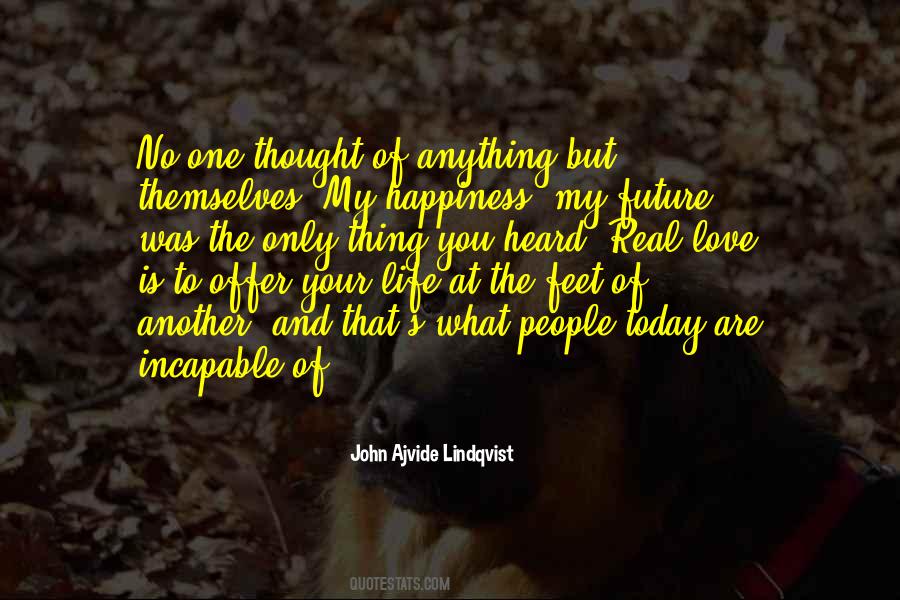 #75. Writing is not just my Hobby . Pen is mouthpiece of my feelings,I have no another one But paper is my best friend. and My Best Friend always Listen so patiently whatever,whenever i speak - Author: Mohammed Zaki Ansari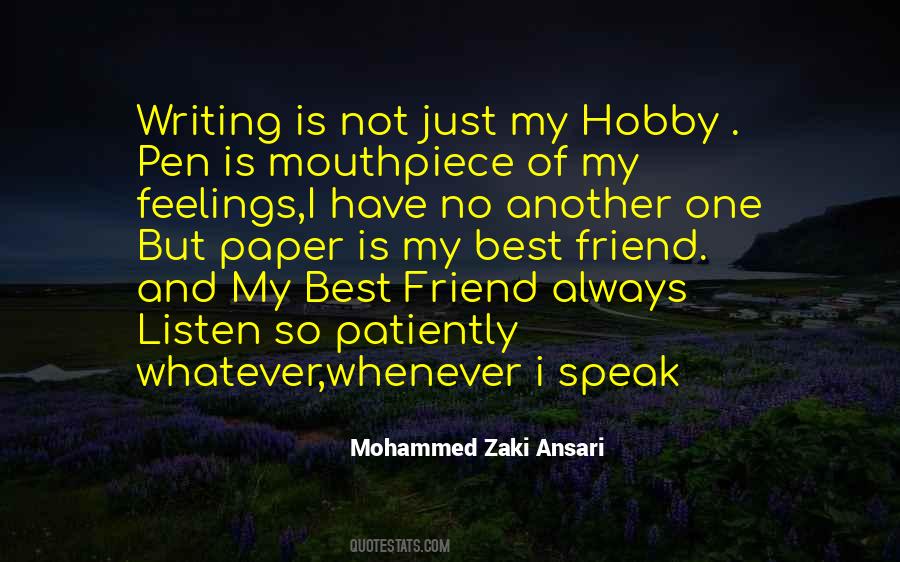 #76. Has your life ever been so messed up that you wondered how you would survive another day? - Author: Alisa Mullen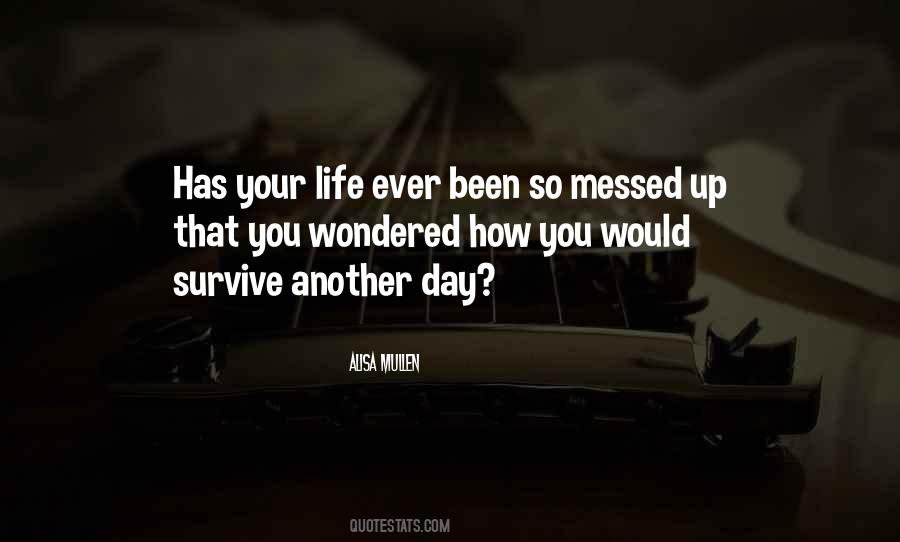 #77. Our ability to understand, to embrace, to help, to know, to feel and to love is bounded only by our own emotional ambitions. The capacity to open ourselves up to one another is as huge as we dare to make it. - Author: Anna Quindlen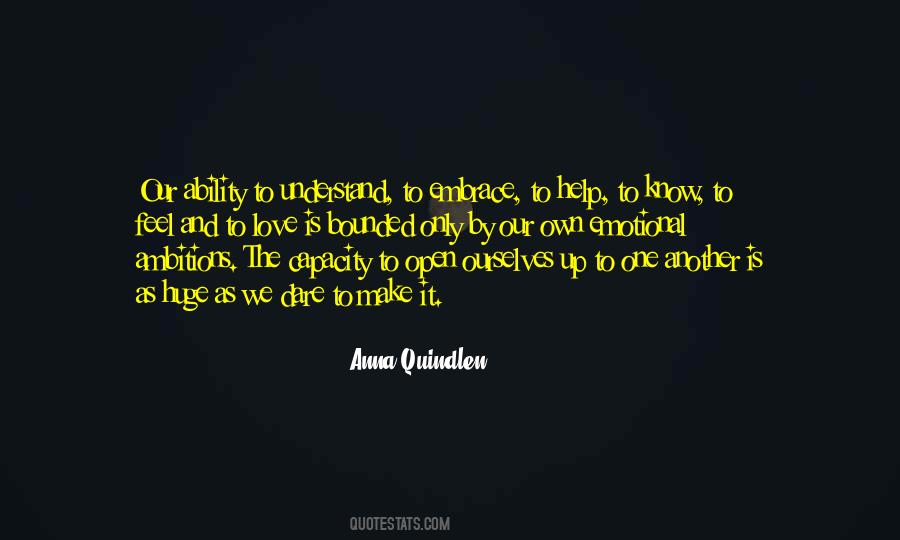 #78. If you're in love with someone, can't you manage one way or another with her? Hatsumi asked after a few moments' thought. - Author: Haruki Murakami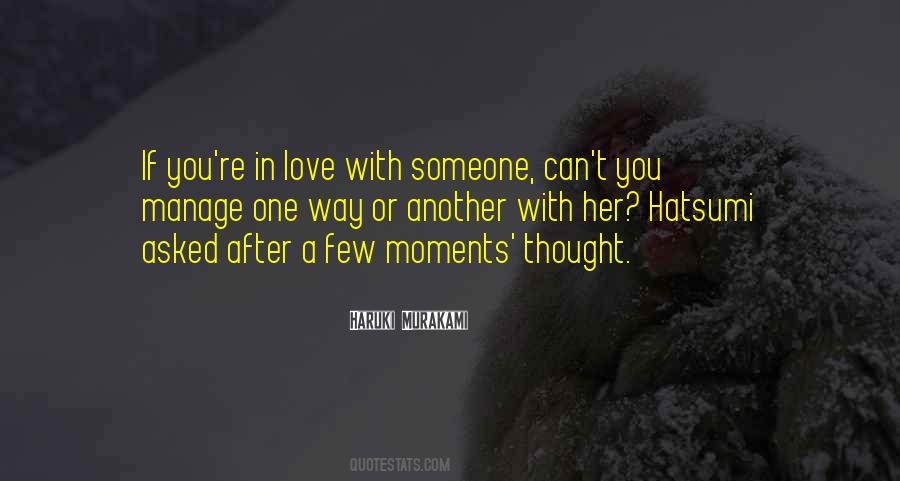 #79. If a mark of affection can sometimes be taken for an insult, perhaps the gesture of love is not universal: it too must be translated from one language to another, must be learned. - Author: Kim Thuy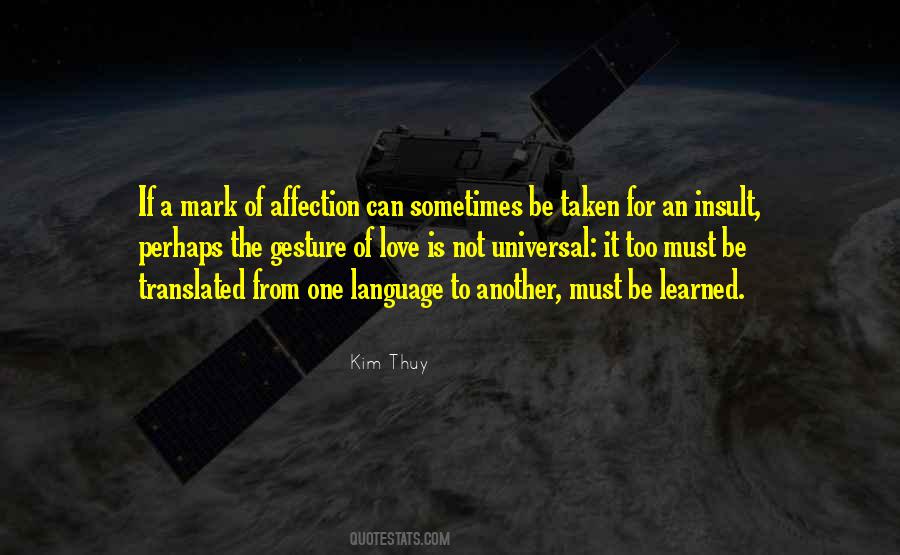 #80. No human relation gives one possession in another - every two souls are absolutely different. In friendship or in love, the two side by side raise hands together to find what one cannot reach alone. - Author: Kahlil Gibran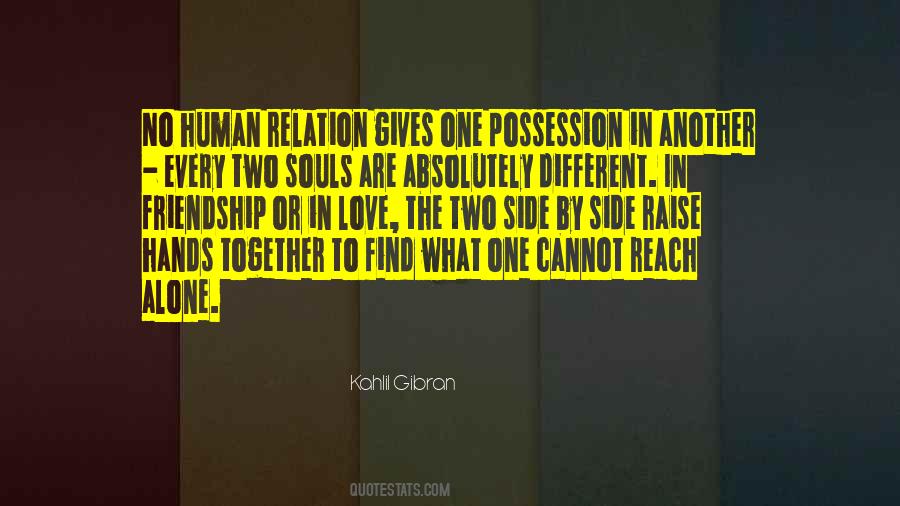 #81. I might appear confident and chatty, but I spend most of my time laughing at jokes I don't find funny, saying things I don't really mean - because at the end of the day that's what we're all trying to do: fit in, one way or another, desperately trying to pretend we're all the same. - Author: Tabitha Suzuma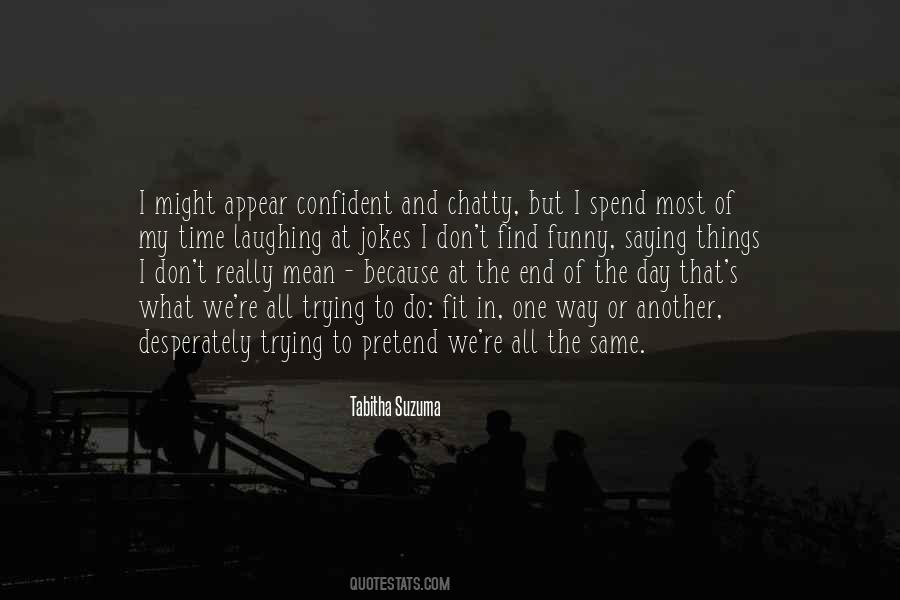 #82. There are different kinds of love, Sarah. I feel one kind of love for your father. A special kind. Another kind for Warren. And still a different kind for you children.' She smiled at me. 'Heaven rue the day we can't feel love for one another. I wouldn't want to live in such a world, would you? - Author: Ann Rinaldi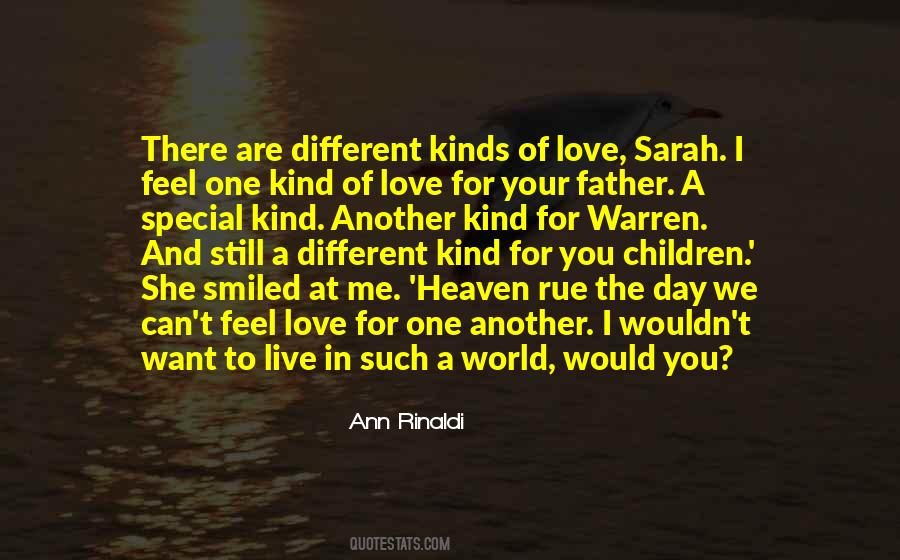 #83. I kept my door more securely locked than ever and passed the time with foreign novels. Since Balzac was Luo's favourite I put him to one side, and with the ardour and earnestness of my eighteen years I fell in love with one author after another: Flaubert, Gogol, Melville, and even Romain Rolland. - Author: Dai Sijie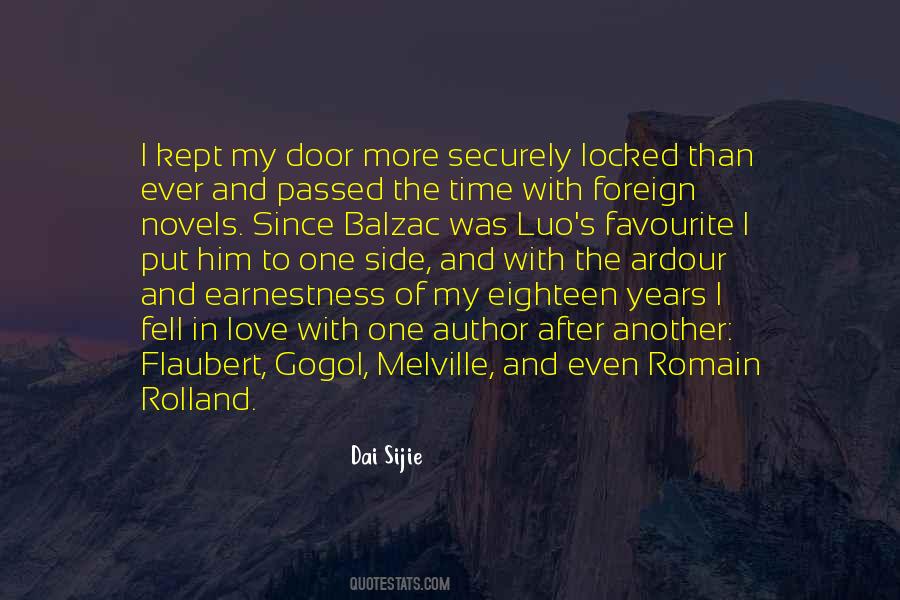 #84. They had never been closer in their month of love, nor communicated more profoundly one with another - Author: F Scott Fitzgerald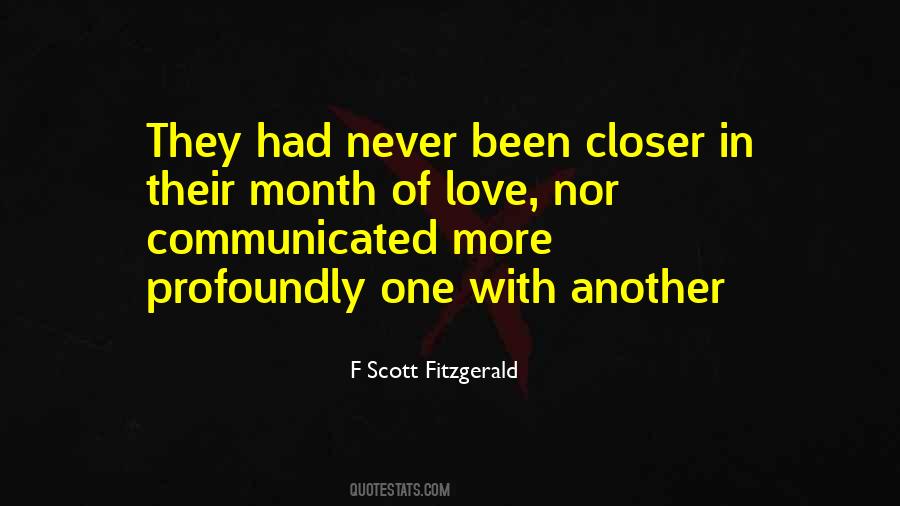 #85. To see, in some measure, like God. His love and His knowledge are not distinct from one another, nor from Him. We could almost say He sees because He loves, and therefore loves although He sees. - Author: C.S. Lewis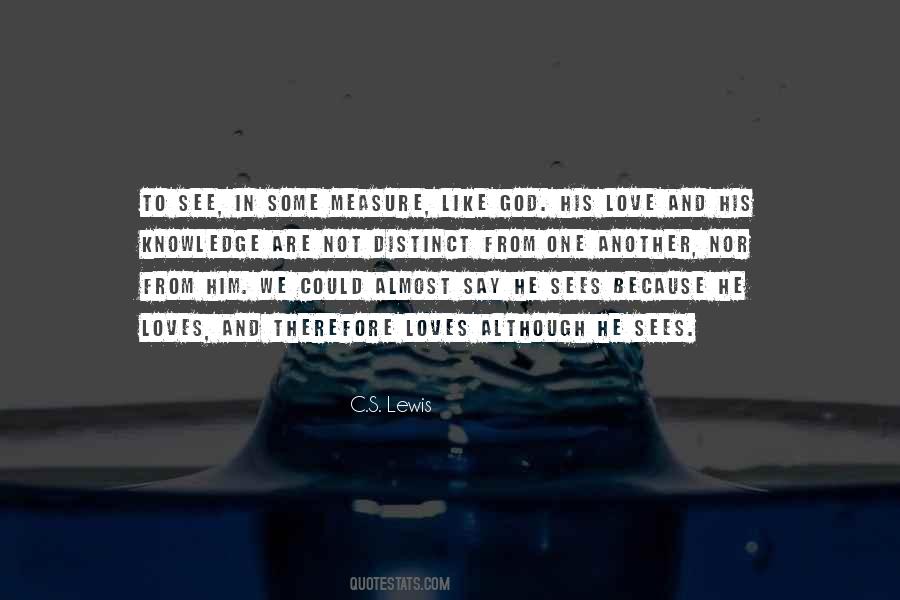 #86. It was the most natural thing in the world because from out of his mouth were coming most of the things I felt. In another person, one i did not have this attachment to, it would have been gushing, clingy and embarrassing, from him it was like having a mirror held up to my soul. - Author: Dorothy Koomson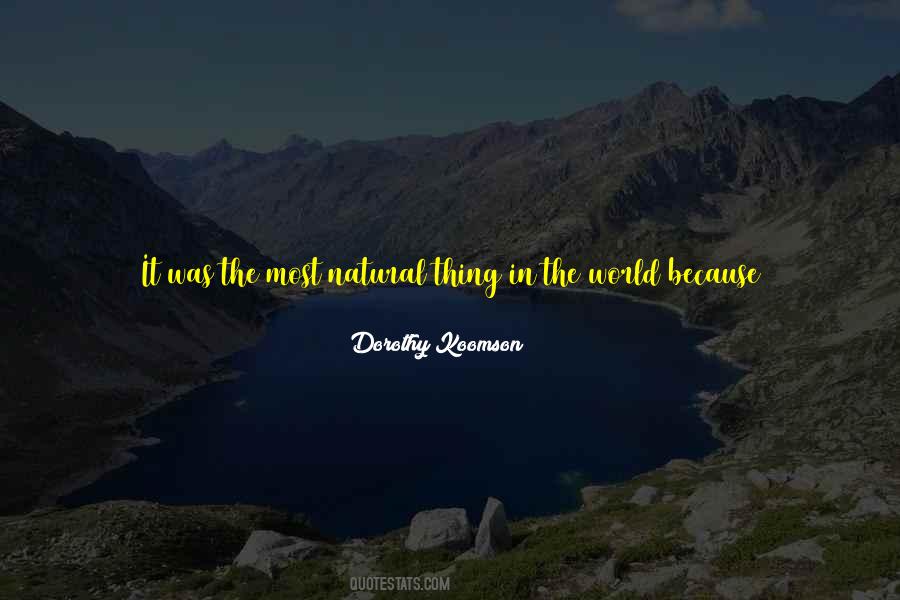 #87. And she realized everything one does is just another effort to be understood by someone a little bit more. - Author: Vatsal Surti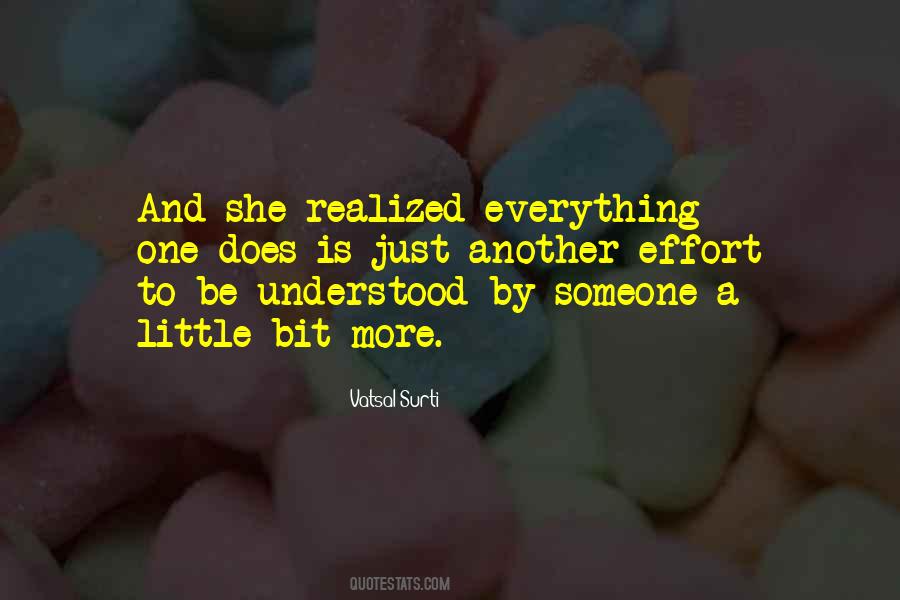 #88. A proof that experience is of no use, is that the end of one love does not prevent us from beginning another. - Author: Paul Bourget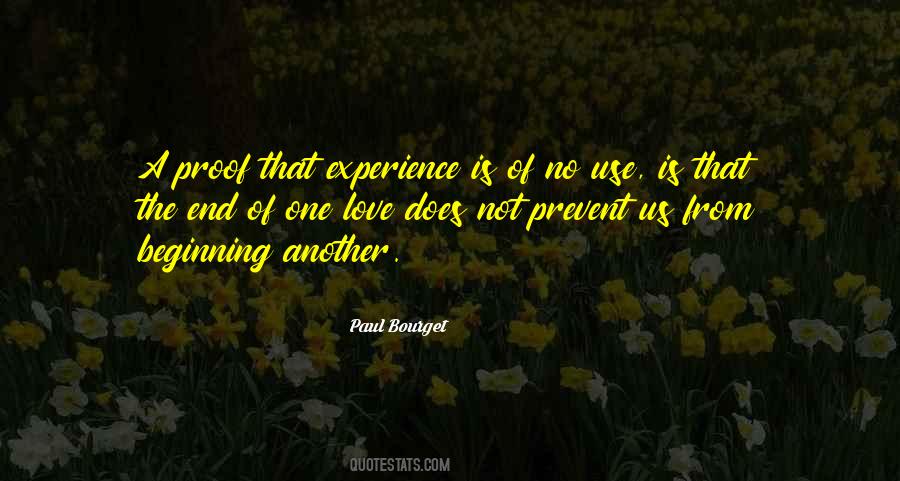 #89. Love is everywhere, but if our eyes aren't open to see it, we miss out. Who among us hasn't missed out on love because we were looking for it in one package and it came in another? Our problem is rarely a lack of love so much as a mental block to our awareness of its presence.* - Author: Marianne Williamson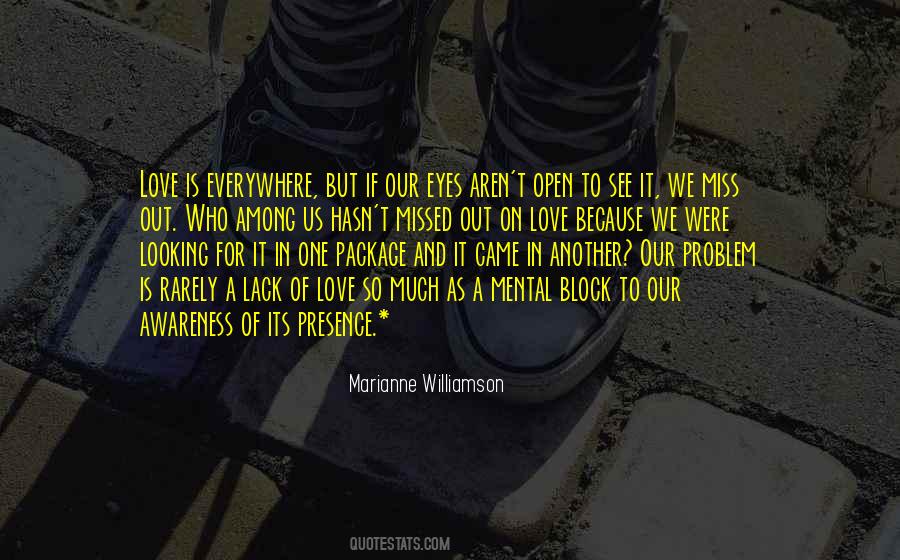 #90. The bulk of mankind believe in two gods. They are under one dominion here in the house, as friend and parent, in social circles, in letters, in art, in love, in religion; but in mechanics, in dealing with steam and climate, in trade, in politics, they think they come under another. - Author: Ralph Waldo Emerson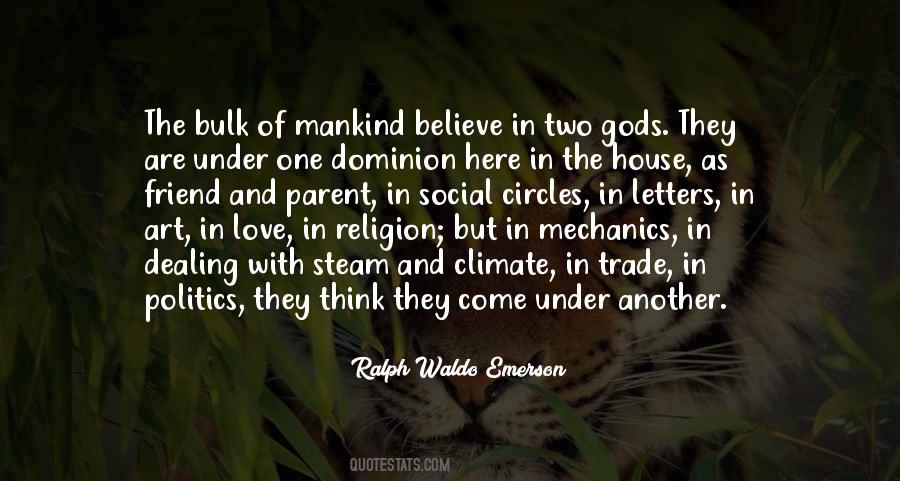 #91. Women lose their lives not knowing they can do something different ... I claimed myself and remade my life. Only when I knew I belonged to myself completely did I become capable of giving myself to another, of finding joy in desire, pleasure in our love, power in this body no one else owns. - Author: Dorothy Allison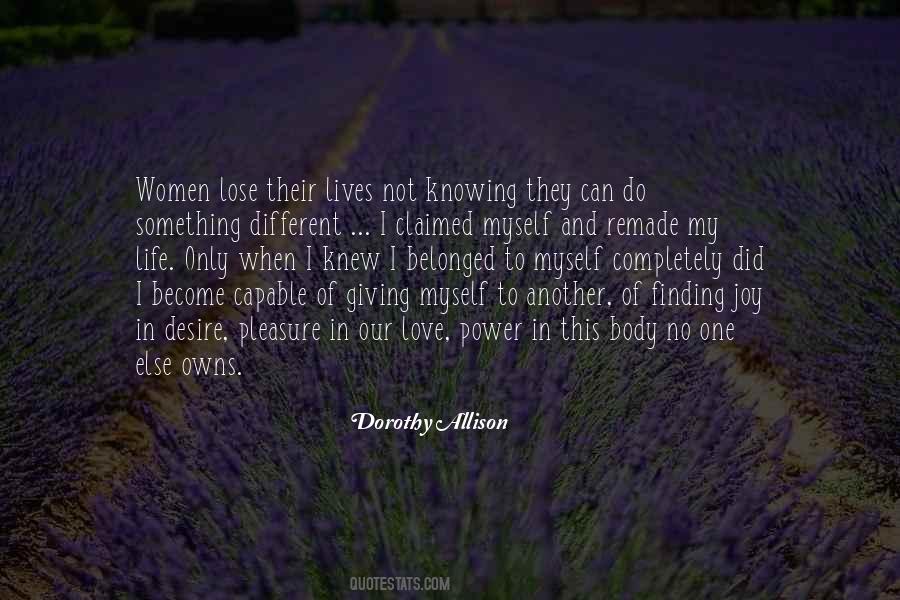 #92. Us women, no matter how crude we are with one another,we must always remember that we have two enemies in common."
The three of us look at each other confused, then back at Ms. Eleanor waiting for her to answer.
"Men," she sighs, still staring off. "And old age. - Author: Chelsea Ballinger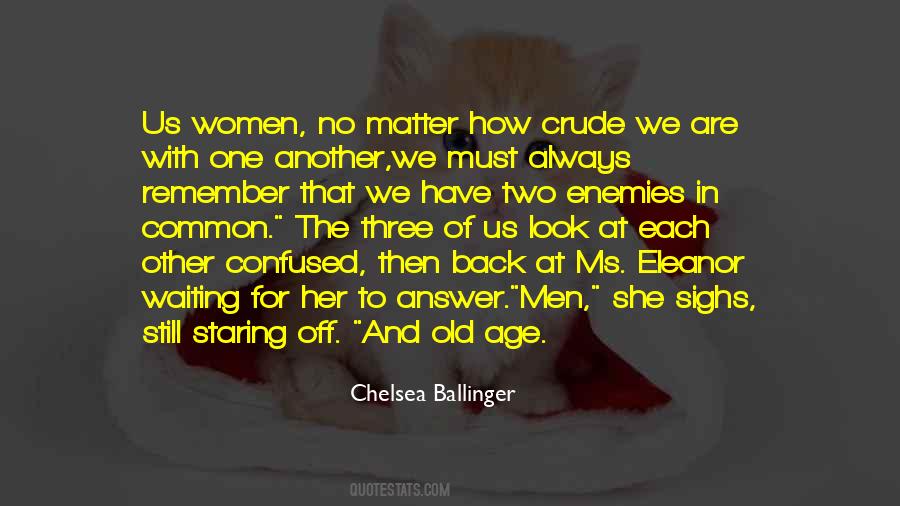 #93. I think videos are really hard. I'm yet to be happy with a video. It's very weird watching yourself on camera, which I guess I'm going to have to get used to. I love the thought of being in them, but it's one thing to say that and another to actually do it. - Author: Conrad Sewell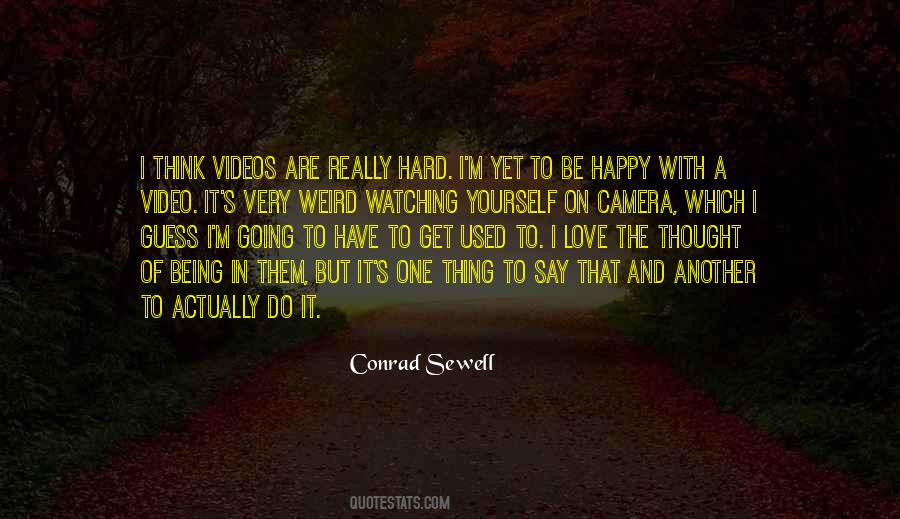 #94. Food is one part. Love is another part. So, the food will give them physical nutrition. The love and affection which you show, will give them mental nutrition. - Author: Narayan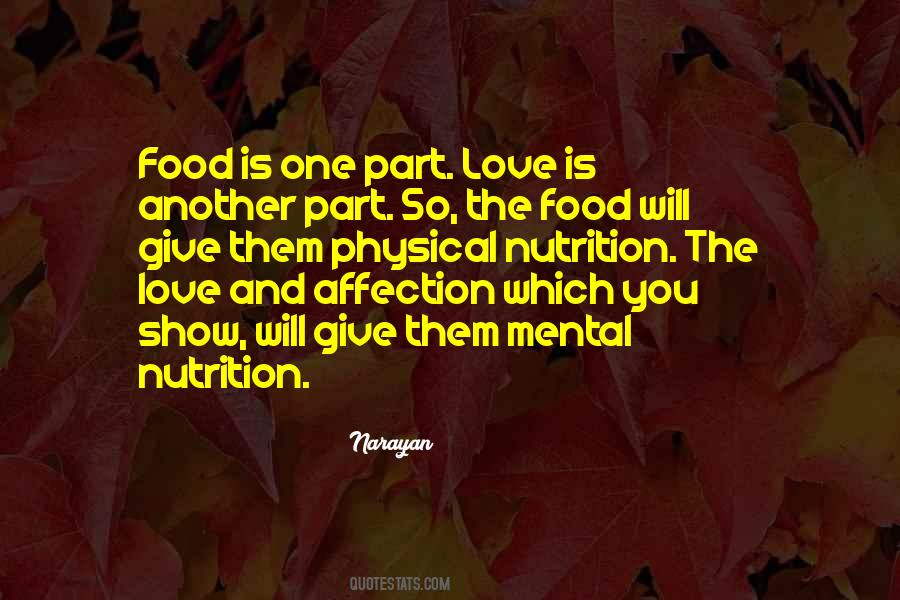 #95. The world has lost a visionary leader, a courageous voice for justice, and a clear moral compass. By showing us that the path to freedom and human dignity lies in love, wisdom and compassion for one another, Nelson Mandela stands as an inspiration to us all. - Author: Kofi Annan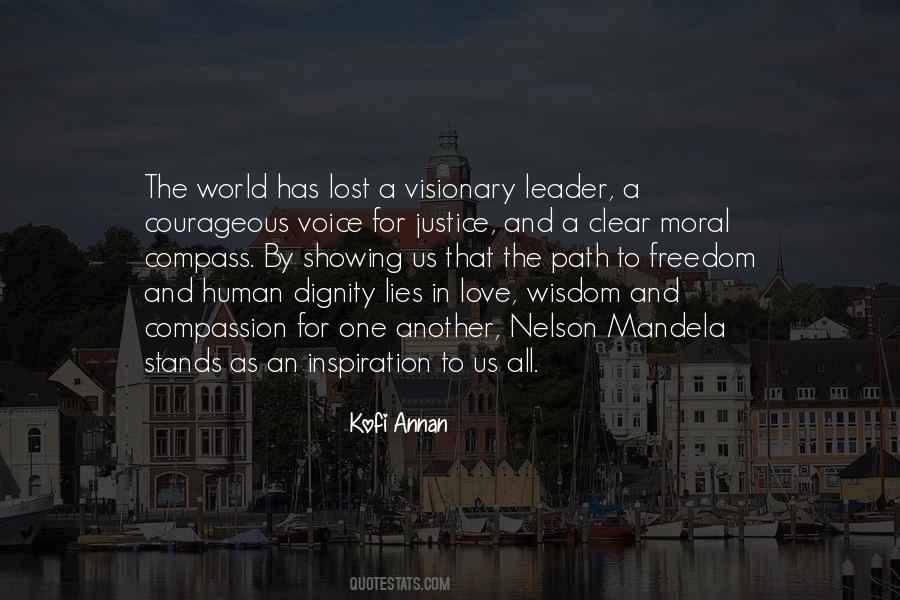 #96. When we set our hearts on knowing the truth, we assist one another in the long tender work of awakening. When the story is right, and the people we love are waiting to listen, we tell each other how to live. - Author: Mark Matousek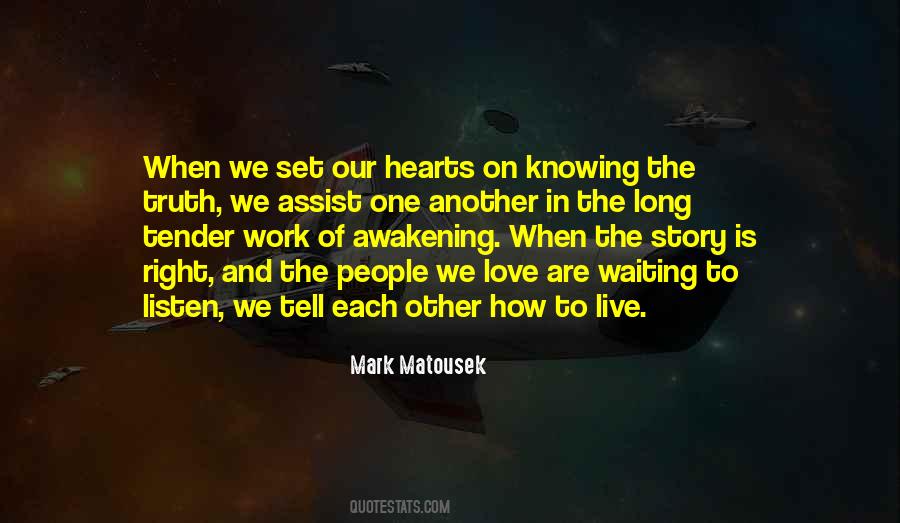 #97. The miracle is therefore a sign of love among equals. Equals should not be in awe of one another because awe implies inequality. - Author: Foundation For Inner Peace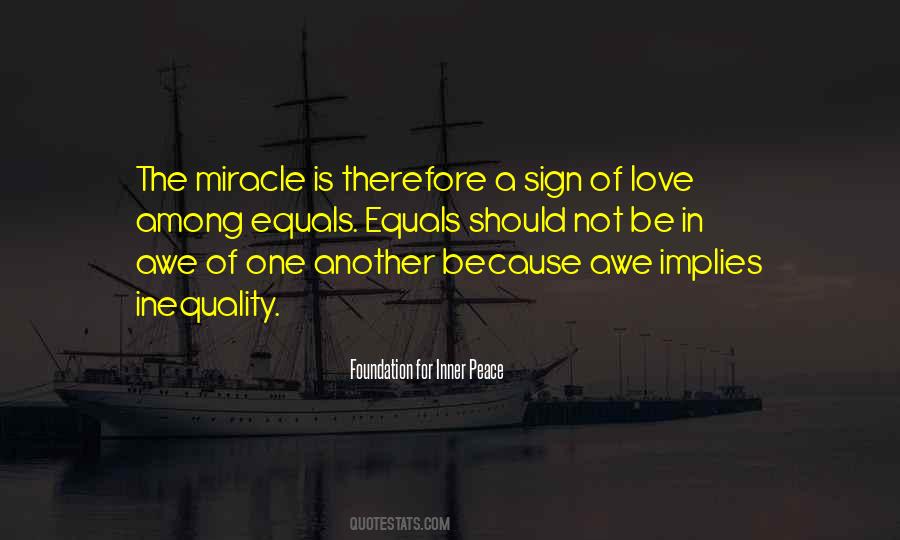 #98. If Canada is to survive, it can only survive in mutual respect and in love for one another. - Author: Pierre Trudeau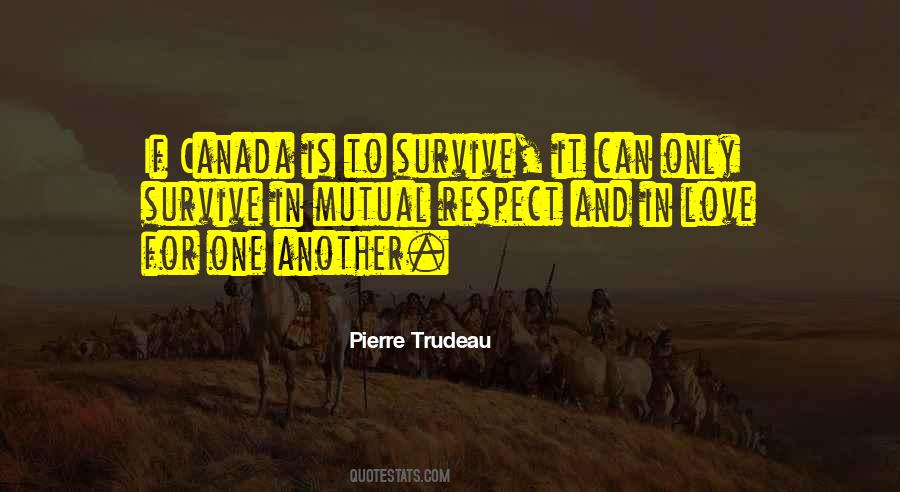 #99. Love is the enjoyment one experiences by looking at the world through the eyes of another. - Author: James Rozoff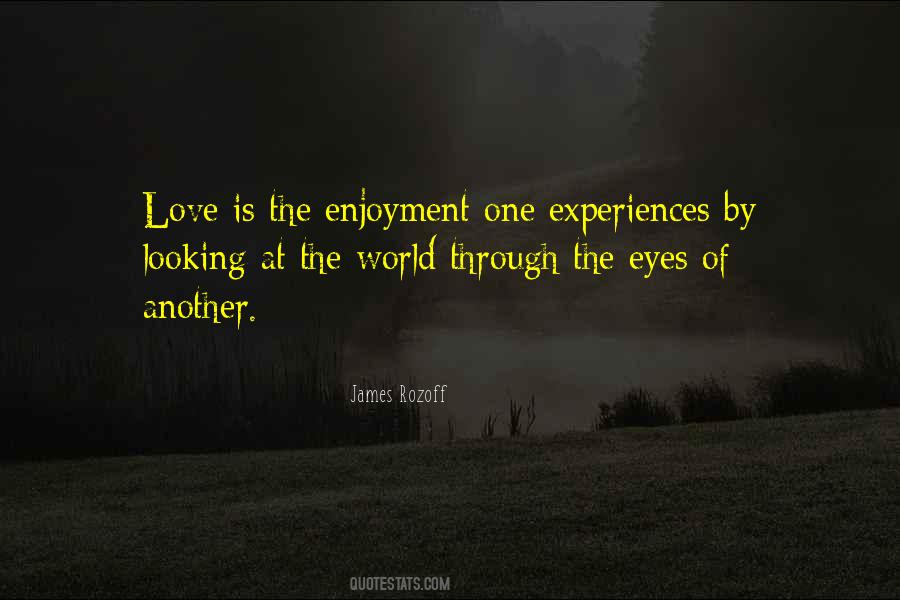 #100. We were designed to love and to be loved, to reach our dreams to unleash our potentials but not live in malice and envy, being hated and hating one another. - Author: Auliq Ice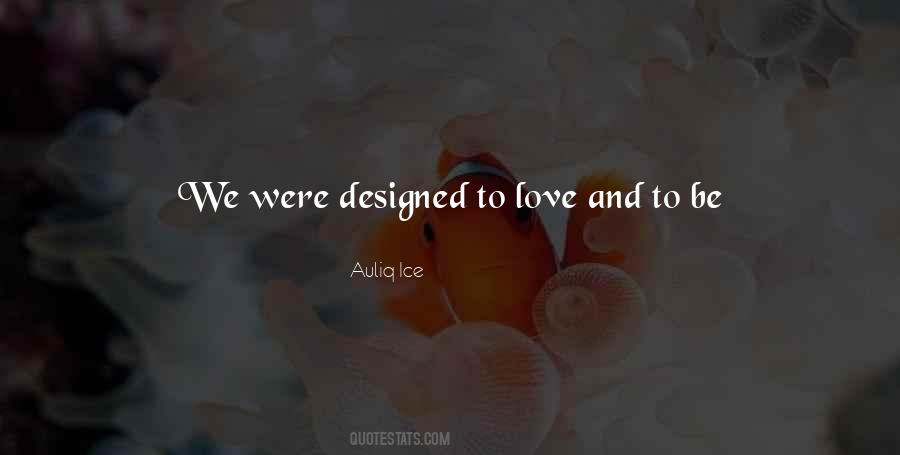 Famous Authors
Popular Topics