Loud Music Famous Quotes & Sayings
List of top 100 famous quotes and sayings about loud music to read and share with friends on your Facebook, Twitter, blogs.
Top 100 Quotes About Loud Music
#1. You reading this have undoubtedly met yours (or will); I met mine, and I'm sure he'll be back. He's got my address. He's a mean guy, a Bad Lieutenant, the sworn enemy of goofery, fuckery, pride, ambition, loud music, and all things nineteen. But - Author: Stephen King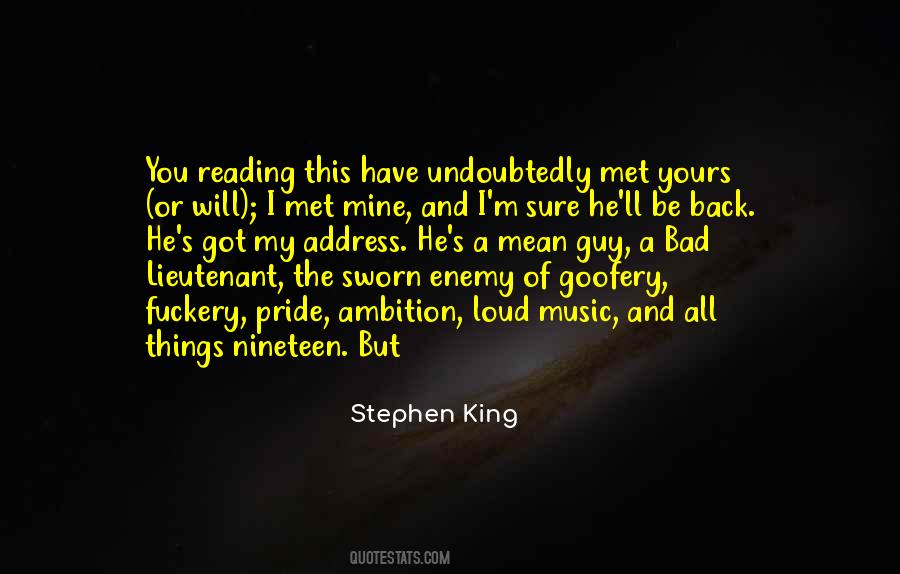 #2. Only dead people need loud music, you know. - Author: Alice Walker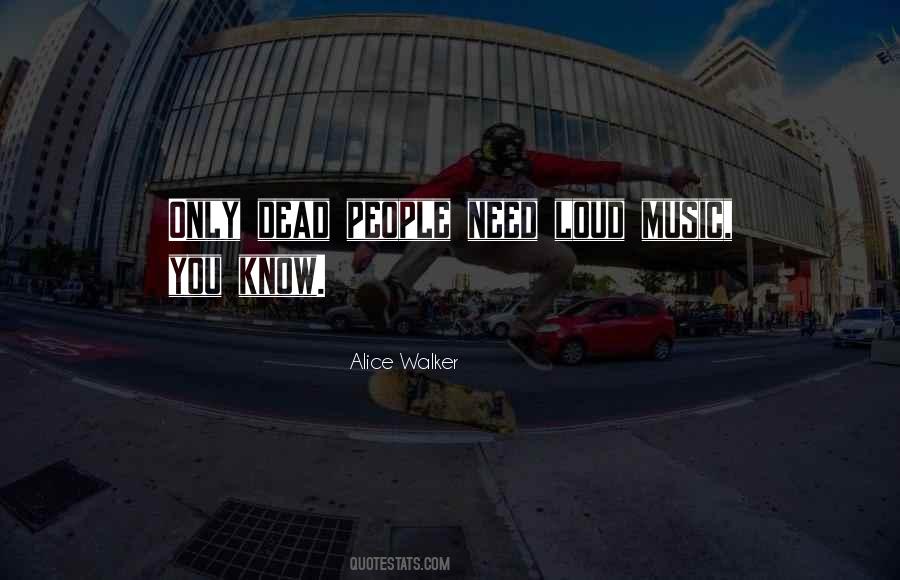 #3. With all your music, loud and lustily, With every dainty joy of sight and smell, Prepare a banquet meet to entertain The Lord of Thunder, that hath set you free From old oppression. - Author: Hartley Coleridge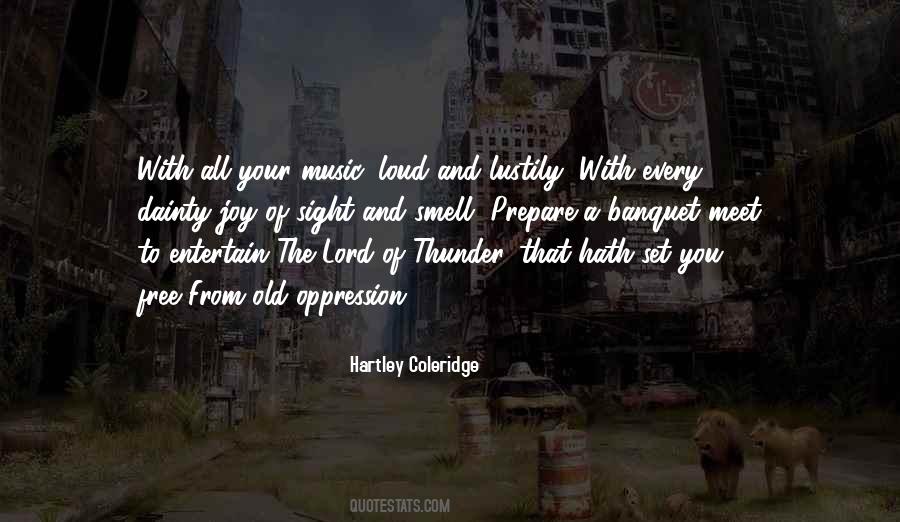 #4. Black Veil Brides will stand strong for you we will take on the world's hatred so that you don't have to listen to your music way to loud and be as crazy and as "different" as you want to be and always remember you're not alone. - Author: Andy Biersack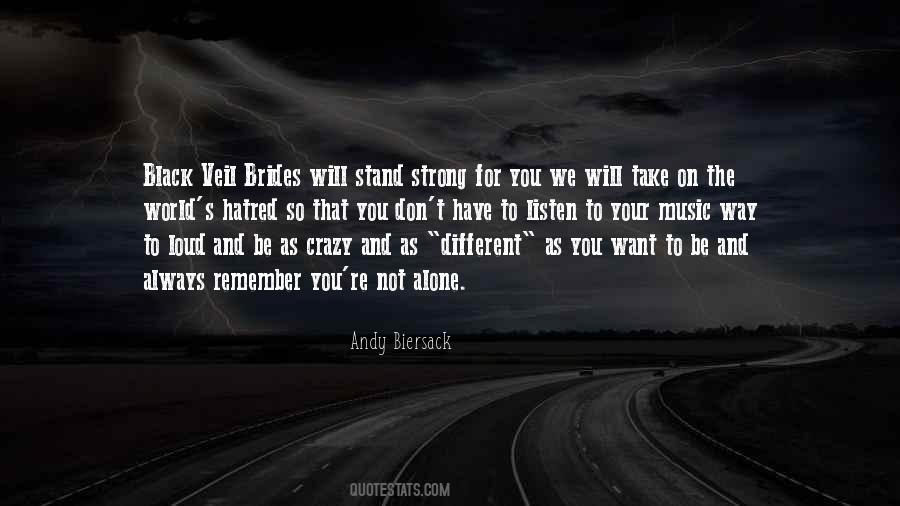 #5. The composer must bear in mind that the radio listener does not hear music directly. He hears it only after the sound has passed through a microphone, amplifiers, transmission lines, radio transmitter, receiving set, and, finally, the loud speaker apparatus itself. - Author: Raymond Scott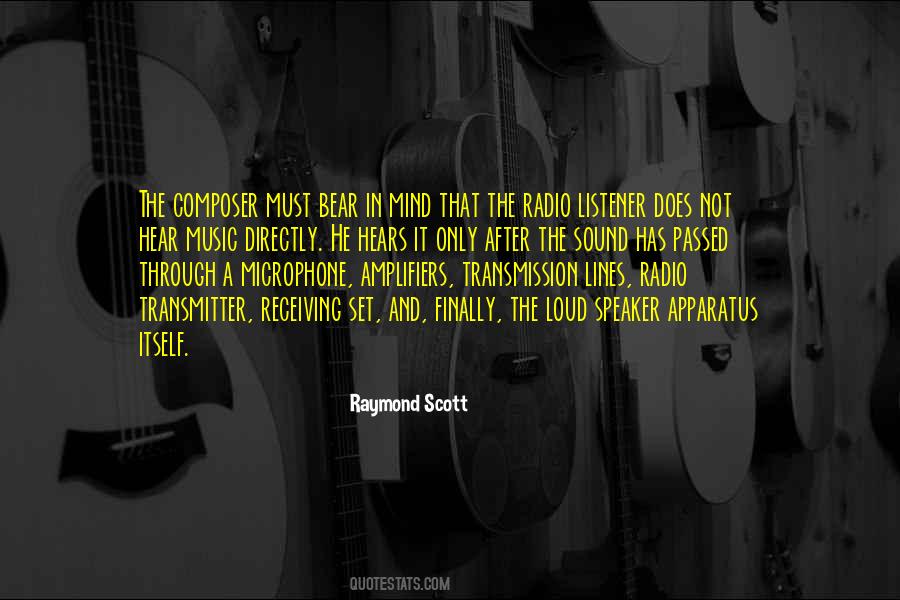 #6. What's life without loud music? - Author: Kirstin Cronn-Mills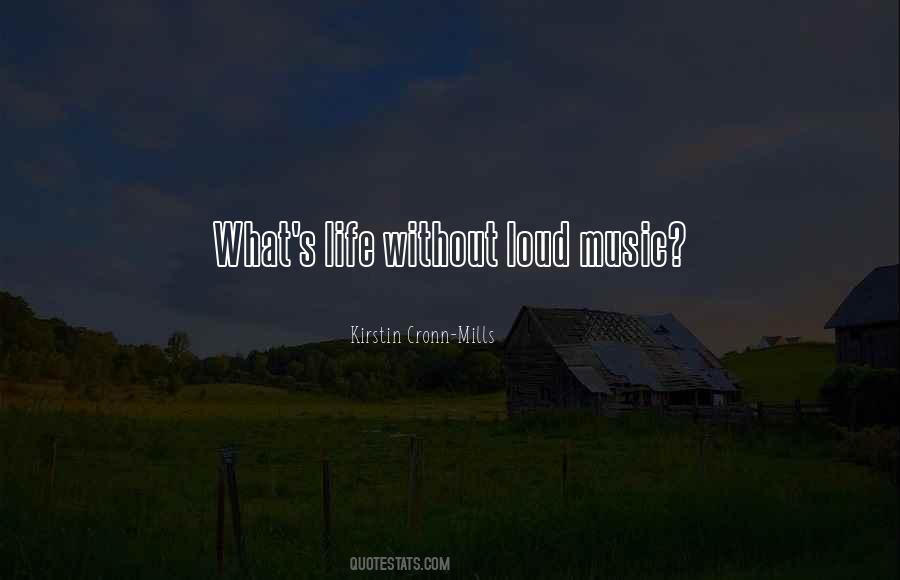 #7. If you play "I Don't Want To Know" by Fleetwood Mac loud enough
you can hear Lindsey Buckingham's fingers sliding down the strings of his acoustic guitar ... And we were convinced that this was the definitive illustration of what we both loved about music; we loved hearing the INSIDE of a song. - Author: Chuck Klosterman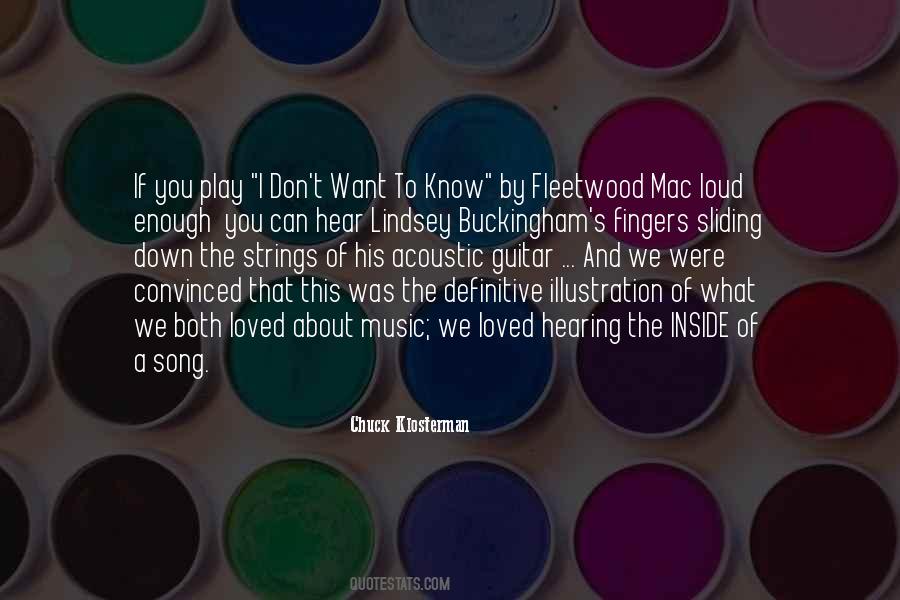 #8. She had wanted her son to stand for what he believed and to be respectful. And he had died for believing his friends had a right to play their music loud, to be American teenagers. - Author: Ta-Nehisi Coates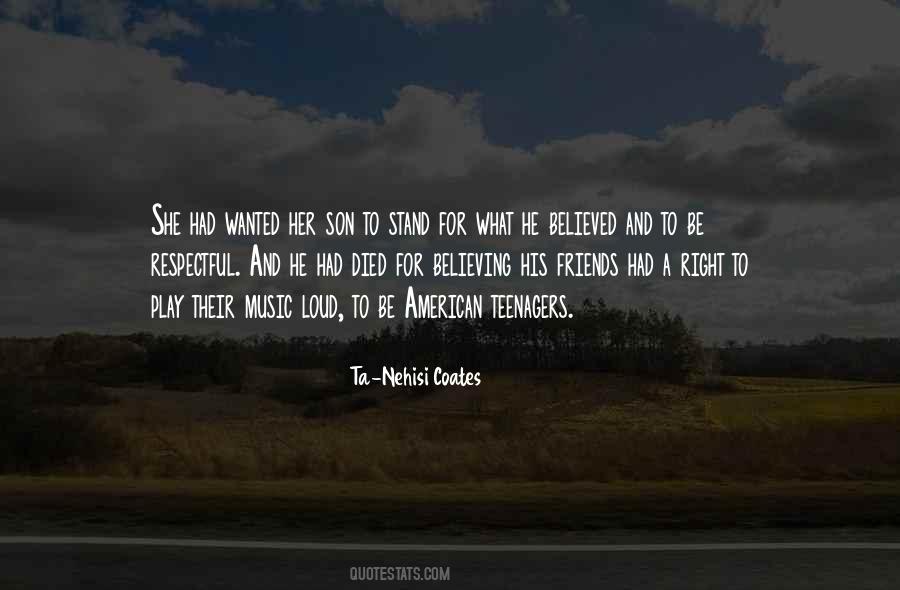 #9. For music, I always just played music myself - and, I had rock bands and wrote songs and put bands together that were loud, but not especially good. That was sort of the place music had in my career. - Author: Michael Cerveris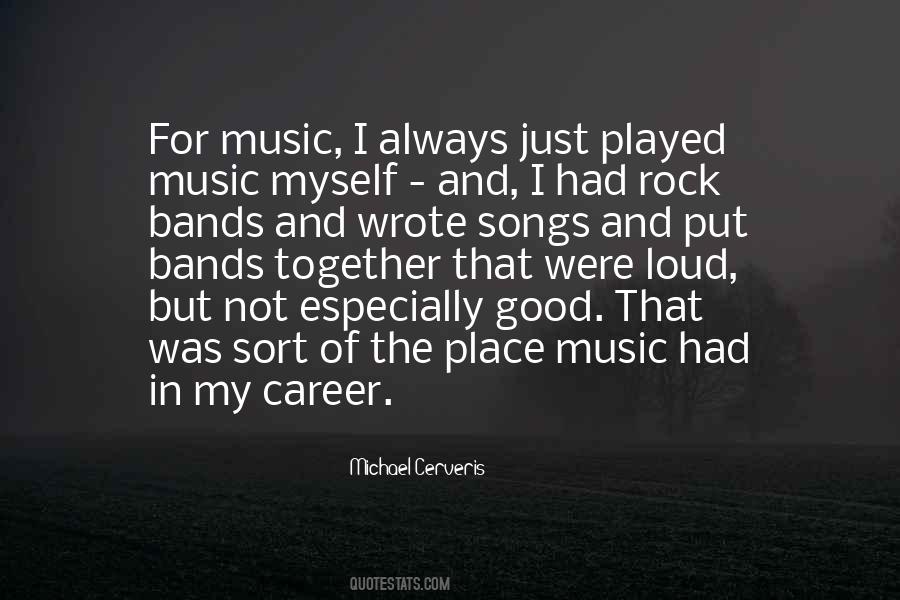 #10. One of my favorite things to do is to play music really loud and dance my butt off in the morning. I'll do it alone in my apartment. You can't have a bad day after that. - Author: Allison Williams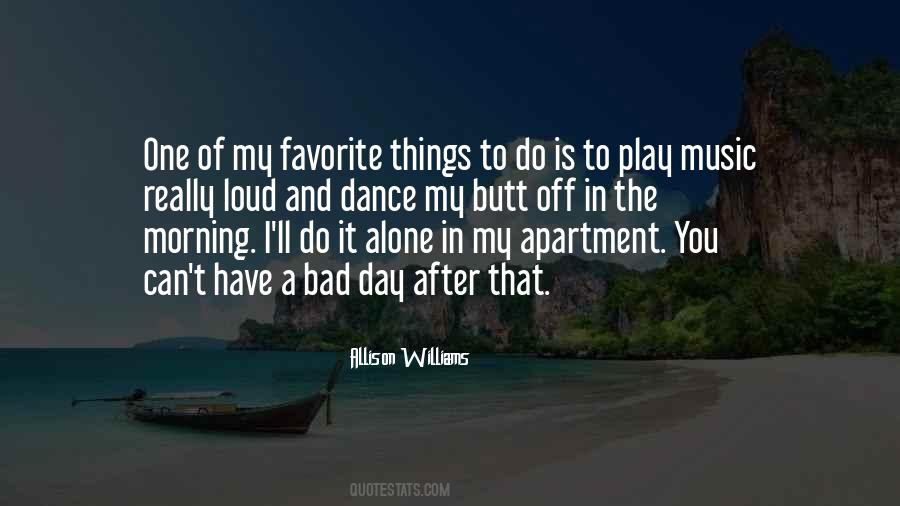 #11. Our current politics tell you that should you fall victim to such an assault and lose your body, it must somehow be your fault. Trayvon Martin's hoodie got him killed. Jordan Davis's loud music did the same. - Author: Ta-Nehisi Coates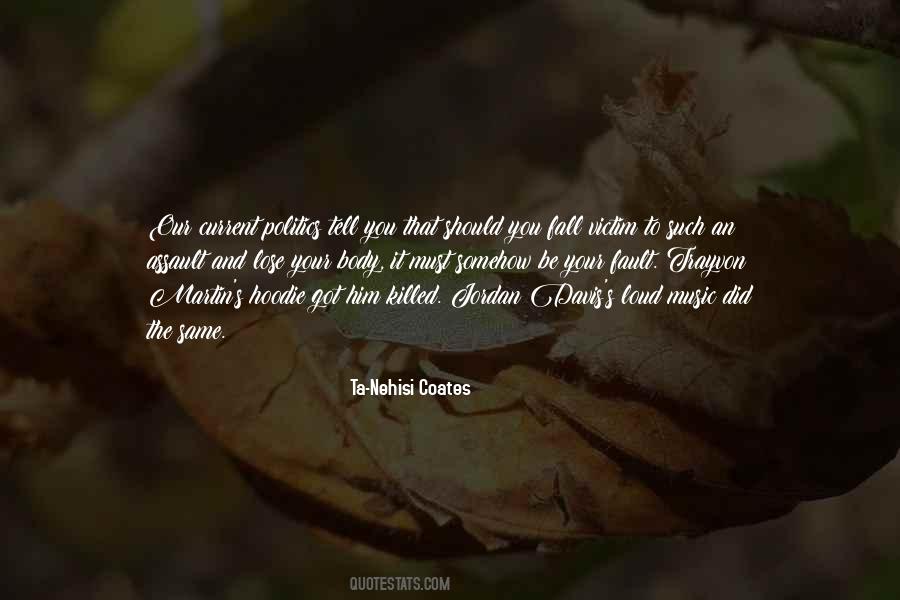 #12. Play it fuckin' loud! - Author: Bob Dylan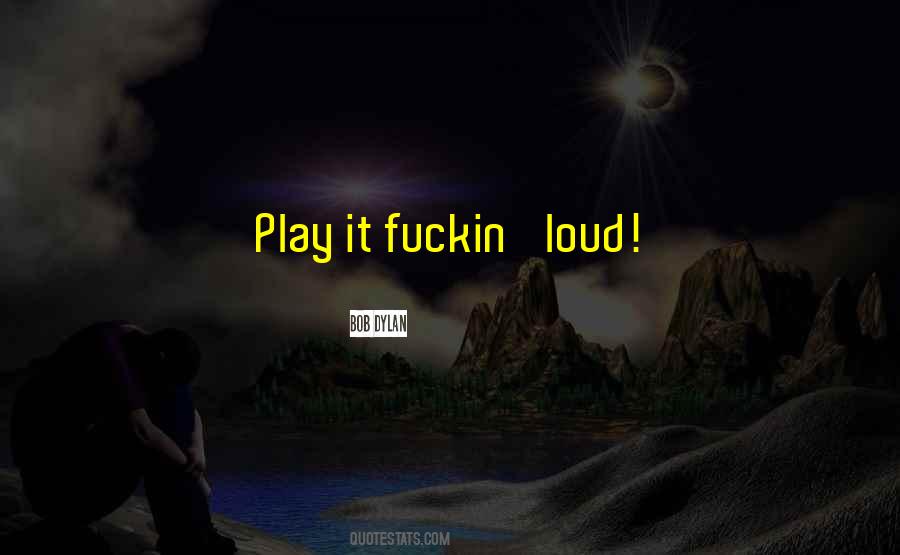 #13. I have a ballet barre in my gym. I turn the music up so loud that the walls are pulsating, and I go for it for an hour. - Author: Catherine Zeta-Jones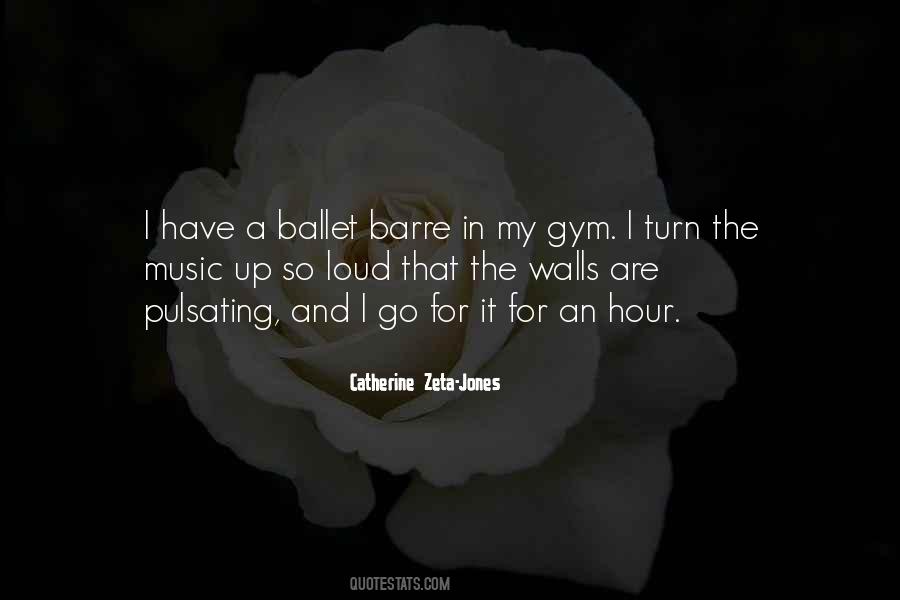 #14. Knowing that the voice wouldn't scream to be heard, they made sure that the world stayed loud with music and movies and 24/7 news and incessant online chatter. If they couldn't silence the whisper, they'd bombard people with other voices. Infinite choices. - Author: Lauren Miller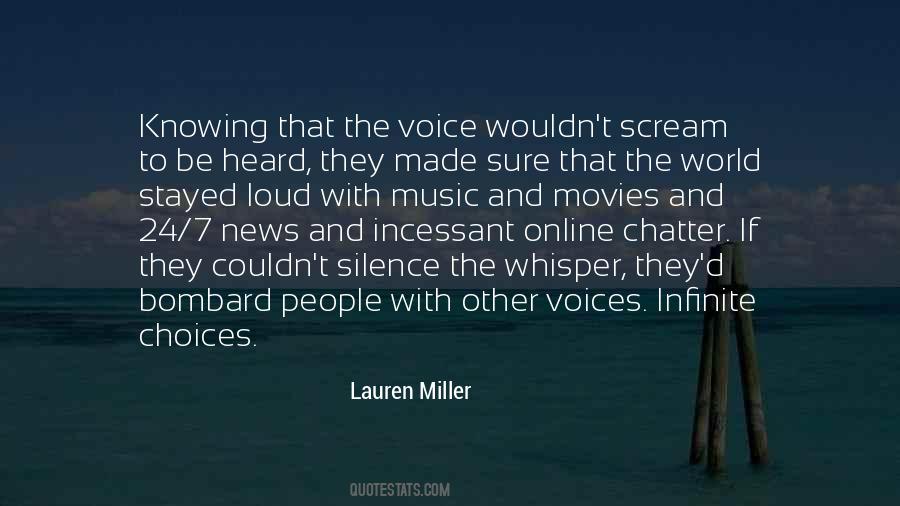 #15. I like loud music. I like music that fills my ears. I'm just going to pull out my iPod and see what we got here. We're always interested in new bands because we have a retail store in northern California. I think it's got to be happy. - Author: Tyler Florence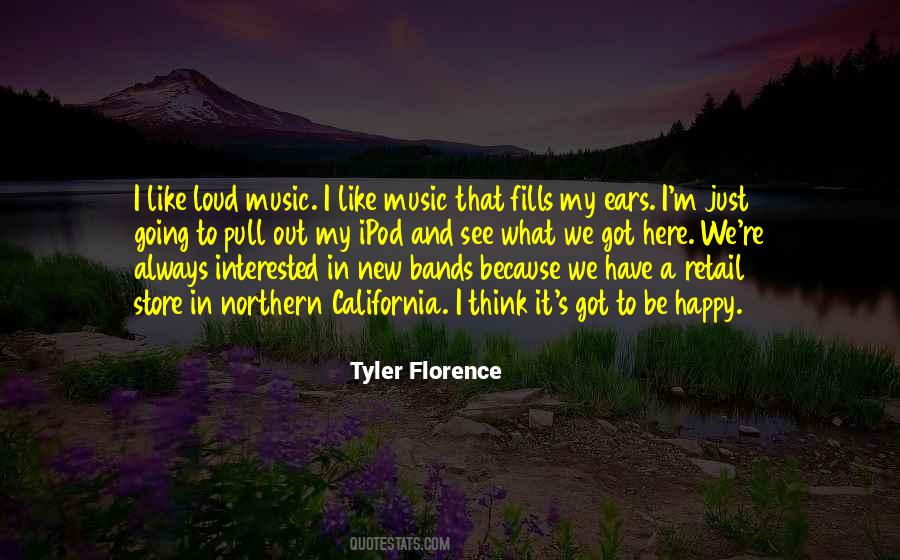 #16. I am no stranger to loud music. I've been to a Mitch Ryder and the Detroit Wheels concert. I once dated a woman with two kids. - Author: P. J. O'Rourke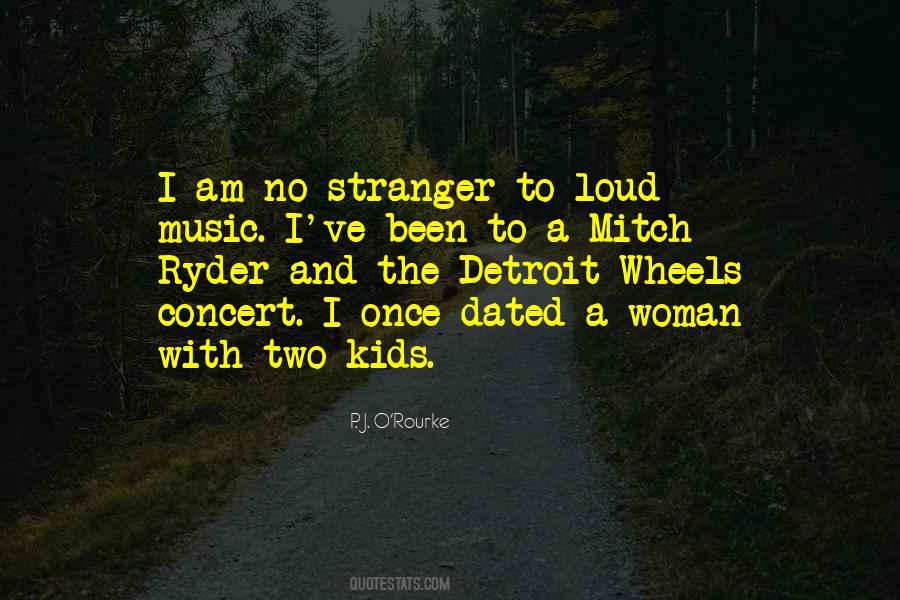 #17. The music that I'm known for is quiet and gentle, although when I was growing up and as a teenager, I was playing the opposite - I was screaming and playing bass and those loud electric guitars. - Author: Jose Gonzalez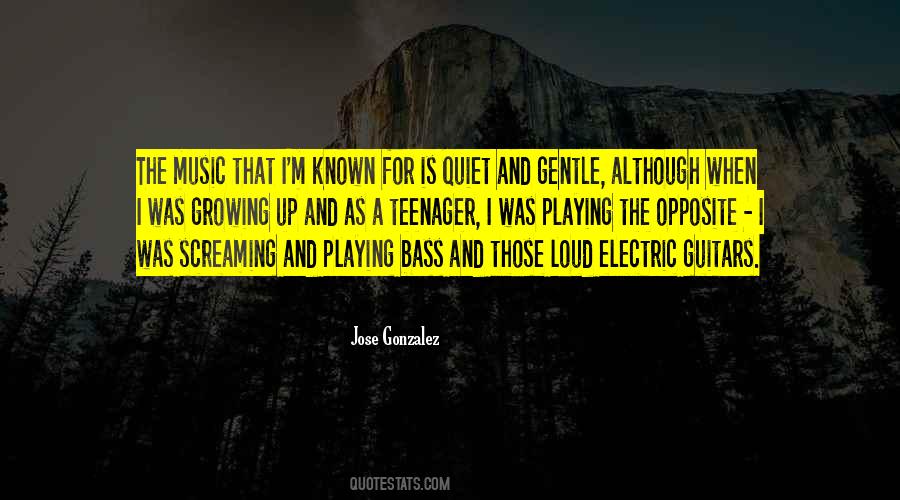 #18. When you do a 'messa di voce,' that means you start soft, you crescendo into loud - and then you go back to soft again. Some people call it circus tricks, but in bel canto, it's really written into the music. - Author: Sondra Radvanovsky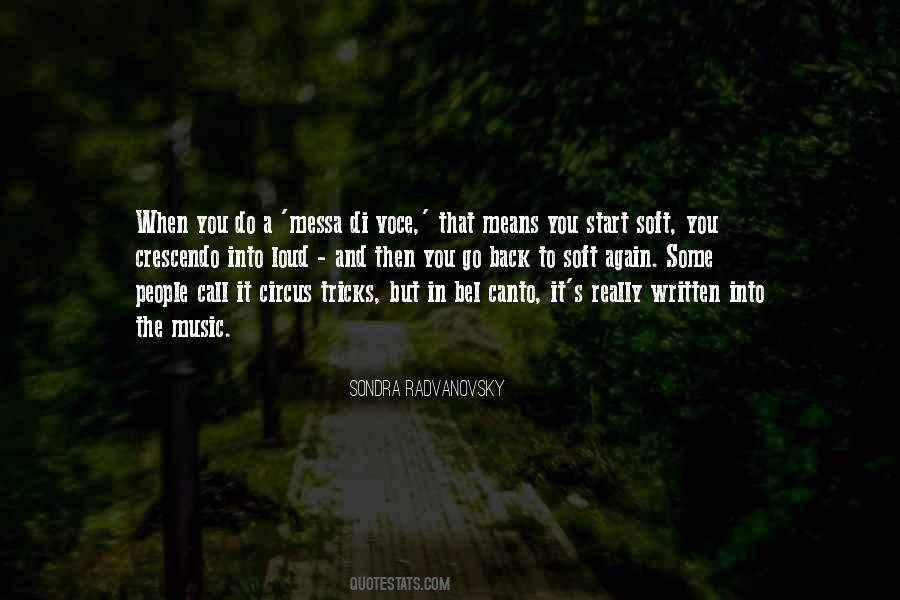 #19. How soft the music of those village bells, Falling at interval upon the ear In cadence sweet; now dying all away, Now pealing loud again, and louder still, Clear and sonorous, as the gale comes on! With easy force it opens all the cells Where Memory slept. - Author: William Cowper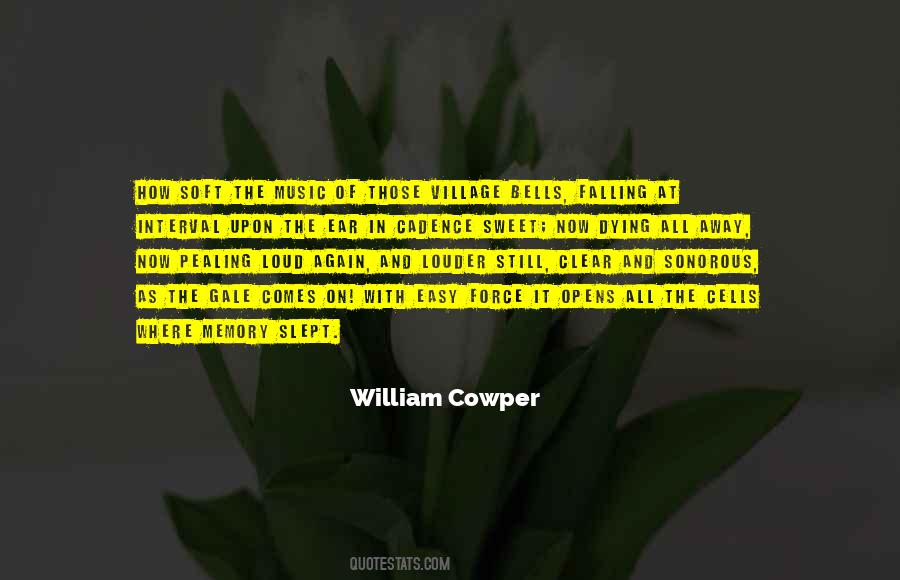 #20. I think what every skater dreams of is not only skating the best program they can possibly skate, but, y'know, having the crowd roar at the end, and it was just so loud I couldn't even hear my music. - Author: Sarah Hughes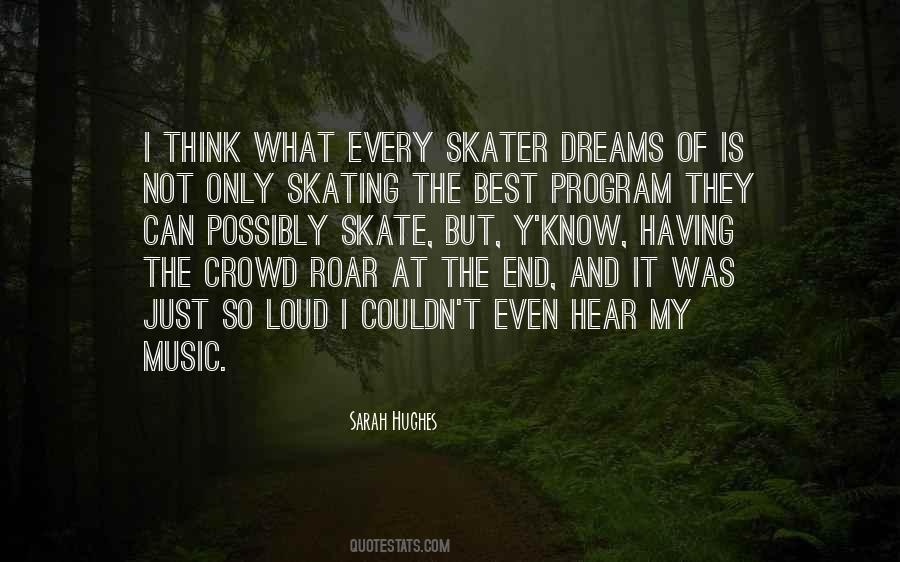 #21. Hyun Joong hyung listens to music so loud that the neighbors are telling us to move out. - Author: Kim Kyu-jong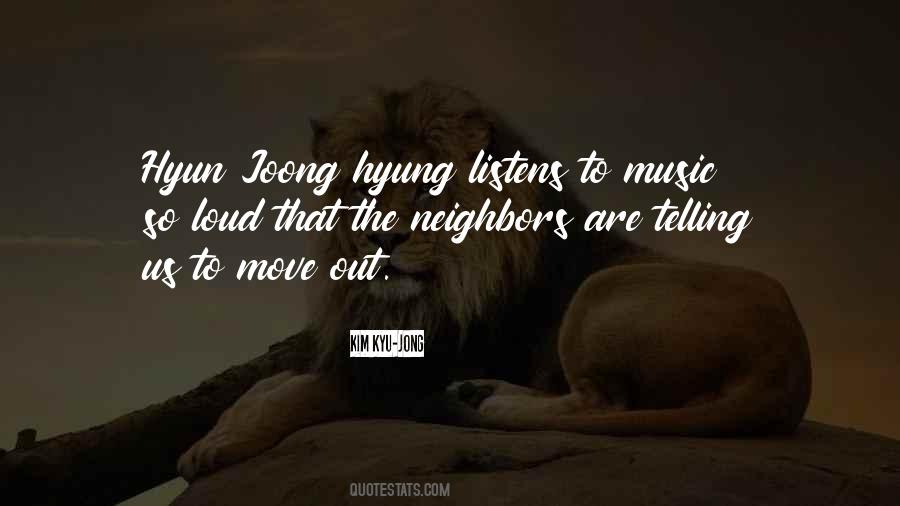 #22. He turned the music up loud. So what if it would deafen him? It made him happy. Like it had so many times before. - Author: Stuart McLean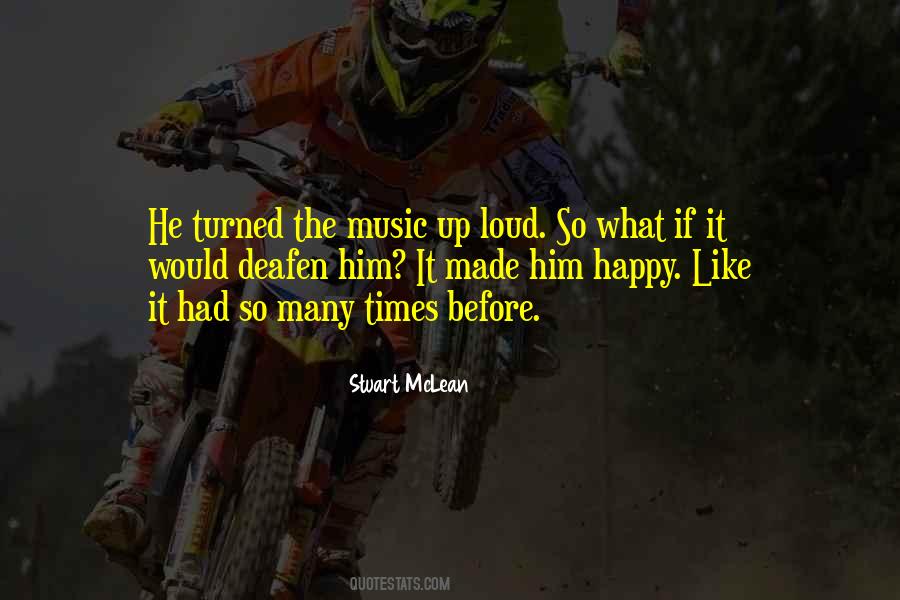 #23. Sound should bring you in. We have people in all these specialized departments to make it one whole. They are supposed to work together to bring us into their world, not push us away. For example, rock music has to be loud, but it doesn't have to be too loud. - Author: Donna McKechnie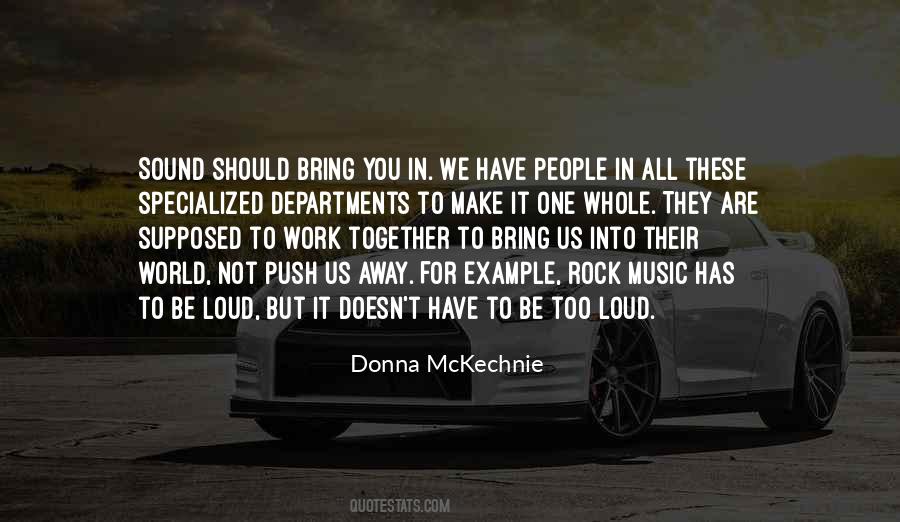 #24. What I do for migraines when I get them, I listen to classical music, and I turn it up really loud. - Author: Ian McLagan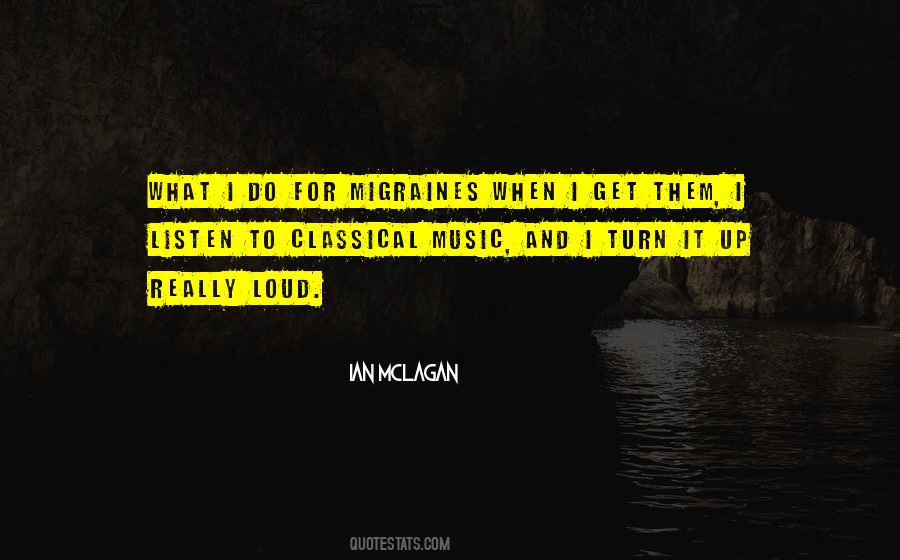 #25. My main influence is - it's music. It lifts the spirit. I am always listening to music. And sometimes what inspires me is a little sound or some small arrangement. I really do listen to music continuously all day long - very loud, so people can't stand to be around me anymore. - Author: Donatella Versace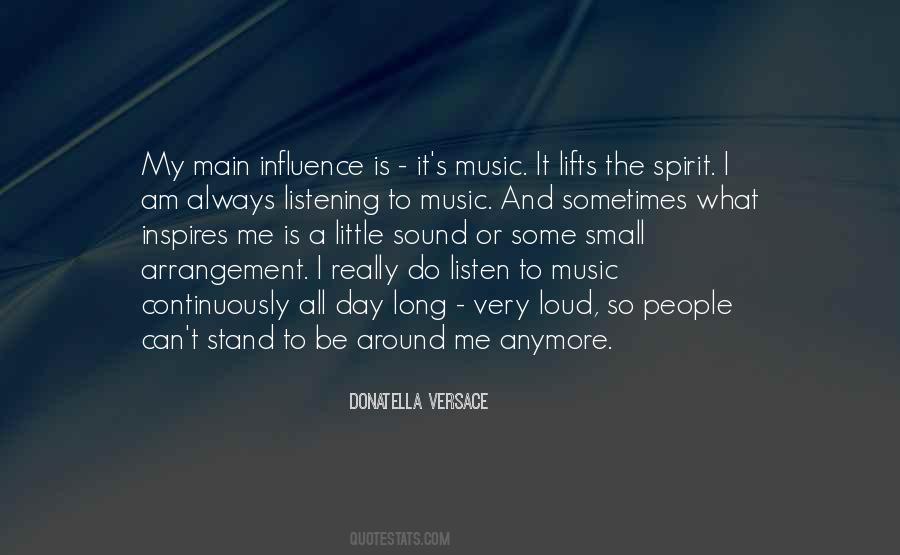 #26. What you are, as a teenager, is a small, silver, empty rocket. And you use loud music as fuel, and then the information in books as maps and coordinates, - Author: Caitlin Moran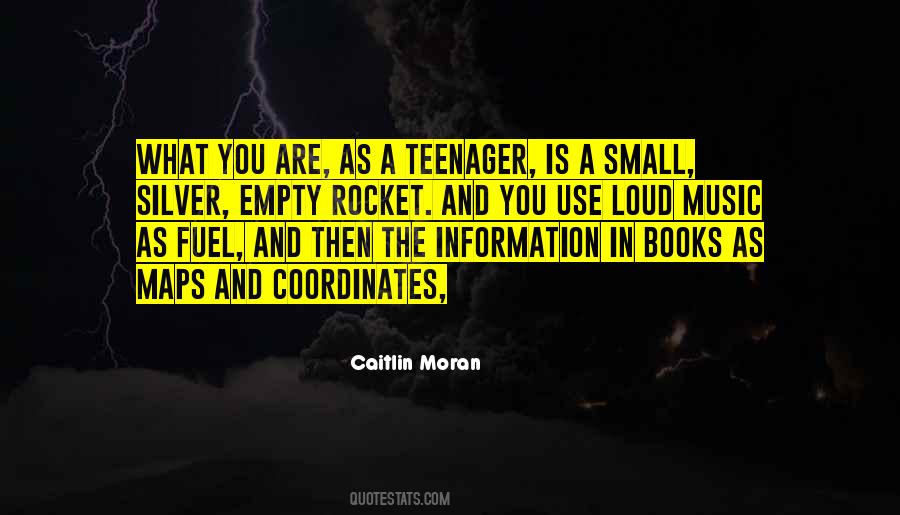 #27. As soon as she sees me she swings forward and hits a key on her keyboard. The music cuts off instantly. Strangely, the silence that follows seems just as loud. - Author: Lauren Oliver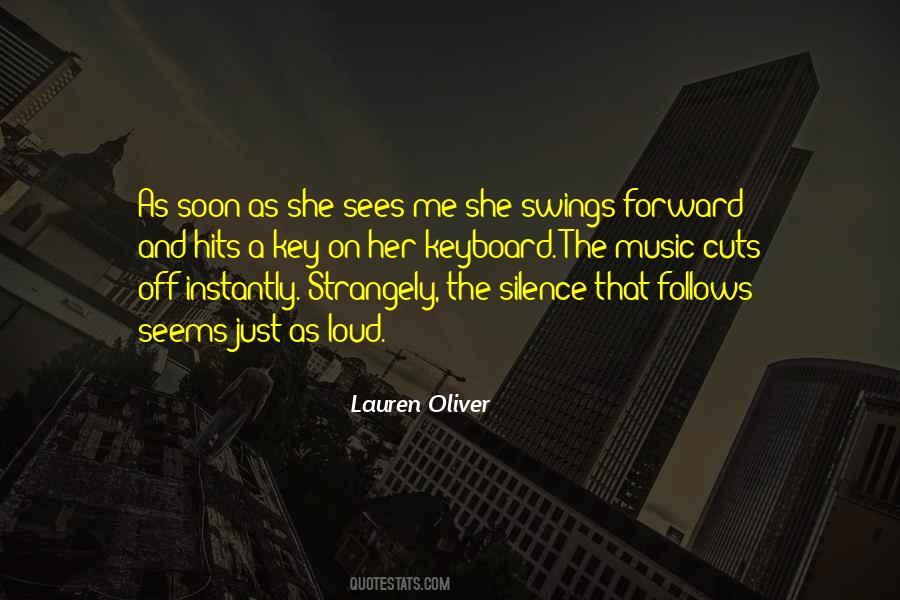 #28. I got a man cave. I play my music loud. I bought big speakers because I need to hear music loud. - Author: Marlon Wayans
#29. I like Wagner's music better than anybody's. It is so loud that one can talk the whole time without other people hearing what one says. - Author: Oscar Wilde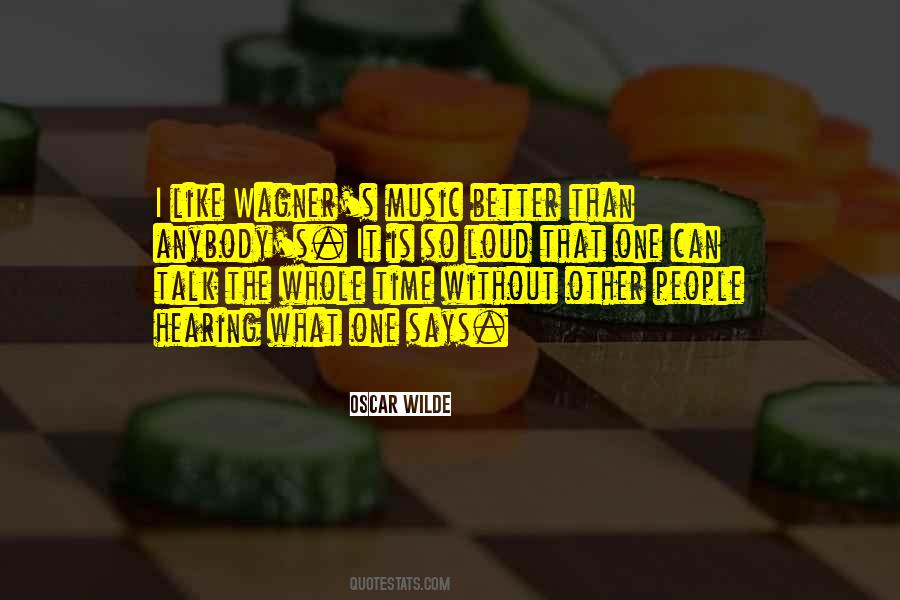 #30. Heavy Metal is the most conservative of all loud music. Let's face it, not even a gym teacher could get as many people to dress alike. - Author: Jello Biafra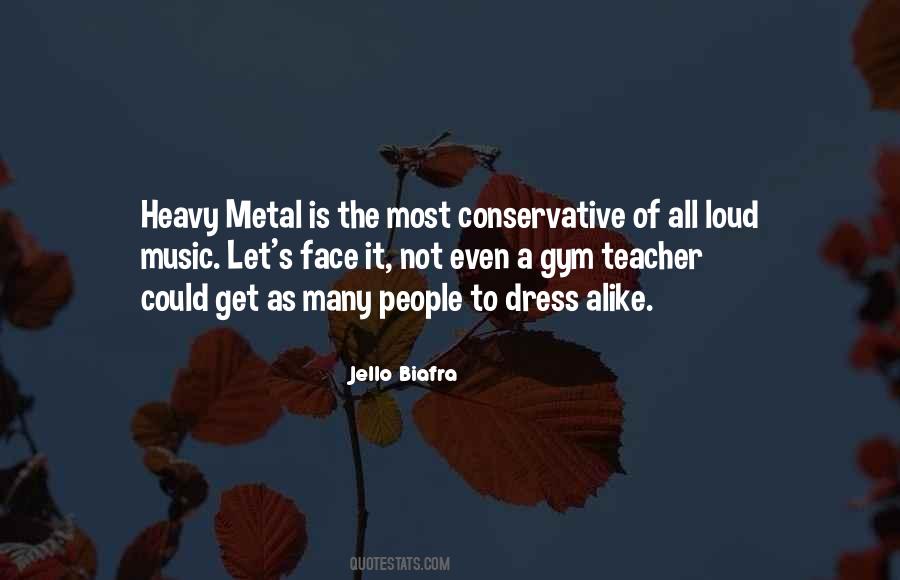 #31. It's quite rare for a group of people to come together for a live event that isn't loud music. A live event that enables thinking to take place, to take place collectively. It's unique to theatre. It's a quality I never want to see diminished. - Author: Tim Crouch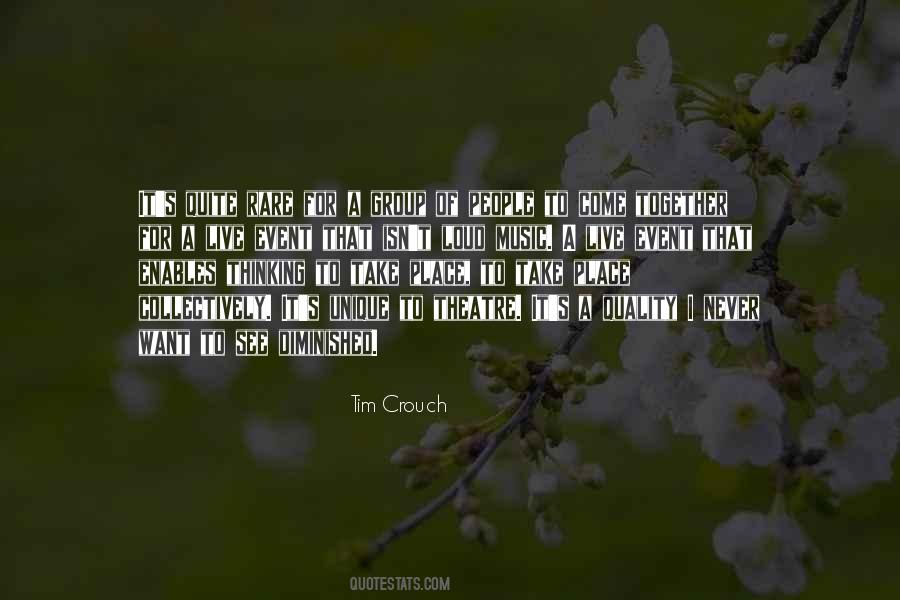 #32. I'm addicted to laughing. I go to see a lot of comedy shows. I'm addicted to playing really loud and obnoxious rock music in my car. I'm addicted to beautiful clothes and shoes. I just love gorgeous stuff and work hard to acquire pretty things, shiny things. I'm addicted to shiny things! - Author: Nadia Giosia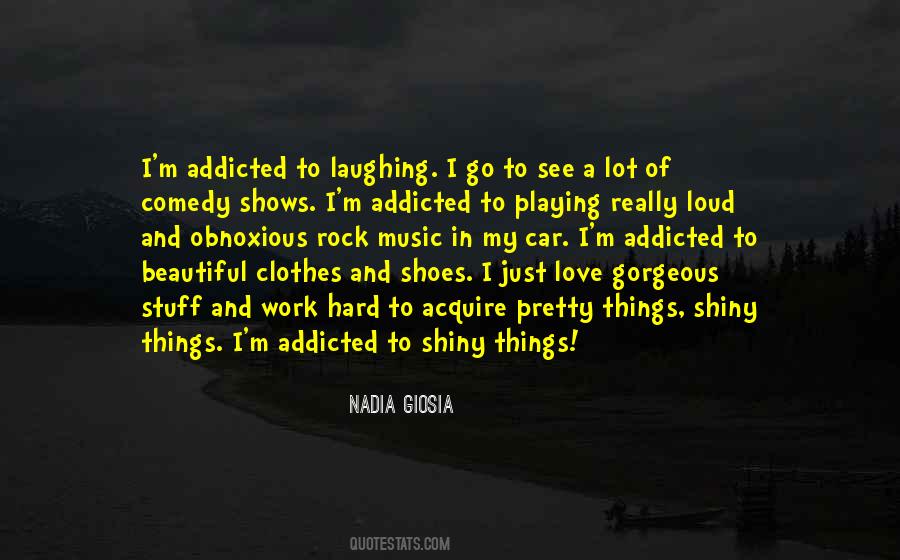 #33. You would probably think that rock music is an urban phenomena, but the main reason for doing it in '68 was so that we could play music very loud any time of the day or night without getting complaints from the neighbours. - Author: Steve Winwood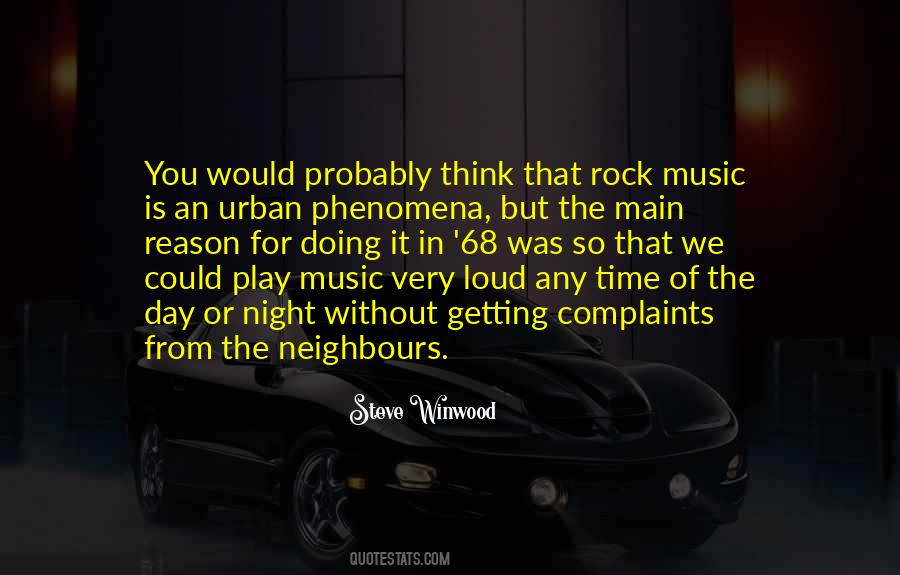 #34. Because what you are, as a teenager, is a small, silver, empty rocket. And you use loud music as fuel, and then the information in books as maps and coordinates, to tell you where you're going. - Author: Caitlin Moran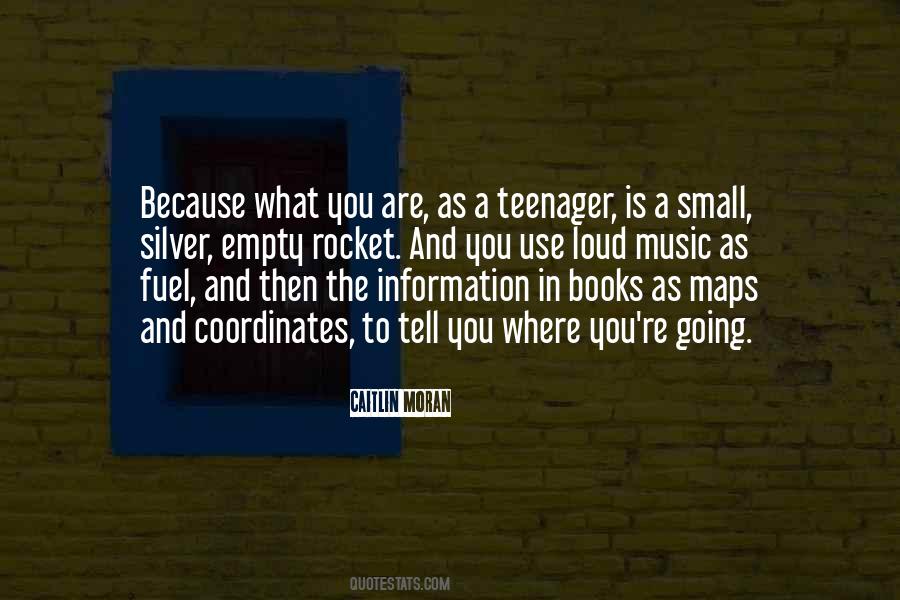 #35. When the Naysayers Are Loud, Turn Up the Music - Author: Reid Hoffman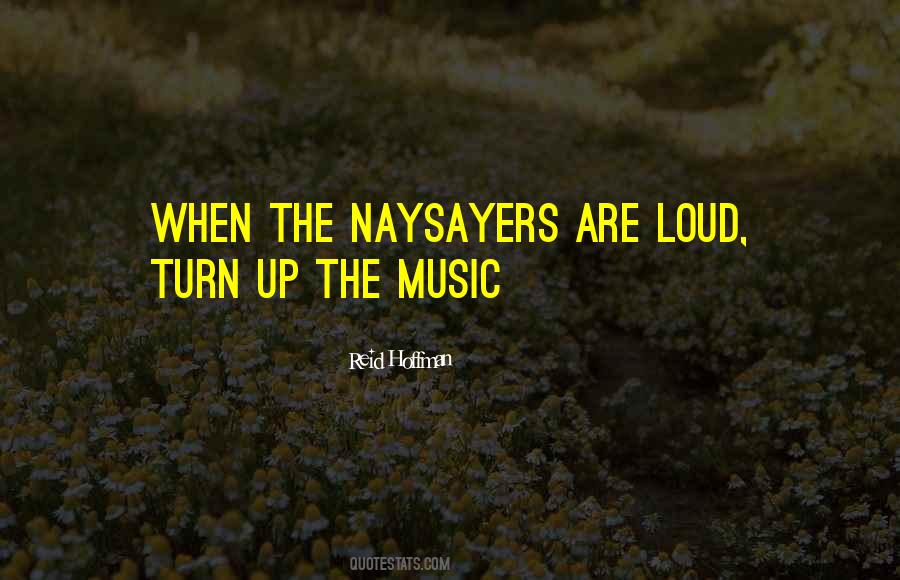 #36. In the hall itself the din of the music - for this is the real way to play a jukebox and what it was originally for - was so tremendous that it shattered Dean and Stan and me for a moment in the realization that we had never dared to play music as we wanted, and this was how loud we wanted. - Author: Jack Kerouac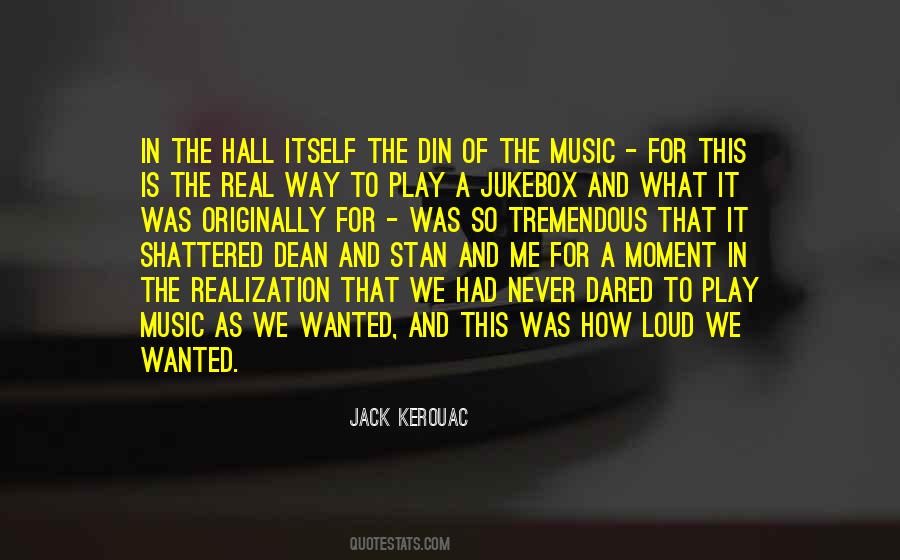 #37. Some of the wise boys who say my music is loud, blatant and that's all should see the faces of the kids who have driven a hundred miles through the snow to see the band ... to stand in front of the bandstand in an ecstasy all their own. - Author: Stan Kenton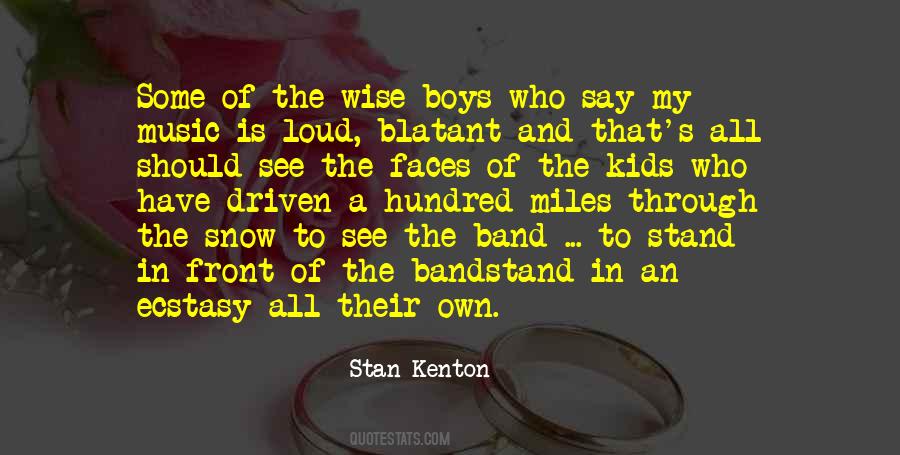 #38. When you write music that expresses doubt or concern, or talks about some of the darker things that a developing human goes through, people will come out of the woodwork to listen to someone else say it out loud. - Author: Tyler Joseph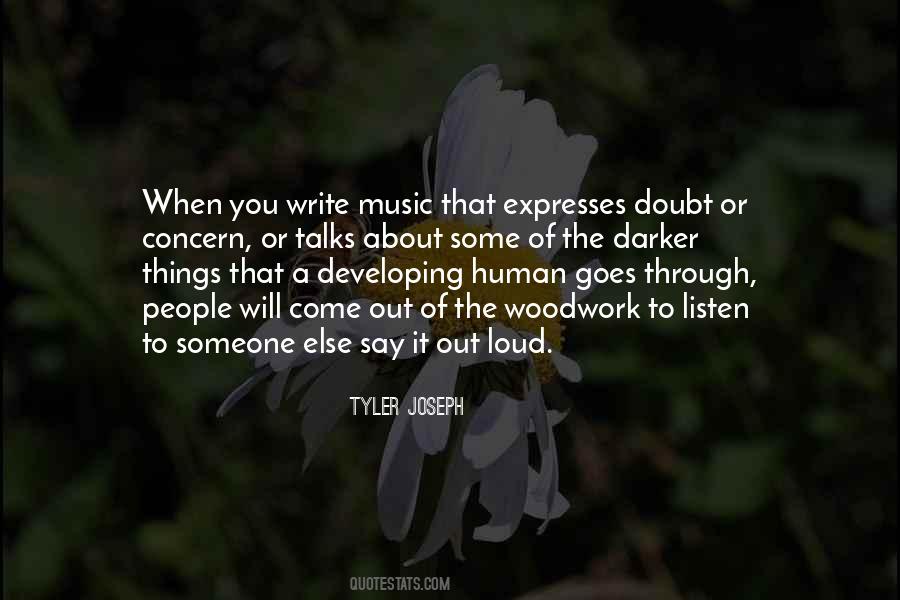 #39. I just don't - Ronan. My ears are bleeding!
Ronan turned down the music. - Author: Maggie Stiefvater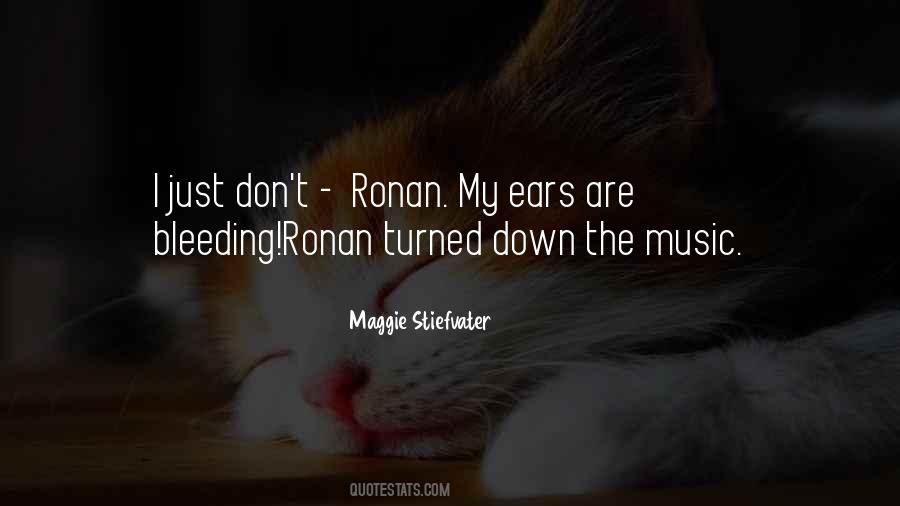 #40. Thank God for the Italians, the most forgiving people of the world. And they sing so loud you can barely hear the music! - Author: Jared Leto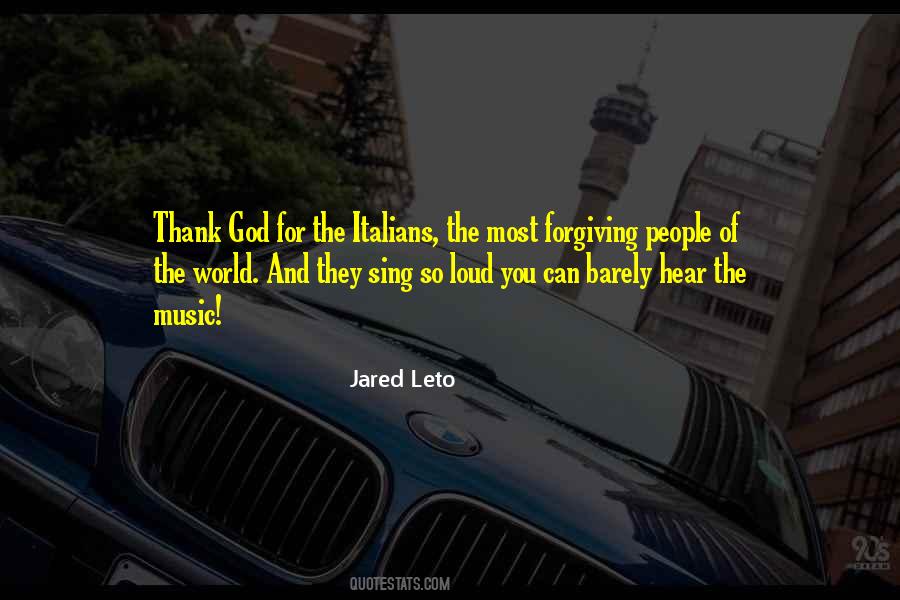 #41. I had an old man moment the other day. I went into Abercrombie & Fitch to get some jeans and the music was so loud I couldn't stay. - Author: Harry Connick Jr.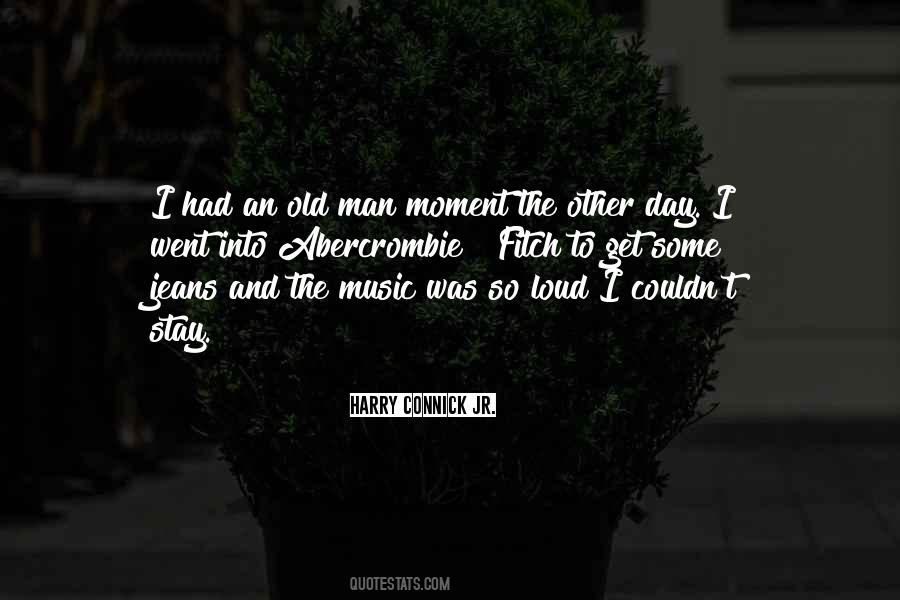 #42. You should be loud enough to be heard, but not overshadow the soloist or the other members of the rhythm section. Finding this volume balance is critical for a good feeling in the band. Creating bass lines - Author: Sher Music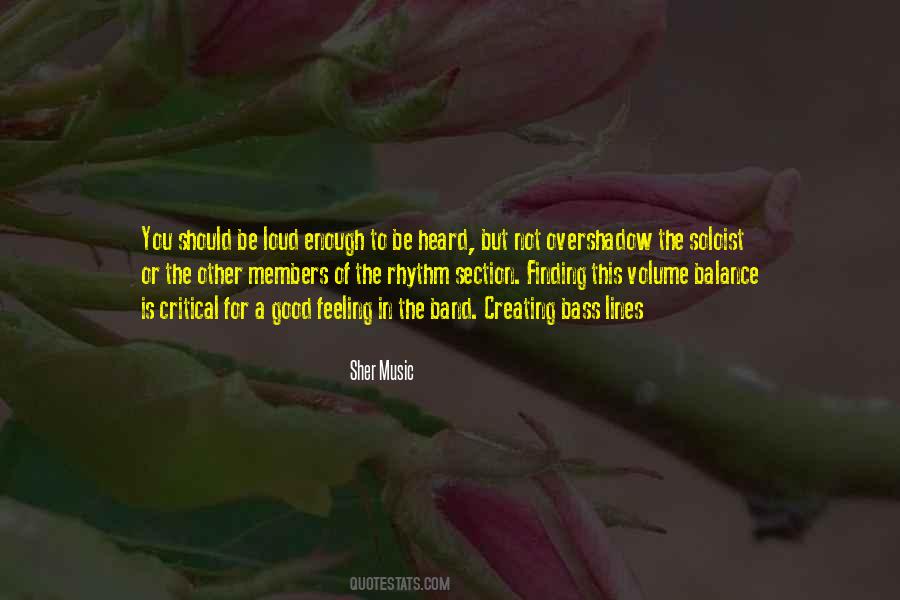 #43. Something else is hurting you -
that's why you need pot
or whiskey, or screaming music
turned so fucking loud
you can't think - Author: Charles Bukowski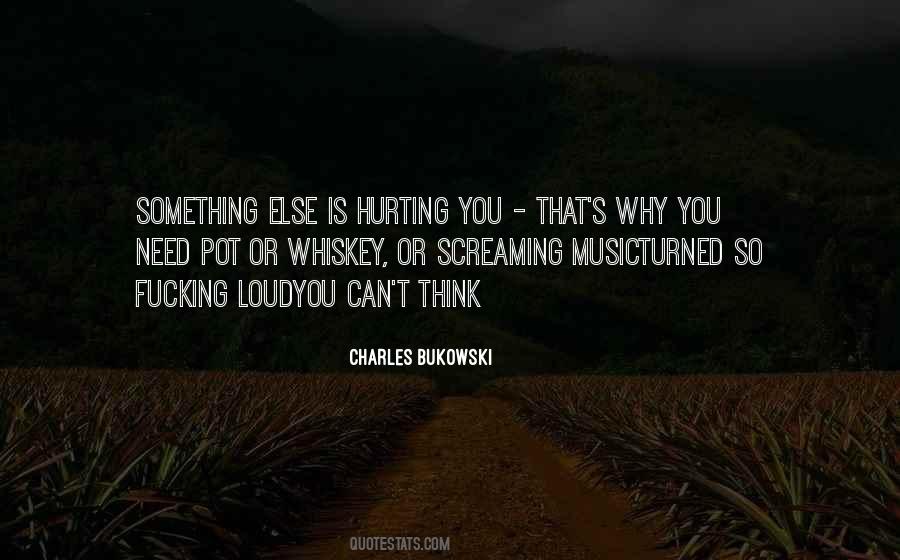 #44. Haida preferred to listen to instrumental music, chamber music, and vocal recordings. Music where the orchestral component was loud and prominent wasn't to his liking. - Author: Haruki Murakami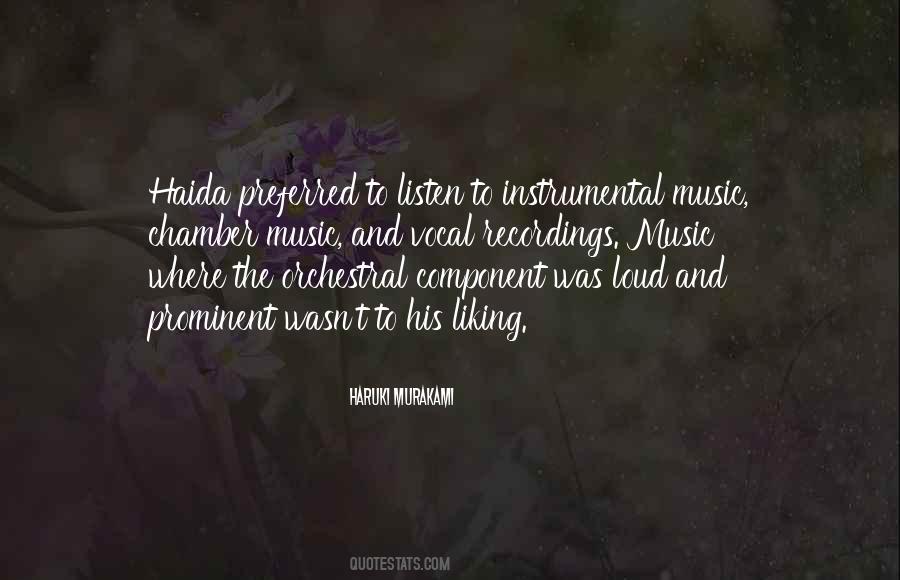 #45. I'm spending nights just dreaming / And playing the music loud / They're banging on the ceiling / They're praying that I'll soon be out. - Author: Kim Wilde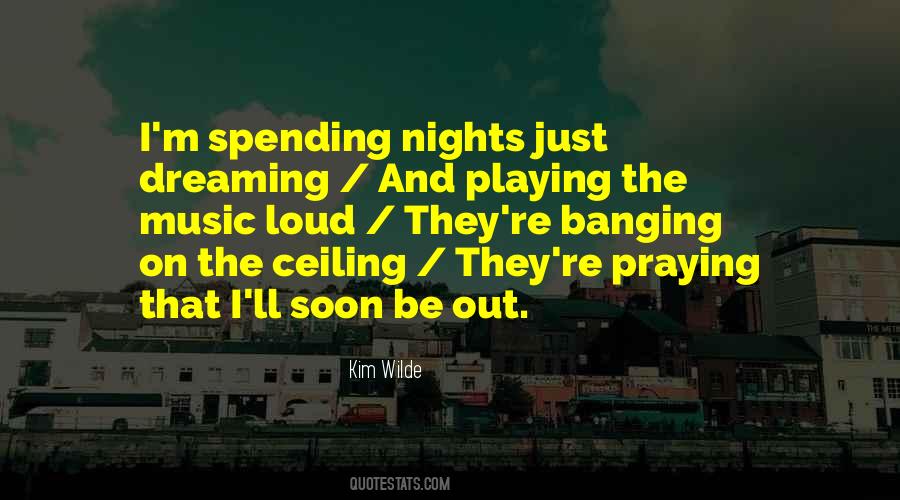 #46. That's what music is to me. Like, stuff that I really like to play loud. And I've got my quiet CDs, too, that I listen to around the house, but if you can't go there, then ... Everyone gets so upset with me, I can't win. - Author: Liz Phair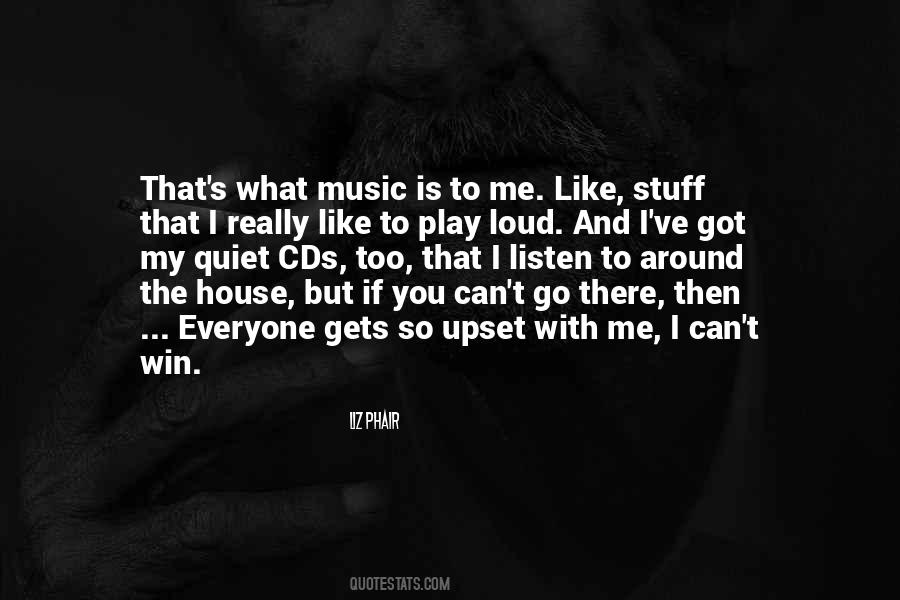 #47. There are two types of folk music: quiet folk music and loud folk music. I play both. - Author: Dave Alvin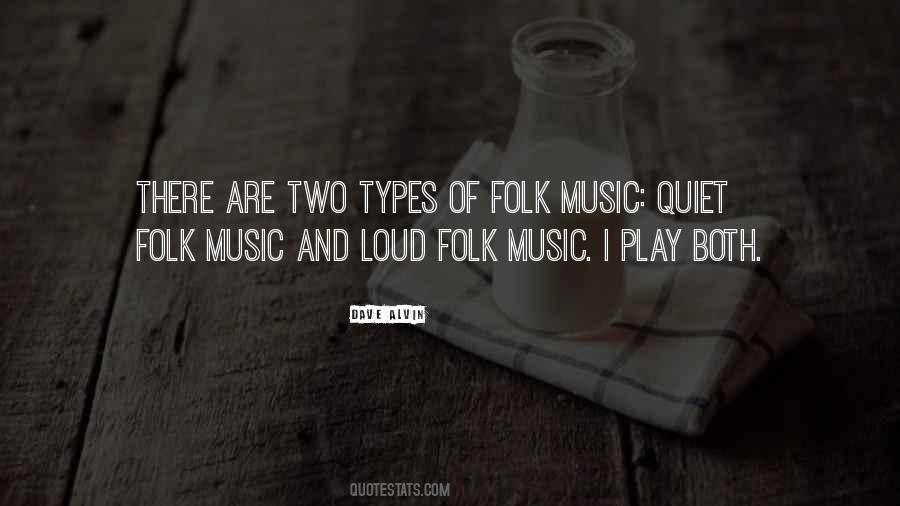 #48. We sat still, our breathing loud and rhythmic, its music melancholy, a traditional song of sorrow. - Author: Margot McCuaig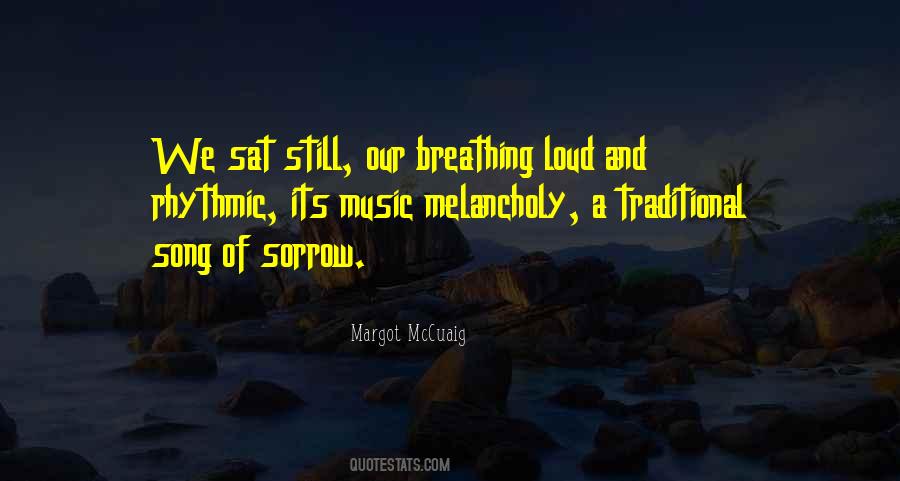 #49. This music, transmitted by loud-speakers, made a masterpiece appear like an amateurish attempt at composition by nimcompoop - Author: Paul Hindemith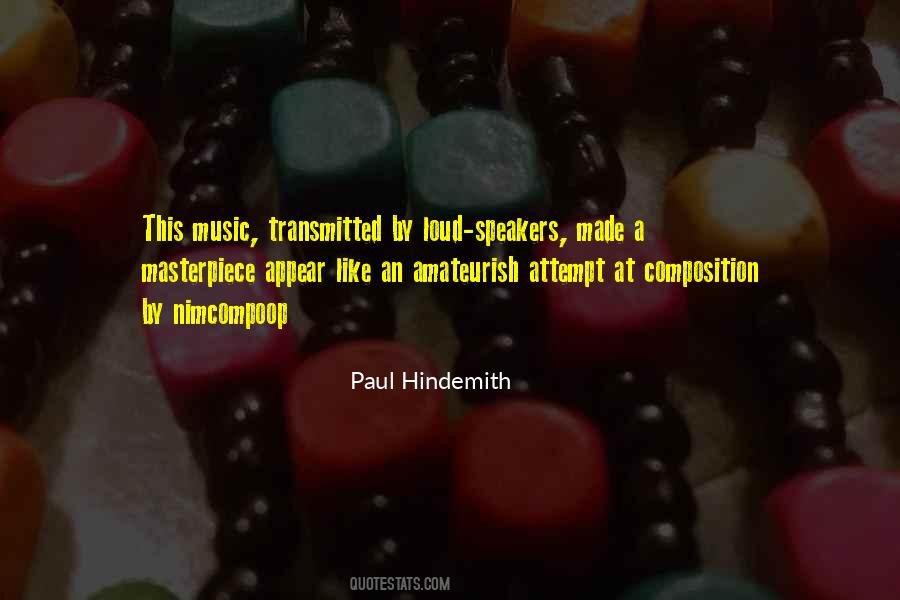 #50. You go through the Civil Rights struggle, everybody knew the songs - 'We shall overcome.' Everybody would sing it. Music helped us. James Brown, 'Say It Loud - I'm Black and I'm Proud.' They helped black people figure out how to navigate what was a very treacherous place in America for them. - Author: Geoffrey Canada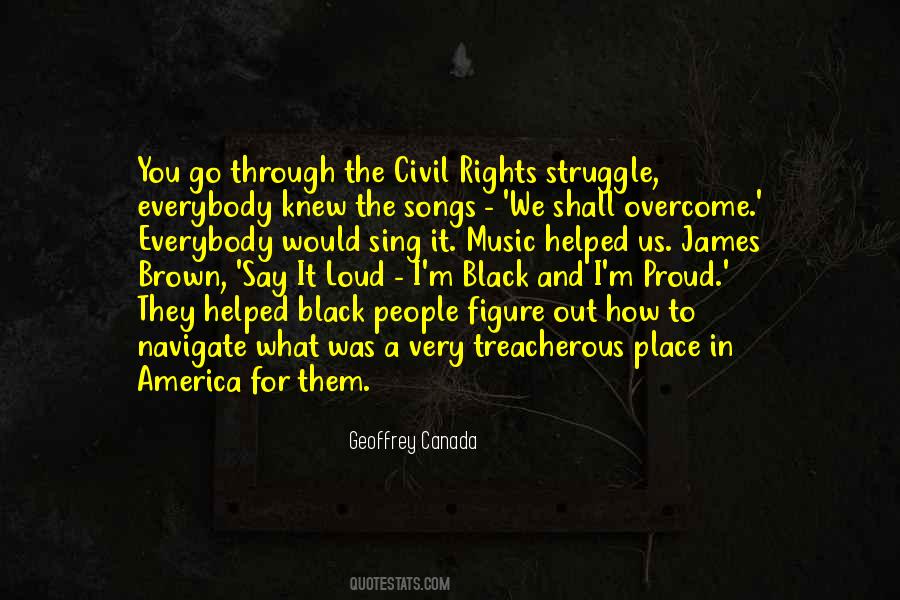 #51. How can they know
Truth flourishes where the student's lamp has shone,
And there alone, that have no solitude?
So the crowd come they care not what may come.
They have loud music, hope every day renewed
And heartier loves; that lamp is from the tomb. - Author: William Butler Yeats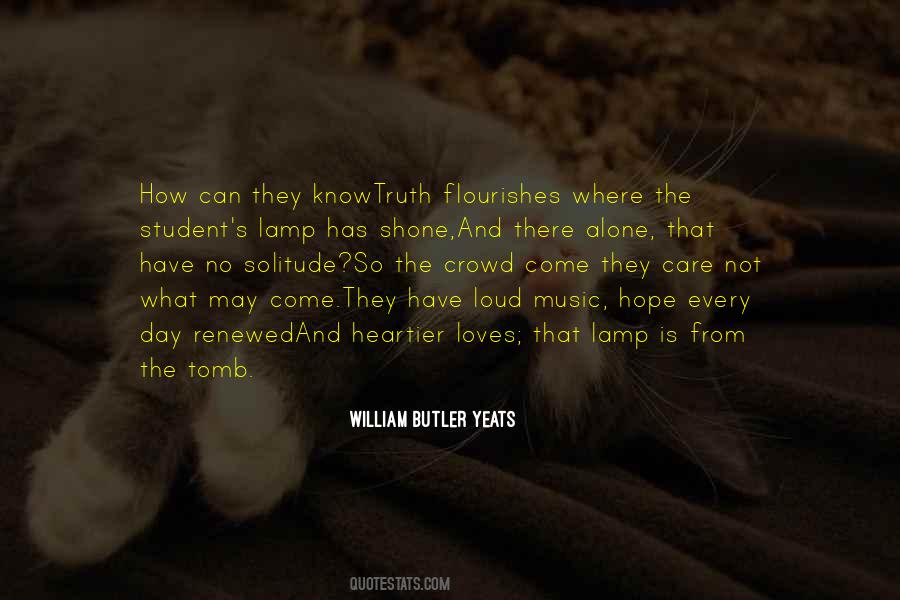 #52. If you want to say something profound, writing from your heartbeat is different than writing from the loud voices you get from music. If they're rapping from noise, it's about robbing people. It's that simple. - Author: Russell Simmons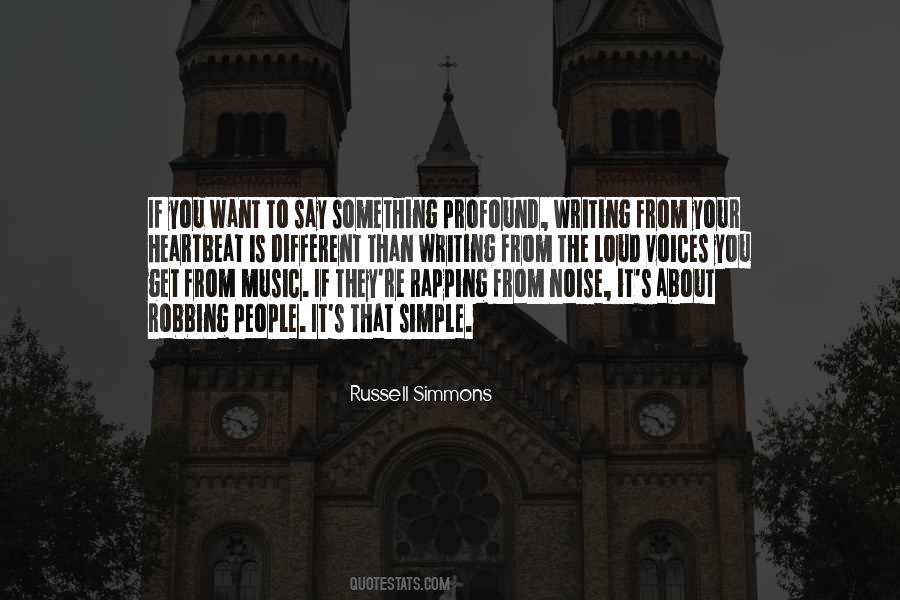 #53. I work to loud music - hard-rock stuff like AC/DC, Guns 'n Roses, and Metallica have always been particular favorites - but for me the music is just another way of shutting the door. - Author: Stephen King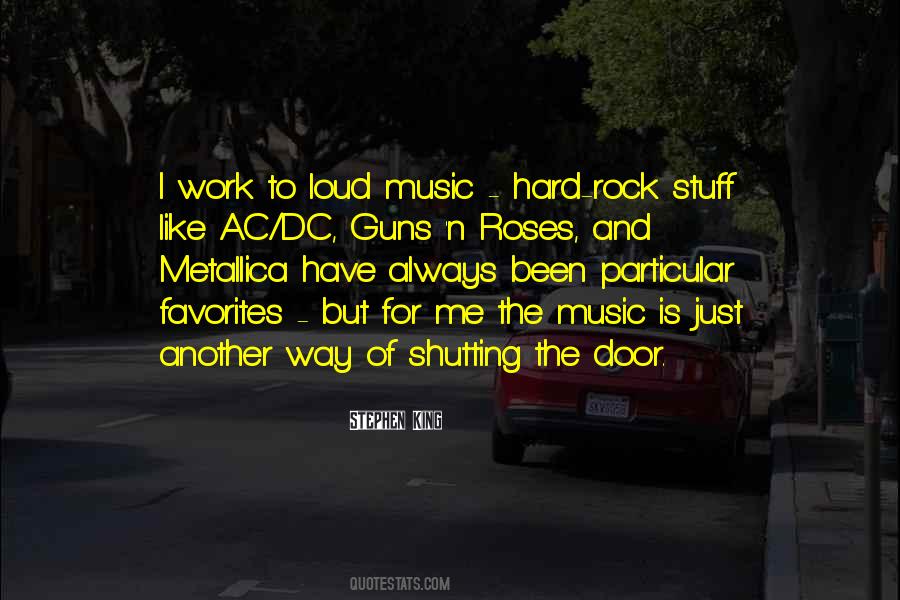 #54. My mother got me into music when I was a little kid. She used to play music, blast it, when she was cleaning the house, while I was crawling around. I just love loud music. - Author: Pauly D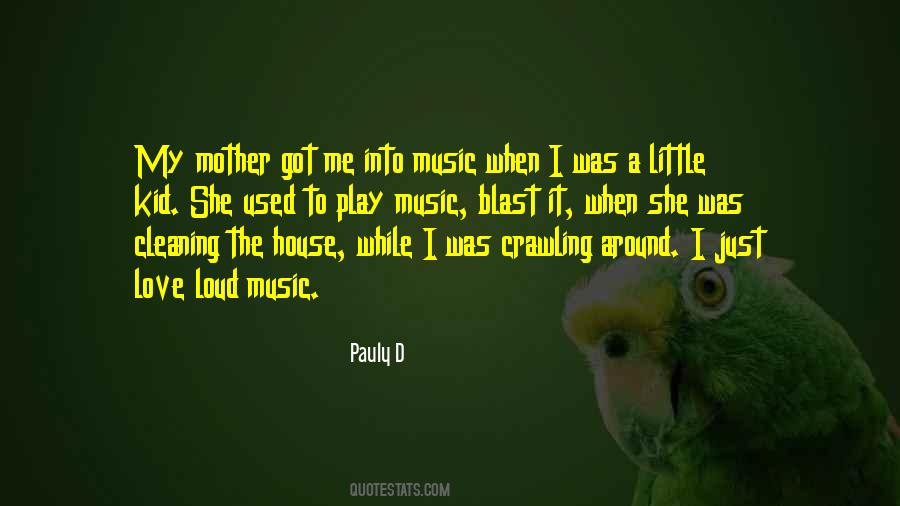 #55. Your life is your song, sing it loud! - Author: Rob Liano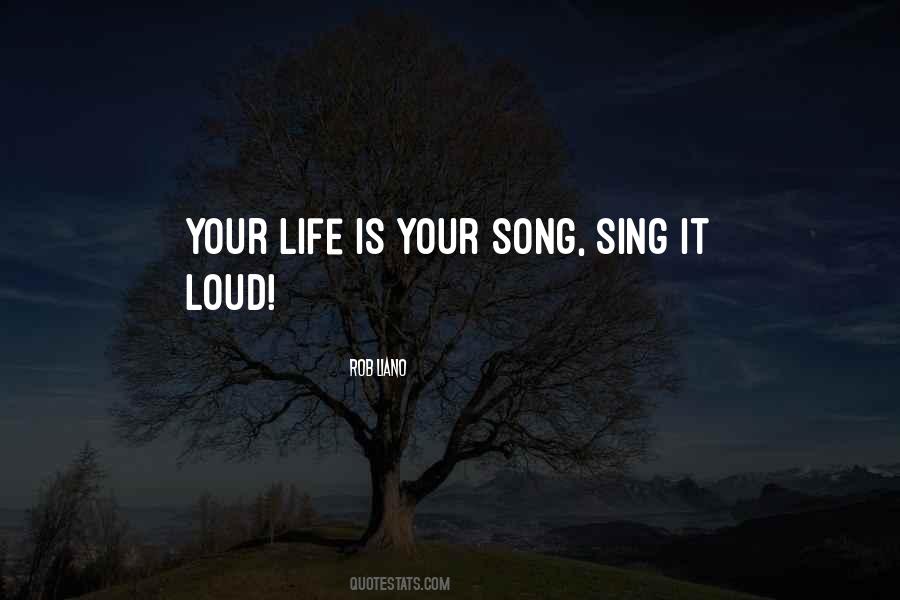 #56. 'I don't want to grow up', Tom Waits said it. I live it. I put myself in a position to be a kid as long as I want to. I play loud music and scream for a living. - Author: Jason Newsted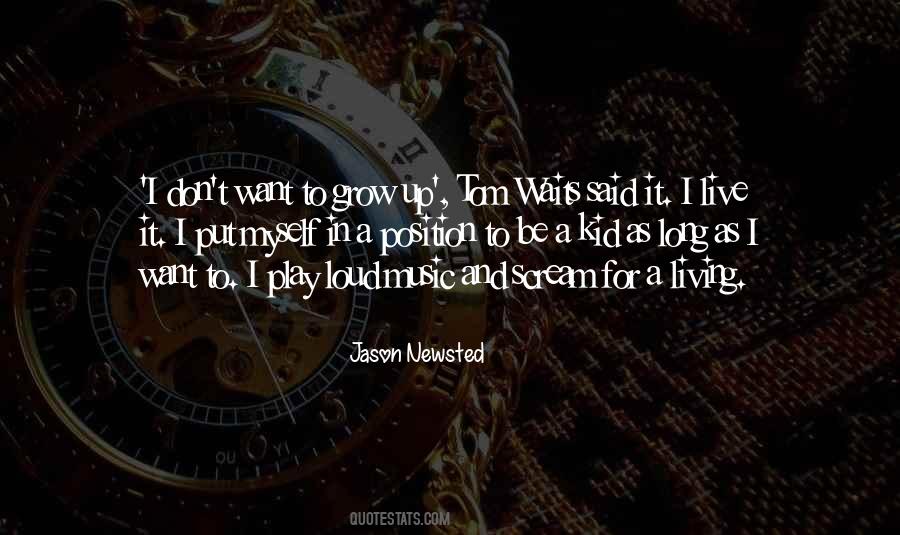 #57. In the sometimes ridiculous action scenarios you're laughing out loud, and so the more committed and in fact the more highbrow the music is, the funnier it is. - Author: Henry Jackman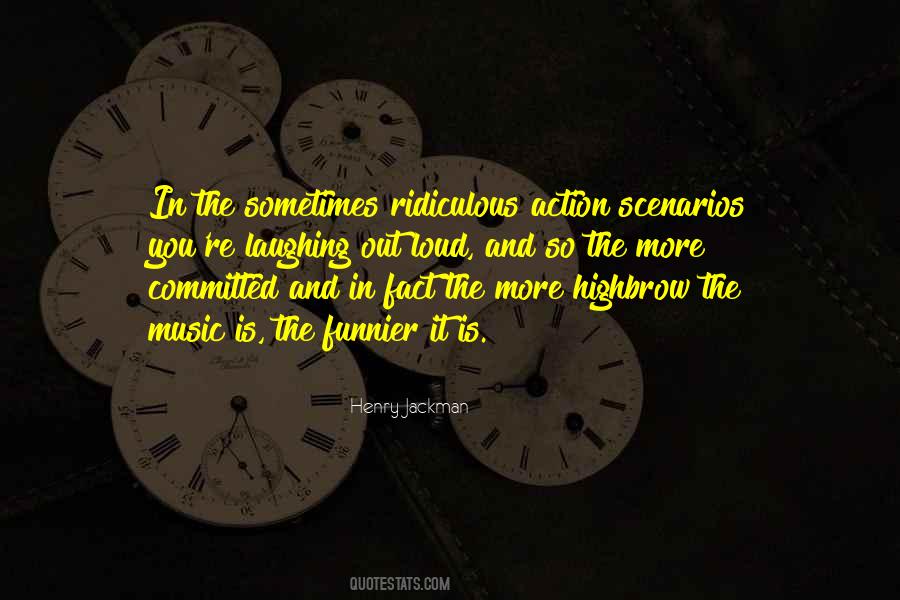 #58. Words when spoken out loud for the sake of performance are music. They have rhythm and pitch and timbre and volume. These are the properties of music and music has the ability to find us and move us and lift us up in ways that literal meaning can't. - Author: Josiah Bartlett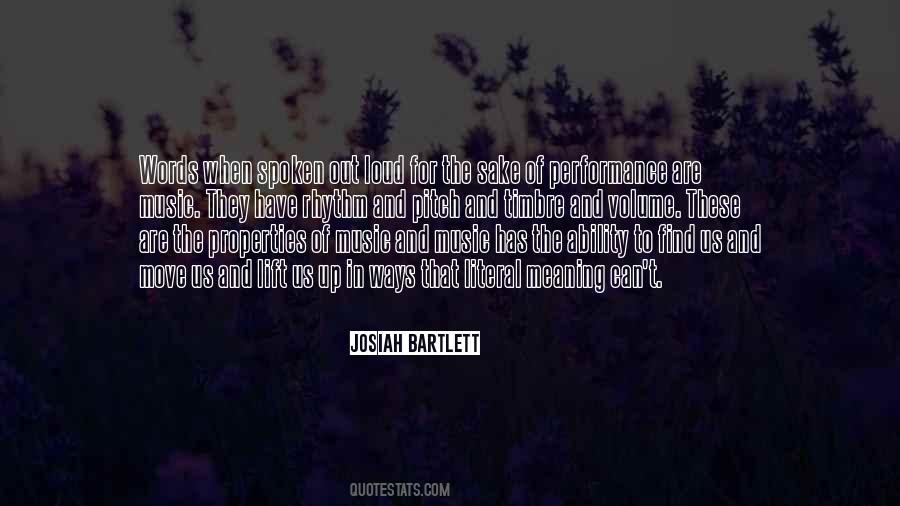 #59. It's a humbling thing, having kids. One of my sons came to rehearsals, and now he says Daddy's job is 'go play loud music.' - Author: Trent Reznor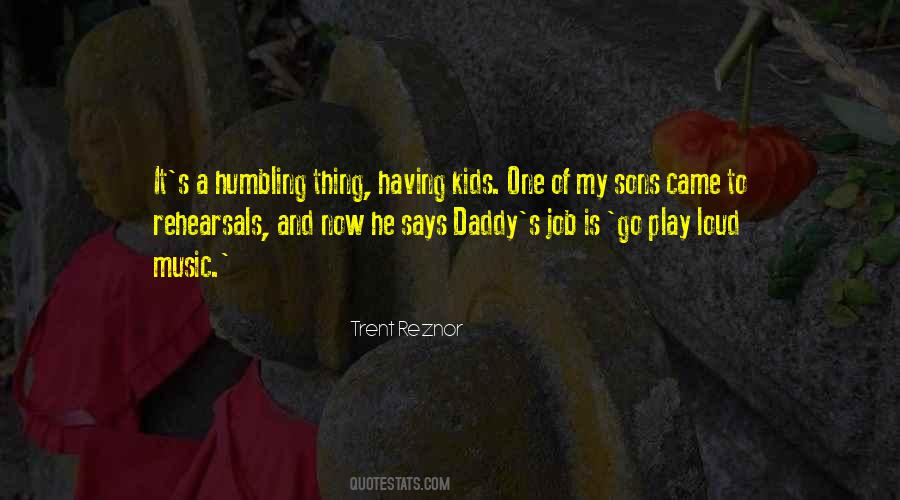 #60. It's important to me that people feel connected to the band through the music, you know? I don't want it to be wallpaper. I don't want it to be background music. I want it to be clear: This is the song. These are the words. If you feel the same way as I do, sing it as loud as you can. - Author: Dave Grohl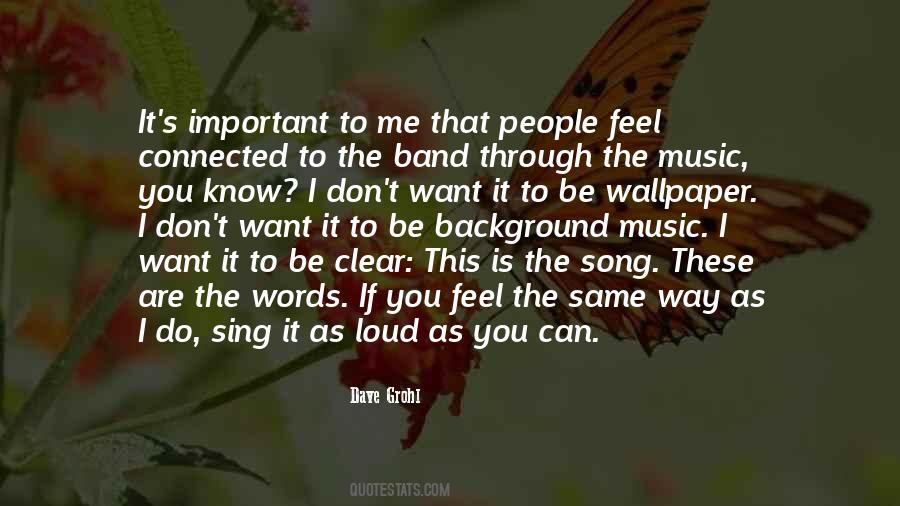 #61. I could do with a bit more excess. From now on I'm going to be immoderate
and volatile
I shall enjoy loud music and lurid poetry. I shall be rampant. - Author: Joanne Harris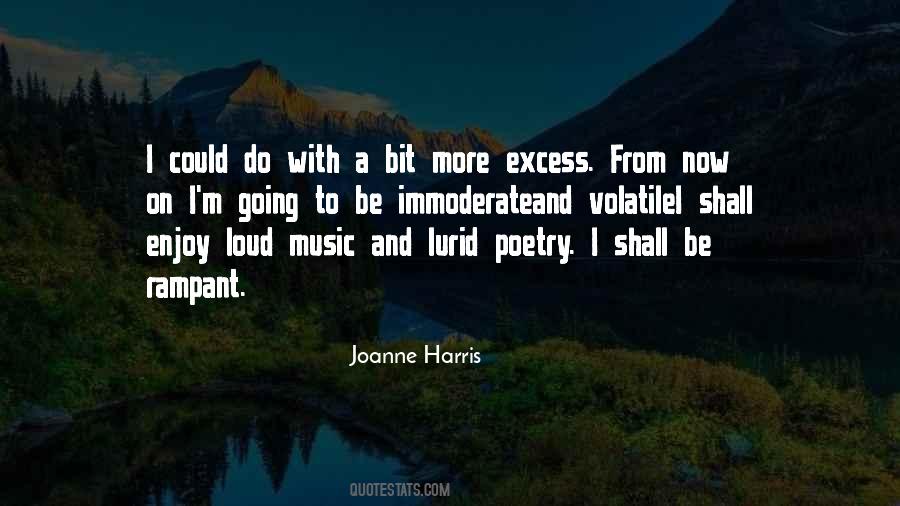 #62. Yuki-eh, you must learn to be a lady.

I don't think I ever quite learned to do that. I liked my music loud. My skirts short - I know, Mommy, even this one is too short! She wanted me to marry a lawyer - instead, I became one. - Author: James Patterson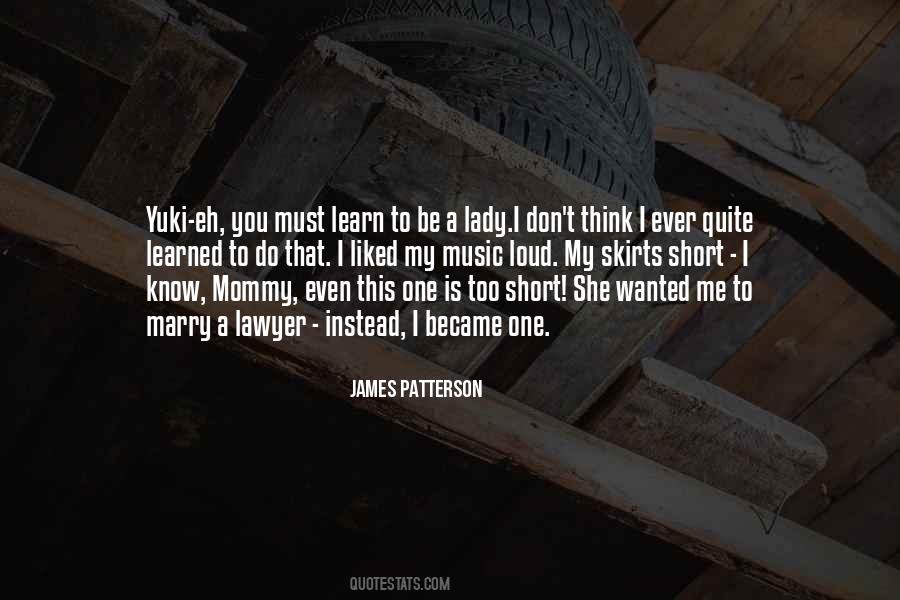 #63. I am not very relaxed about bad reviews. But I am resilient. I grieve, curse and swear, put on loud music, and get on with the next job. - Author: Simon Schama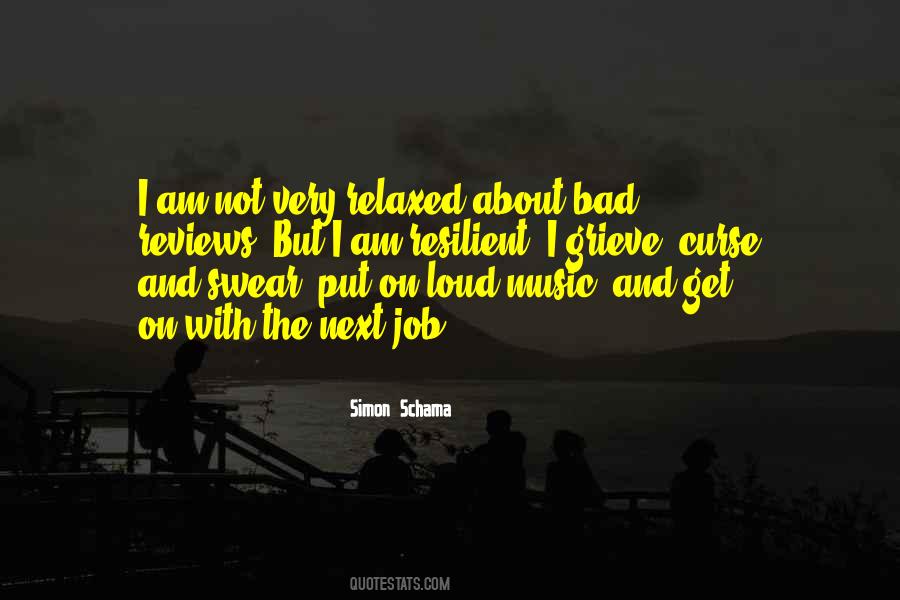 #64. It's just being who you want to be, even if you are a poor kid making loud music
about being unhappy! - Author: John Darnielle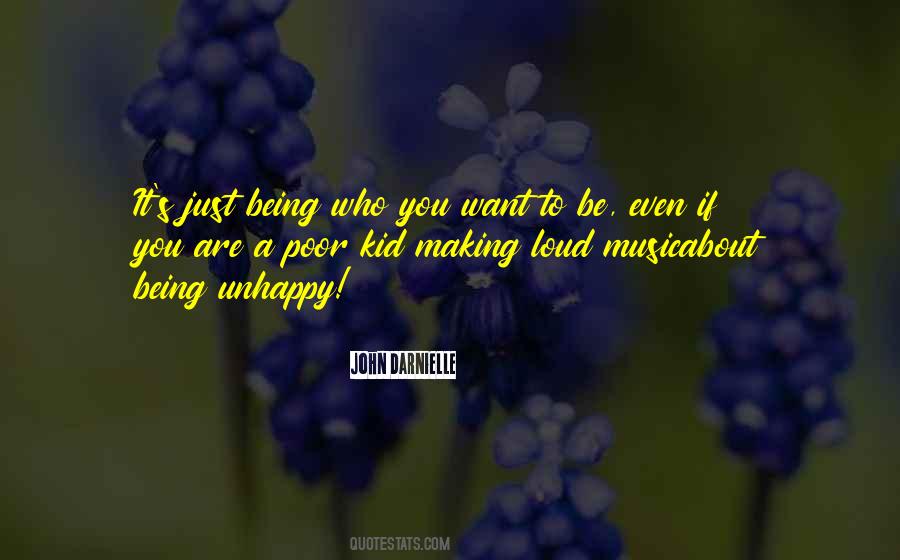 #65. I had a real stage school voice and I could do loud things, but it's not about being loud, it's about sensitivity and subtlety in music. You can do so much more with a quiet voice than with a belter. - Author: Amy Winehouse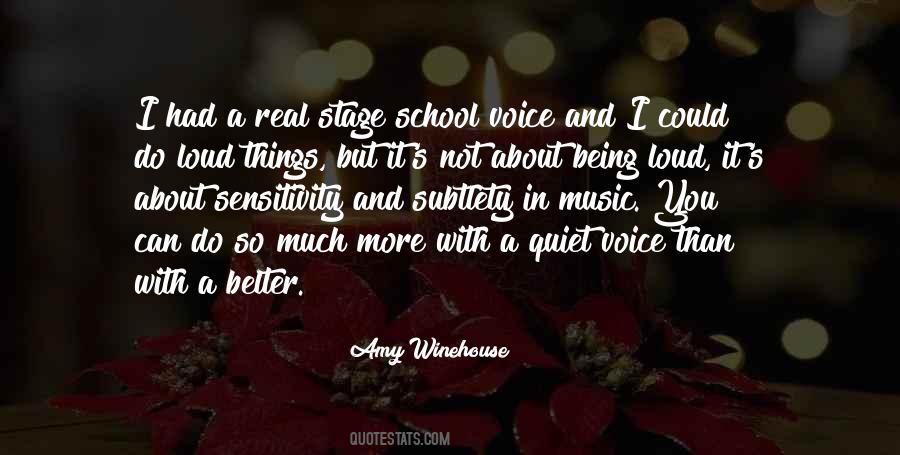 #66. sing so loud that the music
drowns out the sounds of
the naysayers.
one day they'll be singing
your song. - Author: JaTawny Muckelvene Chatmon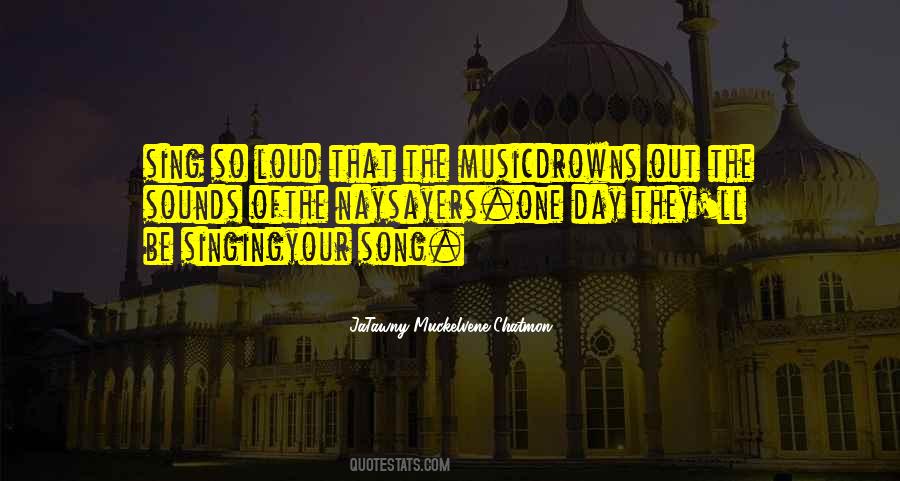 #67. The familiar (if loud) churn of the engine made it hard to talk, especially with the windows open (the air-conditioning didn't work), but the day was warm and they blasted the music and sang along. Nessa loved singing at full volume. She couldn't carry a tune, but with Bree it didn't matter. - Author: C.D. Bell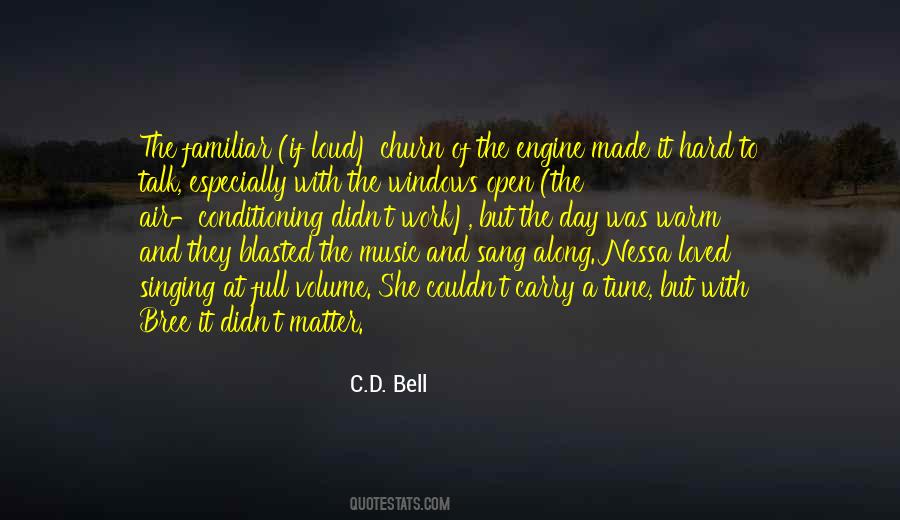 #68. Live your life, listen to your music way to loud, be crazy and as different as you want to be and always remember your not alone - Author: Andy Biersack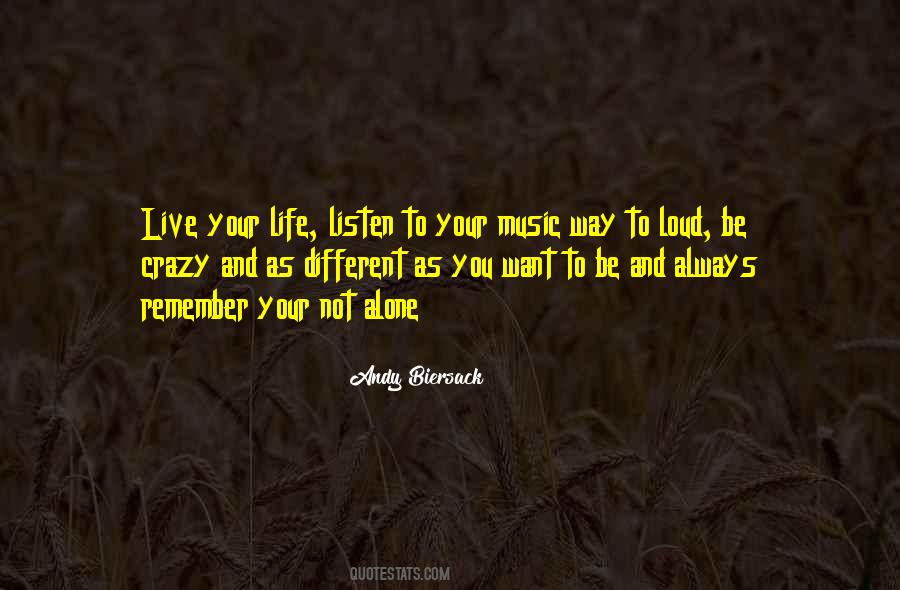 #69. As a culture I see us as presently deprived of subtleties. The music is loud, the anger is elevated, sex seems lacking in sweetness and privacy. - Author: Shelley Berman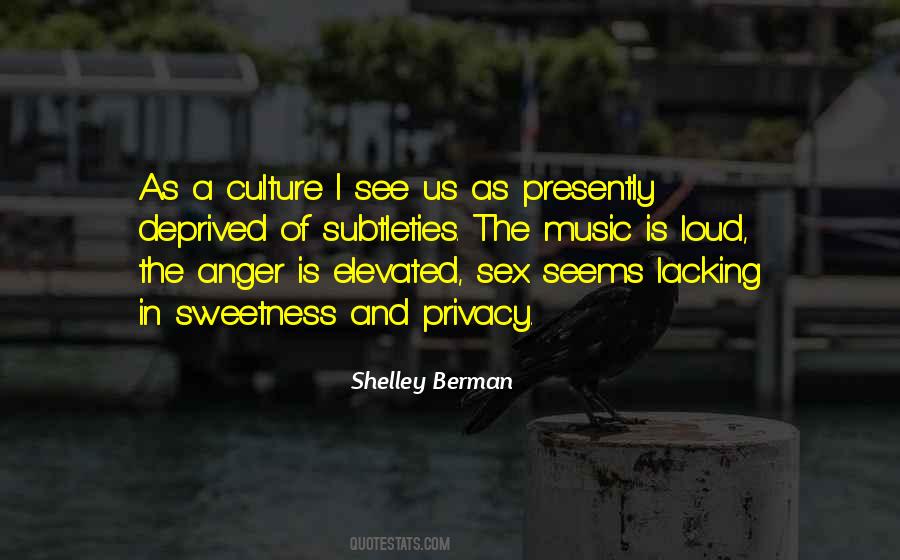 #70. That was the ballad of suburbia: give me loud to drown out the silence. - Author: Stephanie Kuehnert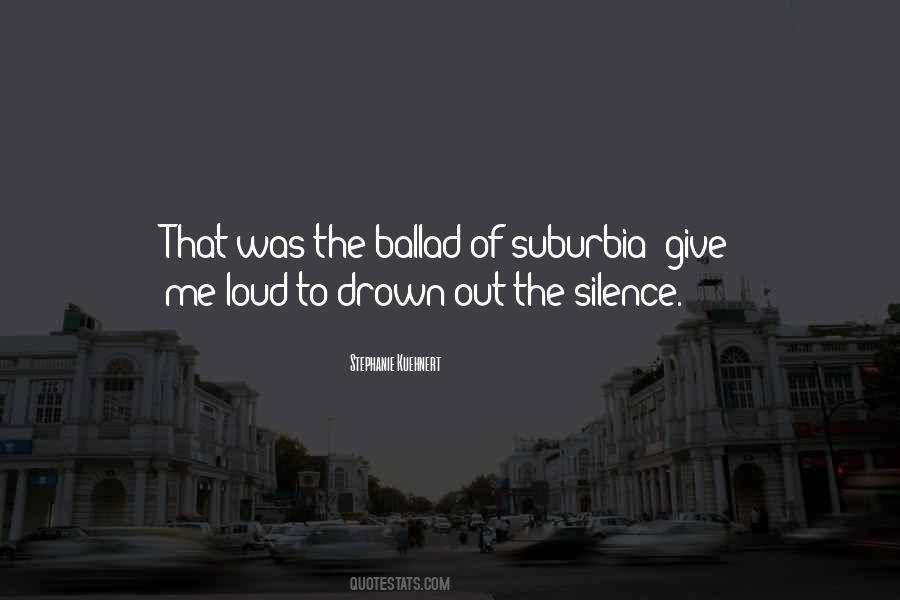 #71. When it comes to Fashion Week, I'm over the too-cool-for-school runway experience with loud music in a raw space that's inconvenient for everyone. - Author: Rodger Berman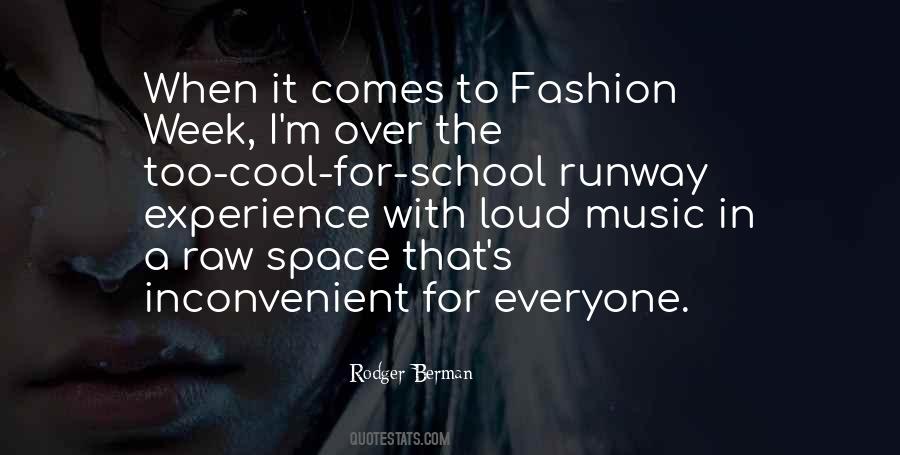 #72. Whoa, you got my head in the clouds
Whoa, you got me thinking out loud
The more you dream about me the more I believe
That nothing's ever out of reach
So dream, dream, dream - Author: Miley Cyrus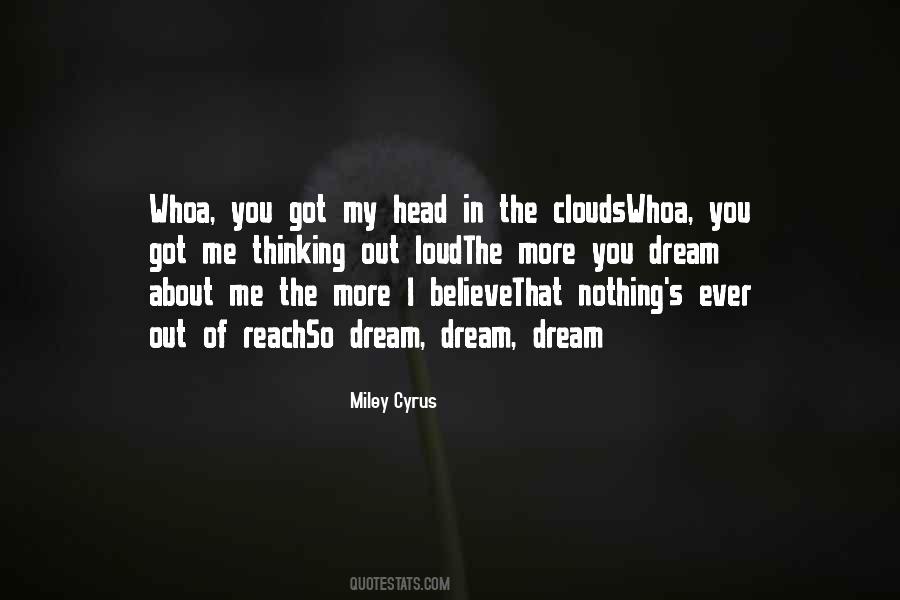 #73. It's weird - the cab driver is playing very loud dance music and yet it doesn't really feel like a party. - Author: Eugene Mirman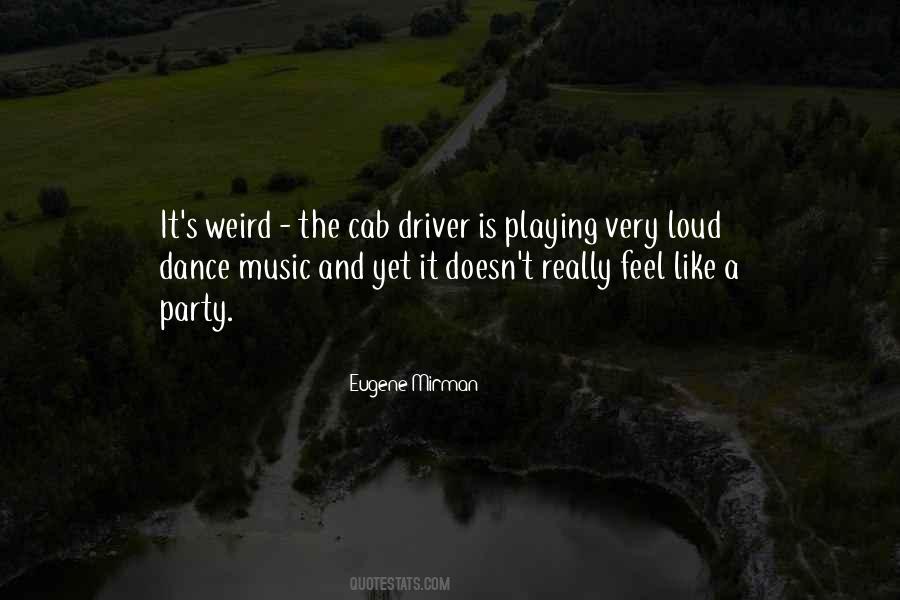 #74. My parents were not musical, and they were not effervescent people; everything was very quiet. The music that I played was loud; it used to drive them up the wall. My father died, and that was a tragedy for everybody, but suddenly I didn't have anybody to stop me from doing what I wanted to do. - Author: Don McLean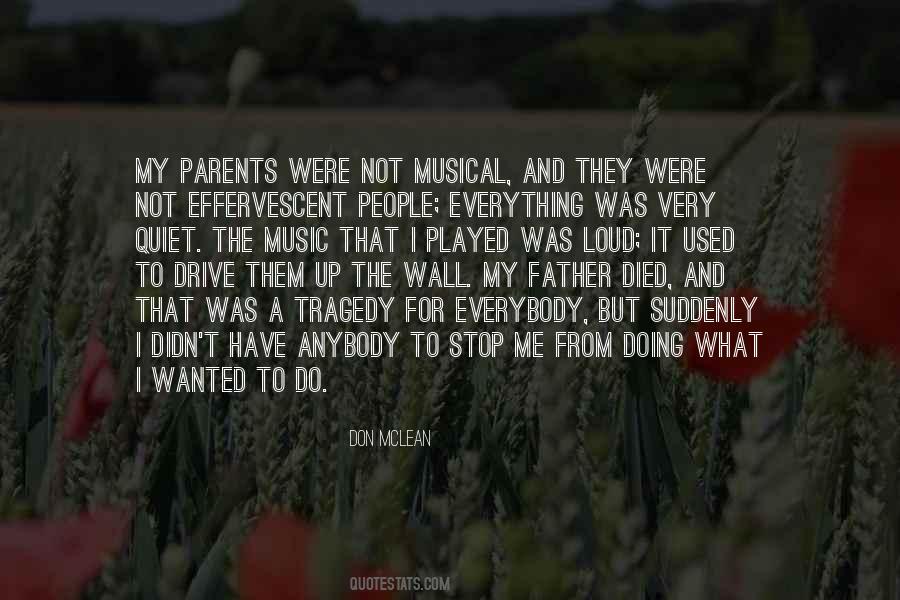 #75. He had promised Leslie that after Christmas he would stay home and fix up the house and plant his garden and listen to music and read books out loud and write only in his spare time. - Author: Katherine Paterson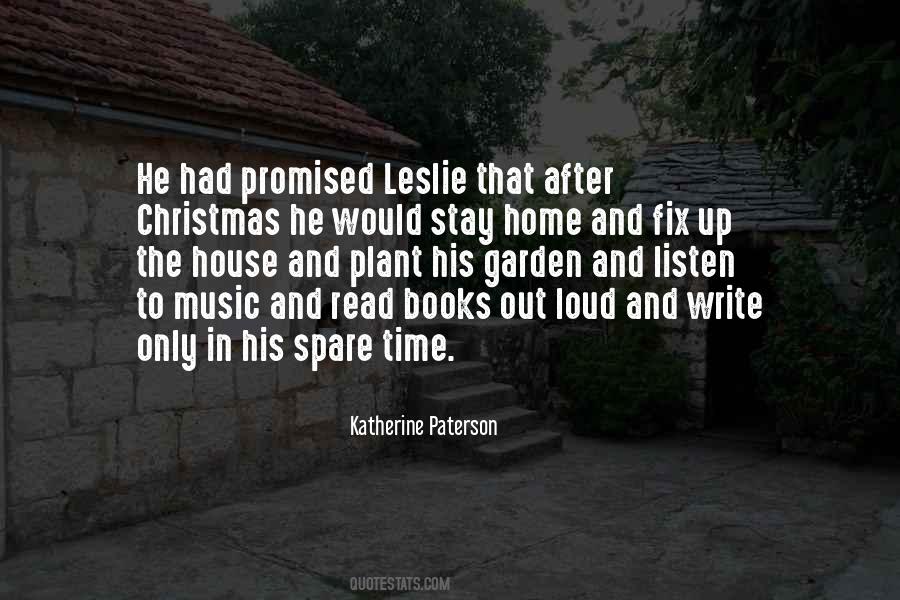 #76. I love books, food, music, sleep, people who work, heated arguments, the United States of America, and my wife and children. I dislike politicians, preachers, genteel persons, people who do not work or are on vacation, closed minds, movies, loud noises, and oiliness. - Author: Rex Stout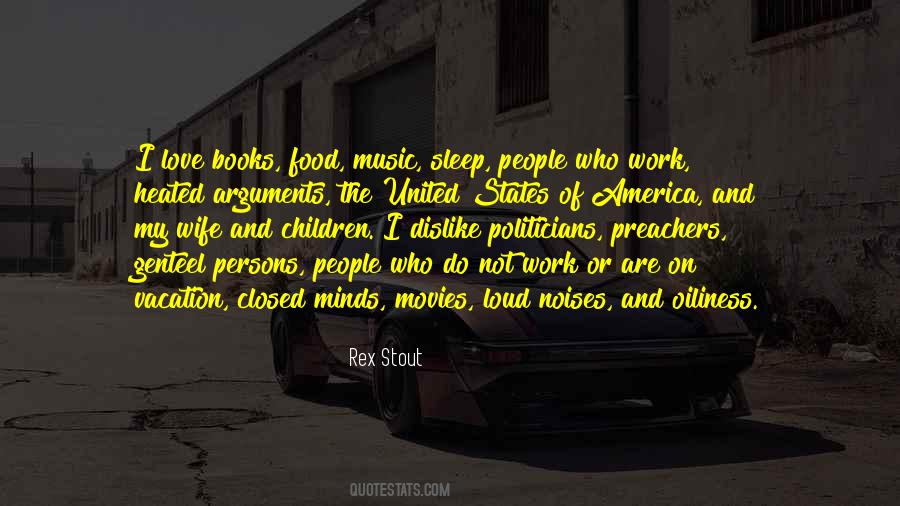 #77. I grew up going to punk shows, that kind of thing - I don't wanna make pop punk! - but I like the idea of people going totally crazy and it being really intimate, loud and super-aggressive, but combining that with pop music. - Author: Grimes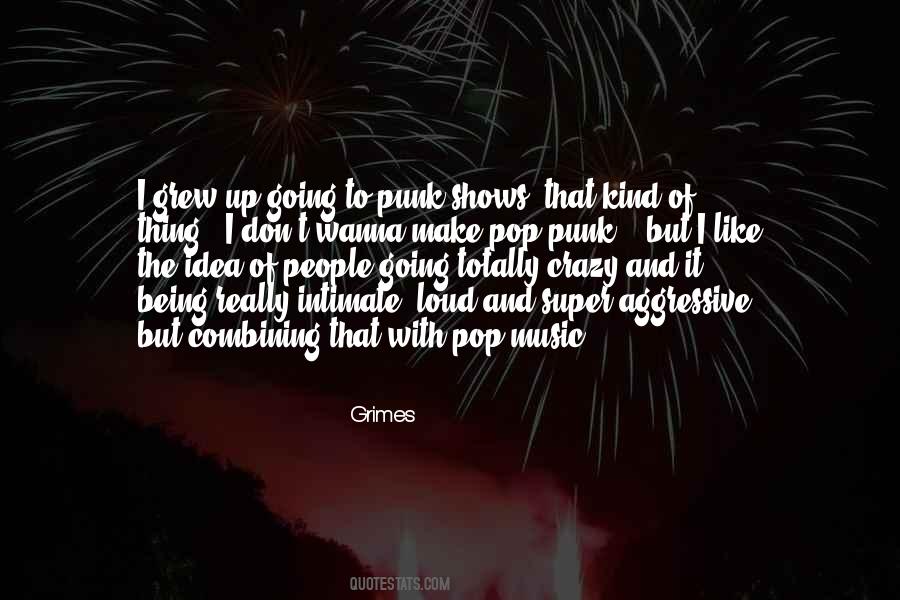 #78. As far as music being something that's not background, it doesn't mean that it's loud, it means that it's instantly something to dwell on and process and swallow and regurgitate. - Author: Youth Lagoon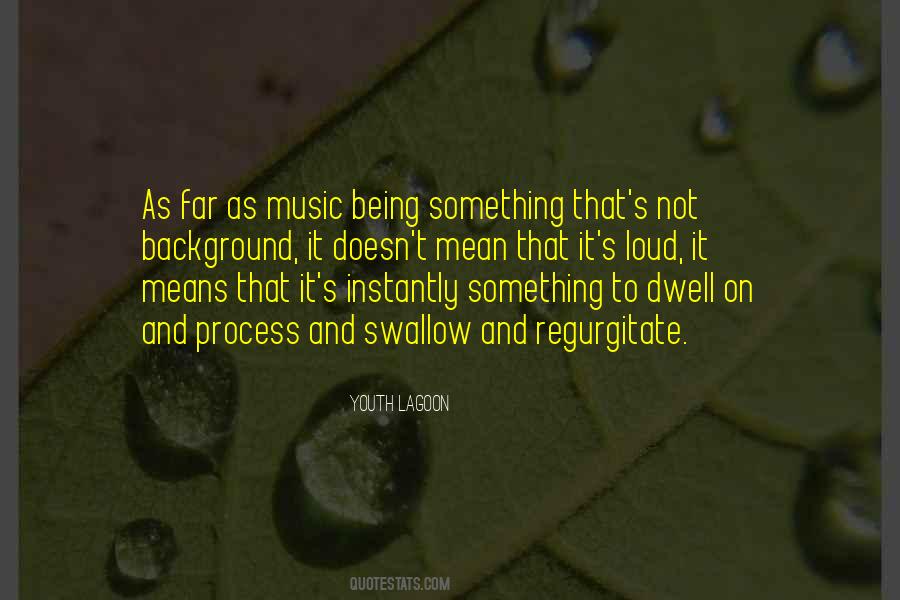 #79. Any time I think out loud, 'I can't believe this is my job,' and remember I am a very lucky duck. Whether marshalling hundreds of zombies, doing crazy stunts or shooting big music numbers, I just feel fortunate to have made my passion my vocation. - Author: Steven Soderbergh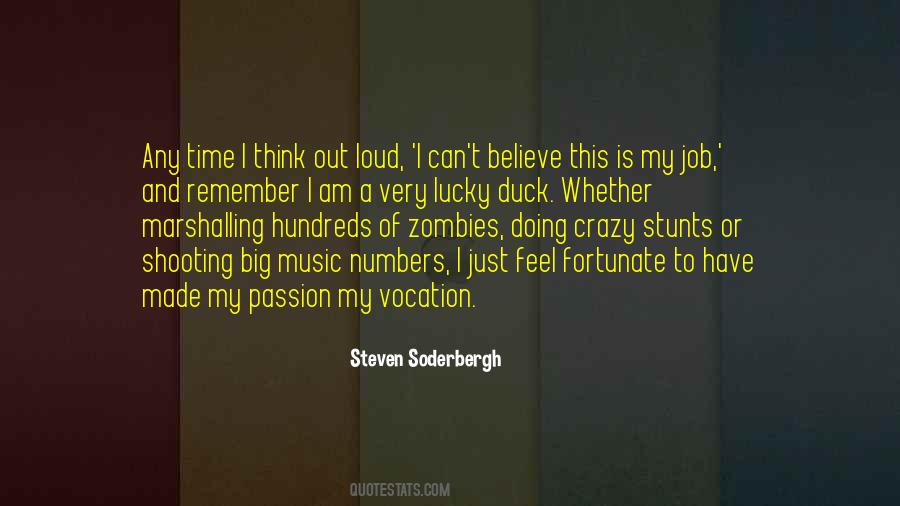 #80. I don't go to see bands any more because I've got tinnitus, so I have to avoid loud music. You get used to it, but when it's quiet you hear a constant ringing. - Author: Linton Kwesi Johnson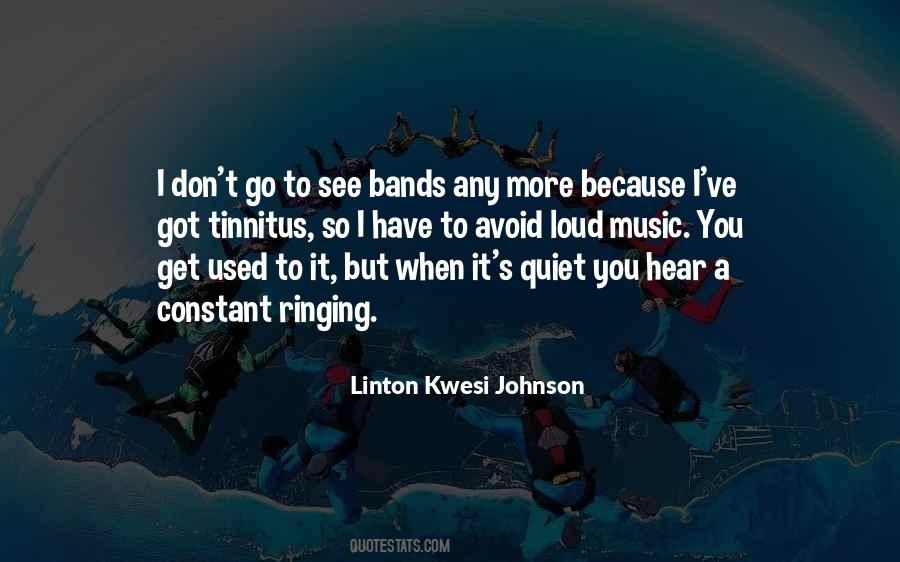 #81. I've been in clubs. I don't like being in an enclosed place with really loud music, and a lot of drunk people. It's not my idea of a good time. It's just such a miserable life. - Author: Joaquin Phoenix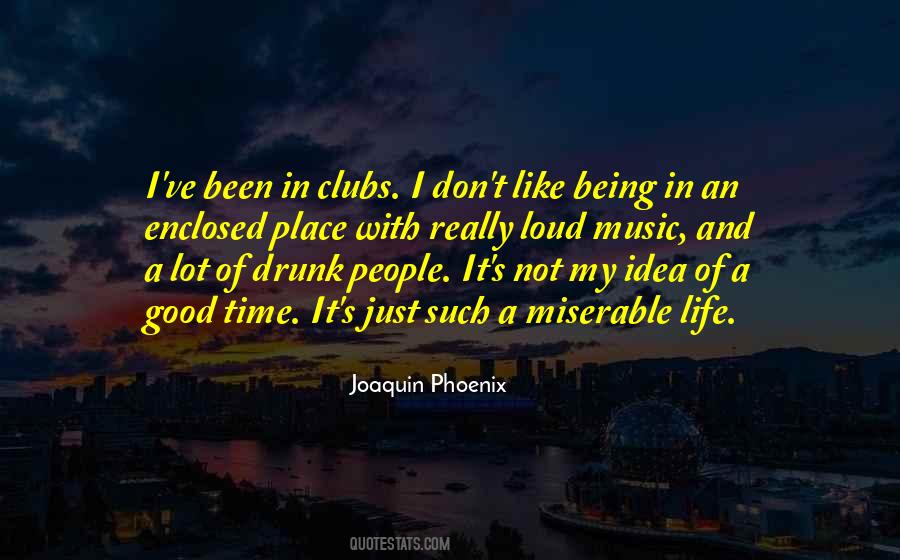 #82. Sir! Sir! I'm afraid your music is just too loud! - Author: CM Punk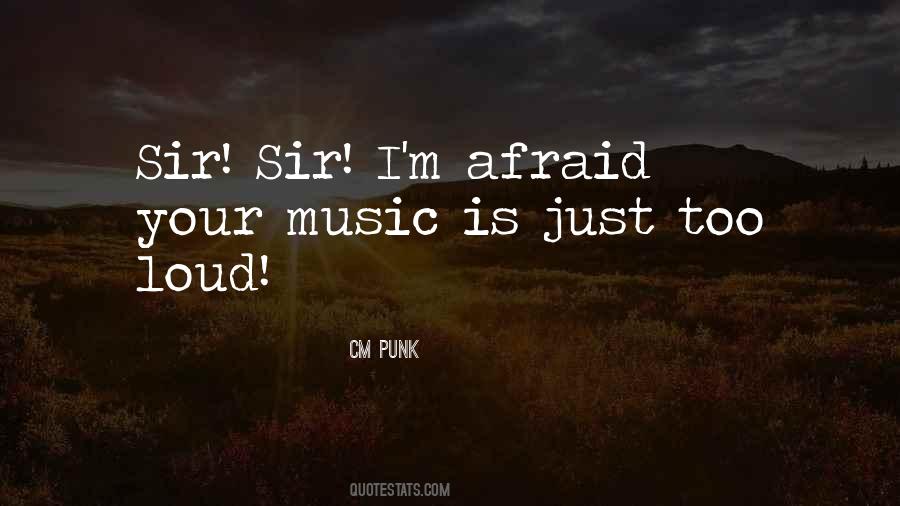 #83. I can't sleep without the TV on. It doesn't matter where it is. I don't like silence. My ears ring from loud music. - Author: Marilyn Manson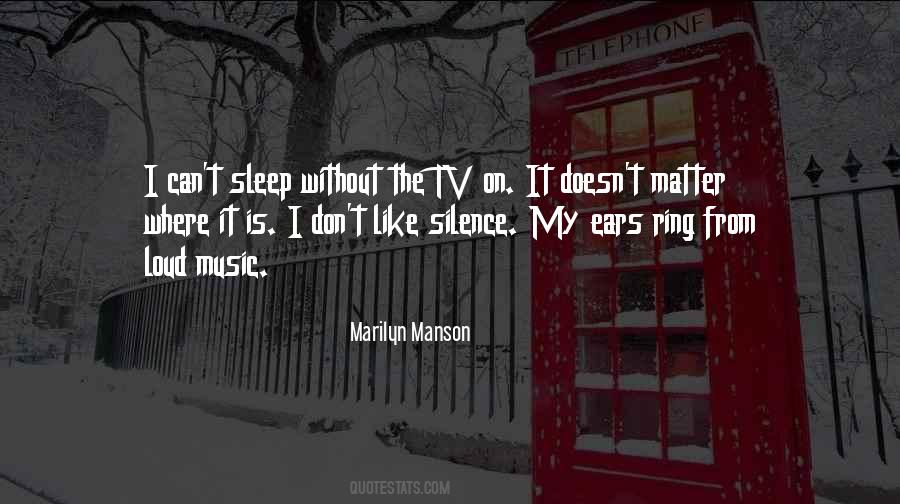 #84. To be honest, because there's loud music in my ears probably three hours a day, between sound check and the show, I listen to podcasts more than I listen to music on the road. - Author: St. Vincent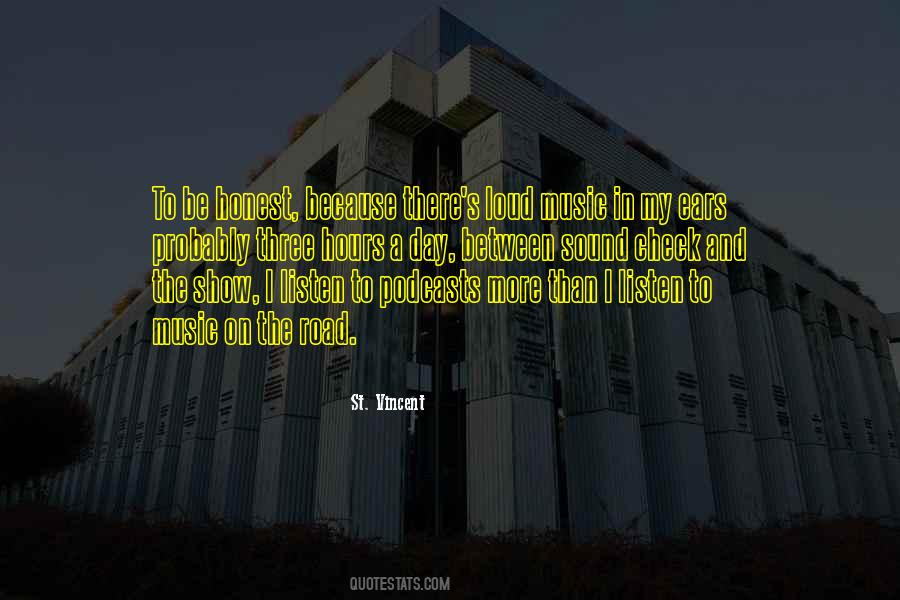 #85. I've learned ruthless concentration. I can write under any circumstances ... street noises, loud talk, music, you name it. - Author: Sylvia Porter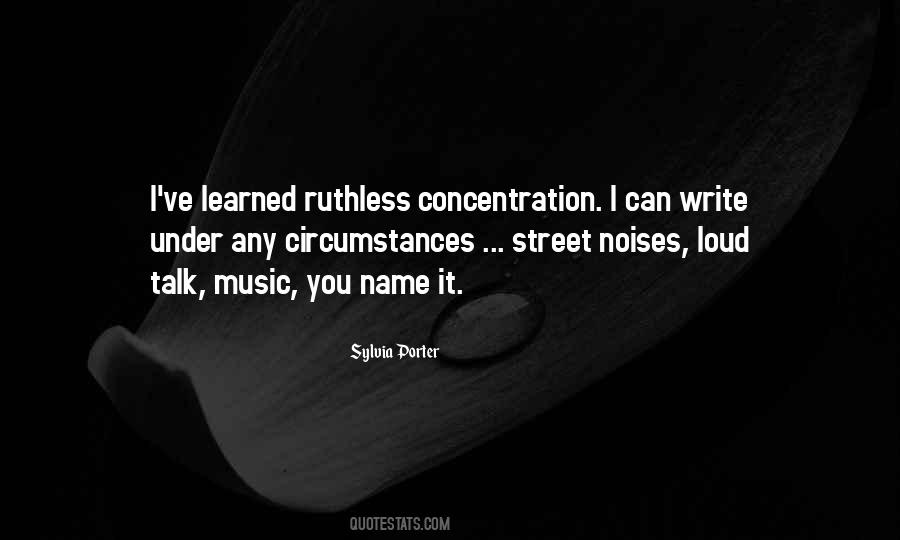 #86. I get uncomfortable in large groups of people and loud music. - Author: Kristin Kreuk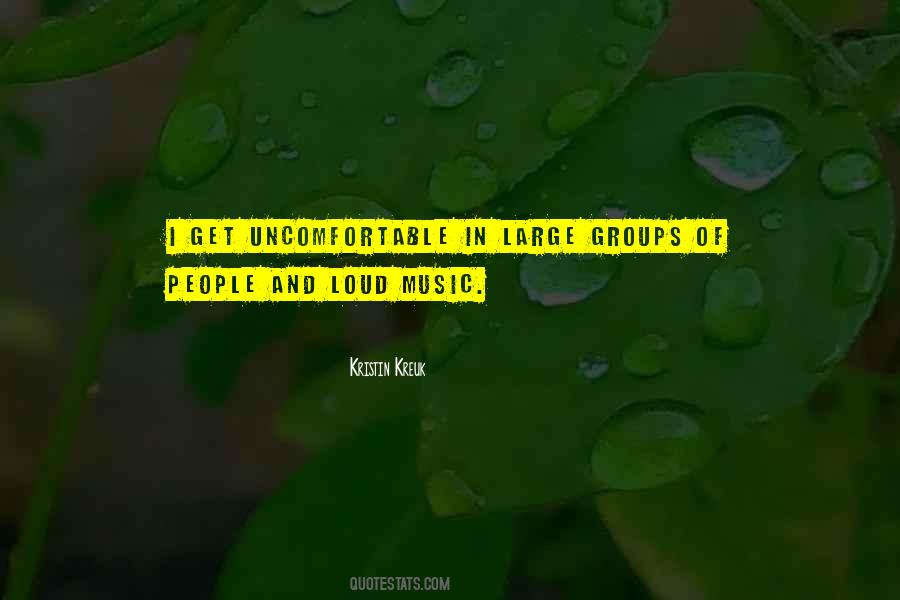 #87. I love loud music. I listen loud, and that's part of how I've learned how to do this. Record softly and play back loud and a whole other thing happens. - Author: T Bone Burnett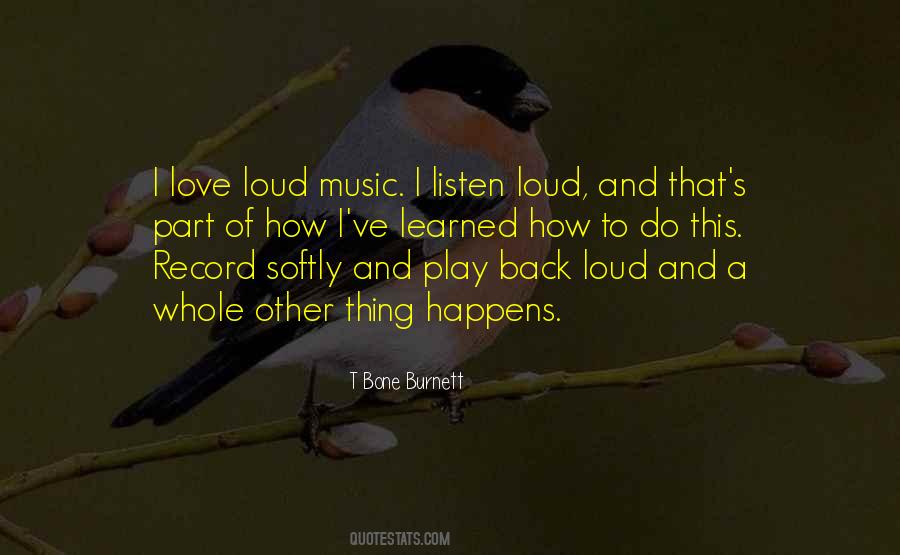 #88. Alcohol and marijuana, if used in moderation, plus loud, usually low-class music, make stress and boredom infinitely more bearable. - Author: Kurt Vonnegut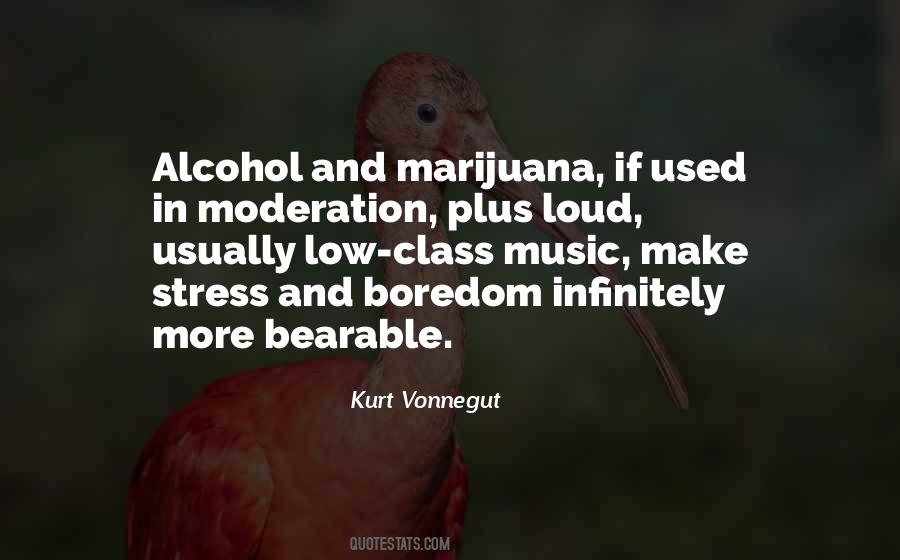 #89. In my perfect world order, it is cold all the time. Everyone wears sweaters and drinks coffee. People don't speak to each other; they read the newspaper. There is no loud music, and cats are in charge. - Author: Michael Showalter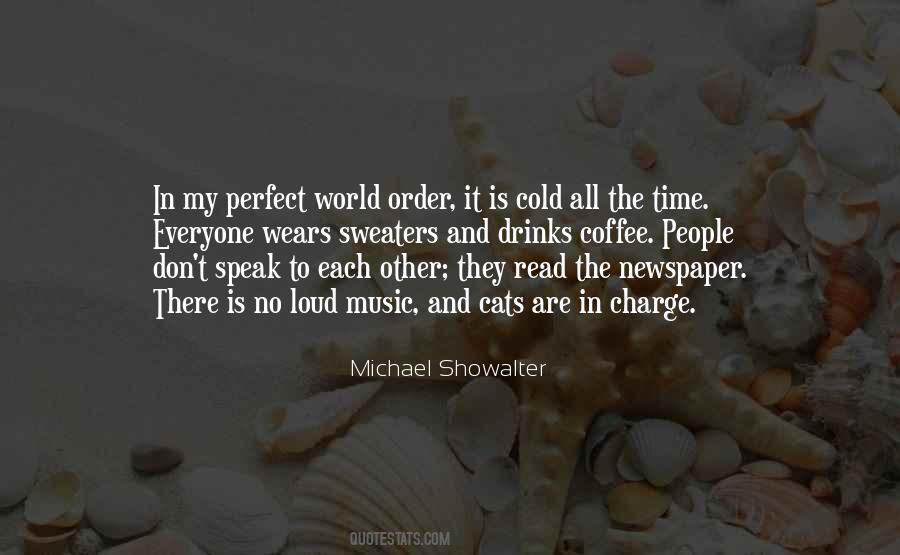 #90. Once, I took the penny whistle
you gave me and discovered a spot
by the roaring falls where I could play
as loud as I wanted.
I lay in the bifurcated trunk
of a low-slung birch tree. The sun peeked
through applauding leaves, high overhead. - Author: Kristen Henderson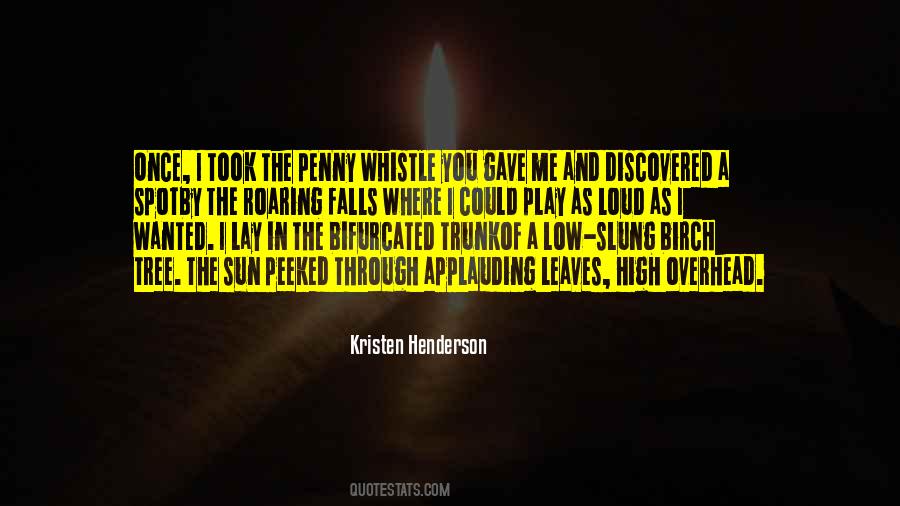 #91. Revolution ain't nothing but an extent of evolution; Evolution is a fact of nature. So when old folks tell me that they don't understand hip hop and the music is too loud, well I guess it means you're not supposed to be in there. - Author: Dick Gregory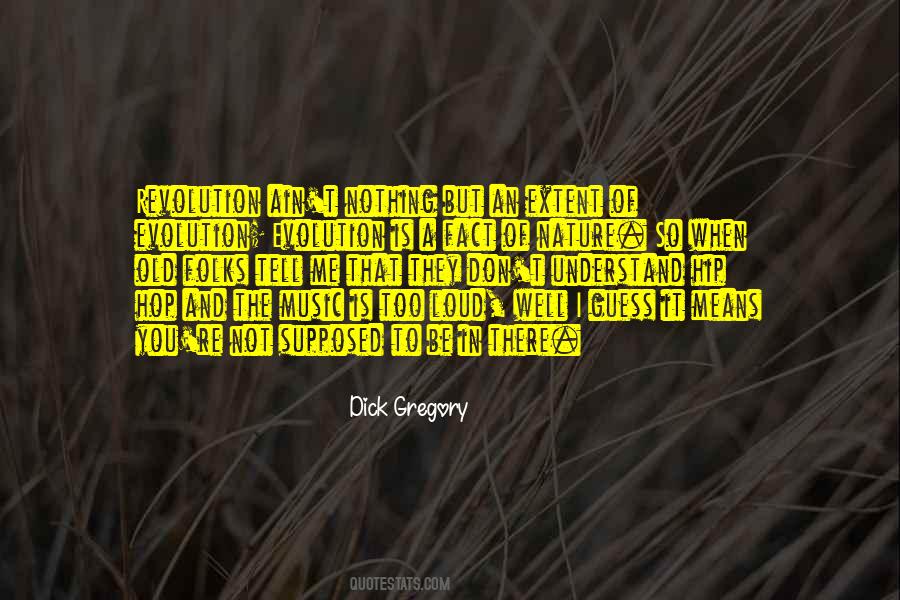 #92. Along the way, I've had different advice from different music producers. I've been told to tone it down, that the quiet parts of my voice are appealing and there's harshness to the loud part of my voice. - Author: Patty Griffin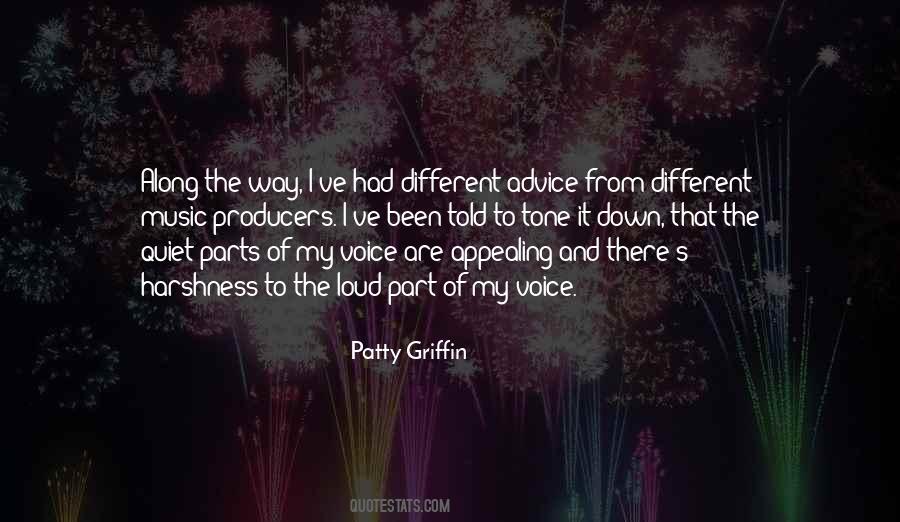 #93. If you're going to make a mistake, make it loud so everybody else sounds wrong. - Author: Giuseppe Venuti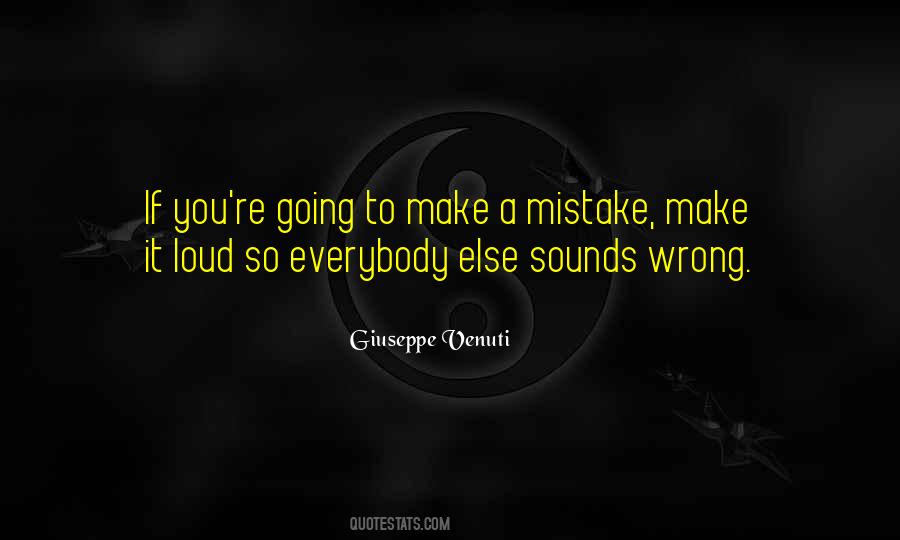 #94. Life is too short to make just one decision, music is too loud for just one station, love is too big for just one nation, and God is too big for just one religion! - Author: Michael Franti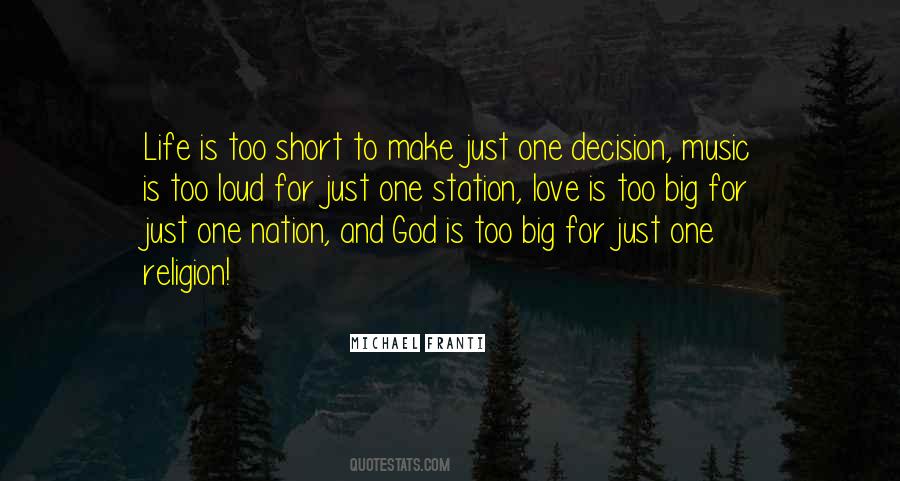 #95. I like Irish pubs, except for all the loud music and drinking, and people acting like idiots. - Author: Dov Davidoff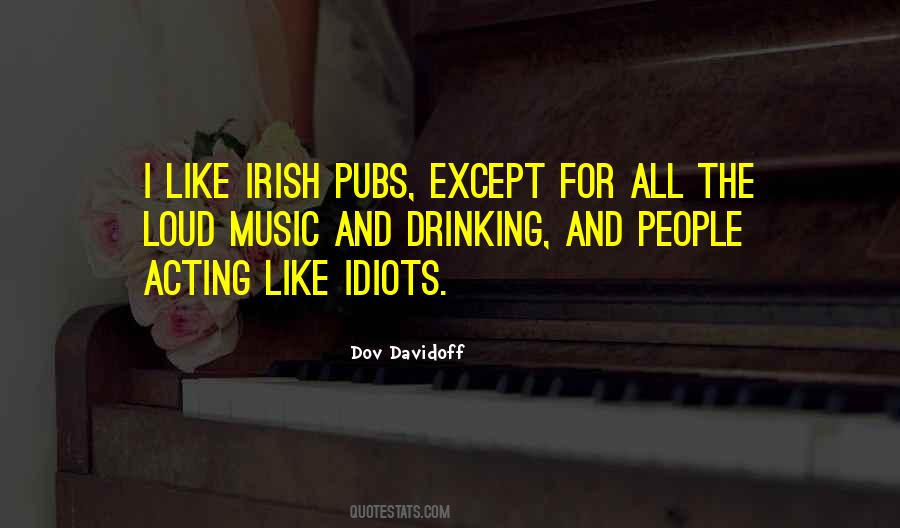 #96. I'm turning into an old man. I own four pairs of oxfords, my stories get a little long winded, and my neighbors play their music too loud. - Author: Christy Hall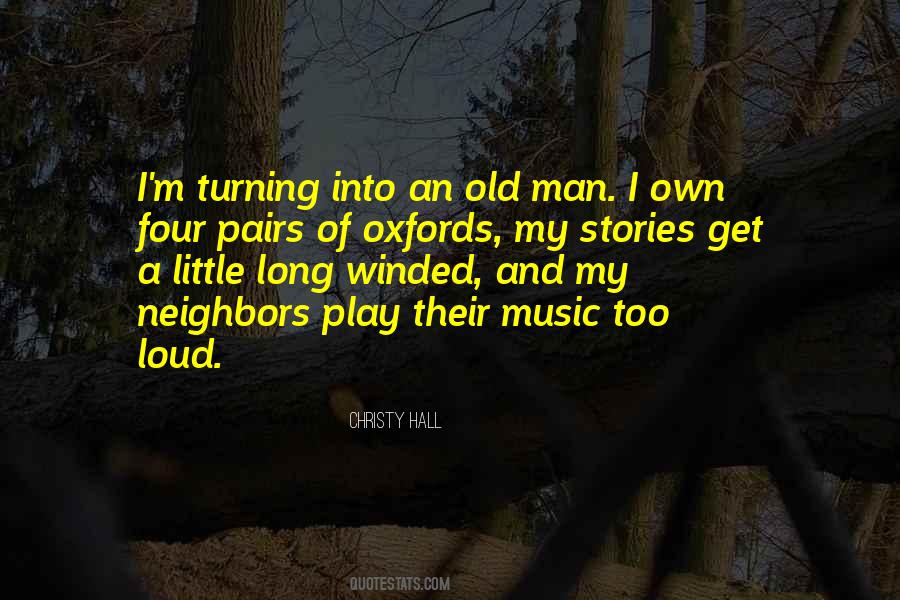 #97. The Divine Music is incessantly ringing within all of us, but the loud senses drown the delicate Music, which is unlike and infinitely superior to anything we can perceive with our senses. - Author: Mahatma Gandhi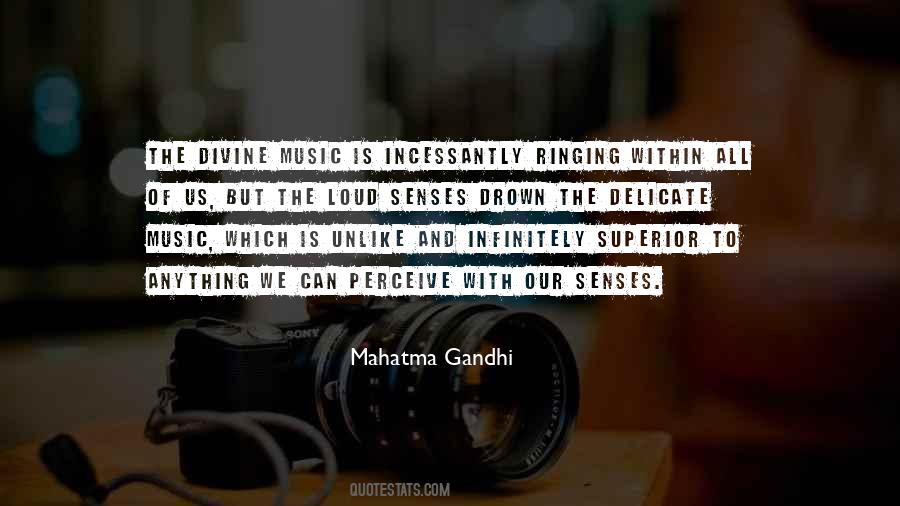 #98. Music loud, I can't help but wiggle a bit and I think that movement finds its way into the paintings ... I can see it in the strokes. - Author: Laura Harris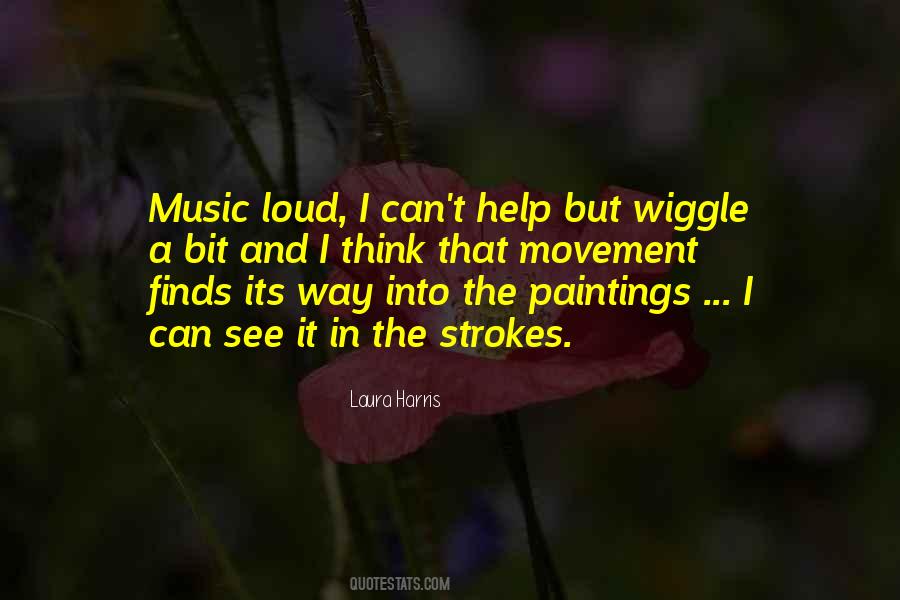 #99. Before I leave, the Eurotrash girl tells me she likes my gazelleskin wallet. I tell her I would like to tit-fuck her and then maybe cut her arms off, but the music, George Michael singing "Faith," is too loud and she can't hear me. Back upstairs I find Patricia where I left her, - Author: Bret Easton Ellis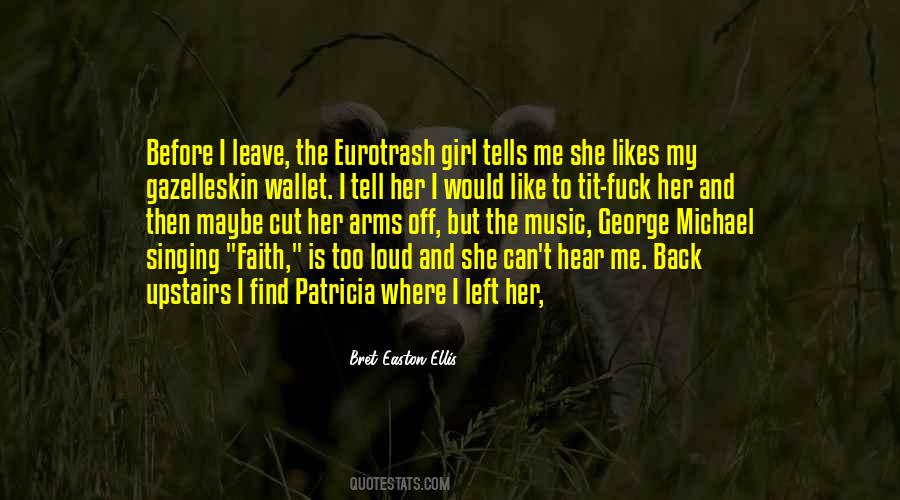 #100. Music is life. Music defines peoples' experience on this planet. Name one time in your life that wasn't punctuated by the music you listened to at the time. When people are down, they listen to music that commiserates that emotion. When people are amped up, they listen to more upbeat, loud songs. - Author: Mark Hoppus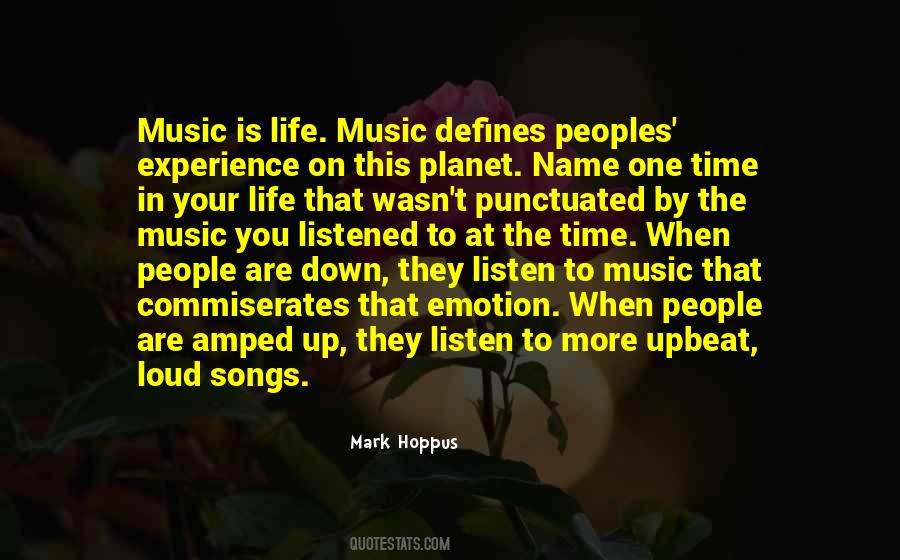 Famous Authors
Popular Topics