Life Without Pain Famous Quotes & Sayings
List of top 99 famous quotes and sayings about life without pain to read and share with friends on your Facebook, Twitter, blogs.
Top 99 Quotes About Life Without Pain
#1. We look at babies and we see ourselves, only without all the baggage. We can look into a baby's face and somehow imagine that life will be different for them. That it will be better. Kinder. Free from pain. - Author: Andrea Semple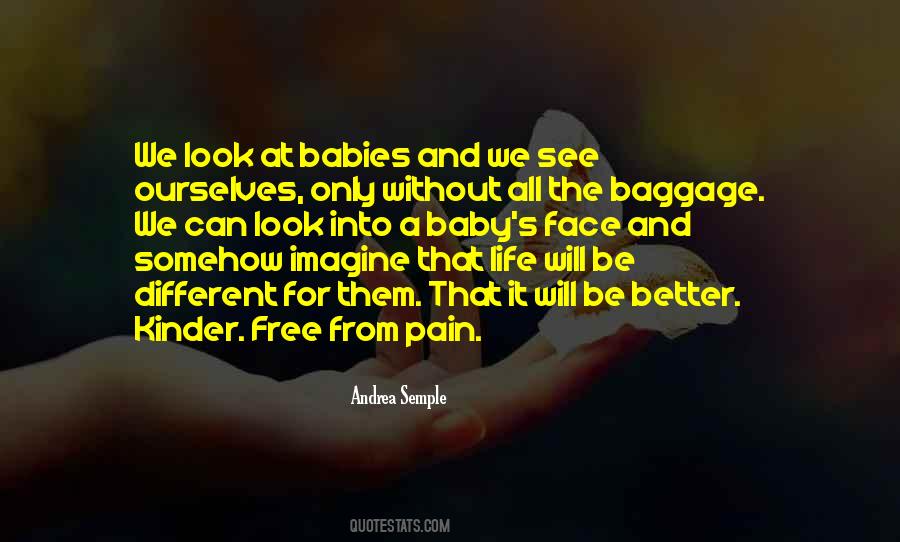 #2. Dear Juliet. I could relate to her pain. Black misery painted on a blood red heart. Death would be more bearable than life without Romeo. - Author: Marilyn Grey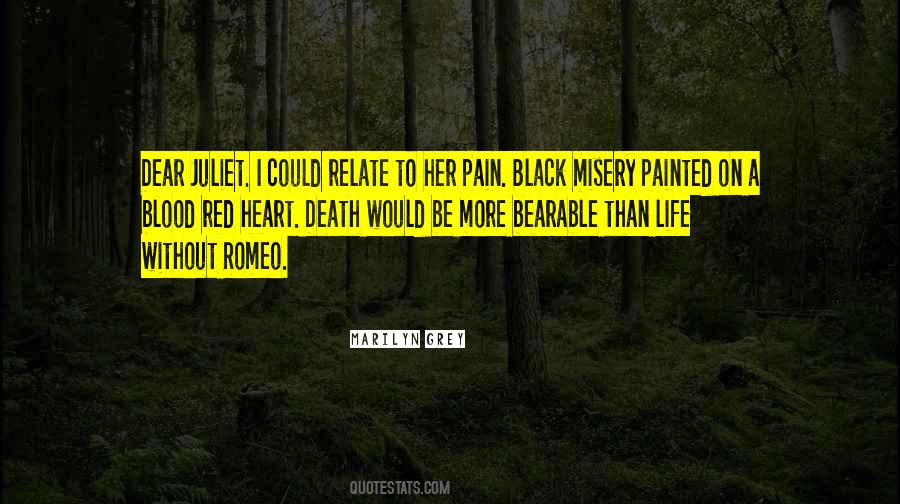 #3. Life flows at ease whenever a person ceases complaining about the past, worrying about the future, lives in the now without resisting pain, and accepts the moral sublimity of living in a state of grace. - Author: Kilroy J. Oldster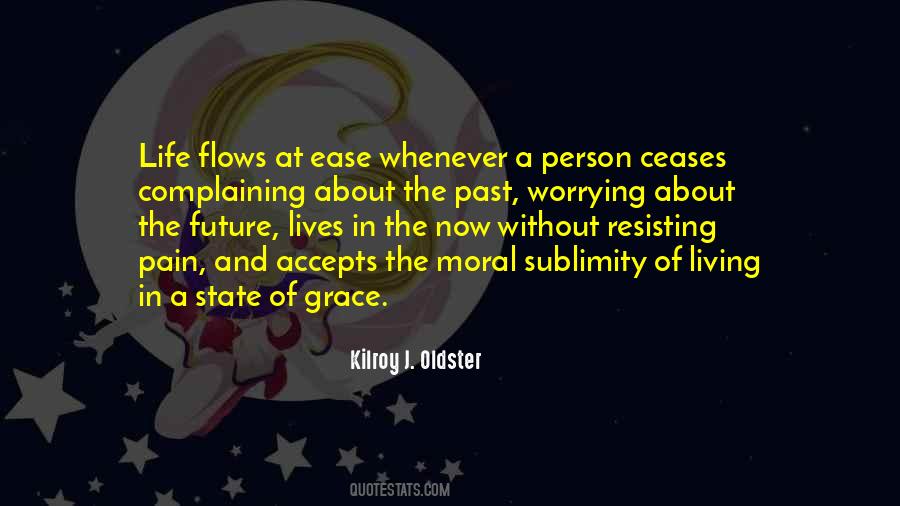 #4. The life where nothing was ever unexpected. Or inconvenient. Or unusual. The life without colour, pain or past. - Author: Lois Lowry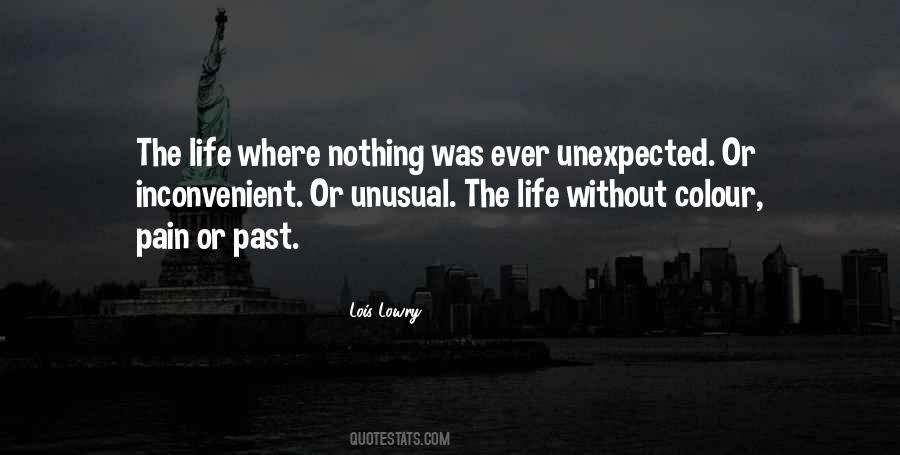 #5. Without pain, there would be no suffering. Without suffering, we would never learn from our mistakes. To make it right, pain and suffering is the key to all windows, without it, there is no way of life. - Author: Angelina Jolie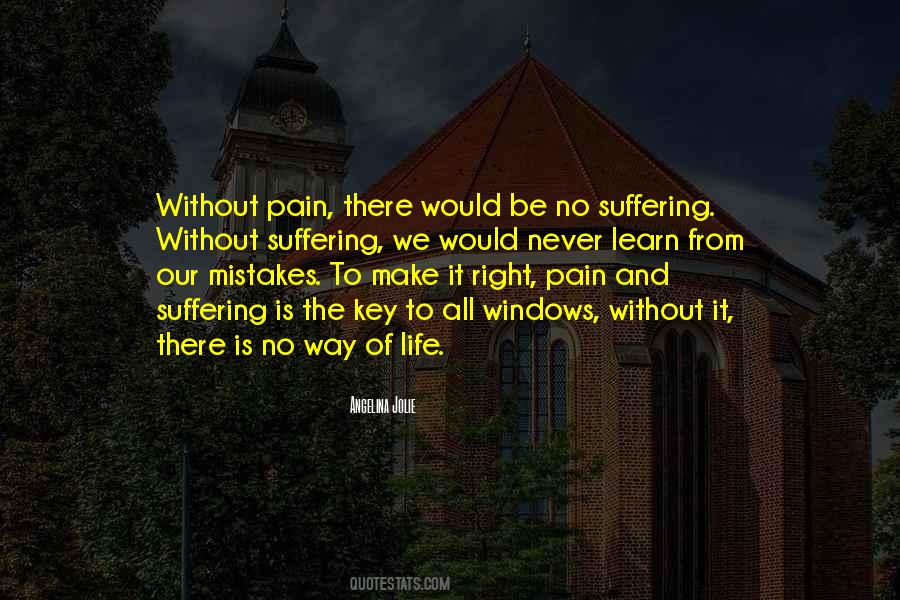 #6. It was crazy how prior to leaving Chicago, I thought that I would die without Omari. I thought that my life would be meaningless if I wasn't waking up to him every day. But now that I had no choice but to move on, there was no pain in losing him. - Author: Jessica N. Watkins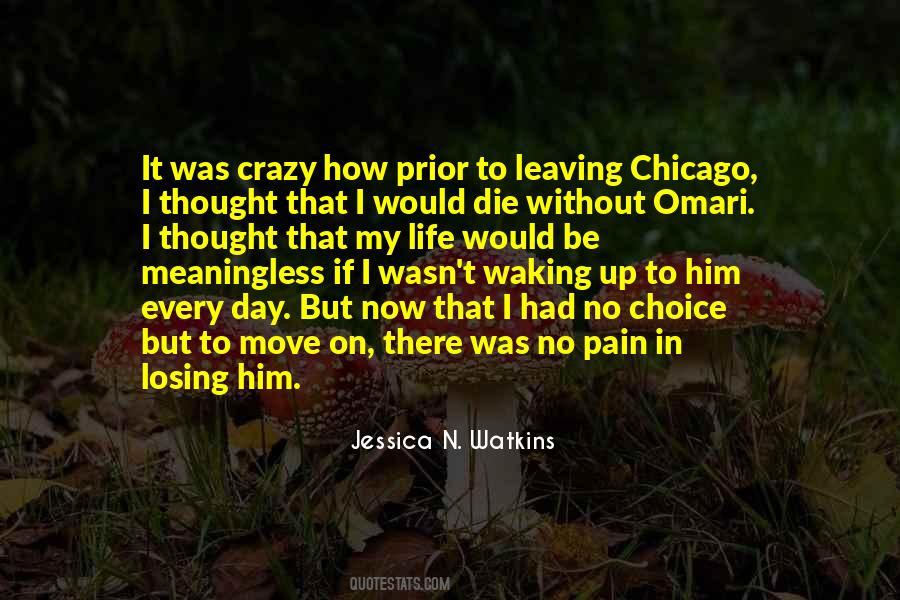 #7. Given a choice, I would never want a life totally devoid of pain, but life is meaningless without some sadness. - Author: Auliq Ice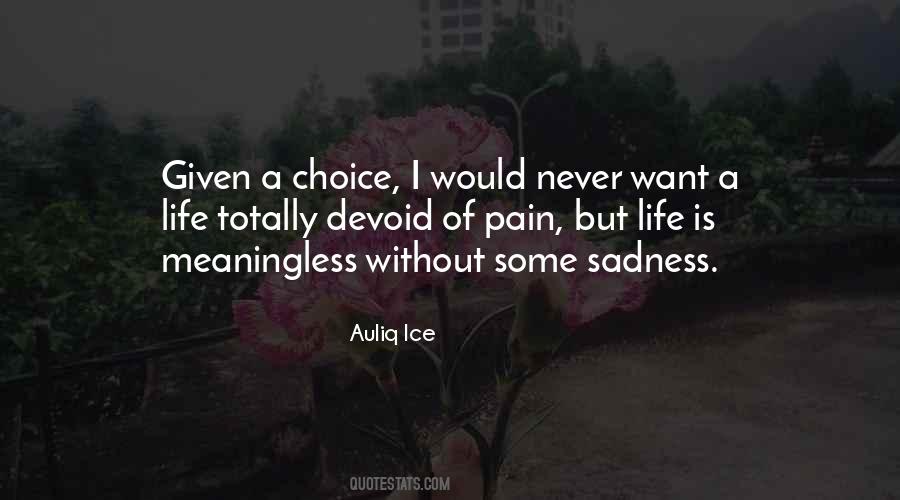 #8. If the actor gave his performance without knowing that he was in a play, then his tears would be real tears and his life a real life. And whenever I think of this pain and joy that rise up in me, I am carried away by the knowledge that the game I am playing is the most serious and exciting there is. - Author: Albert Camus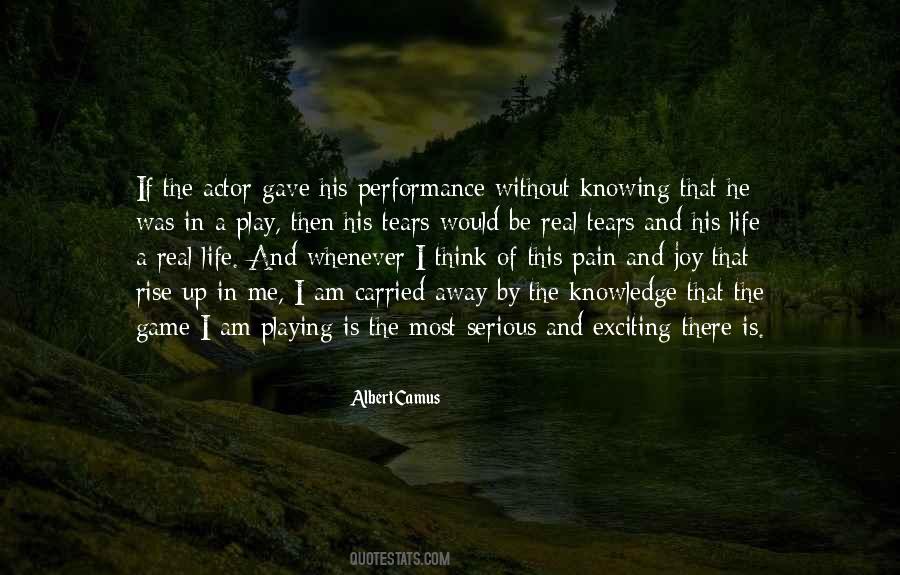 #9. All the daily routine of life, our dressing and undressing, the coming and going from our work or carrying through of its various operations, is utterly without mental reference to pleasure and pain, except under rarely realized conditions. - Author: William James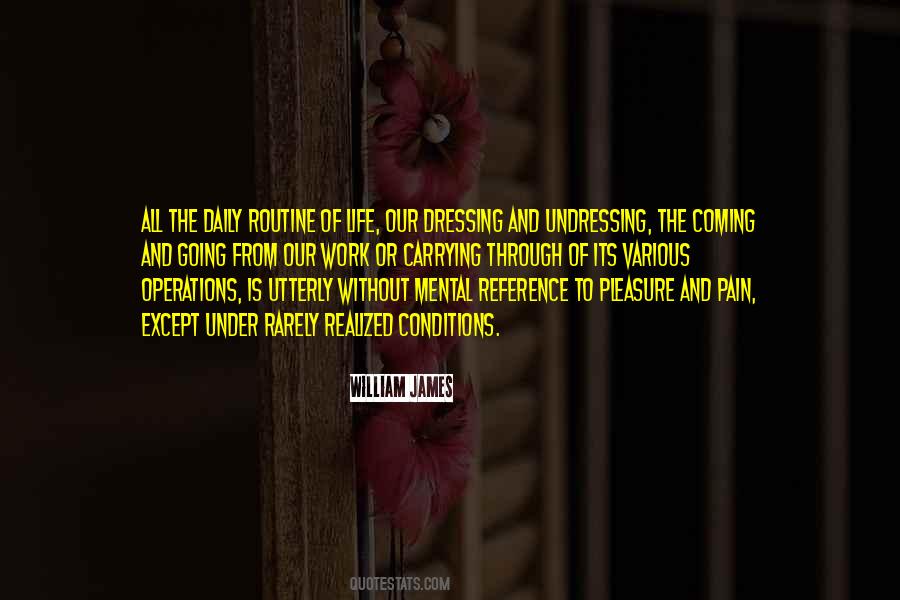 #10. Pain is a part of life. I hated that fact. I would be much happier without it but then it wouldn't be my life. - Author: E.J. Harington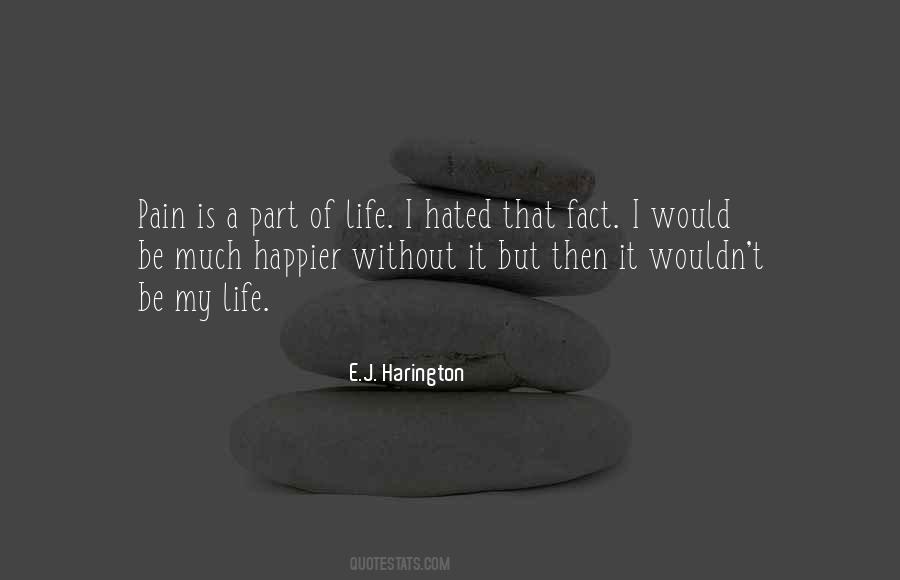 #11. He suspected that any life form that inflicted unnecessary pain tended to find its consciousness eroding. Without consciousness to reflect back upon life, all life might lose its sense of purpose. - Author: Frank Herbert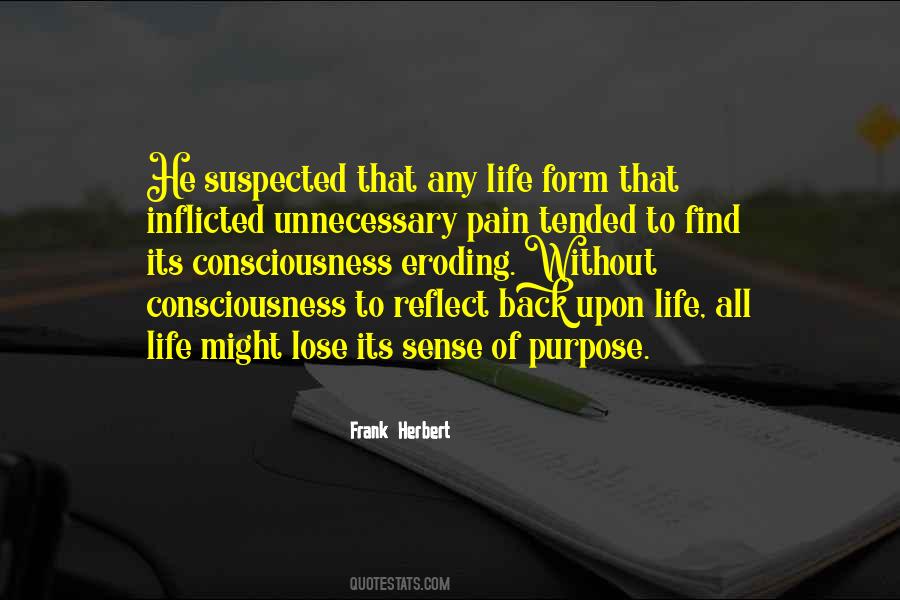 #12. Life is the coexistence of all opposite values. Joy and sorrow, pleasure and pain, up and down, hot and cold, here and there, light and darkness, birth and death. All experience is by contrast, and one would be meaningless without the other. - Author: Deepak Chopra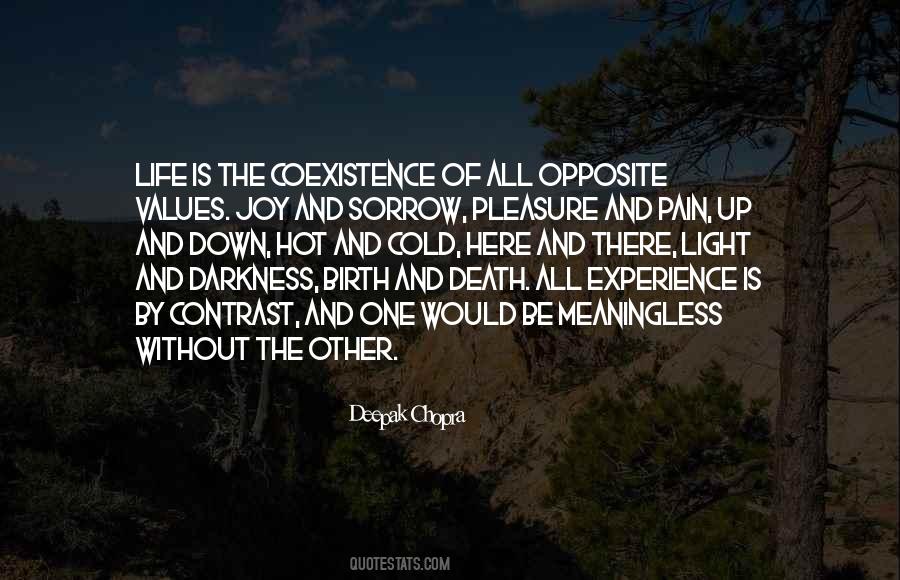 #13. I will always want to earn what I get, however much it hurts; that I want it because it hurts, because pain gives life a pain, and without it life isn't even death, just . . . nothingness. - Author: Gemma Files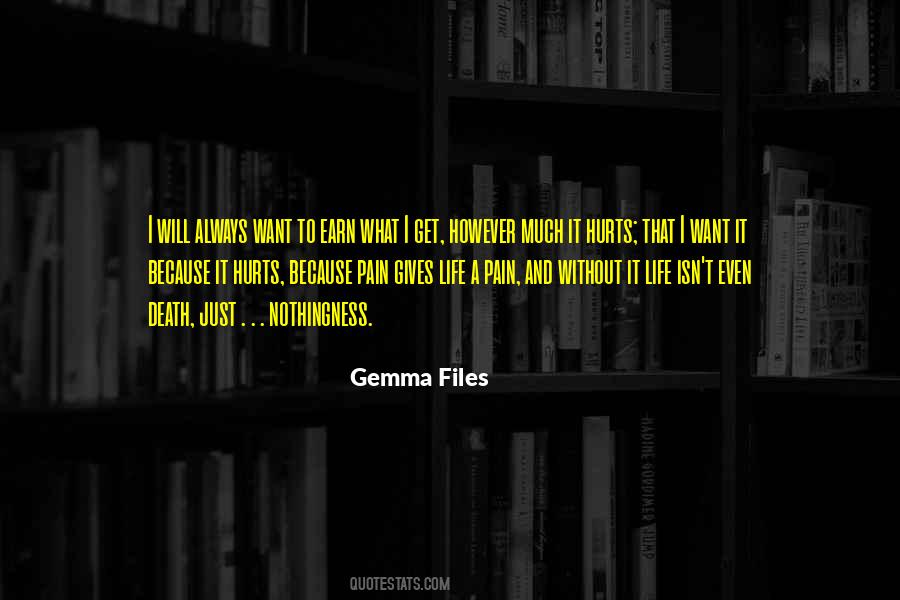 #14. Allowing a person or thing to leave your life, without further pain is the basis of humanity. Everything else is the reason (theology). - Author: Shannon L. Alder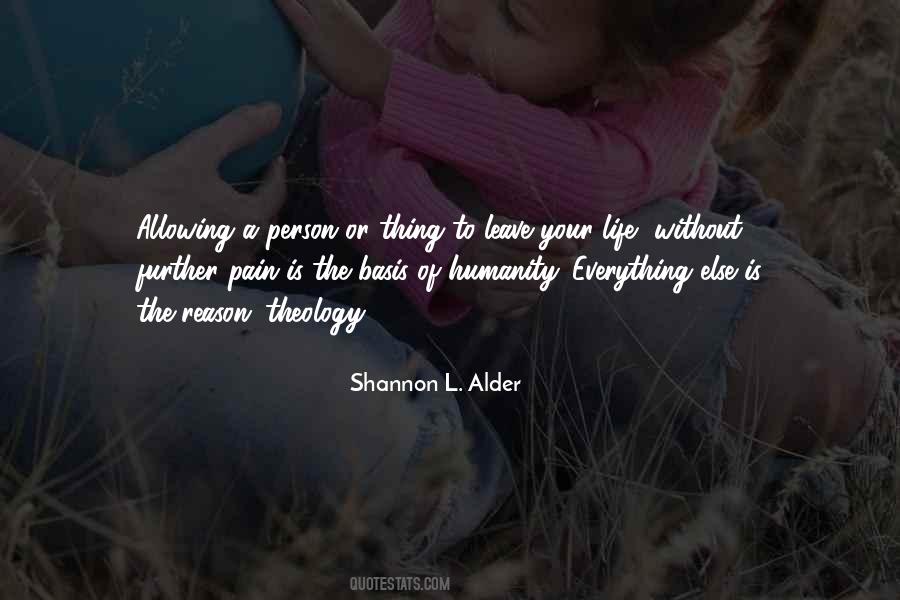 #15. I suddenly saw how sad and artificial my life had been during this period, for the loves, friends, habits and pleasures of these years were discarded like badly fitting clothes. I parted from them without pain and all that remained was to wonder that I could have endured them so long. - Author: Hermann Hesse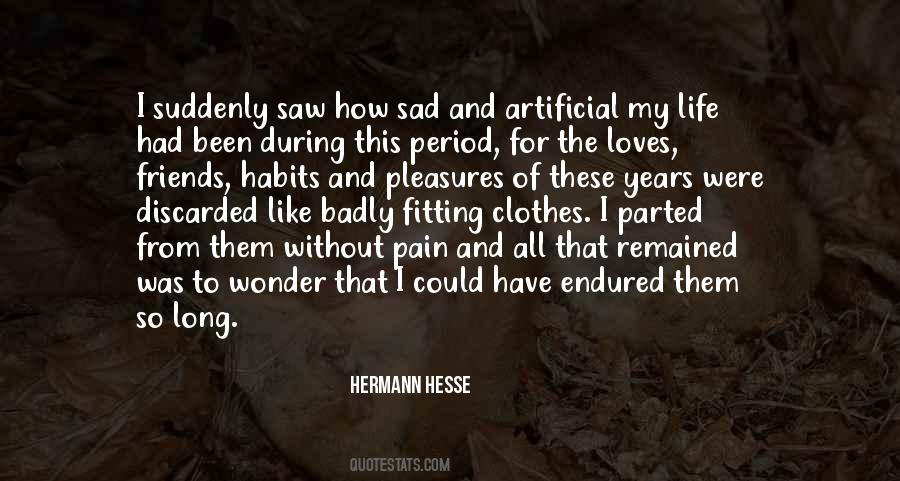 #16. And I don't even like you, but the pain of life without you is biting. - Author: Coco J. Ginger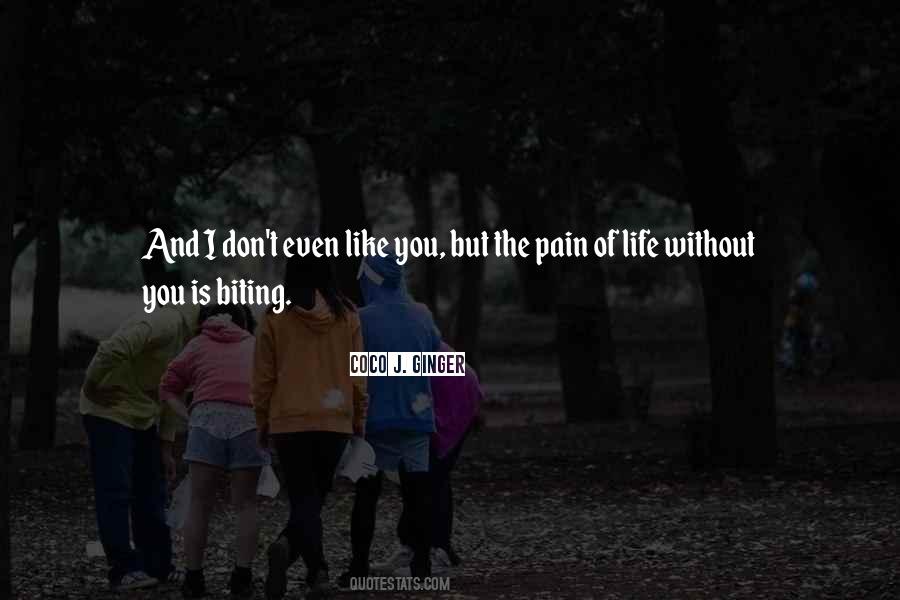 #17. Once it's established that we are a team, I can demand of you and expect you to demand of me. Life without pain is an addiction and the fantasy of perpetual happiness is like the "delusion of fusion." - Author: Carl Whitaker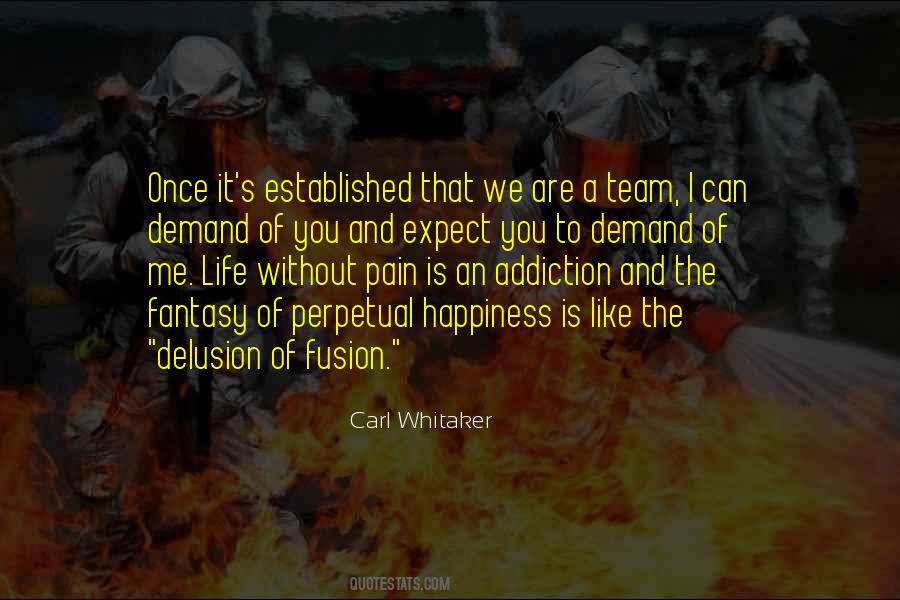 #18. We want gain without pain; we want the resurrection without going through the grave; we want life without experiencing death; we want a crown without going by way of the Cross. But in God's economy, the way up is down. - Author: Nancy Leigh DeMoss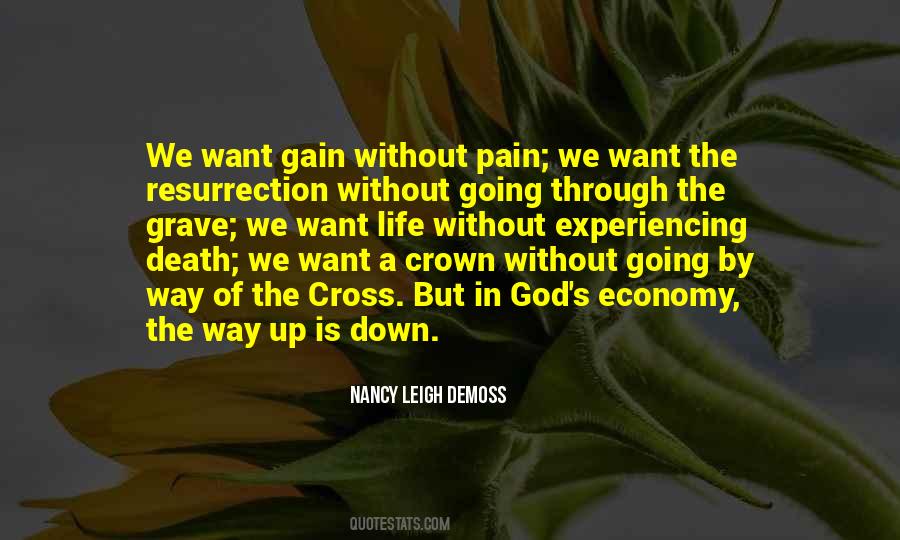 #19. The happiest lot is not to have experienced the keenest delights or the greatest pleasures, but to have brought life to a close without any very great pain, bodily or mental. - Author: Arthur Schopenhauer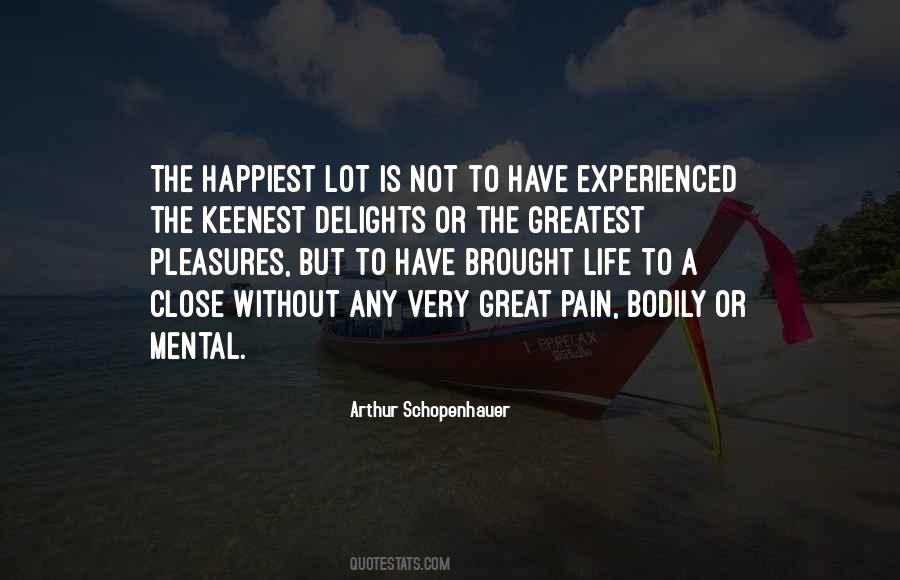 #20. Without an uninvestigated story, there's only the perfection of life appearing as itself. You can always go inside and find the beauty that's revealed after the pain and fear are understood. - Author: Byron Katie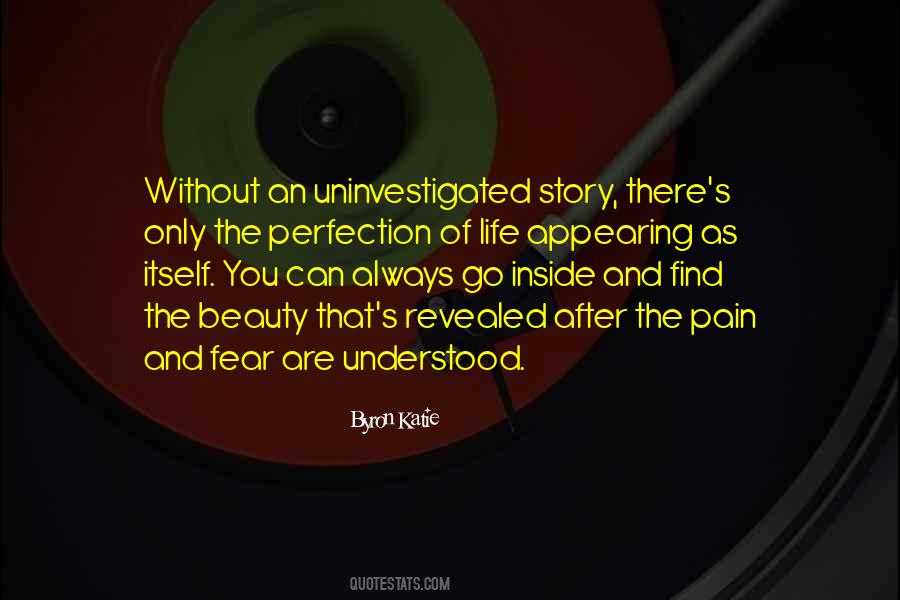 #21. There is no part of my life, upon which I can look back without pain. - Author: Florence Nightingale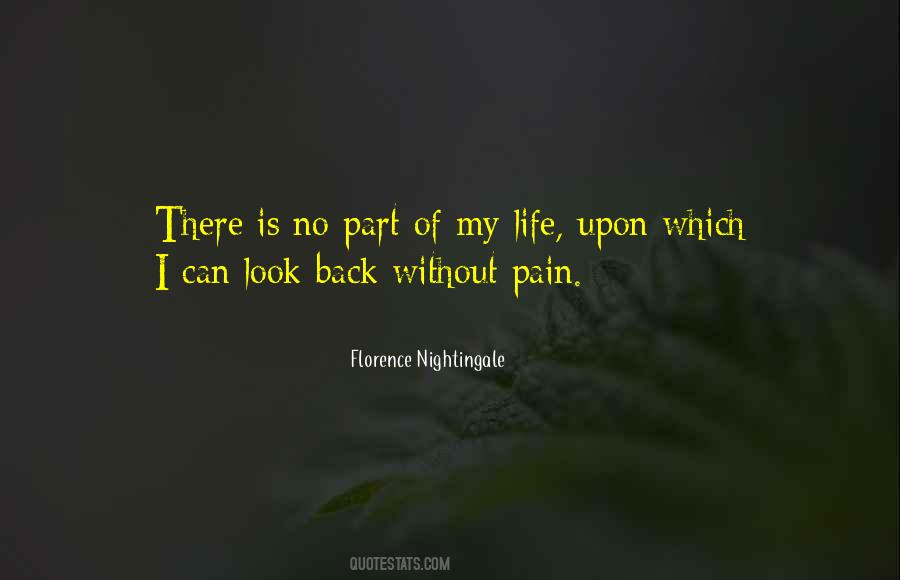 #22. Having tasted life without the pain of obligation perpetually burning him from within, he'd choose death over the return to bondage. He'd make that choice in an instant. Life as a slave was unspeakable; life as a slave who had briefly tasted freedom was unthinkable. - Author: Ian Tregillis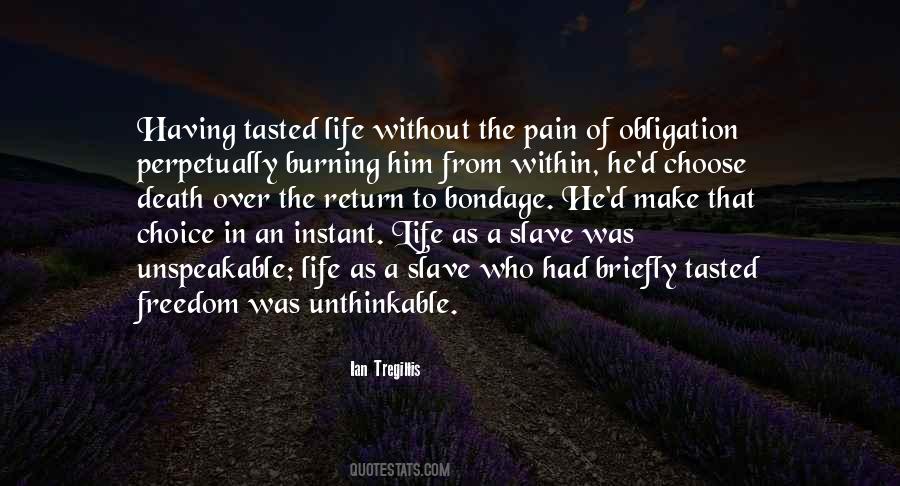 #23. Sometimes life was hard, she thought, walking across the grass to be with her friends. Just when you least expected it, you had to start over. There was pain in that, but also satisfaction. With or without her wanting it to, life moved on. And she would, too. - Author: Susan Mallery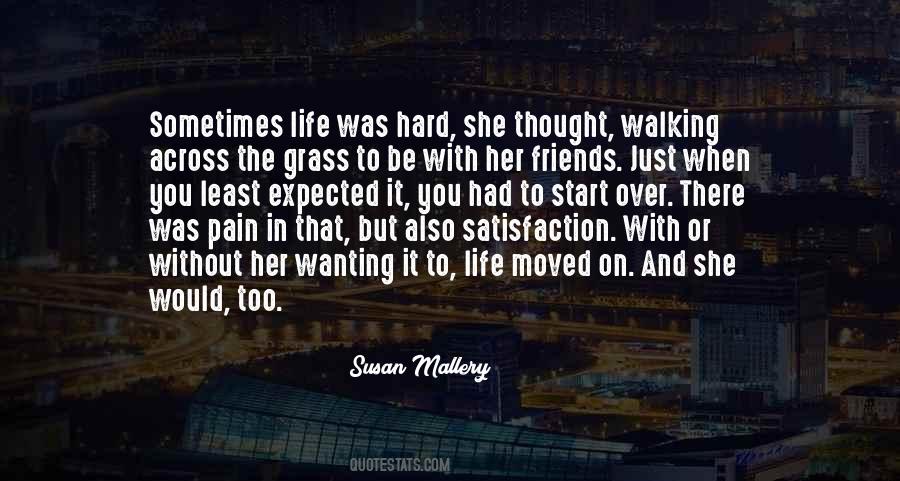 #24. Her heart had grown so familiar to the pain of life without him, that to respond now seemed too large a pleasure she could not endure. If pain was love, then she loved fiercely. Yet knew she could not be near that boy again. - Author: Coco J. Ginger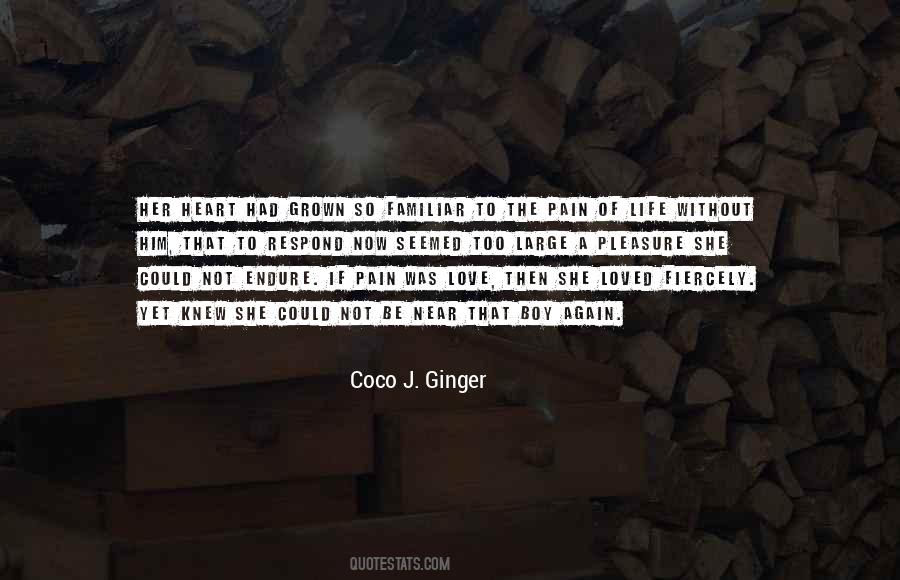 #25. Accepting the ugly part of life is just part of living. Pain tells us we are still here; it lets us know we've survived. When you really think about it, pain can free you, because without pain there is no pleasure in anything. - Author: Kathryn Perez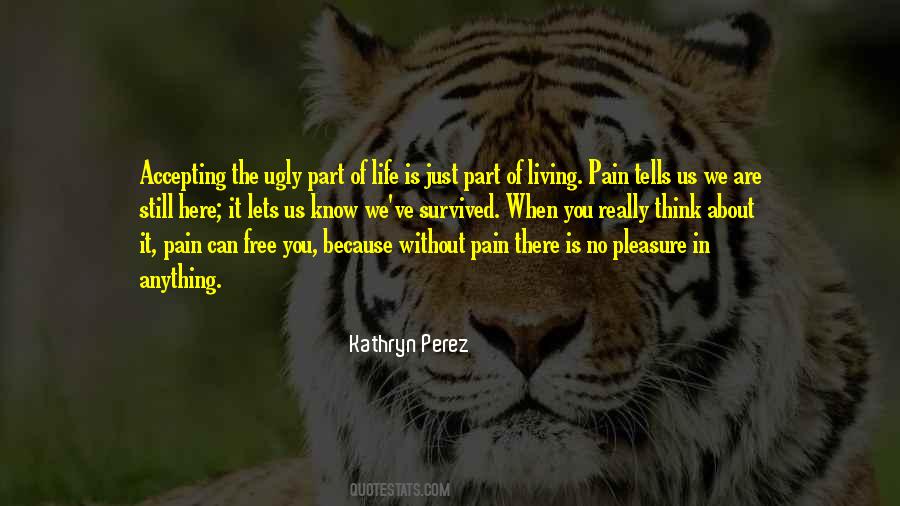 #26. Did you fail? Try, try again. There is no gain without pain. - Author: Debasish Mridha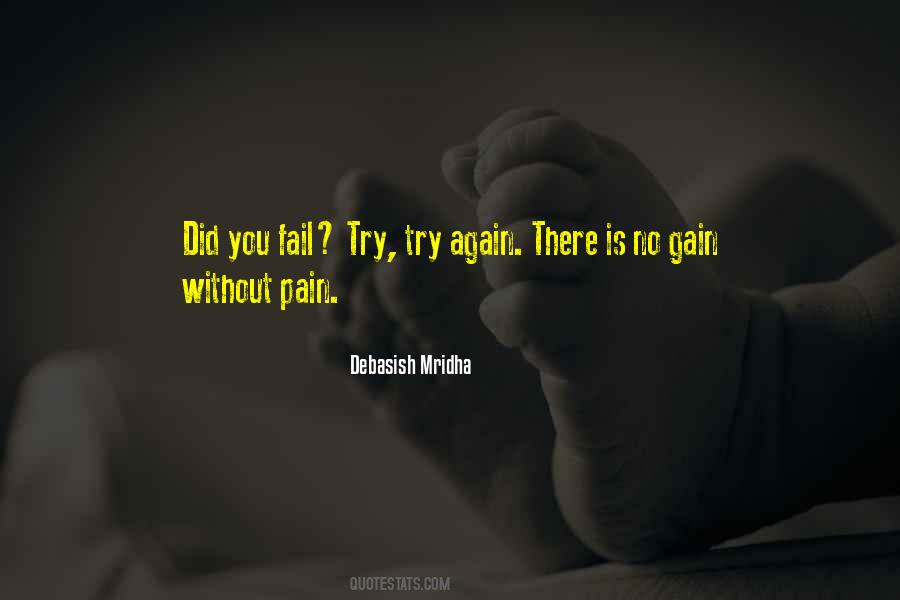 #27. Love, the beauty of it, the joy of it and yes, even the pain of it, is the most incredible gift to give and to receive as a human being. And we deserve to experience love fully, equally, without shame and without compromise. - Author: Ellen Page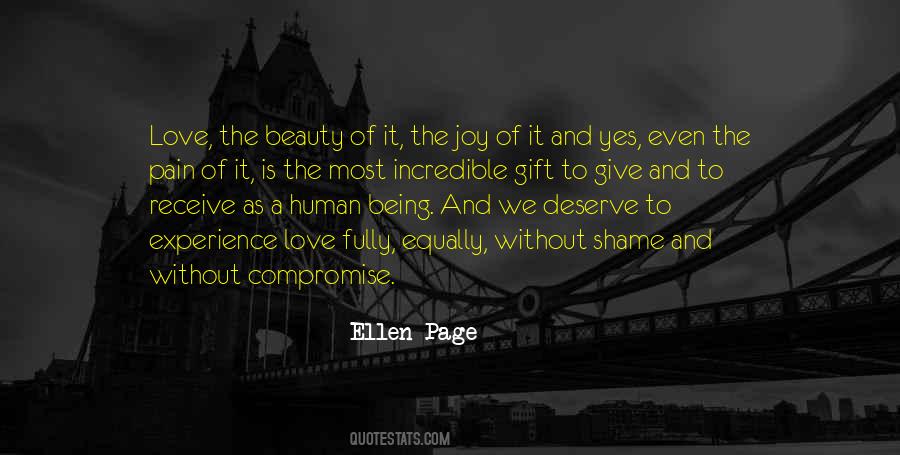 #28. The greatest satisfaction comes not from chasing pleasure and avoiding pain, but from the radical acceptance of life as it is, without fighting and clinging to passing desires. - Author: Noah Levine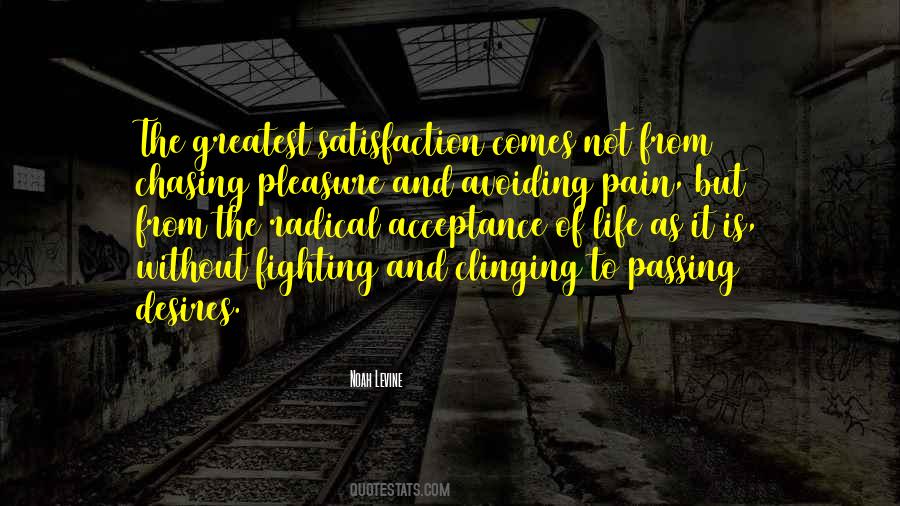 #29. Betrayal was the greatest of all crimes, for it took all that was human within a person and made it a thing of pain. In the face of that, murder itself was surcease: it was quick, and it ended the anguish and despair of a life without hope. - Author: Steven Erikson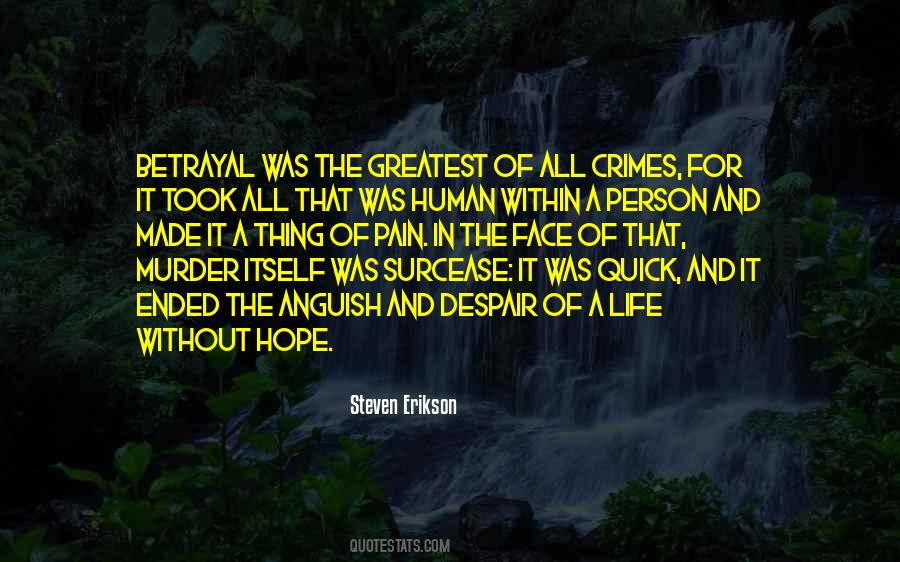 #30. Life is not without pain and travail. They are necessary to new awareness which prompts growth. - Author: Kitt Weagant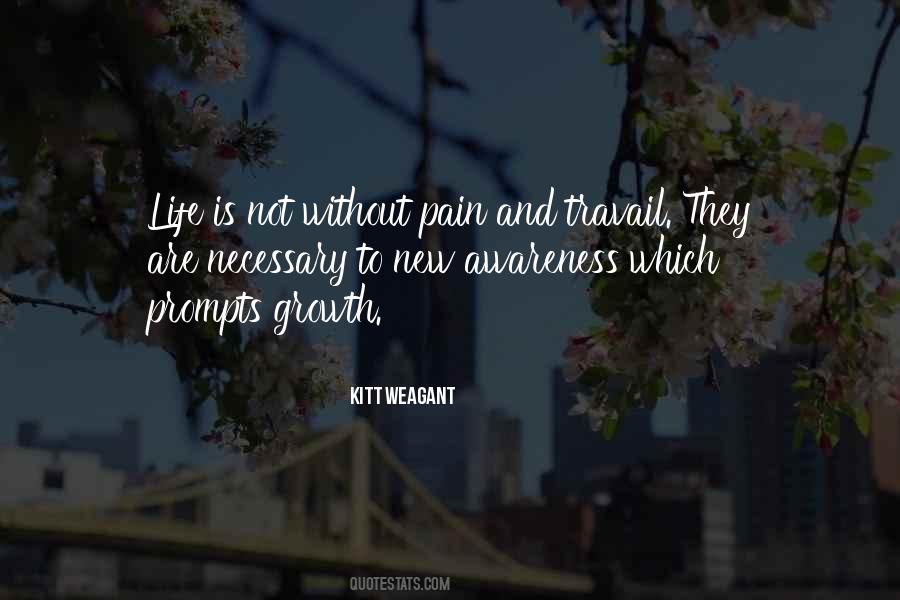 #31. People assume I'm out there having this great life, but money doesn't erase the pain. When you're young you barrel through life, making choices without thinking of repercussions. A few years down the line, you wake up in a certain place and wonder how the hell you got there. - Author: Jennifer Lopez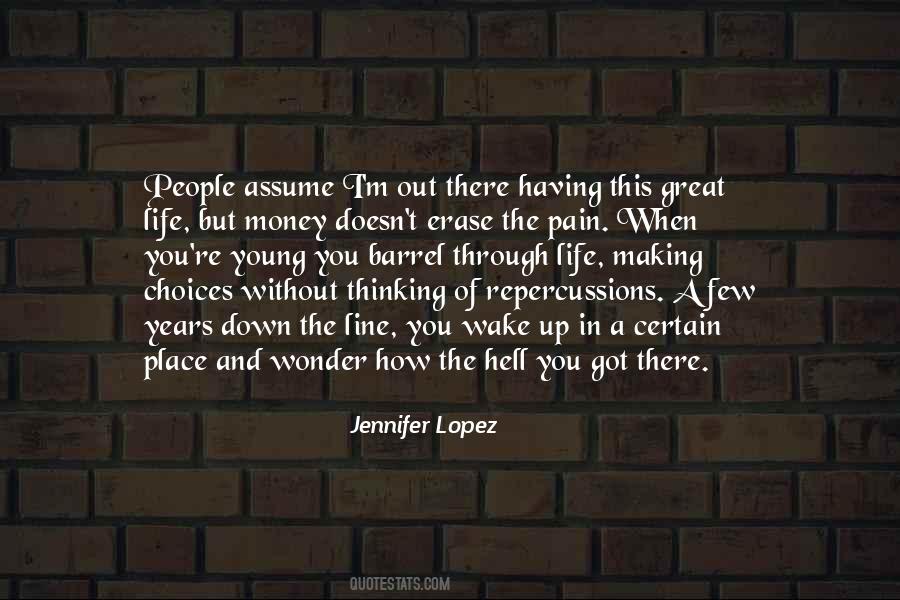 #32. The cross reminds us that there is no true love without suffering, there is no gift of life without pain. - Author: Pope Benedict XVI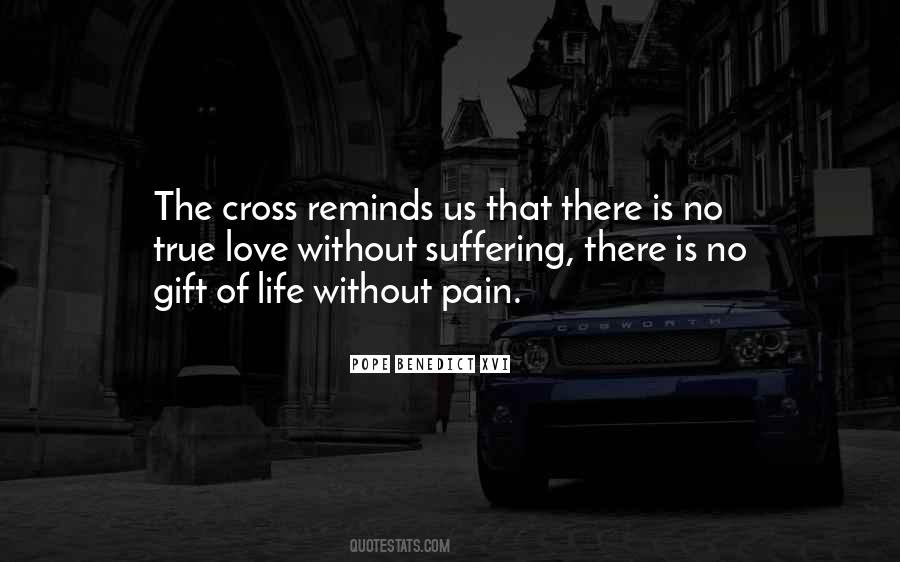 #33. Had I been too selfish? I had never known my mother, but I knew my life as it had been without her: the ship, the sea, the myths, the maps . . . and, yes, Kashmir. The pain I felt at the thought of losing him - the same pain that kept me at arm's length - gave me a hint of my father's own struggle. - Author: Heidi Heilig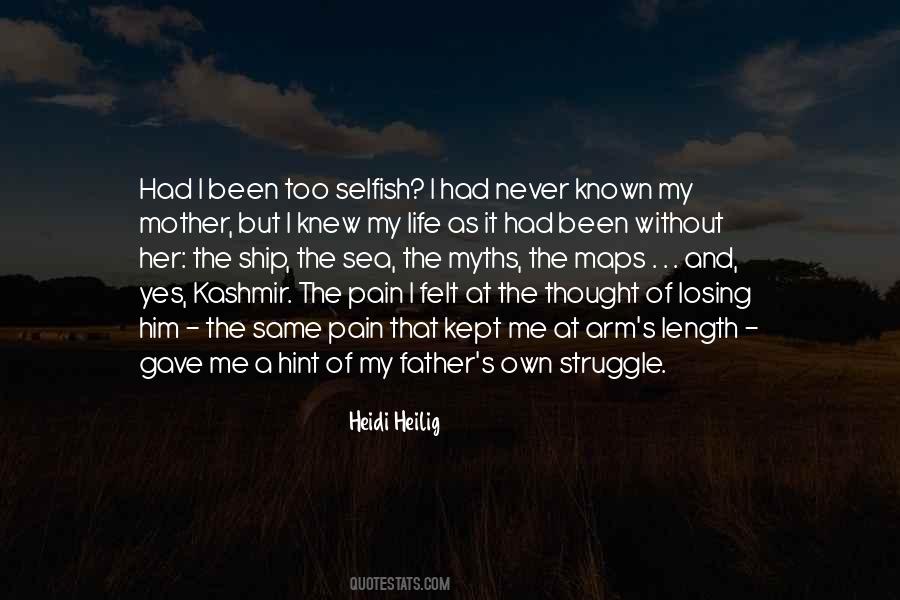 #34. The human condition is such that pain and effort are not just symptoms which can be removed without changing life itself; they are the modes in which life itself, together with the necessity to which it is bound, makes itself felt. For mortals, the easy life of the gods would be a lifeless life. - Author: Hannah Arendt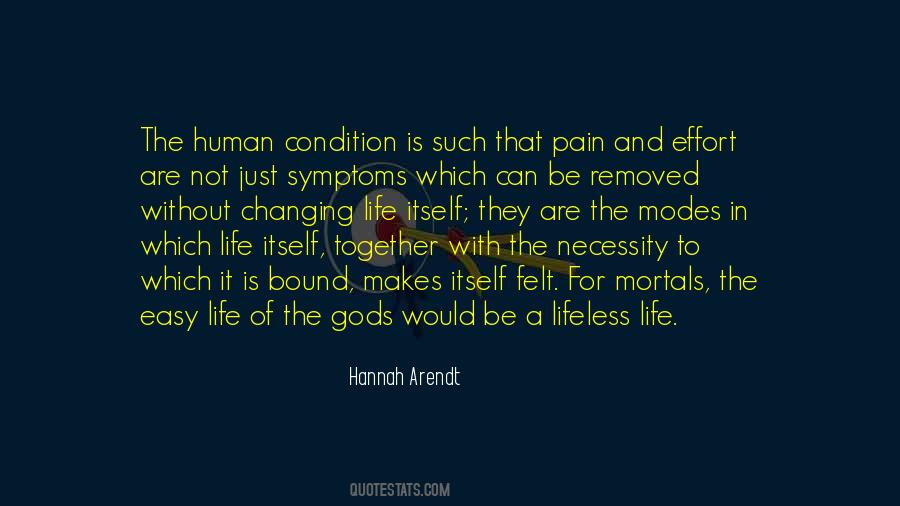 #35. God calls us to a wild adventure, not a tea party, my dear. I don't follow Jesus because he can give me a life without pain. I follow him because he is good. Someday I will follow him right through death, and into our Heavenly Father's house.
Aunt Wealthy - Author: Martha Finley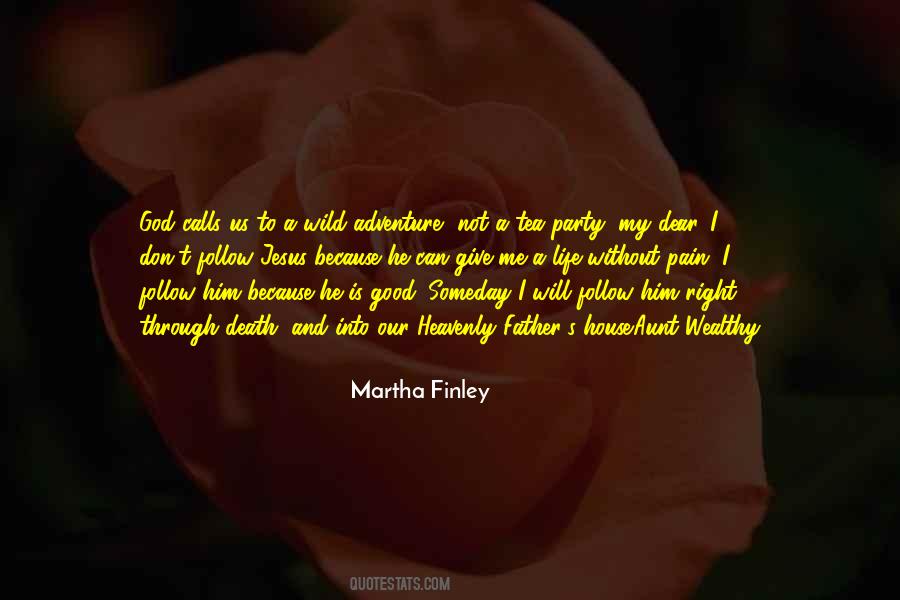 #36. If love were human I would've set them on fire by now - a screaming blaze of smoke and flesh. I'd breathe in the blackness once more just to feel love's destruction, its mortality filling in the hollow of my ribcage without a heart. - Author: Piper Payne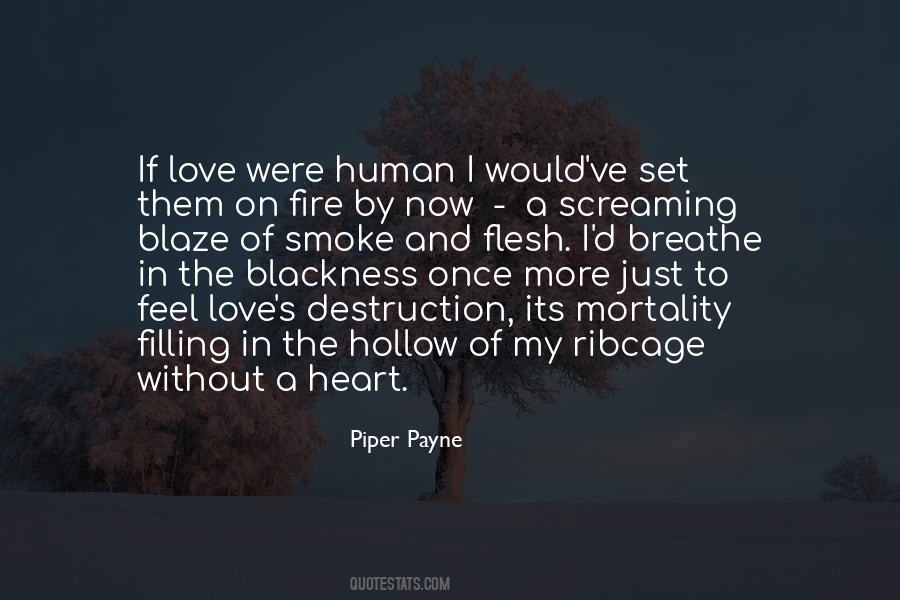 #37. Without repentance, there is no real progress or improvement in life. Pretending there is no sin does not lessen its burden and pain. Suffering for sin does not by itself change anything for the better. Only repentance leads to the sunlit uplands ofa better life. - Author: D. Todd Christofferson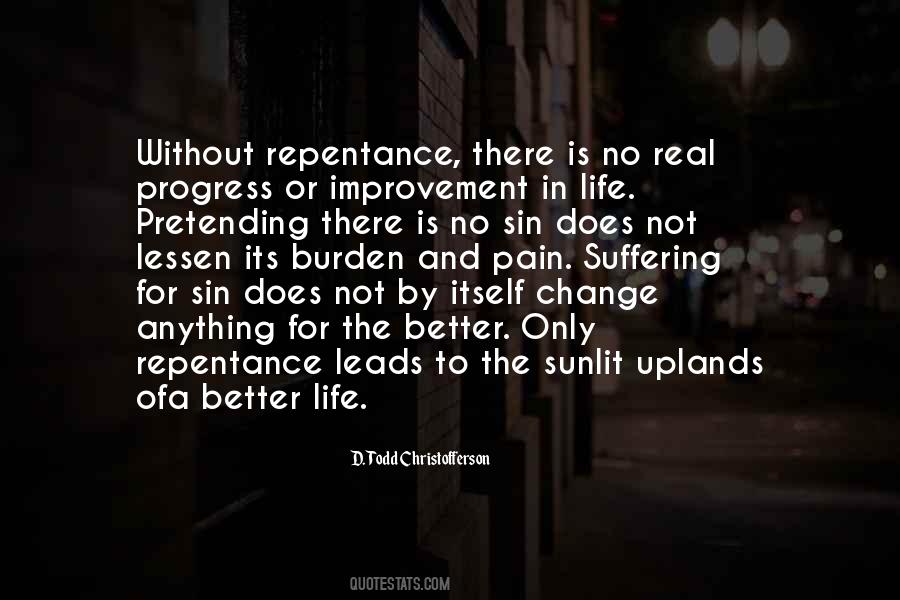 #38. What can we do without pain in front of happiness? - Author: Sorin Cerin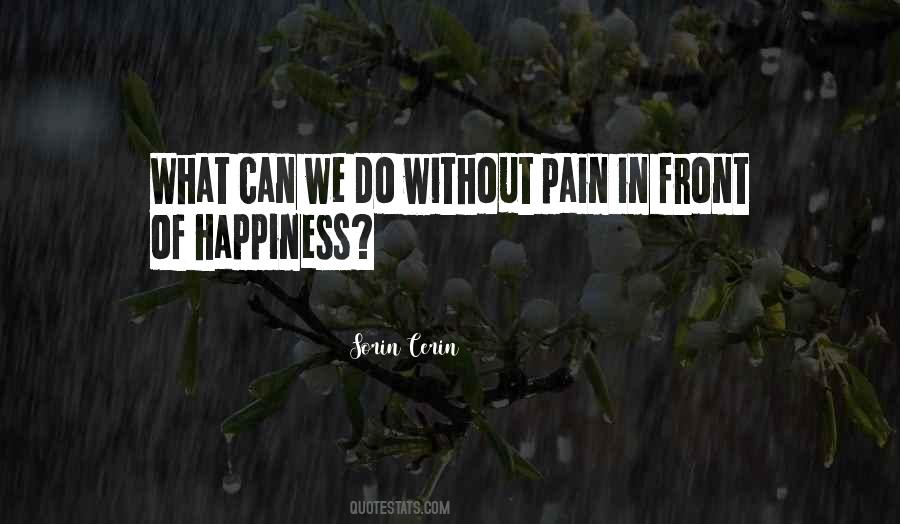 #39. Many are poets, but without the name;
For what is Poesy but to create
From overfeeling Good or Ill; and aim
At an external life beyond our fate,
And be the new Prometheus of new men,
Bestowing fire from Heaven, and then, too late,
Finding the pleasure given repaid with pain - Author: George Gordon Byron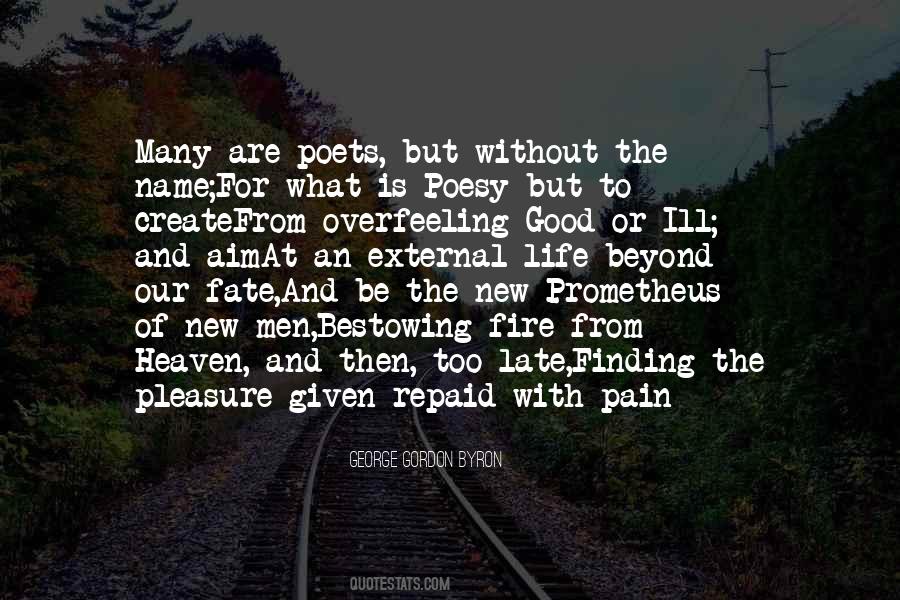 #40. But I know too that if we ever make a world without shadow, if the chemists and scientists and psychologists succeed in abolishing fear, pain, loneliness, death, some of us will find life so intolerable we will probably blow out our brains out of sheer boredom. - Author: MacDonald Harris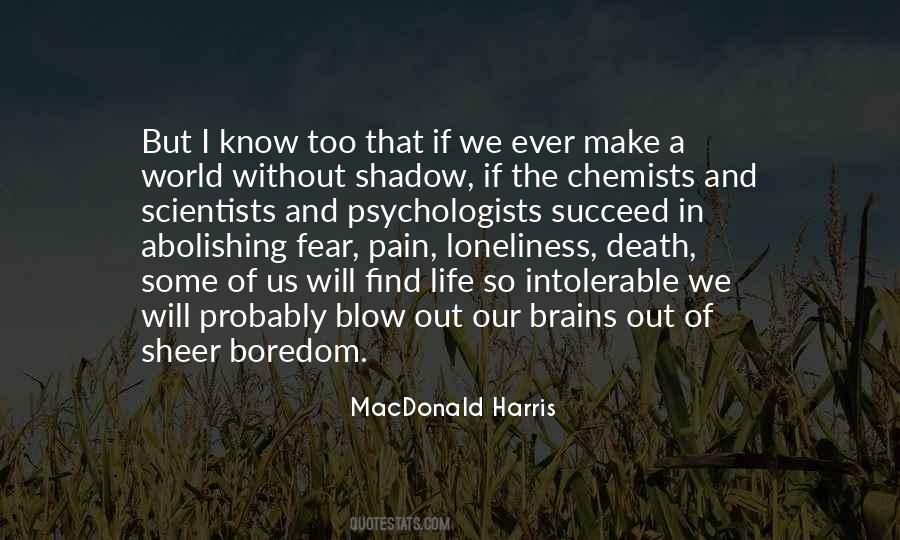 #41. Man seems to be unable to live without myth, without the belief that the routine and drudgery, the pain and fear of this life have some meaning and goal in the future. - Author: Alan W. Watts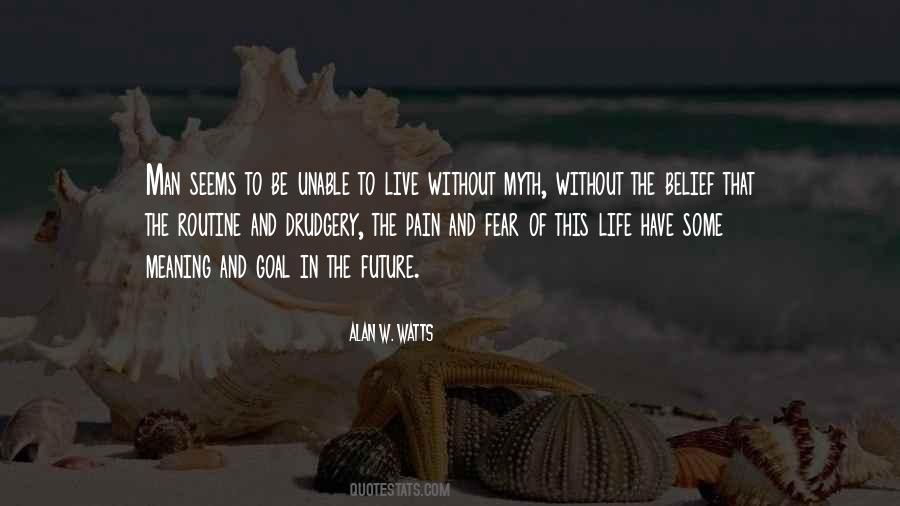 #42. The greatest challenge of my life has been to see and accept the actual truth without great pain and struggle against it. - Author: M.C. Halliday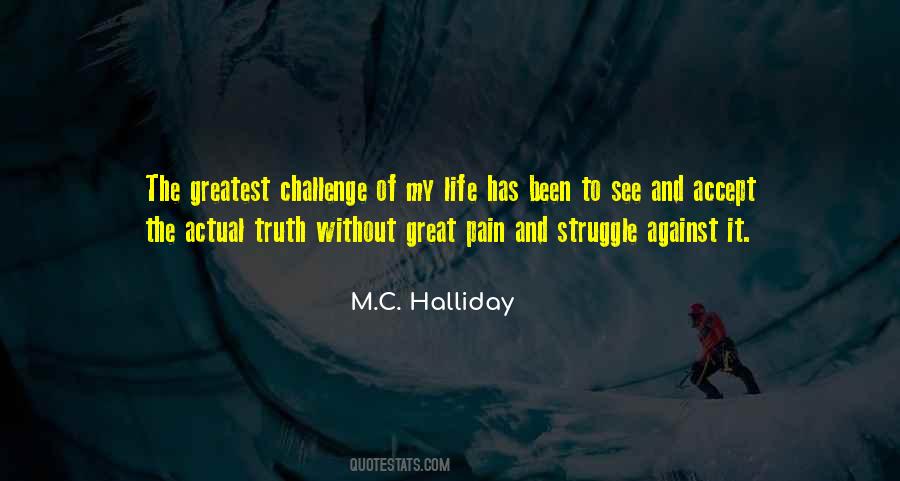 #43. One cannot get through life without pain ... What we can do is choose how to use the pain life presents to us. - Author: Bernie Siegel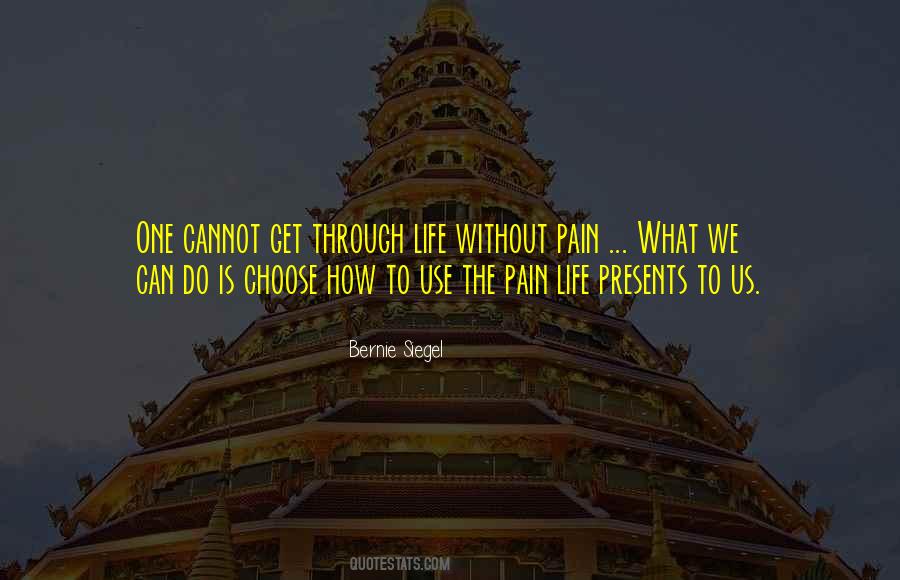 #44. And that wreched creature without hands or feet, who had to be put to bed and fed like a child, that pitiable remnant of a man, whose almost vanished life was nothing more than one scream of pain, cried out in furious indignation: 'What a fool one must be to go and kill oneself!' - 'Joy of Life - Author: Emile Zola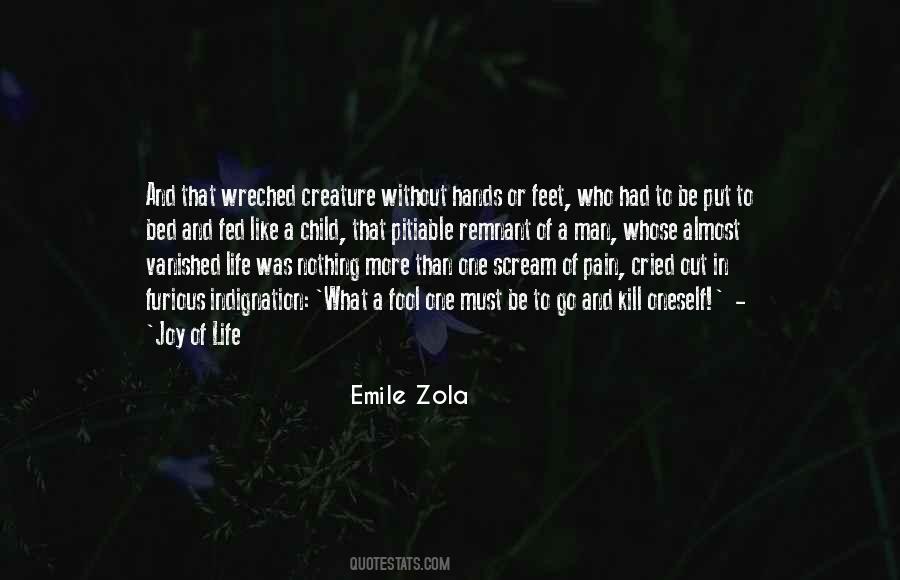 #45. Turning the pages of crime novels it occurs to me to ask how it's possible to write so much without saying the word "pain," "life," or "anxiety." I reject this stupid dehumanization. The behaving without motive. The horrific shutting out of what is most vital or important. - Author: Alejandra Pizarnik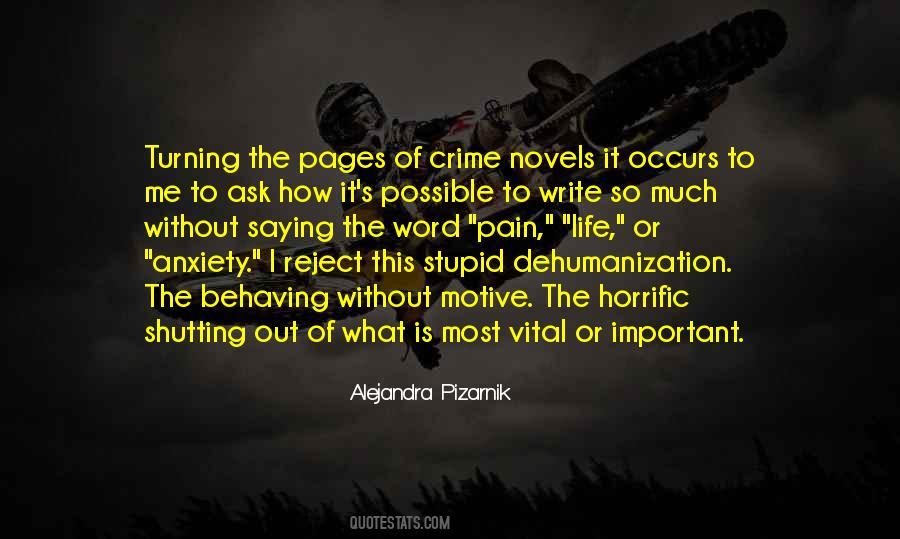 #46. Morning night and noon the traffic moves through and the murder and treachery of friends and lovers and all the people move through you. pain is the joy of knowing the unkindest truth that arrives without warning. life is being alone death is being alone. even the fools weep morning night and noon. - Author: Charles Bukowski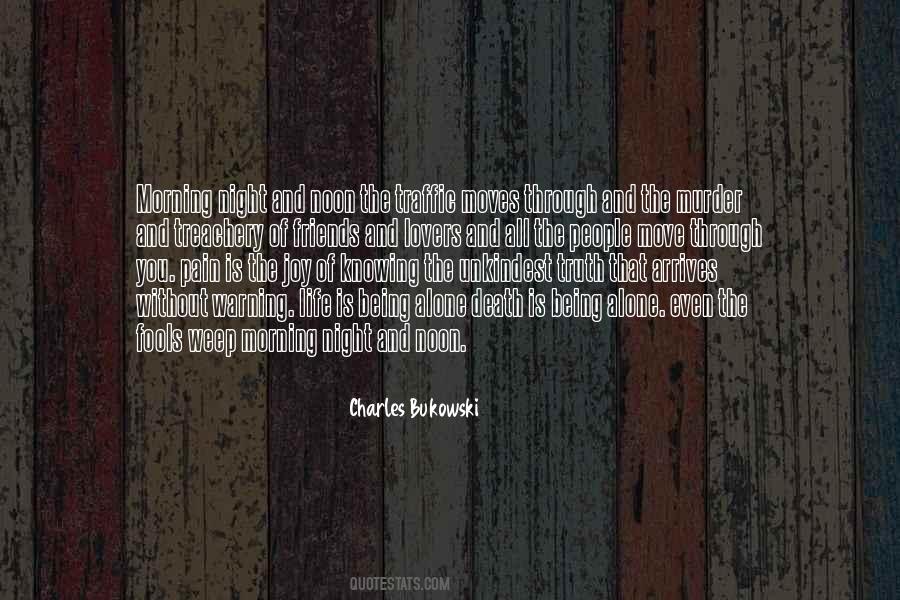 #47. It's okay to be hurt because what is pleasure without some pain. - Author: Jasmine Sandozz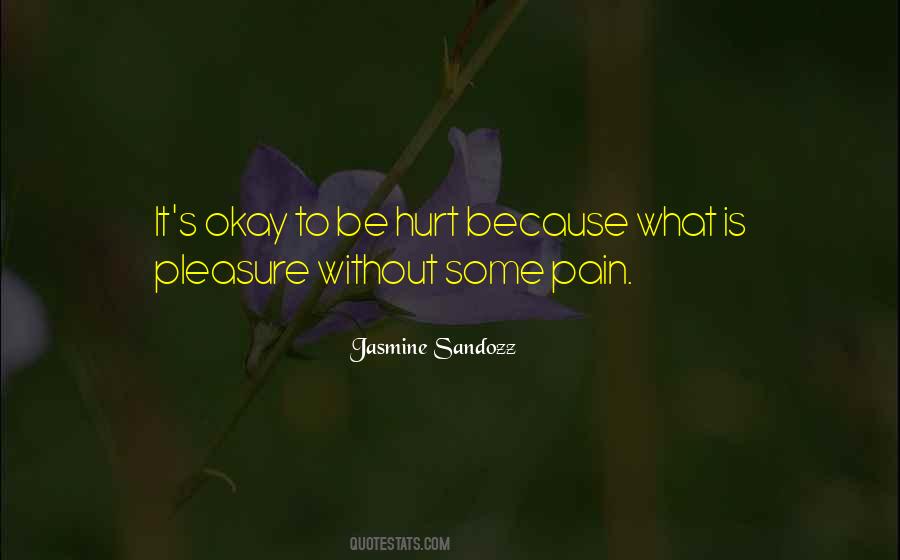 #48. Time they say is the best healer. Sad, but not true. With time, pain becomes you and you become pain. One forgets what life was without the pain. - Author: Jayant Swamy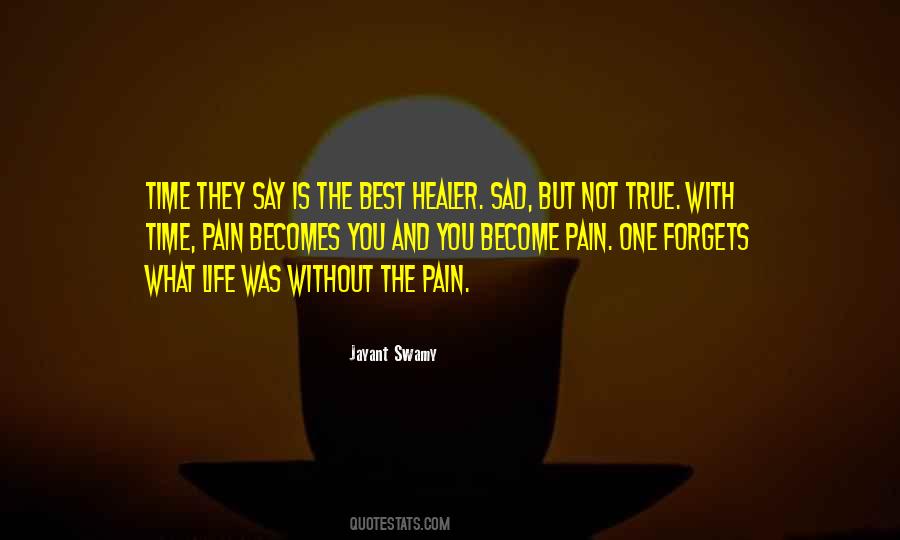 #49. First the lover must learn charity and keep God's law. Then he shall be blessed a hundredfold, and he shall do great things without great effort, and bear all pain without suffering. And so his life will surpass human reason indeed. - Author: Hadewijch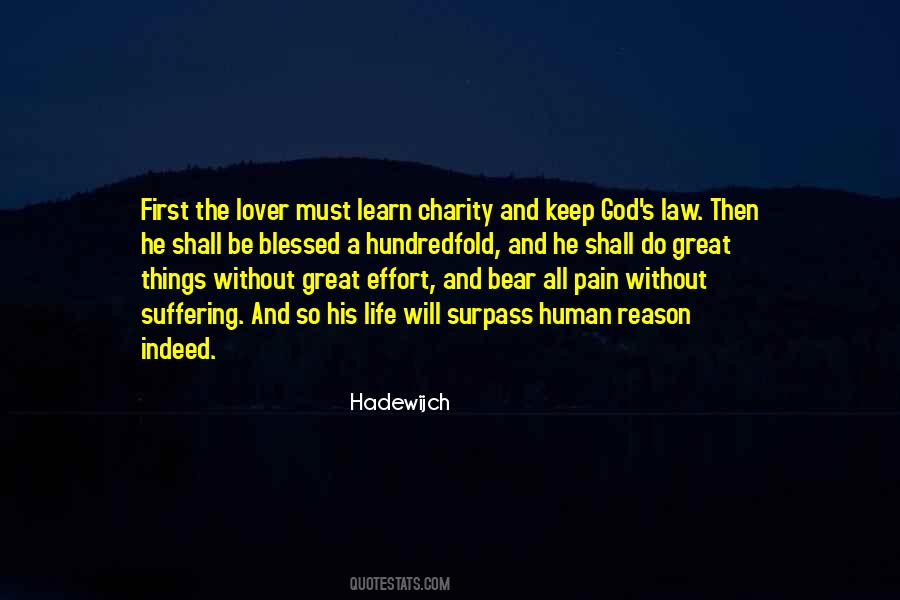 #50. It would be more concerned with the Whole than the parts and has to proceed from the premise that death and pain, short life spans, and no bread without sweat must be accepted. - Author: Stephanie Mills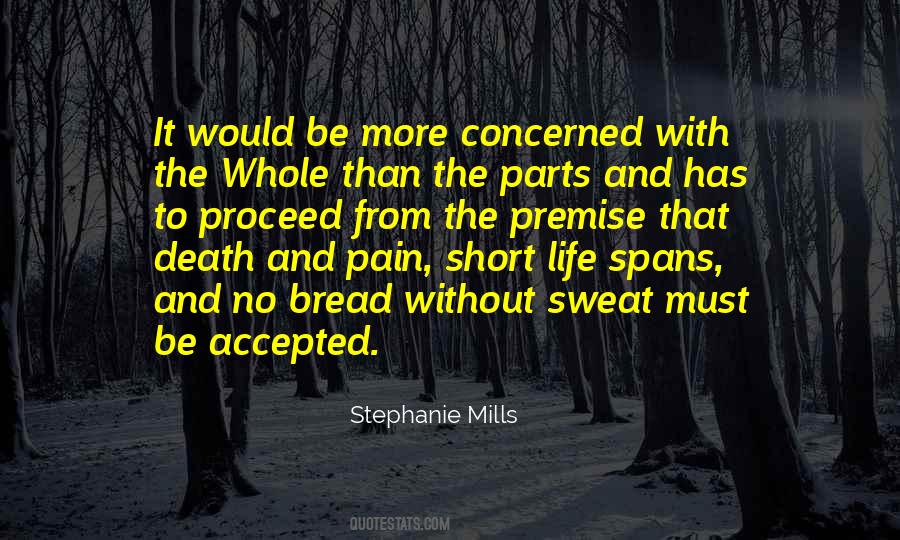 #51. It is often while travelling through the dark that you find the ones who shine brightest in your life. For they are the ones who remind you of your own beautiful light and show up, without a second thought, in your pain, as well as your glory. - Author: Anna Taylor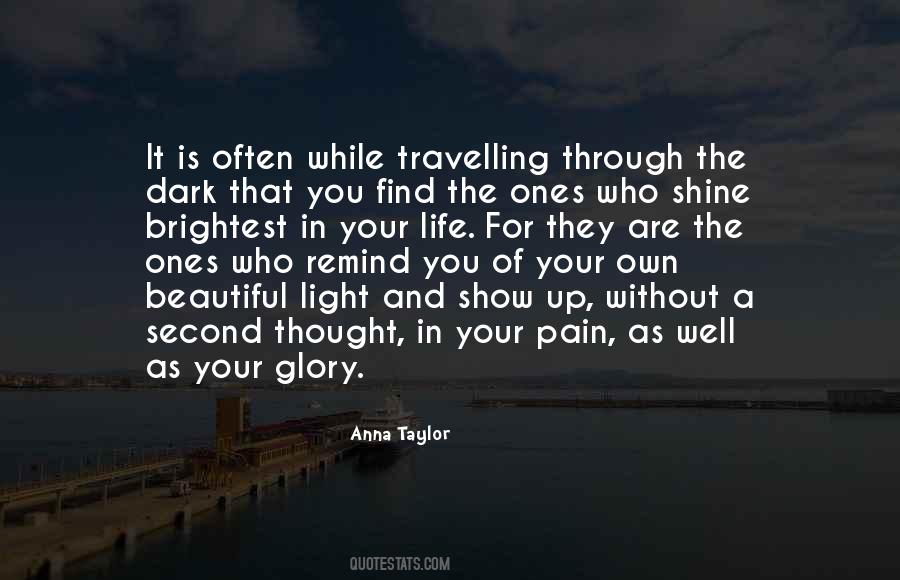 #52. You were supposed to die. It would have been a good start. (Kessar)
I don't know. I die, you get bored. World ends. Doesn't really fit, does it? Besides, I can't make things too easy on you. What's life without pain? (Sin) - Author: Sherrilyn Kenyon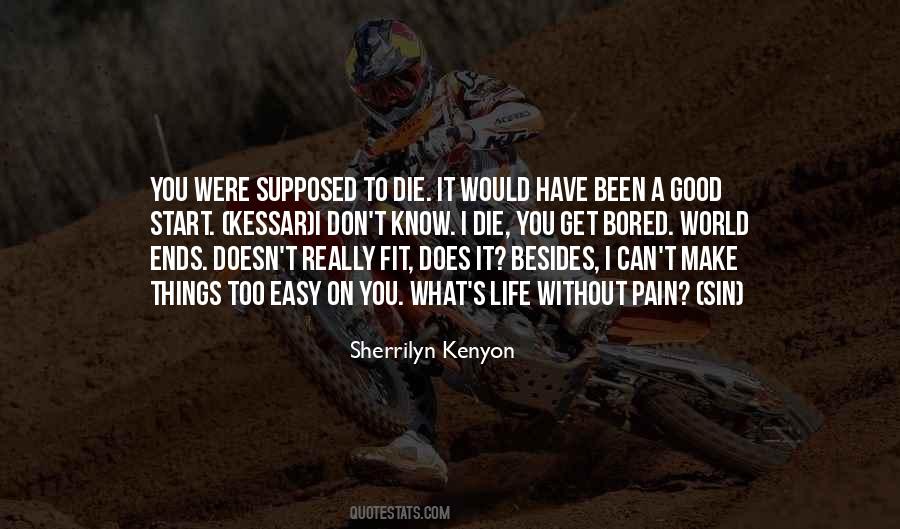 #53. Without mountains, we might find ourselves relieved that we can avoid the pain of the ascent, but we will forever miss the thrill of the summit. And in such a terribly scandalous trade-off, it is the absence of pain that becomes the thief of life. - Author: Craig D. Lounsbrough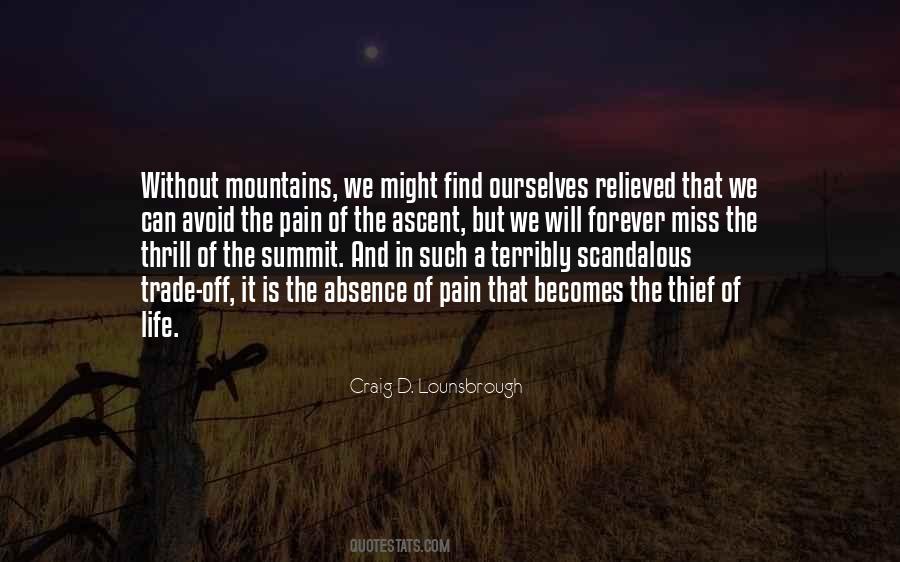 #54. Life is not without pain, but life concerns itself with how we handle that pain, or joy, or confusion or triumph. Life is more than time passing before death, it is the sum and total of all we make of it. - Author: Michael A. Stackpole
#55. If someone is determined not to risk pain, then such a person must do without many things: [ ... ] - all that makes life alive, meaningful and significant. - Author: M. Scott Peck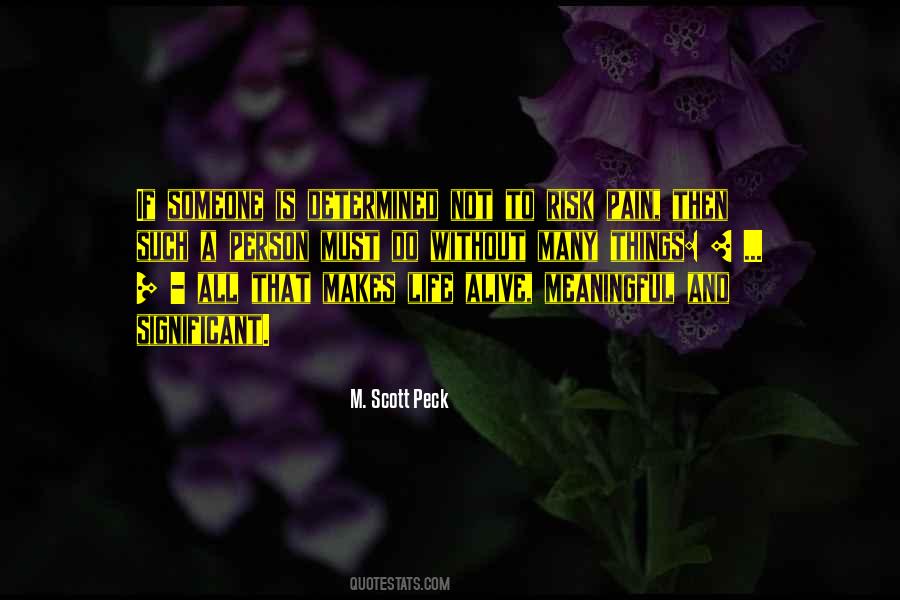 #56. This is my religion - we're all animals, perfect animals created in the infinite image and imagination of nature. It's a life not without pain and competition and suffering, but it can be a life of dignity and mutual respect. - Author: David Duchovny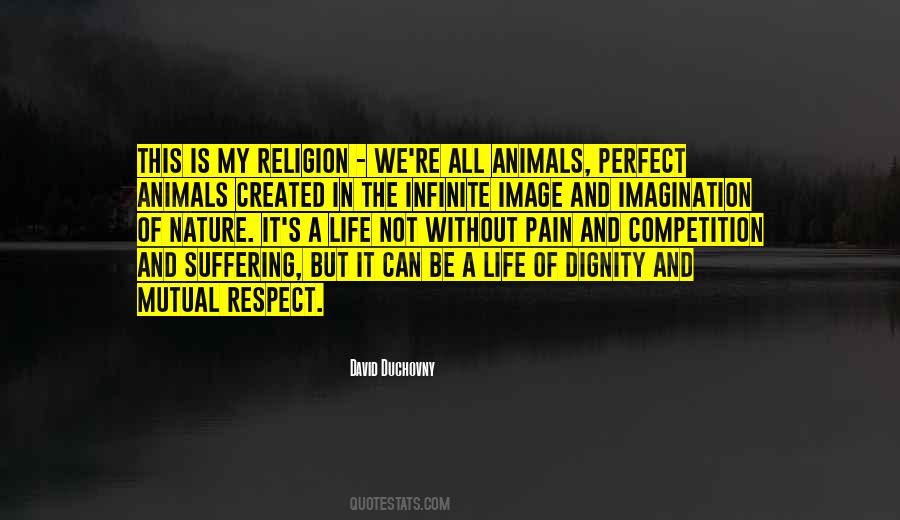 #57. God has not promised Skies always blue, Flower-strewn pathways All our life through; God has not promised Sun without rain, Joy without sorrow, Peace without pain. - Author: A. P. J. Abdul Kalam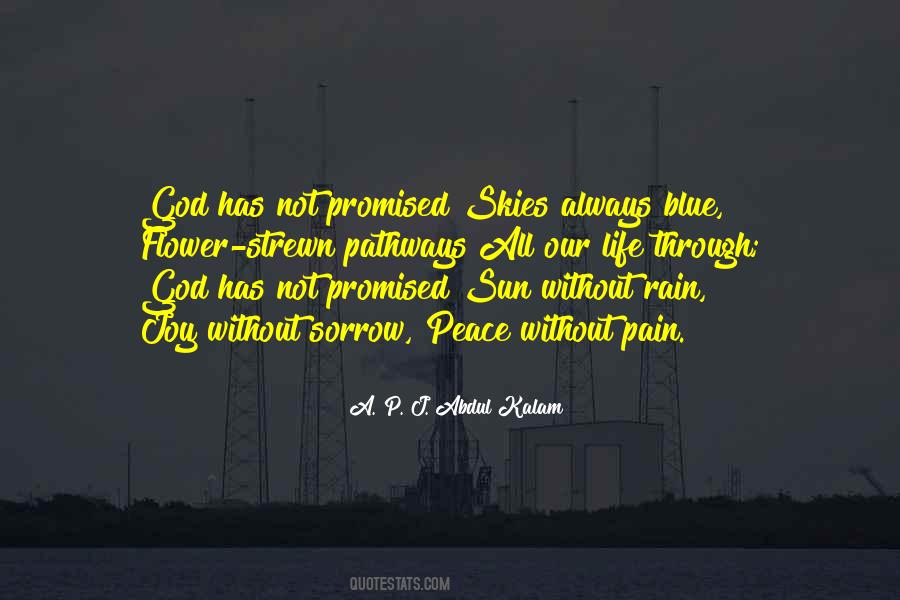 #58. Christianity is not a promise to enjoy a life without pain nor to be given a shortcut through it. It is a promise that pain, sorrow, sin - ours and others' - will not swallow us, destroy us, define us, or have the final word. Jesus has won the victory. And in him so have we. - Author: Stasi Eldredge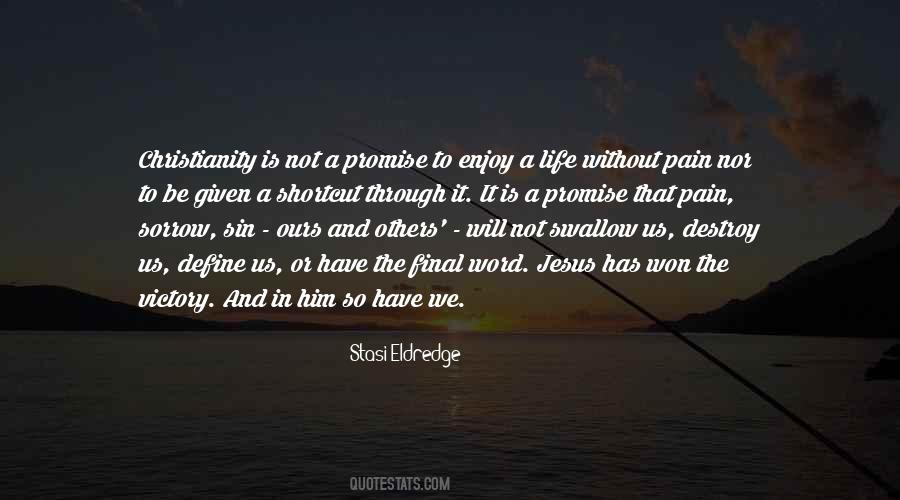 #59. There is no growth without pain. No life without suffering. - Author: Cynthia Eden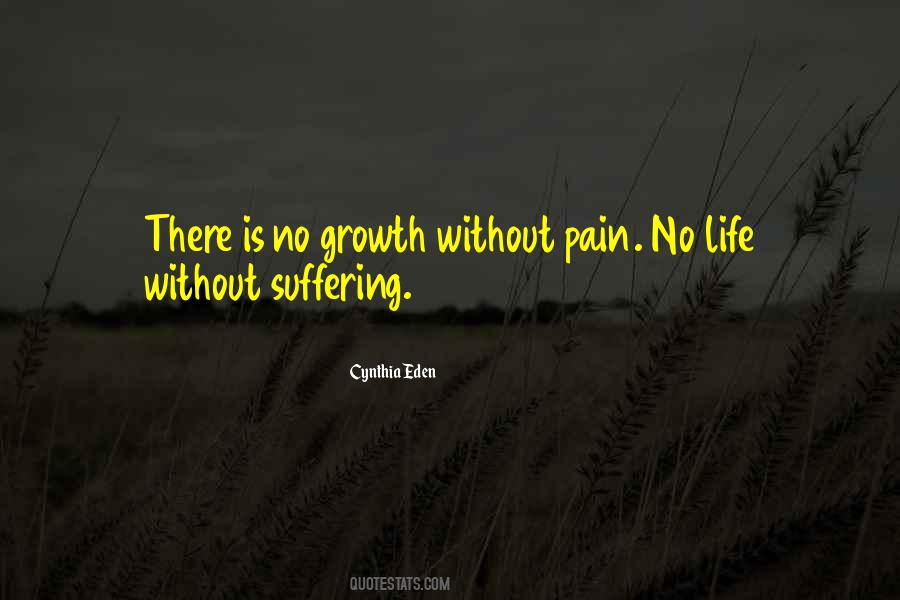 #60. In life eternal, there is perfect joy and light, without pain or torture, and there is communion with God Himself and His angels. - Author: Jan Hus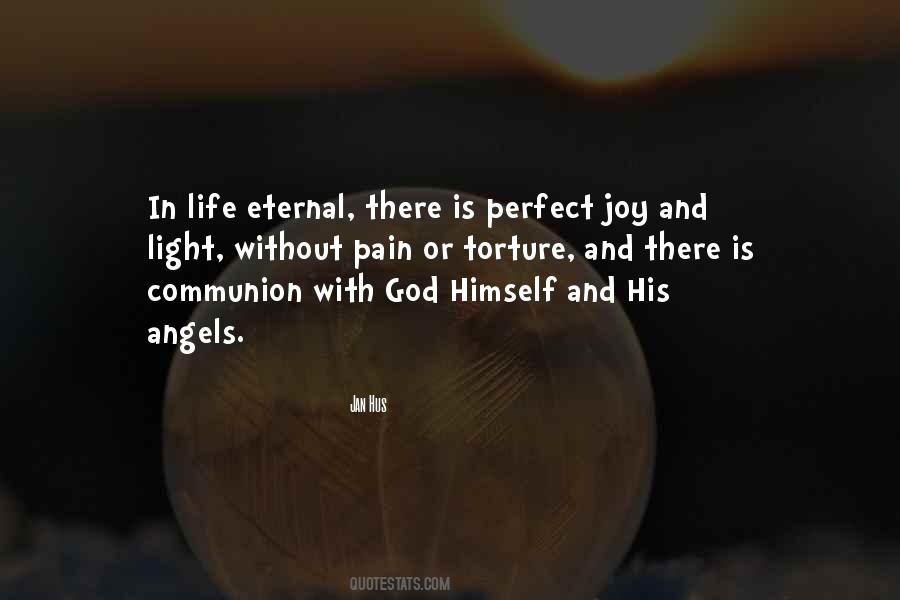 #61. Without a word or hesitation, Pain took the mop from Nick. Suffering moved to pick up glass.
"Wow. Where have you two been all my life?"
Pain quirked and eyebrow as he mopped the floor.
"Walking hand in hand with you. Haven't you noticed? - Author: Sherrilyn Kenyon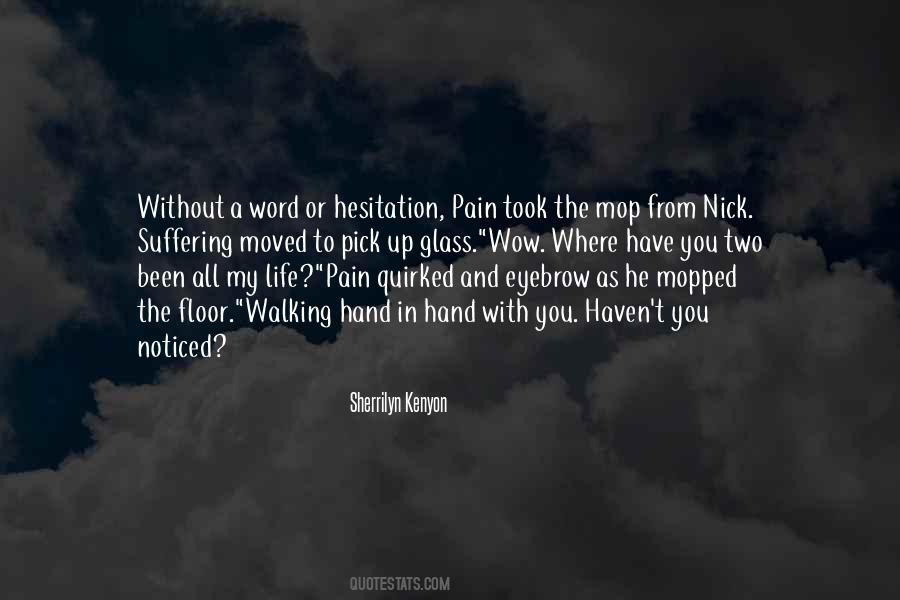 #62. I just know there's no way to live without pain
no matter how long or short your life is. People let you down. You get hurt and do damage in return. - Author: Leigh Bardugo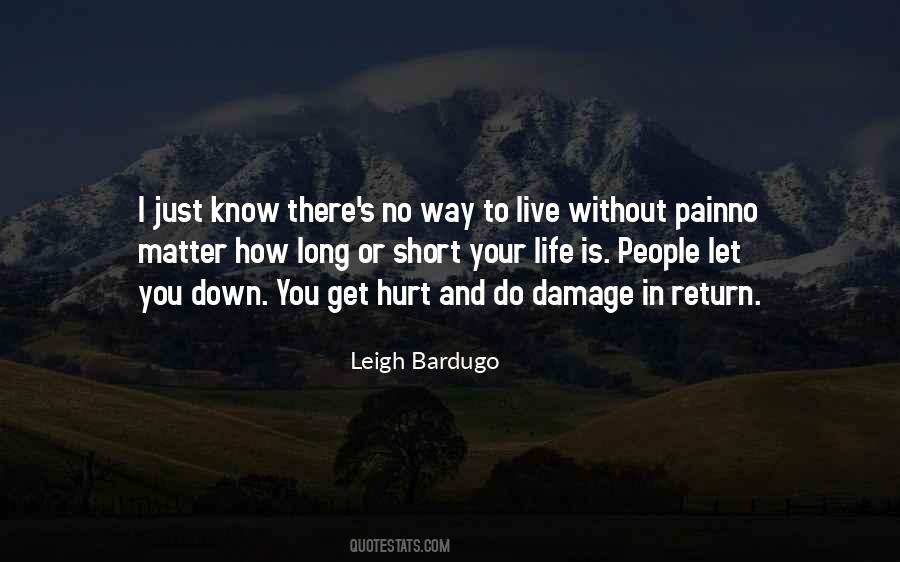 #63. The life which, if i were still a man with pride, honor, ambition and so forth, would seem like the bottom rung of degredation. It's a negative reality, just like death
a sort of heaven without the pain and terror of dying. - Author: Henry Miller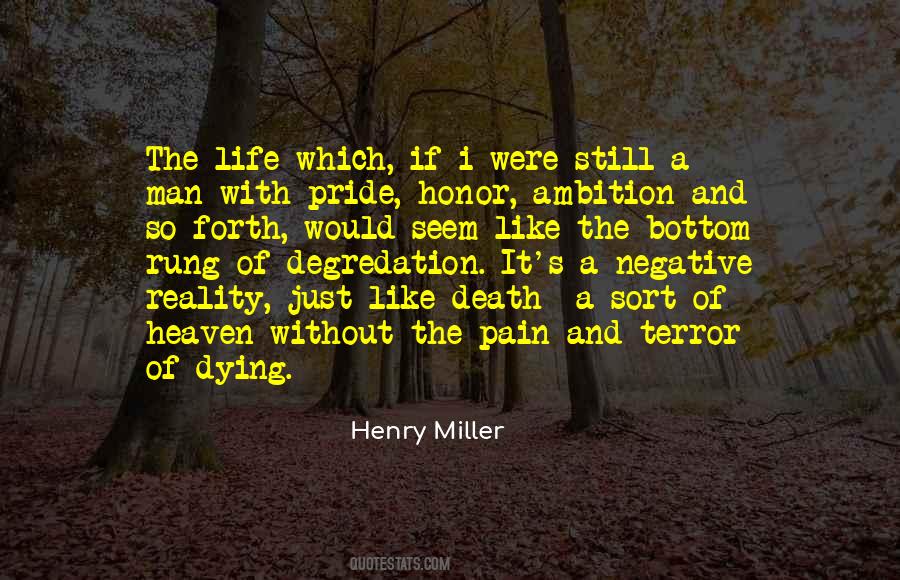 #64. Experiencing life through a book can help you learn without all the pain of going through the experiences first hand. - Author: Bette Greene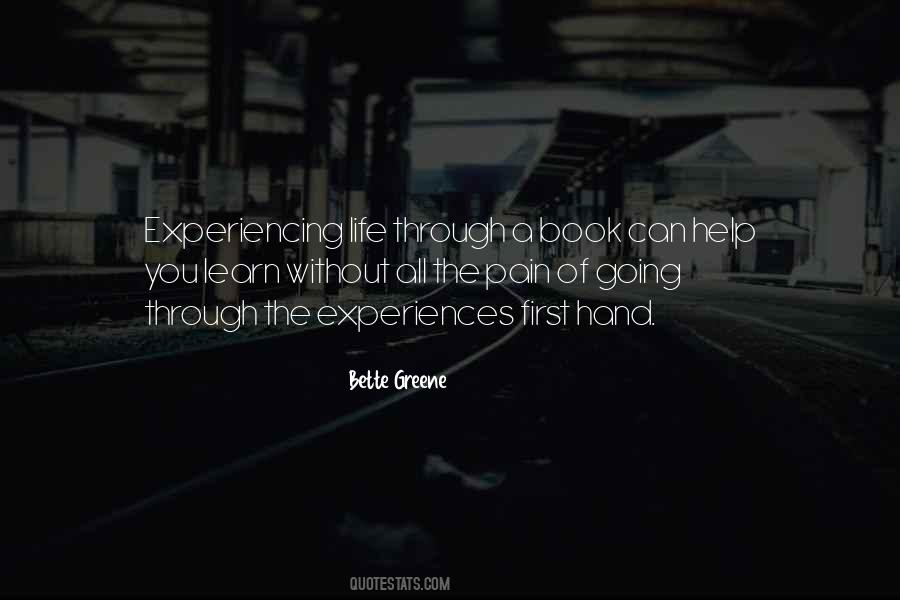 #65. Being on the path means we again meditate with joy. We deal with the suffering of life and the pain of existence without perfect enlightenment with a smile. - Author: Frederick Lenz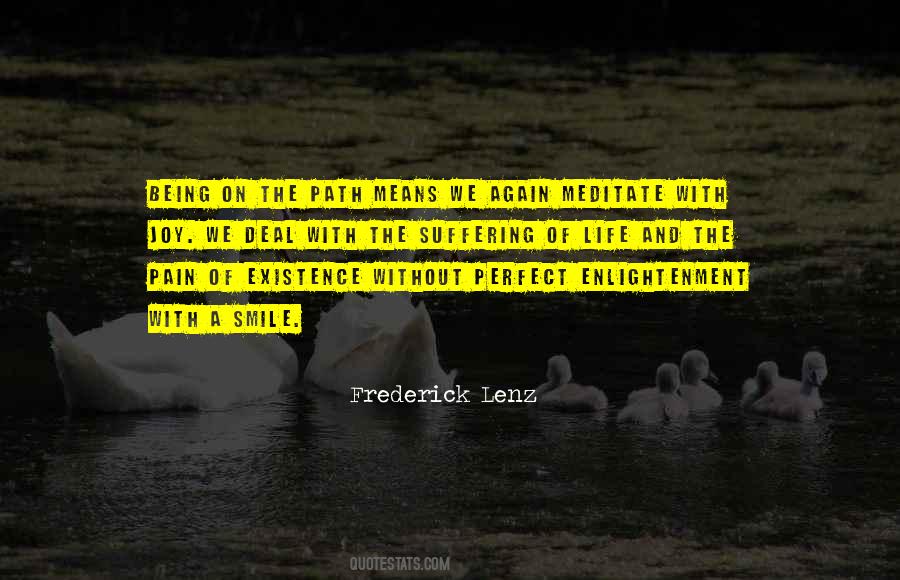 #66. Maybe you have to keep your pain and loss to know that you can survive whatever life deals you. Perhaps without putting your pain in its place in your life, you became something of a coward. - Author: Robin Hobb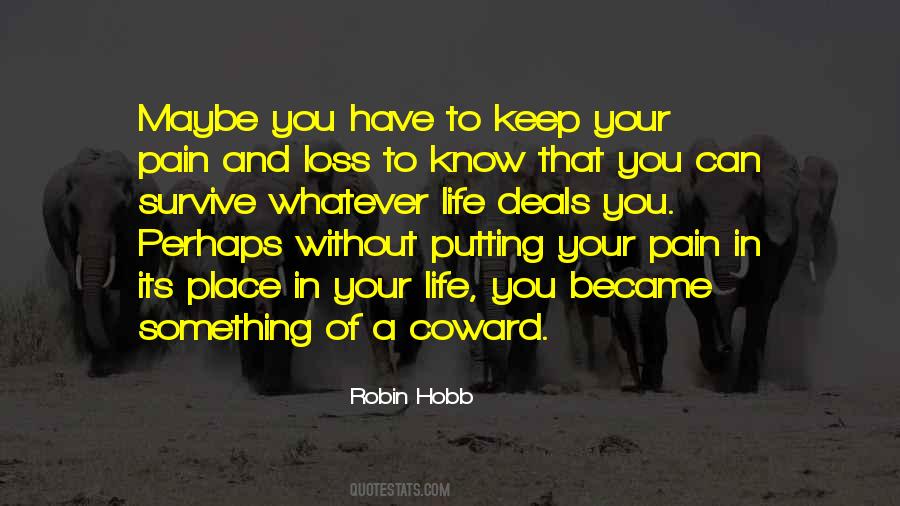 #67. Pain is inevitable in life; you can't avoid it. You can only feel it. Realize its true nature without emotional attachment and then transcend yourself and your emotions beyond that level. Pain will not go away, but you find that it is not hurting you that much. - Author: Debasish Mridha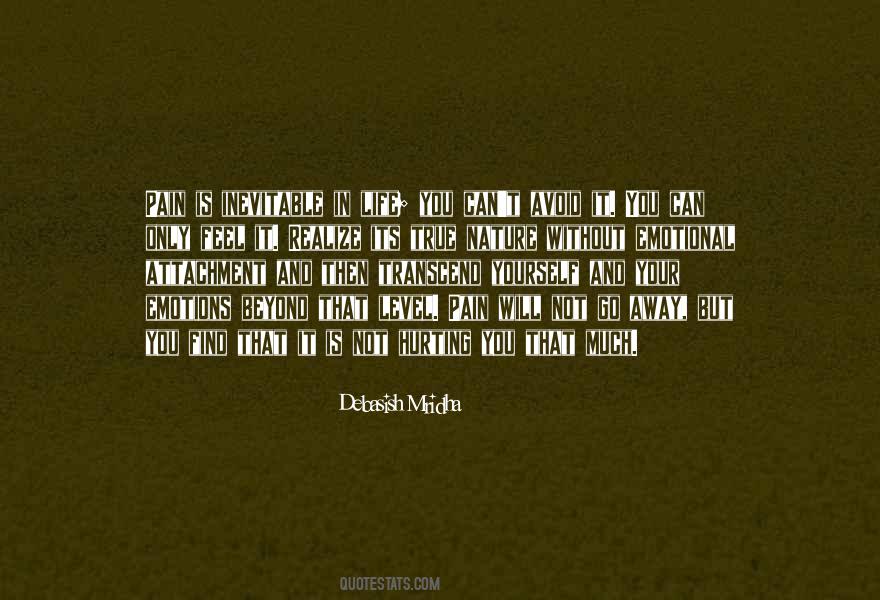 #68. So I drank every night after work, alone, up at my place and I had enough left for a day at the track on Saturday, and life was simple and without too much pain. Maybe without too much reason, but getting away from pain was reasonable enough. - Author: Charles Bukowski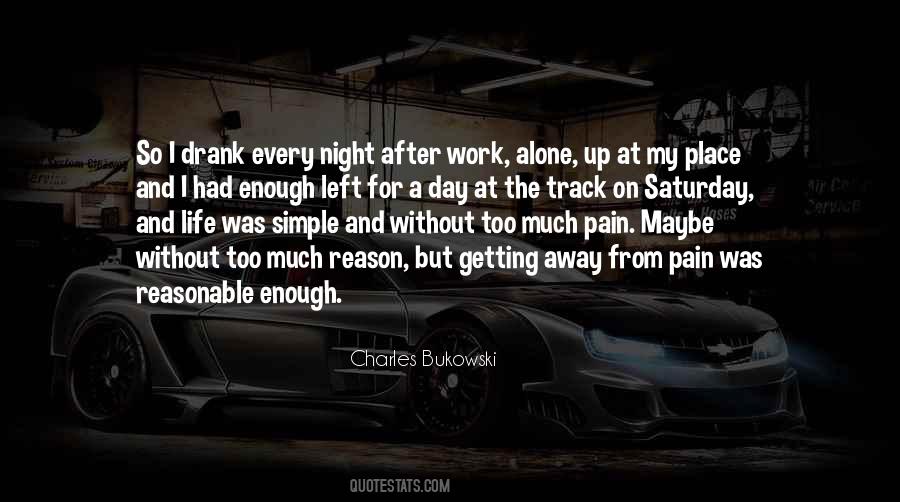 #69. To be totally honest, if I could be thinner without it causing a lot of pain and anxiety in my life, I would be. But today the reality is my life is more important to me than my weight - and thank God for that. - Author: Courtney Thorne-Smith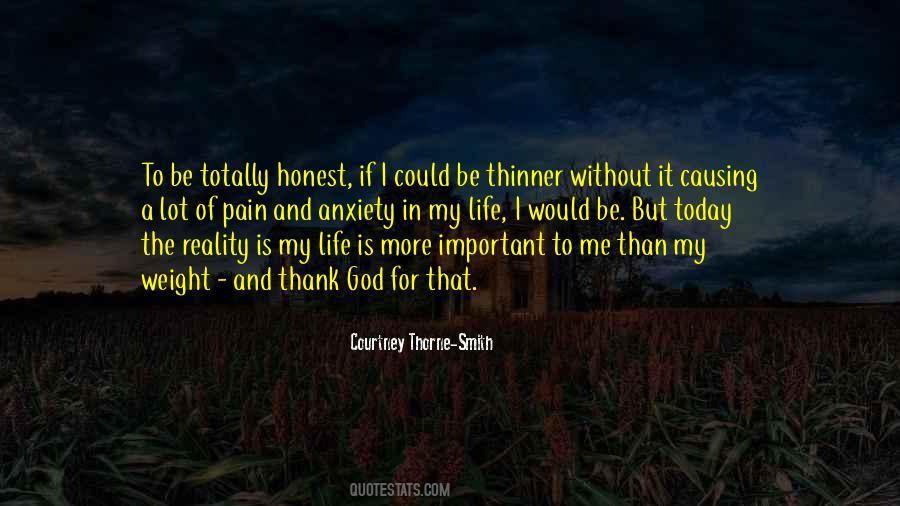 #70. Surely among a rich man's flowering lawns,
Amid the rustle of his planted hills,
Life overflows without ambitious pains;
And rains down life until the basin spills,
And mounts more dizzy high the more it rains
As though to choose whatever shape it wills ... - Author: William Butler Yeats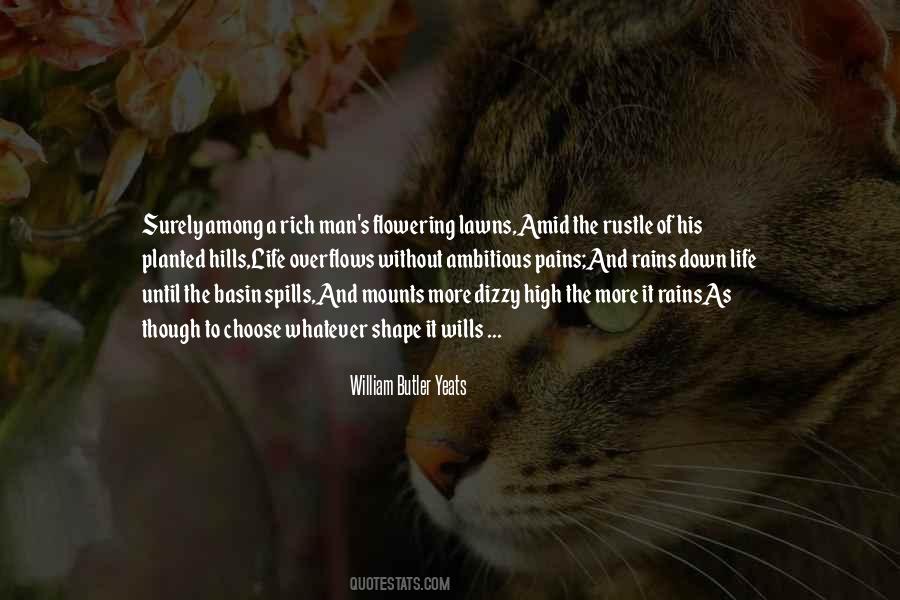 #71. I'm beginning to think that life is about passing moments and small celebrations. Without them there's only pain, fear, ambition, and, for some of us, foolish hope. - Author: Kyra Davis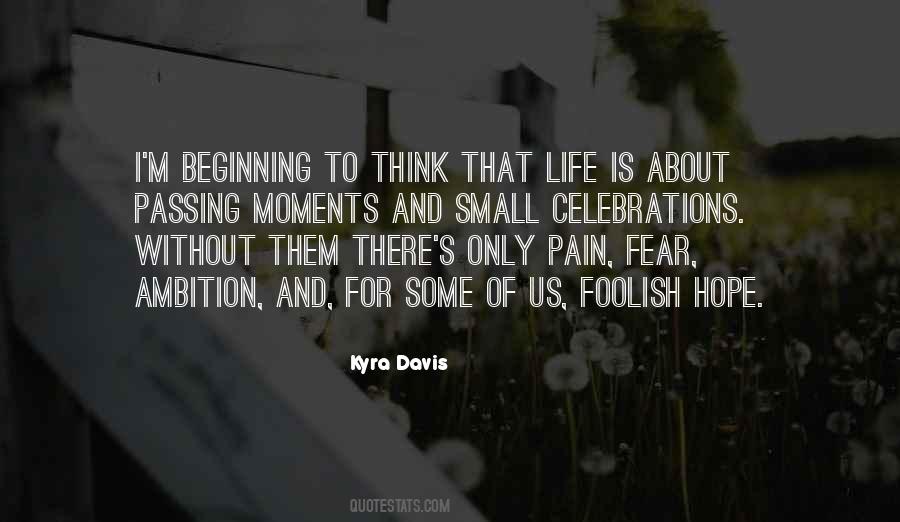 #72. No, if your life is without pain and anger and desperation then you are living it all wrong. You are not living at all. - Author: Shaun Hick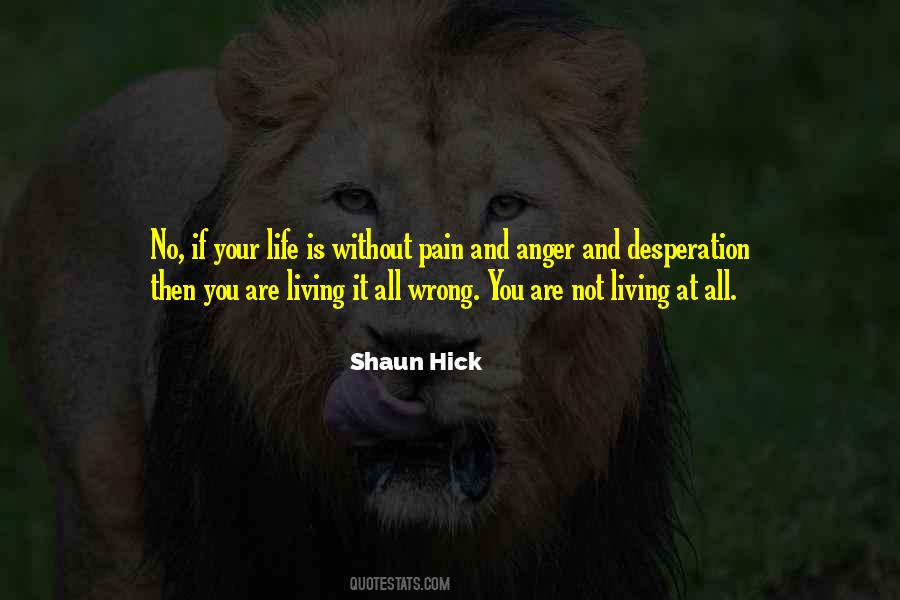 #73. Happiness is not a life without pain, but rather a life in which the pain is traded for a worthy price. - Author: Orson Scott Card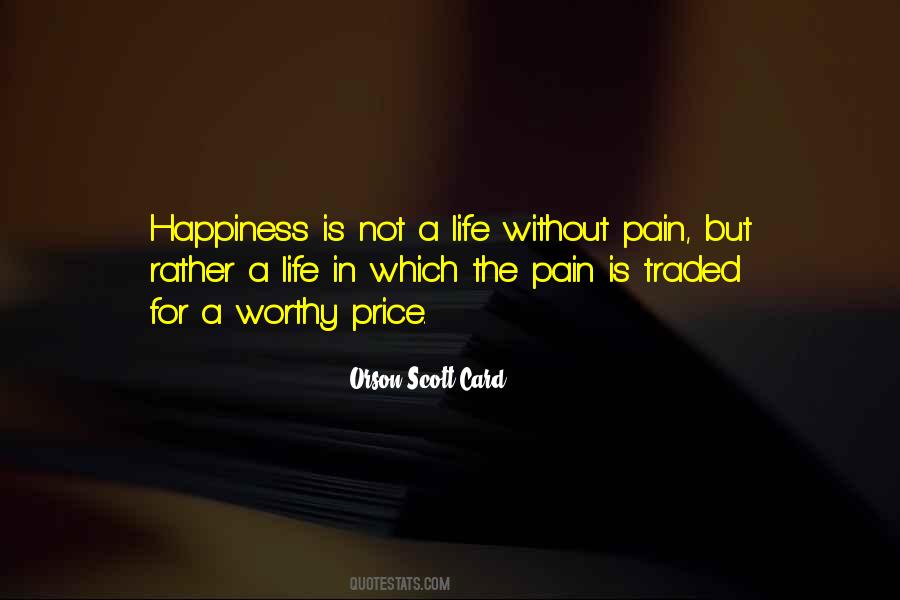 #74. My heart longs for the day when there will be no more suffering, no more hatred or violence, only love and a child will be able to grow up in a world without ever having to know the pain and anguish of an empty belly. - Author: Heather Wolf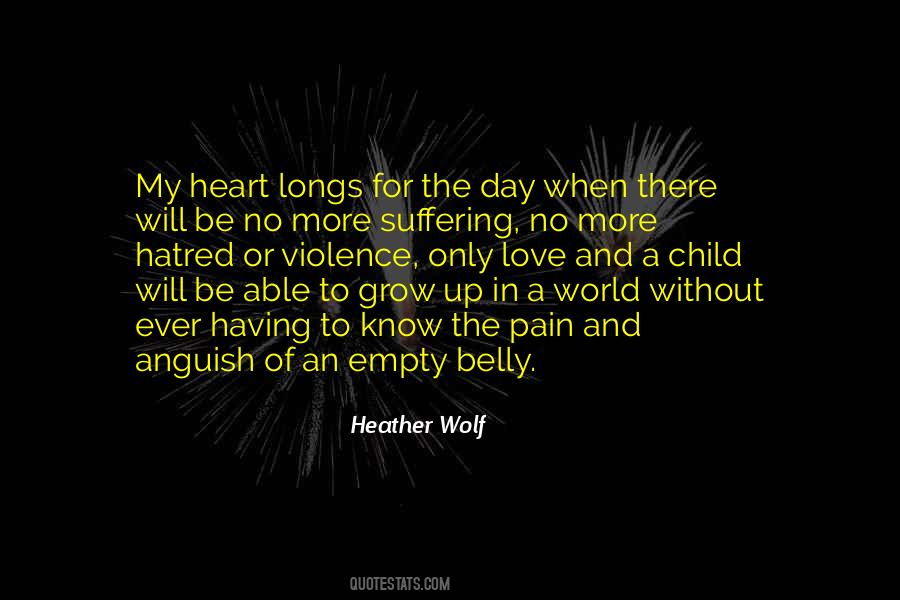 #75. I couldn't not write. Sometimes I ask myself, How do people get through life without writing? I write to calm anxiety, to process pain. Writing to me is reflection. - Author: Andrew Holleran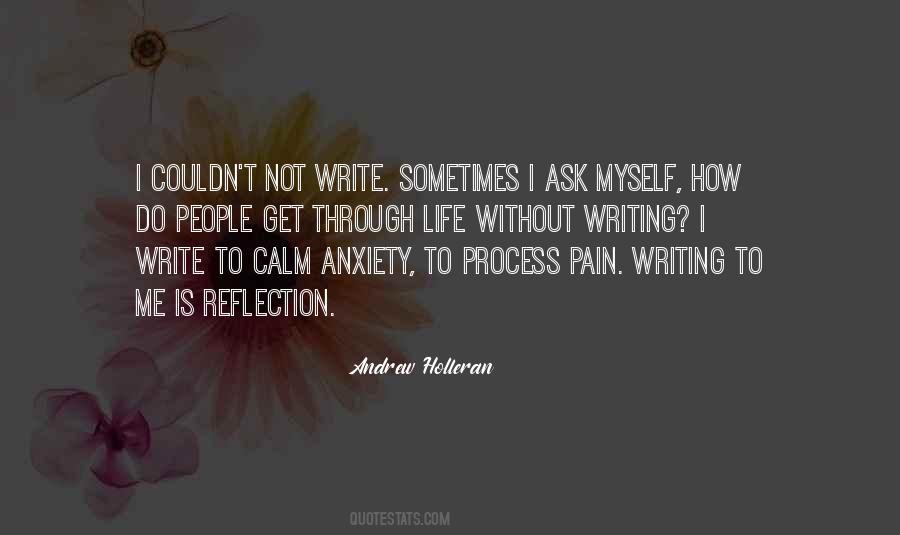 #76. RVM's Thought for the Day - If something happens that causes you pain, remind yourself that you can't get the Rainbow without a little Rain. - Author: R.v.m.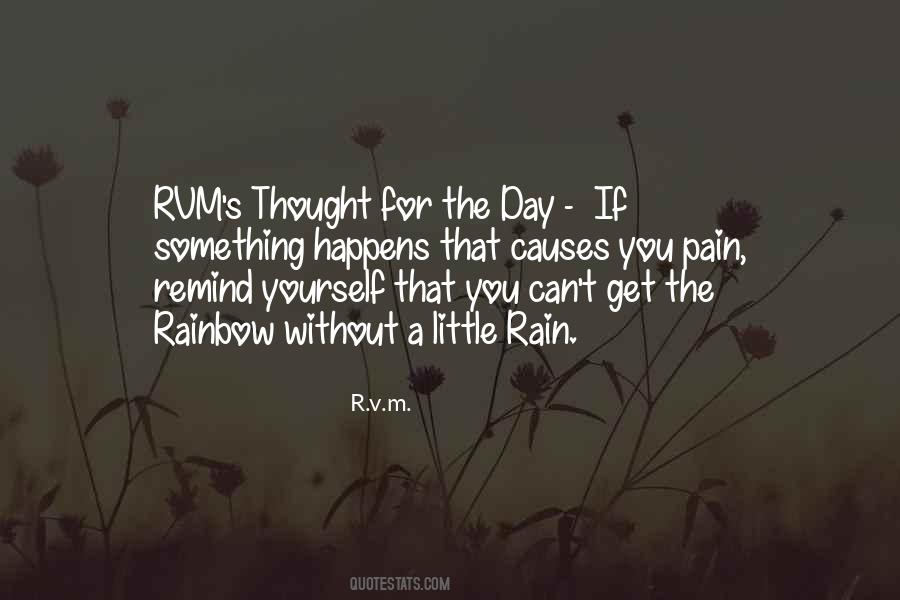 #77. Death, my son, is a good thing for all men; it is the night for this worried day that we call life. It is in the sleep of death that finds rest for eternity the sickness, pain, desperation, and the fears that agitate, without end, we unhappy living souls. - Author: Jacques-Henri Bernardin De Saint-Pierre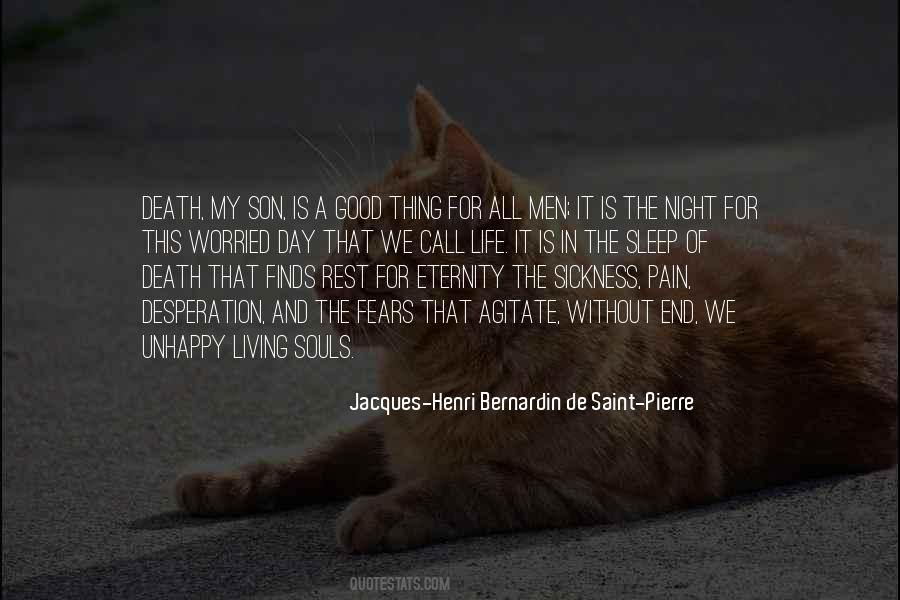 #78. A controller doesn't trust his/her ability to live through the pain and chaos of life. There is no life without pain just as there is no art without submitting to chaos. - Author: Rita Mae Brown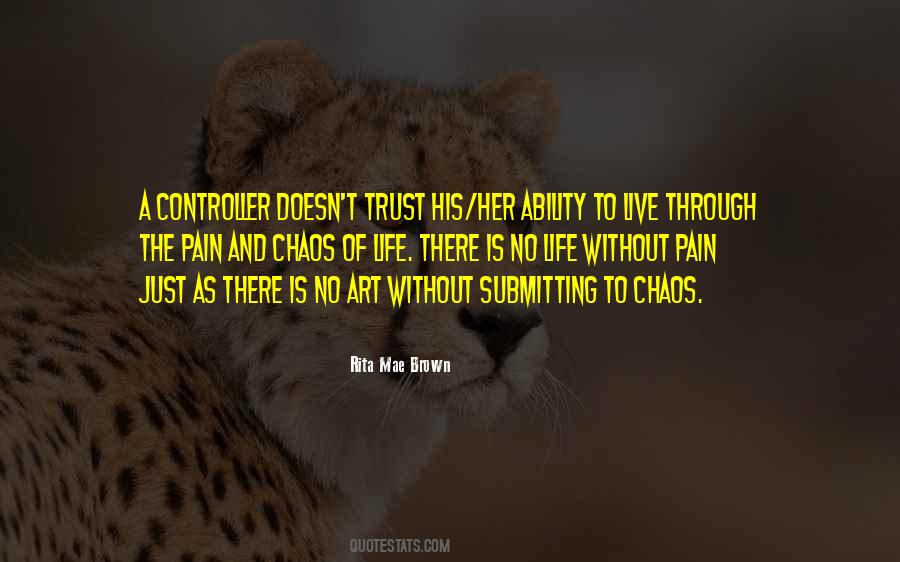 #79. Wisdom doesn't come easily or without a cost; in fact, wisdom often costs us dearly. Your wisdom will run about as deep as the pain that has cut you. There are very few shortcuts in life, if any. - Author: Bryant McGill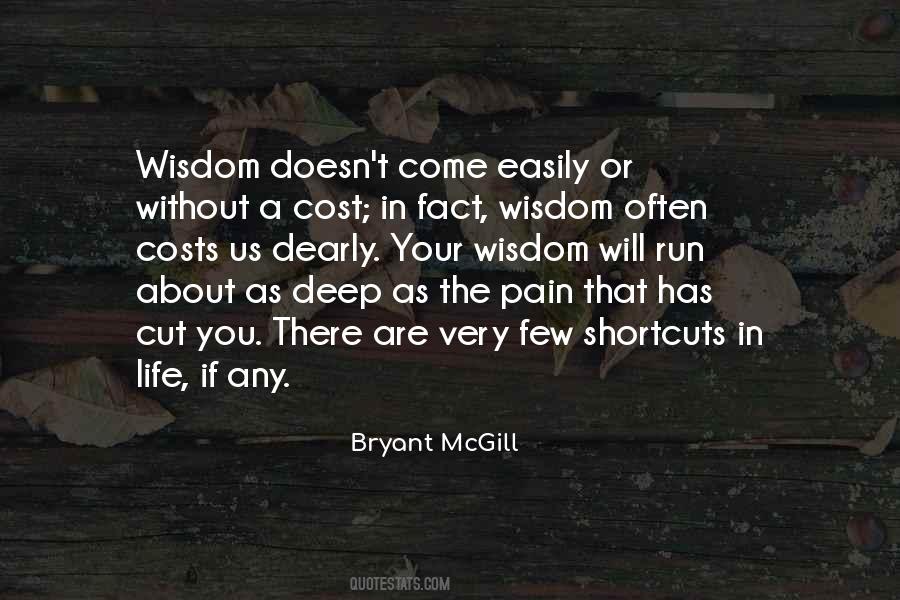 #80. It reminded me that pain was necessary. Pain was life's curveball. Without it, we would never appreciate what it felt like to be loved. - Author: S.L. Jennings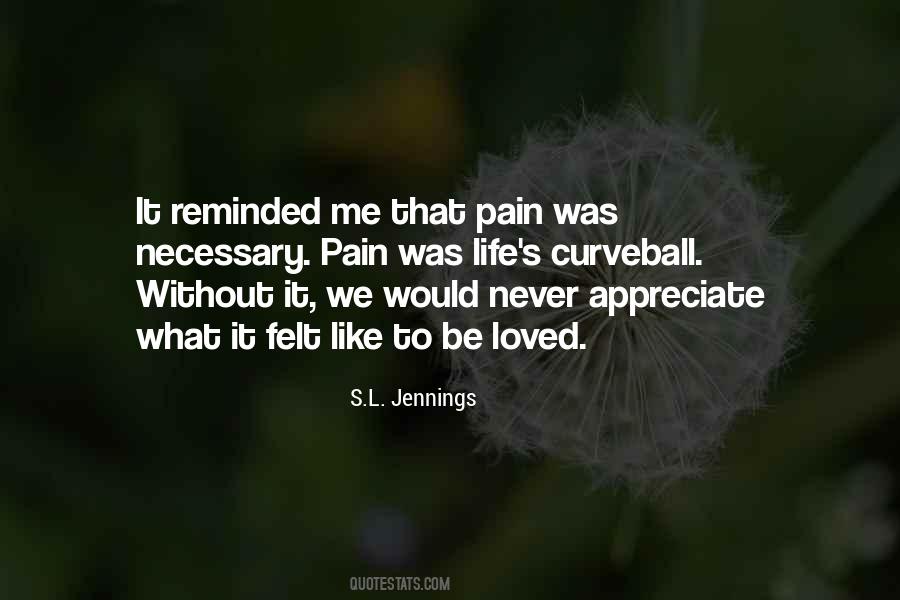 #81. One can survive every hurt and move on, except the hatred of a mother formed without reasons, that one could not elucidate. - Author: Darmie Orem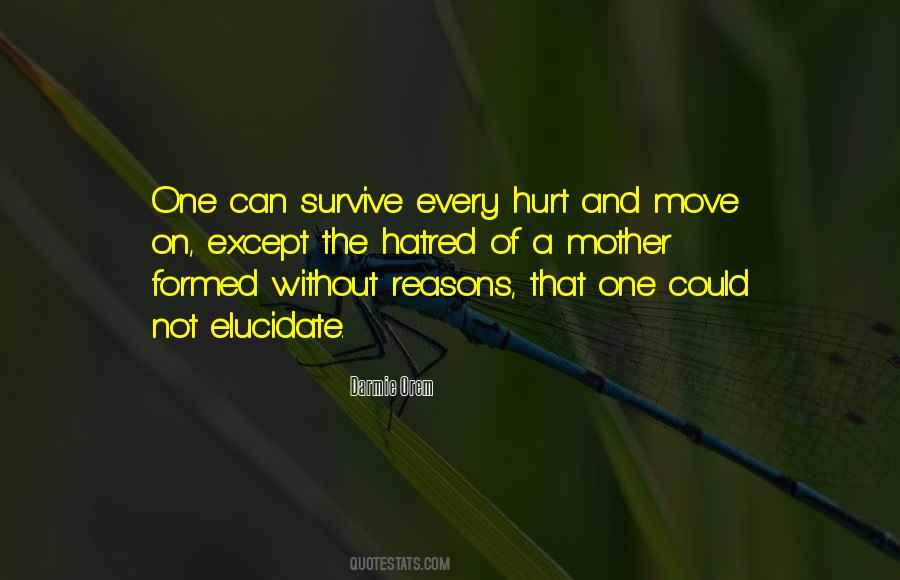 #82. The travail of freedom and justice is not easy, but nothing serious and important in life is easy. The history of humanity has been a continuing struggle against temptation and tyranny - and very little worthwhile has ever been achieved without pain. - Author: Robert Kennedy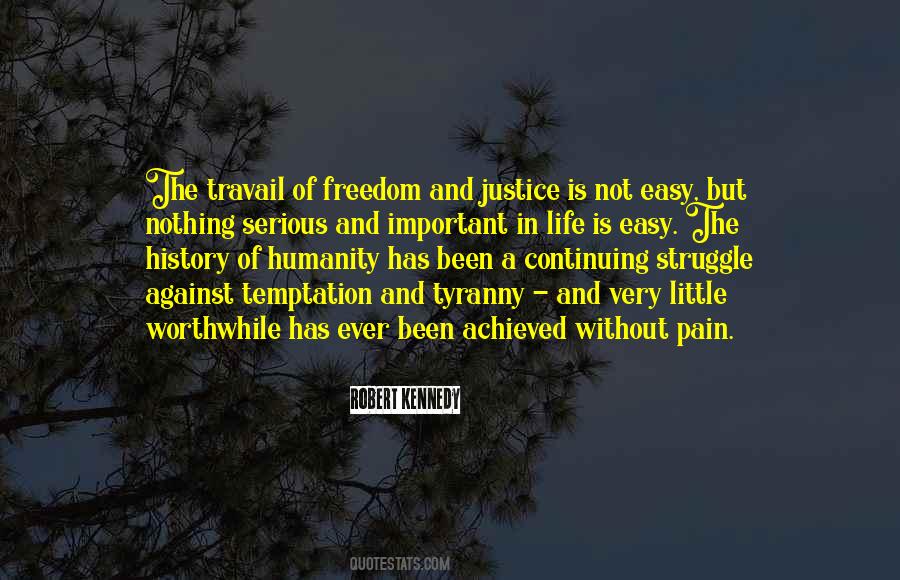 #83. Every time I felt the pain coming on I'd go downstairs and hammer out an idea. After a few months I started to take a look at what I was making, I had for the first time in my life written a large grip of songs completely alone and without any expectations or plans of what they would be for. - Author: Frank Iero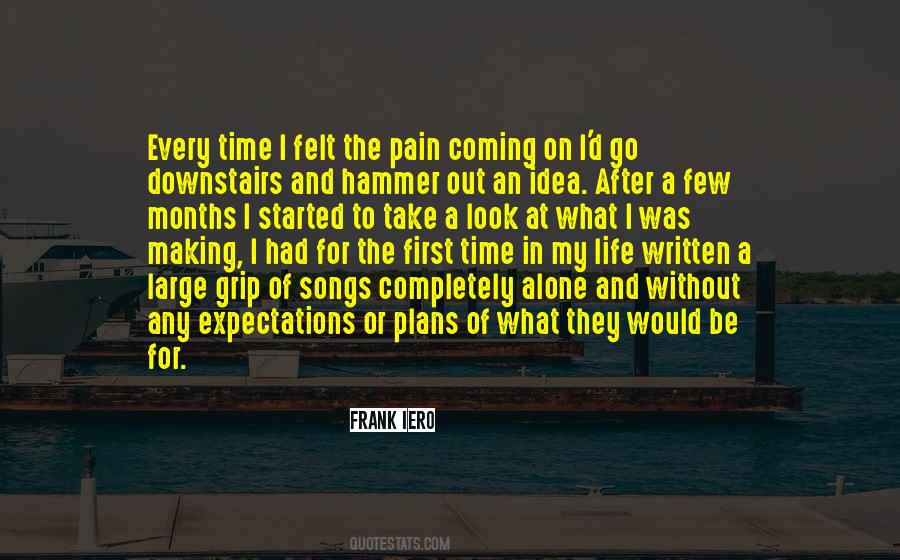 #84. There is only one thing worse than losing the one you love, and that is losing them without knowing why. If you are a dog, then your master is like a god to you, and the pain of losing him is greater still. - Author: Louis De Bernieres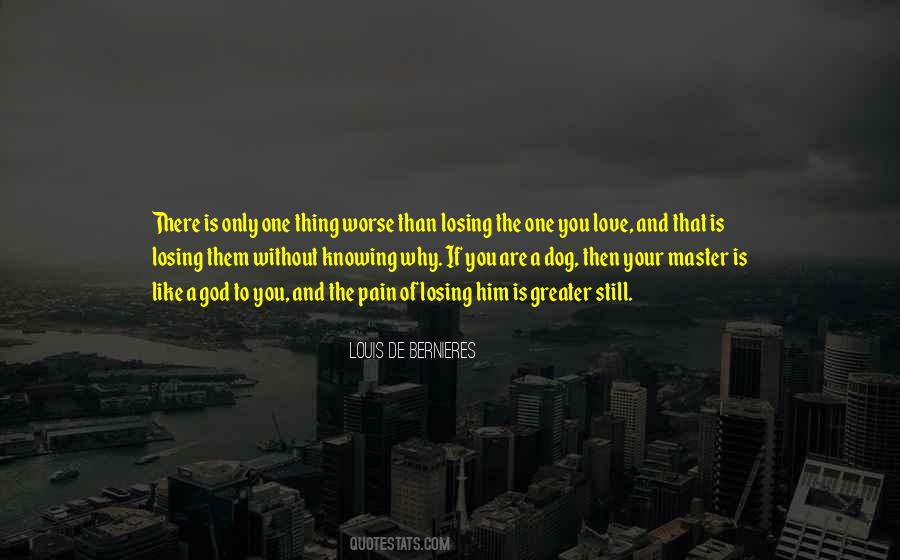 #85. This time, there was no escape, I could not turn away, could not leave without accepting what I had done. There was only one way to the other side, and that was through the pain. - Author: Vanessa Diffenbaugh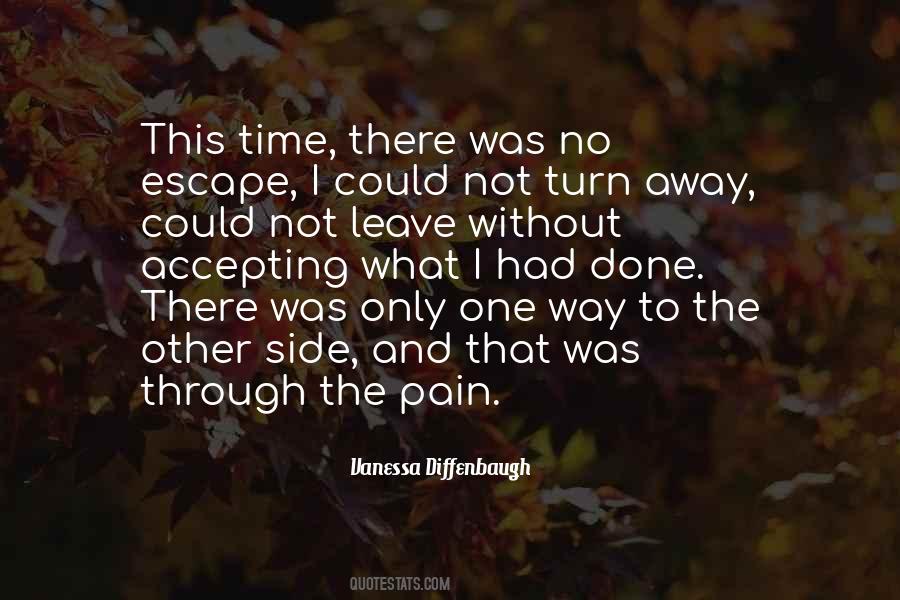 #86. Once one determines that he or she has a mission in life, that's it's not going to be accomplished without a great deal of pain, and that the rewards in the end may not outweigh the pain -if you recognize historically that always happens, then when it comes, you survive it. - Author: Richard M. Nixon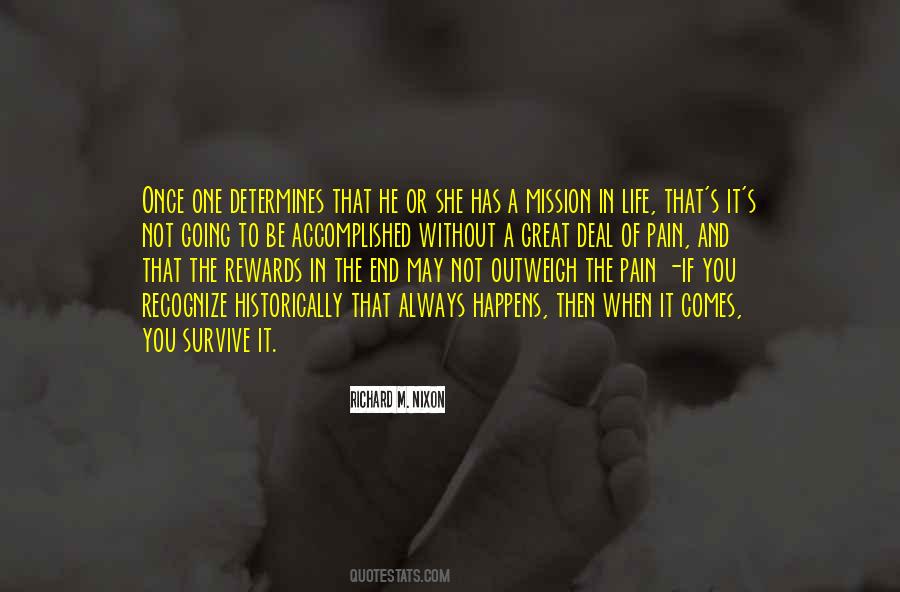 #87. At dawn, the orderly, disciplined life he had always known would continue again, without him. The life where nothing was ever unexpected. Or inconvenient. Or unusual. The life without color, pain, or past. - Author: Lois Lowry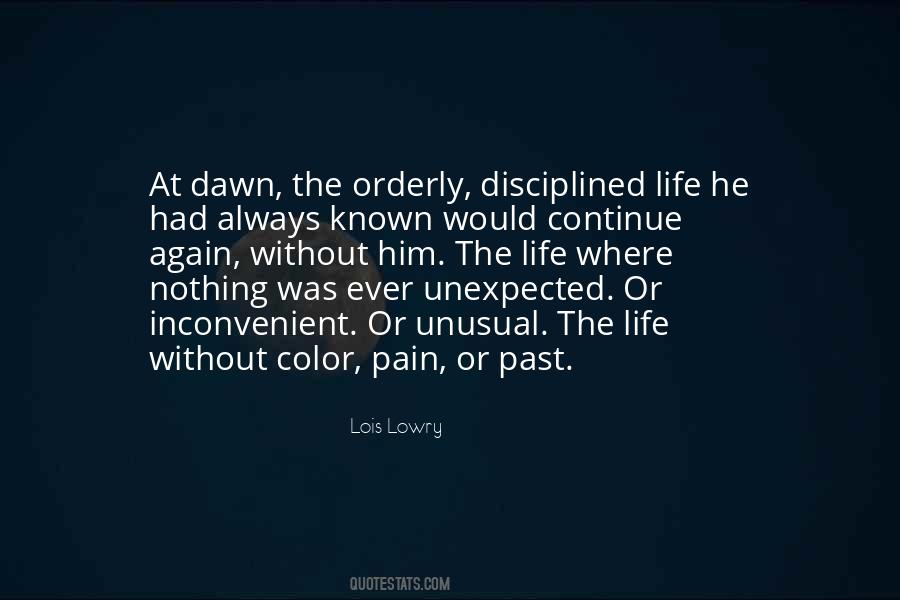 #88. Her pain was so jagged. You couldn't touch her without it slicing through you too. I wanted to fold myself around her and absorb the rest of the blows life would deliver. - Author: Tarryn Fisher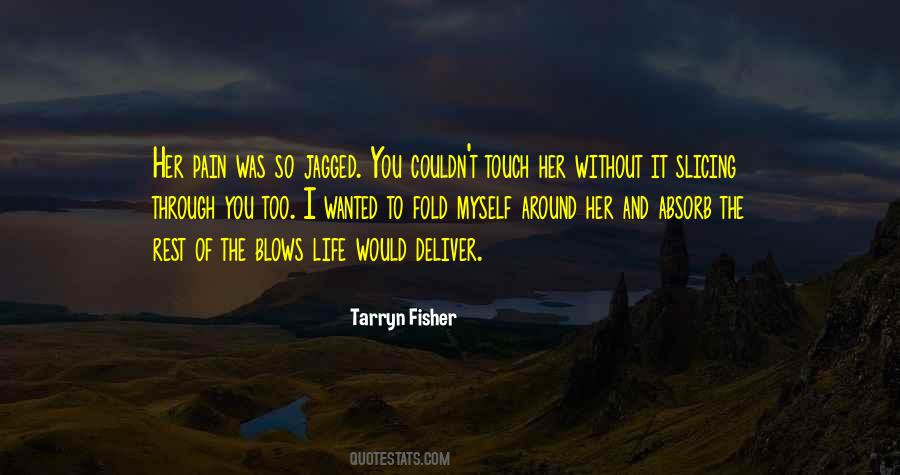 #89. If life's not beautiful without the pain,
well I'd just rather never ever even see beauty again. - Author: Modest Mouse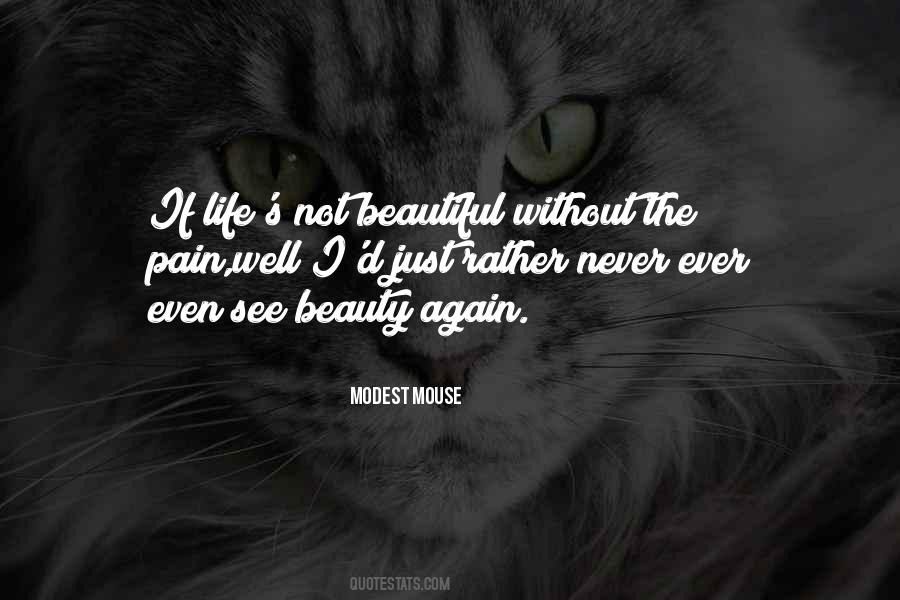 #90. If you can go through life without experiencing pain you probably haven't been born yet. - Author: Neil Simon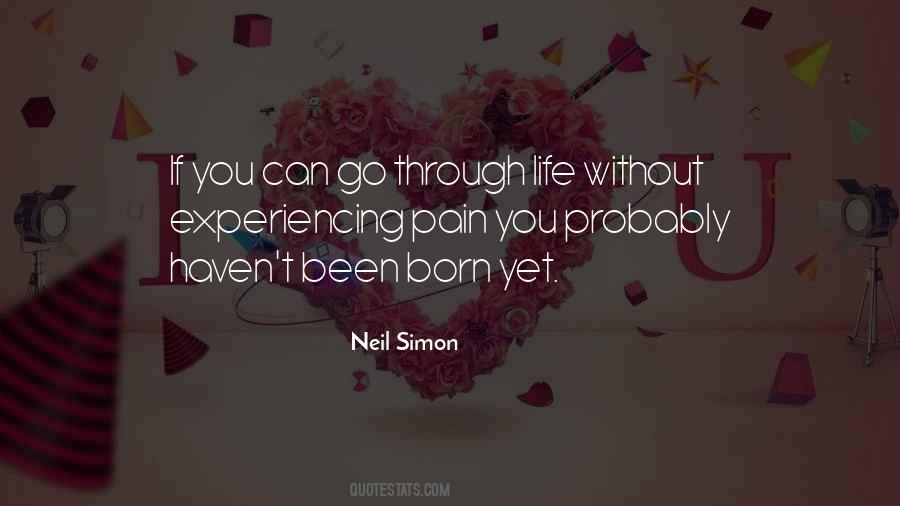 #91. If she is to love life and freedom and be brave then she must learn to let go. To see beauty without clinging to it, to feel pain without holding it hostage, and to feel love without worry of losing it. - Author: G.G. Renee Hill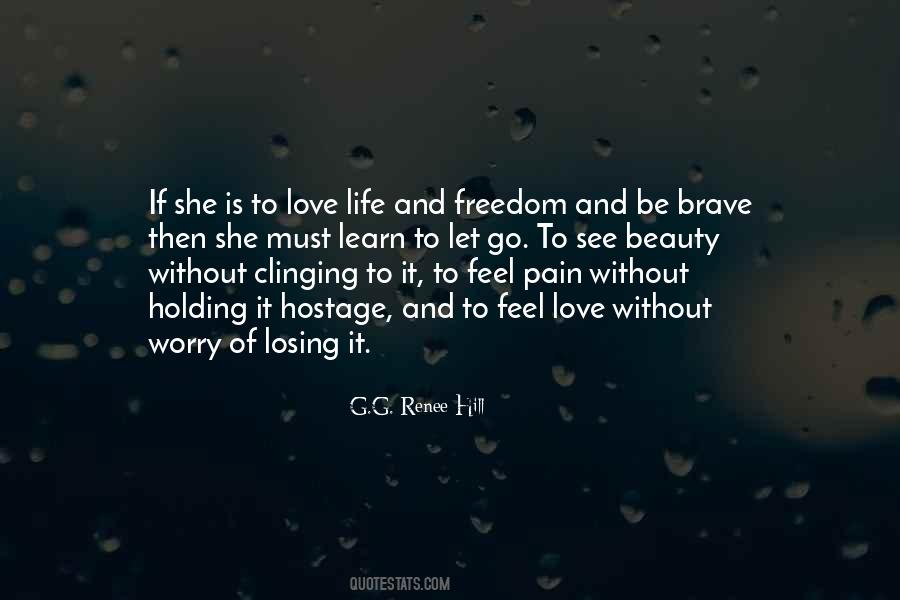 #92. Then answer me this ... how can you know the good without the understanding of evil? How can you know happiness without experiencing the misery, pleasure without the pain? These things are essential parts of life that need to be faced and endured. - Author: Stephanie Hudson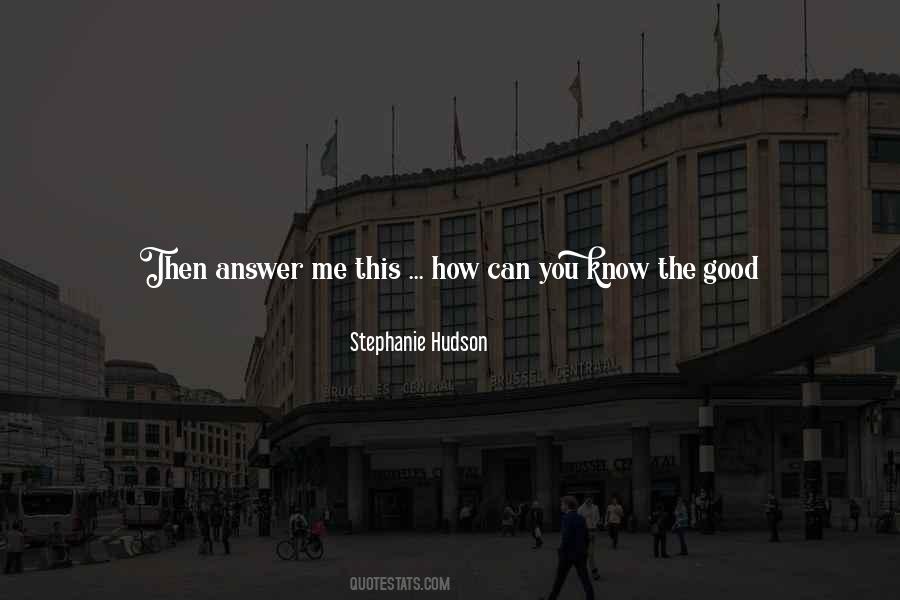 #93. The Eternal way allows you to have all the success you want in life WITHOUT the pain and inner bankruptcy. - Author: Michael Mackintosh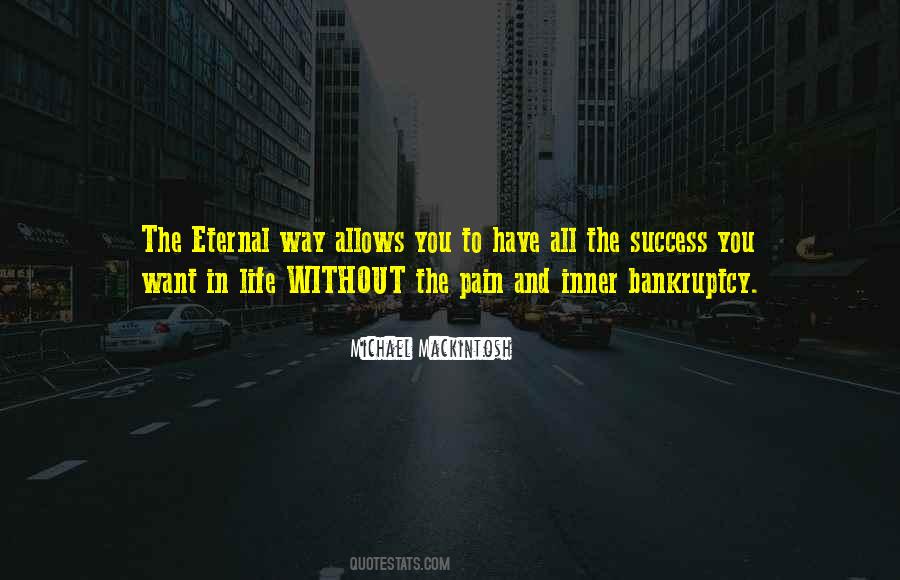 #94. We want to make life permanent, but in doing so we go against nature, and there lies our pain. Only the mind which is always moving, without resting places and fixed ideas, can be in tune with life and therefore joyful. - Author: Jiddu Krishnamurti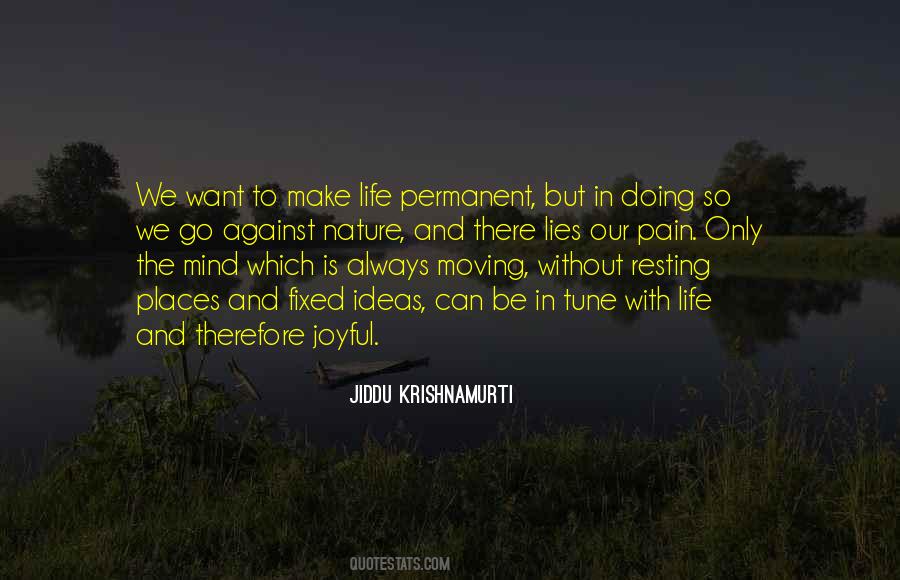 #95. Life without pain has no meaning. - Author: Arthur Schopenhauer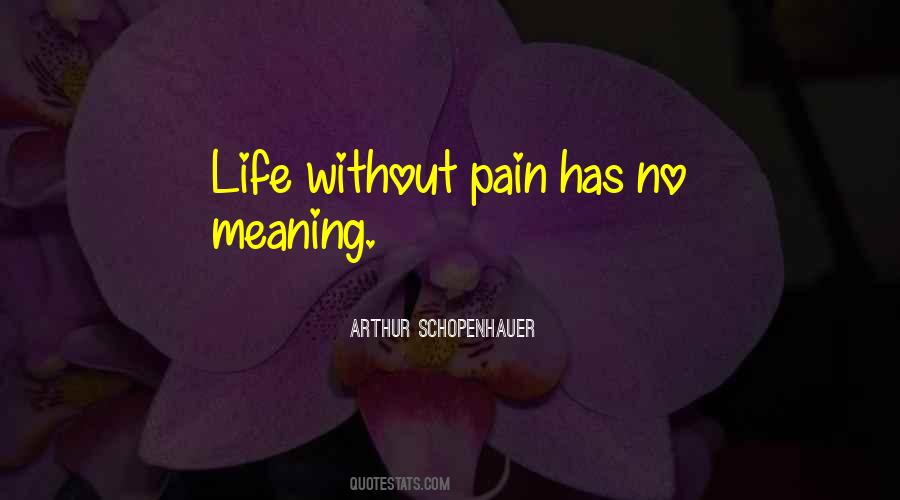 #96. Avoidance is never the answer. Yes, life is all about pain and trouble and frustration and anger, but it's also about love and friendship and good days and sunshine. You can't have one without the other. If you avoid pain, you avoid living. - Author: M. Leighton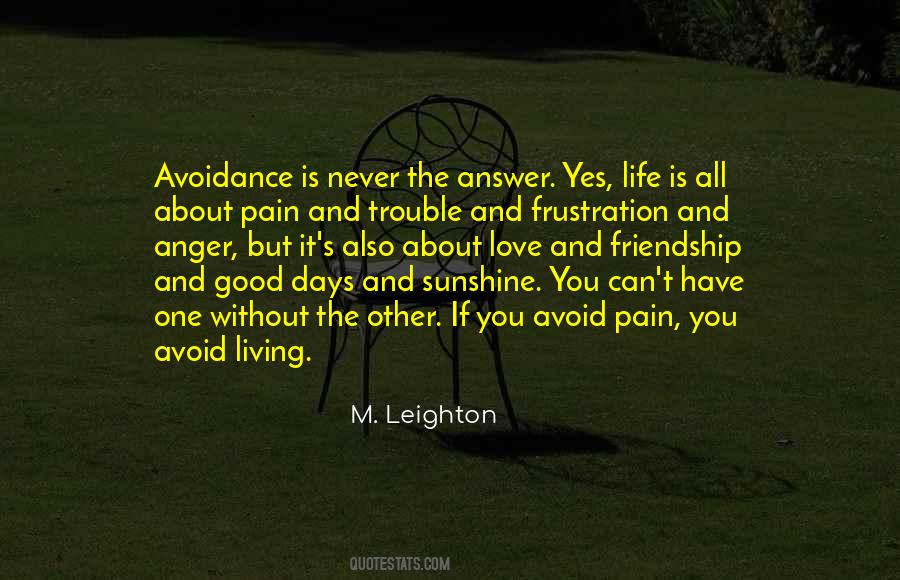 #97. There are no grounds for supposing that one can live a life without pain and sadness, but is it wrong to believe that somehow, somewhere, this is possible? - Author: Hubert Butler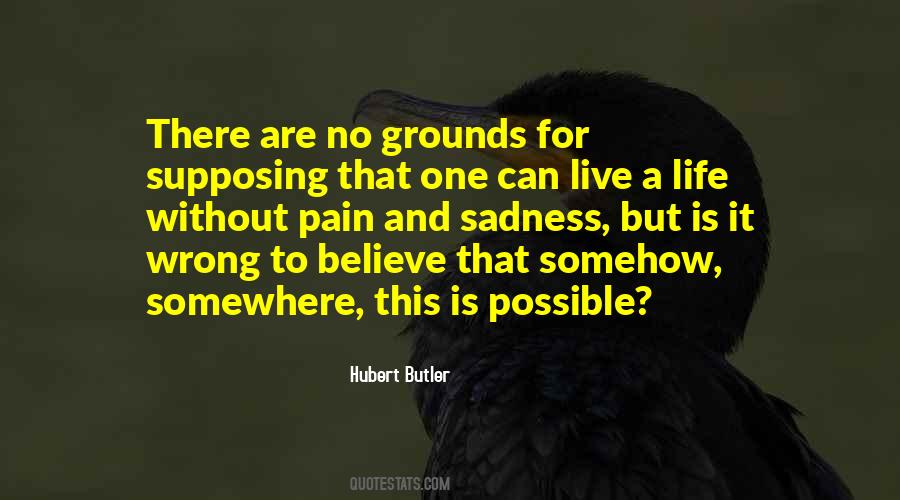 #98. Life is about disappointments. Without the pain, how will we appreciate the good stuff?" "True. - Author: Bijou Hunter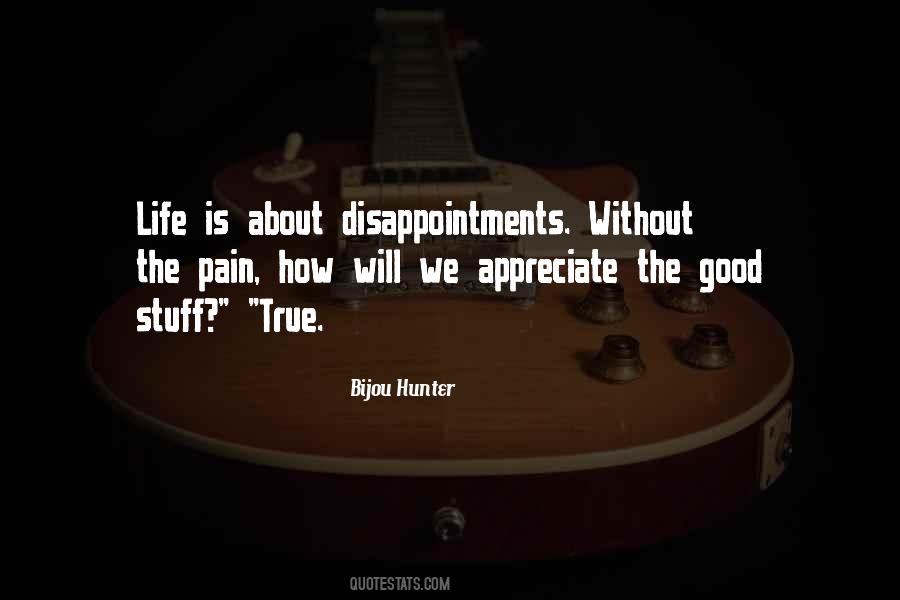 #99. Pain is necessary. Pain is life. Without pain there can be no joy. - Author: Rick Yancey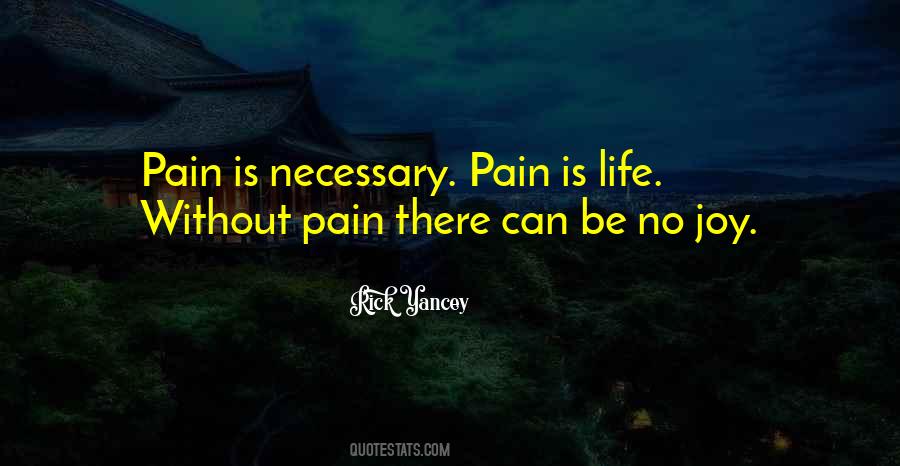 Famous Authors
Popular Topics