Liberation And Freedom Famous Quotes & Sayings
List of top 58 famous quotes and sayings about liberation and freedom to read and share with friends on your Facebook, Twitter, blogs.
Top 58 Quotes About Liberation And Freedom
#1. I don't think I've had a very interesting life, and I feel that is a great liberation. That gives me great freedom as a fiction writer. Nothing that happened holds any special tyranny over me. - Author: John Irving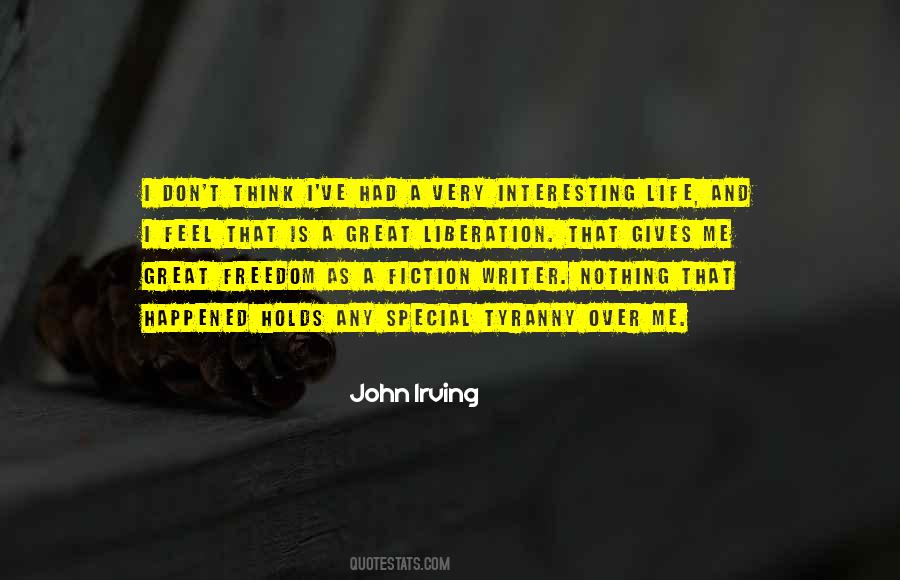 #2. Sometimes what is said to be a gift may appear more of a curse only because the greatest gifts of all are the gifts that have enough disruptive force to break us out of everything that's breaking us. And God loves us far too much not to give us exactly those kinds of gifts. - Author: Craig D. Lounsbrough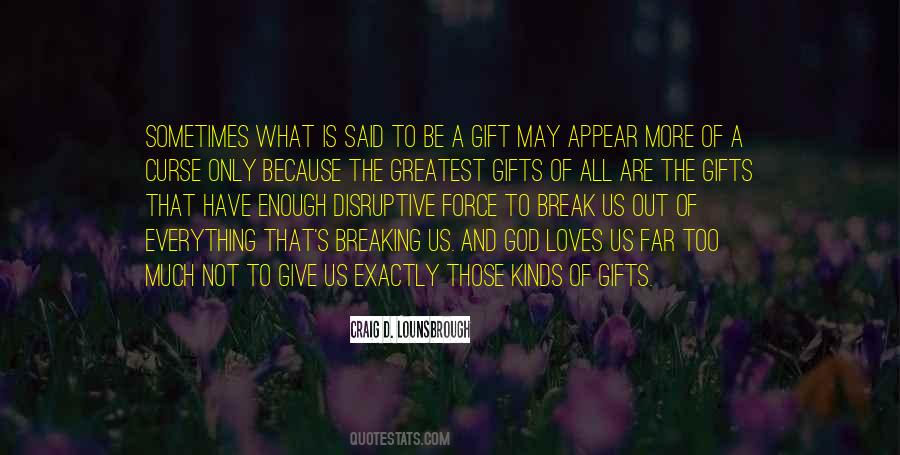 #3. There are those, I know, who will reply that the liberation of humanity, the freedom of man and mind, is nothing but a dream. They are right. It is. It is the American Dream. - Author: Archibald MacLeish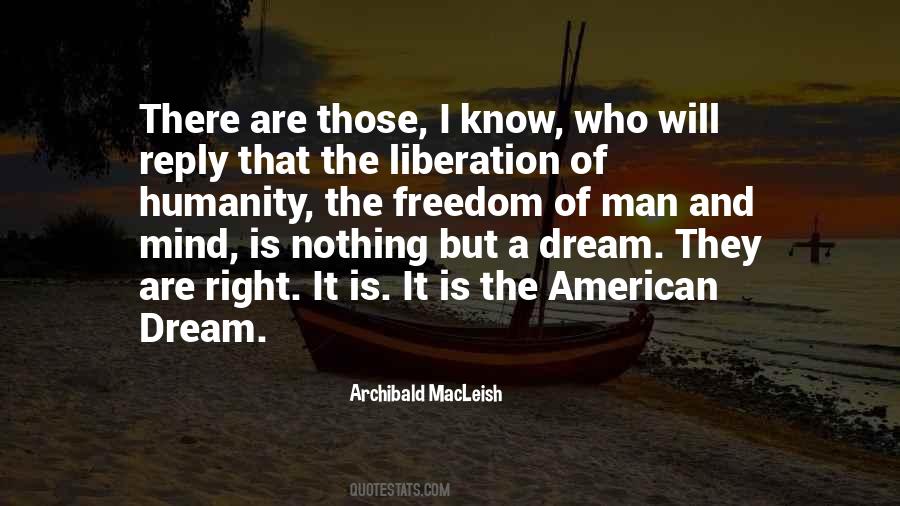 #4. And I breathe large at home. I drop my cloak,
Unclasp my girdle, loose the band that ties
My hair ... now could I but unloose my soul!
We are sepulchred alive in this close world,
And want more room. - Author: Elizabeth Barrett Browning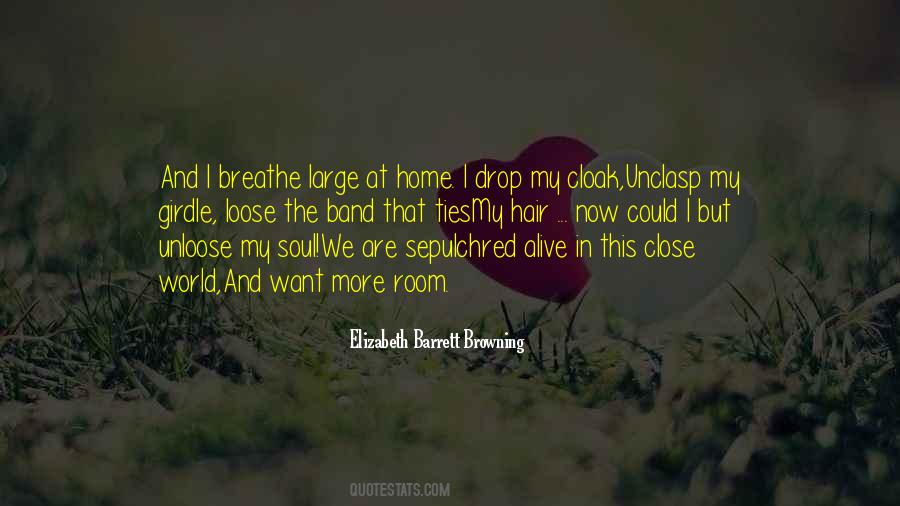 #5. The most elusive and ultimately impossible act of liberation is freedom from sin and self, and no document or declaration of man regardless of how exquisitely penned can do that. Such an astonishing act of liberation could only have been penned in one place: the cross. - Author: Craig D. Lounsbrough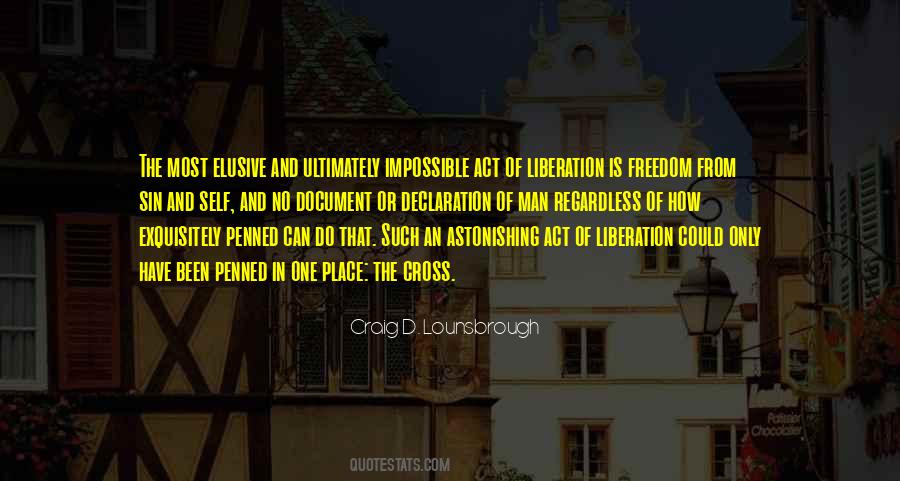 #6. Where tradition tells us that people are best kept under control and denied freedom of expression and action, humanistic psychology argues for liberation, more open decision-making and a sharing of power and control. - Author: Keith Tudor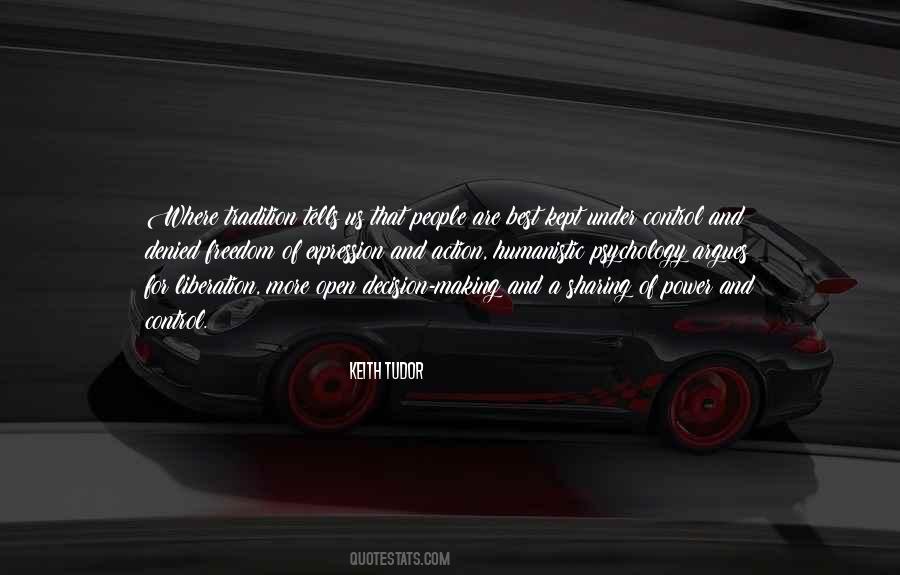 #7. You have to know that there actually is a transcendental something, if you are going to free anybody from anything - if there is no beyond-the-given, there is no freedom from the given, and liberation is futile. - Author: Ken Wilber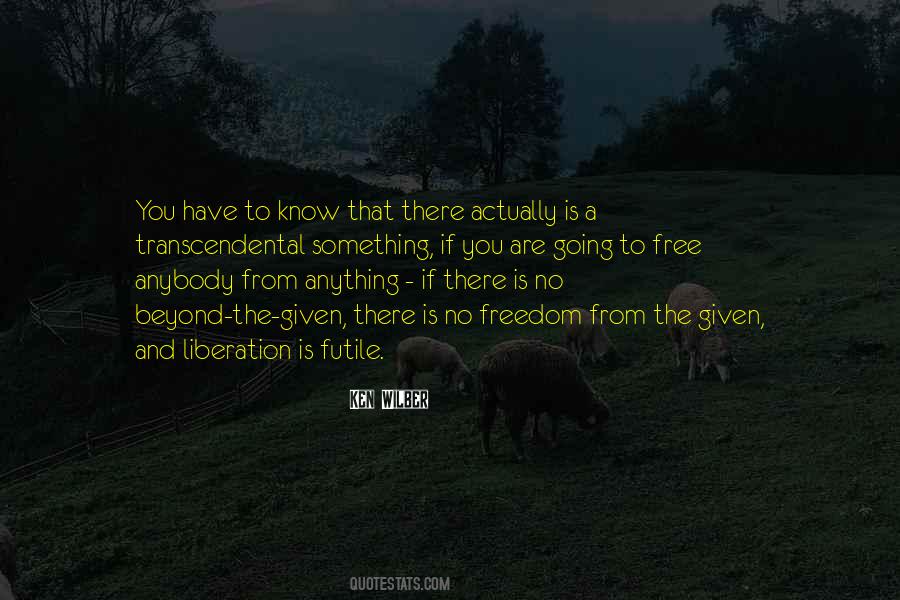 #8. Faith is having a path that leads you to freedom, liberation, and the transformation of afflictions. - Author: Thich Nhat Hanh
#9. To become pure is not difficult. Make the choices that will lead you to freedom and liberation - not enslavement to the wills, actions and desires of others. - Author: Frederick Lenz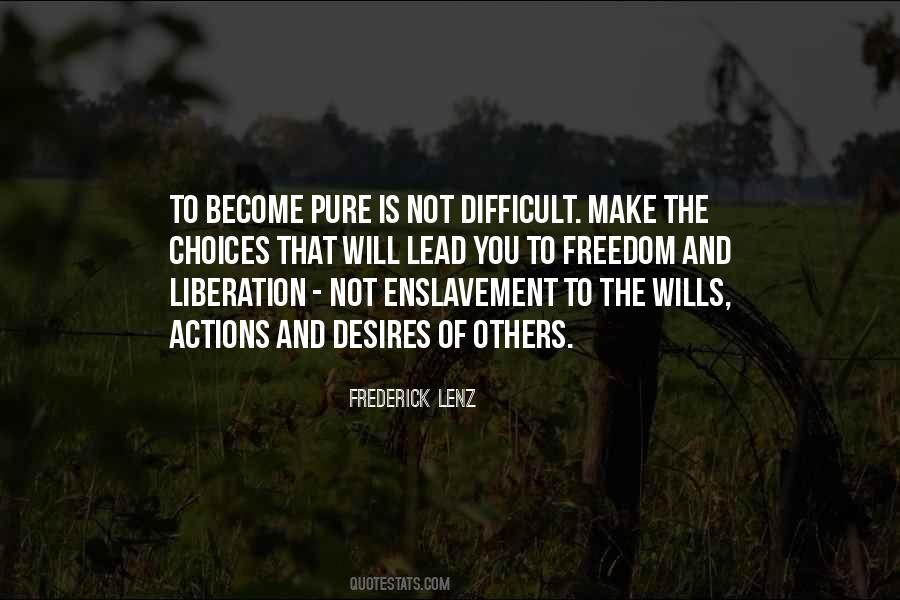 #10. The liberated woman is not that modern doll who wears make-up and tasteless clothes ... The liberation woman is a person who believes that she is as human as a man. The liberated woman does not insist on her freedom so as to abuse it. - Author: Ghada Al-Samman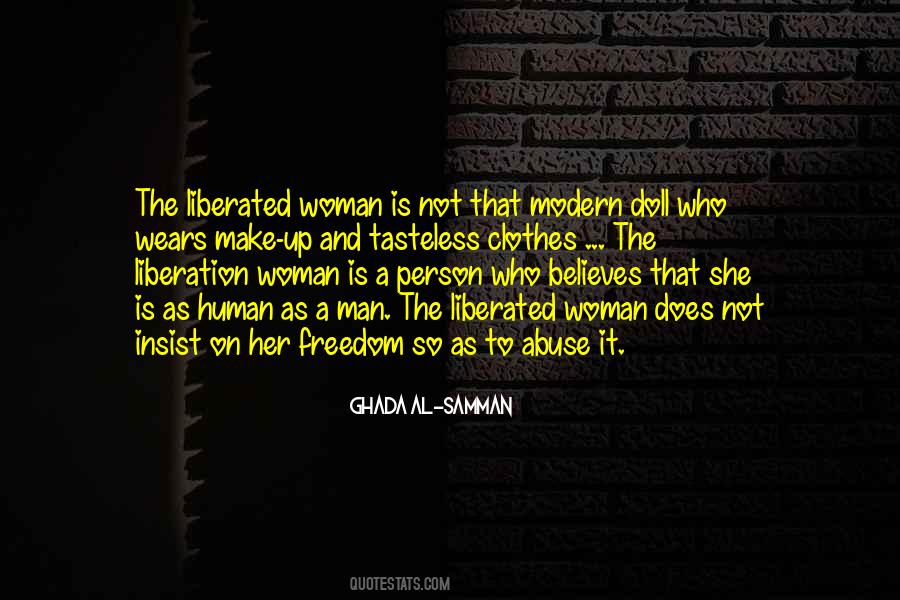 #11. Space, like time, engenders forgetfulness; but it does so by setting us bodily free from our surroundings and giving us back our primitive, unattached state ... Time, we say, is Lethe; but change of air is a similar draught, and, if it works less thoroughly, does so more quickly. - Author: Thomas Mann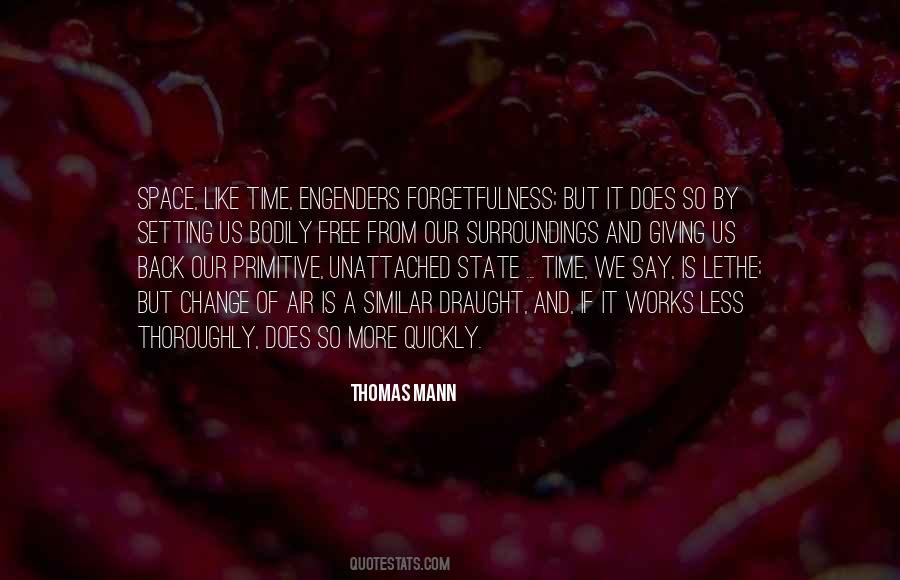 #12. We have dedicated our lives, our blood, to the freedom and liberation of our people, and nothing, no force can stop us from achieving our goal. If it is necessary to destroy the United States of America, then let us destroy it with a smile on our faces. - Author: Eldridge Cleaver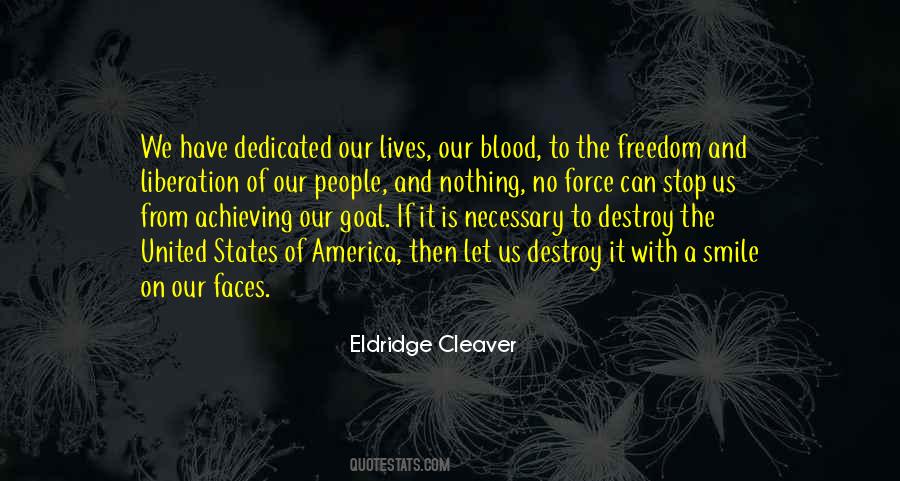 #13. Let us not seek to satisfy our thirst for freedom by drinking from the cup of bitterness and hatred. - Author: Martin Luther King Jr.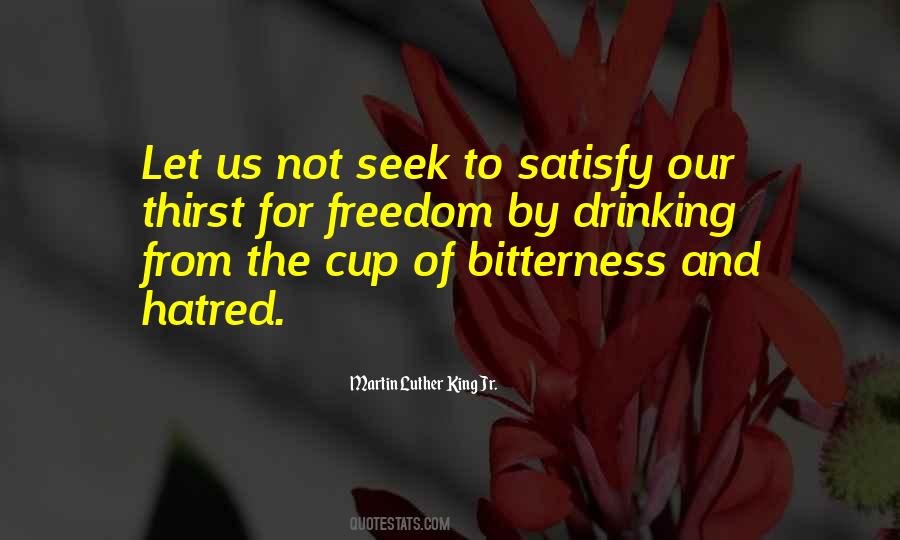 #14. Culture constitutes an essential element of social and political liberation. As people rise up across the Middle East and North Africa, the diversity of their cultures is not only the means but also the ultimate goal of their liberation and their freedom. - Author: Tariq Ramadan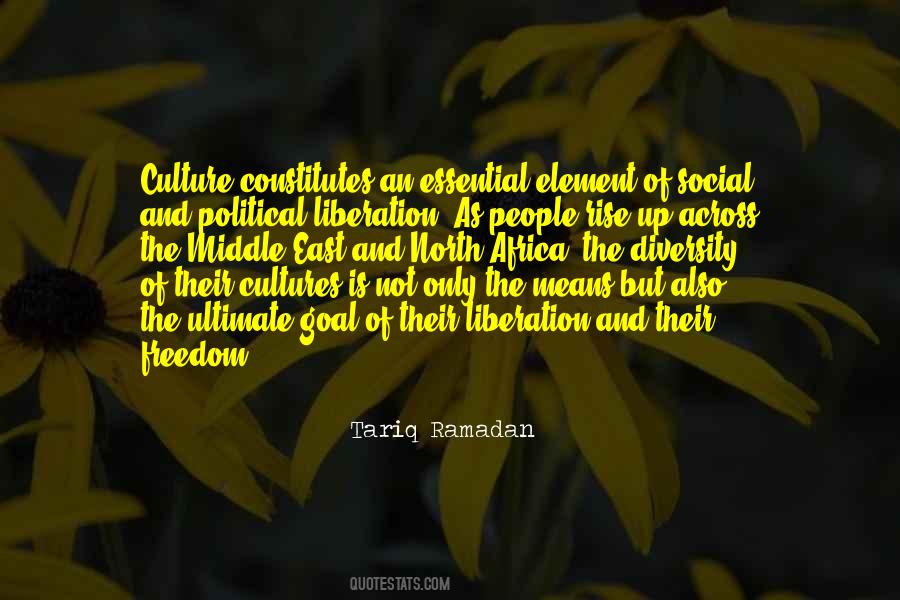 #15. Slavery in the modern world implies the absolute deprivation of the individual's liberty, while possession of weapons and mastery of their use are means to the individual's liberation. We do not perceive how a man may be armed and at the same time bereft of his freedom. - Author: John Keegan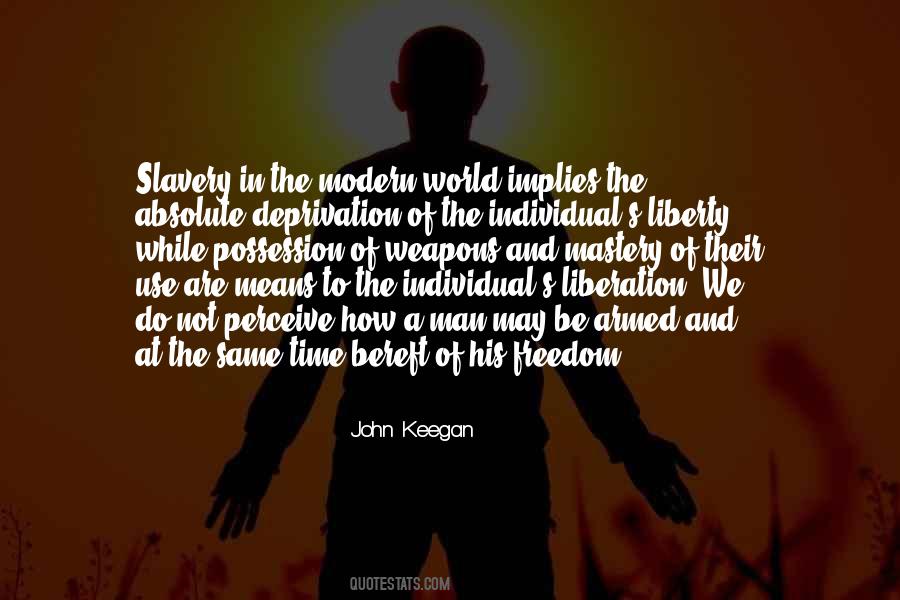 #16. I would entertain the apparently fading idea that patriotism that serves the self is greed dressed in the garments of liberty and adorned with the fashion accessories of other associated patriotic notions. - Author: Craig D. Lounsbrough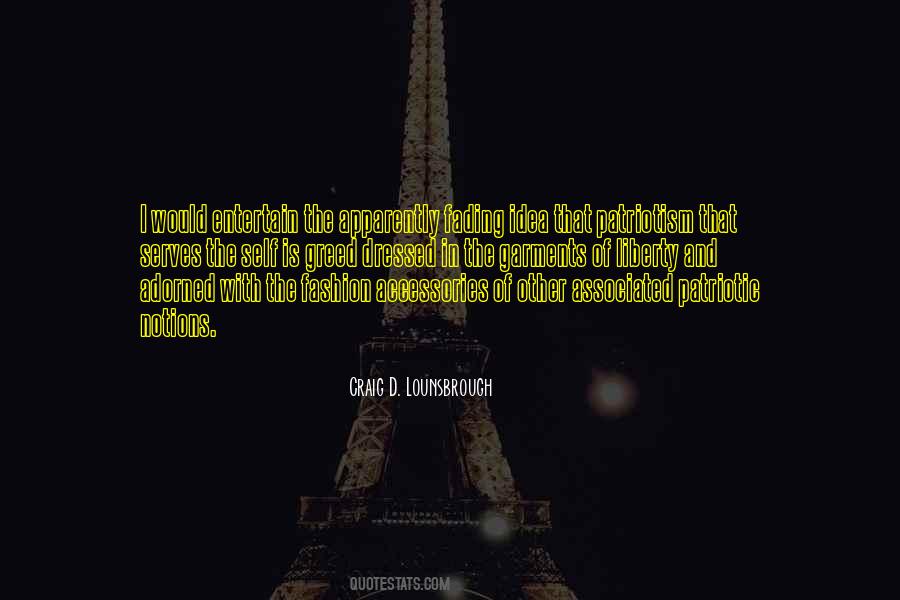 #17. Liberation for who does not have a shack and freedom for who does not know how to live is fatal. - Author: Alireza Salehi Nejad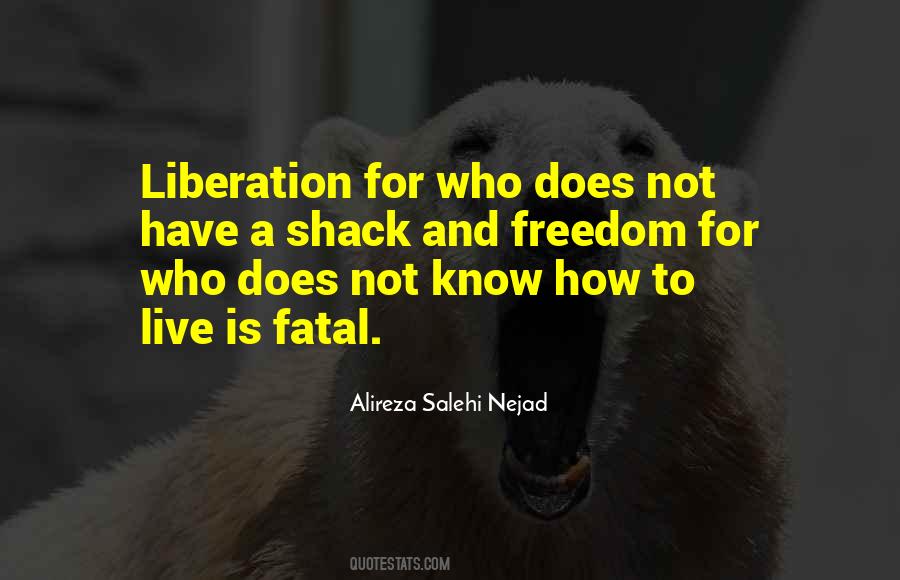 #18. I didn't care about anything. And there's a freedom in apathy, a wild, dizzying liberation on which you can almost get drunk. You can do anything. Ask Kevin. - Author: Lionel Shriver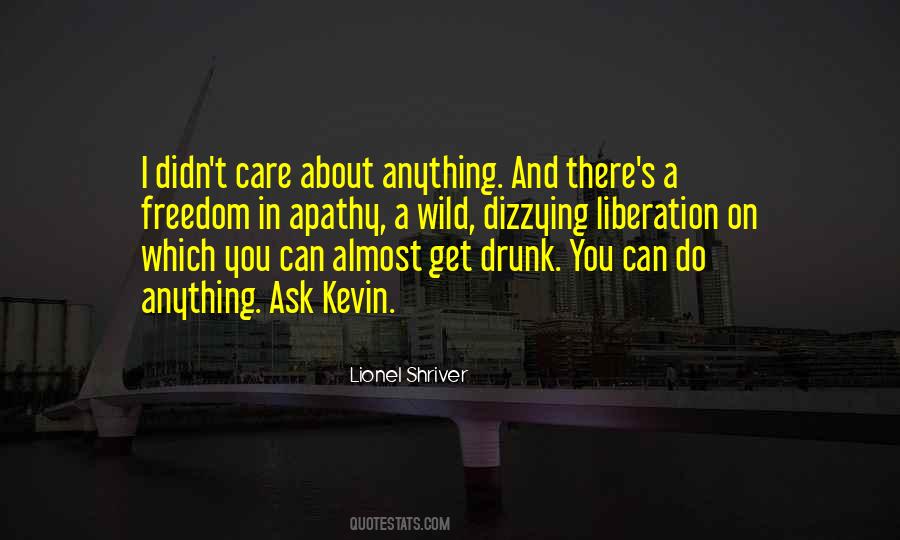 #19. One of the greatest lies is to believe that we don't have value. One of the greatest mistakes is to act on that belief. And the greatest liberation is found in looking at the cross of Christ and realizing the enormity of the lie. - Author: Craig D. Lounsbrough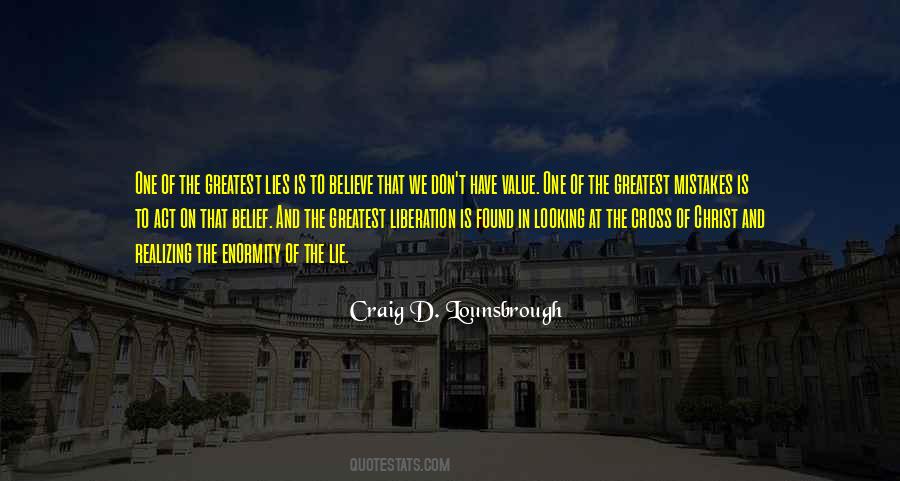 #20. Real patriotism embraces the wholly immovable belief that without freedom, the essence of the human soul and the life-breath of the human spirit is doomed to perish for lack of space and absence of light. - Author: Craig D. Lounsbrough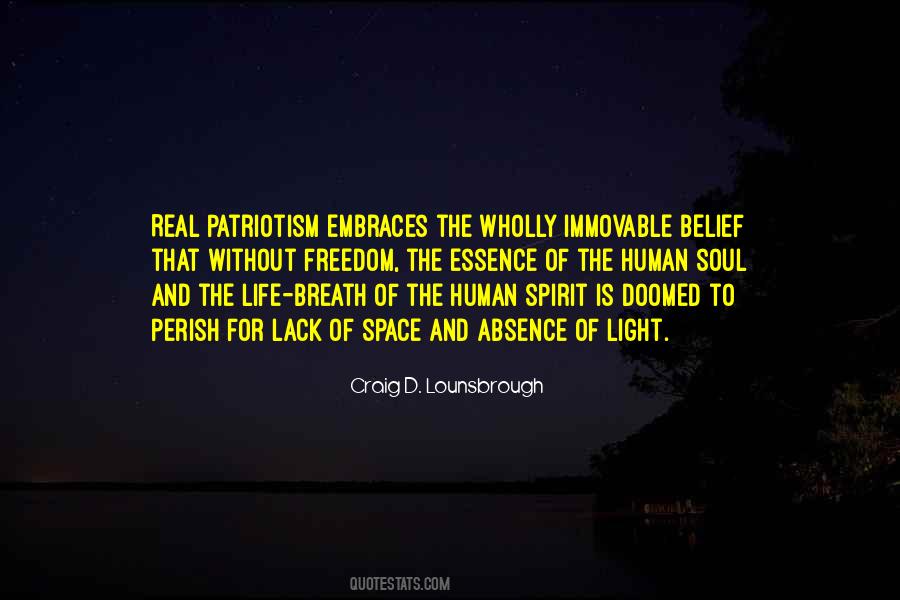 #21. And there's a freedom in apathy, a wild, dizzying liberation on which you can almost get drunk. - Author: Lionel Shriver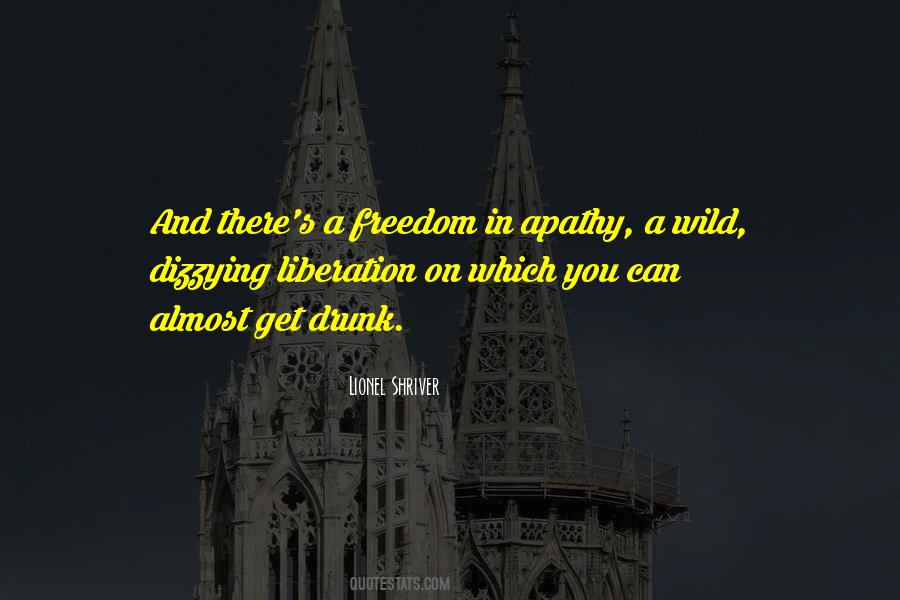 #22. The liberation of the earth, the liberation of women, the liberation of all humanity is the next step of freedom we need to work for, and it's the next step of peace that we need to create. - Author: Vandana Shiva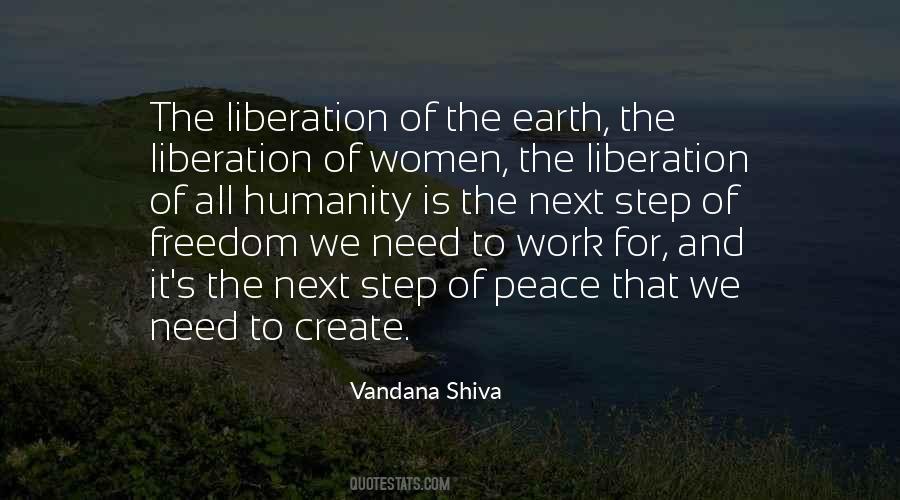 #23. Freedom is the liberation of my spirit and my soul from unpleasant condition. - Author: Lailah Gifty Akita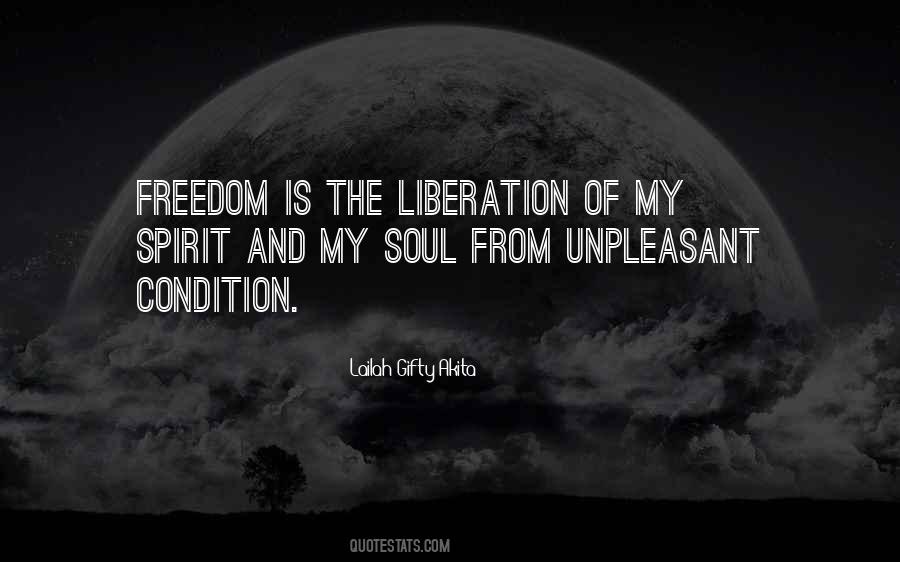 #24. Freedom means the power to act by soul guidance, not by the compulsions of desires and habits. Obeying the ego leads to bondage; obeying the soul brings liberation. - Author: Paramahansa Yogananda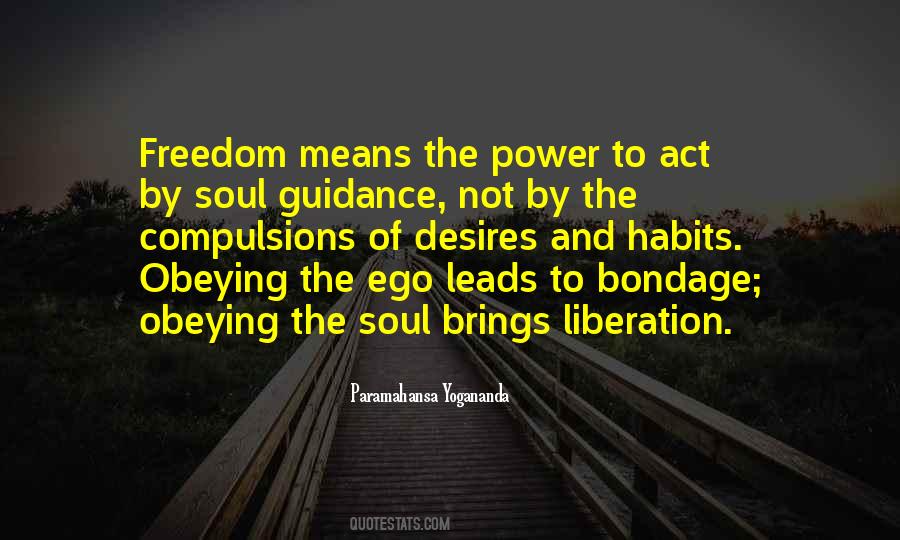 #25. You can never get rid of all of your fears. Some are necessary and a part of life. But most of our fears are illusory, based on risks or threats that exist only in our minds. Such fears constrain and make you miserable. The feeling of moving past a particular fear is one of liberation and freedom. - Author: Robert Greene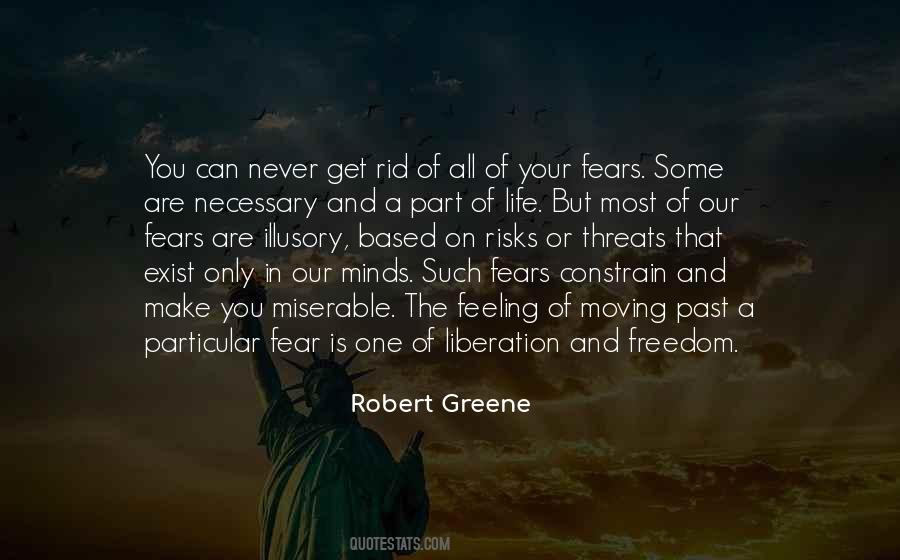 #26. Life is a very orderly thing, but in fiction there is a huge liberation and freedom. I can do what I like. There's nothing that says I can't write a page of full stops. There is no 'should' involved, although you wouldn't know that from literary reviews and critics. - Author: Kate Atkinson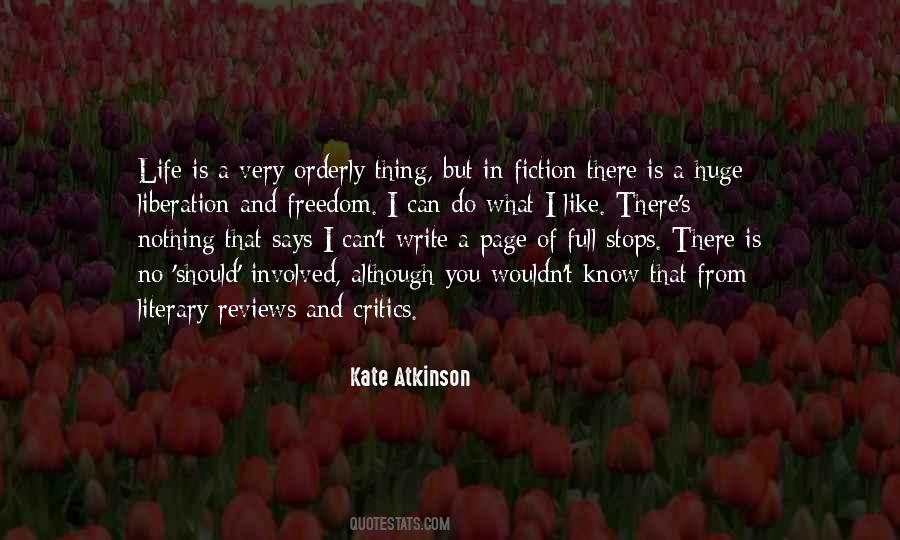 #27. Understanding can lead to liberation. Knowledge can bring freedom from the past. For those who don't take the time to understand their past and are blind to how it has shaped them, the road to true love can be difficult. - Author: Debra Fileta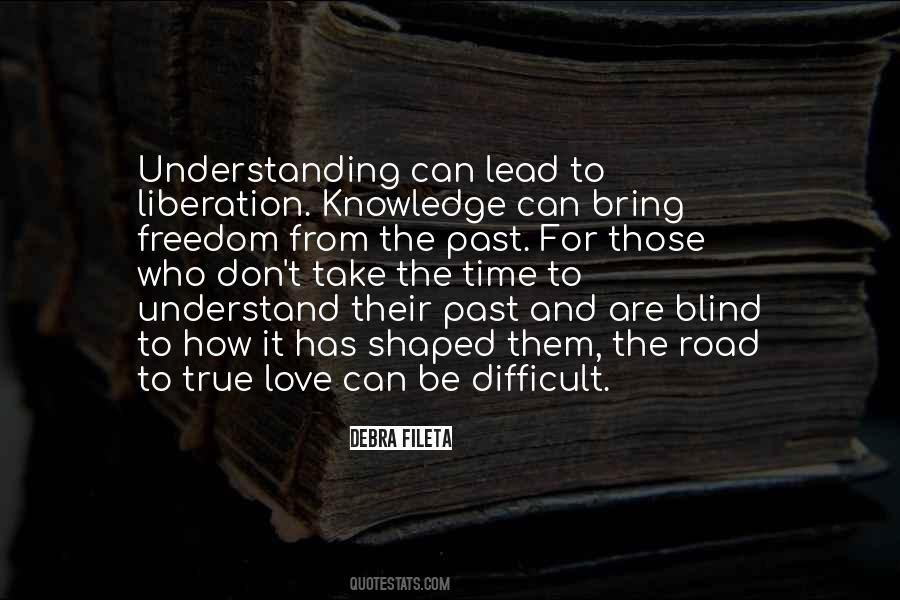 #28. We, in the late '60s, '70s and '80s, are acting like we have just discovered freedom and liberation. But I'm sure that many women have worked for that for such a long time. - Author: Angeles Mastretta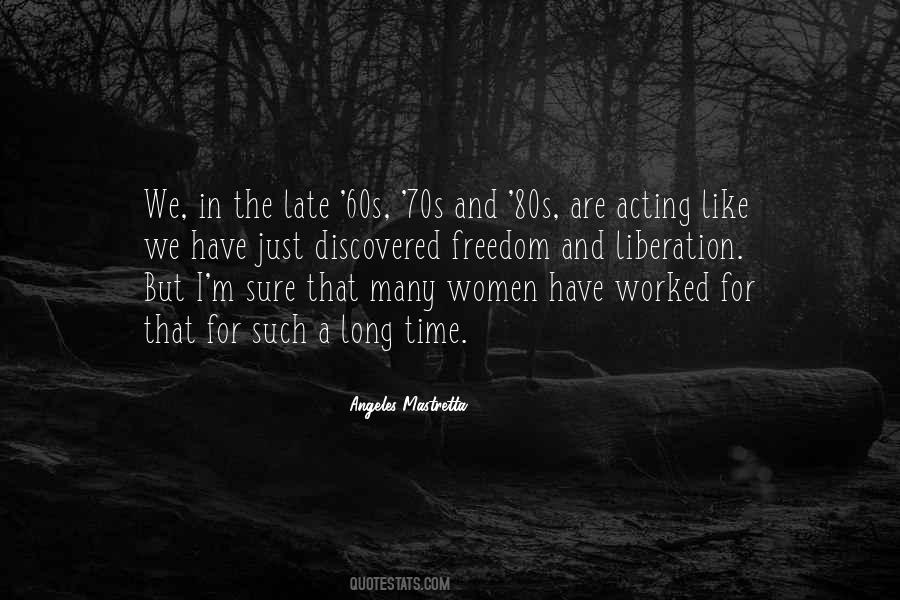 #29. Women's liberation did not see the female's potential in terms of the male's actual; the visionary feminists of the late sixties and early seventies knew that women could never find freedom by agreeing to live the lives of unfree men. - Author: Germaine Greer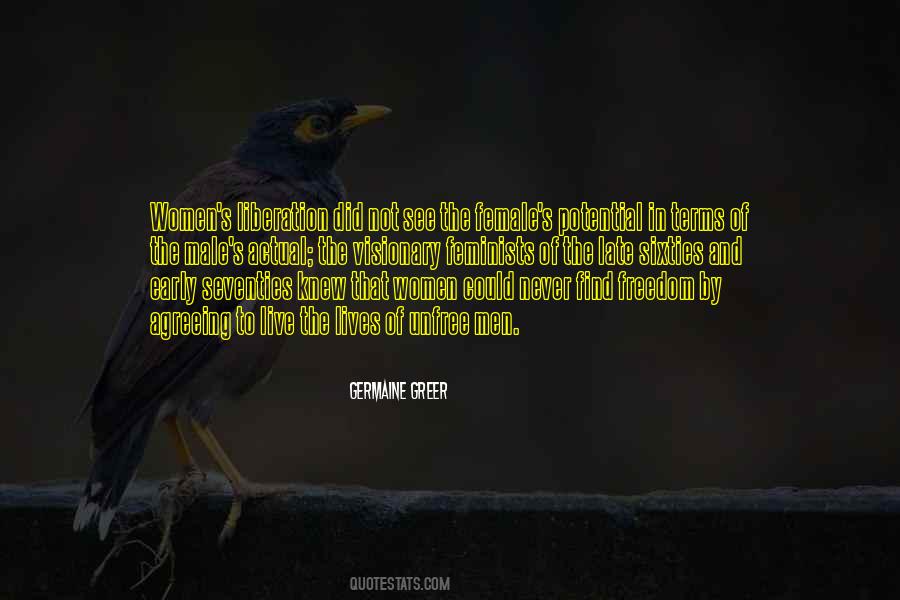 #30. The search for liberation is a rejection of the responsibilities of freedom in favor of a release into the irresponsibility of rights. And a right is irresponsible because it is a legally entrenched liberty that does not contain within itself the limitations instinctive in a free society. - Author: Kenneth Minogue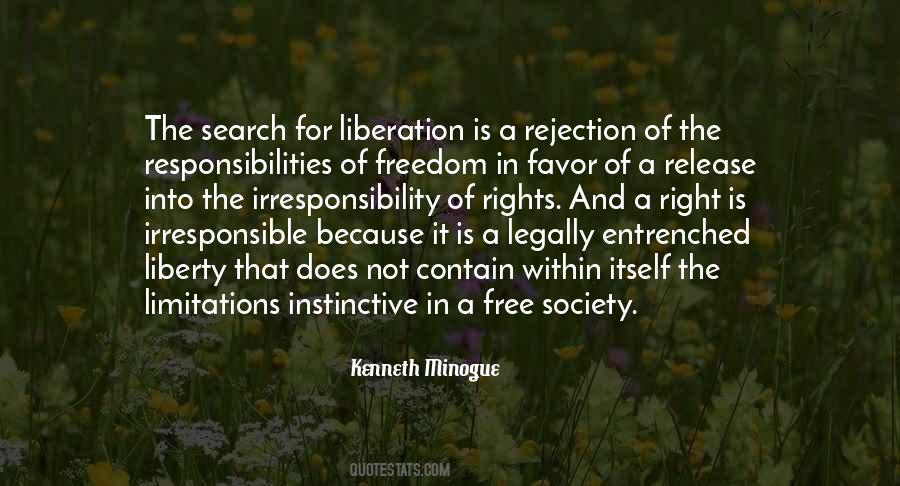 #31. There are those who will say that the liberation of humanity, the freedom of man and mind is nothing but a dream. They are right. It is the American Dream. - Author: Archibald MacLeish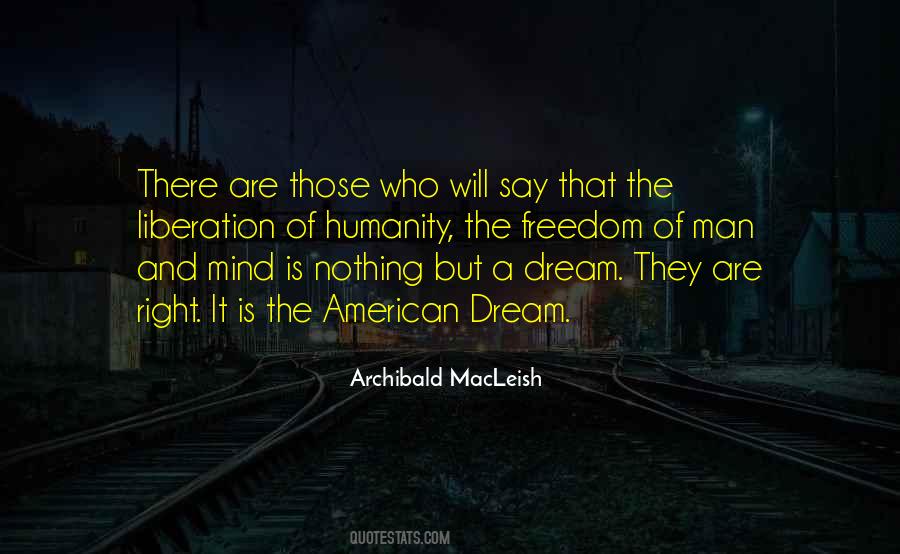 #32. Zen is a path of liberation. It liberates you. It is freedom from the first step to the last. You are not required to follow any rules; you are required to find out your own rules and your own life in the light of awareness. - Author: Osho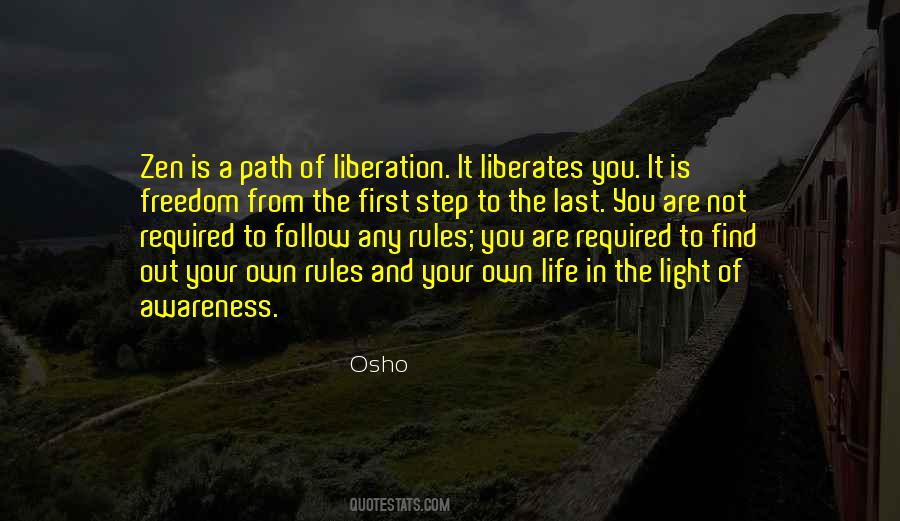 #33. Is it possible that my walls are specifically erected and intentionally reinforced out of the fear that God calls me to an existence without walls? And if this is so, do I realize that I am the warden of prison that I created in which I myself am the prisoner? - Author: Craig D. Lounsbrough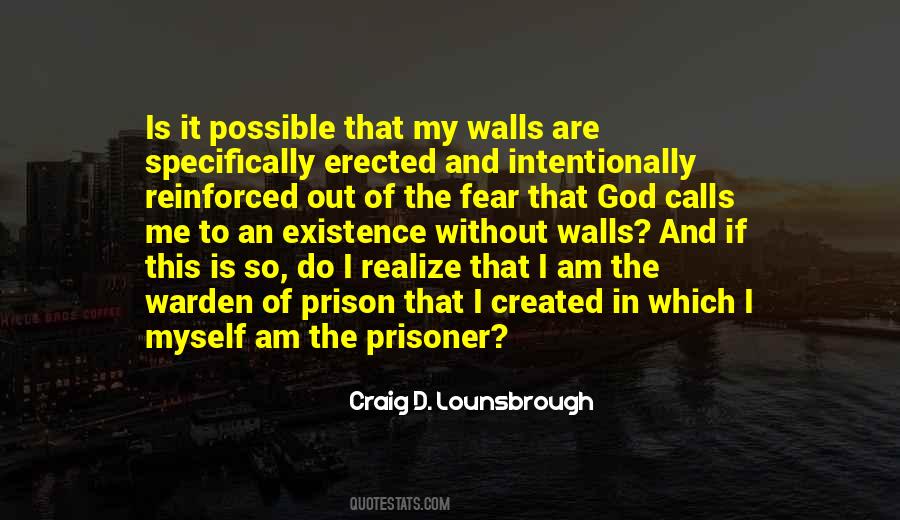 #34. Human beings are no longer born to their place in life, and chained down by an inexorable bond to the place they are born to, but are free to employ their faculties, and such favourable chances as offer, to achieve the lot which may appear to them most desirable. - Author: John Stuart Mill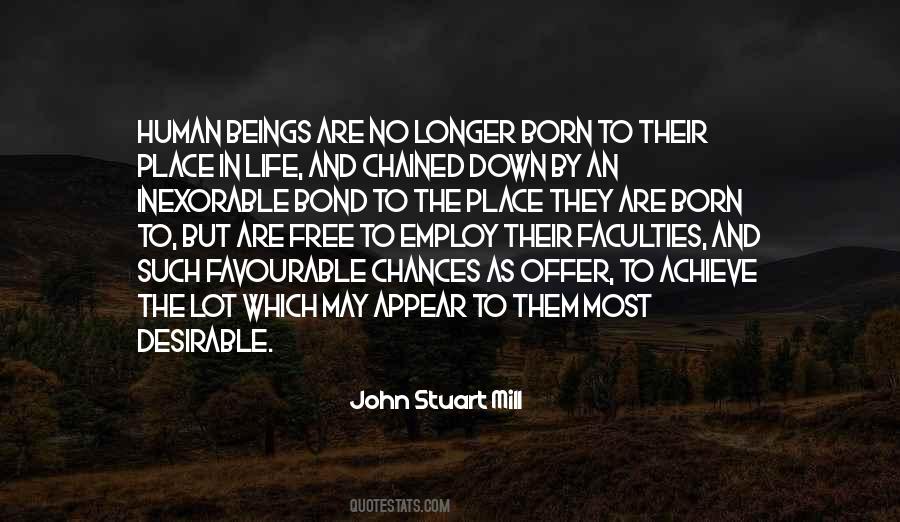 #35. Blind faith in belief-system, ideologies, doctrine or dogma can never set us free. Only the knowledge of truth can liberate us from the slavery of doctrine, dogmas, blind faiths and religious sects. - Author: Banani Ray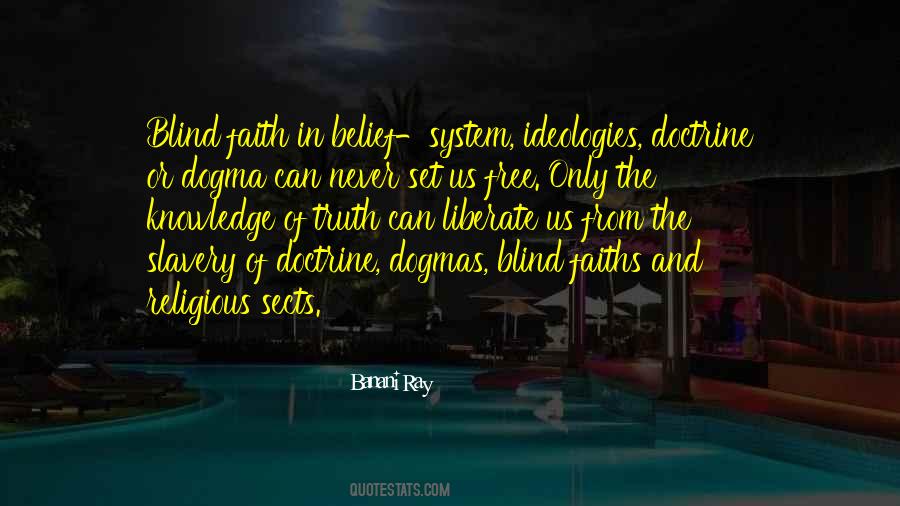 #36. I think China's view of freedom has to do with material wealth and modernity, and the Dalai's Lama view of freedom is liberation in the Buddhist sense, which is freedom from ignorance and freedom from suffering. - Author: Pico Iyer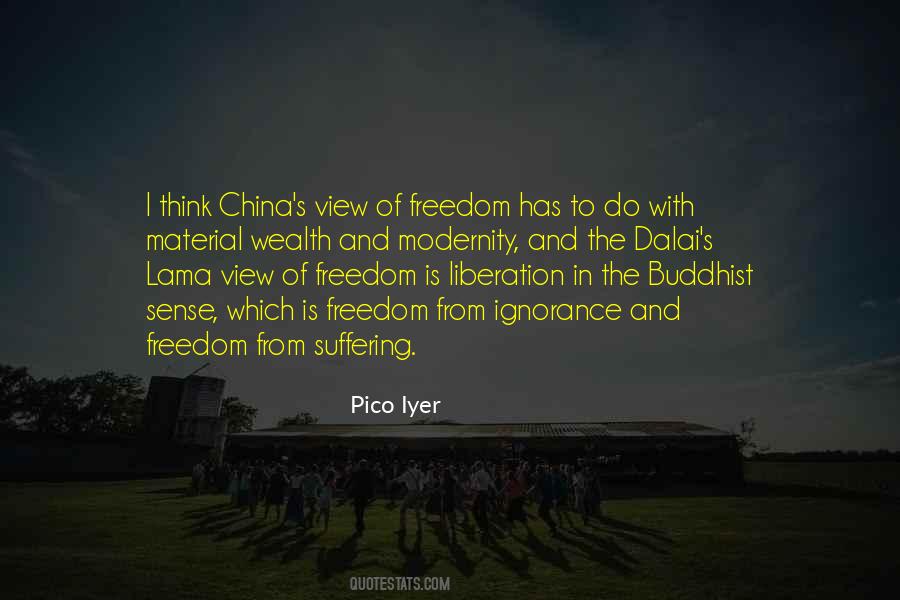 #37. P29 - the oppressed, having internalised the image of the oppressor and adopted his guideline are fearful of freedom. Freedom would require them to eject this image and replace it with autonomy and responsibility. - Author: Paulo Freire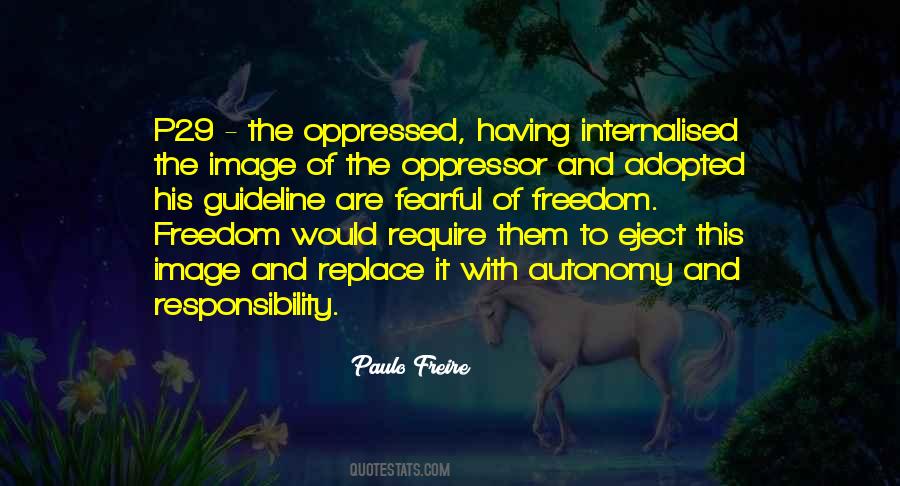 #38. The world I held so closely, she played me like a game,
I released and left her laughing to stand on my own two feet. - Author: Coco J. Ginger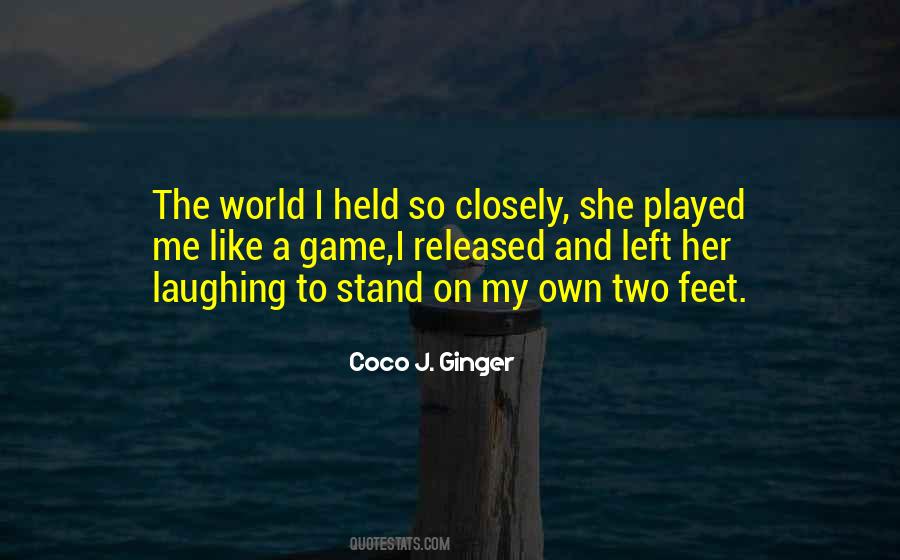 #39. We are in a strange kind of time, where the kind of liberation movements such as anti-apartheid movements and freedom struggles in India need to be reinvented. We need to retool them so that all the gains that our generation has made can be passed on to future generations. - Author: Vandana Shiva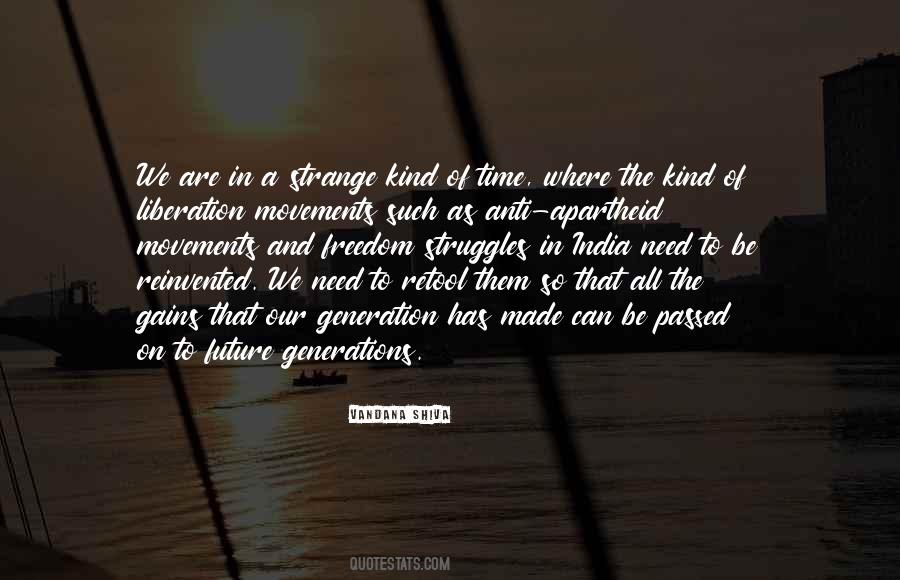 #40. Freedom cannot be achieved unless women have been emancipated from all forms of oppression ... Our endeavors must be about the liberation of the woman, the emancipation of the man and the liberty of the child. - Author: Nelson Mandela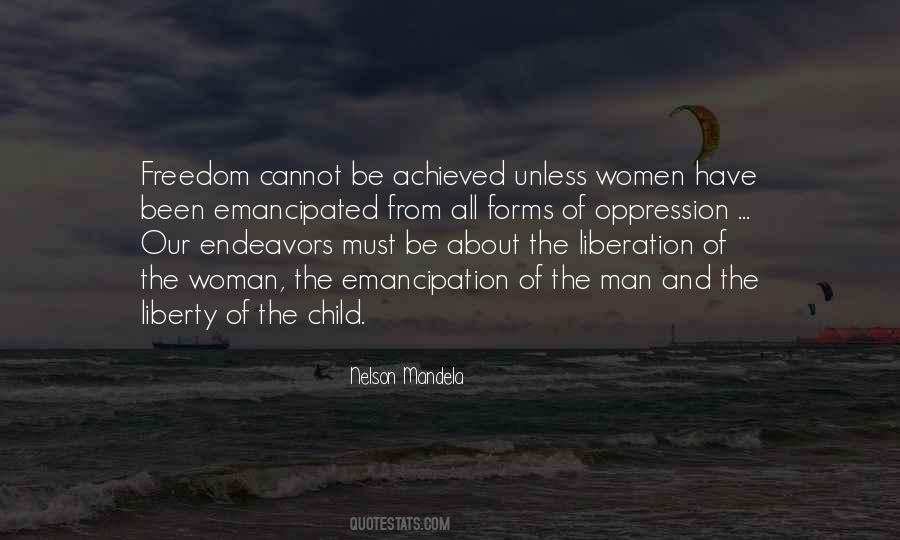 #41. The total absence of desire brings happiness. It also brings freedom and liberation, because whenever something is lacking there are both limits and dependency. Only when nothing at all is lacking is there the possibility of total freedom. Freedom brings happiness. And happiness is salvation. - Author: Rajneesh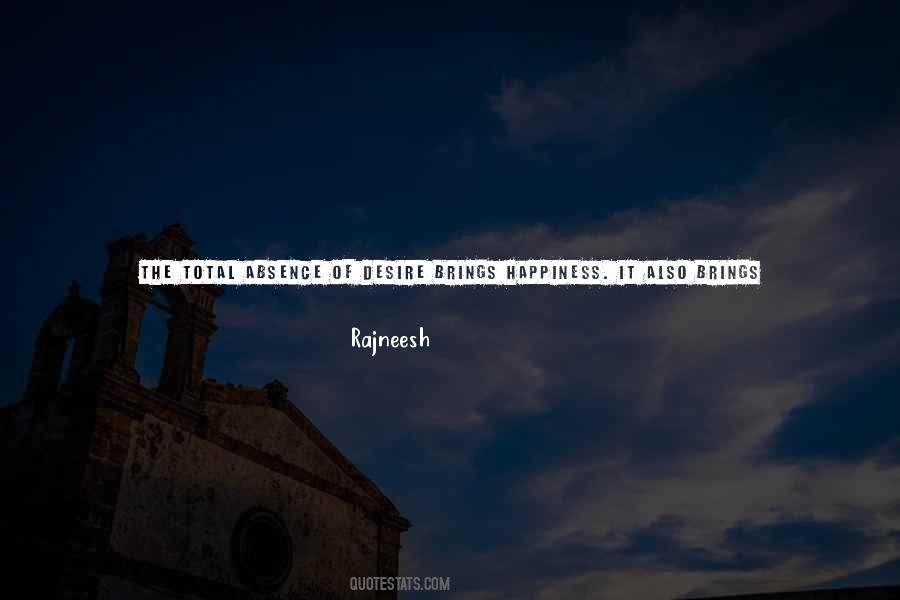 #42. Nirvana manifests as ease, as love, as connectedness, as generosity, as clarity, as unshakable freedom. This isn't watering down nirvana. This is the reality of liberation that we can experience, sometimes in a moment and sometimes in transformative ways that change our entire life - Author: Jack Kornfield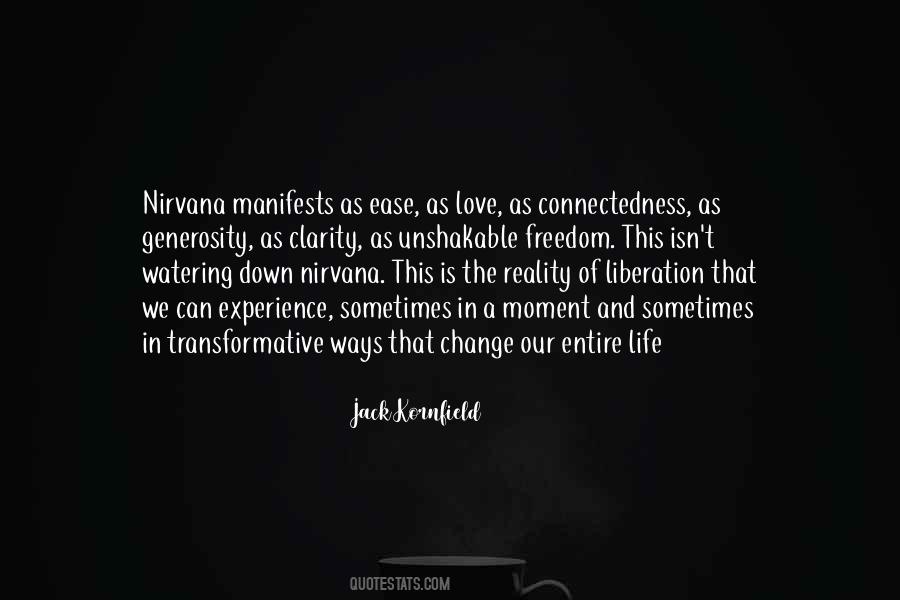 #43. If we want liberation, we must rewrite the Sleeping Beauty myth. No one is coming and no one else is to blame. - Author: Elizabeth Lesser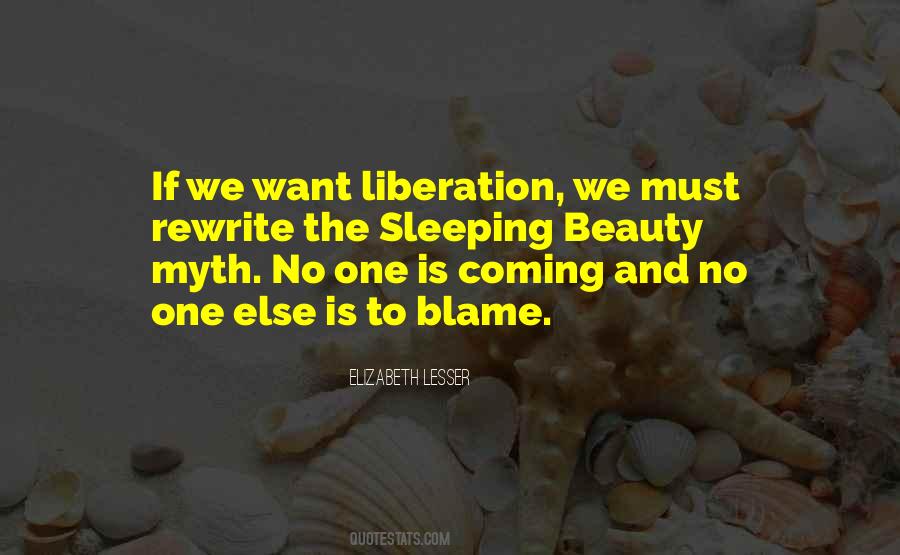 #44. Sexual freedom and liberation has to be of your own making. I'm stunned when I hear about friends' children, ten or twelve years old giving blow jobs. I just don't like the girls being used or exploited in that way. It's just indiscriminate sexual relating. It's just the isolated things. - Author: Lily Tomlin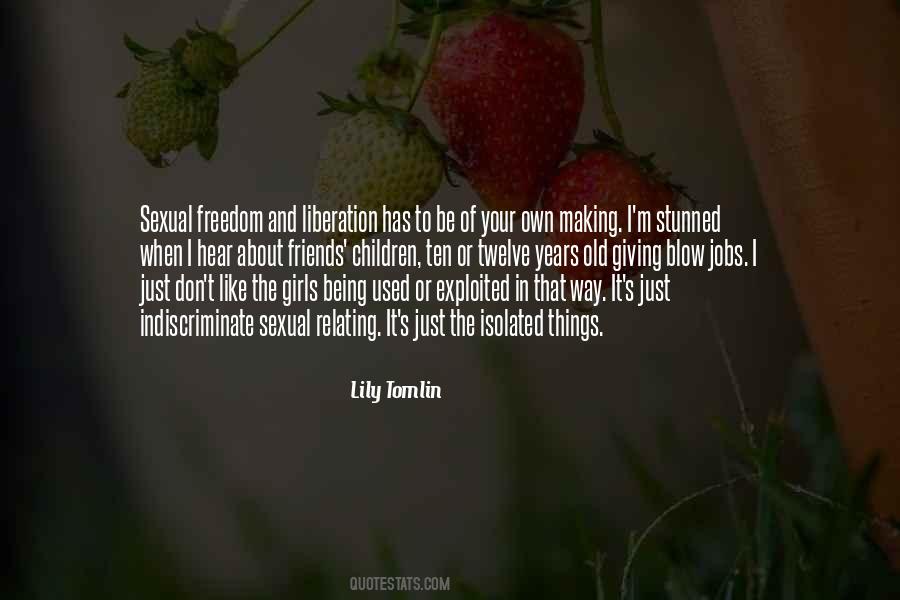 #45. History is replete with ideologies of freedom, justice, liberation of the downtrodden and the exploited, that have been turned against the very people they had mobilised, or that have reproduced the same logic of exclusion and terror toward those whom they claimed to set free. - Author: Tariq Ramadan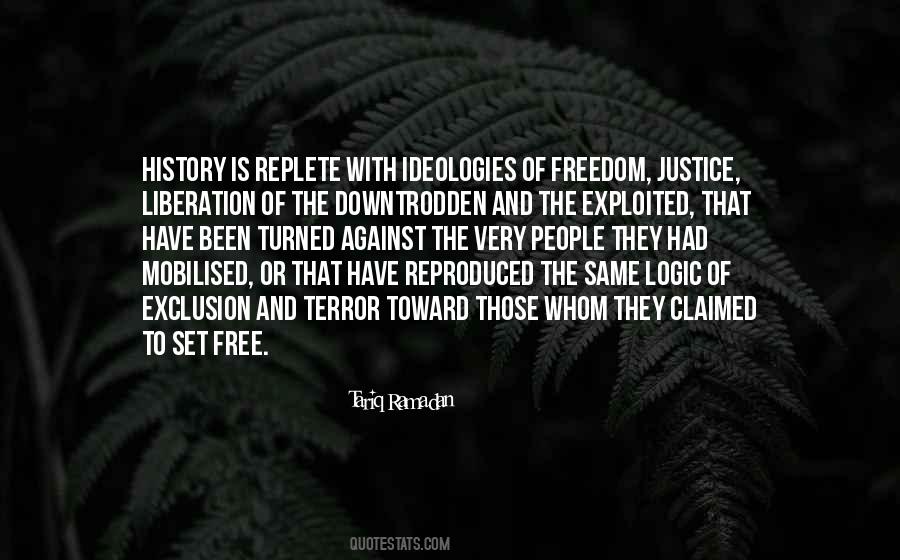 #46. The Jewish festival of freedom is the oldest continuously observed religious ritual in the world. Across the centuries, Passover has never lost its power to inspire the imagination of successive generations of Jews with its annually re-enacted drama of slavery and liberation. - Author: Jonathan Sacks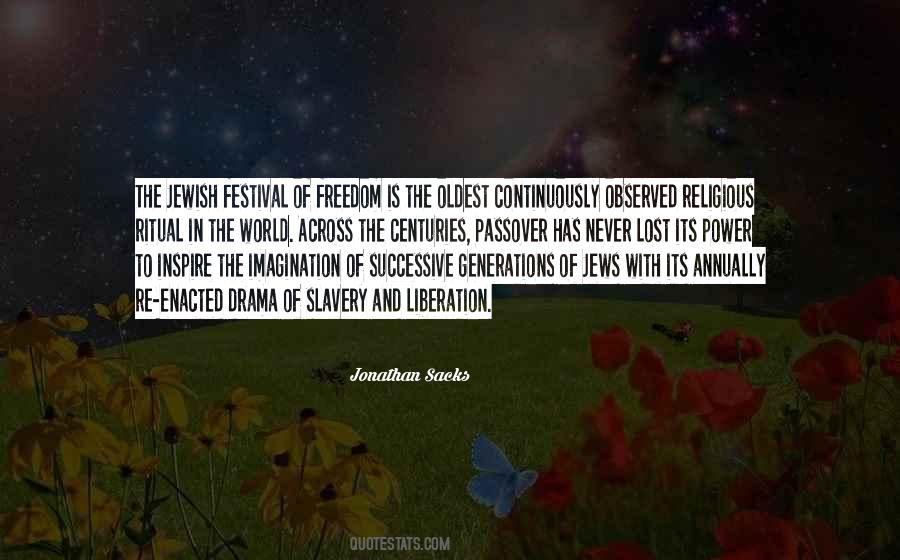 #47. Hmm. I think love is about loving all things, to treat each and every thing and every one as a sovereign being that's free to make its own choices. - Author: Michael Sanders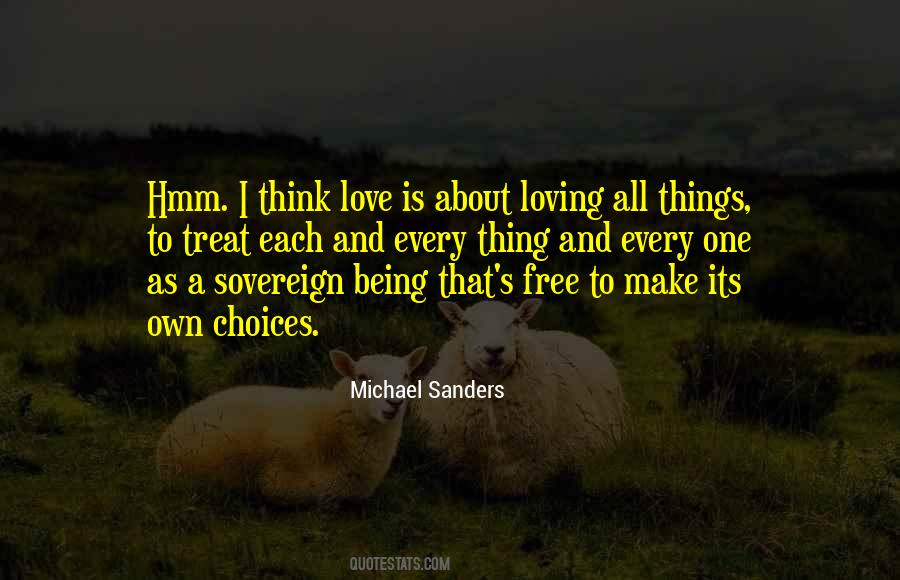 #48. Salvation is always "good news." It is news of God's love and forgiveness - adoption into His family - fellowship with His people - freedom from the penalty of sin - liberation from the power of sin. - Author: Billy Graham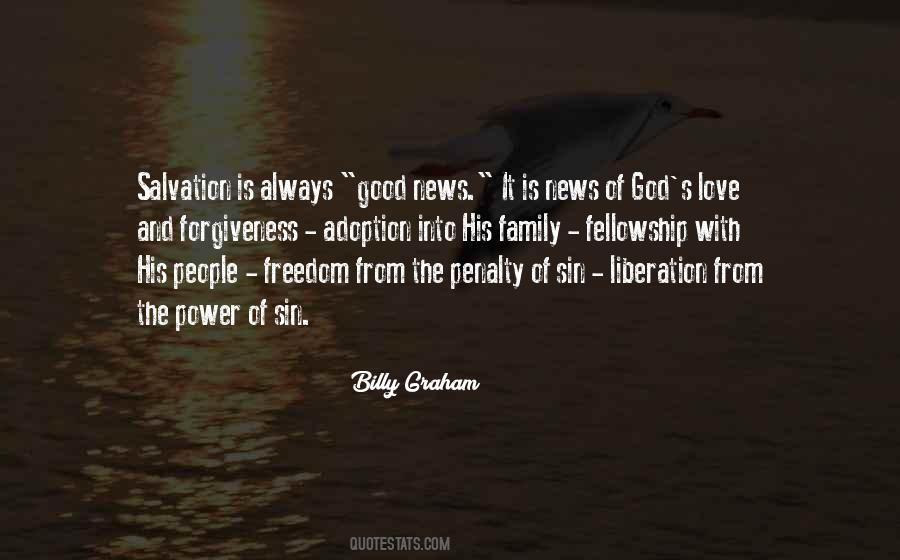 #49. Freedom is self liberation and liberation of people from any suffering. - Author: Lailah Gifty Akita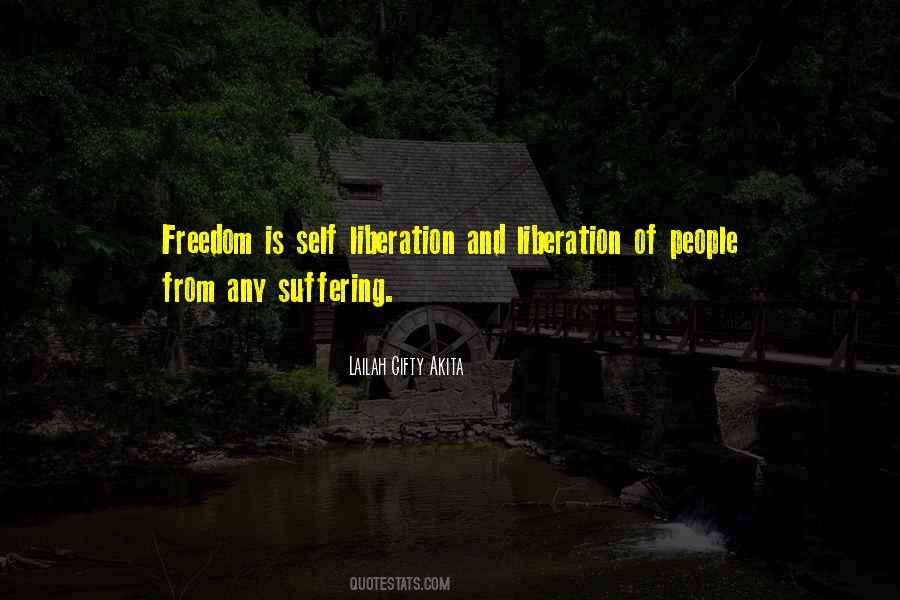 #50. For true liberation, you do not need to fight. You simply have to change your thoughts and drift away from conformity, comfort, security, and certainty of life and embrace and enjoy the possibilities and magnificence of the uncertainty of life. - Author: Debasish Mridha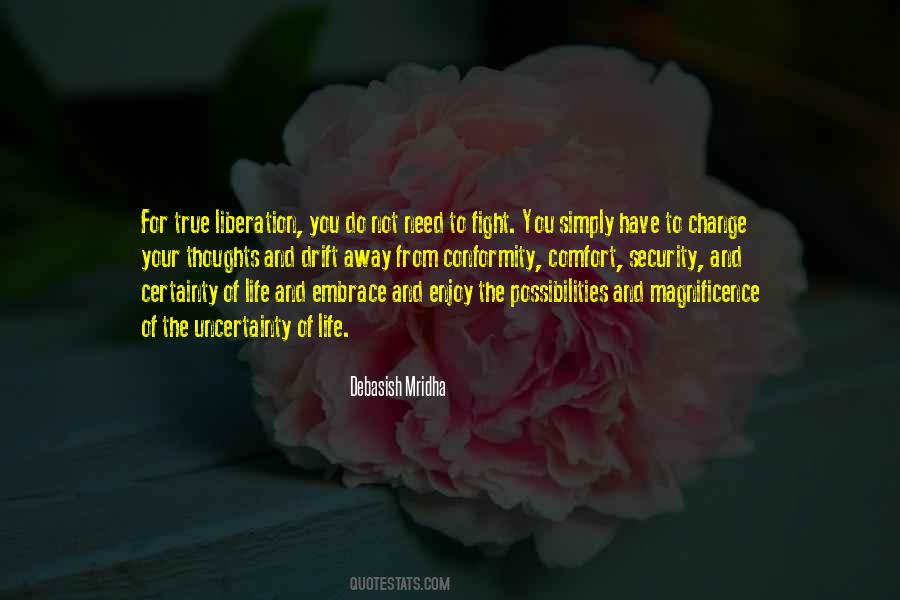 #51. God holds the power of authentic freedom that both begs and invites us onward to wild liberation. - Author: Craig D. Lounsbrough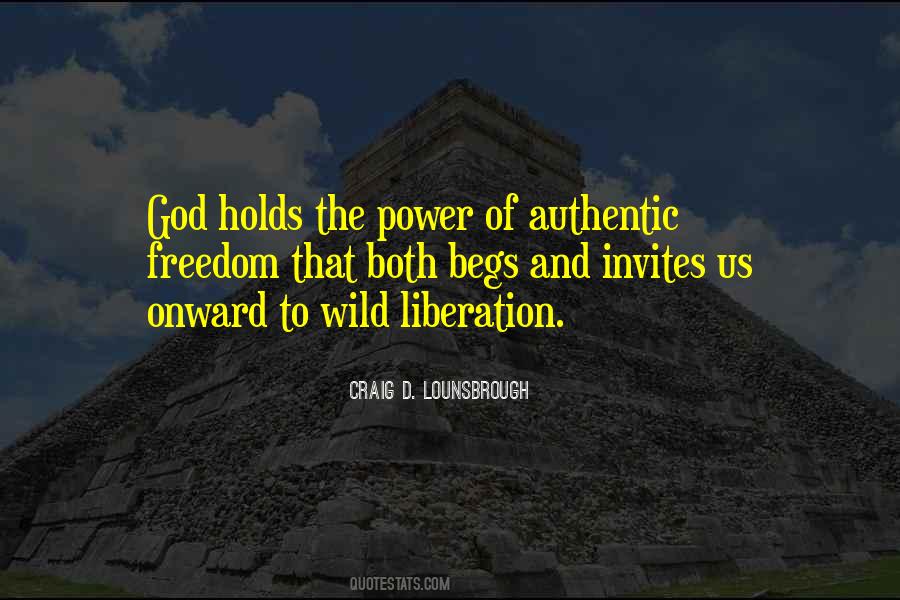 #52. With one man, there was a freedom and liberation. That was with Michael Hutchence, my partner in life. - Author: Kylie Minogue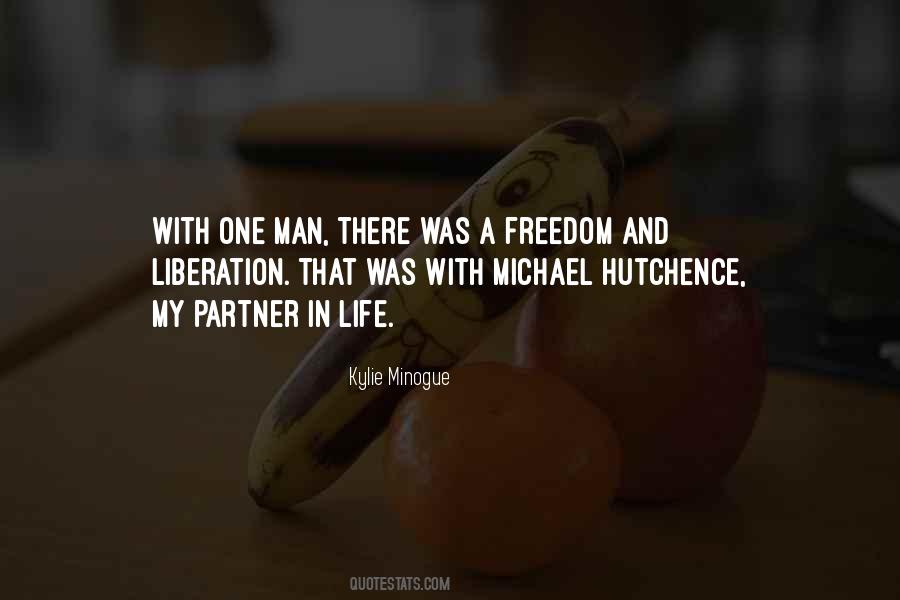 #53. A strong human spirit with control over appetites of the flesh is master over emotions and passions and not a slave to them. That kind of freedom is as vital to the spirit as oxygen is to the body! Freedom from self-slavery is true liberation! - Author: Russell M. Nelson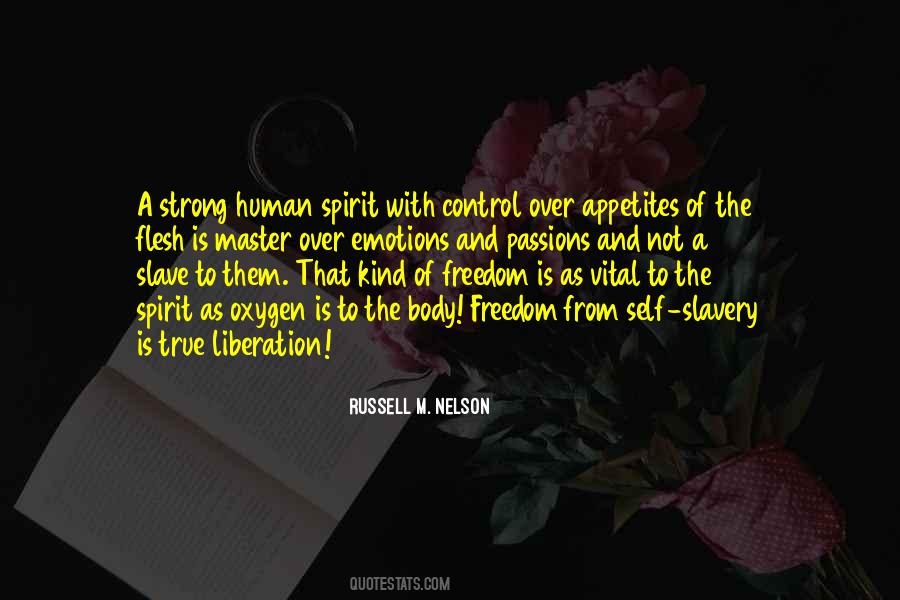 #54. Freedom is the decision to live and die, doing what you love. - Author: Lailah Gifty Akita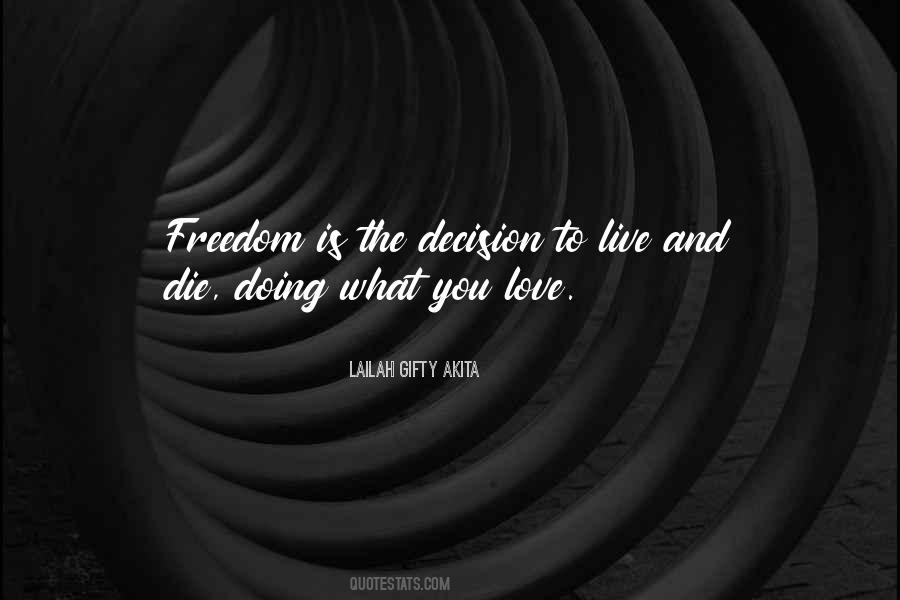 #55. To embrace an attitude of humility is to free myself from myself. And that is likely the great liberation of all. - Author: Craig D. Lounsbrough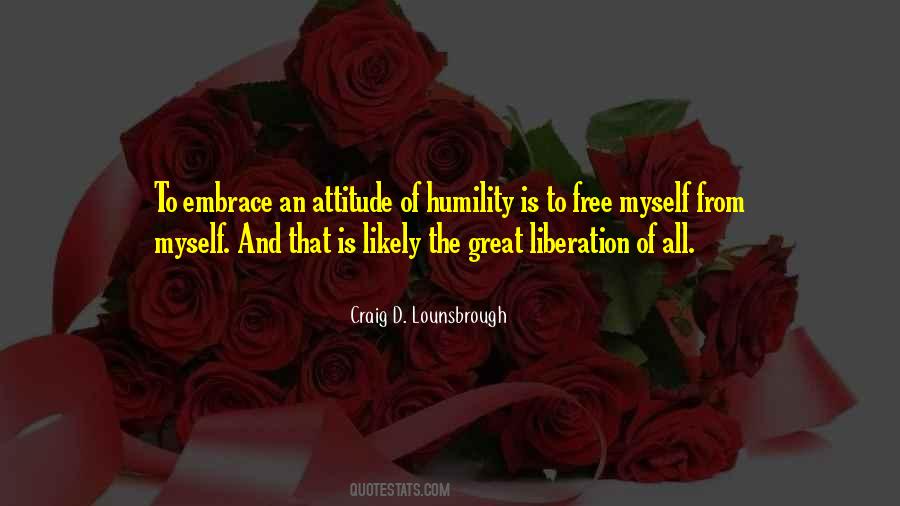 #56. The God of the Bible is the God of liberation rather than oppression; a God of justice rather than injustice; a God of freedom and humanity rather than enslavement and subservience; a God of love, righteousness and community rather than hatred, self-interest and exploitation. - Author: Allan Boesak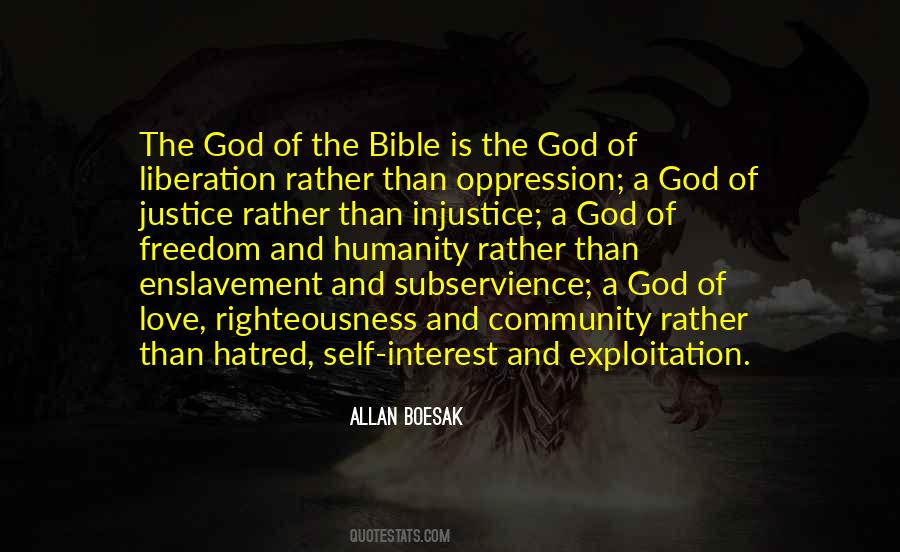 #57. Assured of your salvation by the unique grace of our Lord Jesus Christ is the heartbeat of the gospel, joyful liberation from fear of the Final Outcome, a summons to self-acceptance, and freedom for a life of compassion toward others. - Author: Brennan Manning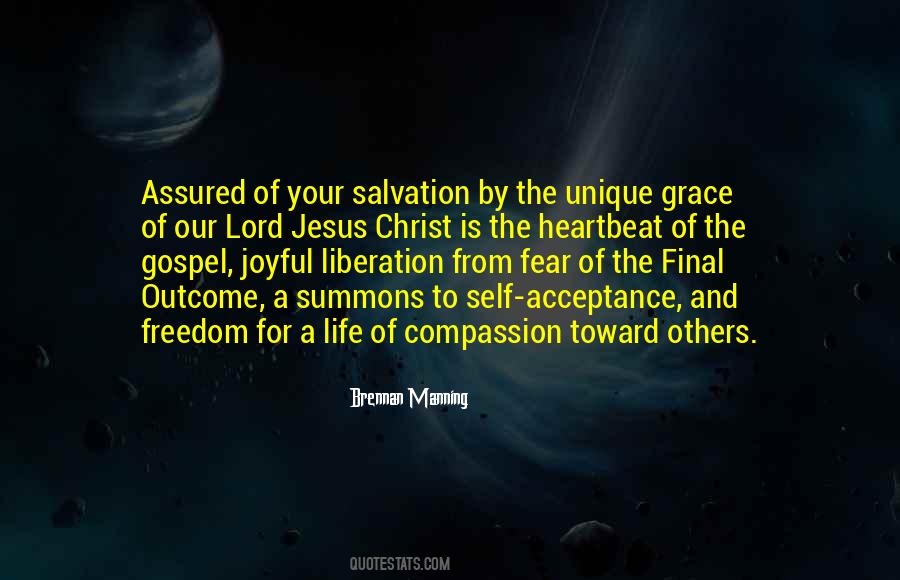 #58. I think we need to consider a radical rewrite of any form of patriotism that serves the individual at the expense of the community, as that is nothing more than patriotism to one's own small and solitary cause. - Author: Craig D. Lounsbrough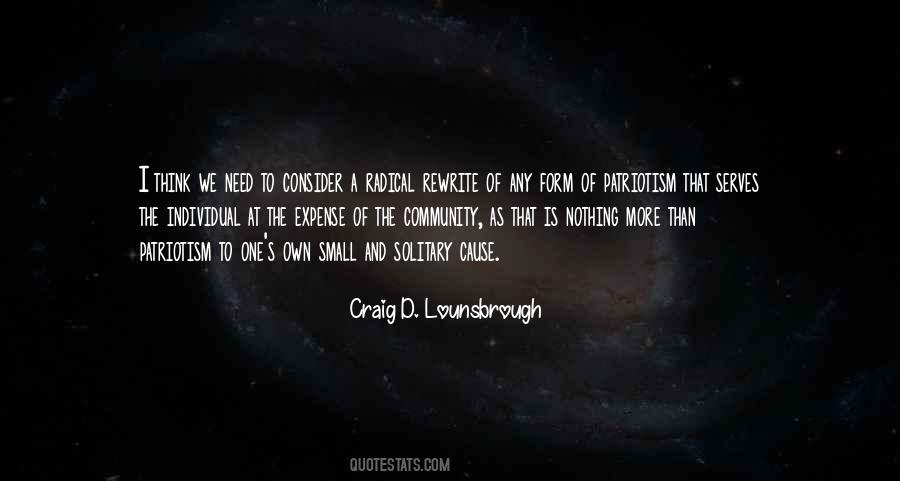 Famous Authors
Popular Topics