I Want To Be Alone Famous Quotes & Sayings
List of top 100 famous quotes and sayings about i want to be alone to read and share with friends on your Facebook, Twitter, blogs.
Top 100 Quotes About I Want To Be Alone
#1. The reason I want to be alone, is I'm tired of all the things that went wrong that would've went right if I had did 'em on my own - Author: Nas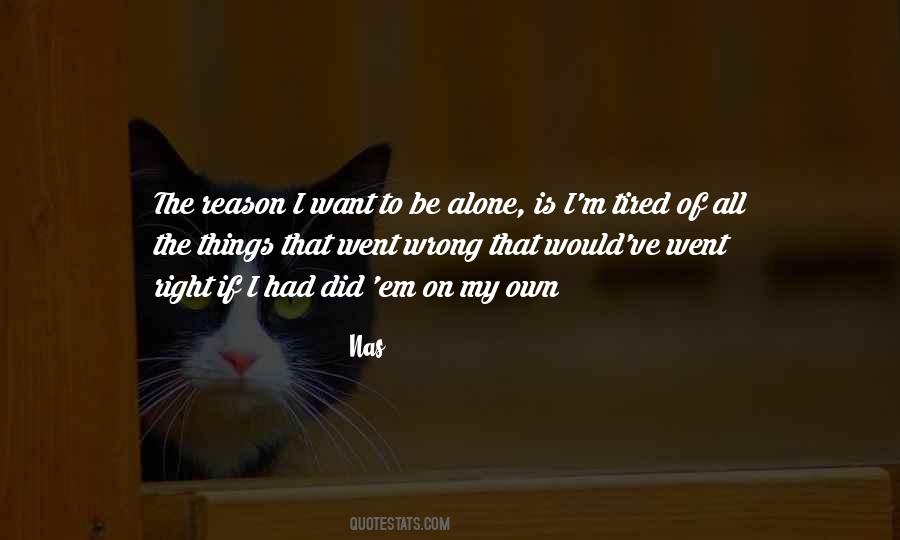 #2. I would far prefer to be in someone's arms than just in their head. - Author: D.S. Mixell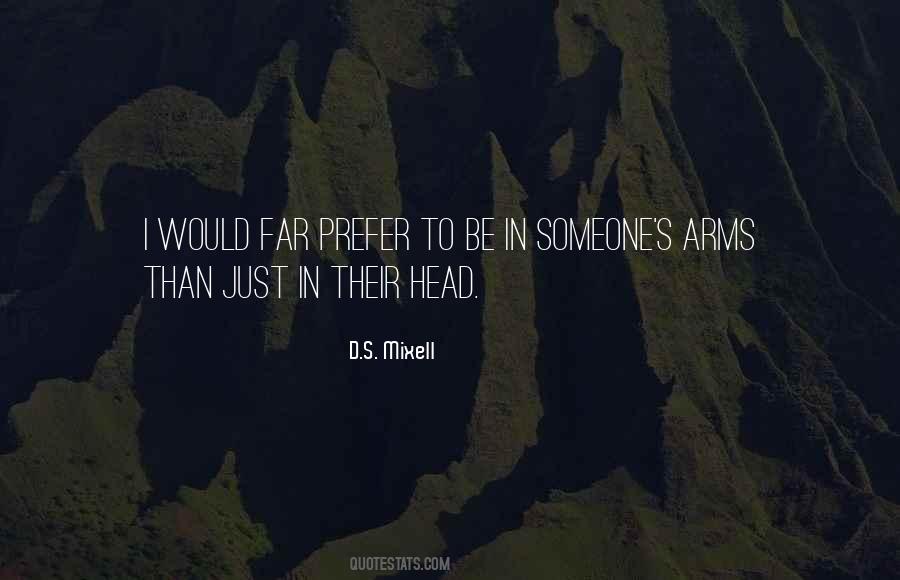 #3. I want to be able to be alone, to find it nourishing - not just a waiting. - Author: Susan Sontag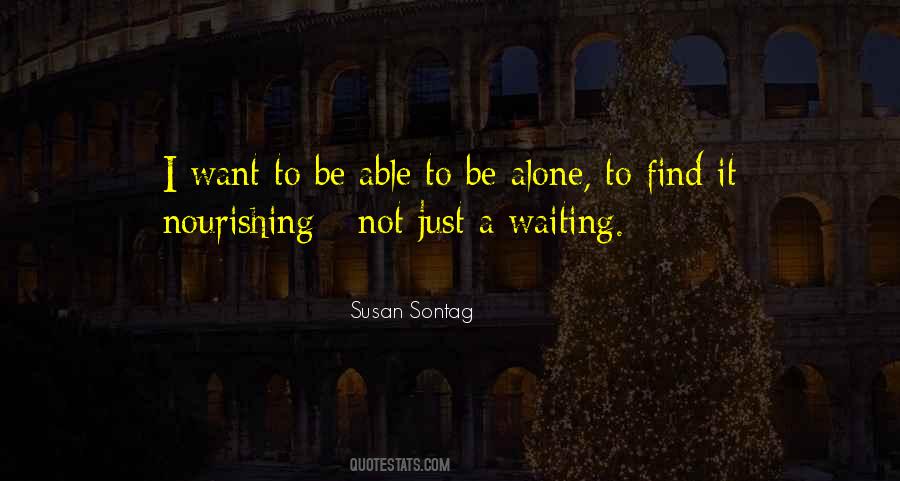 #4. I want to know if you can get up after a night of grief and despair, weary and bruised to the bone, and be sweet to the ones you love. I want to know if you can be alone with yourself and truly like the company you keep in the empty moments of your life. - Author: Jon Blais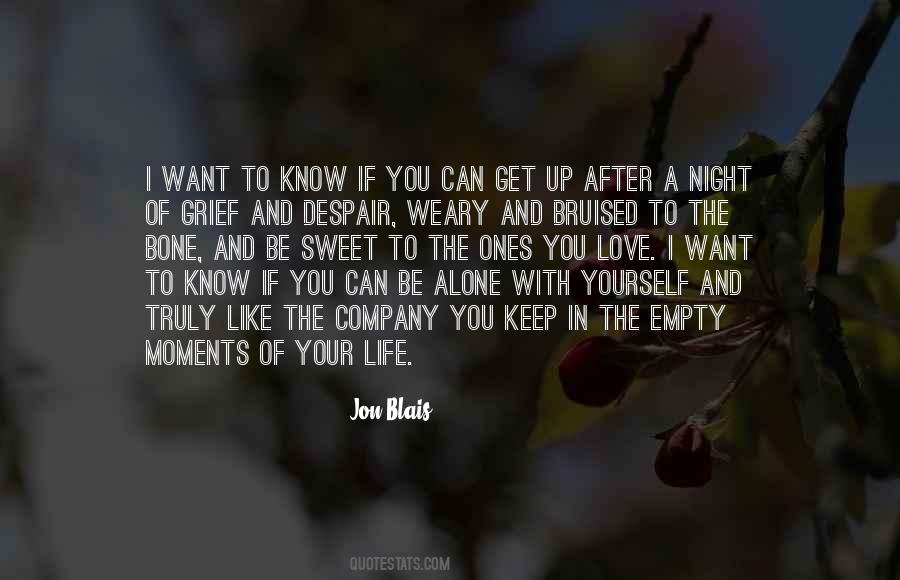 #5. WHY DID YOU LEAVE ME ALL ALONE..! I'm lovely.. I don't want to be alone. Mom... I... I wanted you to choose me... I WANTED YOU TO LIVE FOR ME!" "Even if it meant letting your aunt die?" "EVEN IF IT MEANT LETTING HER DIE! - Author: Sui Ishida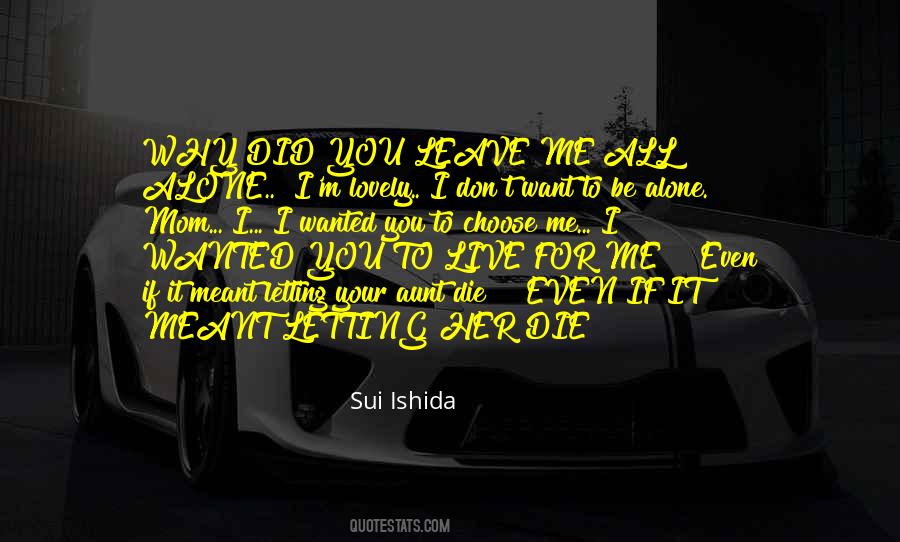 #6. When I'm writing, I like to travel alone. If you really want to find out about a place, you need to be as free as possible to be spontaneous. You also need to be lonely, because loneliness is a great teacher, too. - Author: Paul Theroux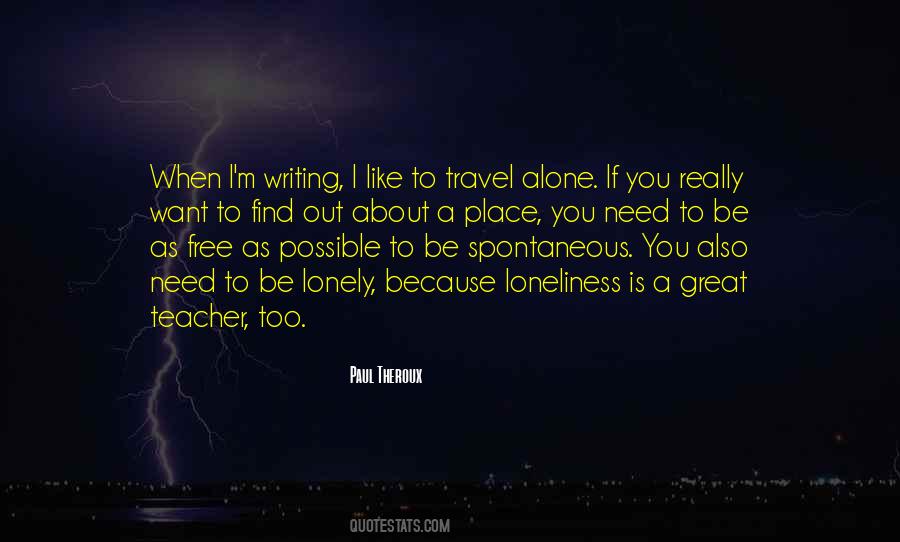 #7. I know you think you want to push me away. I know you think you want to be alone. I know you think you're in this alone. But you're wrong. - Author: Jessica Wood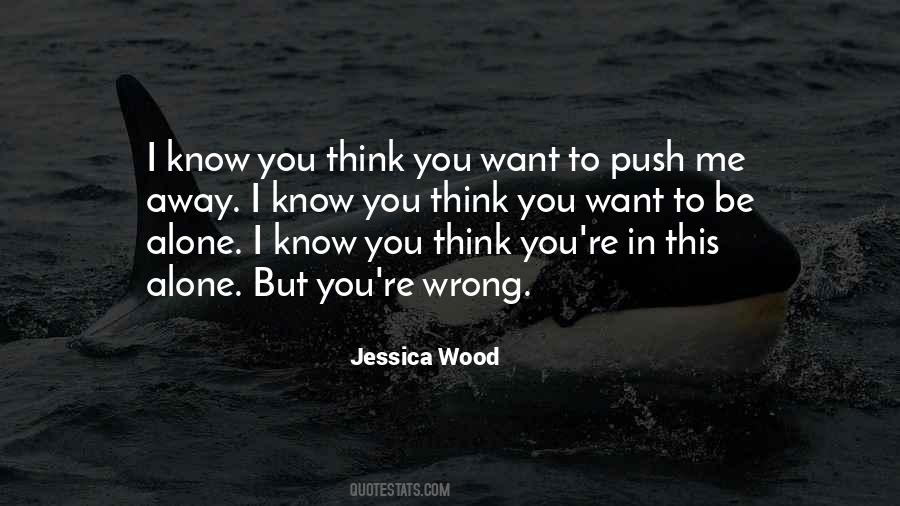 #8. Don't go away. I don't want to be alone. I can't stand being alone. - Author: Arnold Rothstein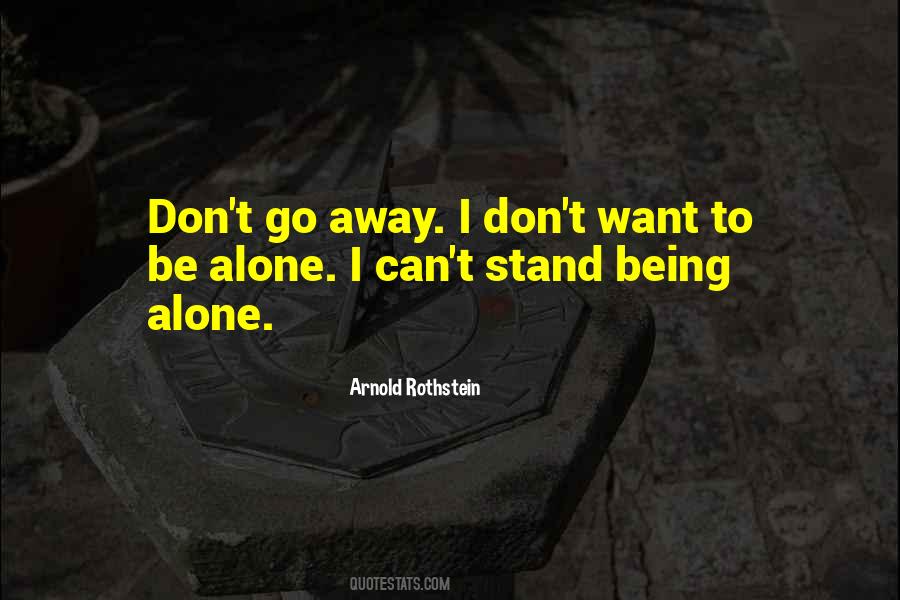 #9. I play football, and most football players are camera shy. We just want to be left alone; we just want to stick to what we do. - Author: Reggie Bush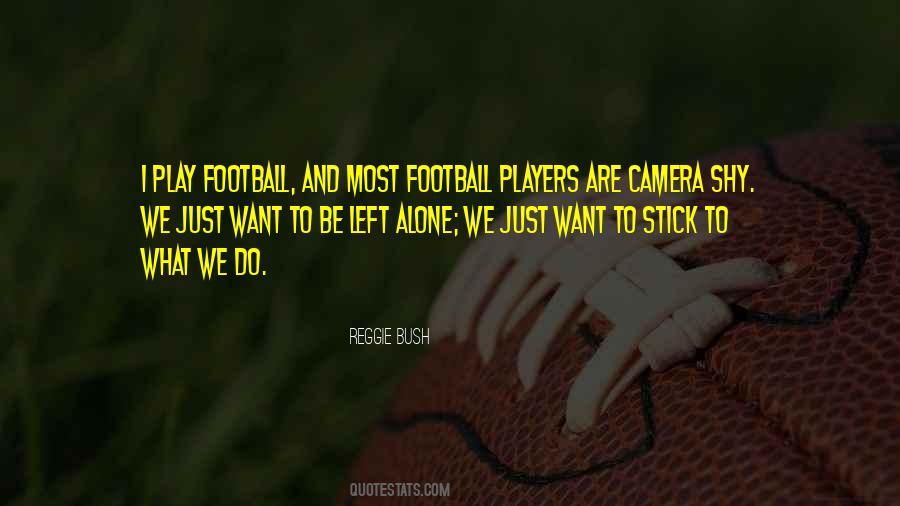 #10. They were too near to me. I loved them to much. And the love overtaking me and combined with the fact that I was going to spend another evening alone, doing nothing with it, being waited down to motionlessness by my own actions made me want to get it over with and fucking be alone. - Author: Courtney Maum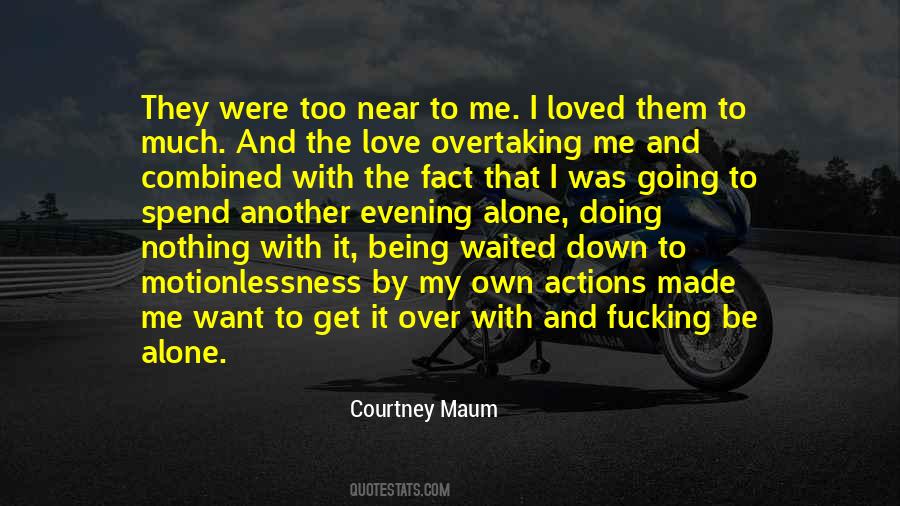 #11. I'm afraid to be alone, I'm afraid not to be alone. I'm afraid of what I am, what I'm not, what I might become, what I might never become. I don't want to stay at my job for the rest of my life, but I'm afraid to leave. And I'm just tired, you know? I'm just so tired of being afraid. - Author: Michelle Pfeiffer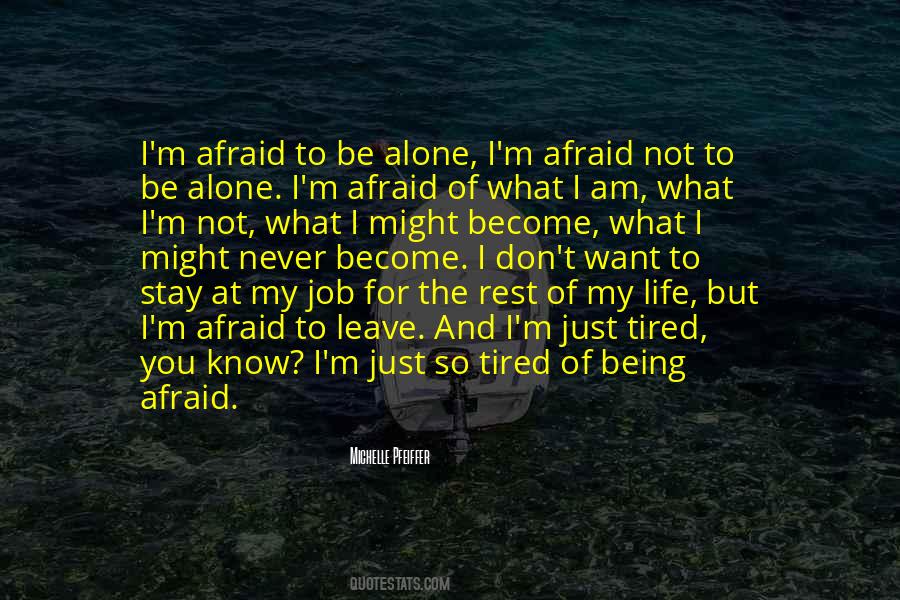 #12. All I want is to be left alone. That's why I have that fence. It's not only to keep the critters in. It's to keep people out. - Author: John Saul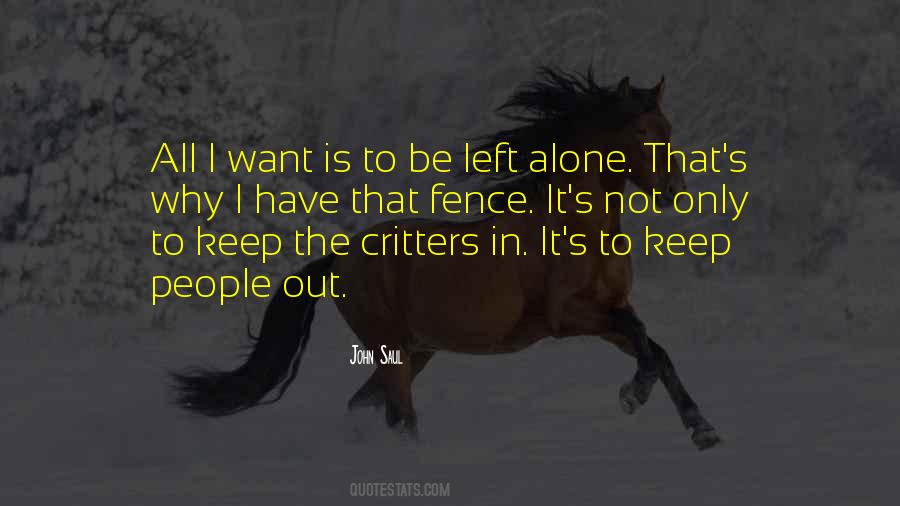 #13. I don't want to die, but I don't want to be the only one to live, either. When I was sitting alone last night, I kind of figured maybe that's how Jesus felt. - Author: Dean Briggs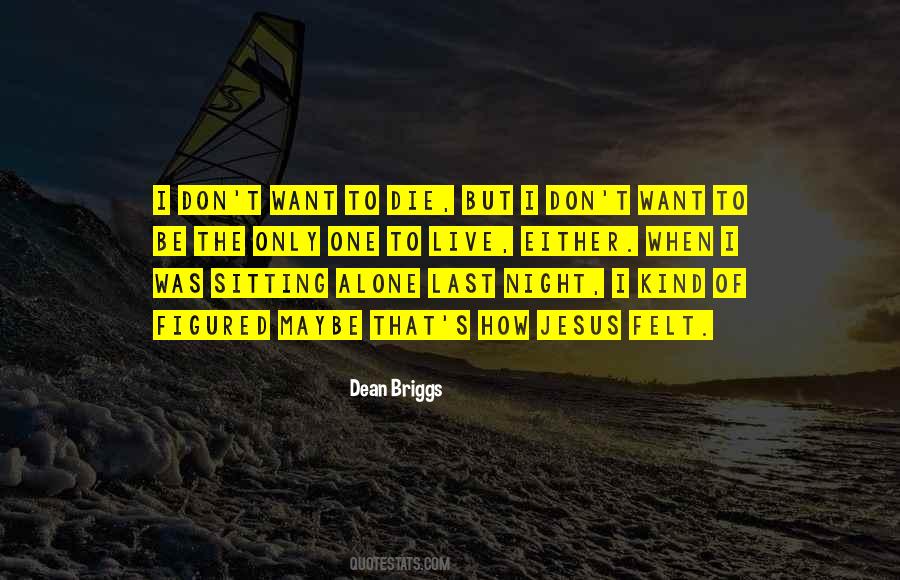 #14. Why do you even want to be here with me? You can barely stand to look at me for the most part, let alone be around me. I'm doing you a favor here, Nathan. I'm freeing you of me."
"Wait ... Stay."
"No."
"I'm not asking."
"I thought we were done."
"We'll never be done. - Author: Samantha Towle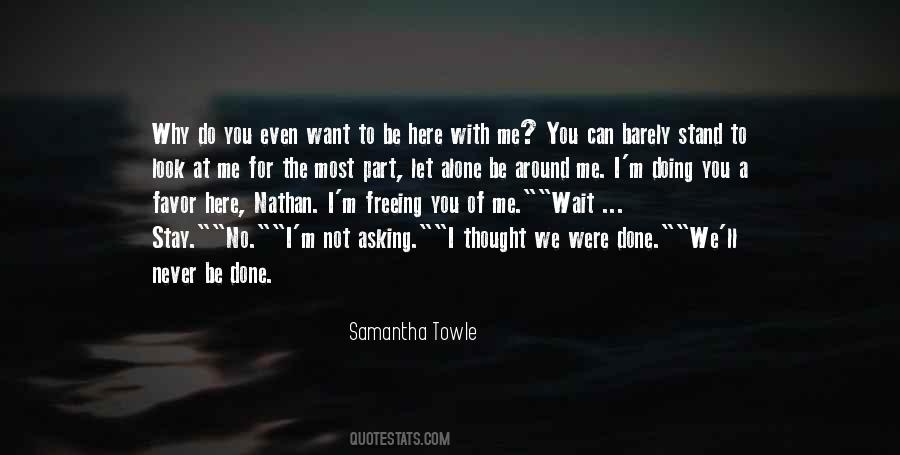 #15. I don't want to be alone, I whispered. The second those words left my mouth, Vivvie flew across the room. She hugged me like hugging was a contact sport. - Author: Jennifer Lynn Barnes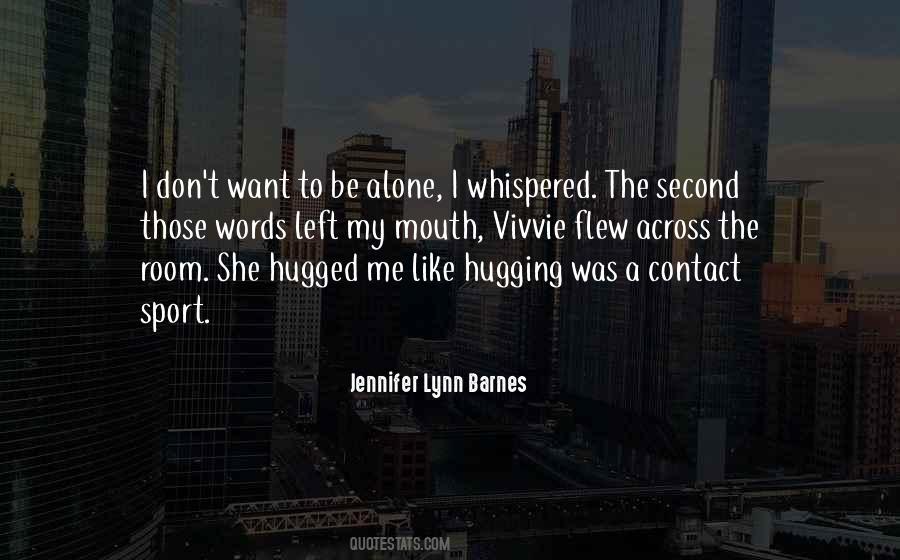 #16. Why would anyone want to be called a size zero or even aspire to being a zero? I don't even understand the thinking behind it, let alone the practicalities. What is all that about? - Author: Dawn French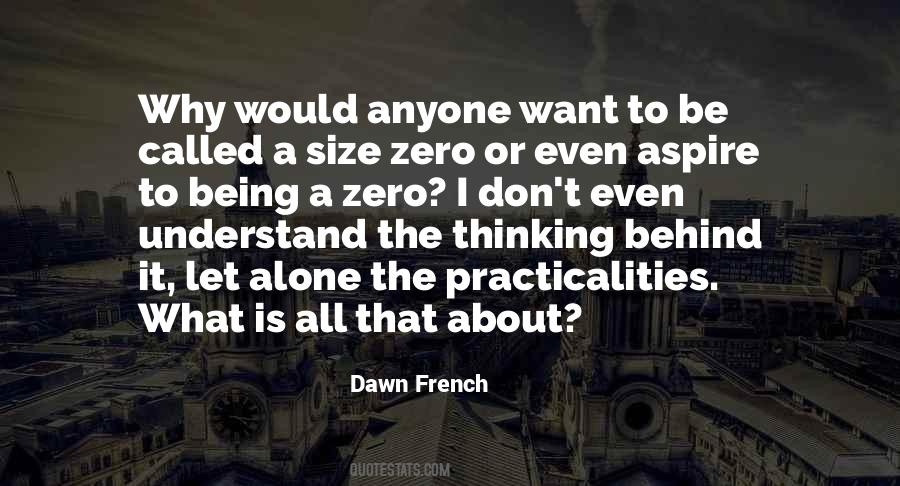 #17. Now that we were alone,i was self-conscious and cranky again.Why had i wanted to stay?if i had been programmed to want to be with dylan,heads were gonna roll,i promise you that. - Author: James Patterson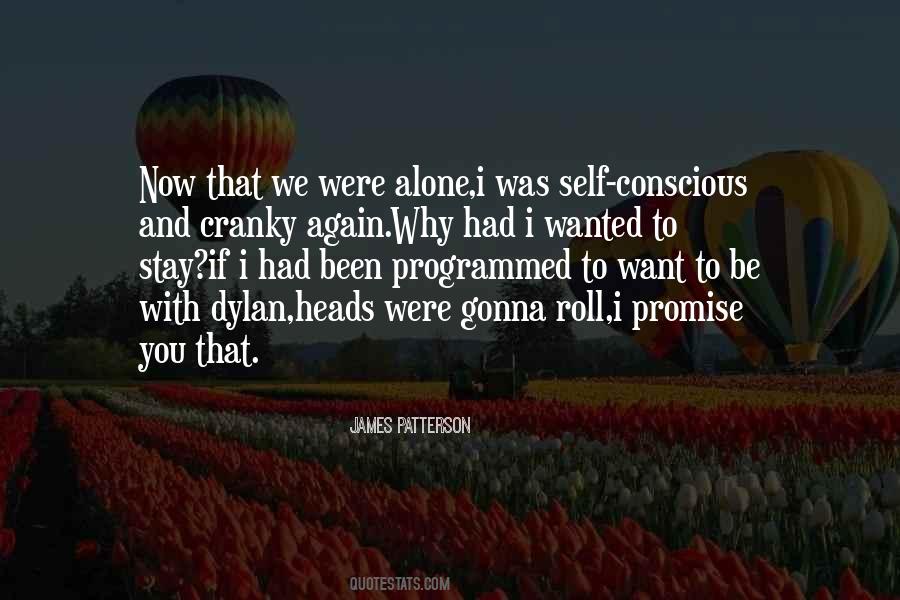 #18. I don't want to be so scared all the time. So alone. I want to believe something can be worth it. Worth the pain. Worth the risk. - Author: Hannah Harrington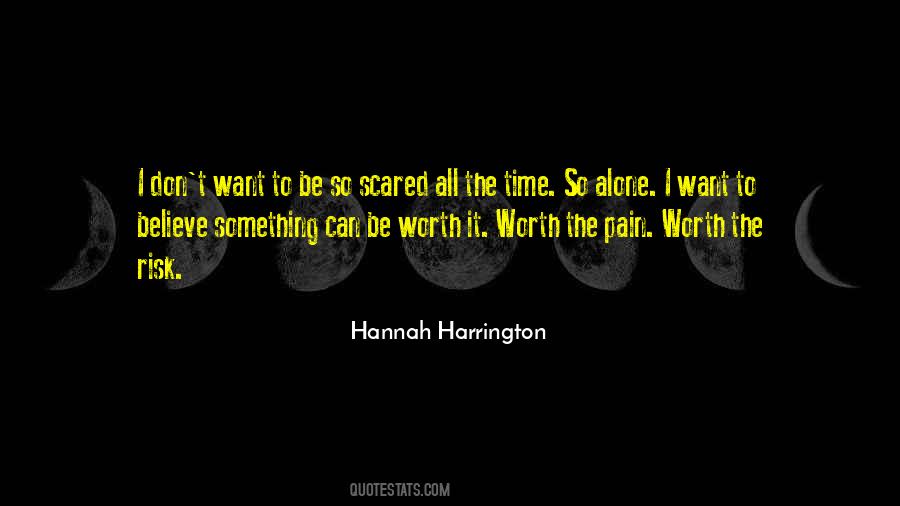 #19. I need to be alone. After a full day of talking, smiling, listening, showing, nodding, translating, I want to be alone. I want simply to come home, close the door, and sit in silence, gathering up the bits of myself that have come loose. I want to think, or not think. I want to rest. - Author: Jamie Zeppa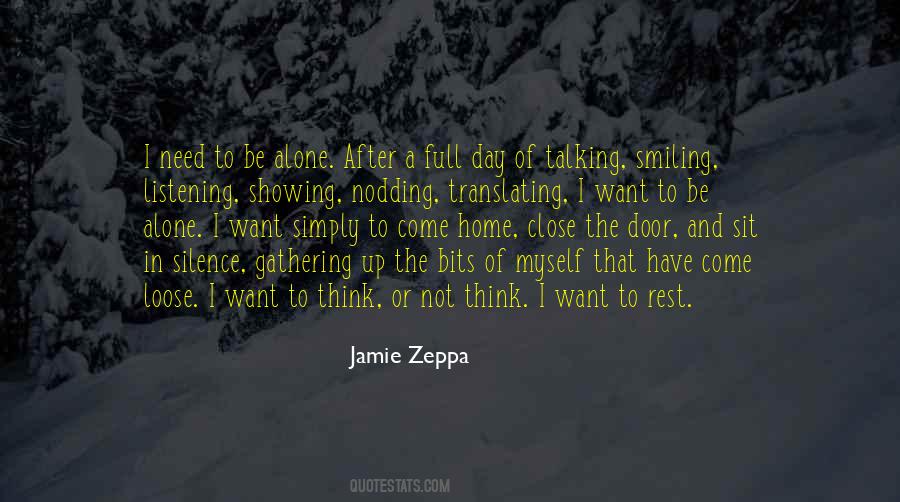 #20. It was V-day and I was stuck at home while the guy I was dating was at an Anti-Valentine's Day party. How wrong was that? It was one thing to be totally alone on V-day, but another to want to be with someone who would rather spend the evening protesting love instead of making it. - Author: Kate Madison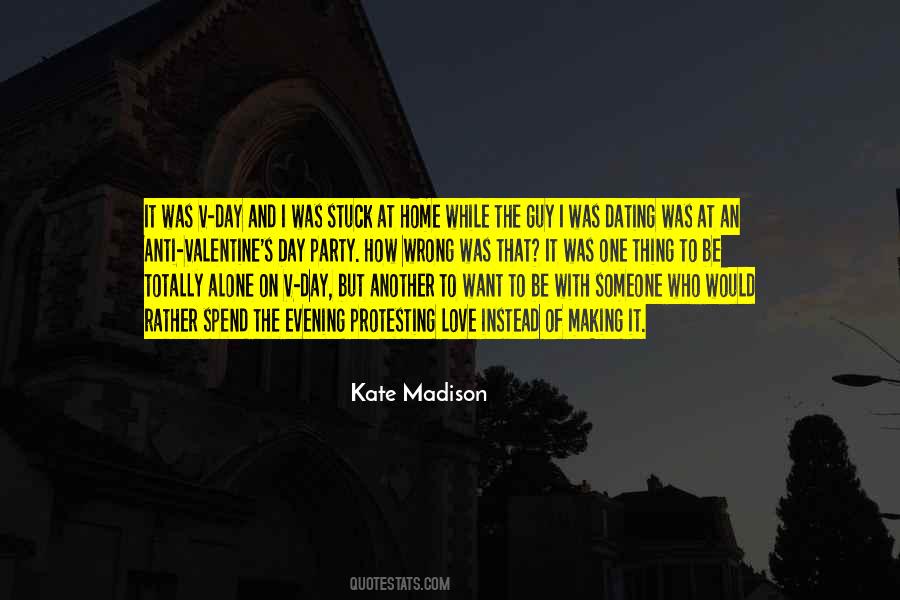 #21. Because I don't want to be alone right now." His voice echoes through the night.
I turn around to face him one last time. "You weren't alone, asshole. - Author: Stephanie Perkins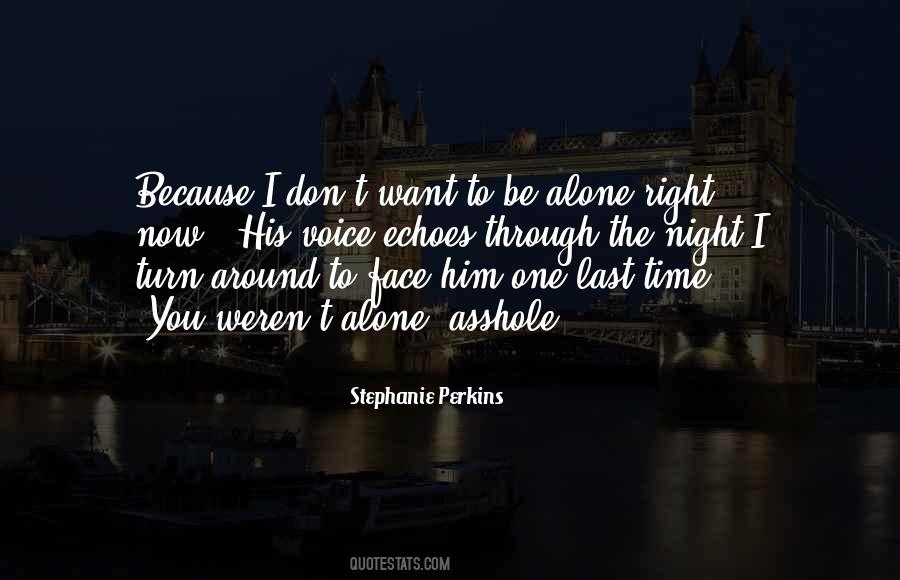 #22. Were I ever alone in the dock, I would not want to be arraigned before our flawed tribunals, knowing my freedom could be forfeit as a result of political pressures. I would prefer a fair trial, under the shadow of the noose. - Author: Michael Gove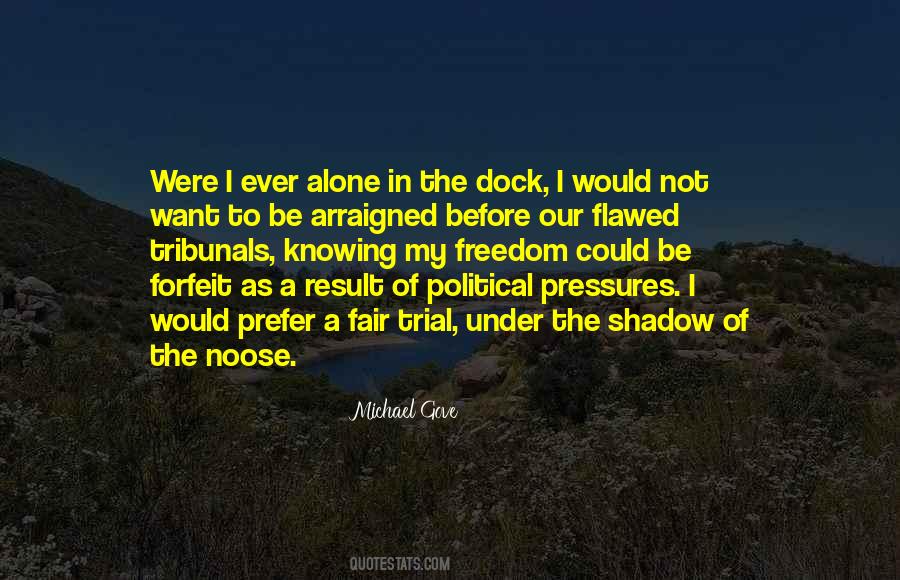 #23. Two things compel me to move. First, the fear of being alone. I don't want to be alone here. Second, the aching need to beat Blake in any way. - Author: Alex Rosa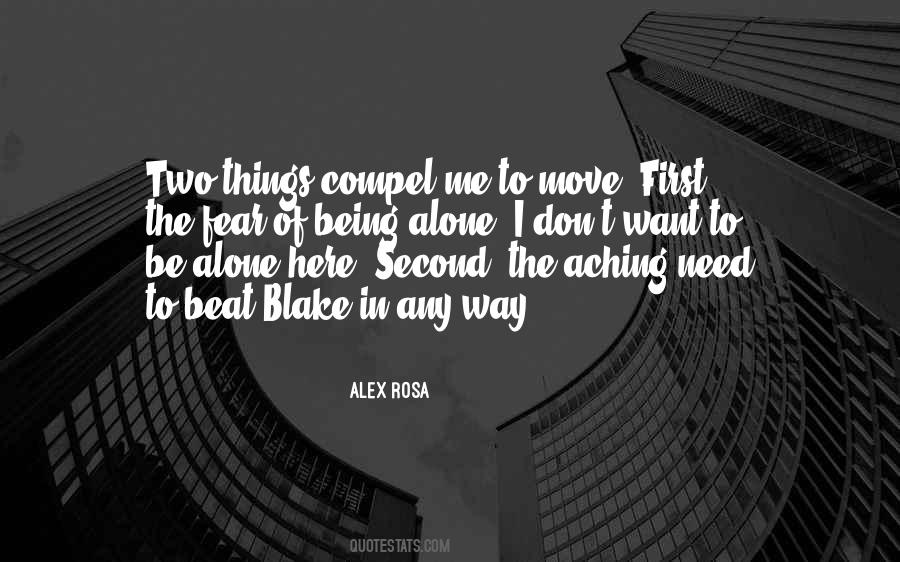 #24. I am alone in the world, and yet not alone enough to make each hour holy. I am lowly in this world, and yet not lowly enough for me to be just a thing to you, dark and shrewd. I want my will and I want to go with my will as it moves towards action. - Author: Maggie Stiefvater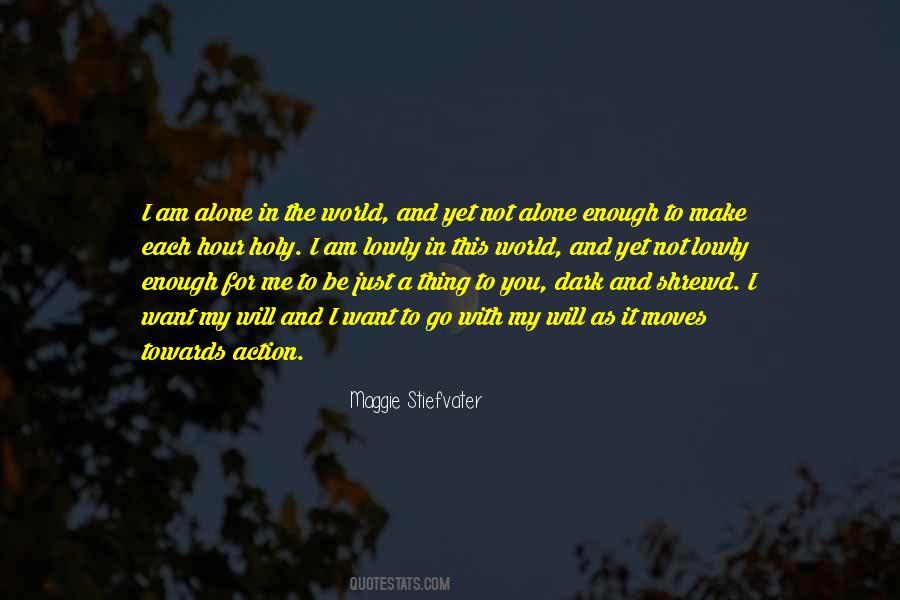 #25. We're basically loners. If I didn't have the kids, I'd be alone a lot, and I'd be okay with that. I don't need to be entertained by people. I want my space, so I understand you feeling trapped. - Author: Bijou Hunter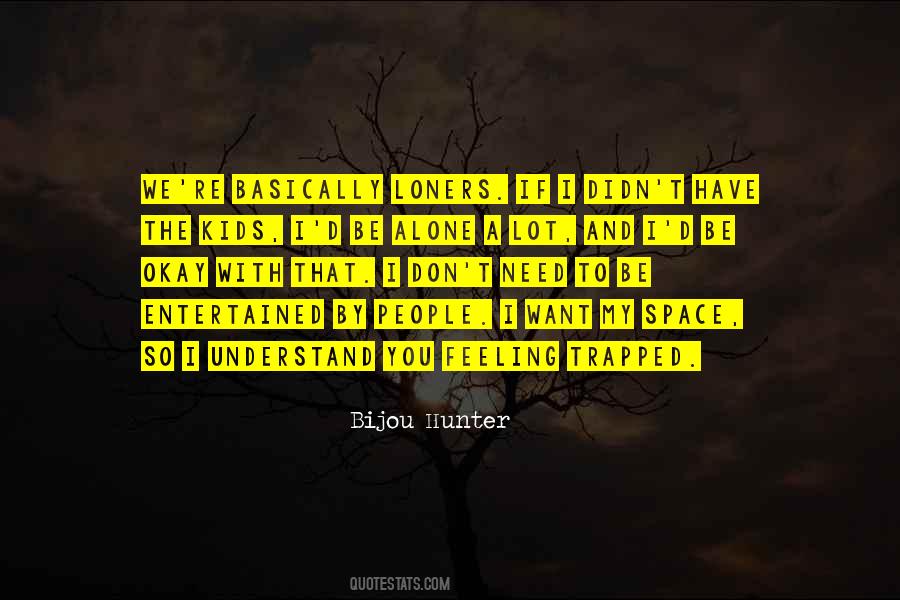 #26. I look around, pretty much 100% of the people driving are texting. And they're killing, everybody's murdering each other with their cars. But people are willing to risk taking a life and ruining their own because they don't want to be alone for a second because it's so hard. - Author: Louis C.K.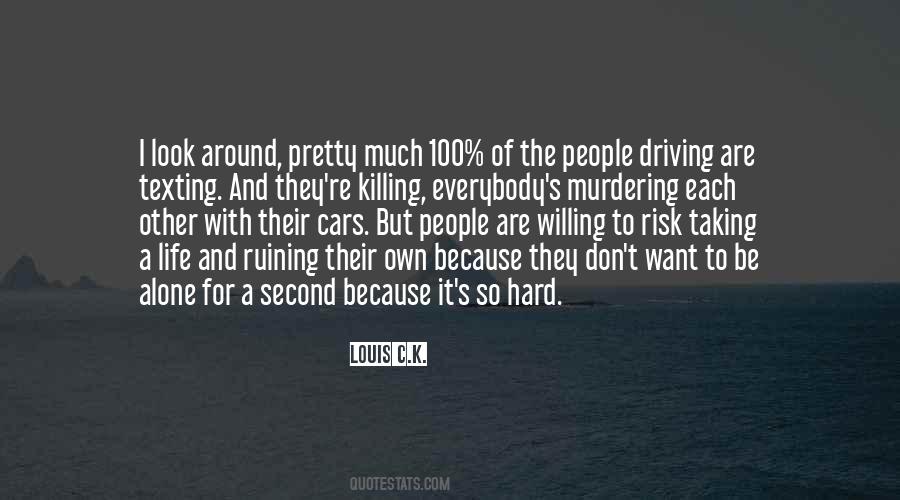 #27. But if I didn't want to be alone, then why didn't I want to be with anyone else? - Author: David Levithan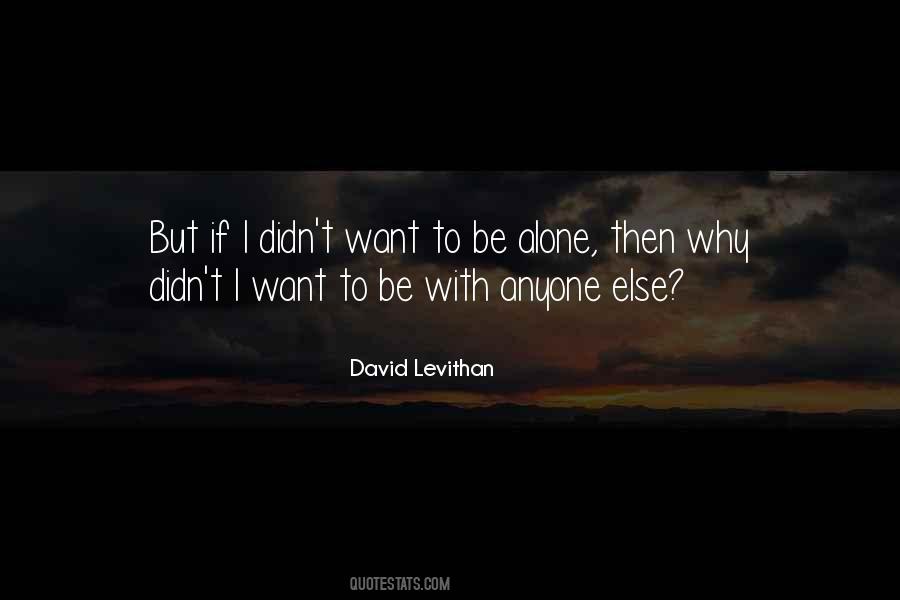 #28. I may hold ye at arm's length ... But I want ye t' be mine an' mine alone. - Nate to Bertie, as they danced. - Author: Lisa Mantchev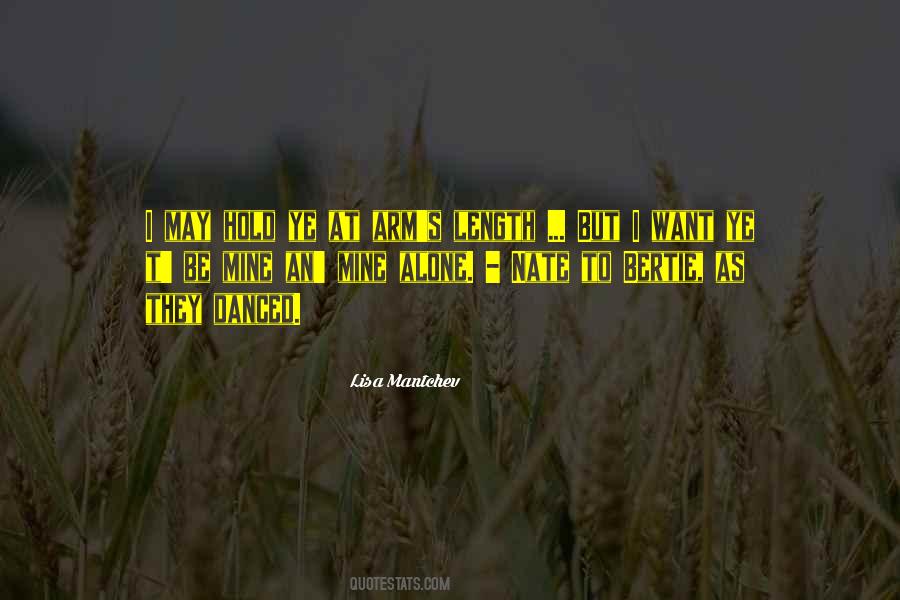 #29. The big thing with all parents is they just want to be left alone. I want no demands. That's the best gift for Father's Day, just leave them alone. - Author: Terry Crews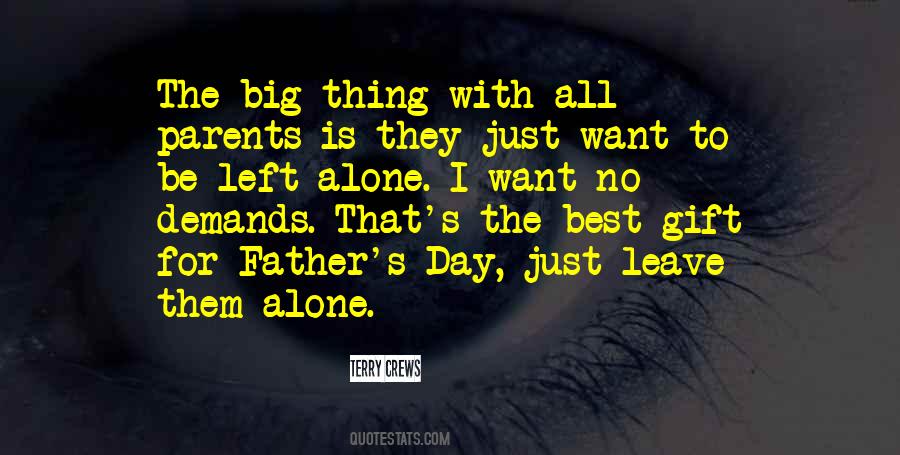 #30. Is that what I am? I don't know what the hell I am anymore."
"Oh, bullshit. You're a guy, a human being. Just another poor son of a bitch who doesn't want to be alone when the sacred ginmill closes. - Author: Lawrence Block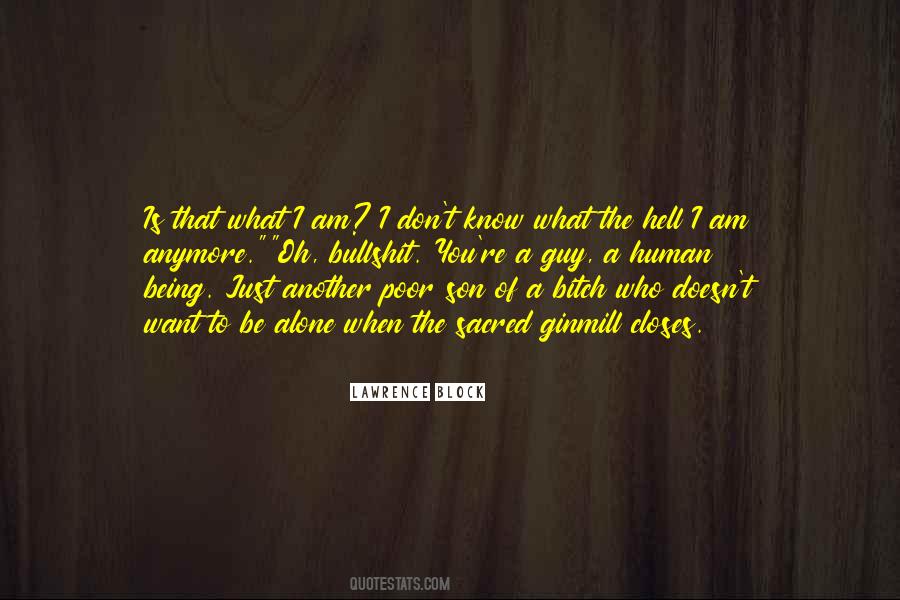 #31. I don't even want to be rich I just want to be alone. - Author: John Darnielle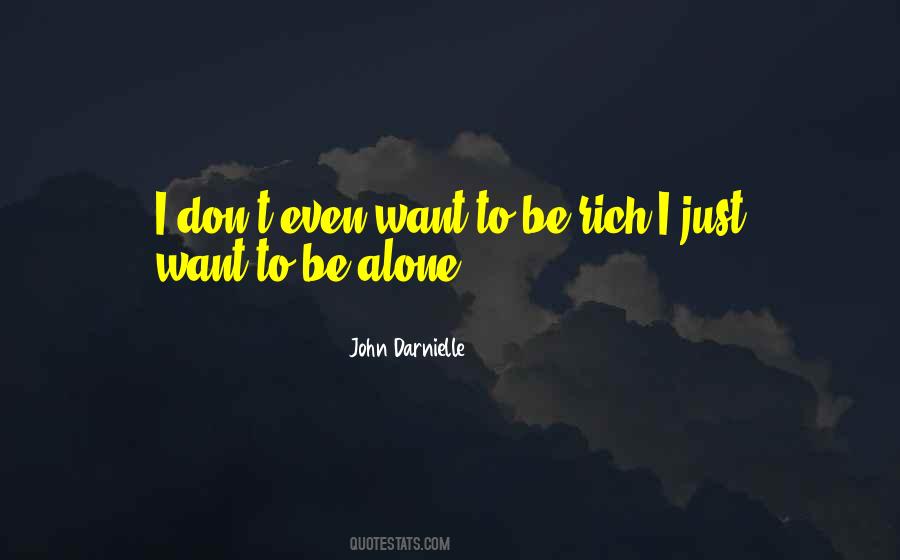 #32. I don't want to sound like a Hallmark card, but to be able to wake up each day with food and shelter, that alone is good. Forget aging and the fact that my butt is becoming a little more familiar with my knees than my tailbone. If you are six feet above ground it's a good day. So, give me more! - Author: Faith Hill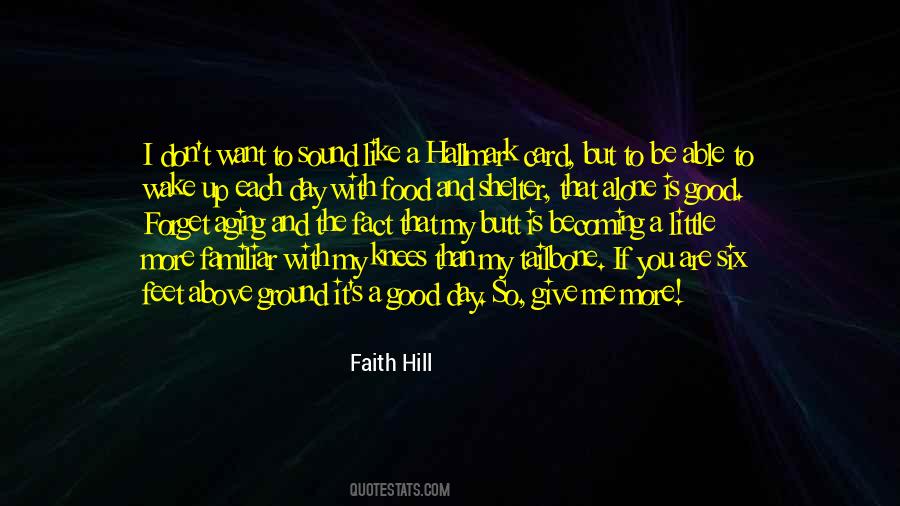 #33. As a child I felt myself to be alone, and I am still, because I know things and must hint at things which others apparently know nothing of, and for the most part do not want to know. - Author: C. G. Jung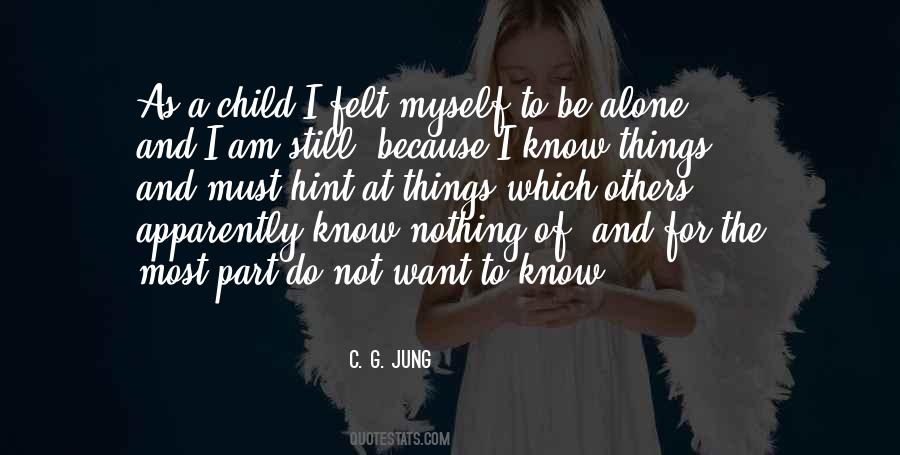 #34. I was trying so hard to be okay. I didn't want to be that girl, drifting in the water, lost and alone, wishing the tide would pull her out to sea. I was fighting to move forward, struggling to be better. But I didn't know how. - Author: Rebecca Donovan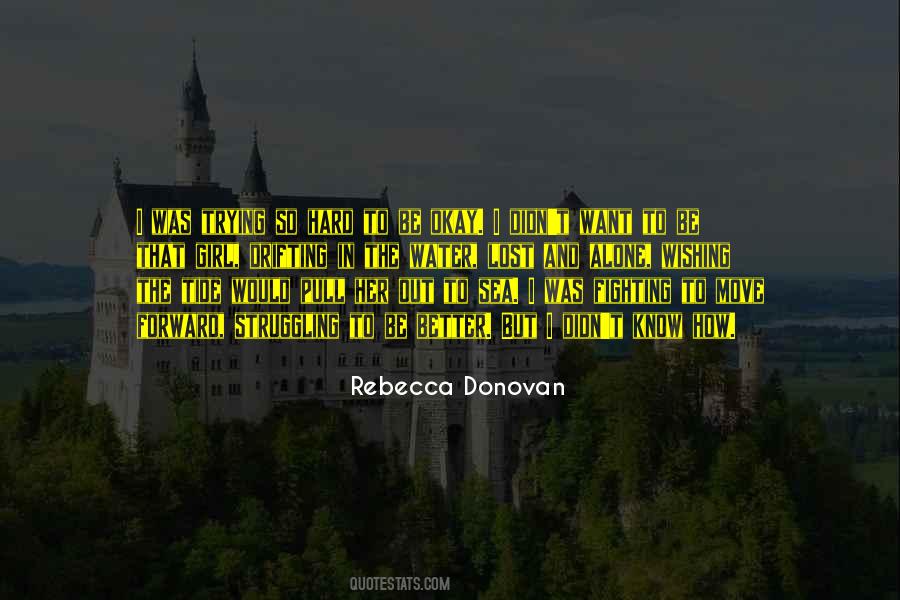 #35. I think I'll be single my whole life. It's entirely possible I'm going to end up alone. Because I don't want to make any sacrifices for my own development and achieving what I want to achieve, and I don't want a family to get in the way of that. - Author: Olga Kurylenko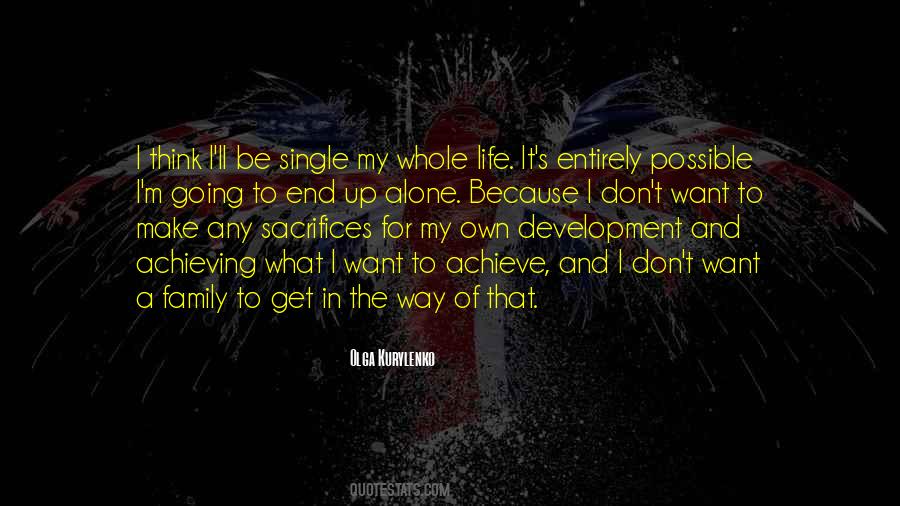 #36. Stay with me; I want to be alone - Author: Joey Lauren Adams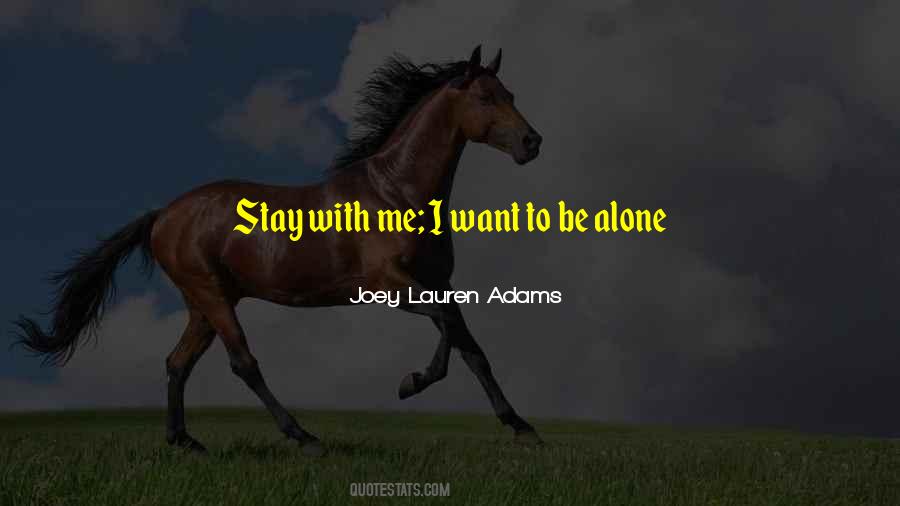 #37. I don't know, maybe I just wanted to be alone. Maybe I just didn't want to be social because antisocial people have a whole lot less to lose. - Author: Chris Bohjalian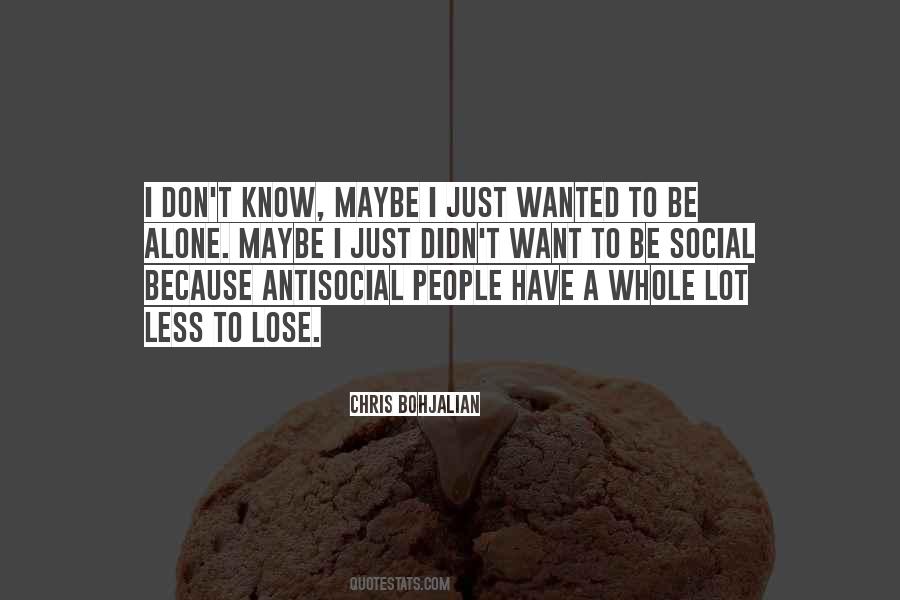 #38. I don't want to be alone anymore. - Author: Helena Hunting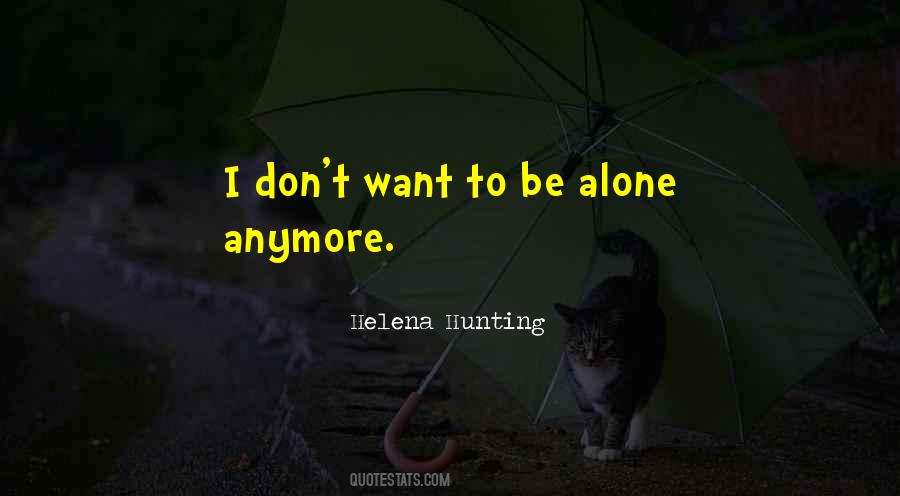 #39. -That's kind of sad.
-I used to think so. Now I think: you're born a certain way. Later you get to decide how much you want to fight/change that. I don't mind being alone.
-You must mind. If you didn't you wouldn't be doing this with me. - Author: Doug Dorst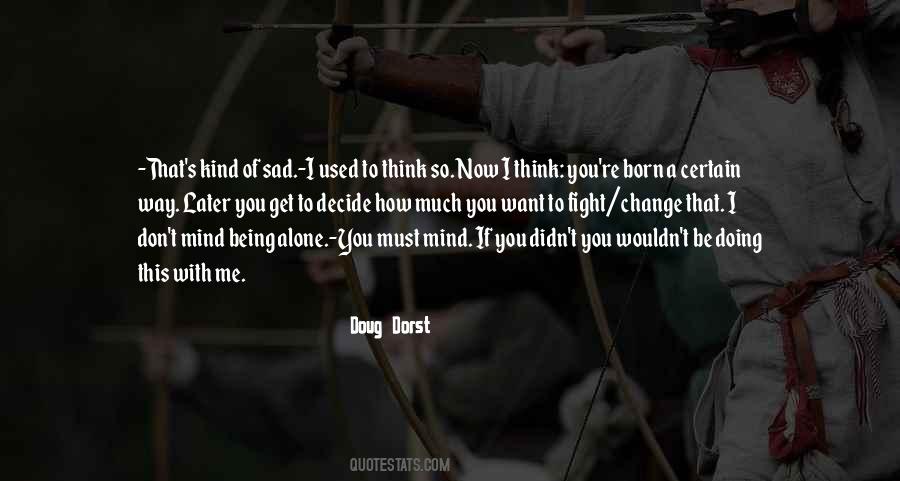 #40. I've always had a huge fear of dying or becoming ill. The thing I'm most afraid of, though, is being alone, which I think a lot of performers fear. It's why we seek the limelight - so we're not alone, were adored. We're loved, so people want to be around us. The fear of being alone drives my life. - Author: Jennifer Lopez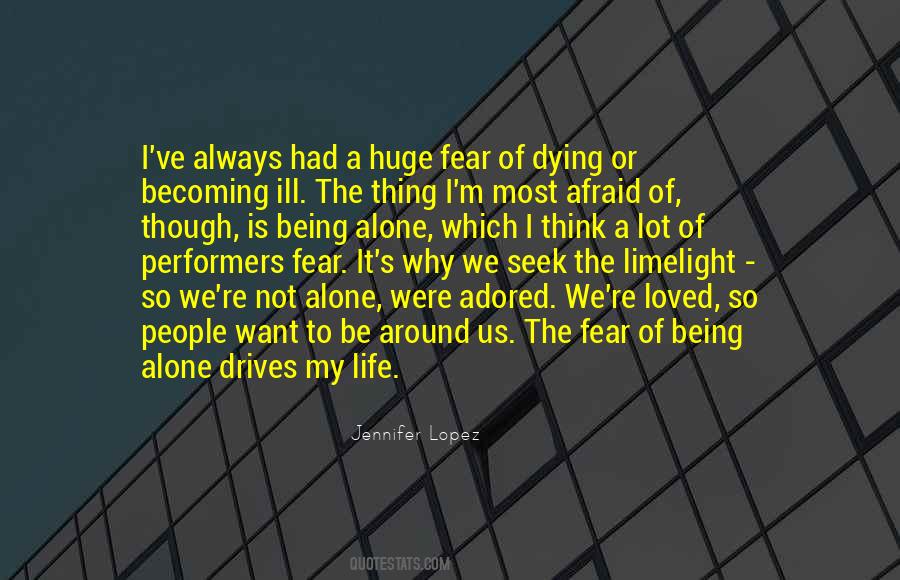 #41. I don't want to be alone; the thing I love about acting is the other people you're doing it with. - Author: Martin Freeman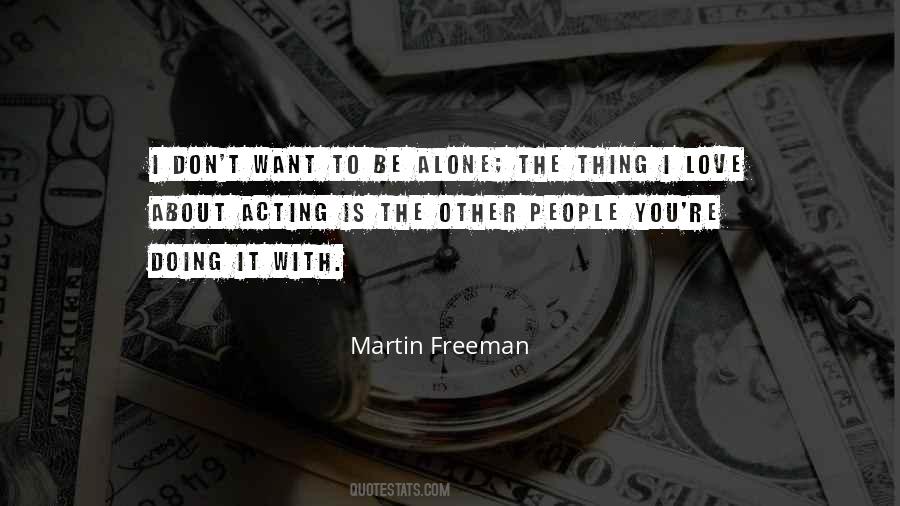 #42. Now I no longer wish to be loved, beautiful, happy or successful. I want one thing and one thing only - to be left alone. - Author: Jean Rhys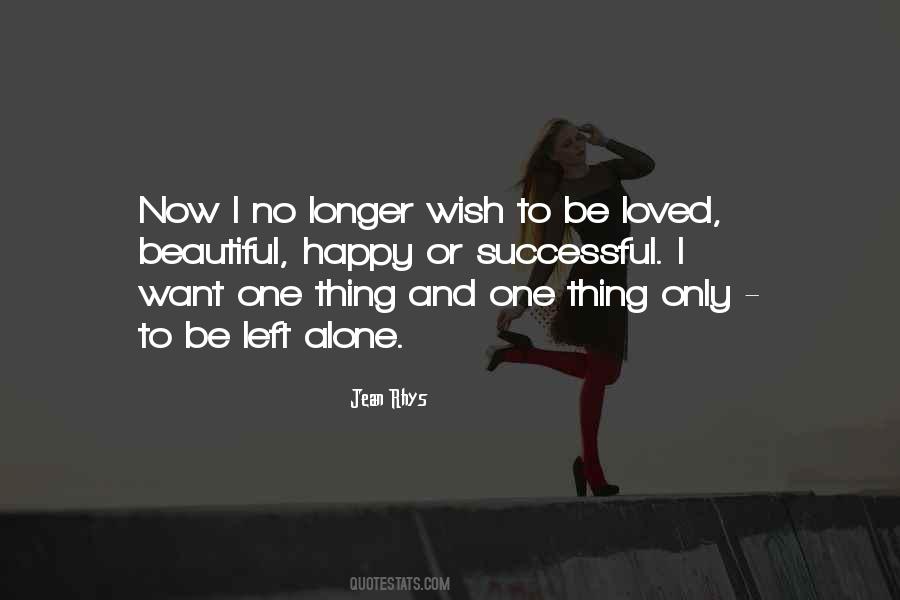 #43. Shae-Lynn, come on. You know I didn't mean for it to happen that way. I was just trying to do right by you."

"Doing right by me would have been respecting my wishes and keeping your promises. Leave me alone, Billy. I don't want to be friends with someone I can't depend on. - Author: D.R. Graham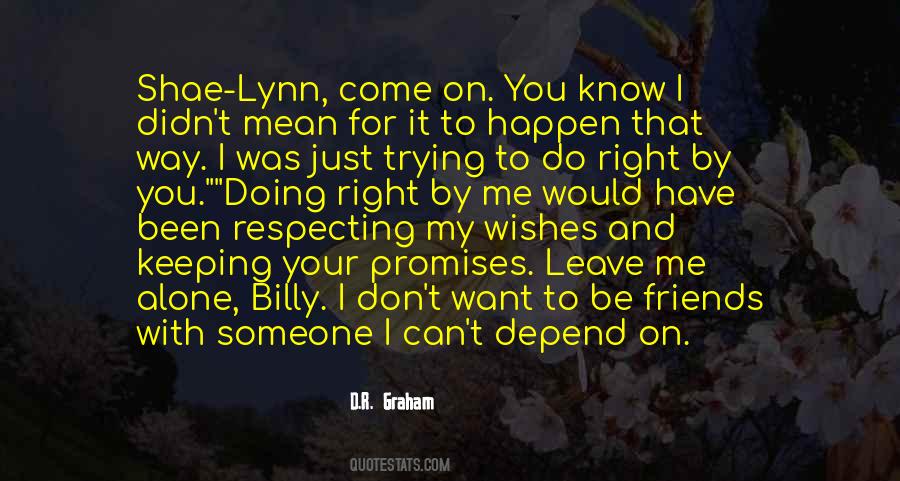 #44. Kiss me, Zach." I pressed up against him, cold and alone. I didn't want to fight. I wanted to be warm and safe again, "Kiss me. - Author: Ally Carter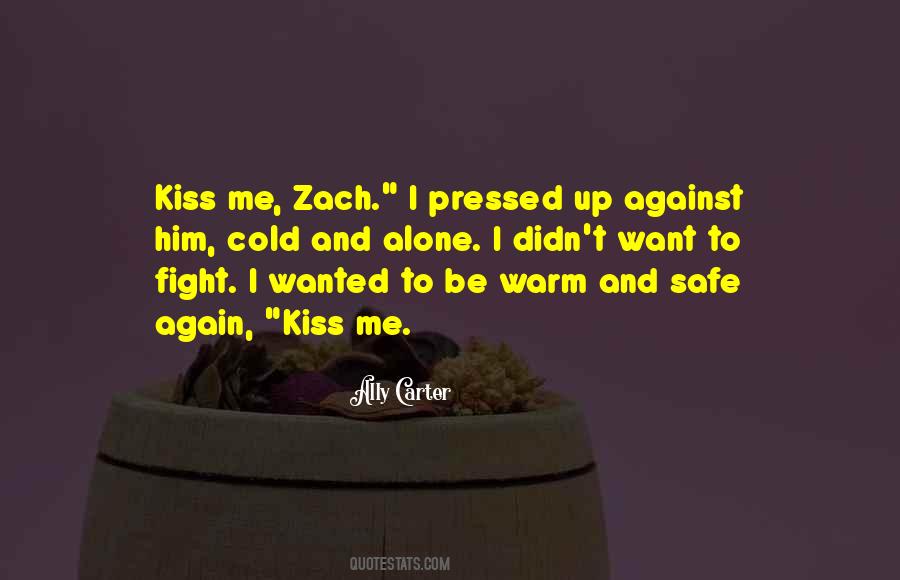 #45. I'm the guy who's right for you. I may not be what you're looking for, but I'm what you want. You've been alone long enough, honey. It's time for you to wake up with a man in your bed. Time for the kind of sex that lays you out, owns you, leaves you too shaky to pour your morning coffee. - Author: Lisa Kleypas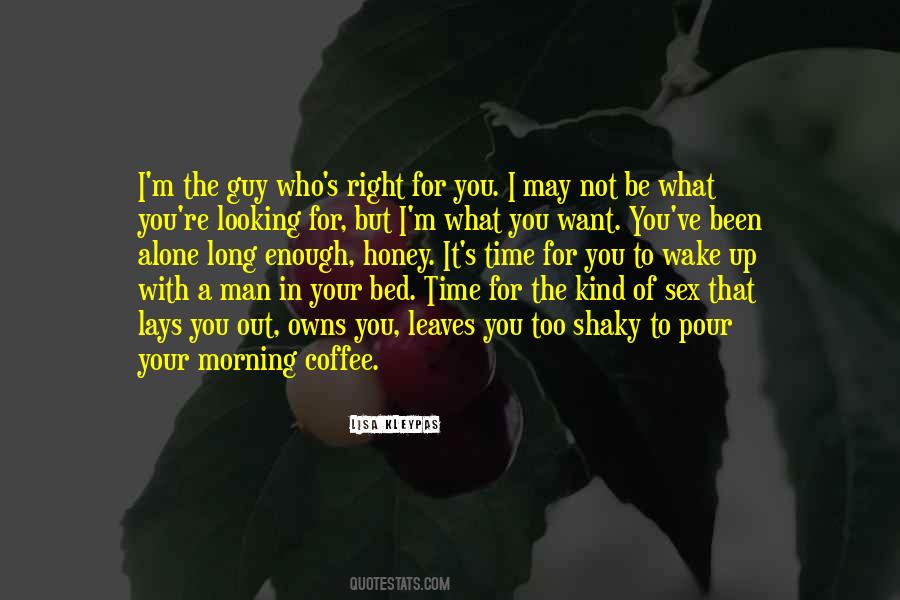 #46. I wanted someone above me in the chain of life. I didn't want to be alone, a single blue egg in a crumbling nest. - Author: Kathy Hepinstall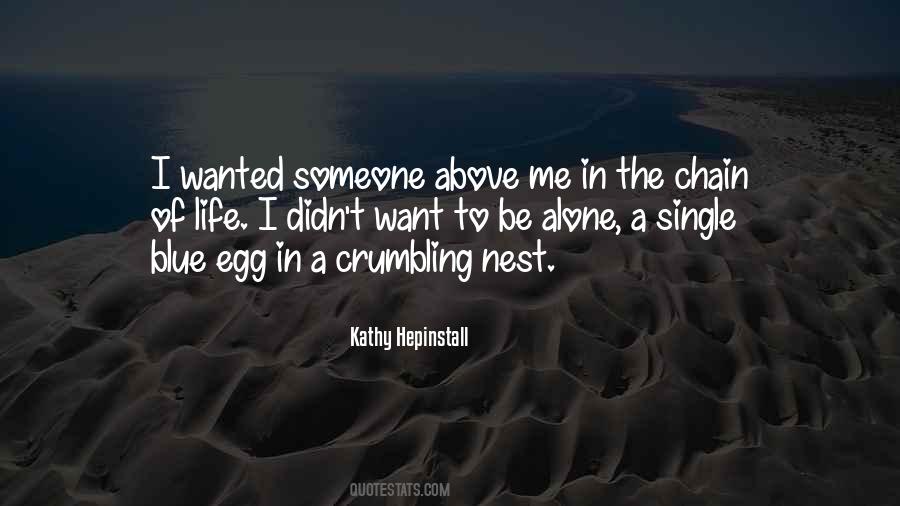 #47. I'm definitely one of those actresses who comes to a set knowing how I want to do a scene, and I definitely love input from my directors and my writers. I know that there's some actors who like to be left alone, they like to be very independent, but I actually really enjoy the teamwork. - Author: Summer Glau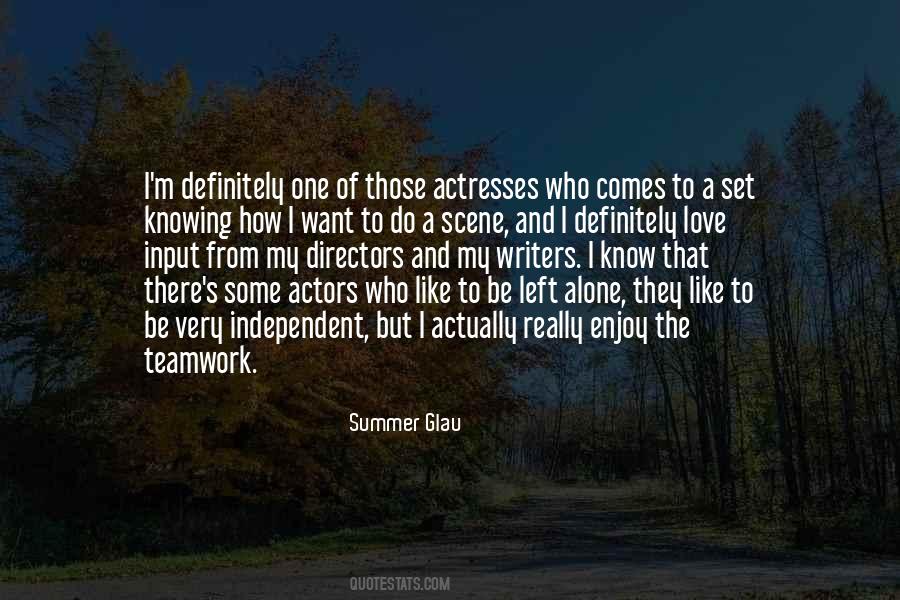 #48. I want to do something absolutely different, or perhaps nothing at all: just stay where I am, in my home, and absorb each hour, each day, and be alone; and read and think; and walk about the garden in the night; and wait, wait... - Author: Rosamond Lehmann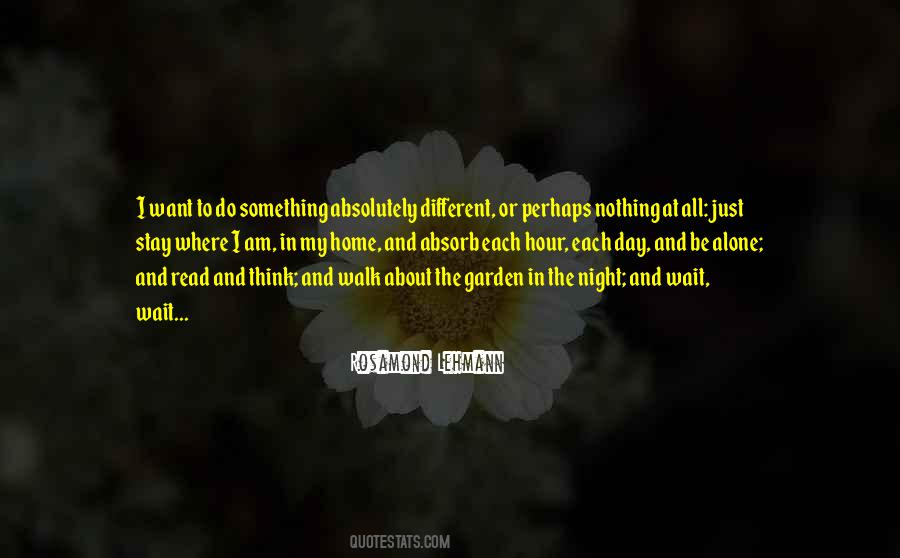 #49. I don't mean to step on anyone's toes, and I don't mean to seem arrogant, but if you want to be foreverly remembered as anything great you have to live your life alone, hated, ignored, and character assassinated, and if you believe this to be true than you truely are a hater. - Author: B.L. Kennison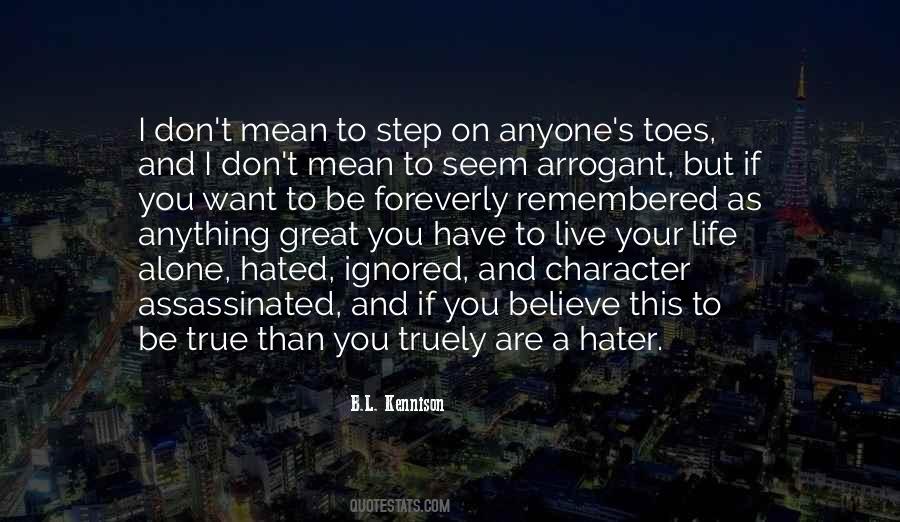 #50. I came to you, Jane. Every night this week, I came to you. I didn't want you to be alone. And I didn't want to sleep without you. -Vishous - Author: J.R. Ward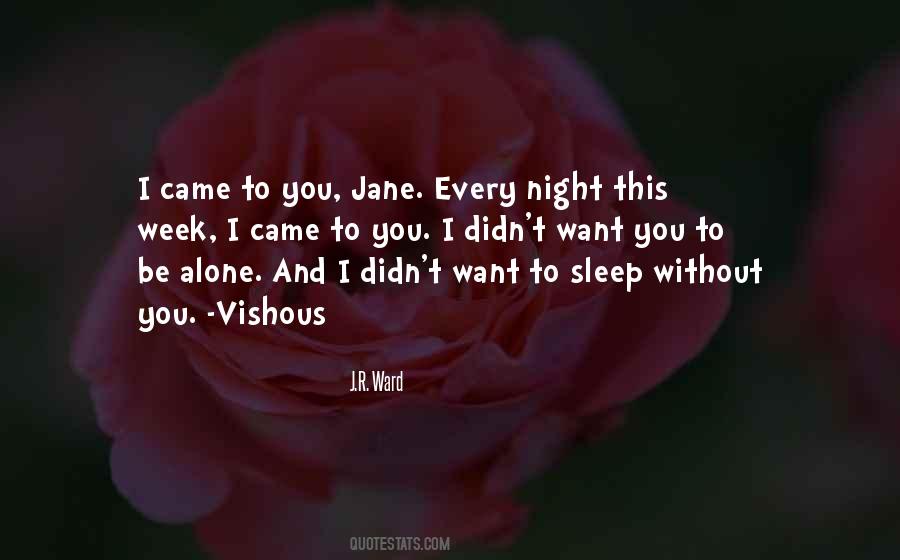 #51. When you lick me," he said roughly, "I want to be alone - far away from everyone. Because when you lick me, Feyre," he said, pressing nipping kisses to my jaw, my neck, "I'm going to let myself roar loud enough to bring down a mountain. - Author: Sarah J. Maas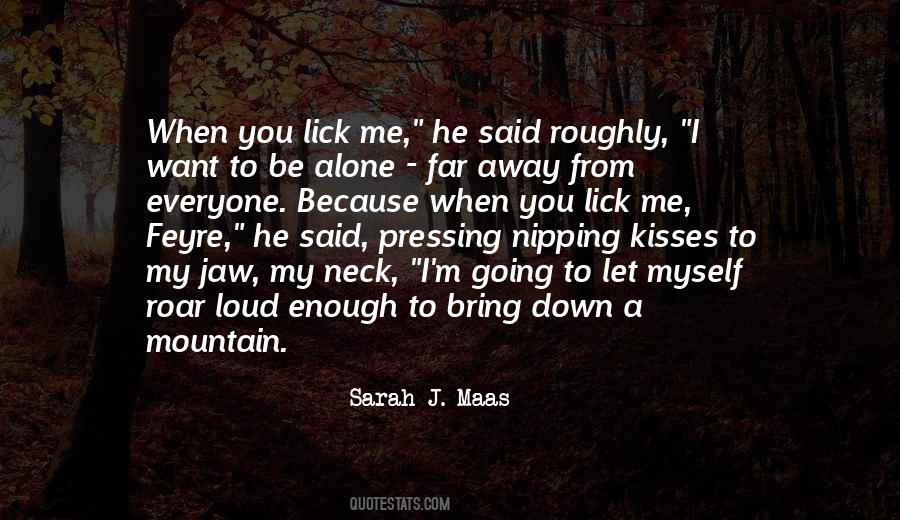 #52. I've been watching you and Roar. Wanting it to be me training with you." His shoulders came up. "I don't want to do it now."
"Why?" Aria's voice was high and thin.
He smiled, a flash of shyness, before he leaned close. "There are other things I'd rather do when I'm alone with you. - Author: Veronica Rossi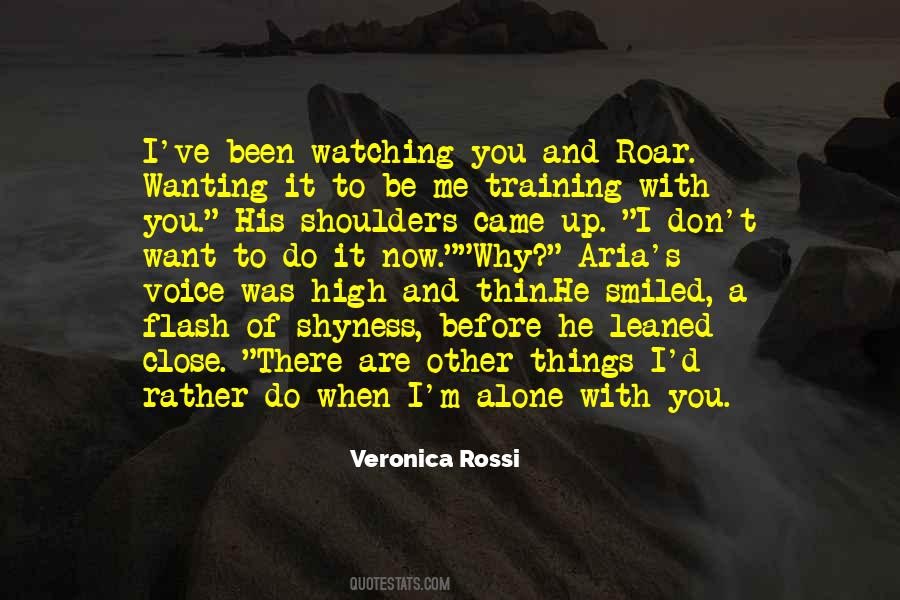 #53. Jesse rounded forward under the towel and cozied his feet in the bath water. It was as if no one else were around and Jesse was once again alone and at ease with his meditations. He said, "I can't figure it out: do you want to be like me, or do you want to be me? - Author: Ron Hansen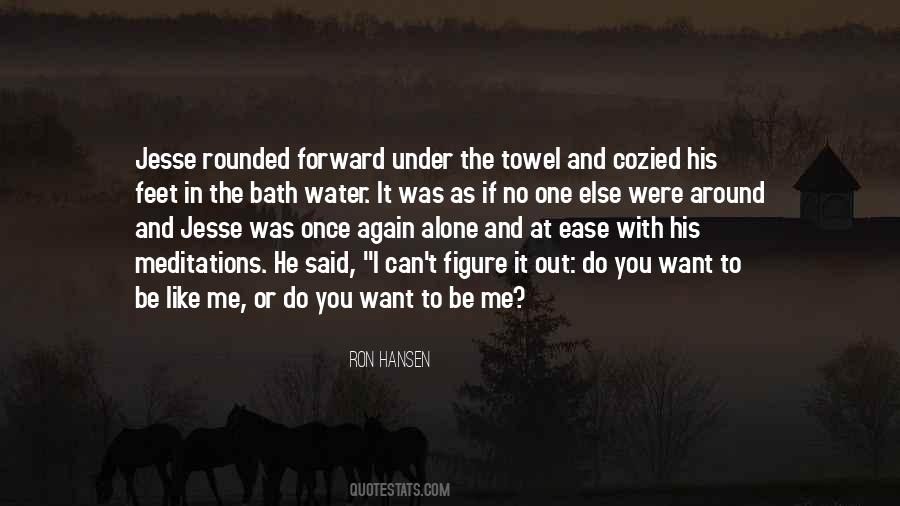 #54. Sing me to sleep, sing me to sleep. I'm tired and I want to go to bed. SIng me to sleep, sing me to sleep, and then leave me alone. Don't try to wake me in the morning because I will be gone. Don't feel bad for me. I want you to know, deep in the cell of my heart, I will feel so glad to go. - Author: The Smiths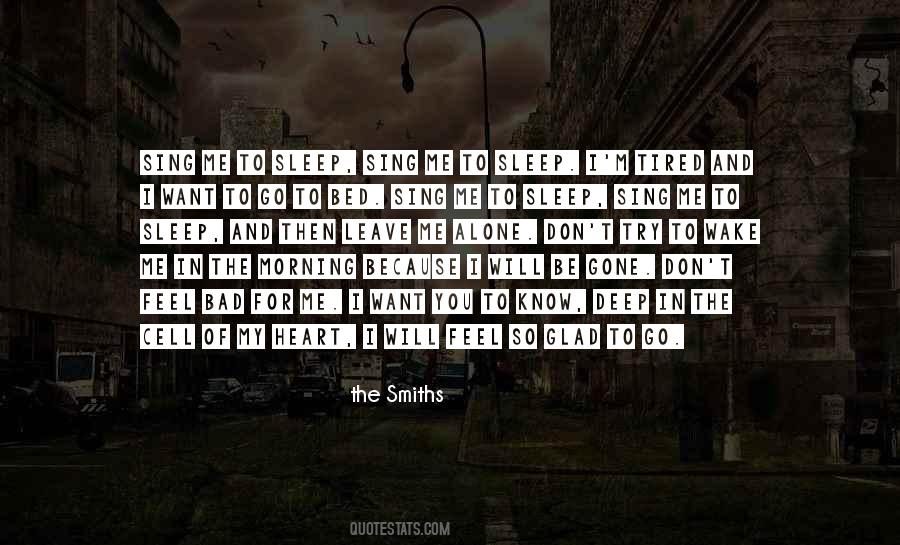 #55. Sometimes I open or close the store. I have keys. I can go in any time I want. Some days, when it's my duty to open the store, I go in at eight o'clock, just to be alone and smell all those books around me. Each one is a door. Each one is a world. - Author: Robert Goolrick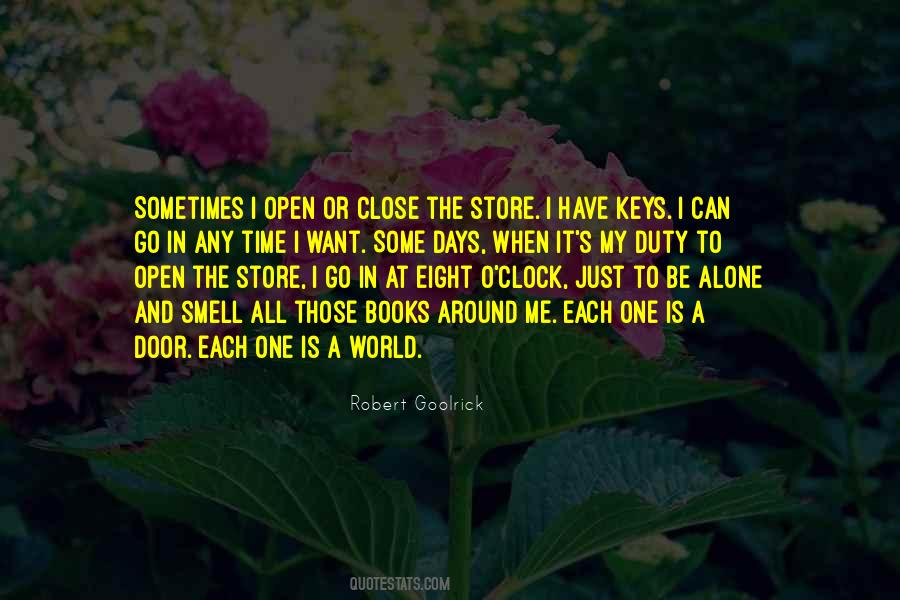 #56. It makes me feel shitty and alone. I don't want to be alone." He sagged. "But I think maybe I have to be. Even in a crowd of people, my heart will always ache." The statement resonated in the furthest hollows of Baz's soul. "Then we'll be lonely hearts together. - Author: Heidi Cullinan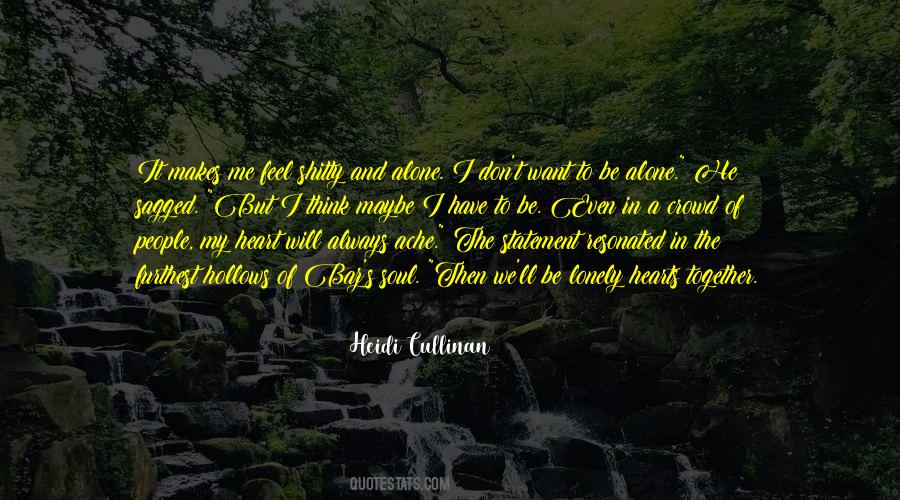 #57. I don't want to make a mistake and marry the wrong woman. I'd rather be alone. - Author: Danielle Steel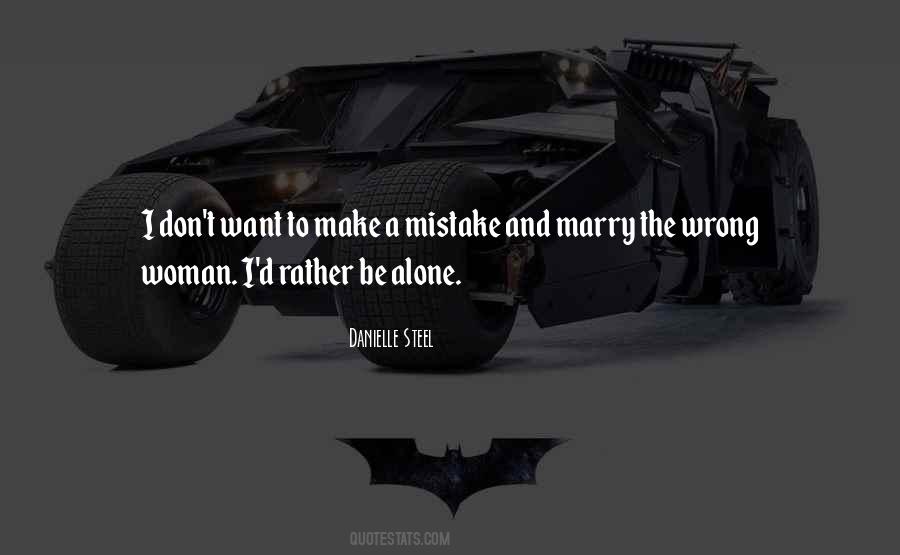 #58. Being single is about celebrating and appreciating your own space that you're in. I couldn't have lived alone before. I always needed someone to share my space but now I like being by myself. If I want to be with people then I see my friends; if I want a date then I'll have one. - Author: Kelly Rowland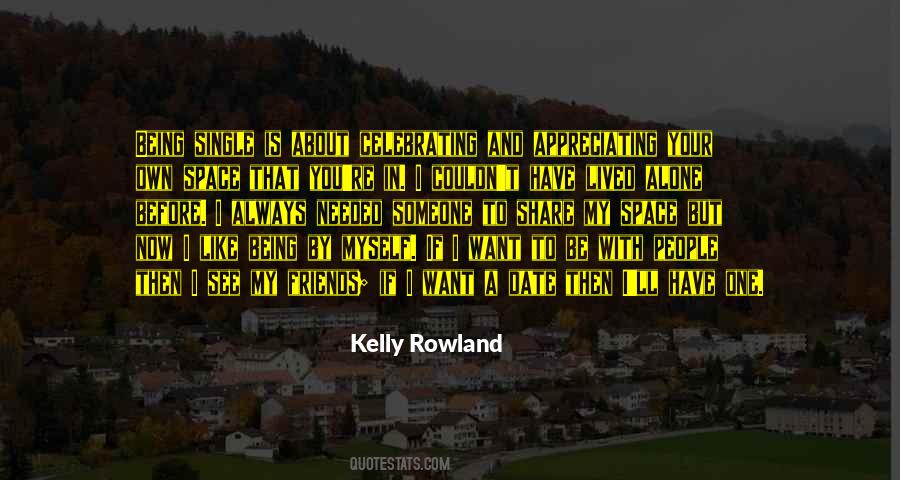 #59. The world has become lovelier. I am alone, and I don't suffer from my loneliness. I don't want life to be anything other than what it is. I am ready to let myself be baked in the sun till I am done. I am eager to ripen. I am ready to die, ready to be born again. The world has become lovelier. - Author: Hermann Hesse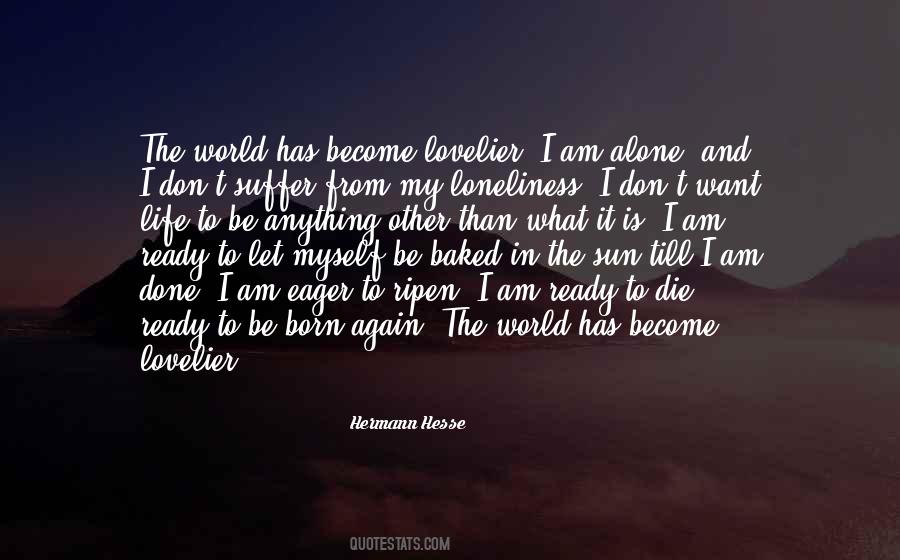 #60. I write poetry because I want to be alone and want to talk to people. - Author: Allen Ginsberg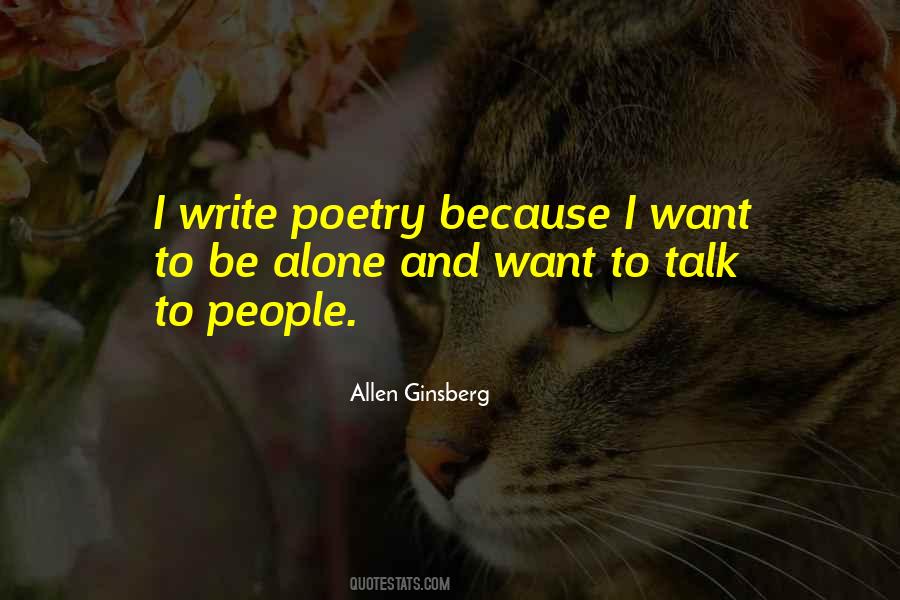 #61. Can I say hello?
Why?
I don't want you to be alone! - Author: Deyth Banger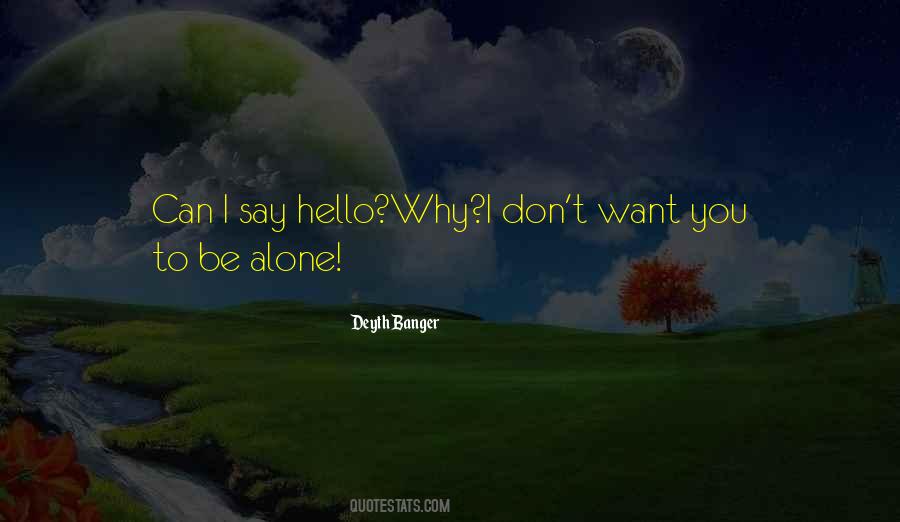 #62. And I'm not going to get any thinner or any younger, my ass is going to hit the ground, if it hasn't already
and I want to be with somebody who can still see me in here. I'm still in here. And I don't want to be resented or despised for changing ... I'd rather be alone. - Author: Zadie Smith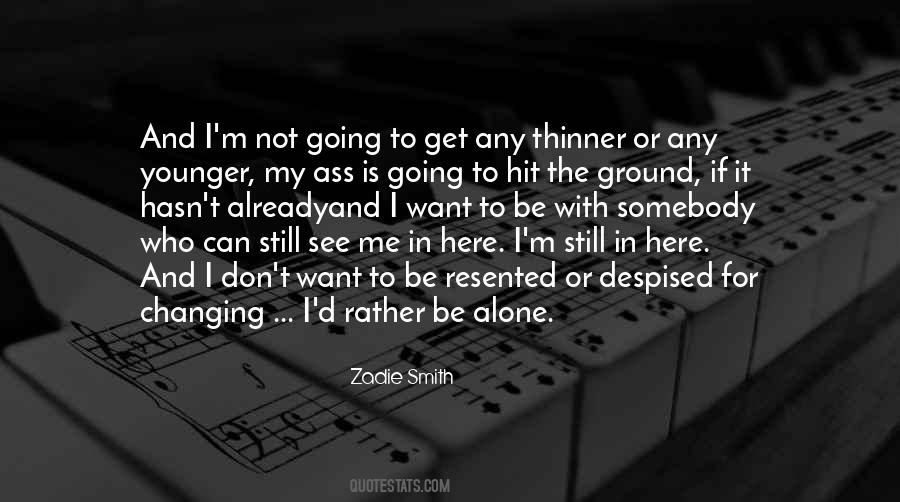 #63. We are not creatures designed to be alone. We can get by on our own, that's true, but I don't want to get by. I want to touch the clouds." ~ Maggie - Author: Pamela Sparkman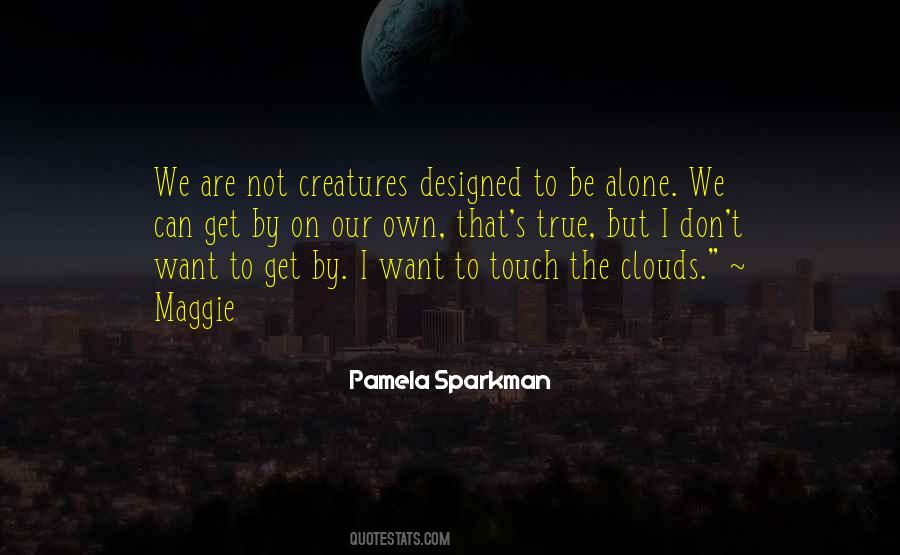 #64. I'd forgotten this about women: so many conditions. A man shouldn't take them to heart, and yet he does, because he doesn't want to be alone. - Author: Walter Kirn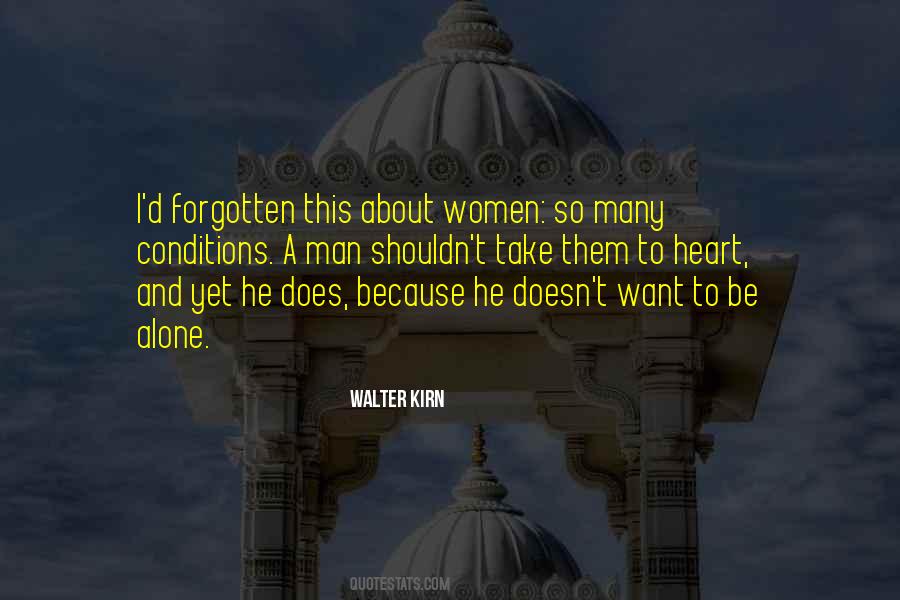 #65. I didn't want to be alone anymore," he whispers, lying back down on his side facing away from me.
I have no words. - Author: Dannielle Wicks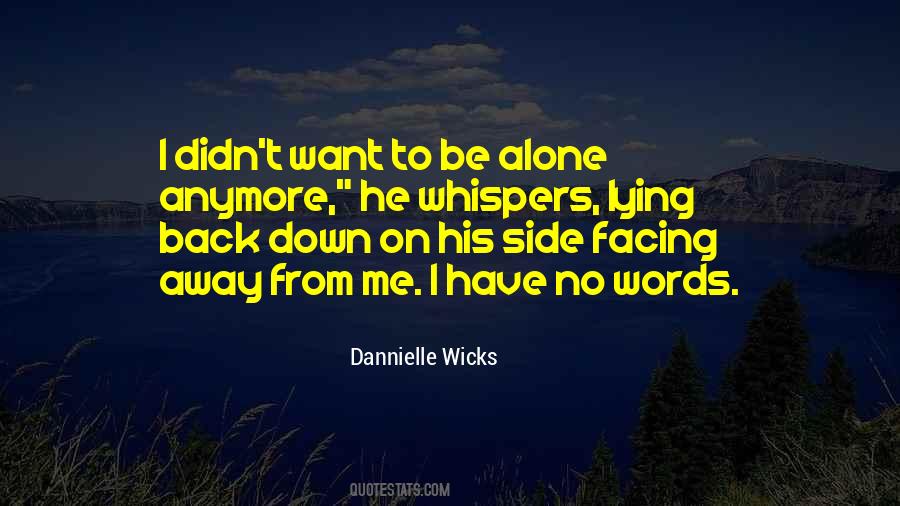 #66. If I'm to change my life for you, I've got to have some hope."
"I don't want you to change your life for me. You'll have to make the same decision every day, over and over - it must be for yourself alone. - Author: Lisa Kleypas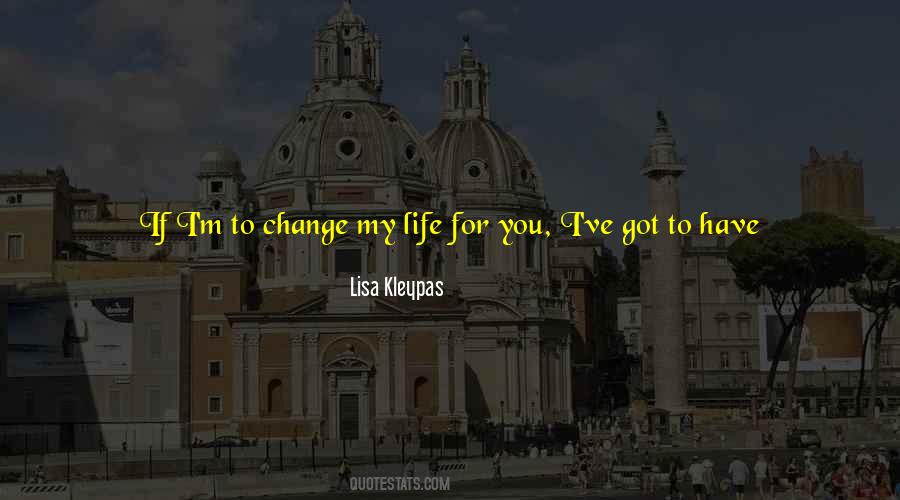 #67. I know what men want. Men want to be really, really close to someone who will leave them alone. - Author: Elayne Boosler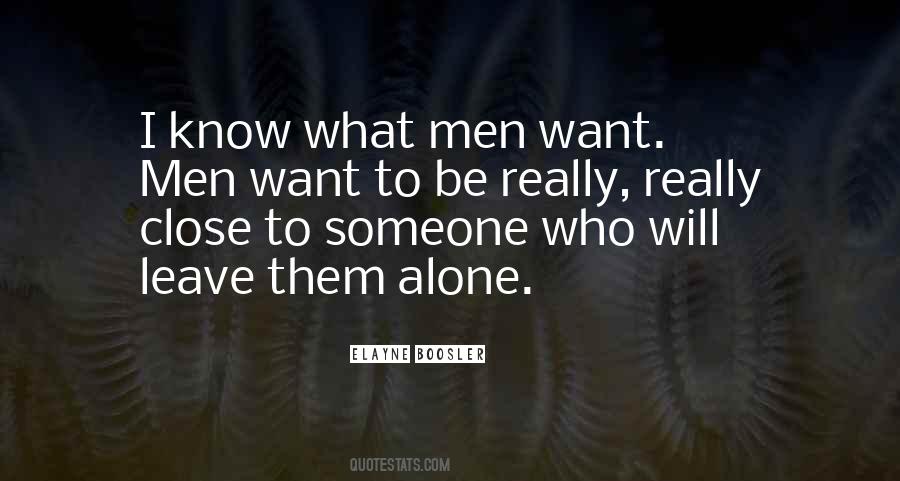 #68. I don't want to fight for the people, I don't want to fight against the people, I don't want to hear of the people. I want to be left alone - to live. - Author: Ayn Rand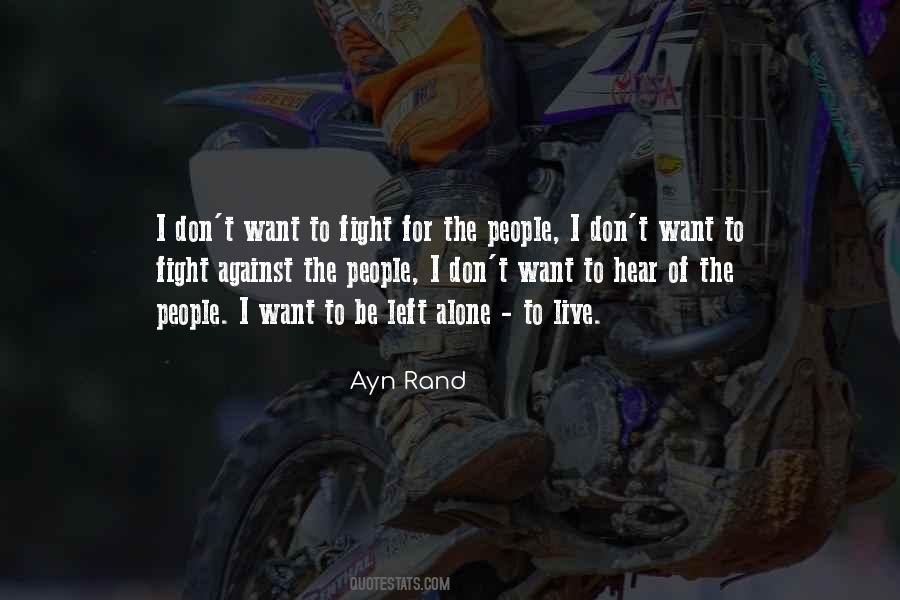 #69. In that case, maybe you'd be so kind as to leave me alone and let me sleep?"
"I want to talk to you."
Lords of hell. More talking. - Author: M.J. Scott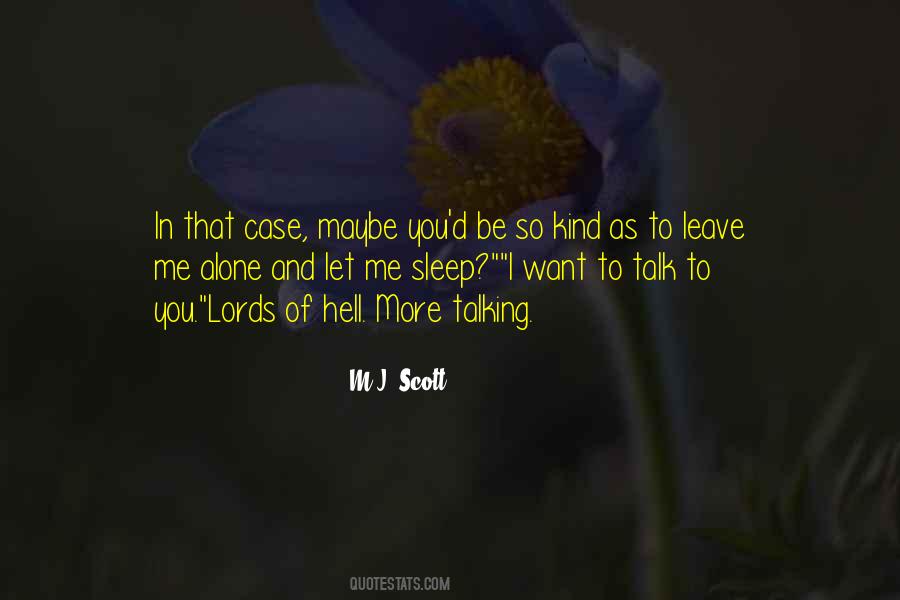 #70. I wanted to forget you, too," Sage said morosely. "Even now, I still do. With you right here in front of me. Even after last night. It still hurts to think about when you left. How it felt to be so alone. How much I don't want to care about you anymore. - Author: Sibylla Matilde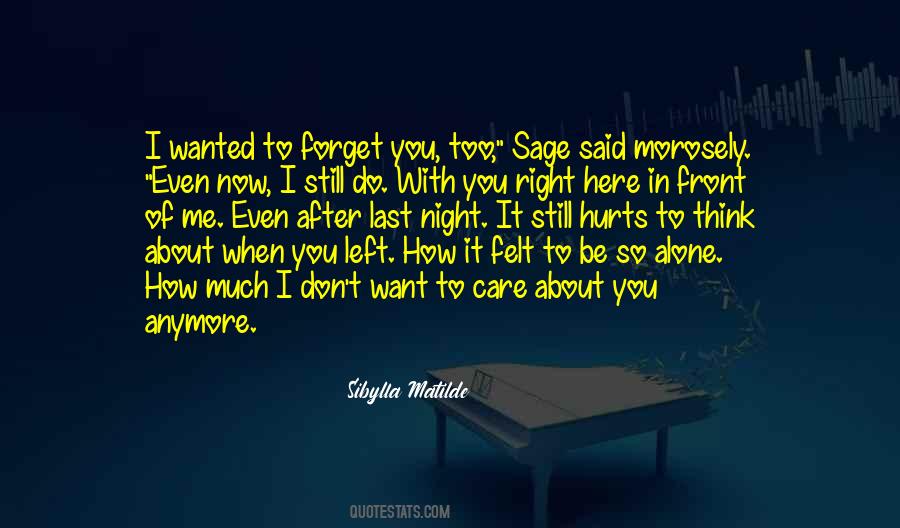 #71. I want to be alone. Sympathies wasted on my hollow shell. I feel there's nothing left to fight for. No reason for a cause. - Author: Sarah McLachlan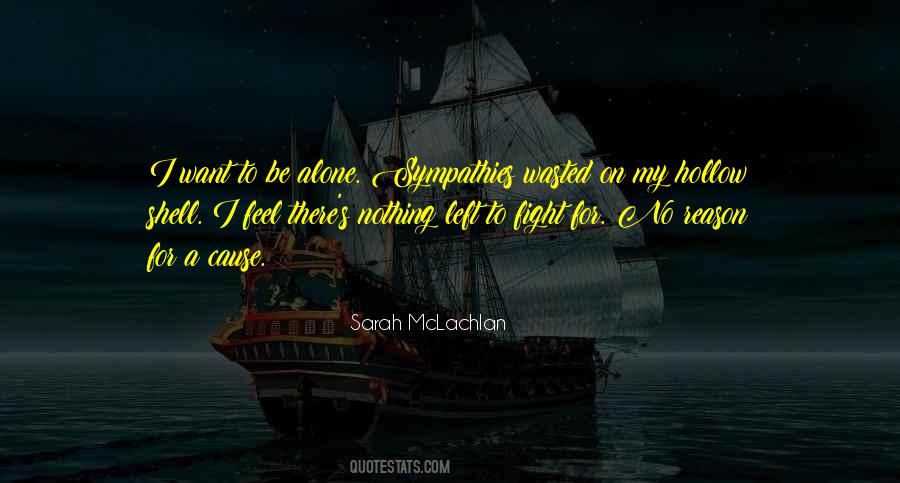 #72. I want to be alone ... with someone else who wants to be alone. - Author: Dimitri Zaik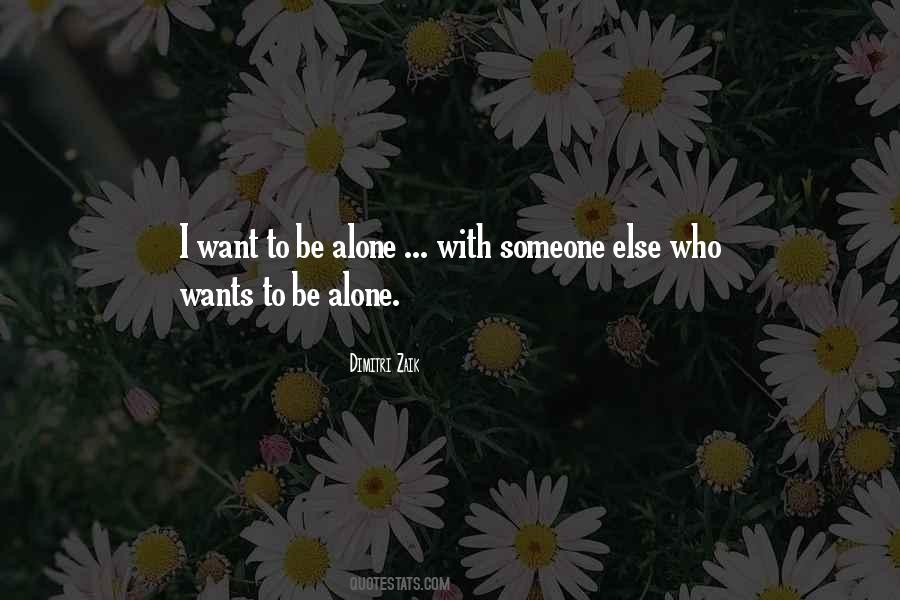 #73. The legacy I want to leave is a child-care system that says that no kid is going to be left alone or left unsafe. - Author: Marian Wright Edelman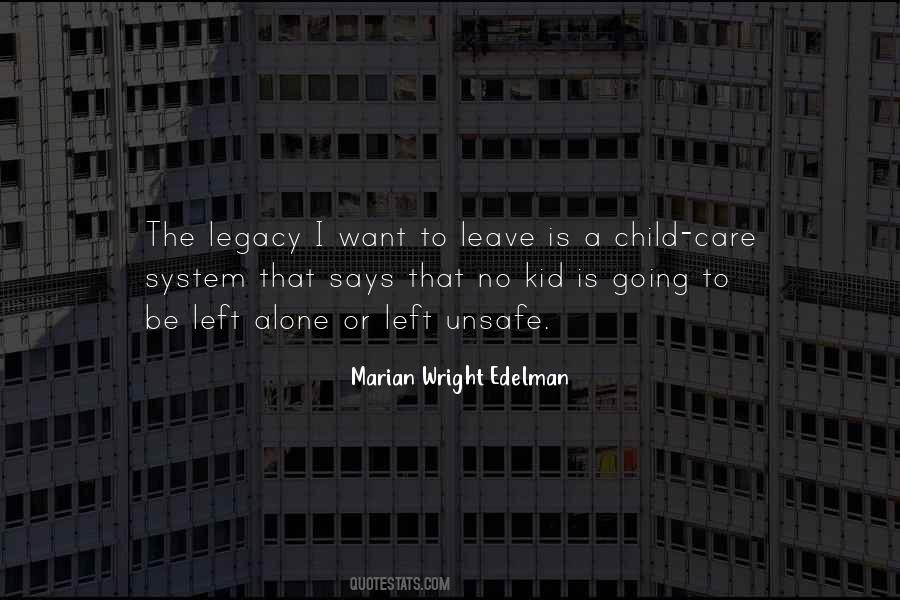 #74. It is much easier to fight through this thing called life with someone, as opposed to fighting alone. I absolutely want to be a wife and to come home to somebody who I know adores me. - Author: LisaRaye McCoy-Misick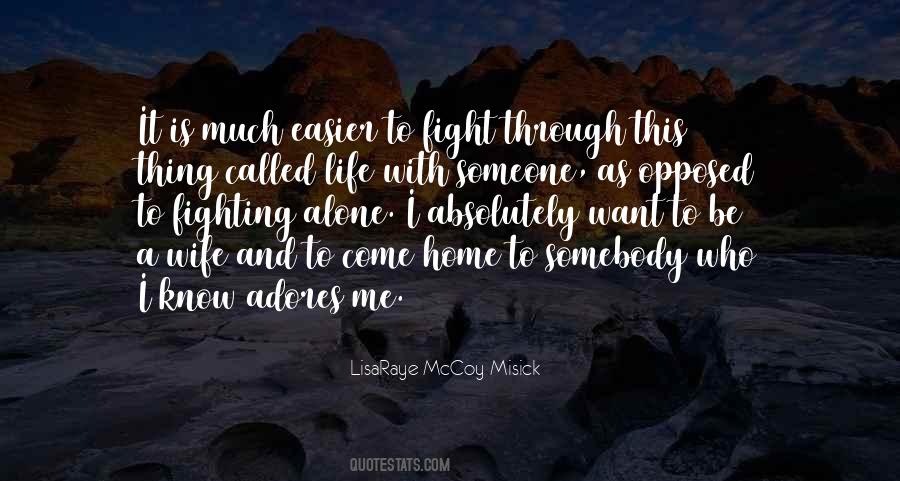 #75. I want to be with those who know secret things or else alone. - Author: Rainer Maria Rilke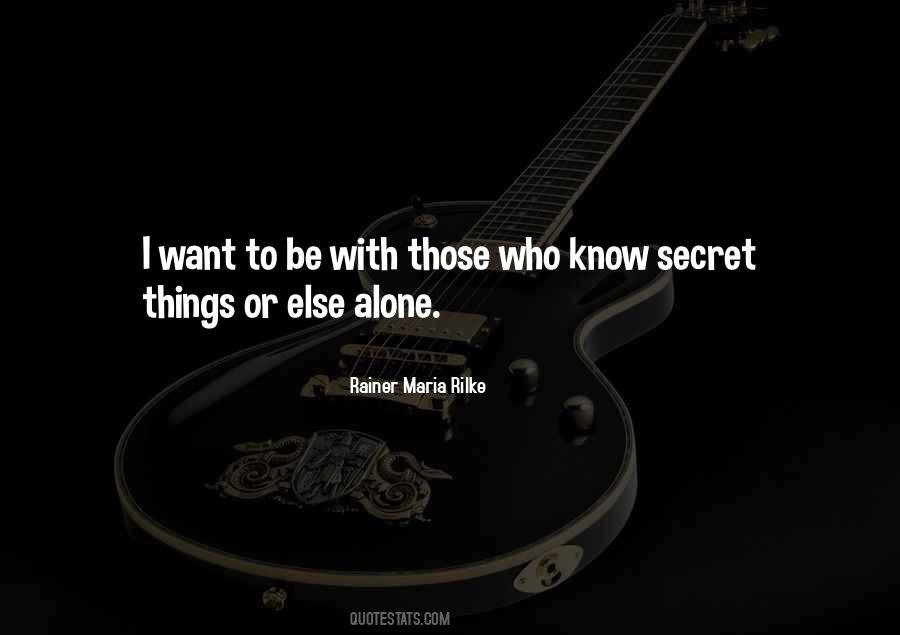 #76. I have an intense need to be alone. Father has noticed I'm not my usual self, but I can't tell him what's bothering me. All I want to do is scream 'let me be, leave me alone! - Author: Anne Frank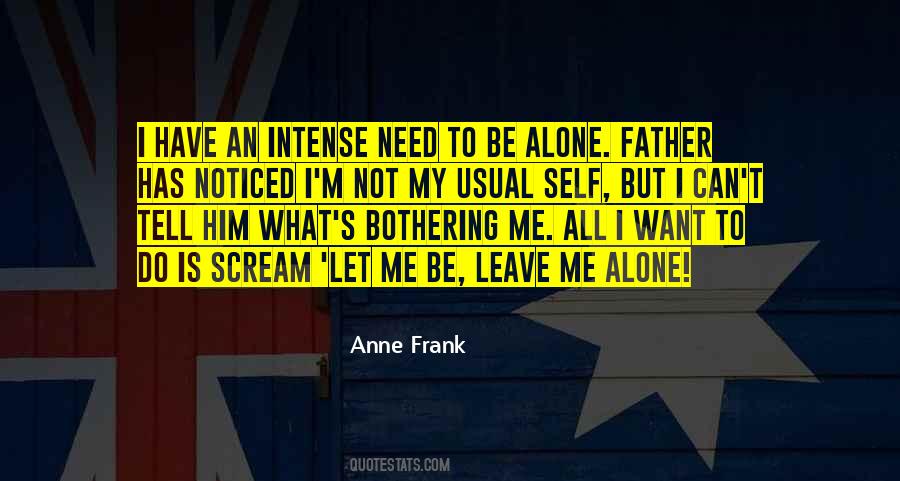 #77. I may feel like a social outcast but im not really one. I think im an outcast inasmuch as I want to be left alone by people I cant stand which isn't really the same thing as true social ostracization now is it? - Author: Megan McCafferty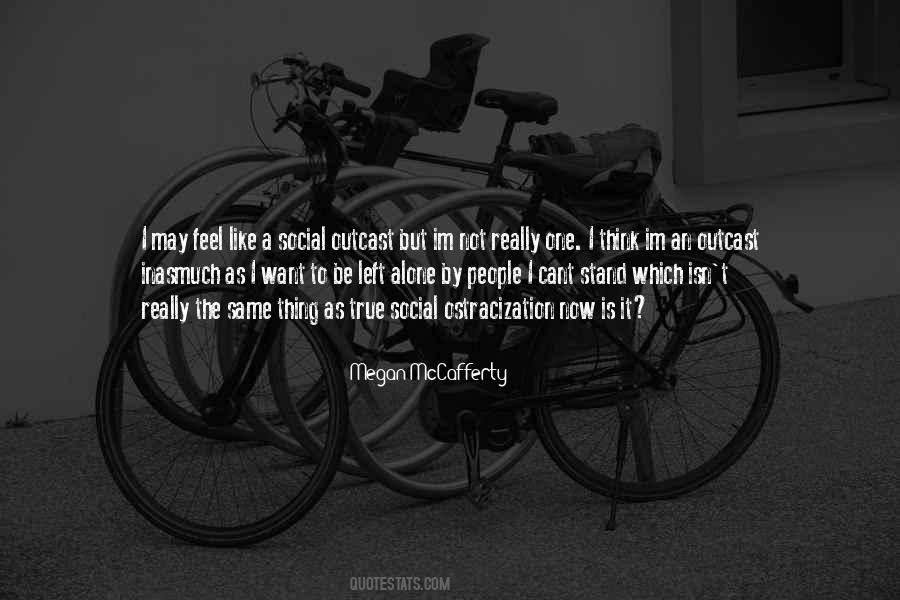 #78. I cannot love, I want to be alone
I will not love, I want to be alone - Author: Laura Marling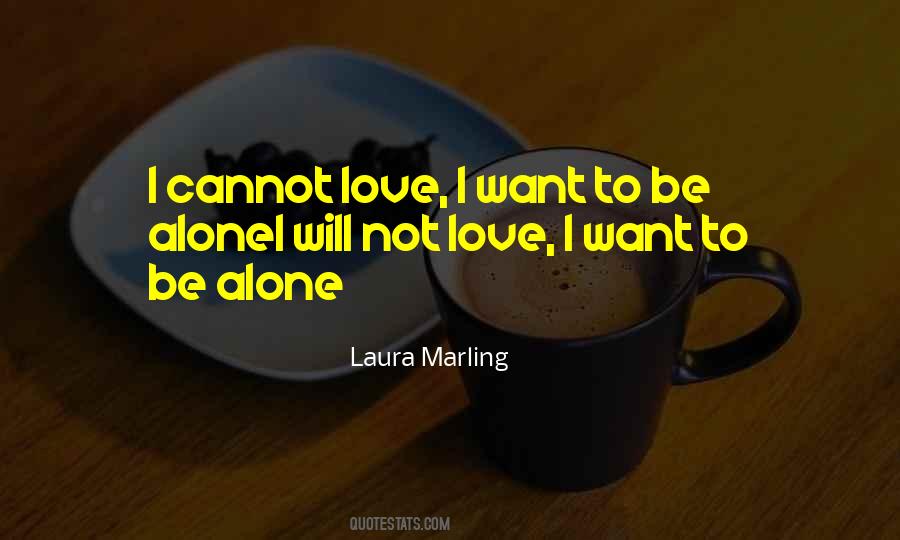 #79. I nod, understanding. "You won't find any comfort in death." I promised her. "It's a void. It's nothing. You only want to die if you desire that nothingness, If you don't want to be alone, that means you're still alive. There's hope. - Author: Avery Williams The Alchemy Of Forever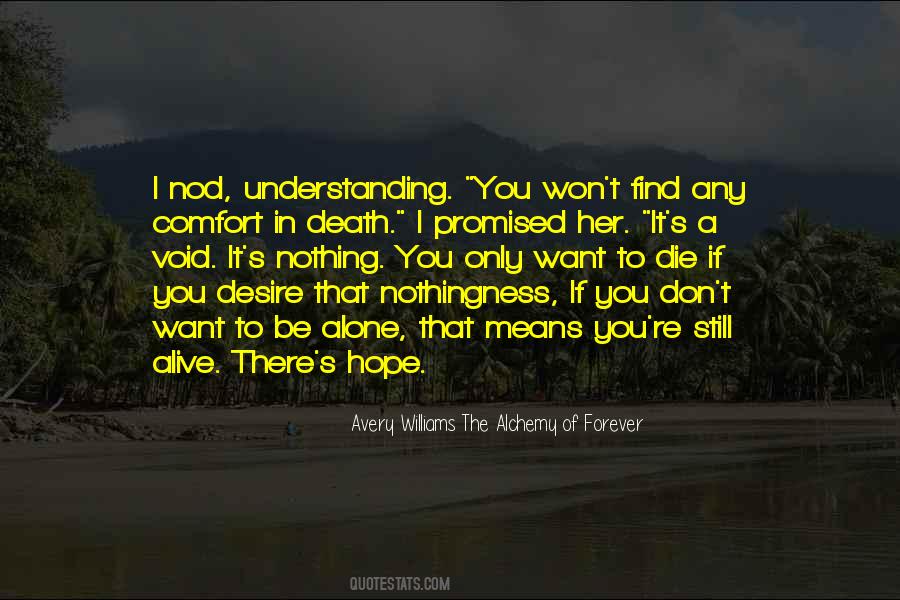 #80. She shouldn't be this close to Cole, not alone, not even when she was pissed beyond belief. It was too dangerous, since she had yet to find a cure for I-hate-you-but-I-want-to-fuck-your-brains-out-itis. - Author: Jennifer Bonds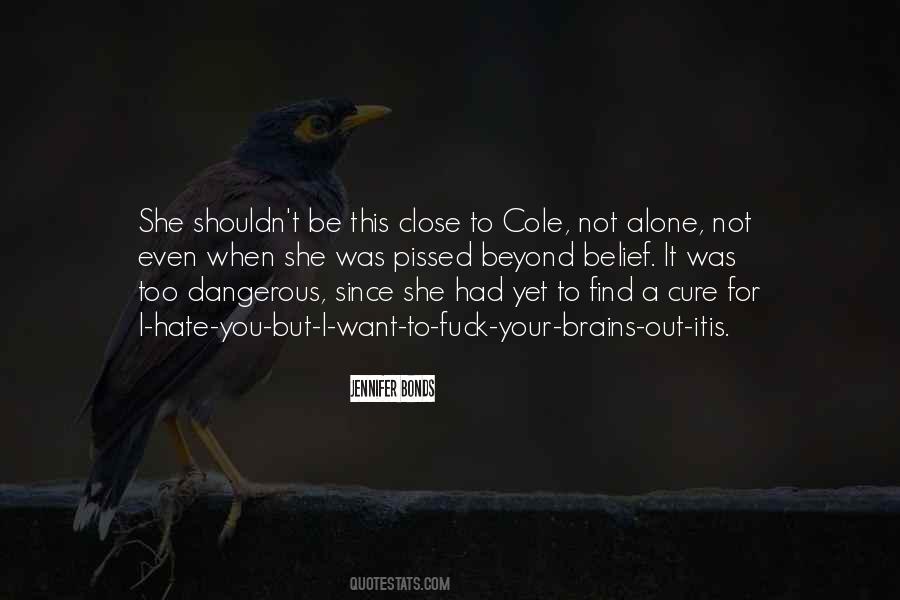 #81. I want to be alone and work until the day my heads hits the drawing table and I'm dead. Kaput. I feel very much like I want to be with my brother and sister again. They're nowhere. I know they're nowhere and they don't exist, but if nowhere means that's where they are, that's where I want to be. - Author: Maurice Sendak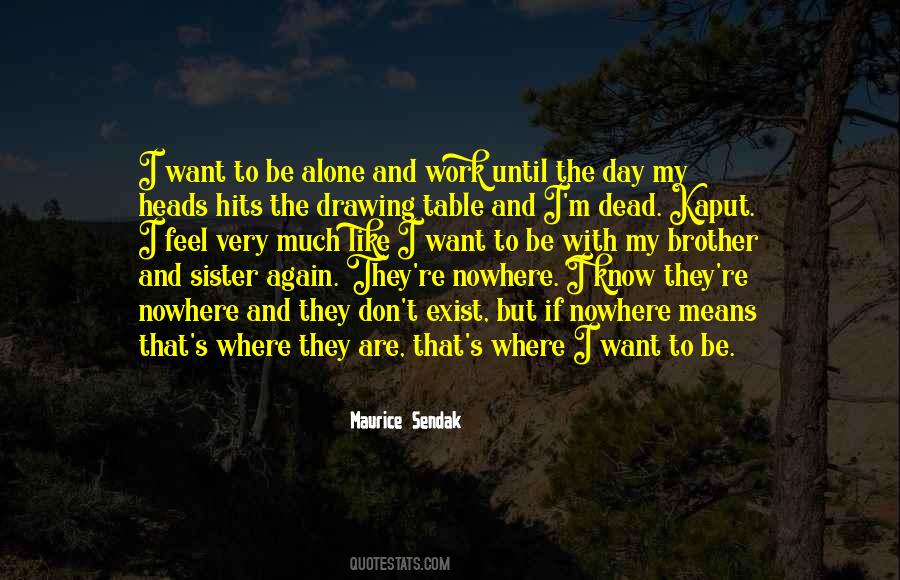 #82. Let your virtue be too high for the familiarity of names, and if you must speak of it, then do not be ashamed to stammer about it. Then speak and stammer: "This is my good, I love this, thus I like it entirely, thus alone do I want the good. I - Author: Friedrich Nietzsche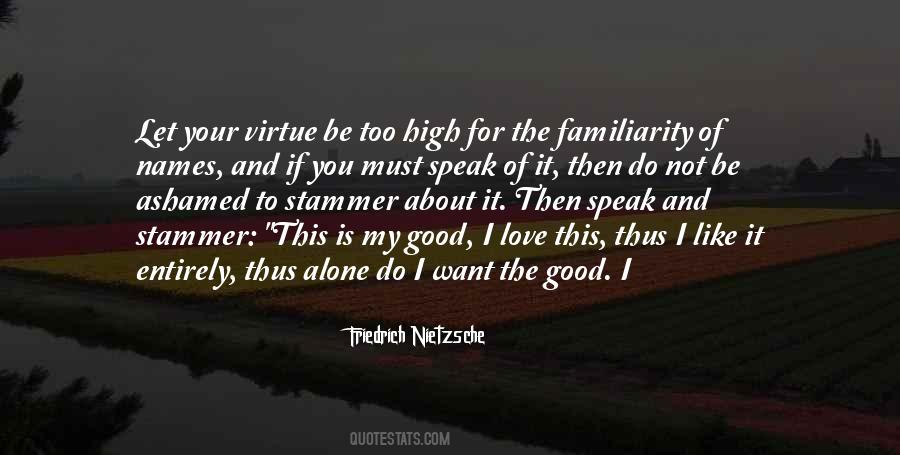 #83. I am alone again and I want to be so; alone with the pure sky and open sea. - Author: Friedrich Nietzsche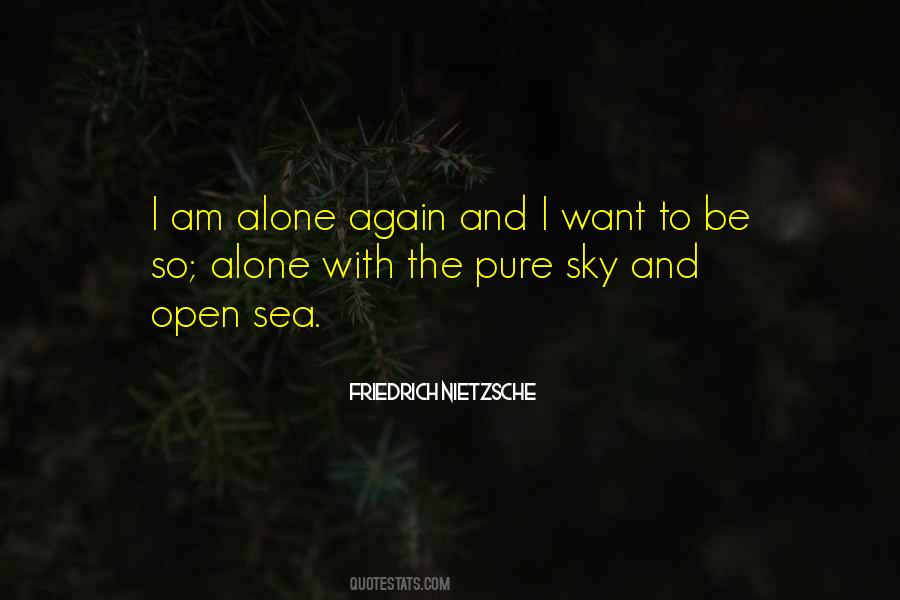 #84. What's the furthest corner? Because that's where I want to be, alone with the only thing that I love. - Author: Federico Garcia Lorca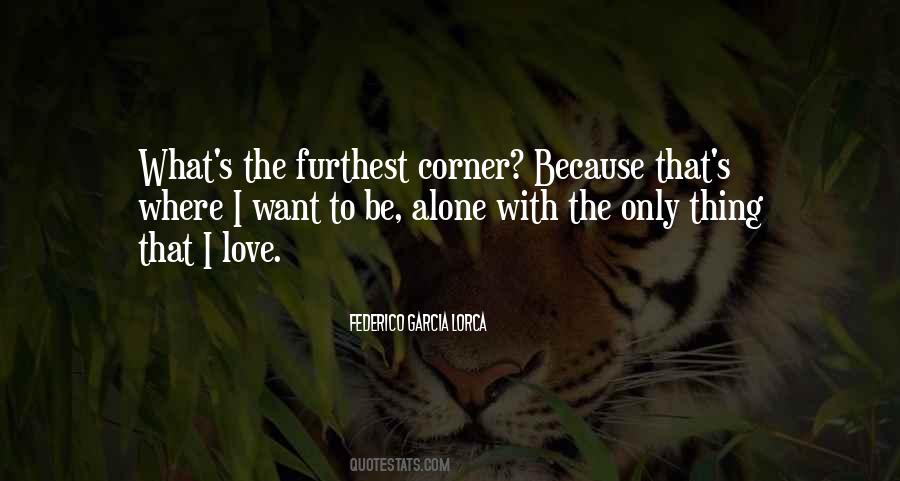 #85. Carmen: I want you to leave me alone, but not ignore me. I want you to miss me when I go away to college, but not be sad. I want you to stay exactly the same, but not be lonely or alone. I want to do the leaving, and not have you ever leave me. - Author: Ann Brashares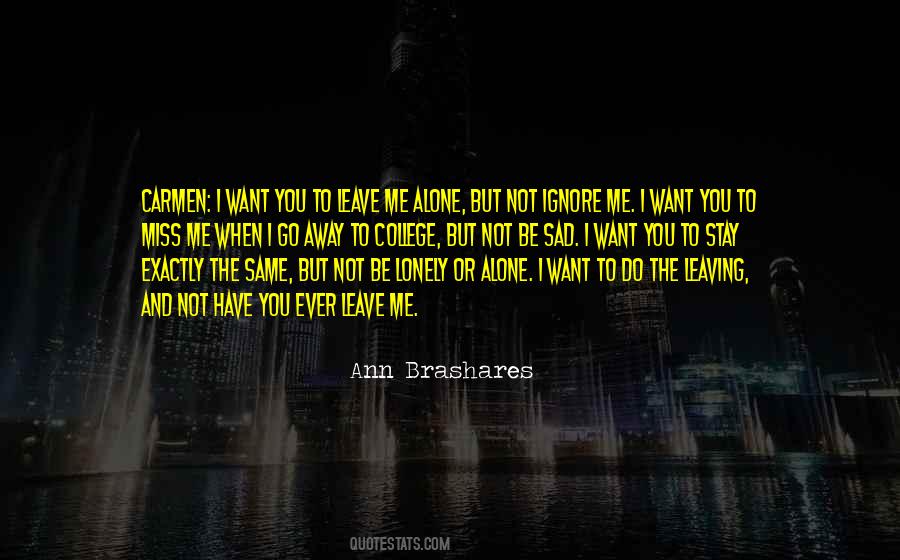 #86. I want to be alone and I want people to notice me - both at the same time - Author: Thom Yorke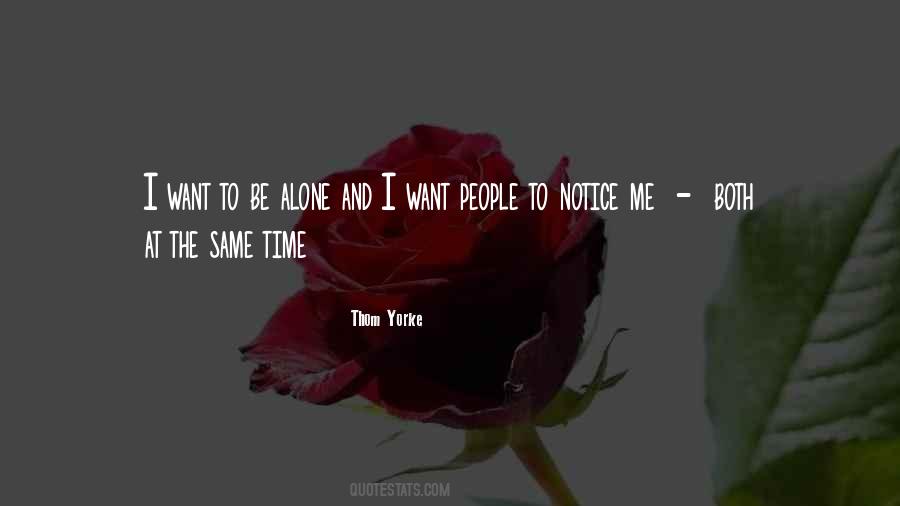 #87. I just don't want to die alone, that's all. That's not too much to ask for, is it It would be nice to have someone care about me, for who I am, not about my wallet. - Author: Richard Pryor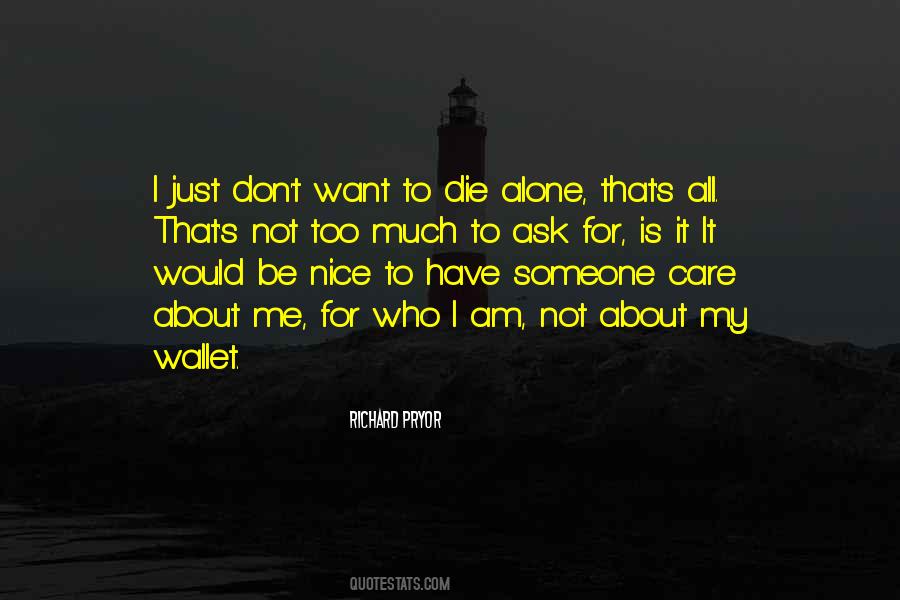 #88. Just leave me alone, I want to be alone, she said when Jack tried to open the car door. She hit the lock, and wound the window up. Since the roof was down, it was a fairly pointless exercise. - Author: Sarah Mayberry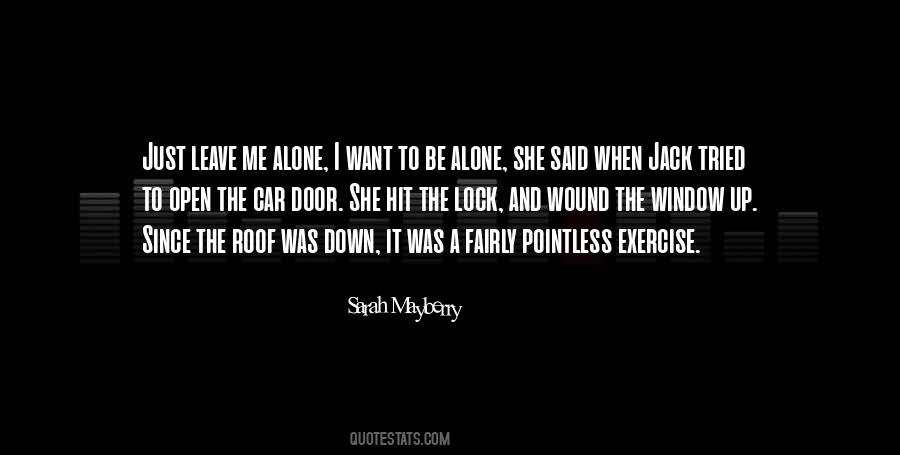 #89. As soon as I was out in the street, I realized I didn't want to be alone after all, I realized I didn't want to be anything at all. - Author: Elizabeth Wurtzel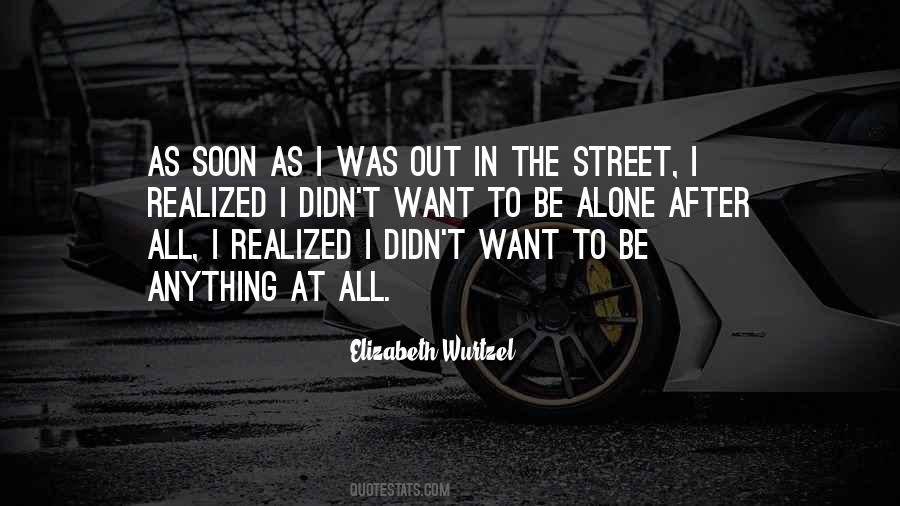 #90. Rose. The longer you control a man, the more likely they'll leave you. Is that what you want? To be alone and miserable for the rest of your life?" "I don't know. You're pretty miserable, Mother, and you're married. - Author: Krista Ritchie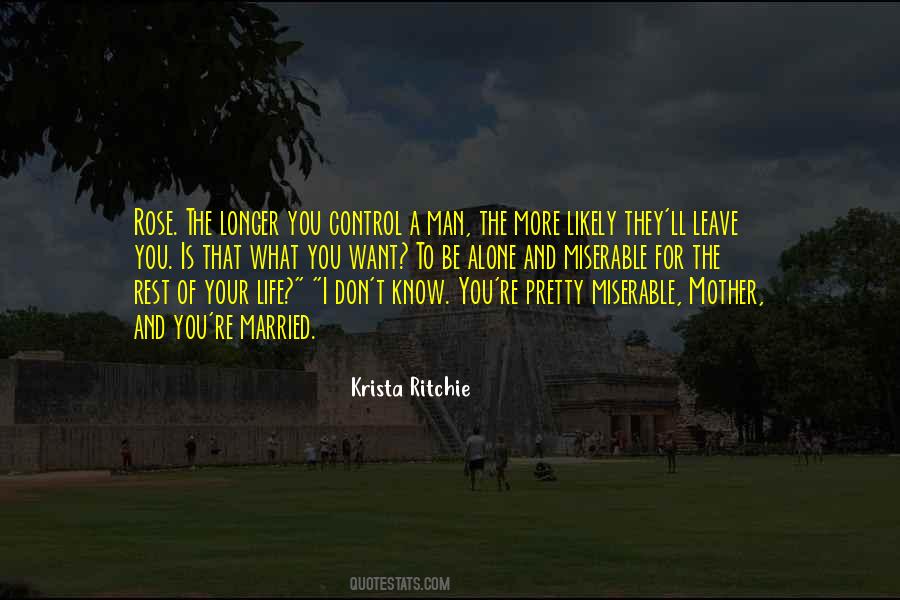 #91. I thought it was safer and easier to be one my own. But I don't think I was to be invisible anymore because-because it's lonely, and I don't want to be lonely. I don't want to be alone. - Author: Han Nolan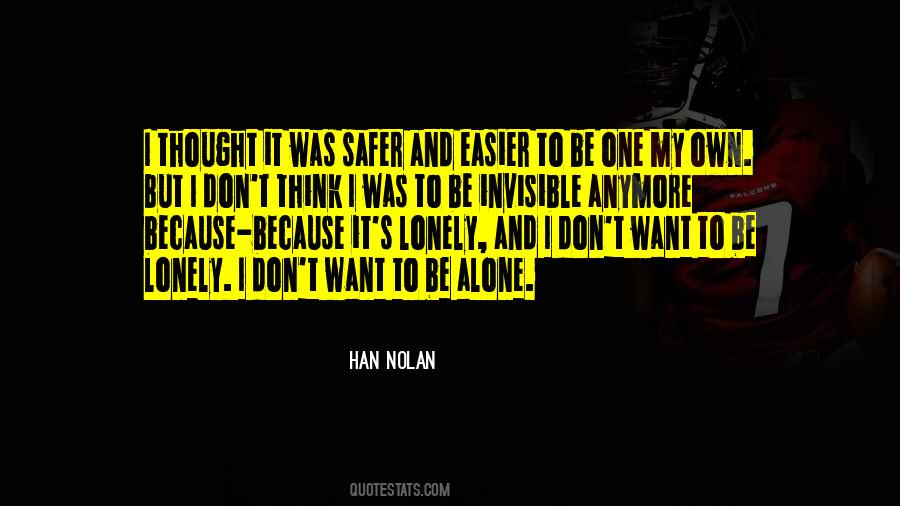 #92. This past year I grew up to know hunger, grief, darkness, fear. I began to understand how lonely you can feel even when all you want is to be alone. - Author: Susan Beth Pfeffer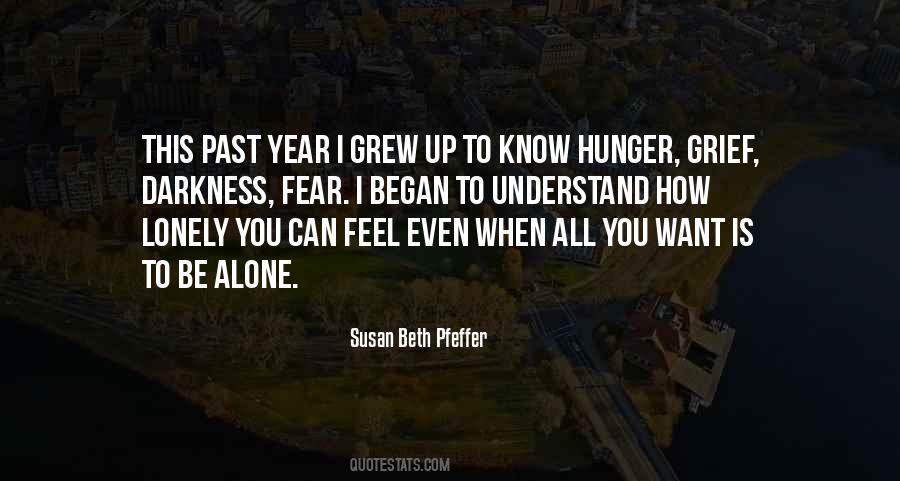 #93. Some things can be perfectly expressed by sound alone and images would only be disturbing. Other times, sound would be possible, but visuals are much stronger and closer to what I want to express and then again, they sometimes overlap perfectly. - Author: Alva Noto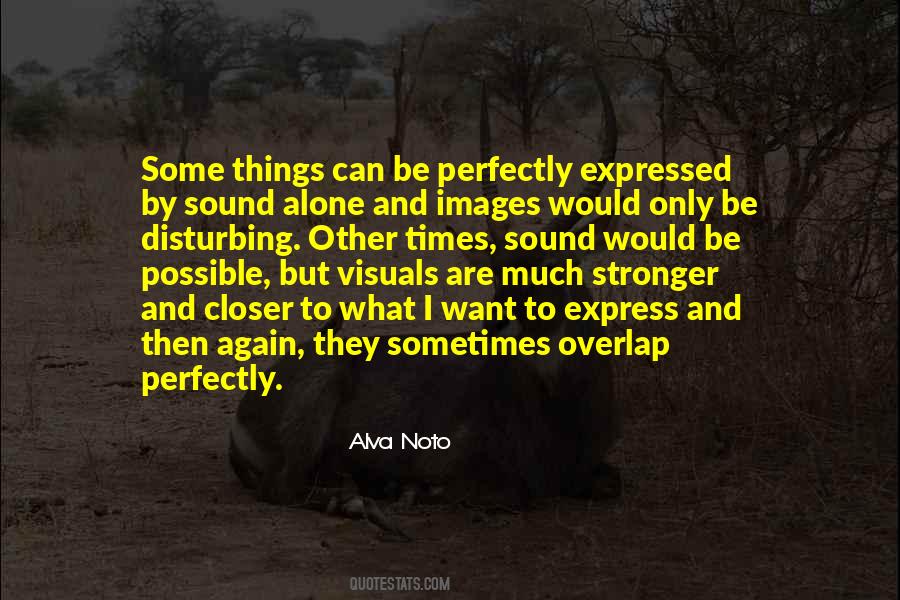 #94. Because I'm not brave enough to change with everyone watching me. I want to do it alone. I want it to be real. - Author: Tarryn Fisher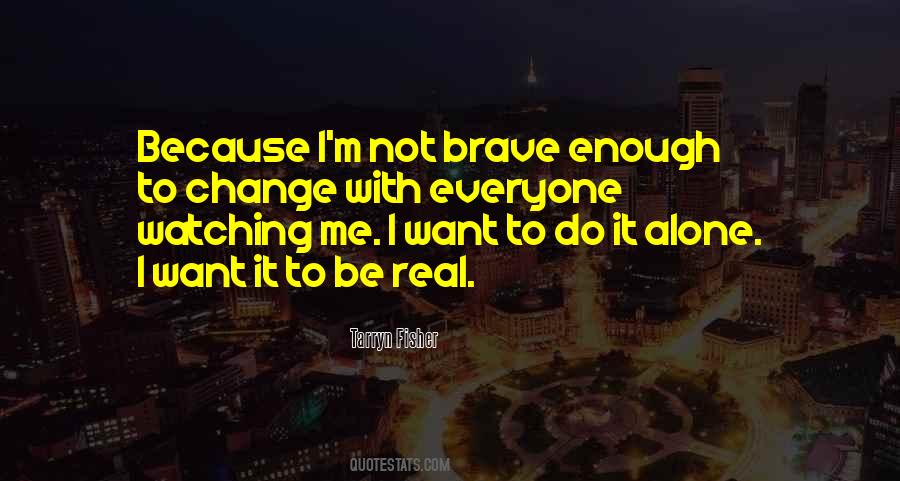 #95. I didn't want to be left alone with Timothy, not because I was afraid of him but because I was afraid that somebody would come into the office and see us sitting there, two matching rejects in matching orange chairs. - Author: Michael Chabon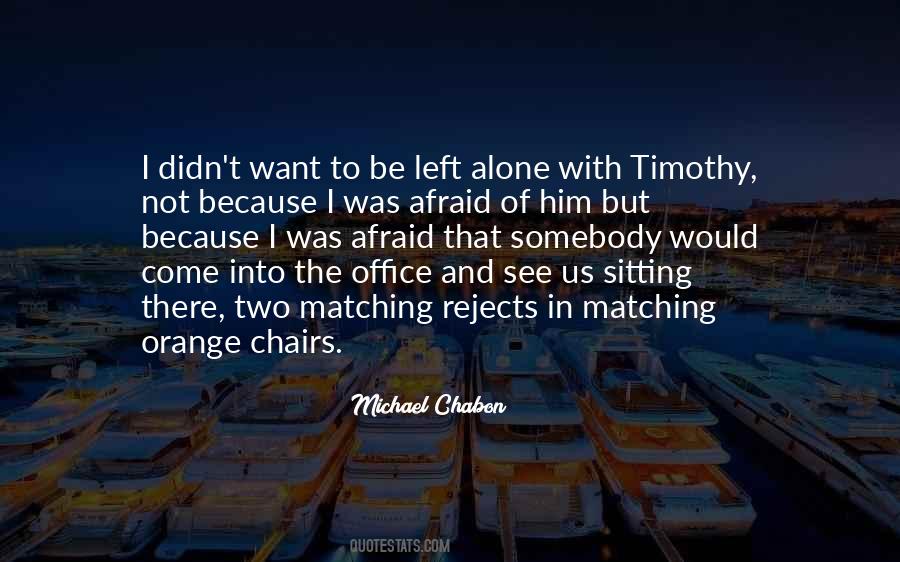 #96. The funny thing about me is I'm kind of schizophrenic, because after four or five nights in a row of going out to parties, I just have to be alone. I hate people and feel like they're keeping me from what I really want to do, like write a fabulous novel, which I probably never will. - Author: Bob Colacello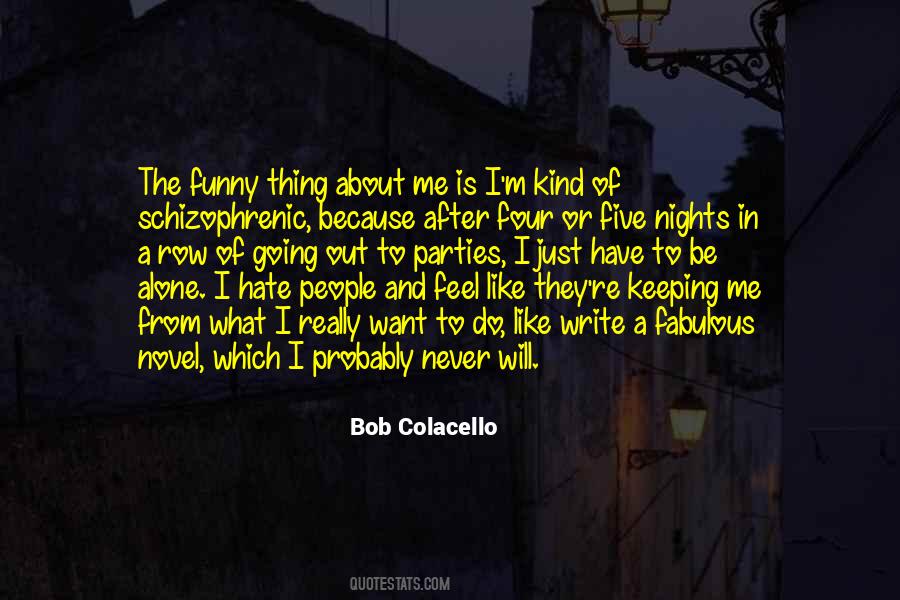 #97. Am I not peaceful? We want to be free - completely free. Free to be free. We want to be left alone. - Author: Sukarno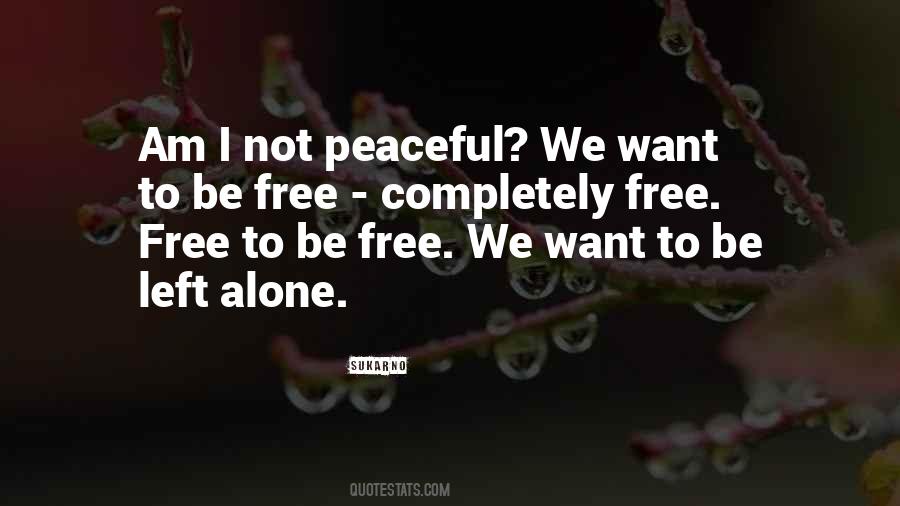 #98. I really, really wanted to be successful in my life just based on me and my mind alone ... I didn't ever want it to be an equation that amounted to a result coming from my brain plus something else. - Author: Steve Wozniak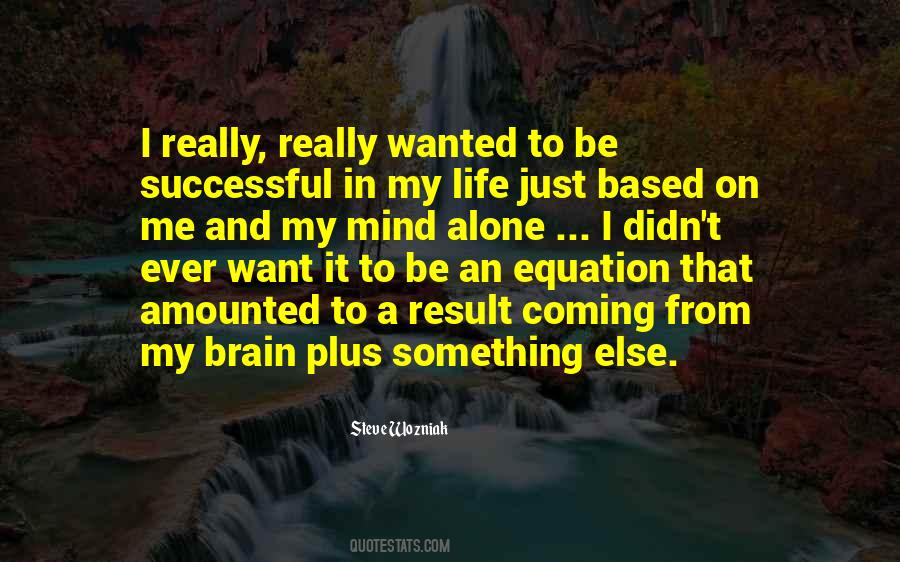 #99. If you love what you do and are willing to do what it takes, it's within your reach. And it'll be worth every minute you spend alone at night, thinking and thinking about what it is you want to design or build. It'll be worth it, I promise. - Author: Steve Wozniak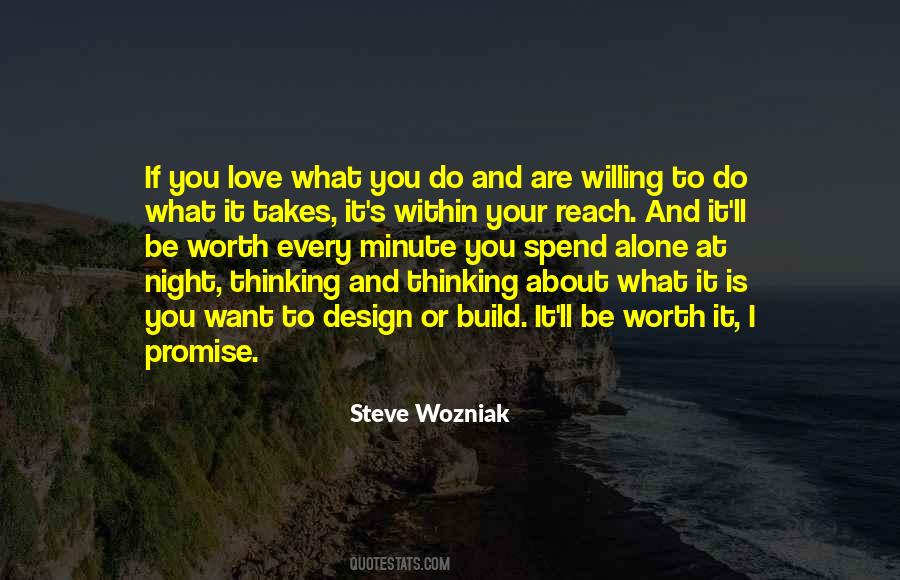 #100. I don't want to be alone my whole life. It is much more fun to share what you have than to have it to yourself. And it isn't like I don't have love in my life. I have a lot of friends who love me and who I love. - Author: Teri Hatcher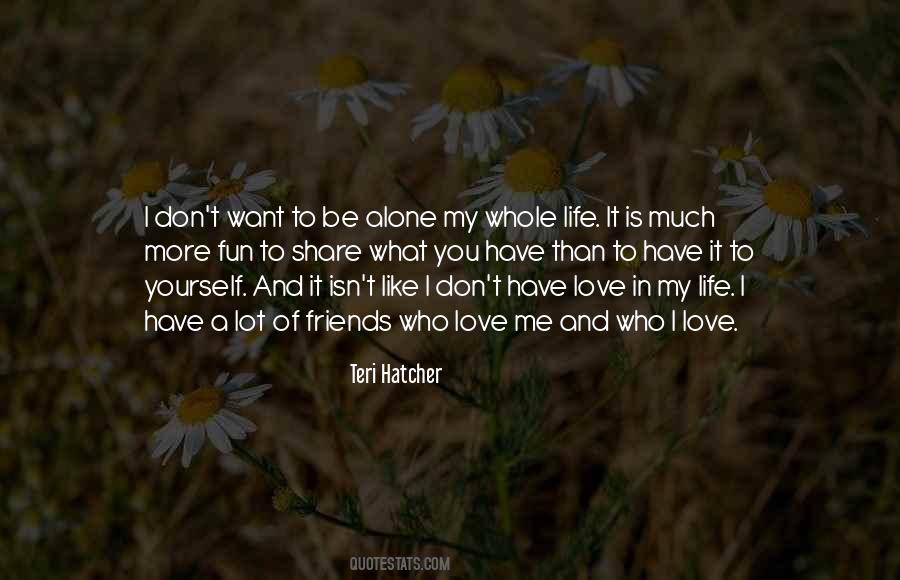 Famous Authors
Popular Topics