How Great God Is Famous Quotes & Sayings
List of top 72 famous quotes and sayings about how great god is to read and share with friends on your Facebook, Twitter, blogs.
Top 72 Quotes About How Great God Is
#1. Glory in your weaknesses. Paul said, "I am going to boast only about how weak I am and how great God is to use such weakness for his glory."21 - Author: Rick Warren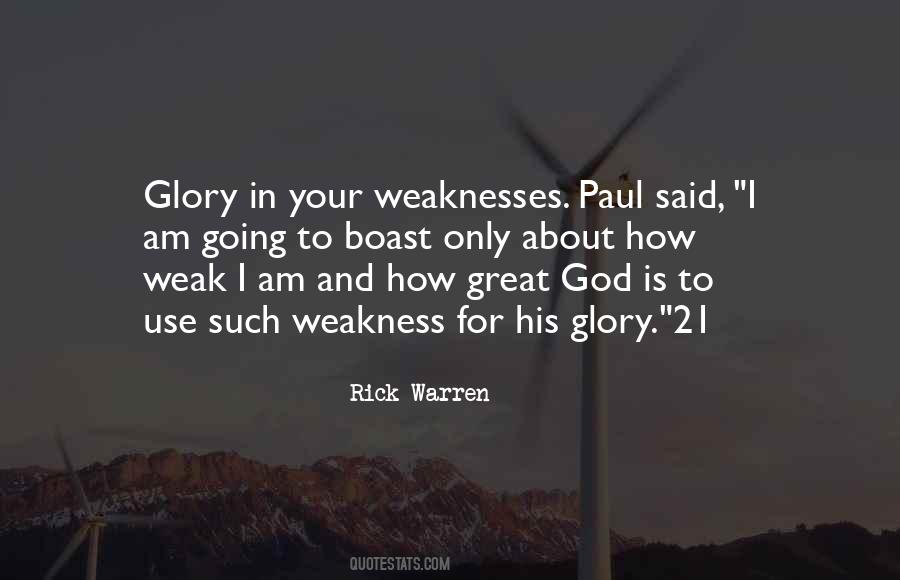 #2. How great, therefore, the wickedness of human nature is! How many girls there are who prevent conception and kill and expel tender fetuses, although procreation is the work of God. - Author: Martin Luther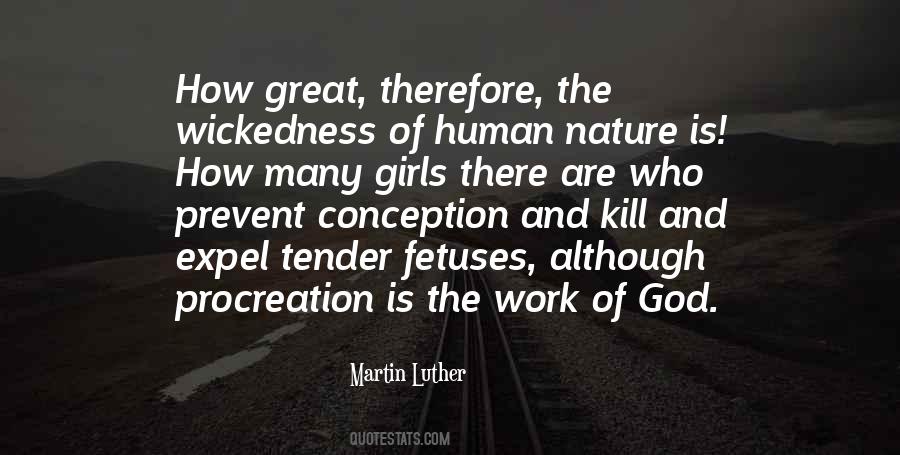 #3. He who never looks up to a living God, to a heavenly presence, loses the power of perceiving that presence, and the universe slowly turns into a dead machine, clashing and grinding on, without purpose or end. If the light within us be darkness, how great is that darkness! - Author: James Freeman Clarke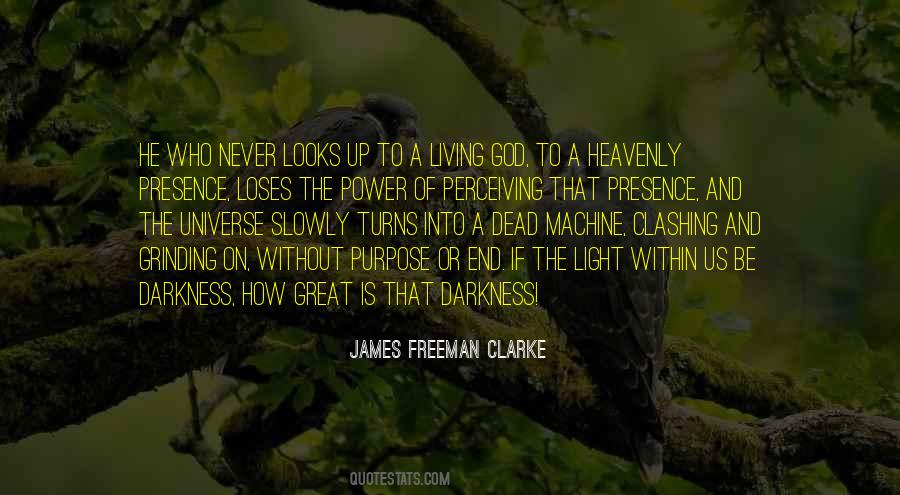 #4. Oh! how great and glorious a thing it is to have before one the Word of God! With that we may at all times feel joyous and secure; we need never be in want of consolation, for we see before us, in all its brightness, the pure and right way. - Author: Martin Luther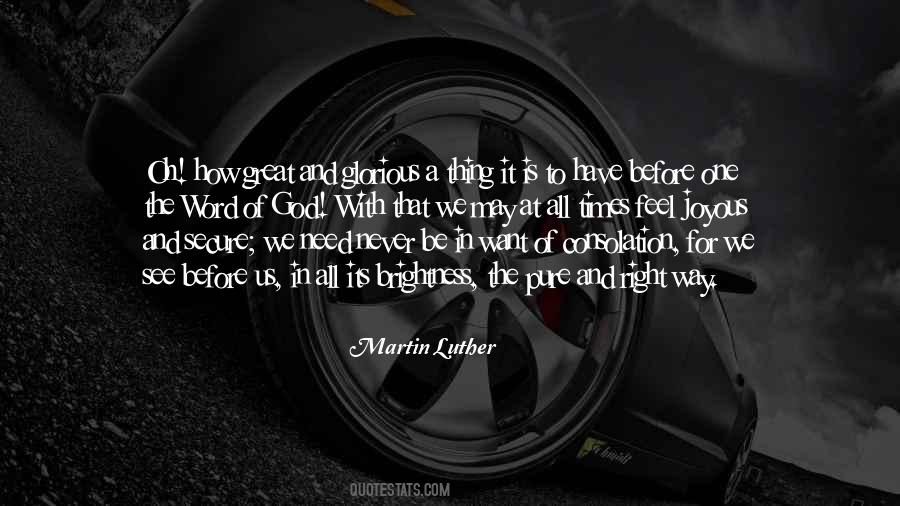 #5. I simply think God is greater than our weakness. In fact, I think it is our weakness that reveals how great God is. - Author: Max Lucado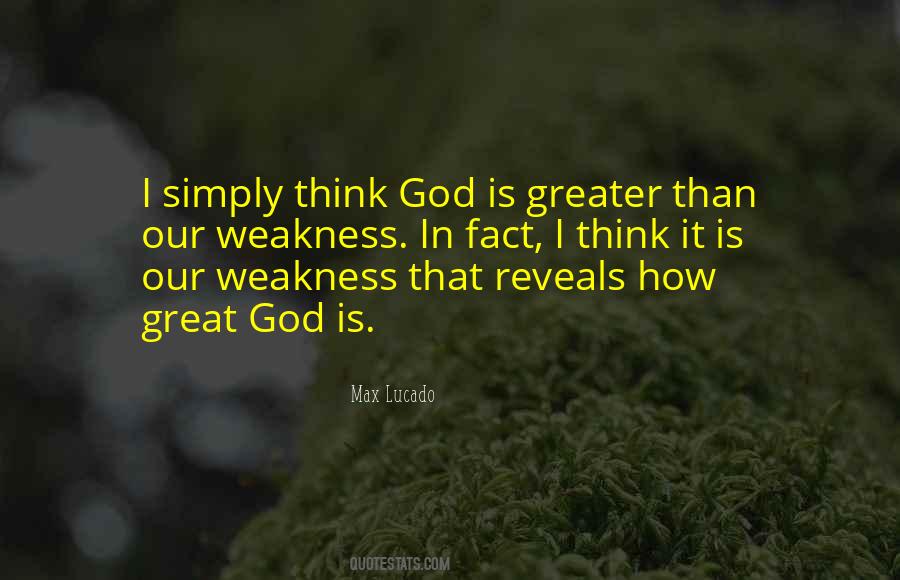 #6. This is what you are here for: to glorify God and enjoy Him thoroughly and forever, telling the universe how great God is. - Author: Aiden Wilson Tozer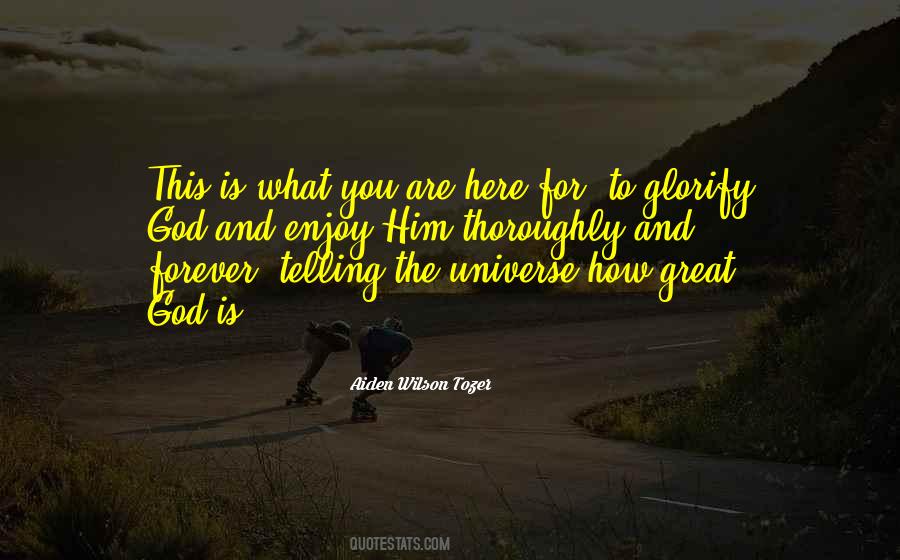 #7. How precious also are thy thoughts unto me, O God! How great is the sum of them!
If I should count them, they are more in number than the sand. - Author: Psalms 139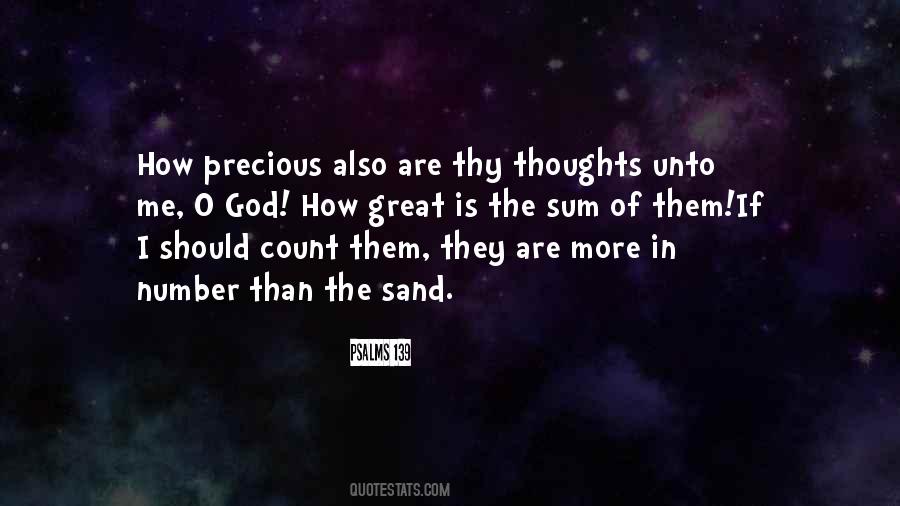 #8. Great talk among people how some of the Fanatiques do say that the end of the world is at hand, and that next Tuesday is to be the day. Against which, whenever it shall be, good God fit us all! - Author: Samuel Pepys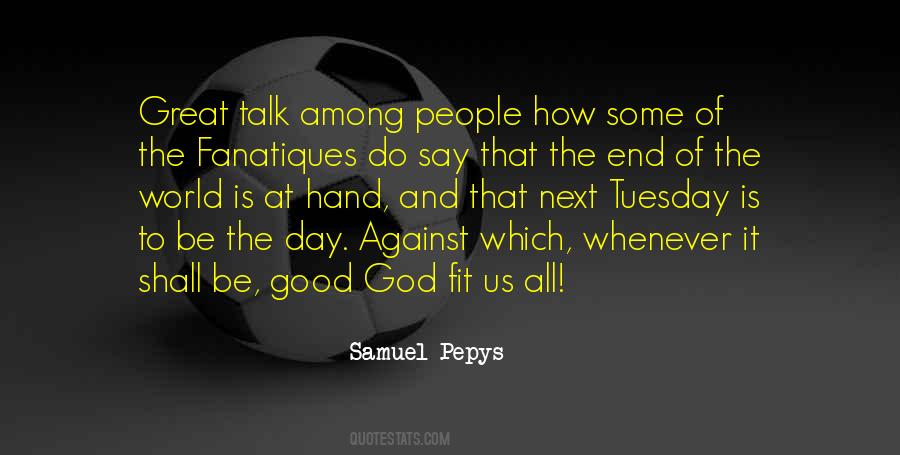 #9. have seen how the fear of becoming subject to God's revenge and punishment has paralyzed the mental and emotional lives of many people, independently of their age, religion, or life-style. This paralyzing fear of God is one of the great human tragedies. - Author: Henri J.M. Nouwen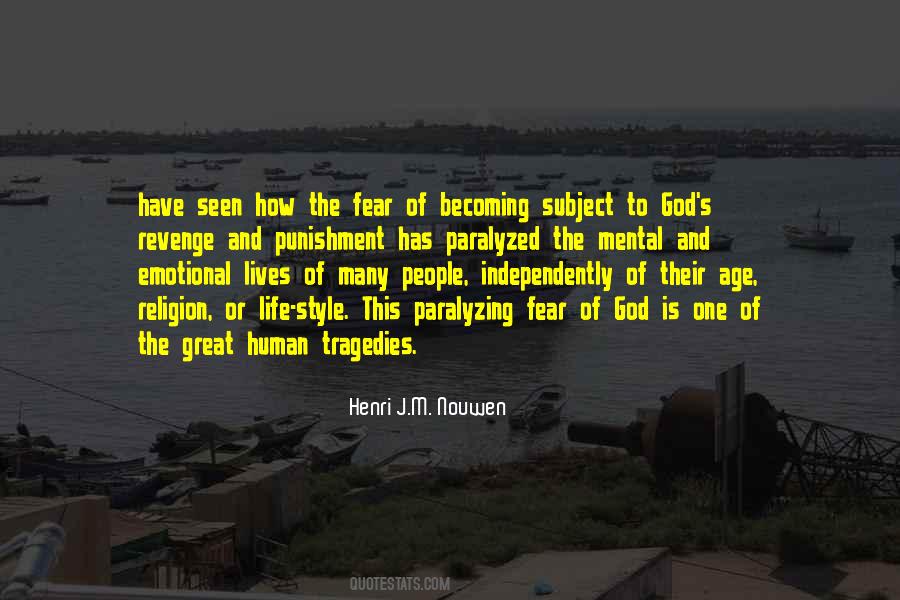 #10. We will never know how great God's love is until we first see how great our sin is. - Author: Steven J. Lawson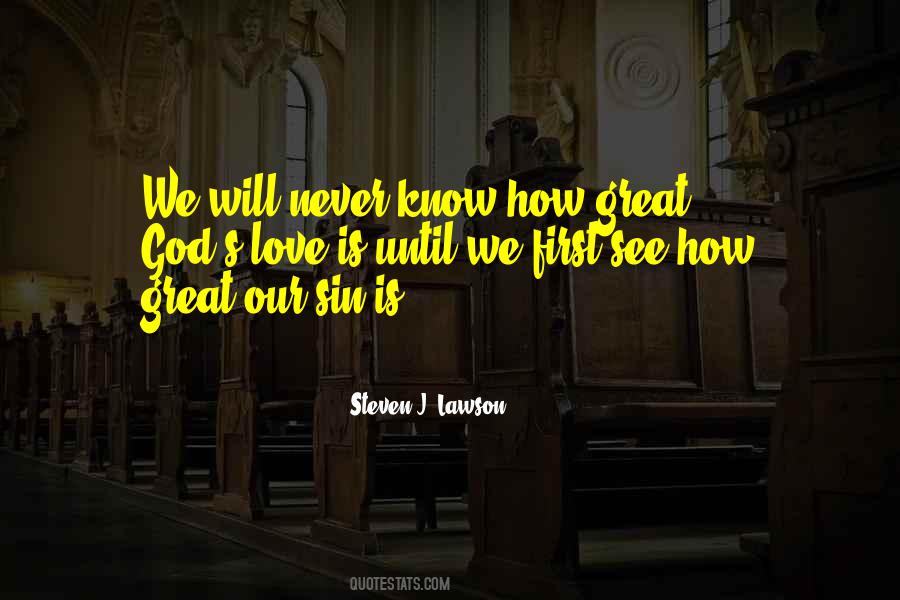 #11. I DECLARE that God has a great plan for my life. He is directing my steps. And even though I may not always understand how, I know my situation is not a surprise to God. He will work out every detail to my advantage. In His perfect timing, everything will turn out right. This is my declaration. - Author: Joel Osteen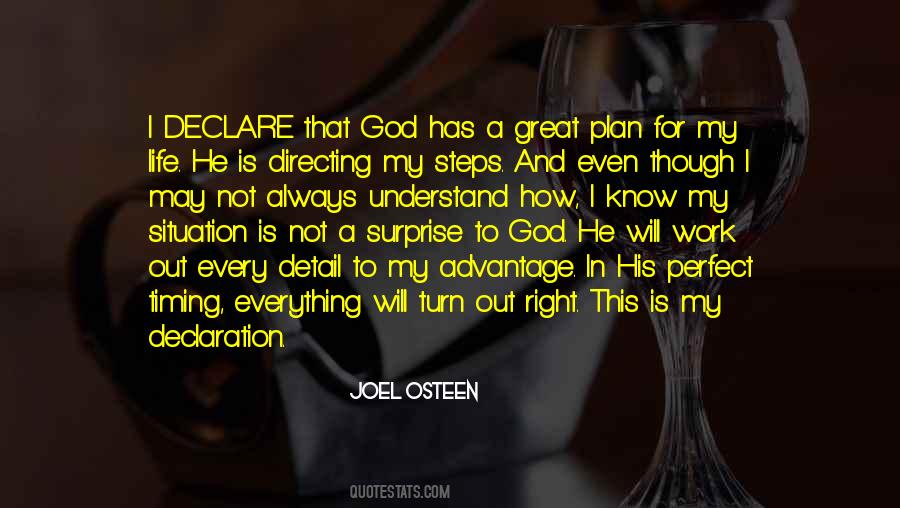 #12. It is a miracle how God has so long preserved His Book! How great and glorious it is to have the Word of God! - Author: Martin Luther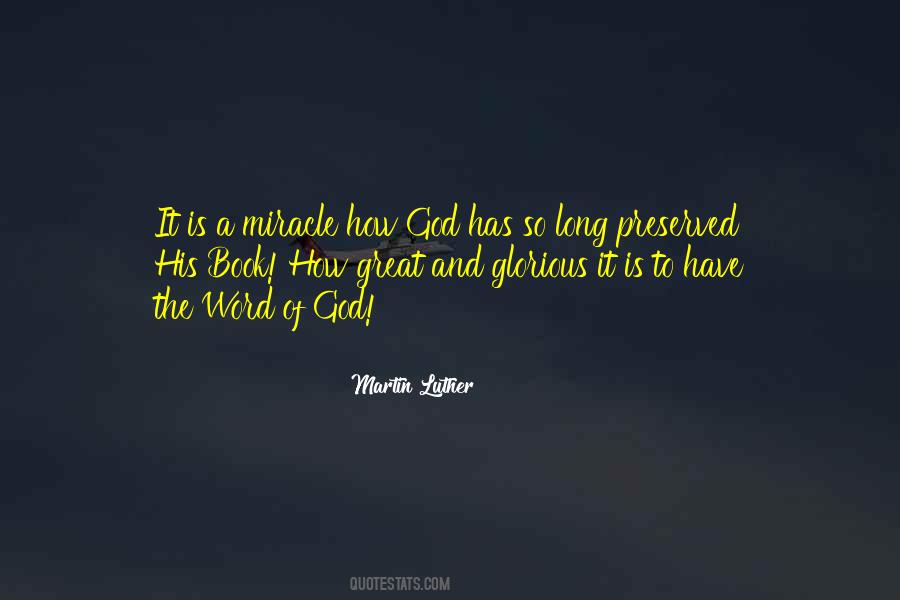 #13. It is not God's way that great blessings should descend without the sacrifice first of great sufferings. If the truth is to be spread to any wide extent among the people, how can we dream, how can we hope, that trial and trouble shall not accompany its going forth. - Author: John Henry Newman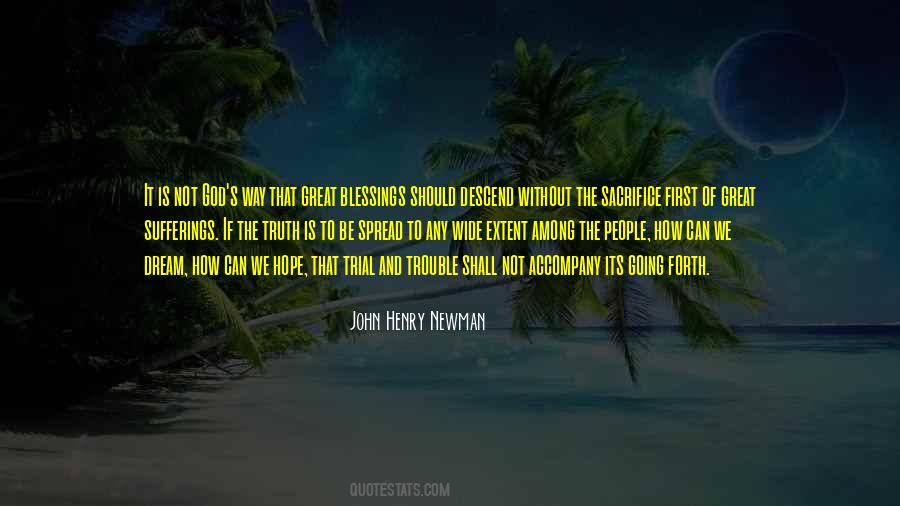 #14. It has been said by many great Christians that prayer is our secret weapon. If we desire to be free from every enemy stronghold over our lives and fully fortified to live the superhuman existences God intended us to live, then we must learn how to pray. - Author: Leslie Ludy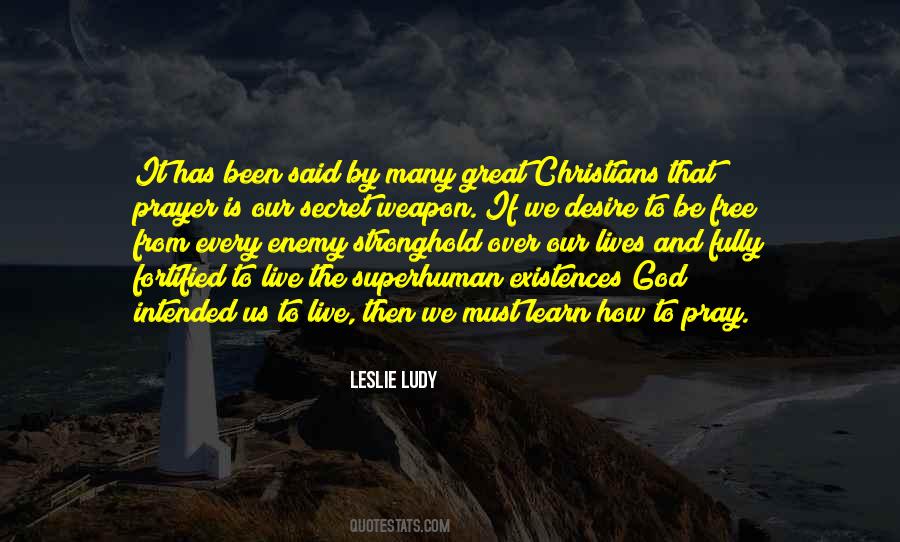 #15. When we get ashes we are not publicly proclaiming our greatness, but God's. We are not saying, 'look at how great I am,' but 'ask me about how great my God is!' - Author: Mark Hart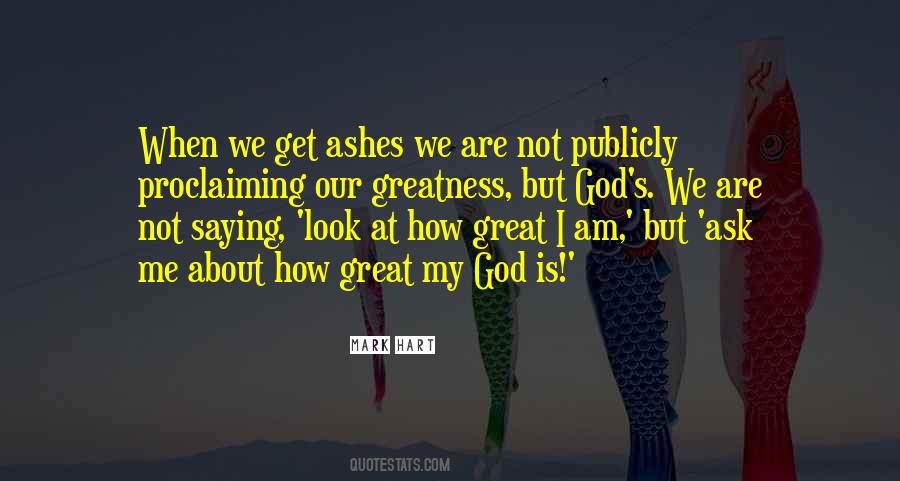 #16. There is not and cannot be in the whole world such a sin that the Lord will not forgive one who truly repents of it. A man even cannot commit so great a sin as would exhaust God's boundless love. How could there be a sin that exceeds God's love? - Author: Fyodor Dostoyevsky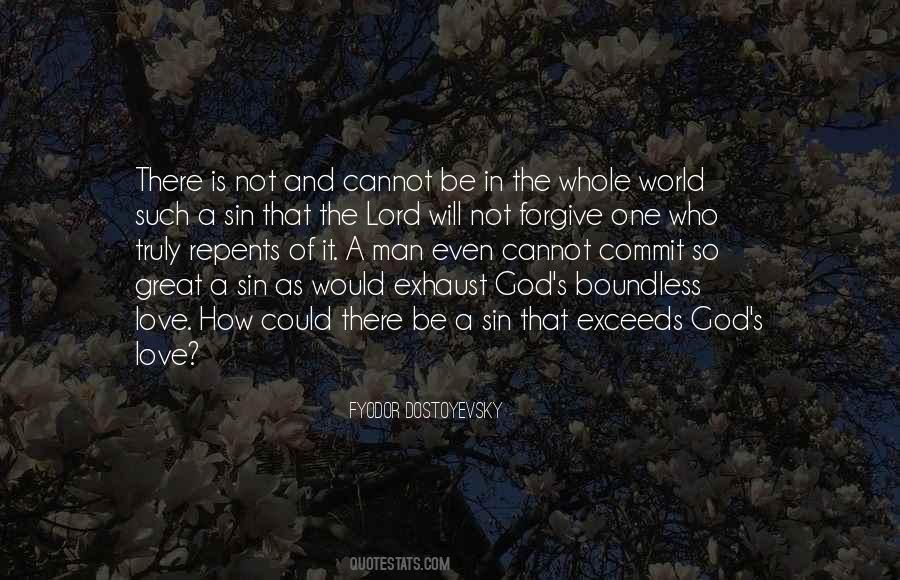 #17. Talking to men for God is a great thing, but talking to God for men is greater still. He will never talk well and with real success to men for God who has not learned well how to talk to God for men. - Author: E. M. Bounds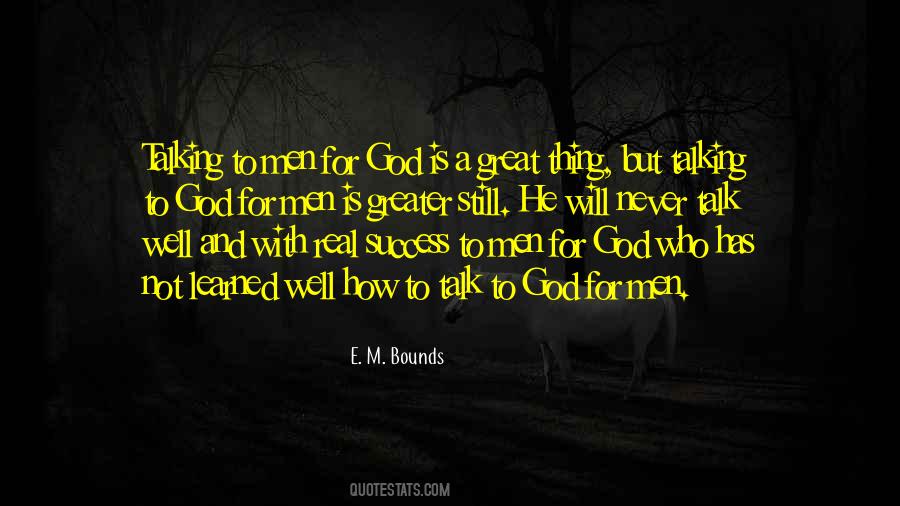 #18. There is something to be said about the vastness of the earth, as well as the vastness of the heavens, in reminding us how small we are and how great God's creation is. - Author: Aleksandra Layland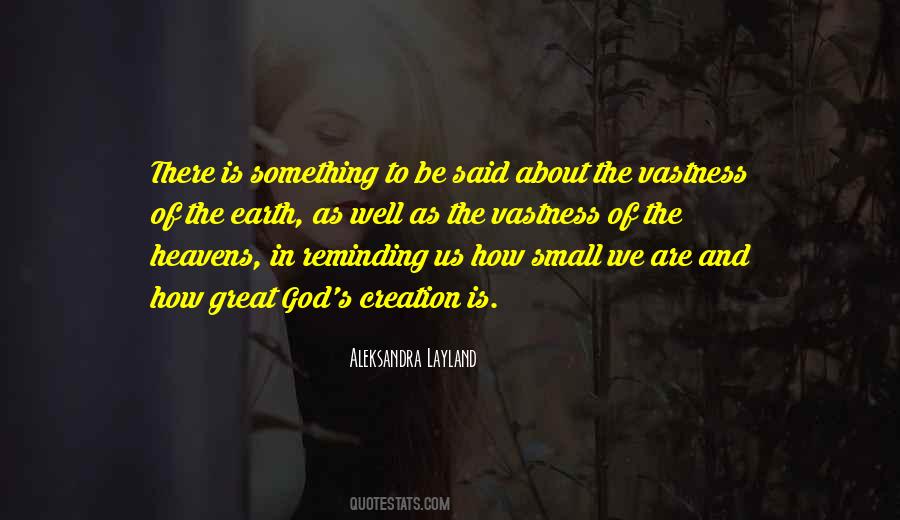 #19. He gave us eyes to see them, And lips that we might tell How great is God Almighty, Who has made all things well. - Author: Cecil Frances Alexander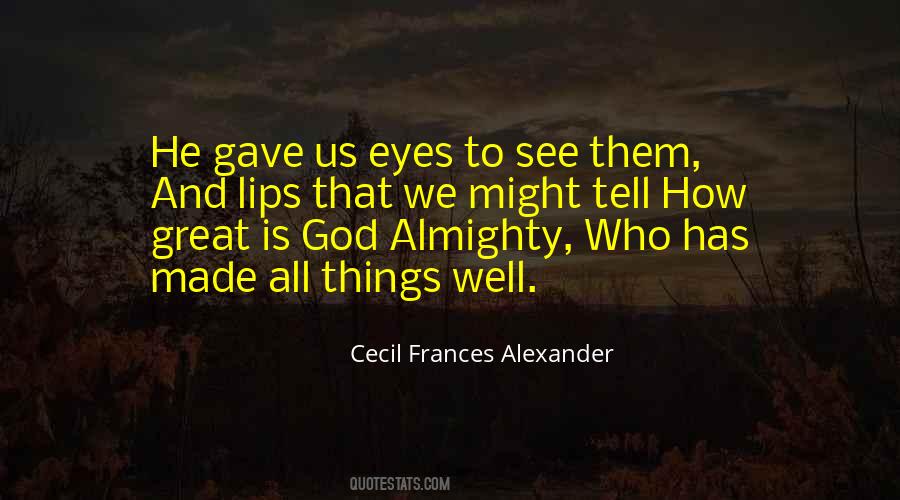 #20. How great is the position of the man who is born of God, born of purity, born of faith, born of life, born of power! - Author: Smith Wigglesworth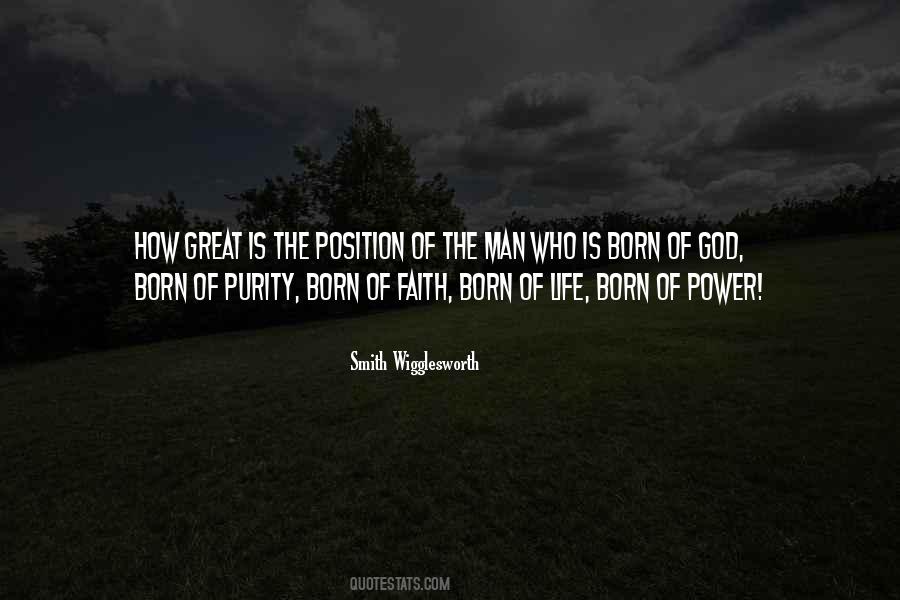 #21. You think you have a handle on God, the Universe, and the Great White Light until you go home for Thanksgiving. In an hour, you realize how far you've got to go and who is the real turkey. - Author: Shirley Maclaine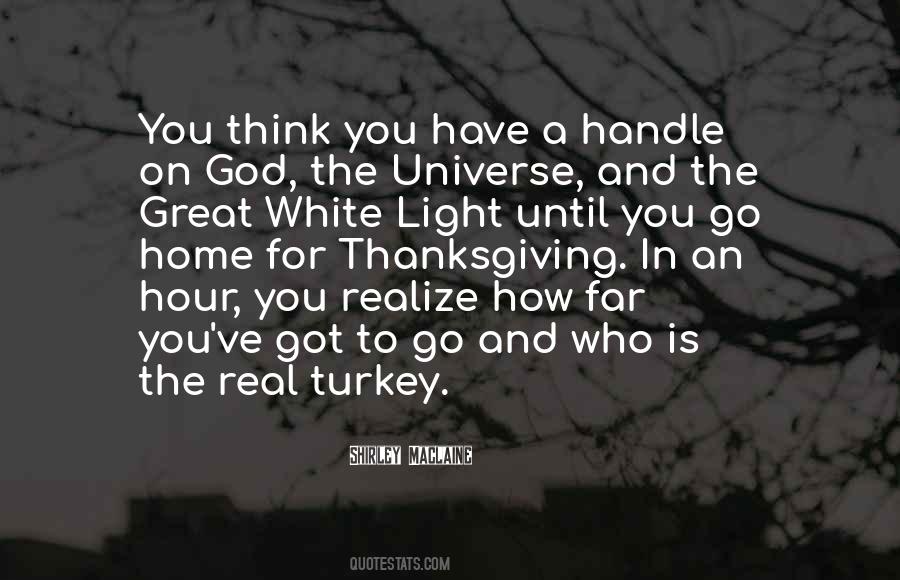 #22. God alone knows how great it is. All I hope is that it is not too late. I am very much afraid that it is. We can only do our best. - Author: Winston Churchill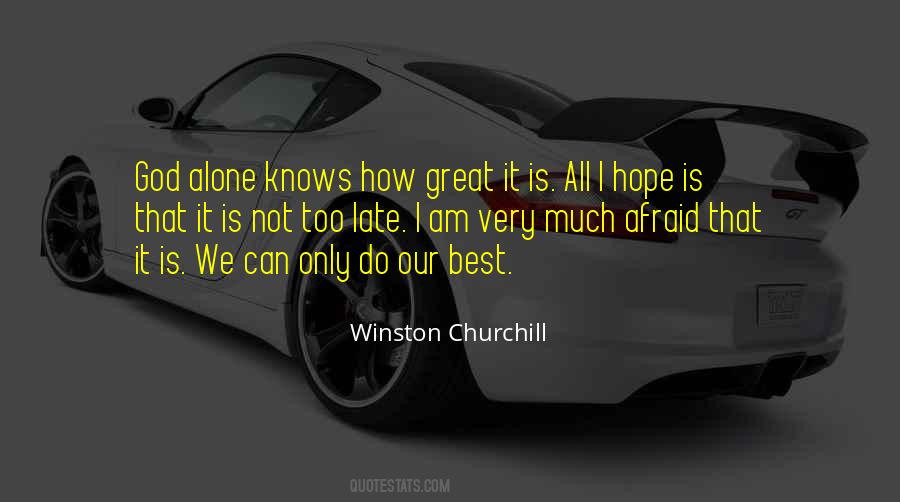 #23. For, behold, the mystery of godliness, how great is it! For, behold, I am endless, and the punishment which is given from my hand is endless punishment, for Endless is my name. Wherefore - 11 Eternal punishment is God's punishment. 12 Endless punishment is God's punishment. - Author: Joseph Smith Jr.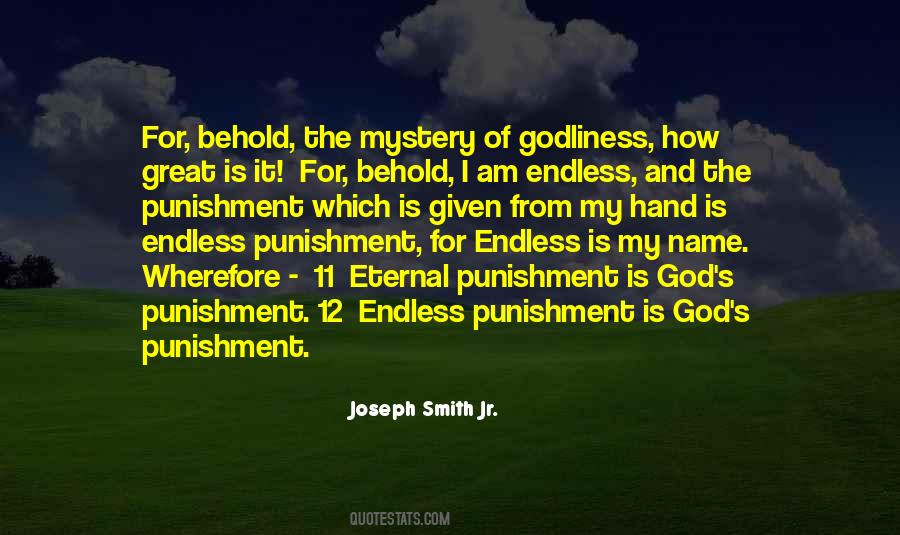 #24. Trouble is one of God's great servants because it reminds us how much we continually need the Lord. - Author: Jim Cymbala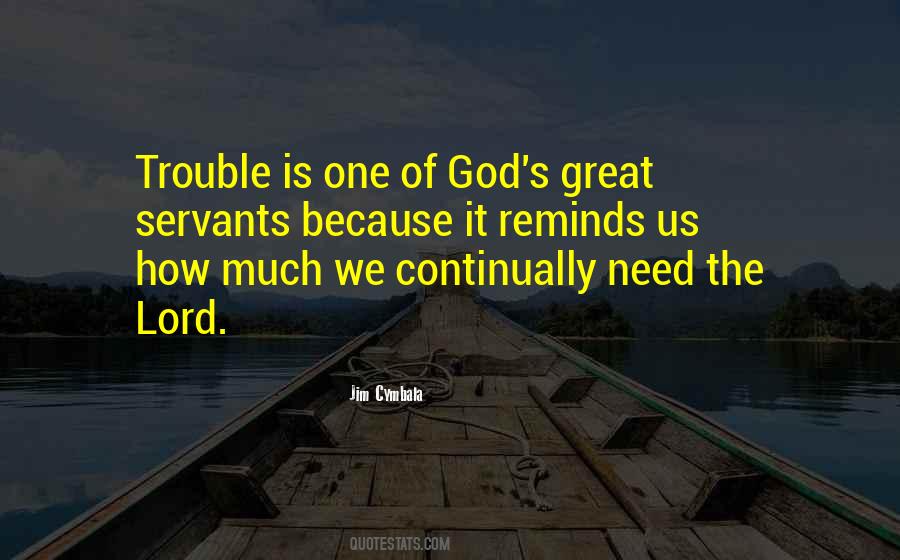 #25. [Jesus] is the event of the unity of life and death for the sake of life. Thus he is the event of a still greater selflessness in the midst of such great selfrelatedness. That is how he is God. - Author: Eberhard Jungel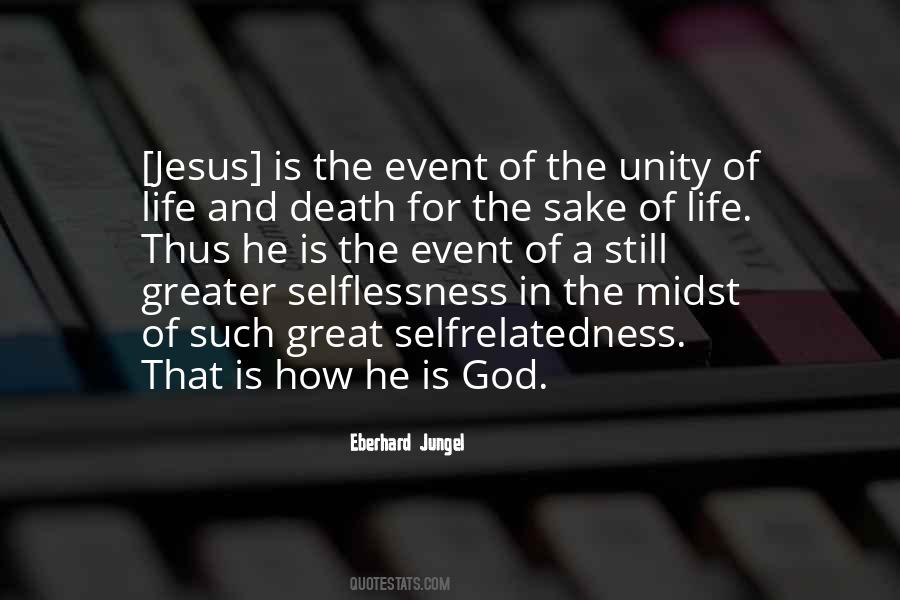 #26. How do you know what God's plan is?

Follow the joy. You know God's plan by doing the things that bring you great joy. - Author: Margaret Brownley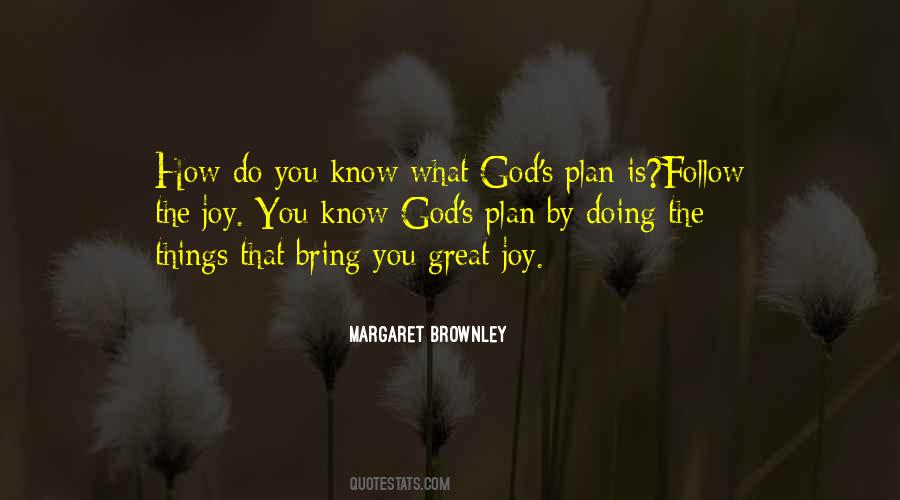 #27. Oh, how great is the goodness of God, greater than we can understand. There are moments and there are mysteries of the divine mercy over which the heavens are astounded. Let our judgment of souls cease, for God's mercy upon them is extraordinary. - Author: Mary Faustina Kowalska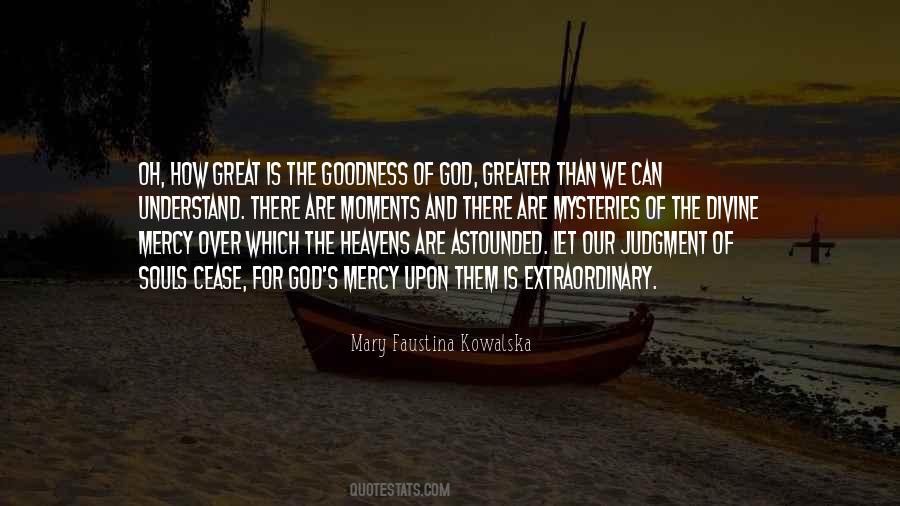 #28. When you focus on how wonderful God is and all the great things He's done ... is doing ... and even will do in your life, your natural response will be praise, adoration and awe. Don't let yourself ever get used to it ... stay amazed! - Author: Joyce Meyer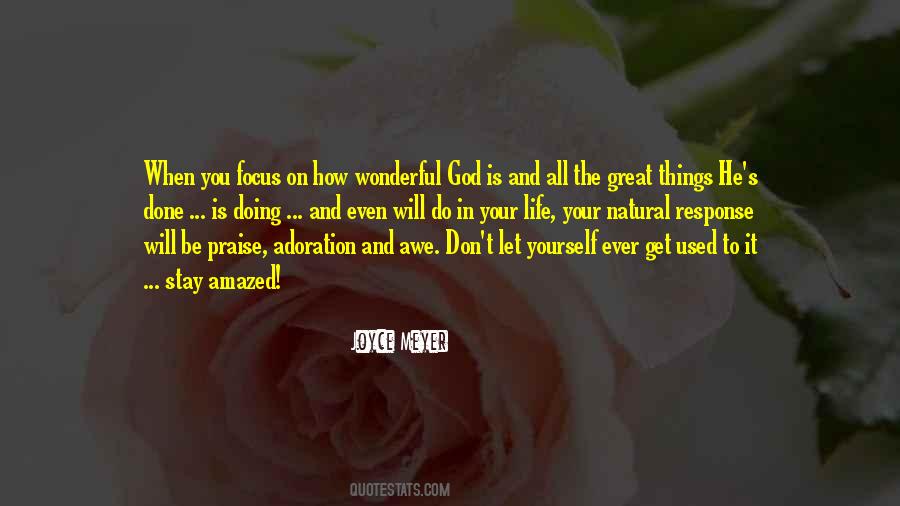 #29. Instead of focusing on how big your problems are, focus on how big your God is! He is everything you need. He is the Great I AM, and He is the one leading and guiding you into victory in every area of your life! - Author: Joel Osteen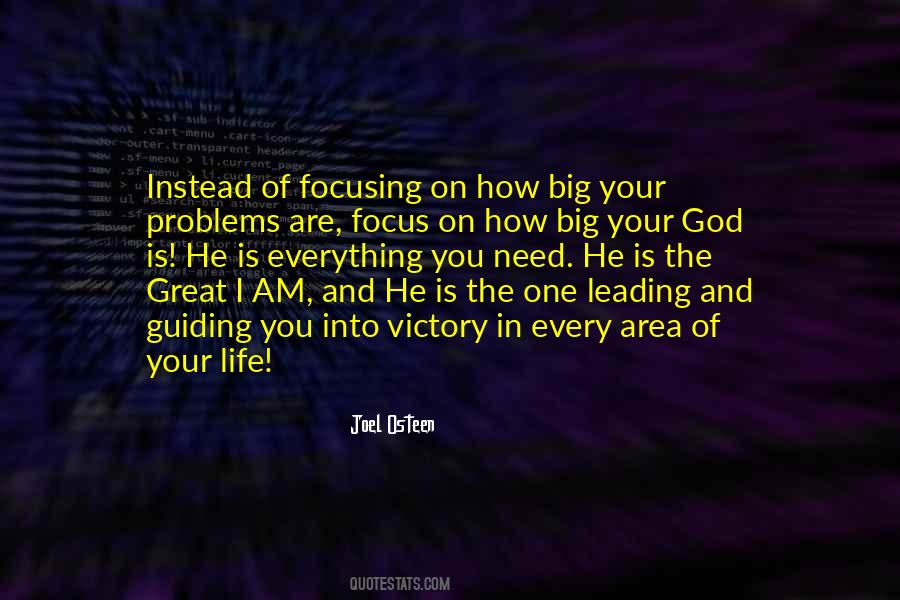 #30. If you really know how great a competition it is to enter into the Kingdom of God is, you would have increased your competitive power greatly in your pursuit for the Kingdom of God - Author: Ernest Agyemang Yeboah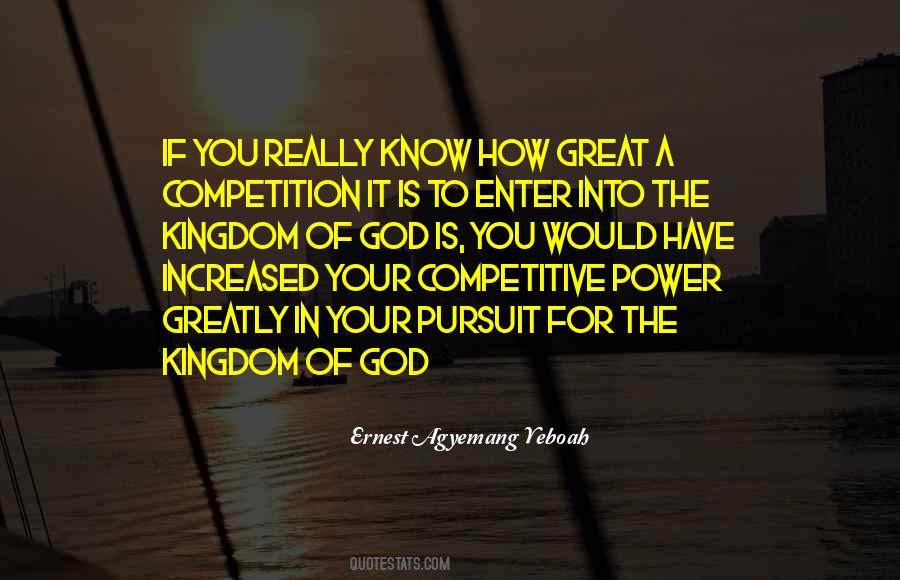 #31. Small things with great love. . . . It is not how much we do, but how much love we put into the doing. And it is not how much we give, but how much love we put into the giving. To God there is nothing small. - Author: Robert Maurer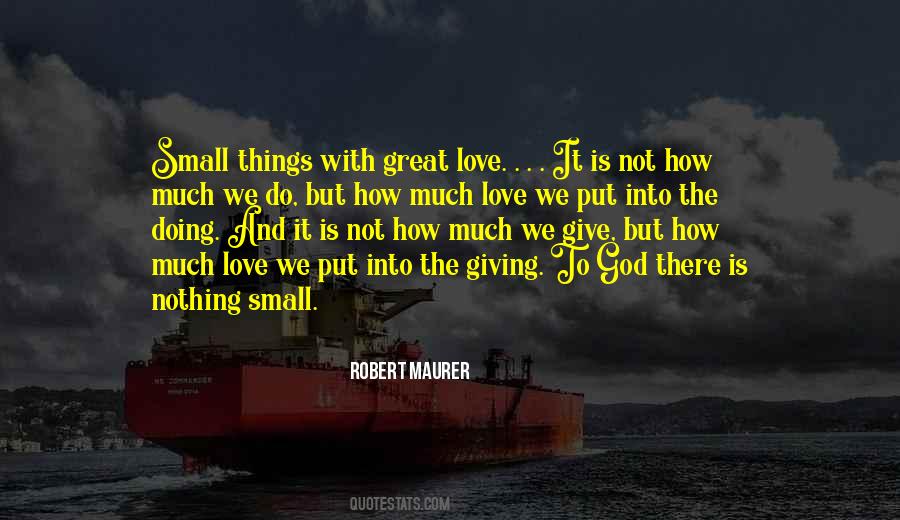 #32. This is the great difficulty of service: dying to self. How much easier to hear and obey God's call to leave all for a tribe in Africa than to let the car to my left have the right of way. - Author: Anonymous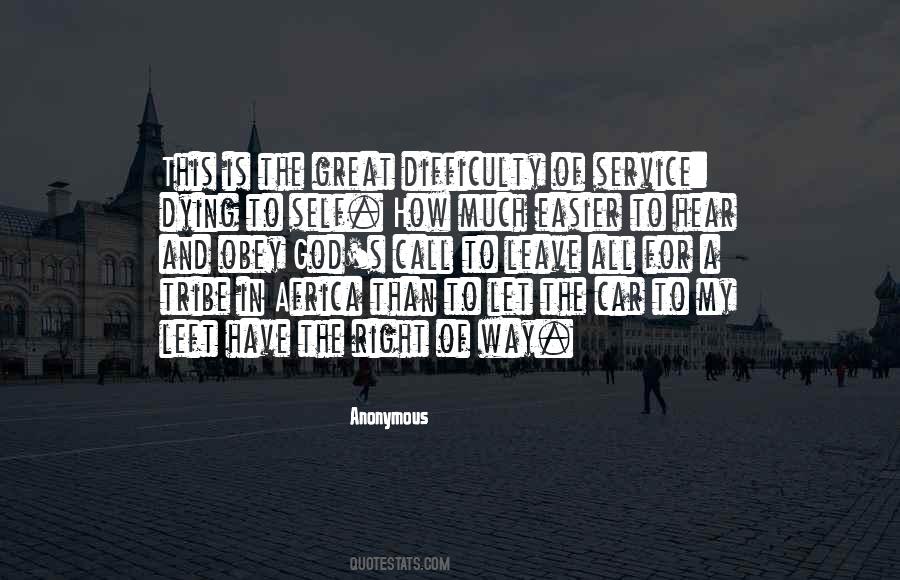 #33. God designs that those whom He sanctifies ... shall tarry awhile in this present evil world, that their own experience of temptations may teach them how great the deliverance is, which God has wrought for them. - Author: David Brainerd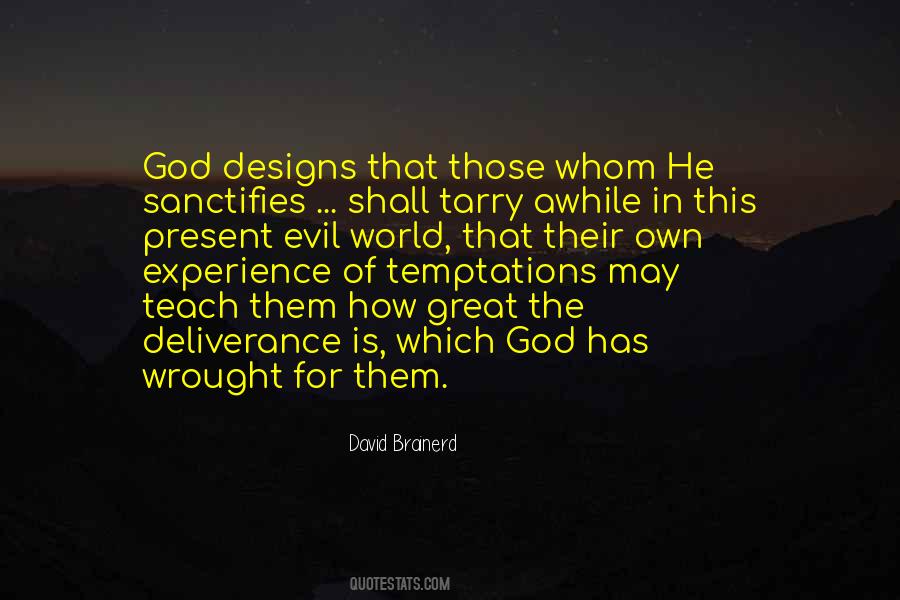 #34. The secret of the mystery is: God is always greater. No matter how great we think Him to be, His love is always greater. - Author: Brennan Manning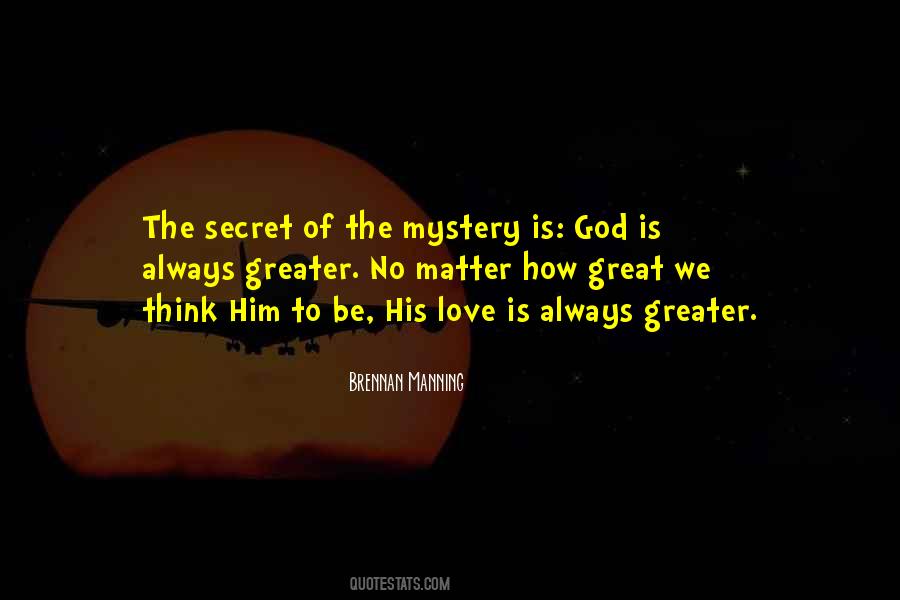 #35. I don't know how many times I heard older people, and not just parents but just older people, say, 'Oh, my God. Your generation is just totally nuts. You have no sense of what it was really like, when it was great.' And every generation has that same feeling, you know? - Author: Alex Lifeson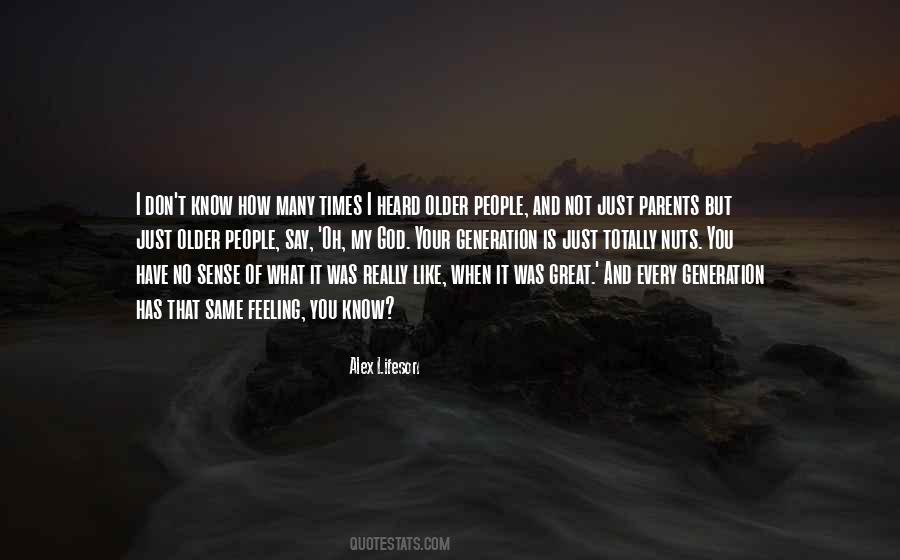 #36. How often we have felt something within us impelling us to do something which we would not have conceived of by ourselves, or enabling us to do something which we could not have done alone. "It is God which worketh in you." This great simple fact - Author: Henry Drummond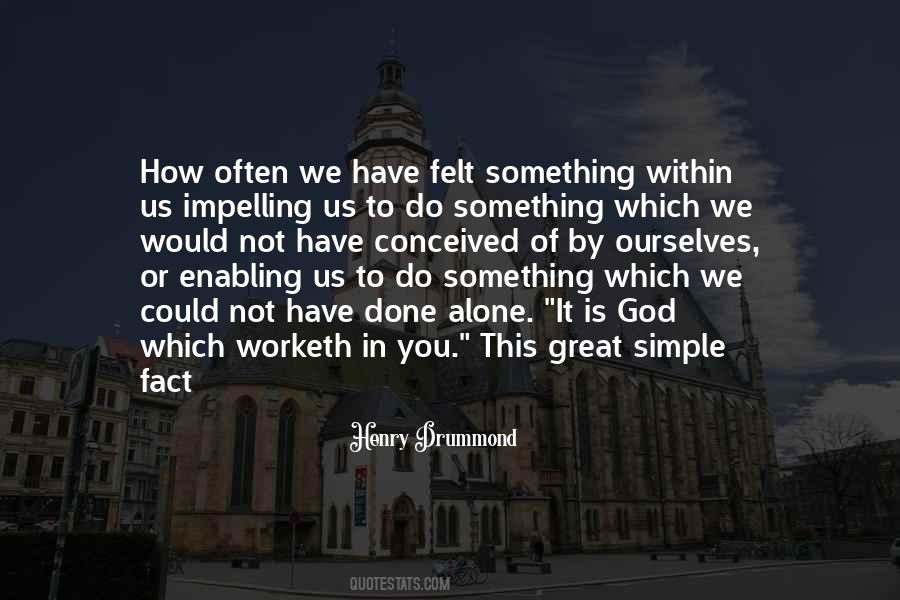 #37. God rarely allows a person to see how great a blessing he is to others. - Author: Oswald Chambers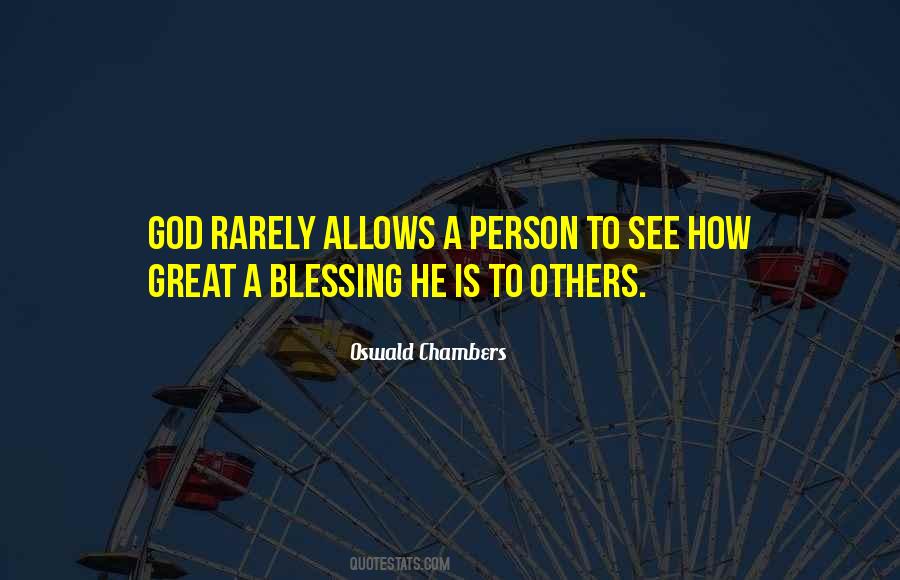 #38. To pray is to change. This is a great grace. How good of God to provide a path whereby our lives can be taken over by love and joy and peace and patience and kindness and goodness and faithfulness and gentleness and self-control. - Author: Richard J. Foster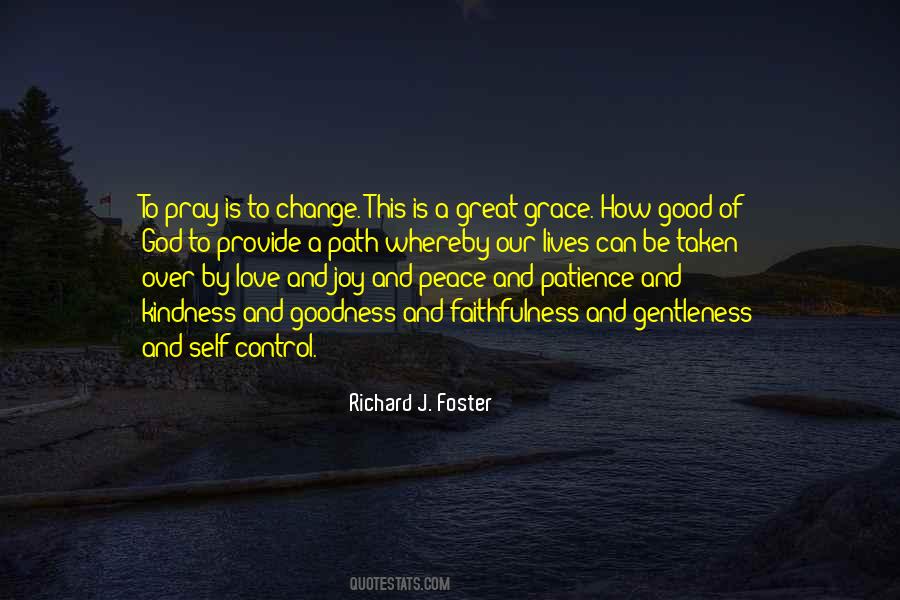 #39. No, but we are all children of the earth, all of us, the trees and flowers and each soul born, all known, all beloved, all part of God's great plan. Everything happens for a purpose, lady. Life is a great gift, but it is for you to choose how you shall use it. - Author: Elizabeth English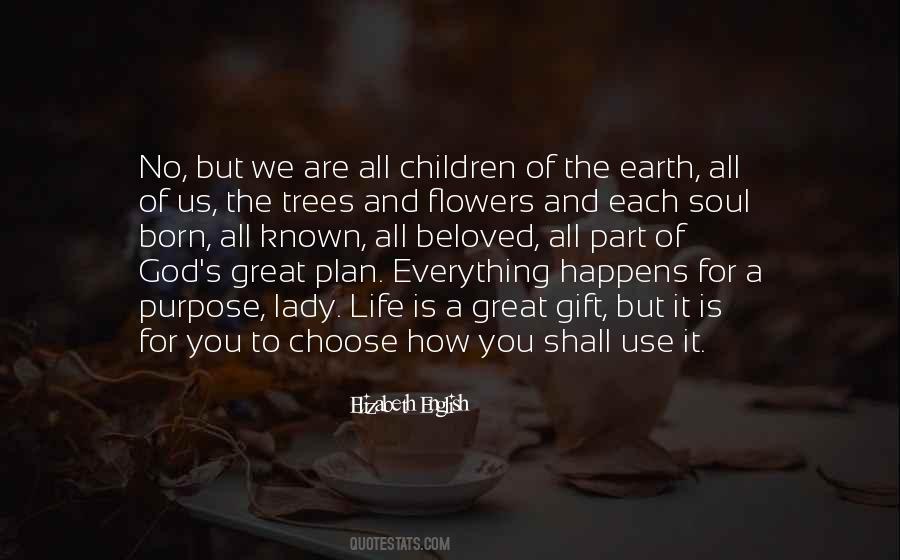 #40. Humility is not simply feeling small and useless - like an inferiority complex. It is sensing how great and glorious God is, and seeing myself in that light. - Author: Sinclair B. Ferguson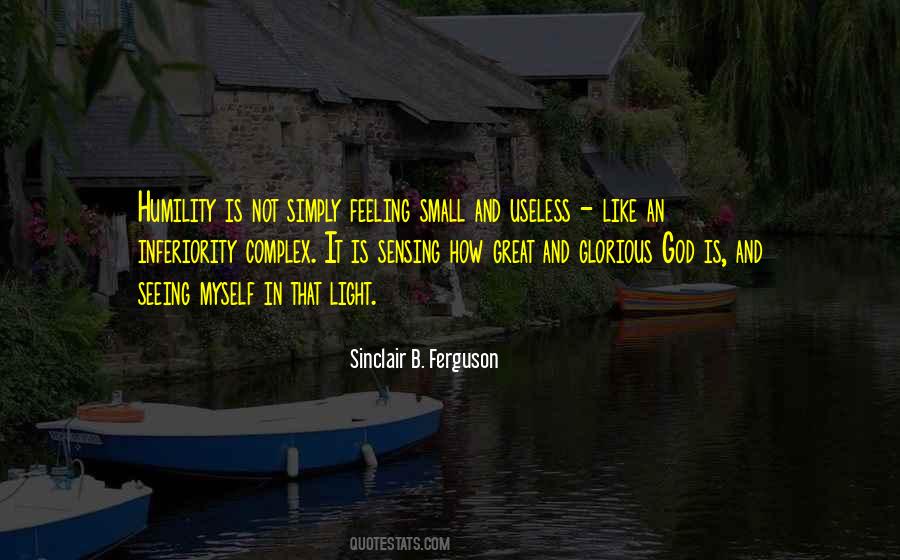 #41. How great God is! He has given us eyes to see the beauty of the world, hands to touch it, a nose to experience all its fragrance, and a heart to appreciate it all. But we don't realize how miraculous our senses are until we lose one. - Author: Malala Yousafzai
#42. You can always tell when a man is a great ways from God
he is always talking about himself, how good he is. But the moment he sees God by the eye of faith, he is down on his knees, and, like Job, he cries, Behold I am vile. - Author: Dwight L. Moody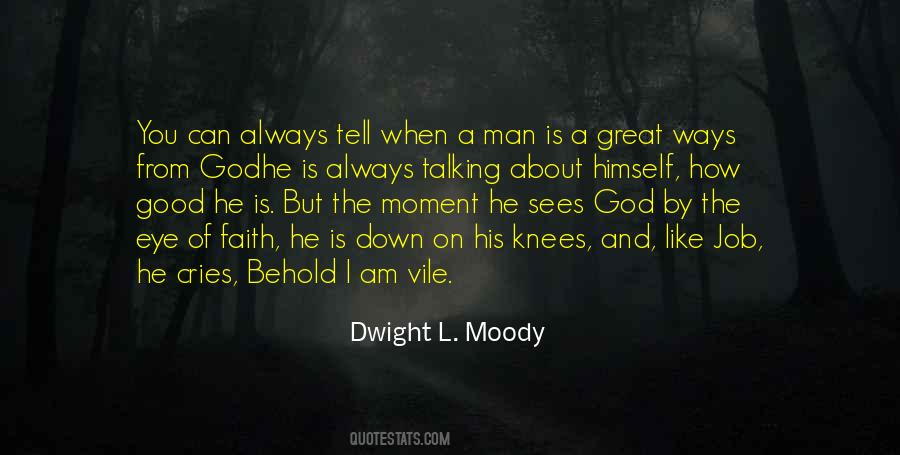 #43. The great basis of Christian assurance is not how much our hearts are set on God, but how unshakably his heart is set on us. - Author: Timothy Keller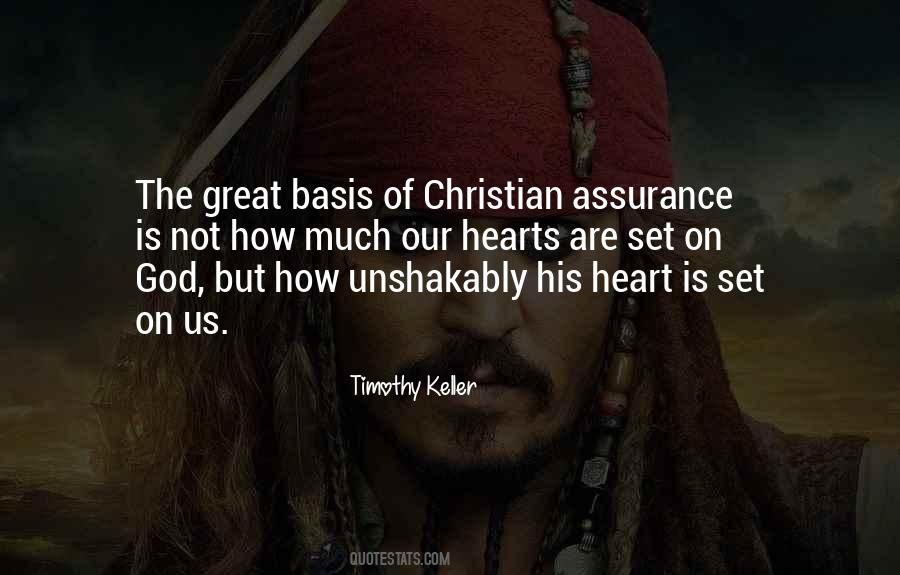 #44. Let all men know how empty and powerless is the power of kings. For there is none worthy of the name but God, whom heaven, earth and sea obey - Author: Cnut The Great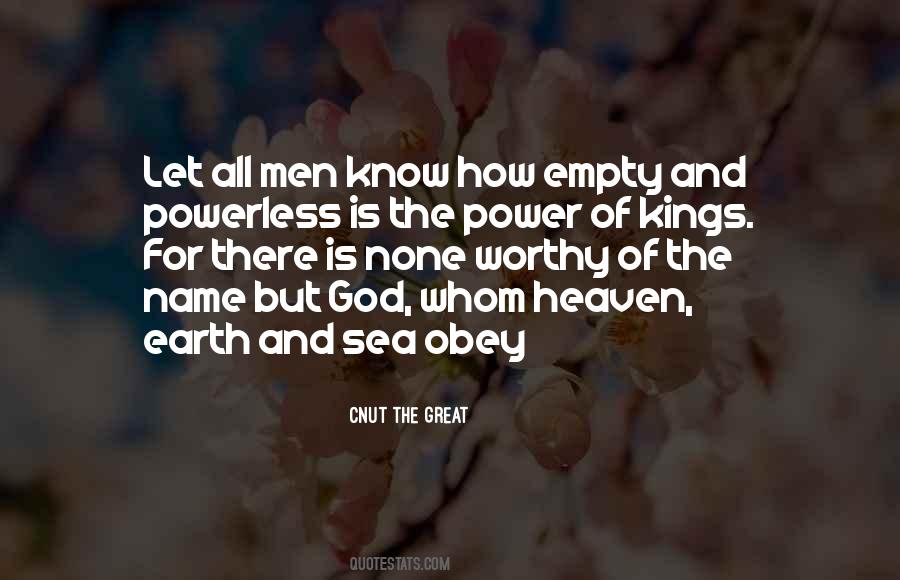 #45. The biblical way to express God's love to a sinner is to show him how great his sin is (using the Law - see Romans 7:13; Galatians 3:24), and then give him the incredible grace of God in Christ. - Author: Ray Comfort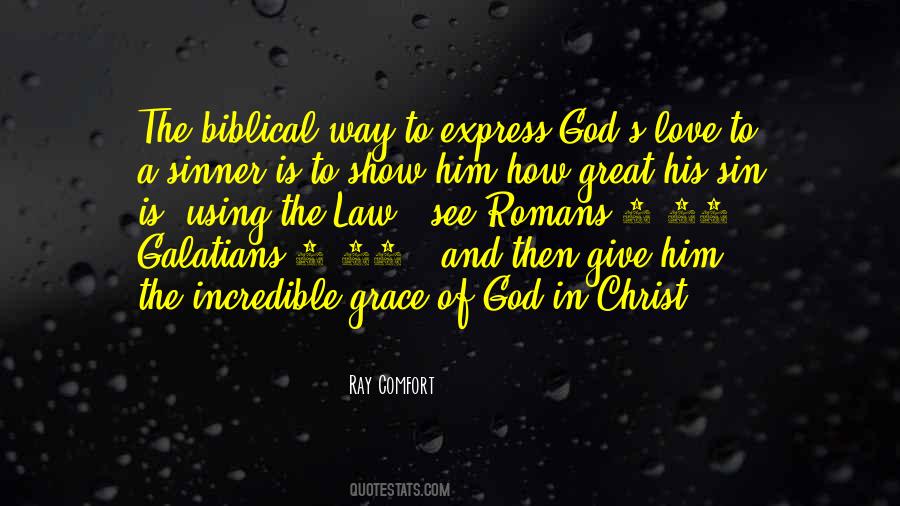 #46. Without God, all we do in life, no matter how great or significant, will pass and is useless. Only the things with Jesus at the center will bring true peace and happiness to both mankind and the world at large. - Author: Leon Lutje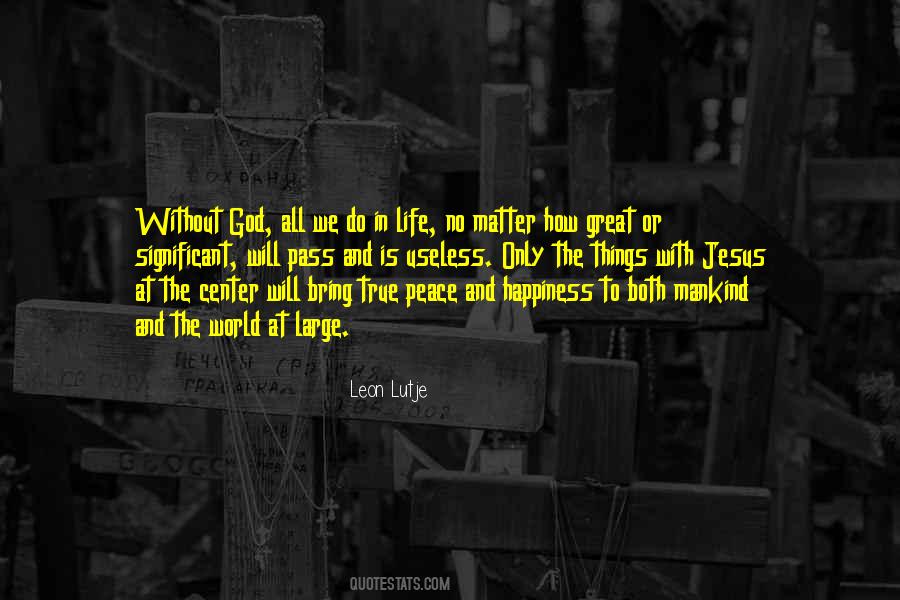 #47. It is hardily credible of how great consequences before God the smallest things are; and what great inconveniences some times follow those which appear to be light faults. - Author: John Wesley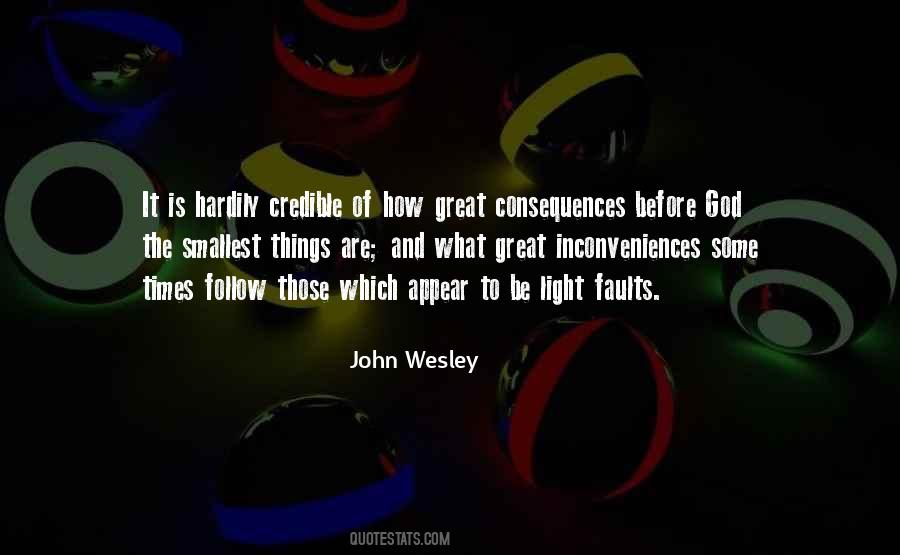 #48. The family is the great catechism God has given the world. The work of our lifetime is to learn how to read it and then study it prayerfully. - Author: Mike Aquilina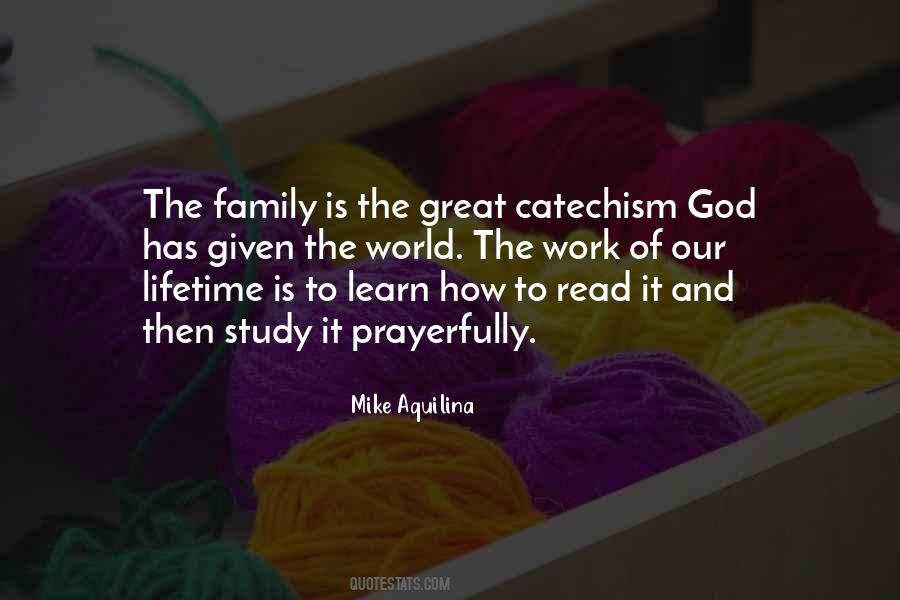 #49. The great distinction of a true Christian is the indwelling of the Holy Spirit. How careful should he be, lest anything in his thoughts or feelings would be offensive to the Divine Guest.! - Author: Francis Schaeffer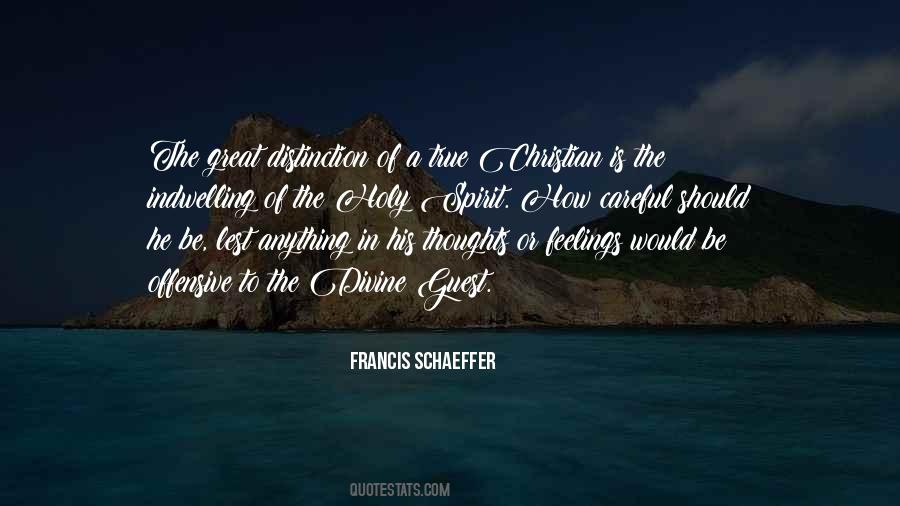 #50. But Mrs. Wingfold had developed a great aptitude for liking people. Surely more people would allow themselves to be thus changed if they realized how greatly the coming of the kingdom of God is slowed by a simple lack of courtesy. - Author: George MacDonald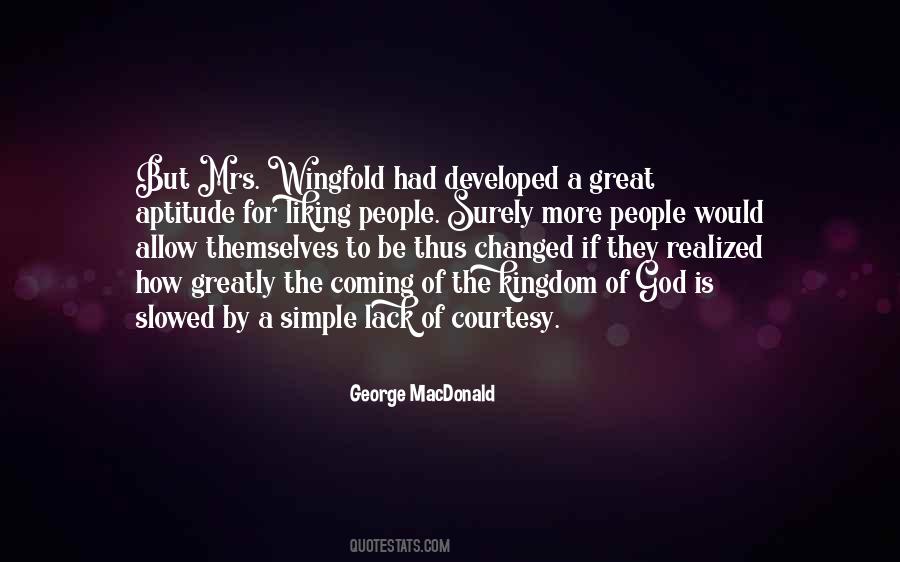 #51. It's like, God, I'm in my 80s. Nobody, when I die, is going to say, 'How young?' They're going to say she had a great ride. - Author: Joan Rivers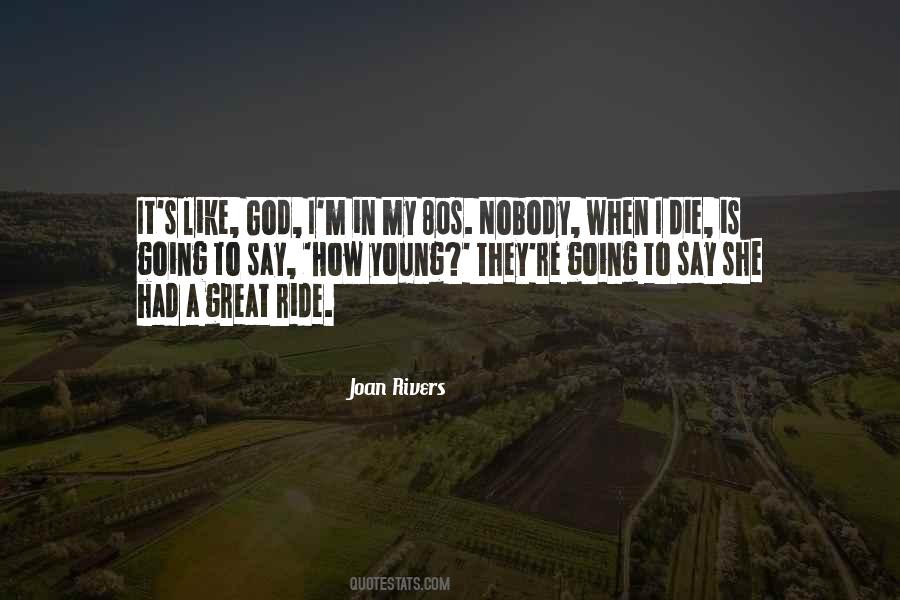 #52. When we meet the great men and women of the Bible face-to-face, we may be surprised to discover just how much like us they are. It is faith in a great God that makes a great man or woman of God. - Author: Mike Bickle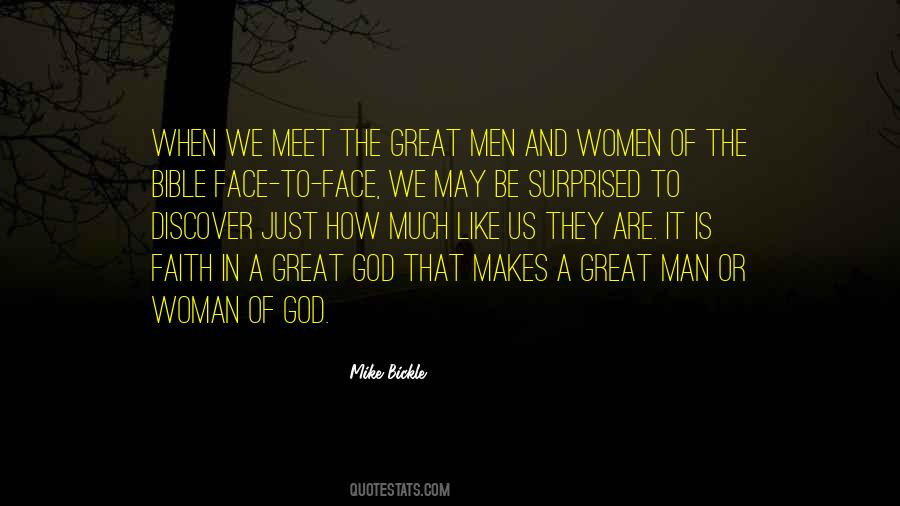 #53. Before and after you do your best, know it that you must rely on God. Your best - no matter how great - is nothing if you minus God from the equation. - Author: Ifeanyi Enoch Onuoha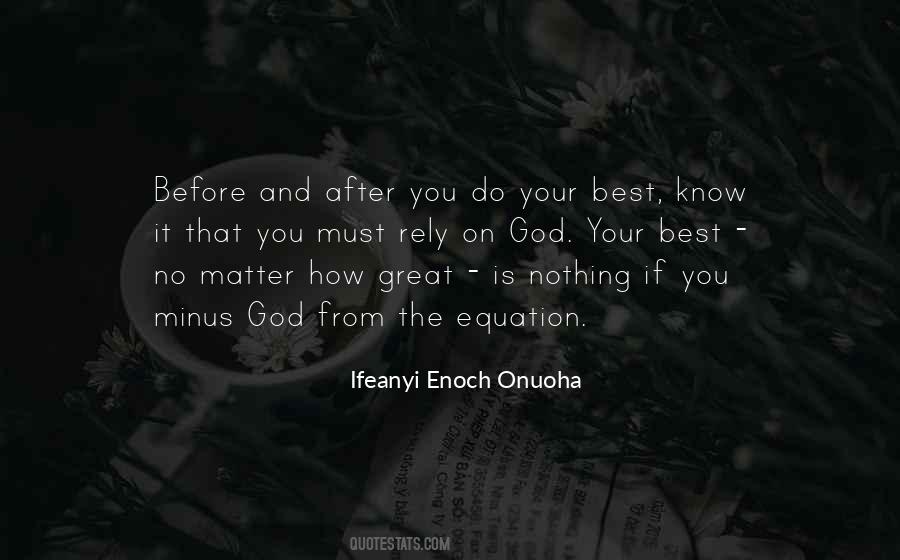 #54. Our great privilege as worship leaders is to help people see through the eyes of faith how great God has actually revealed himself to be. He doesn't change. We do. - Author: Bob Kauflin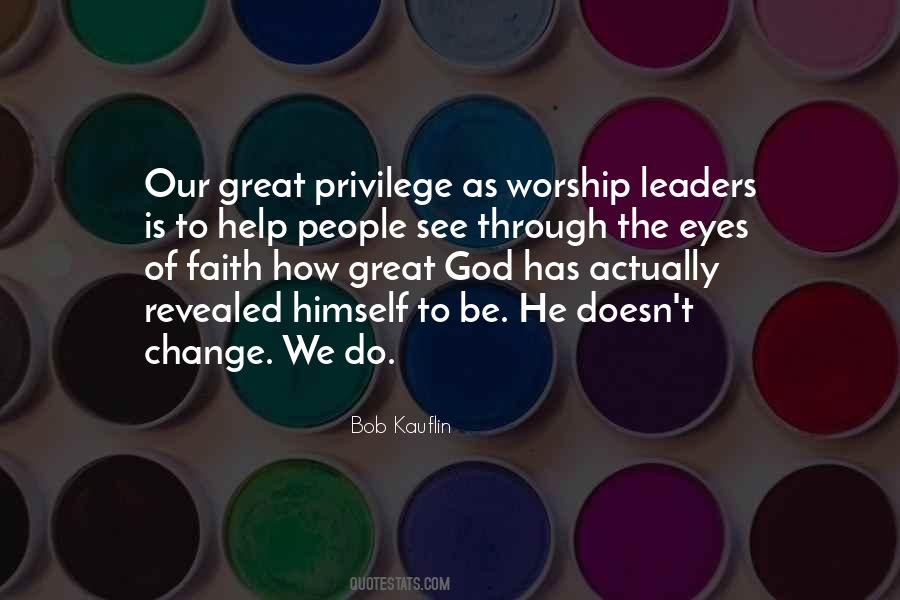 #55. It does not matter how great the pressure is. What really matters is where the pressure lies
whether it comes between you and God, or whether it presses you nearer His heart. - Author: James Hudson Taylor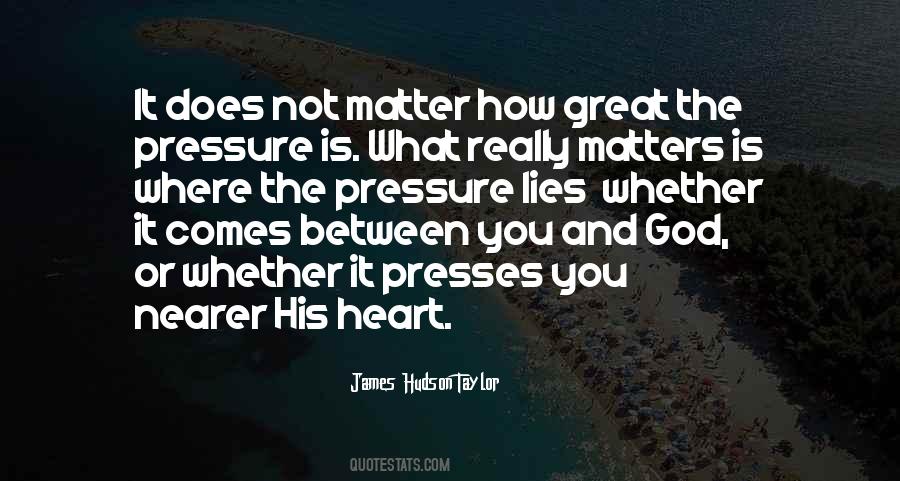 #56. The serious thoughts of our short stay here would be a great means of promoting godliness. What if death should come before we are ready? What if our life should breathe out before God's Spirit has breathed in? Whoever considers how flitting and winged his life is, will hasten his repentance! - Author: Thomas Watson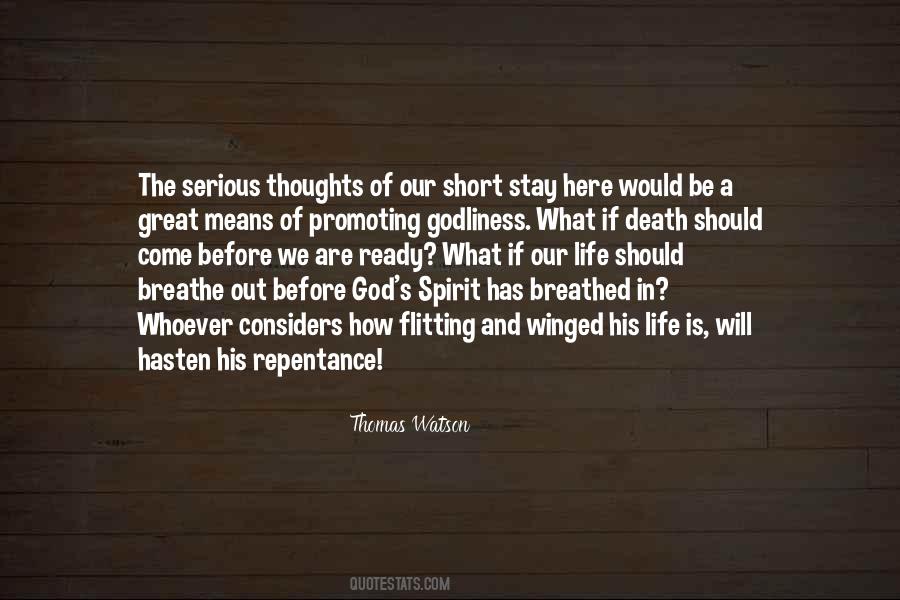 #57. Can a mortal ask questions which God finds unanswerable? Quite easily, I should think. All nonsense questions are unanswerable. How many hours are in a mile? Is yellow square or round? Probably half the questions we ask - half our great theological and metaphysical problems - are like that. - Author: C.S. Lewis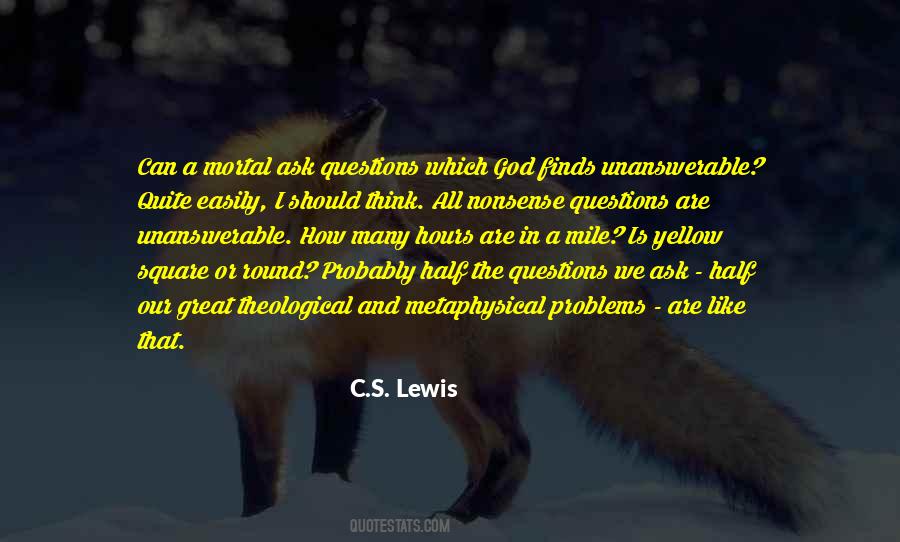 #58. No matter how difficult the challenge, when we spread our wings of faith and allow the winds of God's spirit to lift us, no obstacle is too great to overcome. - Author: Roy Lessin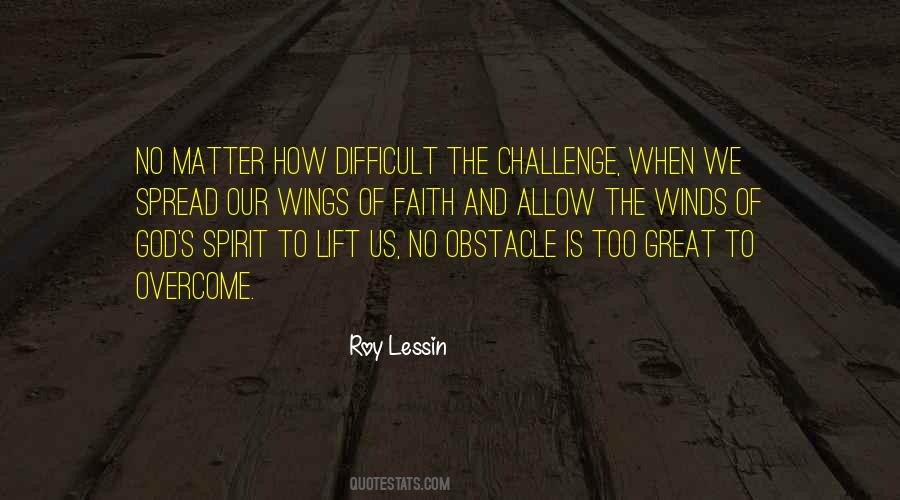 #59. Christ's whole life on earth was the assertion and example of true manliness - the setting forth in living act and word what man is meant to be, and how he should carry himself in this world of God - one long campaign in which the temptation stands out as the first great battle and victory. - Author: Thomas Hughes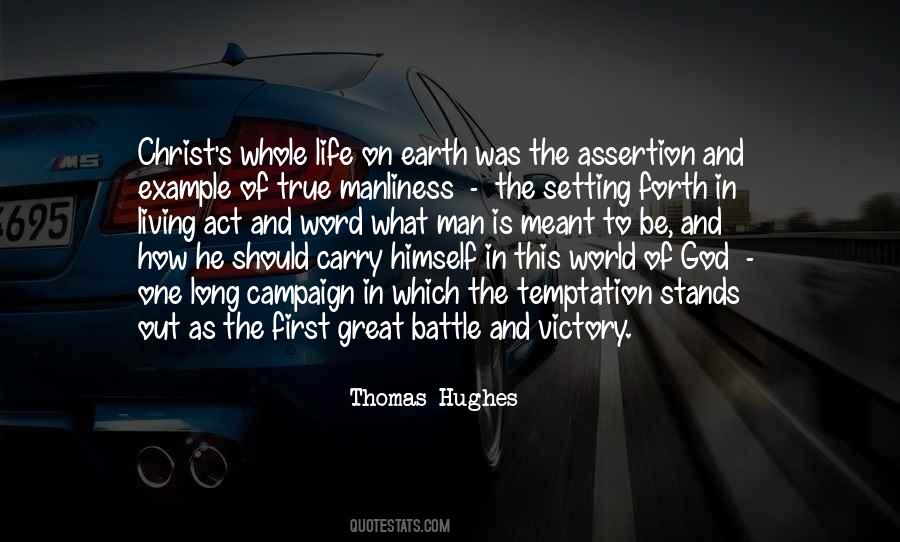 #60. If it please you, the lady's name again? says Reginald. His quill is poised. If God had come to Reginald and not to Moses in the burning bush, he would have asked him how to spell the great I AM so he'd be sure he had it right. - Author: Frederick Buechner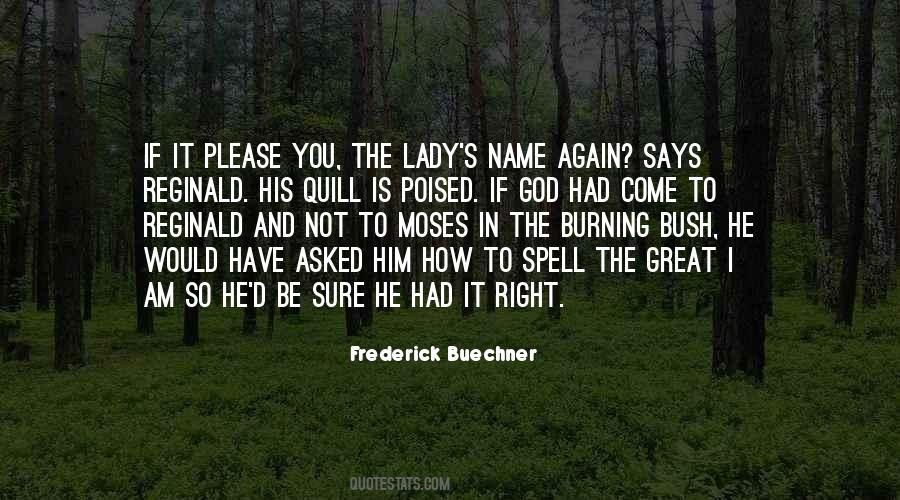 #61. To accept grace is to admit failure, a step we are hesitant to take. We opt to impress God with how good we are rather than confessing how great he is. - Author: Max Lucado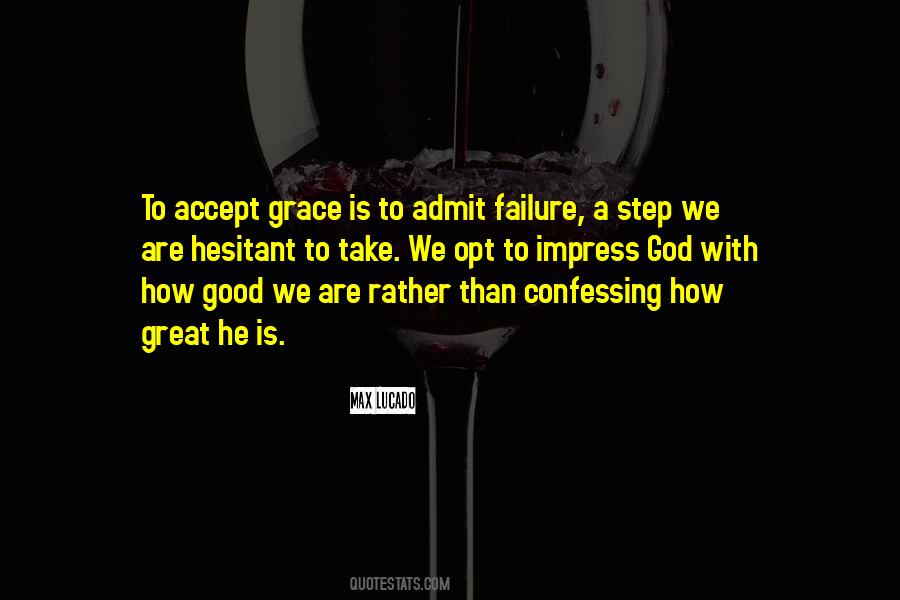 #62. How dangerous it is for our salvation, how unworthy of God and of ourselves, how pernicious even for the peace of our hearts, to want always to stay where we are! Our whole life was only given us to advance us by great strides toward our heavenly country. - Author: Francois Fenelon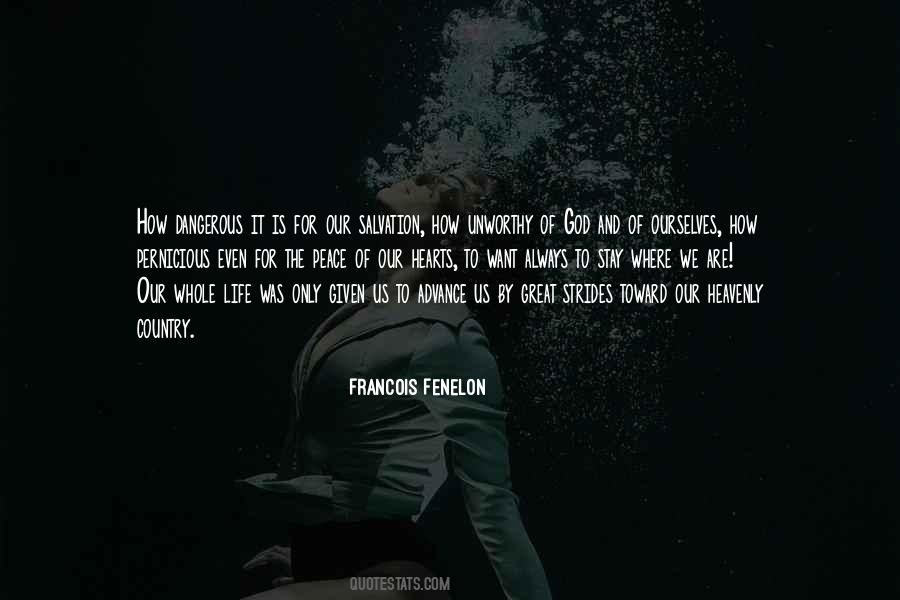 #63. To show great love for God and our neighbor we need not do great things. It is how much love we put in the doing that makes our offering something beautiful for God. - Author: Mother Teresa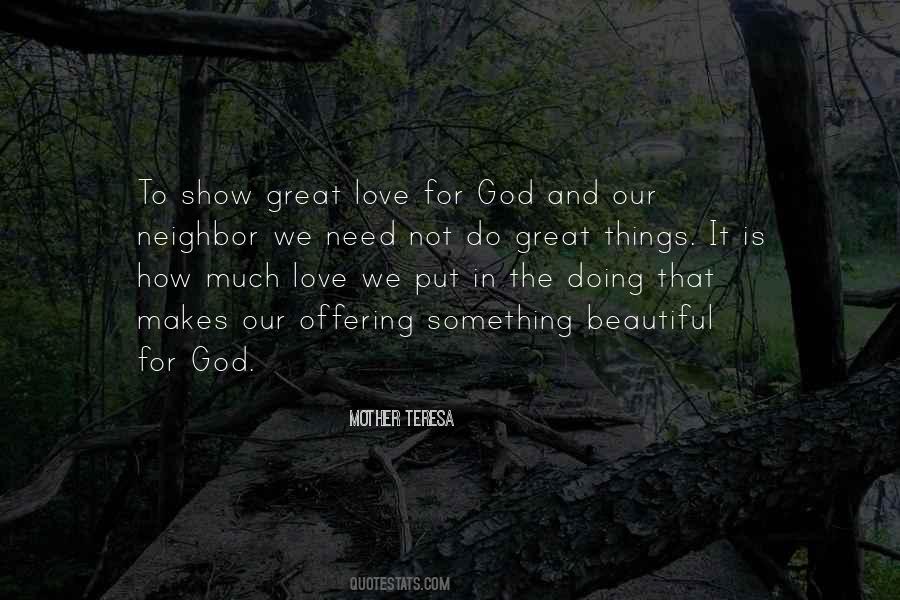 #64. Every act of suffering, no matter how small or agonisingly great, is a test of love in some way. Most of the time, suffering is also a test of our love for God. - Author: Gregory David Roberts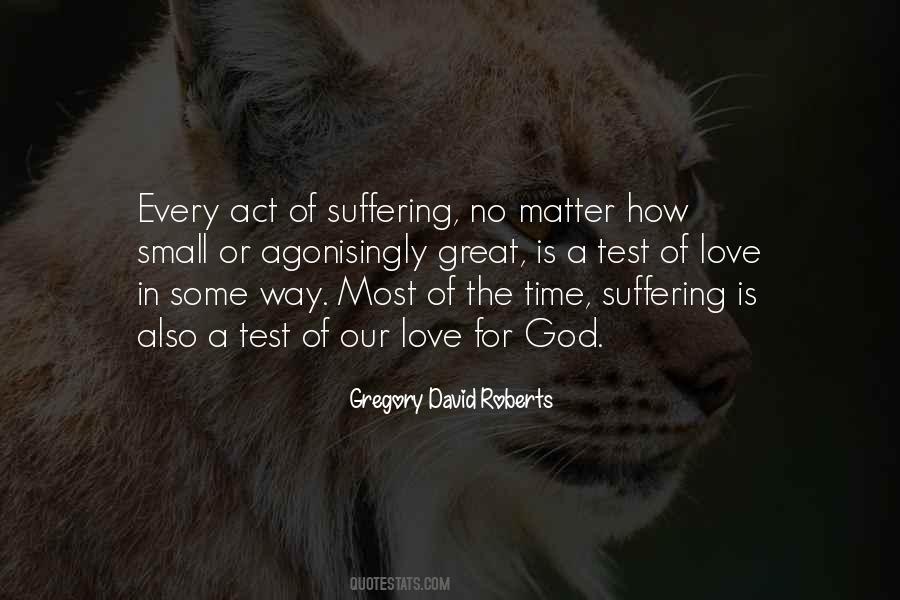 #65. N]either antiquity nor any other nation has imagined a more atrocious and blasphemous absurdity than that of eating God. This is how Christians treat the autocrat of the universe. - Author: Frederick The Great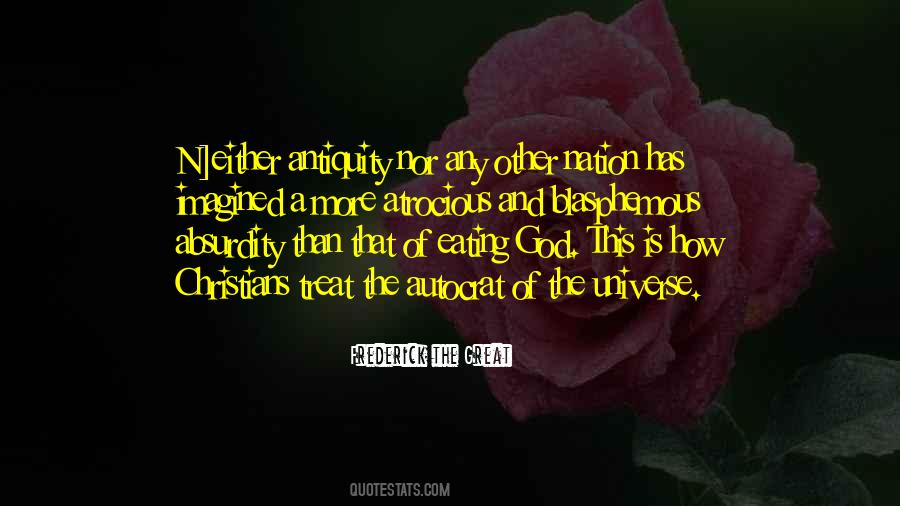 #66. Oh! then repeat the truth that never tires; No God is like the God my soul desires; He at whose voice heaven trembles, even He, Great as He is, knows how to stoop to me. - Author: Charles Haddon Spurgeon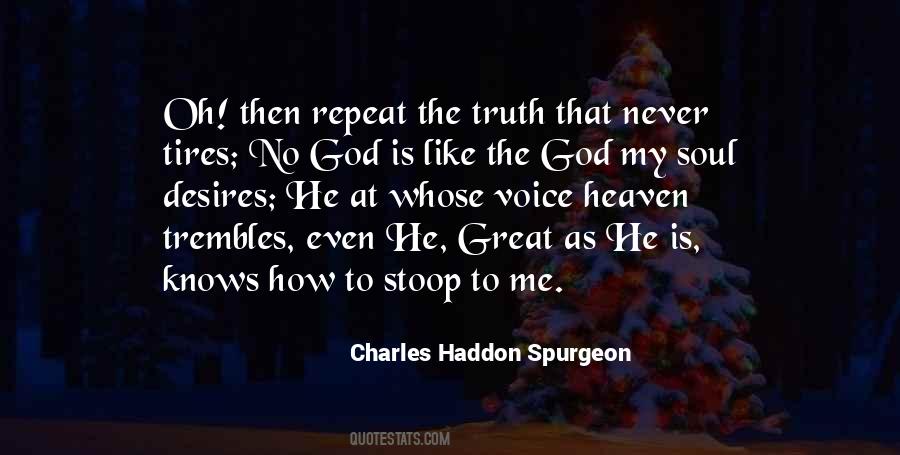 #67. So great and boundless is God's wisdom that he knows right well how to use evil instruments to do good. - Author: John Calvin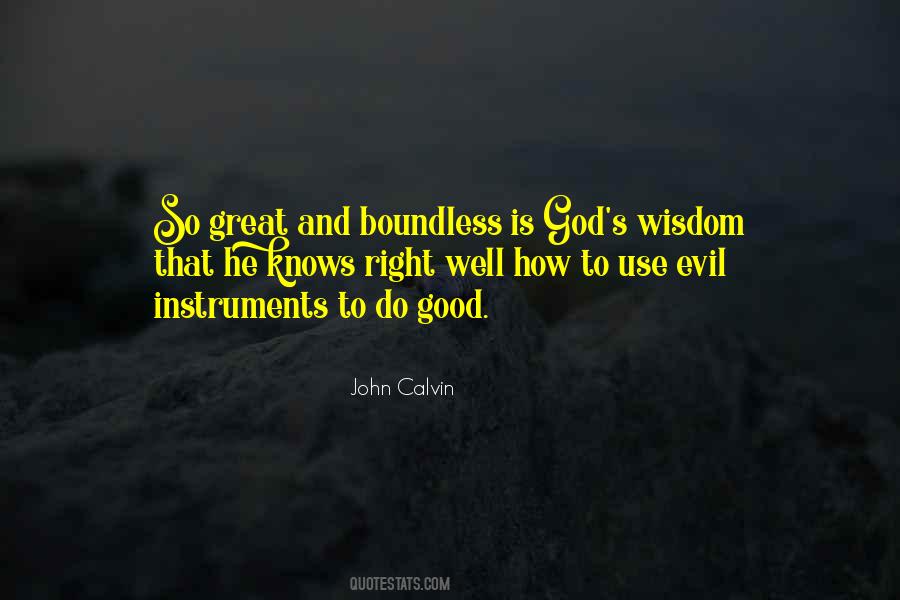 #68. I was born into an Irish Catholic family in the New York area in this great, wonderful, and safe country, but the Holocaust has always haunted me, and it has long stood as a stumbling block to faith. How could such a thing be? How is that consistent with the concept of a loving God? - Author: James Comey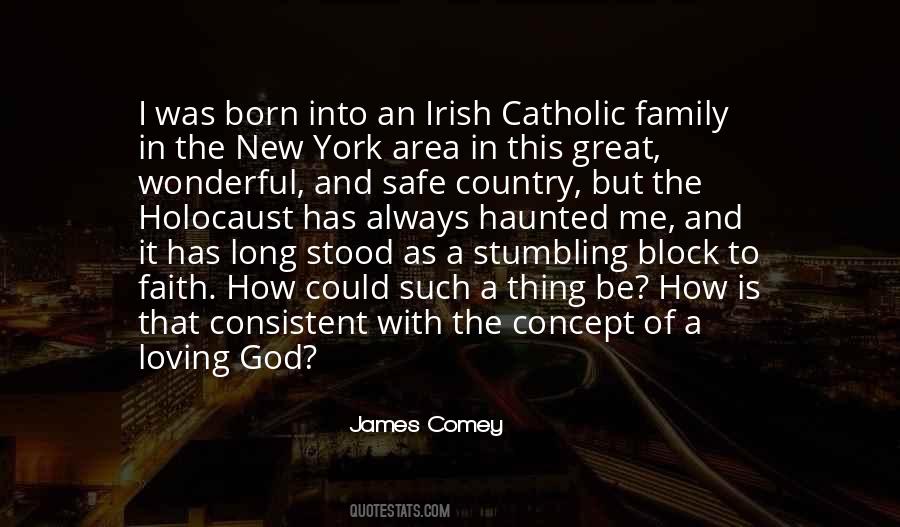 #69. Though the words of the great saints appear in a hundred different forms, since God is one and the Way is one, how can their words be different? Though their teachings appear to contradict, their meaning is one. Separation exists in their outward form only; in inner purpose they all agree. - Author: Rumi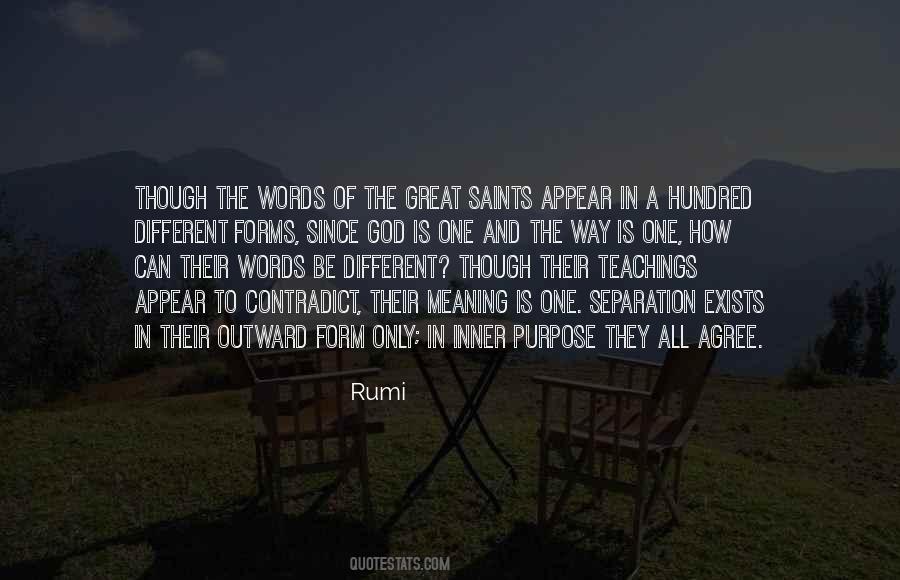 #70. God love Neil Patrick Harris - how great is that. People grew up with him; they go, 'Oh it's him, it's that little boy and he just happens to be gay. How great for him!' The more of those kind of examples that happen, the better it's going to be. - Author: Bryan Batt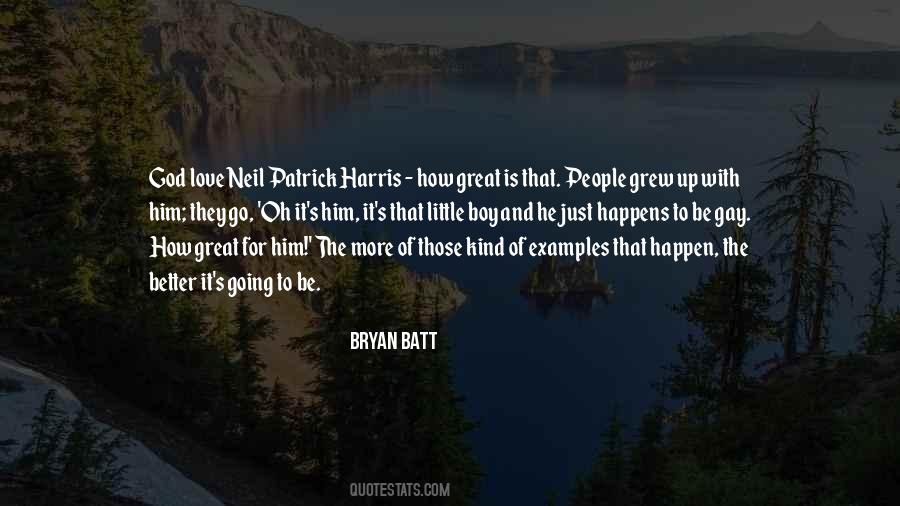 #71. People have always wondered what my opinion on Stevie Wonder is. I say if he's so great how come he can't see? I mean, God doesn't make mistakes, just look at me for example. - Author: Zach Braff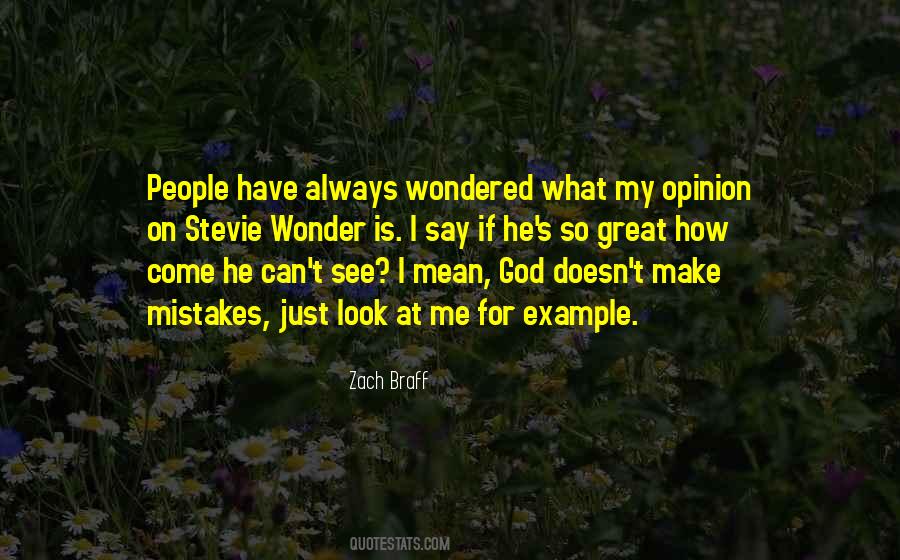 #72. It is a great deal easier to do that which God gives us to do, no matter how hard it is, than to face the responsibilities of not doing it. - Author: Bill Vaughan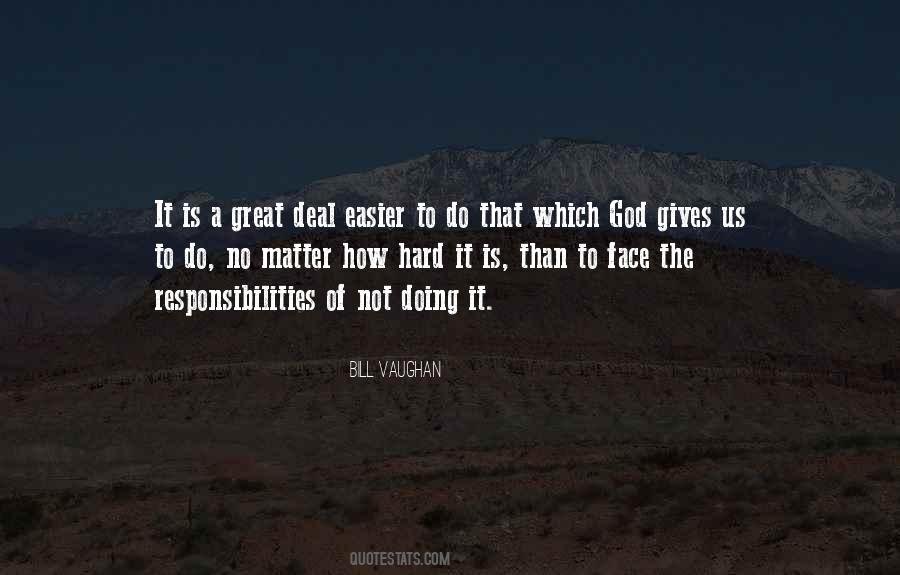 Famous Authors
Popular Topics