God Is Great Famous Quotes & Sayings
List of top 100 famous quotes and sayings about god is great to read and share with friends on your Facebook, Twitter, blogs.
Top 100 Quotes About God Is Great
#1. Antony said to Poemen, 'Our great work is to lay the blame for our sins upon ourselves before God, and to expect to be tempted to our last breath. - Author: Benedicta Ward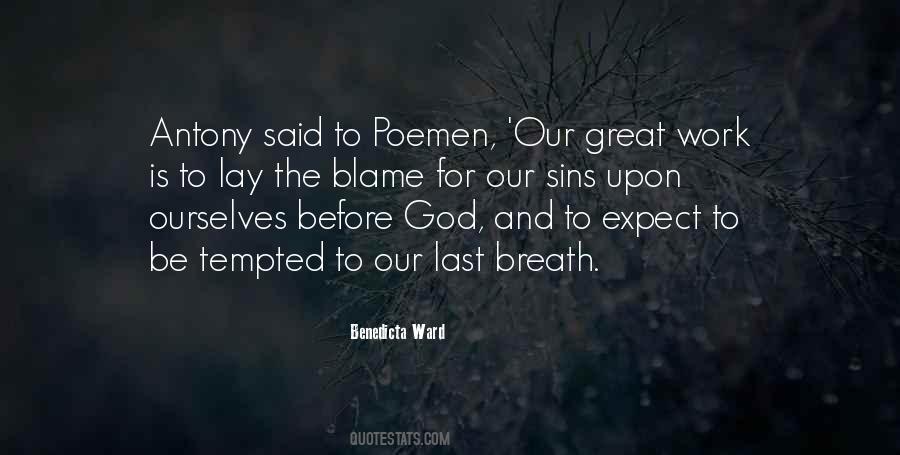 #2. We believe that this human life is a great gift, that every part of it is designed by God and therefore means something, that every part of it is blessed by God and therefore to be enjoyed, that every part is accompanied by God and therefore workable. - Author: Eugene H. Peterson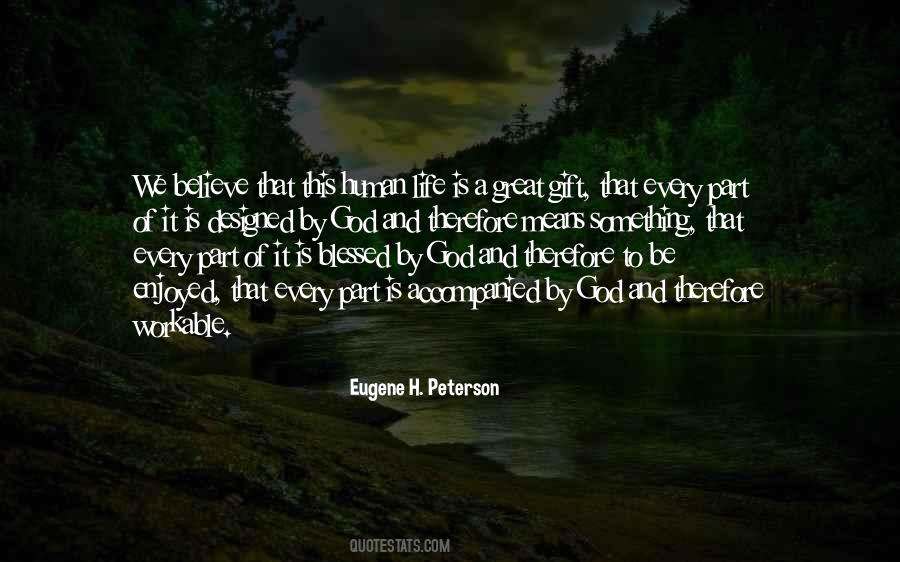 #3. God is great and gracious. - Author: Lailah Gifty Akita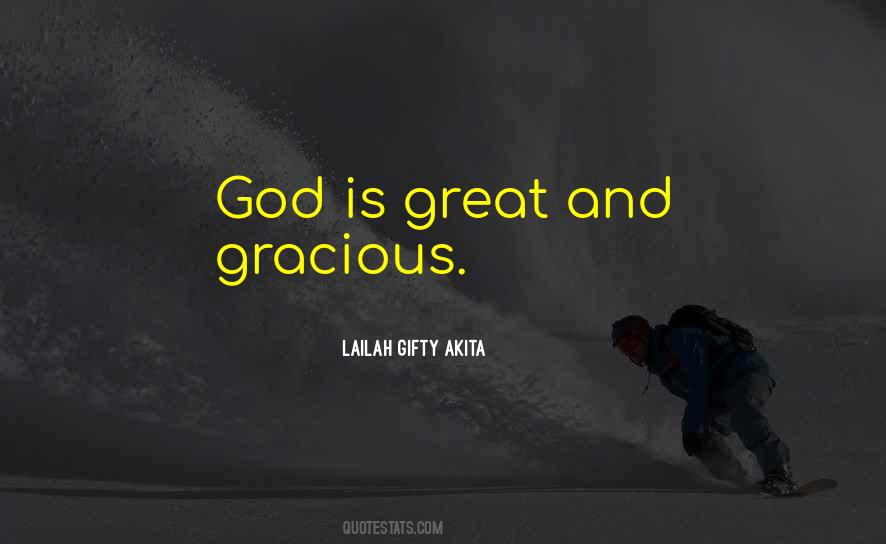 #4. Creation is not a property, which we can rule over at will; or, even less, is the property of only a few: Creation is a gift, it is a wonderful gift that God has given us, so that we care for it and we use it for the benefit of all, always with great respect and gratitude. - Author: Pope Francis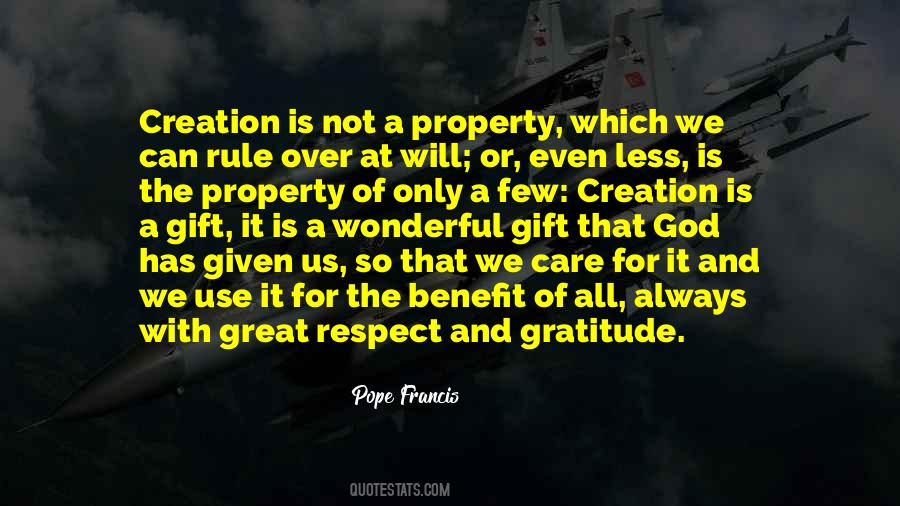 #5. Life is so precious. Please, please, let's love one another, live each day, reach out to each other, be kind to each other. Peace be with you. God is great. - Author: Julia Roberts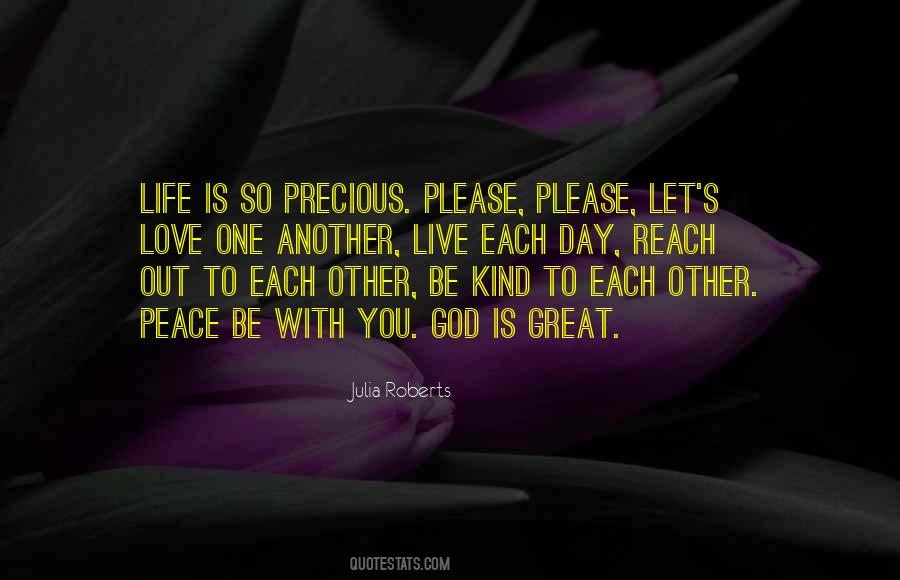 #6. A great benefit of Sabbath keeping is that we learn to let God take care of us - not by becoming passive and lazy, but in the freedom of giving up our feeble attempts to be God in our own lives. - Author: Marva J. Dawn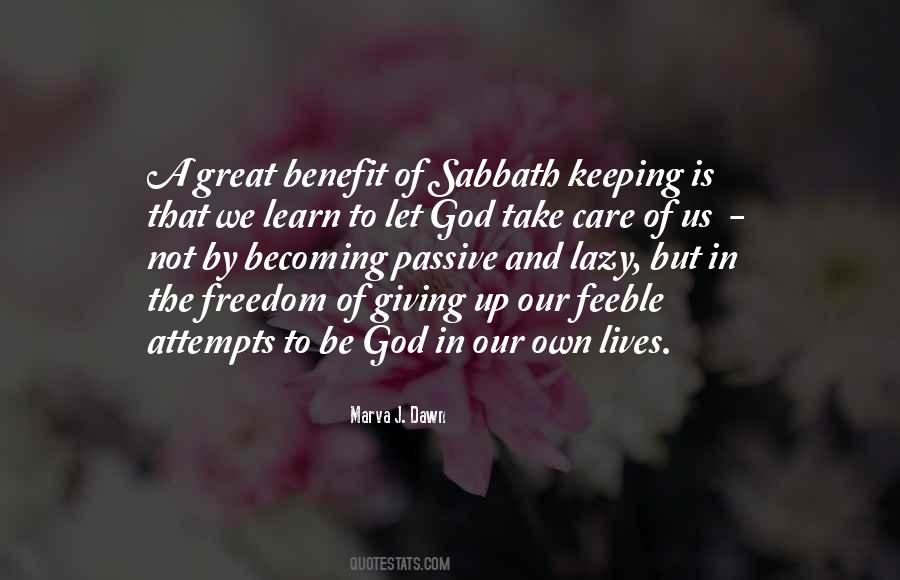 #7. Every act of suffering, no matter how small or agonisingly great, is a test of love in some way. Most of the time, suffering is also a test of our love for God. - Author: Gregory David Roberts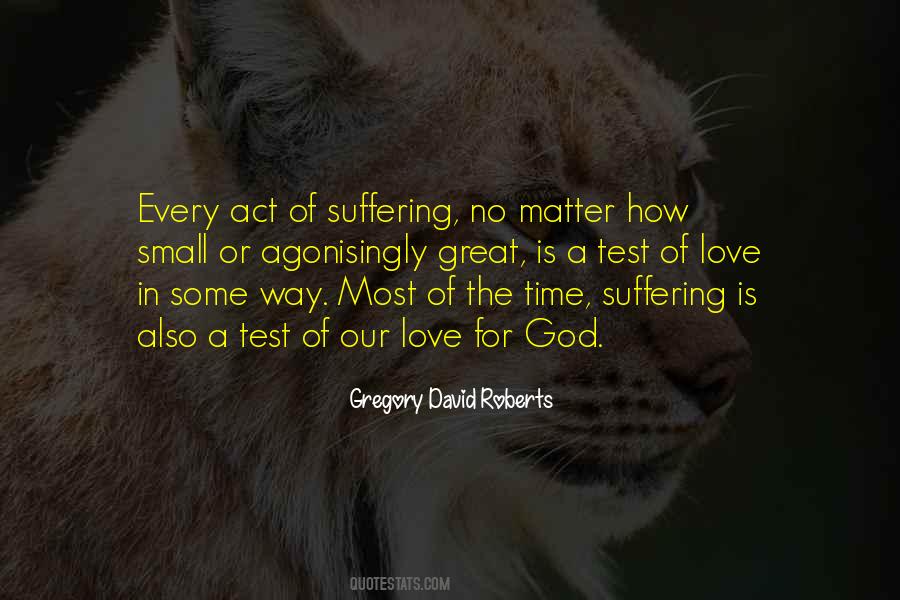 #8. He is Jesus, only. God has revealed Himself to us through Jesus. Jesus is what God wanted us to know and to love. He is not Napoleon the Great. He is not Alexander the Great. He is Jesus only. He is enough. My purpose in life is to worship Jesus and, in so doing, become more Christ-like - Author: David Paul Kirkpatrick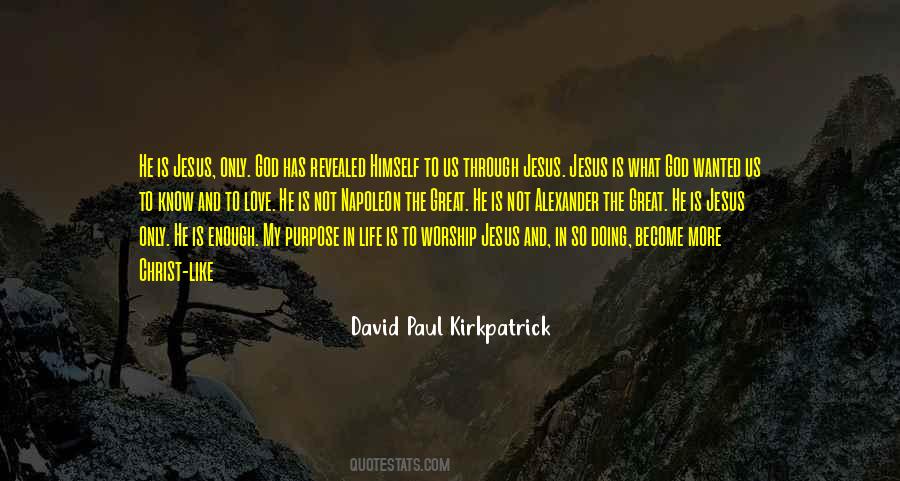 #9. God's love is too great to be confined to any one side of a conflict or to any one religion. - Author: Desmond Tutu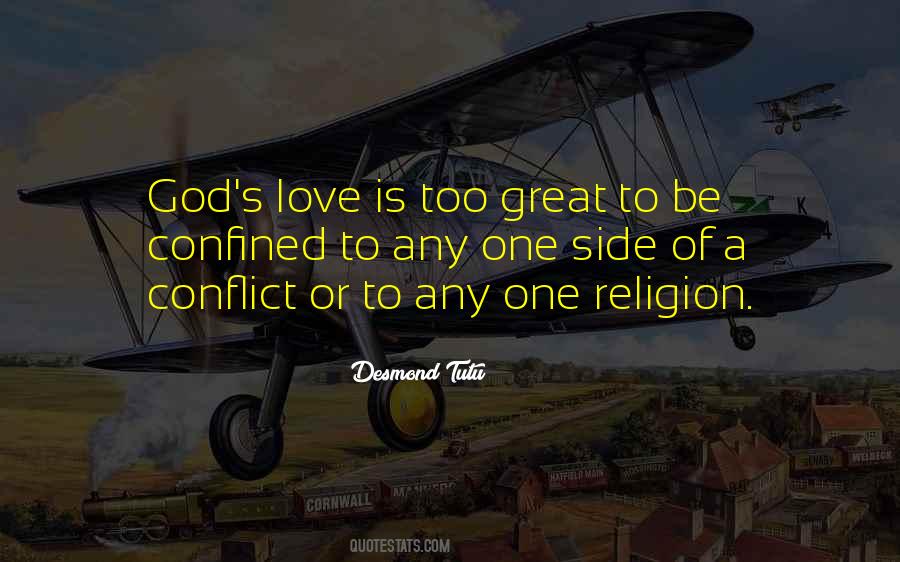 #10. To labor rightly and earnestly is to walk in the golden track that leads to God. It is to adopt the regimen of manhood and womanhood. It is to come into sympathy with the great struggle of humanity toward perfection. It is to adopt the fellowship of all the great and good the world has ever known. - Author: J.G. Holland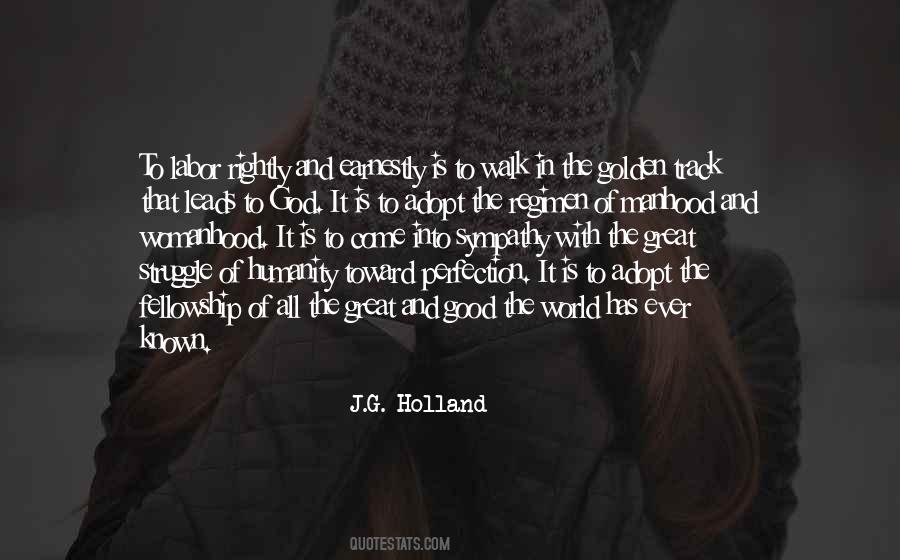 #11. To rob God of nothing; to refuse Him nothing; to require of Him nothing; this is great perfection. - Author: Jeanne Marie Bouvier De La Motte Guyon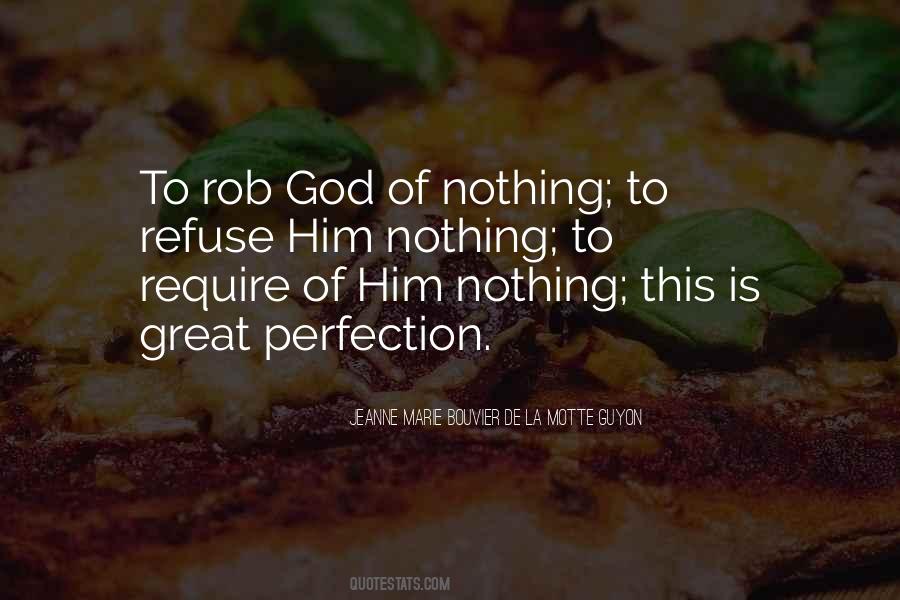 #12. The Providence of God is the great protector of our life and usefulness, and under the divine care we are perfectly safe from danger. - Author: Charles Spurgeon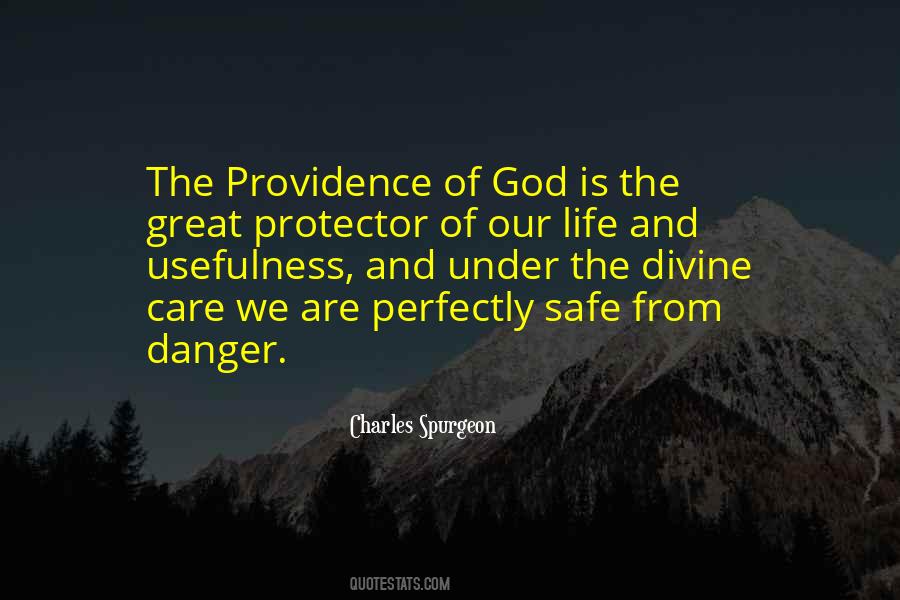 #13. To be a true poet is to become God.
I tried to explain this to my friends on Heaven's Gate. 'Piss, shit,' I said. 'Asshole motherfucker, goddamn shit goddamn. Cunt. Pee-pee cunt. Goddamn!'
They shook their heads and smiled, and walked away. Great poets are rarely understood in their own day. - Author: Dan Simmons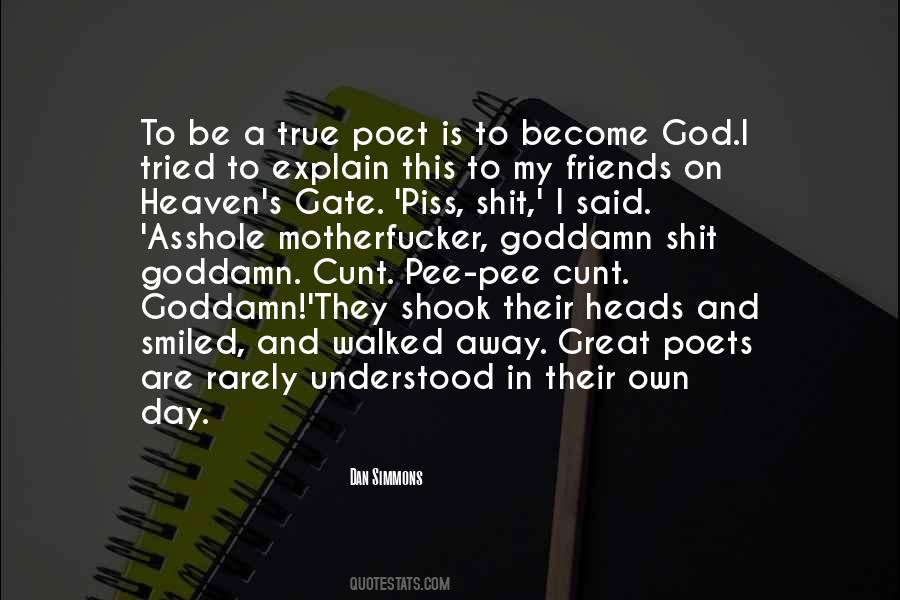 #14. Far too often, it is at the moment where we finally stand on the very precipice of some great thing that we turn and abandon it, for it is at these seminal moments that fear wins and greatness dies. The beauty of Christmas is that God steps over precipices. - Author: Craig D. Lounsbrough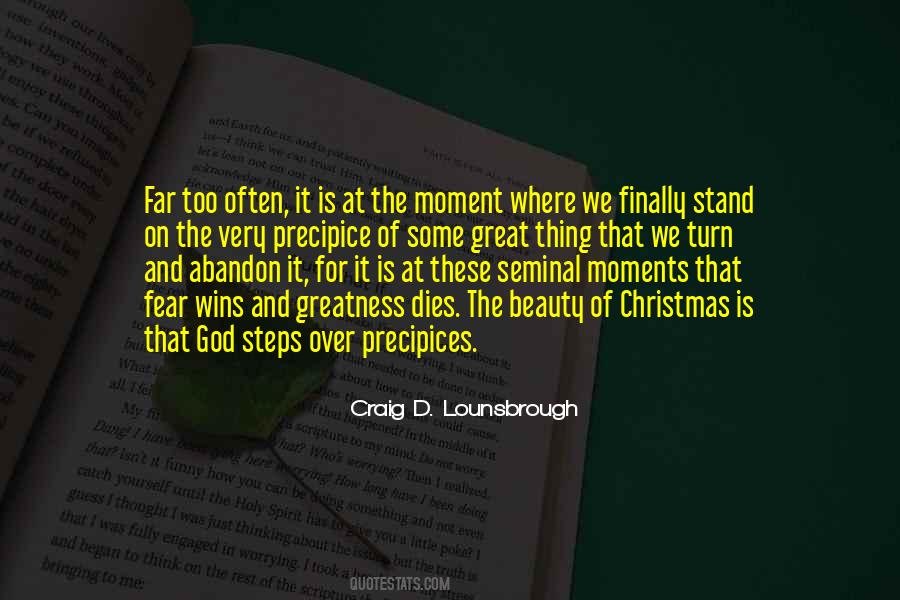 #15. In short, so great is God's love for you that He seems to love no one but you. And therefore, you should love no one but Him.* - Author: Alfonso Maria De Liguori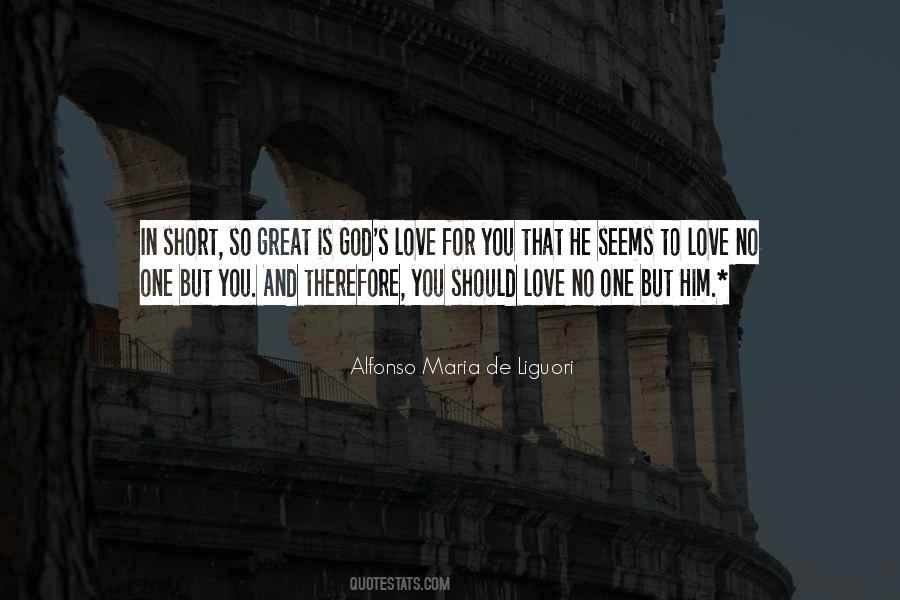 #16. You will certainly grant me that neither antiquity nor whatever nation has devised a more repulsive and blasphemous absurdity than that of eating your God. This is the most disgusting dogma of Christian religion, the greatest insult to the Highest Being, the climax of madness and insanity. - Author: Frederick The Great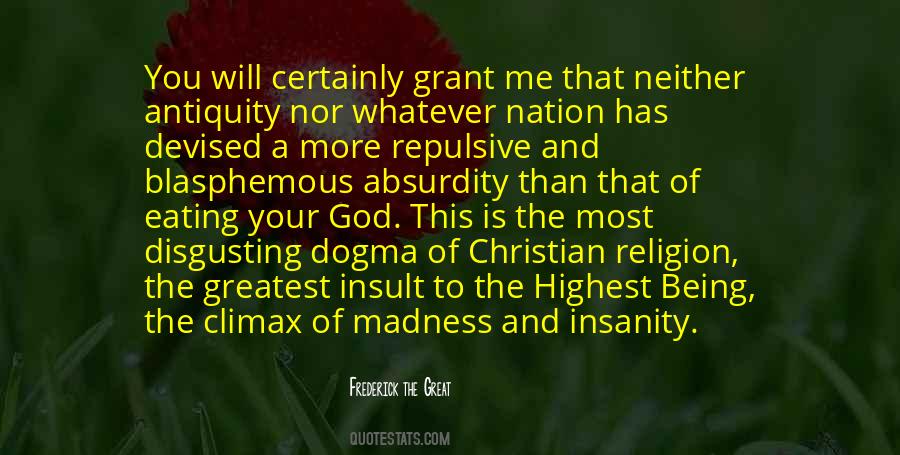 #17. And again: No more gods! no more gods! Man is King, Man is God! - But the great Faith is Love! - Author: Arthur Rimbaud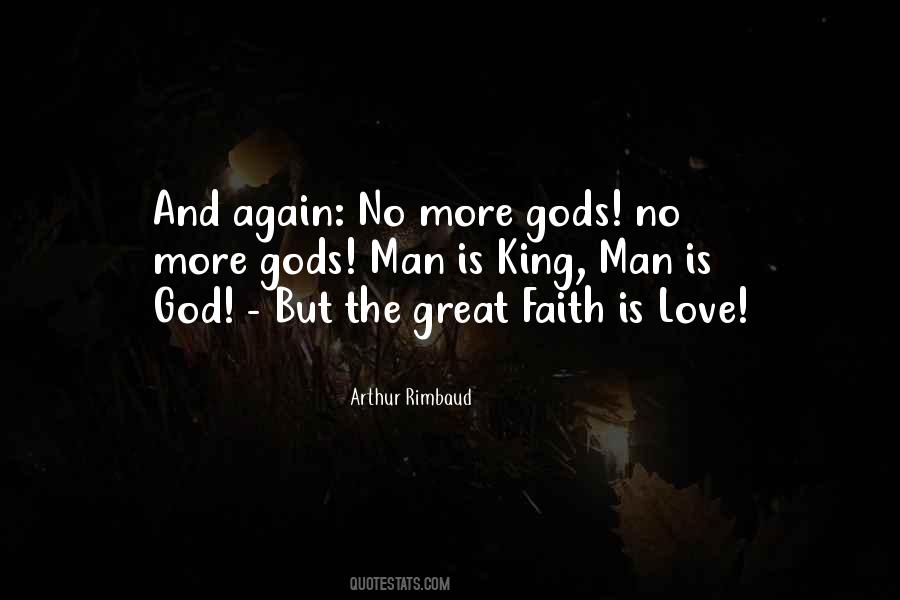 #18. G Blessed be the God and Father of our Lord Jesus Christ! h According to his great mercy, i he has caused us to be born again to a living hope j through the resurrection of Jesus Christ from the dead, 4. to k an inheritance that is imperishable, undefiled, and l unfading, m kept in heaven for you, - Author: Anonymous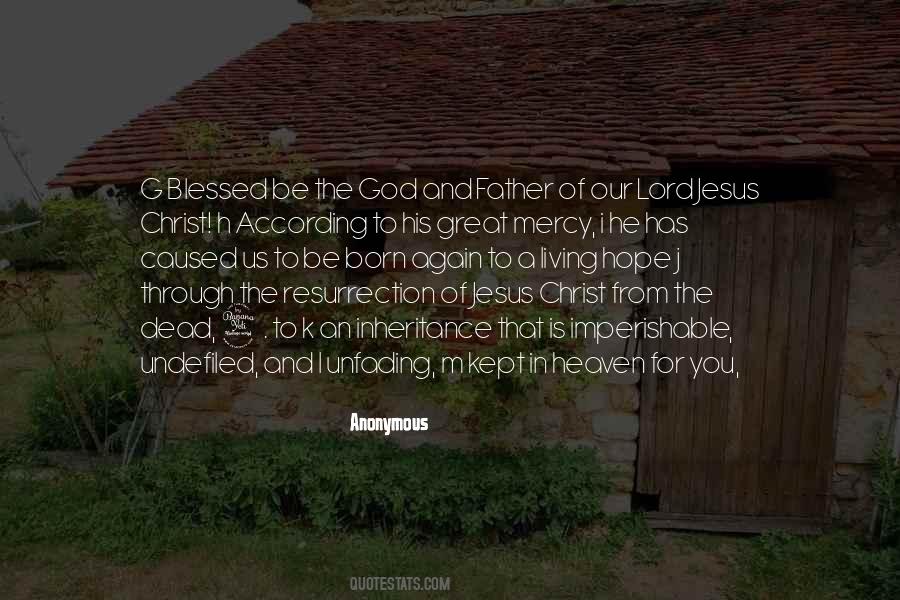 #19. And the will therein lieth, which dieth not. Who knoweth the mysteries of the will, with its vigor? For God is but a great will pervading all things by nature of its intentness, Man doth not yield himself to the angels, nor unto death utterly, save only through the weakness of his feeble will. - Author: Joseph Glanvill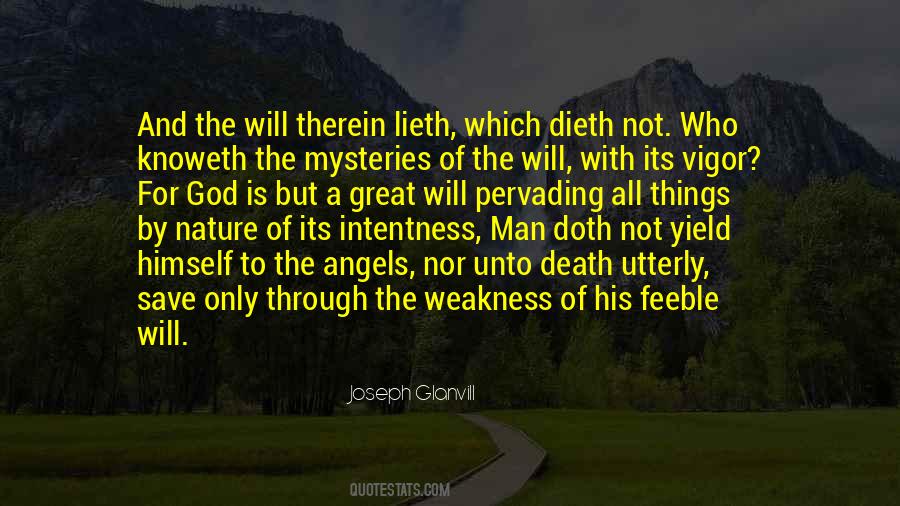 #20. God will put up with a great many things in the human heart, but there is one thing that He will not put up with in it
a second place. He who offers God a second place, offers Him no place. - Author: John Ruskin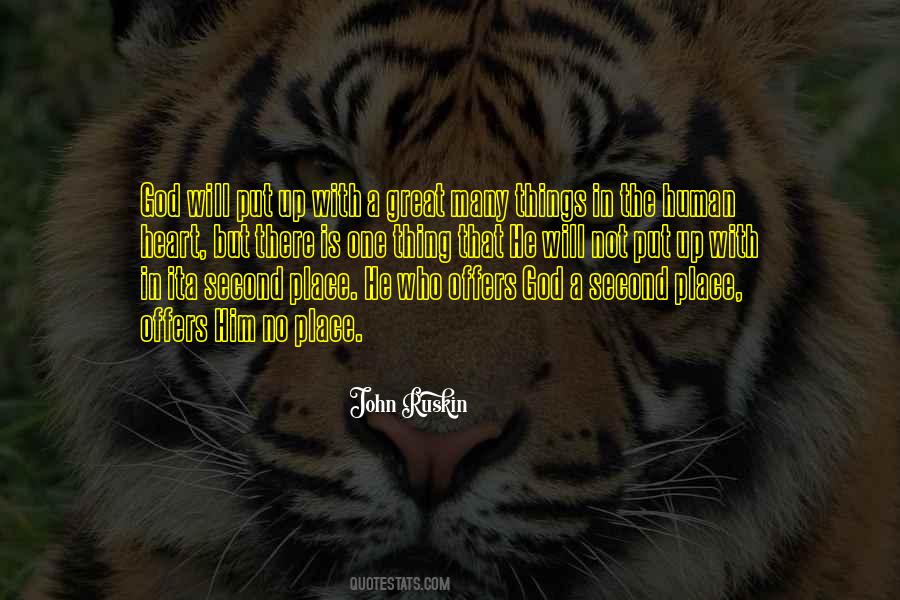 #21. It is impossible that one who has turned to the world and feels its anxieties, and engages his heart in the wish to please men, can fulfill that first and great commandment of the Master, 'You shall love God with all your heart and with all your strength' (Mt. 22:37). - Author: Gregory Of Nyssa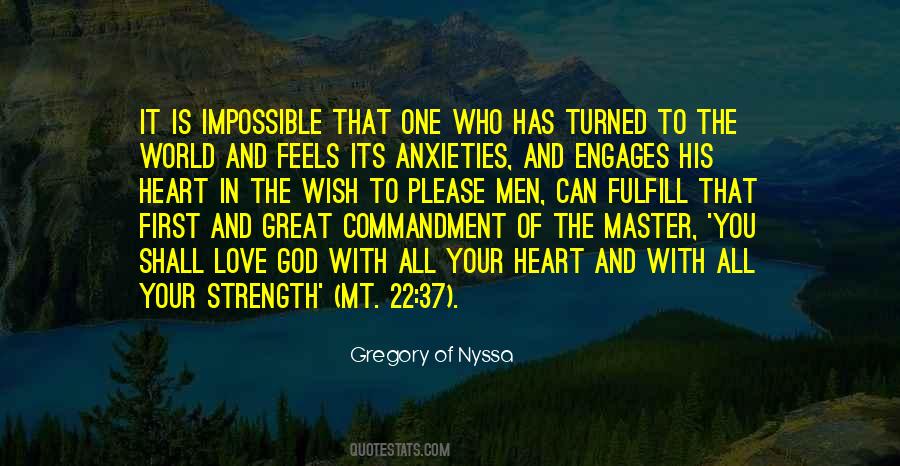 #22. My own dear mother was a martyr indeed, and it is not to everybody that God grants so easy a way to his great gifts as he did to Hilary and myself, giving us a mother who killed herself with labour and trouble to ensure us keeping the faith. - Author: J.R.R. Tolkien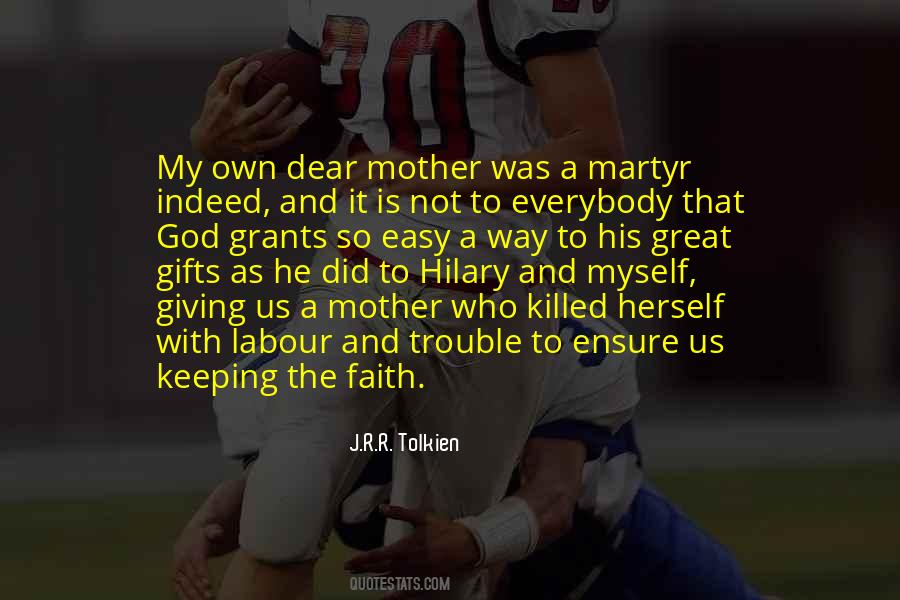 #23. God is pleased to communicate himself to the simple and humble and to use the smallest and lowliest to make them great and exalted. In a word, it is He Himself who has called and approved them and even inspired their humble manner of living. - Author: Vincent De Paul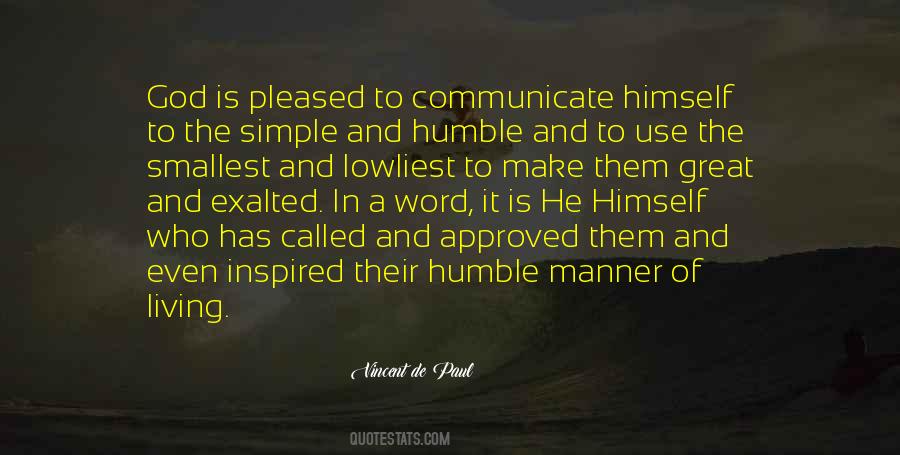 #24. More than anything I have learned that we are all frail people, vulnerable and wounded; it is just that some of us are more clever at concealing it than others! And of course the great joke is that it is O.K. to be frail and wounded because that is the way the almighty transcendent God made people. - Author: Sheila Cassidy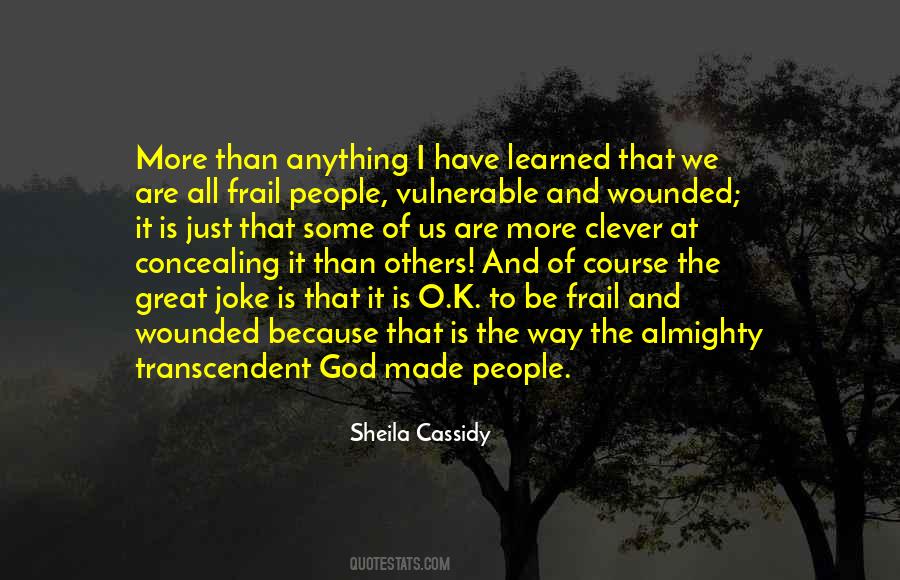 #25. The great object of the Christian is duty; his predominant desire to obey God. When he can please the world consistently with these, he will do so; otherwise it is enough for him that God commands, and enough for them that he cannot disobey. - Author: Gardiner Spring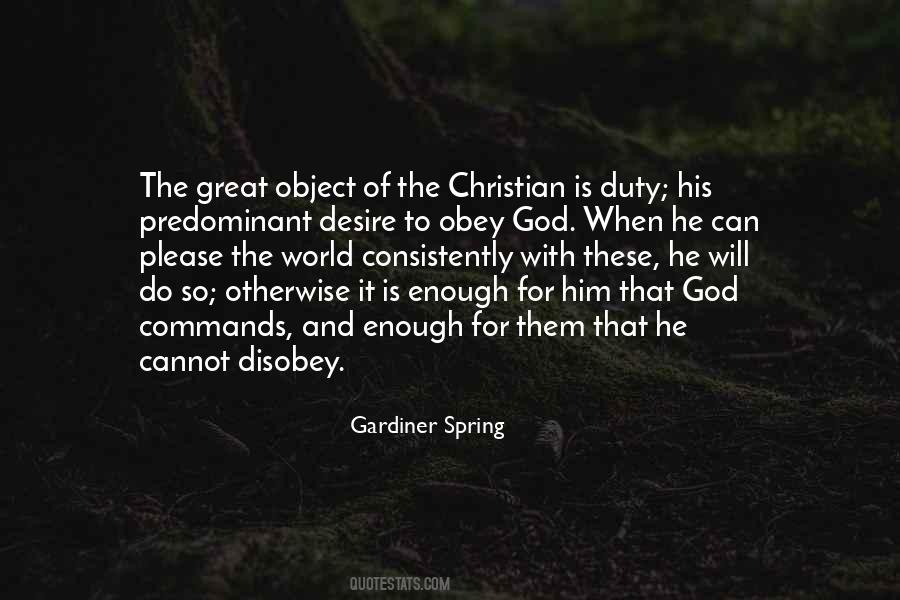 #26. Take your well-disciplined strengths, stretch them between the two great opposing poles, because inside human beings is where God learns. - Author: Rainer Maria Rilke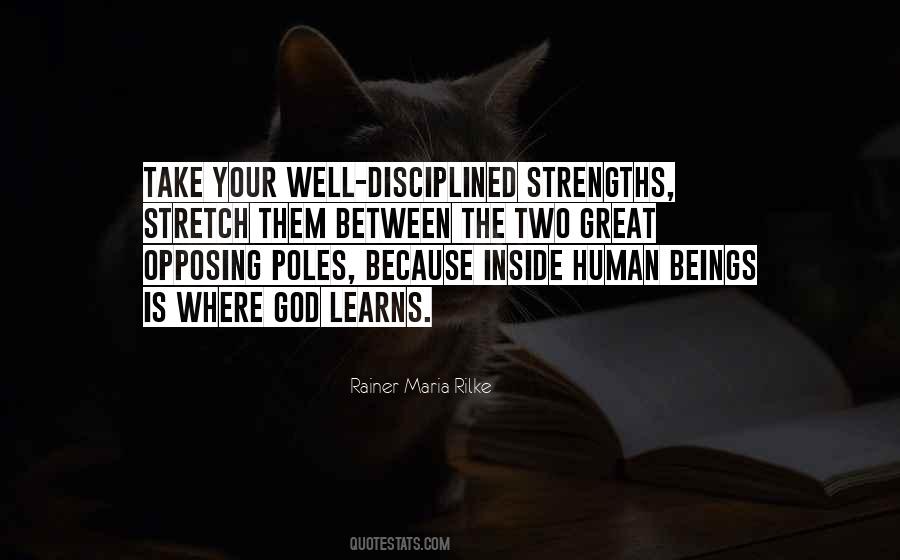 #27. If we want a great future in this world, we have to take God at his word, and God makes it really clear that society and civilization is held together by the glue of families ... This is where the next generation of human beings are incubated and nurtured and matured - in homes. In families. - Author: Kirk Cameron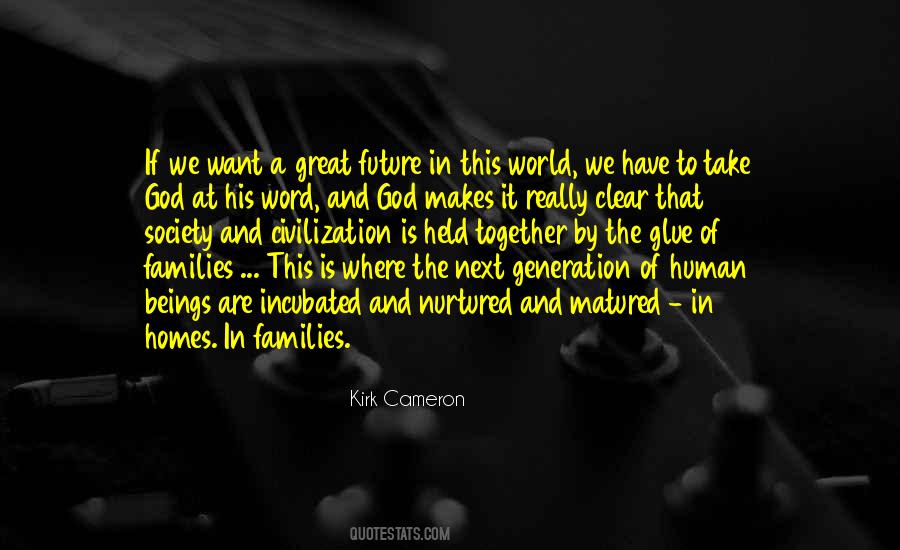 #28. If you knew what a sensation of the nearness of a higher power one instinctively feels when one is permitted to contribute to the good of mankind, as I have done, and still do! Believe me, it is a great gift of God's mercy! - Author: Jenny Lind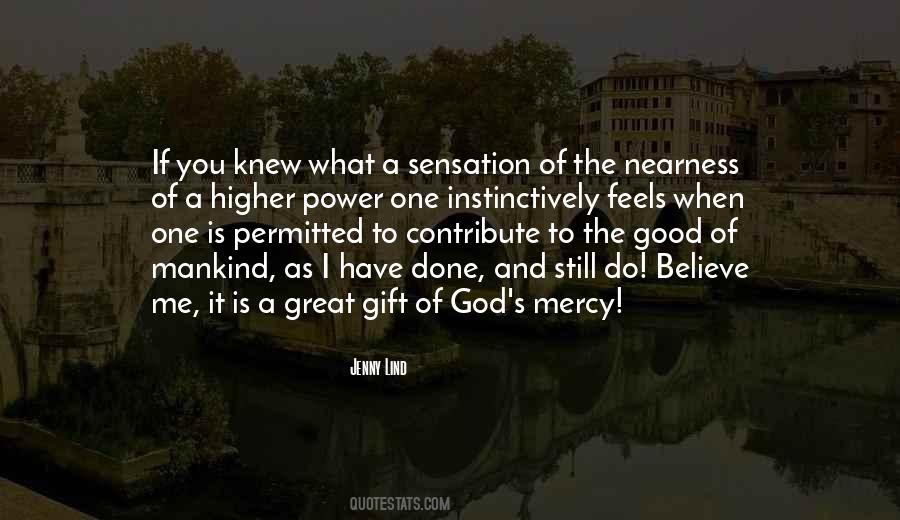 #29. Freedom as a possession is a doubtful thing for a church; freedom must be won under the compulsion of a necessity. Freedom for the church comes from the necessity of the Word of God. Otherwise it becomes arbitrariness and ends in a great many new ties. Whether - Author: Eric Metaxas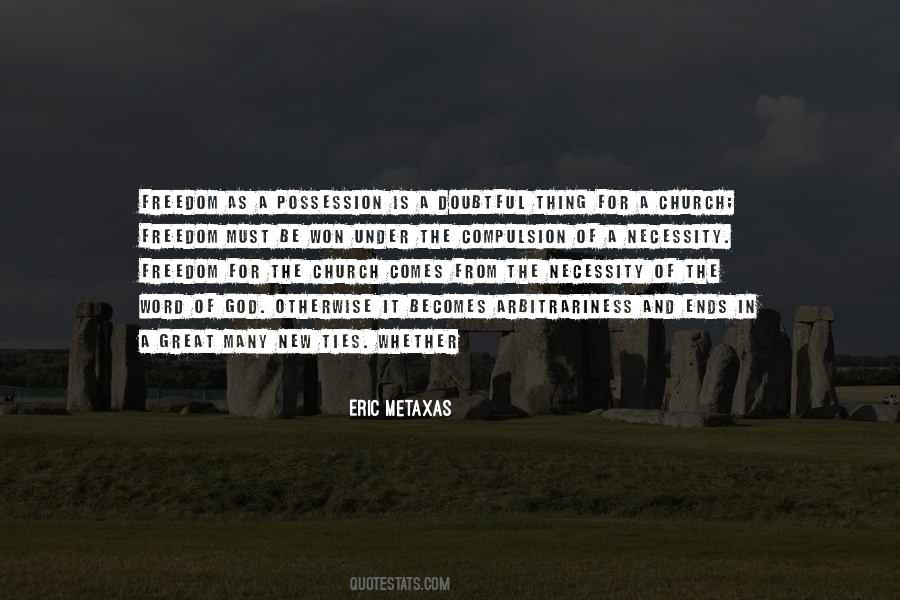 #30. Having joy in God not because of circumstances but despite circumstances is what makes God look great - and it's a true joy that comes from within. - Author: Jefferson Bethke
#31. Understanding God's great love for undeserving people such as us, gives us insight into His great majesty. As beauty is in the eyes of the beholder, so great love reveals the nature of the One who loves deeply. - Author: Mike Bickle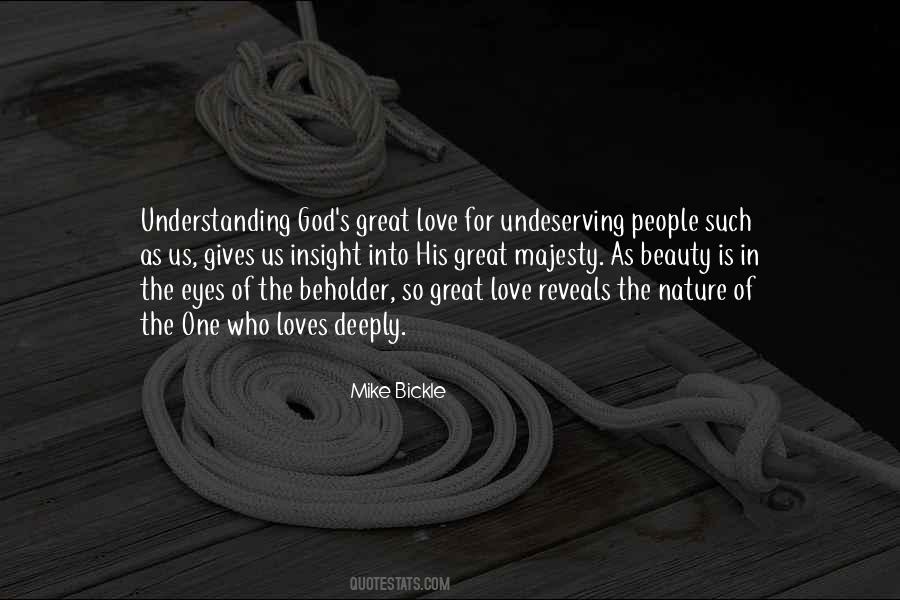 #32. Our great privilege as worship leaders is to help people see through the eyes of faith how great God has actually revealed himself to be. He doesn't change. We do. - Author: Bob Kauflin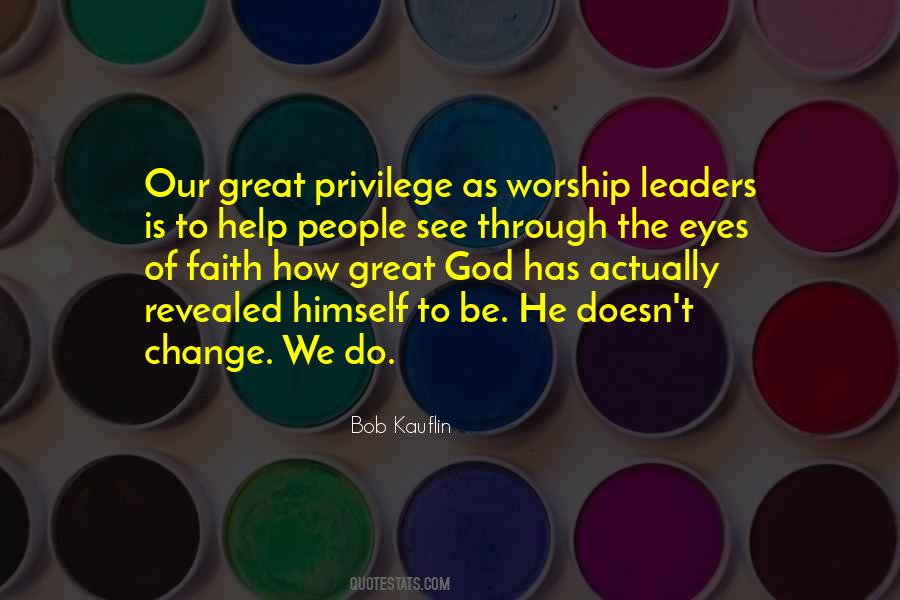 #33. God grant that this is the work of the Communists. You are witnessing the beginning of a great new epoch in German history. This fire is the beginning. - Author: Adolf Hitler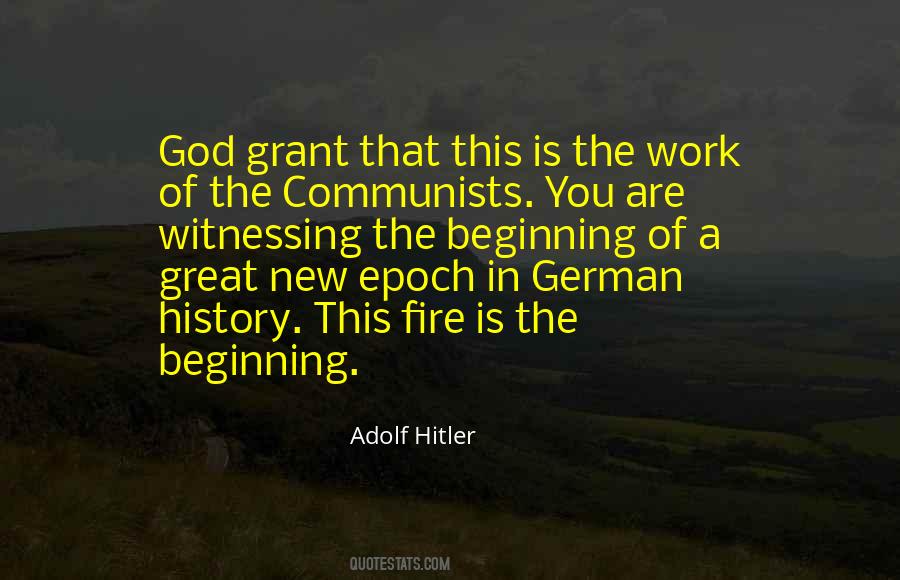 #34. It's not great faith you need; it is faith in a great God. - Author: N. T. Wright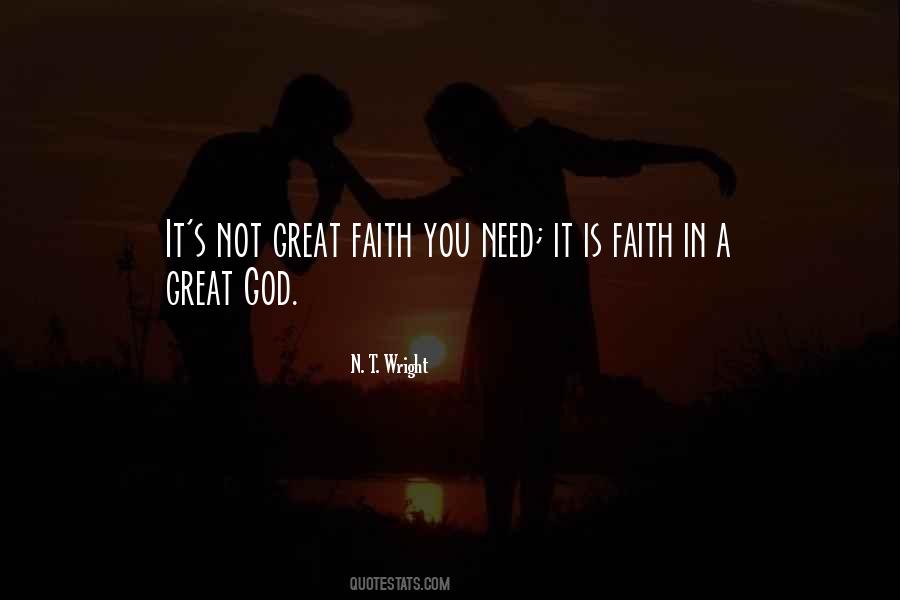 #35. A godly woman is beyond average because she keeps her word. She honors her vows. She exhibits great faith. She overcomes great obstacles. And she affects her family, her community, even the world. - Author: Elizabeth George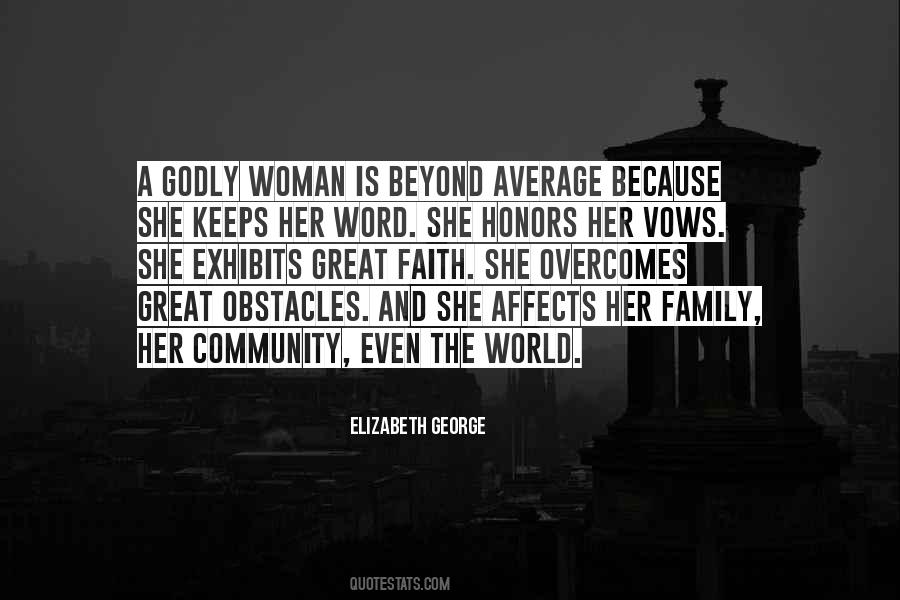 #36. The righteousness of Jesus Christ is one of those great mysteries, which the angels desire to look into, and seems to be one of the first lessons that God taught men after the fall. - Author: George Whitefield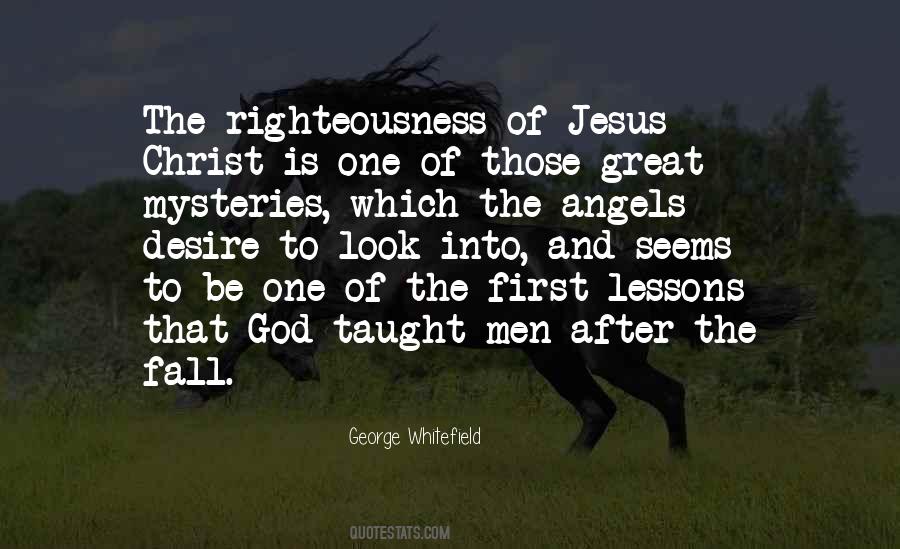 #37. Remember darlings when your enemies are great God is greater. - Author: Coleen Innis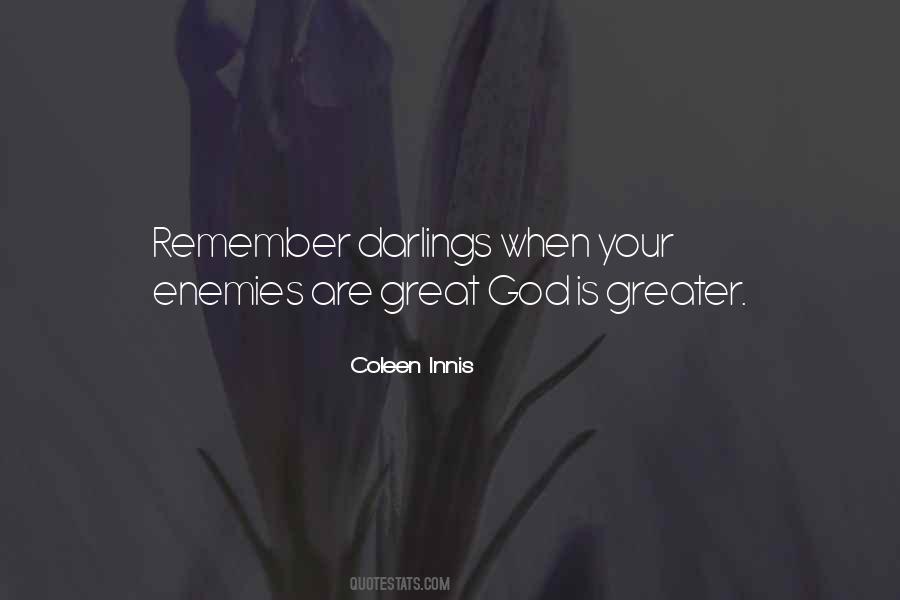 #38. The great difference between the carnal and the spiritual Christian is that the latter acknowledges God, under whatever low and poor and human appearances He manifests Himself. - Author: Andrew Murray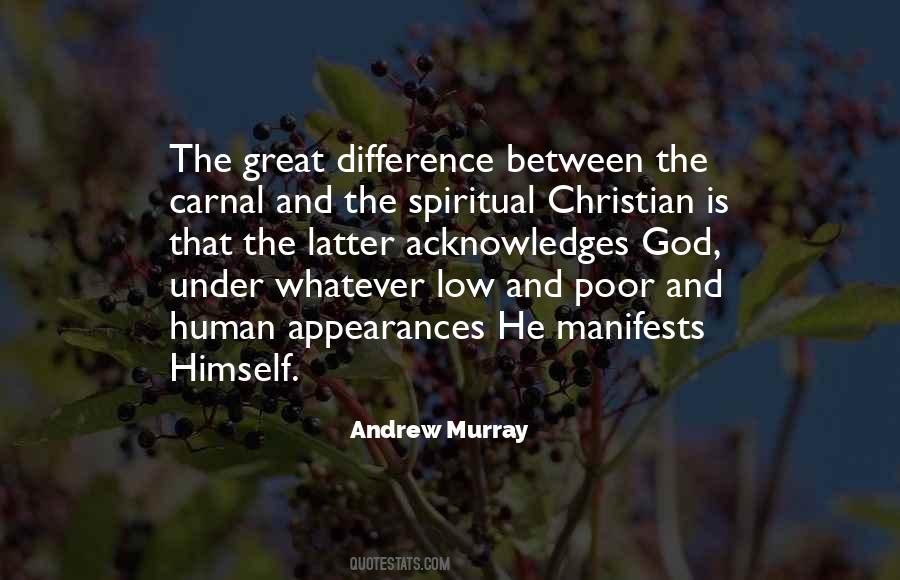 #39. One altar forever is preserved, that whereon we burn incense to the supreme idol,
ourselves, our god is great, and money is his Prophet! We devastate nature in order to make sacrifice to him; we boast that we have conquered Matter and forget that it is matter that has forever enslaved us. - Author: Okakura Kakuzo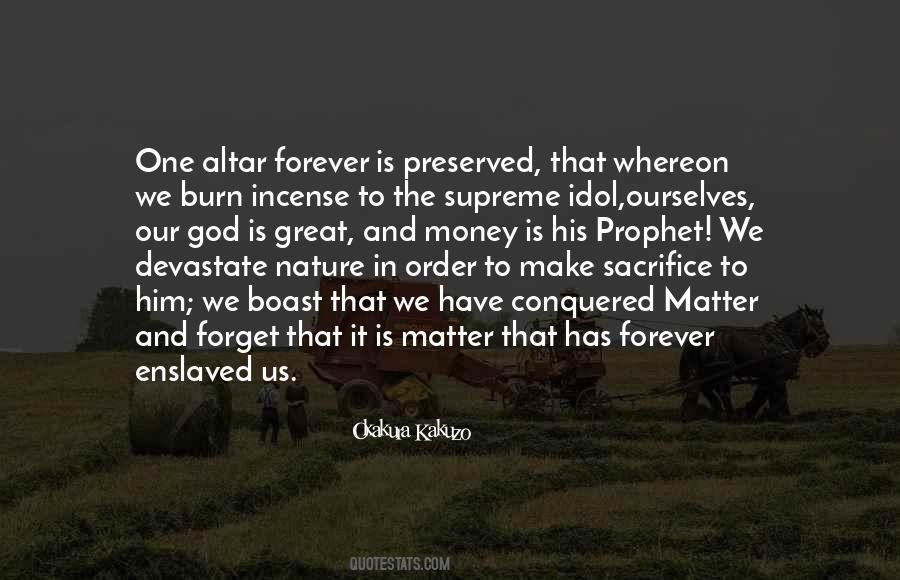 #40. Sondheim is my god; I love the man. I learned a great deal about writing from his work, his lyrics, and his structure. - Author: Richard LaGravenese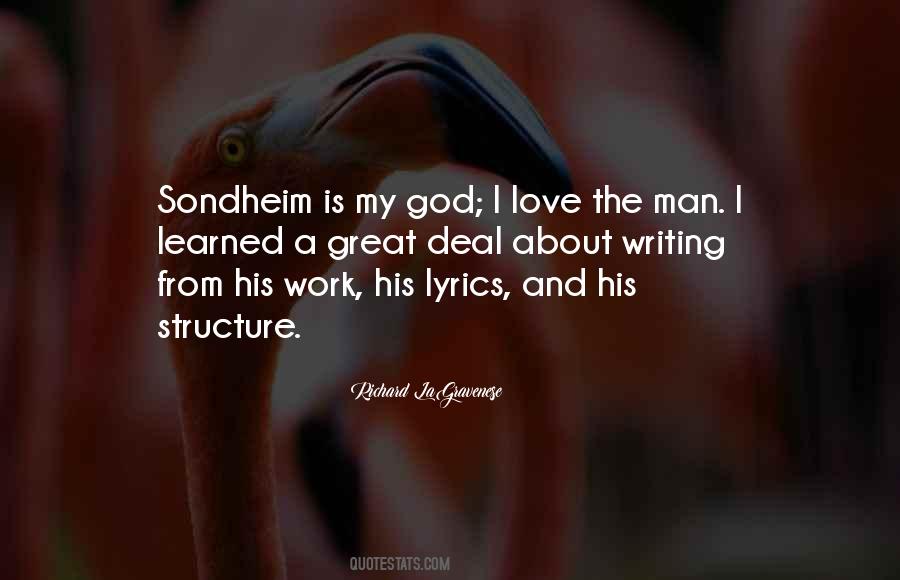 #41. No matter what great characteristics a man may have, he cannot be equal to God - Author: Sunday Adelaja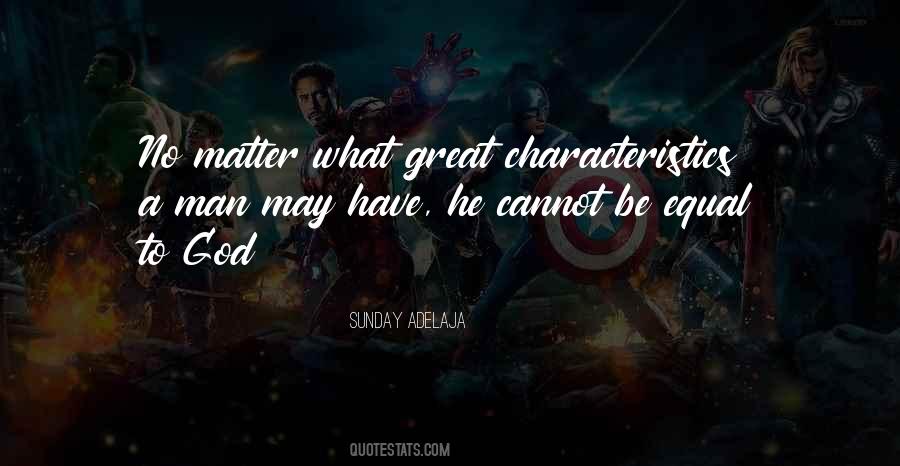 #42. We spring from one great tree of life; when the root of the tree is watered with love, we all thrive. - Author: Janet Autherine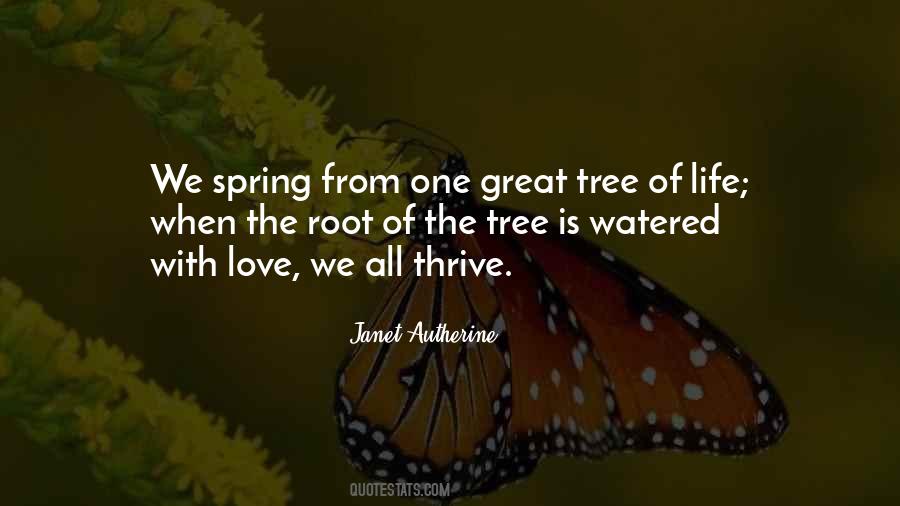 #43. Small men command the letter of the law. Great men serve its spirit. For the spirit of the law is justice ... and justice is the spirit of God. - Author: J.C. Marino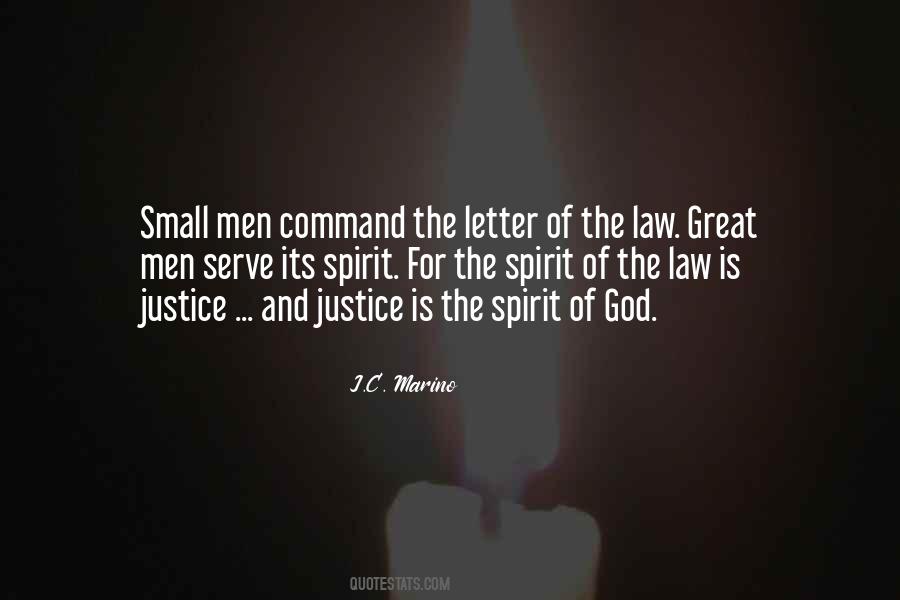 #44. The great unseen reality is God - Author: A.W. Tozer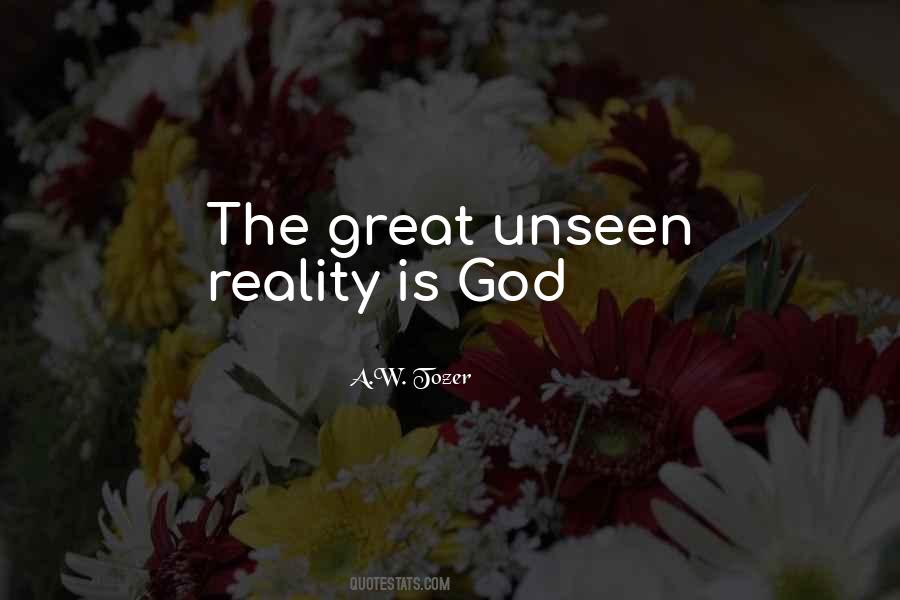 #45. God uses one whom others would have passed over without a second glance. The history of obedience to the Great Commission is full of such examples. Behind this reality is a truth that God will use any who will submit to and obey His purpose for mission in their generation. - Author: Ross Paterson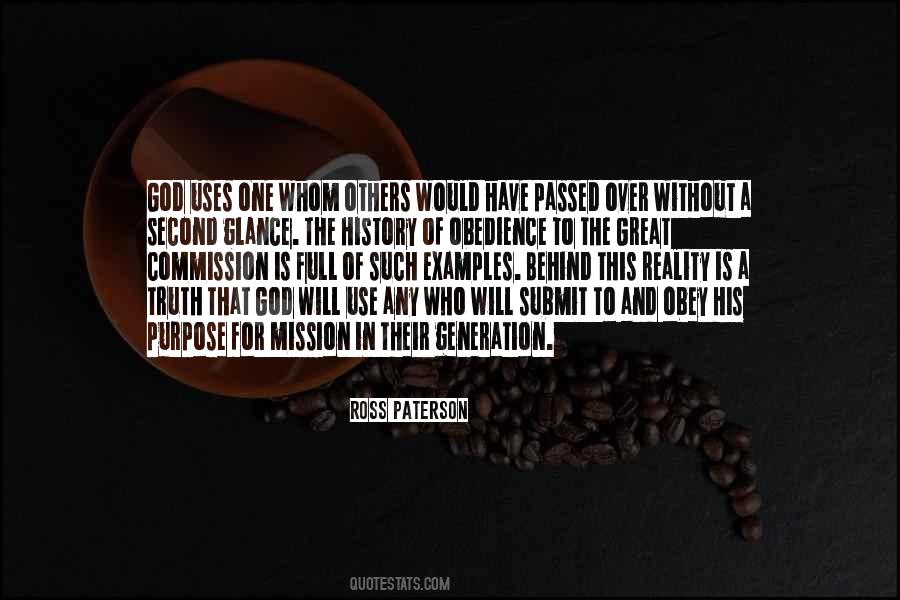 #46. There is no intolerance in the world so great as the intolerance of tolerance, and no bigotry so excessive as the bigotry of the image breaker. To praise the devil is second nature. To praise God is an education. - Author: Elisabeth Marbury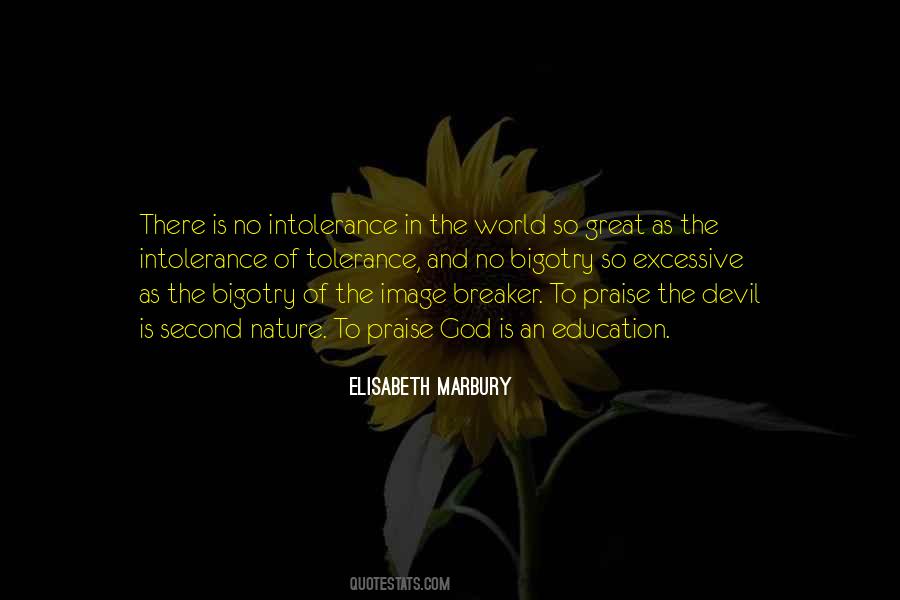 #47. The great antidote to anxiety is to come to God in prayer. We are to pray about everything. Nothing is too big for Him to handle, and nothing is too small to escape His attention. - Author: Jerry Bridges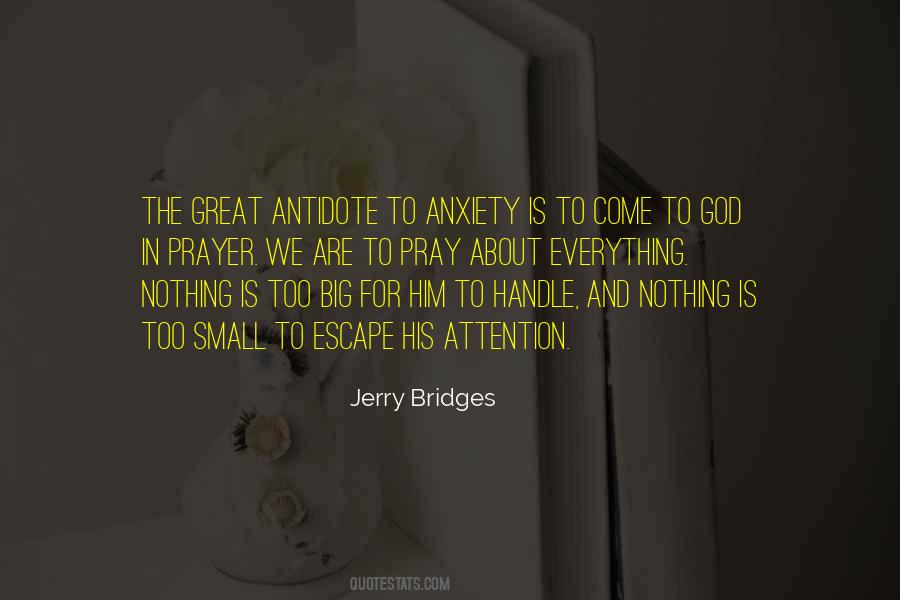 #48. The devil's first trick is to get us to say, "I have not sinned." And then his last blow is to make us think, "My sin is too great to be forgiven." But humble faith accepts God's judgment upon itself, and escapes judgment. - Author: A.B. Simpson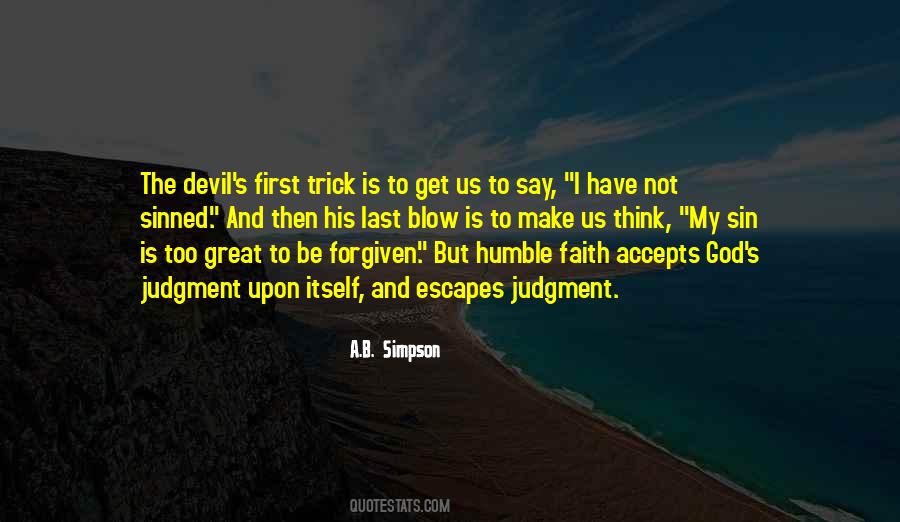 #49. God is as great in minuteness as He is in magnitude. - Author: Charles Caleb Colton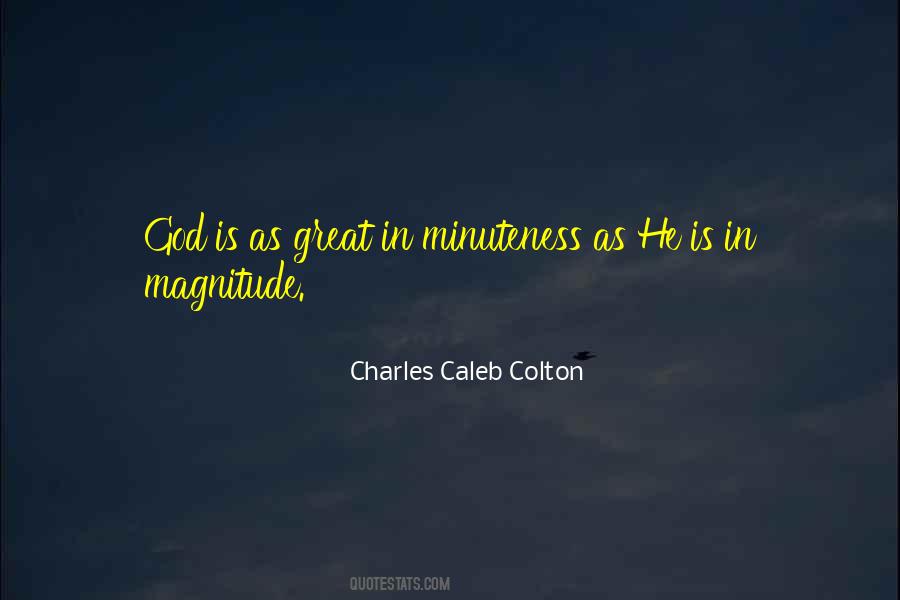 #50. It is difficult to make a man miserable while he feels worthy of himself and claims kindred to the great God who made him. - Author: Abraham Lincoln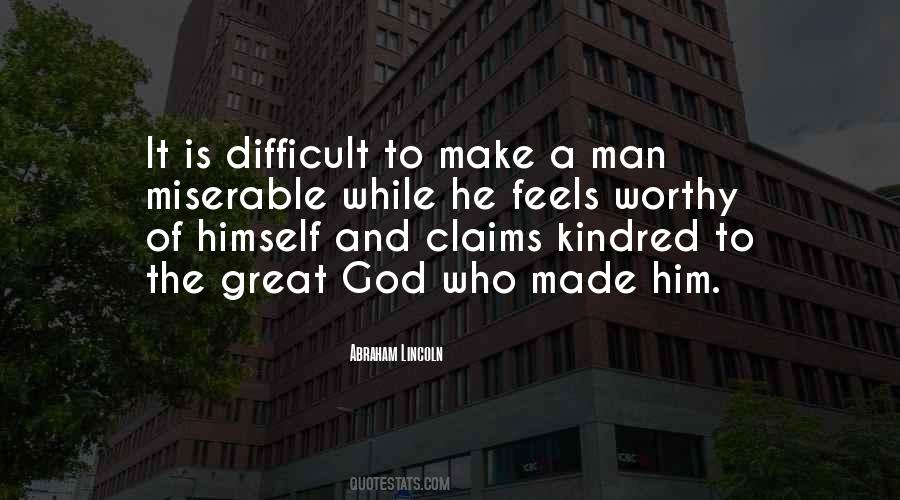 #51. The artist, surgeon, through clay form, can only look for cure with great obstinacy until he discovers, repeatedly, that love is god's only gift that enables man to transcend his tragedy and regain his wholeness and well-being beyond the claws of evil, rampaging as evil may be. - Author: Jabra Ibrahim Jabra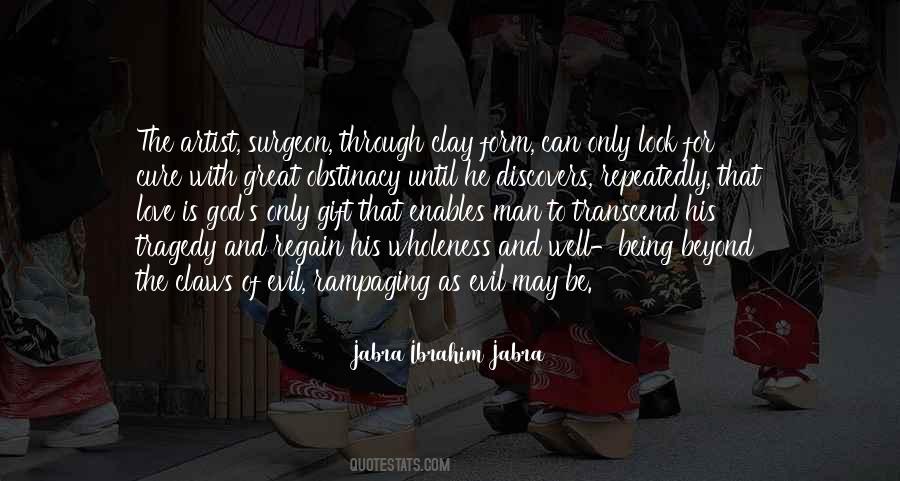 #52. 7For c what great nation is there that has d a god so near to it as the LORD our God is to us, whenever we call upon him? - Author: Anonymous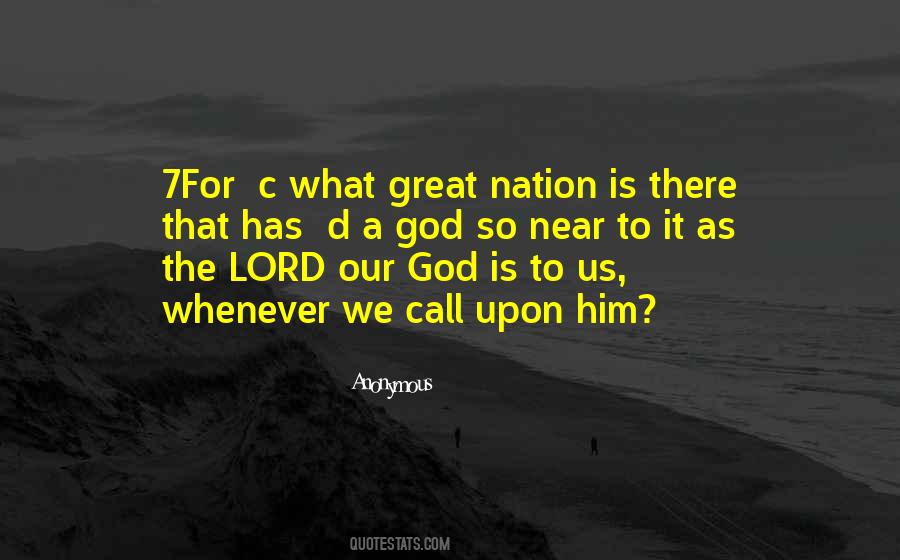 #53. I believe one of the next great moves of God is going to be through the believers in the workplace. - Author: Billy Graham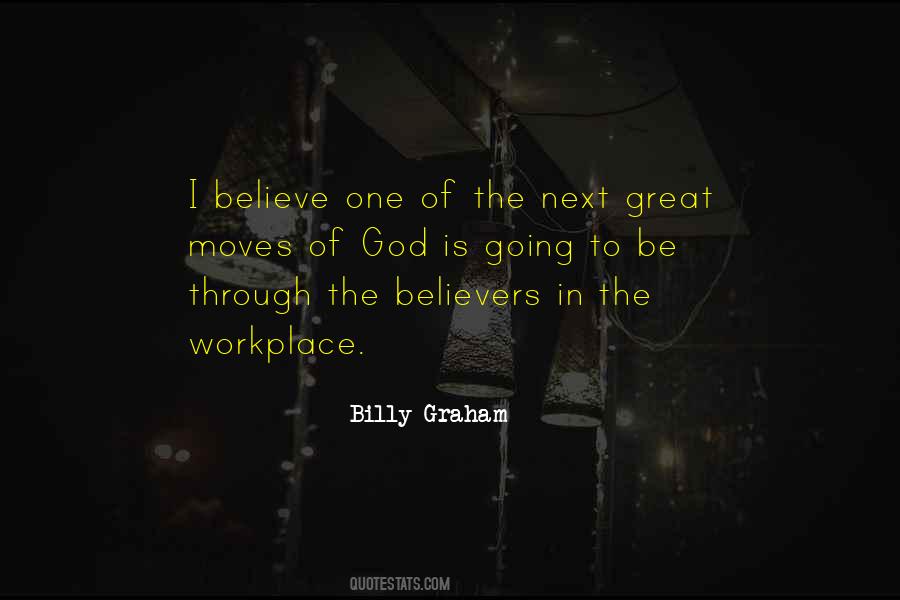 #54. 18O my God, incline your ear and hear. Open your eyes and see our desolations, and the city that is called by your name. For we do not present our pleas before you because of our righteousness, but because of your great mercy. - Author: John F. MacArthur Jr.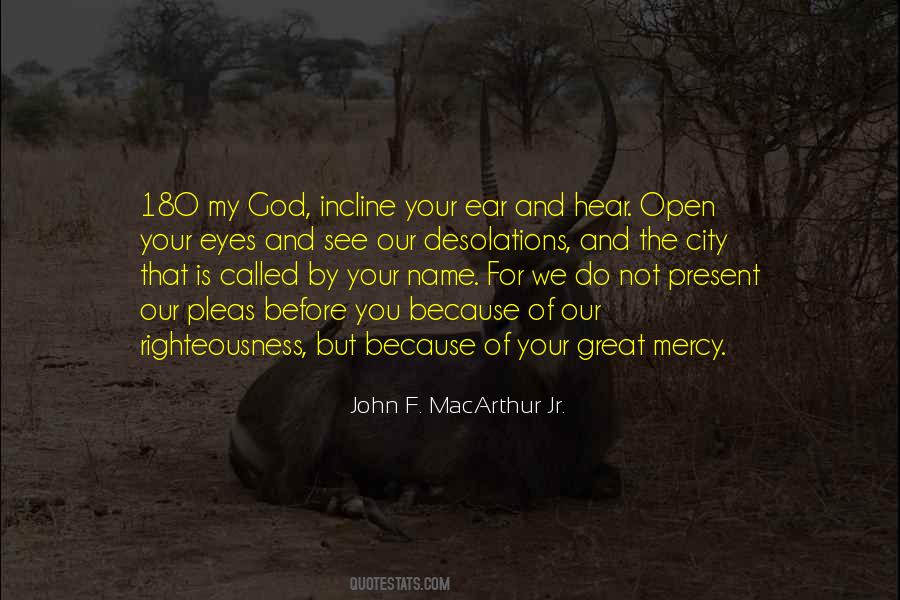 #55. In all that ever mattered, you are unchanged. Old? Yes, we must all grow old. Age is nothing but the sum of life. And you are alive, and back with me here. By the great God of heaven, I have you back with me. What should I fear now? - Author: Mary Stewart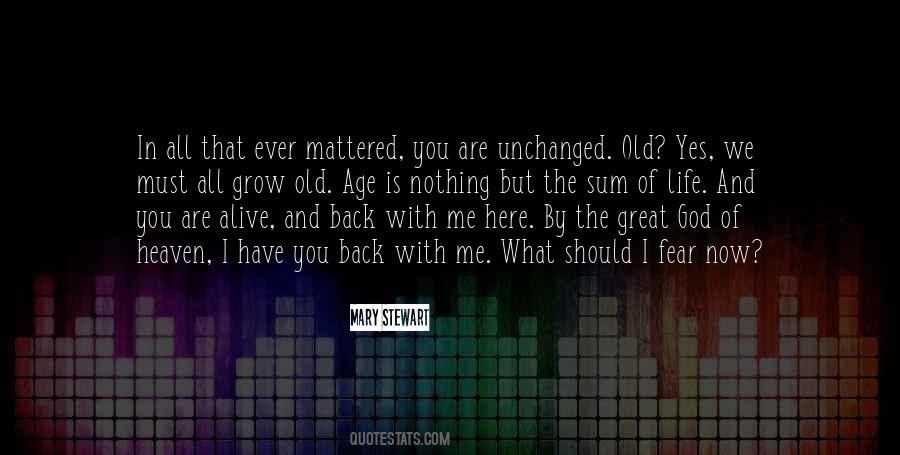 #56. The true God is to be venerated in obscure and fearful Places, with Horror in their Approaches, and thus did our Ancestors worship the Daemon in the form of great Stones. - Author: Peter Ackroyd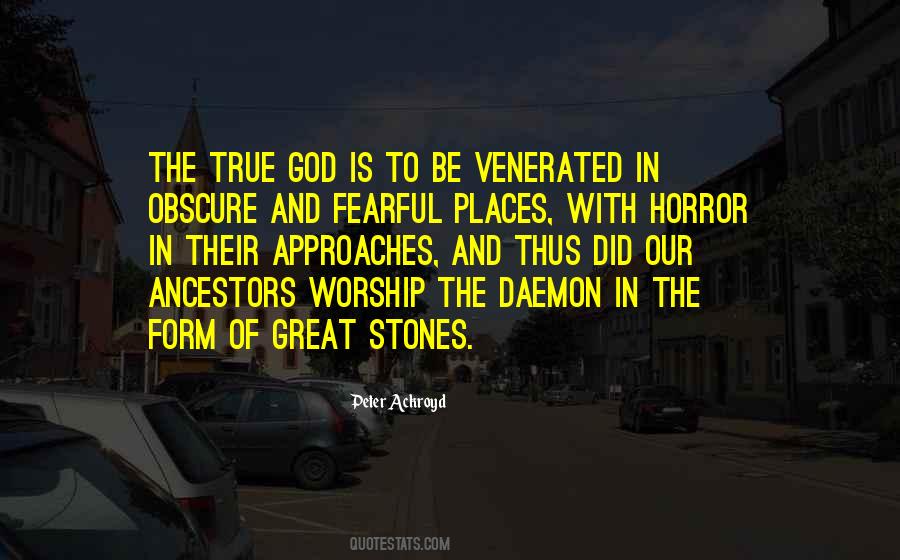 #57. Today the great gift of God's Creation is exposed to serious dangers and lifestyles which can degrade it. Environmental pollution is making particularly unsustainable the lives of the poor of the world ... we must pledge ourselves to take care of creation and to share its resources in solidarity. - Author: Pope Benedict XVI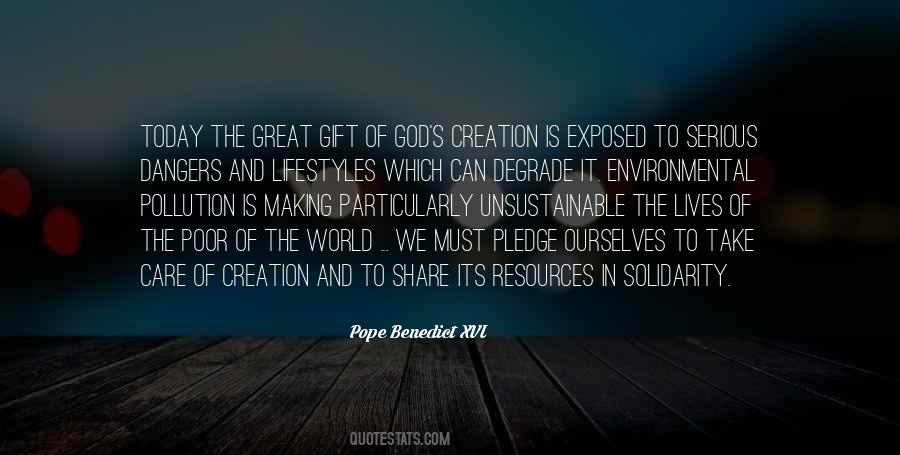 #58. The great # conversion called for by Jesus is to move from belonging to the world to belonging to God. - Author: Henri Nouwen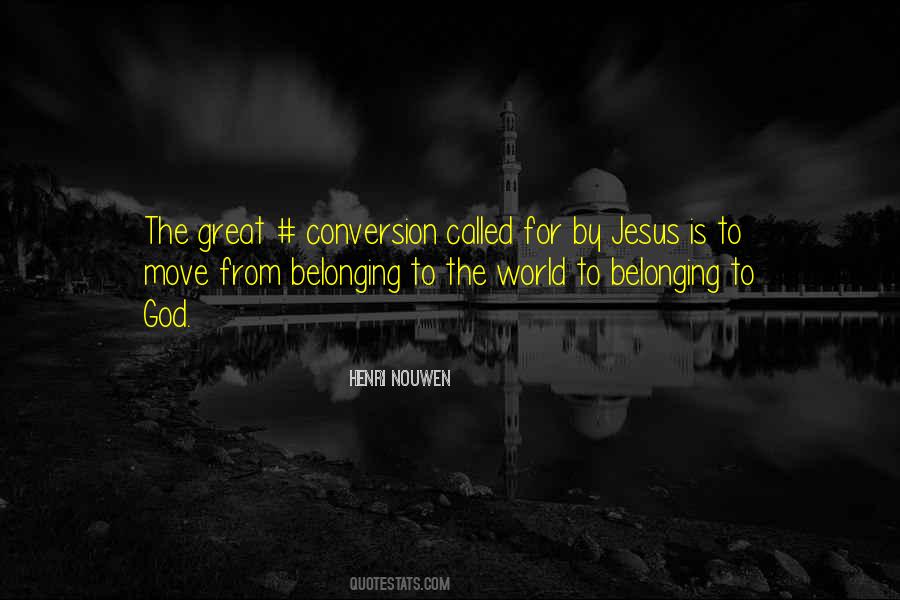 #59. If you don't believe in God, then the God concept is a great placeholder for everything we don't know, which is exponentially more than we do know. - Author: Bryant McGill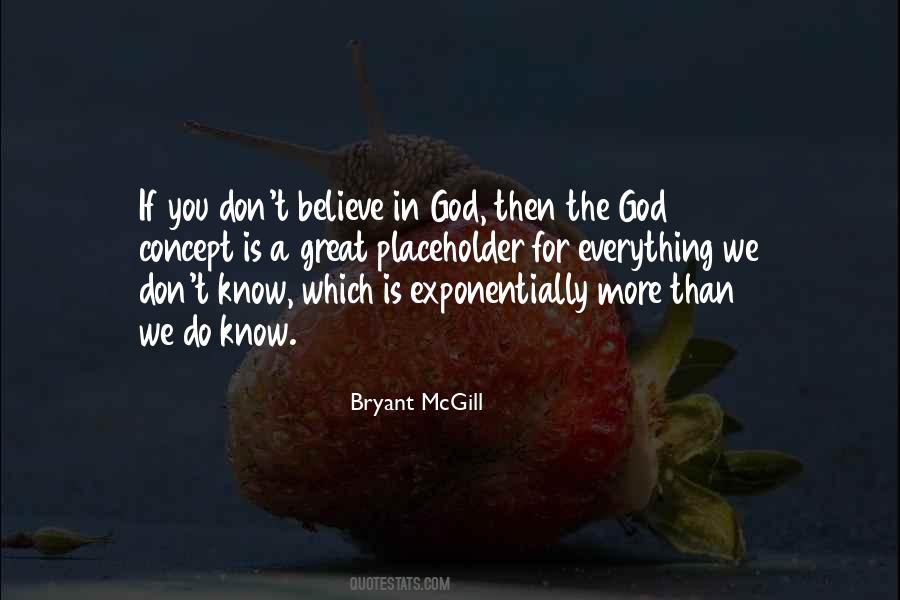 #60. God's mercy is so great that you may sooner drain the sea of its water, or deprive the sun of its light, or make space too narrow, than diminish the great mercy of God. - Author: Charles Spurgeon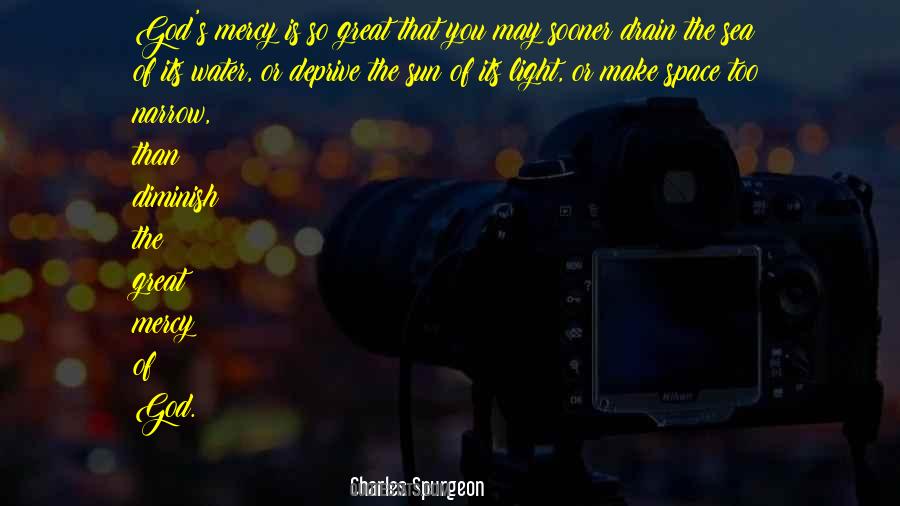 #61. Because there is no ego, God can flow through you; great creativity becomes possible. - Author: Rajneesh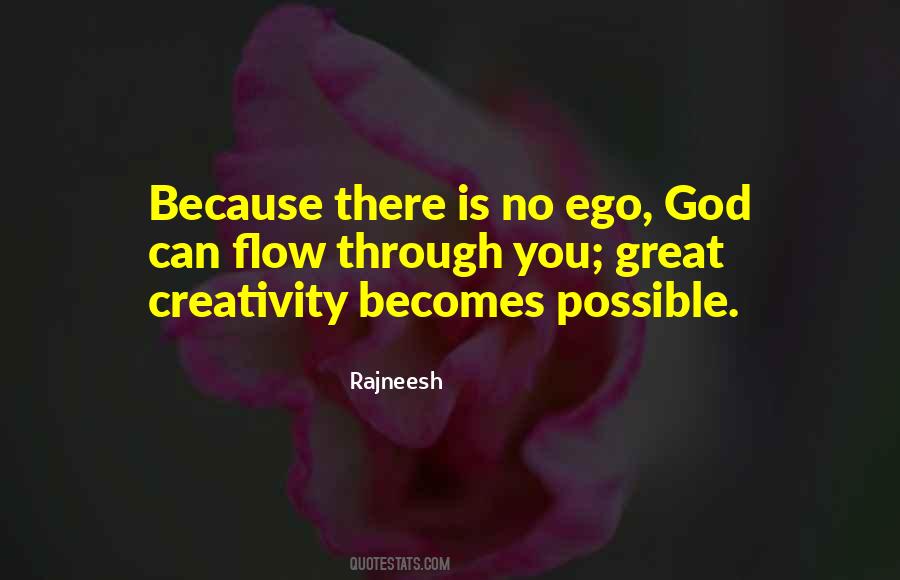 #62. Either Jesus is the Son of God ; or a madman or worse. But His
being just a great teacher? He's not left that open to us. - Author: C.S. Lewis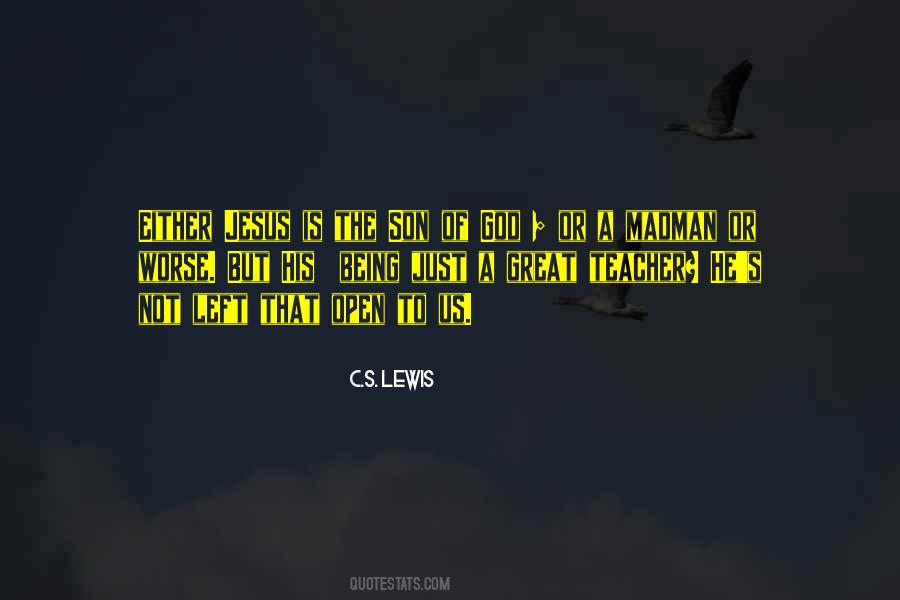 #63. The purpose of life is to be beautiful, to be bountiful, to be blissful, to be graceful and grateful. What a wonderful English word-grateful. If one is great and full, one is God. And whenever smallness faces you, you should be great, and full-full of that greatness. - Author: Harbhajan Singh Yogi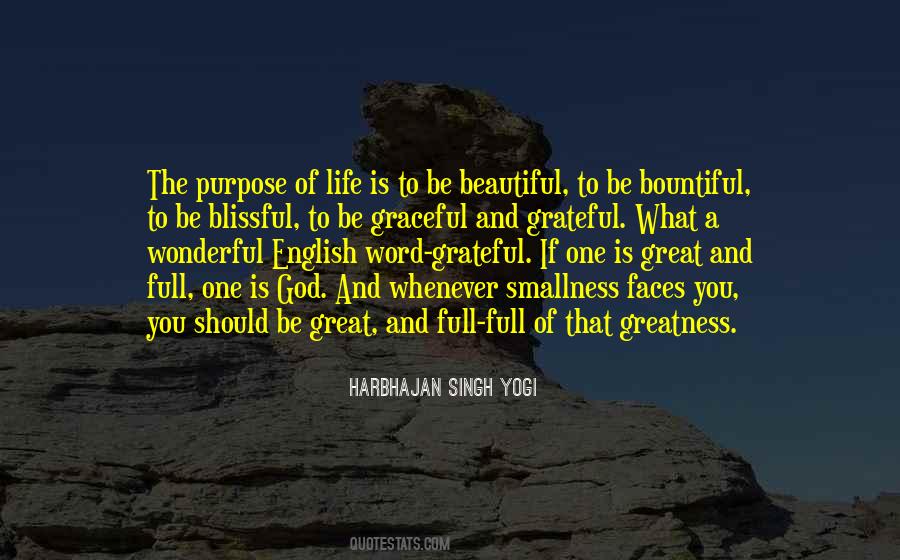 #64. When God lets loose a great thinker on this planet, then all things are at risk. There is not a piece of science but its flank may be turned to-morrow; nor any literary reputation or the so-called eternal names of fame that many not be refused and condemned. - Author: Ralph Waldo Emerson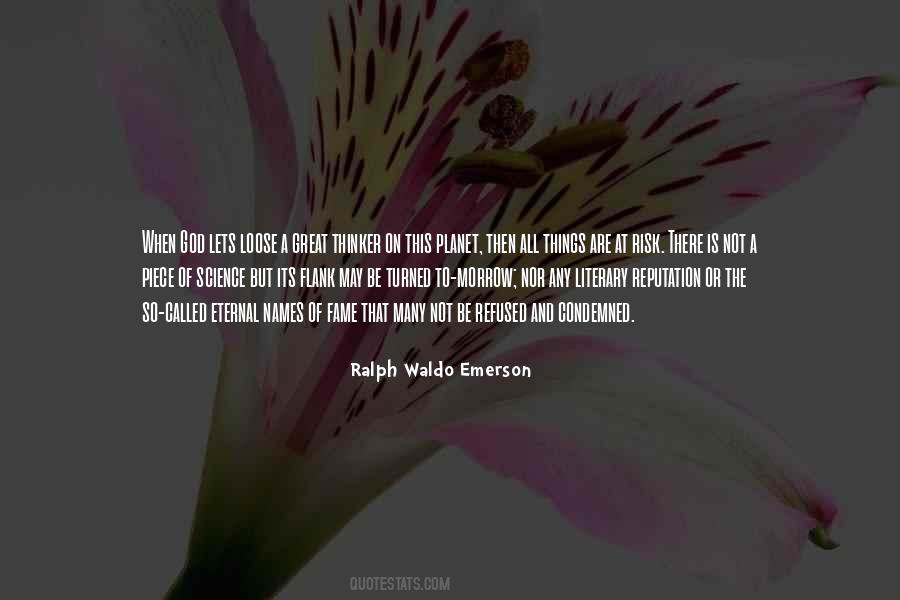 #65. Anticipating God's blessings is a great way to begin a new week! When we look for the things that could go wrong, we just may find what we had been looking for. - Author: Diane K. Chamberlain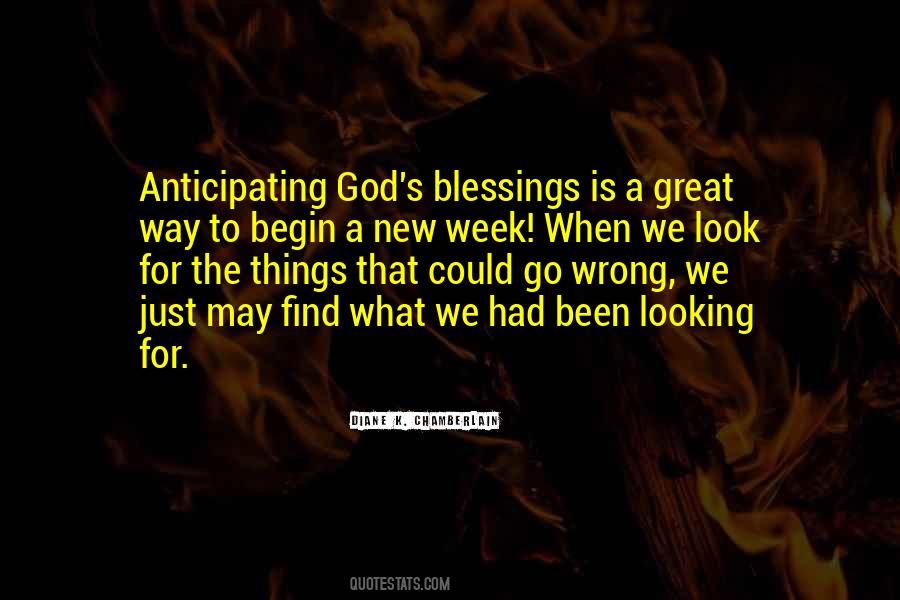 #66. The great drama will end, not with "saved souls" being snatched up into heaven, away from the wicked earth and the mortal bodies which have dragged them down into sin, but with the New Jerusalem coming down from heaven to earth, so that "the dwelling of God is with humans" (Revelation 21:3). - Author: N. T. Wright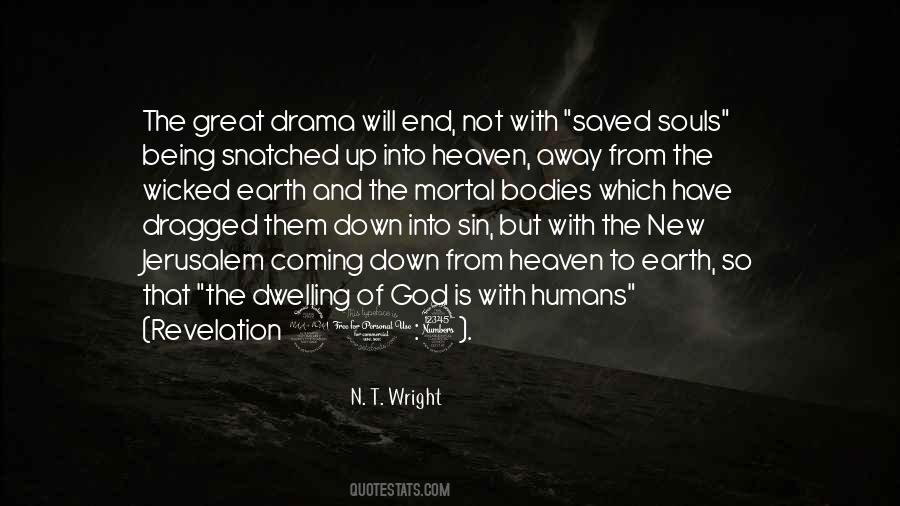 #67. Before and after you do your best, know it that you must rely on God. Your best - no matter how great - is nothing if you minus God from the equation. - Author: Ifeanyi Enoch Onuoha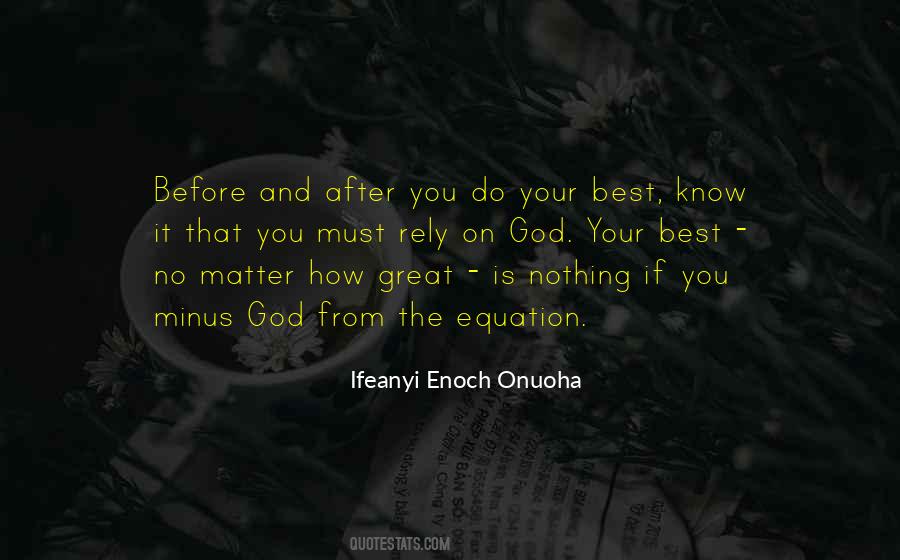 #68. Writing a novel mimics what we bring to our journey of life. God is the great editor who purges the faulty, the awkward, and all the bits that are just plain wrong, so the optimal story can finally emerge. - Author: Denise M. Baran-Unland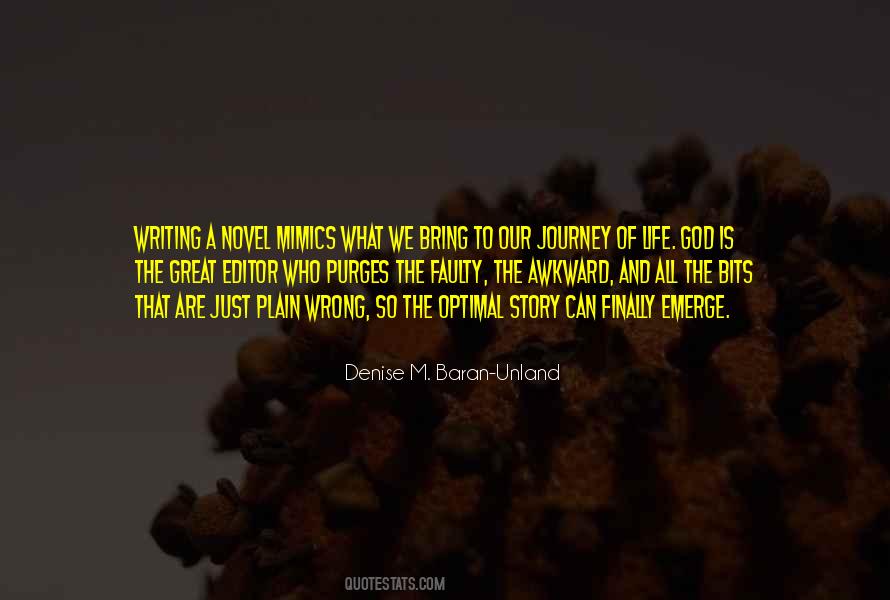 #69. God will save whomever He chooses to save. The Christian should proselytize not because he thinks he can change everybody; he should proselytize because the Gospel being shared is the ultimate act of love: because he thinks he can love everybody. - Author: Criss Jami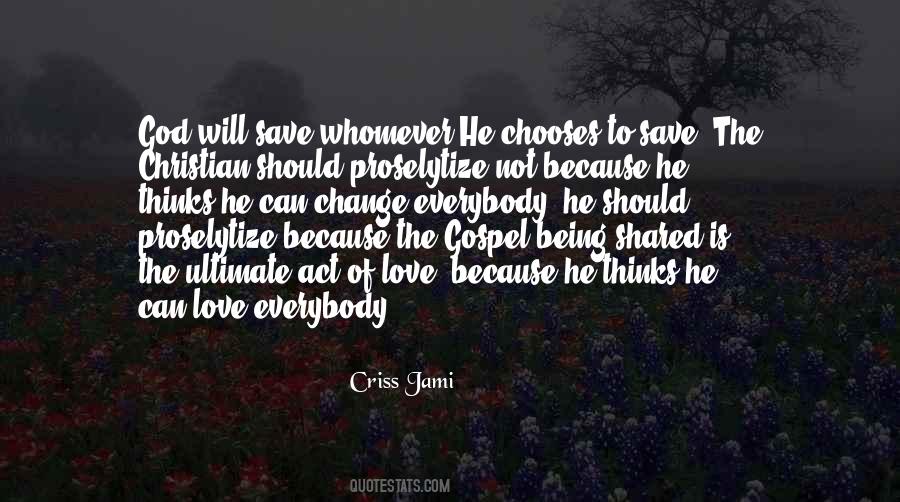 #70. When we meet the great men and women of the Bible face-to-face, we may be surprised to discover just how much like us they are. It is faith in a great God that makes a great man or woman of God. - Author: Mike Bickle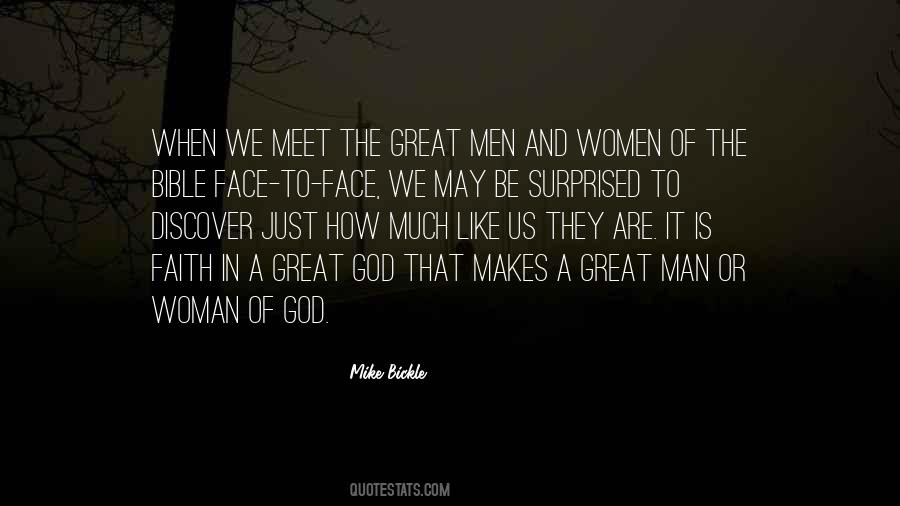 #71. It is only by remembering that 'Another lives in me' that we can die daily to that old, false, usurping self, and that we can continue to be drawn further in and higher up into the life of God. To 'practice the presence' is to continually call to mind this great reality. - Author: Leanne Payne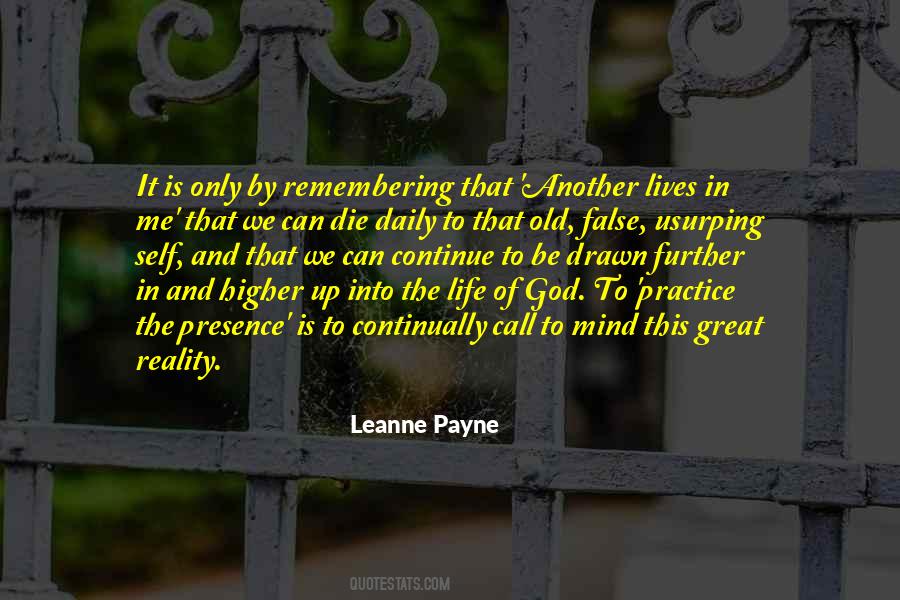 #72. My idea of God is a not divine idea. It has to be shattered from time to time. He shatters it Himself. He is the great iconoclast. Could we not almost say that this shattering is one of the marks of His presence?.. - Author: C.S. Lewis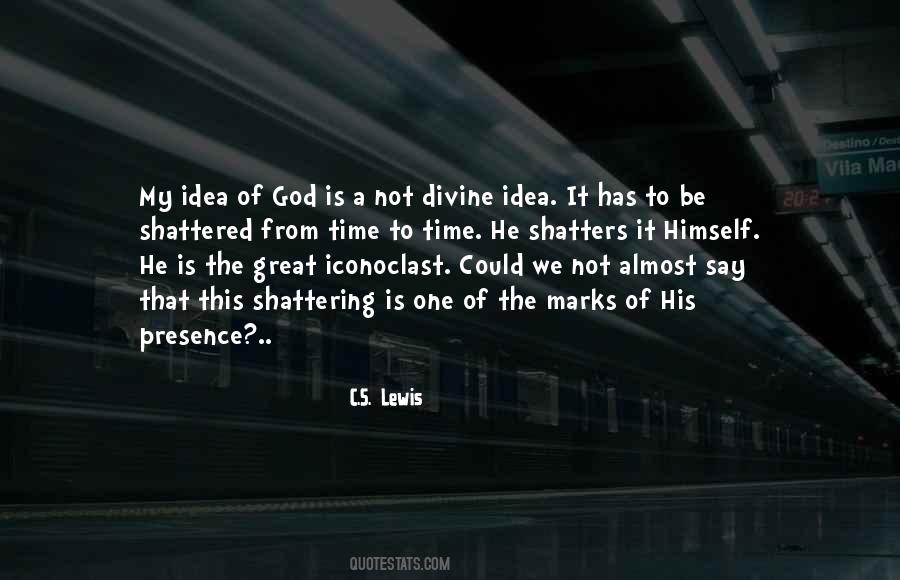 #73. Nothing is small or great in God's sight. Whatever He wills becomes great to us, however seemingly trifling; and if once the voice of conscience tells us that He requires anything of us, we have no right to measure its importance. - Author: Jean Grou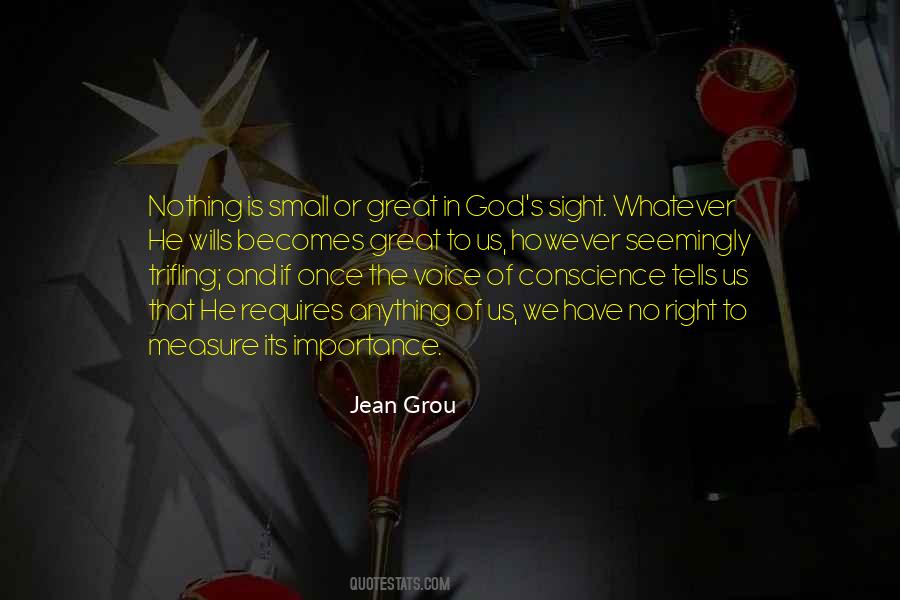 #74. The real attitude of sin in the heart towards God is that of being without God; it is pride, the worship of myself, that is the great atheistic fact in human life. - Author: Oswald Chambers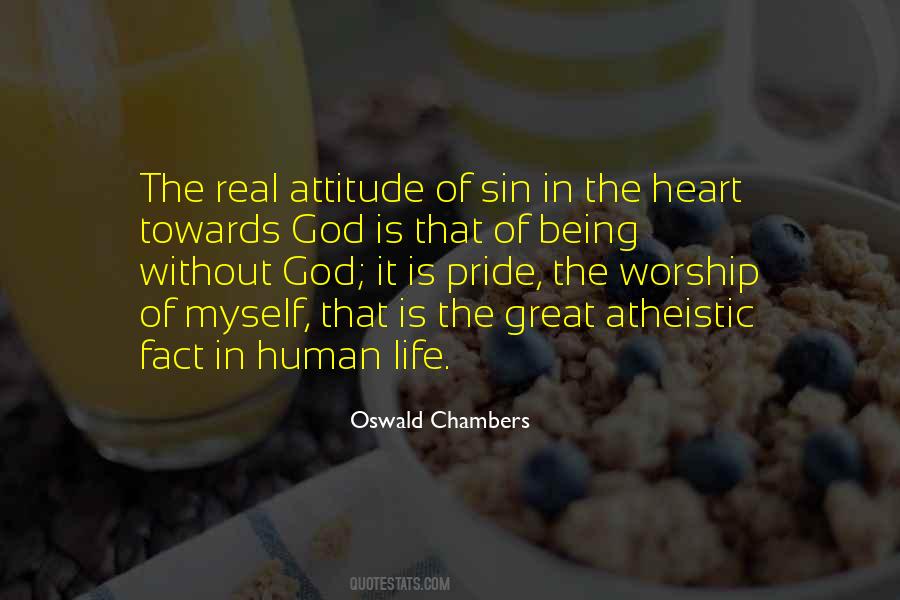 #75. Imagination is a confident hope. - Author: Lailah Gifty Akita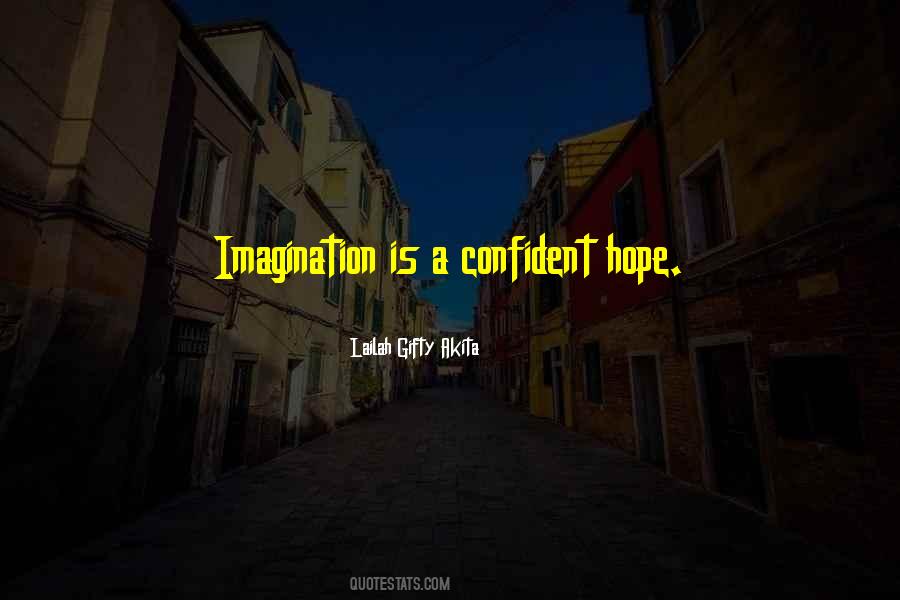 #76. The great struggle of the Christian life is to take God's name for us, to believe we are beloved and to believe that is enough. - Author: Rachel Held Evans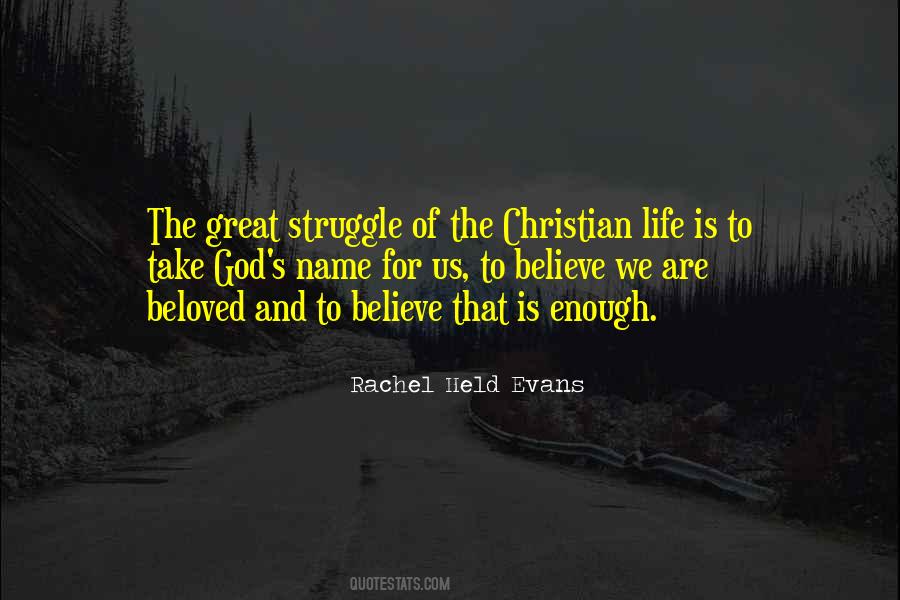 #77. Since many things we see were once an idea, let us create good ideas today because they will be the realities of tomorrow! When you create an idea, do not forget that you shape the future! Idea is your God side! With ideas, you can change the universe, but only with very great ideas! - Author: Mehmet Murat Ildan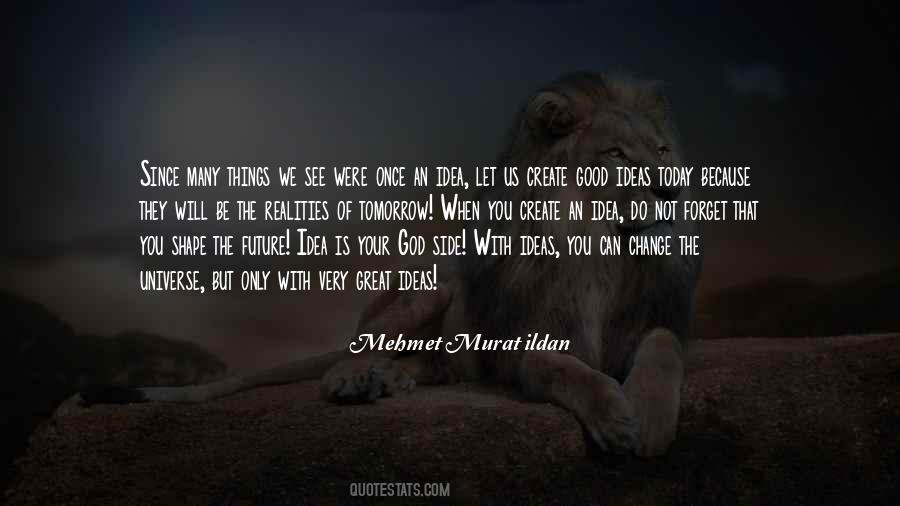 #78. It's like, God, I'm in my 80s. Nobody, when I die, is going to say, 'How young?' They're going to say she had a great ride. - Author: Joan Rivers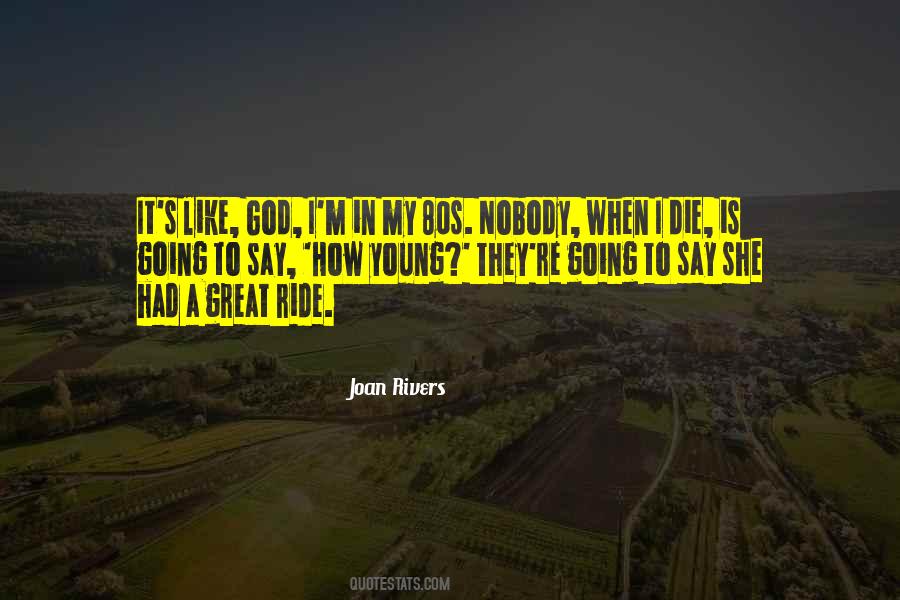 #79. Forget that you are anybody and just perform the activities around you. Look at them. Watch what you are doing, my God! Life is right in front of you, and it's great. - Author: Frederick Lenz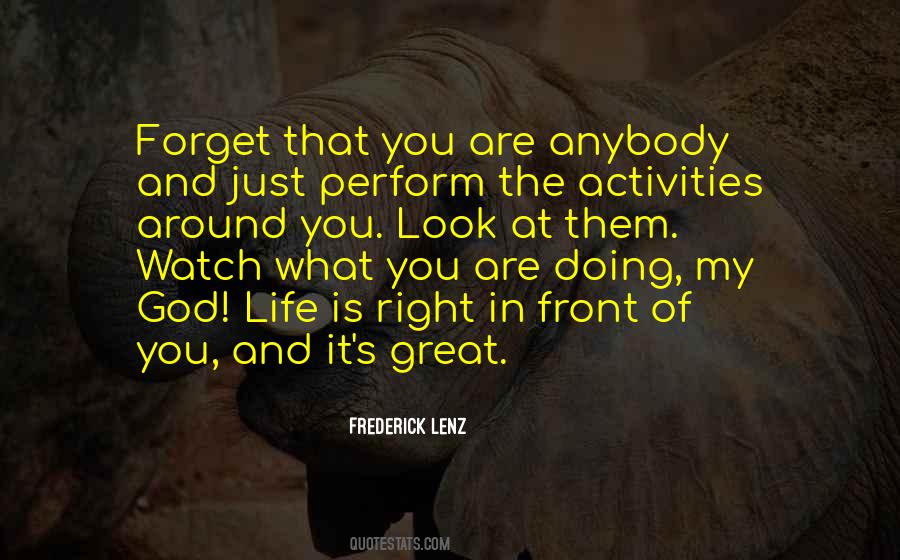 #80. Great is the Lord. He is mighty and powerful. - Author: Lailah Gifty Akita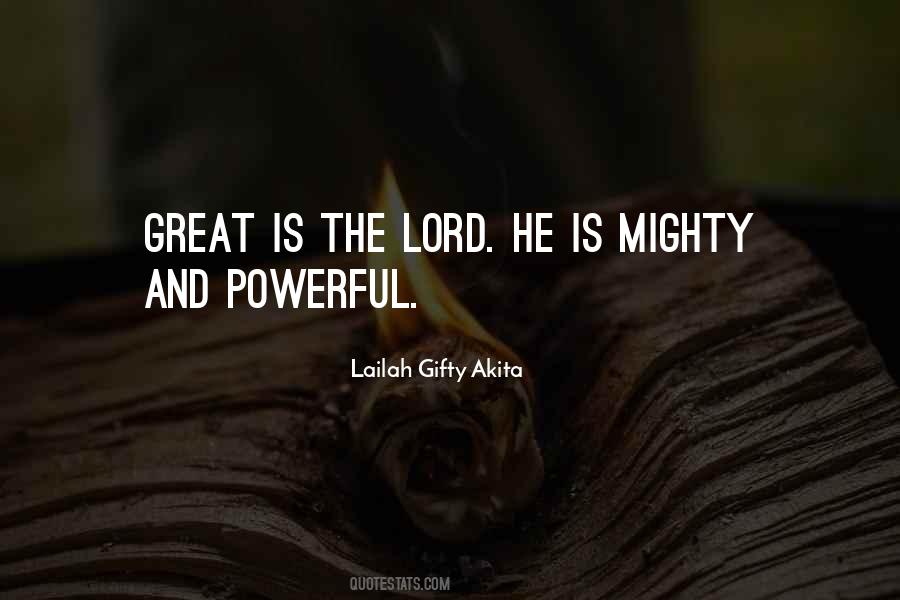 #81. I feel like my message is to let people know that God is a good God, that He's on their side, and no matter what happens, He has a great plan for them. - Author: Joel Osteen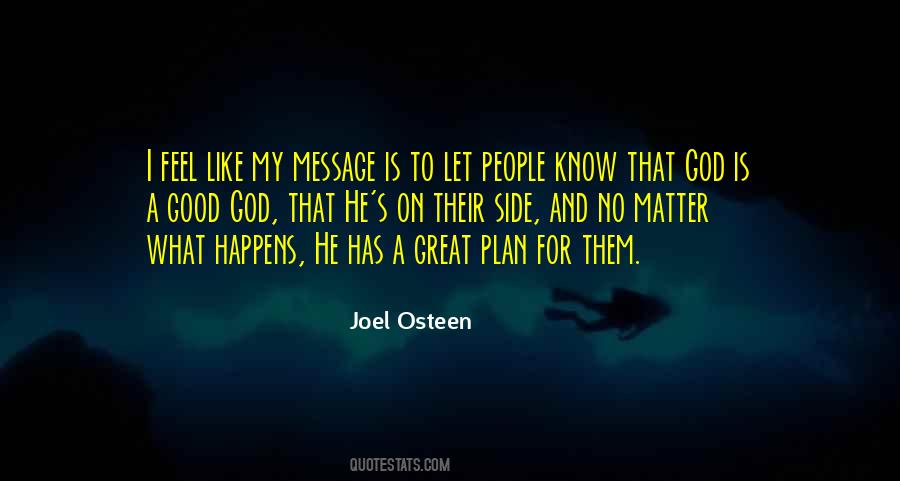 #82. It is only by grace and hope in great God of wonders, we receive strength and vitality for everyday life. - Author: Lailah Gifty Akita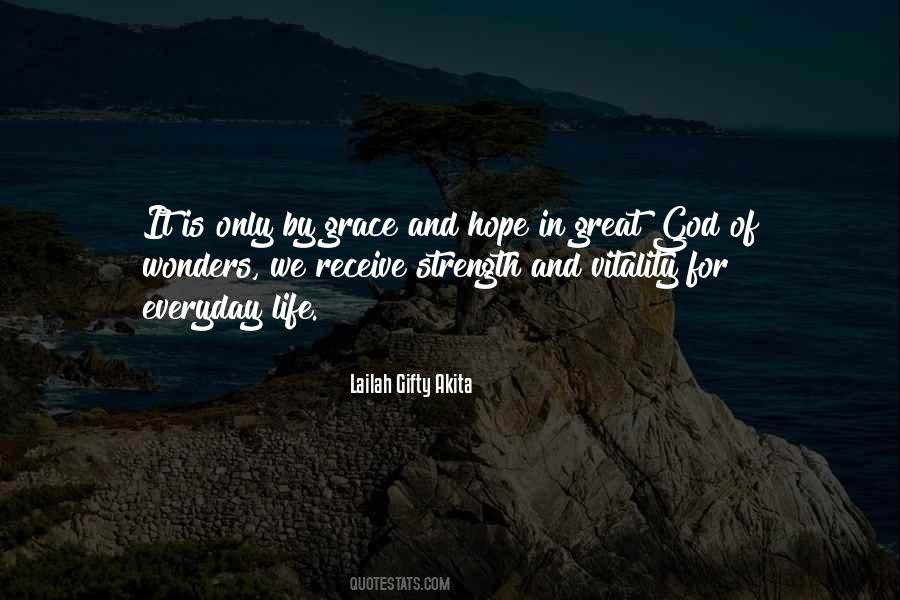 #83. It is true that there is nothing too great for God's power; and it is just as true that there is nothing too small for His love. - Author: Rosalind Goforth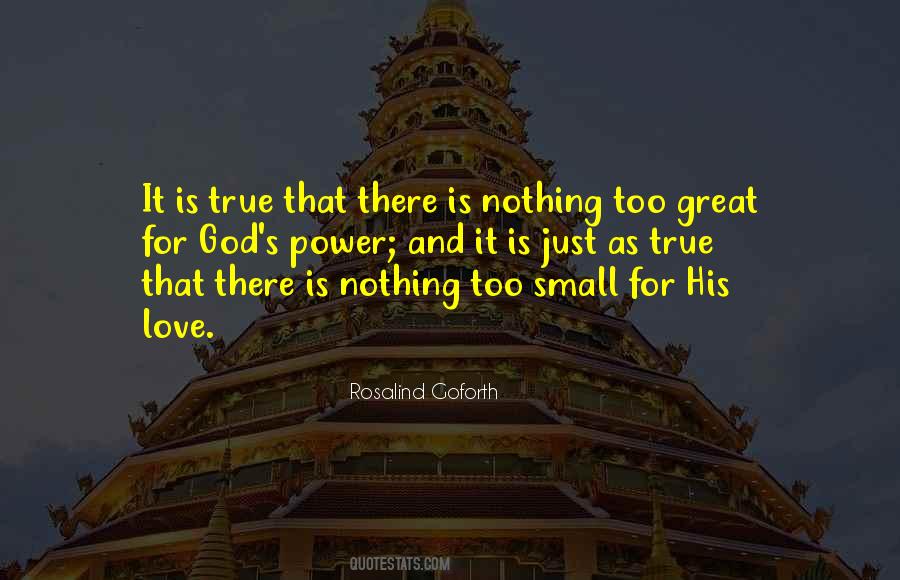 #84. There is, however, equally great incentive to worship and love God in the thought that, for some unfathomable reason, he wants me as his friend, and desires to be my friend, and has given his Son to die for me in order to realize this purpose. - Author: J.I. Packer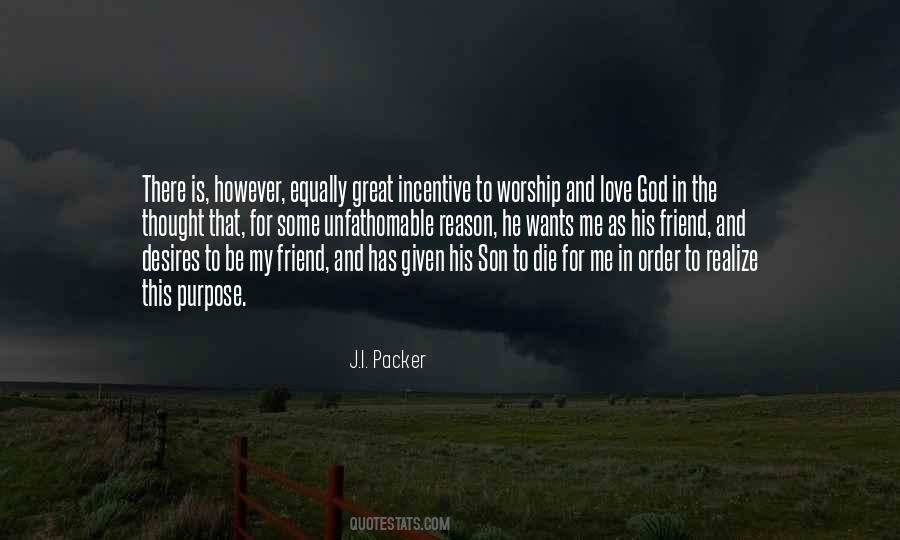 #85. The Bible is the textbook of revelation.
In God's great classroom there are three textbooks - one called nature, one called conscience, and one named Scripture. In the written textbook of revelation - the Bible - God speaks through words. - Author: Billy Graham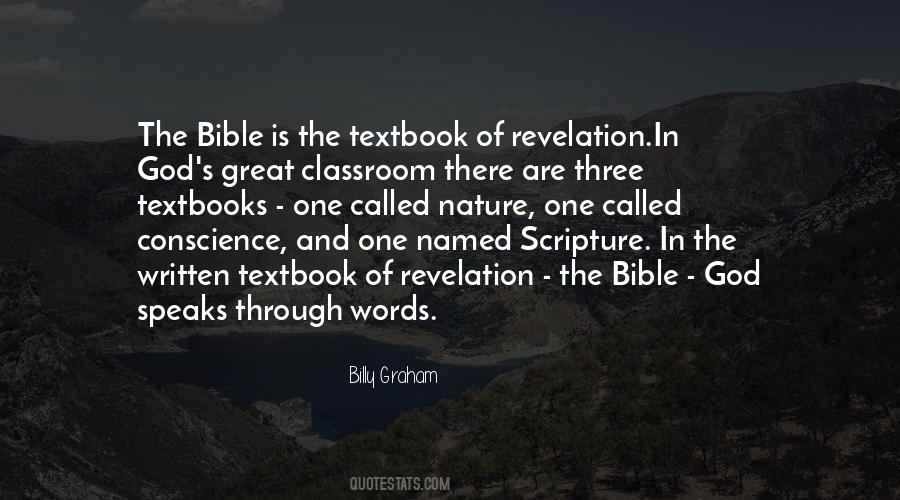 #86. There's a great expression that says, "God is a jealous lover," and it's a very accurate expression that has nothing to do with whatever you see god or nature as. - Author: Ben Lee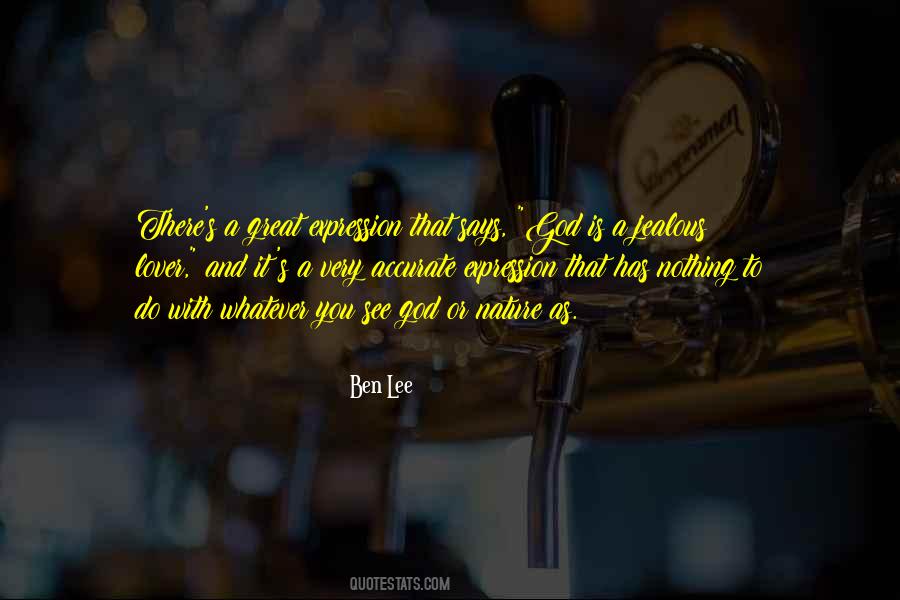 #87. Greatness is not a teachable nor gainable thing, but the expression of the mind of a God-made great man. - Author: John Ruskin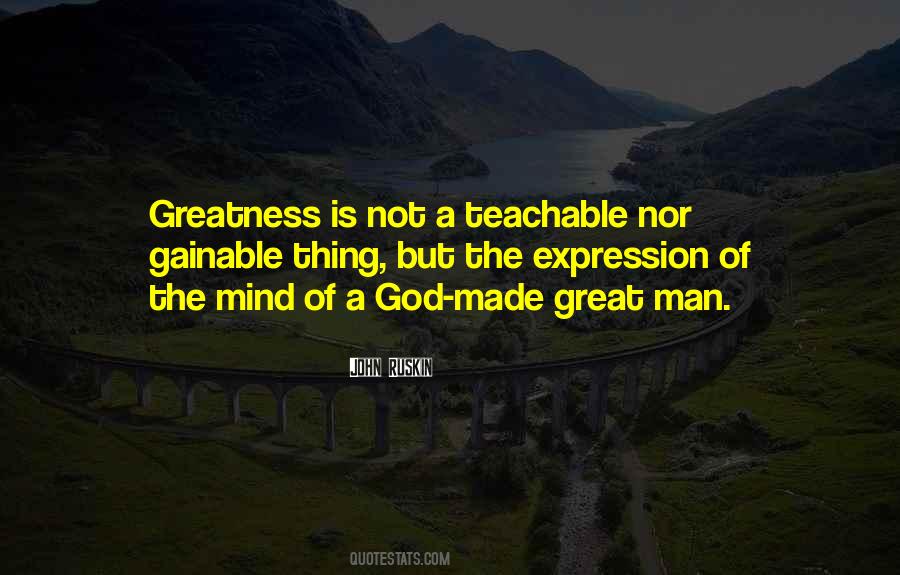 #88. May the Lord our God prepare us for every event, then comes Life or Death - it is no great matter. - Author: Nathaniel Smith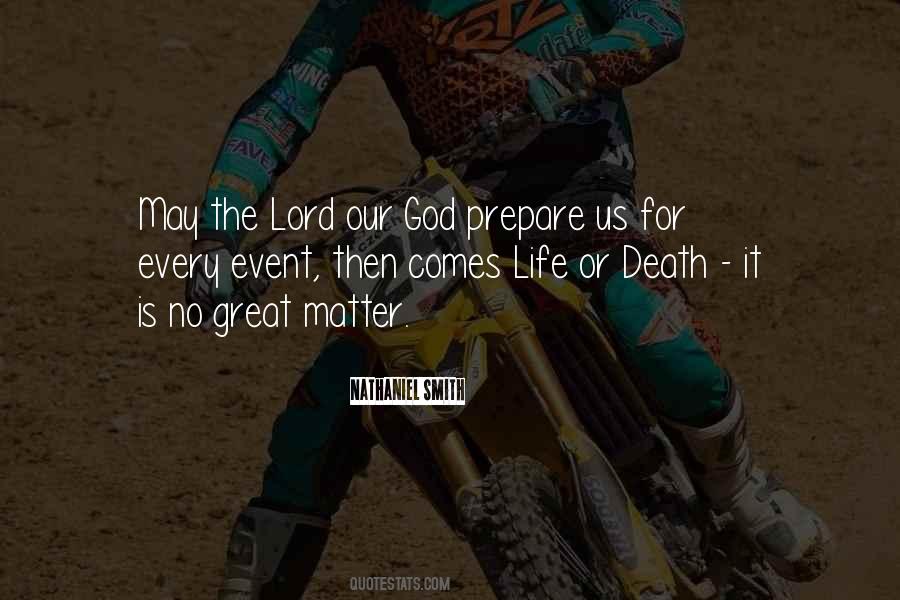 #89. Our world is limited by the machinery we carry. It's very different to the 18th and 19th century Enlightenment scientists who were mostly men of God and thought it was their quest to uncover God's great plan. - Author: Bernard Beckett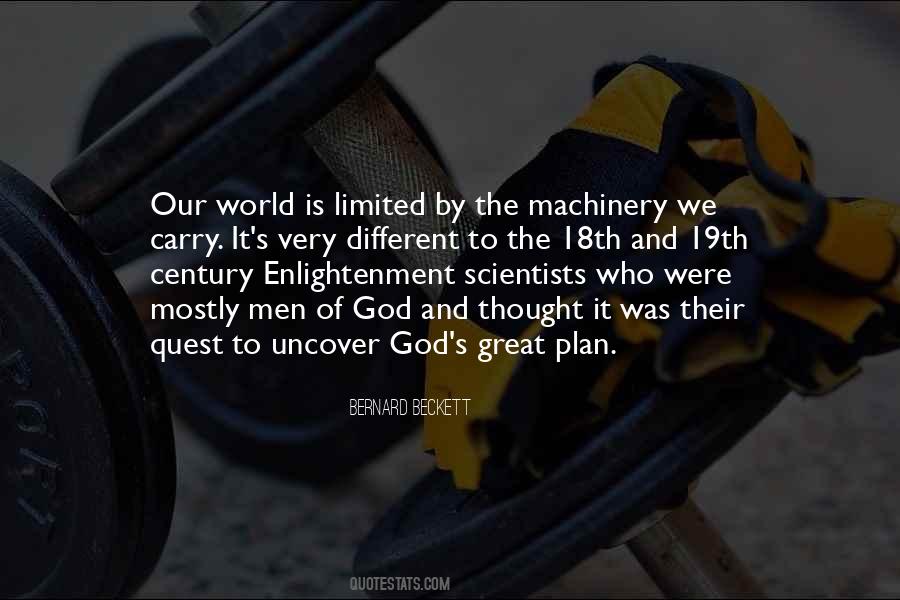 #90. However many and however great and burdensome your sins may be, with God there is greater mercy. Just as His majesty is, so likewise is His mercy. - Author: Patriarch Tikhon Of Moscow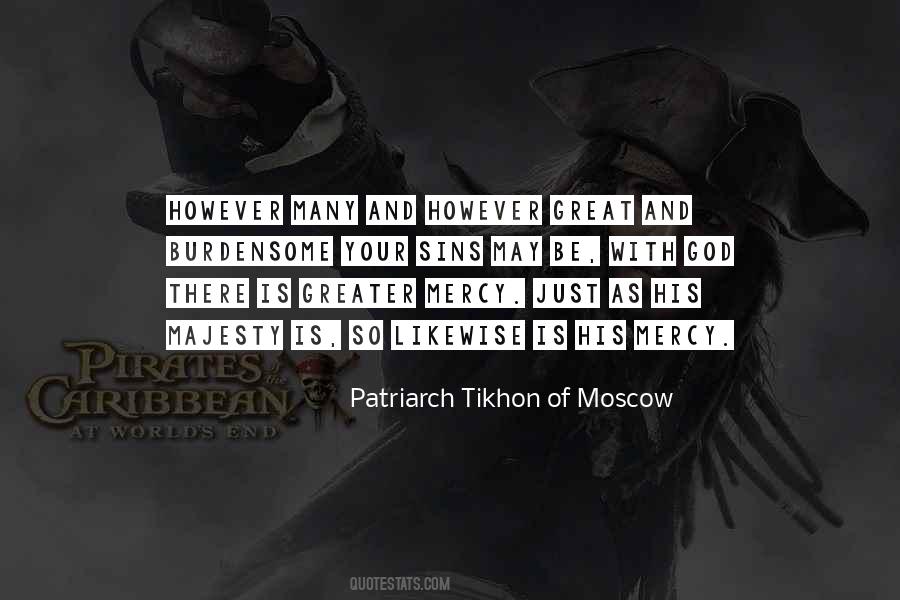 #91. God is love, and His law is love. Its two great principles are love to God and love to man. - Author: Ellen G. White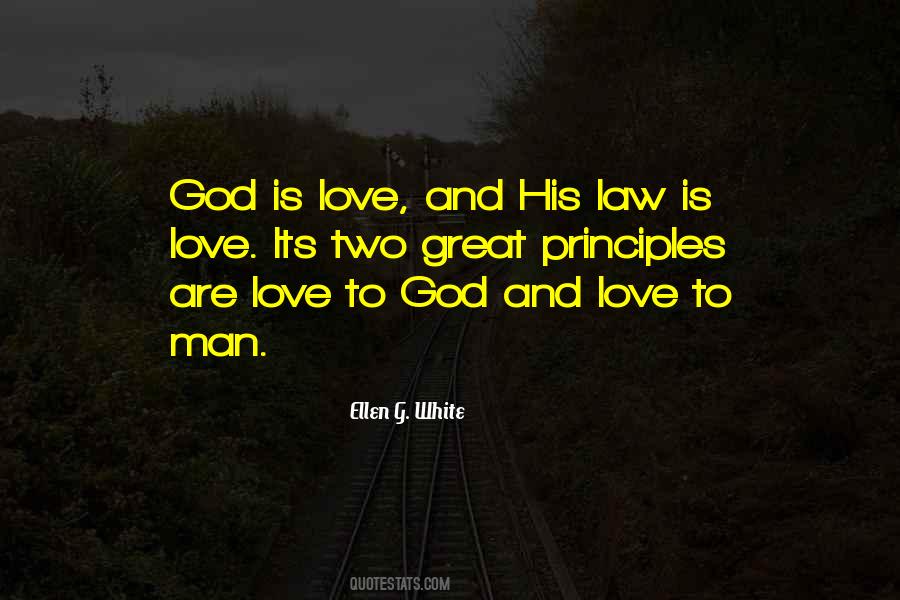 #92. But Mrs. Wingfold had developed a great aptitude for liking people. Surely more people would allow themselves to be thus changed if they realized how greatly the coming of the kingdom of God is slowed by a simple lack of courtesy. - Author: George MacDonald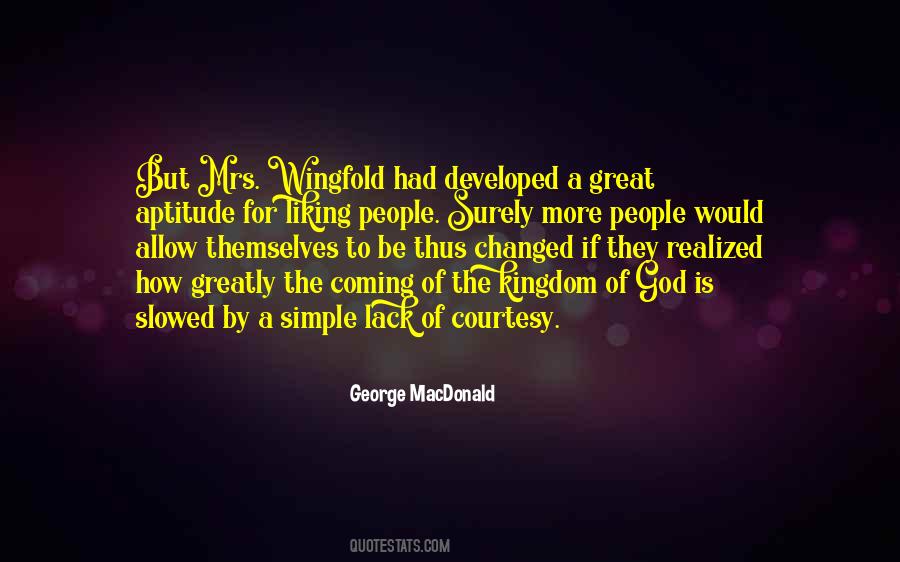 #93. I think we should all be servants. To be really great in God's eyes is to be least among each other and serve each other. - Author: Larry Norman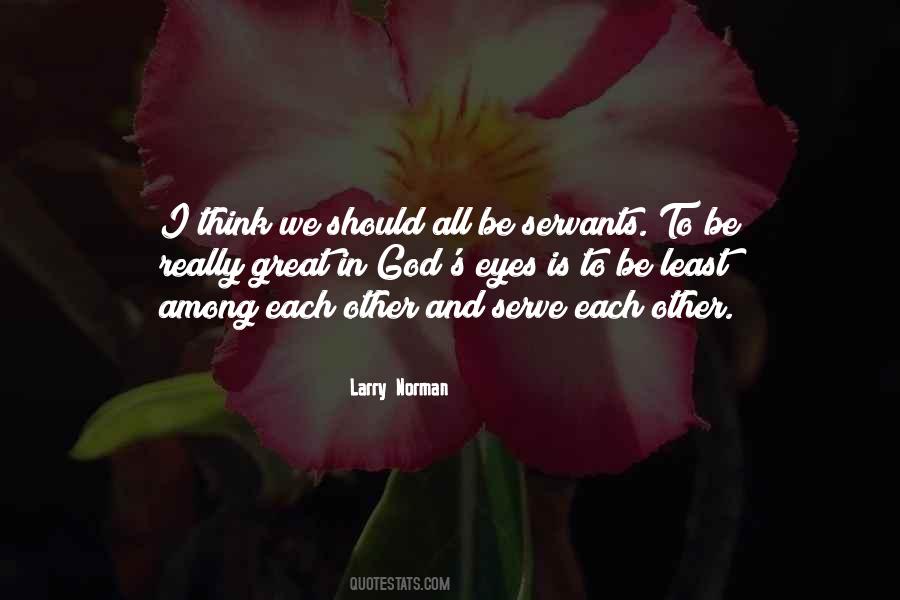 #94. God is with us to be utilized. His Power, His Love, His Thought, His Love, His Thought, His Presence must be at our disposal, like other great forces, such as sunshine and wind and rain. We can use them or not, as we please. We can use them in proportion to our ability. - Author: Basil King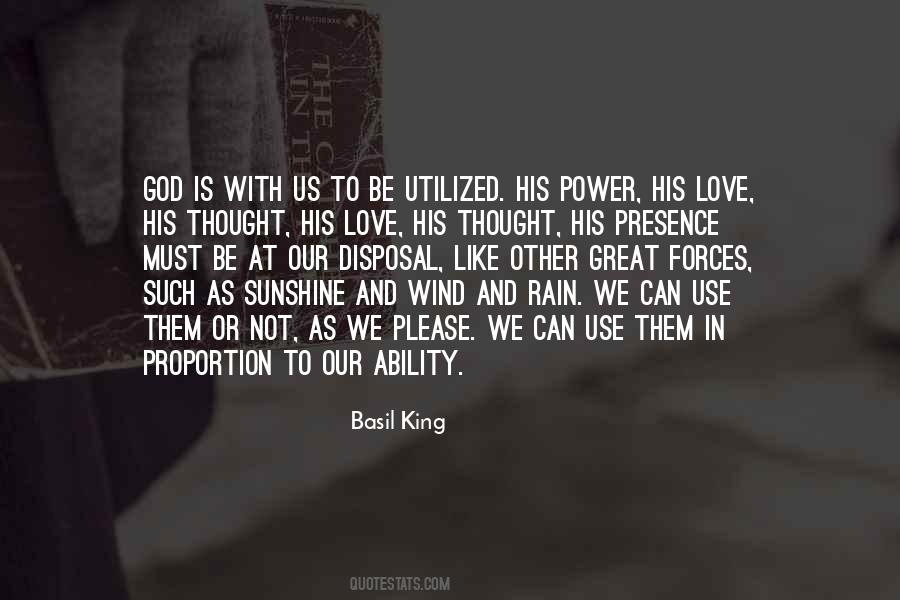 #95. Thank God for your daily bread.
God is all sufficient and great provider. - Author: Lailah Gifty Akita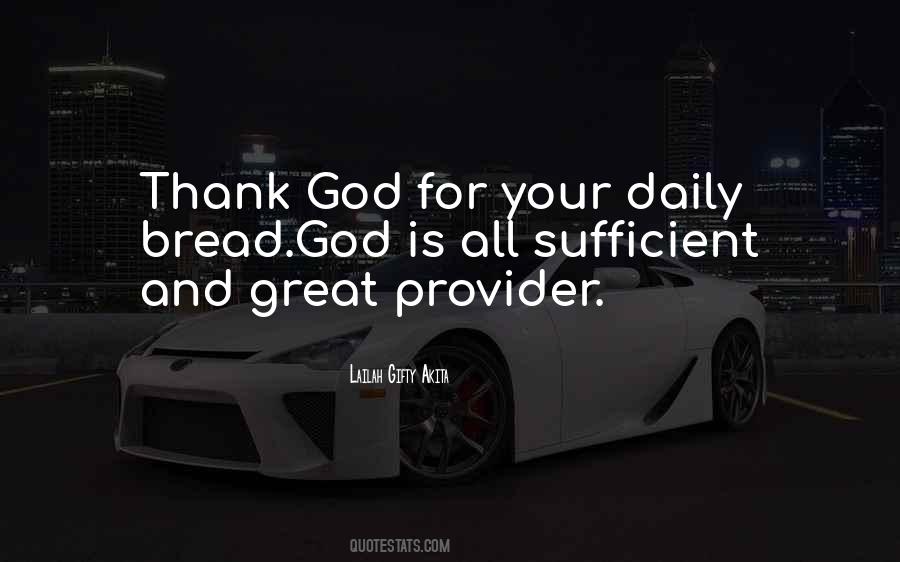 #96. The first question here, then, is not "What is best for my soul?" nor is it even "What is most useful to humanity?" But-transcending both these limited aims-what function must this life fulfill in the great and secret economy of God? - Author: Evelyn Underhill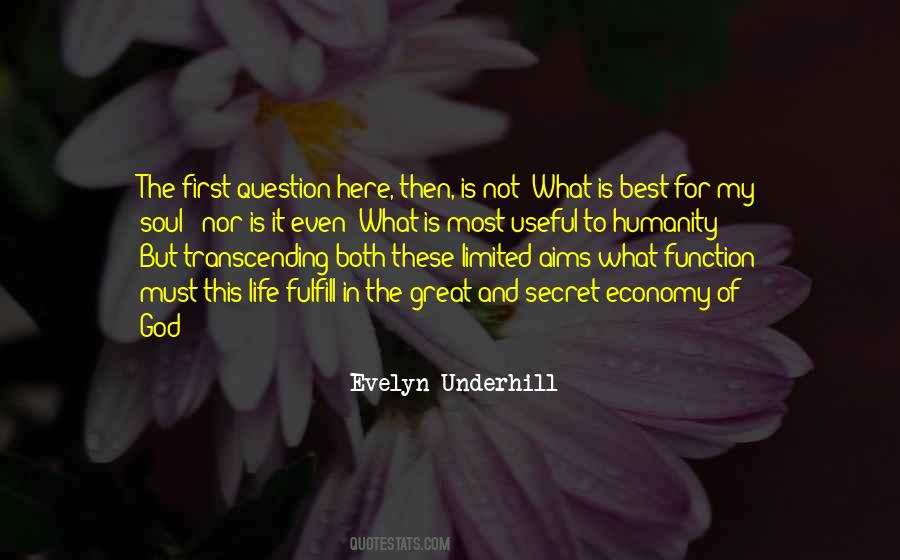 #97. You should know that there is present with you the angel whom God has appointed for each man ... This angel, who is sleepless and cannot be deceived, is always present with you; he sees all things and is not hindered by darkness. You should know, too, that with him is God. - Author: Anthony The Great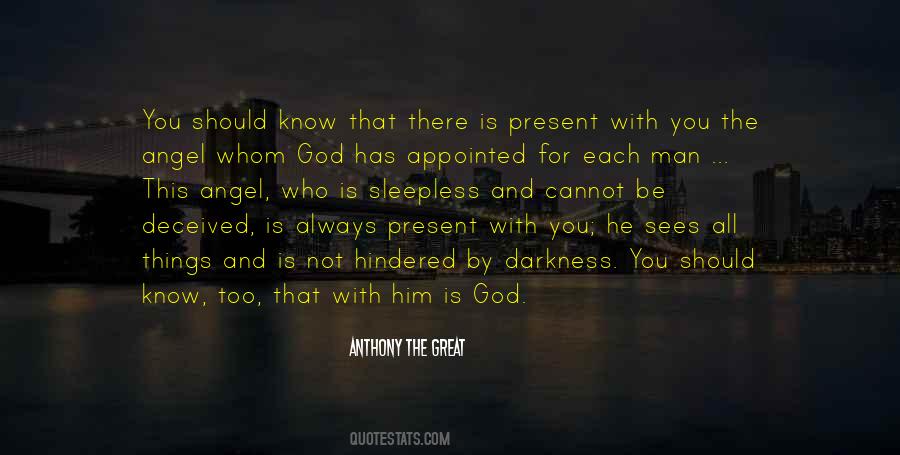 #98. God is a great humorist. He just has a slow audience to work with. - Author: Garrison Keillor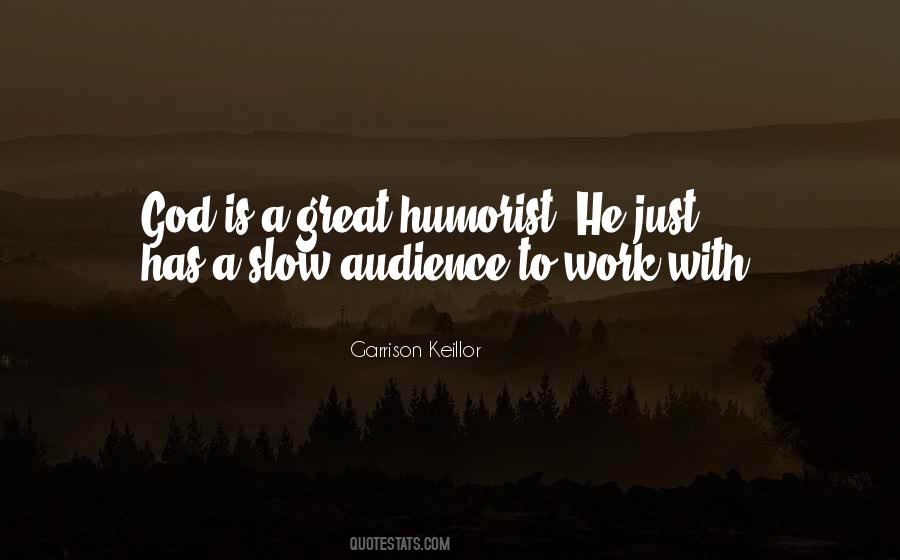 #99. One of the great enemies of hope is forgetting God's promises. - Author: John Piper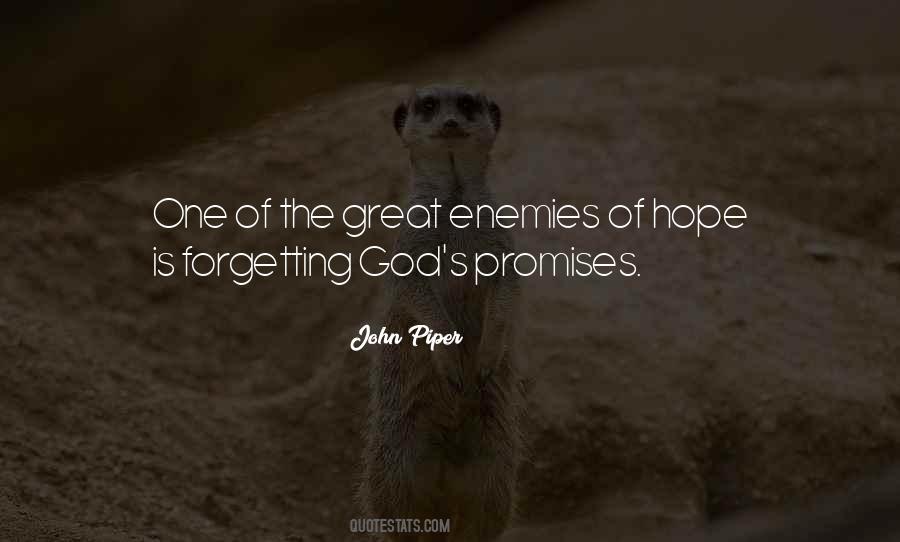 #100. This is a key point which the secularists are missing: they think that stressing God's mercy means that sins are no longer sins. On the contrary, God's mercy is a great gift of grace precisely because sins are sins and they call for repentance and forgiveness. - Author: Thomas J. Paprocki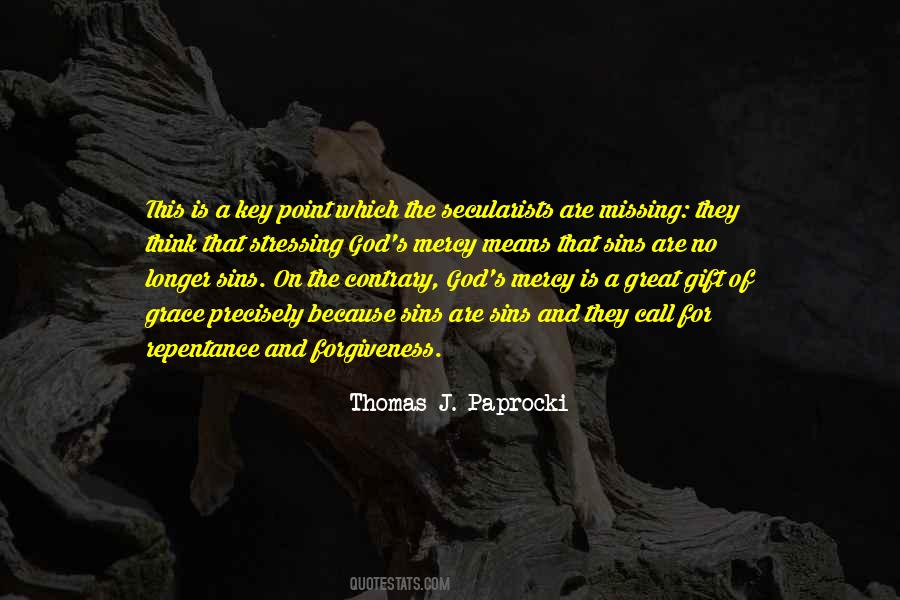 Famous Authors
Popular Topics