How Good You Look Famous Quotes & Sayings
List of top 77 famous quotes and sayings about how good you look to read and share with friends on your Facebook, Twitter, blogs.
Top 77 Quotes About How Good You Look
#1. When someone says to you, 'Oh, I don't take a good picture,' what they mean is they haven't come to terms with how they look. They take a fine picture, it's just that their image of how they think they look is not in touch with the reality. - Author: Martin Parr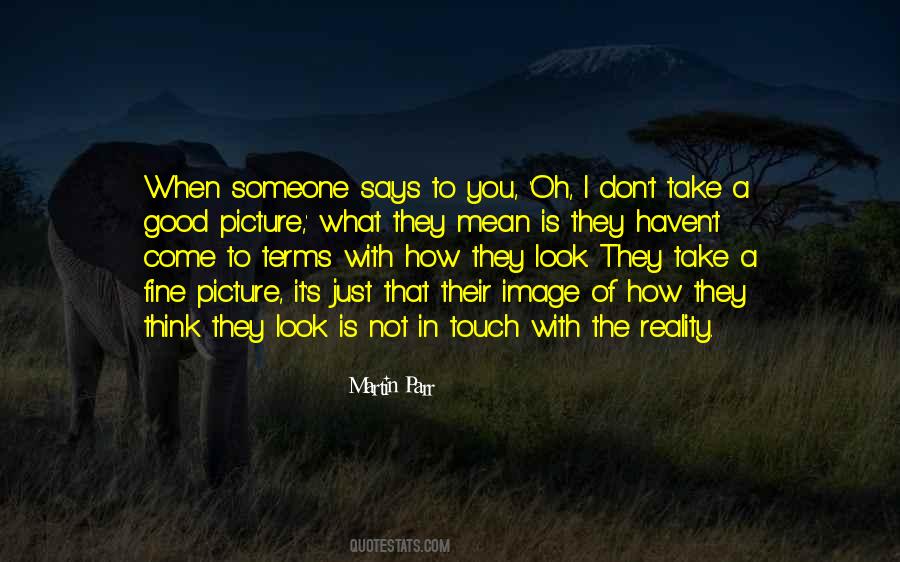 #2. When someone comes to you for some help it means Allah has chosen you for gaining some good deeds its upon us how we look at it ... - Author: Adil Adam Memon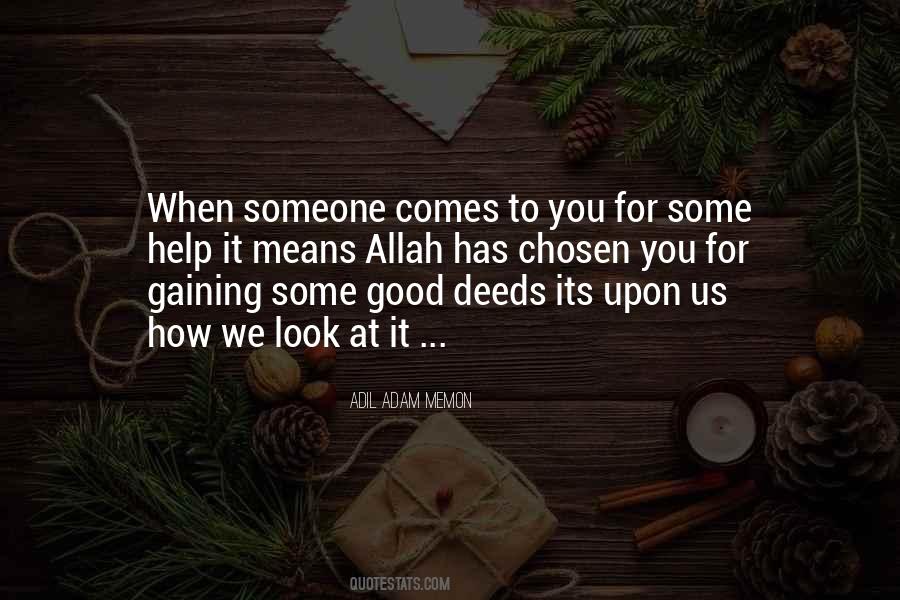 #3. In a business, you have a vision, and you follow the vision. You have to execute. And then you have to learn how to run a good business. And I think if you look at the characteristics of any successful fashion business, it's all about that. - Author: Mickey Drexler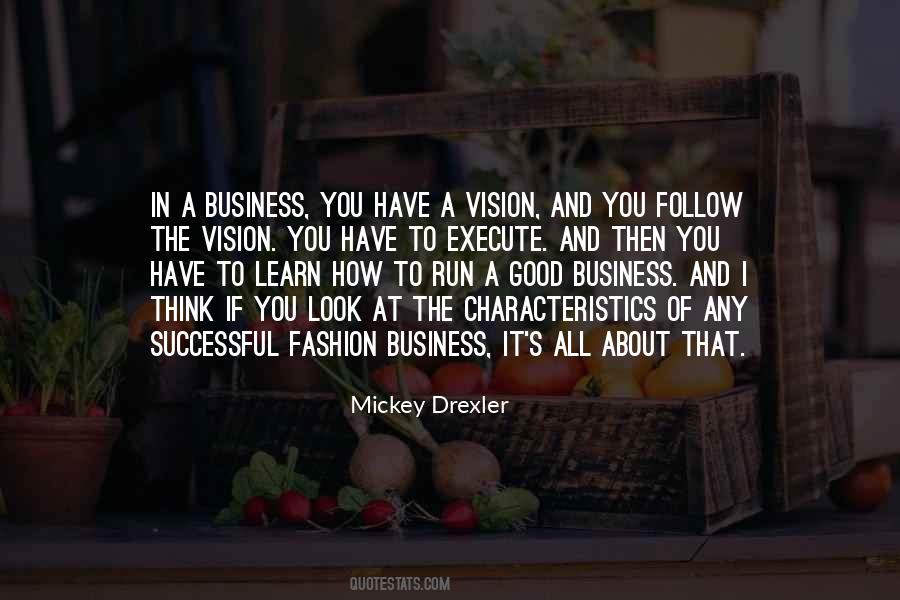 #4. There is good in everything; it's just how you choose to look at it. Everything that's worth it has a price. For me to be a model - I had to leave my family. Do you think I liked that? No! There are sacrifices. Life is meant to be a challenge, because challenges are what make you grow. - Author: Gisele Bundchen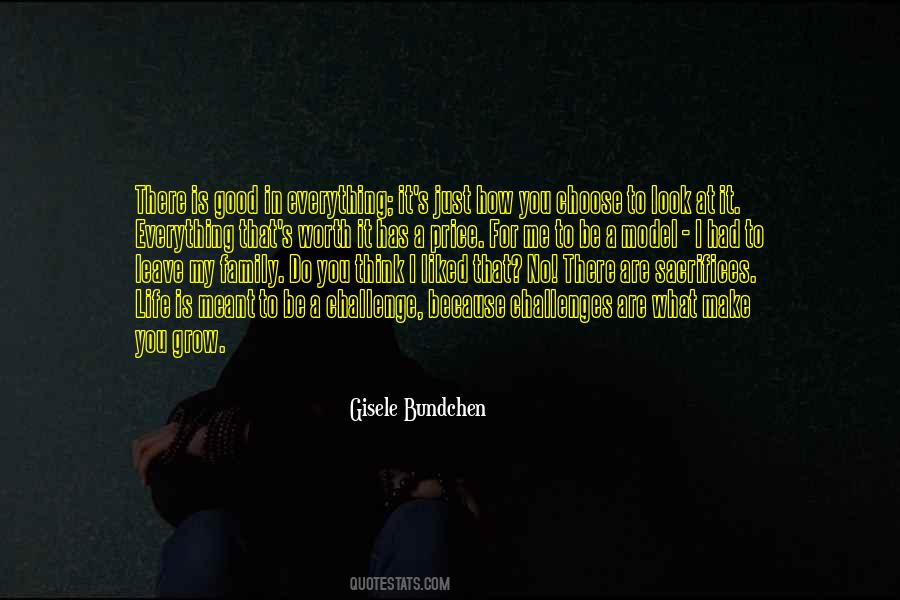 #5. People look for their passions. But often, the passions find you. How does your # passion find you? When you are good at something, you get passionate about it. That's it. - Author: James Altucher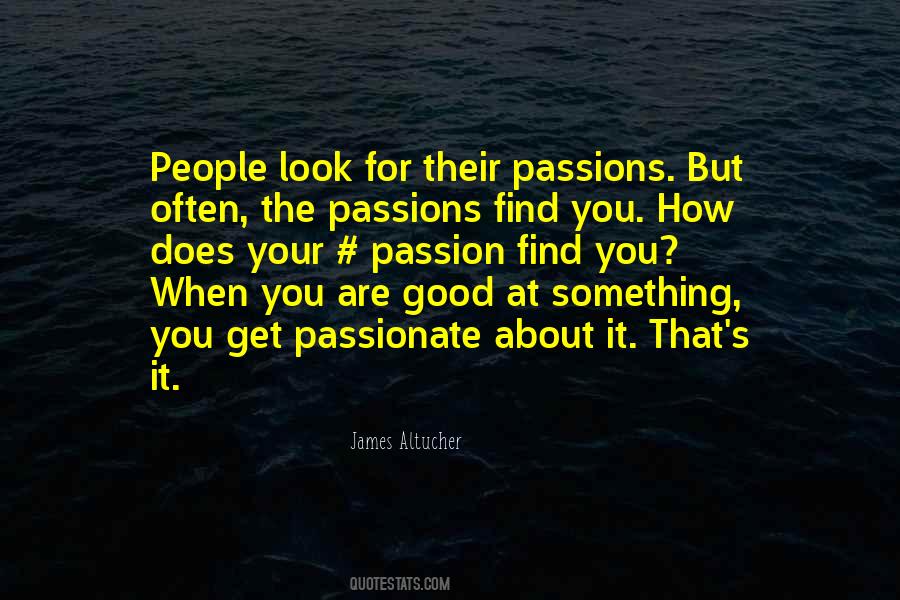 #6. We are always yapping about the 'Good Old Days' and how we look back and enjoy it, but I tell you there is a lot of hooey to it. There is a whole lot of all our past lives that wasn't so hot. - Author: Will Rogers
#7. You looked at me like you saw something good. You made me remember everything I loved about you, before I'd fallen. And how could I ever damn such a beautiful creature? I couldn't. That look made me want to be a better man, for you - Author: Jillian Peery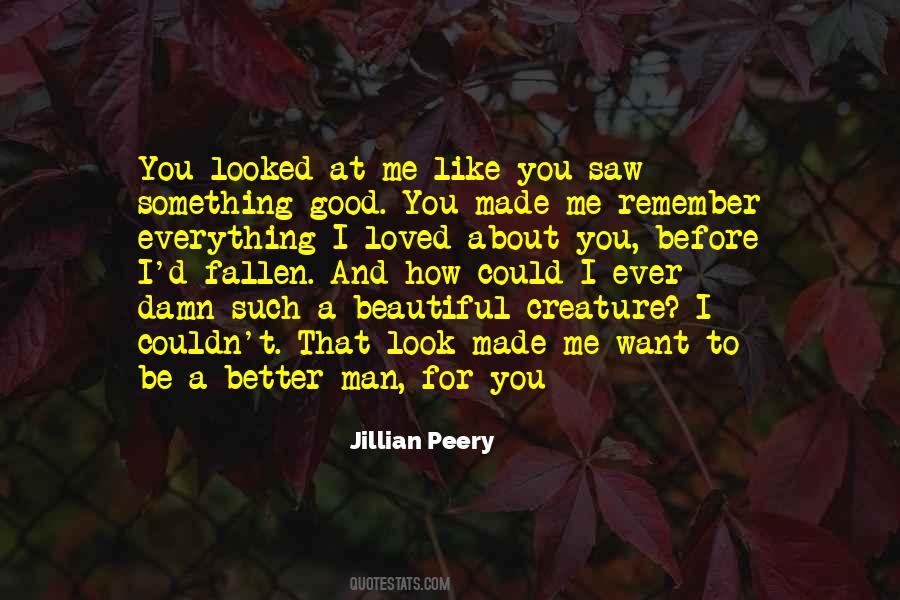 #8. Learn how to cook a (effing) omelet. I mean, what nicer thing can you do for somebody than make them breakfast? You look good doing it, and it's a nice thing to do for somebody you just had sex with. - Author: Anthony Bourdain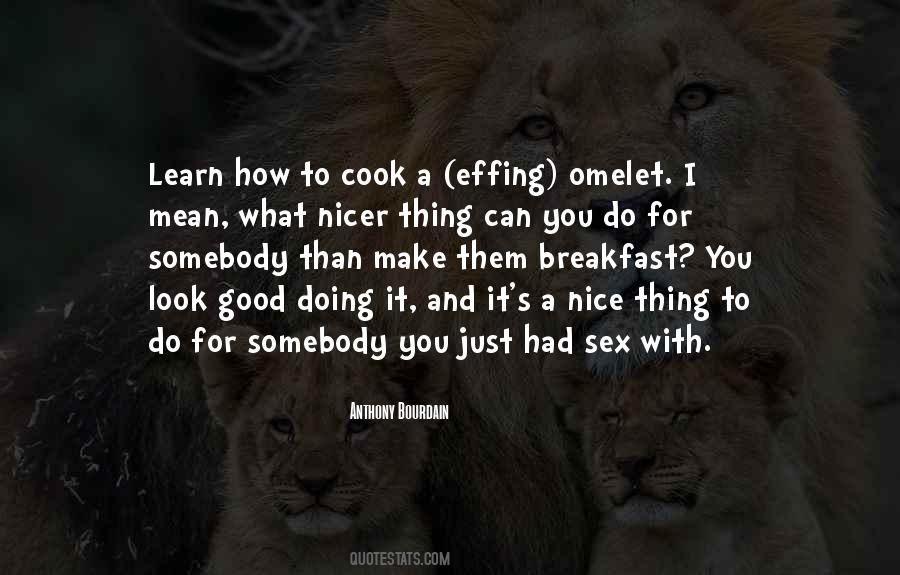 #9. A talented executive would be somebody who knows how to surround themselves with a lot of people that will make him look good. You could say that about a politician or you could say that about a head of a major corporation or what have you. The people you surround yourself with are very important. - Author: Clint Eastwood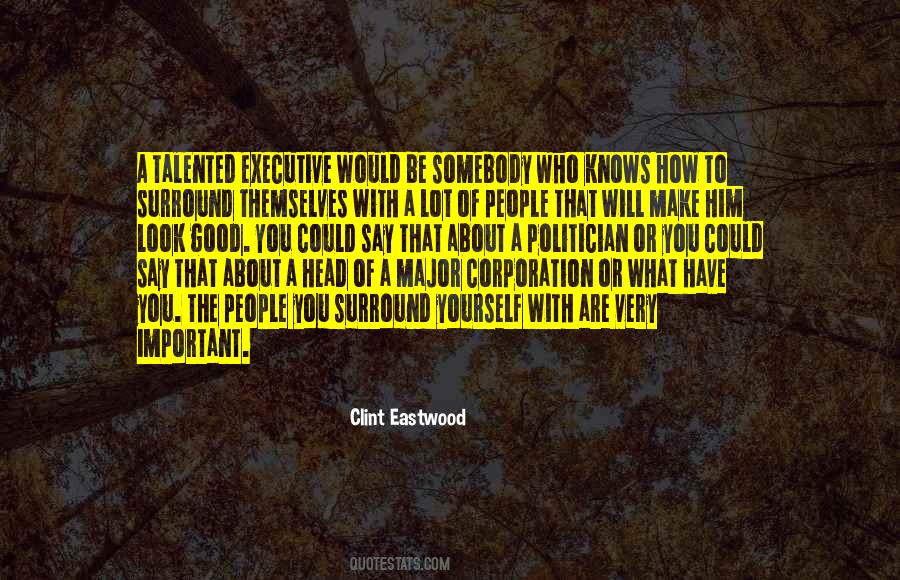 #10. Good looks are not something you earn. But as you get older, how you look is a reflection of the life you've led. - Author: Diana Quick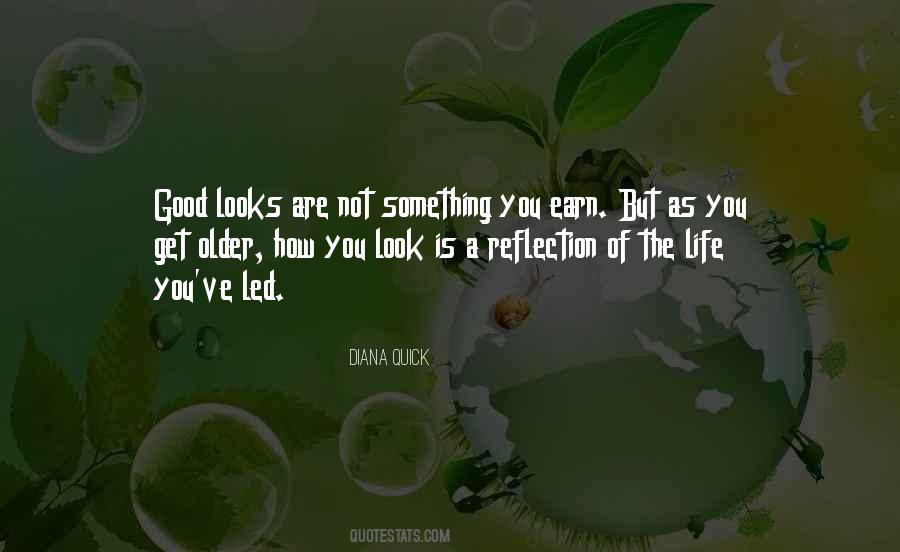 #11. No matter how old you are, there's always something good to look forward to. - Author: Lynn Johnston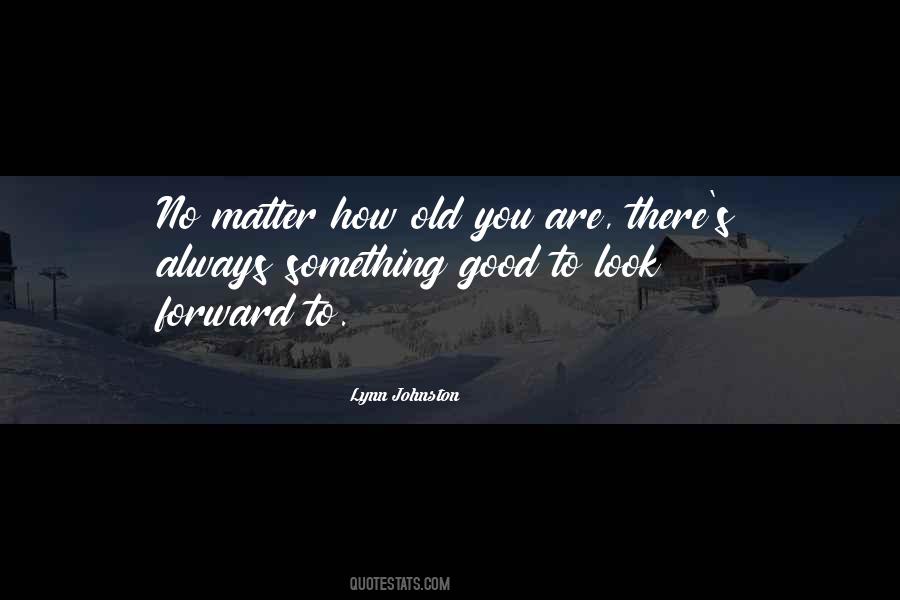 #12. God's wrath and love are most vividly on display at the Cross. If you ever doubt God's settled anger at sin, look at the Cross. If you ever doubt how kind, good, and loving God is, look at the Cross. - Author: Todd Friel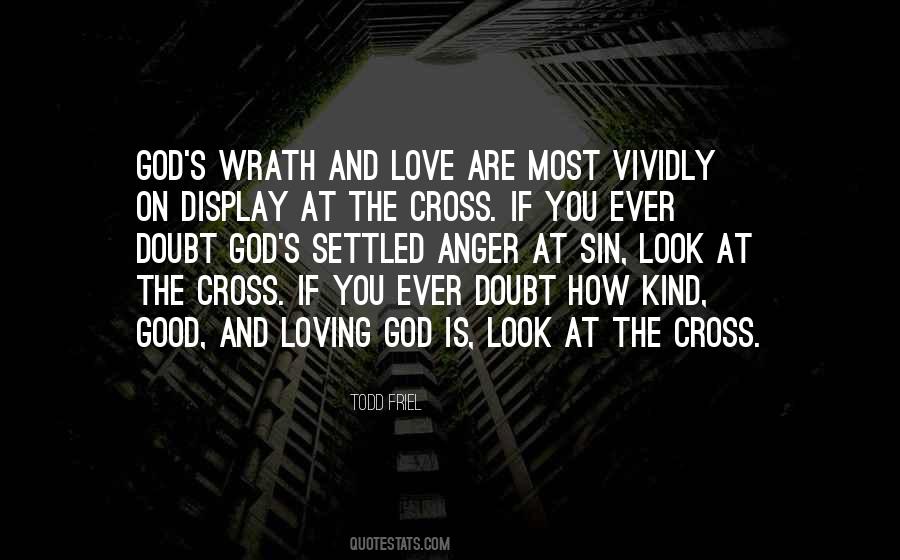 #13. Constantly there's a credibility issue; you're judged on how you look. If you look good, people assume you aren't credible. It's a battle you'll always fight if you're on TV and a female. - Author: Lisa Guerrero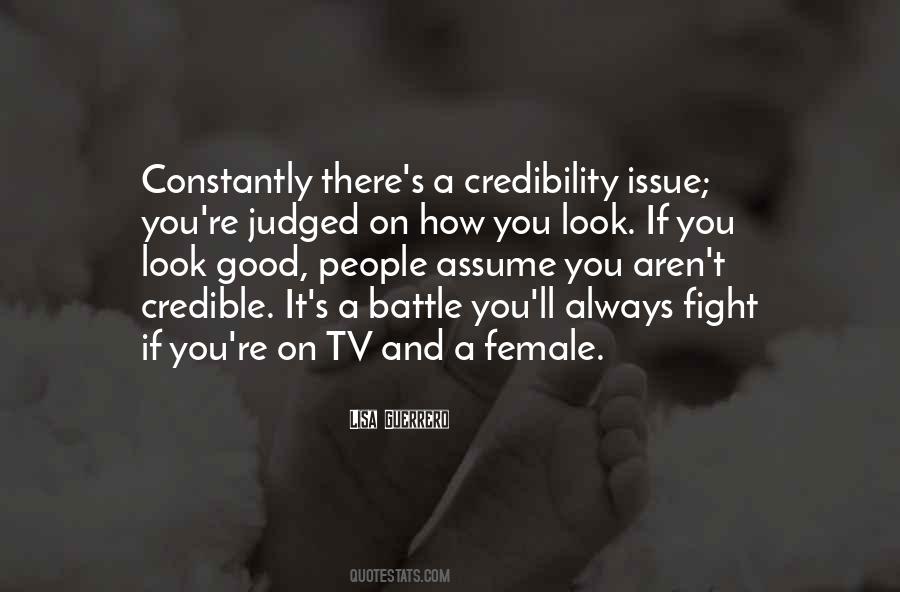 #14. The true test of a man's style is the haircut. There are some men who look good no matter how their hair is styled, whether it's trendy or not. A man can change his haircut many times, but to pull off any haircut, you have to be very chic. Like Brad Pitt. - Author: Carine Roitfeld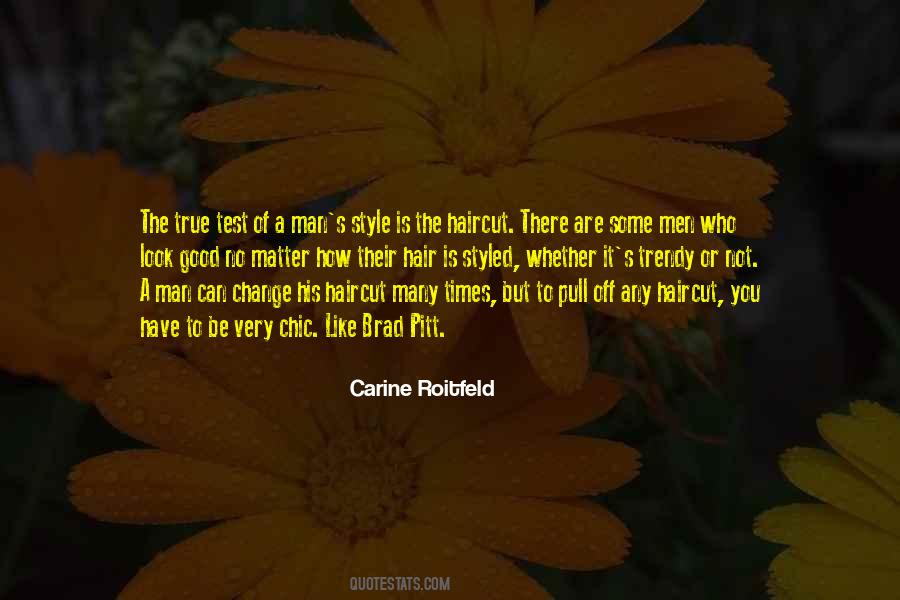 #15. If you want to ask how evil begins, just look to basic human nature. What's good gets bent, and bad is the inevitable result. - Author: Anonymous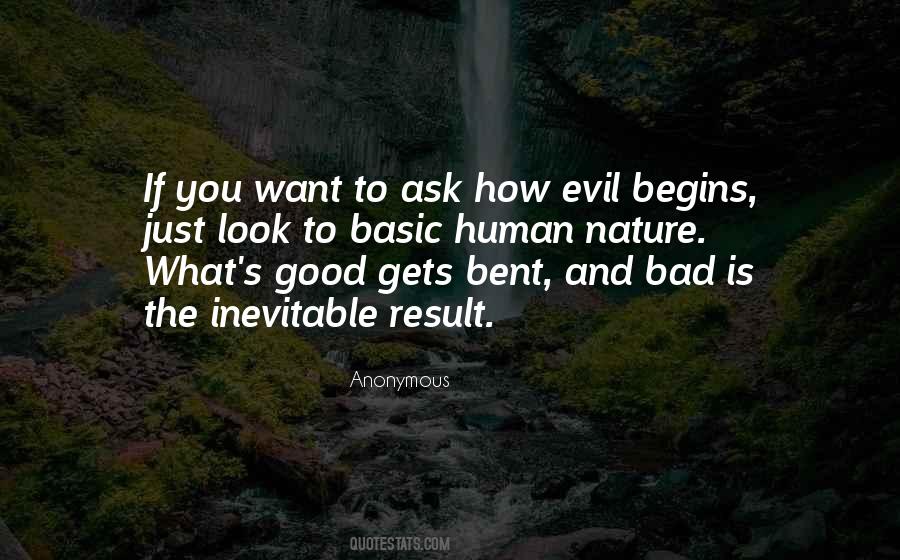 #16. Be good, Gaia," Capt. Grey told her, his voice grave. She still refused to look at him, but she could feel the heated flush of anger again in her cheeks. "Cooperate with the guards. For your own sake," he continued.
"Be good yourself, Captain," she said bitterly. "If you know how. - Author: Caragh M. O'Brien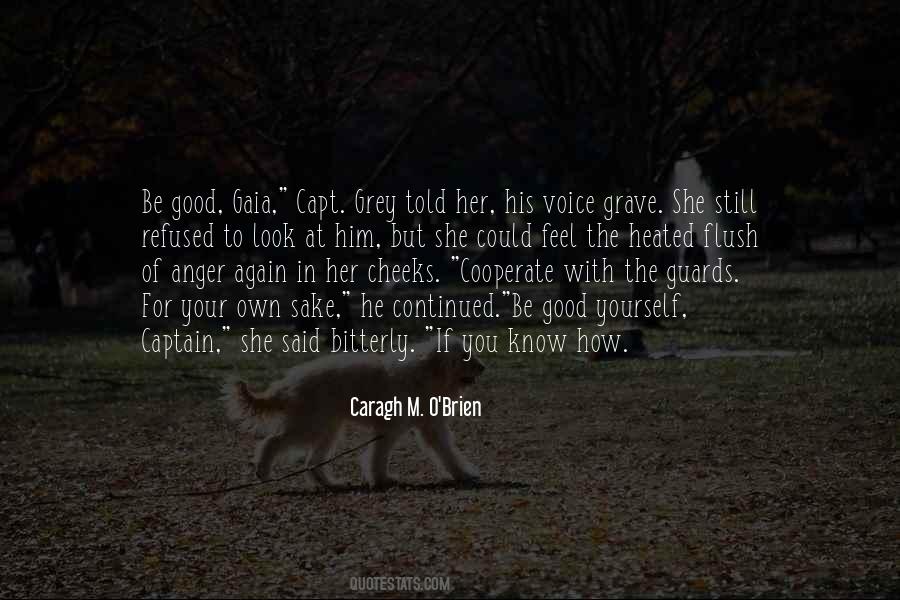 #17. You don't love people for what they can give you. You don't love them because of what they do for you or how good you make them look. Love is blind, love does not boast, love is not vain. - Author: Shelly Crane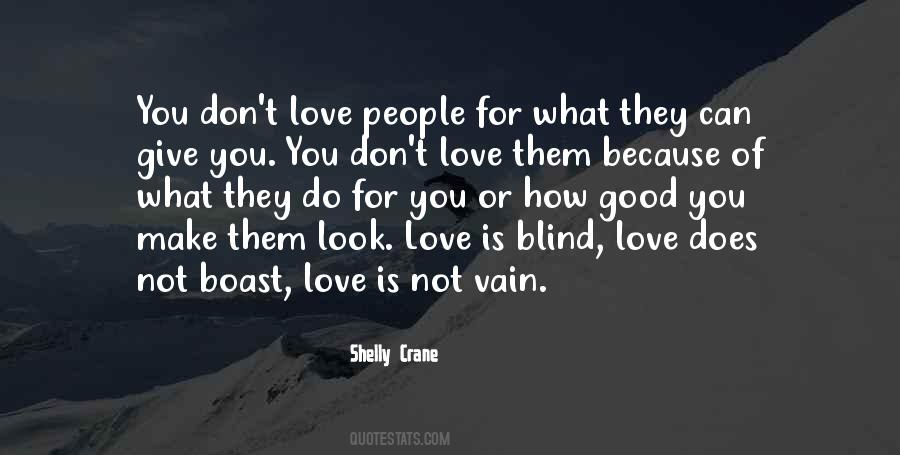 #18. Feeling good" is your way of telling yourself that your last thought was truth, that your last word was wisdom, that your last action was love. To measure how highly you have evolved, simply look to see what makes you "feel good. - Author: Neale Donald Walsch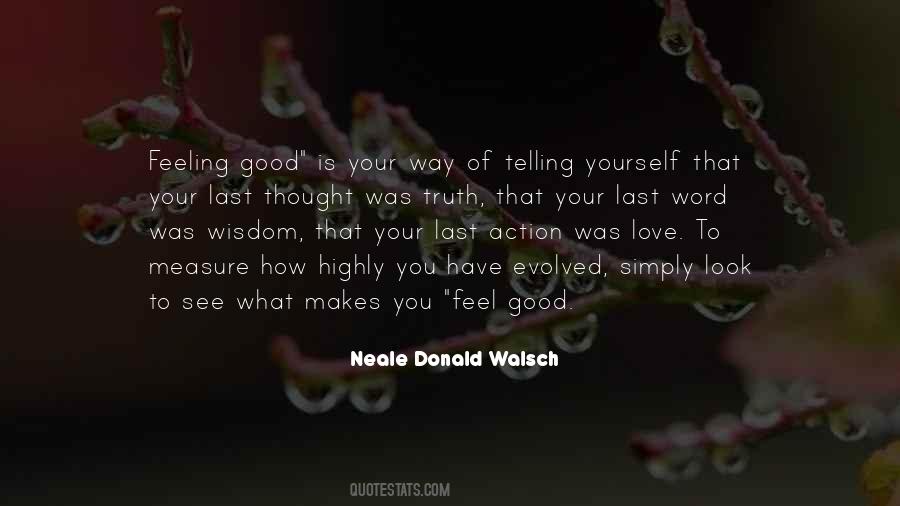 #19. Let your head climb back down through your throat and into your body so it can see just how good you look when you're not compared to anything. - Author: Buddy Wakefield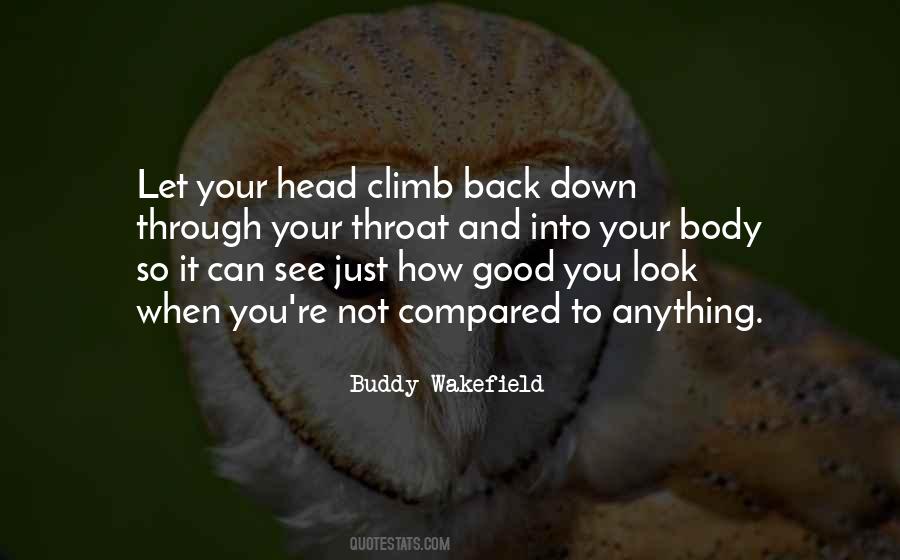 #20. You look good."
"You look like shit."
"That's how I feel."
"Good. What do you want?"
He gave her a faint smile. "To tell you how much I love you, Izzy. I probably have from the first moment we met. - Author: Susan Mallery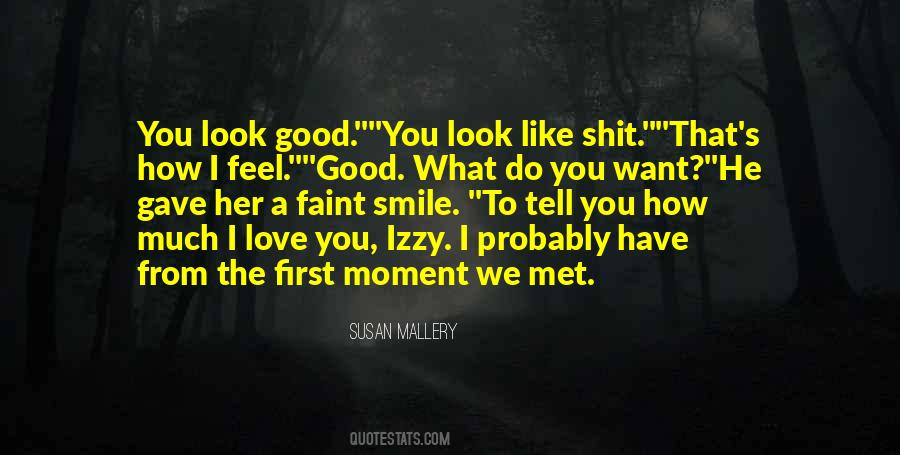 #21. Look you dead in the face
Now tell me how good does it taste - Author: Rick Ross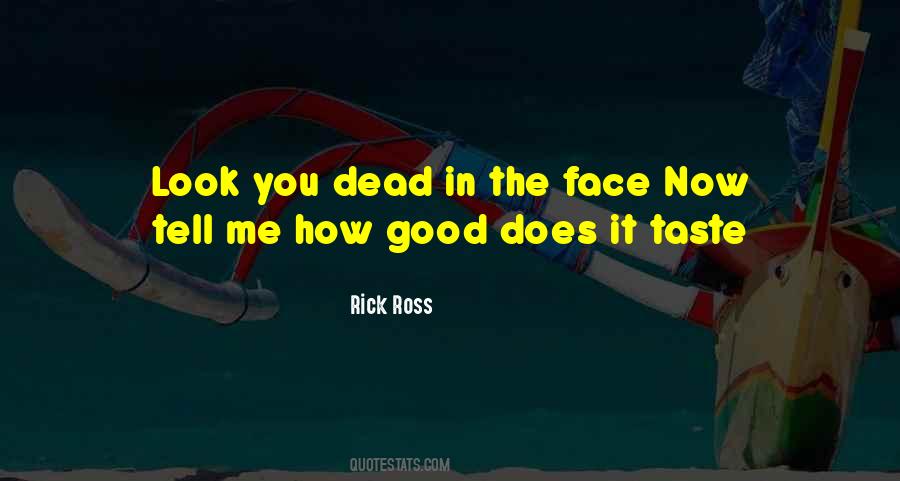 #22. How would your life be different if ... You stopped making negative judgmental assumptions about people you encounter? Let today be the day ... You look for the good in everyone you meet and respect their journey. - Author: Steve Maraboli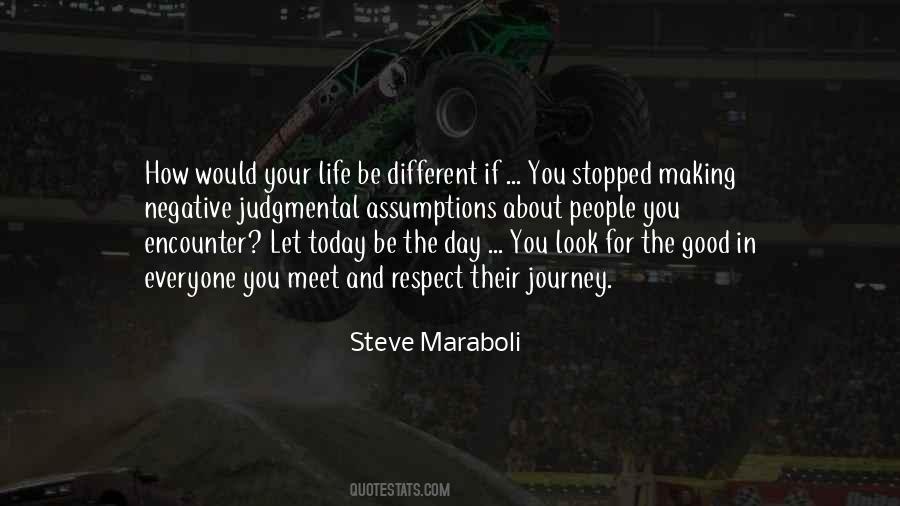 #23. A good novel is an out-of-self experience. It lifts you off the ground so that you have the sensation of flying. It says, 'Look at the world around you; learn from the people in these pages, neither quite me nor quite you, how life is lived in so many different ways.' - Author: Julia Glass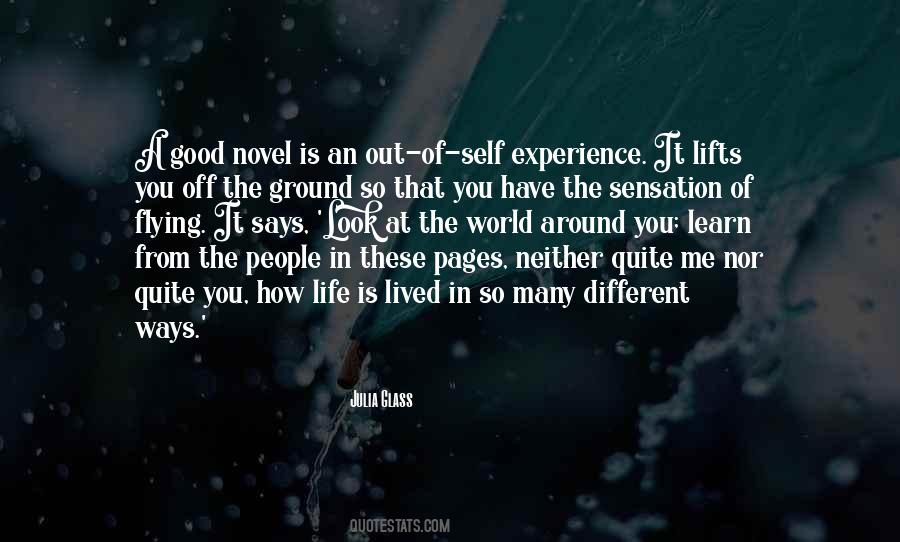 #24. I leaned my head back on the couch and closed my eyes. "I'm not sure what to do next. How are you as a sounding board?"
"I can look interested and nod at appropriate moments," he said.
"Good enough," I said. - Author: Jim Butcher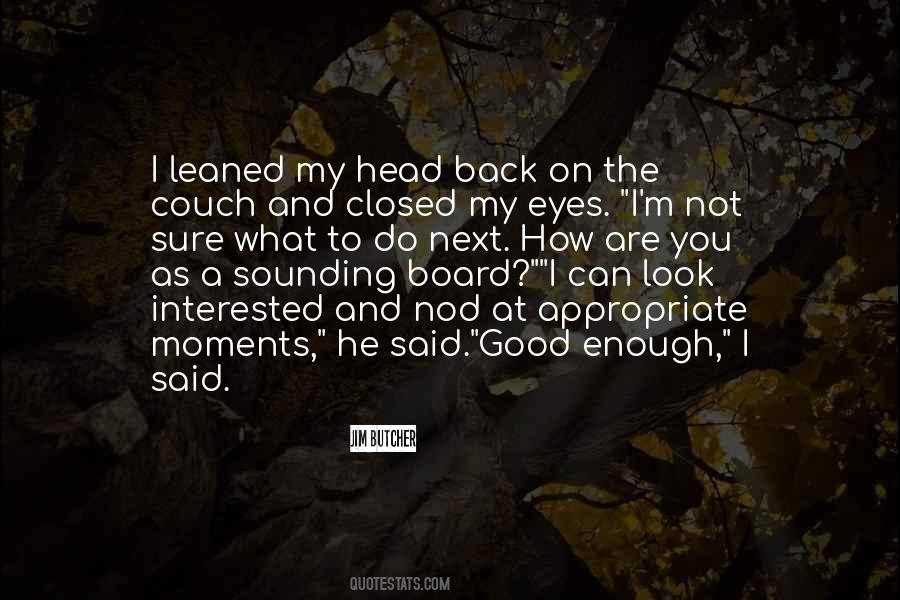 #25. The hood ornament on your car is for telling you where you're going. The rear-view-mirror is for showing you how good you look while you're getting there. - Author: David Lee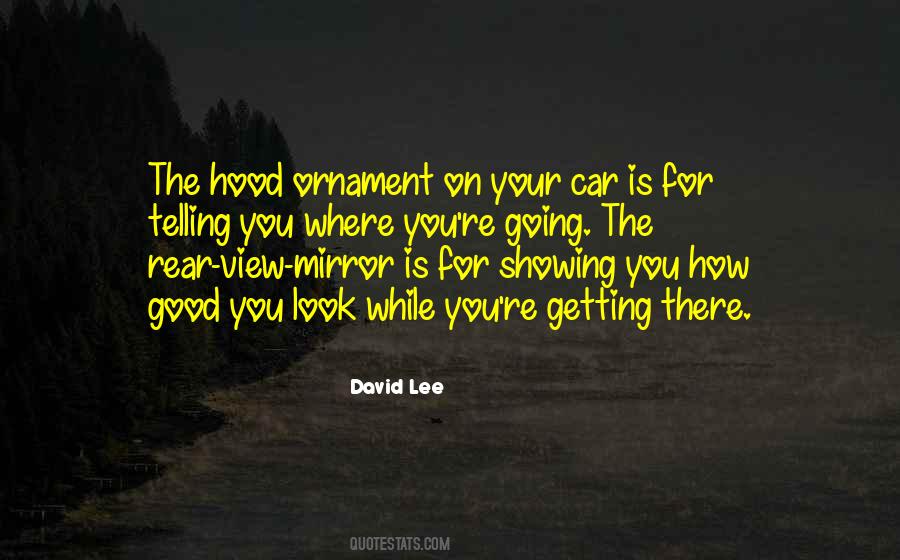 #26. I'm trying to keep a good spin on it ... But at some point you have to look at a guy like me and ask, 'How effective can I be if I'm not playing on a regular basis?' - Author: Tim Salmon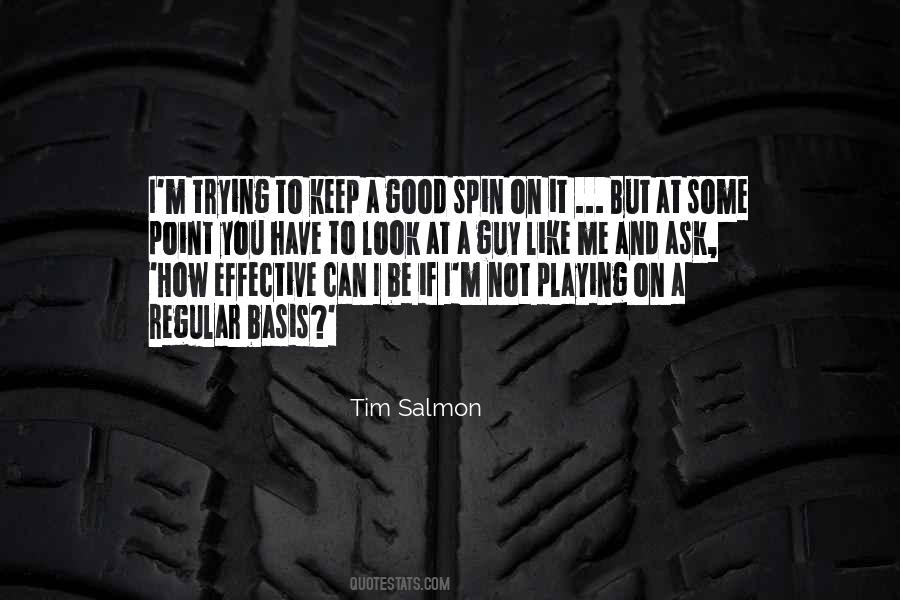 #27. Your problem is how you are going to spend this one and precious life you have been issued. Whether you're going to spend it trying to look good and creating the illusion that you have power over circumstances, or whether you are going to taste it, enjoy it and find out the truth about who you are. - Author: Anne Lamott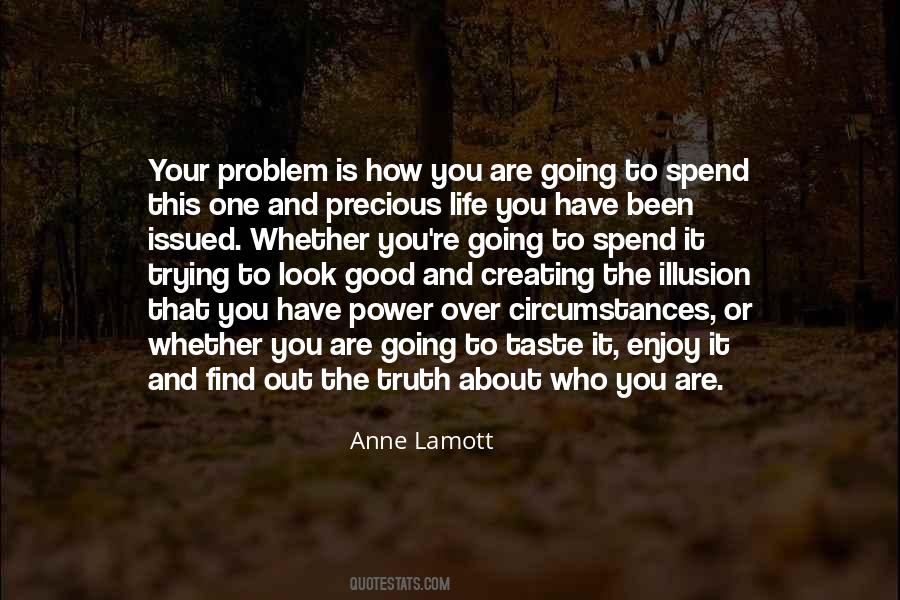 #28. Your mission: feel good about who you are, what you do, how you think, and how you look
without needing anybody's approval! - Author: Karen Salmansohn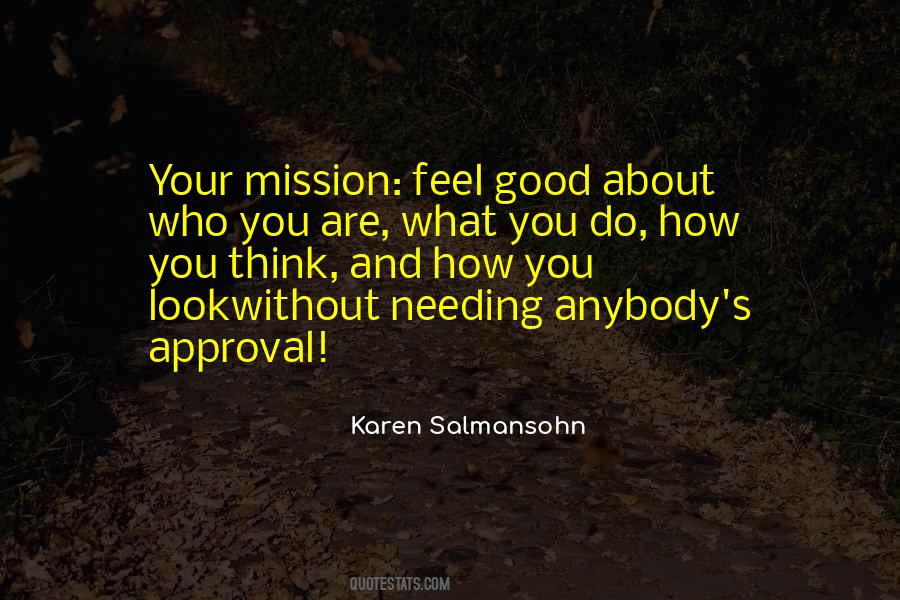 #29. Basically we're puppeteers and if you're there and you're in the character, the puppet is going to look good. It's going to breath life and I think once they find out how to trust this system, you just forget about it and just perform, then it's just second nature, it just becomes easy. - Author: Andy Serkis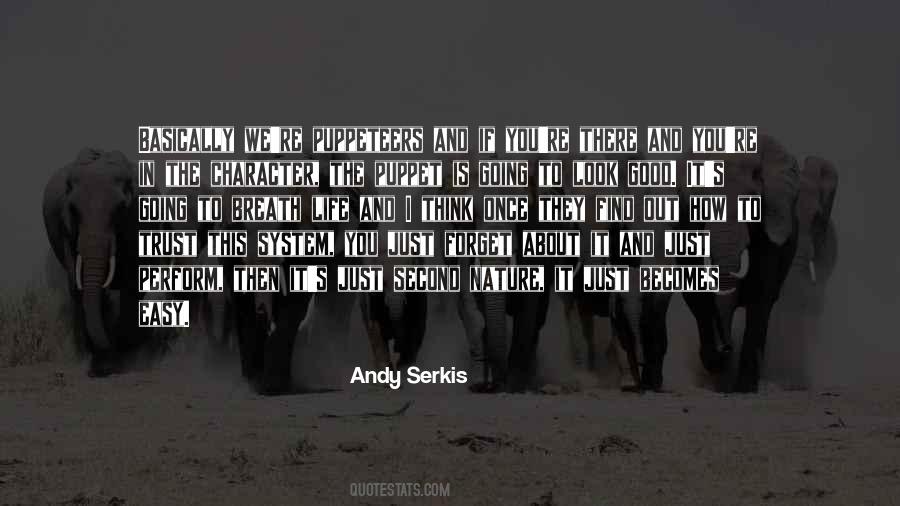 #30. We treat beauty like an accomplishment, and that is insane. Everyone in L.A. says, 'Oh, you look good,' and you listen for them to say you've lost weight. It's never 'How are you?' or 'You seem happy!' - Author: Carrie Fisher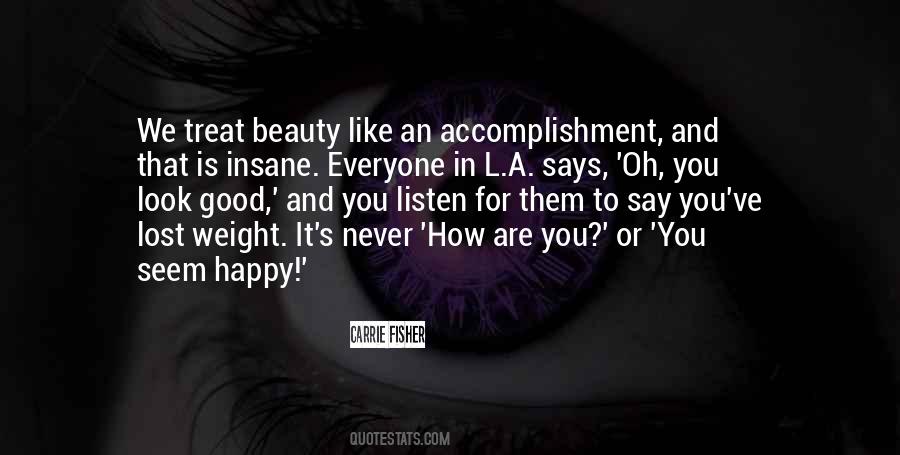 #31. I know how to work a problem. Frustration is the enemy. It makes you do stupid things. So you don't let it beat you. Instead you search for landmarks, look for signs. The task takes every single bit of me I have left. It's good, this task, because it keeps my mind focused. - Author: Carolyn Lee Adams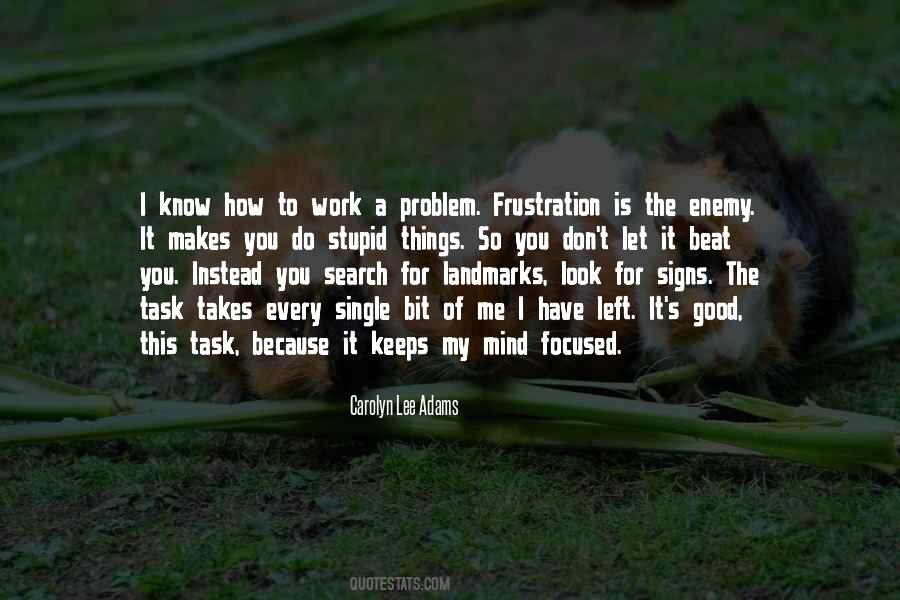 #32. I don't care who you love,
what you believe, how you look, where you're from or what you do. If you are a good hearted person, you're good in my books! - Author: Tanya Masse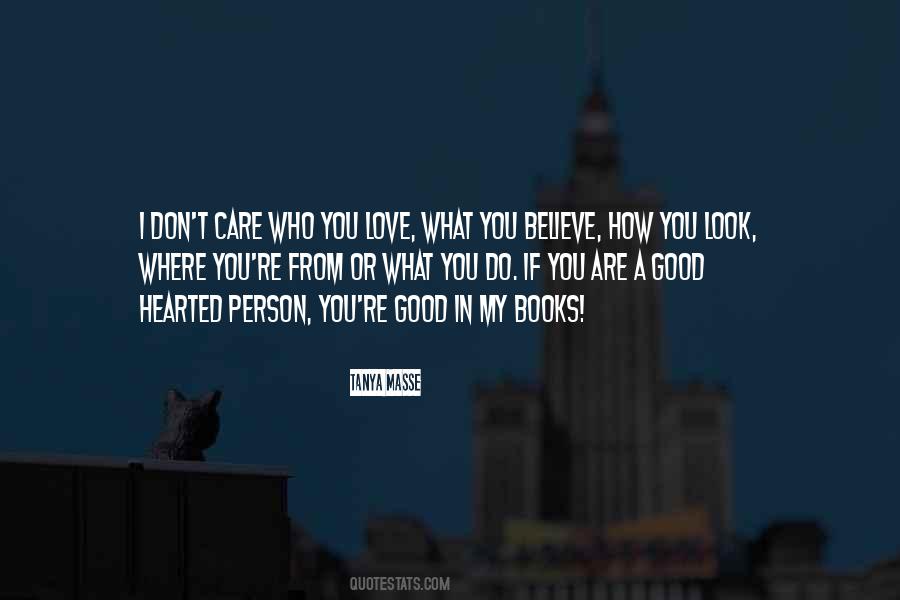 #33. What you look like and how great you are rarely go hand in hand. Otherwise, we'd have no trouble judging good men from bad, now would we? - Author: Dew Pellucid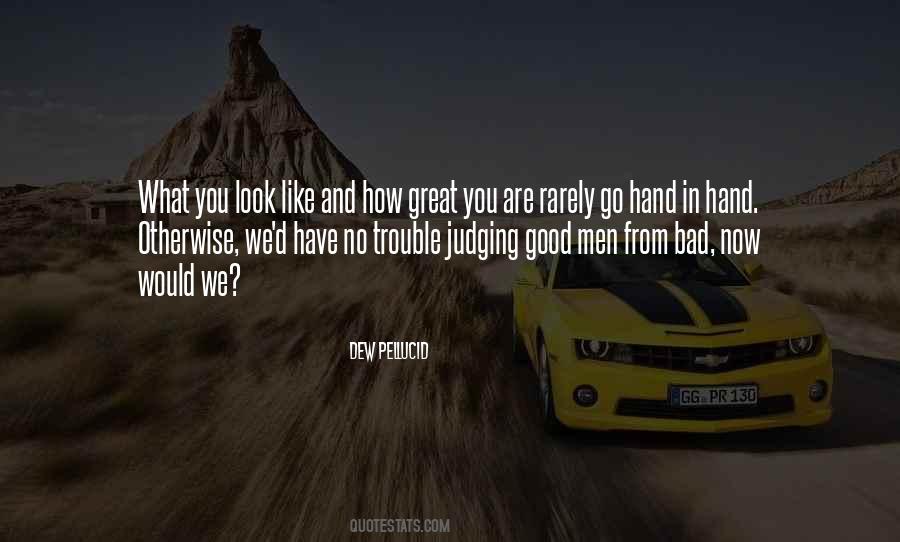 #34. There's that moment every day when you look in the mirror: Are you committed, or are you not?
Commitment is a big part of what I am and what I believe. How committed you are to winning? How committed you are to being a good friend? To being successful? - Author: Ebelsain Villegas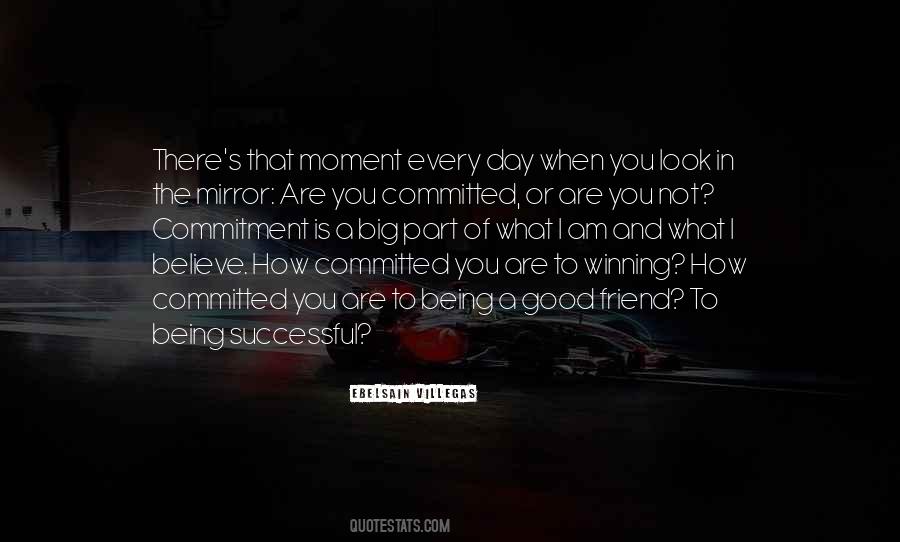 #35. Using the correct apps can completely change how your photos look. It's really exciting because once you've already taken a good photo, it can become 10 times better if you use the right combination of apps. My favorites are VSCO Cam, Afterlight, Facetune and SKRWT. - Author: Connor Franta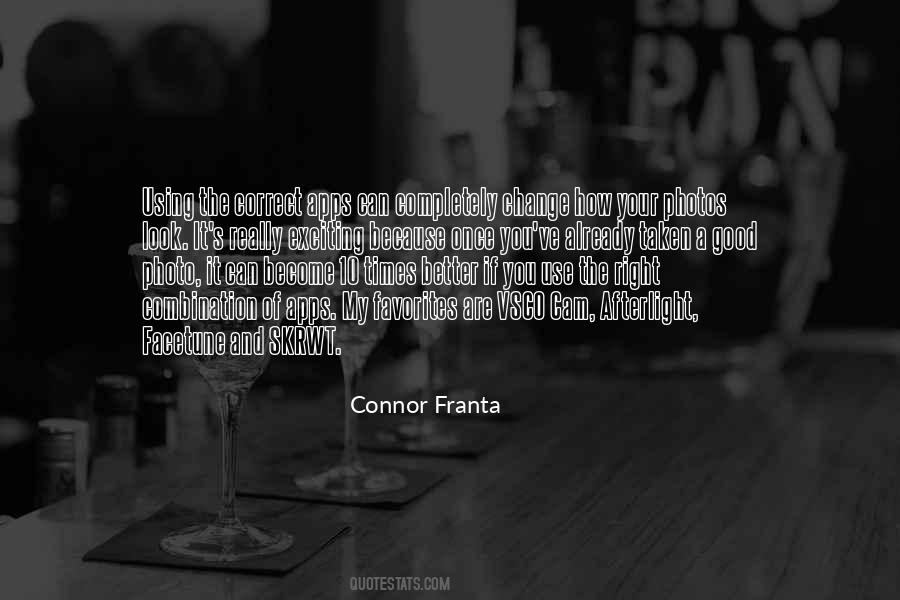 #36. I think a good story, well told is a good story, well told, whether you're watching the episodes all in a row or not. However, it might be fun to take a closer look at how the previous episode ends and how that end relates to the beginning of the next episode. - Author: Jenji Kohan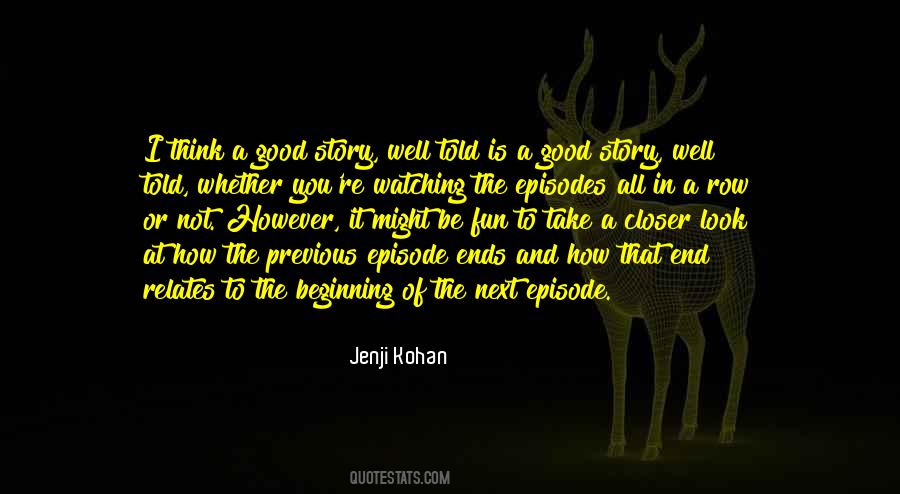 #37. How many pictures have you torn up because you hate them? What ends up in your scrapbook? The pictures where you look like a good guy and a good family man, and the children look adorable - and they're screaming the next minute. I've never seen a family album of screaming people. - Author: Richard Avedon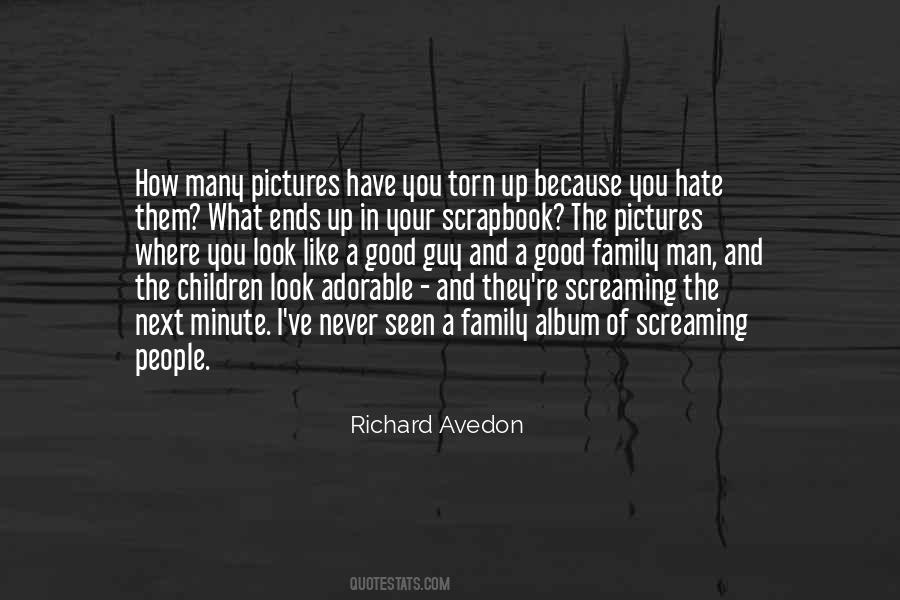 #38. Just walk through him," I said, still deep in thought. "and if you ever wanted to know how a moose works, just stop halfway and take a good look around. - Author: Jasper Fforde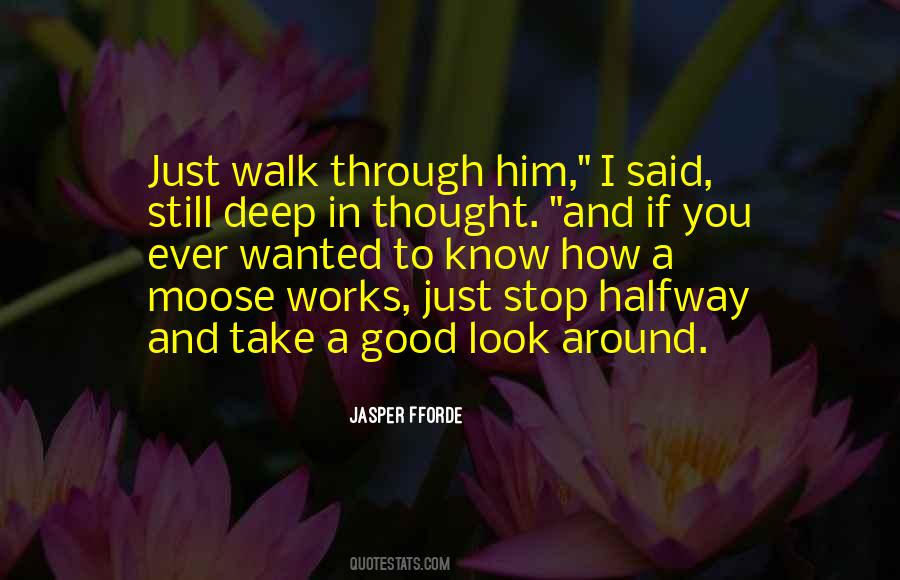 #39. Sometimes cameras and television are good to people and sometimes they aren't. I don't know if its the way you say it, or how you look. - Author: Dan Quayle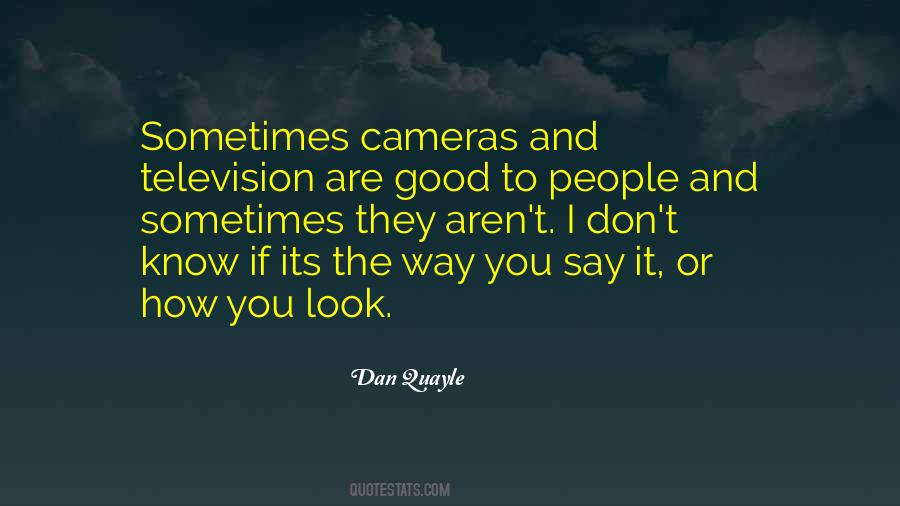 #40. You look back in time to when there was slavery and you think 'how did people even remotely believe that this was a good idea?'.
It's incomprehensible for us to think of what the mindset was 100 or 200 years ago. I hope to make the present as incomprehensible to the future as the past is to us. - Author: Stefan Molyneux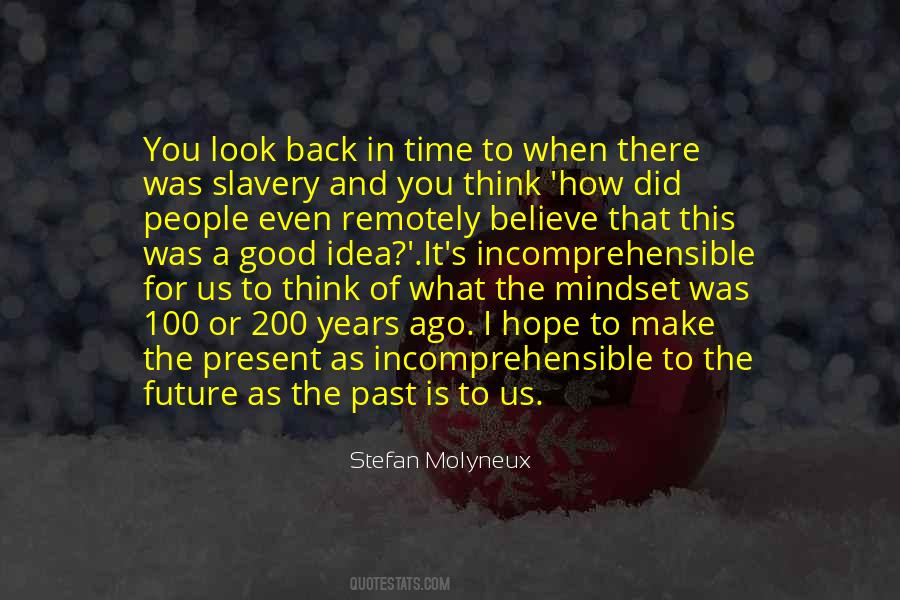 #41. The New Health Rules is the new manifesto for how to eat well, feel good, and live long. If you ever wondered what's really true about the things that work and the things that don't, look no further. - Author: Mark Hyman, M.D.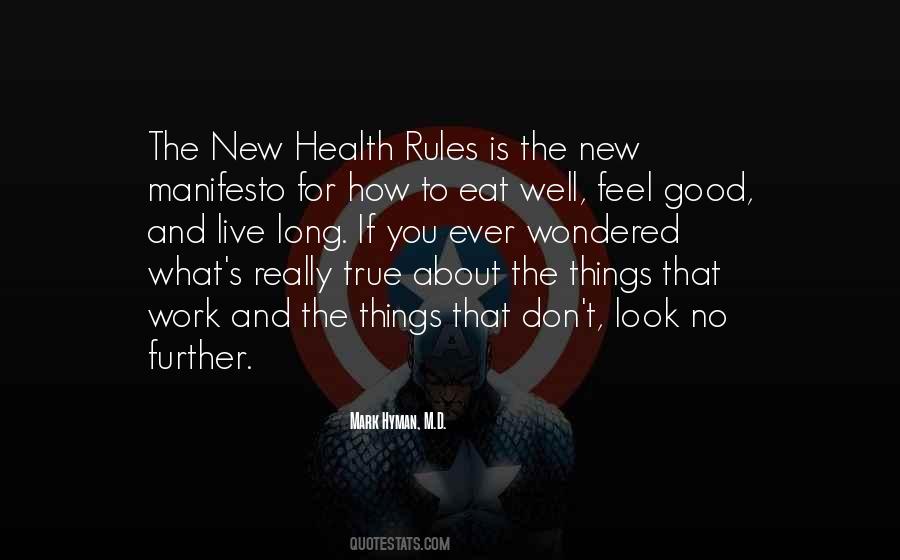 #42. You'll be a good parent when you're ready to no longer be selfish. Until I was about 35, it was all about me. I look back and I'm astonished at how I lived my life - it was totally self-involved. - Author: Lauren Holly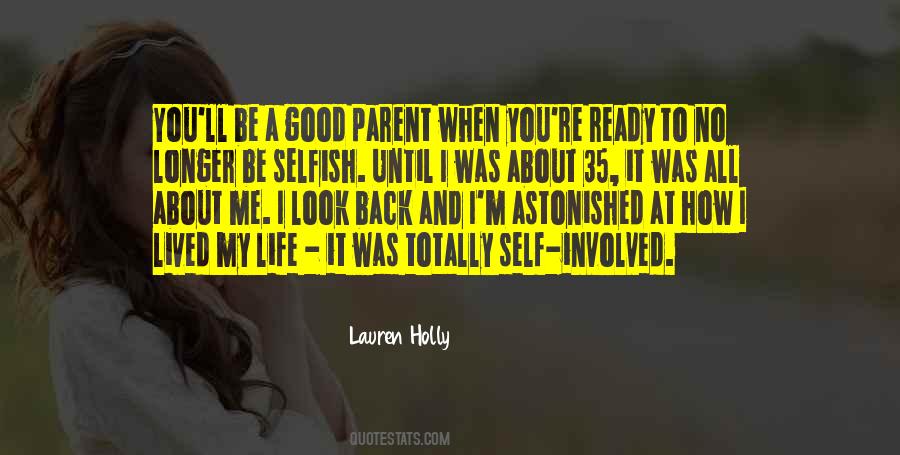 #43. Your neighbors will make judgments about you based on how your lawn and house look, and people who see you passing will judge you based on how clean you keep your car. It's not always fair, but it has always been true. Appearances matter, so make yours a good one. - Author: Lou Holtz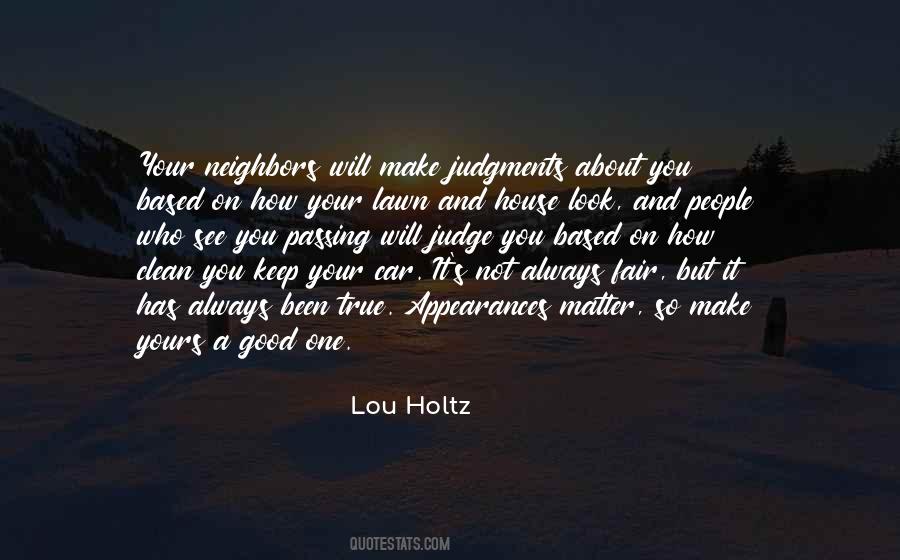 #44. The simplest idea of someone coming to your home to pamper you at a time when all your energy is being expended to fight a personal battle, is much more than just feeling good about how you look. Beauty Bus gives its clients renewed internal strength to keep fighting. - Author: Karen O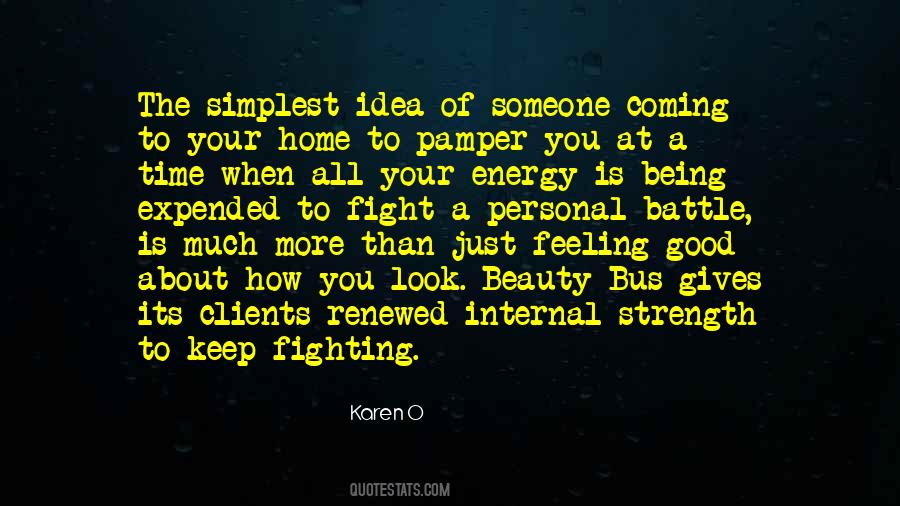 #45. And you wonder why I hate battle so much." He gestured down to his torn battlesuit. "You see!" Darling laughed in spite of the danger. "You're insane, Mari." "Ha! It doesn't matter how you feel so long as you look good while you feel it." "We - Author: Sherrilyn Kenyon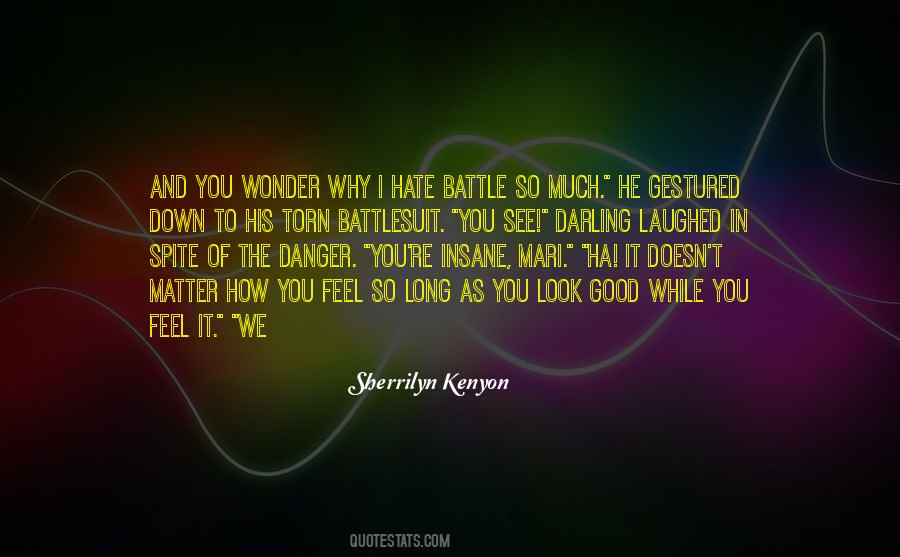 #46. How would you feel about sharing your bed?" she asked.
Tristan blinked. "Excuse me?"
"He'd love to!" Gary said.
Tristan shot him a look,
"Good," said Ivy, failing to notice Gary's wink. "Ella can be a pillow hog, but all you have to do is roll over her. - Author: Elizabeth Chandler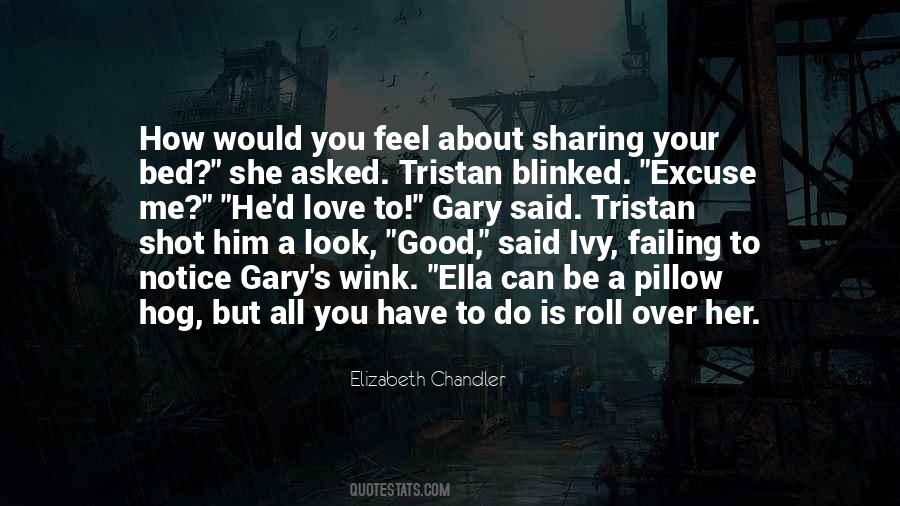 #47. I wake up some mornings and sit and have my coffee and look out at my garden, and i go, 'Remember how good this is. Because you can lose it. - Author: Jim Carrey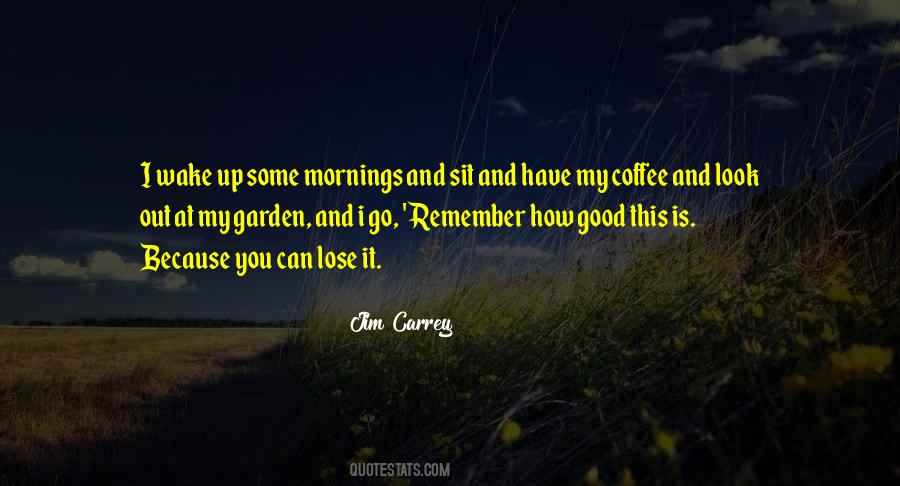 #48. Live your life like the novels that you love to read. Only do the things that when you look back, you are proud of what you accomplished, feel good about how you treated others and didn't regret not doing to trying something. Every day is a new chapter, write something. - Author: Taylor Berke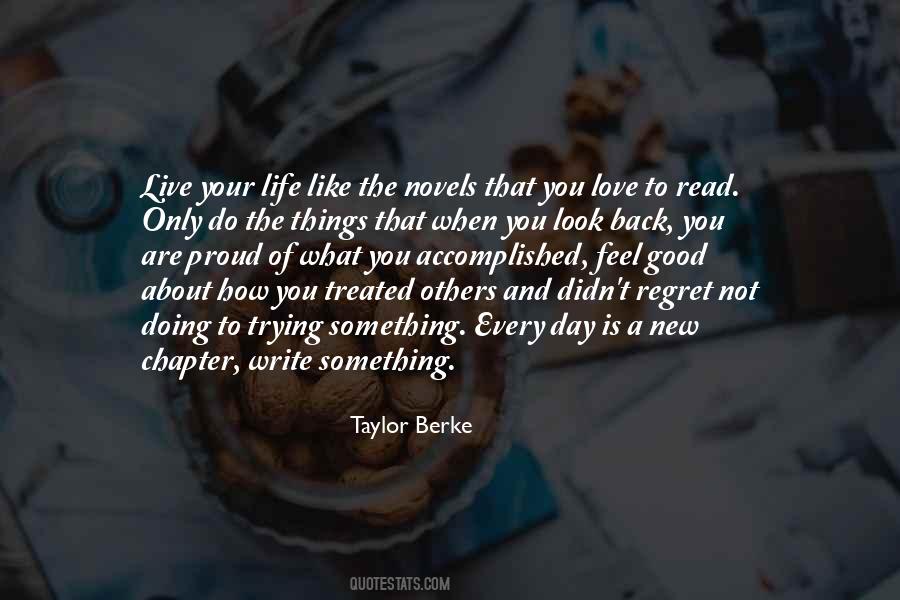 #49. Two good indicators of revealed preferences are things the people tend to value a lot: time and money. If you look at how they spend their time and how they spend their money, you can infer quite a lot about their real preferences. - Author: Douglas W. Hubbard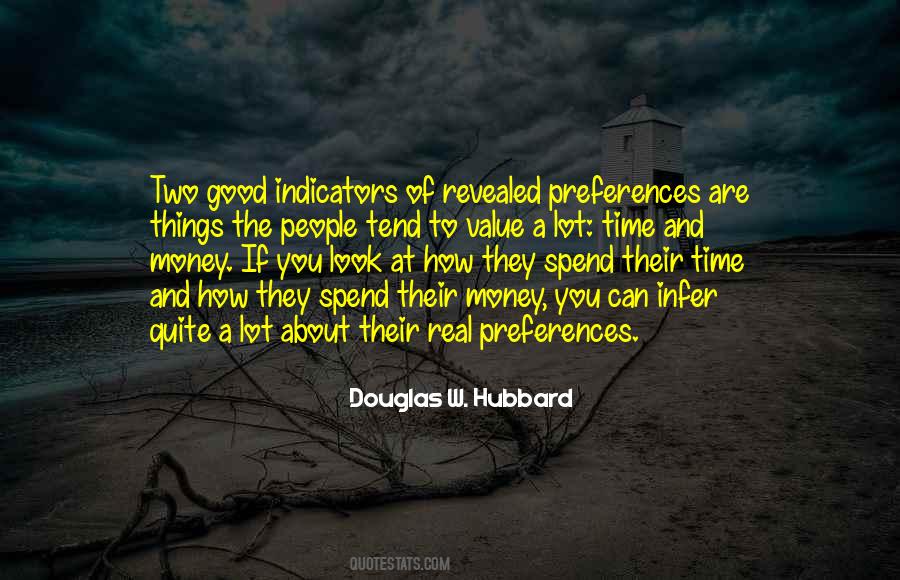 #50. What you own or how you look doesn't make you a good person. Treating people right makes you a good person. - Author: Terraine Francois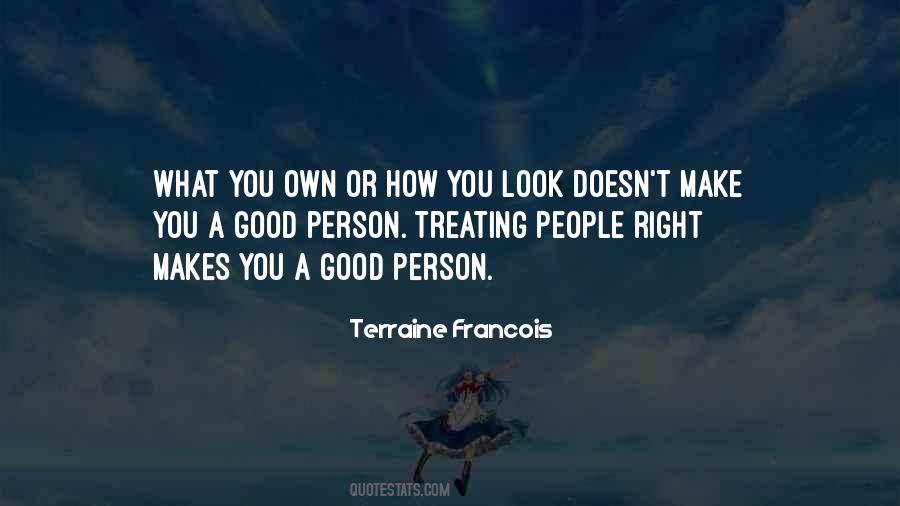 #51. There is no bad.. nor good.. there just is.. and that is the present moment. How does that look.. depends on where you are along the journey.. Blink.. and the perception can change. - Author: Jonathan Bailey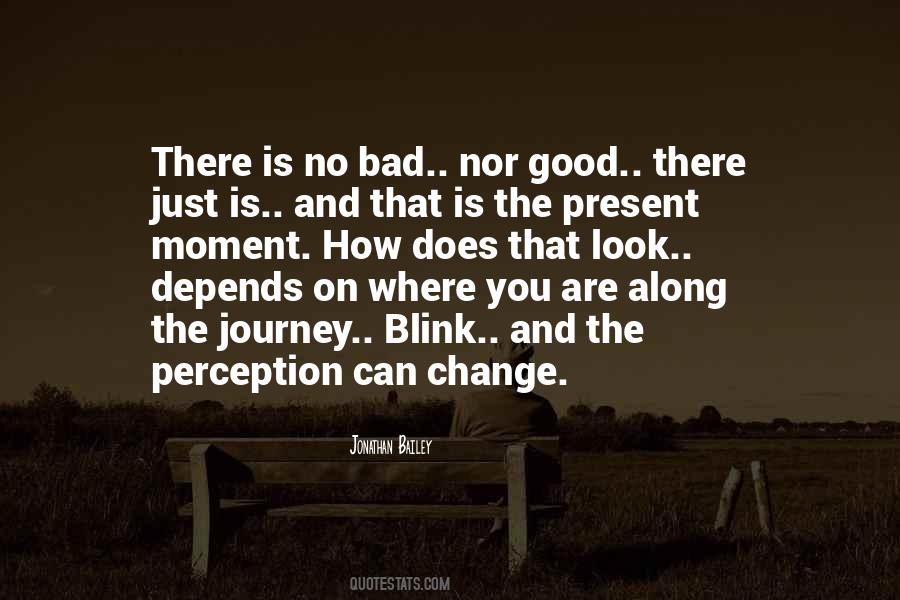 #52. I thought you called dibs on him."
"I did, but you can have him first. After he dumps you, imagine how good I'll look in comparison."
"Thanks, that's not insulting at all. - Author: Cecily White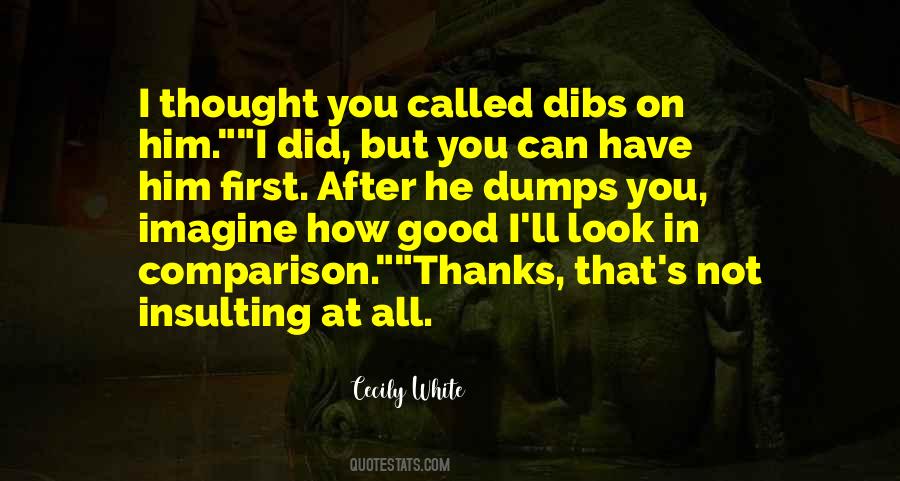 #53. On parties it's not about who you are. The real reason to which a party revolves is how good you look. - Author: David Lee Roth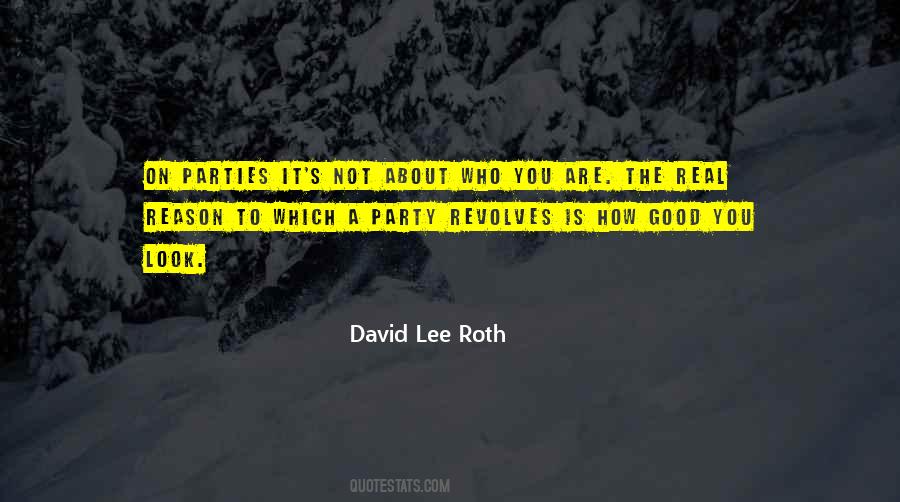 #54. Don't take no shit off fools. An' you judge a person by what's in 'em, not how they look. An' you do the right thing. You gotta be one of the good guys, son: 'cause there's way too many of the bad. - Author: Garth Ennis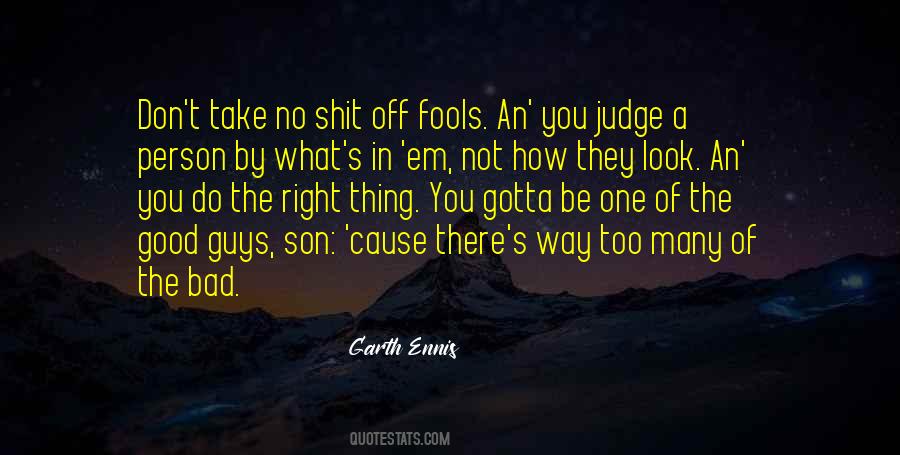 #55. My golden rule has always been to look on the bright side, no matter what. With all the complications in my life, I had to. Because if you can find three good things in any given situation, no matter how dire, I guarantee you'll forget the rotten stuff. - Author: Hester Browne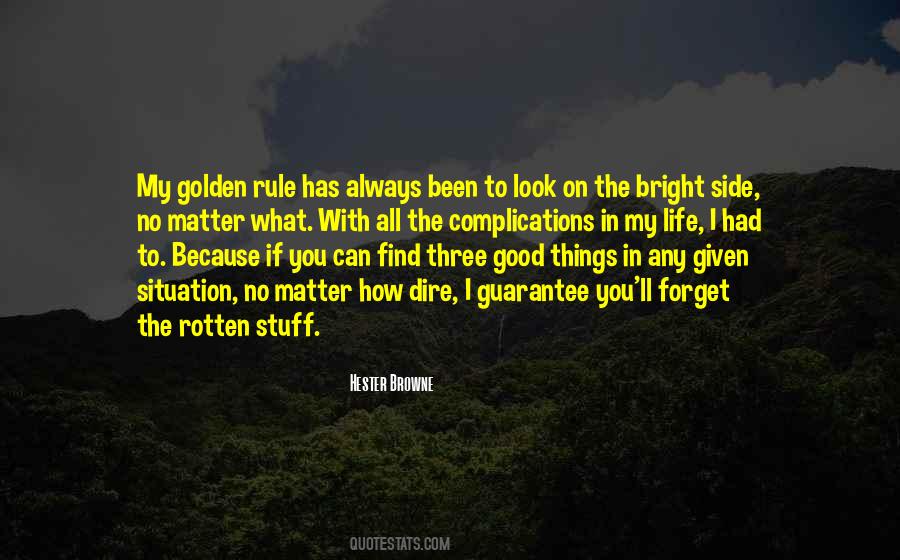 #56. It was good of you to look for Quentin." "Good!" she exclaimed. "Good! O Anthony!" "Well, so it was," he answered. "Or good in you. How accurate one has to be with one's prepositions! Perhaps it was a preposition wrong that set the whole world awry." CHARLES WILLIAMS The Place of the Lion - Author: John Piper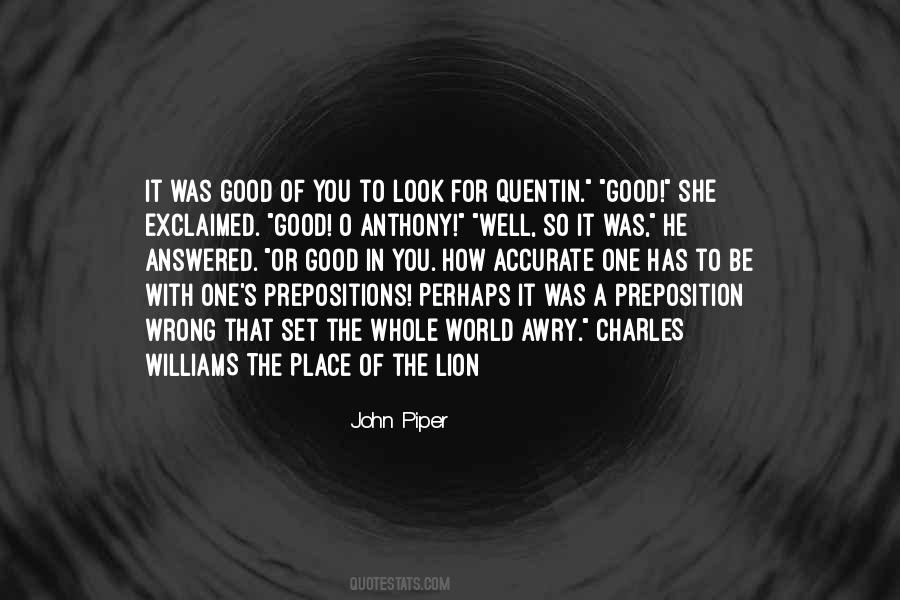 #57. You pronounced your words as if you don't acknowledge the shadows, or the evil either. Would you be so kind as to give a little thought to the question of what your good would be doing if evil did not exist, and how the earth would look if the shadows were to disappear from it? - Author: Mikhail Bulgakov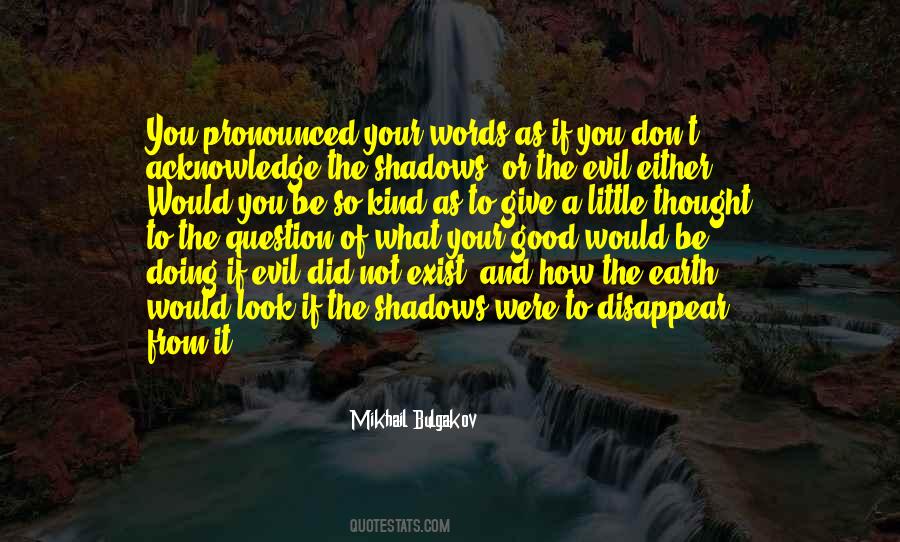 #58. To me, there are things you're good at and things you're not so good at. For some reason, I'm good at darker characters. It has to do with how you look. - Author: Christopher Walken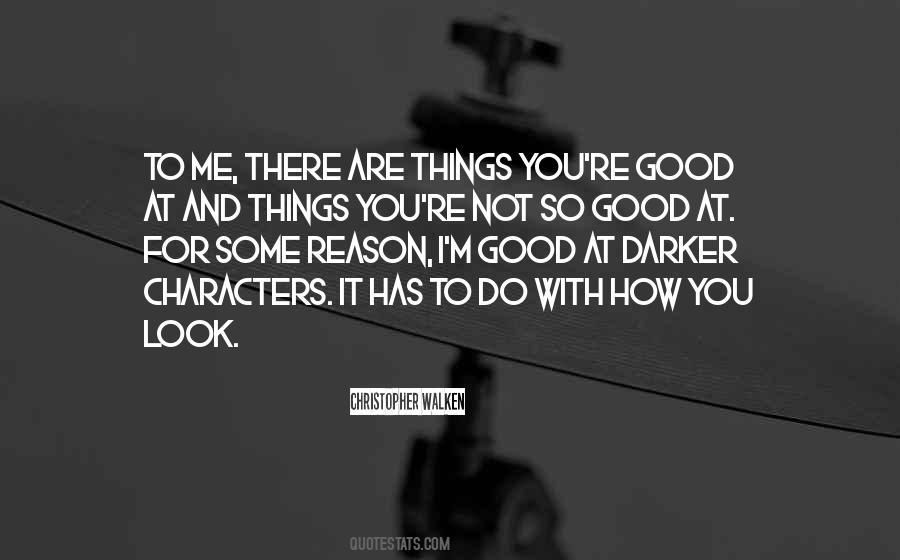 #59. You look good scruffy."
"Now that I know you think that, I'll never shave again."
She laughed again. "Remind me to look you up in two years to see how long your beard is."
"All you'll have to do is roll over in our bed to see that. - Author: Bella Andre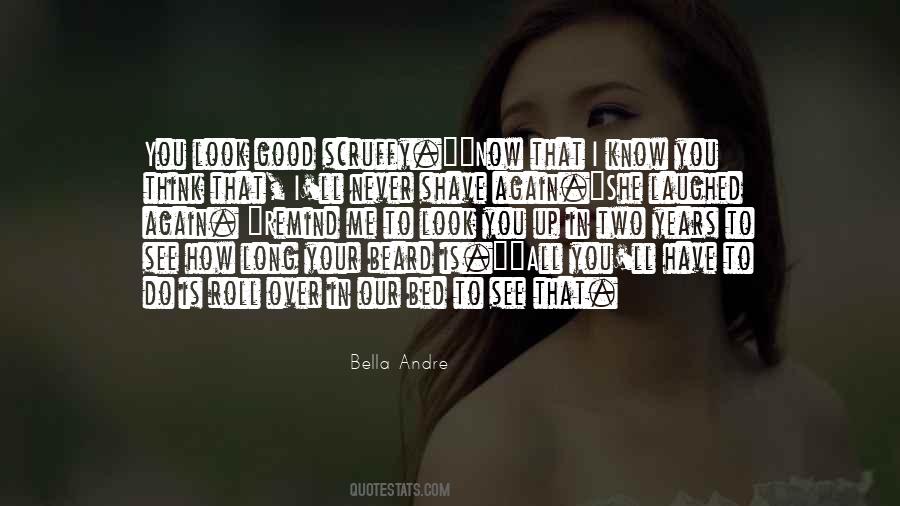 #60. You know you are getting old when people tell you how good you look. - Author: Alan King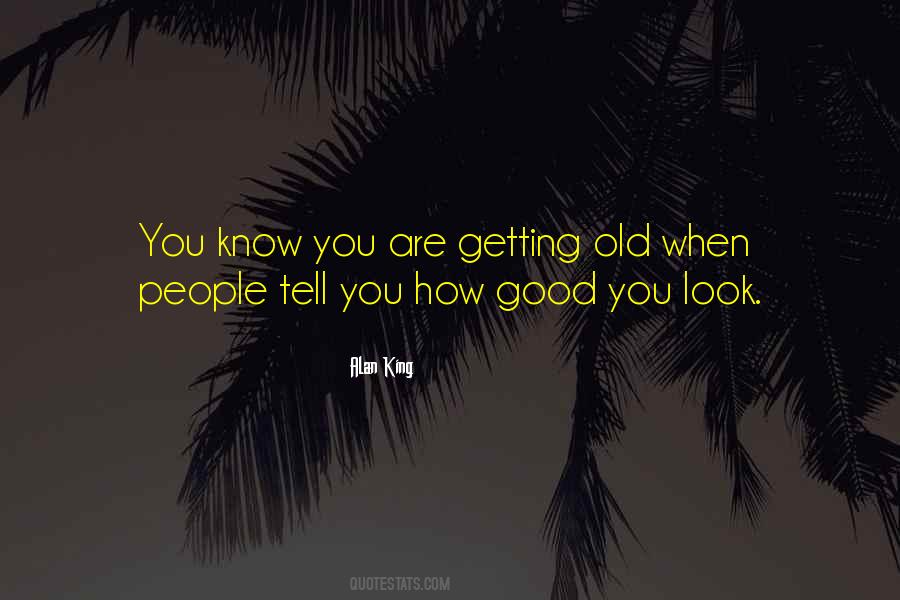 #61. You have to care about your work but not about the result. You have to care about how good you are and how good you feel, but not about how good people think you are or how good people think you look. - Author: Amy Poehler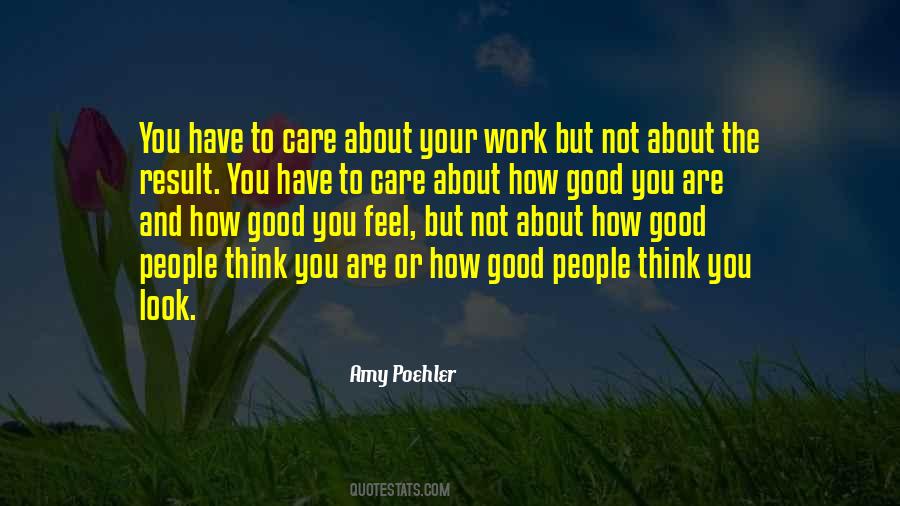 #62. We should have the lady-balls to say, Yeah - I like the look of this world. And I've been here for a good while, watching. Now - here's how I'd tweak it. Because we're all in this together. We're all just, you know. The Guys. - Author: Caitlin Moran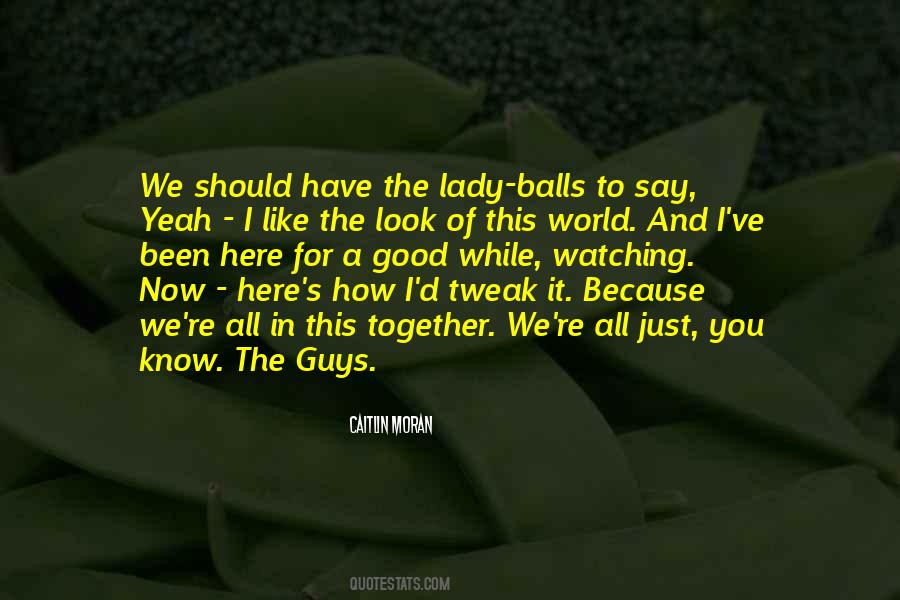 #63. How do we say good-bye to you without saying good-bye to apiece of ourselves? Where do we look for you now? - Author: Mitch Albom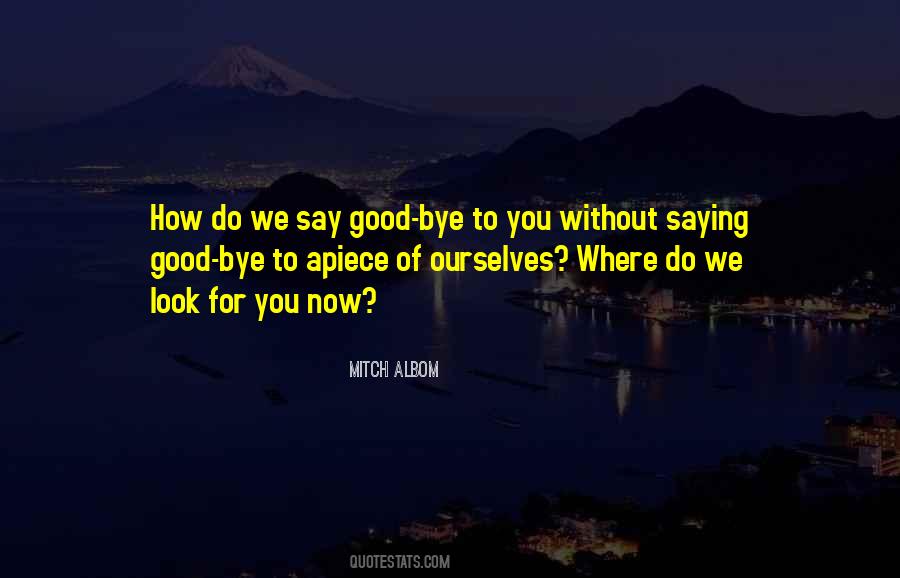 #64. I will never shave off my beard and moustache. I did once, for charity, but my wife said, 'Good grief, how awful, you look like an American car with all the chrome removed.' - Author: Rolf Harris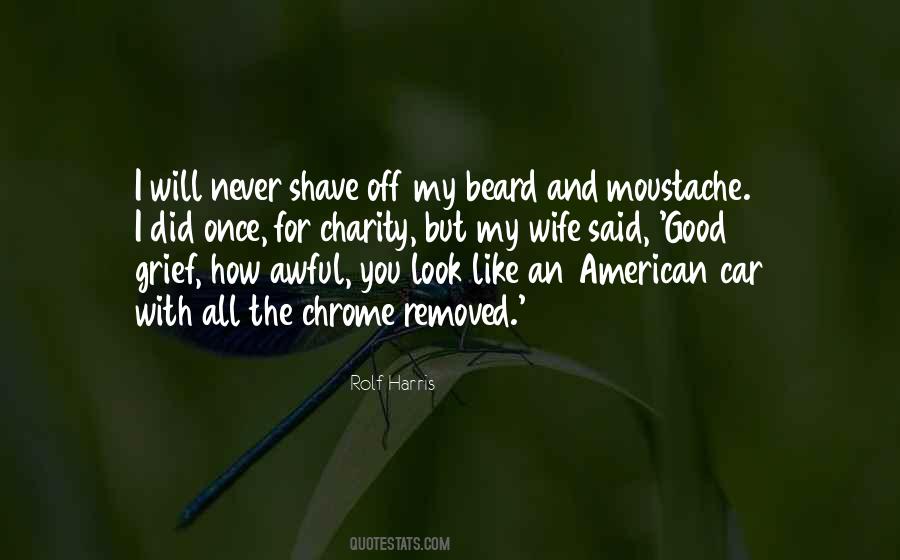 #65. I really love Penelope Cruz, because she has the tan skin. I think it's important to look at people who resemble you and see what looks good on them, and how they are doing their makeup or hair and how they carry themselves. - Author: Tiffany Dupont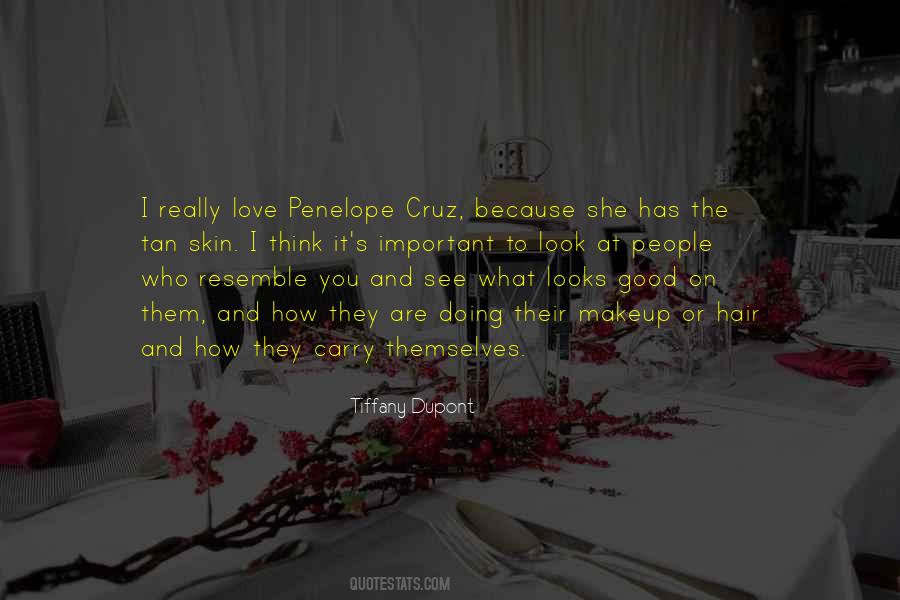 #66. Meanwhile, it's who you are inside that counts anyway. If you have God-confidence, you're going to look, act, and feel good about yourself because that's just how God made you. Concentrate on God and who He wants you to be. - Author: Nancy Rue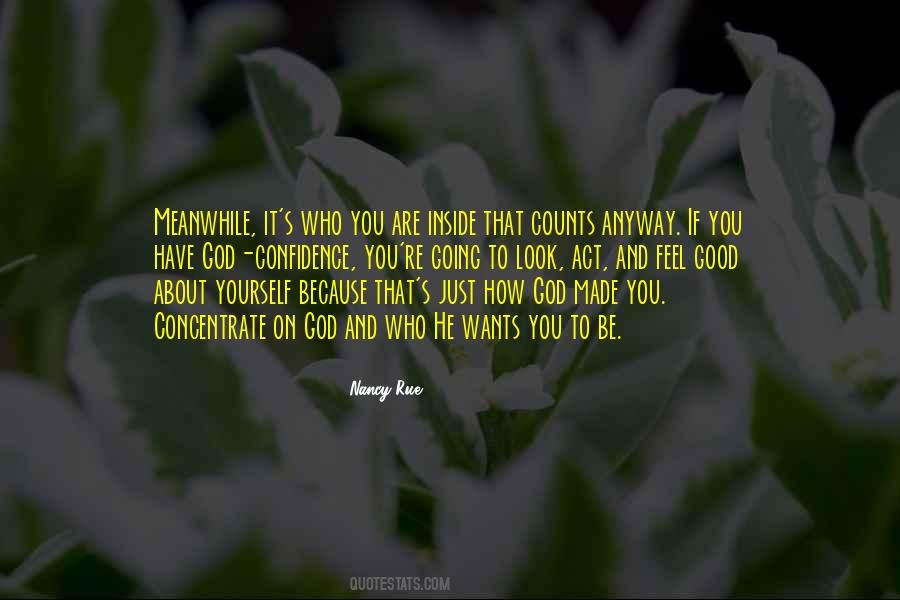 #67. On the road, they join the bedraggled remnants of a column of exhausted Confederate soldiers evacuating burning Atlanta. Rhett makes her take note of the scene: "Take a good look, my dear. It's a historic moment. You can tell your grandchildren how you watched the Old South disappear one night." - Author: Vivien Leigh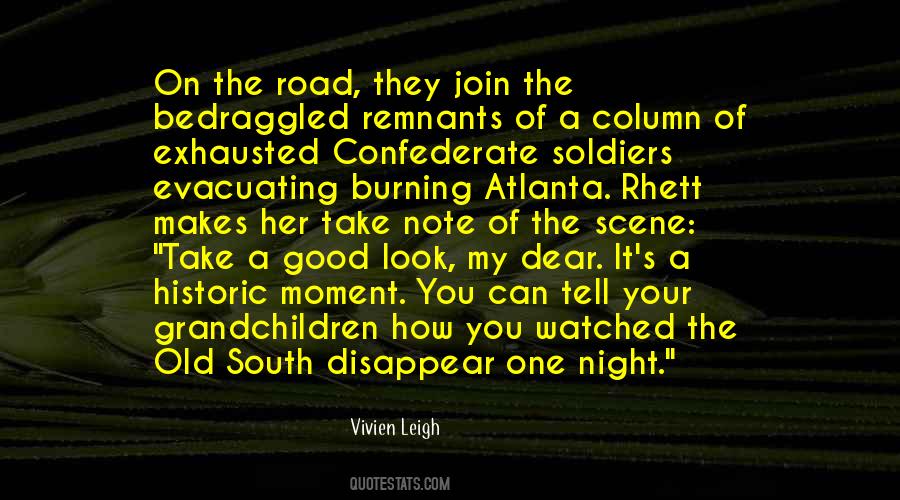 #68. I have often sat in that chair behind my desk and wondered how you would look lying naked here on this sofa. It was a form of self-inflicted torture."
"Good heavens - Author: Amanda Quick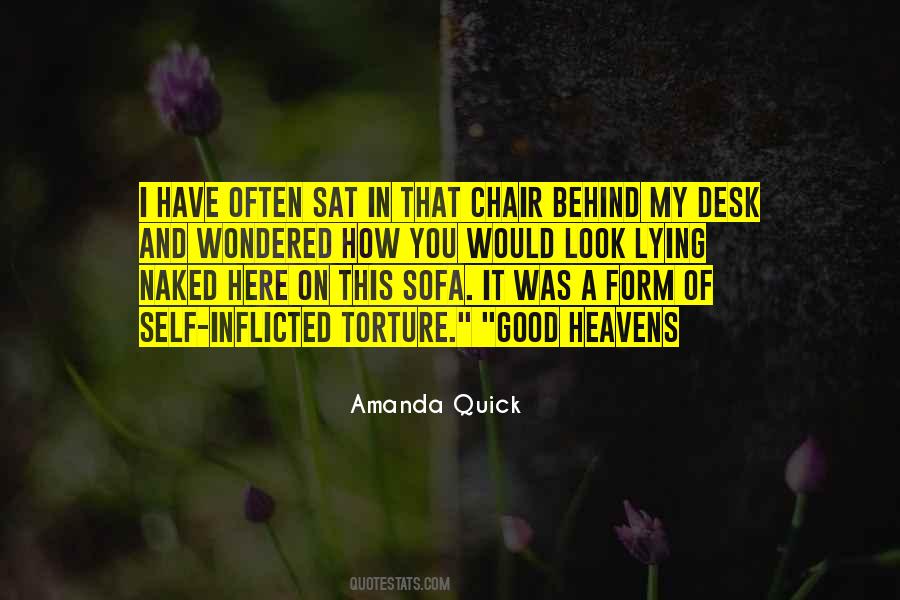 #69. Why do we go to all this trouble' Parker asked. 'Men don't notice anyway.'
'Because what we wear affects how we feel, how we act, how we move. And that they do notice. Especially the move. Get dressed, smoke the eyes. You'll know you look good so you'll feel good. You'll have a better time. - Author: Nora Roberts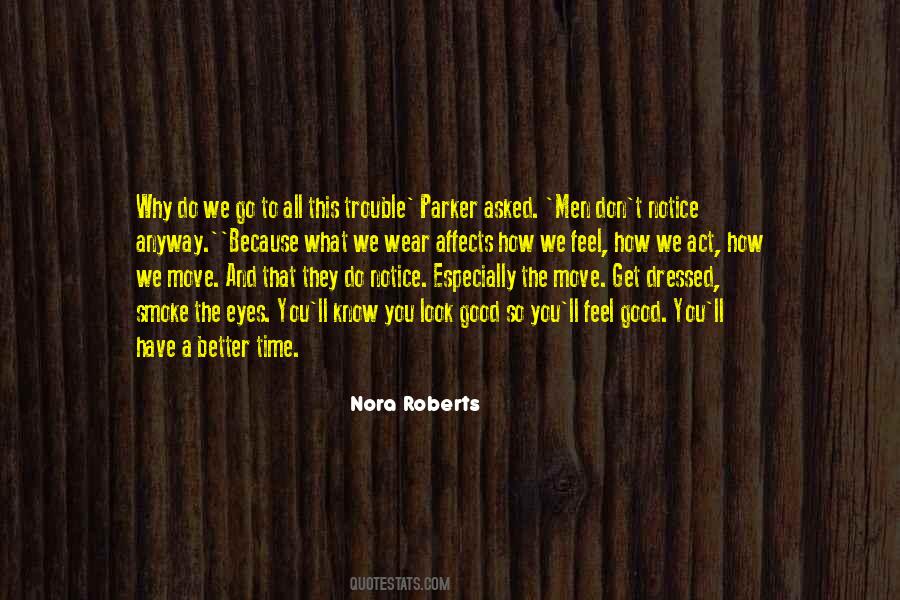 #70. If you want to know what a man's like, take a good look at how he treats his inferiors, not his equals. - Author: J.K. Rowling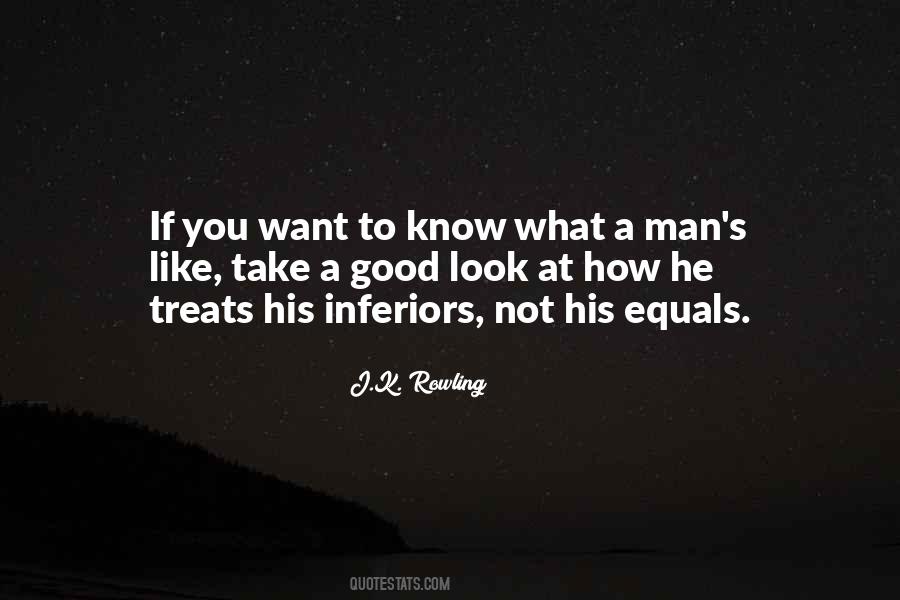 #71. You have to kind of shift the way you look at life when you're in a group of people that you work with. It's not so much, do they make you feel good when you're around them all the time; it's how can you make everyone feel comfortable together. - Author: Adam Duritz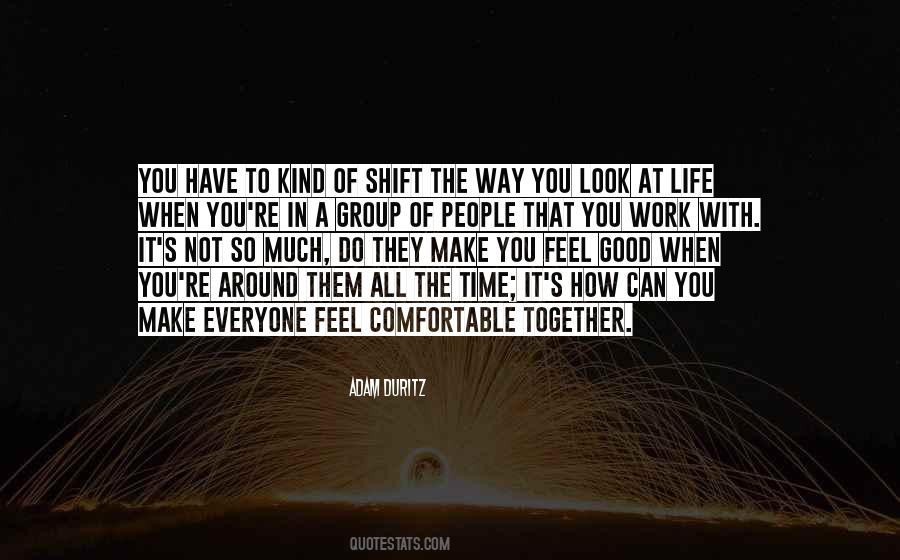 #72. Tips like that. Wearing necklaces, knowing how to layer, wearing a statement piece. Don't wear big earrings and a big necklace and a big ring all at the same time. Pick your magic. I have this whole thing: if you look good, you feel good, and if you feel good, you look good. - Author: Molly Sims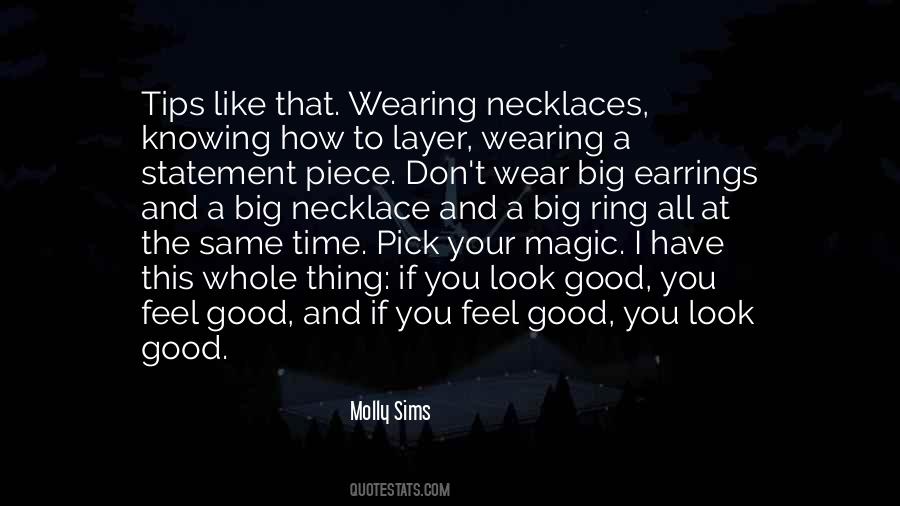 #73. What's happening right now, this month, I check in and go, 'Hey. You are at the top of a wave right now. Look around and enjoy it because it's not going to stay,' ... The wave goes away. It does not dictate how good I am or my worth. It's just the way it happens. - Author: Melissa Etheridge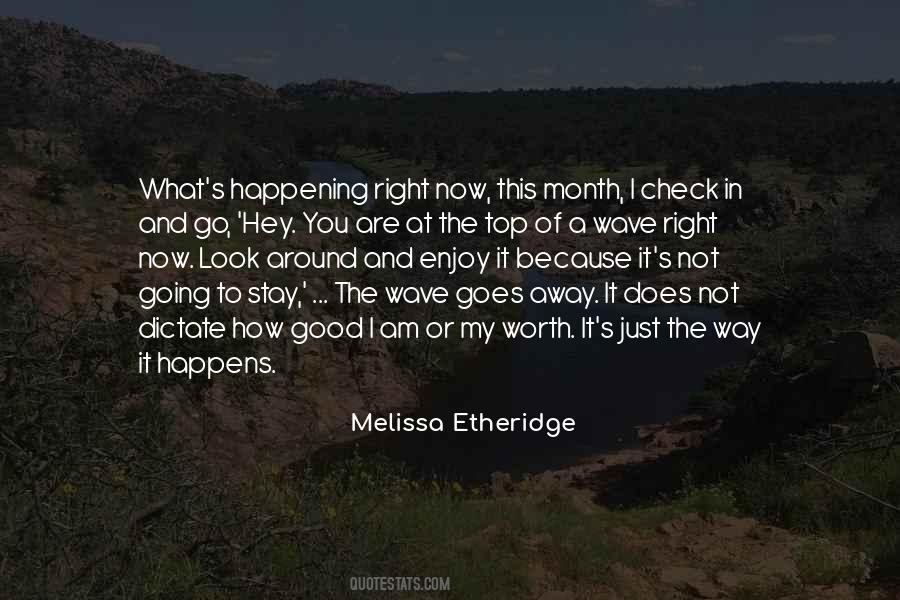 #74. Walking down the street she asks him how they look and he says, "You look good wearing my future. - Author: L.B. Simmons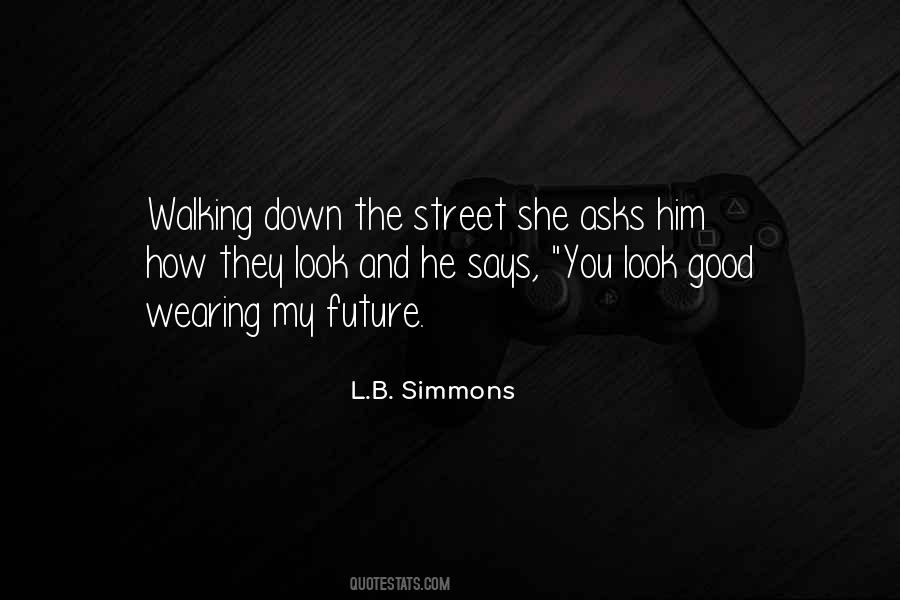 #75. If you can look back at your entire life and at the end of the day and say, 'You know? My life was good. I'm pleased with how it all turned out . . . and if I could do it all over again, I'd be happy to' - those people have integrity," Norma told her students. - Author: Erika Hayasaki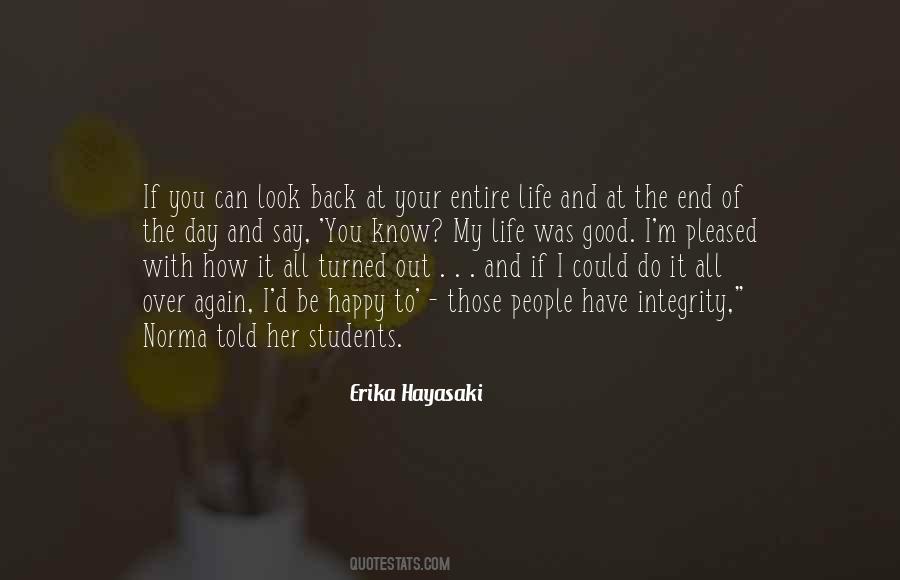 #76. I am not a good professional of fashion. I am not an expert about how clothes are constructed or the history of fashion. I never start with fashion. I always think of the girl and her personality - because all that matters to me when you look at a page is, "Do you want to be that girl?" - Author: Carine Roitfeld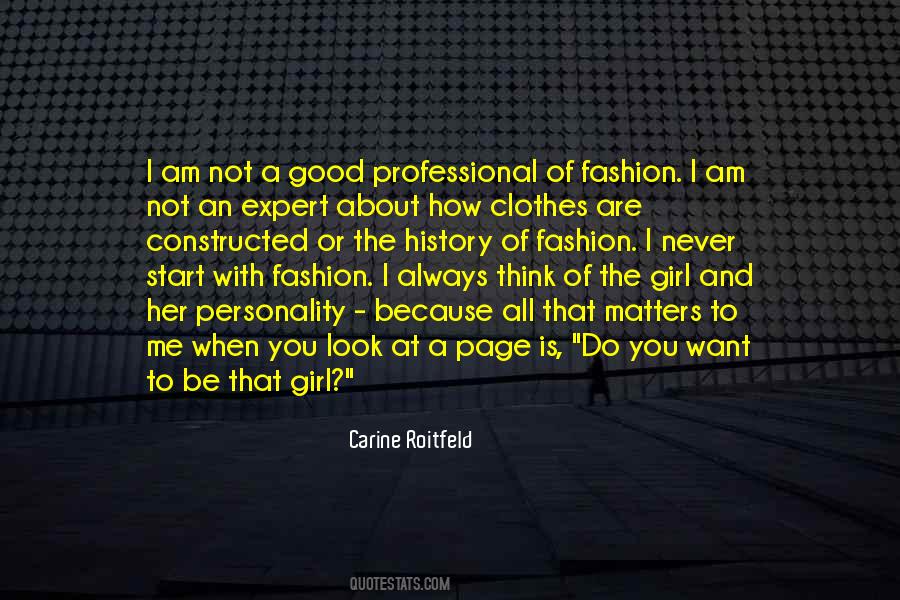 #77. If I'm wrong, and you find yourself in an organization where sucking up is in fact a good way to get ahead, look for a new job. It's not a quality organization after all, no matter how glittering its public reputation may be. Life is too short to work there. - Author: Charles Murray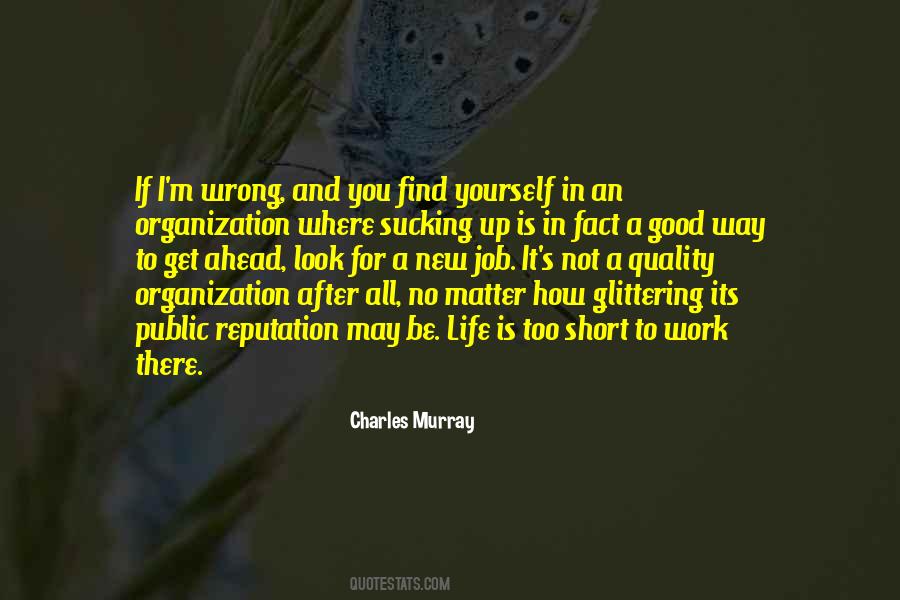 Famous Authors
Popular Topics