Hate Work Famous Quotes & Sayings
List of top 100 famous quotes and sayings about hate work to read and share with friends on your Facebook, Twitter, blogs.
Top 100 Quotes About Hate Work
#1. I hate to let people down. I was like that in sports and I was like that in comedy. I was like that at work. When I worked General Motors and stuff like that, when I say something, I mean it. - Author: Bernie Mac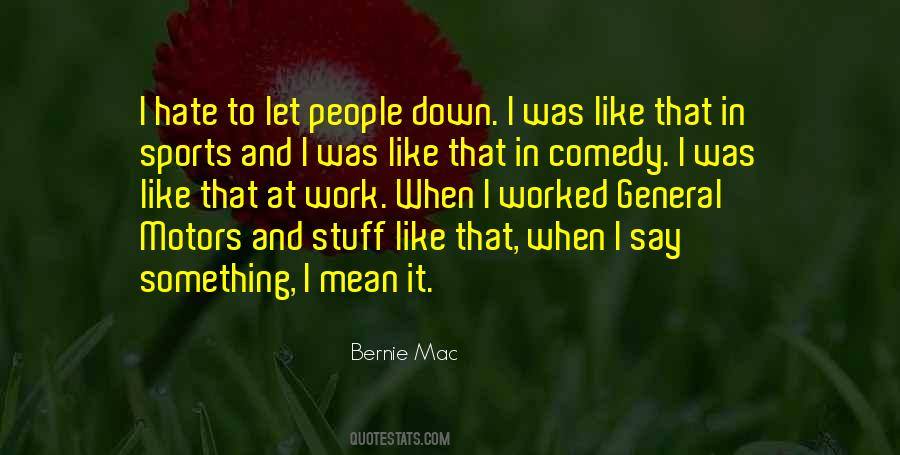 #2. And the reason you hate writing so much is because you start analyzing your work before you're done pouring it onto the page. Your Left-brain won't let your Right-brain do it's job ... Your Right-brain gets the words on the page. The Left-brain makes them sing. - Author: Jeff Bollow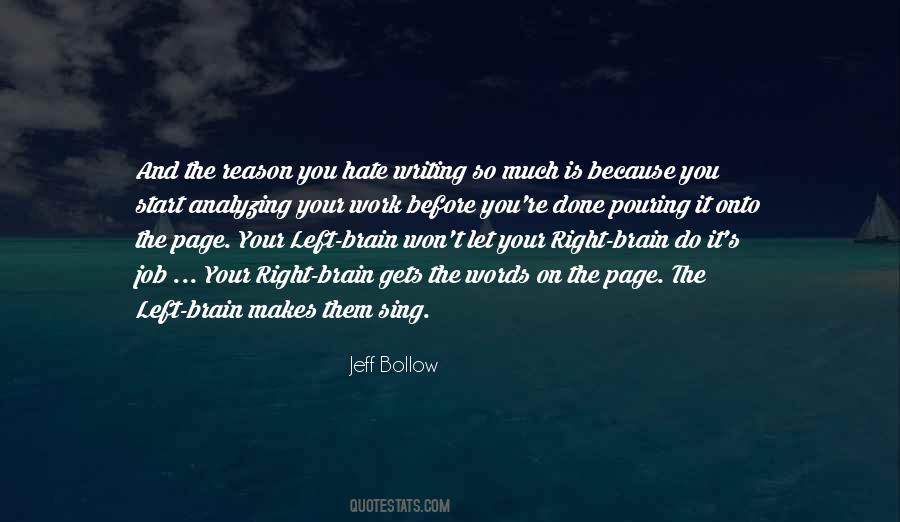 #3. I have my work cut out for me where you're concerned, don't I? (Stryker)
Not really. Hate you today. Will hate you tomorrow. What say we don't waste any time? Give me the sword and let me have your throat now. (Zephyra) - Author: Sherrilyn Kenyon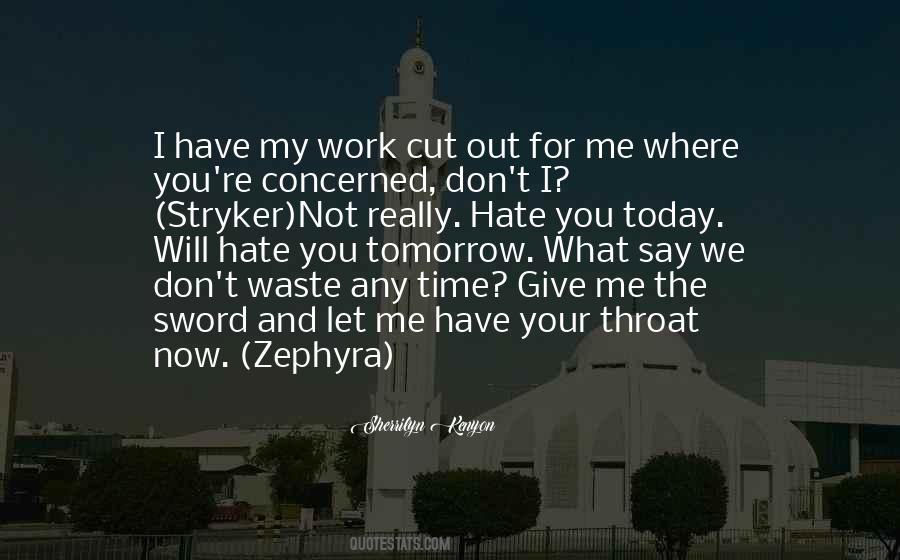 #4. Look, I hate to sound like Pollyanna, but I literally can't wait to get to work in the morning. I've got steady jobs, I've got my health, and I'm here in the greatest city in the world. I'd be a pig not to be grateful. - Author: Christopher Meloni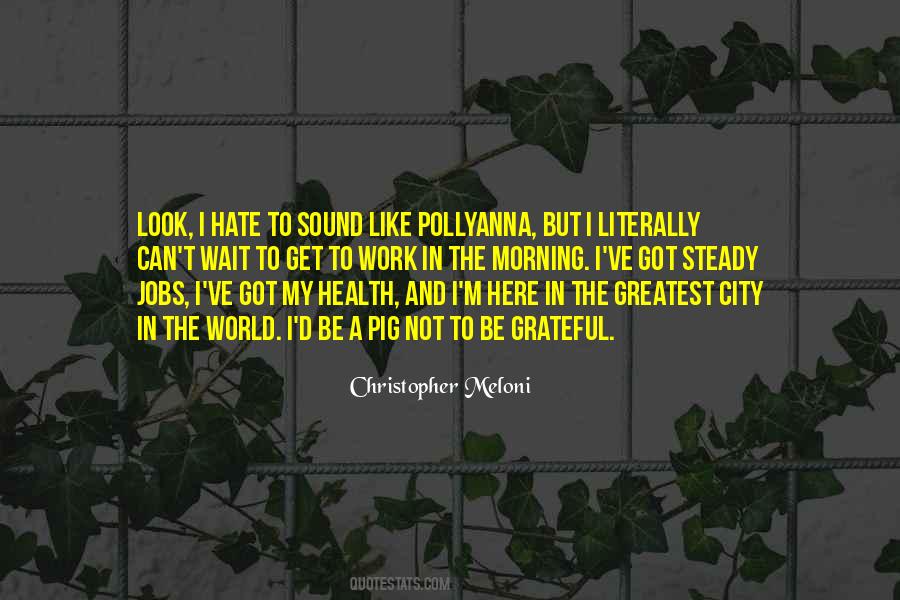 #5. It's amazing to me how hard people work to maintain a life they hate. - Author: Steve Maraboli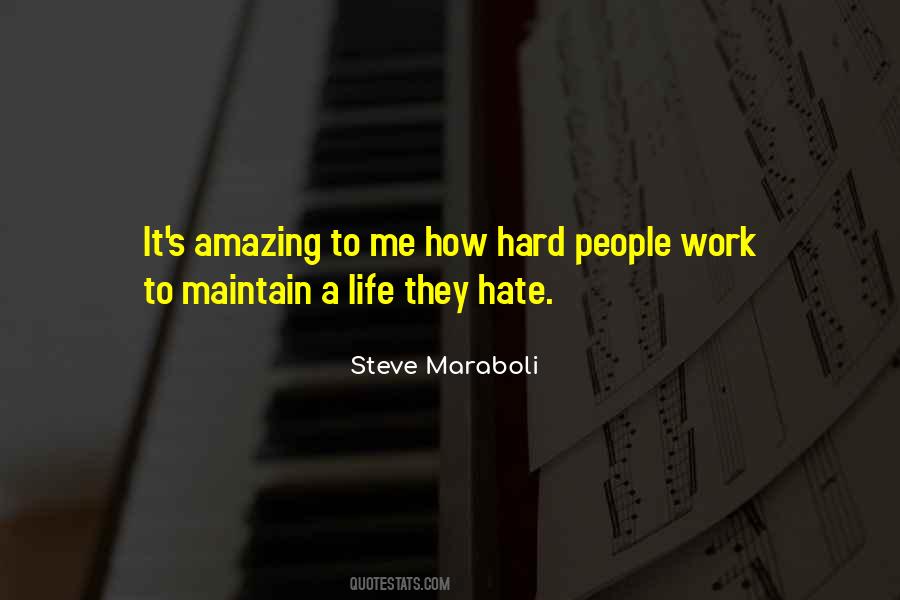 #6. Your chances of success are directly proportional to the degree of pleasure you desire from what you do. If you are in a job you hate, face the fact squarely and get out. - Author: Michael Korda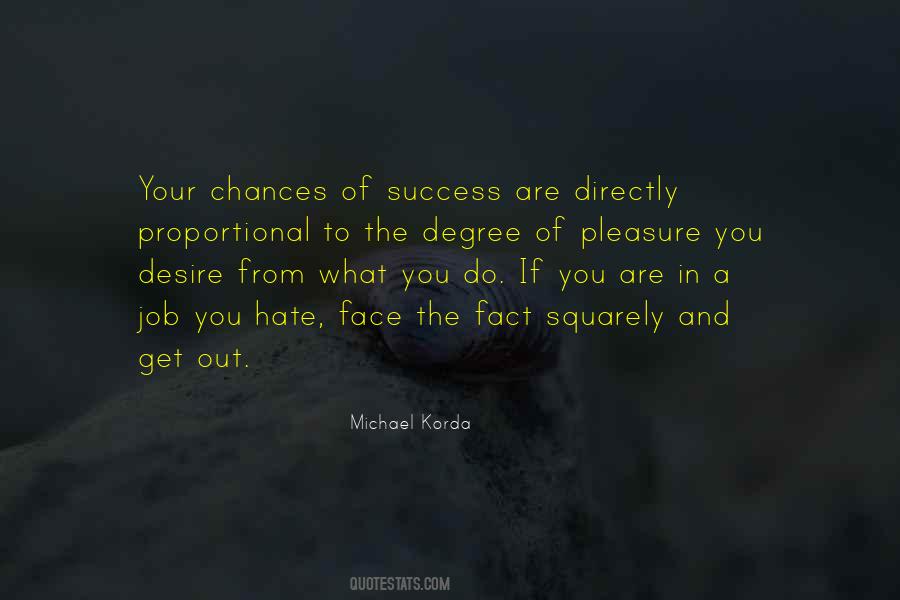 #7. Men hate passion, any great passion. Henry Cameron made a mistake: he loved his work. That was why he fought. That was why he lost. - Author: Ayn Rand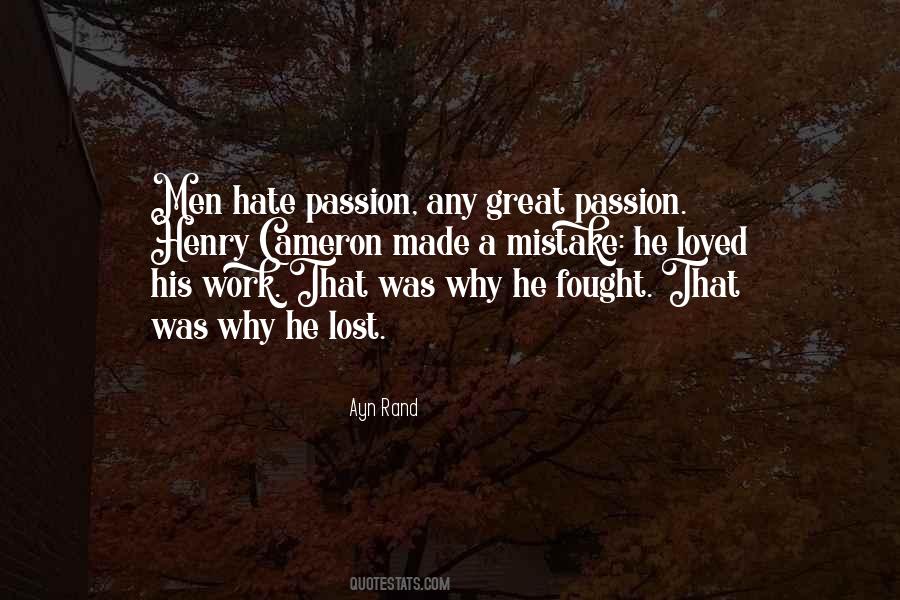 #8. I'm a free soul who hates paying attention to things I am not interested in. Consequently, I have rarely been comfortable in the role of 'employee.' - Author: Steven Solomon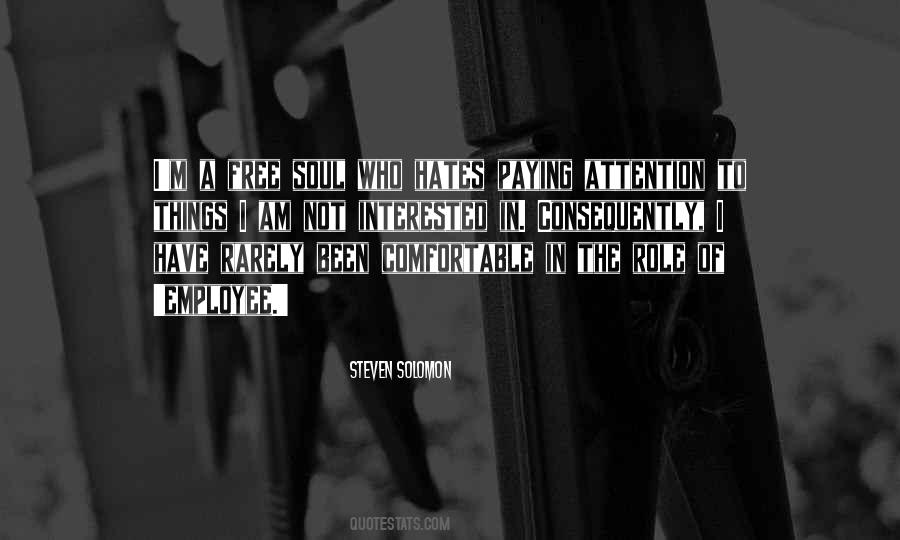 #9. Then there's those wizards on it, who must all be gifted hydrophobes - " "You mean they hate water?" said Twoflower. "No, that wouldn't work," said Rincewind. "Hate is an attracting force, just like love. They really loathe it, the very idea of it revolts them. - Author: Terry Pratchett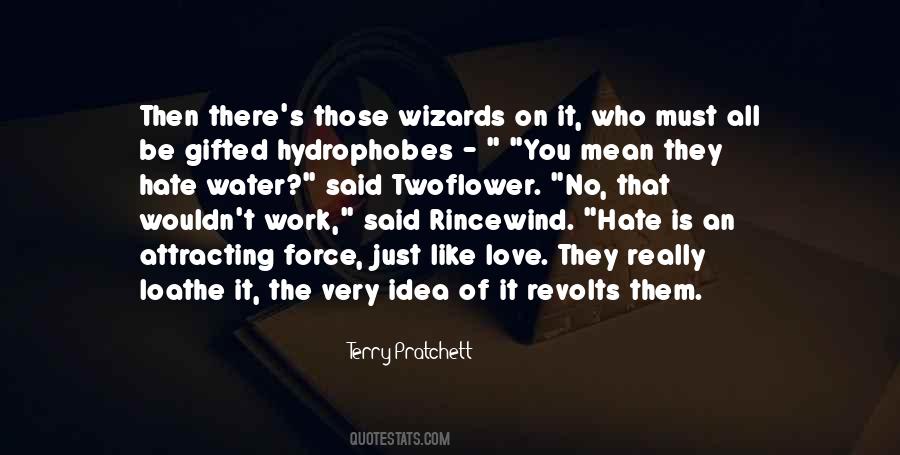 #10. I am sure that the reason why I wept and stormed as if I had gone off my head was that the combination of physical exhaustion and my unhappiness had made me hate and resent everything. - Author: Osamu Dazai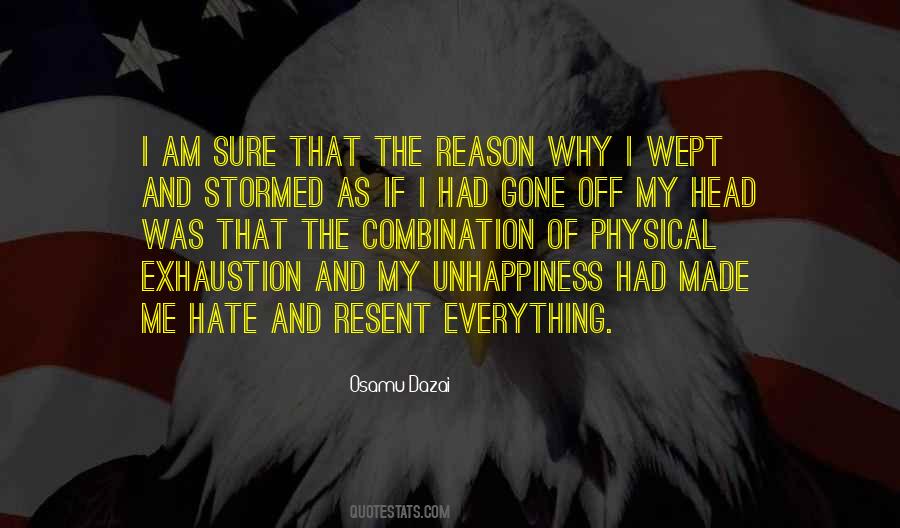 #11. We love wealth, and we hate poor people. I know people who work in TV news who have actually been told to do stand-ups rather than put interviews with poor people on the air. We physically don't want to look at them. - Author: Matt Taibbi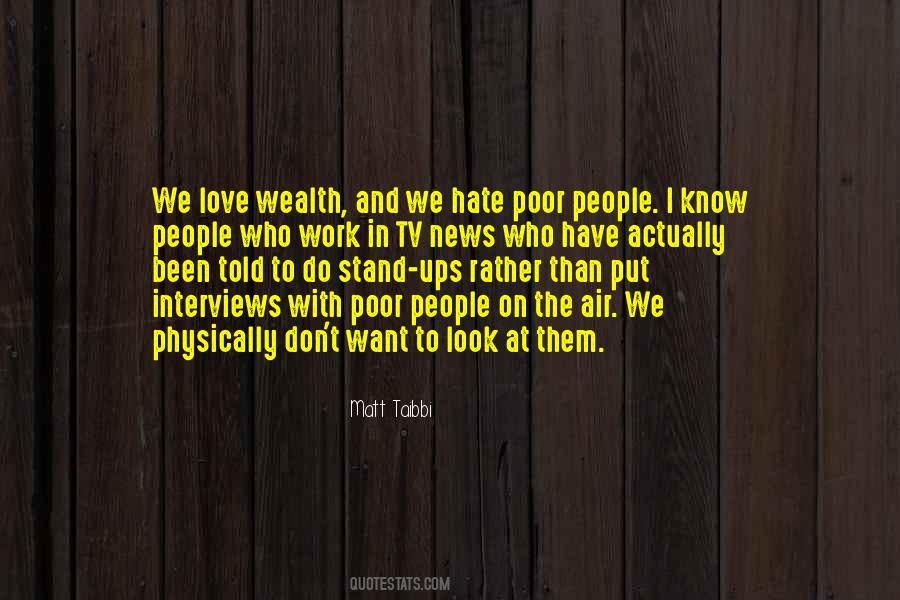 #12. I want to let my friend Buster know that I would like to have dinner with him tonight. Does Buster work at home? Then how likely is he to have his cell phone on? Is he one of those people who only turns on his cell when he's in his car? I hate that. - Author: Susan Orlean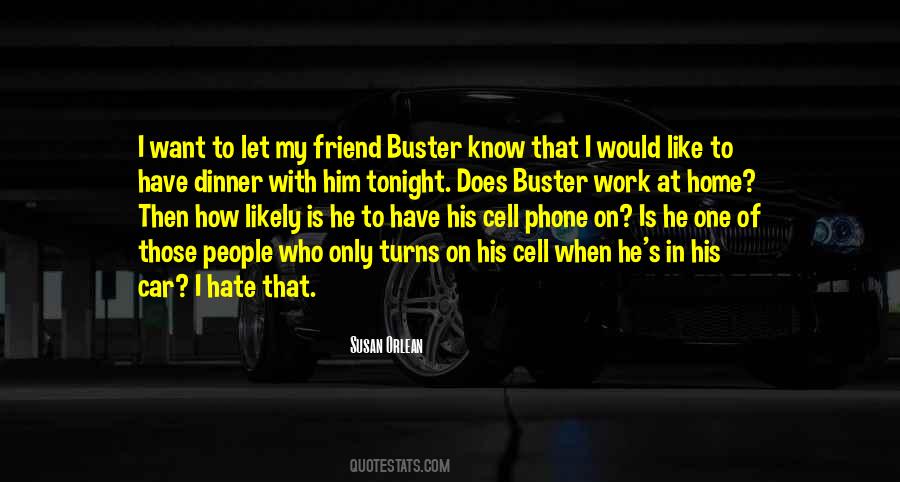 #13. Later I would understand that modern industrial communities are obsessed with the importance of 'going somewhere' and 'doing something with your life'. The implication is an idea I have come to hate, that staying local and doing physical work doesn't count for much. - Author: James Rebanks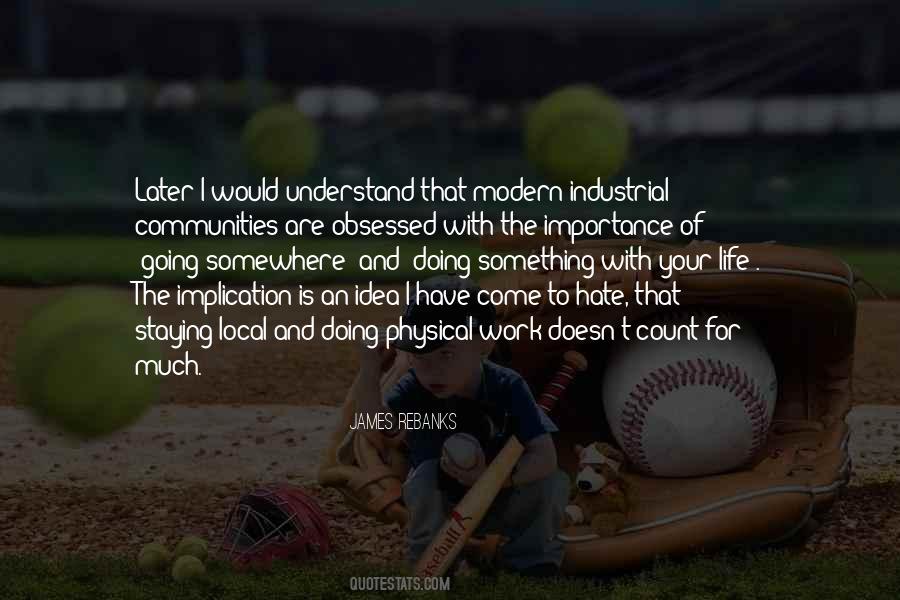 #14. There are those that hate and those that love, it all works out the same. - Author: Josh Barnett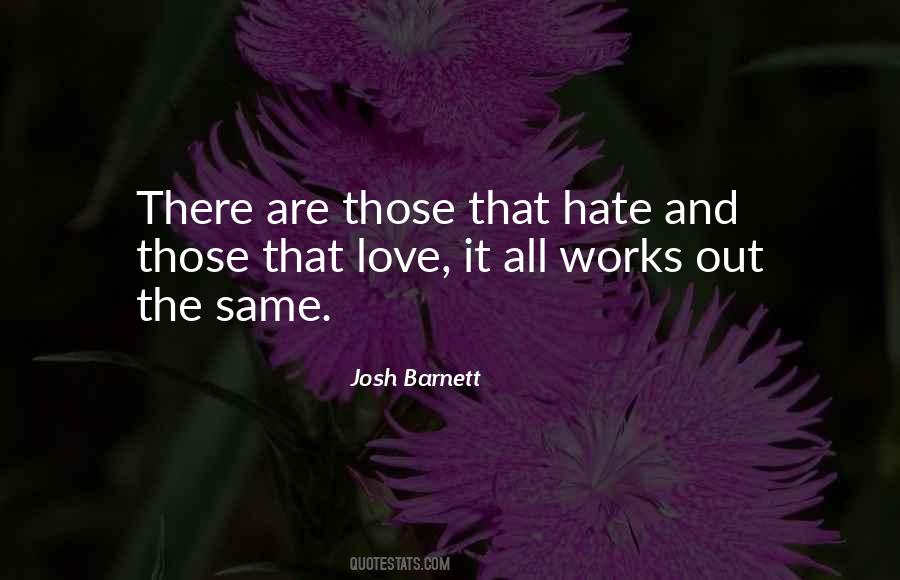 #15. Friends, family, school, work, love, hate, past, present, future, success, disappointment ... everything has its place on the scale. And without the lows, even those deep, dark, heartbreak-style lows, you can never appreciate how truly amazing the highs can be. - Author: Love Maia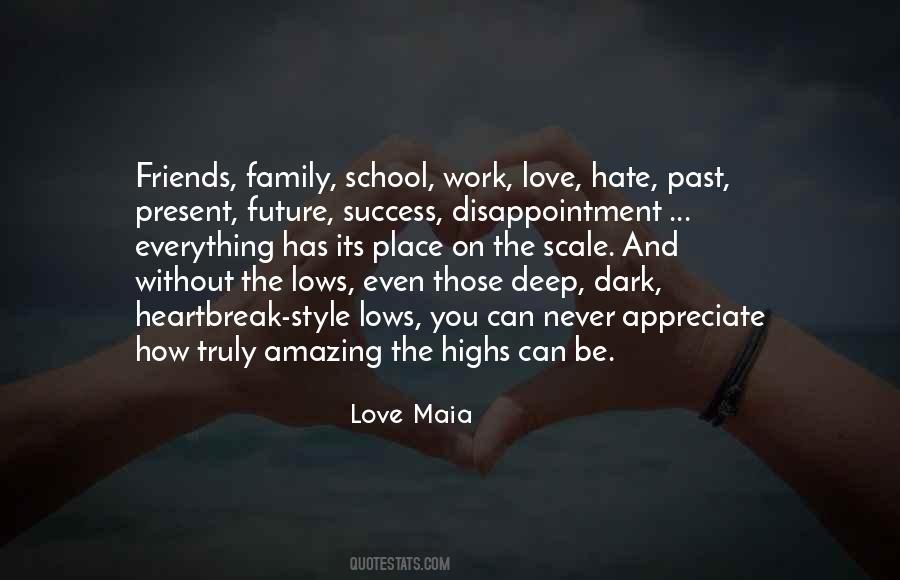 #16. The girl wouldn't last the year. Girls like her were soft and easy to break. Lowborns always wanted glory until they realized the hard work it entailed. Darren had worked hard for everything, and a girl who tried to take that away? Well, she wasn't worth very much. - Author: Rachel E. Carter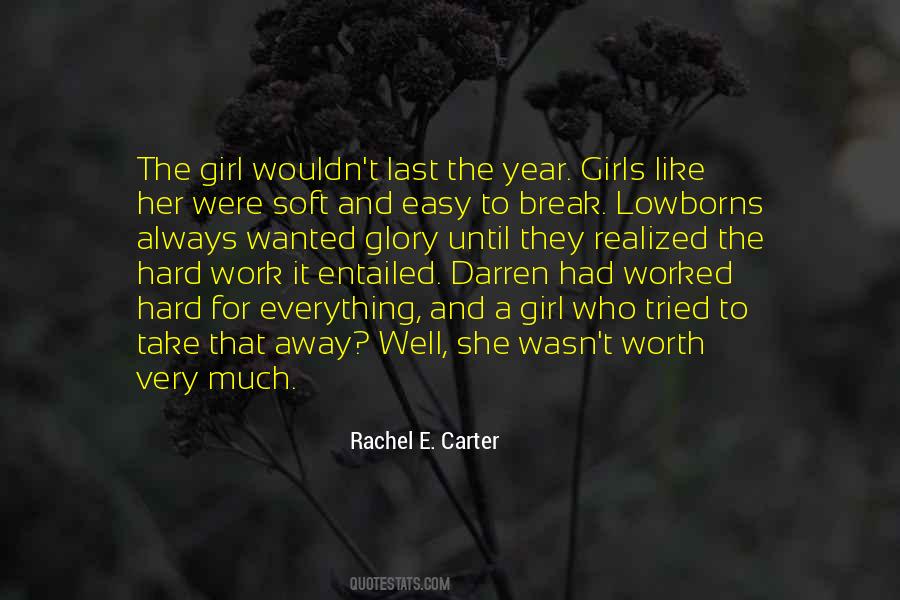 #17. I hate big government, but I really hate a government that doesn't work. So when 'they say we either have to raise taxes or cut core services,' it's actually a 'false choice.' - Author: Scott Walker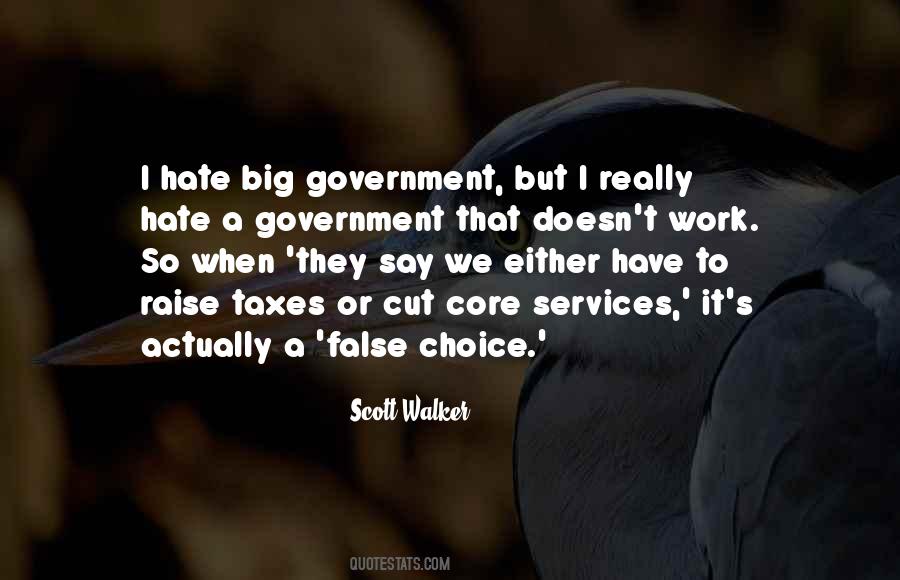 #18. Some people love your work and others hate it, but in the end, it's all good. Differences are what make us unique human beings. I've learned to love the good with the bad." RM Sotera - Author: R.M. Sotera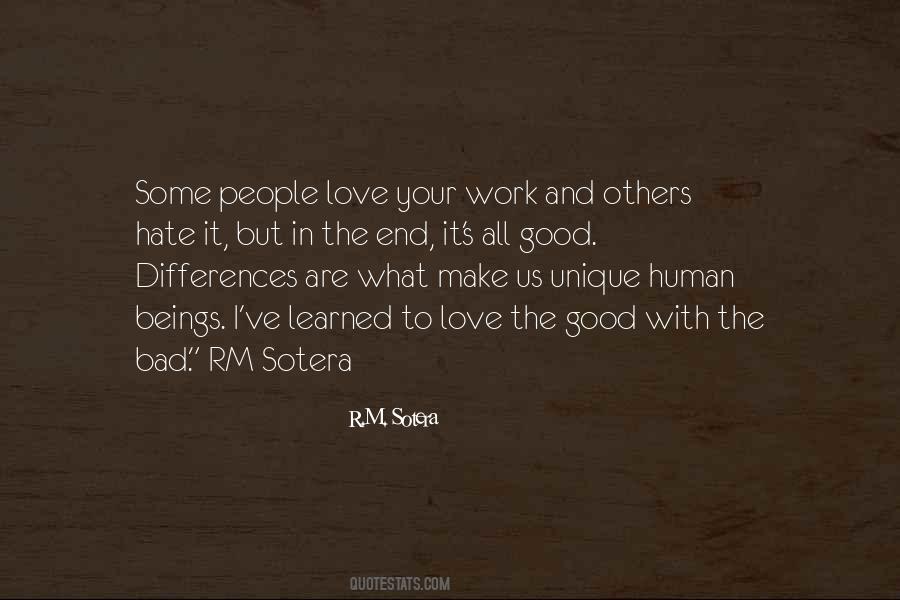 #19. My psycho-analytic work has convinced me that when in the baby's mind the conflicts between love and hate arise, and the fears of losing the loved one become active, a very important step is made in development. - Author: Melanie Klein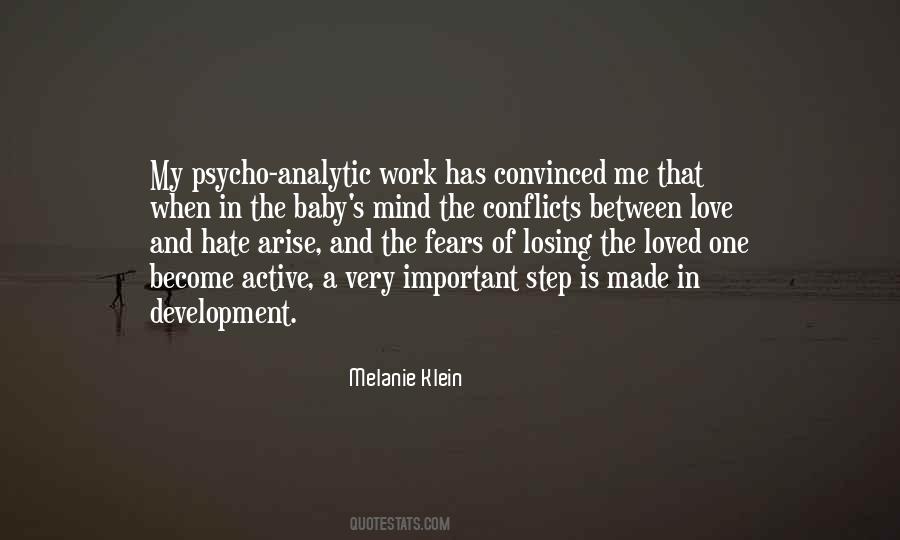 #20. After a while in marriage, it doesn't work anymore. There is something missing, there is something wrong. There are few marriages that stay alive forever. We like something, and after a while, we hate what we used to love. - Author: Monica Bellucci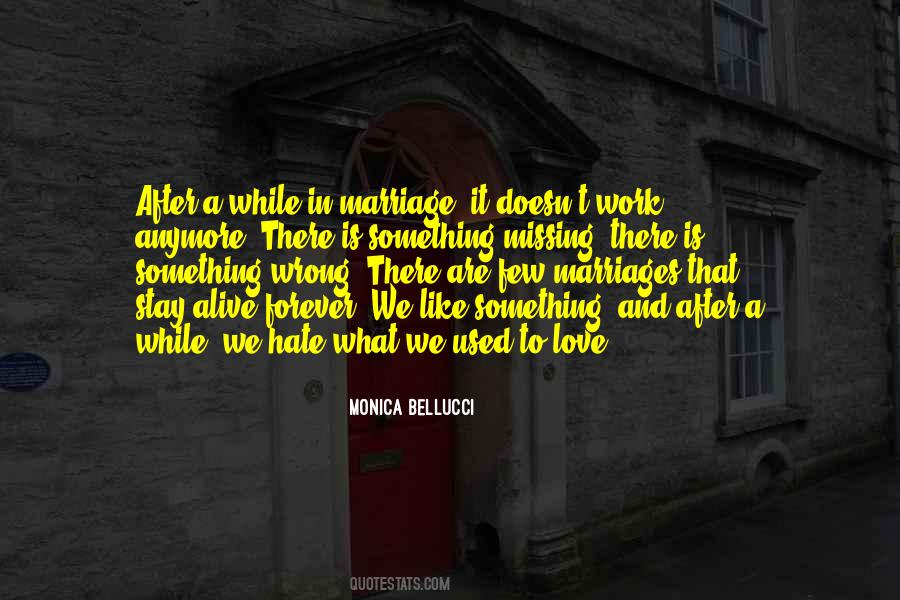 #21. A lot of scientists hate writing. Most scientists love being in the lab and doing the work and when the work is done, they are finished. - Author: Stephen Jay Gould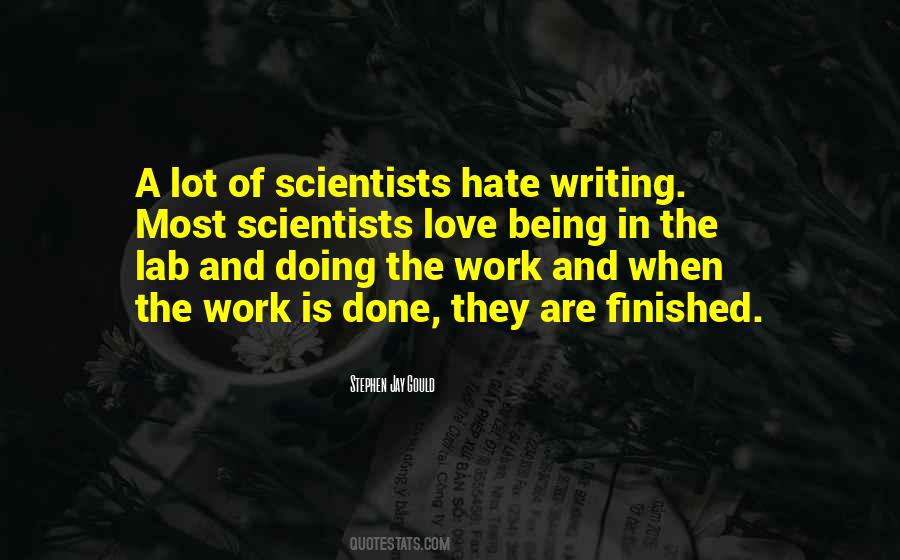 #22. A hater is a person with a complete understanding of your destiny but assigns him or her self as a representative to work tirelessly on your misery. - Author: Johnnie Dent Jr.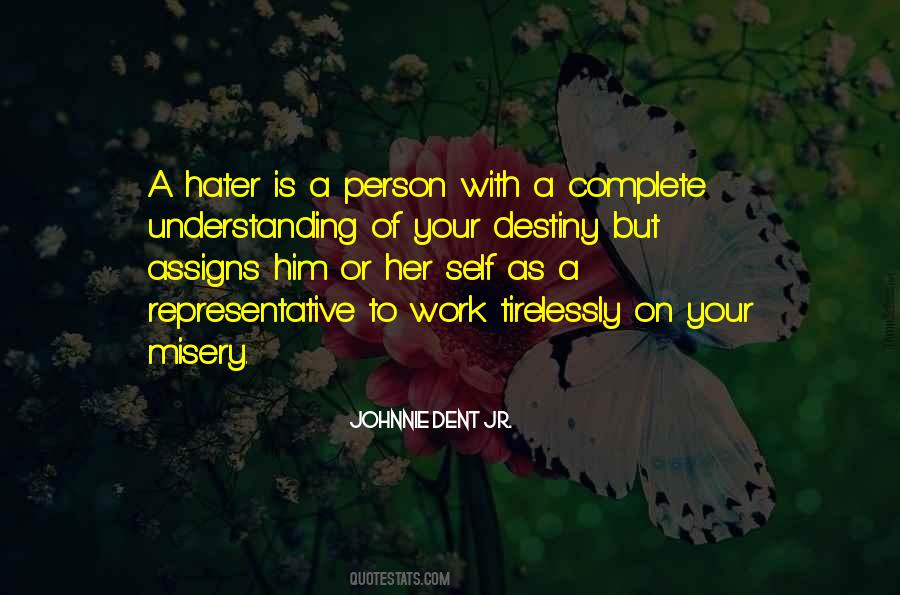 #23. I never work with music. I hate background music, always did. I only like music in the foreground, meaning, deliberately listen to it, actually. - Author: David Hockney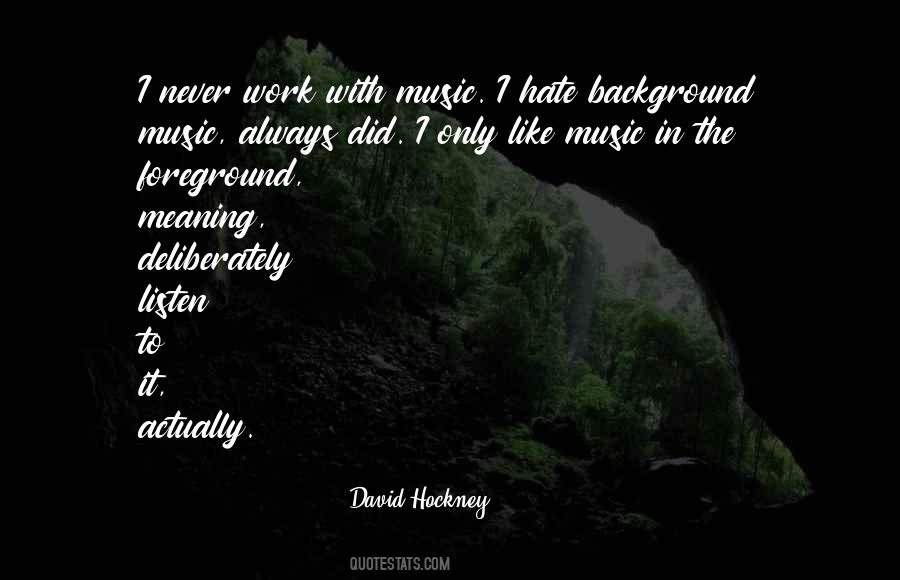 #24. I hate being out of work! - Author: John Rhys-Davies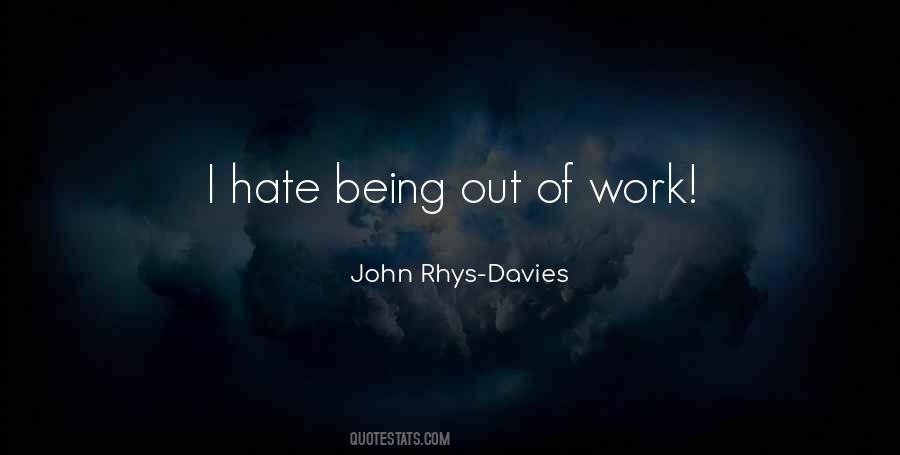 #25. I did hate those people ... those false artists whose work consists of the poses they strike: saying outrageous things, cultivating complicated tastes and appetites, being artificial, irritating, unbearable. People who, in fact, take from art only what is false and external ... - Author: Mario De Sa-Carneiro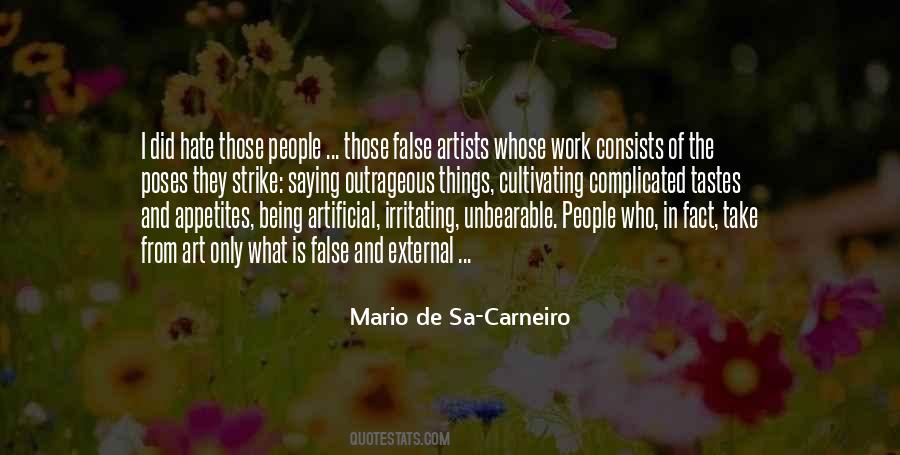 #26. Suppress hate; love generously. Work passionately, live honorably, and love genuinely. - Author: Matshona Dhliwayo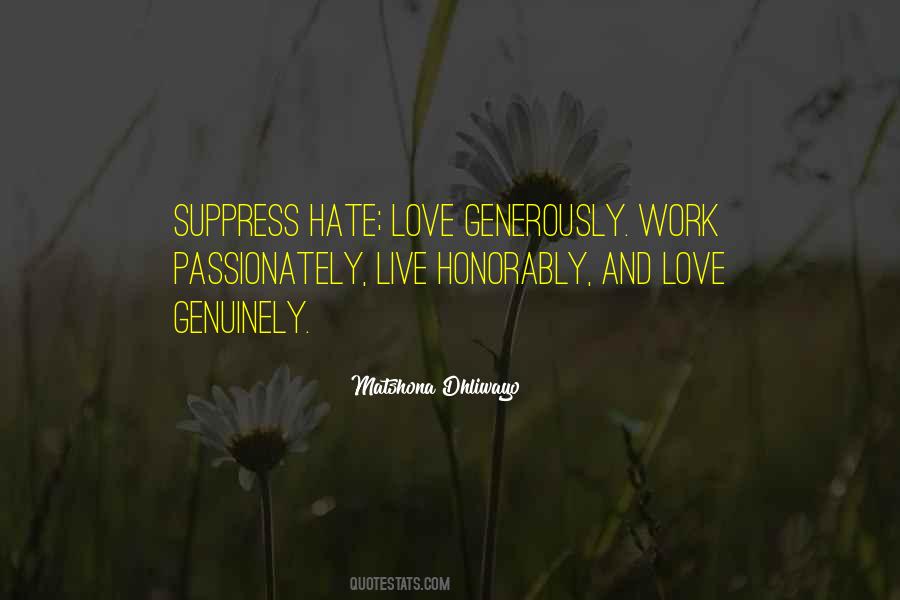 #27. If you keep working you'll last longer. I'd hate to spend the rest of my life trying to outwit an 18-inch fish. - Author: Harold Geneen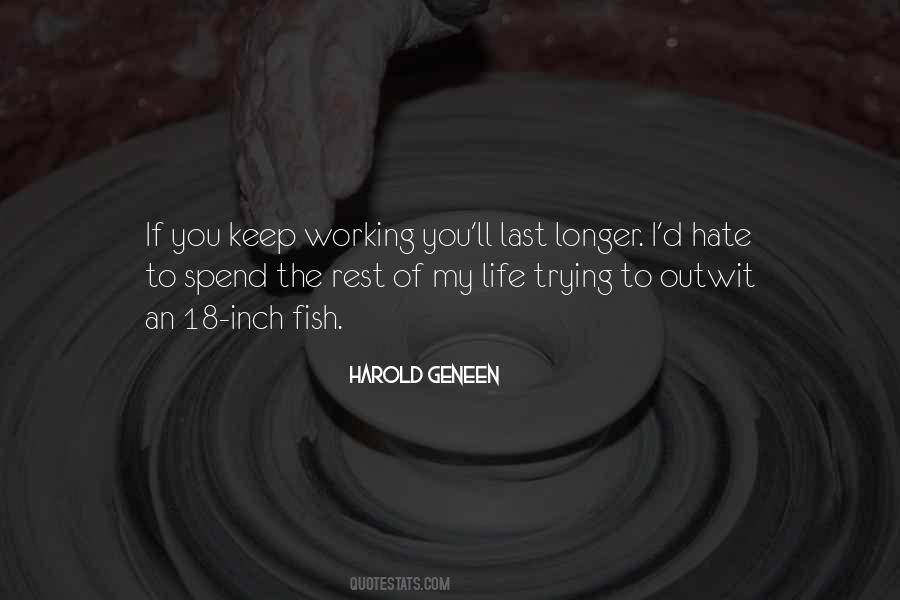 #28. But to this Orc-work such a life as we lead has brought us. Lawless and fruitless all our deeds have been, serving only ourselves, and feeding hate in our hearts. - Author: J.R.R. Tolkien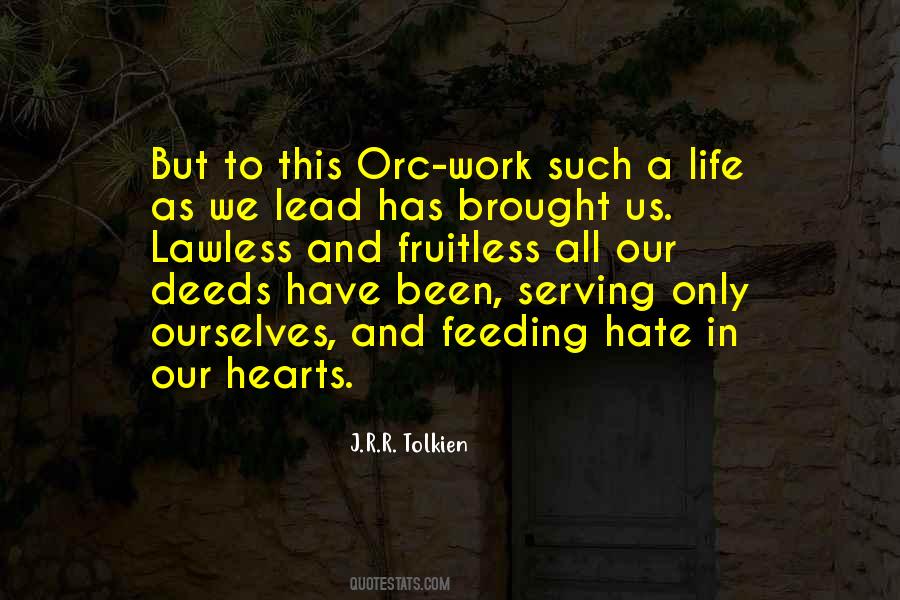 #29. I hate being the heartbreaker. Hate it. If I date somebody and it doesn't work out, it's another nightmare for me. - Author: John Mayer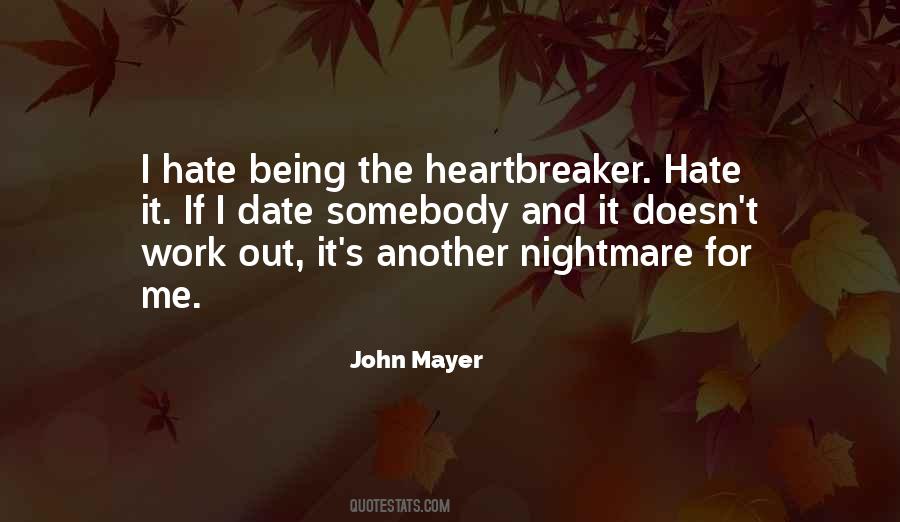 #30. Hating hard work can get to be such an obsession that you won't let it pile up. - Author: Herbert C. Brown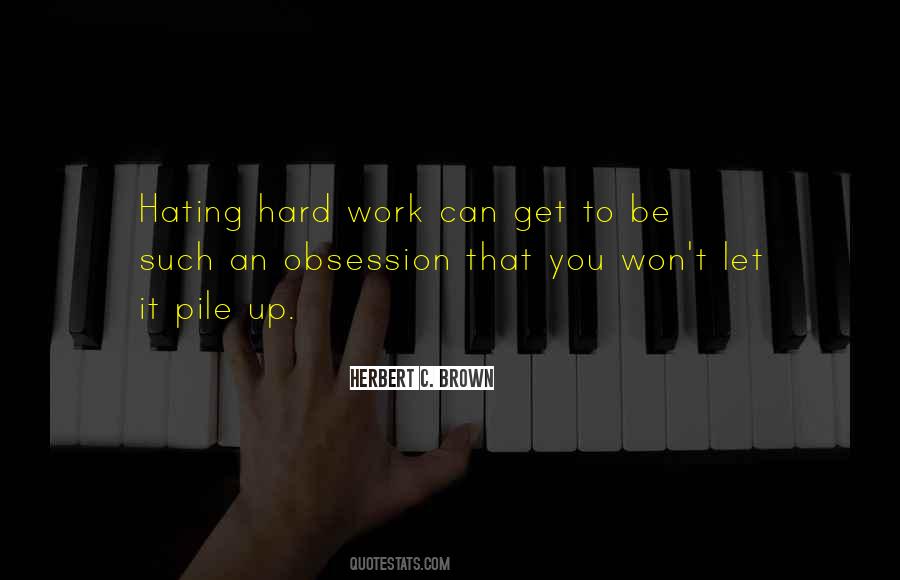 #31. The host of men who stand between a great thinker and the average man are not automatic transmitters. They work on the ideas; perhaps that is why a genius usually hates his disciples. - Author: Walter Lippmann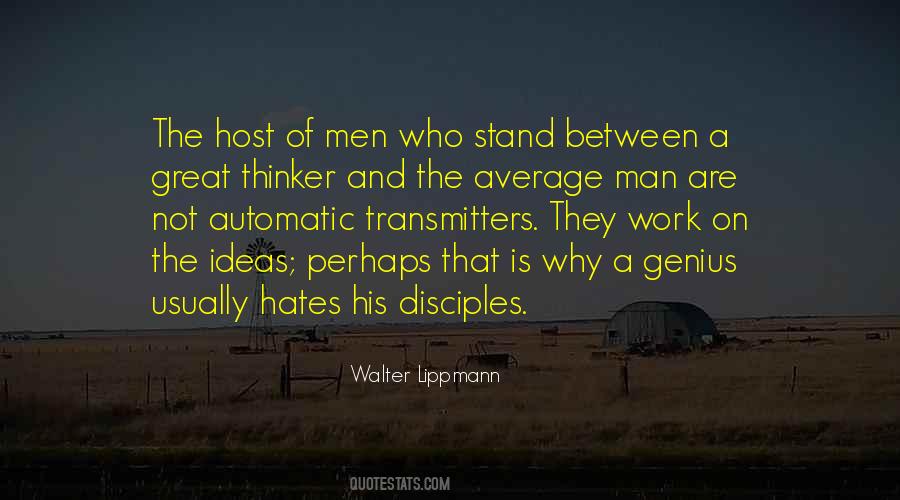 #32. I hate being away, but I understand that for me, that's where the work, the stories are. - Author: David Burnett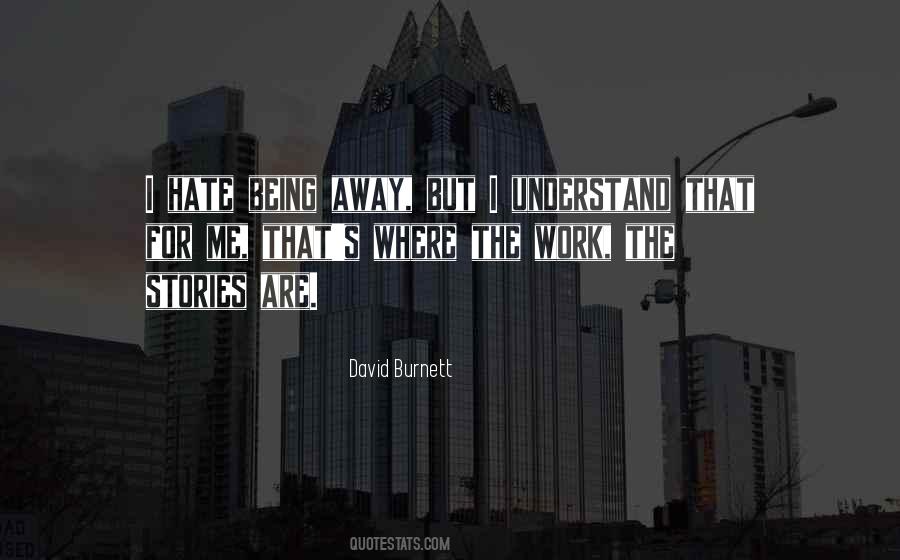 #33. I don't understand the ones that have no sense of hope and invest in hate. That's not gonna work out, you know? It's a waste of your time! - Author: Tom Petty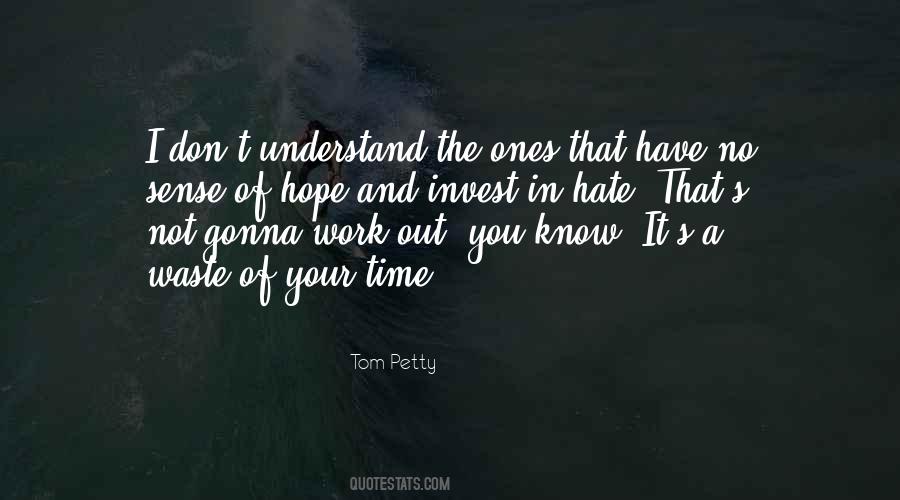 #34. Funny how ready people are to believe that counseling, which even when voluntary takes years to modify garden-variety neuroses, can work wonders in months with resistant patients who hate each other. - Author: Katha Pollitt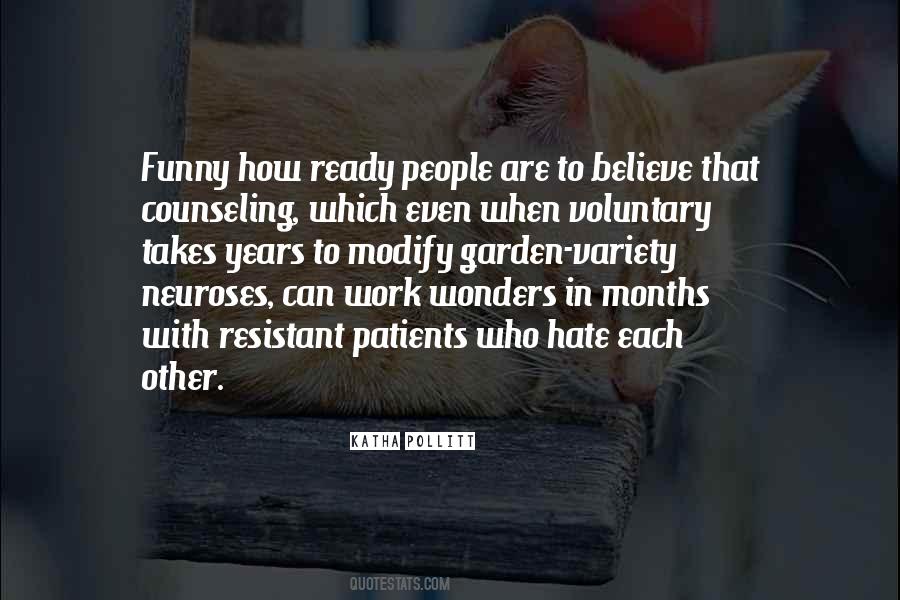 #35. I realized I'd be stuck doing all the hard stuff," she reasoned. "All the diapers and doctors' appointments and discipline, and you'd just breeze in and be Fun Daddy. I'd do all the work to make them good people, and you'd undo it anyway, and they'd love you and hate me. - Author: Gillian Flynn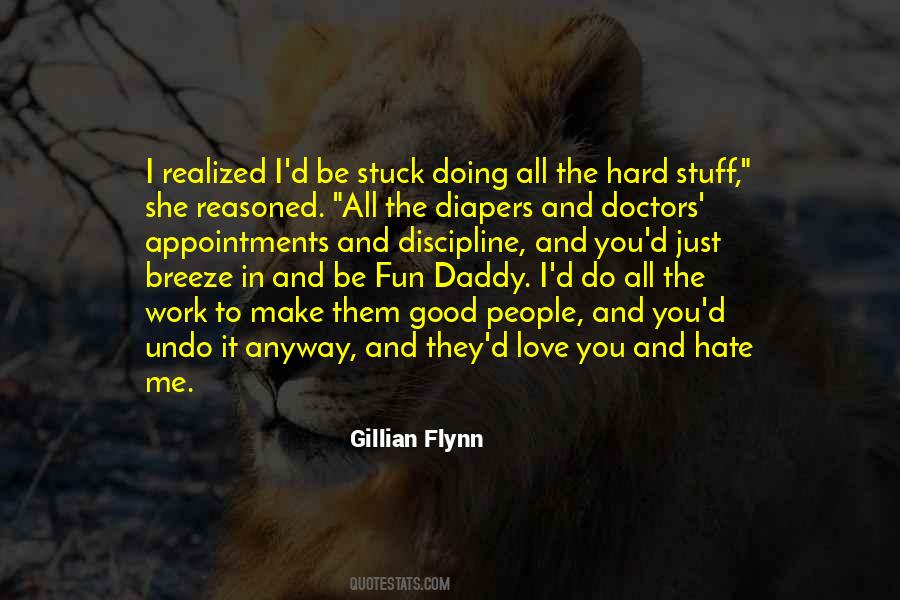 #36. Don't do anything by half. If you love someone, love them with all your soul. When you go to work, work your ass off. When you hate someone, hate them until it hurts. - Author: Henry Rollins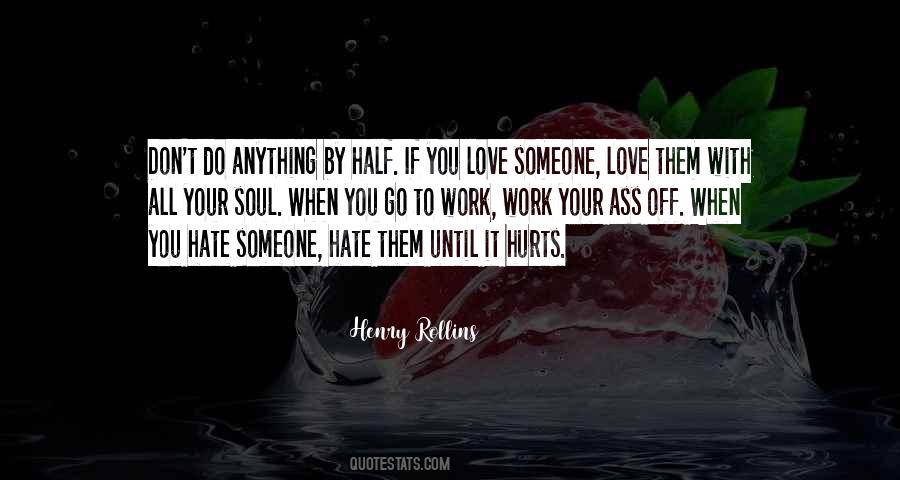 #37. It's the injustice that I hate, more than anything," he'd said to Smee one night, his eyes red and glassy, slurring his words, his head lolling as he tried to focus. He'd vomited, and then promptly passed out on a bush. "I hate the world that does not work out fair. - Author: Jodi Lynn Anderson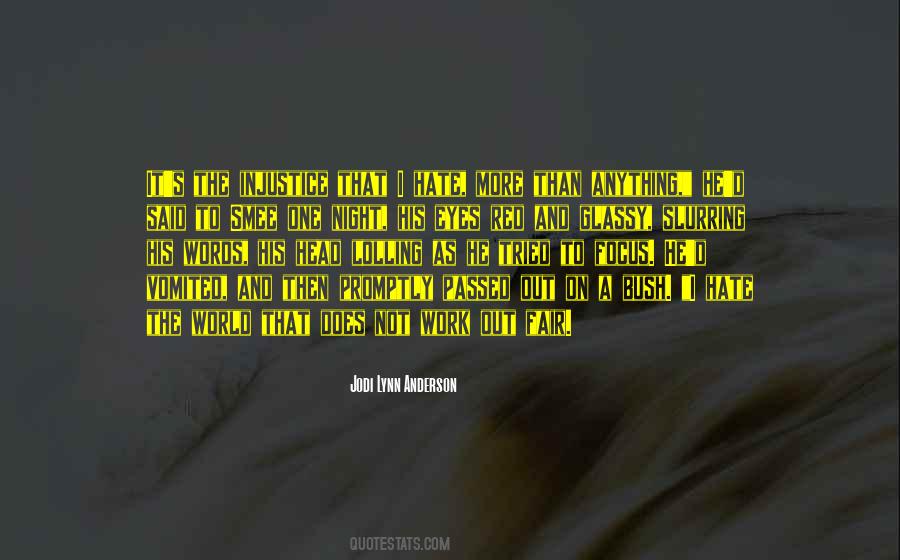 #38. Why can't we get all the people together in the world that we really like and then just stay together? I guess that wouldn't work. Someone would leave. Someone always leaves. Then we would have to say good-bye. I hate good-byes. I know what I need. I need more hellos. - Author: Charles M. Schulz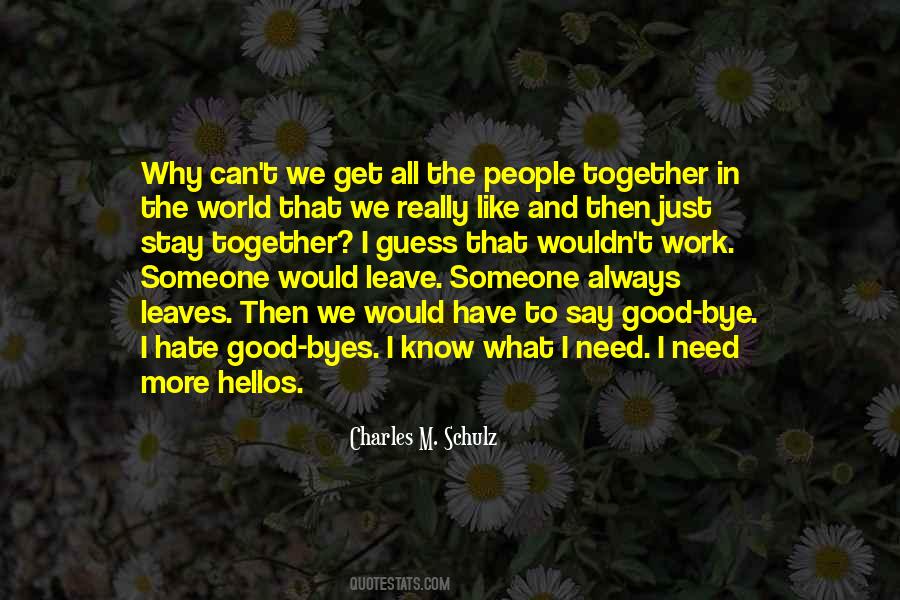 #39. I hate incompetence. I think it's probably the only thing I do hate. But it didn't make me want to rule people. Nor to teach them anything. It made me want to do my own work in my own way and let myself be torn to pieces if necessary. - Author: Ayn Rand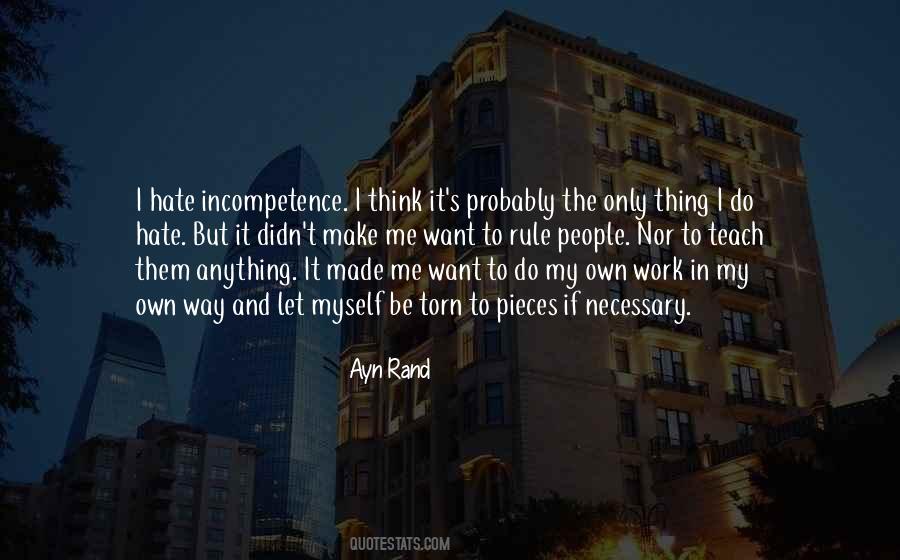 #40. I like having my own style; love my work or hate my work, it's my own. - Author: Don Watson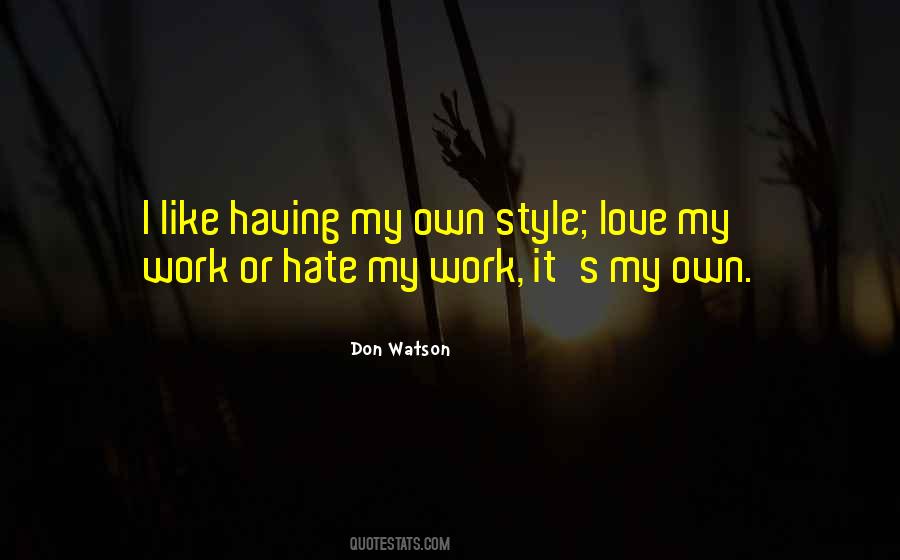 #41. Nature is at work. Character and destiny are her handiwork. She gives us love and hate, jealousy and reverence. All that is ours is the power to choose which impulse we shall follow. - Author: David Seabury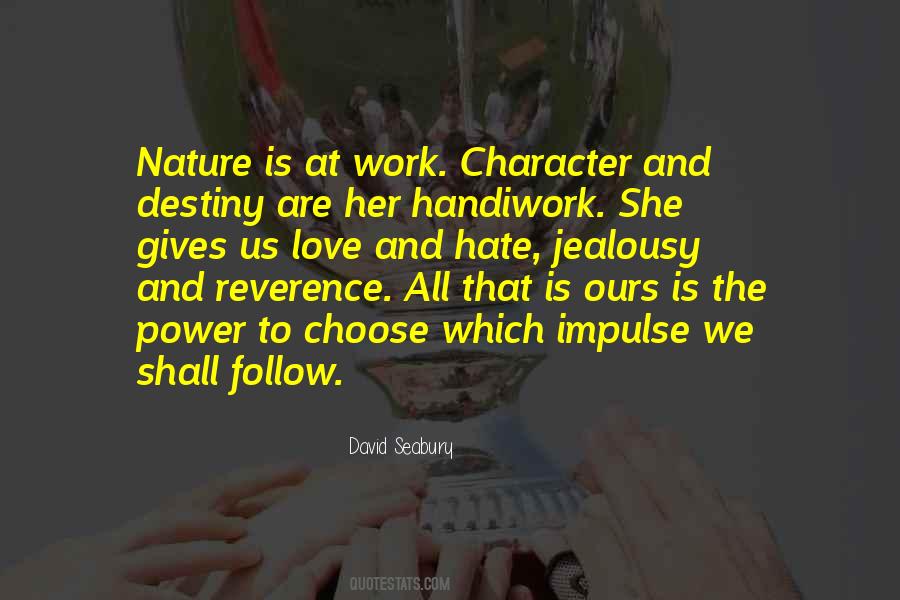 #42. If we work for social change - and it is good to do such things - let us always do it with an awakened heart big enough for all. There is no enemy; there is only ignorance. There is no one to hate, only many to love. - Author: John Kehoe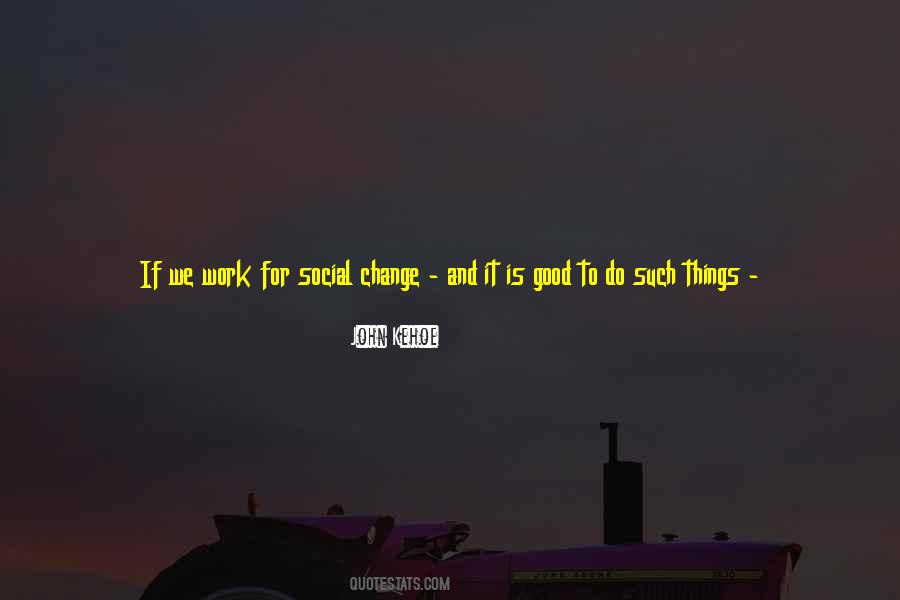 #43. There's a hormone secreted into the bloodstream of most writers that makes them hate their own work while they are doing it, or immediately after. This, coupled with the chorus of critical reaction from those privileged to take a first look, is almost enough to discourage further work entirely. - Author: Francis Ford Coppola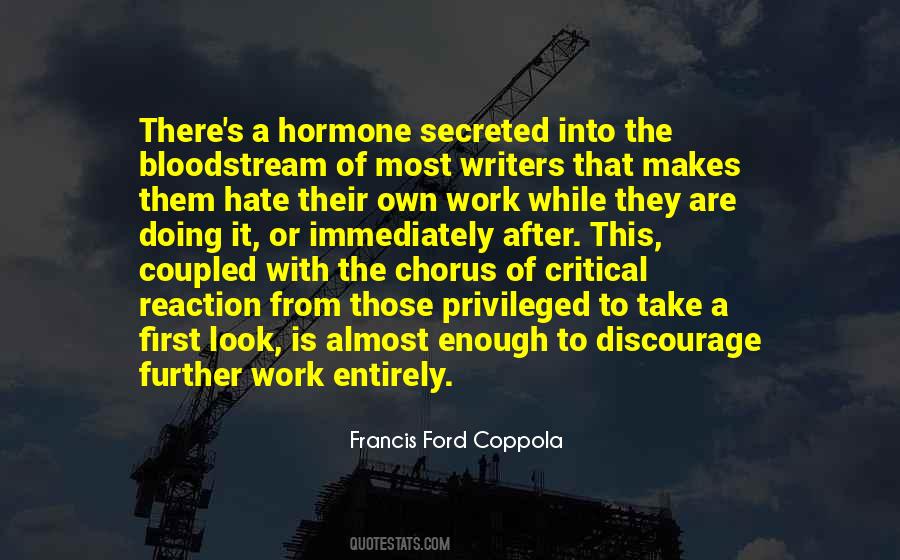 #44. When the hate don't work , they start telling lies. - Author: Werley Nortreus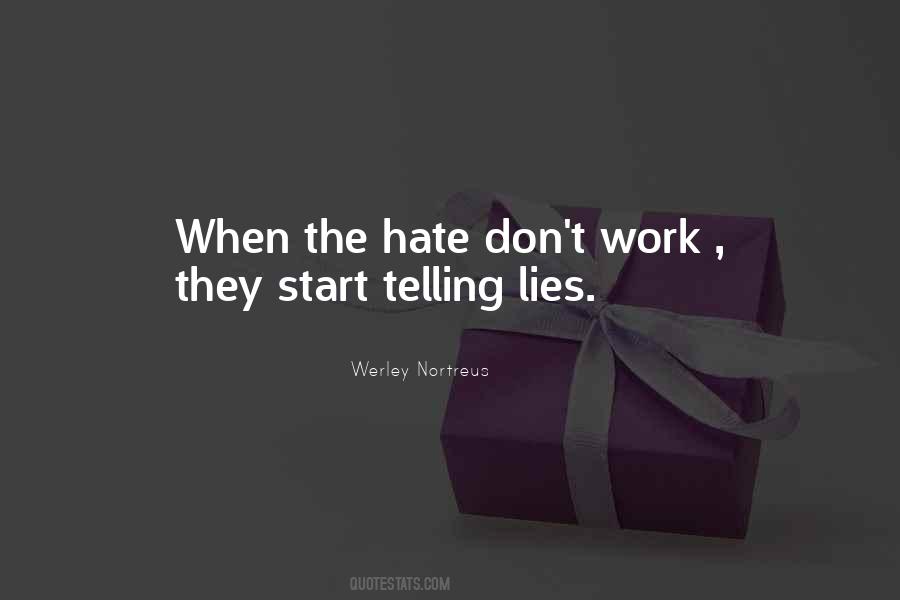 #45. I just want to tell you I'm quitting.'
'What? You can't quit,' Chuck said.
'I hate working here.'
'We all hate working here. That doesn't mean we quit. Only quitters quit.'
'I'm quitting. - Author: Rainbow Rowell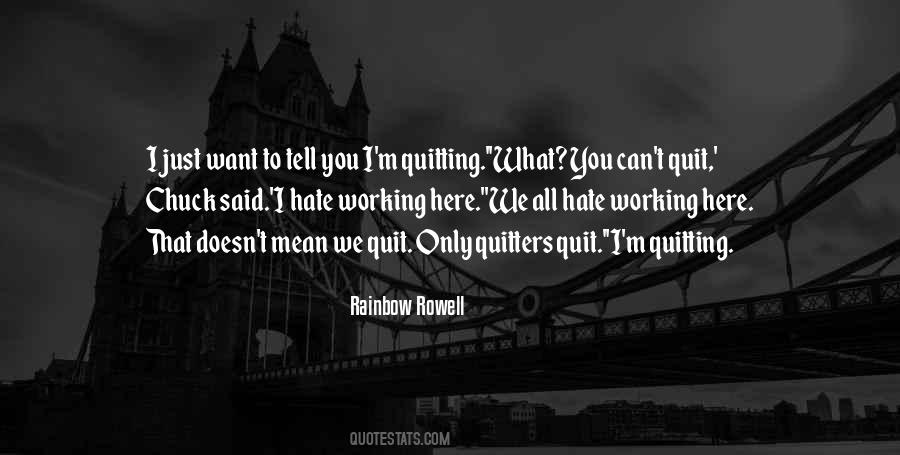 #46. Even today I am willing to volunteer to do the dirty work for Israel, to have everyone hate us, to pull the rug from underneath the feet of the Diaspora Jews, so that they will be forced to run to us crying. Even if it means blowing up one or two synagogues here and there, I don't care. - Author: Ariel Sharon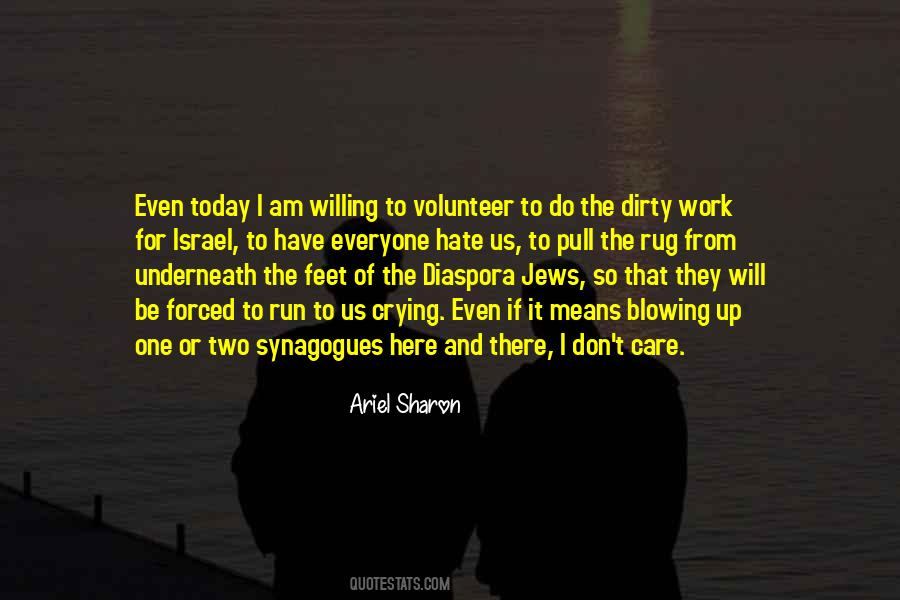 #47. You can't hate me, Mathilde, when I say no. This is my work. - Author: Lauren Groff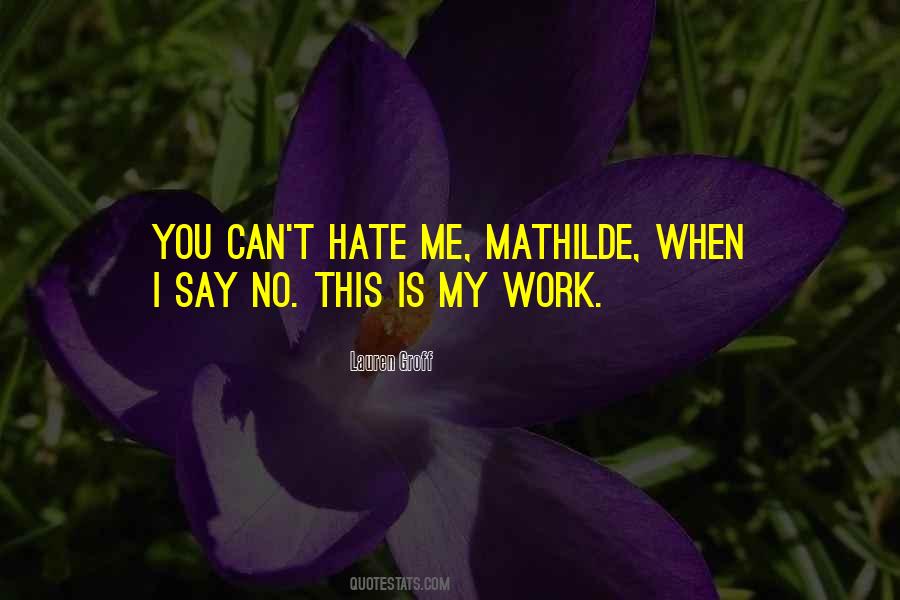 #48. The secret to happiness is to be working at your passion. If you want to be miserable, lead a desperate life like everybody else where they drag their asses to work everyday because they hate their job. - Author: Yvon Chouinard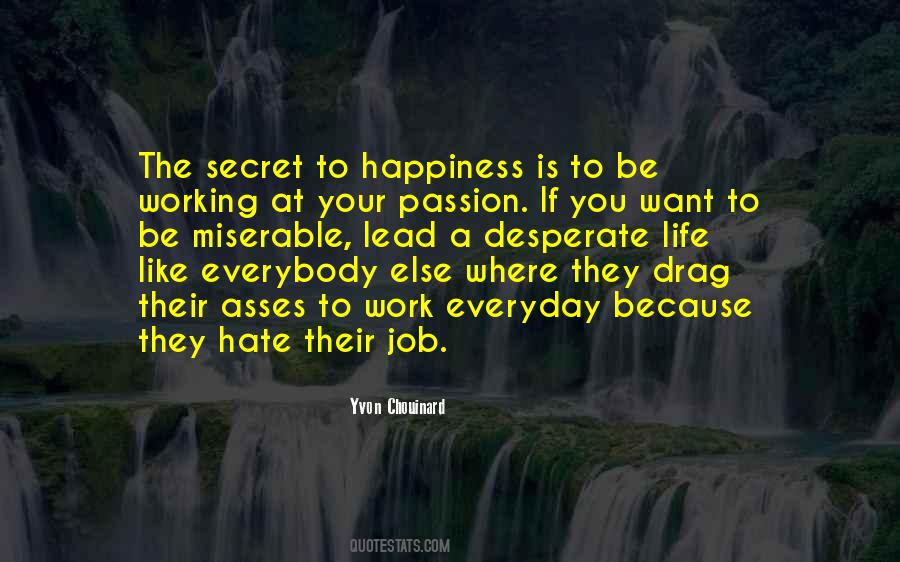 #49. We want to connect all these musical worlds together. We just improvise; we know straight away if its going to work or not. They're not covers - I hate the word cover. We do a transcription: mix it up, put our own spin on it. I think people will be surprised how powerful our show is. - Author: Luka Sulic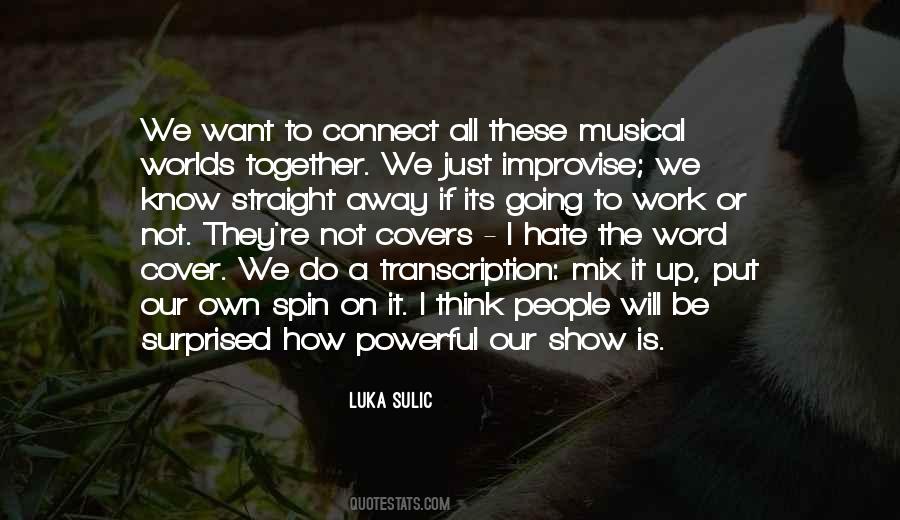 #50. We participate and are responsible for a lot of the things that happen to us. If you hate your job, you are much more likely to get sick and die at a younger age than someone who's happy at work and has a nice family life and is mentally well adjusted. - Author: Bernie Siegel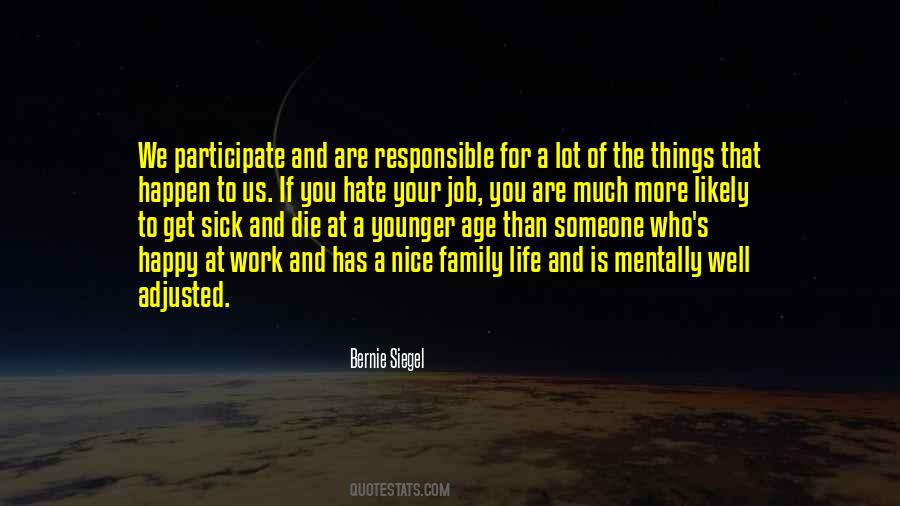 #51. If a work of art or a new style disturbs you, then it is probably good work. If you hate it, it is probably great. - Author: Leo Steinberg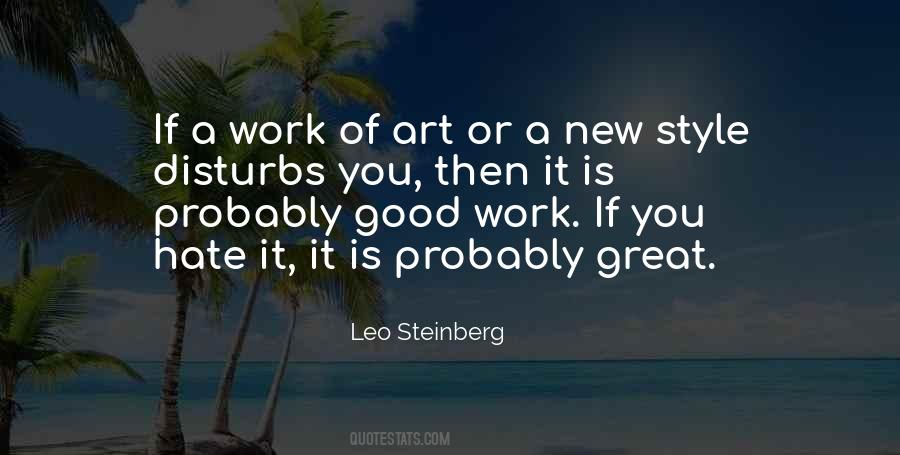 #52. We're all our own worst critics and so hard on ourselves, but for me, my biggest insecurity is my arms. I just hate the tops of them. I work out and they still never look good enough for me. So, over the years I've learned to dress to make myself feel better. - Author: Khloe Kardashian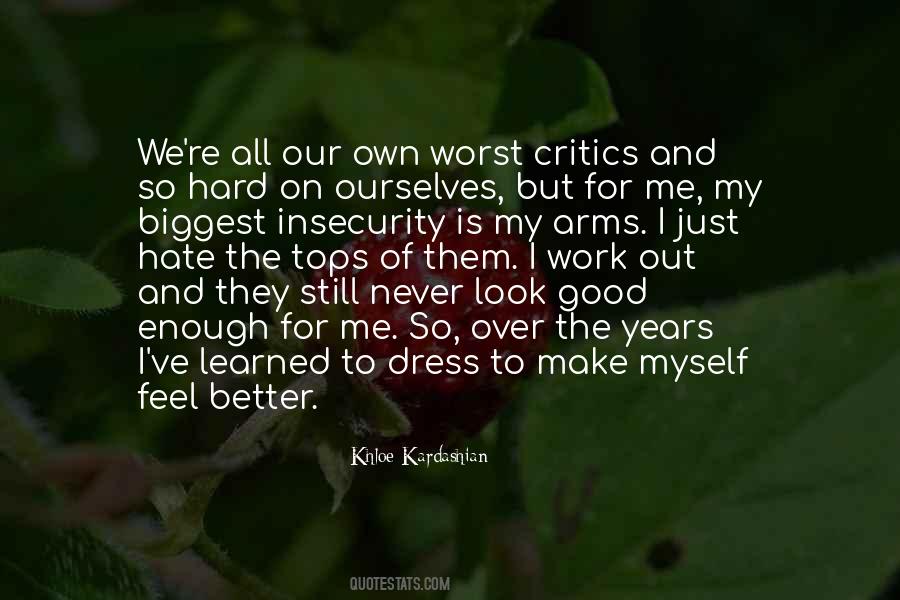 #53. There is no truth to the rumors that we hate each other. I have no ill feeling for [Britney Spears] and vice versa. I am proud of all the achievements she has made in her career, she is a very hard-working person. I have nothing but love for her. - Author: Christina Aguilera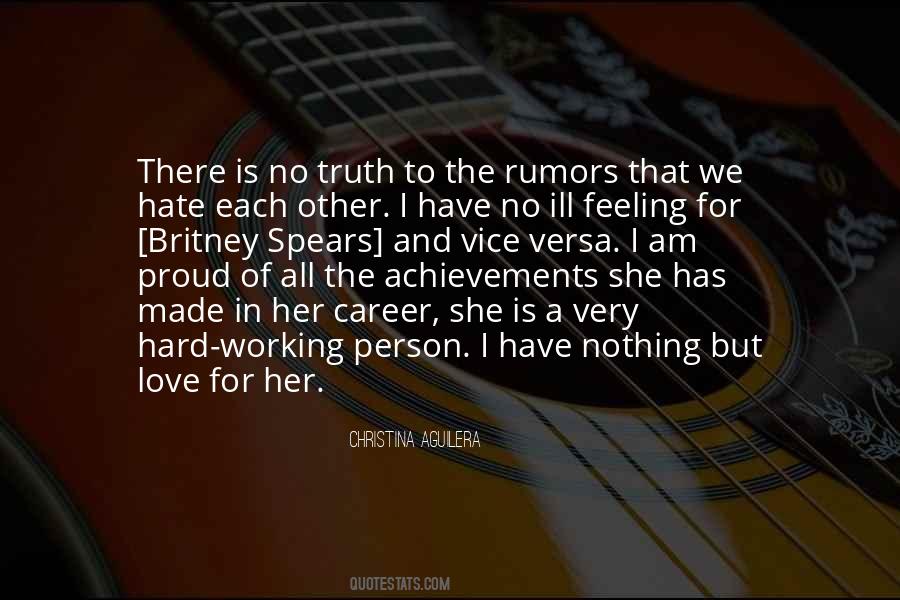 #54. If there's a deadline, I work late. If not, I like to have normal hours, and get up early and work. When things are going well, I hate to quit. And then I'll work 'till exhausted. - Author: Dave Brubeck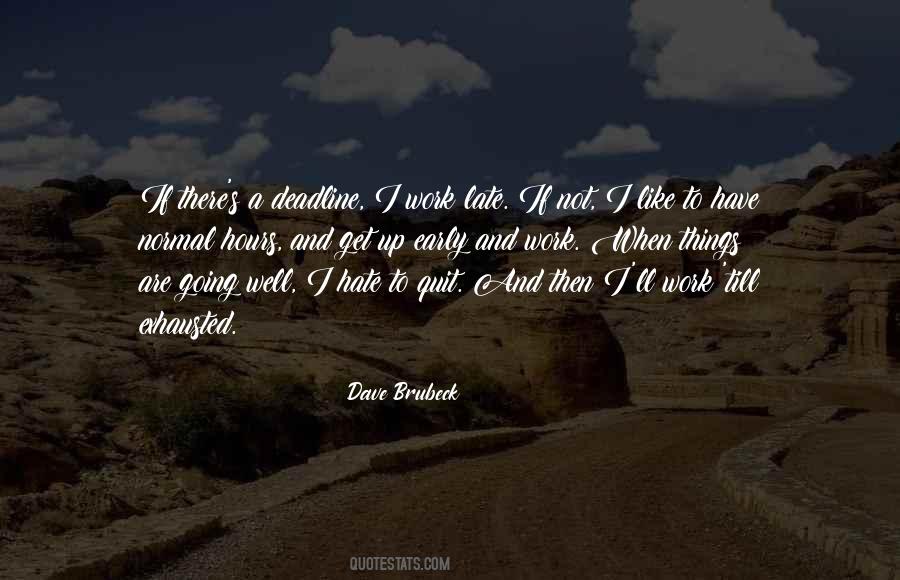 #55. I do sport at the gym a few times a week, but I hate it. Work is my only remedy. I feel so twisted and horrible in the morning, but then I go to the office and I start feeling better. Work is my Tylenol. Extra-strength. - Author: Alber Elbaz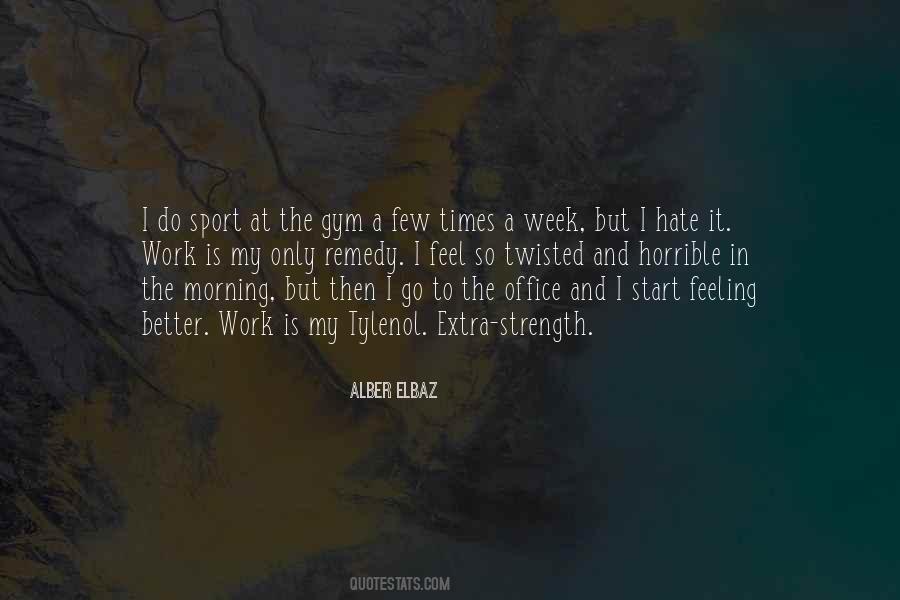 #56. I hate people who say, "Oh, I'm addicted to working out". I just want to punch those people in the face. - Author: Jennifer Lawrence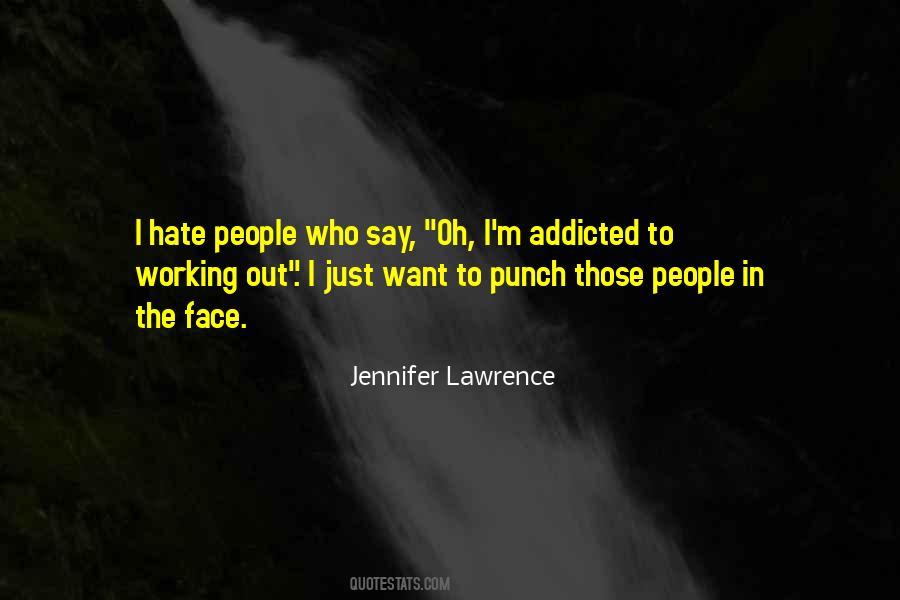 #57. Find something in life that you love doing. If you make a lot of money, that's a bonus, and if you don't, you still won't hate going to work. - Author: Jeff Foxworthy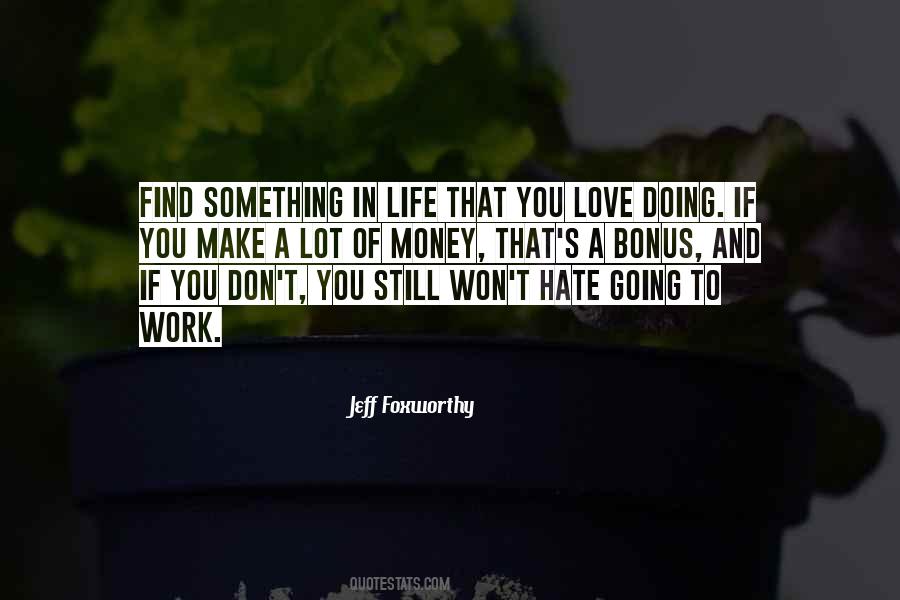 #58. I shouldn't have to do the foot-soldier work, Tahiri. Be my eyes and ears. I'd hate to have to use ch'hala trees. You're smarter than a tree
aren't you?
Darth Caedus to Tahiri Veila - Author: Karen Traviss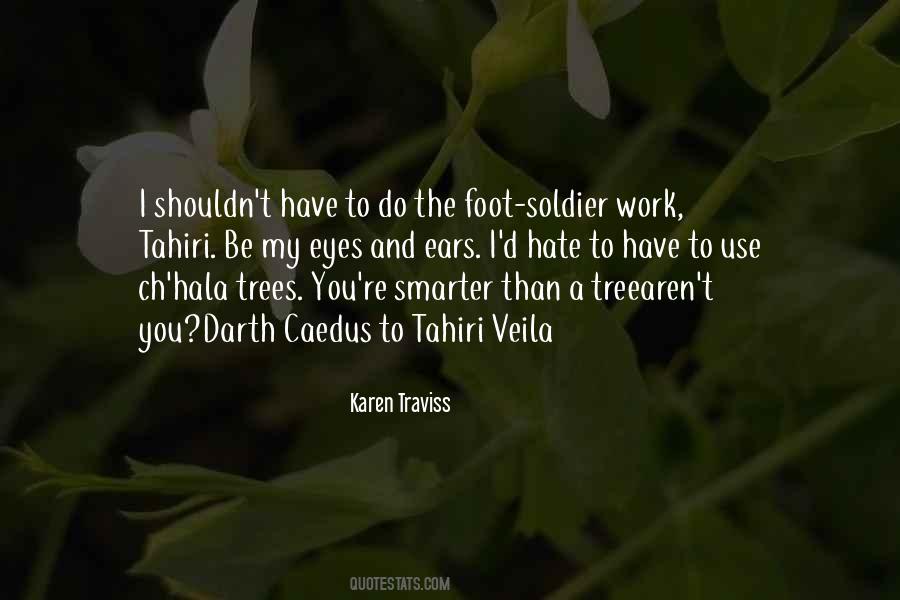 #59. When people come up to me and say 'I hate you' or 'I love to hate you,' it's not the usual response that I thought I would've gotten halfway into my career. And then they say, 'I love your work.' - Author: Robert Knepper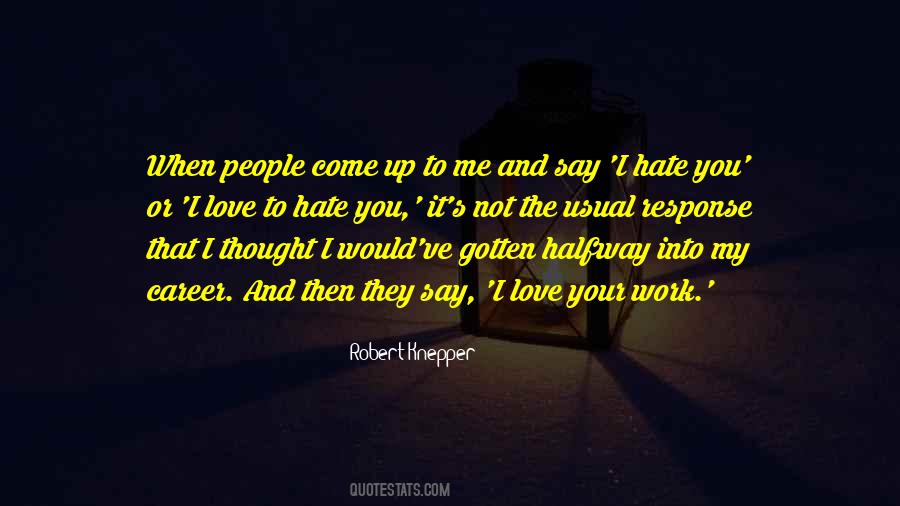 #60. I hate it when people call themselves 'entrepreneurs' when what they're really trying to do is launch a startup and then sell of go public, so they can cash in and move on. They're unwilling to do the work it takes to build a real company, which is the hardest work in business. - Author: Steve Jobs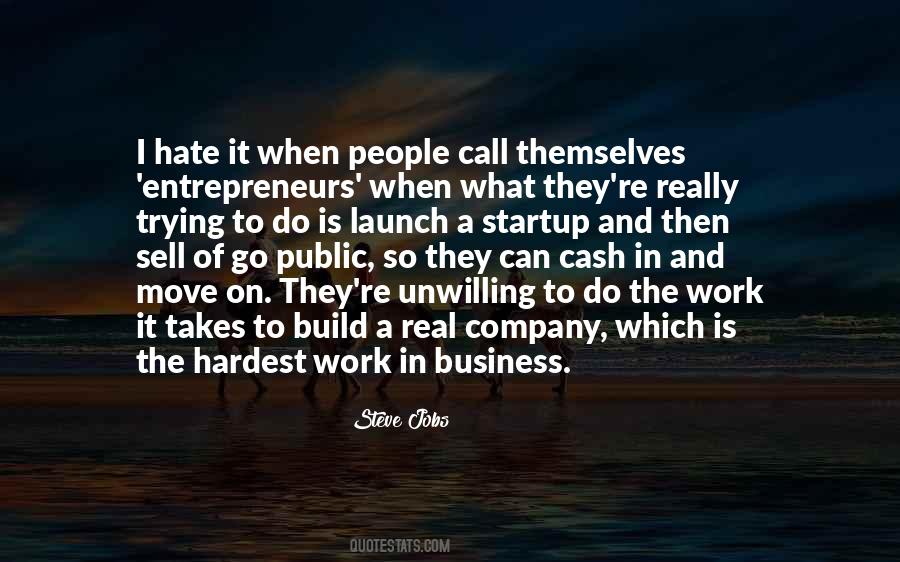 #61. I'd hate it if everyone in the world liked me, my music and what I wore. It'd make it boring, and I wouldn't have anything to work towards. It's not to everyone's taste, but I can only be me. - Author: Jessie J.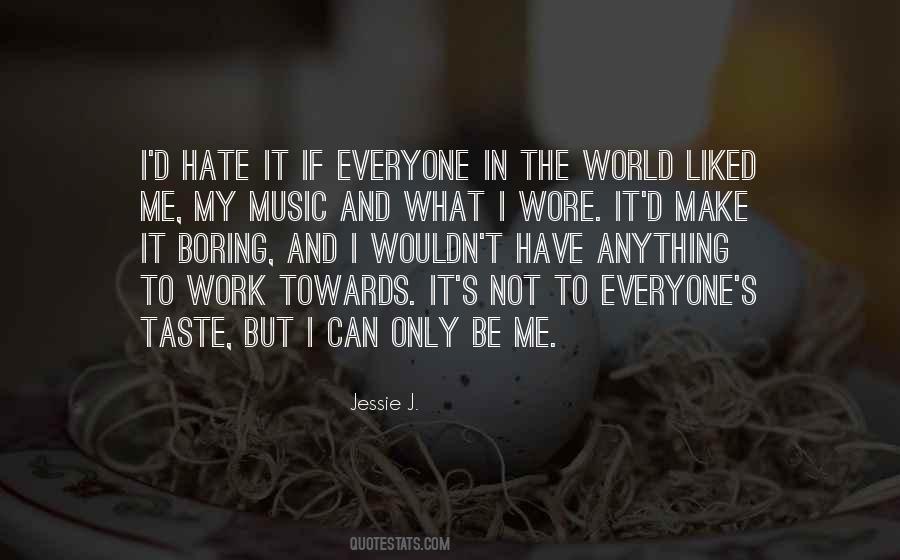 #62. Any player coming to Spurs whether he's a big signing or just a ground staff boy must be dedicated to the game and to the club. He must be prepared to work at his game. He must never be satisfied with his last performance, and he must hate losing. - Author: Bill Nichols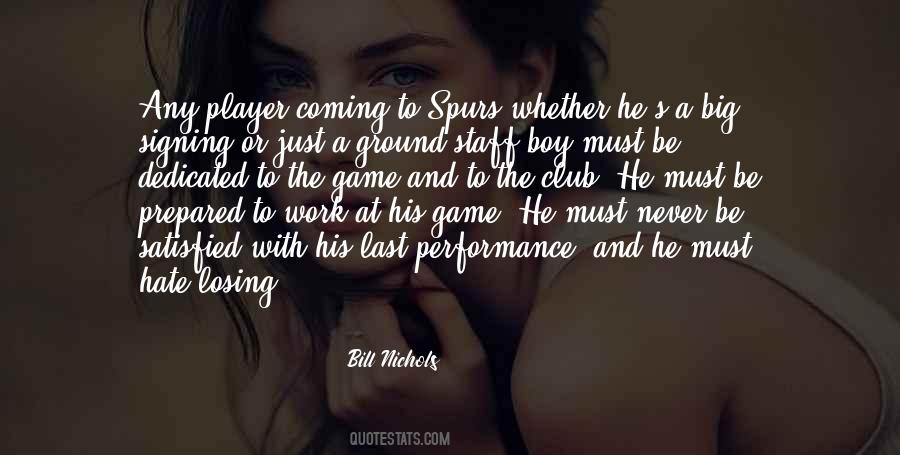 #63. She wanted to get at the hate of them all, to pry at it and work at it until she found a little chink, and then pull out a pebble or a stone or a brick and then a part of the wall, and, once started, the whole edifice might roar down and be done away with. - Author: Ray Bradbury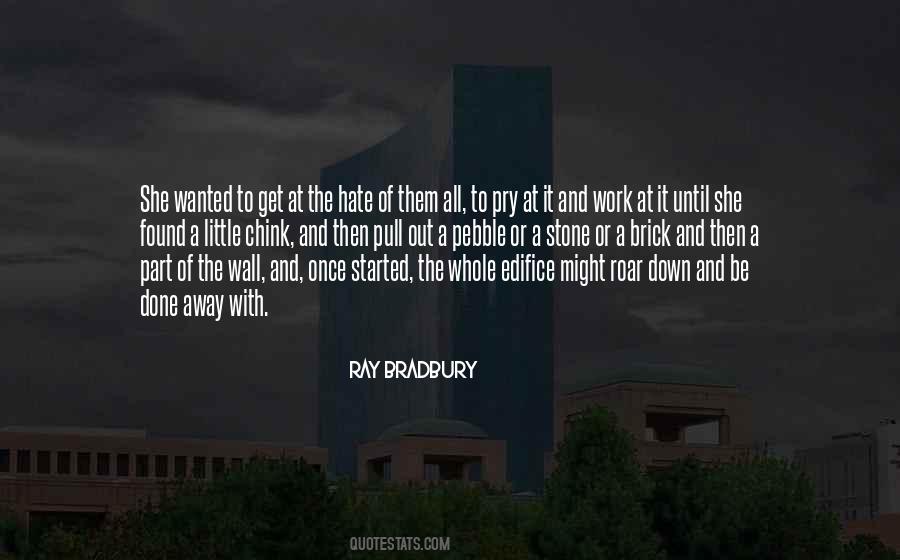 #64. My advice to writers is this:
Walk, talk, breathe, laugh, cry, fall, rise, fail, succeed, run, jump, love, hate, hide, seek, learn, work, play, feel, LIVE.
Then write it down. - Author: S. Alex Martin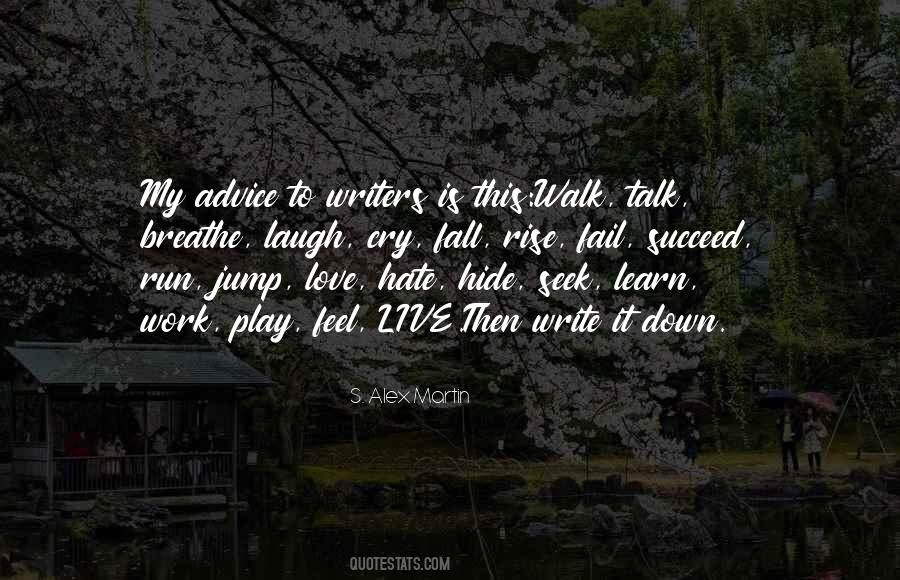 #65. When you see what some girls marry, you realize how they must hate to work for a living. - Author: Helen Rowland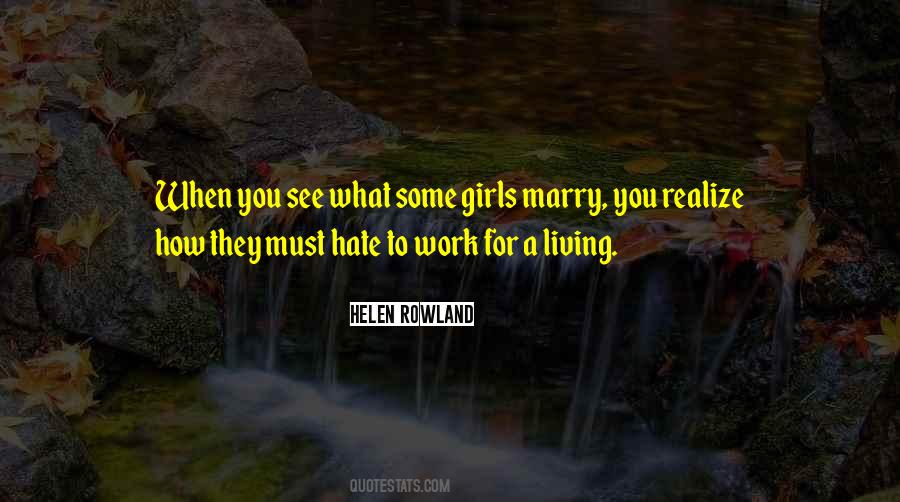 #66. People who work in offices are crazy, they create an environment they hate, write rules they want to break, cast each other in roles they despise. It's like they're sixth formers in an end of term drama acting out the agony of everything they fear most in their life but they forget to end the play. - Author: Helen Smith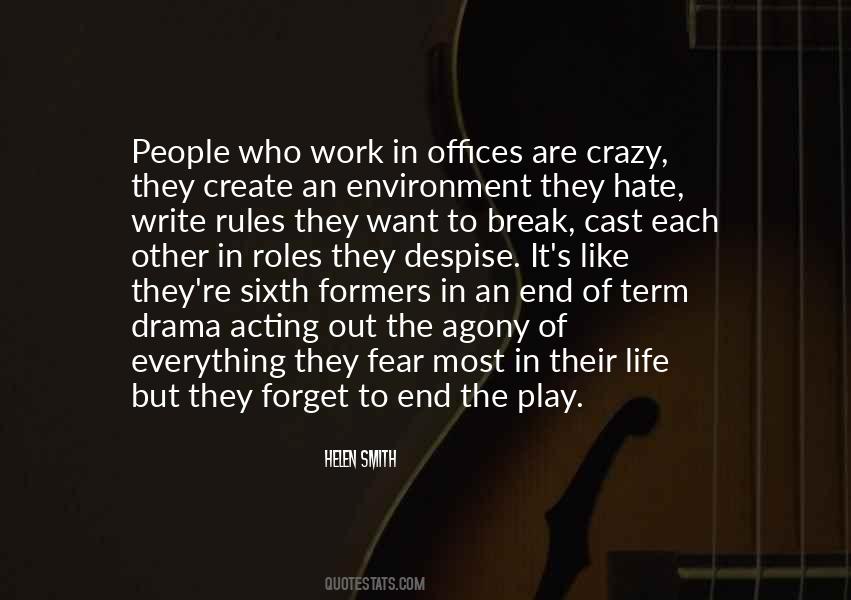 #67. I would love to tell you I've found the secret to eternal youth. I go to the gym and avoid too many chips. I love to eat, hate to work out, but if you can't count all your ribs from a distance you're considered obese. - Author: Jason Isaacs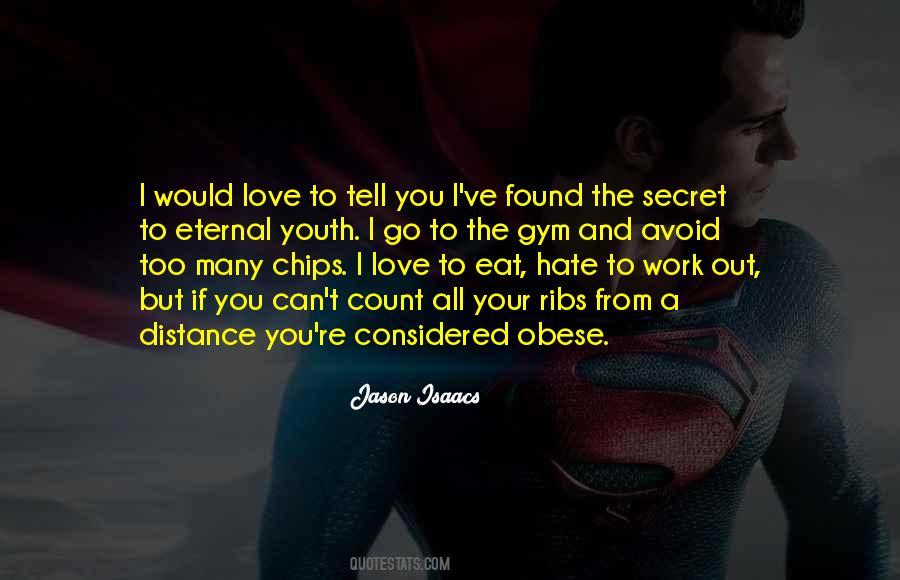 #68. If people don't love or hate your work, you just haven't done all that much. - Author: Tinker Hatfield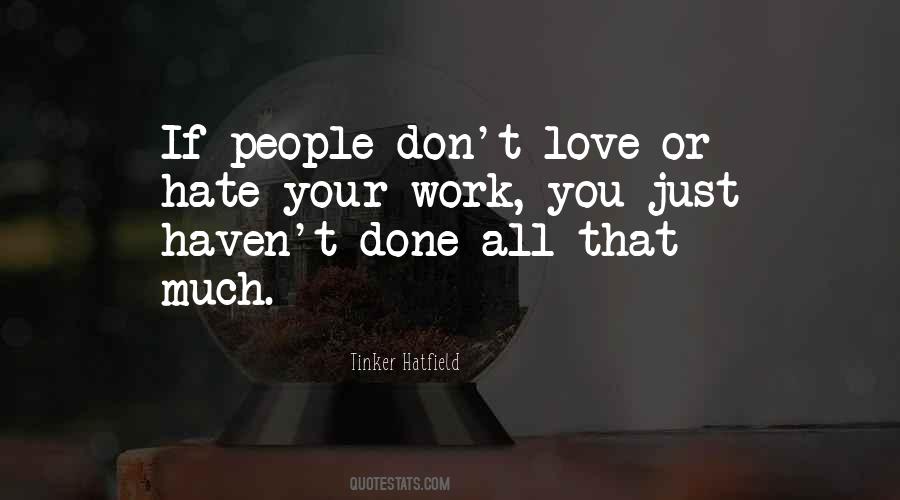 #69. We almost need to cultivate - I hate to sound New Age-y - but to cultivate a positive bias, and really work to focus on those things and notice those things that are wonderful and uplifting. - Author: Moby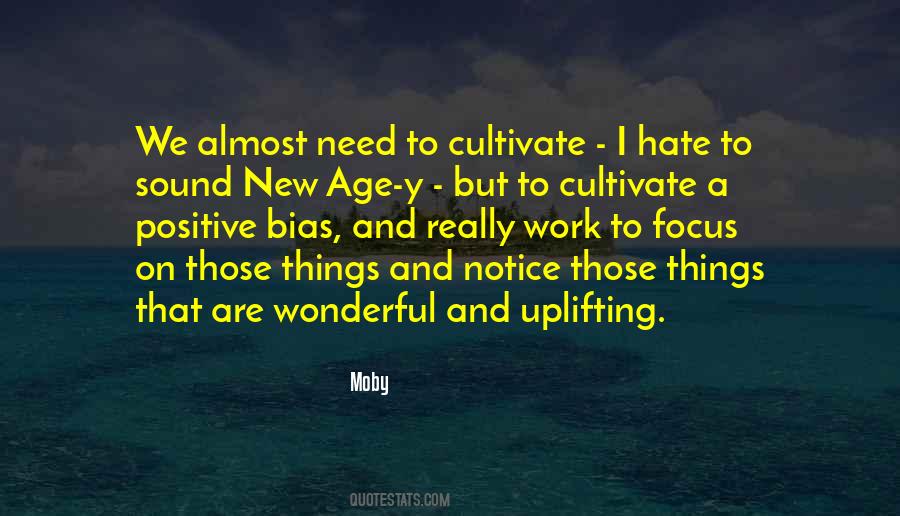 #70. Whatever work you undertake to do in your lifetime, it is very important that first you have a passion for it - you know, get excited about it - and second, that you have fun with it. That's important. Otherwise, you see, your work becomes nothing but an idle chore. Then, you hate the life you live. - Author: Julius Sumner Miller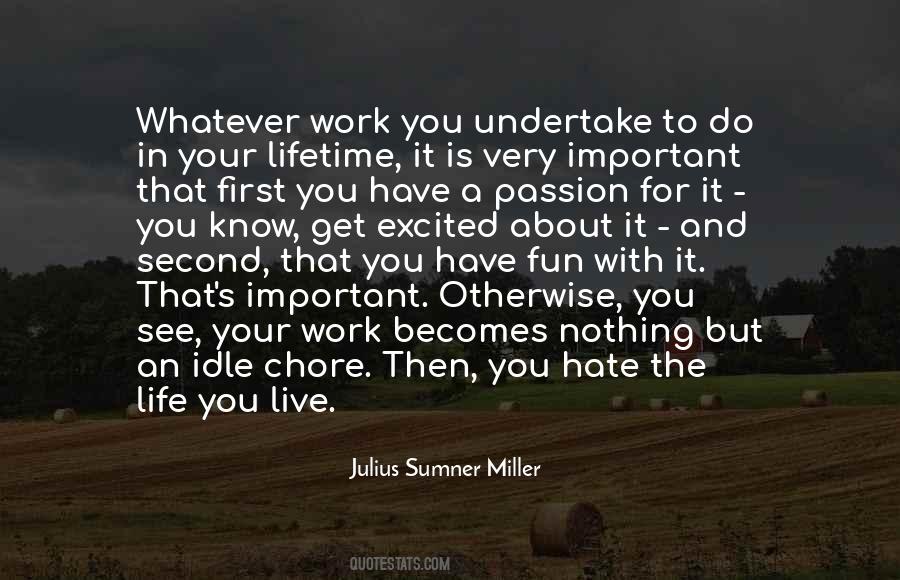 #71. It's good to have things done with when they don't work it's also good not to hate or even forget the person you've failed with. - Author: Charles Bukowski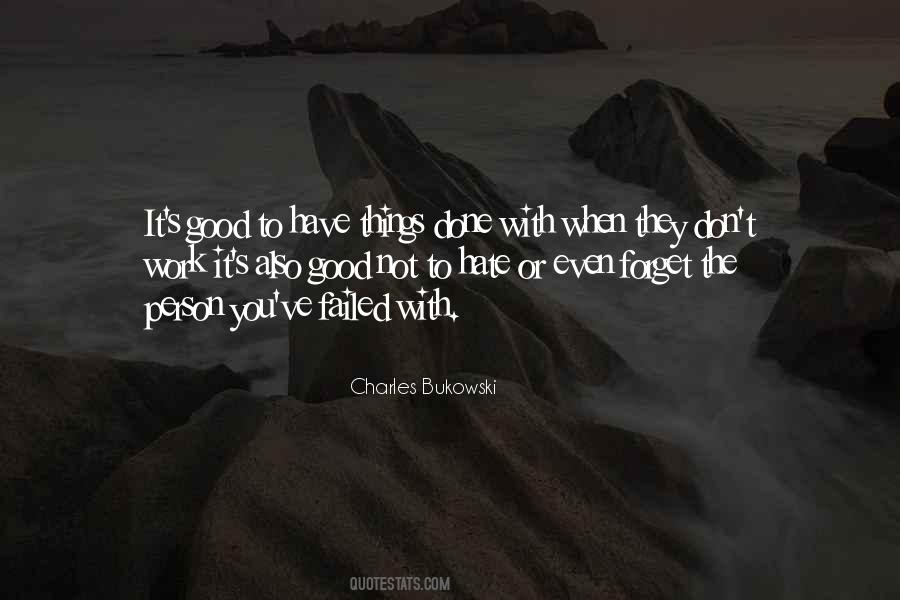 #72. I love you as much as you love me ... So if you hate me, it works out perfectly. - Author: Drake
#73. I think auditioning can be very reductive and I just hate how actors work really hard and most of them aren't going to get the job, and I hate putting them through that. - Author: Adam Rapp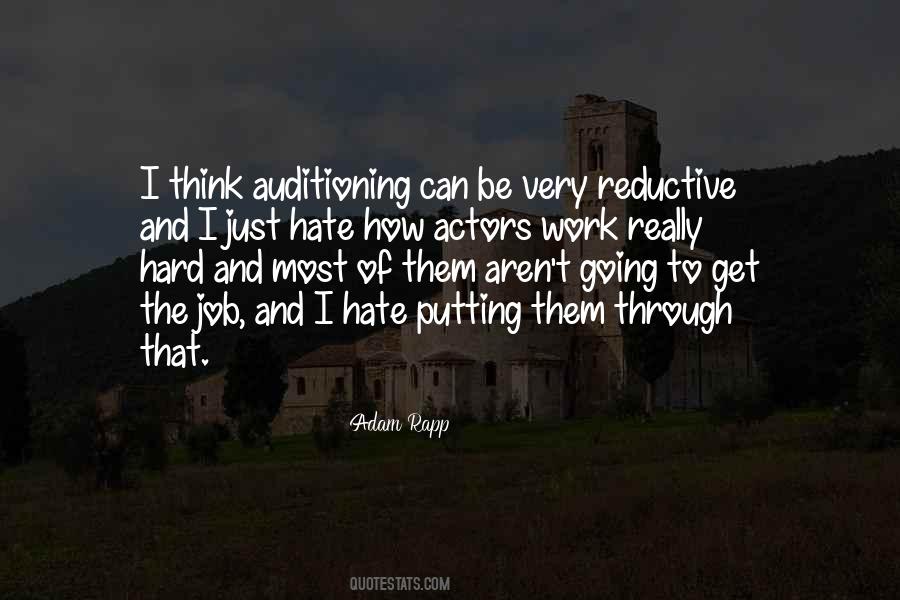 #74. I don't dig ditches for a living, so I don't really hate going to work. I chose this for a reason. I would much prefer to be over-worked than under-worked. - Author: Natalie Zea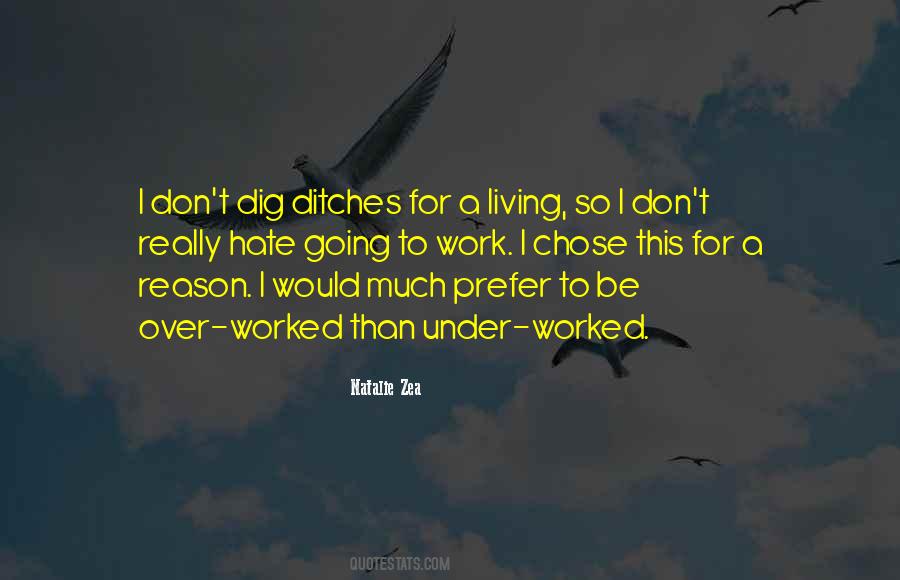 #75. I'm really not a clothes person. To me, that's just work. It's the thing I hate to do the most. I don't want to be judged in that way. - Author: Jodie Foster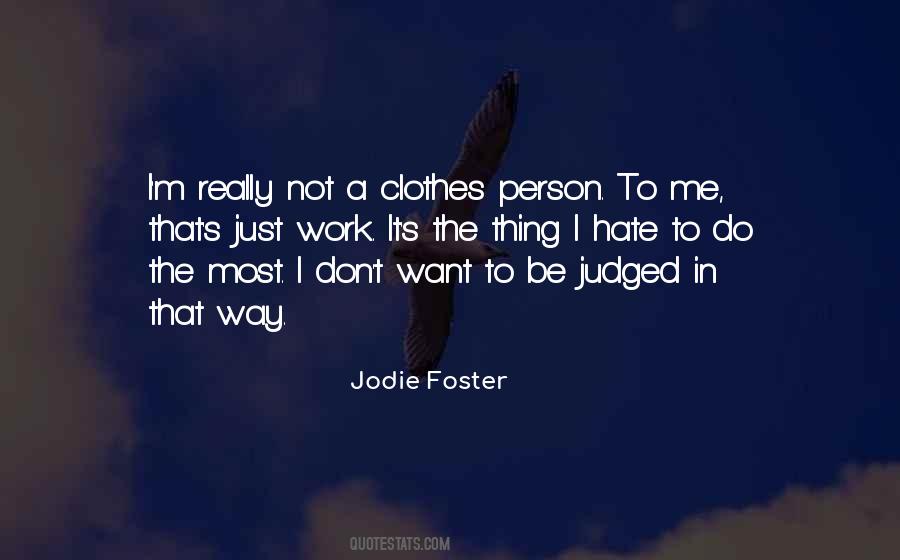 #76. Painters hate having to explain what their work is about. They always say, 'It's whatever you want it to be' - because I think that's their intention, to connect with each person's subconscious, and not to try and dictate. - Author: Helen Mirren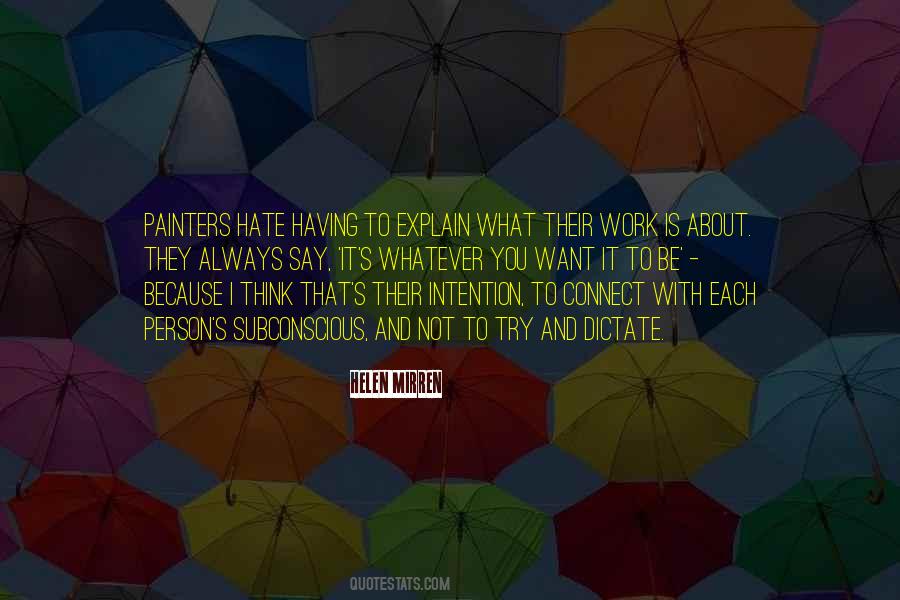 #77. It's been over a year since they've graduated, but neither of the Bush twins have found any work. Why don't they sign up (for military service in Iraq)? Do they hate America, or just freedom in general? - Author: Bill Maher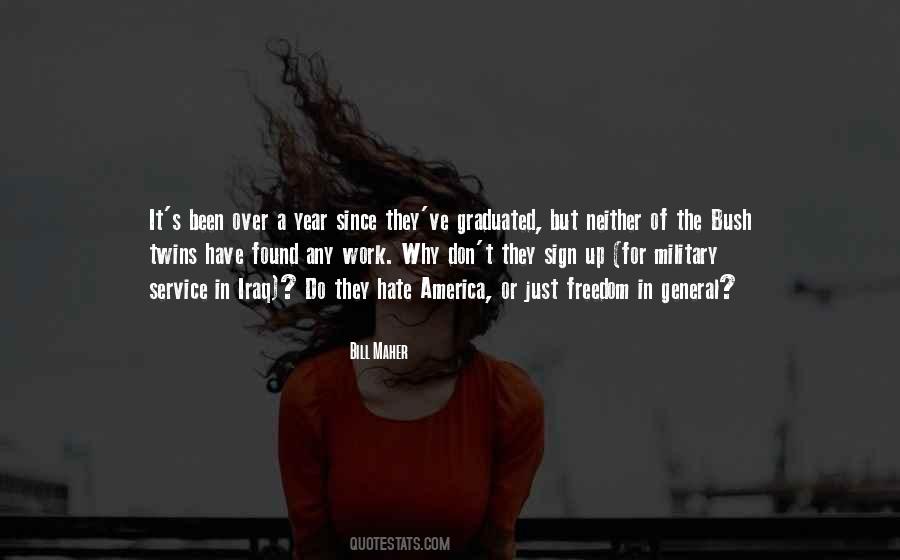 #78. I'm lazy! I hate work! Hate hard work in all its forms! Clever shortcuts, that's all I'm about! - Author: Eliezer Yudkowsky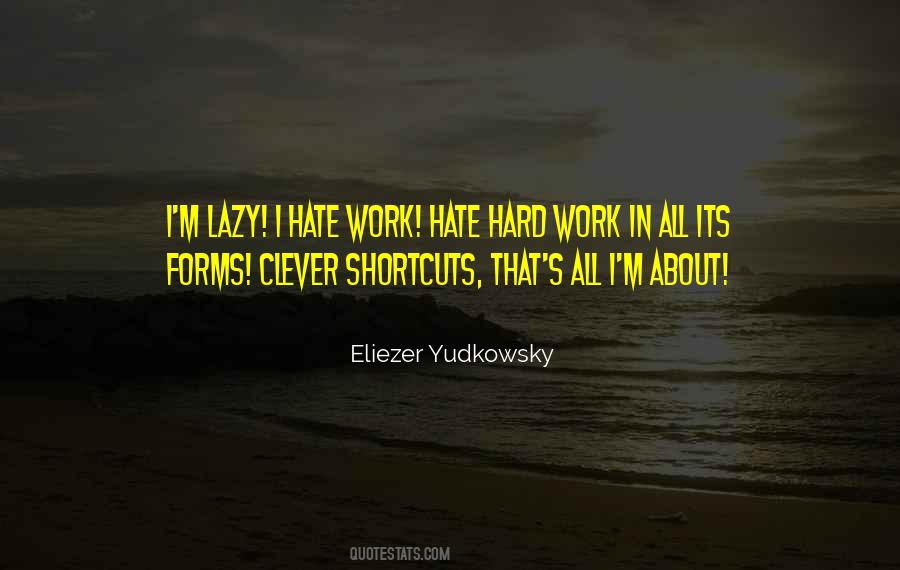 #79. People LOVE change (when it's about changing others). People HATE change (when it's about changing themselves). - Author: Richie Norton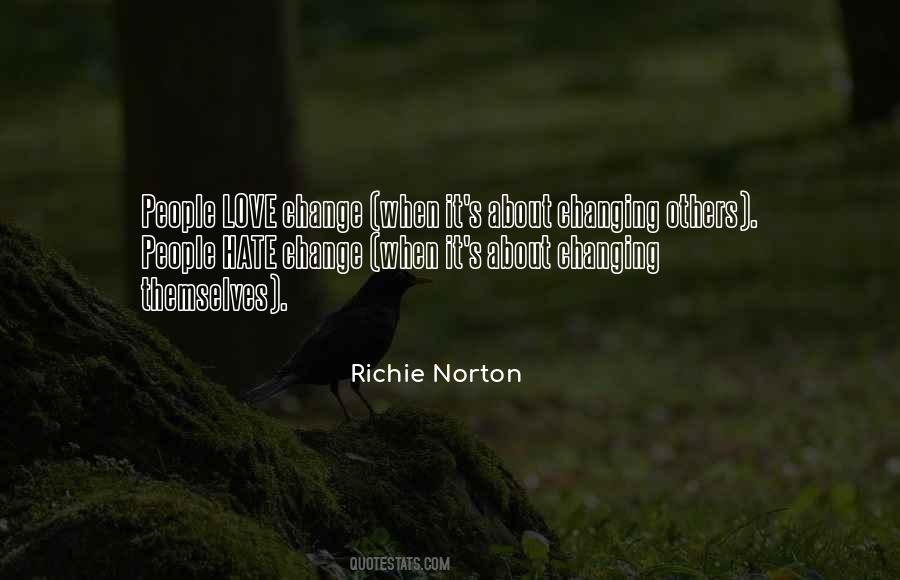 #80. Daja: "He and Rosethorn work together? They hate each other."
Lark: "I didn't say they liked it.
- Daja and Lark referring to Rosethorn and Crane's cooperation on finding the cures for new diseases - Author: Tamora Pierce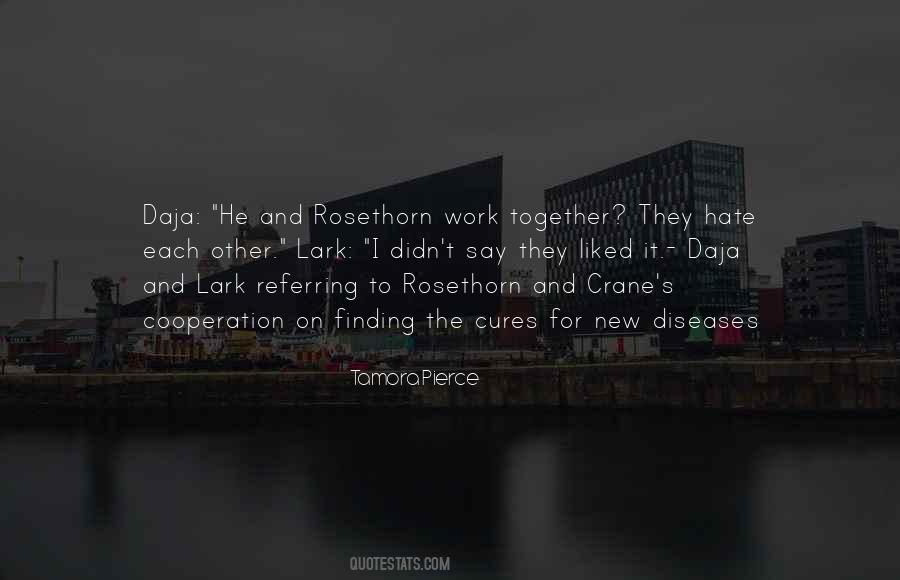 #81. The way to work with a bully is to take the ball and go home. First time, every time. When there's no ball, there's no game. Bullies hate that. So they'll either behave so they can play with you or they'll go bully someone else. - Author: Seth Godin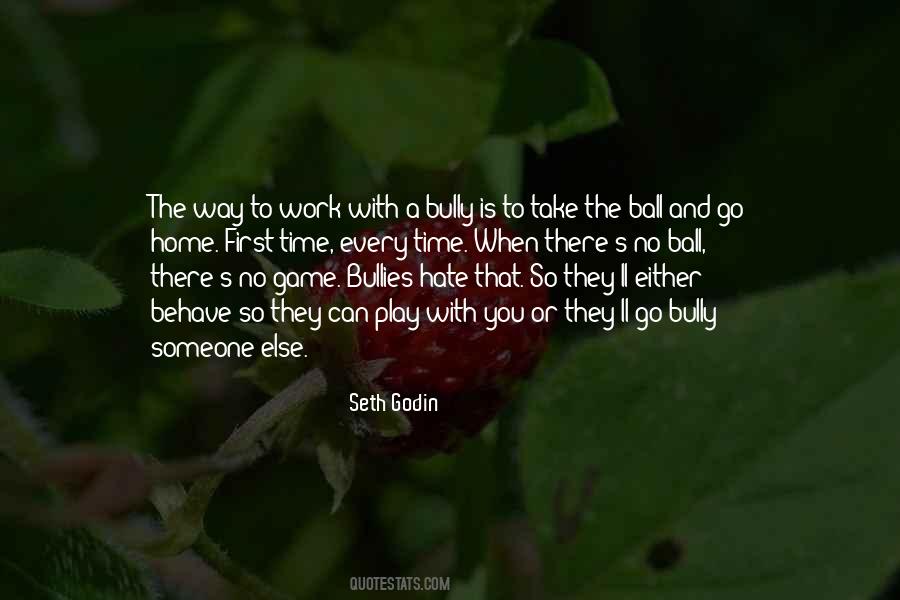 #82. One thing I really hate is experience. Experience for me doesn't work. Everybody's talking about experience this, experience that. - Author: Yohan Blake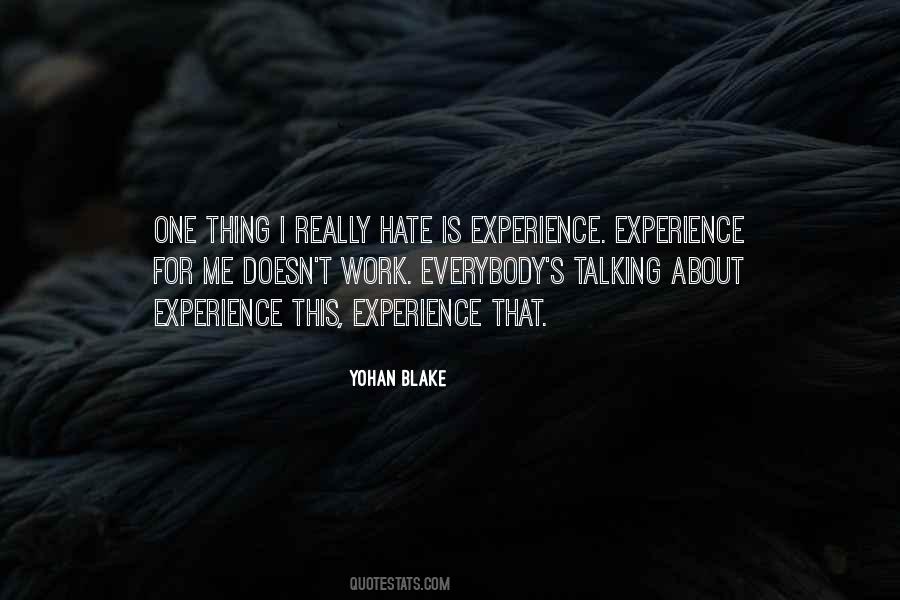 #83. I hate working out. Because I work out for films now solely I come to associate it with work. - Author: Bruce Willis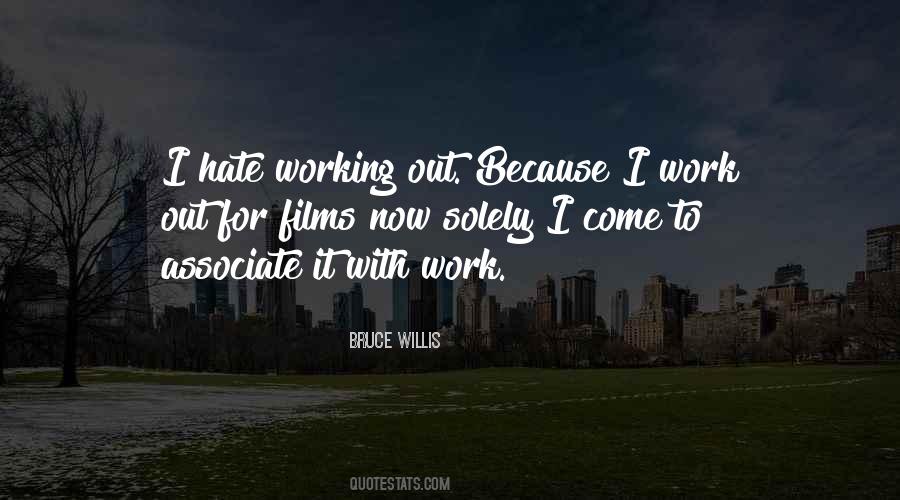 #84. I hate flying. Know why? Because no one really understands how planes actually work. - Author: Adam Levine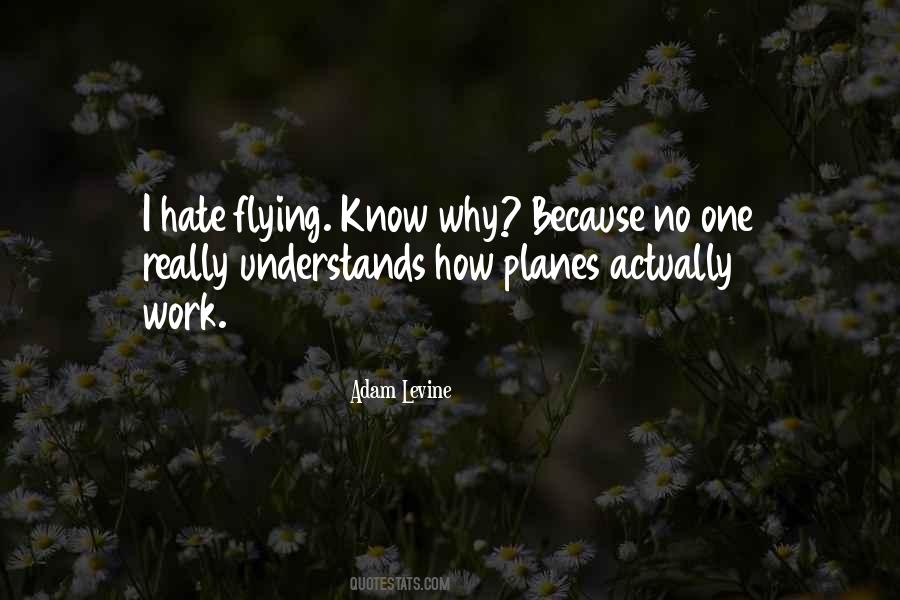 #85. I absolutely loathe and hate the work ... But I love youth. I realise how lucky it is being with youth, and what an honour that is. Nowhere else could a fat 47-year-old speak to people as young as this. They'd think you were a paedophile. - Author: Louise Wilson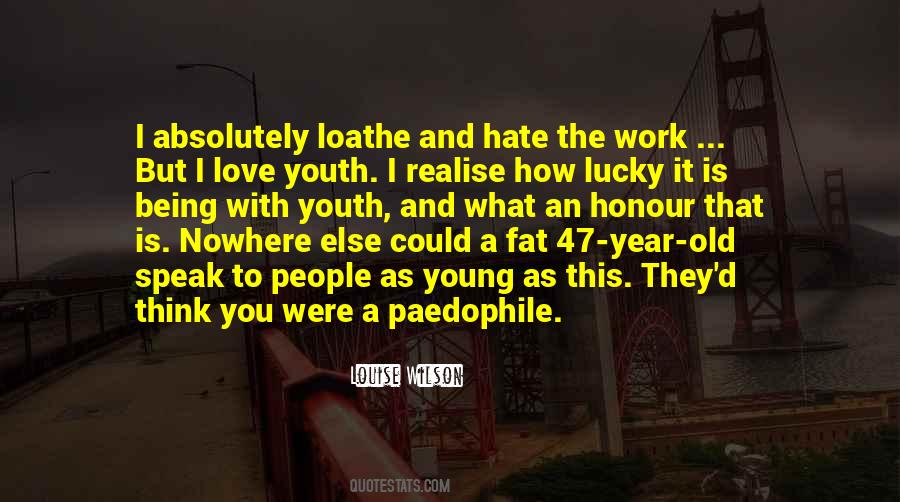 #86. I work extremely hard doing what I love, mainly to ensure that I don't have to work extremely hard doing what I hate. - Author: Hugh MacLeod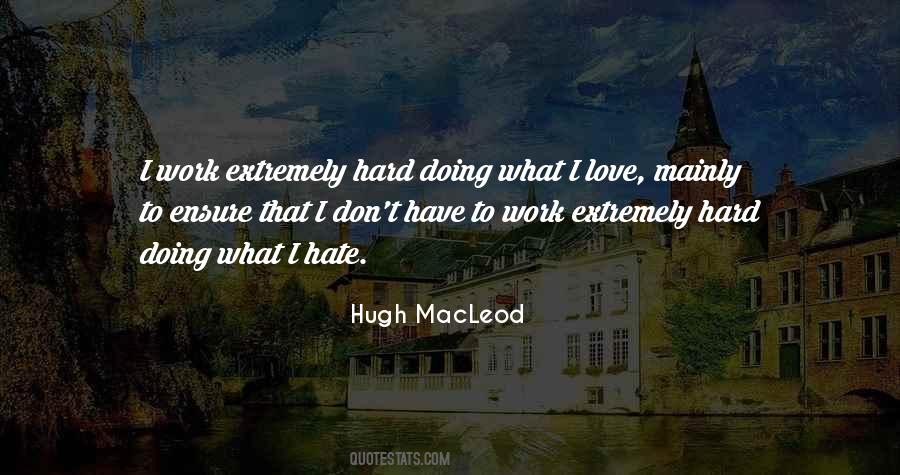 #87. It is not our work, but God's gift, that we now hate ourselves and our sinful lusts and follow after love. - Author: Martin Luther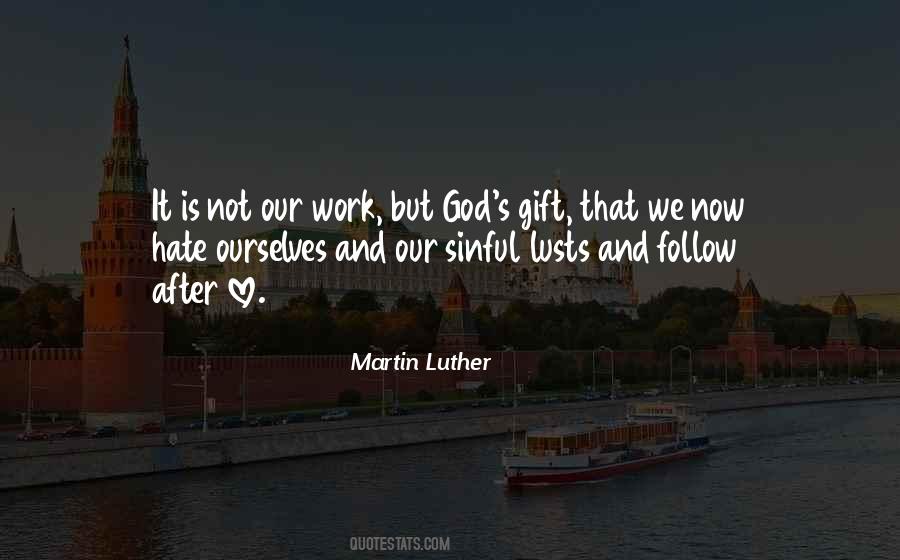 #88. When I listen to my work, I think, what's so inflammatory about it? It's not really that dissonant. A lot of people who used to hate my stuff have come round to it. - Author: Stephen Sondheim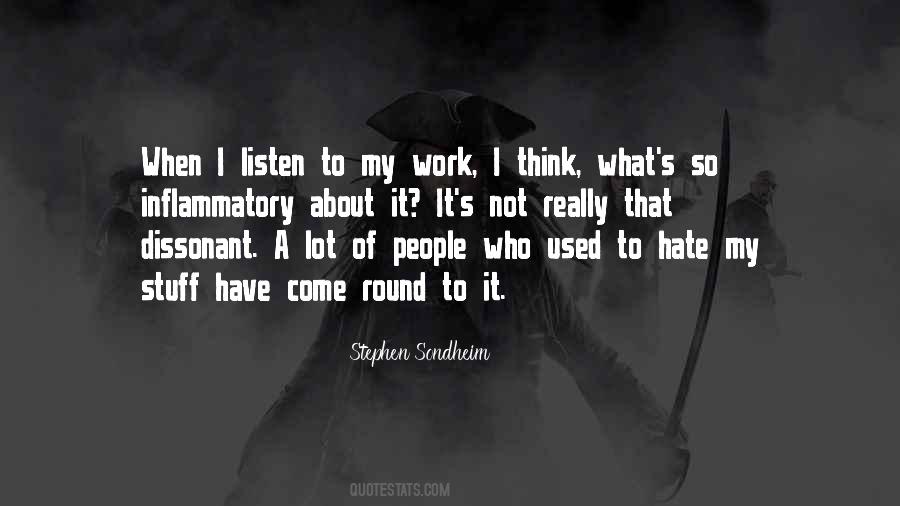 #89. Work hard to discover your gift and you will never envy or hate another human being who is manifesting theirs. - Author: Louis Farrakhan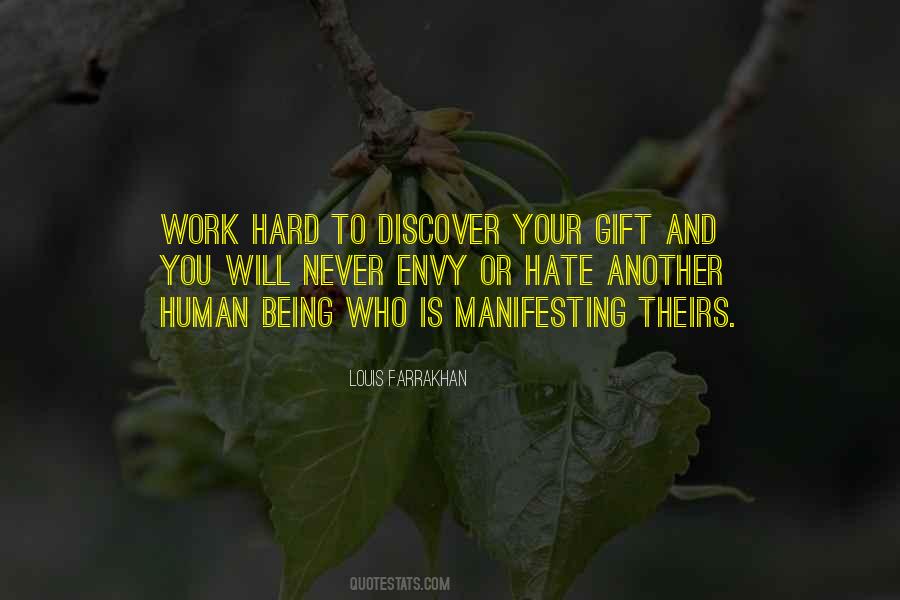 #90. It's not difficult for me to put my feelings into written form. I try to be concise and to go direct to the subject. This is what people like about my work, and what the critics hate. - Author: Paulo Coelho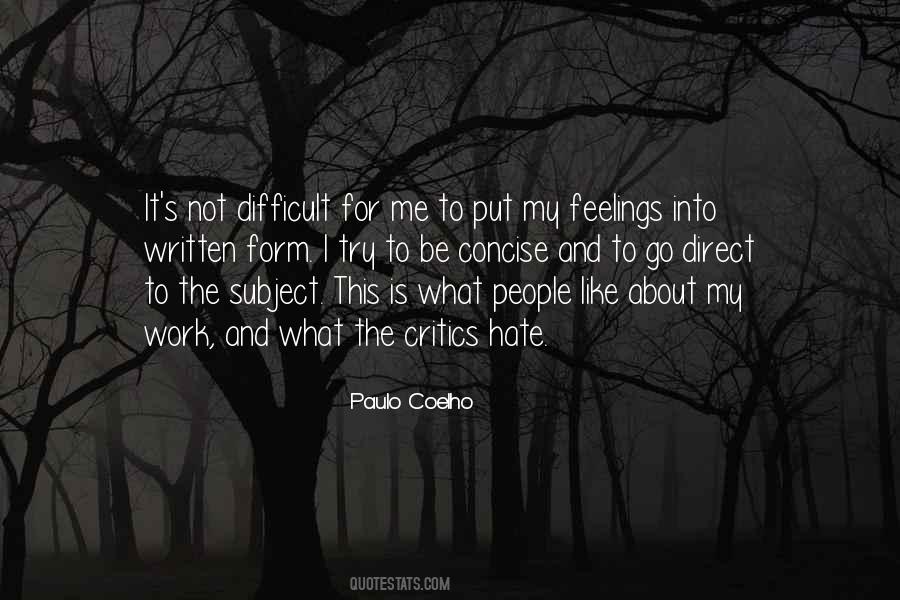 #91. The sad reality is that girl-on-girl hate is such a big issue in schools, at work, or online, and it never made any sense to me because, as women, we know how awesome other women can be. - Author: Lilly Singh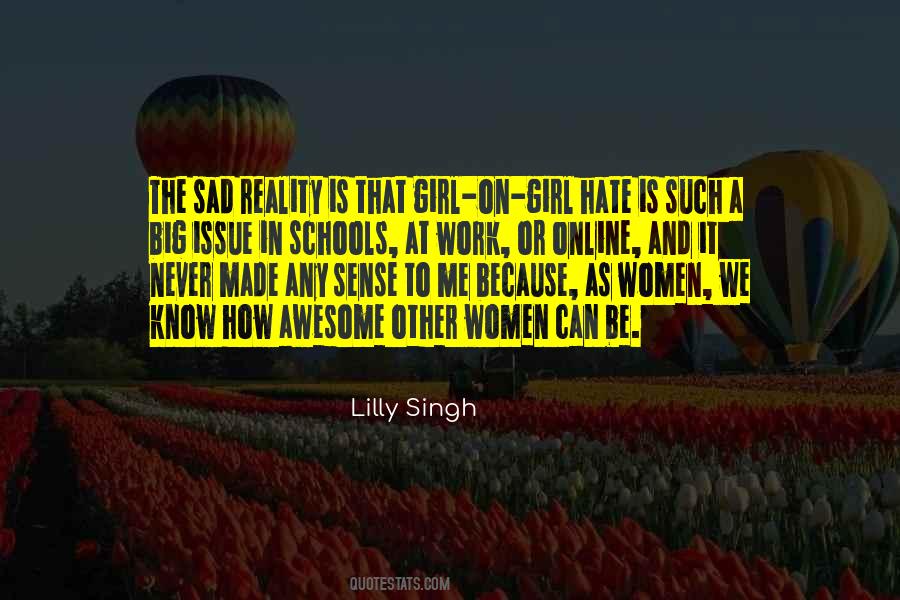 #92. Don't hate anyone," Beata said quietly. "It's too much work. And it only poisons you. - Author: Danielle Steel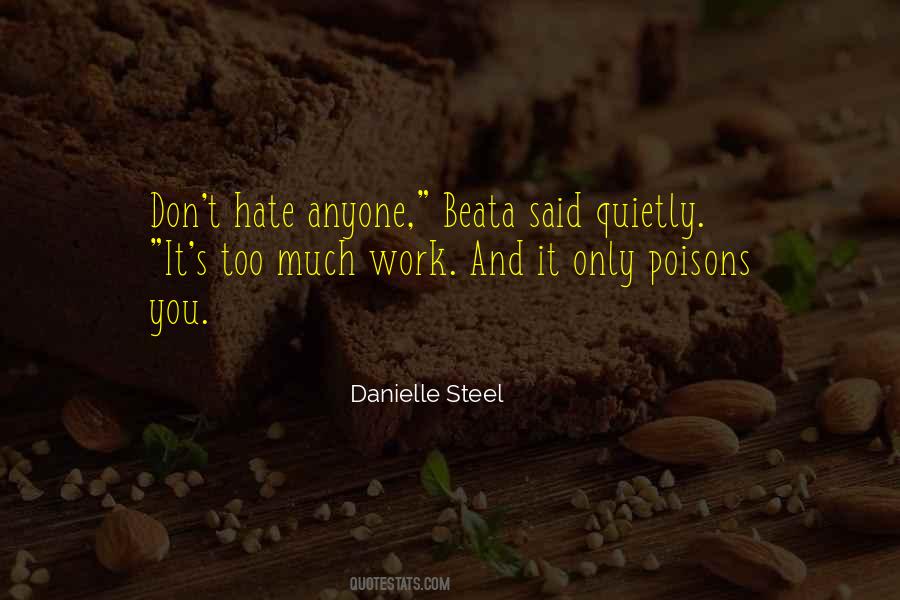 #93. I hate complaining about paparazzi, I hate complaining about being recognised, because if I ultimately didn't want to be an actor or in the public eye, I would quit doing what I do. That's not the reason I do it, but I love the work so much that it's worth it. - Author: Leonardo DiCaprio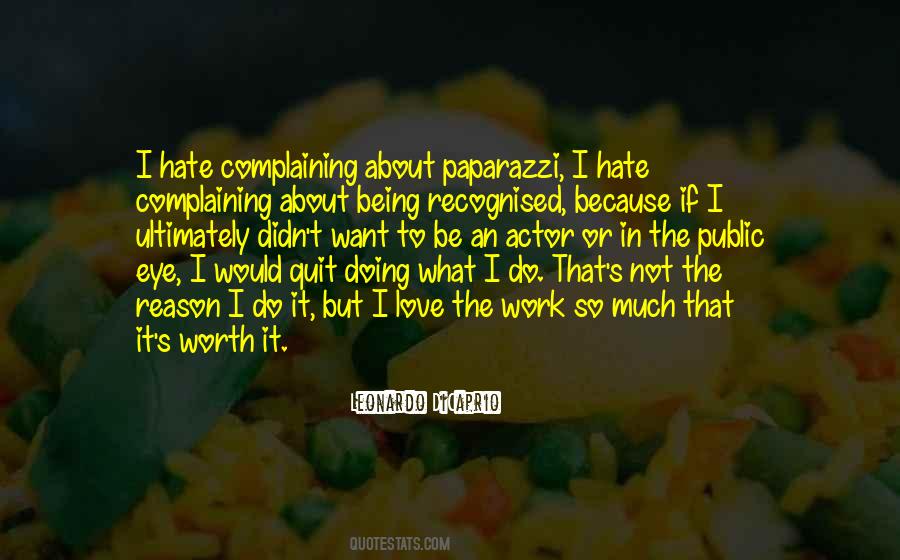 #94. A placebo is a phony cure that works. This is very hard for the medical profession to get their teeth around because they hate placebos, but scientifically, placebos work in about 30% of cases that are psychogenic diseases. - Author: Charles Jencks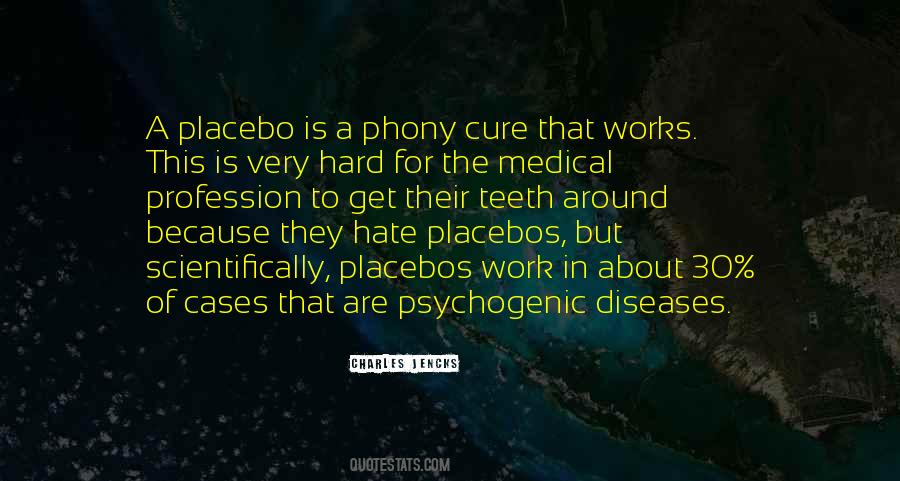 #95. I don't hate anybody. The Winklevi aren't suing me for intellectual property theft. They're suing me because for the first time in their lives, the world didn't work the way it was supposed to for them. - Author: Mark Zuckerberg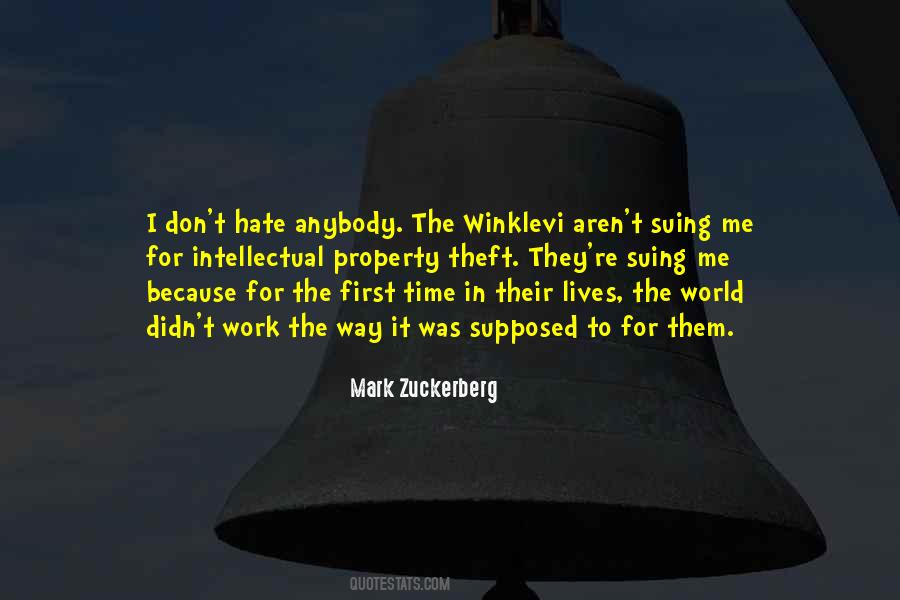 #96. I hate, for example, whenever you hear someone say, 'You have work at being a couple.' - Author: Vanessa Paradis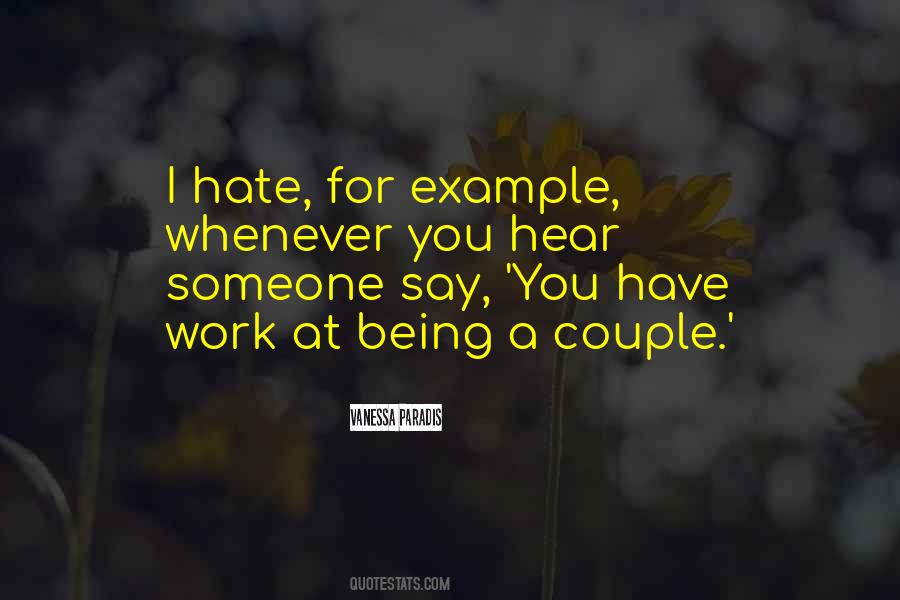 #97. I made work specifically for them not to like. If you made paintings of flowers and someone says they hate it, it's like, "What do you mean? It's a flower!" But if you make a painting of your name and somebody says they hate it, it's like, "Well, why would you like a painting of my name anyway?" - Author: Josh Smith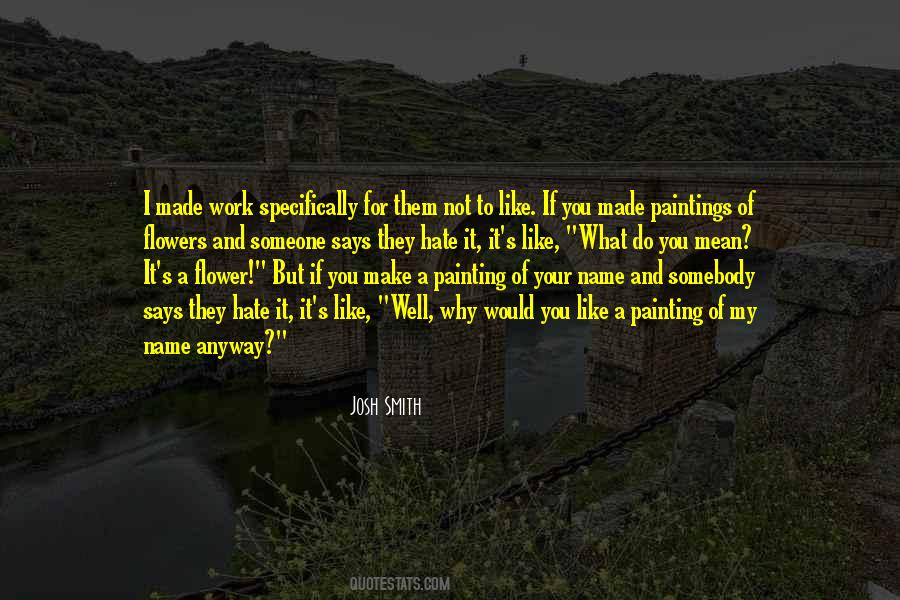 #98. I'm very picky, and I'm never 100% happy with the work I do; I hate watching myself and hearing my voice. - Author: Samantha Mumba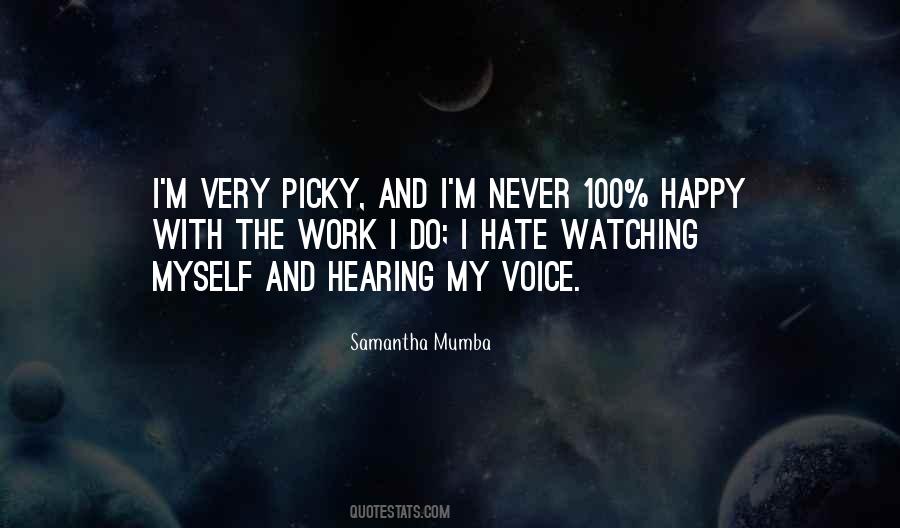 #99. Audiences like me doing action and comedy. I am a jovial person and have been so from childhood. I like to laugh my way through my work, and that attitude reflects in my roles. Even women hate me doing rona-dhona roles. So I don't do emotional films. - Author: Ravi Teja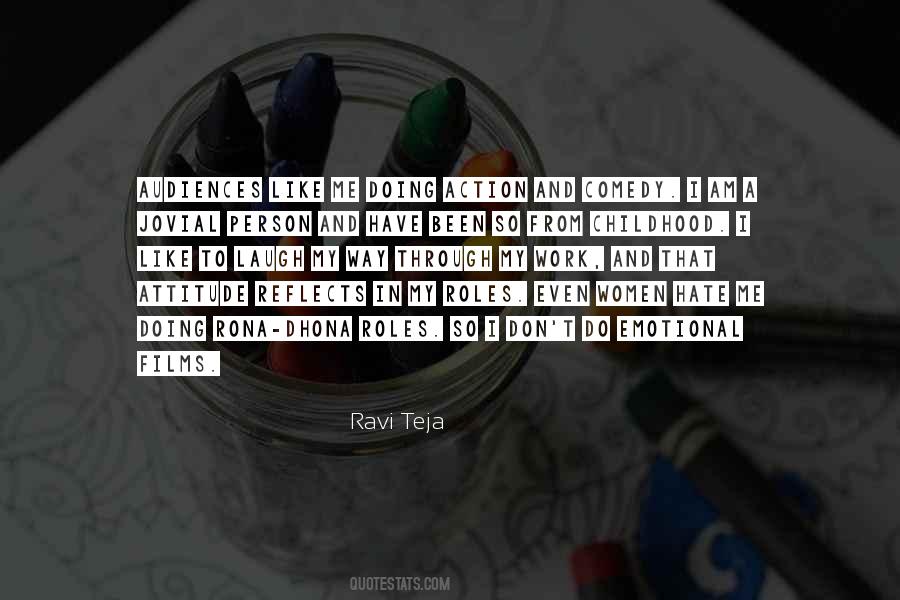 #100. Haydn lets out a low whistle. "You're a real piece of work."
"It's okay," I say, turning to face him. "I got the memo." He arches a brow. "The one that says you hate my guts. There's no need to rub it in. - Author: Siobhan Davis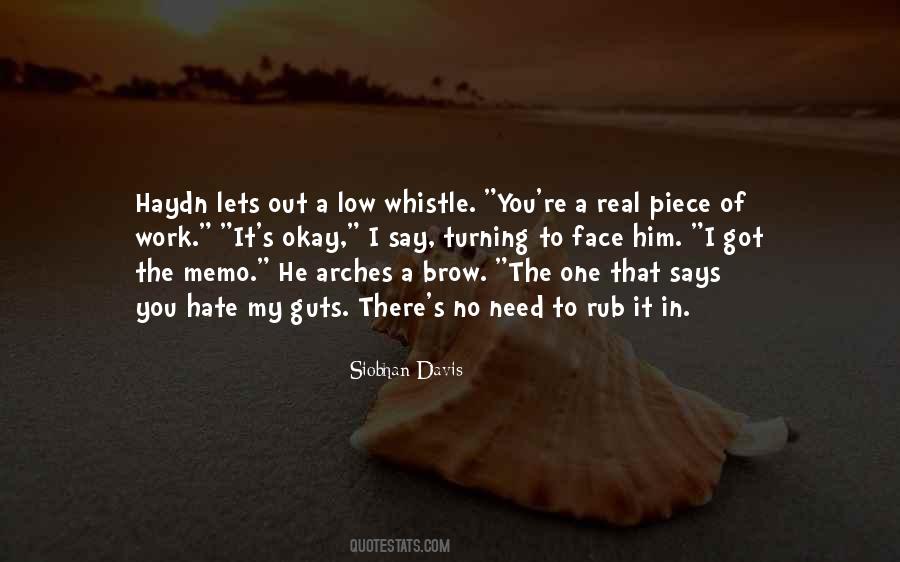 Famous Authors
Popular Topics