Good Times Famous Quotes & Sayings
List of top 100 famous quotes and sayings about good times to read and share with friends on your Facebook, Twitter, blogs.
Top 100 Quotes About Good Times
#1. No matter what happens i choose to value the memories of the good times, grow from the lessons of the bad times because i don't regret a single moment of it, every detail made me who i am. - Author: Tilicia Haridat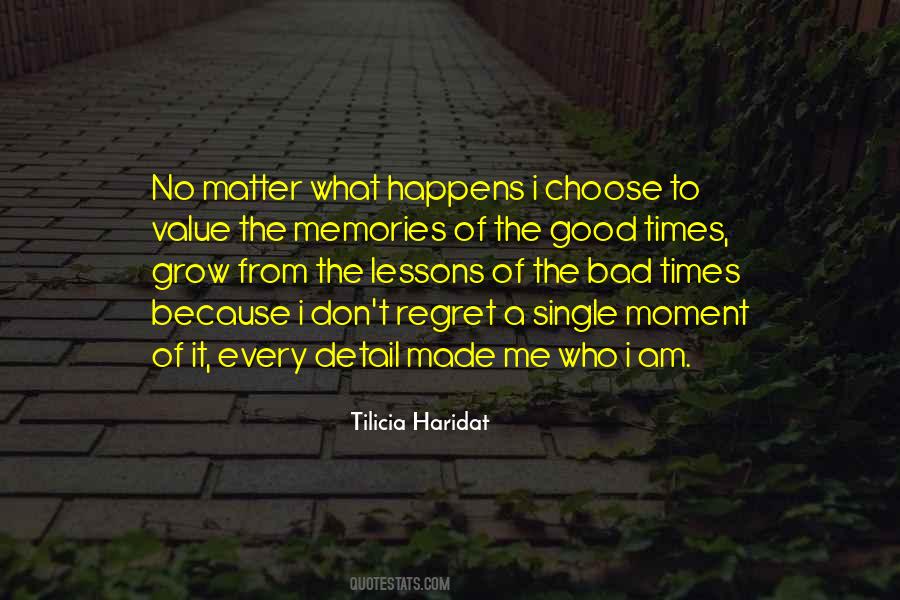 #2. A man who wishes to profess at all times will come to ruin among so many who are not good. - Author: Niccolo Machiavelli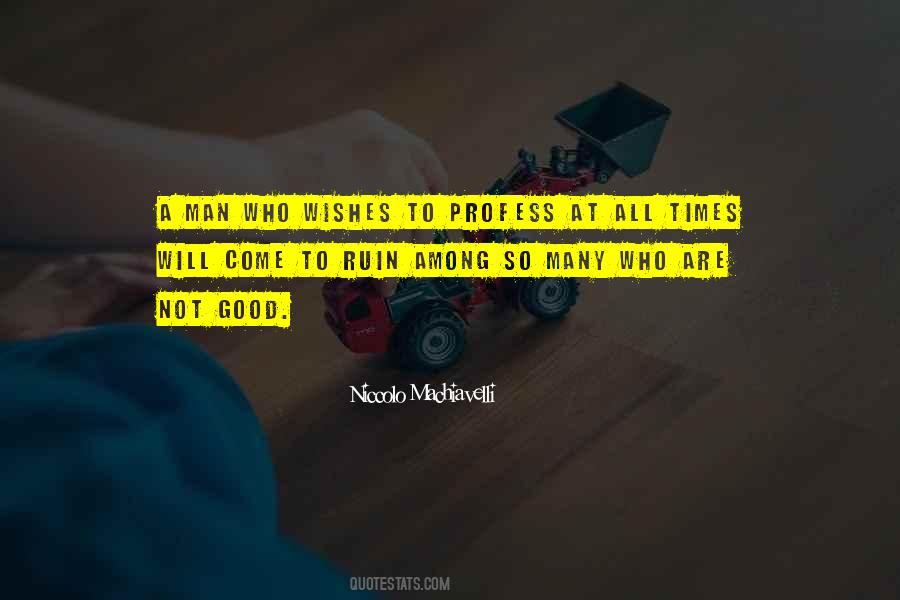 #3. We were always taught to swing slow with good tempo. But you have to have some acceleration throughout the swing. I think that's where a lot of women go wrong. They should try to whack it a few times and see what happens. - Author: Helen Alfredsson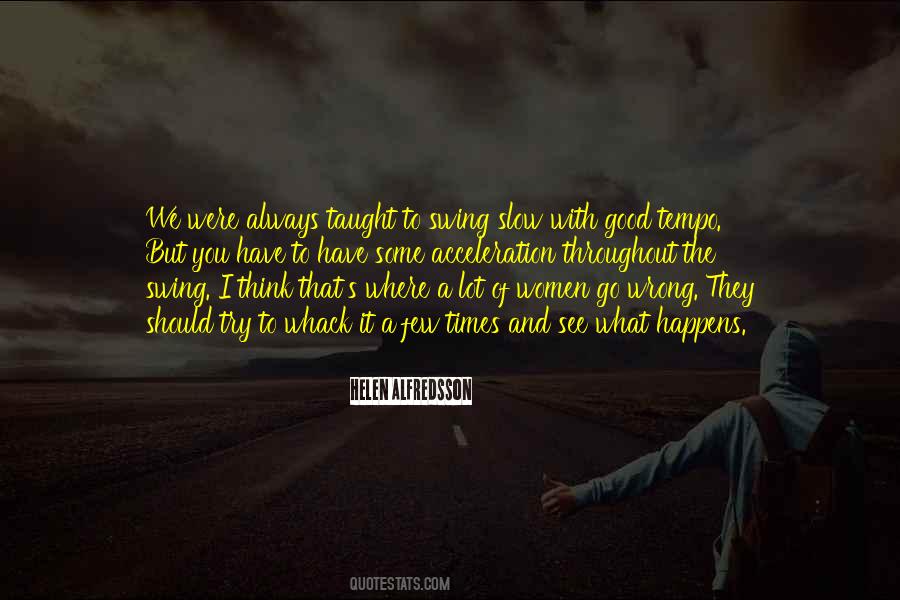 #4. In really good times, you say, 'No, I'm not taking that ad.' But in bad times, you'll take anything. - Author: Ruth Reichl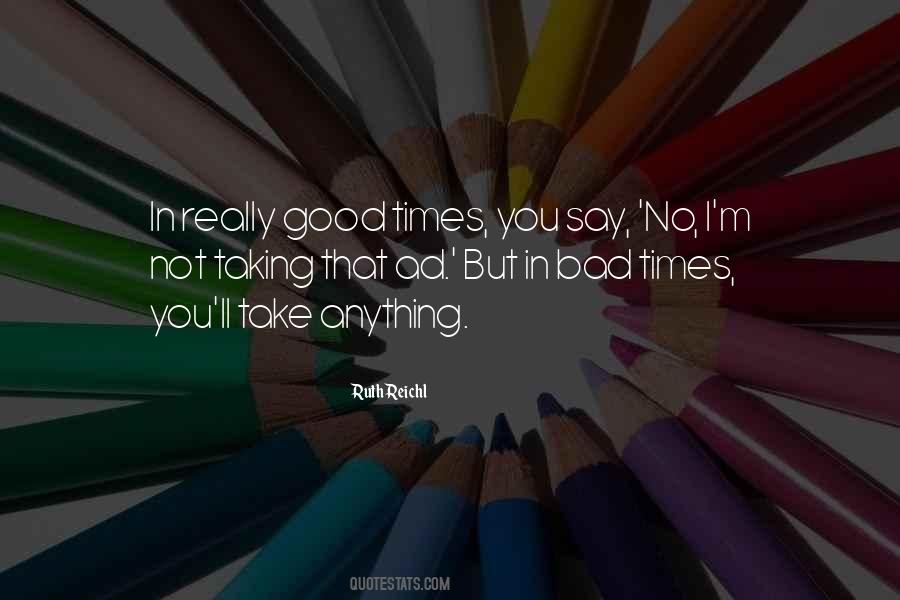 #5. In the beginning we were creating our music, ourselves, every night ... starting with a few outlines, maybe a few words for a song. Sometimes we worked out in Venice, looking at the surf. We were together a lot and it was good times for all of us. Acid, sun, friends, the ocean, and poetry and music. - Author: Jim Morrison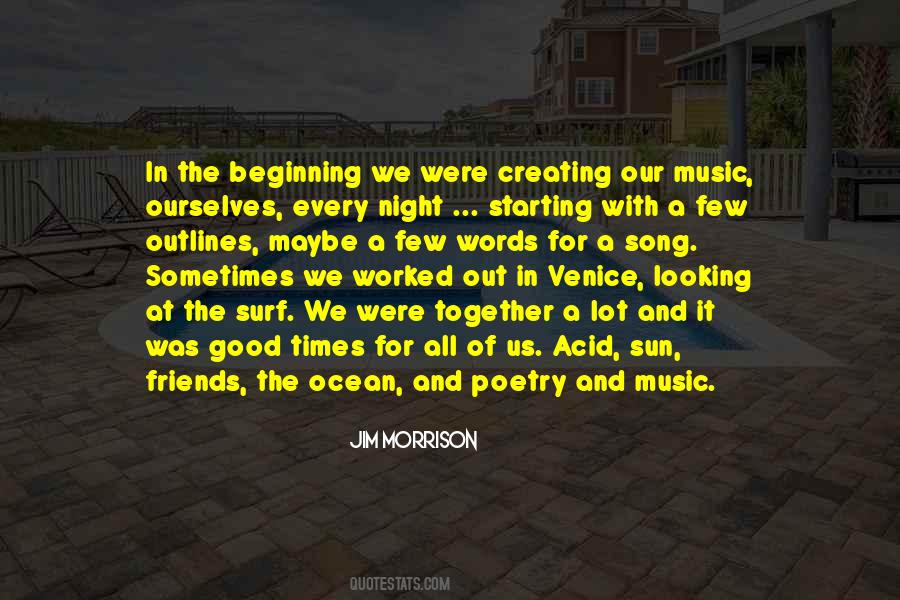 #6. With the guitar I've suffered a great deal, but when I've had a good time, the suffering seemed worthwhile, - Author: Paco De Lucia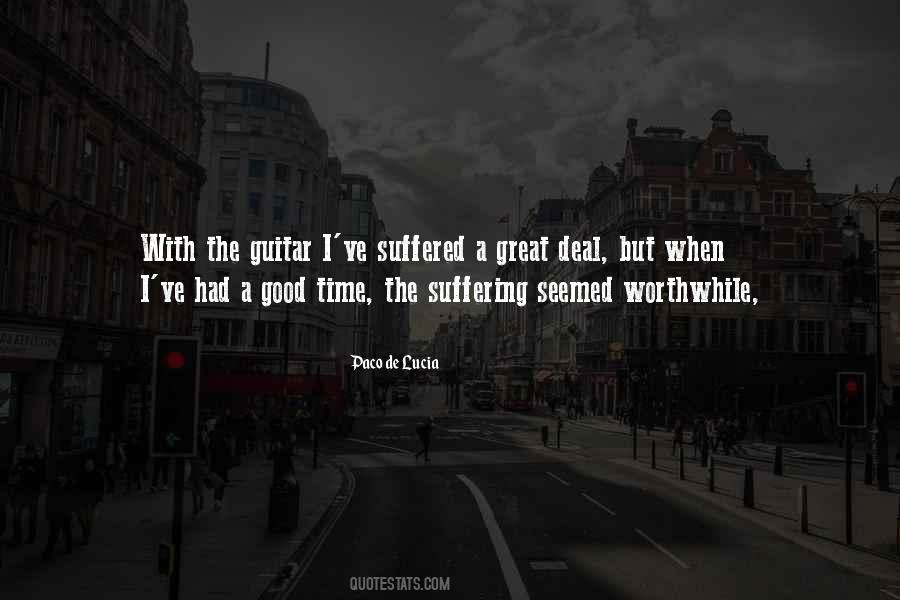 #7. Man owes his success to his creativity. No one doubts the need for it. It is most useful in good times and essential in bad. - Author: Edward De Bono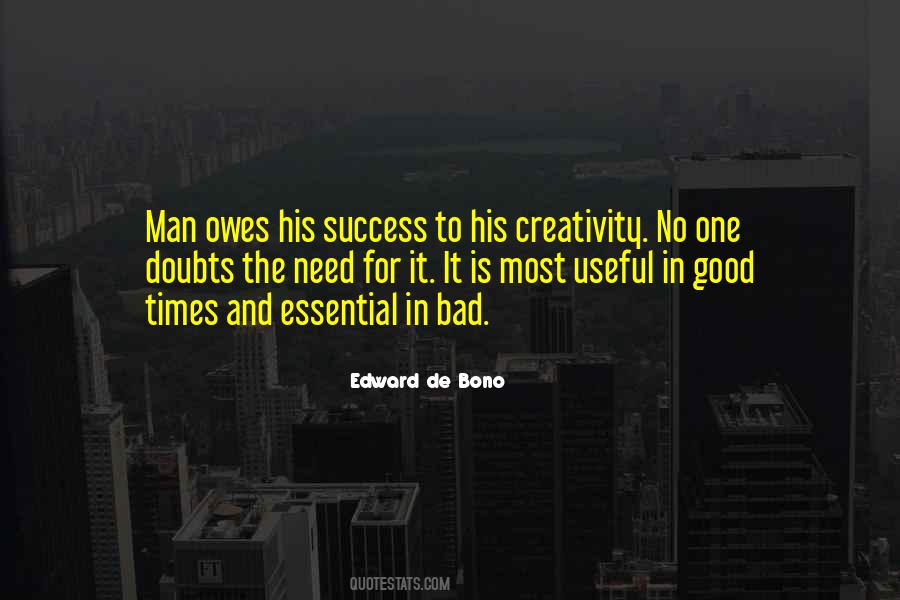 #8. Governments are necessarily continuing concerns. They have to keep going in good times and in bad. They therefore need a wide margin of safety. If taxes and debt are made all the people can bear when times are good, there will be certain disaster when times are bad. - Author: Calvin Coolidge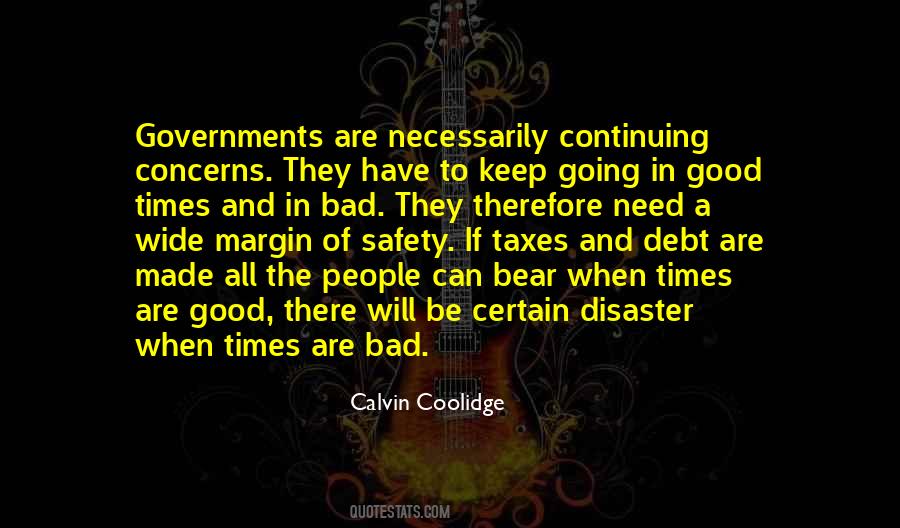 #9. Kid, I've only known you two days and I've seen you plastered three times." He shook his head. "A bar would not be a good career move for you. - Author: Jennifer Crusie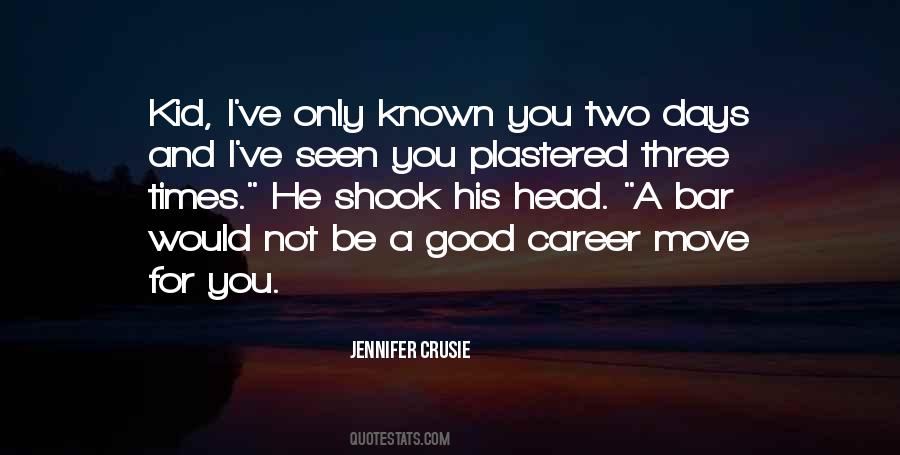 #10. It's easy to get stuck thinking one particular way. And a lot of times it's even good to be rooted in your beliefs. But every once in a while someone comes along and blows everything you ever thought to be true right out of the water. Sometimes it's more important to be flexible than right. - Author: Rachel Higginson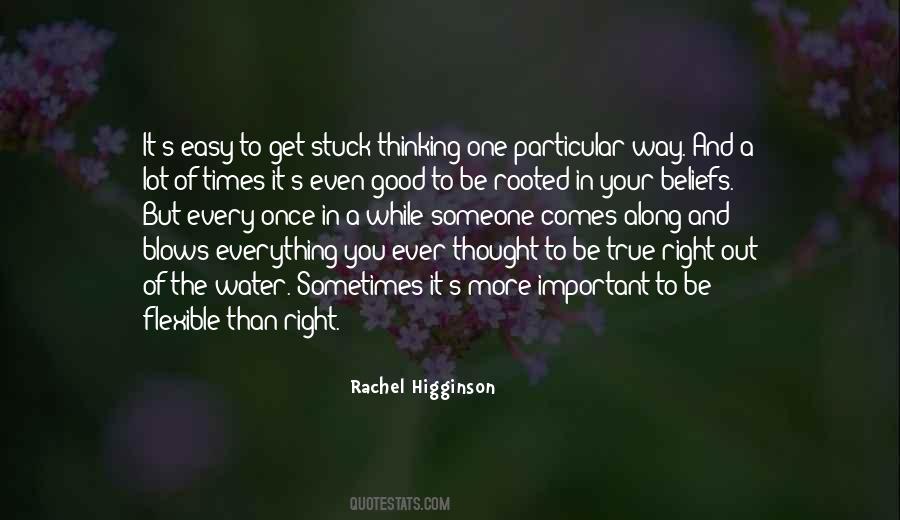 #11. Credit card issuers and HELOC lenders are like fair-weather friends: They cozy up to you in good times, but when the economy heads south, they abandon you faster than Usain Bolt runs the 100 meters. - Author: Suze Orman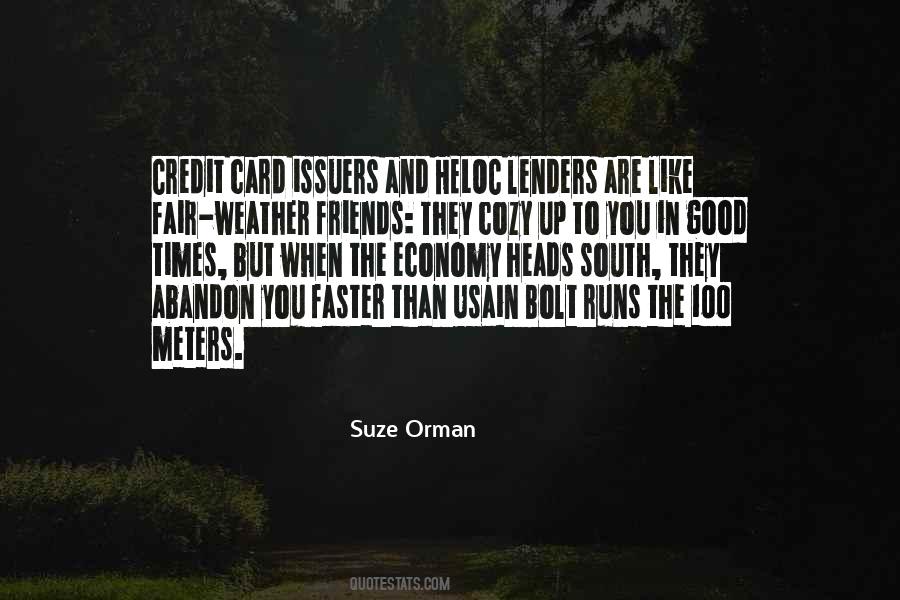 #12. When she sees him, Holly says, it's like the sunsets at the beach
once the sun drops, the sand chills quickly. Then it's like a lot of times that were good ten minutes ago and don't count now. - Author: Amy Hempel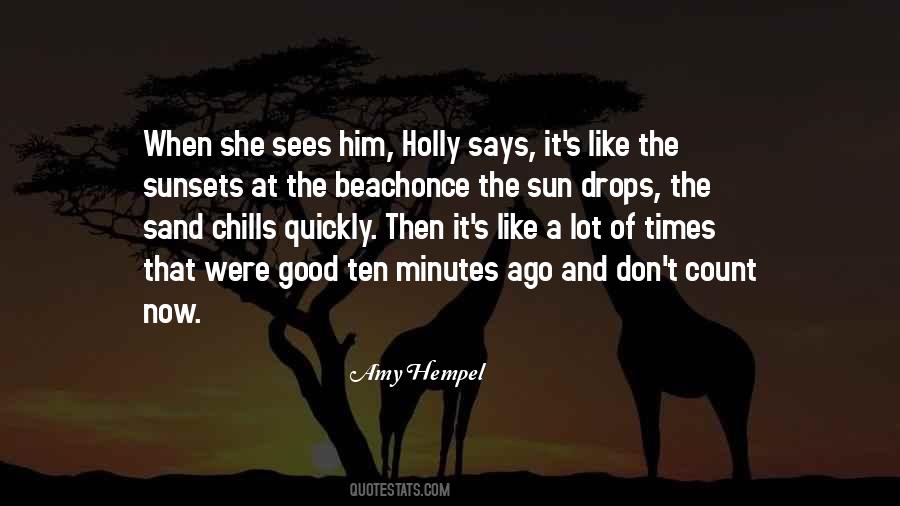 #13. Most of the time I'm thinking of you
All of the time I love you
Remembering the good times and the bad
So much as
Happened and
Maybe I'm loving too fast
All I know is I ...
Love you. And want to
Live with you
Only you
Will you be my wife? - Author: Monica Murphy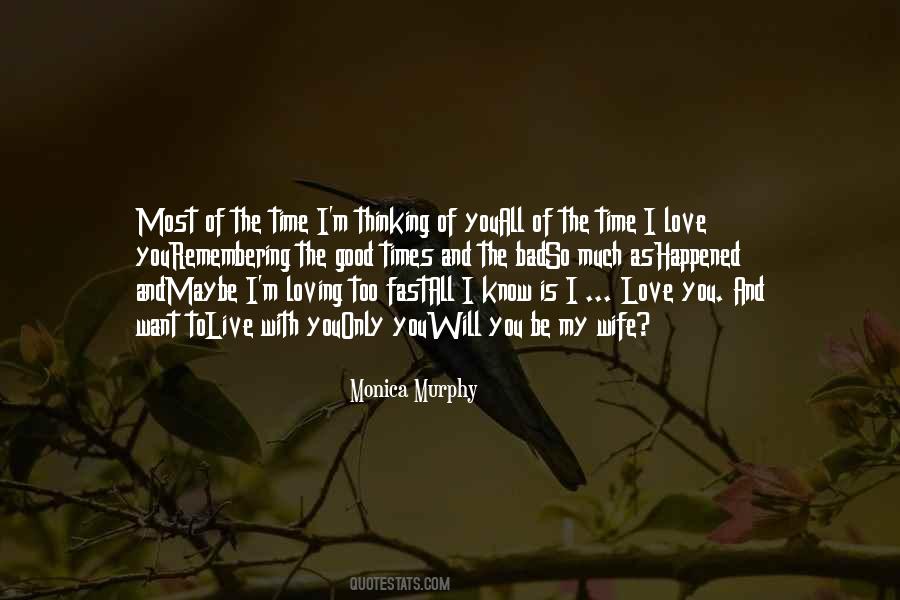 #14. It's a good note for any young hopeful in this business to take: study up and make sure you are informed at all times because knowing how to anticipate someone's subtle nuances in a performance will only elevate your own art! - Author: Tisha Campbell-Martin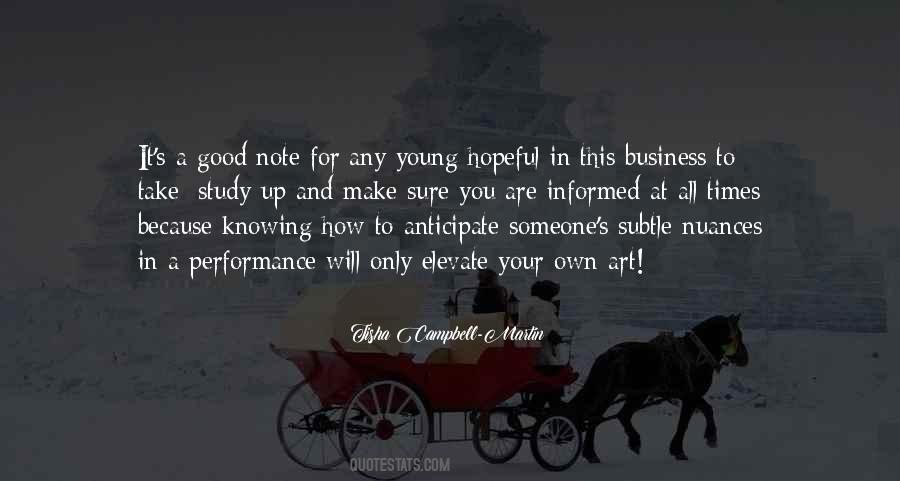 #15. When you think back in history about producers and artists or writers who've had good synergy, a lot of times they date, or they're married, or there's a friendship and a kinship. - Author: Solange Knowles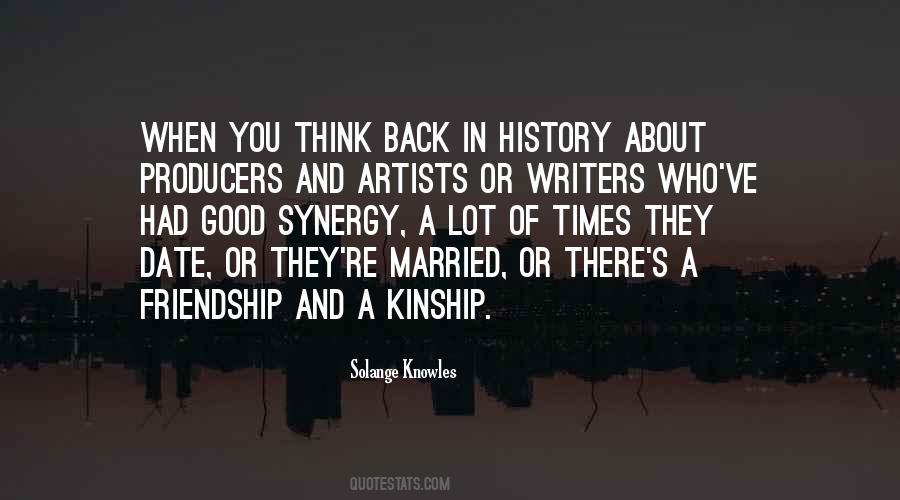 #16. Regardless of the day or the hour; whether in seeming good times or bad, the Christian lives in the world for the good of the world and for the sake of the world. - Author: Harold Lindsell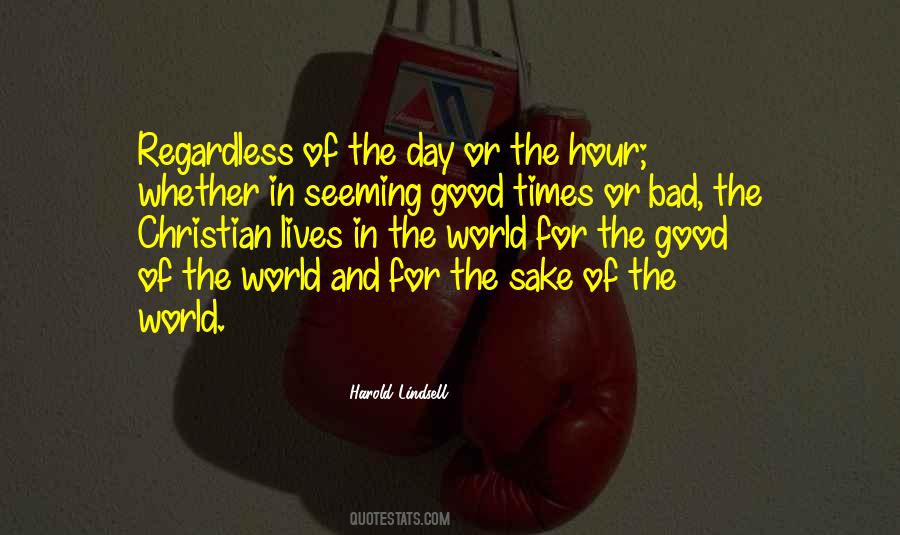 #17. Music for me has been my breath, my backbone since I was a little kid. Anything that comes to my life, hard time or good time, I always find comfort in music. - Author: Angelique Kidjo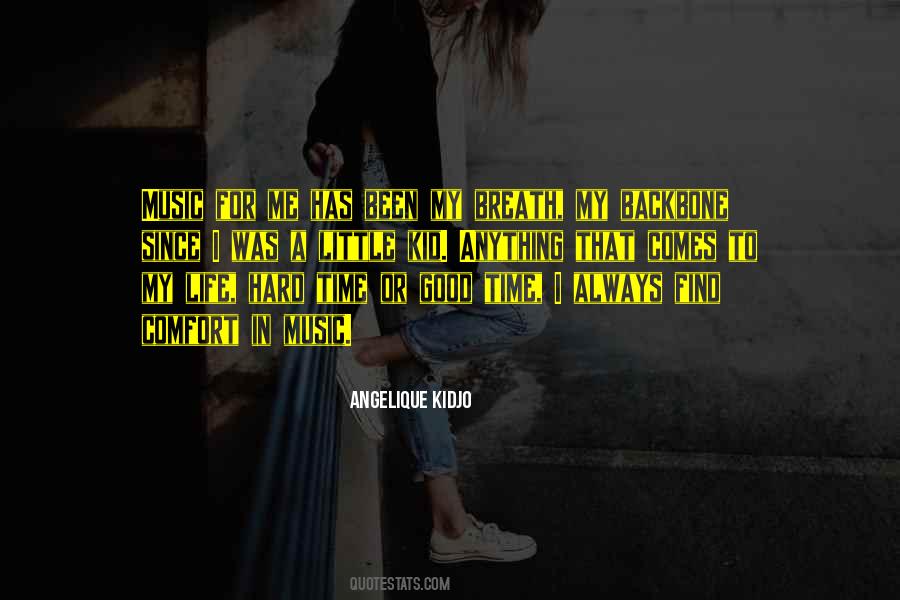 #18. We can look at Joseph's example and realize through good times and bad, we must stay the course, being diligent and enthusiastic about what God brings. If He brings you to it, we must remember, He will bring you through it as well. - Author: Joyce Meyer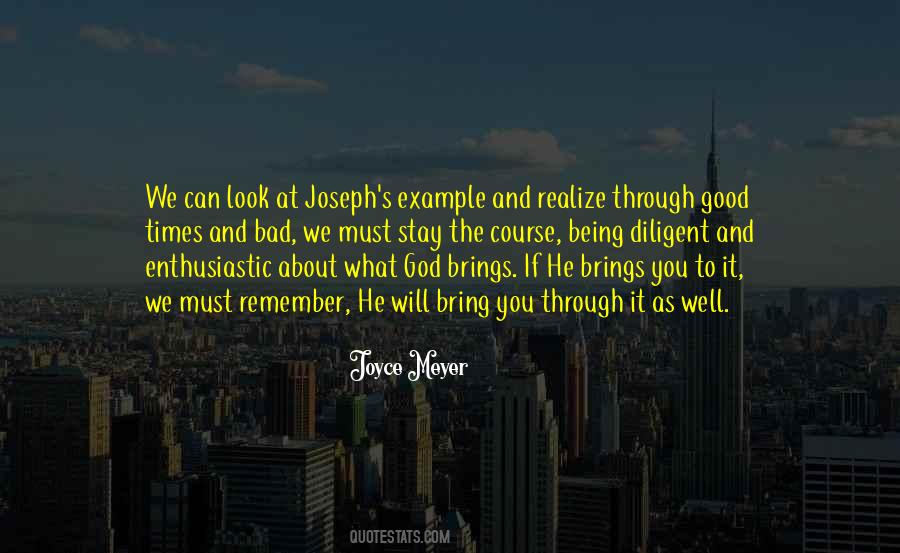 #19. Good times come and go. And bad times do the same. - Author: Steve Hagen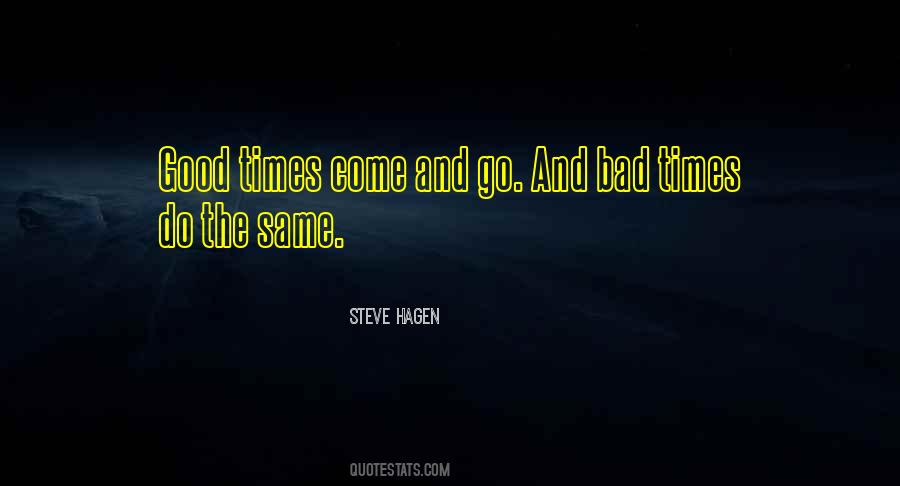 #20. Stalking the Angel
[Joe]"I could off anybody in this place five times over."
[Elvis]"Could you off someone and get away with you here?"
[Joe]Head shake. "I'm too good even for me. - Author: Robert Crais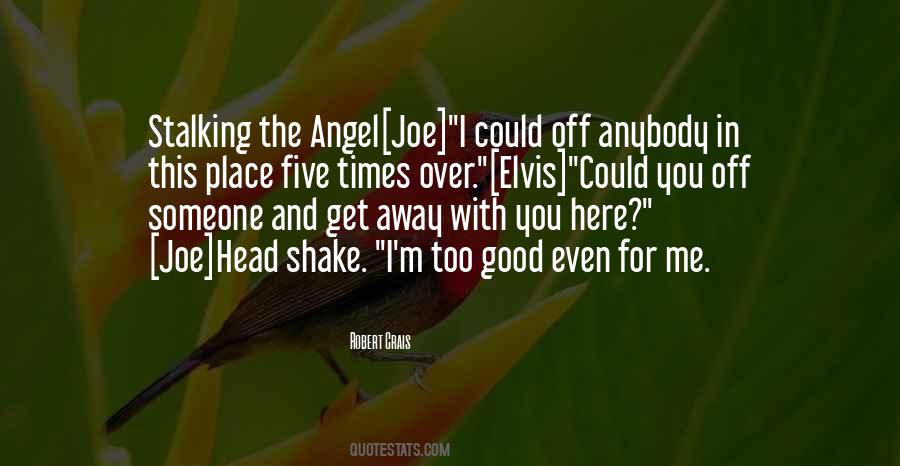 #21. I do believe in forgiving and forgetting. There was a reason we were together. I just want to hold on to the good times. - Author: Eva Longoria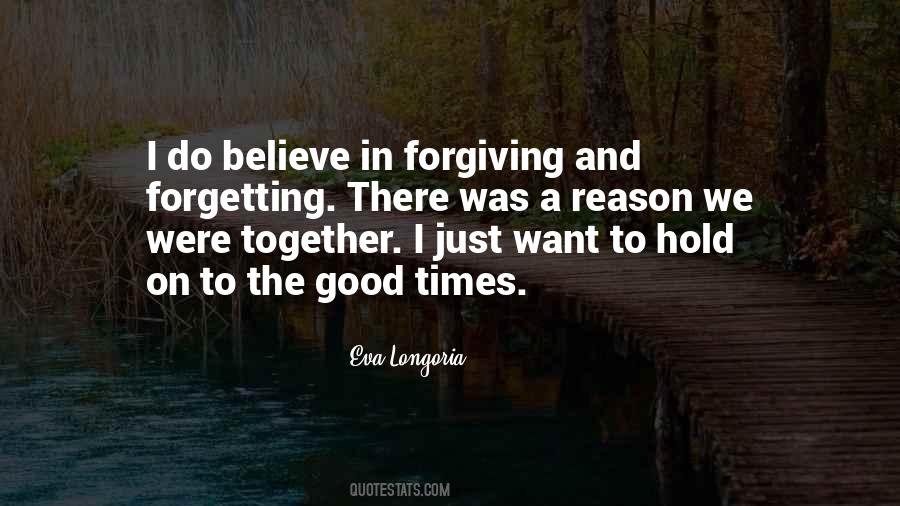 #22. You know what? It's a great conversation starter, right? You meet friends that way. Sometimes it's a good thing. And then other times, I guess, the person is just a little too ... then you kind of like want to back away. It depends on the person, you know? - Author: Alison Lohman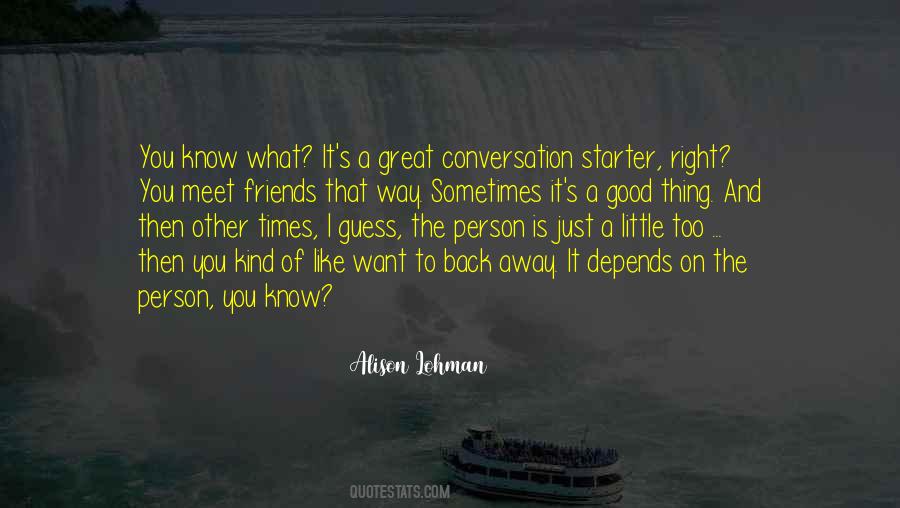 #23. The past times that you think were good, are good because they are not yours here and now. - Author: Augustine Of Hippo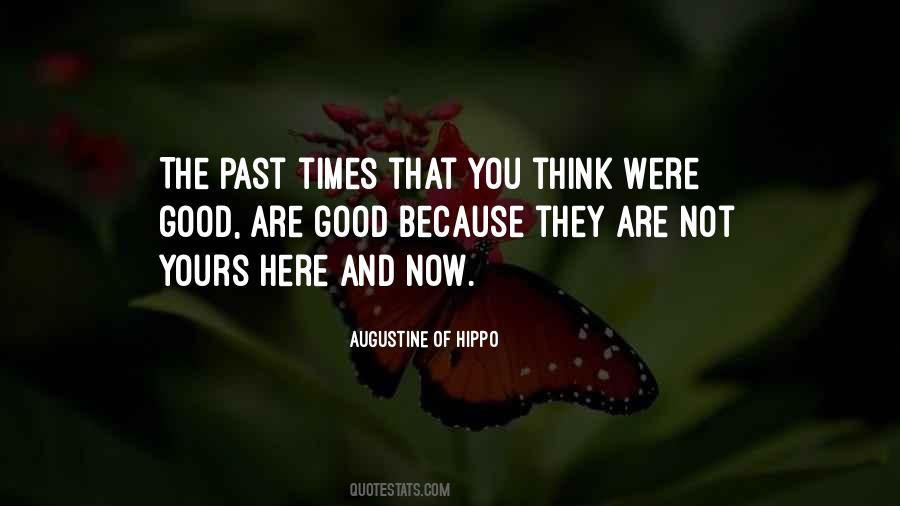 #24. Through good times and bad, American workers and their families have been able to rely on Social Security to provide guaranteed protection against the loss of earnings due to retirement, disability, or death. - Author: Sander Levin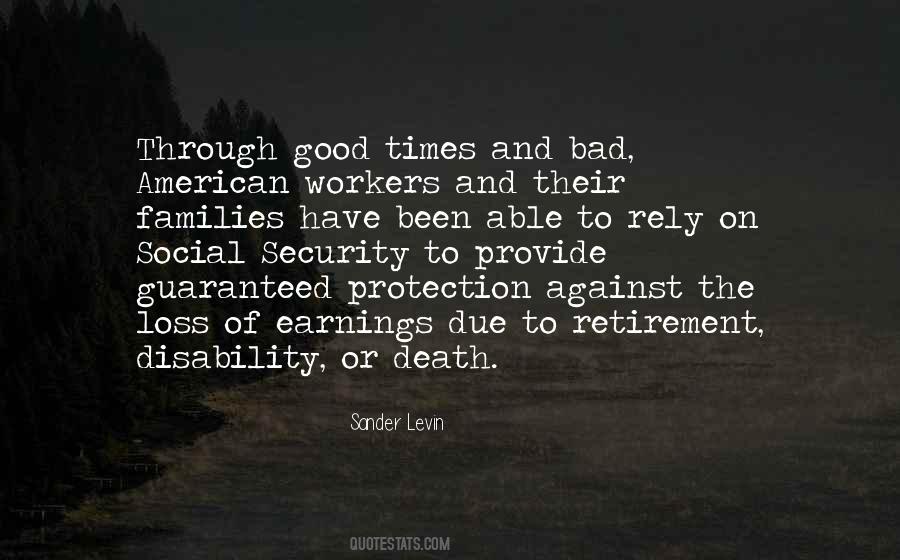 #25. My god," Bankole said. "This country has slipped back two hundred years." "Things were better when I was little," Emery said. "My mother always said they would get better again. Good times would come back. She said they always did. My father would shake his head and not say anything. - Author: Octavia E. Butler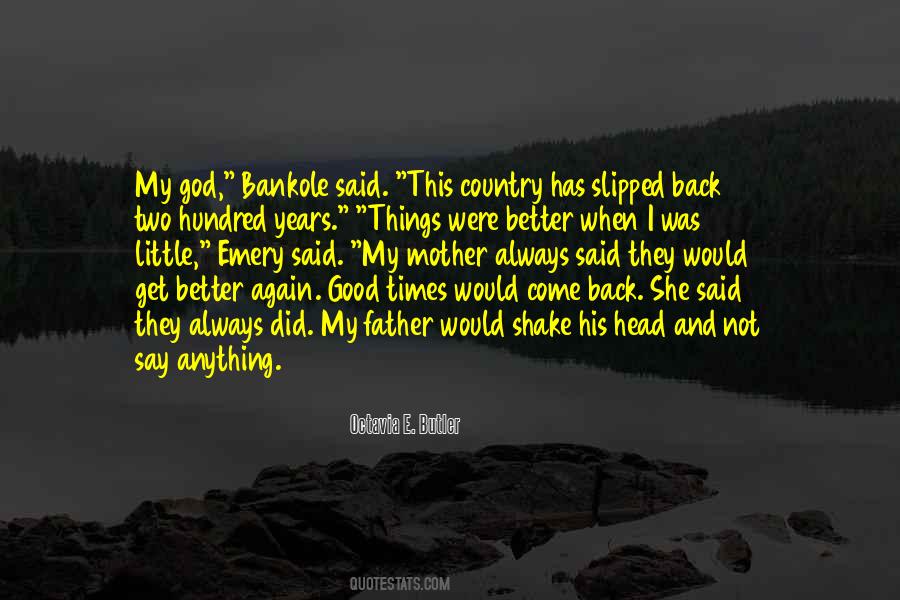 #26. It is a good plan to have a book with you in all places and at all times. If you are presently without, hurry without delay to the nearest shop and buy one of mine. - Author: Oliver Wendell Holmes, Sr.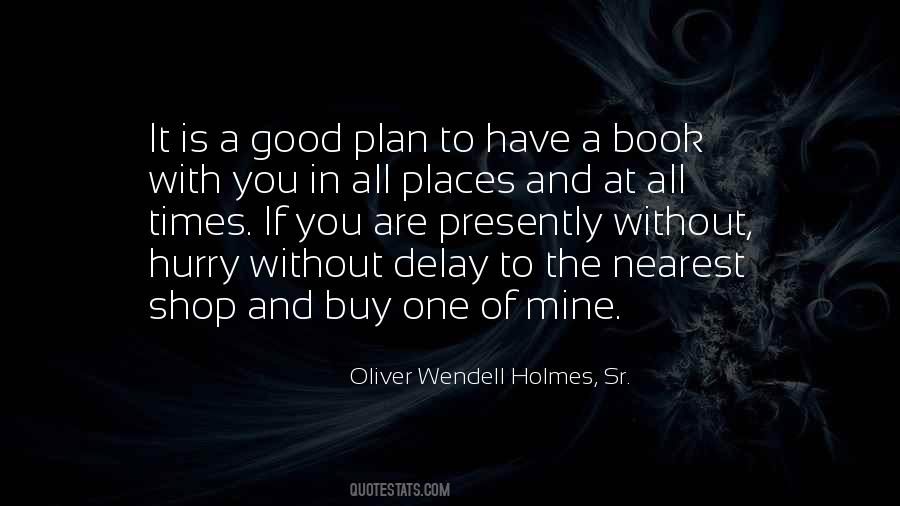 #27. Following Alyssa, they all walked over to the green clearing in front of the mess hall. It was where they'd held most of the all-camp activities, like games. Jenna sighed, remembering all the good times she'd had there---the gossip, the giggles, the crazy conversations. - Author: Melissa J. Morgan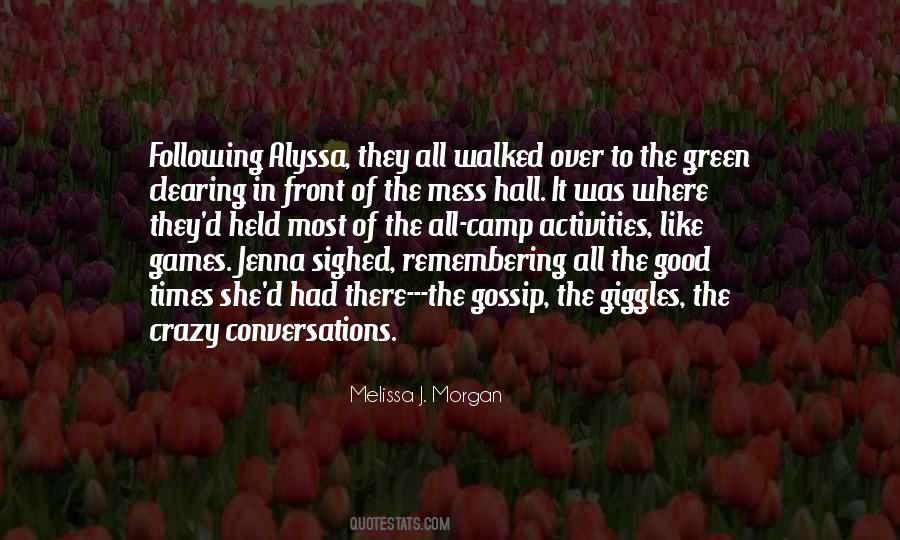 #28. What I enjoy most are those times when I get an idea and it just flows - the words coming so fast that I'm scribbling to keep up with my characters. I don't have any writing must-haves; this is a good thing, since I've done a lot of my writing in random places like the playground or the subway. - Author: Leah Cypess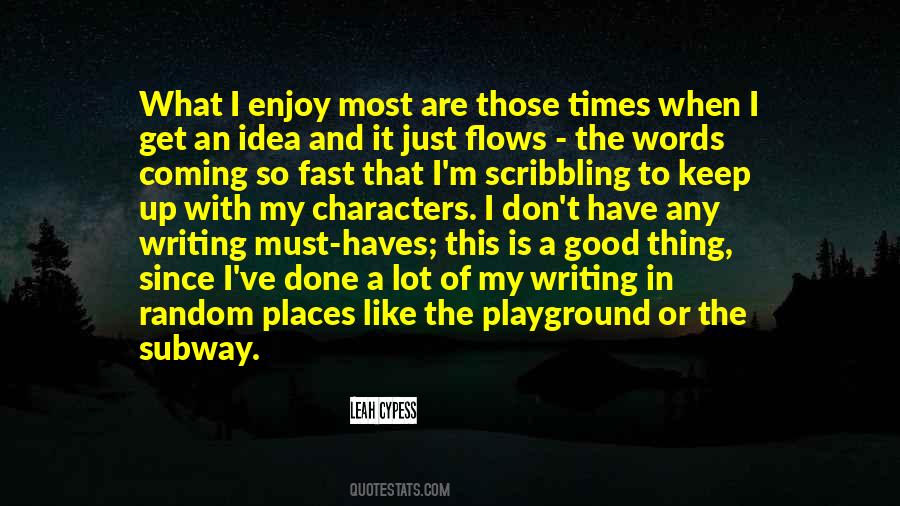 #29. There are times when fear is good. It must keep its watchful place at the heart's controls. - Author: Aeschylus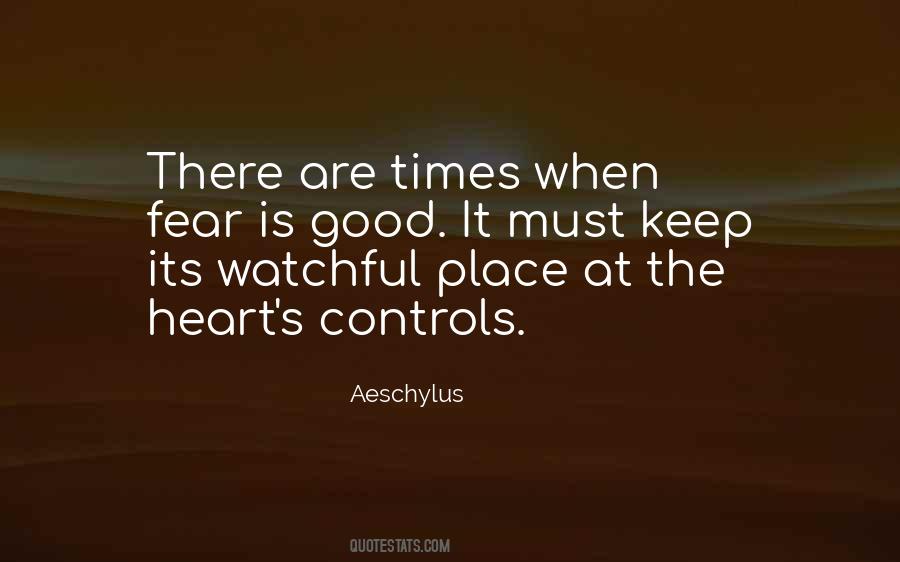 #30. Wearing fake happiness is as good as smearing foundation. A bit of moisture drains it all. - Author: Aniruddha Sastikar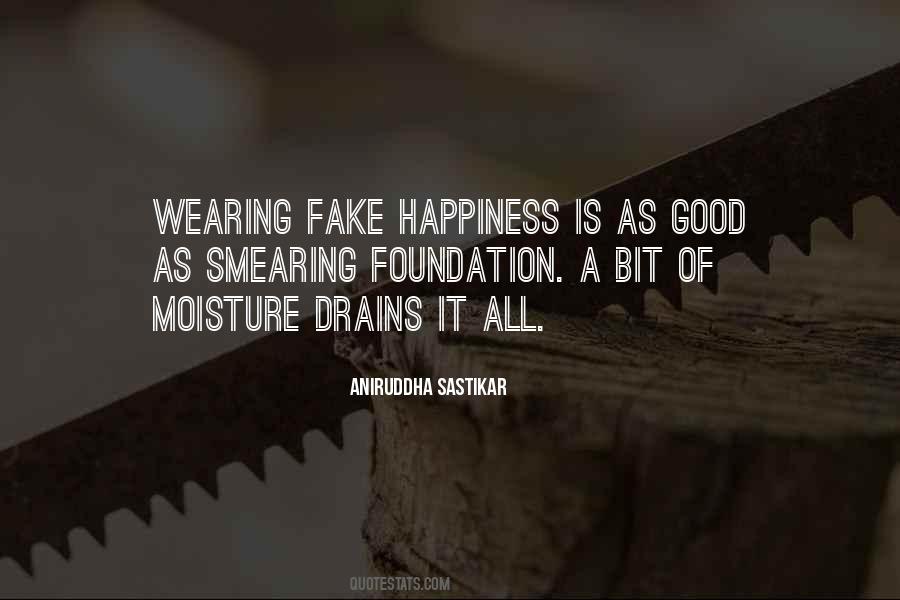 #31. Sometimes I wish I'd went through those good times stone cold sober so I could remember everything," he said, "but then again, if I had been sober the times probably wouldn't have been worth remembering. - Author: F Scott Fitzgerald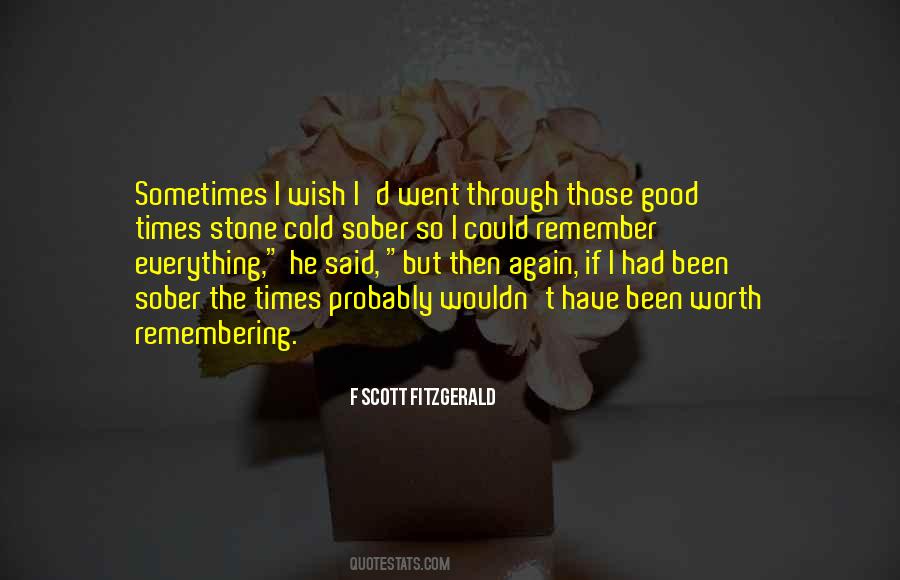 #32. Democrats with a good understanding of the need for strong energy policy in our country, especially in these difficult economic times, recognized the importance of the Keystone XL pipeline. - Author: John Hoeven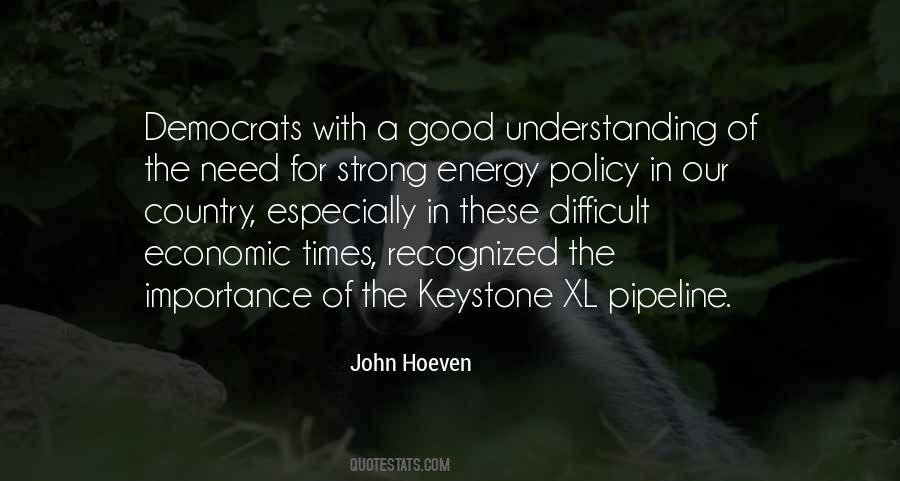 #33. I train about four or five times a week. I guess I am addicted to it. I also do a lot of martial arts. More than I have done in awhile. I like to go back to martial arts because it makes me feel good. - Author: Dolph Lundgren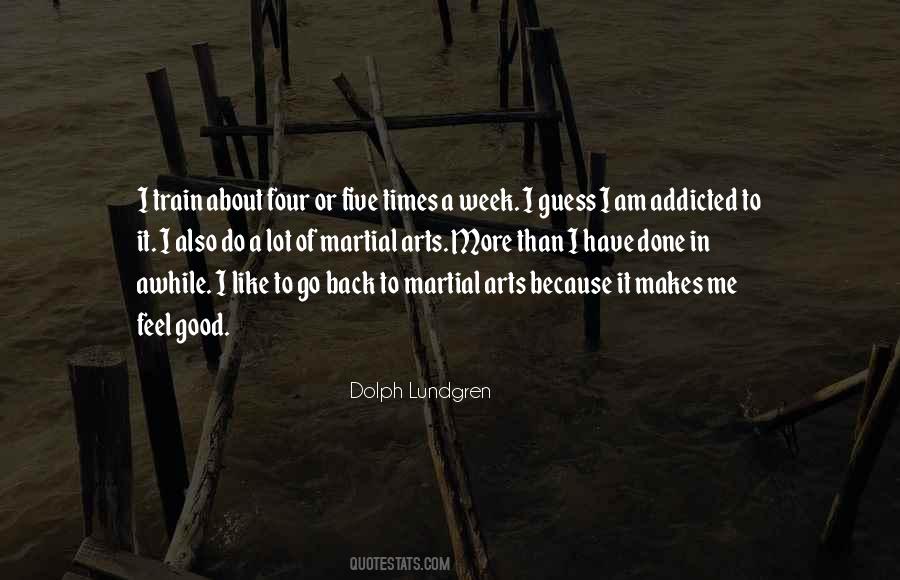 #34. A good heart will, at all times, betray the best head in the world. - Author: Henry Fielding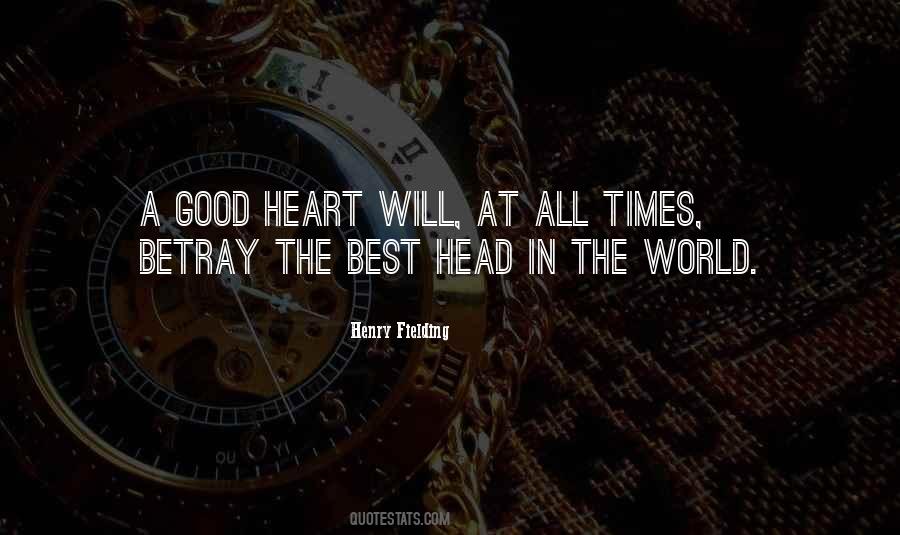 #35. You can go to the doctor a million times if you're feeling down, and get nowhere, but if you go for a run it makes you feel really good. - Author: Gail Porter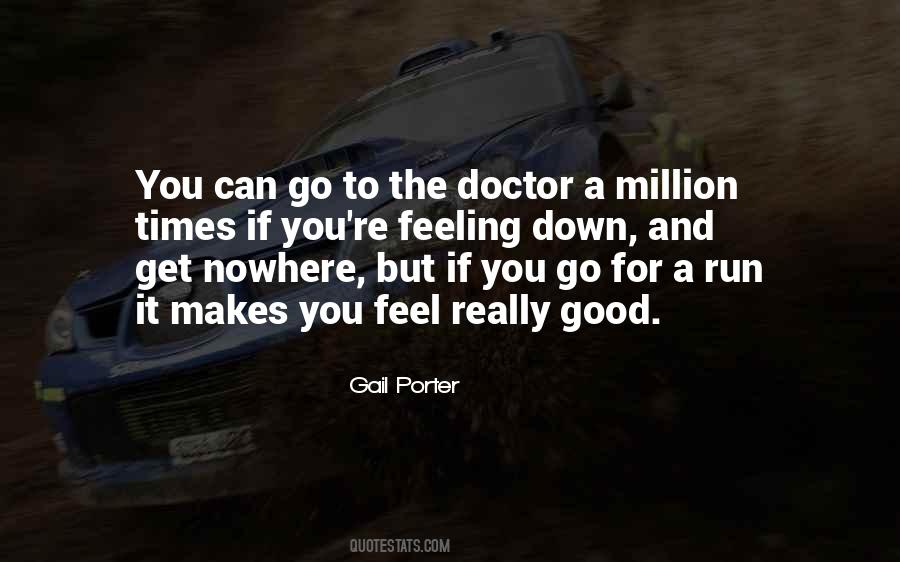 #36. Boys flying kites haul in their white winged birds; You can't do that way when you're flying words. Careful with fire, is good advice we know Careful with words, is ten times doubly so. Thoughts unexpressed may sometimes fall back dead; But God Himself can't kill them when they're said. - Author: Will Carleton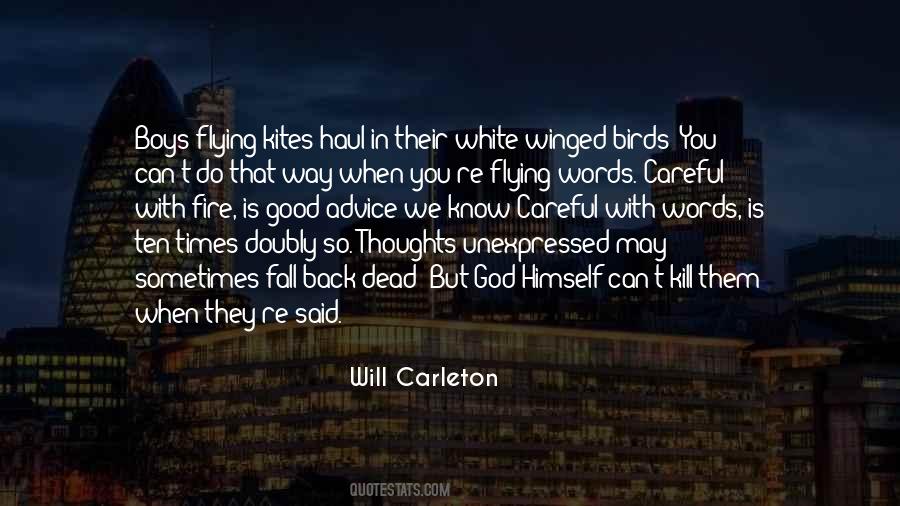 #37. It is at times such as this that we show our true spirit of giving and of brotherhood - of revealing the good Samaritan in all of us. - Author: Jo Bonner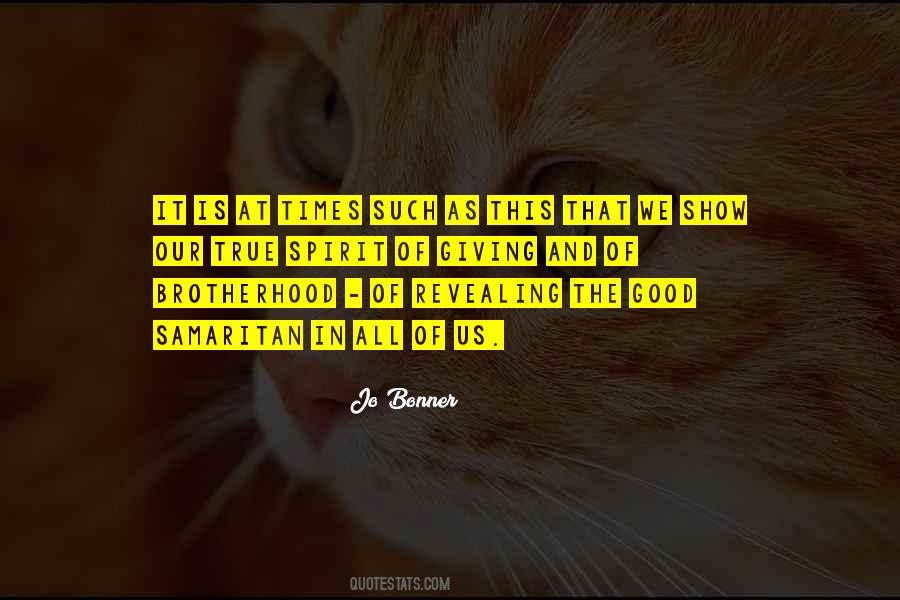 #38. A friend is someone who will always be there for you, in good and hard times. - Author: Lailah Gifty Akita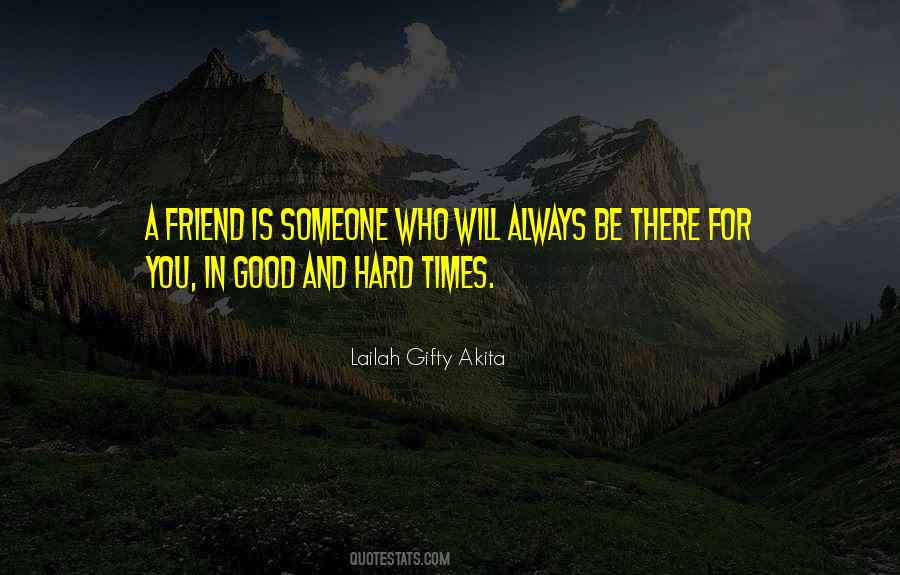 #39. You've got to have as many good times as bad, or it all becomes too painful and too much work. - Author: Sylvia Day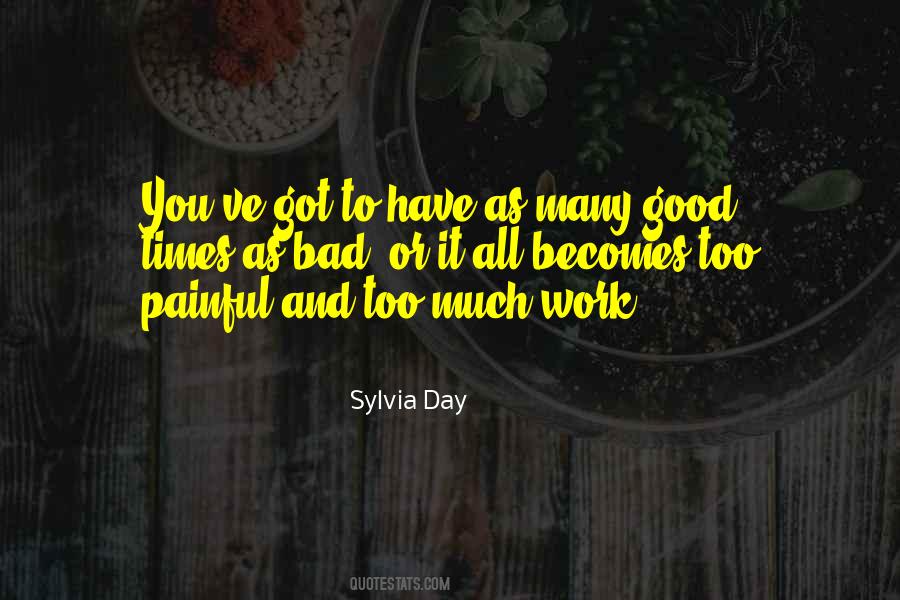 #40. When you have endure the worse situations, you build the courage and confidence to cope with any other situations. - Author: Lailah Gifty Akita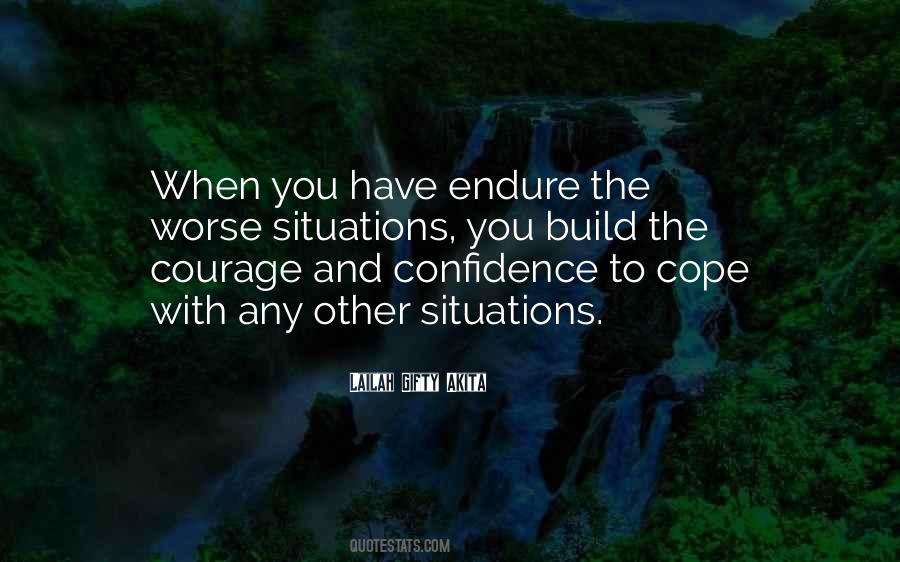 #41. When life is good, enjoy it. But when life is hard, remember:
God gives good times and hard times, and no one knows what tomorrow will bring. (Ecclesiastes 7:14, New Century Version) - Author: Anonymous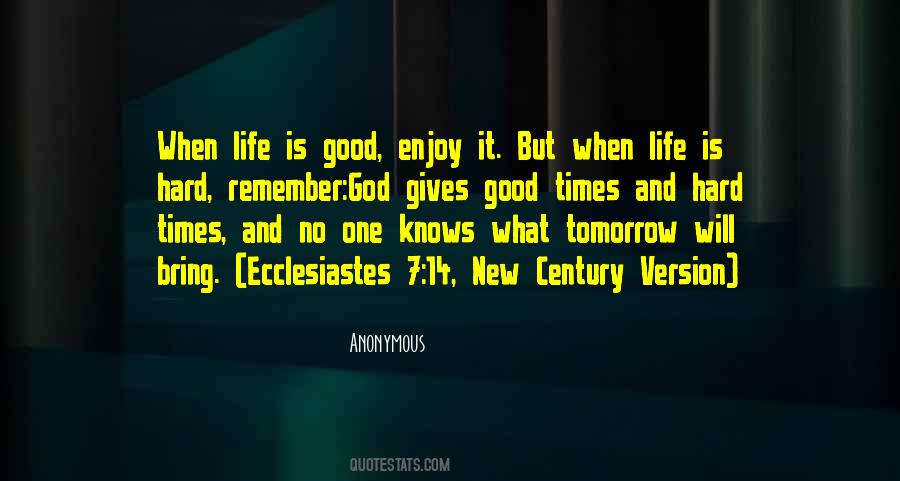 #42. All the hard times in your life was just preparation to help you appreciate the good times - Author: Steven Aitchison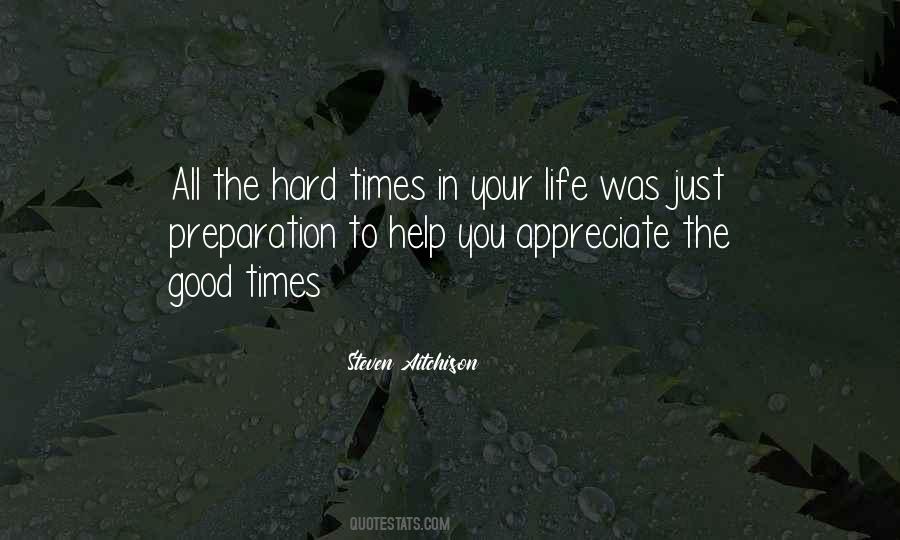 #43. I have the gift of laughter. I can make people laugh at will. In good times and in bad. And that I don't question. It was a gift from God. - Author: Buddy Hackett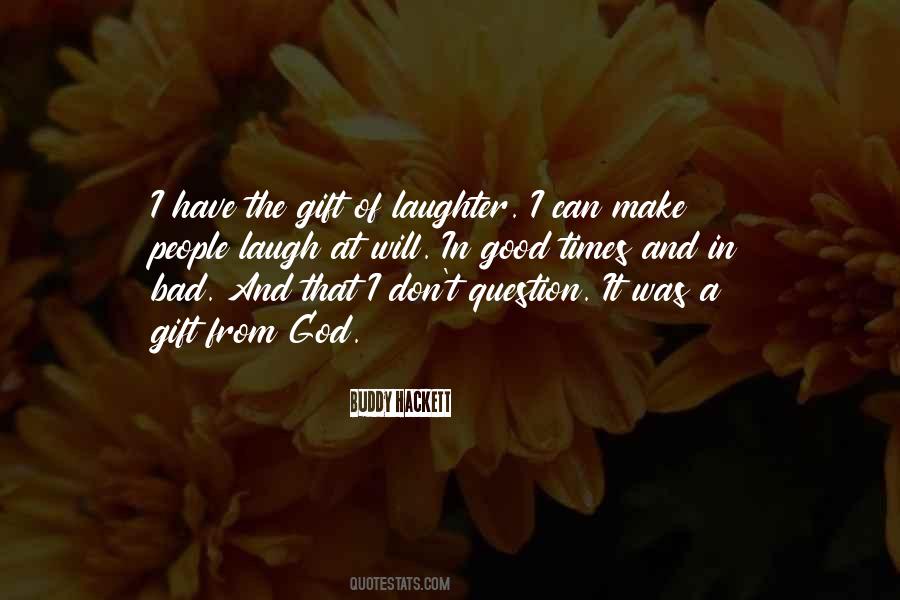 #44. Angela looked fondly reminiscent. We've had some good times together, haven't we? I'll always remember them. After you go away. - Author: Sarah Rees Brennan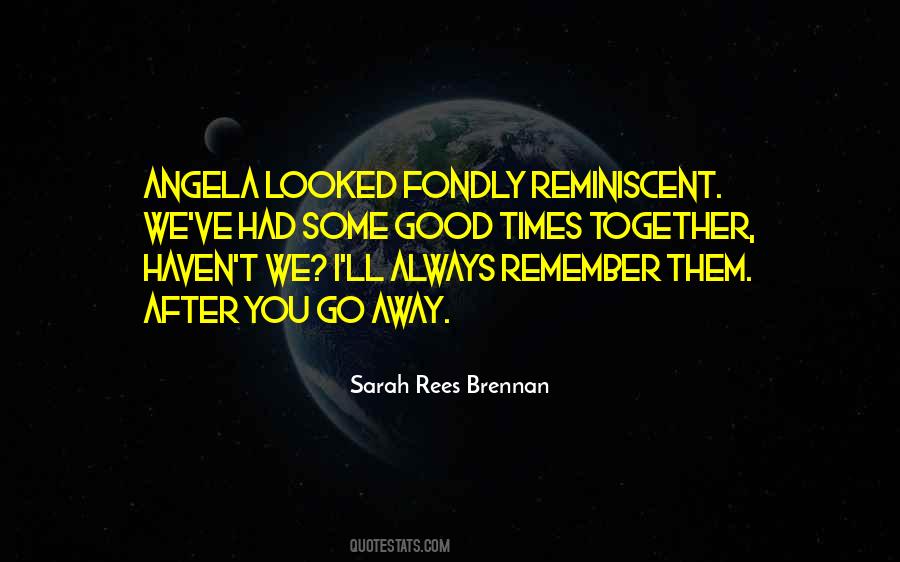 #45. I say that the art of sculpture is eight times as great as any other art based on drawing, because a statue has eight views and they must all be equally good. - Author: Benvenuto Cellini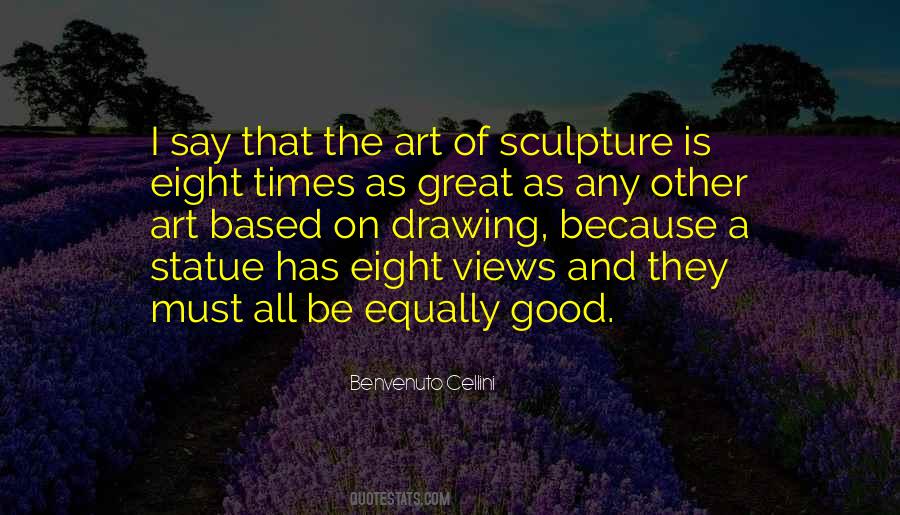 #46. Here is part of the tradeoff with diversification. You must be diversified enough to survive bad times or bad luck so that skill and good process can have the chance to pay off over the long term. - Author: Joel Greenblatt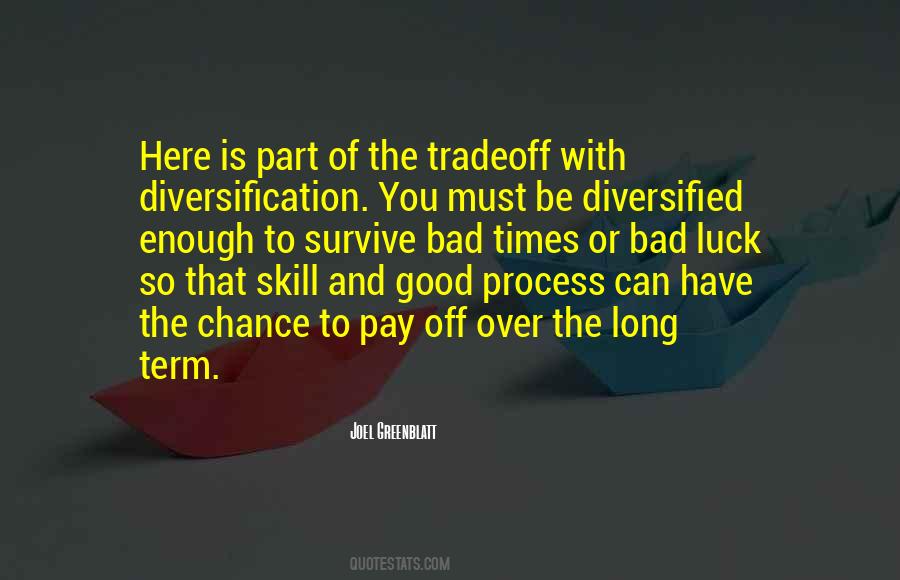 #47. There are times we need to tell ourselves, "Good job!" when we know that is true. - Author: Charles R. Swindoll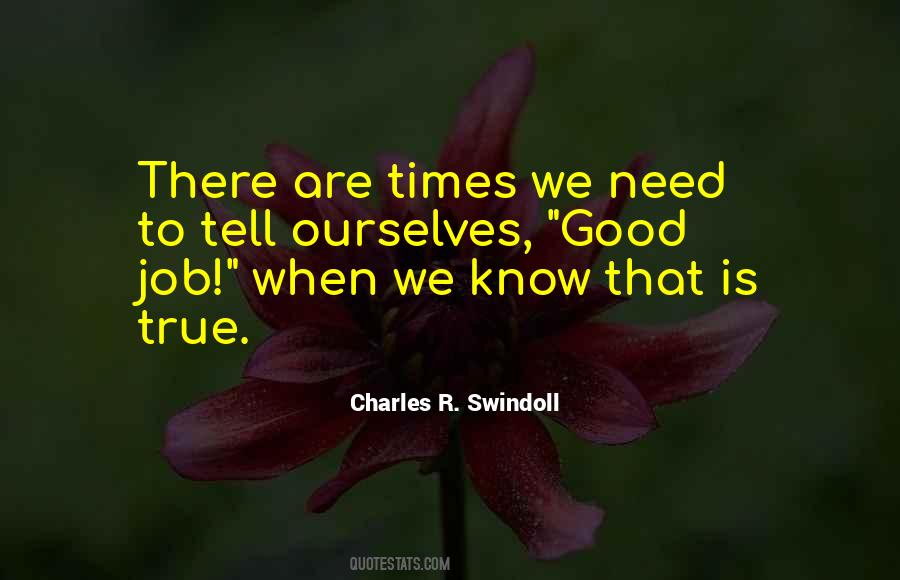 #48. Good Lord's been kind to me, that's all I can say. I wake up in the morning with music in my head a lot of times. I won't say every morning, but I wake up in the morning sometimes with eight bars in my head and I just go to the piano. - Author: Horace Silver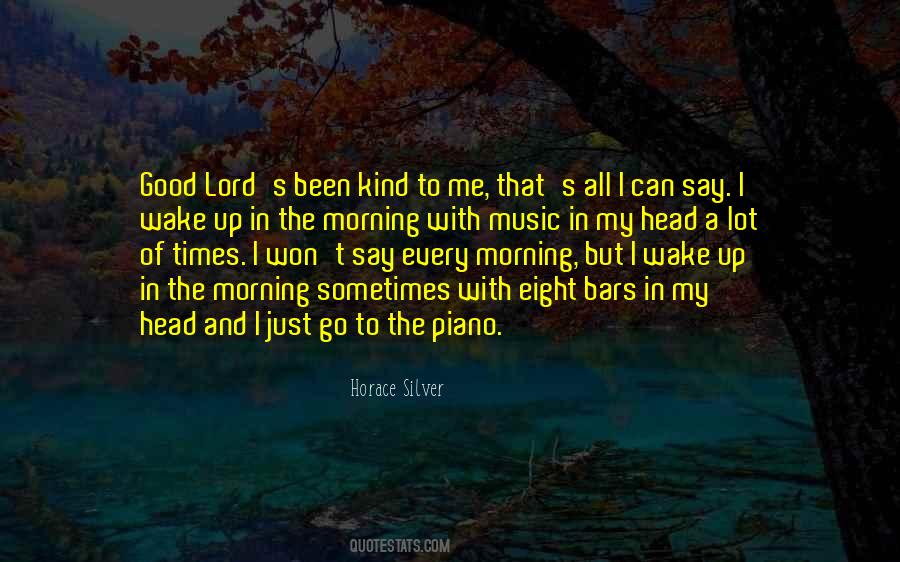 #49. After mature deliberation of counsel, the good Queen to establish a rule and immutable example unto all posterity, for the moderation and required modesty in a lawful marriage, ordained the number of six times a day as a lawful, necessary and competent limit. - Author: Michel De Montaigne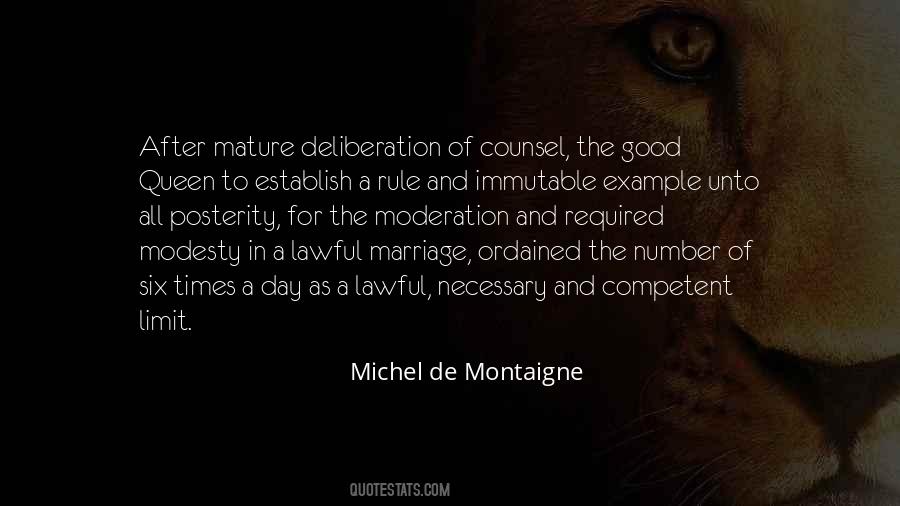 #50. In times when nothing stood / but worsened, or grew strange / there was one constant good: / she did not change. - Author: Philip Larkin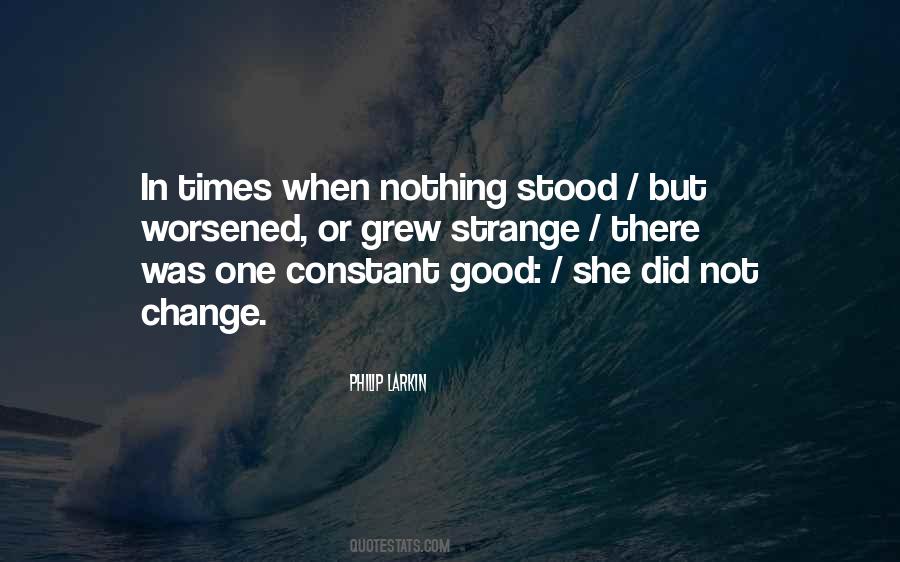 #51. At times even the best are not good enough. - Author: Gina Wings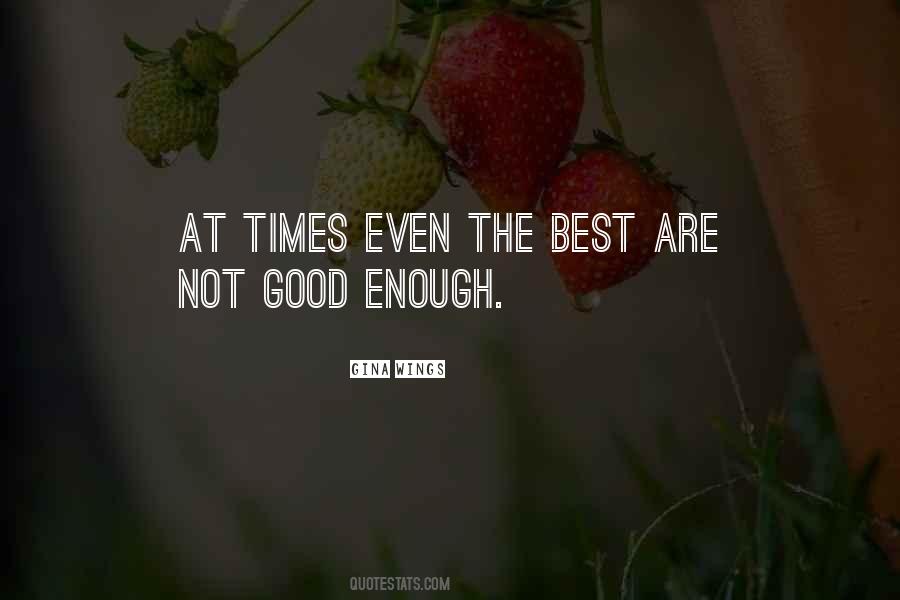 #52. I picked you. And then you picked me back. And that's like a promise.
At least for tonight. In sickness and in health. In good times and in bad. For richer, for poorer, 'Til dawn do us part. - Author: John Green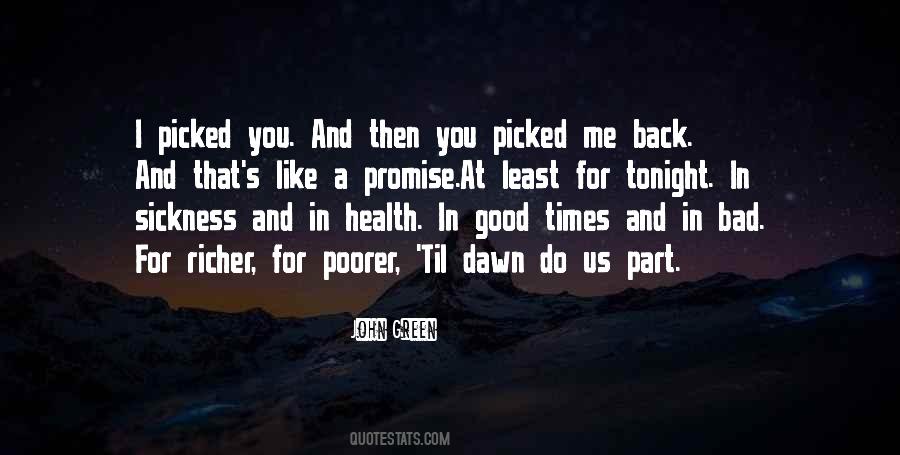 #53. Both political parties have their good times and bad times, only they have them at different times. - Author: Will Rogers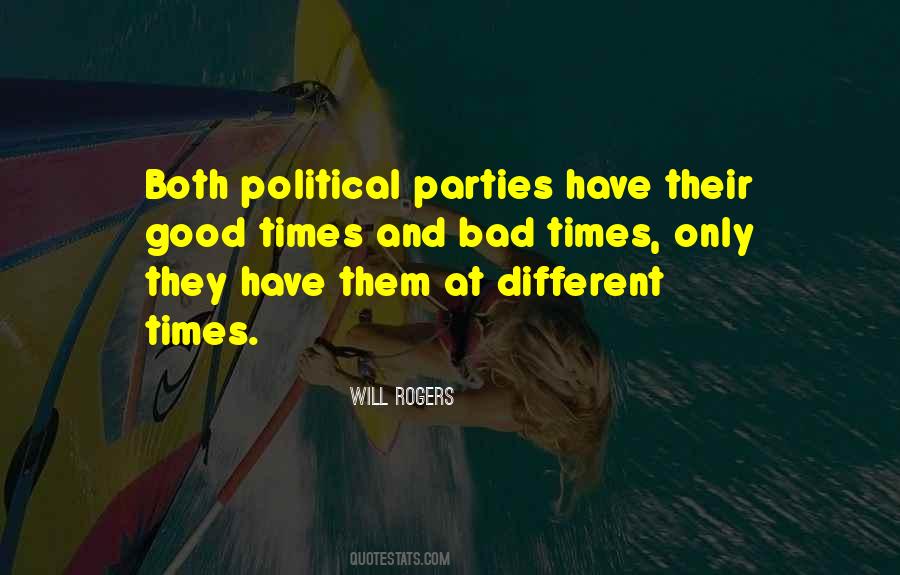 #54. We've weathered several periods when times weren't so good, and so I don't think we'll cancel our advertising now. In fact, we might even increase it. - Author: Will Keith Kellogg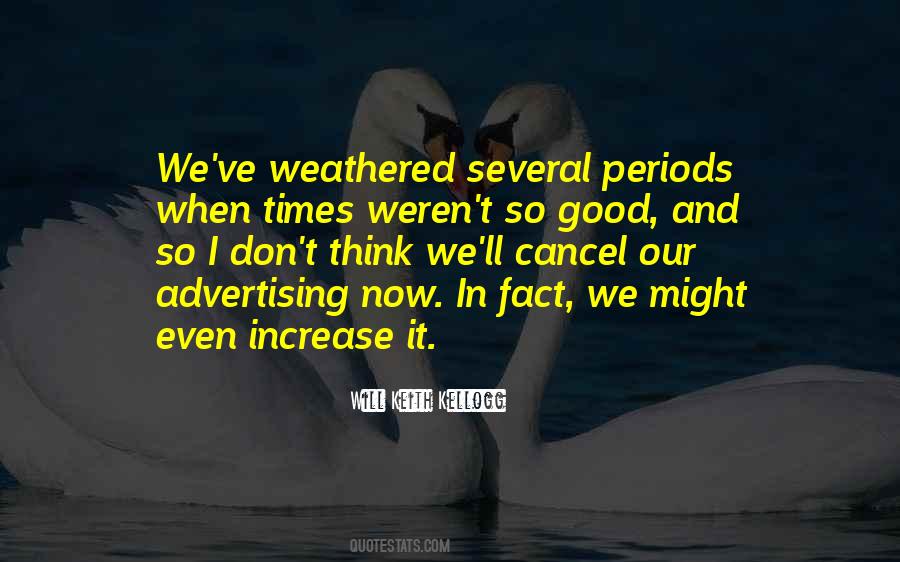 #55. Good rom-coms have some reflection of the way things are, the sign of the times. - Author: Rashida Jones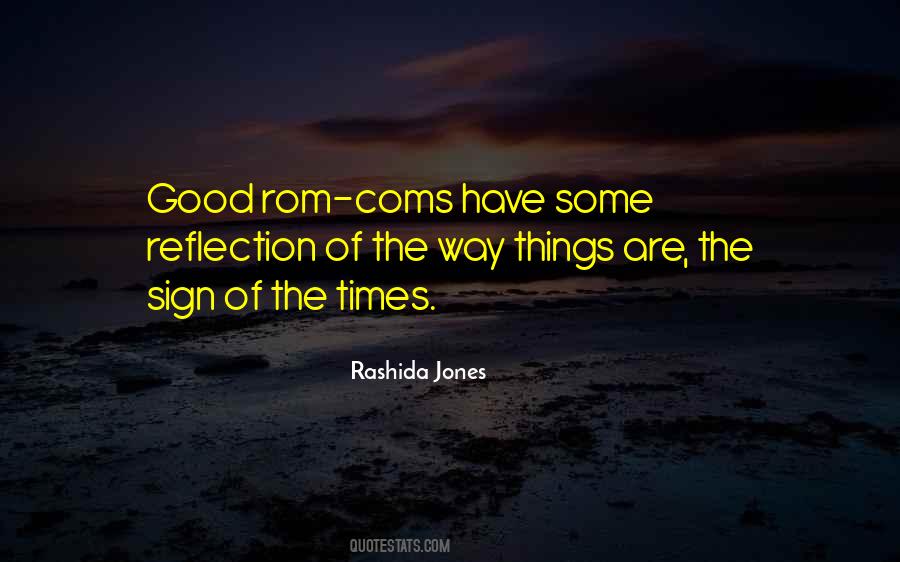 #56. When I quit The New York Times to be a fulltime mother, the voices of the world said I was nuts ... But if success is not on your own terms, if it looks good to the world but does not feel good in your soul, it is not success at all. - Author: Anna Quindlen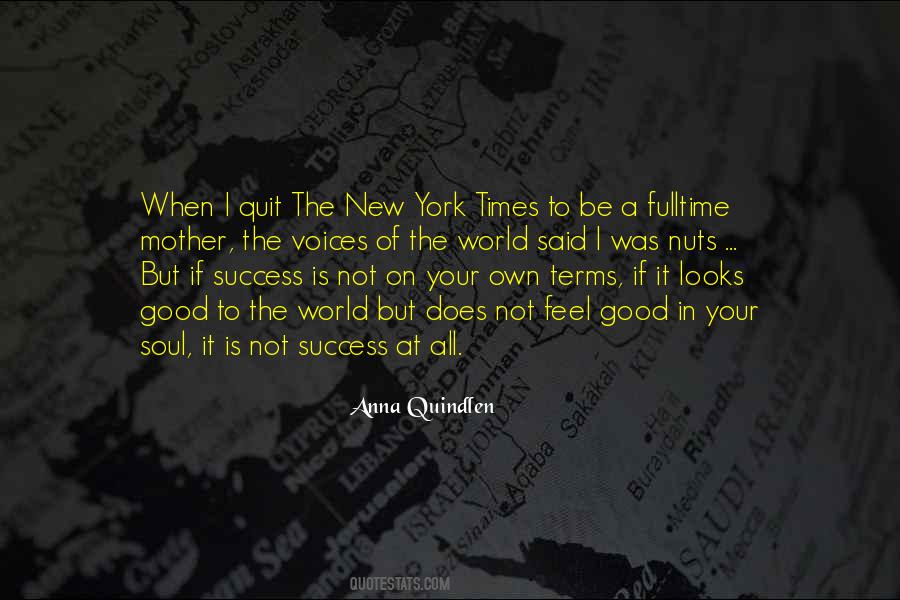 #57. When the story is good enough, people can watch something three times the length of an opera. - Author: Kevin Spacey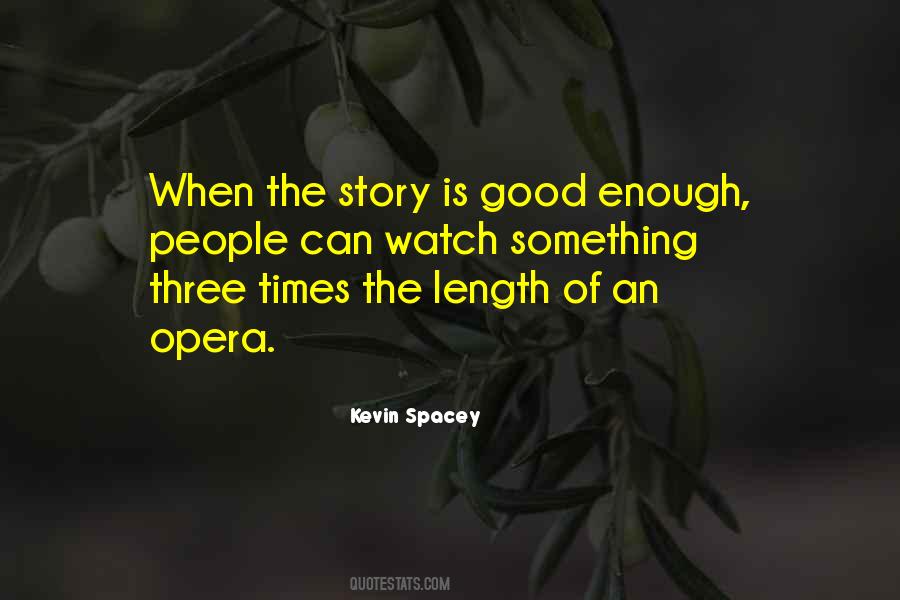 #58. In times of political confusion, and under an arbitrary government, many will prefer to keep their capital inactive, concealed, and unproductive, either of profit or gratification, rather than run the risk of its display. This latter evil is never felt under a good government. - Author: Jean-Baptiste Say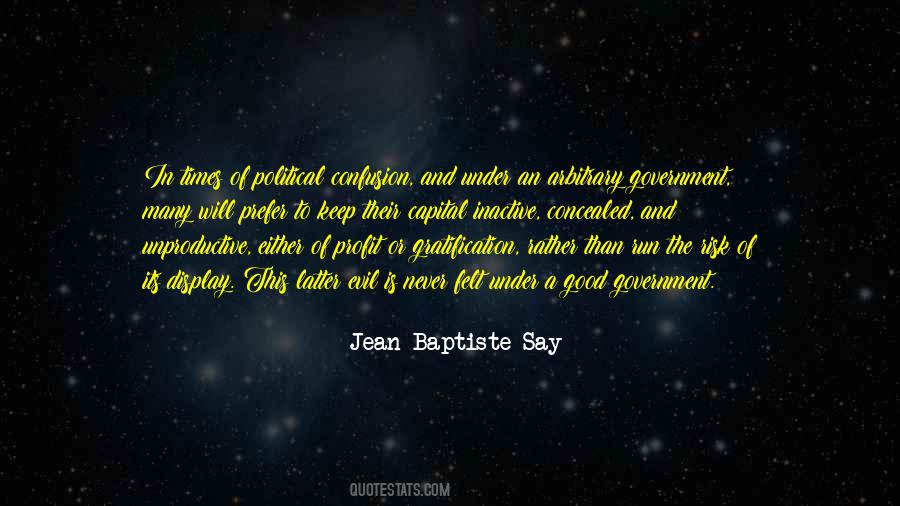 #59. I learnt not to be desperate in bad times, and I am learning not to be bullish when times are good. - Author: John Elkann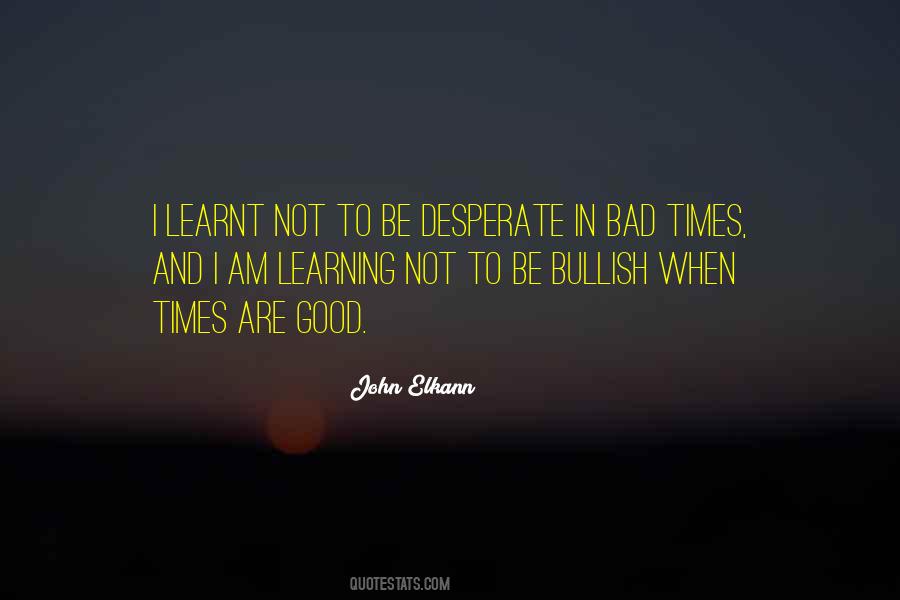 #60. In season, all is good. - Author: Sophocles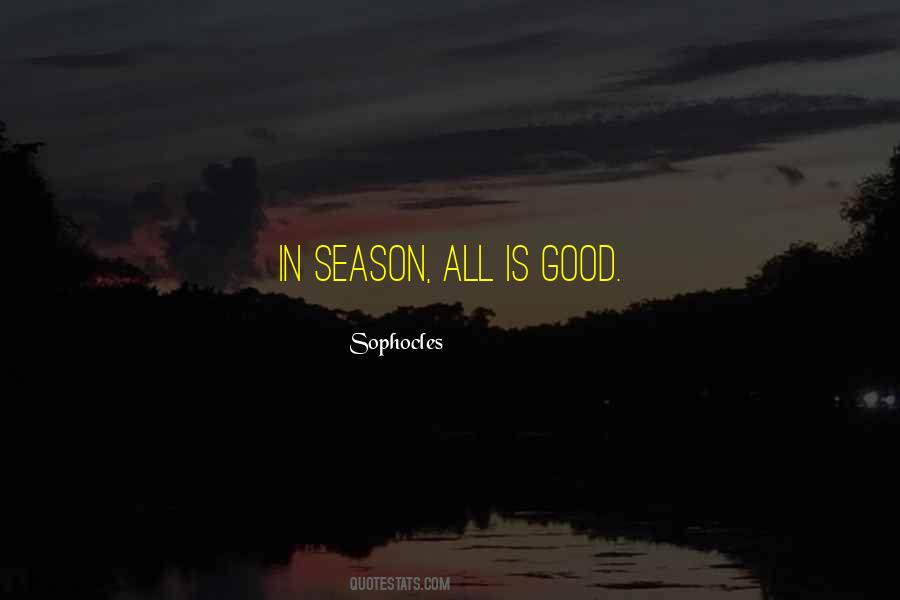 #61. Mom also hinted a couple of times that it was good I was going to college, since with one failed marriage behind me, I 'd have trouble landing a good husband and would need something to fall back on. "A package that's been opened once doesn't have the same appeal". - Author: Jeannette Walls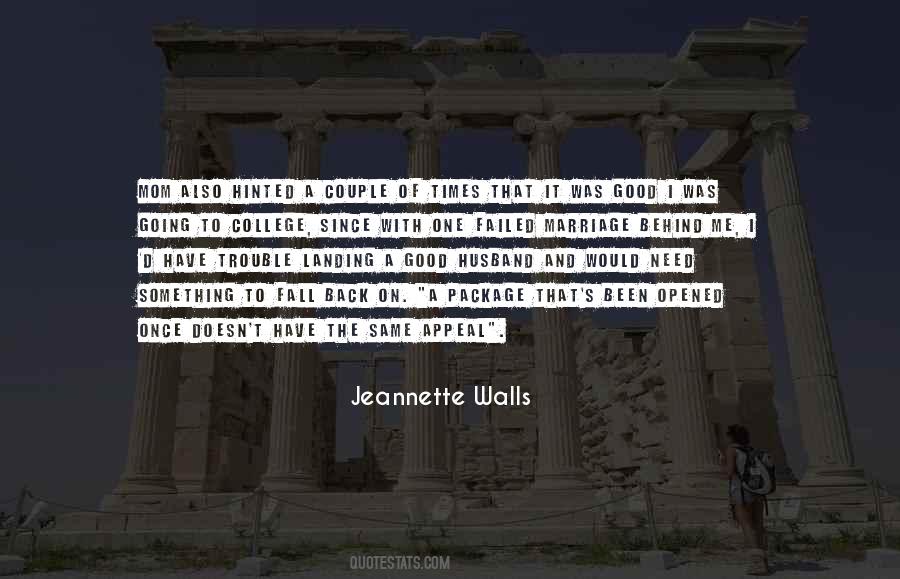 #62. How shall I sum up my life?
I think I've been particularly lucky. - Author: Audrey Hepburn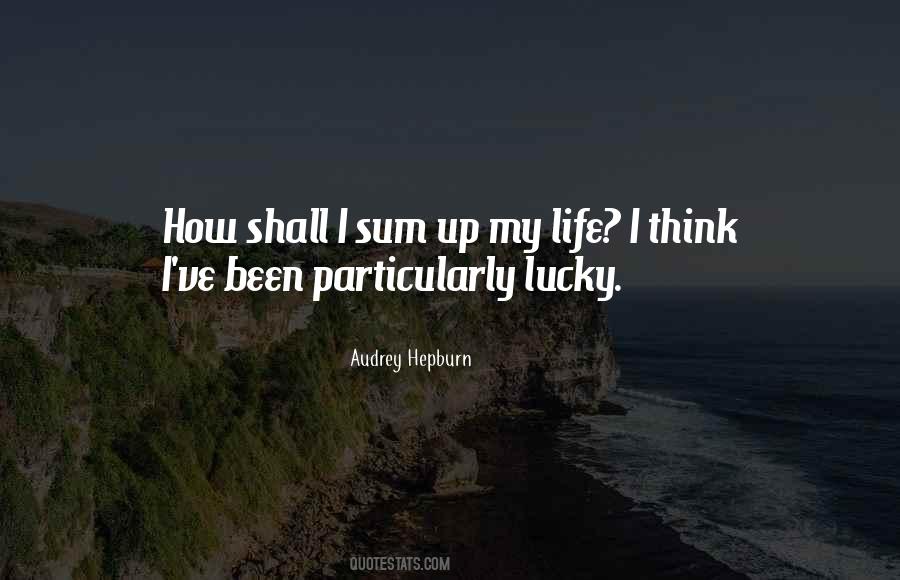 #63. Shouldn't schools be the place where students interact with interesting books? Shouldn't the faculty have an ongoing laser-like commitment to put good books in our students' hands? Shouldn't this be a front-burner issue at all times? - Author: Kelly Gallagher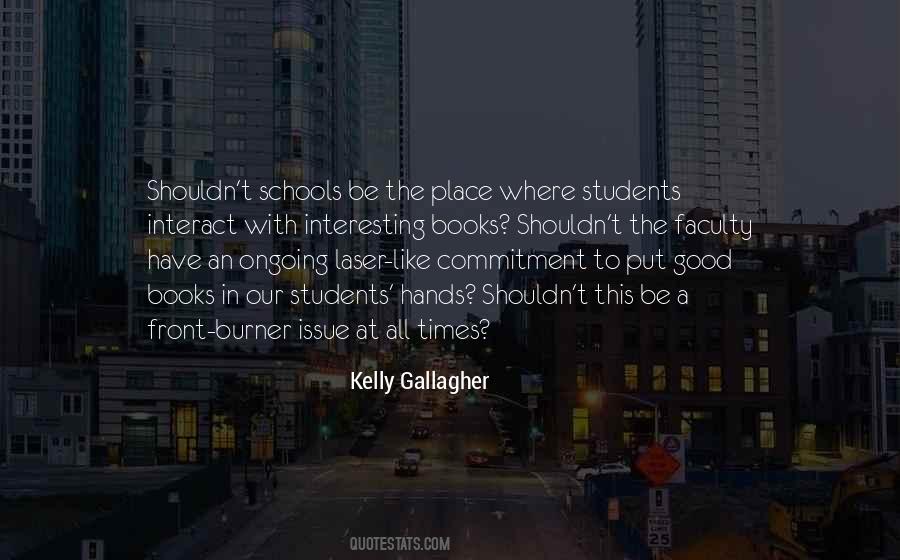 #64. Good films demand to be looked at several times in order to be observed completely. - Author: Jonathan Lethem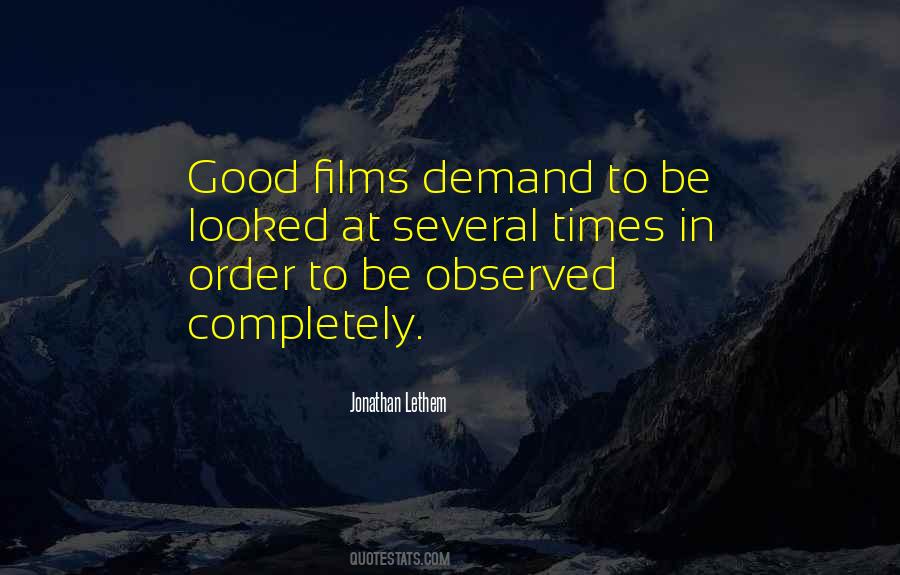 #65. You run away a lot," said one of the voices. "That is good. You are a survivor." "Survivor? I've nearly been killed dozens of times!" "Exactly. - Author: Terry Pratchett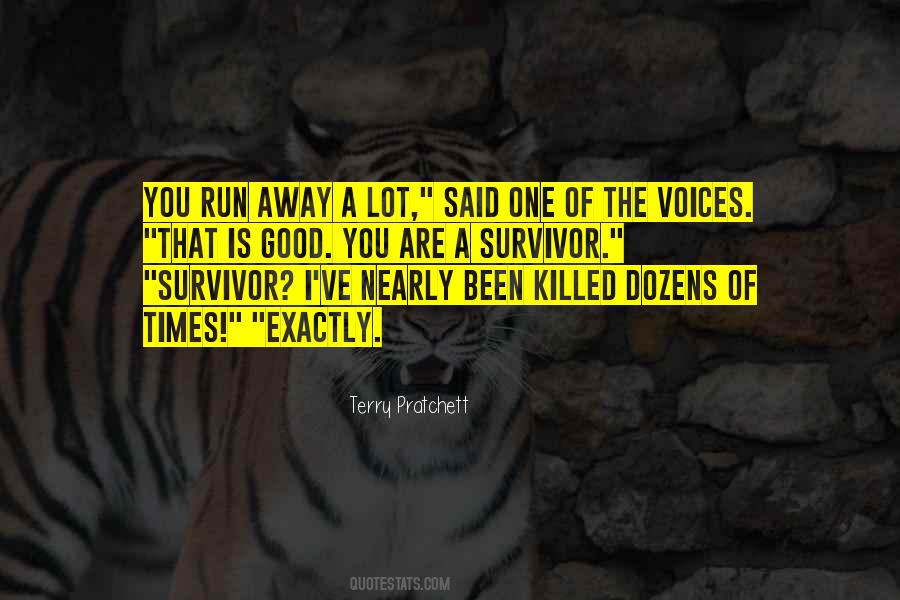 #66. Let us ... quietly accept our times, with the firm conviction that just as much good can be done today as at any time in the past, provided only that we have the will and the way to do it. - Author: Etienne Gilson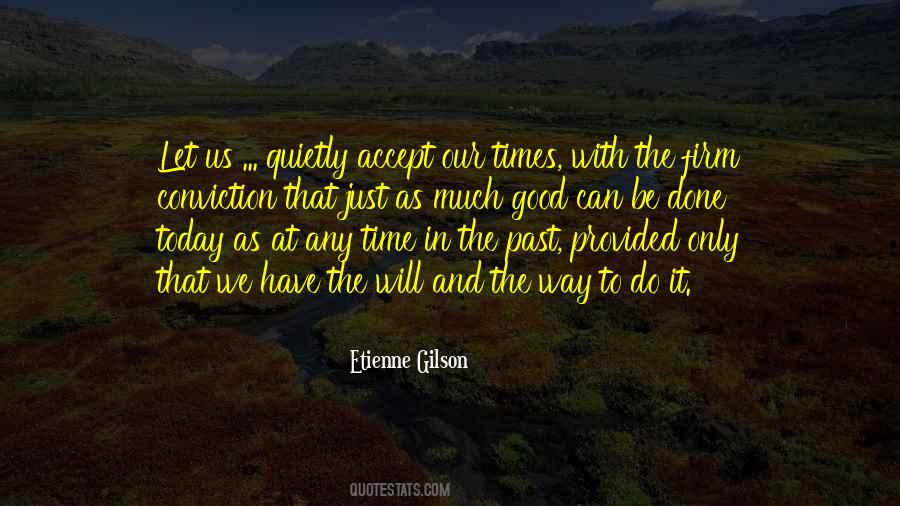 #67. I have always been motivated by a greater good. As a child, I was taught by my parents to be good and to do good at all times and in all ways! - Author: James May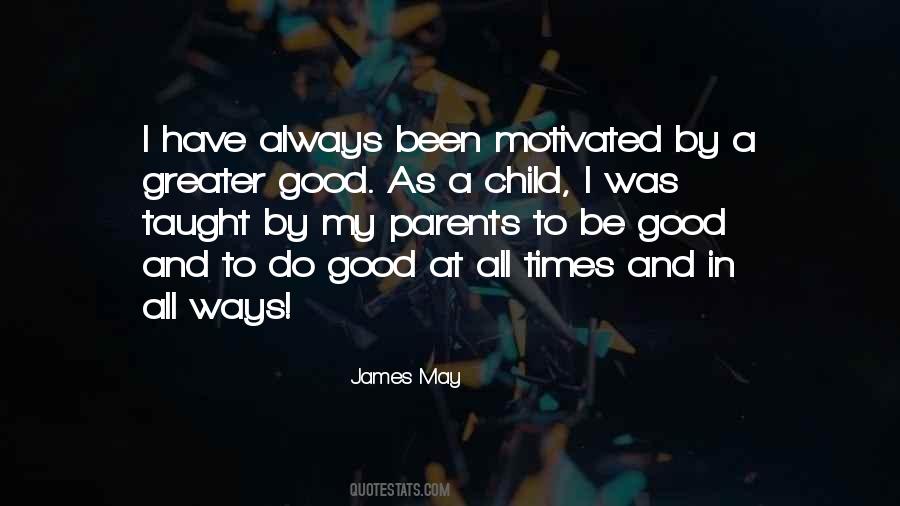 #68. I've been writing a lot of country music again. I've written some bluegrass material. I'm having a good time doing that. - Author: Dan Fogelberg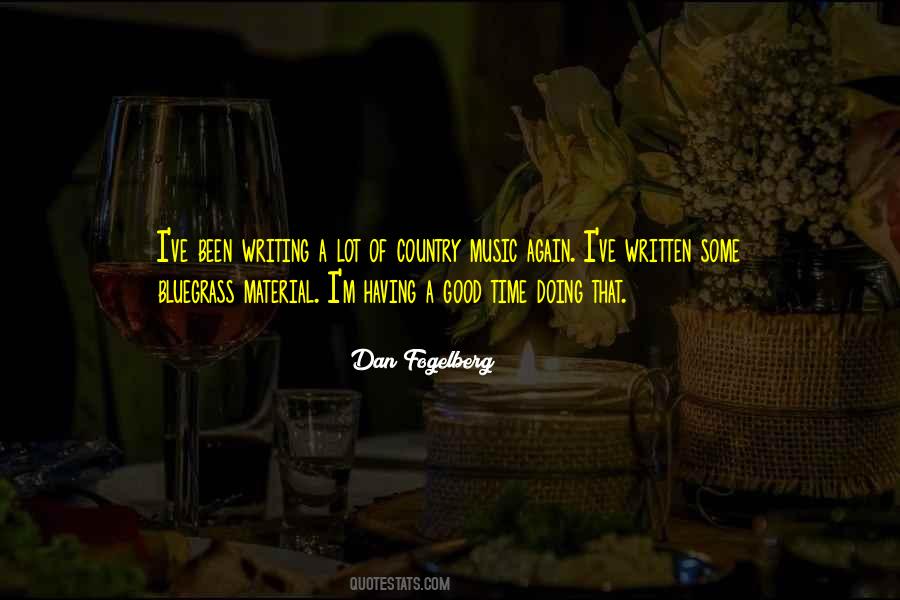 #69. I've been going a long time now
along the way I've learned some things.
You have to make the good times yourself
take the little times and make them into big times
and save the times that are all right
for the ones that aren't so good. - Author: Rod McKuen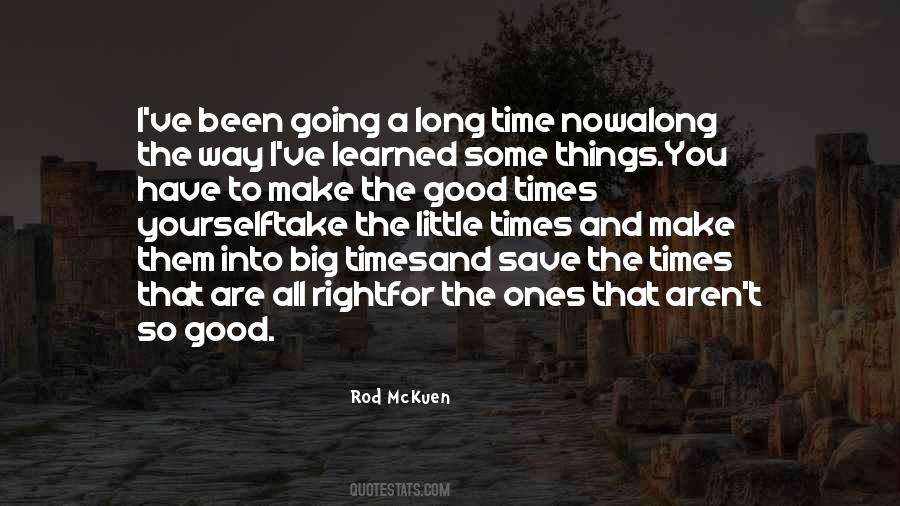 #70. Learning, like traveling and all other methods of improvement, as it finishes good sense, so it makes a silly man ten thousand times more insufferable by supplying variety of matter to his impertinence, and giving him an opportunity of abounding in absurdities. - Author: Joseph Addison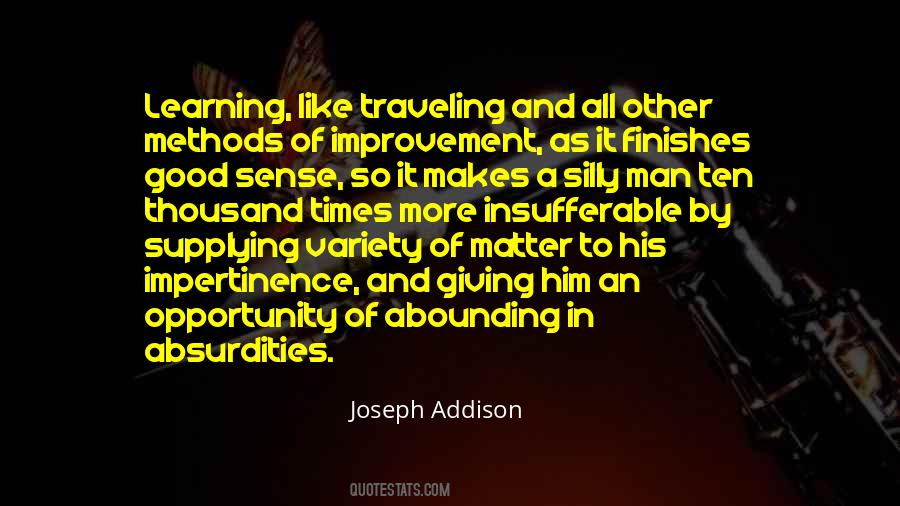 #71. A thing cannot be delivered enough times:
this is the rule of dogs for whom there are no fool's errands.
To loop out and come back is good all alone.
It's gravy to carry a ball or a bone. - Author: Kay Ryan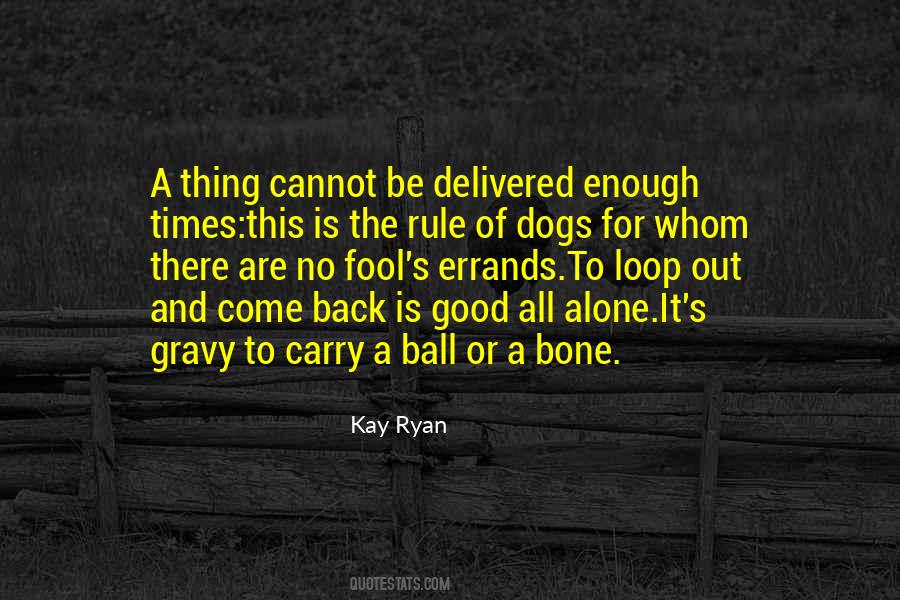 #72. It's important to preach like there's a broken heart on every pew. That's always been a phrase that stuck with me. Not everybody is having a tough time, but you can bet your buck that there's a good tenth of your church that's going through a hard season. There really is a broken heart on every pew. - Author: Max Lucado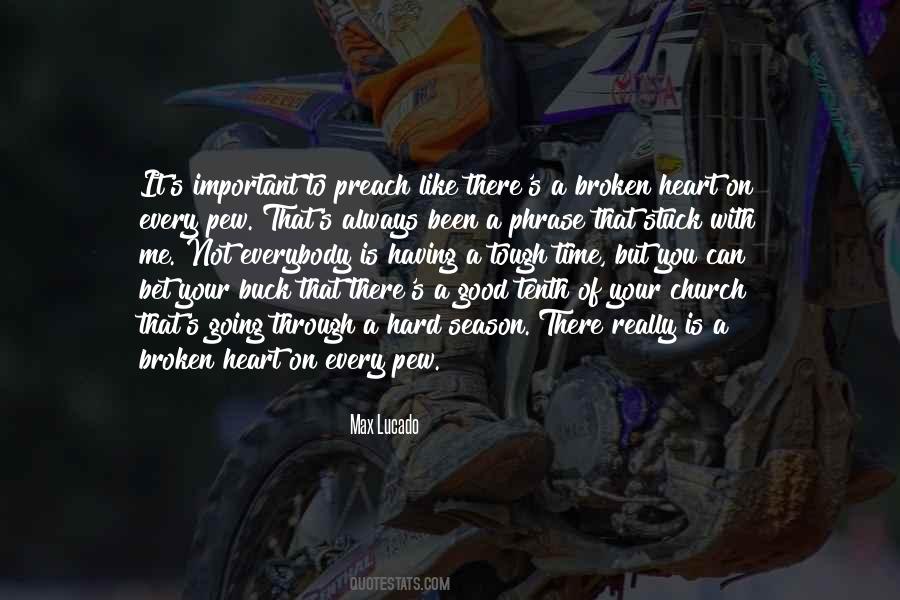 #73. With tact, exit from the world I've created, and we never have to speak of those good times again. - Author: Darnell Lamont Walker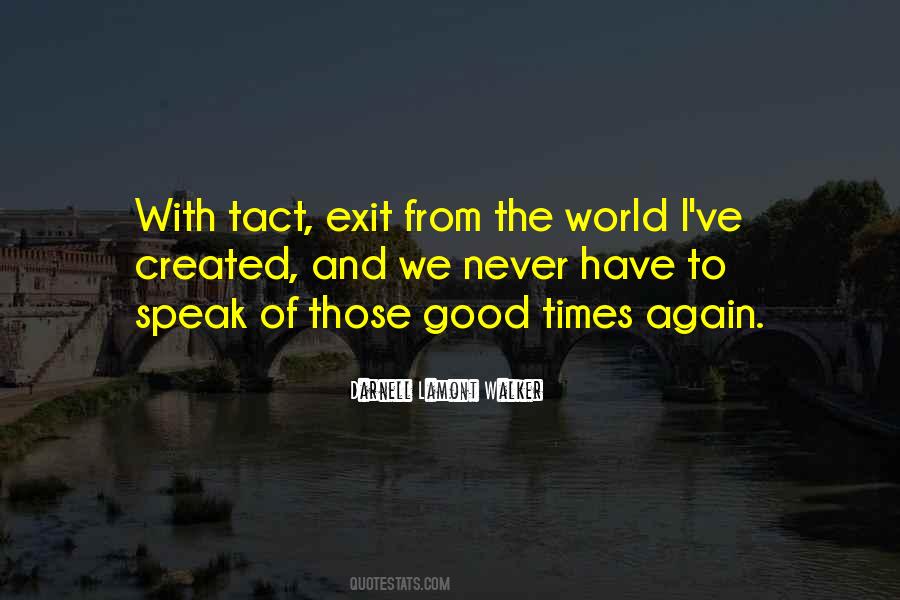 #74. Again and again, I learn how much friendship enriches my life, bringing warmth, assurance, humour, inspiration, a sense of security. It depends on honesty, trust, loyalty. It's about giving. It's for sharing the good times, but also the tough times, hurt, grief, sadness. - Author: Quentin Bryce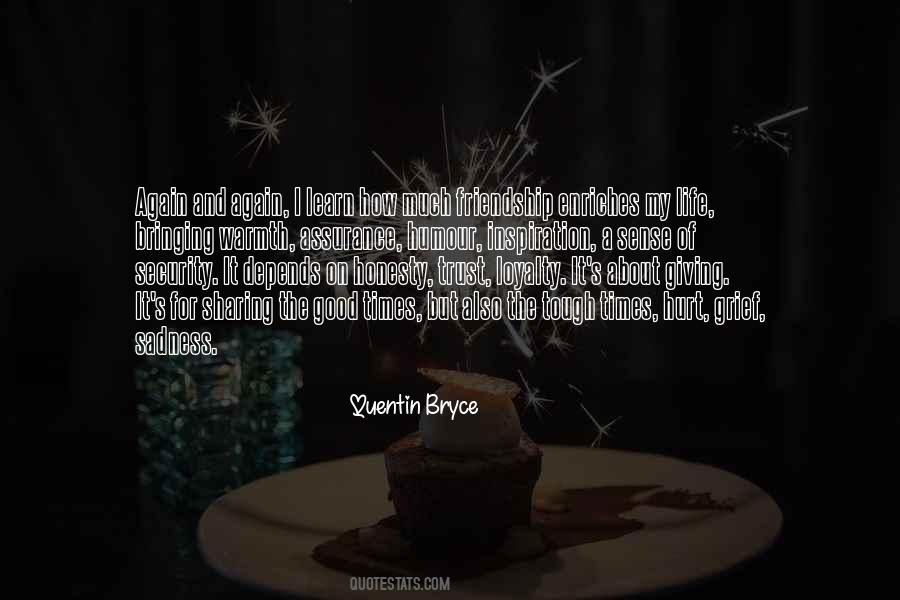 #75. A man has integrity if his interest in the good of the service is at all times greater than his personal pride, and when he holds himself to the same line of duty when unobserved as he would follow if his superiors were present - Author: Samuel Lyman Atwood Marshall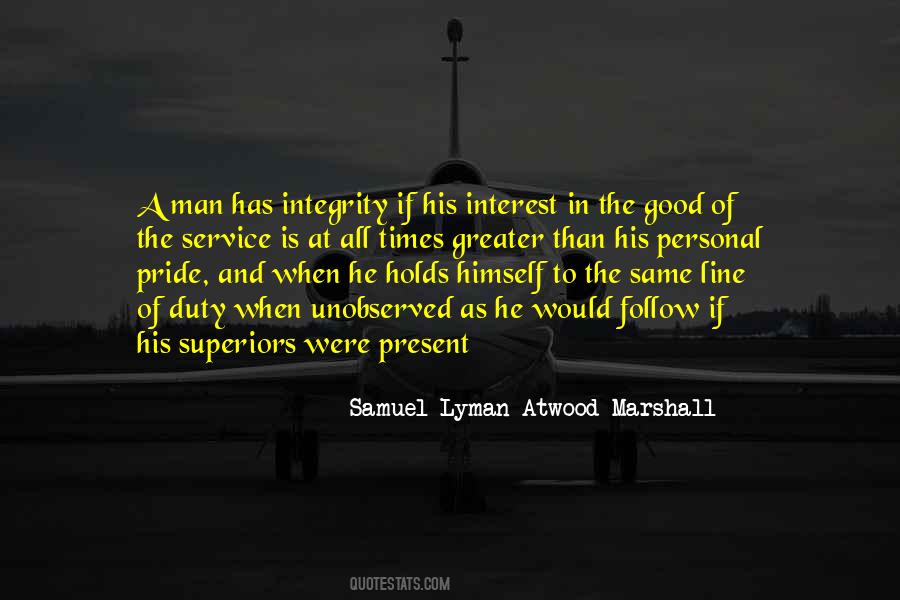 #76. The severe and at times almost condemning glance - a glance that seems to pass judgment - with which the homosexual appraises every good-looking young man he may encounter, is in reality a quick but intense meditation on his own loneliness - Author: Jean Genet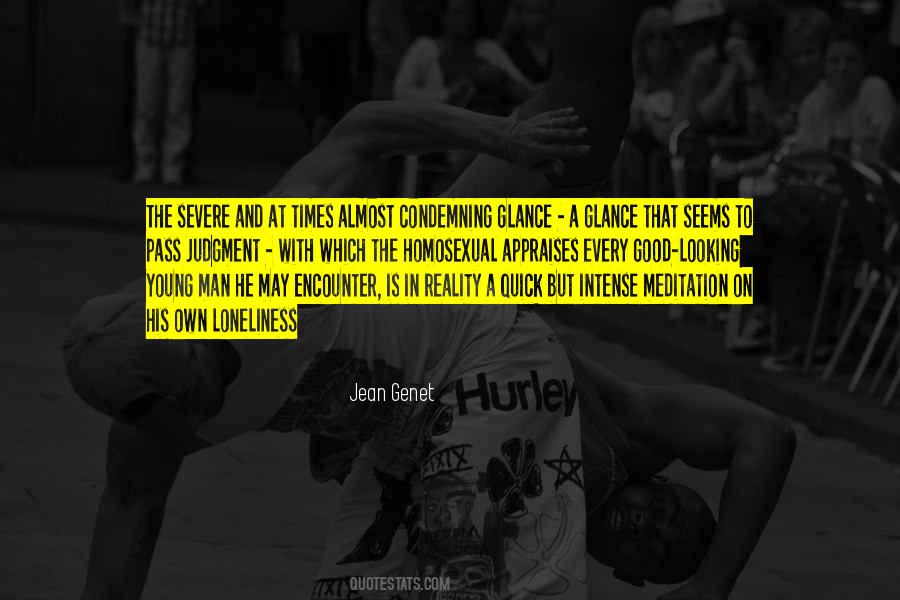 #77. The public has heard the stereotypical love songs a million times, and they've heard the stereotypical life-or-death songs millions of times. It's good to mix it up a little bit. - Author: Ed Sheeran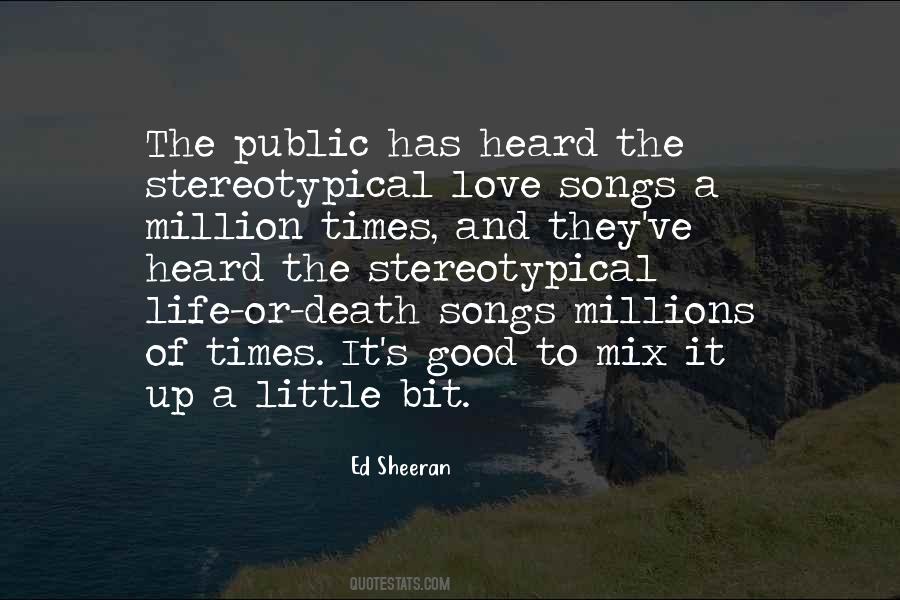 #78. We have fallen on hard times of the spirit, with many of the people more concerned with fear of evil than contemplation of the good. - Author: Clifford D. Simak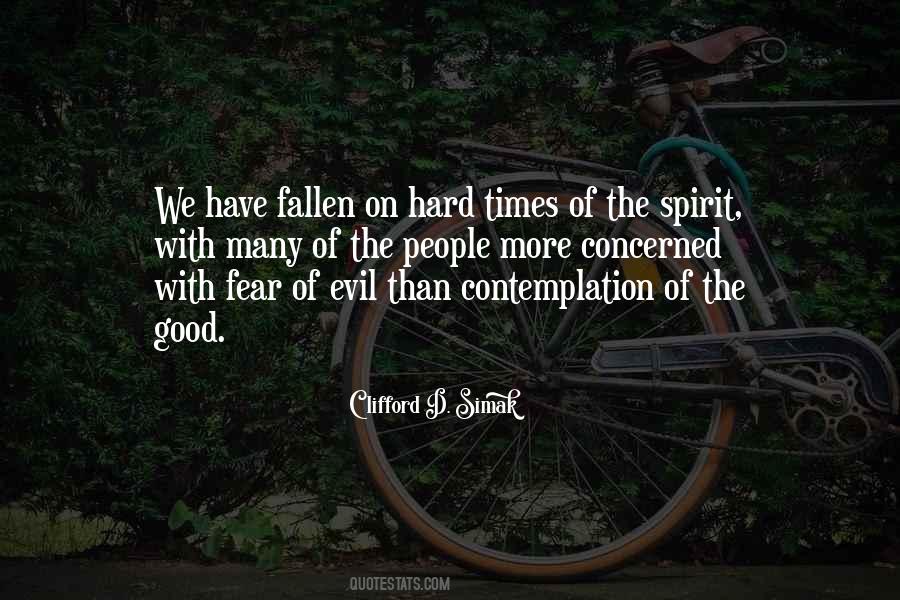 #79. In good times, people turn to Left wing parties, in bad times, they say, well, possibly Left-wing parties can't make those tough decisions ... We've got to buck that trend - Author: Ed Miliband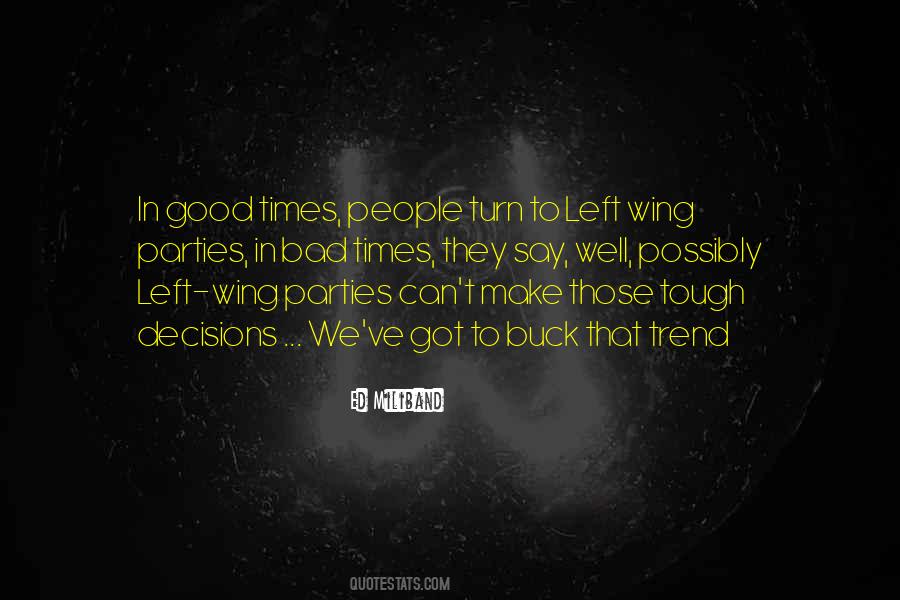 #80. Coming to terms with my feelings of worthlessness isn't always a bad time, but it's rarely a good one. - Author: Dov Davidoff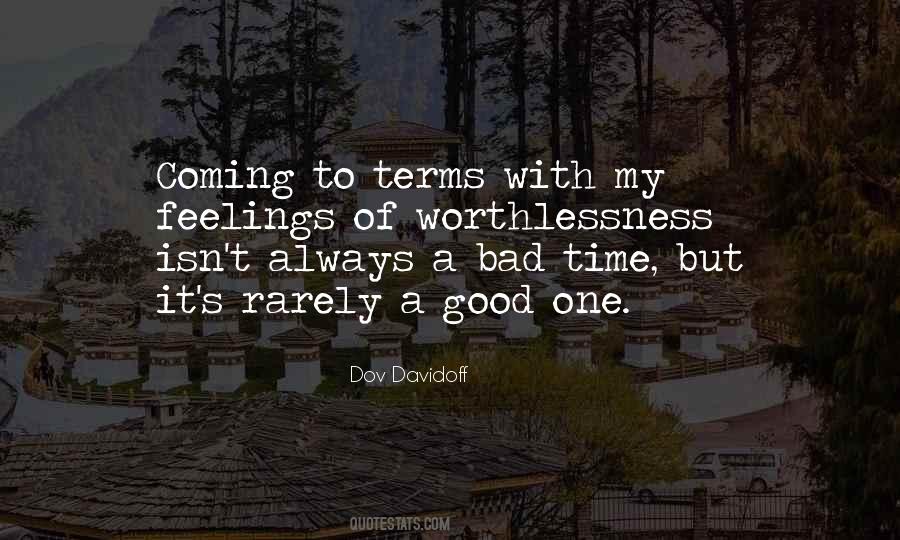 #81. Friends will keep us happy.
Our family keeps us warm.
We'll party through the good times
and hold tight through the storms. - Author: Lisa Schroeder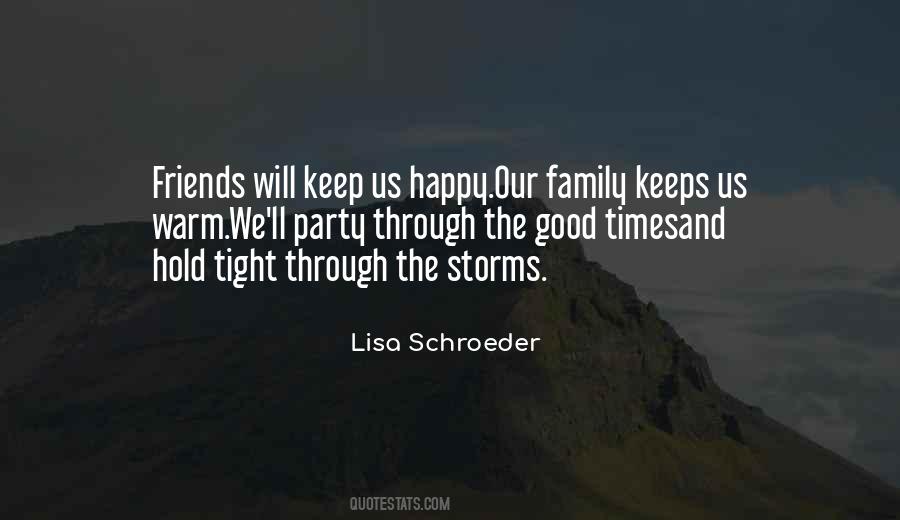 #82. Some people are born with a vital and responsive energy. It not only enables them to keep abreast of the times; it qualifies them to furnish in their own personality a good bit of the motive power to the mad pace. - Author: Kate Chopin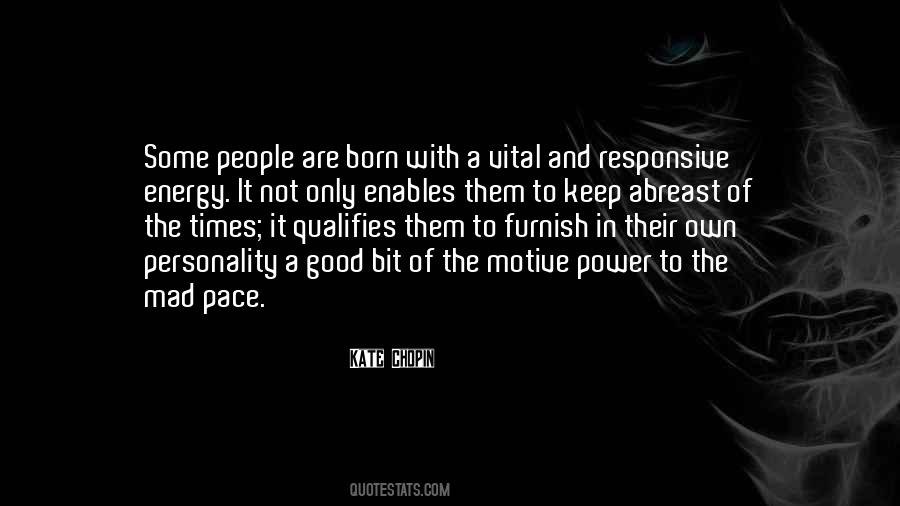 #83. It was good for us, I suppose. Those kinds of times produce qualities in us that make us better for having had them. My parents were not getting along. My mother was quite intolerant of friendships that were being developed. - Author: Fay Wray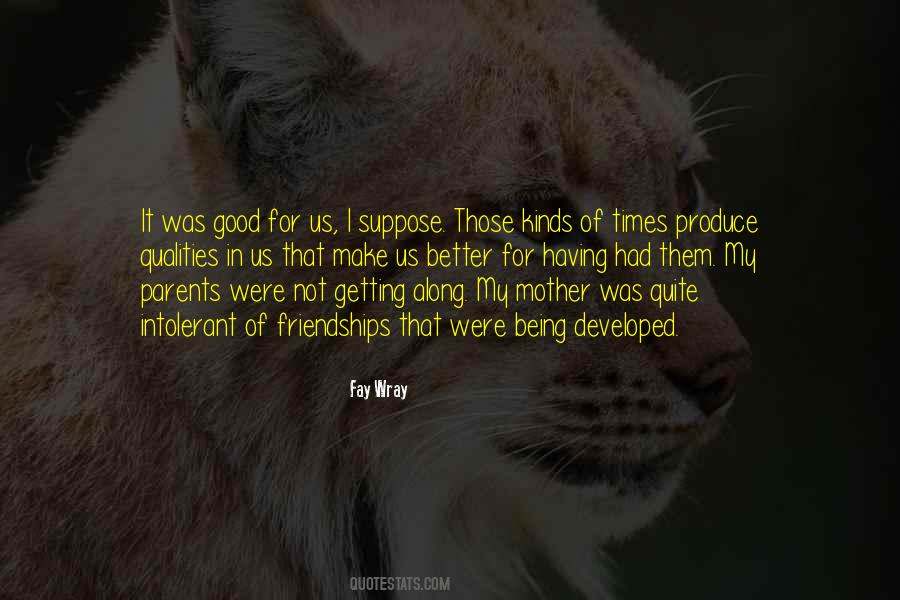 #84. Let us bless thee at all times and forget not
how thou hast
forgiven our iniquities,
healed our diseases,
redeemed our lives from destruction,
crowned us with lovingkindness and
tender mercies,
satisfied our mouths with good things,
renewed our youth like the eagle's. - Author: Arthur Bennett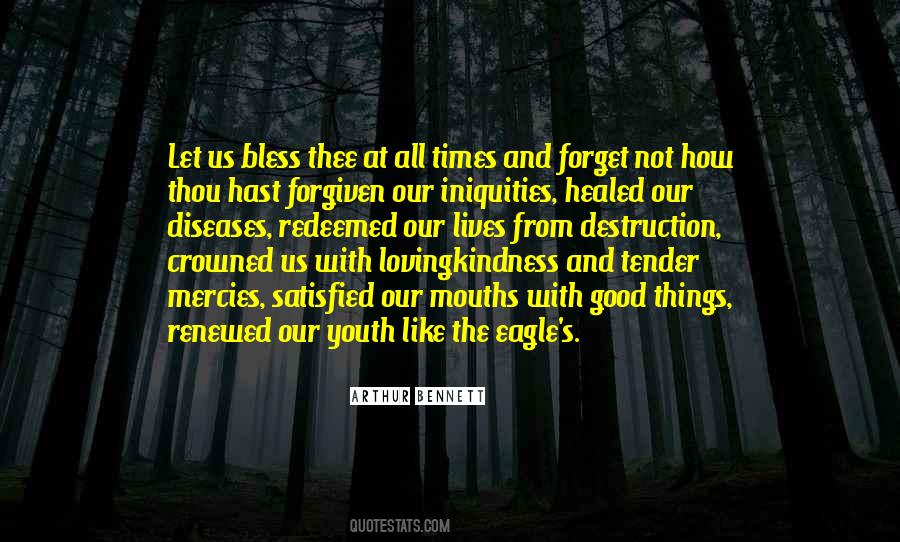 #85. I freely admit that I have many times adopted Jim Oakley's precept of a "bloody good gallop," often with spectacular results. To this day I frequently learn things from farmers, but that was one time when I learned from a postman. - Author: James Herriot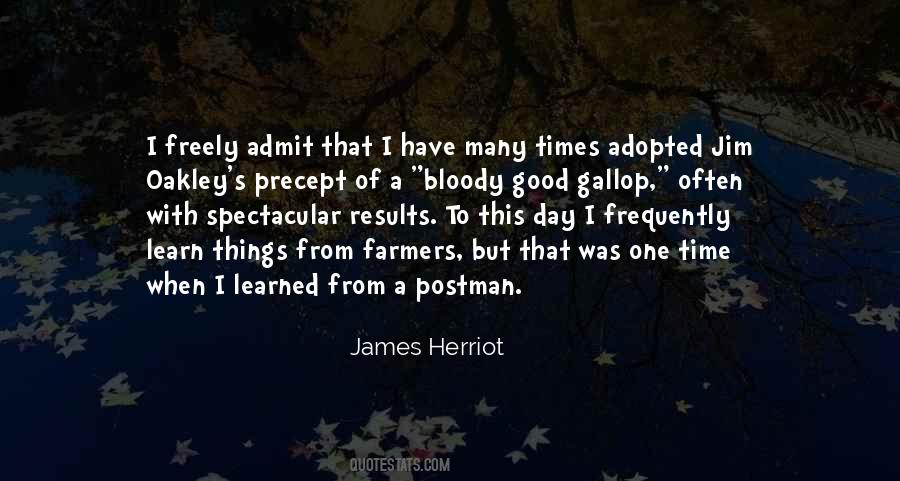 #86. I want to remember it all, the good times and the bad times, the late nights, the boozing, the dancing into dawns, and all the great and not-so-great people I met and loved in those years ... - Author: Ava Gardner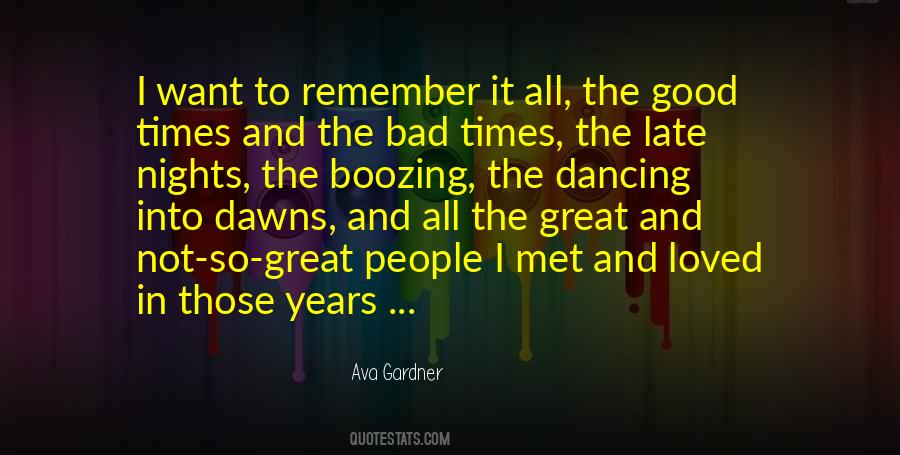 #87. Change, even if unwelcome, forces us to reevaluate what our best options are. Those times of transitions are great opportunities to look for recurring patterns in your life and make adjustments to build on the good and reduce the bad. - Author: Dan Miller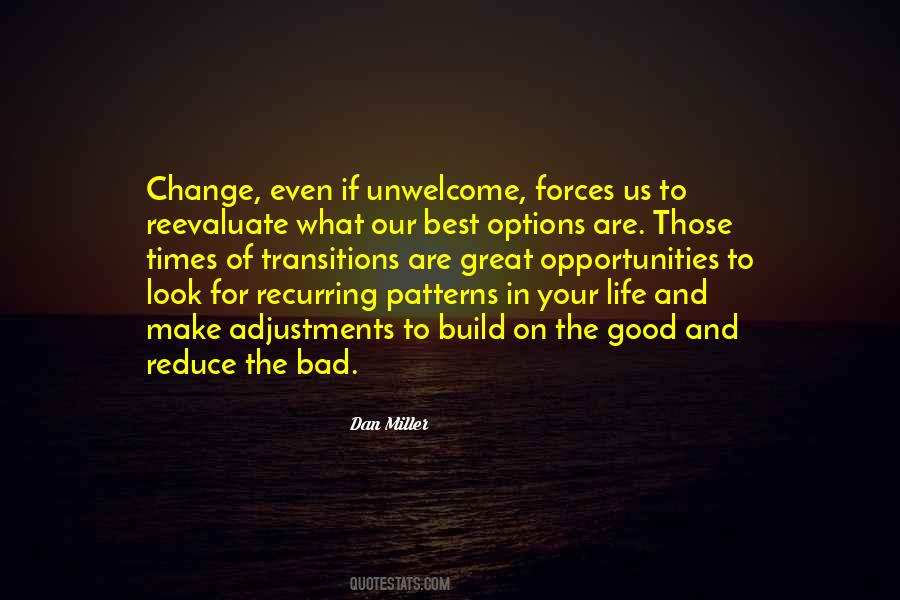 #88. ... the kids, they took us places we never would have gone to on our own. Some times were great... some times were wretched... And there was still no guarantee, no bulletproof glass, safety net, steel-toed boots, anything at all that would promise more good moments... so was it enough? It was. - Author: Mary J. Koral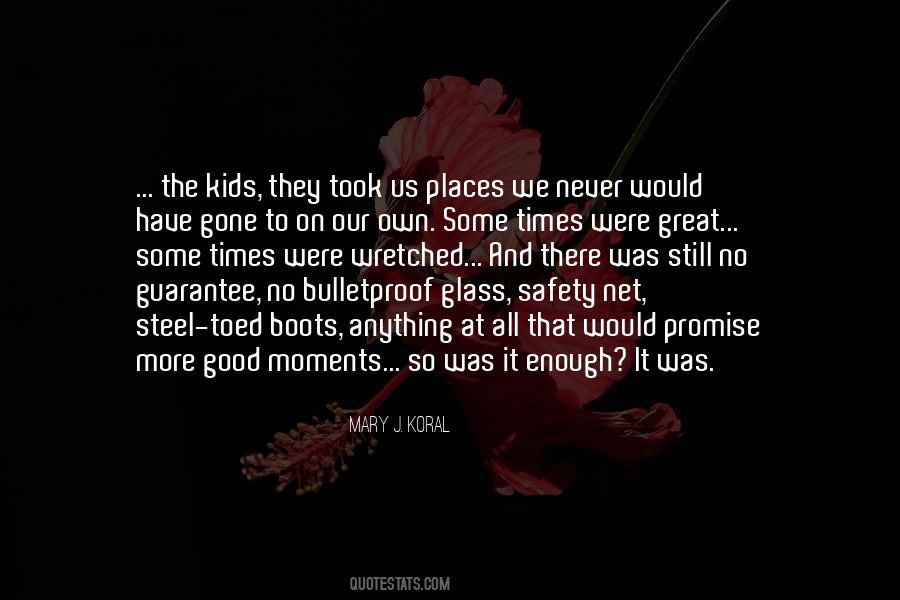 #89. My goal is to leave the producer with so many good takes, that he or she has a tough time deciding on the best one. - Author: Rob Paulsen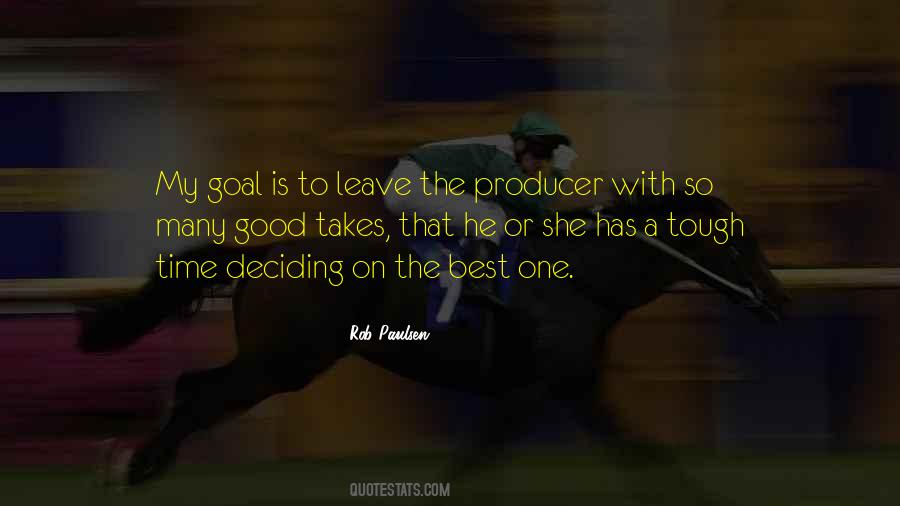 #90. I've tried like hell to make bad movies good, and I can't. Maybe Marlon Brando has been able to do that at times. But even he has a hard time making 'The Appaloosa' a good movie. - Author: Dylan McDermott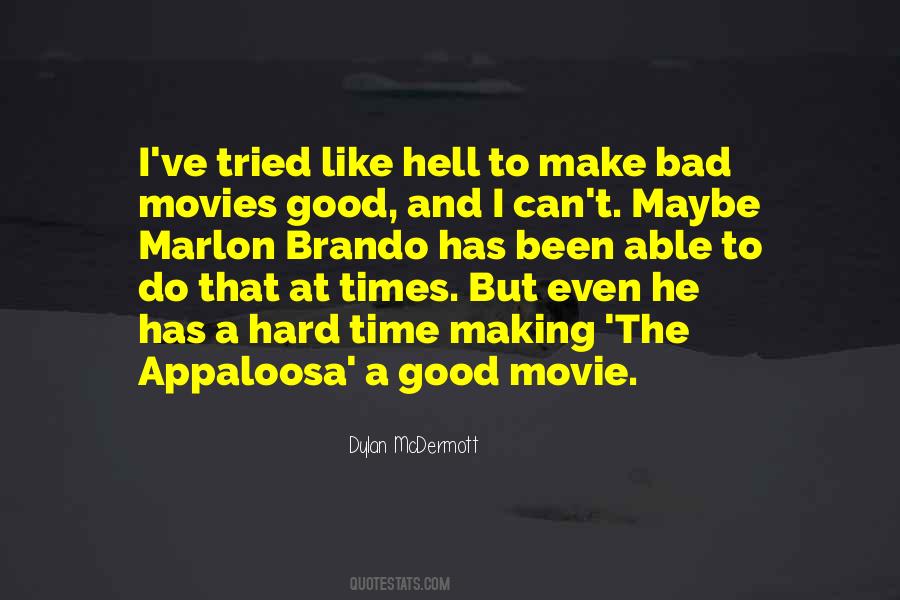 #91. I could have begged. They made it obvious to me that if I wanted to come back and be a good boy ... but I'd rather be in Roots than Good Times. - Author: John Amos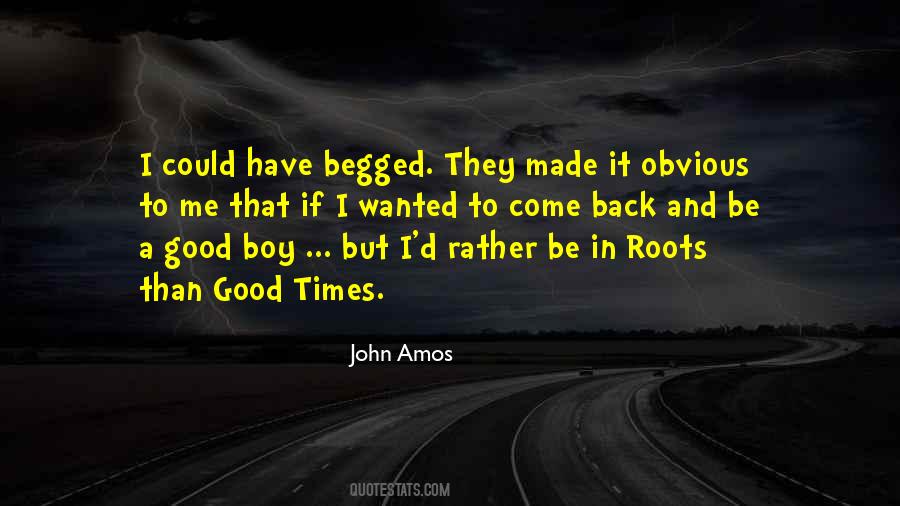 #92. It's really fine that you found a good archivist to do the basically difficult and at times harrowing work of cleaning out old papers. I hope you keep her digging into all the old boxes as long as there is ONE left. - Author: Mary Francis Kennedy Fisher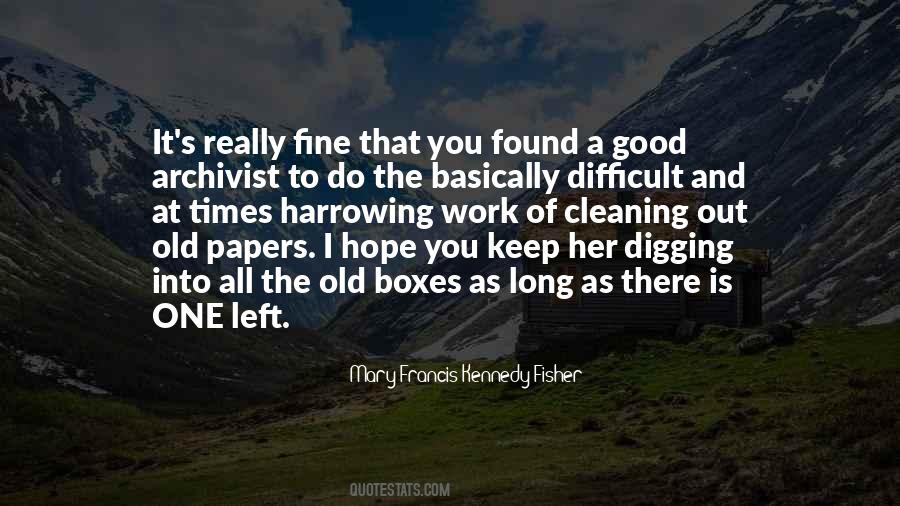 #93. I wouldn't ever say if you're having tough times then there must be something wrong with you or your attitude. Life's a fight. It's a good fight of faith. I encourage people to stay up, stay hopeful, stay faith-filled. - Author: Joel Osteen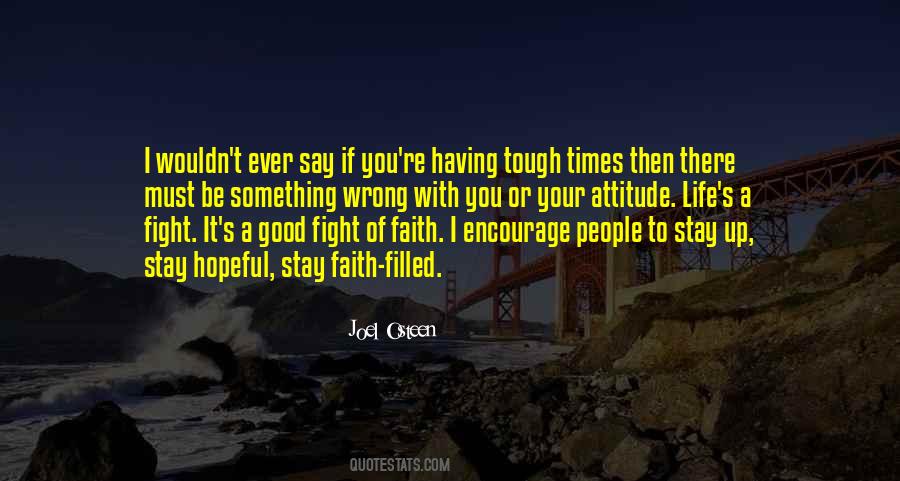 #94. The time that I have on this earth should just be filled with good times. - Author: Kyle Kinane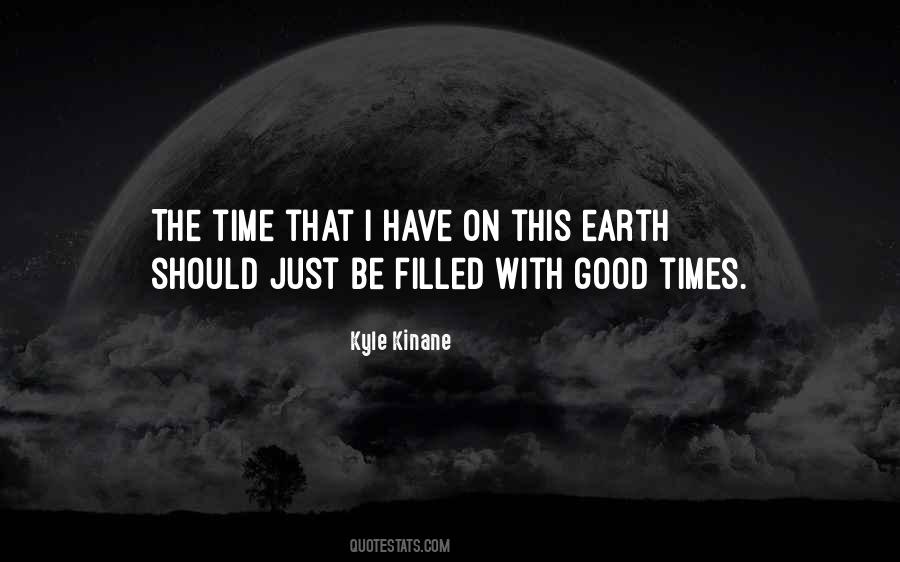 #95. If you don't have a lot of energy, and you are called upon to give to your youngest several times a minute (preschoolers demand some form of attention 180 times per hour, behavioral psychologists say), you quickly exhaust your reservoir of good will toward your spouse. - Author: John Medina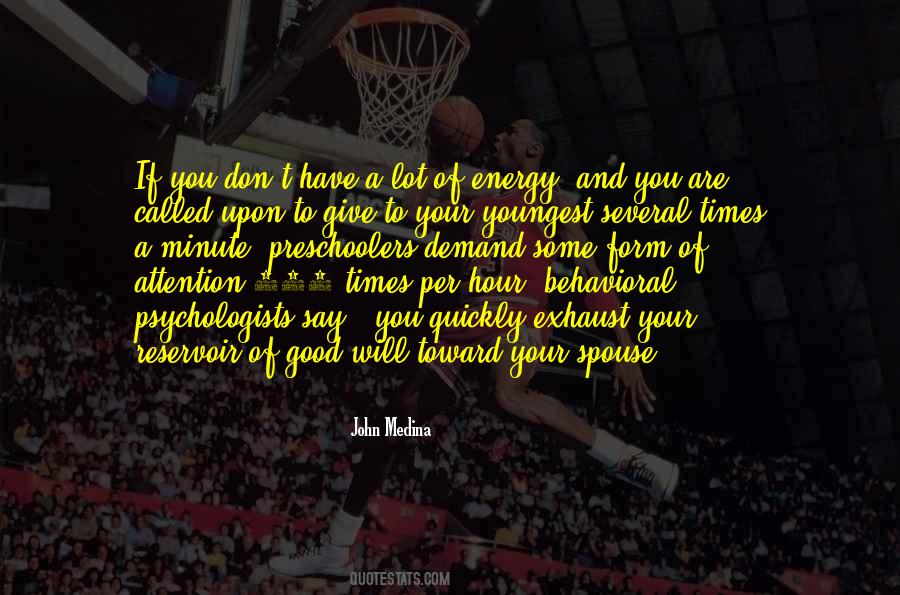 #96. We don't feel pressure of, 'Let's make this really raunchy.' It's more about making a good story, which is 10 times harder. The raunchy stuff's really easy for us. - Author: Matt Stone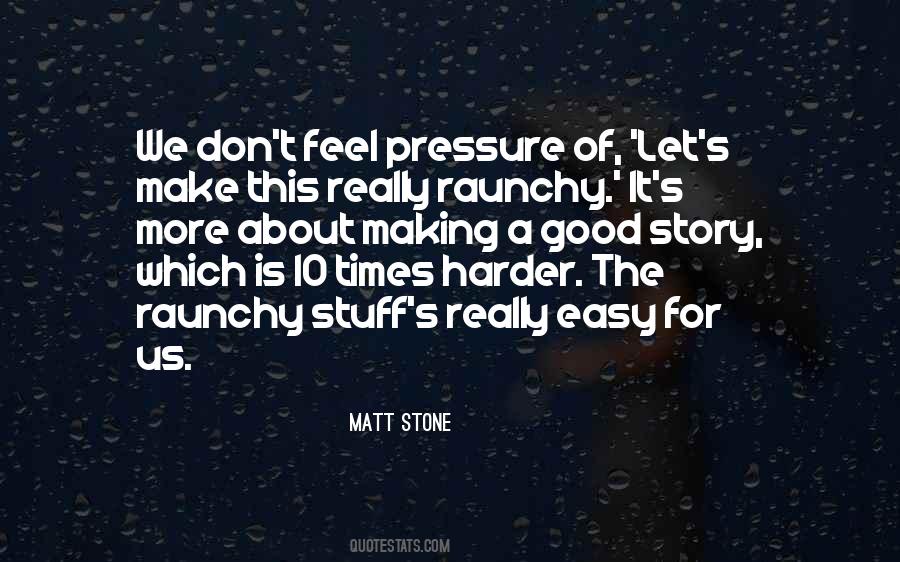 #97. Really, the potential for, first of all, any college graduate today is enormously good. These are good times for anyone with a college degree today, particularly African Americans. With a college degree today, you really breach the unemployment rate. - Author: Alexis Herman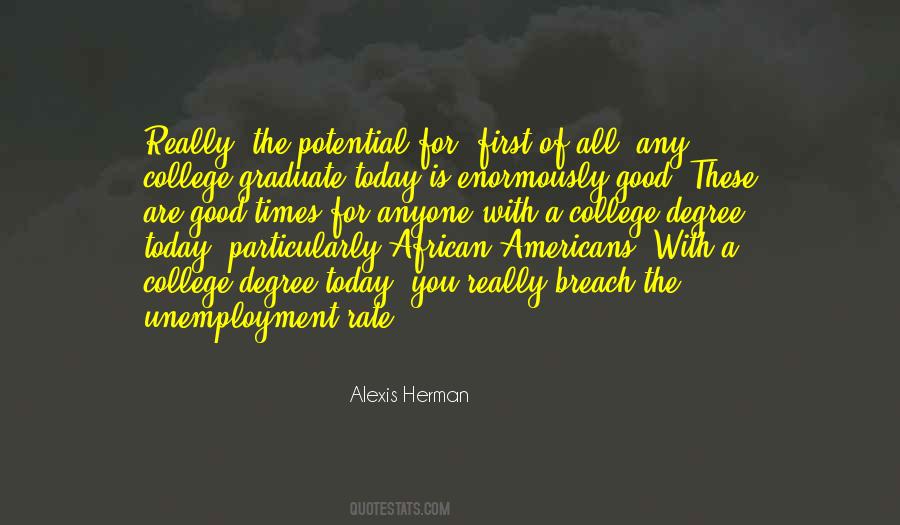 #98. I've said this so many times but there's a magic when you have a really good actor in a really good makeup. - Author: Rick Baker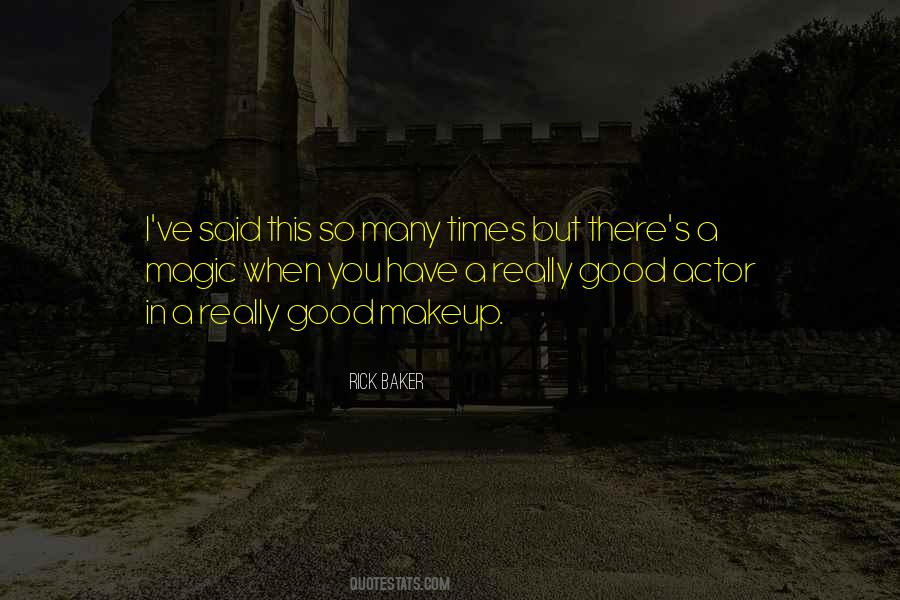 #99. In our researches on the likely economic apocalypse it's become clear what is the prime survival tool for hard times: friends. Good friends. Lots of them. - Author: Stewart Brand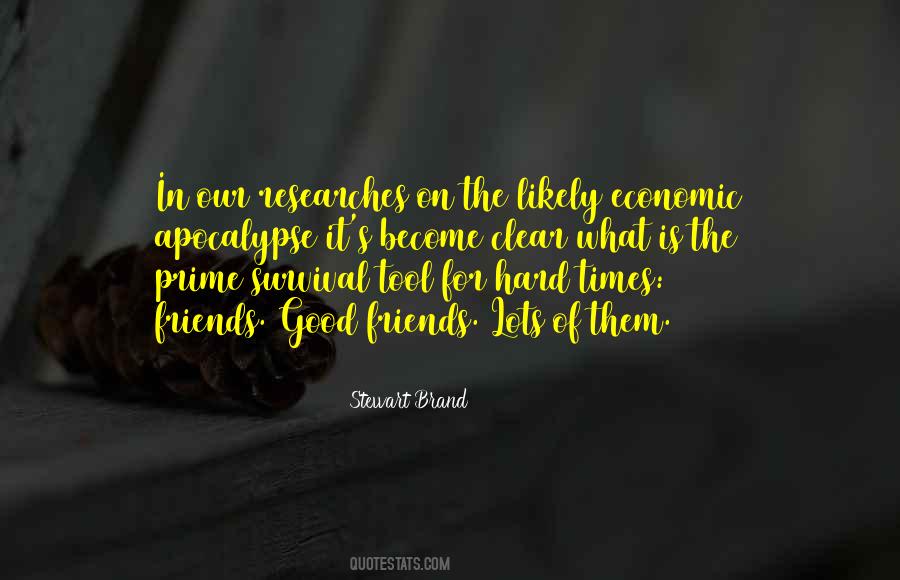 #100. If you have kids, it is the most important thing to create good times. - Author: Tom Cruise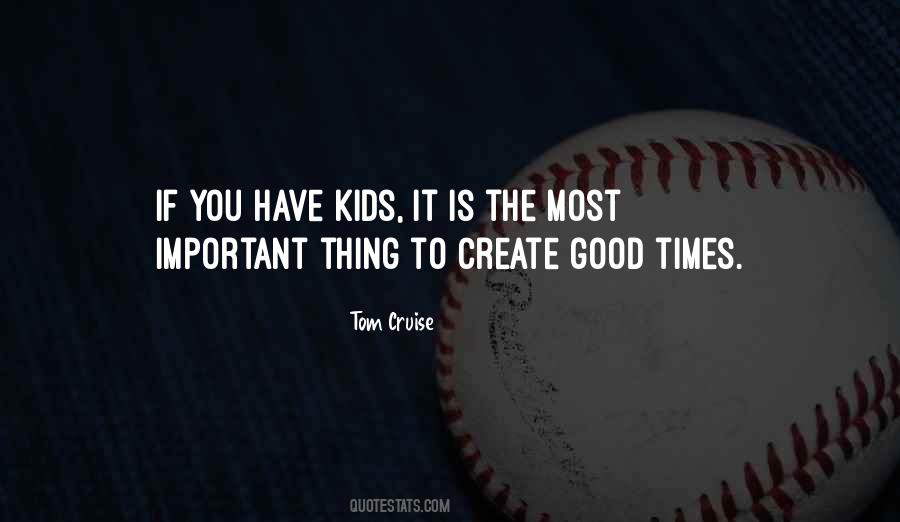 Famous Authors
Popular Topics