Getting In Trouble Famous Quotes & Sayings
List of top 92 famous quotes and sayings about getting in trouble to read and share with friends on your Facebook, Twitter, blogs.
Top 92 Quotes About Getting In Trouble
#1. I can go back to when I was six years old. I was always getting in trouble for dreaming, and the things I got in trouble for dreaming then are the things I'm doing today. - Author: Michael Flatley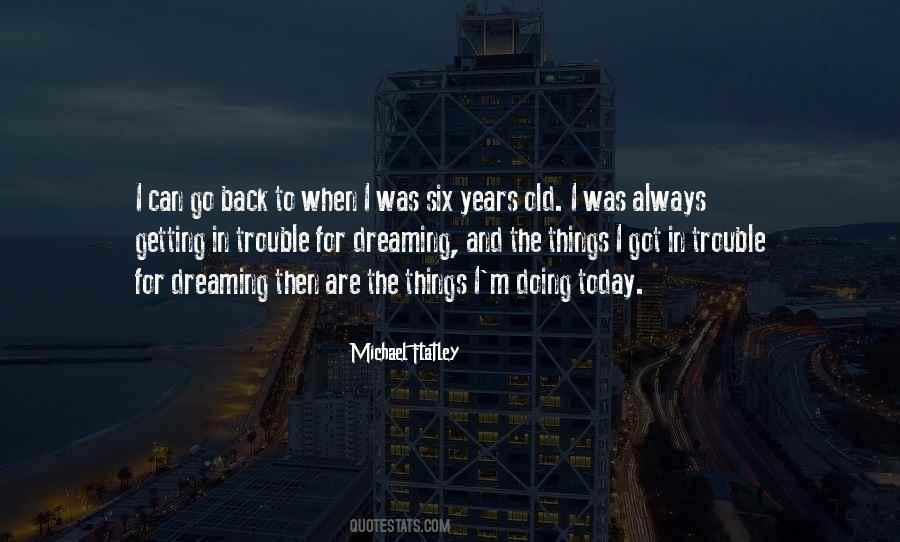 #2. For really there is nothing like wings for getting you into trouble. But, on the other hand, if you are in trouble, there is nothing like wings for getting you out of it. - Author: E. Nesbit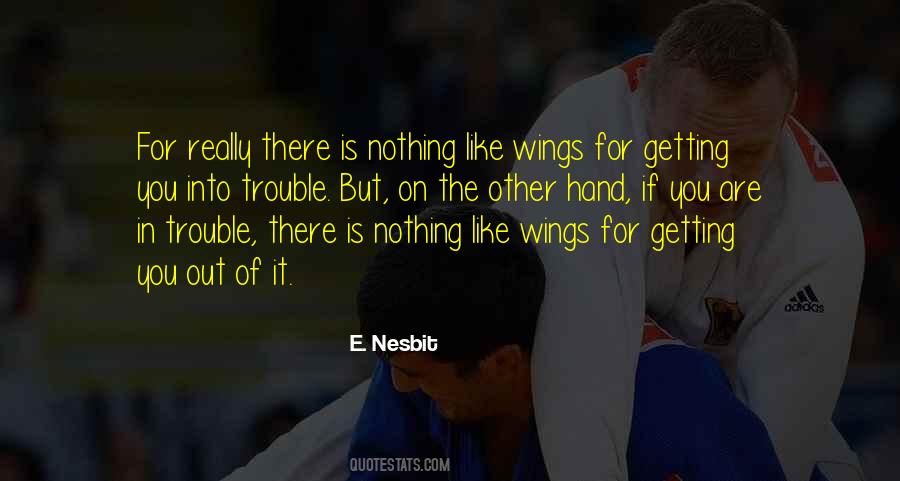 #3. Some kids are always getting into trouble or doing stuff, and I stay away from those types. I know I am no better than anyone else in this world. I'm just an actor, that's nothing special. But I'm not into anything bad. Just blackjack. - Author: Frankie Muniz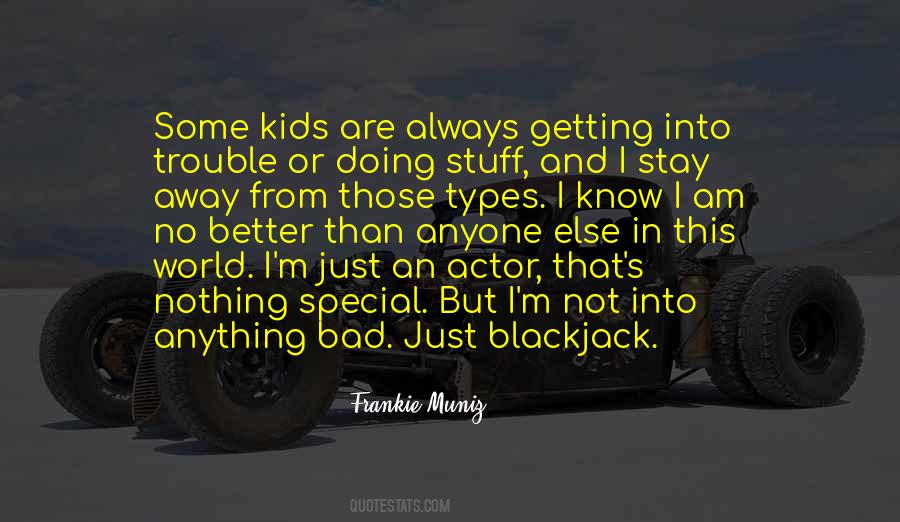 #4. College: getting in or not getting in.
Trouble: getting in or not getting in.
School: getting A's or getting D's. Career: having or not having. House: big or small, owning or renting. Money: having or not having. It's all boring. - Author: John Green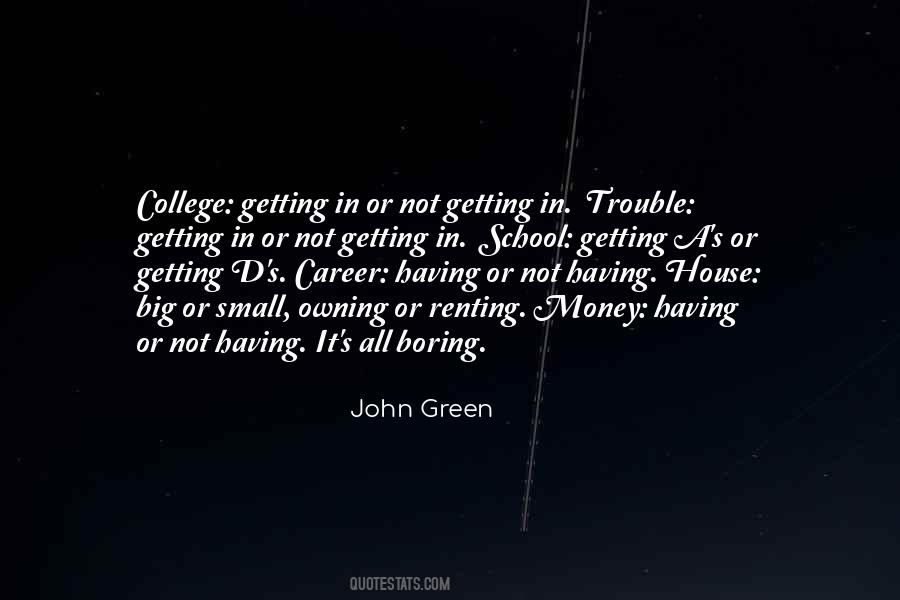 #5. How can I give her what Don Fey gave me? The gift of anxiety. The fear of getting in trouble. The knowledge that while you are loved, you are not above the law. - Author: Tina Fey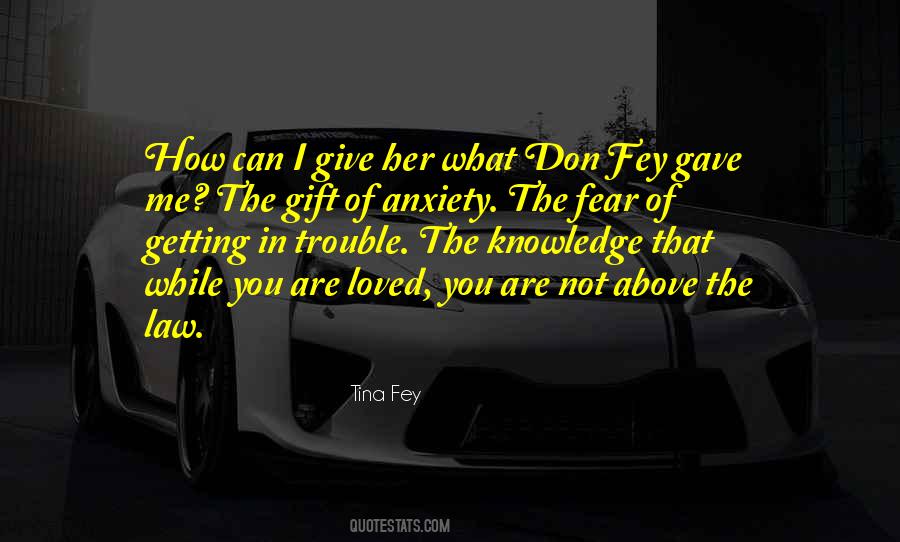 #6. Whoa! If I'm gonna be a doorman, I gonna be the mos sabotagin doorman ever guarded a plantation. Ooo-wee. The cotton fiel be burn to the groun before I'm through."
Watch out, Jones. Don be getting yourself in no trouble."
Whoa! - Author: John Kennedy Toole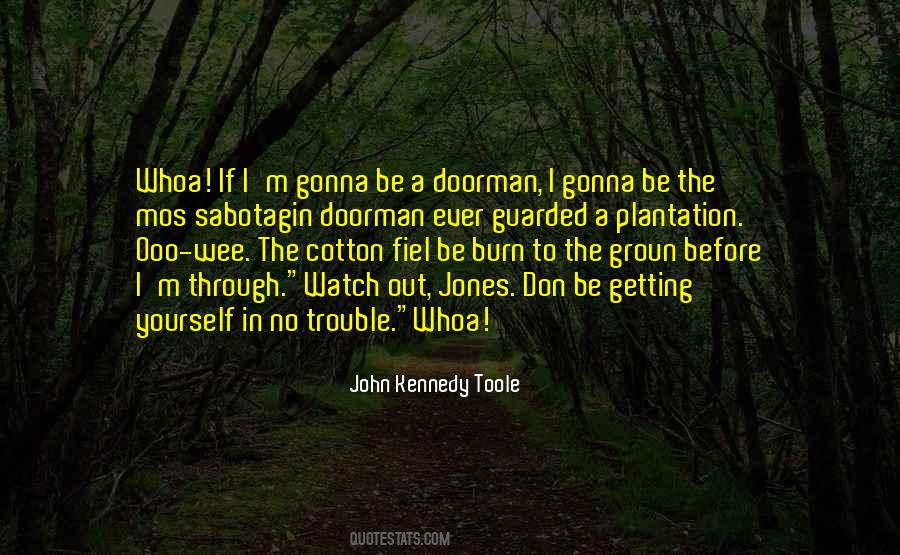 #7. I will sleep all day; I love staying in bed with my dog and reading and not getting up and checking my phone. And that gets me into trouble because I have things to do, and that's not very productive. - Author: Brittany Snow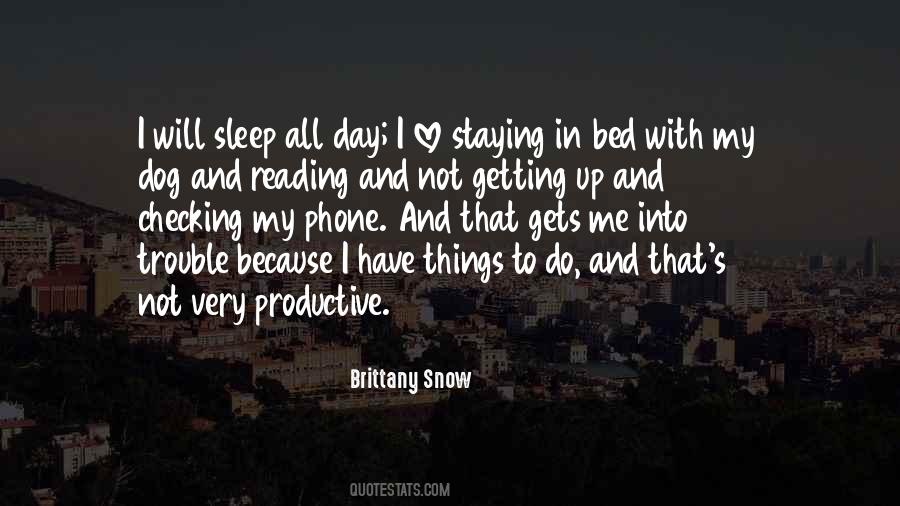 #8. You get into trouble if you criticize big business. The roof falls in if you criticize Congress. And we're getting increasingly cautious in criticizing the Administration. The pressures are getting worse. - Author: Howard K. Smith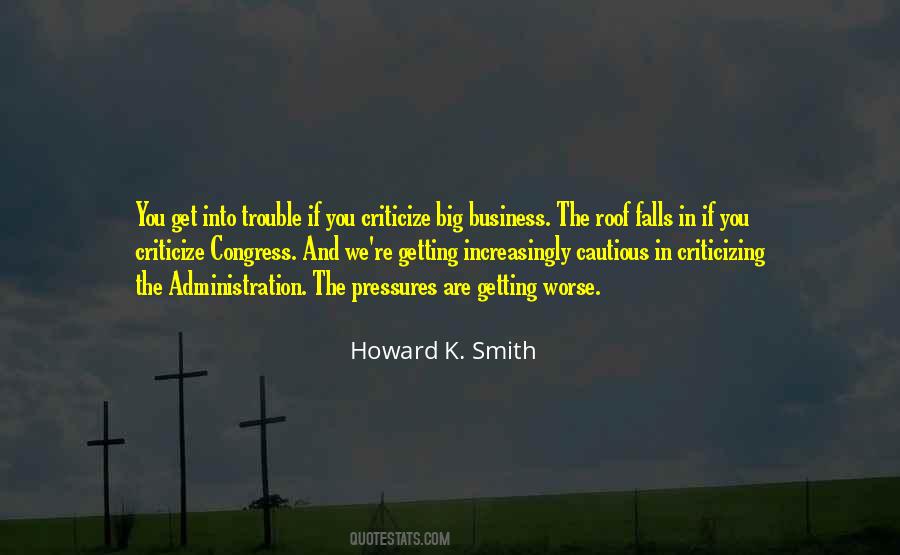 #9. My parents got me in trouble when I was in school because someone was getting bullied, and I didn't do anything about it. I just watched it happen and then came to the school, and I got cussed out for not helping and not being a part of it. - Author: Zendaya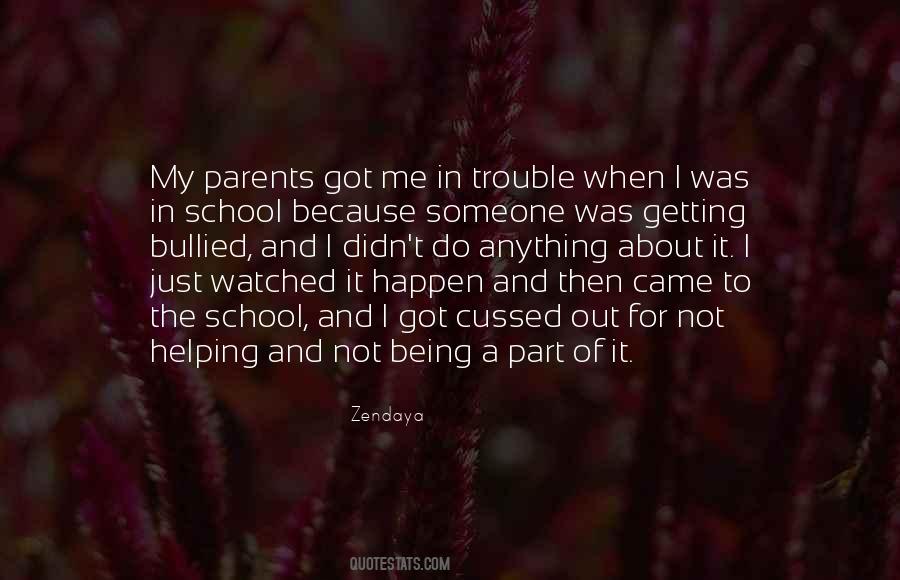 #10. The thing is, if you make best-sellerdom your goal, you're going to be in trouble. It's a very nice thing to have happen, but if one makes that a goal like, say, a literary writer has the goal of getting the Pulitzer Prize, that's so unpredictable. - Author: Diane Mott Davidson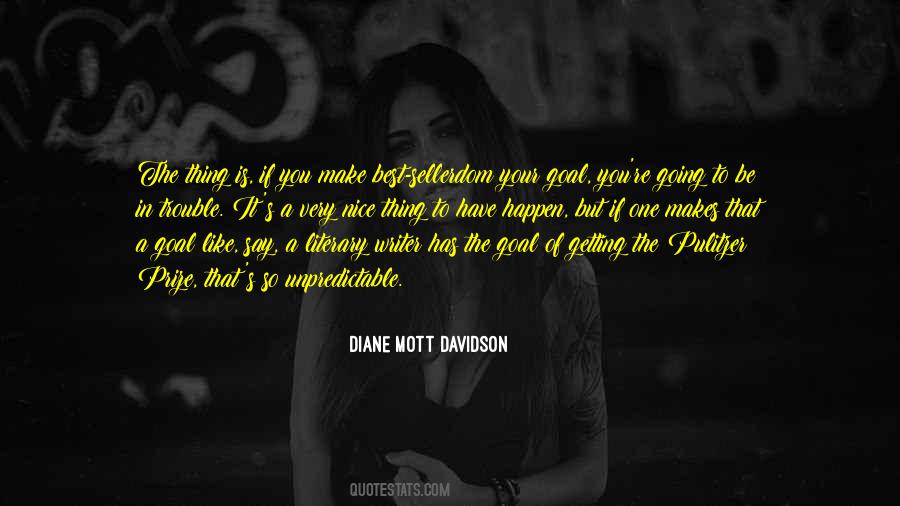 #11. Sometimes in the life of an actor you're not getting offered any jobs that speak to you. The trouble with acting is that you're only as good as your opportunities. - Author: Ethan Hawke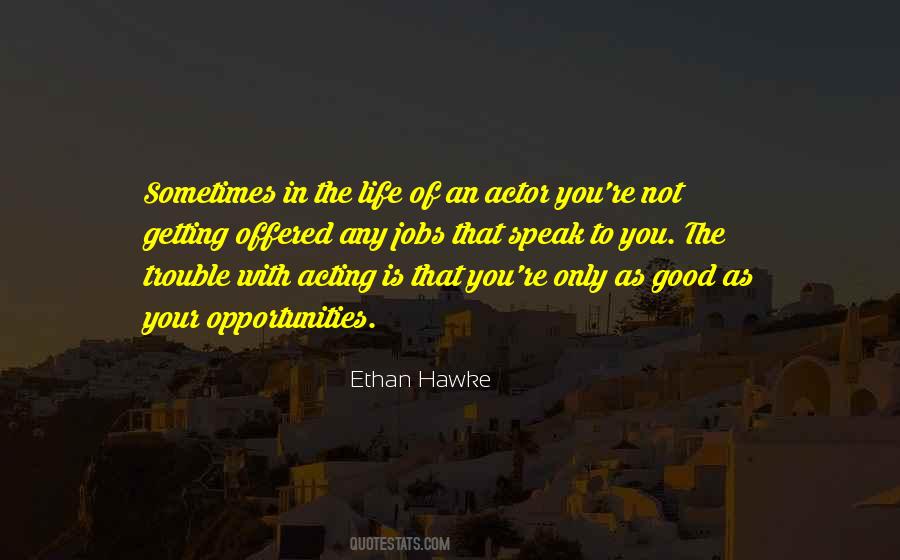 #12. I hope to read a Harry Potter novel soon, to see what it's all about. I admit to being annoyed that many good light fantasy writers have had trouble getting published, in England and elsewhere, when it is obvious the readers were waiting for us all along. - Author: Piers Anthony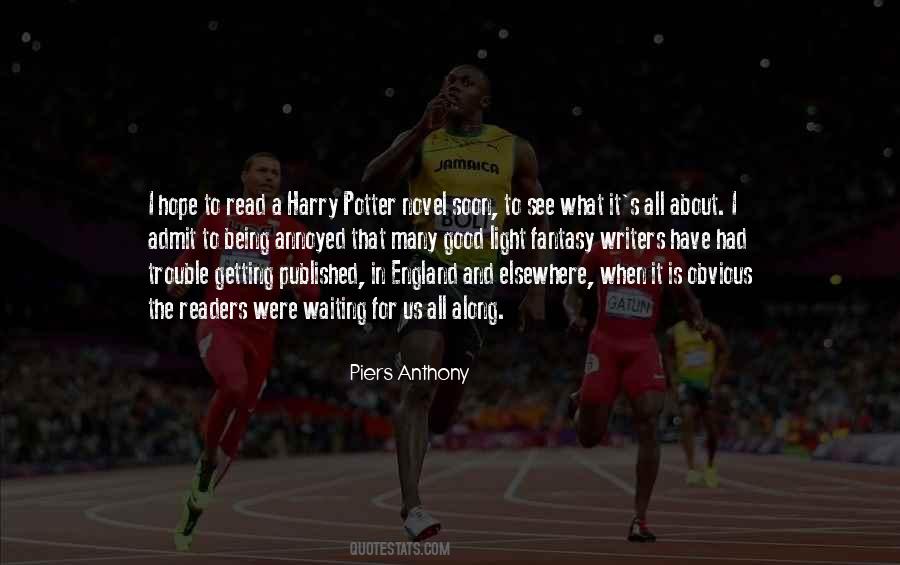 #13. I was a savage for so many years of my life. There was some seed of determination in me that I was not conscious of. I was mostly consciously getting into trouble and drunk. - Author: Daniel Day-Lewis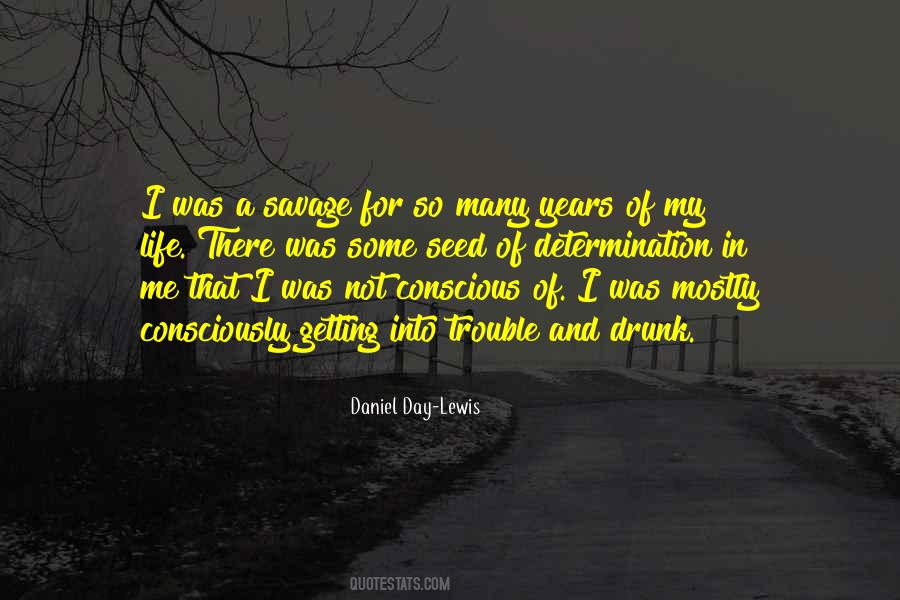 #14. I didn't have an interest in school at all and was getting in trouble all the time. - Author: Tig Notaro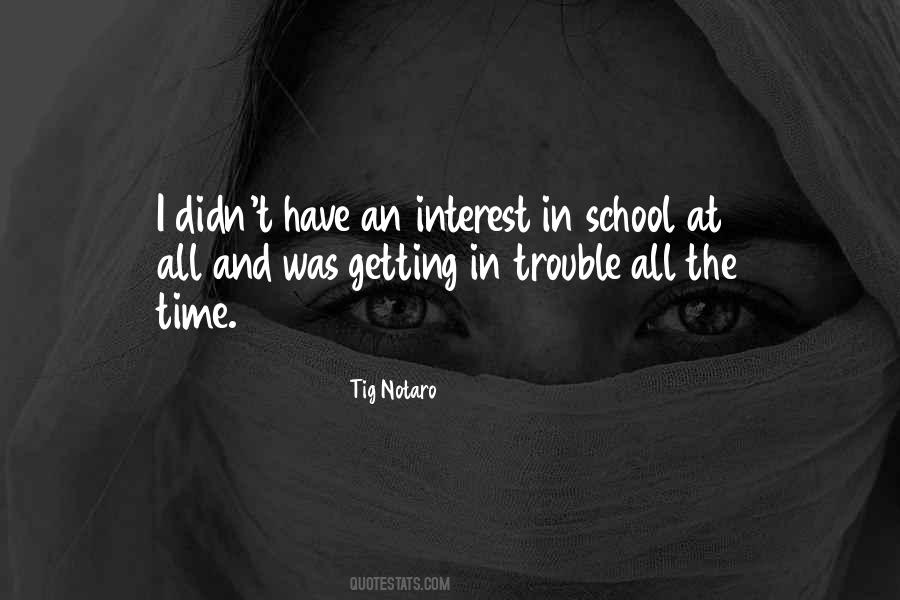 #15. Avoiding sin isn't about us not getting in trouble; it is about us trusting that the Creator knows his creation best and has designed the world to work in a certain way. - Author: Jefferson Bethke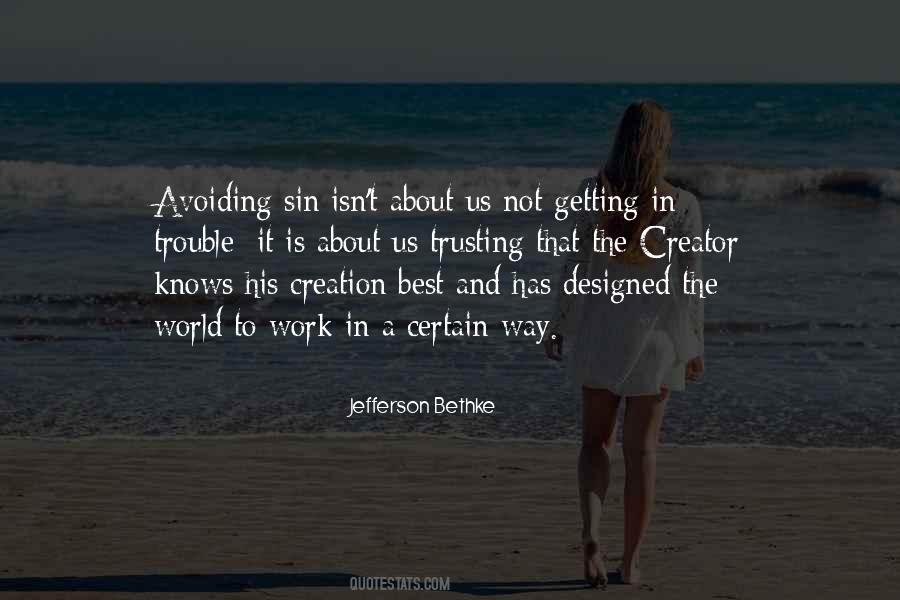 #16. Well, no. I was getting into trouble messing around with it for roles. So one night I went home, cut it down with a pair of scissors and then got in the bath and shaved it all off. I've never looked back. - Author: Richard O'Brien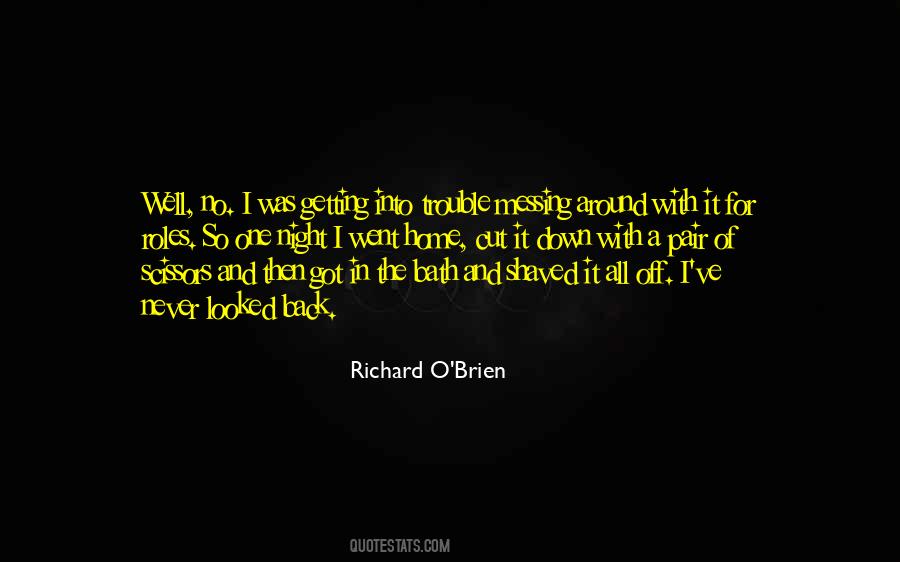 #17. I learned to read at a young age and I have always read voraciously. It is one of the few things, aside from getting fucked up and getting in trouble, that I have done consistently throughout my entire life. - Author: James Frey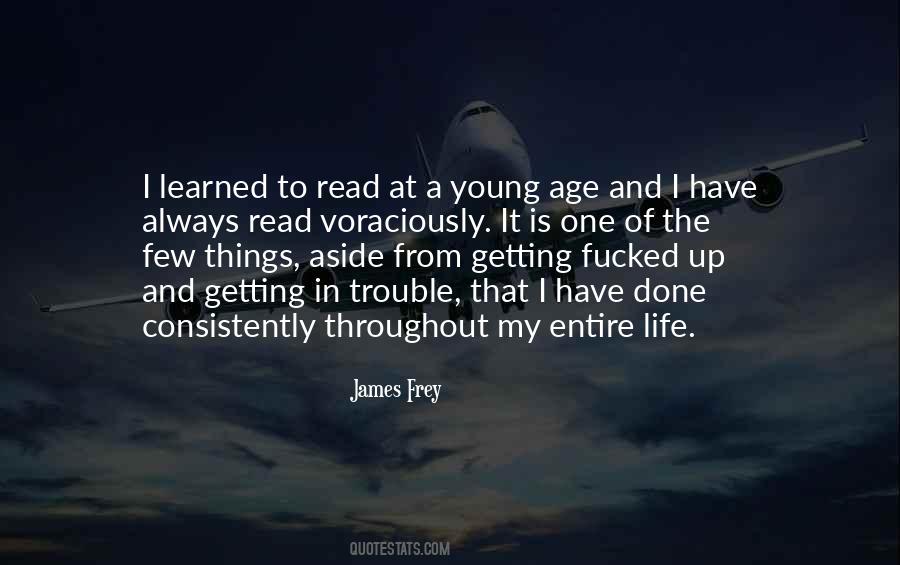 #18. It's like getting into film - I didn't say early on, 'I'm going to become a filmmaker,' 'I'm going to show my work at MoMA.' When you start to think those things, you're in trouble. - Author: Tim Burton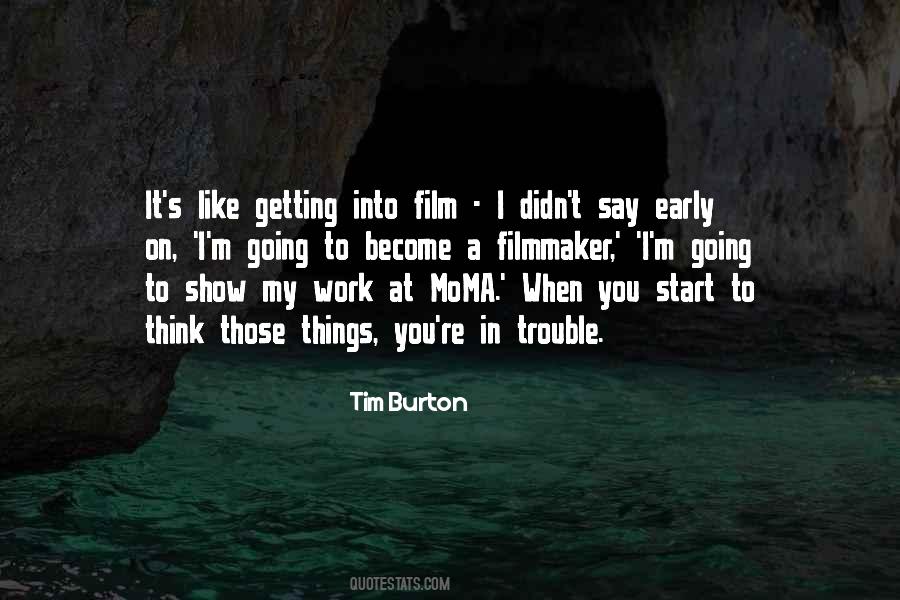 #19. Most people are interested in seeing 27-year-old women who are in movies somehow connected to sex. It's interesting to everyone. Especially little movies that are having trouble getting made, there's always sex. - Author: Maggie Gyllenhaal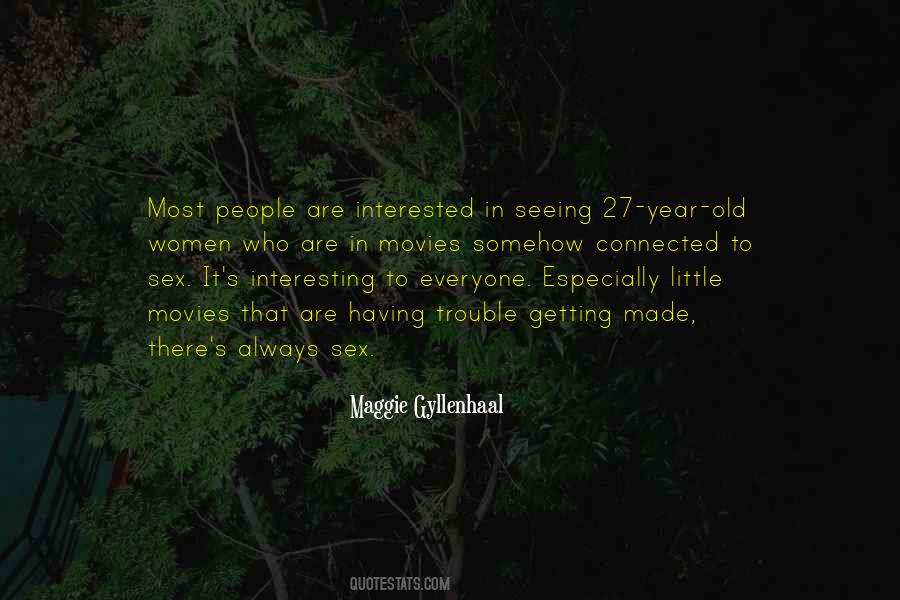 #20. If asked for an opinion we'll say what we think. And by "what we think" I mean the answer that comes to our mind first, seems most logical and requires the least amount of effort to articulate, while getting us in the least amount of trouble. Really that's what our communication boils down to. - Author: Aaron Blaylock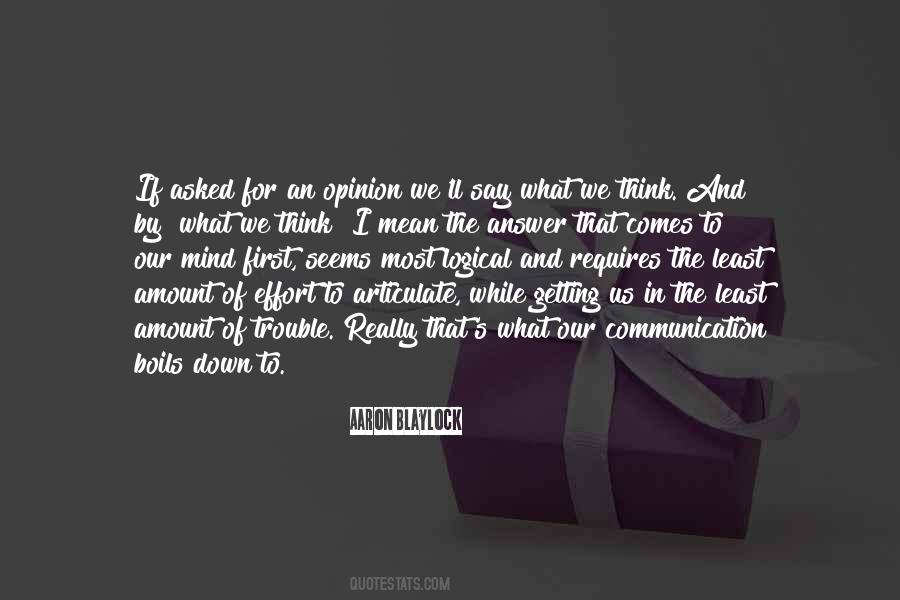 #21. Alice 'without pictures or conversation?' So she was considering in her own mind (as well as she could, for the hot day made her feel very sleepy and stupid), whether the pleasure of making a daisy-chain would be worth the trouble of getting up and picking - Author: Lewis Carroll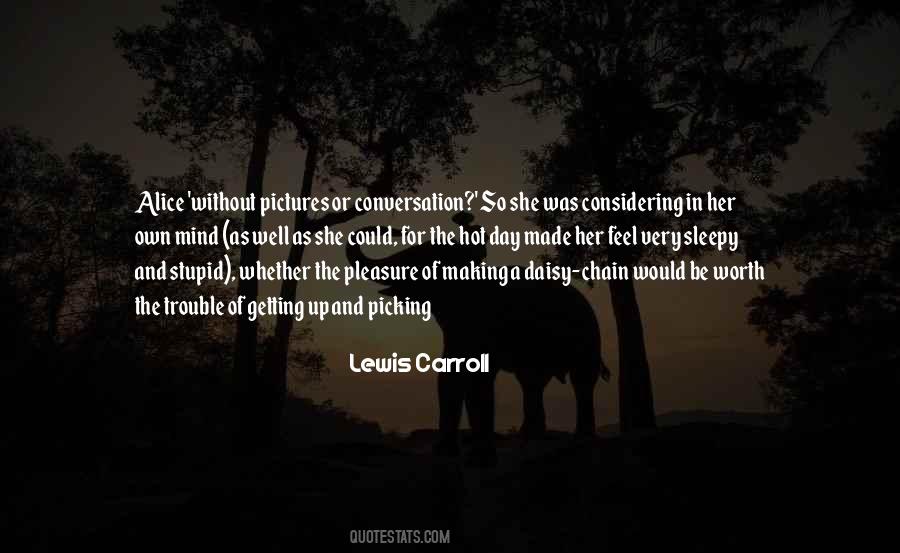 #22. The good thing about poverty is it keeps you from getting in trouble because if you can't afford drugs, people will stop giving them to you very quickly. So, being poor really helps - it's the success that kills you. - Author: Tommy Chong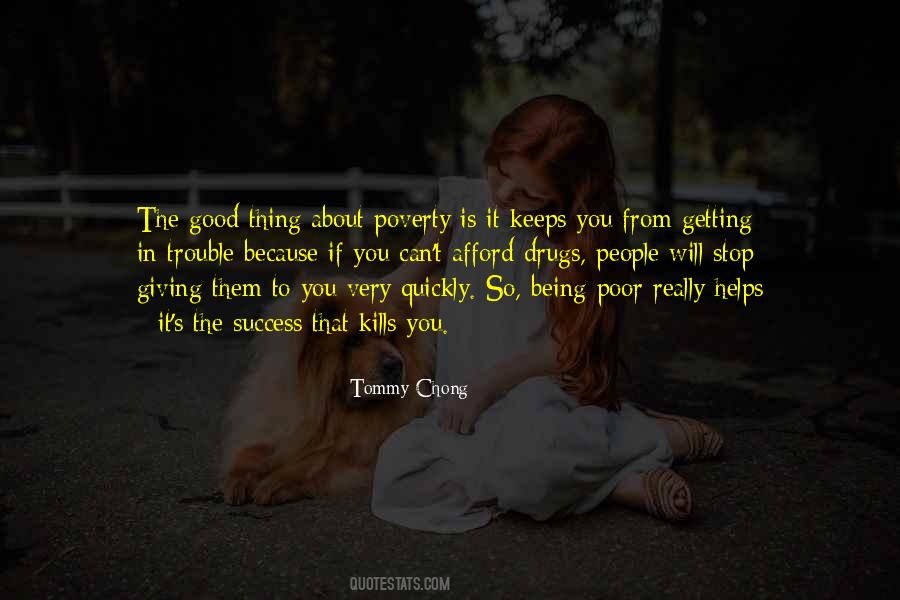 #23. I make a living from storytelling - if you're a public person and you sing songs about getting married to get a visa, and you are actually doing that, you're gonna end up in trouble. - Author: Jens Lekman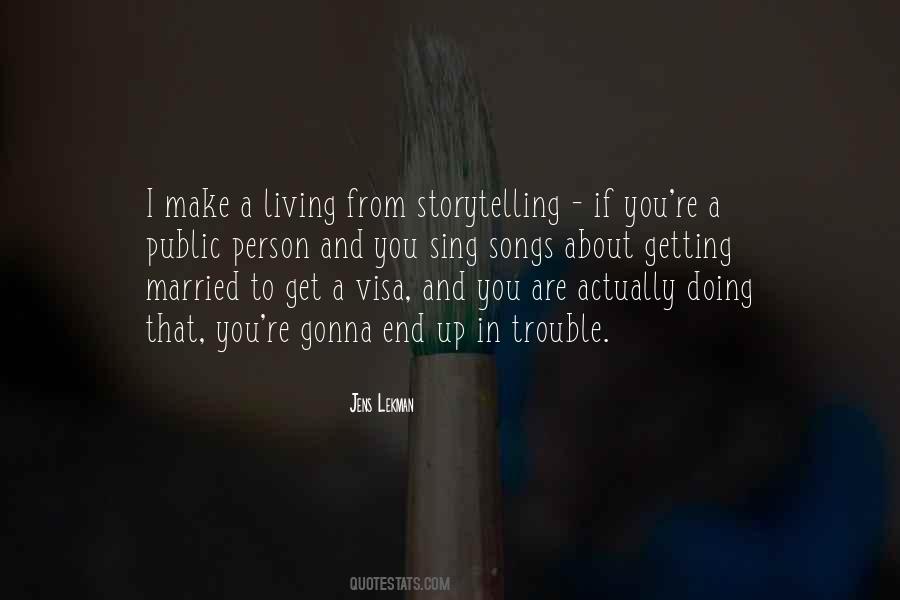 #24. Or conversation?' So she was considering in her own mind (as well as she could, for the hot day made her feel very sleepy and stupid), whether the pleasure of making a daisy-chain would be worth the trouble of getting up and picking the daisies, when suddenly a White Rabbit - Author: Lewis Carroll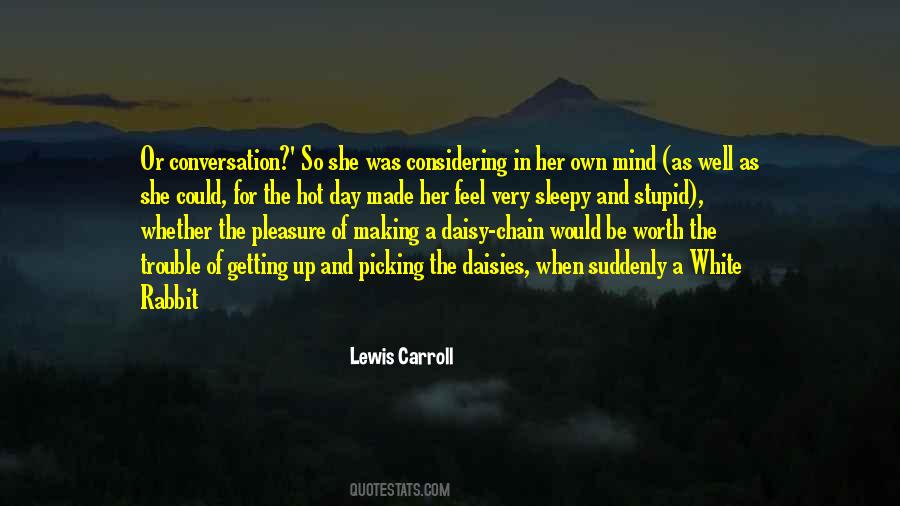 #25. The minute you start getting in trouble, you can't try to do new stuff. You can't try to make a nasty pitch or 'paint the black' because that's when you fall behind. You have to stick with what works for you and go after hitters like there's nobody on base. - Author: Mark Mulder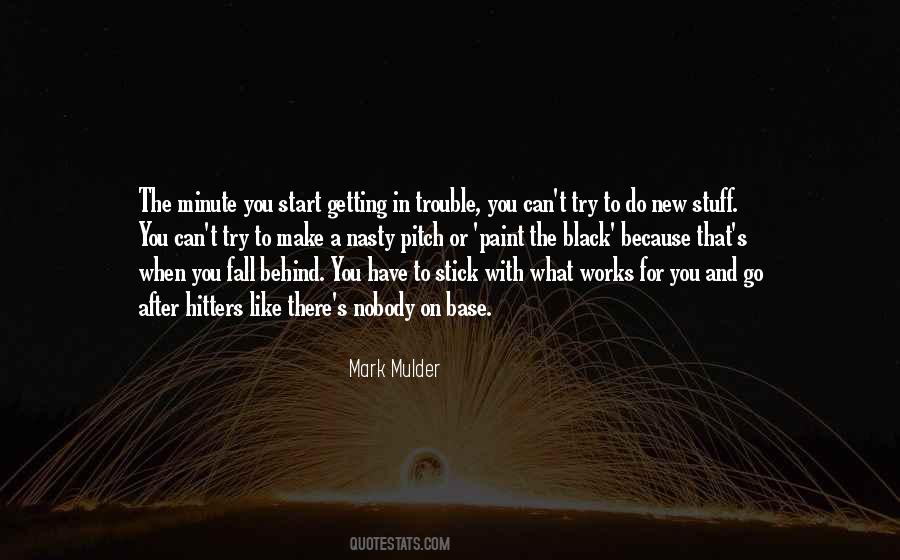 #26. Honor students
black, white, or Asia Minor
tended to be nicer. Maybe they were just as mean on the inside, but they were scared of getting in trouble. Or maybe they were just as mean on the inside, but they'd been trained to be polite
to give up their seats for old people and girls. - Author: Rainbow Rowell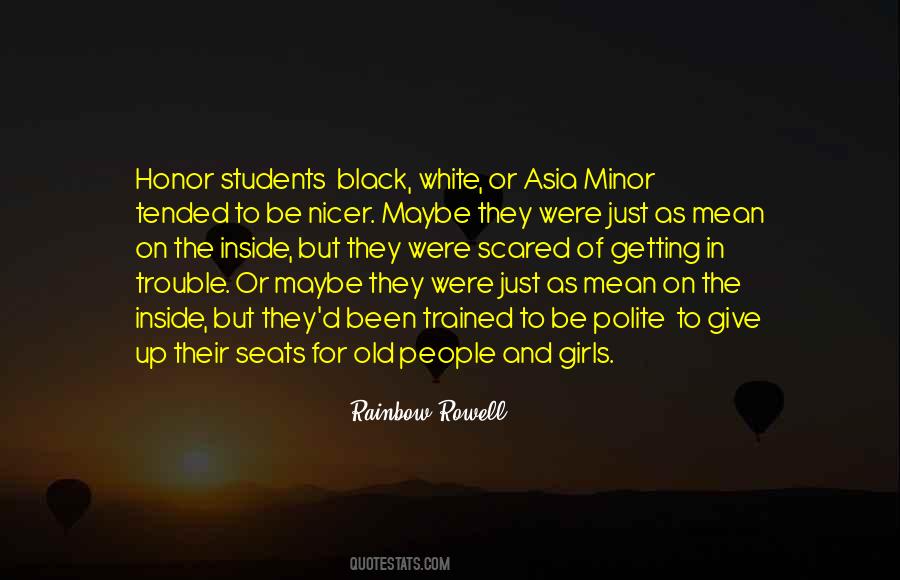 #27. You show me a lazy prick who's lying in bed all day, watching TV, only occasionally getting up to piss, and I'll show you a guy who's not causing any trouble. - Author: George Carlin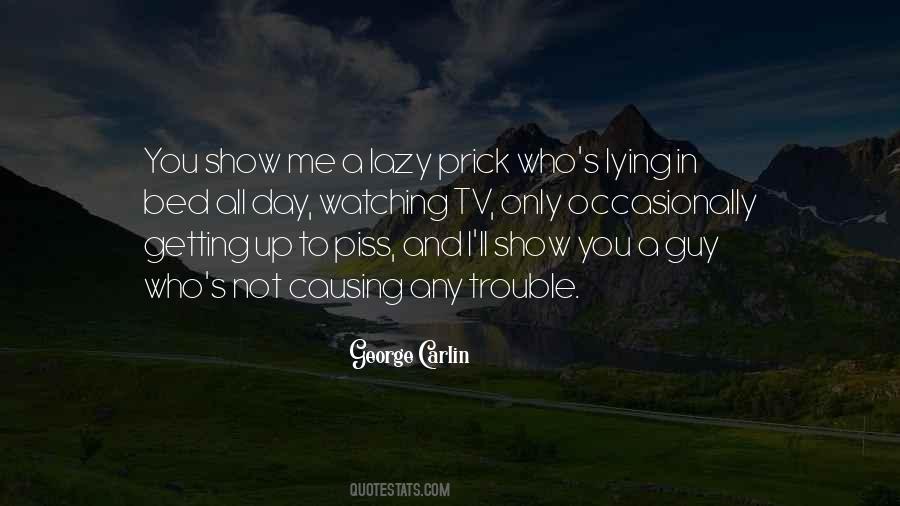 #28. Just in case we get into trouble, he can do that battle armor thing again," he explained. Splurt began to shift around, but Cal stopped him. "Not yet. Just if I give the signal. So we're clear, the signal will be me getting badly beaten or shot at. That's when you do your thing, OK?" Splurt - Author: Barry J. Hutchison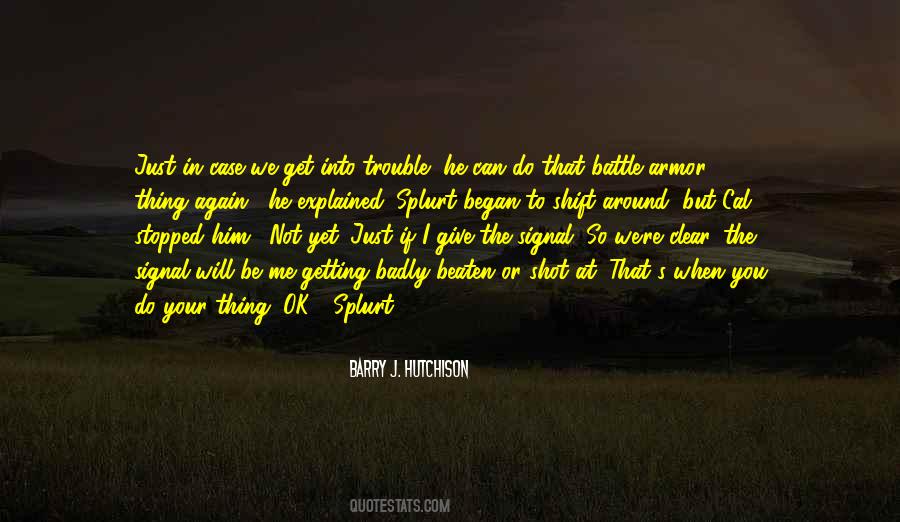 #29. Elves and Dragons! Cabbages and potatoes are better for me and you. Don't go getting mixed up in the business of your betters, or you'll land in trouble too big for you.

~Hamfast Gamgee (the Gaffer) - Author: J.R.R. Tolkien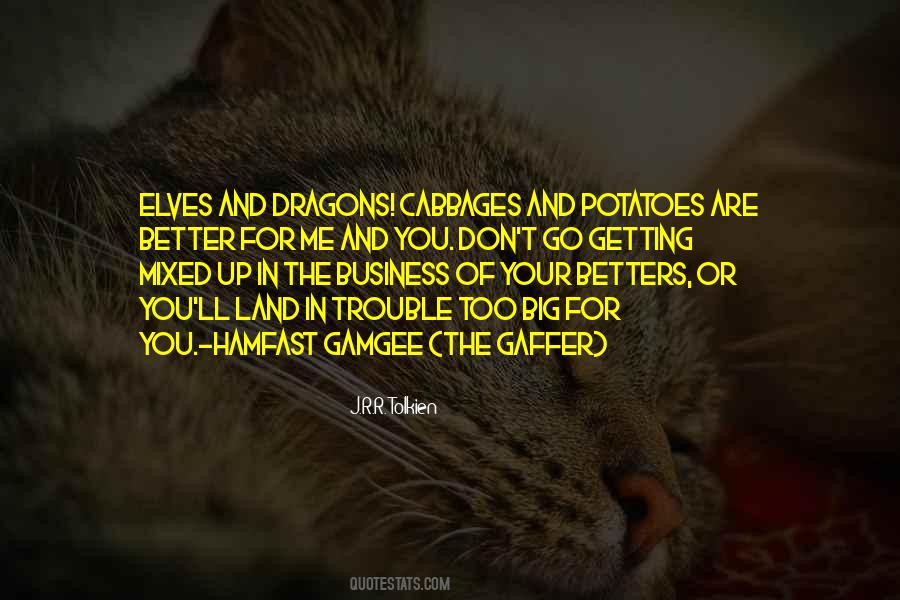 #30. My friend Jim Parrack is in 'Child of God,' and we grew up together. Back then, we would watch old movies and go reenact them at a Blockbuster or a supermarket. We'd end up getting in trouble because you can't reenact movies. People think you're crazy. - Author: Scott Haze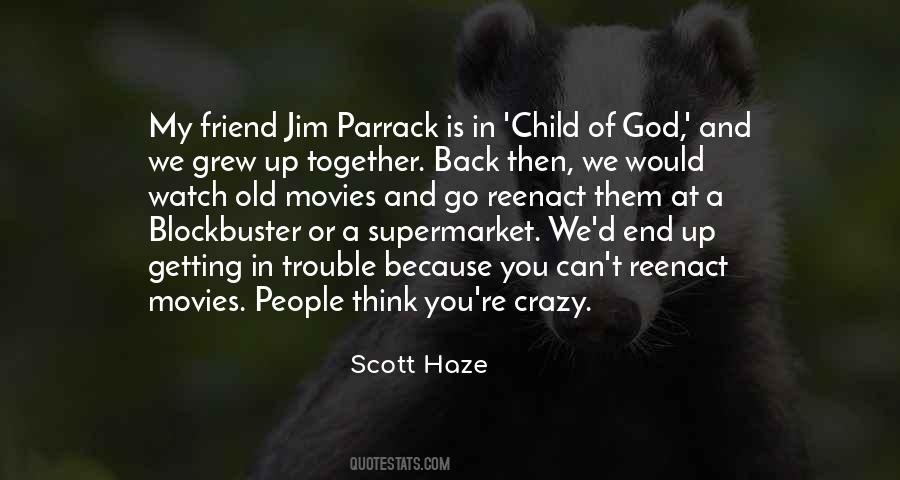 #31. The more you hesitate in a game, the more your chance of getting hit. Your focus isn't there. When you hesitate, usually you're in trouble. - Author: Sidney Crosby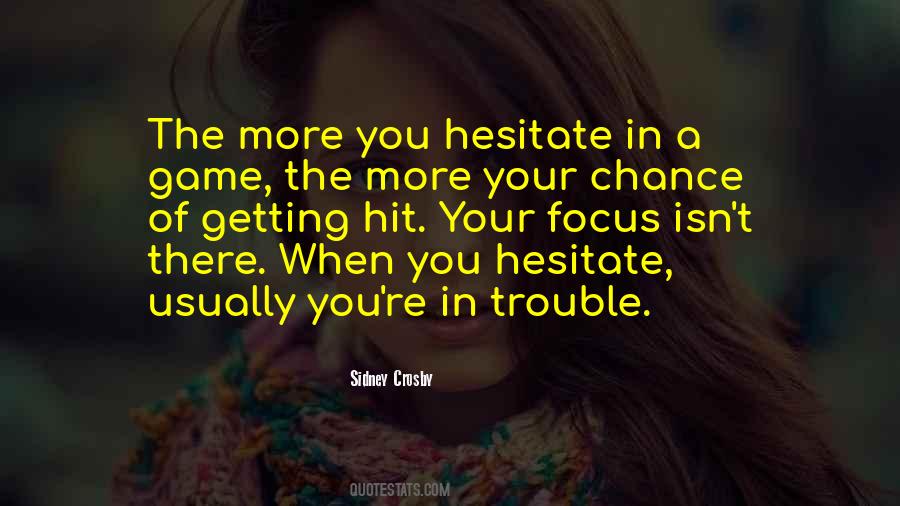 #32. I'm getting to the place where I can sort of go through airports now and there's no hysteria. I can go places alone even. But at the same time, if you get in trouble, you can find somebody in your age group who might recognize you. - Author: Bo Derek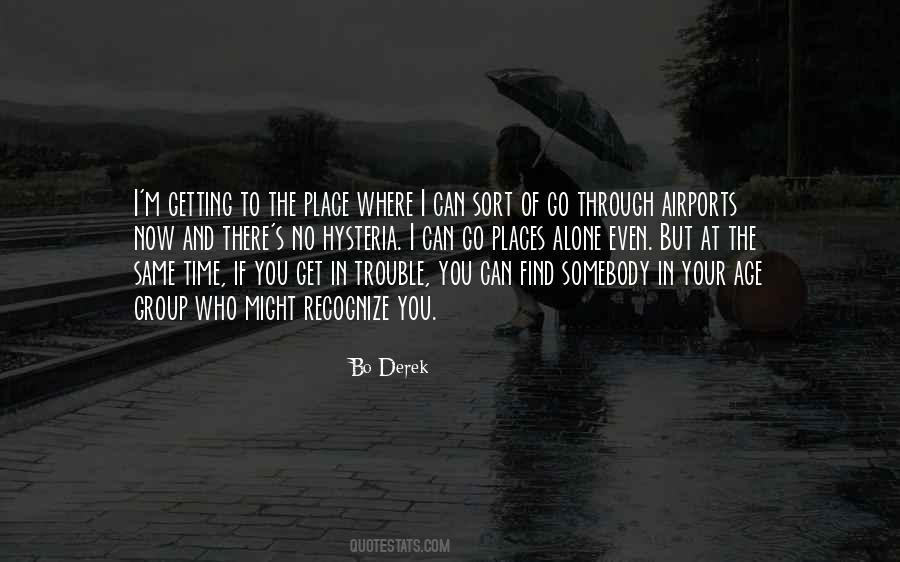 #33. You get in trouble, you have to evaluate: Is it worth getting into trouble again? It's a lot easier to make that decision when you have a career at stake. - Author: Robert Iler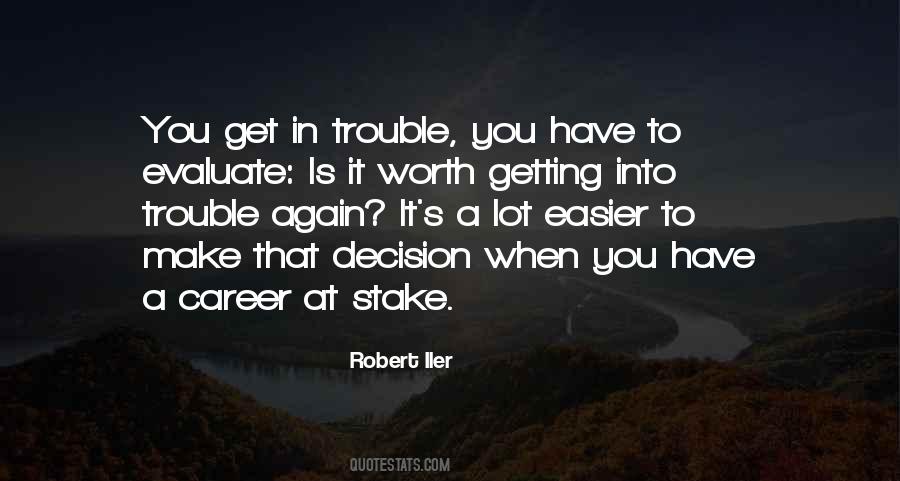 #34. Nobody in America who wants pot has any trouble getting it, so maybe that's why we aren't seeing support for legalization. People don't think it's necessary to legalize it, because it's so easy to get it. - Author: Bill Maher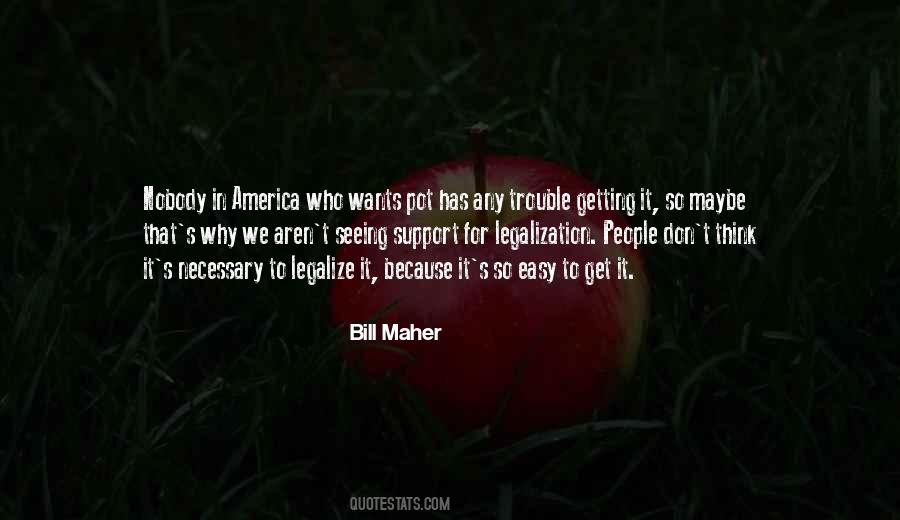 #35. Thanks for turning off the lights... and so far... it's your problem, you are getting in trouble... it's not me... so far you can keep the lights on. - Author: Deyth Banger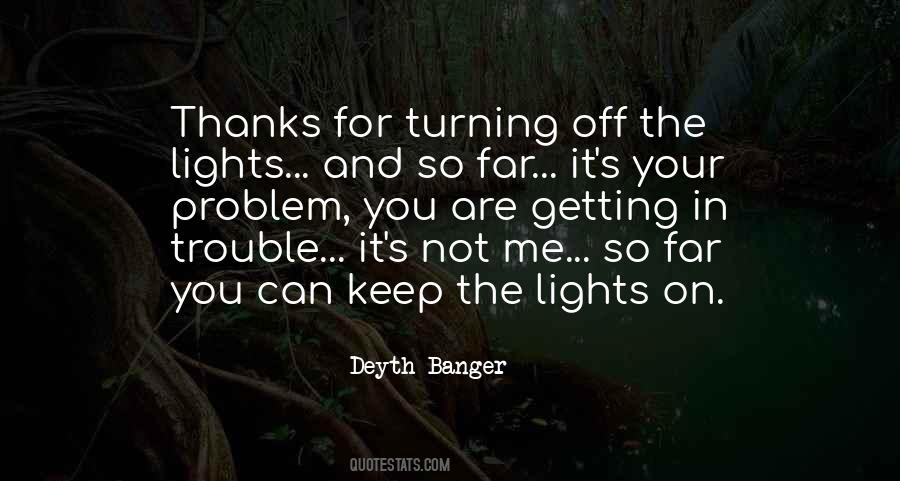 #36. I've been getting in trouble my whole life and I really don't care what anybody thinks of what I do on stage as a comic. - Author: Andrew Dice Clay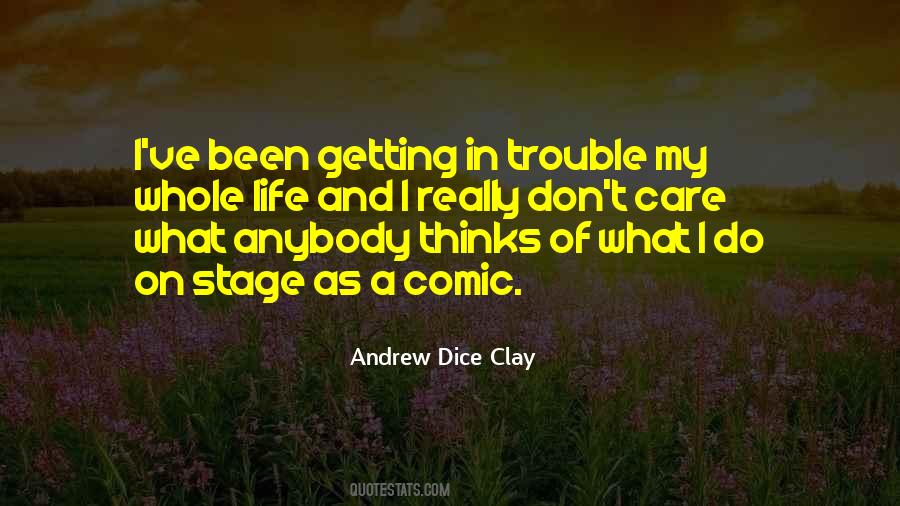 #37. When you have trouble getting out of bed in the morning, remember that your defining characteristic-what defines a human being-is to work with others. - Author: Marcus Aurelius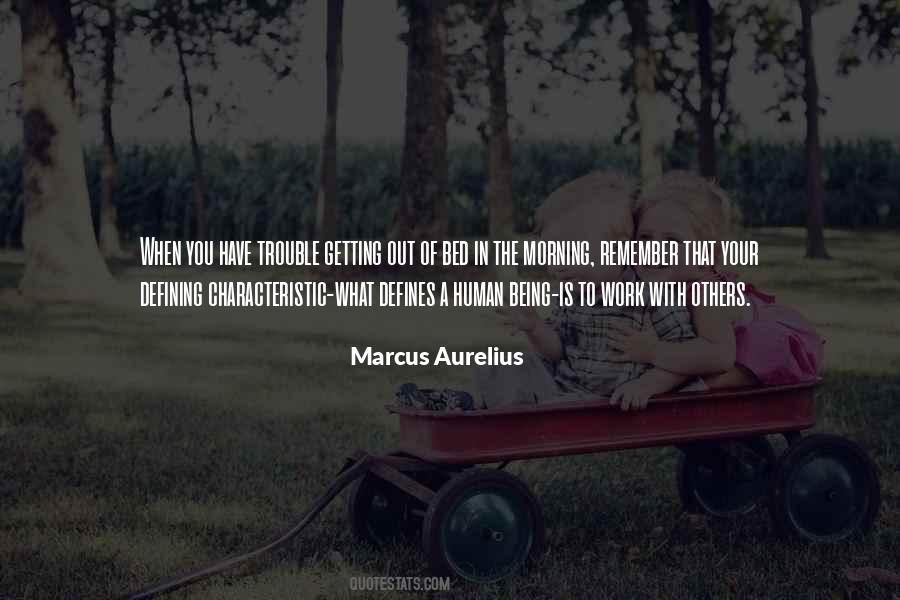 #38. All my pictures are built around the idea of getting in trouble and so giving me the chance to be desperately serious in my attempt to appear as a normal little gentleman. - Author: Charlie Chaplin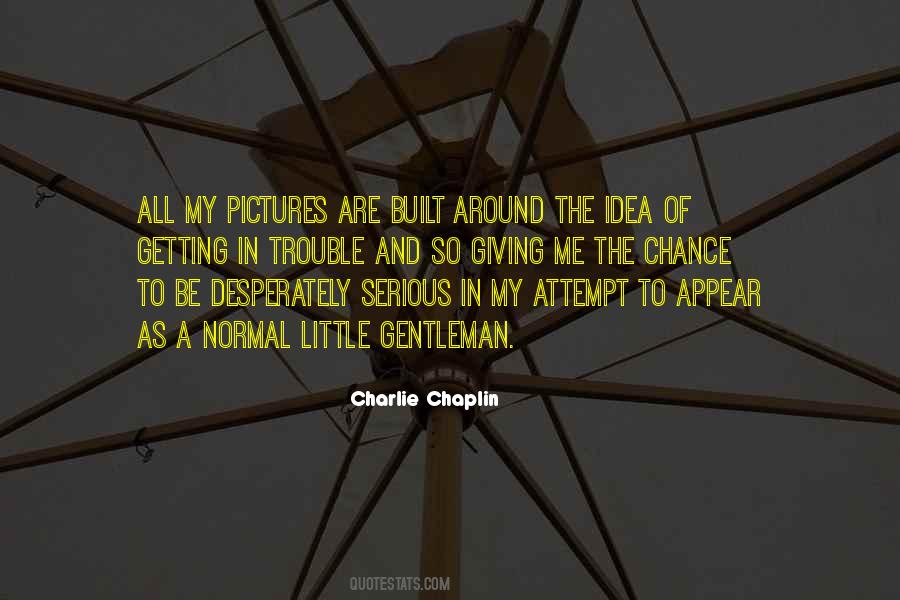 #39. So she was considering, in her own mind (as well as she could, for the hot day made her feel very sleepy and stupid), whether the pleasure of making a daisy-chain would be worth the trouble of getting up and picking the daisies, when suddenly a White Rabbit with pink eyes ran close by her. - Author: Lewis Carroll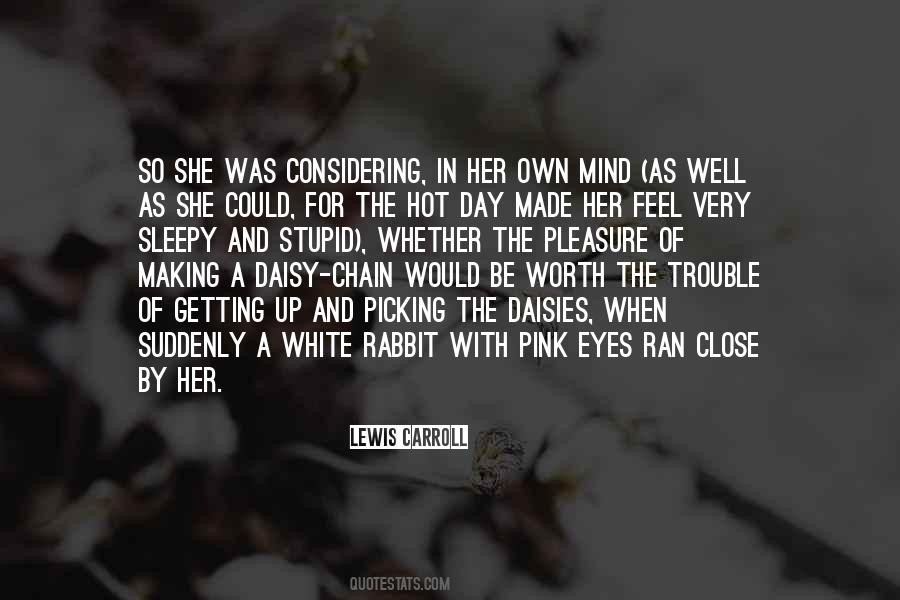 #40. I've had trouble with criticism, I guess. It's hard to know what role criticism plays in either encouraging poets or in getting other people to read them. - Author: Kenneth Koch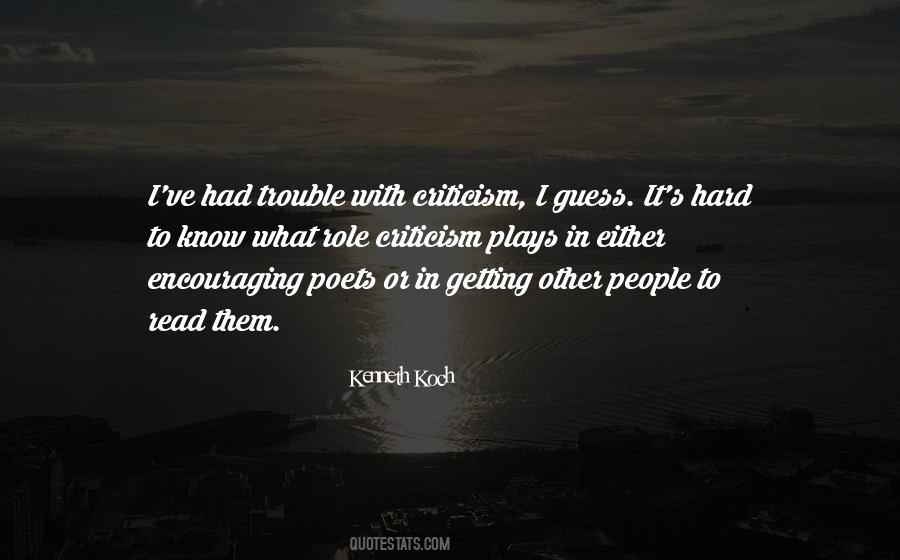 #41. Nope, there wasn't any getting out of this. Real first name meant business. - Author: Mindee Arnett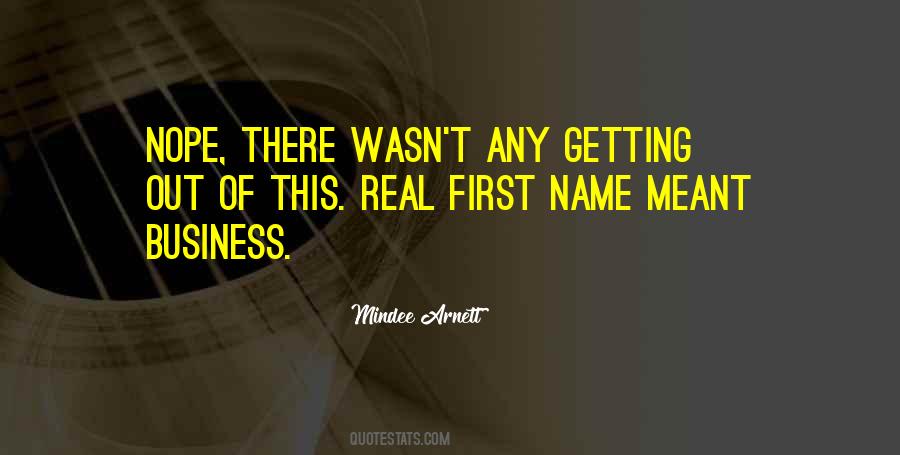 #42. I created 'Captain Underpants' when I was in the second grade. I was constantly getting in trouble for being the class clown, so my teacher sent me out into the hallway to punish me. It was there in the hall that I began drawing 'Captain Underpants'. Soon I was making my own comic books about him. - Author: Dav Pilkey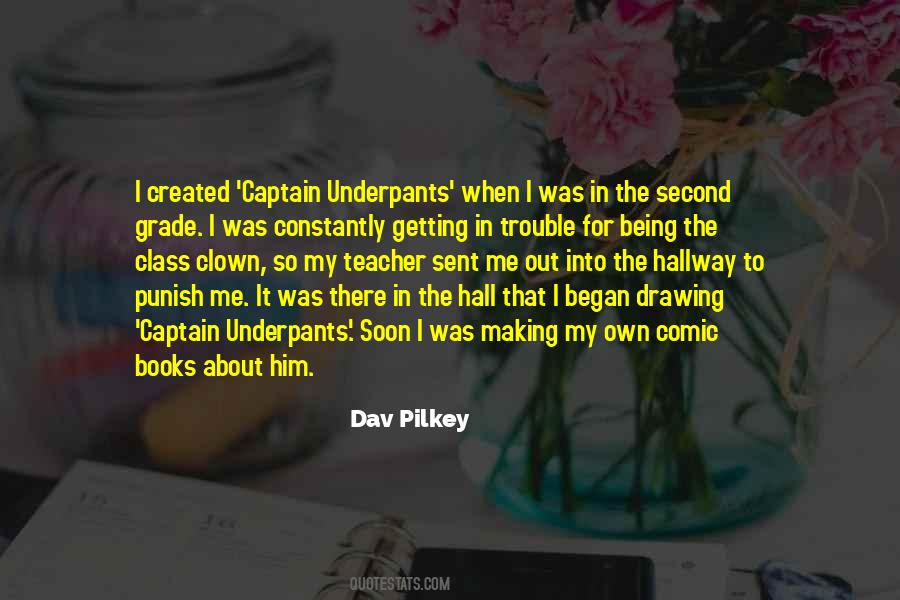 #43. In the vast majority of cases, however, getting into trouble has nothing to do with one's self-esteem. It usually has much more to do with whatever is causing the trouble - a monster, a bus driver, a banana peel, killer bees, the school principal - than what you think of yourself. - Author: Lemony Snicket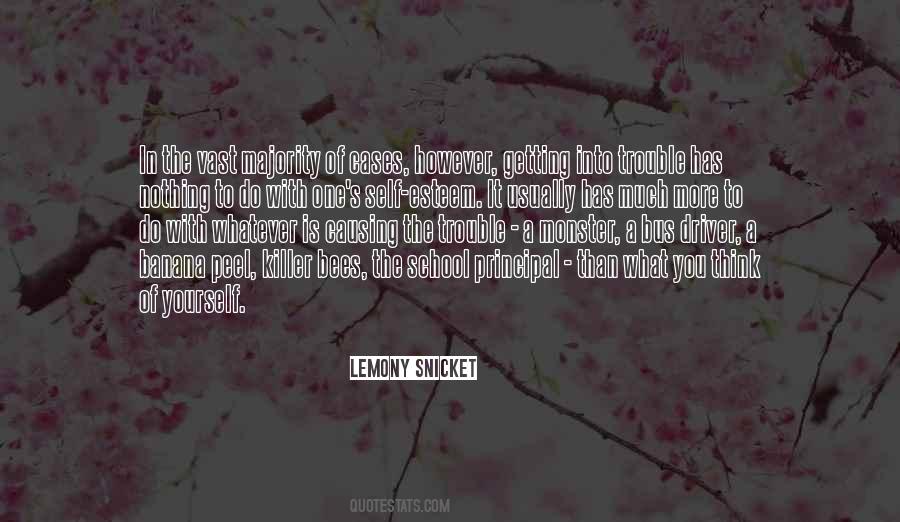 #44. I've always liked getting away with just a little bit of what you're not supposed to. Like my first book, Billy's Booger, got me in trouble with the principal's office. - Author: William Joyce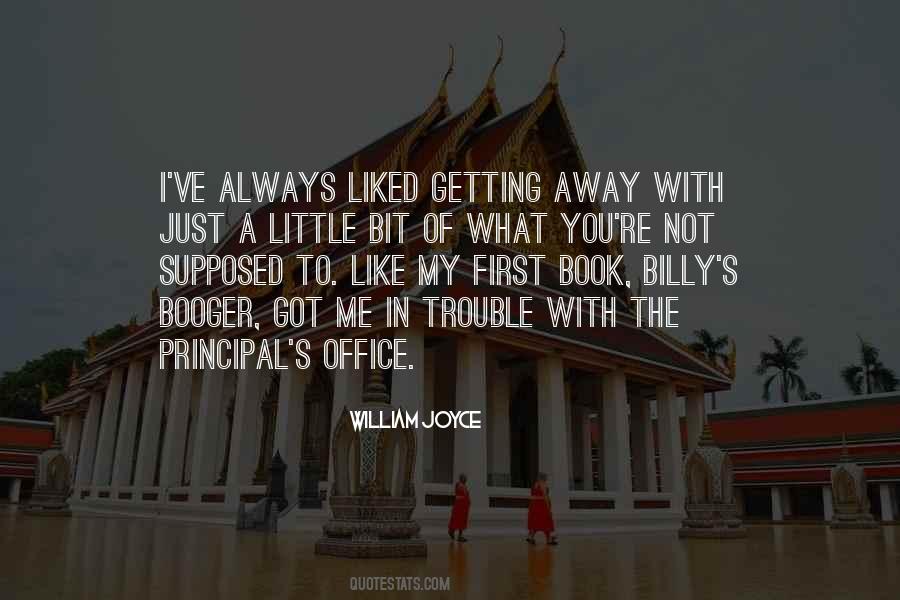 #45. Today, the people who would use guns to violate rights have little trouble getting them, while those who would use them to defend their rights have increasing trouble getting them ... Gun control is in effect a subsidy for criminals. - Author: Sheldon Richman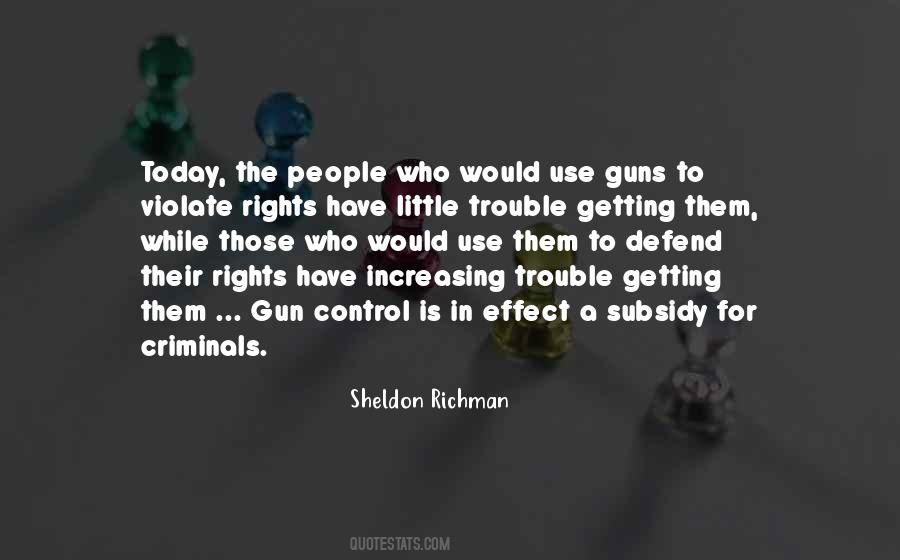 #46. There's nothing like getting in trouble to make you feel young. - Author: Elizabeth Berg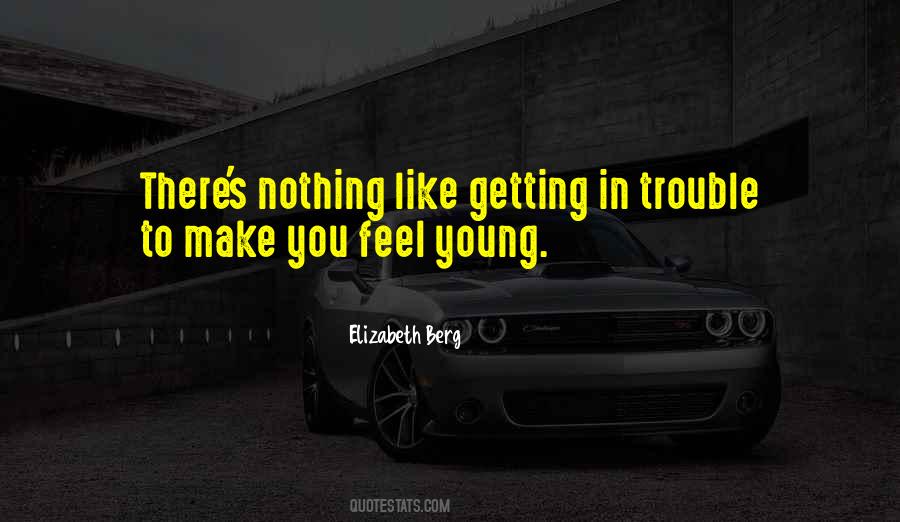 #47. He'd never answered the text from his brother last night because he was otherwise occupied getting a gorgeous stranger off on an open-air balcony in the middle of downtown Chicago. You couldn't make this shit up.
Penthouse, check your mail. - Author: Kate Meader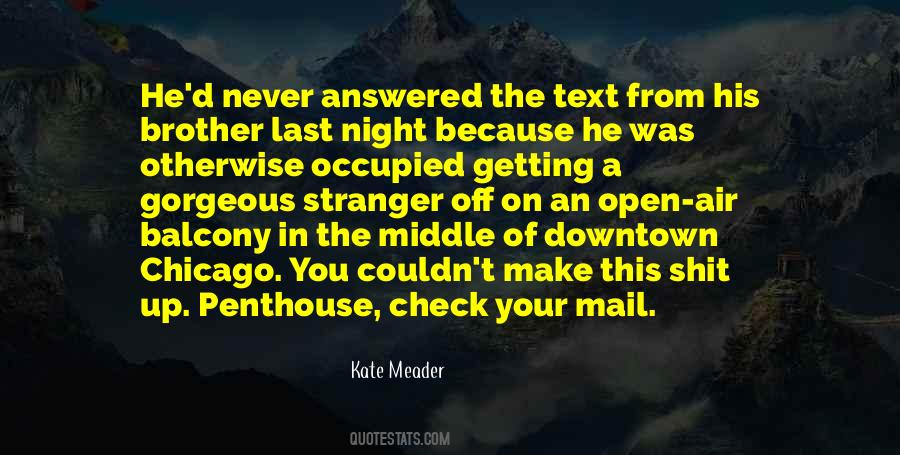 #48. My father was a painter and an anarchist, always getting in trouble for his performance art. - Author: Sadie Frost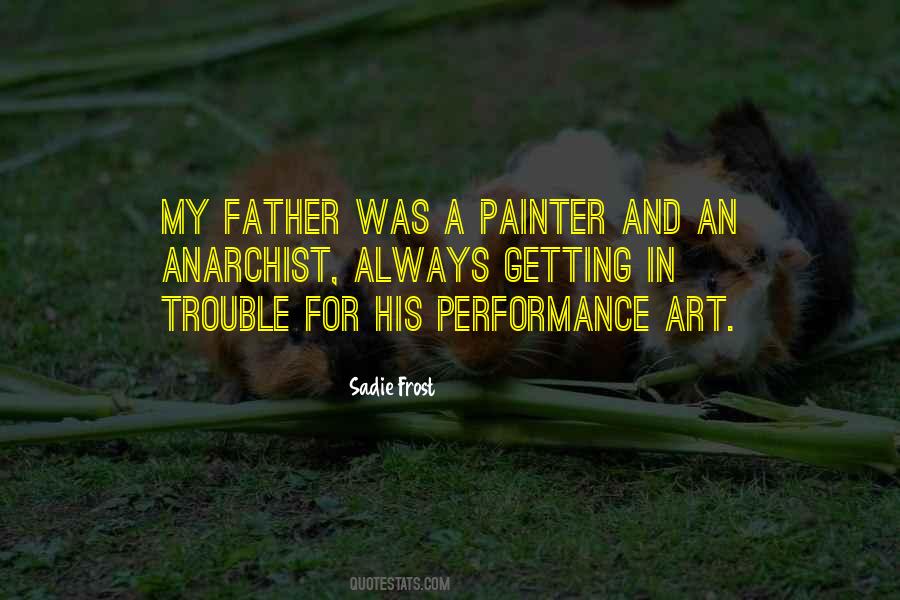 #49. I don't take breaks, man. In the past, I used to spend my free time getting in trouble, and now I spend it working on my music. If I'm not playing drums with my cover band, Chevy Metal, I'm working on songs for myself. - Author: Taylor Hawkins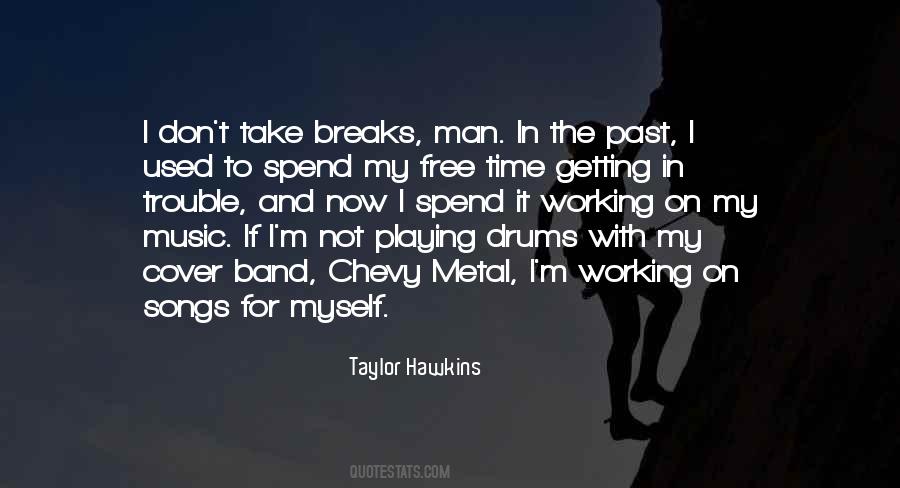 #50. It is common to misconceive how checklists function in complex lines of work. They are not comprehensive how-to guides, whether for building a skyscraper or getting a plane out of trouble. They are quick and simple tools aimed to buttress the skills of expert professionals. And - Author: Atul Gawande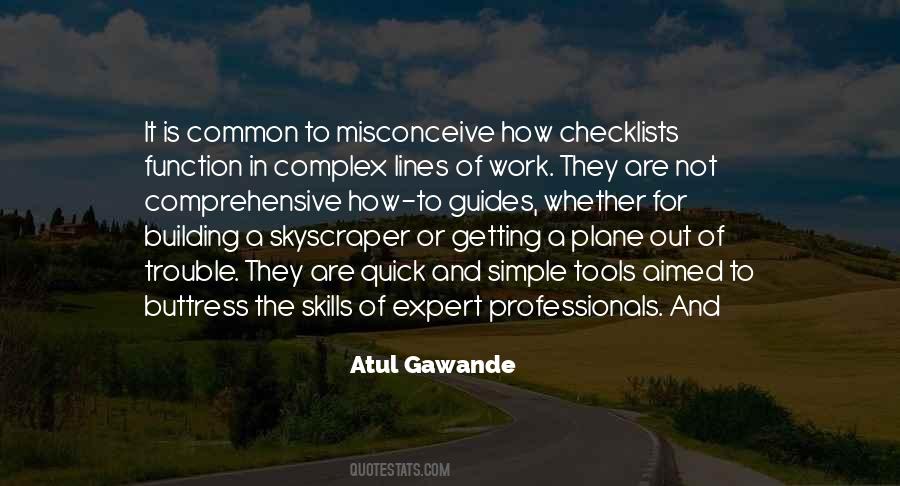 #51. The trouble with us is that we try to find happiness where it does not exist, in transient, impermanent things; we try to find it in the gratification of desire; we seek it in animal pleasure. Happiness lives in giving, in doing, not in getting, in grasping. - Author: Orison Swett Marden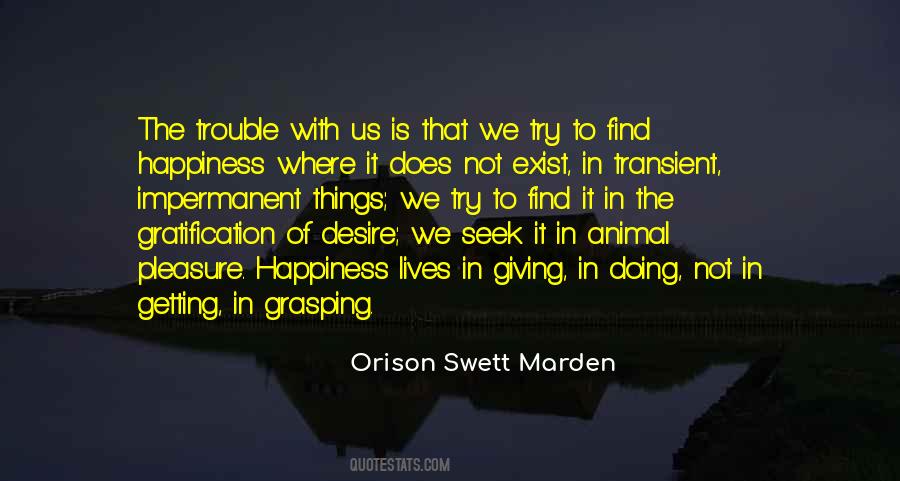 #52. Why is it that private insurance companies are not in trouble because people are getting older? Aren't they subject to the same demographics? The difference is that they've accumulated a fund, not a pay-in, pay-out system. - Author: Milton Friedman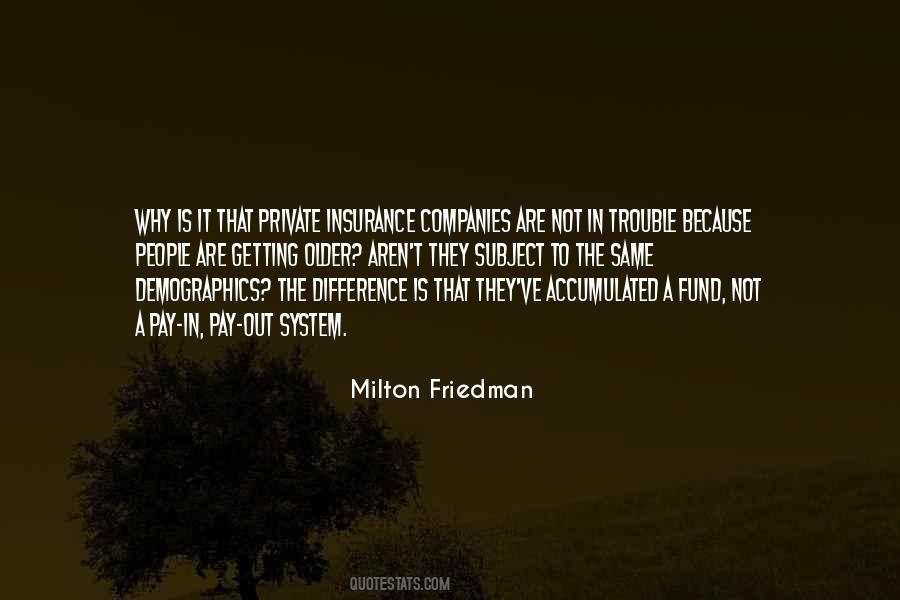 #53. The streets would have chewed me up and spit me out and I knew that, but I found my own ways and different knacks for getting in trouble and being reckless with my life. And I've overcome a lot of personal demons and to be alive is really my greatest achievement. - Author: Michael K. Williams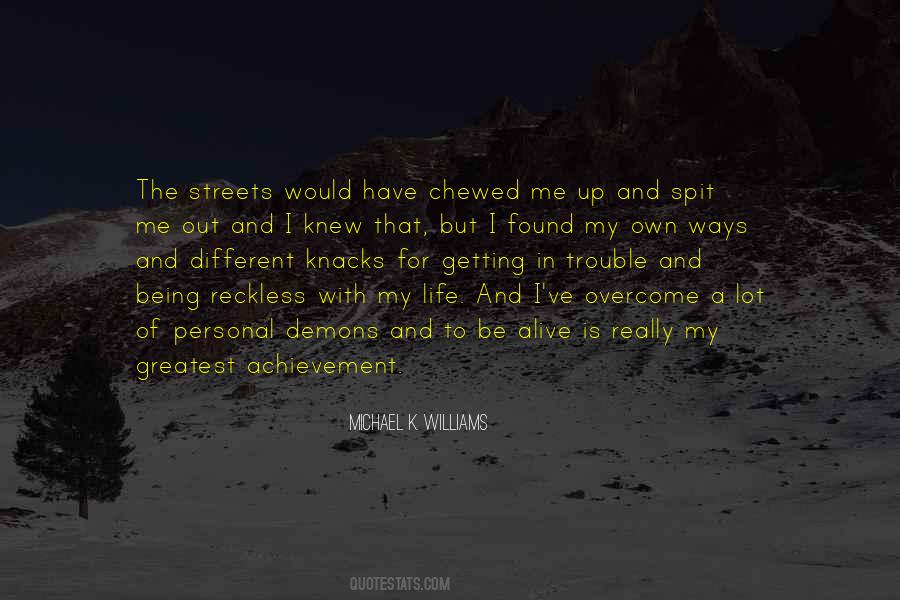 #54. It's not rocking the boat, Dad. It's called communication. You're allowed to ask questions. Other people do it all the time. Other people don't live in fear of someone else's reactions. They don't relentlessly stress out about getting into trouble. - Author: Koren Zailckas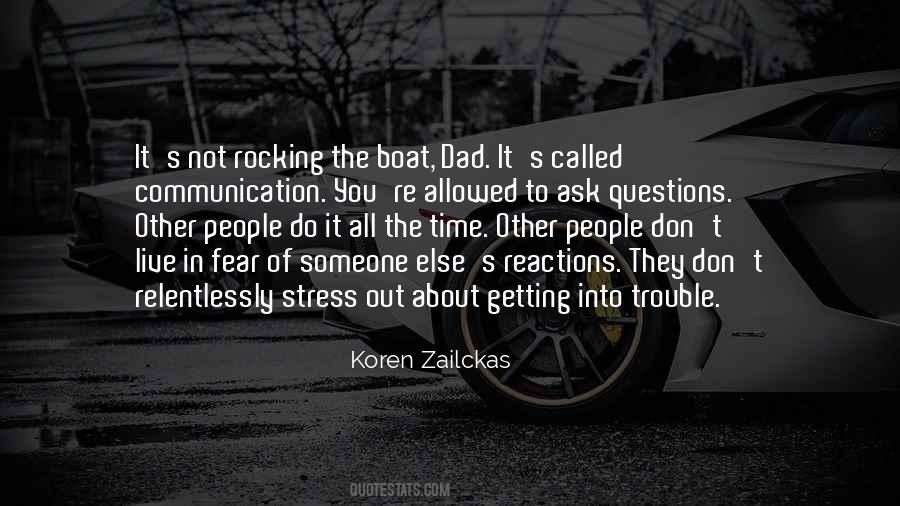 #55. There are nights when you can feel stale because you've fallen into a pattern by touring too much, but it's easy to get out of it by deliberately getting in trouble and playing yourself into a corner to then see if you can get out of it. - Author: Leo Kottke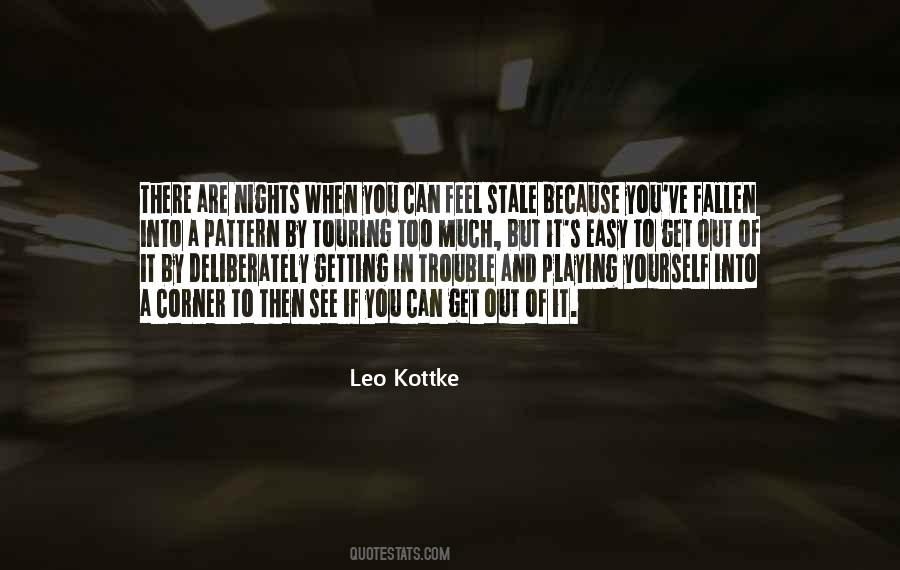 #56. I always wanted to be Jo in 'Little Women.' She's a bit reckless and feckless, always getting into trouble like me. But I'm probably more like Madame Bovary. - Author: Sue Townsend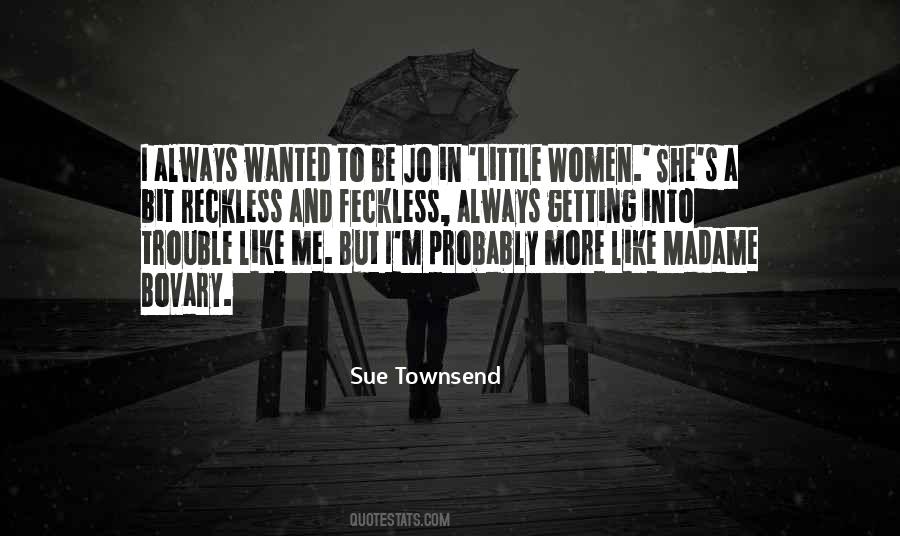 #57. My parents separated before I was 1 year old. I moved in with my aunt and uncle when I was in fourth grade. I was, like, 8 or 9 years old. I was getting in a lot of trouble when I was in Southern California. My older sisters were in gangs. My older brother was in gangs. - Author: Troy Polamalu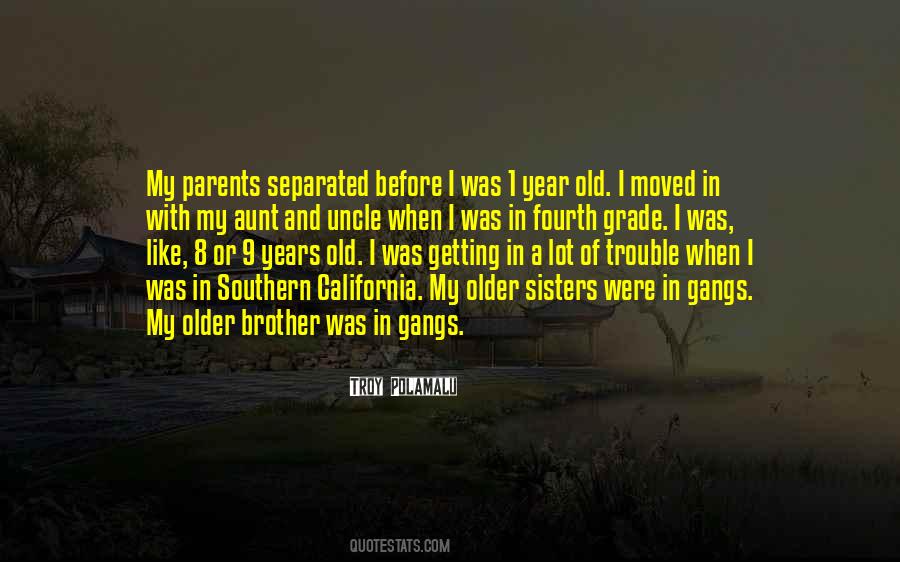 #58. We need to build change in to our systems and let these systems evolve as circumstances change. Change is inevitable, but we need to do a better job of dealing with it, because when we start building huge gleaming monoliths, I think we start getting into trouble. - Author: Daniel Suarez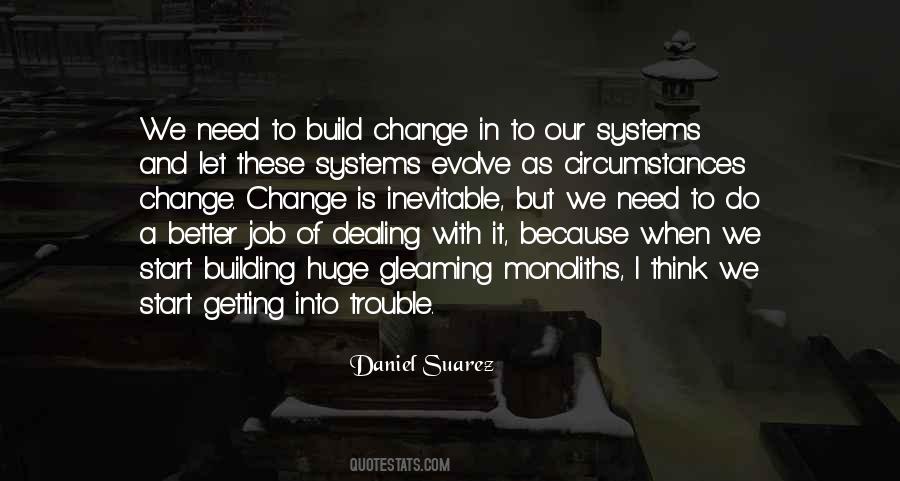 #59. We are bent on weakening bonds in the name of growth and independance,then spend out adulthoods wondering why we have trouble getting close to other people. - Author: Elizabeth Hormann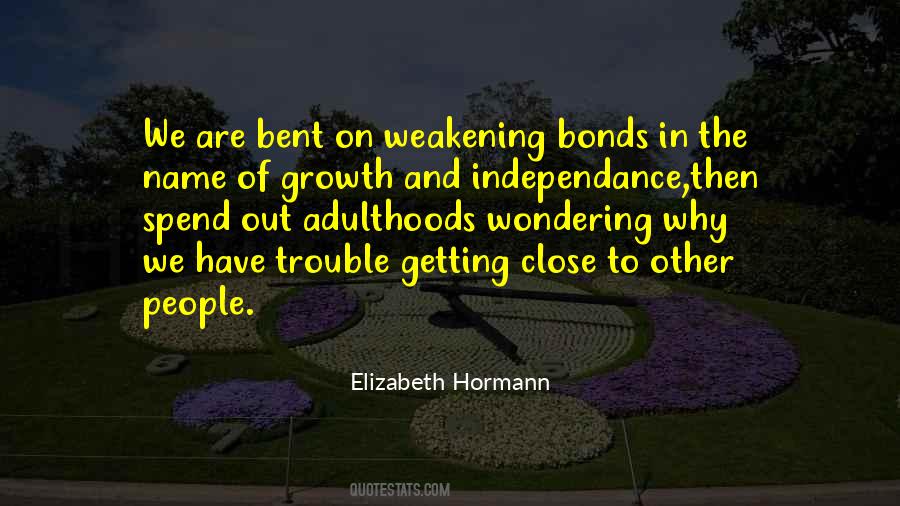 #60. I was one of those kids who liked a lot of attention. I was always the kid in class who'd be telling jokes and getting in trouble. Theater was a natural way for me to channel that and also become a productive member of society. - Author: Lauren Worsham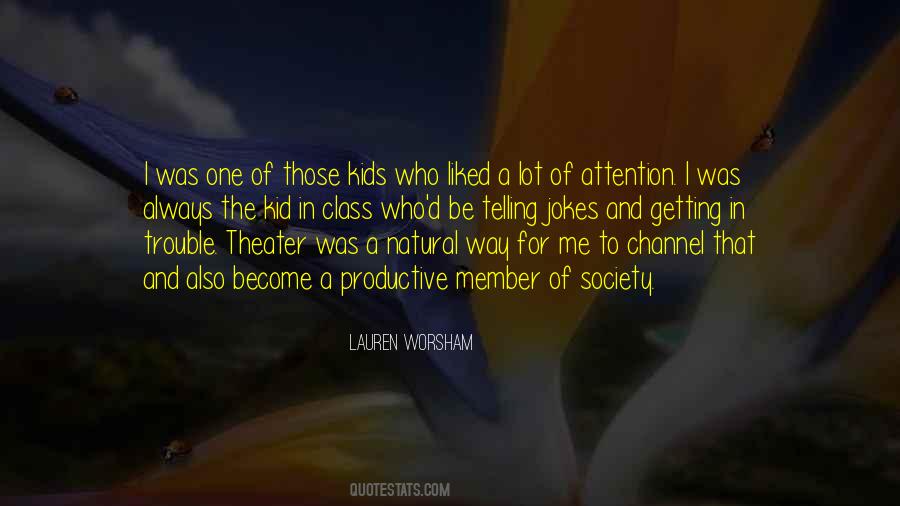 #61. Apparently when it's two people, it's quirky and funny, but when it's a person doing the same stuff on her own, it's rebellious and antisocial. - Author: Katie Alender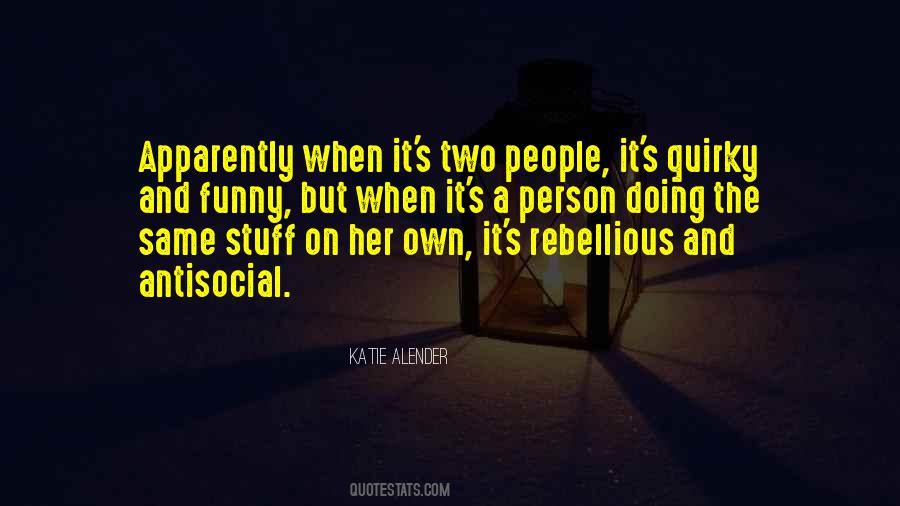 #62. You see guys getting in trouble, but you also see the good in people. It's just a matter of always learning. - Author: Akeem Ayers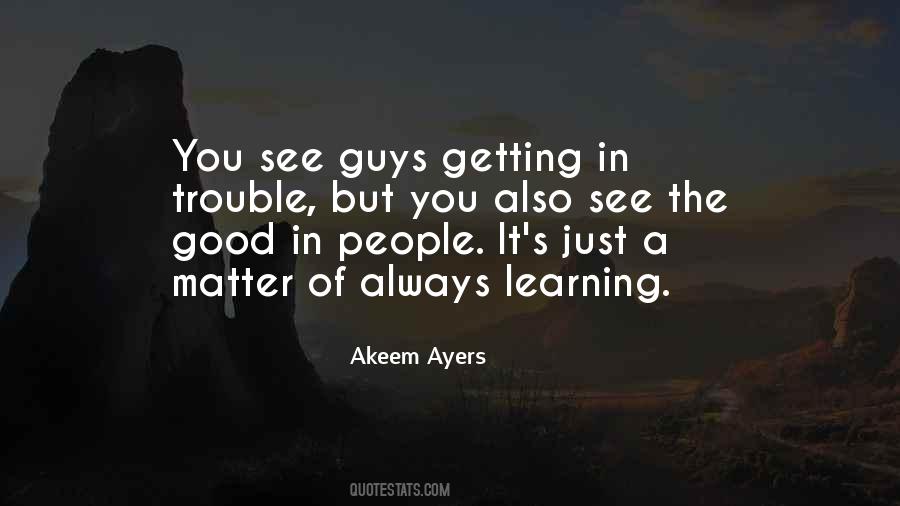 #63. I had trouble even looking at her face without getting lost in the beauty, lost in the feelings, the love I had for her. - Author: Karina Halle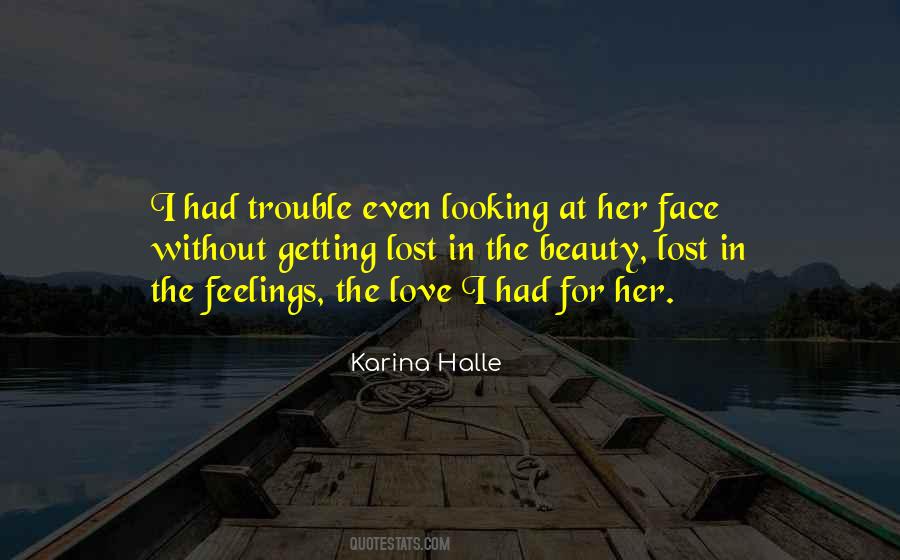 #64. I was always getting in trouble because I was the class clown but I always made teacher laugh. I remember I thought I was going to fail that class but I ended up passing it and I really think it was only because I was good entertainment for her. - Author: Larry The Cable Guy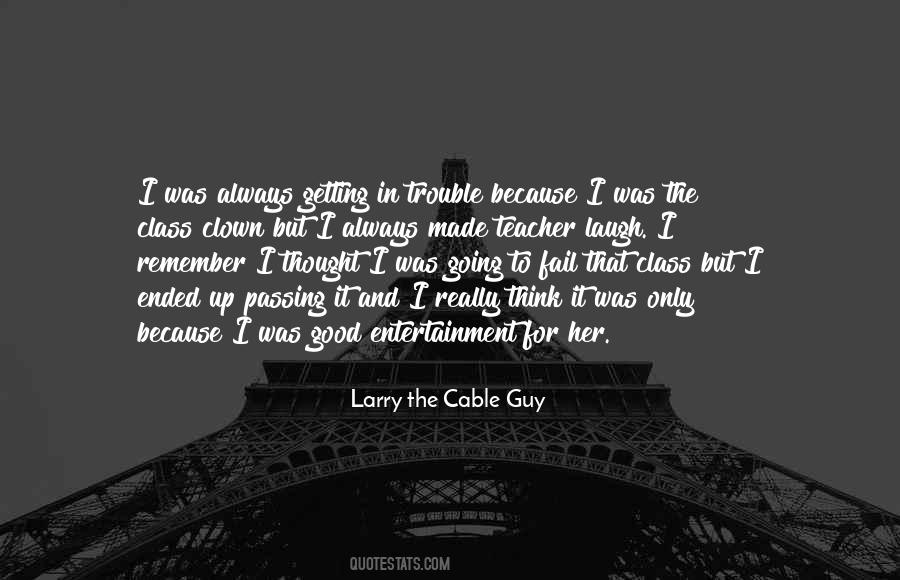 #65. When I was growing up, and other people I knew were getting into trouble, I was somewhere in a deer stand or going to bed early so I could be up before dawn to hunt turkeys. My love of the outdoors kept me solid. - Author: Donald Trump Jr.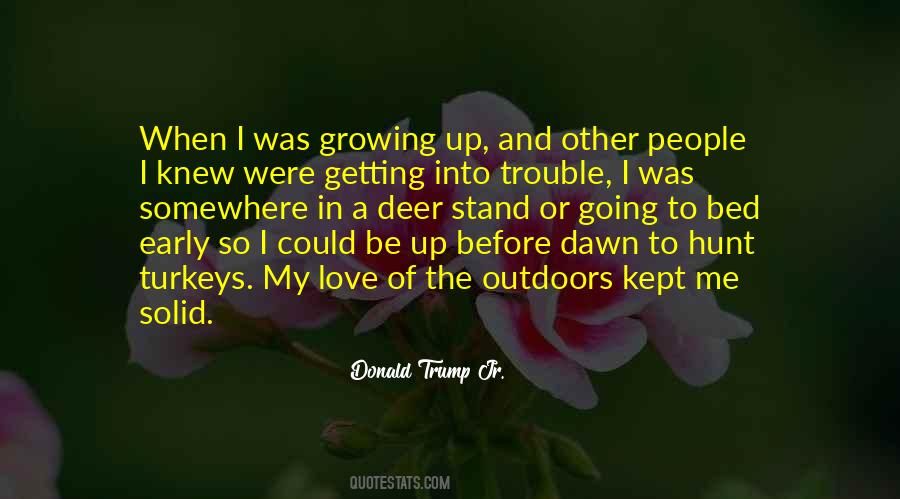 #66. I'm getting paid to do what I got in trouble for in the 7th grade. I absolutely love what I do and thank my lucky stars for twenty-five years of full-time employment in this business. - Author: Rob Paulsen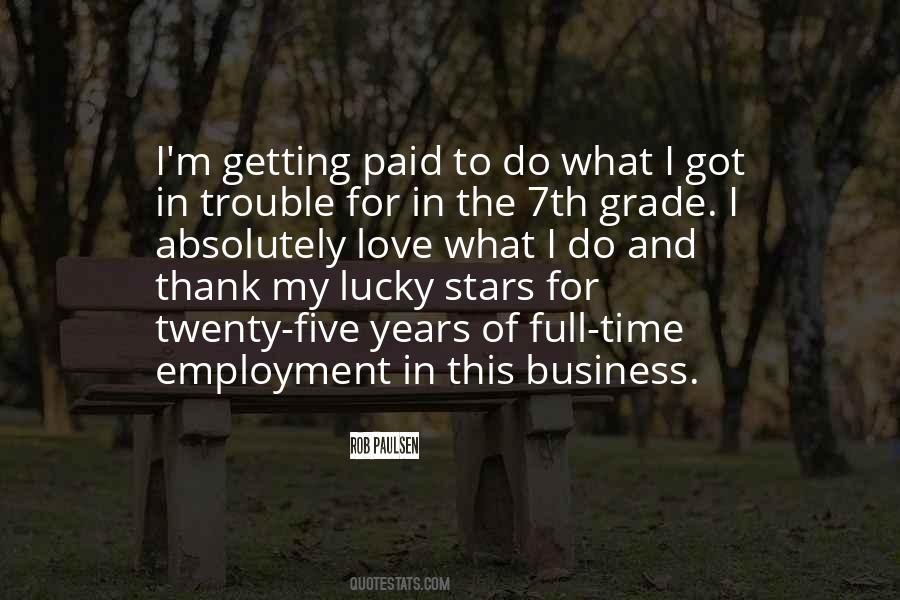 #67. I started acting because I was miserable and crazy and wanted to be someone else, to run around and scream in front of people without getting in trouble. - Author: Michael Shannon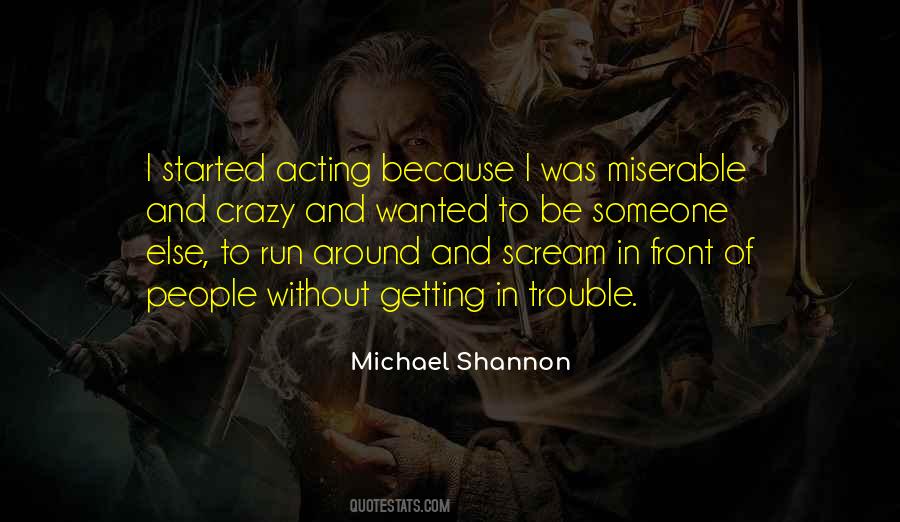 #68. I miss hanging out with my friends, getting in a little trouble. I have to be so guarded now. - Author: Tiger Woods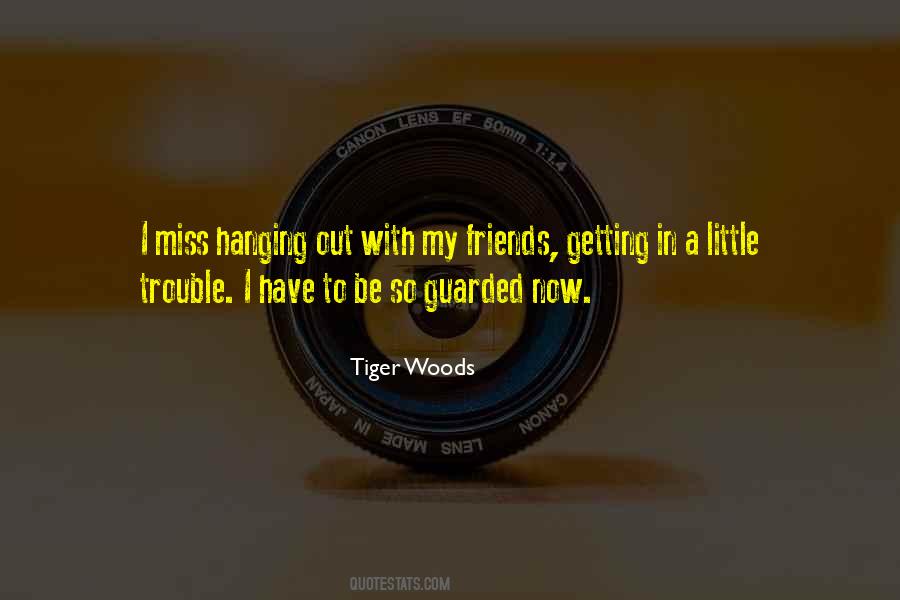 #69. My heart pounded annoyingly in my ears, and it was getting harder to stay focused. I'd almost gotten trapped in here, and now I'd come back. Sometimes I did have truly terrible ideas. - Author: Gwenda Bond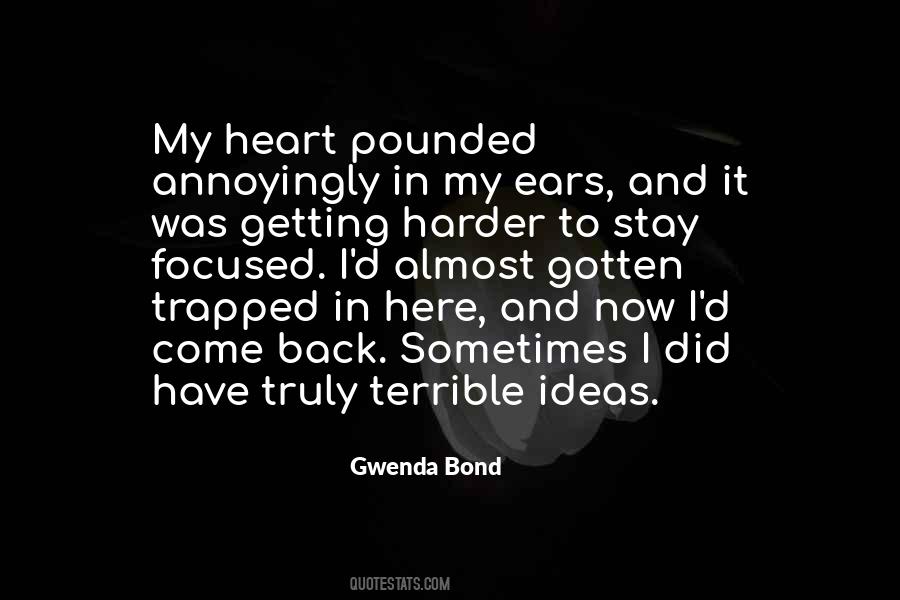 #70. I think I do too many voices in these shows. I think it's because we have trouble getting voice talent. - Author: Mike Judge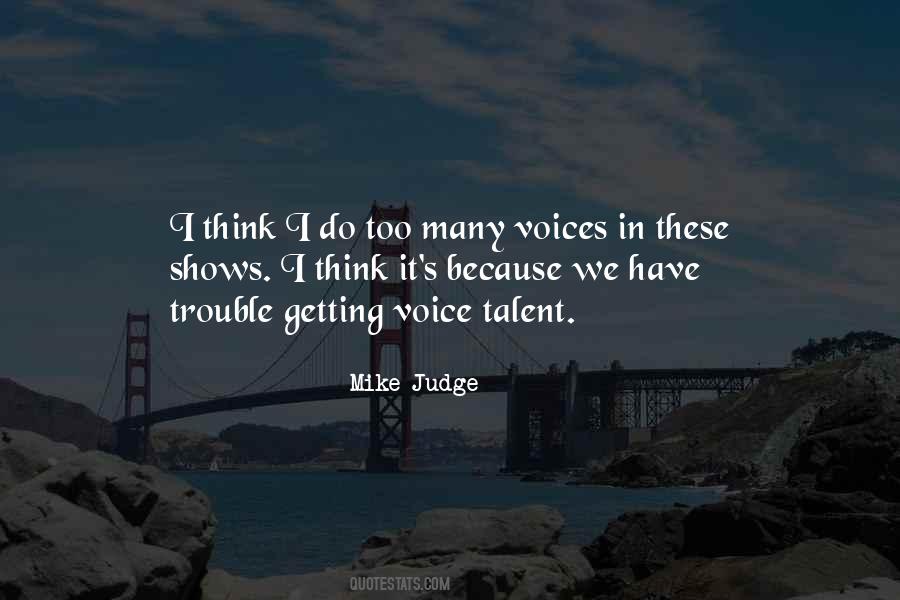 #71. If I had a talent I could claim, it would be as a finder of trouble. Which is undoubtedly what I'd find by sticking my nose where it had no right to be. But would I let a thought of trouble stop me? Not a snowflake's chance in hell. - Author: Keri Arthur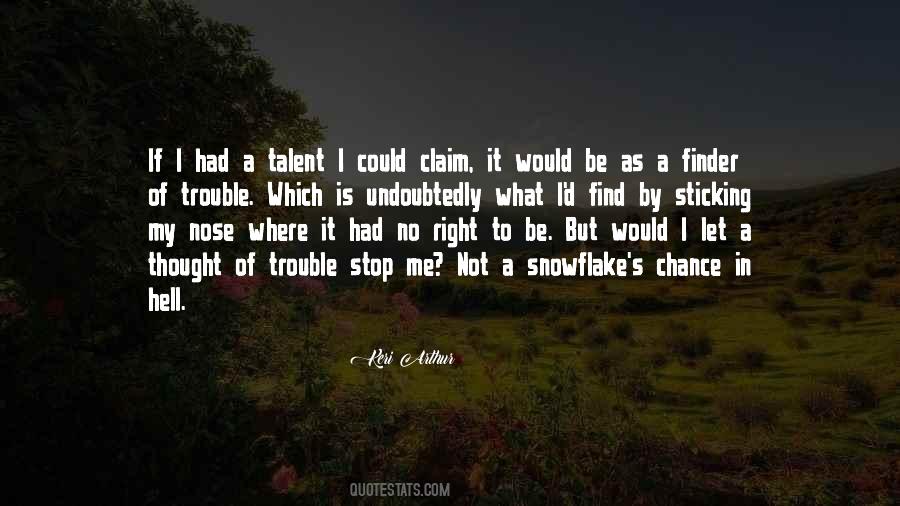 #72. Marvin Gaye was the ultimate ladies' man and a big part of that was the way he dressed. If you're having trouble getting ladies, step your suit game up and see the difference. Walk into a bar in a tailored suit and I guarantee every girl will check you out. - Author: Mayer Hawthorne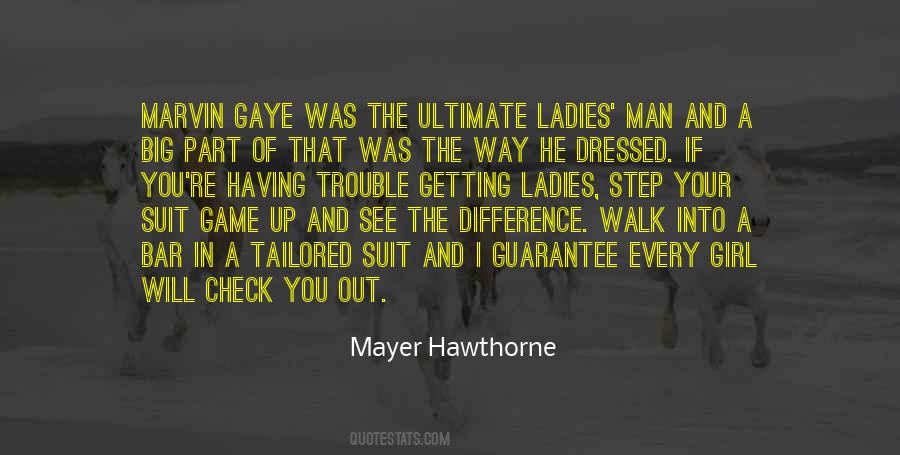 #73. Whether they run a record company or a grocery store, every boss will tell you you're in big trouble if you're borrowing more than you can ever afford to pay back. Delaying the pain for future generations is suicidal. We've got to start getting the deficit down right now, not next year. - Author: Simon Cowell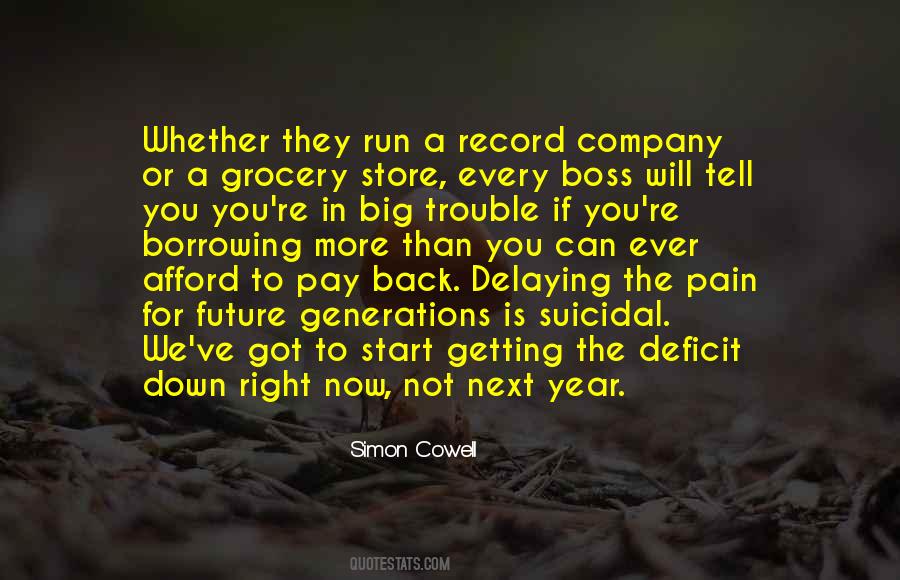 #74. I think if we have a policy of zero violence, it won't be met, but the policy of getting the Iraqis in the fight and marginalizing those who are trying to stir up trouble will be effective. - Author: George W. Bush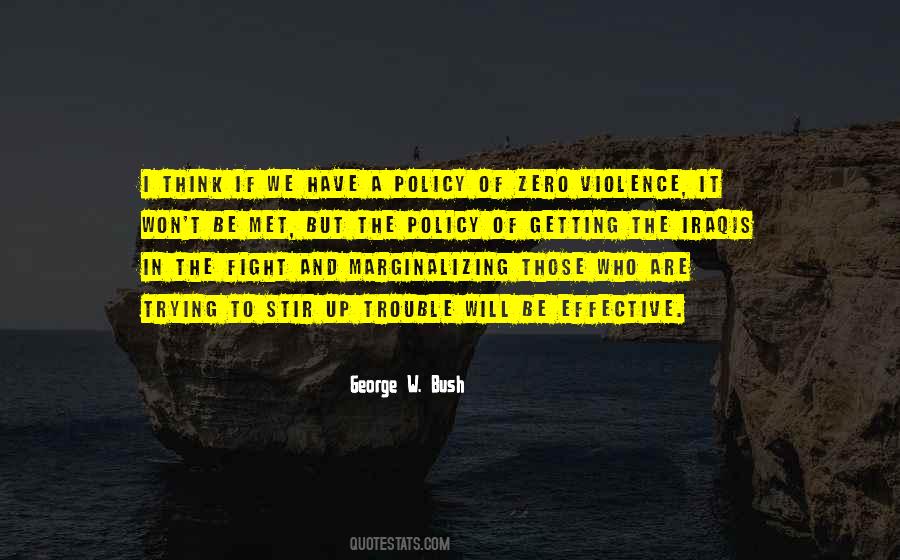 #75. I remember the first club we played in San Francisco. There were a lot of people on motorcycles standing around outside, and I had trouble getting in. I didn't have any ID, and the guy at the door wouldn't let me in, even though I told him I was gonna be singing in there. - Author: Patti Smith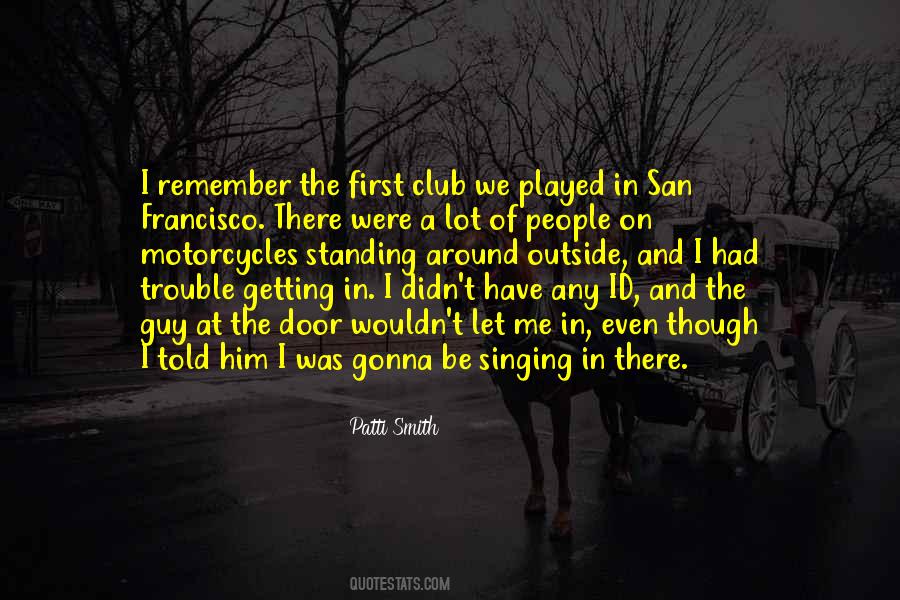 #76. Making my class laugh and getting in trouble. I was the class clown. - Author: R.L. Stine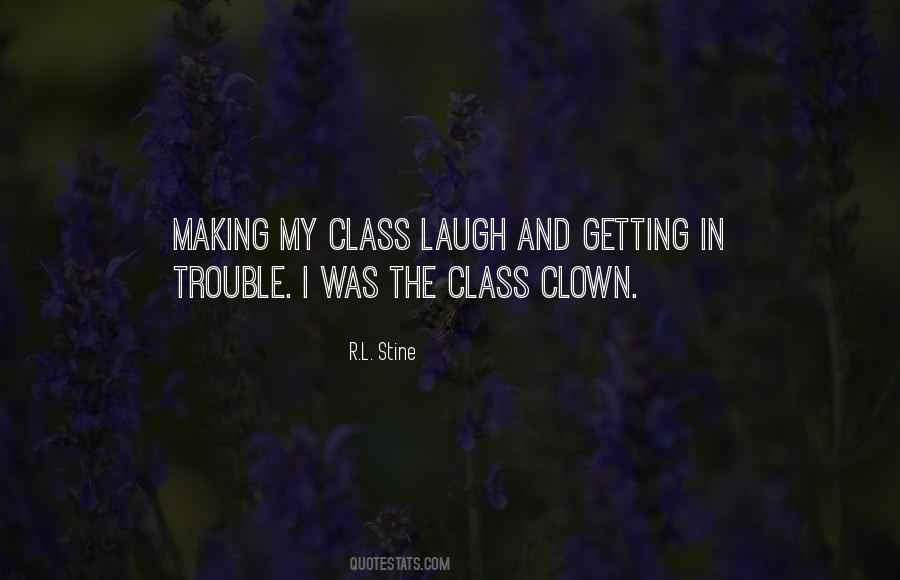 #77. It is very easy to say that the important thing is to try your best, but if you are in real trouble the most important thing is not trying your best, but getting to safety. - Author: Lemony Snicket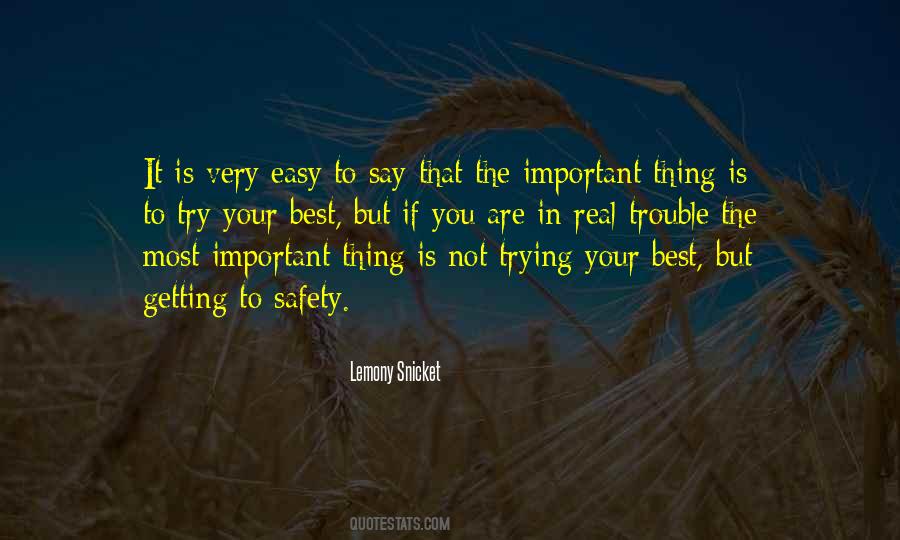 #78. Refreshing honesty has been getting me in trouble since I was five, but it's probably had some positive effects - like not being a liar. - Author: William Monahan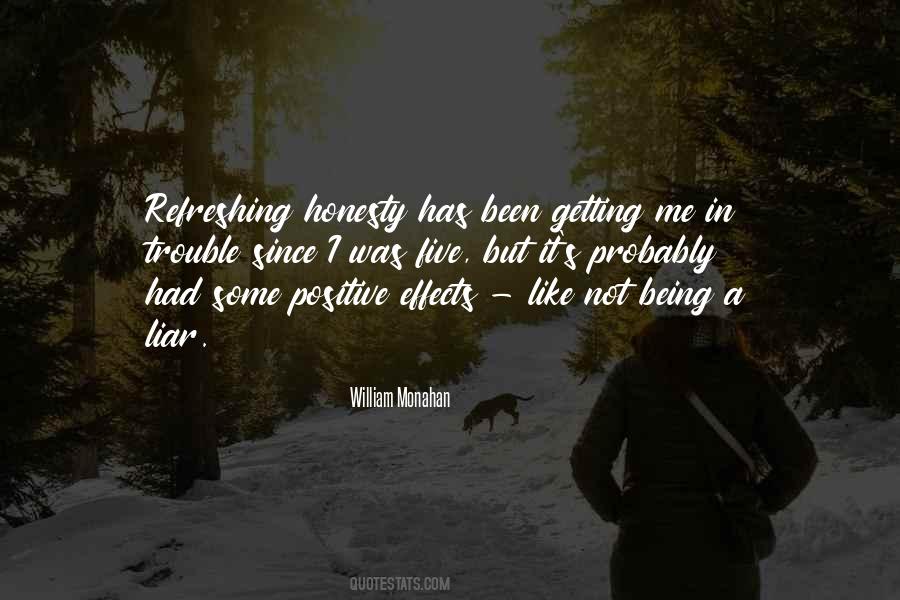 #79. I grew up in a society where everything you did was eavesdropped on, recorded, snitched on. I had friends when we were kids getting into trouble for telling anecdotes about Communist leaders. - Author: Jan Koum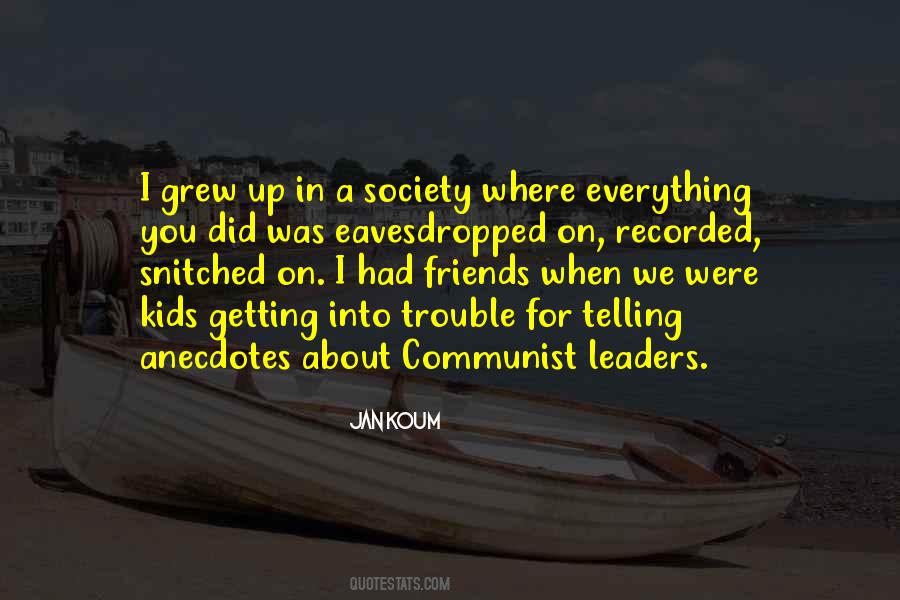 #80. I thought I had a huge crush on a young Canadian photographer who was commissioned to go down to Australia to do a series, so I tried to figure out a way to follow him without getting in trouble with my parents, and that was by auditioning for their National Institute. - Author: Deborah Kara Unger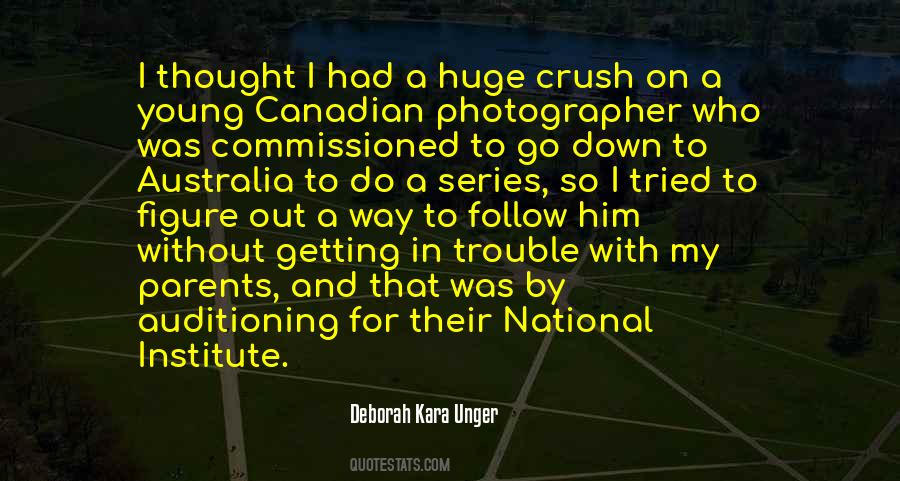 #81. It was cool to me, as a fan of the comics, to see some of the villains that end up finding them there, and the way that they abuse Coulson before the superheroes come. I'm always, in the movies or in the animated series, getting into trouble that a superhero has to bail me out of. - Author: Clark Gregg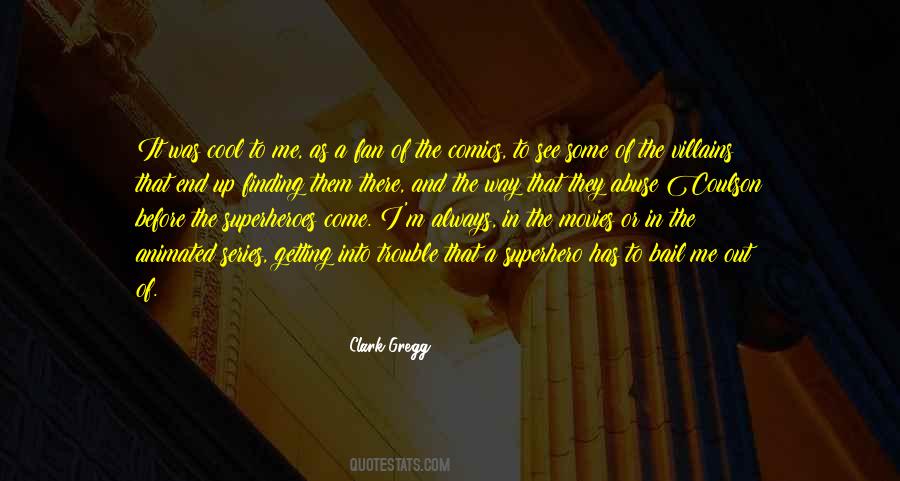 #82. I was always one who was clowning around in school and getting in trouble. - Author: David Boreanaz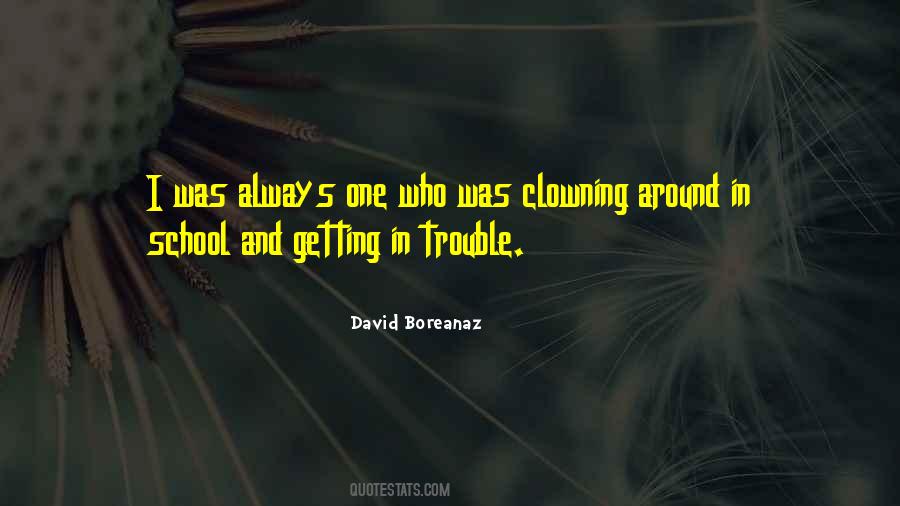 #83. He still wasn't looking at me, which meant I was still in trouble. I swear, sometimes this partnership is like being married. We fight all the time and neither one of us is getting married. - Author: John G. Hartness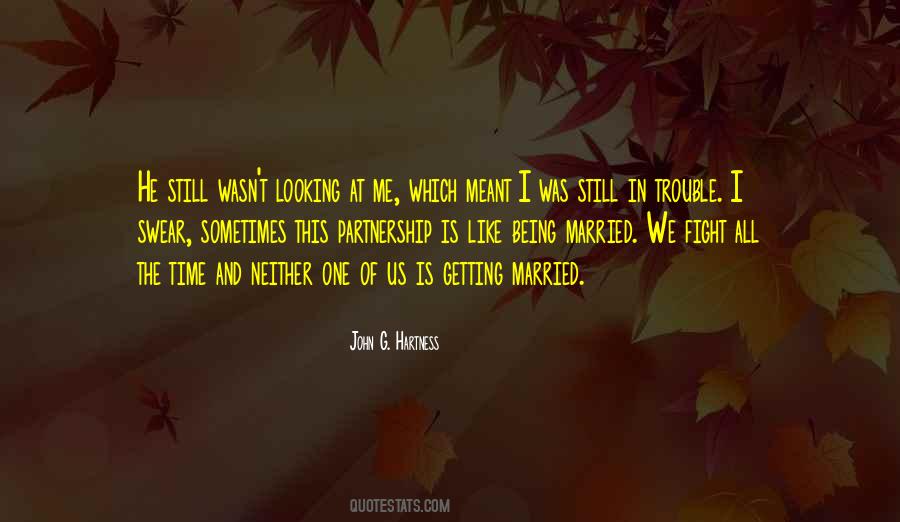 #84. Before rap came along, I was, actually, actively in the streets; getting in trouble, doing the wrong thing. - Author: Ice-T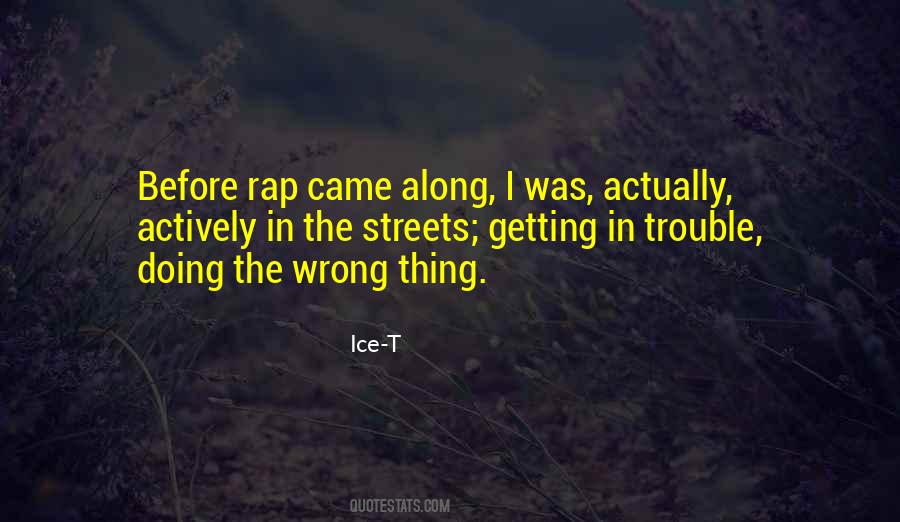 #85. I was more like a middle child. My youngest brother was the baby, so he got all the attention that the baby gets. And my older brothers were getting into so much trouble that I was left in the middle, doing plays. I was up to no good, but my mother didn't know it! - Author: John C. Reilly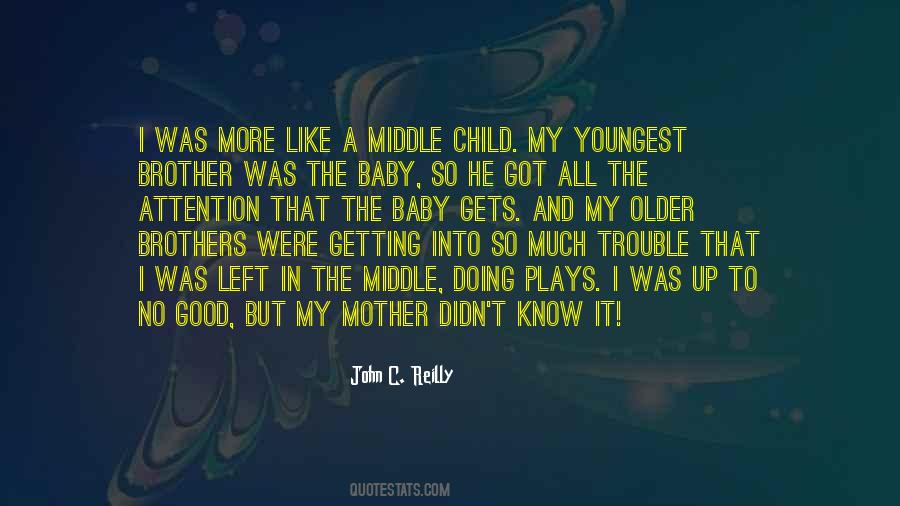 #86. Marijuana is not tested for, and yet that is the big thing guys are getting in trouble with in the league. It's terrible. - Author: Karl Malone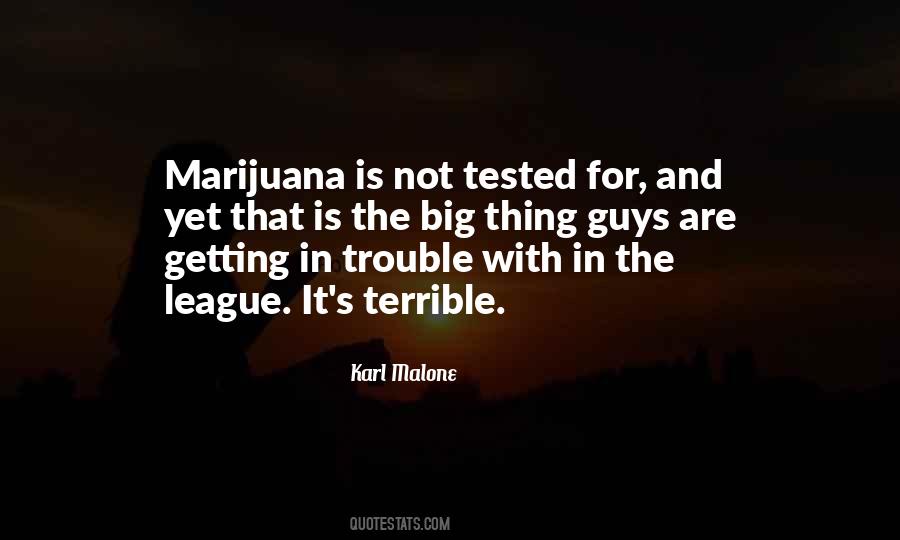 #87. I hate to feel squeamish almost as much as I hate to sit and think, both being sure-fire ways of getting into trouble. The only safe thing I know is to follow opportunity and leave the man behind to do the worrying. More people die lingering, ghastly deaths in arm-chairs and in bed than anywhere. - Author: Talbot Mundy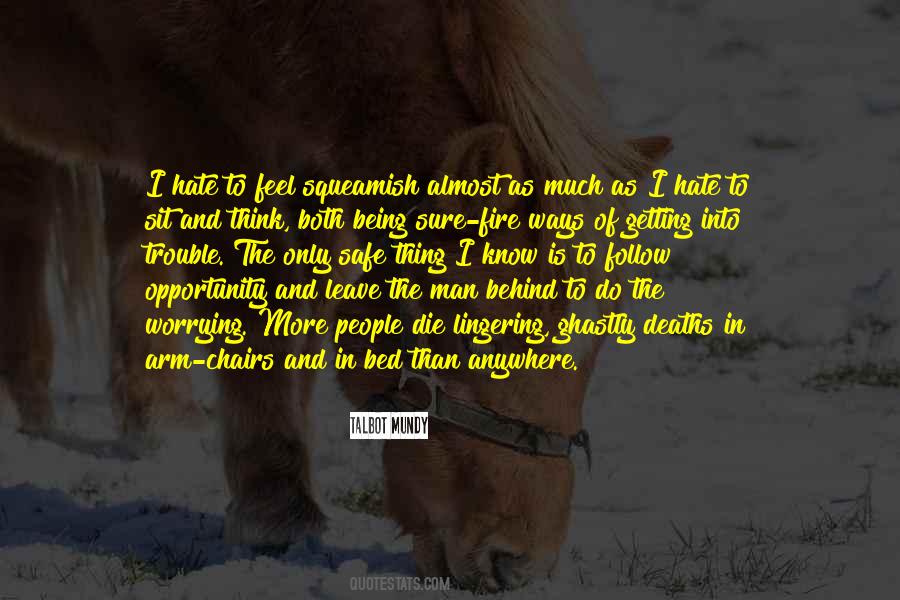 #88. Don't go getting mixed up in the business of your betters, or you'll land in trouble too big for you. - Author: J.R.R. Tolkien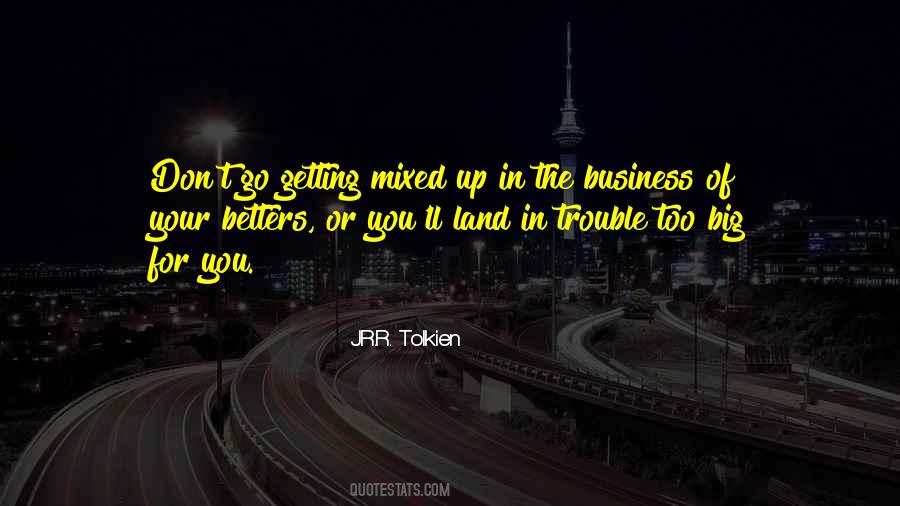 #89. I'm always running my mouth off and getting myself in trouble, so I'm trying to do it less. - Author: Deborah Moggach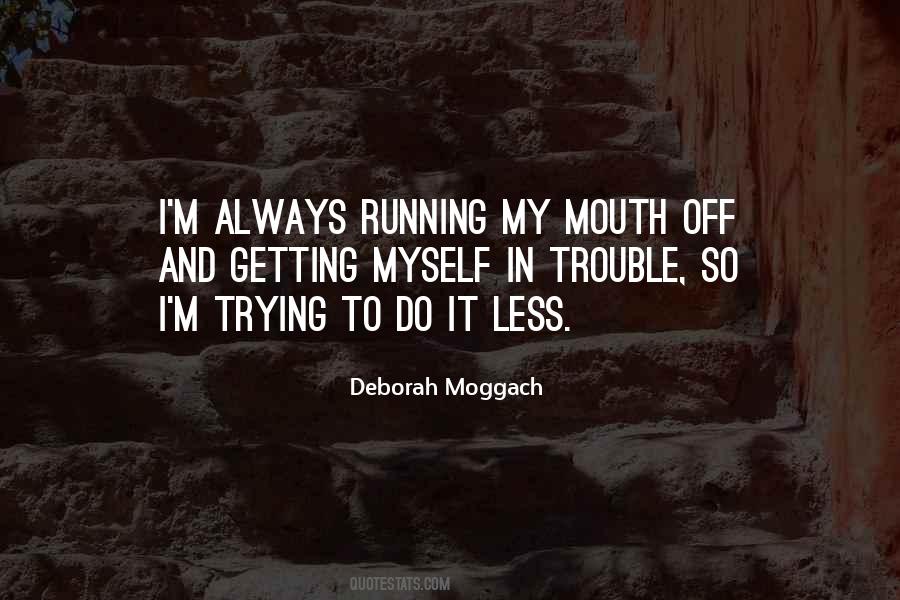 #90. As a chef, I always have in mind how to properly feed the public, but at times it's easy to forget that some people have trouble even getting any food, much less adequate nutrition. - Author: Marcus Samuelsson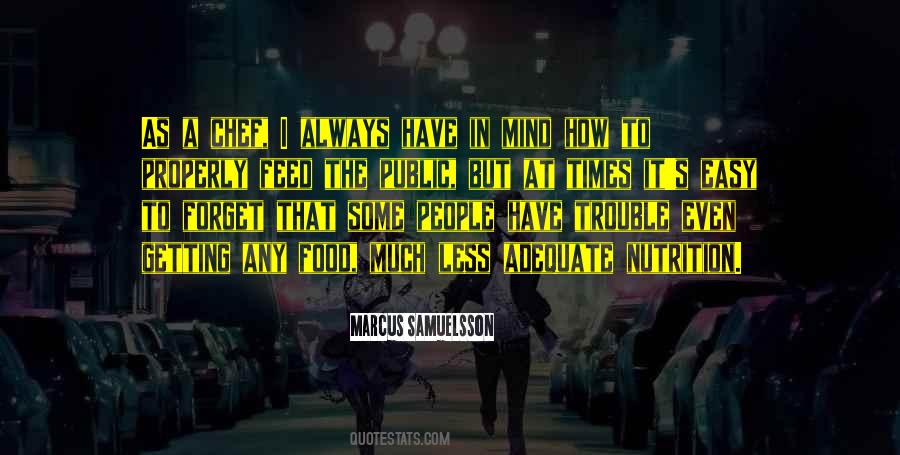 #91. I feel like, If I would have lived in my hometown, I probably would have gotten in a lot more trouble. I was just in places where I could have gotten in trouble. I skateboarded a lot, just getting into the wrong stuff. I could've just hung out with the wrong friends. - Author: Justin Bieber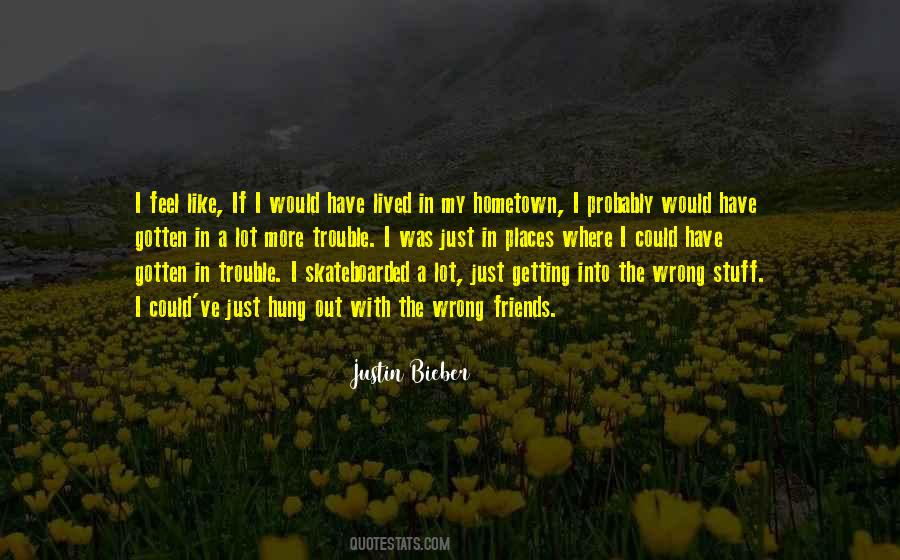 #92. I had been having trouble sleeping, and had found that actually getting up was marginally preferable to lying in my bed batting away the swirling mess of my thoughts. - Author: Jojo Moyes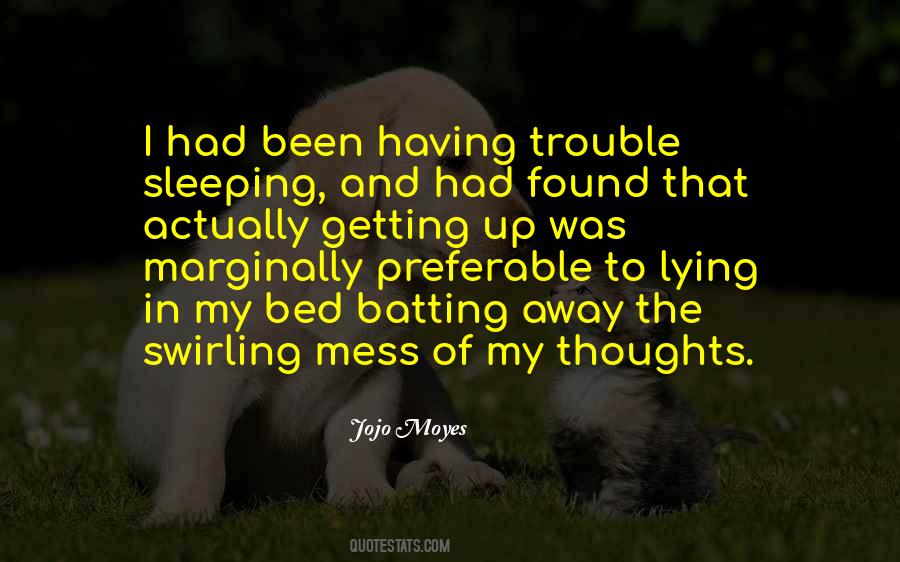 Famous Authors
Popular Topics