Forever Love Famous Quotes & Sayings
List of top 100 famous quotes and sayings about forever love to read and share with friends on your Facebook, Twitter, blogs.
Top 100 Quotes About Forever Love
#1. Even if you lose love, it's never really gone. It stays in you forever. The risks of love are always worth it. - Author: Karina Halle
#2. The tightrope of love swings back and forth, forever tied between the tree of anxiety and the tree of fear. Like life, it holds a constant reminder that death must be overcome ... - Author: Goliarda Sapienza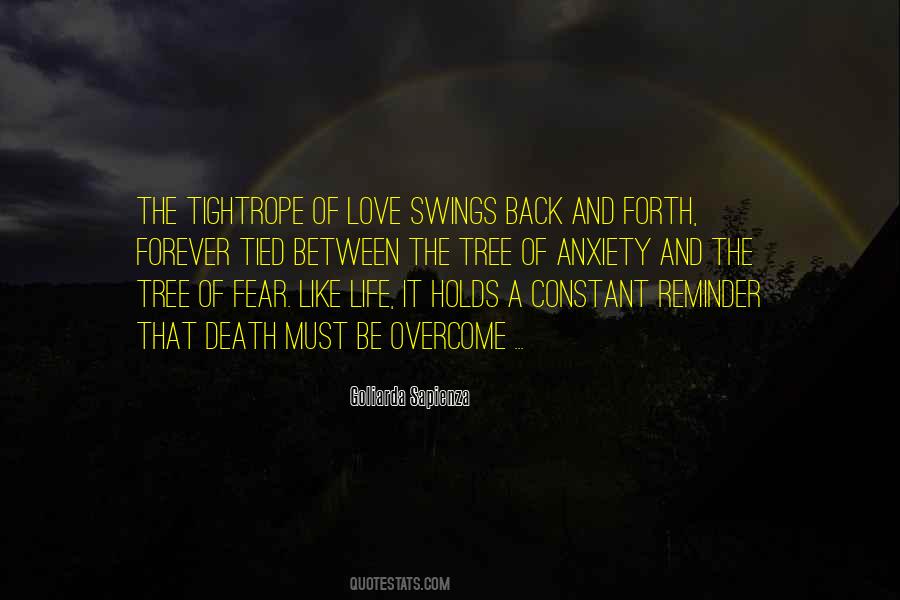 #3. Soon after you're dead - we're not sure how long - but not long, you'll be united with the most ecstatic love you've ever known. As one of the best things in your life was human love, this will be love, but much more satisfying, and it will last forever. - Author: Basil Hume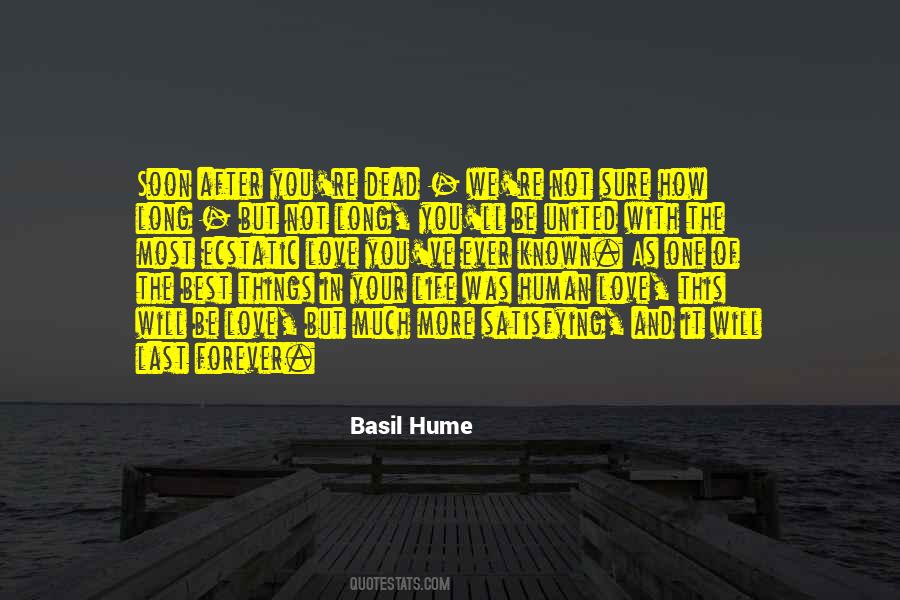 #4. Always and Forever is a Grandmothers love - Author: Kathy Griffin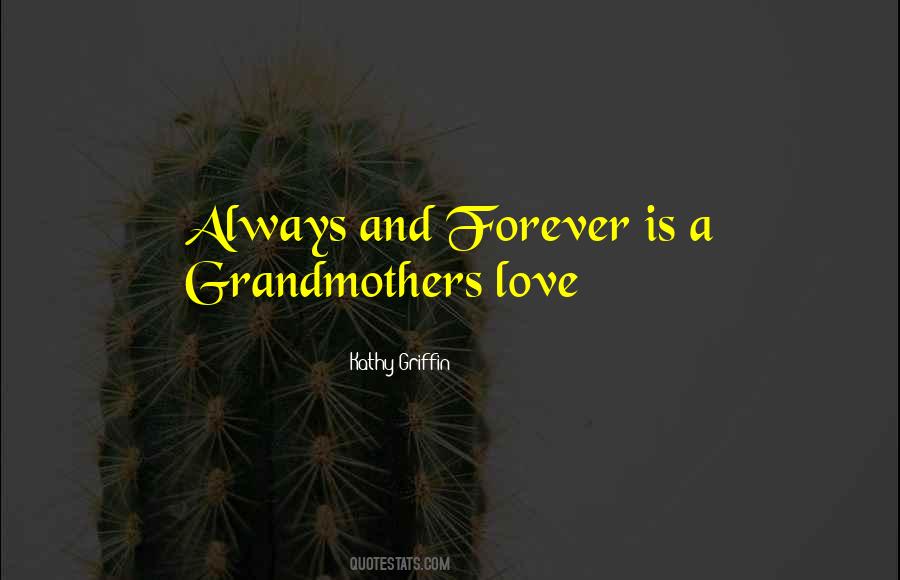 #5. In honor of the marriage that worked, I include in this collection a sickeningly slick love story from The Ladies' Home Journal, God help us, entitled by them "The Long Walk to Forever." The title I gave it, I think, was "Hell to Get Along With. - Author: Kurt Vonnegut Jr.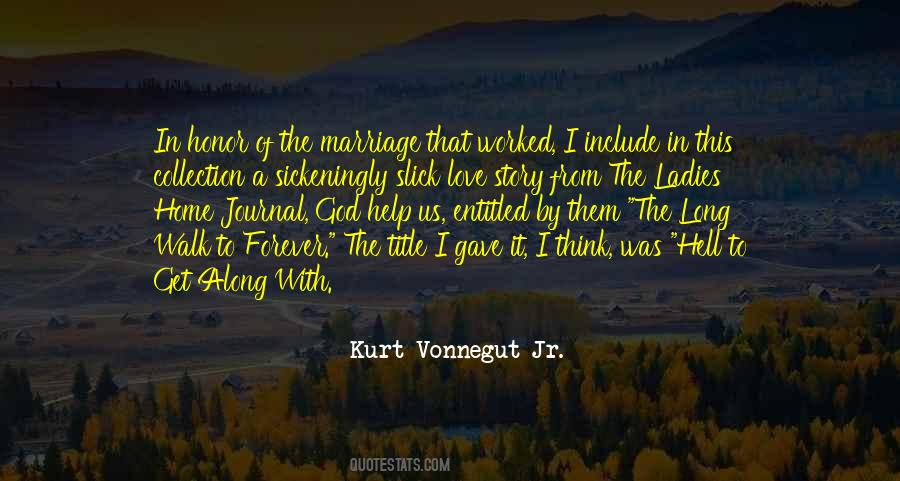 #6. One night when we were lying under the stars together she pointed to this beaming bright star beside the moon and said wherever she was in the world, whether we were together or apart, that I should remember her with that star because it would always be there-that it was her with me. - Author: Rebecah McManus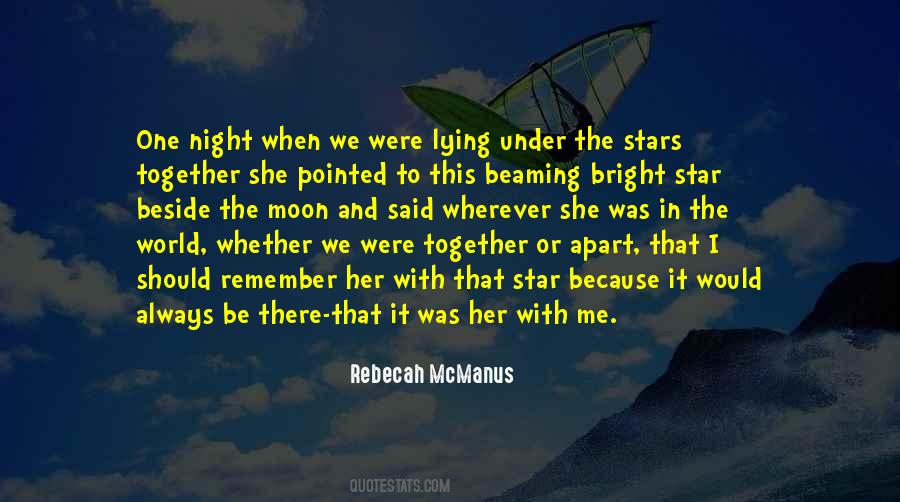 #7. You are the sunshine of my life, you take the clouds away and make me a rainbow every day. You're in my heart where you'll forever stay. I love you, sweetheart. - Author: Stephanie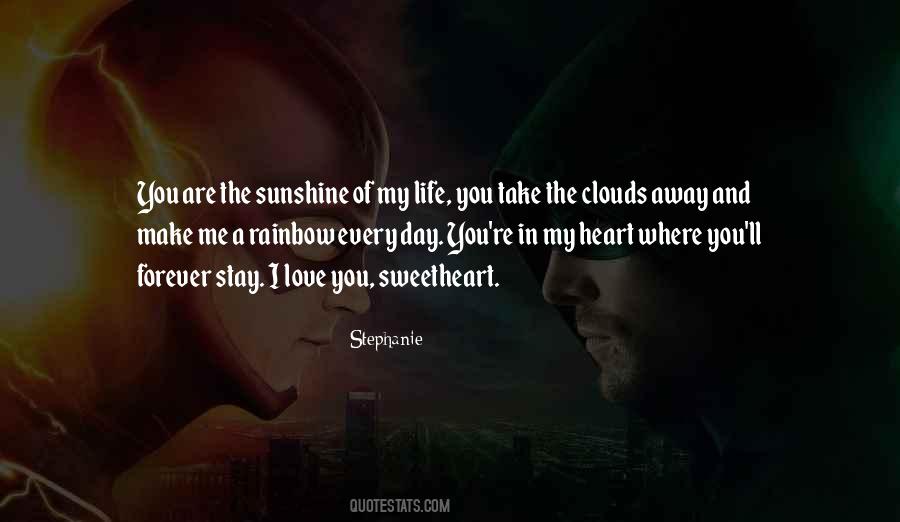 #8. Touch my tears with your lips. Touch my world with your fingertips. And we can have forever. And we can love forever.
- "Who Wants to Live Forever" by Queen - Author: Queen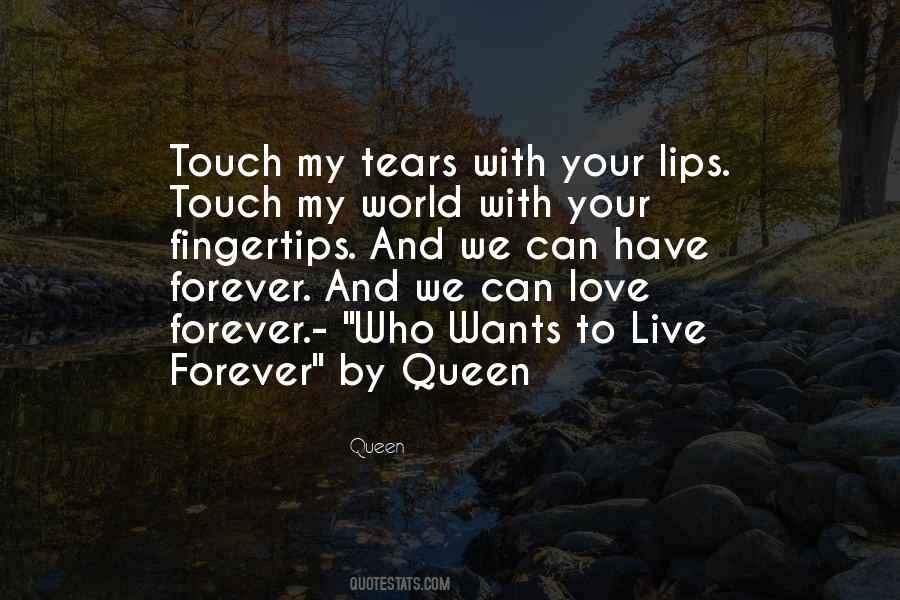 #9. Love is a sacred mystery.
To those who love, it remains forever wordless;
But to those who do not love, it may be but a heartless jest. - Author: Khalil Gibran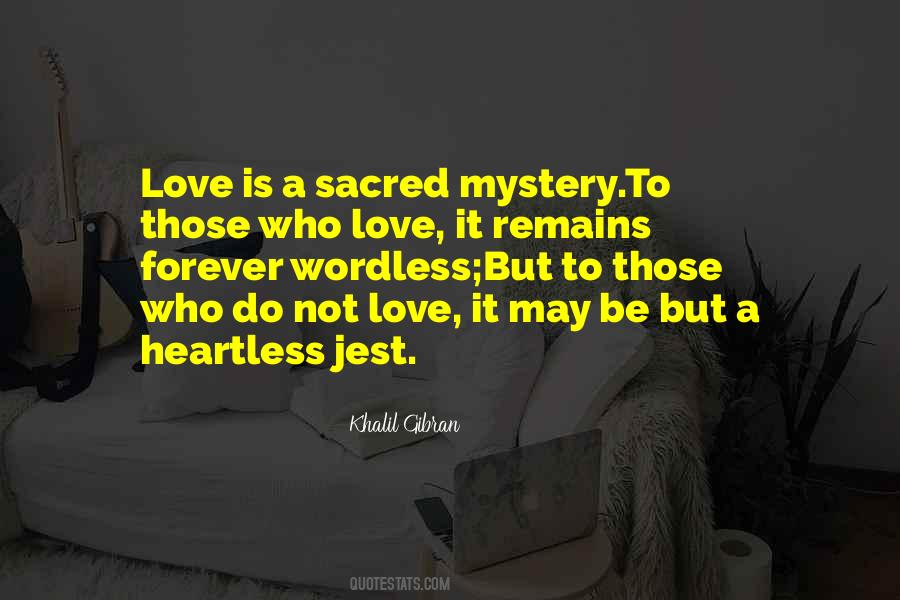 #10. If you gave someone your heart and they died, did they take it with them? Did you spend the rest of forever with a hole inside you that couldn't be filled? - Author: Jodi Picoult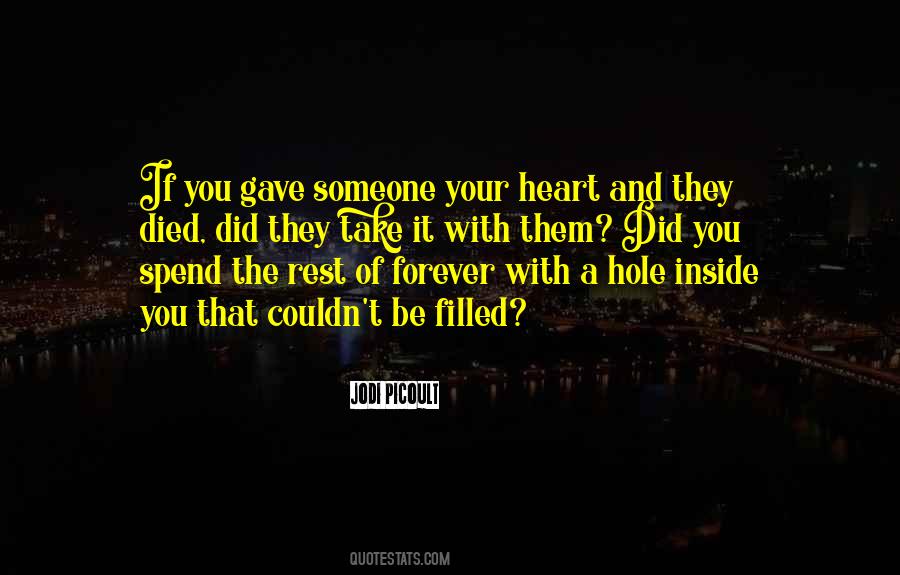 #11. Taking time to show your daughter your love, fills the tapestry of her live with memories she will keep forever and builds a reservoir of undeniable knowledge of the love you feel for her. - Author: Tasha Chen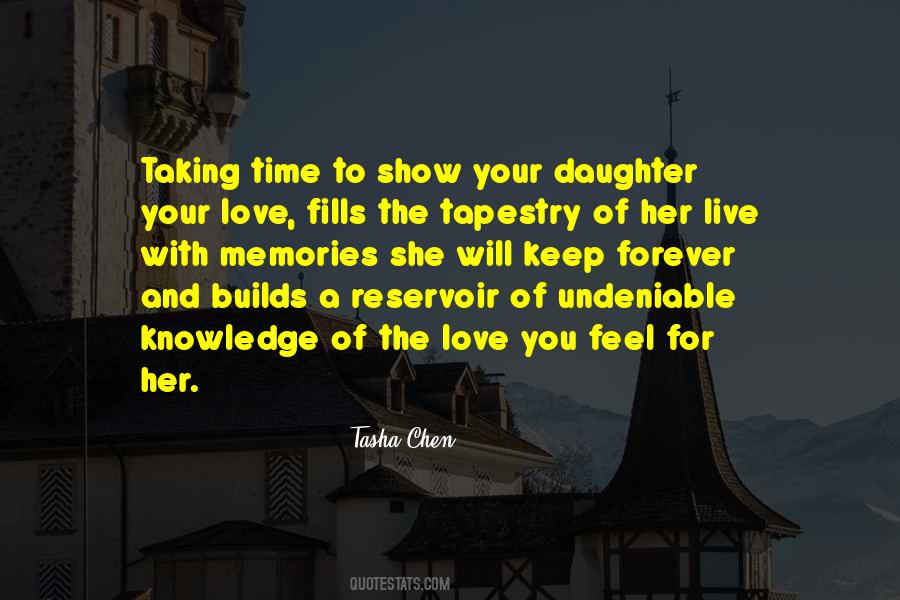 #12. What all of us long for in our hearts, at Christmastime and always, is to feel bound together in love with the sweet assurance that it can last forever. - Author: Henry B. Eyring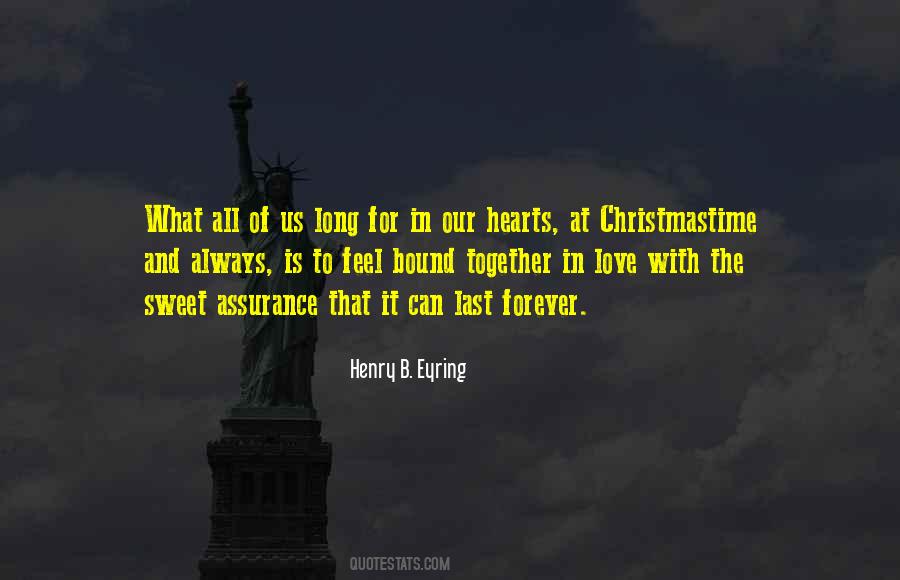 #13. It has been said by many that a true love story has no happy ending simply because the truest of loves never ends. It is immortal. This is the kind of love that lives forever in your heart as a feeling you will always feel, a place you can always return to. - Author: Michele L. Rivera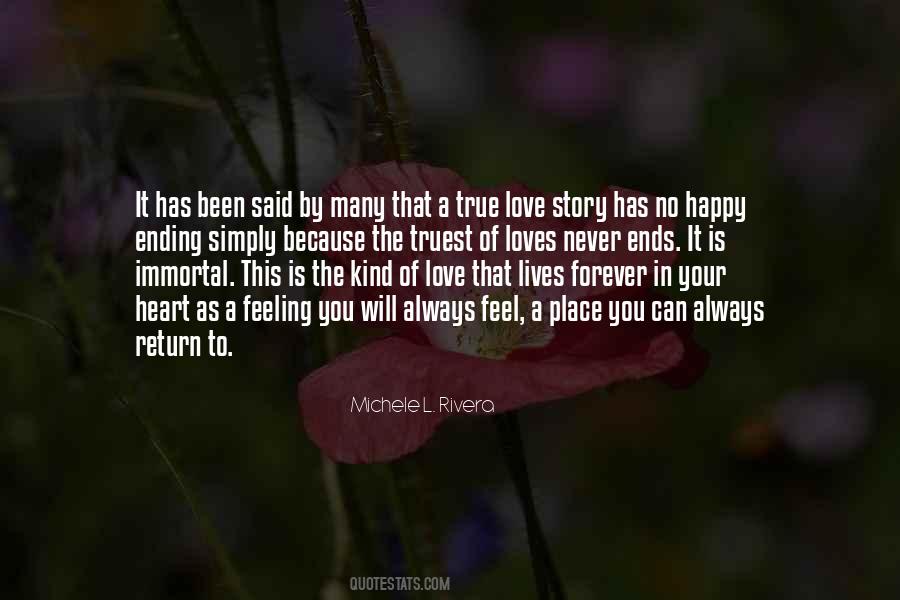 #14. We must be able to love other people or forever endure the stain of disgraceful loneliness. By recognizing and expressing empathy for other people, we come to accept our own fallibility. - Author: Kilroy J. Oldster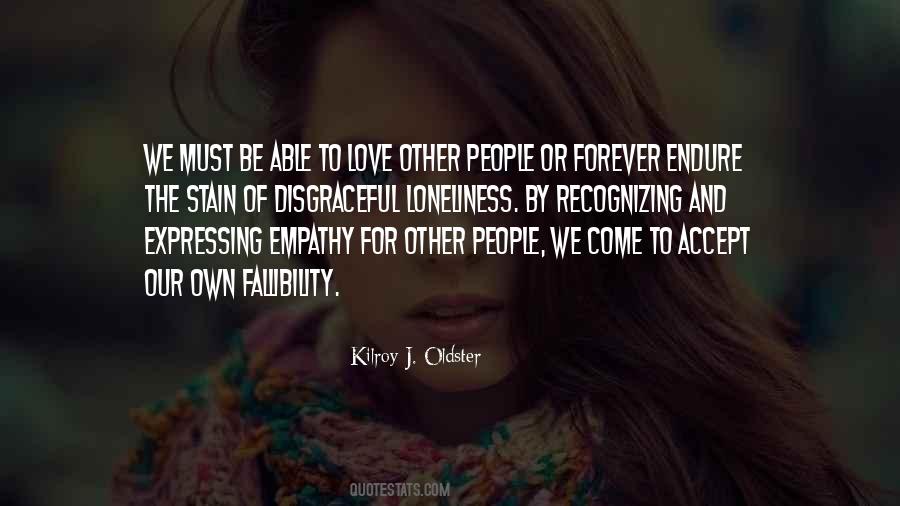 #15. Small child once you were a hope, a dream. Now you are a reality. Changing all that is to come. A love to hold our hearts forever. - Author: Charlotte Gray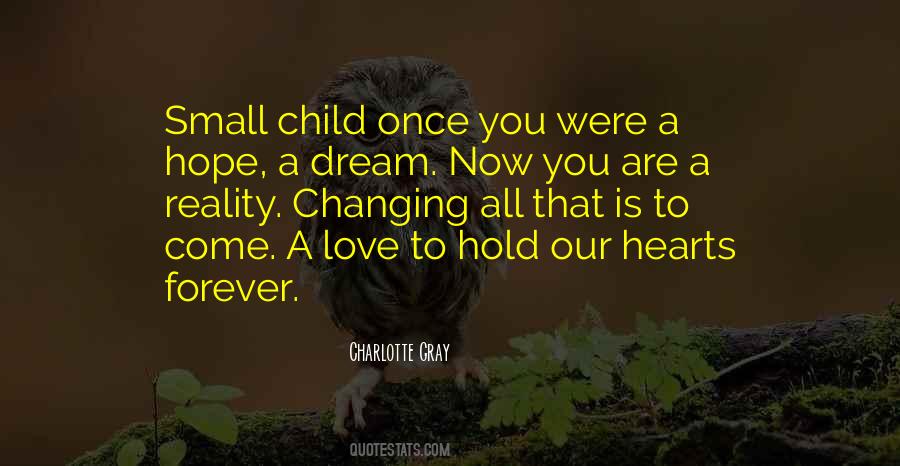 #16. An act of kindness may take only a moment of our time, but when captured in the heart the memory lives forever. - Author: Molly Friedenfeld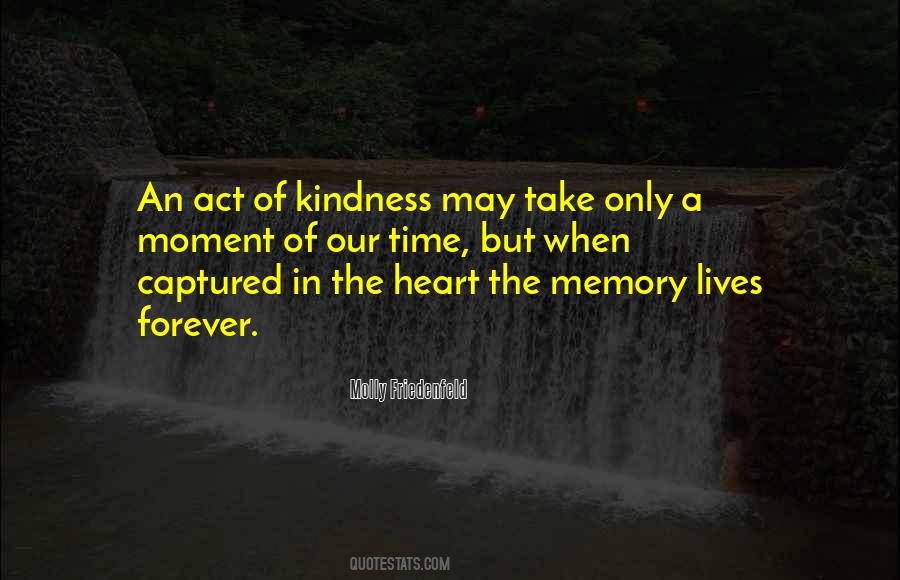 #17. I hope these simple things are what I forever love about life, for then I will be happy no matter where I find myself. - Author: R. YS Perez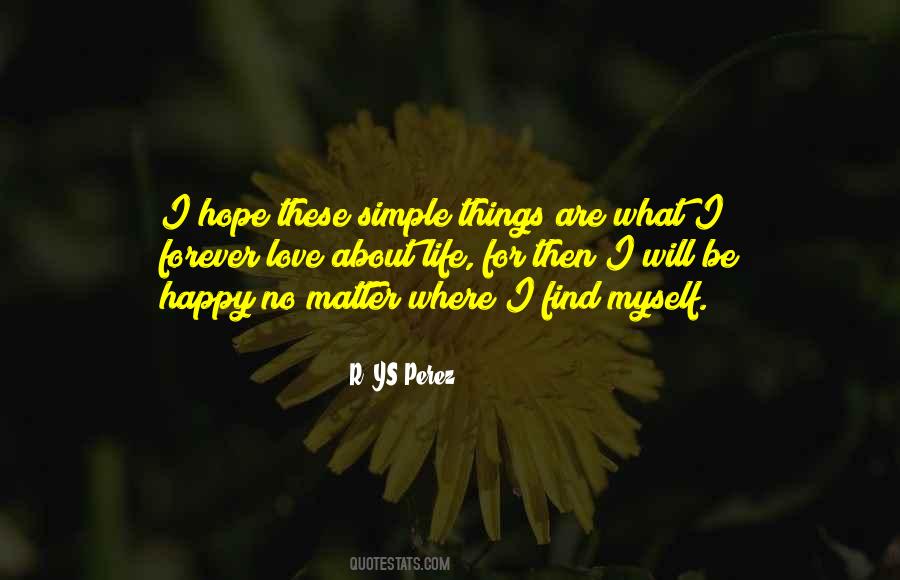 #18. You have captured my soul in a cocoon of love. My heart will be forever yours. - Author: Shae-Lynn Bourne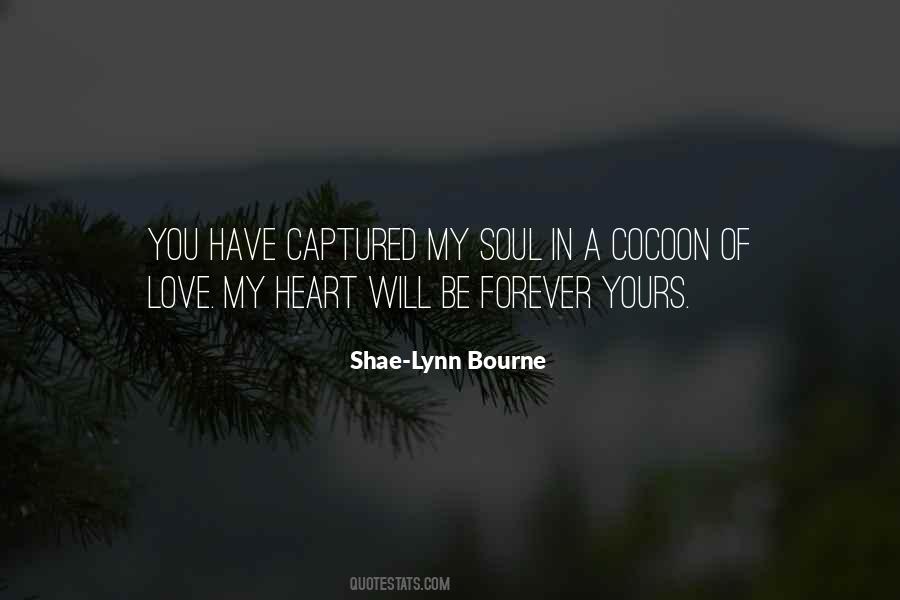 #19. Americans ... are forever searching for love in forms it never takes, in places it can never be. It must have something to do with the vanished frontier. - Author: Kurt Vonnegut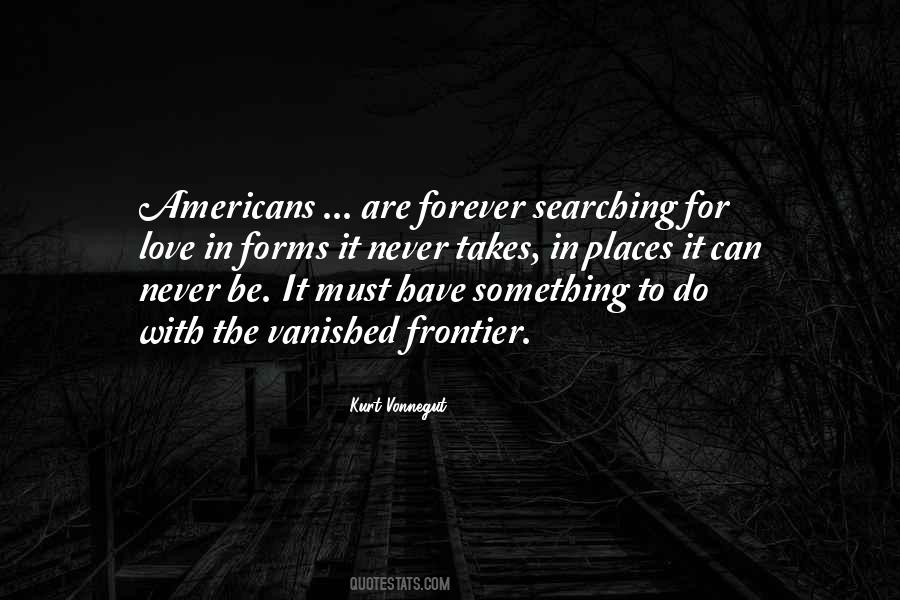 #20. I want you forever, not just for tonight. - Author: Sylvain Reynard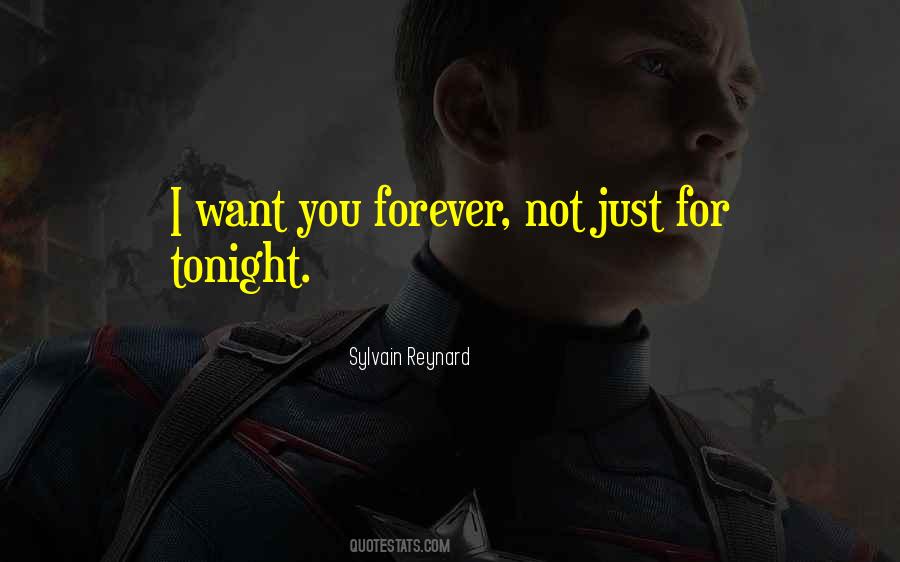 #21. Sometimes the simplest solution out of conflict is becoming someone's friend, instead of saying goodbye forever. - Author: Shannon L. Alder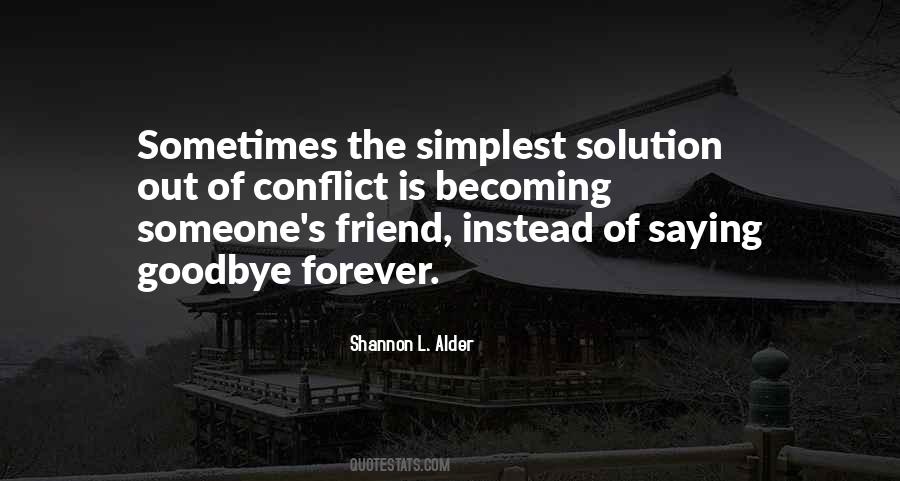 #22. Love built on pain-the kind that lasts: whatever you love can be taken away from us at any moment but the loss of what we love belongs to us forever. - Author: Louise Doughty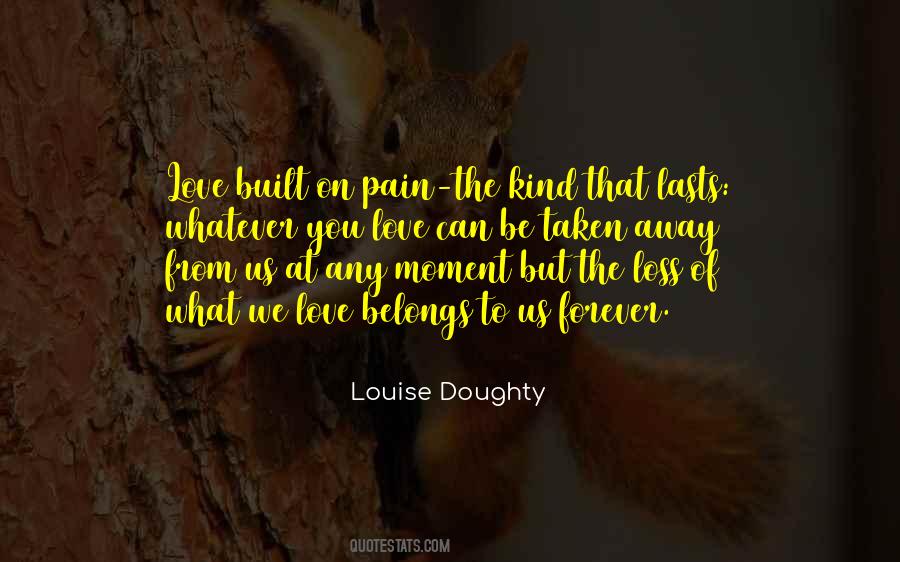 #23. He had told her he would love her forever, but he could not stay with her. From that time on, she couldn't see his glow or hear his voice in her head. Could he still hear her? Was he even aware of her existence? - Author: Elizabeth Chandler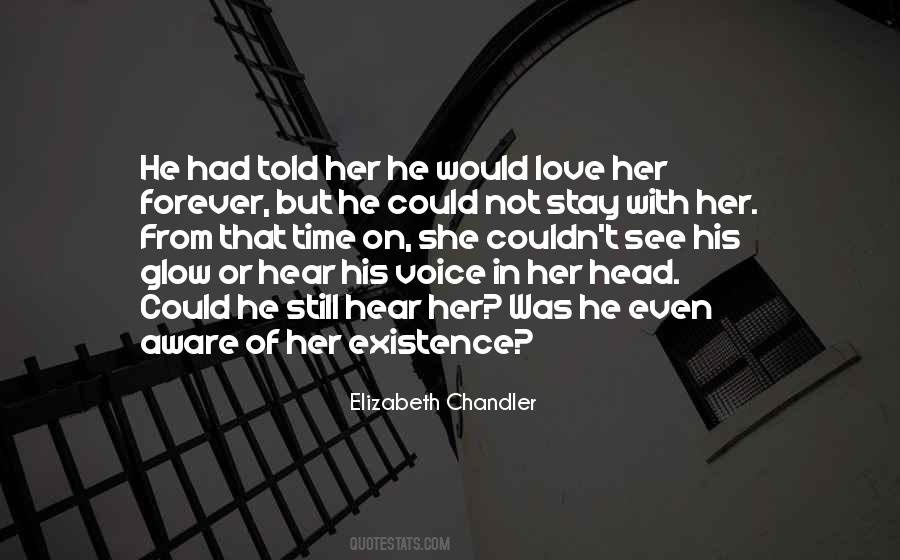 #24. A mother's love is instinctual, unconditional, and forever. - Author: Revathi Sankaran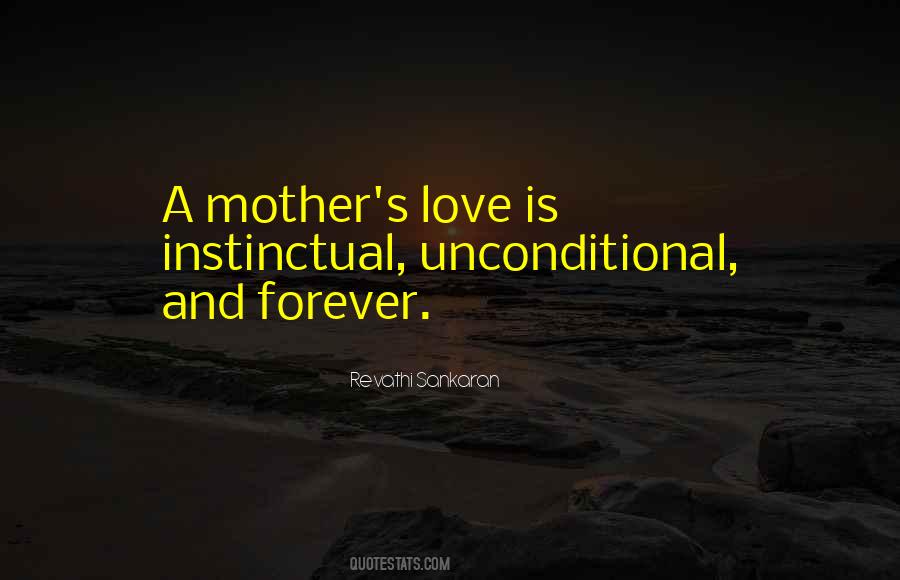 #25. It is difficult for an education in which the heart is involved to remain forever lost. - Author: Jean-Jacques Rousseau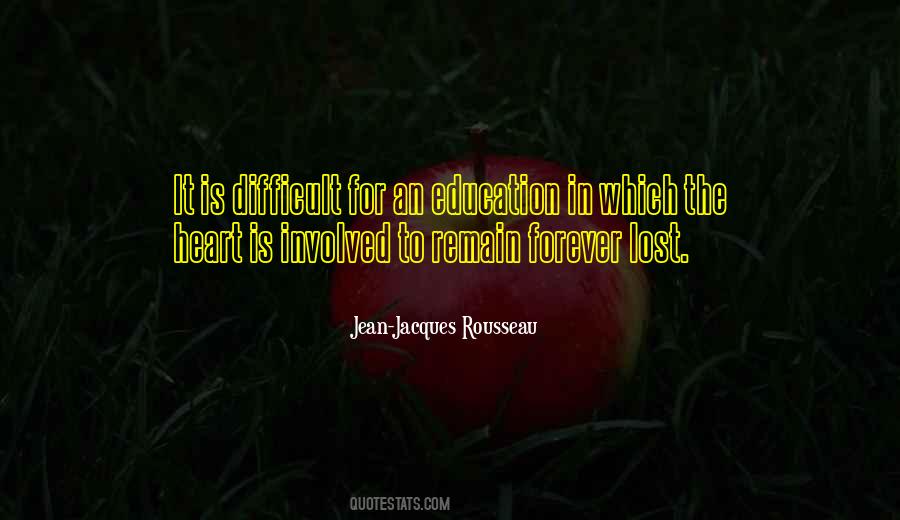 #26. I don't think you understand what it means when a demon falls in love, Layla. It doesn't go away. It doesn't fade, even if we want to. We love until death. That's not just something we say. We love and we love once and it's forever. - Author: Jennifer L. Armentrout
#27. I resolved, then, deep in my soul never to let him go. I'd be the one never to leave him. I'd prove to him that some things could be for always- that we could be. - Author: Ann Aguirre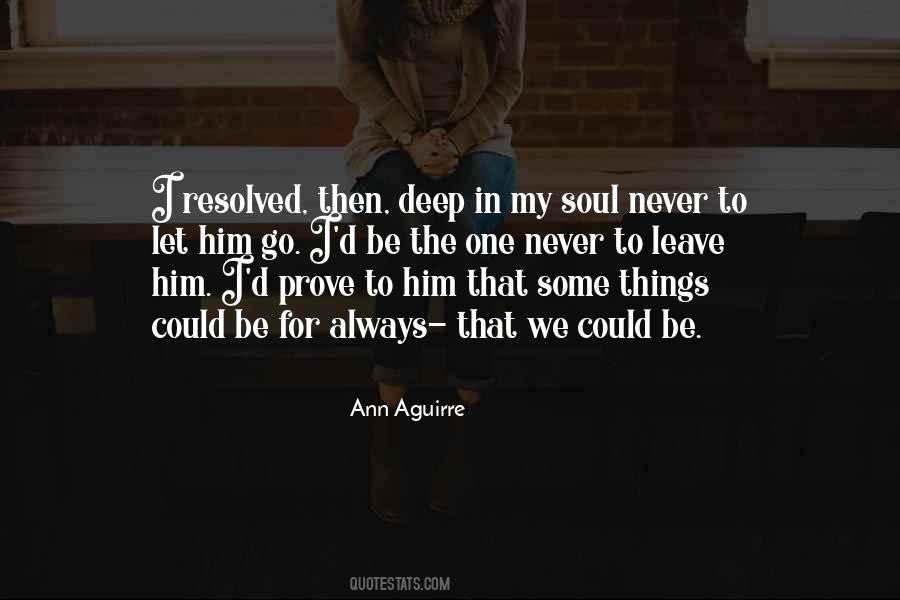 #28. Death is but a transition from this life to another existence where there is no more pain and anguish. All the bitterness and disagreements will vanish, and the only thing that lives forever is love. - Author: Elisabeth Kubler-Ross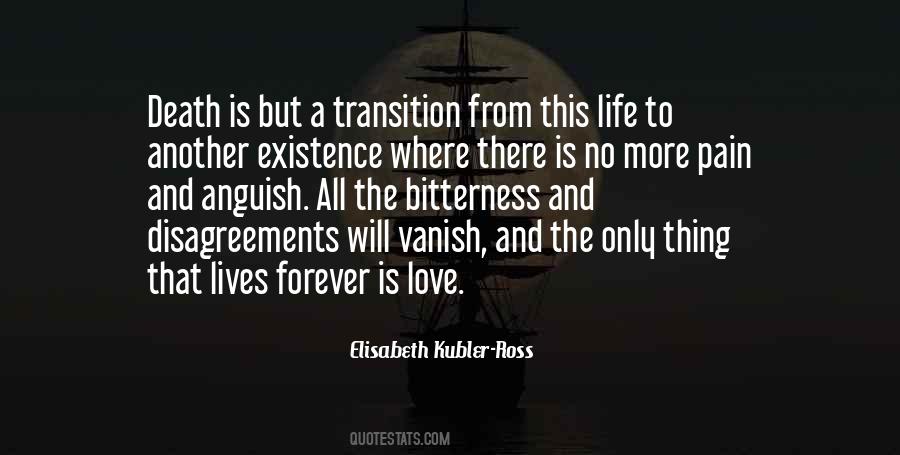 #29. I would love her until she realized that together we were something great. Something perfect. Something forever. - Author: A Meredith Walters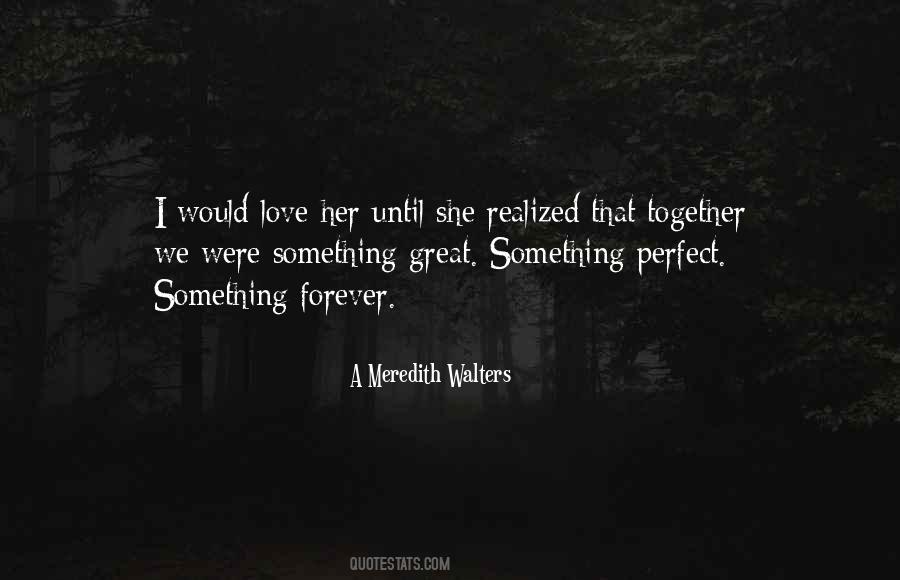 #30. Today, and forever, remember that your peace is not dependent on anything but the one-way, never-ending love of Jesus. - Author: Tullian Tchividjian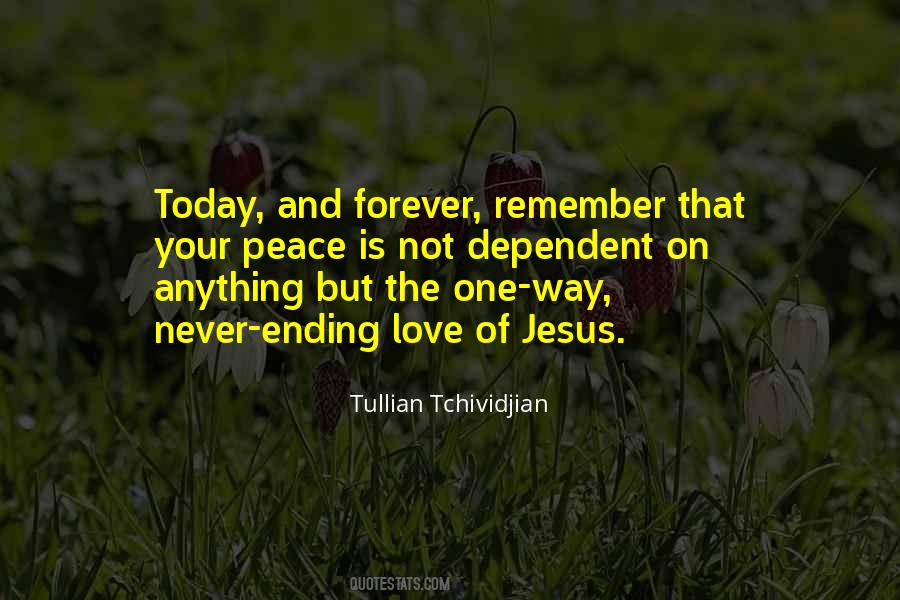 #31. It is one of the paradoxes of American literature that our writers are forever looking back with love and nostalgia at lives they couldn't wait to leave. - Author: Anatole Broyard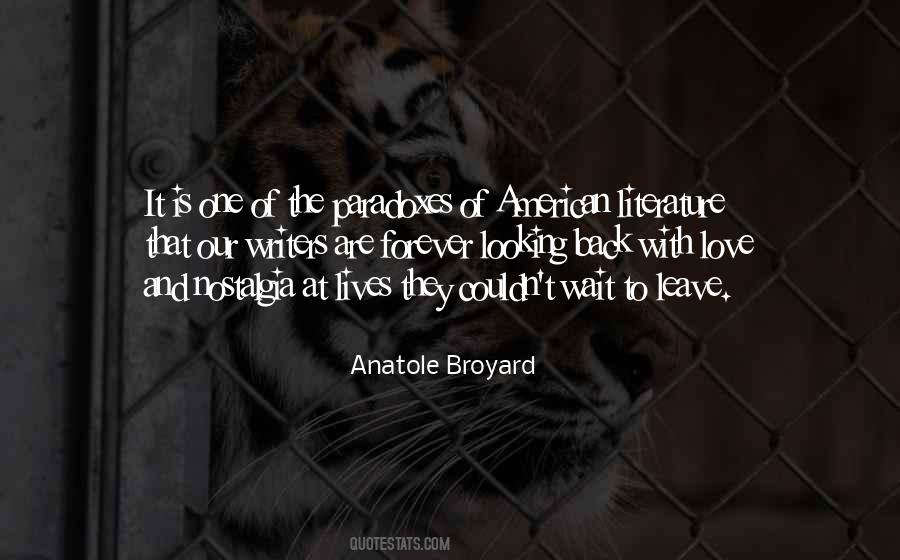 #32. What's given to dunya is lost forever. What's
given to Allah is never lost. If you give what
you love, for the sake of what He loves, you'll
have what you love forever. - Author: Yasmin Mogahed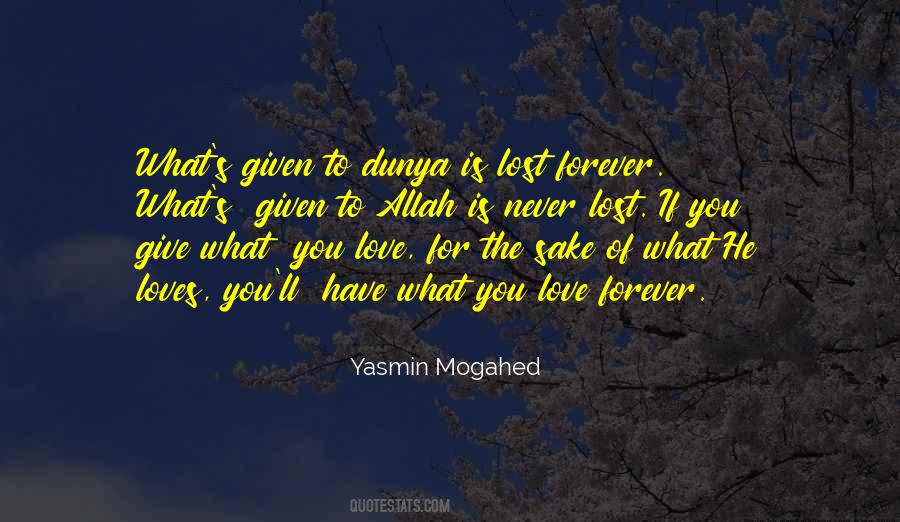 #33. I love you to the moon and bed. - Author: C.J. Carlyon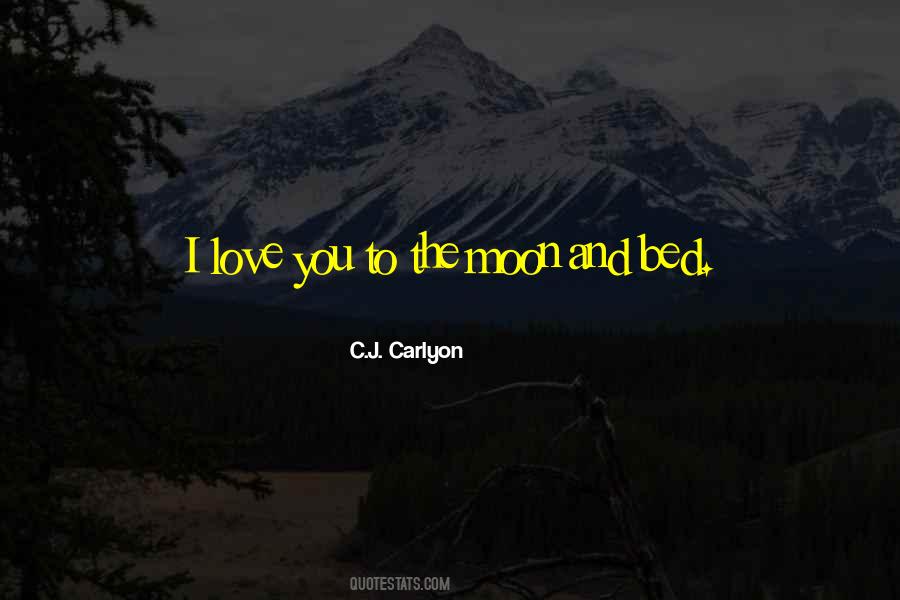 #34. There is no end. Brothers forever.'

Don't ever forget those words.
I love you, brother.
Jake. - Author: Kate McCarthy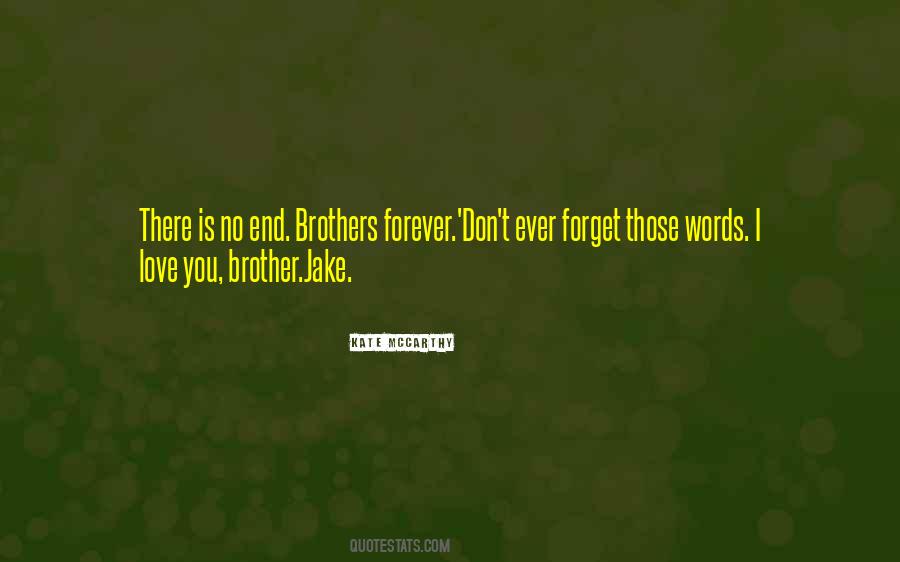 #35. The joy of giving last forever.
So give with love and forget it never. - Author: Debasish Mridha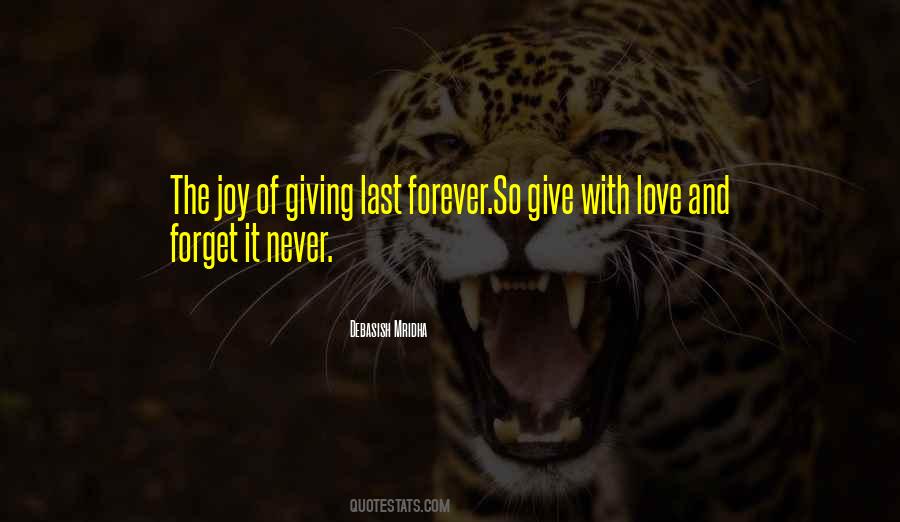 #36. I knew I had fallen in love with Lolita forever; but I also knew she would not be forever Lolita. - Author: Vladimir Nabokov
#37. Do you speak Gaelic Noah? she suddenly asked.
His heart clenched. It actually hurt, as though spikes of steel had been dug into it.
should I?
Maybe not ... - Author: Lora Leigh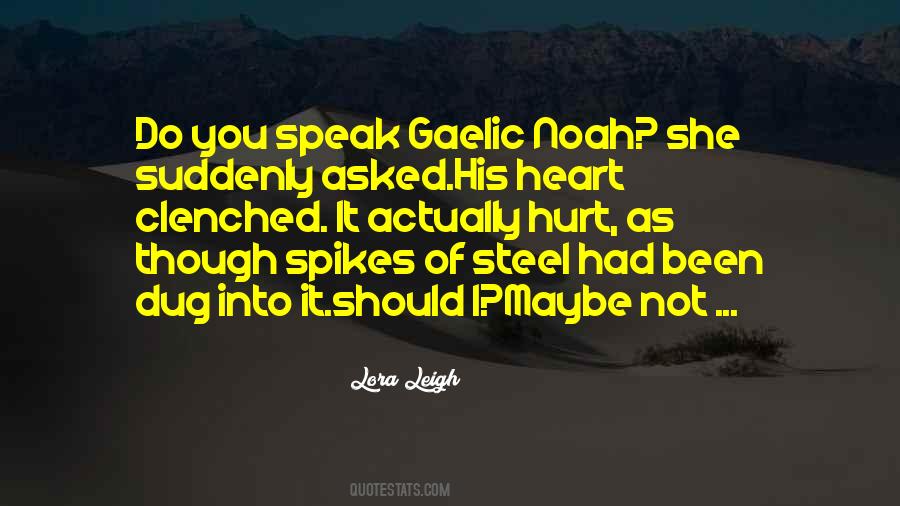 #38. That I love her, that I want her, that I'm never going anywhere, that she and I are going to last. That this is real. That it's forever. - Author: Liz Reinhardt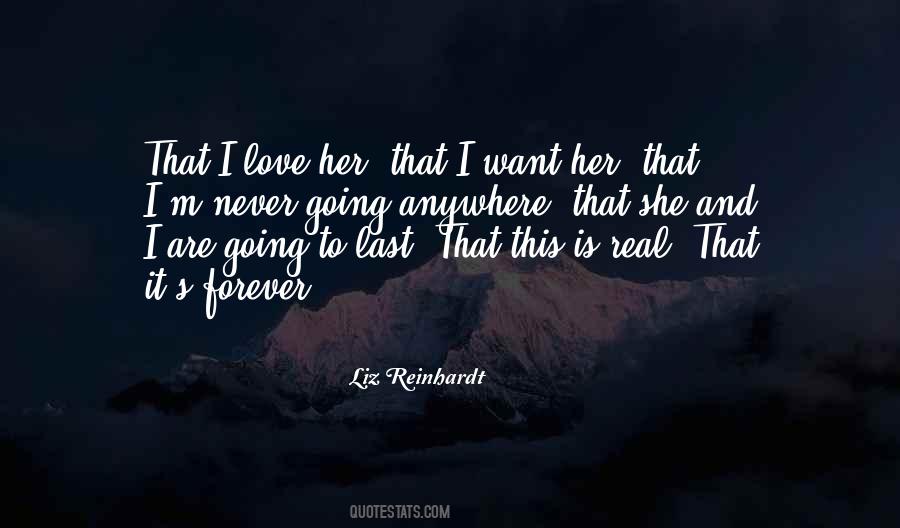 #39. I;ll always put up with you, my love. Forever. You can't get rid of me. - Author: Kahlen Aymes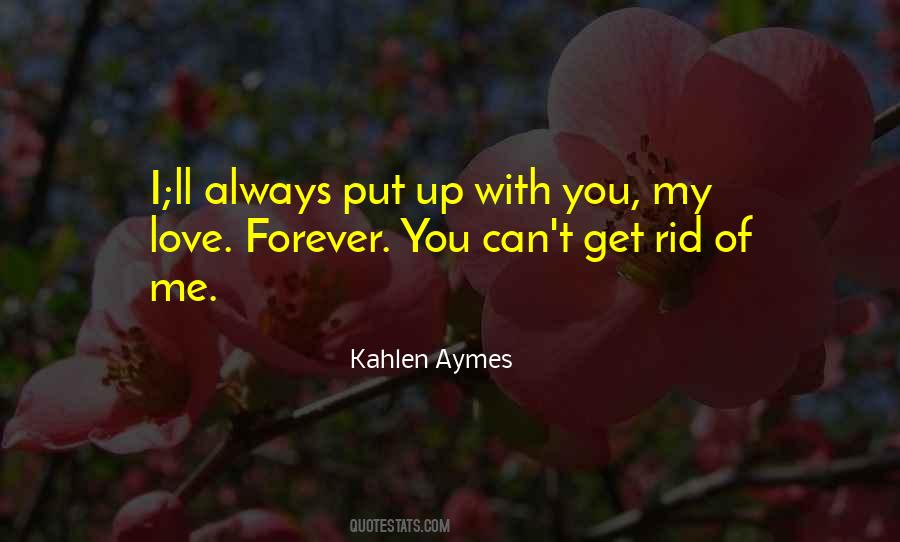 #40. By the accident of fortune a man may rule the world for a time, but by virtue of love and kindness he may rule the world forever. - Author: Laozi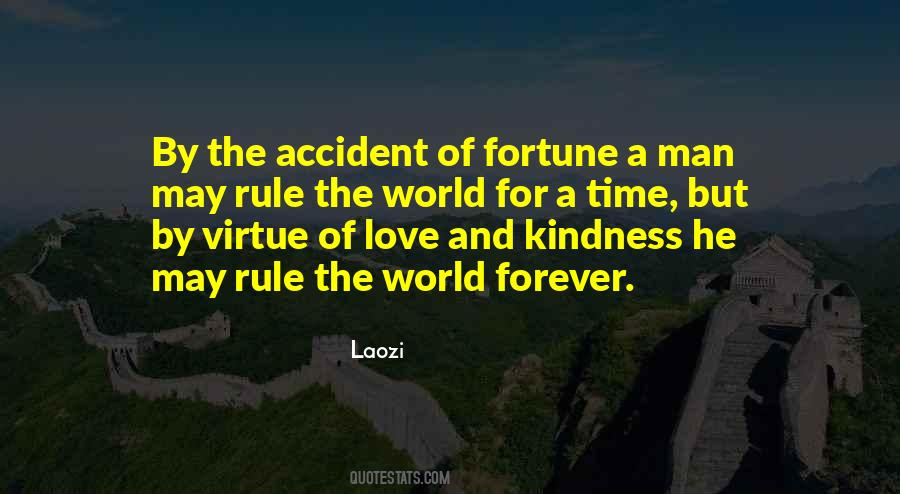 #41. May the saddest day of your future be no worse than the happiest day of your past. May your hands be forever clasped in friendship, and your hearts joined forever in love. To the bride and groom. - Author: Tracy Brogan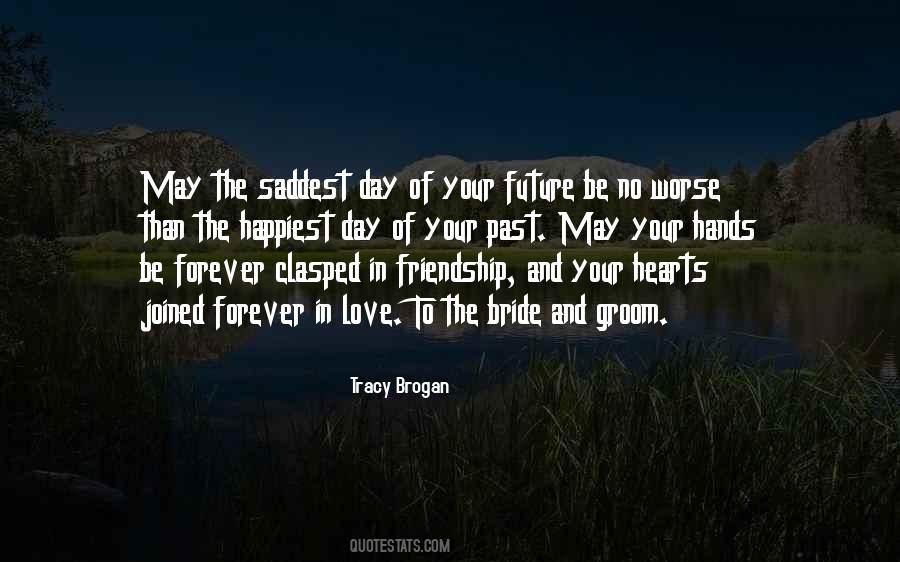 #42. What is it like? Manon asked quietly. 'To love.' 'It was like dying a little every day. It was like being alive, too. It was joy so complete it was pain. It destroyed me and unmade me and forged me. I hated it, because I knew I couldn't escape it, and knew it would forever change me.'-Asterin/Manon - Author: Sarah J. Maas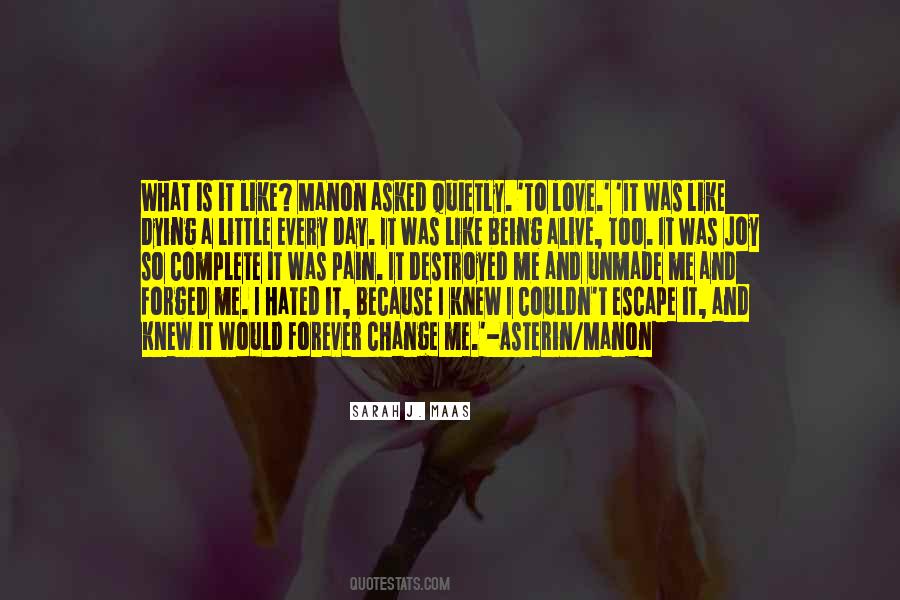 #43. Love can end. It isn't permanent by nature, whatever the weavers of fairy tales want to suggest. Forever takes hard work, and is destroyed by lies. - Author: Christine Amsden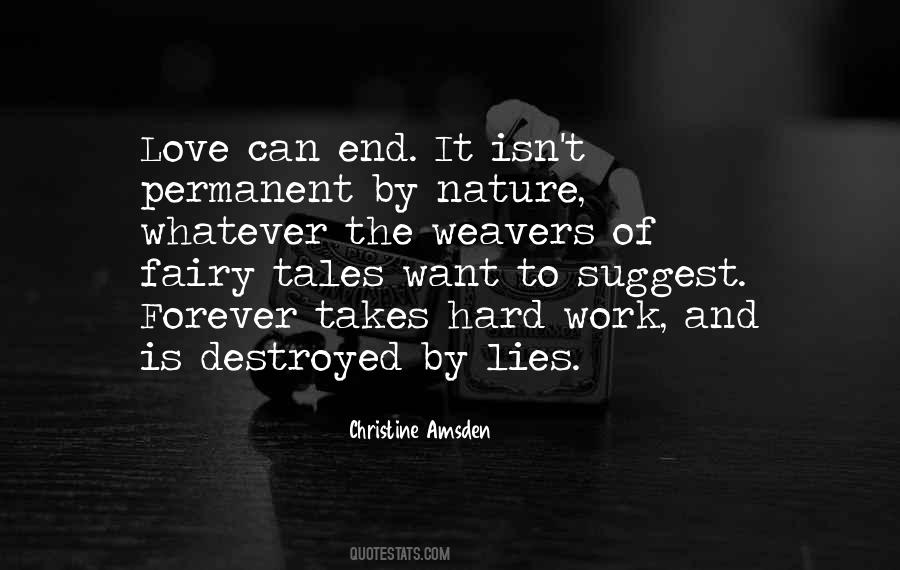 #44. Madly is the way I love you. Forever is how long it will be. - Author: Melyssa Winchester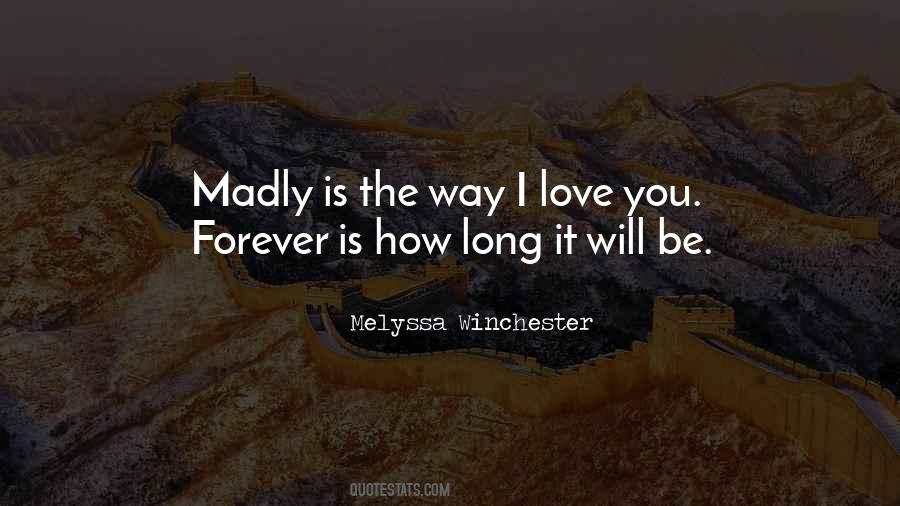 #45. You may be the man of my dreams that accidentally manifested in the wrong form. Forever to be my unrequited. - Author: Truth Devour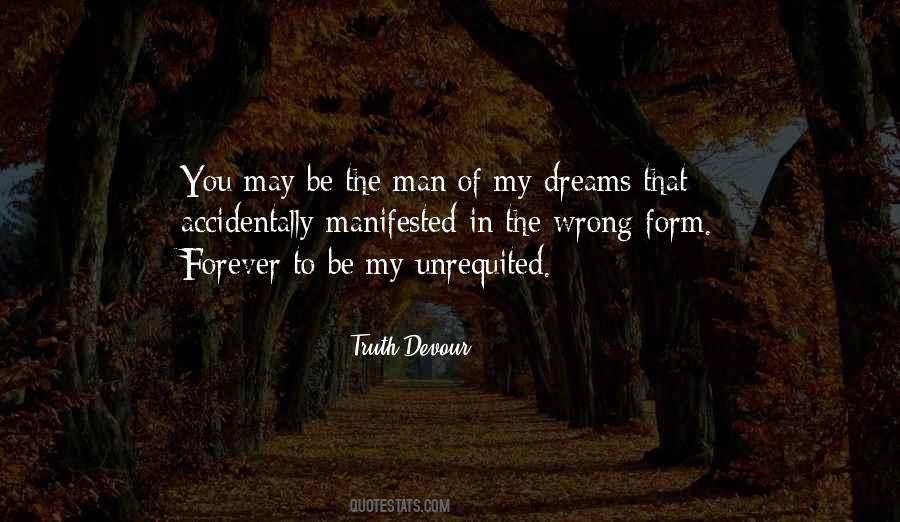 #46. White for light. White for love. White for forever. - Author: Melissa De La Cruz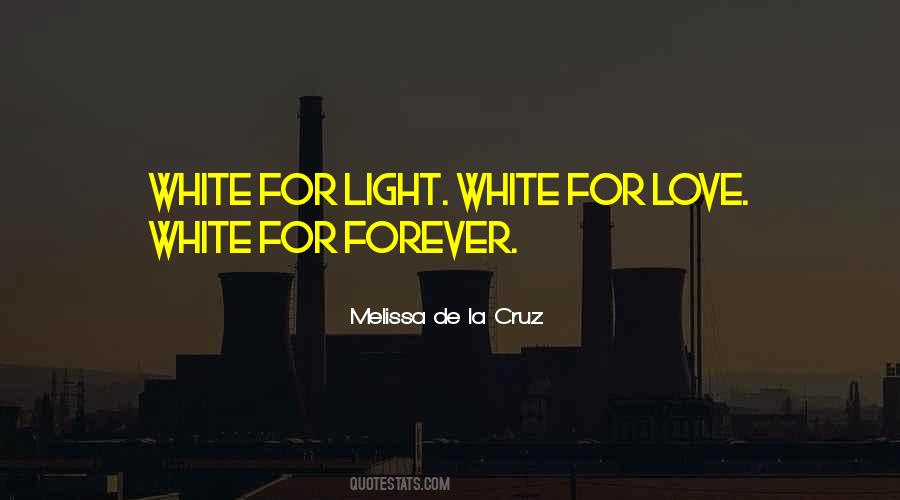 #47. To love abundantly is to live abundantly, and to love forever is to live forever. - Author: Henry Drummond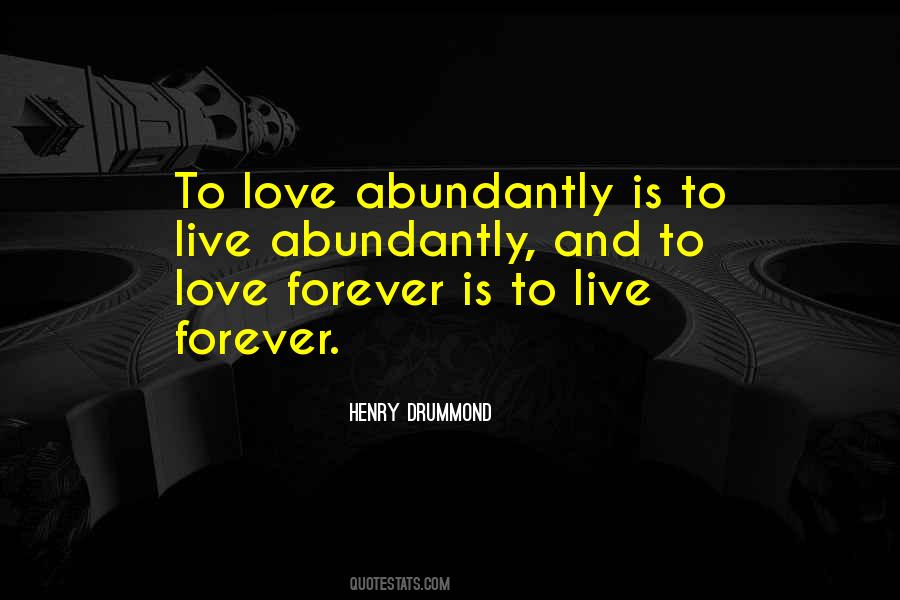 #48. You are everything to me, Princess."

"Then come and love me," I said softly to him. "I've waited forever for you to touch me again. - Author: Jill Myles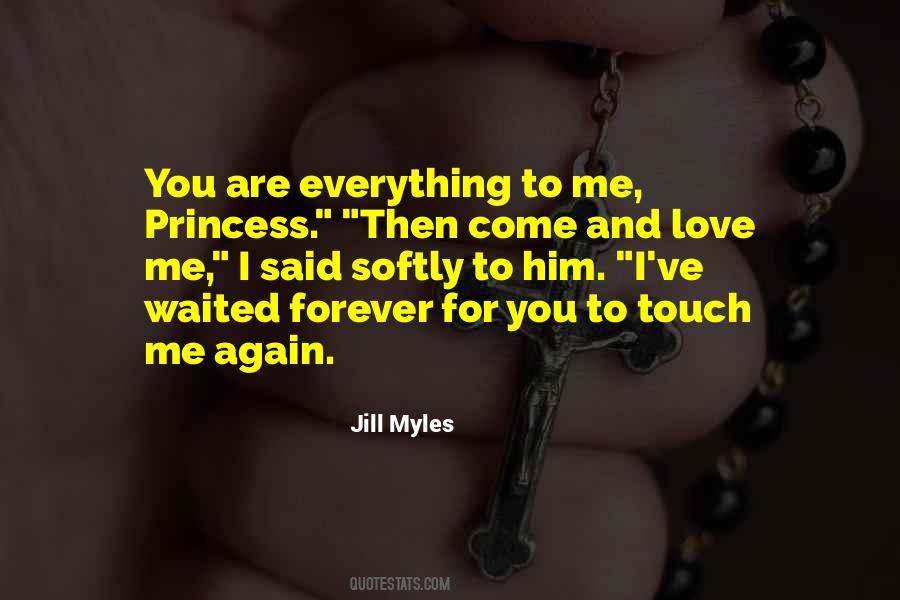 #49. I love you, always forever
Near and far, close and together
Everywhere, I will be with you
Everything, I will do for you. - Author: Donna Lewis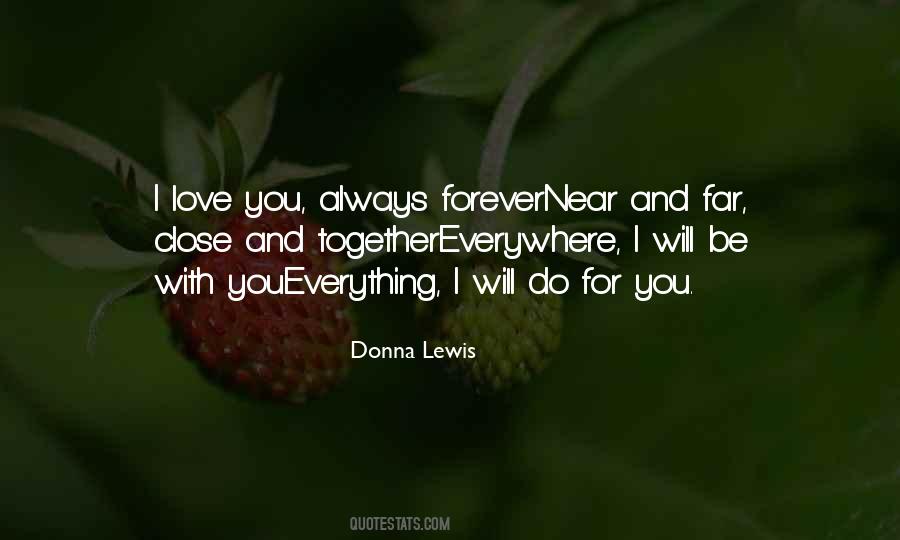 #50. When you decide you want to be with someone forever, you want forever to start right now. - Author: Alexandra Potter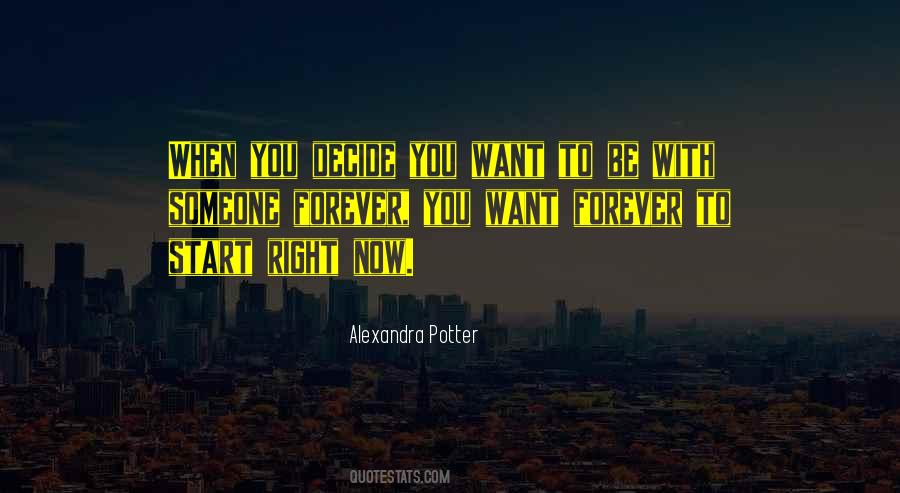 #51. You promised me you would never cheat on me, that you'd love me forever and we would never get a divorce." "I still love you, and I hate that I cheated on you, and I wish we'd never gotten divorced. - Author: Terry McMillan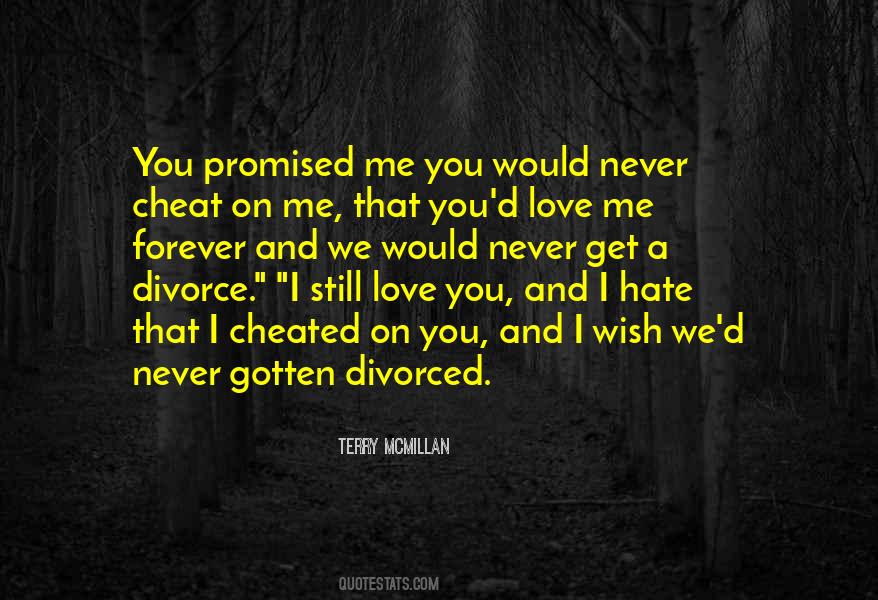 #52. Life is a beat as death is a runaway. Combine both and you'll never climb up the rope, you'll stay there forever. - Author: Grace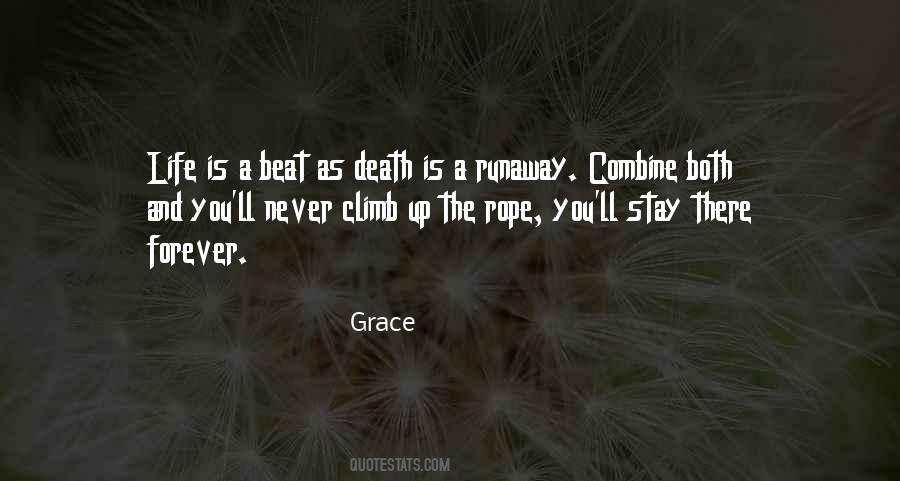 #53. I want each day to last forever . . . It's a peculiar kind of dissatisfaction, a bittersweet nostalgia for a moment not yet past. Even in the midst of a pleasurable outing I'm aware of how ephemeral it is. - Author: Christina Baker Kline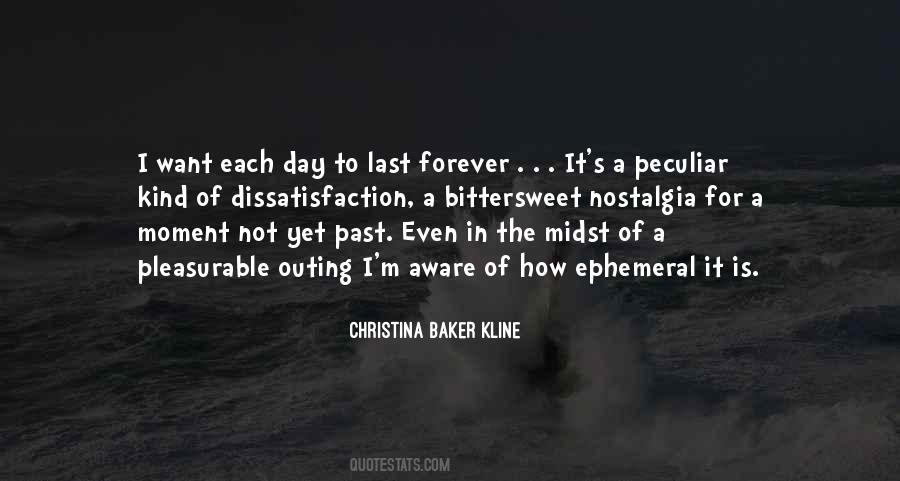 #54. I'm afraid because I know I can't fight forever - Author: M.H.S. Pourri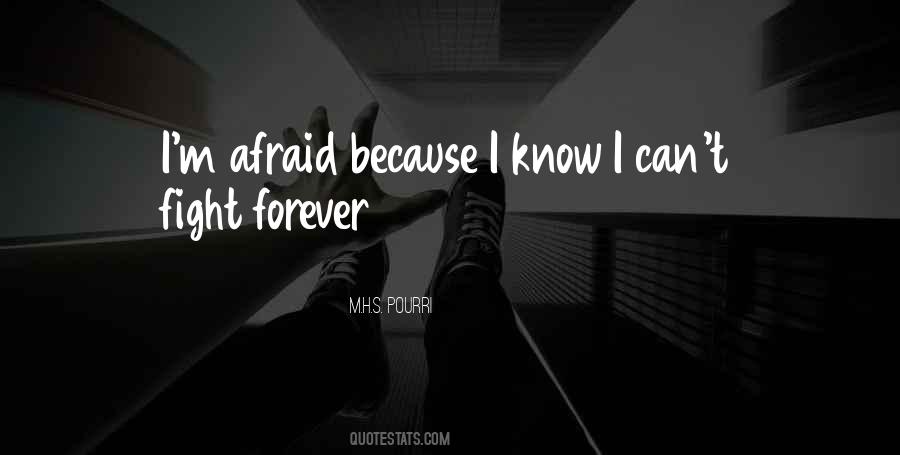 #55. Forever, if she promises to never part the ocean where the river sings. - Author: Delano Johnson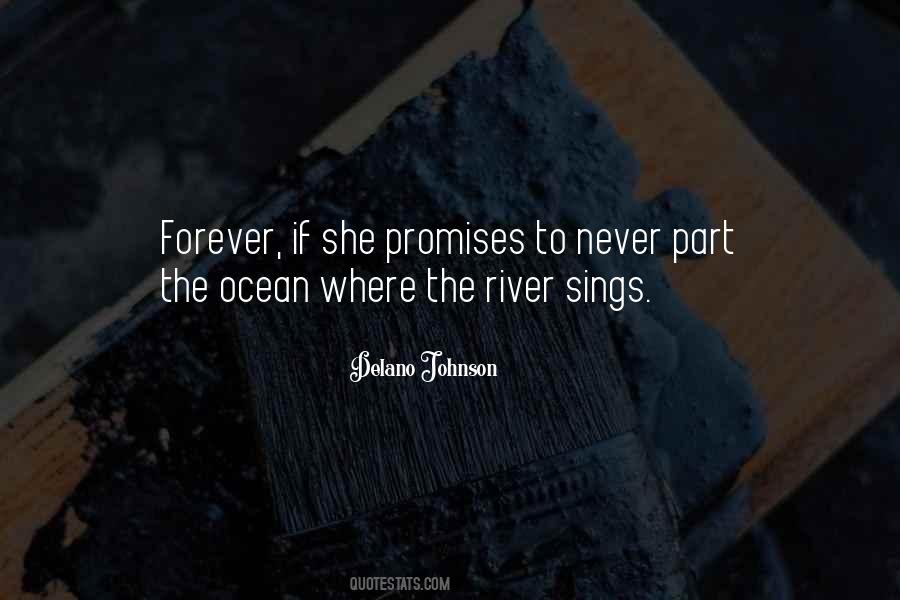 #56. The relationship between book and reader is intimate, at best a kind of love affair, and first loves are famously tenacious. [ ... ] First love is a momentous step in our emotional education, and in many ways, it shapes us forever. - Author: Laura Miller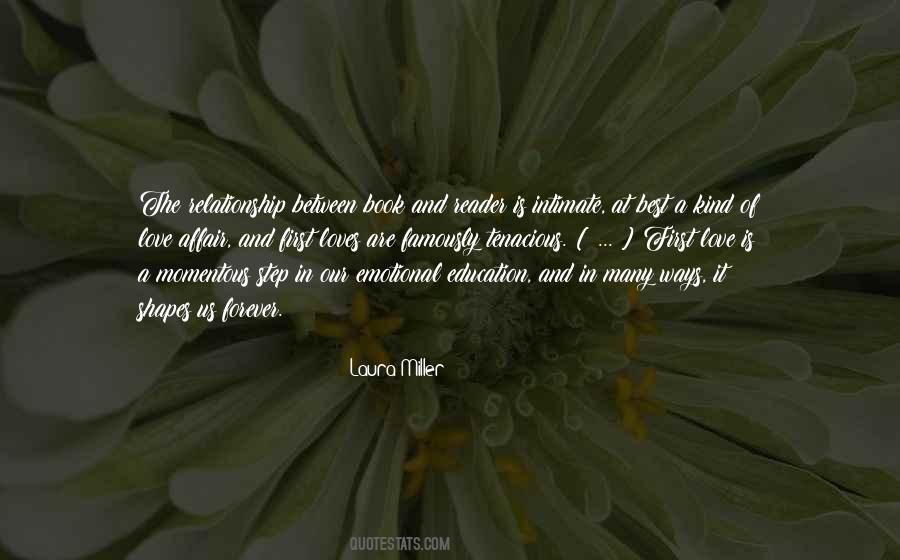 #57. Marriage is a journey of disasters, only to fall in love all over again, with the person that rescues you each time. - Author: Shannon L. Alder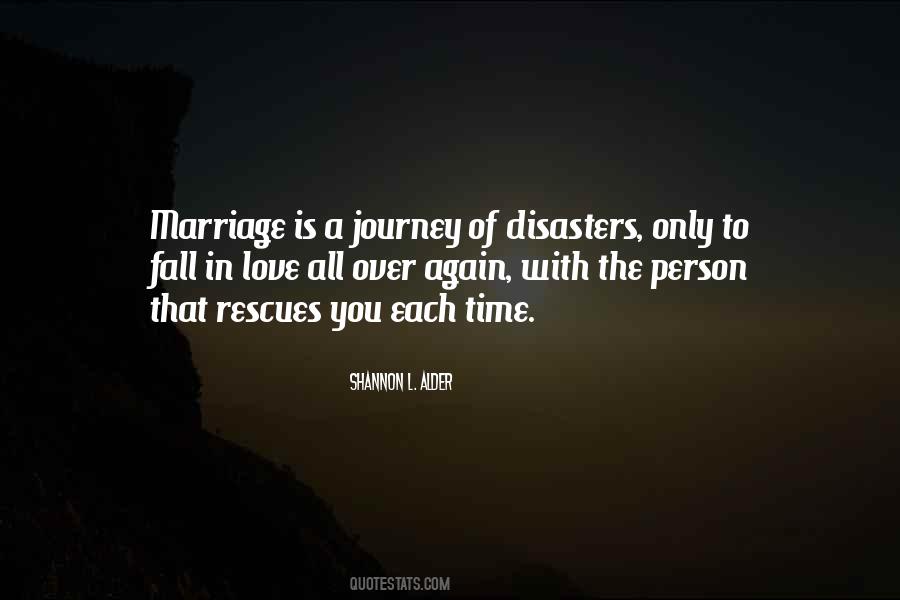 #58. She smiled into his mouth. "That was ... wow."
"It's always wow. You're wow. I'll never get enough of you, Lydia. Not after ten years in dreams; not after forever in real life. - Author: Dianna Hardy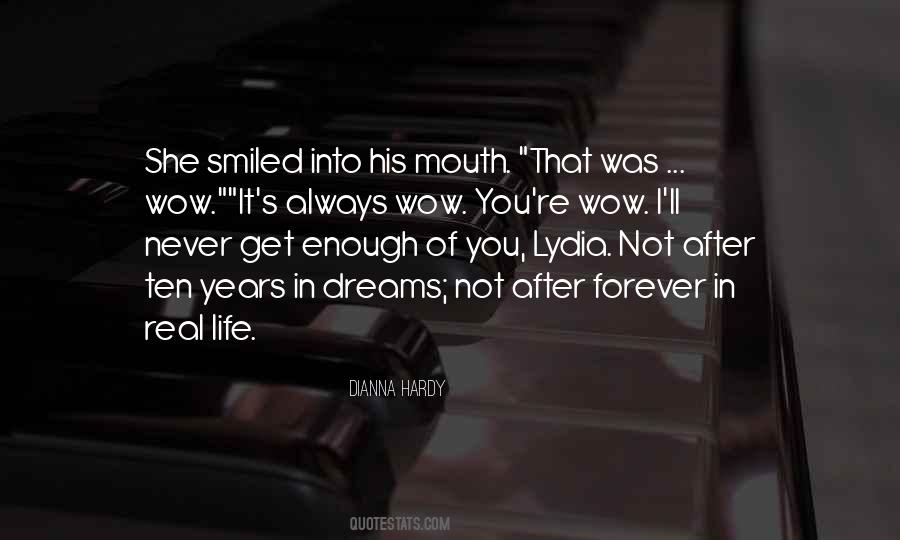 #59. I fervently believe that people shouldn't stay in bad relationships just because of some artificial rom-com notion of true love being "forever." In fact, I think that the pressure of conforming to that framework ruins-literally RUINS-a lot of people's lives. - Author: Lindy West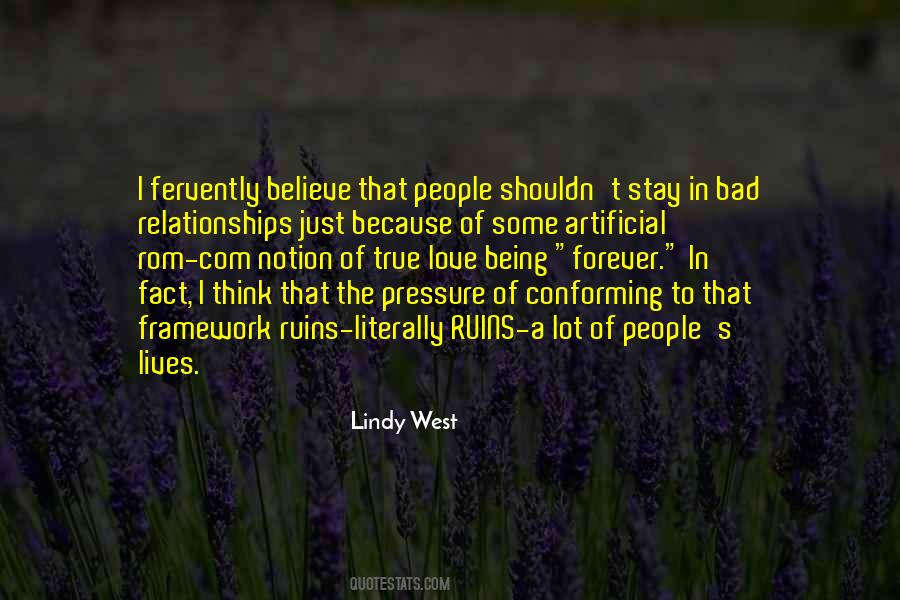 #60. And just like that, he's dead. My one love, my soul mate, my forever, is dead. - Author: Jessica Sorensen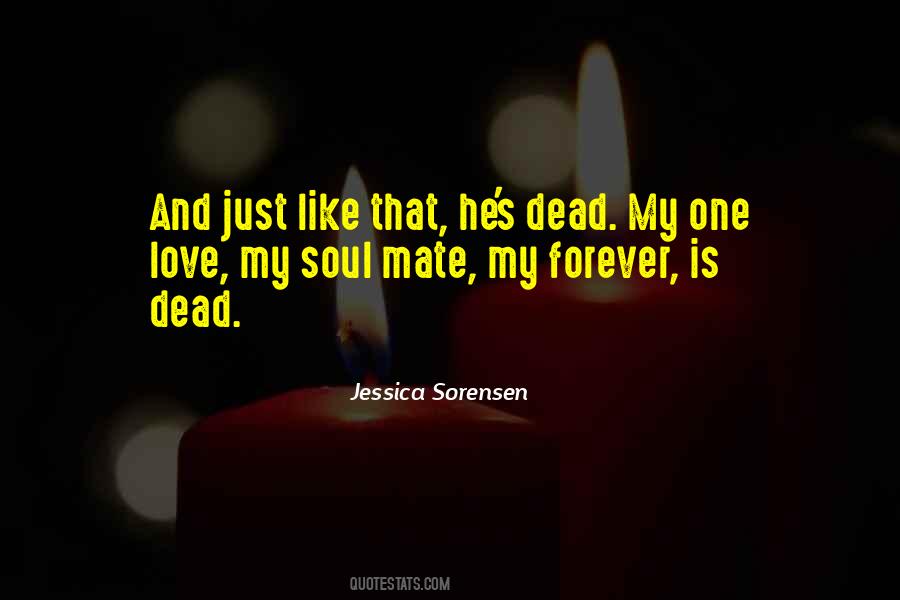 #61. A change in those moments, some switch turned off forever, the end of trust or safety or love, and how do we ever find the switch again? - Author: David Vann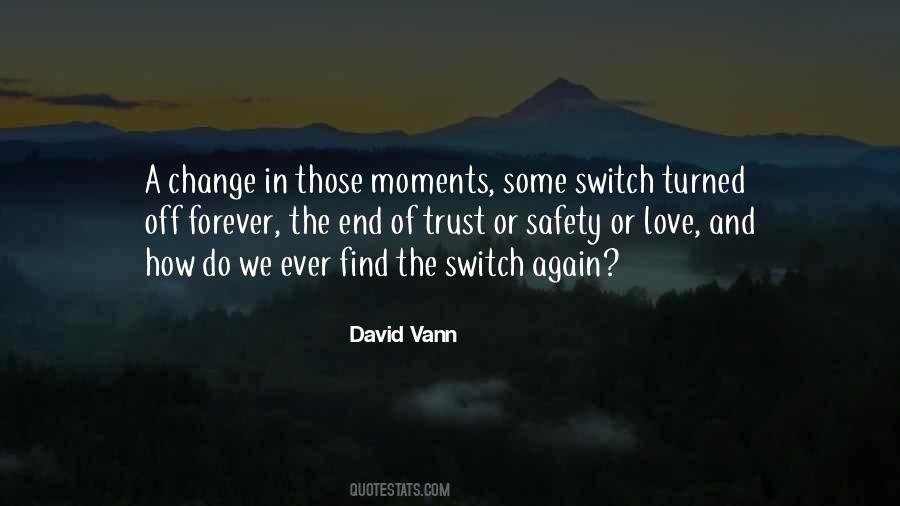 #62. Integrity safeguards love, and love makes family life rich and zestful-now and forever. - Author: Russell M. Nelson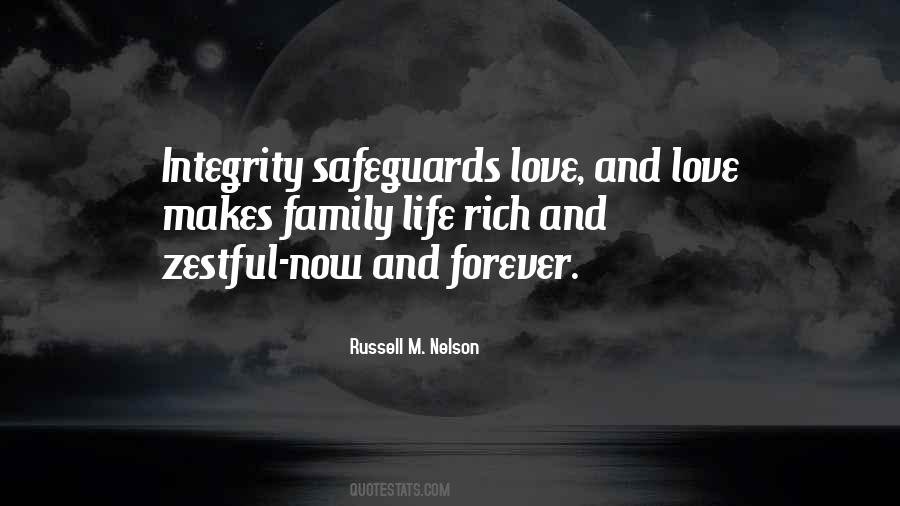 #63. One word can change your life forever.
I love you
I hate you
Think about it - Author: Alan Macmillan Orr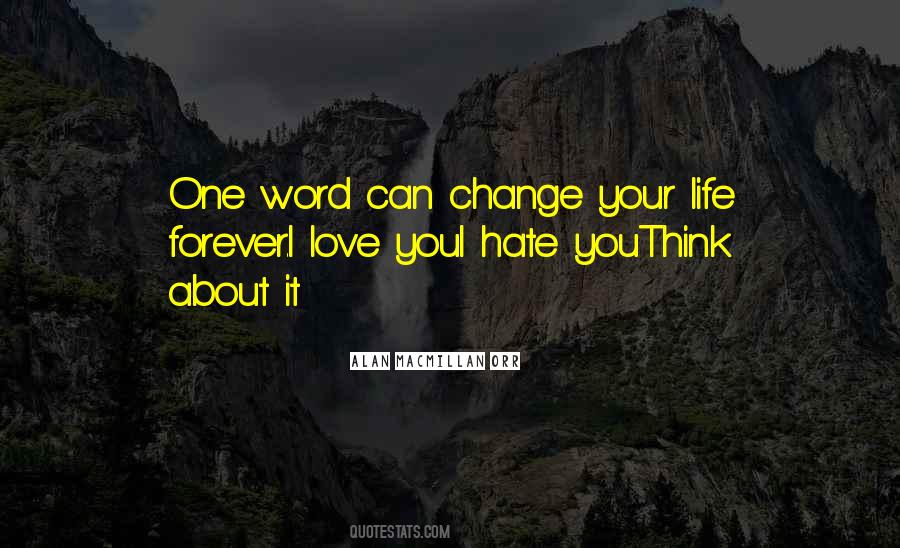 #64. Sarah: Buildings burn, people die, but real love is forever ... - Author: James O'Barr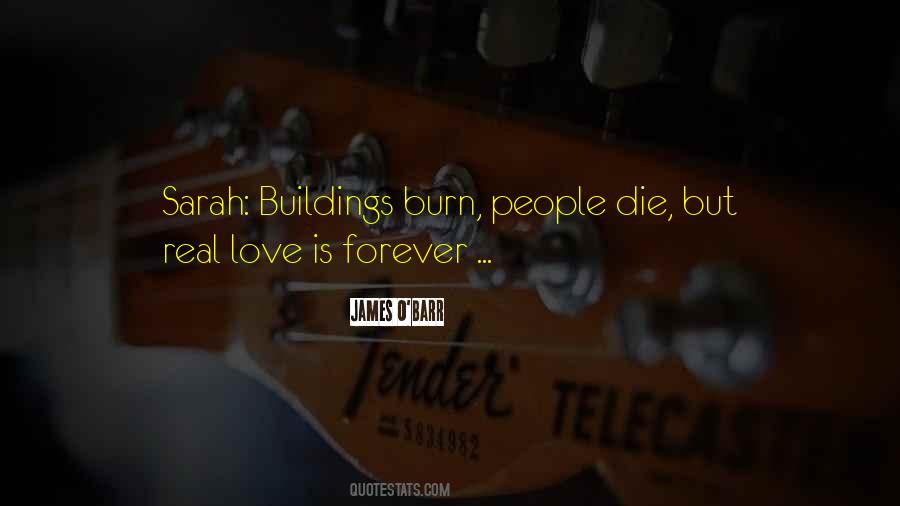 #65. I need you forever, for you are my teddy. - Author: Vikrmn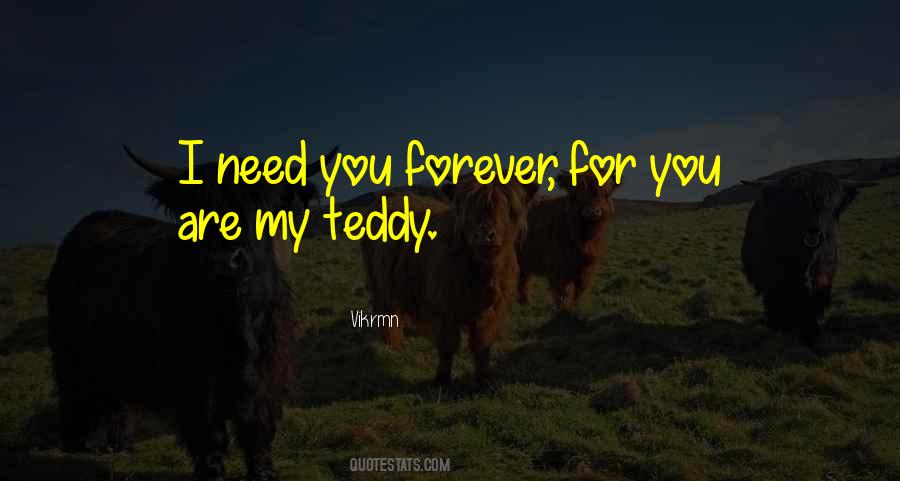 #66. He brushed his lips against hers. "I love you," he breathed against her mouth. "And from today onward, I want to never be separated from you. Wherever you go, I go. Even if that means going to Hell itself, wherever you are, that's where I want to be. Forever." Celaena - Author: Sarah J. Maas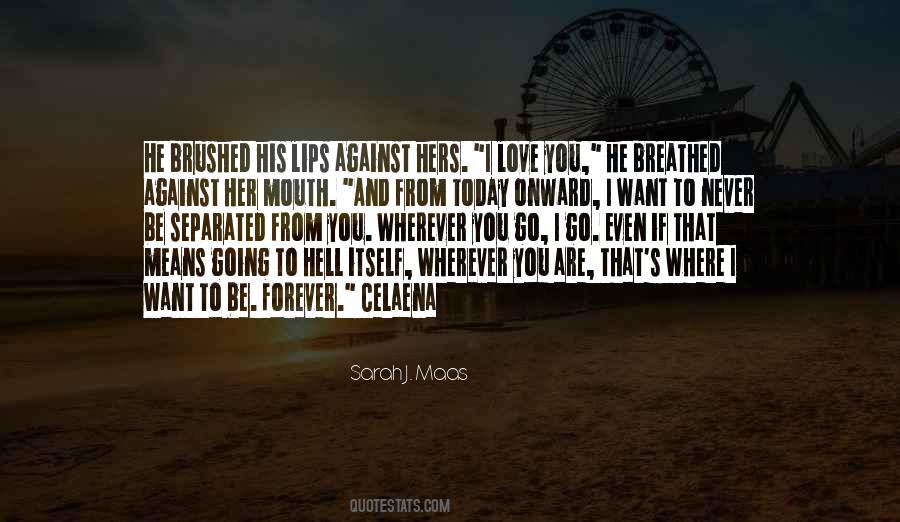 #67. I'm not sure what kind of love you mean, baby, but if you mean do I want you to be with me forever, that I can't bear the thought of being without you as my lover, my best friend, my whole world....one day my wife, and my baby mama, then yes, I Love you, Love you! - Author: S.E. Hall
#68. I love Alice more than life itself, but I can't keep her hidden forever. - Author: Kellyn Roth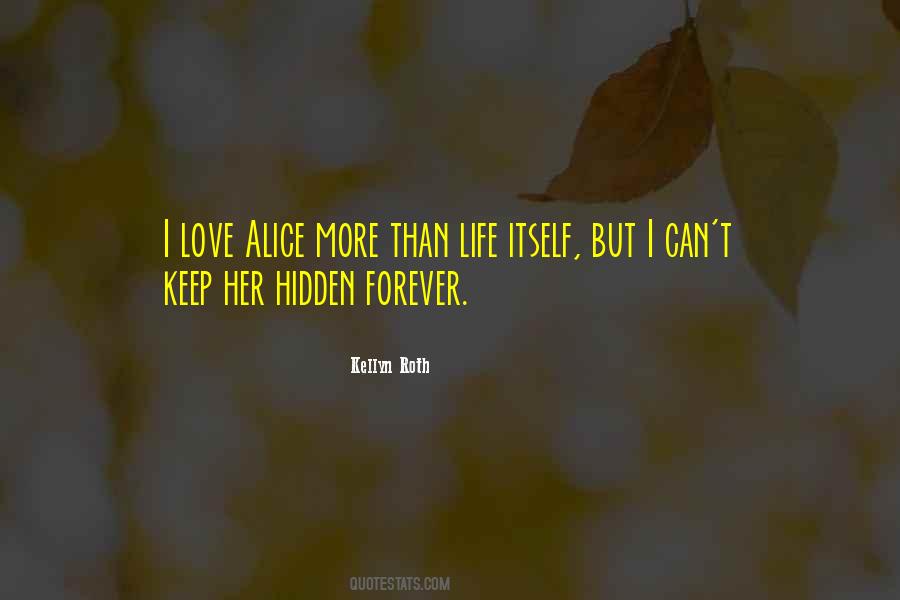 #69. Everything around you will vanish and go away.
Only your expressed love will live forever in the Milky Way. - Author: Debasish Mridha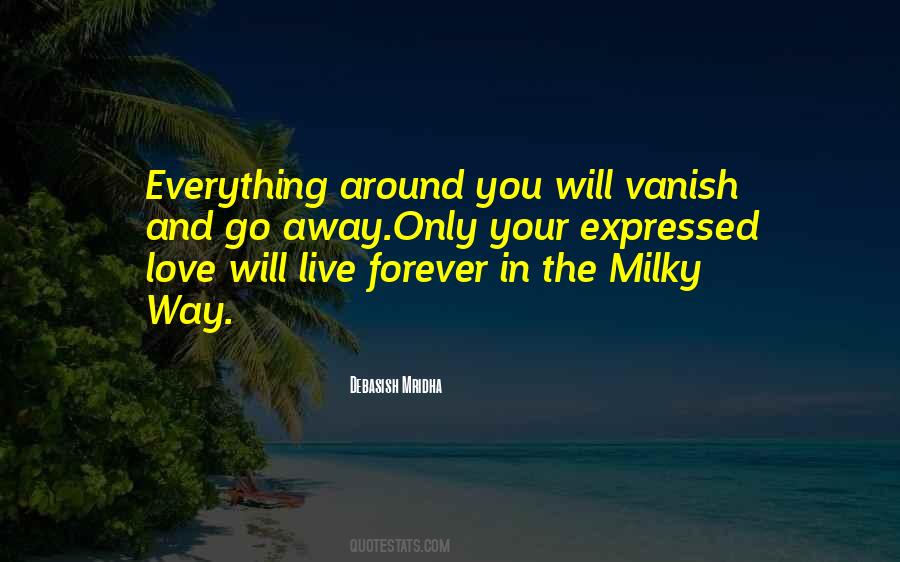 #70. With you, I want it all. If I get a taste of what it could be, I won't ever want to let it go. I fell in love with you when I was sixteen, and that's never changed. But trusting you with my heart again is different. With you, I need to know it's forever. - Author: Abbi Glines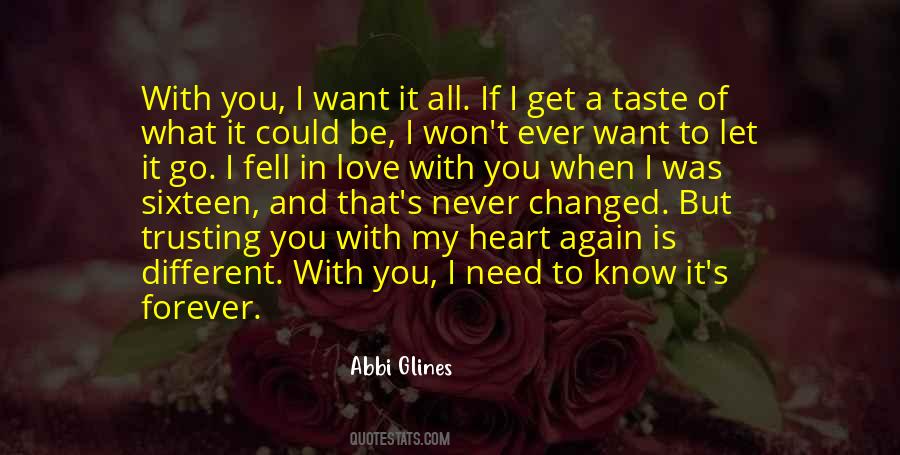 #71. ...when a man like Ethan finally learns to love, it's forever.

~ Fiona MacCarrick ~ - Author: Kresley Cole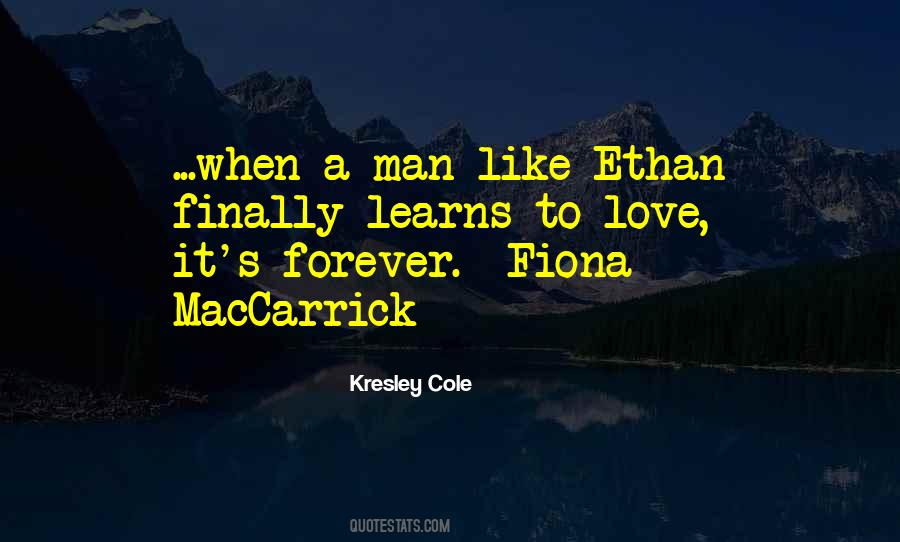 #72. Birds build nests because they cannot fly forever. - Author: Matshona Dhliwayo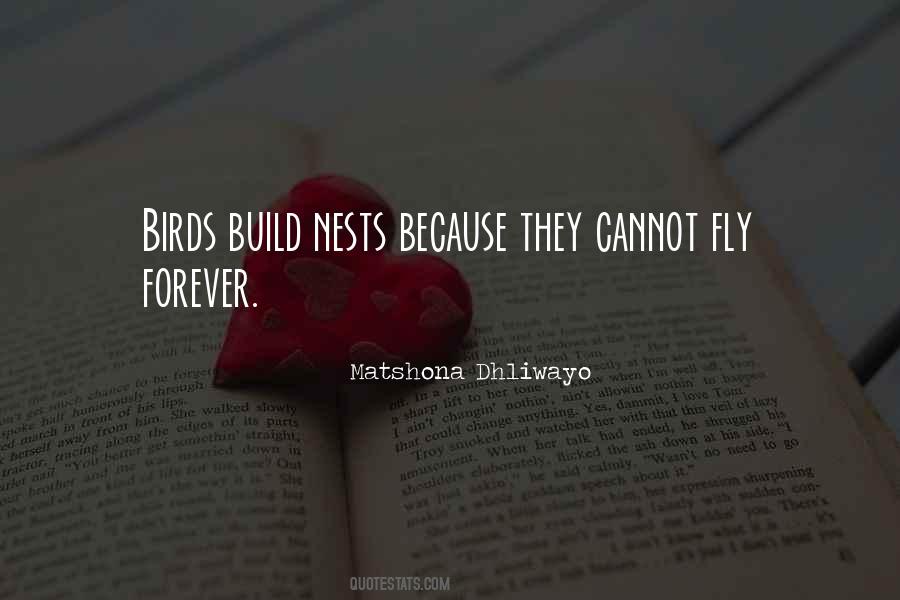 #73. Hate isn't like love, it doesn't end. It goes on forever. You can never get to the bottom of it. And it's so pure, so unconditional! - Author: Lev Grossman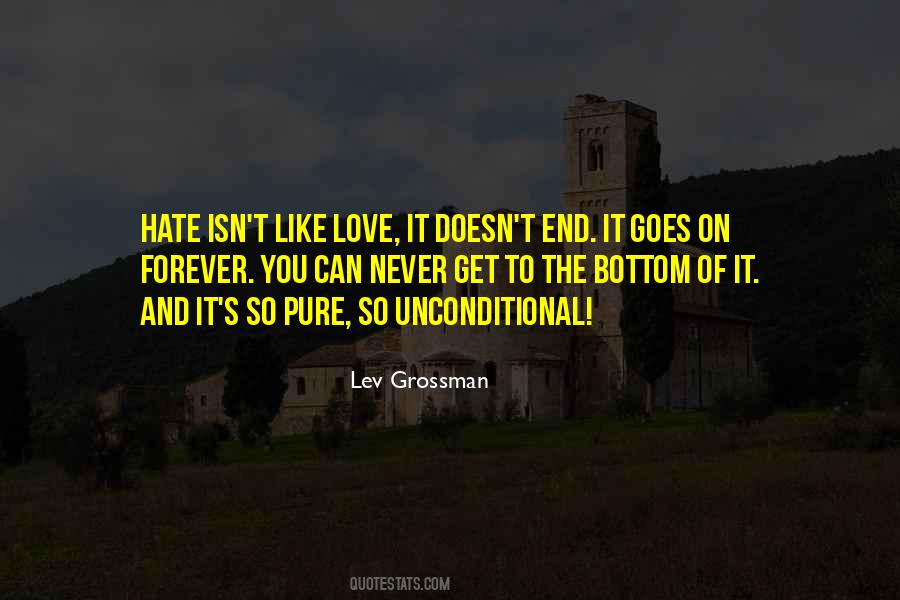 #74. I might be developing an addiction. You being my drug of choice. Rehab is 'not' an option, my love is forever. Just so you know. - Author: Truth Devour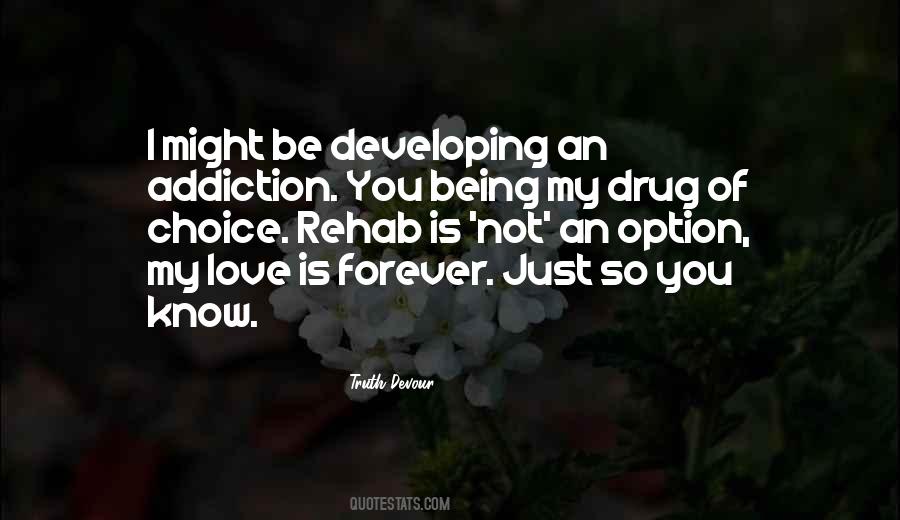 #75. I love you today. I will love you tomorrow. I will love you always. Because when we are reborn, I will fall in love with you again and again and again.
- Faye Hall, from an untitled script - Author: Faye Hall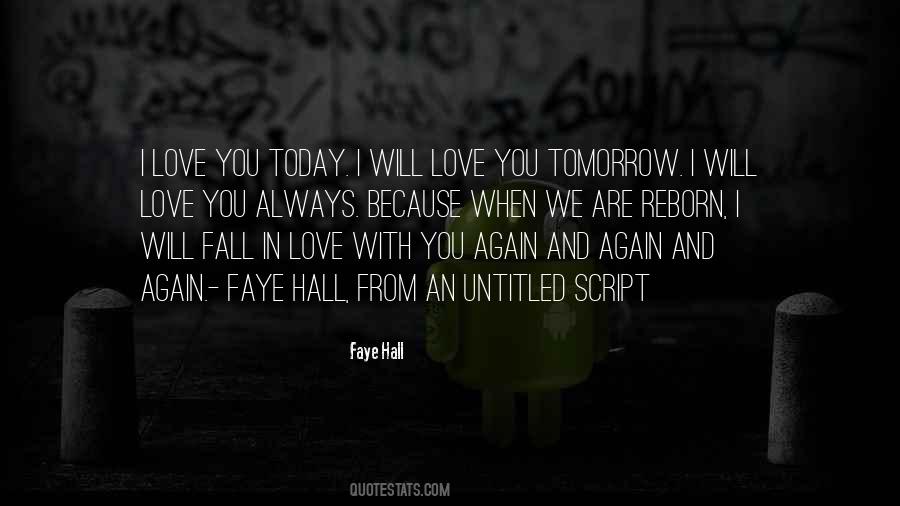 #76. I still promise. Every day for the rest of my life. I'll hold your dreams, wishes, hopes and fears forever. I Promise to never give up on us and to love you with every beat of my heart till the end of time.
I miss you.
Jared xxx - Author: Marie Coulson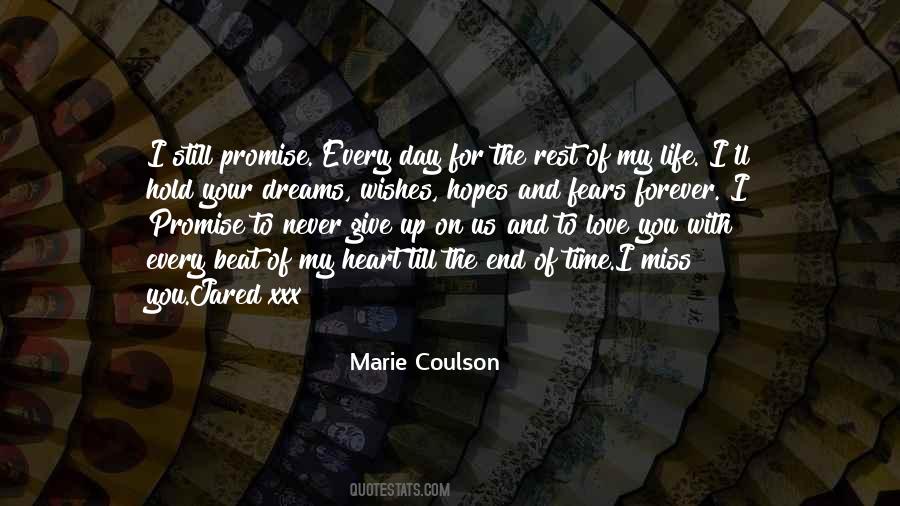 #77. Love is not done,It happens and stays forever. - Author: Amrik Binapal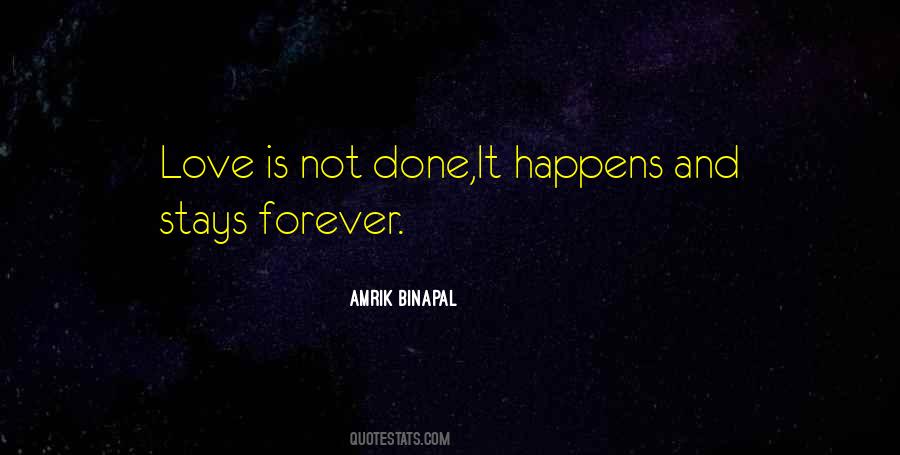 #78. No one will be with you forever in this life. The door will always be swinging open and closed. Love the people who enter. Let go of the people who leave.
Don't hang on. - Author: Yasmin Mogahed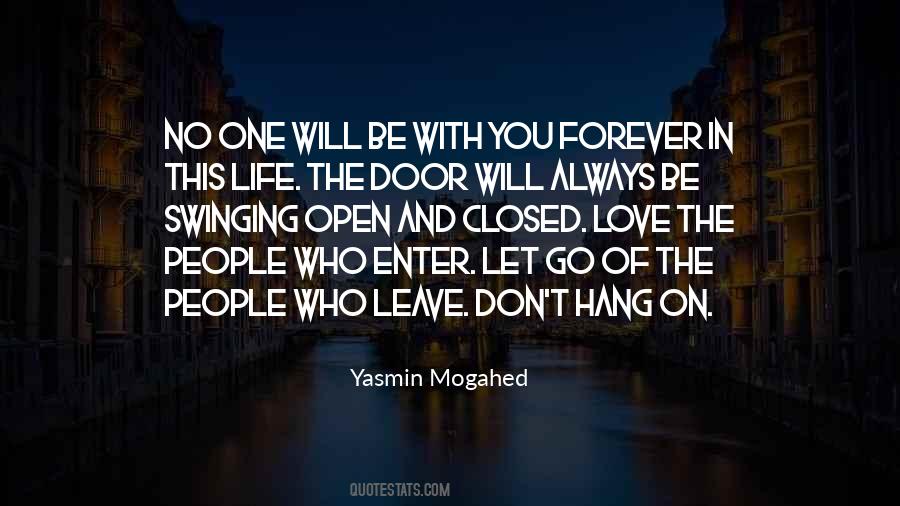 #79. There's a new hit rock group or singer every five minutes, but with country music, you have one hit and those people love you forever. - Author: Kenny Rogers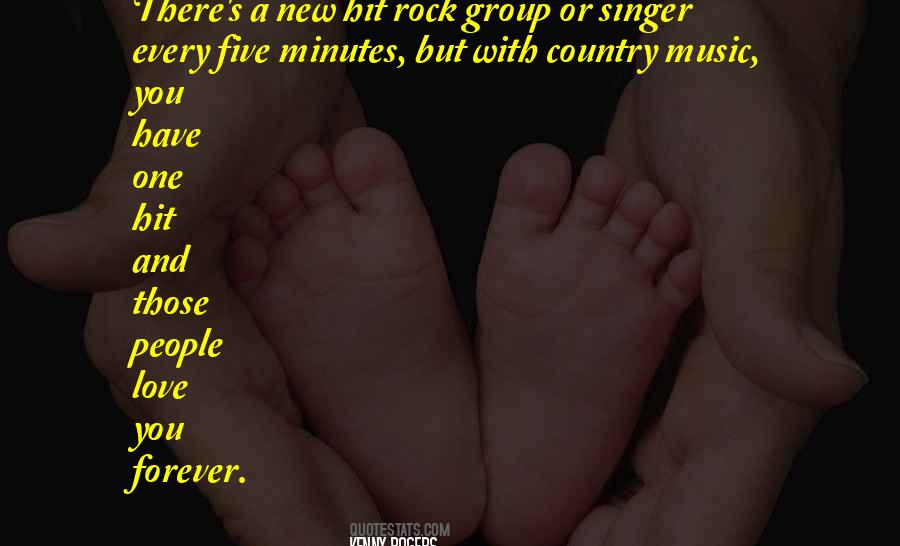 #80. You'll always be my girl. You were from the first moment I saw you. You were sitting in church with your brothers. You were eight years old, and I was twelve, and I thought, I hope she waits for me. Lucia, I'll wait forever if I have to. - Author: Adriana Trigiani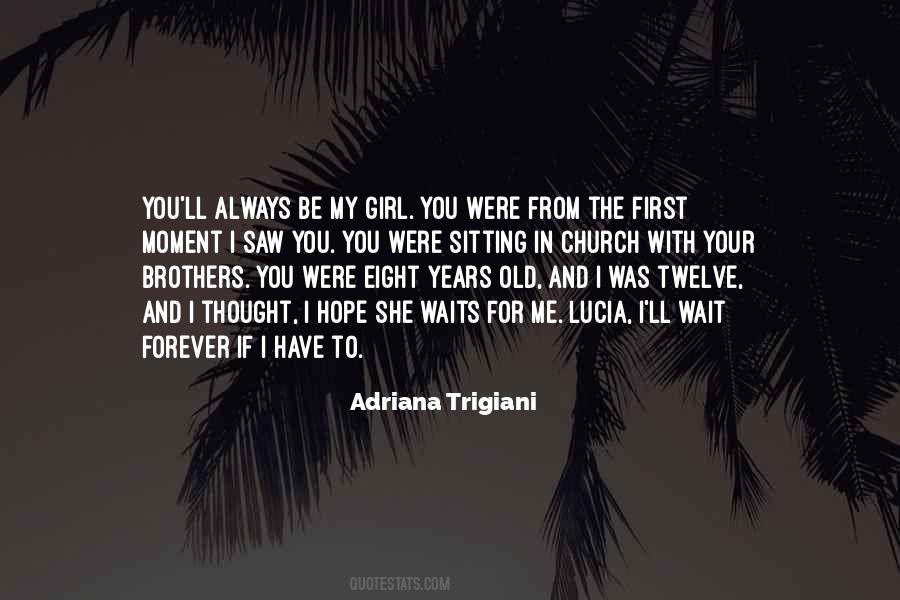 #81. Love, like life, is so insecure. It moves in our lives and occupies its sweet space in our hearts so easily. But it never guarantees that it will stay there forever. Probably that's why it is so precious. - Author: Ravinder Singh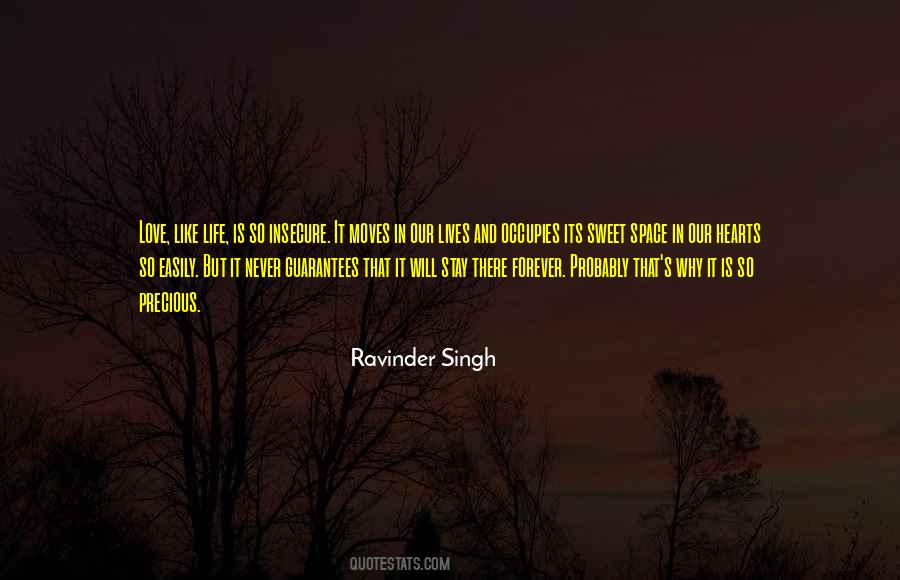 #82. My love for you is indescribable, it means more than words can ever say, and I just wanted to tell you I LOVE U and will FOREVER... - Author: Bernard Dsa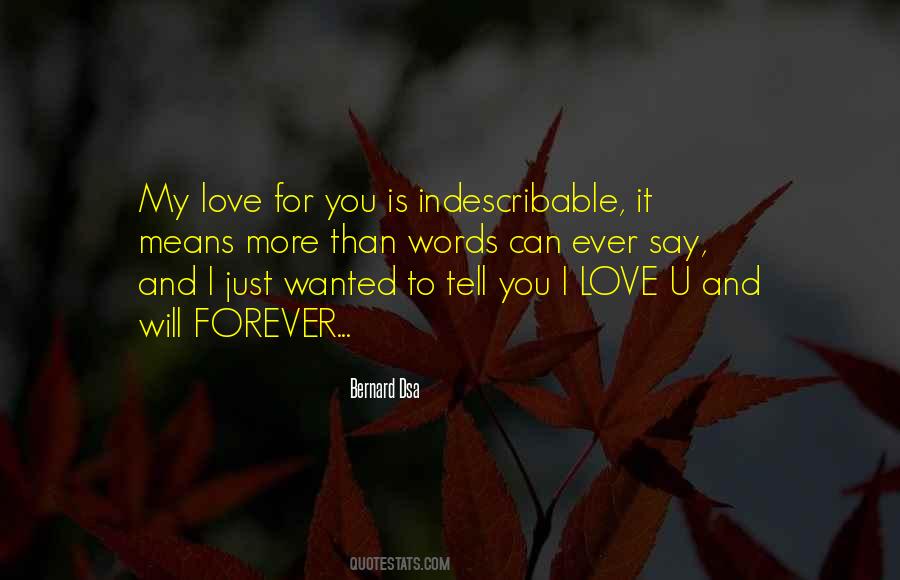 #83. Thomas loved me. He needed me. Maybe I wasn't the first woman he'd loved, and maybe the kind of love a Maddox man felt lasted forever, but I needed him, too. I wasn't the first, but I would be the last. That didn't make me the second prize. It made me his forever. - Author: Jamie McGuire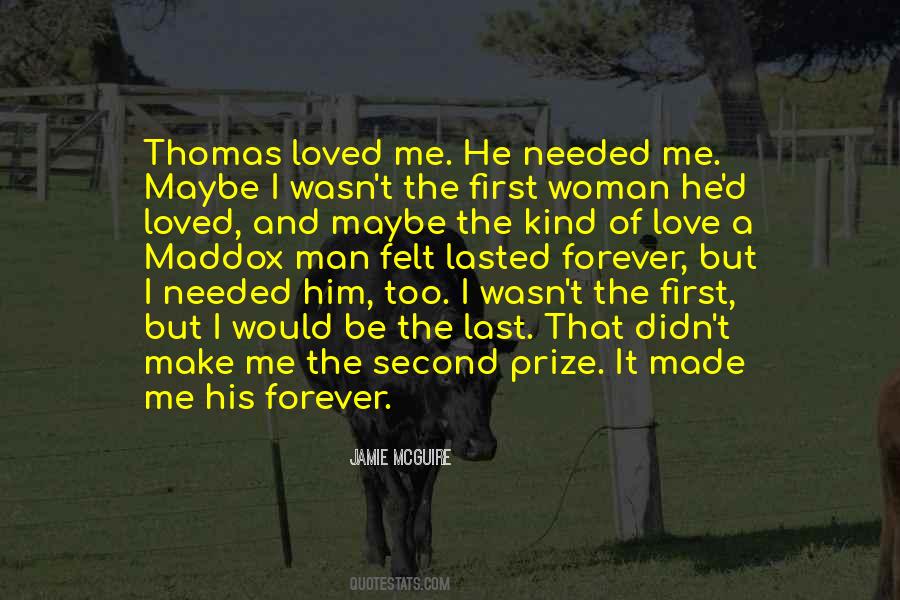 #84. His house to me was a child was a heart of happiness. If there is a wonder childhood possesses which makes it forever superior to what shall come after, it is the happy and uncritical love of whatever is happy, place or person, it does not matter which. - Author: Elizabeth Spencer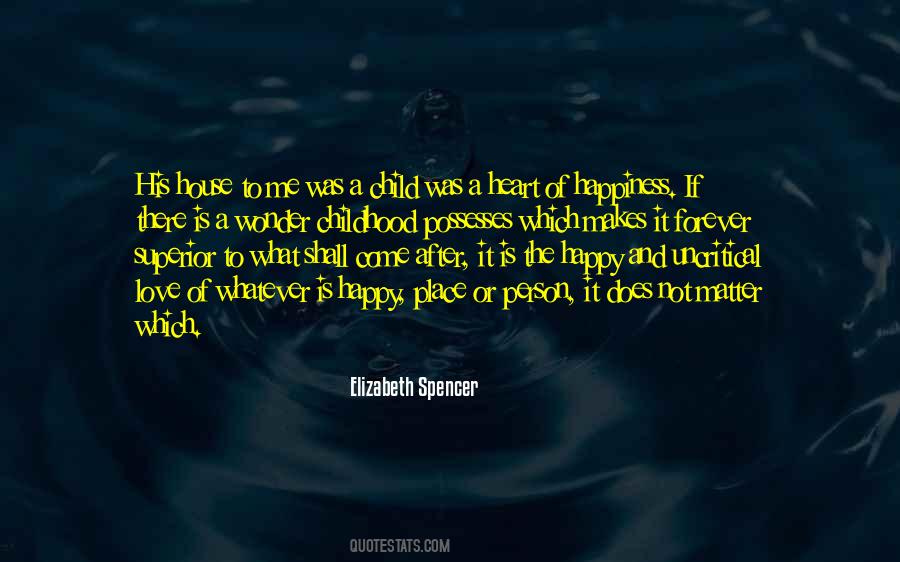 #85. Bold Lover, never, never canst Thou kiss, Though winning near the goalyet, do not grieve; She cannot fade, though Thou hast not Thy bliss, Forever wilt Thou love, and she be fair - Author: John Keats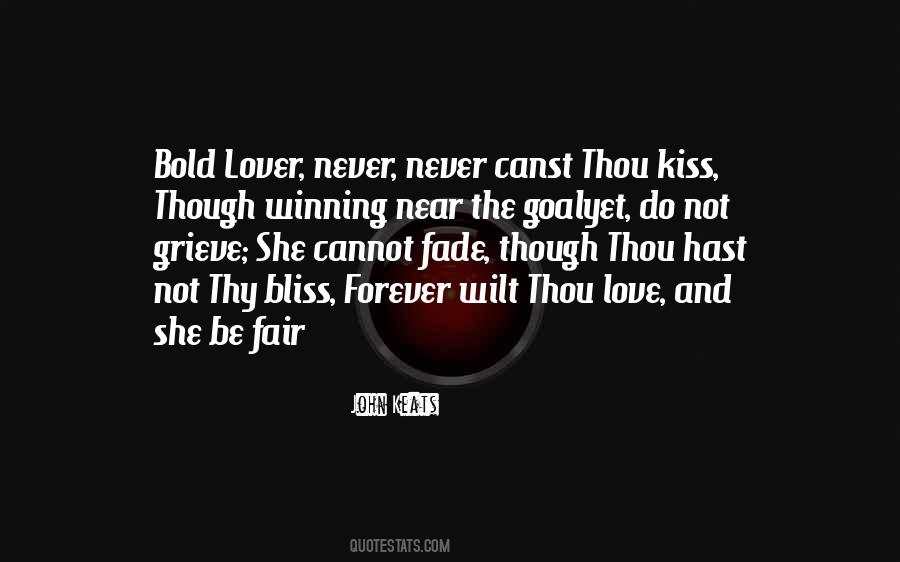 #86. Some relationships and love for people just keeps going on forever, - Author: Meghant Parmar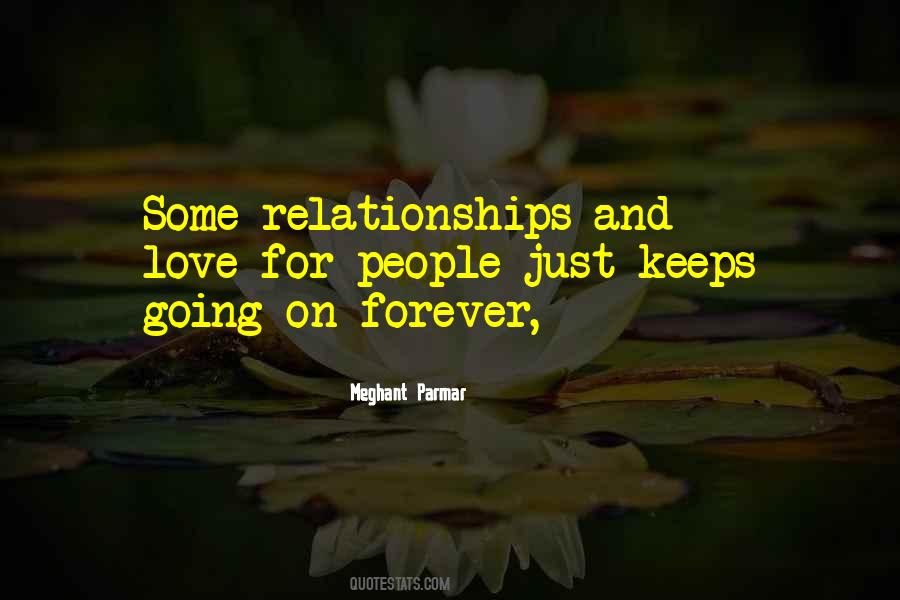 #87. He'll learn that many women can satisfy for a short period of time, but when he falls in love, only one will sustain him forever. - Author: Jeaniene Frost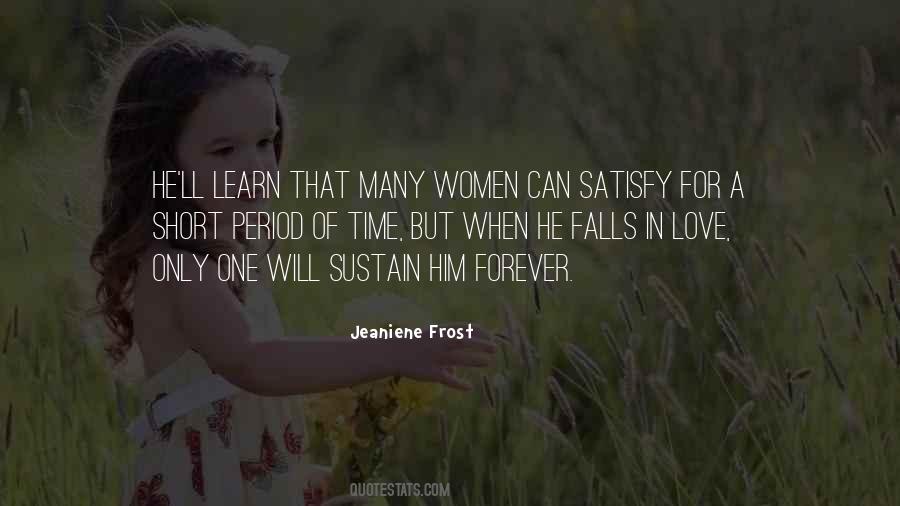 #88. she shook me to the core. She was an earthquake, and I was changed forever because of her. - Author: Staci Hart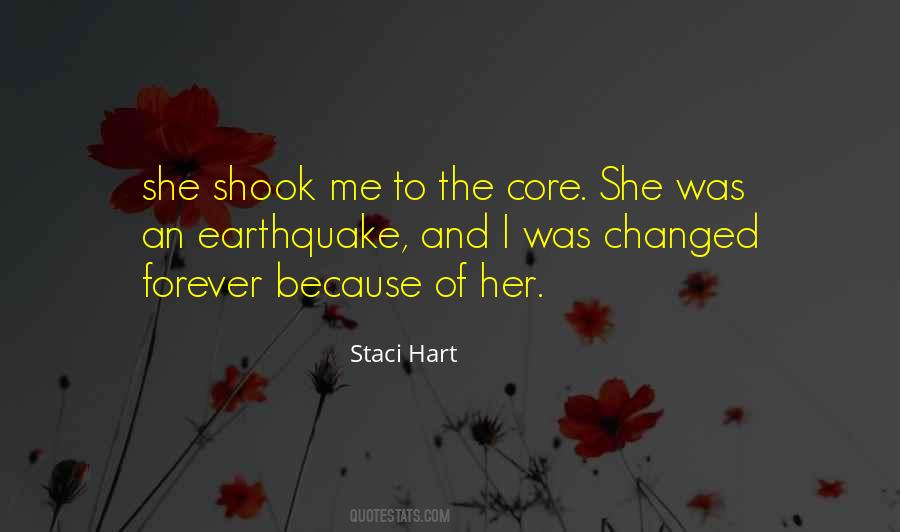 #89. Nothing from the ocean is meant to survive on land forever. - Author: Sarah Glenn Marsh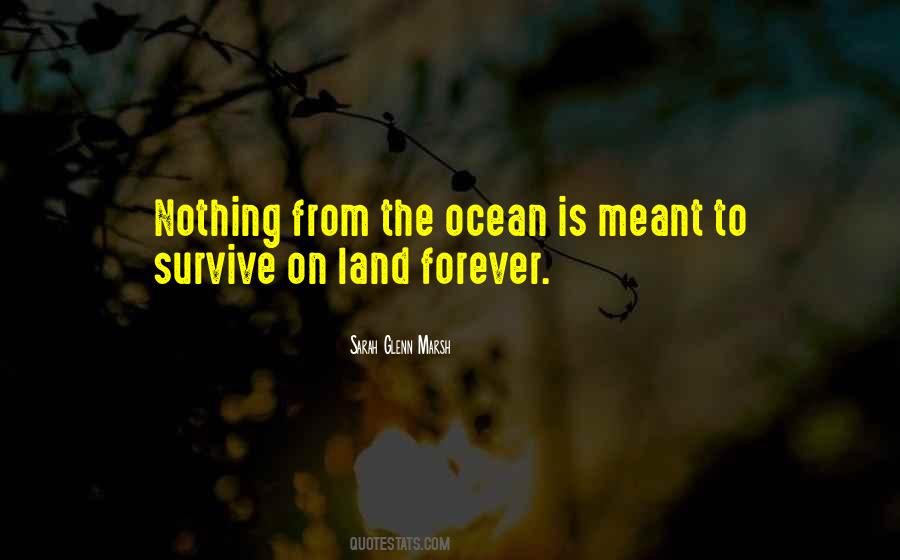 #90. Everyone says that getting over somebody 'just takes time' and that one day it will stop hurting and the door will open for you to move on. We are also told that love is eternal; something extraordinary that will stay with you forever... The contradiction is immense. - Author: Natasha Preston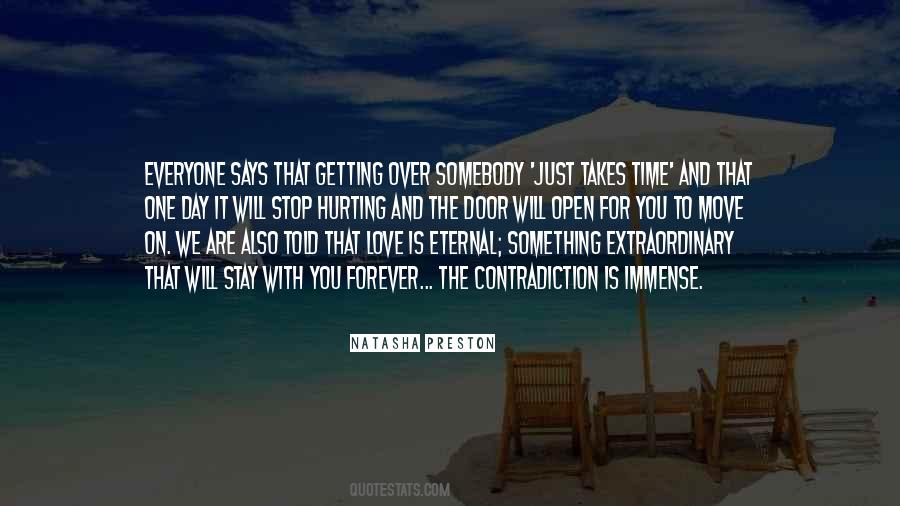 #91. Is it possible to fall in love at thirteen, because I think I just looked into the eyes of the girl I want to look at forever. - Author: Danielle Rocco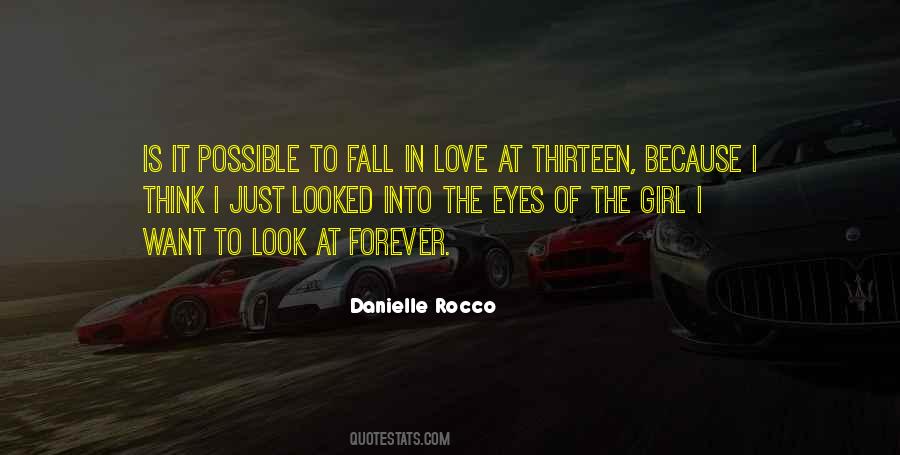 #92. Although I am a person who expected to be rooted in one spot forever, as it has turned out I love having the memories of living in many places. - Author: Frances Mayes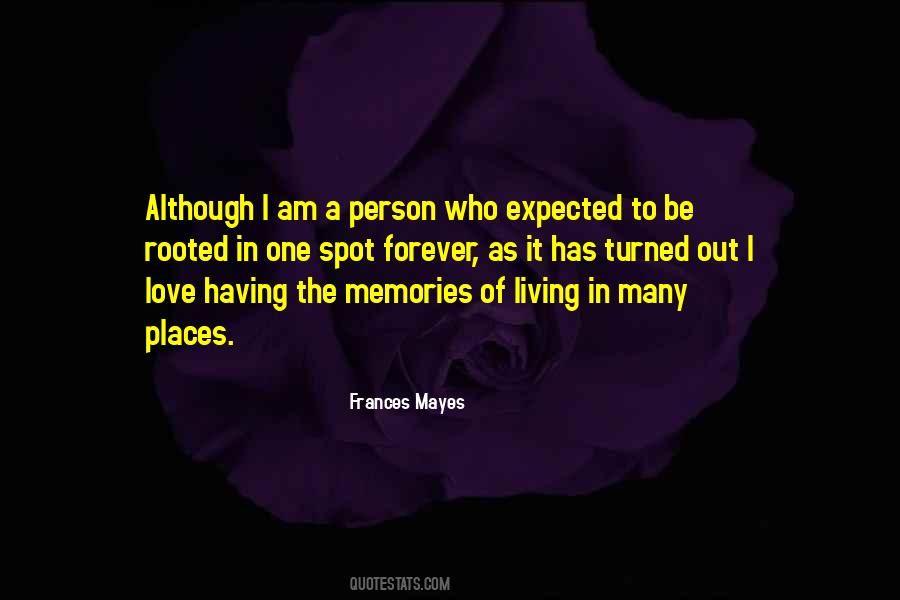 #93. I told you, you're my black pearl. When i first set eyes on you in the servant's hall I thought you were the most beautiful thing I had ever seen in my life. - Author: Daisy Goodwin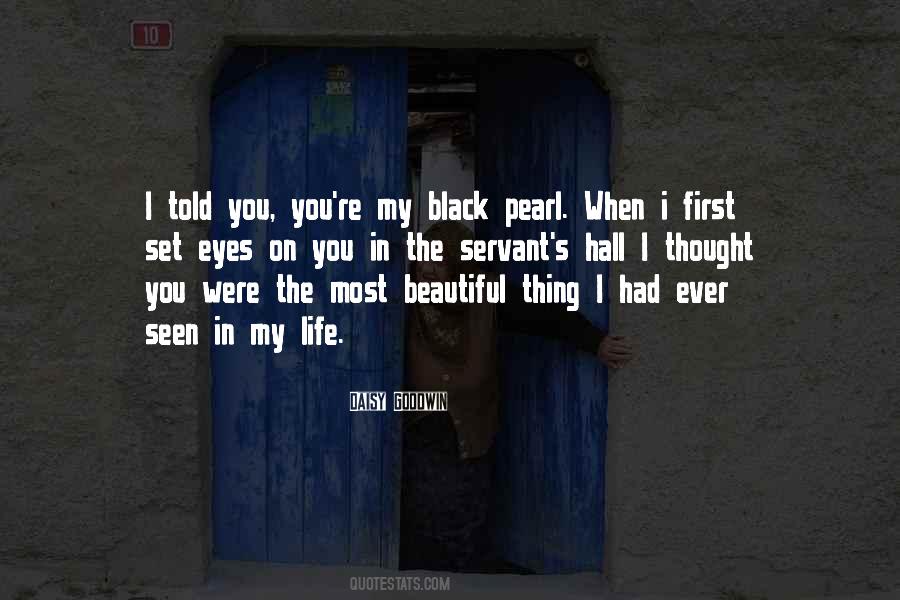 #94. Nothing lasts forever. But there is new life; new colours, fresh words, new tunes to compose. There is now; time present, time future. We build with new bricks and hope our voices are heard, our music is sung and our love cherished for as long as it is offered. - Author: Carol Drinkwater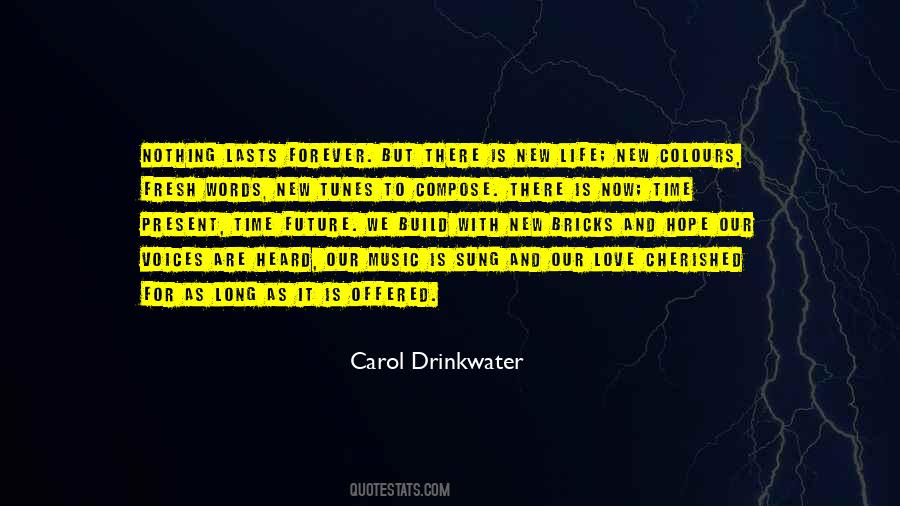 #95. Neither of us wanted to say it first. But our two souls had become one in a realm no one else could venture into. The immortal coil of passion had wrapped around us forever. It had begun with lust and attraction and blossomed into so much more. Fear of rejection kept us from declaring it. - Author: Sherry Soule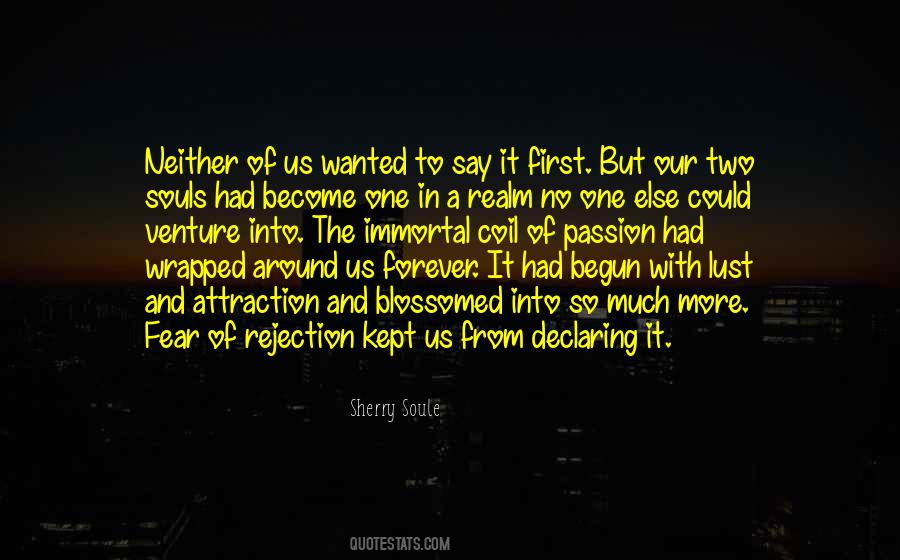 #96. Sunlamps and food and safety. Sounds mighty nice.
I want that for you.
Because I love you.
This might be the most noble thing I've ever done. Noble, for the record, hurts like a blade to the heart.
Je t'aimerais toujours,
Jack
Je t'aimerais toujours. I will love you forever. - Author: Kresley Cole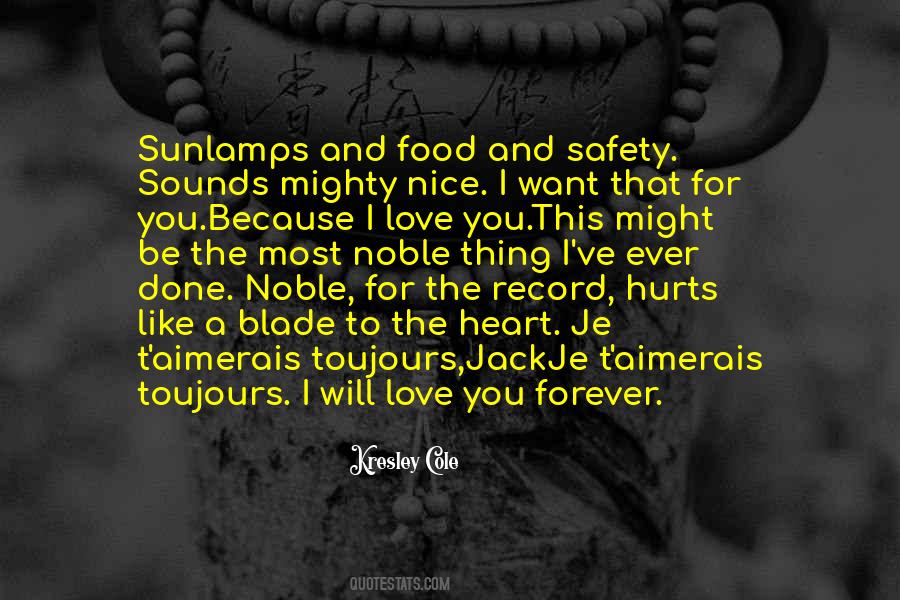 #97. Never let yourself be swayed by emotions,' her mother had said. 'Emotions are fleeting. They come and go. But reality stays with you forever. - Author: Monica Fairview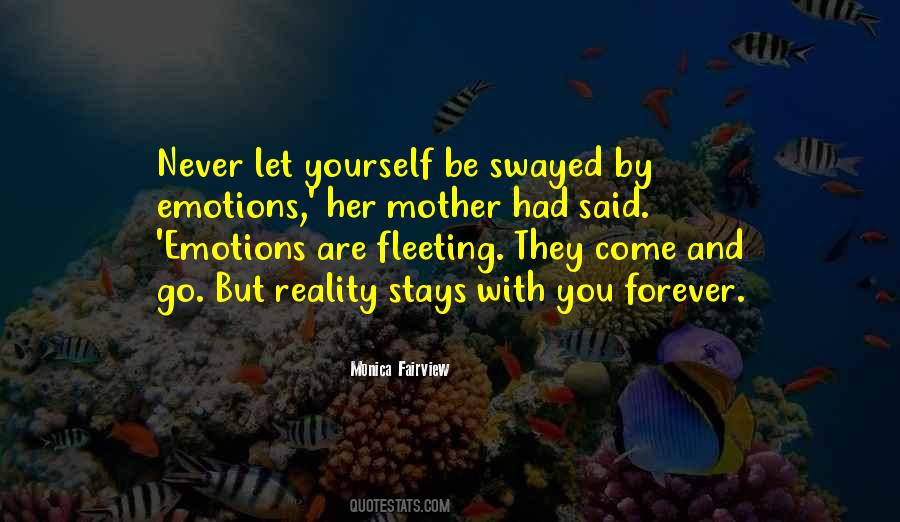 #98. Forever echoed in their favor. "Never say never", she said softly. For you see, Forever had never heard of Never. - Author: Shannon L. Alder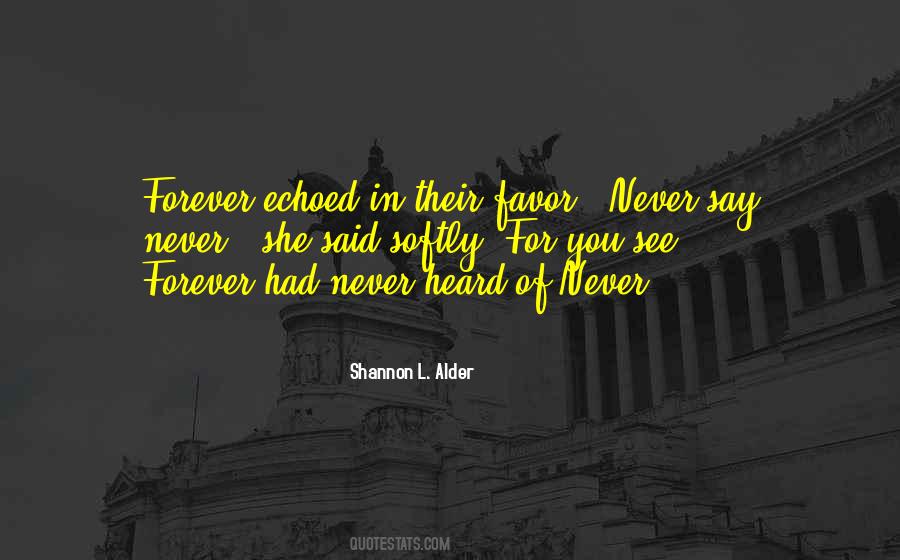 #99. You'll never have to feel me touch you again, Emily. You'll never have to hear my voice. You'll never have to wake up to me by your side again. Tell me right now that you don't love me, and I'm gone . . . forever. - Author: Gail McHugh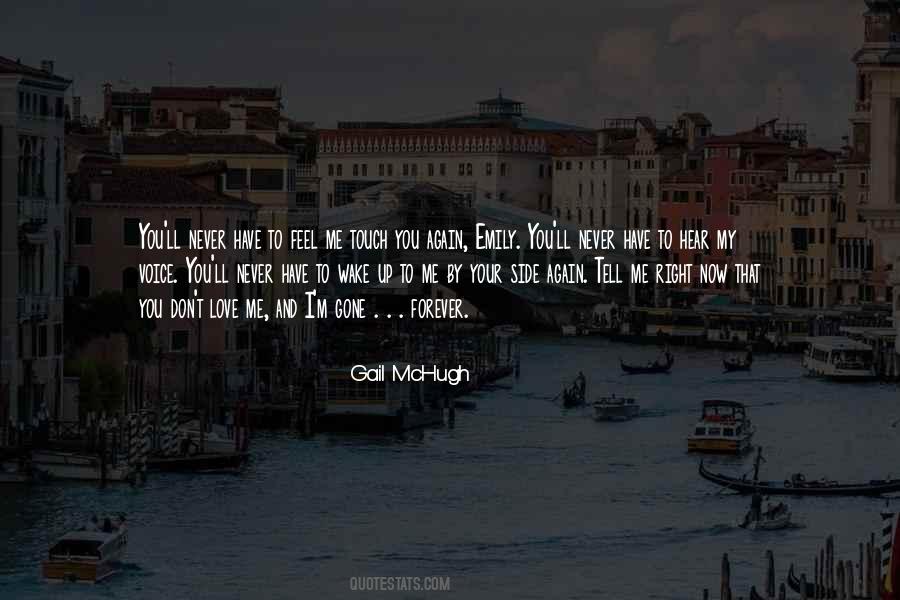 #100. Once you love, it's a gift forever. Once you hurt, forget it never. - Author: Debasish Mridha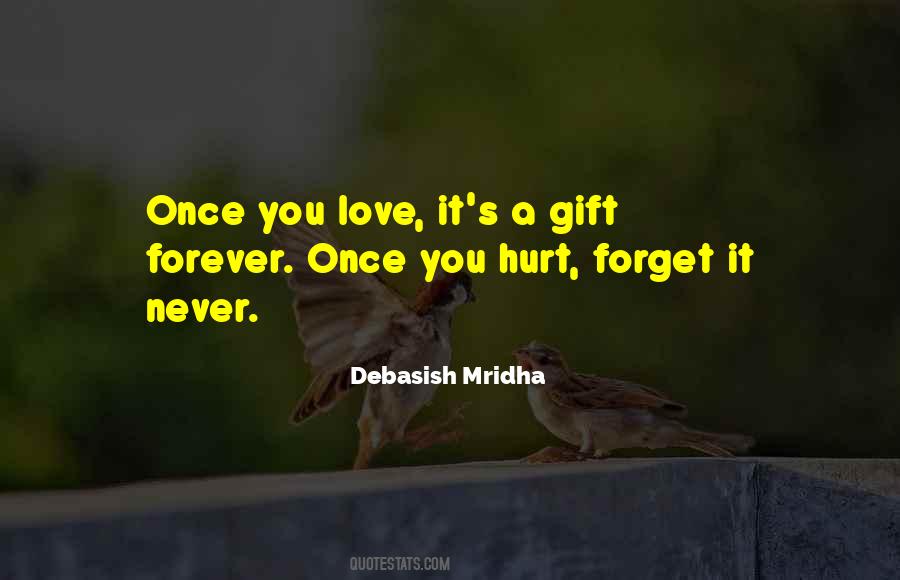 Famous Authors
Popular Topics