Fighting Evil Famous Quotes & Sayings
List of top 87 famous quotes and sayings about fighting evil to read and share with friends on your Facebook, Twitter, blogs.
Top 87 Quotes About Fighting Evil
#1. The only war that we must all fight is the one against evil. - Author: Pope Francis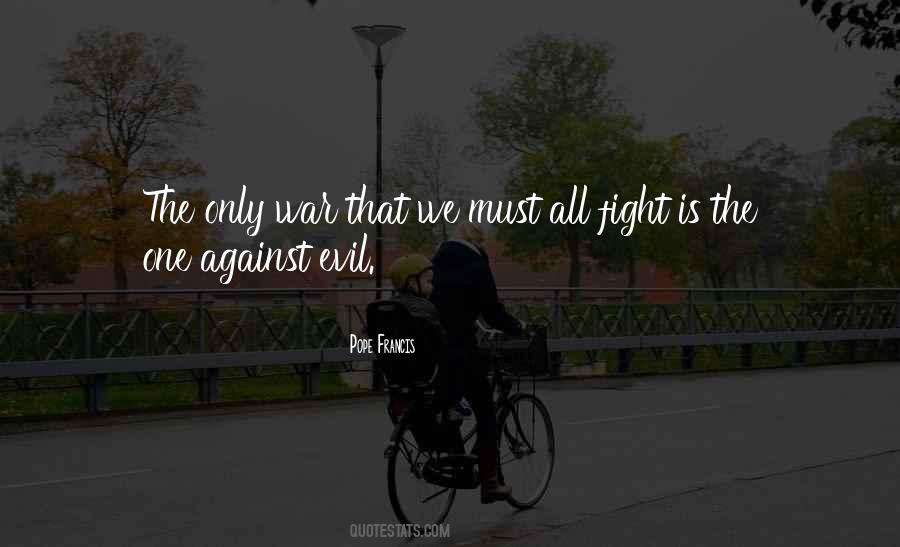 #2. This is good, life must continue, we are fighting barbarians, but we must remain human. - Author: David Benioff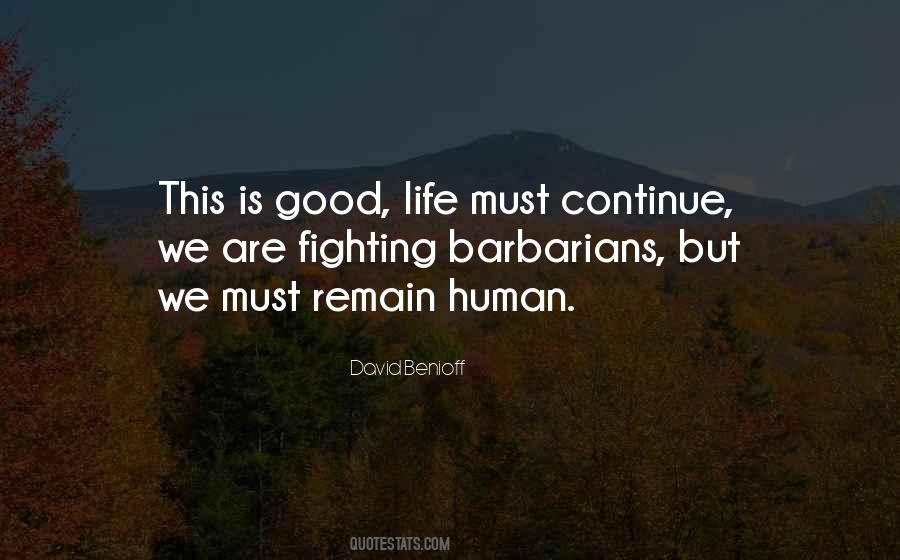 #3. It does happen, of course, that the priesthood has been on bad terms with womankind for some three thousand years. You see, Buddhism teaches that women are evil. Fiends. Messengers of hell. I've spent years immersed in the scriptures, so it's no accident that you and I fight all the time. - Author: Eiji Yoshikawa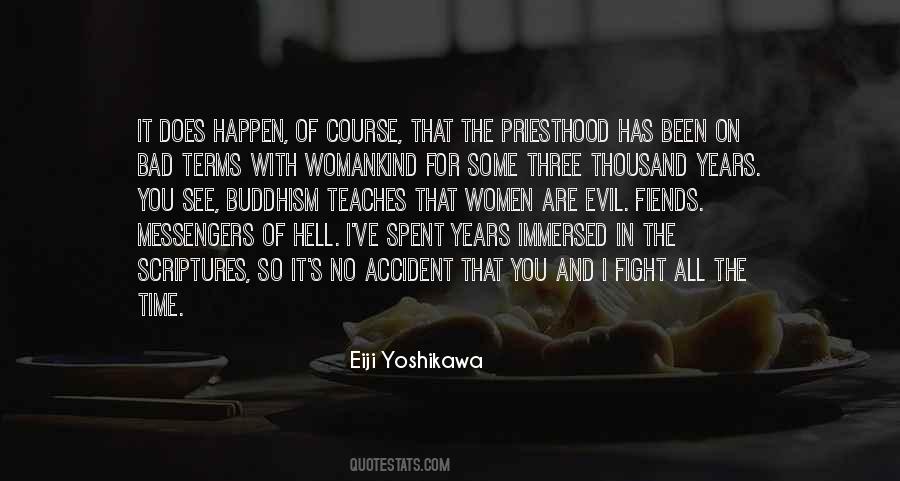 #4. We will win this battle because we are fighting for our lives and the lives of our Clanmates. Our enemies are already dead. They fight only out of hate and that will be their weakness. - Author: Erin Hunter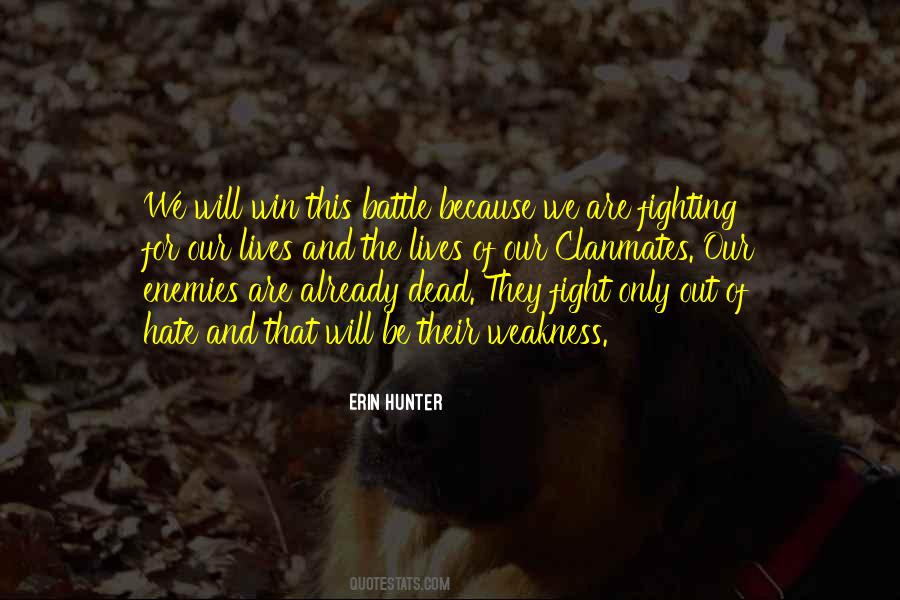 #5. Transfixed beneath the rays of a jaundiced star, he huddled against the crumbling parapet, fighting an evil the priests assumed long vanquished. - Author: Grace Draven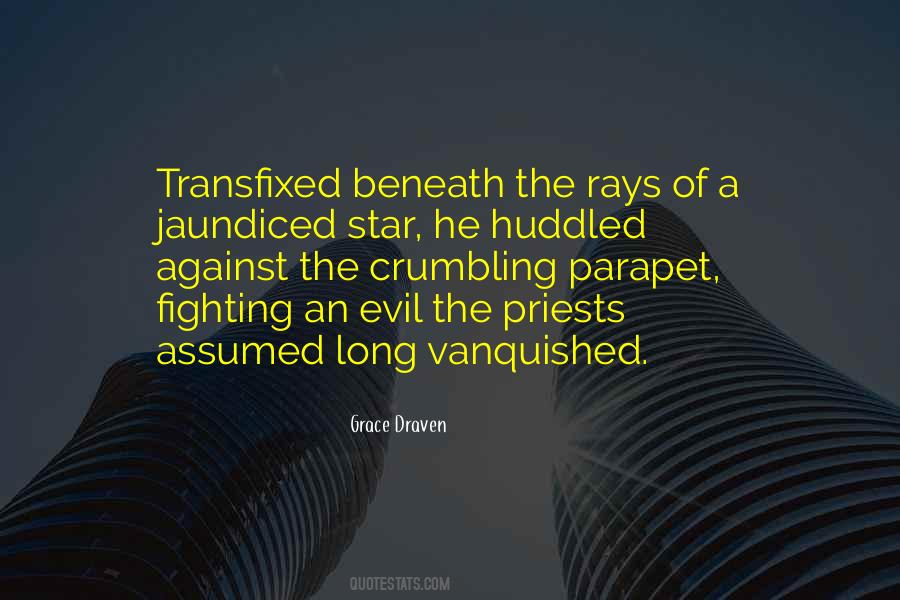 #6. To fight evil with activity is like fighting darkness with one's hands. So what you need is light, not fit. - Author: Anthony De Mello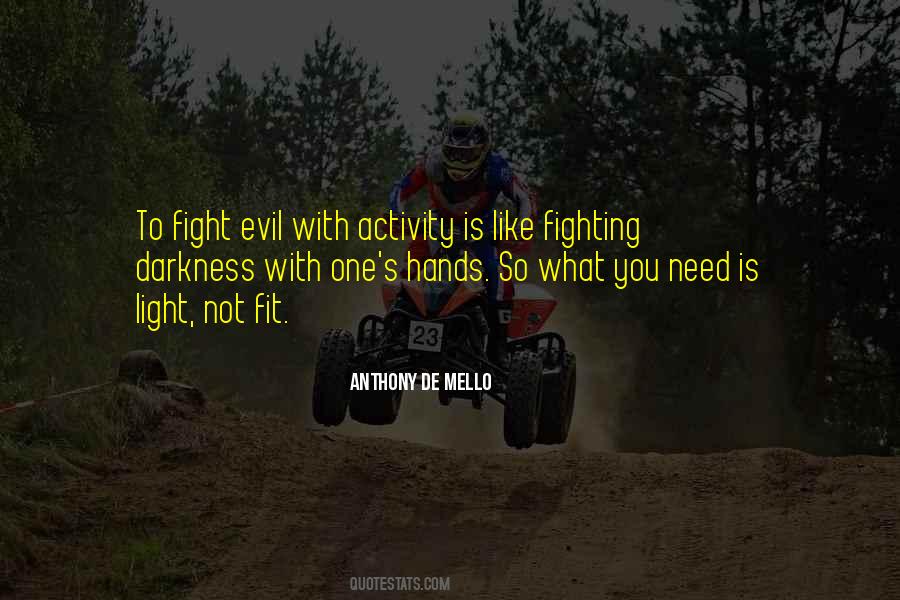 #7. Being against evil doesn't make you good. Tonight I was against it and then I was evil myself. I could feel it coming just like a tide ... I just want to destroy them. But when you start taking pleasure in it you are awfully close to the thing you're fighting. - Author: Ernest Hemingway,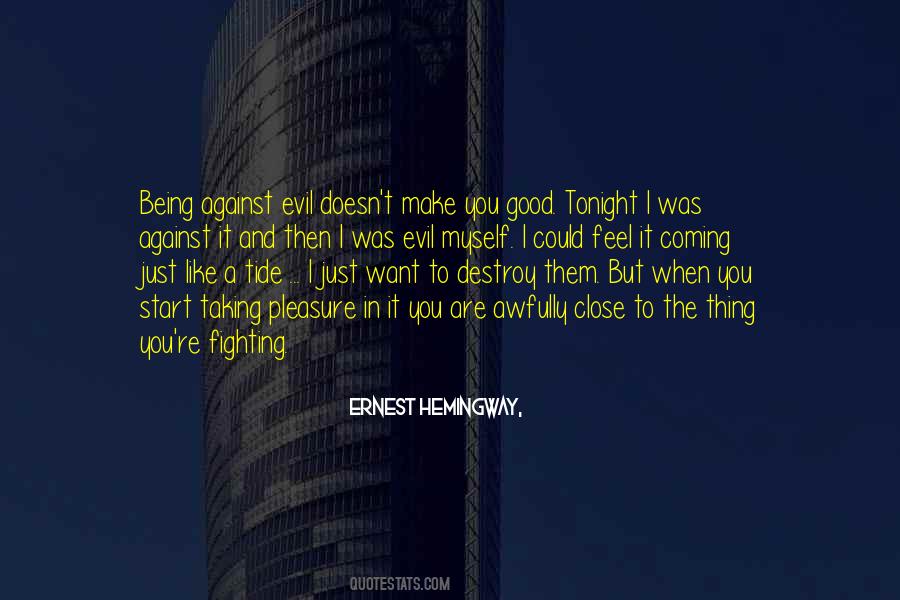 #8. I believe that Gandhi's views were the most enlightened of all the political men in our time. We should strive to do things in his spirit: not to use violence in fighting for our cause, but by non-participation in anything you believe is evil. - Author: Albert Einstein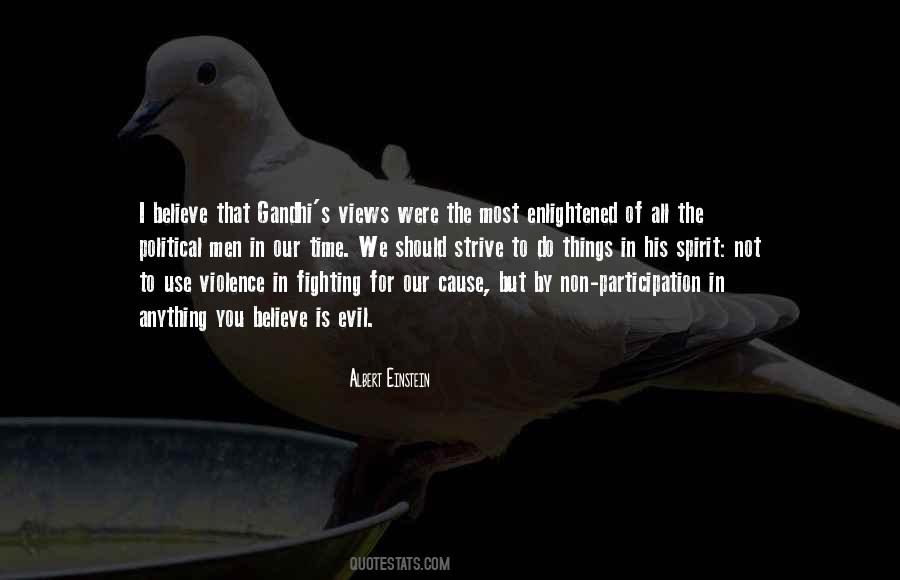 #9. Non-violence does not signify that man must not fight against the enemy, and by enemy is meant the evil which men do, not the human beings themselves. - Author: Mahatma Gandhi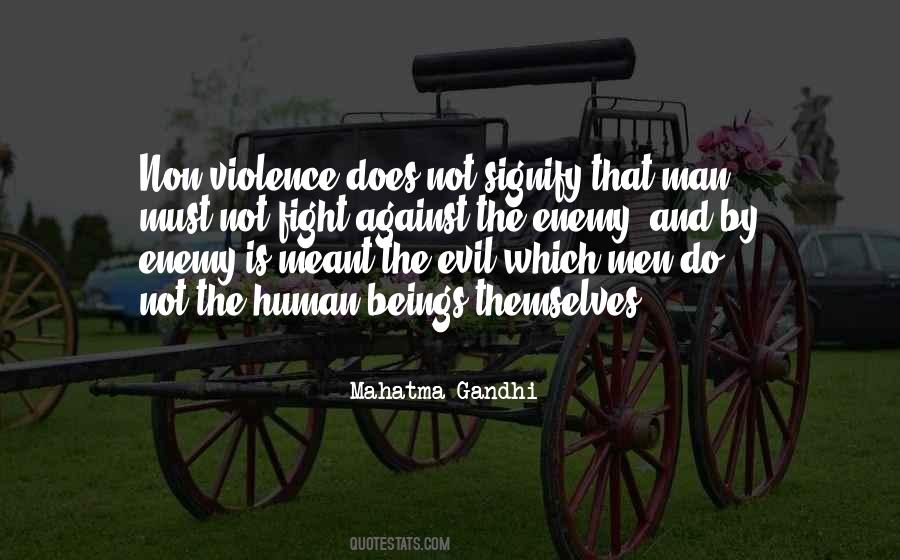 #10. We sometimes feel the shadows have got hold of us, the shadows of evil. But still, it's up to us to fight. - Author: Dan Totheroh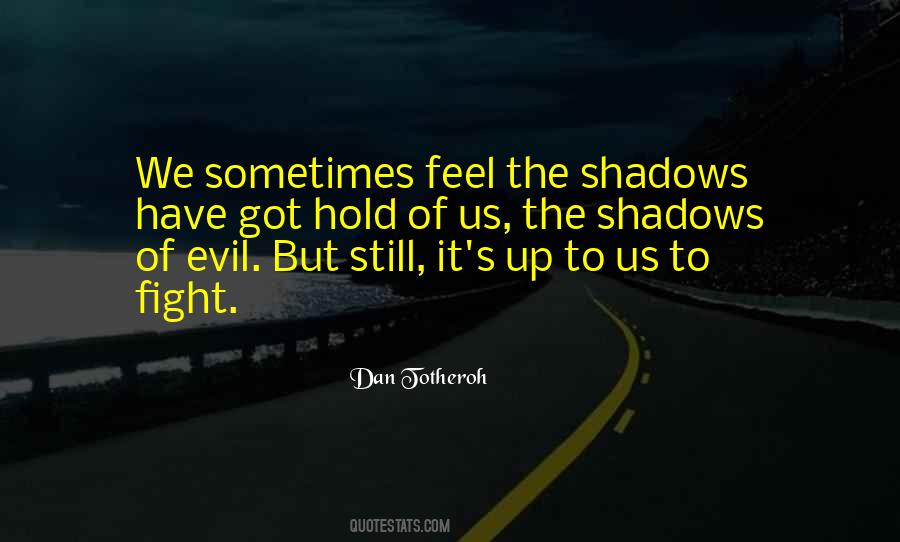 #11. This generation, and many others, have been led to believe that the devil is a myth, a figure, an idea, the idea of evil ... But the devil exists and we must fight against him. - Author: Pope Francis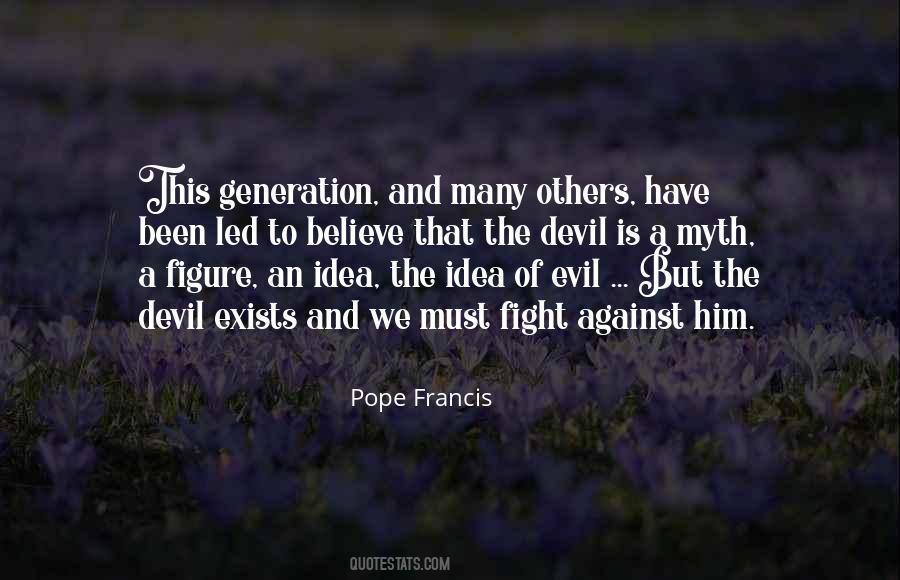 #12. And yet, even if my heart beats for Evil, that doesn't mean I can't find love. That doesn't mean I can't find happiness. It just means I have to find love with someone who embraces my darkness instead of fighting it. - Author: Soman Chainani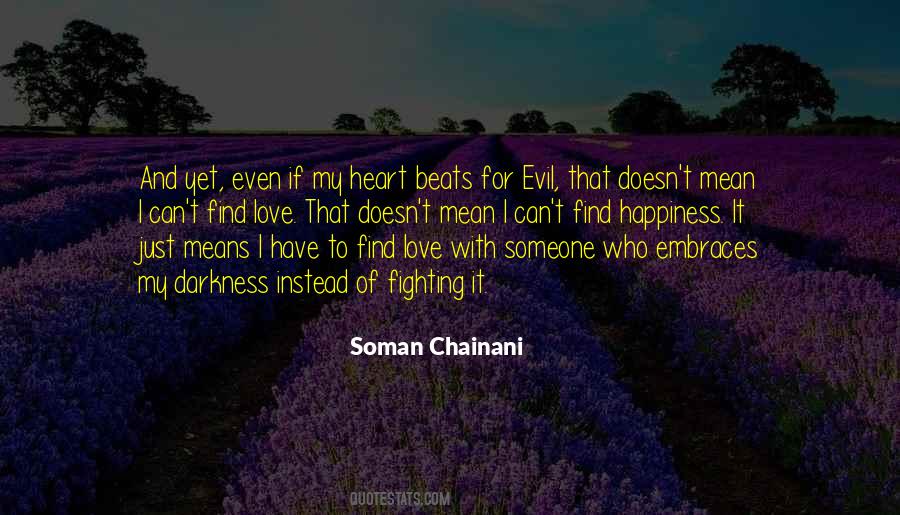 #13. Just about every generation has some horrific evil that it must fight. For the Democratic Party today that evil is carbon dioxide emissions. For the rest of us, it is an ideology that teaches that its deity is sanctified by the blood of innocents. - Author: Dennis Prager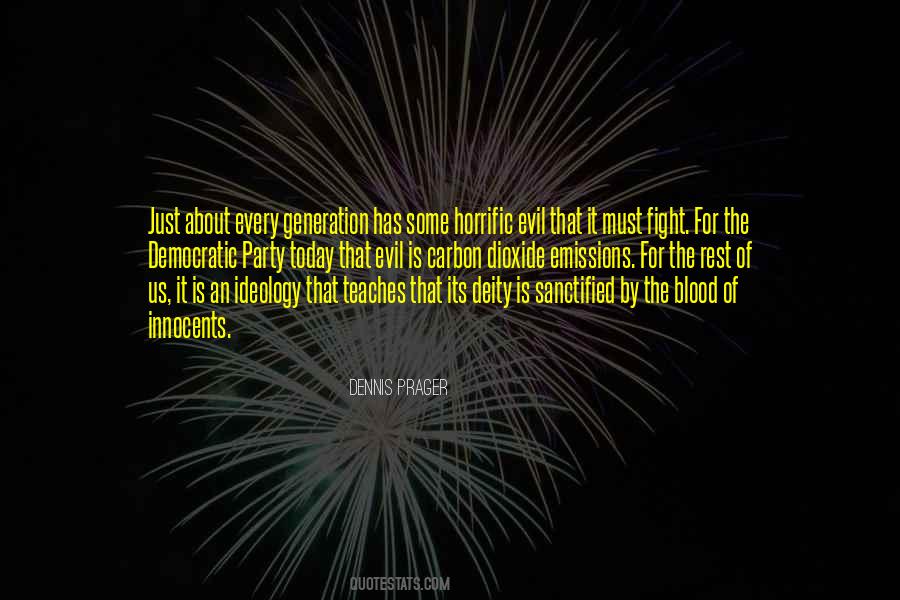 #14. We'll see She-Hulk fighting evil everywhere from the boardroom to the Bowery, using her mind as much as her fists. - Author: Charles Soule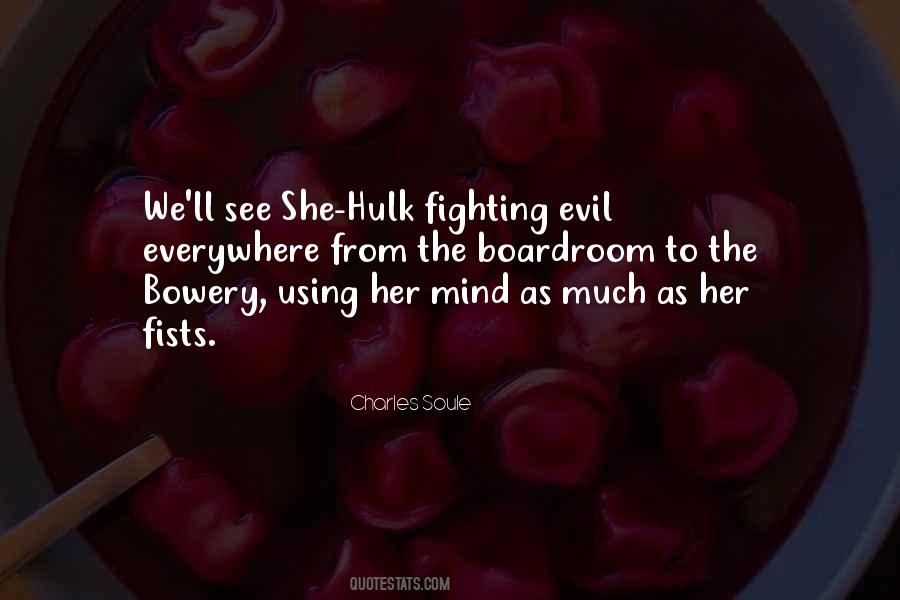 #15. We conservatives fight evil; the Left fights carbon emissions - Author: Dennis Prager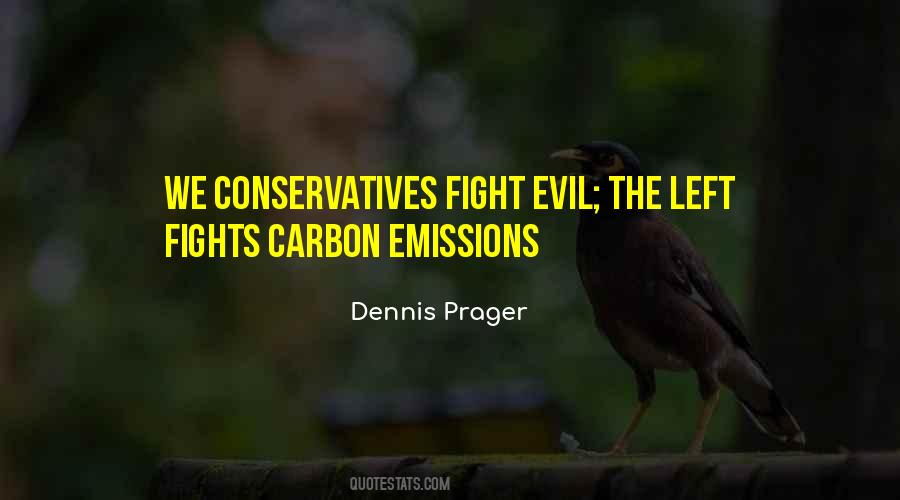 #16. Do we really think that the United States will have the protection of innocent Afghans in mind if it rains terror down on the Afghan infrastructure? We are supposedly fighting them because they immorally killed innocent civilians. That made them evil. If we do the same, are we any less immoral? - Author: George Lakoff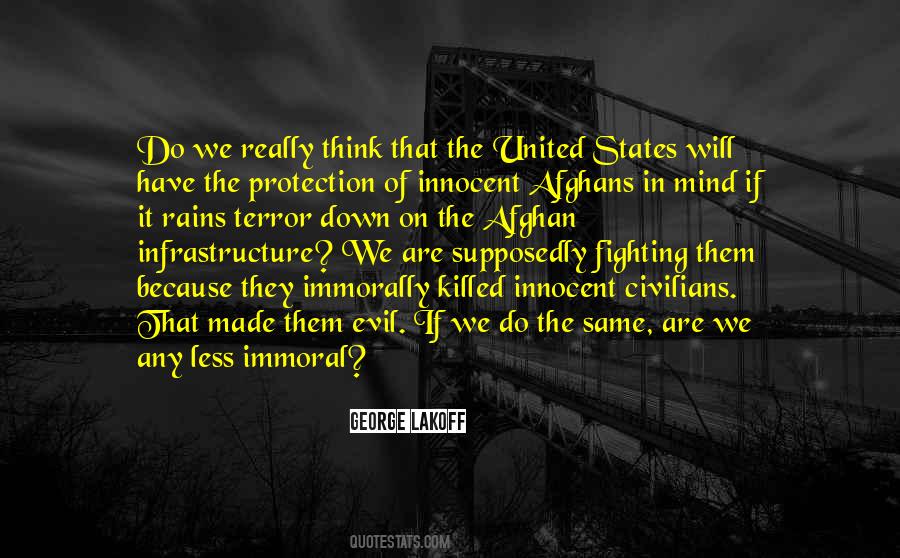 #17. The greatest evil that one has to fight constantly, every minute of the day until one dies, is the worst part of oneself. - Author: Patrick McGoohan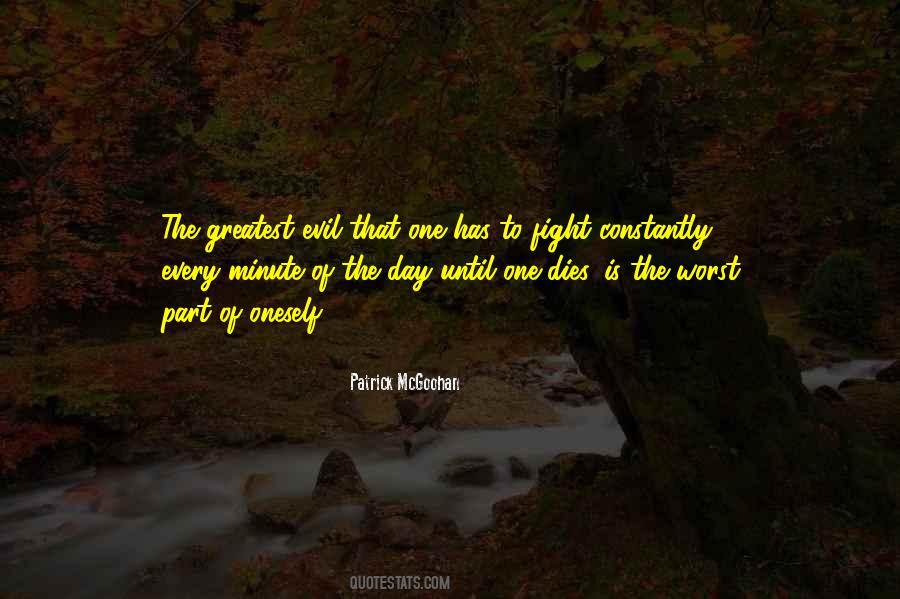 #18. The rebel can never find peace. He knows what is good and, despite himself, does evil. The value which supports him is never given to him once and for all - he must fight to uphold it, unceasingly. - Author: Albert Camus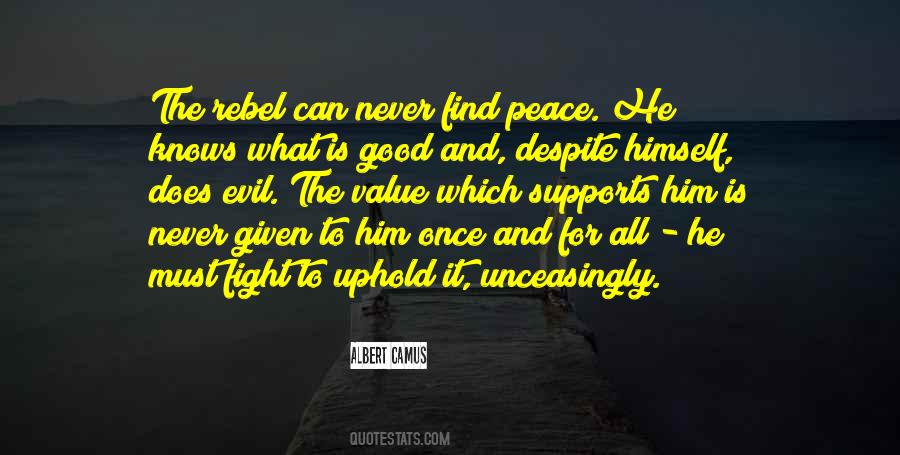 #19. Unlike those who fight truly intolerant things like terrorism throughout the world, Madonna is really the lone brave voice in the wilderness standing up against evil. - Author: Greg Gutfeld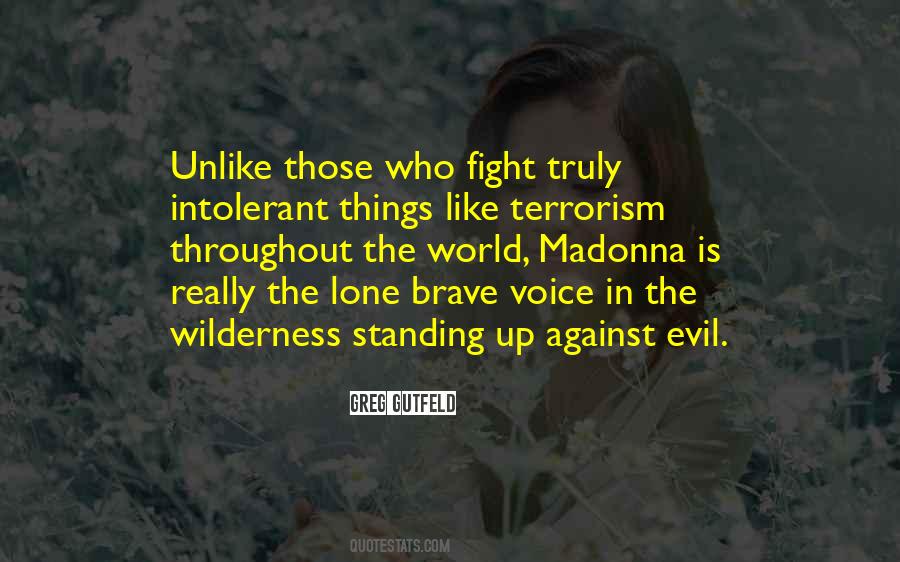 #20. I could not fight the Nazis in the present, as they had the power to still my voice, so I decided to fight them in the future. I would give the coming generations a weapon against any resurgence of such evil. My eyewitness account would record the barbarous acts, and also show the way to stop them. - Author: Friedrich Kellner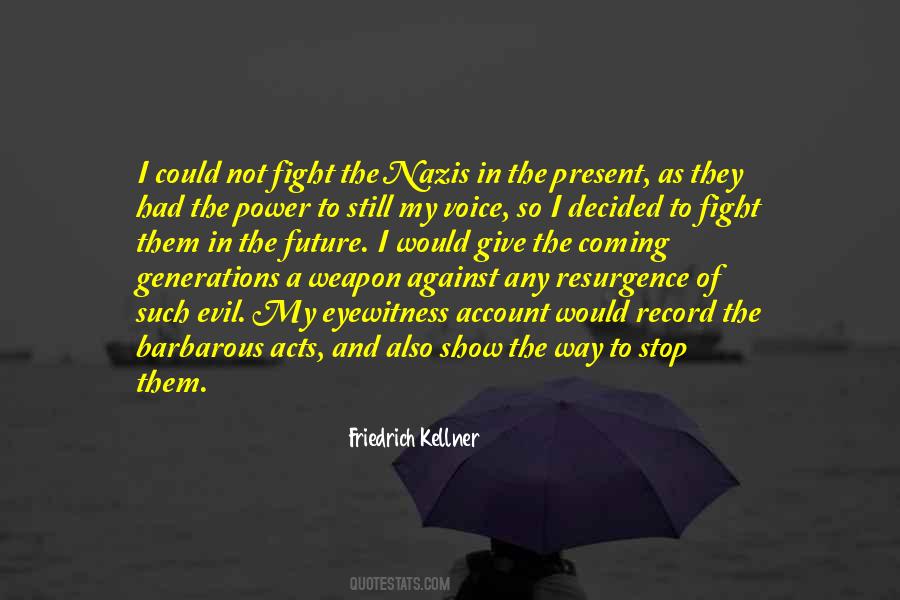 #21. Mary joins us, she fights at our side. She supports Christians in the fight against the forces of evil. Especially through prayer, through the rosary. Hear me out, the rosary ... Do you pray the Rosary each day? - Author: Pope Francis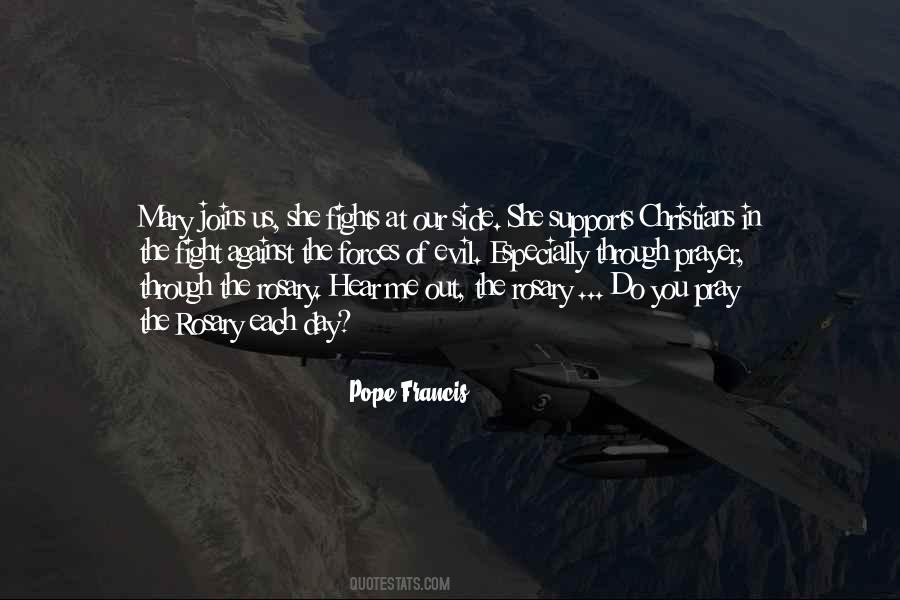 #22. I don't believe there's a reason for everything, and having faith doesn't mean I'm blind. I believe people make poor choices. I believe bad things happen to good people. I believe there's evil in the word that I will never understand, but will never stop fighting. - Author: Tammara Webber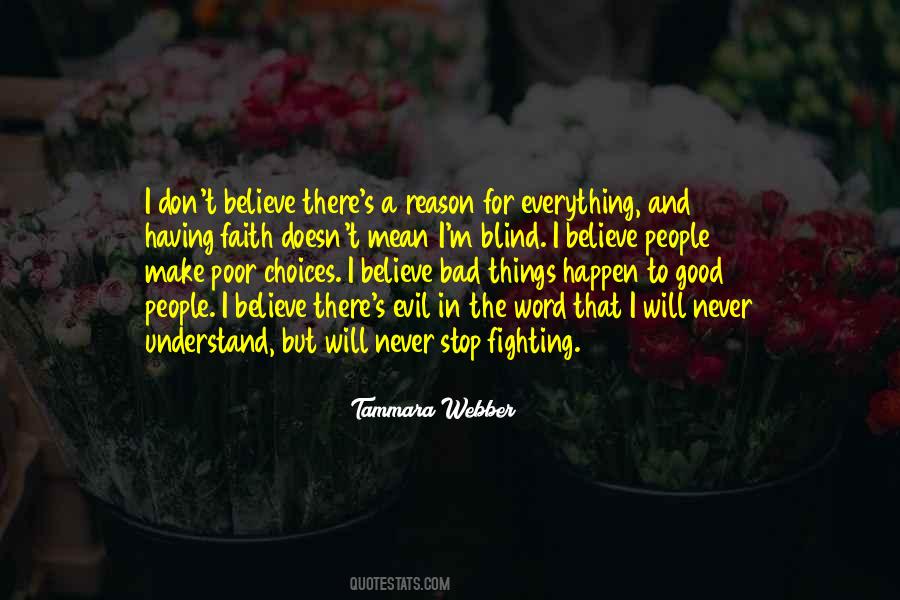 #23. All good things are borne from evil, just like good people. It's very rare that someone does things purely out of the goodness of their heart. Most need something to fight against, something to drive them forward in order to create a light in what will always be a very dark world. - Author: Kevin Reaver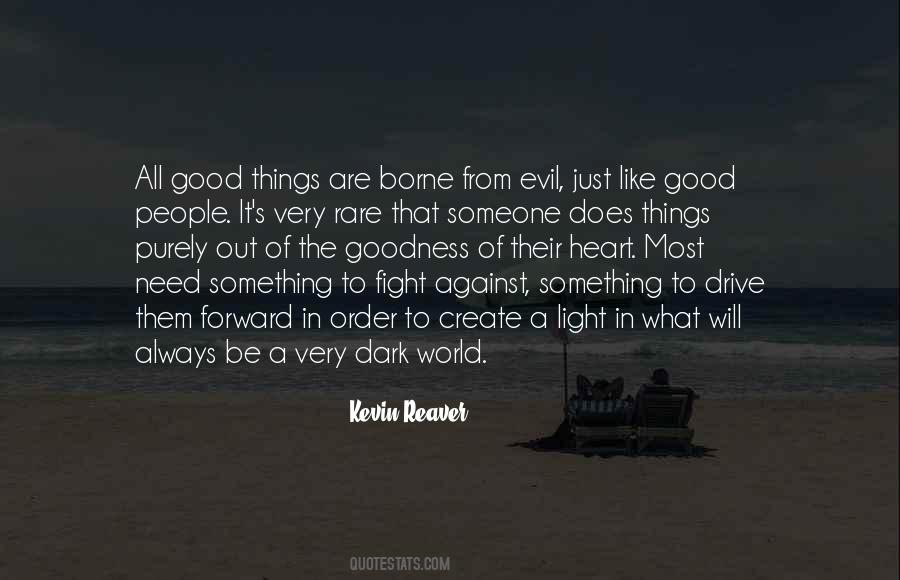 #24. Religion urges us to fight evil as contrary to the Divine Law. It urges us to combat abject misery, sin and disease because God is. In His name we can work, as we believe in co-operation with Him, since through Him goodness must ultimately prevail. - Author: Lily Montagu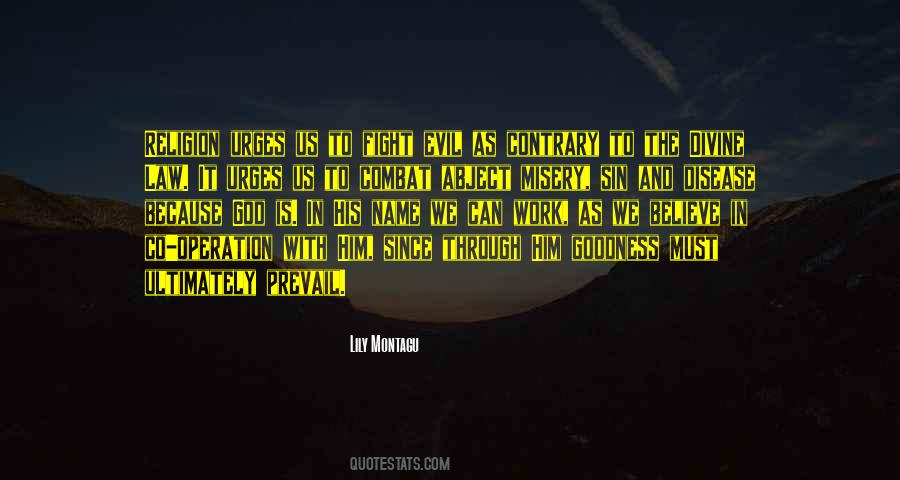 #25. The word 'hero' has been bandied about a lot to refer to anyone killed in Afghanistan or Iraq. But anyone who voluntarily goes to Afghanistan or Iraq [as a soldier] is fighting for an evil cause under an evil commander in chief. - Author: Ted Rall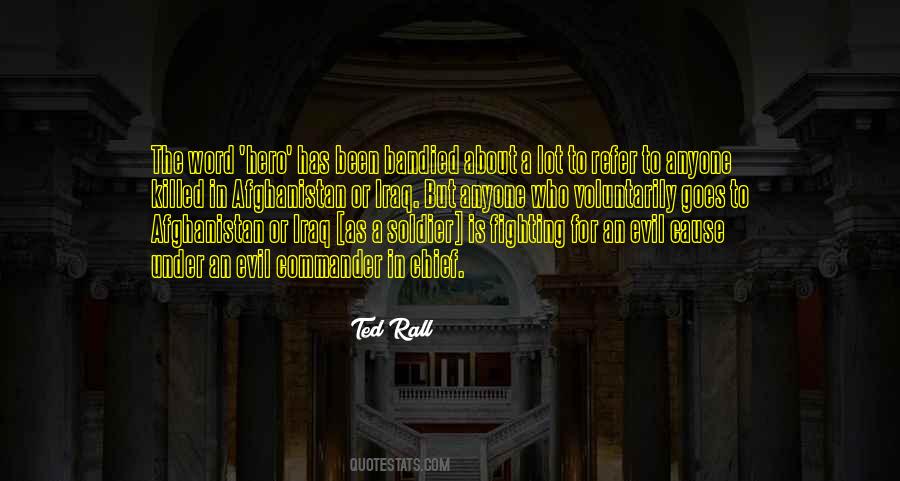 #26. When it comes to fighting evil, the left is almost pacifist. - Author: Dennis Prager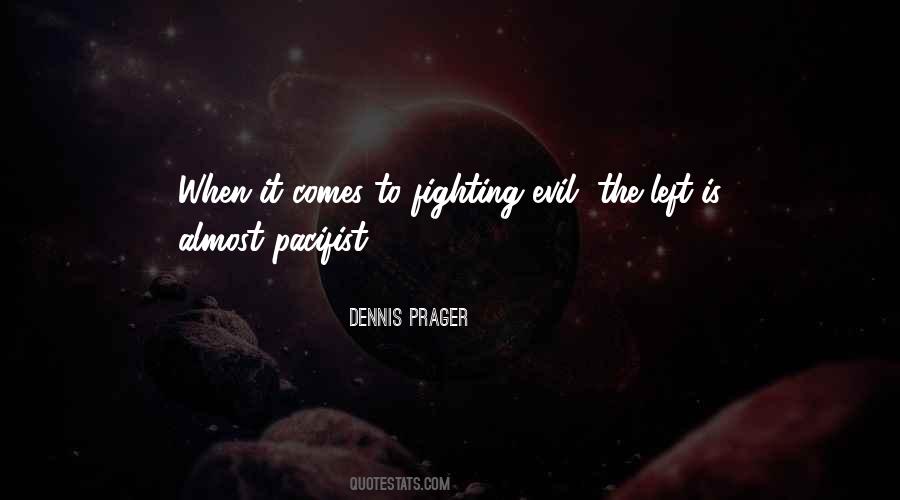 #27. The fight against evil is long and difficult. It is essential to pray constantly and to be patient. - Author: Pope Francis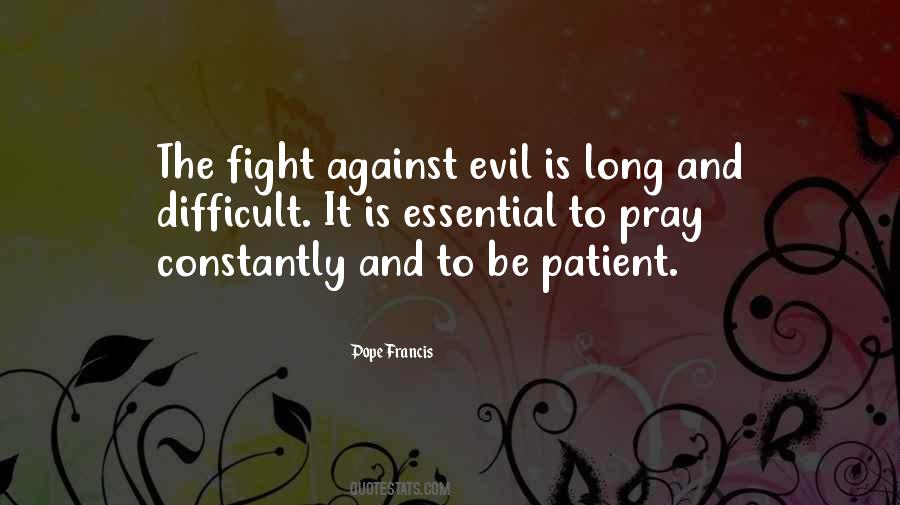 #28. Come,' he said, 'come, we must see and act. Devils or no devils, or all the devils at once, it matters not; we fight him all the same. - Author: Bram Stoker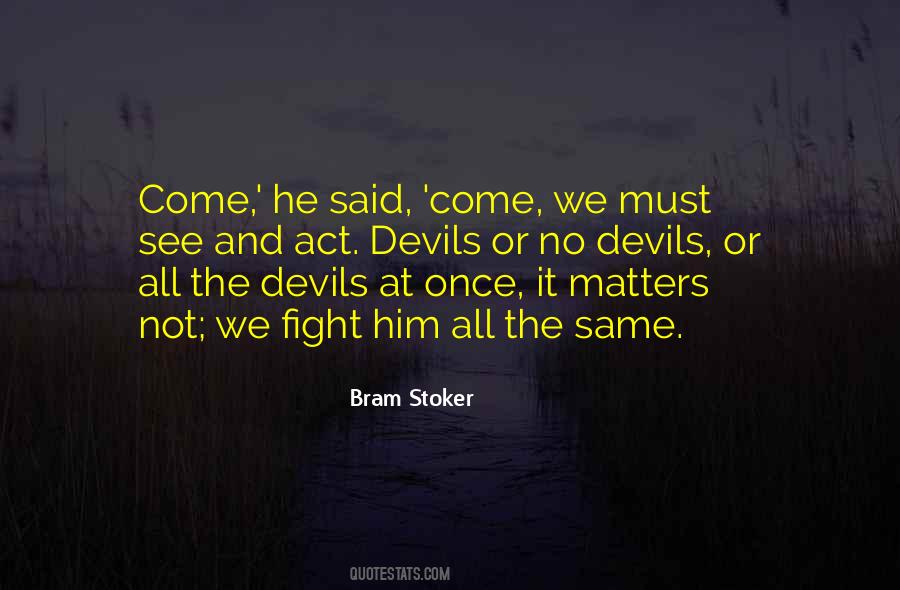 #29. Today's liberals wish to disarm us so they can run their evil and oppressive agenda on us. The fight against crime is just a convenient excuse to further their agenda. I don't know about you, but if you hear that Williams' guns have been taken, you'll know Williams is dead. - Author: Walter E. Williams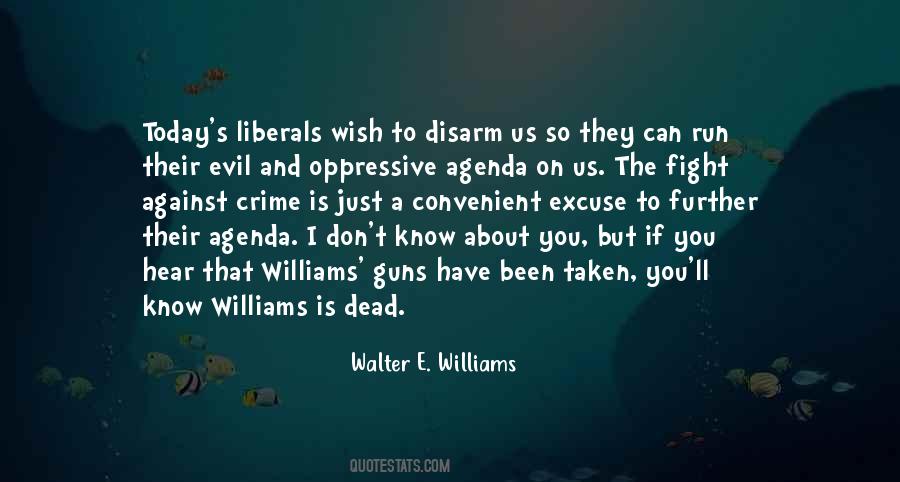 #30. A tough fight against evil is the duty of good man. - Author: Khem Veasna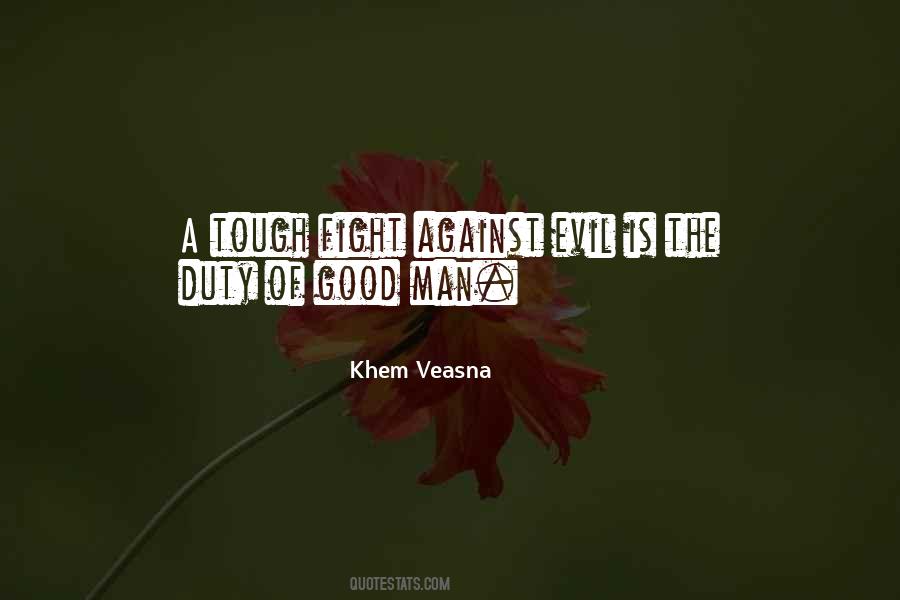 #31. It was important, Dumbledore said, to fight, and fight again, and keep fighting, for only then could evil be kept at bay, though never quite eradicated ... - Author: J.K. Rowling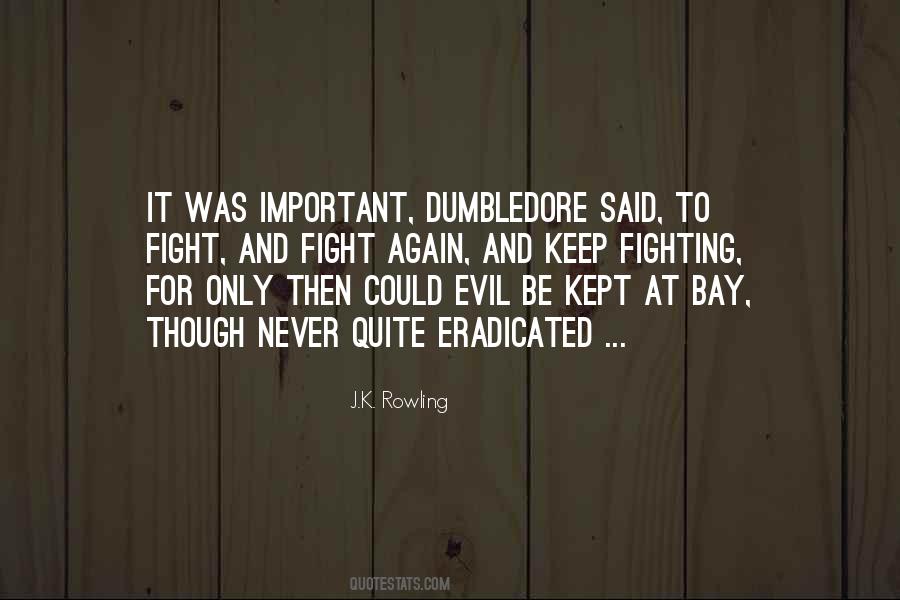 #32. Nonresistance is one of the principles of aikido. Because there is no resistance, you have won before even starting. People whose minds are evil or who enjoy fighting are defeated without a fight. - Author: Morihei Ueshiba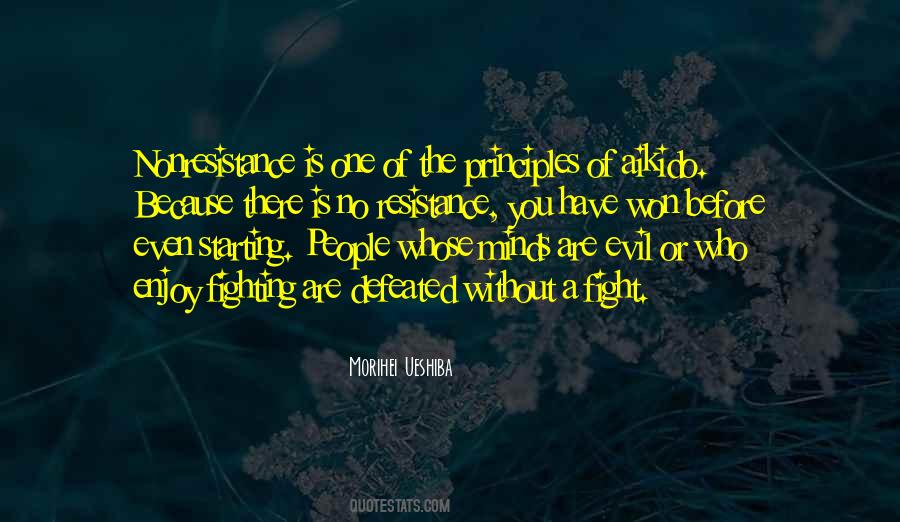 #33. An anti-something movement displays a purely negative attitude. It has no chance whatever to succeed. Its passionate diatribes virtually advertise the program they attack. People must fight for something that they want to achieve, not simply reject an evil, however bad it may be. - Author: Ludwig Von Mises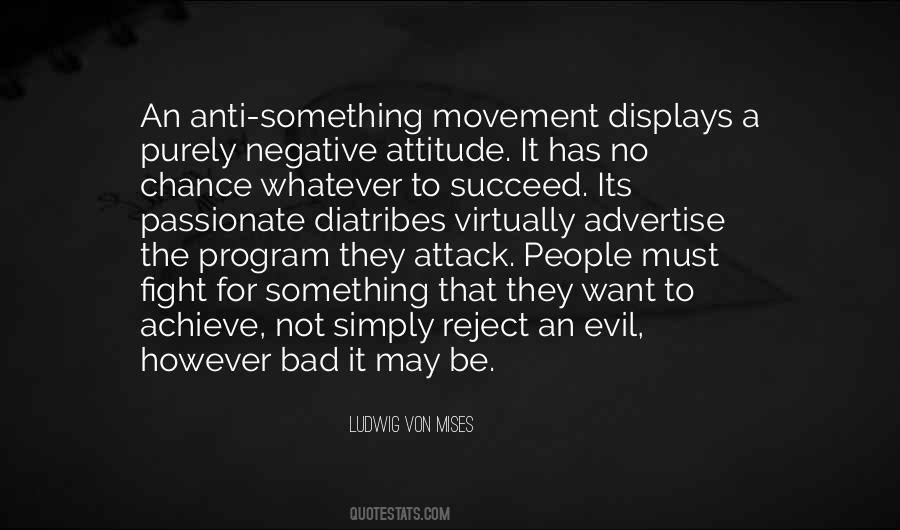 #34. The world is full of warfare 'twixt the evil and the good;I watched the battle from afar as one who understoodThe shouting and confusion, the bloody, blundering fight-How few there are that see it clear, how few that wage it right! - Author: Henry Van Dyke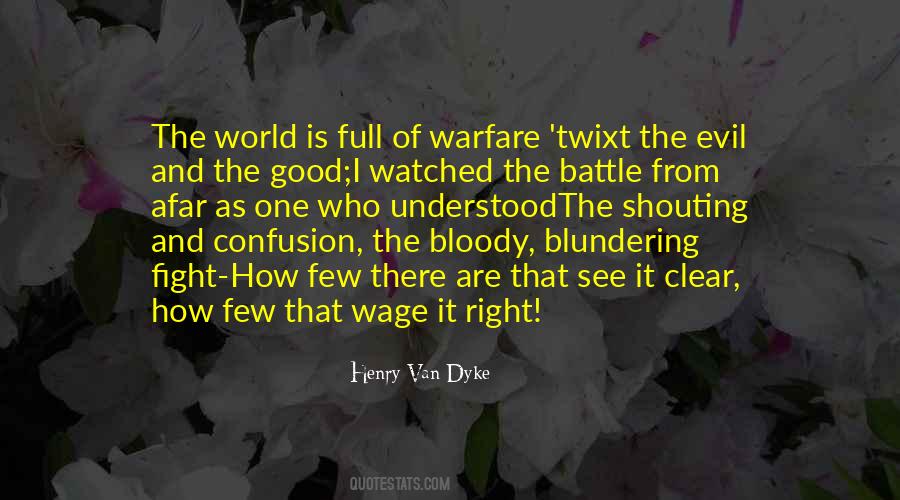 #35. Power was unleashed by identifying that there is something worth fighting for, that there is purpose. There is a good. There is evil. And there are complexities to it, but that's the scope of who we are. What we strive to be is worthy. - Author: Phil Szostak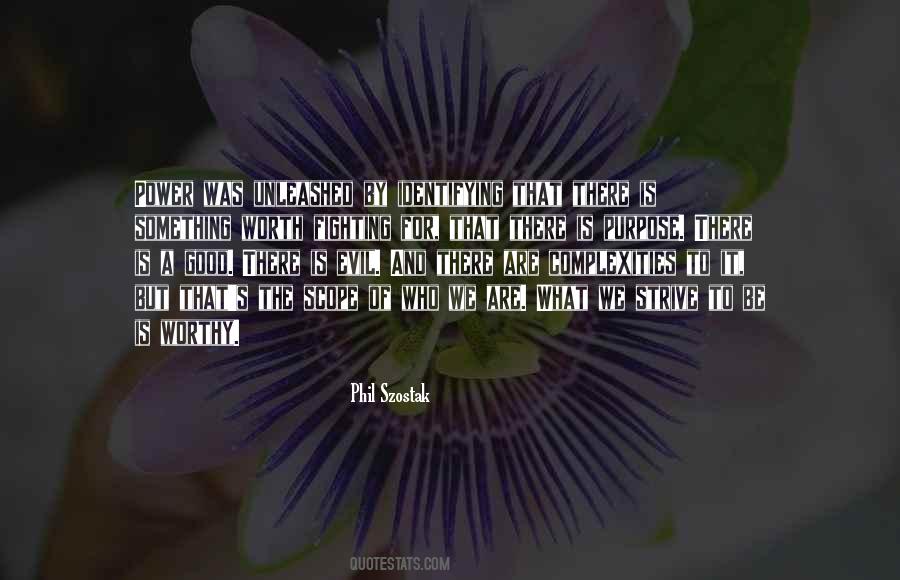 #36. Why are we doing this?" Caine asked him. "You know damned well why we're doing this. Because it's a fight. It may be THE fight. I may be the final fight. And what else are we good at, you and me? What are we going to do if we ever get out there anyway? - Author: Michael Grant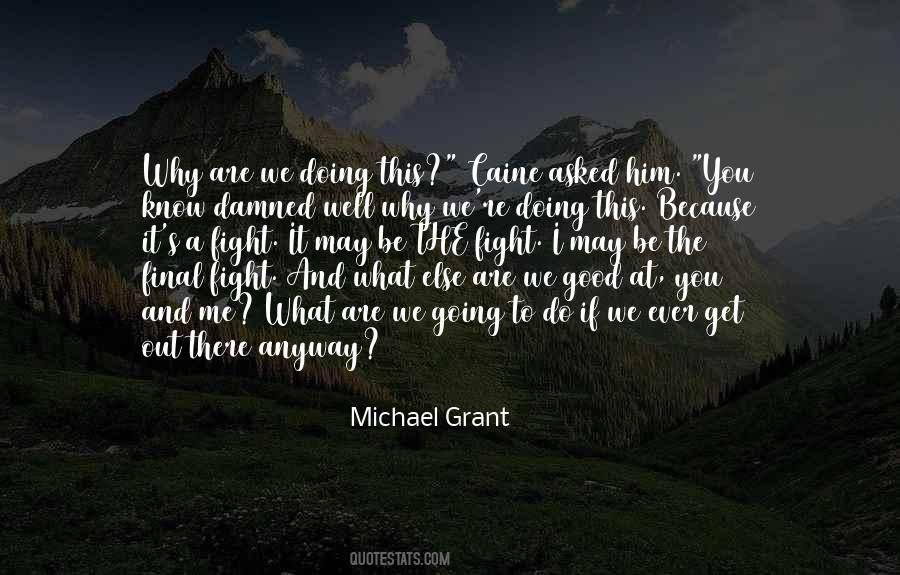 #37. Rastafarianism and reggae music have always kind of resonated with me. Those ideas of redemption, liberation and overcoming oppression through music, weed and community. Fighting evil through love and music, I think it's just a really powerful idea. - Author: Conor Oberst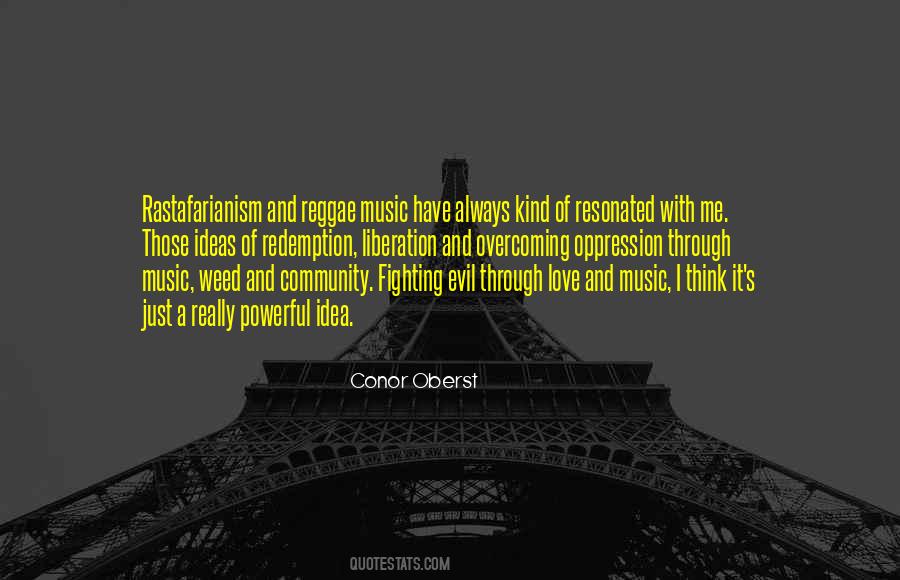 #38. I've never said this to a girl before."
I bit my lip, waiting.
"Well ... " He looked down. "I'm not sure how to say this." He took a deep breath and announced, "I really like fighting evil with you. - Author: Joan Bauer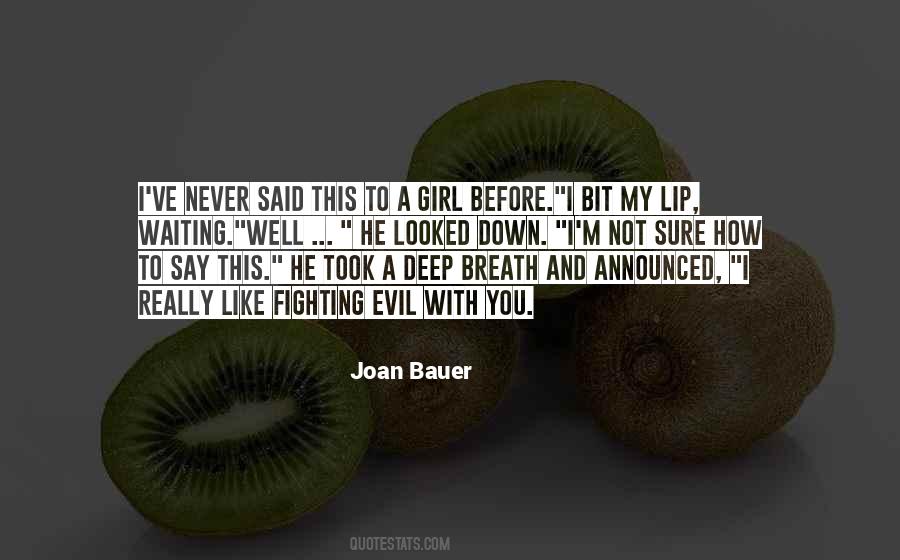 #39. Our allies in the Middle East know that the Islamic State is their fight - and they have asked for very specific things to help push back against ISIL.We must give our allies the help they need to confront and defeat this evil. - Author: Carly Fiorina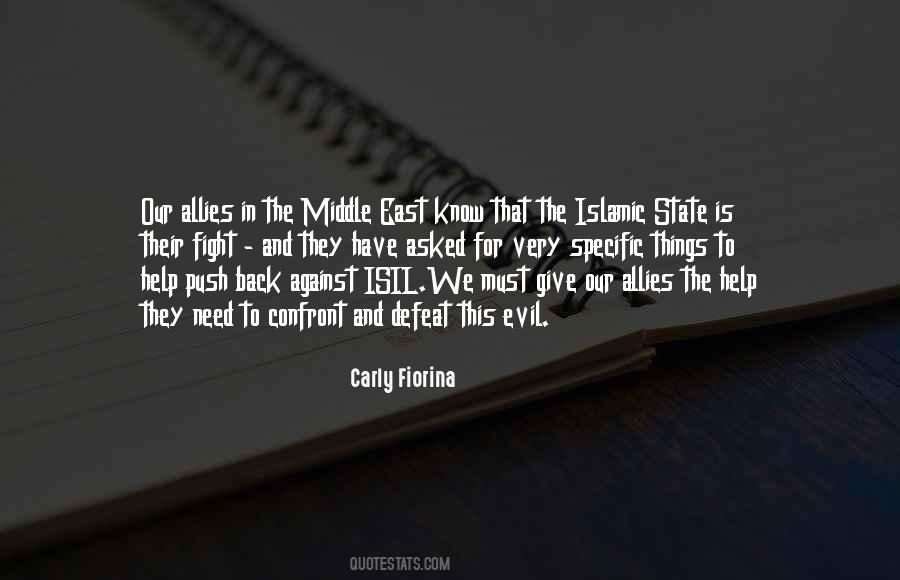 #40. We can be under the power of a spell, but we must overcome such a power; we must liberate ourselves from evil. Everyone can fight. - Author: Hazrat Inayat Khan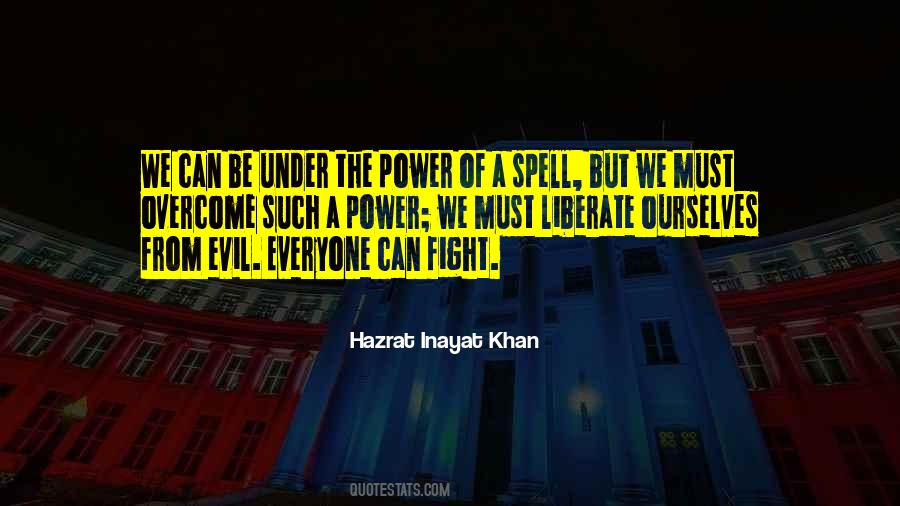 #41. I would say that whatever happens down the line, that Quicksilver vanishes from the movies, I don't know. At this point it is the beginning of him coming into the group and being a force that fights evil. It's pretty sweet. - Author: Evan Peters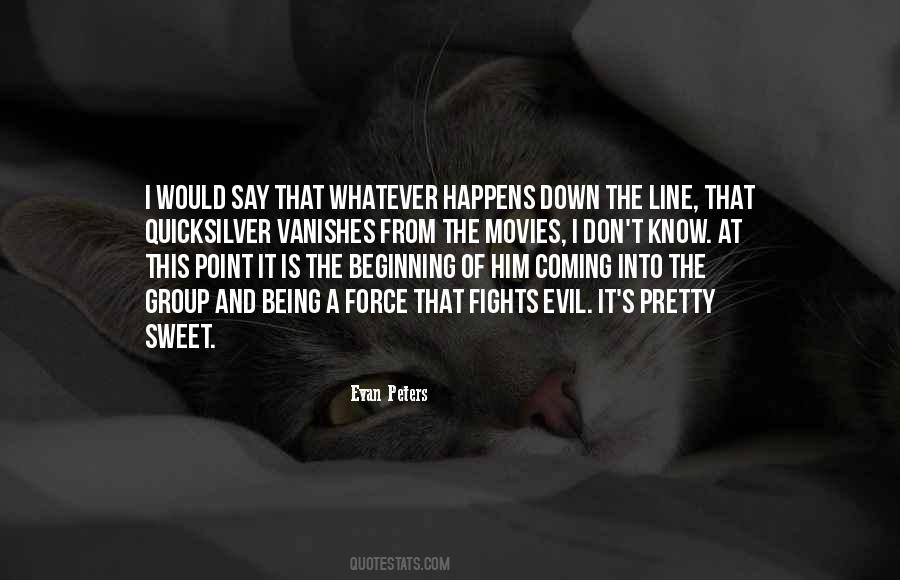 #42. Just because you cannot fight every evil does not mean you should fight no evils. - Author: Dennis Prager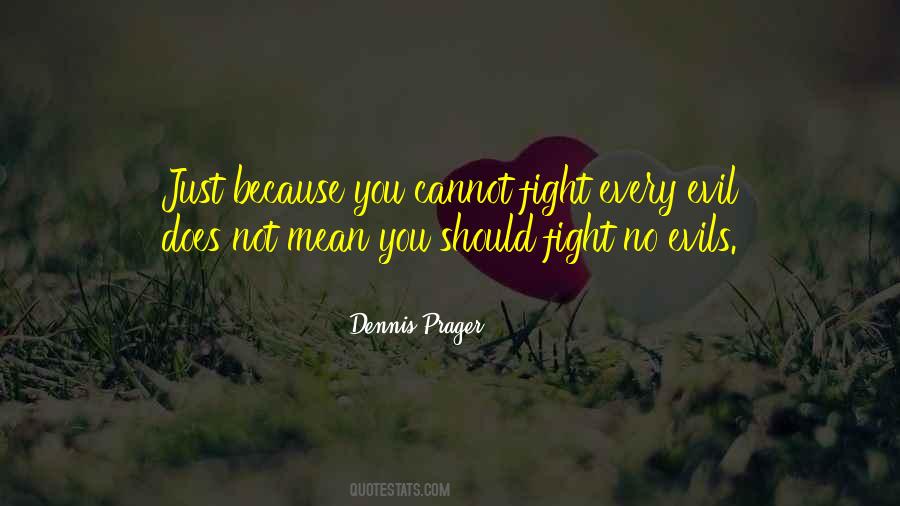 #43. Well, either you've been out fighting the forces of evil or you've come from a much wilder party than we have," Jace said.
"Hello, there, Blackthorns. - Author: Cassandra Clare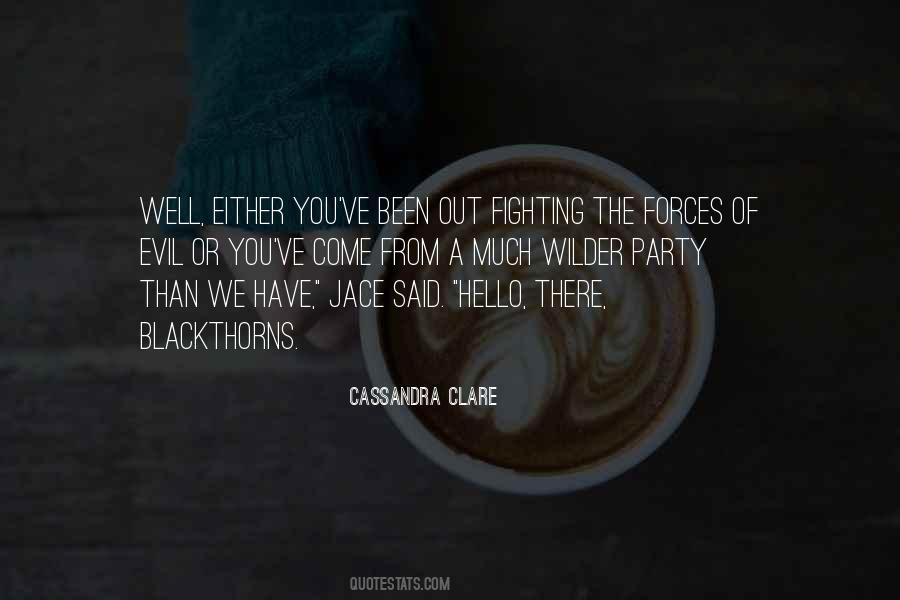 #44. When we are working at a difficult task and strive after a good thing, we are fighting a righteous battle, the direct reward of which is that we are kept from much evil. - Author: Vincent Van Gogh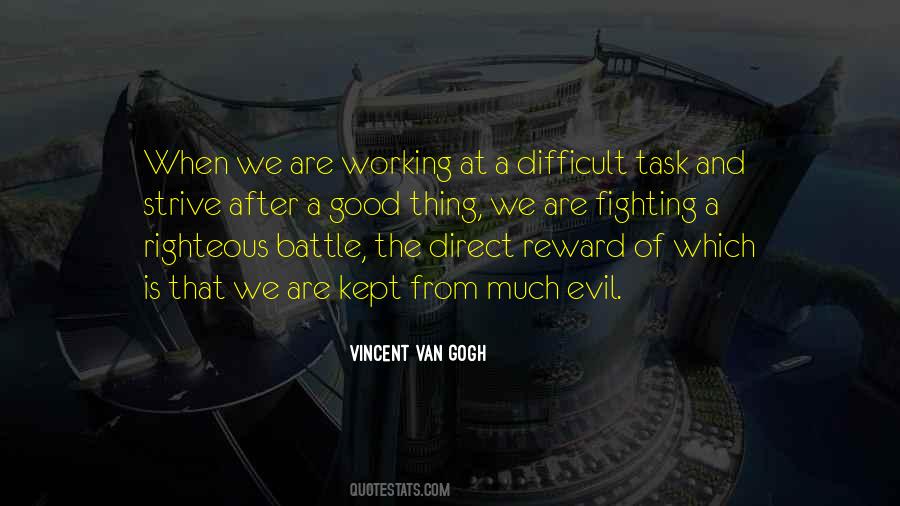 #45. [ ... ] the war between good and evil existed no longer, for the thing beneath the Graal was not fighting but vomiting. - Author: Charles Williams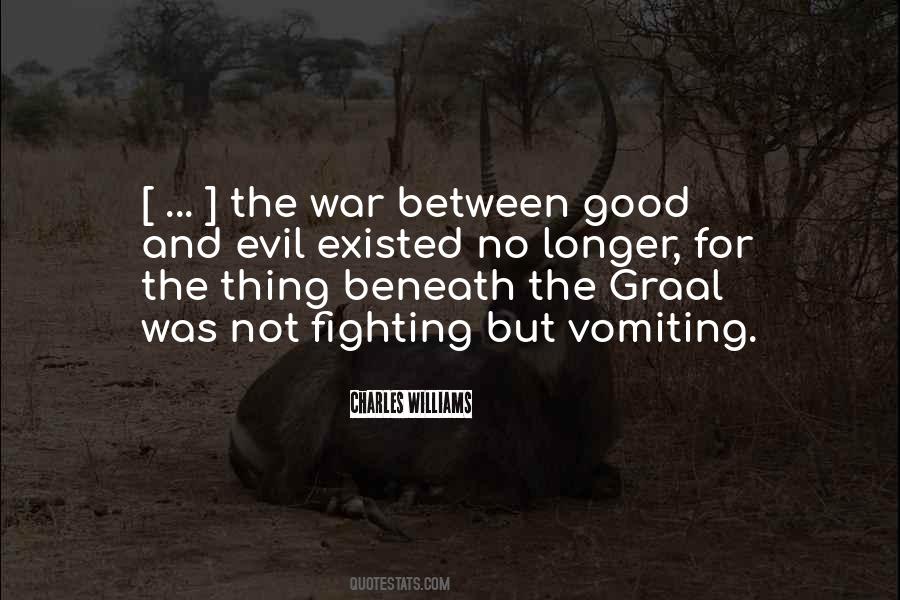 #46. You're so eager to jump into something you've barely begun to understand. Things don't just get handed to you. You have to fight. Prove that you are worthy and then maybe the answers will be found. - Mr. Creepy - Author: Candace Knoebel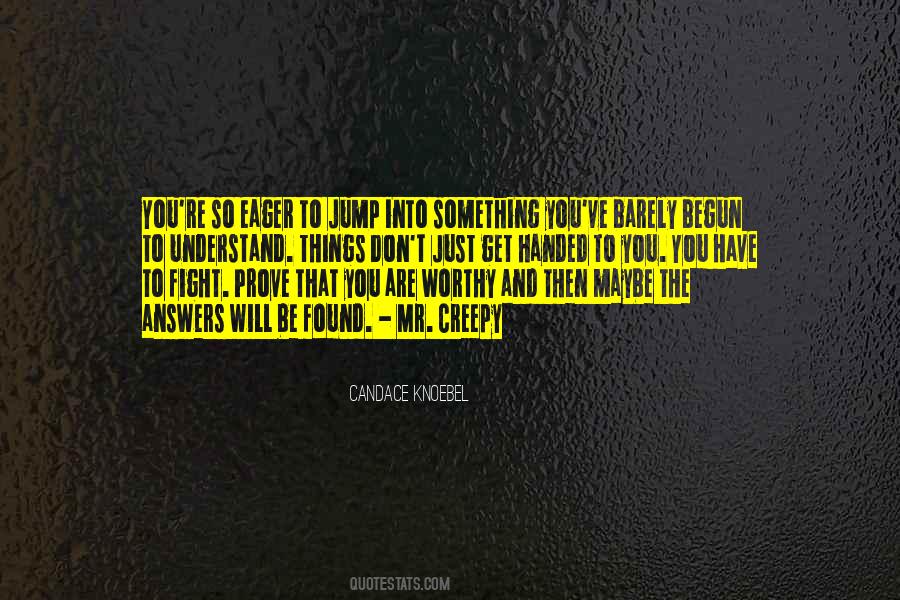 #47. Americans understand we fight not a religion; ours is not a campaign against the Muslim faith. Ours is a campaign against evil. - Author: George W. Bush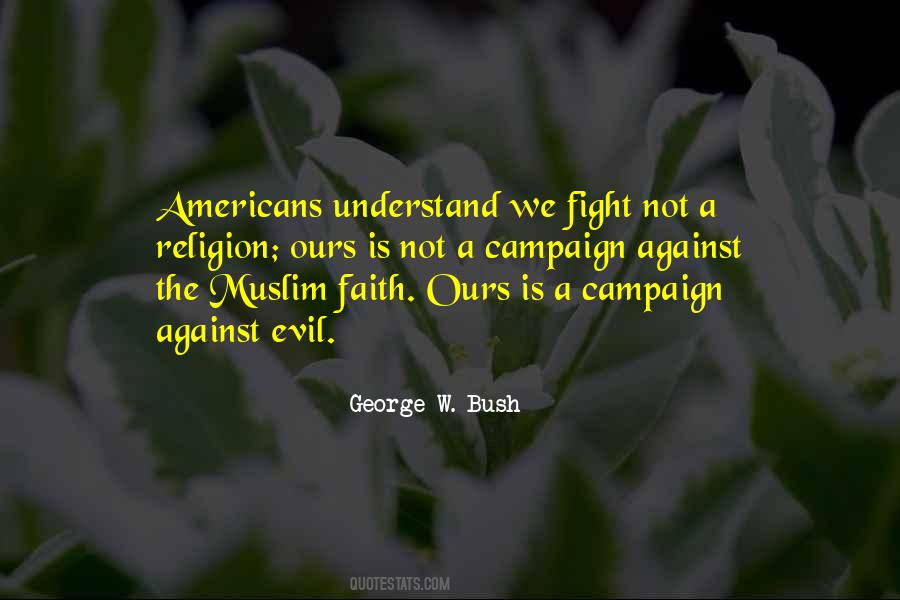 #48. Do you know that my personal crusade in life (in the philosophical sense) is not merely to fight collectivism, nor to fight altruism? These are only consequences, effects, not causes. I am out after the real cause, the real root of evil on earth the irrational. - Author: Ayn Rand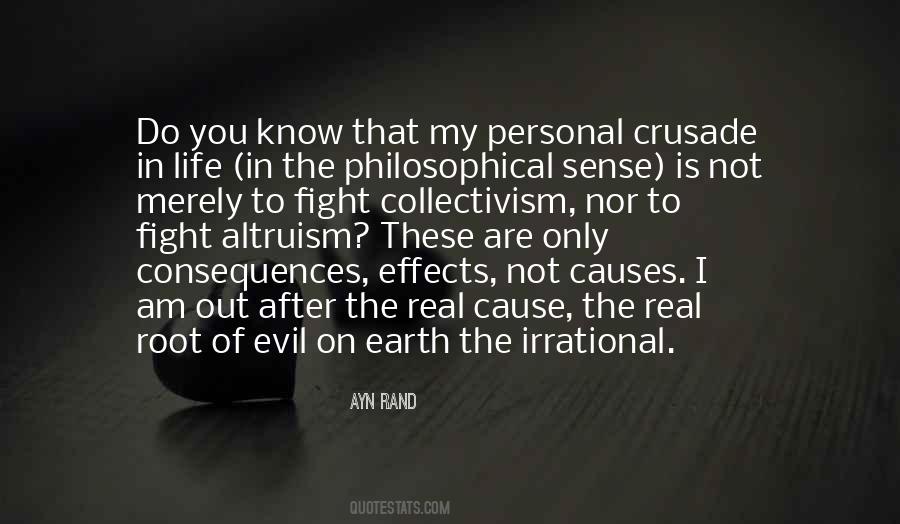 #49. If there be no enemy, no fight; if do fight, no victory; if no victory, no crown. - Author: Girolamo Savonarola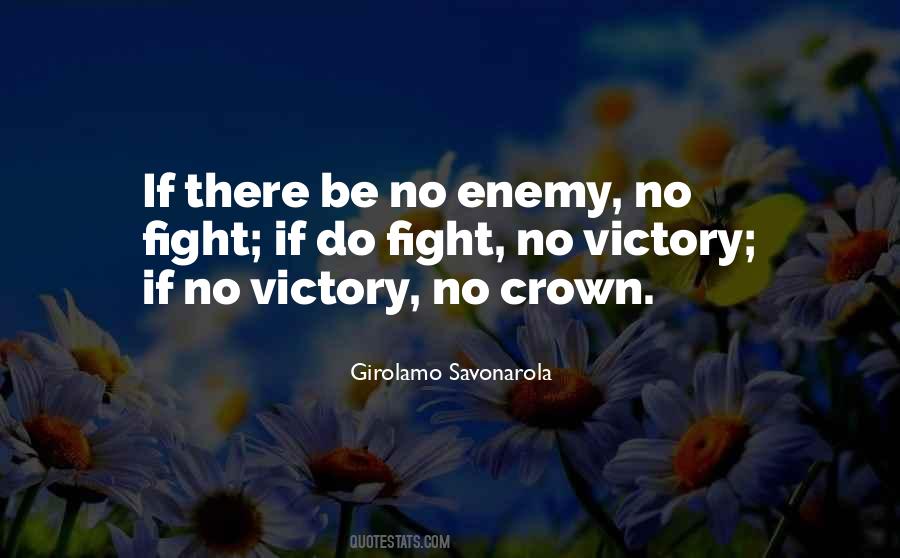 #50. Hence today I believe that I am acting in accordance with the will of the Almighty Creator: by defending myself against the Jew, I am fighting for the work of the Lord. - Author: Adolf Hitler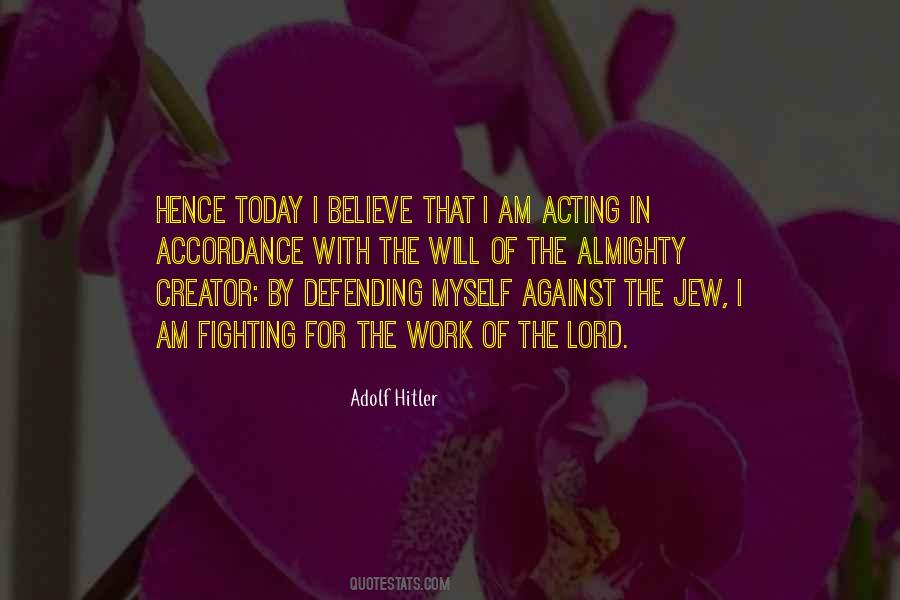 #51. THE ART OF PEACE is not easy. It is a fight to the finish, the slaying of evil desires and all falsehood within. On occasion the voice of peace resounds like thunder, jolting human beings out of their stupor. - Author: Morihei Ueshiba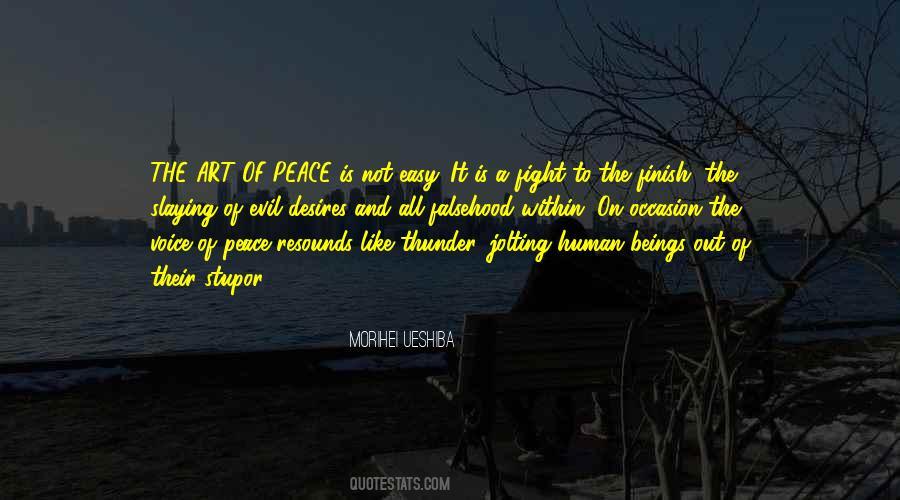 #52. Mielke and Honecker grew up fighting the real evil of Nazism. And they kept on fighting the west, which they saw as Nazism's successor, for forty-five years after the war ended. - Author: Anna Funder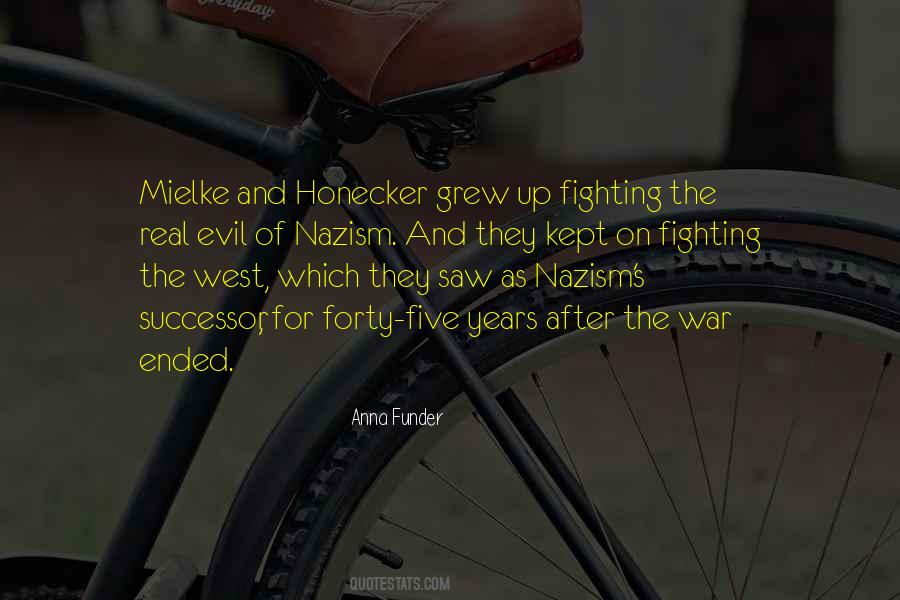 #53. I had known poverty firsthand, but there I learned how to fight its evil - along with the evil of racism - with a camera. - Author: Gordon Parks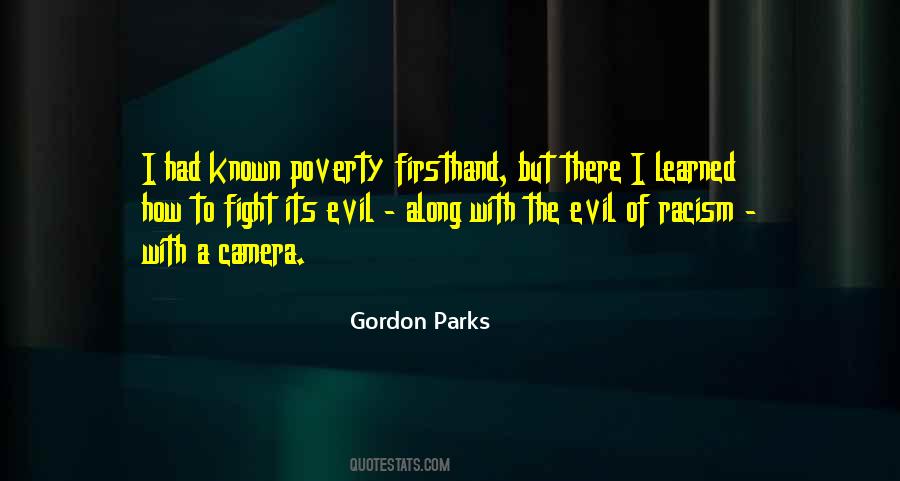 #54. MANICHEISM, n. The ancient Persian doctrine of an incessant warfare between Good and Evil. When Good gave up the fight the Persians joined the victorious Opposition. - Author: Ambrose Bierce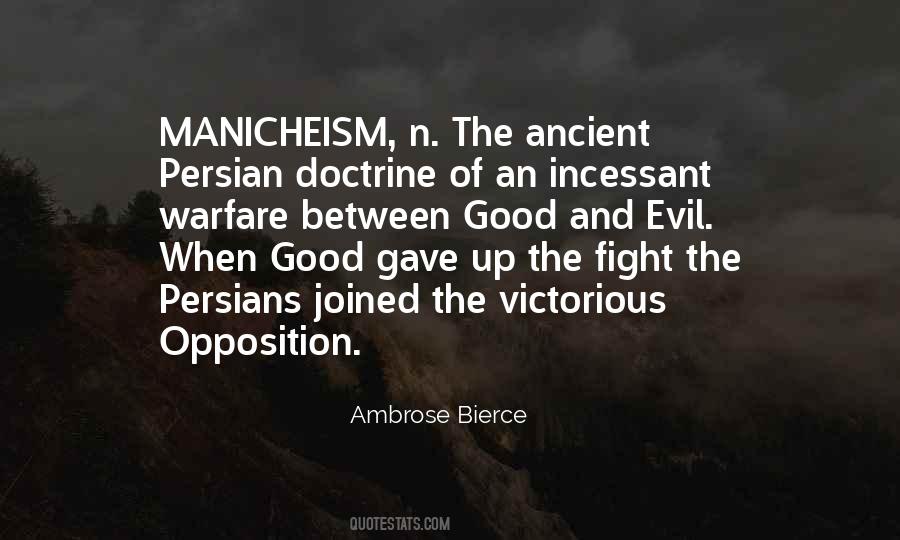 #55. The more one is absorbed in fighting evil, the less one is tempted to place the good in question. - Author: Jean-Paul Sartre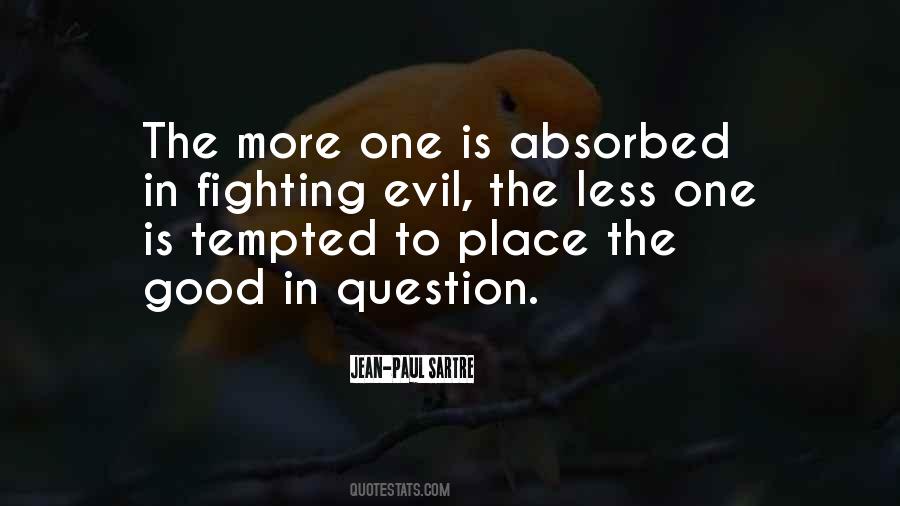 #56. Money is not the root of all evil ... ignorance is the root of all evil. People do cruel and foolish things for money because they feel oppressed by a sense of lack. If people knew their power to generate wealth, they would never fight or hurt each other over money. - Author: Alan Cohen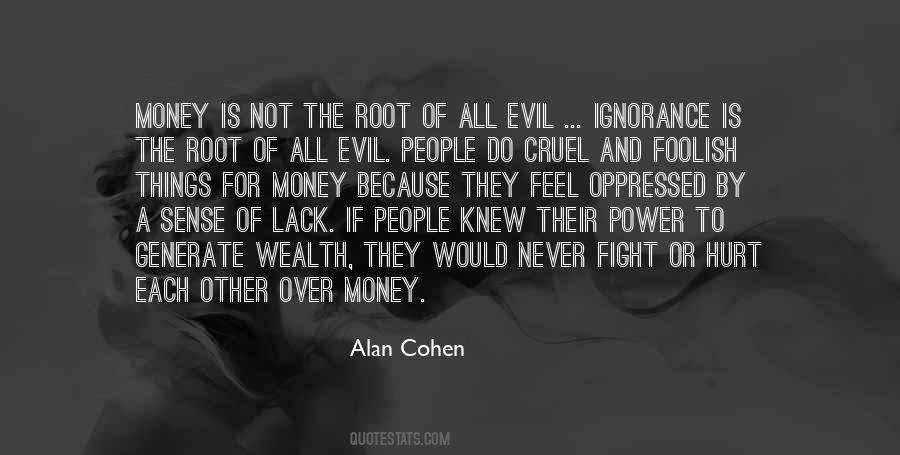 #57. Evil has no need to bother with eliminating Good. It's far simpler to let Good fight against itself. - Author: Sergei Lukyanenko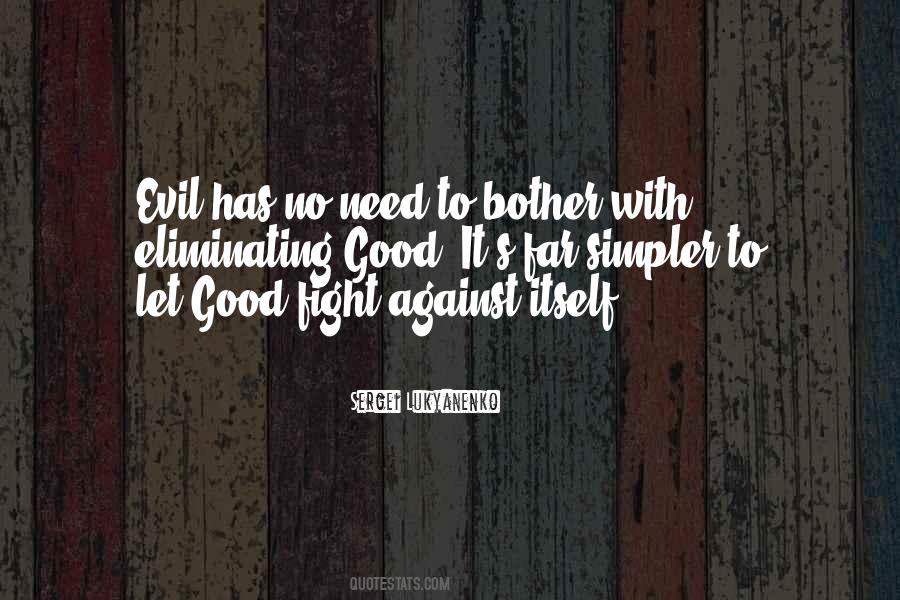 #58. The best way to fight evil is to do some good. Let me qualify that - the best way to fight evil at home is to do some good. The best way to fight them abroad is to unleash the military. - Author: George W. Bush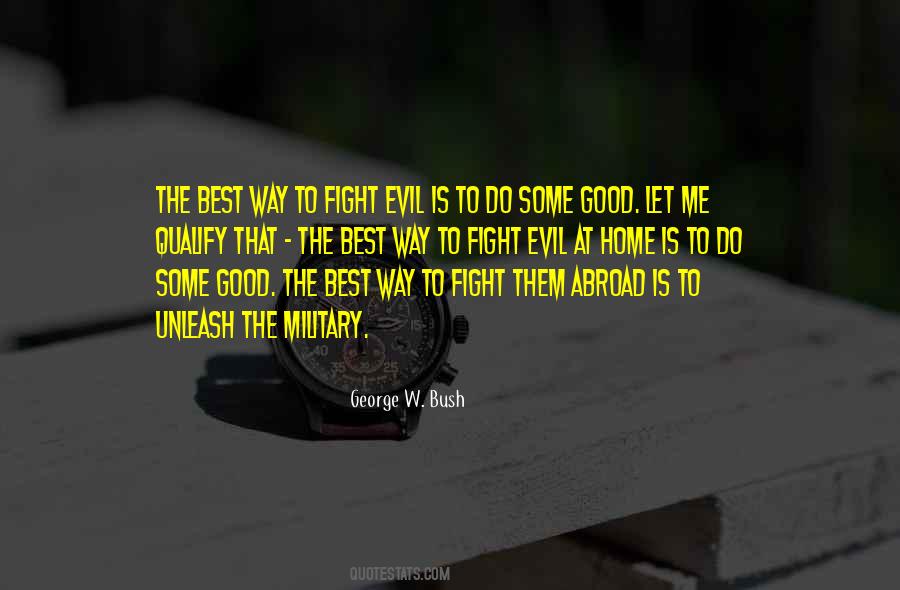 #59. This was about two sides warring for love.
She and Tedros fighting for Good. Sophie and the School Master fighting for Evil.
Once upon a time, she and her best friend tried to find a happy ending together. Now only one of them could come out alive. - Author: Soman Chainani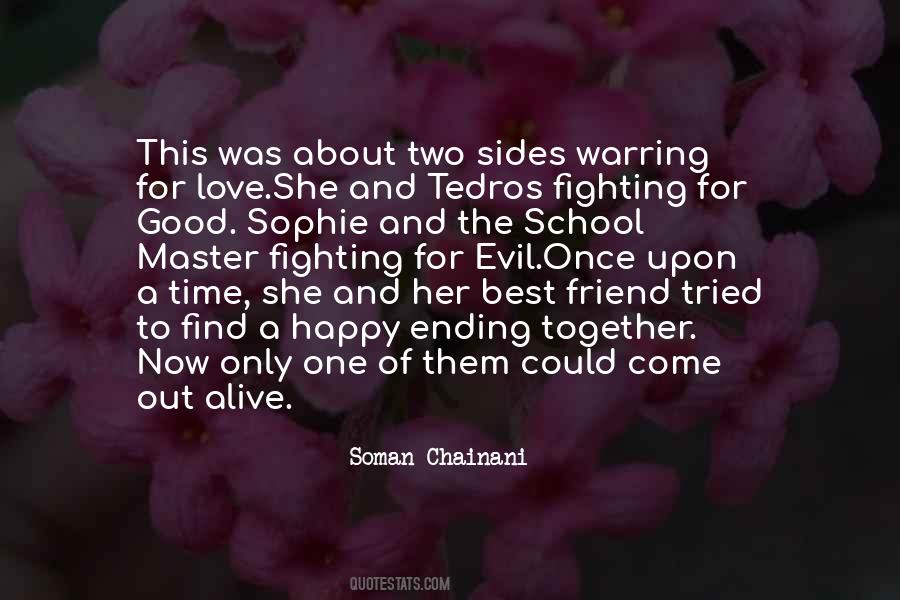 #60. Evil lives in a pit. If you want to fight it, you must climb down into the slime to do so. White cloaks show the dirt more thank black, and silver tarnishes. - Author: David Gemmell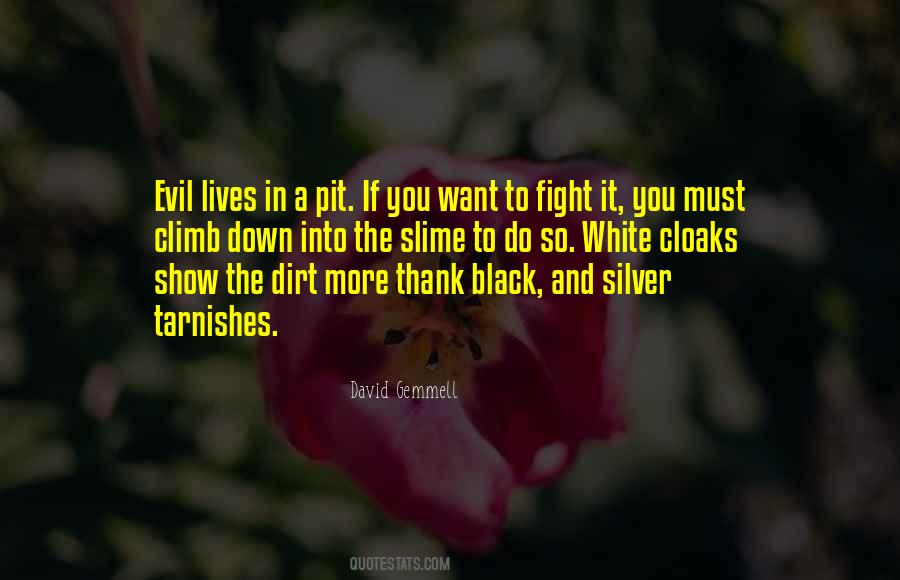 #61. The man who fights for his ideals is alive. - Author: Miguel De Cervantes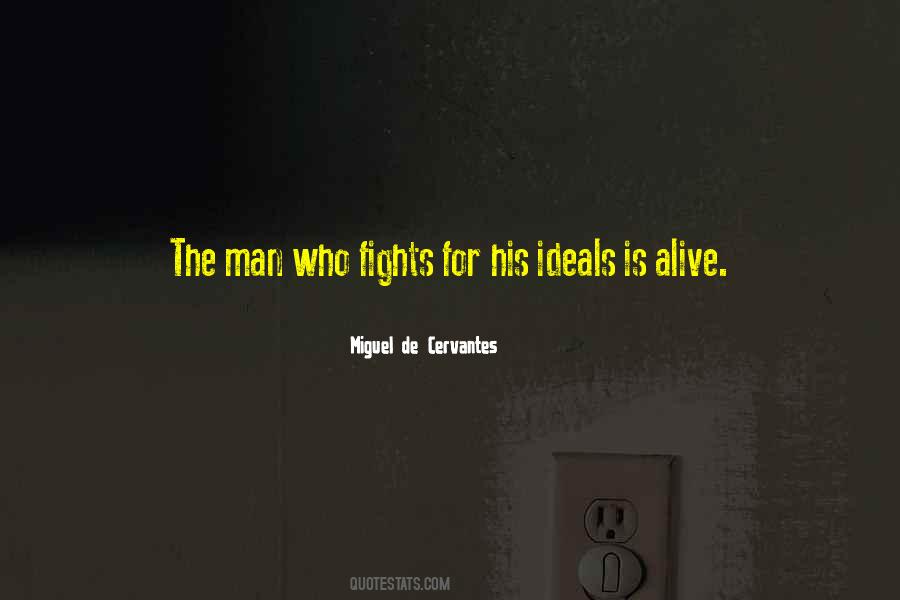 #62. What could be more exciting! As long as you're fascinated and as long as you keep on fighting the things you think are wrong, you're living. It isn't the evil people in the world who do the most harm. It's the sweet do-nothings that can destroy us. - Author: Edna Ferber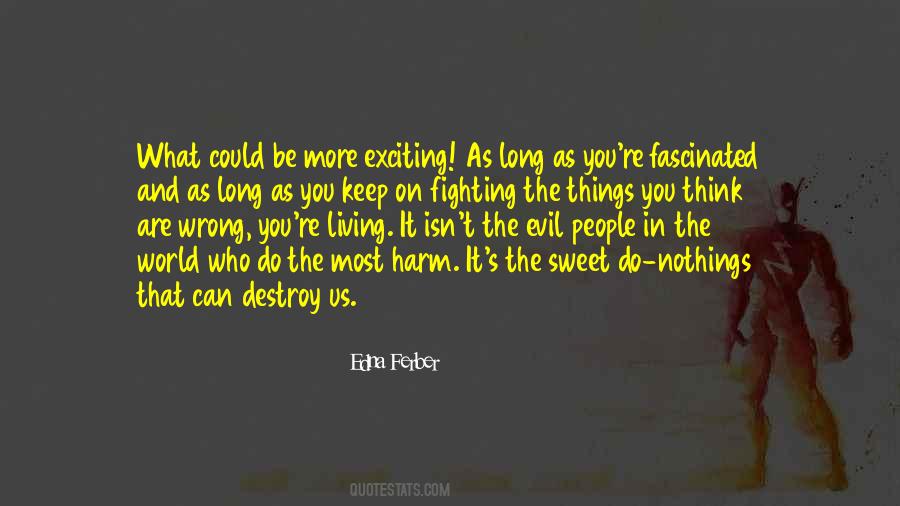 #63. Many of us came away from our youth thinking that the story of the Revolution was that the Americans were patriots fighting the oppressive British. It was kind of good versus evil, liberty versus tyranny. When you get into it, you find that it was much more complicated. - Author: Nathaniel Philbrick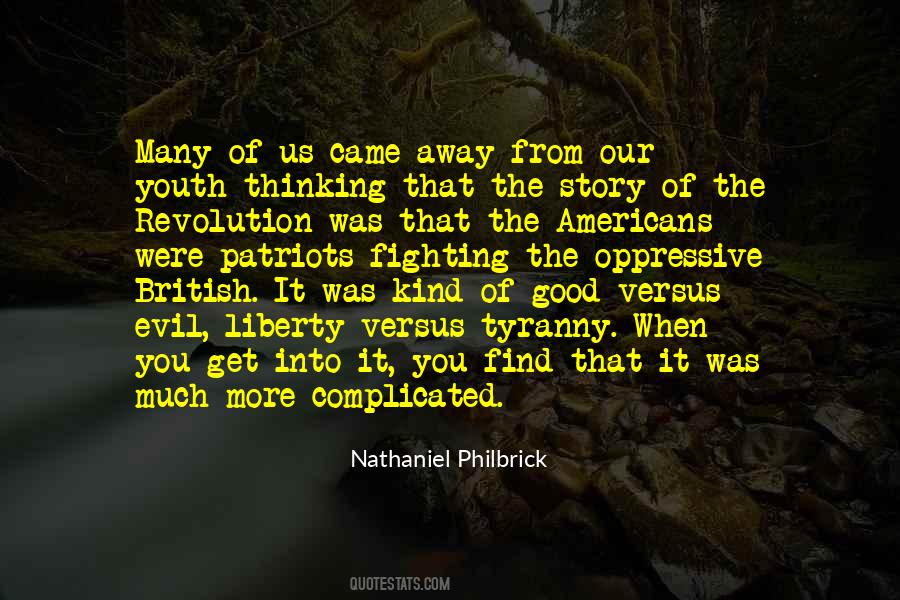 #64. You attack to protect, not to avenge. You strike to end suffering, not cause it. - Author: Tiana Dalichov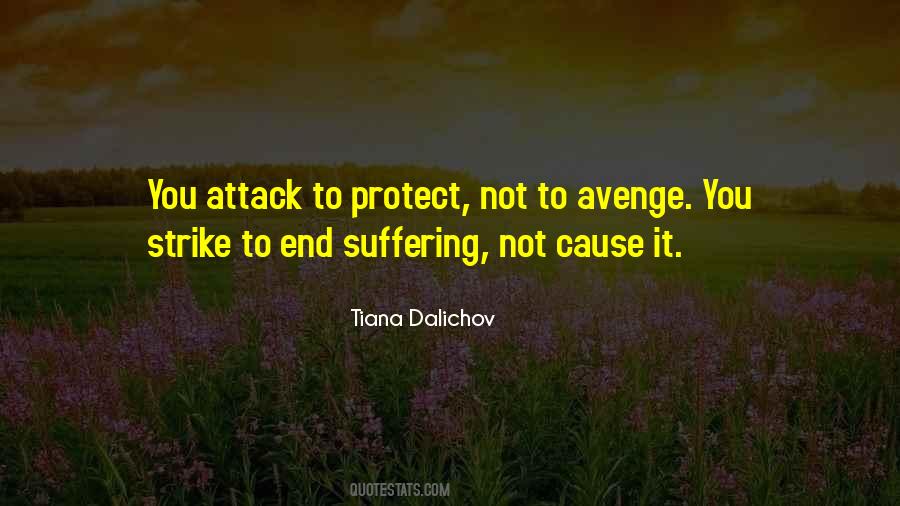 #65. Fighting evil by moonlight, winning love by daylight, never running from a real fight, she is the one named Sailor Moon! - Author: Naoko Takeuchi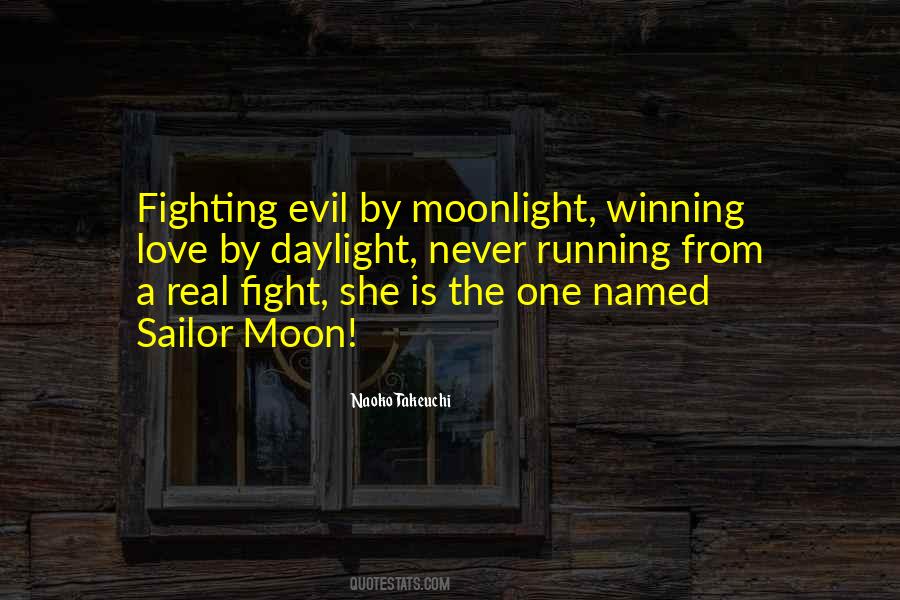 #66. It is evil things that we will be fighting against-brute force, bad faith, injustice, oppression and persecution-and against them I am certain that the right will prevail. - Author: Neville Chamberlain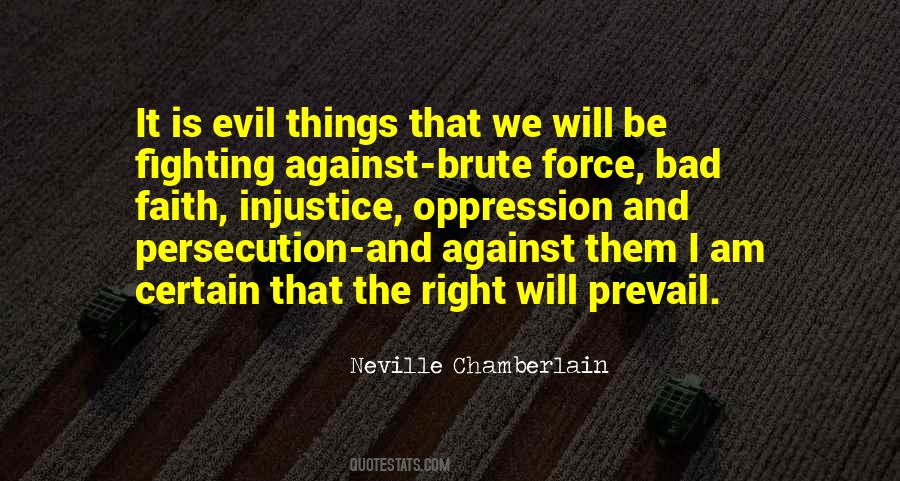 #67. Evil can also be beautiful. The Coliseum in Rome, for example, a wonderful structure with an awful past. Just think about the bloody gladiator fights there. - Author: Rem Koolhaas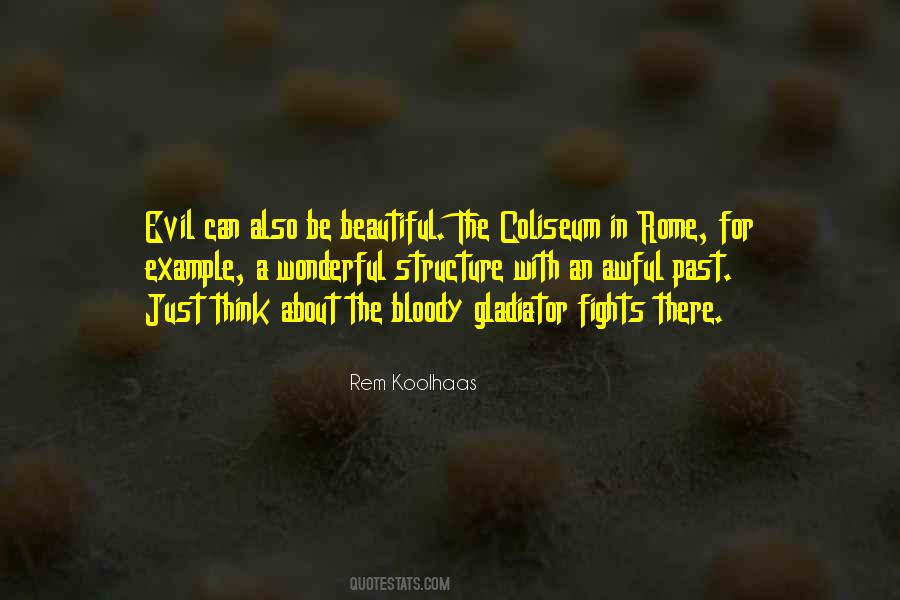 #68. Throughout his career, Jobs liked to see himself as an enlightened rebel pitted against evil empires, a Jedi warrior or Buddhist samurai fighting the forces of darkness. IBM was his perfect foil. He cleverly cast the upcoming battle not as a mere business competition, - Author: Walter Isaacson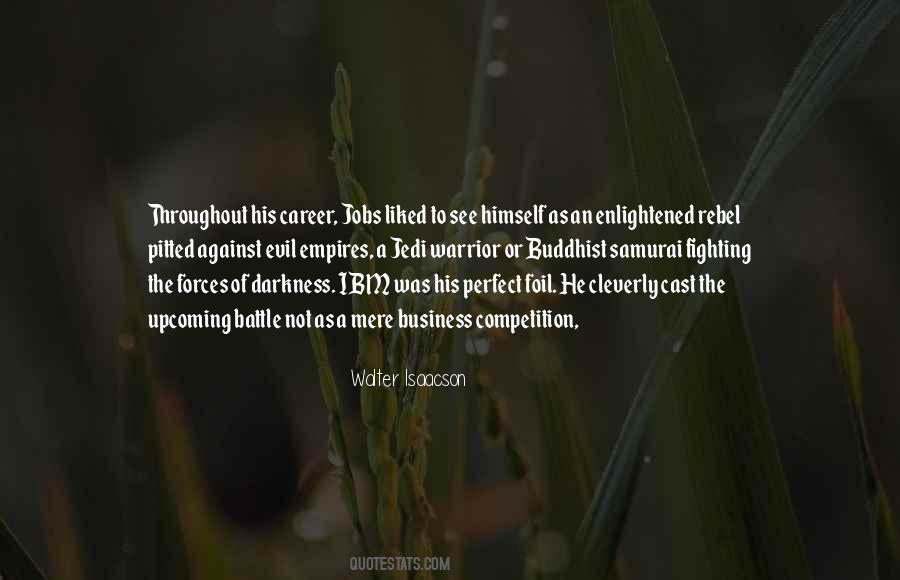 #69. But the Dark cannot claim what Light does not surrender. - Author: C.L. Wilson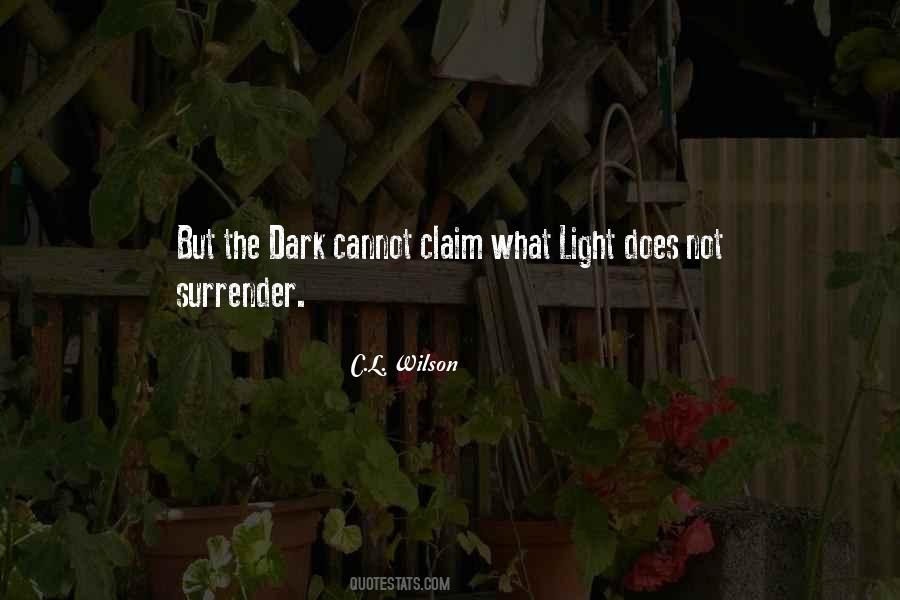 #70. myself have seen the bodies of schoolgirls who were boiled alive in a water tower by my own countrymen, who were proud of fighting pure evil at the time." This - Author: Kurt Vonnegut Jr.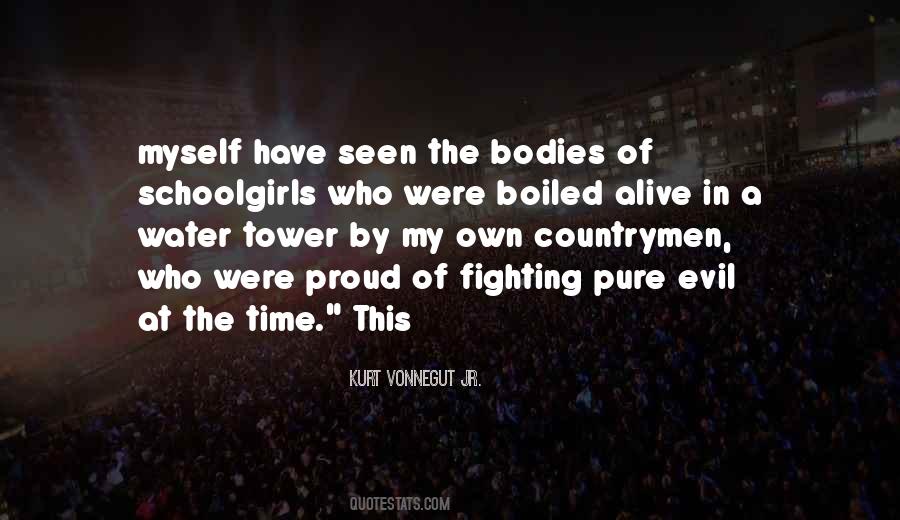 #71. I think 'Magneto' is definitely an anti-hero. He's fighting for the right thing, but his methods are far too extreme. He's not above breaking the law, stretching the limits of what is moral and putting evil to work for good. - Author: Cullen Bunn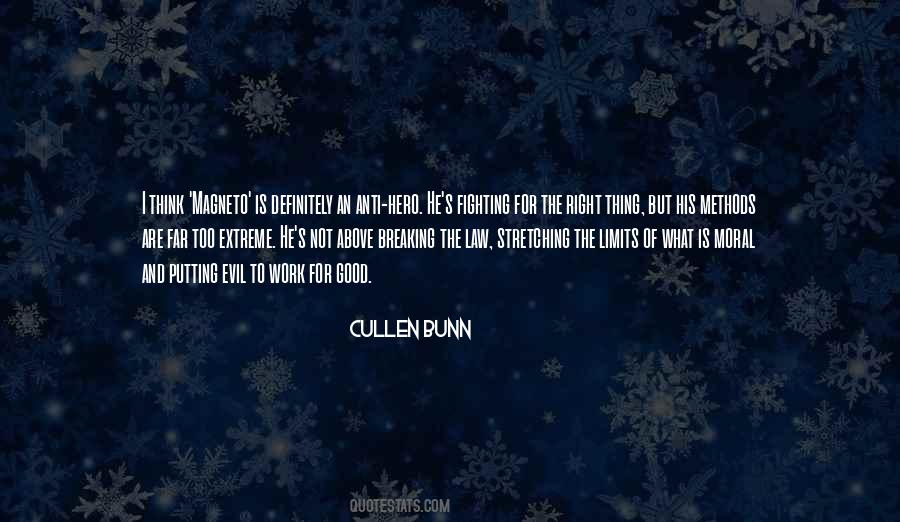 #72. We must show new energy in fighting back an old evil. Nearly two centuries after the abolition of the transatlantic slave trade, and more than a century after slavery was officially ended in its last strongholds, the trade in human beings for any purpose must not be allowed to thrive in our time. - Author: George W. Bush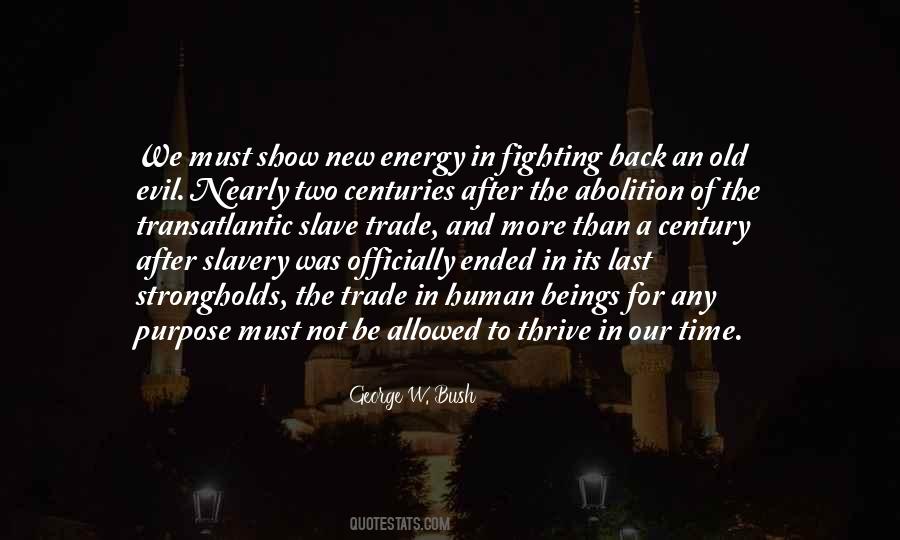 #73. Hit them. Fight them. They are cursed; they are evil - Author: Mohammed Saeed Al-Sahaf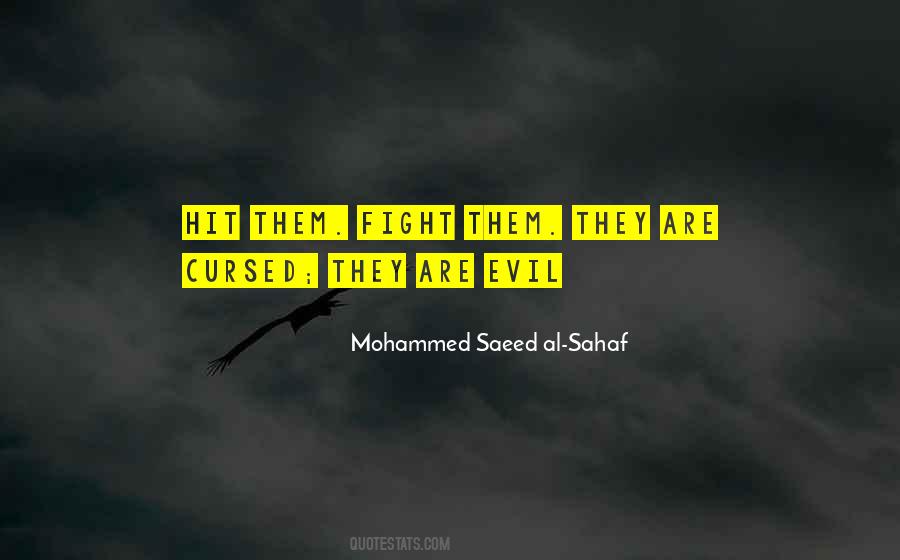 #74. The purpose of life is not to fight against evil and misfortune; it is to unveil magnificence. - Author: Alan Cohen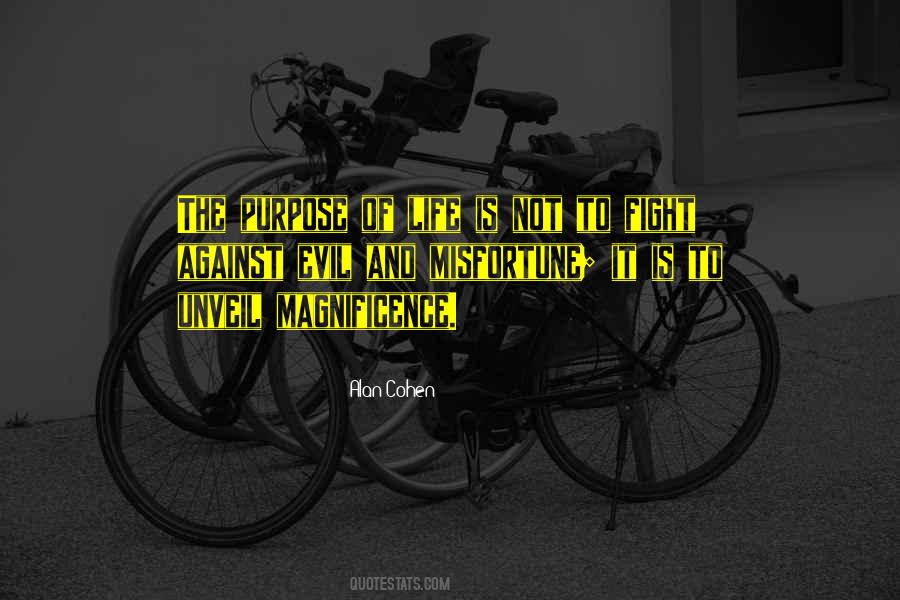 #75. All of us here today understand this: We do not fight Islam, we fight against evil. - Author: George W. Bush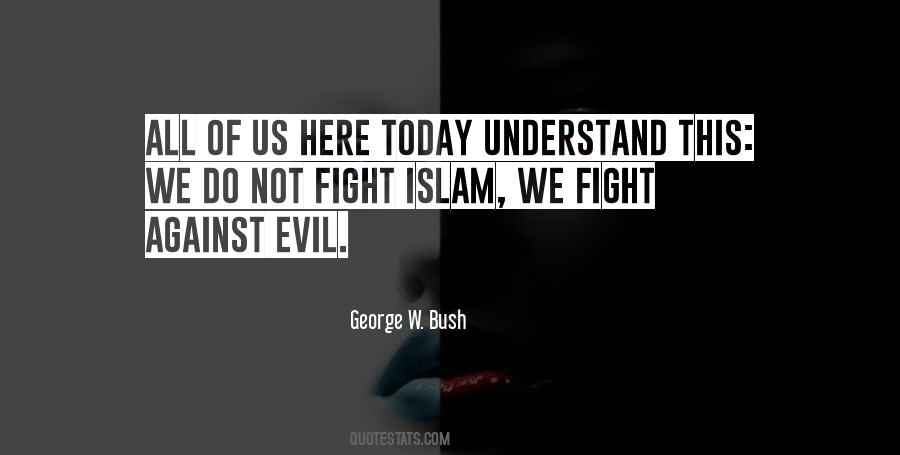 #76. Are you fighting evil tonight? ... Then you are doing the Lord's work. Shut the fuck up. - Author: James R Tuck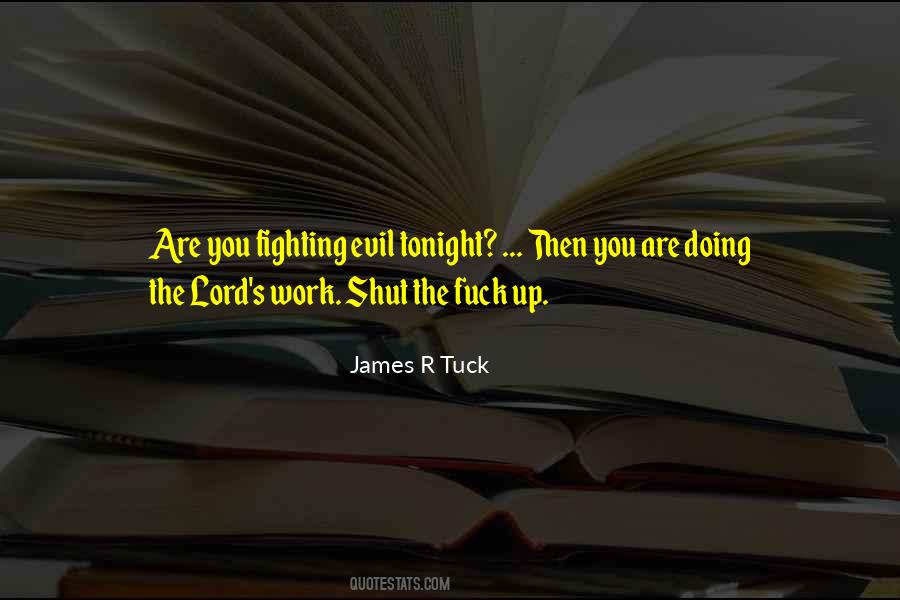 #77. Good is whichever side you think you are on, and evil is whichever side you are fighting, or running from. - Author: Adrian Howell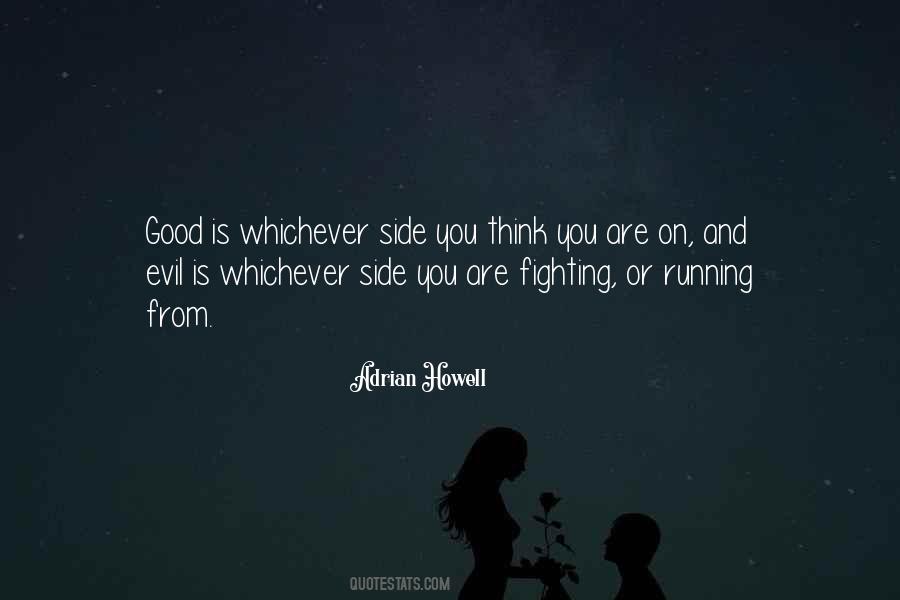 #78. Savage, despicable evil. That's what we were fighting in Iraq. - Author: Chris Kyle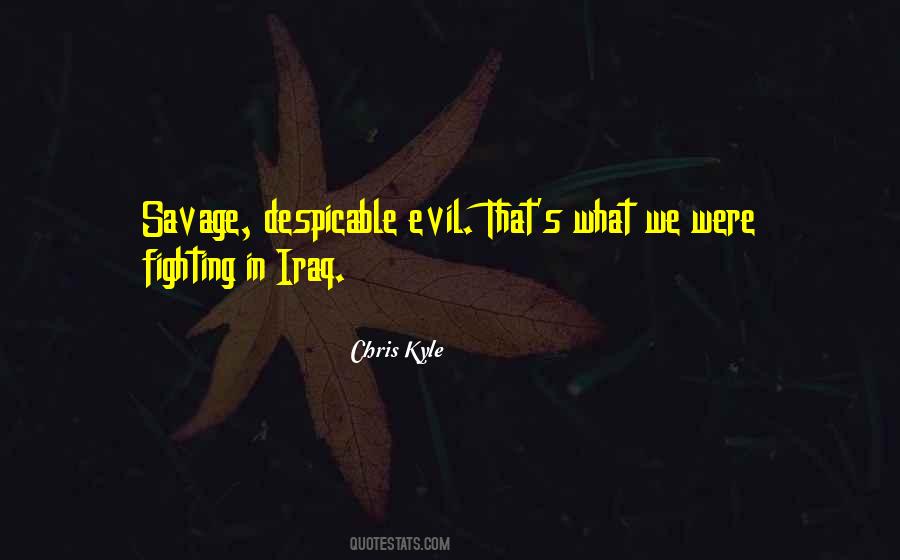 #79. What is important is not to fight, but to fight the right enemy - Author: Bangambiki Habyarimana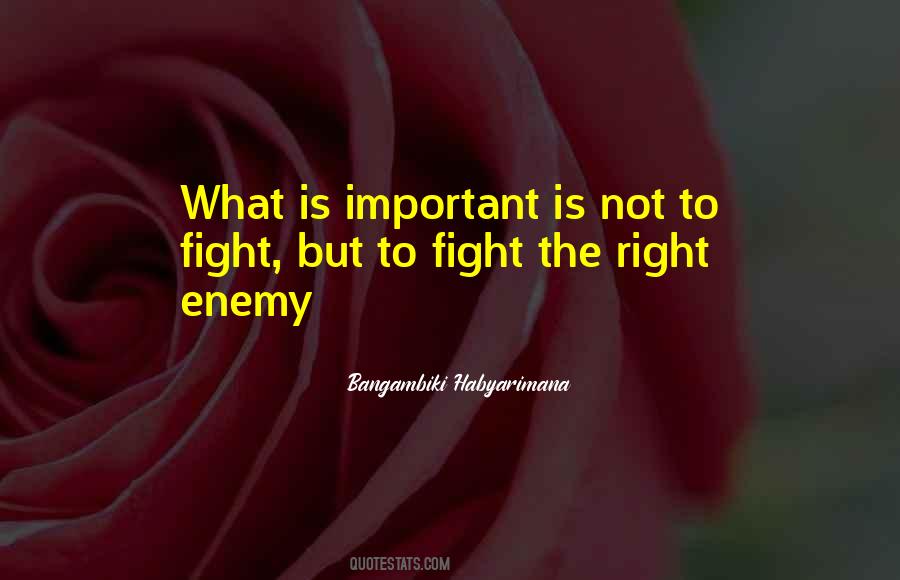 #80. In dictatorships you need courage to fight evil; in the free world you need courage to see evil. - Author: Natan Sharansky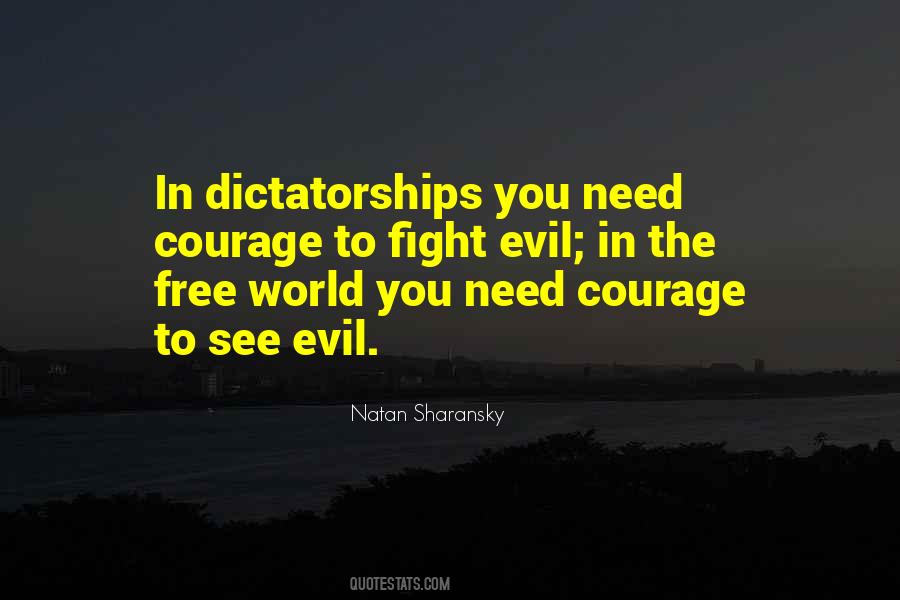 #81. Touch not the fighting-dog without a glove.
Give me a fighting-dog and I come alive.
Fighting-dogs always meant more to Tom Mitchell than people. - Author: John Duncan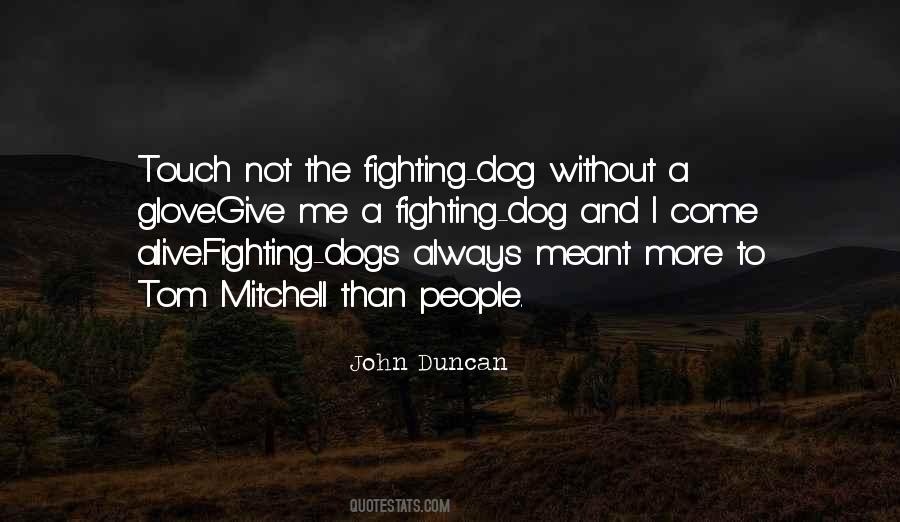 #82. That's a phenomenon of the Left: You don't fight evil. You fight carbon emissions - Author: Dennis Prager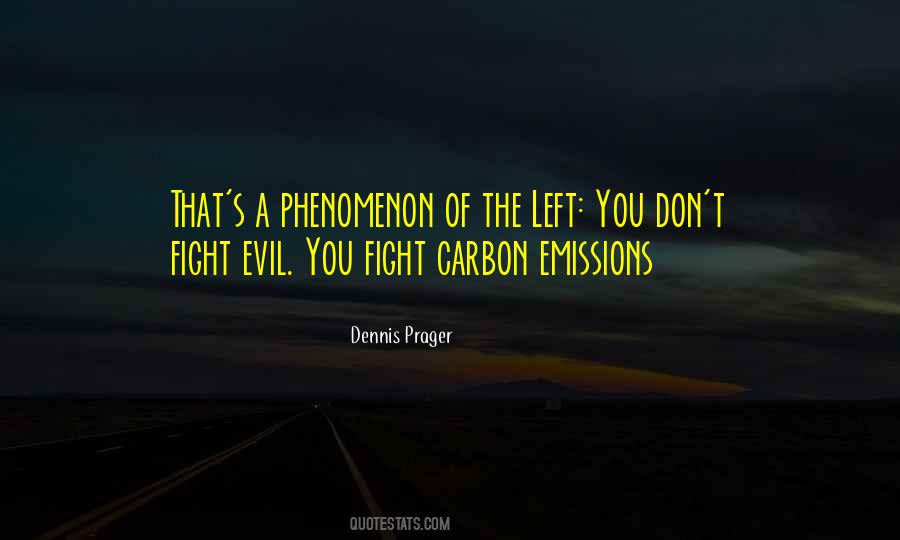 #83. Those who don't fight evil hate those who do; and those who don't fight real evils make up little evils - Author: Dennis Prager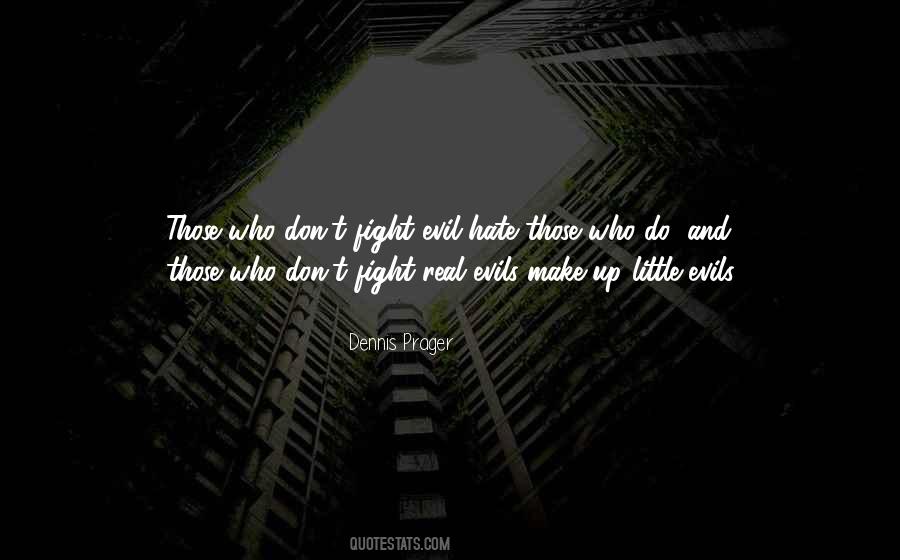 #84. Rate the task above the prize; will not the mind be raised? Fight thine own faults, not the faults of others; will not evil be mended? - Author: Confucius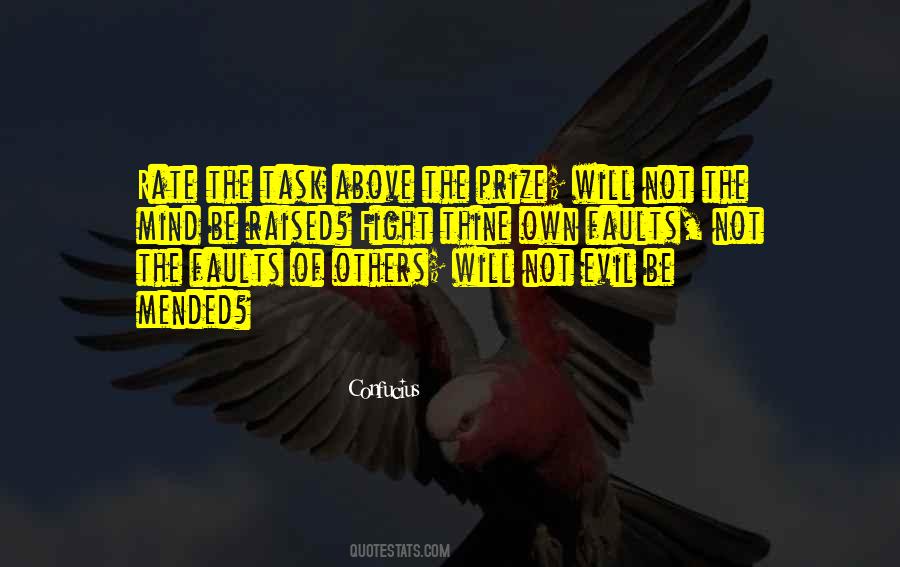 #85. To fight evil is to fight ourselves. - Author: Octavio Paz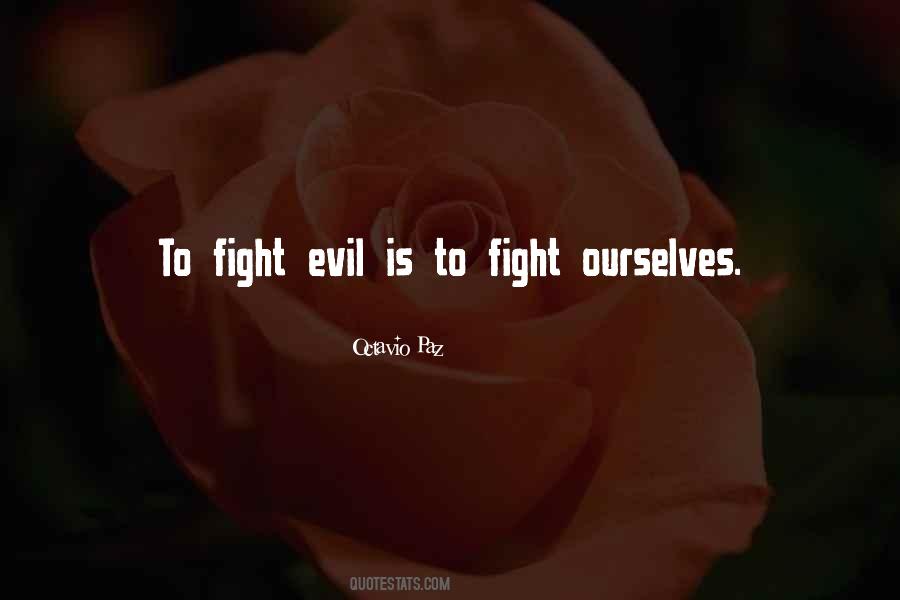 #86. The happiest excitement in life is to be convinced that one is fighting for all one is worth on behalf of some clearly seen and deeply felt good, and against some greatly scorned evil. - Author: Ruth Benedict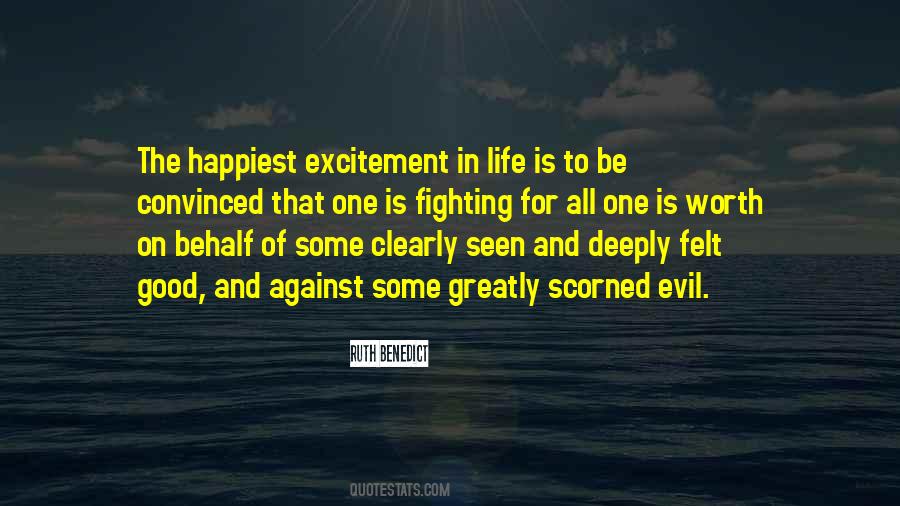 #87. We should not be simply fighting evil in the name of good, but struggling against the certainties of people who claim always to know where good and evil are to be found. - Author: Tzvetan Todorov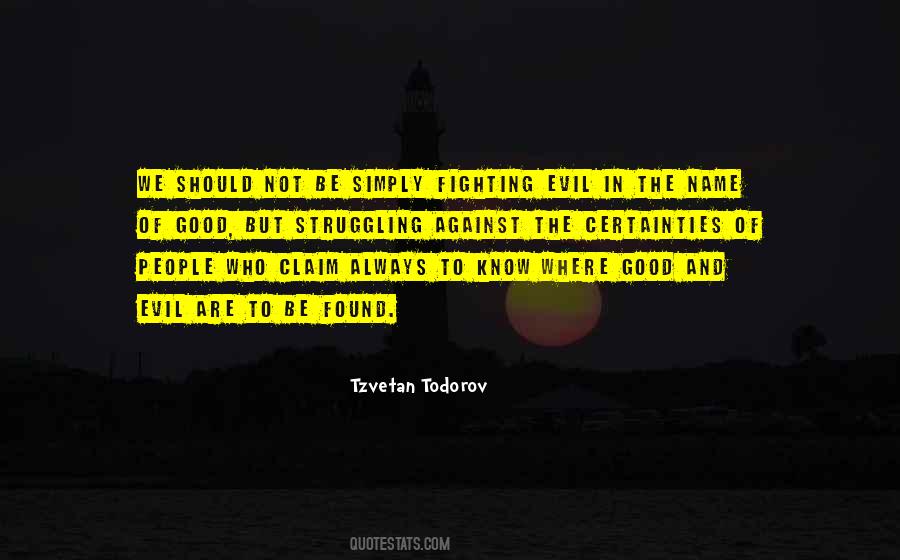 Famous Authors
Popular Topics