Feeling Lonely Famous Quotes & Sayings
List of top 100 famous quotes and sayings about feeling lonely to read and share with friends on your Facebook, Twitter, blogs.
Top 100 Quotes About Feeling Lonely
#1. When you're feeling down, sad, lonely, negative, you don't want to take care of yourself - and the weight problem and the diabetic problem and the heart attack and stroke problems and high cholesterol set in. - Author: Richard Simmons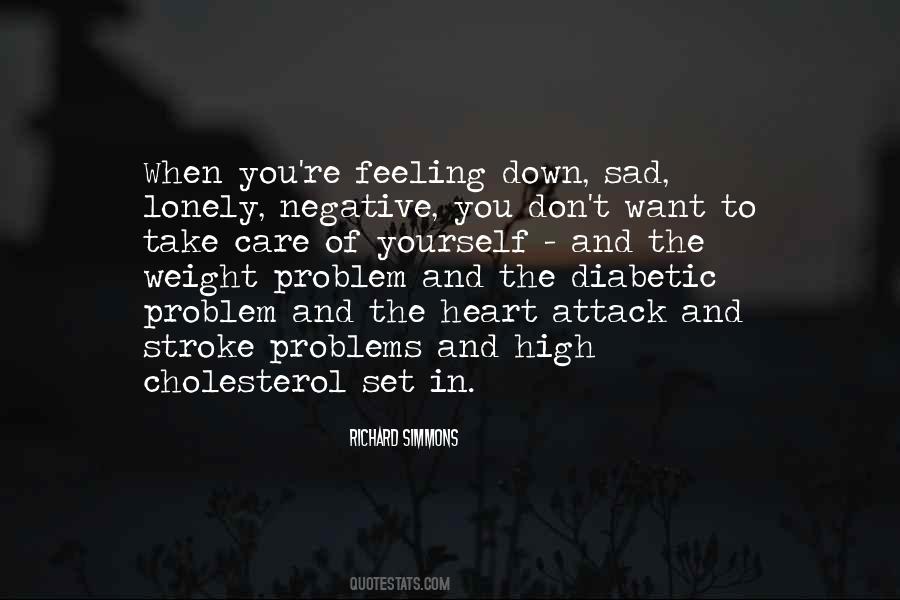 #2. When I'm feeling sad, or lonely, and I don't know what I'm doing and I don't know where I'm going, I imagine the Cool Awesome Future Version of Myself just telling my present self, "It's okay. You just gotta grab that giraffe by the ears and ride it on out." - Author: Jenna Marbles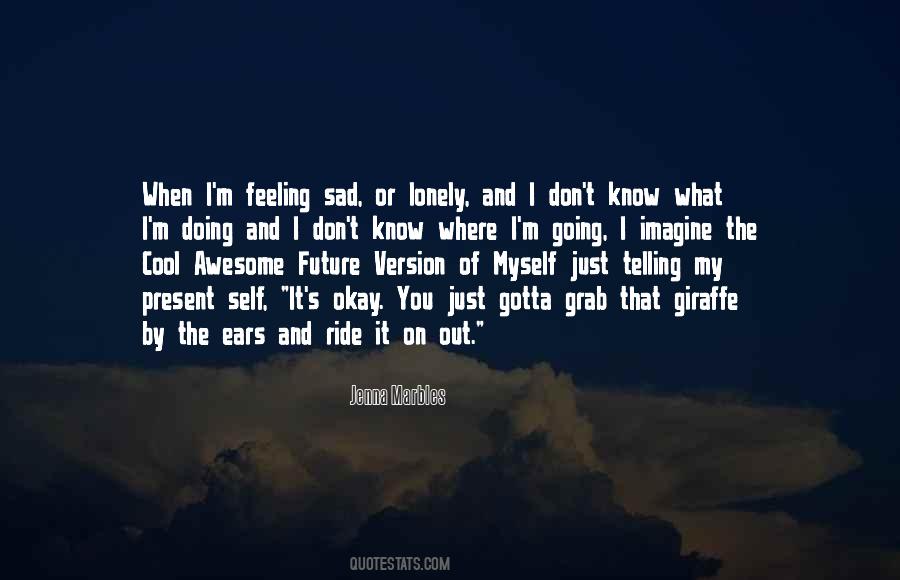 #3. The capacity for not feeling lonely can carry a very real price, that of feeling nothing at all. - Author: Douglas Coupland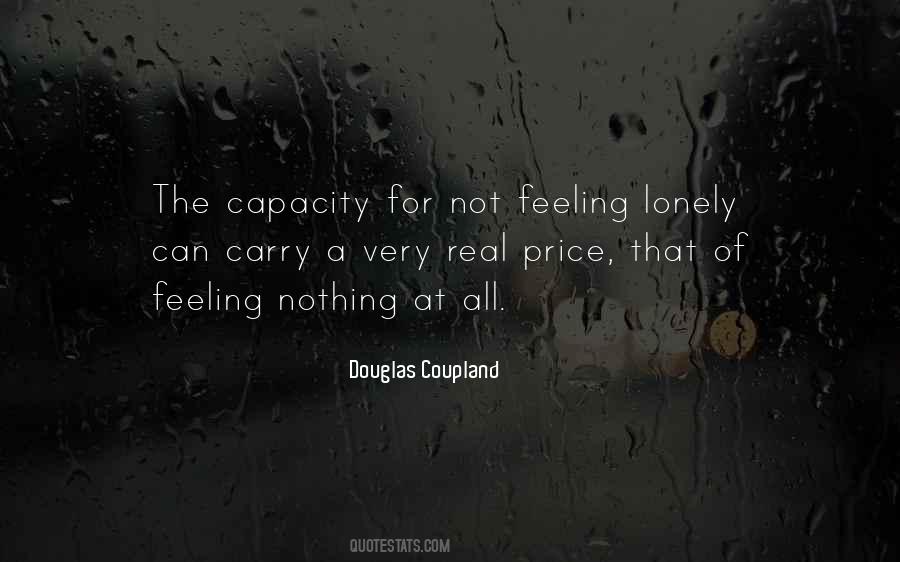 #4. Every time a child organizes and completes a chore, spends some time alone without feeling lonely, loses herself in play for an hour, or refuses to go along with her peers in some activity she feels is wrong, she will be building meaning and a sense of worth for herself and harmony in her family. - Author: Barbara Coloroso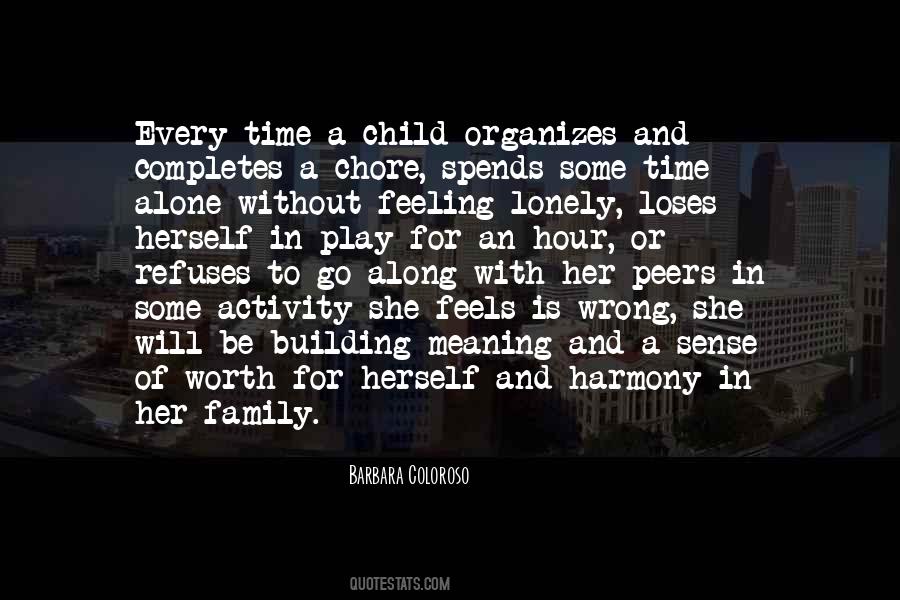 #5. I cry when I'm lonely. Reiko says it's good I can cry. But feeling lonely really hurts. - Author: Haruki Murakami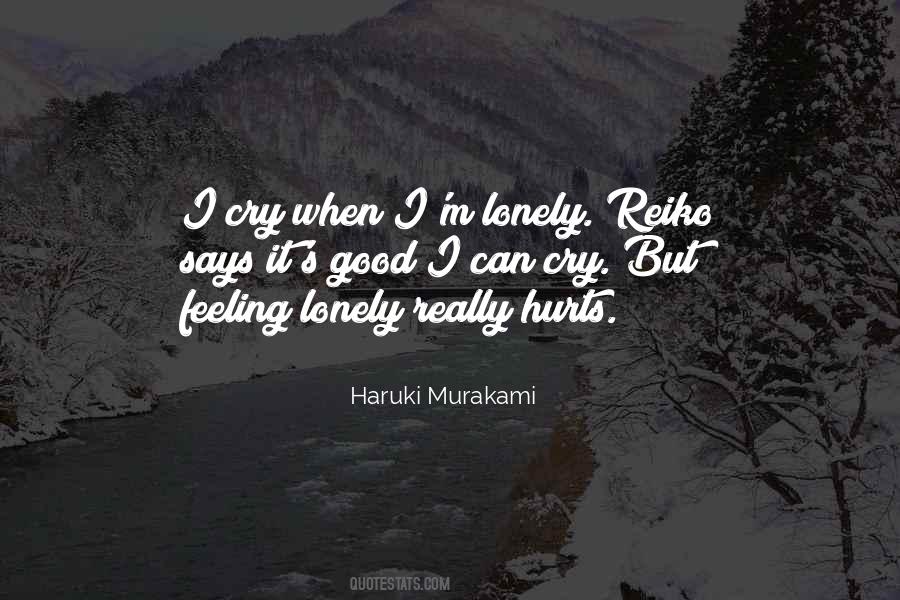 #6. Loneliness can't be seen. It's a worse feeling that can only be felt, We experience a lots of feeling in our life but loneliness is such a feeling that kills us from inside yet we can't help it. We only see our self being destroyed day by day,yet nothing to do. - Author: Debolina Bhawal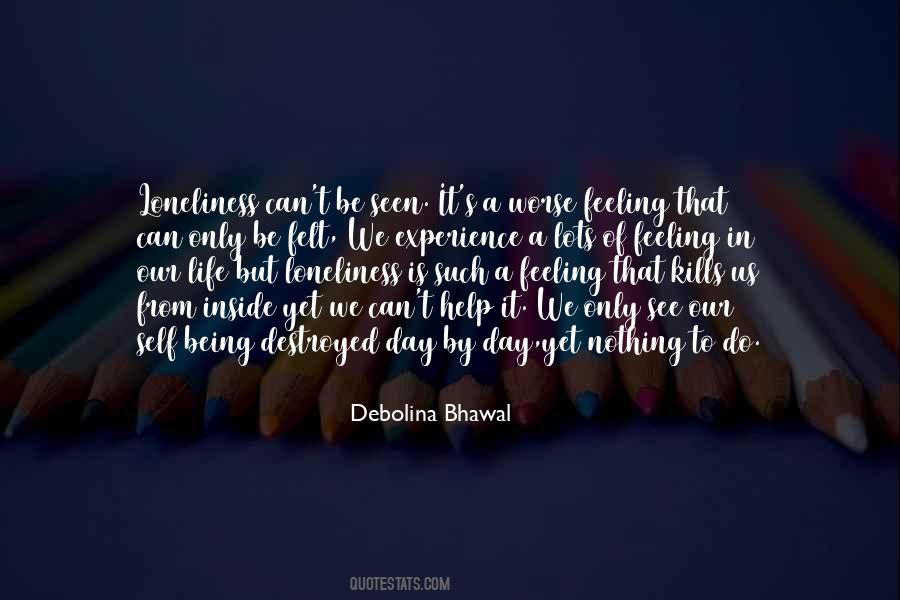 #7. When our heart is closed, it can create a lonely and isolated feeling together with the attitude: "Nobody loves me" or "Nobody cares about me", which can make it hard for other people to love us. - Author: Swami Dhyan Giten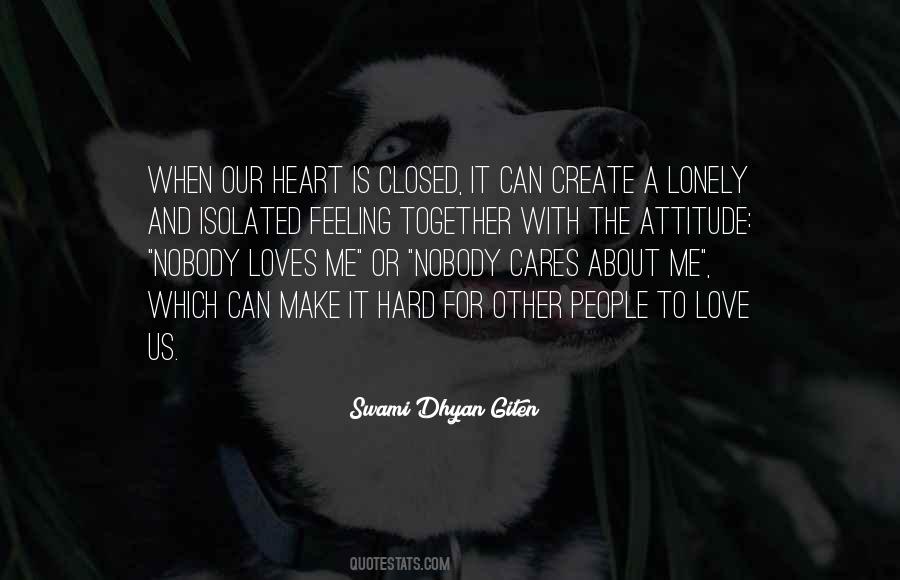 #8. Don't kill yourself just because you think and feel you are empty. God needs empty vessels to fill! - Author: Ernest Agyemang Yeboah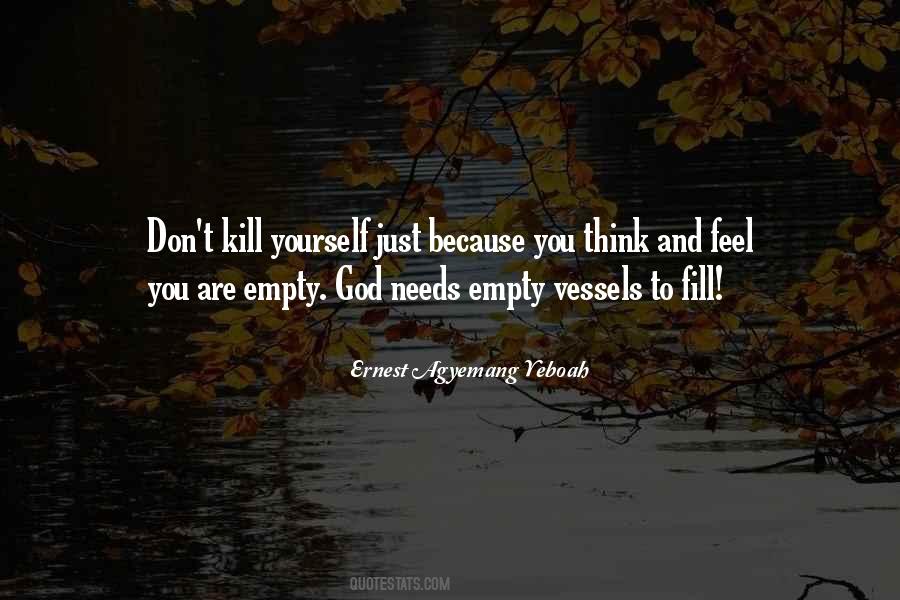 #9. Please, no one touch my heart. Don't touch it. Don't notice anything. No one has to know what my heart is feeling. I decided that I wouldn't turn back. That's why I threw everything away. So, don't you ever say, I'm lonely. - Author: Arina Tanemura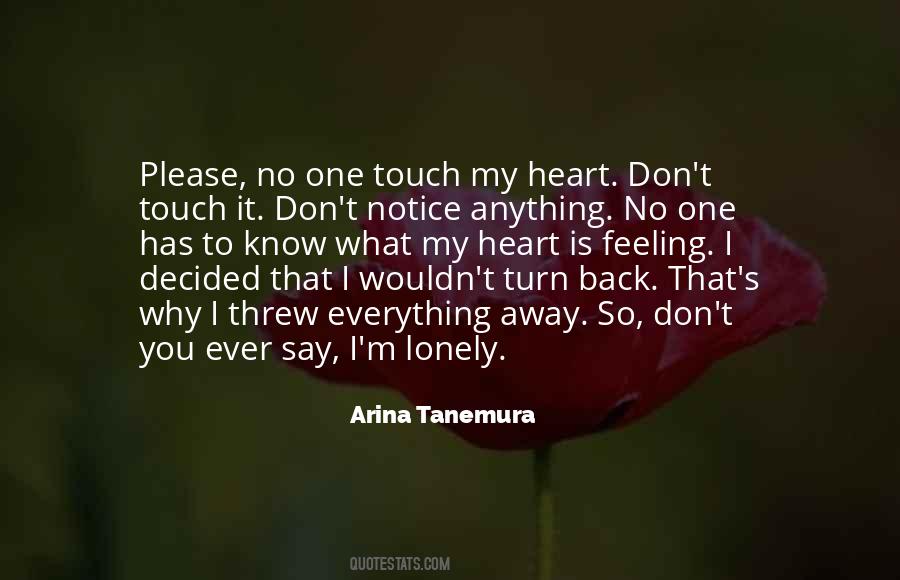 #10. Which is to say, I'd been lonely for so long, I'd forgotten that I was.
That feeling of disconnection, of grief for something I'd never had, of screaming into a void and knowing no one would hear me
I'd forgotten that was anything other than the basic condition of life. - Author: Robin Wasserman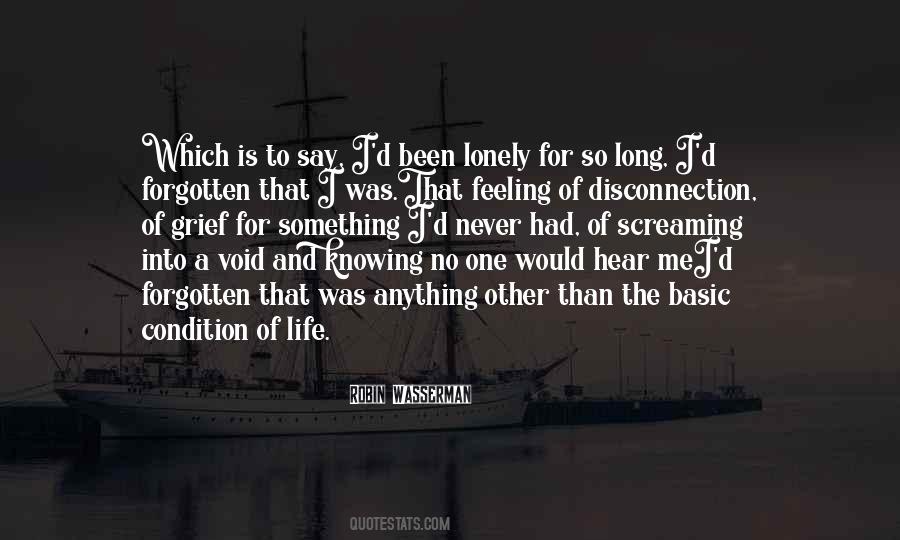 #11. There are people who like to be alone without feeling lonely at all. - Author: Toba Beta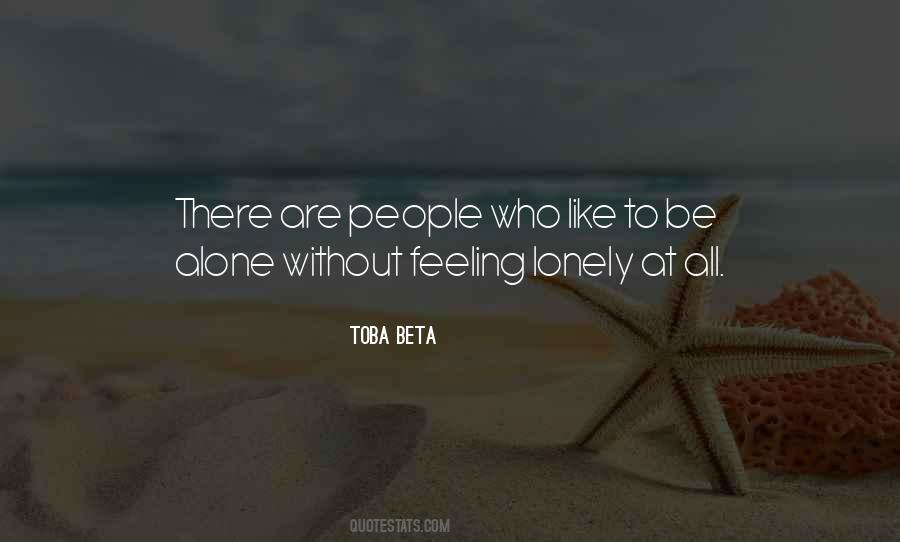 #12. You can sit up here, feeling above it all while knowing you're not, coming to the lonely conclusion that the only thing you can ever really know about anyone is that you don't know anything about them at all. - Author: Jonathan Tropper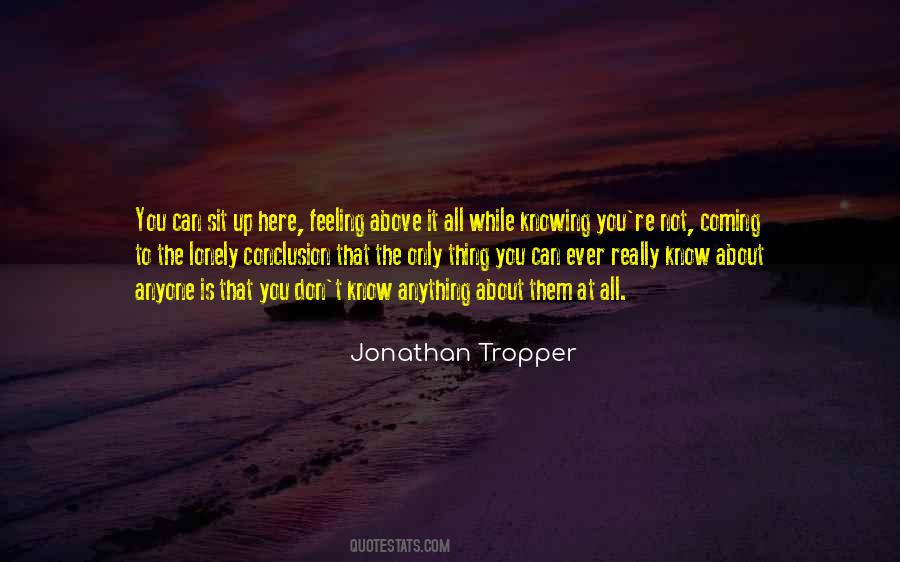 #13. Guilt. A painful, lonely feeling. It seeps into your pores slowly as you go through life day by day. Like a disease, it blackens your heart with thoughts and memories of what you did, or in my case, what you didn't do. - Author: Michele G. Miller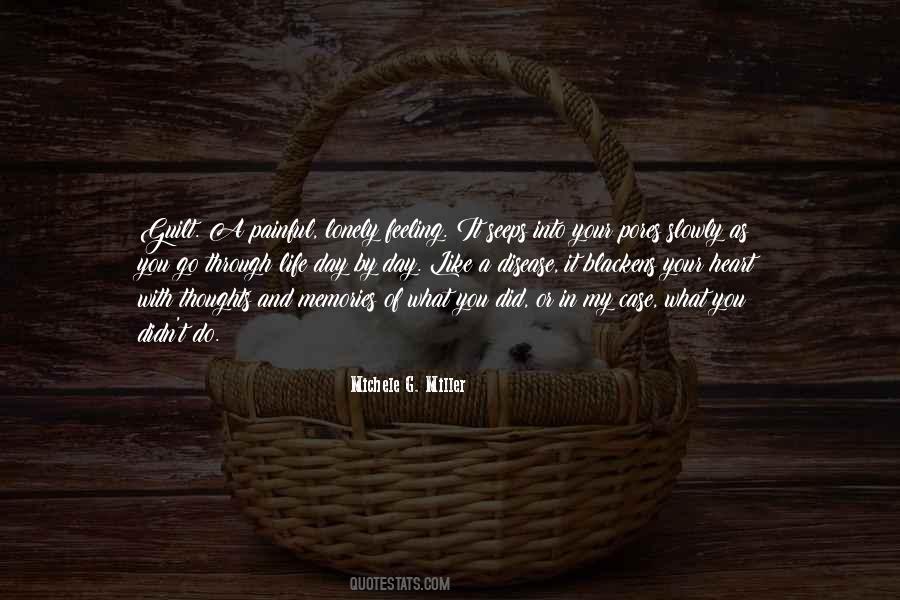 #14. I like the feeling of hunger for it reminds me of all those hundreds of months without you.

Missing you, thinking of you, like a friendly lonely thin tiger smelling the slip of a season into a new season. - Author: Waylon H. Lewis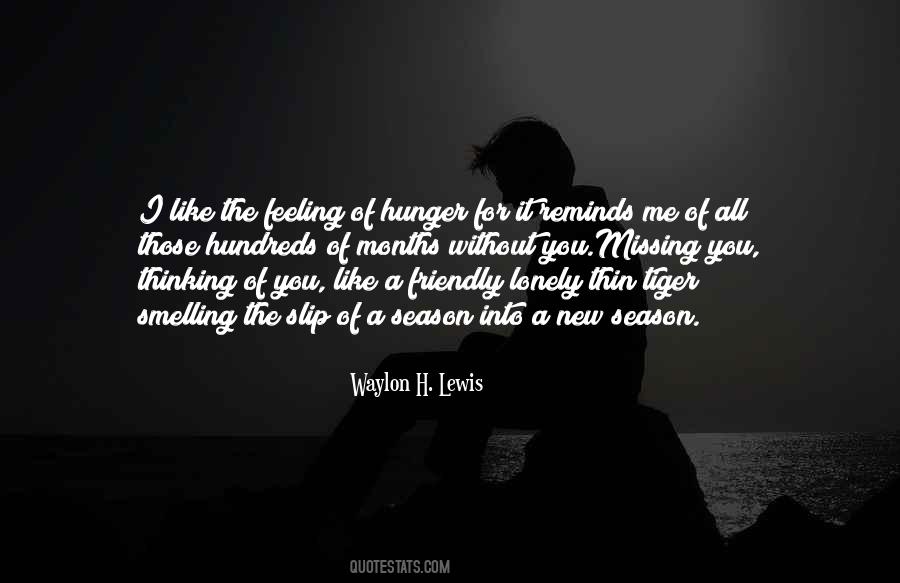 #15. If I'm feeling hurt, sad, lonely, depressed, and then I shame myself for feeling that, then that's a black hole for me. I really have worked a lot to meet pain with both gratitude and gentleness. - Author: Bellamy Young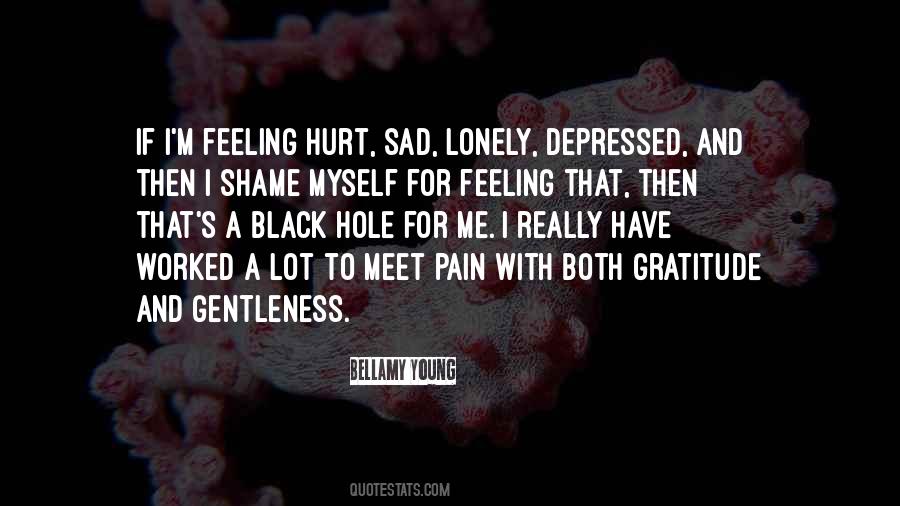 #16. I don't remember ever feeling lonely; in fact, on the rare occasions when I met other children I found their games and their talk far less interesting than the adventures and dialogues I read in my books. - Author: Alberto Manguel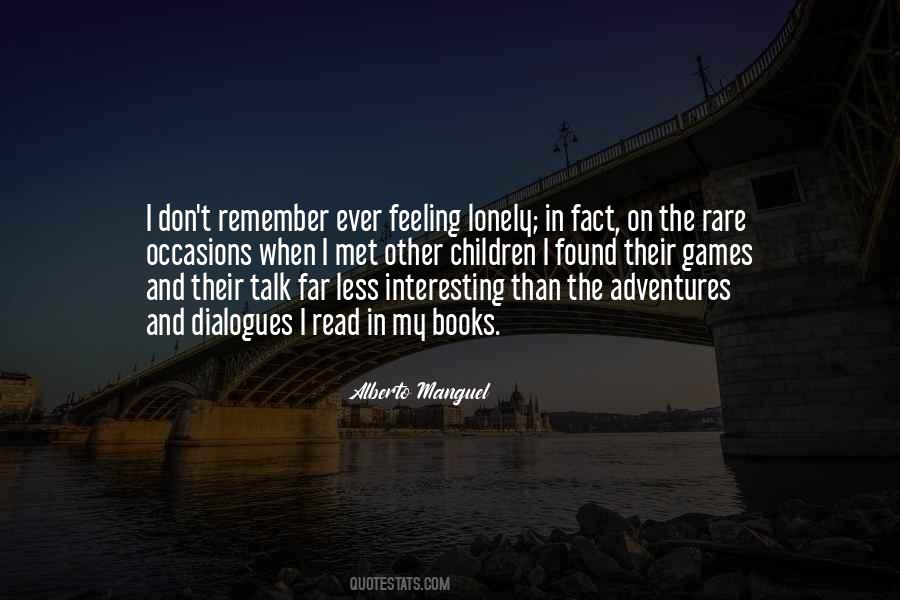 #17. Distrust brings frustration and fear. So therefore, the lonely feeling automatically come. So, lonely feeling is not creation of environment, but creation of your own mental attitude. - Author: Dalai Lama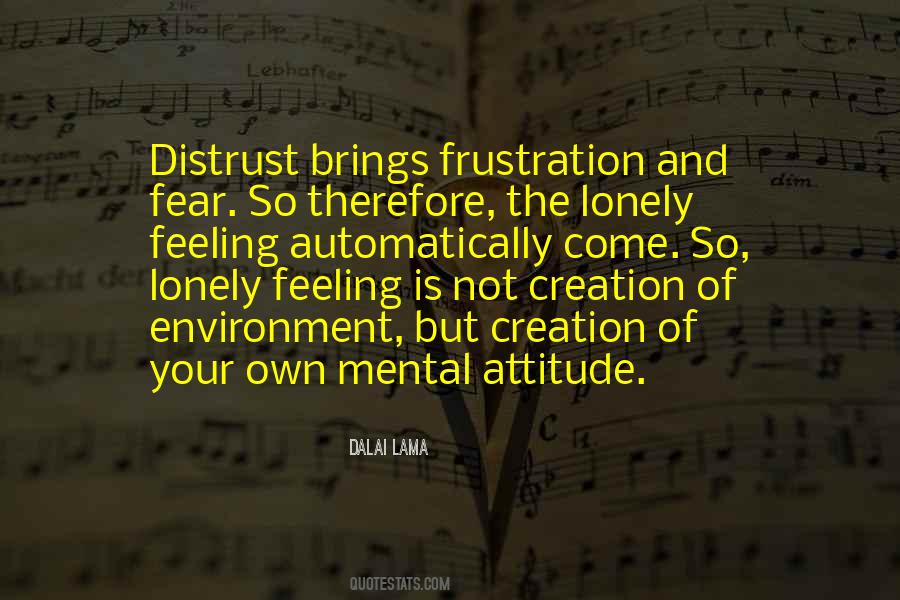 #18. Catching up on pictures of your good friend's kids ahead of a visit across the country to see her is a great way to deepen your time together. Following near-strangers can leave us feeling detached and lonely. - Author: Michelle Gielan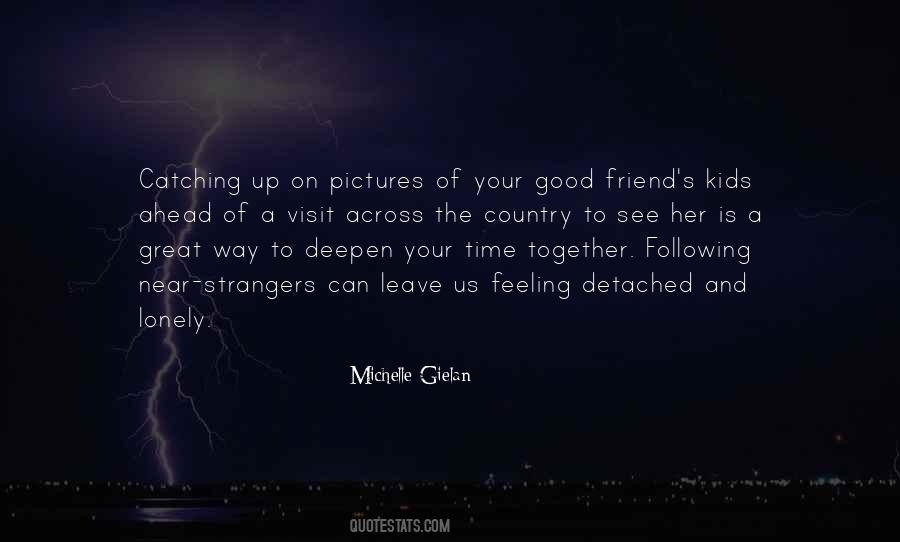 #19. Hanging with people who make you feel unappreciated, for the mere sake of appearing to be popular, is the loneliest place to be. - Author: Ellen J. Barrier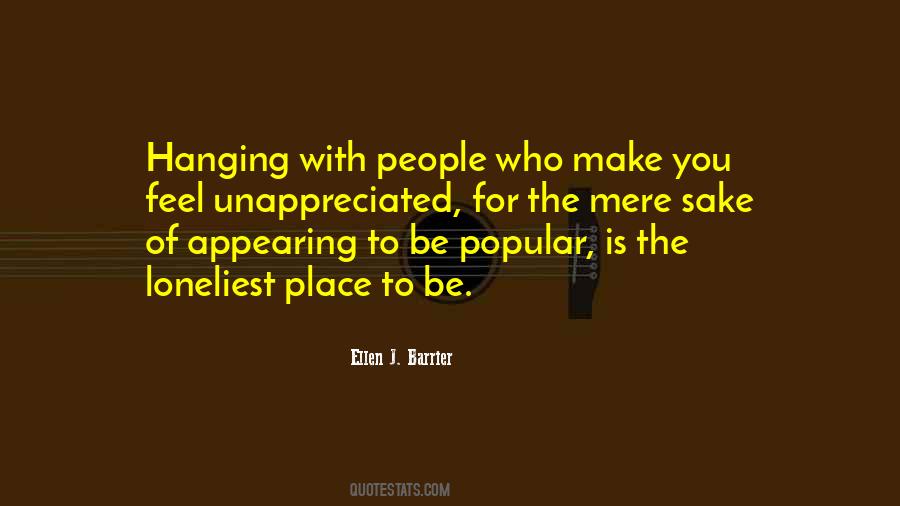 #20. A big part of depression is feeling really lonely, even if you're in a room full of a million people. - Author: Lilly Singh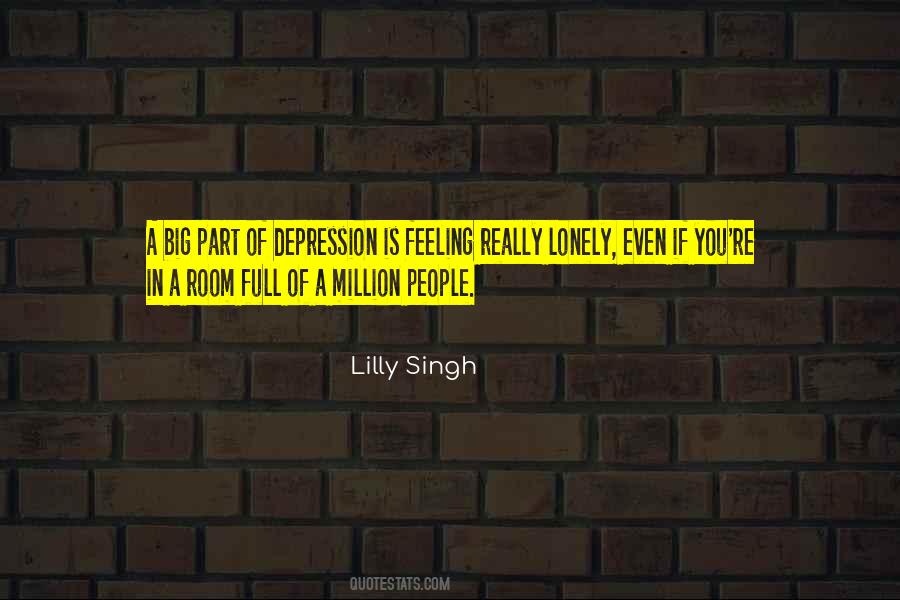 #21. Honestly, he blamed Jace and Colt for that little nagging feeling in his heart that insisted something was missing. Was he lonely? Hell, he didn't know. - Author: Kindle Alexander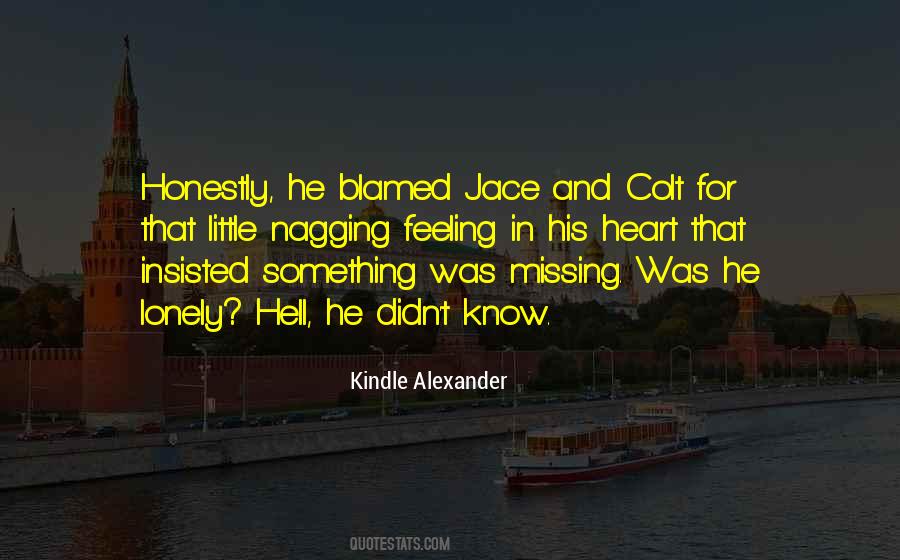 #22. If I exist, then surely there must be someone else out there like me. - Author: Joyce Rachelle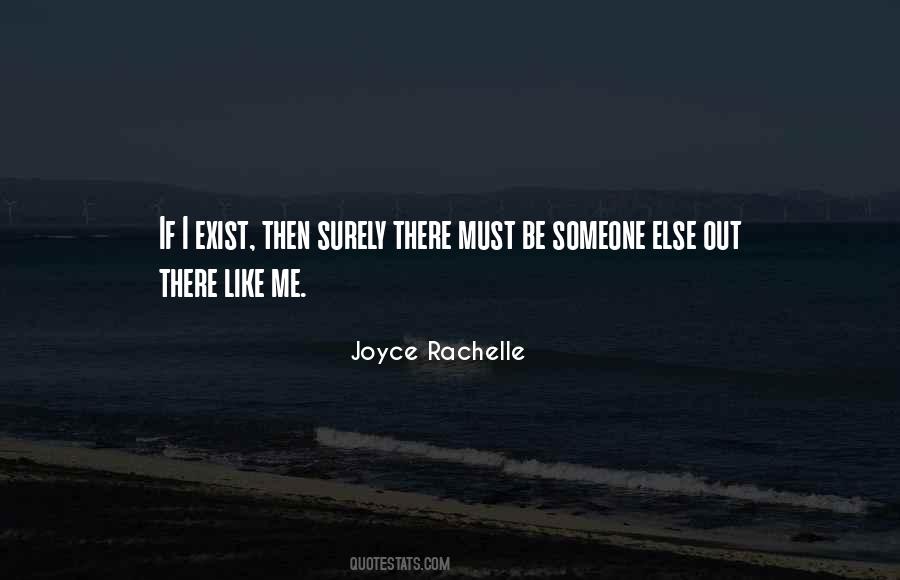 #23. Loneliness is designed to help you discover who you are ... and to stop looking outside yourself for your worth. - Author: Mandy Hale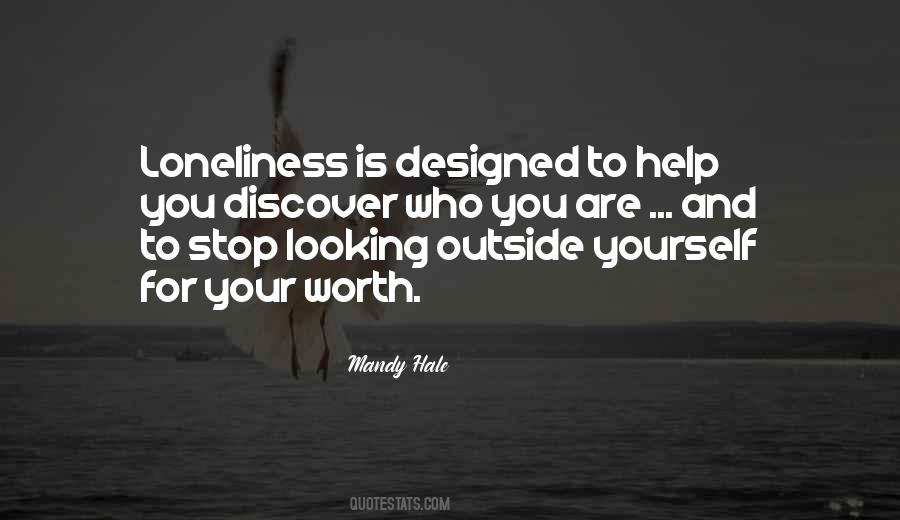 #24. When you feel that you are a lonely, put-upon, isolated little stranger confronting all this, you are under the influence of an illusory feeling, because the truth is quite the reverse. You are the whole works, all that there is, and always was, and always has been, and always will be. - Author: Alan Watts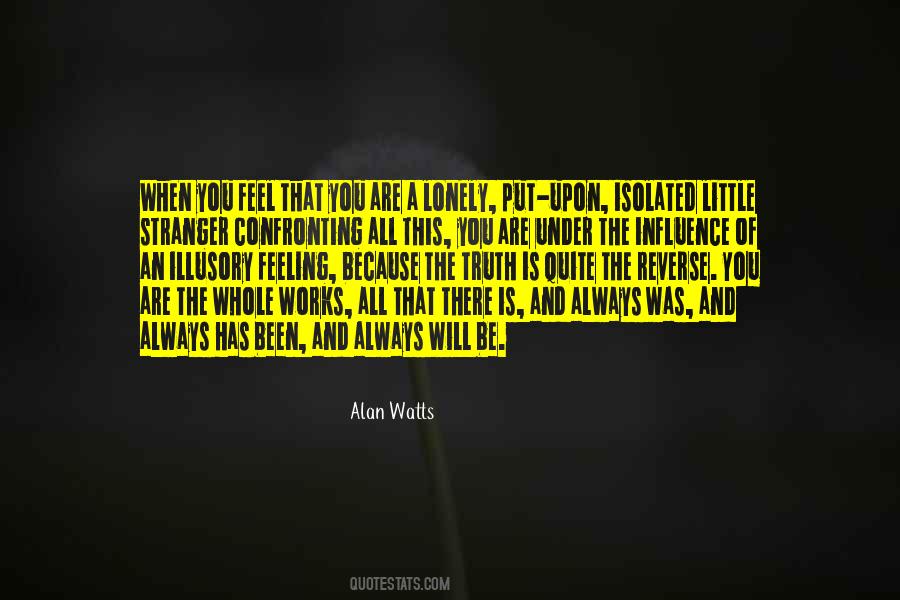 #25. That clean but lonely feeling when there are no other cars. The traffic lights changing just for you. - Author: Don DeLillo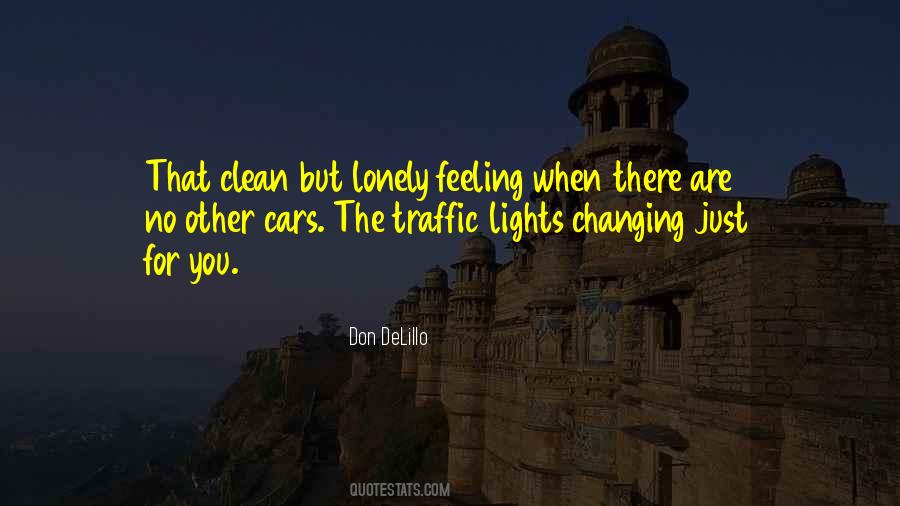 #26. Too much to ask for may leave me feeling lonely. Too little leaves me nothing. - Author: Lisa Loeb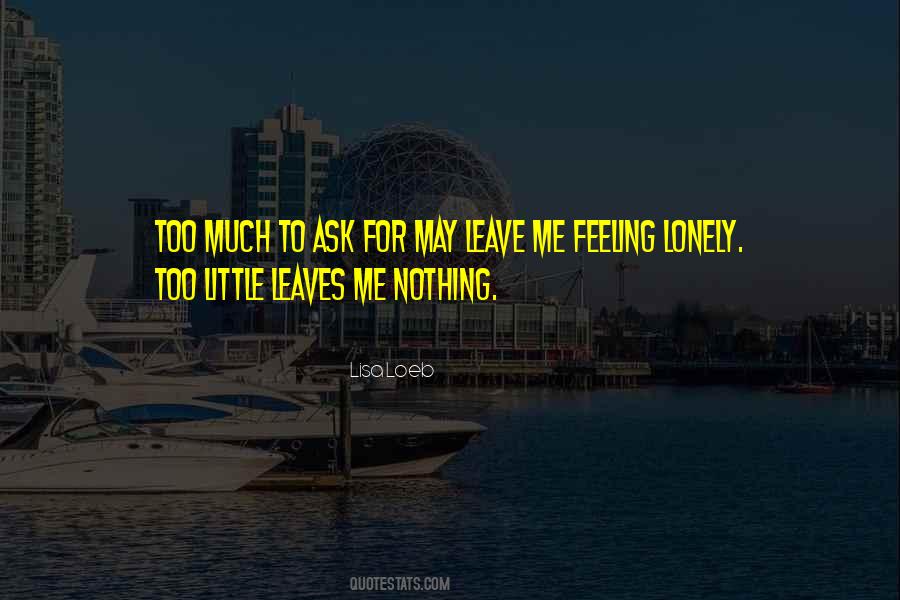 #27. In truth, feeling love from a distance is just lonely. Maybe even worse than no love at all, because it feels so unnatural. - Author: Amanda Palmer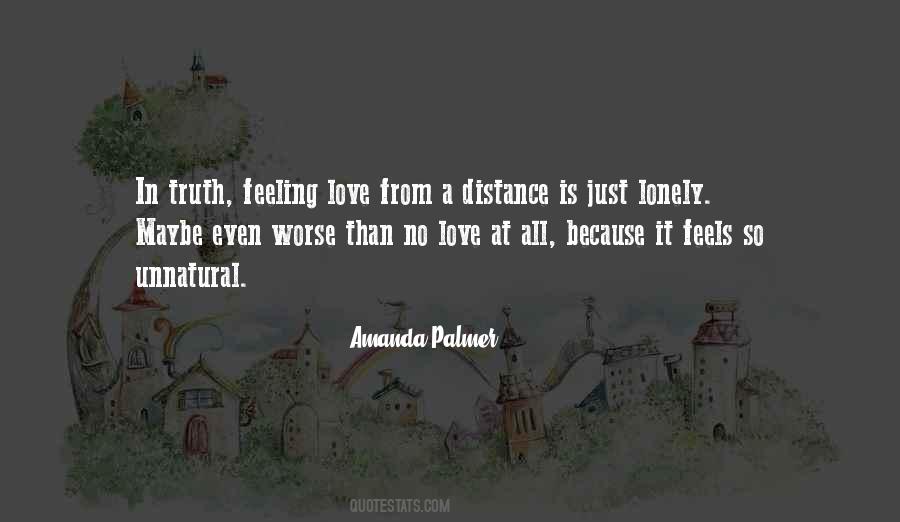 #28. Feeling lonely? Wish you had a special someone to help fill the void? Reconsider your definition of romance, reconnect to your passions and be swept away. - Author: Gina Greenlee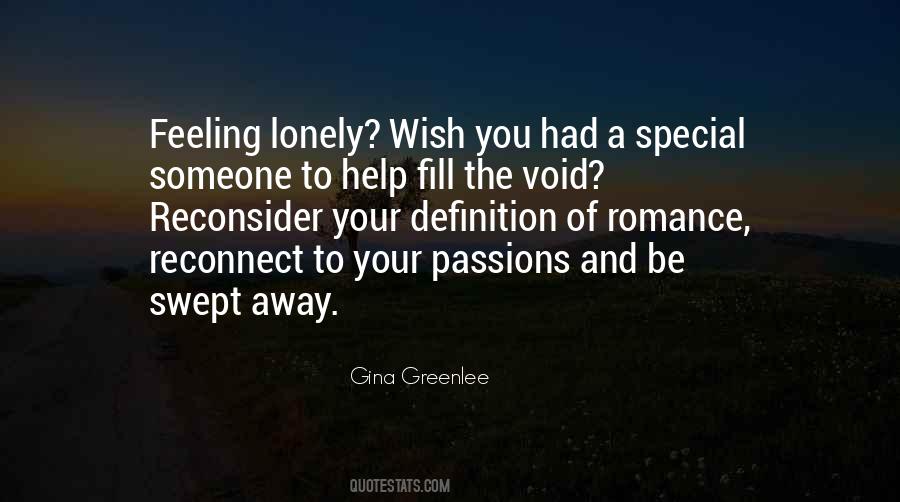 #29. When I was younger, many of my romantic escapades were just a means of simply avoiding being by myself. I was afraid of feeling lonely, afraid I wouldn't know what to say to myself. - Author: Michael Zaslow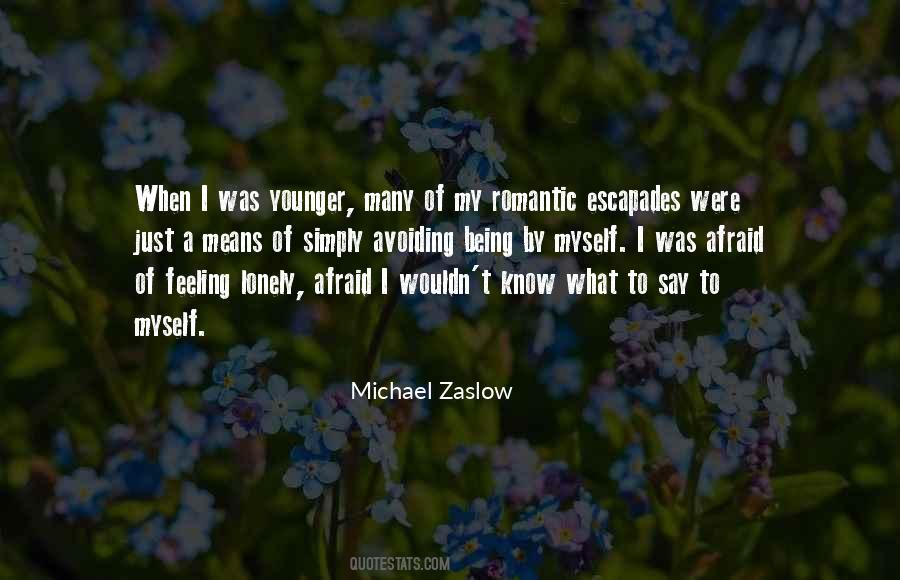 #30. I was aware that I was acting atrociously but I couldn't stop myself. Rarely had I behaved in such a manner. But I guess when we're feeling lonely in life, we attack those who actually do love us. It's one of the things that characterizes human nature and can be summed up in one word: FLAWED. - Author: Jonathan Ames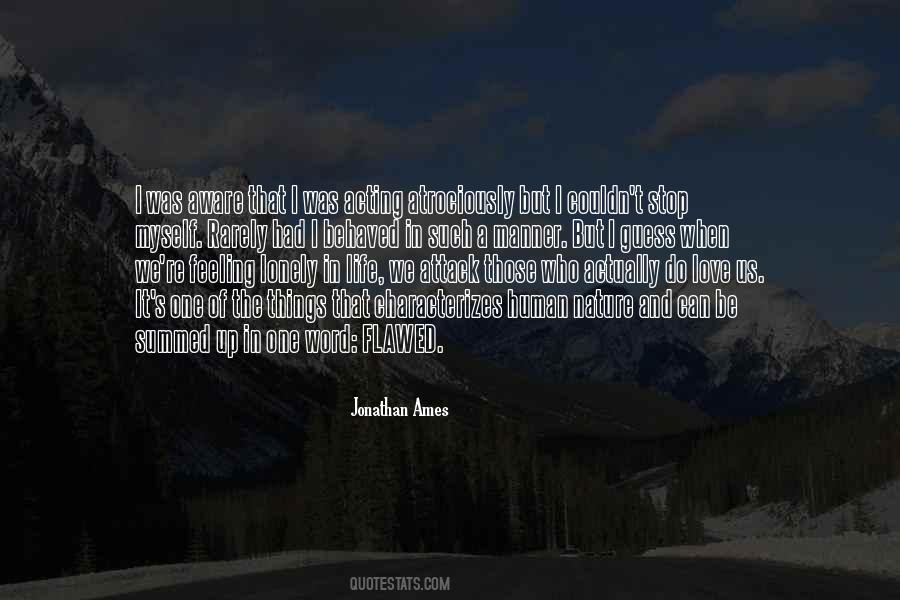 #31. I lack formal education. So I'm left with the feeling that I'm smarter than everyone around me but that if I ever got around really smart people - people who went to universities and drank wine and spoke Latin - that they'd be bored as hell by me. It's a lonely way to go through life. - Author: Gillian Flynn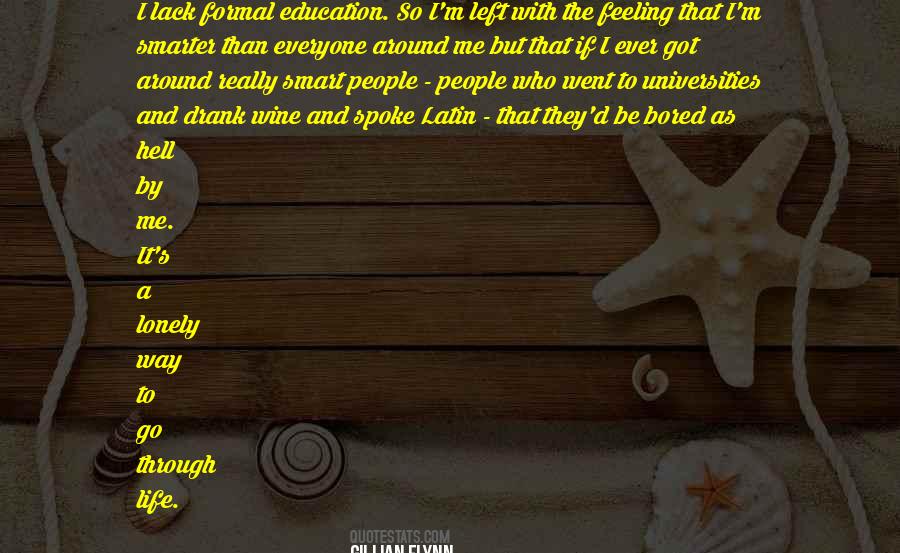 #32. All right, that was my moment with loneliness. I'm not afraid of feeling lonely, but now I'm going to put that loneliness aside and know that there are other emotions in the world, and I'm going to experience them as well. - Author: Morrie Schwartz.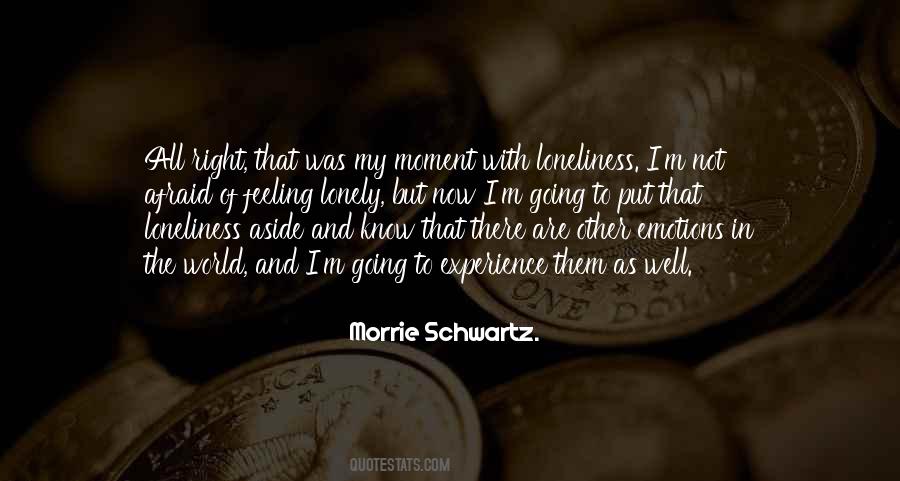 #33. Although I had savored my solitude, there was a big difference between enjoying time to myself and feeling lonely. I had no reason to feel lonely because Lord Krishna, my friend and ever well-wisher, was with me the entire time. - Author: Samita Sarkar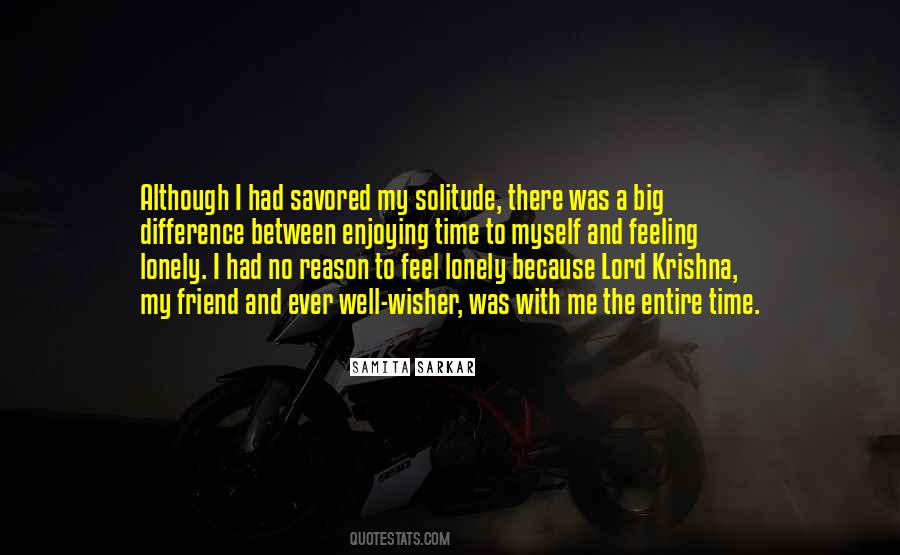 #34. I still think that the greatest suffering is being lonely, feeling unloved, just having no one ... That is the worst disease that any human being can ever experience. - Author: Mother Teresa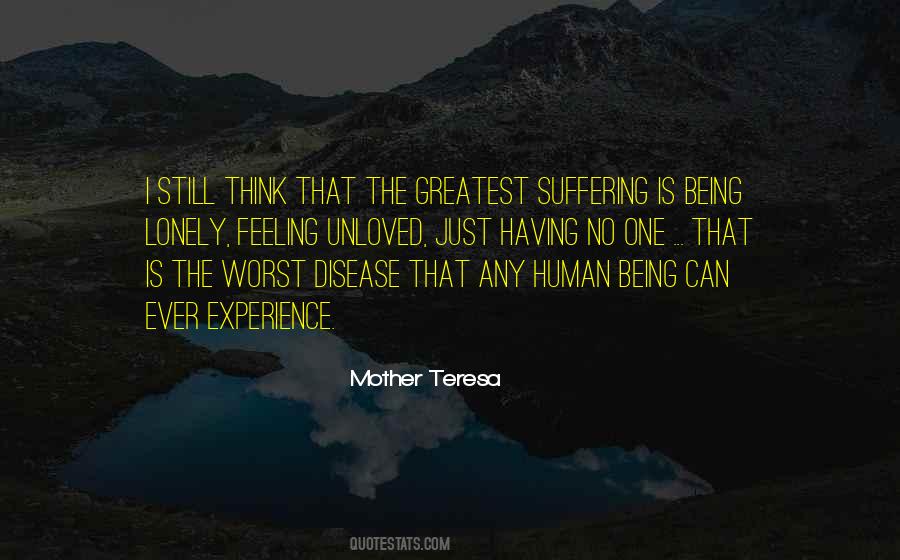 #35. I spend so much time living by myself - mostly in hotels - and I pick up cats when I'm feeling particularly lonely. - Author: Penelope Cruz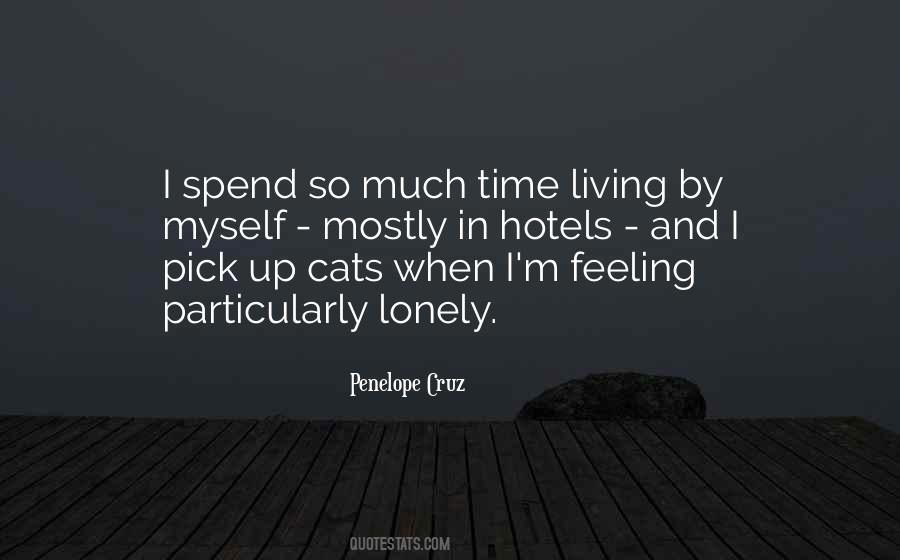 #36. Maybe I not need feeling lonely, because I can talk to other "me." Is like seeing my two pieces of lips speaking in two languages at same time. Yes, I not lonely, because I with another me. Like Austin Powers with his Mini Me - Author: Xiaolu Guo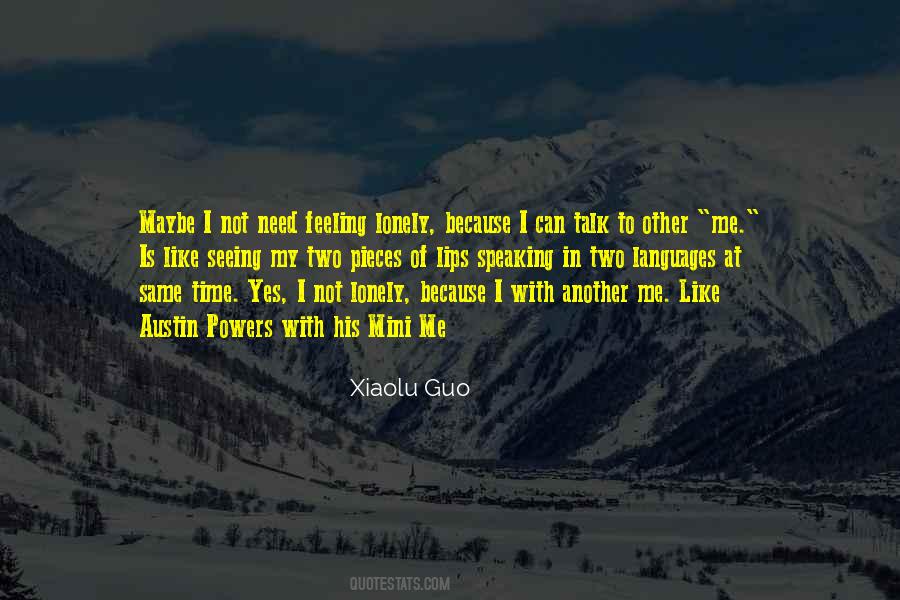 #37. One can experience loneliness in two ways: by feeling lonely in the world or by feeling the loneliness of the world. - Author: Emil Cioran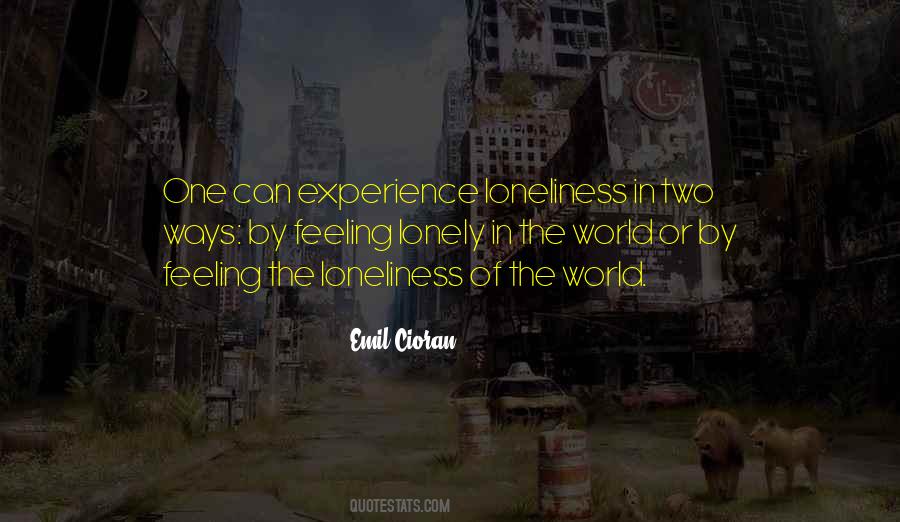 #38. The doctor asked me recently how I was feeling within myself, I replied, "absolutely fine doctor, but I'm terribly lonely without myself. - Author: Benny Bellamacina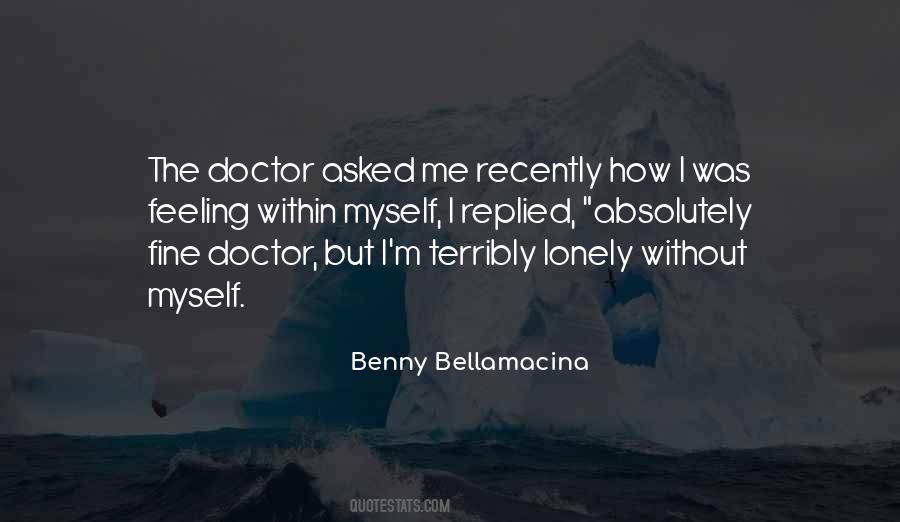 #39. Just like every other year, there's a kind of death in the air as the summer is squelched by autumn. It is a lonely feeling. - Author: Jessica Warman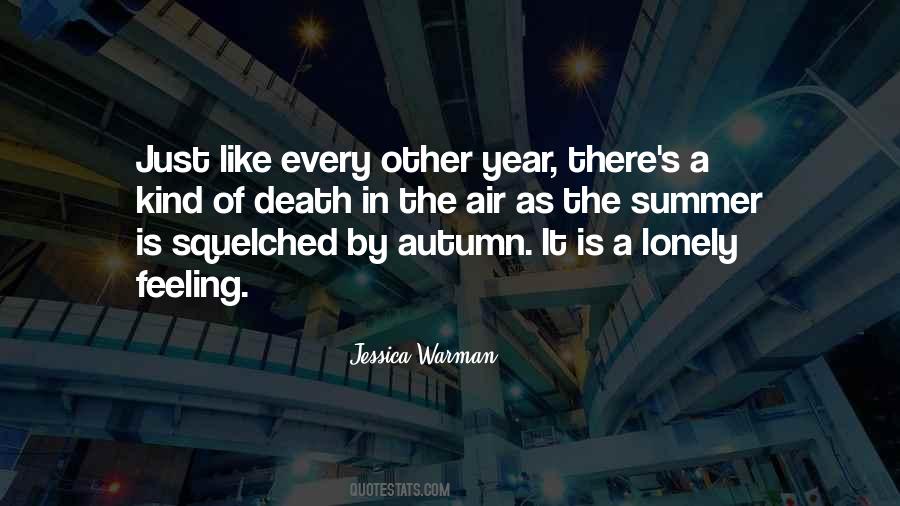 #40. Loneliness isn't a disease, it is only a moment to learn something better - Author: Ernest Agyemang Yeboah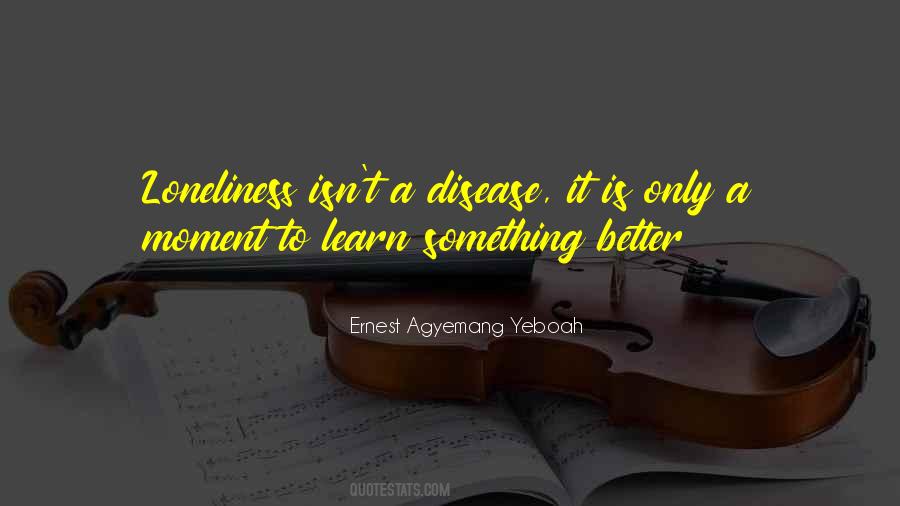 #41. Sometimes I feel so- I don't know - lonely. The kind of helpless feeling when everything you're used to has been ripped away. Like there's no more gravity, and I'm left to drift in outer space with no idea where I'm going'
Like a little lost Sputnik?'
I guess so. - Author: Haruki Murakami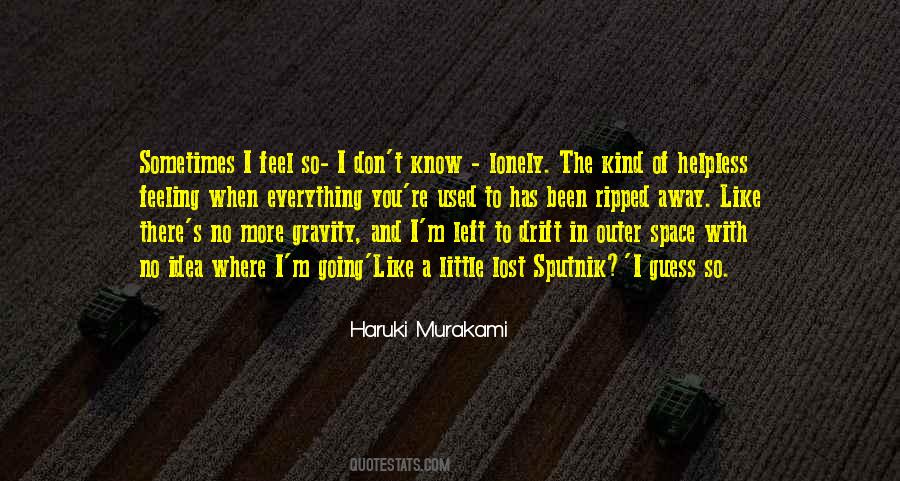 #42. I have a great support network - my family, my model agency Storm, and people I work with in the fashion industry. And, of course, there are all my followers on Twitter who stop me from feeling lonely; I love them all. They keep me grounded. - Author: Cara Delevingne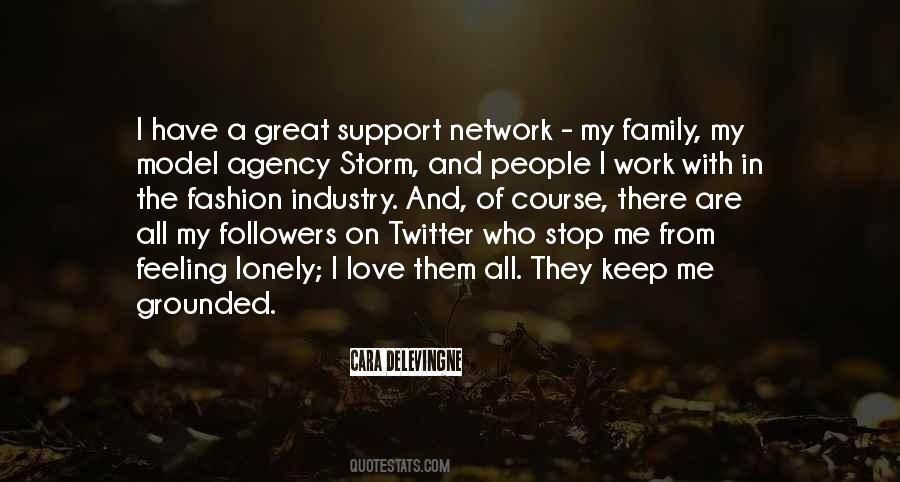 #43. Part of me wanted him to be awake, but the other part of me liked this quiet feeling of being both alone and not lonely. - Author: Maggie Stiefvater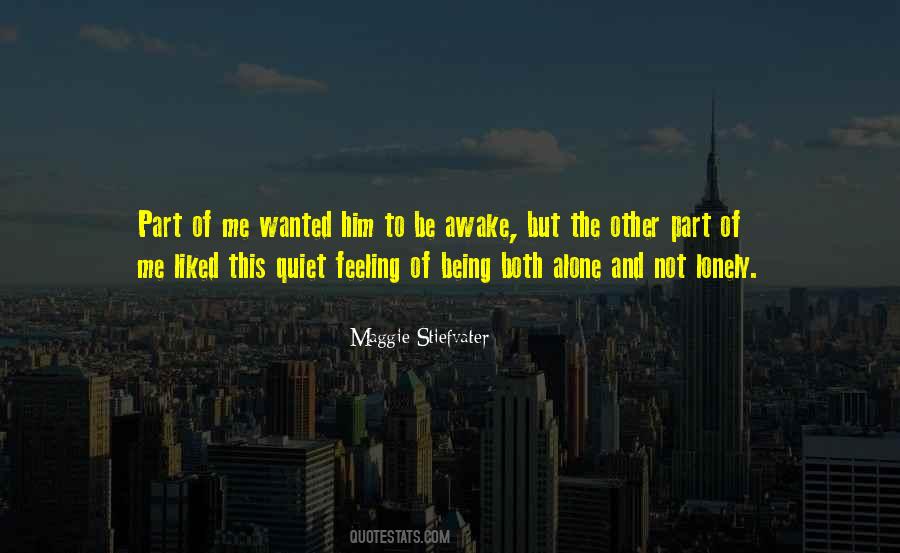 #44. The feeling that we are all neglected and lonely but not so lonely that "others" do not see us in trouble, saves us from the worst suffering. - Author: Albert Camus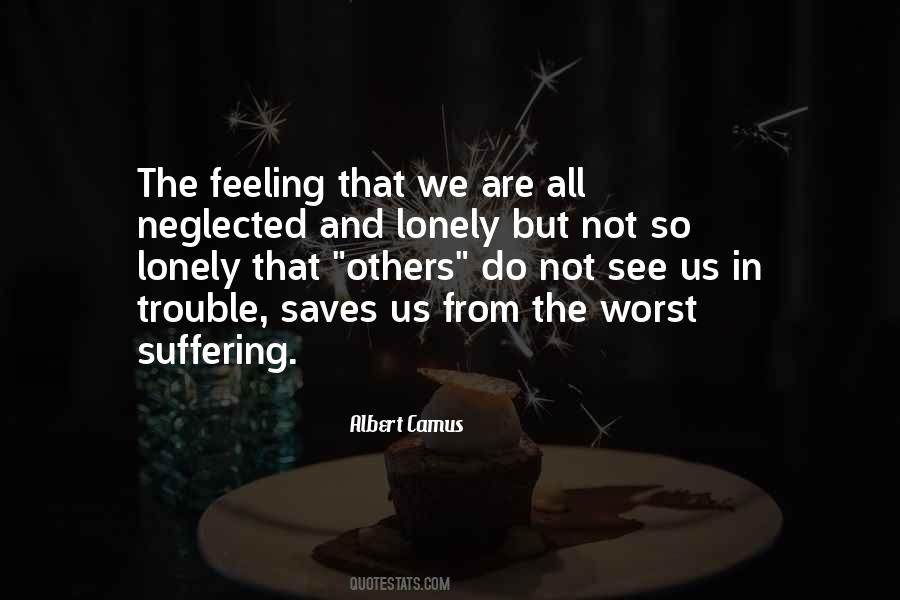 #45. Loneliness is a state of feeling that can be changed.
People may still feel lonely even among the crowd. - Author: Toba Beta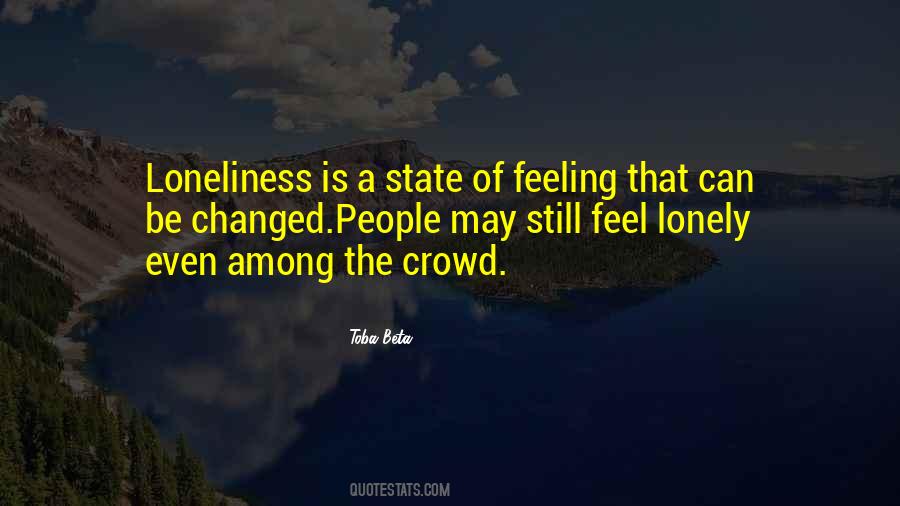 #46. Keep in mind that to avoid loneliness, many people need both a social circle and an intimate attachment. Having just one of two may still leave you feeling lonely. - Author: Gretchen Rubin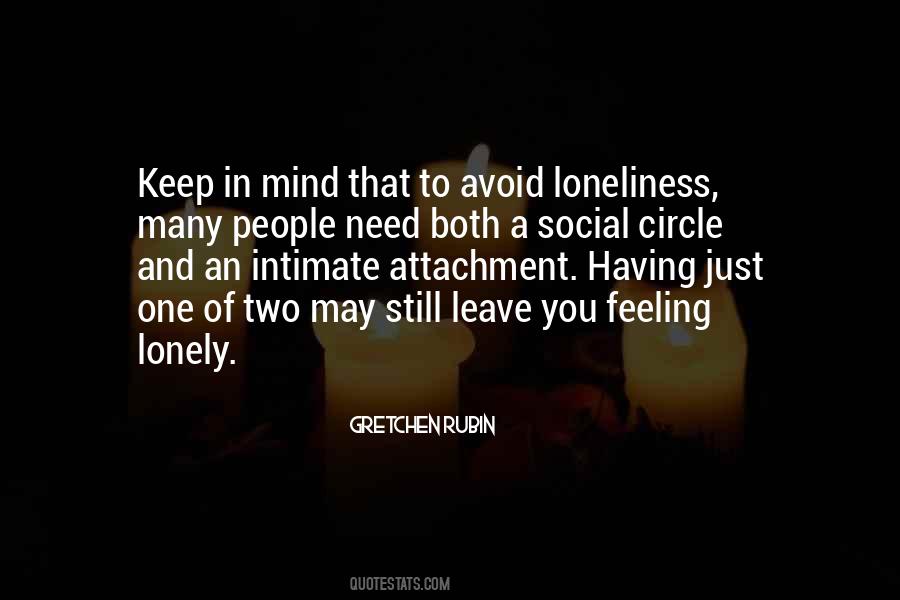 #47. I stood lonely enough, but to that feeling of isolation I was accustomed: it did not oppress me much. - Author: Charlotte Bronte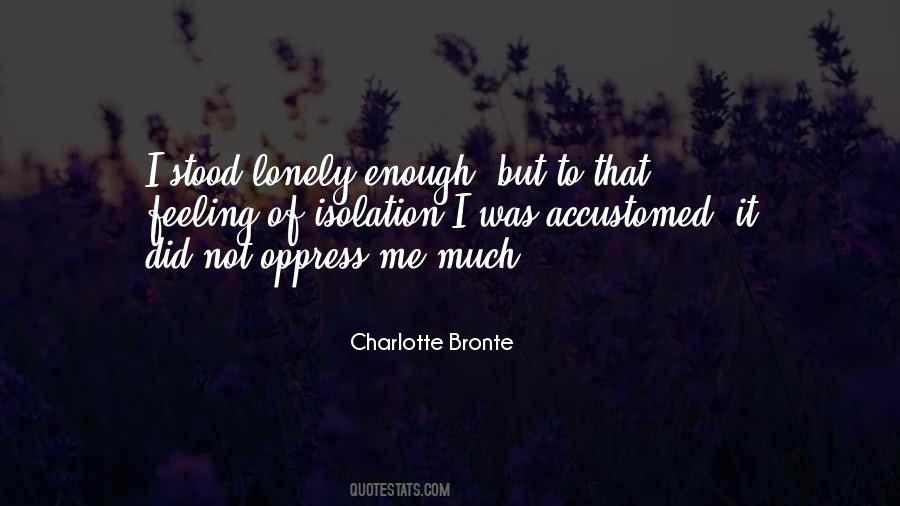 #48. I'm lonely. And I'm lonely in some horribly deep way and for a flash of an instant, I can see just how lonely, and how deep this feeling runs. And it scares the shit out of me to be this lonely because it seems catastrophic. - Author: Augusten Burroughs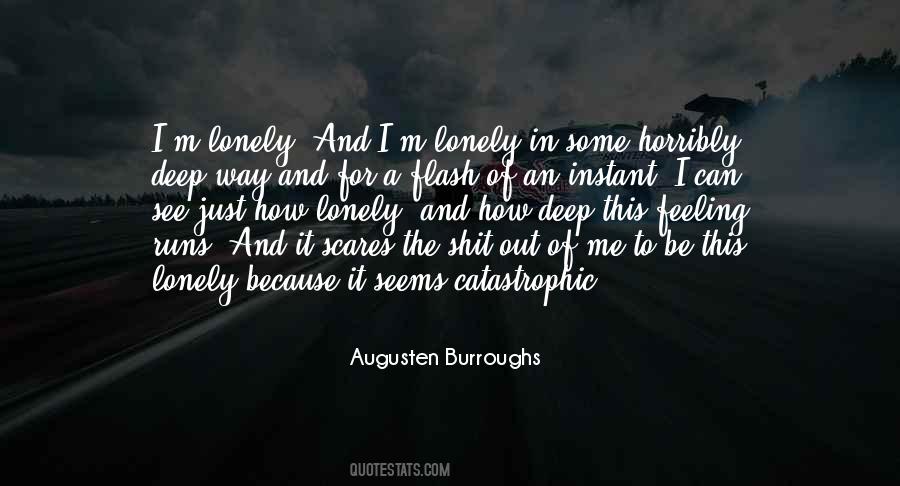 #49. See, that's the thing about L.A. - When you've mastered the art of feeling lonely in a room full of people, that's when you know. - Author: Kris Kidd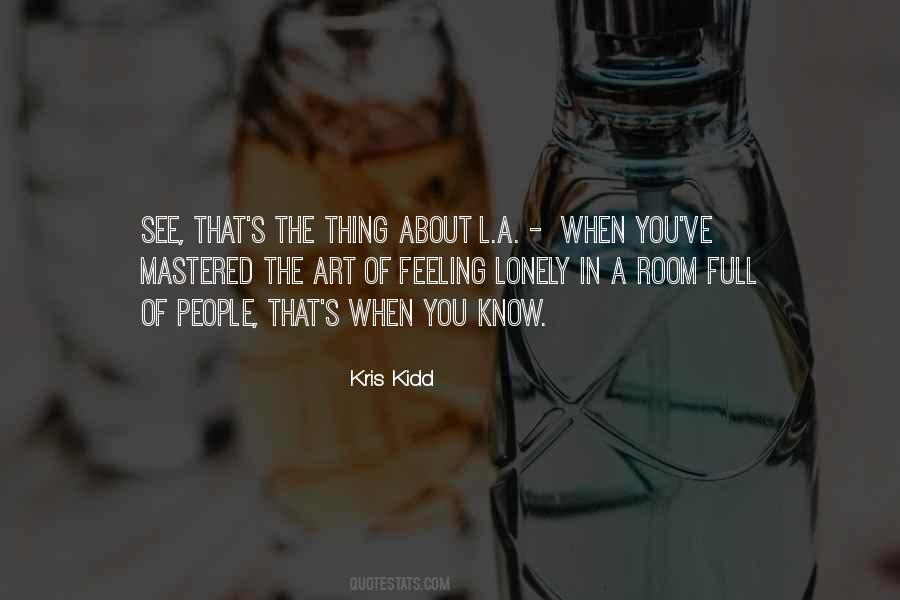 #50. Trust Me. Life is not worth living feeling sad and down and lonely. Always be true to who you are. - Author: Jessie J.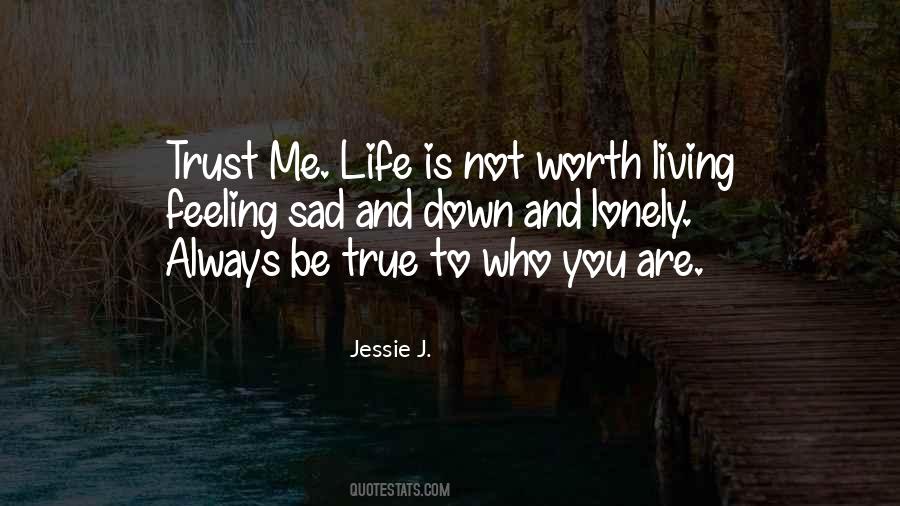 #51. David thought books existed to stop you from feeling lonely. - Author: David Lipsky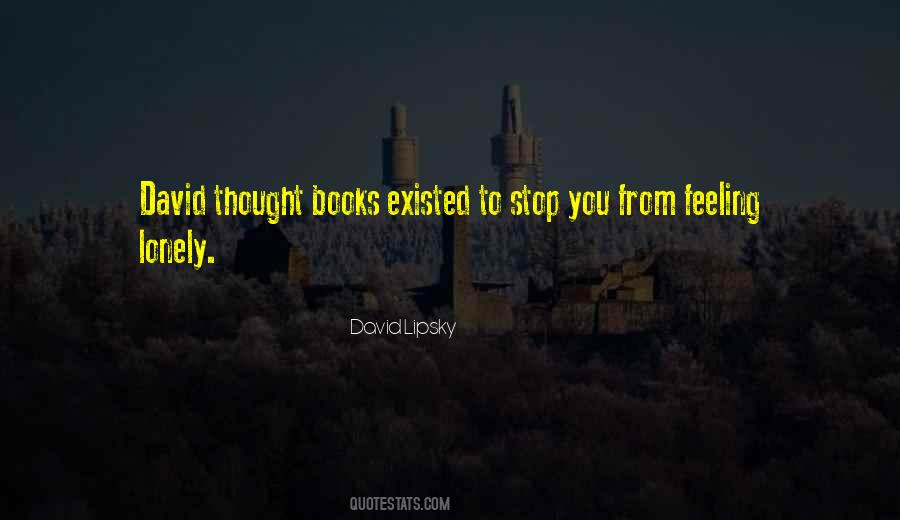 #52. If your name isn't known, then it's a very lonely feeling. - Author: Madeleine L'Engle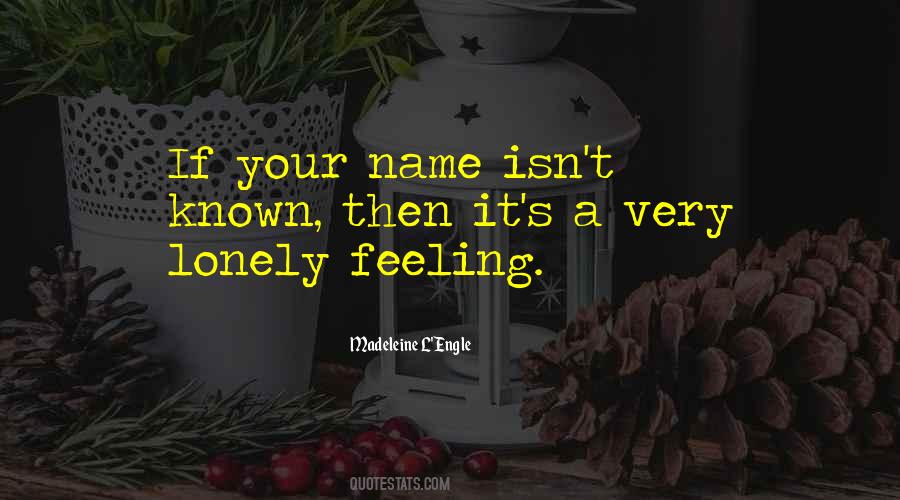 #53. I'm so lost without you. Feeling lonely, scared & cold. I'm so lost without you. Tell me baby, when are you coming home? - Author: Roch Voisine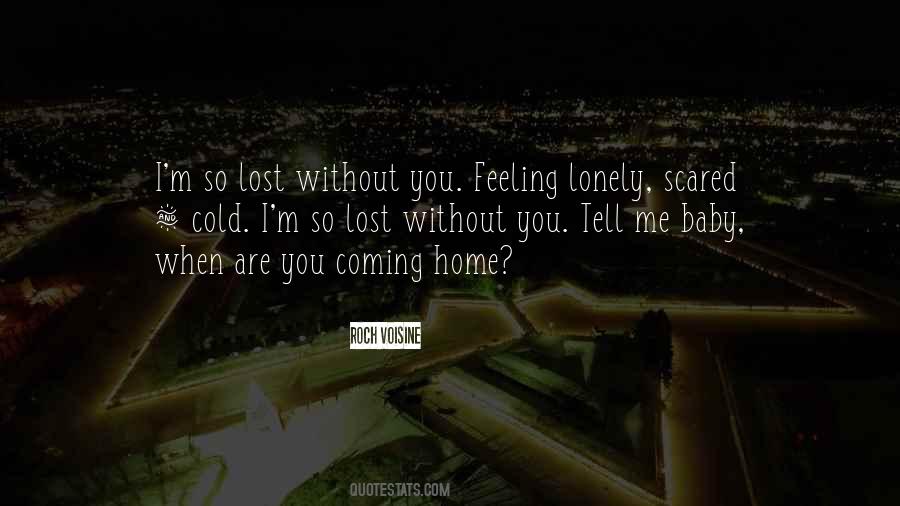 #54. I'm full of restlessness. Not lonely, exactly - my head is racing with ideas. But it is that old treacherous feeling that real life is happening somewhere else, and I'm left out. - Author: Helen Garner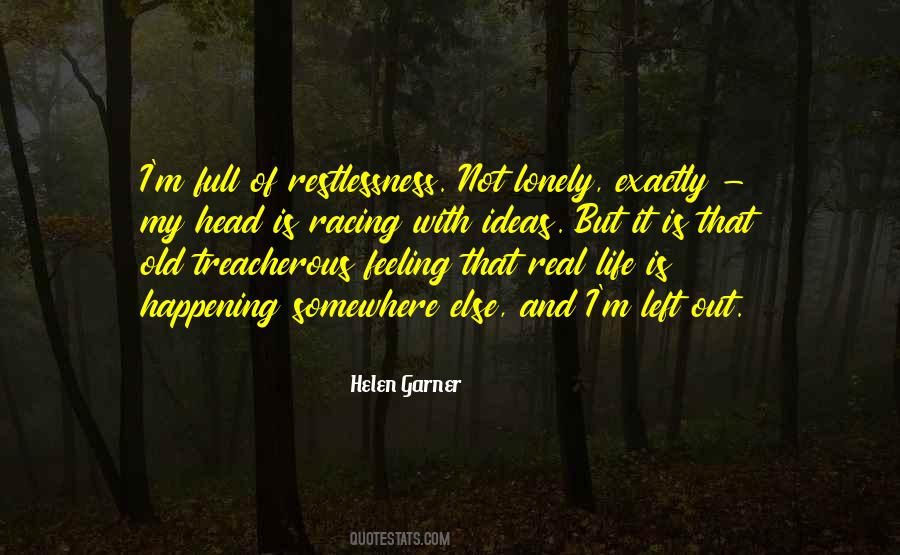 #55. I was feeling lonely without her, but the fact that I could feel lonely at all was consolation. Loneliness wasn't such a bad feeling. It was like the stillness of the pin oak after the little birds had flown off. - Author: Haruki Murakami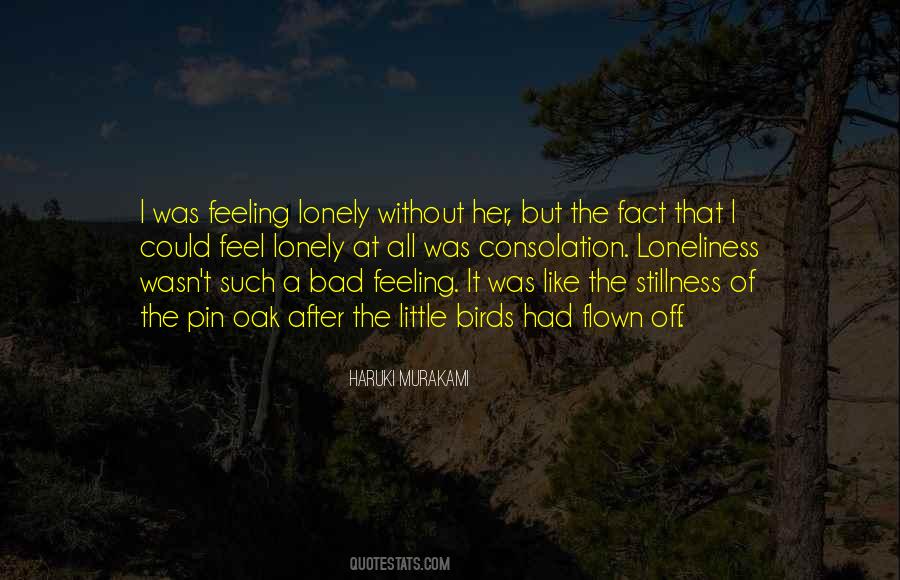 #56. Whenever you're feeling lonely, remember that there are people in this world who bless every one of us before they go to sleep at night. They may have never met you, but their hearts go out to you. They are true angels. - Author: L.J. Kane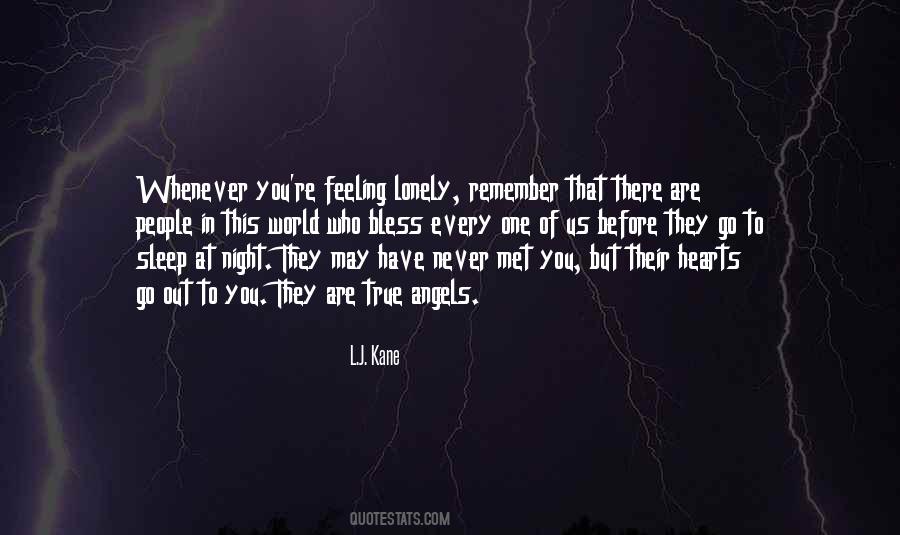 #57. I think people tend to see the bigger point, which is maybe not fitting in and feeling like you didn't have the childhood that you expected you would have, or that you felt lonely or struggled with drugs and alcohol or just that you were able to achieve your dreams. - Author: Augusten Burroughs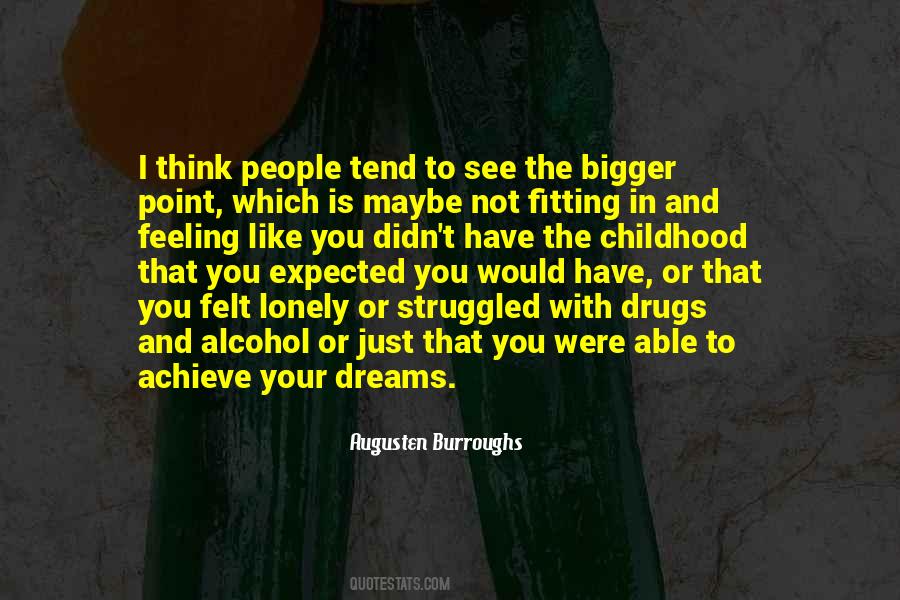 #58. It is a lonely feeling when someone you care about becomes a stranger. - Author: Lemony Snicket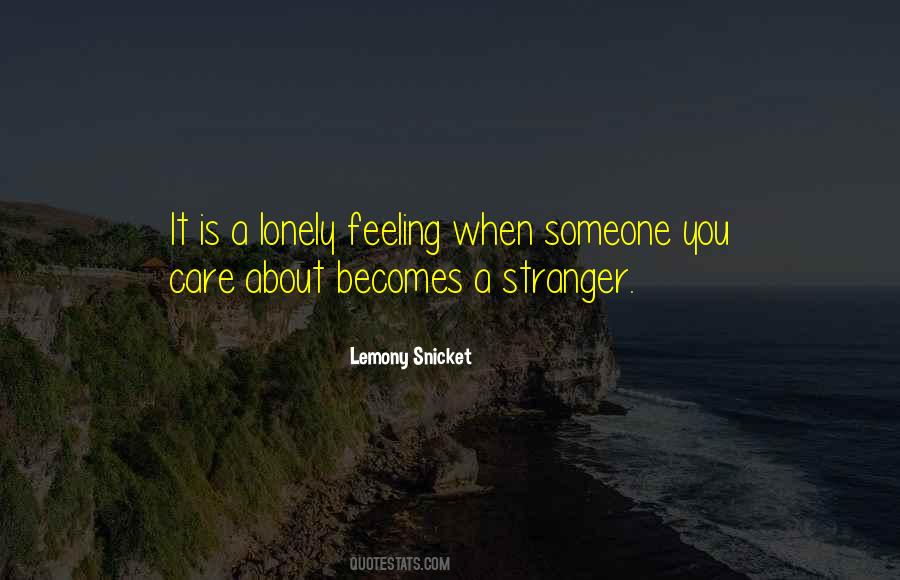 #59. Maybe he's lonely, she said, and I just looked at her wondering if she expected me to open a Home for the Socially Challenged or what. Then she started giggling and I had the feeling we were thinking the same thing, namely, some people are lonely for all the right reasons. - Author: Meg Rosoff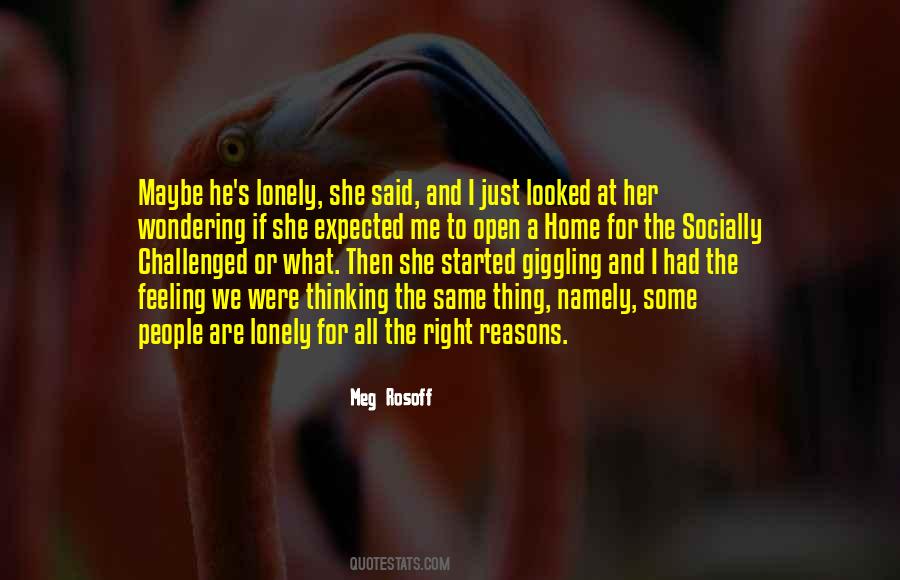 #60. One day that song stopped being on the outside of me and went deep inside. It was there all the time, especially when I was feeling particularly lonely. - Author: Susan Crandall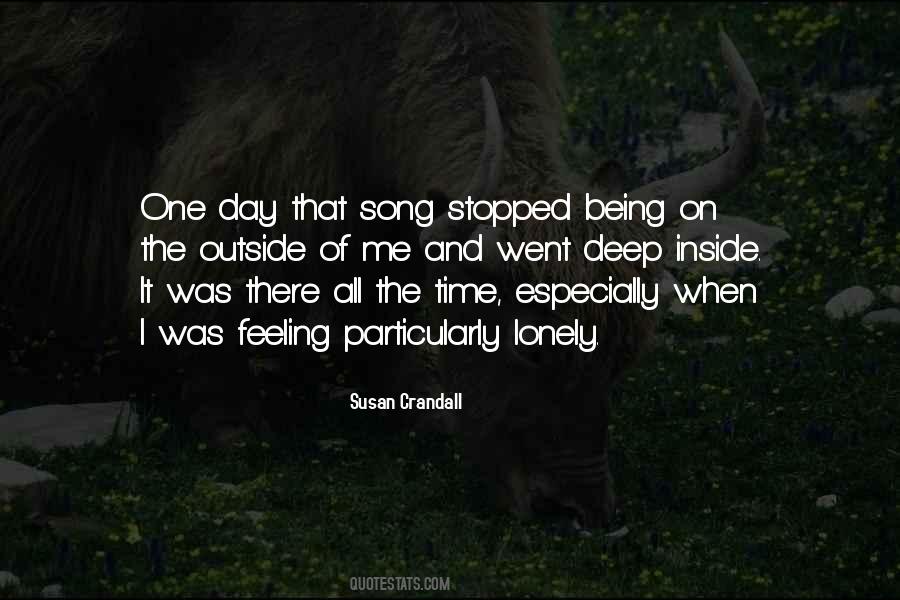 #61. In the Lonely Hour is about a guy that I fell in love with last year, and he didn't love me back. I think I'm over it now, but I was in a very dark place. I kept feeling lonely in the fact that I hadn't felt love before. - Author: Sam Smith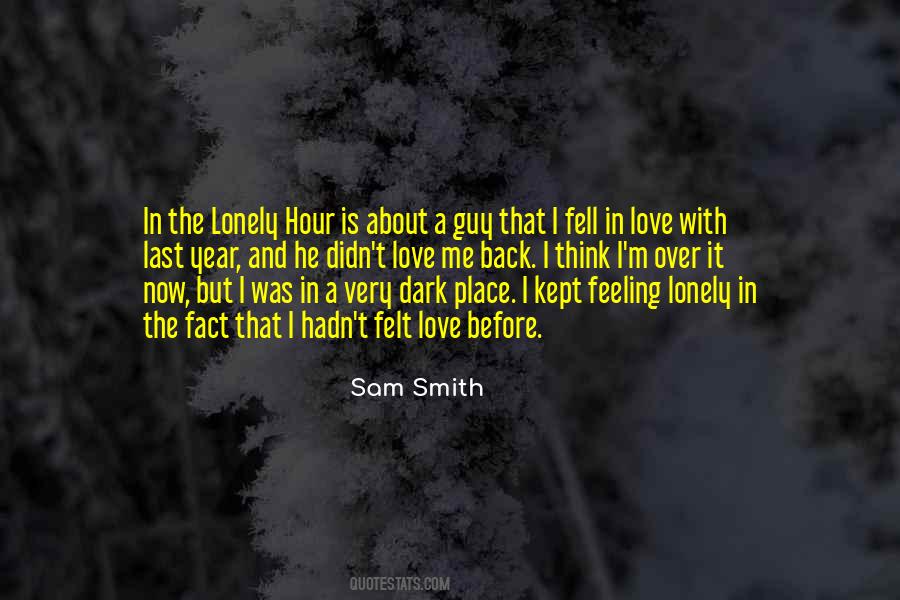 #62. I remember how being young and black and gay and lonely felt. A lot of it was fine, feeling I had the truth and the light and the key, but a lot of it was purely hell. - Author: Audre Lorde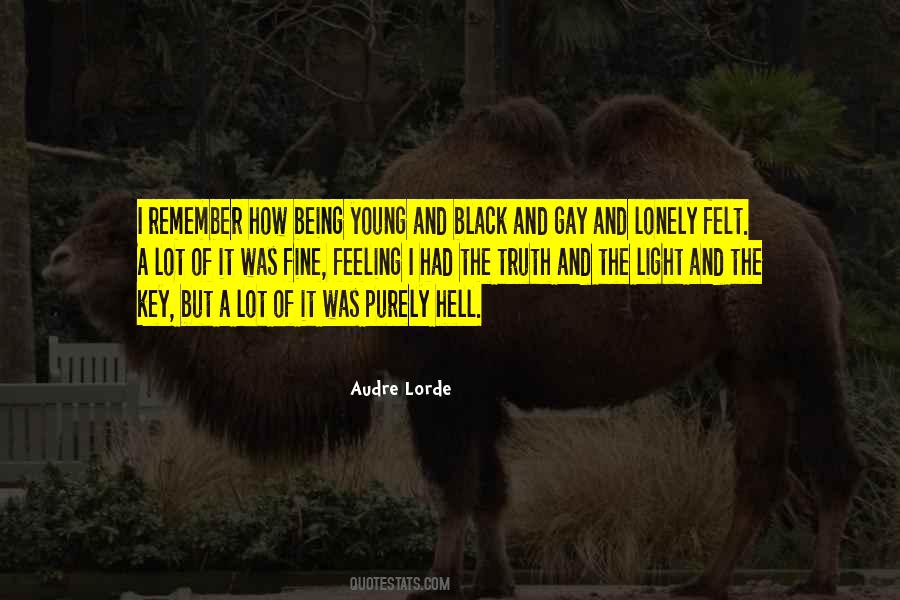 #63. Growing up I was always prone to obsession, partly because of the way I am, but partly because after feeling so lonely for such a long time, when I found someone or something that I liked, I felt helplessly drawn to it. I suppose that accounts for some of the creepiness in my music. - Author: Lana Del Rey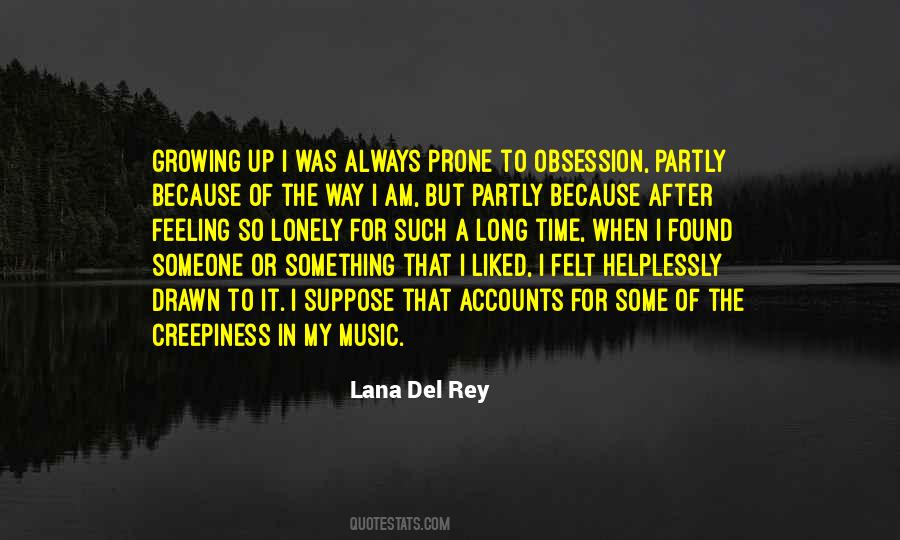 #64. I understand what you mean by precarious. Sometimes I feel so- I don't know- lonely. The kind of helpless feeling when everything you're used to has been ripped away. Like there's no more gravity, and I'm left to drift in outer space. With no idea where I'm headed. - Author: Haruki Murakami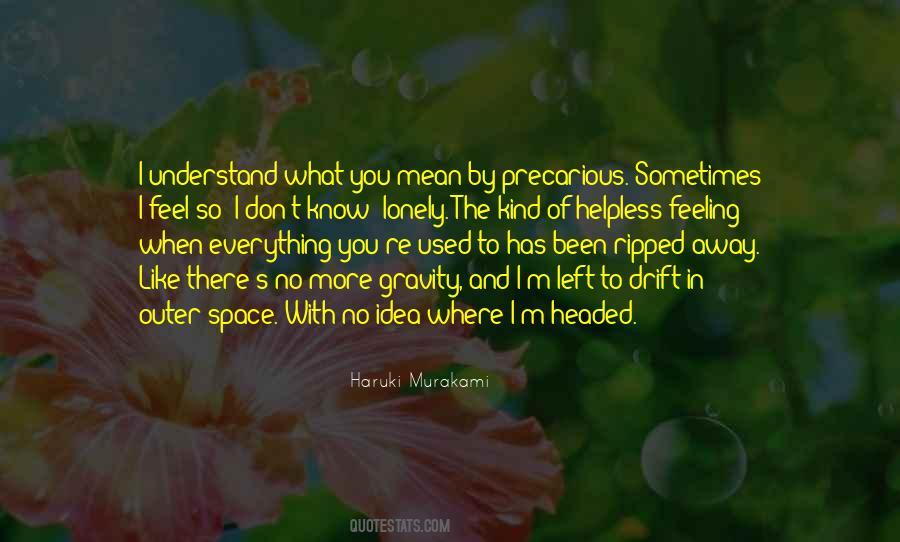 #65. She didn't want to have anything to do with the party. She was tired of feeling like she didn't fit in, but she didn't want to go home, either, because she was a tired of being lonely and she was a little drunk. - Author: Candace Bushnell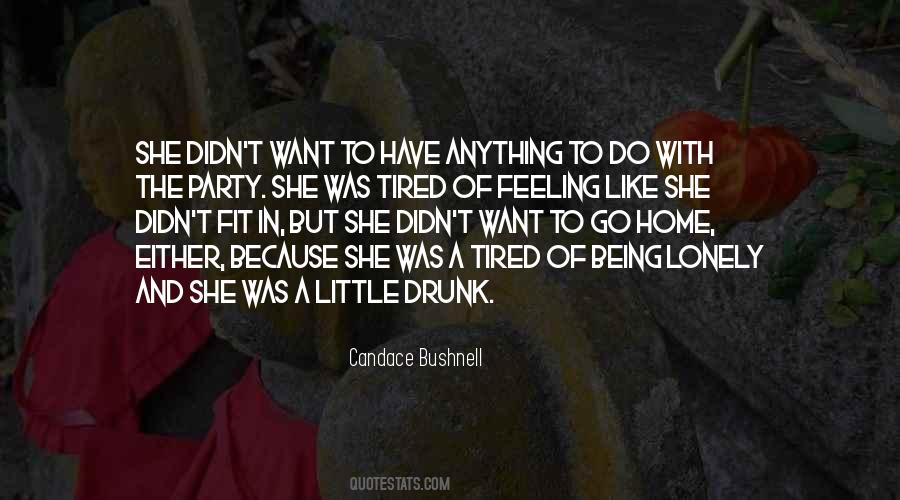 #66. We're all lonely for something we don't know we're lonely for. How else to explain the curious feeling that goes around feeling like missing somebody we've never even met? - Author: David Foster Wallace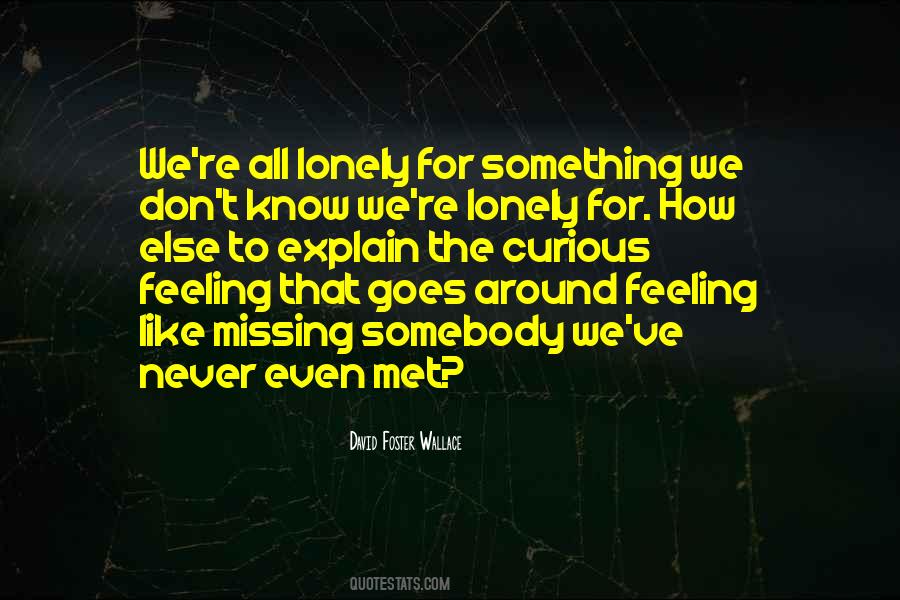 #67. Sometime am feeling proud to have ma loneliness but, sometime am so feeling lonely. - Author: Kamal Parvez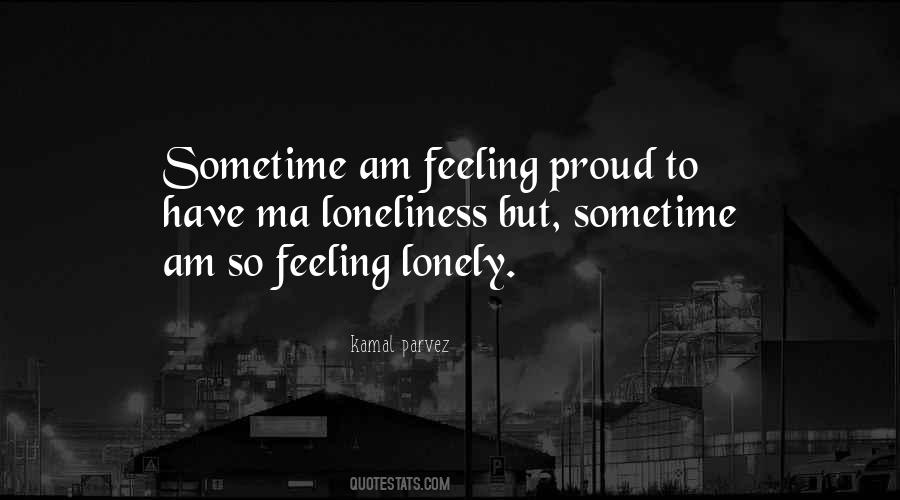 #68. There was something odd for him about not feeling lonely. The very fact that he had ceased to be lonely caused him to fear the possibility of becoming lonely again. - Author: Haruki Murakami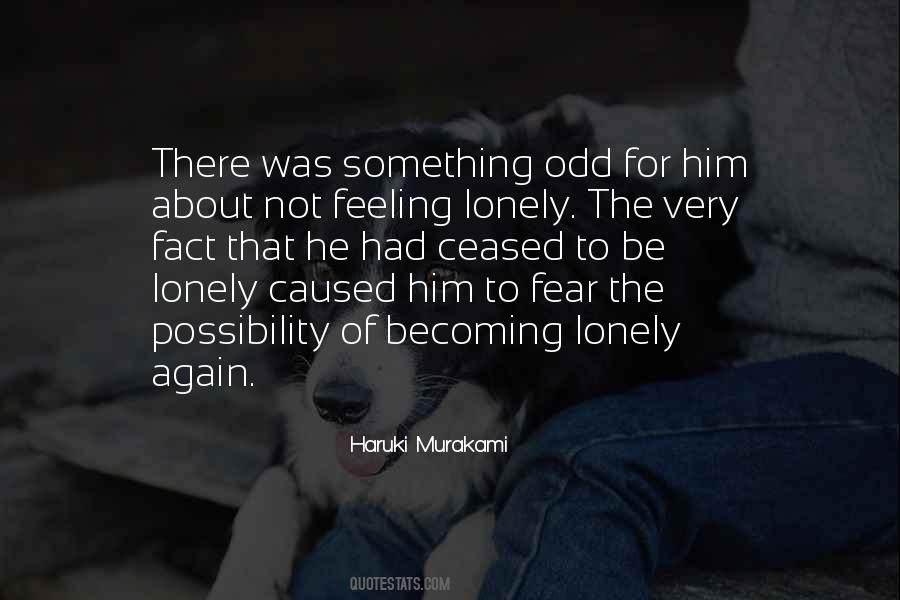 #69. It's a terrible feeling being lonely. - Author: Rita Ora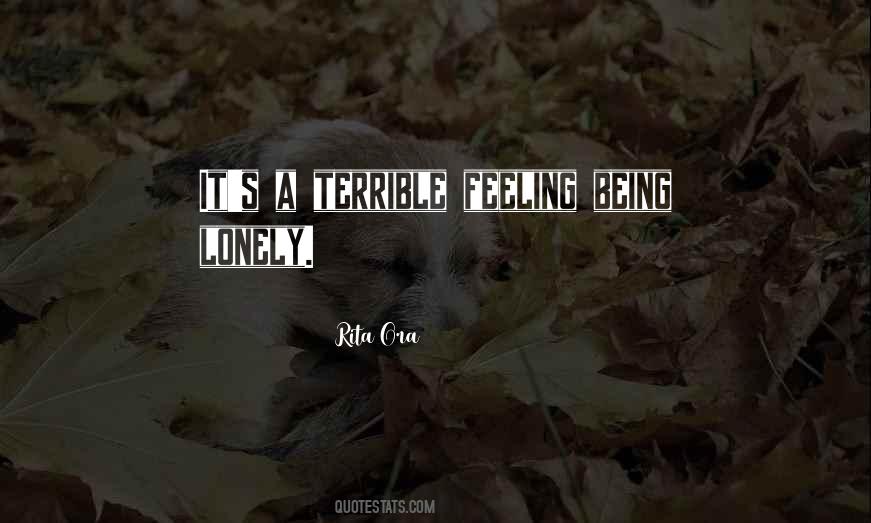 #70. I woke up feeling alone, so lonely. The night before, I had cried myself to sleep. I lay there on the floor, listening to the tube trains passing beneath me. I thought, All those hundreds and thousands and millions of people. London, London - I hate you. I picked myself up and got ready. - Author: Tracey Emin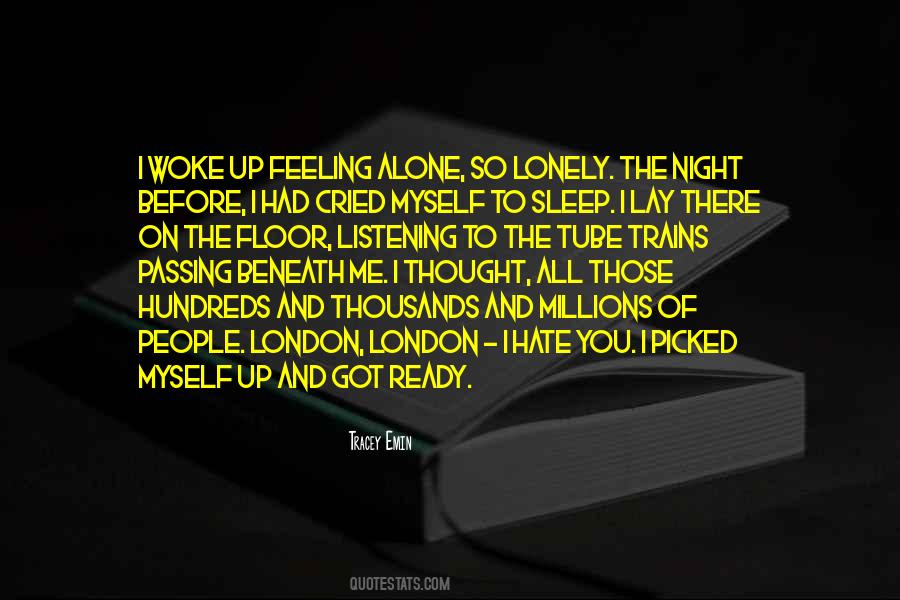 #71. It's very lonely, feeling like an outcast. Like you are invited to a costume party, but you are the only one in a mask. - Author: Ellen Schreiber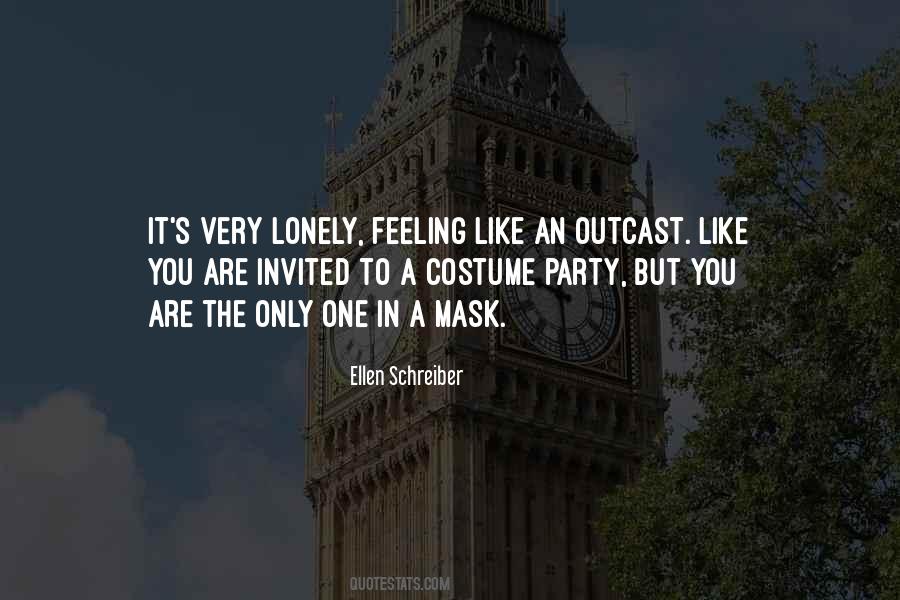 #72. It made me feel silenced, lonely, and far away from myself, a feeling that I believe, next to extreme nausea sans vomiting, is the depth of human misery. - Author: Lena Dunham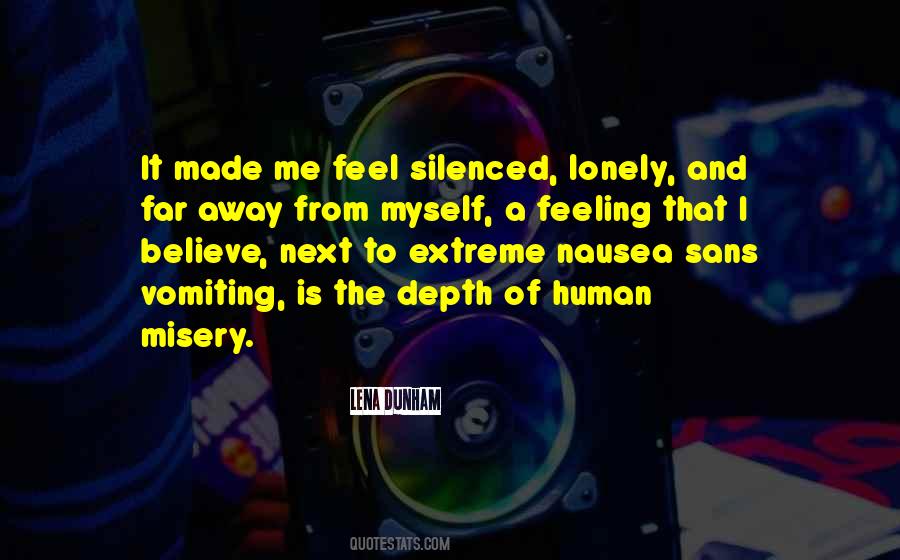 #73. Sometimes he wonders whether this very idea of lonliness is something he would feel at all had he not been awakened to the fact that he should be feeling lonely, that there is something strange and unnacceptable about the life he has. - Author: Hanya Yanagihara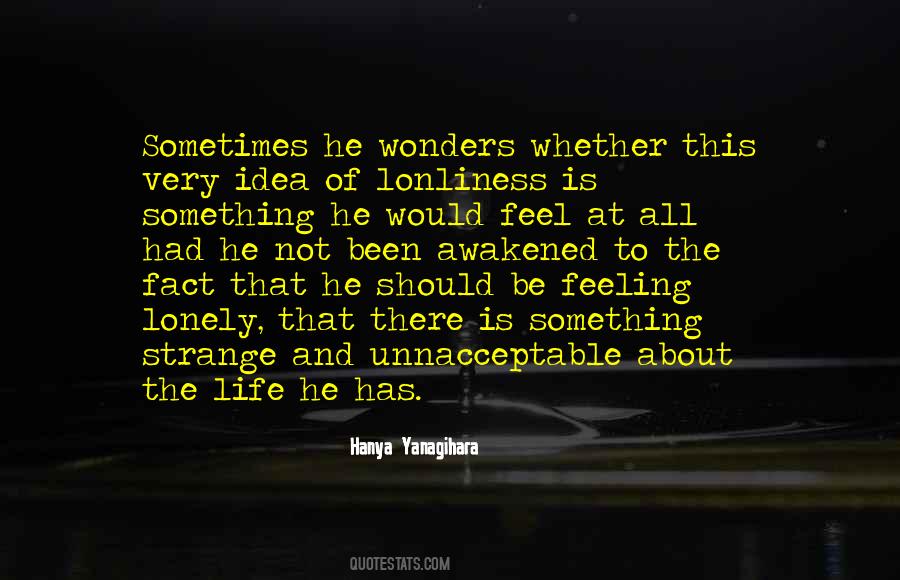 #74. The worst feeling in life is not being lonely; it's being forgotten by the one person you could never forget. - Author: Rahul Rawat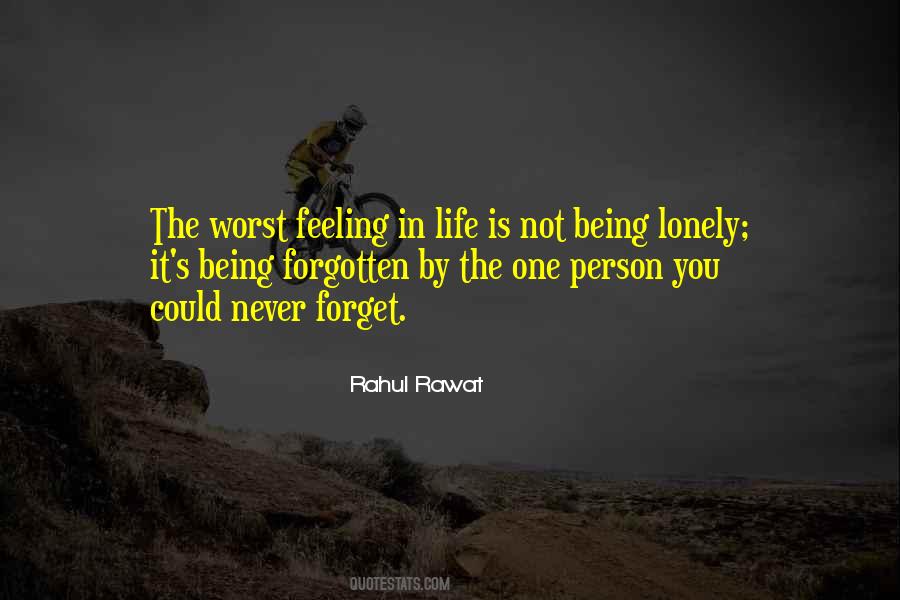 #75. Although I'm perceived as very optimistic and upbeat, it comes out of being the opposite of that - feeling isolated or lonely, looking for meaning and the kinds of things that ease that suffering in life, and finding them in large-scale social interaction, like theater and games. - Author: Jane McGonigal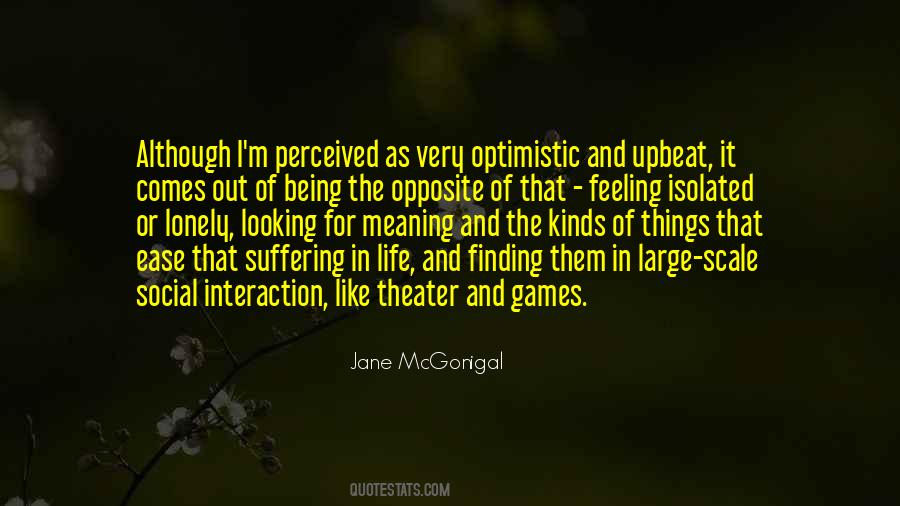 #76. When you're feeling lonely
and no one is around
Remember to look inside yourself
and a best friend will be found - Author: Stephen Cosgrove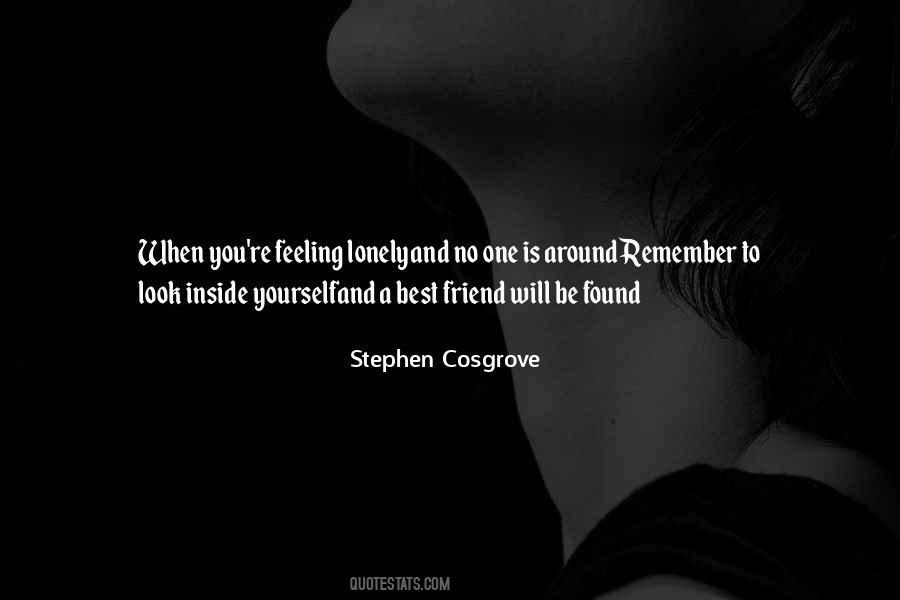 #77. If I could have put what I was feeling into words, the words would have been an infant's wail: I don't want to be alone. I want someone to want me. I'm lonely. I'm scared. I need to be loved, to be touched, to be held. - Author: Olivia Laing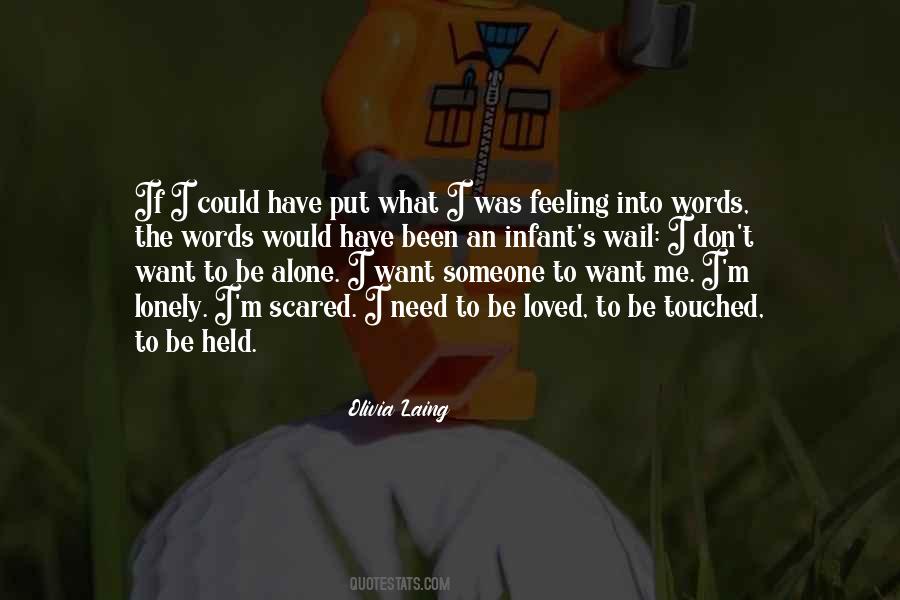 #78. The cold is lonely person's way of feeling alone and death - Author: PureDragonWolf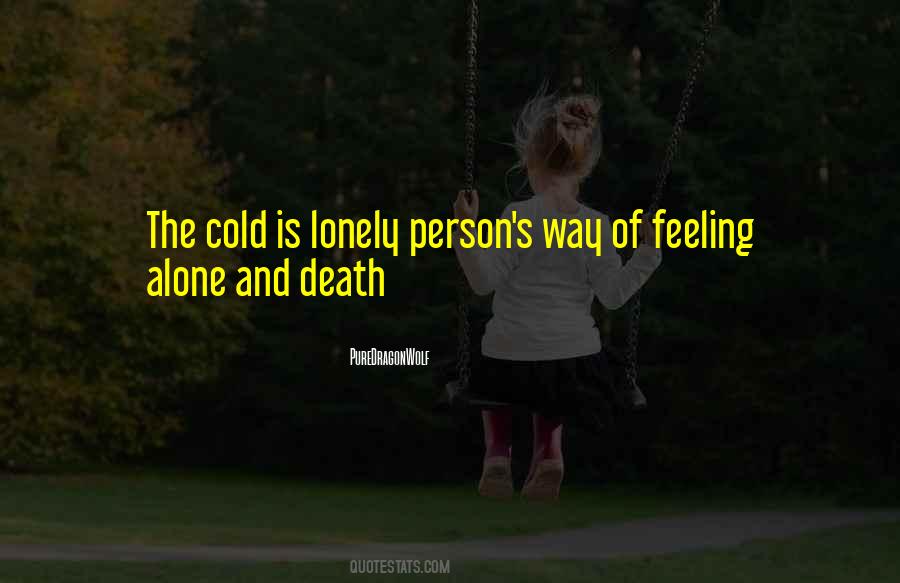 #79. While I have felt lonely many times in my life, the oddest feeling of all was after my mother, Lucille, died. My father had already died, but I always had some attachment to our big family while she was alive. It seems strange to say now that I felt so lonely, yet I did. - Author: Bill Murray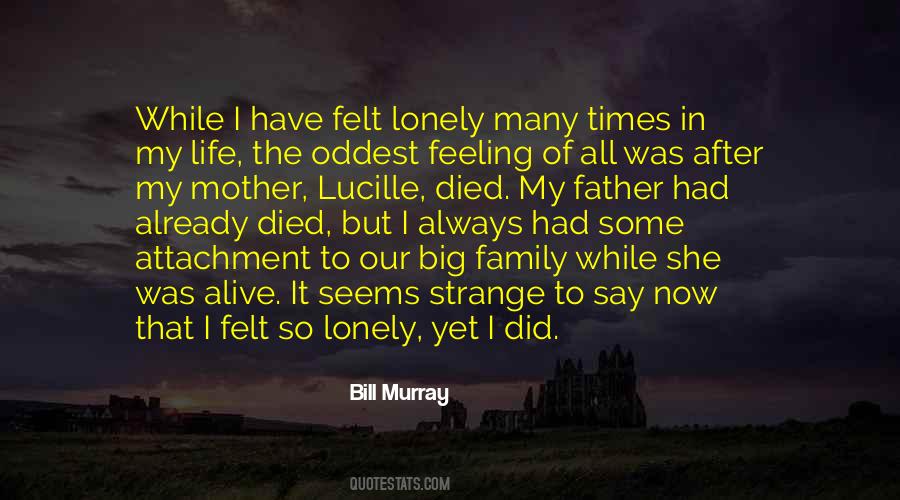 #80. There is no feeling quite so lonely as failure. - Author: Jeffrey Fry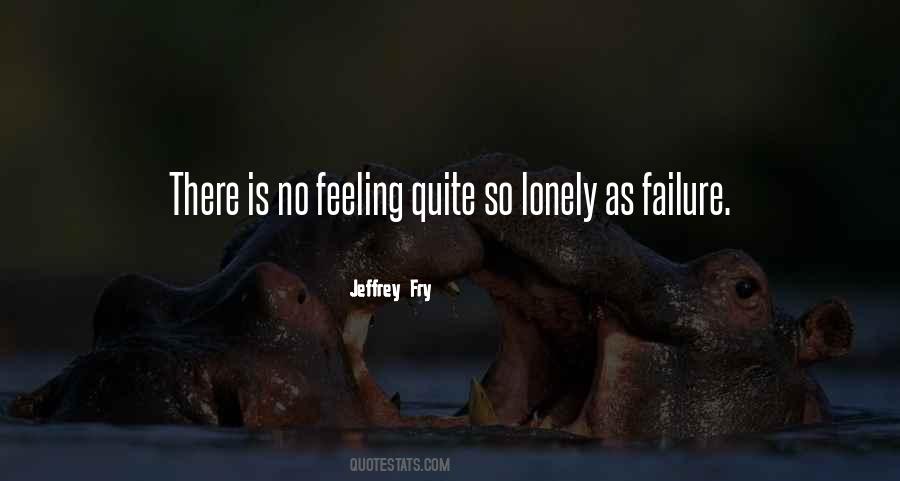 #81. I'm always wearing Spanx, eating ice cream and feeling a bit lonely. - Author: Sheridan Smith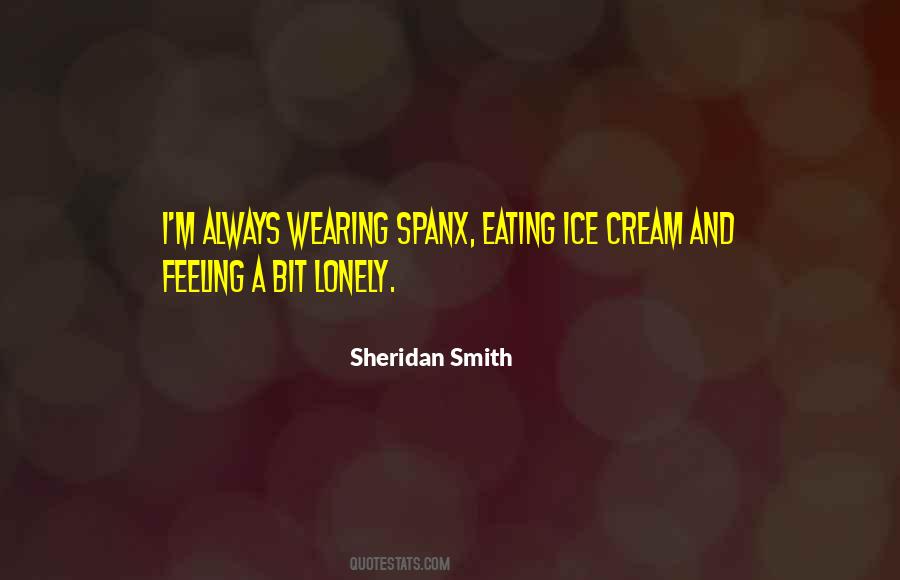 #82. The hungry feeling and the lonely feeling merged until it was hard to tell them apart. - Author: Rob Sheffield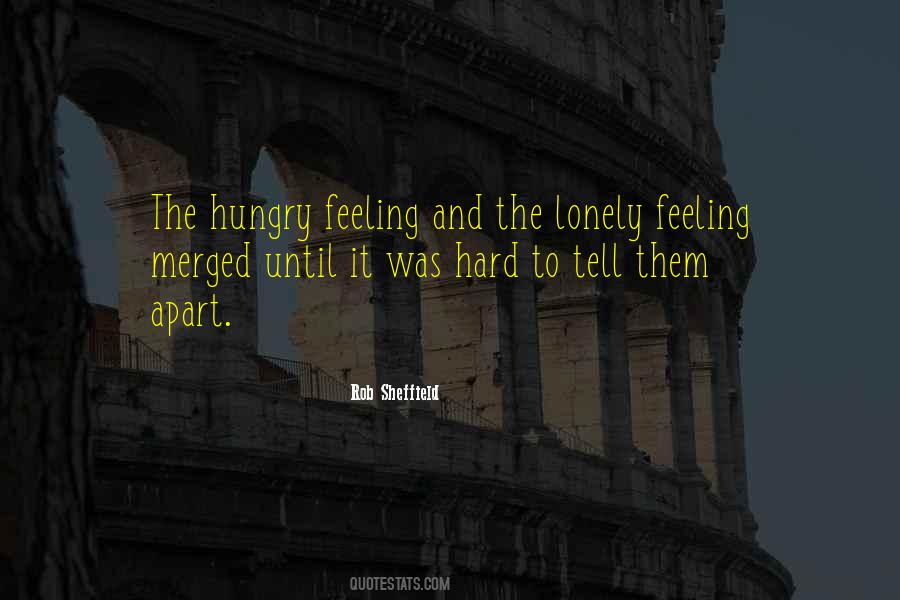 #83. When you are feeling sad and lonely because you are single, remember that there are a lot of people stuck in bad relationships who wish they could be in your shoes. - Author: Pamela Cummins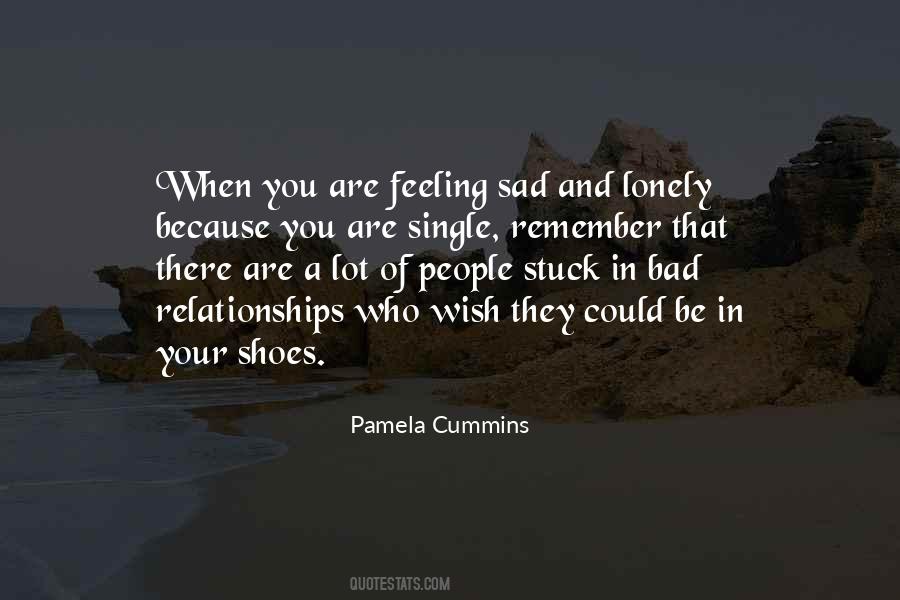 #84. Now, ten or more years later, far away from her home or even any thought of having a home, she again touched the feeling from that long ago day, being alone but not lonely, of being solitary yet sufficient. - Author: Tad Williams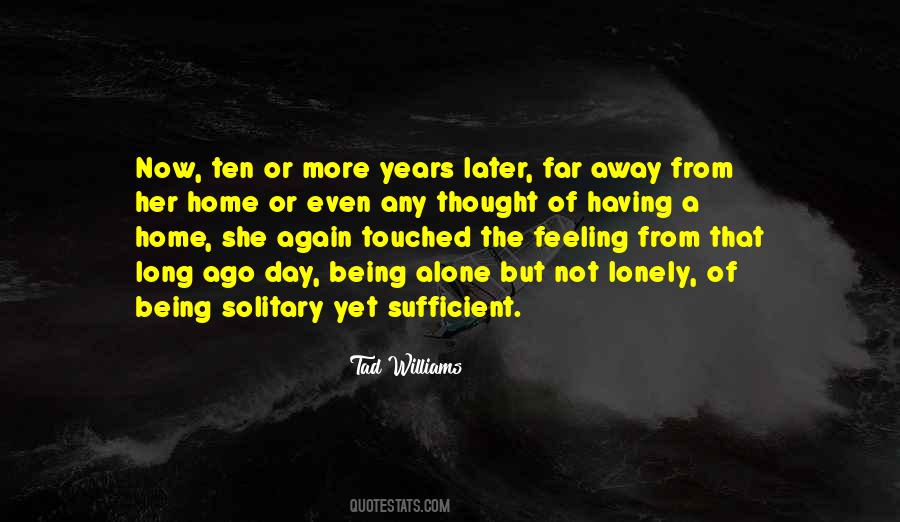 #85. It is not a lonely feeling, but just as I am always sad to close the cover on a book, I feel I have finished with this part of my life and will have to begin a new book. - Author: Nancy E. Turner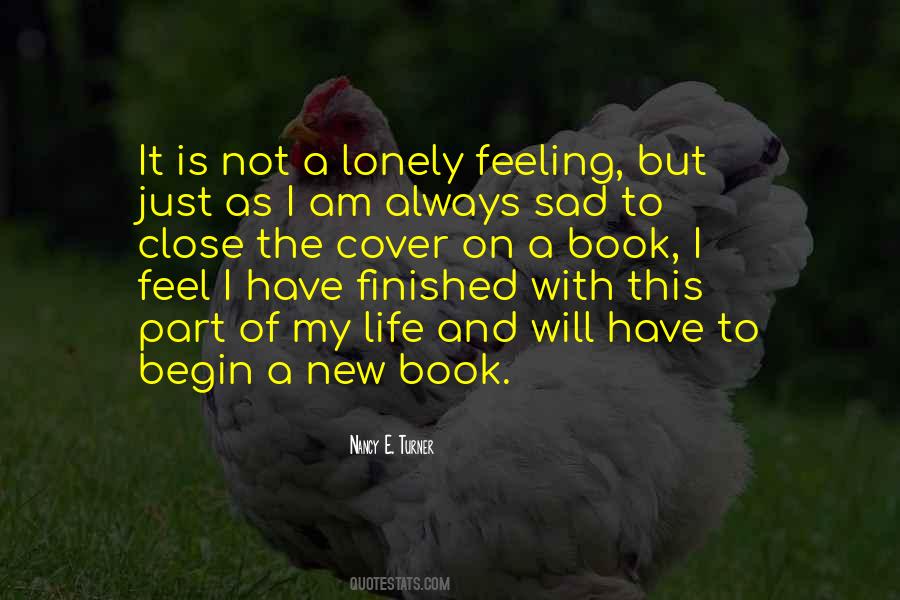 #86. Feeling angry is a universal human phenomenon. It is as basic as feeling hungry, lonely, loving, or tired. The capacity to feel angry and to respond in some way to that feeling is in us from birth. - Author: Theodore Isaac Rubin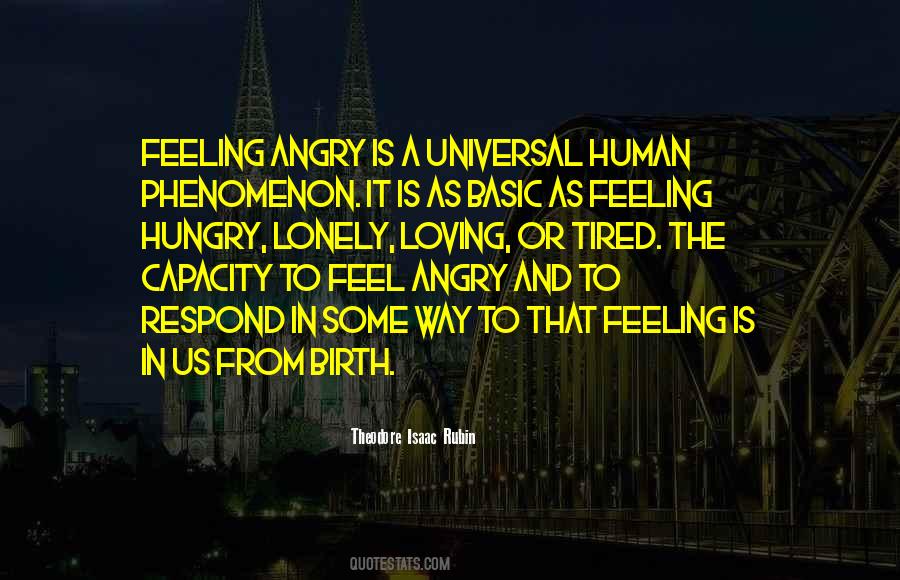 #87. Sadness, though, is probably the hardest thing of all to hide because sorrow has a way of seeping out however well people think they're containing it. You only have to look to see the signs, but most people don't, which is why so many seem to end up feeling lonely. - Author: Martin Pistorius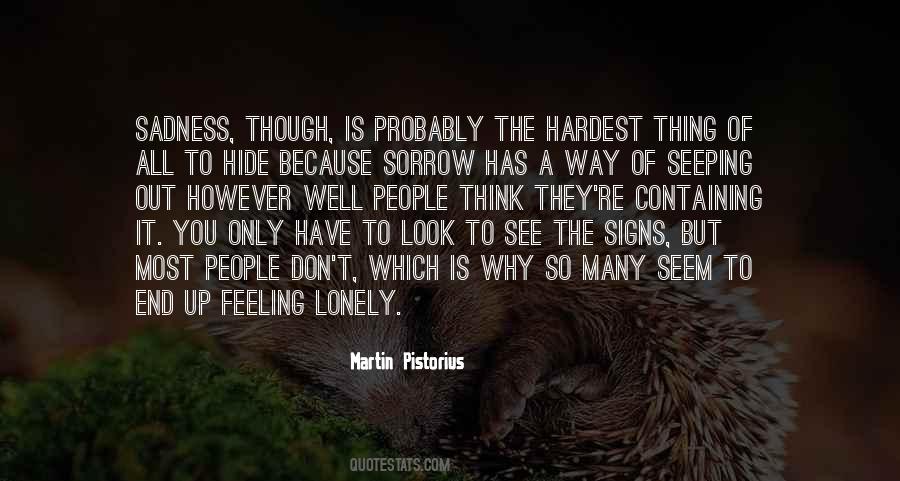 #88. I sit and feel lonely. Sitting and feeling lonely is something I am a spectacular success at. I can do it for hours. Everyone is good at something. - Author: Martin Millar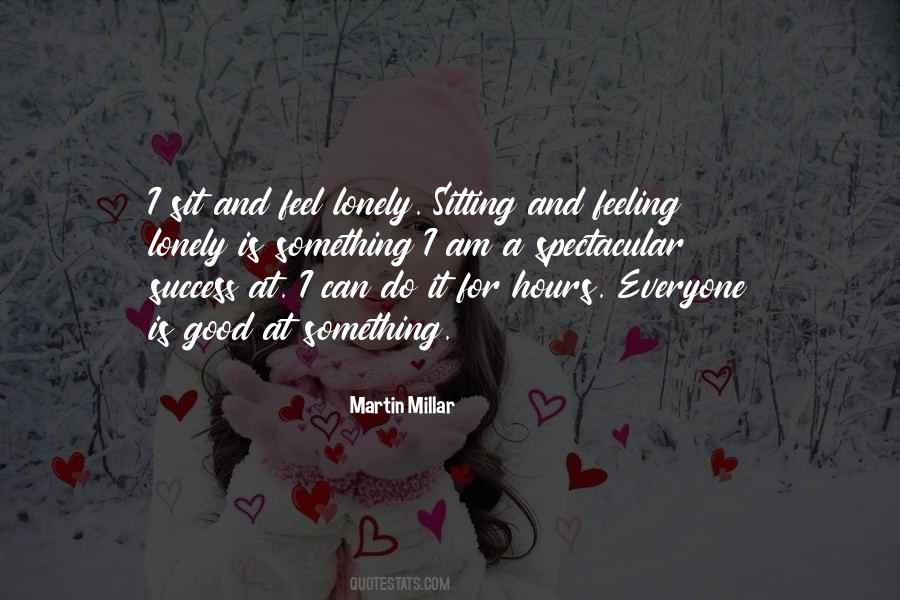 #89. His eyes were sharp but kind, and it seemed to amuse him to see children misbehave when he knew that deep down they didn't really want to misbehave, but were just feeling lonely or misunderstood or wanted to go outside and play instead of sitting in a hot classroom. (26) - Author: Phyllis Theroux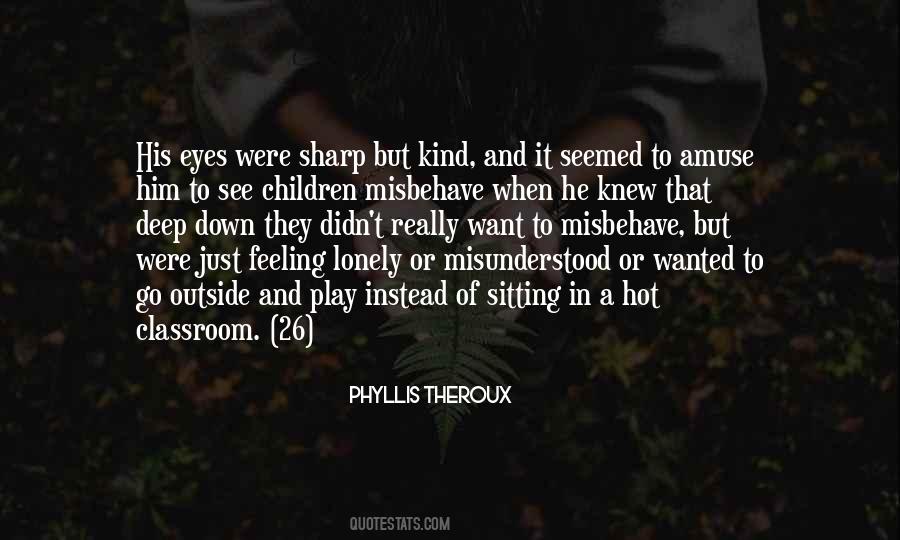 #90. I'd laughed this high-pitched, witchy laugh, and looked right at him. Mostly, I remember feeling vital and untouchable, like I was free and separate from him. I would never be him, and because of that, I would never be lonely or laughed at, and I would never have to worry about anything. - Author: Brenna Yovanoff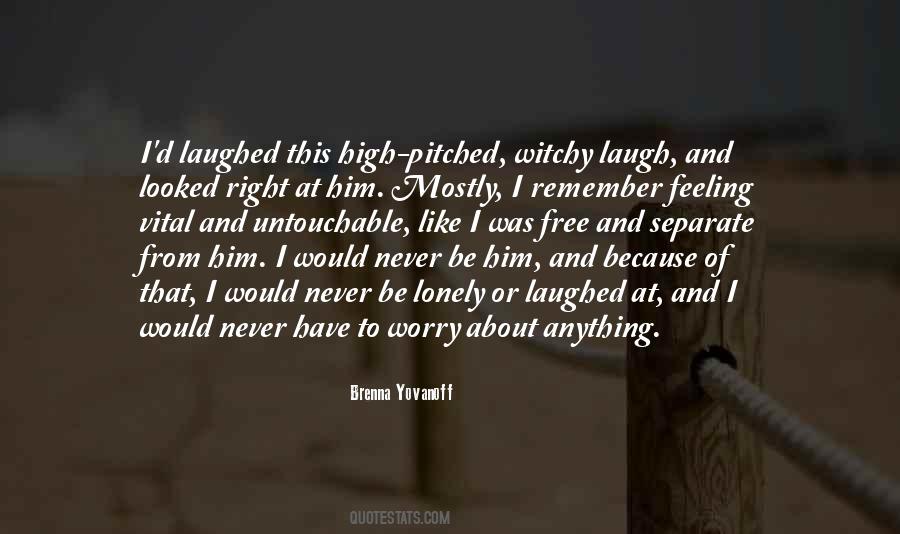 #91. Don't let feeling lonely push you into the arms of a person who will make you miserable. - Author: Stephan Labossiere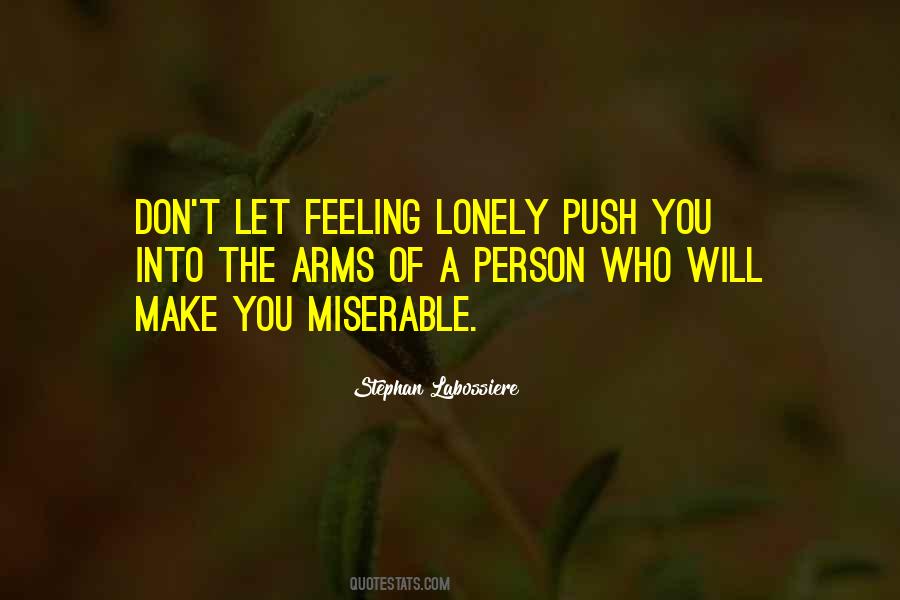 #92. When I was younger I felt lonely. In terms of my thought processes. I had the constant feeling that I thought differently to everyone around me. So, I suppose I felt lonely for a home. I didn't know where I wanted to be, but I knew I wasn't there yet. - Author: Lana Del Rey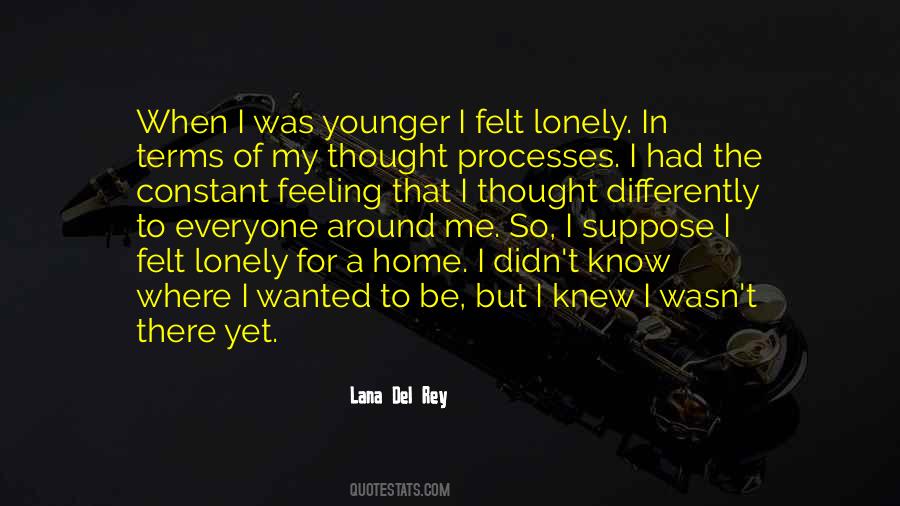 #93. Being alone is better than sitting next to a lover and feeling lonely. - Author: Richard Linklater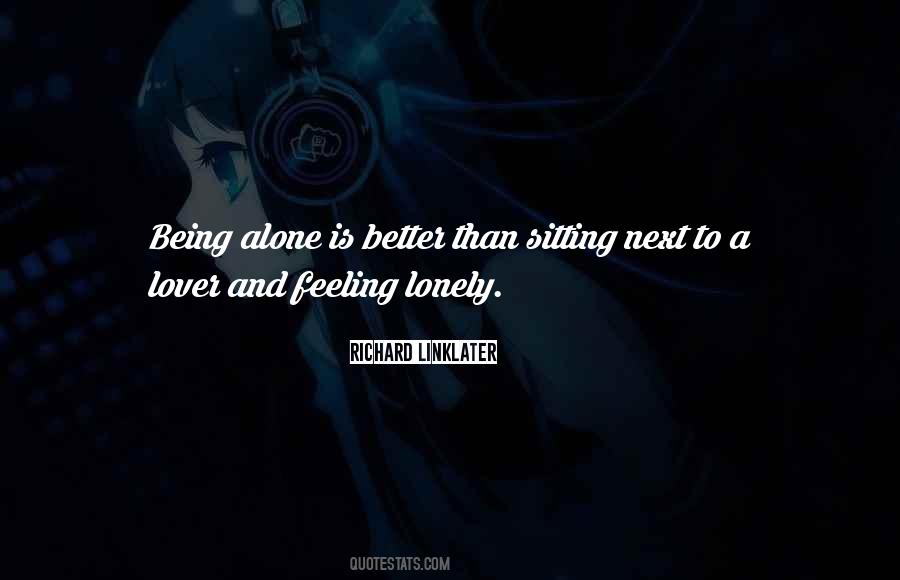 #94. I just think that sometimes it is less hard to wake up feeling lonely when you are alone than to wake up feeling lonely when you are with someone else. Some people would be better off alone, but they feel they've got to get hold of someone to prove they're worthwhile. - Author: Liv Ullmann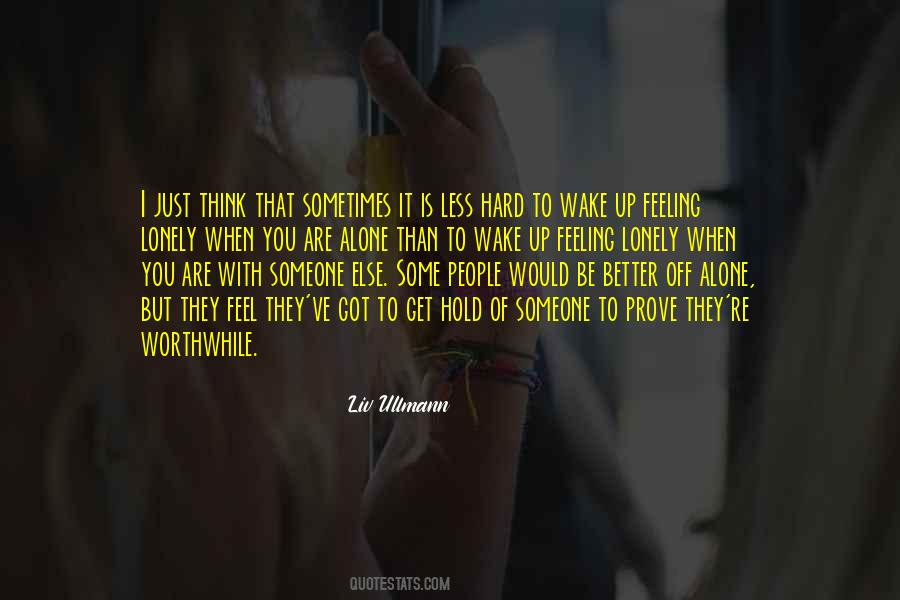 #95. Don't let ignorance blind you. Open your eyes, heart and your mind. And if you're feeling alone, know that the world can be a lonely place, but it would be lonelier without you in it. - Author: Hayley Williams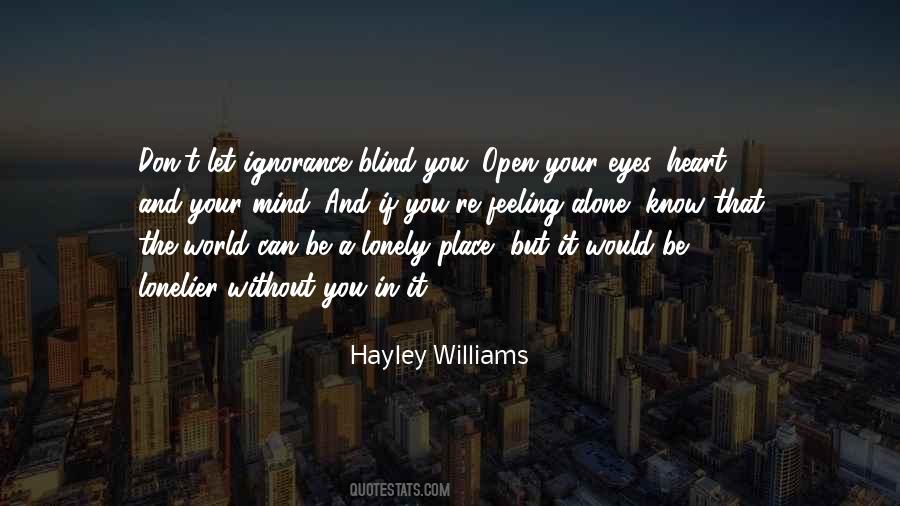 #96. I started playing that game I play when I'm feeling lonely, the one where I review all of my prior relationships, marveling that so many sweet, smart, pretty girls have come into my life and that I've found a way to fuck things up with every one of them. - Author: Davy Rothbart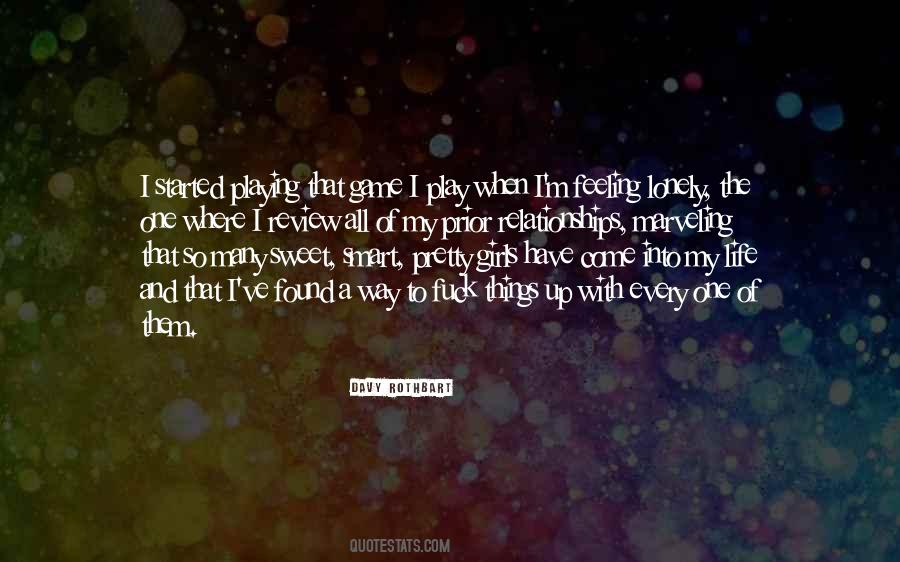 #97. Without siblings you get quite a skewed vision of yourself and of the world. I always felt I didn't understand how it worked. I remember feeling quite lonely. - Author: Kate Atkinson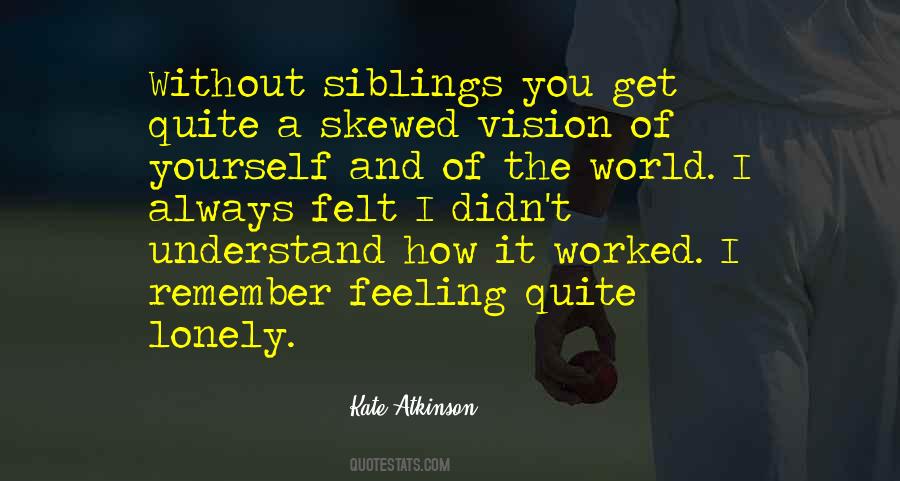 #98. Because of my childhood where I was constantly by myself, I always feel lonely. I have a lot of people that I absolutely love and I know love me but I can't get rid of that feeling of loneliness no matter who I'm with - even with my children. - Author: Natalia Vodianova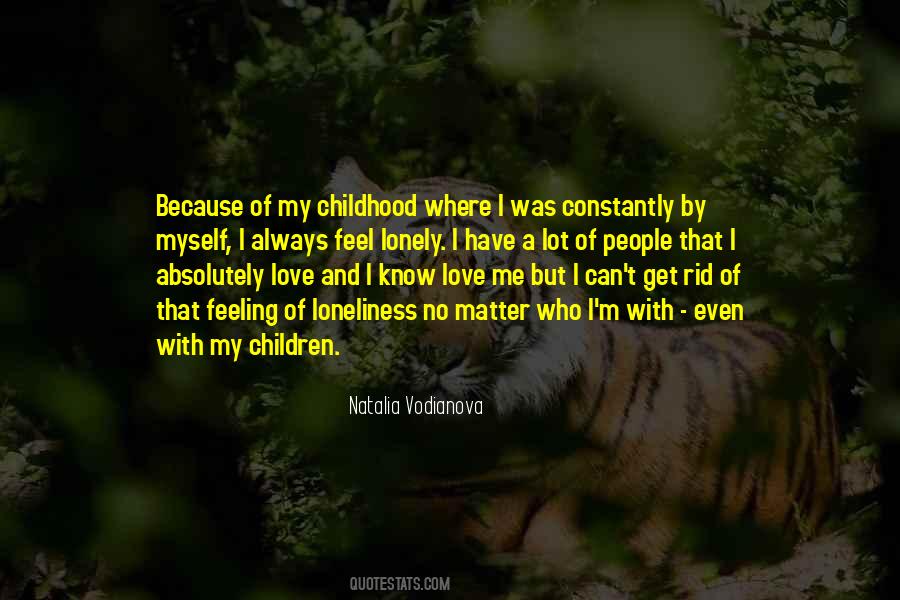 #99. I think we often write because we feel a loneliness, and people read for the same reason, and then they come away feeling a little less lonely. - Author: Amy Tan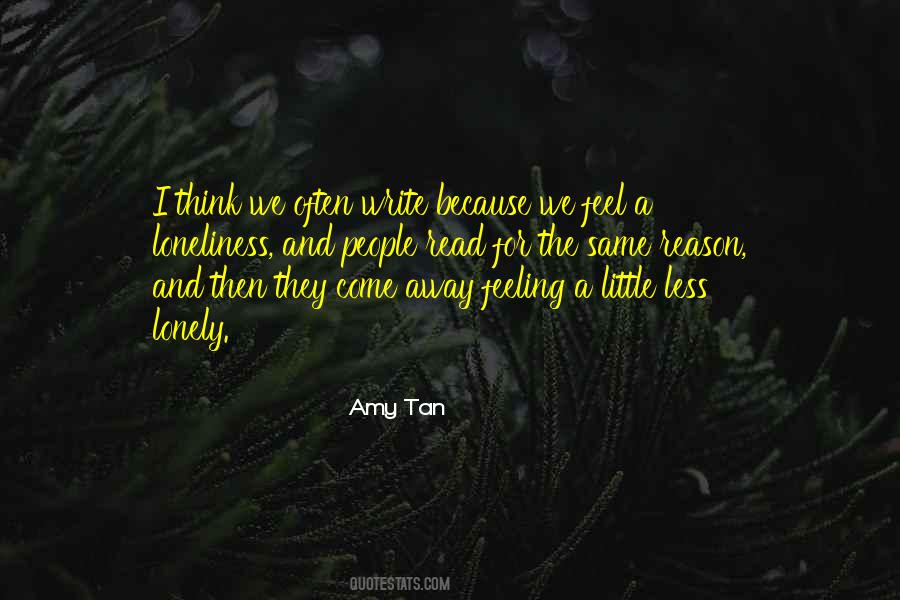 #100. I know you're feeling worried,
But I promise I'm okay.
You think I'm missing all the fun,
But I don't want to play.
And I'm not feeling lonely;
Yeah, I've got a friend with me.
I'm just keeping this corner company. - Author: Margo T. Rose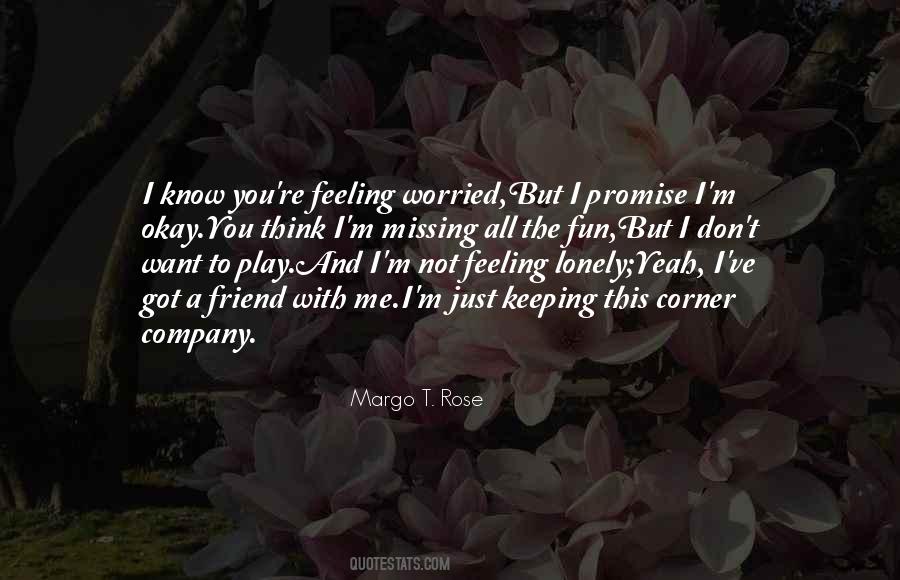 Famous Authors
Popular Topics