Feeling And Emotions Famous Quotes & Sayings
List of top 92 famous quotes and sayings about feeling and emotions to read and share with friends on your Facebook, Twitter, blogs.
Top 92 Quotes About Feeling And Emotions
#1. I think I've got better at expressing my emotions. But going through the education system I went through - I don't think you can go to boarding school and come out without feeling a little repressed - yes, it does leave its mark on you. - Author: Julian Ovenden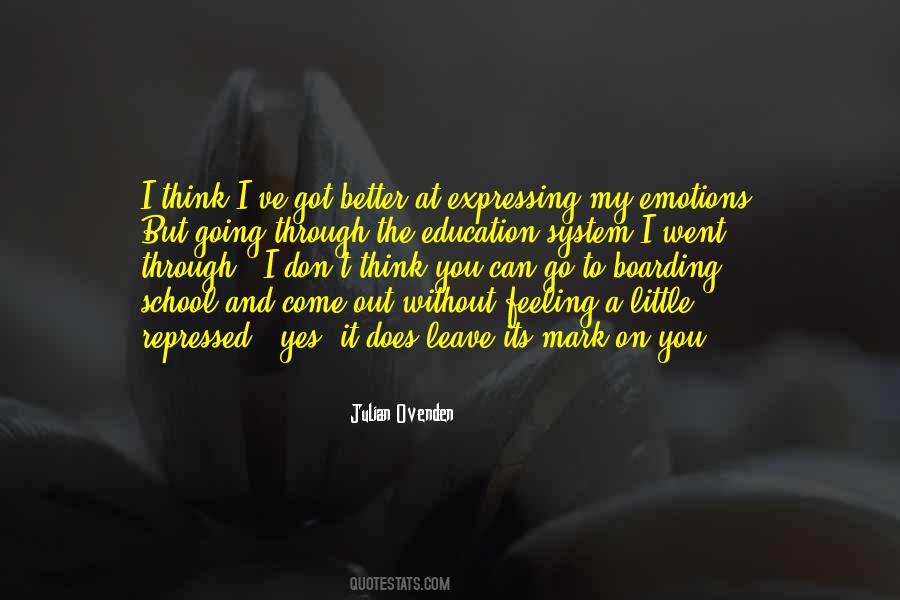 #2. Feelings, emotions - they are neither right nor wrong. They cannot be assigned a value. Feelings *are*. By labeling a feeling wrong, you force yourself to ignore that feeling. And what you most need is to feel it, let it burn through you, then get on with life. - Author: Karen Marie Moning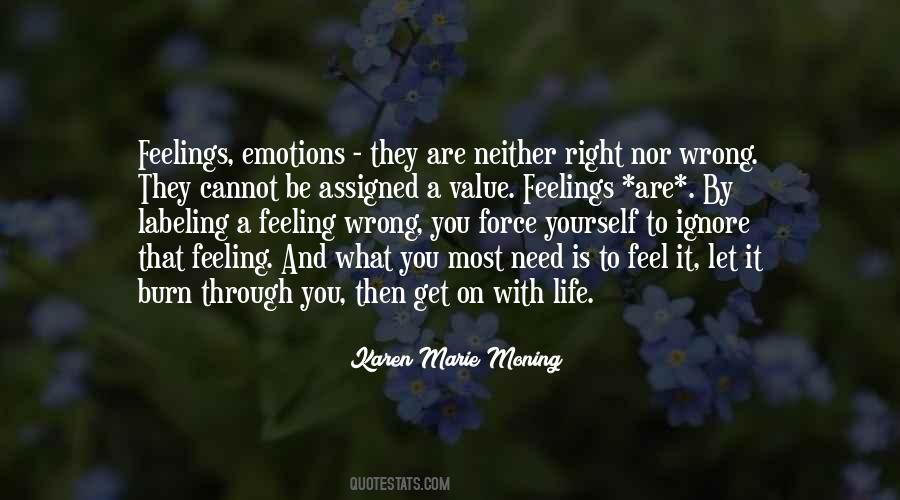 #3. Whatever he's feeling at a given moment is what he's always been and always will be feeling. - Author: Garth Risk Hallberg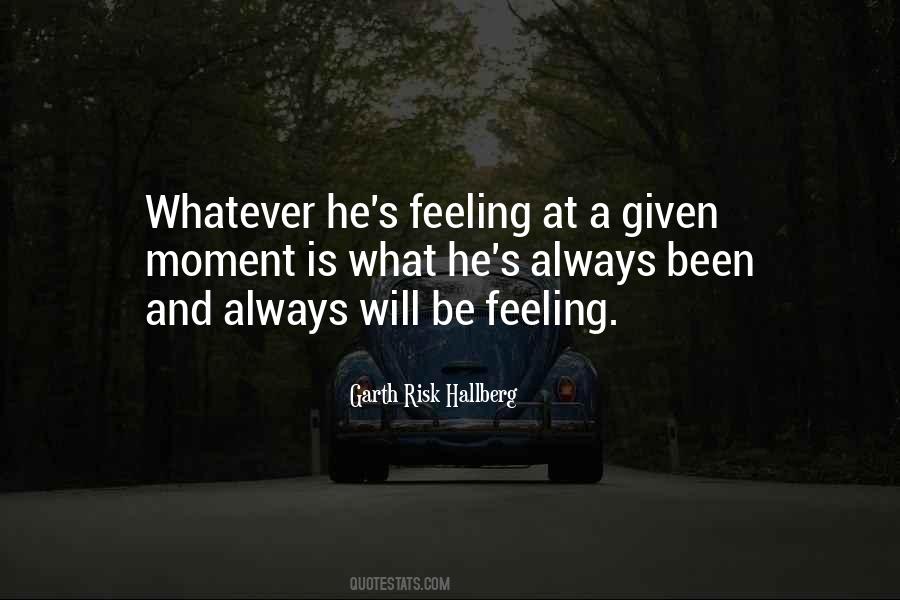 #4. I would spend months and months looking for a sound. I had to do that, or I wouldn't feel the extreme emotions I was feeling in my heart. - Author: Michael Masser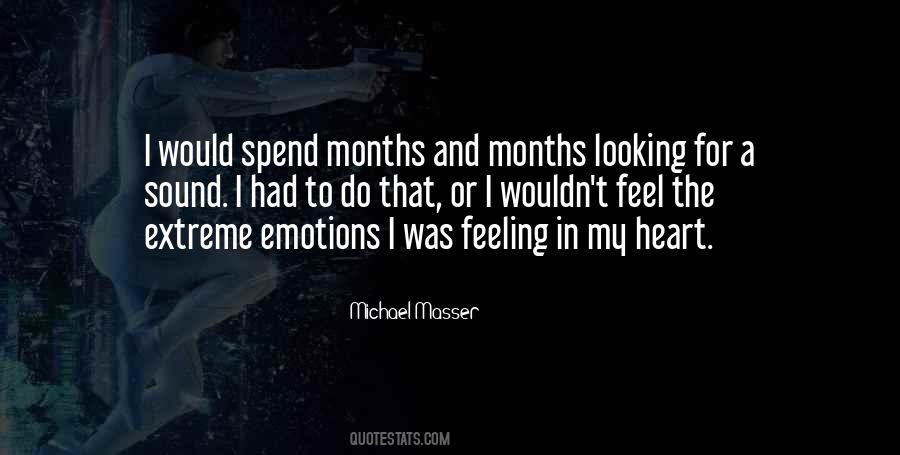 #5. He had fallen in love with her emotions, and that was a very profound feeling indeed. - Author: Francois Lelord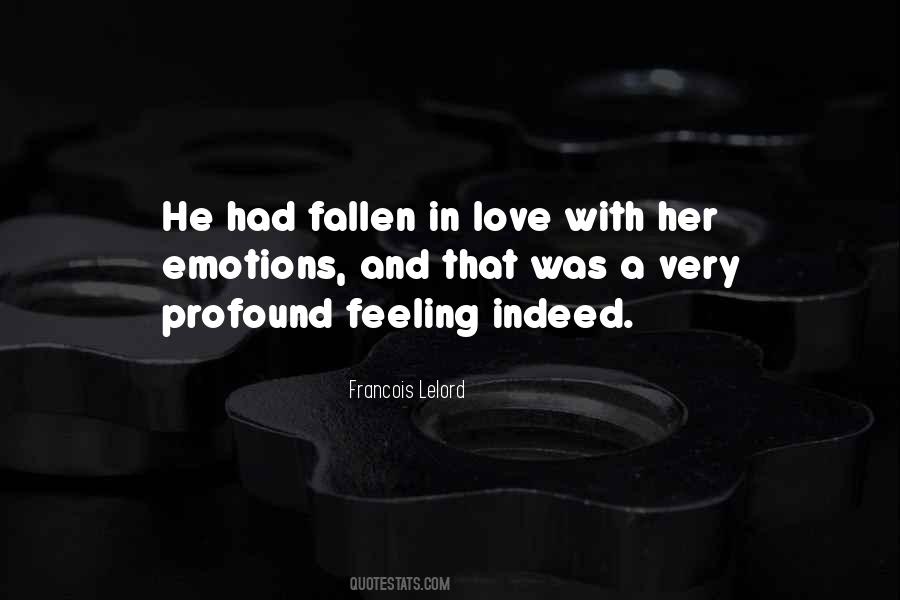 #6. Compassion and empathy are not the same as feeling sorry for oneself. They are emotions that extend our perceptual ranges. - Author: Frederick Lenz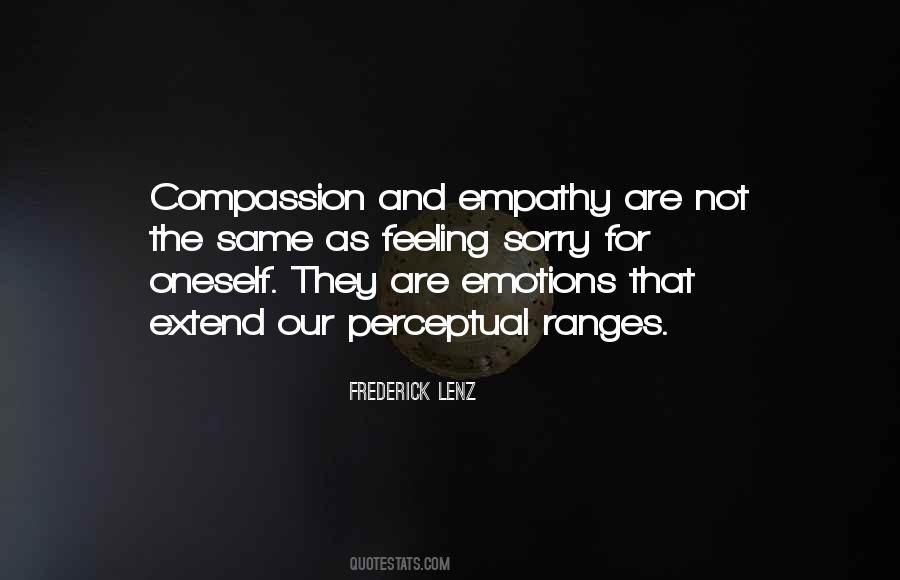 #7. I've built walls too steep for any man to climb. I'm caged. My heart is that cage. It's always been my strength and weakness. Unfortunately, feeling emotions so strongly has worked against me most of my life. There's - Author: Kathryn Perez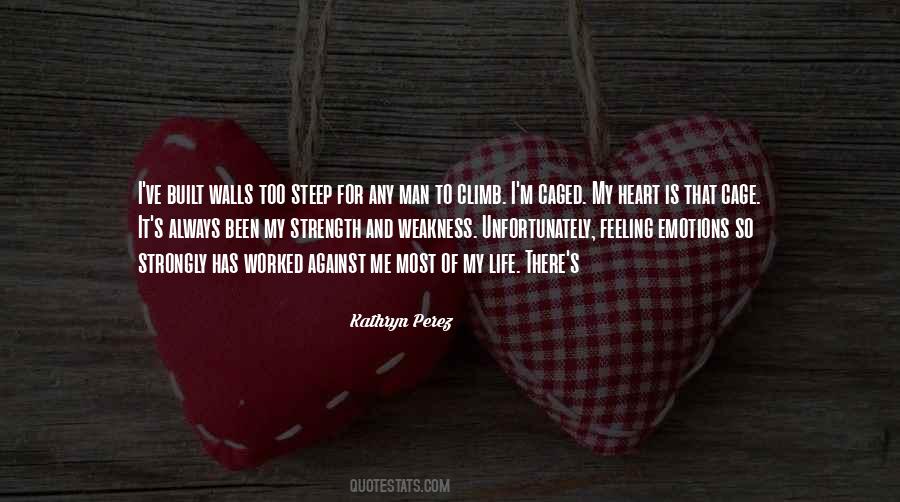 #8. Passion is that strong and mostly uncontrollable feeling of love that one has towards what he want to do or does. It is dependent on emotions. - Author: Israelmore Ayivor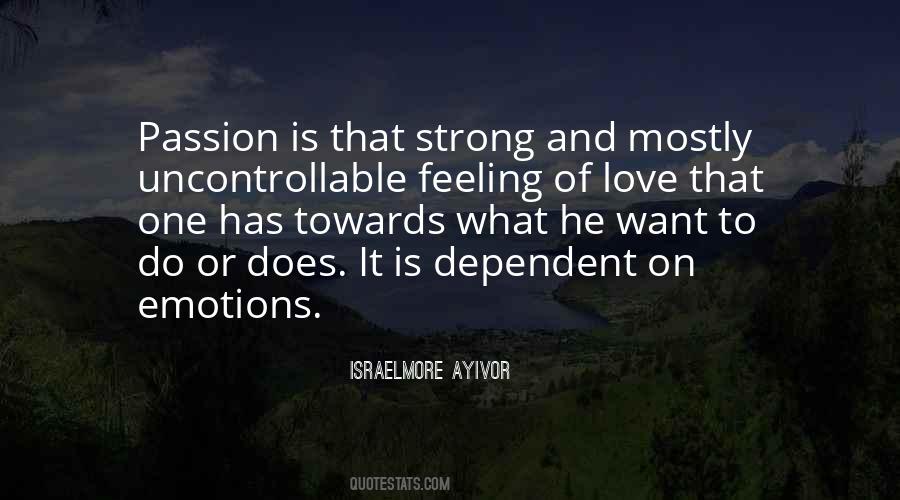 #9. This idea that a book can either be about character and feeling, or about politics and idea, is just a false binary. Ideas are an expression of the feelings and the intense emotions we hold about the world. - Author: Richard Powers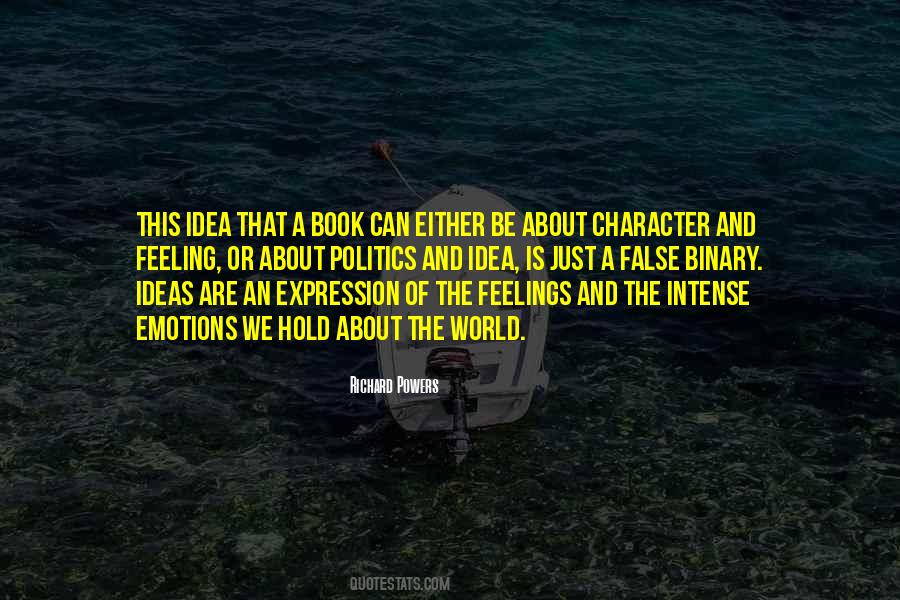 #10. The best emotions to write out of are anger and fear or dread. The least energizing emotion to write out of is admiration. It is very difficult to write out of because the basic feeling that goes with admiration is a passive contemplative mood. - Author: Susan Sontag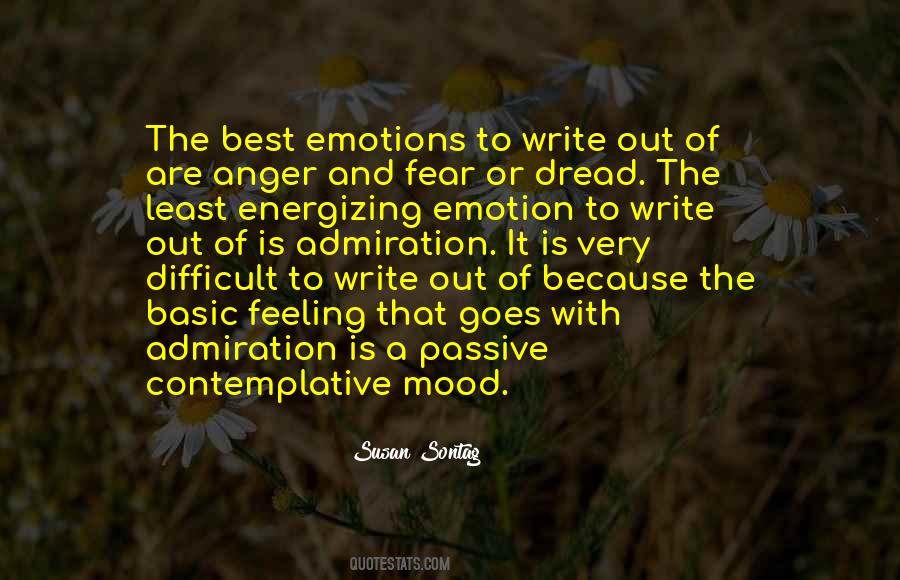 #11. We were created with more than five senses. Apart from the basic five, we also have the gut and the third eye. The gut being the seat of all feeling, and the third eye being the seat of intuition (foresight). - Author: Suzy Kassem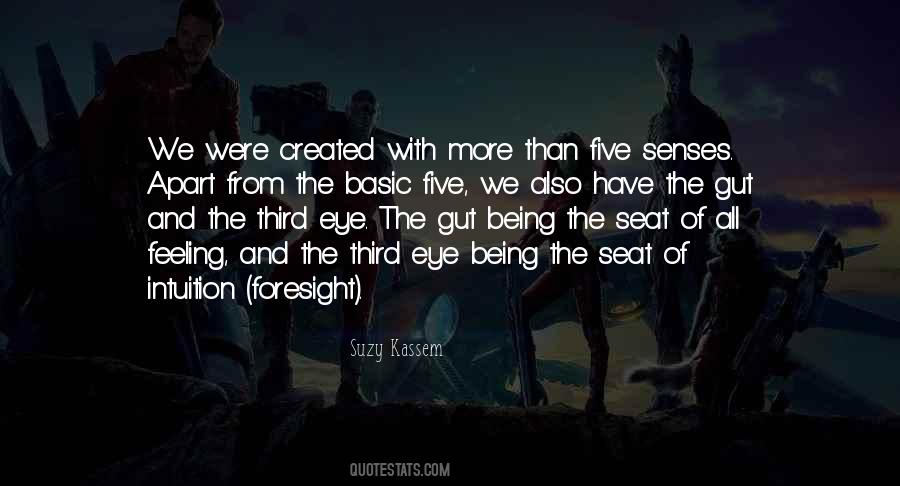 #12. Tonight I feel like a shooting star, but I hope my shine will last much longer. - Author: Bernard Jan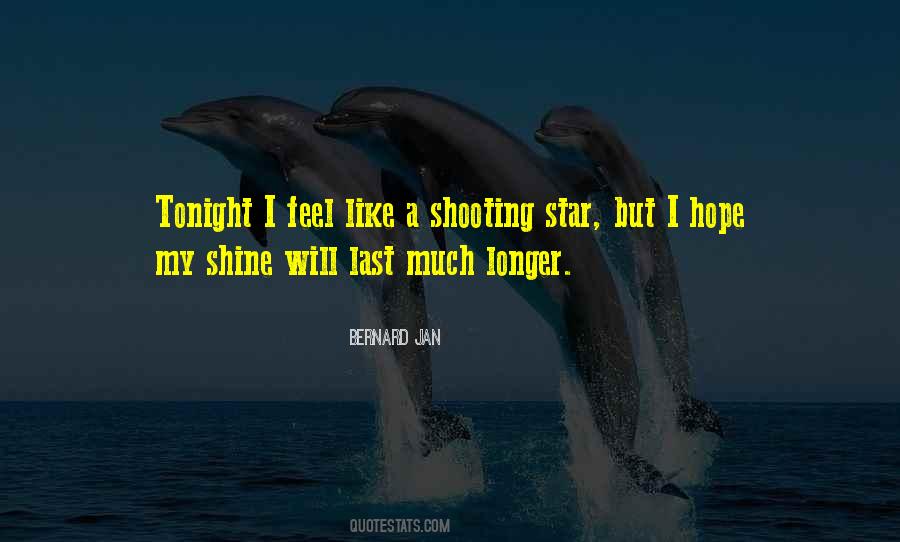 #13. How can I tell Bob that my happiness streams from having wrenched a piece out of my life, a piece of hurt and beauty, and transformed it to typewritten words on paper? How can he know I am justifying my life, my keen emotions, my feeling, by turning it into print? - Author: Sylvia Plath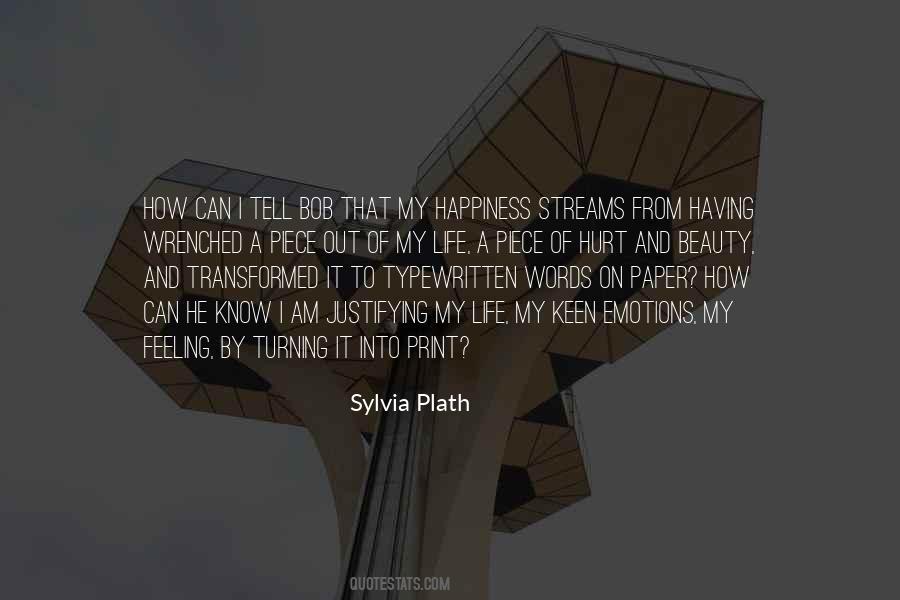 #14. I don't own my emotions unless I can think about them. I am not afraid of feeling but I am afraid of feeling unthinkingly. I don't want to drown. My head is my heart's lifebelt. - Author: Jeanette Winterson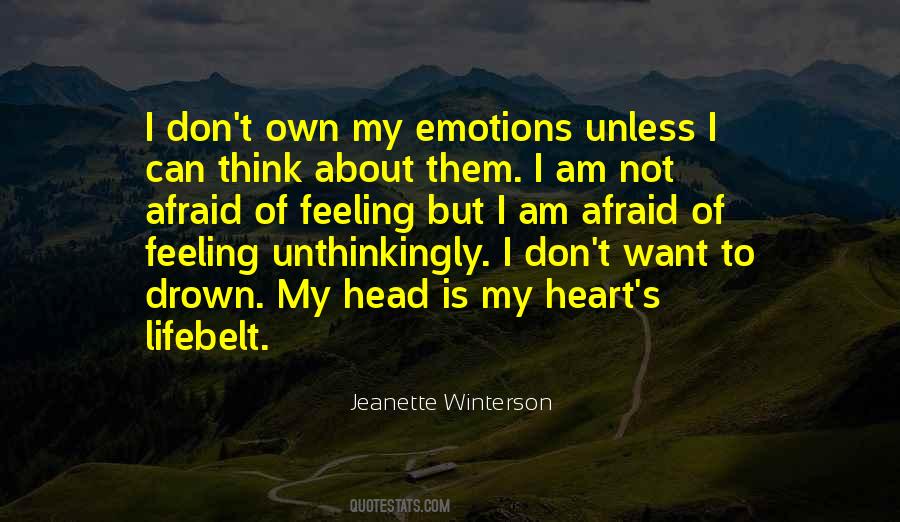 #15. It is impossible to bring more into your life if you are feeling ungrateful about what you have. Why? Because the thoughts and feelings you emit as you feel ungrateful are all negative emotions. - Author: Rhonda Byrne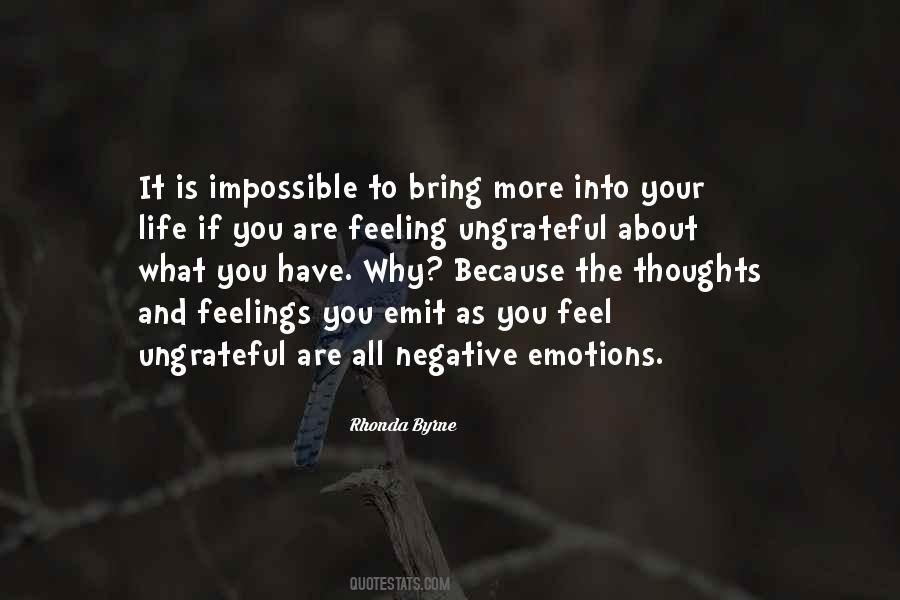 #16. I think there are differences between men and women. There is more of a softness to women than there is to men, especially when it comes to those more intimate emotions: feeling love, feeling familial connections. - Author: David Bezmozgis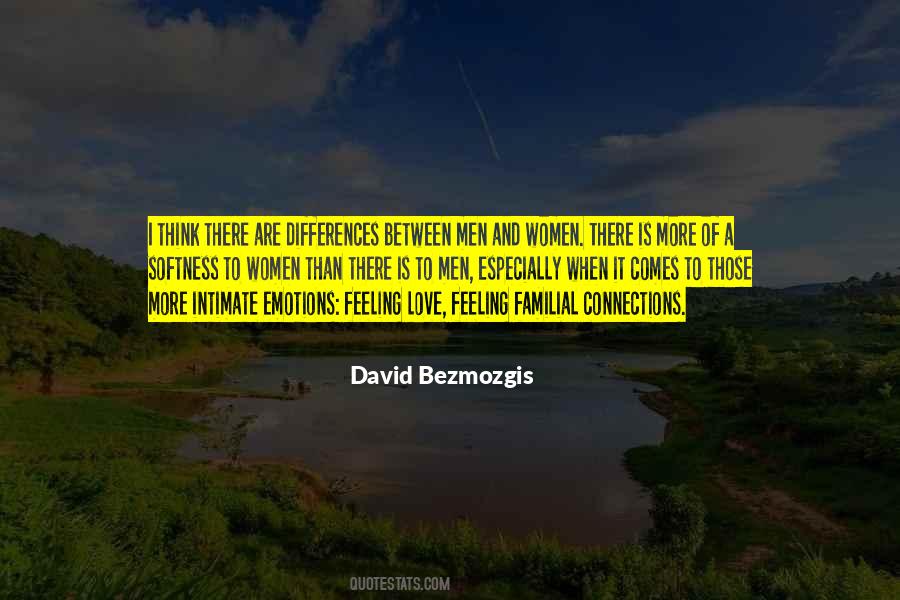 #17. I've tried never to be easily satisfied, and I've been painting like fury now for forty years ... I have a feeling. You paint about as far as your emotions go, and that's about it. - Author: Andrew Wyeth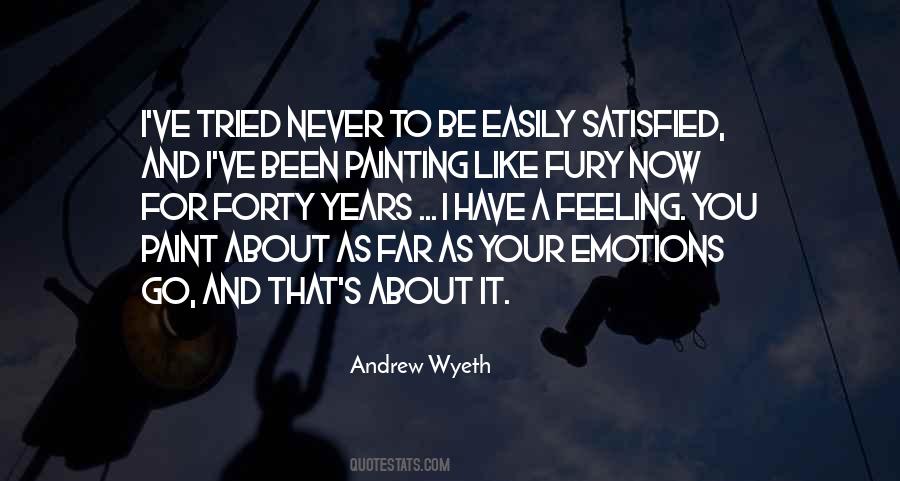 #18. I think I might have a disorder where your emotions frequently malfunction and a lot of the time you're sitting there feeling something inappropriate. It should be called Emotional Moron Disorder - Author: Jesse Andrews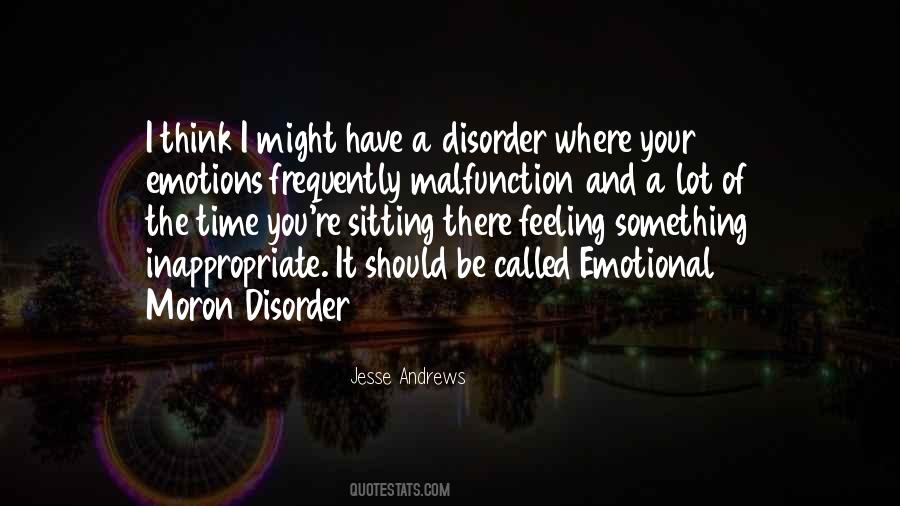 #19. we dismiss vulnerability as weakness only when we realize that we've confused feeling with failing and emotions with liabilities. - Author: Brene Brown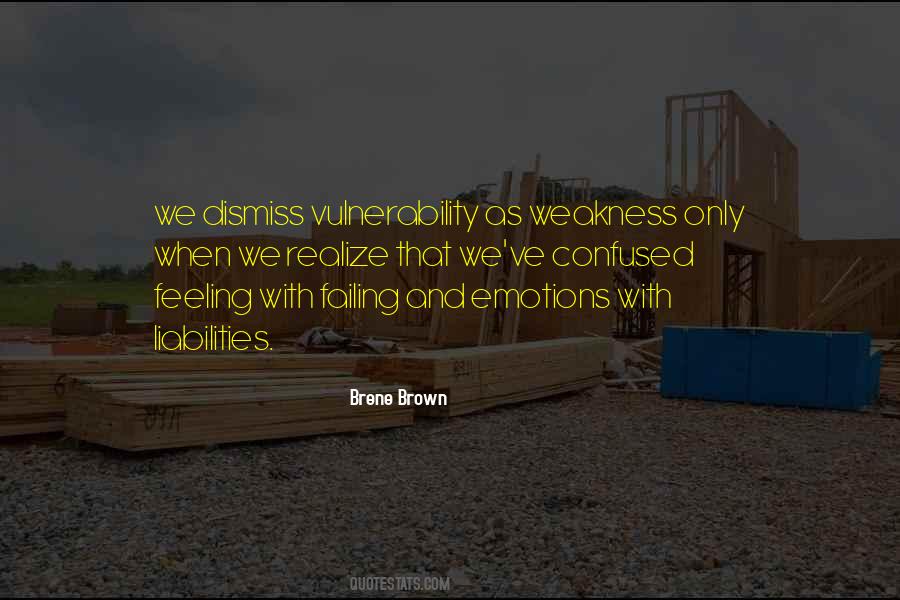 #20. Copywriting cuts the communication cord between word and feeling. By offering instant gratification, it atrophies more subtle emotions. - Author: Clive Sinclair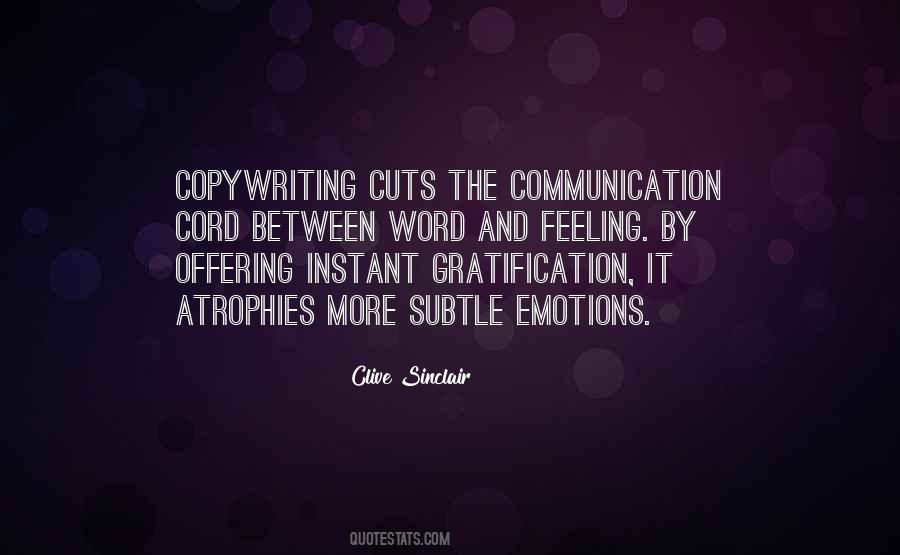 #21. Perception is reality to the one in the experience. - Author: Danielle Bernock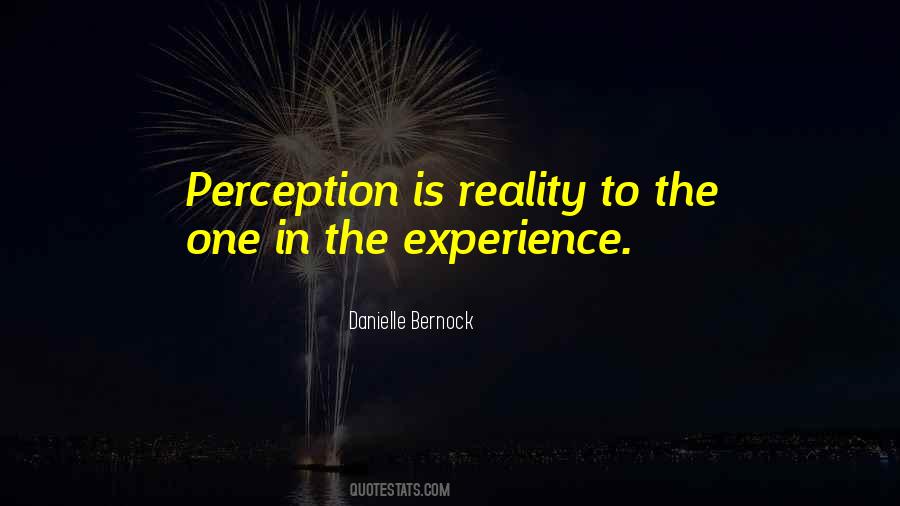 #22. BEING ABLE to lighten up is the key to feeling at home with your body, mind, and emotions, to feeling worthy to live on this planet. - Author: Pema Chodron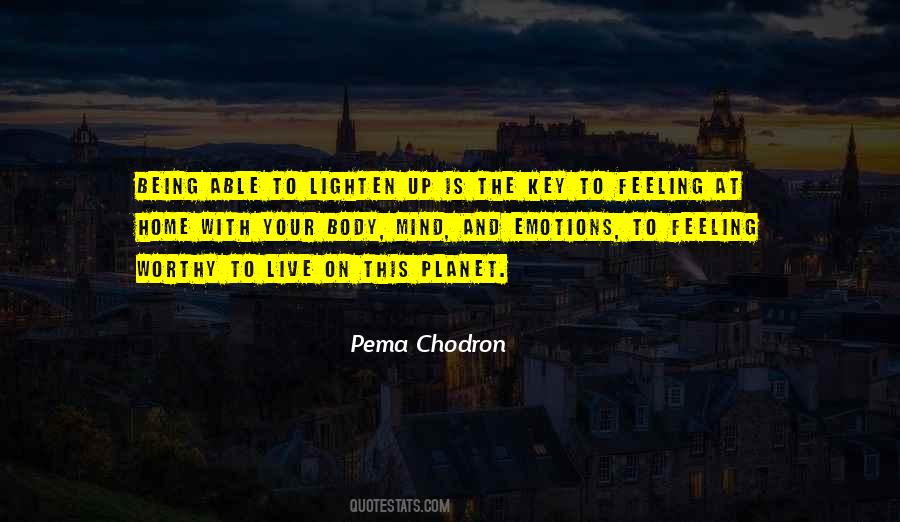 #23. There are so many emotions that you're feeling, you can get stifled by them if you're feeling them all at once. What I try to do is take one moment - one simple, simple feeling - and expand it into three-and-a-half minutes. - Author: Taylor Swift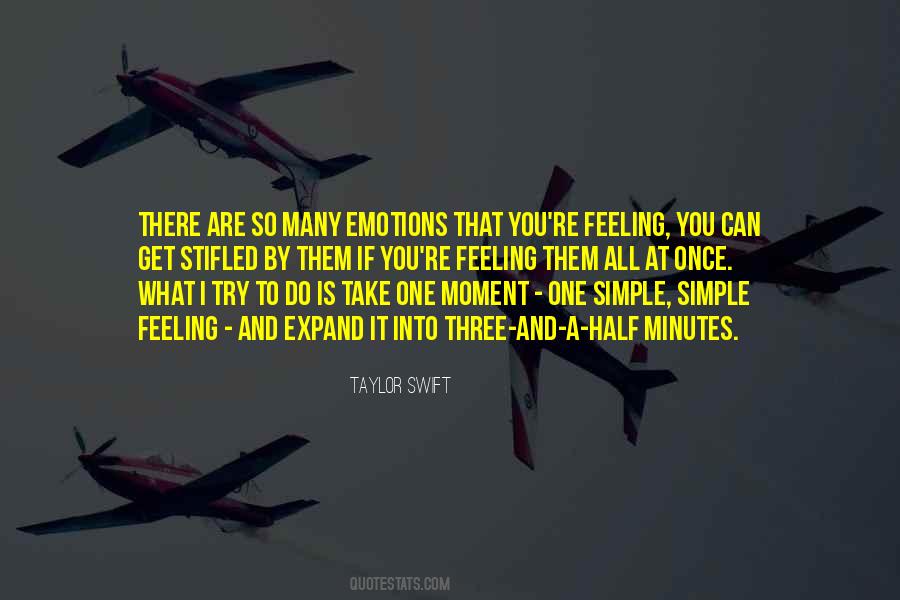 #24. There's a big difference between feeling thankful and giving thanks. One response involves emotions, the other, your will. Trusting God has nothing to do with trustful feelings. - Author: Joni Eareckson Tada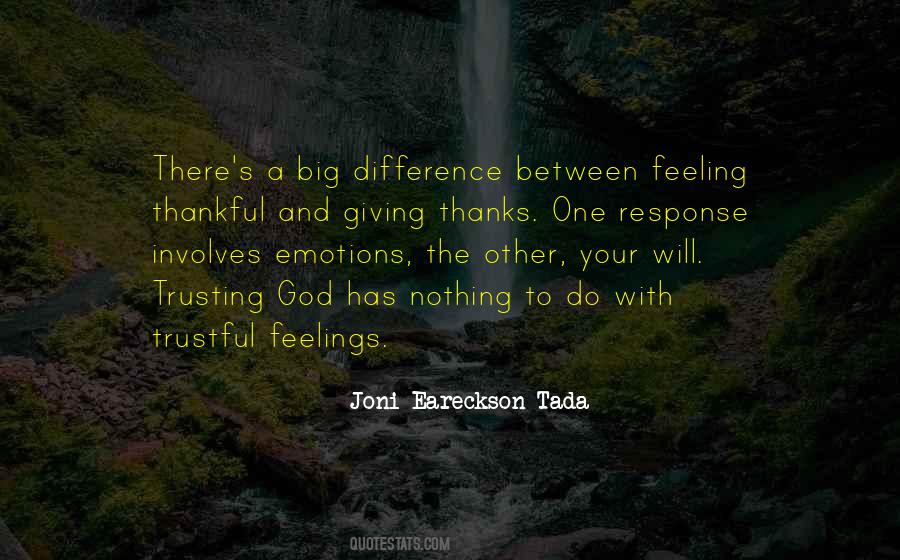 #25. With self-awareness we can change our inner conversation about what we are feeling and create different outcomes in conversations with others. To create conversations for change we must be able to process ourselves and others through emotions. - Author: Shawn Kent Hayashi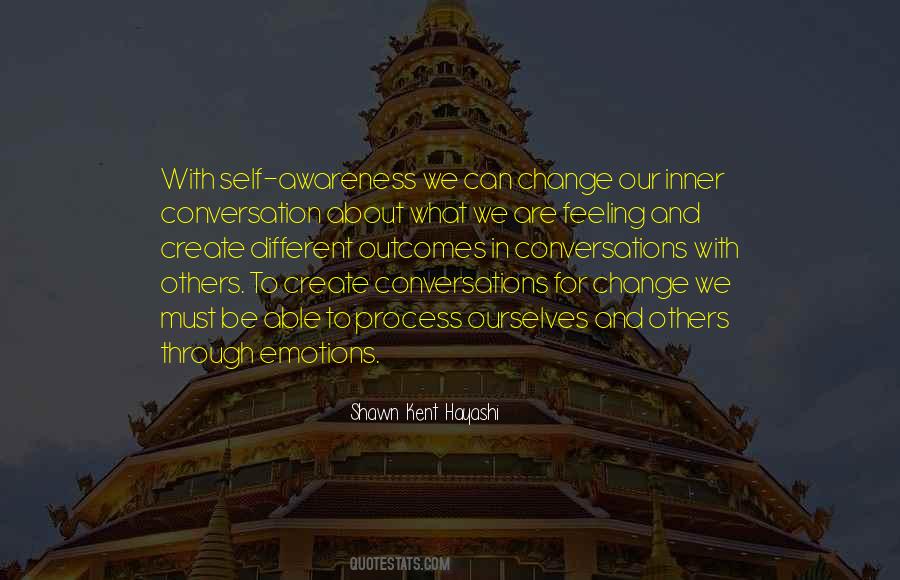 #26. I'm glad I'm feeling this way. I'm really glad."
Dr. Keyes looked rather dismayed. "Really, sweetheart?"
"Yes. And I don't want to let it go. Not yet. I'm just starting to feel it. And it feels ... I don't know. Right, I guess. Maybe even ... good. - Author: James Patterson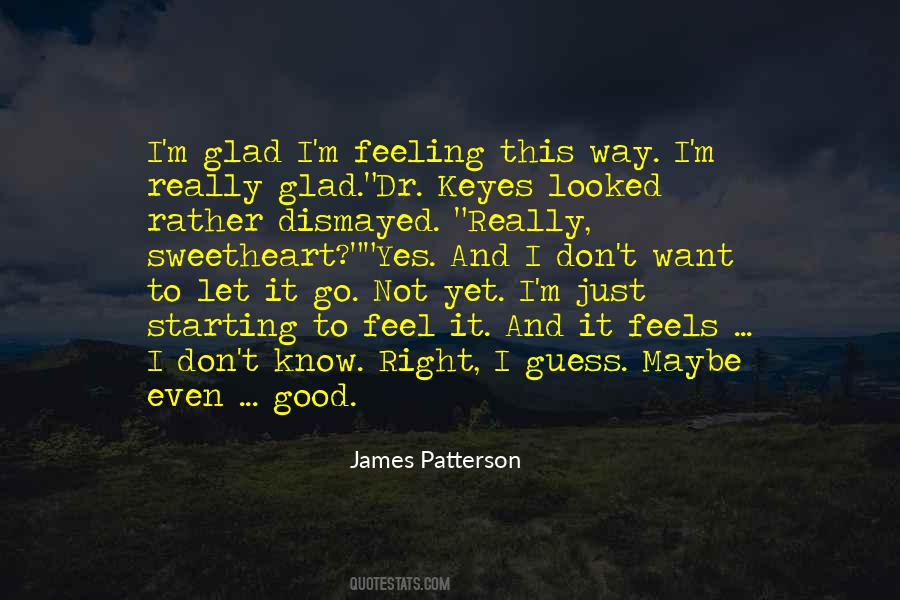 #27. Do you ever think that people who find it tougher to say what they're feeling are the ones who feel things more intensely? As if they're the ones who really understand what it means to love someone? As if they have to keep their defenses high, because they care too much and have too much to lose? - Author: Claire Cross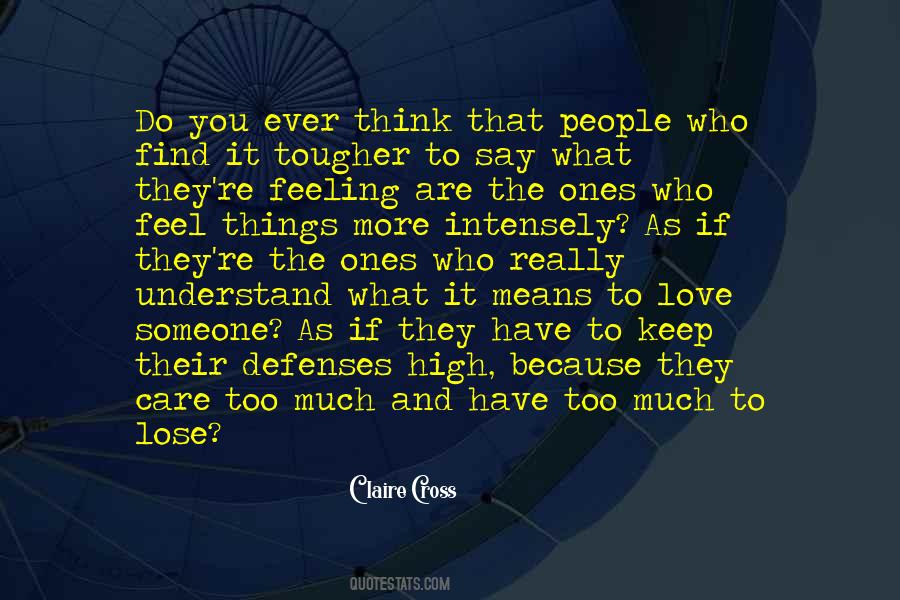 #28. Inner-freedom is less about feeling good and more about learning to develop a healthy and harmonious relationship with the variety of emotional states you're likely to occupy over the course of a lifetime. - Author: T.K. Coleman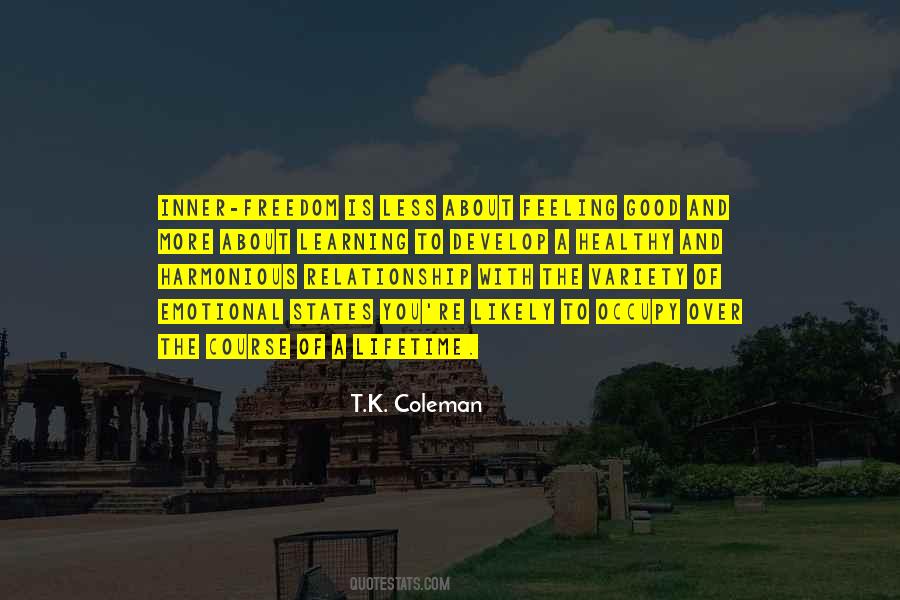 #29. For me soccer provides so many emotions, a different feeling every day. I've had the good fortune to take part in major competitions like the Olympics, and winning the World Cup was also unforgettable. We lost in the Olympics and won in the World Cup, and I'll never forget either feeling. - Author: Ronaldinho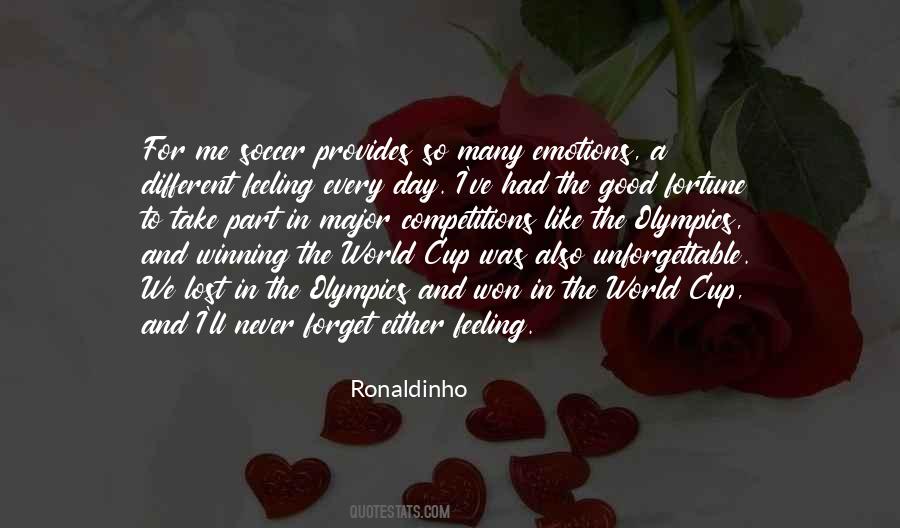 #30. In 'The Giver,' I play a character called Jonas who is a member of this community called Changeless. In this community, everyone is kept at bay emotionally and physically. They receive an injection every morning to control them from feeling things like love and pain and all natural emotions. - Author: Brenton Thwaites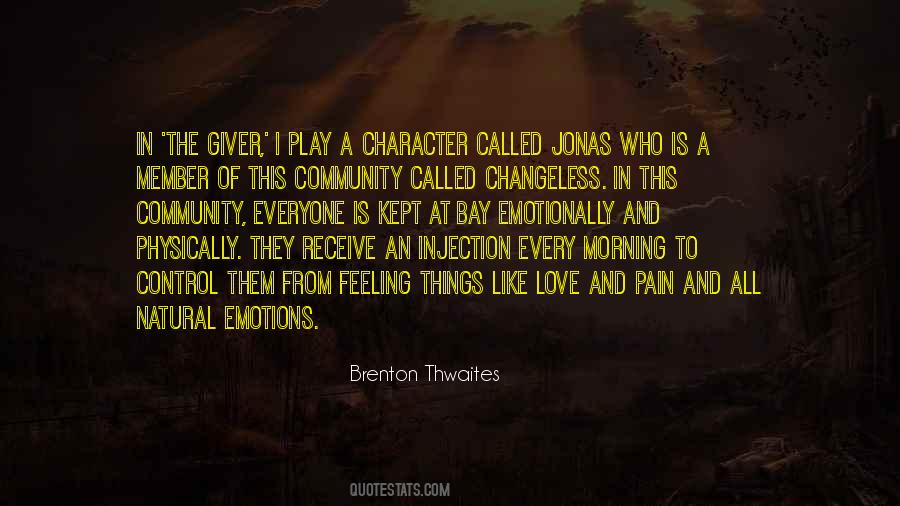 #31. I feel vulnerable. I I try to mask my emotions, but I feel like everyone knows what I'm thinking and feeling, and I don't like it. I don't like being an open book. I feel like I'm up on the stage, pouring my heart out to him, and it scares the hell out of me. - Author: Colleen Hoover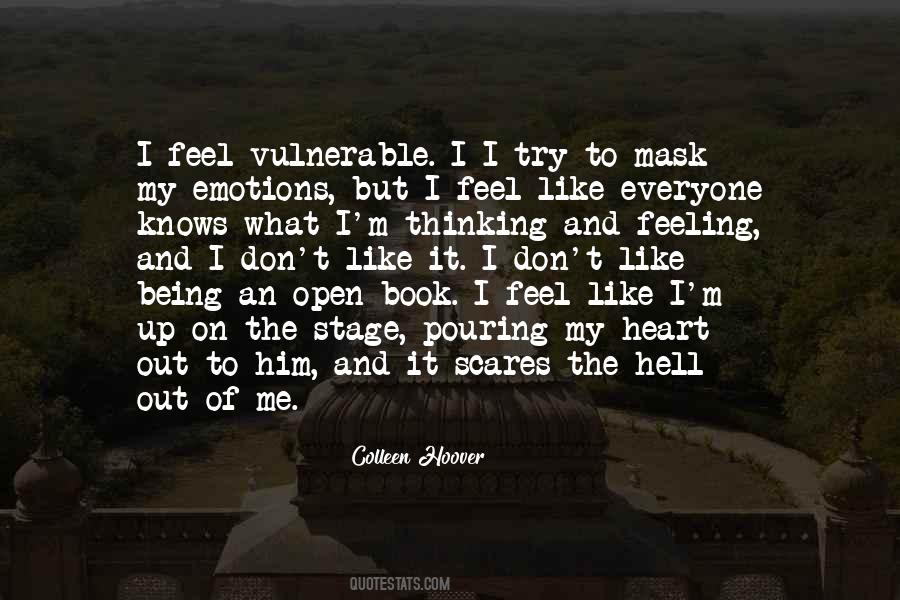 #32. we all try to silence painful emotions. but when we succeed in feeling nothing we lose the only means we have of knowing what hurts us and why. - Author: Stephen Grosz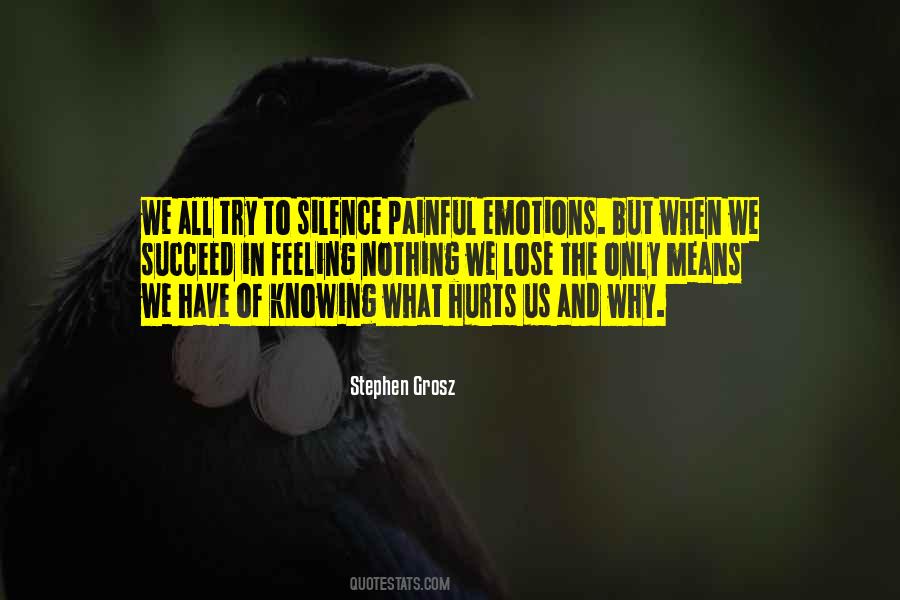 #33. When a society has doubts about its future, it tends to produce spokesmen whose main appeal is to the emotions, who argue from intuitions, and whose claim to be truth-bearers rests solely on intense personal feeling. - Author: Kenneth Tynan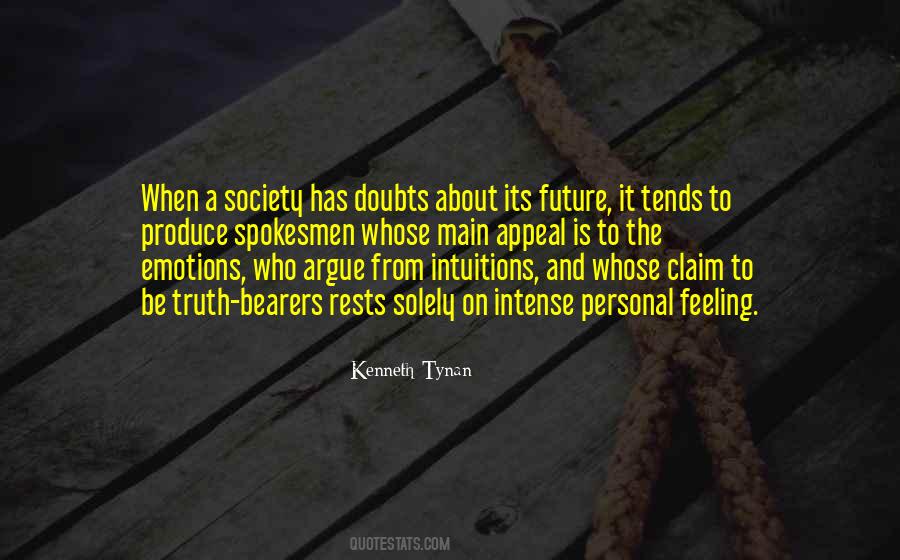 #34. Although my work is to grapple with words, I have no words with which to describe and explain this feeling. Perhaps I write stories to show that in life there are moments, emotions, and events that cannot be explained with words. - Author: Shahriar Mandanipour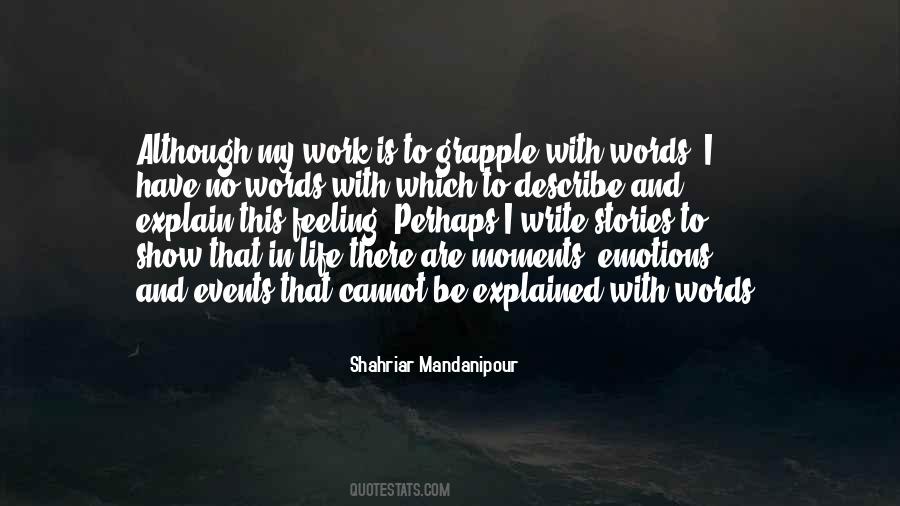 #35. I truly do not know, and that unnameable feeling that comes with not knowing: it must be worse than grief. It must. - Author: Dexter Palmer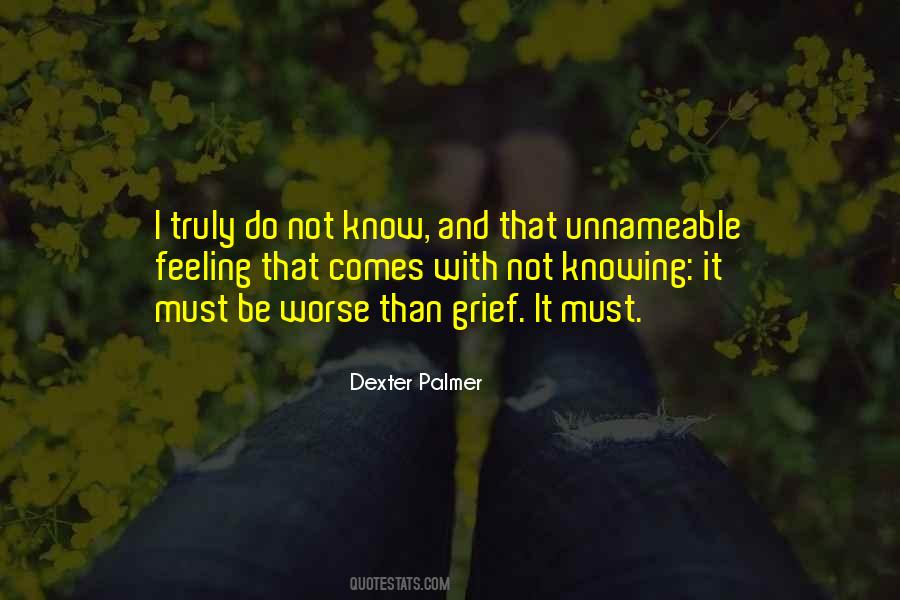 #36. In an almost totally insentient cosmos only human feeling is interesting or relevant to what the soul searches for...suffering is the most expensive of human emotions, but it is the most intense and precious of them, because suffering most efficiently humanizes the unfeeling universe. - Author: Fred Chappell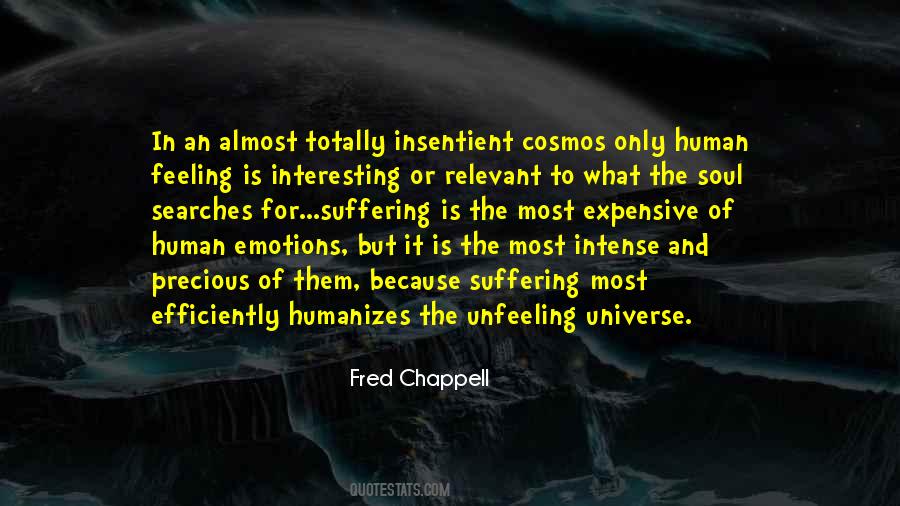 #37. I love the whole world of dance, because dancing is really the emotions through bodily movement. And however you feel, you just bring out the inner feeling through your mood ... people don't think about the importance of it. - Author: Michael Jackson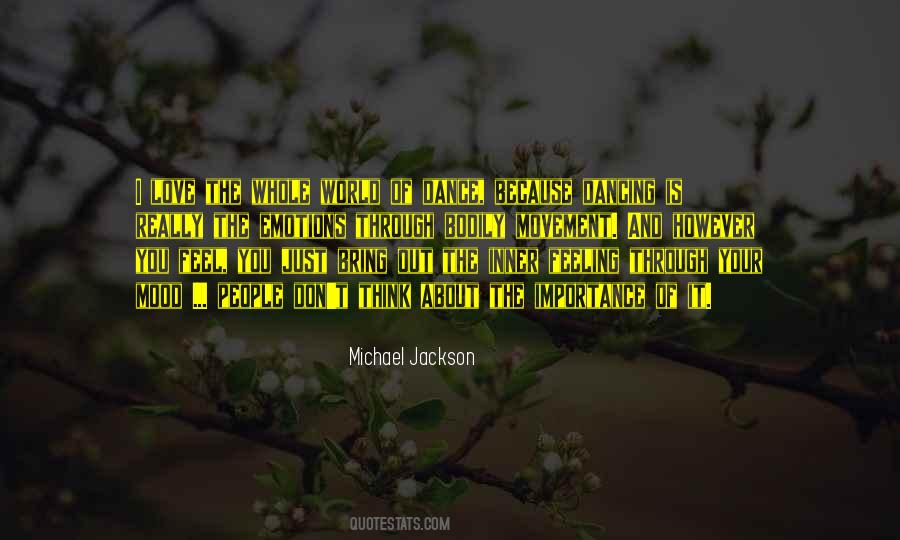 #38. He was gripped by what he could think of only as numbness, though he knew it was a feeling compounded of emotions so deep and intense that they could not be acknowledged because they could not be lived with. - Author: John Williams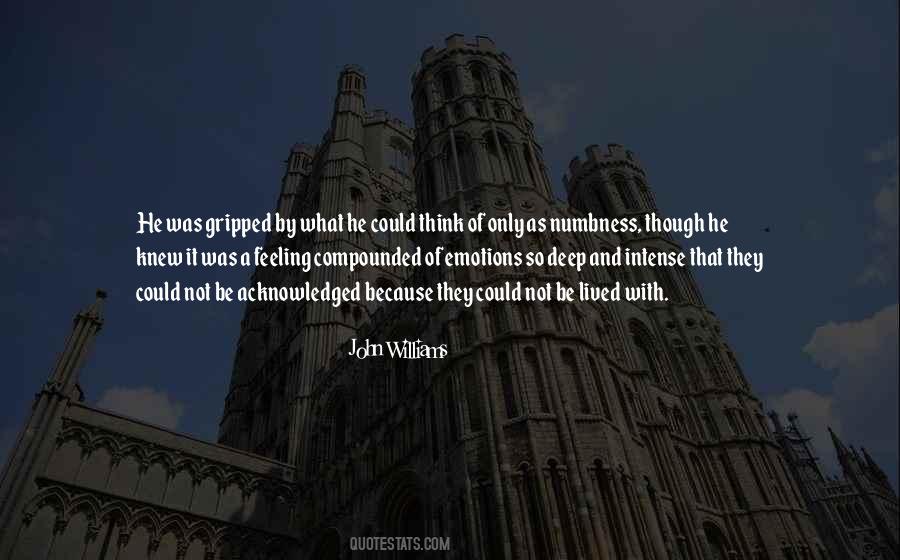 #39. When you're actually feeling a character and you're going through the real emotions, and you're not fake acting, that energy stays with you and sometimes you can't get it off for days. It just resonates in your body, unless you have some sort of release, whatever it is. - Author: Tinsel Korey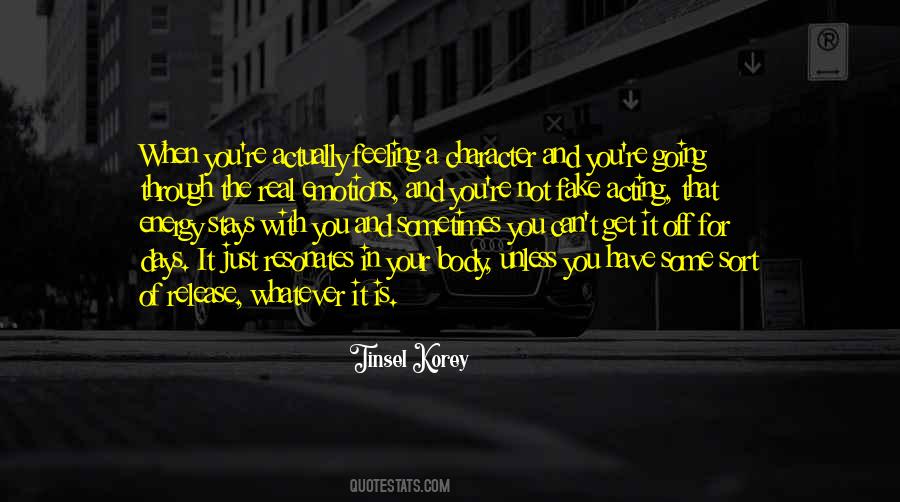 #40. Some people think falling love with every 2nd person is true feeling and Emotions. but it's actually a dirty mind which force people to change partners for flirting game. - Author: Mohammed Zaki Ansari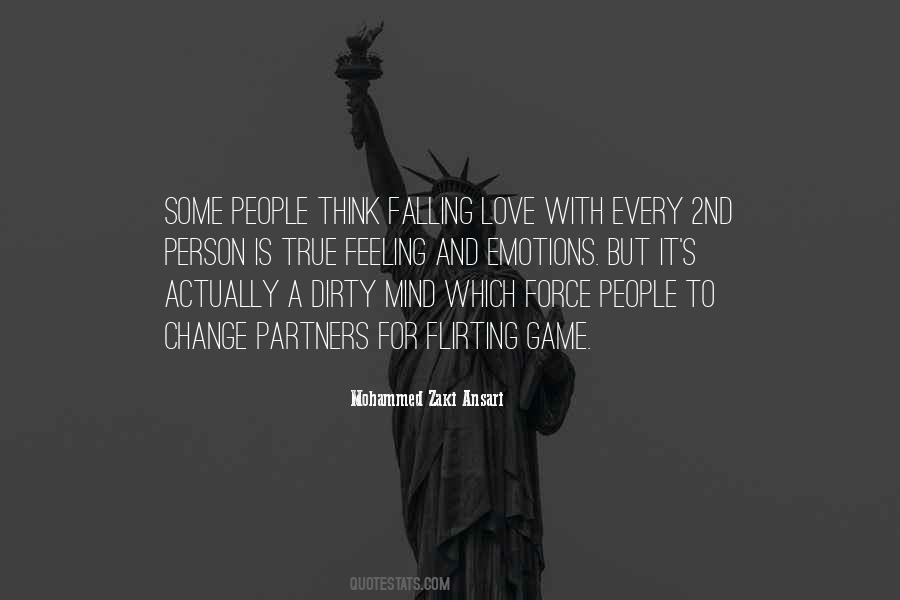 #41. In that moment, I felt differently to myself yet the essence of who I really was.
Like a perfect state of balance. - Author: Tim Relf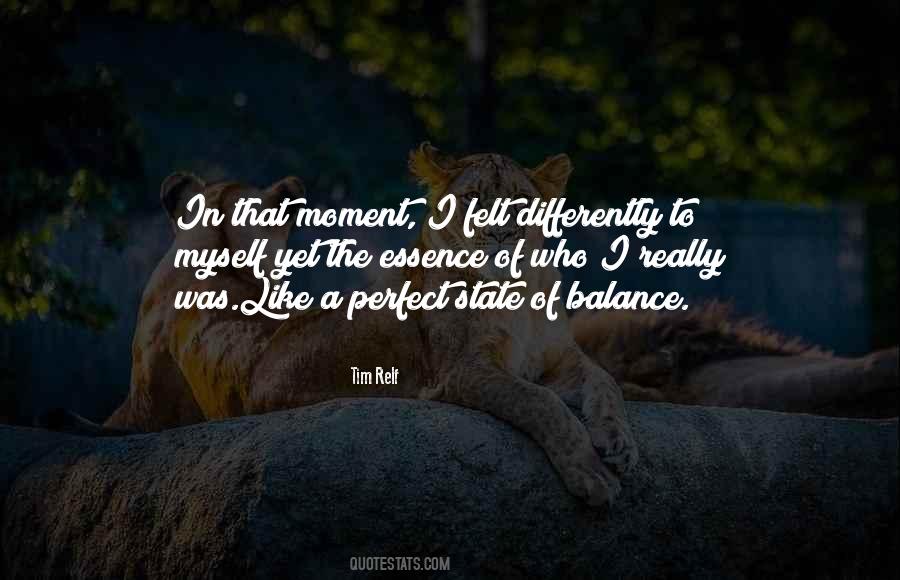 #42. We will find out together," she said, feeling wrong and pleased and sad all at the same time. Out of so many contradictory emotions, all she could do was choose the best one. - Author: Andrea K. Host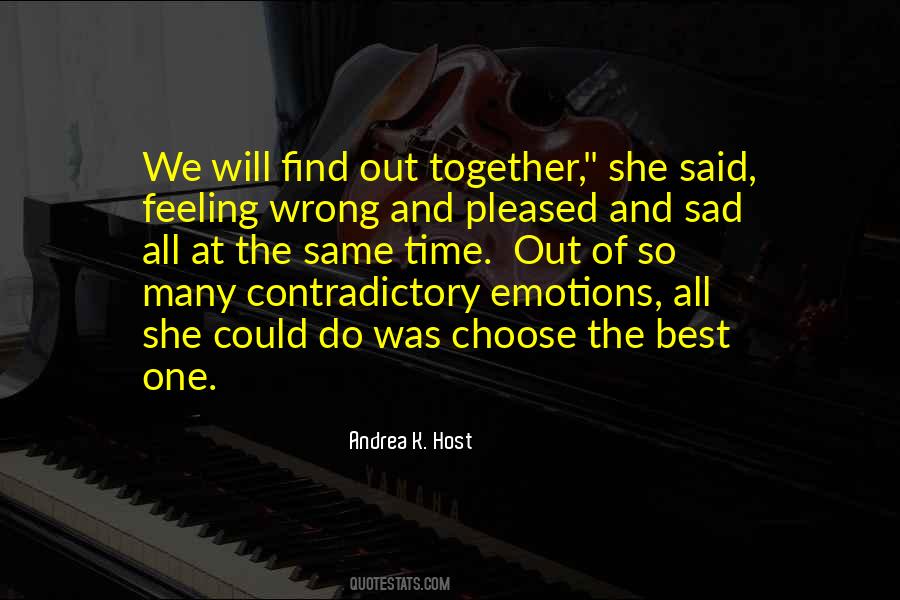 #43. I am either blessed or cursed with having little barrier between feeling emotions and displaying them for all to see. My heart is on my sleeve. It's not comfortable but ... I am an artist so it's useful and my friends are used to me getting teary at any moment. - Author: Kristin Bauer Van Straten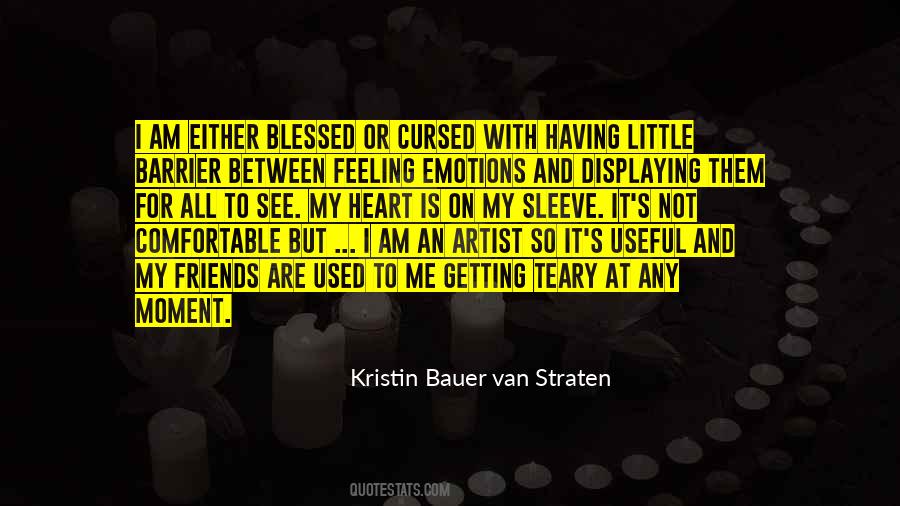 #44. I'm not a mess but a deeply feeling person in a messy world. I explain that now, when someone asks me why I cry so often, I say, 'For the same reason I laugh so often--because I'm paying attention.' I tell them that we can choose to be perfect and admired or to be real and loved. We must decide. - Author: Glennon Doyle Melton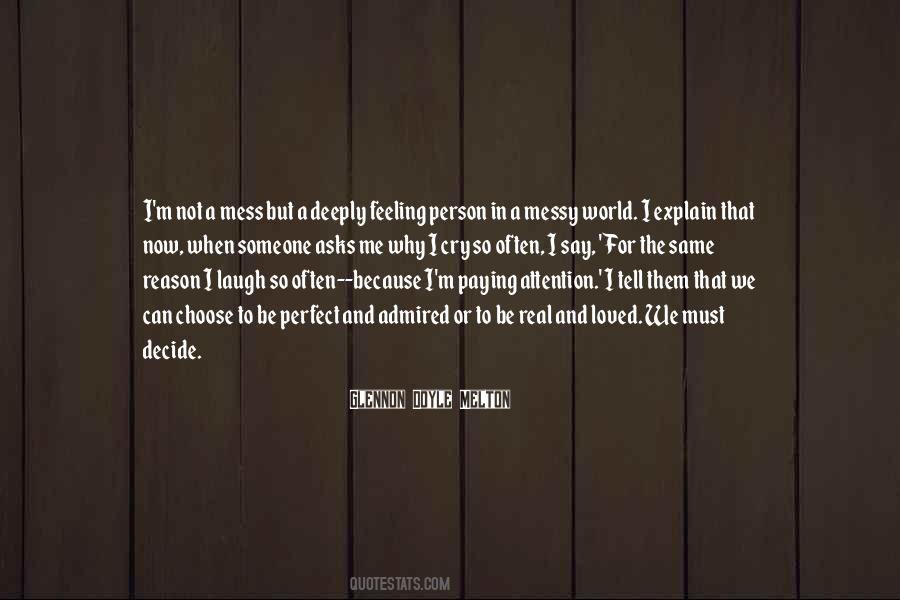 #45. And he has so much, Sydney. So much feeling. He feels everything so strongly - love, grief, anger. His emotions are up and down, all over the place. - Author: Richelle Mead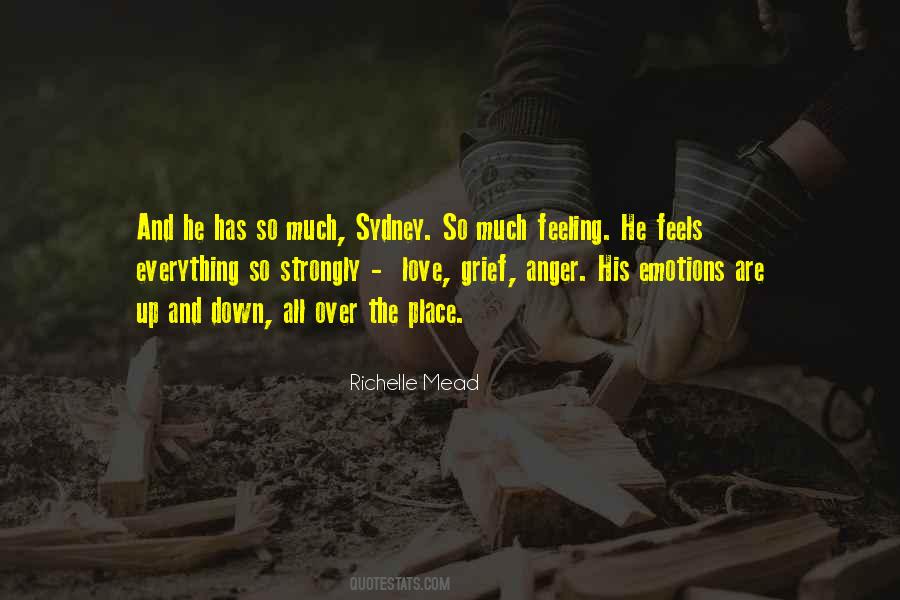 #46. The melody and the structure of a song always comes first for me, so the emotions behind it can sometimes be a challenge: What am I feeling about this song? Where did the melody come from? I want it to be heartfelt. - Author: Avey Tare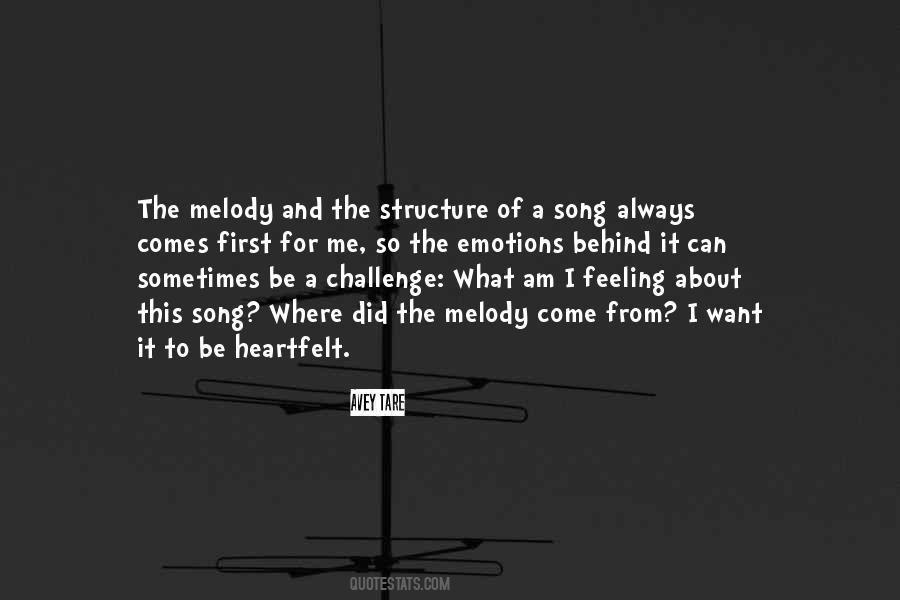 #47. Musically I try to connect a common bridge between such exhilarating feelings as performing at the Acropolis, to the emotions each and every one of us feel everyday. In the end, a good melody will always stand the test of time. - Author: Bradley Joseph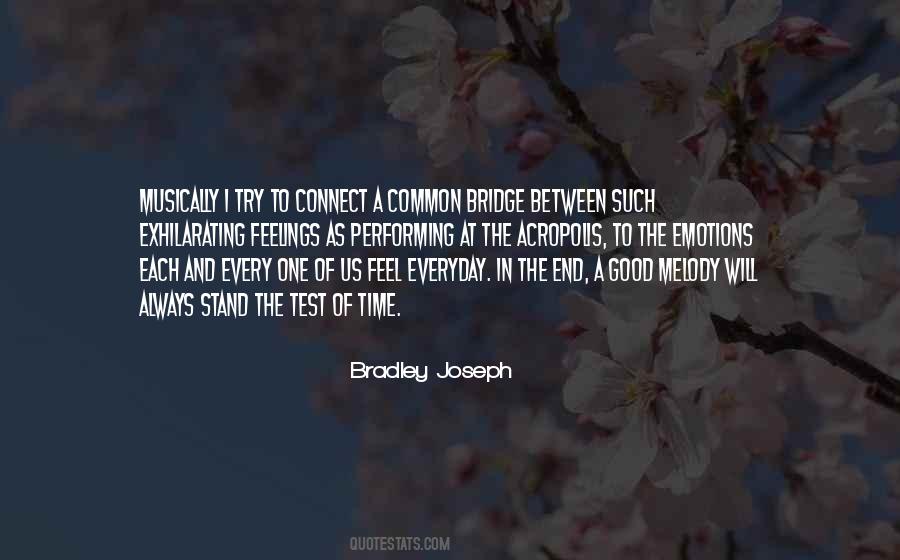 #48. He wore the evidence of thinking all over his face, open and easy to read. Leah envied him that confidence to show what he was feeling. - Author: Lauren Dane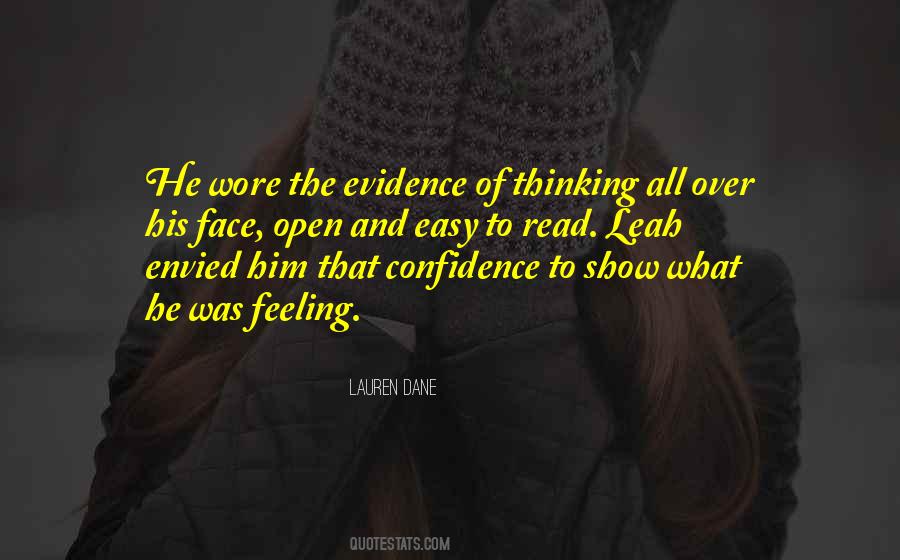 #49. I suddenly had an idea of how adults can hold on to a feeling for very long periods of time, long after the event is finished, long after cards have been sent and apologies made and everyone else had moved on. Adults were pack rats of old, useless emotions - Author: Reif Larsen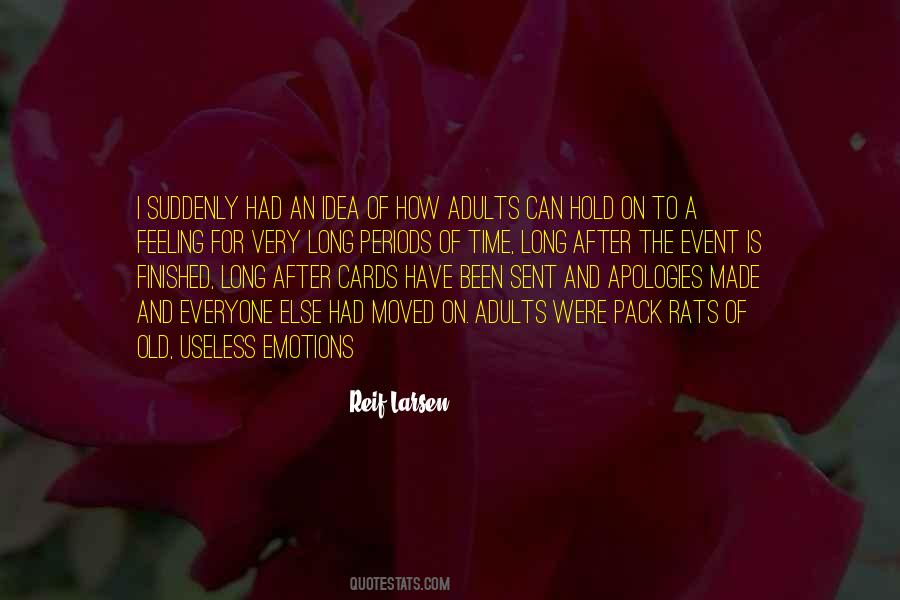 #50. Pain was the only sign to her that she was alive and could feel emotion. - Author: Jeane Westin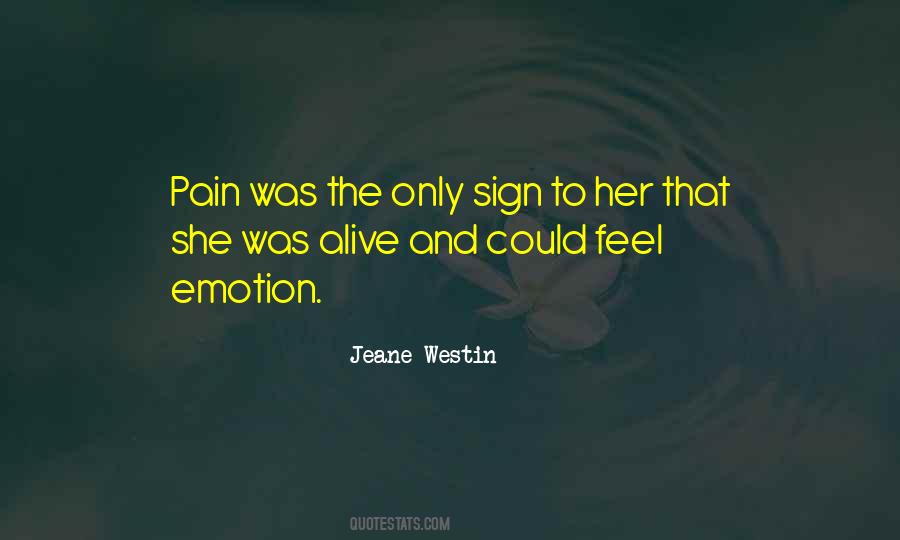 #51. Courage means feeling all those hard human emotions - all that uncertainty and anxiety - and getting the job done anyway. - Author: Douglas Conant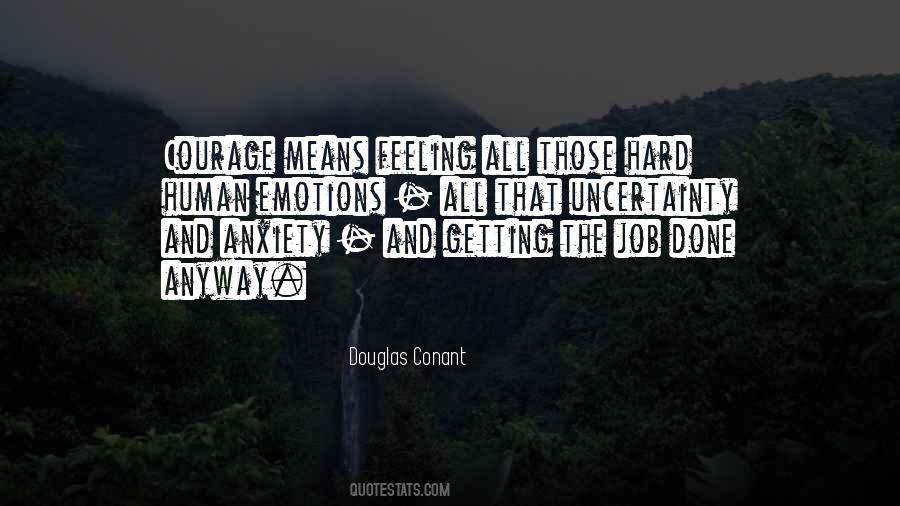 #52. The tear is the language of the soul and the voice of the feeling. - Author: Filippo Pananti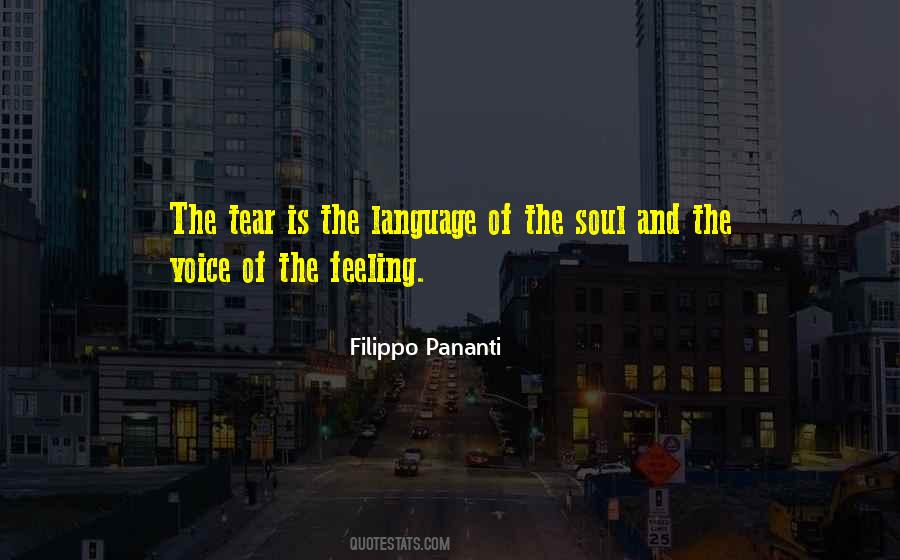 #53. But she looked for the emotions and they weren't there; just scraps and tatters, clinging to the empty place where they belonged. She had no feeling left, hollowed out and lost and wondering how she'd ended up - Author: Cole McCade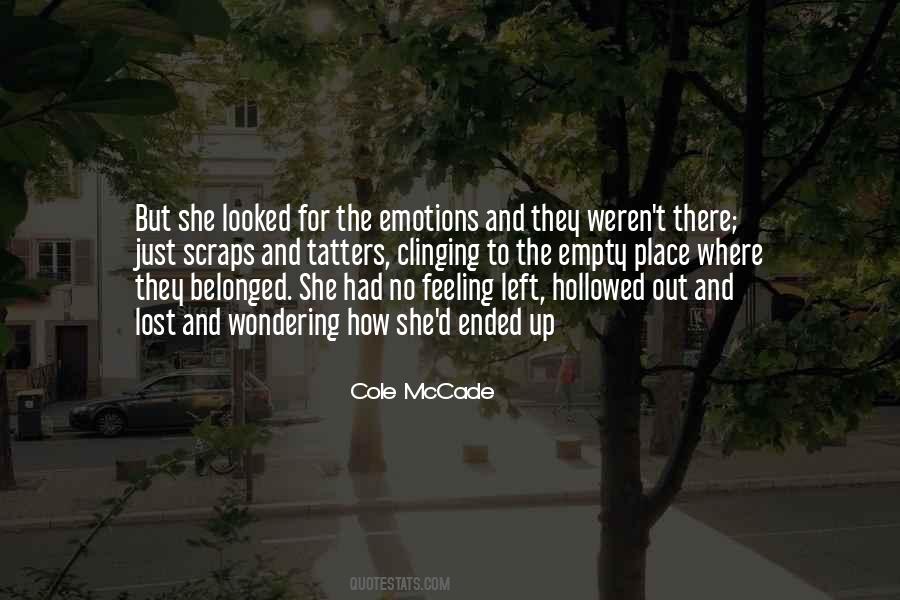 #54. Conrad glared at him coldly. Jed could detect no human feeling or care or empathy coming from the man. This was a man who did everything by the book, and it was obvious that he didn't let anything - emotions, mercy, kindness - affect his decisions. - Author: Jay Allan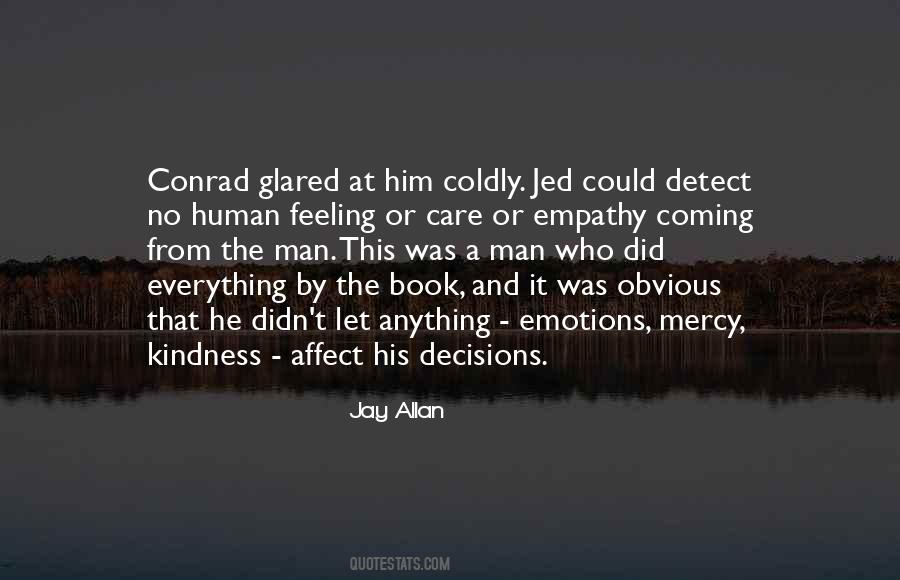 #55. I wasn't crying, but my heart was crying. I wasn't feeling, but my heart was bleeding. Now I am crying, but my heart is healing. I am learning that I know nothing. - Author: Benyf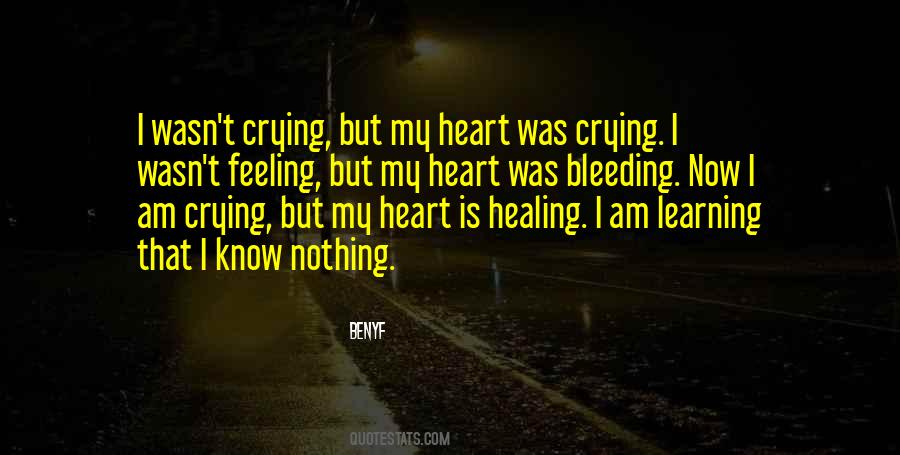 #56. Sometimes the only way to get rid of an unpleasant feeling is to replace it with another unpleasant feeling. - Author: Chetan Bhagat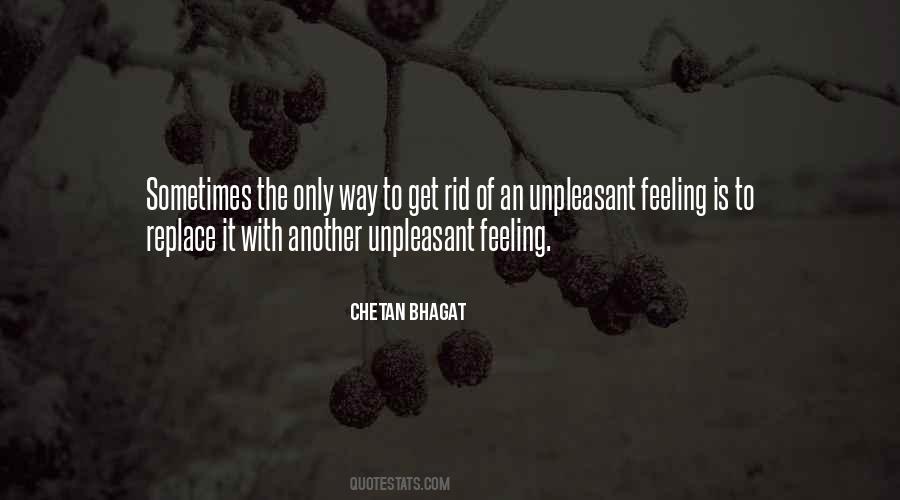 #57. to give thanks is an action and rejoice is a verb and these are not mere pulsing emotions. While I may not always feel joy, God asks me to give thanks in all things, because He knows that the feeling of joy begins in the action of thanksgiving.4 - Author: Ann Voskamp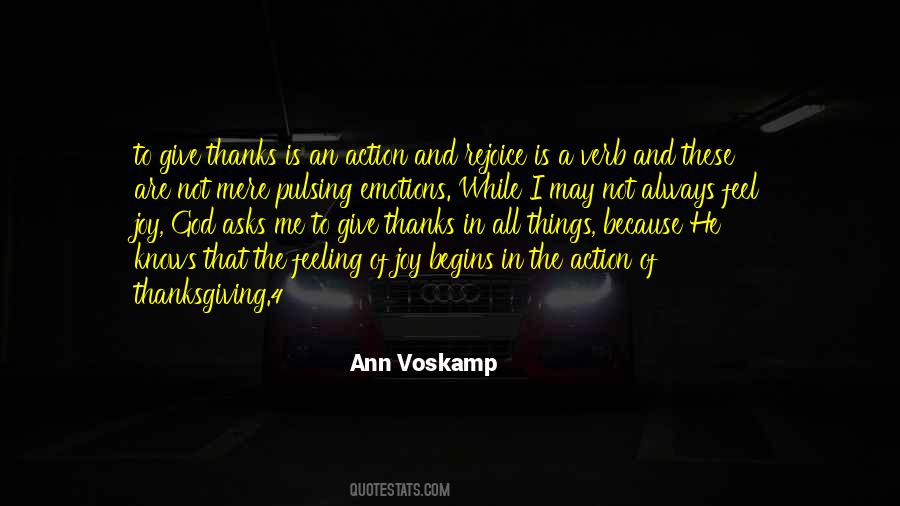 #58. In truth, I did not have to wonder. She would be feeling that disturbing mixture of emotions that she always summoned from me: admiration and envy, pride and a furious rivalry, a longing to see a beloved sister succeed, and a passionate desire to see a rival fall. - Author: Philippa Gregory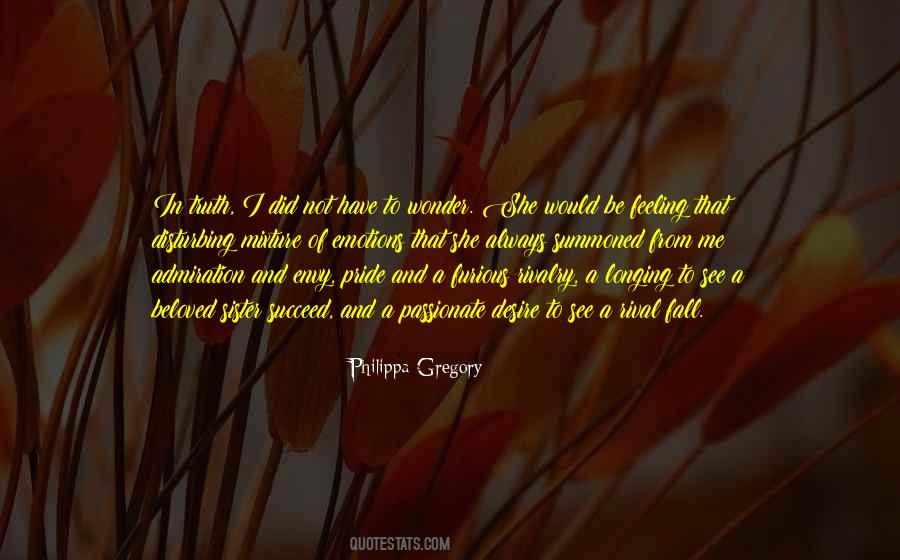 #59. [While voicing] you have to create a feeling for what happened before a scene, what's going to happen after a scene, and what you are doing in a scene. You need to use your imagination even more and once your emotions are up, then your voice and expressions will go accordingly. - Author: James Hong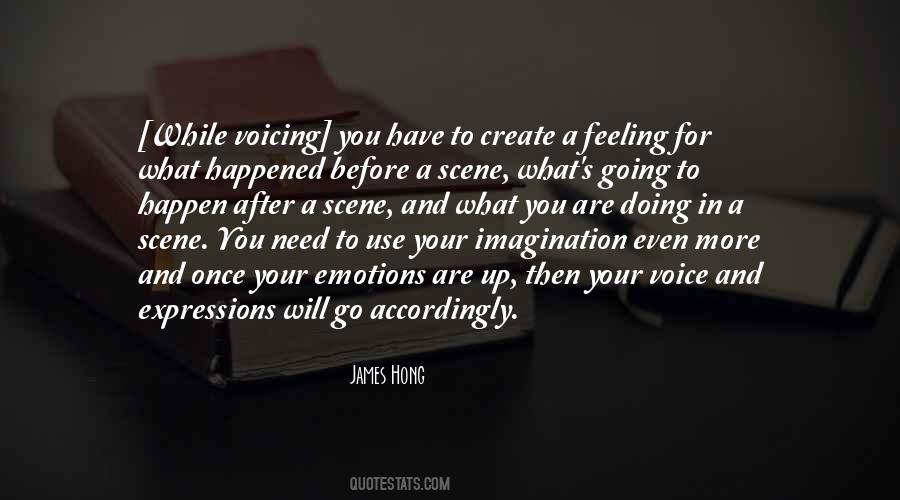 #60. Our vibration depends upon what we are thinking, feeling and acting. You have two choices, one is to flow with the chaotic frequencies of the world and feel hopeless, or decide what and how you want to feel. - Author: Hina Hashmi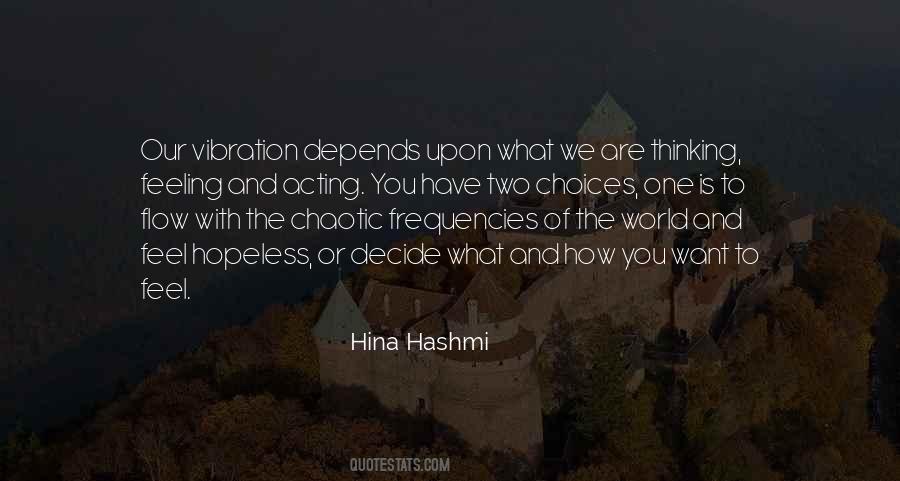 #61. Except for normal human emotions we would be feeling anyway, and twinges of discomfort as we begin to behave differently, recovery from codependency is exciting. It is liberating. It lets us be who we are. It lets other people be who they are. - Author: Melody Beattie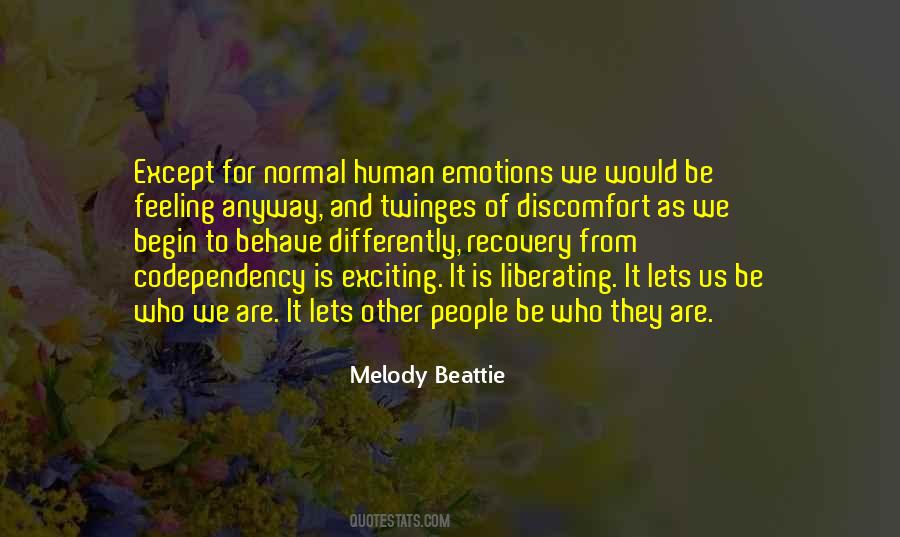 #62. The name of Jesus, like a secret charm, awakened similar emotions in the hearts of all the converts, and called immediately into action every feeling of moral loveliness, and every desire of dutiful obedience, which constitute Christian purity. - Author: John Strachan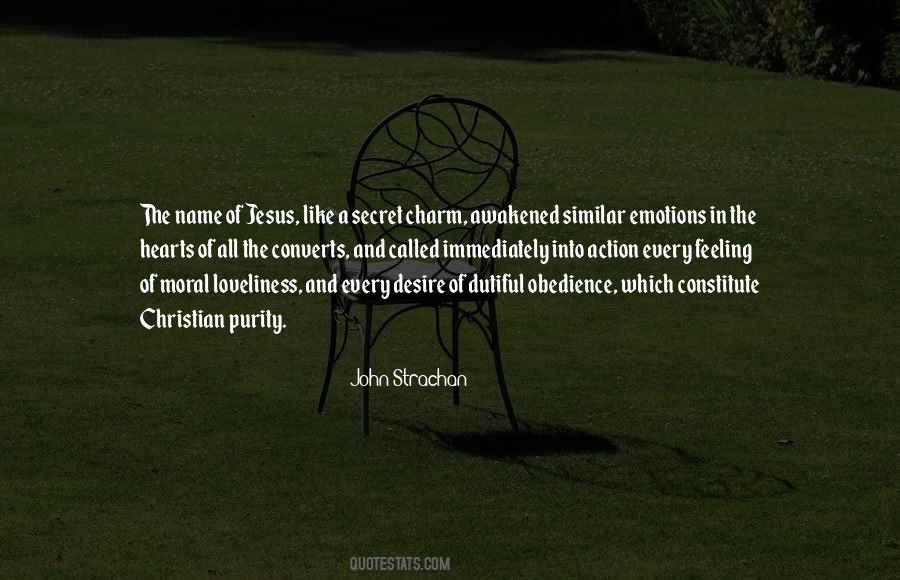 #63. The feeling of love comes and goes on a whim; you can't control it. But the action of love is something you can do, regardless of how you are feeling. - Author: Russ Harris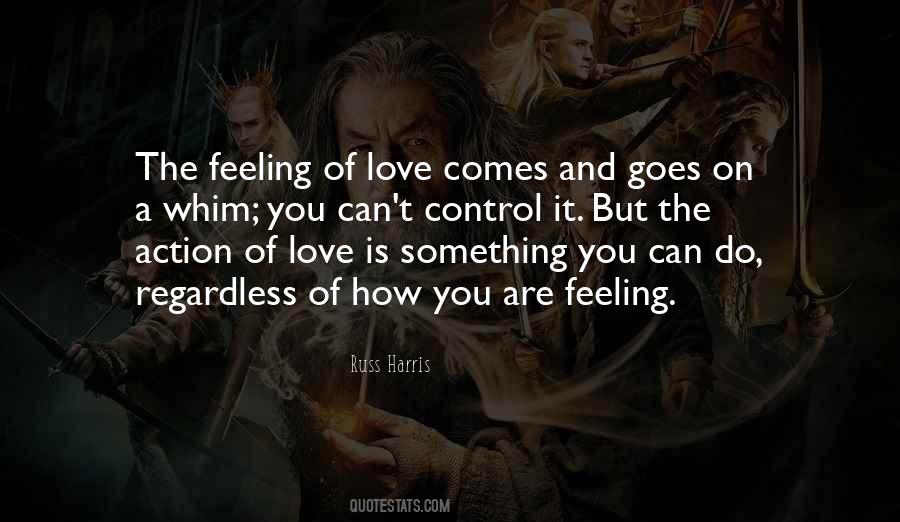 #64. People who struggle with overwhelming emotions often feel vulnerable. At any point, the smallest trigger can lead to a tidal wave of emotions that leaves them feeling confused, angry, alone, hopeless, and in pain. - Author: Matthew McKay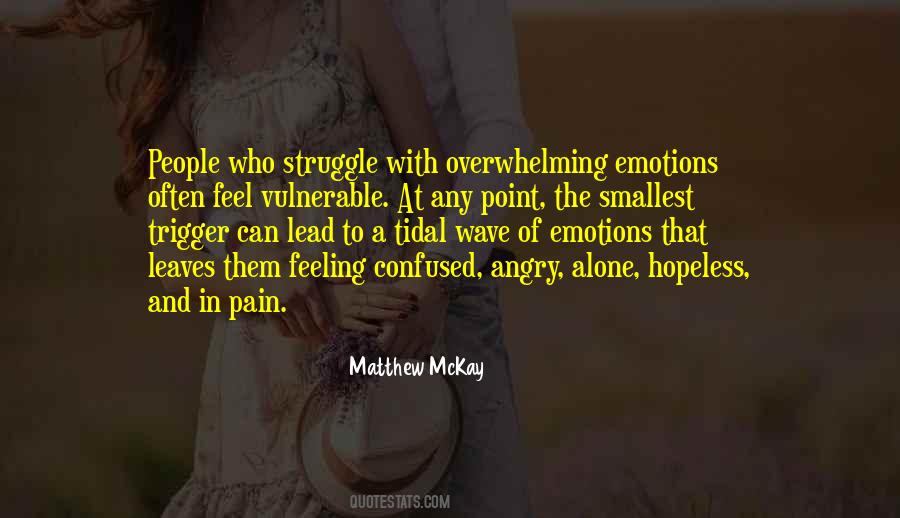 #65. I do tend to gravitate to the more dramatic side of things. I love feeling intense emotions when I'm acting. I just love characters and stories with conflict. - Author: Aaron Paul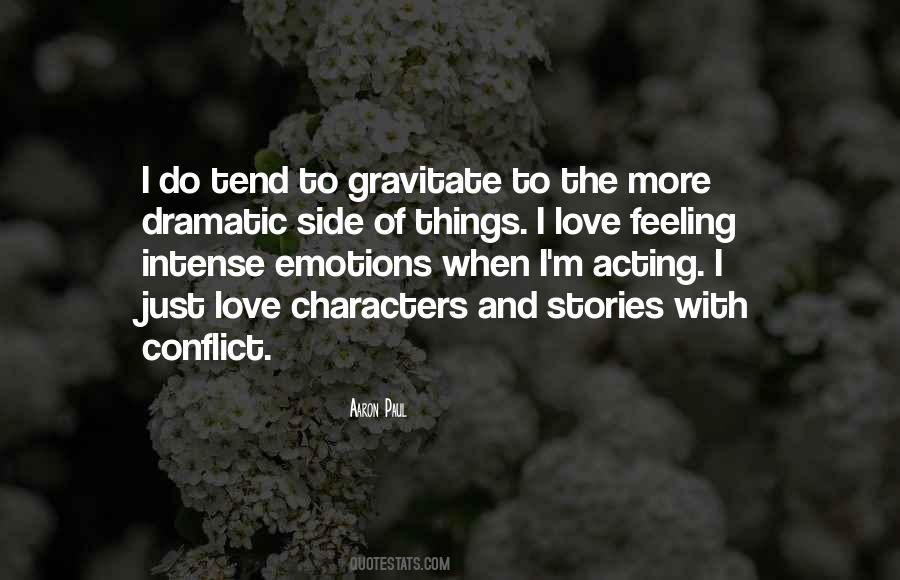 #66. If I'm talking to someone and they're feeling a certain way, I will definitely tie into that very quickly. You have to learn to read emotions and feelings when you grow up in a family with four brothers - especially if three of them are a lot bigger than you. - Author: Henry Cavill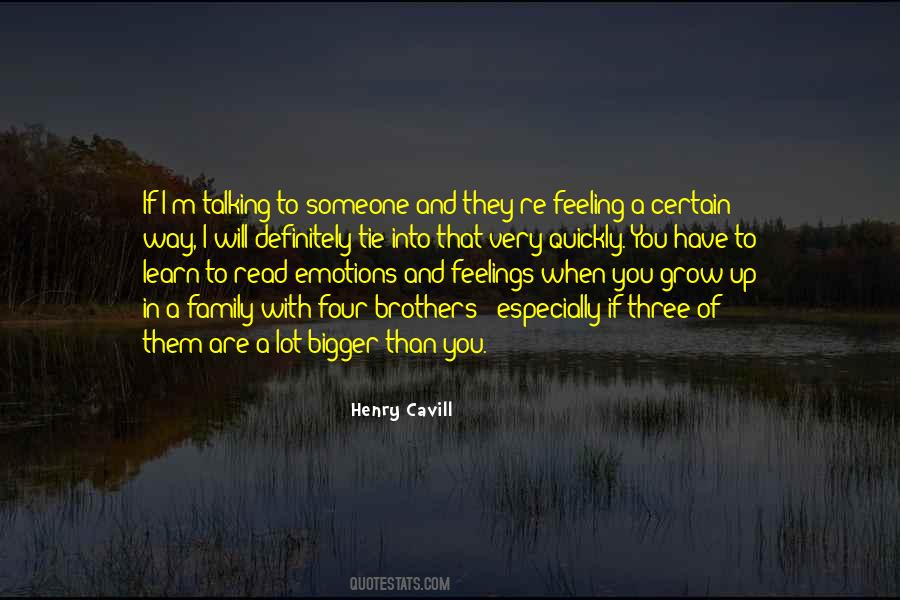 #67. A feeling is no longer the same when it comes the second time. It dies through the awareness of its return. We become tired and weary of our feelings when they come too often and last too long. - Author: Pascal Mercier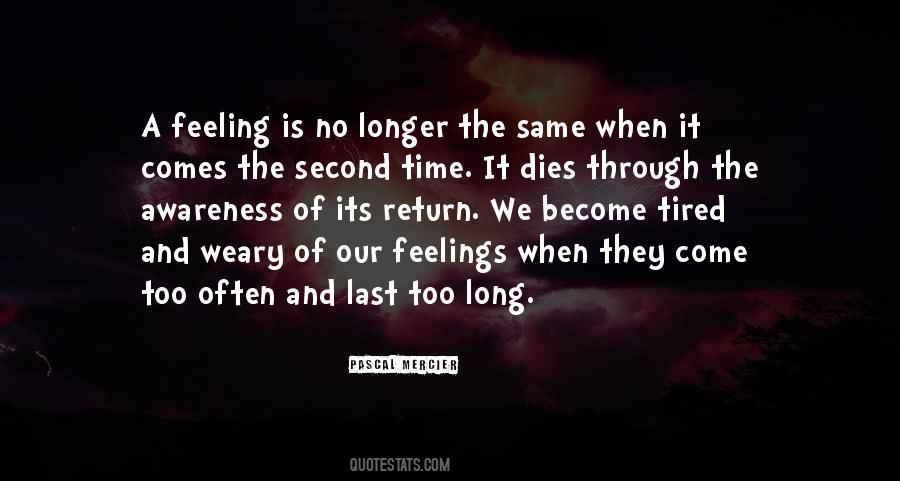 #68. Our bodies are reflective of our inner feelings. If we feel emotionally or sexually vulnerable inside, we may build a protective layer of fat over our abdomen or hips, the places where we hold our emotions and sexuality. - Author: Hina Hashmi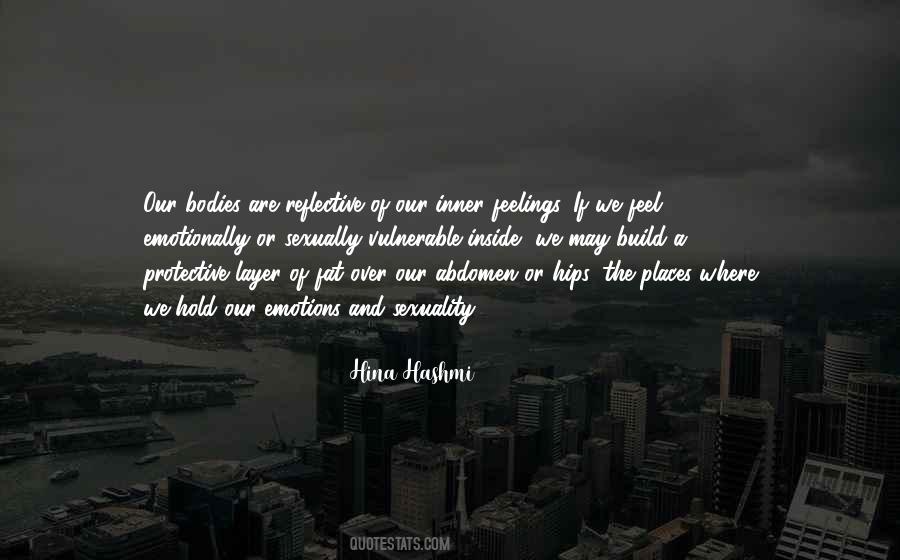 #69. Betrayal is a more subtle, twisted feeling than terror. It burns and eats, but terror stabs right through. - Author: Wendy Hoffman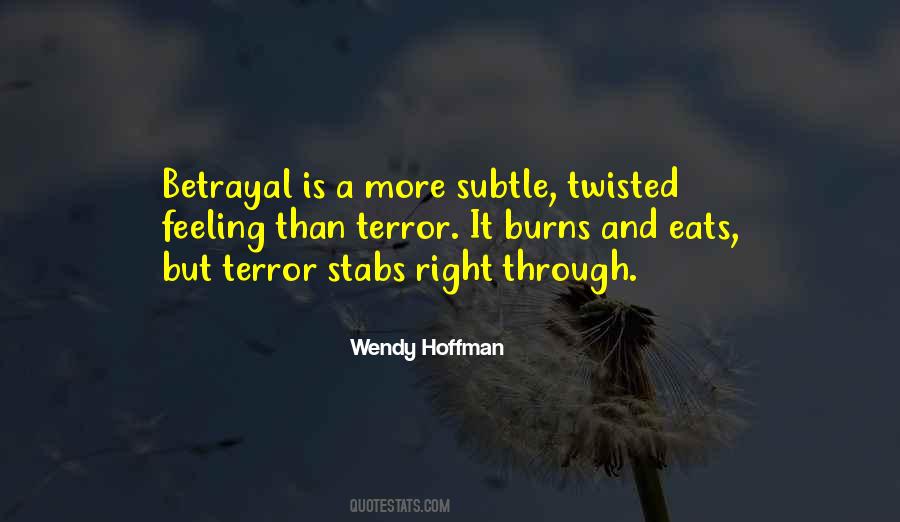 #70. 'Where'd You Go, Bernadette' was surprisingly easy and fun to write because I was feeling such strong emotions. - Author: Maria Semple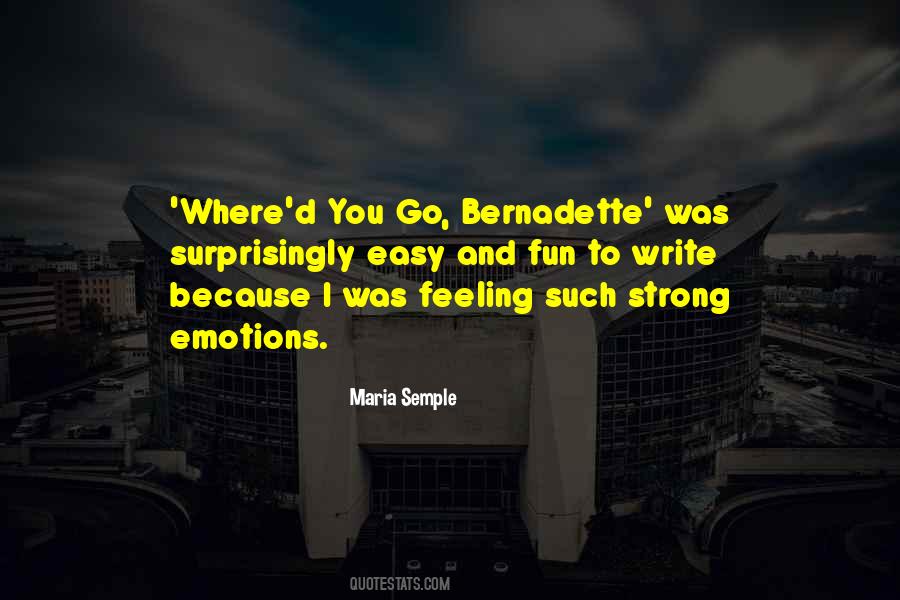 #71. She felt whatever emotions she felt, but feeling was never a useful substitute for doing, and she never let the former get in the way of the latter. If anything, she used her emotions to motivate her and help her concentrate. The emphasis for her was always on doing what needed to be done. - Author: Will Schwalbe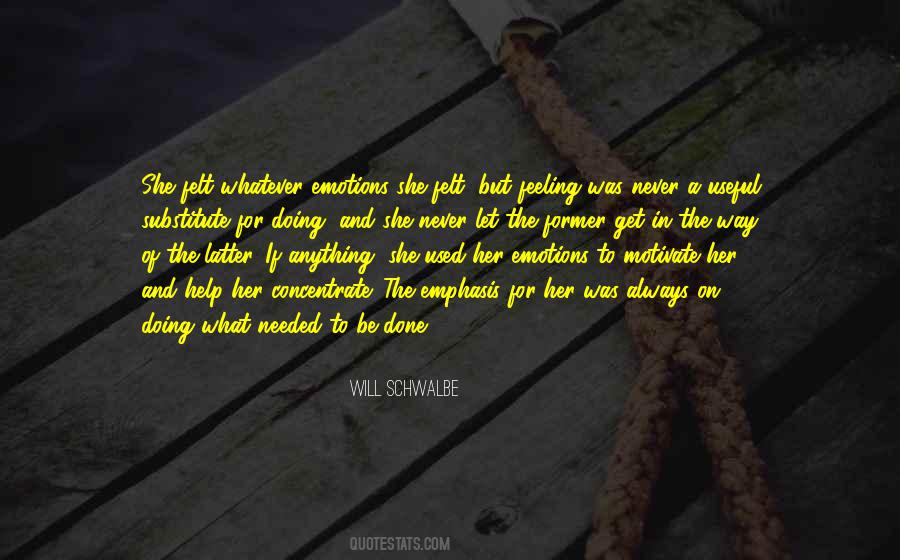 #72. When we identify with music that we are perceiving - or perhaps better, with the person whom we imagine owns the emotions or emotional gestures we hear in the music - we share in and adopt these emotions as our own [...]. And so we end up feeling as, in imagination, the music does. - Author: Jenefer Robinson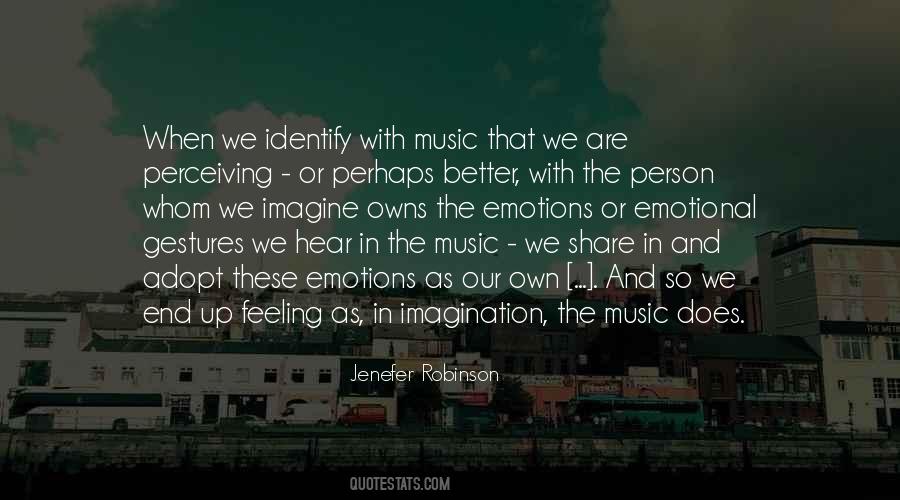 #73. There is this arrogant feeling of being stronger than human. Humans are weak. They submit to their emotions, and vampires do not. Humans are very egoistic, and vampires are not. - Author: Richard Sammel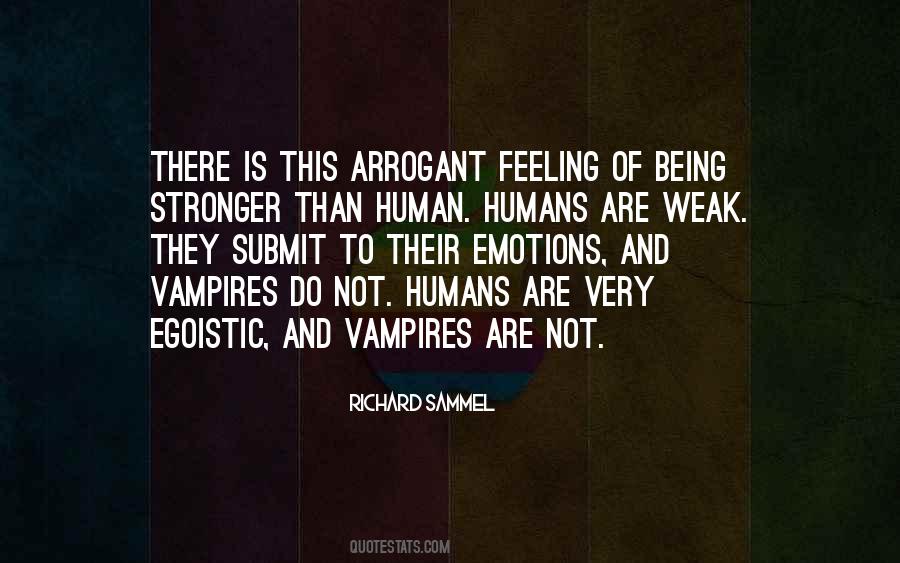 #74. Emotions of any kind are produced by melody and rhythm; therefore by music a man becomes accustomed to feeling the right emotions; music has thus the power to form character, and the various kinds of music based on various modes may be distinguished by their effects on character. - Author: Aristotle.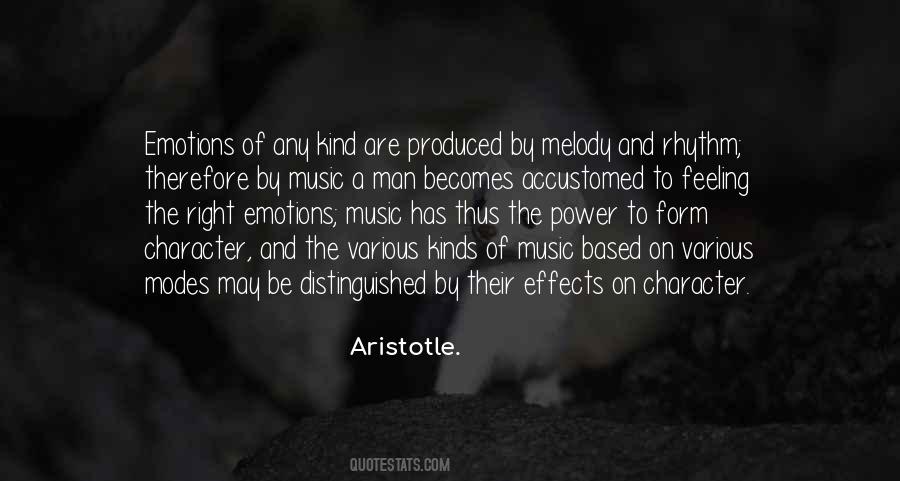 #75. I think there is something beautiful in reveling in sadness. The proof is how beautiful sad songs can be. So I don't think being sad is to be avoided. It's apathy and boredom you want to avoid. But feeling anything is good, I think. Maybe that's sadistic of me. - Author: Joseph Gordon-Levitt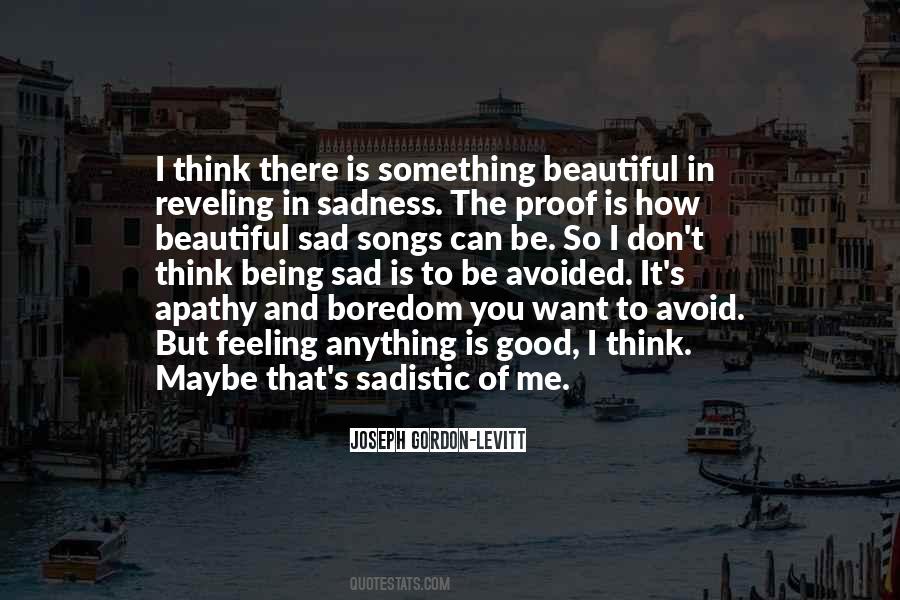 #76. I try to make the music give people a chance to become engrossed with what they hear enough to possibly experience things they've probably experienced on their own but don't normally let themselves go so as to feel them fully. - Author: Oliver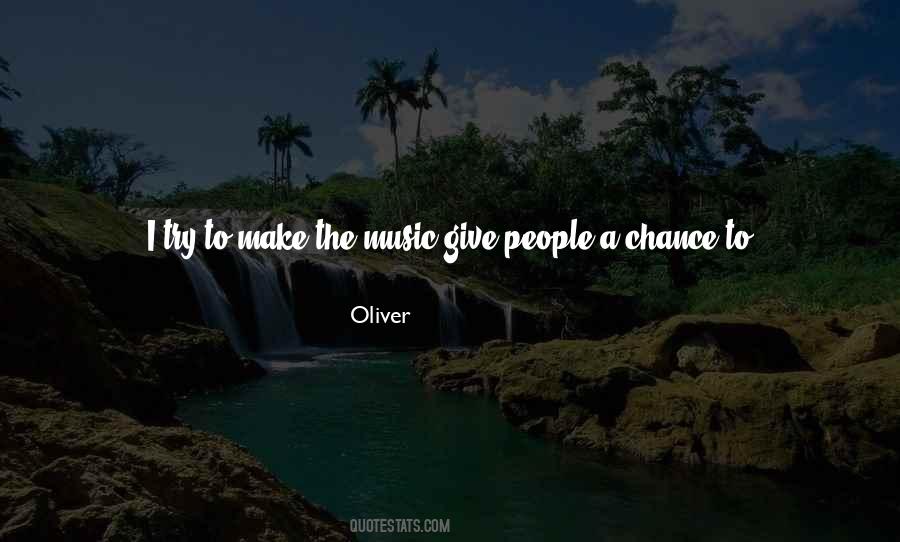 #77. We have so much sex in our media that's disassociated from emotions. We have so much separation between feeling, and the emotional and the physical side of sex. They really do belong together. - Author: Natalie Portman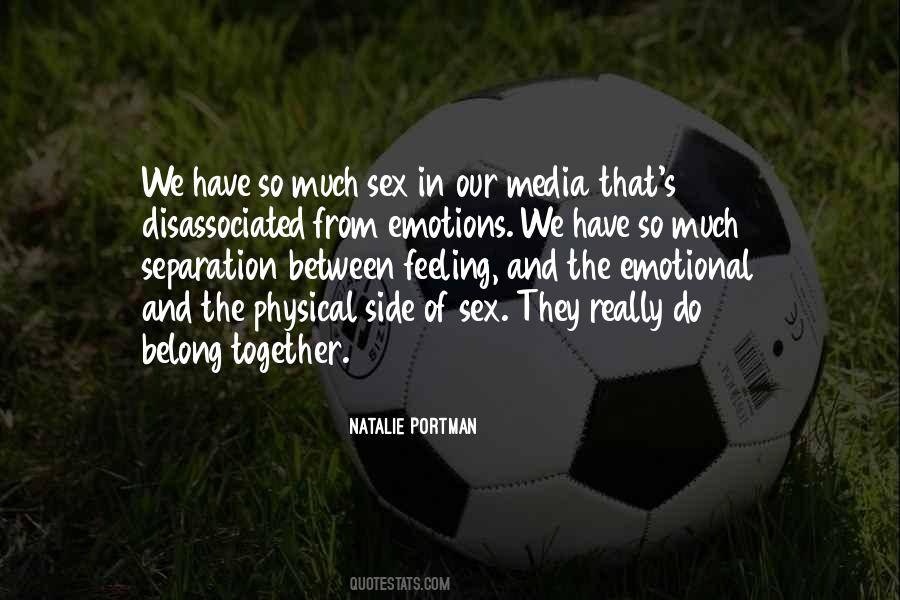 #78. Let today be the day you control your emotions. Don't let them get the best of you. Whatever you are feeling right now should not be overwhelming. Don't allow others to dampen your spirit. You are entitled to enjoy peace. - Author: Amaka Imani Nkosazana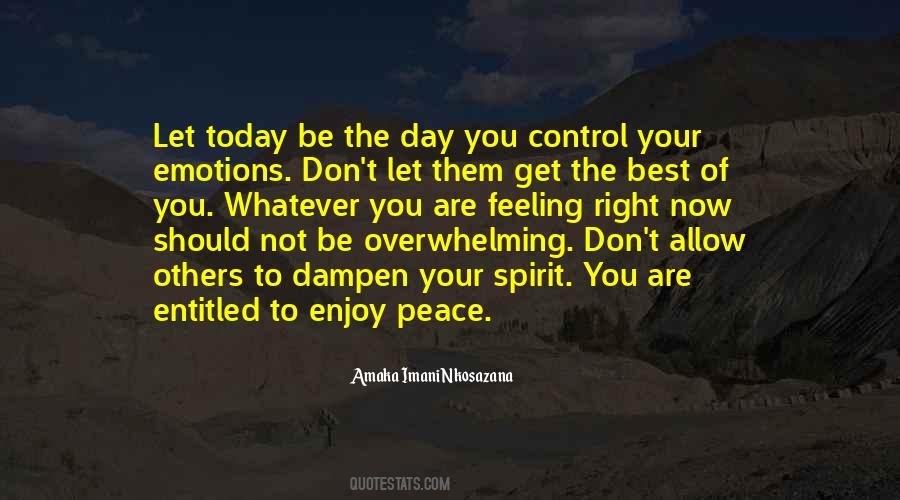 #79. I'm interested in pursuing roles that allow me to push against my own walls, my own constraints as a human being, and to find out where I'm capable of going. In real life, I'm not very good at feeling emotions, so I like to do it through my work. - Author: Tom Cullen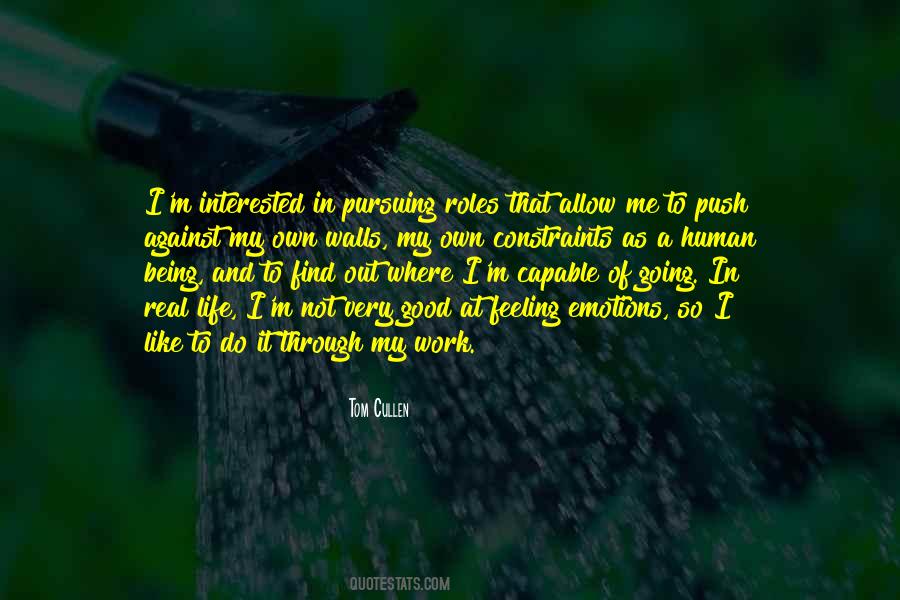 #80. Life is not a thing of knowing only
nay, mere knowledge has properly no place at all save as it becomes the handmaiden of feeling and emotions. - Author: Learned Hand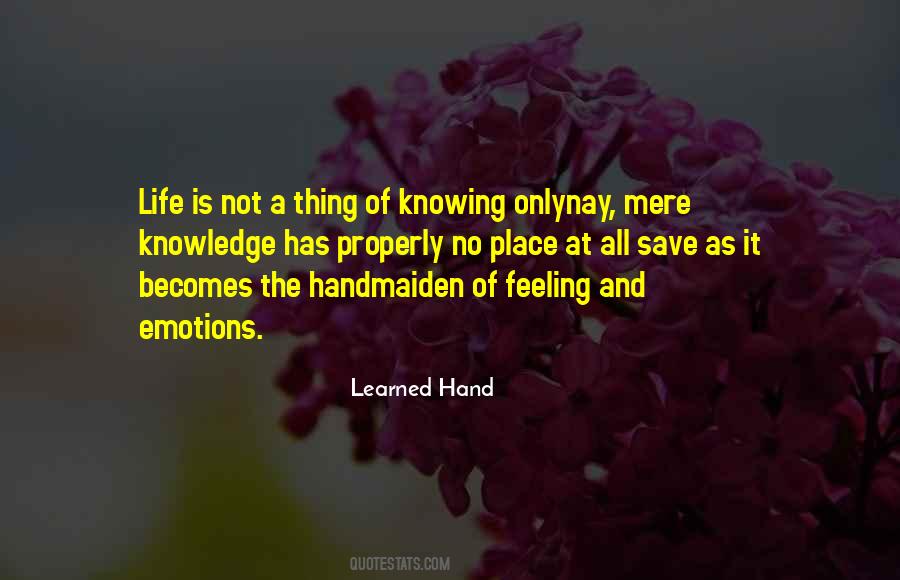 #81. While tenderness of feeling and susceptibility to generous emotions are accidents of temperament, goodness is an achievement of the will and a quality of the life. - Author: James Russell Lowell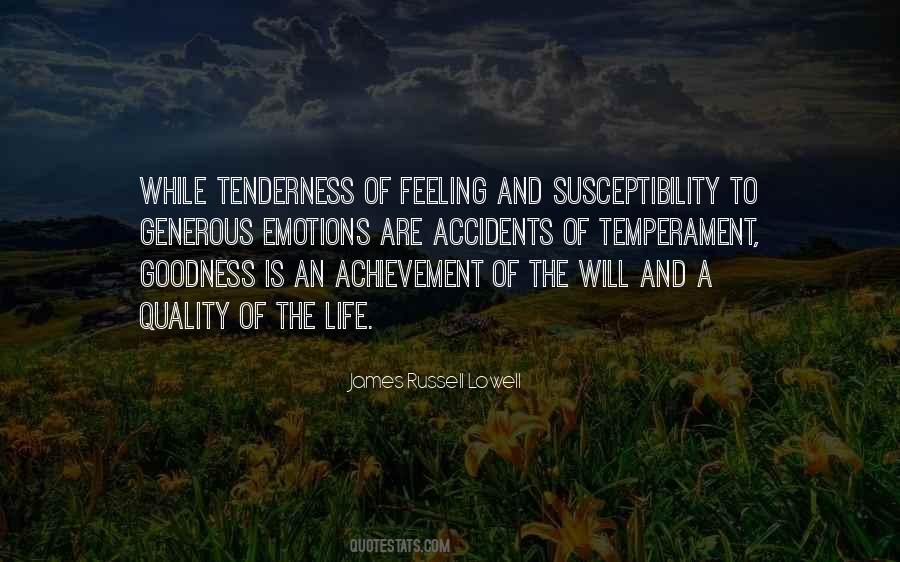 #82. Trust yourself to be able to confront and work through your emotions. If you believe you can't do it, you won't do it and you'll become stuck. If you believe you can do it, you will. - Author: Sam Owen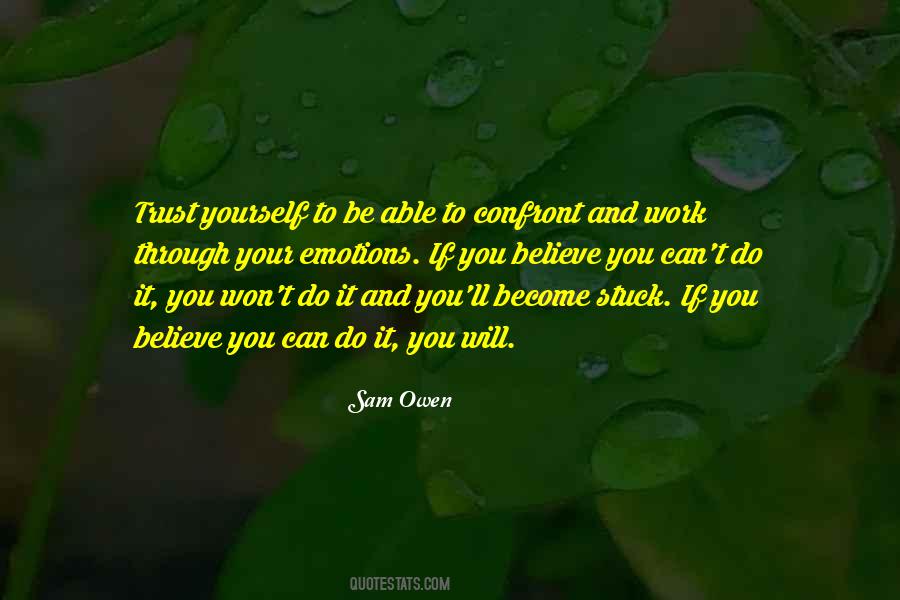 #83. Relationships for women are more than taking off the clothes and wearing them back. It is about attachment of emotions, and feelings, but on the other hand, men are like fast and furious. - Author: M.F. Moonzajer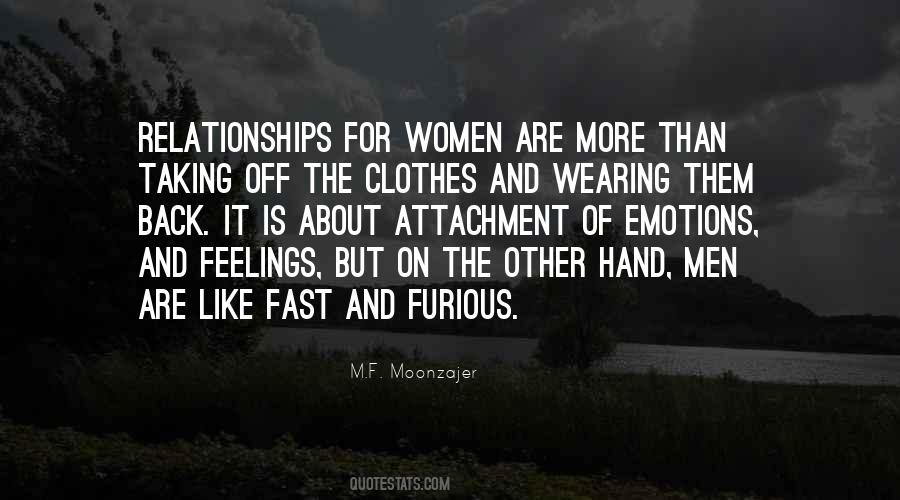 #84. I'm a feeler. I feel everything deep within my core. Even when I don't want to. I don't know where my emotions stop and my empathy begins. I feel from the tips of my toes to the follicles of my head. I feel with every fiber, every molecule, every tissue, marrow, muscle, and bone in my body. I feel. - Author: A.J. Compton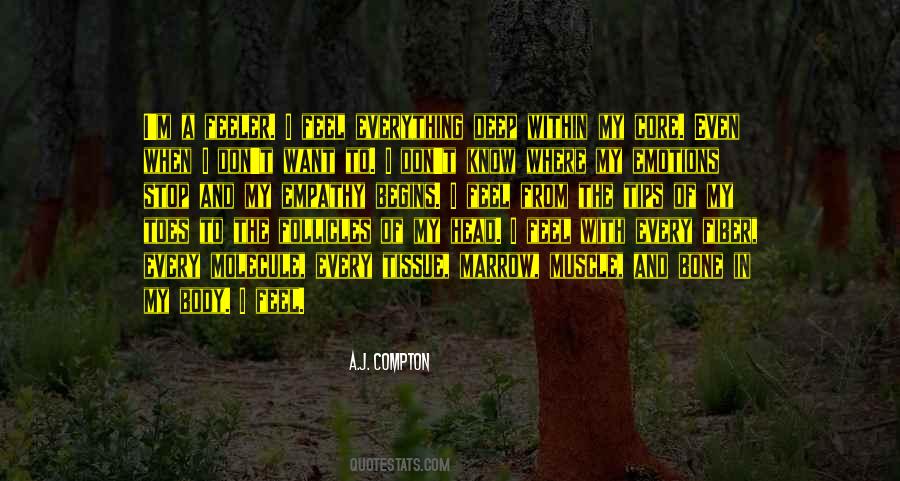 #85. We are creatures of emotion. The idea is not to stop feeling emotions, but to stop being a victim of them. This is how we take part in life and truly make the most of our time here. - Author: Ruben Papian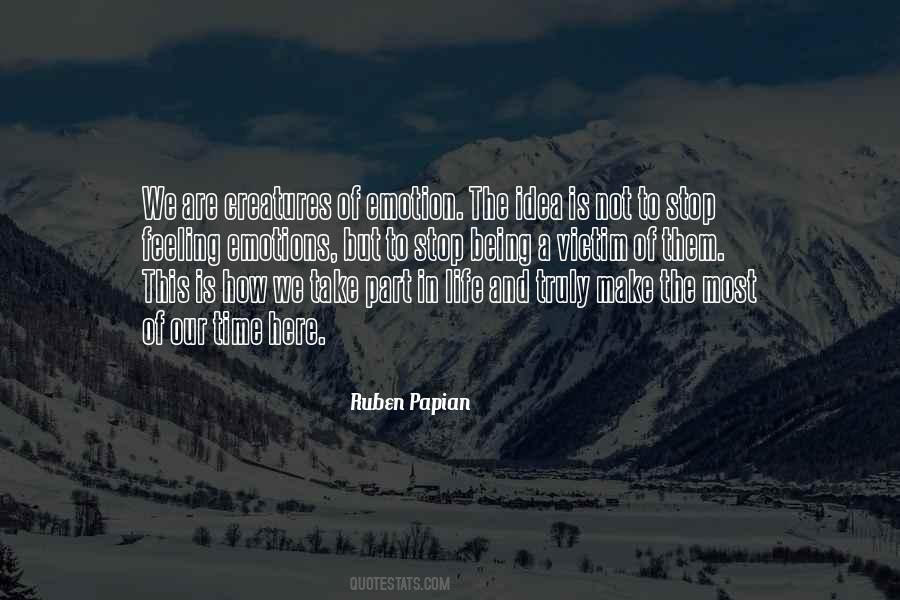 #86. Actors are really working with bodies, with their minds, and with their emotions. Feelings, basically. That's what movies are about, going from one feeling to another. - Author: Nick Nolte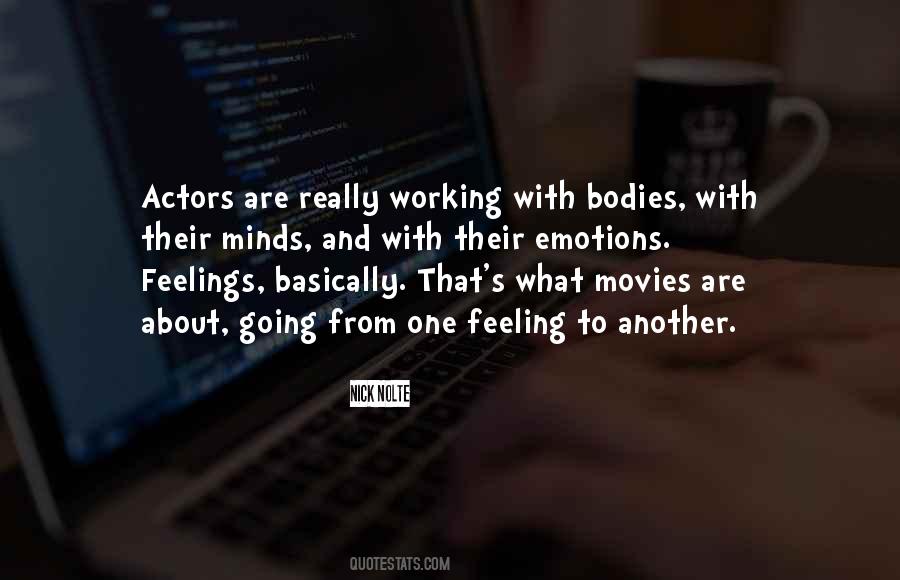 #87. The more you condemn yourself for thinking or feeling a certain way, the more you feel stuck within your own body and mind.. What if you went the other way and embraced it so totally that it was as if there was never any alternative experience to be reached for? What happens when the conflict ends? - Author: Adam Oakley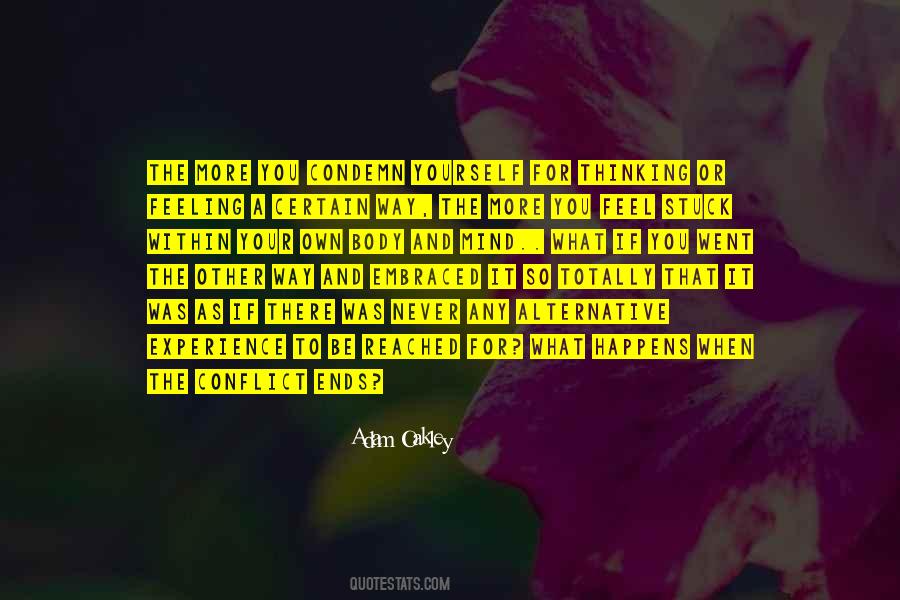 #88. Mozart's joy is made of serenity, and a phrase of his music is like a calm thought; his simplicity is merely purity. It is a crystalline thing in which all the emotions play a role, but as if already celestially transposed. Moderation consists in feeling emotions as the angels do. - Author: Andre Gide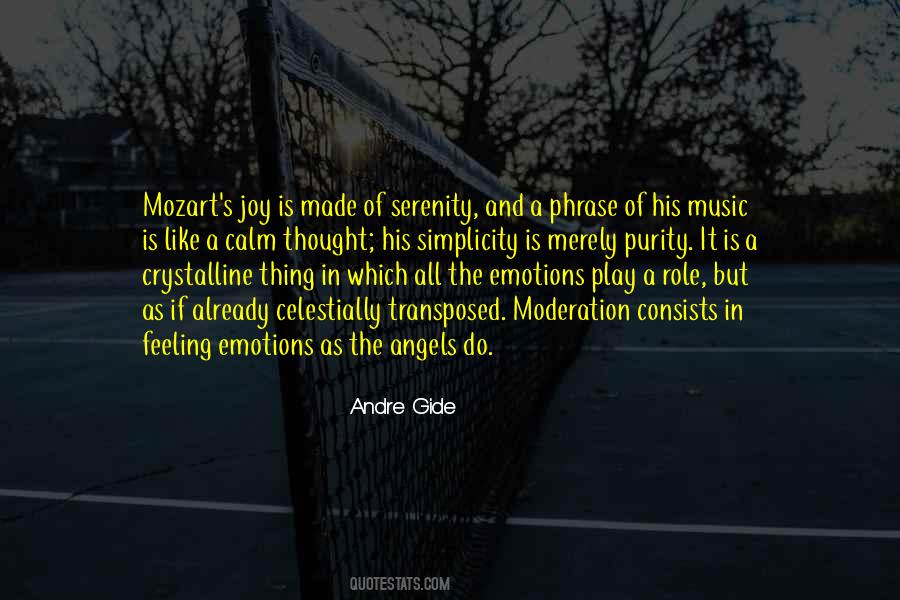 #89. On this journey with our disease we may experience all of the emotions I listed and more, including feeling hopeless about the present and about the future, but our God f hope quietly and tenderly reminds us to hope even when everything feels hopeless. - Author: Rebecca VanDeMark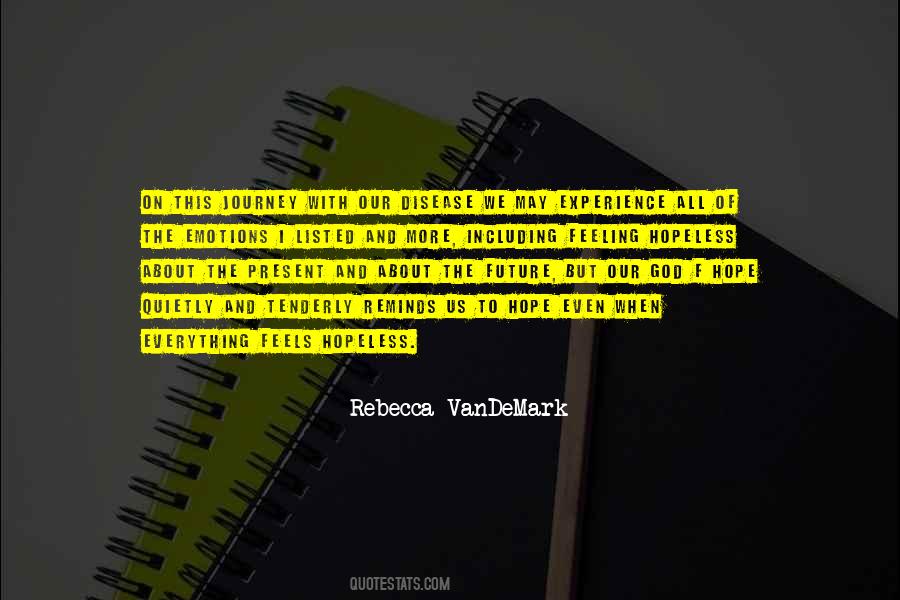 #90. All right, that was my moment with loneliness. I'm not afraid of feeling lonely, but now I'm going to put that loneliness aside and know that there are other emotions in the world, and I'm going to experience them as well. - Author: Morrie Schwartz.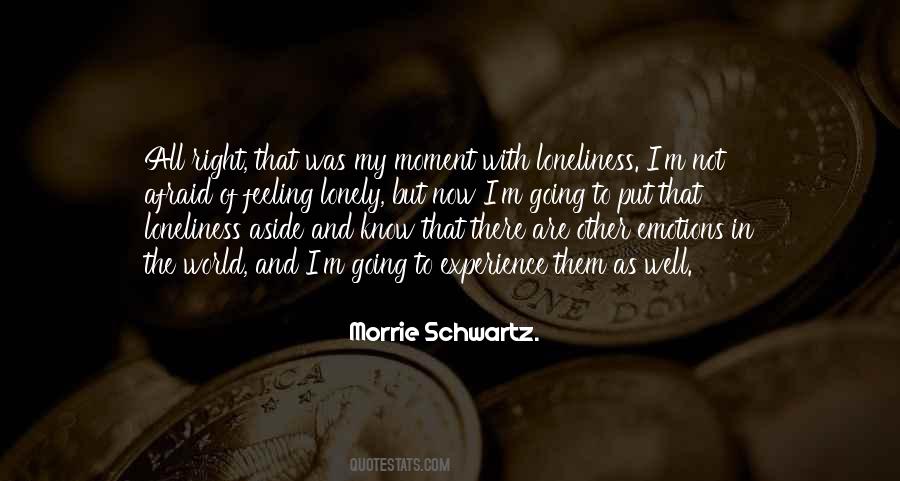 #91. He was not much of a nature-worshipper, but he perceived that nature here was certainly at her best and liveliest. He gave her, as it were, full marks and a nod of approval, feeling that she would do very nicely as a background to his satisfying emotions - Author: James Hilton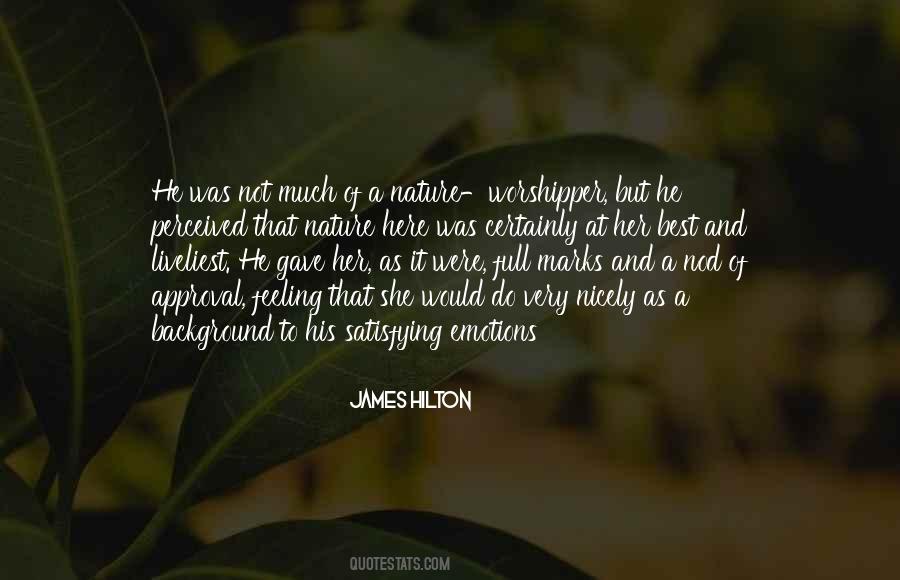 #92. As I naturally go through a full range of emotions in my life, I mustn't feel ashamed for feeling lost, for it is honest and human to feel such. - Author: Forrest Curran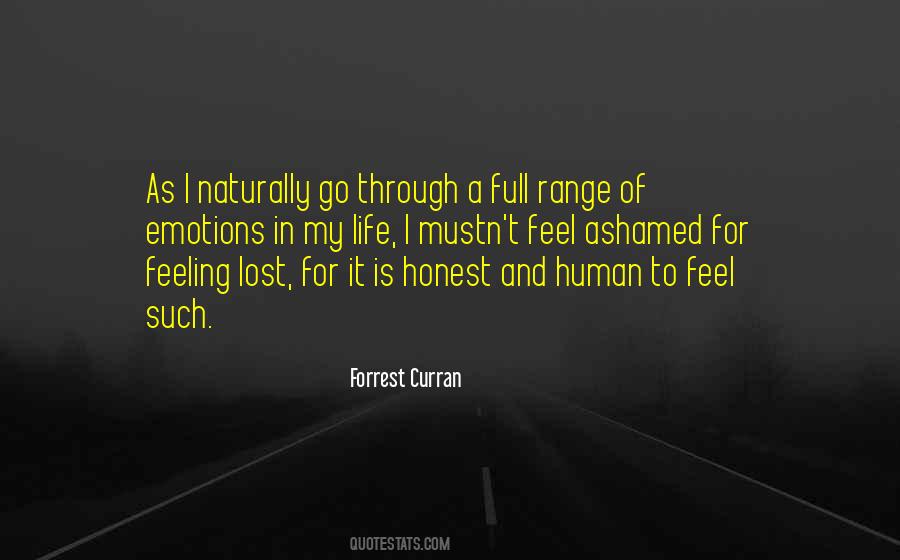 Famous Authors
Popular Topics