Drink Wine Famous Quotes & Sayings
List of top 100 famous quotes and sayings about drink wine to read and share with friends on your Facebook, Twitter, blogs.
Top 100 Quotes About Drink Wine
#1. I'm very much a homebody so once I have my home set up how I want it, that's my zen, my comfy little nest where I drink my wine and watch my Netflix. - Author: Lissie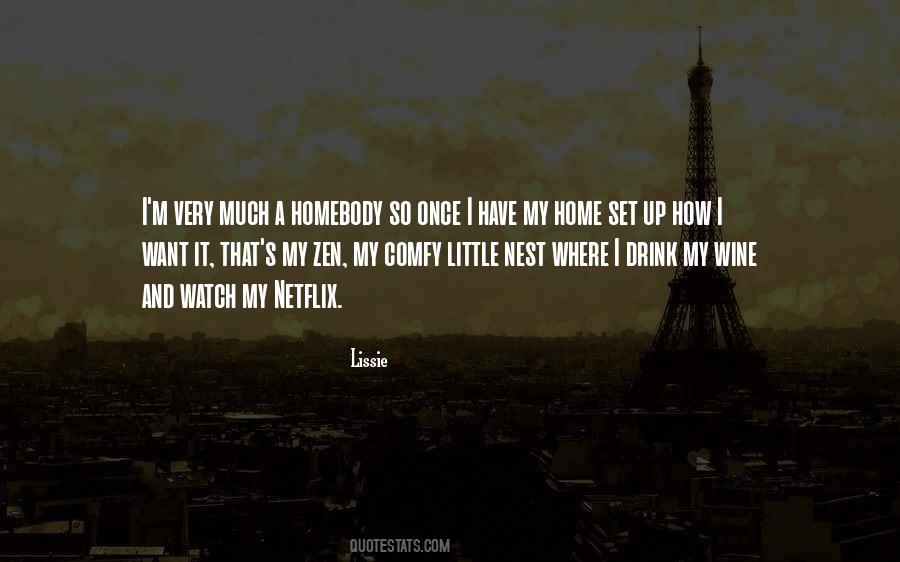 #2. O madness to think use of strongest wines And strongest drinks our chief support of health, When God with these forbidden made choice to rear His mighty champion, strong above compare, Whose drink was only from the liquid brook. - Author: John Milton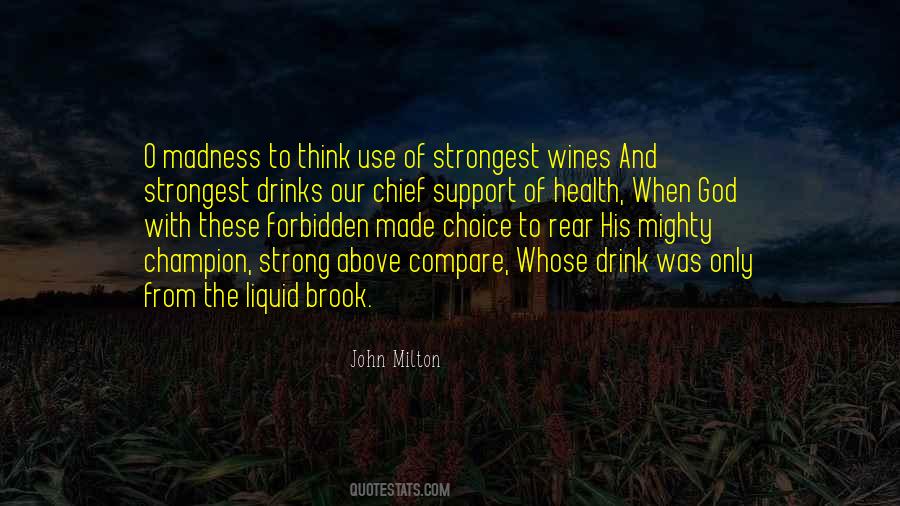 #3. If anyone thinks that I amn't divine
He'll get no free drinks when I'm making the wine
But have to drink water and wish it were plain
That I make when the wine becomes water again. - Author: James Joyce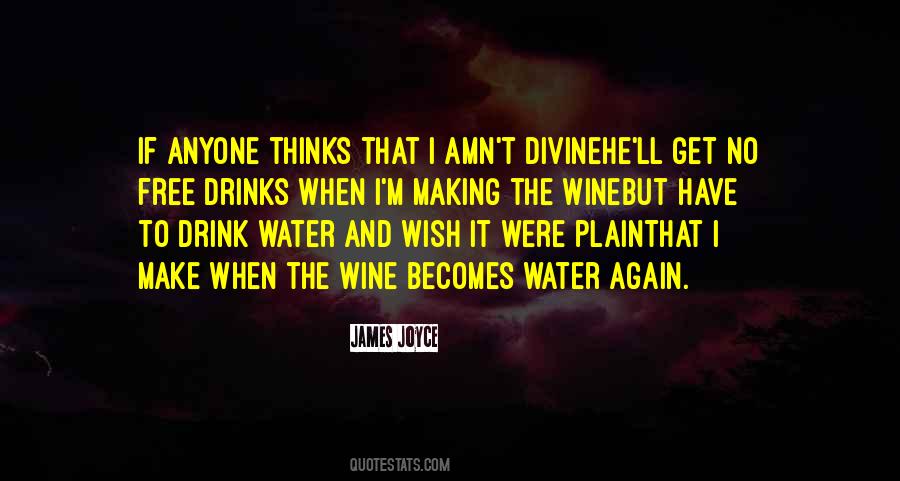 #4. Businessmen they drink my wine, come and taste my herb. - Author: Jimi Hendrix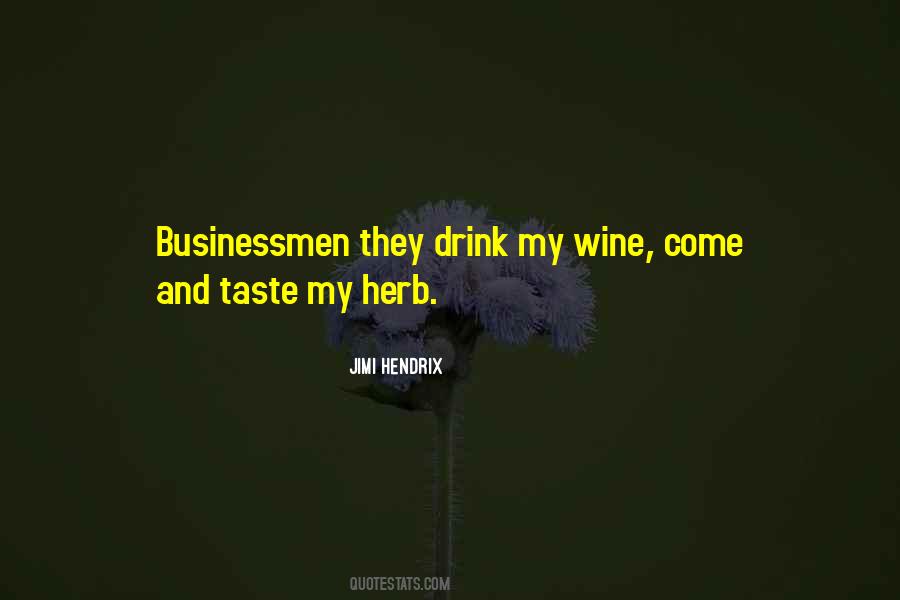 #5. My chosen drink would be a Southern Comfort, lime and lemonade, a dry martini or a good red wine. - Author: Nikki Sanderson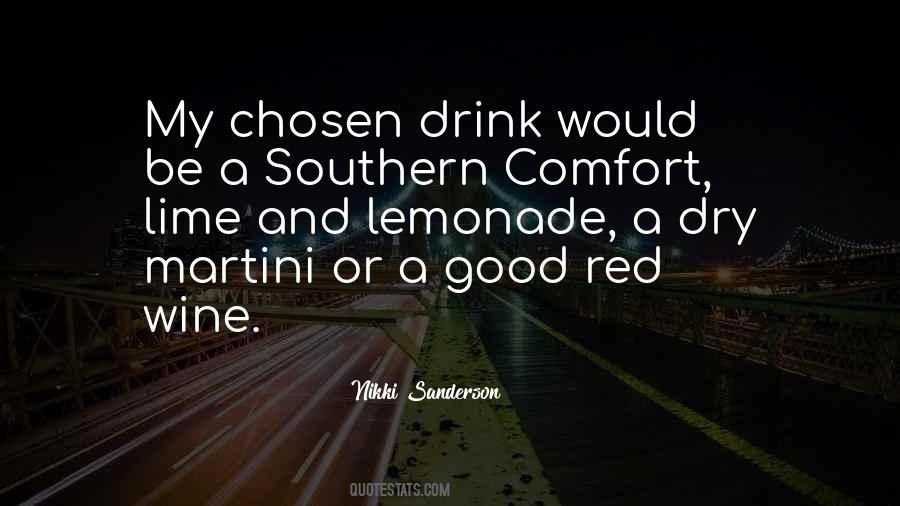 #6. I used to drink a lot of lager when I was younger, but I'm more of a wine drinker now, I guess. I feel daunted looking at full pints. - Author: Edgar Wright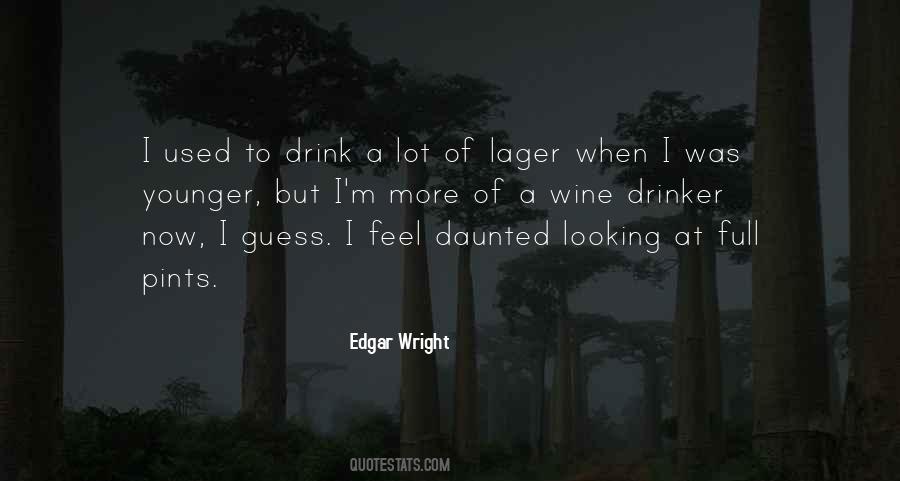 #7. Though we eat little flesh and drink no wine,
Yet let's be merry; we'll have tea and toast;
Custards for supper, and an endless host
Of syllabubs and jellies and mincepies,
And other such ladylike luxuries. - Author: Percy Bysshe Shelley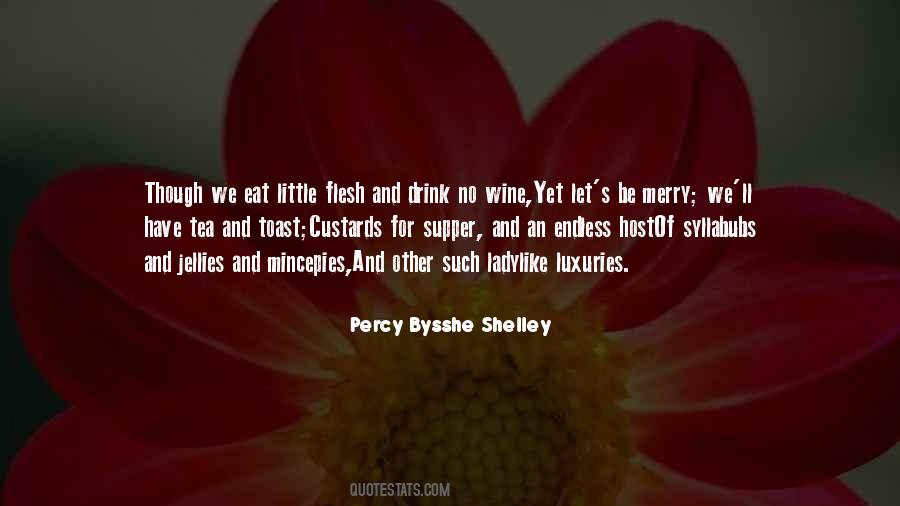 #8. Gentlemen, in the little moment that remains to us between the crisis and the catastrophe, we may as well drink a glass of Champagne. - Author: Paul Claudel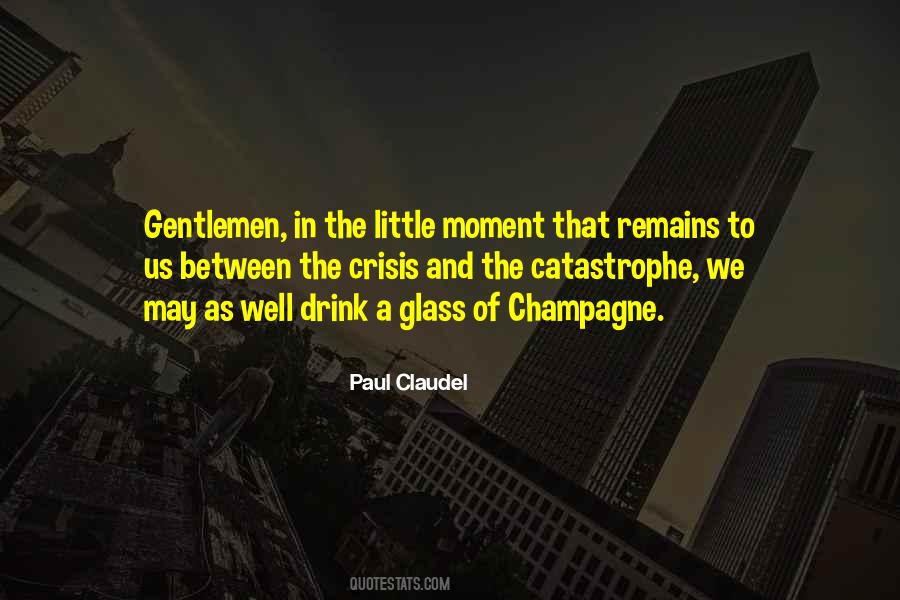 #9. The only way of rendering life endurable is to drink as much wine as one can come by. - Author: James Branch Cabell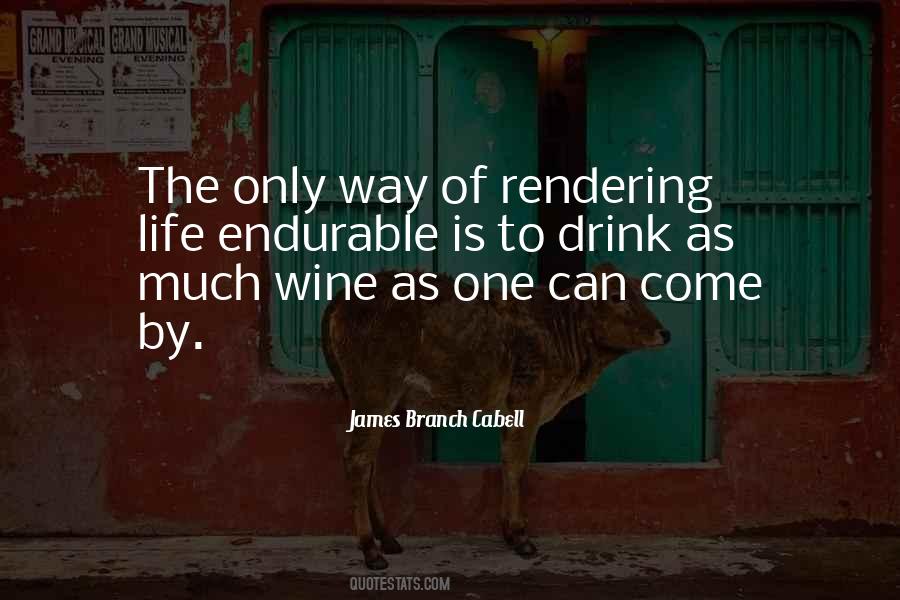 #10. It's too much of a drinking culture, everything tastes better with a drink. Like, watch TV: glass of wine. Cooking dinner: glass of champagne. White wine vinegar hasn't got white wine in it. Has it? - Author: Amy Winehouse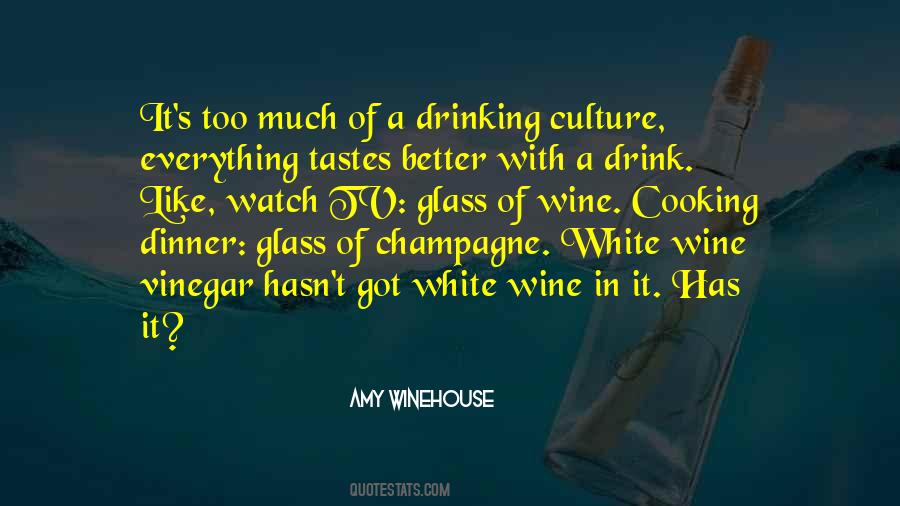 #11. Now, I will drink no German beer. The white wine of the country, with a little soda-water; perhaps occasionally a glass of Ems or potash. But beer, never - or, at all events, hardly ever." It is a good and useful resolution, which I recommend to all travellers. I - Author: Jerome K. Jerome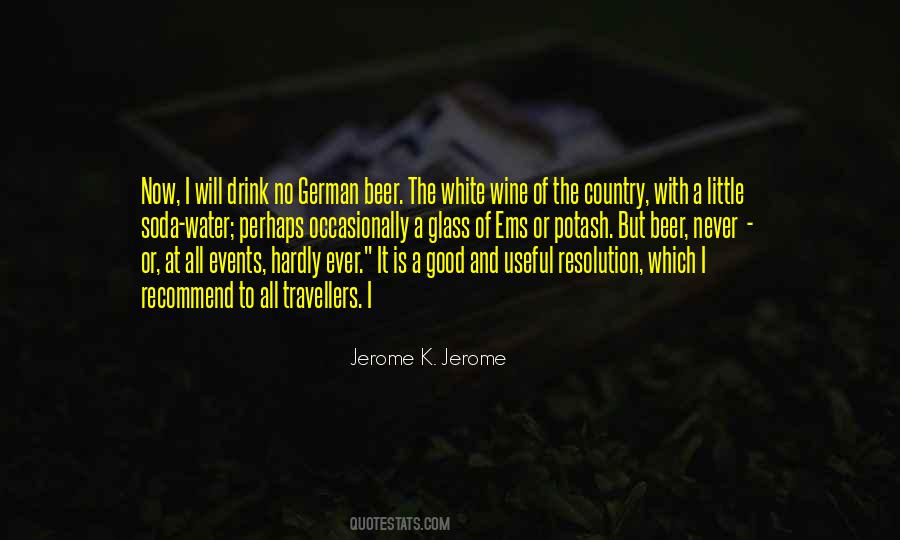 #12. Be open, and God starts pouring into you like wine from every nook and corner of existence. Then wherever you look, you find God. Then whatsoever you touch, you find God. Then whatsoever you drink and eat, you find God. And when God pours from everywhere, then life is a celebration. - Author: Rajneesh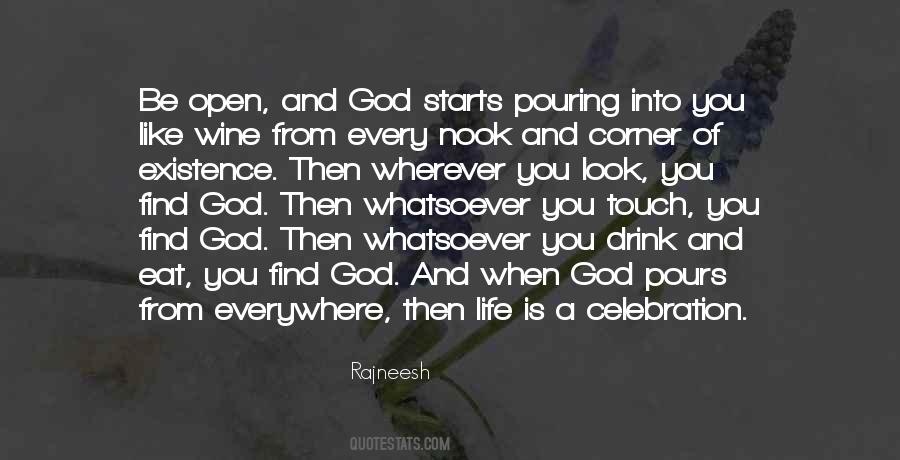 #13. I watched him take a drink, swirl it around in his mouth like a fine wine, and then swallow it. The working of his throat made me hot, but that was nothing compared to what the intensity of his stare did to me. "Not bad," he murmured. "Tell me if we made it right." He kissed me. - Author: Sylvia Day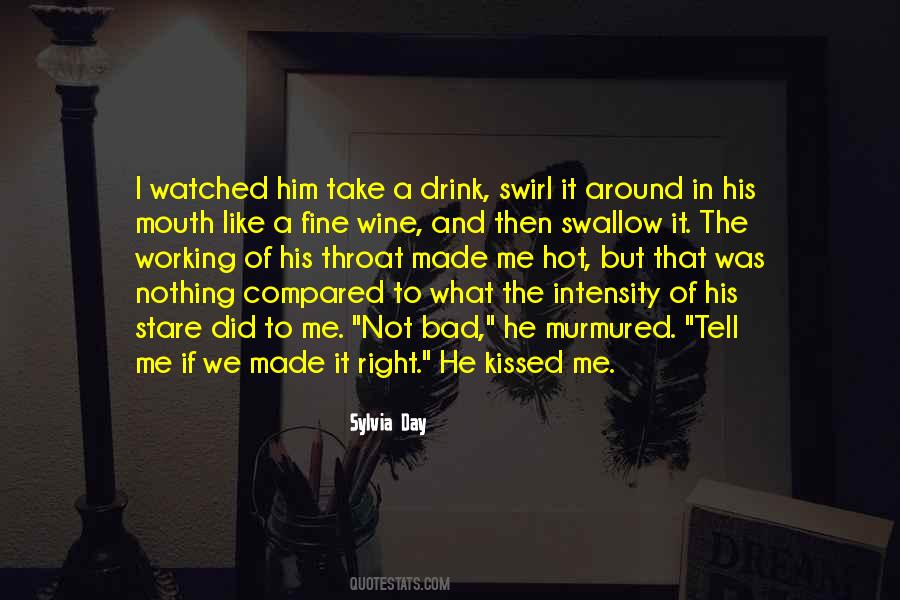 #14. Unlike water or wine or even Coca-Cola, sweet tea means something. It is a tell, a tradition. Sweet tea isn't a drink, really. It's culture in a glass. - Author: Allison Glock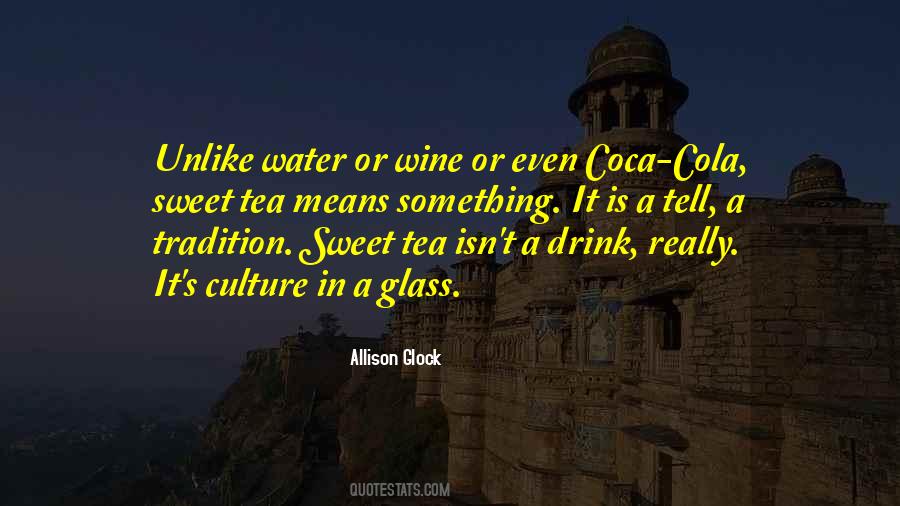 #15. Eat good dinners and drink good wine; read good novels if you have the leisure and see good plays; fall in love, if there is no reason why you should not fall in love; but do not pore over influenza statistics. - Author: Jerome K. Jerome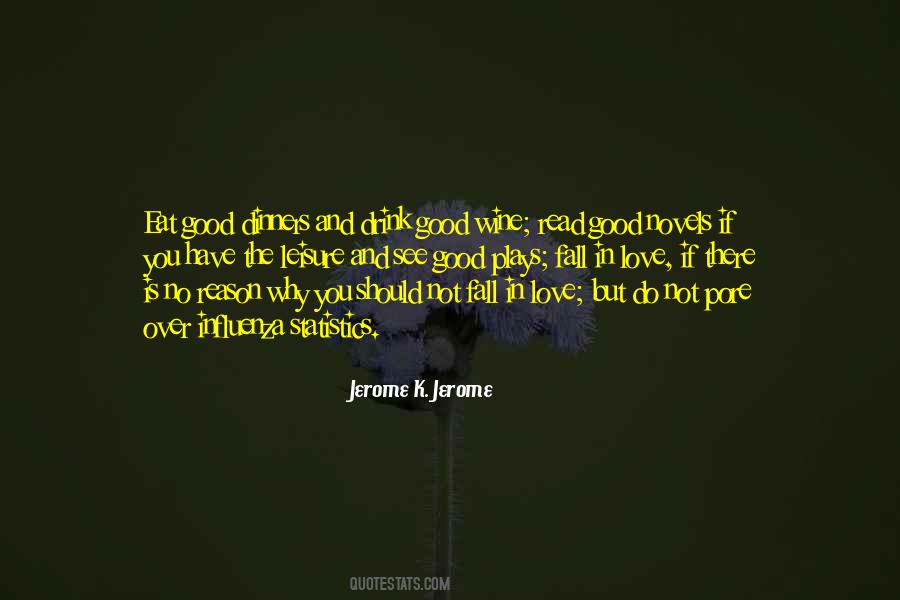 #16. What I like to drink most is wine that belongs to others. - Author: Diogenes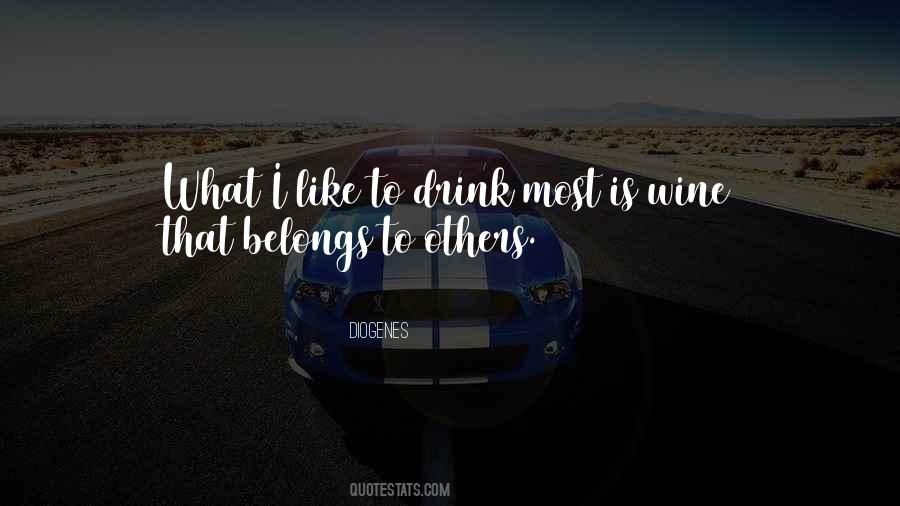 #17. If I could drink only one wine, it would be Champagne. - Author: Gary Vaynerchuk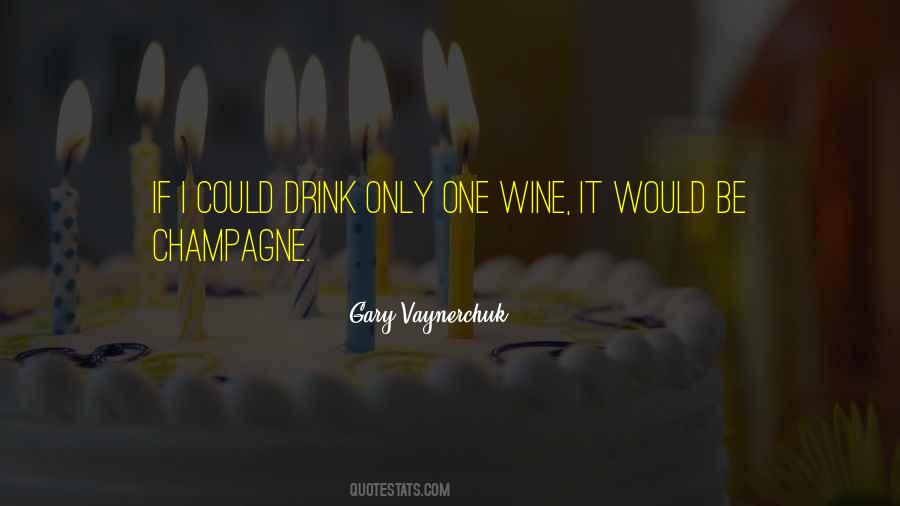 #18. The connoisseur does not drink wine but tastes its secrets - Author: Salvador Dali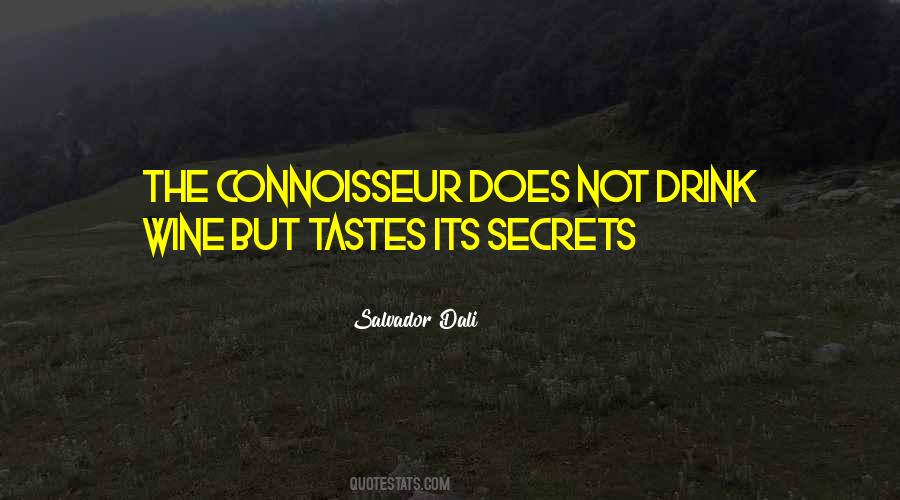 #19. I learned early to drink beer, wine and whiskey. And I think I was about 5 when I first chewed tobacco. - Author: Babe Ruth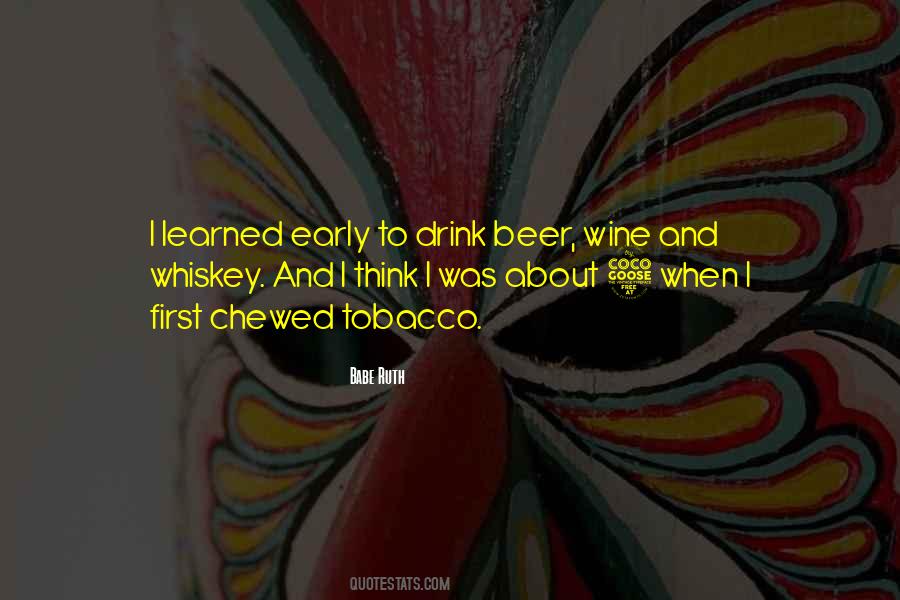 #20. I used to drink a lot of beer, but I was just getting fat as can be. Now that we've had a little success, I can afford to drink wine. - Author: Tom DeLonge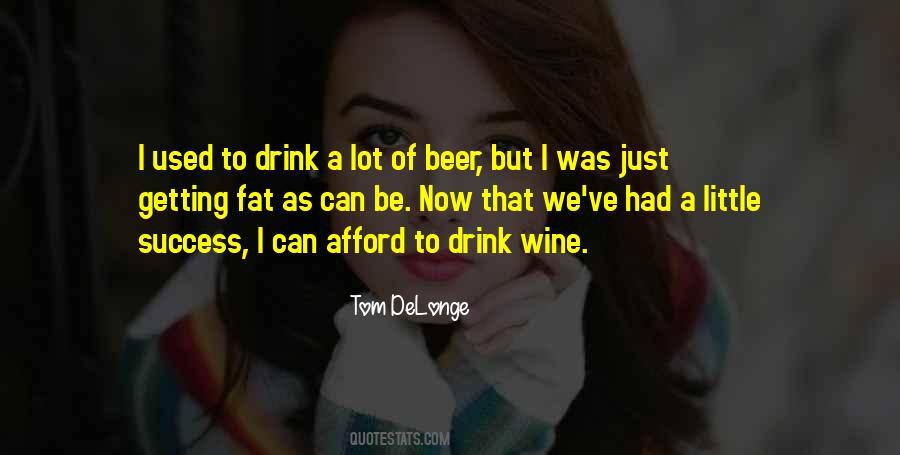 #21. I liked wine, both red and white, and especially Champagne; and on very special occasions I could even drink a small glass of brandy. - Author: Winston Churchill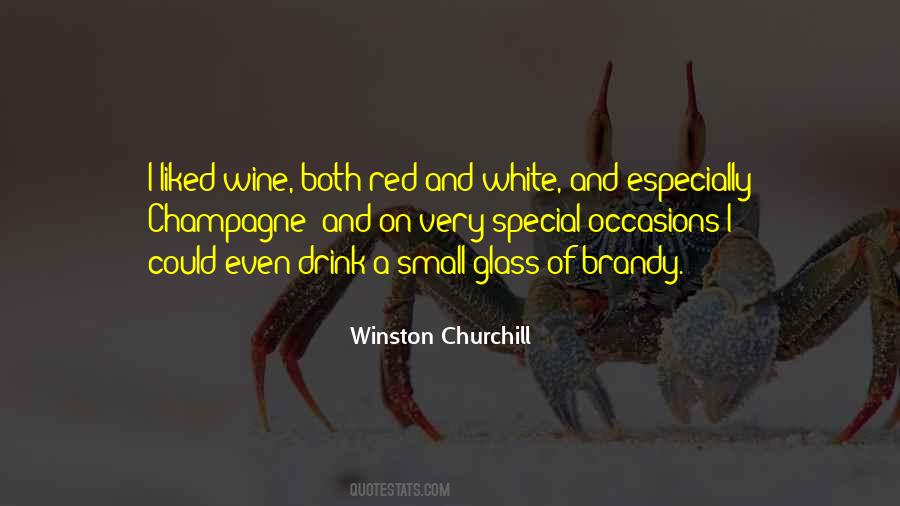 #22. Today I'm out wandering, turning my skull
into a cup for others to drink wine from.
In this town somewhere there sits a calm, intelligent man,
who doesn't know what he's about to do! - Author: Rumi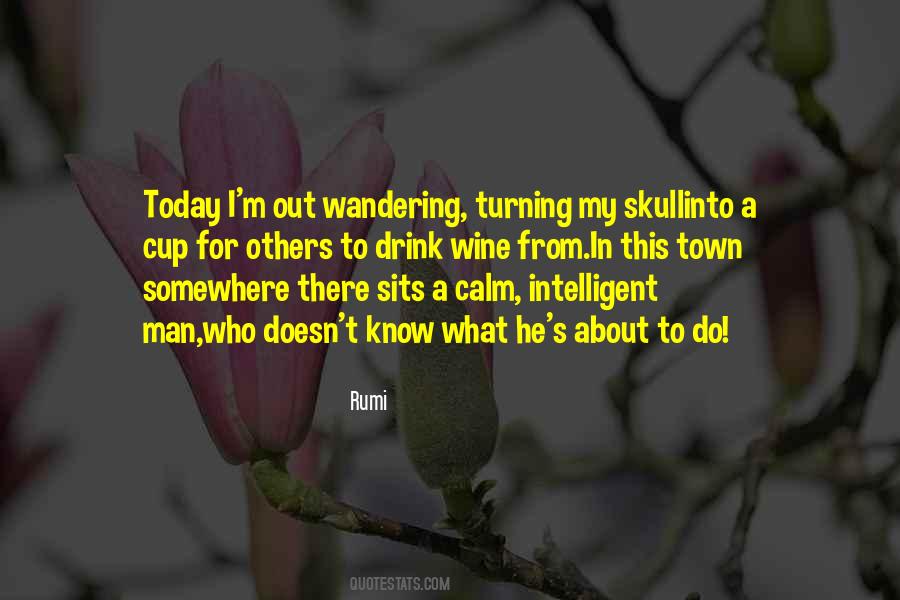 #23. I drive a Prius and drink $10k bottles of wine. The wine isnt on Instagram. The Prius is. - Author: Matt Mullenweg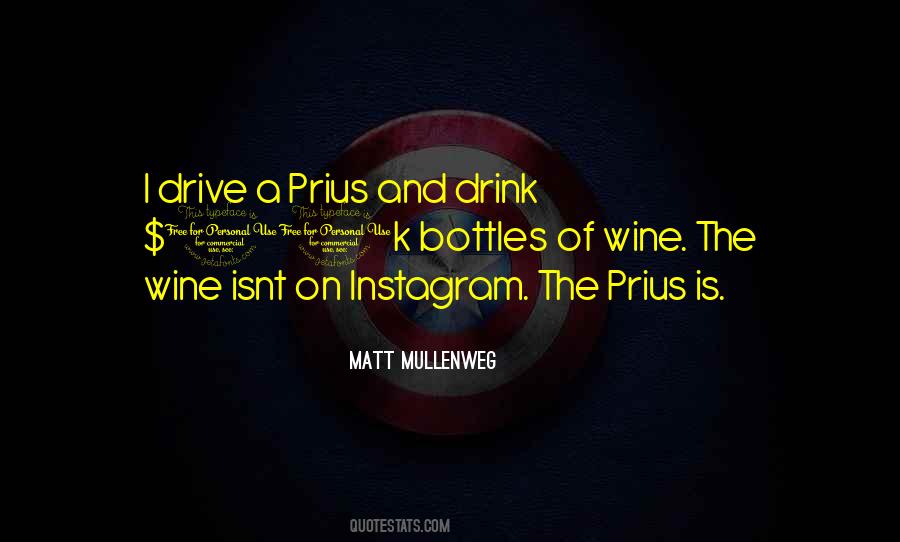 #24. Strategy is buying a bottle of fine wine when you take a lady out for dinner. Tactics is getting her to drink it. - Author: Frank Muir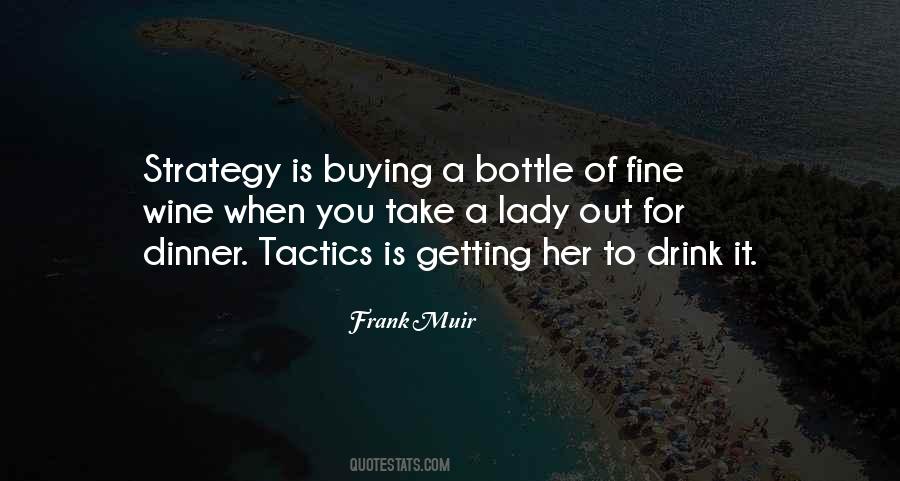 #25. Be hald, and your friends are many;
Be sad, and you lose them all.
There are to decline your nectared wine,
But all you must drink life's gall. - Author: Ella Wheeler Wilcox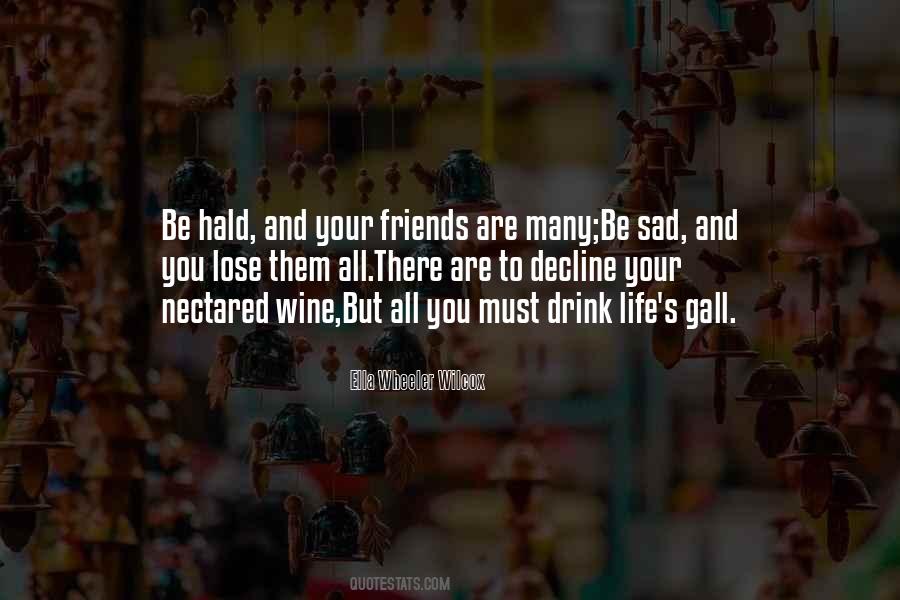 #26. We now have a strong desire for living combined with a strange carelessness about dying. We desire life like water and yet are ready to drink death like wine. - Author: G.K. Chesterton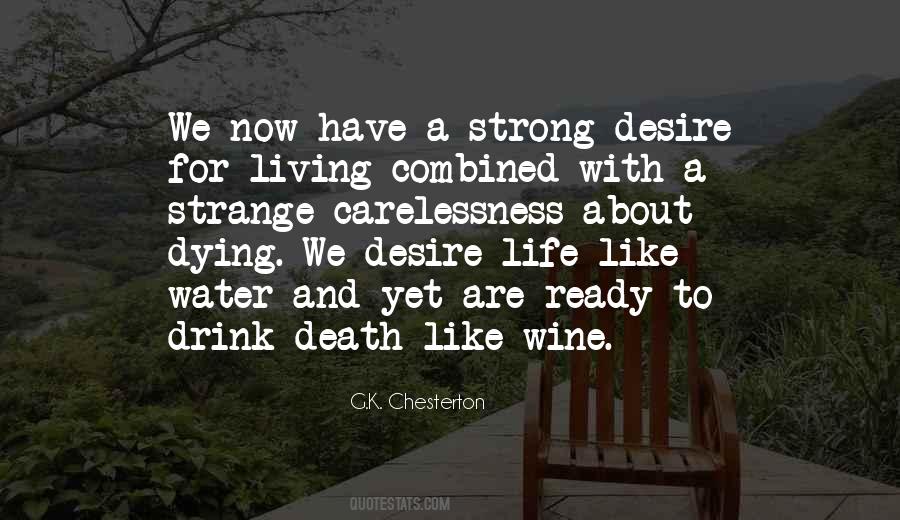 #27. She wants to drink that man too, and then she can forget forever the cheap wine that you gulp down and that makes you feel drunk, but always leaves you with a headache and an empty space in your soul. - Author: Paulo Coelho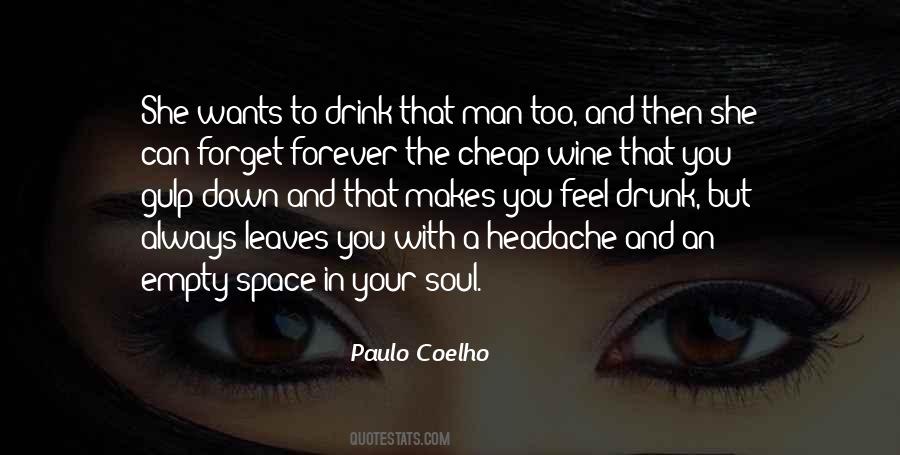 #28. Speed can give you a great feeling of excitement, and there is a place for that in life and in music," says Kliemt. "But you have to draw the line, and not always use speed. It is stupid to drink a glass of wine quickly. And it is stupid to play Mozart too fast. - Author: Carl Honore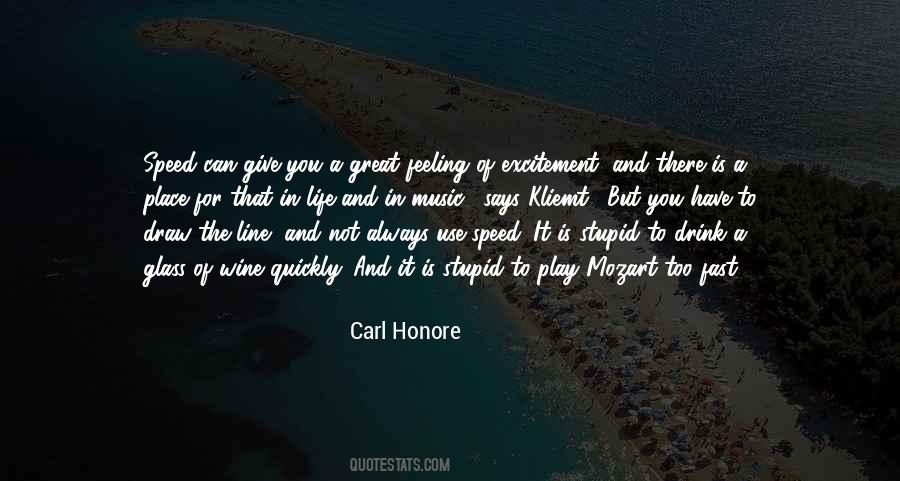 #29. Champagne is the only drink that leaves a woman still beautiful after drinking it. - Author: Madame De Pompadour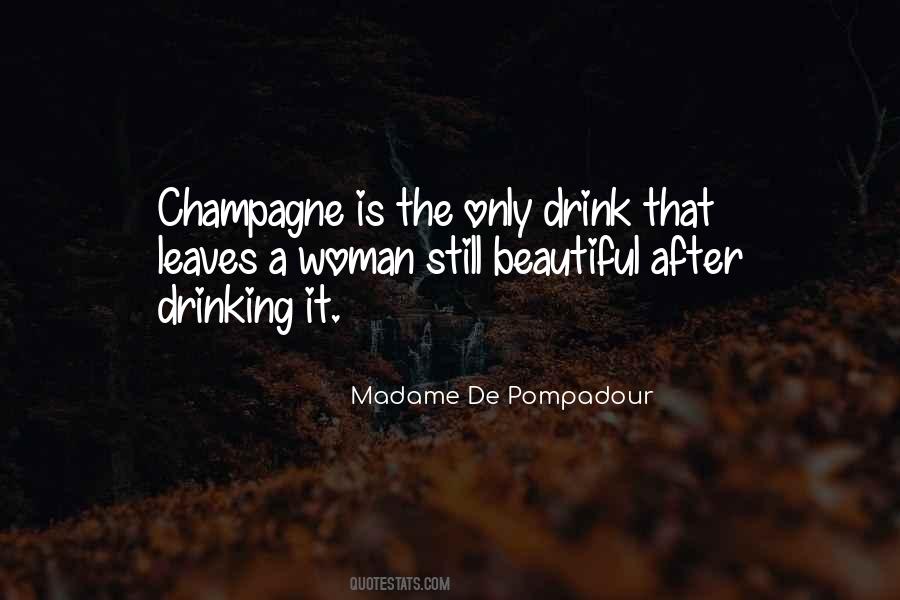 #30. Later he wrote to Lodge: I don't grudge the broken arm a bit ... I'm always ready to pay the piper when I've had a good dance; and every now and then I like to drink the wine of life with brandy in it. - Author: Edmund Morris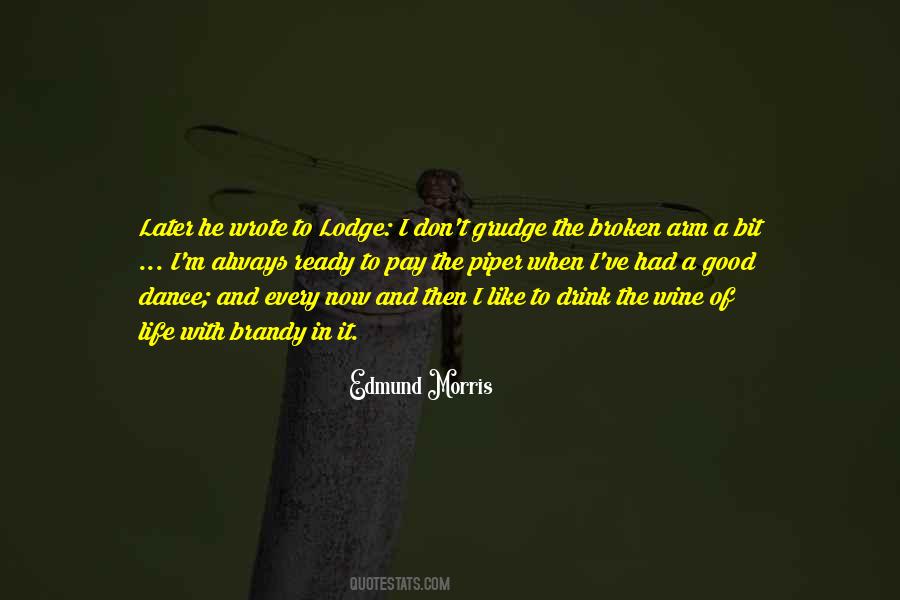 #31. I would like a wine. The purpose of the wine is to get me drunk. A bad wine will get me as drunk as a good wine. I would like the good wine. And since the result is the same no matter which wine I drink, I'd like to pay the bad wine price. - Author: Steve Martin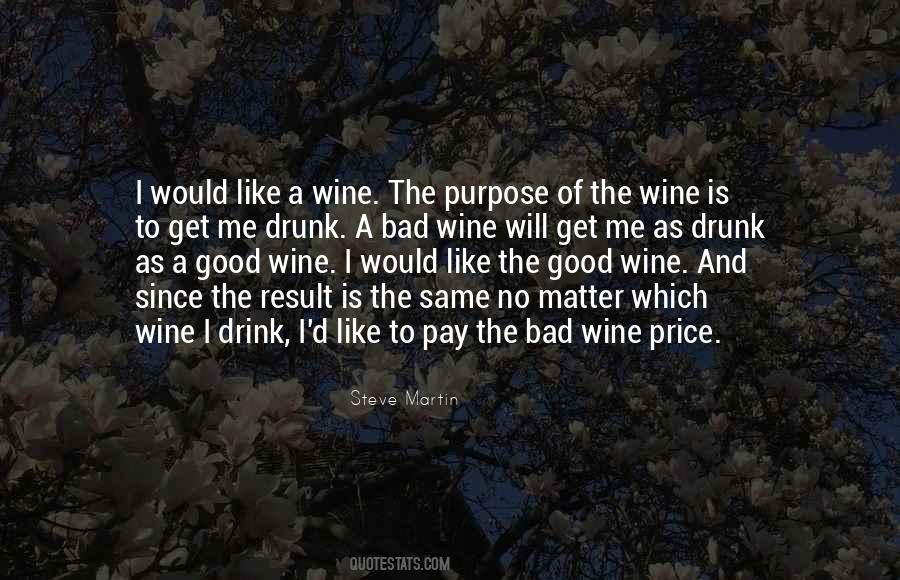 #32. My objection to war was not that I had to kill somebody or be killed senselessly, that hardly mattered. What I objected to was to be denied the right to sit in a small room and starve and drink cheap wine and go crazy in my own way and at my own leisure. - Author: Charles Bukowski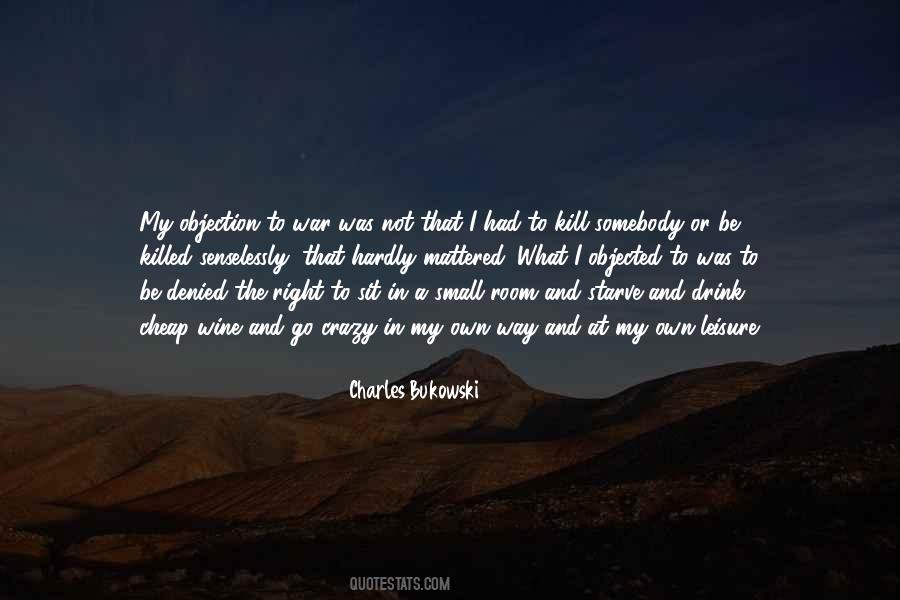 #33. Sherry, the civilized drink. - Author: W. Somerset Maugham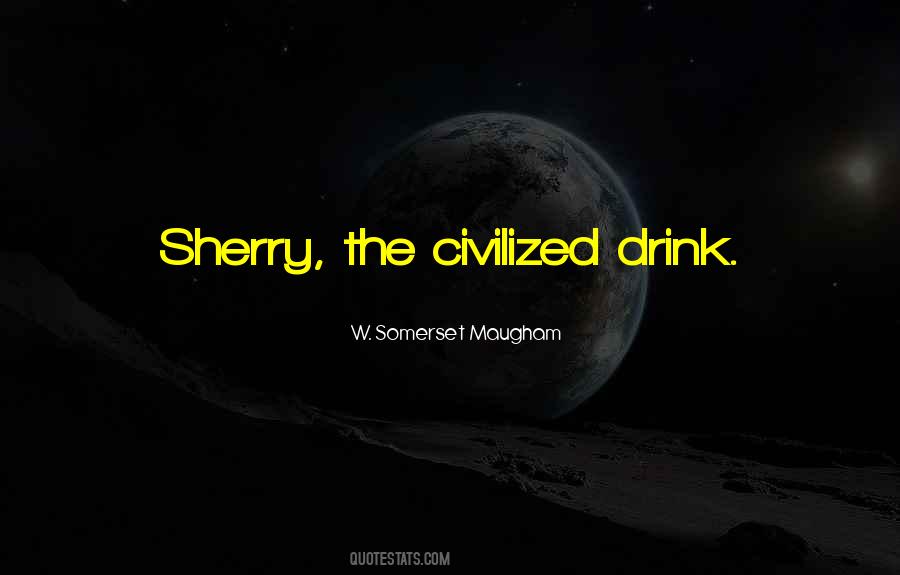 #34. If you drink the good wine of the noble countess, you have to entertain her less desirable friends. - Author: Virginia Woolf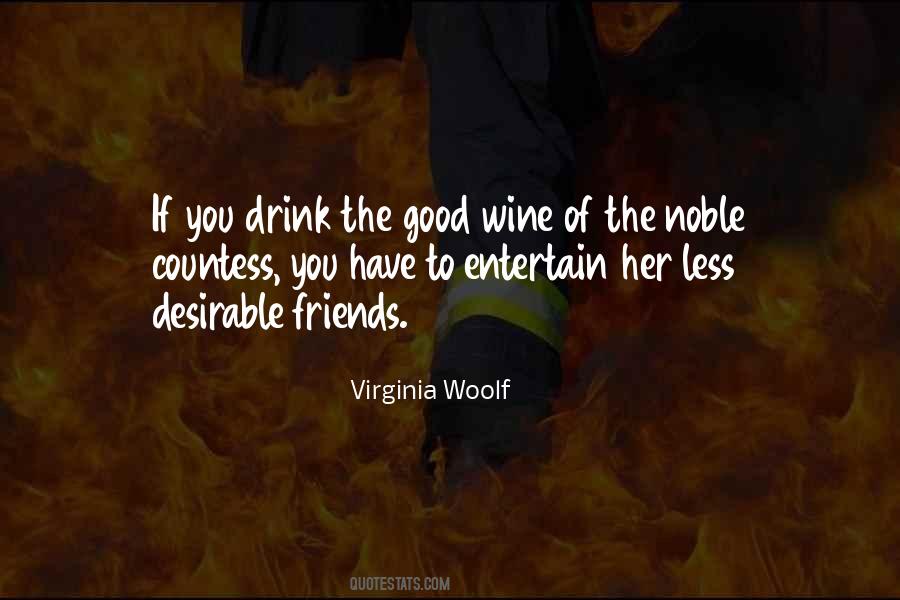 #35. I collect art, and I drink wine ... things that I like that I had never been exposed to. But I never said, 'I'm going to buy art to impress this crowd.' That's just ridiculous to me. I don't live my life like that, because how could you be happy with yourself? - Author: Jay-Z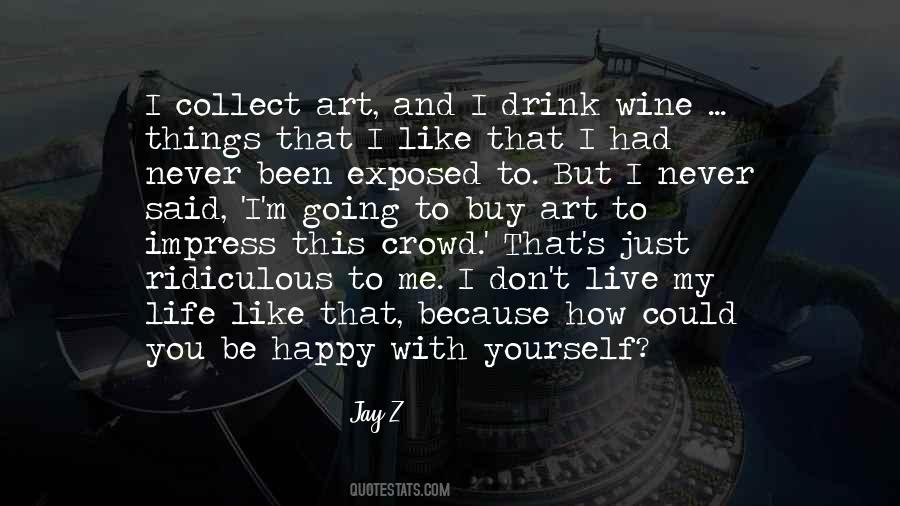 #36. I'm not a crazy granola person. I like to wear beautiful clothes, and I like having a glass of wine, but it doesn't mean I don't work out every day and drink green juices. - Author: Phoebe Tonkin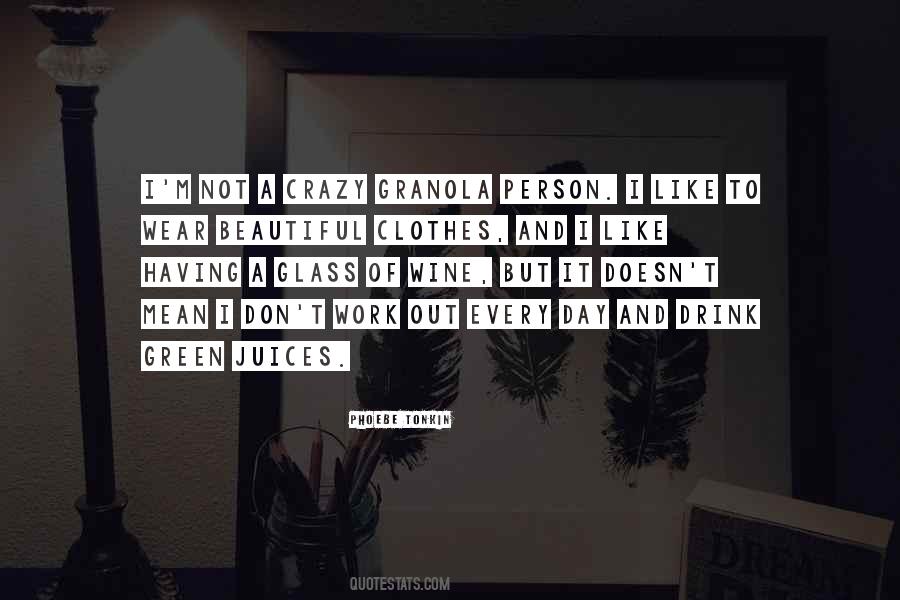 #37. 23Don't drink only water. You ought to drink a little wine for the sake of your stomach because you are sick so often. - Author: Anonymous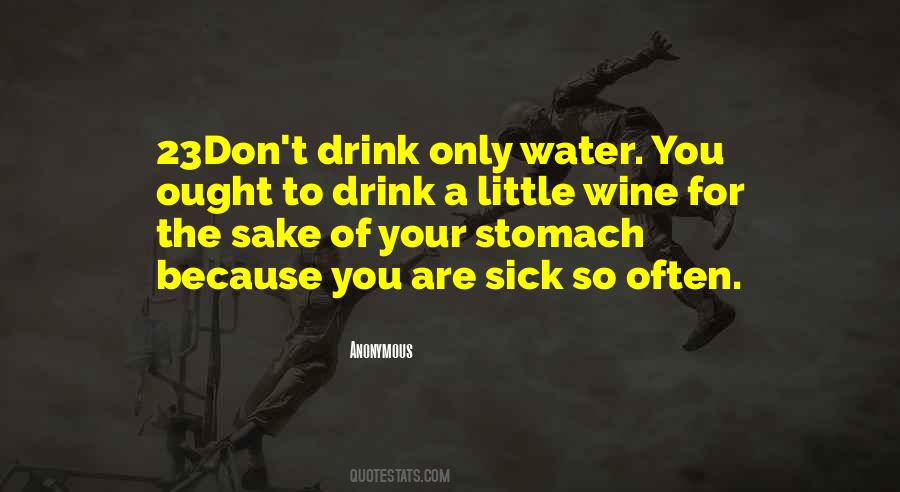 #38. I love Champagne and I love to drink it out of any kind of beautiful glass. - Author: Martha Stewart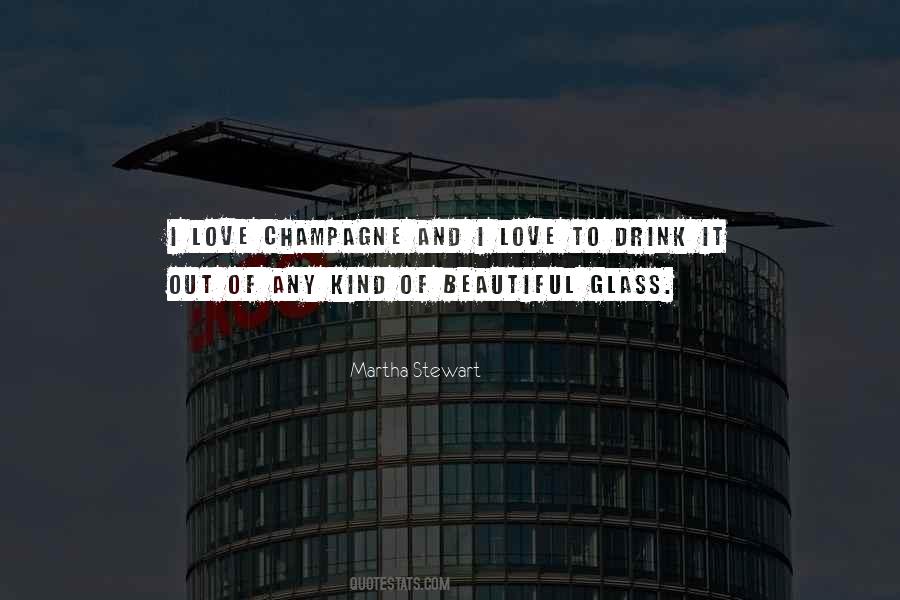 #39. [Barnabas speaks] "I will drink water."
"Water? But water is not fit for men to drink. For the cattle, for birds and beast, but a man needs ale ... or wine, if you are a Frenchman." [William answers] - Author: Louis L'Amour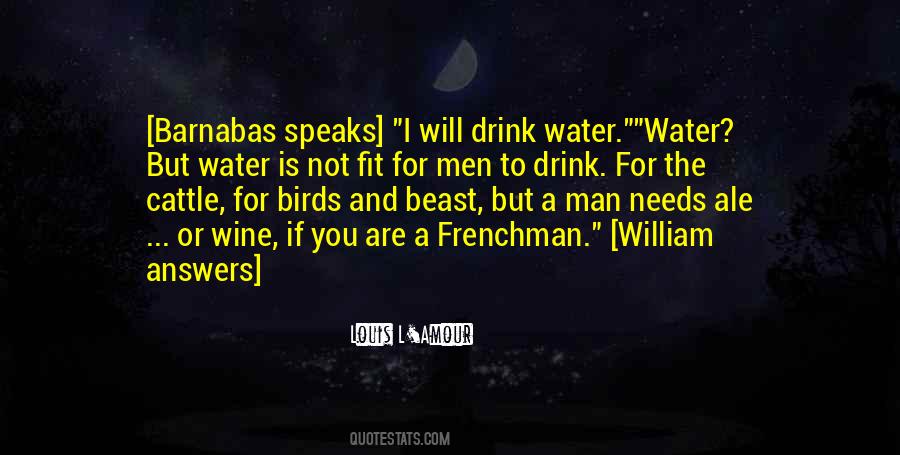 #40. First, we break bread and drink wine together, telling the story of Jesus and his death, because Jesus knew that this set of actions would explain the meaning of his death in a way that nothing else
no theories, no clever ideas
could ever do. - Author: N. T. Wright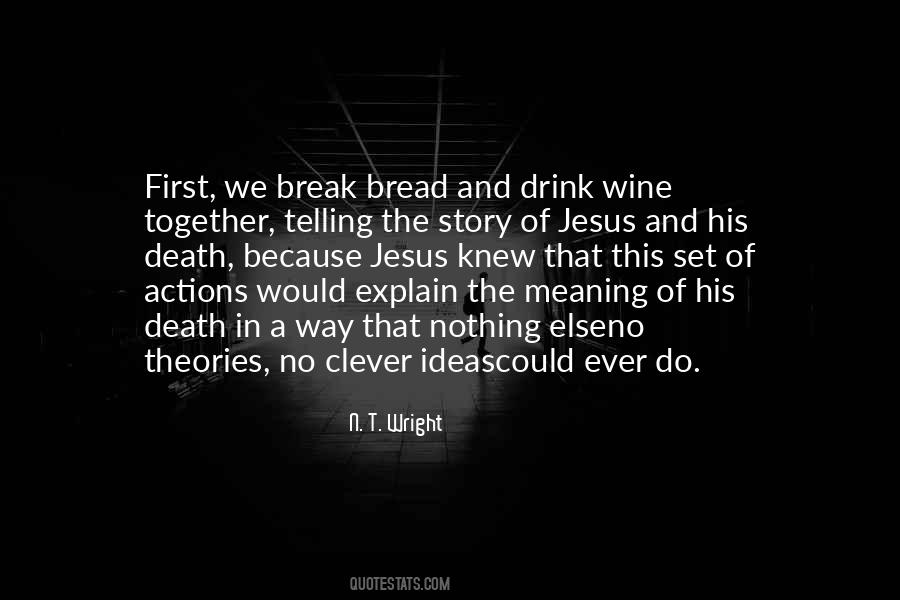 #41. I would drink that whole bottle if I knew it wouldn't get me completely drunk. I miss wine."
"Um, you haven't had it for one night, and you miss it?"
"Clearly, you underestimate my relationship with wine and what I do on the weekends when I'm by myself reading. - Author: Rachel Van Dyken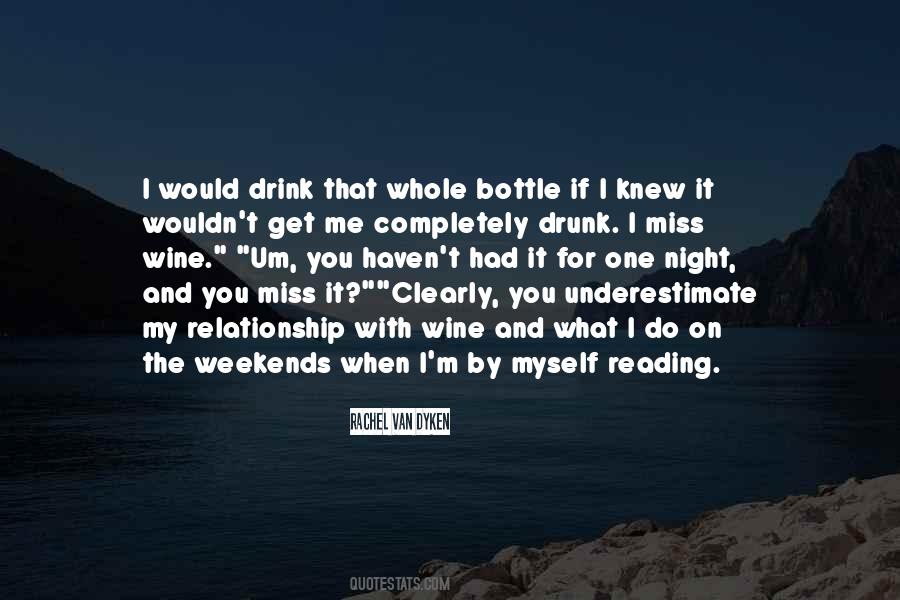 #42. Here's my prediction: Ninety percent of what everyone will drink will be red wine, and one of the biggest markets will be China. - Author: Kevin Zraly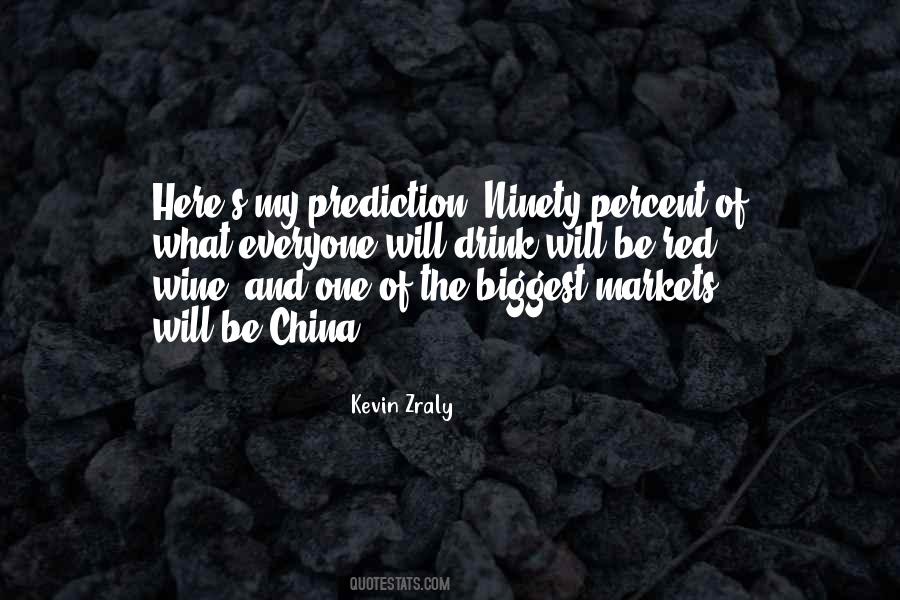 #43. Drink no longer water, but use a little wine for thy stomach's sake, and thine often infirmities. - Author: Anonymous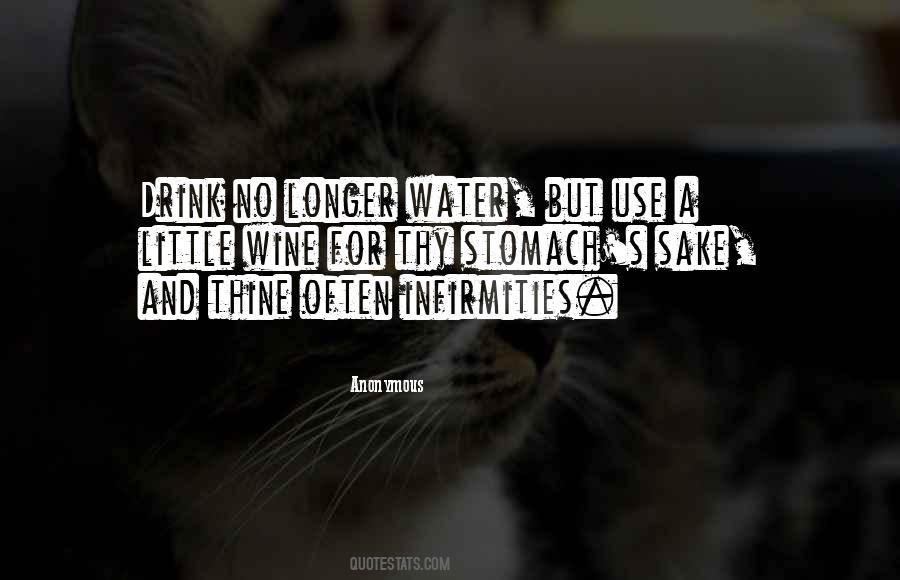 #44. I only go to yoga to drink wine, so I'm good. I just throw the calories right back in. - Author: Kaley Cuoco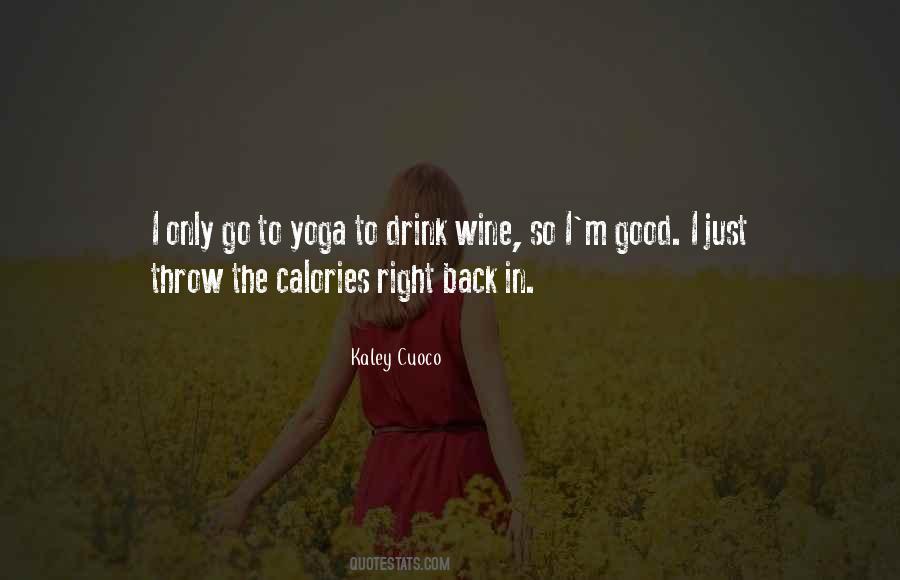 #45. Be smart, drink your wine. - Author: Horace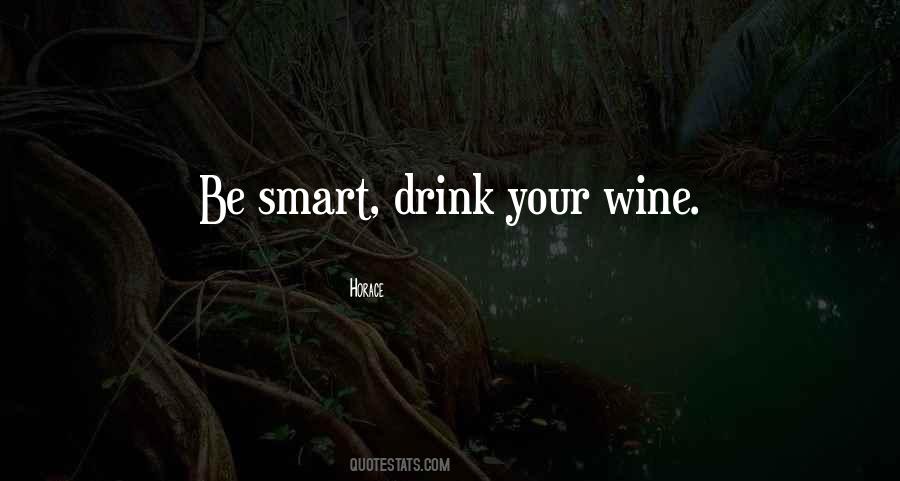 #46. He must seek his life in a spirit of furious indifference to it; he must desire life like water and yet drink death like wine. - Author: G.K. Chesterton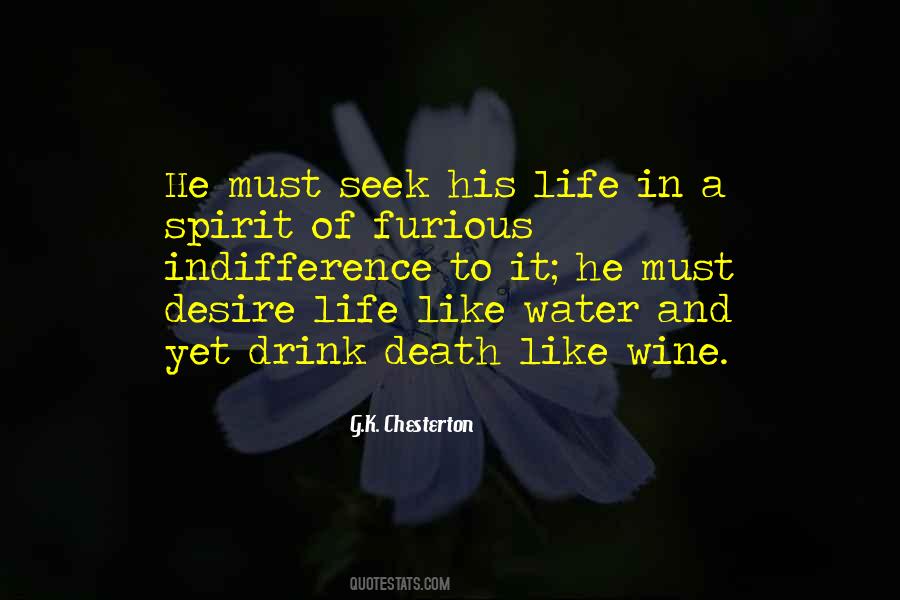 #47. It's like trying to drink whisky from a bottle of wine. - Author: Elton John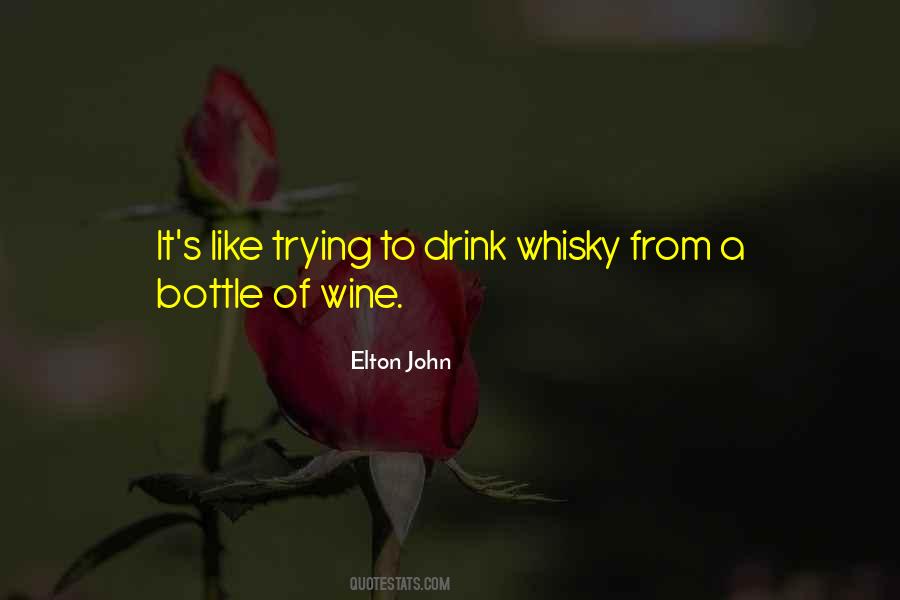 #48. Did I hear your correctly, my dear?" Ahan asked with a shaky voice. "You're going to go into Elantris?"
"Yes." Sarene said.
"I need something to drink," Ahan decided, unstoppering his wine flask. - Author: Brandon Sanderson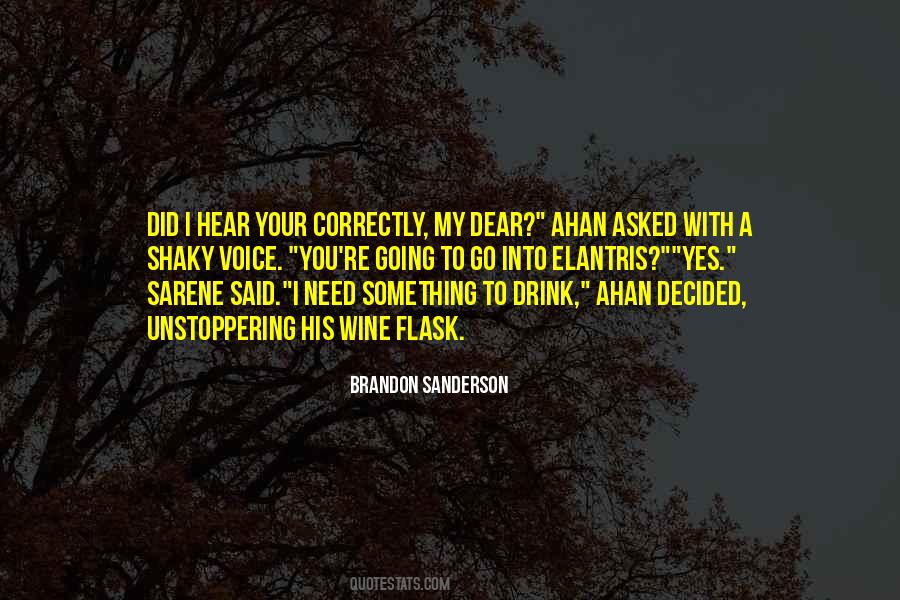 #49. If you like a wine that you drink, now with your phone, it's so easy. Just take a picture of the label. You learn about it. You learn where it comes from and what the soil is like and why you like it. And that'll lead you to another wine. - Author: Padma Lakshmi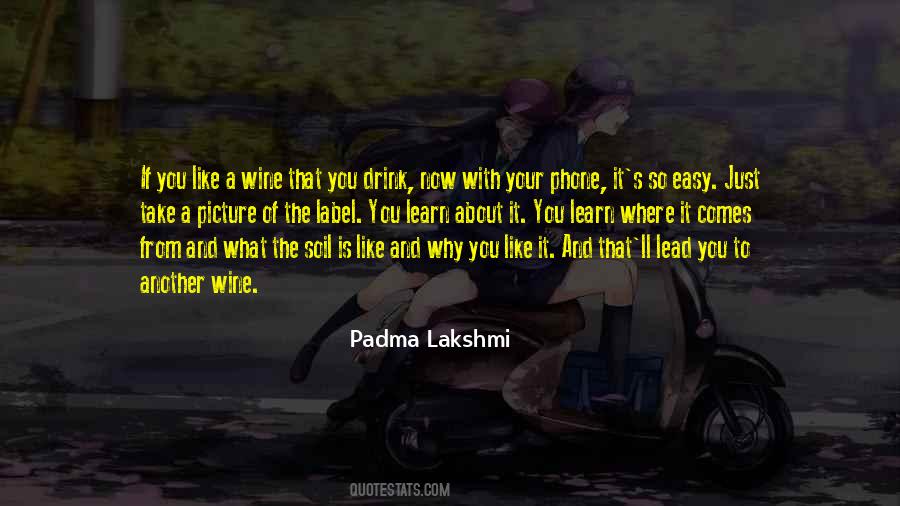 #50. Granny always said Britt-Marie was the sort of woman who would have to drink two glasses of wine and feel really wild and crazy to be able to fantasize about solving a crossword in ink. - Author: Fredrik Backman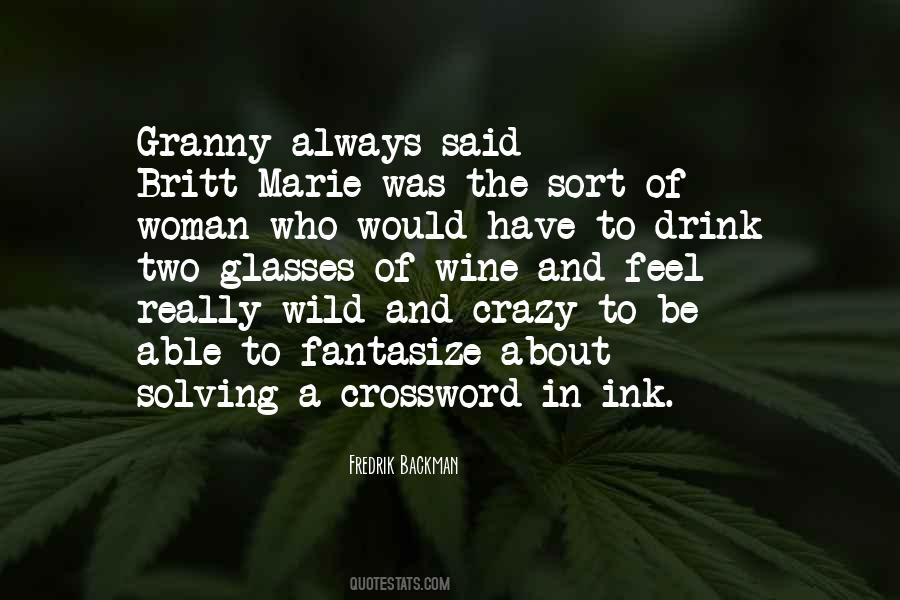 #51. Life, as the signs in the liquor stores say, is too short to drink bad wine. And summer is too short to read bad books. - Author: David Frum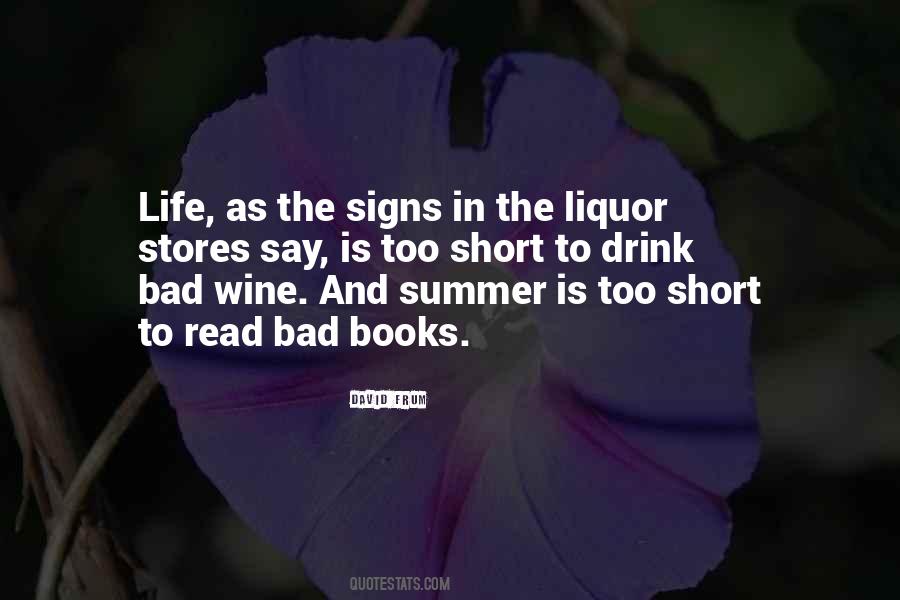 #52. If the October days were a cordial like the sub-acids of fruit, these are a tonic like the wine of iron. Drink deep or be careful how you taste this December vintage. The first sip may chill, but a full draught warms and invigorates. - Author: John Burroughs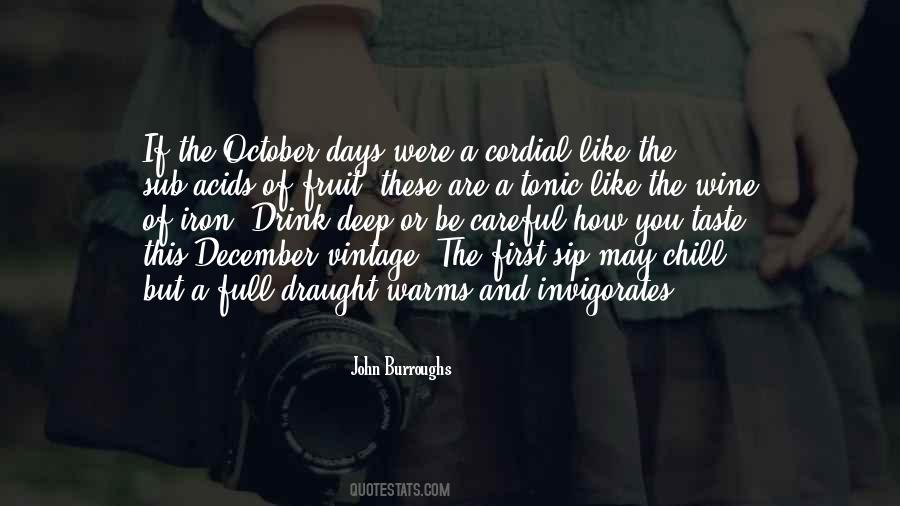 #53. I - drunk!" said Caderousse; "well that's a good one! I could drink four more such bottles; they are no bigger than cologne flasks. Pere Pamphile, more wine!" and Caderousse rattled his glass upon the table. - Author: Alexandre Dumas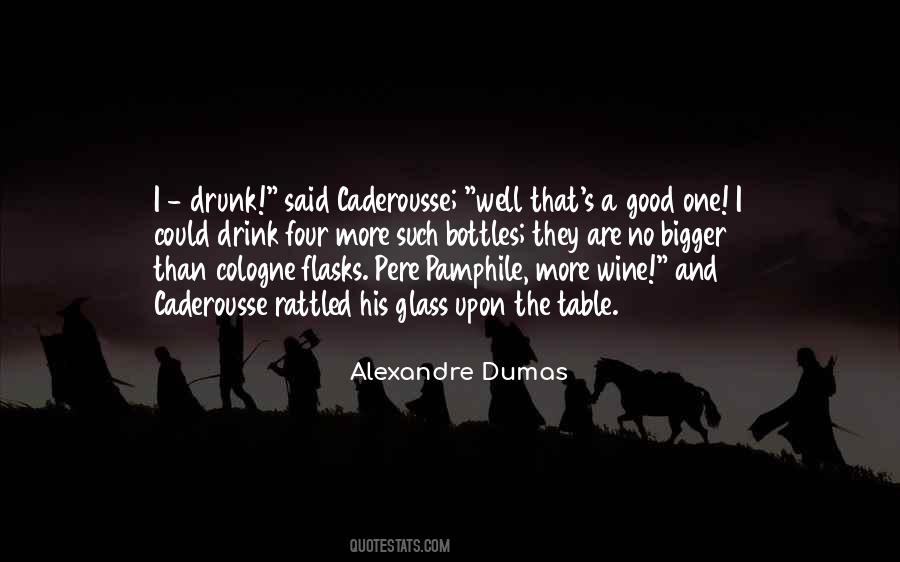 #54. I throw a kiss across the sea, I drink the winds as drinking wine, And dream they all are blown from thee, I catch the whisper'd kiss of thine. - Author: Joaquin Miller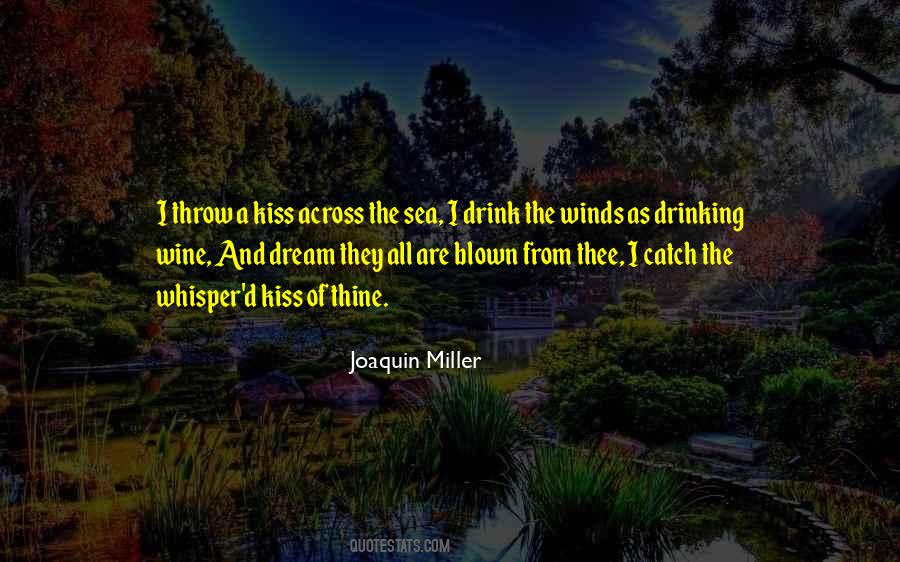 #55. Your supposed to drink wine, my friend, not breathe it. - Author: Trudi Canavan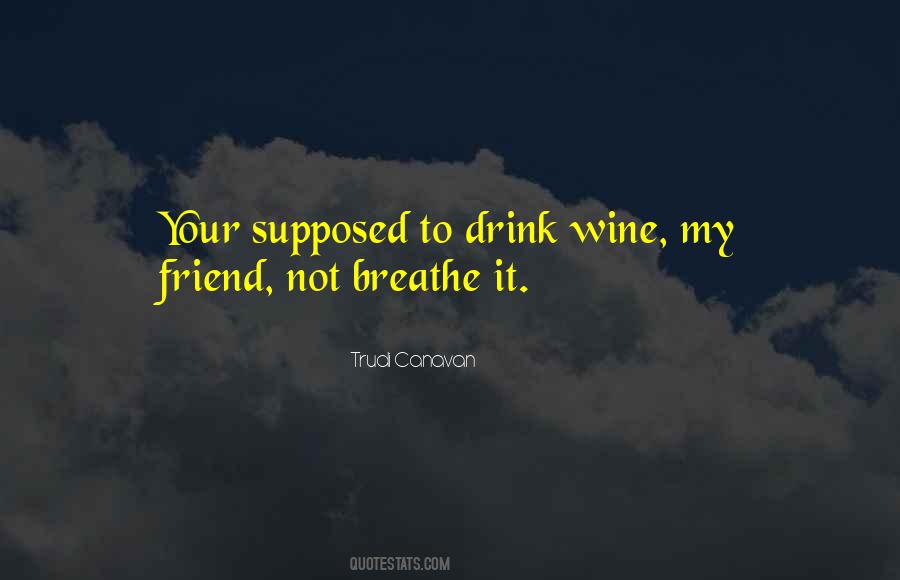 #56. Baby, shut up and let me drink the wine from your fur tea cup. - Author: Alice Cooper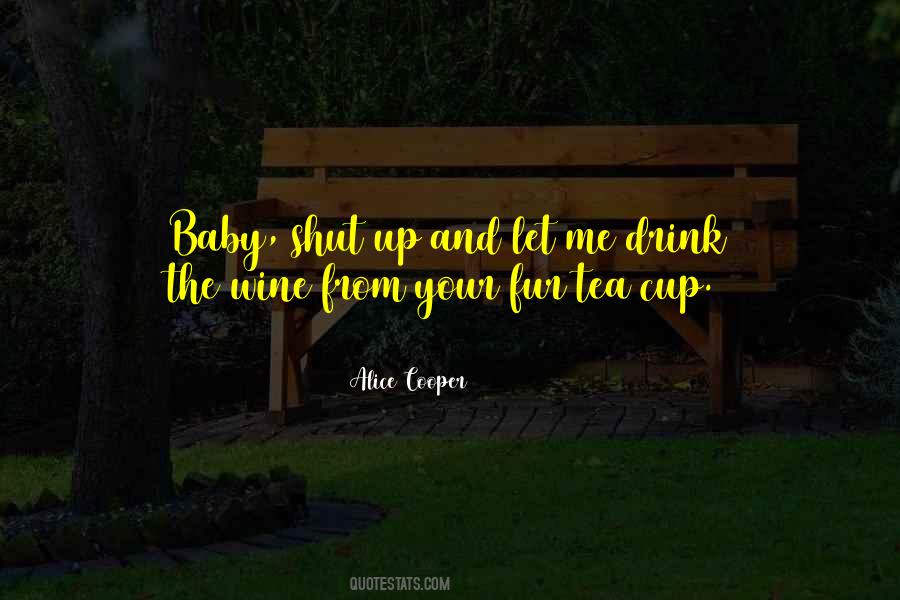 #57. Drink wine, and live here blitheful while ye may;
The morrow's life too late is; live to-day. - Author: Robert Herrick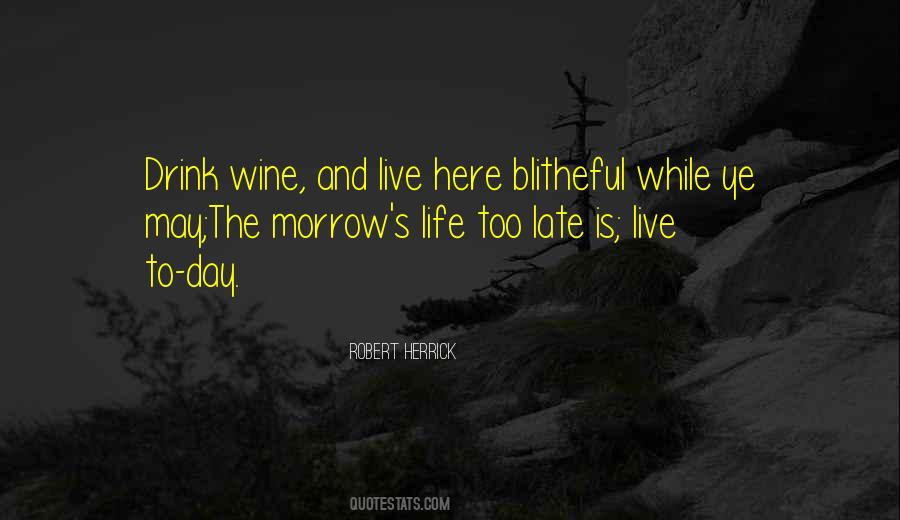 #58. My feeling is that drugs and alcohol take away from the pure experience of meditation. That does not mean that occasionally, a person couldn't have a glass of wine or a drink. - Author: Frederick Lenz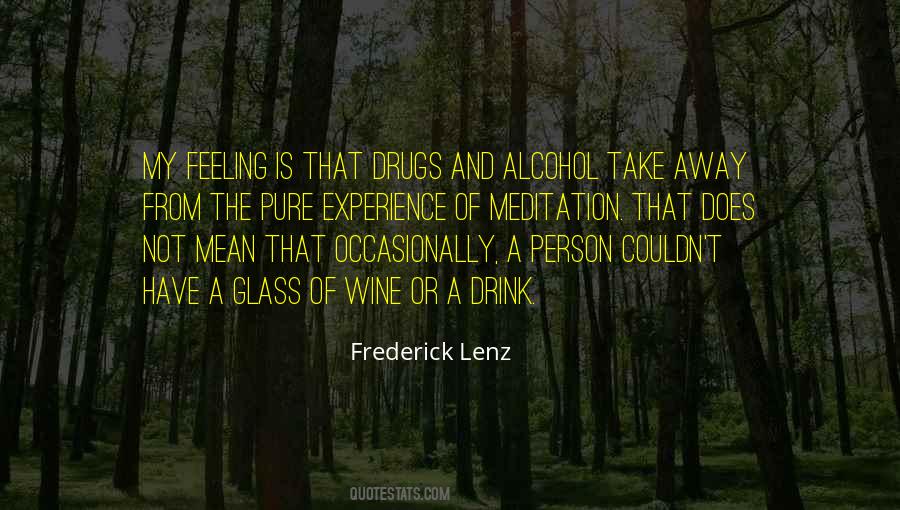 #59. Something thumped in front of me. A bottle of wine. "It's fine if you drink directly from it," was all Mor said. - Author: Sarah J. Maas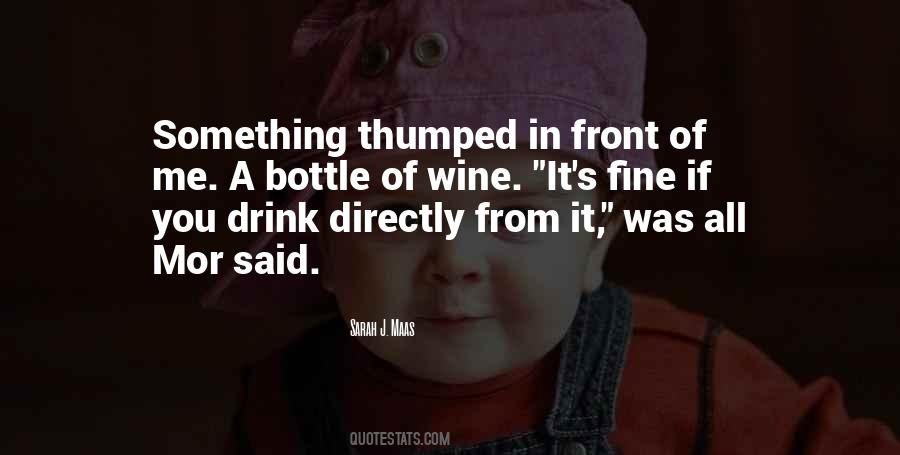 #60. Let those who drink not, but austerely dine, dry up in law; the Muses smell of wine. - Author: Horace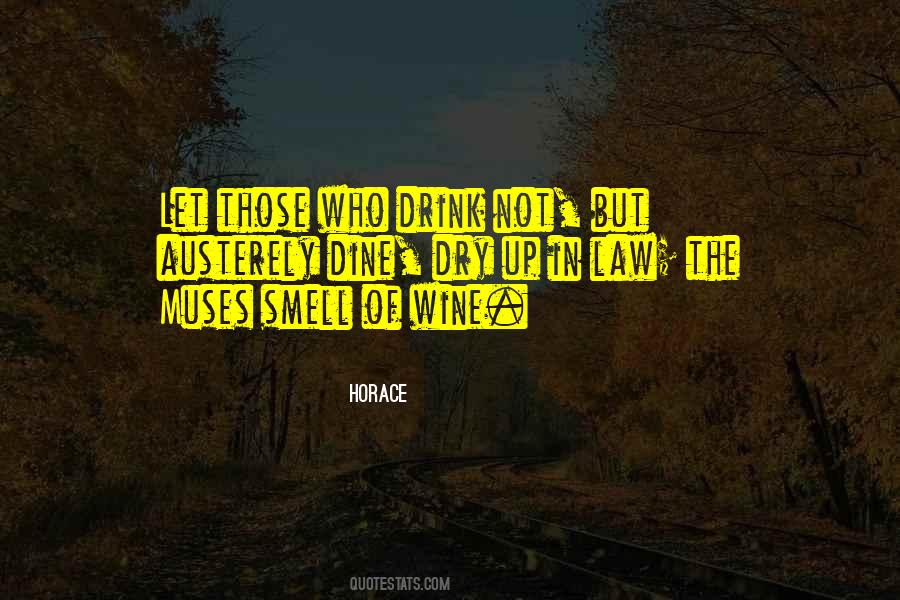 #61. Never Refuse Wine. It is an odd but universally held opinion that anyone who doesn't drink must be an alcoholic. - Author: P. J. O'Rourke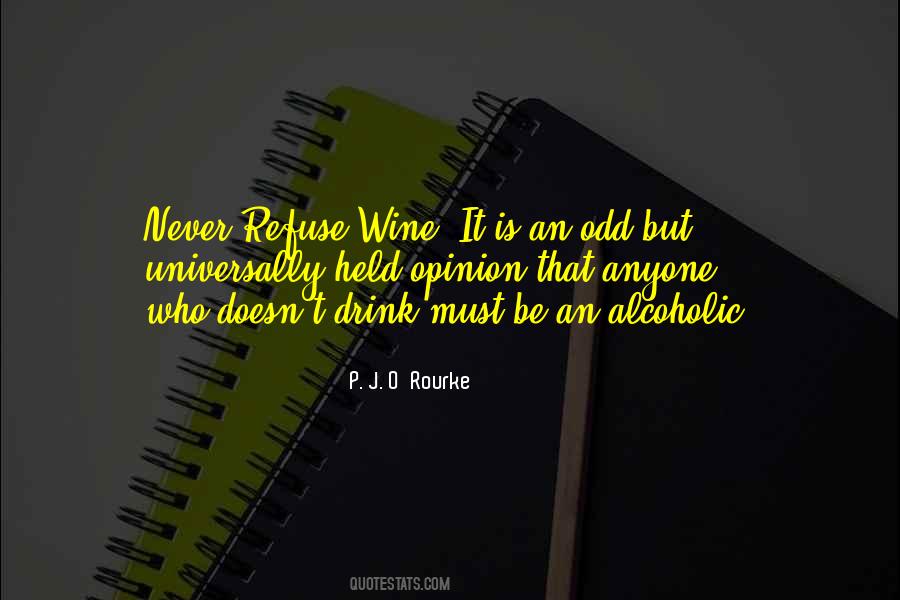 #62. Come sit with me! Let us drink the holy wine of happiness. - Author: Rumi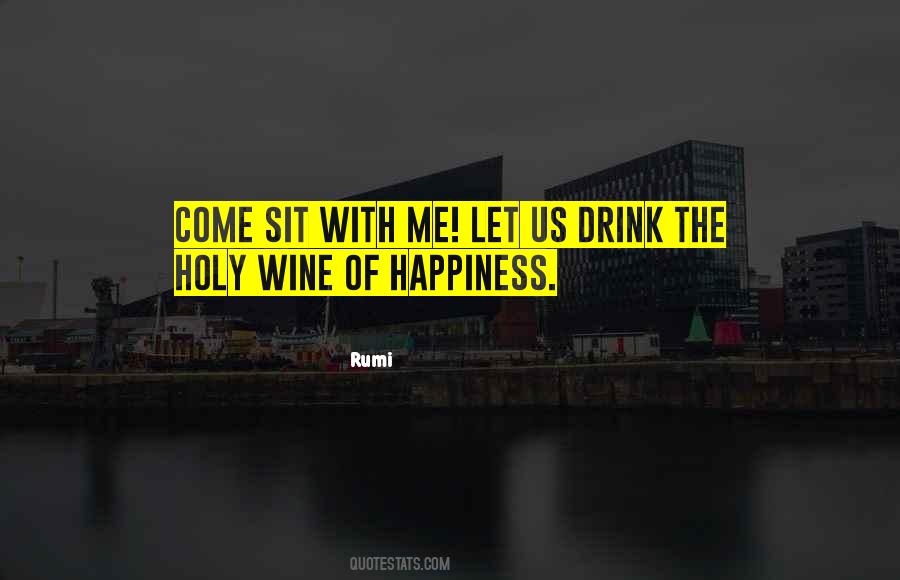 #63. Wine is God's special drink. The purpose of good wine is to inspire us to a livelier sense of gratitude to God. - John Calvin - Author: Lauren F. Winner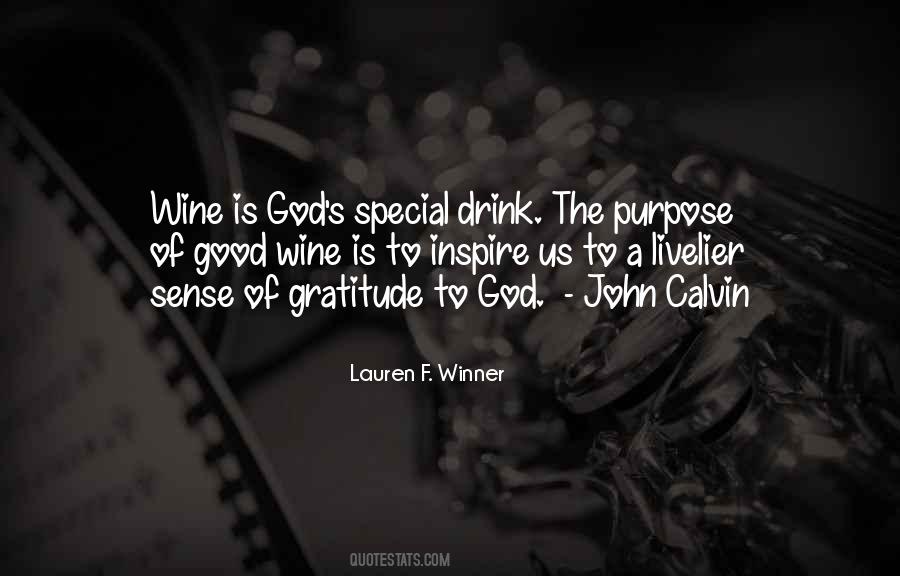 #64. So popular is beer, the world's best-selling alcoholic drink, that it is often taken for granted. Yet scientific analysis shows that a glass of beer has within it as many aromas and flavors as fine wine. Not everyone understands this, but an increasing number of people do. - Author: Michael Jackson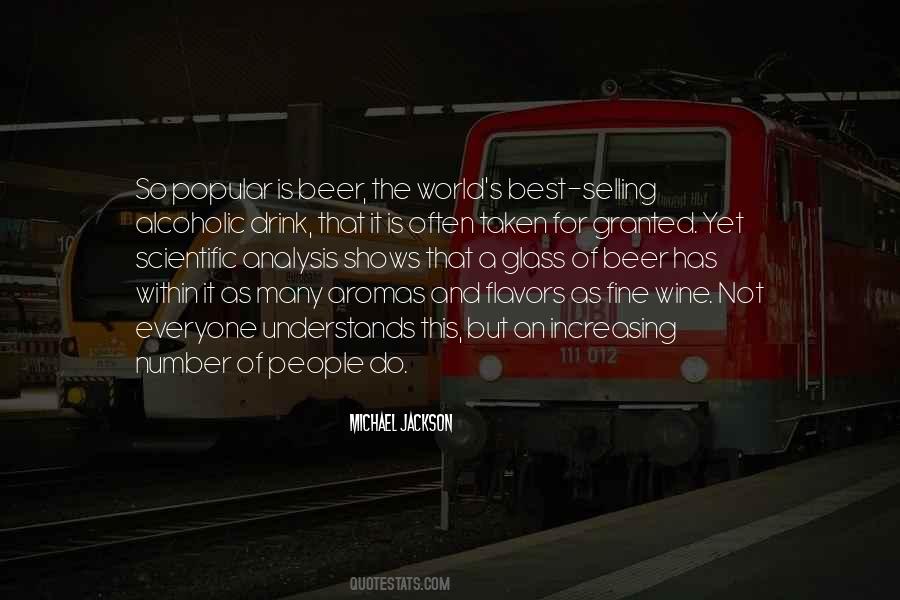 #65. There are many wines that taste great, but do not drink well - Author: Michael Broadbent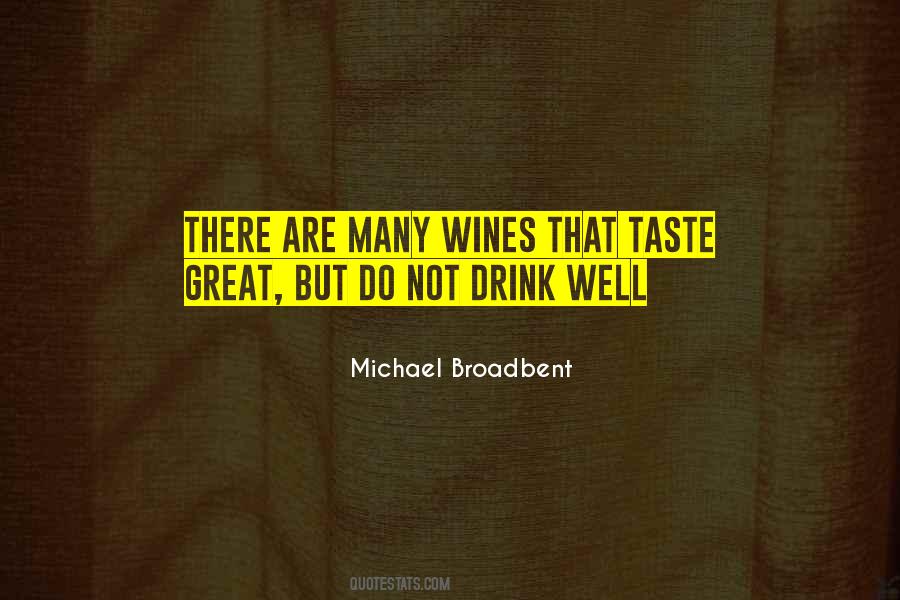 #66. I'm on the diet where you eat vegetables and drink wine. That's a good diet. I lost 10 pounds and my driver's license. - Author: Larry The Cable Guy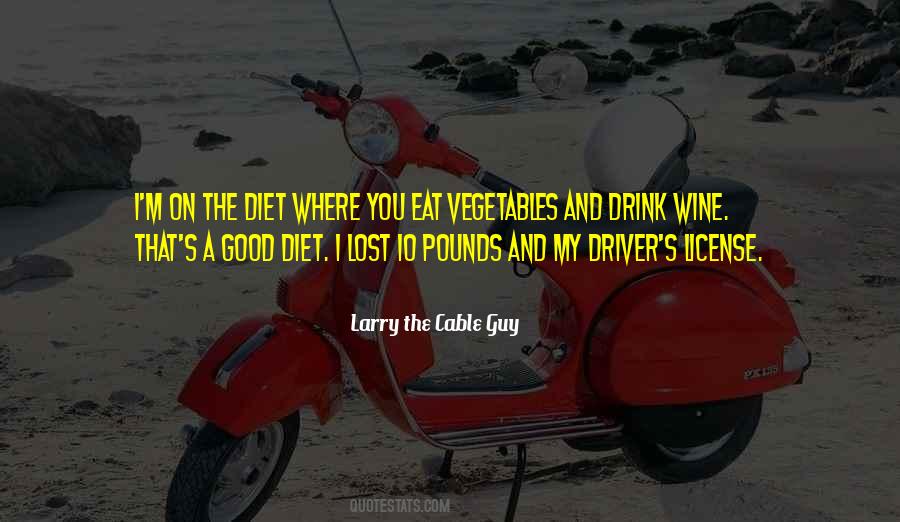 #67. A great pinot chases its own tail. You drink it and you just keep finding new tastes that go with it, my dream was to make a world-class pinot and learn more about other wines as well. - Author: Kurt Russell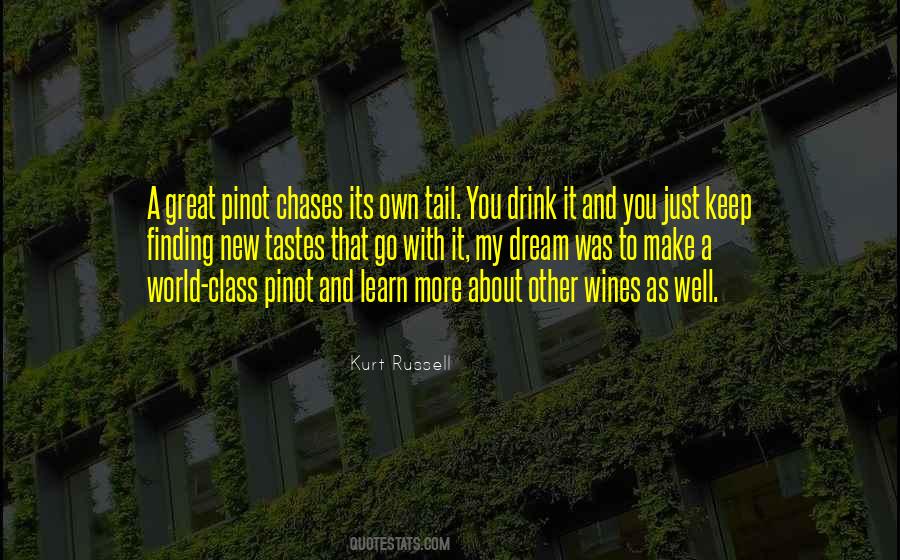 #68. don't fast, I will never go on any pilgrimage, and I drink wine - and what's more, the air that makes it better. To cry out that I'm free, and that God is a question, not an answer, and that I want to meet him alone, at my death as at my birth. - Author: Kamel Daoud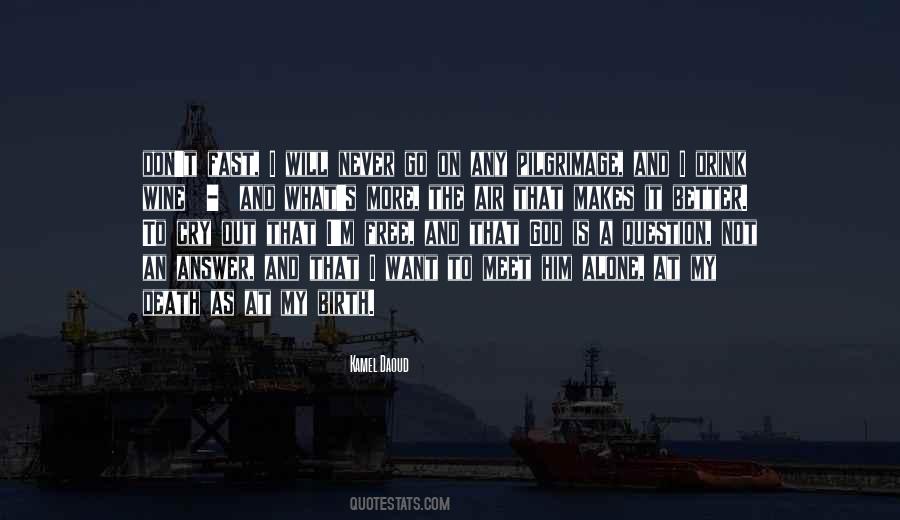 #69. Some men drink the blood of other men, all I drink is wine. - Author: Mohsin Hamid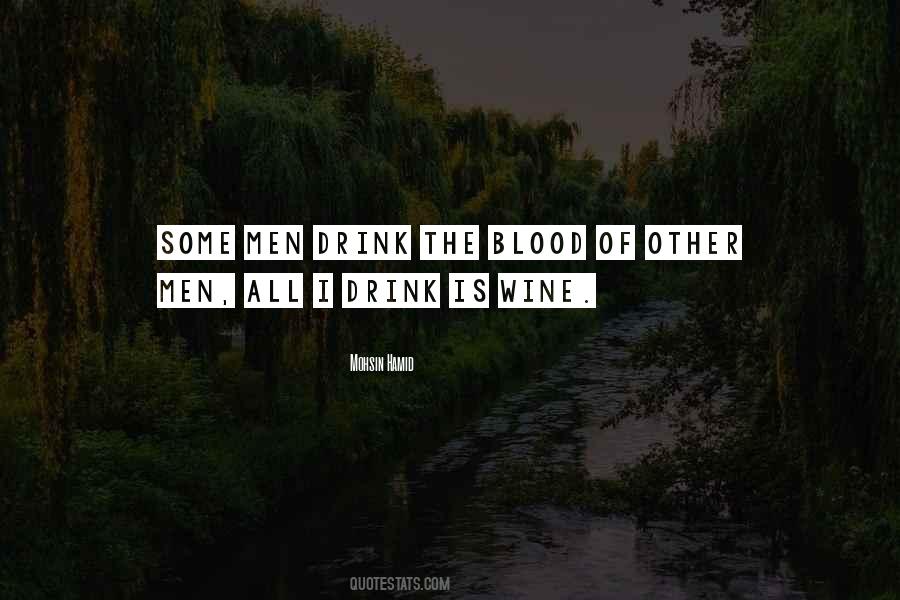 #70. The more wine I drink in moderation, the better I am. - Author: Julia Barrett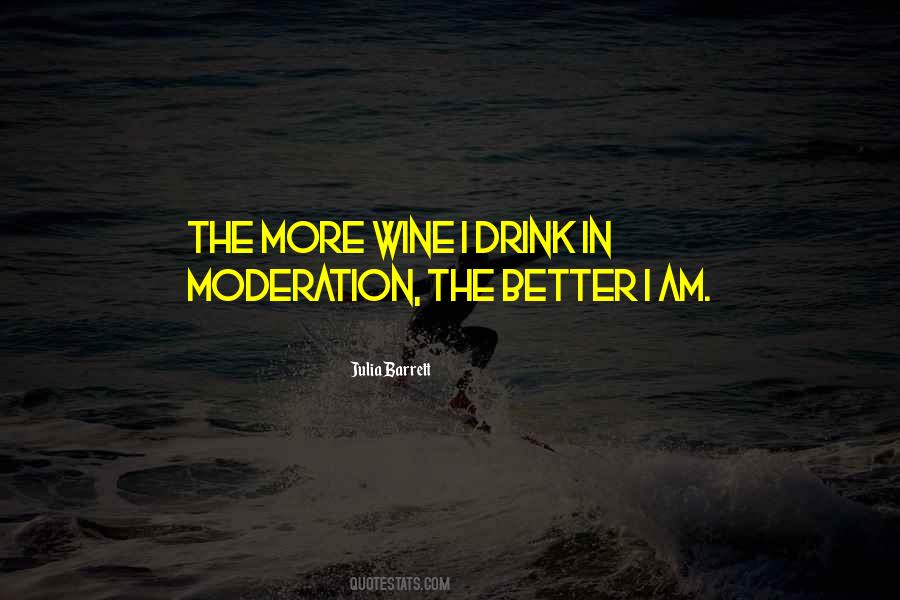 #71. Always carry a corkscrew and the wine shall provide itself. - Author: Basil Bunting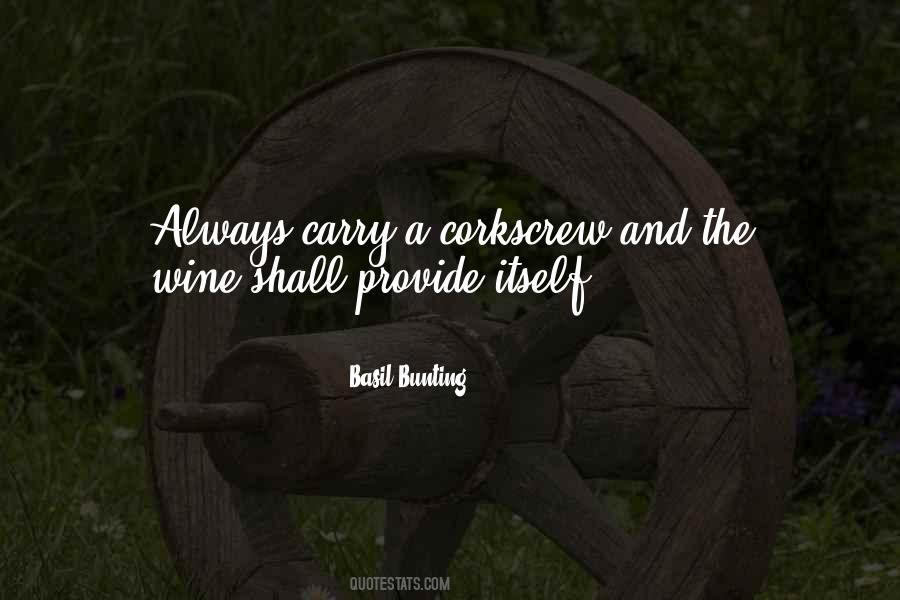 #72. Spend sunny afternoons writing. Take weekends in the country. Dream. Drink good wine, eat fabulous cheese and great bread. Make the kind of love that destroys the bed. - Author: Rachel Hauck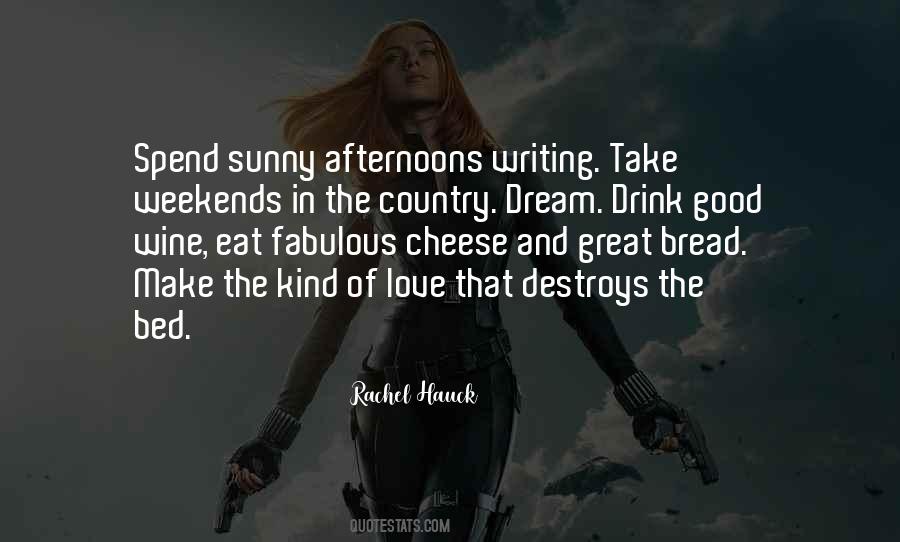 #73. I beg your pardon; I am drunk without a drink. English wine & words are vulnerable to every man. - Author: Santosh Kalwar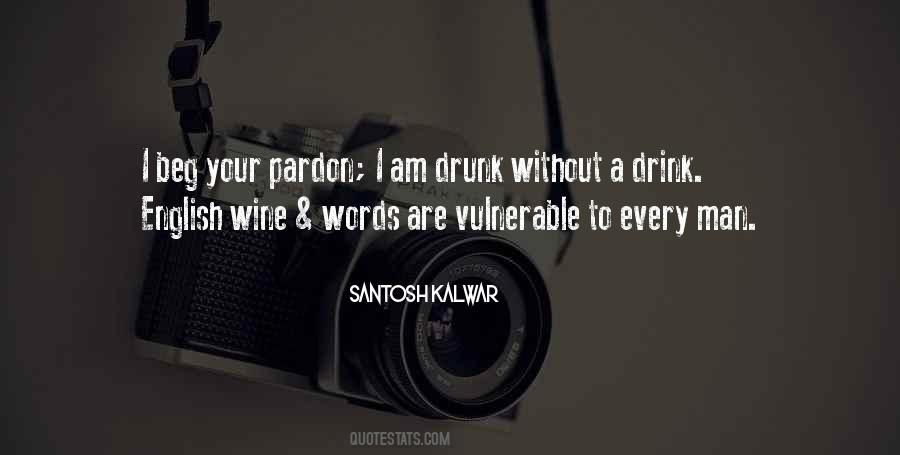 #74. But to give him anything to drink was impossible, or would have been so had not the landlord bored a reed, and putting one end in his mouth poured the wine into him through the other; all which he bore with patience rather than sever the ribbons of his helmet. - Author: Miguel De Cervantes Saavedra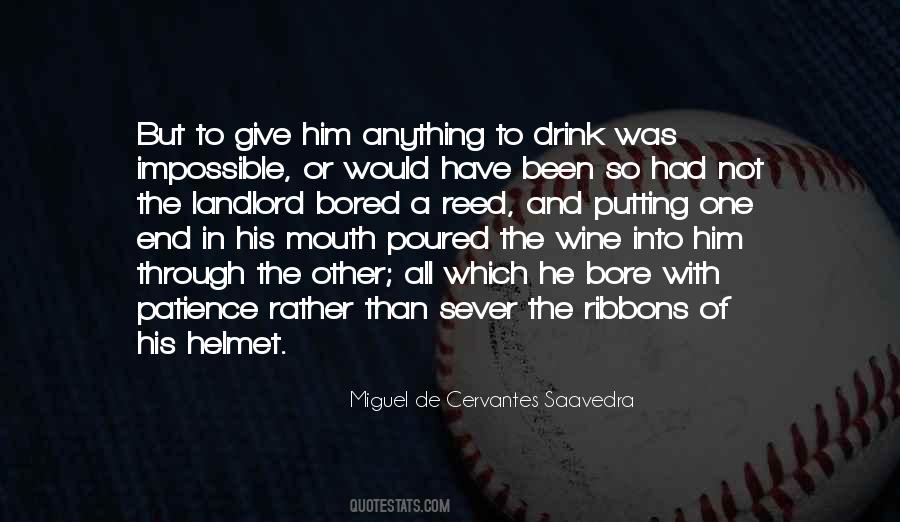 #75. One does not drink. One gives a kiss to his glass, and the wine returns a caress to you. - Author: Jean-Jacques Rousseau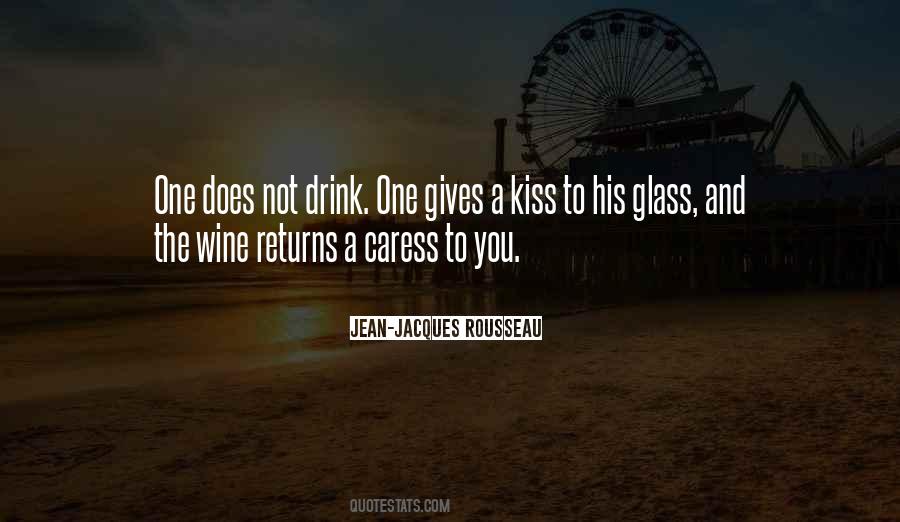 #76. I was a man who thrived on solitude; without it I was like another man without food or water. Each day without solitude weakened me. I took no pride in my solitude; but I was dependent on it. The darkness of the room was like sunlight to me. I took a drink of wine. Suddenly - Author: Charles Bukowski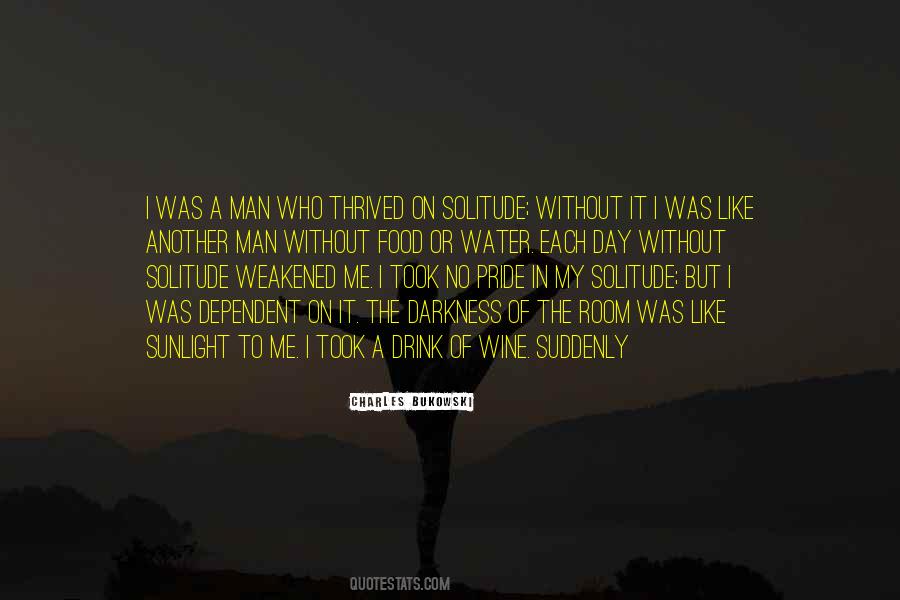 #77. I drink a glass of wine or two occasionally with dinner. 'You drink alcohol?!' Well, if my state of consciousness is so fragile that a glass of wine would upset it, then it can't be worth very much. - Author: Eckhart Tolle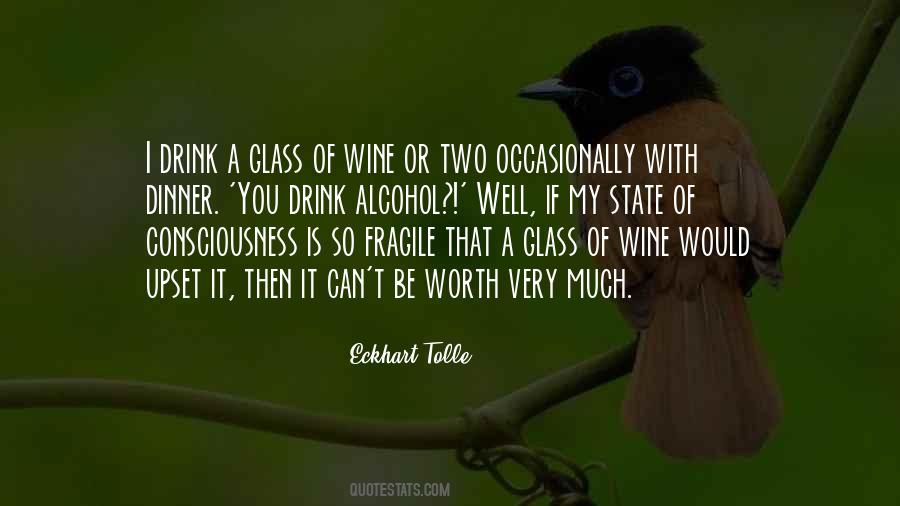 #78. I'm a winemaker and a wine collector, so I usually just drink wine. - Author: Isiah Whitlock Jr.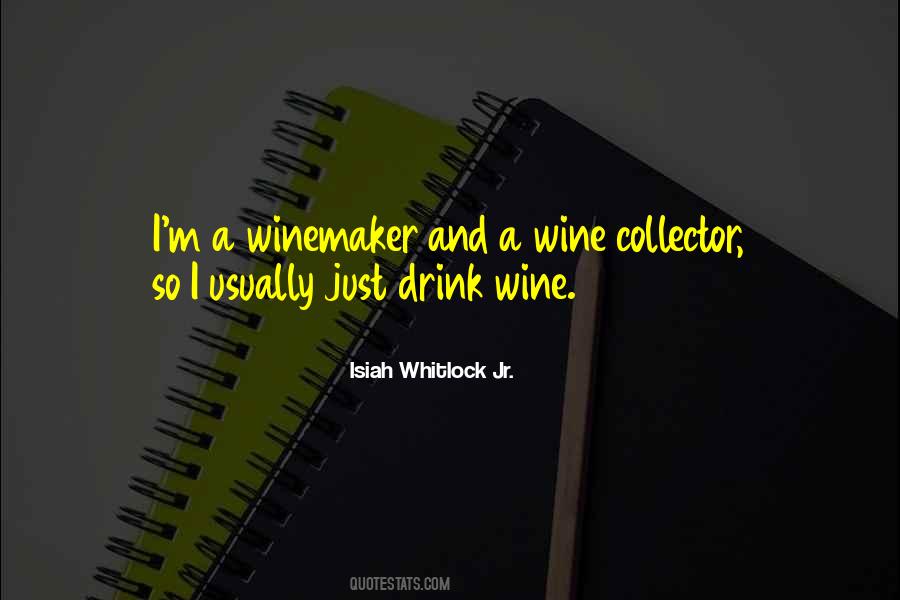 #79. Perhaps. Perhaps that's why you drink wine and take drugs. Because you want to kill the question. - Author: Pleasefindthis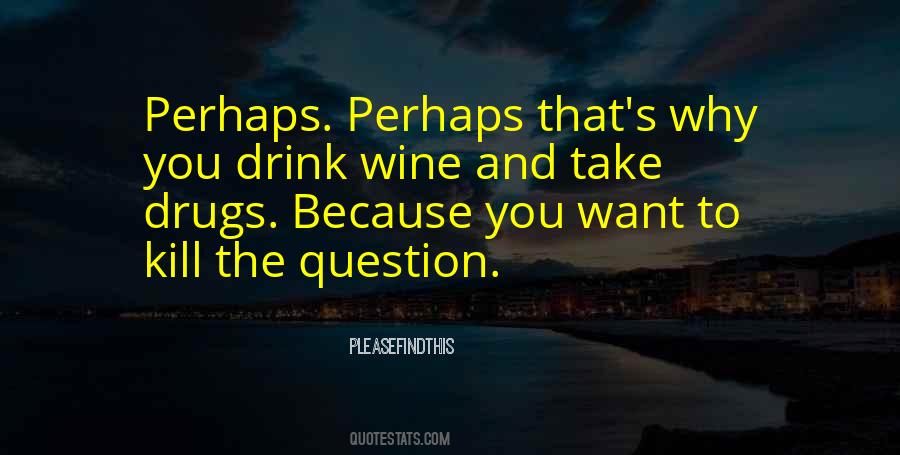 #80. When either a man or a woman makes a special vow, the vow of a Nazarite, to separate himself to the Lord, he shall separate himself from wine and strong drink. - Author: Moses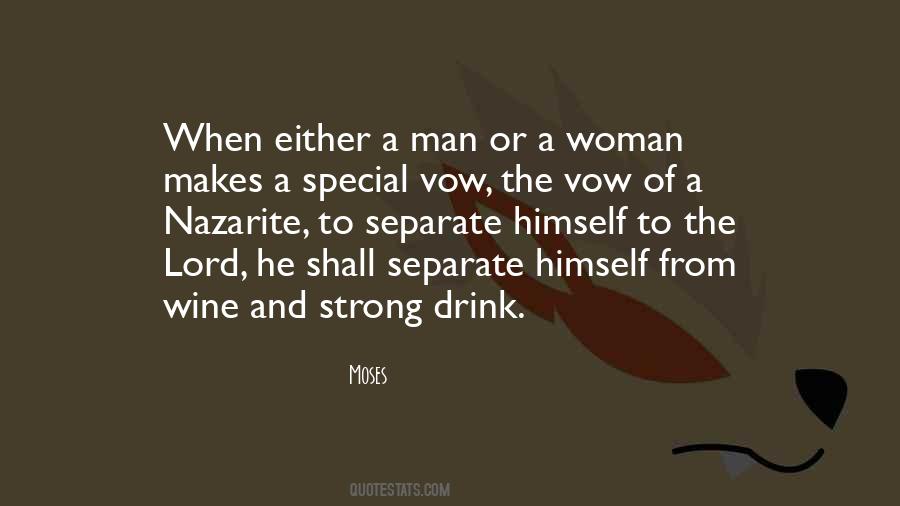 #81. Wine works the heart up, wakes the wit;
There is no cure 'gainst age but it. and
'Tis late and cold, stir up the fire;
Sit close and draw the table nigher;
Be merry and drink wine that is old,
A hearty medicine 'gainst the cold. - Author: John Fletcher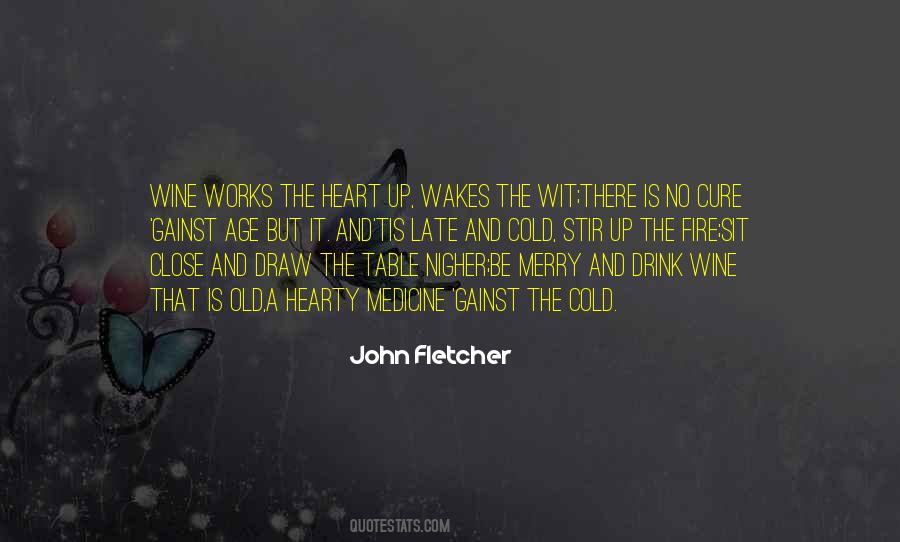 #82. Drink to me only with thine eyes, And I will pledge with mine; Or leave a kiss but in the cup And I'll not look for wine. - Author: Ben Jonson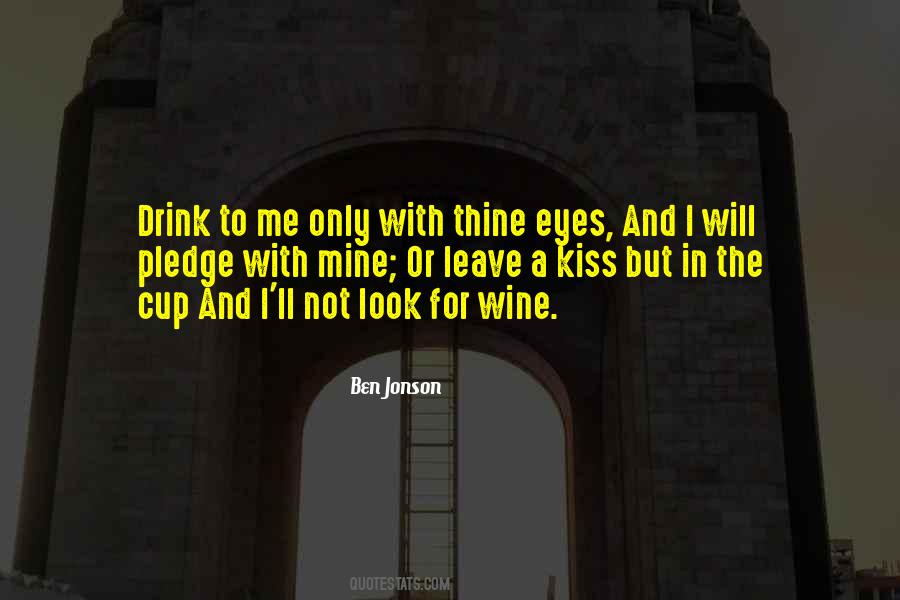 #83. The best kind of wine is that which is most pleasant to him who drinks it. - Author: Pliny The Elder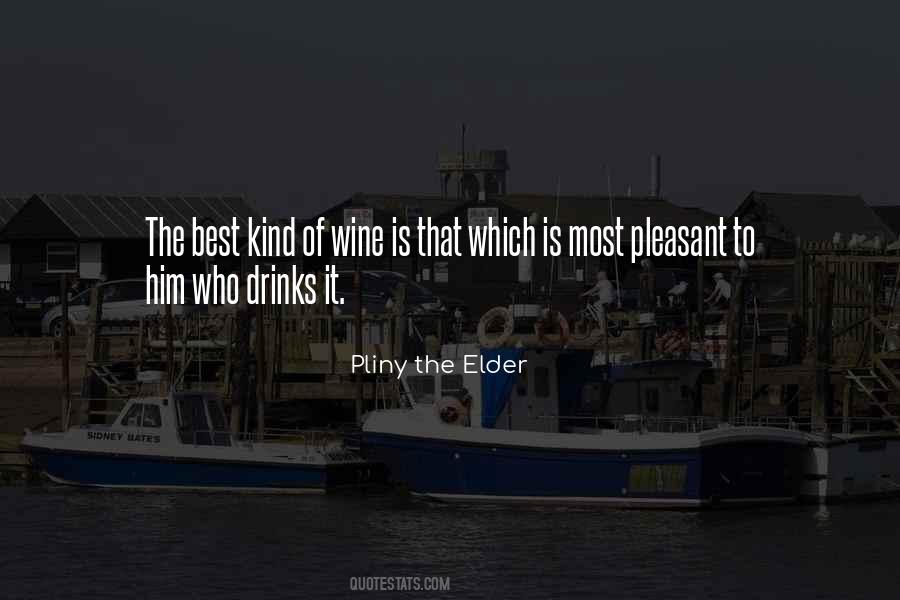 #84. Bottles of wine aren't like paintings. At some point you have to consume them. The object in life is to die with no bottles of wine in your cellar. To drink your last bottle of wine and go to sleep that night and not wake up. - Author: Jay McInerney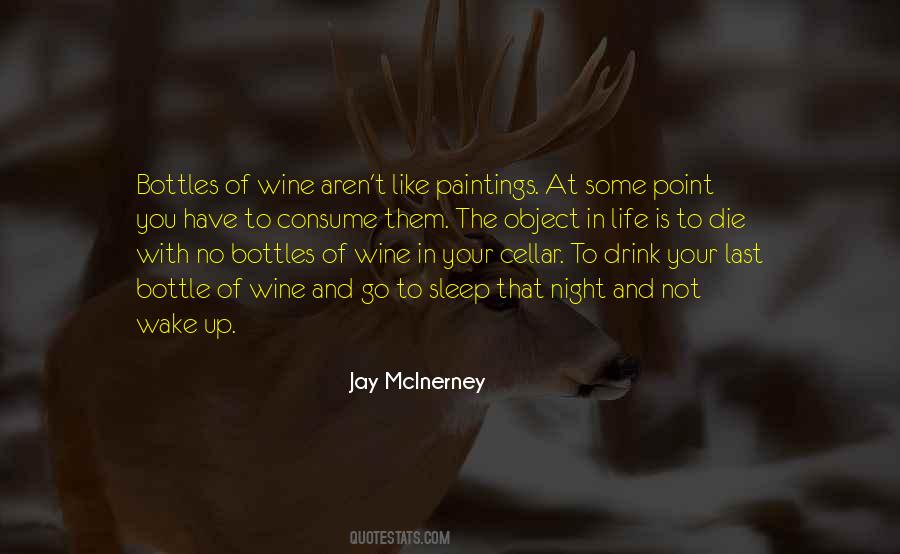 #85. I hung up the phone and tapped it lightly against my chin, then wrapped myself tighter in my giant woolen cardigan and poured another glass of boxed wine - the official drink of emotionally confused women on a budget. - Author: Heather Cocks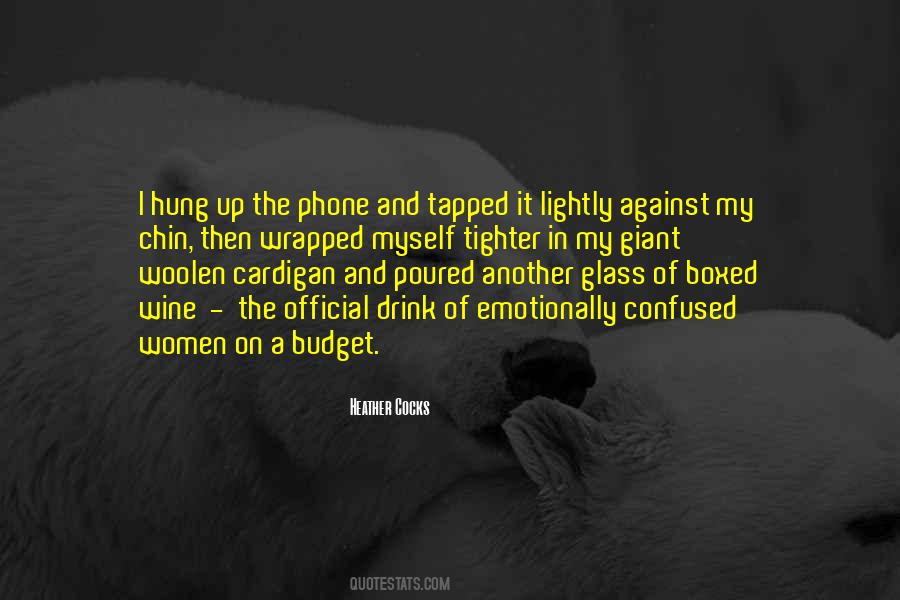 #86. If we are ever going to be made into wine, we will have to be crushed - you cannot drink grapes. Grapes become wine only when they have been squeezed. I wonder what finger and thumb God has been using to squeeze you? - Author: Oswald Chambers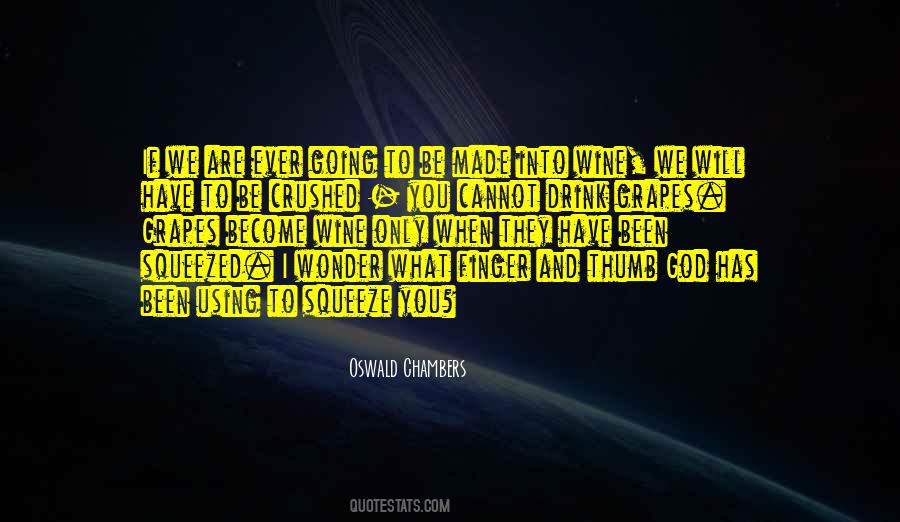 #87. I want to, like, drink wine and talk about the Middle East or whatever the fuck we're gonna want to do when we're old. - Author: John Green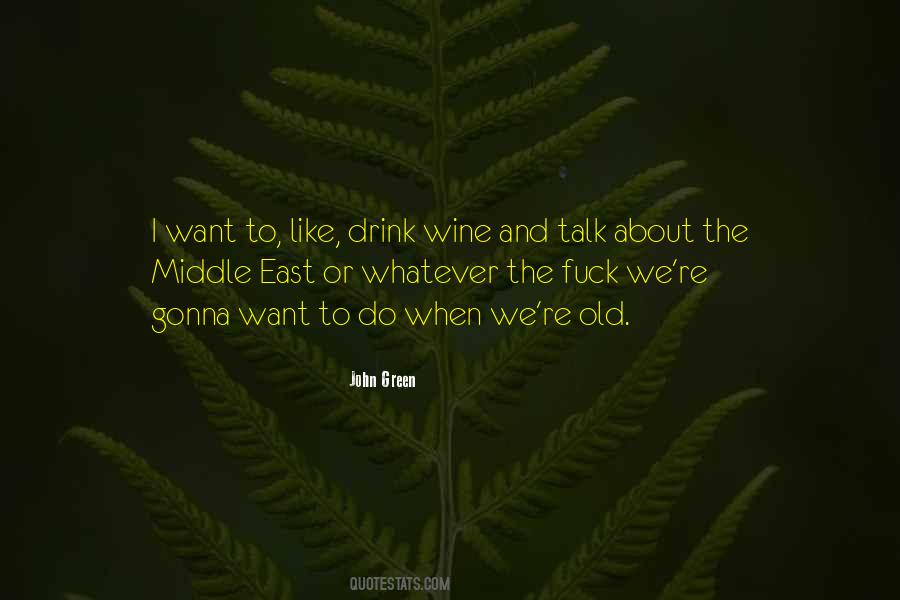 #88. Your path is not my path. Should we meet at the crossroads and ye be a friend, tarry a while, drink some wine and let us laugh for a while. If ye be foe, continue on your merry way and may our paths never cross again. - Author: Virginia Alison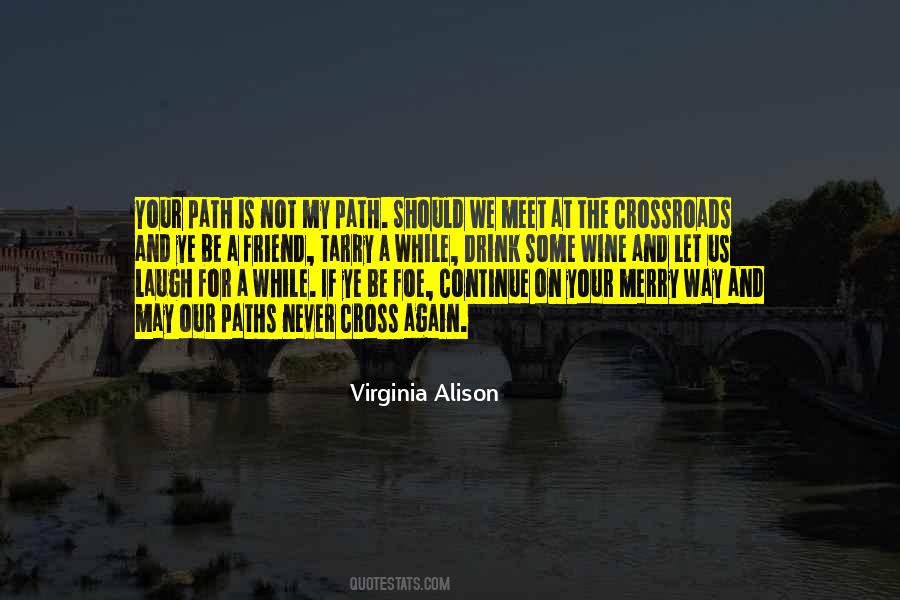 #89. They travelled for thirteen hours down-hill, whilst the streams broadened and the mountains shrank, and the vegetation changed, and the people ceased being ugly and drinking beer, and began instead to drink wine and to be beautiful. - Author: E. M. Forster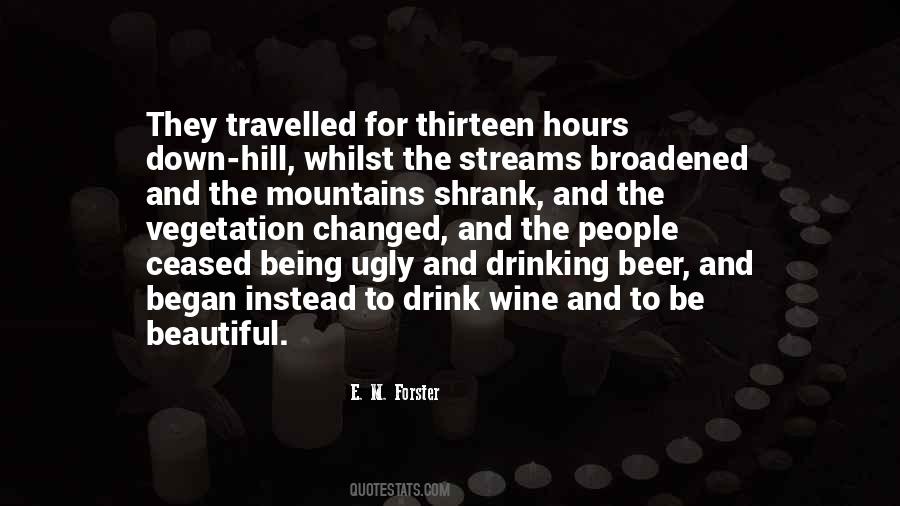 #90. A carbonated wine foisted upon Americans (who else would drink it?) by winery ad agencies as a way of getting rid of inferior champagne by mixing it with inferior burgundy. - Author: John Ciardi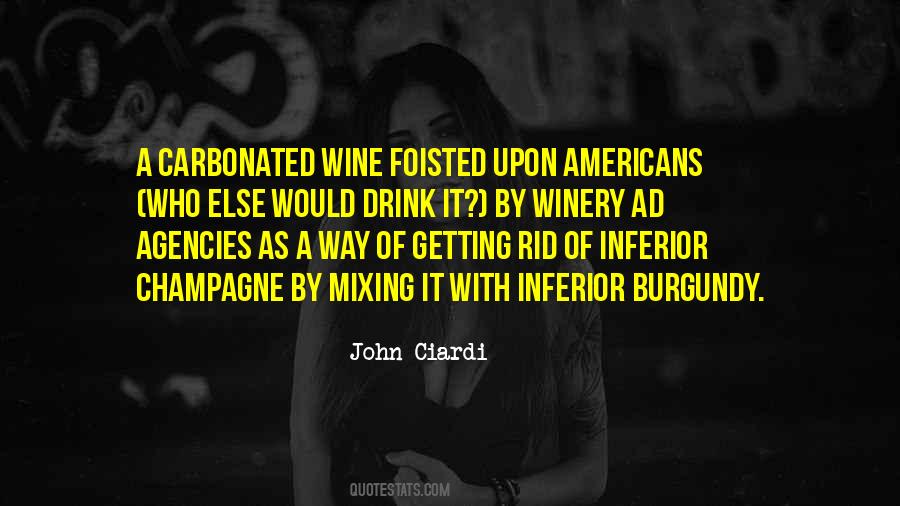 #91. Love is a wine; you have to taste it, you have to drink it, you have to become drunk with it, only then do you know what it is. - Author: Rajneesh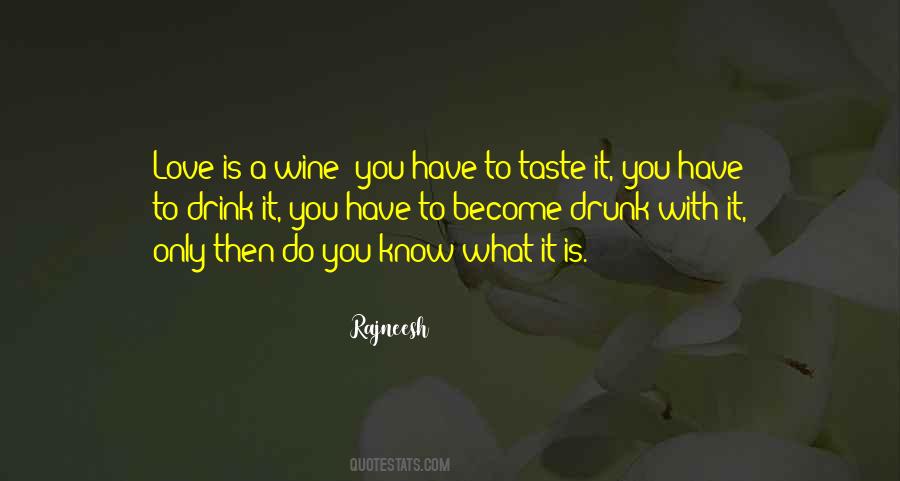 #92. Eat bread at pleasure, drink wine by measure. - Author: Randle Cotgrave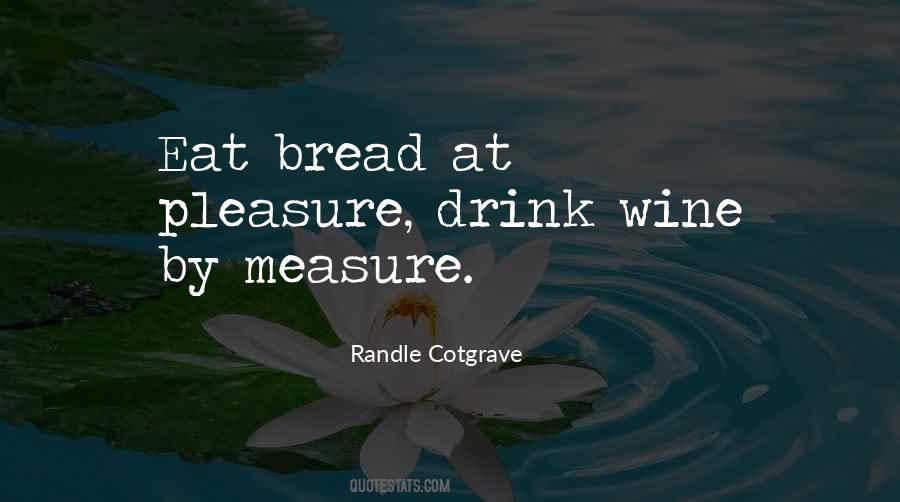 #93. For me the ideal date would be to drink wine in the backyard under the stars, listen to music and just talk. Then we'd eat steak and, later, dessert. If all went as planned, we'd save some of the dessert and play with it while making out. - Author: Karen McDougal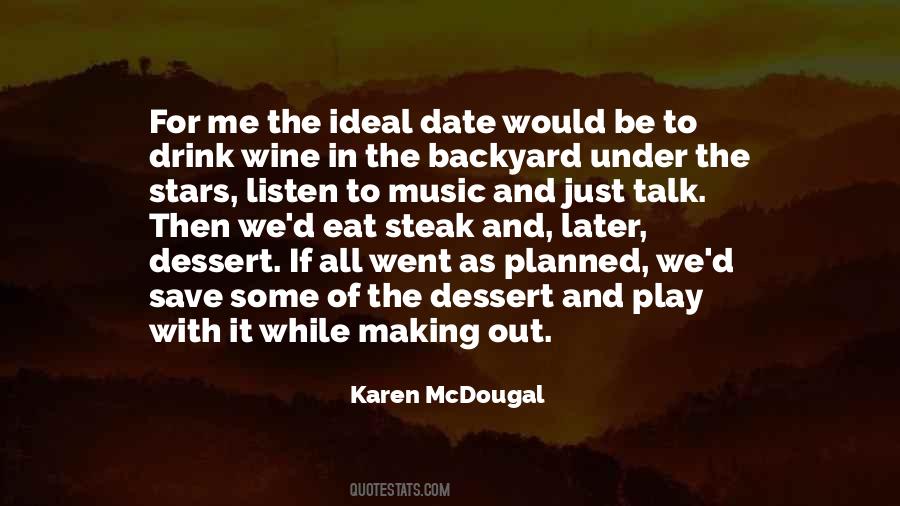 #94. Man's nature is not a bit the same as wines. He loses flavour as his life declines. We drink the oldest wine that comes our way. Old men get nasty, old wines make us gay. - Author: Alexis Sanchez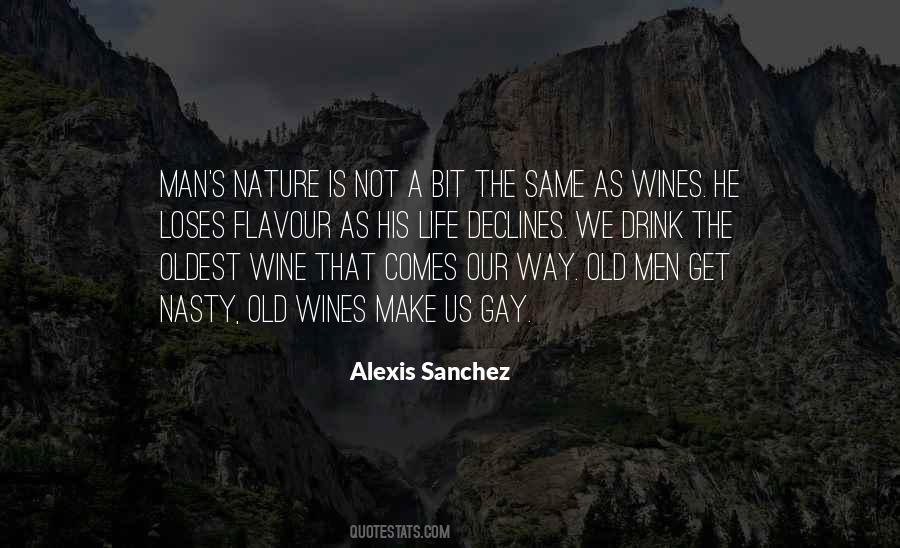 #95. Love is like wine, drink it as you rhyme. - Author: Santosh Kalwar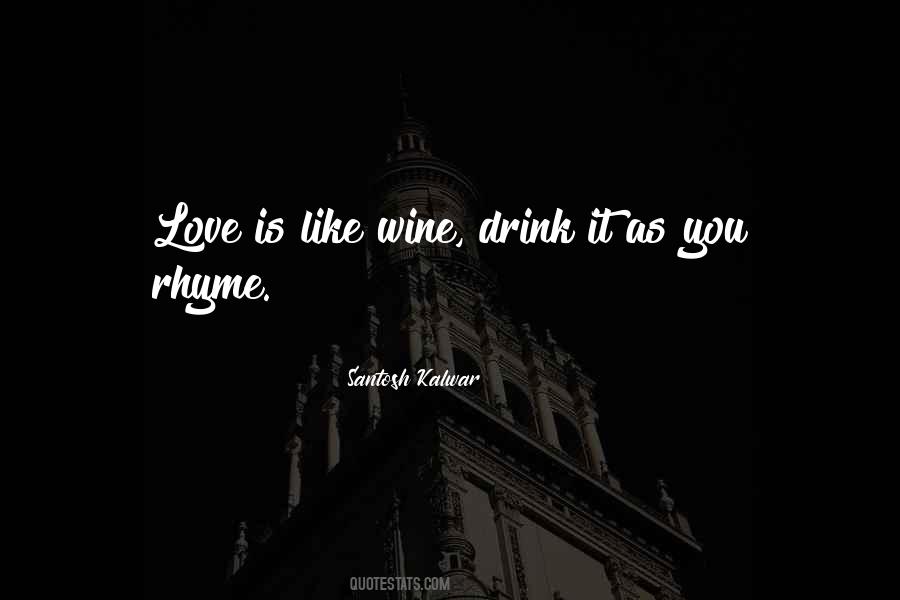 #96. I can't drink a wine if it has an ugly label, - Author: Bryan Ferry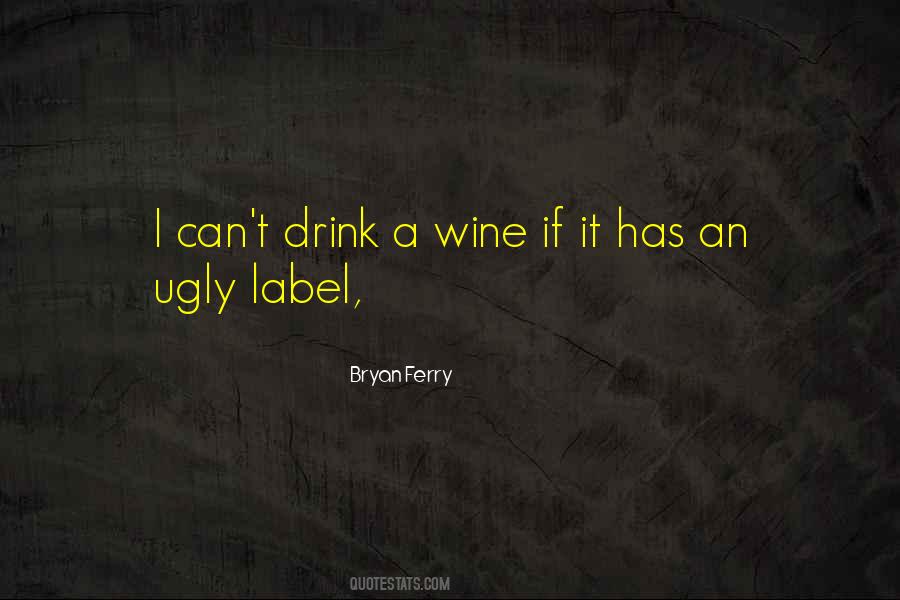 #97. Someone said drink the water, but I will drink the wine
Someone said take a poor man, the rich don't have a dime
Go fool yourself, if you will, I just haven't got the time
I'll give you back your water, and I will take the wine. - Author: Frank Sinatra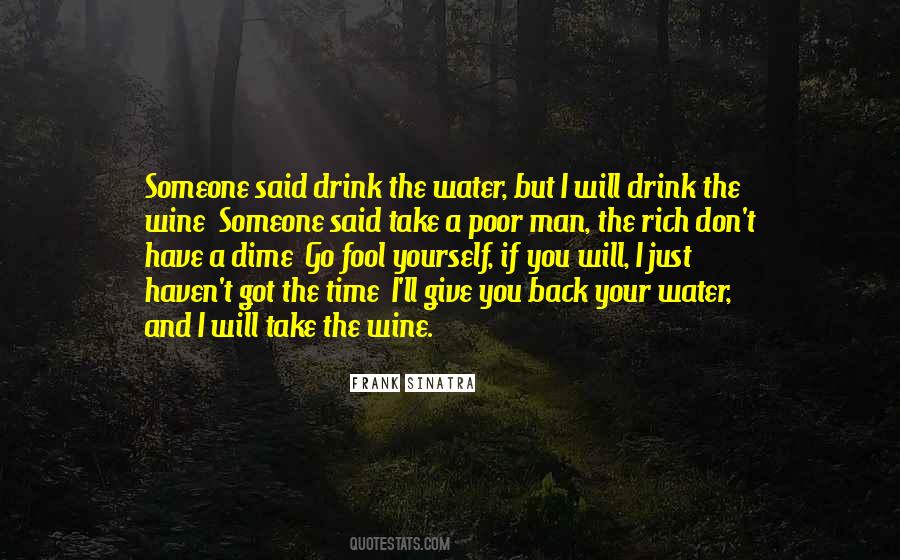 #98. Is it honest for me to go and sit there on communion day and drink the wine and eat the bread while feeling it all to be mummery? - Author: John Fiske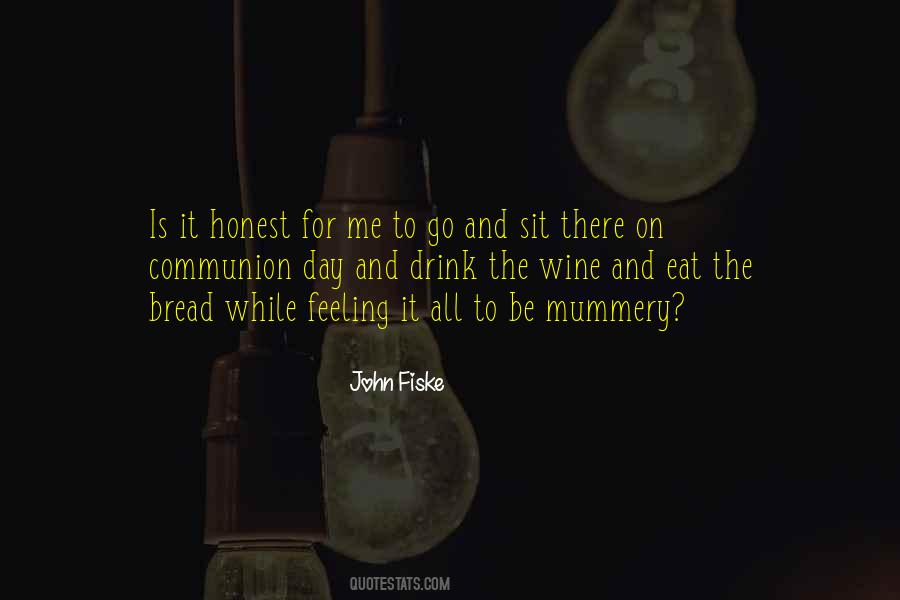 #99. Lovers drink wine all day and night and tear the veils of the mind.
When drunk with love's wine, body, heart and soul become one. - Author: Rumi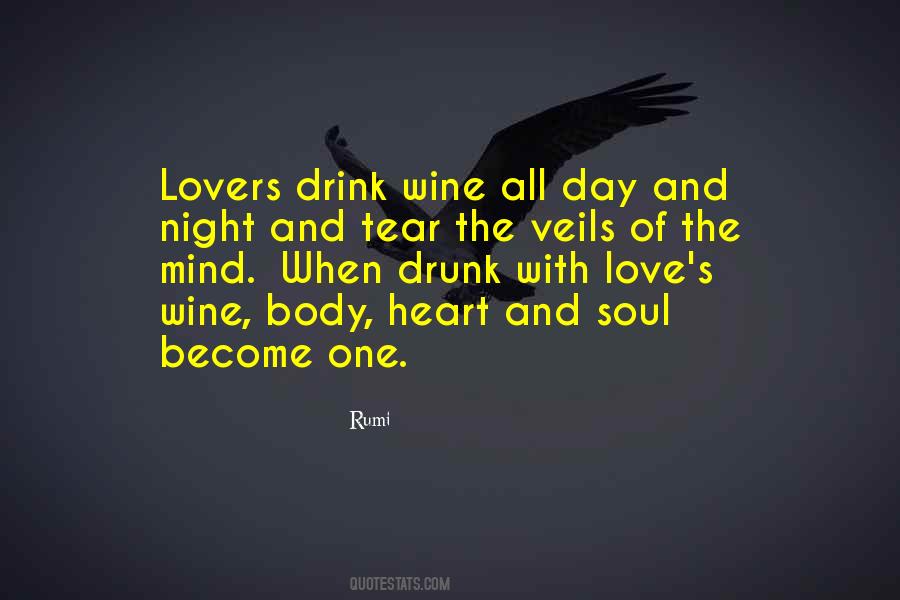 #100. In 1600, when Shakespeare's audience at the Globe heard 'Hamlet' for the first time, every one of them knew very well what it meant to be handed a cup of wine by a figure of authority and told to drink. - Author: Neil MacGregor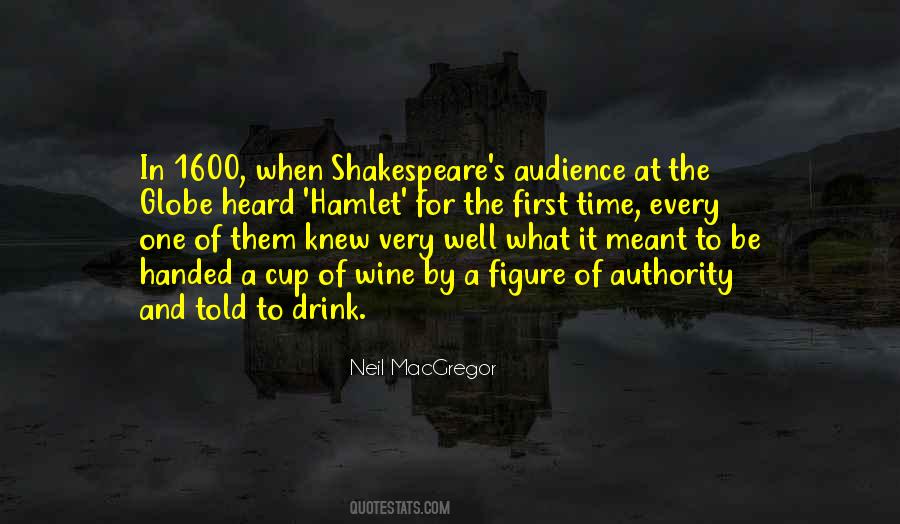 Famous Authors
Popular Topics