Dance And Life Famous Quotes & Sayings
List of top 100 famous quotes and sayings about dance and life to read and share with friends on your Facebook, Twitter, blogs.
Top 100 Quotes About Dance And Life
#1. In early spring, every petal of tulips sing a song of love and life, dance with joy and happiness to enjoy her short life of dazzling beauty. - Author: Debasish Mridha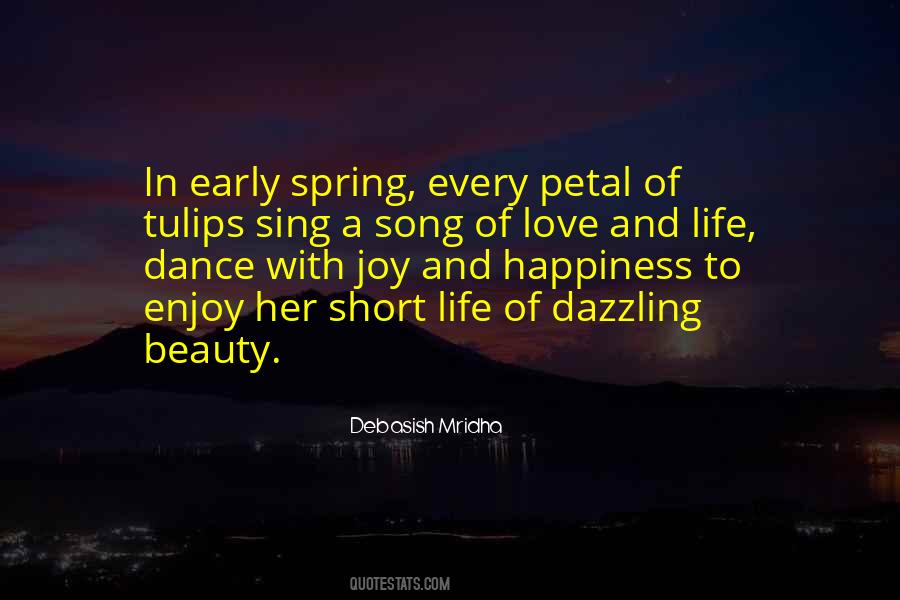 #2. I don't think it's the most important thing in life to fit it. I think it's the most important thing in life to dance to the beat of your own drum and to look like you're having more fun than the people who look cool like they fit in. - Author: Taylor Swift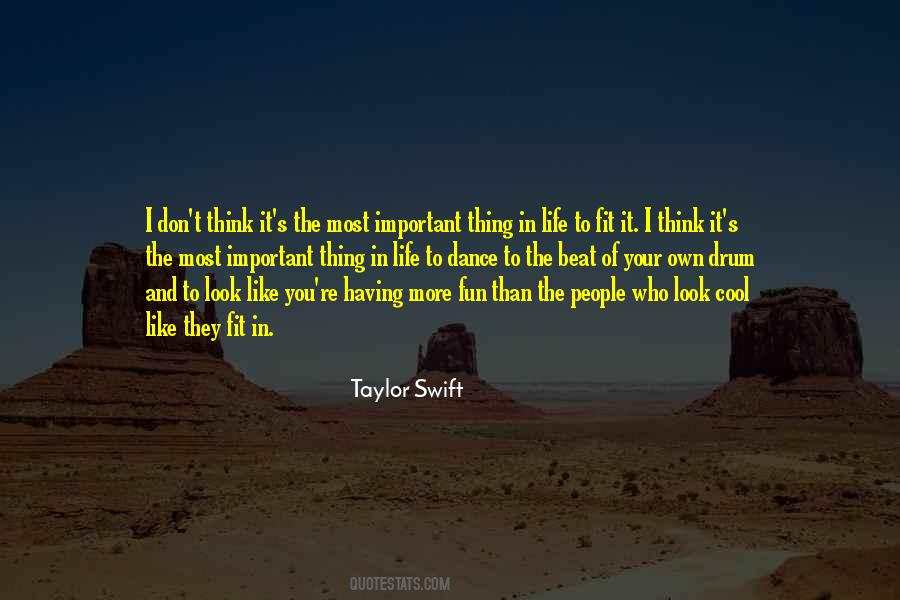 #3. Into each dance must be packed the panic and ecstasy of her last moment of life, for underneath was death. - Author: Edna St. Vincent Millay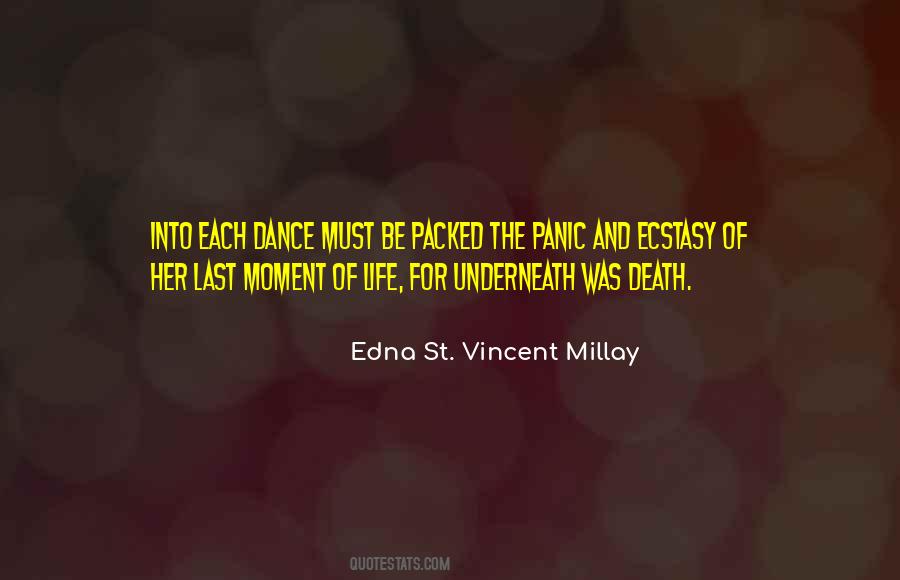 #4. Most of the time, life is all "What's next?" "Who's next?" "Where the HELL am I going, please?" But on anniversaries, you take the time to stop and look back and it's like watching a play of your past dance across your memory. At - Author: Holly Bourne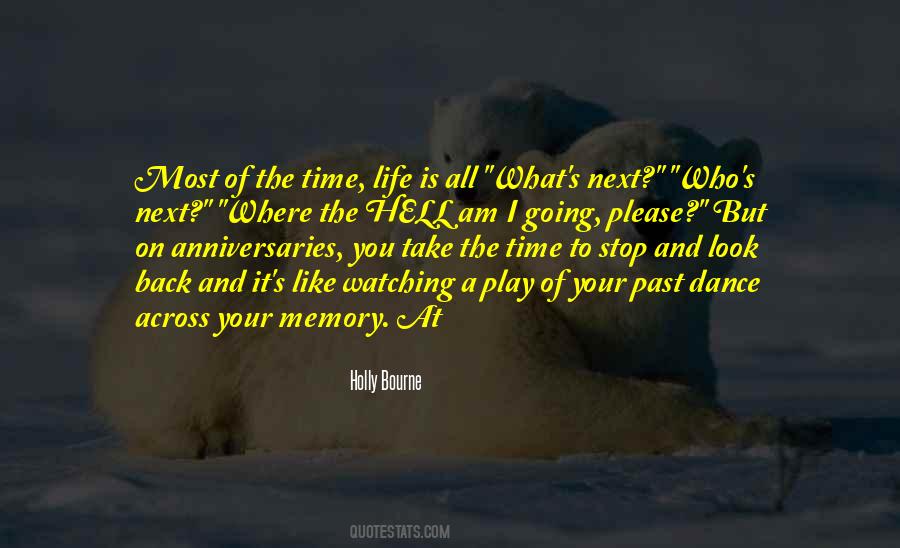 #5. From music and dance to painting and sculpting, the arts allow us to explore new worlds and to view life from another perspective. They also encourage individuals to sharpen their skills and to nurture their imagination and intellect. - Author: George W. Bush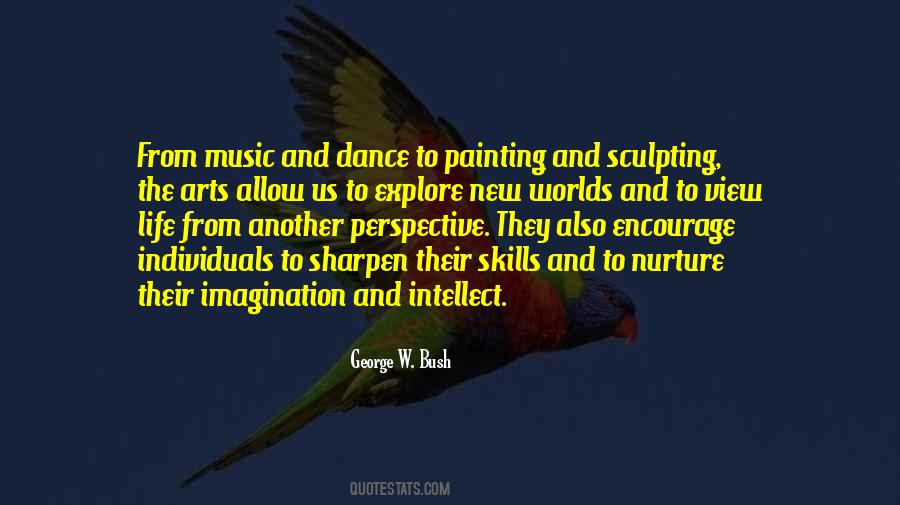 #6. Dance music is my love, is my passion, is my life. I live for my fans and take my art very seriously. - Author: Steve Aoki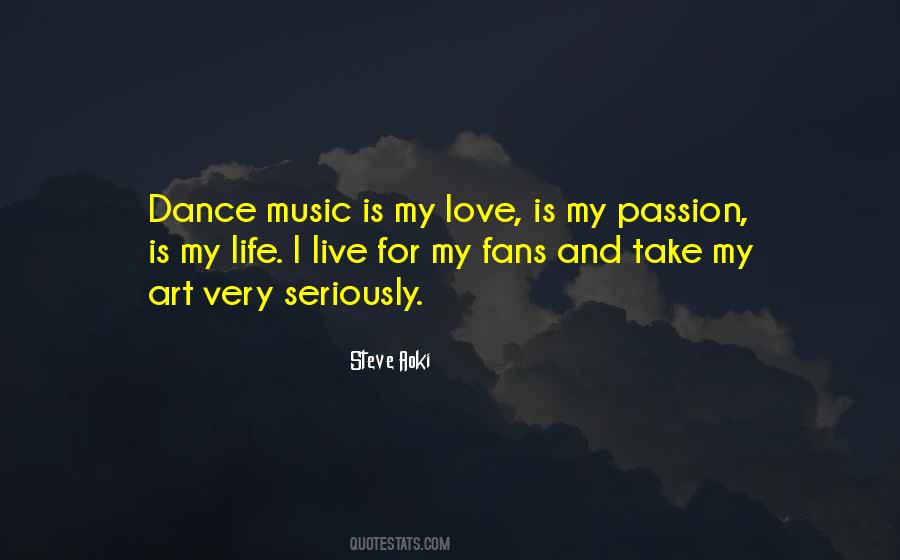 #7. Life offers no theology. There is but music and dance. - Author: L.E. Modesitt Jr.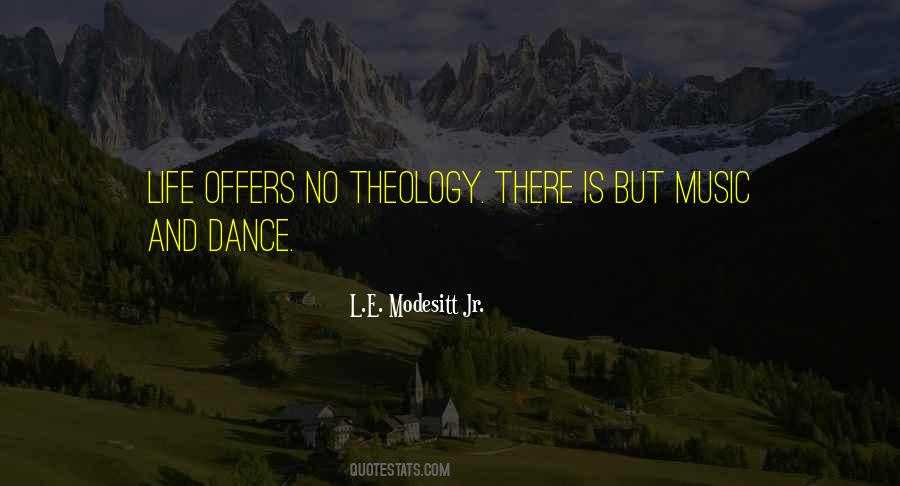 #8. We are like a drop of love, with crystal clear beauty, charm, joy and dance, like to vanish with the ocean of love to become the ocean - Author: Debasish Mridha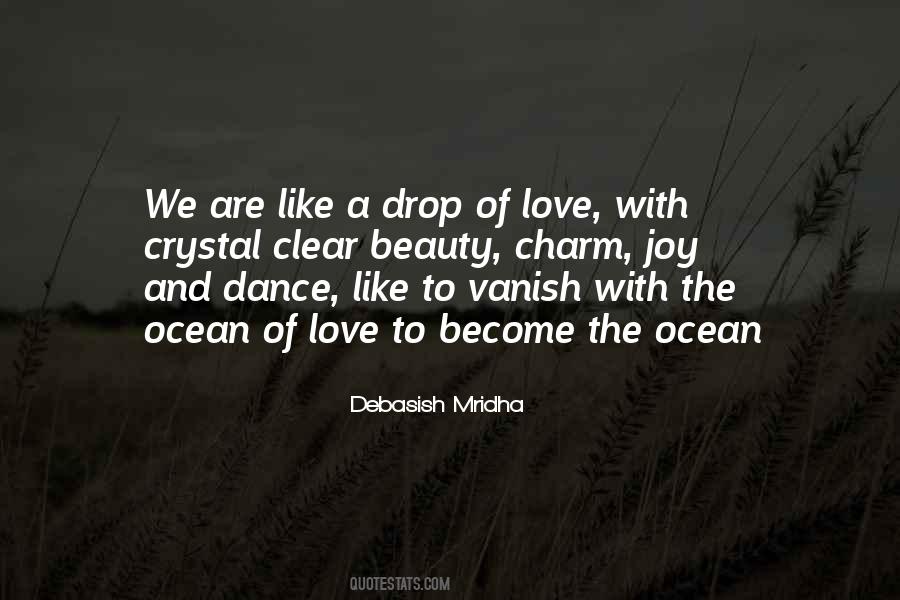 #9. We all know that life has ups and downs; you've experienced both. And though you can't always control what happens outside you, you can choose how you will respond. You can treat life as a dance rather than a wrestling match. You can become an active participant rather than a victim of circumstance. - Author: Dan Millman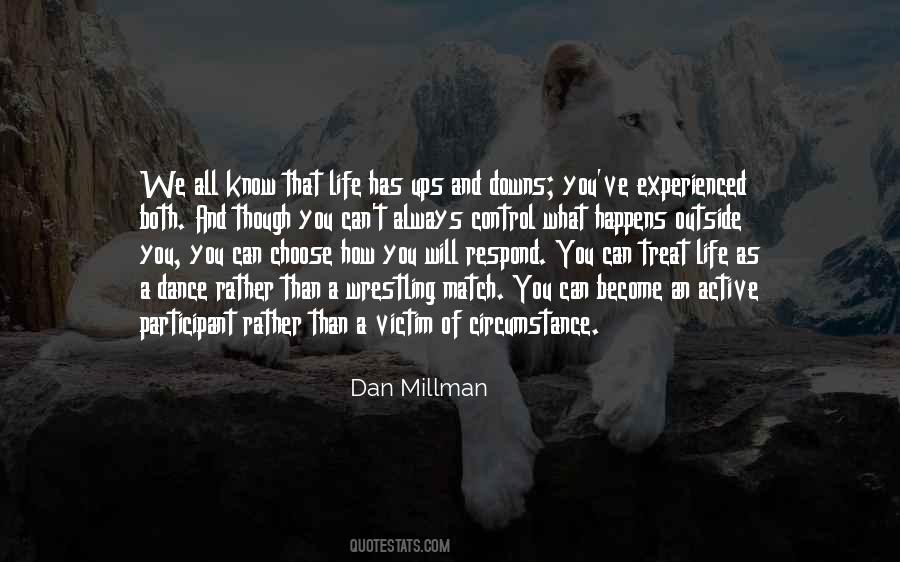 #10. I am not a human being but the song of the soul and dance of the spirit. - Author: Debasish Mridha
#11. I don't know that dancing fixes anything. I don't feel magically happy because of it. My problems don't disappear when the music ends. But I understand life better when I dance, and understanding is half the fight of surviving. - Author: Cora Carmack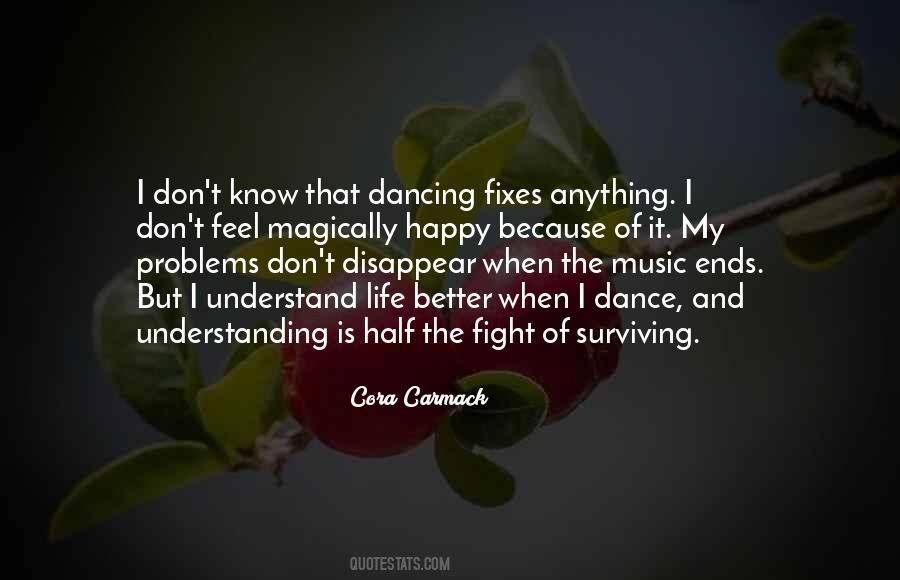 #12. Works of Art are meant to connect the human heart to inspiration, for cosmic consciousness to grow in the Supreme Reality rooted in Life and Being. - Author: Nelly Mazloum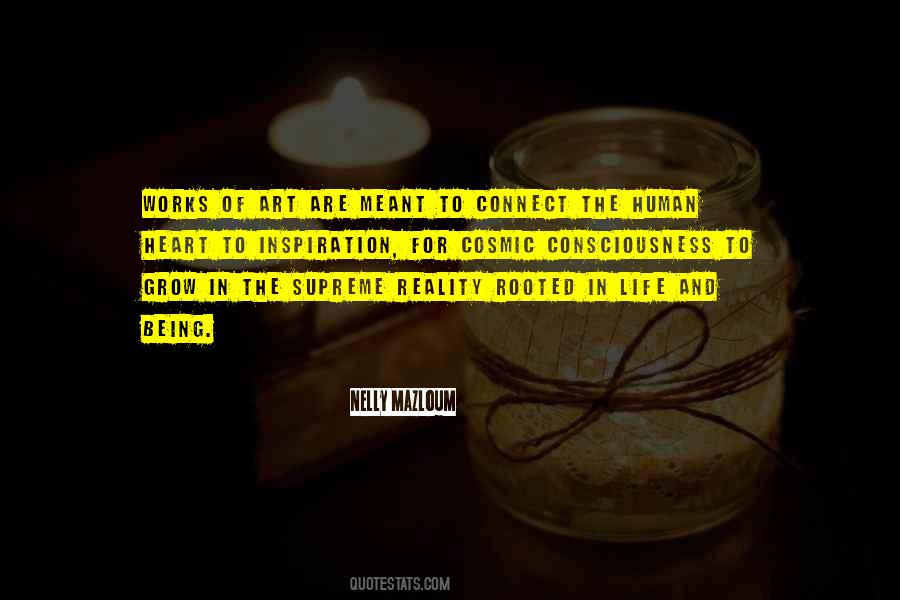 #13. The life of a poet lies not merely in the finite language-dance of expression but in the nearly infinite combinations of perception and memory combined with the sensitivity to what is perceived and remembered. - Author: Dan Simmons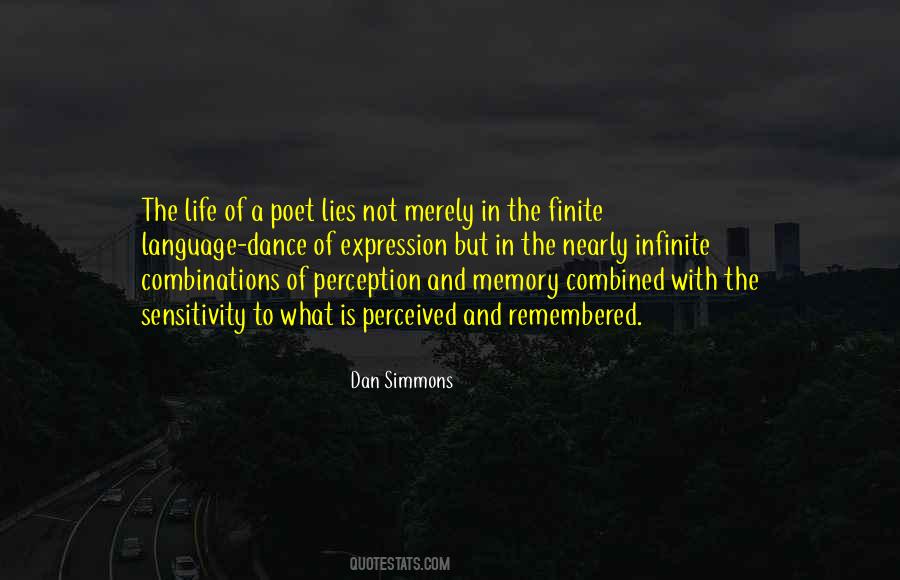 #14. I wouldn't want to do a Bollywood film per se, but I would like to do an Indian-language film. For some reason I think Bollywood has become synonymous with commercial cinema, which is song and dance and everything that is larger than life, and I am interested in the reality. - Author: Freida Pinto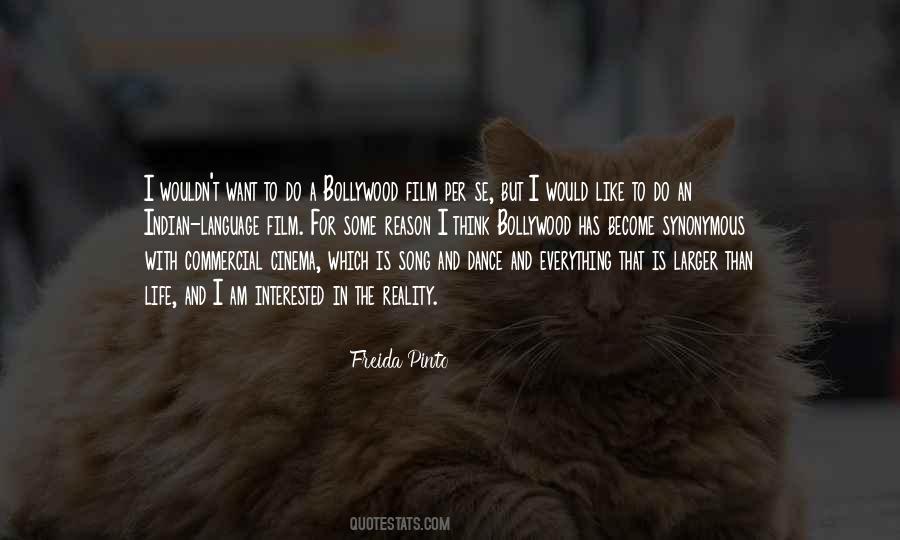 #15. My debut album, 'Forget the World,' is all about not listening to the negativity around you and to continue to do what you love, no matter what people think. I love what I do. Dance music is my passion, my life. There is no greater feeling than being one with my fans, partying to the music we love. - Author: Afrojack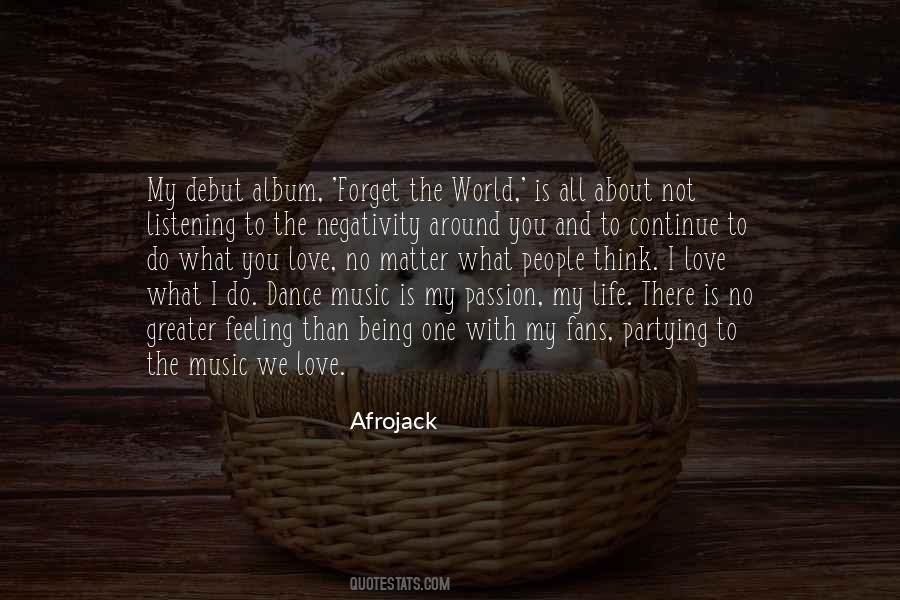 #16. I admit that when challenging times first surface, it's not first instinct to do a happy dance. But when you take time to pause and add insight to injury, you will immediately start to feel empowered to make those majorly needed life shifts. - Author: Karen Salmansohn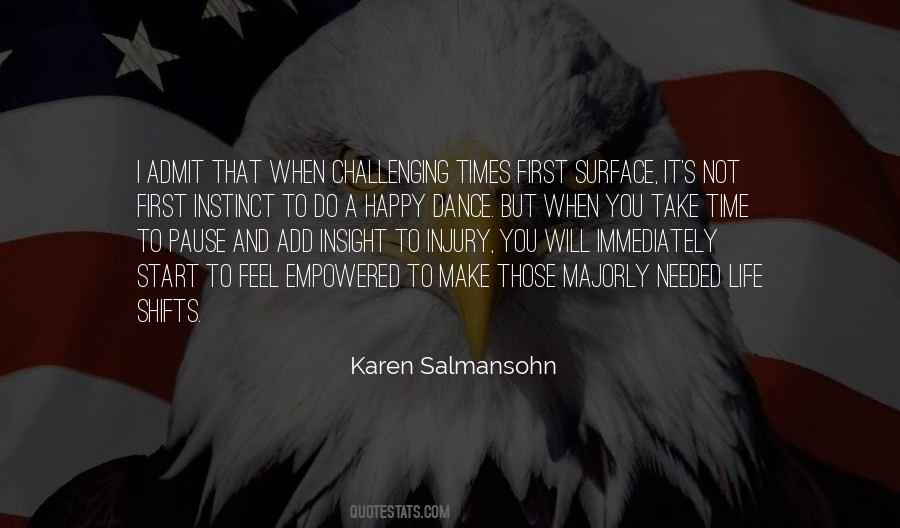 #17. Why am I afraid to dance, I who love music and rhythm and grace and song and laughter? Why am I afraid to live, I who love life and the beauty of flesh and the living colors of the earth and sky and sea? Why am I afraid to love, I who love love? - Author: Eugene O'Neill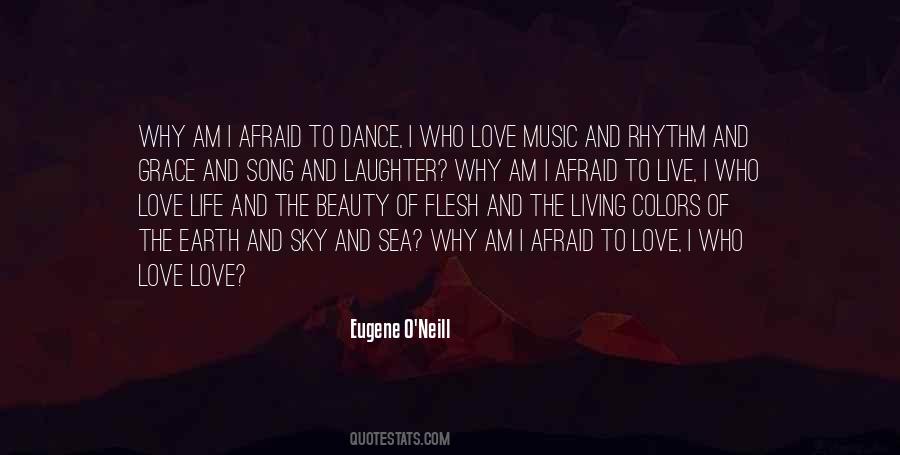 #18. Open your heart! Dance with joy and love. - Author: Debasish Mridha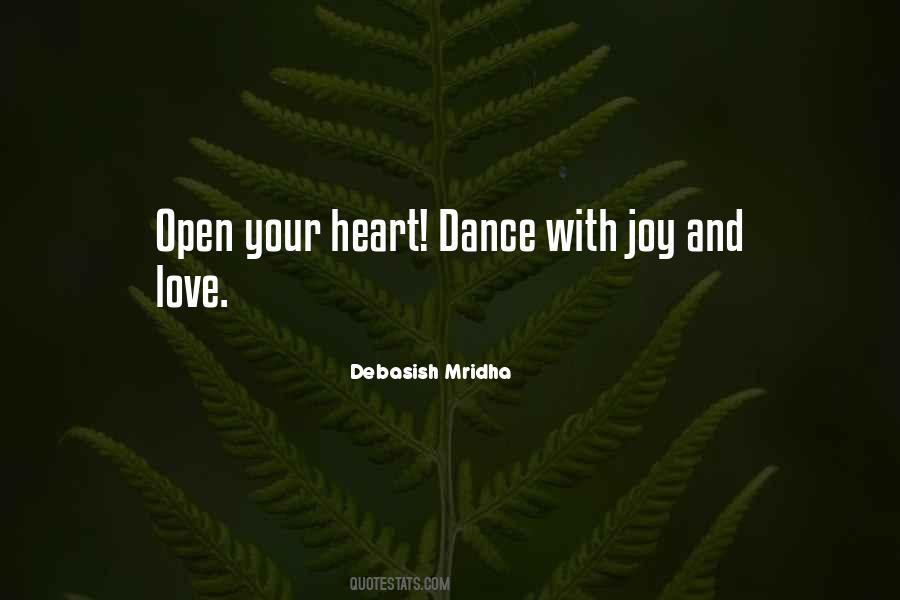 #19. Surely he had never fainted in his life! He glowed with robust good health and vibrant energy, as if he could conquer all the world and still have strength for a dance and to rescue a maiden or two. - Author: Amanda McCabe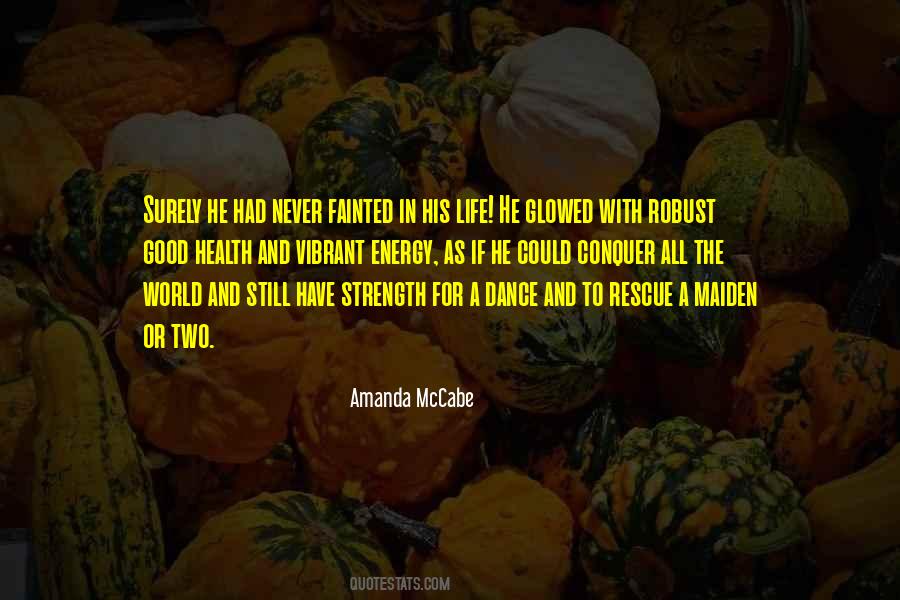 #20. Let us dance as if life is a dance of our soul and spirit. - Author: Debasish Mridha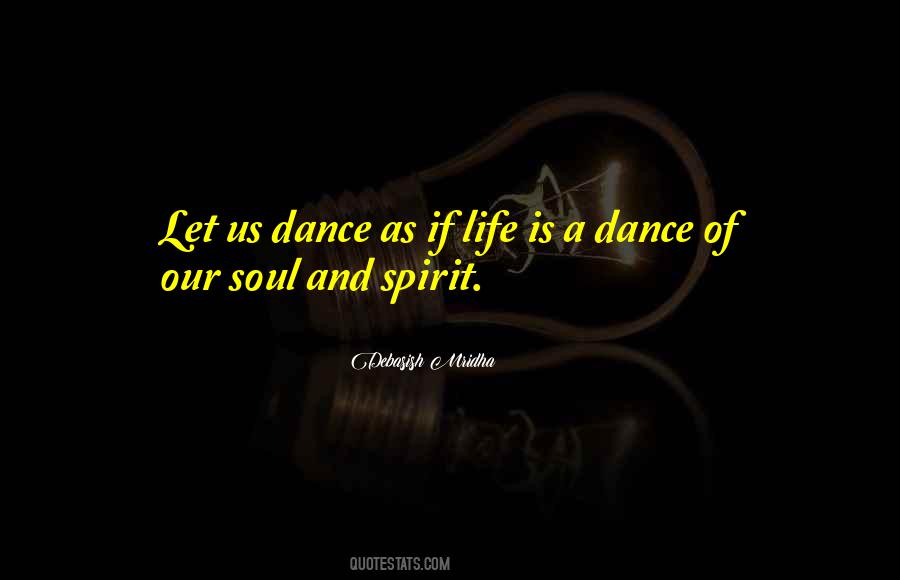 #21. I would have to change my entire life if I went into acting. I dance eight hours a day, and then suddenly to be sitting on a set for 12 hours a day is a big difference for my health. - Author: Sarah Hay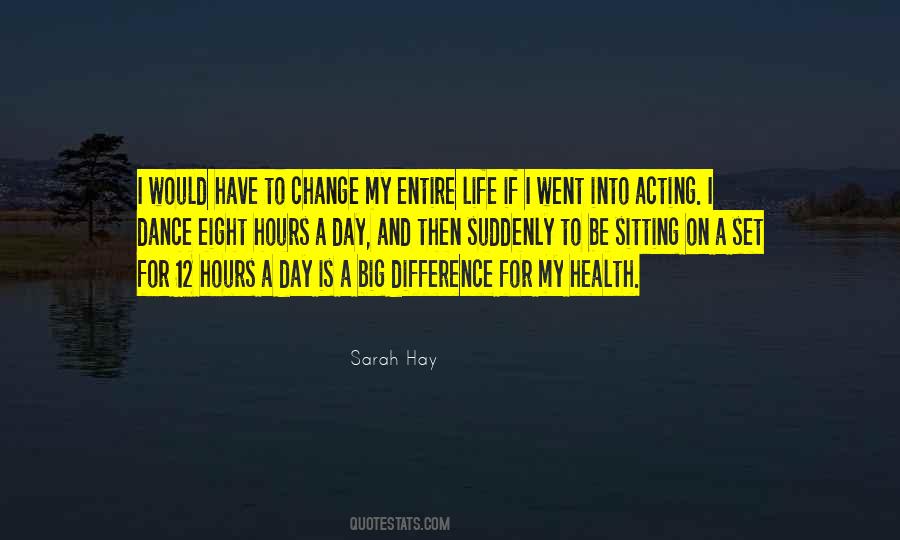 #22. Accepting and appreciating heart brings abundance in life but gratitude acknowledge and dance with joy of receiving. - Author: Debasish Mridha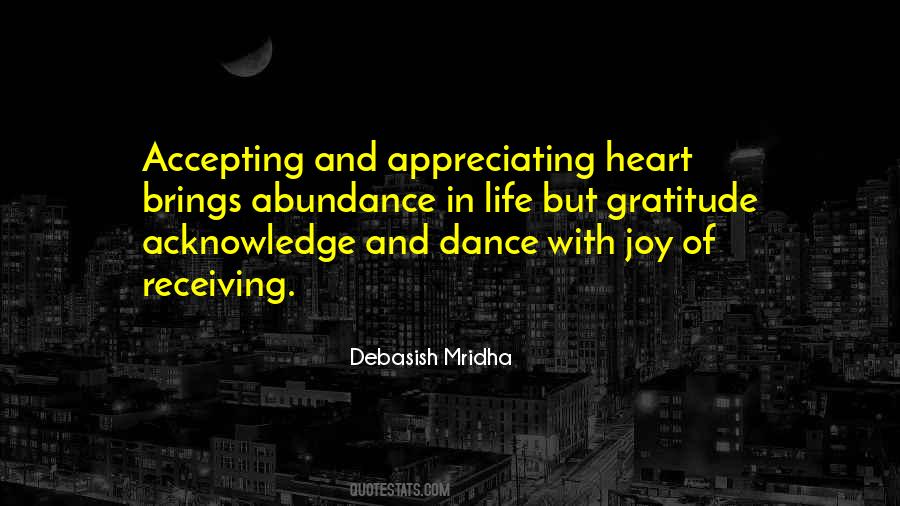 #23. If you want to dance the dance then you better learn the steps, the world has enough pretenders. If you want to practice sex then you better find a partner, and to love you must surrender. - Author: Carroll Bryant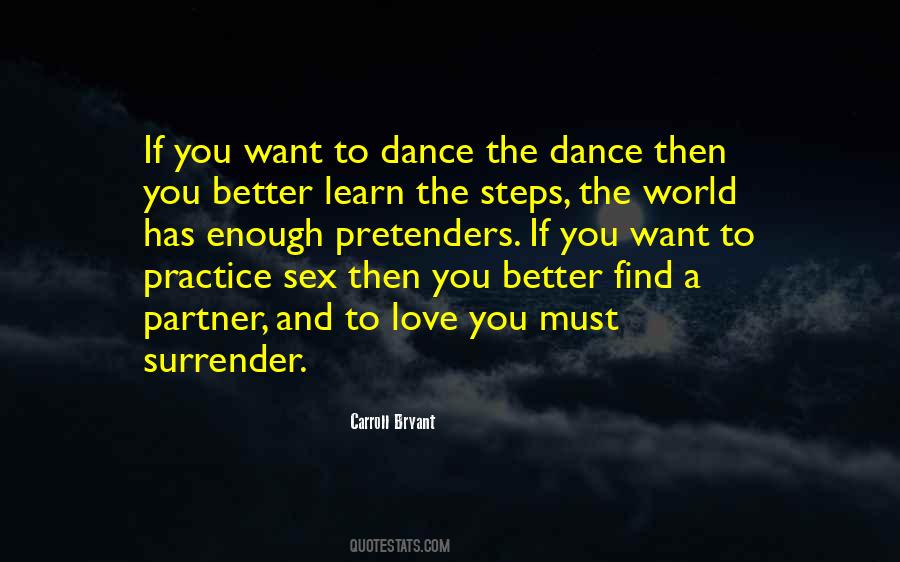 #24. The multiple choices and possibilities of daily life are the music we dance to. They are like strings on a guitar. Strum them and you create a pleasing sound. A harmonic. But then start adding strings. Ten strings, a hundred strings, a thousand, a million. Because they multiply! - Author: Stephen King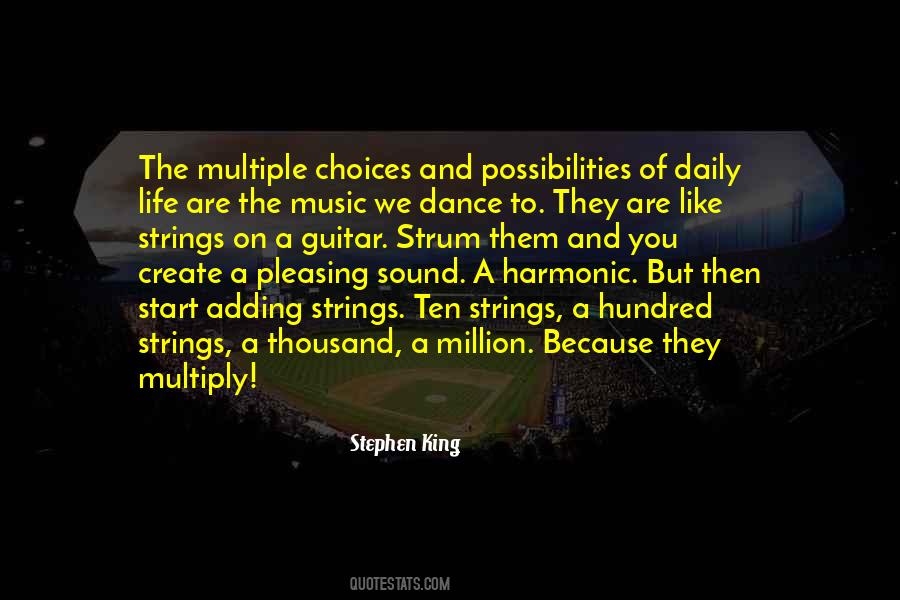 #25. Life is a ritual of love
Life is a ritual of union, and
Life is a dance of the divine - Author: Vishwas Chavan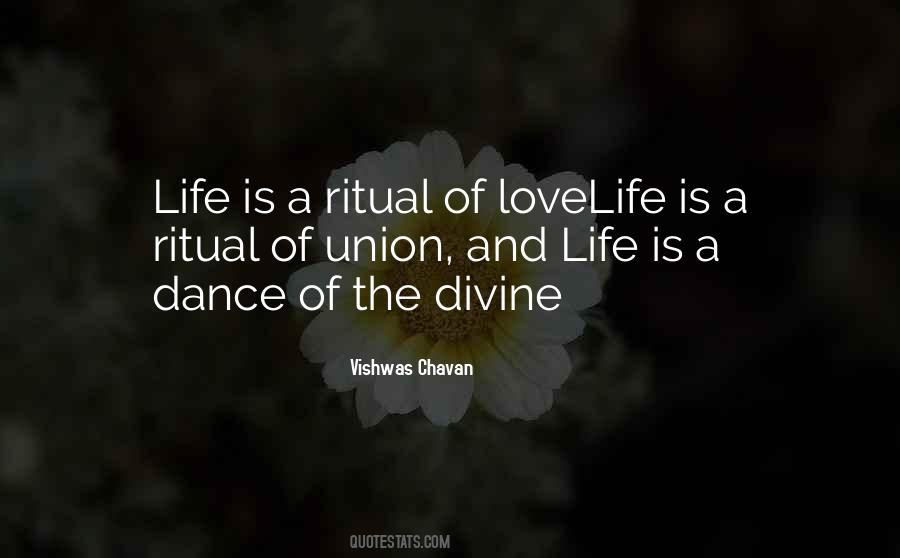 #26. Women, as well as men, in all ages and in all places, have danced on the earth, danced the life dance, danced joy, danced grief, danced despair, and danced hope. Literally and metaphorically, by their very lives. - Author: Margaret Laurence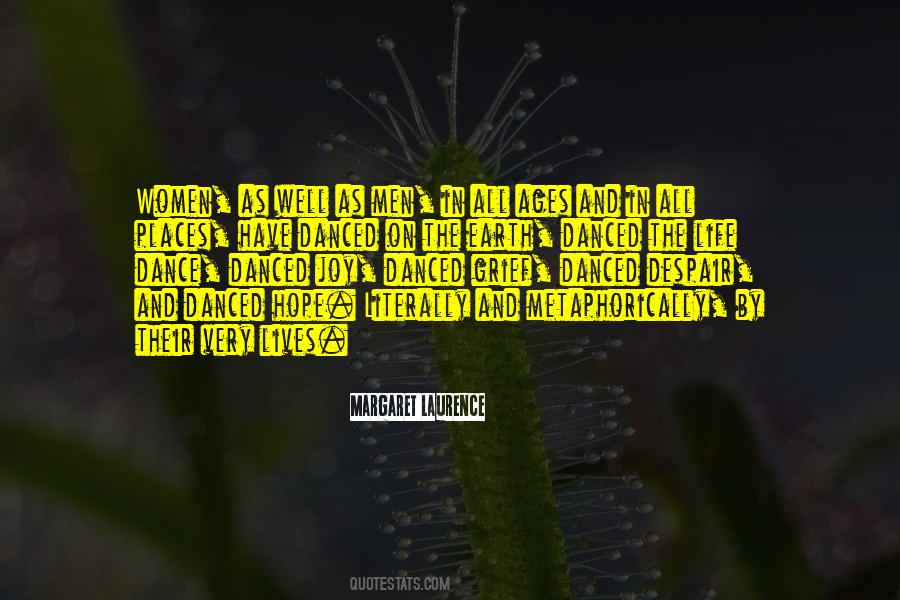 #27. I tried once, you know, went to a dance all dressed up, but I felt like such a fool. Everyone kept making encouraging remarks about my looks as if they were afraid I'd cross back over the line again; I was trying, you know, I was proving their way of life was right, and they were terrified I'd stop. - Author: Joanna Russ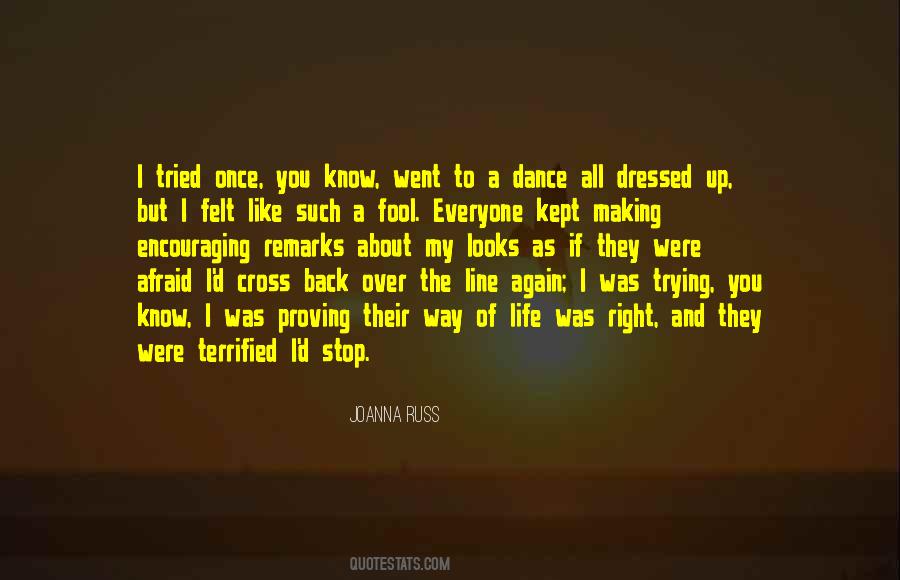 #28. I'm pretty goofy. I really do like to sing and dance in real life. I'm a rhythmic person. I love comedy; I love making people laugh. That's my brand. - Author: Xosha Roquemore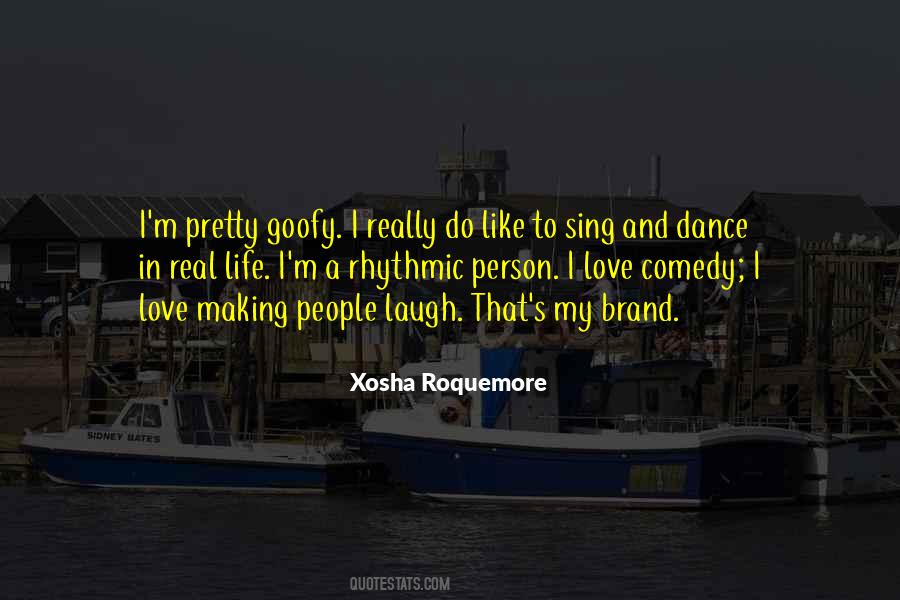 #29. I have spent all my life with dance and being a dancer. It's permitting life to use you in a very intense way. Sometimes it is not pleasant. Sometimes it is fearful. But nevertheless it is inevitable. - Author: Martha Graham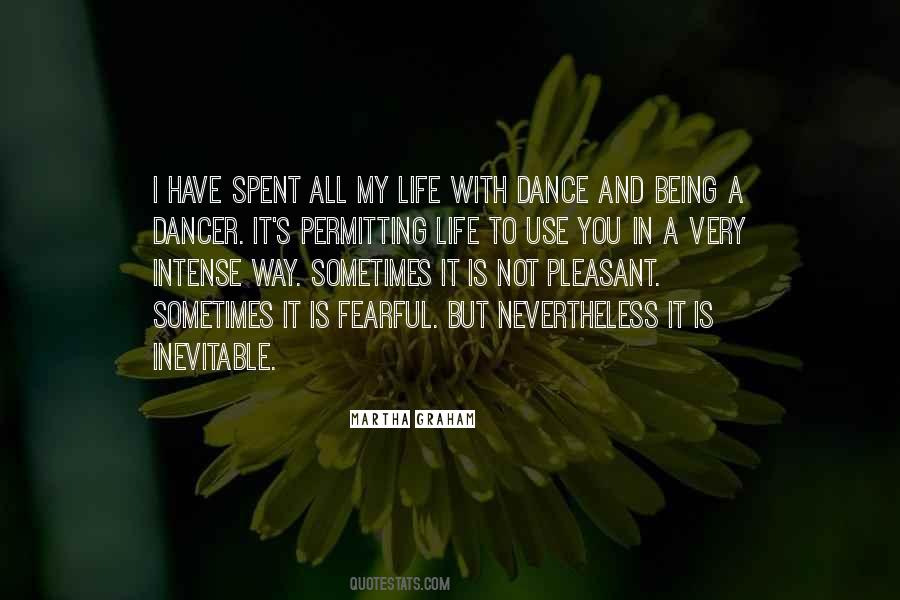 #30. Nobody wanted your dance,
Nobody wanted your strange glitter, your floundering
Drowning life and your effort to save yourself,
Treading water, dancing the dark turmoil,
Looking for something to give. - Author: Ted Hughes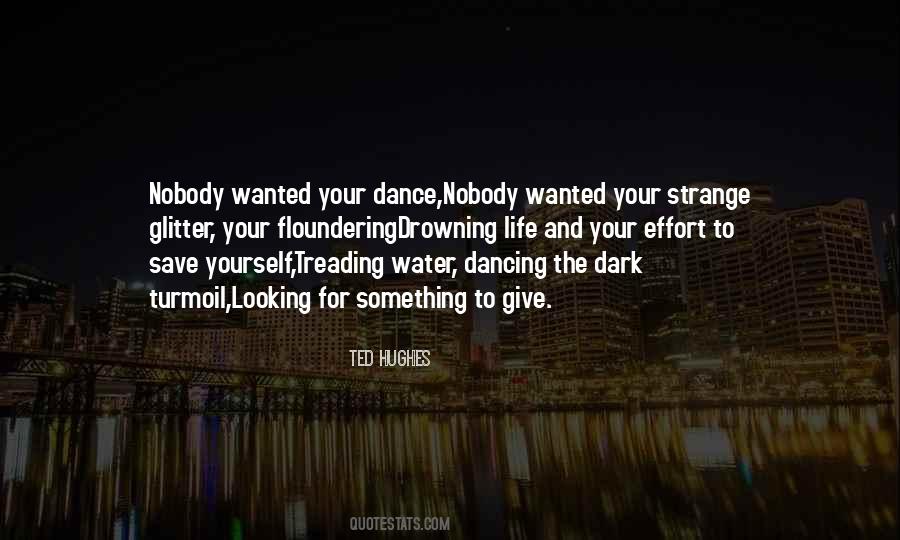 #31. Make it, not make it? What's the difference? Music is a language, it's a dance of life, and it can be a part of your life without being something that earns. - Author: Tina Weymouth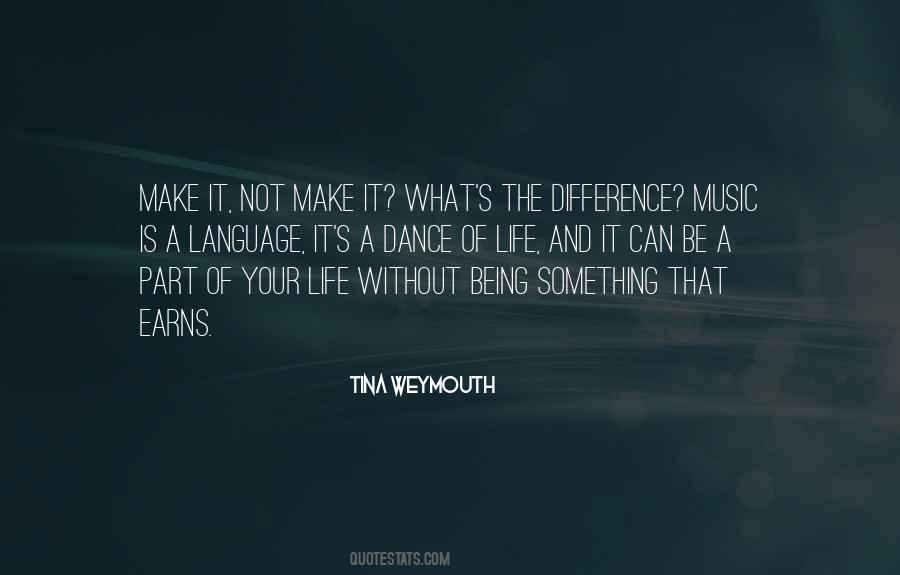 #32. If there was a volcano under their feet, a Vesuvius that could erupt and bury this modern-day Pompeii at any moment, the best thing to do was dance on it. - Author: Deborah Davis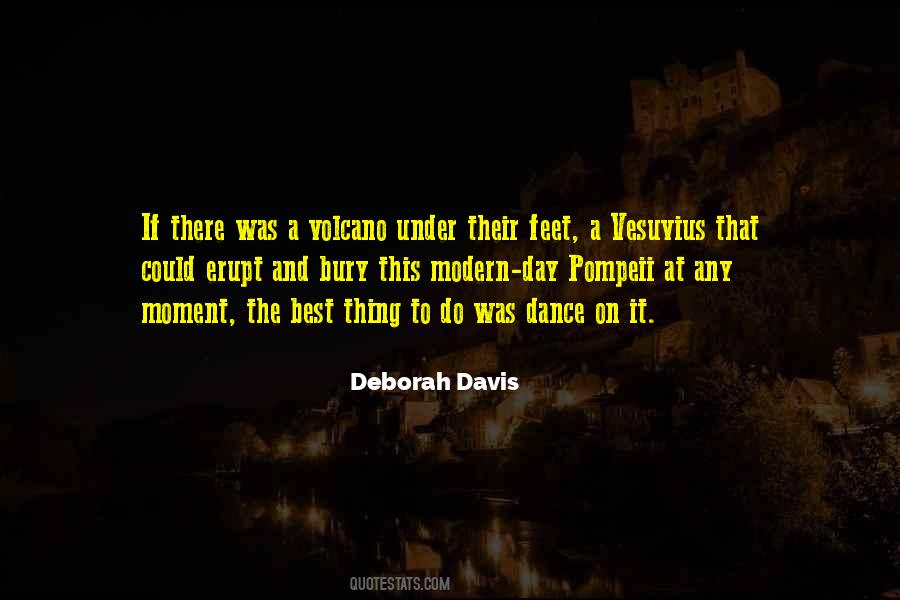 #33. I never danced a step in my life so naturally. My first motion picture was a musical, and Bob Fosse was the choreographer. I didn't exactly dance for Fosse, I just did the best that I could to do what he taught us to do. - Author: Dick York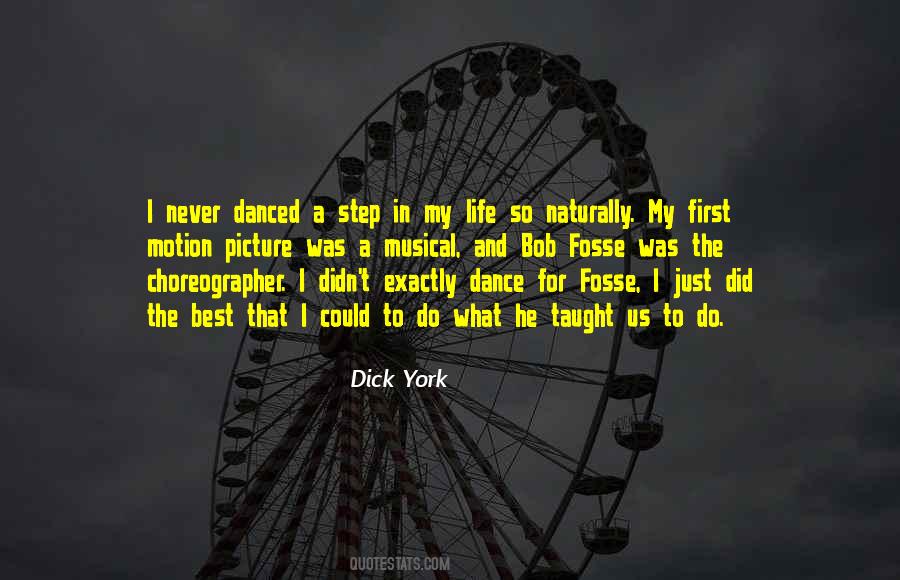 #34. The web of life is a beautiful and meaningless dance. The web of life is a process with a moving goal. The web of life is a perfectly finished work of art right where I am sitting now. - Author: Robert Anton Wilson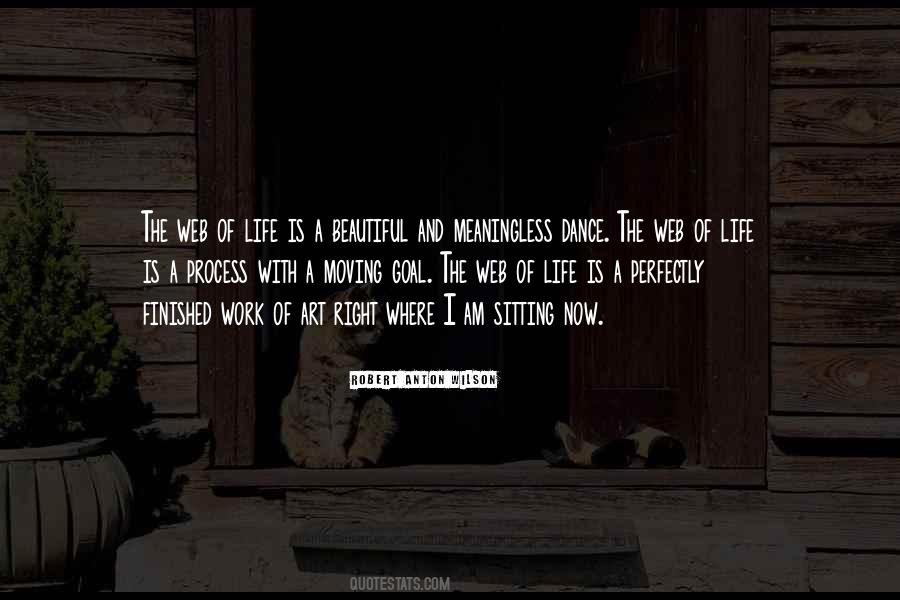 #35. The wicked ones make us better persons for those that deserve our attention. Nothing is really lost and wasted in this alchemical dance of life. - Author: Robin Sacredfire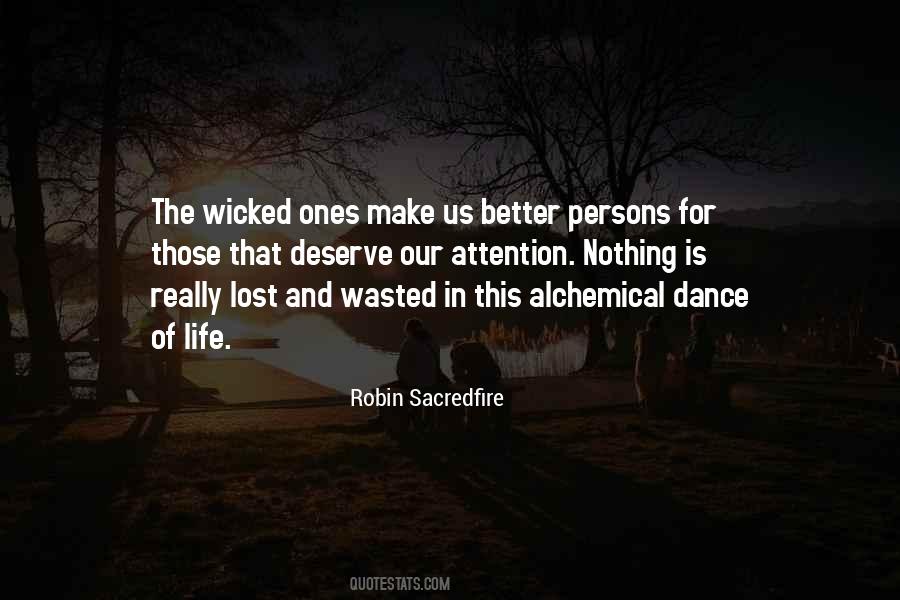 #36. A star can never die. It just turns into a smile and melts back into the cosmic music, the dance of life. - Author: Michael Jackson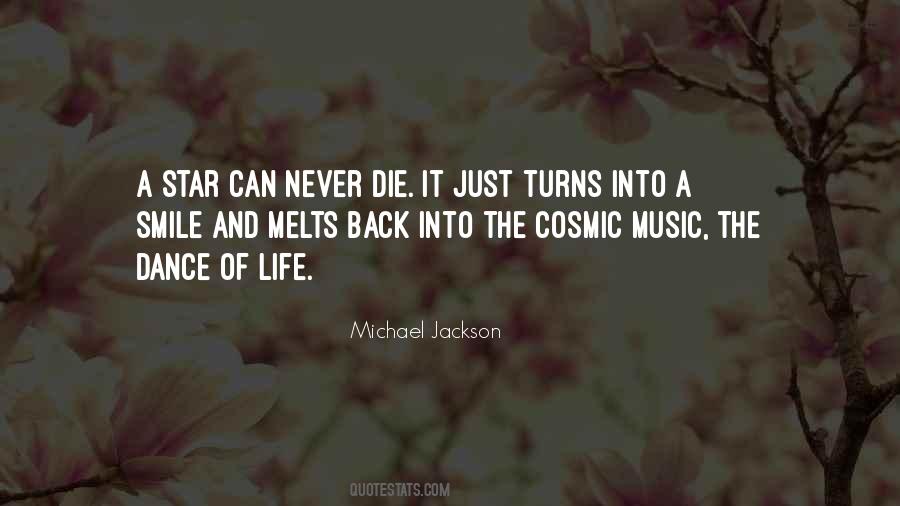 #37. I dance with hopes and sing along with possibilities. - Author: Debasish Mridha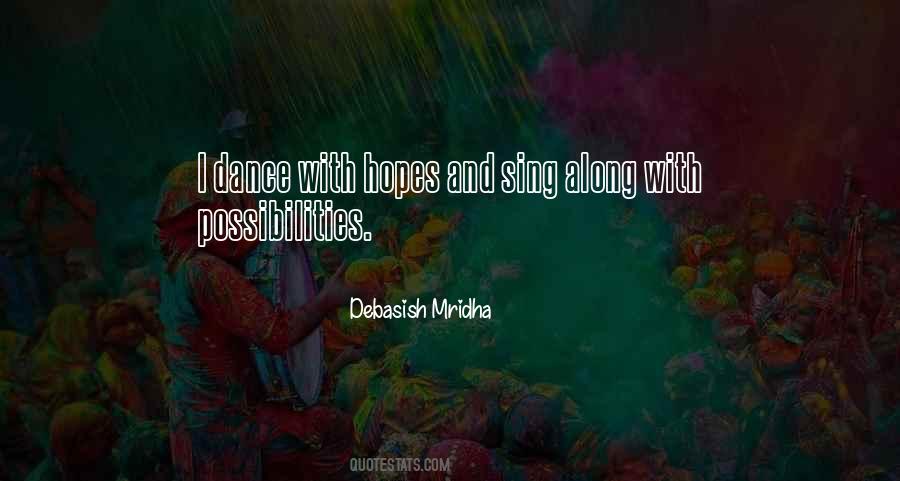 #38. I've taken classes most of my life, and it's no secret among my friends I want to be in a movie about dance. Maybe 'Step Up 2,' with the delightful Channing Tatum. - Author: Marsha Thomason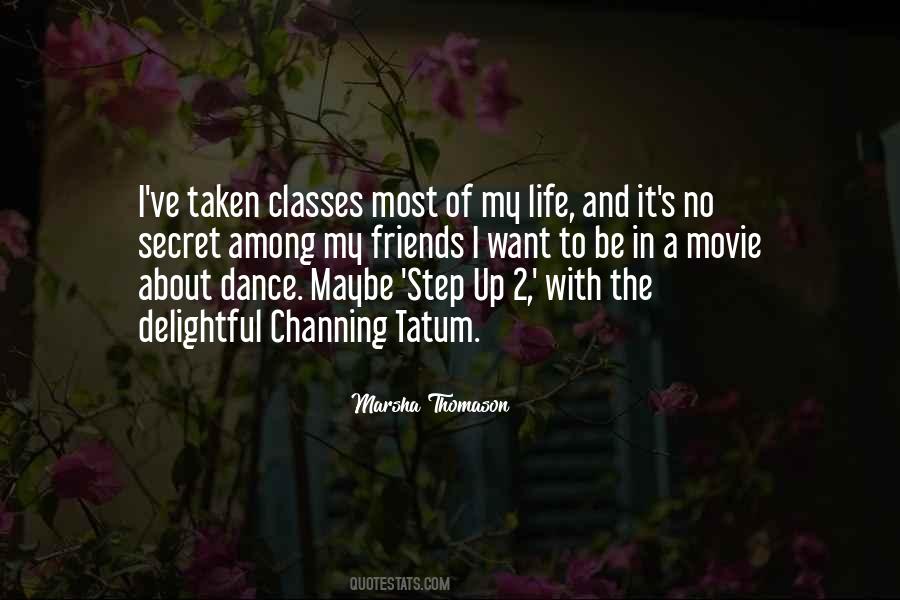 #39. We have the St. Vitus' dance, and cannot possibly keep our heads still - Author: Henry David Thoreau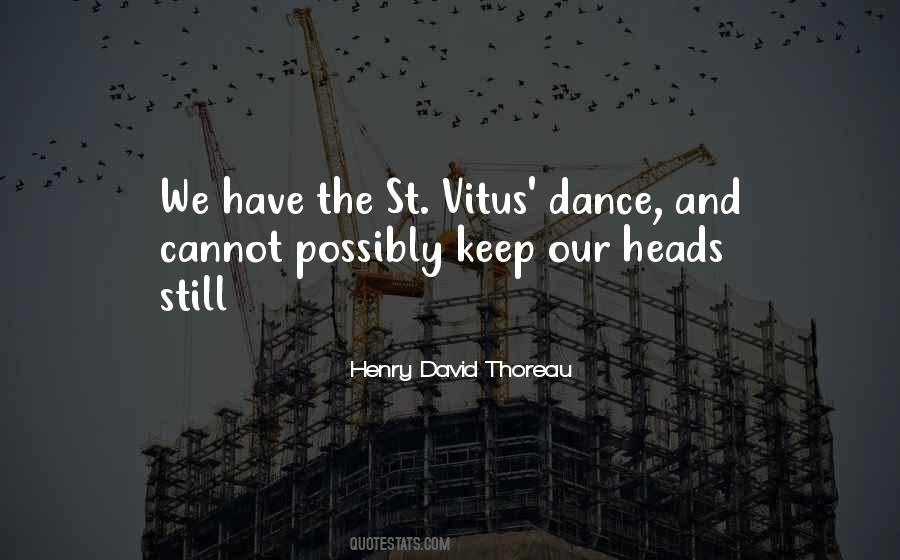 #40. Whatever your difficulty, whatever your hardship in life: Dance and make the song you sing your prayer. Sing it courageously, and with each step strengthen yourself with the knowledge and wisdom of your elders, so that whatever next happens, you can survive and not lose your rhythm. - Author: Red Haircrow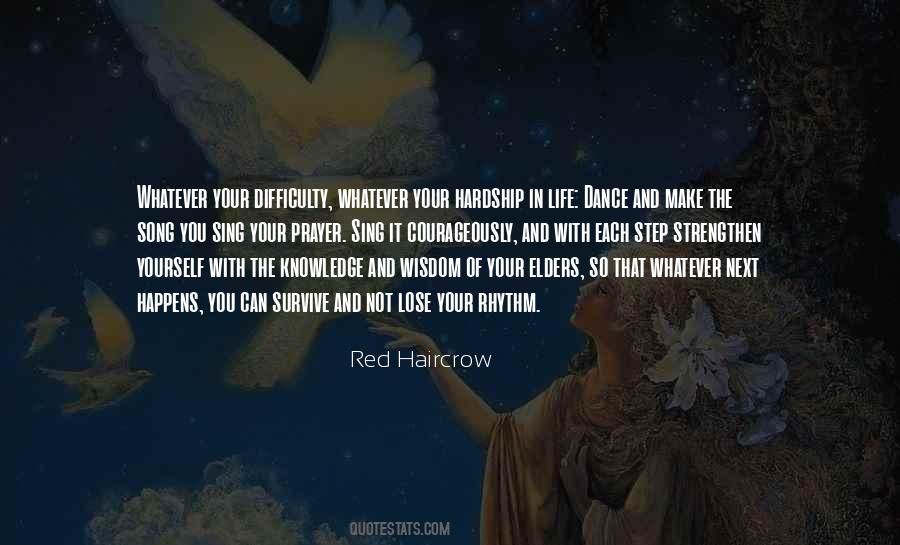 #41. Another sharp pang stabbed him in the ribs and made him jolt with a grunt.

"Are you in pain?"

Alex smirked. 'I've been bludgeoned within an inch of me life, ye expecting me to jump up and dance a jig? - Author: Amy Jarecki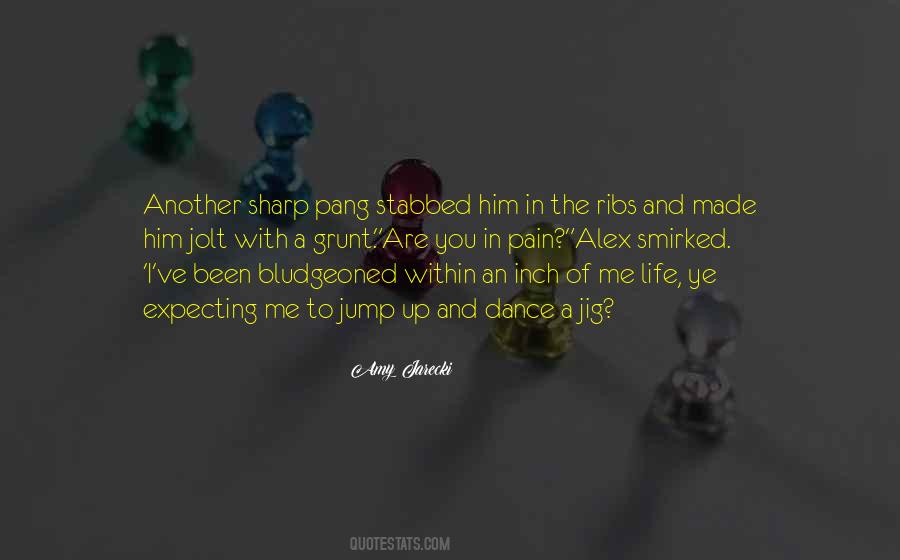 #42. Two steps forward ... one step back ... I've always hated that old cliche too ... I believe that we should all be able to dance through life and only change the tempo now and then. - Author: Isabelle Rowan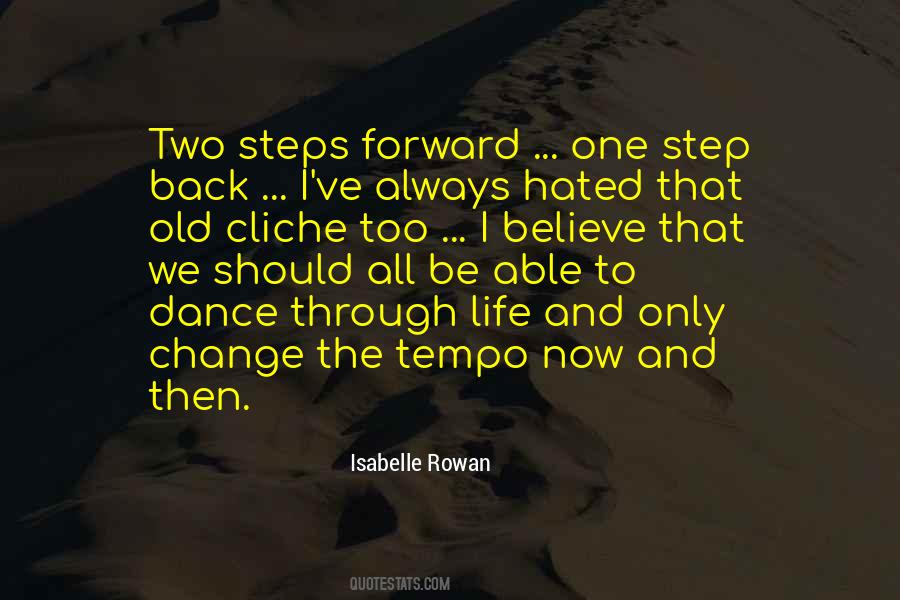 #43. [Life] is a dance, and when you are dancing, you are not intent on getting somewhere. The meaning and purpose of dancing is the dance. - Author: Oliver Burkeman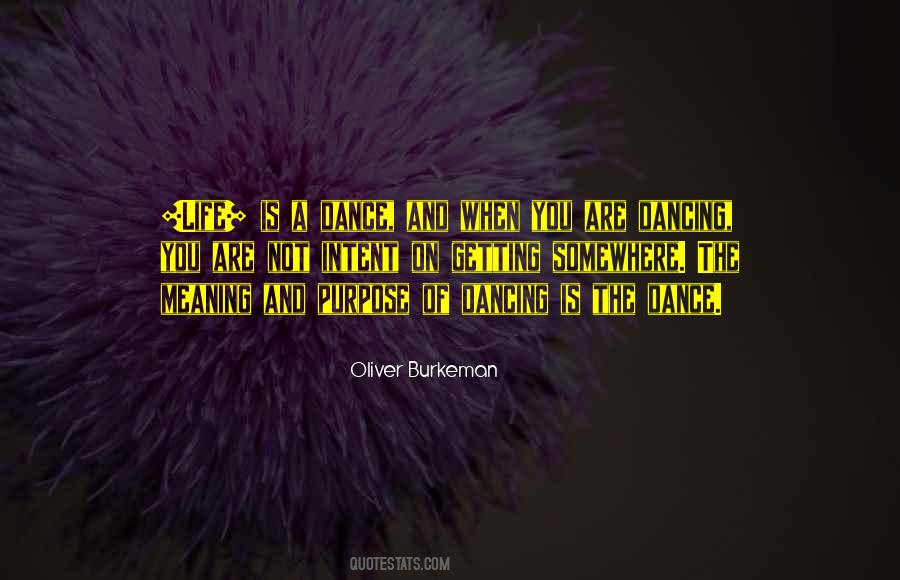 #44. The sun dances in her and she has an immense joy of life - Author: James Clavell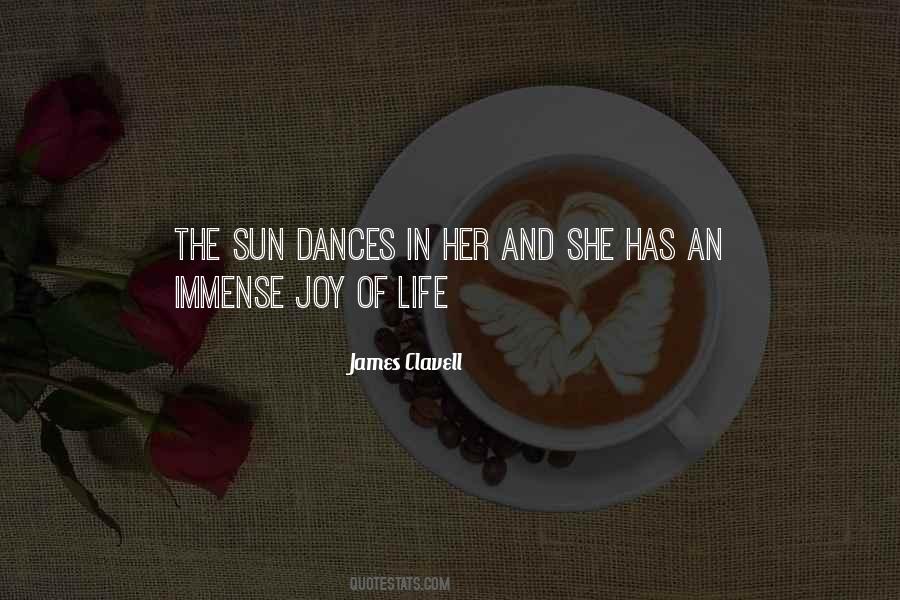 #45. My mother worked all of her life, she was a dance teacher and I also noticed, to be honest, that most of the male directors wanted to blow things up so there was like an open area for somebody who wanted to direct women movies, chick flicks, whatever you ... I don't call them chick flicks. - Author: Garry Marshall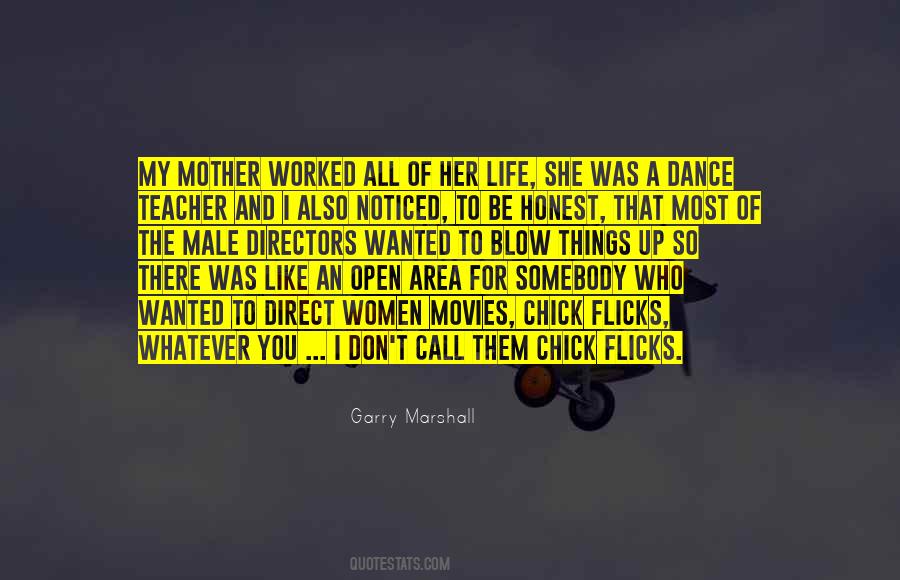 #46. Gilbert darling, don't let's ever be afraid of things. It's such dreadful slavery. Let's be daring and adventurous and expectant. Let's dance to meet life and all it can bring to us, even if it brings scads of trouble and typhoid and twins! (Anne to Gilbert) - Author: L.M. Montgomery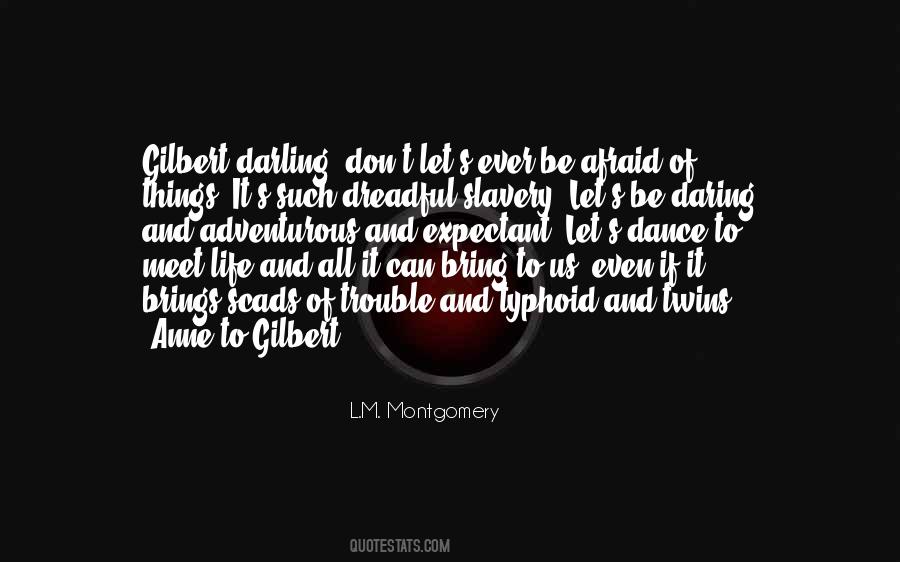 #47. Reincarnation is a dance. It is a movement of life to the rhythm of the universe. Spirit and matter join together as one dancing partner. They dance and it goes on forever. - Author: Frederick Lenz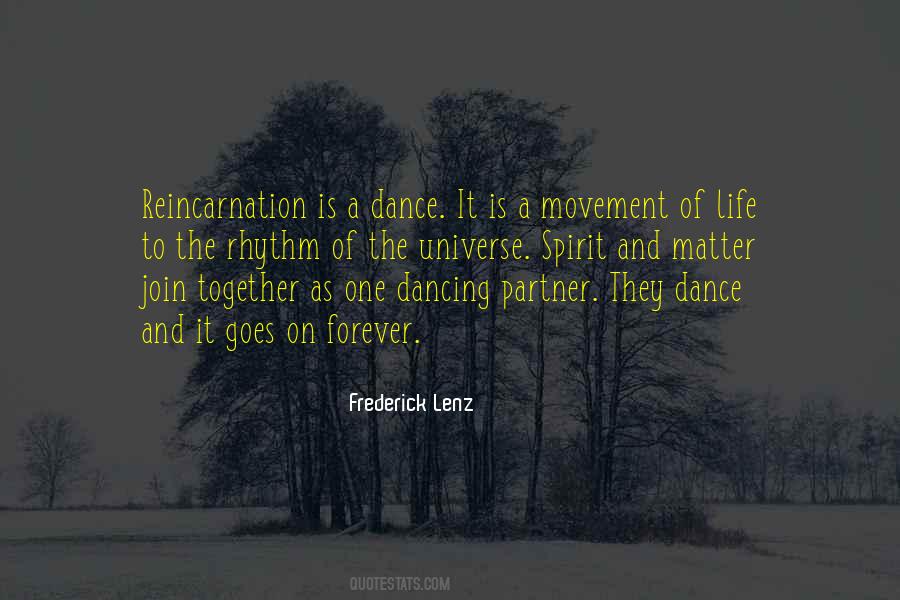 #48. So be encouraged and dedicate yourself to your dream and if your dream should come my way one day then we will dance upon the boards of life. - Author: Ben Vereen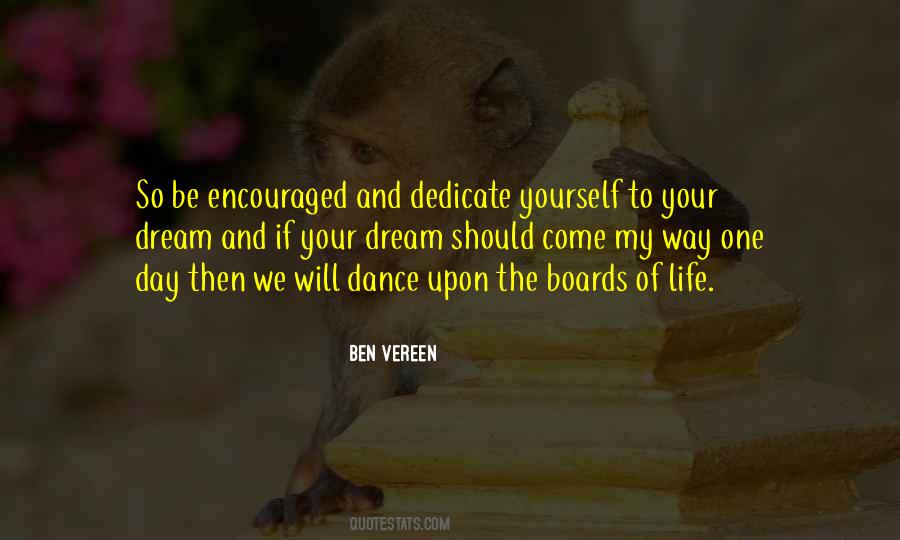 #49. Every day that is born into the world comes like a burst of music and rings the whole day through, and you make of it a dance, a dirge, or a life march, as you will. - Author: Thomas Carlyle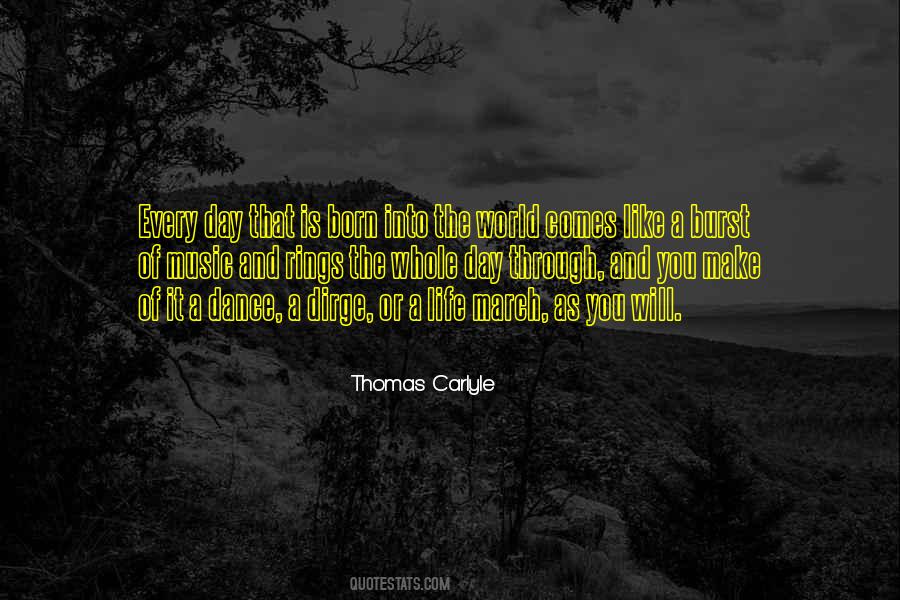 #50. I personally find that each instalment has a different director, cast and crew, and I've also been in a different season in my life for each of them, so I feel like each movie is a unique experience that centres around my undying passion for music and dance. - Author: Alyson Stoner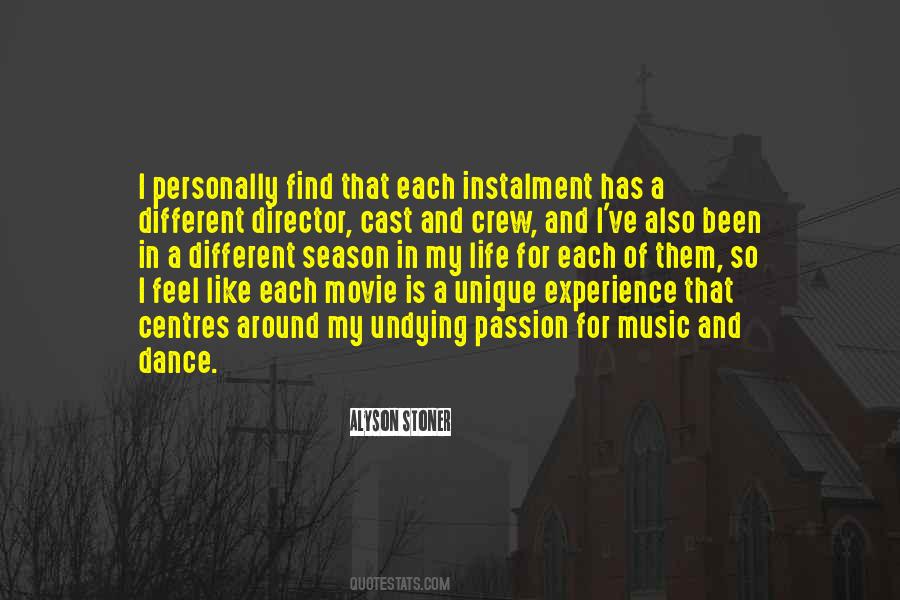 #51. You could put me on a stage in front of 100 people, and I could do a tap dance, but one-on-one was really difficult for me. And it took me most of my life to learn how to work with that anxiety, to embrace and be comfortable with it. - Author: Brie Larson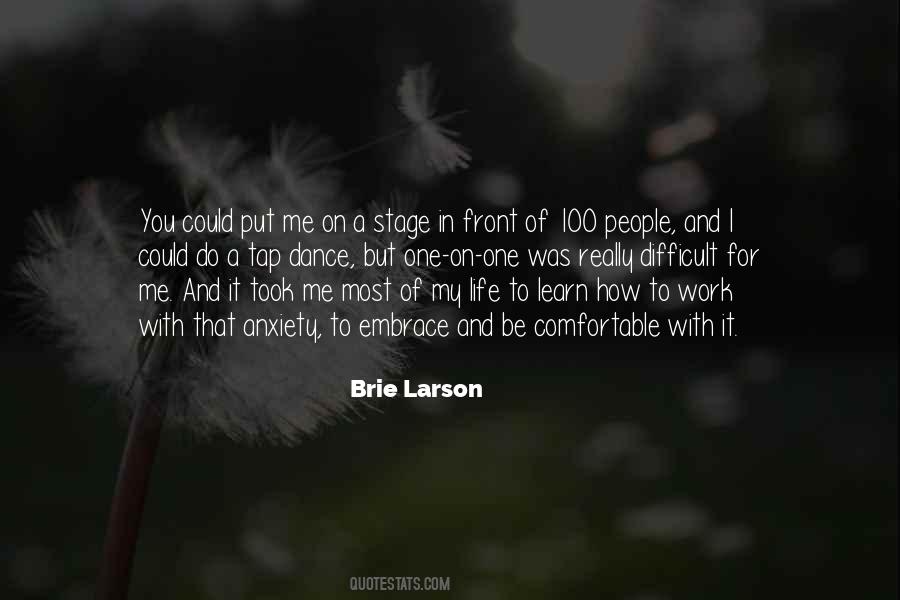 #52. My goal in life is to give to the world what I was lucky to receive: the ecstasy of divine union through my music and my dance. - Author: Michael Jackson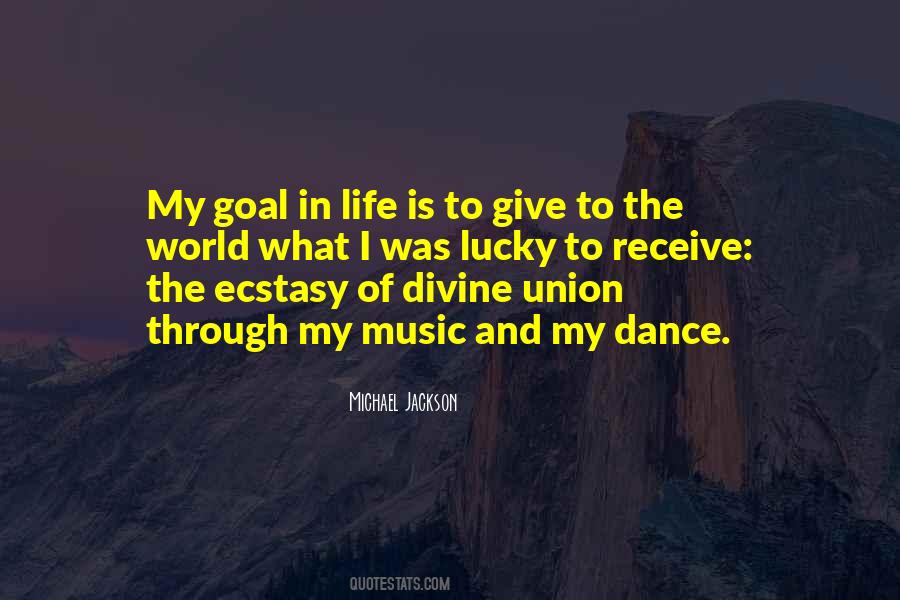 #53. God is not an ascetic, otherwise there would be no flowers, there would be no green trees, only deserts. God is not an ascetic, otherwise there would be no song in life, no dance in life - only cemeteries and cemeteries. God is not an ascetic; God enjoys life. - Author: Osho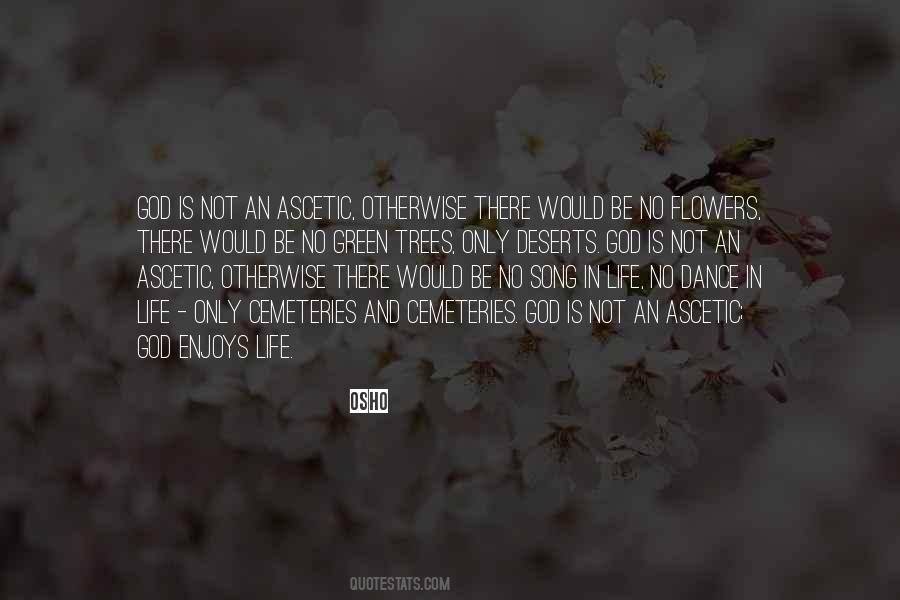 #54. When you undress for bed, let yourself dance as if life pleases you, then apologize when you suddenly realize she is there and put yourself straight into your blankets. Can you blush?" A - Author: Robert Jordan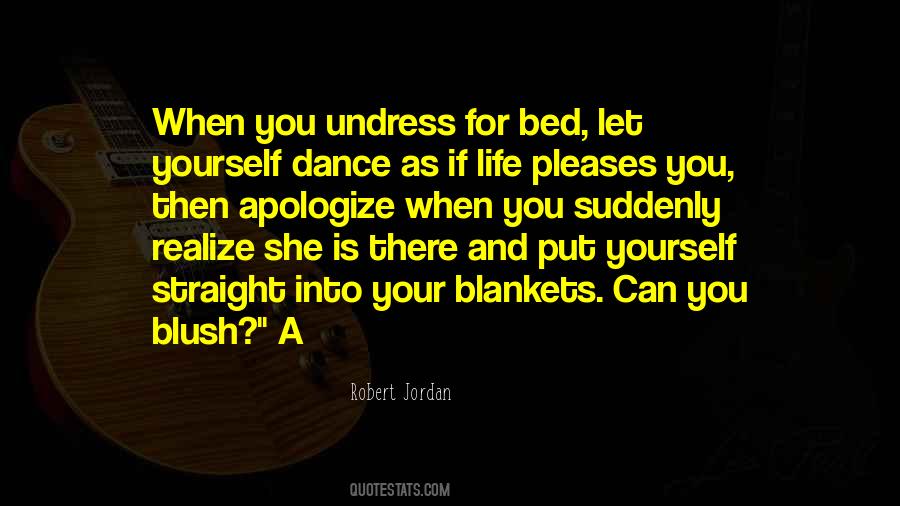 #55. From when I was born, my dad would dance with me in his arms, and I would watch my siblings dancing around in the living room. I just grew up with that. That was just my life. - Author: Julianne Hough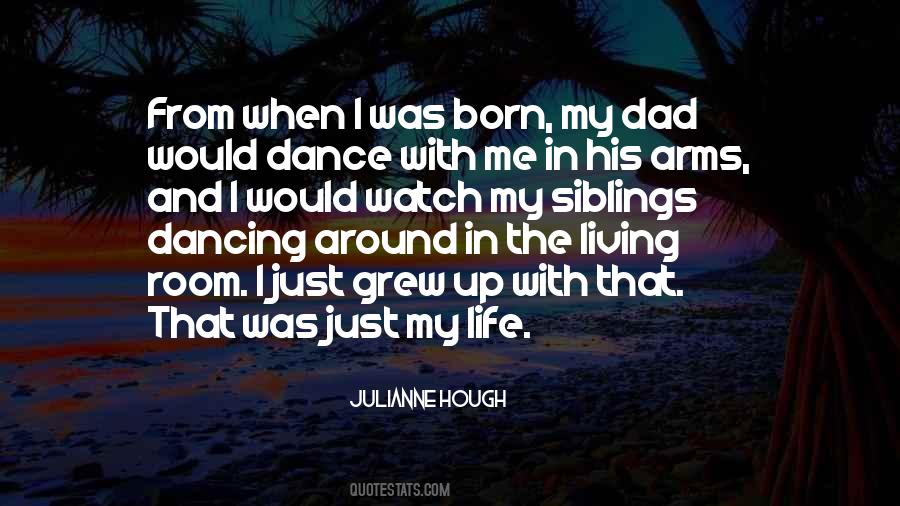 #56. I traveled so much to dance that I feel a part of many places, but New York is where I spent most of my life and where my career has been - it's the place where I exist. - Author: Damian Woetzel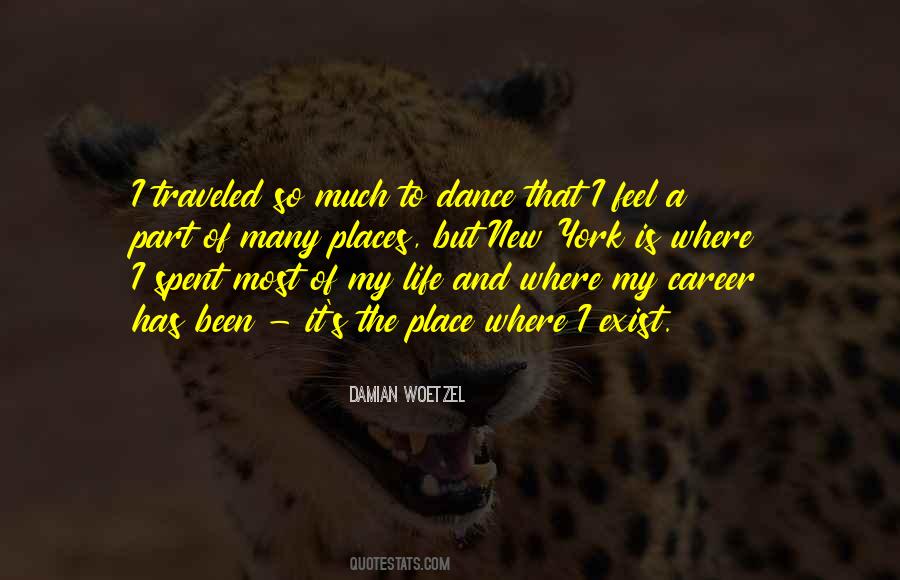 #57. I believe in the city as a natural human environment, but we must humanize it. It's art that will re-define public space in the 21st Century. We can make our cities diverse, inspirational places by putting art, dance and performance in all its forms into the matrix of street life. - Author: Antony Gormley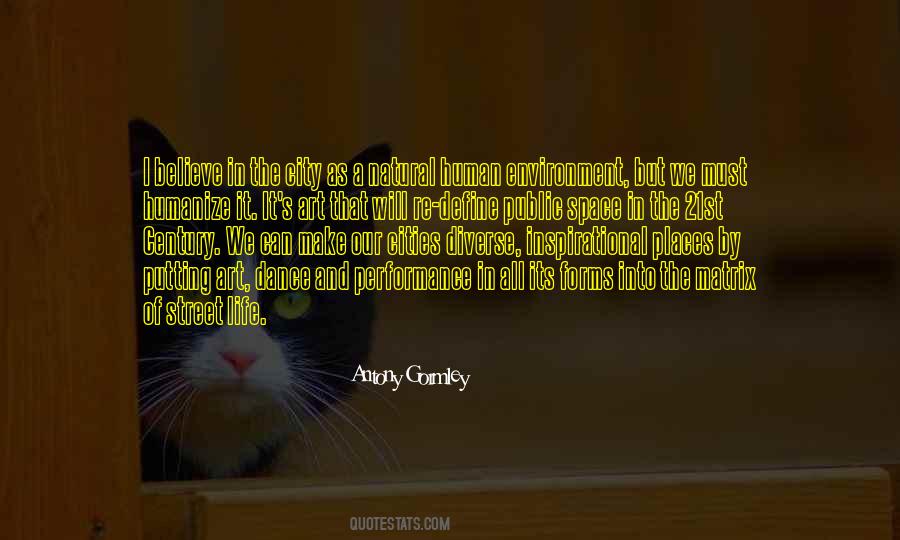 #58. To express what is the most moral, healthful and beautiful in art this is the mission of the dancer, and to this I dedicate my life. - Author: Isadora Duncan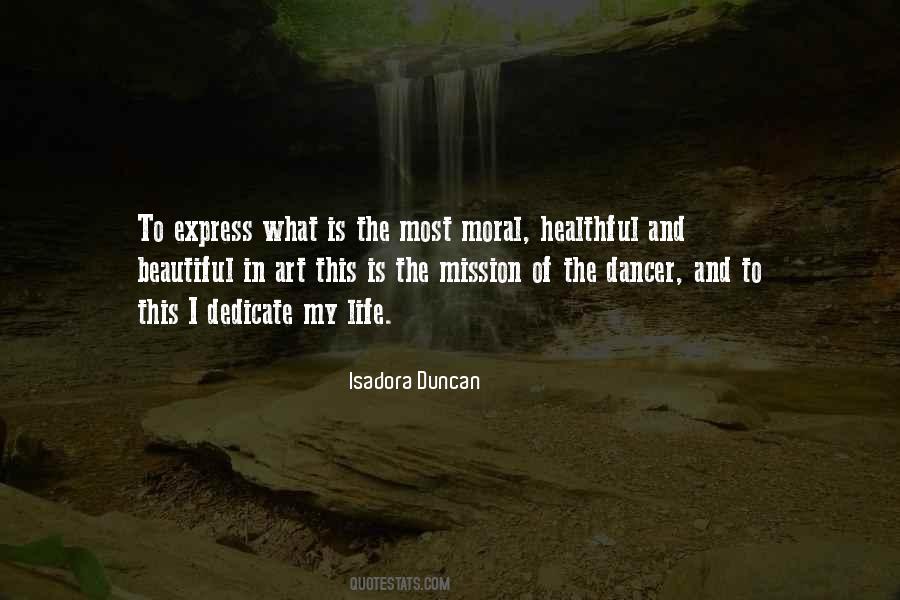 #59. Life is a delicate dance. We live in a society that governs we all get along. The invisible fine print, the unwritten rules and regulations state that we appease to each other's nature and in doing so, we by nature, seek to please. - Author: Katandra Jackson Nunnally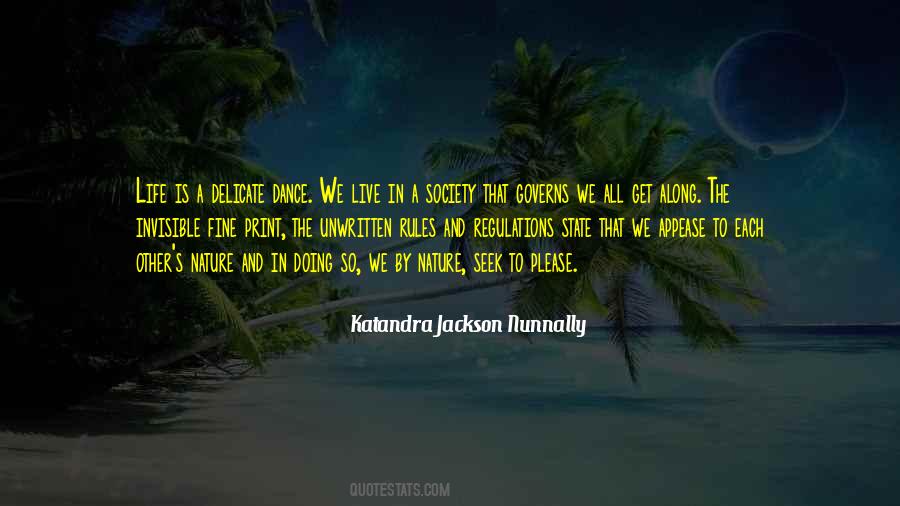 #60. [Robert Rauschenberg, 1925-2008] helped to obscure the lines between painting and sculpture, painting and photography, photography and printmaking, sculpture and photography, sculpture and dance, sculpture and technology, technology and performance art - not to mention between art and life. - Author: Michael Kimmelman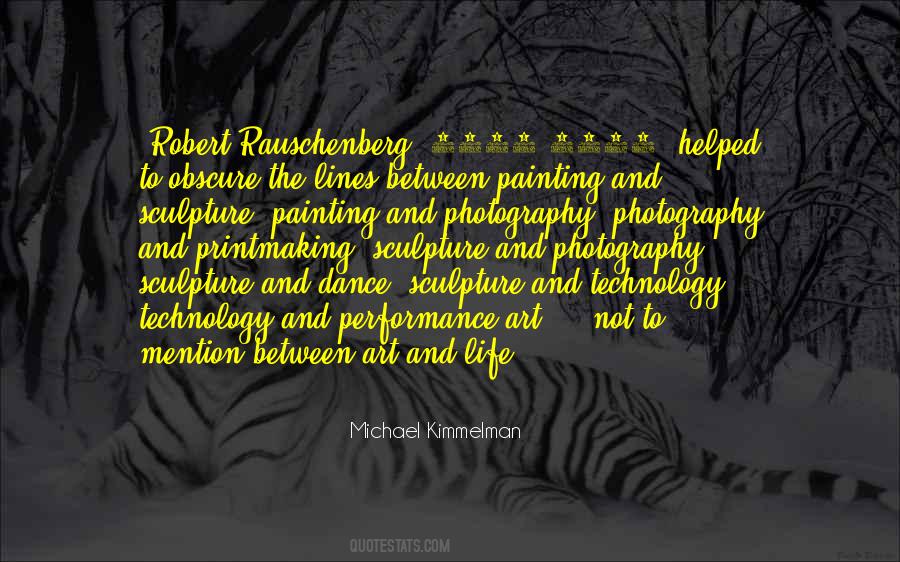 #61. I was in acting classes from the age of 9, dance classes, music classes - my mom put a lot of energy and attention into me, so no matter what happened in my life, I always had this basis of discipline. So I really worked hard for everything I had from a very early age. - Author: Milla Jovovich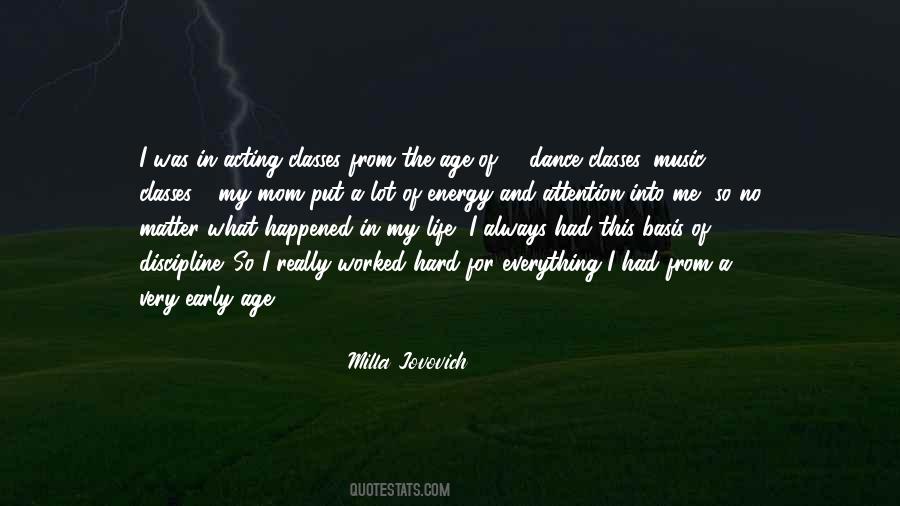 #62. Oh! Happiness
I am looking for you
In the wilderness,
In and around the palaces,
In my possessions, in my wealth and splendor, I can see you far away,
Like an illusion,
I try to touch feel and smell but,
Like a morichica you dance far away. - Author: Debasish Mridha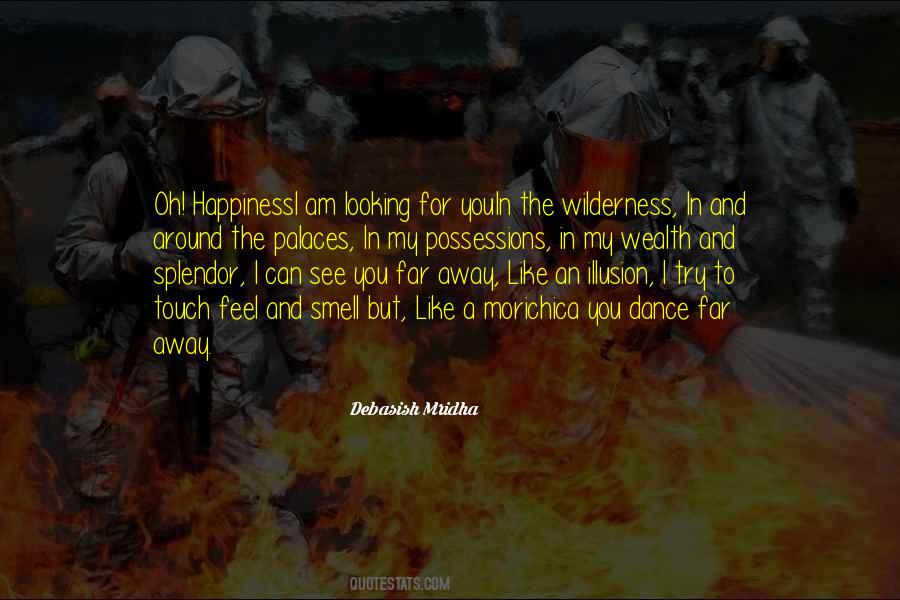 #63. I think it's useful to experience other types of dance and other cultures, and the life of a classical dancer these days is certainly not all tutus! So experience of other dance forms is a good idea. - Author: Deborah Bull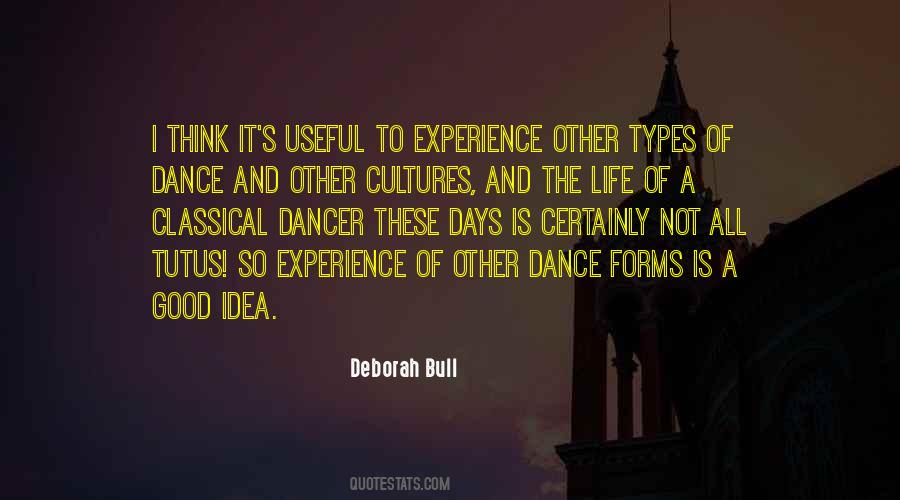 #64. When I was 14-15
There was nothing to my life
but dancing and sex
I'd go to night clubs and dance
Then I'd meet someone and have sex
it was Fine and easy
nothing to do
BUT Think with my body
like a bird
I Thought I was Free
TrAcey Emin - Author: Tracey Emin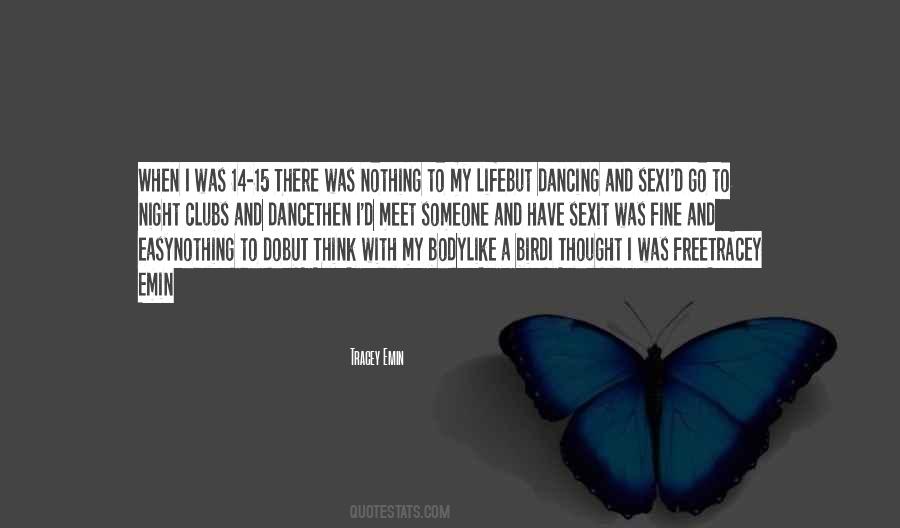 #65. And she had the magic I had never come across all my life. A minute with her messed up my mind and heart in a way that all the theories of right and wrong didn't matter anymore. All of a sudden opening my arms to the storm seemed a better choice, than dancing under the rainbows. - Author: Akshay Vasu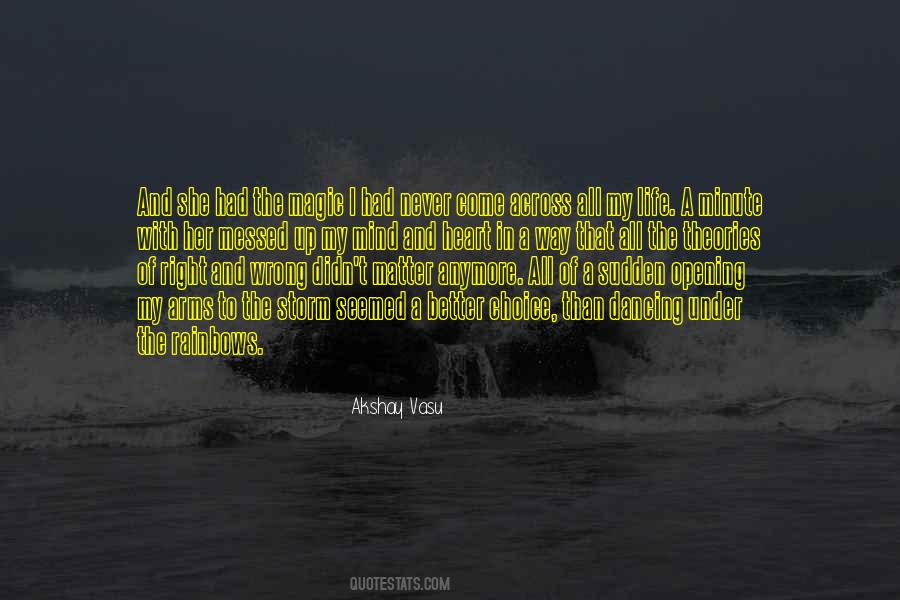 #66. Swing is so much more than a dance, it's a way of life. The music gets stuck in your mind and the dance is in your heart and the whole scene is engraved on your soul. You can fly. - Author: Nicholas Hope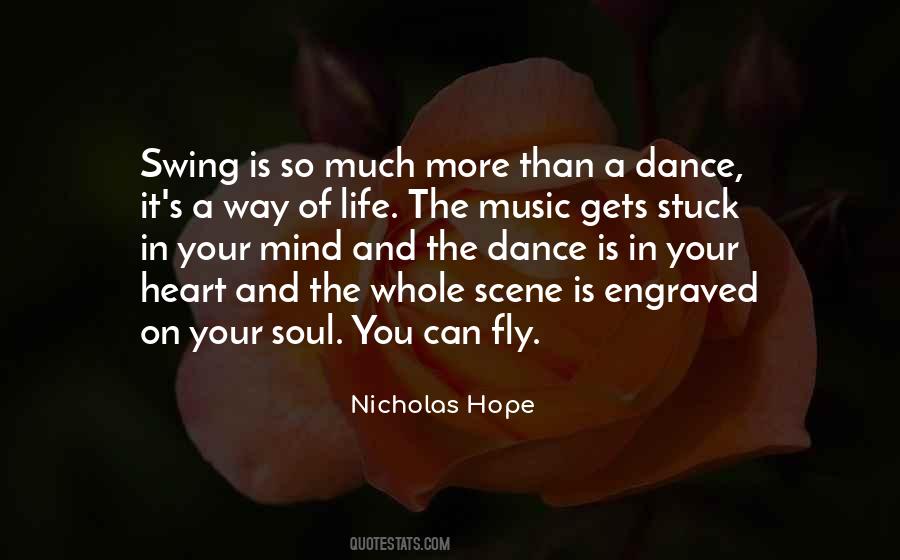 #67. I like Dancing of Indian girls more than my parents' prayers . Because they dance with love and passion . But my parents just say their prayers because they got used to it . - Author: Ali Shariati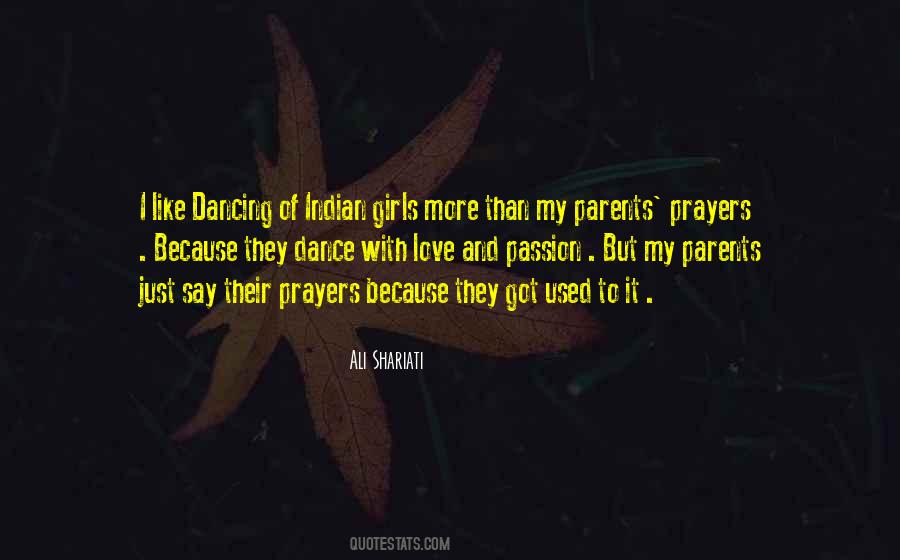 #68. Smiles are the dance of our soul,
with the music of love,
to express the beauty of mind,
for the happiness of spirit,
and for the joy of the world. - Author: Debasish Mridha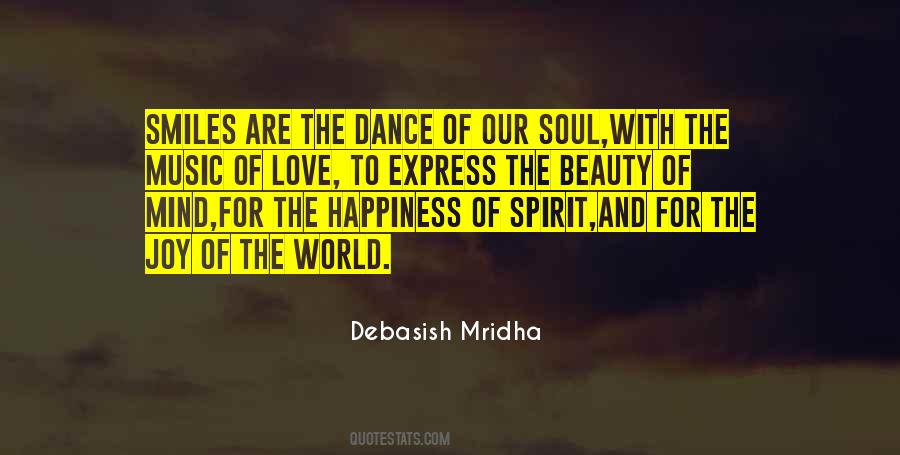 #69. Surrendering to life offers some wonderful realizations. We learn we're capable of being in this dance, of working with whatever happens. We learn to trust ourselves and then others and, gradually, we learn that life itself can be trusted. - Author: Margaret J. Wheatley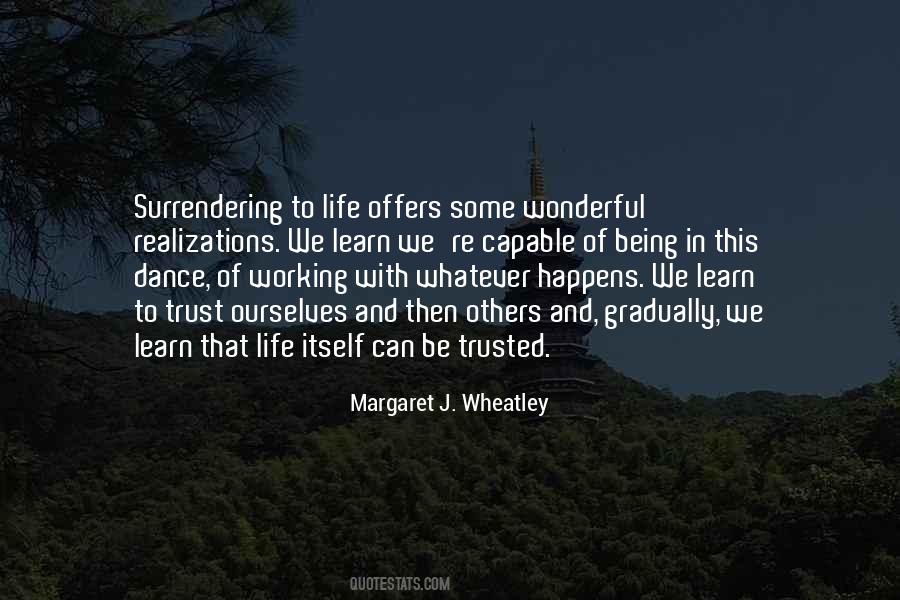 #70. The dance had distilled her and she had become one with the essence of all that is. - Author: Holly Lynn Payne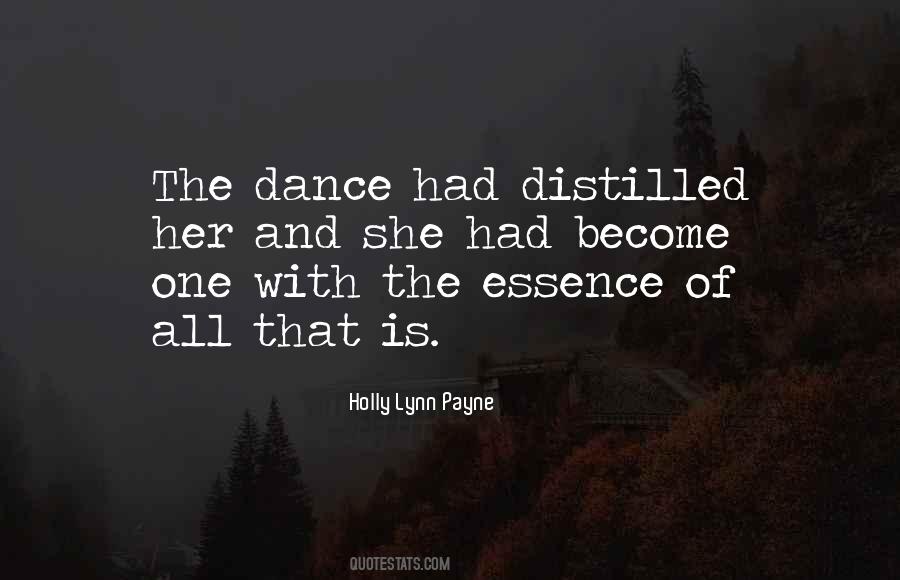 #71. ... The wonders of life and the universe are mere reflections of microscopic particles engaged in a pointless dance fully choreographed by the laws of physics. - Author: Brian Greene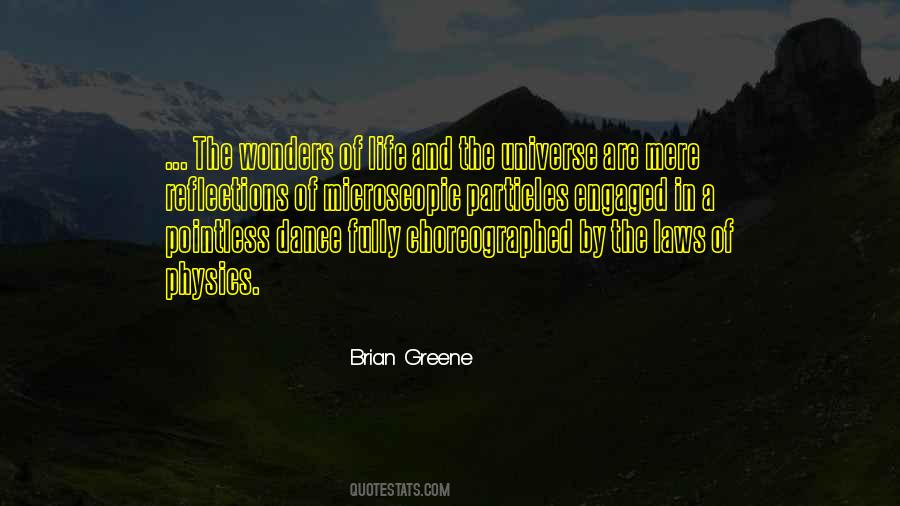 #72. Independent dance - and, fine, it's a very good thing that it remains independent - is a much tougher life: all dancers expect that, and accept that there will be periods of not being able to work, provided there are choice moments during the year when they really can work. - Author: Siobhan Davies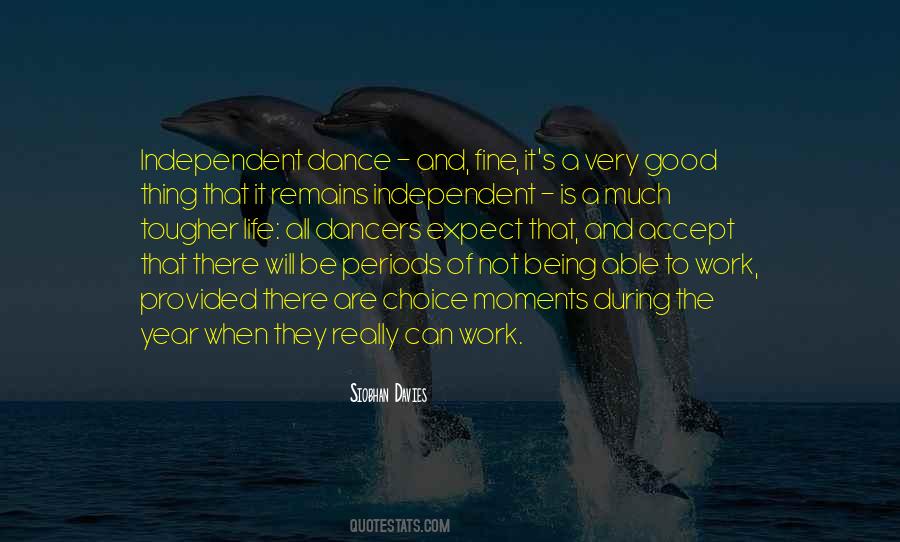 #73. But in life, every moment can be said to be critical; all is revealed and concealed, created, maintained, and destroyed in the great dance of time. - Author: Kate Elliott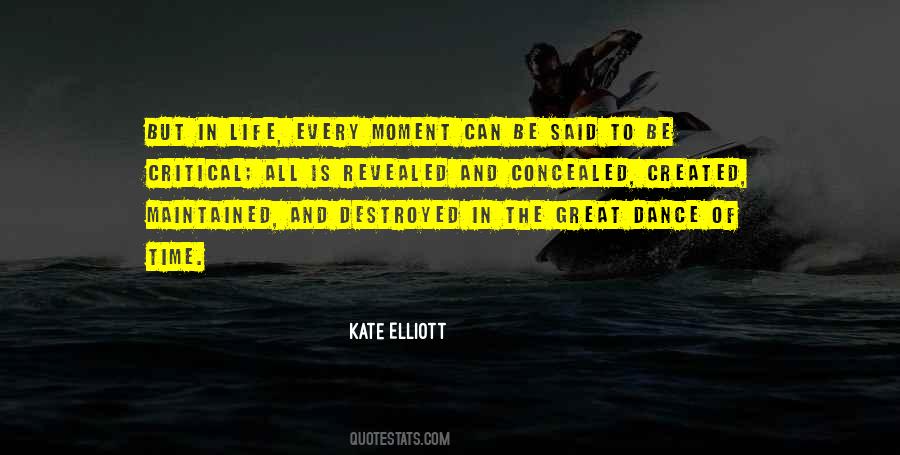 #74. Maybe we can use a metaphor for it, out of dance. I think for many years I was aware of the need, in dance and in life, to breathe deeply and to take in more air than we usually take in. - Author: Sharon Olds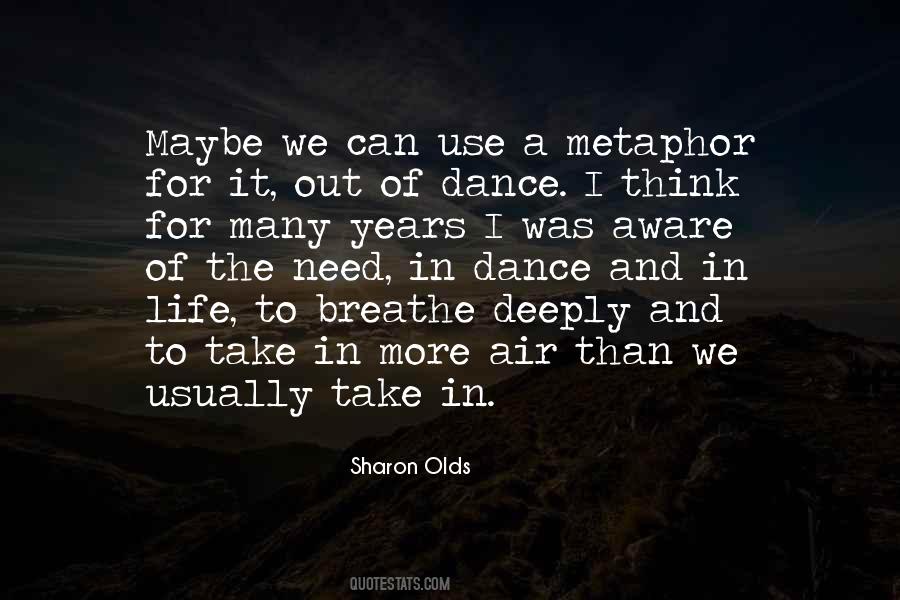 #75. When it comes to making the right moves at the right time, your dance partner is life itself or what can be referred to as your destiny. The more you pay attention and practice intuitive decision making skills, the better you will become at sensing the unique rhythm of your life. - Author: Paul O'Brien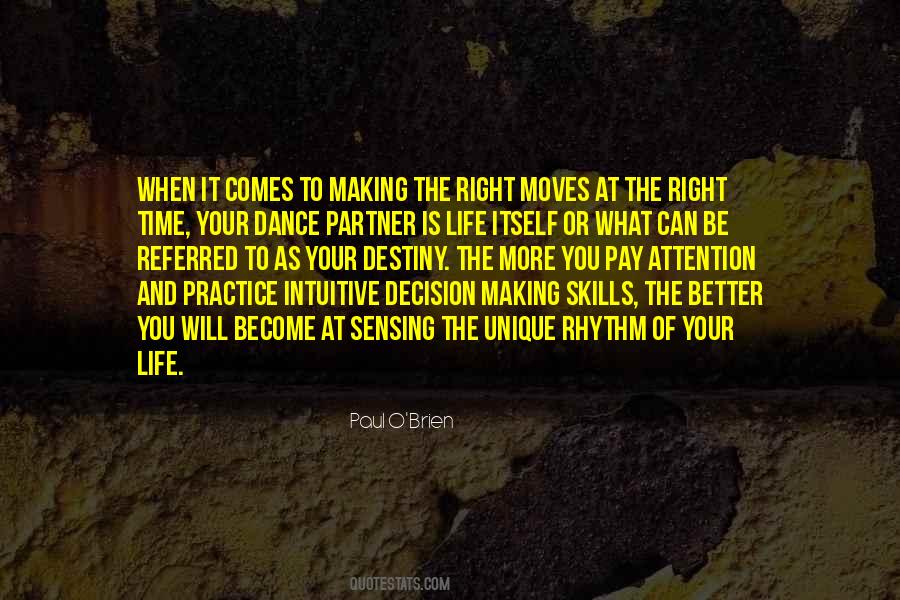 #76. I might not be a good singer but I will praise and worship God with all my heart. I might not be the best dancer but I will dance for the Lord all the days of my life. - Author: Euginia Herlihy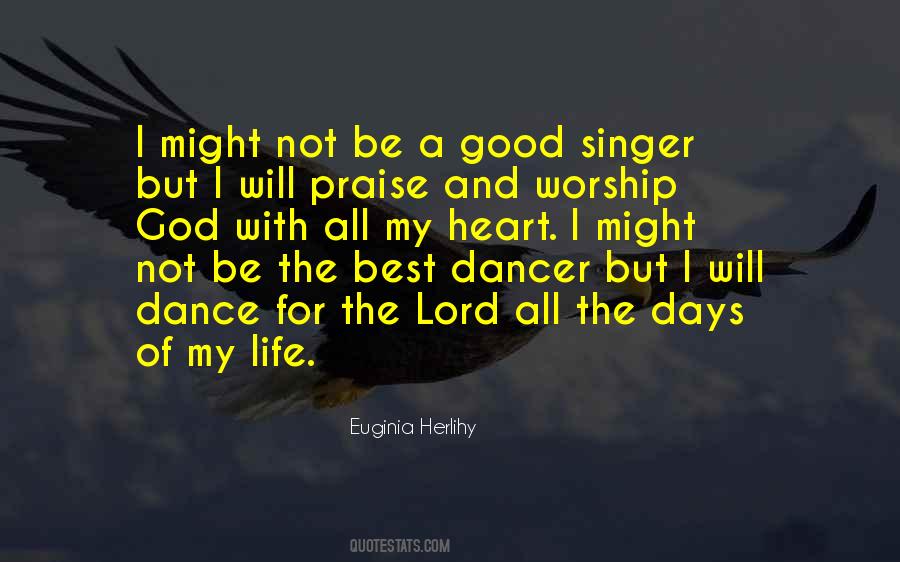 #77. Dancing is my gift and my life ... God gave me this gift to bring delight to others. I am haunted by the need to dance. It is the purest expression of every emotion, earthly and spiritual. It is happiness. - Author: Anna Pavlova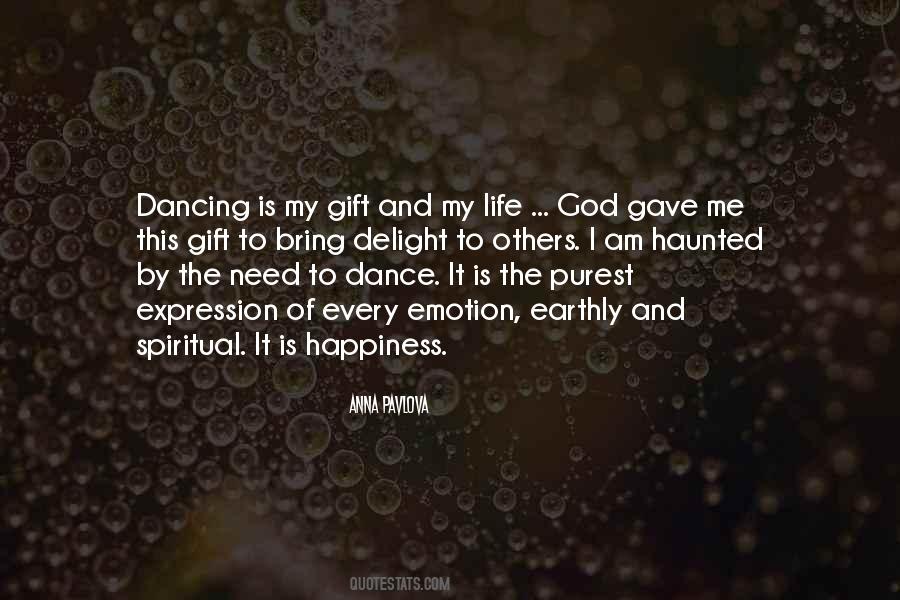 #78. Make your Life Exciting. Find out what gives you Joy and makes your heart Dance, and Do it.-RVM - Author: R.v.m.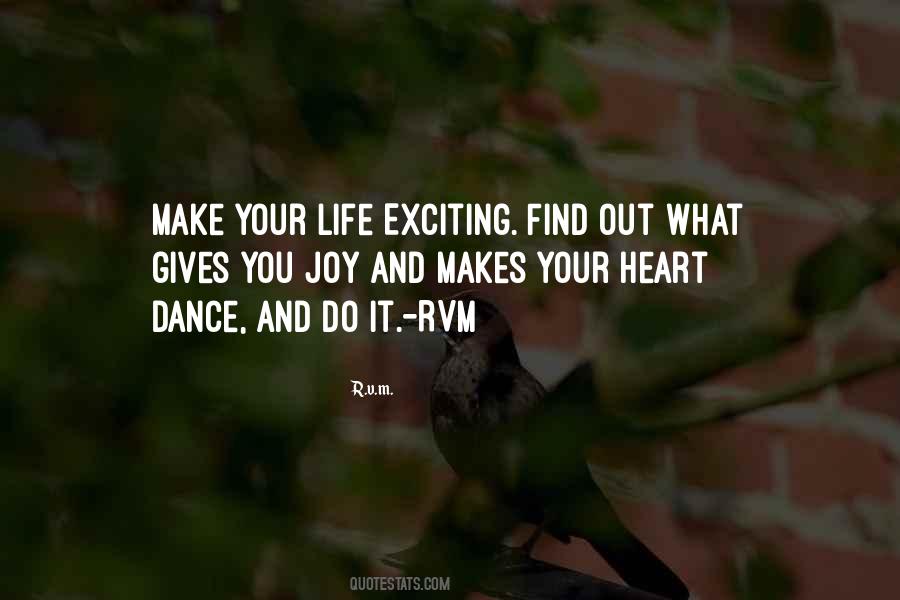 #79. I have been very lucky. I have always been able to eat and drink and dance in my life so I am not afraid of anything. And if suddenly I should have nothing I would still be grateful. - Author: Micaela Flores Amaya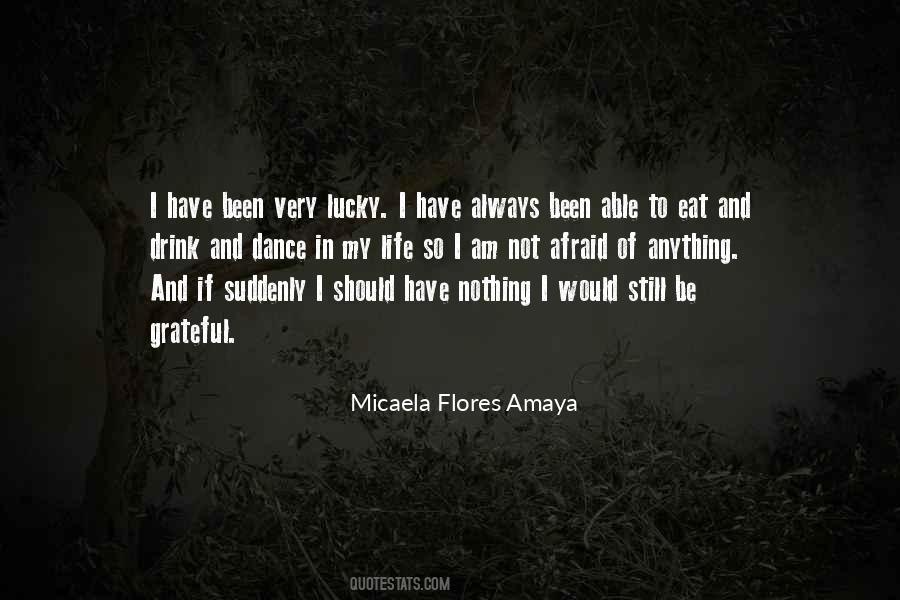 #80. Robbing ourselves of the great pleasures in life only makes us perform worse. We need to be happy, and do things we like doing if we want to excel in whatever it is we're focusing on. - Author: Torron-Lee Dewar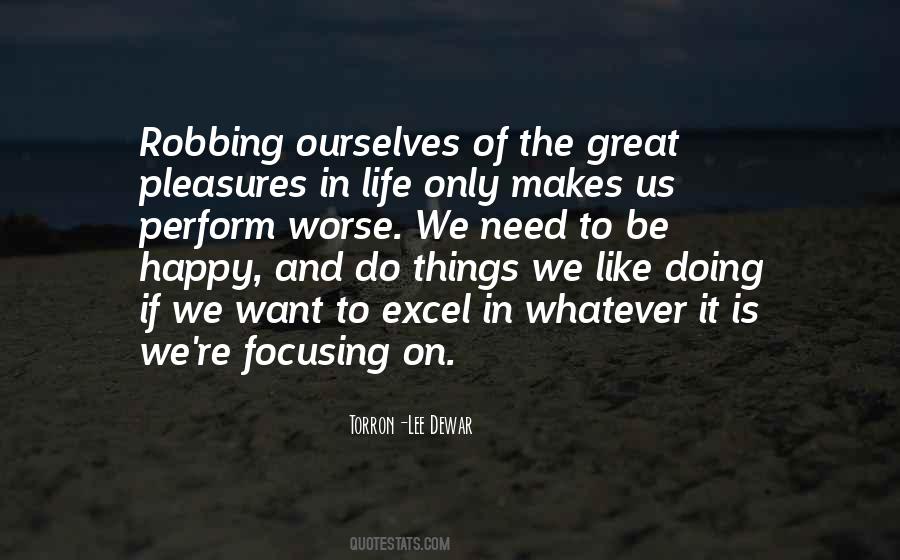 #81. I know artists whose medium is life itself, and who express the inexpressible without brush, pencil, chisel or guitar. They neither paint nor dance. Their medium is Being. Whatever their hand touches has increased life ... They are the artists of being alive. - Author: Frederick Franck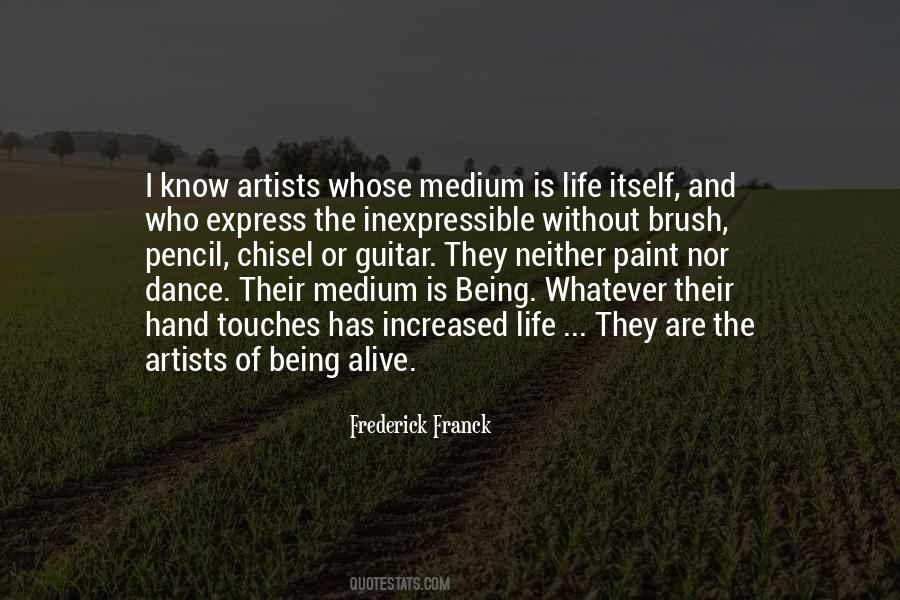 #82. We go from most doubted to most respected with the right outlook and attitude to life. - Author: Torron-Lee Dewar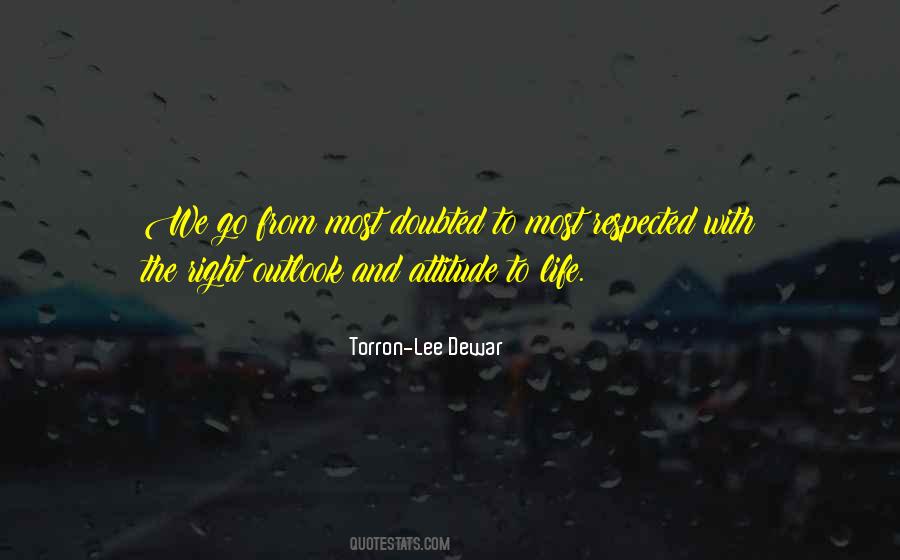 #83. Dance as if you got lost in the mystery and beauty of life. - Author: Debasish Mridha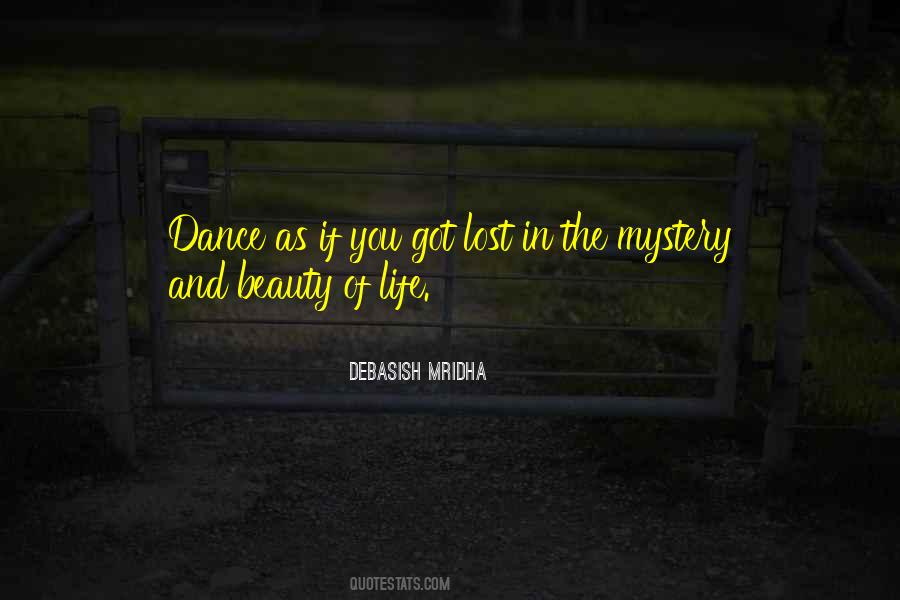 #84. Life is short and there will always be dirty dishes, so let's dance. - Author: James Howe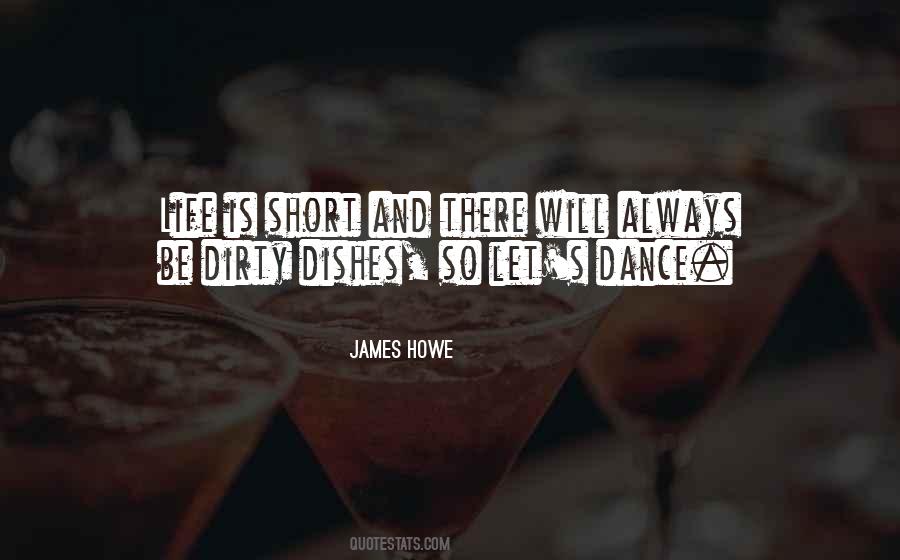 #85. She is not a bulldog, only a woman pressed into the shape of a small jar, possibly attempting to dance in there. It shows in the way she places a seashell on a window sill, a red-painted chair in the corner: she is practiced in the art of creating a still life and taking up residence inside it. - Author: Barbara Kingsolver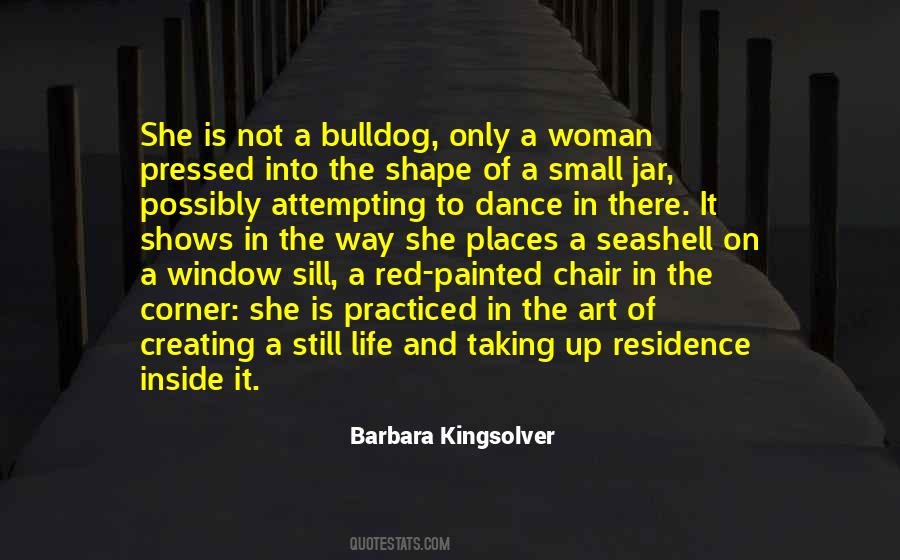 #86. The sky is but a looking glass into a pool of airless oceans, cast off into a dance of light and energy, leaving only a facet of guidance to navigate. Such an existence lays but within the mind man. - Author: Indiana Lang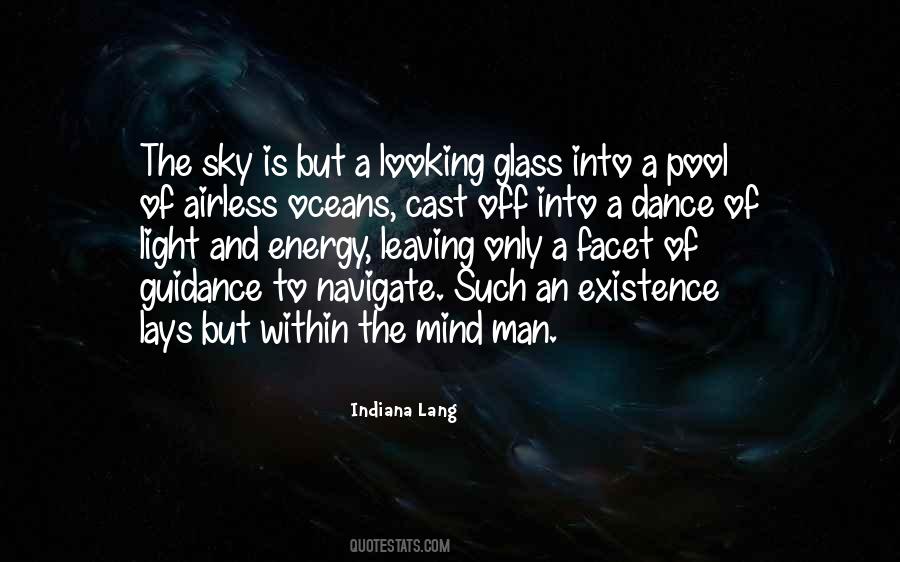 #87. It may take us years and years to find our true calling in our life. But one fine day, we eventually do find it!
Till then make merry, laugh, fight, dance and enjoy the craziness... - Author: Avijeet Das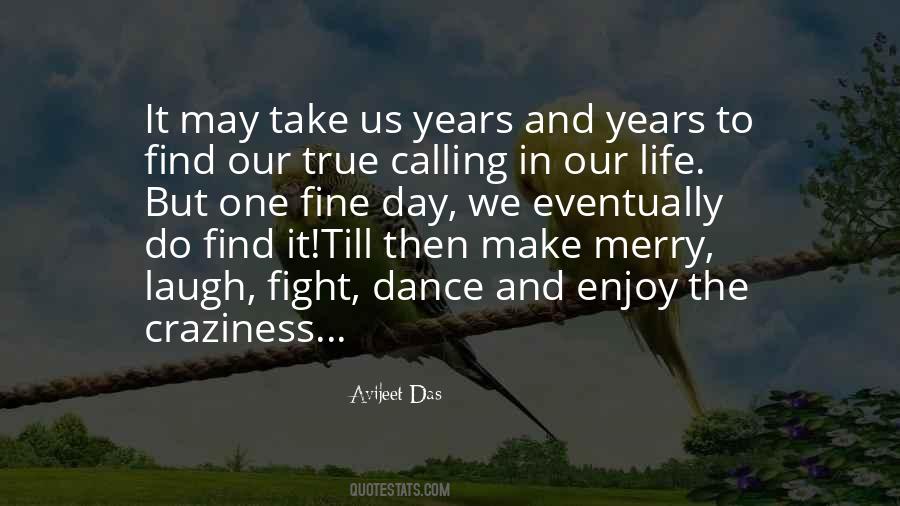 #88. When you are ecstatic and in love, you feel buoyant, you feel life, you feel like you are dancing in the sky. - Author: Margot Anand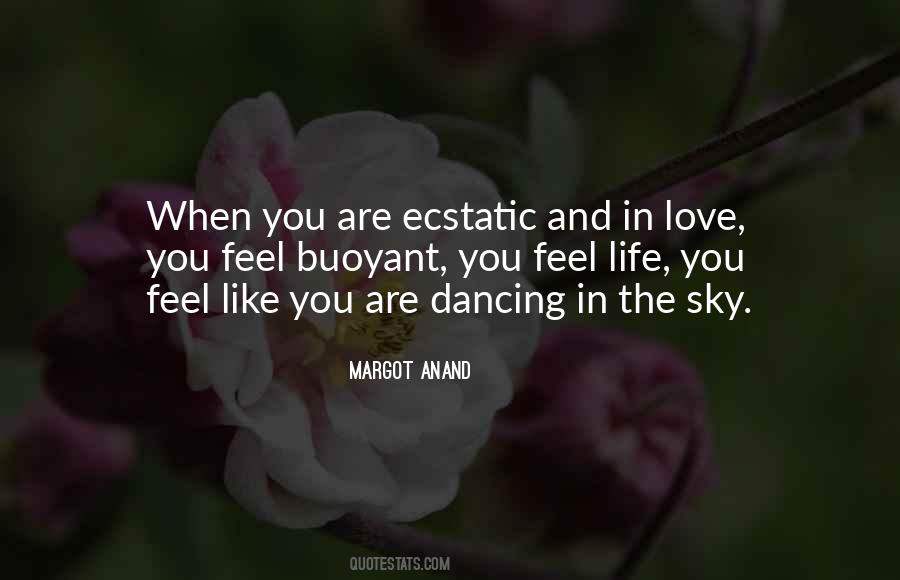 #89. Not truly living in the present moment and later regretting is like closing your eyes when a peacock is dancing, only to want to see it dance once it is gone.-RVM - Author: R.v.m.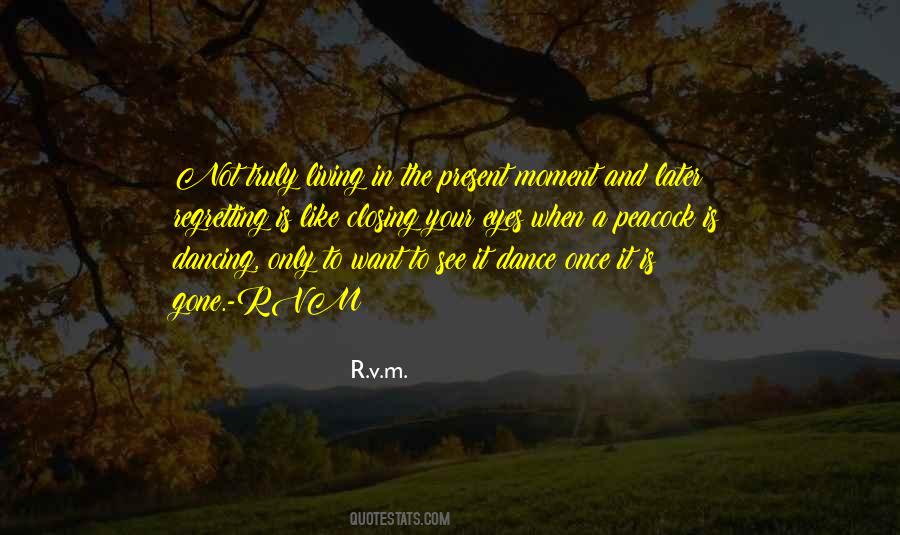 #90. If you can create a bright future, the past will dance with joy in your mind for the experience and to let you suffer. - Author: Debasish Mridha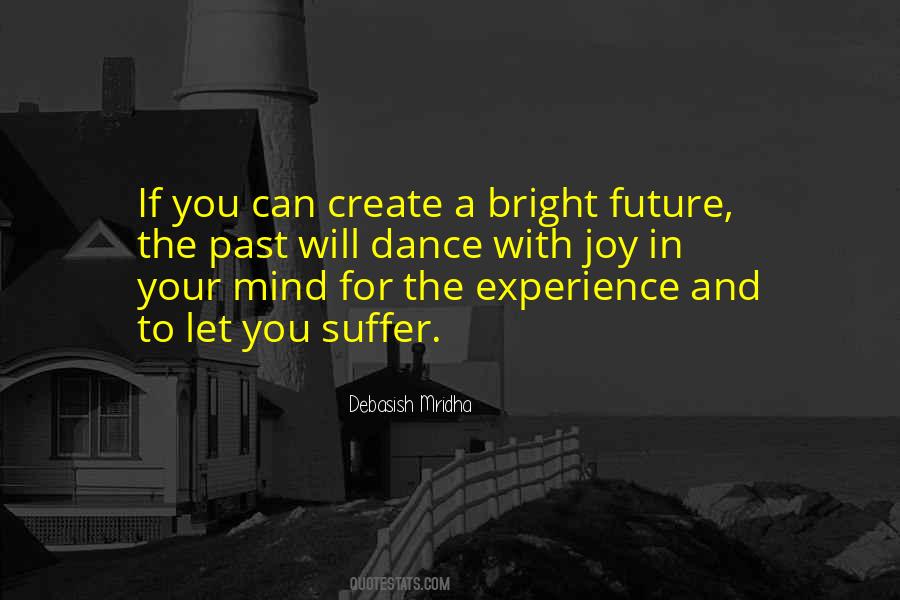 #91. I want to be able to say, 'you think you're odd, I'm even odder and I made it - you can too!' I want to direct, do more with 'The Dance Scene,' sign artists and just provide opportunities. I'm just getting started and having the time of my life! - Author: Laurieann Gibson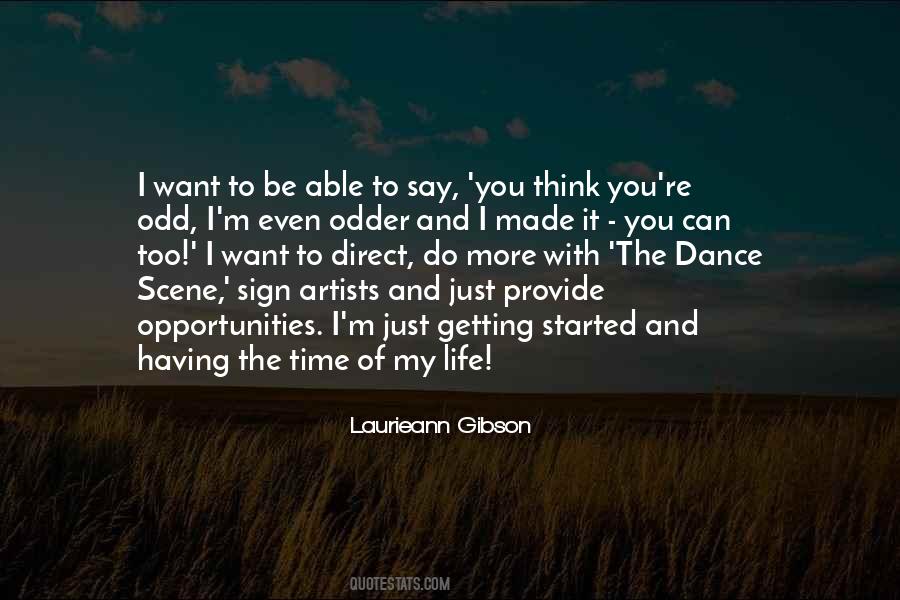 #92. When lovers of life get ready to dance, the earth shakes and the sky trembles. - Author: Rumi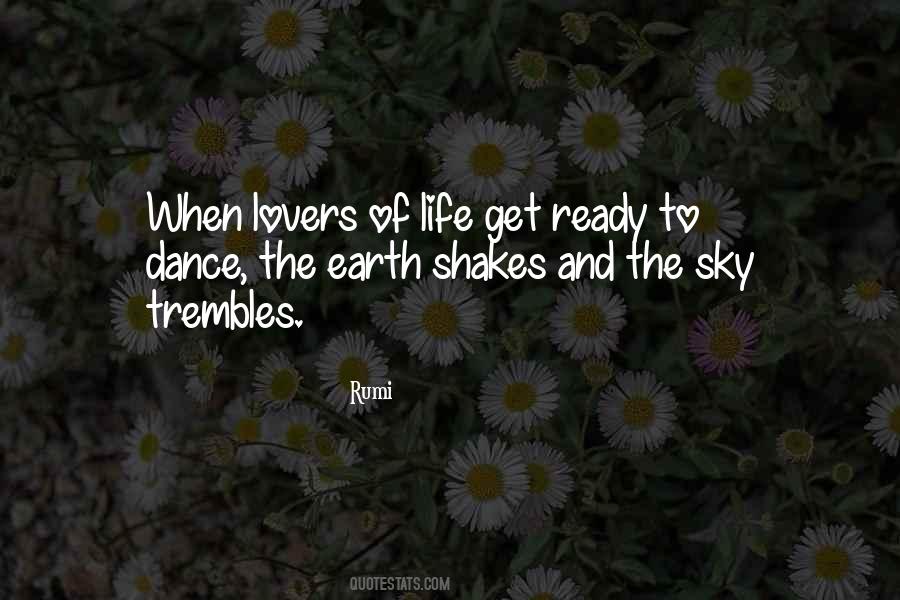 #93. I can destroy a dance floor. I think life should be a musical. I always hate it when people watch a musical and they go, 'Oh, it's so unrealistic, no one just breaks into song in the middle of their day.' Yeah, they do- if they're me. - Author: Zachary Levi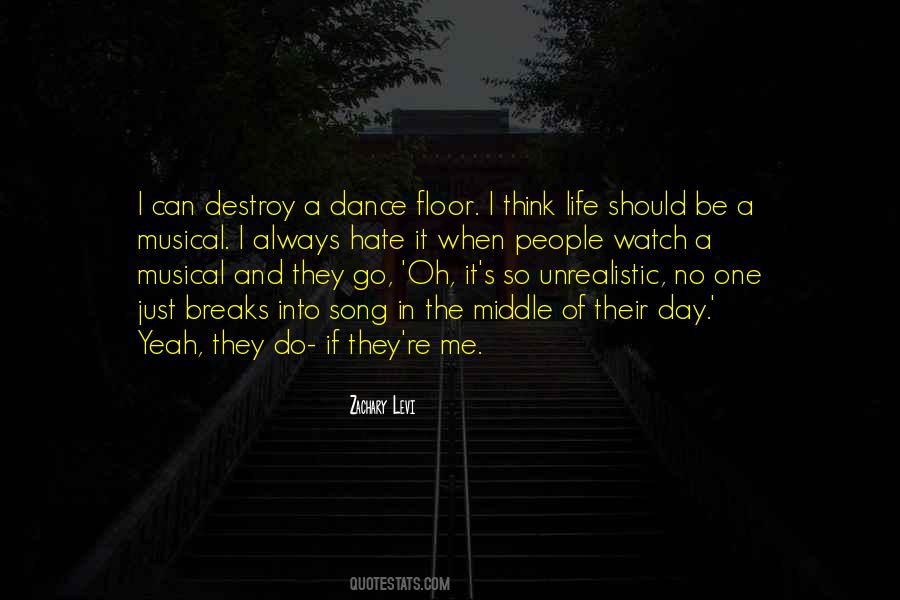 #94. Sometimes we focus on the lyrics too much and forget to dance to the music. - Author: Alexa Anderson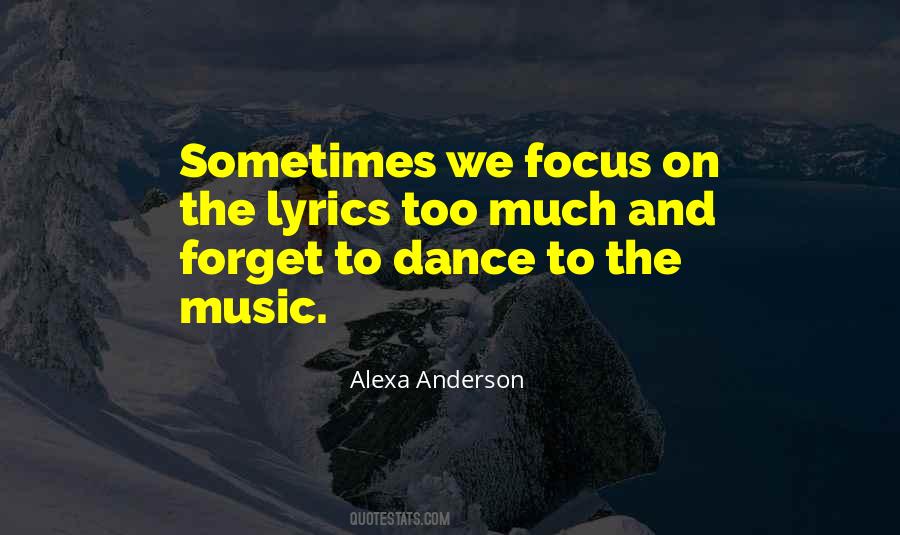 #95. I'm basically a pretty shy person and I don't dance or get into fights. But there are all these things inside me that get out when I perform. It's like a real world when I play, here I can do all the things that I can't do in real life. - Author: Bill Frisell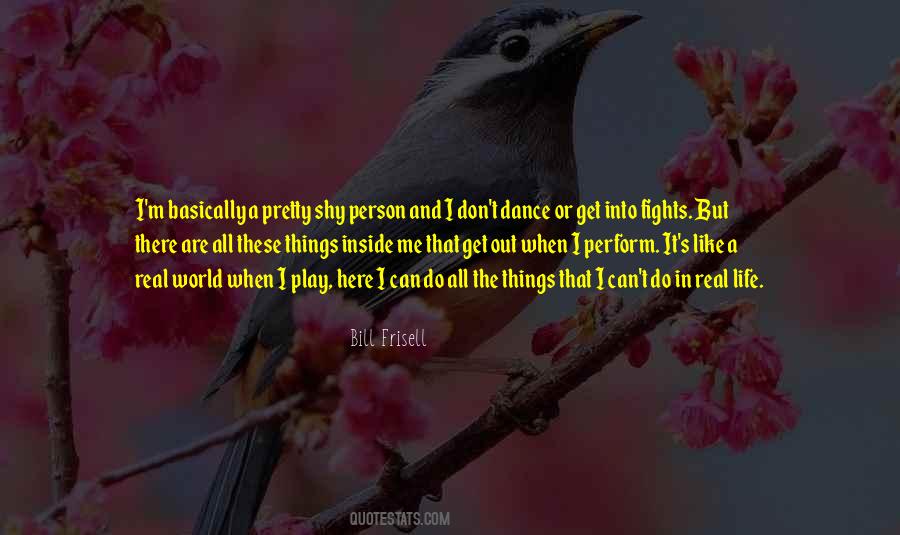 #96. It's very strange what happens when I start working for a film. In my life I've done a lot of stuff - I did a lot of dance music, a lot of TV shows and lots of different types of films - and every time it is a new experience. - Author: Claudio Simonetti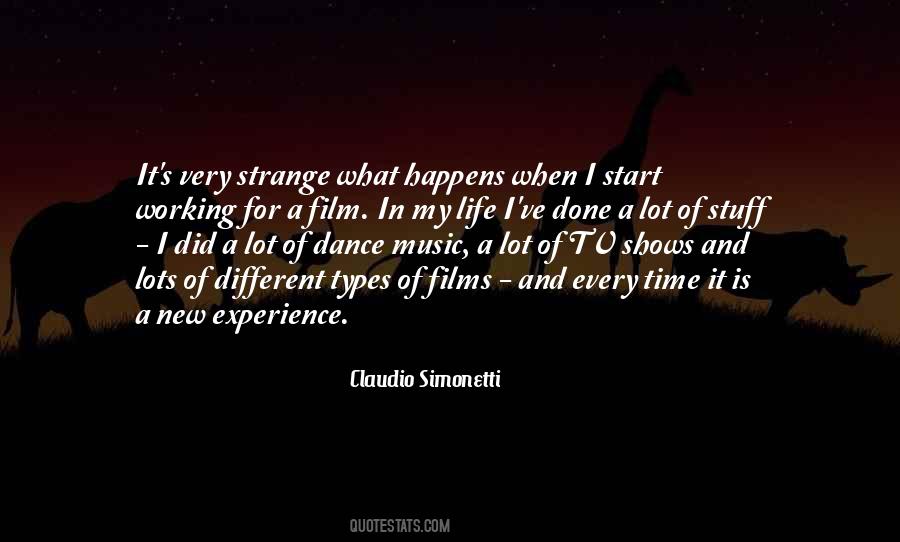 #97. I'm not the type of artist that's like, 'Let's go out and party and dance your life away!' I think those artists are so cool, but I wanted meaning in my songs and they have messages. - Author: Claudia Lee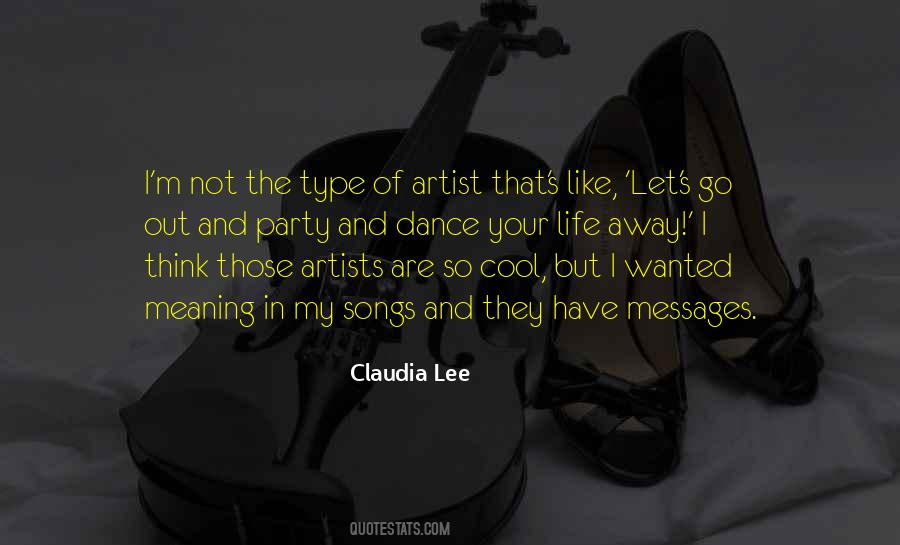 #98. To understand the song of life, listen to the melody of wind and ocean and watch the dance of waves and water. - Author: Debasish Mridha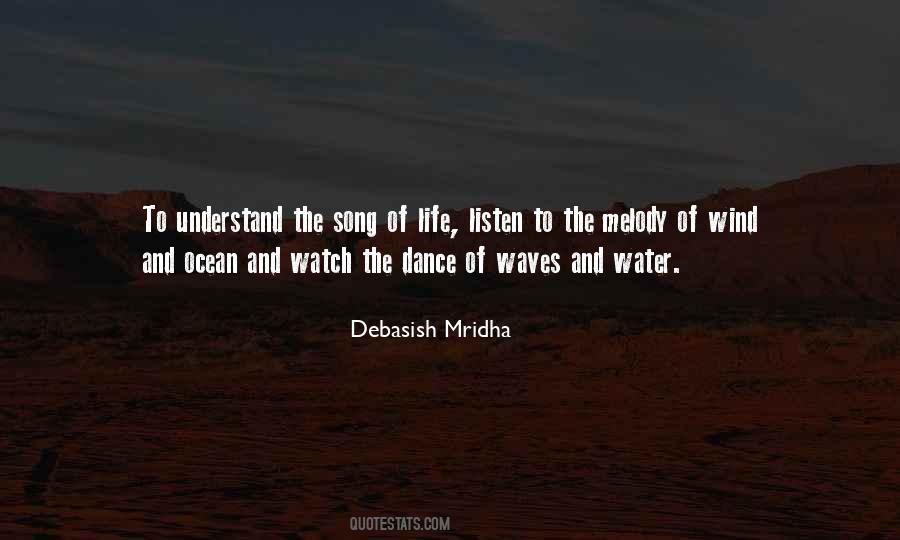 #99. There are many things evil people can take from you. However, they can never steal your ability to laugh and laugh loud. - Author: Shannon L. Alder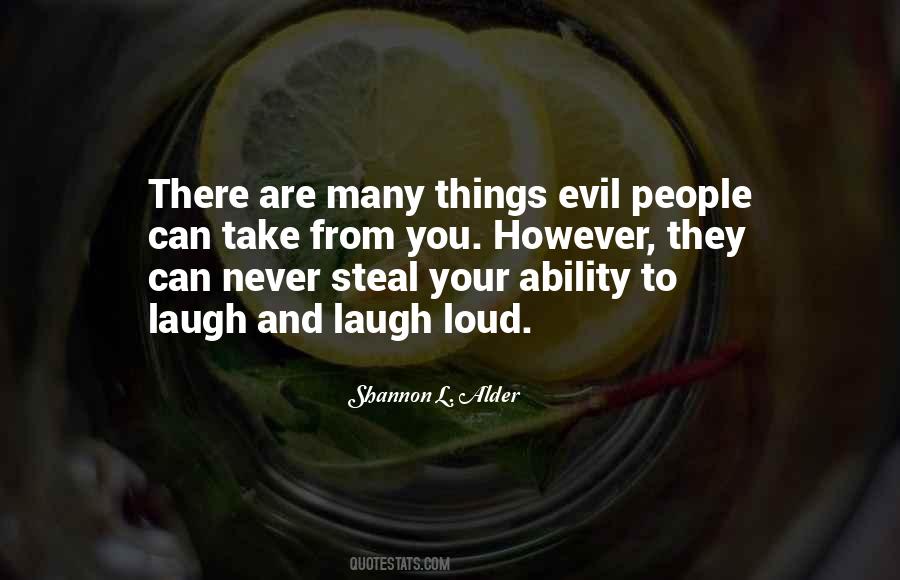 #100. Honesty is nothing more than a party trick, and you know how much I love to dance. - Author: Elizabeth Brooks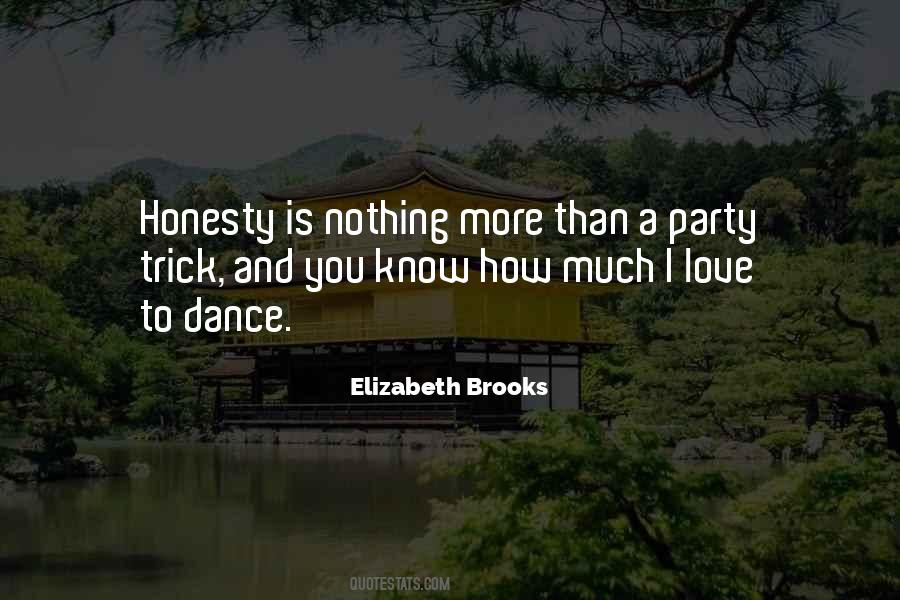 Famous Authors
Popular Topics