Community Love Famous Quotes & Sayings
List of top 100 famous quotes and sayings about community love to read and share with friends on your Facebook, Twitter, blogs.
Top 100 Quotes About Community Love
#1. There may be community of material possessions, but there can never be community of love or esteem. - Author: Samuel Johnson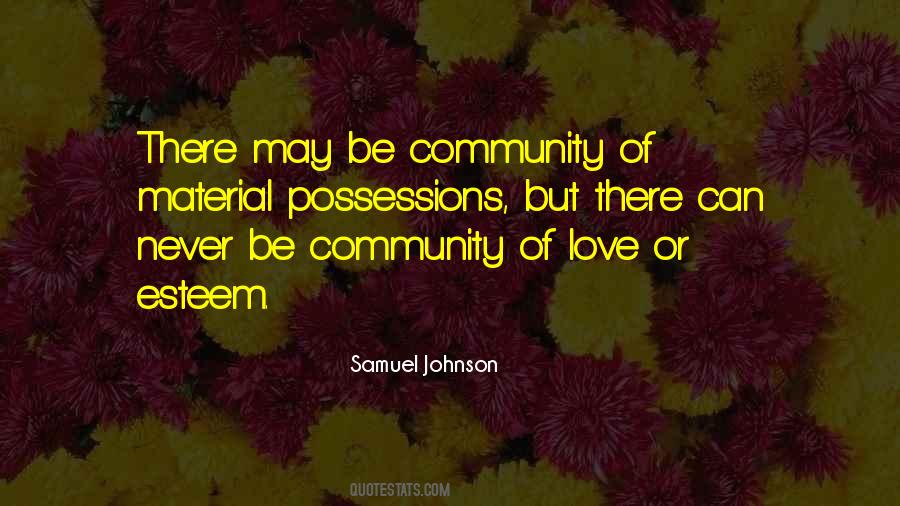 #2. Rastafarianism and reggae music have always kind of resonated with me. Those ideas of redemption, liberation and overcoming oppression through music, weed and community. Fighting evil through love and music, I think it's just a really powerful idea. - Author: Conor Oberst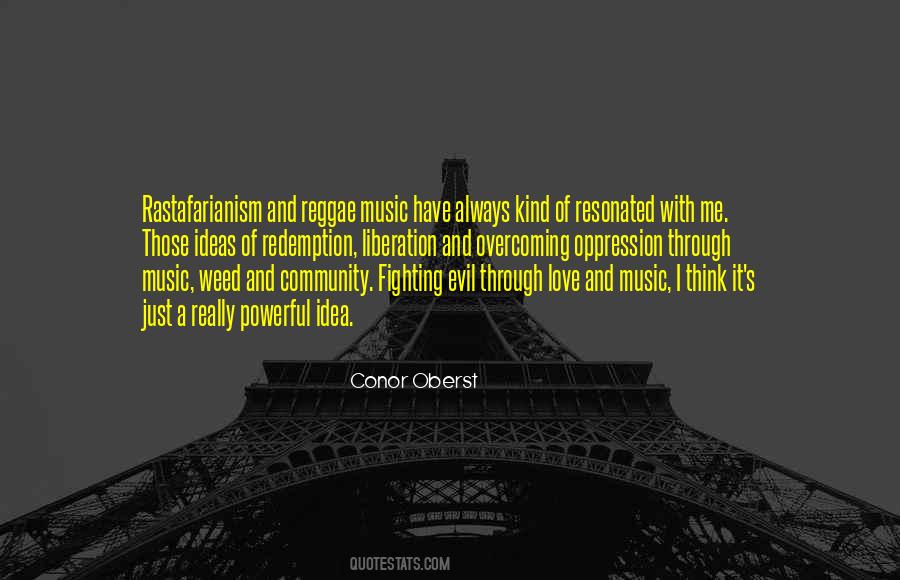 #3. My family has spent 400 years farming on the banks of the Rio Grande. We know the value of hard work, love of the community, love for water and land. - Author: Ken Salazar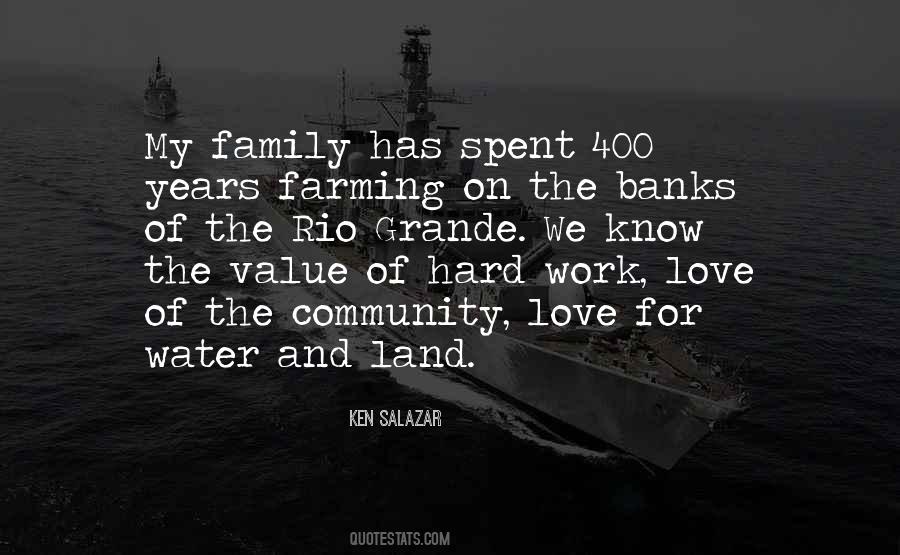 #4. Community is composed of that which we don't attempt to measure, for which we keep no record and ask no recompense. Most are things we cannot measure no matter how hard we try. - Author: Dee Hock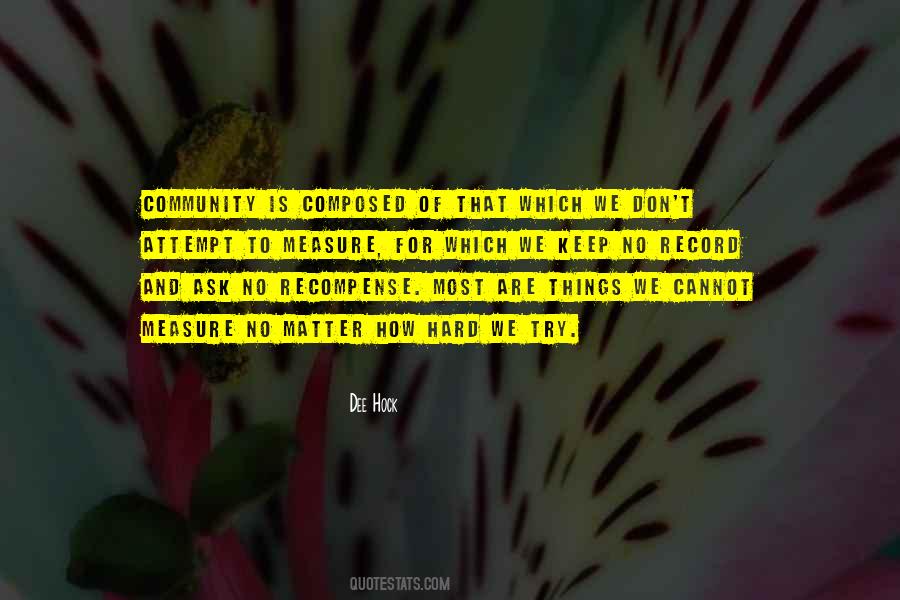 #5. I think fiction may be, whatever else, an exercise in the capacity for imaginative love, or sympathy, or identification.
-Imagination & Community - Author: Marilynne Robinson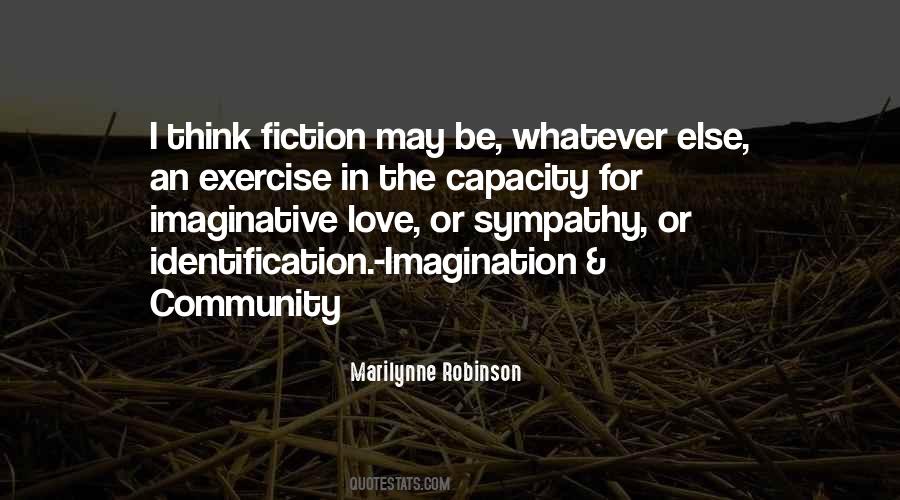 #6. Love cannot remain by itself - it has no meaning. Love has to be put into action and that action is service. - Author: Mother Teresa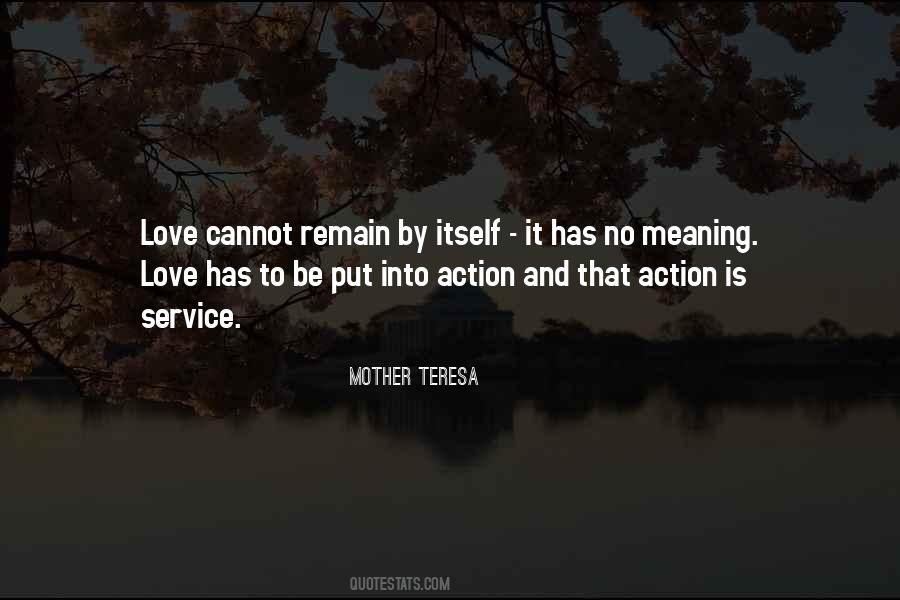 #7. If we have any hope for survival of the music that we all love, compassion must replace name-calling, fairness must replace greed, and we need to come together as a musical community and try to understand each other's problems. - Author: John Mellencamp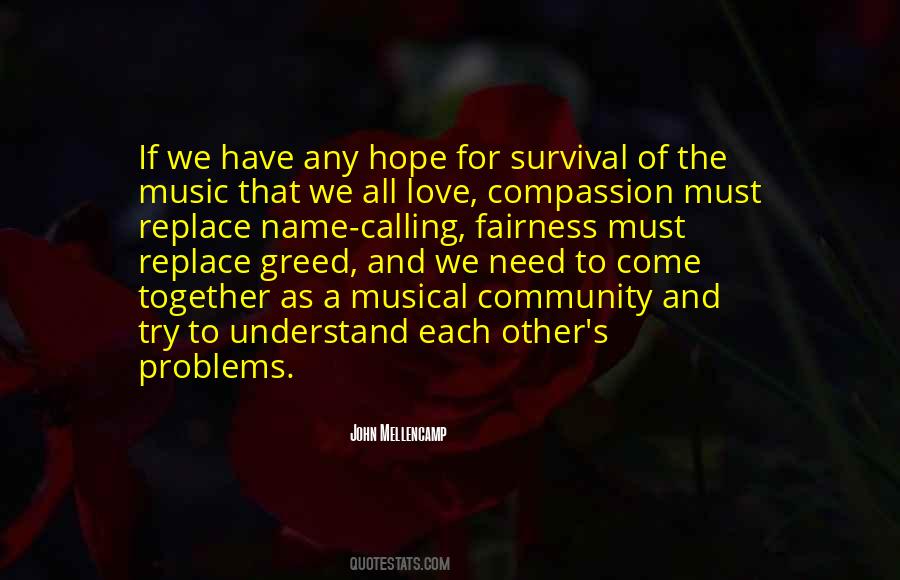 #8. The keys to health and weight-loss: stress reduction, sleep, deep breathing, clean water, complete nutrition, sunshine, walking, stretching, meditation, love, community, laughter, dreams, perseverance, purpose, humility, action. - Author: Bryant McGill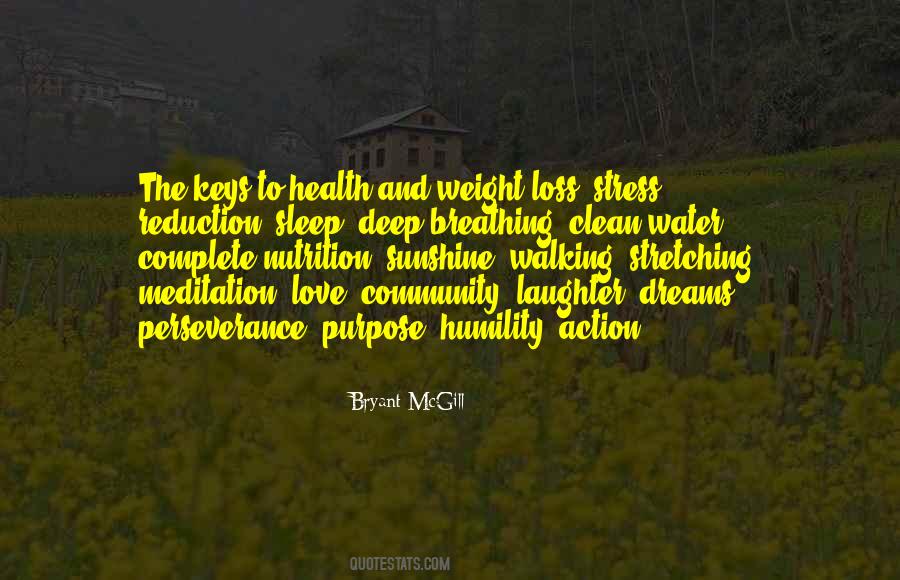 #9. Lovelessness is a huge sin in the church. The four primary personalities in the New Testament- Jesus, Paul, Peter, and John- all four of them say that love is the most important thing. But the only time love really counts is when something unlovely happens. - Author: Jeff Chu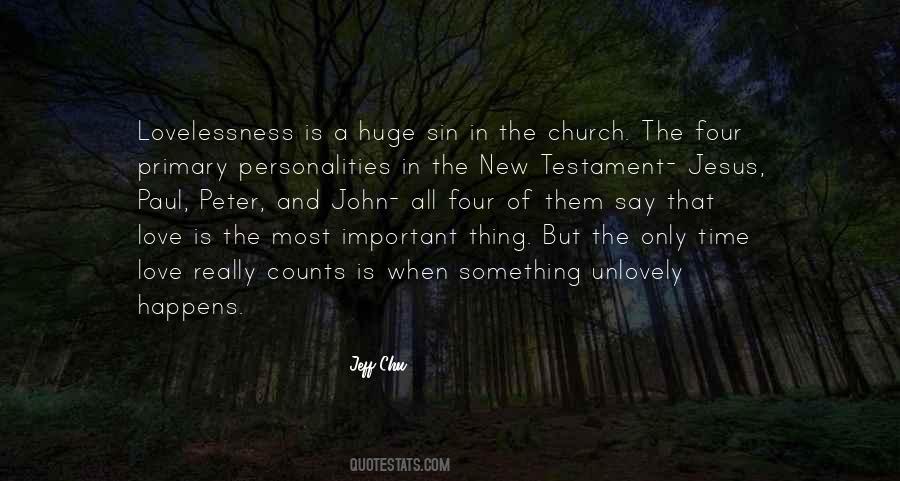 #10. I think Edward Sharpe's music is counter-cultural music in the strangest sense where you have a time now where love, optimism, hope and community are uncool and not part of the mainstream culture. - Author: Alex Ebert
#11. In fact, the Alejandro video ... is a celebration of my love and appreciation for the gay community, my admiration of their bravery, and their love for one another, their courage in their relationships. - Author: Lady Gaga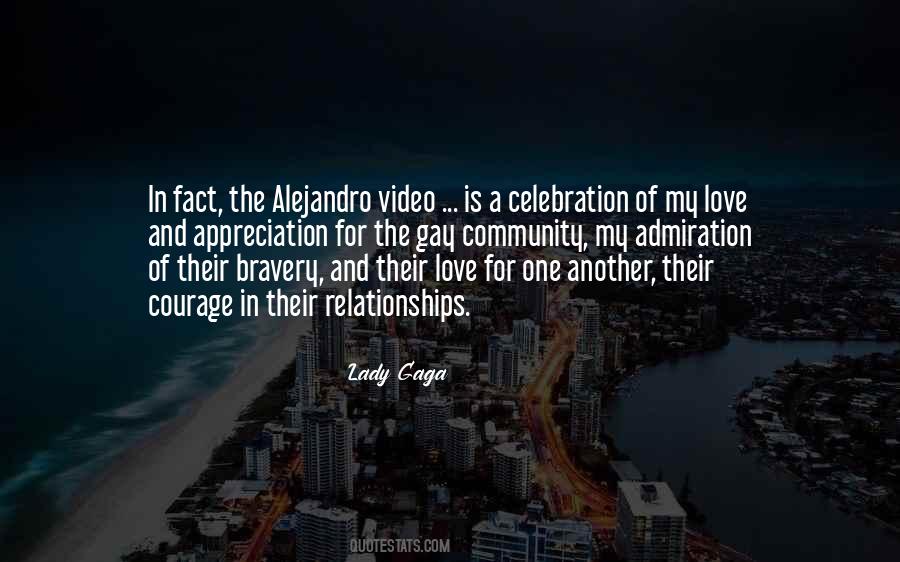 #12. I have the greatest love for the rituals of organised religion - the sense of community and belonging it can confer to people. But me, I'm more a questioner than a follower; not by whim or fashion, but as a decision painfully arrived at after much, much thought. - Author: Kabir Bedi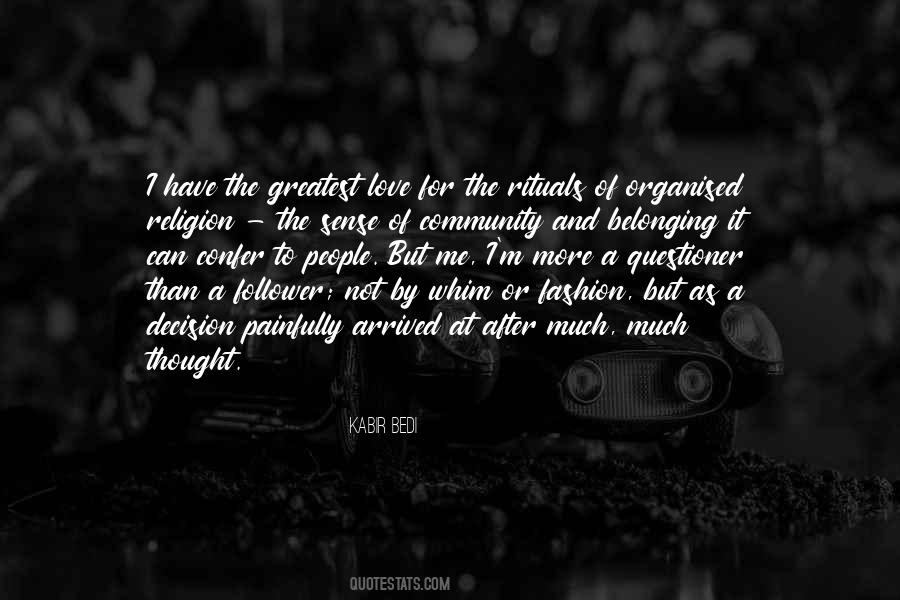 #13. All churches must understand, love, and identify with their local community and social setting, and yet at the same time be able and willing to critique and challenge it. - Author: Timothy Keller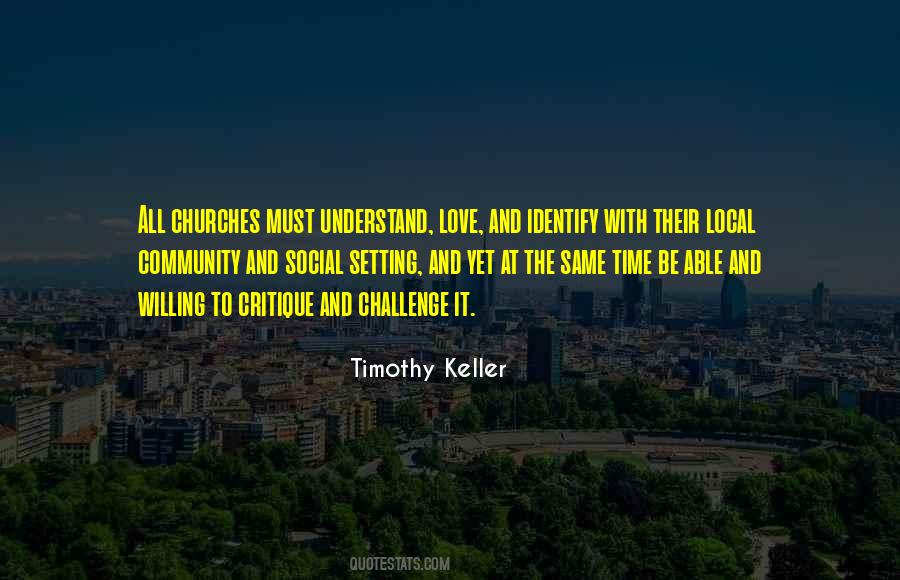 #14. I grew up in a little Methodist church that was very rural, very community support-oriented, made up of great people who talked about love and grace and the spiritual experience, but only in rhetorical terms. - Author: James Redfield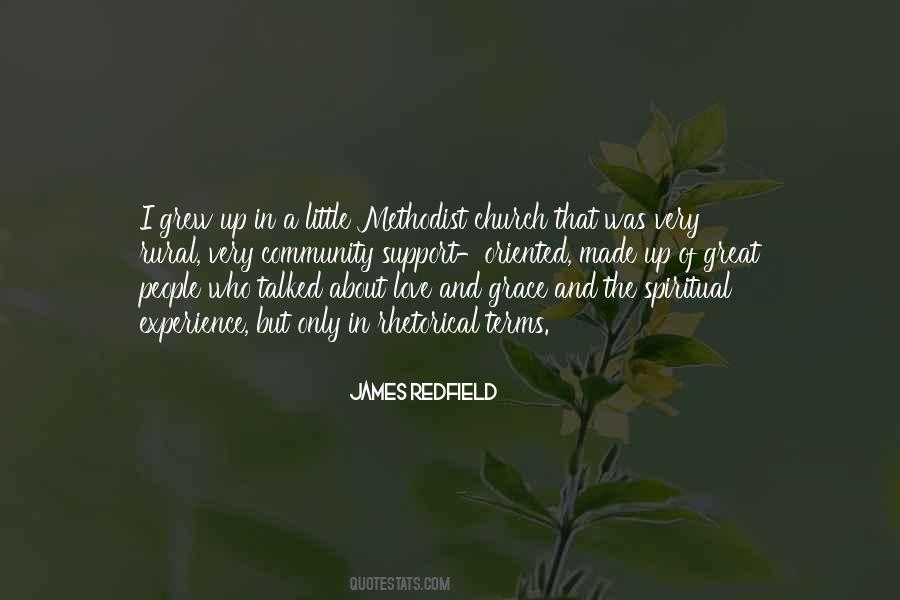 #15. Passing Proposition 8 did not stop LGBTQ couples from going to sleep that night with their partners. What it did accomplish, however, was remind the gay community once again that they are not looked at as equals, that the God of so many does not love them. - Author: Timothy Kurek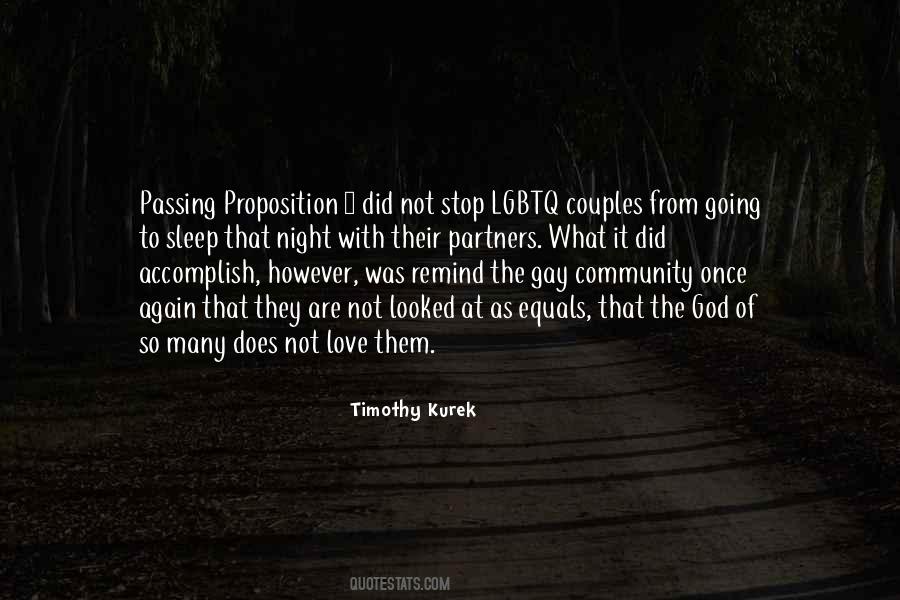 #16. The church is called to embody the boundless love of God by being a community of radical welcome to all God's children. - Author: Alexia Salvatierra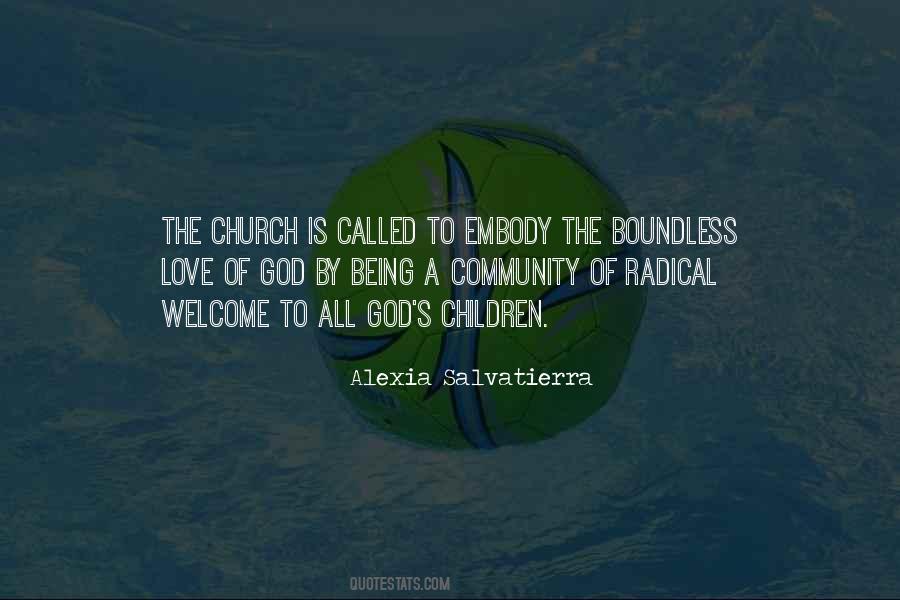 #17. If Jesus is the heart of the church, people are the lifeblood. There is a reason He created community and told us to practice grace and love and camaraderie and presence. People soften the edges and fill in the gaps. Friends make up some of the best parts of the whole story. - Author: Jen Hatmaker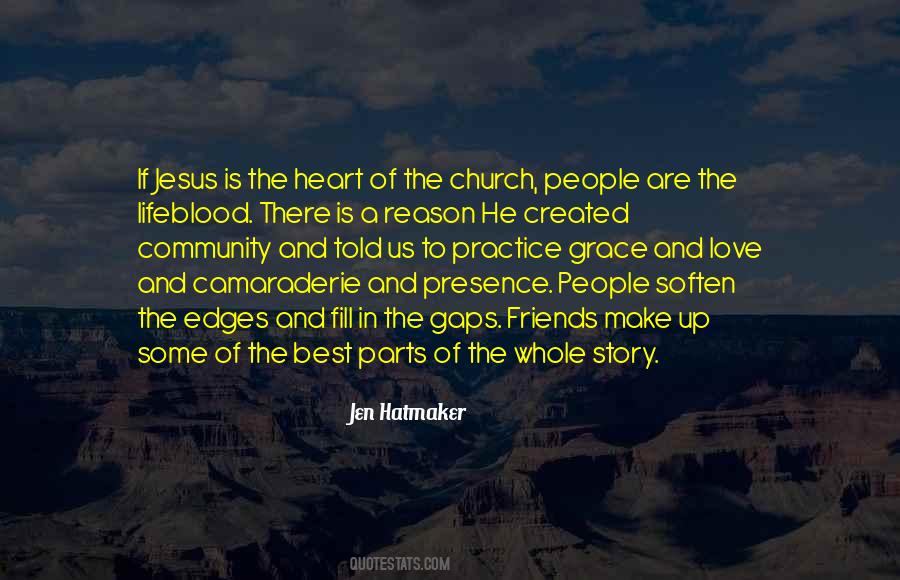 #18. The pieces that have survived, the ones that we all love, were not all popular in their time. Just look at Beethoven's late string quartets. The music that the musical community selects, however, is usually the very best. - Author: David Finckel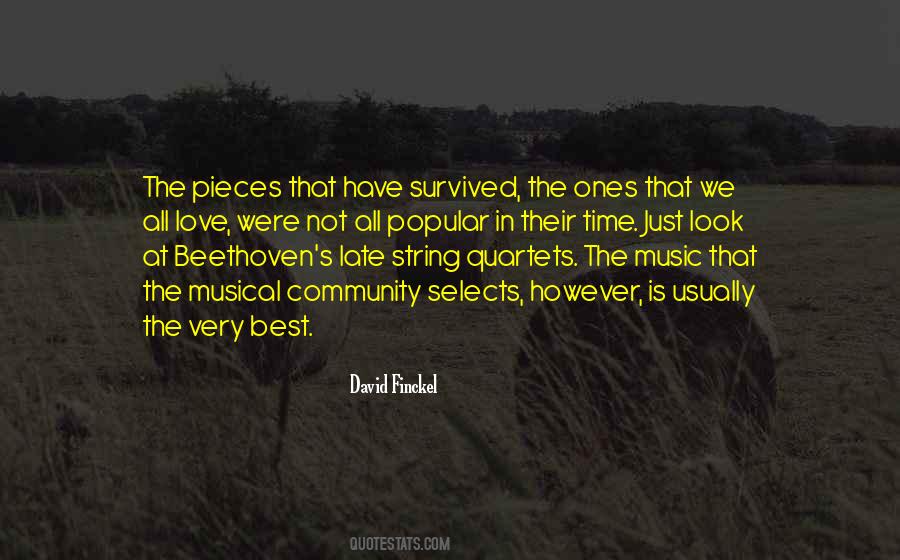 #19. I love the idea of sharing some of what we find in the research phase with a select community of people early on as a perk for their donating, and then gauging their feedback. - Author: Steve James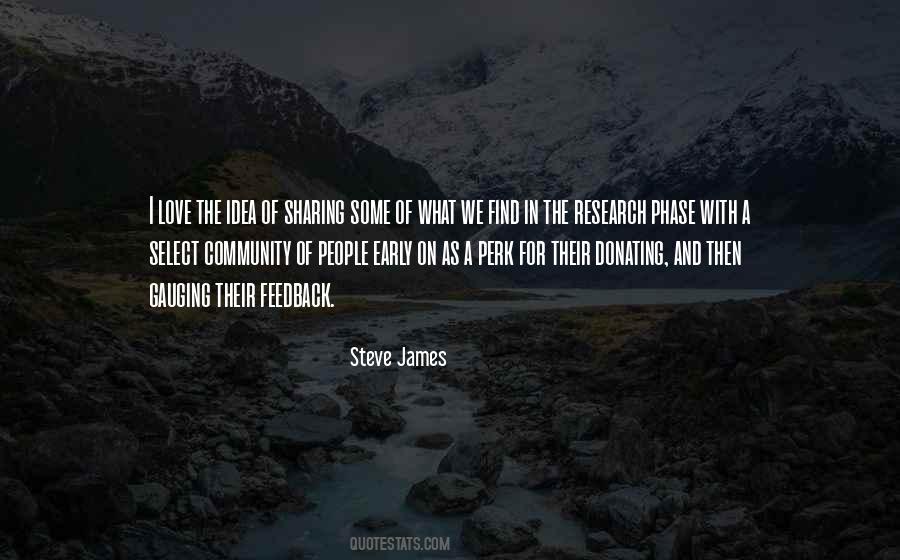 #20. If you love your community, then you need to be insisting on justice in all circumstances. - Author: Bryan Stevenson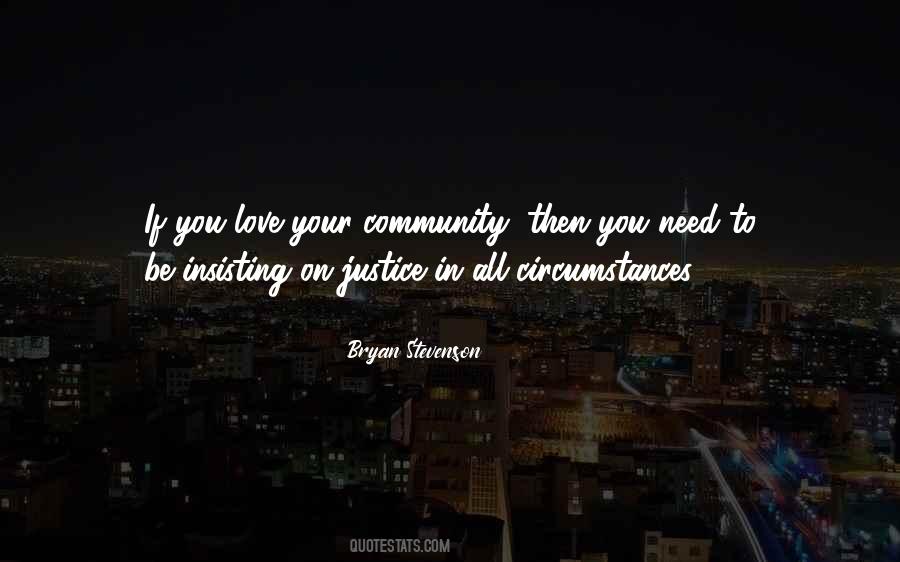 #21. The great problem a mother has is not a lack of creativity, accomplishment, or skill, but her inability to love God and others as Jesus loves her. - Author: Gloria Furman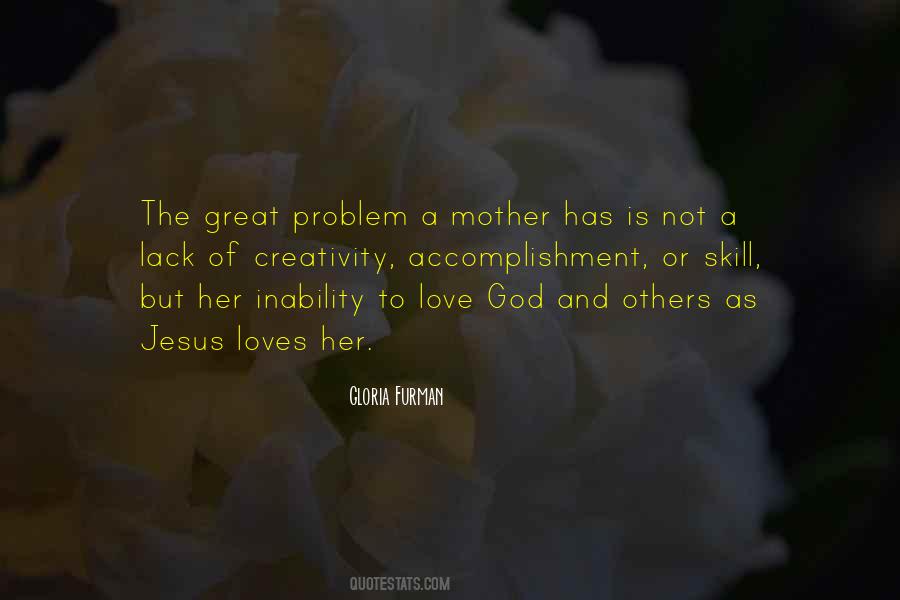 #22. Sometimes it's summer camp on location. So it's nice to have a little New York community of people you love. - Author: Paul Dano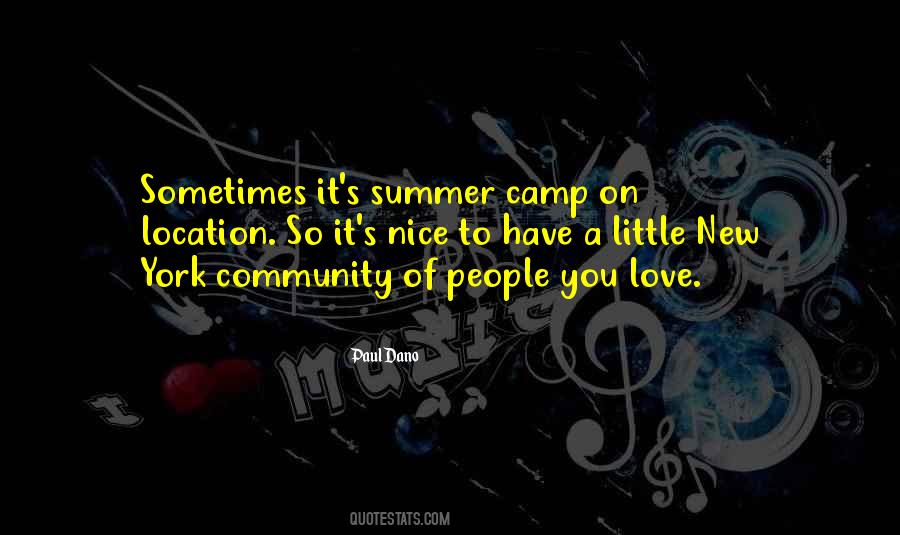 #23. Crime writers adore islands. We love the sense of being trapped within a community apart, where normal codes of behavior, if not ignored, can be allowed to slip. - Author: Sharon Bolton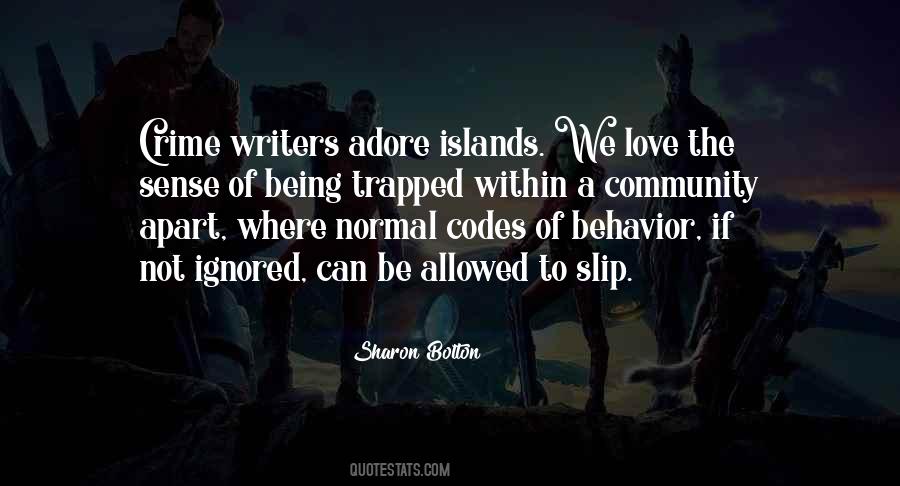 #24. ...the Christian life in its fullness is far more than being active in a Christian community, affirming a certain set of beliefs or adopting a particular behavior pattern. These are a secondary result of the primary reality of a life engaged in an ever deepening union with God in love. - Author: M. Robert Mulholland Jr.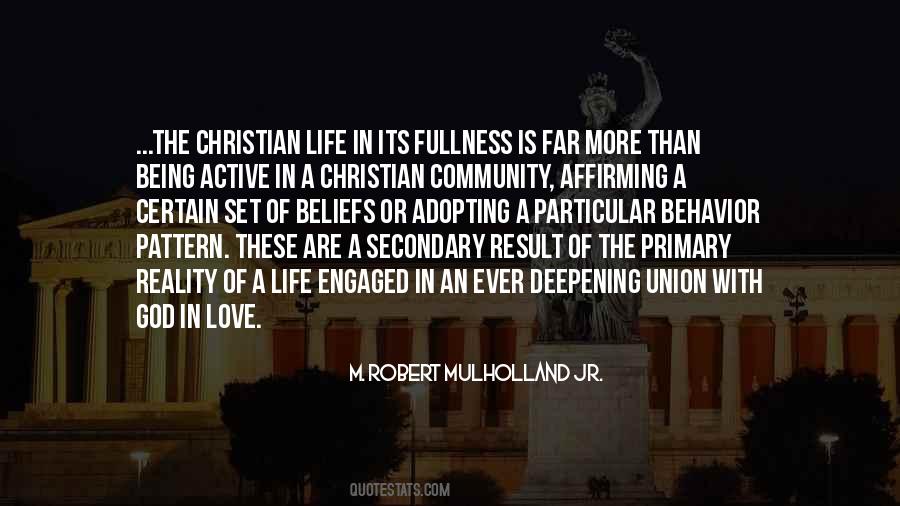 #25. Only if you are part of a community of believers seeking to resemble, serve, and love Jesus will you ever get to know him and grow into his likeness. - Author: Timothy Keller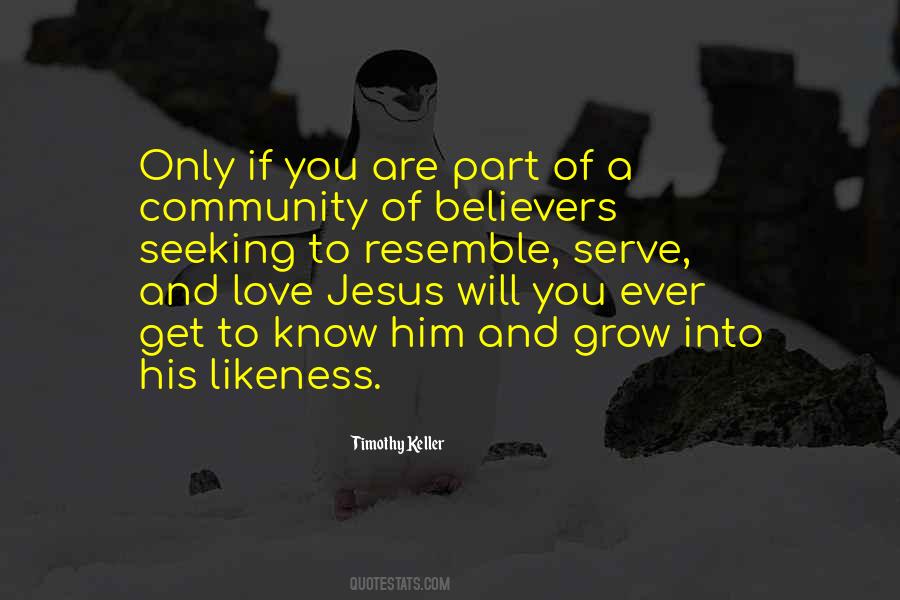 #26. The Marxians love of democratic institutions was a stratagem only, a pious fraud for the deception of the masses. Within a socialist community there is no room left for freedom. - Author: Ludwig Von Mises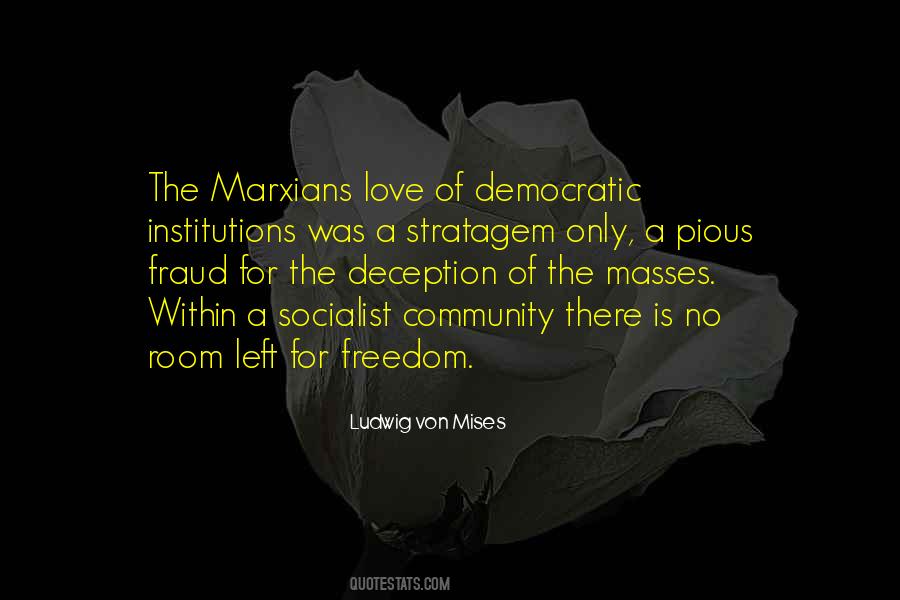 #27. Infusing the cultural war with love, respect and empathy is the responsibility of every one who cares about the health and wellbeing of women, our families and communities, and our democracy. - Author: Aspen Baker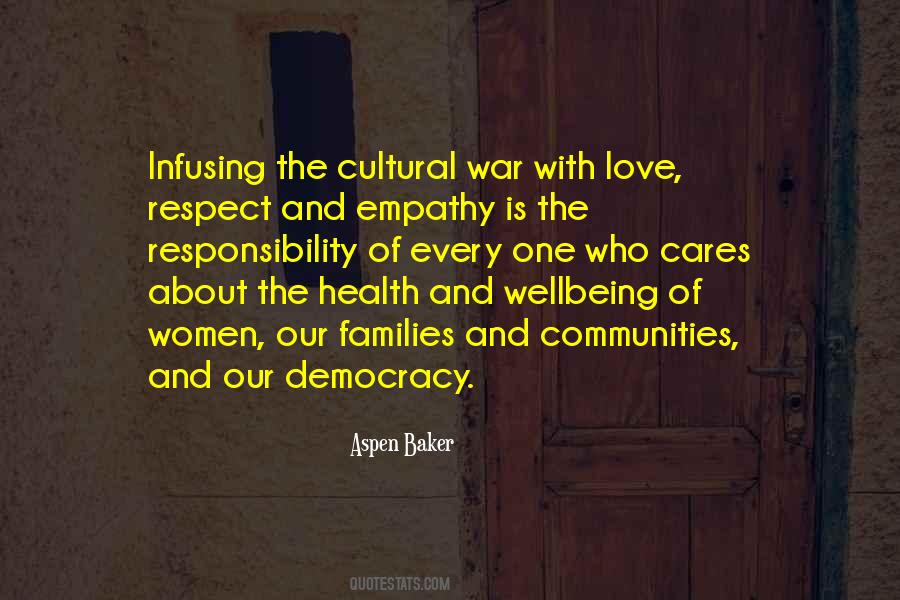 #28. God hates loneliness, and community is God's answer to loneliness. When we walk alongside other people, we find a community where we learn how to love. - Author: Rick Warren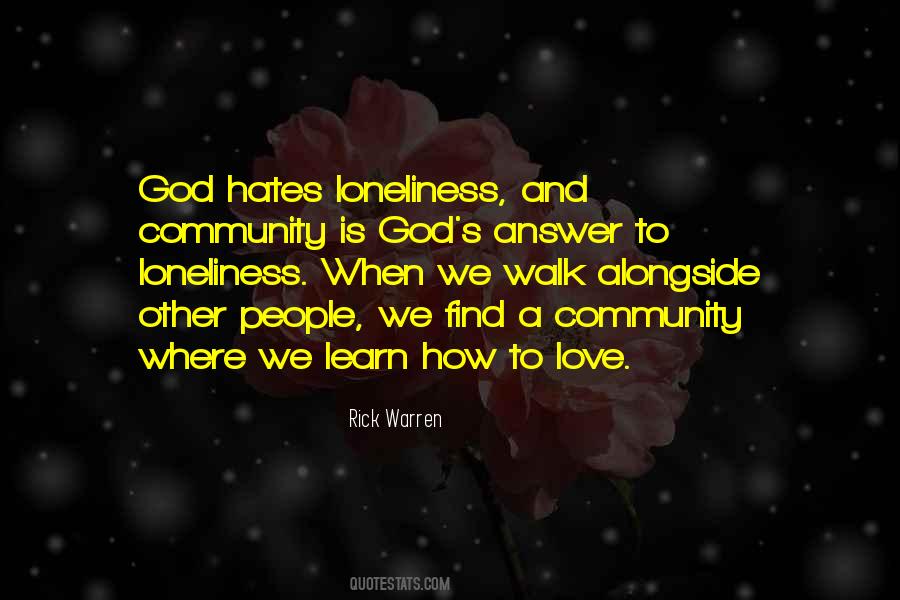 #29. In our community, we have a duty to strengthen the weakest among us to build a better society. - Author: Bill Courtney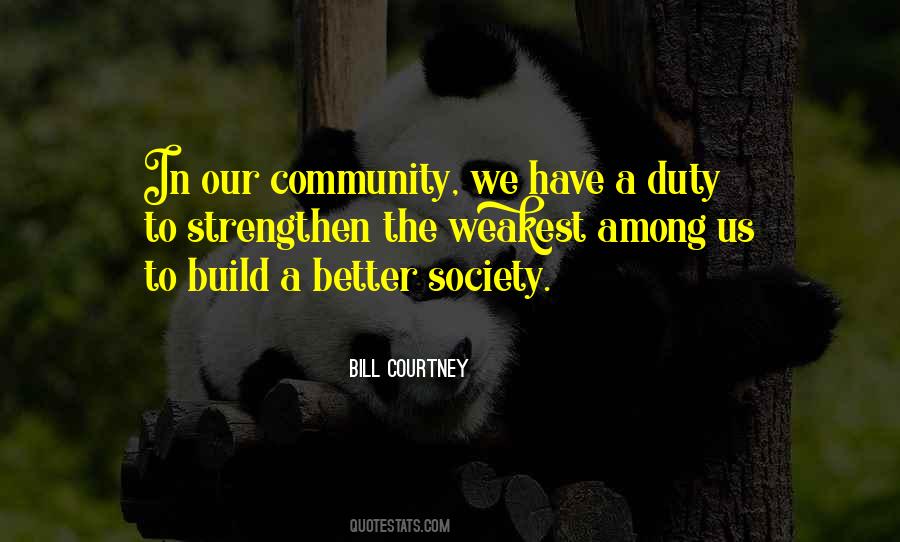 #30. A community is an alibi for the failure of individual love. - Author: Leonard Cohen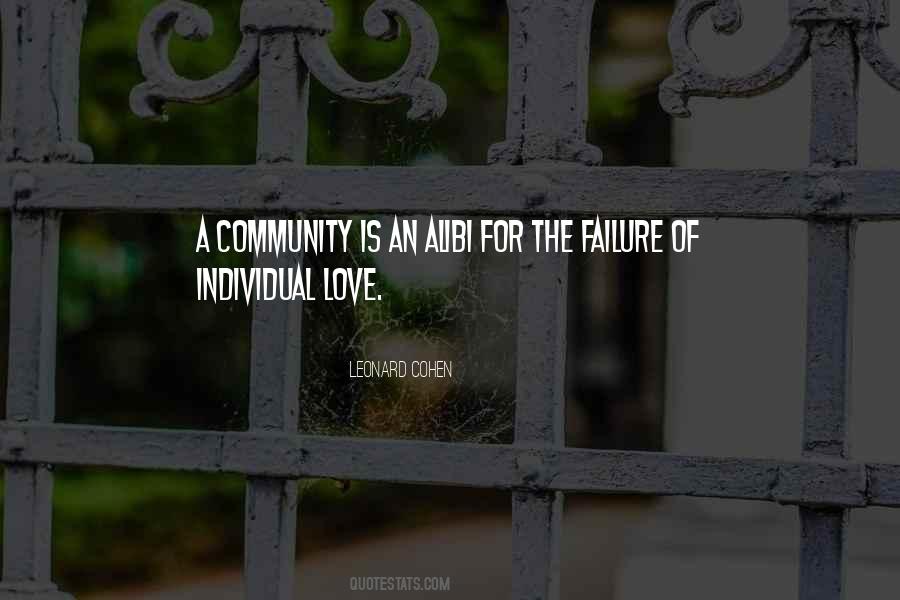 #31. I think the best article was the article about radical feminists being against transgender women. I found that the most fascinating article and I absolutely loved it. I love battles within the gay community or feminist community. I love radical theorists. - Author: John Waters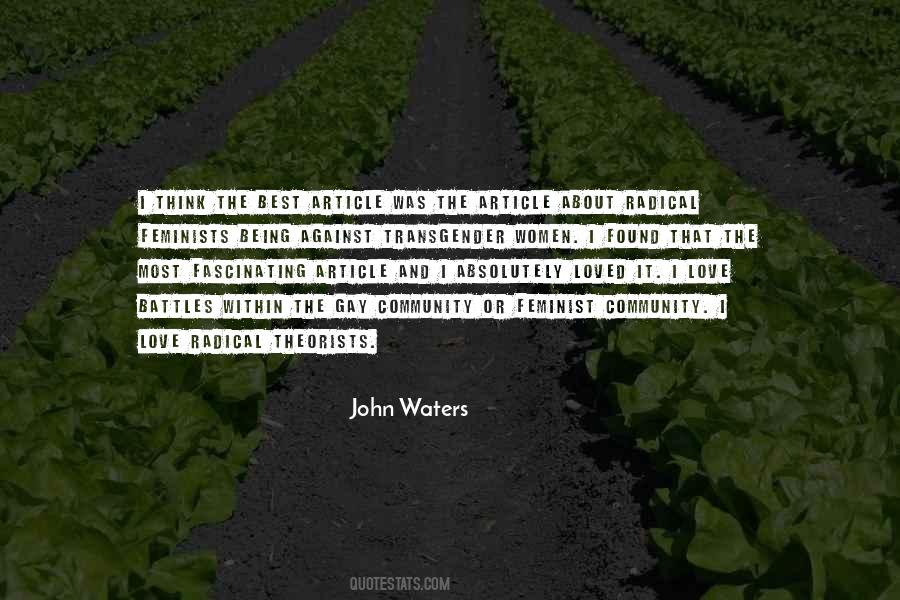 #32. The family is a community of love where each of us learns to relate to others and to the world around us. - Author: Pope Francis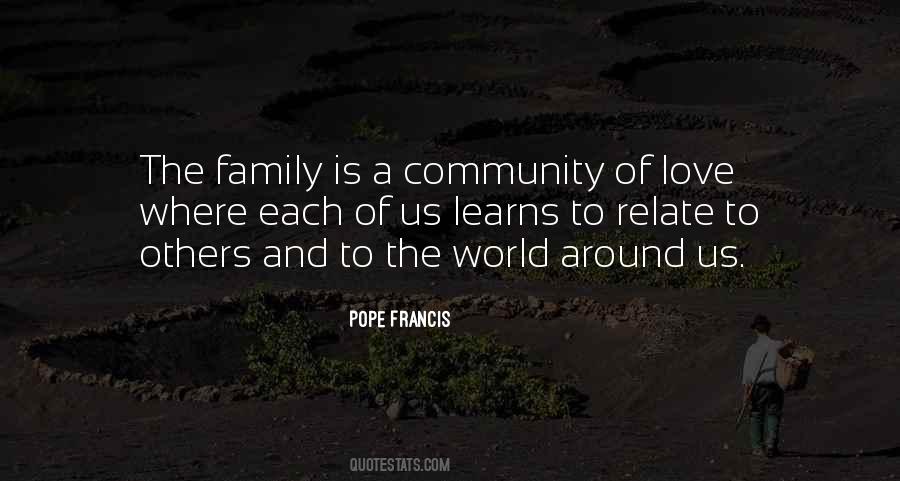 #33. Polyamorous people are wary of having others' values inflicted upon themselves, and so tend to stay very far away from making such pronouncements, to the point that they will actively ignore predatory behavior that is affecting their own community. - Author: Anthony D. Ravenscroft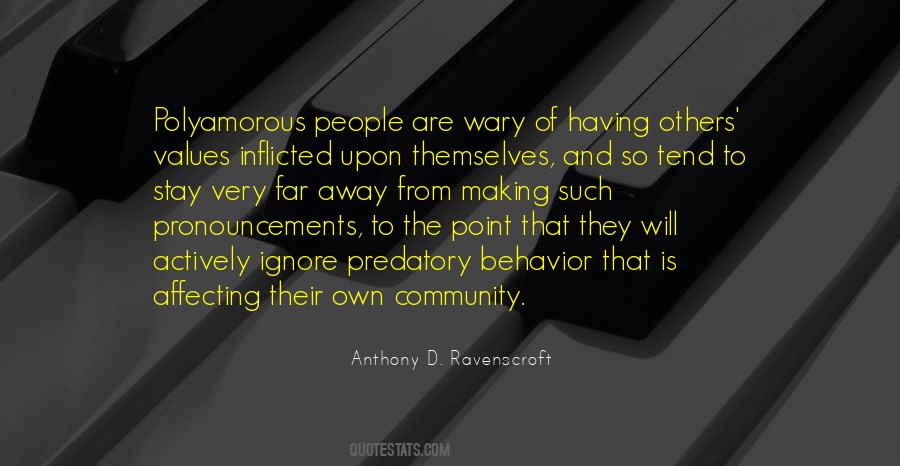 #34. I think tolerance and acceptance and love is something that feeds every community. - Author: Lady Gaga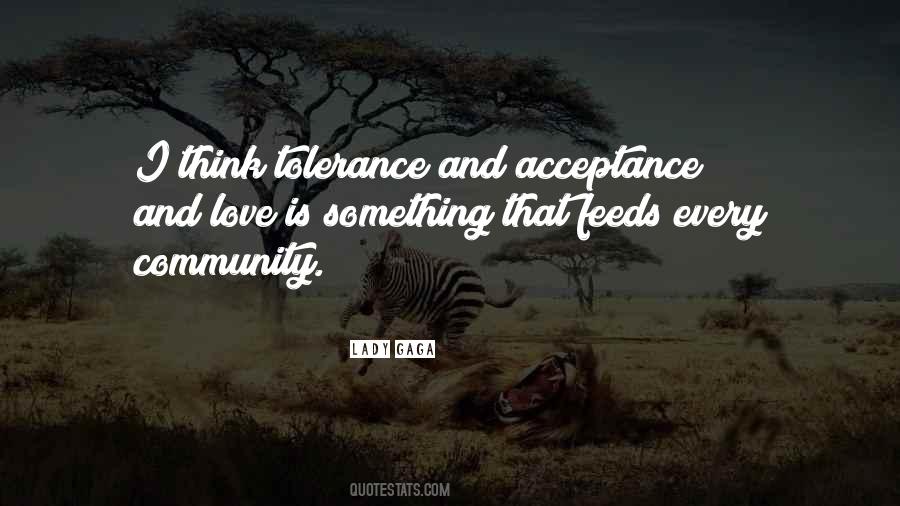 #35. We volunteer to work for the love and joy of service. - Author: Lailah Gifty Akita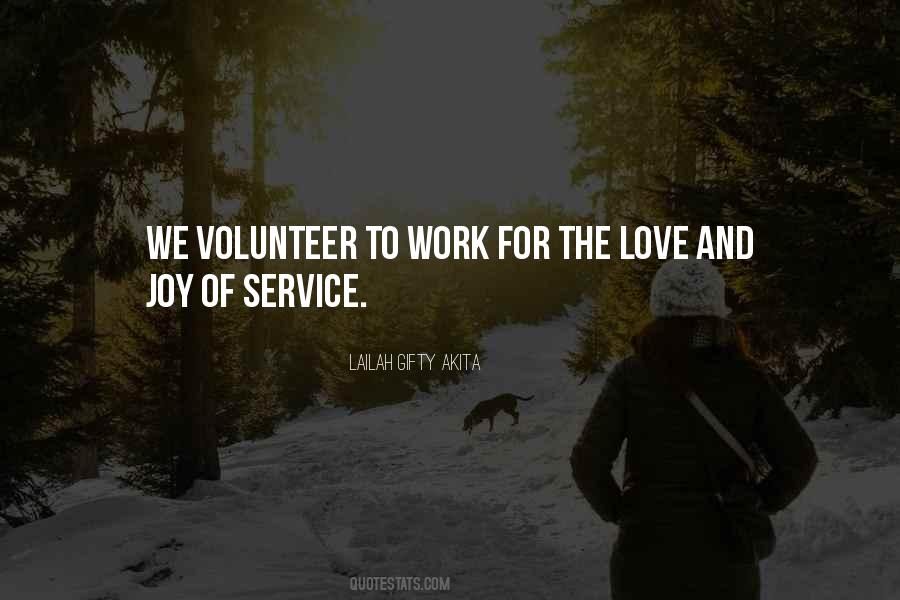 #36. I love to sit and eat quietly and enjoy each bite, aware of the presence of my community, aware of all the hard and loving work that has gone into my food. - Author: Nhat Hanh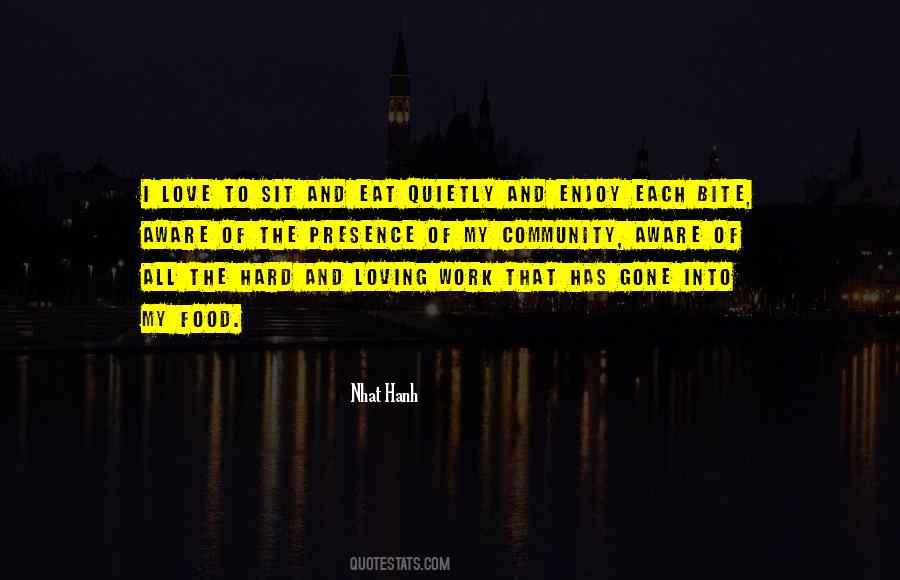 #37. The love, support, and respect the members of the theater community have for one another is unparalleled. Say what you want about us wacky drama-types, but one thing that makes our business special is our loyalty, our fierce commitment to one another, and our mutual respect. - Author: Monica Raymund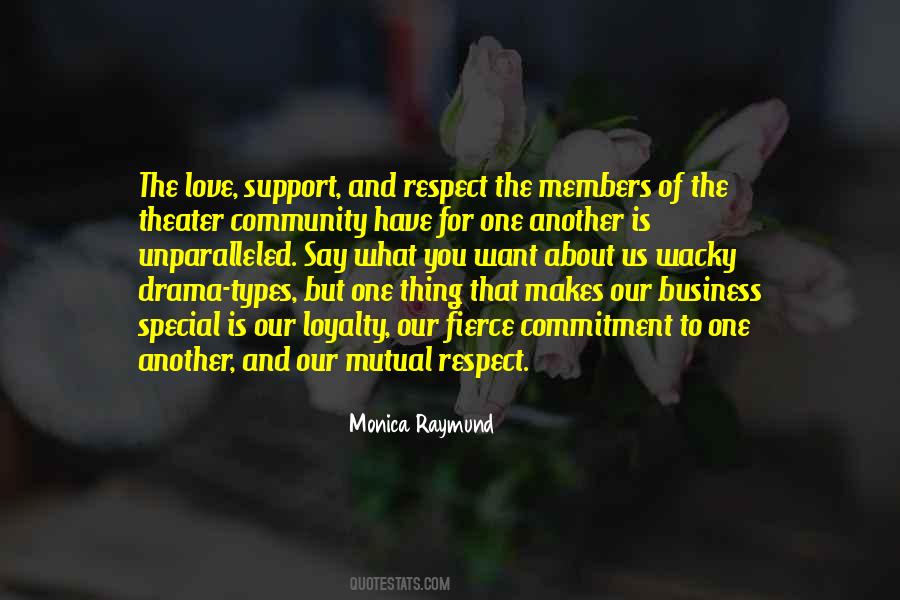 #38. Community is not an ideal; it is people. It is you and I. In community we are called to love people just as they are with their wounds and their gifts, not as we want them to be. - Author: Jean Vanier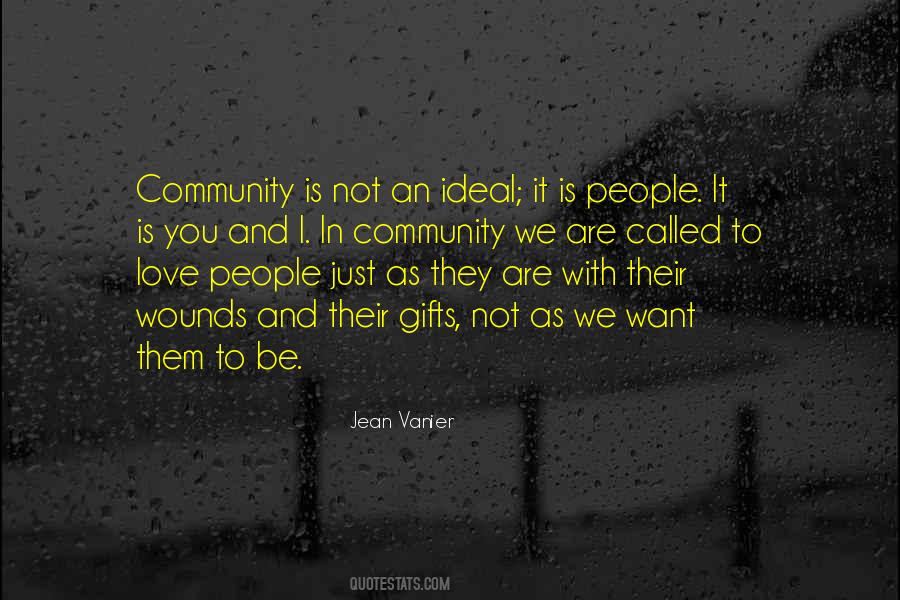 #39. Pride is the community coming together and showing that love is real. - Author: Taryn Manning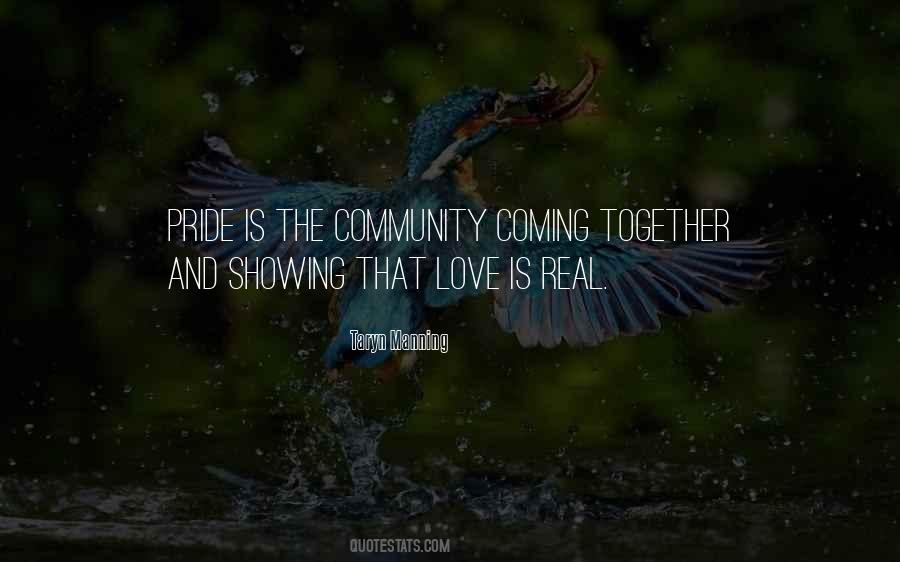 #40. His one essay in love had exhausted his powers in that direction. - Author: Barbara W. Tuchman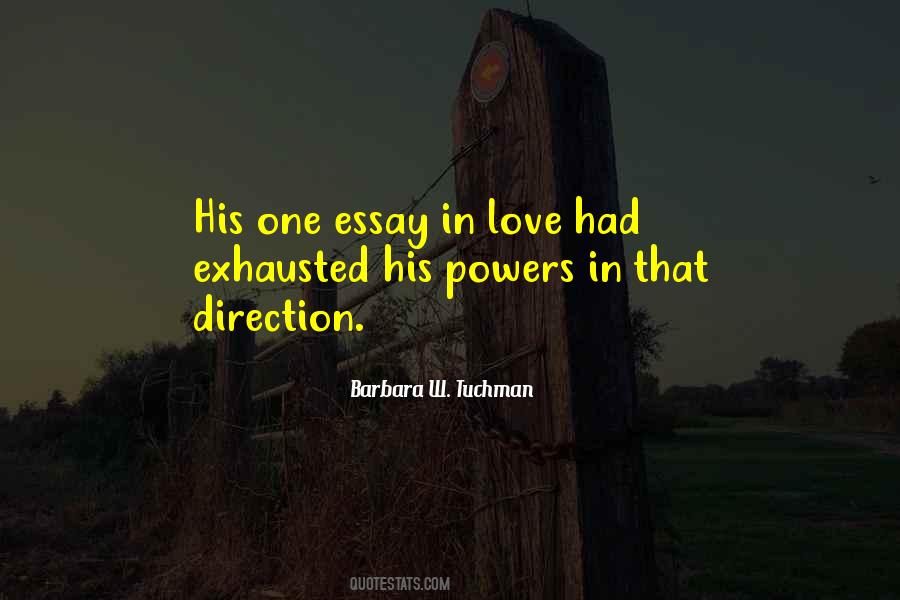 #41. God made you the way He wanted you to be and He does not make mistakes. He has a plan for your life that is much bigger than you can imagine. - Author: Michele Woolley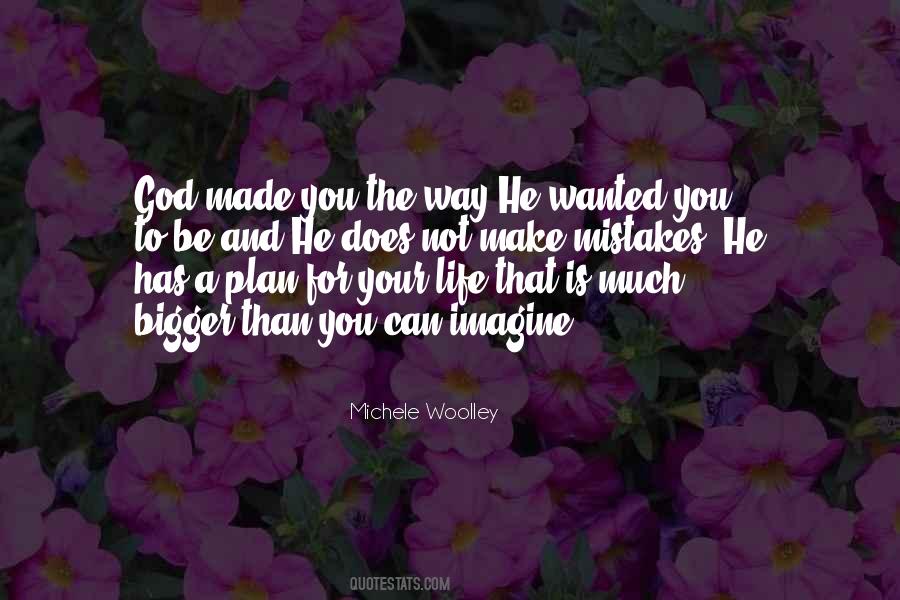 #42. Few things are more agreeable to self-love than revenge, and yet no cause so effectually restrains us from revenge as self-love. And this paradox naturally suggests another; that the strength of the community is not unfrequently built upon the weakness of those individuals that compose it. - Author: Charles Caleb Colton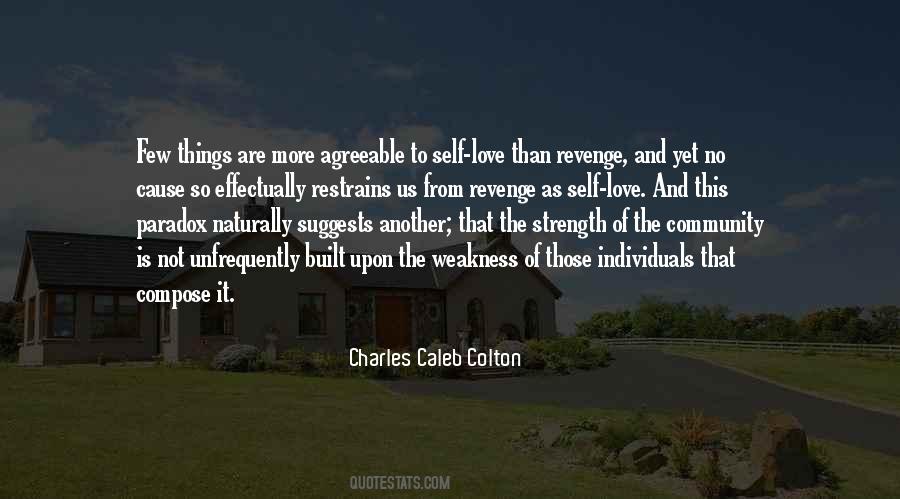 #43. Indie bookstores love writers as much as they love readers, and there is something about a community store, where you walk in, you feel known, and the delight in books is just infectious. - Author: Caroline Leavitt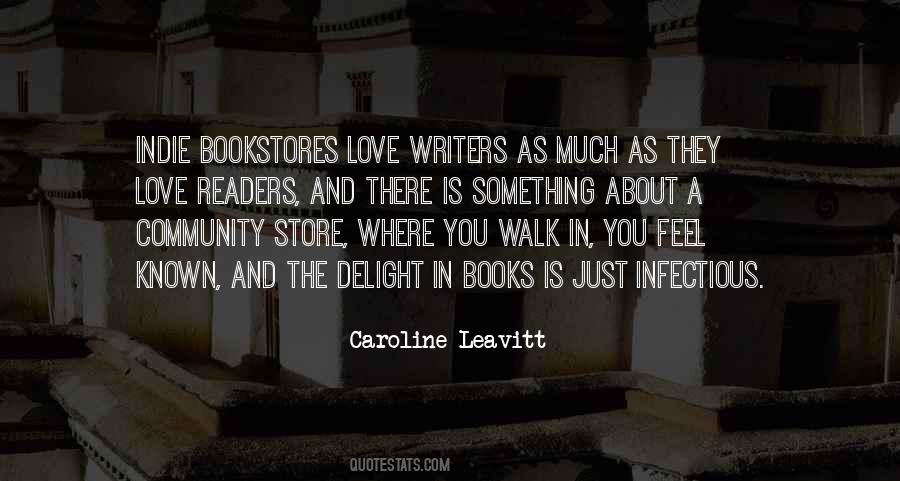 #44. A healthy community is one in which the elderly protect, care for, love and assist the younger ones to provide continuity and hope. - Author: Maggie Kuhn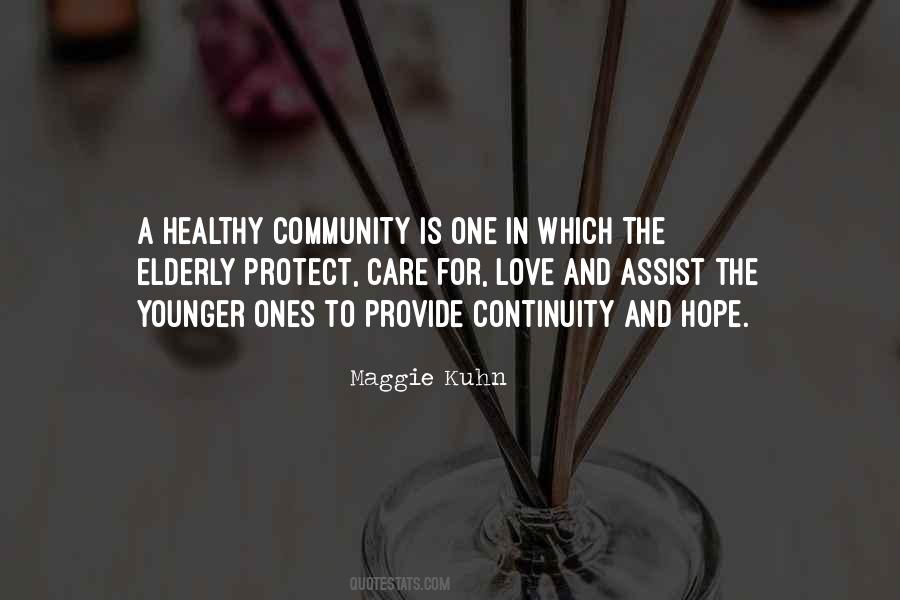 #45. I think true success is intrinsic ... It's love. It's kindness. It's community. - Author: Tom Shadyac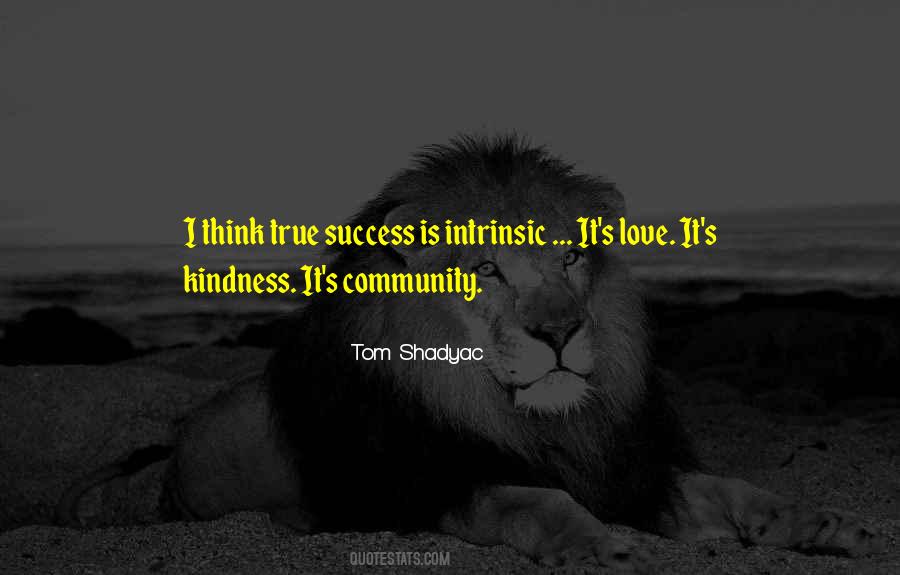 #46. I truly believe that if we are to have any voice in the community we need to first love the community. We need to show them that we care. - Author: John Fuder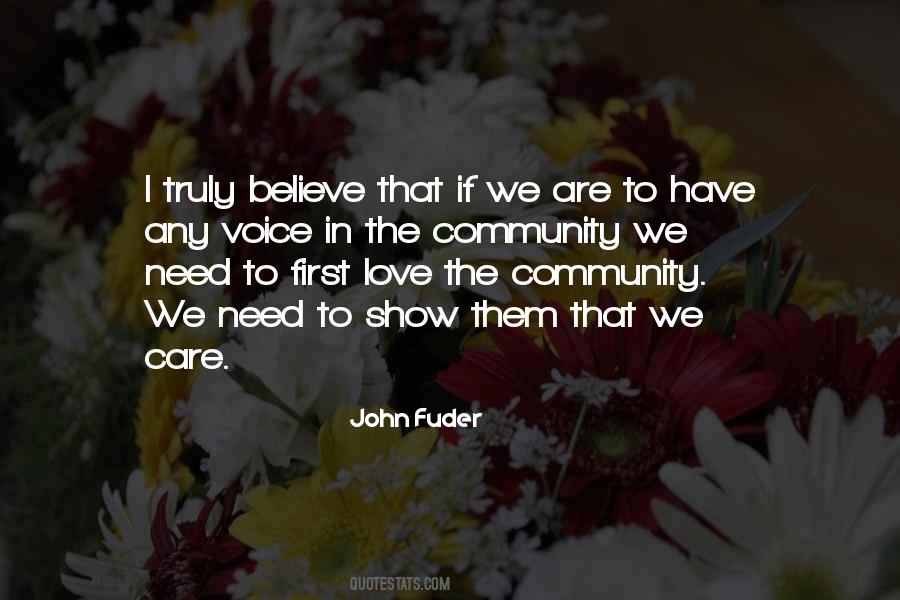 #47. Home is ultimately not about a place to live but about the people with whom you are most fully alive. Home is about love, relationship, community, and belonging, and we are all searching for home. - Author: Erwin Raphael McManus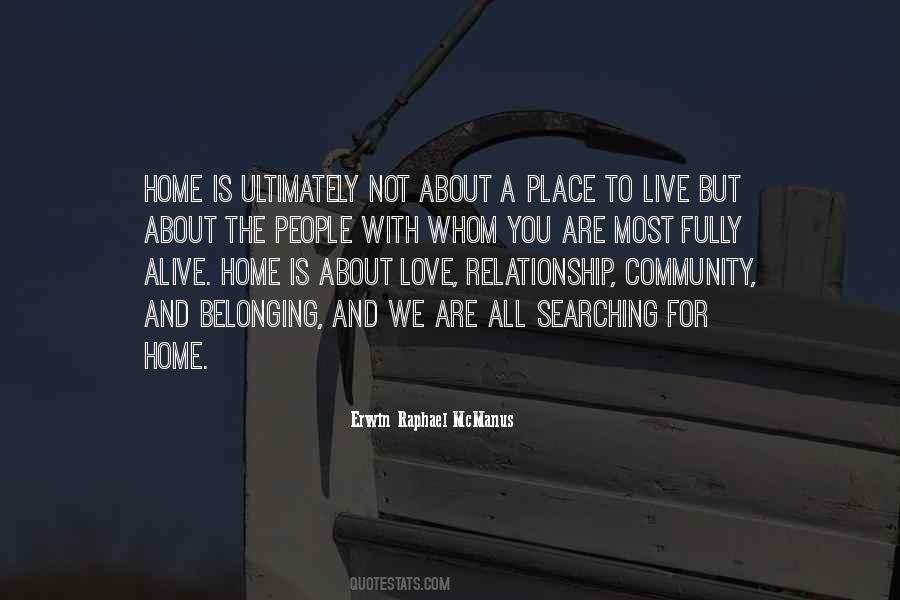 #48. I have said all along that I would know when it would be time to step down and now is that time. I want to thank Temple University, its fans and community for allowing me to do what I love for so long. It has never been a job for me, but a passion. - Author: John Chaney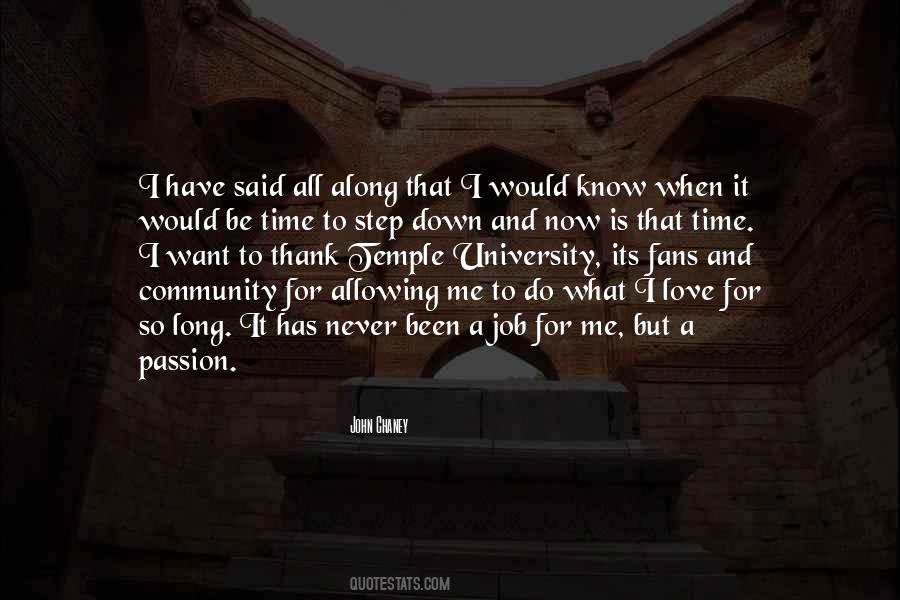 #49. I love to work on a set whether it's mostly men or mostly women, but there's something about being in a community of women that changes the energy. - Author: Linda Cardellini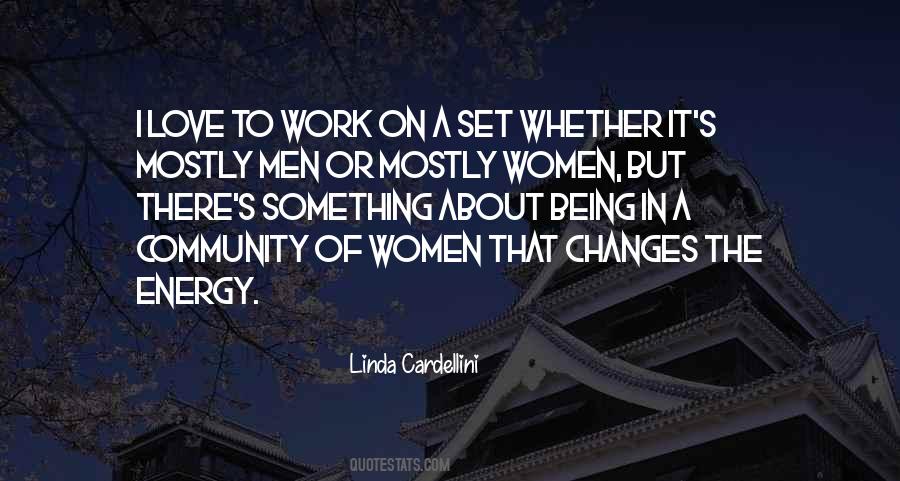 #50. I love comedians. They're my community. - Author: Louis C.K.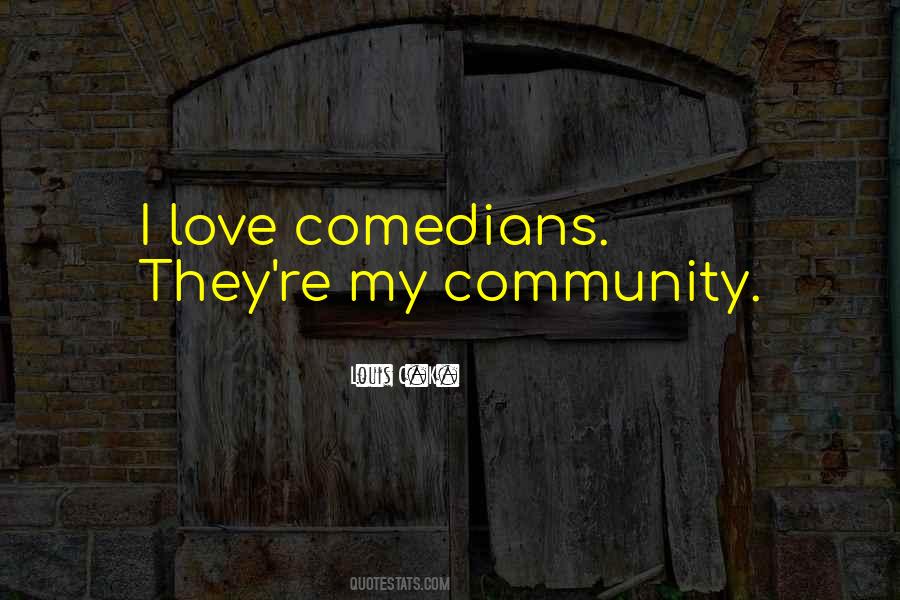 #51. Because religious institutions are not afraid to talk about love as a goal, they are likely to be more effective at providing community services. - Author: Michael Lerner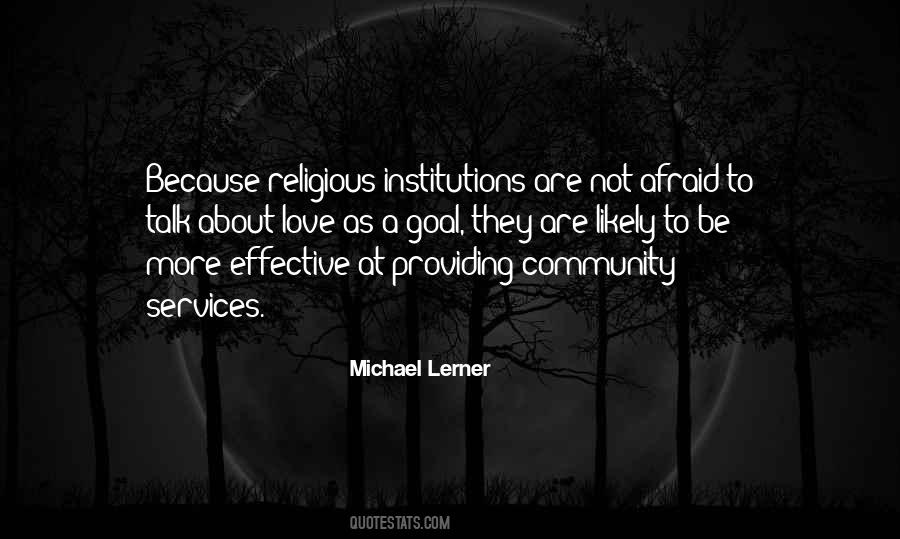 #52. Every human activity can be put at the service of the divine and of love. We should all exercise our gift to build community. - Author: Jean Vanier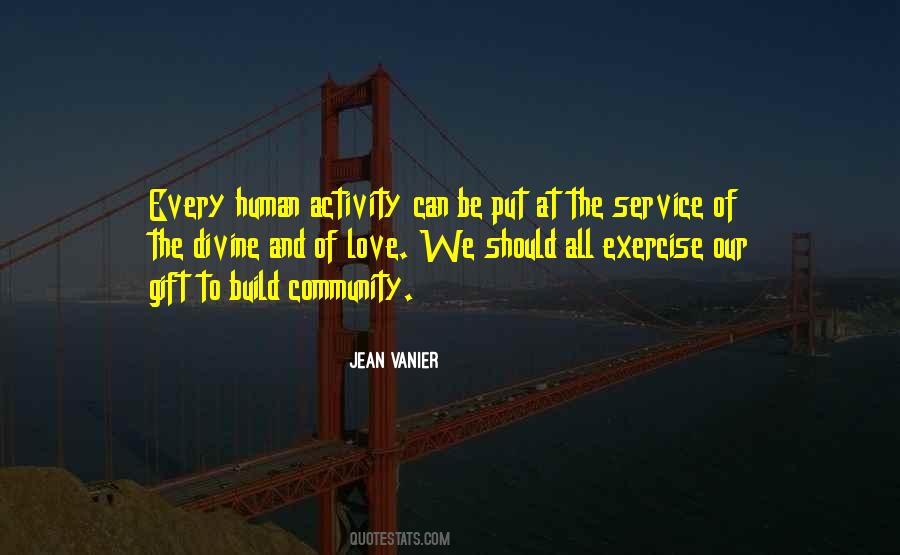 #53. It is not the number of prayers that will give you happiness, but the number you answer for another person. - Author: Shannon L. Alder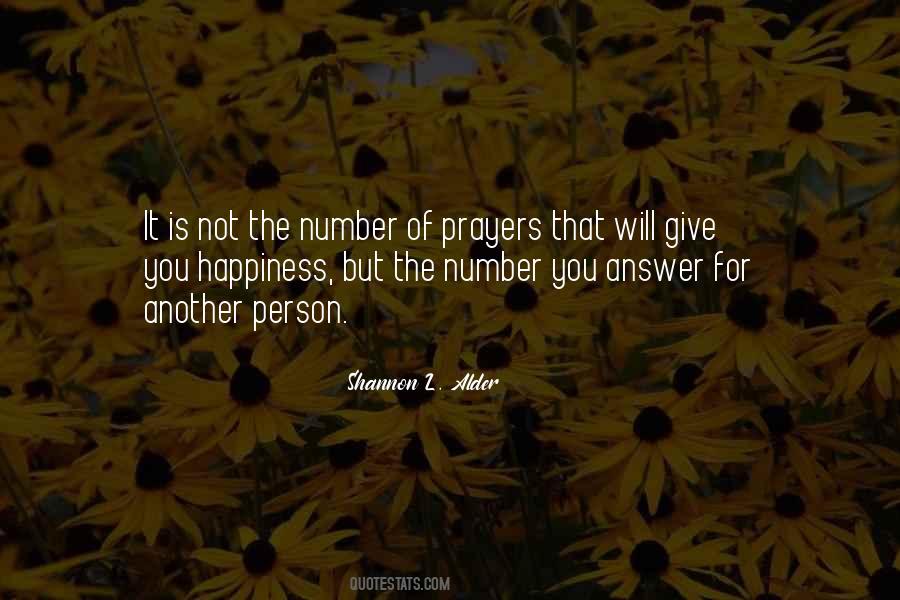 #54. For a community to be whole and healthy, it must be based on people's love and concern for each other. - Author: Millard Fuller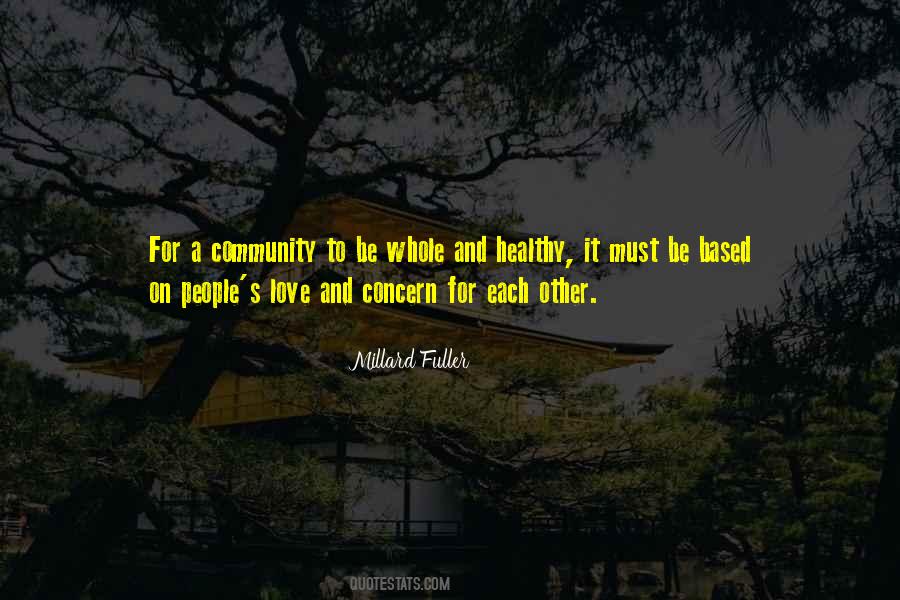 #55. When you open the door which you shut in order to pray to God, the first person you meet as you go out is your neighbour whom you shall love. Wonderful! - Author: Soren Kierkegaard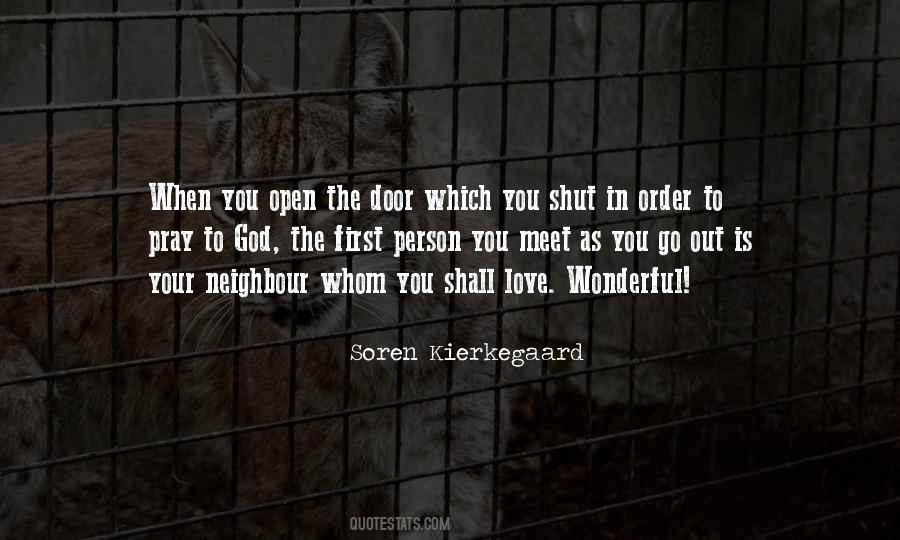 #56. Films really can change a conversation and change someone's thinking and perception, especially with people of color at the center. It rarely happens. I think it's important for both the community but also the world to see people of color in all genres, especially love stories. - Author: Gina Prince-Bythewood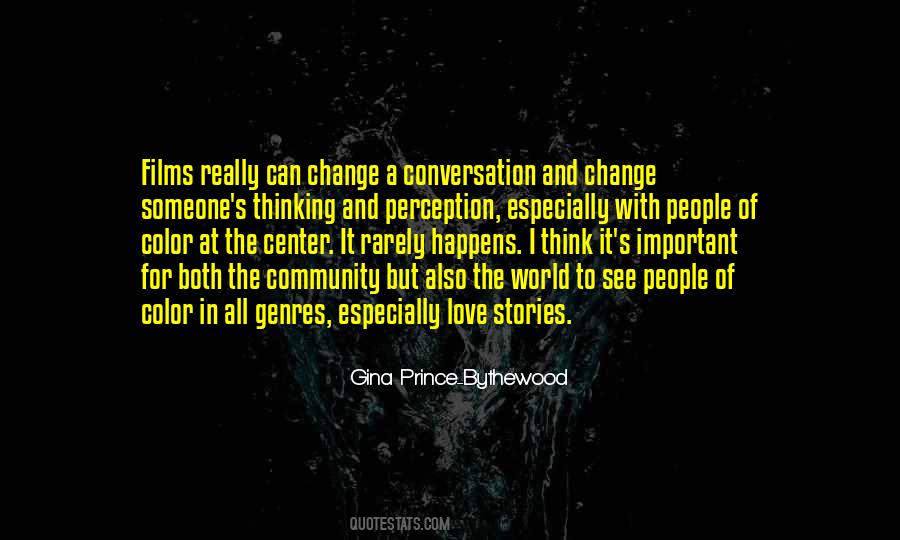 #57. Above all we need, particularly as children, the reassuring presence of a visible community, an intimate group that enfolds us with understanding and love, and that becomes an object of our spontaneous loyalty, as a criterion and point of reference for the rest of the human race. - Author: Lewis Mumford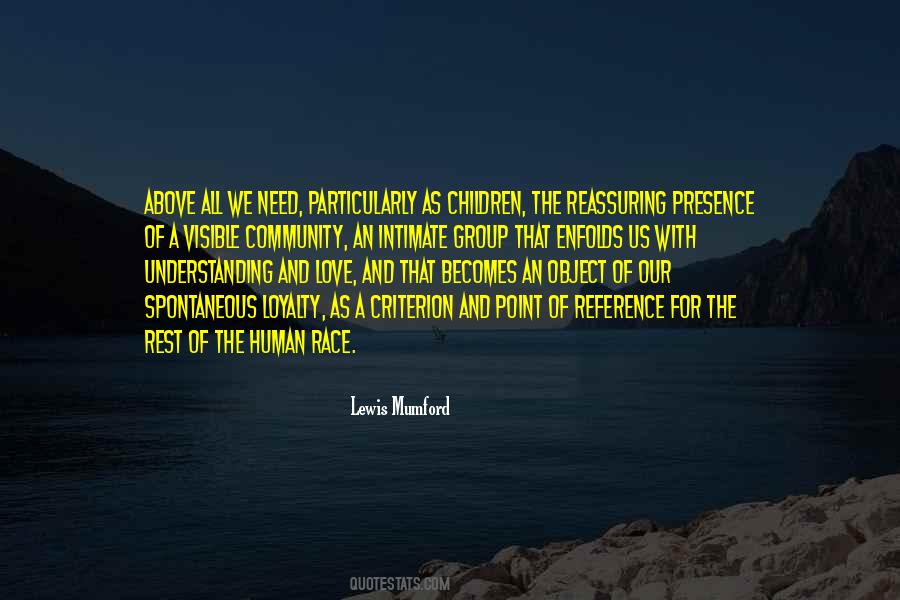 #58. I do not see the E.E.C. [European Economic Community] as a great love affair. It's more like nine middle aged couples with failing marriages meeting at a Brussels hotel for a group grope. - Author: Kenneth Tynan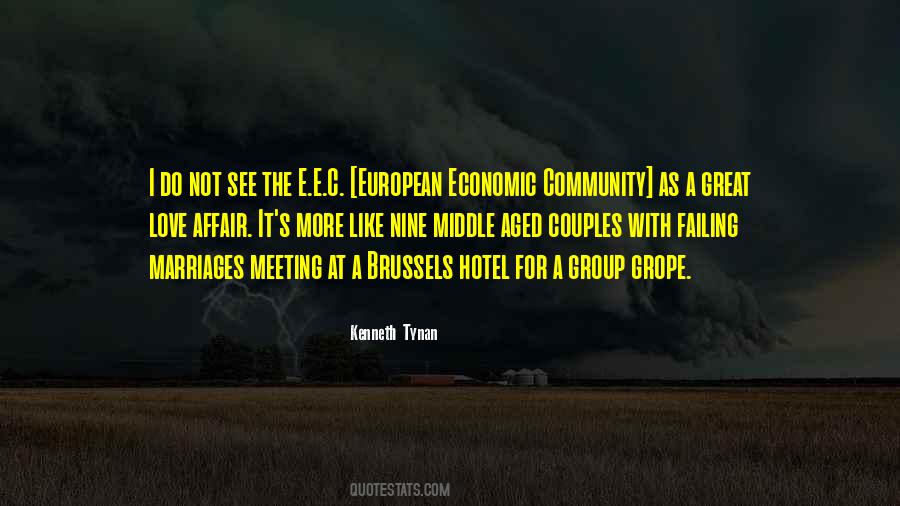 #59. I love getting into a studio with a bunch of friends. When the day's done, we've made something. We recognize that we're from different walks of the music industry, and there's no reason we shouldn't be collaborating. That's what I'm trying to create with thenewno2 - a sense of community. - Author: Dhani Harrison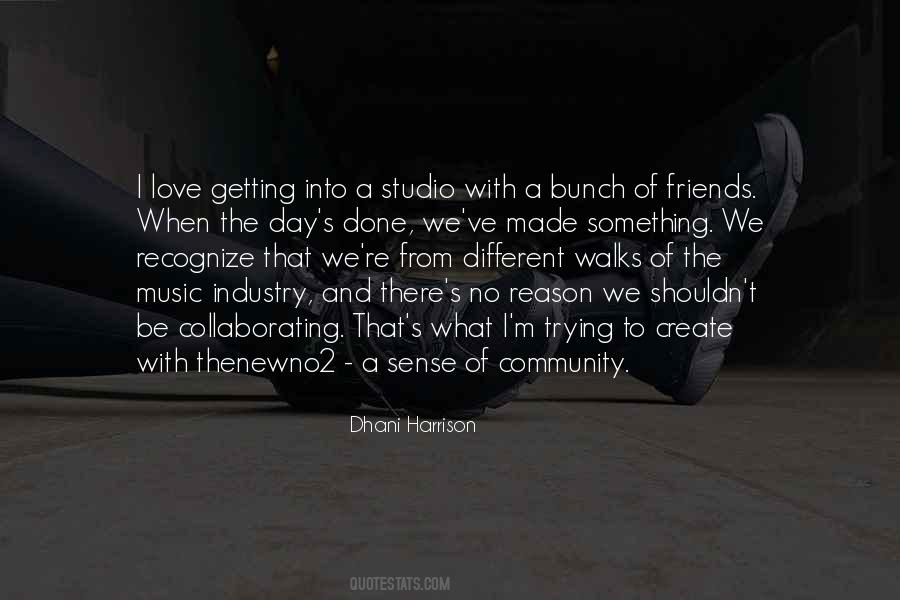 #60. I'm a black man that is proud to be black, and I want to help the black community, but I love all mankind. - Author: Common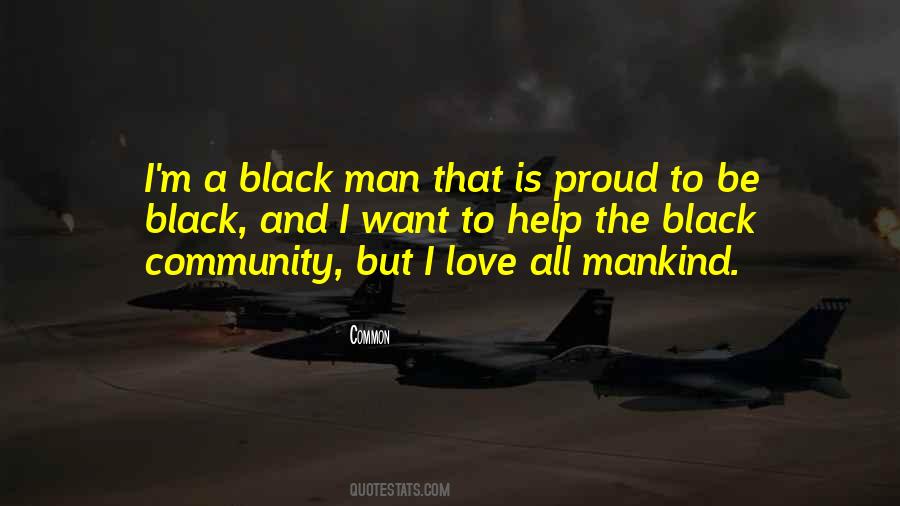 #61. I'm very gay, but I love women. I'm not attracted to men in any way ... But yes I am gay, I'm so happy. I'm a gay, heterosexual male ... I got major love for the gay and lesbian community, and I just want to push less separation. - Author: Lil B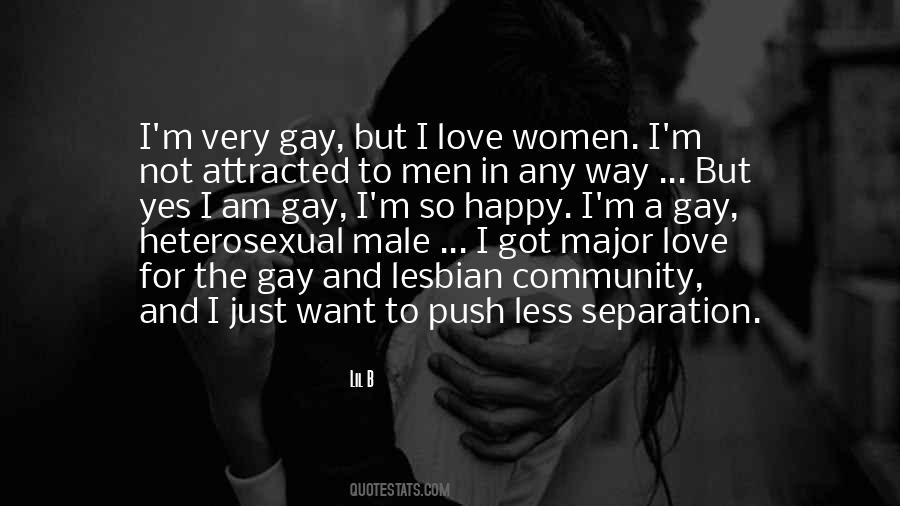 #62. Energy always flows either toward hope, community, love, generosity, mutual recognition, and spiritual aliveness or it flows toward despair, cynicism, fear that there is not enough, paranoia about the intentions of others, and a desire to control. - Author: Michael Lerner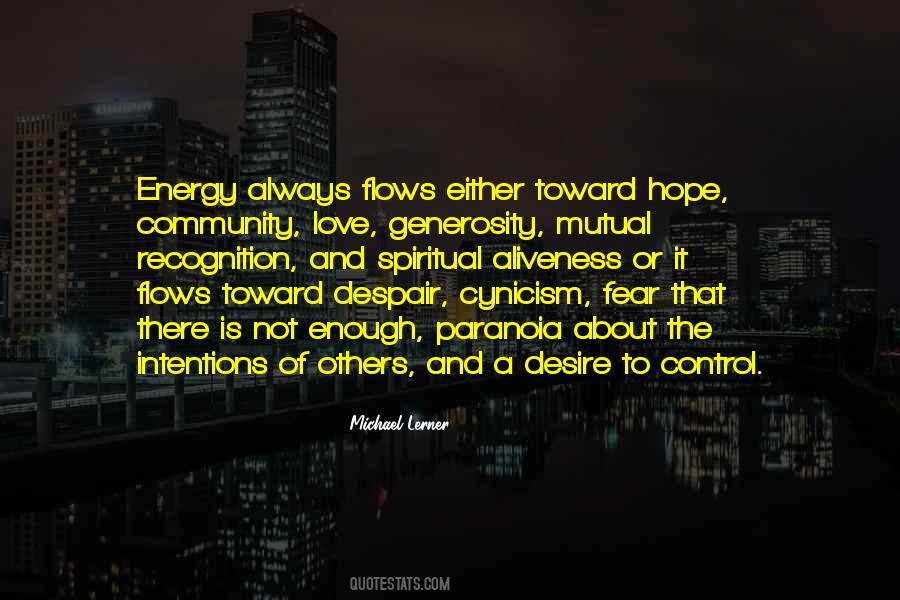 #63. However, he couldn't stand the fortune cookies. His always read, "The fortune you seek is no fortune." Or "Love your neighbor, it keeps the community together." Or "Keep the dreams alive. Don't wake up - Author: Carol Vorvain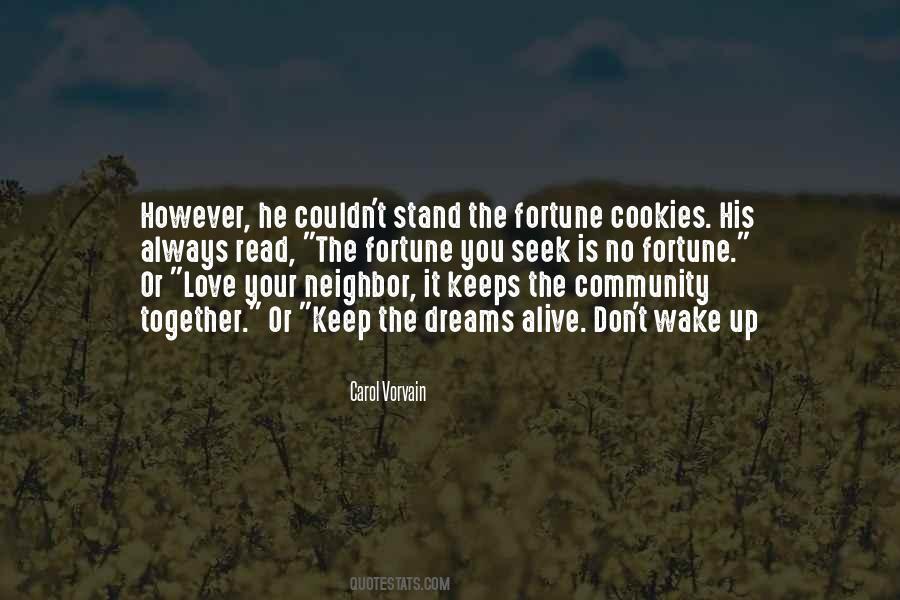 #64. We have all known the long loneliness and we have learned that the only solution is love and that love comes with community. - Author: Dorothy Day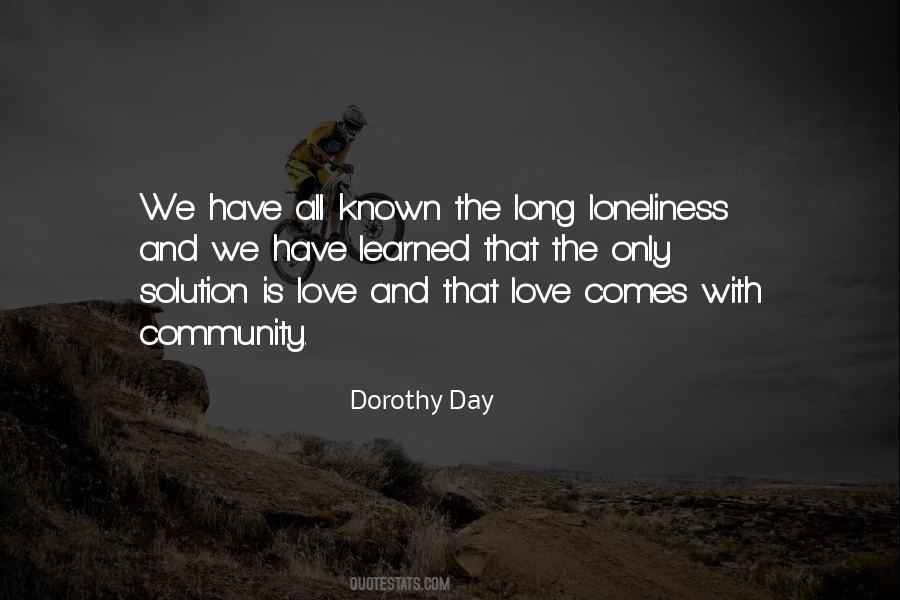 #65. Canberra was my home for many years, and there's a lot to love about it. It has a small population with a strong sense of community and is top-heavy with interesting, highly educated, socially progressive people - the opposite of the stereotypical image of dull public servants. - Author: Judy Horacek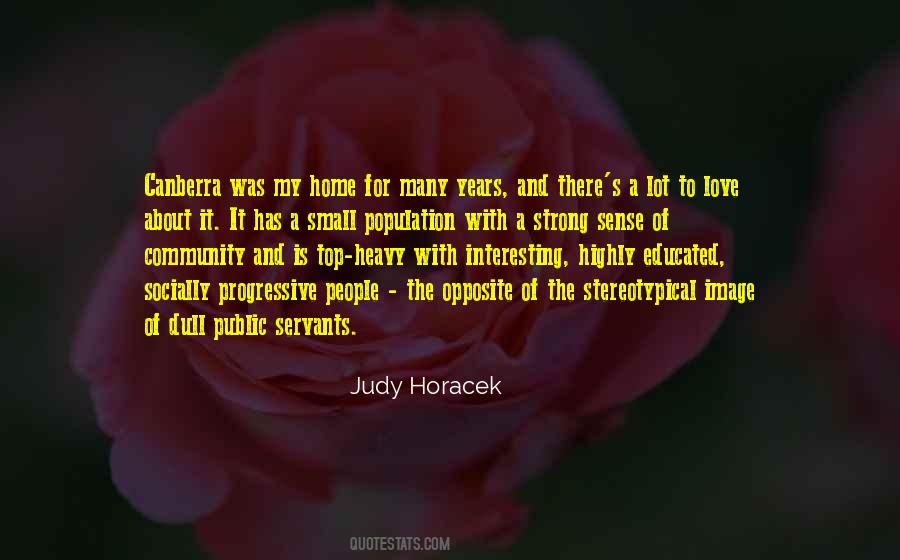 #66. What I love about the sci-fi community is that it's the most nonjudgmental, inclusive, diverse environment in the country. There's no group of people that is more diverse and inclusive. - Author: J. August Richards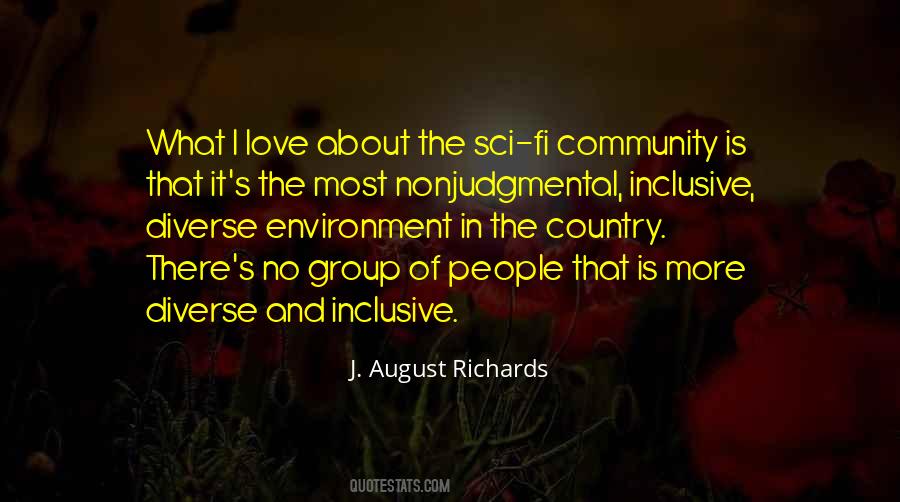 #67. Traveling further ingrained my desire to connect to a place other than an island that is slightly older, in a New World way, than the United States, especially after I found characteristics of my face in the faces of the people in my global community. - Author: Raquel Cepeda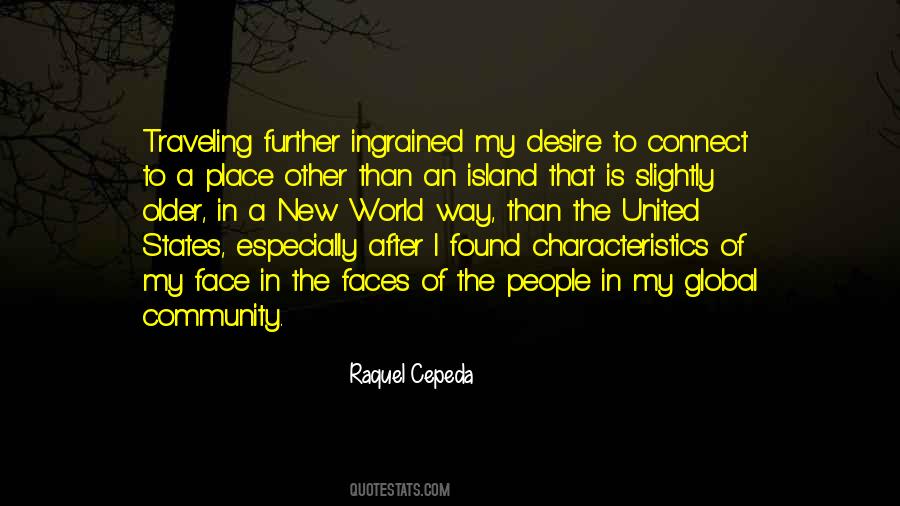 #68. I love being honest and intimate with people. I love building community. I love emailing with readers. - Author: James Altucher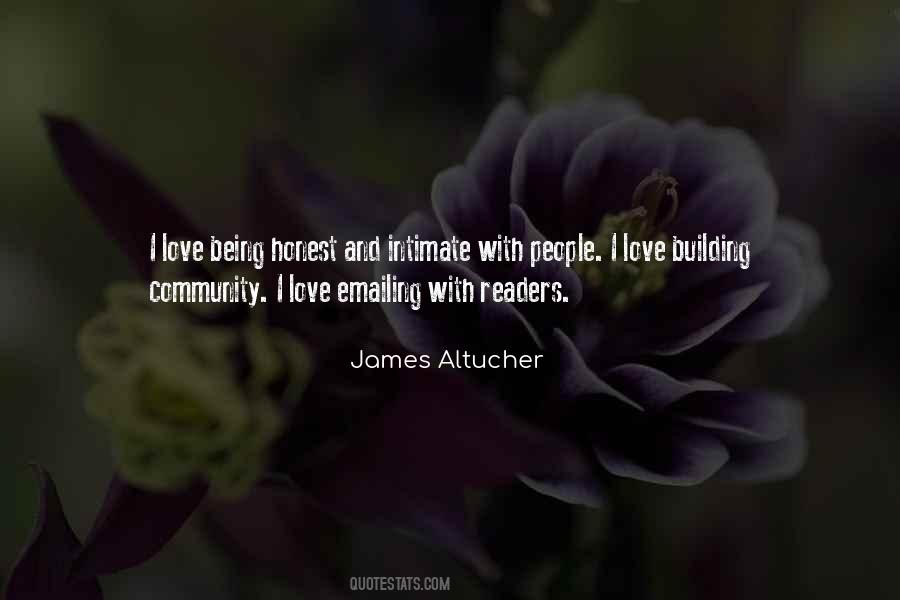 #69. We don't need bigger cars or fancier clothes. We need self-respect, identity, community, love, variety, beauty, challenge and a purpose in living that is greater than material accumulation. - Author: Donella Meadows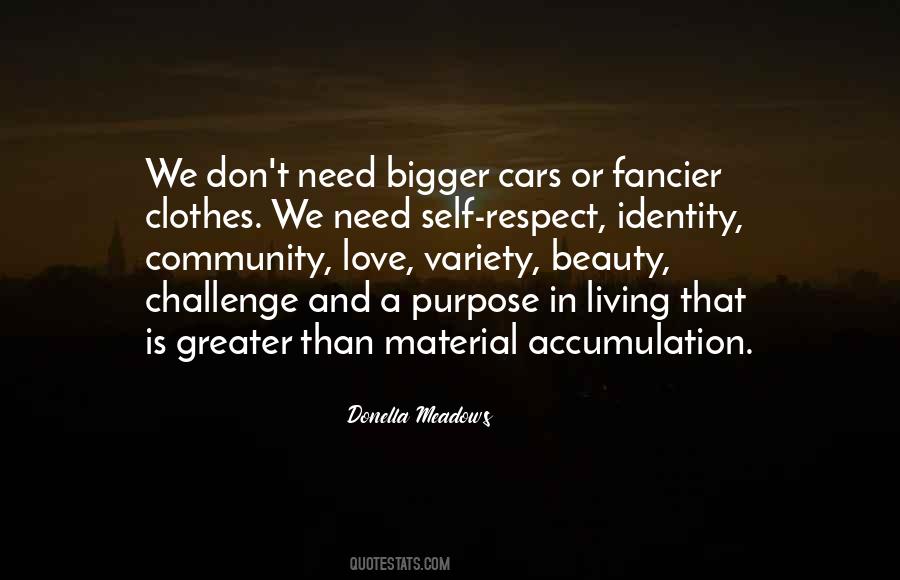 #70. You can stand back and look at this planet and see that we have the money, the power, the medical understanding, the scientific know-how, the love, and the community to produce a kind of human paradise. - Author: Terence McKenna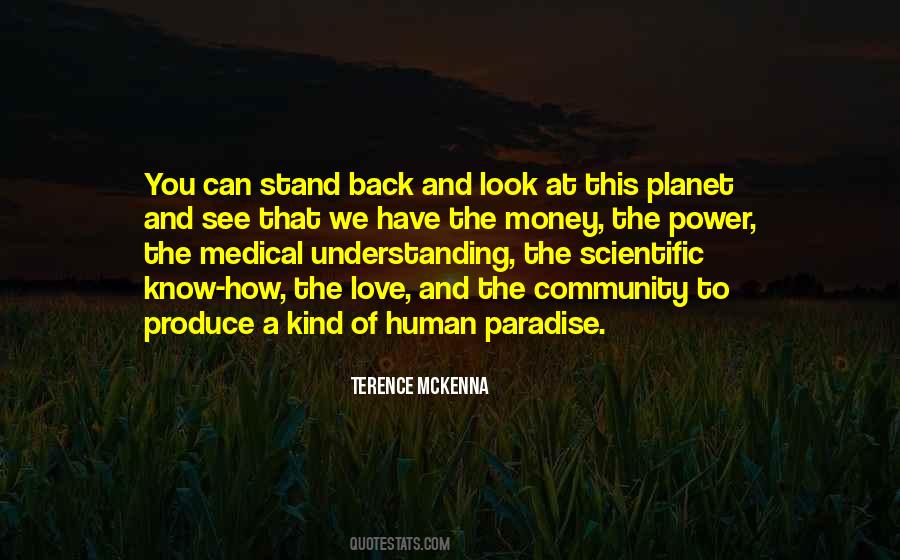 #71. As far as the quote-unquote shipping community goes, I love the passion behind anyone who ships Caroline and Klaus. They are very hardcore shippers ... - Author: Candice Accola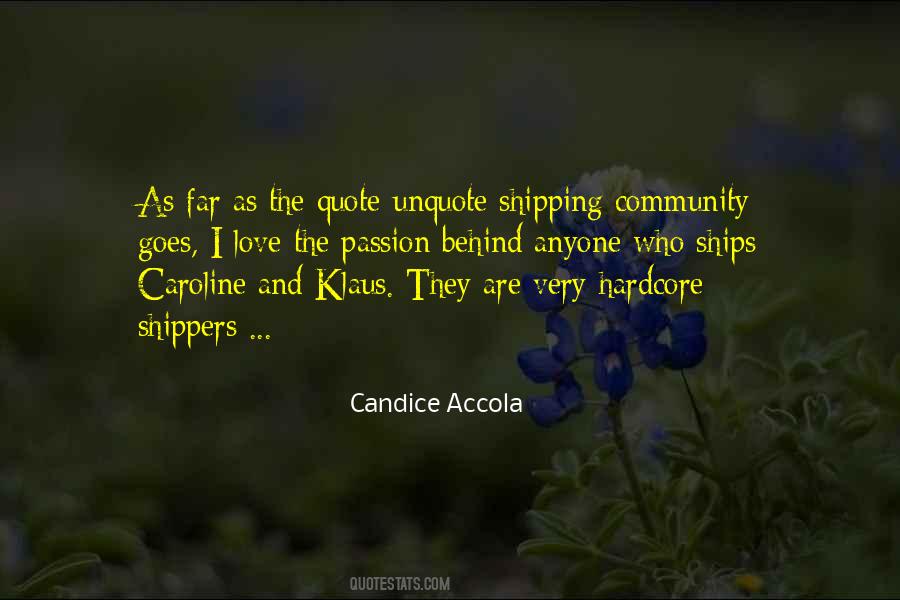 #72. We abuse land because we regard it as a commodity belonging to us. When we see land as a community to which we belong, we may begin to use it with love and respect. ~Aldo Leopold, A Sand County Almanac - Author: Aldo Leopold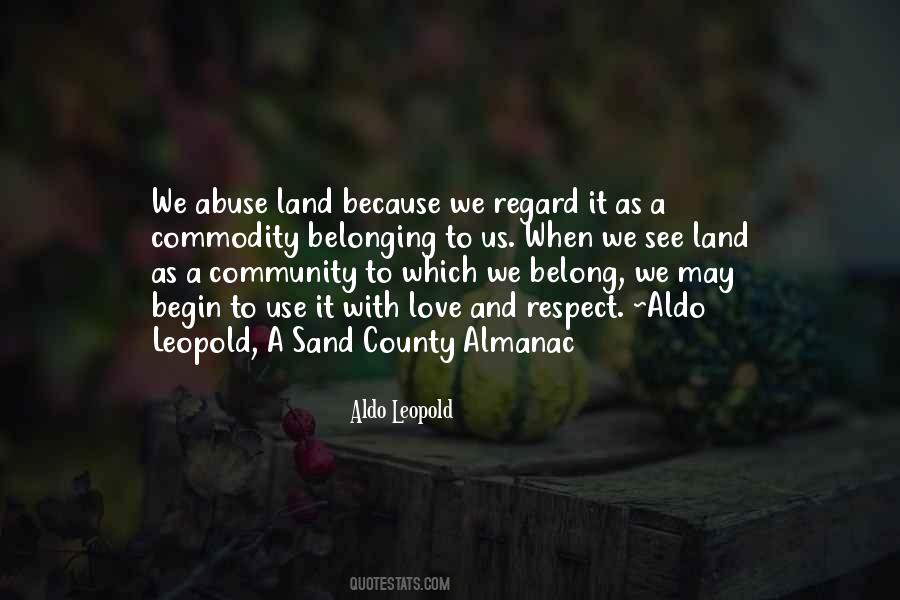 #73. Love is a simple practice yet it is very beneficial for the individual who practices it as well as for the community in which he lives, for the nation, and for the whole world - Author: Dalai Lama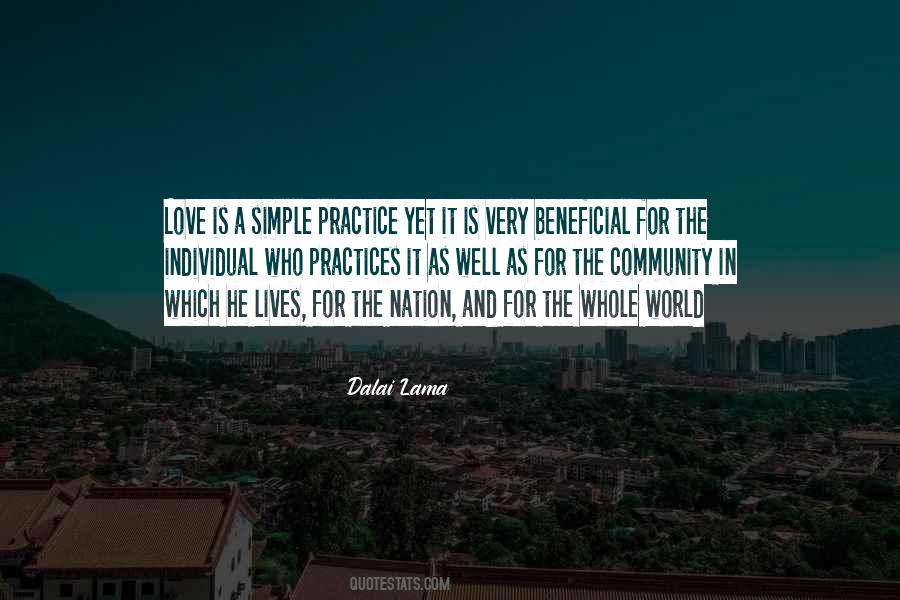 #74. Love is an exchange of gifts,' Saint Ignatius had said. It was in these simple, practical, down-to-earth ways that people could show their love for each other. If the love was not there in the beginning, but only the need, such gifts made love grow. - Author: Dorothy Day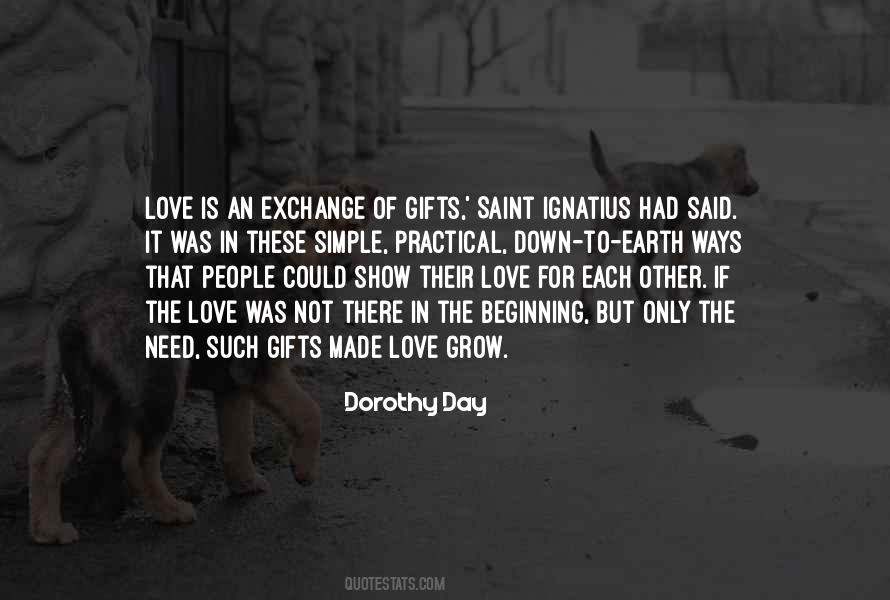 #75. One of the things that kept our marriage intact was community. Friends who spurred us on to finish strong together. And it's friends who esteem marriage that will do this; not people who belittle it or question the value of it. - Author: Ashleigh Slater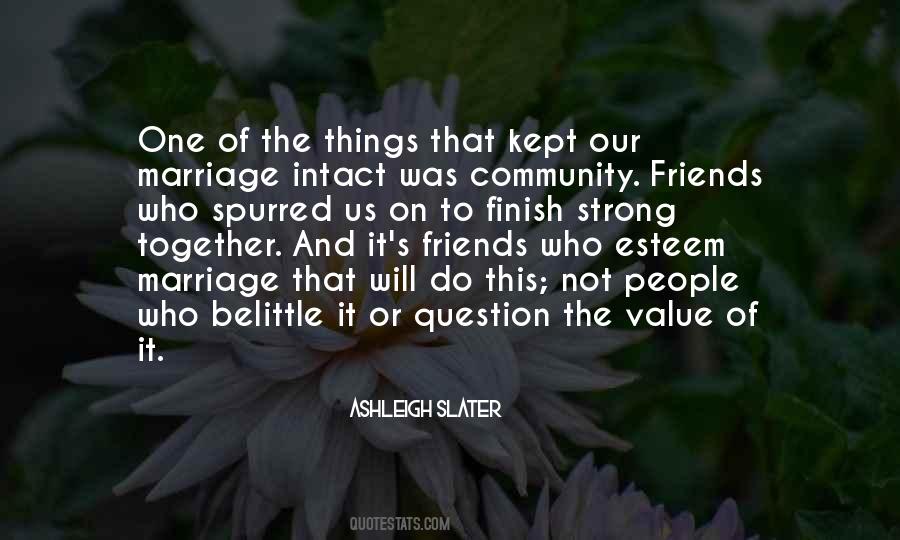 #76. Interest and enthusiasm are the wellspring of continually evolving community life: they create bonds which unite us whether we are young or old, nearby or far from each other; they allow human warmth and love to be the formative forces in personal and community life and striving. - Author: Henning Hansmann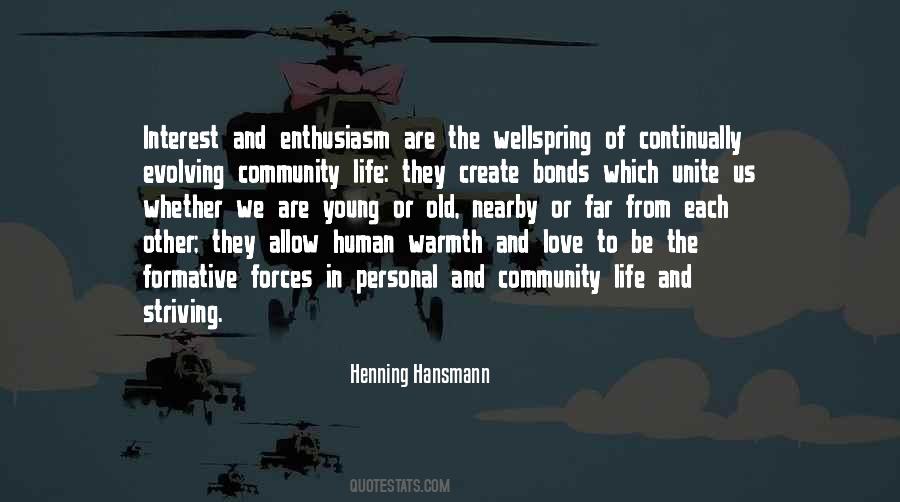 #77. I've been a therapist for more than forty years and certainly there is a place for "wise elders" in the healing process. But most people, most of the time, can heal themselves and those they love, with the help of their family, friends, and community. - Author: Jed Diamond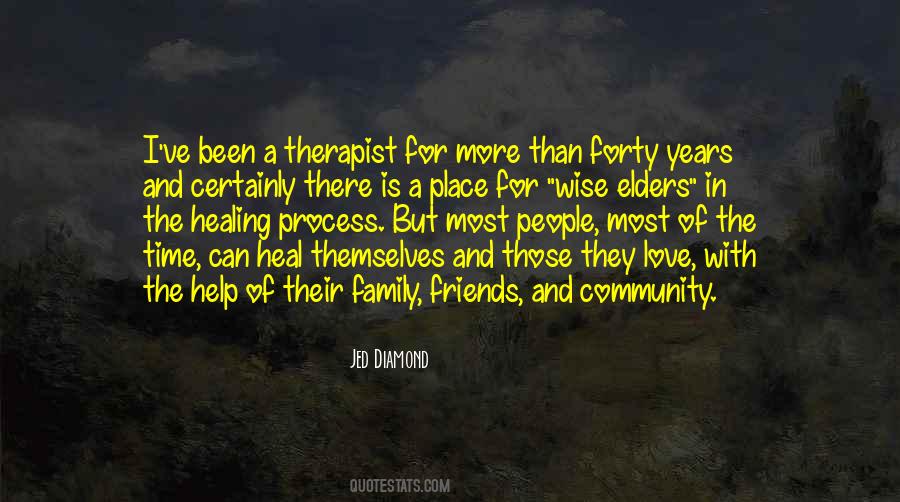 #78. If you want to be an actor and you love acting, you can do it whether you're doing something else or not. You can be connected with community theater or make your own little movies. But if you want to be a movie star, you've got a tough road ahead of you. - Author: Alan Arkin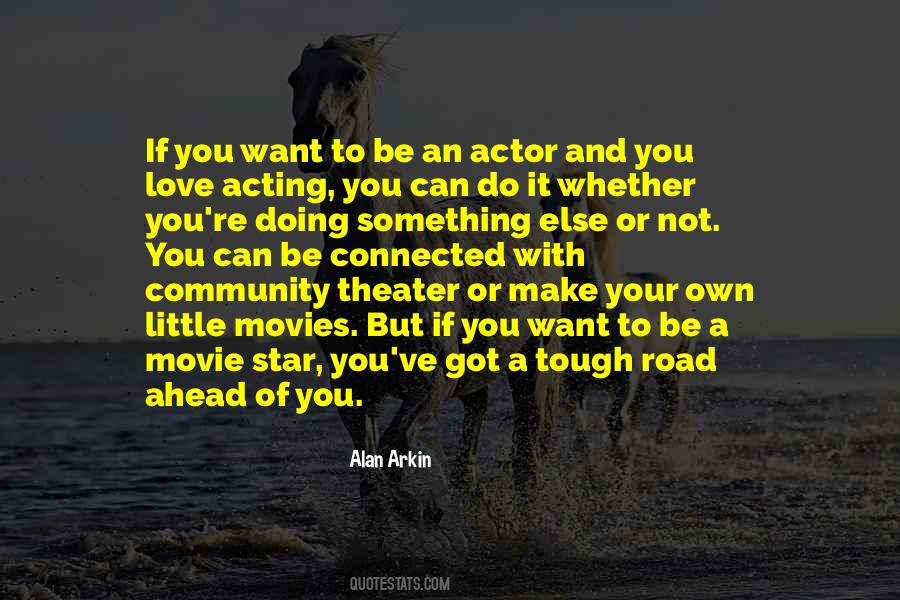 #79. Everybody would love to be mayor of Chicago. If you look at what we have done over many, many years and where we are today and the commitment by the business community, the commitment by the not-for-profit community - all this coming together - this is a wonderful city. - Author: Richard M. Daley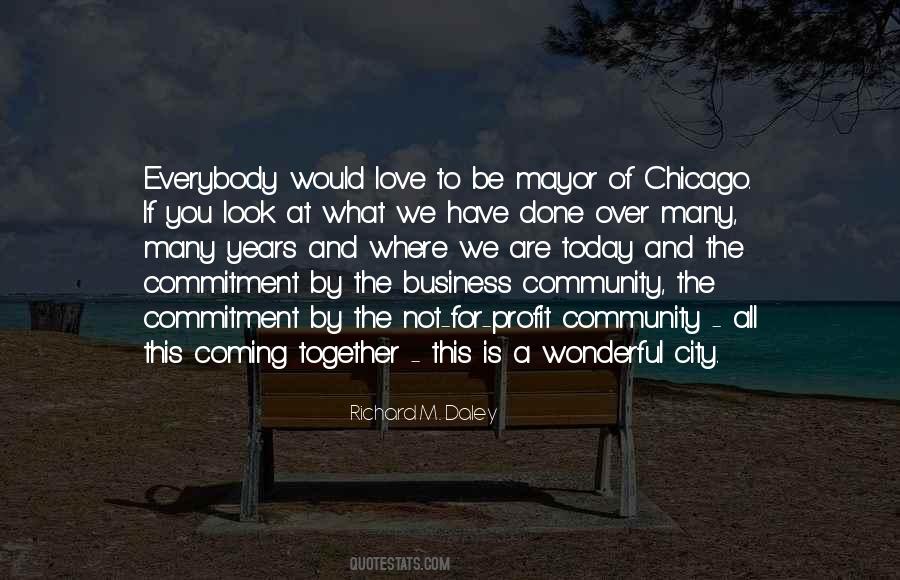 #80. You are not for everyone. But you are for someone. - Author: Julieanne O'Connor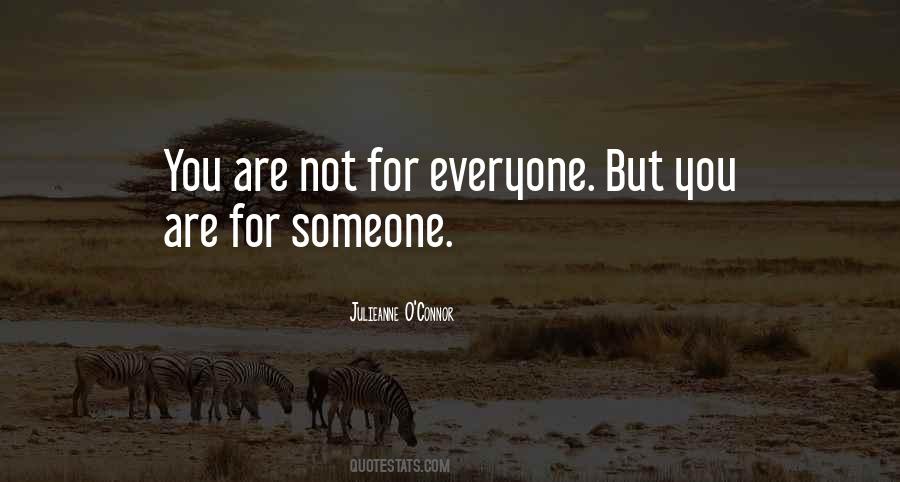 #81. As a community of artists, we might just keep safe each other's love affair. - Author: Sara Genn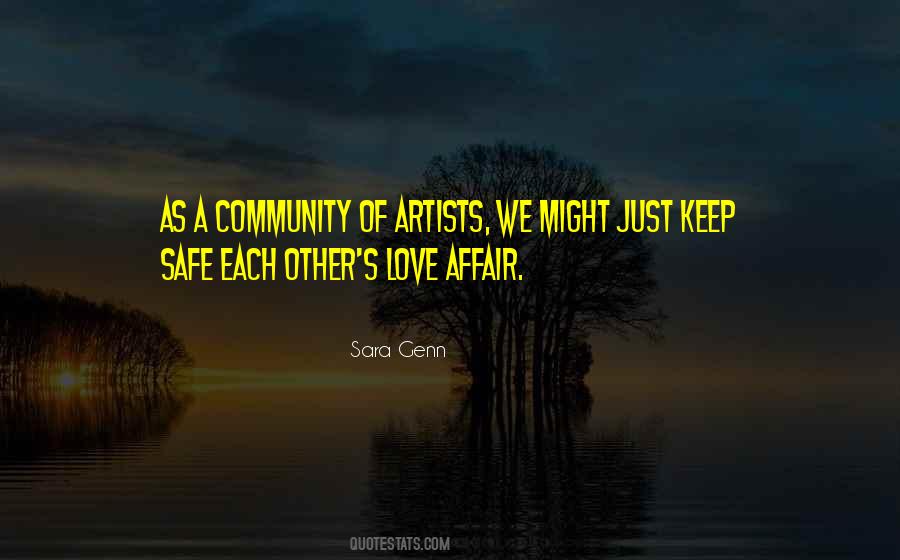 #82. God loves the church with a love too deep for human imagination: He loves her with all His infinite heart. Therefore let her sons be of good courage; she cannot be far from prosperity. - Author: Charles Haddon Spurgeon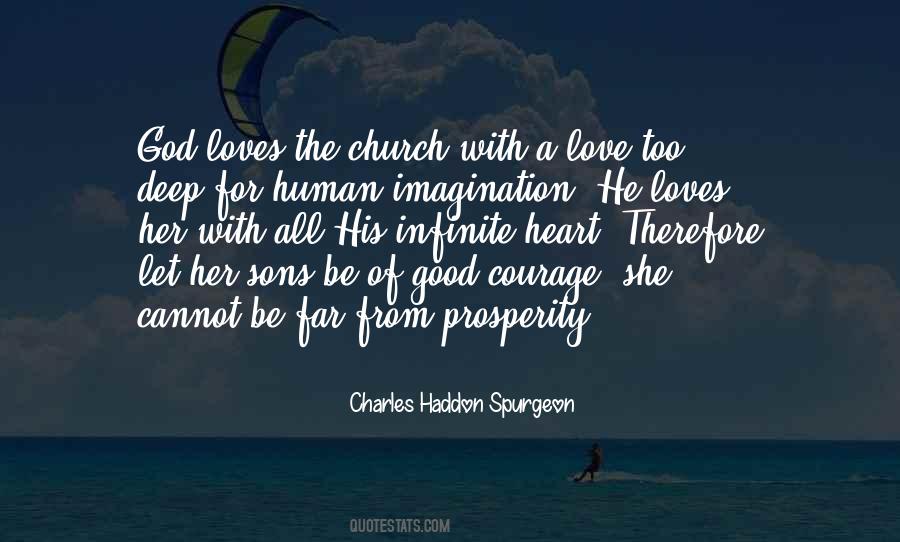 #83. I love the theater so much, and it's where I feel most comfortable. I love the people and the community. - Author: Katie Finneran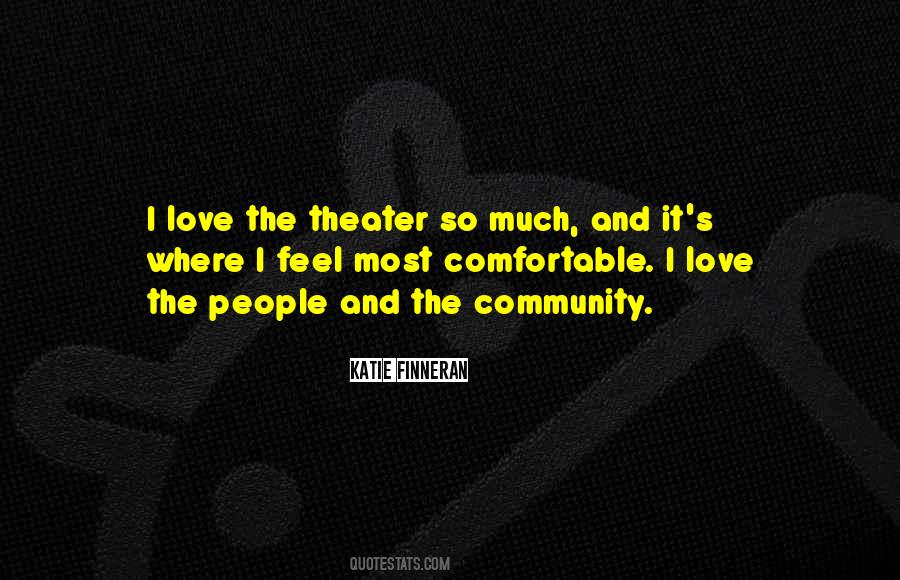 #84. I love science fiction. There are ways in which this community kept me and my partner alive through some very, very bad years, and I will always acknowledge that. - Author: Nalo Hopkinson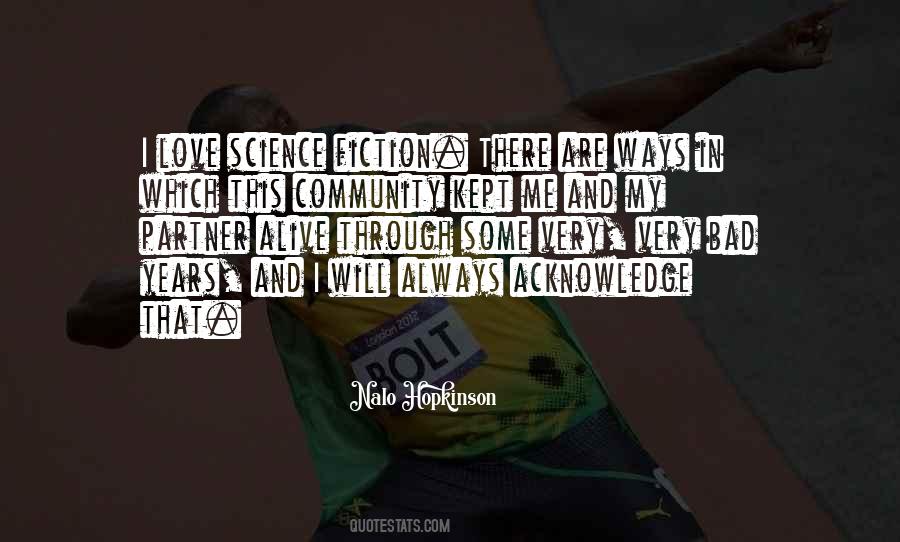 #85. The world is so empty if one thinks only of mountains, rivers & cities; but to know someone who thinks & feels with us, & who, though distant, is close to us in spirit, this makes the earth for us an inhabited garden. - Author: Johann Wolfgang Von Goethe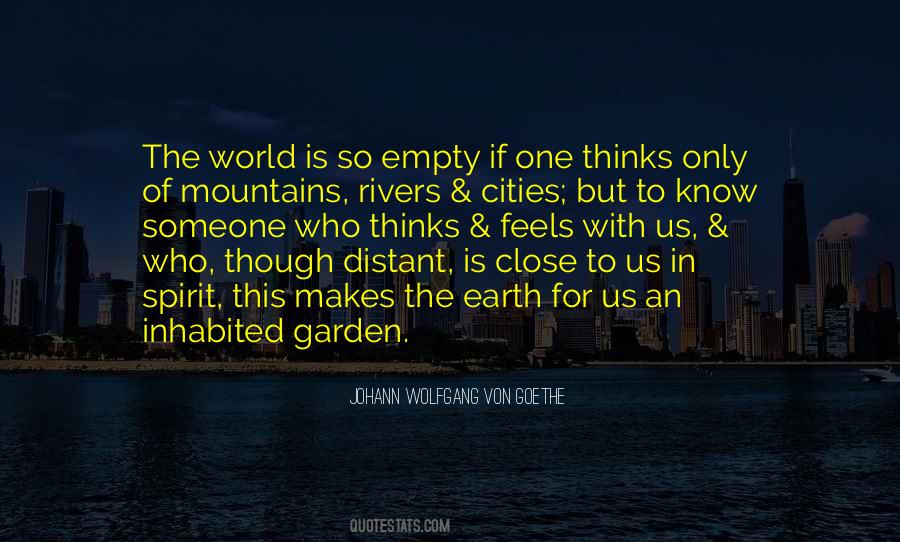 #86. When I am not drinking deeply from the inexhaustible well of love that is Jesus, it is impossible for me to share that love with the community behind closed doors as well as my greater community. - Author: Kara Tippetts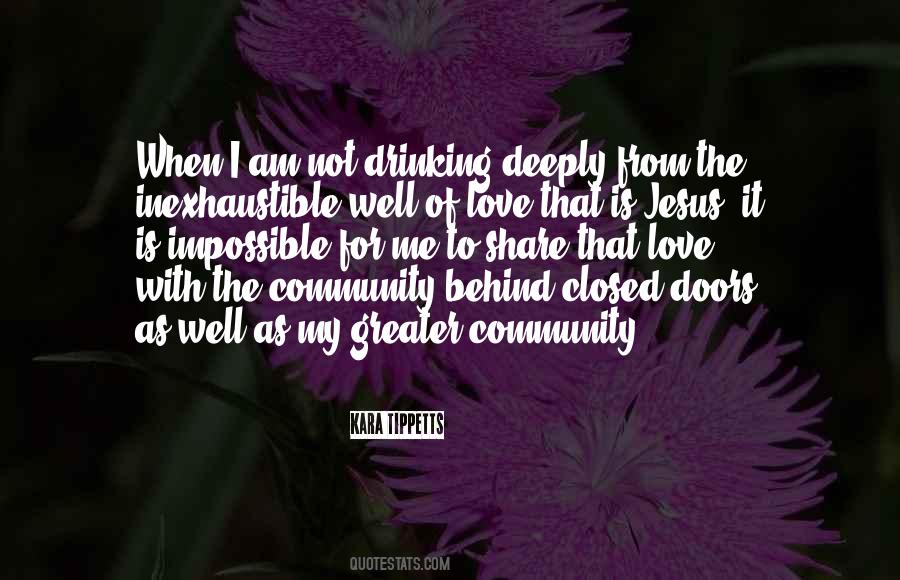 #87. When my son was growing up, I was always guilty, no matter what I did. Make decisions and be happy with the decisions you've made. I tell myself, in the long run, it's the love, the quality of relationships that you have with your family, your friends and giving back to the community that matters. - Author: Padmasree Warrior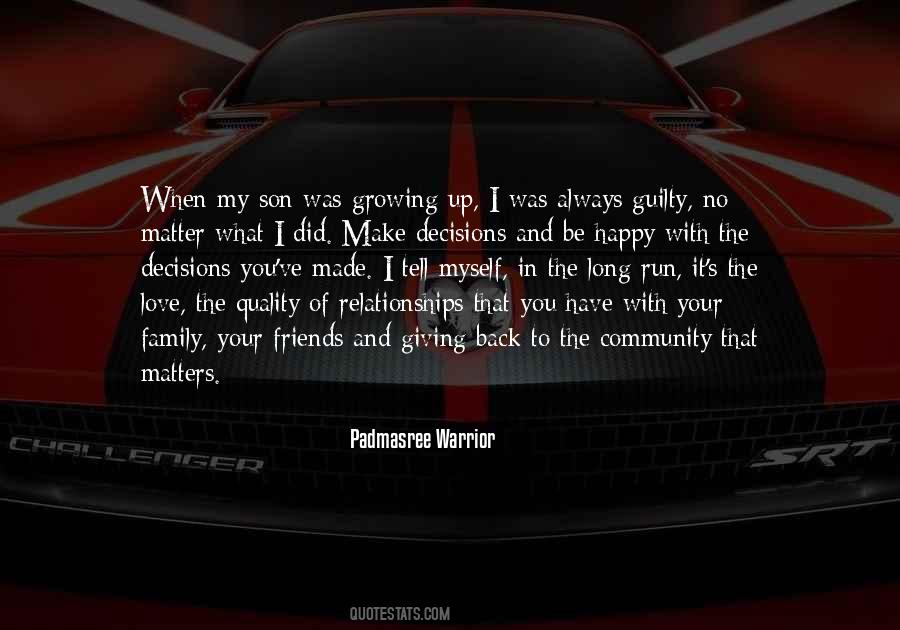 #88. The stories we can tell are those that happen to us; we meet, work, live, laugh, love, demonstrate, strive in community. - Author: Mimi Kennedy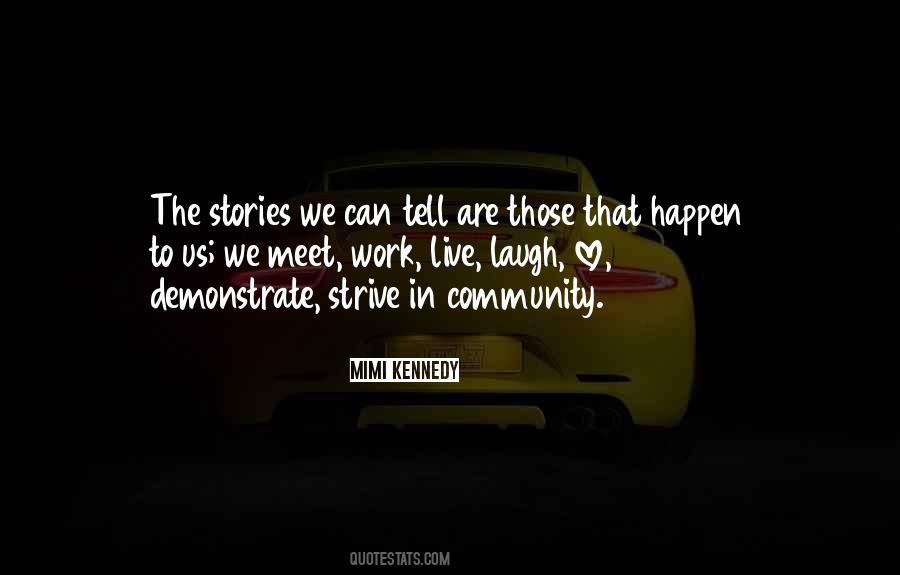 #89. I'm a theater guy at heart; I love the theater. I was lucky enough to spend a good decade and a half in the New York theater community. - Author: Thomas Sadoski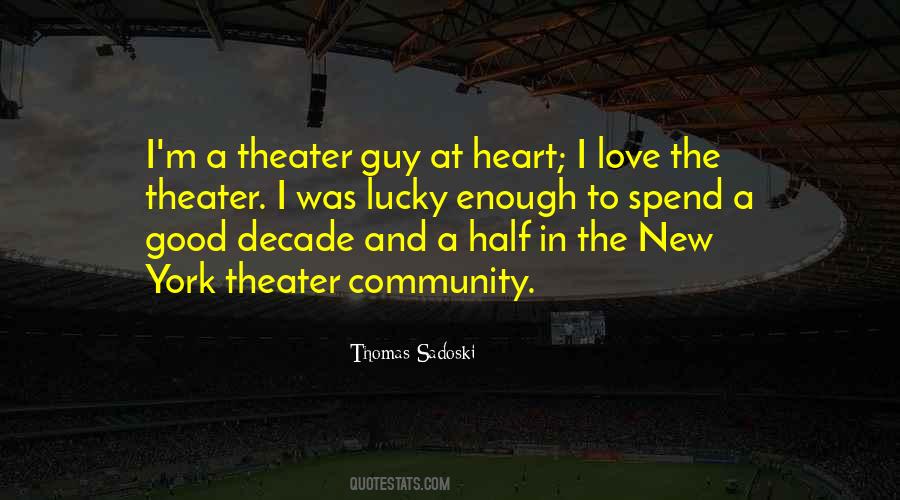 #90. The essence of community, its heart and soul, is the non-monetary exchange of value; things we do and share because we care for others, and for the good of the place. - Author: Dee Hock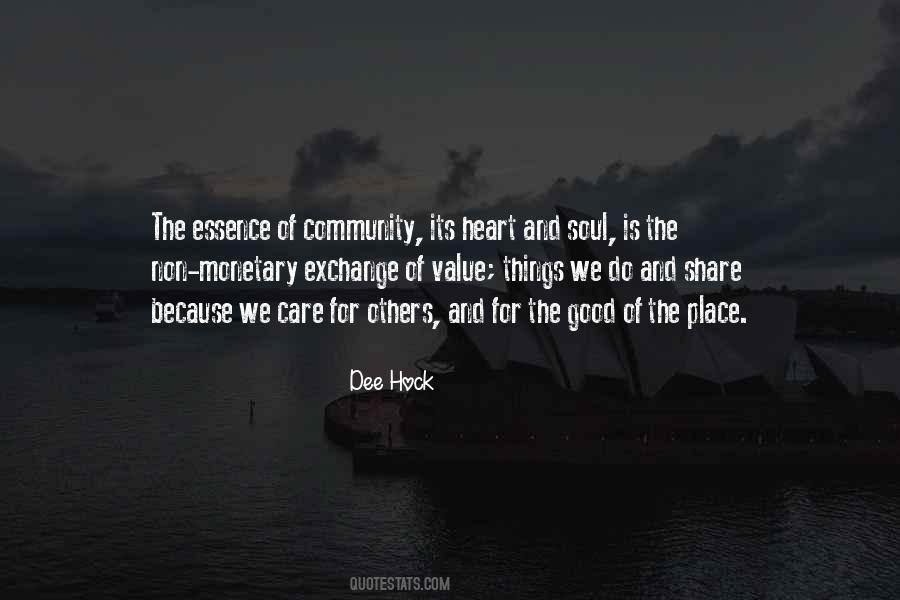 #91. I was raised by the Indian community, and those families are still very close to us. We used to go to each others' houses one Sunday a month, so we got to know everyone well. Also, we love Indian food and can't get enough of it. - Author: Nikki Haley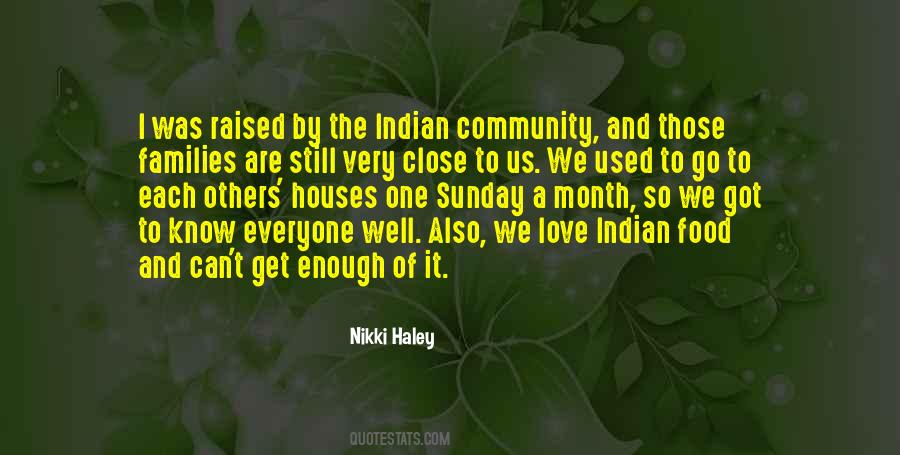 #92. I strongly believe in that saying, "People don't care what you know until they know that you care." That's been my goal and objective - to love people well. That's something I can bring to this community. - Author: Kelly Clark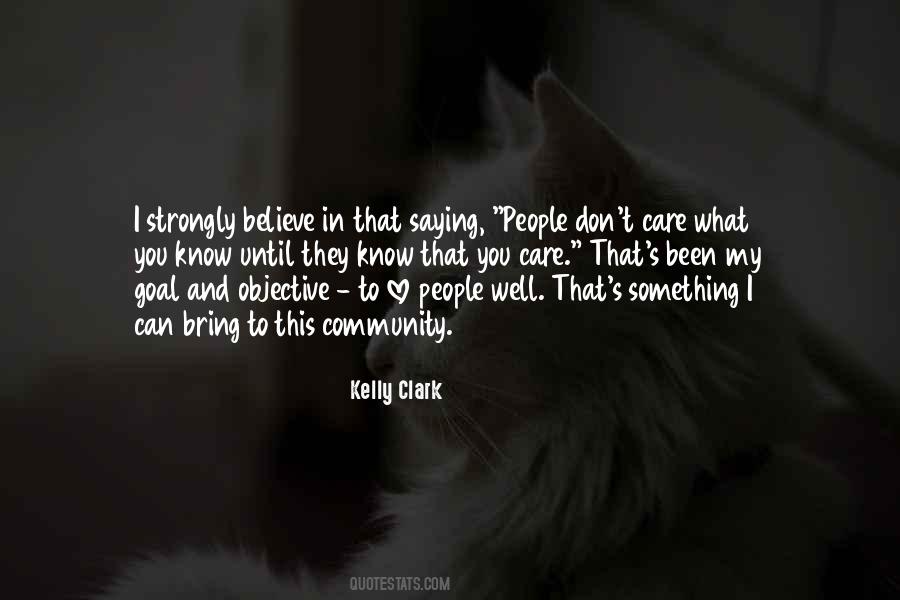 #93. People who are lonely and depressed are three to 10 times more likely to get sick and die prematurely than those who have a strong sense of love and community. I don't know any other single factor that affects our health - for better and for worse - to such a strong degree. - Author: Dean Ornish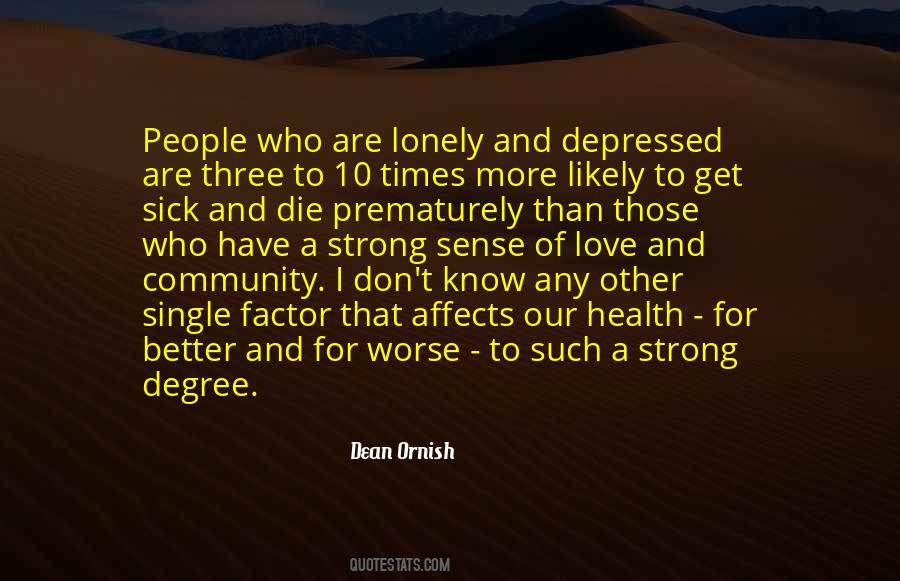 #94. The work of community, love, reconciliation, restoration is the work we cannot leave up to politicians. This is the work we are all called to do. - Author: Shane Claiborne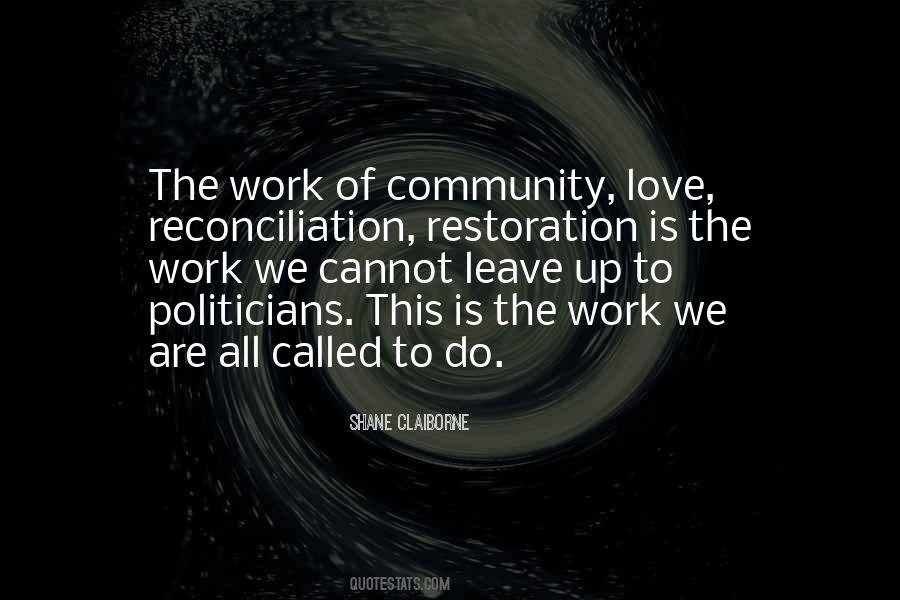 #95. I would love it if 'Community' could have a trajectory like '30 Rock' and choose when to go out. - Author: Gillian Jacobs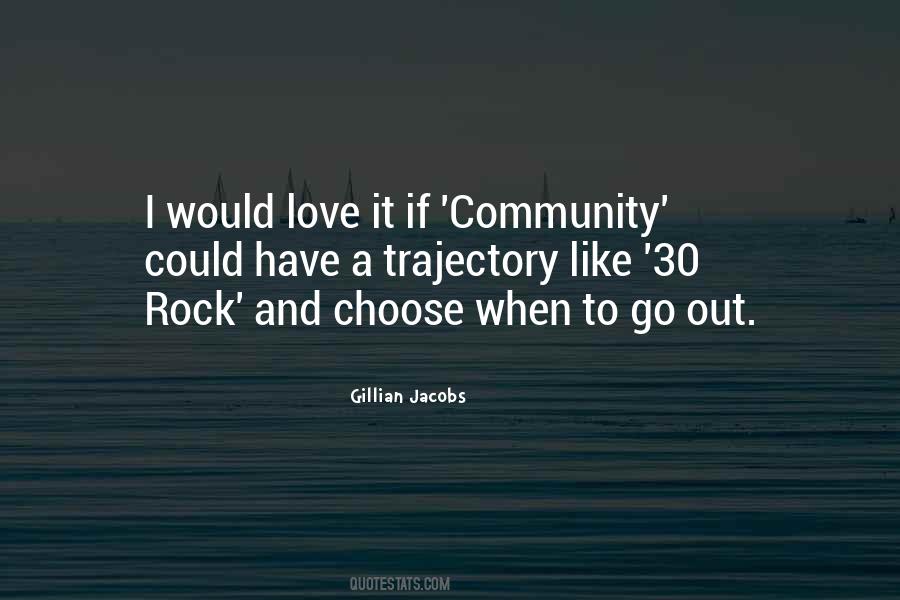 #96. Dear brothers and sisters, the Church loves you! Be an active presence in the community, as living cells, as living stones. - Author: Pope Francis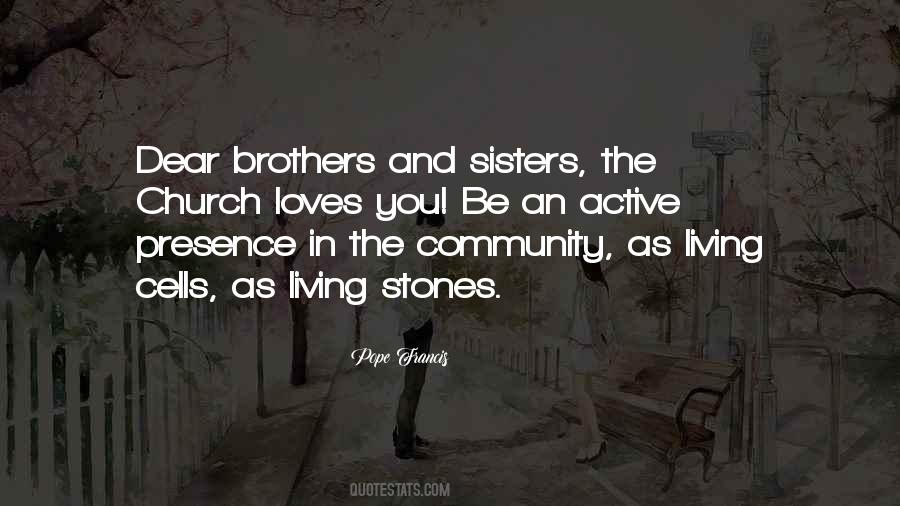 #97. In the first decade of my life, I came to know and love God, as I was raised in a Christian home and community. - Author: Chely Wright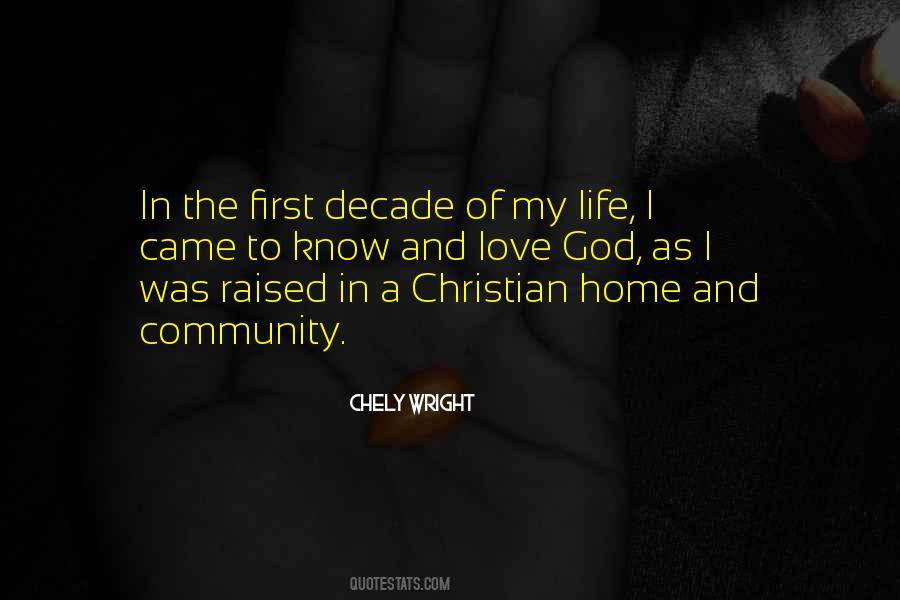 #98. The best way to help the Latino community is to give back. I love giving back; I'm quiet about God and what I do, but we do a lot in the Dominican Republic. - Author: Daddy Yankee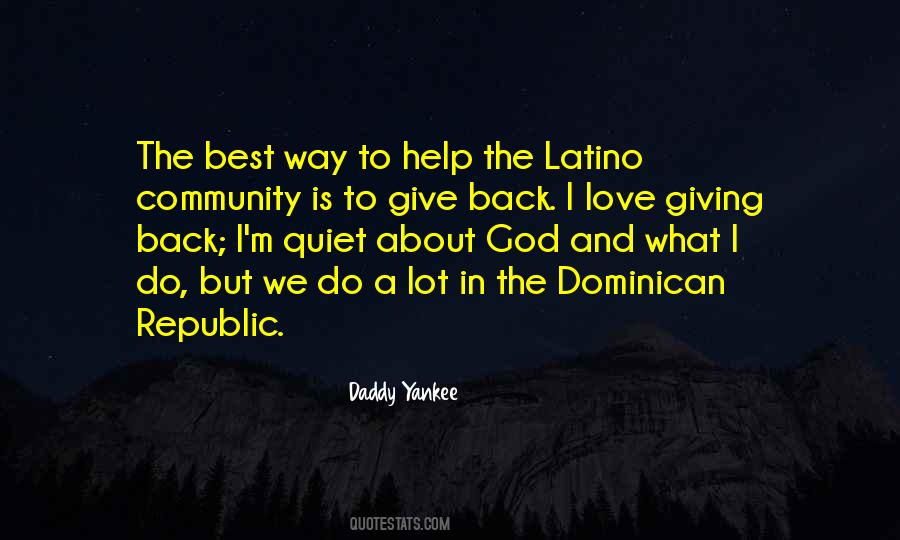 #99. The words we choose can build communities, reunite loved ones, and inspire others. They can be a catalyst for change. However, our words also have the power to destroy and divide: they can start a war, reduce a lifelong relationship to a collection of memories, or end a life. - Author: Simon S. Tam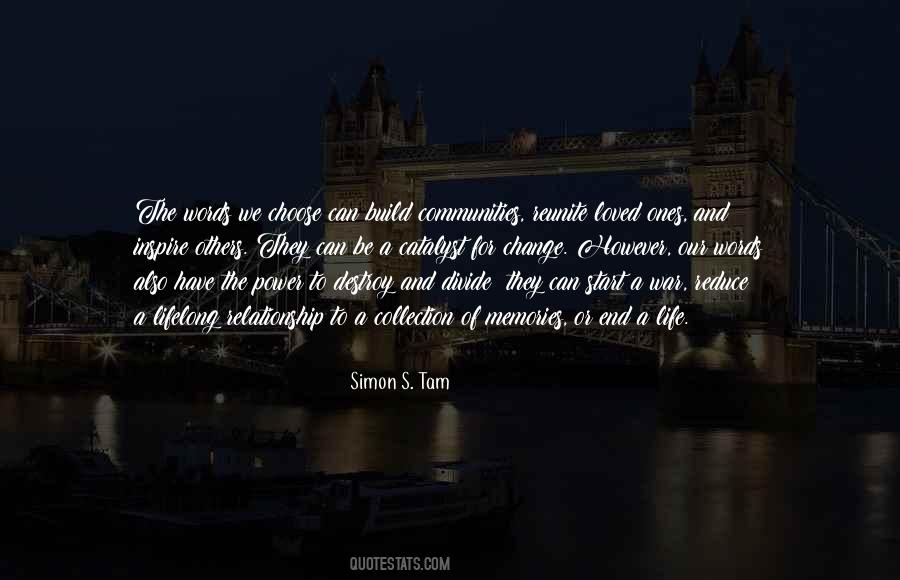 #100. Our survival depends on the healing power of love, intimacy and relationships. As individuals. As communities. As a country. As a culture. Perhaps even as a species. - Author: Dean Ornish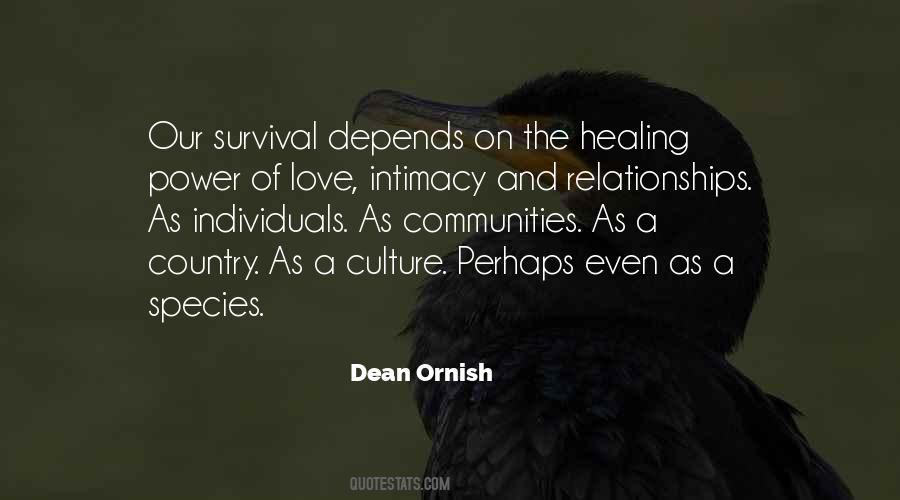 Famous Authors
Popular Topics