Colour Black Famous Quotes & Sayings
List of top 67 famous quotes and sayings about colour black to read and share with friends on your Facebook, Twitter, blogs.
Top 67 Quotes About Colour Black
#1. It is wonderful how much depends upon the relations of black and white A black and white, if properly balanced, suggests colour. - Author: Winslow Homer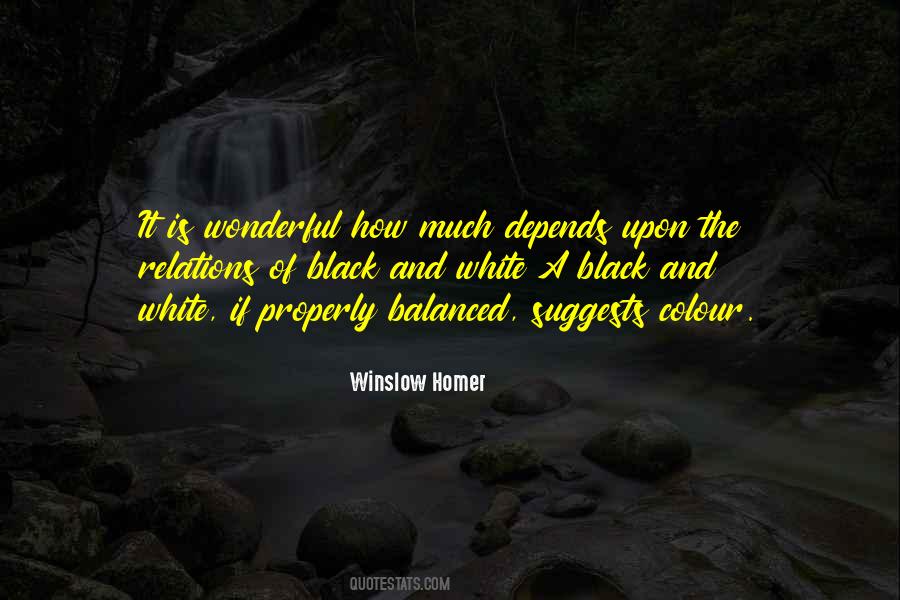 #2. No colour comes after black. - Author: Idries Shah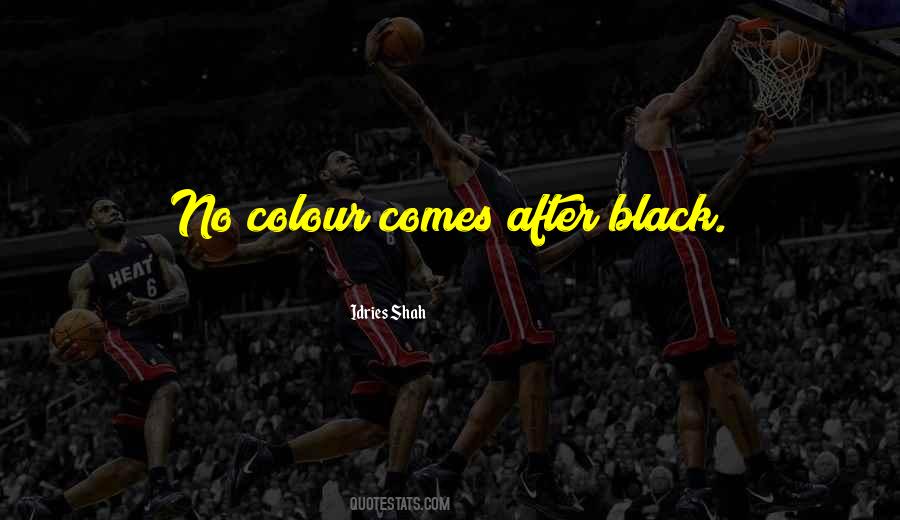 #3. It was just a colour out of space - a frightful messenger from unformed realms of infinity beyond all Nature as we know it; from realms whose mere existence stuns the brain and numbs us with the black extra-cosmic gulfs it throws open before our frenzied eyes. - Author: H.P. Lovecraft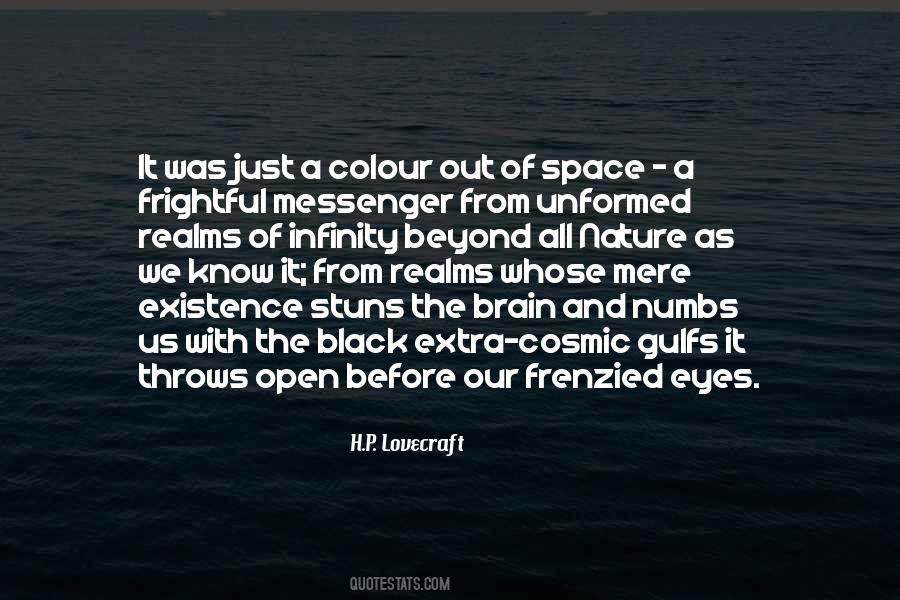 #4. Not only does a lens distort forms, but the ordinary plate makes an unholy mess of colour in its tone relations. Yellow becomes black, and blue white. Black sunflowers against a white sky - what a travesty! - Author: Walter J. Phillips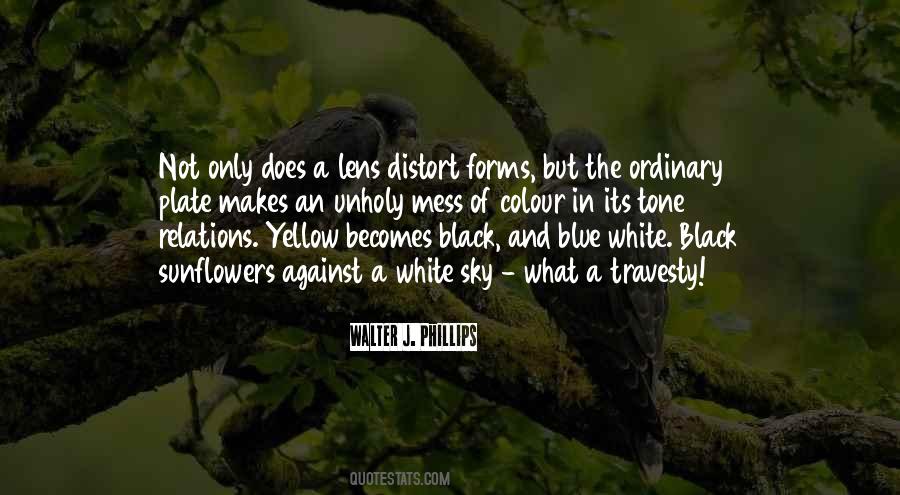 #5. Life's a choice: you can live in black and white, or you can live in colour. I'll take every shade of the rainbow and the gazillion in between! - Author: Karen Marie Moning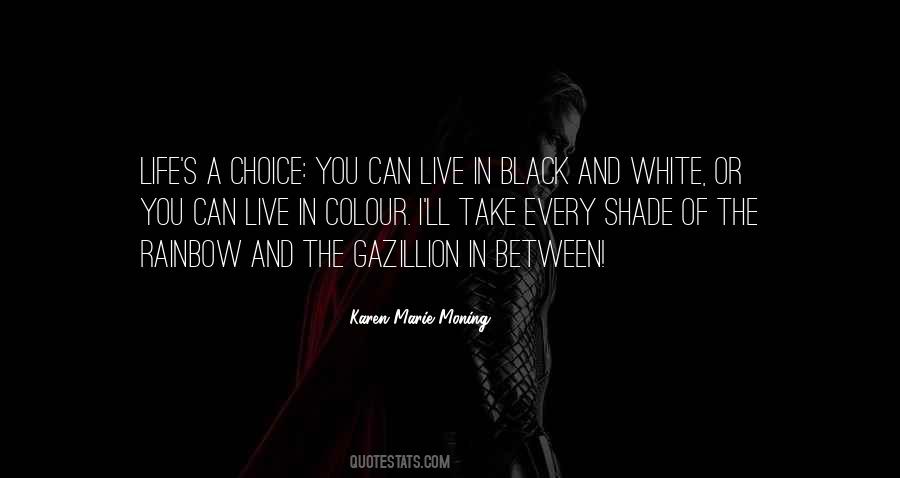 #6. Americans have their issues with skin colour, even within the black community, with light and dark skin; it's crazy - but no one's oblivious to it. - Author: Estelle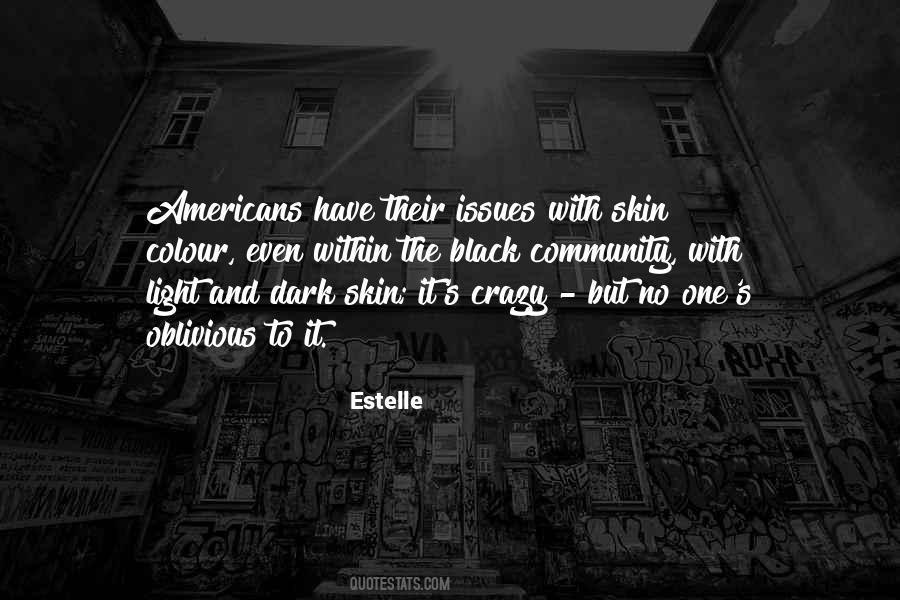 #7. Colour is what gives jewels their worth. They light up and enhance the face. Nothing is more elegant than a black skirt and sweater worn with a sparkling multi-stoned necklace. - Author: Christian Dior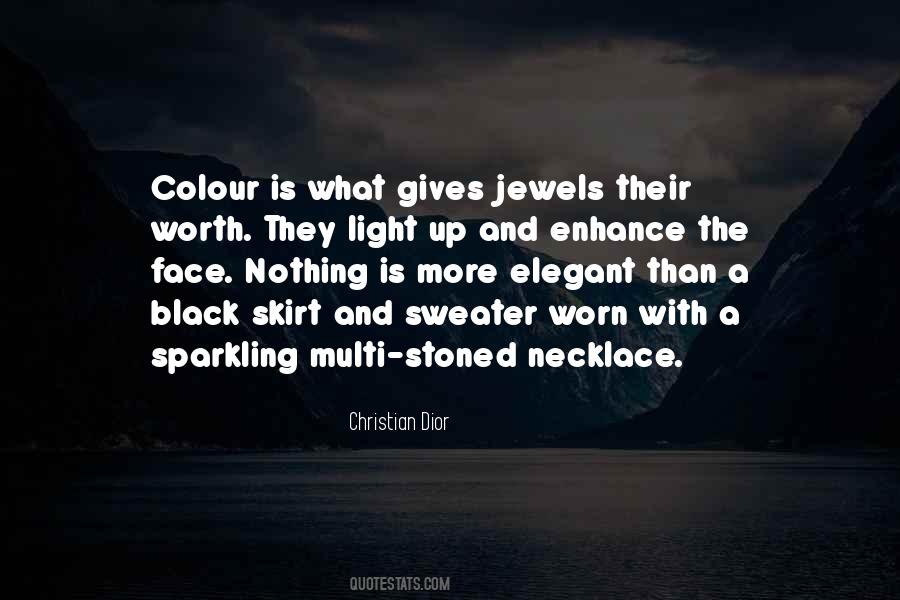 #8. If you have used colour throughout most of your artistic life, try just black and white ... it will take your painting to another dimension where tone and form in all its permutations reign supreme. - Author: David Luiz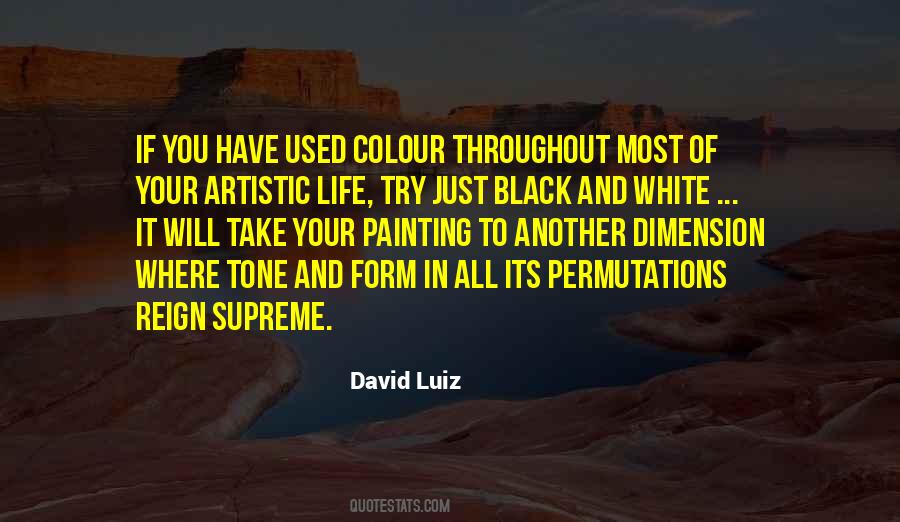 #9. My favourite pool is located in a remote valley in the eastern Lake District, surrounded by vine-hung cliffs and slippery boulders. It has a torrential sheet waterfall at one end and is almost black in colour, so it appears bottomless, a portal to nowhere. - Author: Sarah Hall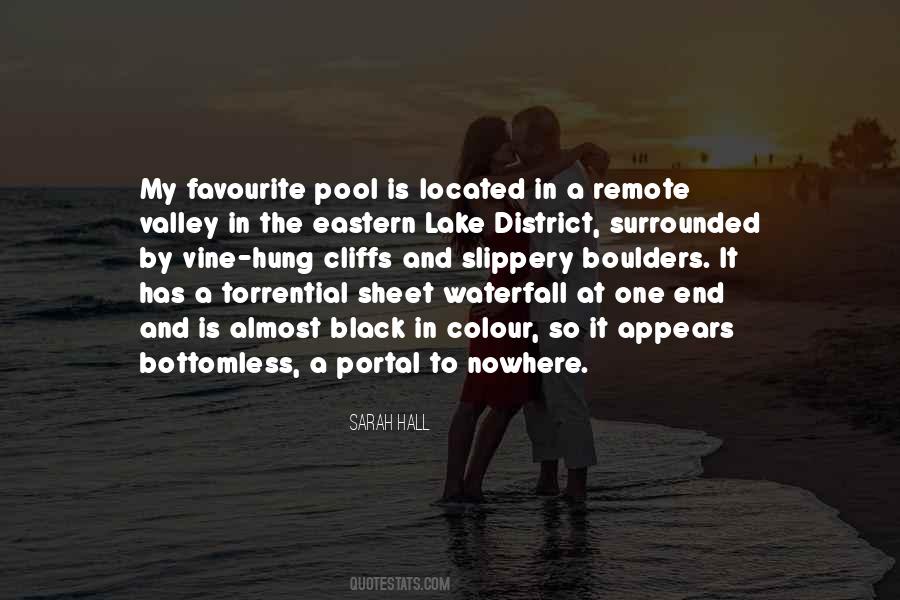 #10. I work in colour sometimes, but I guess the images I most connect to, historically speaking, are in black and white. I see more in black and white - I like the abstraction of it. - Author: Mary Ellen Mark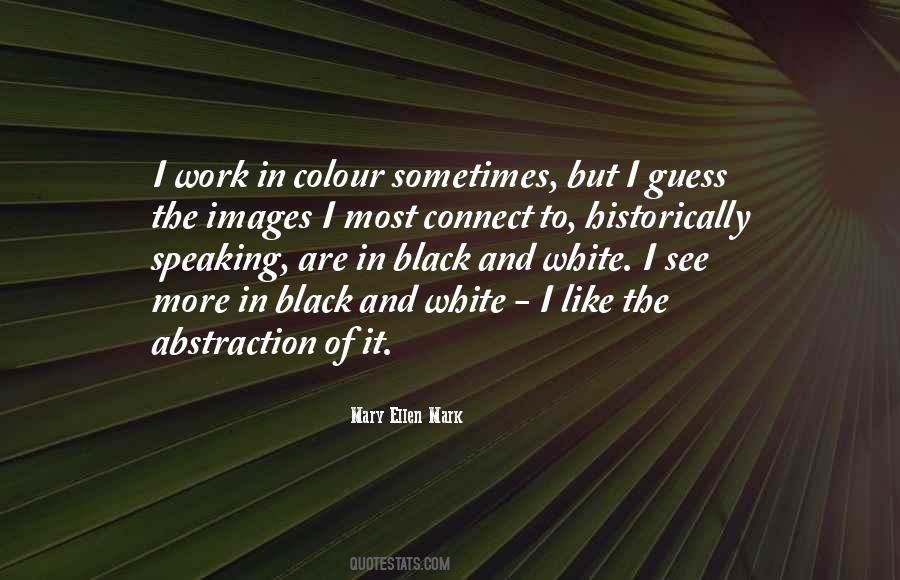 #11. Matilda said nothing. She simply sat there admiring the wonderful effect of her own handiwork. Mr Wormwood's fine crop of black hair was now a dirty silver, the colour this time of a tightrope-walker's tights that had not been washed for the entire circus season. - Author: Roald Dahl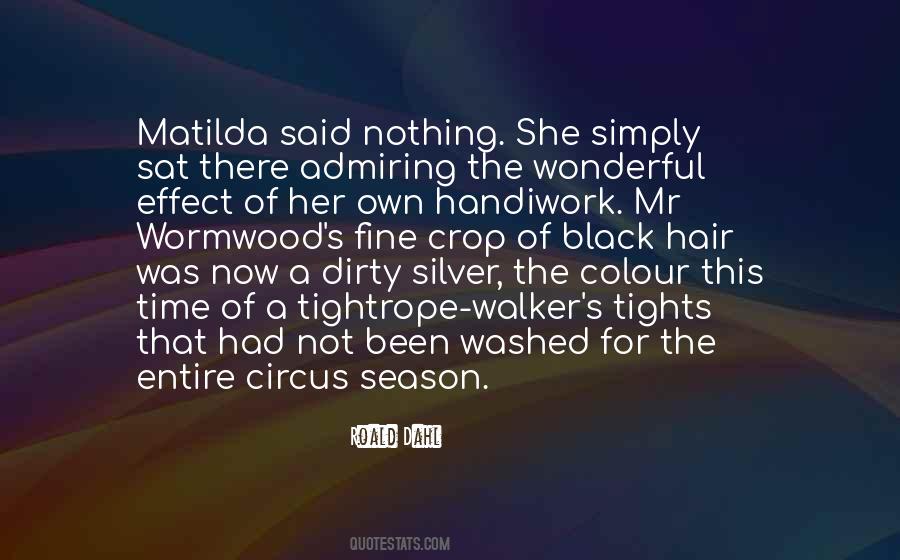 #12. When I find a colour darker than black, I'll wear it. But until then, I'm wearing black! - Author: Coco Chanel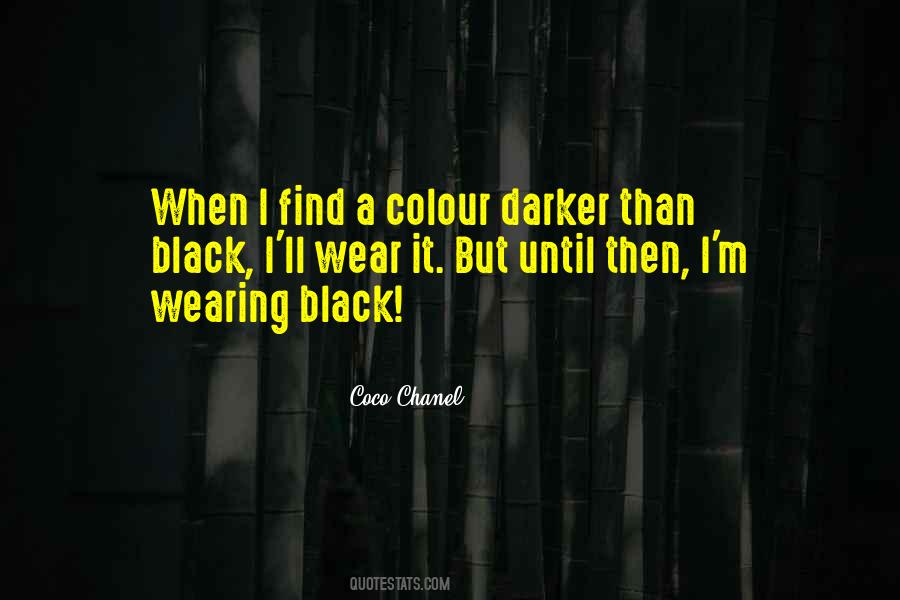 #13. I'm trying to incorporate colour into my life. Until recently, everything in my closet was black, white, grey, navy or olive. - Author: Jennifer Morrison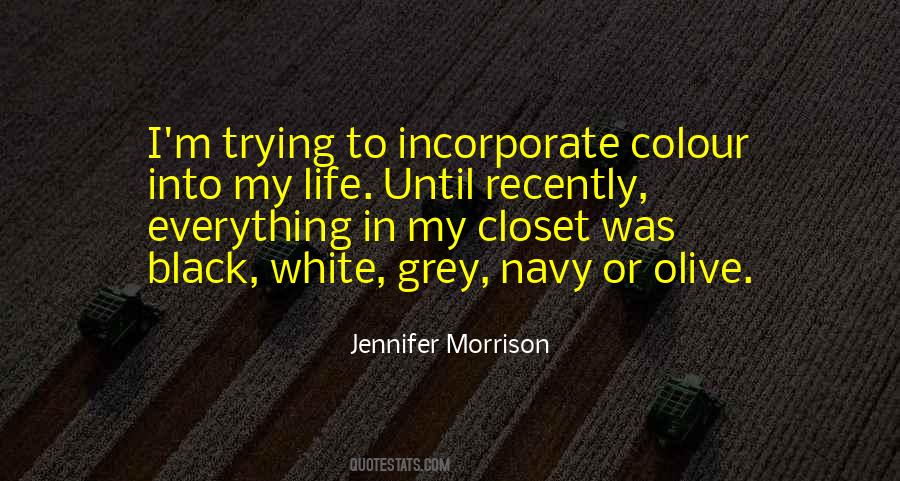 #14. Every time I have to try on a wig for work, I get excited about the colour; I've often thought about going for a platinum bob or also raven black, as it looks so great against pale skin. But I always end up being loyal to my red colour. - Author: Lily Cole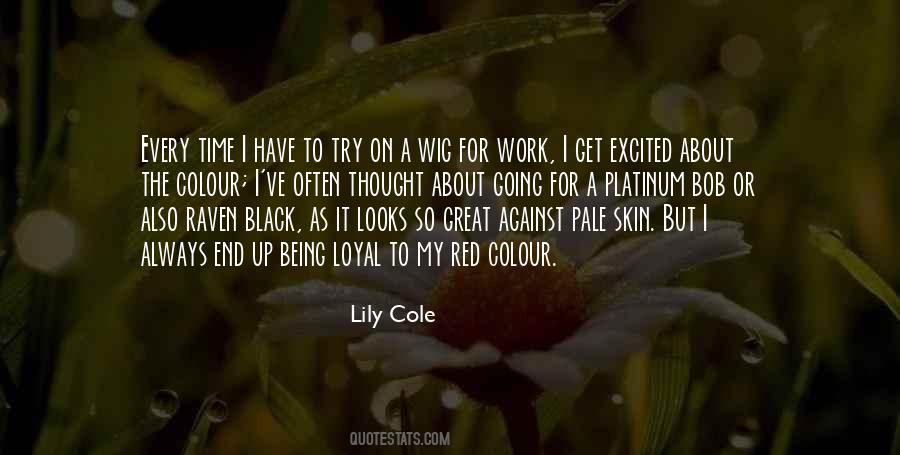 #15. I remember being on a black-and-white set all day and then going out into daylight and being amazed by the colour. - Author: Jeff Bridges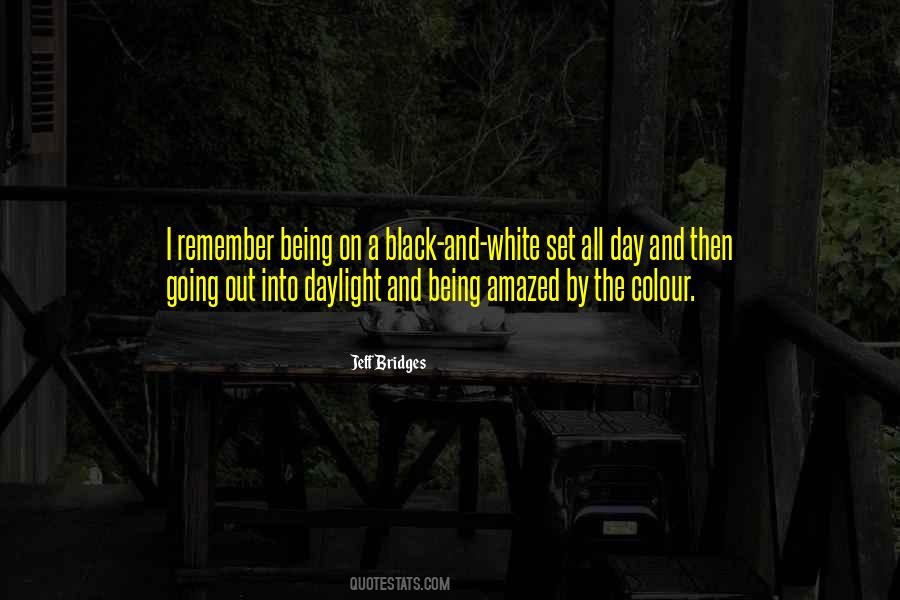 #16. According to Holly, it's like the bank in It's a Wonderful Life but I don't watch black and white movies because I own a colour television and it's not 1945 so I'll have to take her word on it. - Author: David Thorne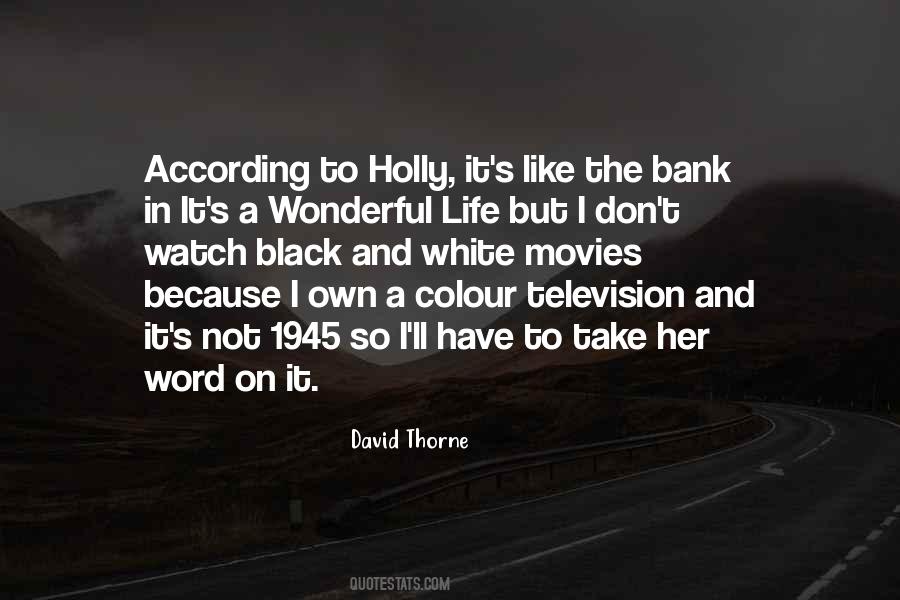 #17. I'm not a painter by any stretch of the imagination; I'm a dyed-in-the-wool traditional illustrator, and I begin with black and white. If I need colour, I add it over the top. There's a calligraphic element to it ... it's about the texture of lines on the page. - Author: Chris Riddell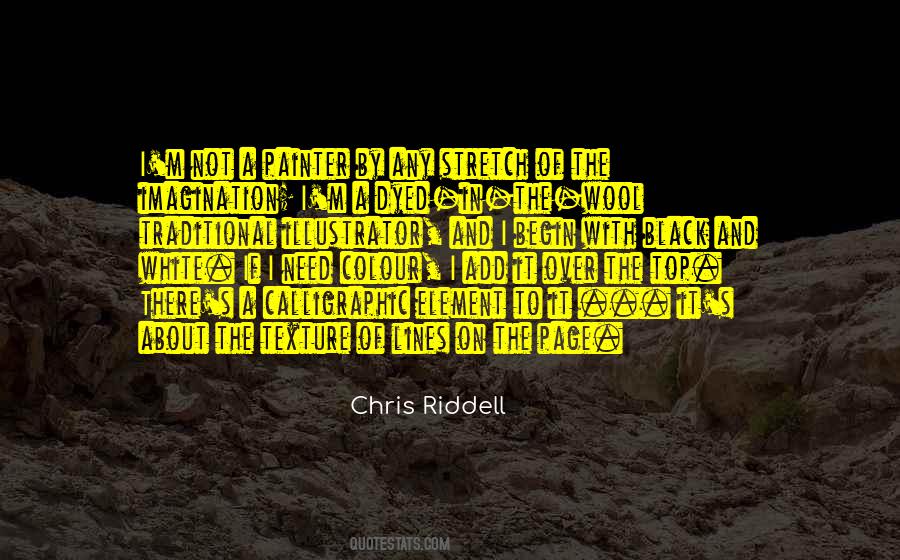 #18. Black is the queen of colours. - Author: Auguste Rodin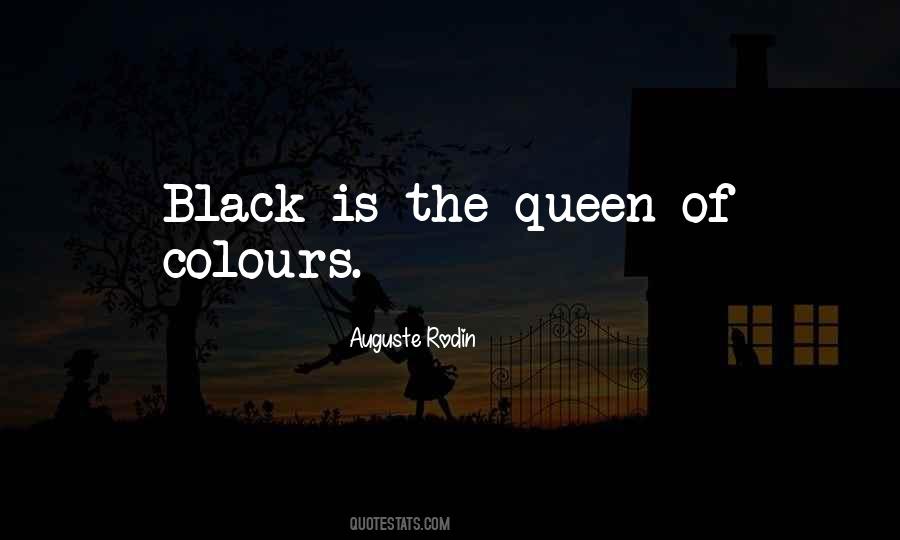 #19. It was a black and white film [at first]. And then it changed to colour film, and I was surprised and culture shocked when I was six or seven years old. And then HD, then 3D now. So what's going? What's coming next? It's so exciting. - Author: Hiroyuki Sanada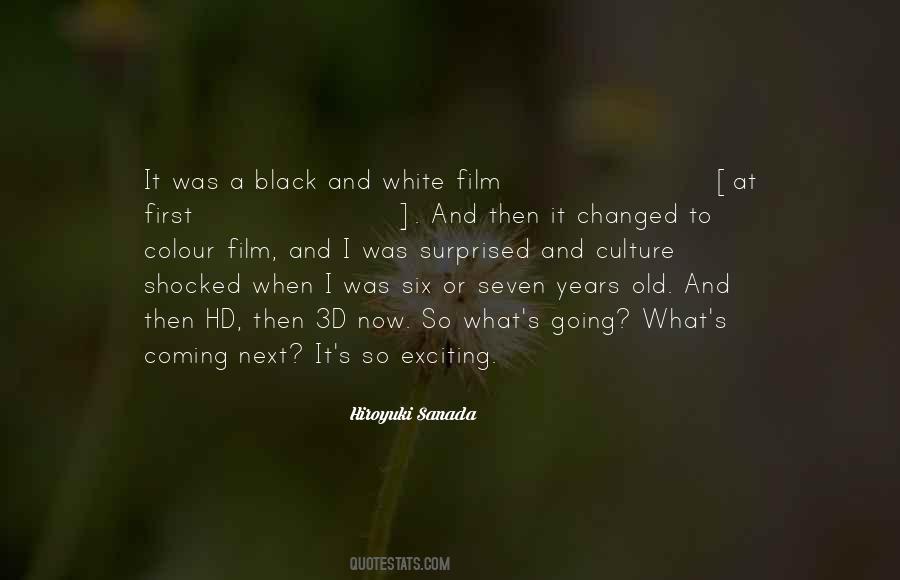 #20. Blue is the typical heavenly colour. The ultimate feeling it creates is one of rest. When it sinks to almost black, it echos grief that is hardly human. - Author: Wassily Kandinsky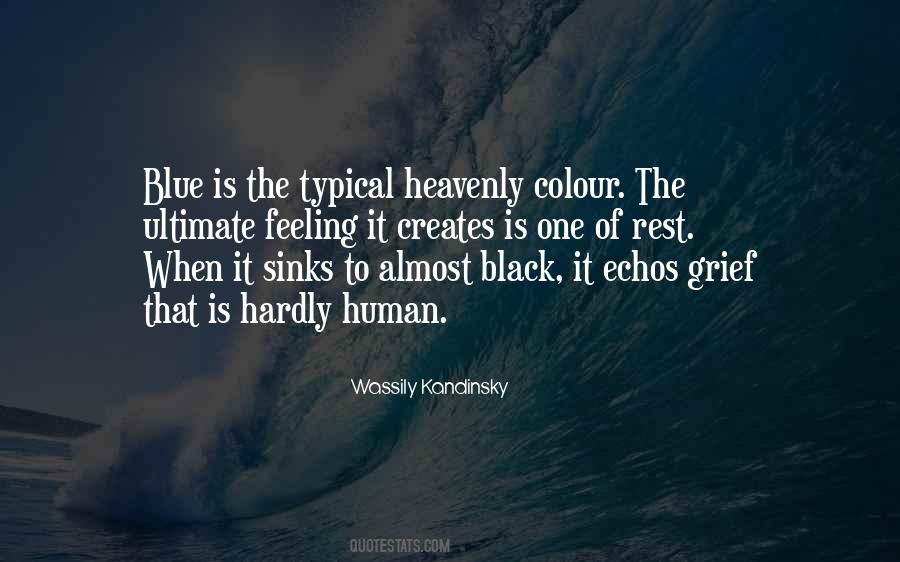 #21. Whatever colour the pots, the kettle may indeed be black. - Author: H.V.D. Dyson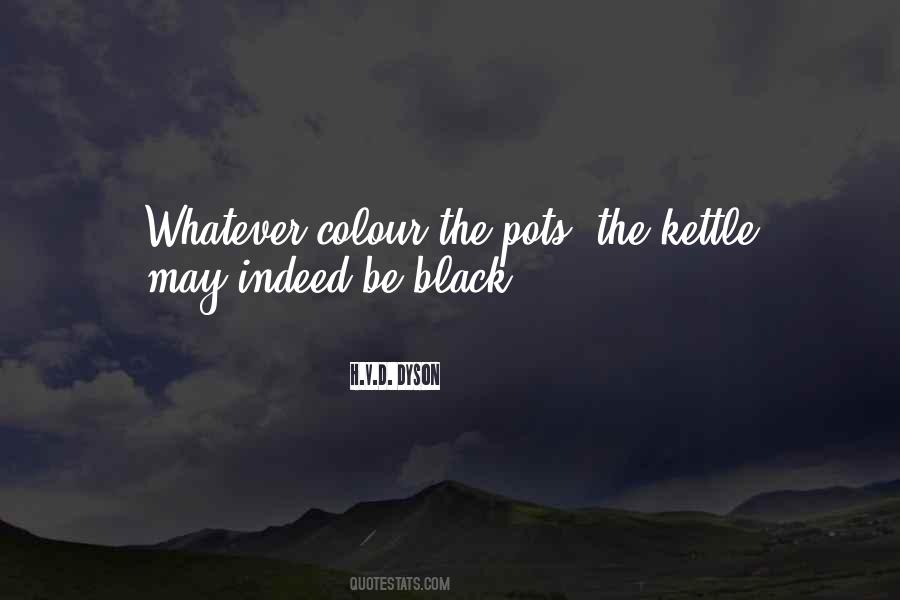 #22. Colour disturbs people. I am confident in black, not in light. This dark side of life is attractive to me forever and from the beginning. I am a lazy designer when it comes to colour. - Author: Yohji Yamamoto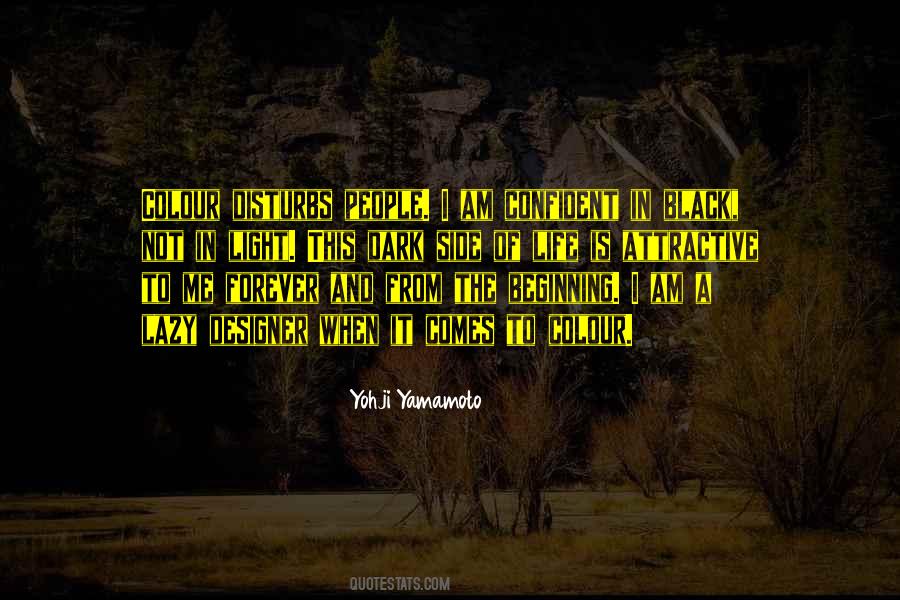 #23. Any customer can have a car painted any colour that he wants so long as it is black. - Author: Henry Ford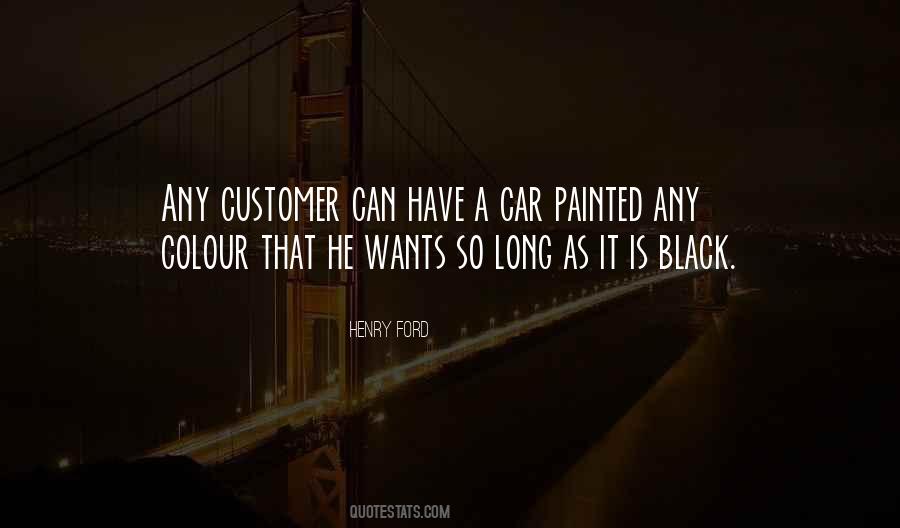 #24. Black is a colour of power and strength. - Author: Hayden Fry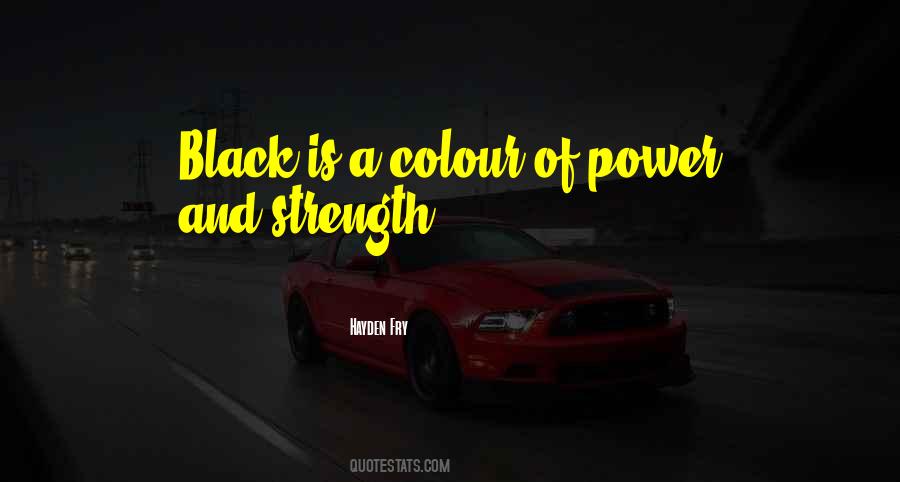 #25. Colour is everything, black and white is more. - Author: Dominic Rouse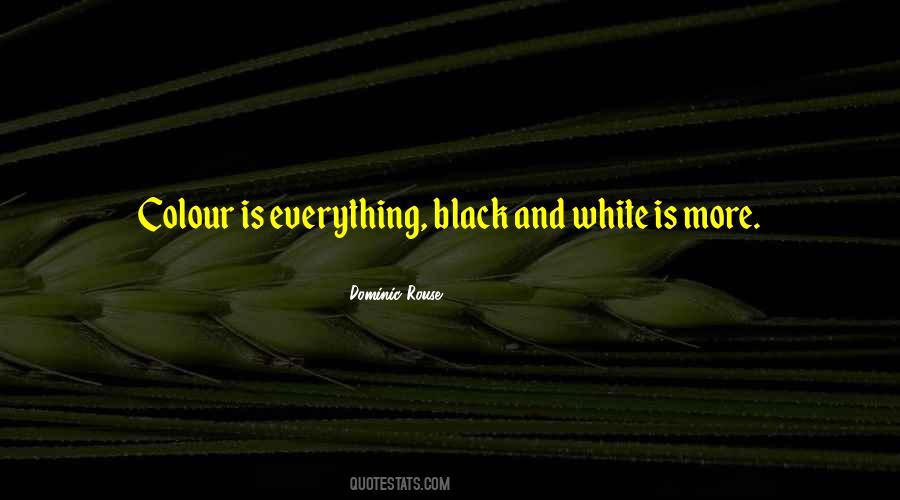 #26. Pink is my favourite colour. I used to say my favourite colour was black to be cool, but it is pink - all shades of pink. If I have an accessory, it is probably pink. - Author: Roxane Gay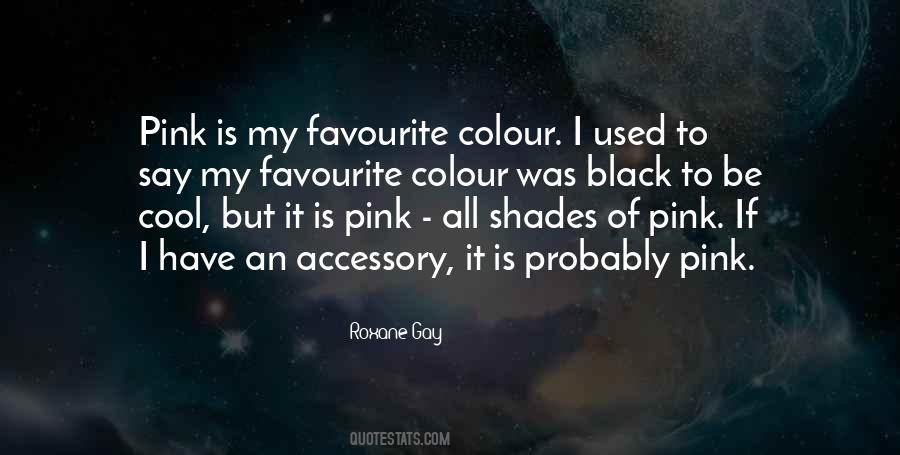 #27. It was as if I had only just been able to see colours and shapes for the first time. I was so enthralled with the buttons on Lestat's black coat that I looked at nothing else for a long time. - Author: Anne Rice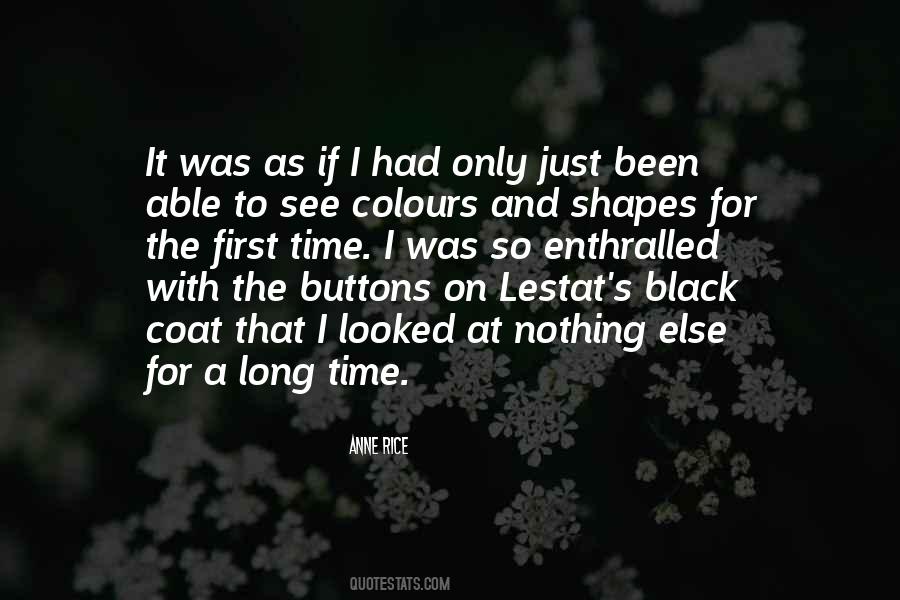 #28. Black is always elegant. It is the most complete colour in the whole world, made of all the colours in the palette. - Author: Riccardo Tisci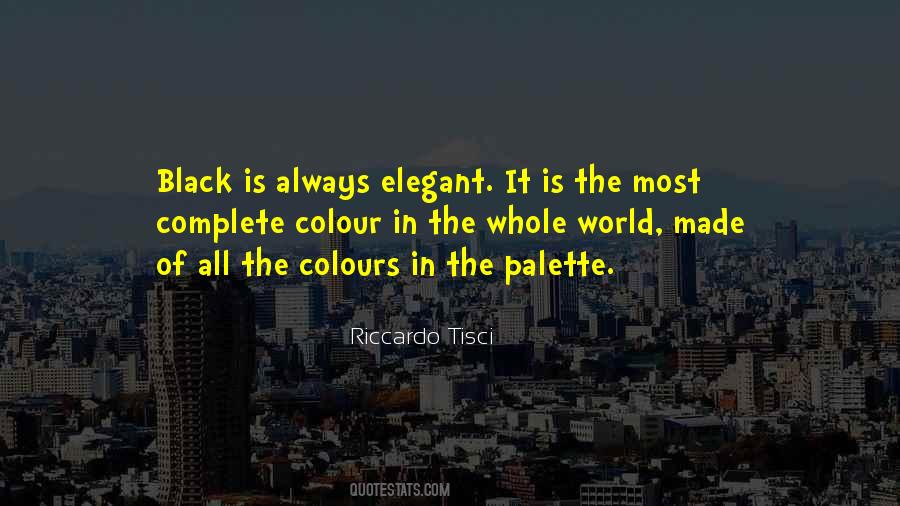 #29. God's wisdom is like the rainbow, in symmetry, beauty, and variety. He does not paint scenes merely in black and white, but uses a riot of colour from the heavenly palette in order to show the wonder of His wise dealings with His people. - Sinclair Ferguson - Author: John F. MacArthur Jr.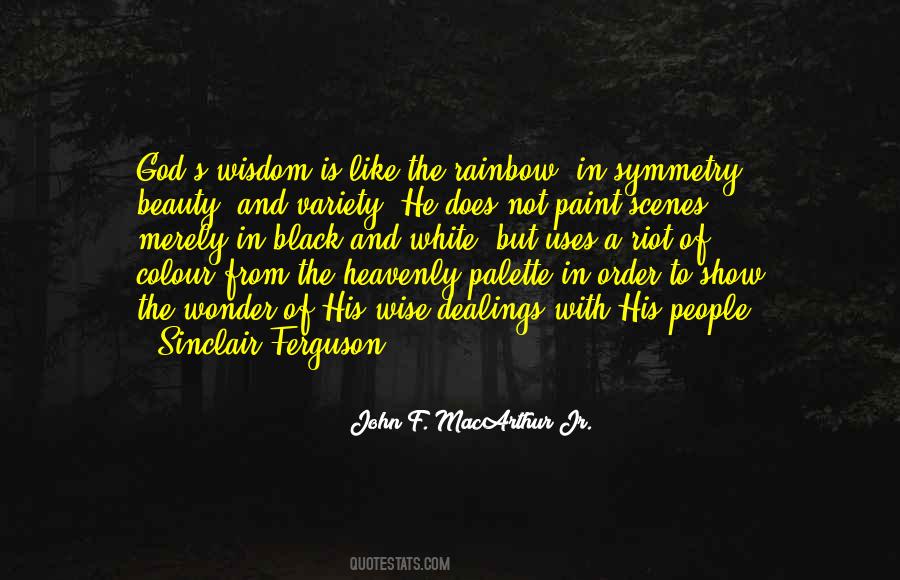 #30. ...he raised his eyes above the black shapes of the trees and saw a small moon, the colour of a lemon, dragged by clouds across the sky. Moons, he thought, were so that men like himself would know they lived here on earth. - Author: Beryl Bainbridge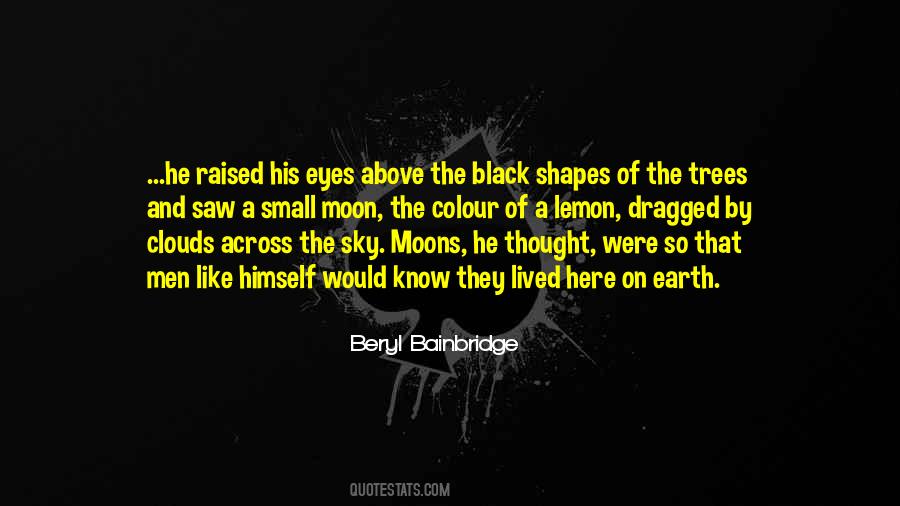 #31. I think it's because it was an emotional story, and emotions come through much stronger in black and white. Colour is distracting in a way, it pleases the eye but it doesn't necessarily reach the heart. - Author: Kim Hunter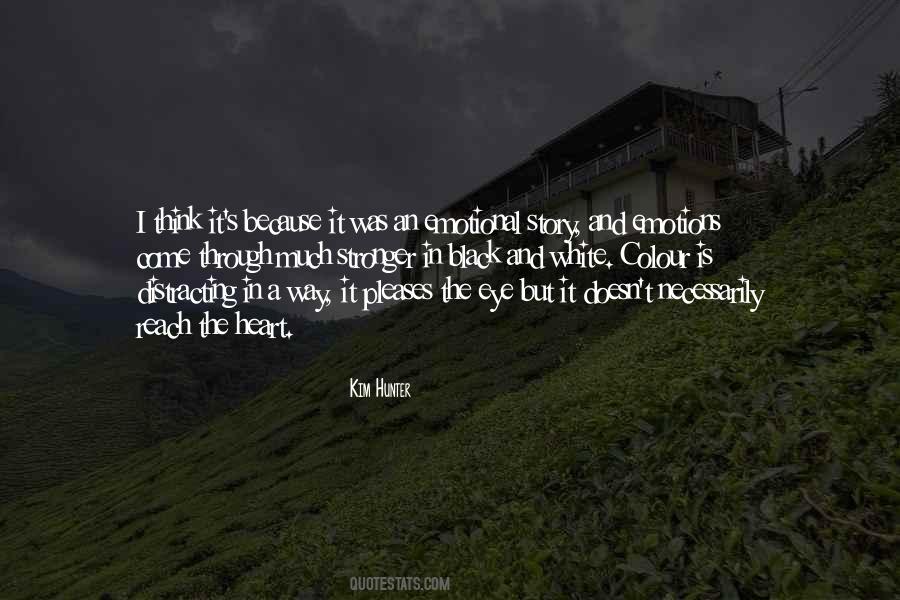 #32. I have always liked black and white! It is simple and the colour of the piano. - Author: Hiromi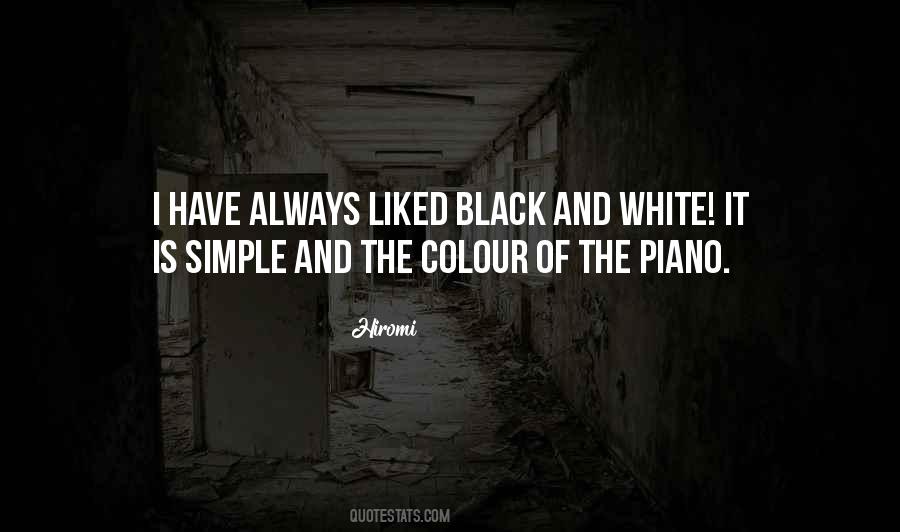 #33. Part of my preparation is I go and ask the kit man what colour we're wearing - if it's red top, white shorts, white socks or black socks. Then I lie in bed the night before the game and visualise myself scoring goals or doing well. - Author: Wayne Rooney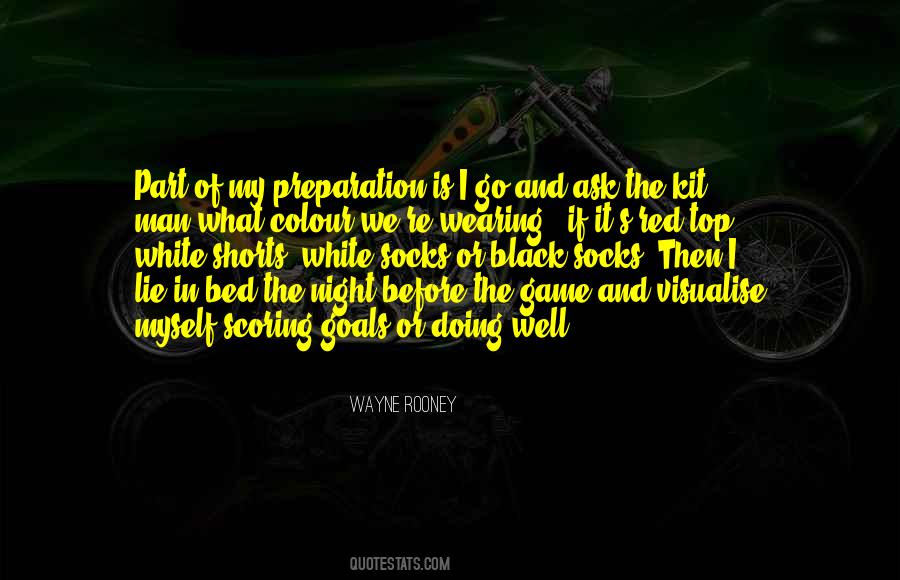 #34. One of the wise and awful truths which this brown-paper art reveals, is that, white is a colour. It is not a mere absence of colour; it is a shining and affirmative thing, as fierce as red, as definite as black. - Author: G.K. Chesterton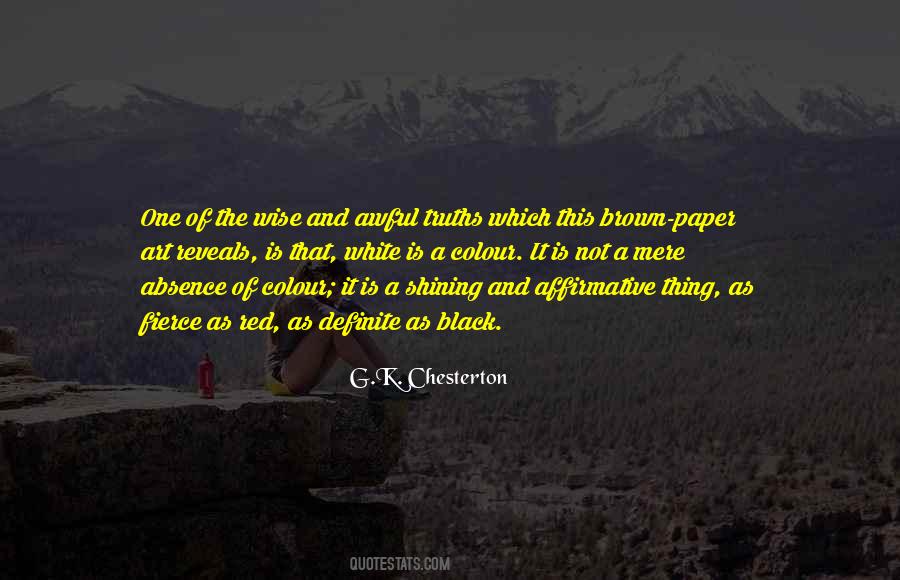 #35. If you force me to pick one color, it'd be Black ... It covers up the things inside of me that I don't want to be known. Well, for the same reason, black is the color I hate, too ... - Author: Gosho Aoyama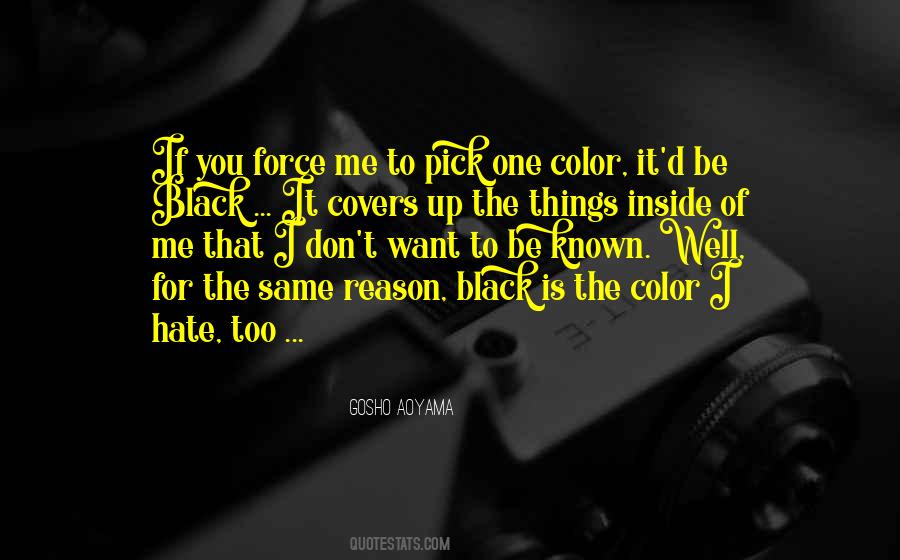 #36. The colour of fear is never dark or black; it has the colour of thunderbolt; usually white, but can appear in different hues depending on how the fear travels through to get inside your heart - Author: Munia Khan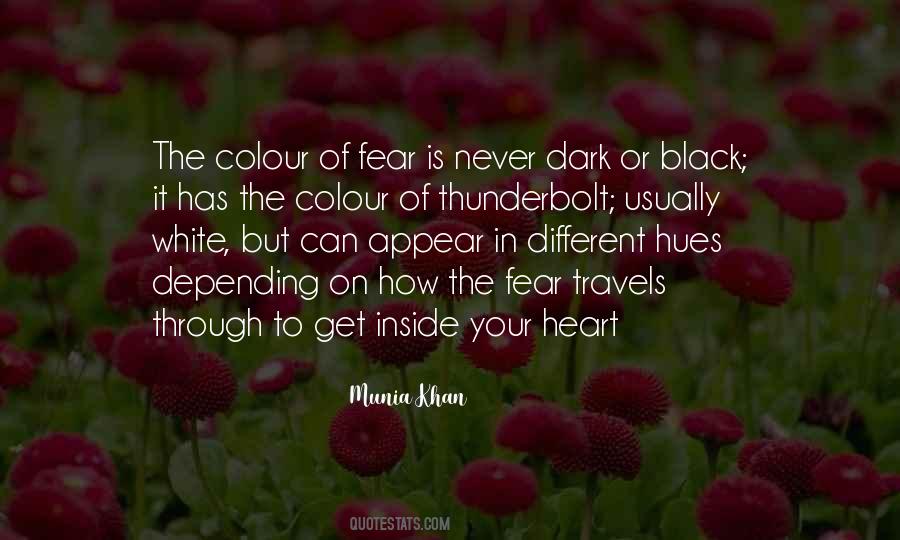 #37. My mixed-race background made me a broad person, able to relate to different cultures. But any woman of colour, even a mixed colour, is seen as black in America. So that's how I regard myself. - Author: Alicia Keys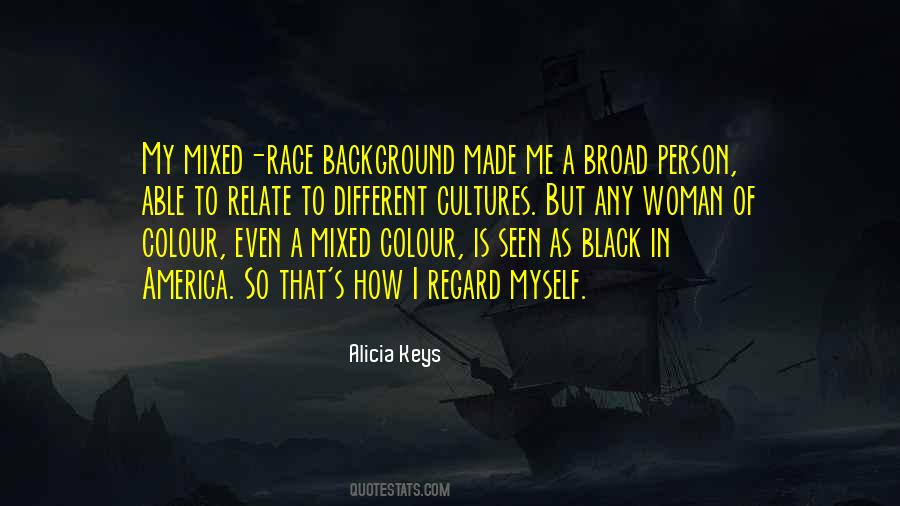 #38. This is astounding, amazing, so incredibly thrilling. Only today a world travelling cabaret performing drag queen took me out for lunch and named me as his new best friend. The idea plunges my black and white world into a vibrant techni-colour rainbow. - Author: L. H. Cosway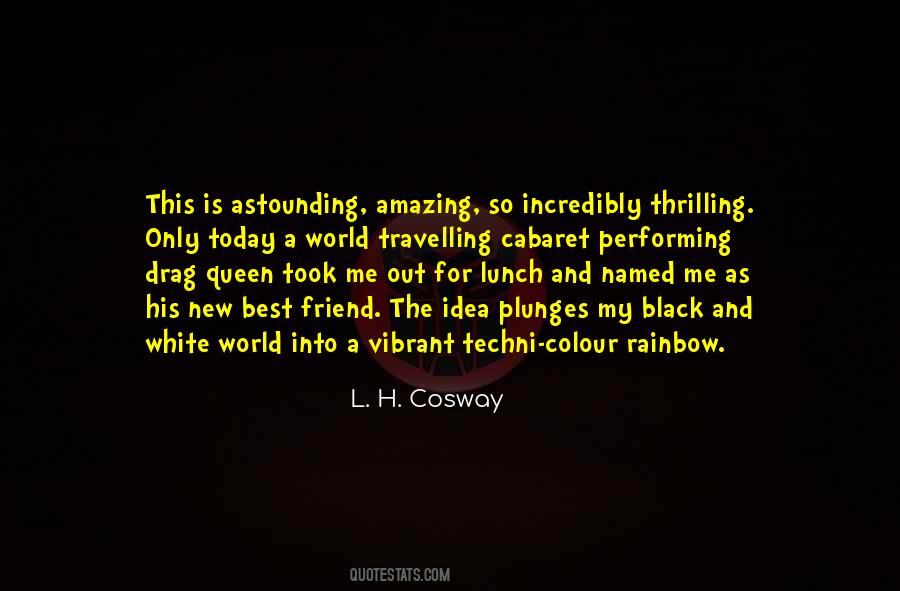 #39. Everything around Rincewind was black. It wasn't simply an absence of colour. It was darkness that flatly denied any possibility that colour might ever have existed. - Author: Terry Pratchett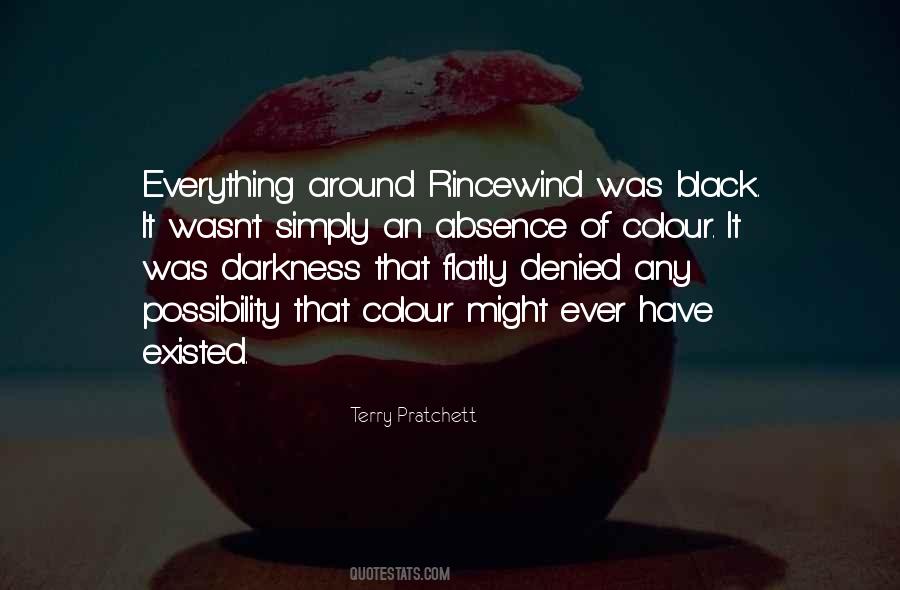 #40. Black Is The Most Beautiful colour because it does not reflect it absorbs all into itself. - Author: Amit Abraham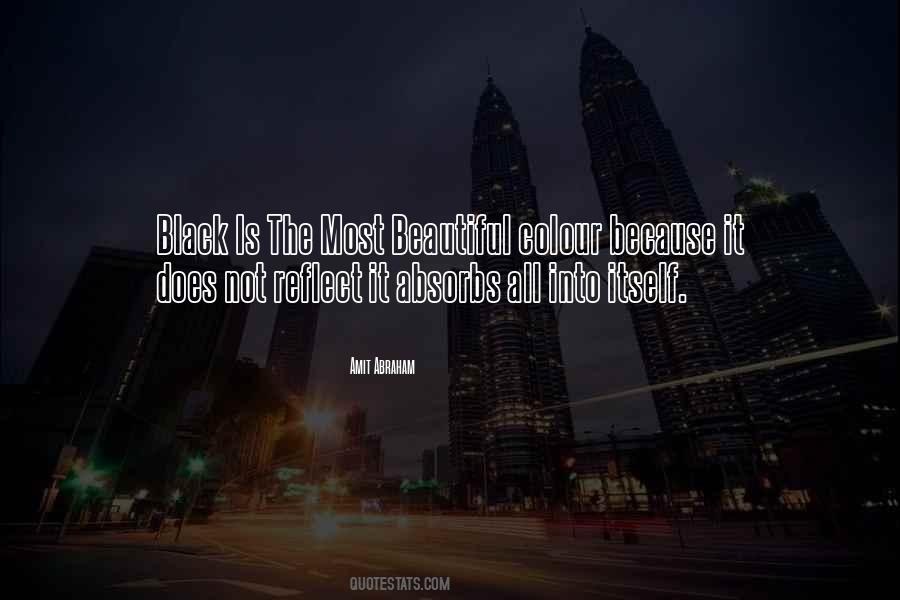 #41. I am the colour red, in a world of black and white and if you value your ability to breathe ... Don't get too close. - Author: Bray Wyatt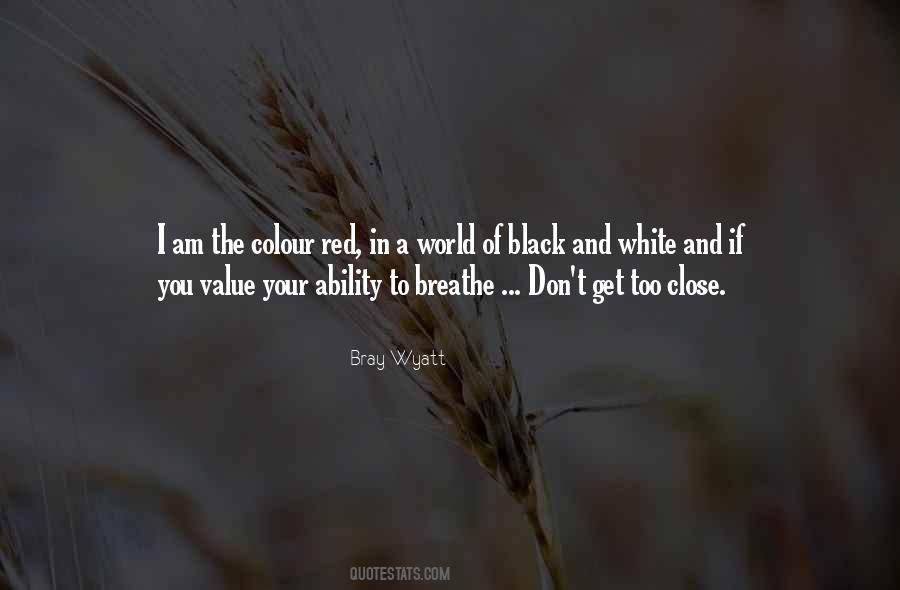 #42. Oh Demonation, the noise he made! Its colour - blue and black with streaks of orange - were as bright as the blood that gushed from his arms. - Author: Various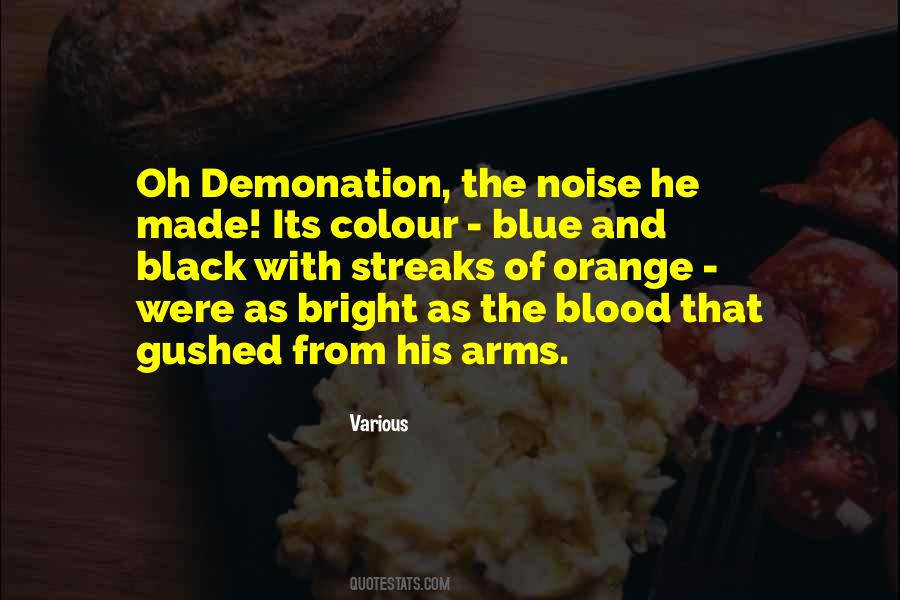 #43. If you paint the world in black and white you lose its colour. - Author: Neel Burton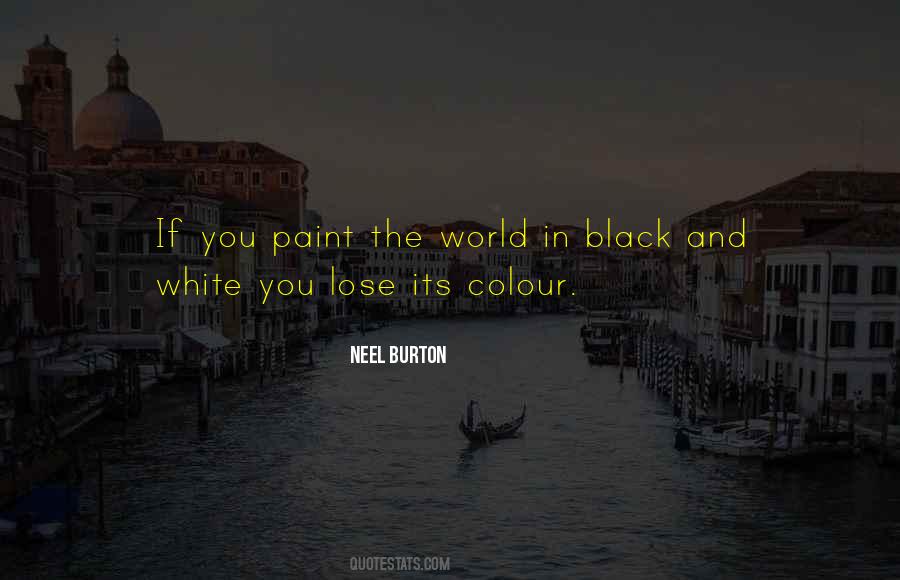 #44. When you say to a person of colour, 'When I see you, I don't see you Black; I just see everybody the same' think about that. You don't have the right to say to a person, 'I do not see you as you are; I want to see you as I would be more comfortable seeing you.' - Author: Jane Elliott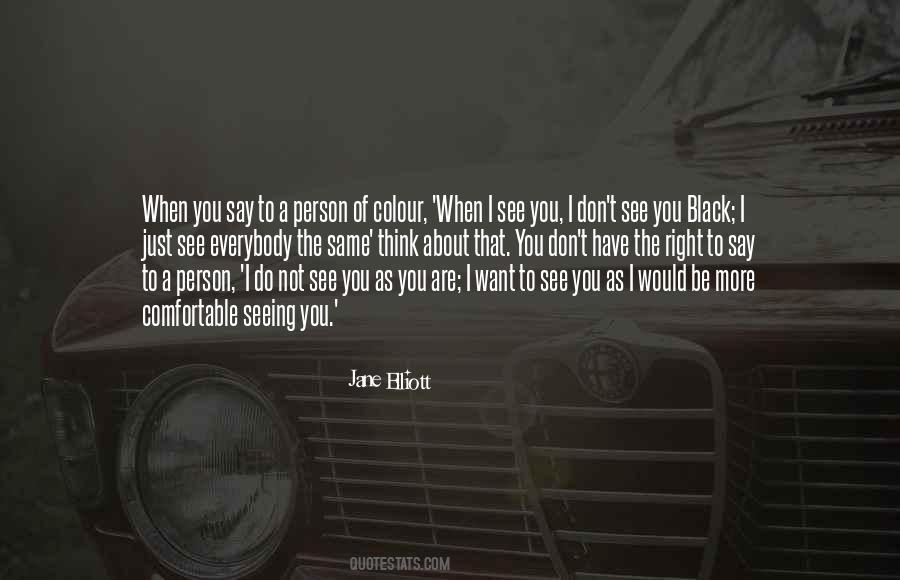 #45. His polish-black hair was so silky that my first impulse was to stroke it. That's what beauty does to us. Our first thought is that of the child. Touch it. Make it mine. But the child grows up and learns what happens when you reach for those bright balloons bursting with colour. - Author: Bonnie Hearn Hill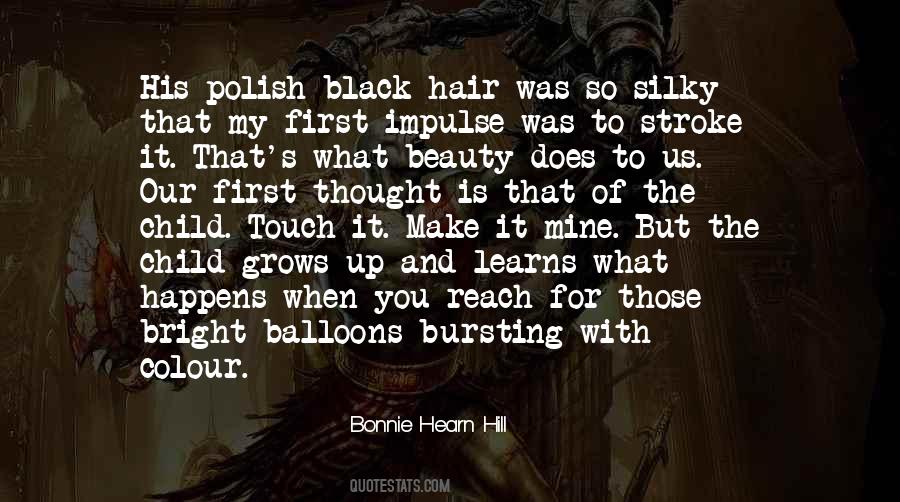 #46. We tend to misunderstand the colour black, seeing it as evil, or negation of life. Rather, black means all things being possible, infinite energy of life before consciousness has constructed any boundaries. When we fear blackness or darkness we fear the deep unconscious source of life itself. - Author: Rachel Pollack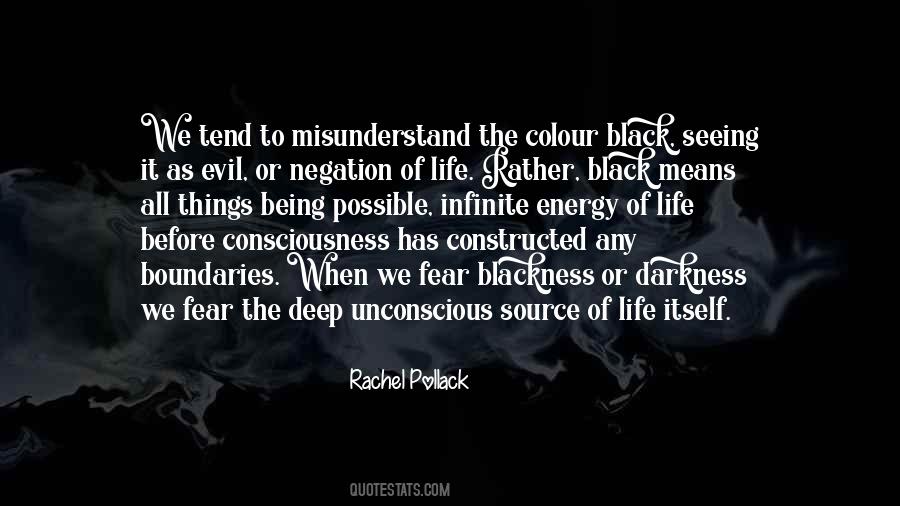 #47. an Underground train roared and rattled, driving a ghost-wind along the platform, which scattered a copy of the tabloid Sun into its component pages, four-colour breasts and black and white invective scurrying - Author: Neil Gaiman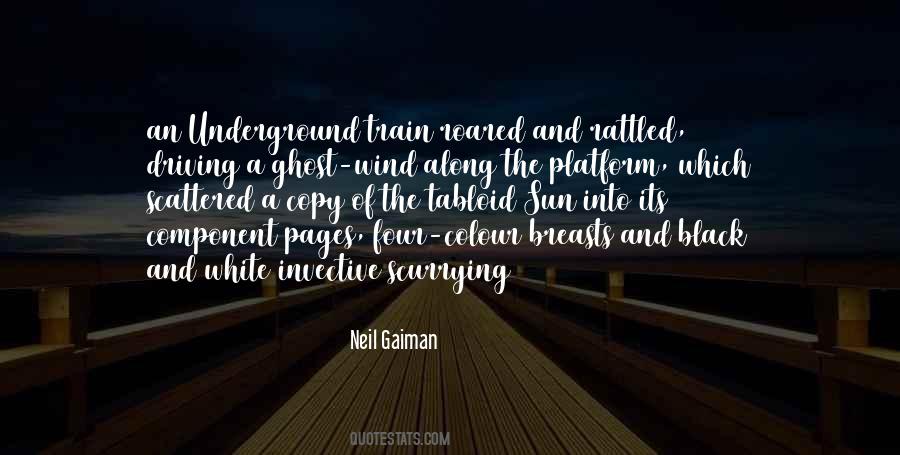 #48. We have a black President in the United States. I think the world has matured. It's no longer about colour, but the person in the skin. - Author: Marlon Wayans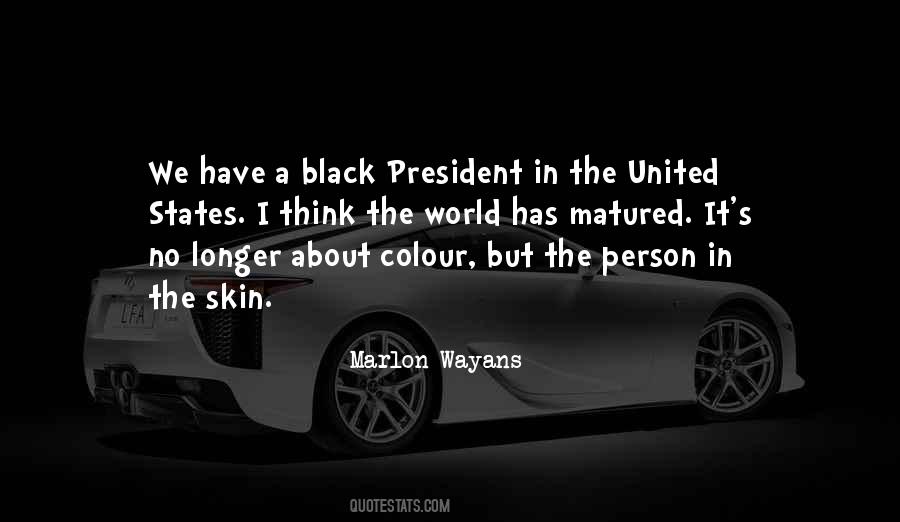 #49. The black people's struggle has vanquished racism. It was God who created colour. Today Obama, a son of Kenya, a son of Africa, has made it in the United States of America. - Author: Muammar Al-Gaddafi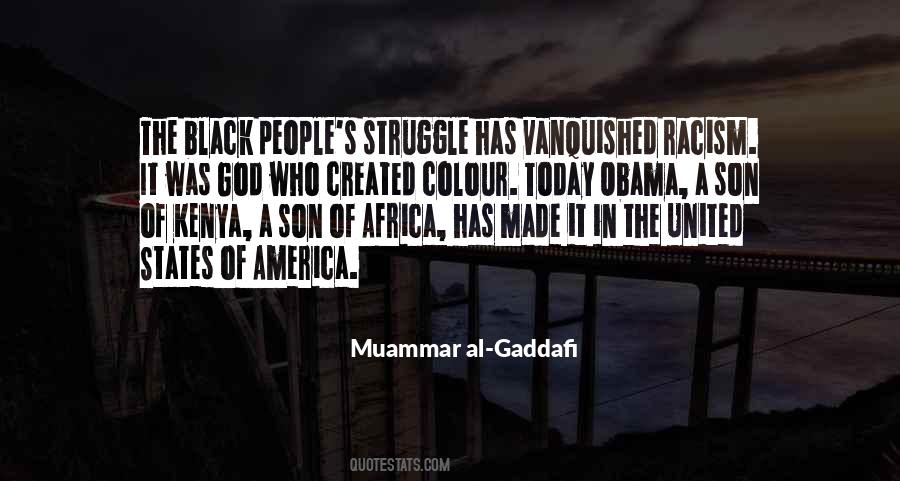 #50. Men are like pillow-cases. The colour of one may be red, that of another blue, and that of the third black; but all contain the same cotton within. So it is with man; one is beautiful, another is ugly, a third holy , and a fourth wicked; but the Divine Being dwells in them all - Author: Ramakrishna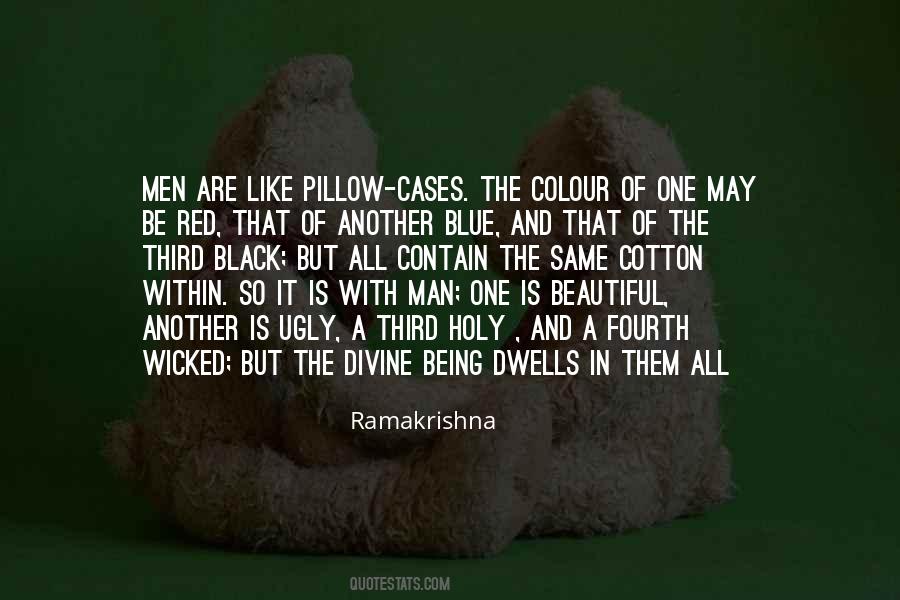 #51. There is absolutely nothing feminine about the colour pink, or, anything bad-luck'ish about the colour black - in itself. - Author: Mokokoma Mokhonoana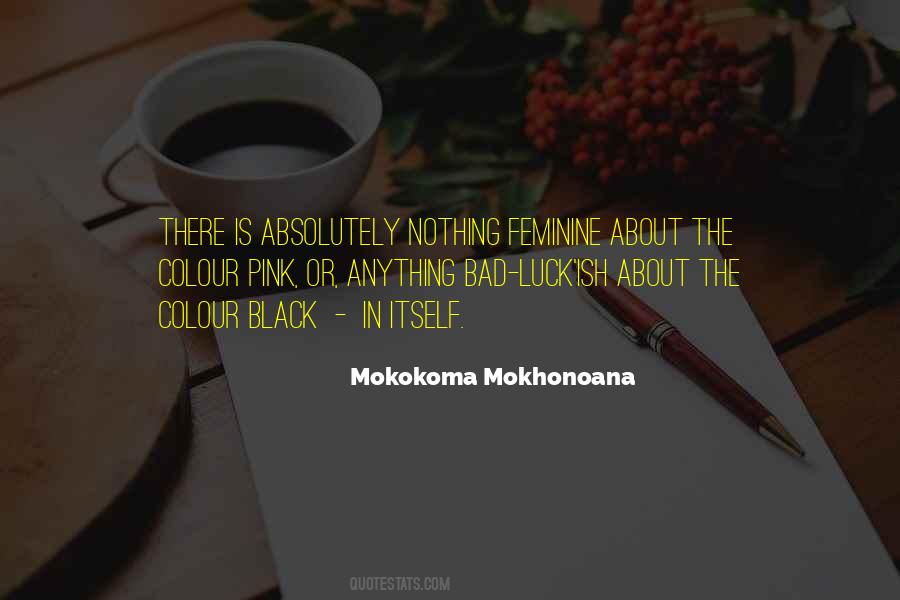 #52. As I wouldn't wear a costume, I couldn't imagine him wanting to wear one. And seeing that the greater part of my wardrobe is black (It's a sensible colour. It goes with anything. Well, anything black)[ ... ]. - Author: Neil Gaiman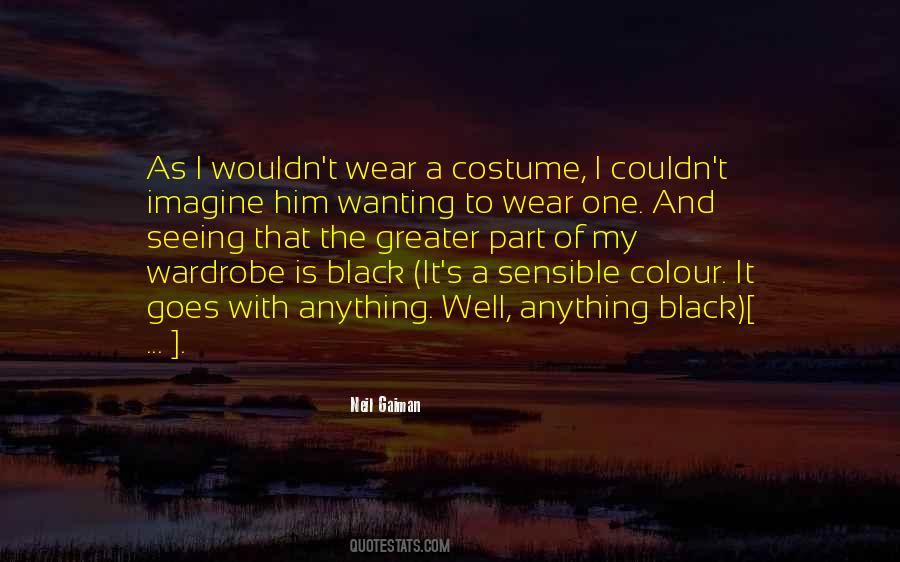 #53. Meaning is also a colour and that's why there are many colours in the black and white photos! - Author: Mehmet Murat Ildan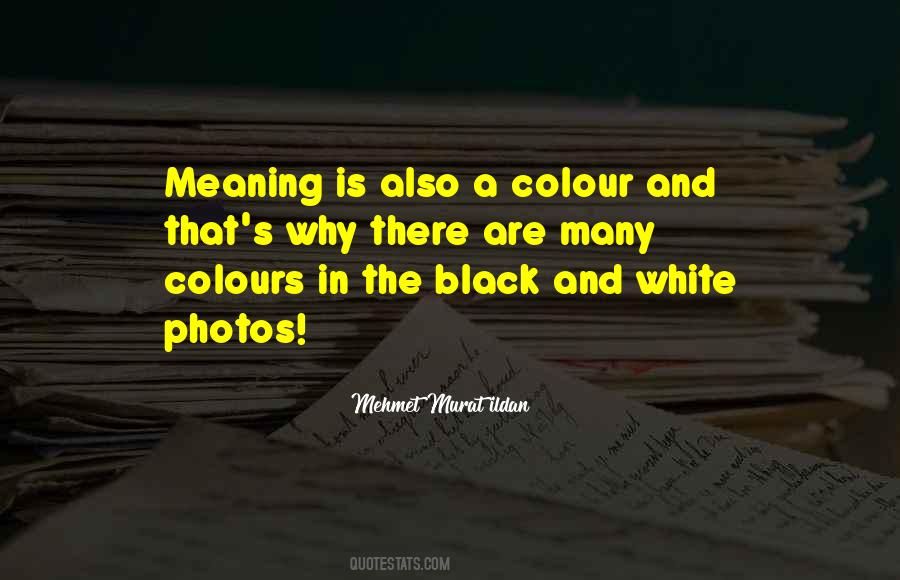 #54. With a terrible silence, the sky ripped open.

It swallowed them.

Rosemary looked out the window, and realised that she'd never really seen the colour black before. - Author: Becky Chambers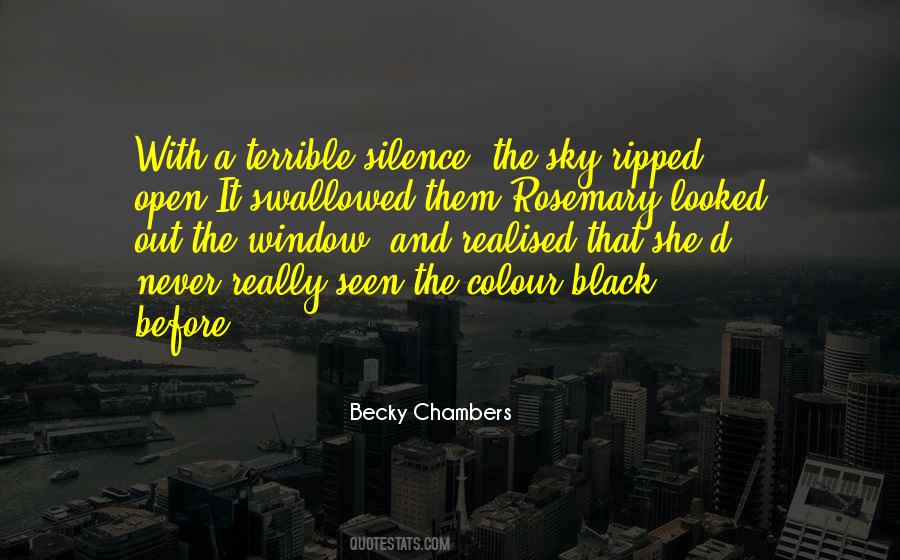 #55. Strangefellows's owner and bartender was a thin pale streak of misery who only wore black because no-one had come up with a darker colour yet. - Author: Simon R. Green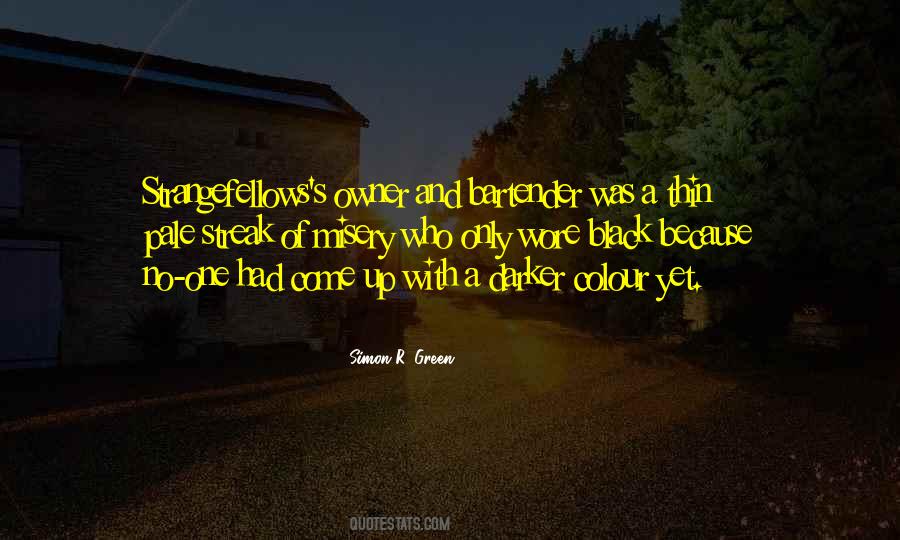 #56. I'm a dark blonde, yes. I dyed my hair blue, then black, when I was 14. I thought the colour was more flattering and matched my skin tone. I don't think I'd ever change back unless it was for a film. - Author: Eva Green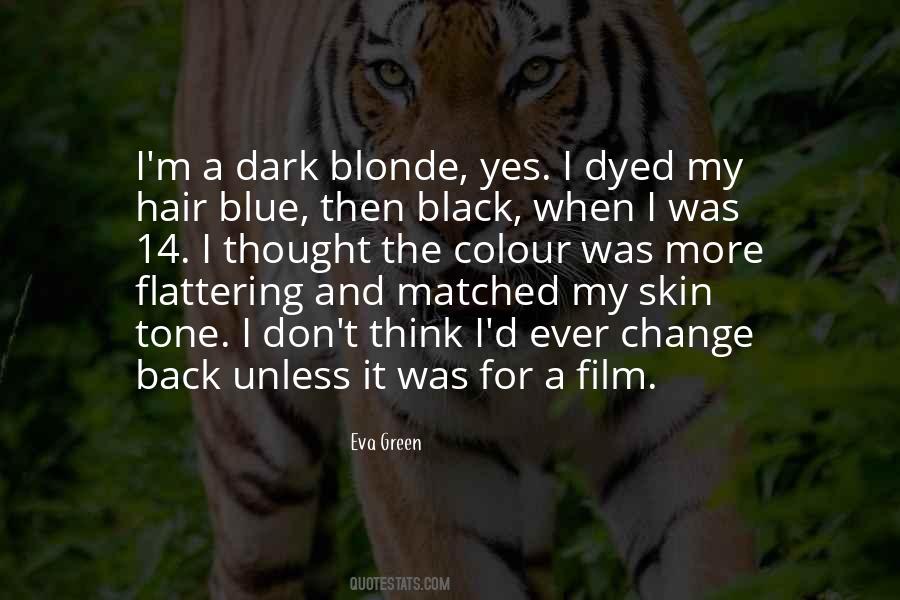 #57. I have wondered that even in the era of colour the black and white photographs are so appealing? I feel that as per saying - in black and white -they speak the truth. - Author: Amit Abraham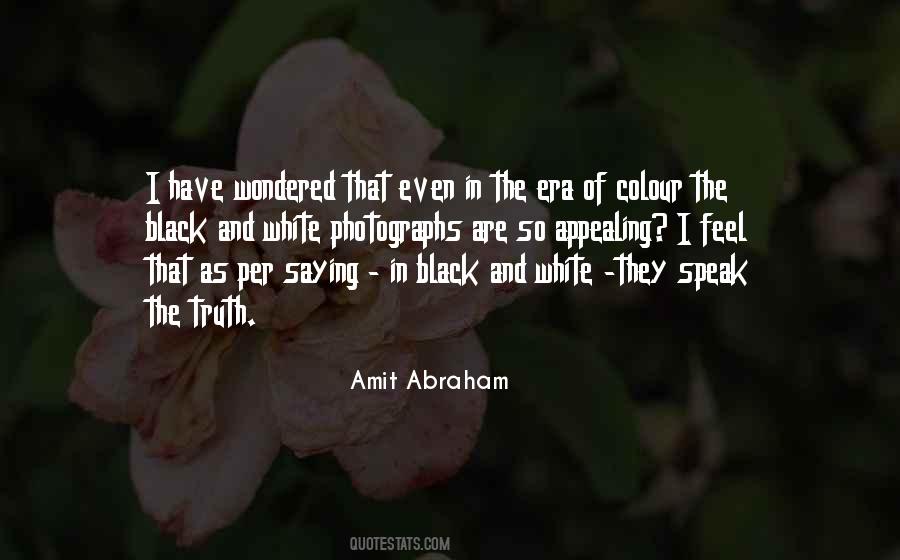 #58. There are never any absolutes in the fashion business: one day you may like black, and the next day you like colour. I think it's a good lesson that we should never believe too much in any one thing - because the next day it's out, and if we're stuck to it, we're out, too. - Author: Mario Testino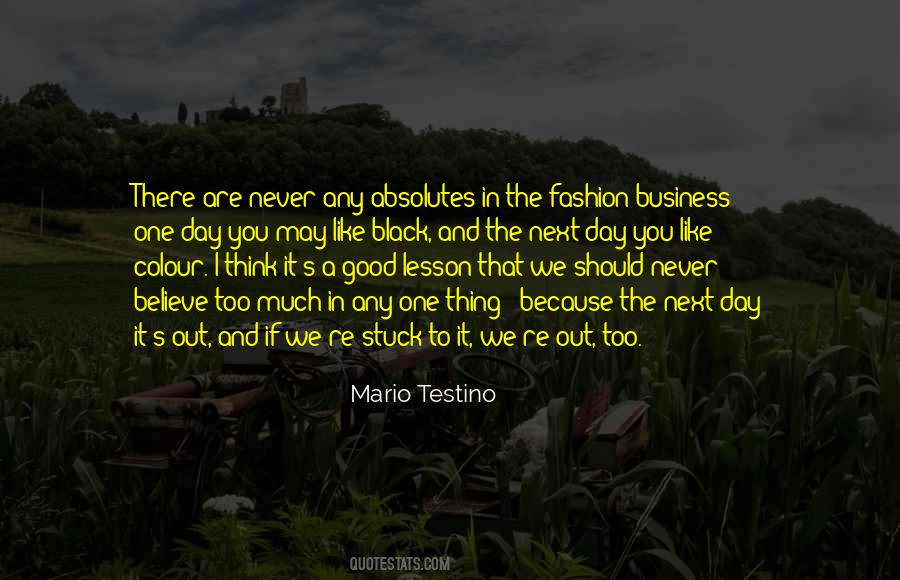 #59. Any colour - so long as it's black. - Author: Henry Ford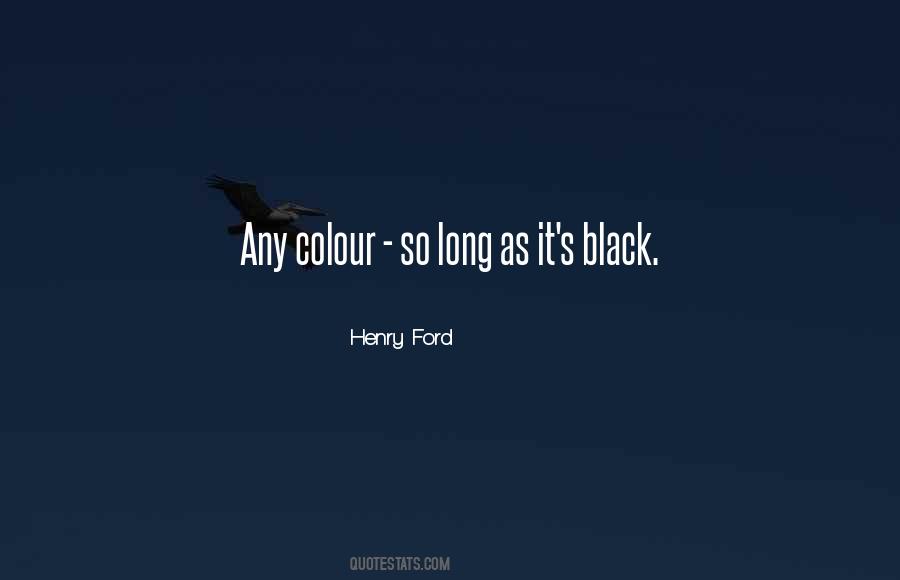 #60. She was like an outline of the painting of the Holy Virgin that an artist has sketched in black and white, but not yet filled with colour. - Author: Karen Maitland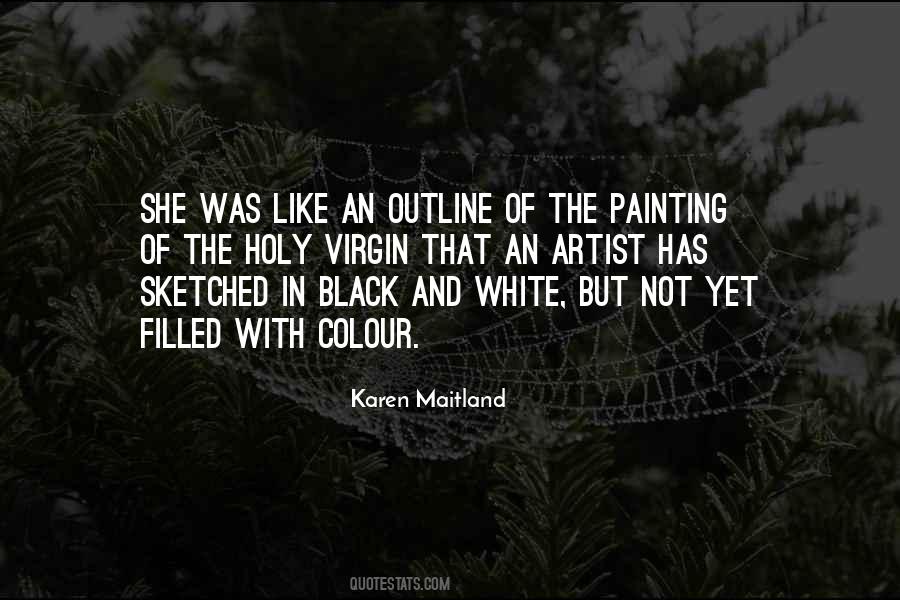 #61. They put exclusively black history in the syllabus. Is there a difference between a black history of the world and a proper history? They say children must read black novels. Does a novel have a skin colour? - Author: Imraan Coovadia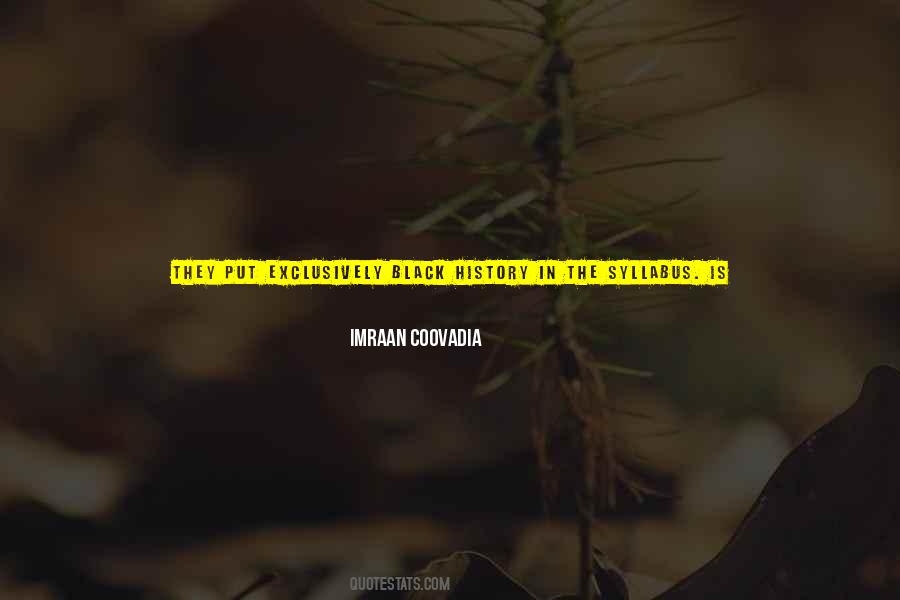 #62. Western funerals: black hearses, and black horses, and fast-fading flowers. Why should black be the colour of death? Why not the colours of a sunset? - Author: Daniele Vare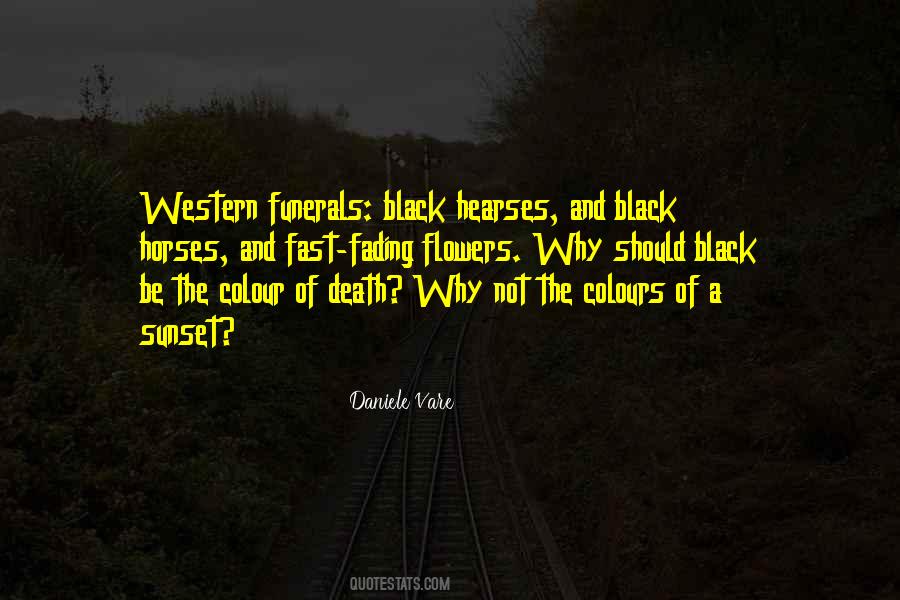 #63. Imagine the world as a crayon box, and it took every colour to draw each of us. Adding a shade lighter and darker with each interaction. None would be black or white, either purely absorbing all, or reflecting each. #ColourMeSpotless - Author: Nikhil Sharda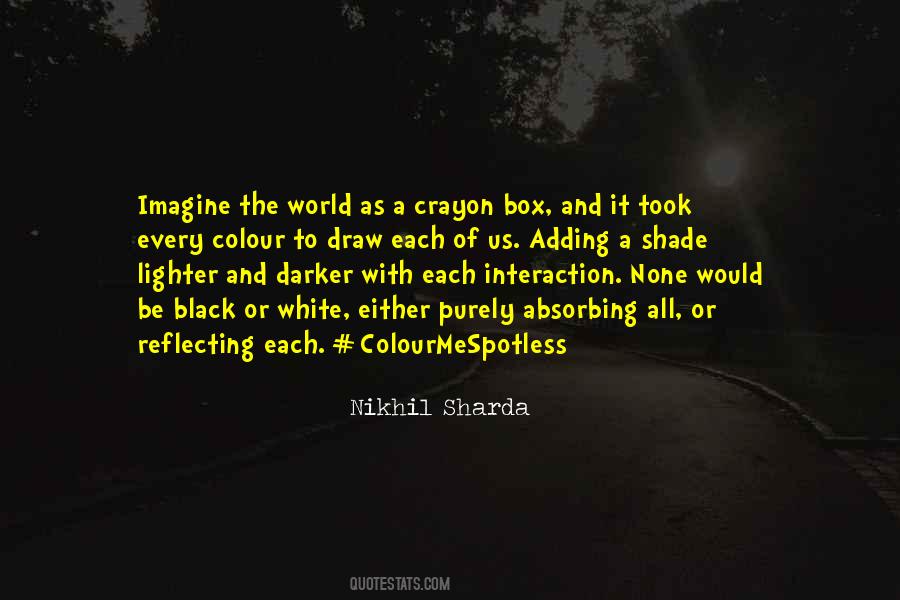 #64. Black seems to make a colour cloudy, but darkness doesn't. A ruby could thus keep getting darker without ever becoming cloudy; but if it became blackish red, it would become cloudy. - Author: Ludwig Wittgenstein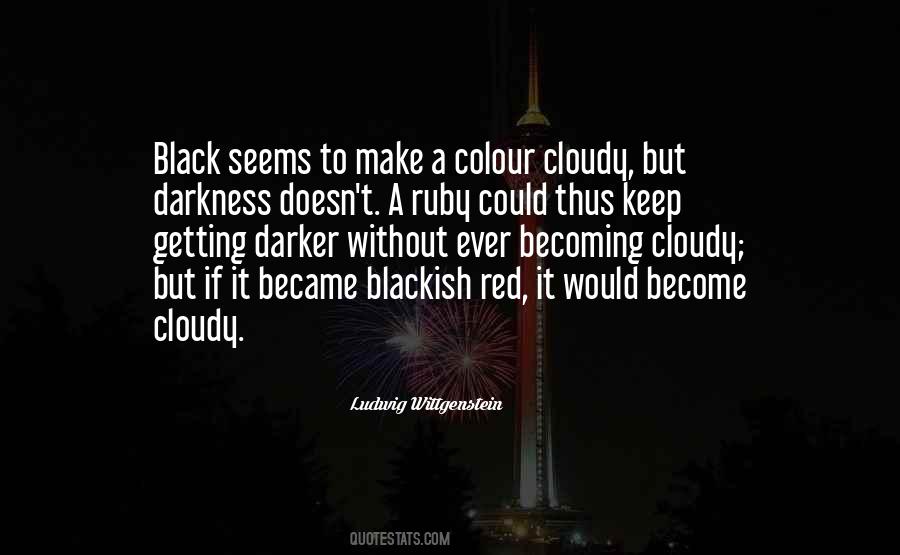 #65. It's a dumb question, because I don't look at things as a black director, just as a director, so ask me as a director first and we can segue into the colour thing later. - Author: Antoine Fuqua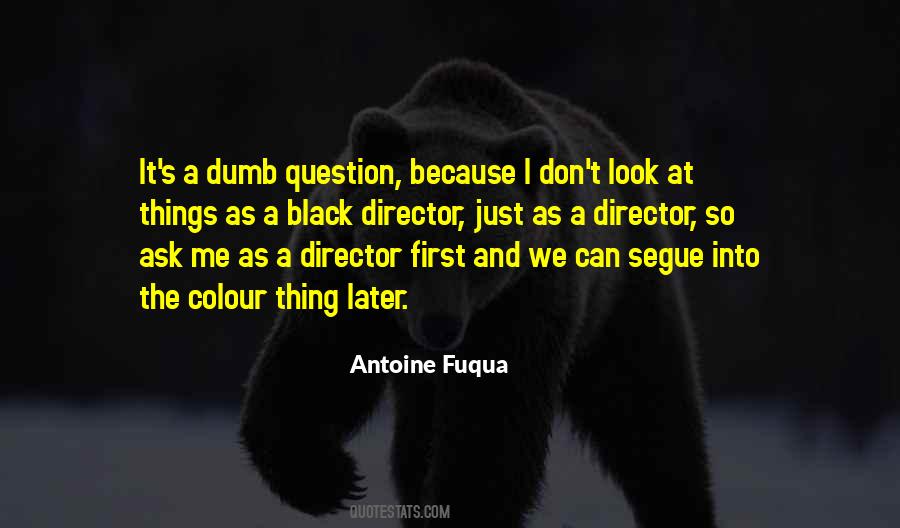 #66. Other lands became a larder full of all the good things All we had to do was go and take Blood the colour of the rain that grew our wicked harvest Black the colour icing on our cake - Author: Andy Partridge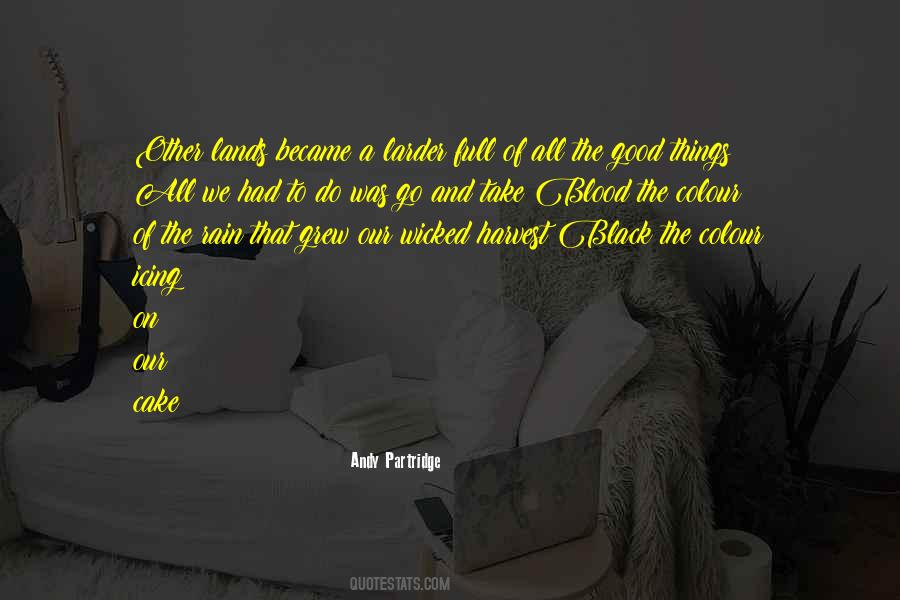 #67. The night sky alternated between black and bursts of colour. My stomach wanted food. My limbs wanted rest. My brain wanted sleep. My mind wanted oblivion. - Author: Srijita Sarkar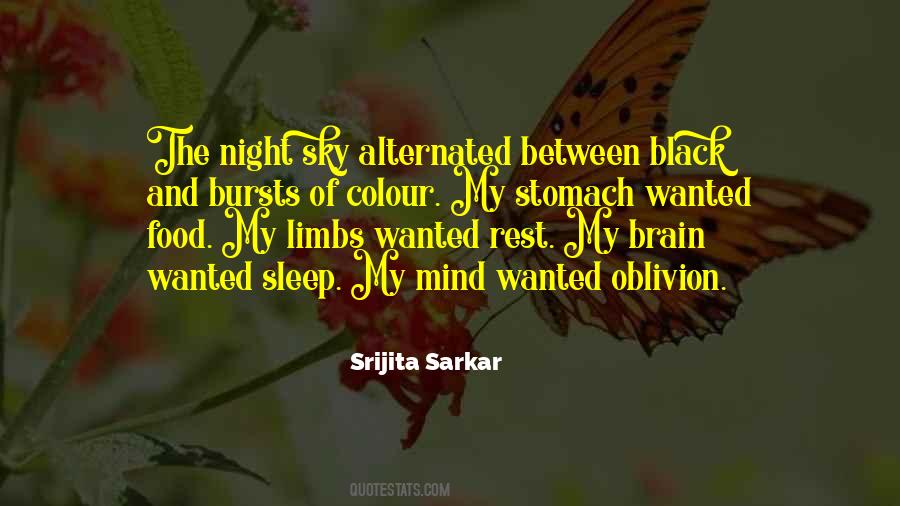 Famous Authors
Popular Topics