Bores Famous Quotes & Sayings
List of top 100 famous quotes and sayings about bores to read and share with friends on your Facebook, Twitter, blogs.
Top 100 Quotes About Bores
#1. Conciseness in art is essential and a refinement. The concise man makes one think; the verbose bores. Always work towards conciseness. - Author: Edouard Manet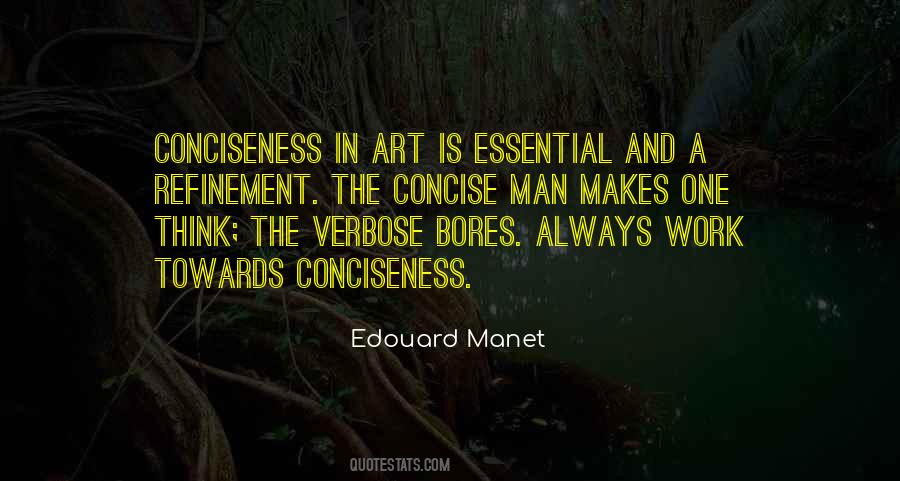 #2. DJing for people is fun until someone comes up with a phone screen that has 'PLAY SOME RIHANNA' written on it. I prefer to play older songs because they're the ones I personally enjoy dancing and singing along to and modern dance music bores my brains out. - Author: Alexa Chung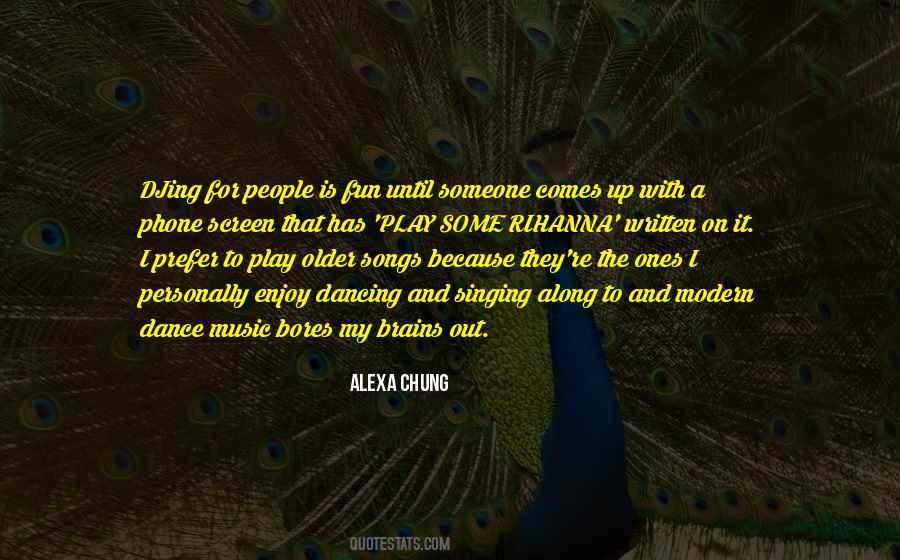 #3. Alas! it is true: "Be polite to bores and so shall you have bores always round about you." - Author: Emily Post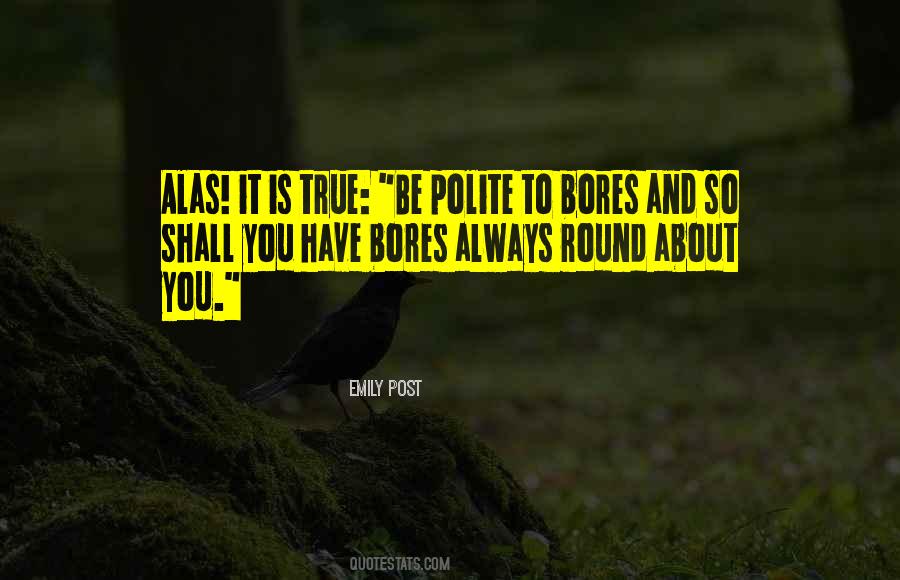 #4. When your protagonist bores you, you're in trouble. - Author: Patrick DeWitt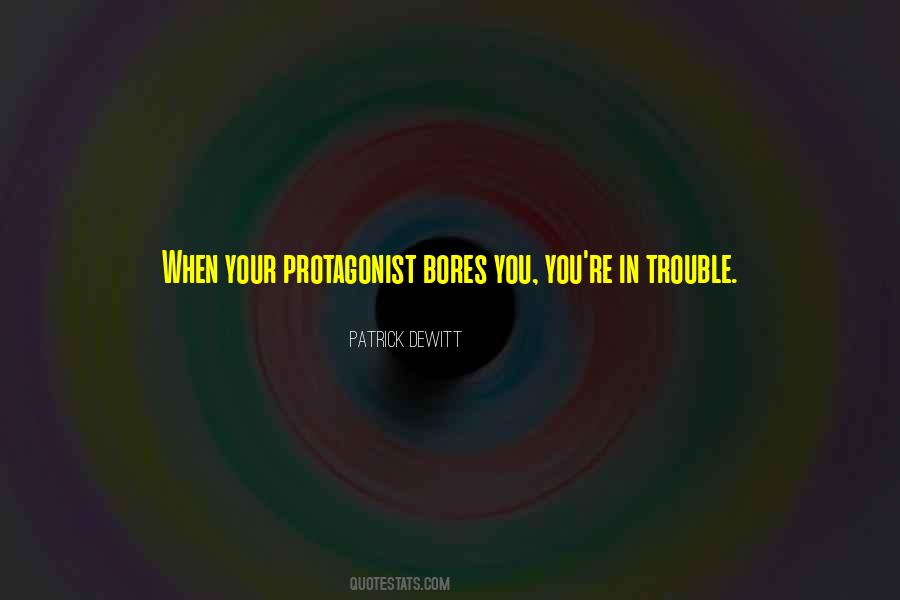 #5. Variety is important when it comes to exercise. I don't do anything that bores me to tears. - Author: Alanis Morissette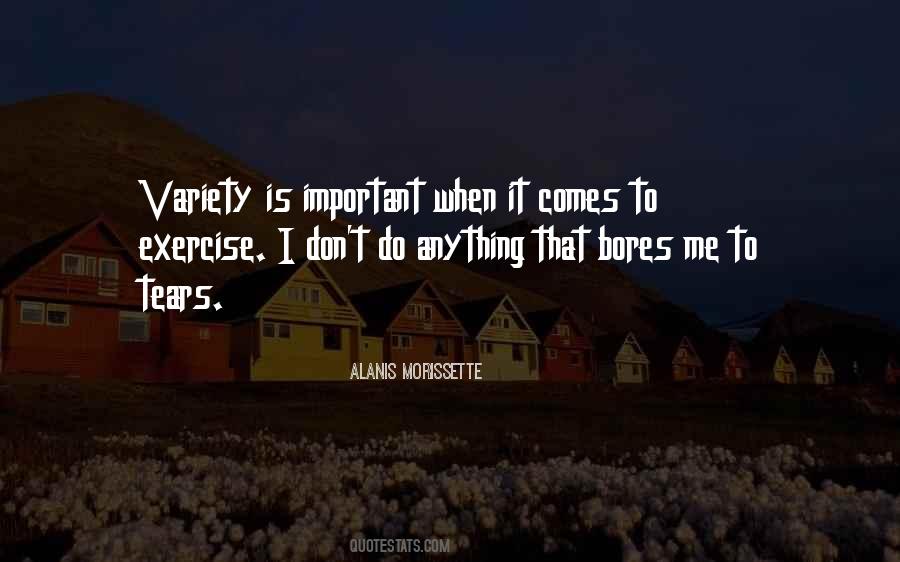 #6. When you start to bore yourself and others, that's when you begin to get old. - Author: Martha Albrand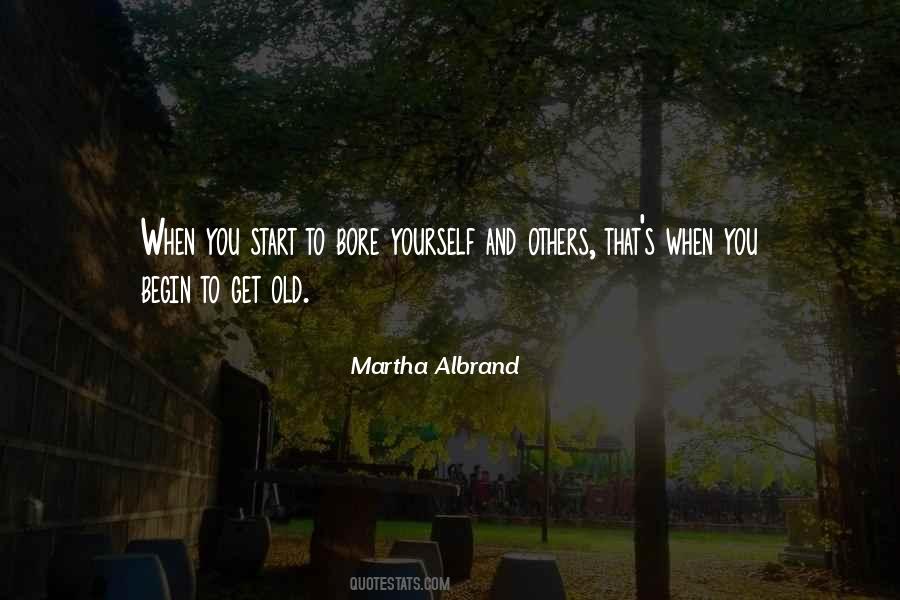 #7. We are almost always wearied in the company of persons with whom we are not permitted to be weary. - Author: Francois De La Rochefoucauld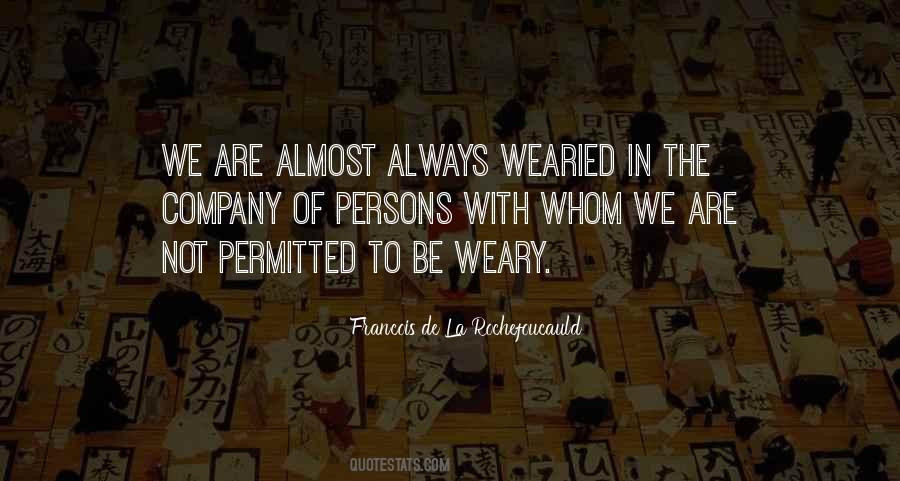 #8. Sometimes I dread loneliness more than bores. Other times, the reverse. - Author: Mason Cooley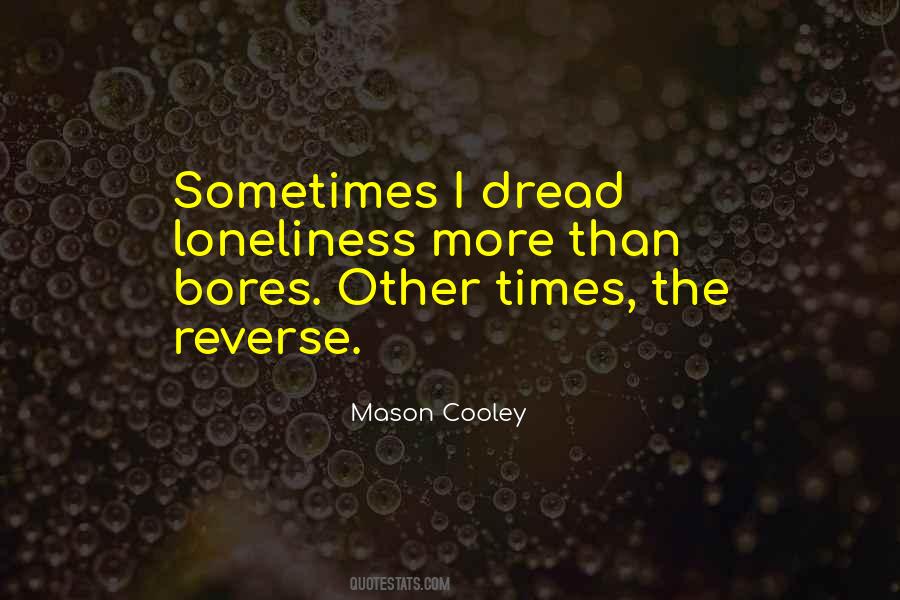 #9. The return from your work must be the satisfaction which that work brings you and the world's need of that work. With this, life is heaven, or as near heaven as you can get. Without this - with work which you despise, which bores you, and which the world does not need - this life is hell. - Author: W.E.B. Du Bois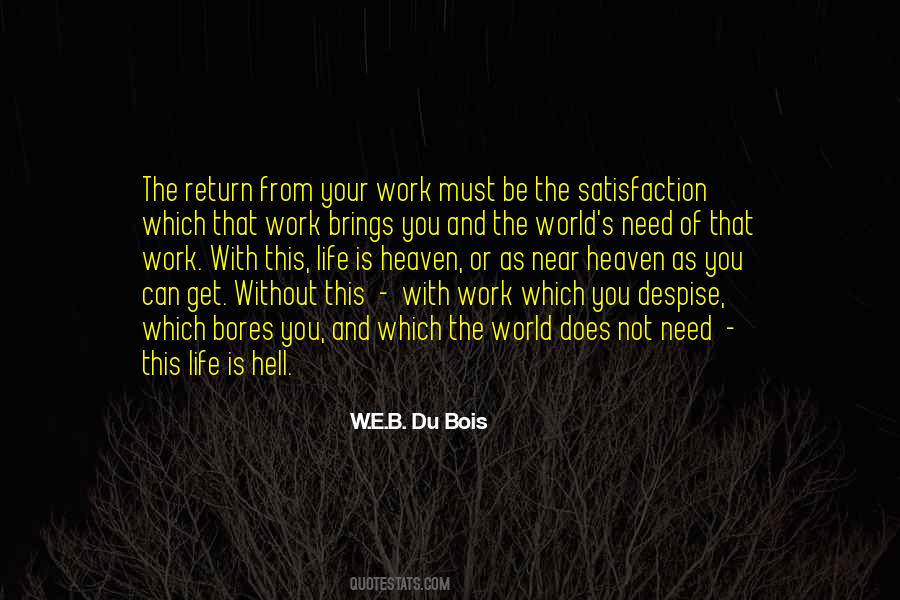 #10. I read the Bible sometimes, but it bores me to death. I just want to know what other people find so bloody fascinating. - Author: Keith Richards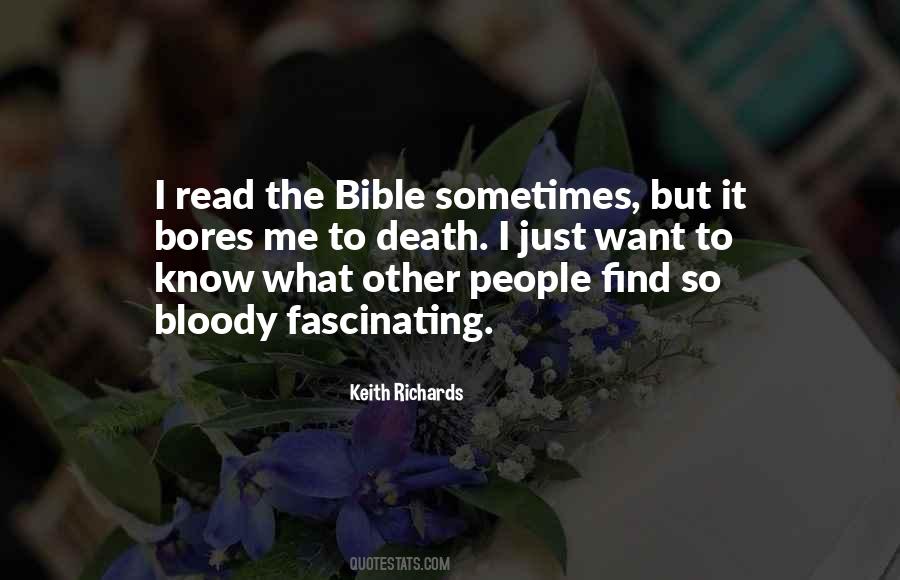 #11. The look of being too deliberately dressed, with everything cautiously matching, always bores me. - Author: Babe Paley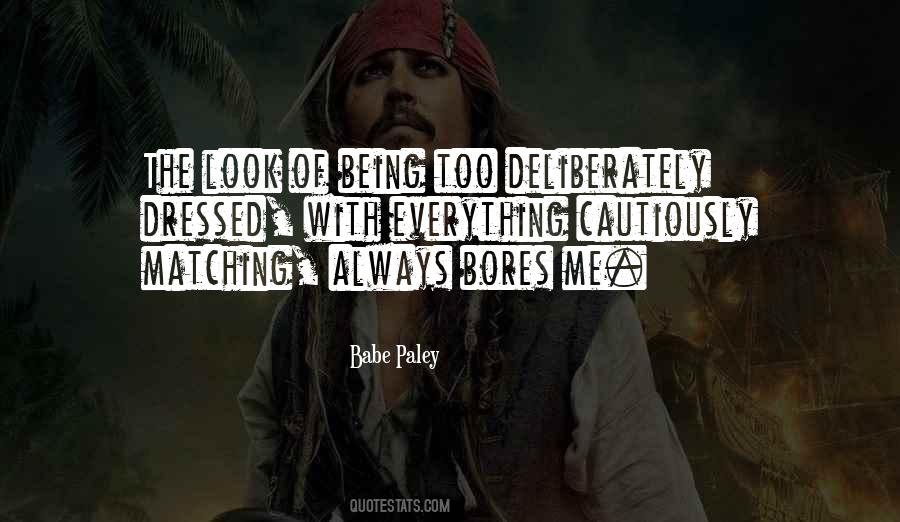 #12. Sir, you have but two topics, yourself and me. I am sick of both. - Author: Samuel Johnson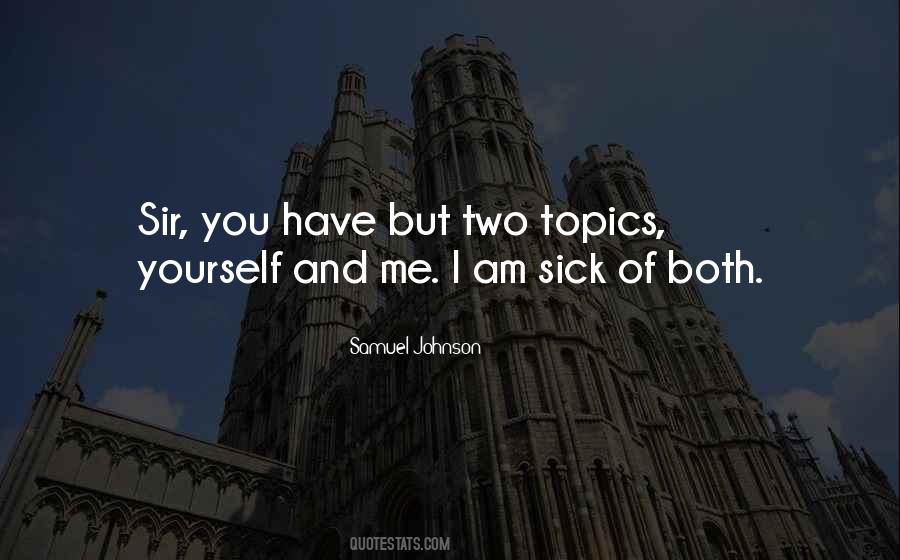 #13. I don't give any book a big chance. If it isn't interesting from the get-go, I let go. Sure I paid for the book, but I don't have to pay more in my time to read a book that bores me. If I don't enjoy reading it, why read it? For my original investment in the book? That's silly. - Author: Jon Spoelstra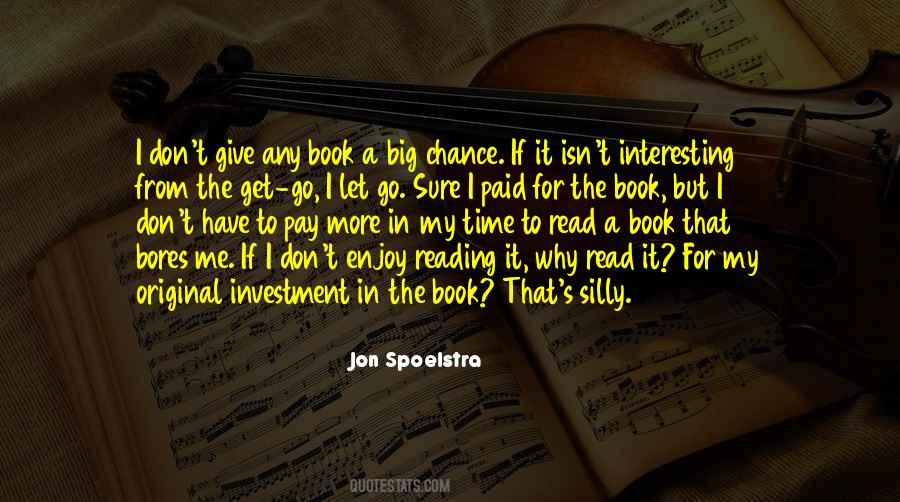 #14. MGM bores me when I see them, but I don't see them much. They have been a help in getting me introductions to morticians, who are the only people worth knowing. - Author: Evelyn Waugh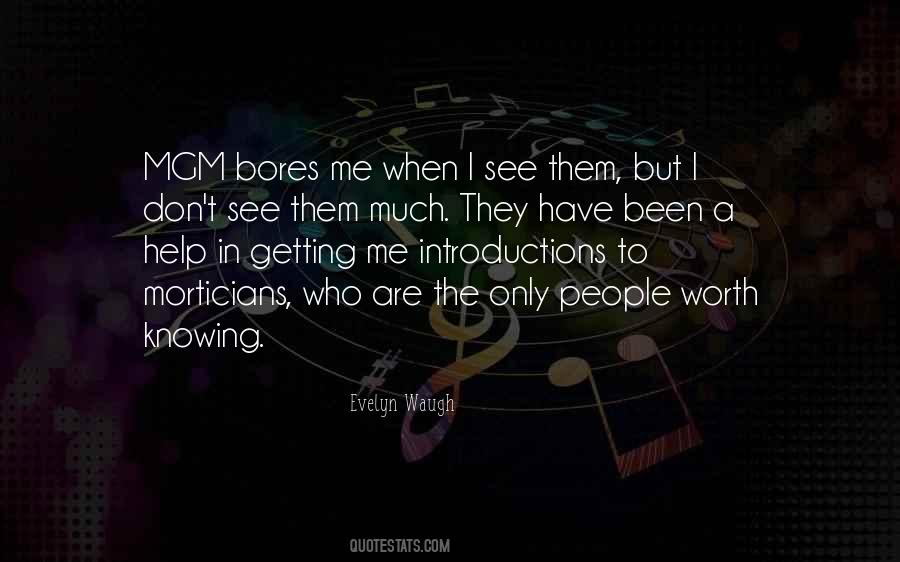 #15. I prefer an interesting vice to a virtue that bores. - Author: Moliere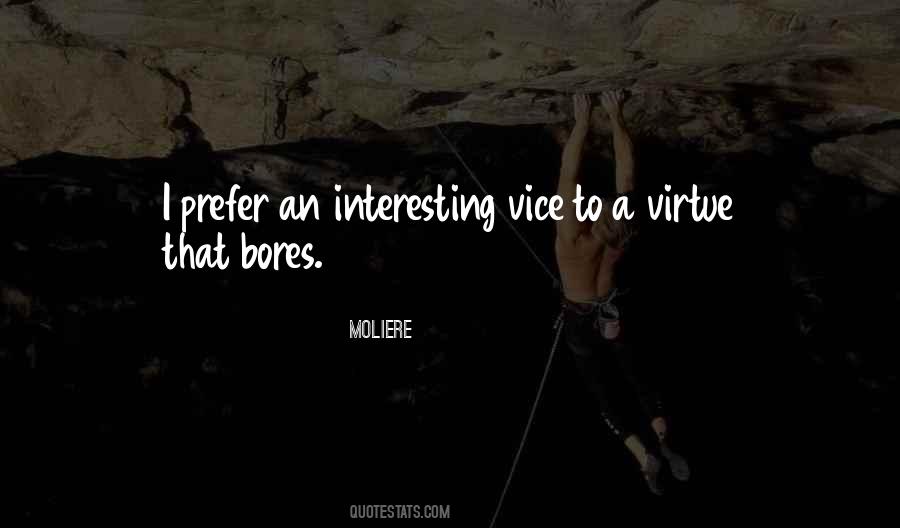 #16. I was trained as a political scientist and the profession bores me, to be frank. I am truly bored by mainstream work in my discipline, which strikes me as a kind of medieval scholasticism of a special kind. - Author: James C. Scott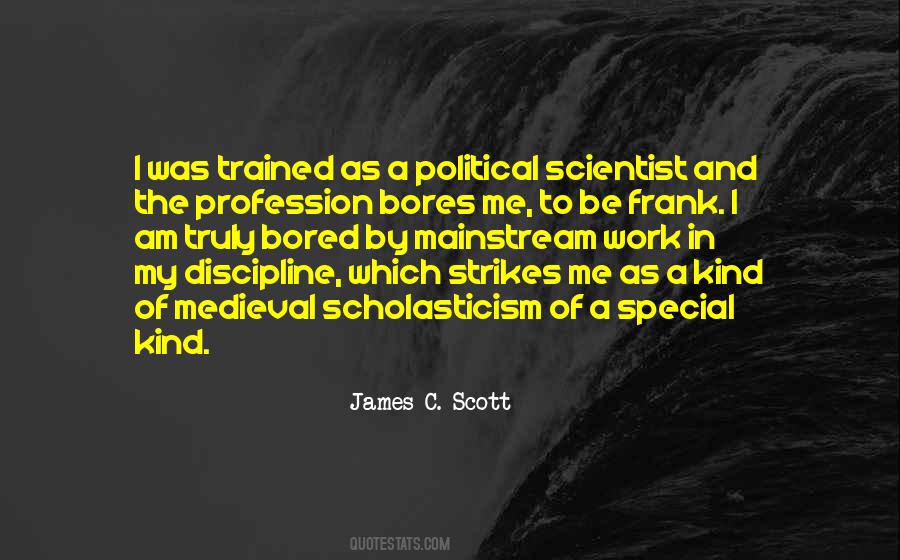 #17. I prefer a thief to a Congressman. A thief will take your money and be on his way, but a Congressman will stand there and bore you with the reasons why he took it. - Author: Walter E. Williams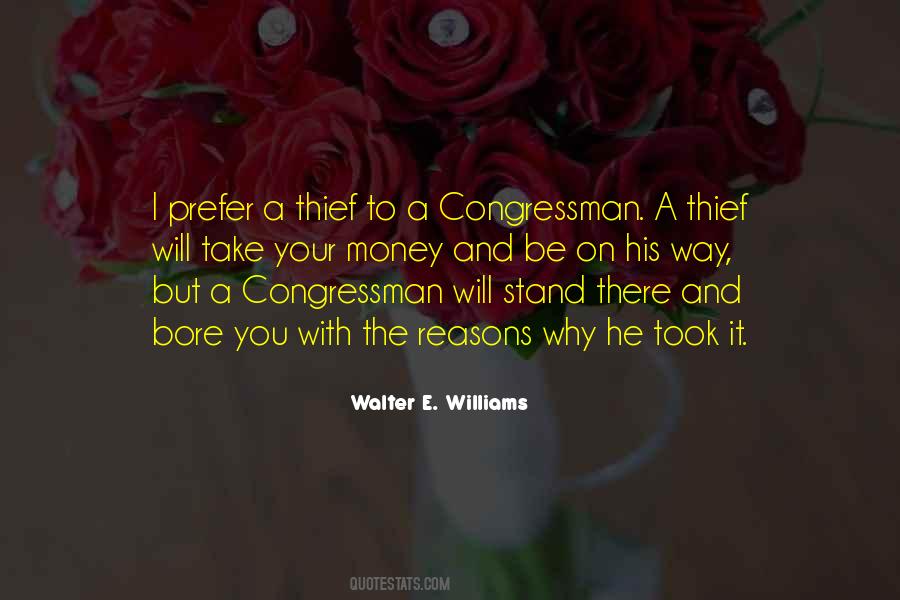 #18. If Jesus bore the cross, and died on it for me, ought I not to be willing to take it up for Him? - Author: Dwight L. Moody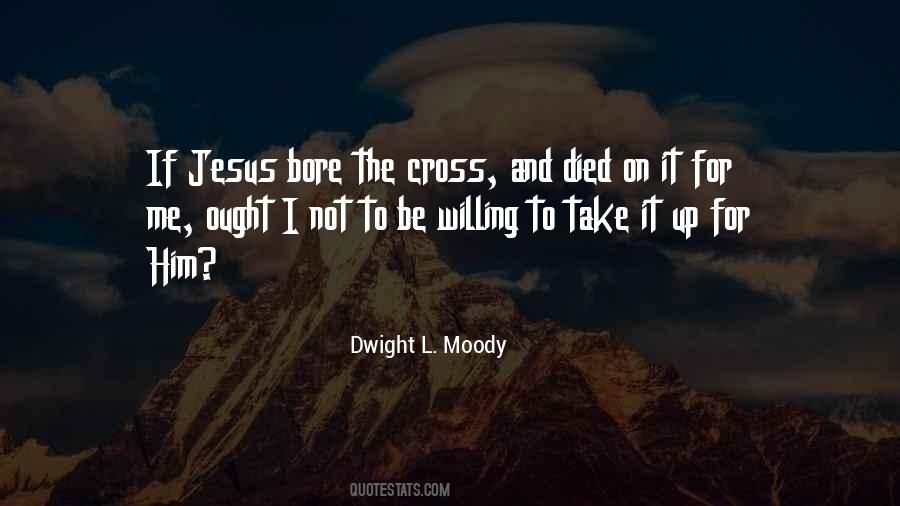 #19. Our best chance of contentment lies in taking up the wisdom offered to us in coded form through our coughs, allergies, social gaffes, and emotional betrayals, and avoid the ingratitude of those who blame the peas, the bores, the time, and the weather. - Author: Alain De Botton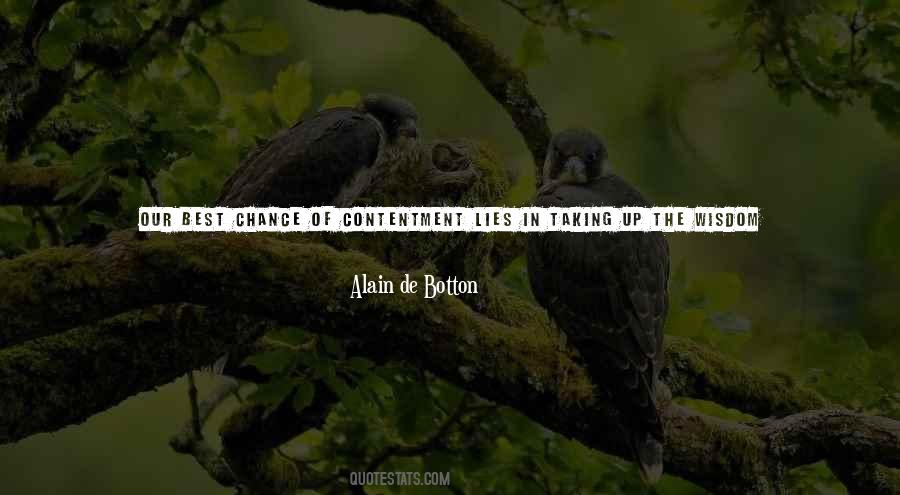 #20. He never bore a grudge against anyone he wronged. - Author: Simone Signoret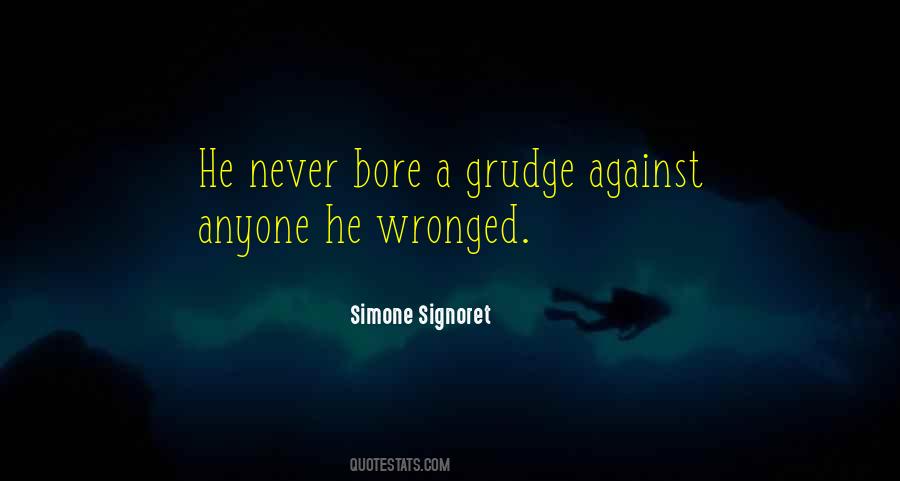 #21. To my thinking, it is more pitiable to bore than to be bored. - Author: George Eliot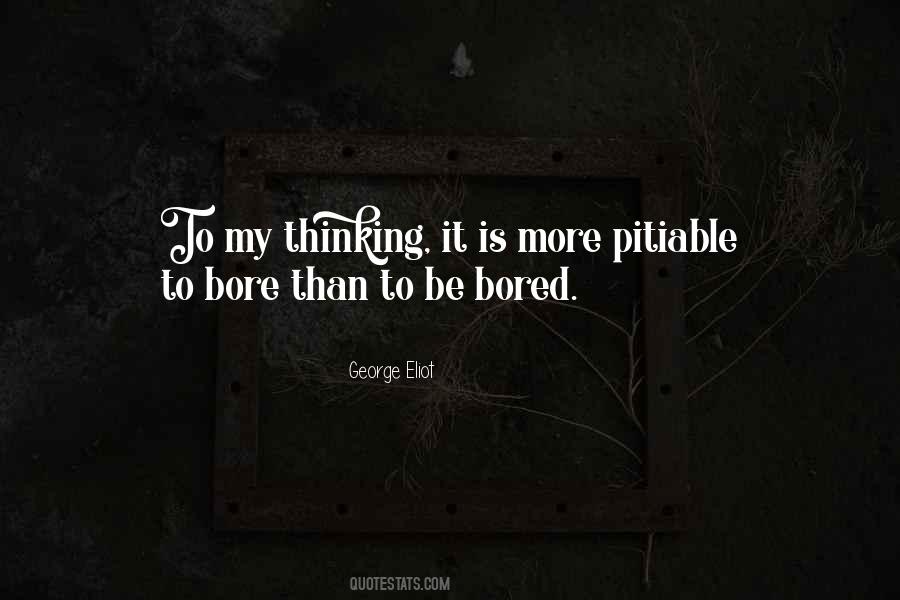 #22. The majority of critical, and plenty of uncritical, readers find quotations a bore. - Author: Ethel Smyth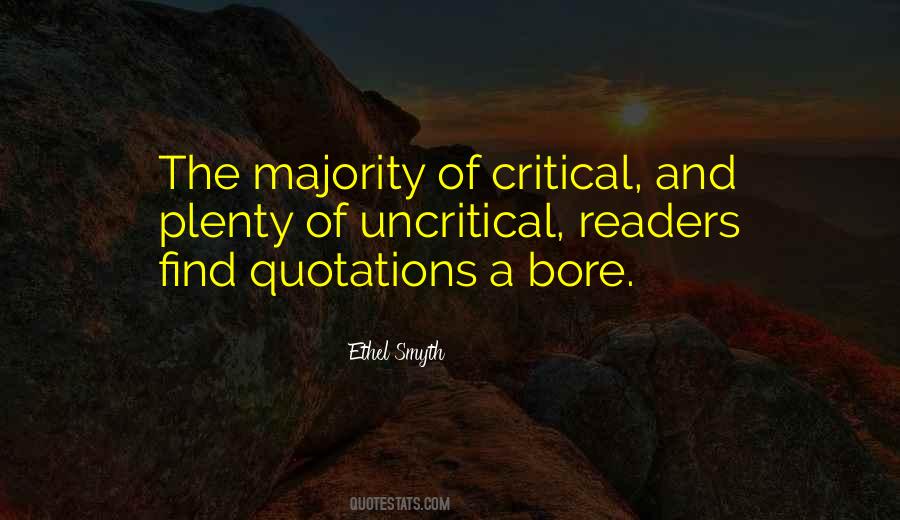 #23. Let's buy books so as not to read them; let's go to concerts without caring to hear the music or see who's there; let's take long walks because we're sick of walking; and let's spend whole days in the country, just because it bores us. - Author: Fernando Pessoa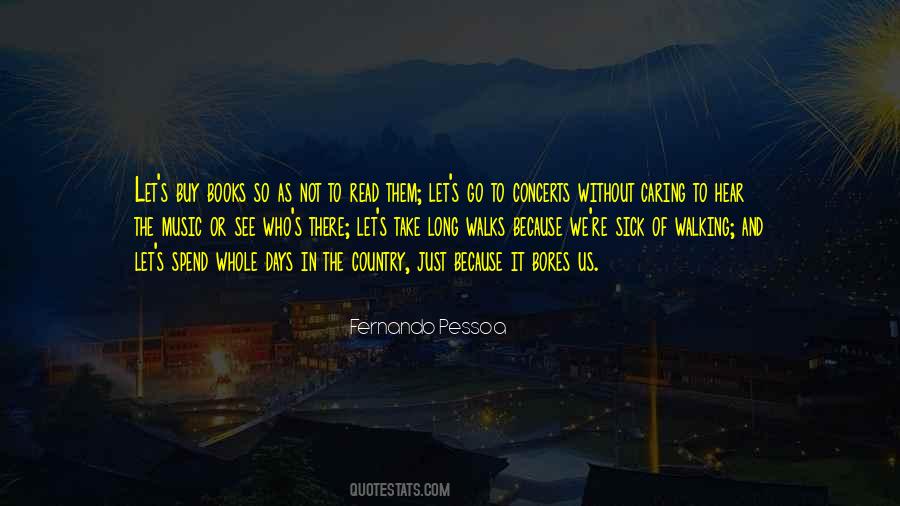 #24. People who quoted the Scriptures in criticism of others were terrible bores and usually they misapplied the text. One could prove anything against anyone from the Bible. - Author: Muriel Spark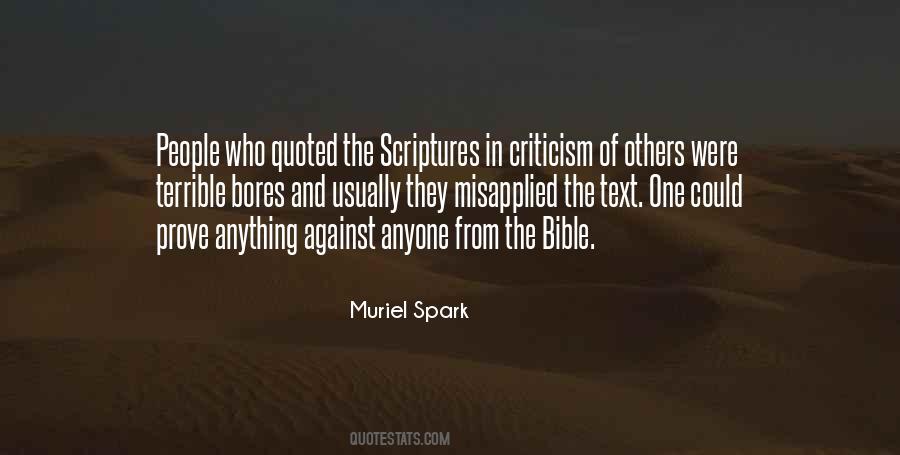 #25. Yet too much happy bores. He stretched more, more. Are you not happy in your? Twang. It snapped. - Author: James Joyce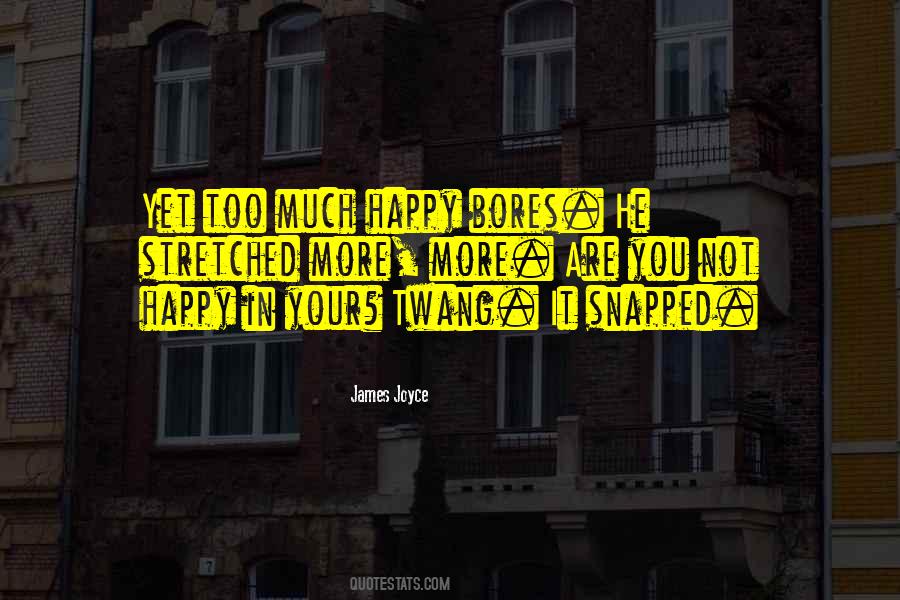 #26. If the scene bores you when you read it, rest assured it WILL bore the actors, and will then bore the audience, and we're all going to be back in the breadline. - Author: David Mamet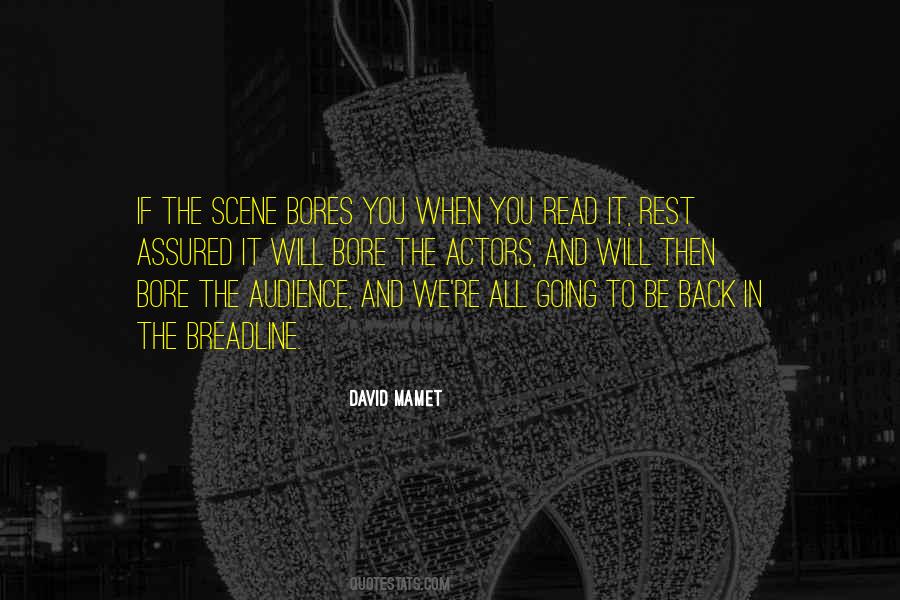 #27. Be grateful for what you have and stop complaining - it bores everybody else, does you no good, and doesn't solve any problems. - Author: Zig Ziglar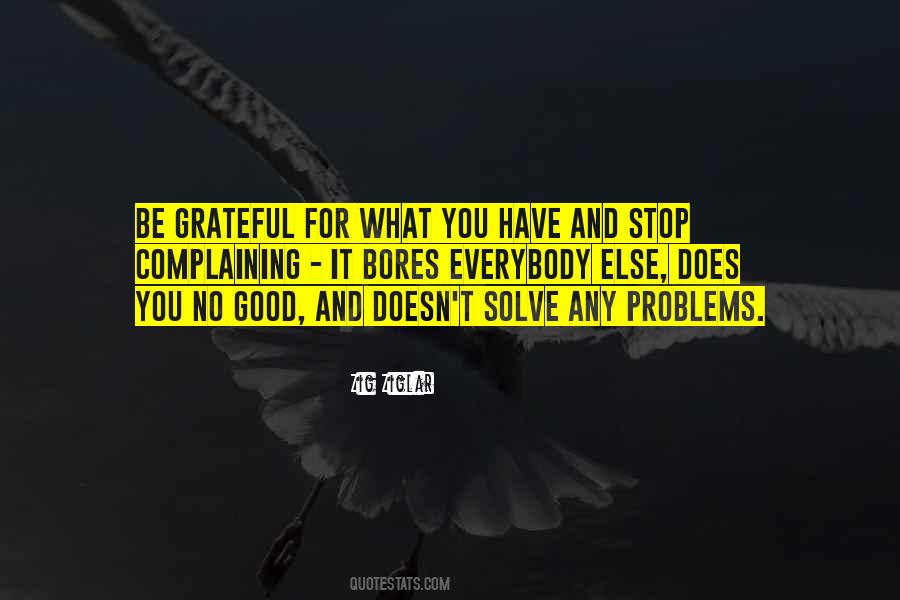 #28. Bores put you in a mental cemetery while you are still walking. - Author: Elsa Maxwell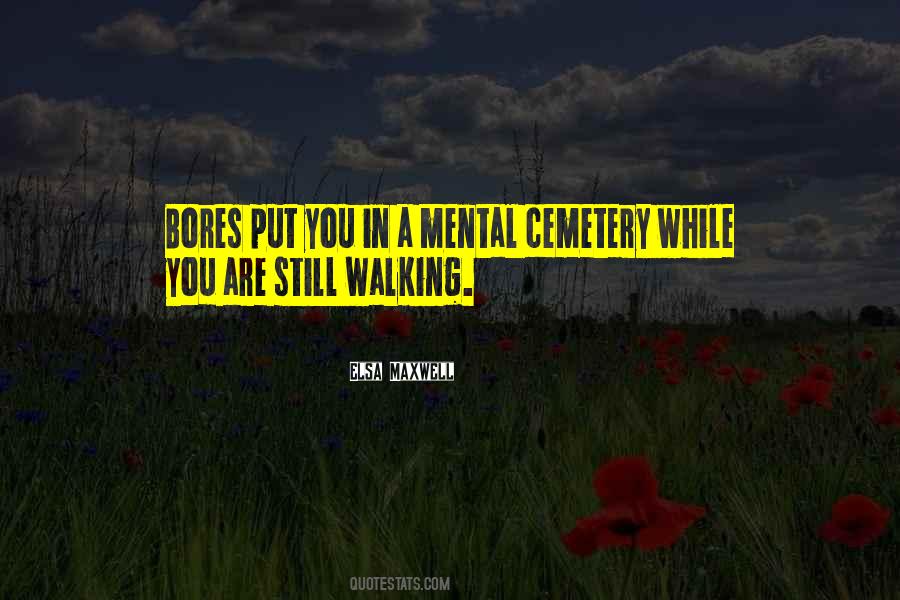 #29. Crassly put: When I write, I am trying not to bore myself and my readers. - Author: Rita Dove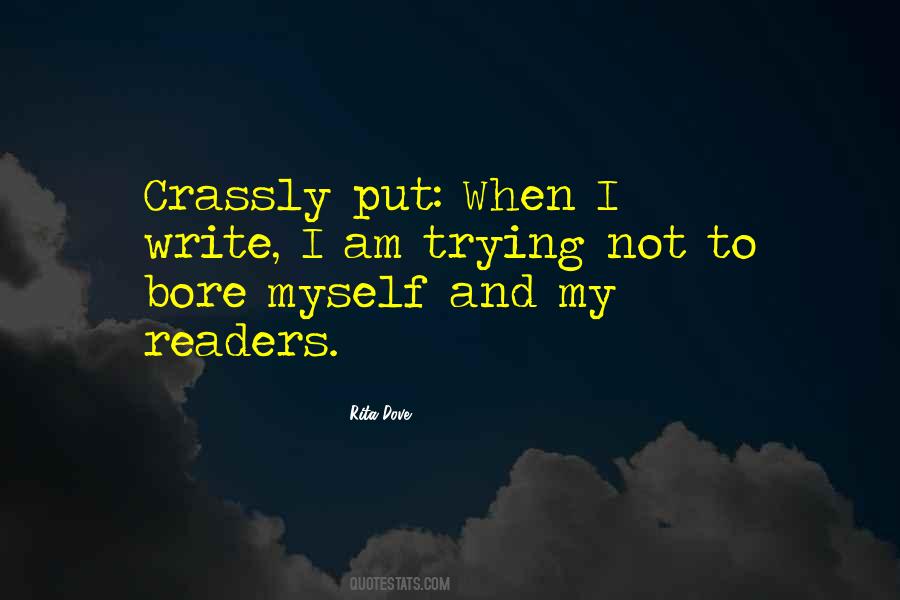 #30. Avoid giving invitations to bores - they will come without. - Author: Eliza Leslie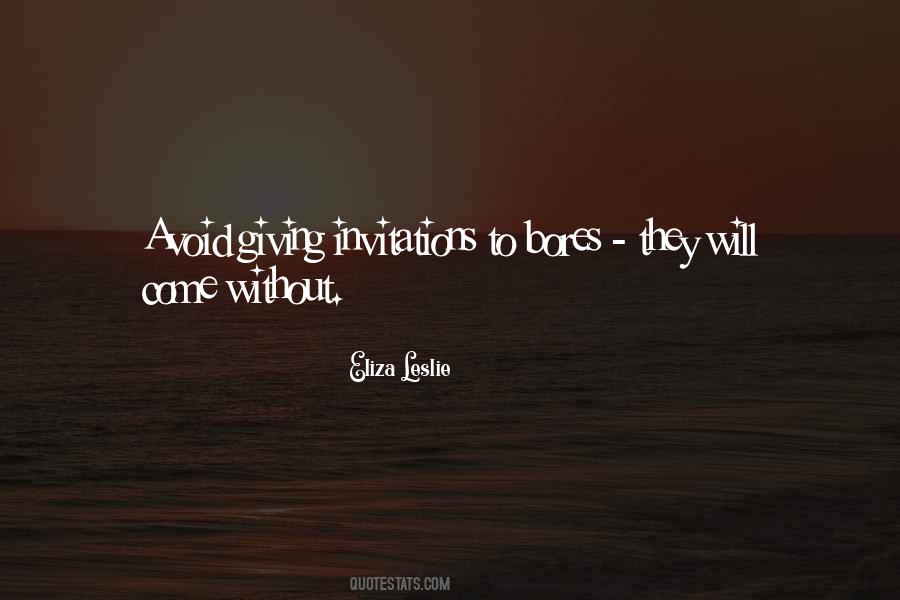 #31. I'm inclined to reserve all judgments, a habit that has opened up many curious natures to me and also made me the victim of not a few veteran bores. - Author: F Scott Fitzgerald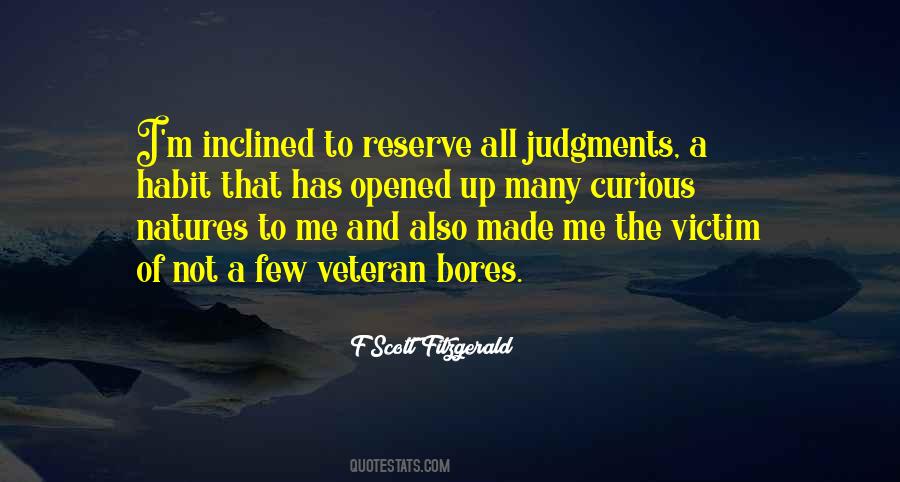 #32. I am convinced that boredom is one of the greatest tortures. If I were to imagine Hell, it would be the place where you were continually bored. - Author: Erich Fromm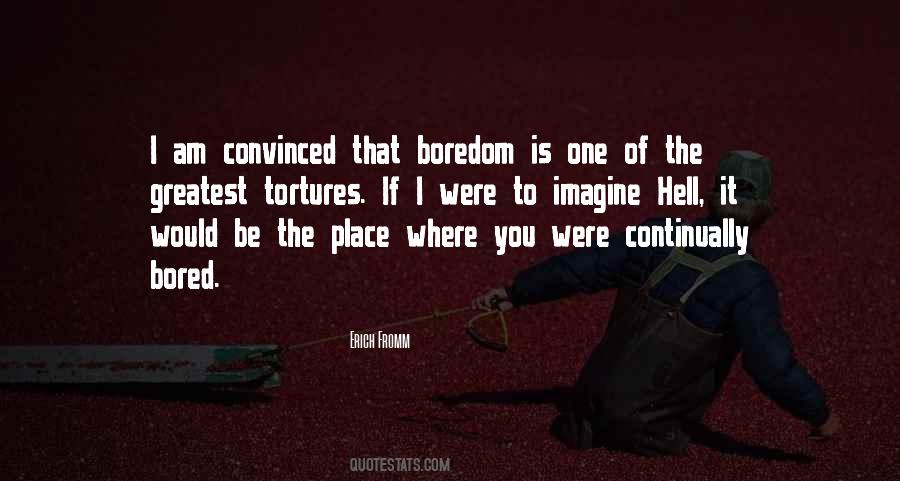 #33. Boredom is not an end-product, is comparatively rather an early stage in life and art. You've got to go by or past or through boredom, as through a filter, before the clear product emerges. - Author: F Scott Fitzgerald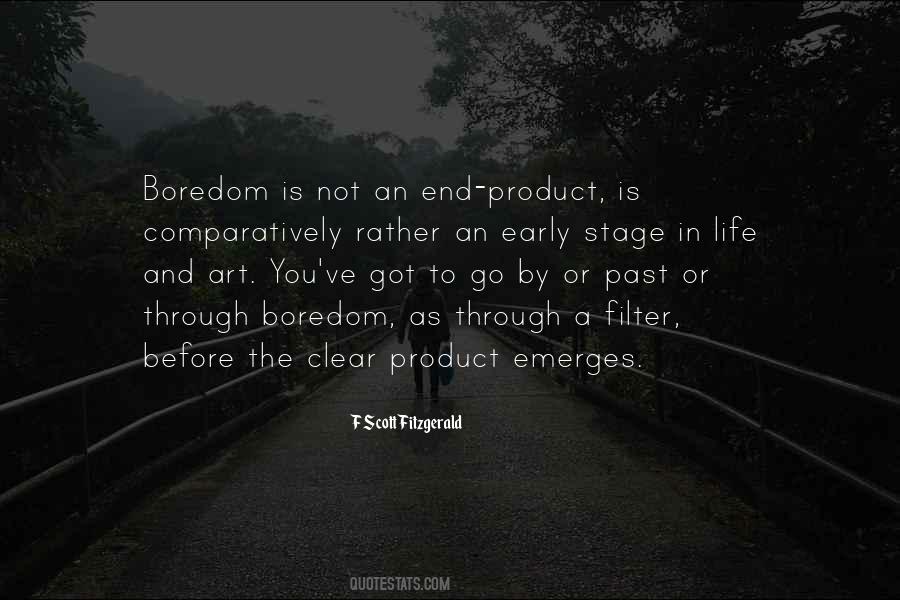 #34. A tremendous number of people in America work very hard at something that bores them. Even a rich man thinks he has to go down to the office everyday. Not because he likes it but because he can't think of anything else to do. - Author: W. H. Auden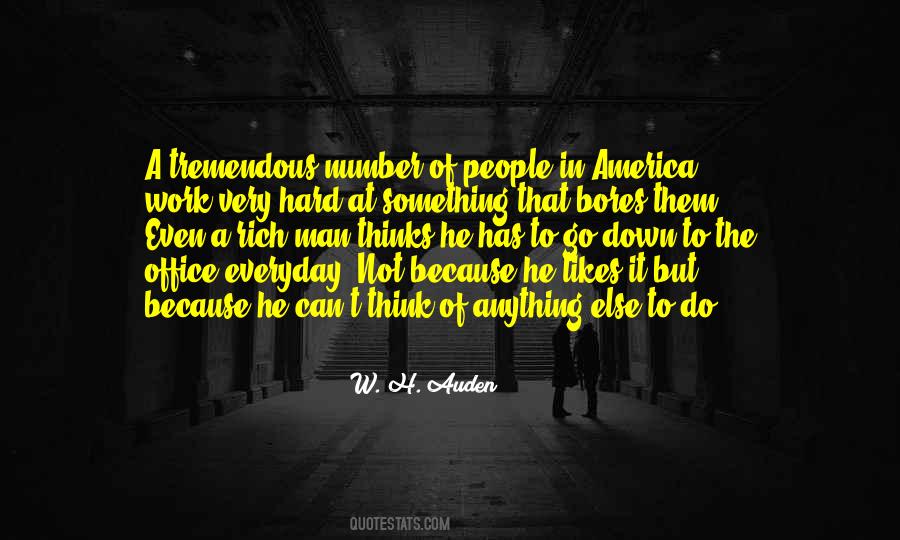 #35. No, I don't like recording. It's a bore. - Author: Buddy Rich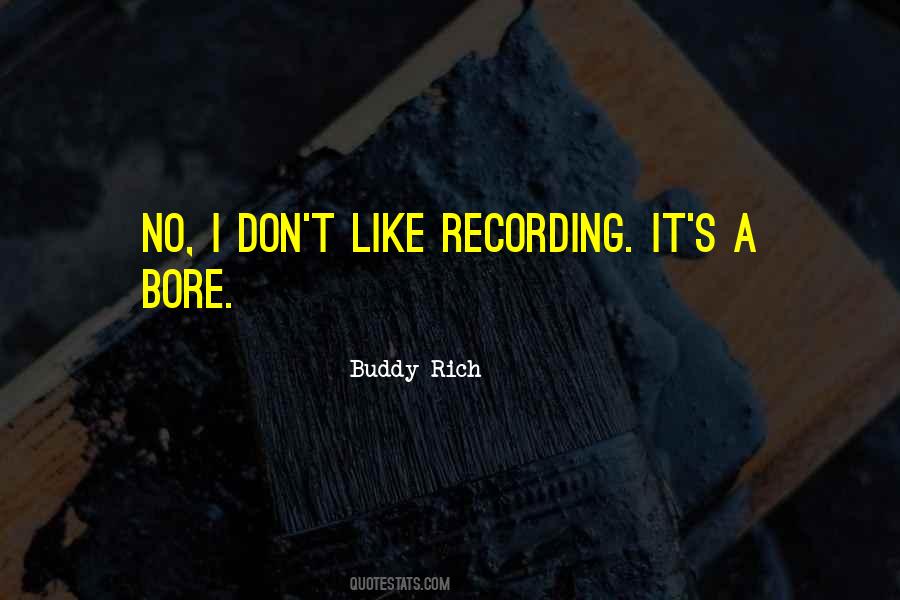 #36. If God bores you, tell Him that He bores you, that you prefer the vilest amusements to His presence, that you only feel at your ease when you are far from Him. - Author: Francois Fenelon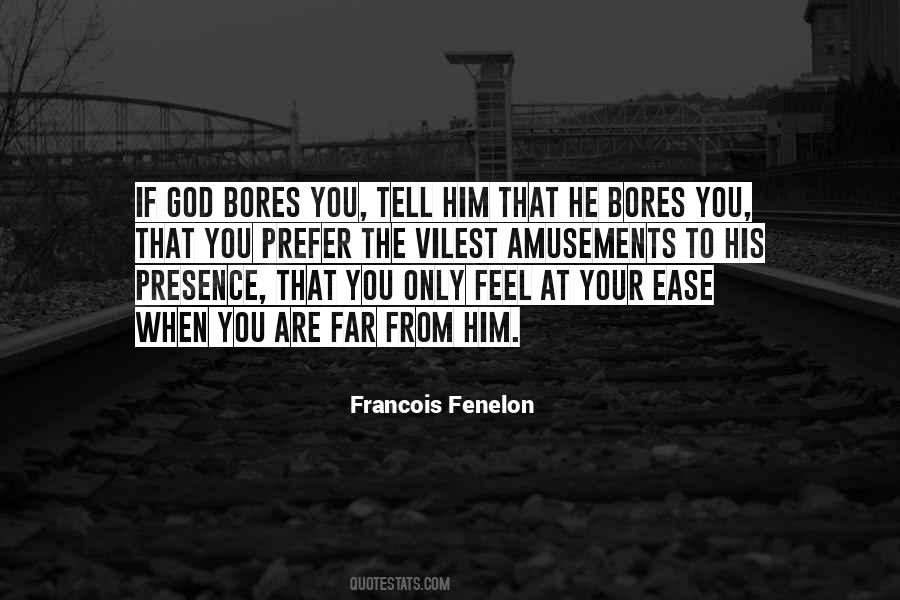 #37. When all the routines and details and the human bores get on our nerves, we just yearn to go away from here to somewhere else. To go fishing is a sound, a valid, and an accepted reason for an escape. It requires no explanation. - Author: Herbert Hoover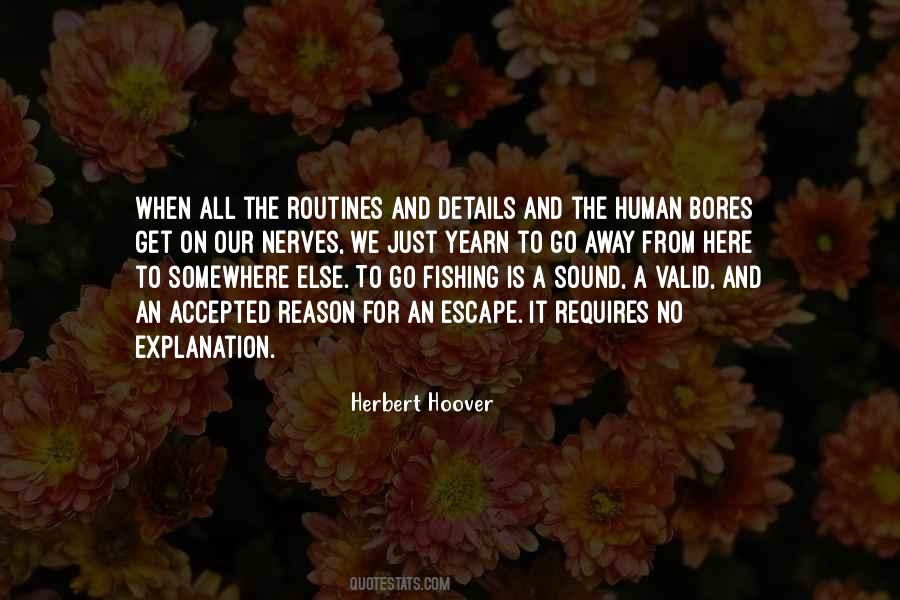 #38. The person who understands us at first sight, who never irritates us, who never bores, to whom we can pour forth every thought and wish, not only in speech but in silence - that is what I mean by simpatico. - Author: E. M. Forster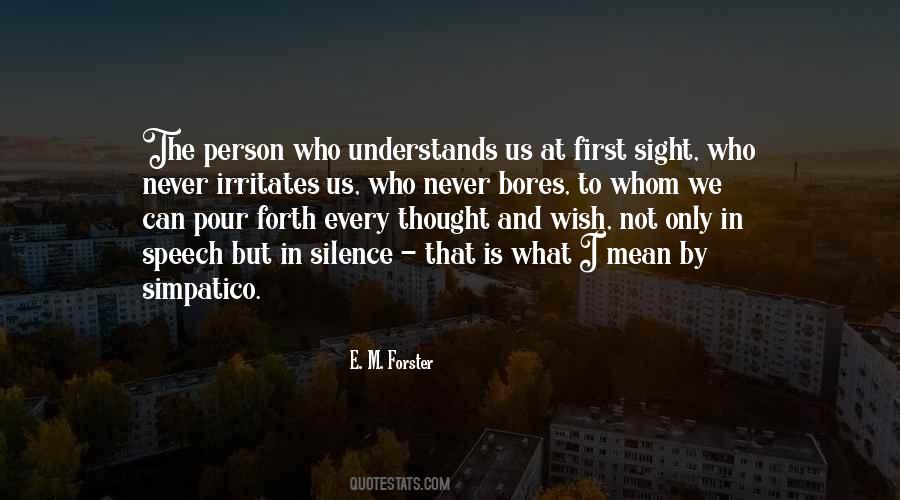 #39. There will always be something new to discover: a minute moss never found before, a rabbit eating birdseed with the bores on a hungry November day, a bittern that stays only long enough to be remembered. - Author: Ann Zwinger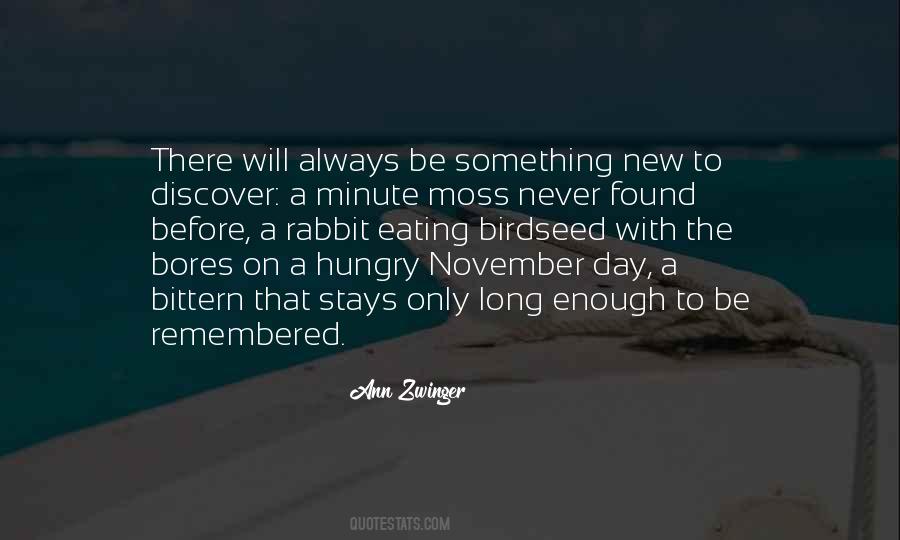 #40. Society is now one polish'd horde, Form'd of two mighty tribes, the Bores and Bored. - Author: George Gordon Byron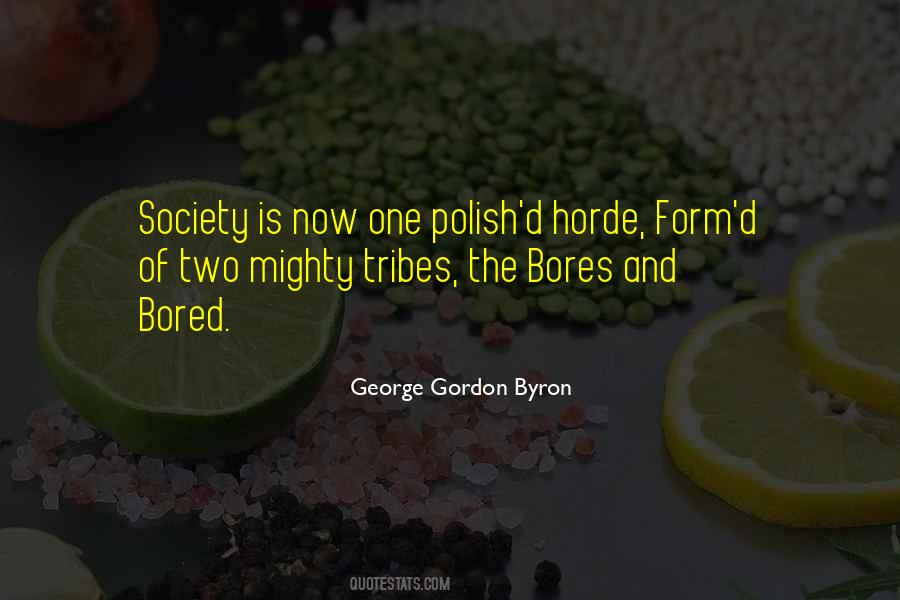 #41. Men are always ready to respect anything that bores them. - Author: Marilyn Monroe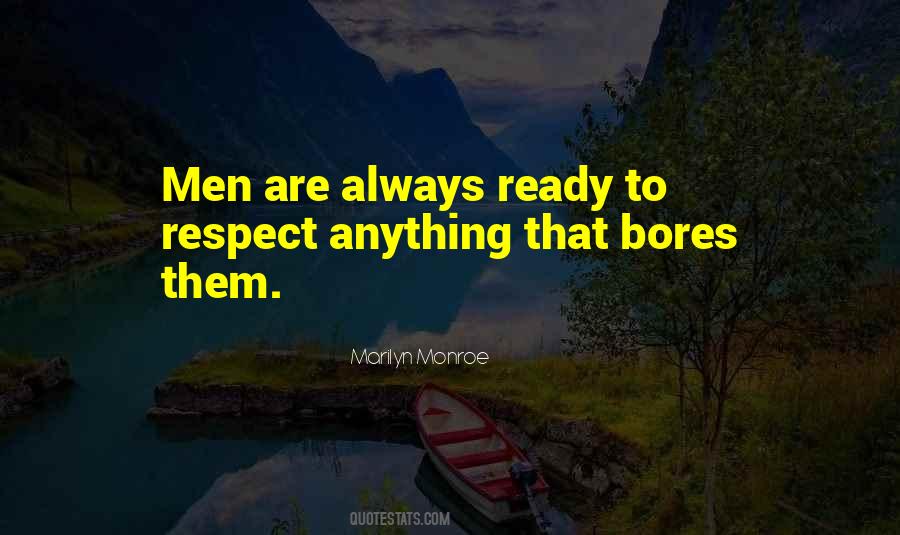 #42. Writing bores me so. - Author: Oscar Wilde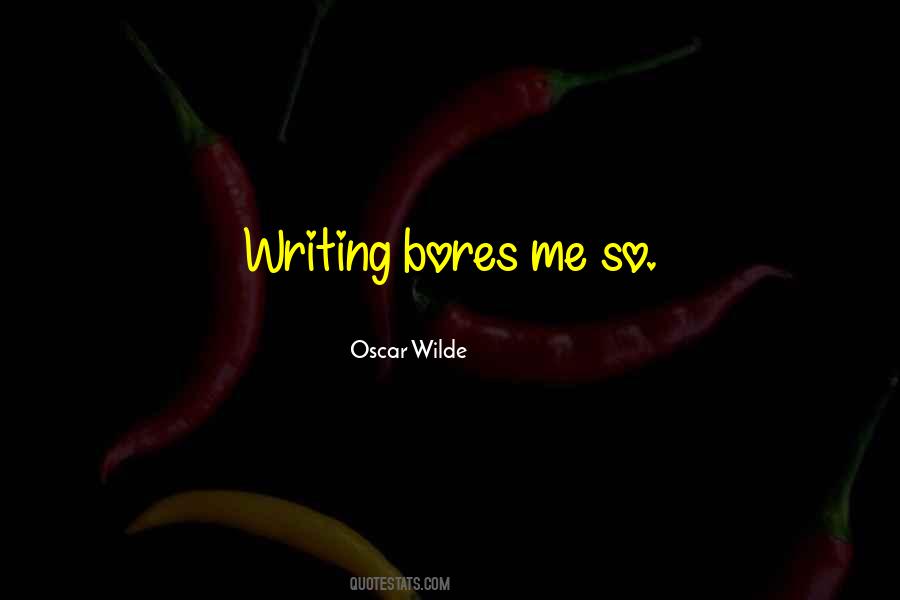 #43. Genius goes around the world in its youth incessantly apologizing for having large feet. What wonder that later in life it should be inclined to raise those feet too swiftly to fools and bores. - Author: F Scott Fitzgerald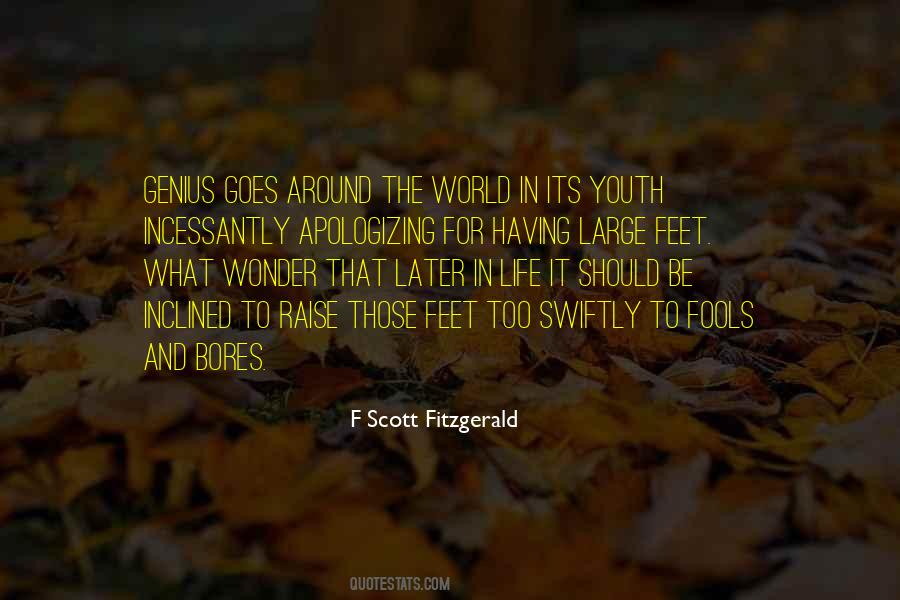 #44. Every virtue inclines to stupidity, every stupidity to virtue; "stupid to the point of sanctity," they say in Russia, - let us be careful lest out of pure honesty we eventually become saints and bores! - Author: Friedrich Nietzsche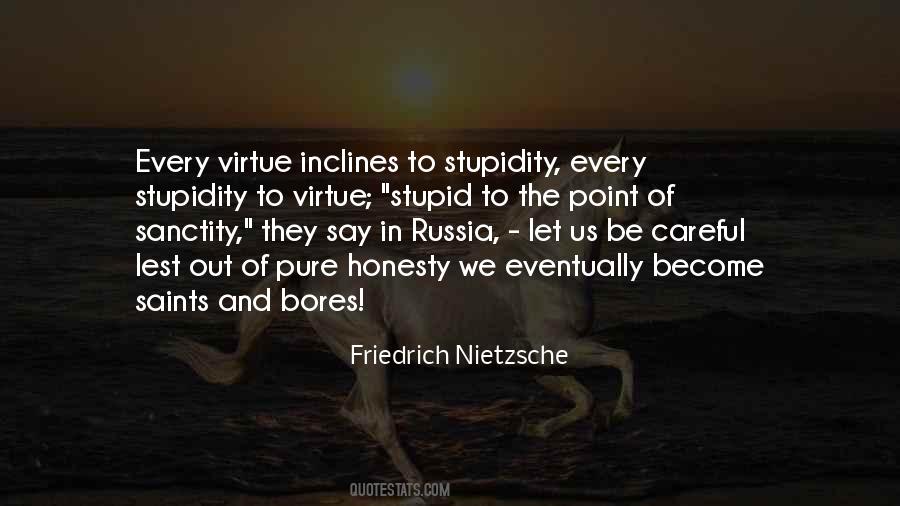 #45. His maleness bores me. Nothing is so boring as the phallus, so inherently stupid and stupidly conceited. - Author: D.H. Lawrence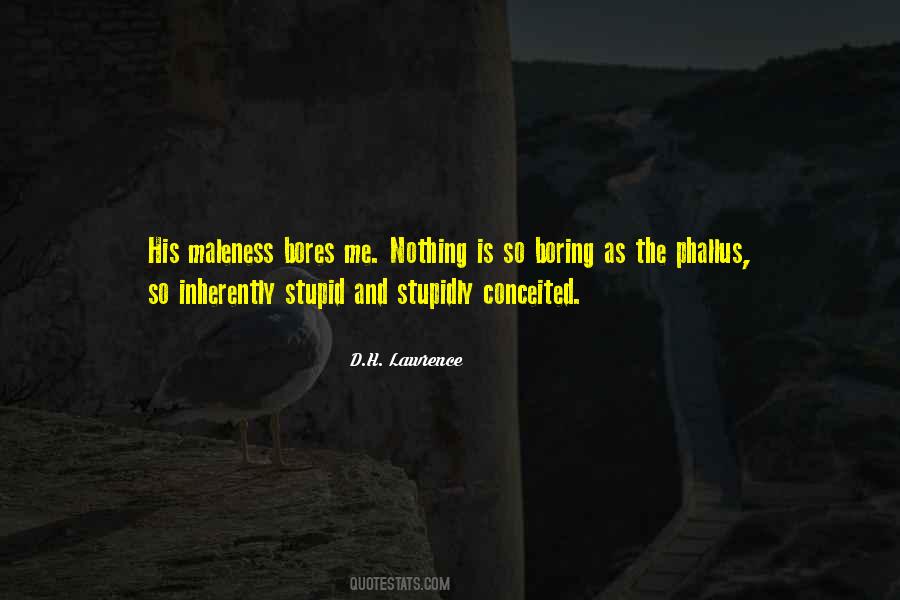 #46. Remember that the book which bores you when you are twenty or thirty will open doors for you when you are forty or fifty. - Author: Doris Lessing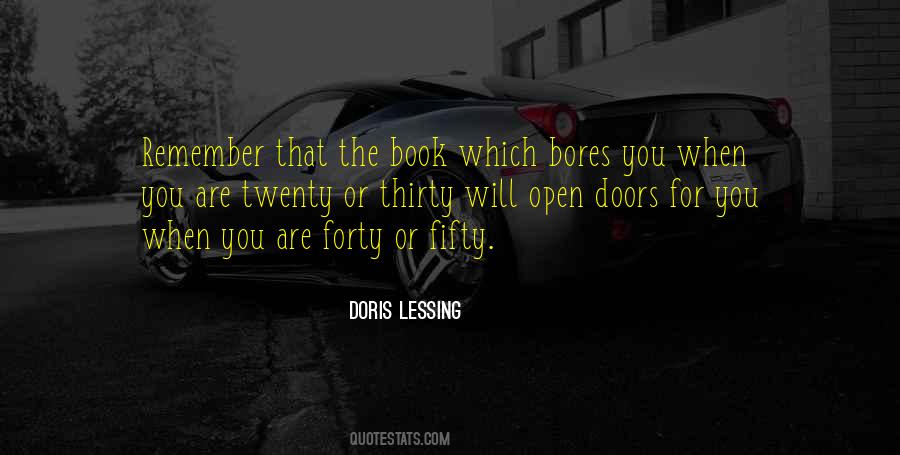 #47. There is nothing more boring than a bored person. - Author: Arlene Francis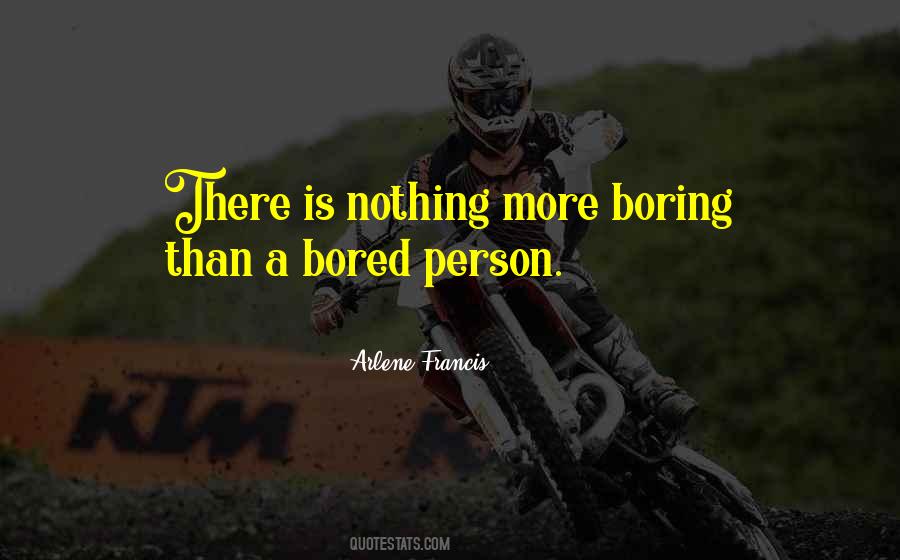 #48. I've always tried to be cheerful, because I think people who whine are boring, and I never could tolerate bores. - Author: Beverly Sills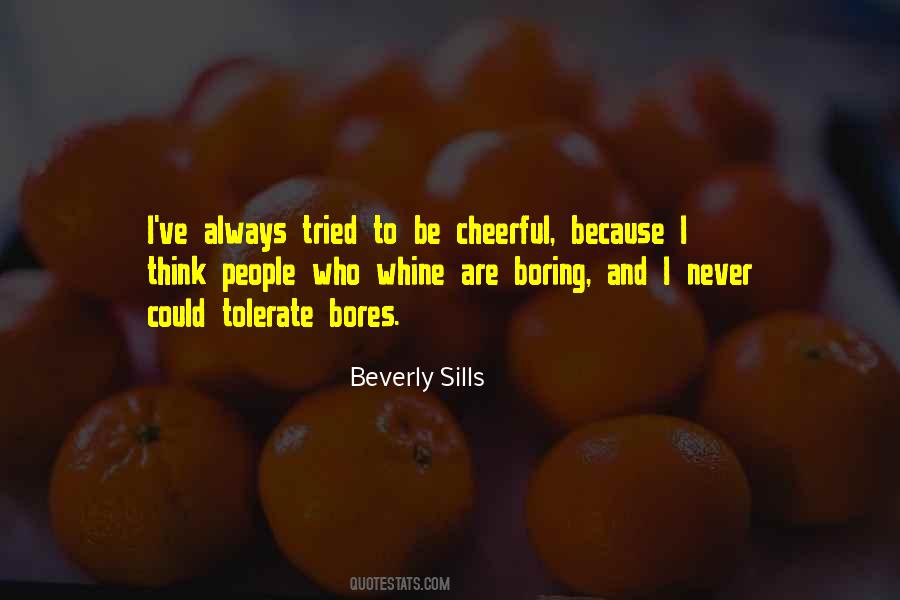 #49. The biggest bore of all is he who is overflowing with congratulations - Author: Thomas Hood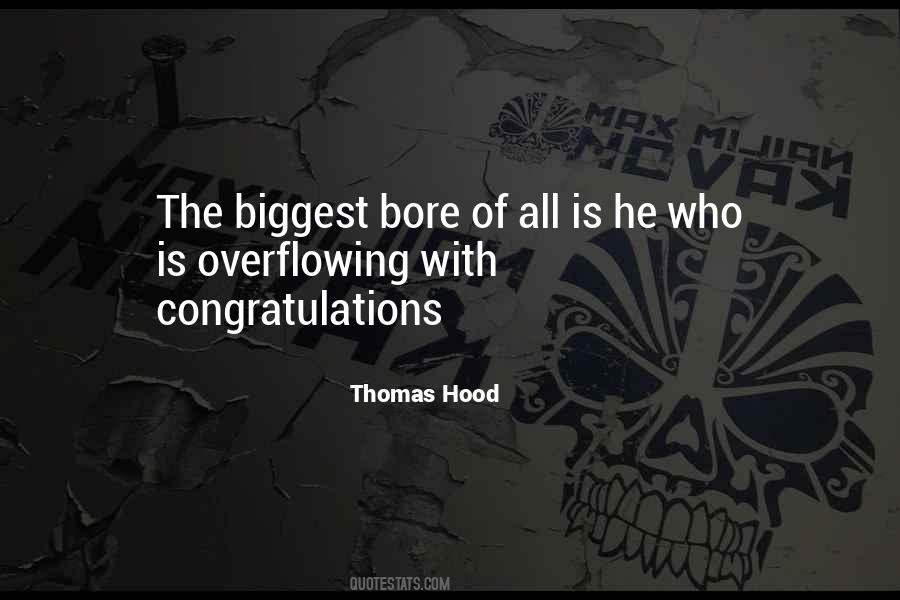 #50. The world is eaten up by boredom. You can't see it all at once. It is like dust. You go about and never notice, you breathe it in, you eat and drink it. It is sifted so fine, it doesn't even grit on your teeth. But stand still for an instant and there it is, coating your face and hands. - Author: Georges Bernanos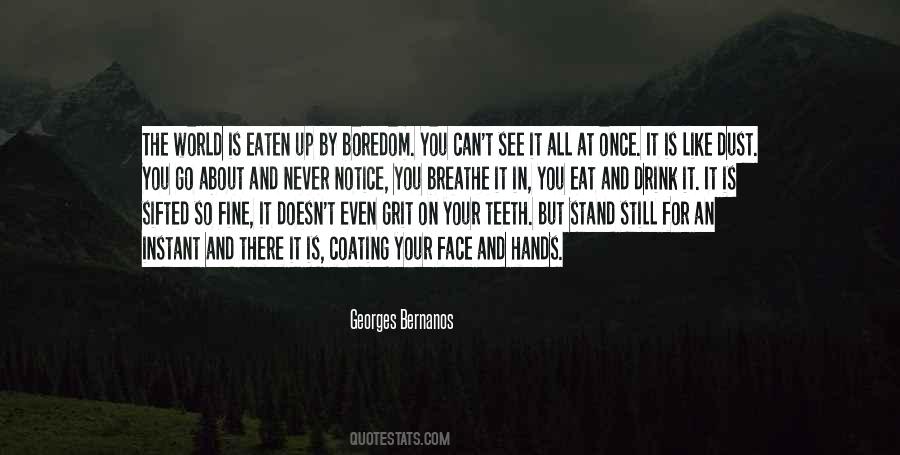 #51. Eternity bores me,
I never wanted it.
From the poem "Years", 16 November 1962 - Author: Sylvia Plath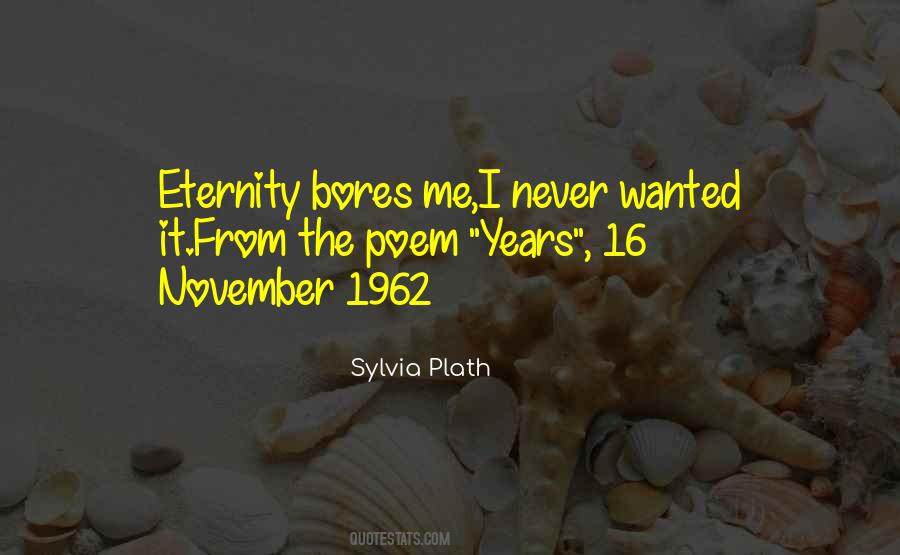 #52. I don't like sticking to just one thing; it bores me. - Author: Judi Shekoni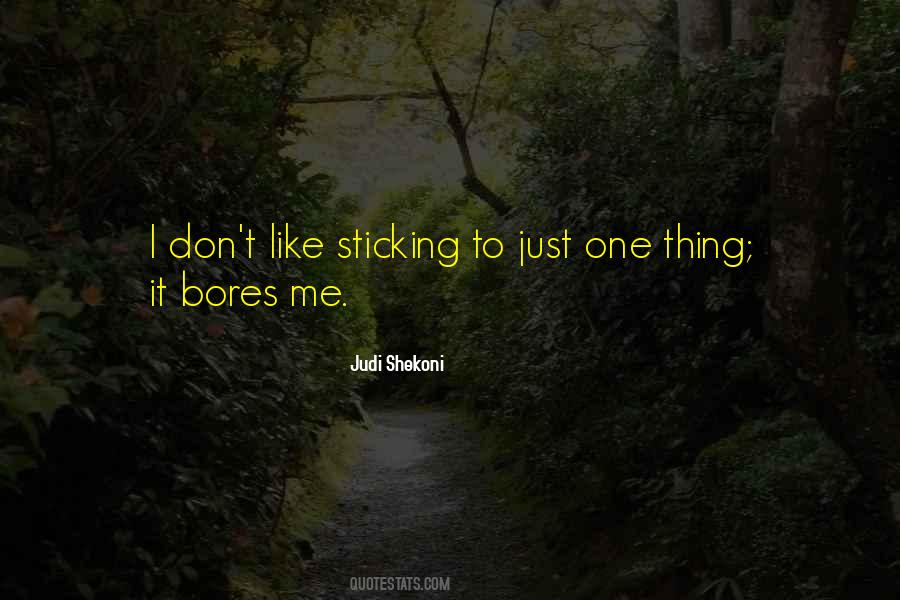 #53. I've lived in a good climate, and it bores the hell out of me. - Author: John Steinbeck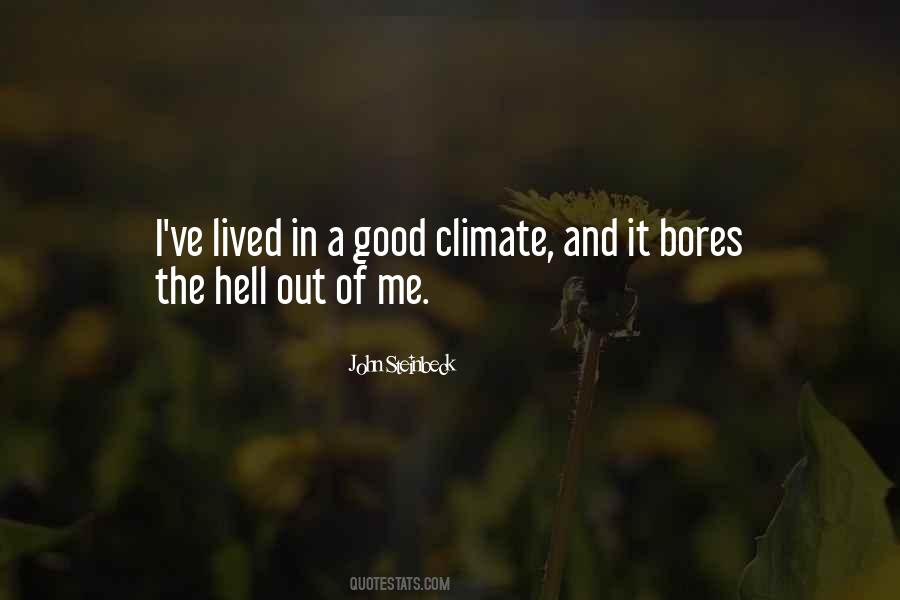 #54. Authoritative people bore me: but what bores me even more are those swarms of little people who love authority and in virtue of whom the authority of the authoritative can be exercised. - Author: Nanamoli Thera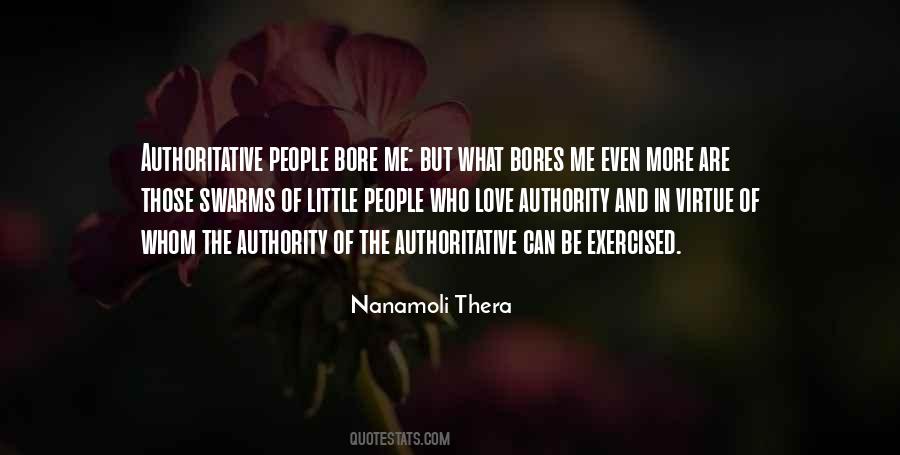 #55. Real-life discussions involve a great many bores and boors who have never learned that the art of conversation demands listening as well as talking. - Author: Susan Jacoby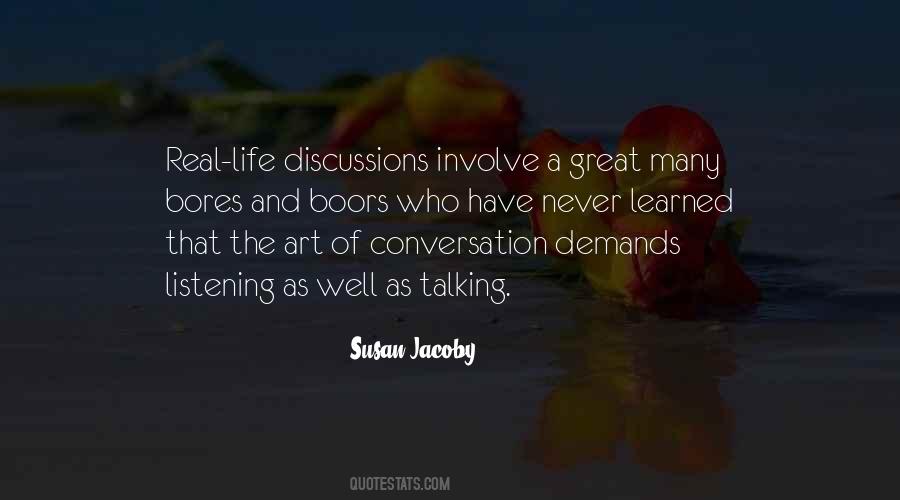 #56. War? War is an organized bore. - Author: Oliver Wendell Holmes Jr.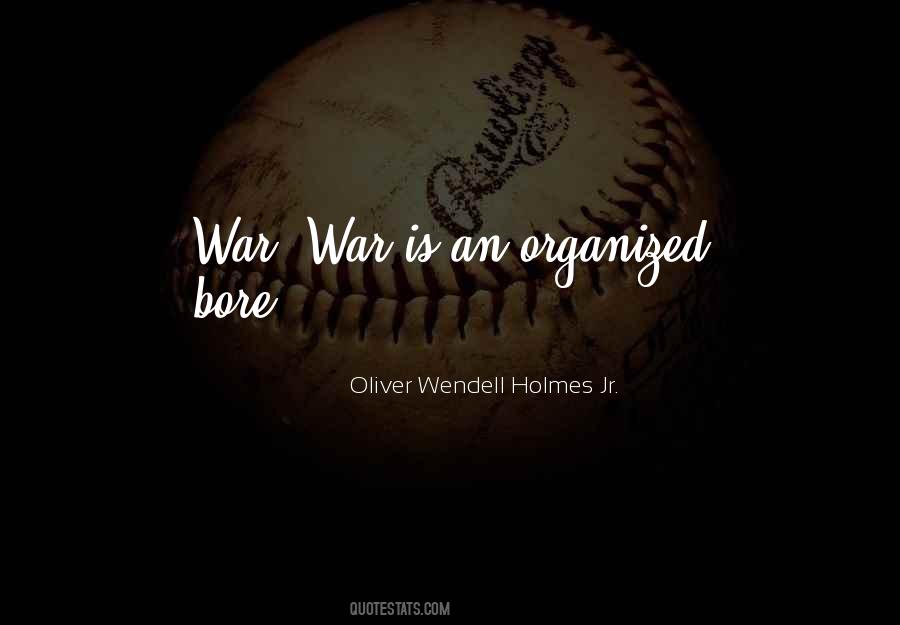 #57. If worship bores you, you are not ready for heaven. - Author: Aiden Wilson Tozer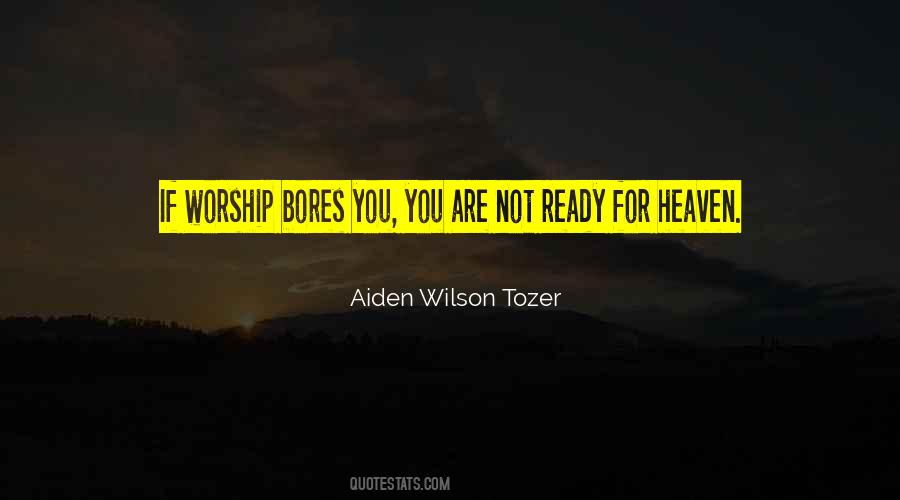 #58. Under pressure, people admit to murder, setting fire to the village church or robbing a bank, but never to being bores. - Author: Elsa Maxwell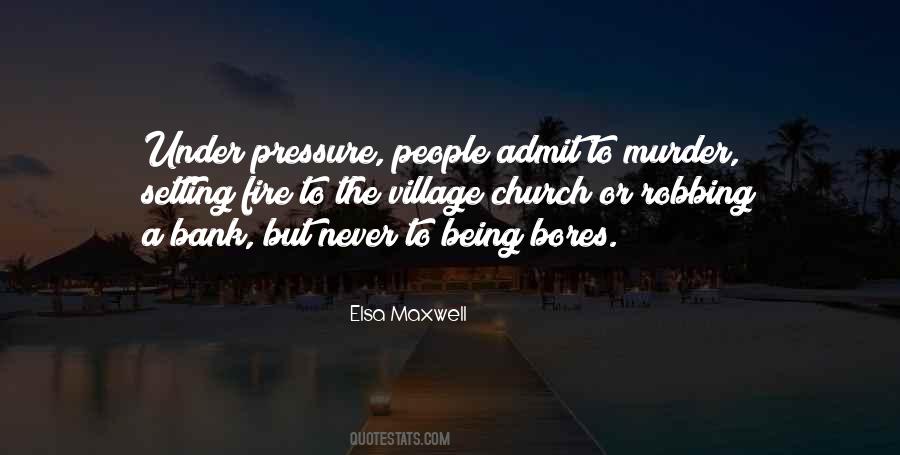 #59. I prefer to shock rather than to bore through repetition, - Author: Yves Saint-Laurent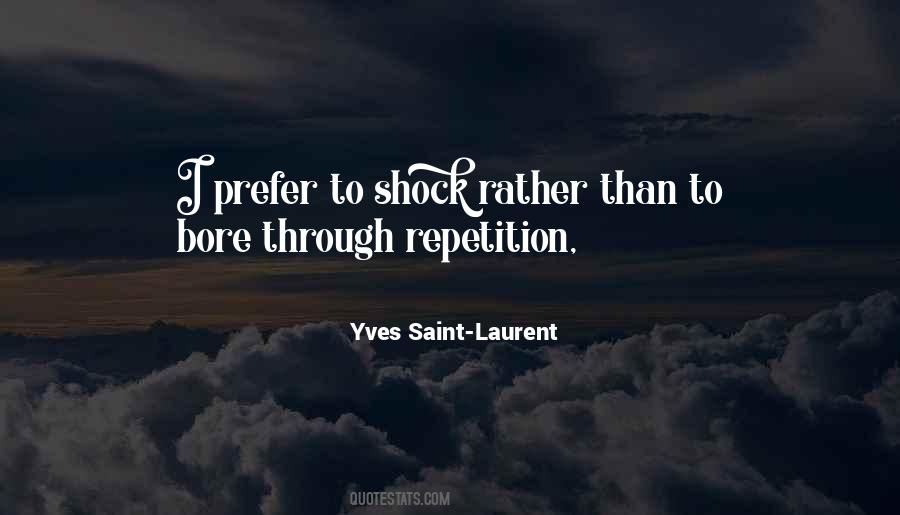 #60. If you consistently write 'The sun set' rather than 'The sun sank slowly in the bright western sky,' your story will move three times as fast. Of course, there are times you want the longer version for atmosphere - but not many. Wordiness not only kills pace; it bores readers. - Author: Nancy Kress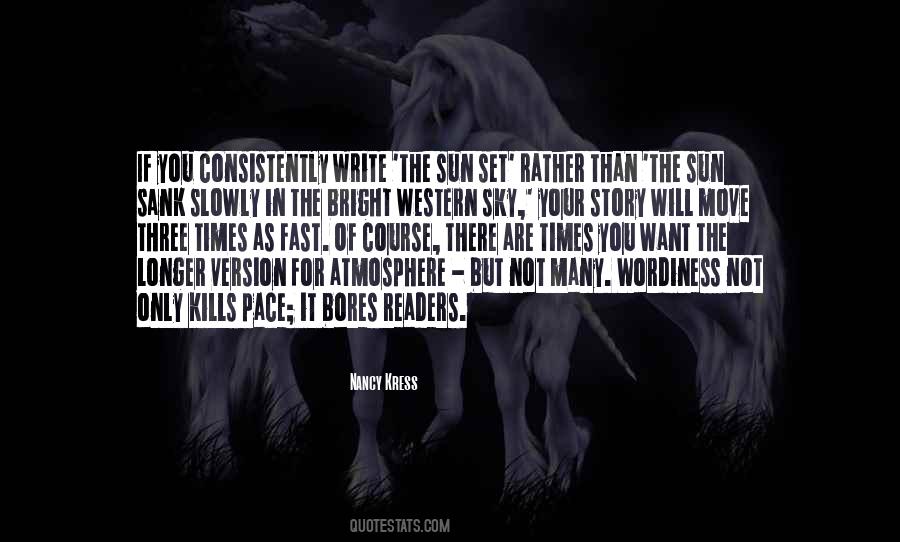 #61. it makes no sense to pursue a career that bores you comatose." "That's - Author: Alexander Campion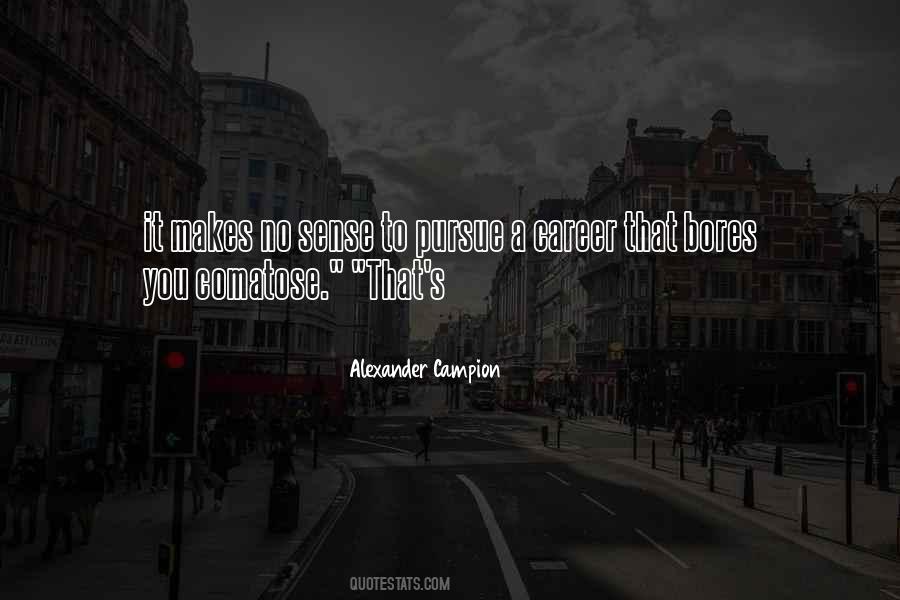 #62. I'm not a social person. Not that I'm not at ease. I'm pretty good, but it bores me. Not the people, but the whole thing. What for? It's not very productive. I only want to do what I have to do: fashion, photography, books. And that's all. - Author: Karl Lagerfeld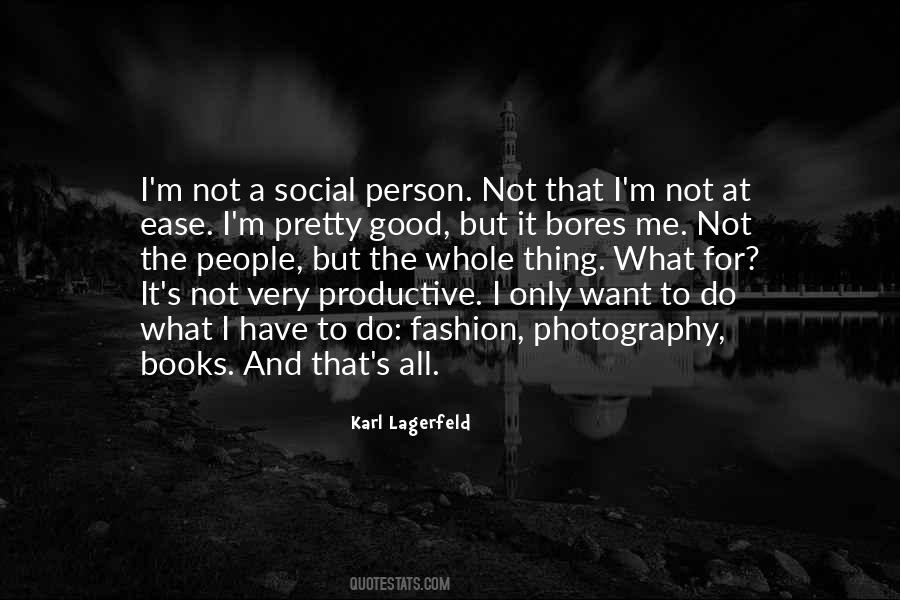 #63. I do not like war, because war happens in the countryside, and the countryside bores me. - Author: Louis-Ferdinand Celine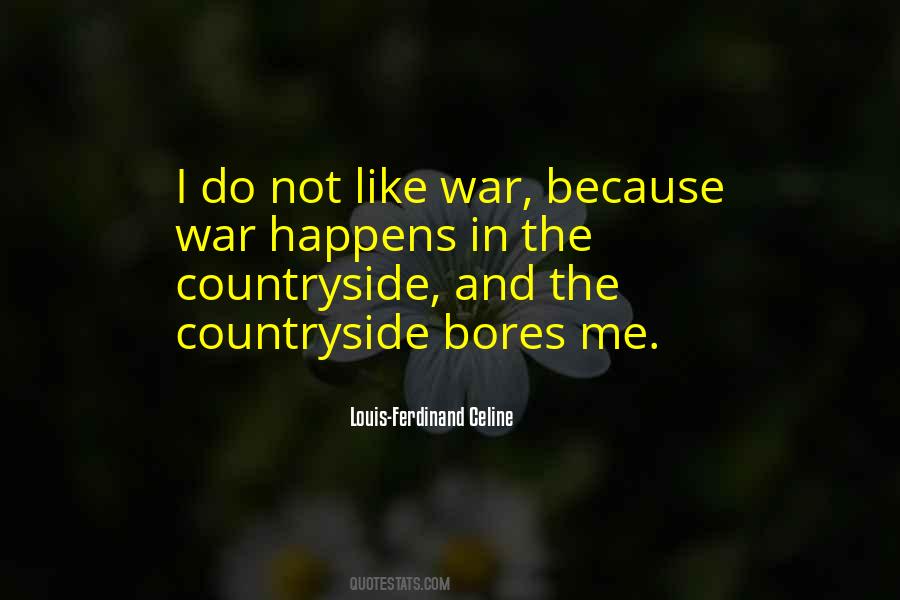 #64. A make believe life doesn't win friends and influence people. It bores the crap out of those living the dream. - Author: Melody Carstairs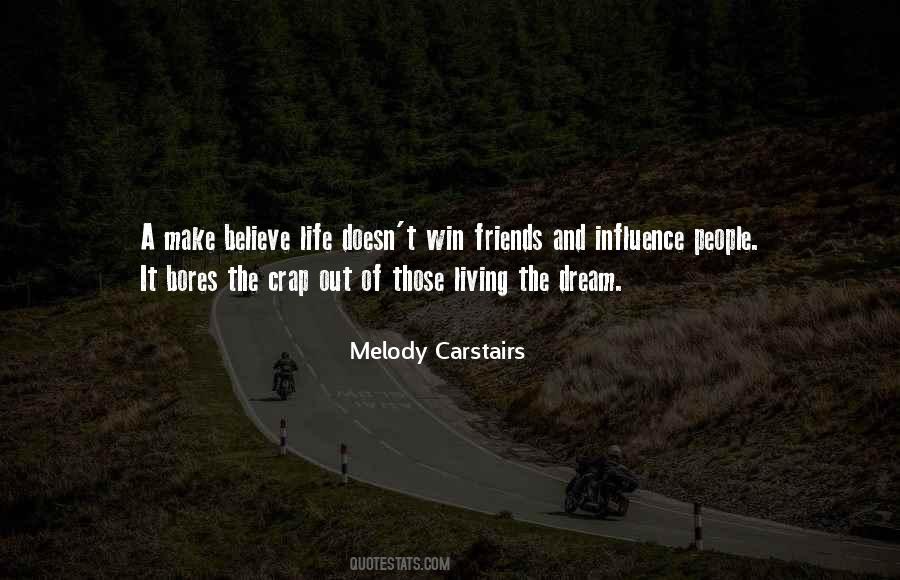 #65. Society is now one polished horde, formed of two mighty tries, the Bores and Bored. - Author: Lord Byron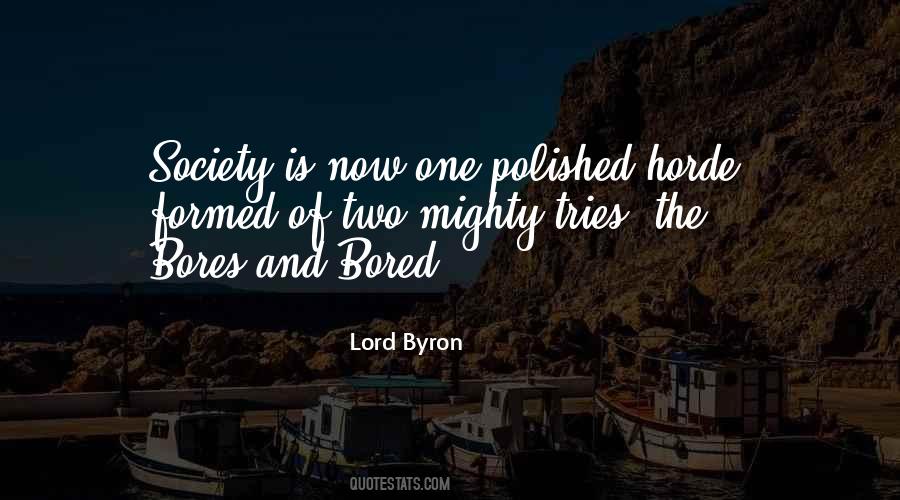 #66. the Times is so wrapped up in its duty to posterity it bores you to death. - Author: Harper Lee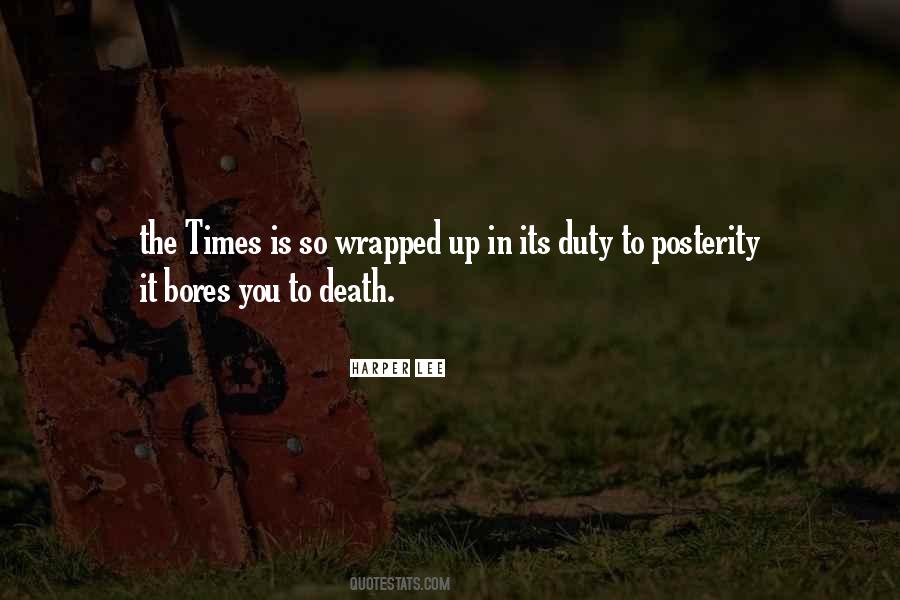 #67. Without time," the angel said, "you have only the bottomless, shapeless mire of eternity."
"FYI, philosophy bores me."
"Not philosophy. Reality. Time is what gives life significance. - Author: J.R. Ward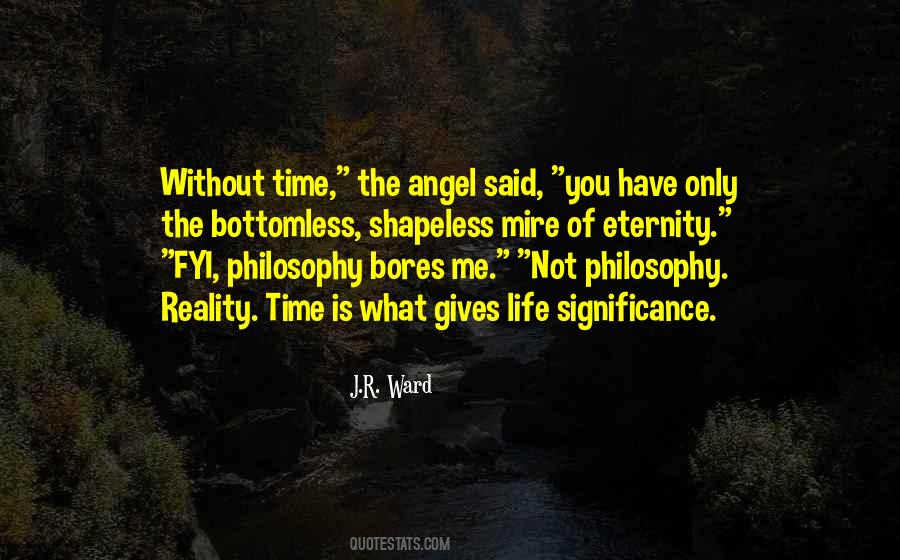 #68. Concision in art is a necessity and an elegance. The verbose painter bores: who will get rid of all these trimmings? - Author: Edouard Manet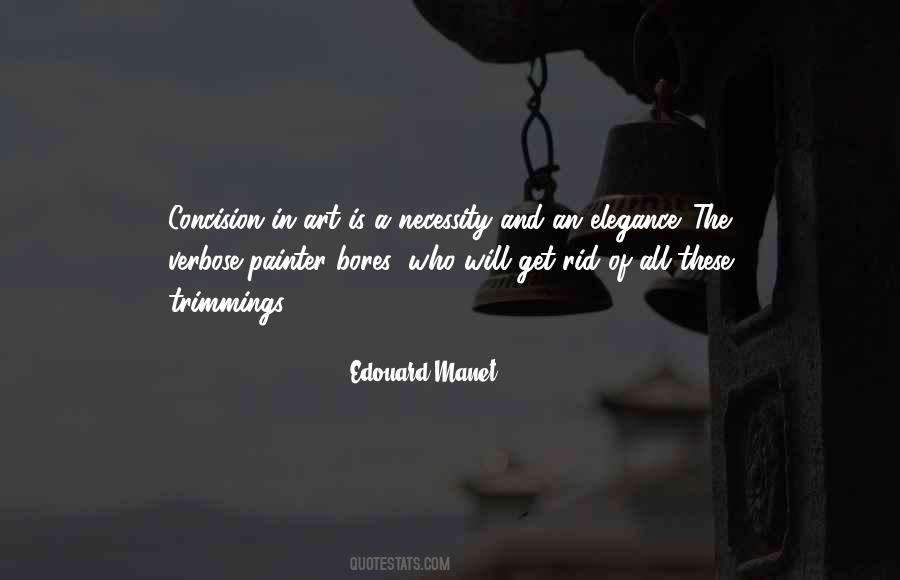 #69. You do not wish to earn your living, to have a task, to fulfil a duty! It bores you to be like other men? Well! You will be different. Labor is the law; he who rejects it will find ennui his torment. You do not wish to be a workingman, you will be a slave. - Author: Victor Hugo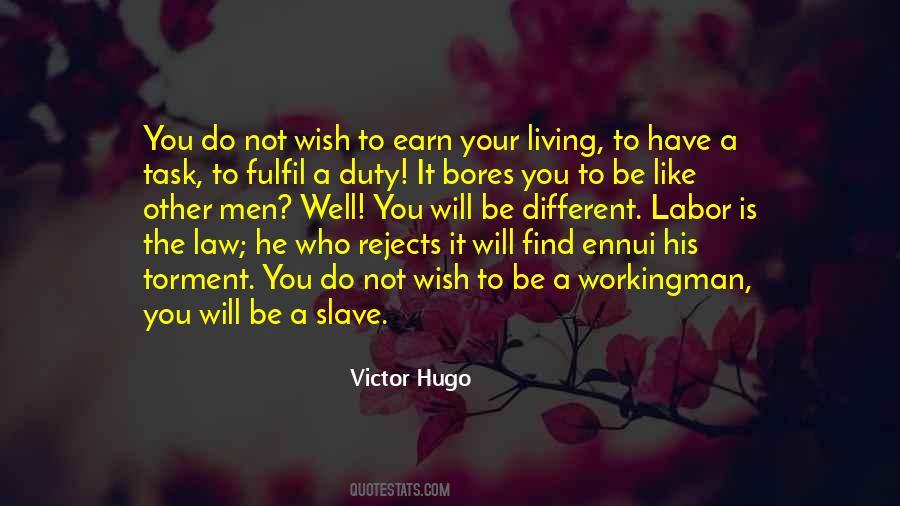 #70. What bores the listener bores the speaker too. - Author: Marshall B. Rosenberg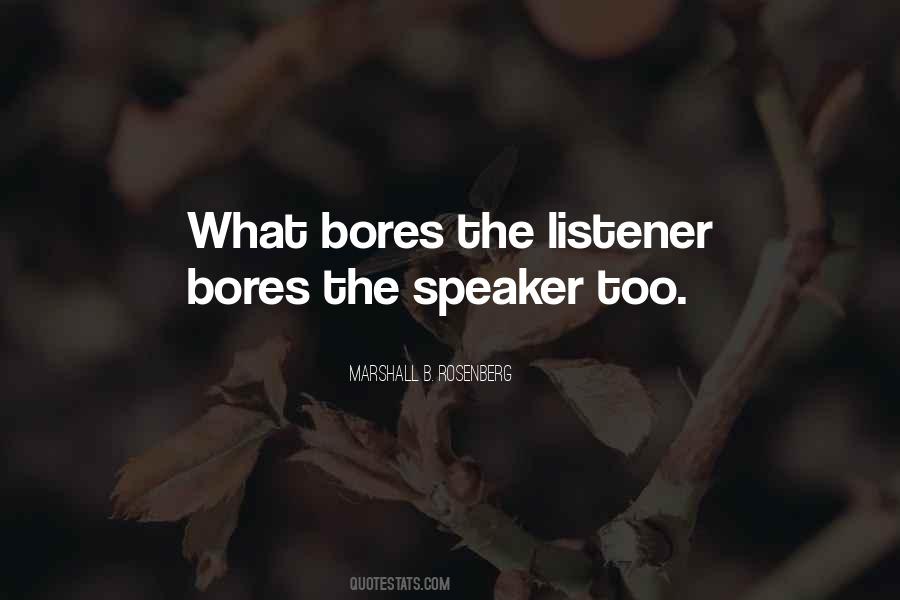 #71. A writer either speaks to adults and bores kids, or speaks to kids and upsets adults. - Author: Ursula K. Le Guin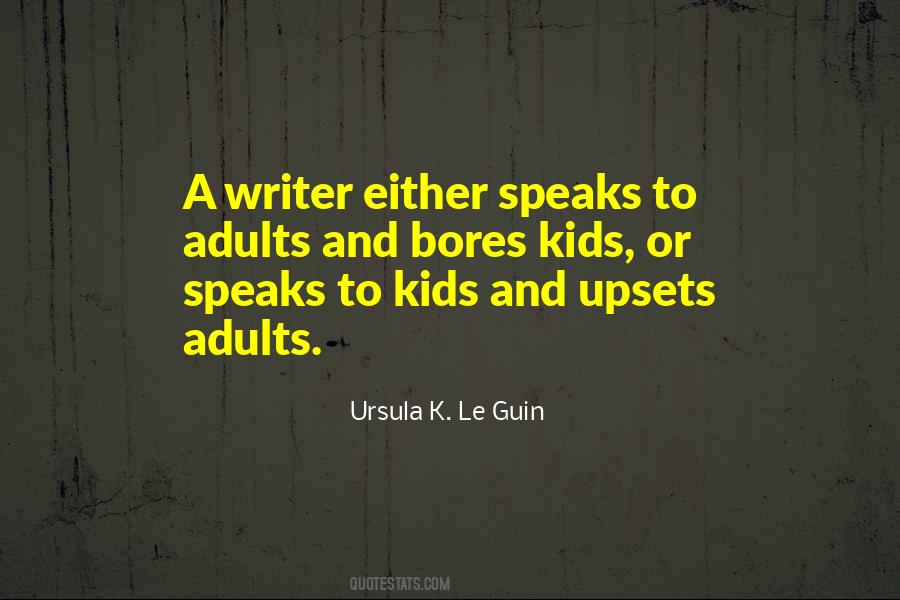 #72. We often bore others when we think we cannot possibly bore them. - Author: Francois De La Rochefoucauld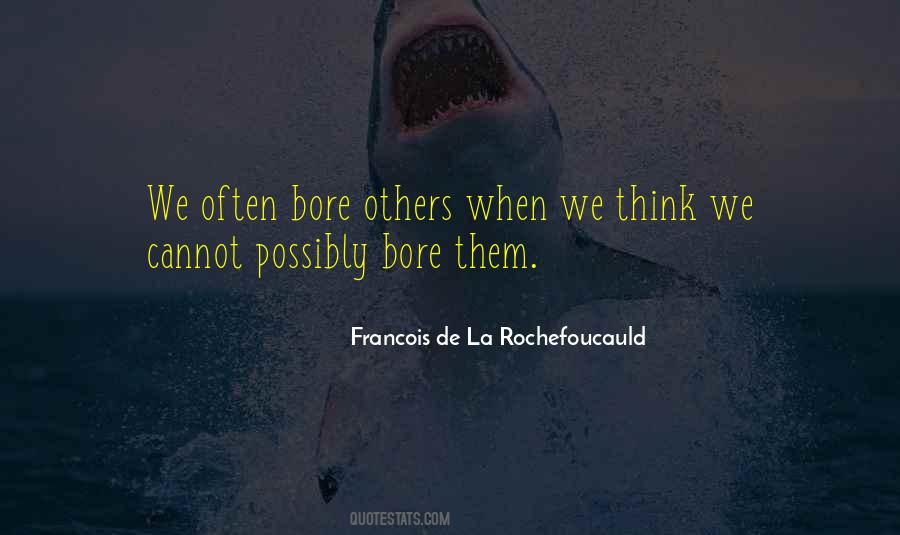 #73. A young musician plays scales in his room and only bores his family. A beginning writer, on the other hand, sometimes has the misfortune of getting into print. - Author: Marguerite Yourcenar
#74. He bores me. He ought to have stuck to his flying machine.
[On Leonardo Da Vinci] - Author: Pierre-Auguste Renoir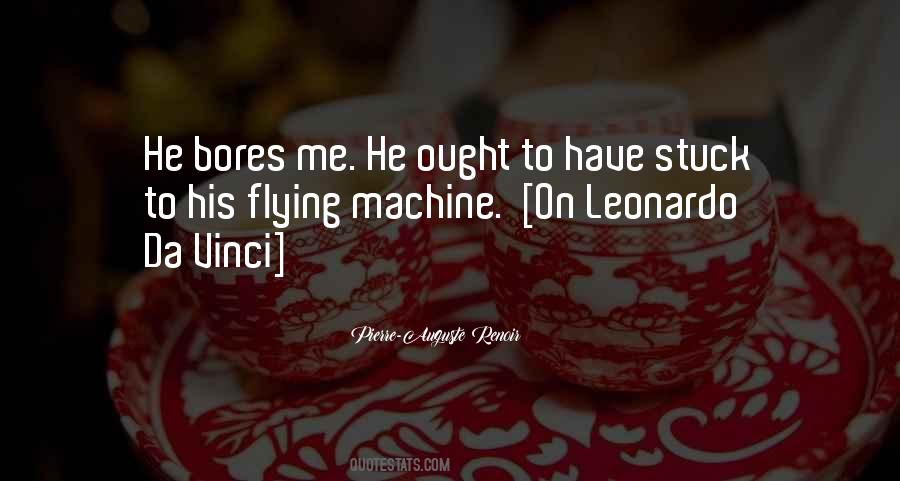 #75. We do not require company. In varying degrees, it bores us, drains us, makes our eyes glaze over. Overcomes us like a steamroller. Of course, the rest of the world doesn't understand. - Author: Anneli Rufus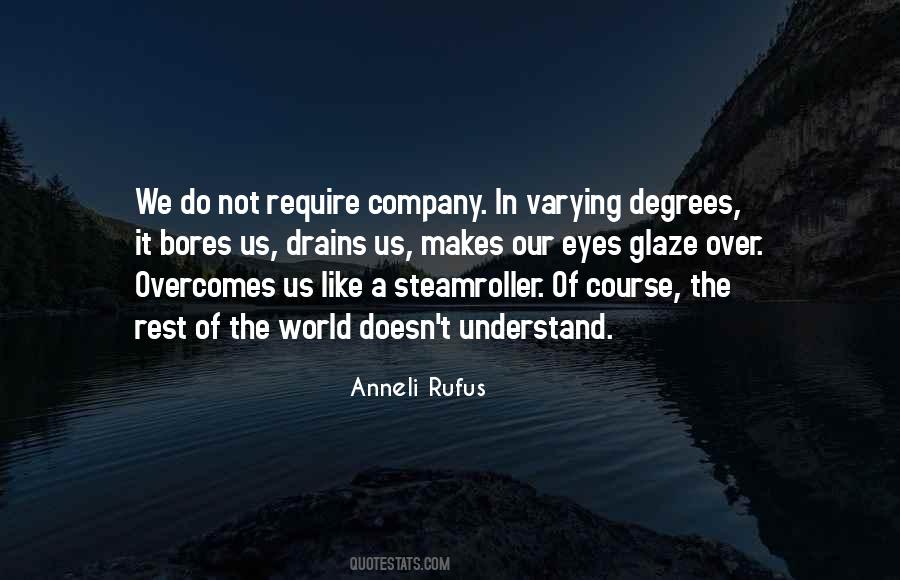 #76. I never plan my novels because if I know what is going to happen, it bores me rigid. I let the story tell itself. - Author: James Herbert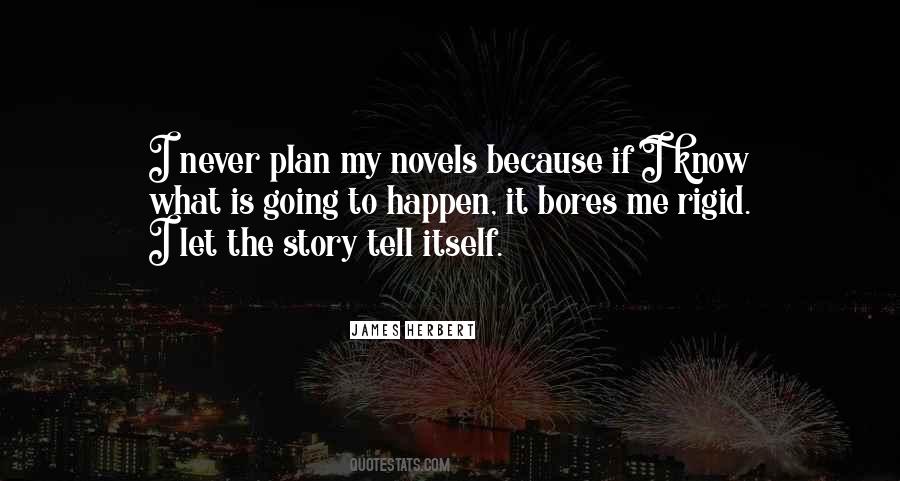 #77. Music is the highest art, no question. But literature is a friendlier one. It depends on us more, bores us more quickly, can't go on if we don't, can't stop saying what it means, can't stop giving us something to forgive. - Author: James Richardson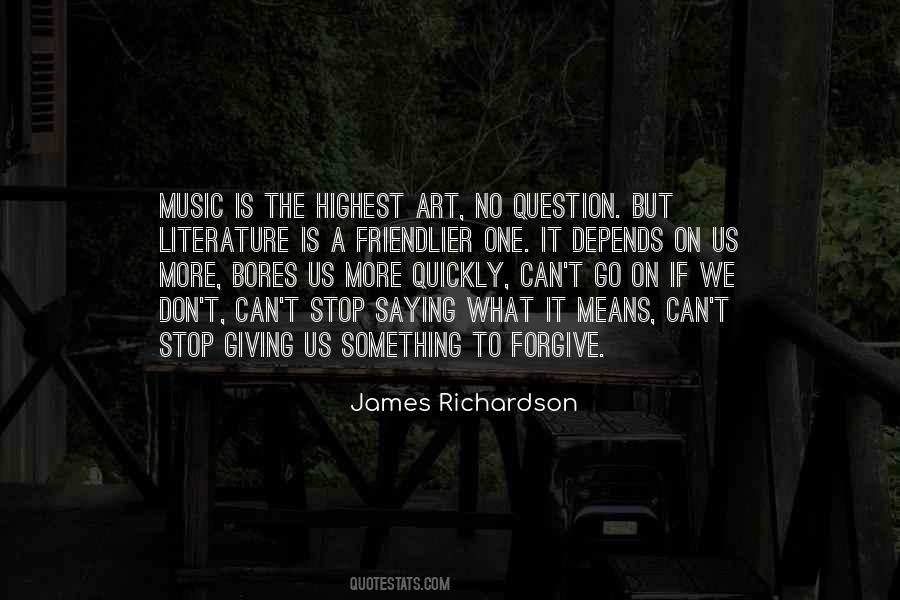 #78. I loved the towns I grew up in as a boy, and after I became a celebrity, I went back several times. I would have had the time of my life seeing the old places and the old faces again, but the attitude of those same people was, "I guess you're so big we bore you now." - Author: Johnny Carson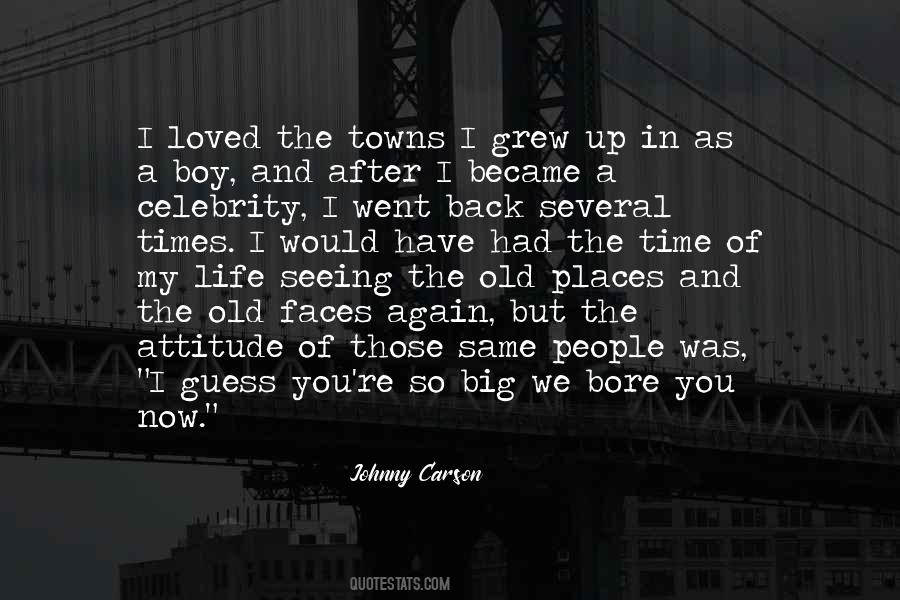 #79. Truth be told, most financial television bores me. Two or more people discussing the latest economic trends or hot stocks is not especially entertaining. - Author: Barry Ritholtz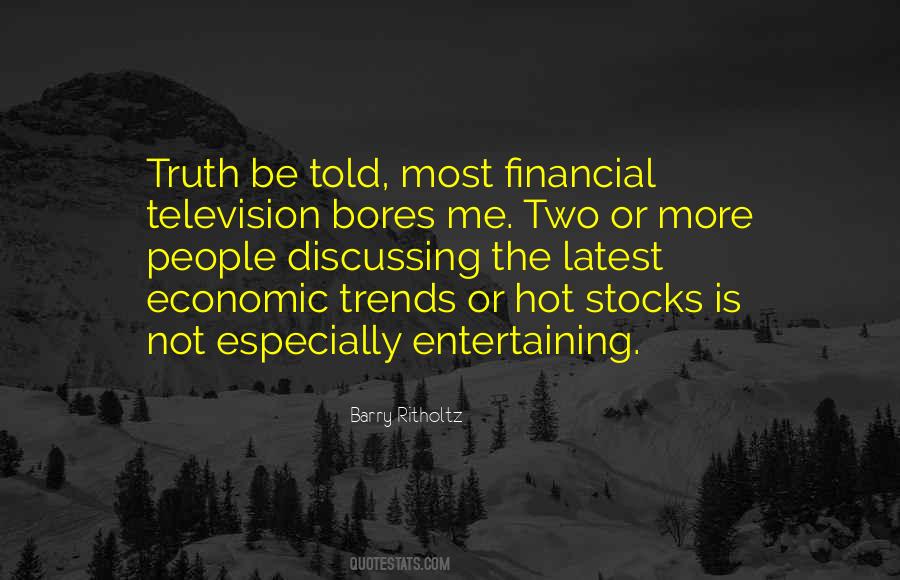 #80. I don't understand the actor who plays the same role from movie to movie. Maybe it's because I worked on long-running television when I was in my teens, and so the idea of playing the same role just bores me intensely. I'd rather not do it at all. - Author: Guy Pearce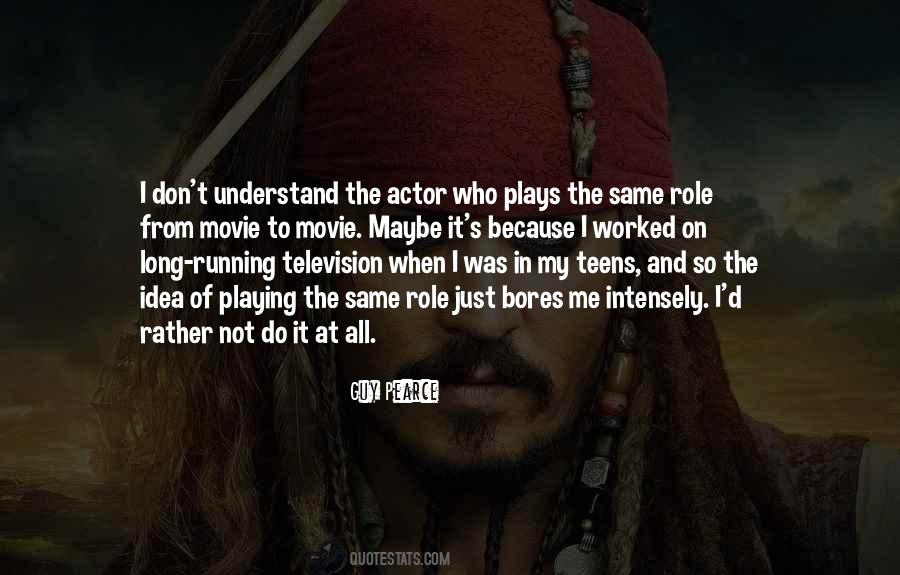 #81. I do not say I was ever what I would call "plain," but I have the sort of face that bores me when I see it on other people. - Author: Margot Asquith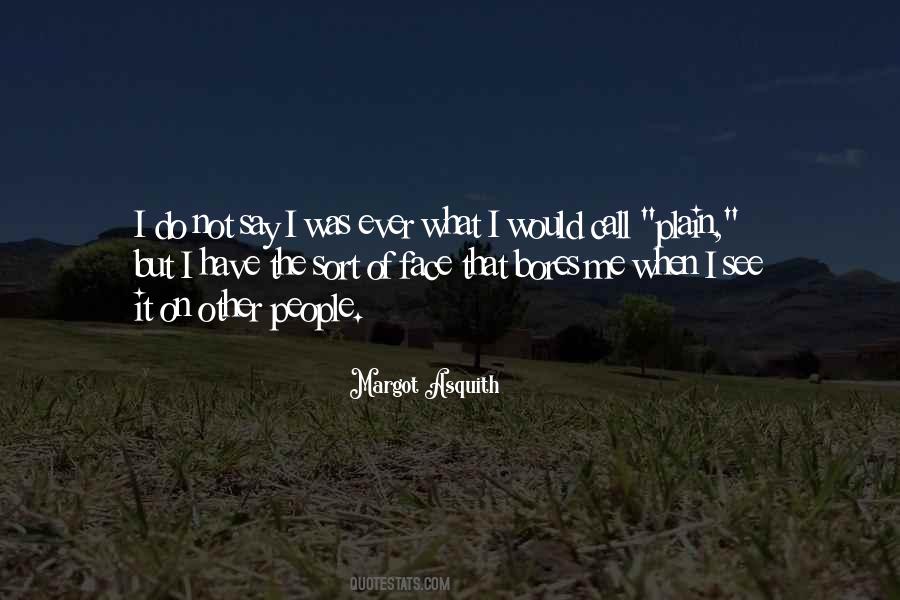 #82. Well, I'm not sure I know what you mean by a prima donna, but if something doesn't interest me or if someone bores me, or if I think they're a phony, I just don't bother with them, that's
all. - Author: Bobby Fischer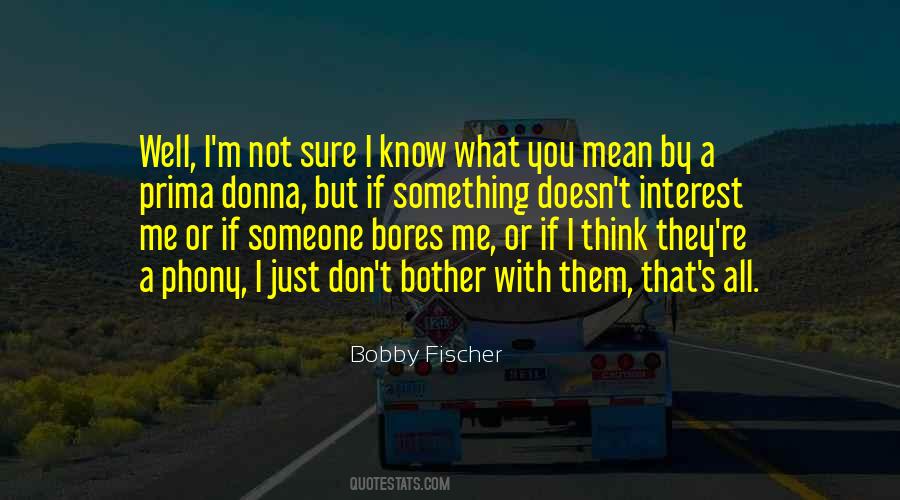 #83. Nothing is so pleasant ... as to display your worldly wisdom in epigram and dissertation, but it is a trifle tedious to hear another person display theirs. - Author: Ouida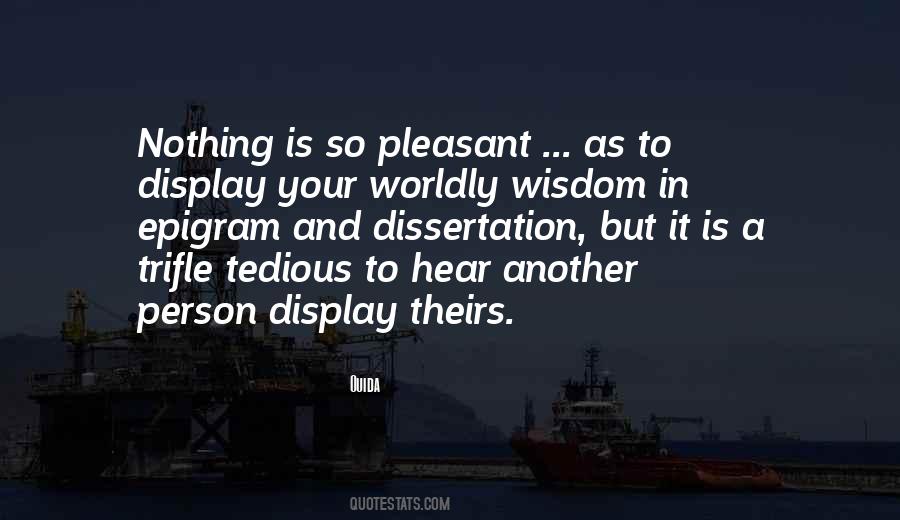 #84. When the silence bores you, let the music play; when the music bores you, let the silence play! - Author: Mehmet Murat Ildan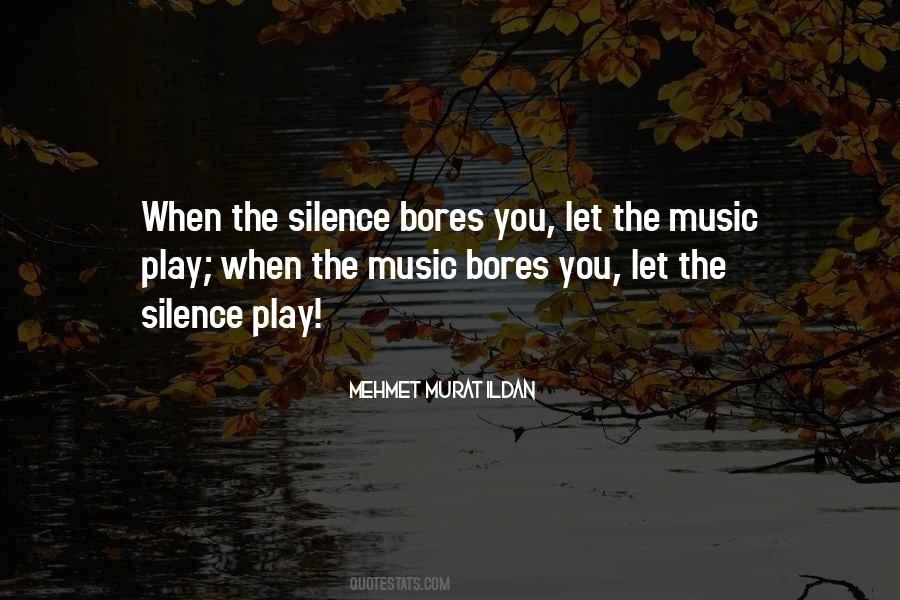 #85. The English sent all their bores abroad, and acquired the Empire as a punishment. - Author: Edward Bond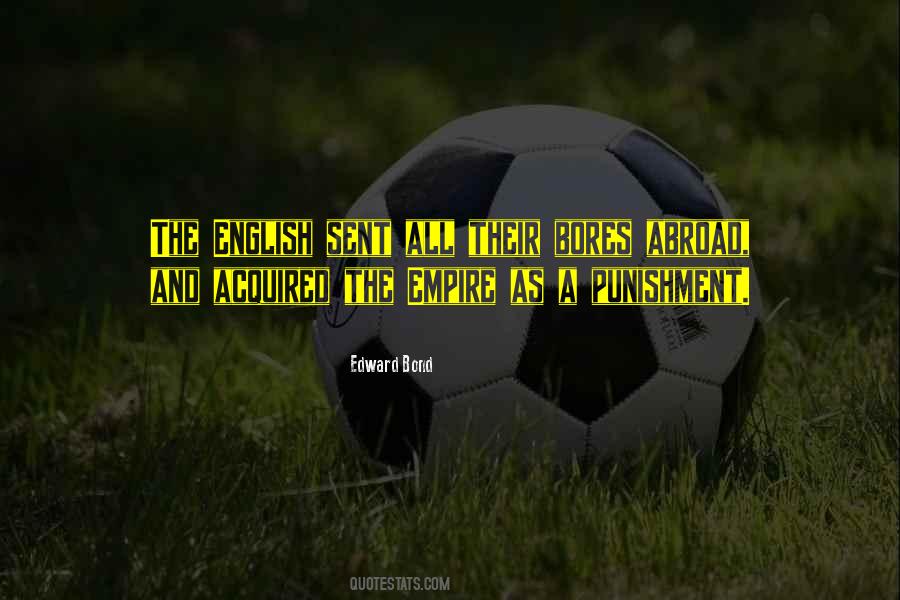 #86. People. Falling for each others' pretensions, fakeness and whatever various faces they can put on to wear. And then they call it love. What a fantasy. What a blasphemy. Humanity bores me. - Author: C. JoyBell C.
#87. The age of chivalry is past. Bores have succeeded to dragons. - Author: Charles Dickens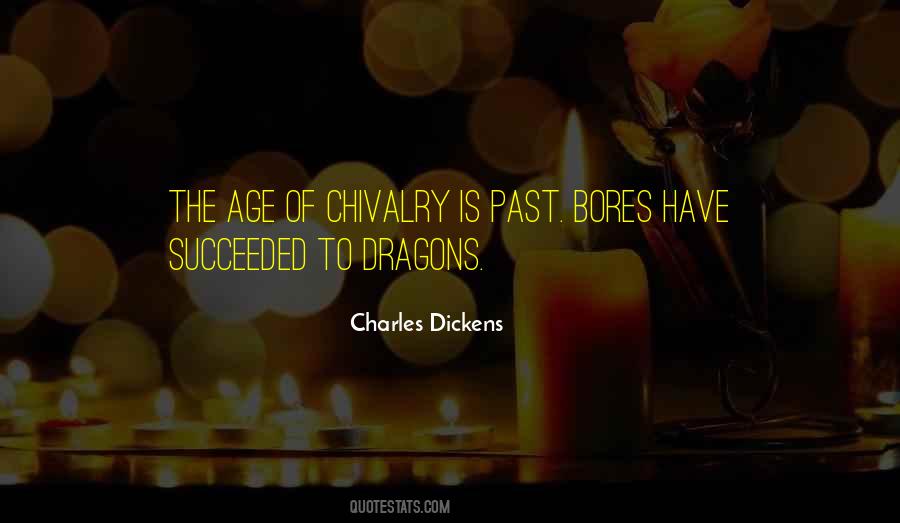 #88. I wish they'd hurry up with the second scene,' said Mrs. Viveash. 'If there's anything that bores me, it's entr'actes.'
'Most of one's life is an entr'acte,' said Gumbril. - Author: Aldous Huxley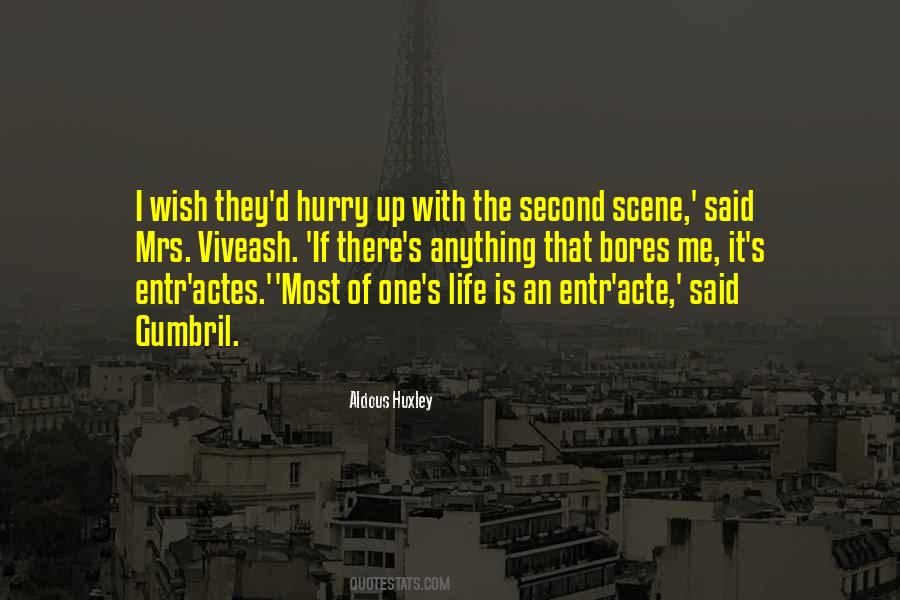 #89. Most of my contemporaries at school entered the World of Business, the logical destiny of bores. - Author: Barry Humphries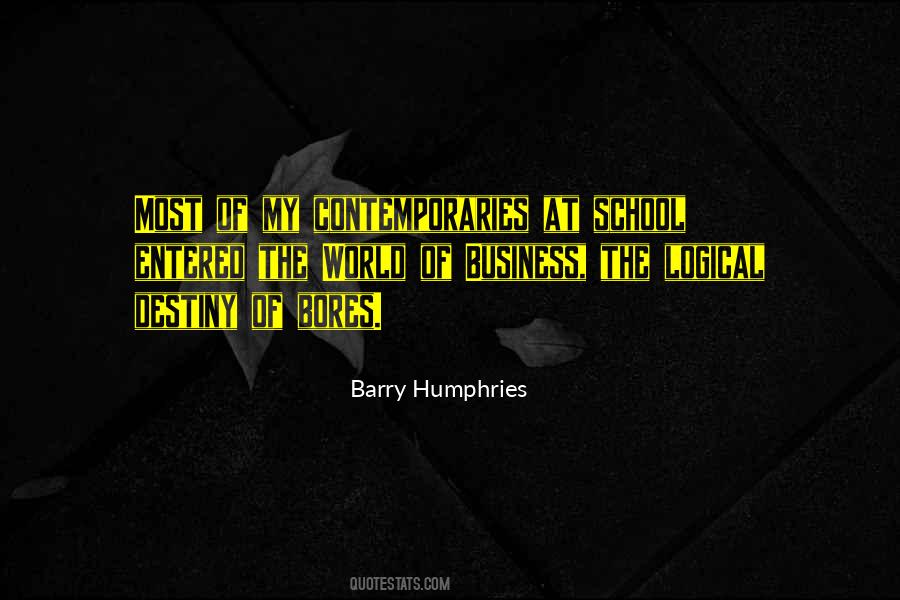 #90. The pop-star thing bores me because it's somebody programming someone else. Stand over here, sing that, no, sing it like this, talk like that, when they ask you this, don't say that, say this, hold that, drive this, stay here, live there - you're not even a human being. You're a puppet. - Author: Randy Jackson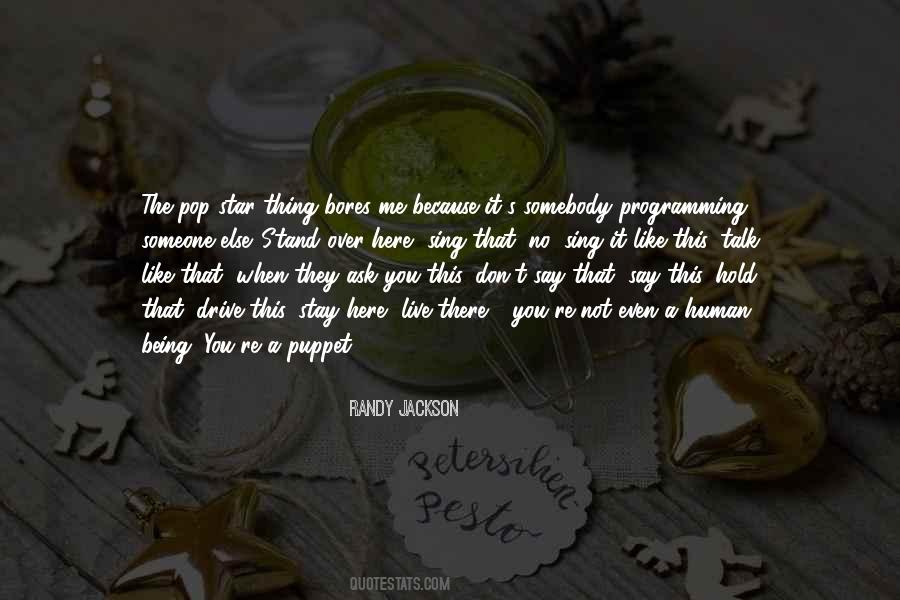 #91. A book can give you most things a relationship can. It can make you laugh, it can make you cry, it can transport you to different worlds and teach you things. You can even take it out to dinner. And if it bores you, you can move on. - Author: Sarah Morgan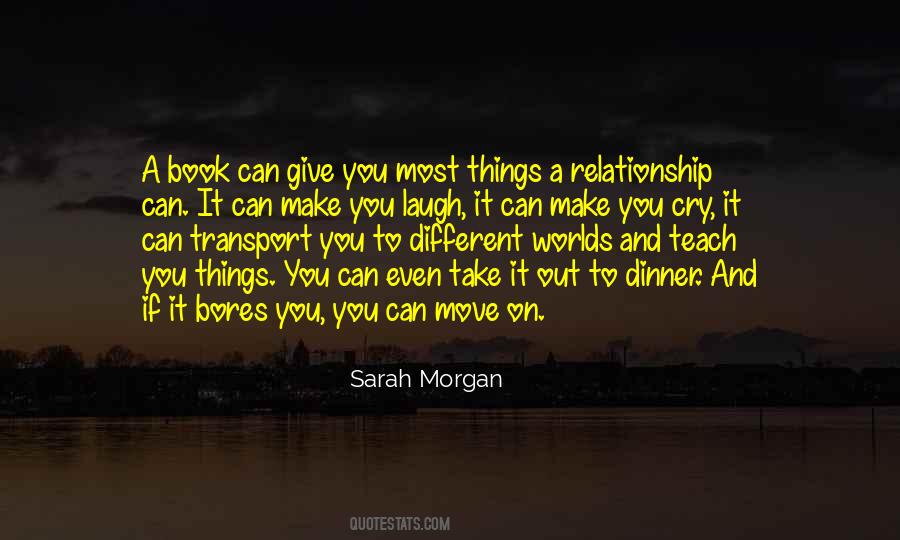 #92. I have to be excited, I have to have an adrenaline rush about doing something, or it bores me, I feel trapped. - Author: Ricky Gervais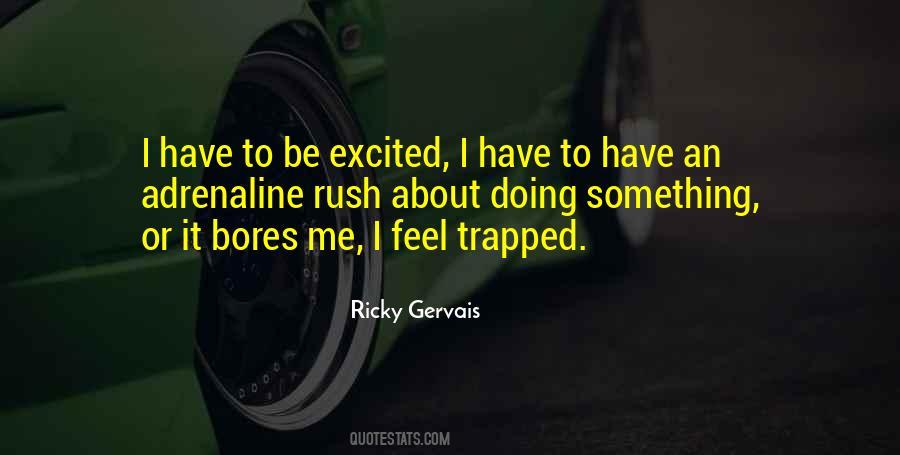 #93. I don't use a crap camera, I don't eat junk, and I'm not going to a dance where the boys are bores - Author: Adriana Trigiani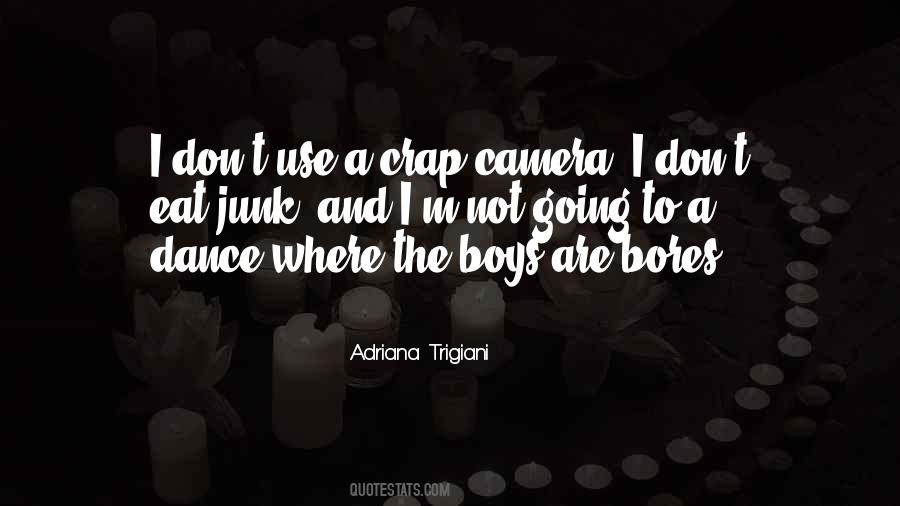 #94. Faith of the bore: everything is worth saying. - Author: Mason Cooley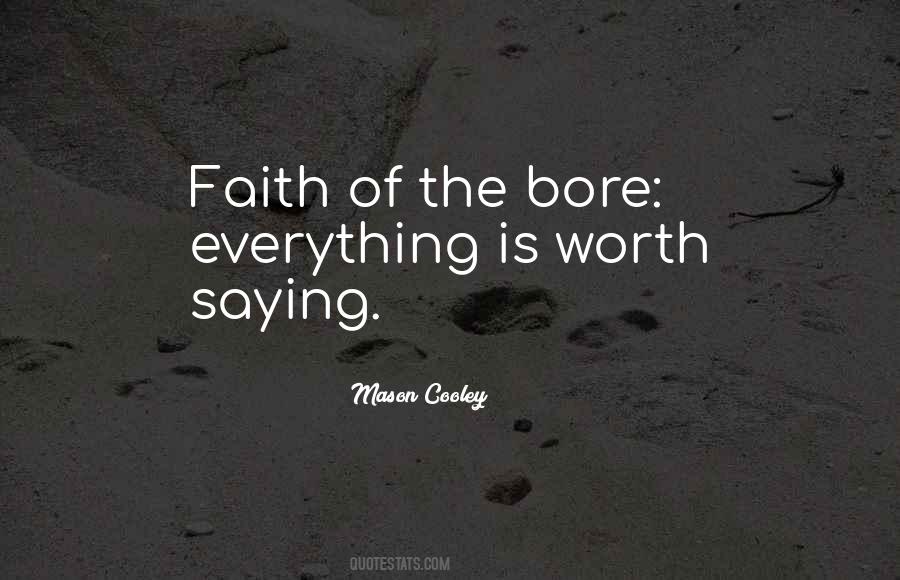 #95. I certainly try to avoid getting bogged down in forensics. There is certainly a whole lot of other writers who know a lot more than me about it. I know enough about it to do a little bit of background on laboratory techniques and stuff. But it kind of bores me. - Author: Jeff Lindsay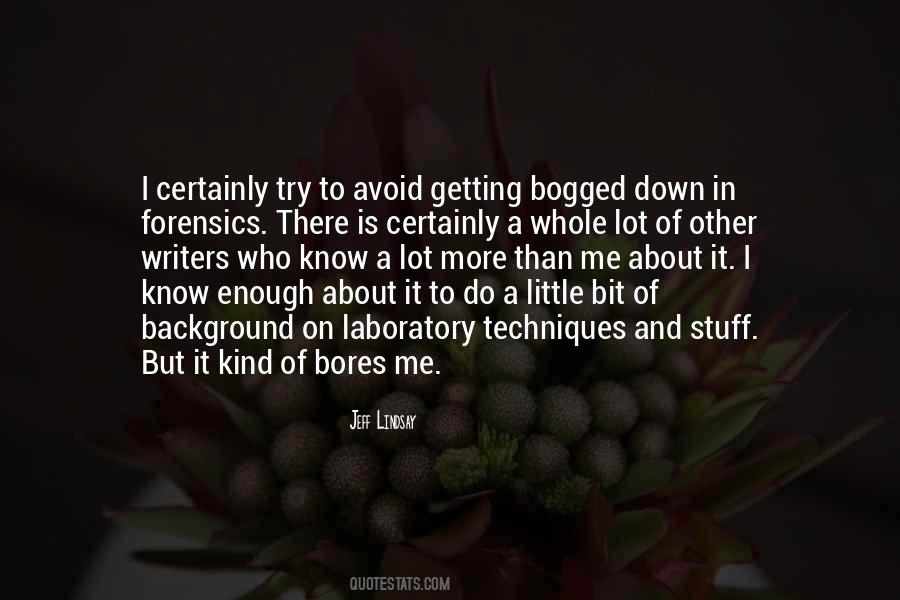 #96. It is an occupational hazard of devout folk to become stuffy bores. This should not be. Of all people, we should be the most free, alive, interesting. - Author: Richard J. Foster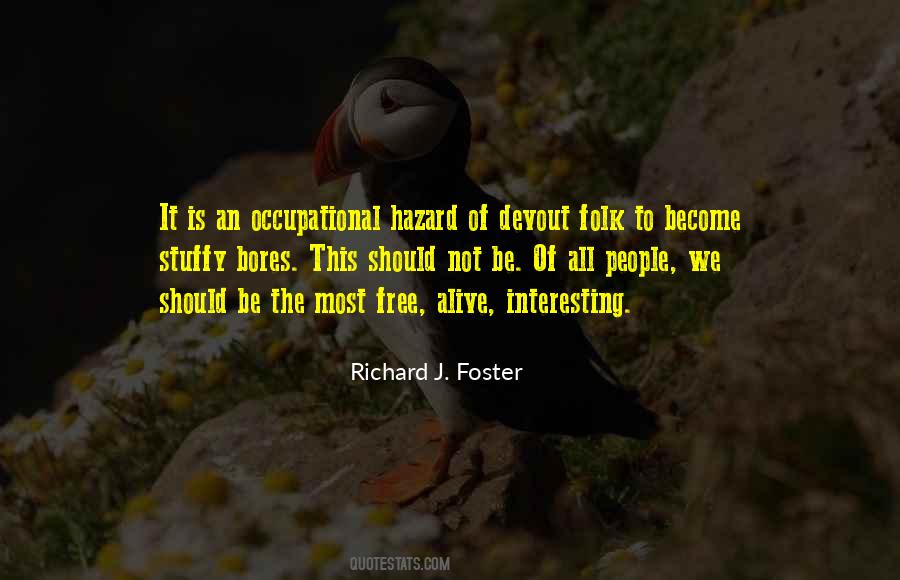 #97. When a thing bores you, do not do it. - Author: Eugene Delacroix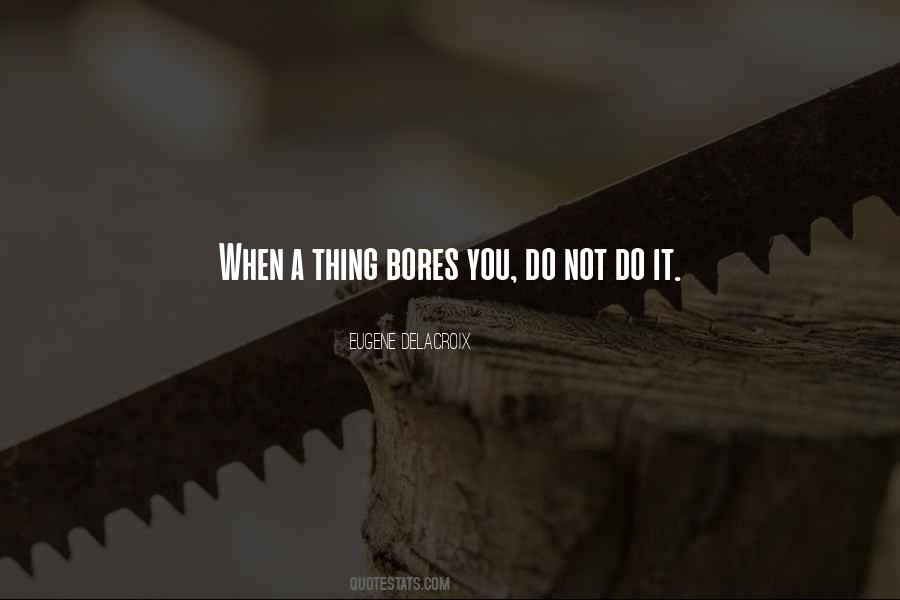 #98. It's bad enough when married people bore one another, but it's much worse when only one of them bores the other. - Author: Marie Von Ebner-Eschenbach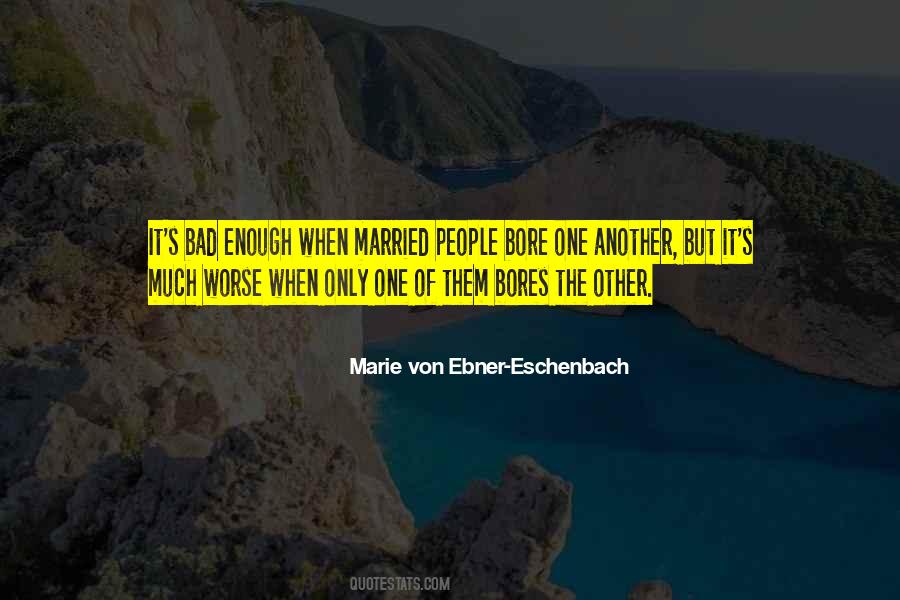 #99. One of the great difficulties about being a member of a minority race is that so many kindhearted, well-meaning bores gather around to help. - Author: Langston Hughes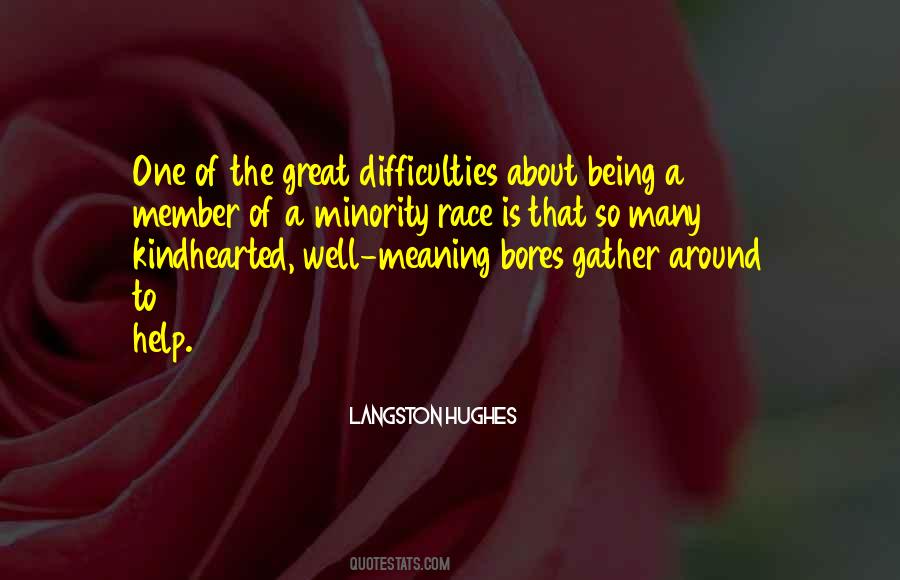 #100. Nowadays nobody bothers, and it is considered in slightly bad taste to even raise the question of God's existence. Matters of religion are like matters of sexual preference: they are not discussed in public, and even the abstract questions are discussed only by bores. - Author: John Rogers Searle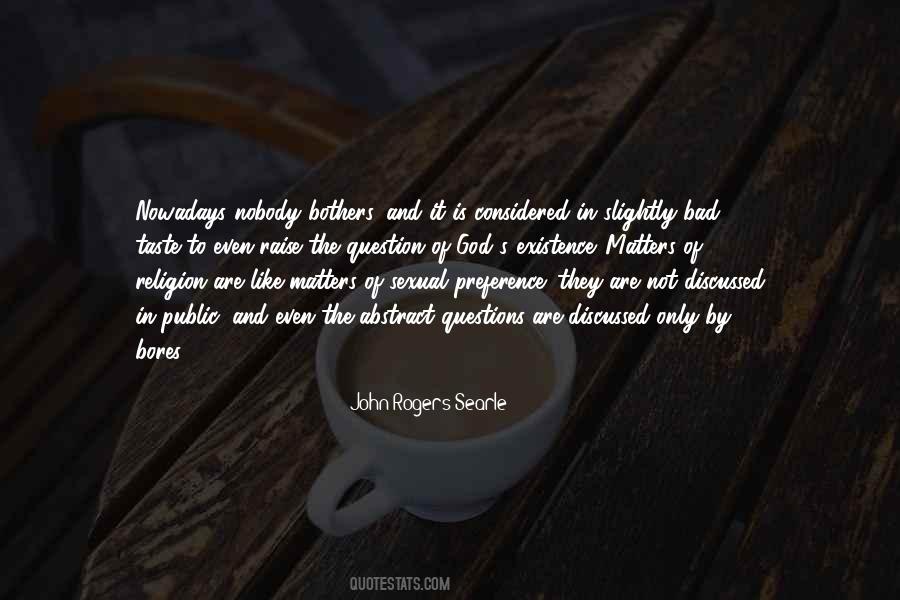 Famous Authors
Popular Topics