Being Bothered Famous Quotes & Sayings
List of top 46 famous quotes and sayings about being bothered to read and share with friends on your Facebook, Twitter, blogs.
Top 46 Quotes About Being Bothered
#1. Real Freedom is to not feel limited when wearing this Zen robe, this troublesome formal robe. Similarly, in our busy life we should wear this civilization without being bothered by it, without ignoring it, without being caught by it. - Author: Shunryu Suzuki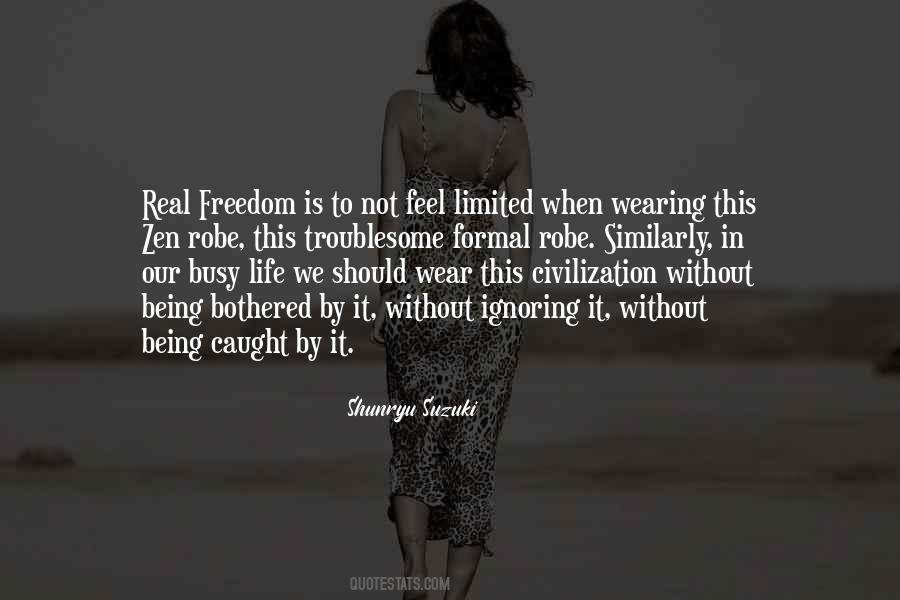 #2. That was a weird thought. My straight-up mother being bothered by faeries? Delia was even weirder. I could picture the scene. Faerie: Come away, human. Delia: Why? Faerie: Untold delights and youth forever. Delia: I'm holding out for a better offer. Ta. - Author: Maggie Stiefvater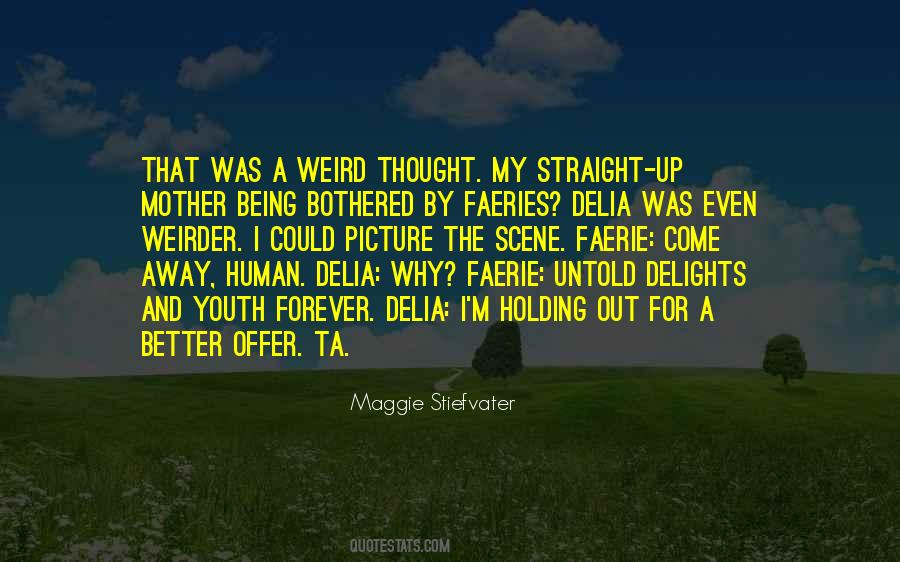 #3. If your enemy is happy, then why would they be bothered to be your enemy? Being someone's enemy is no fun. It does not add to happiness. - Author: Robert Thurman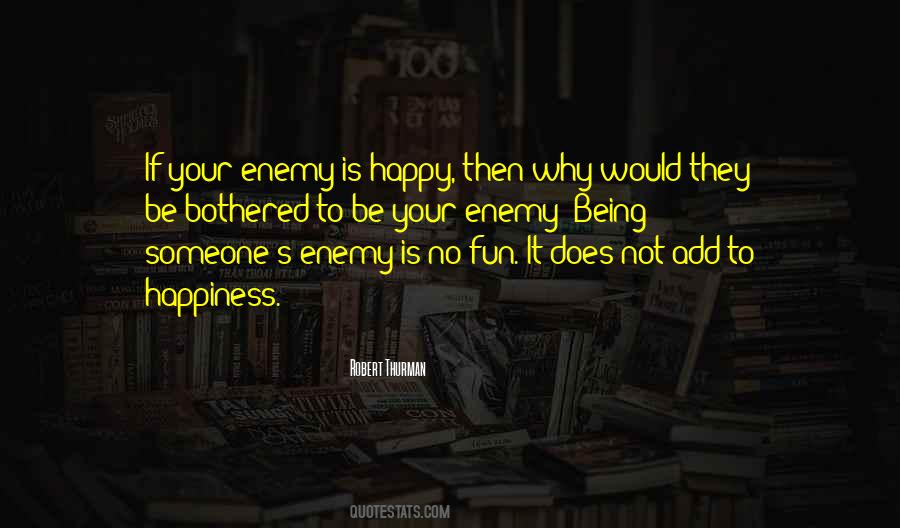 #4. I like to be honest, and after all these years I can't be bothered being politically correct. - Author: Sharon Osbourne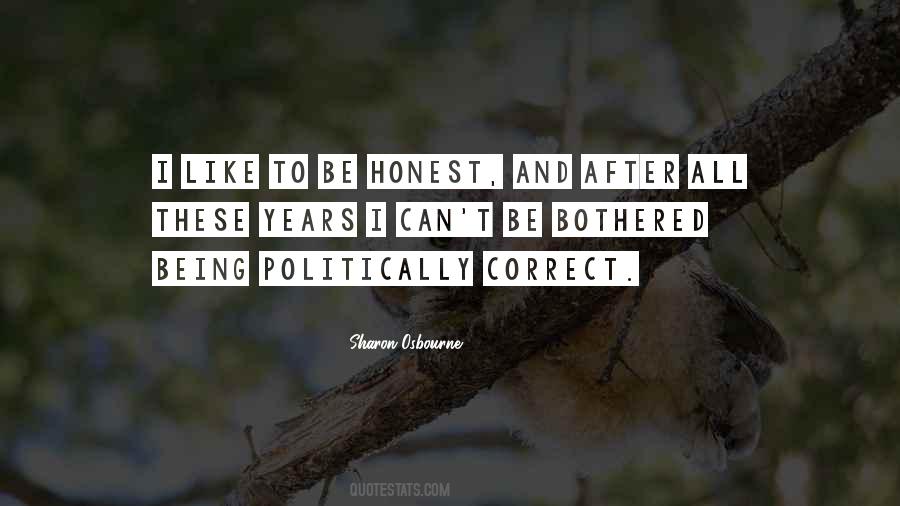 #5. No one bothered reading the books and understanding - and again, I'm not being high-falutin' about it - but I think our books are great literature with great metaphors of real life dealing with fears and hopes. - Author: Avi Arad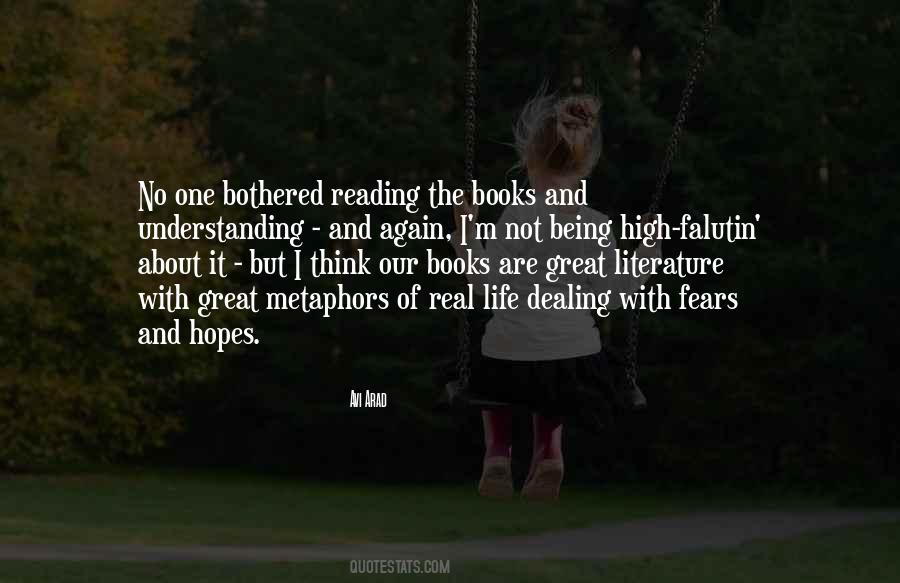 #6. We were bothered by sex because it is a fundamentally disruptive, overwhelming and demented force, strongly at odds with the majority of our ambitions and all but incapable of being discreetly integrated within civilized society. - Author: Alain De Botton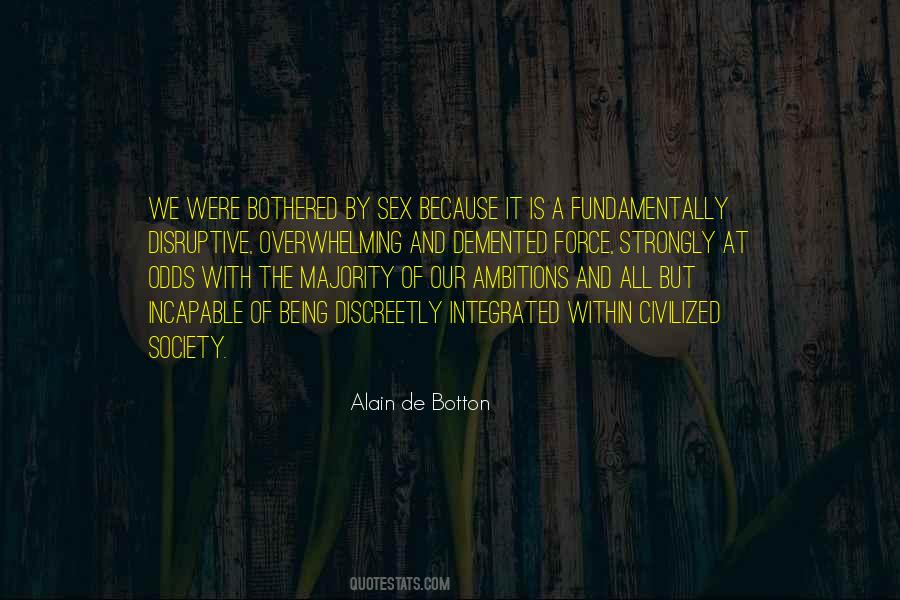 #7. Mother often said that she could never be bothered to understand why Alice did the things she did, and now, more than ever, Alice thought never being bothered was a very lazy way to love someone. - Author: Tahereh Mafi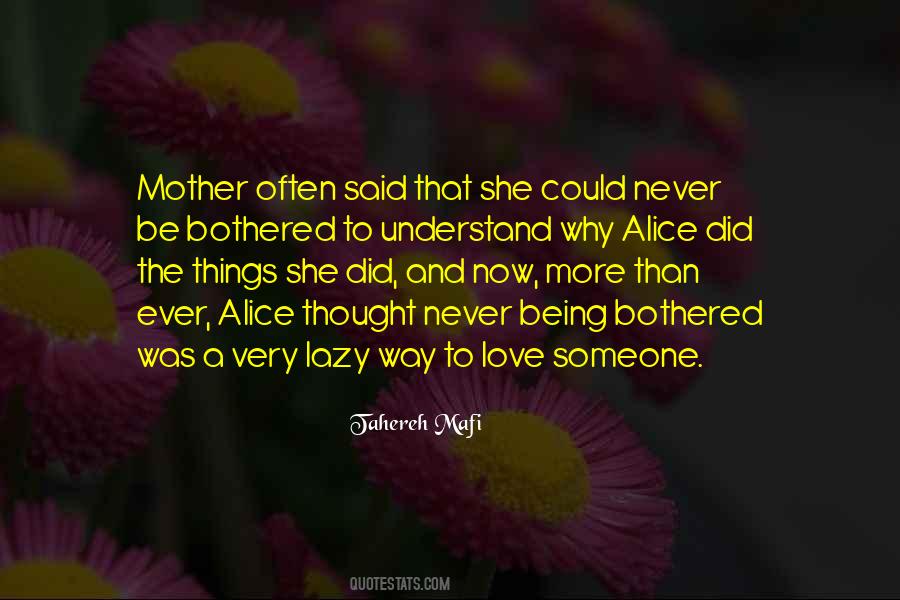 #8. It's just hard to go from seeing elephants living their lives in the wild and not being bothered by humans, to seeing them put in a bunker every night and then being forced to take assholes like us on rides. - Author: Chelsea Handler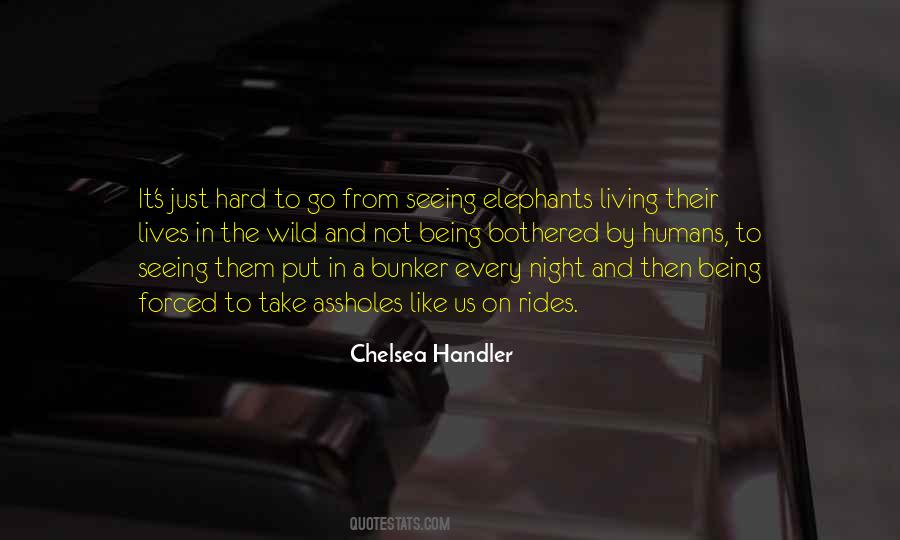 #9. I think I was punishing Dante. He had given me a piece of himself that he had never given to another human being. And I hadn't even bothered to look at it. Why was I doing that? - Author: Anonymous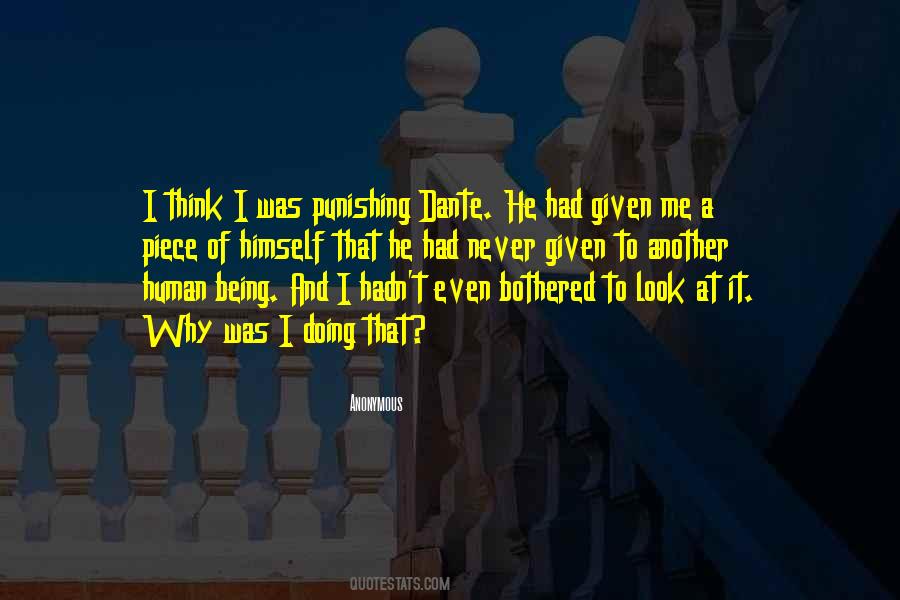 #10. The more hungry she got, the less other worries bothered her. Eating was a problem for now. Being killed by Denth or Vasher was a problem for later. - Author: Brandon Sanderson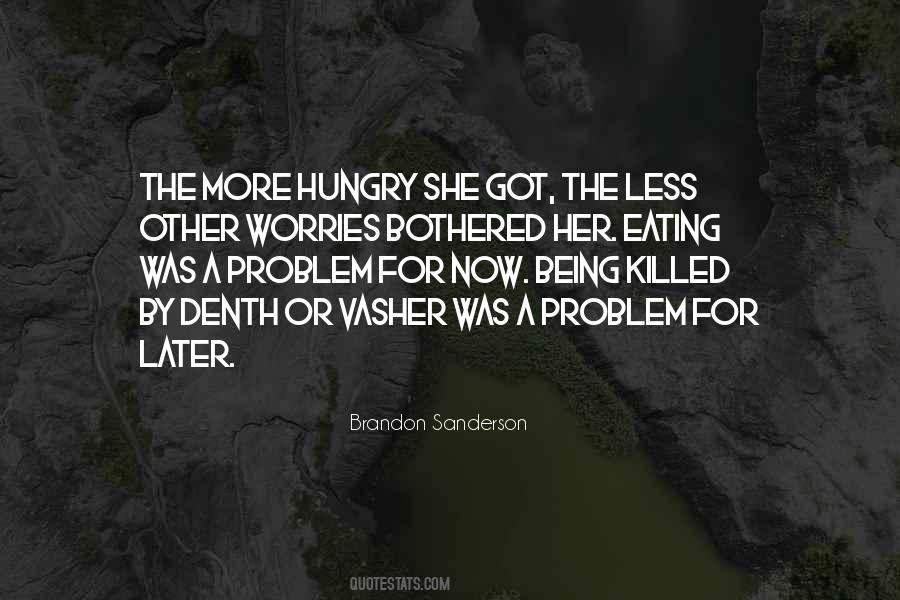 #11. Do you know how many acres of beautiful forests and moors have been destroyed by your company? How many animals have lost their homes and how many trees have been murdered? I am sick of being bothered by you people. - Author: Emily Arden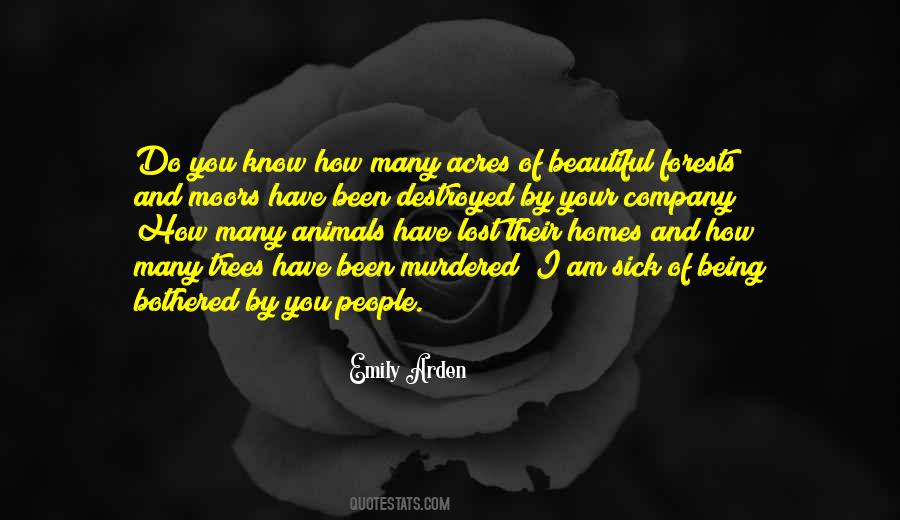 #12. Between the ages of fourteen and twenty-four, foreplay changes from being something that boys want to do and girls don't, to something that women want and men can't be bothered with ... The perfect match, if you ask me, is between the Cosmo woman and the fourteen-year old boy. - Author: Nick Hornby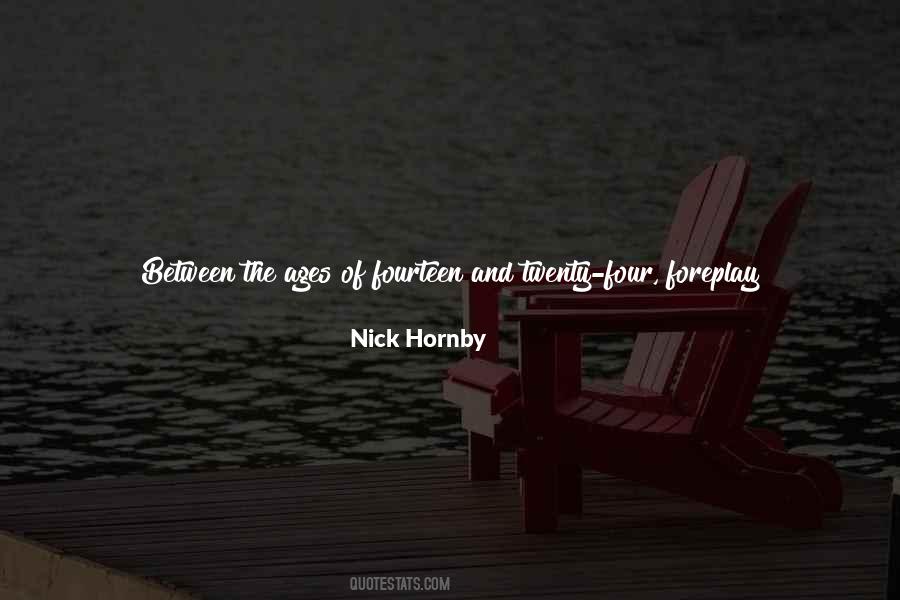 #13. [Clyde Ross] was stationed in California. He found that he could go into stores without being bothered. He could walk the streets without being harassed. He could go into a restaurant and receive service. - Author: Ta-Nehisi Coates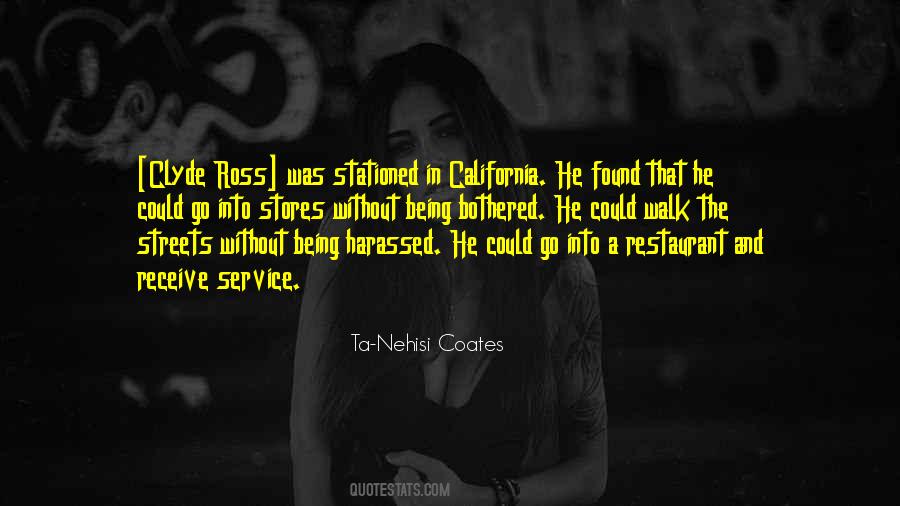 #14. Queen Mirabella stands at the altar of the Goddess. Sweating, but not from heat. Elementals are not bothered much by temperature, and if they were, no one inside could complain of being warm. - Author: Kendare Blake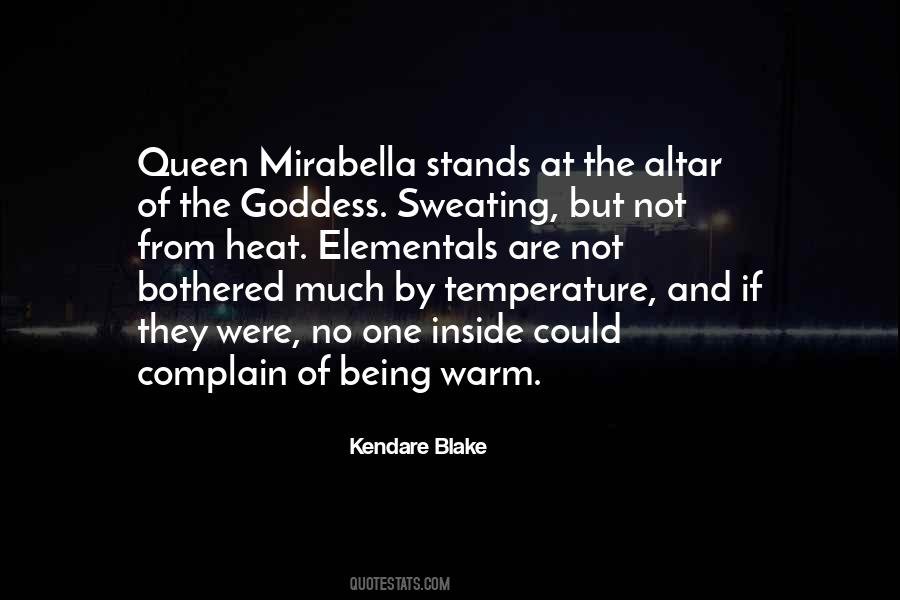 #15. I don't know that I spent any more time alone than any other kid, but being by myself never bothered me. - Author: Joseph Barbera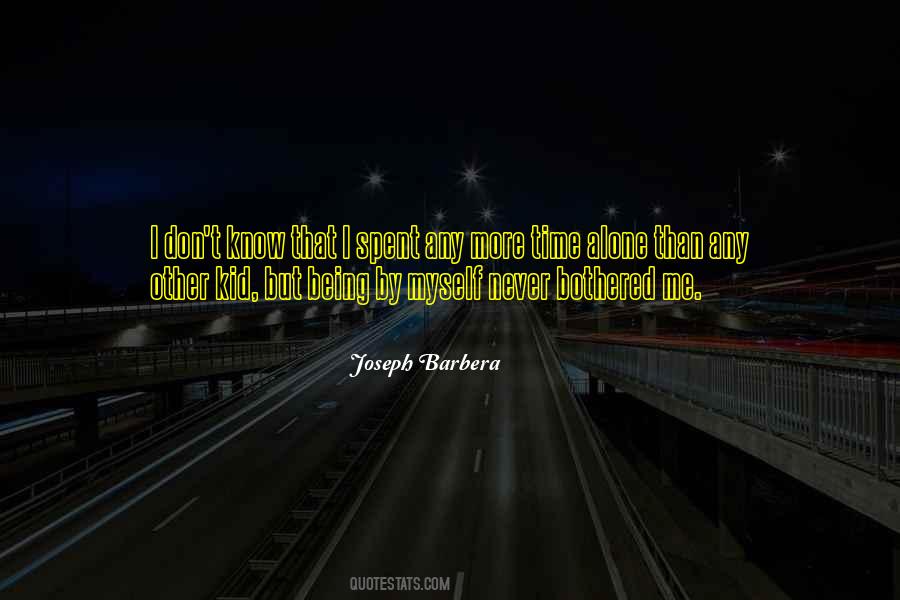 #16. When Ty was truly hot and bothered, it could be an amazing experience, like being mauled by a lion without the fuss of needing stitches after. - Author: Abigail Roux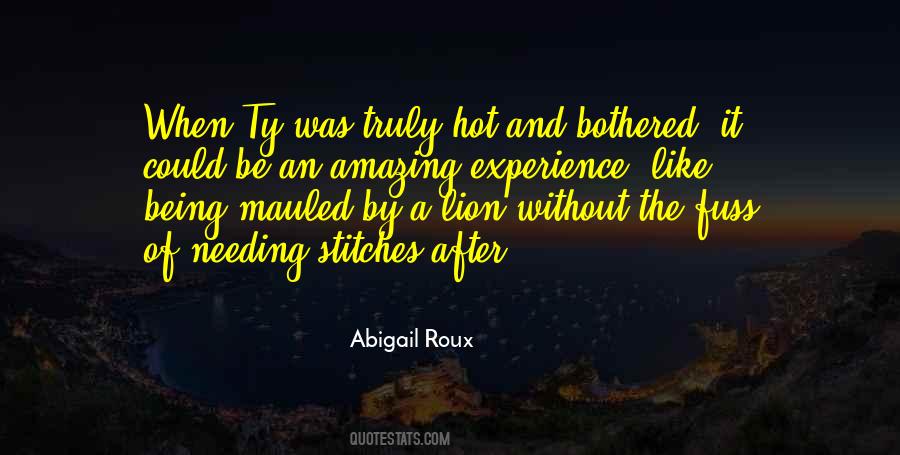 #17. I guess I just couldn't see standing there
alive, talking, thinking, breathing, being
one second, and dead the next. It really bothered me. Death by violence isn't the same as dying any other way, accident or disease or old age. It just ain't the same. - Author: S.E. Hinton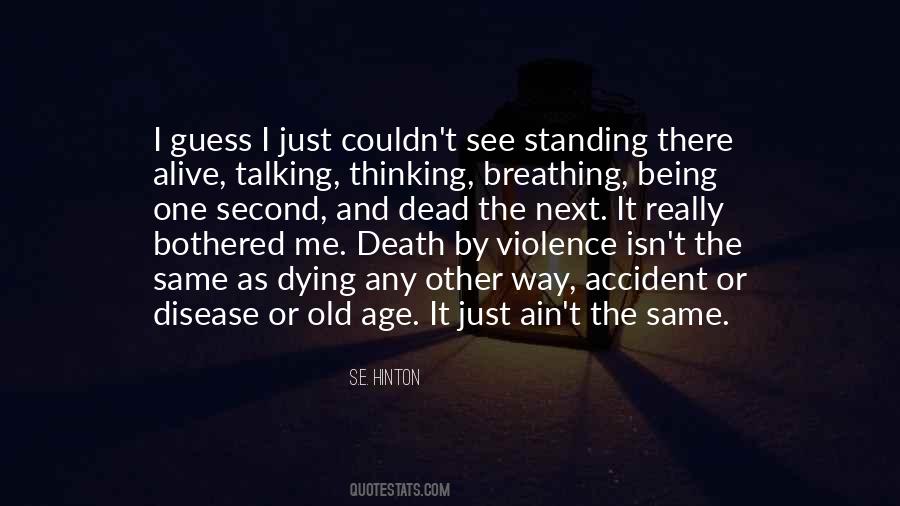 #18. Being a woman has only bothered me in climbing trees. - Author: Frances Perkins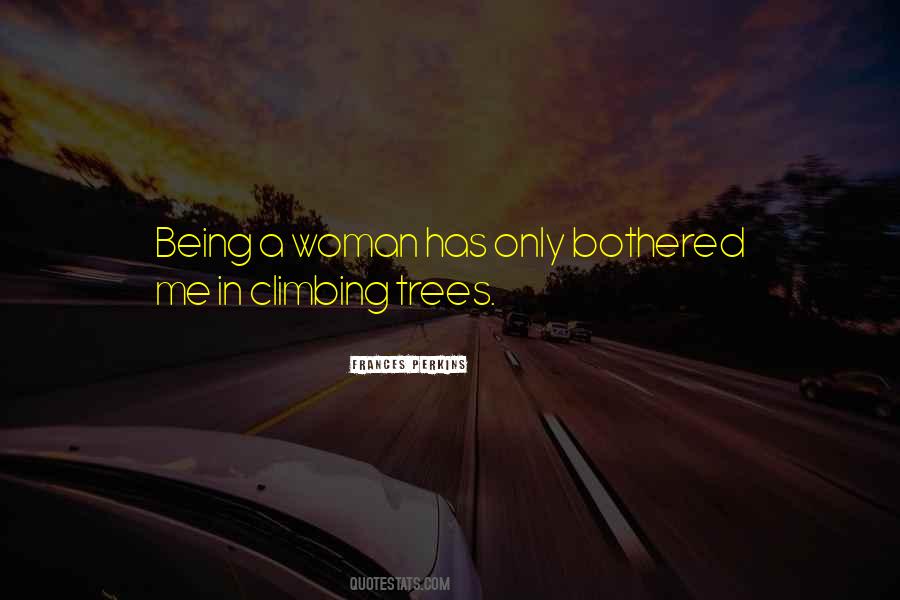 #19. If the government can set aside some spot for a elk to be a elk without being bothered, or a buffalo to be a buffalo without being shot down, there ought to be some place where a Negro can be a Negro without being Jim Crowed. - Author: Langston Hughes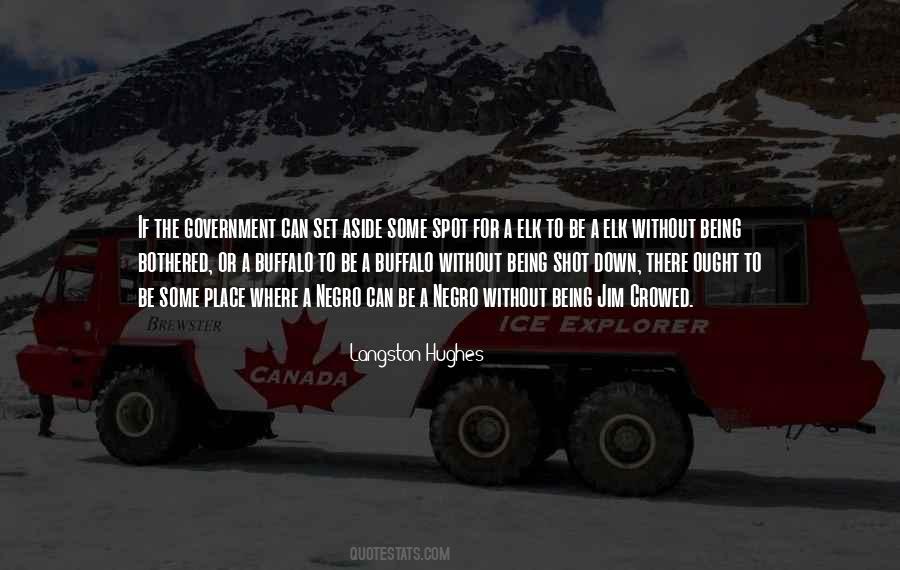 #20. If I'm on form and I'm not being bothered too much by mental problems or whatever, I can whip out something good. That's why I've done quite a few overdubs for Tina Turner and things like that, because even before she made this comeback I said yes to her, just because I love Tina Turner. - Author: Jeff Beck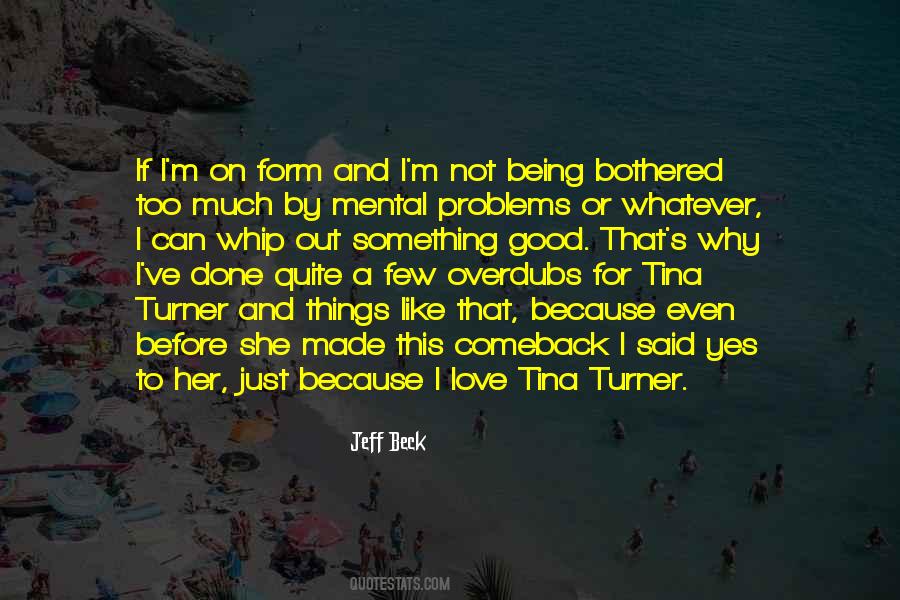 #21. I've never bothered about my color. I never had that thing about being black. If the whole world was like that, maybe there would be more harmony and love. Maybe. I don't have a problem with being black in a white country or being with my people. - Author: Tina Turner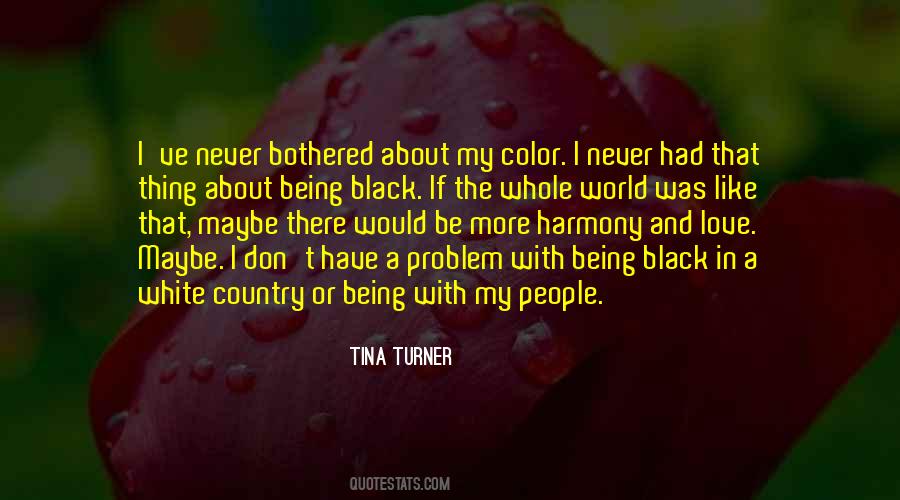 #22. He steps over to me and takes the empty bowl from my hand, setting it on the desk. Grasping my chin, he pulls my face up so I'll look at him. His thumb brushes across my bottom lip, and he's quiet for a minute before whispering, "Only a fool would be bothered by being with you. - Author: J.M. Darhower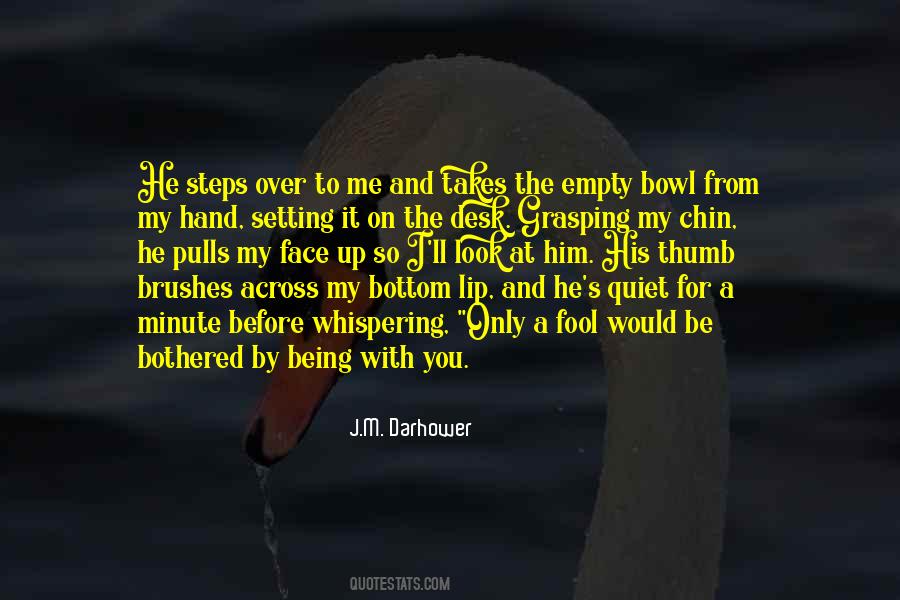 #23. Being a mum is something that's never bothered me too much. I have never felt a strong need to have children, but I am not averse to it either. - Author: Julia Sawalha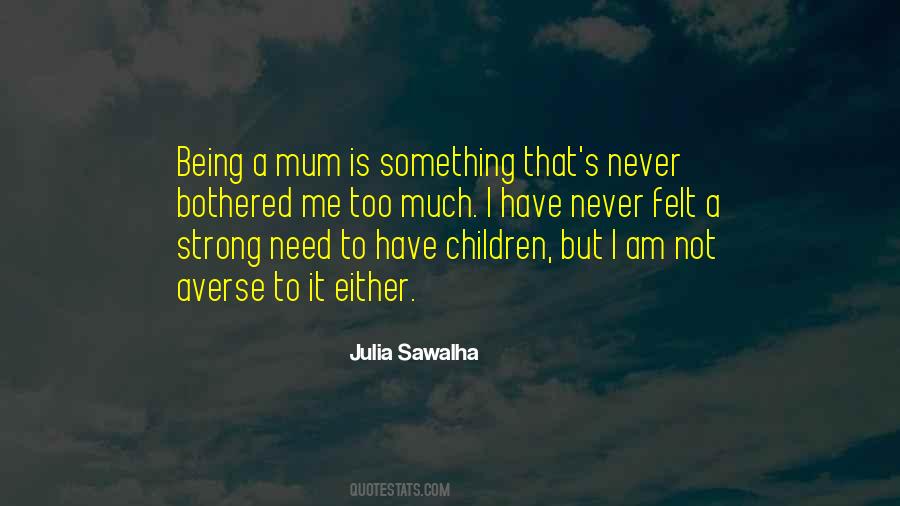 #24. In the old days people never bothered about what others did, so long as they were free to do what they liked themselves. Today, one cannot sneeze without being corrected, let alone enjoy oneself. That's what politics have done to our society - Author: Tunku Abdul Rahman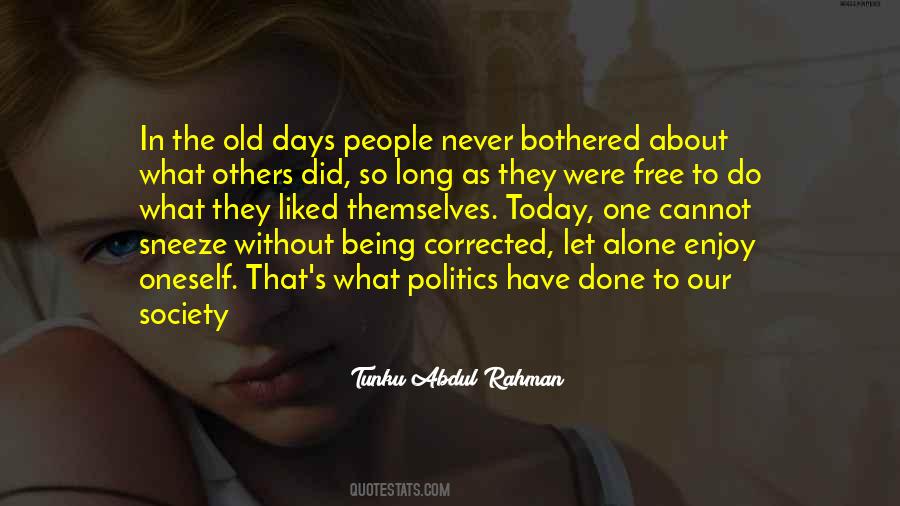 #25. It was one of those cases where you approve the broad, general principle of an idea but can't help being in a bit of a twitter at the prospect of putting it into practical effect. I explained this to Jeeves, and he said much the same thing had bothered Hamlet. - Author: P.G. Wodehouse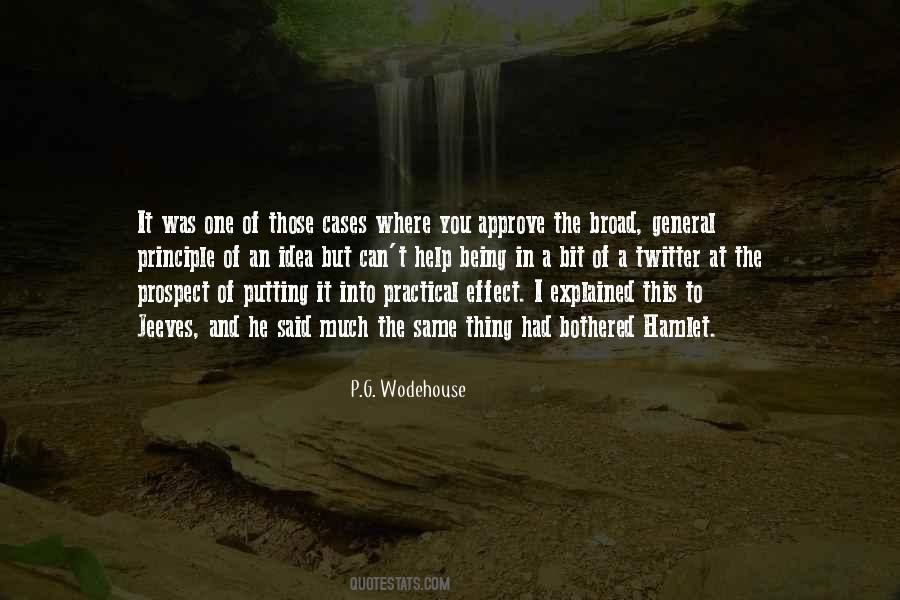 #26. The most interesting thing in the world is another human being who wonders, suffers and raises the questions that have bothered him to the last day of his life, knowing he will never get the answers. - Author: Will Durant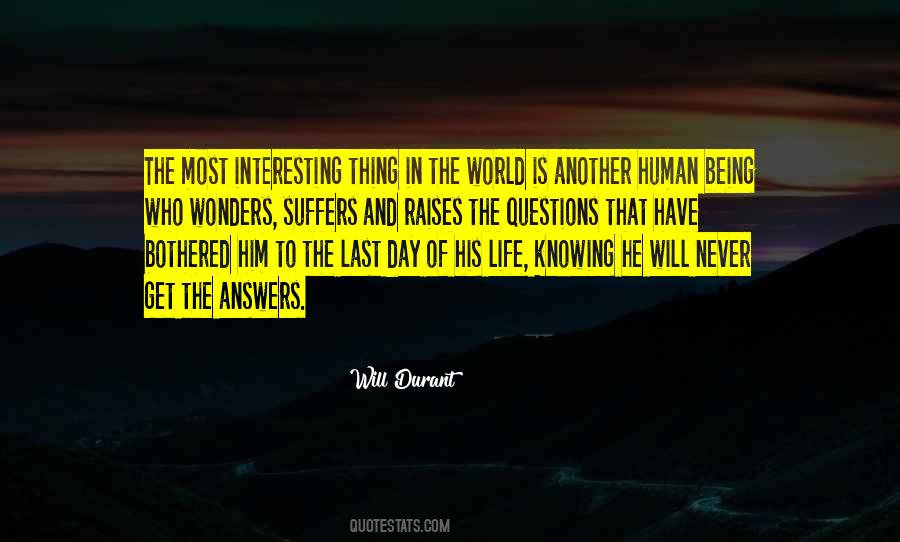 #27. That which besets me is indifference. I can't be bothered about people. Or rather, I won't. For I avoid, carefully, all occasions of being bothered ... a person who, so far as self-knowledge is concerned, is just a moron. - Author: Aldous Huxley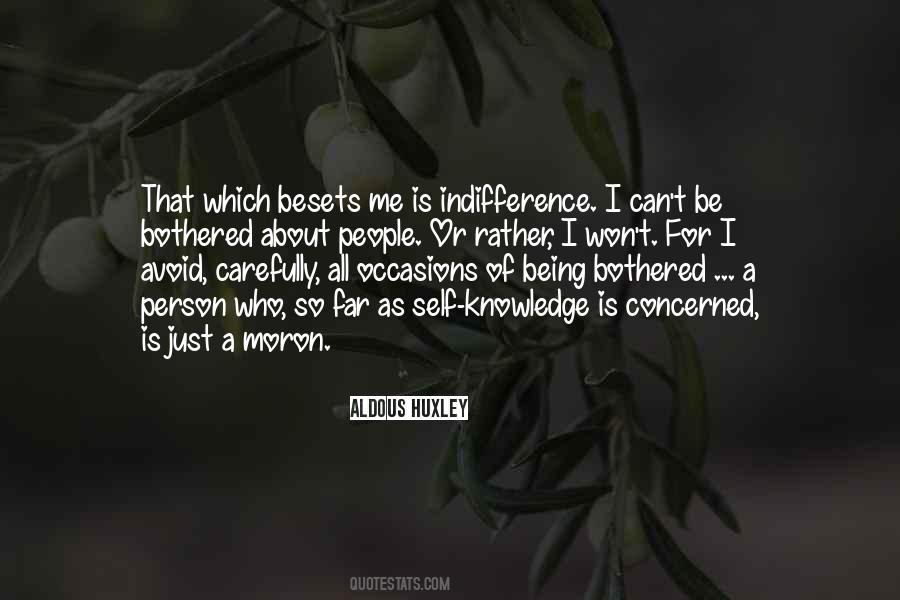 #28. You have to understand - I grew up being told by my parents that the best way to get out of a sticky situation was to assume it didn't exist," he said. "Let the rumors fly ... if the family isn't bothered, why should anyone else be? - Author: Jodi Picoult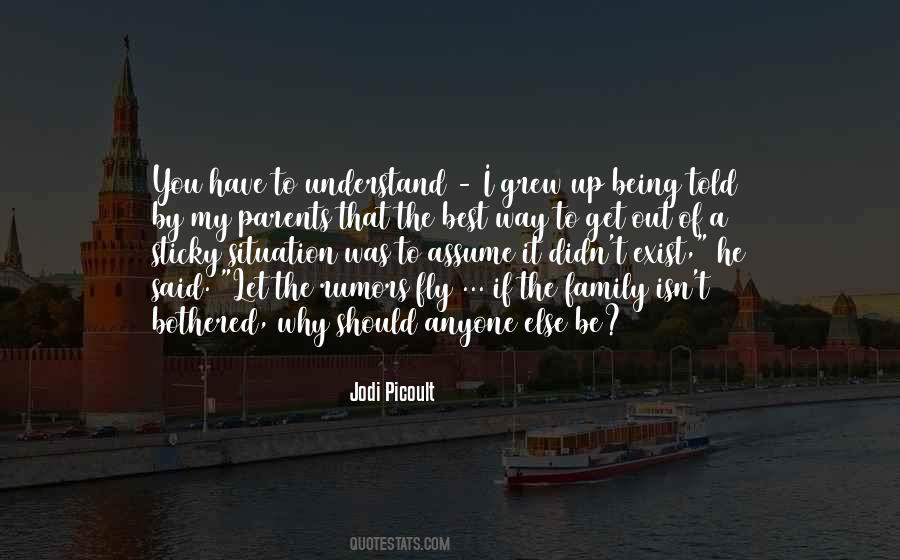 #29. Frankly, my height or lack thereof never bothered me much. Although there is no doubt that it has contributed to a certain mental toughness. I've made the most of the head start one gains from being underestimated. - Author: Michael J. Fox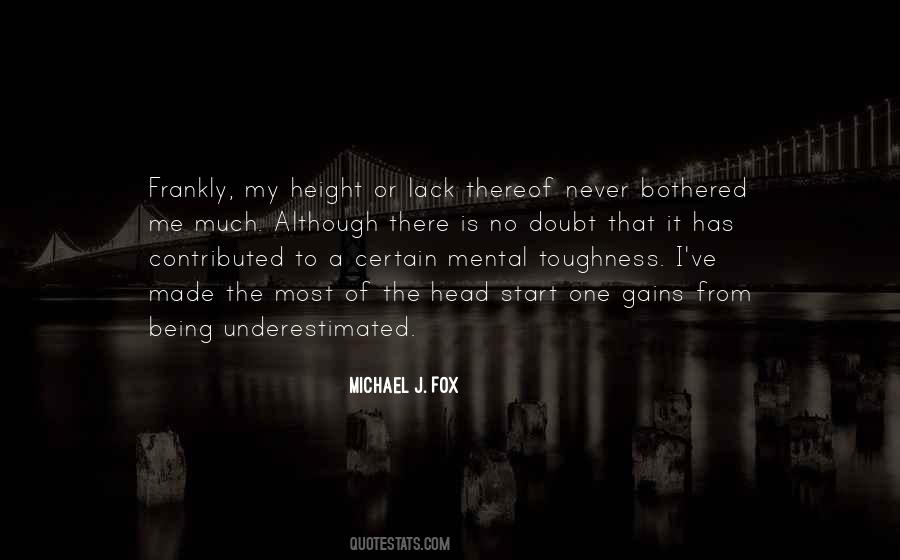 #30. I've learned now to talk, act or walk famous. I can still walk around New York, without being molested or bothered. I don't mind autographs - that's part of it. I just do not see the point of being "out there" or behaving outrageously. It will bring nothing but trouble. - Author: Norah Jones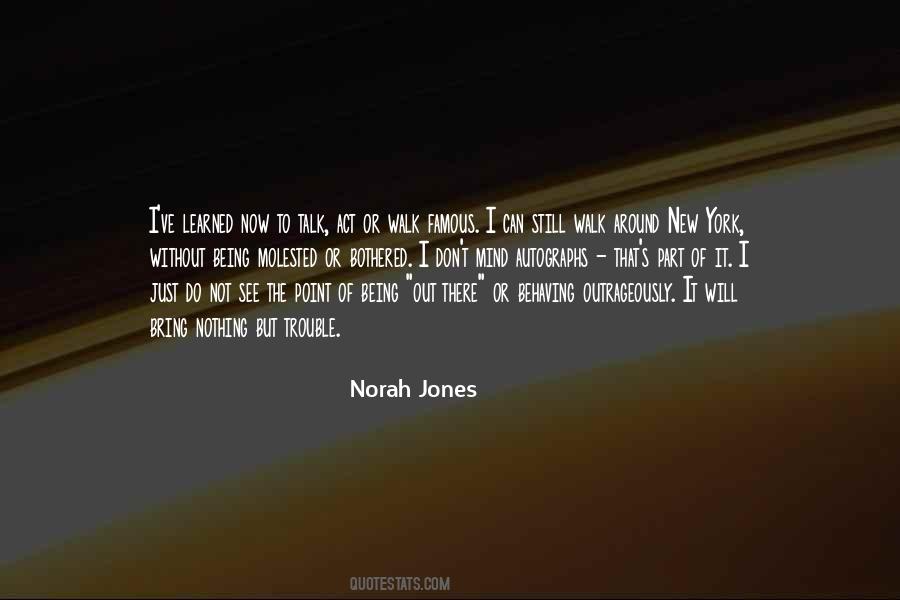 #31. France in August when you can travel through the entire country without encountering a single pesky Frenchman or being bothered with anything that's open for business. - Author: P. J. O'Rourke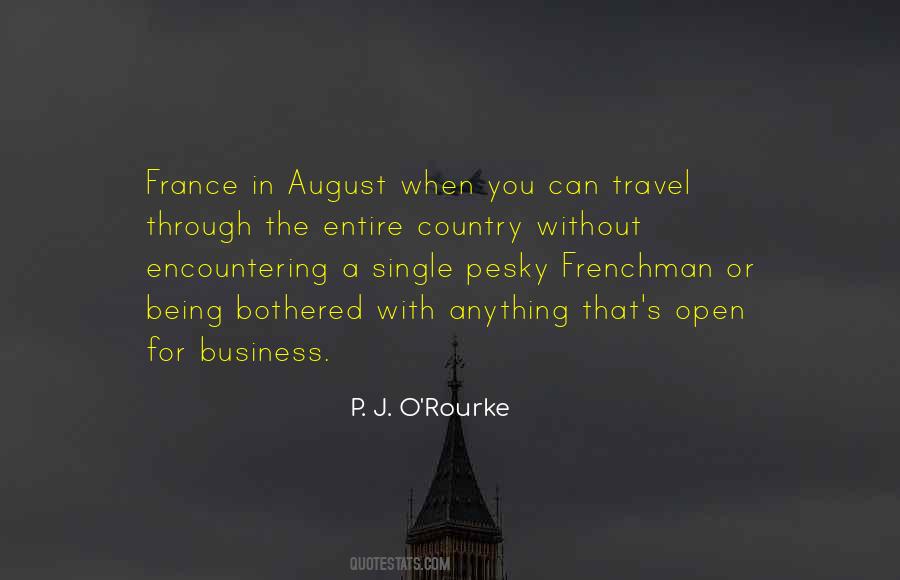 #32. If you don't like pictures of animal cruelty being posted on social media, you need to help stop the cruelty, not the pictures. You should be bothered that its happening, not that you saw it. - Author: Marie Sarantakis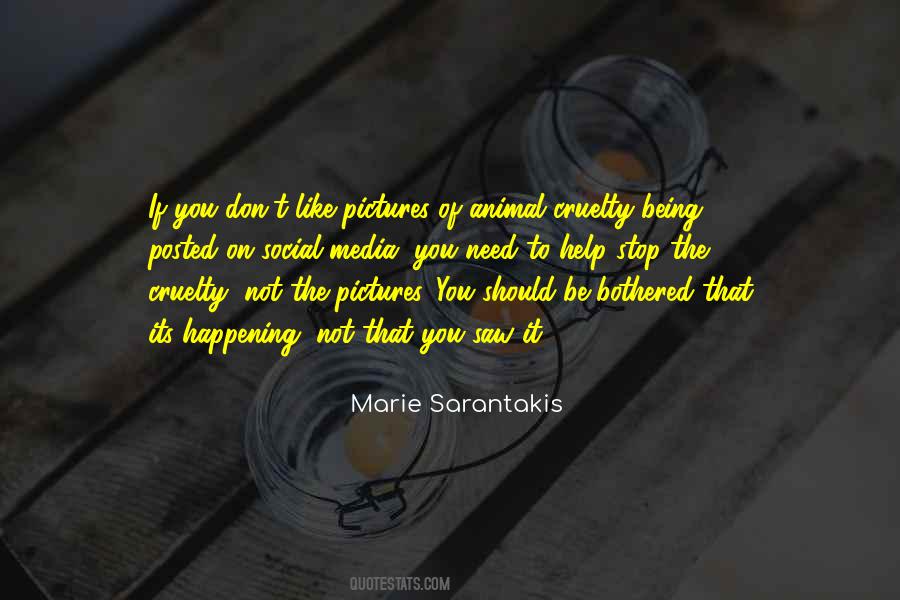 #33. I don't get bothered about statistics. If somebody had pointed out to me the odds of my being a working actress getting paid for what she does, I probably would have quit early in the game. - Author: Shelley Long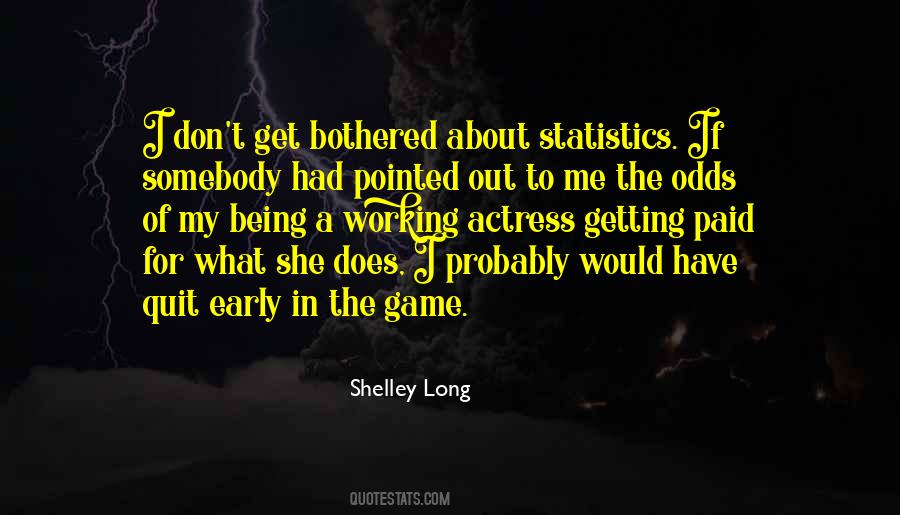 #34. You're gonna miss each and every shot you can't be bothered to take. That's not living life
that's just being a tourist. Take every shot, Kate. If it's worth caring about, no matter how impossible you think it is
you take the shot. - Author: Matt Fraction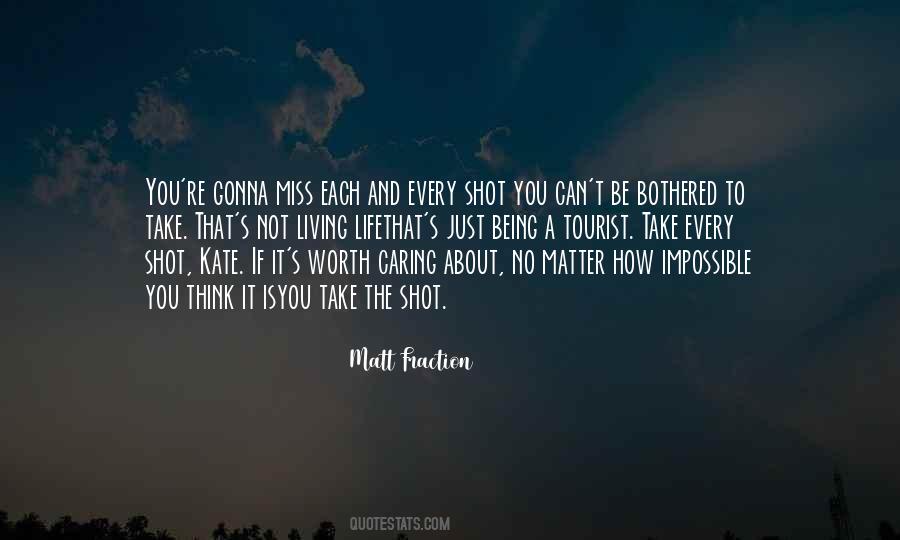 #35. Being short never bothered me for three seconds. The rest of the time I wanted to commit suicide. - Author: Mel Brooks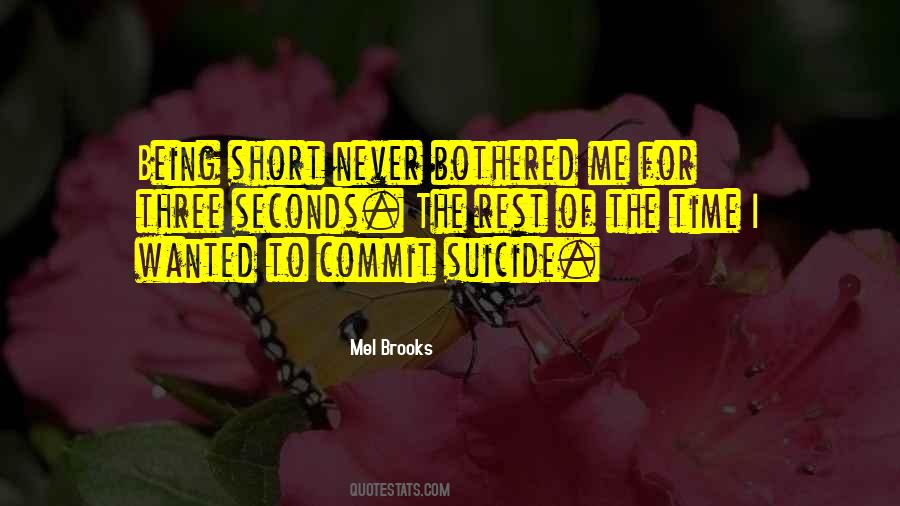 #36. From my point of view, being out is not about anything political. It's just because I can't be bothered to be in. - Author: Rupert Everett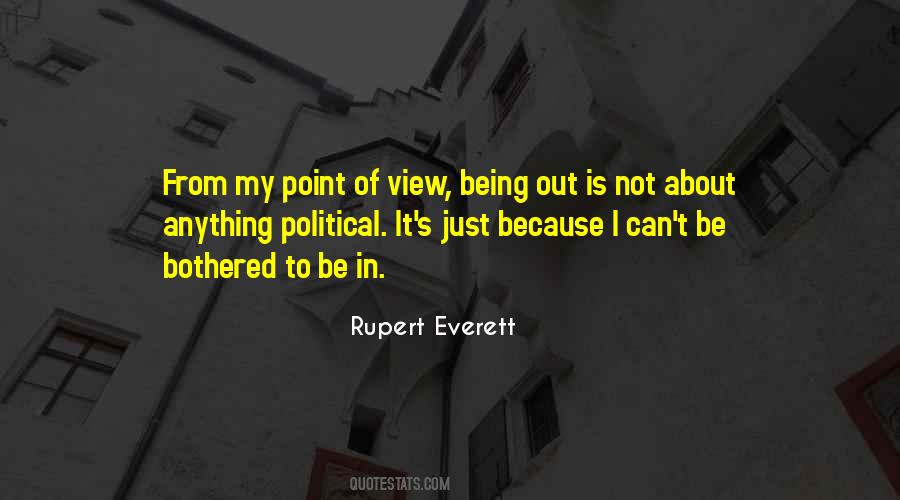 #37. It has always bothered me that many people, doctors included, tend to view anything that deviates from the typical as being abnormal or broken. - Author: John Elder Robison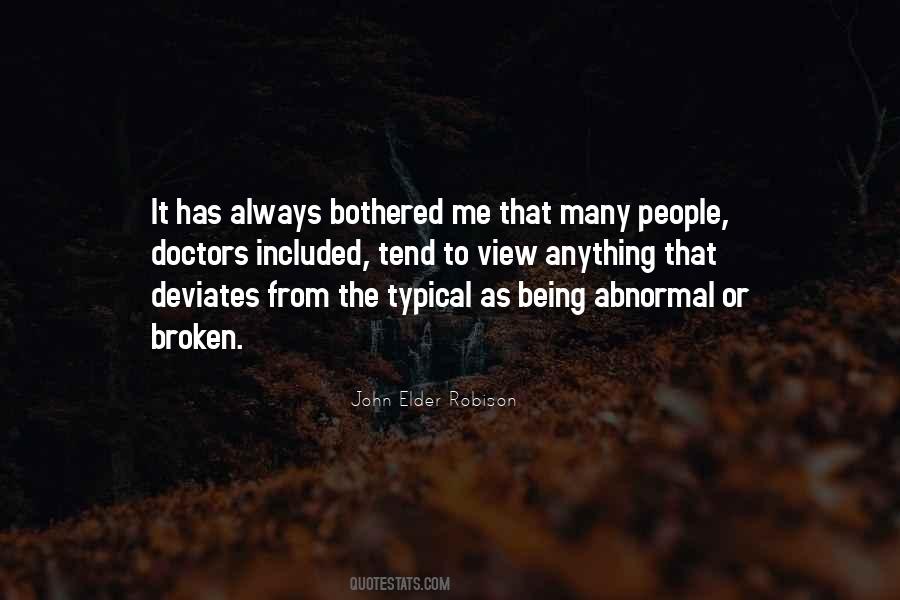 #38. I remember when I was a kid being called names, including the 'n' word. The first time that happened, it really bothered me. But most of the people I dealt with were all white. Most of my close friends were white. - Author: Ken Griffey Jr.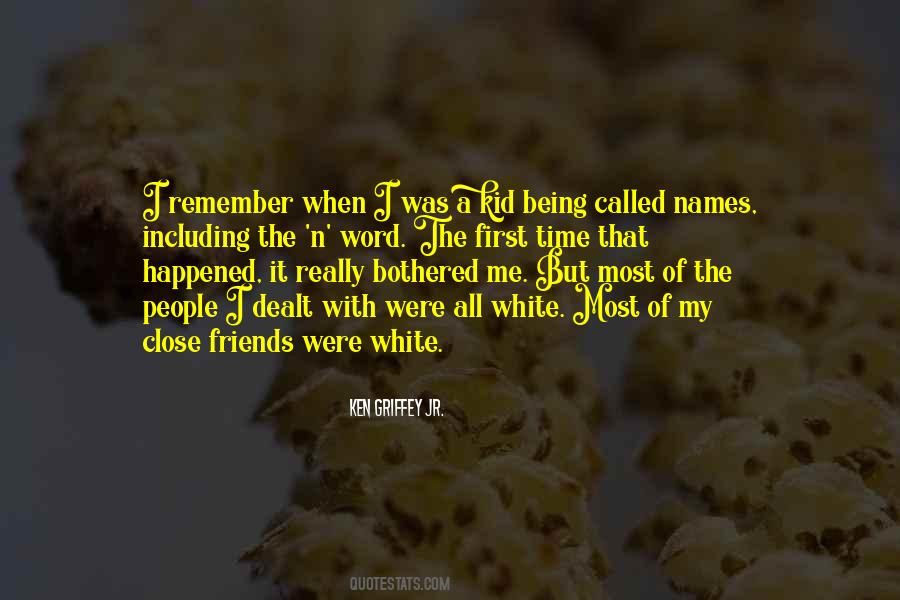 #39. How lonely I was, even when I was with him. How it felt, him not making love to me, being affectionate, making me feel desired or desirable. How much it bothered me that, even though I'd talked to him about all of this, even wrote him other e-mails, it didn't ever seem to penetrate. - Author: Kristen Ashley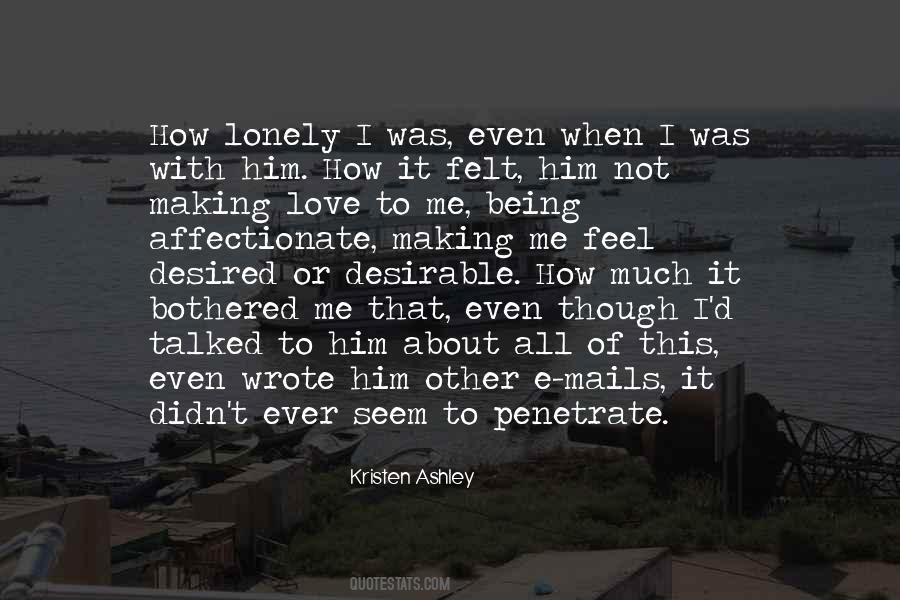 #40. It's a shame that so many people are so intimidated and bothered by Tim Tebow's stance as a Christian. He's not bothering anybody. He's simply being who He is and giving all glory to His Lord. - Author: Monica Johnson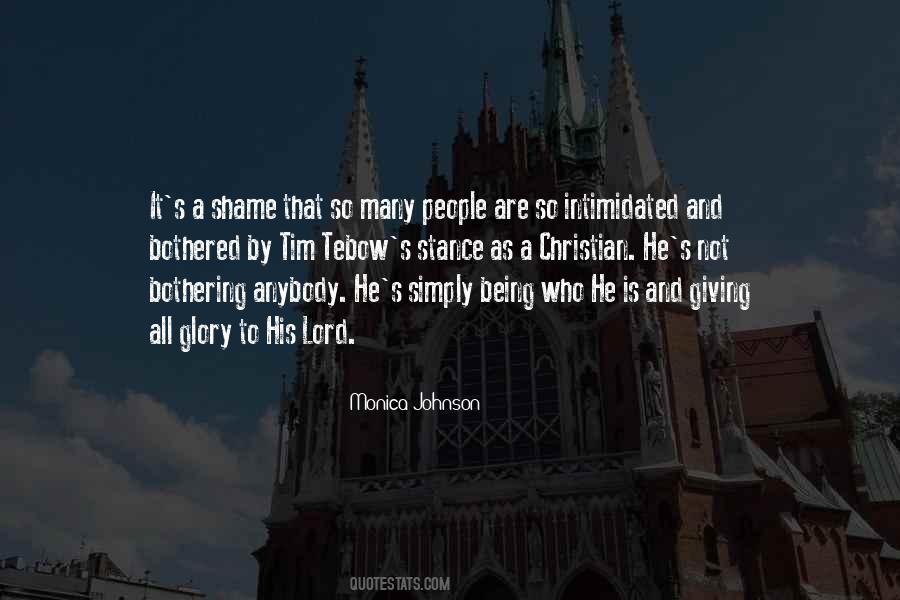 #41. The funny thing is I'm not bothered or sad about being on my own - after all I've never had a husband. - Author: Francesca Annis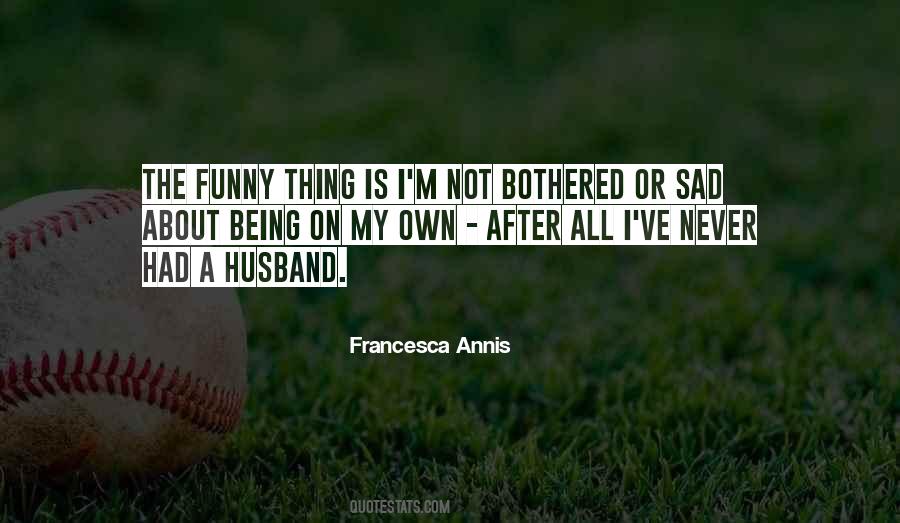 #42. The selfish part of me, however, couldn't fathom not falling asleep in his arms or being with him every day. I needed TJ, and the thought of being away from him bothered me more than I wanted to admit. - Author: Tracey Garvis-Graves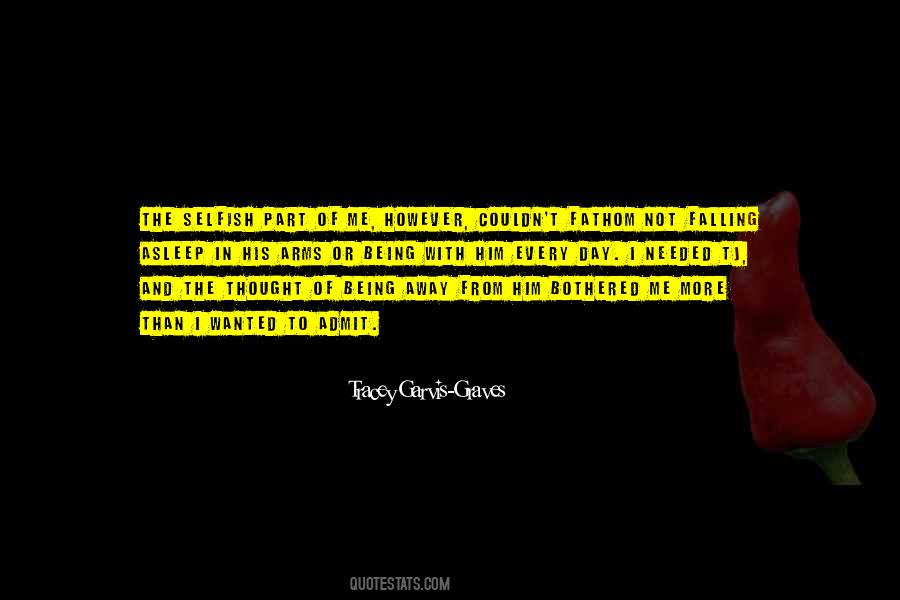 #43. People don't want to be bothered, if they're not being pressured to change. You have to push people. You have to be the agitator that makes the pearl. - Author: Marlo Thomas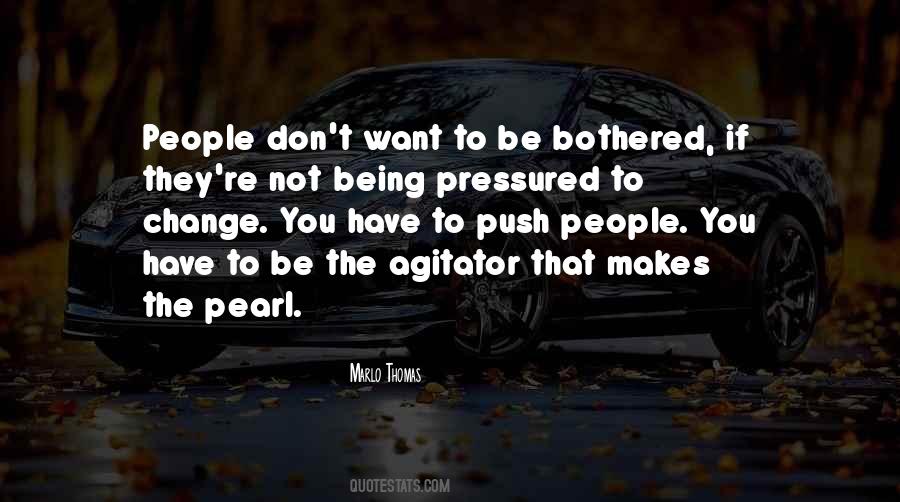 #44. Stories are the only thing that I can be bothered with. It's the only way that I can do anything, even if I'm quite useless. It's the only area in being human where I could be a little useful. - Author: Alice Englert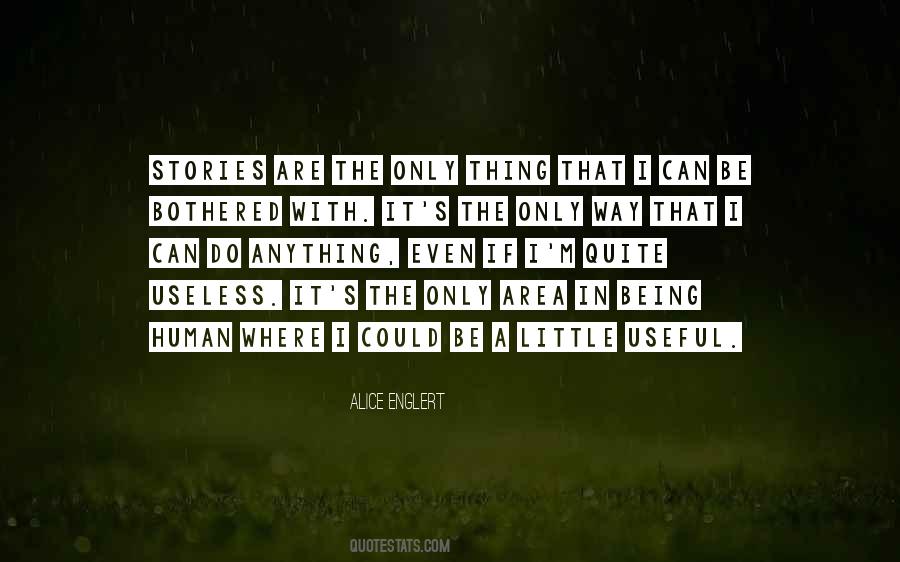 #45. Well, when you get into the business, what you have to realize is that signing autographs and getting 'bothered' is just part of the deal. It's not a bother to me at all. That's part of being an actor and that's something you have to realize before you ever get into this business. - Author: Zachery Ty Bryan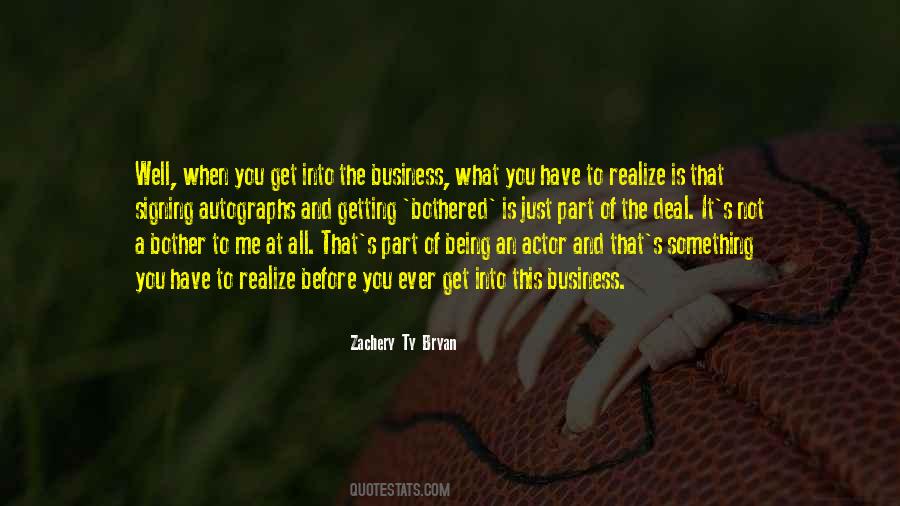 #46. I'm just observing the world. I was born into it, like you were, and then I found out there were some really disturbing aspects to being alive, like the fact that you weren't going to be alive forever - that bothered me. - Author: David Cronenberg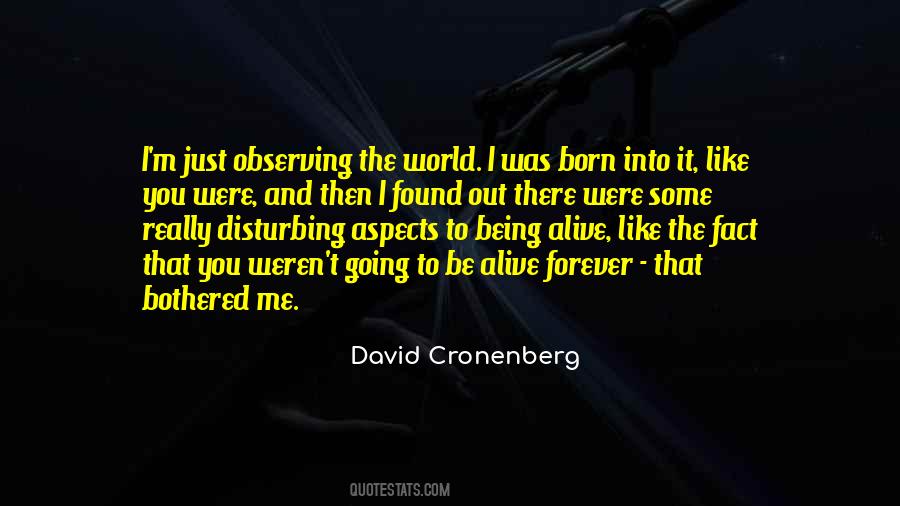 Famous Authors
Popular Topics