A Second Chance Famous Quotes & Sayings
List of top 100 famous quotes and sayings about a second chance to read and share with friends on your Facebook, Twitter, blogs.
Top 100 Quotes About A Second Chance
#1. Life is much too short to waste time wallowing in the past especially when the future hands you a second chance.

Chakotay Talking to B'Ellana (When she asks him why he isn't mad her for lying about her and Miral being dead)
Book:Unworthy: pg. 121 - Author: Kirsten Beyer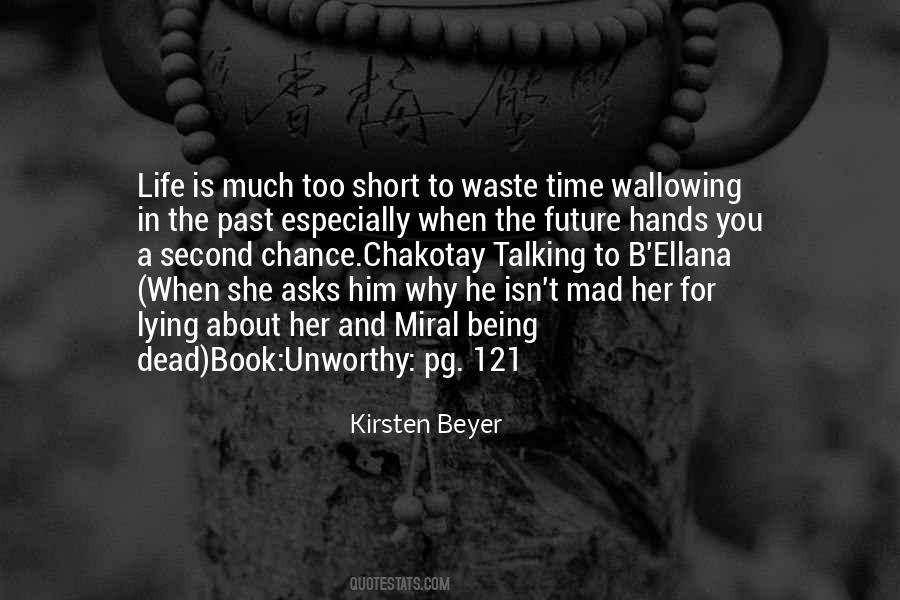 #2. Maybe everyone doesn't deserve a second chance. If I can be perfect why can't you? - Author: Daniel Tosh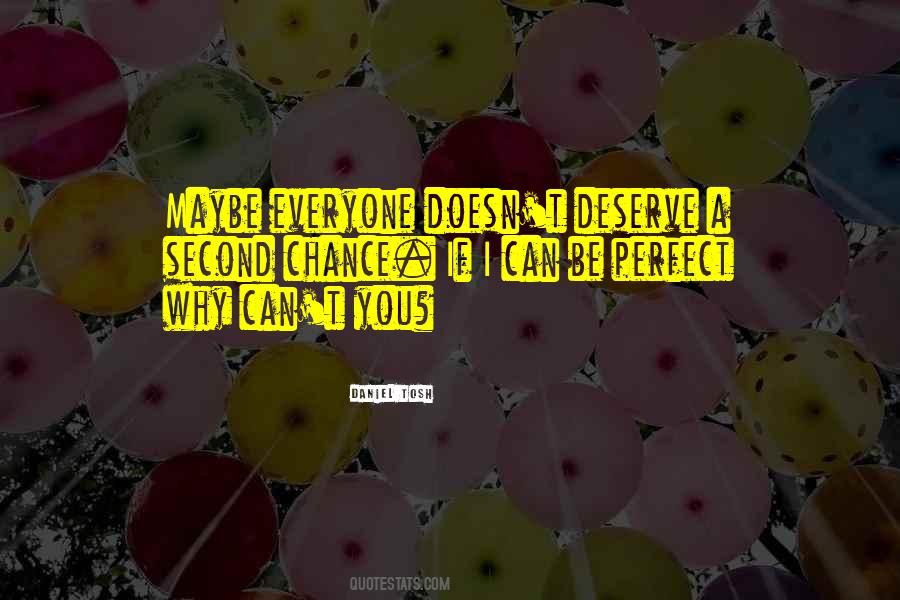 #3. Each night we watched the sun set no matter where we were, and we'd wake up early to witness it rising again. That was the thing about life: even when the days faded to black, you were always given another chance. A second moment to try again to rise from the ashes. - Author: Brittainy C. Cherry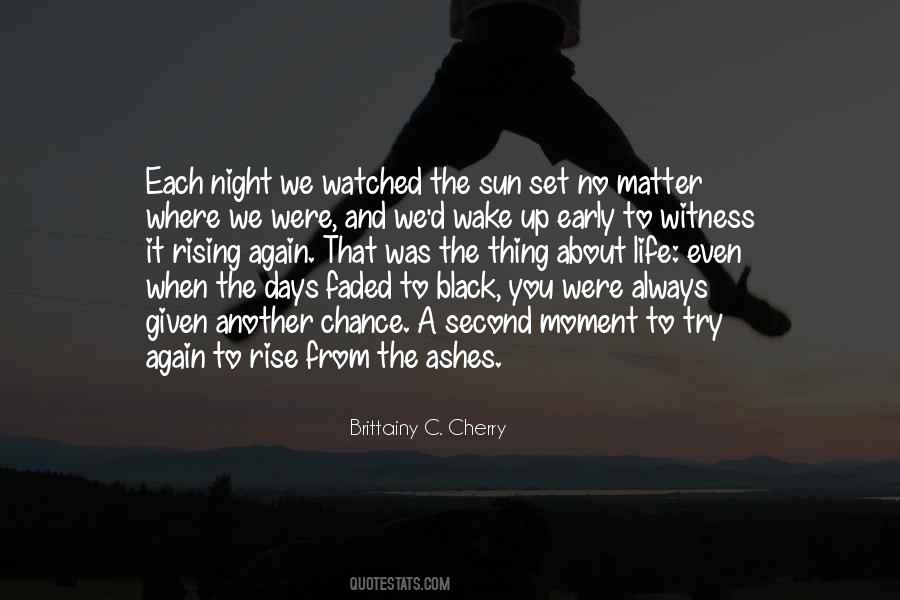 #4. Life sometimes gives you a second chance. - Author: Maya Angelou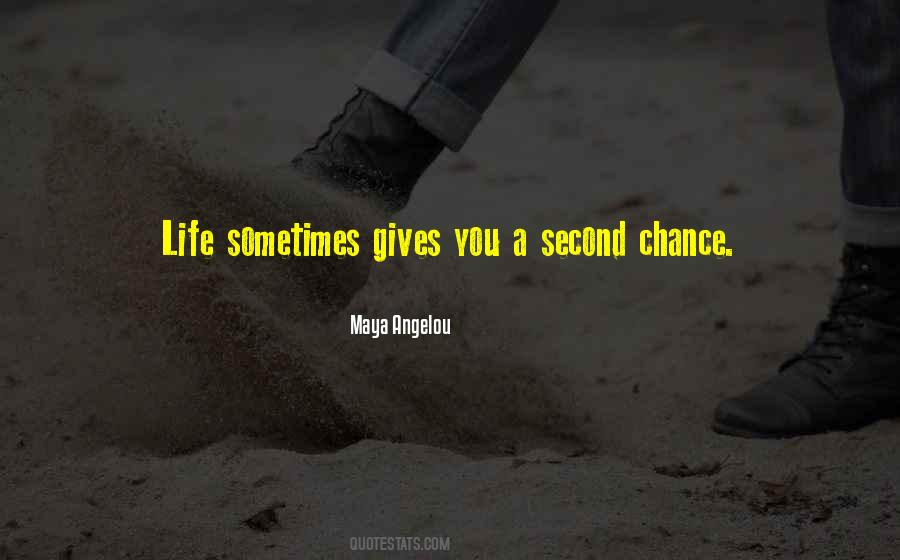 #5. Don't let a thief into your house three times. The first time was enough. The second time was a chance. The third time means you're stupid. - Author: C. JoyBell C.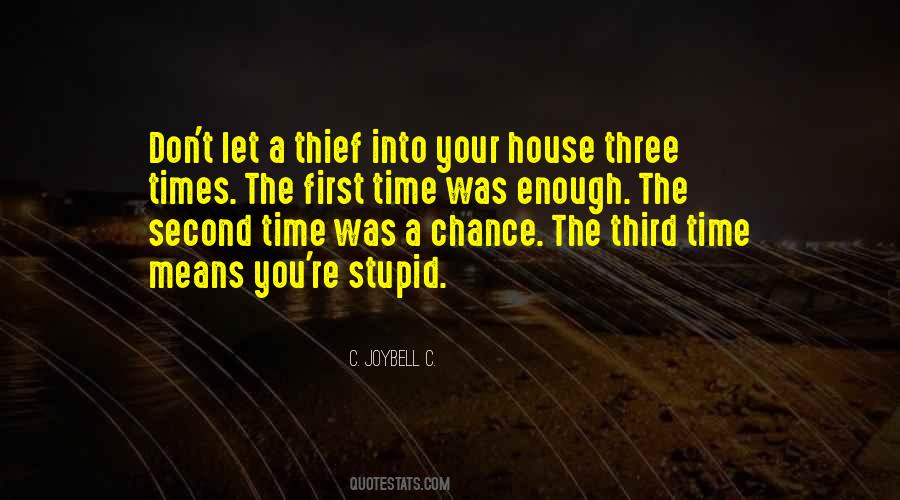 #6. I don't want anyone to ever put himself or herself in a box of, "I lost my second chance!" Because life brings you ebbs and flows, and if you miss out on this second chance, guess what, you're going to get another one if you decide that you're ready to have one. - Author: Bob Harper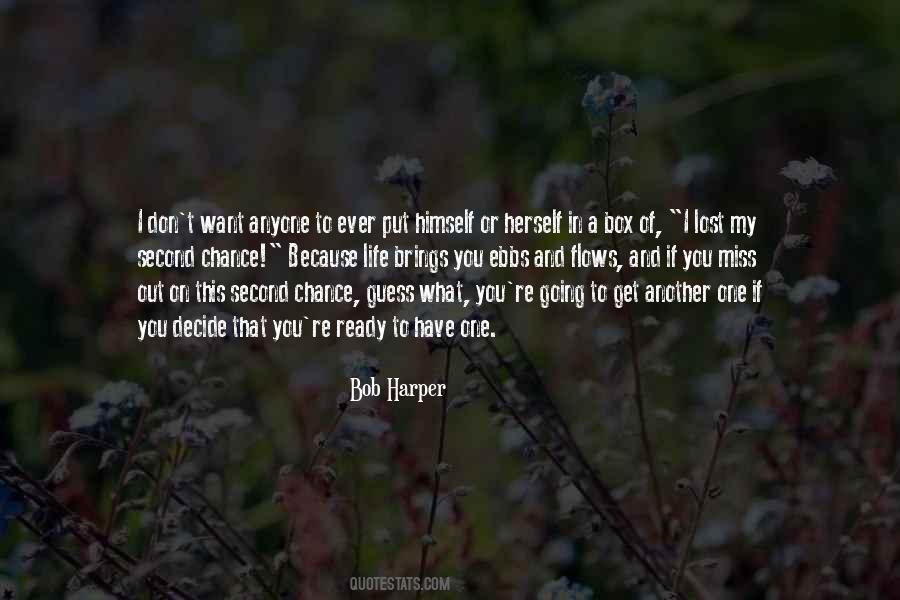 #7. Grace isn't about having a second chance; grace is having so many chances that you could use them through all eternity and never come up empty. It's when you finally realize that the other shoe isn't going to drop, ever. - Author: Shauna Niequist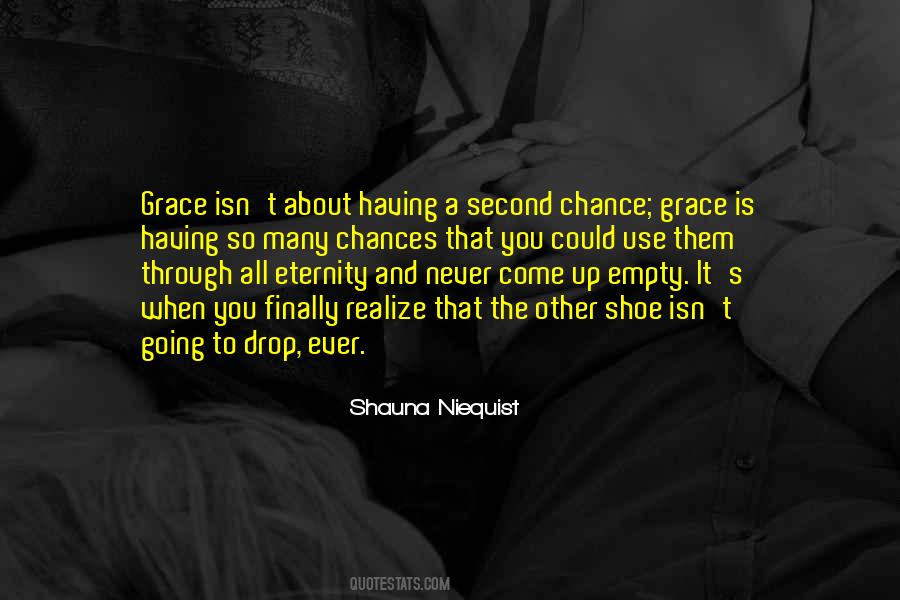 #8. If the mortality rate seems high we must realize that Nature is a ruthless teacher. There are no second chances in Mother Nature's Survival Course. - Author: William S. Burroughs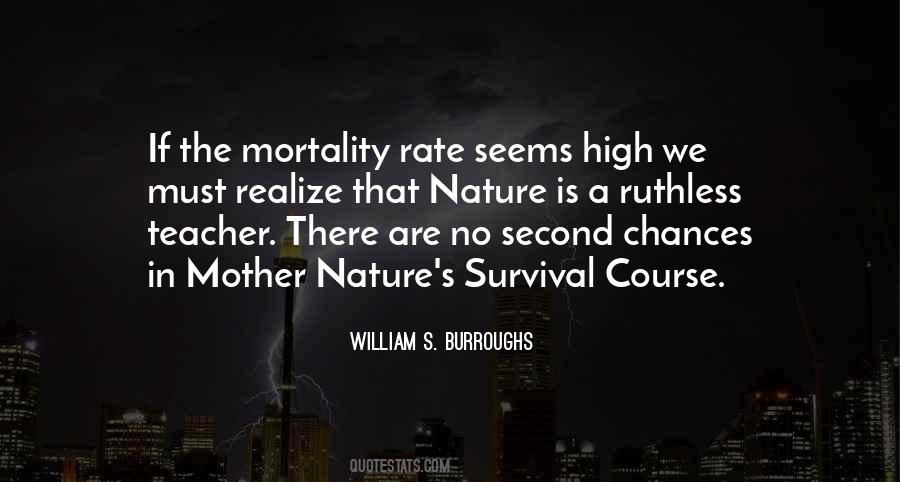 #9. Take a second look at what you are about to do ... A second look prevents a second chance. - Author: Israelmore Ayivor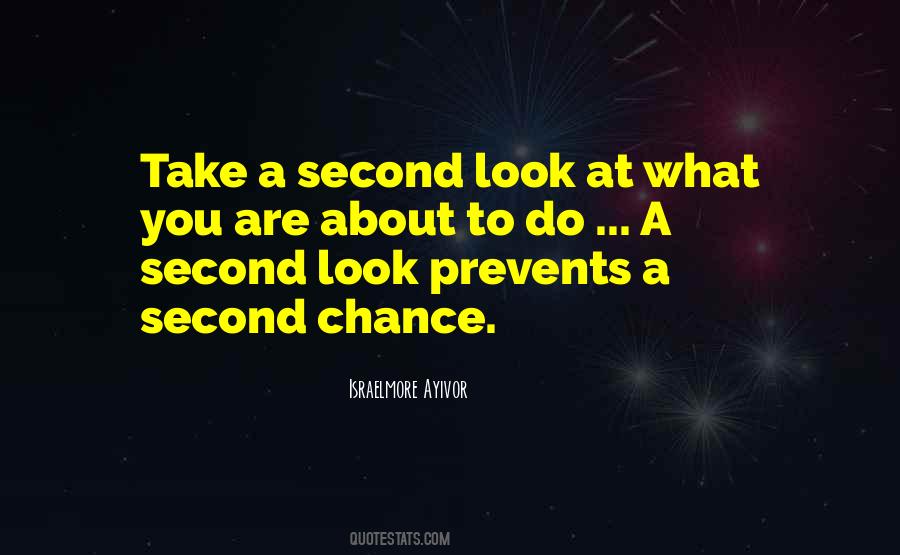 #10. Not that I regretted having Annie; I'd never felt that way for a second. I just regretted that I'd never had a chance to live the life I'd thought I was supposed to. - Author: Kristin Harmel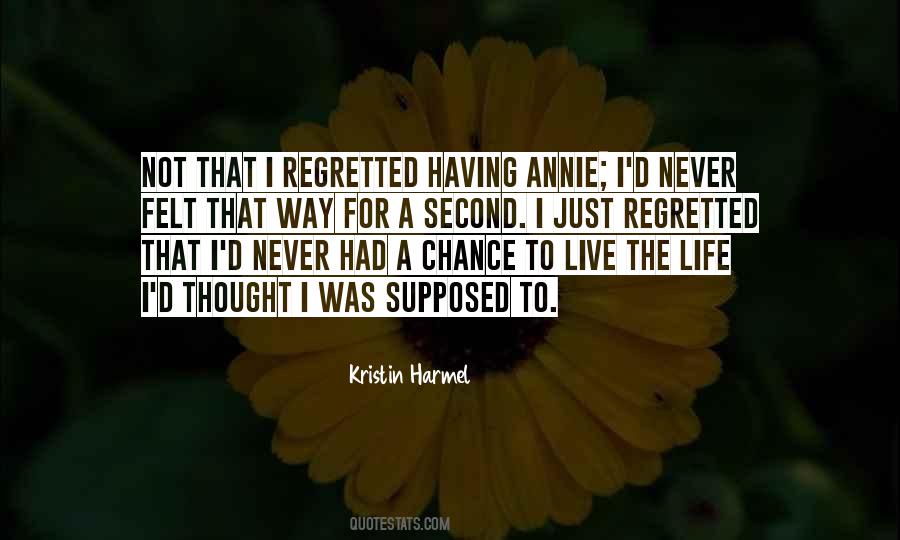 #11. I learned you must always accept love when it's offered, always give it when it's needed. There might not be a second chance. And I know, too, that until your heart's been broken, you never know the full beauty of love. - Author: Nora Roberts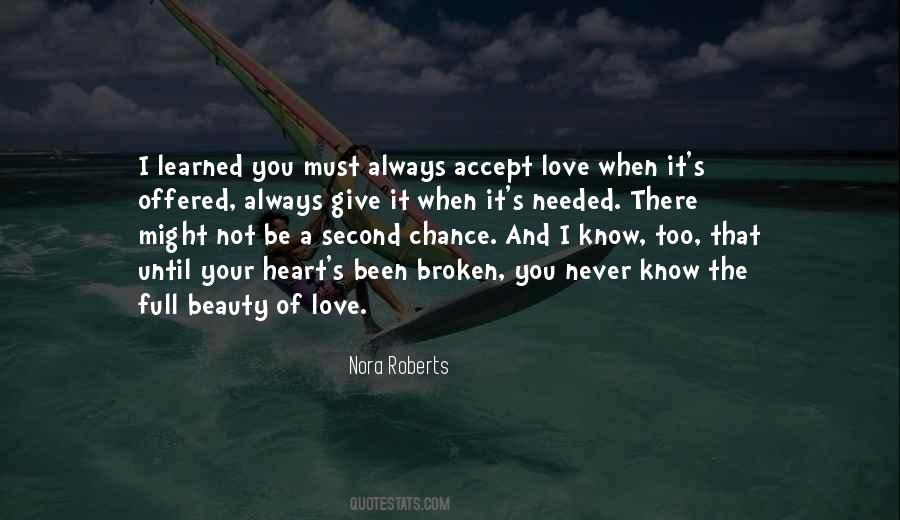 #12. Sometimes life gives you a second chance, or even two! Not always, but sometimes. It's what you do with those second chances that counts. - Author: Dave Wilson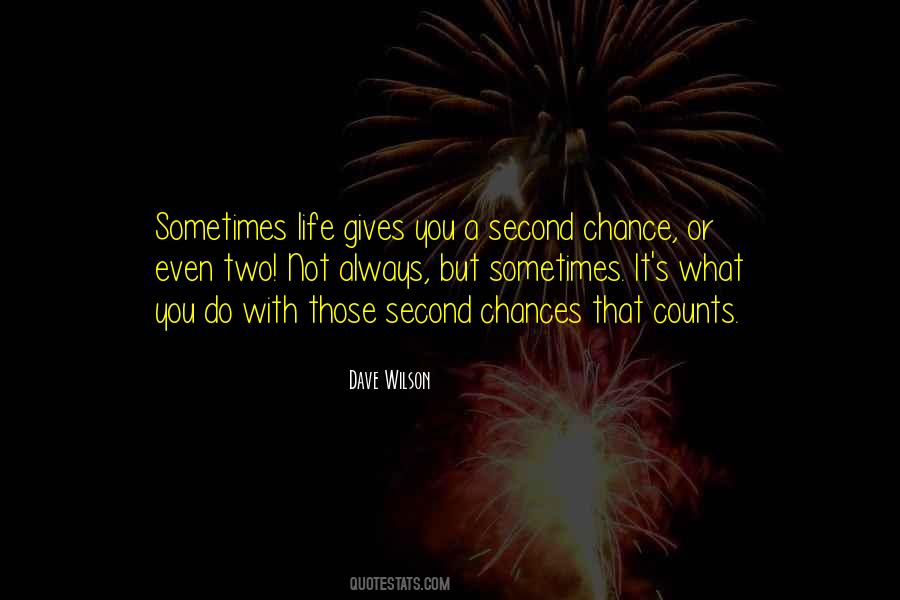 #13. Forgiving, caring, always willing to give people a second chance until you fucked up again, in which case she'd put you on her shit list. - Author: Claire Contreras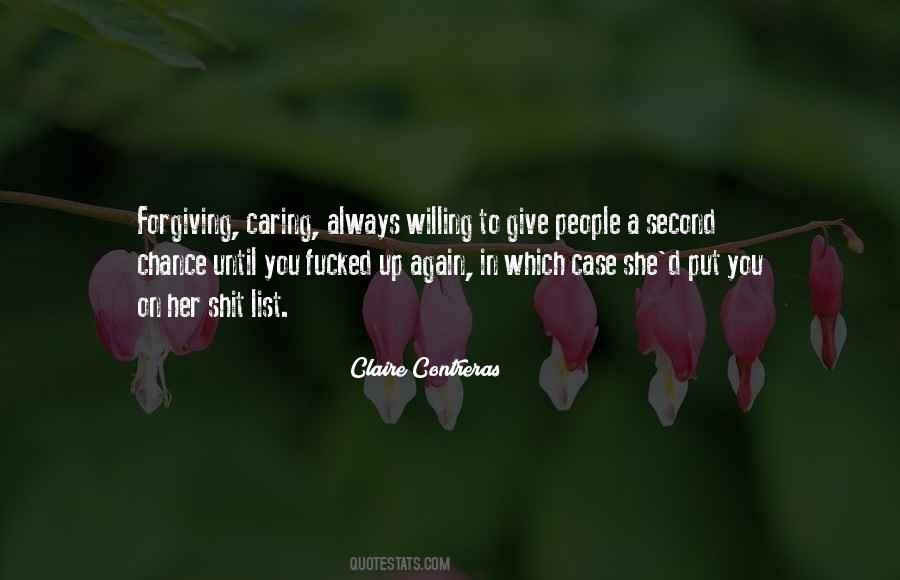 #14. I'm going to write a book, continue acting, continue motivational speaking and just share with people who I am and what I've learned in my second chance of life and pass it on to people in their first chance of life. - Author: J. R. Martinez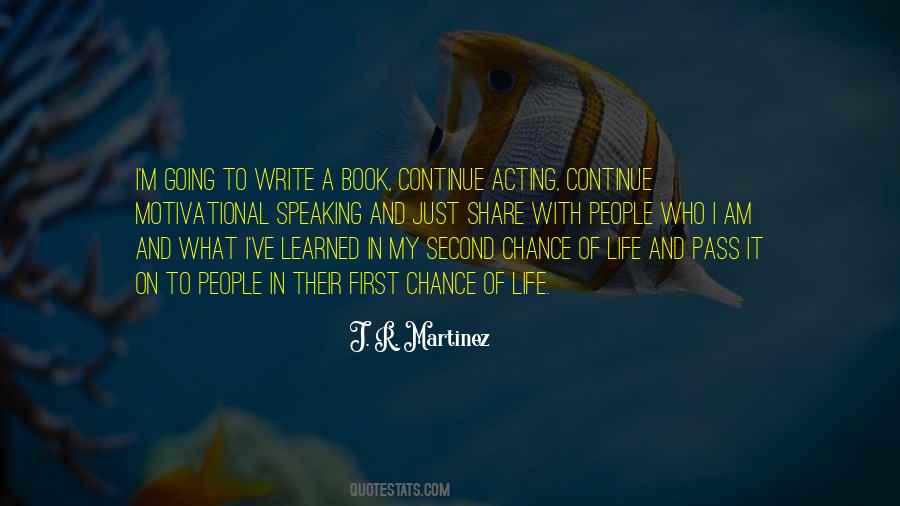 #15. And in fact that selfsame strange urge I had when I was small - the desire to grant a second chance to something that could never have one - is still one of the urges that set me going today whenever I sit down to write a story. - Author: Amos Oz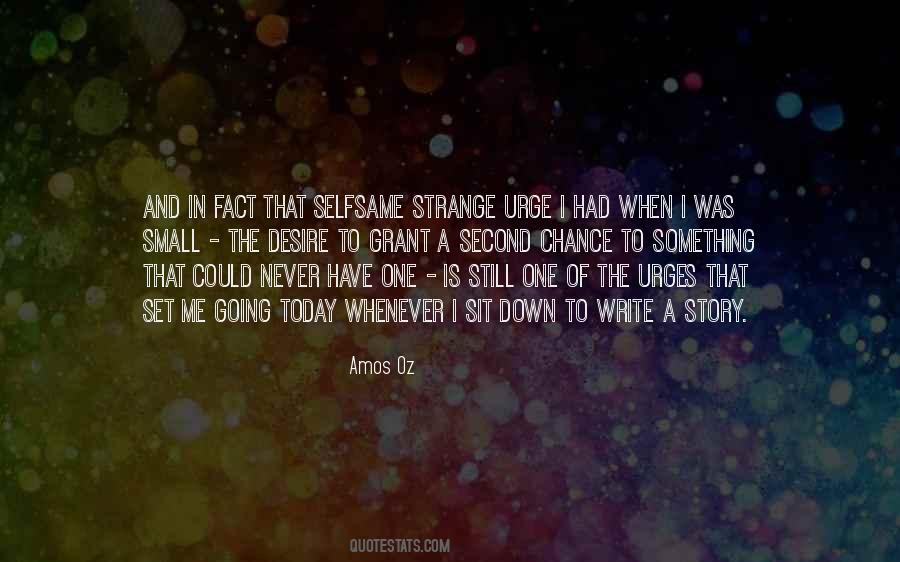 #16. Realise when you are 'middle aged' you have a chance for a whole second career, another love, another life. - Author: Sharon Stone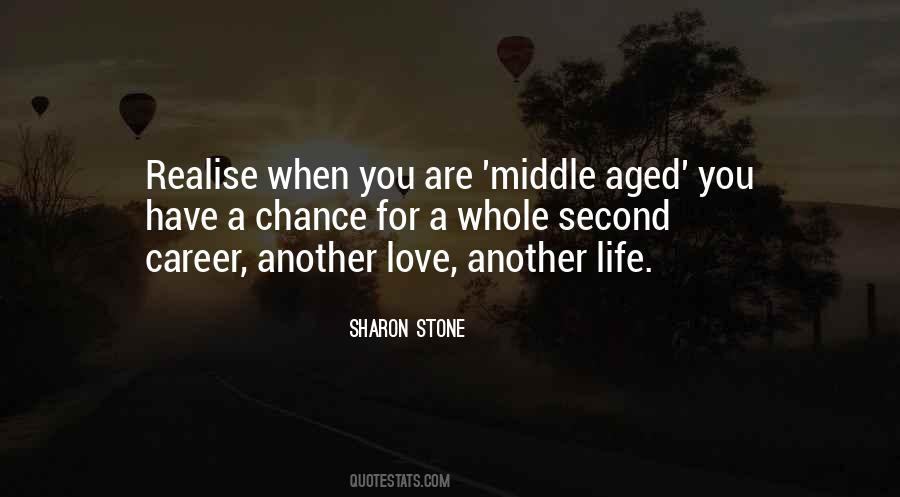 #17. I looked up to find a slim blond figure standing in the doorway to the kitchen. For a frozen second, I looked at him and he looked at me, and then I screamed and threw my coffee, which hit him square in the groin. - Author: Karen Chance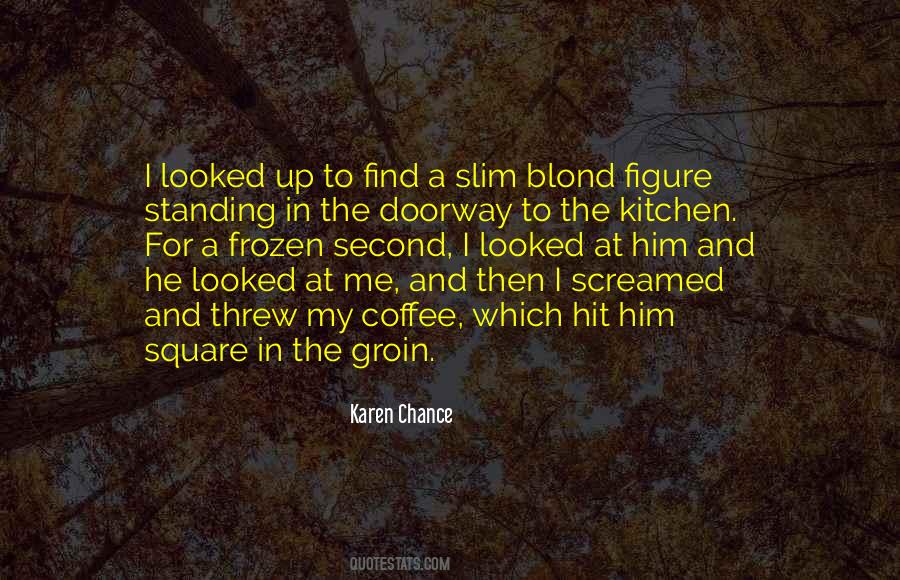 #18. Lordy...
This man should be locked up. A smile that could surely cause mass ovulation had to be illegal. - Author: Amy Andrews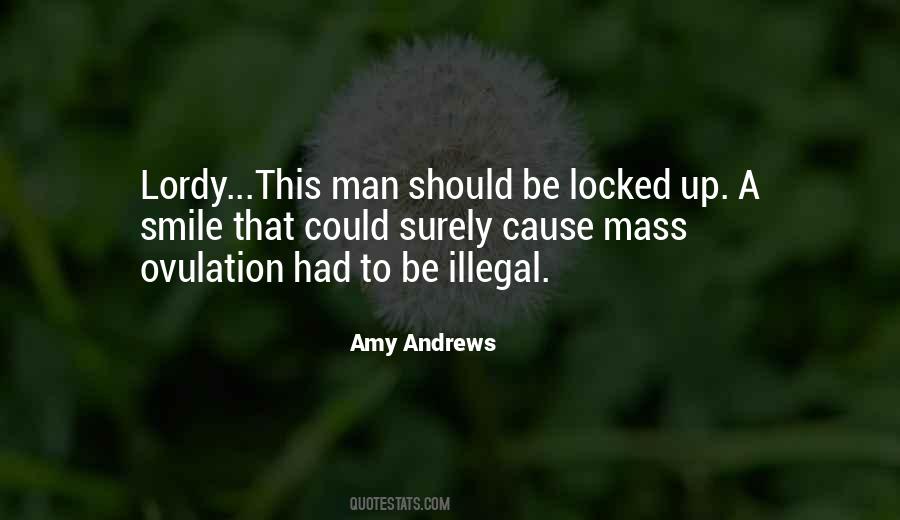 #19. CANDY: I'd rather fearlessly make a mess than sit around worrying about how bad it'll be, but that's just me. - Author: Bijou Hunter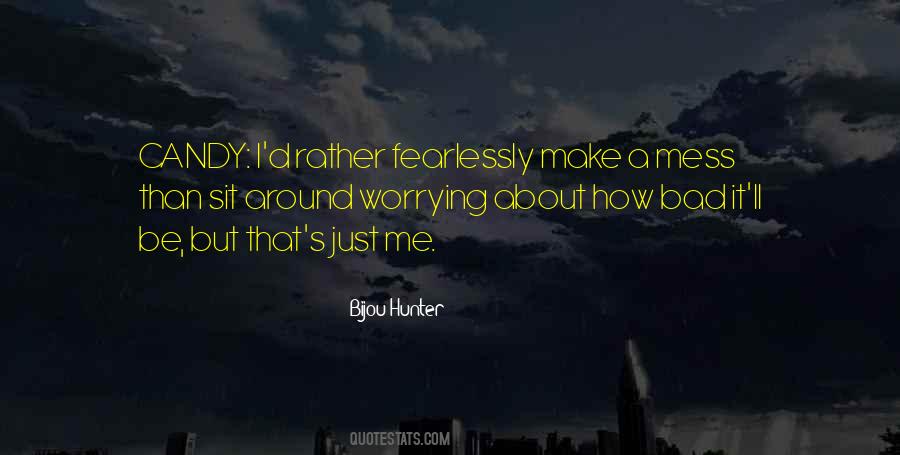 #20. Everybody needs a break, everybody deserves that second chance. Bob and I had taken ours... - Author: James Bowen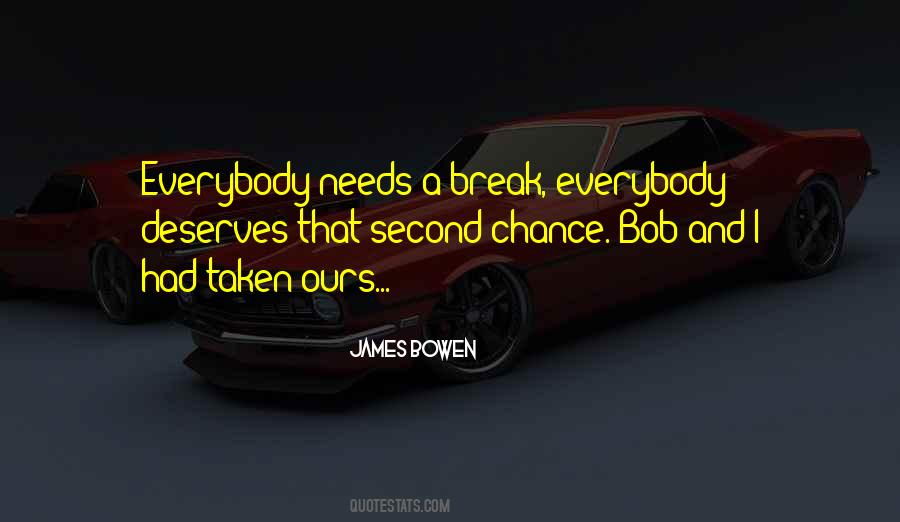 #21. Writing gave me a second chance - not to change things, but to savor them. That is a great gift. - Author: Doris McCarthy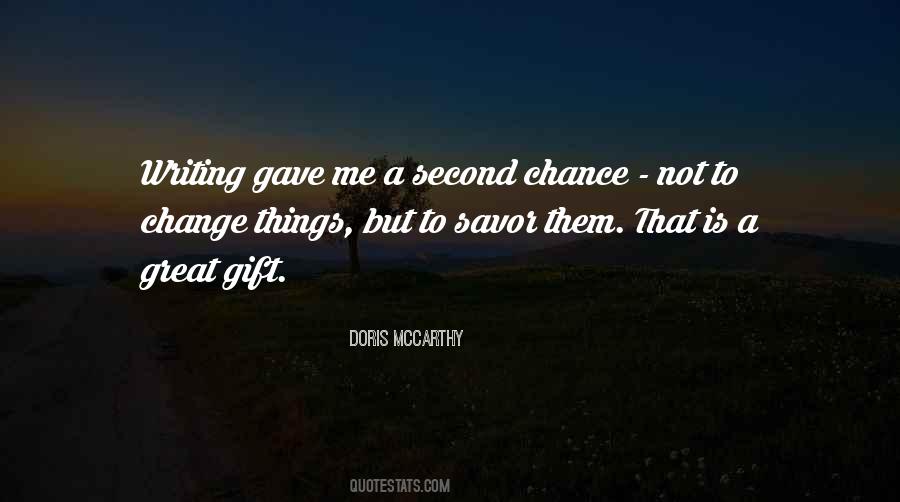 #22. All discarded lovers should be given a second chance, but with somebody else. - Author: Mae West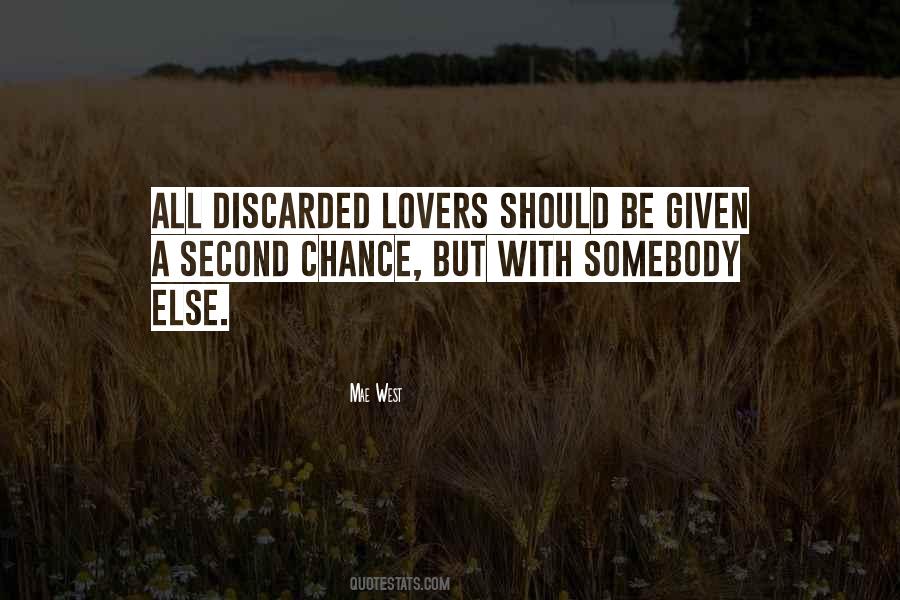 #23. You don't have the judgment after you've had the drink. If something truly catastrophic had happened that evening, I don't know how I could have lived with myself. I feel like I've gotten a second chance. - Author: Tracey Gold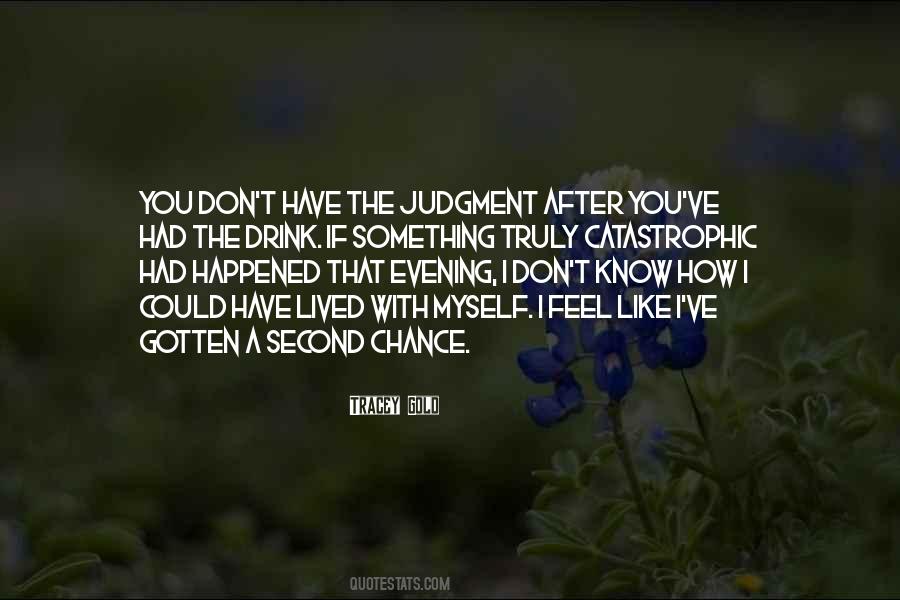 #24. A man must have confidence in himself and his cock, to fuck a woman in the ass. If he does not have this control, his cock will direct the action; he will move too quickly, hurt the once-willing woman, and rarely, rightly, will he be given a second chance. - Author: Toni Bentley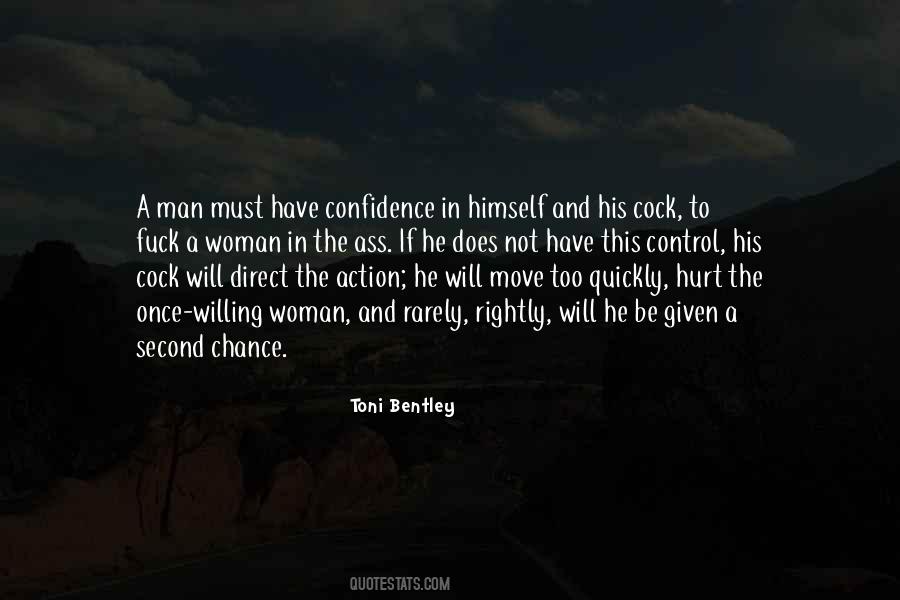 #25. There is no new beginning. No second chance.
You turned to me and I wasn't there.
You are dead. If I had taken your call, you would be alive.
It's as blunt as that.
I'm sorry. - Author: Rosamund Lupton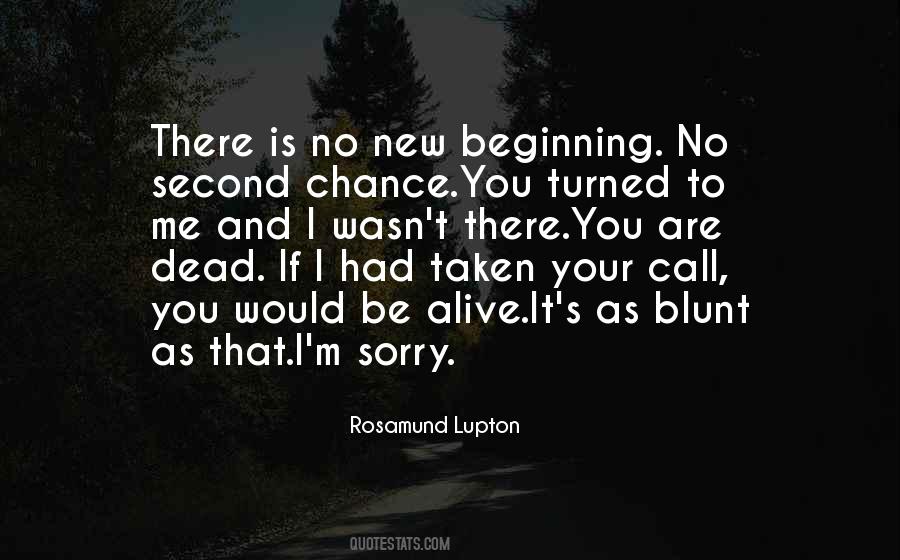 #26. I'm a guy that creates my own destiny in this world. Until I'm off the planet, there's always a second chance. - Author: Urijah Faber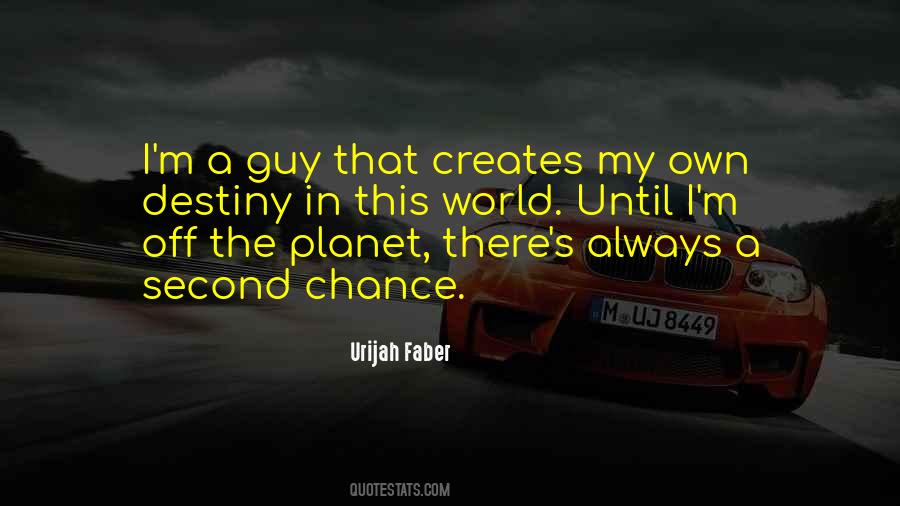 #27. You have risen with all power in Your hands. You have given me a second chance. Hallelujah, hallelujah, yeah, yeah, yeah. I'm not going back, I'm moving ahead. Here to declare to You my past is over in You. All things are made new, surrendered my life to Christ. I'm moving, moving forward. - Author: Israel Houghton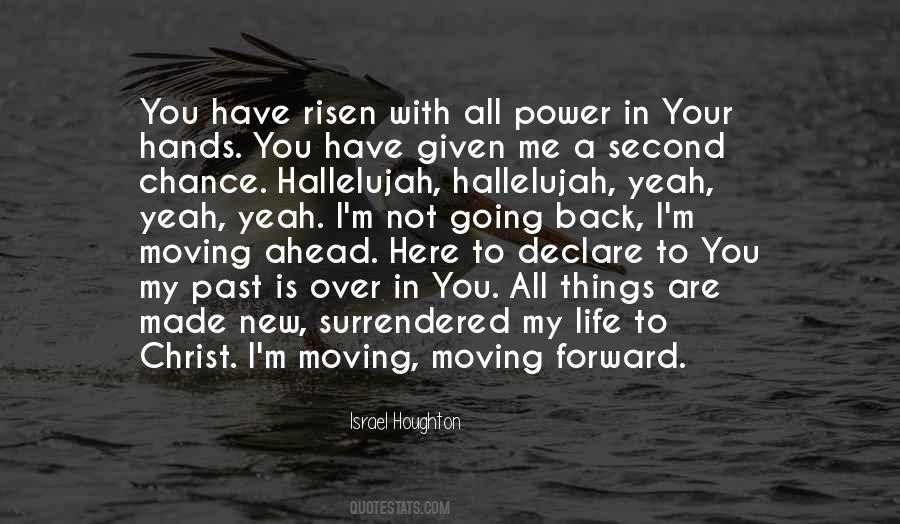 #28. He'd open me where the hope lived - the hope that he'd come back, that we'd have a second chance, that what we had was meaningful and real. I couldn't imagine the pain of it. - Author: C.D. Reiss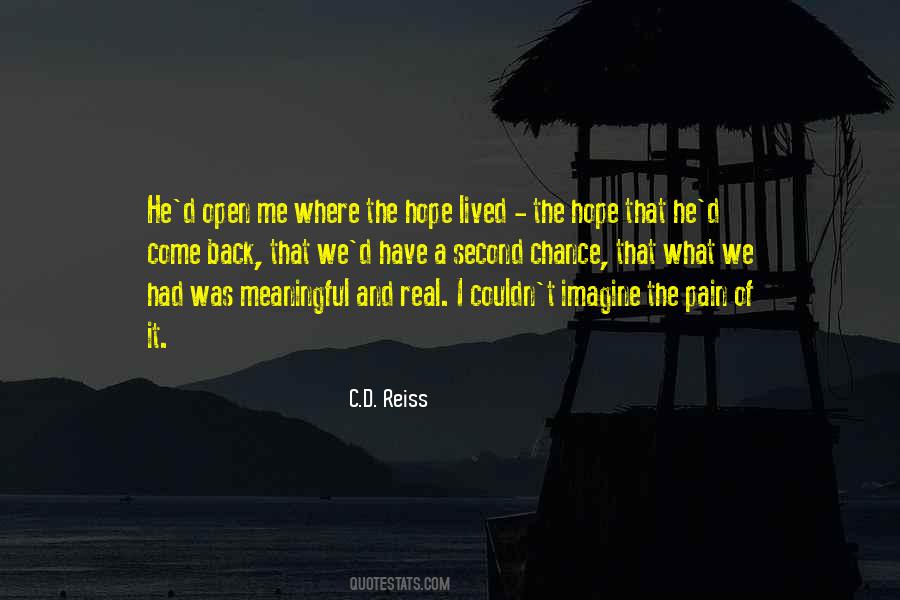 #29. Every second we have a second chance to do something we haven't done yet. That's why it's called a second and not a first. - Author: Robert J. Braathe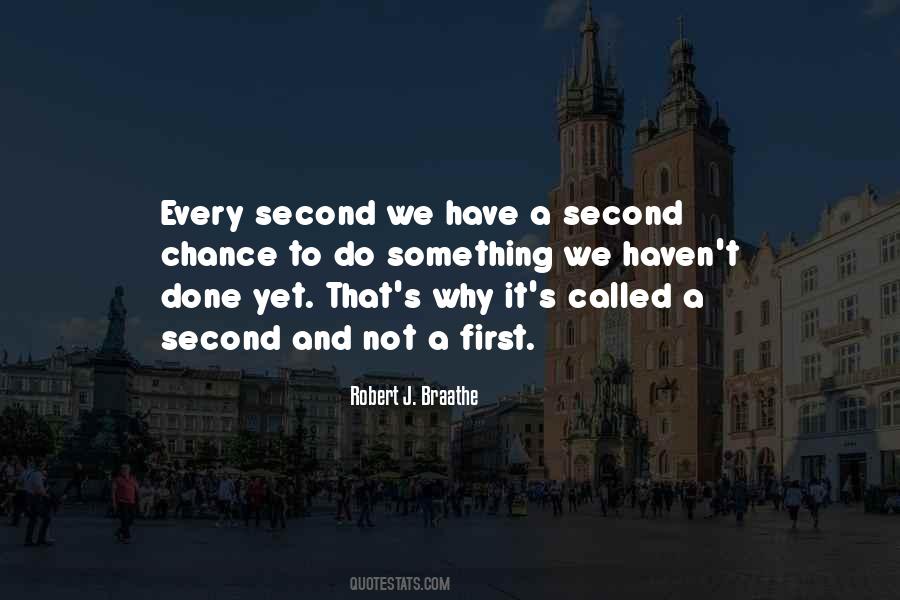 #30. I know that I'm here because of the grace of God. But I also know that I've been given this second chance for a specific reason, and that is to bring love to the world again through the voice of my music, and I'm so honored to be able to do it. I'm so blessed that God has chosen me to do that. - Author: El DeBarge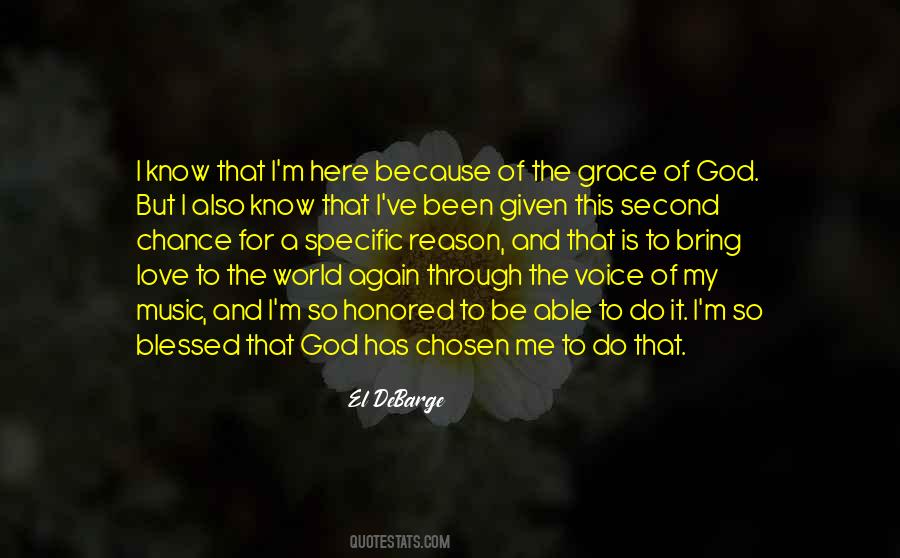 #31. The United States grants the favors of the second, third, or fifty-seventh chance, and its citizens remain free to invent for themselves whatever character draws a crowd or pays the rent. - Author: Bill Vaughan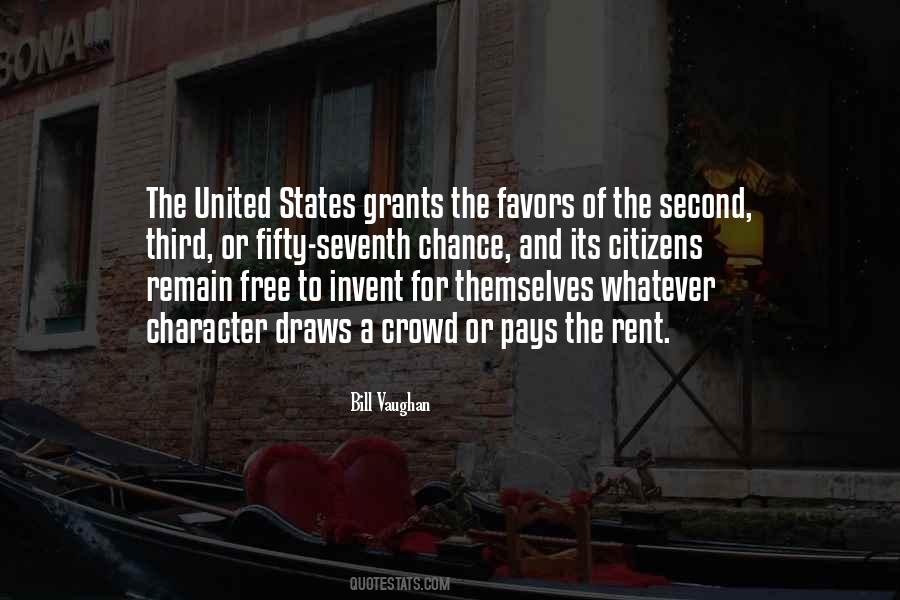 #32. I could have easily gone down the wrong path and dropped out of school, but I was given a second chance. - Author: Kevin O'Leary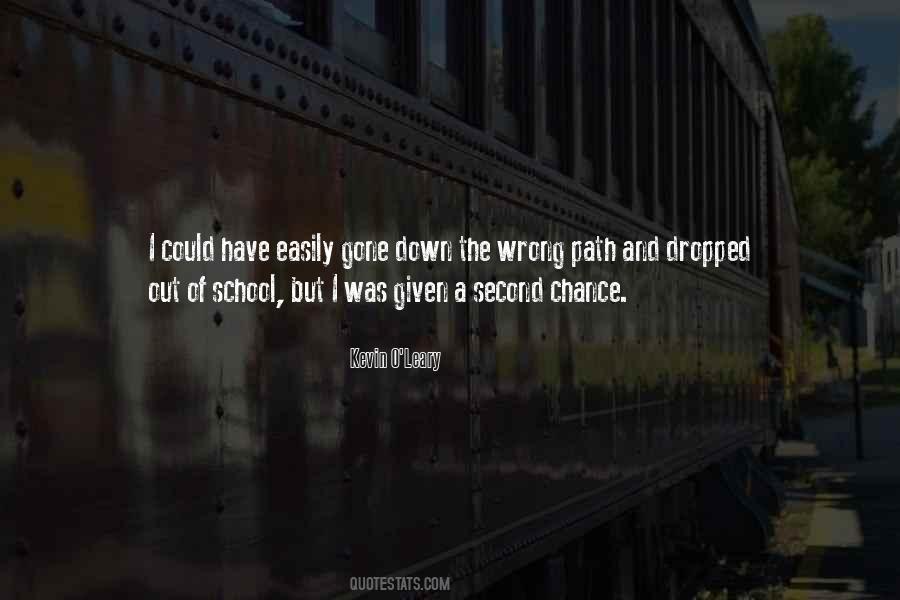 #33. Second chances, miracles, angels, faith and religion all promise us a way of doing things better to smooth over the regrets and hope we make better decisions in the future. We all want to become better than who we are now, and we're all continuing to know ourselves better. - Author: Laura San Giacomo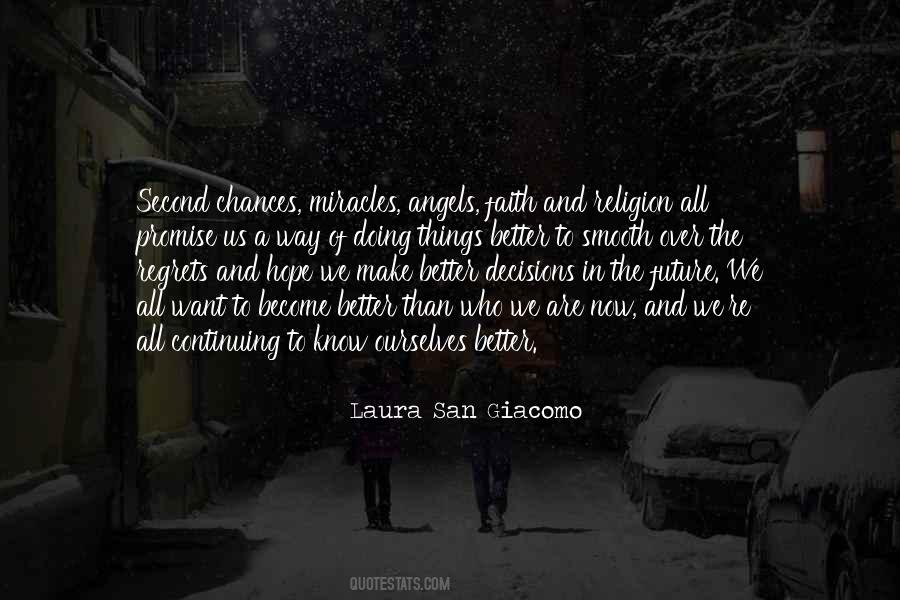 #34. Once would have to be enough. Because a man like me could never have a second chance. - Author: Pepper Winters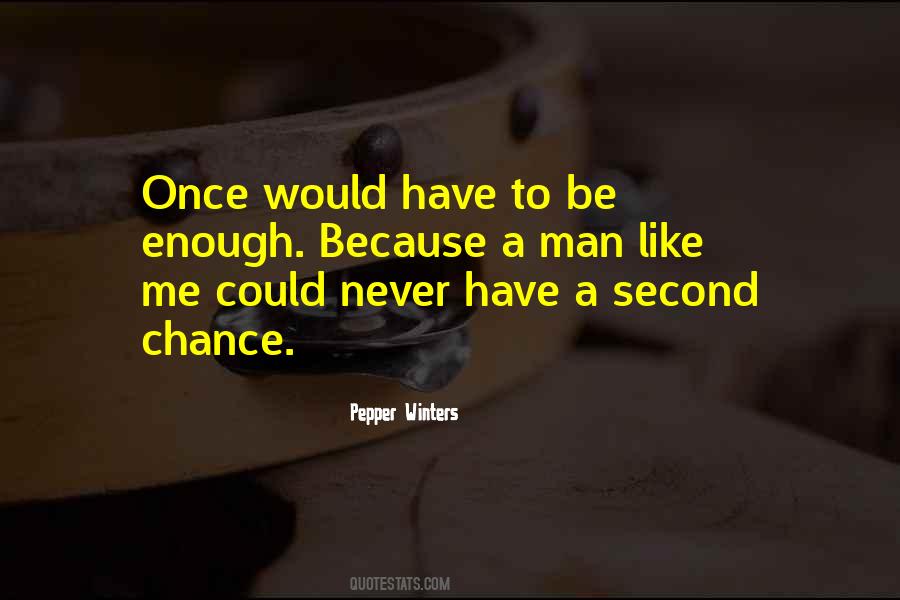 #35. I do assure you that I am not one of those young ladies (if such ladies there are) who are so daring as to risk their happiness on the chance of being asked a second time. I am perfectly serious in my refusal. - Author: Jane Austen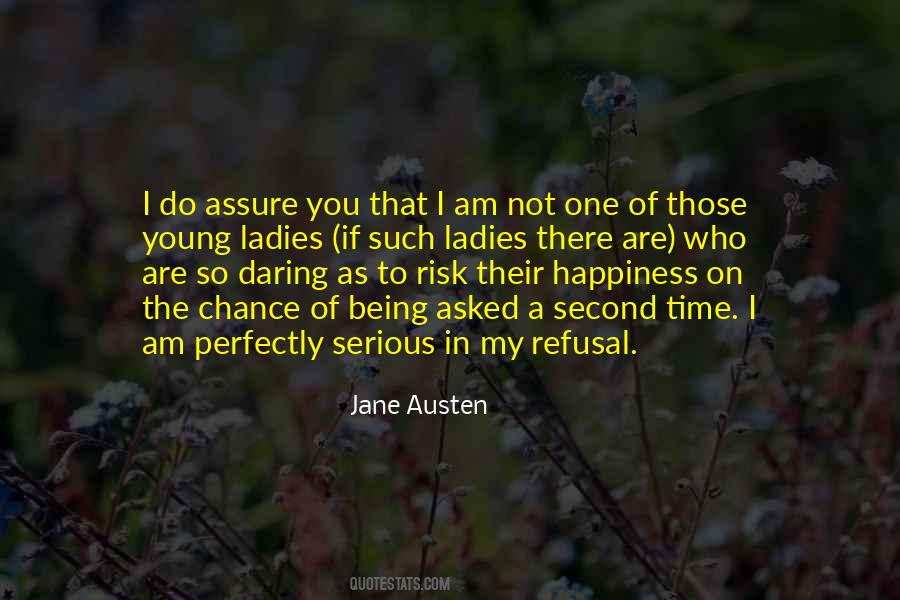 #36. Because this is what I believe - that second chances are stronger than secrets. You can let secrets go. But a second chance? You don't let that pass you by. - Author: Daisy Whitney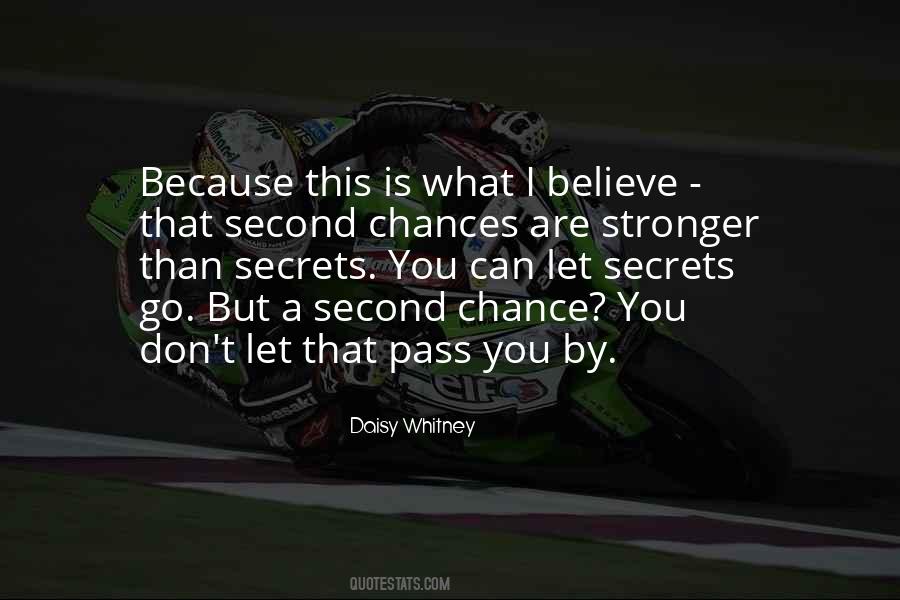 #37. You always have a second chance, as long as you believe you do and you try again, and stay positive and persistent and consistent. - Author: Urijah Faber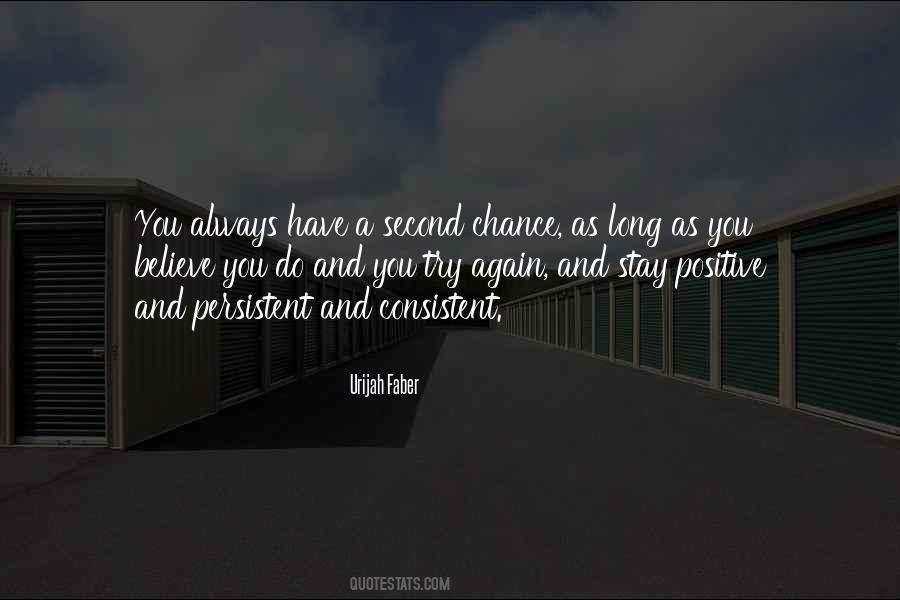 #38. We all make mistakes, everybody should be given a second-chance. - Author: Lailah Gifty Akita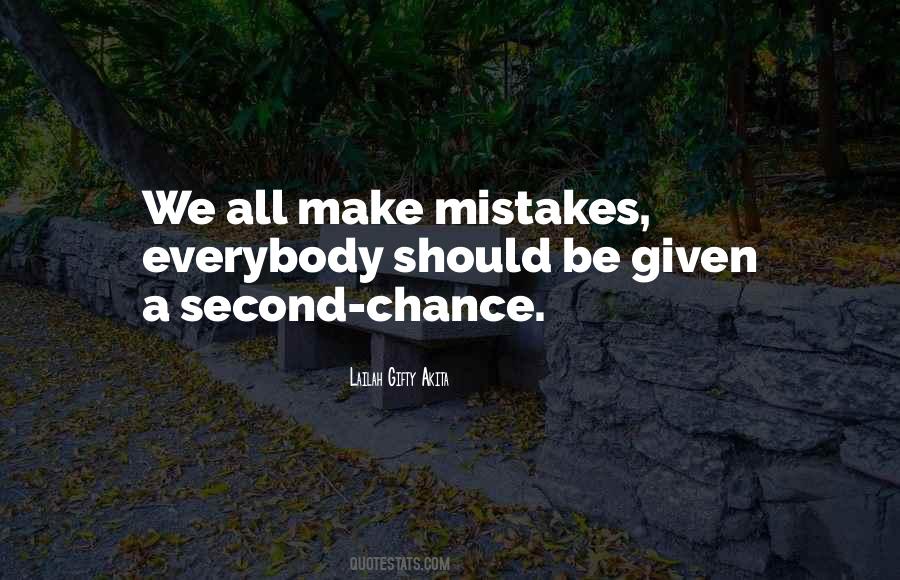 #39. The greatest miracle of my life is a second chance to live life. - Author: Lailah Gifty Akita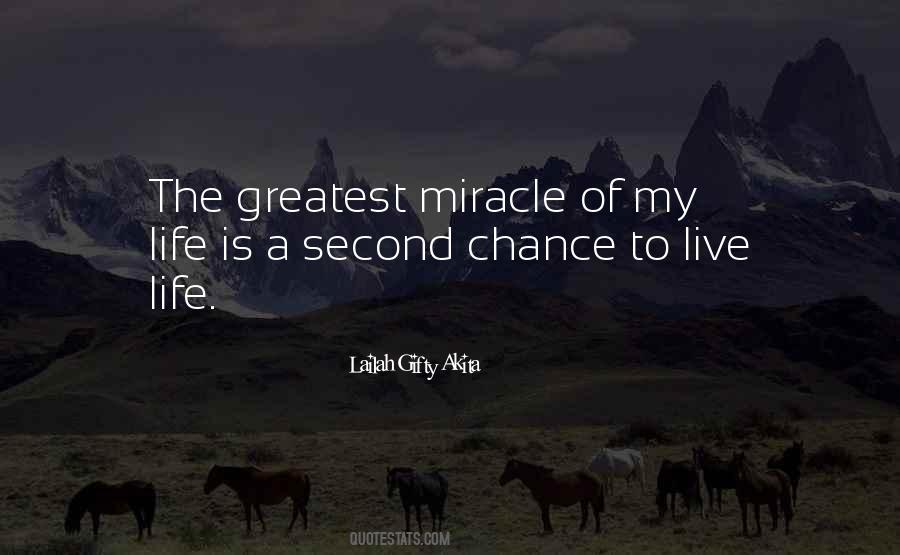 #40. If grandparents want to have a meaningful and constructive role, the first lesson they must learn is that becoming a grandparent is not having a second chance at parenthood! - Author: Eda LeShan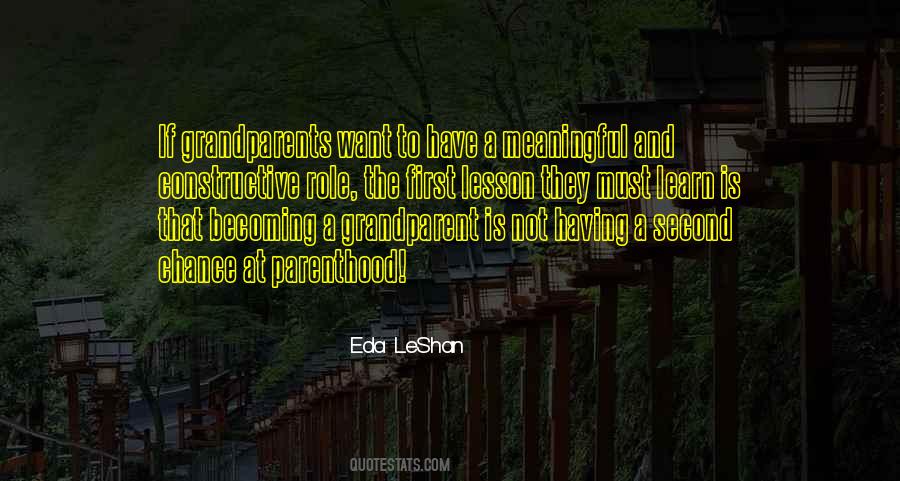 #41. Grandparents are given a second chance to enjoy parenthood with fewer of its tribulations and anxieties. - Author: Margaret Mead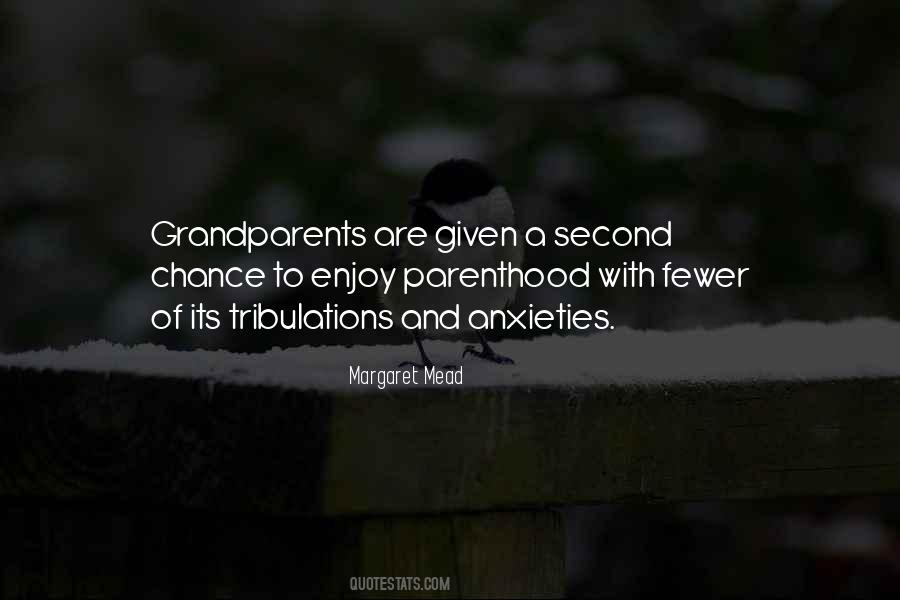 #42. I have a second chance on life. - Author: Katy Perry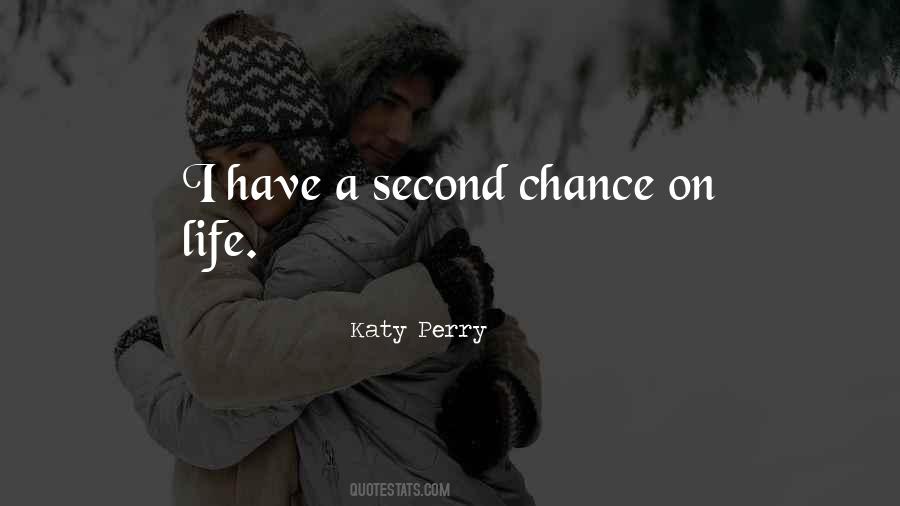 #43. To give up too easily leads to regret, yet trying and then failing can lead us to second chances if we do not accept it as a failure, but a chance to learn. - Author: Karen White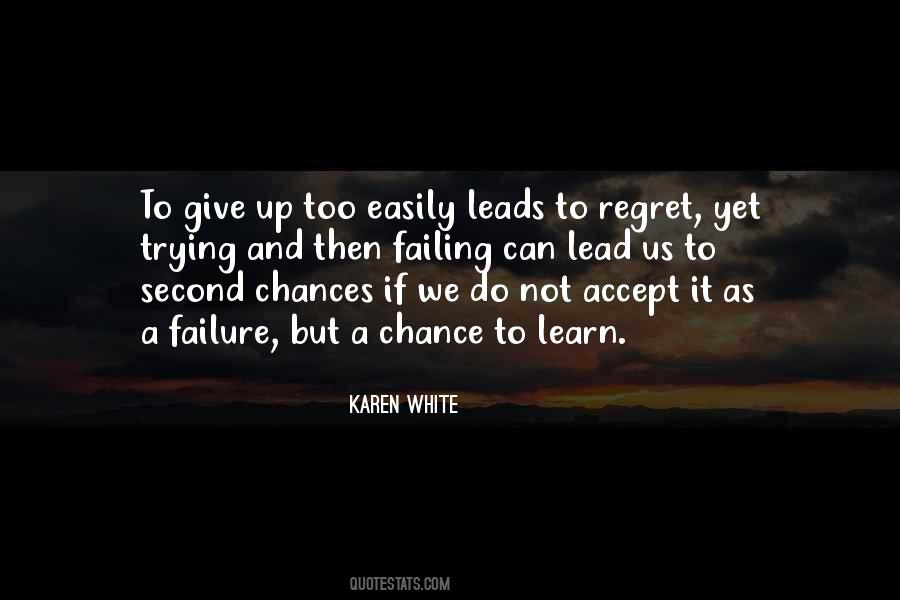 #44. POPPY (on Christine and Jared's second chance): Mom couldn't stand up for what she needed, and he was a force of nature. They've found a balance now, but she needed to grow up before that could happen. - Author: Bijou Hunter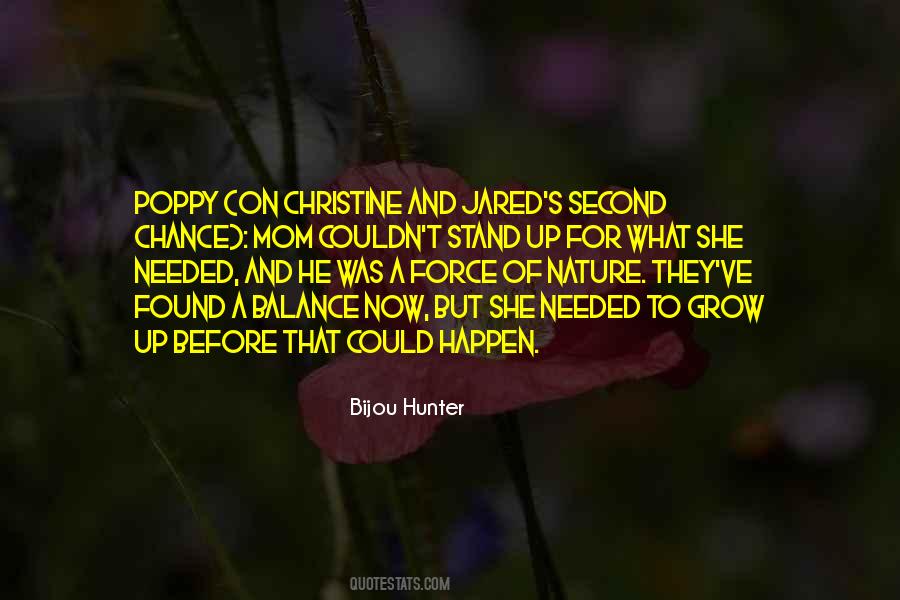 #45. I am a firm believer that upon release, ex-offenders should be afforded a second chance to become productive citizens by providing rehabilitation and education that will help them join the workforce. - Author: Charles B. Rangel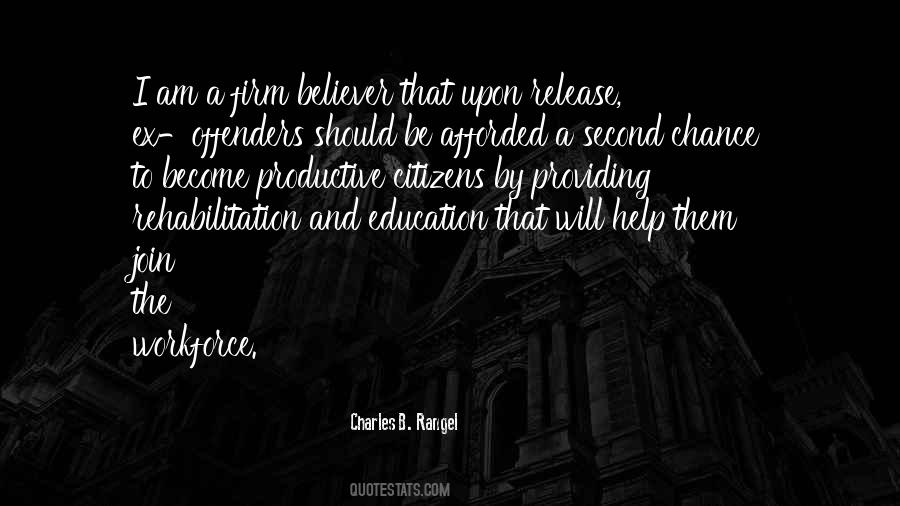 #46. As I settled down to sleep in that new bed in the dark city, I saw that it was too late now, too late for everything. I would not be given a second chance. In the hours when I woke, I have to tell you that this struck me almost with relief. - Author: Colm Toibin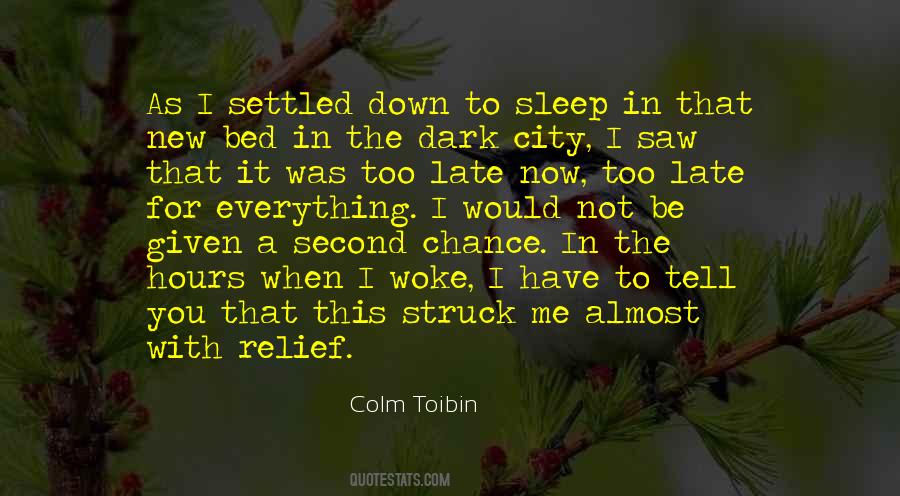 #47. I was pushing him. I was pushing me. I was forcing something I felt we both needed. Both deserved. A second chance. His. Mine. Ours. ~Imogen Conner - Author: A Meredith Walters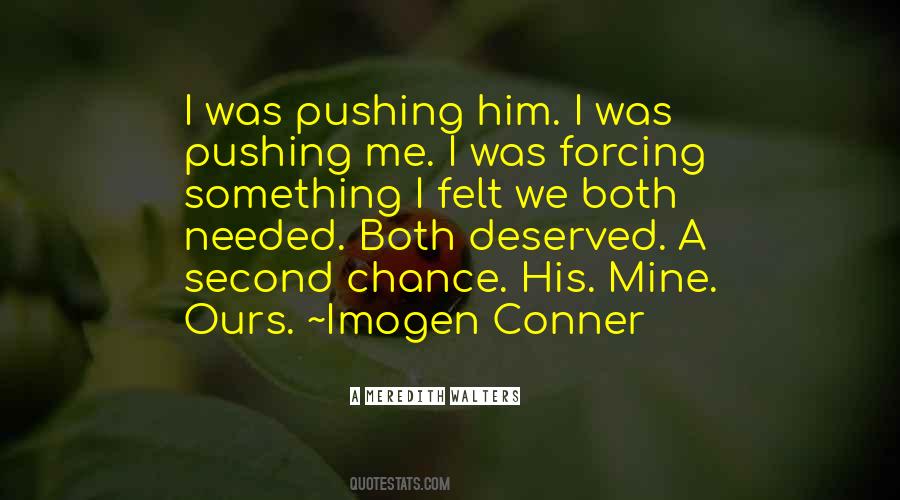 #48. God is a God of second chances - Author: Sunday Adelaja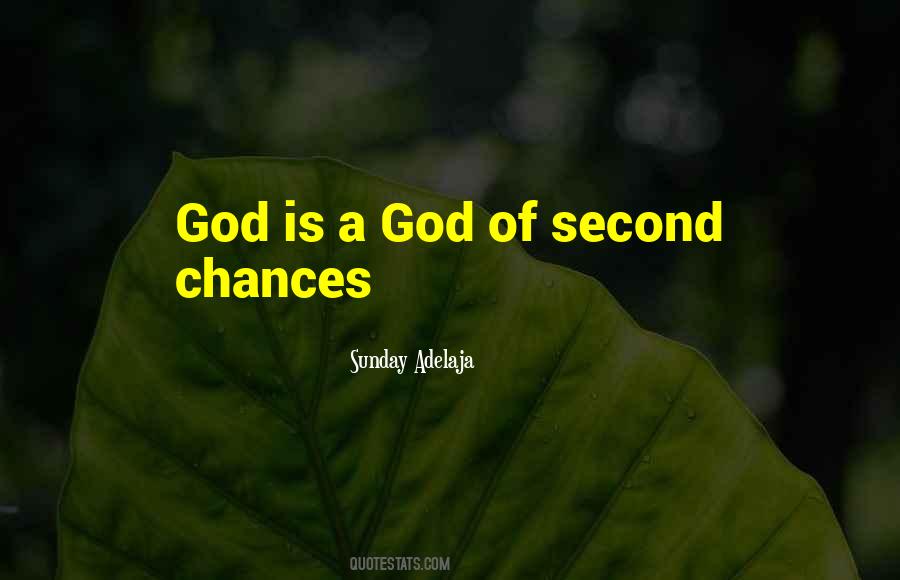 #49. Life is a Game you play only once you don't get the second chance and if you get you will never come in the same identity. So perform well. - Author: Sandeep Kakkar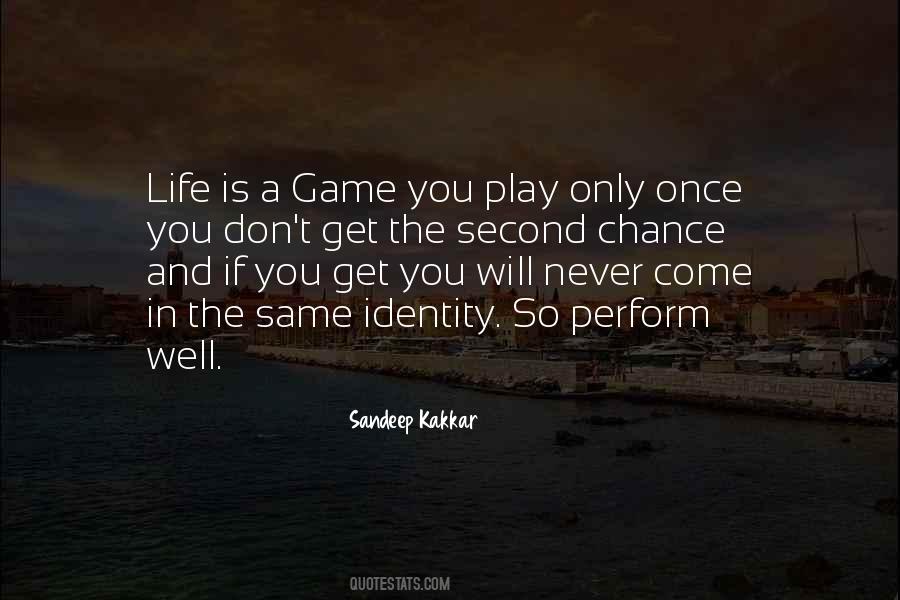 #50. What the hell was he carrying this shit around for?" the second vamp demanded.
"It's useful in making captures, subduing difficult prisoners." Pritkin shrugged.
"Then ... this is a weapon."
"Yes."
"But he was going on a date."
Pritkin looked confused. - Author: Karen Chance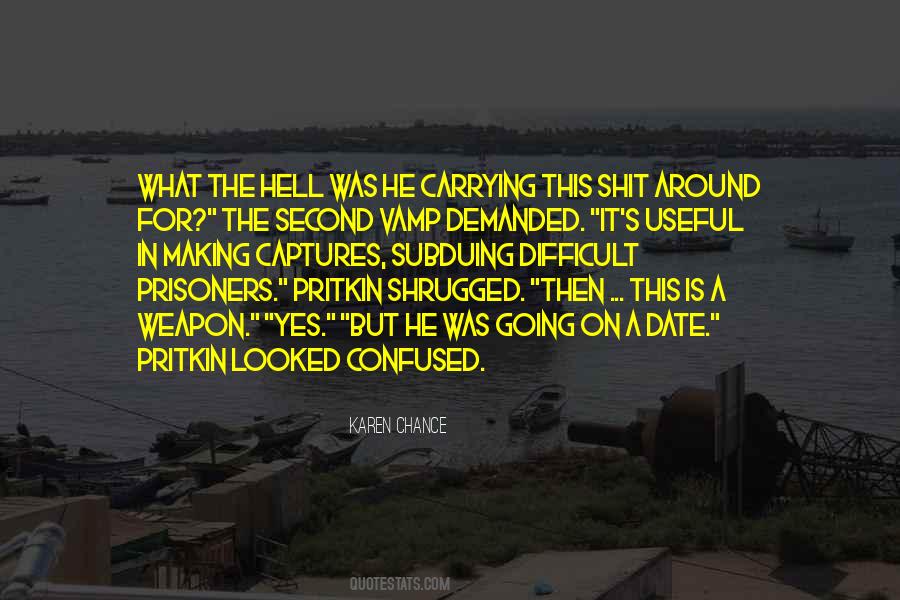 #51. If someone grabs you in the street, hit hard and fast, because you may not get a second chance. - Author: Cinda Williams Chima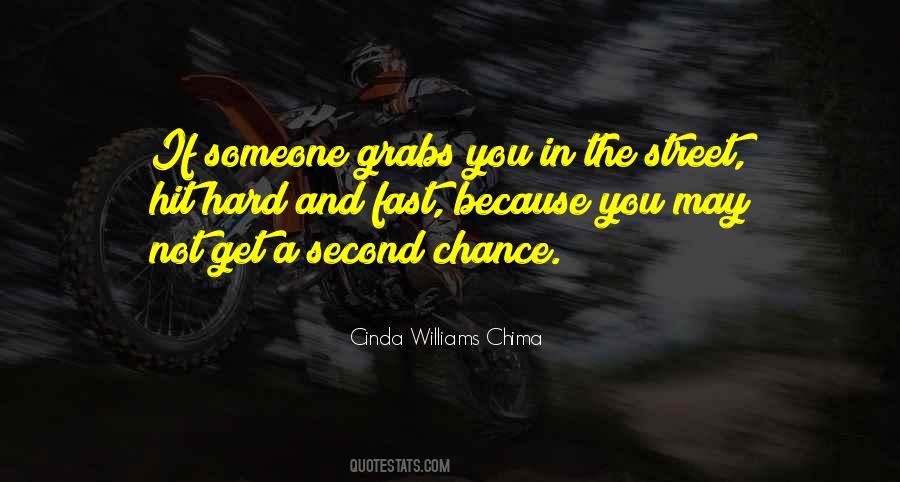 #52. Like an echo in the wind, love had come to him a second time and he was more than grateful it had. It meant risking again the loss of the woman he loved, but there was no help for it. He could not live without her. - Author: Regan Walker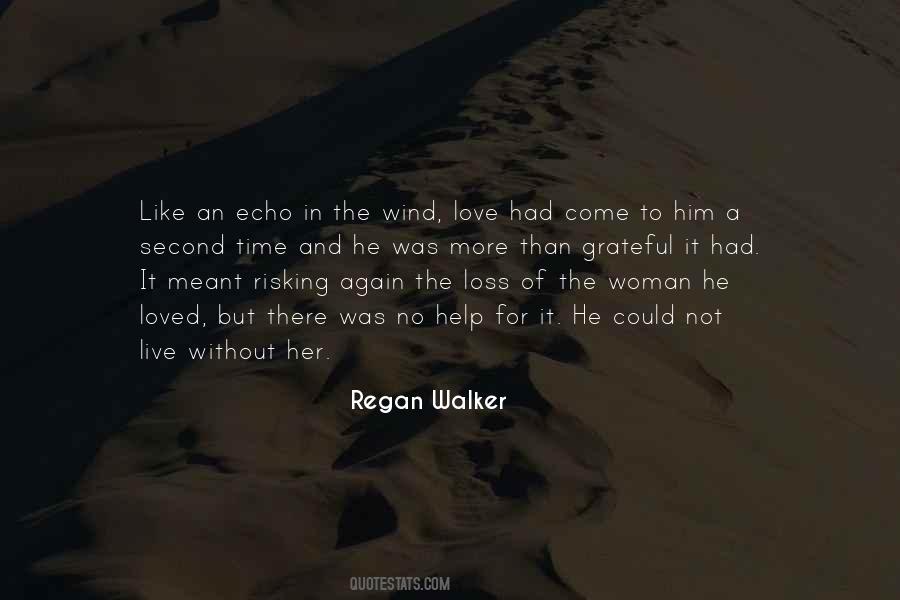 #53. We used to think that the enterprise was the hardest customer to satisfy, but we were wrong. It turns out, consumers are harder than the enterprise because the consumer will not give you a second chance. - Author: Eric Schmidt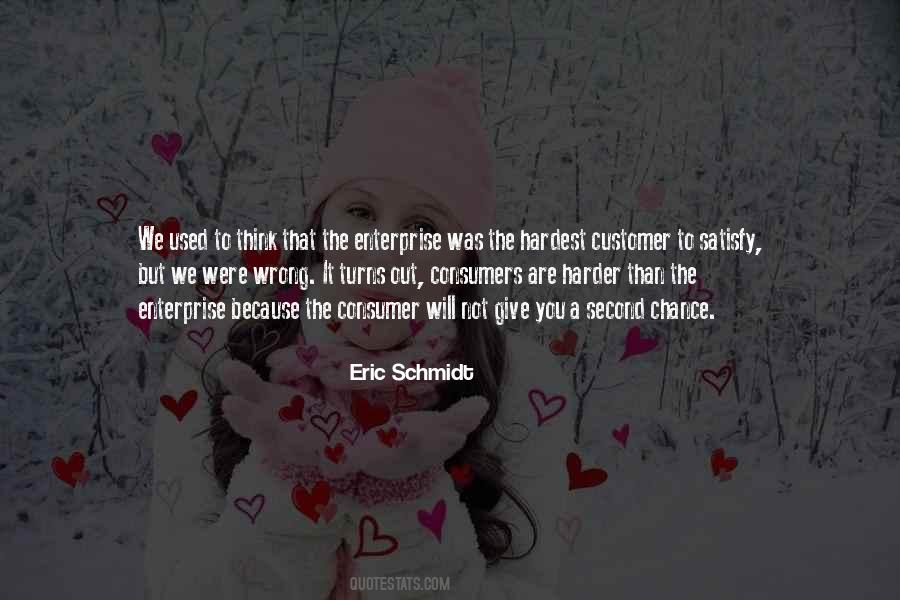 #54. Sex does a body good." ...
"I suggest a daily dose then. - Author: Robin Bielman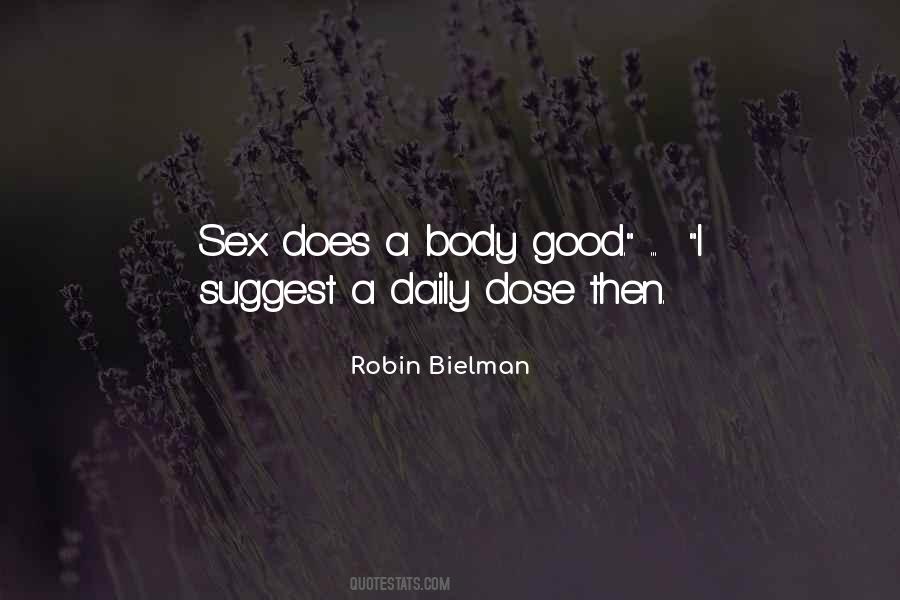 #55. I thank God every day for bringing you into my life. I know I don't deserve you, but I'm a better man because of you. - Author: Danielle Jamie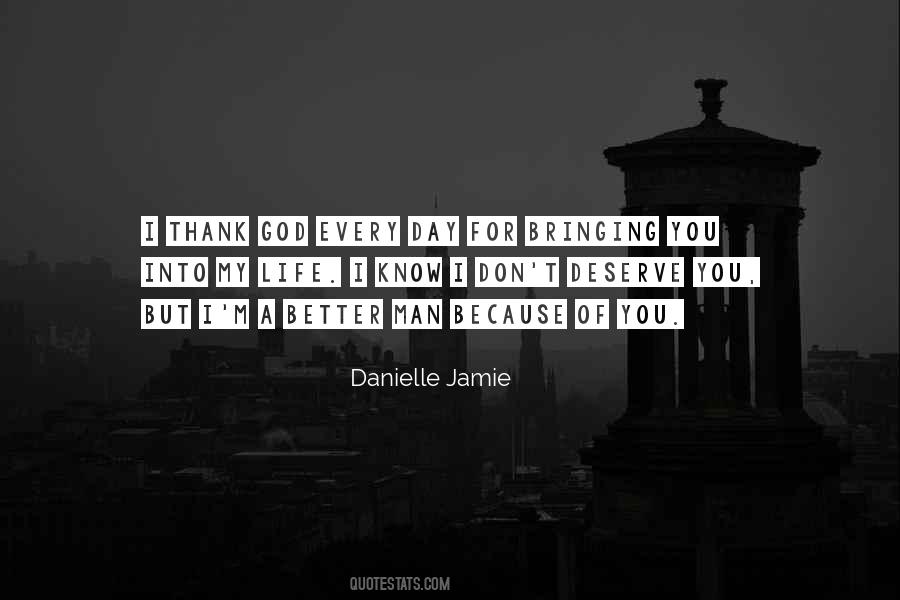 #56. A second chance is not a repeat of the first chance. A second chance is a moving forward to something new. - Author: Henry Cloud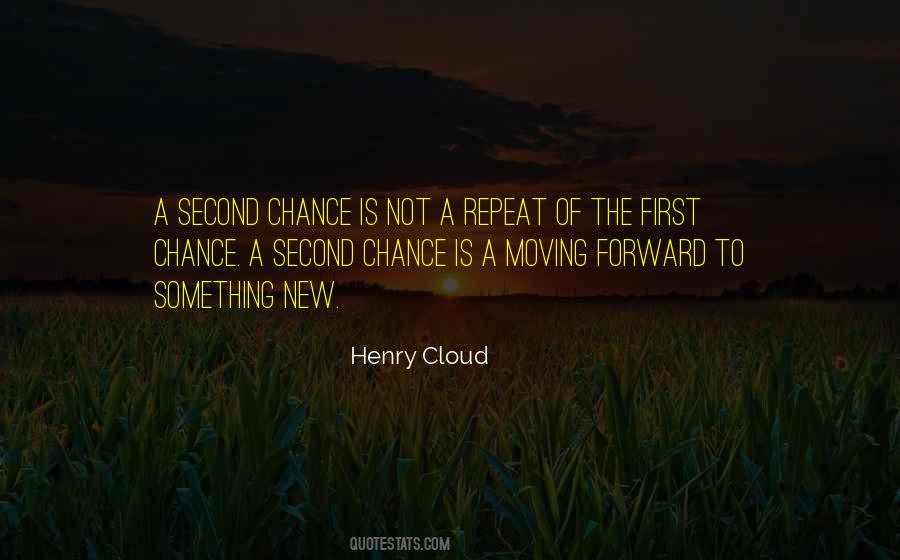 #57. People say that scars are the sign of victory; the winning marks against what broke them. But how about the wound that never heals? What would that make you? A winner, a loser, a survivor? - Author: E. Mellyberry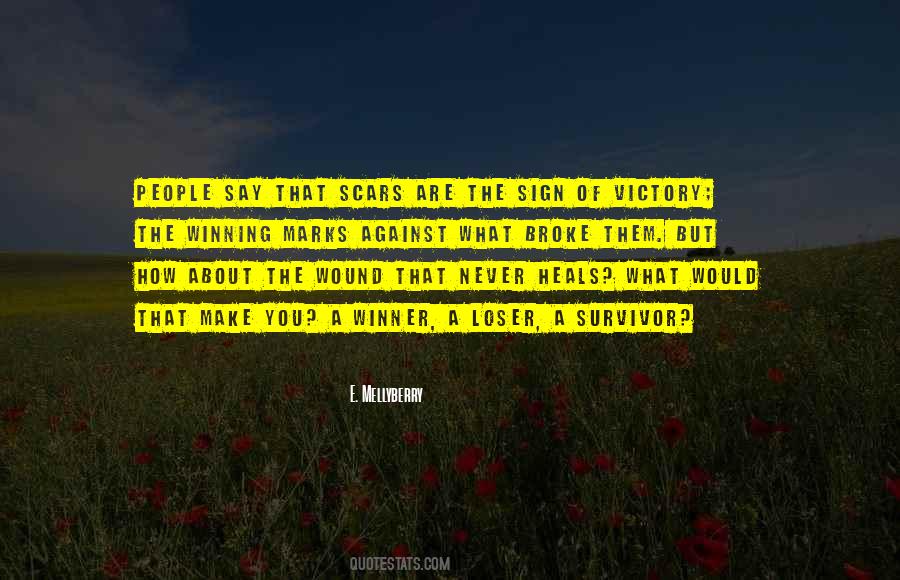 #58. As a high school dropout, I understand the value of education: A second chance at obtaining my high school diploma through the G.I. Bill led me to attend college and law school and allowed me the opportunity to serve in Congress. - Author: Charles B. Rangel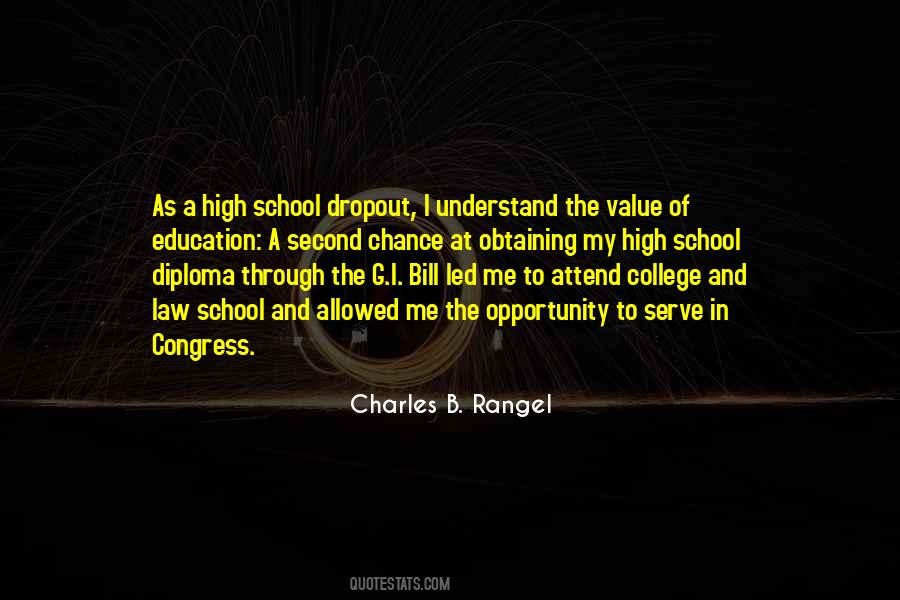 #59. First, I have to thank God for giving me the gift that he did as well as a second chance for a better life. - Author: Oksana Baiul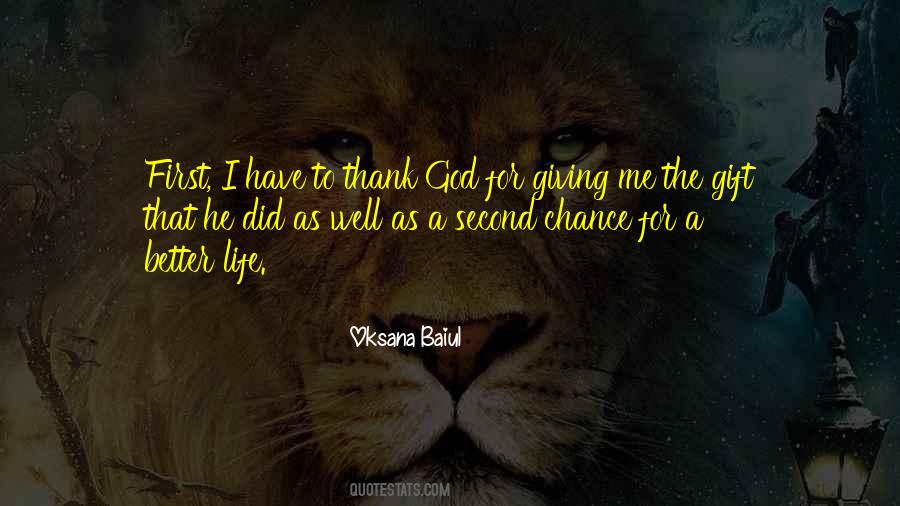 #60. We've been given a second chance. Some people never even get a first. Do you know how lucky we are? - Author: Felice Stevens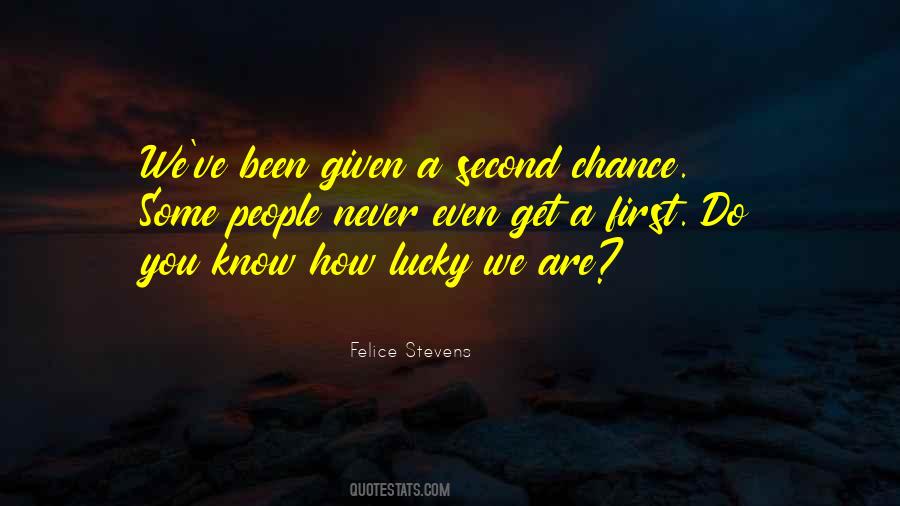 #61. I truly believe that I have been given a second chance at life. I never expected the results I have had. - Author: Tim Ward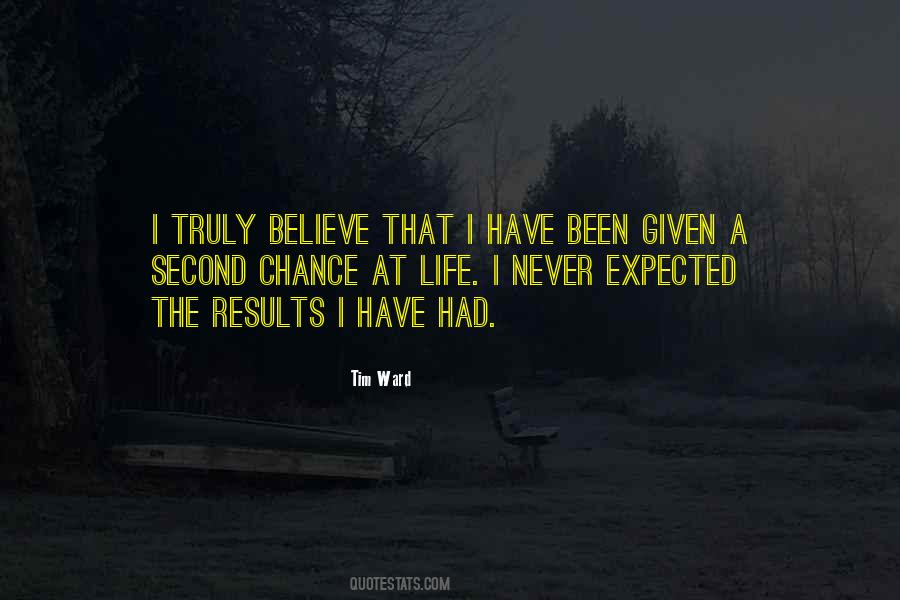 #62. I want a more difficult life, that's all. What I really want is a first-rate life. I may not get it, but the only chance I have lies in getting out of a second-rate life. I may fail completely, but I do want to try. It's to do with me, not you; so don't worry. - Author: Julian Barnes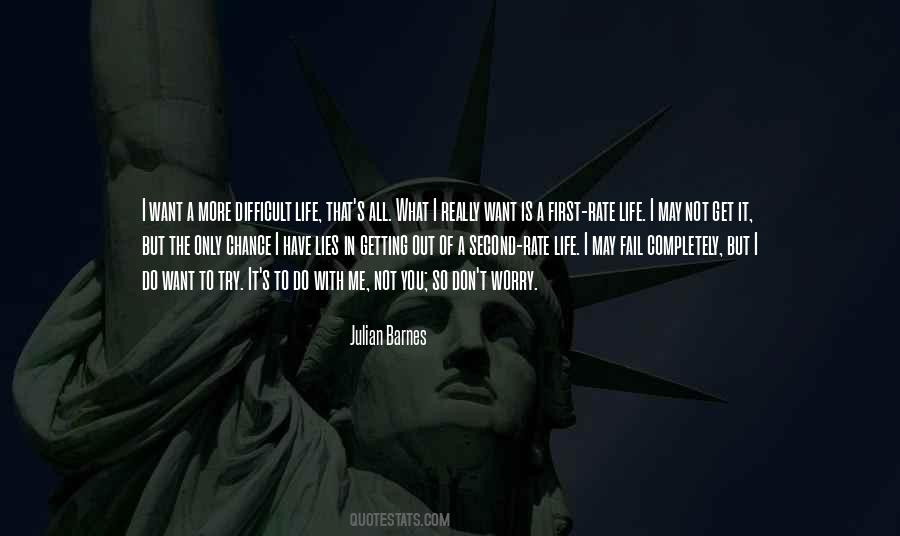 #63. If you succeed with your first dream, it helps. You know, people trust you, possibly, for the second one. They give you a chance to play out your second one. - Author: James D. Watson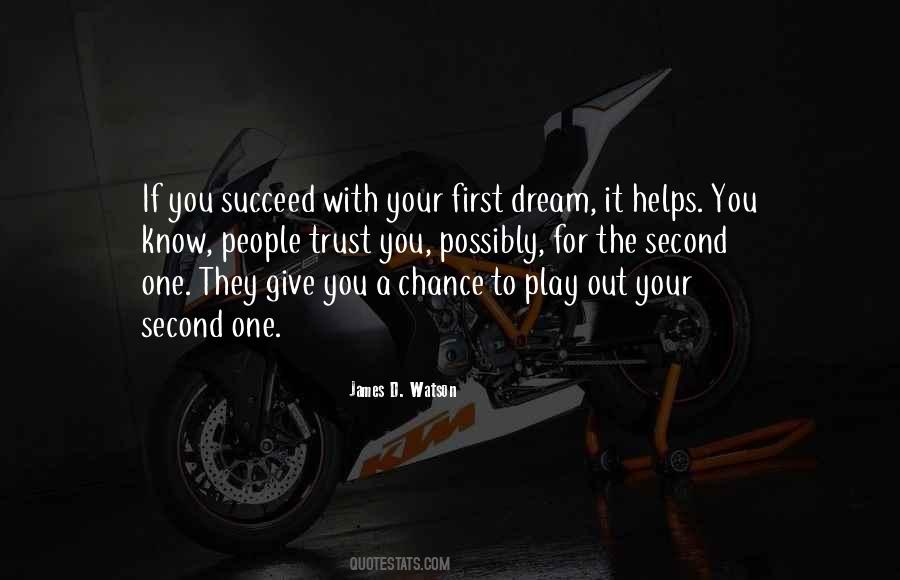 #64. Being a hero to someone, even if it is a dog, is a feeling like no other. Though it can be frustrating, it can be the most rewarding thing to give someone a second chance at a happy life. - Author: Elizabeth Parker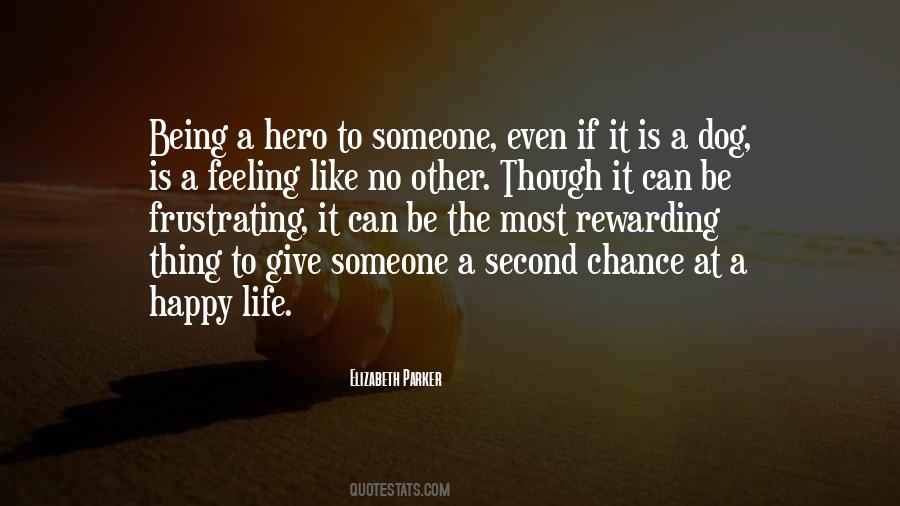 #65. Be willing to give people a second chance. You'd be surprised how well people respond to another opportunity to succeed. - Author: Robert Cheeke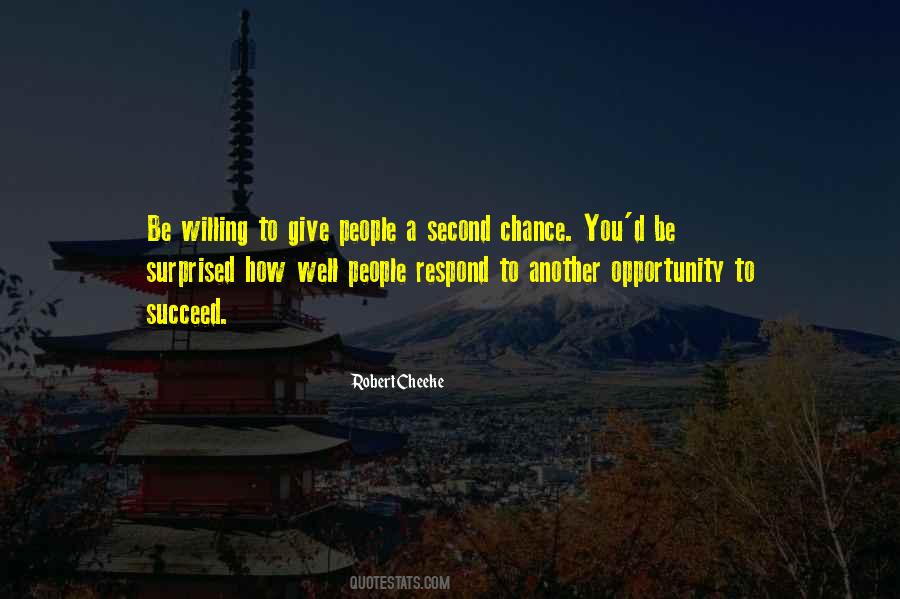 #66. If you get a second chance, grab it with the first and second hands. Never let it go till all is done and done well. Second chances come with the last graces! - Author: Israelmore Ayivor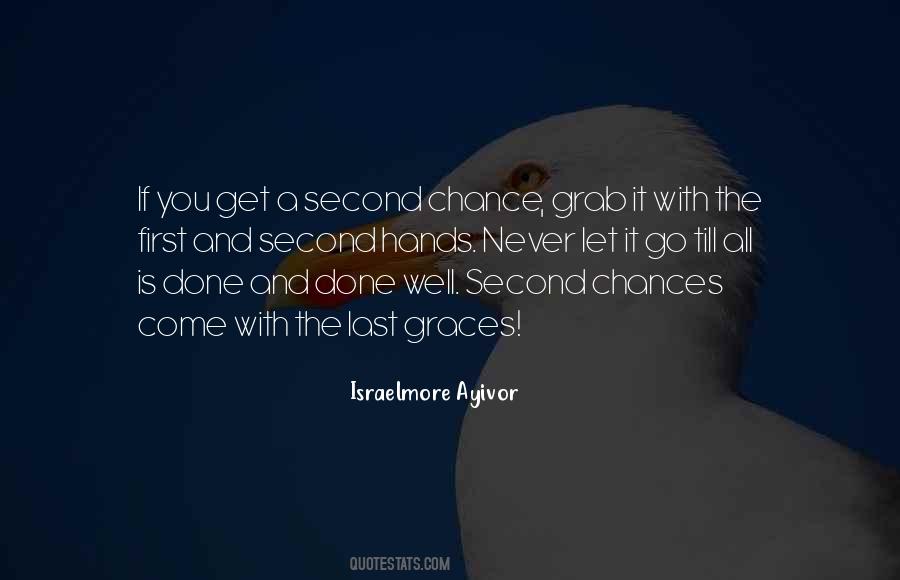 #67. Watercolor is like life. Better get it right the first time
you don't get a second chance! - Author: Sergei Bongart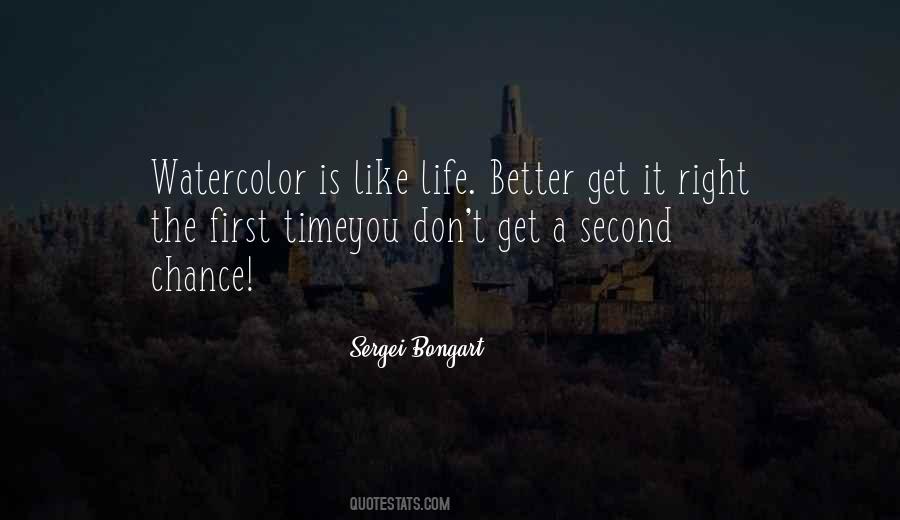 #68. Coffee is a lot more than just a drink; it's something happening. Not as in hip, but like an event, a place to be, but not like a location, but like somewhere within yourself. It gives you time, but not actual hours or minutes, but a chance to be, like be yourself, and have a second cup - Author: Gertrude Stein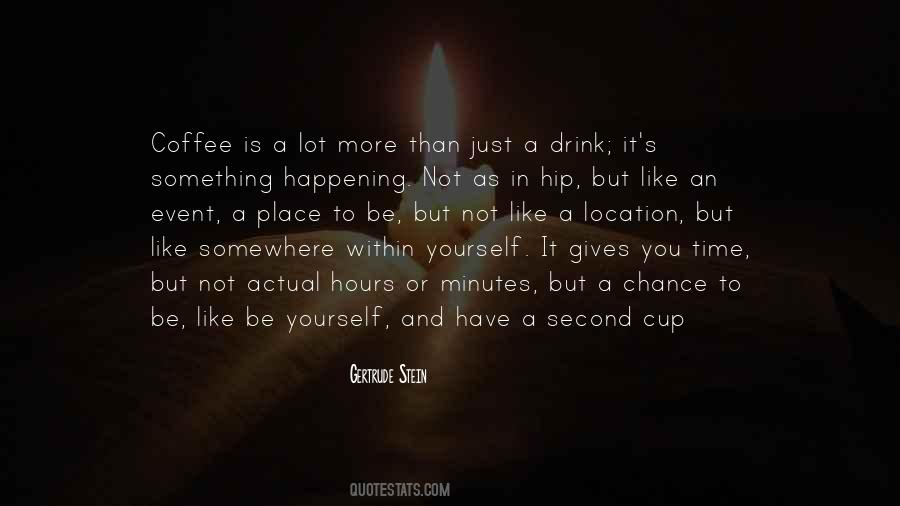 #69. A second chance is a direct pathway to a grateful heart and an astonished mind. - Author: Holly Elissa Bruno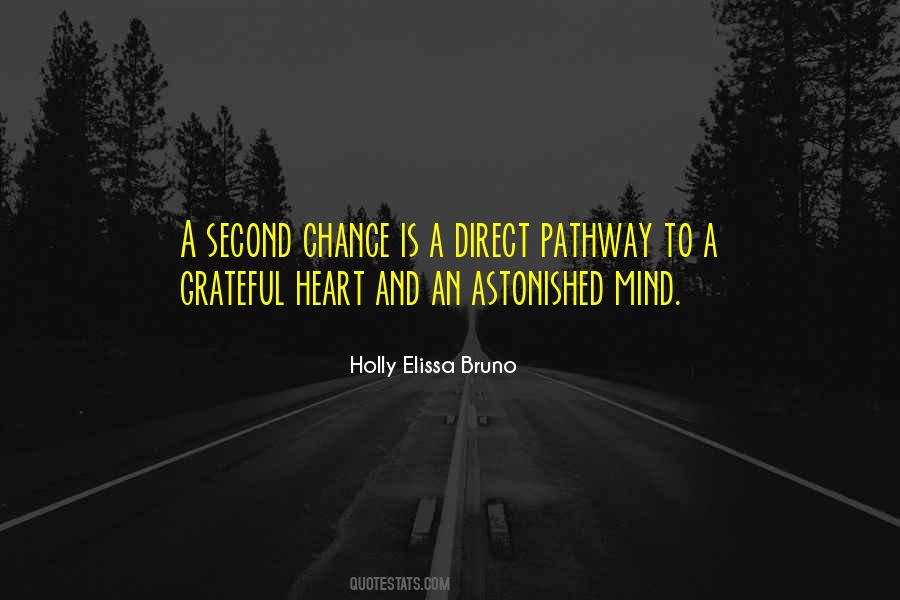 #70. Children are our second chance to have a great parent-child relationship. - Author: Laura C. Schlessinger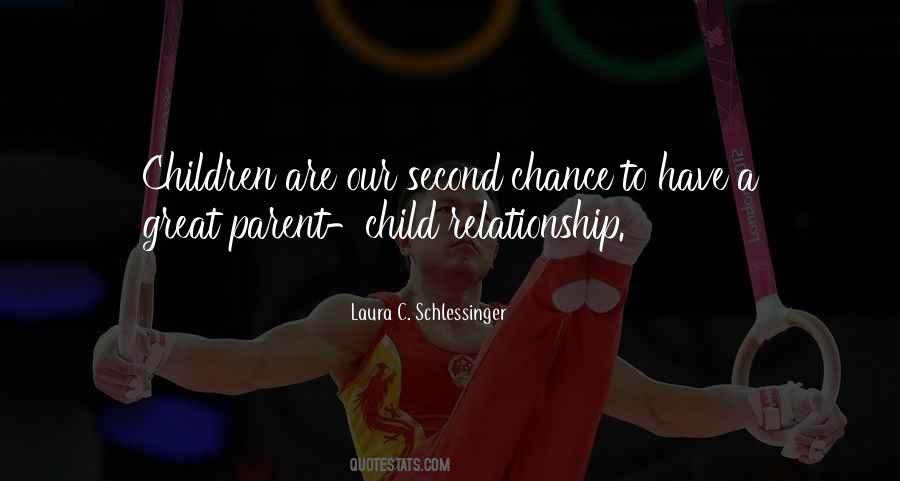 #71. In life, we all have a second chance but it's what we do with those chances that counts. - Author: Abdulazeez Henry Musa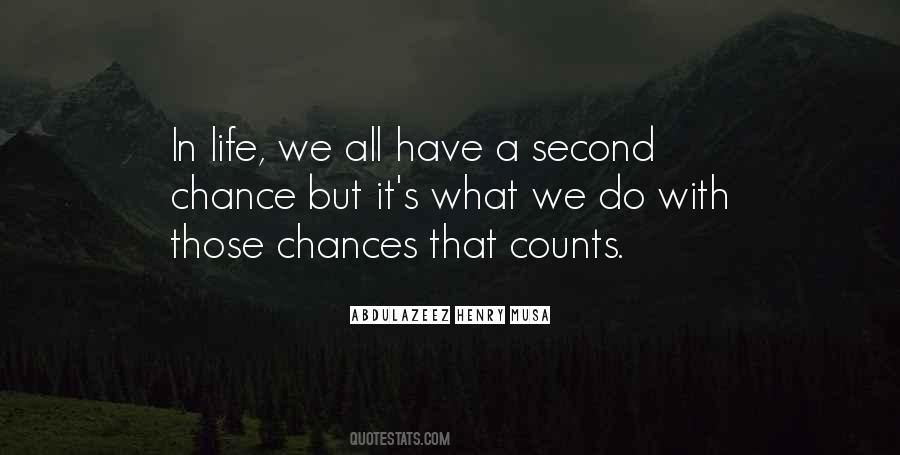 #72. Time is your only enemy, it disappears very quickly and never gives you a second chance. - Author: Steve Douglas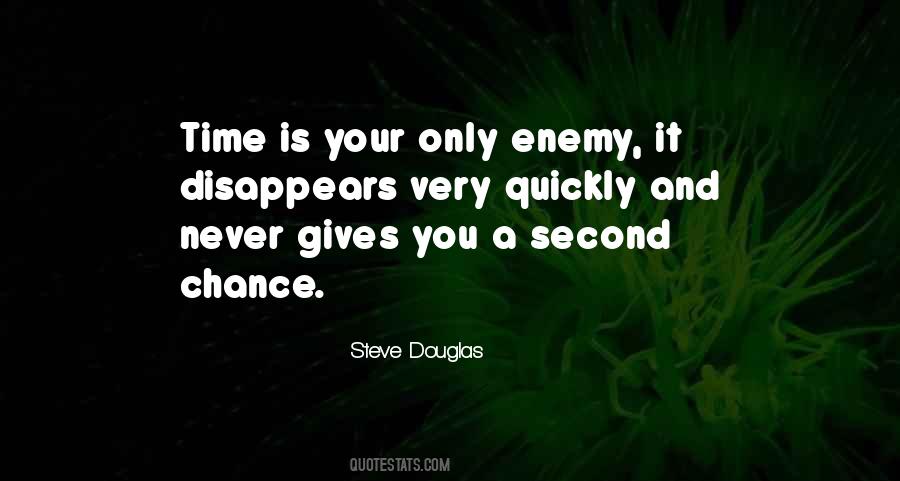 #73. TOMORROW'S WILL

Silent world, I find myself,
Glad no one hears my thoughts.
In dark cocoon, I hibernate,
Yet spirit spills every thought.

A second chance to try again.
The risks I know too well.
Two sunsets turning into six-
Awaits tomorrow's will. - Author: Giorge Leedy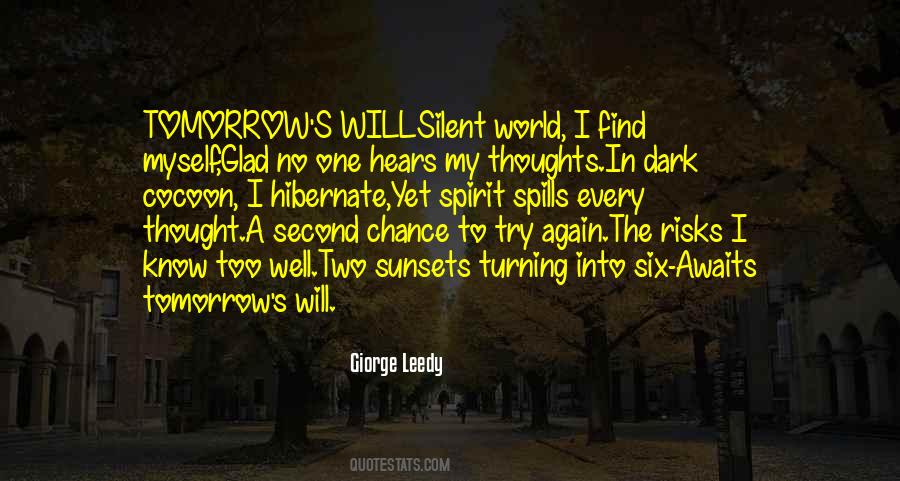 #74. I failed math twice, never fully grasping probability theory. I mean, first off, who cares if you pick a black ball or a white ball out of the bag? And second, if you're bent over about the color, don't leave it to chance. Look in the damn bag and pick the color you want. - Author: Janet Evanovich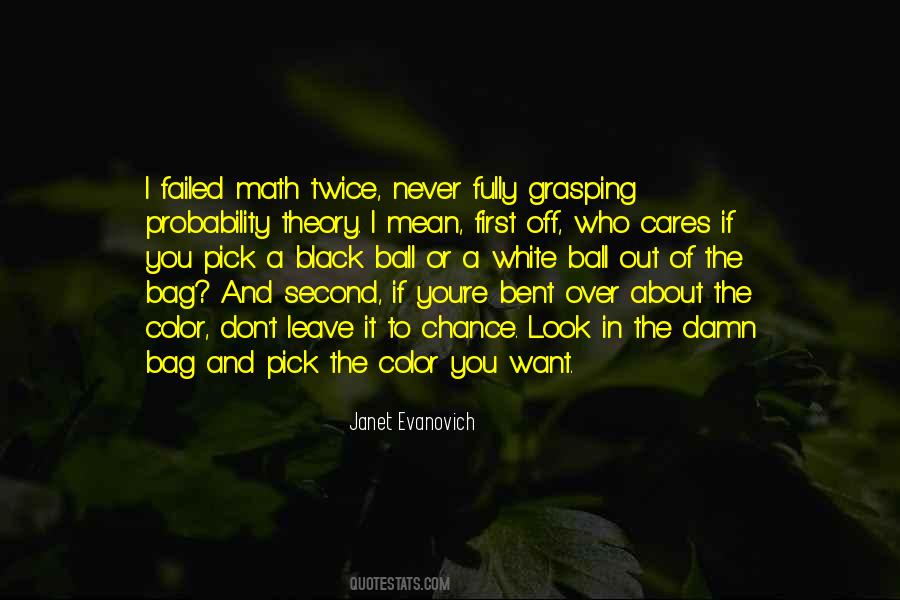 #75. You won't always have the luxury of a second chance. So be careful with your first one. - Author: Donna Kauffman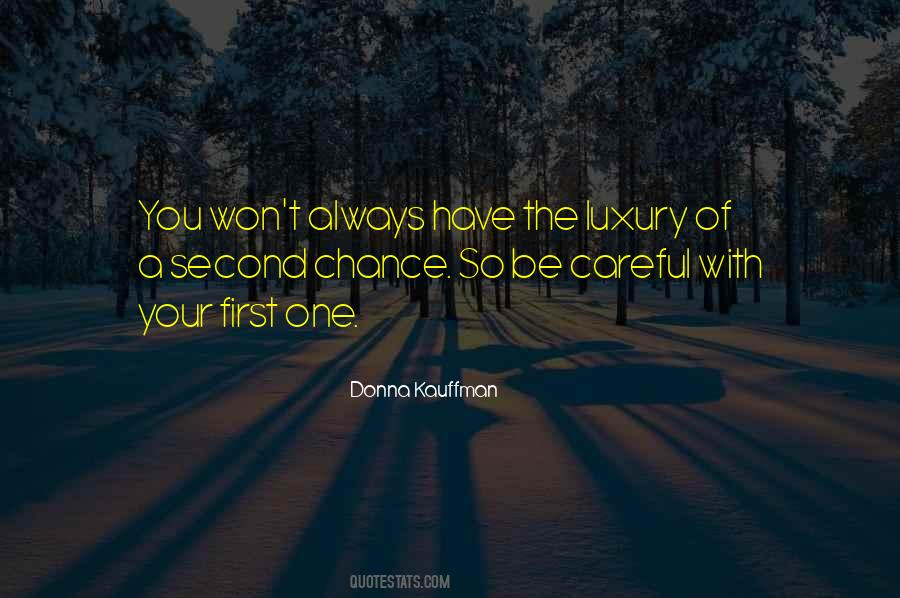 #76. I won't do anything Sara; this is not me trying to get into your pants, or to rekindle what we had. This is just me concerned over a friend I know for a long time and don't want to lose to a crazed lunatic. - Author: Nicole Kiefer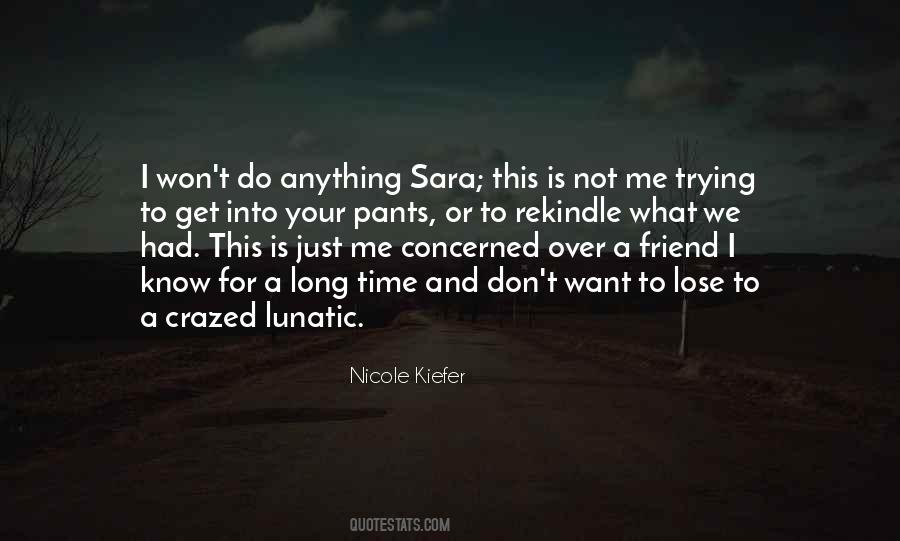 #77. Quite honestly, most people are quick to "write someone off." But our God is a God of the second chance. Learn from One who is patient with you, and you'll learn to be patient with others. - Author: Woodrow M. Kroll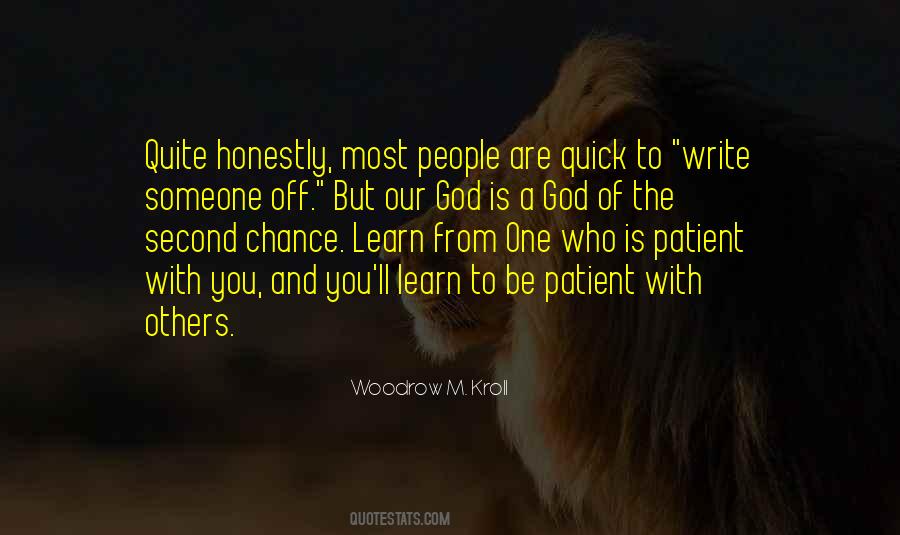 #78. A simpler form of the same objection consists in saying that death ought not to be final, that there ought to be a second chance. I believe that if a million chances were likely to do good, they would be given. - Author: C.S. Lewis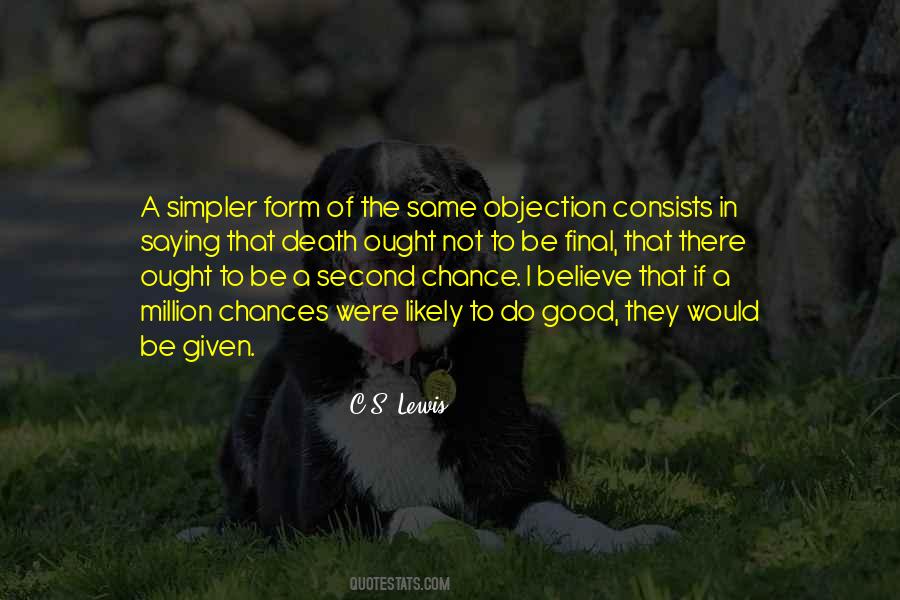 #79. Easter is very important to me, it's a second chance. - Author: Reba McEntire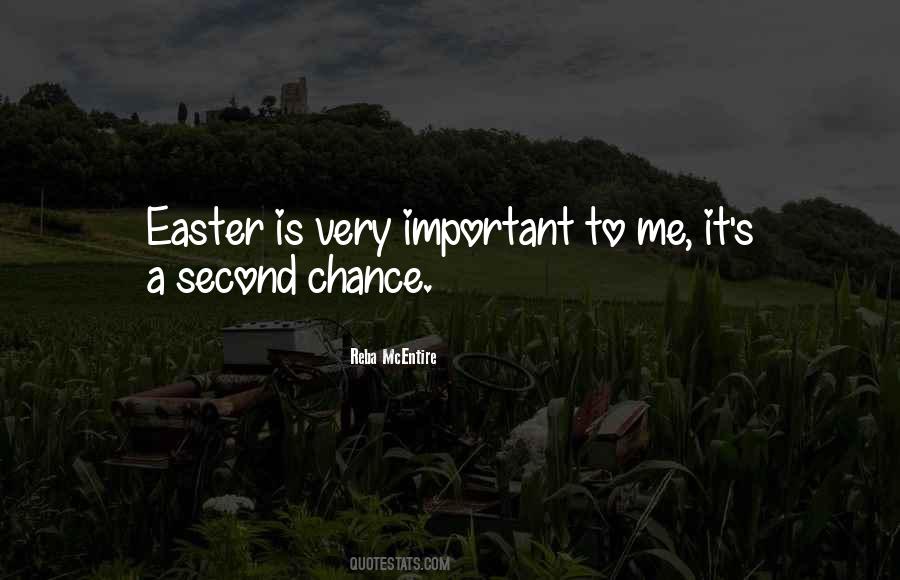 #80. As you grow older, Michael, you'll learn an important lesson - that most people spend their entire lives wishing for a second chance to do what they should have done right the first time. - Author: Richard Paul Evans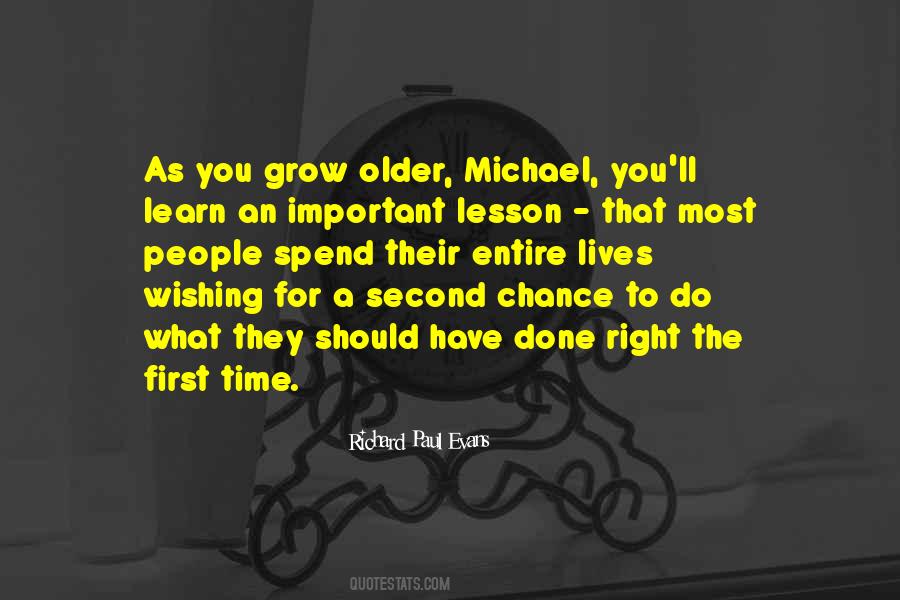 #81. Formerly incarcerated people deserve a second shot at life - and all obstacles to their being able to find that second chance in the green sector should be removed. - Author: Van Jones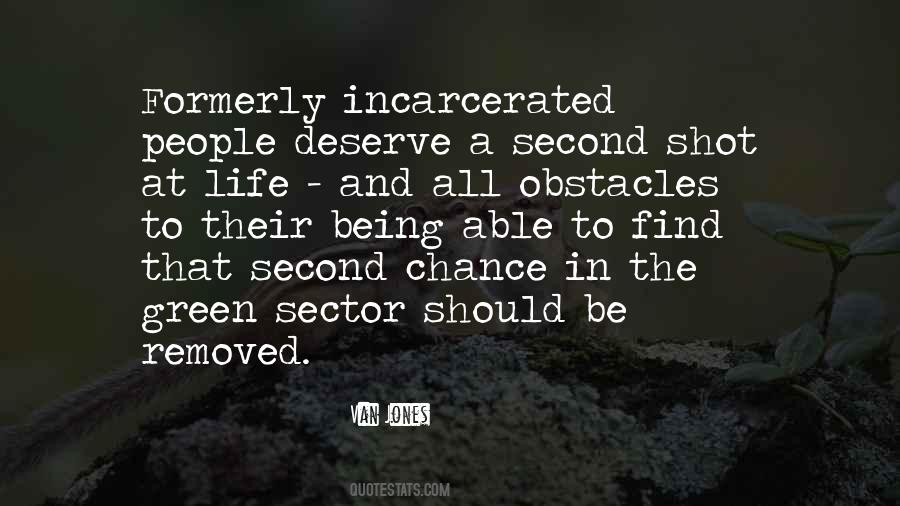 #82. Everyone makes mistakes and everyone deserves a second chance, - Author: Mo'ne Davis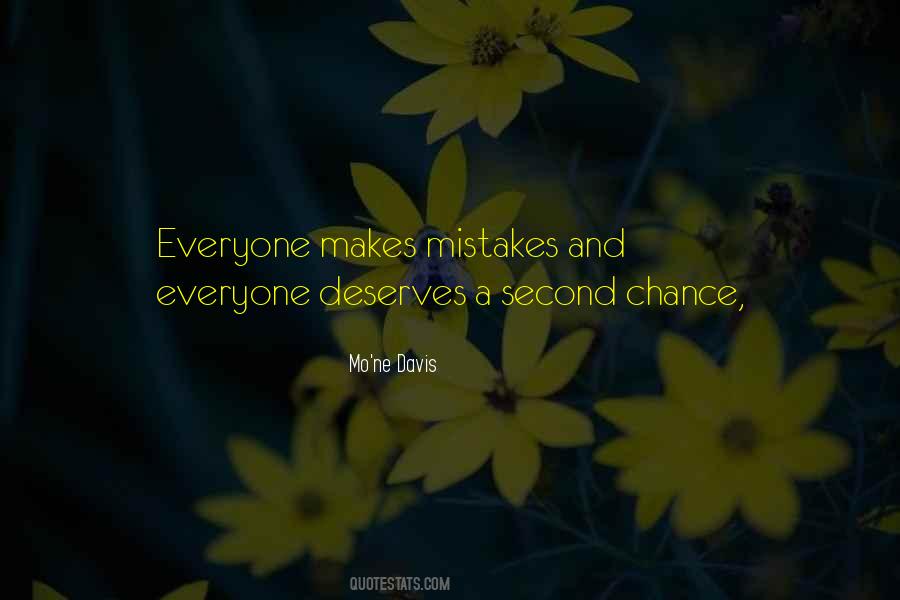 #83. I can't do this with you again and then watch you go," she admitted, her breathing ragged. Her skin tingled all over where their bodies touched and it felt as if it were over a thousand degrees in the house. - Author: Samantha Chase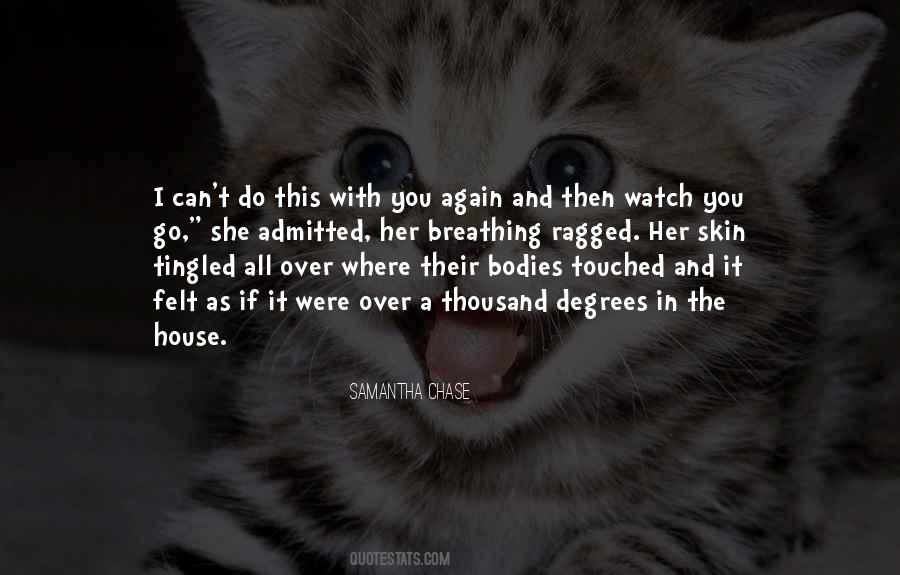 #84. We all have big changes in our lives that are more or less a second chance. - Author: Harrison Ford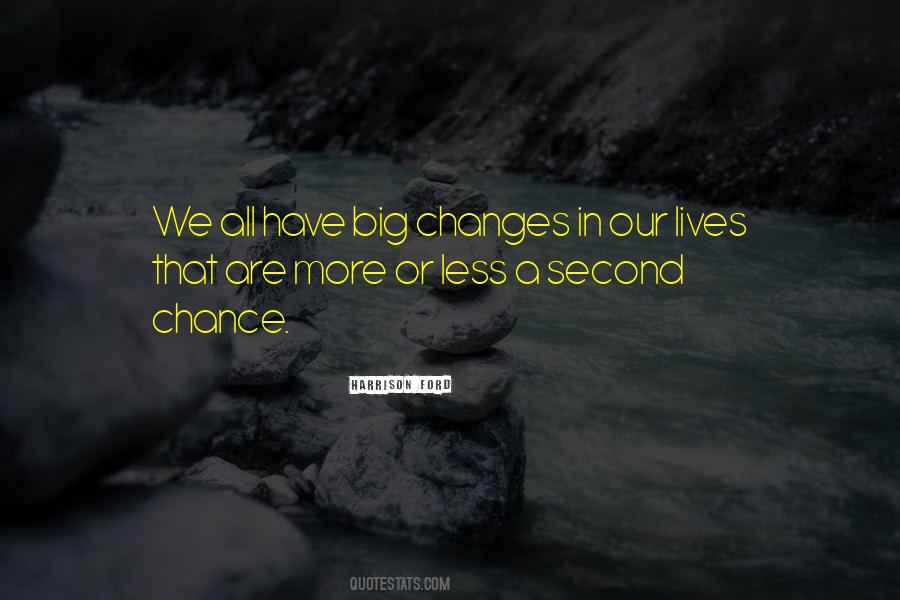 #85. I think just about everybody ought to get a second chance and I'd like to see it worked out, because he (Pete Rose) brought a lot of joy to the game, and he gave a lot of joy to people, and he's paid a price - God knows, he's paid a price. - Author: William J. Clinton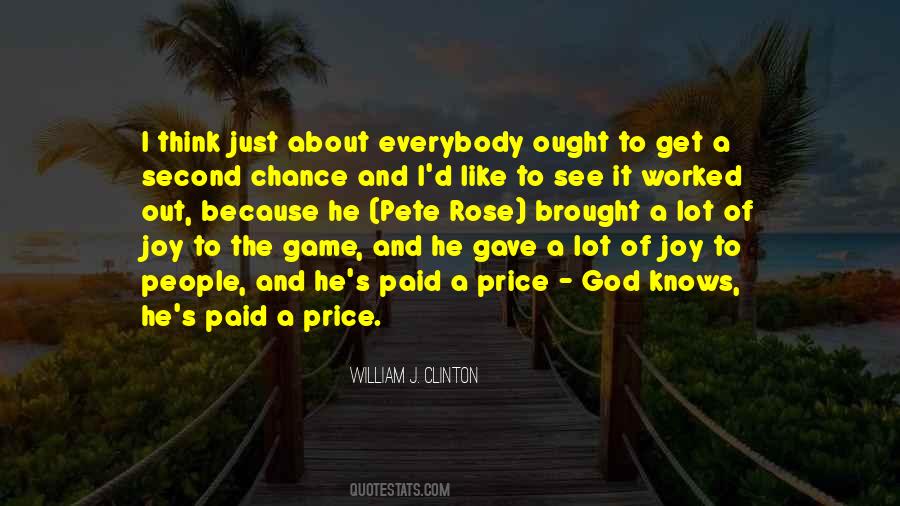 #86. If somebody is gracious enough to give me a second chance, I won't need a third. - Author: Pete Rose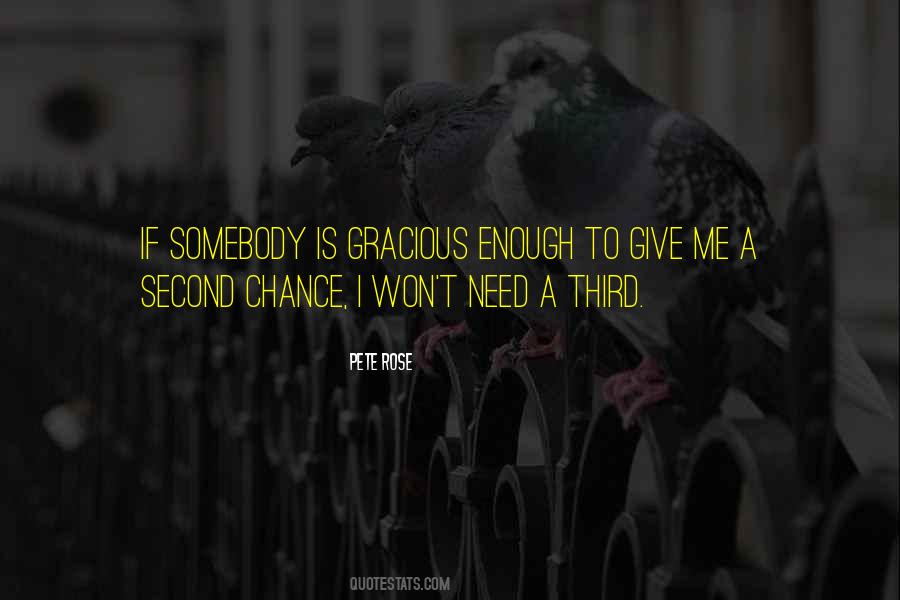 #87. The green economy should not just be about reclaiming throw-away stuff. It should be about reclaiming thrown-away communities. It should not just be about recycling things to give them a second life. We should also be gathering up people and giving them a second chance. - Author: Van Jones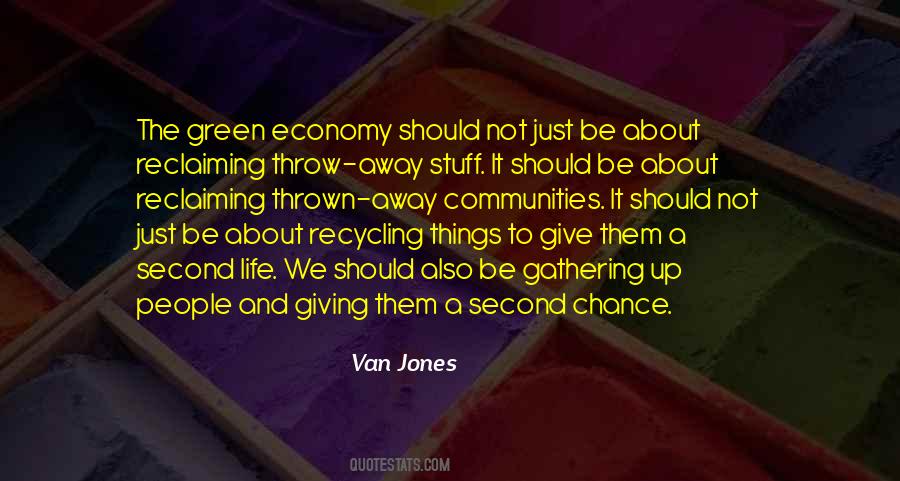 #88. Doesn't everyone deserve their own version of a happily-ever-after? - Author: Jill Shalvis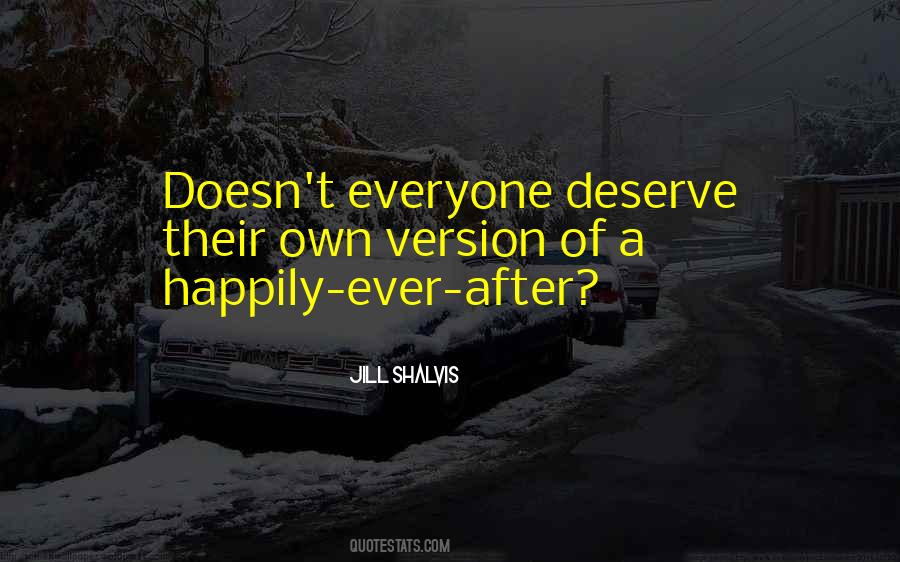 #89. And so I found myself in a kind of love lock: pining for the wrong person, grieving beside a woman whose body I can't touch, being given a second chance I can't find the clarity to take. - Author: Courtney Maum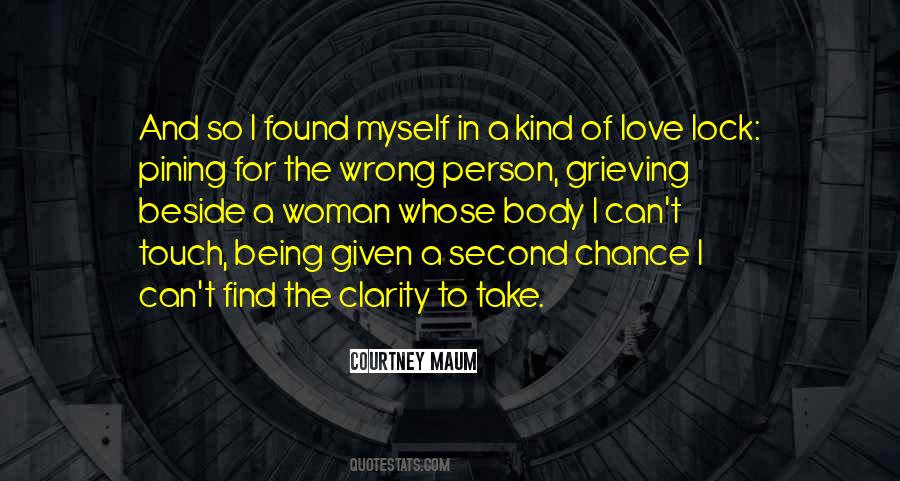 #90. You've been given a second chance at true love. Few of us are rarely given even a first chance. If you ruin this, you will be a bigger fool than I could ever imagine. This time when he leaves you, it really will be your fault. - Author: Kathryn Smith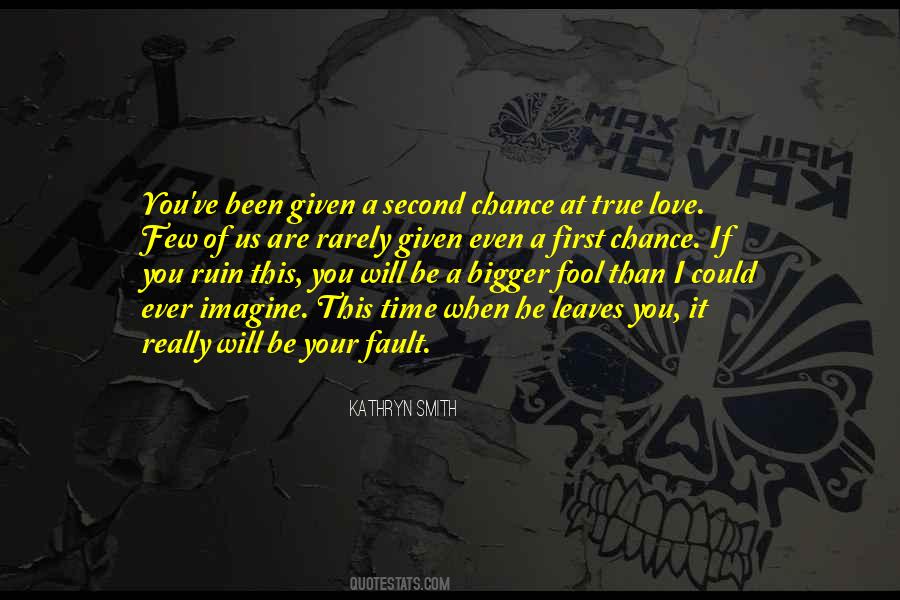 #91. I run an academy in Spain for young footballers who are released by their clubs and who, in my opinion, deserve a second chance. It is a rewarding job for me, but one that also reveals many of the faults in the English game. - Author: Glenn Hoddle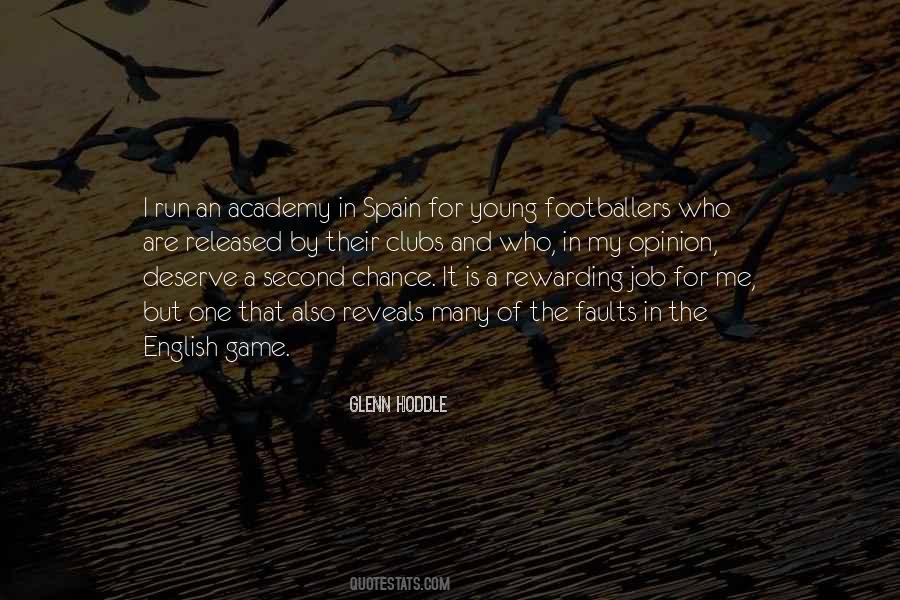 #92. There was no slow build. No peaceful meander to the summit. It was like sheet lighting stretching across a stormy sky - beautiful and blinding. I leaned forward and seized his mouth with mine. - Author: E.M. Denning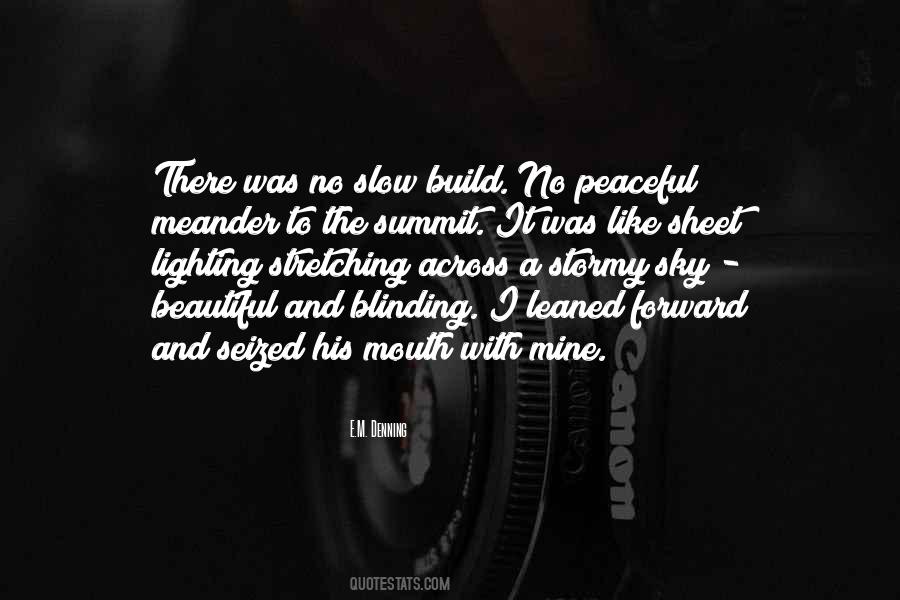 #93. That's ridiculous. The only point in having enemies is so you can defeat them, kill them, brush them aside."
"Or give them a chance to redeem themselves. - Author: Derek Landy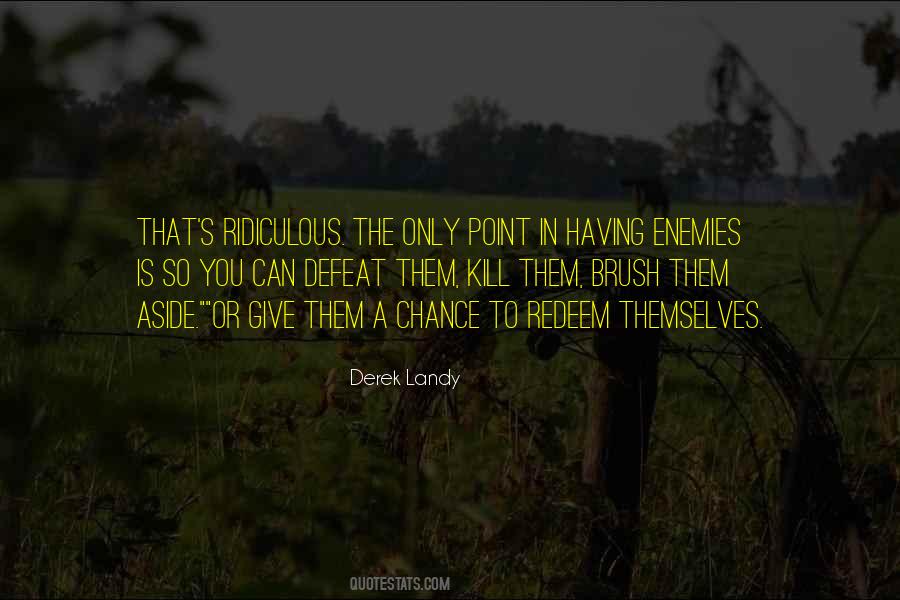 #94. Why can't the ex-Chemist have a second chance? I get that we're kids and he's an adult, but you don't learn everything before you grow up. You learn until grass grows on your grave. - Author: Shelley Tougas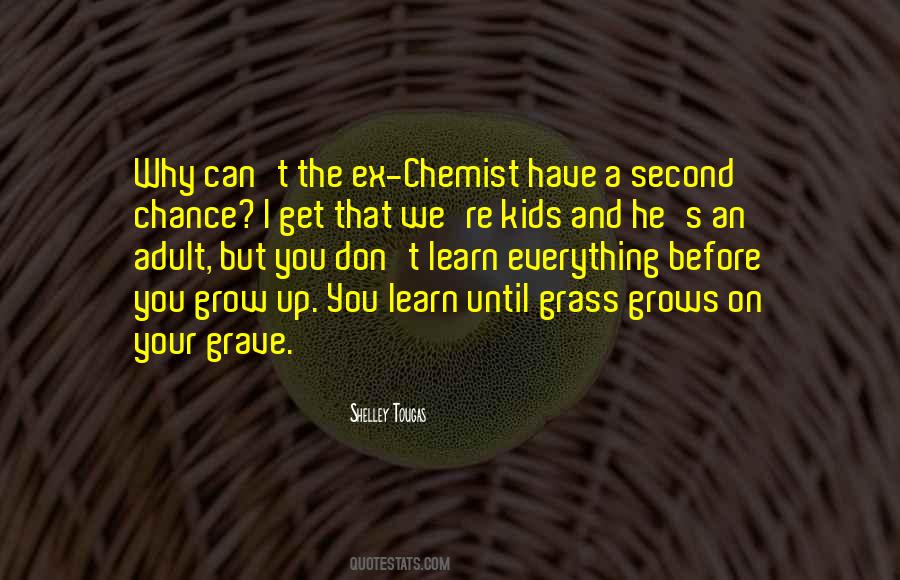 #95. Each of us each day, each moment, has a choice: give ourselves and others a second chance or turn away. - Author: Holly Elissa Bruno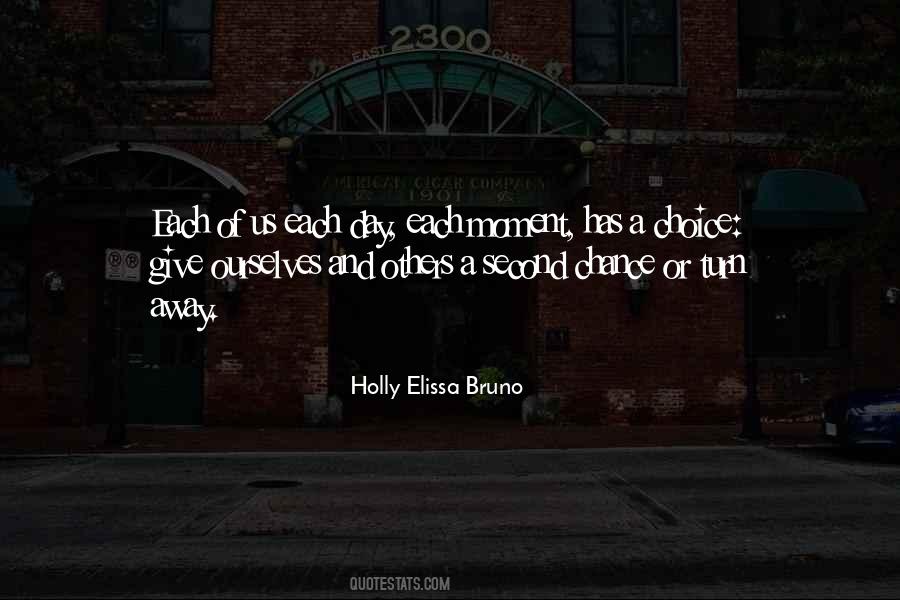 #96. If God gave you a second chance, would you do anything differently?" I - Author: Paulo Coelho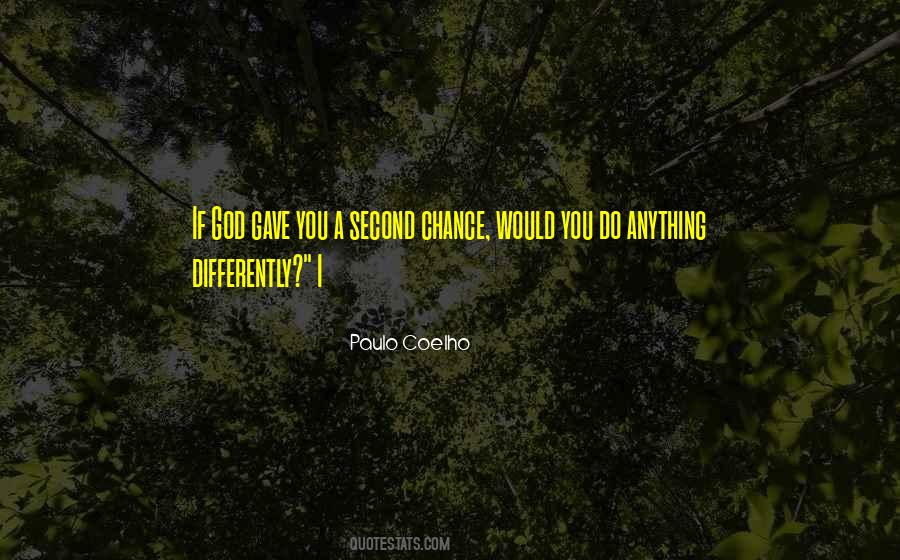 #97. She had learned never to look back, never to give fate a second chance to kick her in the teeth. - Author: Linda Howard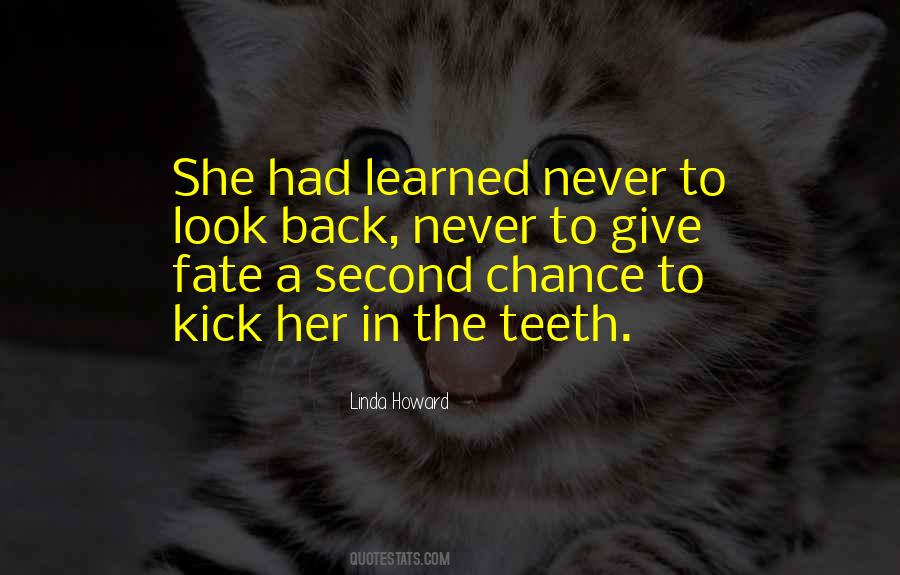 #98. After an eternity of grief and regret, he held the only thing he'd ever wanted as much as he wanted to be God. A second chance. - Author: Karen Marie Moning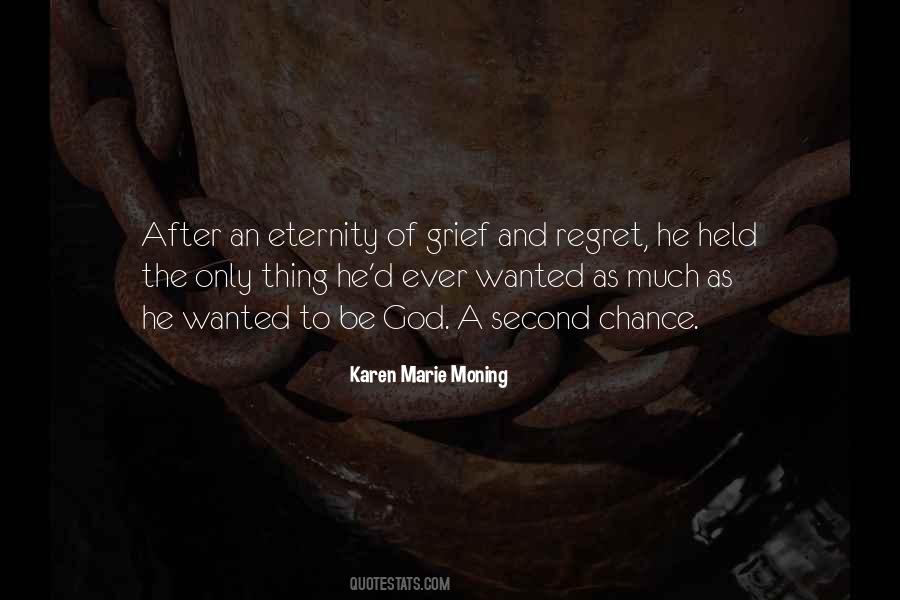 #99. I love kids, and I love having had this second chance to have a family. - Author: Michael Douglas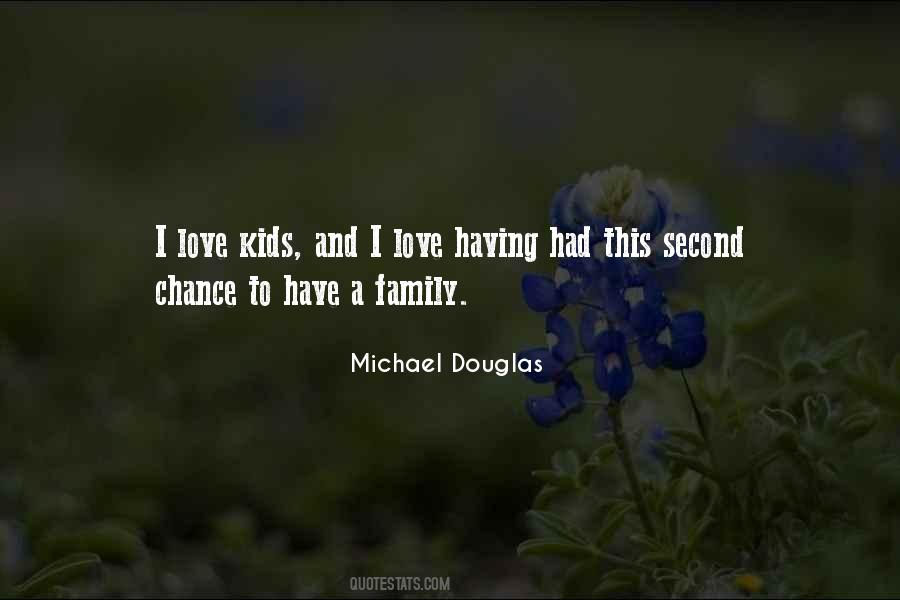 #100. Everyone does deserve a second chance, although we don't often get one, and even when we do get a second chance, we're likely to make the same mistake again. The things we learn later rather than sooner tend to result from harsh lessons, but mostly we learn nothing at all. - Author: Binnie Kirshenbaum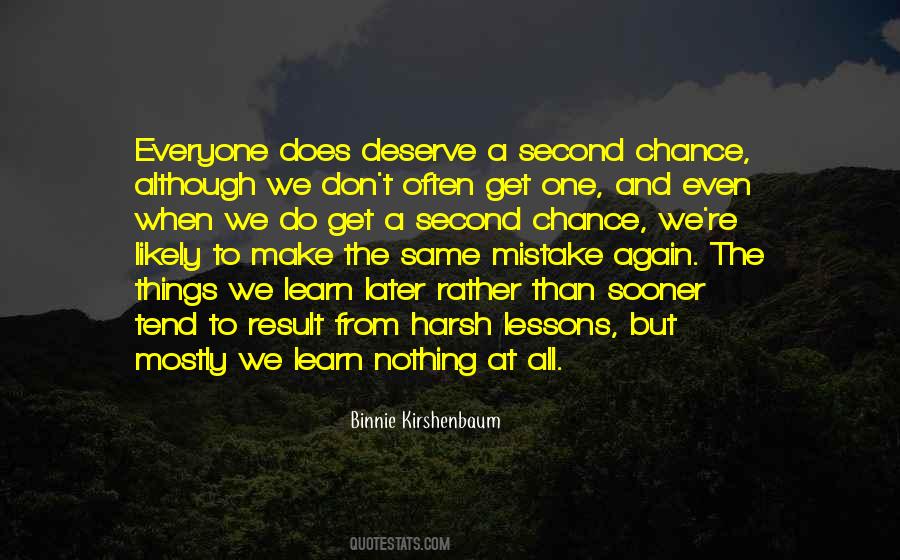 Famous Authors
Popular Topics