A Happier Life Famous Quotes & Sayings
List of top 100 famous quotes and sayings about a happier life to read and share with friends on your Facebook, Twitter, blogs.
Top 100 Quotes About A Happier Life
#1. The belief that youth is the happiest time of life is founded on a fallacy. The happiest person is the person who thinks the most interesting thoughts, and we grow happier as we grow older. - Author: William Lyon Phelps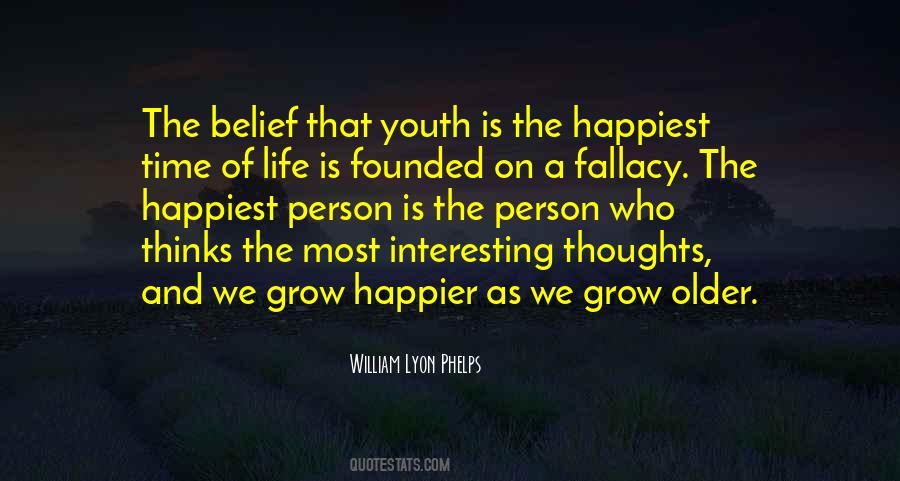 #2. In the end, you have to forgive in order to heal and move forward with your life. For people who hurt you very deeply, you don't have to forgive them for their sake but for your sake, so that you can move forward and have a healthier and happier life. - Author: Dominique Moceanu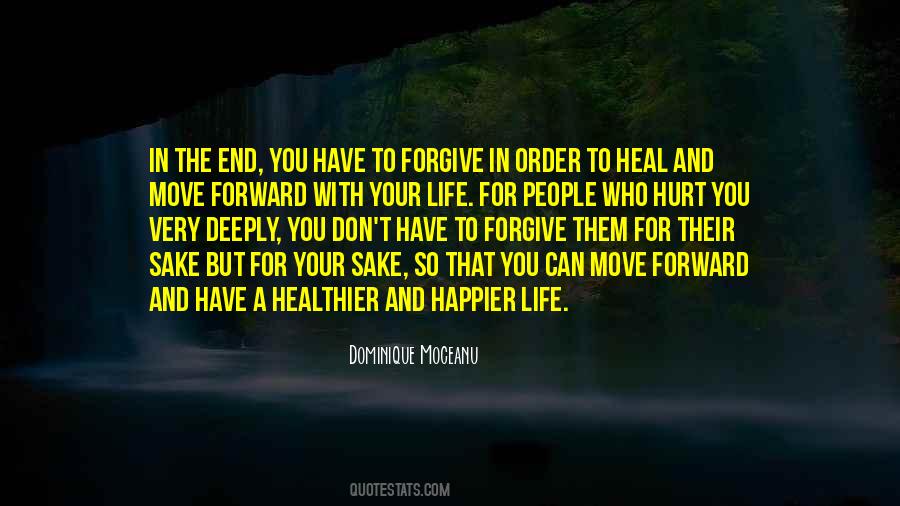 #3. The secret of health, happiness, and long life: If you simply learn how to accept and express love, you will live longer ... be happier ... grow healthier. For love is a powerful force. - Author: Alfred Armand Montapert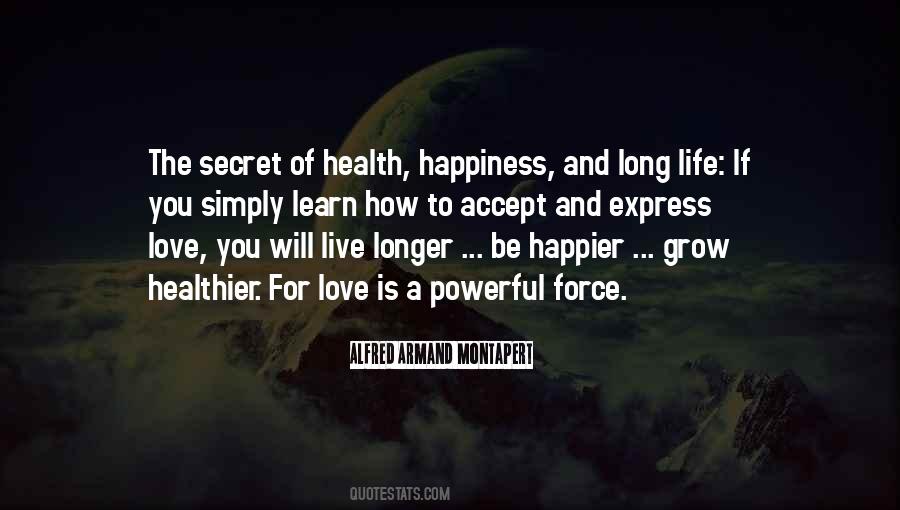 #4. I was happier before, when I lead a normal life. - Author: Enrique Iglesias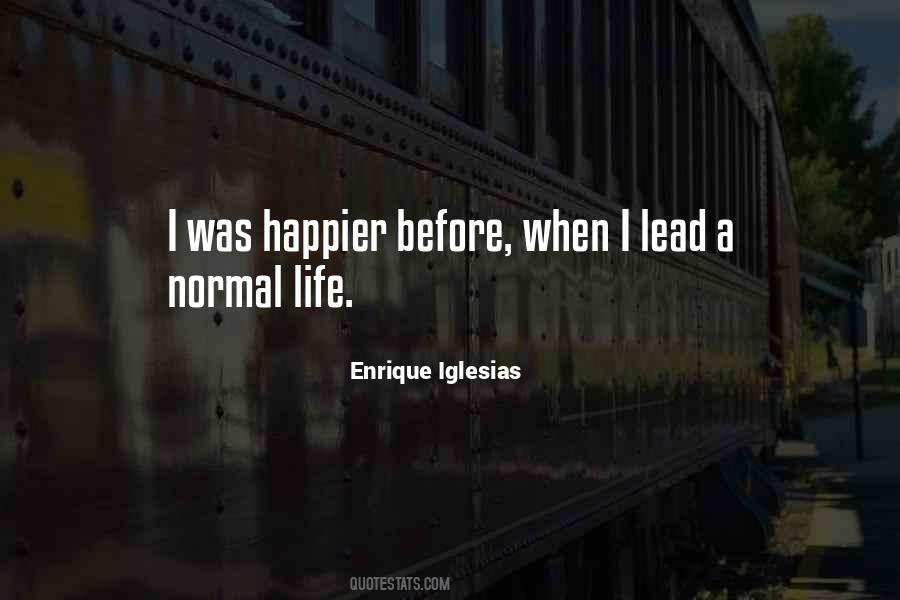 #5. The people in my life are friends I have by choice. I've made a conscious effort to have them in life. I only have the time and energy for so many people, which has cut down my friend group to a handful, but I'm so much happier with fewer good people, who really do know me. - Author: Gillian Zinser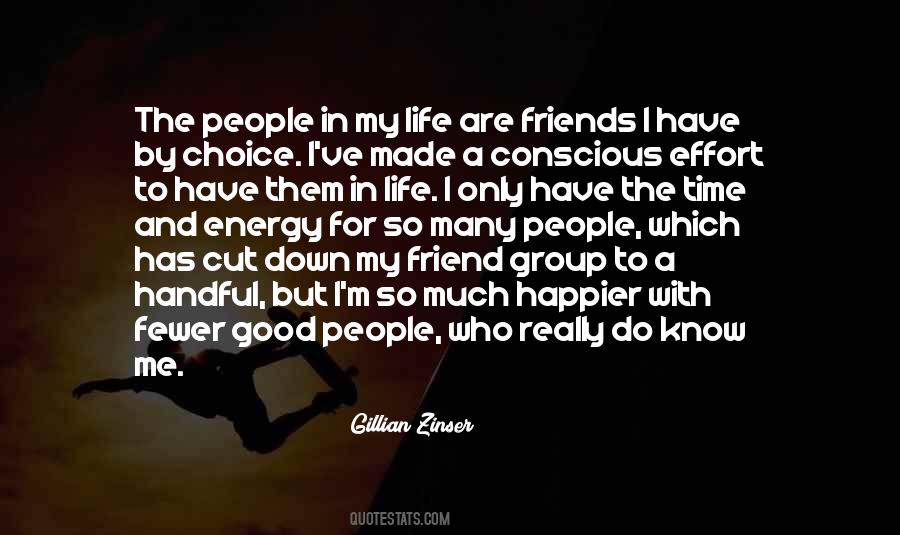 #6. Maybe if I forgot things once in a while, we'd all be a little bit happier. - Author: Jay Asher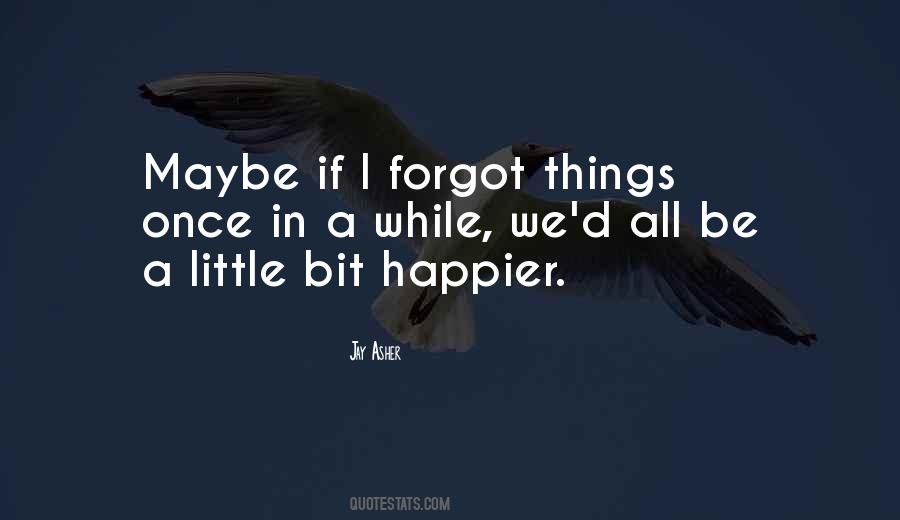 #7. If there be no eternal life, still the enjoyment of spiritual thoughts as ideals is keener and makes a man happier, whilst the foolery of materialism leads to competition and undue ambition and ultimate death, individual and national. - Author: Swami Vivekananda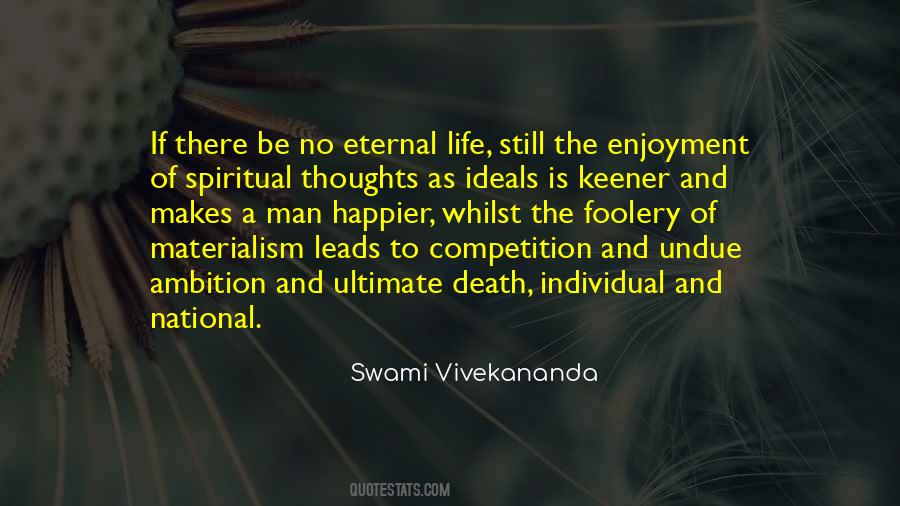 #8. From all these, then, they will be finally free, and they will live a happier life than that men count most happy, the life of victors at Olympia. - Author: Plato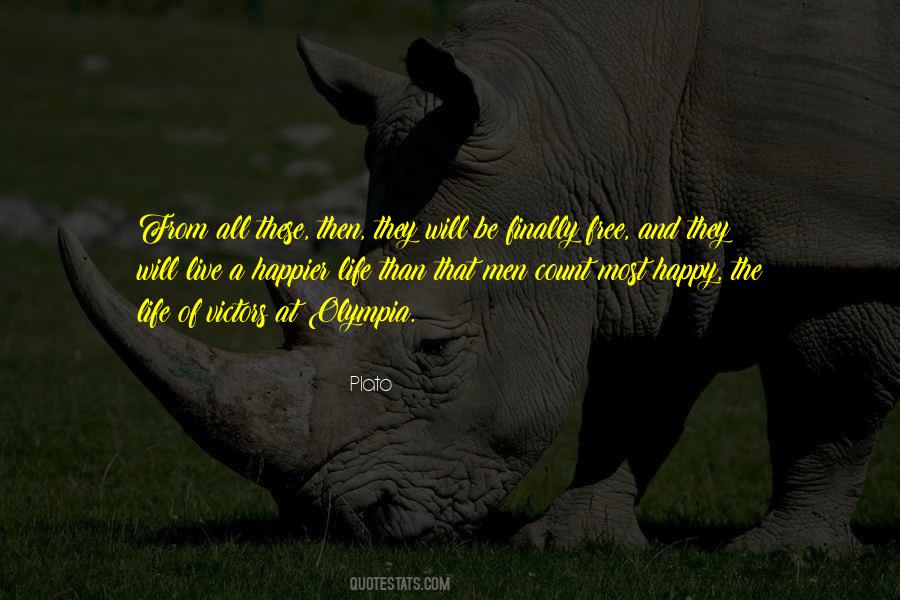 #9. There's nobody who loves being around actors working more than David Mamet, especially actors bringing his tremendous dialogue to life. I've never seen a movie director who was happier to be directing a movie than Dave. - Author: Clark Gregg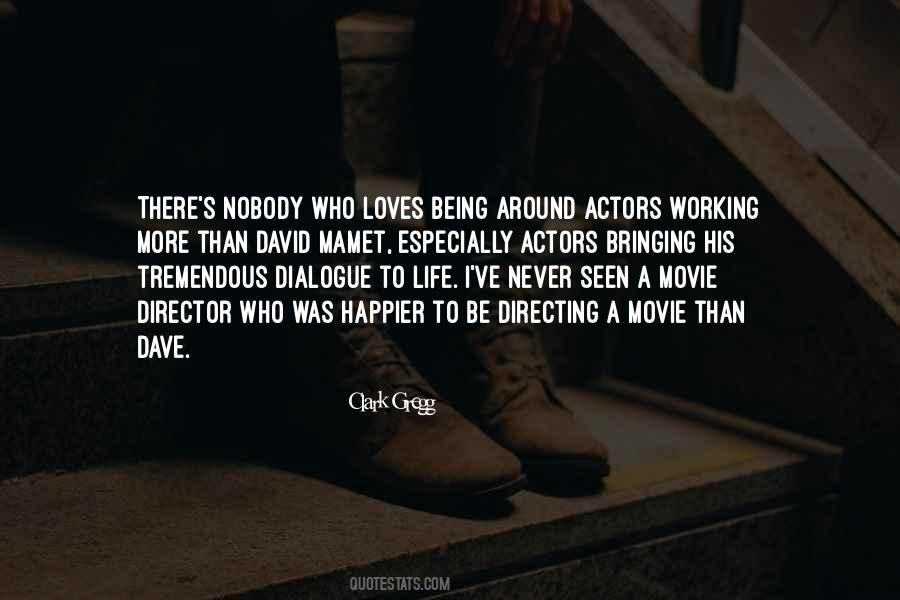 #10. You're impatient for your life to start lifting you up and making you happier. You have that backwards: if you want a happier life, you have to make it happen. It's not called YOUR life for nothing! - Charmainism - Author: Charmaine Smith Ladd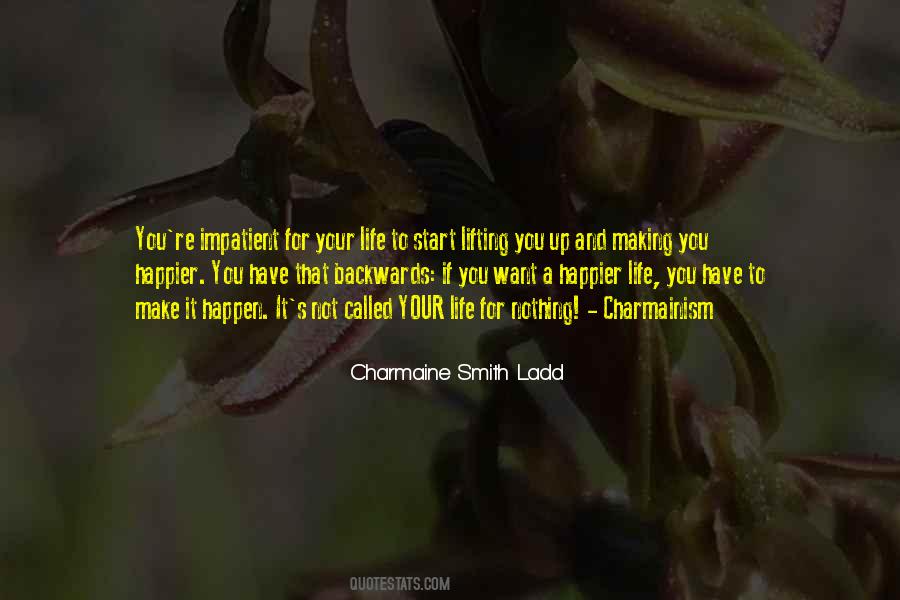 #11. When children are allowed to help make family decisions, they tend to be much more supportive and happier with family life. Also when allowed to help make rules, they will follow them much closer than if rules are forced on them. All these add up to a happier home for all. - Author: Rudolf Dreikurs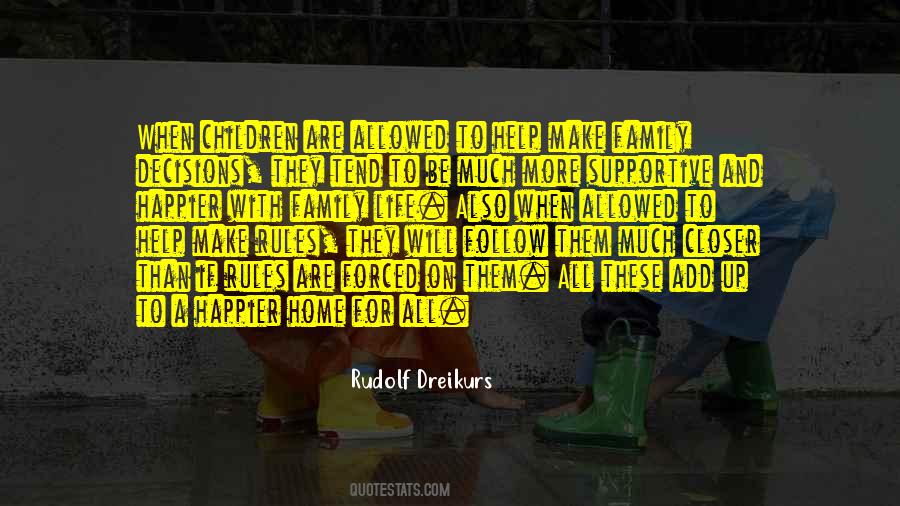 #12. The "virtue hypothesis" claims that living a virtuous life makes you happier. - Author: Anonymous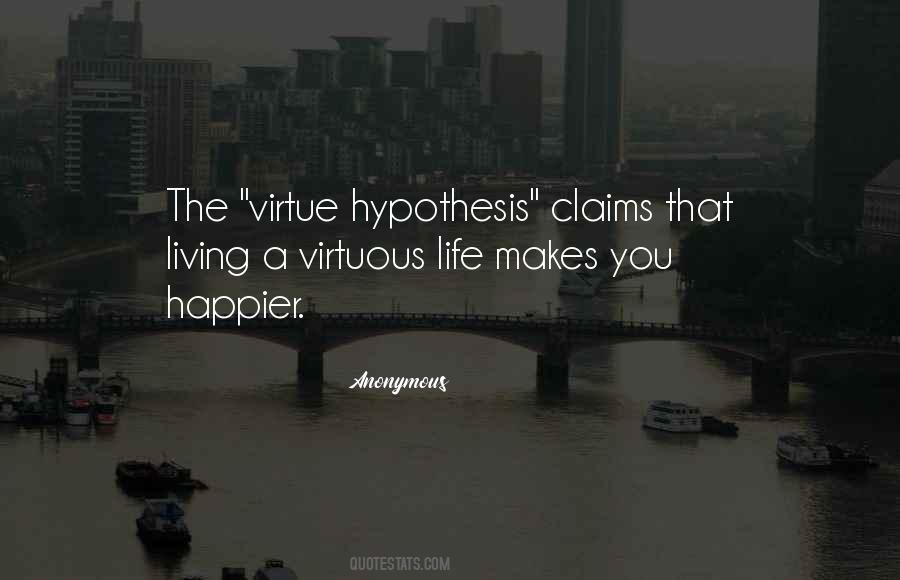 #13. Whatever the dictates of fashion, it seems that those who take the trouble to gain mastery over what happens in consciousness do lead a happier life. - Author: Mihaly Csikszentmihalyi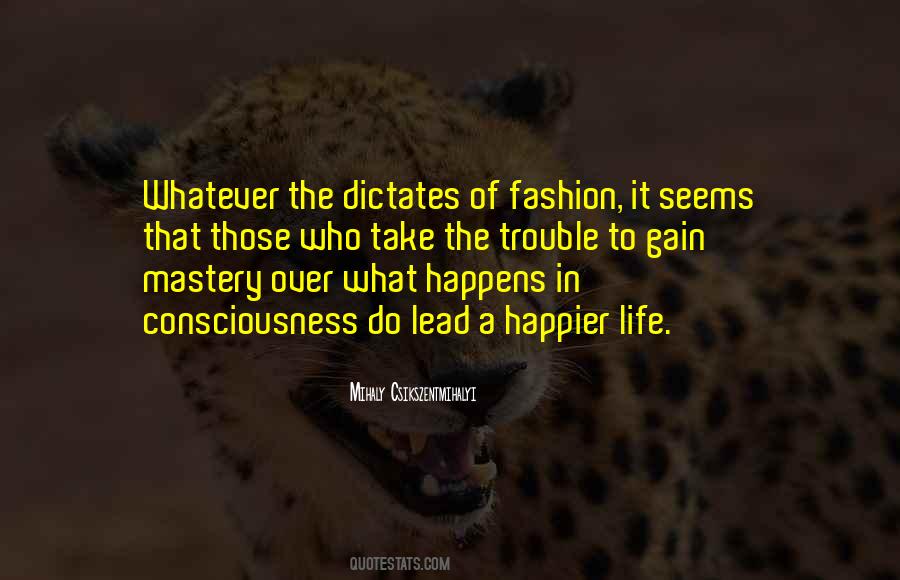 #14. Once I read a study about prisoners with a life sentence. The ones without the possibility of parole were happier than those who might get out. Defies logic, but then, not really. Sometimes it's the hope that kills you. - Author: Julie Buxbaum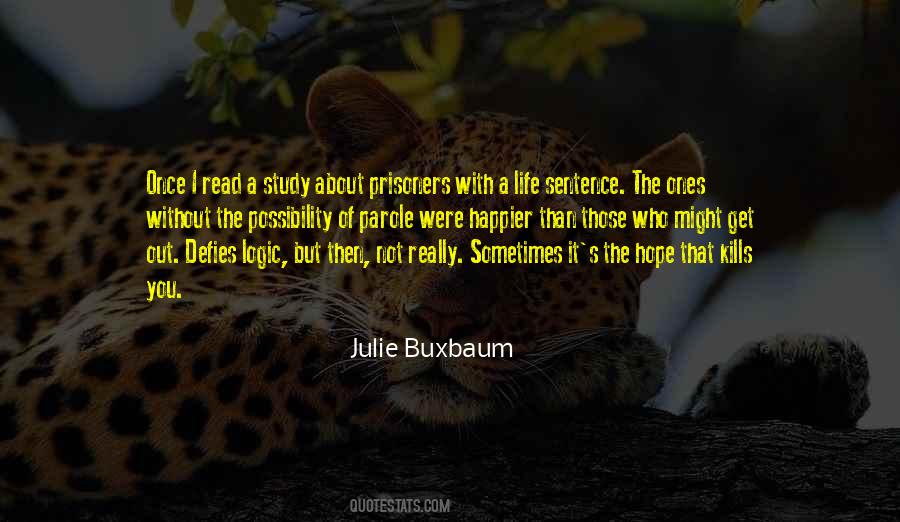 #15. Economics is everywhere, and understanding economics can help you make better decisions and lead a happier life. - Author: Tyler Cowen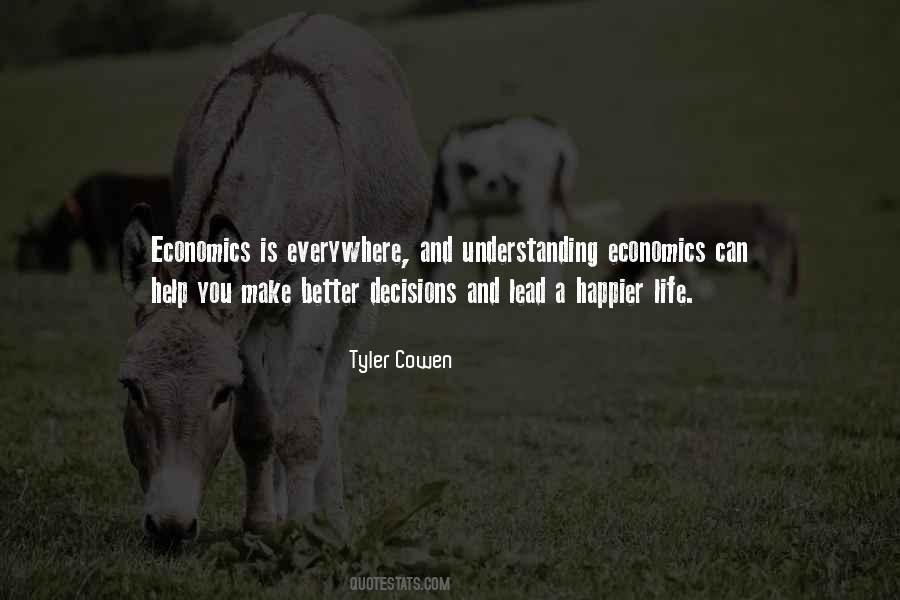 #16. Want a happier, more content life? I highly recommend the down-to-earth methods you'll find in 'Mindfulness.' Professor Mark Williams and Dr Danny Penman have teamed up to give us scientifically grounded techniques we can apply in the midst of our everyday challenges and catastrophes. - Author: Daniel Goleman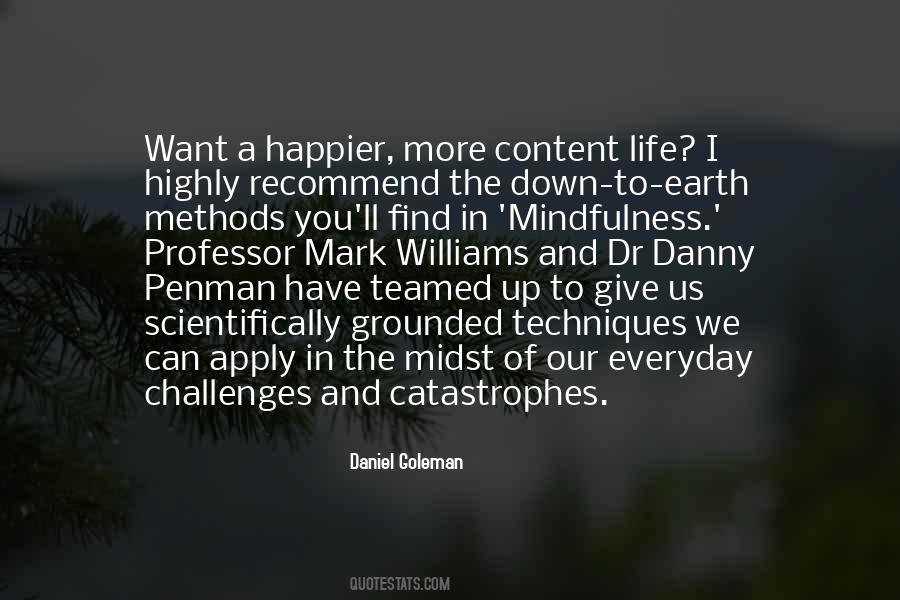 #17. The fact that you got a little happier today doesn't change the fact that you also became a little sadder. Every day you become a little more of both, which means that right now, at this exact moment, you're the happiest and saddest you've ever been in your whole life. - Author: Nicole Krauss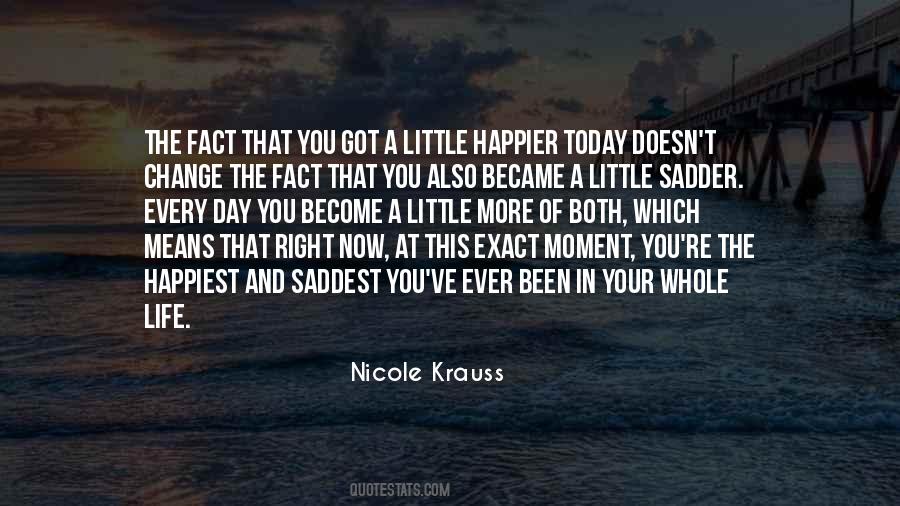 #18. It was called Ending the Pursuit of Happiness, and its author, a man named Barry Magid, argued that the idea of using meditation to make your life 'better' or 'happier', in any conventional sense, was a misunderstanding. - Author: Oliver Burkeman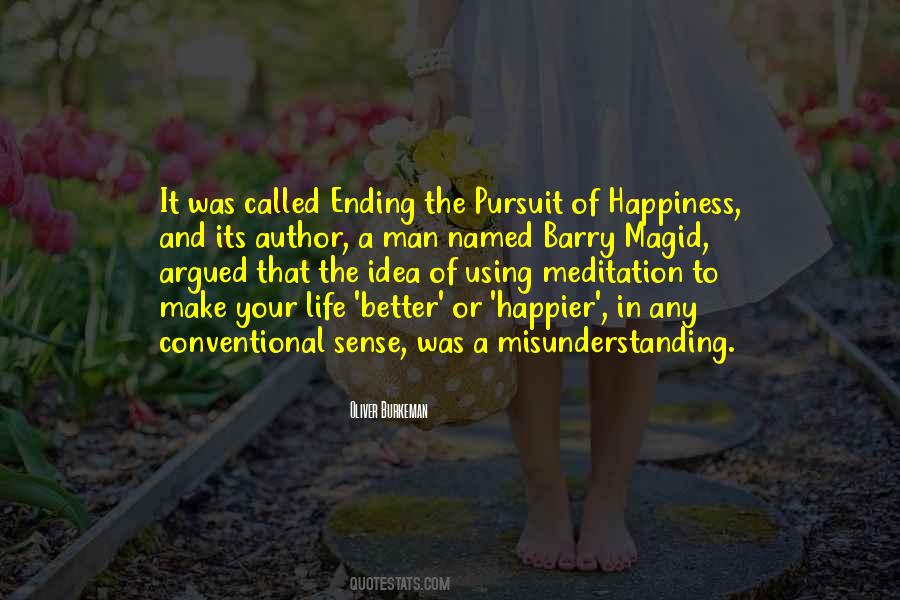 #19. If you take on the martyr/entitlement role, two things are definitely going to happen: you'll be a lot less happier with your life, and you will have a husband not exactly wanting to come home to you. - Author: Laura Schlessinger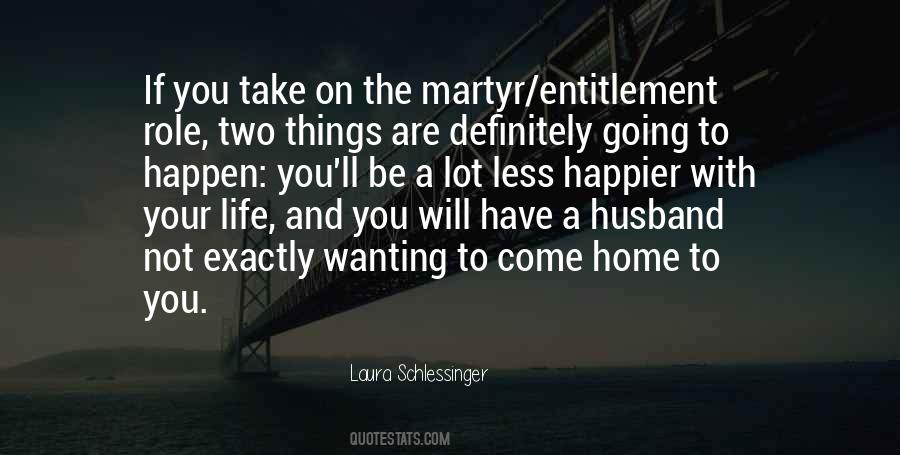 #20. Life hasn't signed a contract with you promising to give you everything you want. It just unfolds in its own mysterious and uncontrollable way. The more you stop resisting the way things are, the happier and more peaceful you'll be. - Author: Jonathan Landaw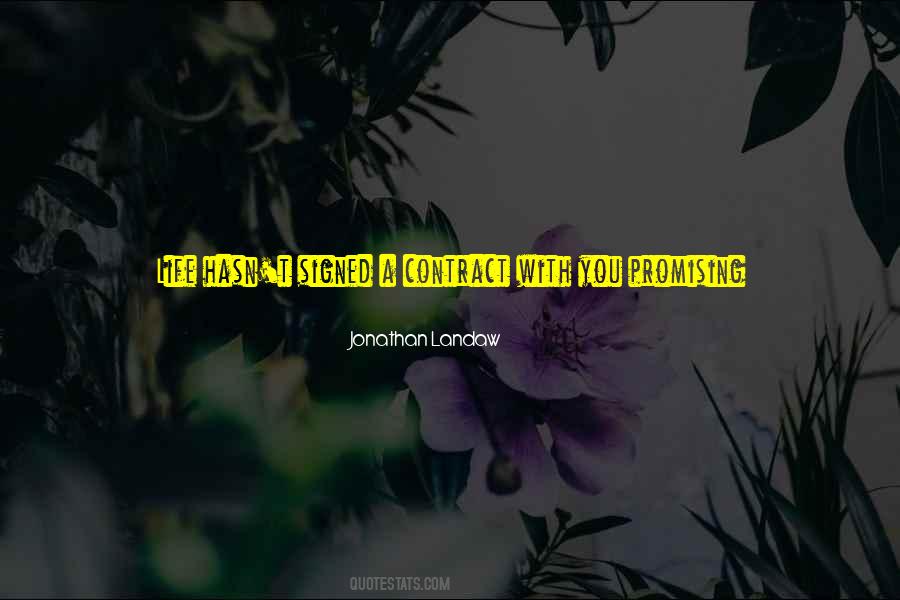 #21. You'll live your life a lot happier if you stop trying to be perfect. Do your best for Jesus. When you fall short, He'll carry you. - Author: Karen Kingsbury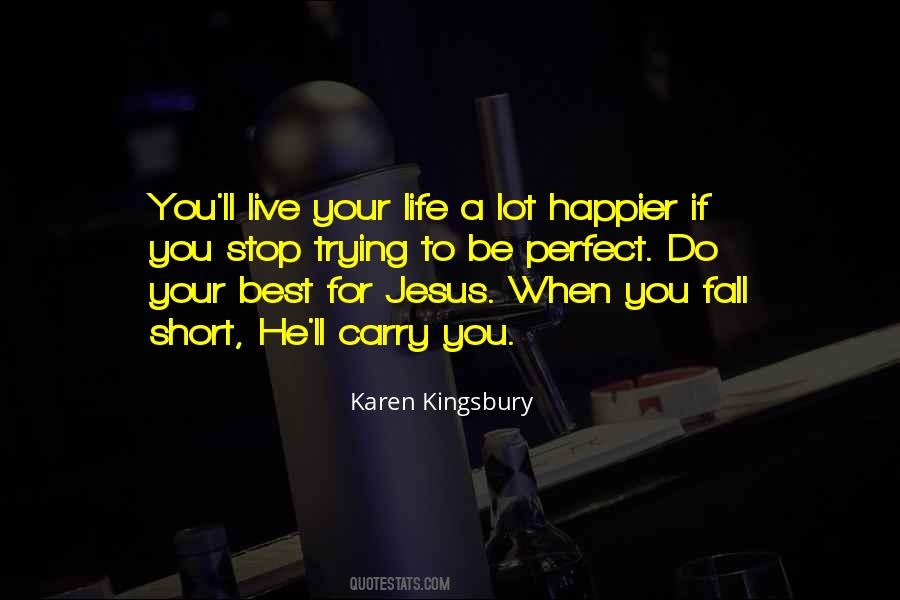 #22. It's all a terrible tragedy. And yet, in it's details, it's great fun. And - apart from the tragedy - I've never felt happier or better in my life than in those days in Belgium. - Author: Rupert Brooke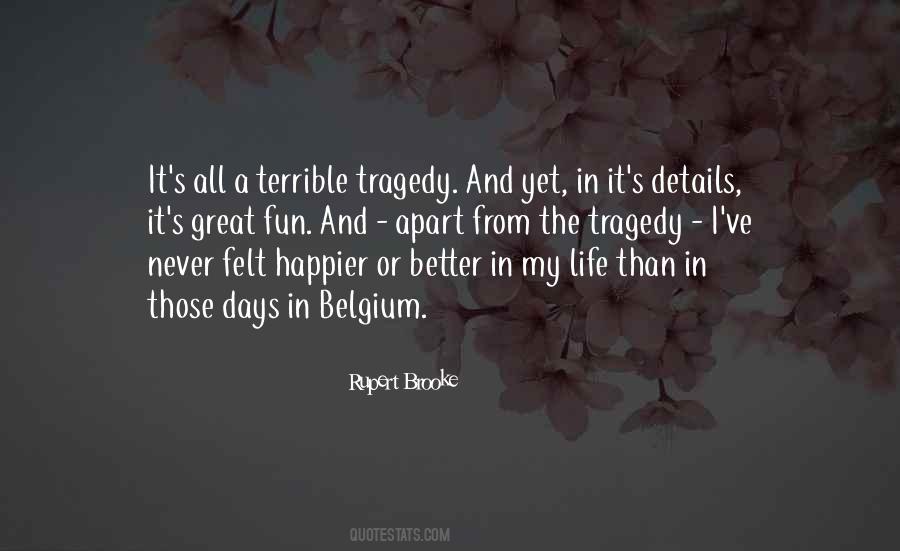 #23. Let's make our existence more joyous, fulfilled and full of positive adventures... Let's add more vivid colors to life in the world around us: making it happier, merrier, easier, healthier, tastier and brighter! Our project is a constant source of inspiration to support these ideas. - Author: Sahara Sanders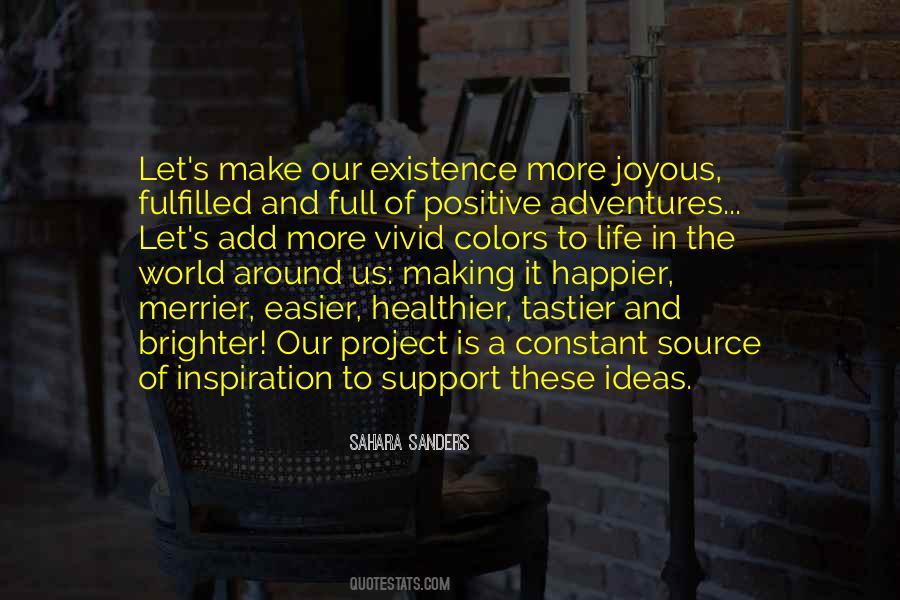 #24. I've always believed fitness is an entry point to help you build that happier, healthier life. When your health is strong, you're capable of taking risks. You'll feel more confident to ask for the promotion. You'll have more energy to be a better mom. You'll feel more deserving of love. - Author: Jillian Michaels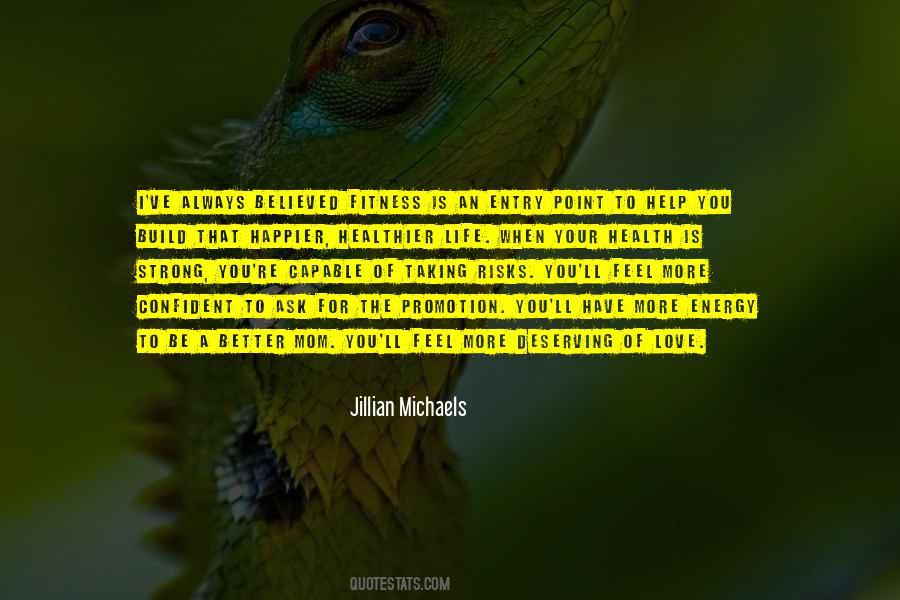 #25. There are scores of people waiting for someone just like us to come along; people who will appreciate our compassion, our encouragement, who will need our unique talents. Someone who will live a happier life merely because we took the time to share what we had to give. - Author: Leo Buscaglia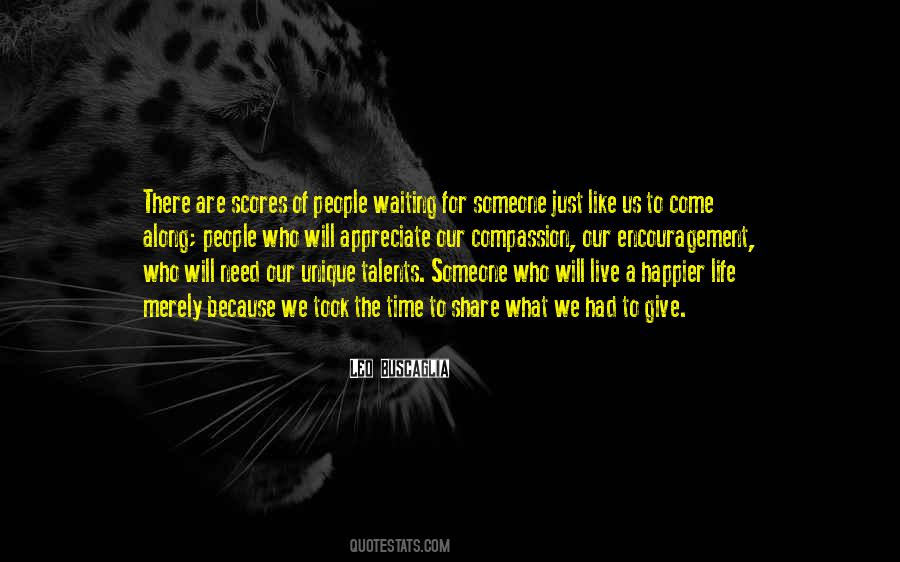 #26. My message is that happiness is the first principle of life. But you must choose it. We all have pain, but suffering is a choice. You can be happier if you make some changes in your life. - Author: Alexandra Stoddard
#27. It is in your power to point the way to a less dangerous and happier life. - Author: L. Ron Hubbard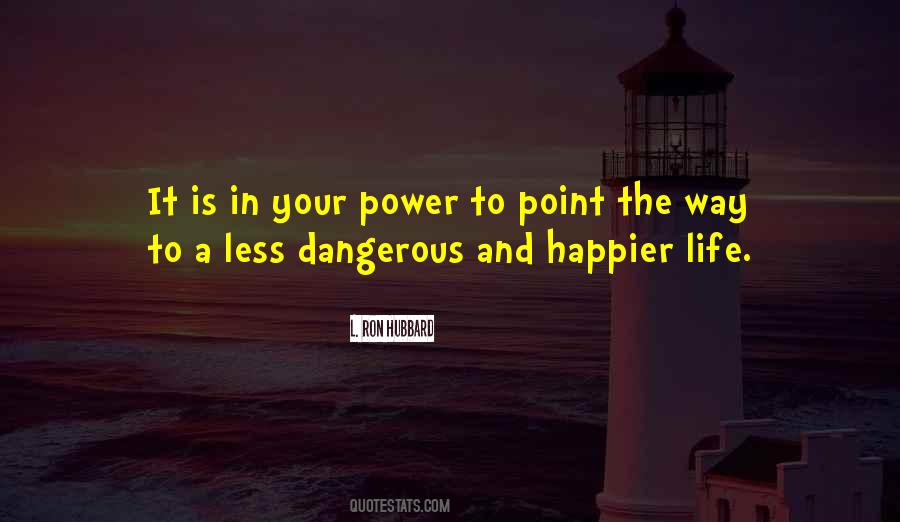 #28. Happy Thursday! Life at work and at home is so much HAPPIER when you speak and act with kindness!! Share a SMILE and make it a great day! - Author: Tracey Edmonds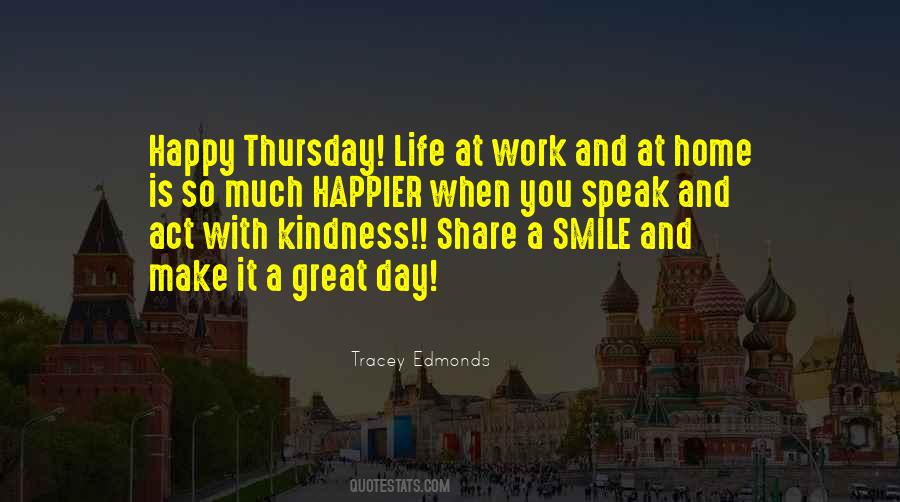 #29. I am sorry too," said Lupin. "Sorry I will never know [my son] ... but he will know why I died and I hope he will understand I was trying to make a world in which he could live a happier life. - Author: J.K. Rowling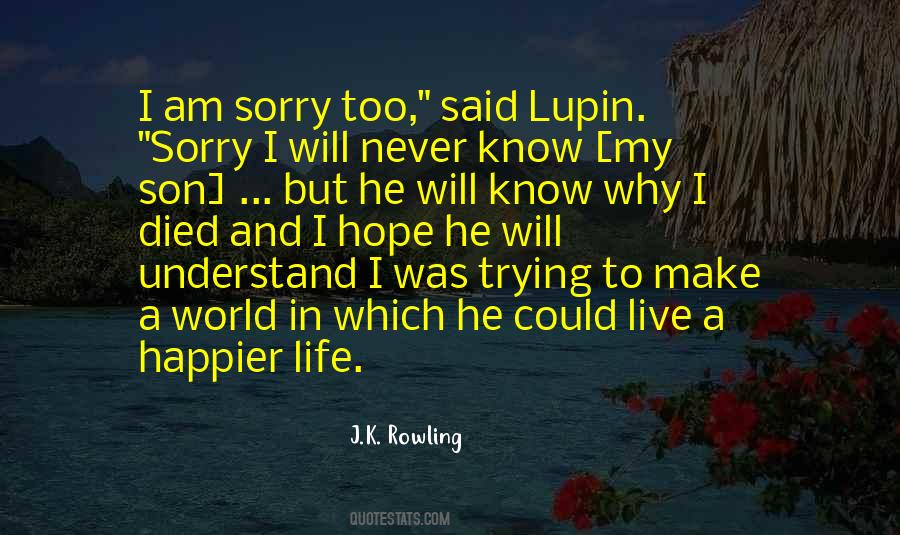 #30. Medication can help us live a happier life. - Author: Carnie Wilson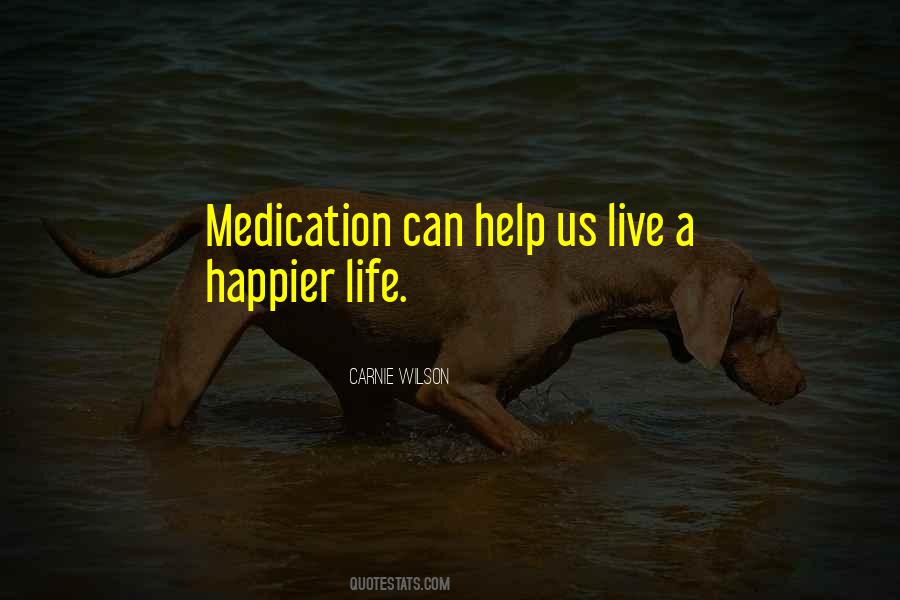 #31. I have to admit I've rarely been happier in my life. I have been absolutely thrilled to be back in New York and living a block from where I grew up. Just to be back in New York and, quite honestly, away from Hollywood has been an absolute thrill for me. I feel like I'm a real actor again. - Author: Richard Schiff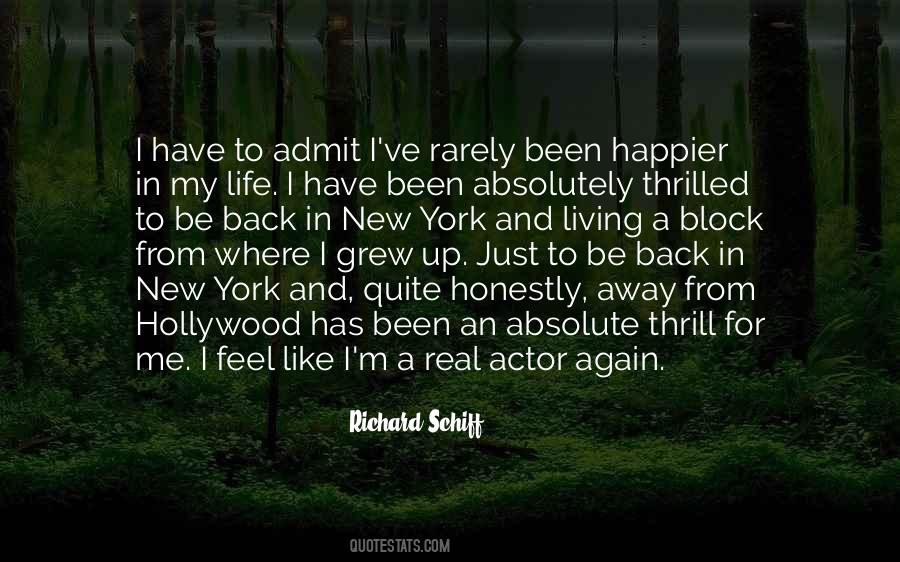 #32. If we give up the notion that everybody's life is perfect but ours, we would be a lot happier. Nobody's life is perfect. - Author: Joy Browne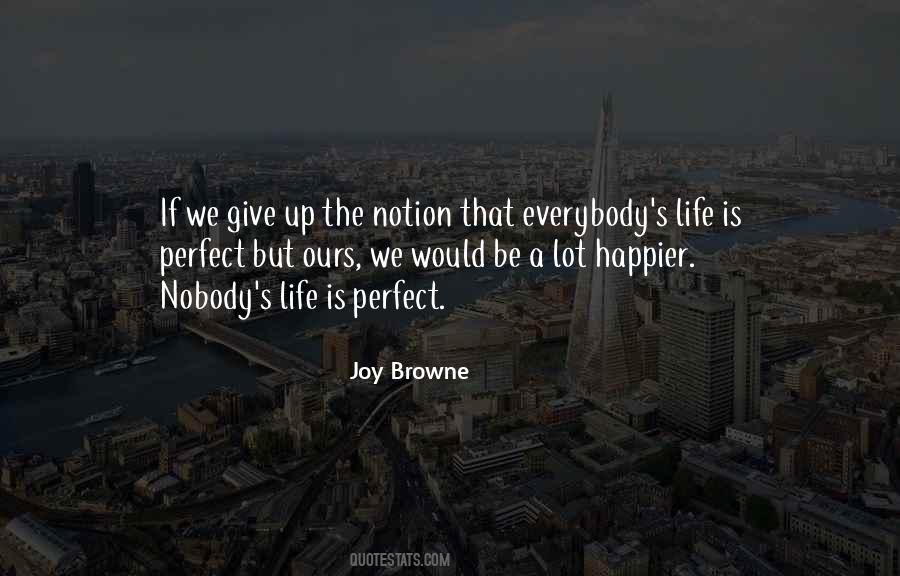 #33. You cannot be successful without passion. If you don't love what you're doing, if you don't have passion for it - forget it. Do something else. You'll be much more successful and you'll lead a lot happier life. - Author: Donald Trump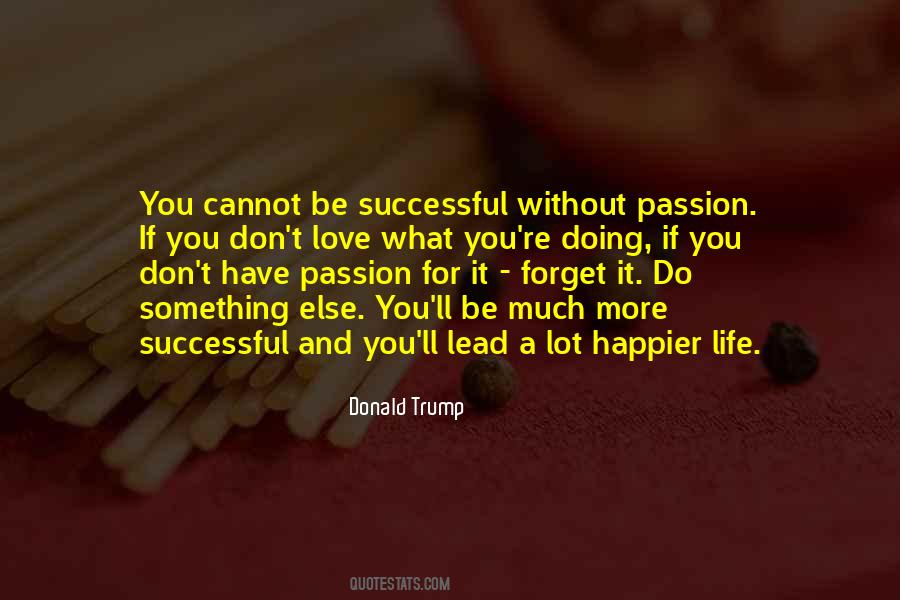 #34. Nothing's changed my life more. I feel better about myself as a person, being conscious and responsible for my actions and I lost weight and my skin cleared up and I got bright eyes and I just became stronger and healthier and happier. Can't think of anything better in the world to be but be vegan. - Author: Alicia Silverstone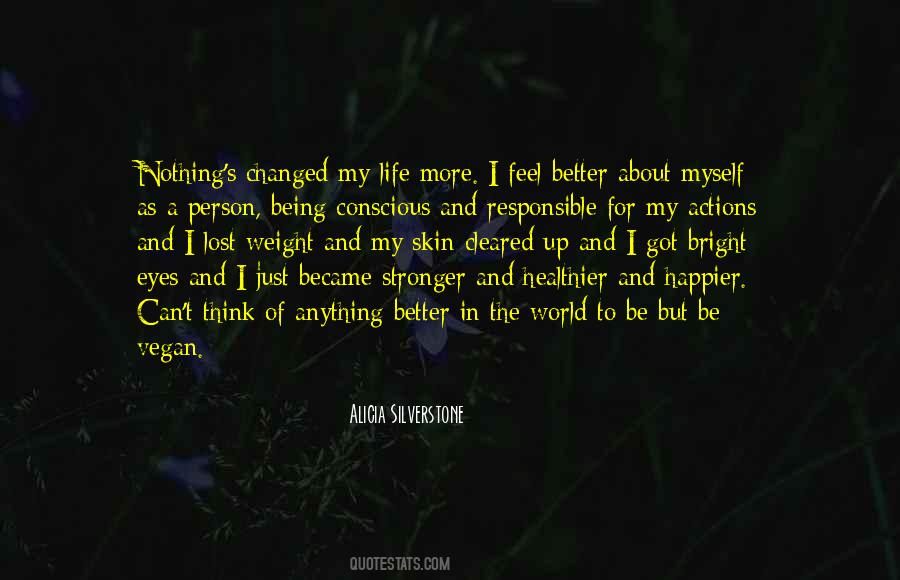 #35. I am afflicted with the power of thought, which is a heavy curse. The less a person thinks and inquires regarding the why and the wherefore and the justice of things, when dragging along through life, the happier it is for him, and doubly, trebly so, for her. - Author: Miles Franklin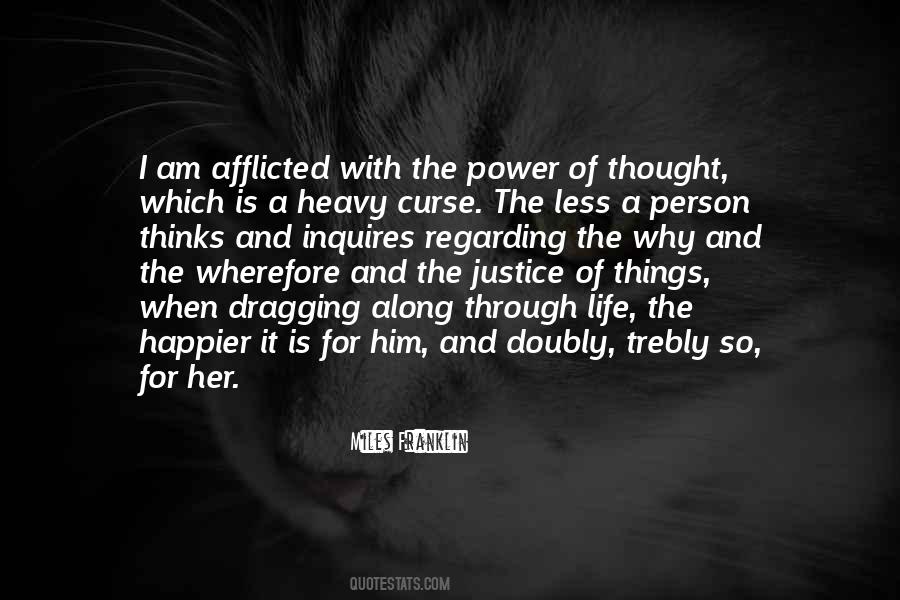 #36. Your customers dream of a happier and better life. Don't move products. Instead, enrich lives. - Author: Steve Jobs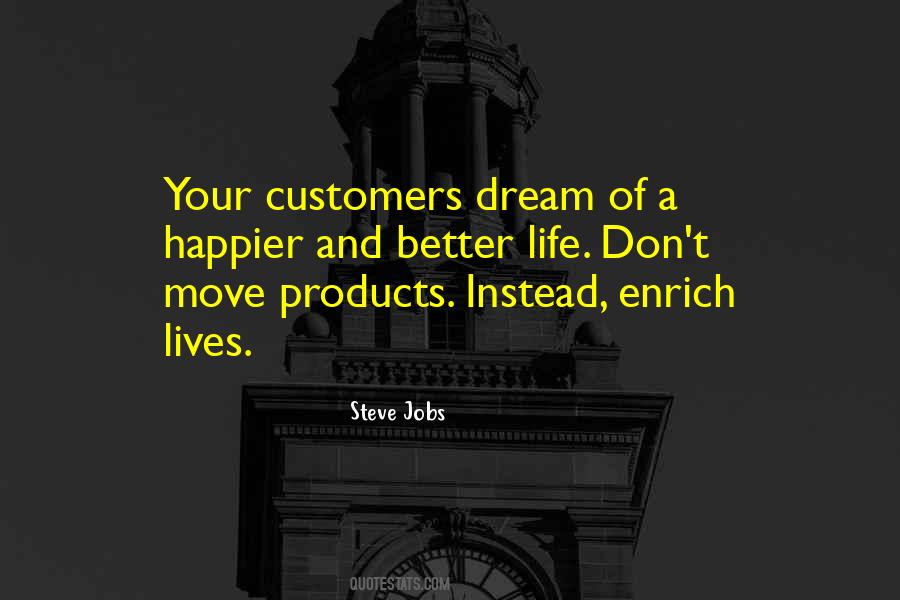 #37. The trick when it comes to dealing with depression is being able to imagine yourself out of it. When you can picture a happier life, you will be determined to work at the things that prevent it from happening. - Author: Keysha Jade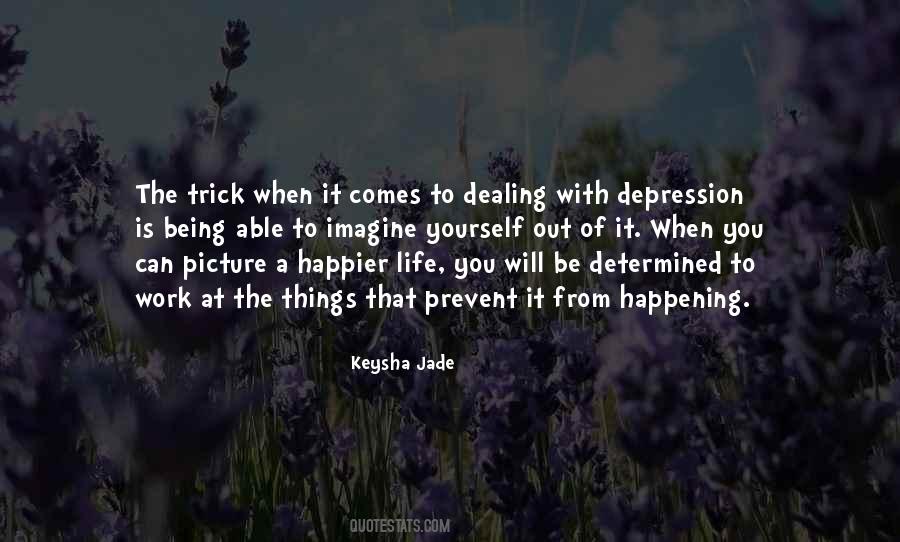 #38. When you have a regime that would be happier in the afterlife than in this life, this is not a regime that is subject to classic theories of deterrence. - Author: John Bolton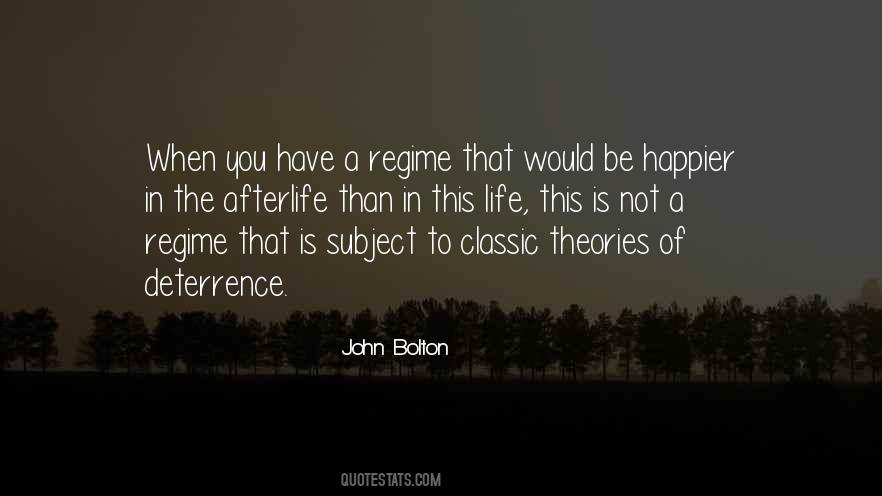 #39. My heart has always leaned towards England, and with the close friendship of Winston [Churchill], the hero who brought hope to the world, I could not imagine a happier life for myself. - Author: Coco Chanel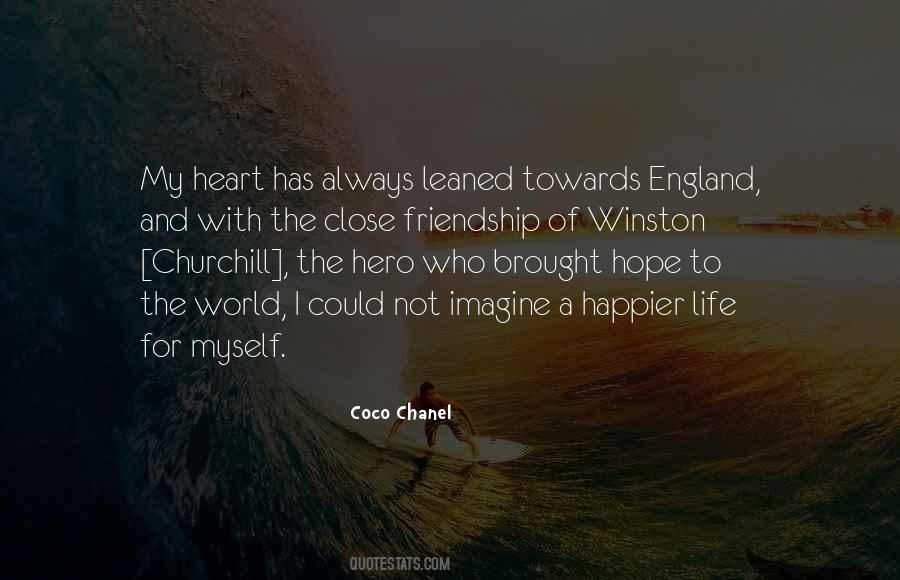 #40. Never stop dreaming of moonbeams and fairy dust, shiny stars and the wonder of the heavens, a happier life and a better world. - Author: James Gormley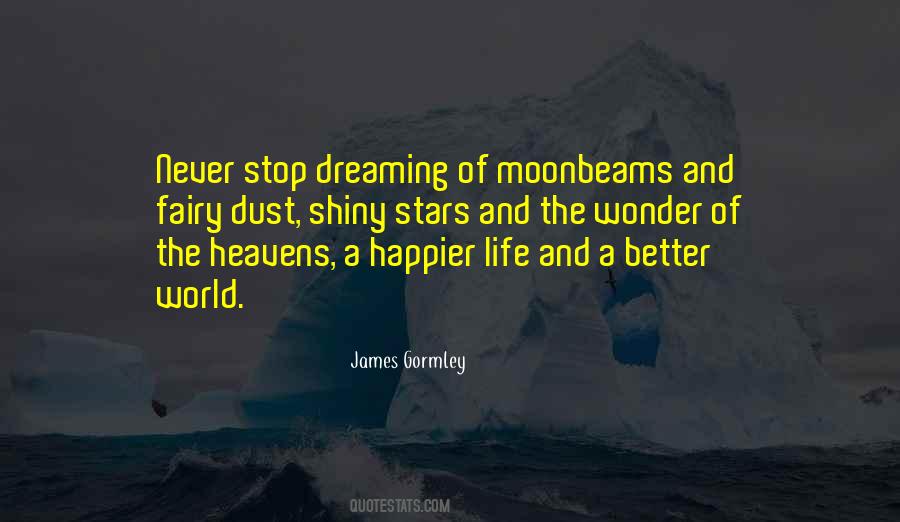 #41. Pain is a part of life. I hated that fact. I would be much happier without it but then it wouldn't be my life. - Author: E.J. Harington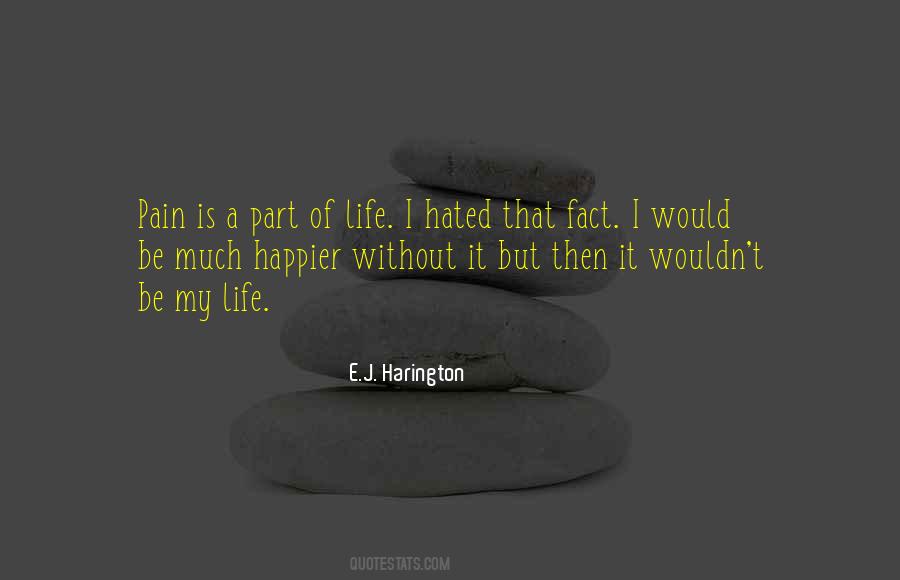 #42. The social media maven spends his or her time creating a self-caricature, a much happier and more photogenic version of real life. People subtly start comparing themselves to other people's highlight reels, - Author: David Brooks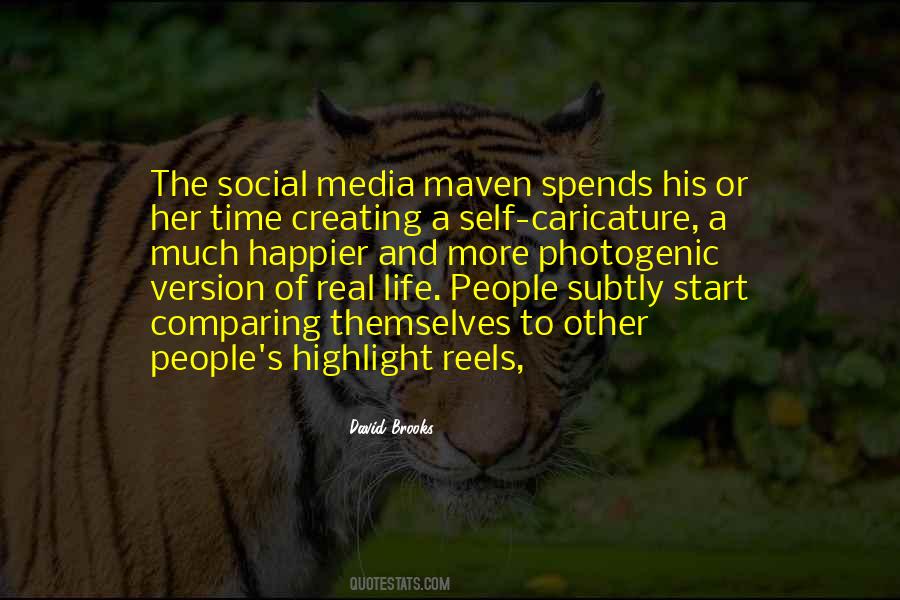 #43. You create what you speak. So, speak a better world.
Speak a happier and more loving life. Speak your
despair and let it lead you back to your truth. - Author: Rachel C. Weingarten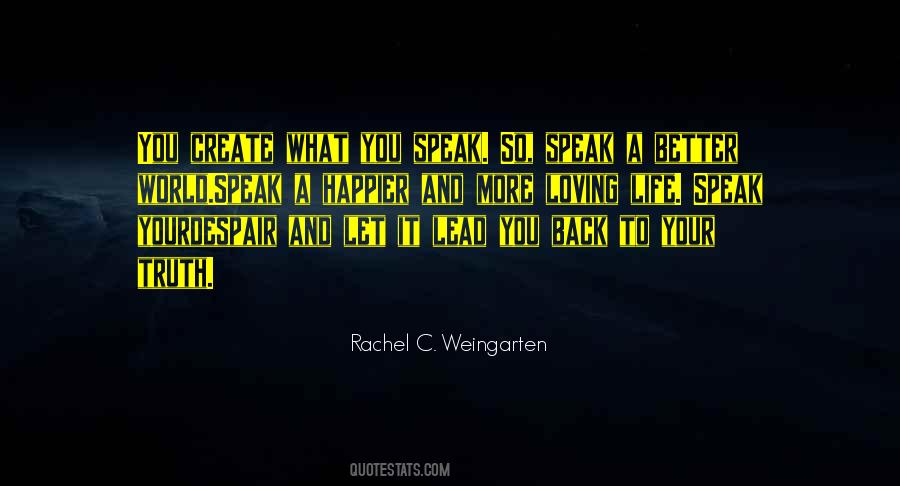 #44. Your problem + It Could Be Worse = Gratitude
In all that you are going through learn to put
IT COULD BE WORSE at the end of your problems. You will start leaving a brighter and happier life ... when you do. - Author: Timothy Pina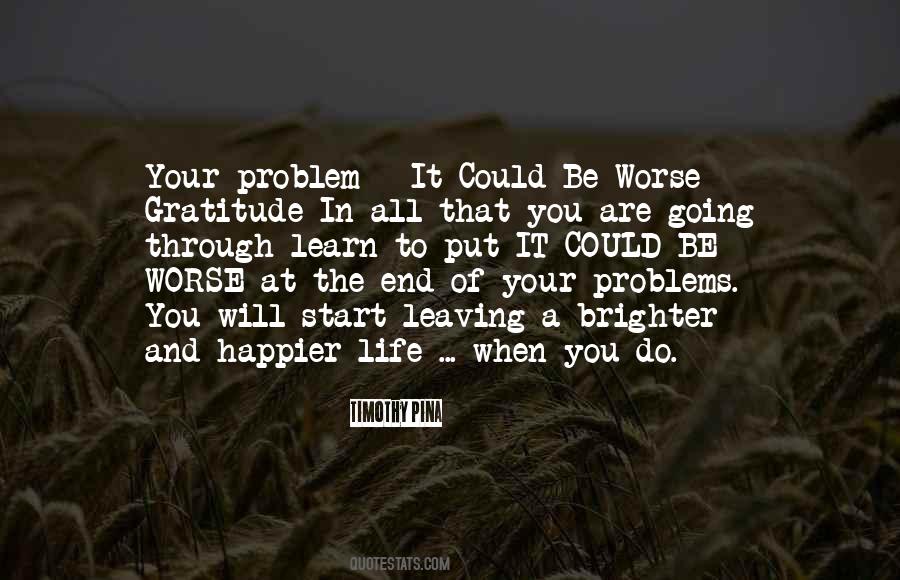 #45. I grew up without a father, who was kept a mystery to me. There was a sense of uprootedness, things being one day here and the next day not; a sense anything could happen. Then, all of a sudden, my mother met my stepfather, and her life became happier, and my life changed, my name changed. - Author: John Irving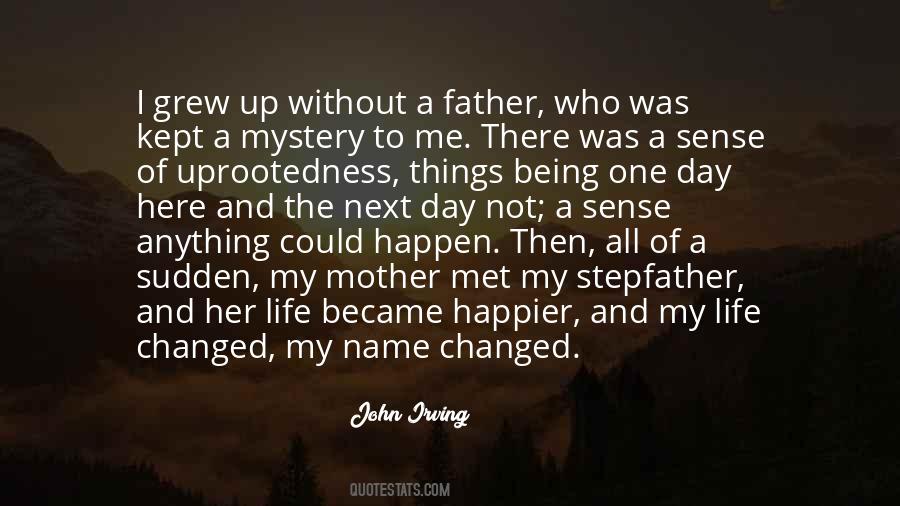 #46. Beer may cause you to digress - and lead a happier life. - Author: Michael Jackson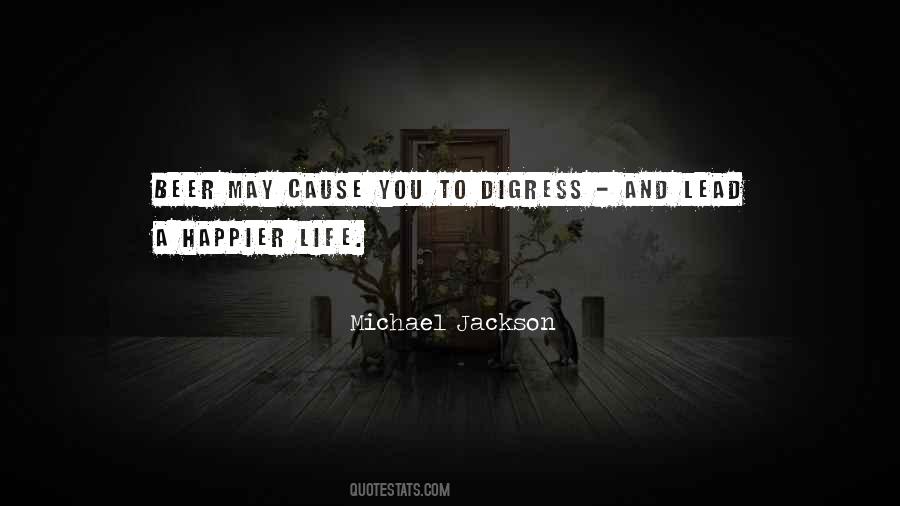 #47. Kindness is essential to mental peace. As you will see in the pages ahead, the central method for achieving a happier life is to train your mind in a daily practice that weakens negative attitudes and strengthens positive ones. - Author: Dalai Lama XIV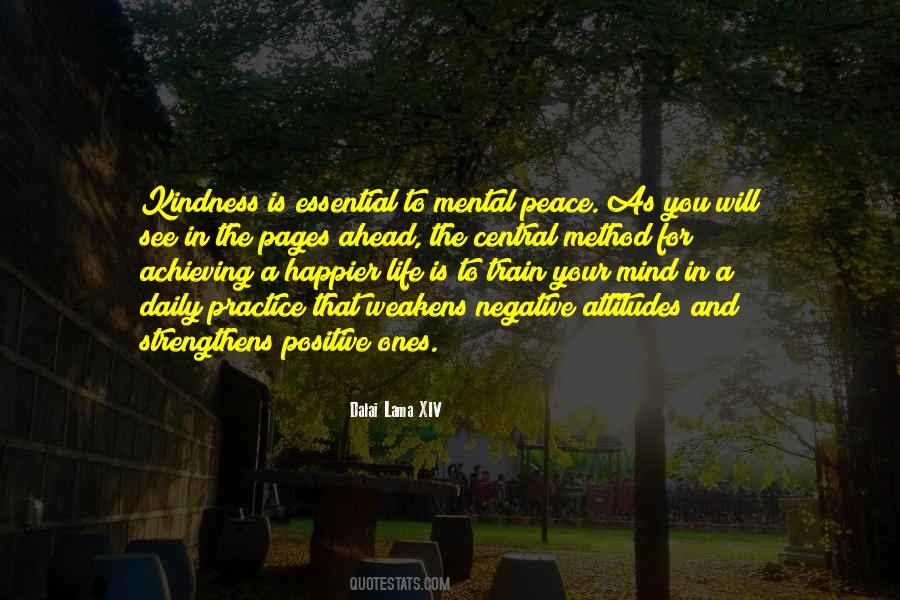 #48. Every life has peaks and shadows and times when it seems that the birds don't sing and bells don't ring. Yet in spite of discouragement and adversity, those who are happiest seem to have a way of learning from difficult times, becoming stronger, wiser, and happier as a result. - Author: Joseph B. Wirthlin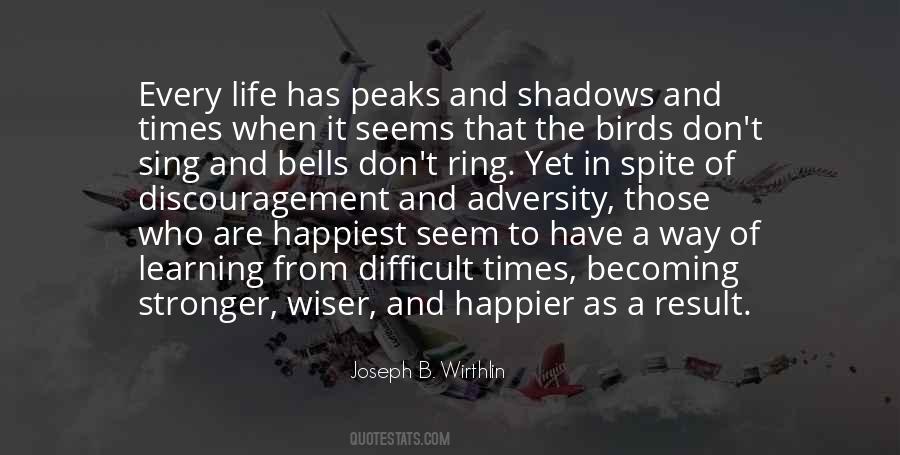 #49. What do you mean, Araluen? Death?"
Halt made a careless gesture. "The usual, I suppose: the sudden cessation of life. The end of it all. Departure for a happier place. Or oblivion, depending upon your personal beliefs. - Author: John Flanagan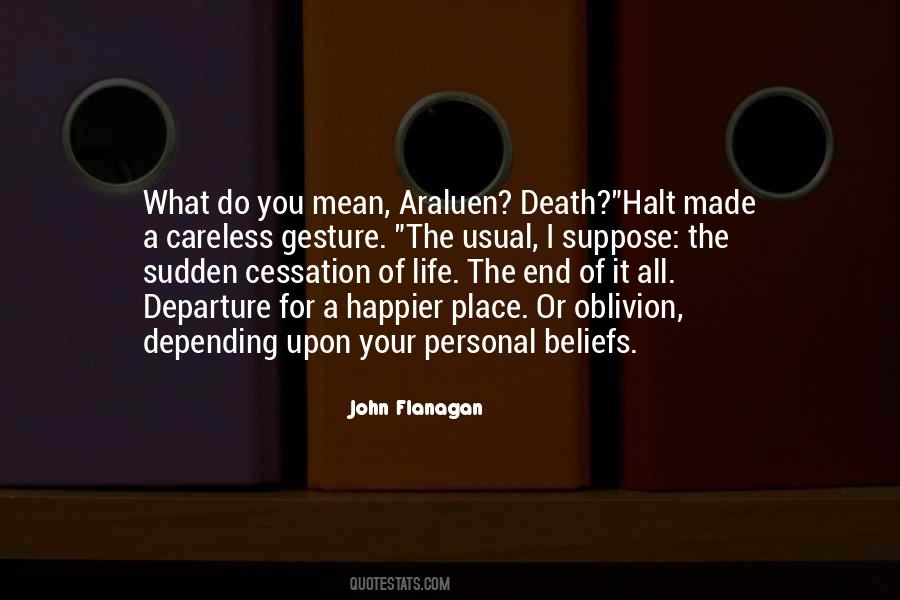 #50. When people can afford necessities in life, an increase in income dones not result in a significantly happier life. - Author: Richard Wiseman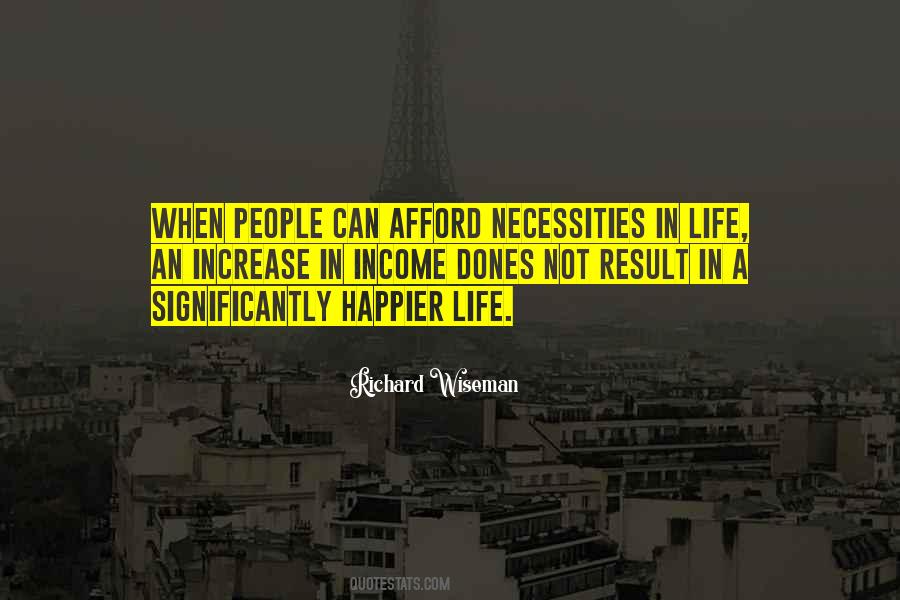 #51. My life may be much happier to-morrowHunger and love that press against the body,The two eternal needs we recognise,Desires that so relentlessly pursue one,May get me down or raise me to the skiesAnd make me a Don Bradman or Don Juan. - Author: Gavin Ewart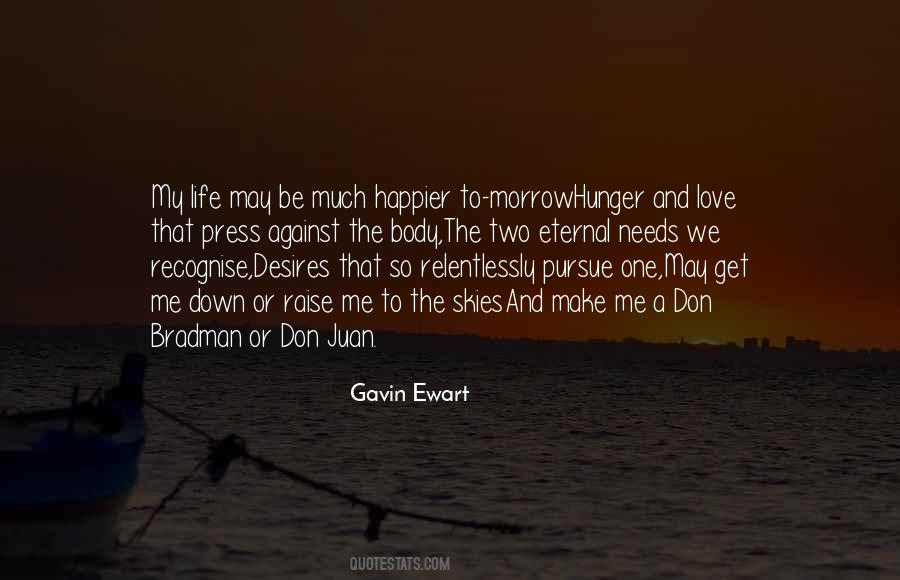 #52. We hope to help you discover Your Self; inspire you to live more passionate and sensitive life; helping you listen to your Soul, finding your-own space in this matrix of life, making a genuine contribution to humanity. - Author: Natasa Nuit Pantovic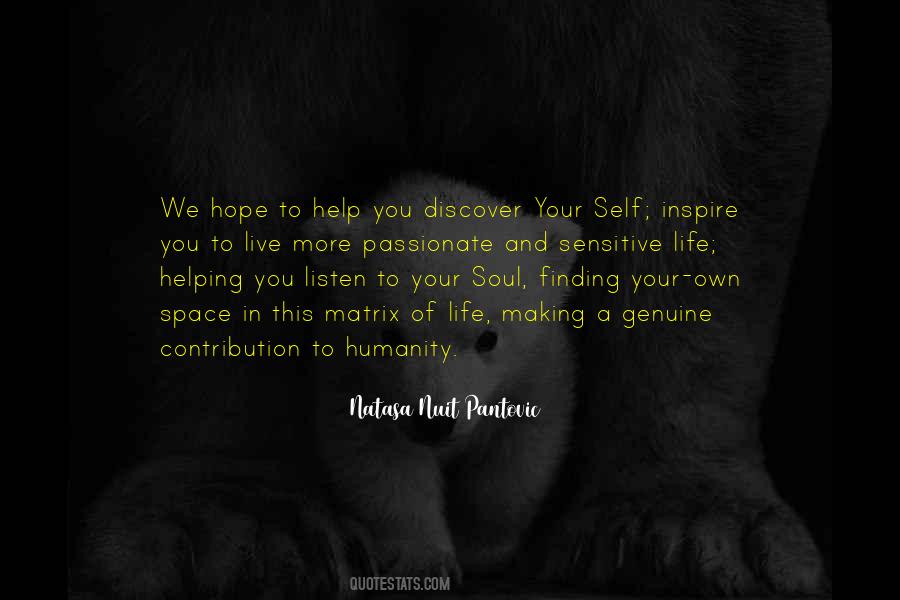 #53. He himself feels happier at this moment than he remembers he ever did in his life. The woman in front of him, who loves everything with or without a good reason, seems happy, too. - Author: Yiyun Li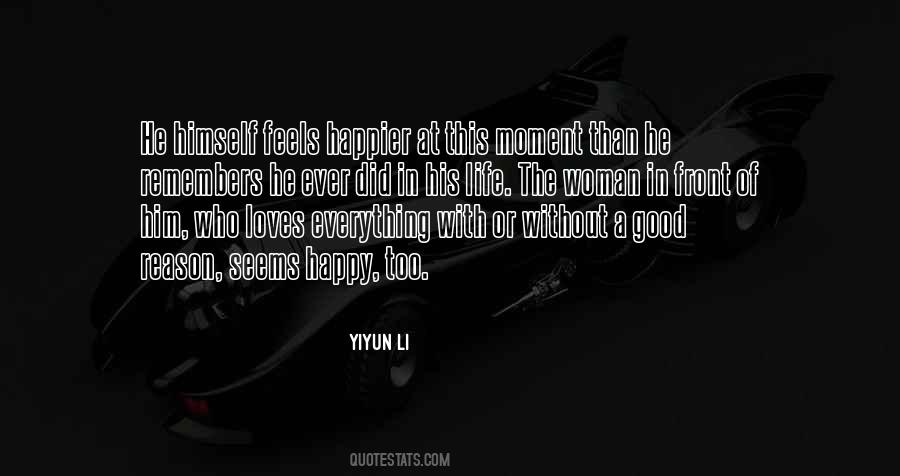 #54. Never settle on a life you don't want when God is trying to give you a better life. - Author: Shannon L. Alder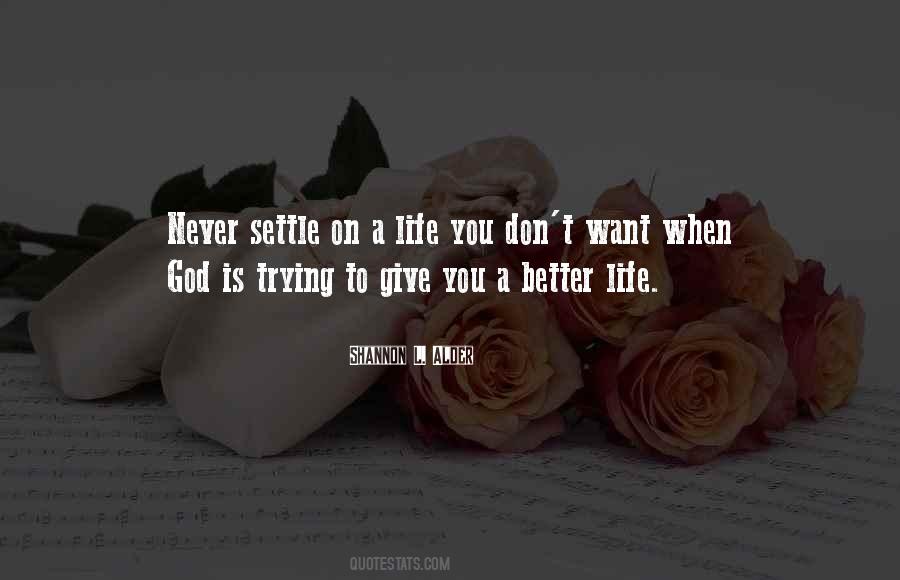 #55. Since periods of great change, such as the present one, come so rarely in human history, it is up to each of us to make the best use of our time to help create a happier world. - Author: Dalai Lama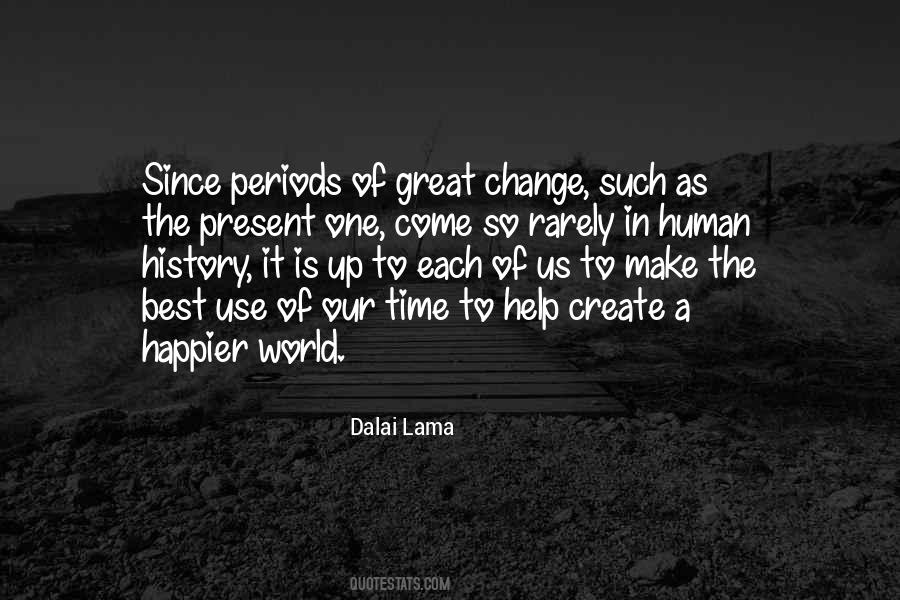 #56. When I'm on a roll nothing makes me happier or feel more satisfied, like plugging in, life makes sense. - Author: Beth Orton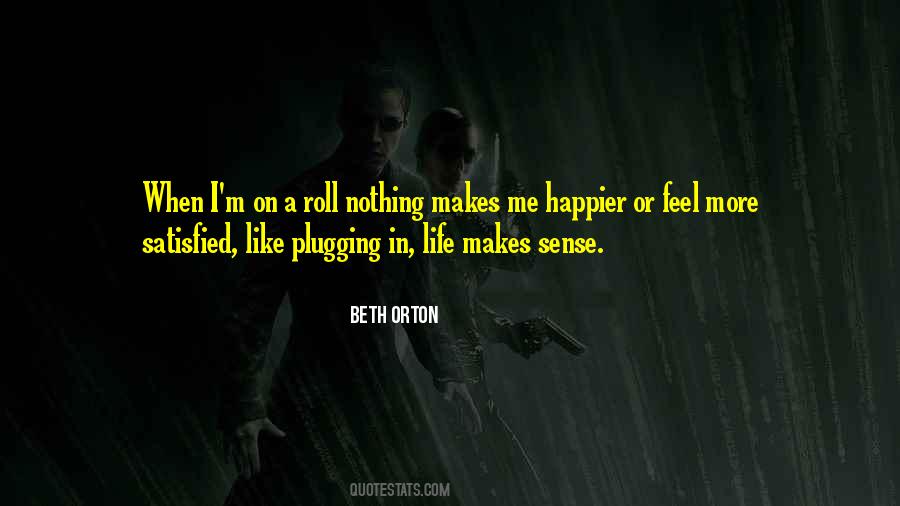 #57. ... Repentance is ever the key to a better, happier life. All of us need it. - Author: Spencer W. Kimball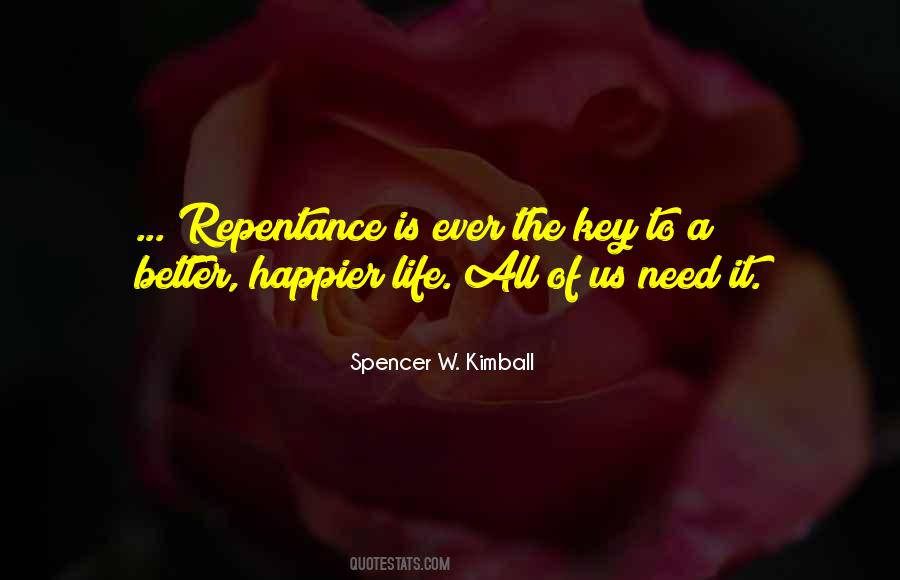 #58. Forgive and forget, but never forget to forgive. You may find a happier heart is the key to a happier life. - Author: Mahatma Gandhi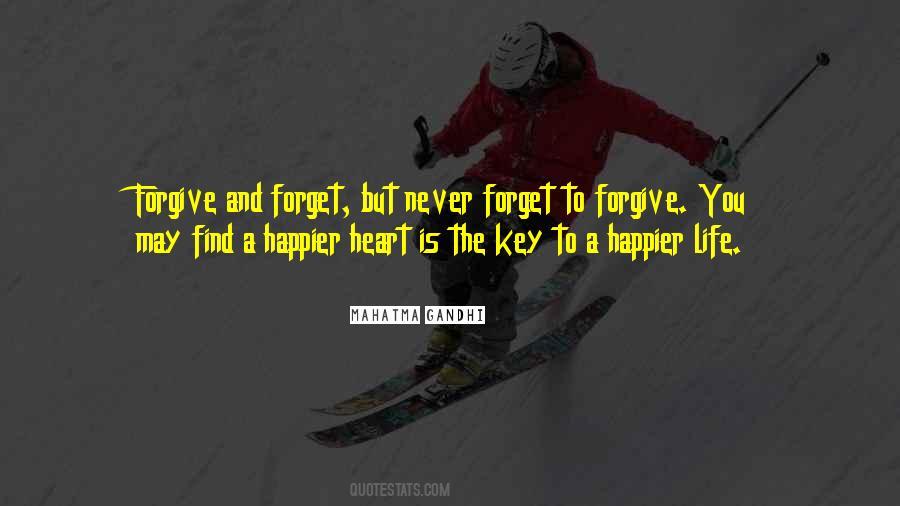 #59. First rule of motherhood, dearie: men are screw-ups. Learn it now and you'll be a whole lot happier. - Author: Neal Shusterman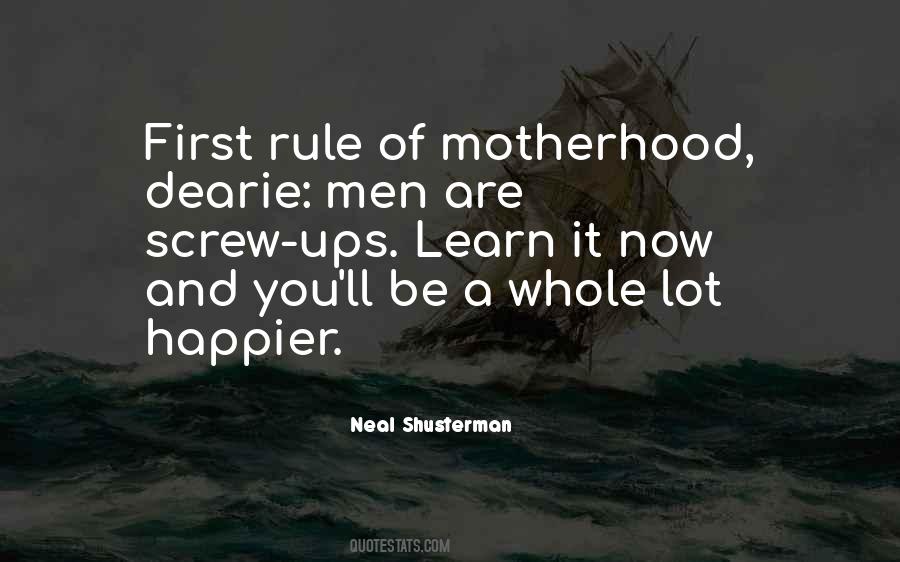 #60. 5 rules to live a happier life: 1) Love yourself. 2) Do good. 3) Always forgive. 4) Harm no one. 5) Be positive. - Author: Ziad K. Abdelnour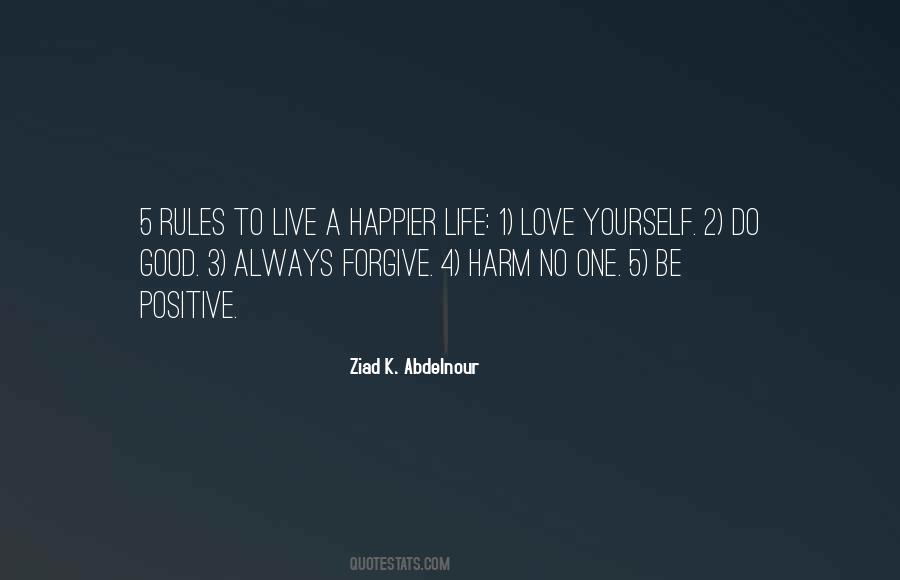 #61. The fact that a believer is happier than a skeptic is no more to the point than the fact that a drunken man is happier than a sober one. The happiness of credulity is a cheap and dangerous quality of happiness, and by no means a necessity of life. - Author: George Bernard Shaw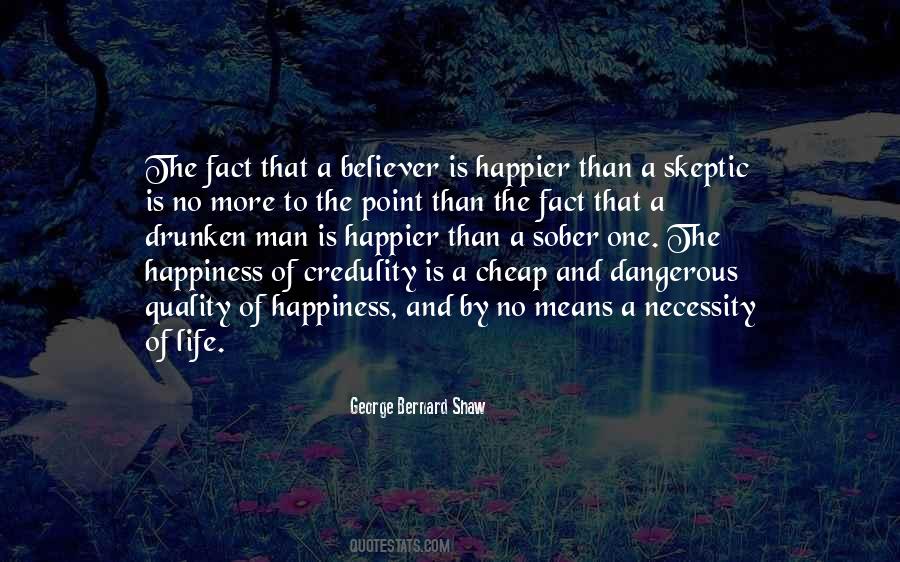 #62. I must be right. Never an aspirin. Never injured a day in my life. The whole country, the whole world, should be doing my exercises. They'd be happier. - Author: Joseph Pilates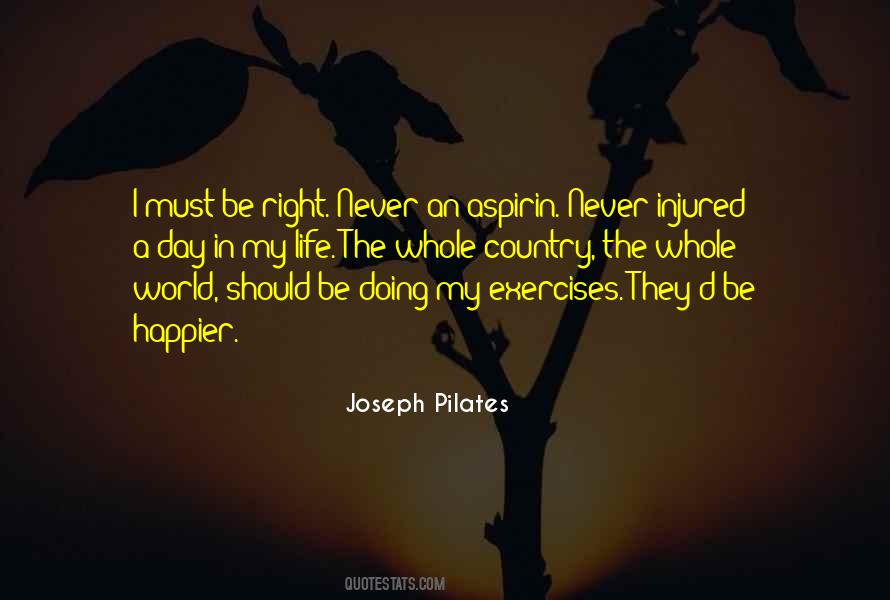 #63. The more we express thanks, the more gratitude we feel. The more gratitude we feel, the more we express thanks. It's circular, and it leads to a happier life. - Author: Steve Goodier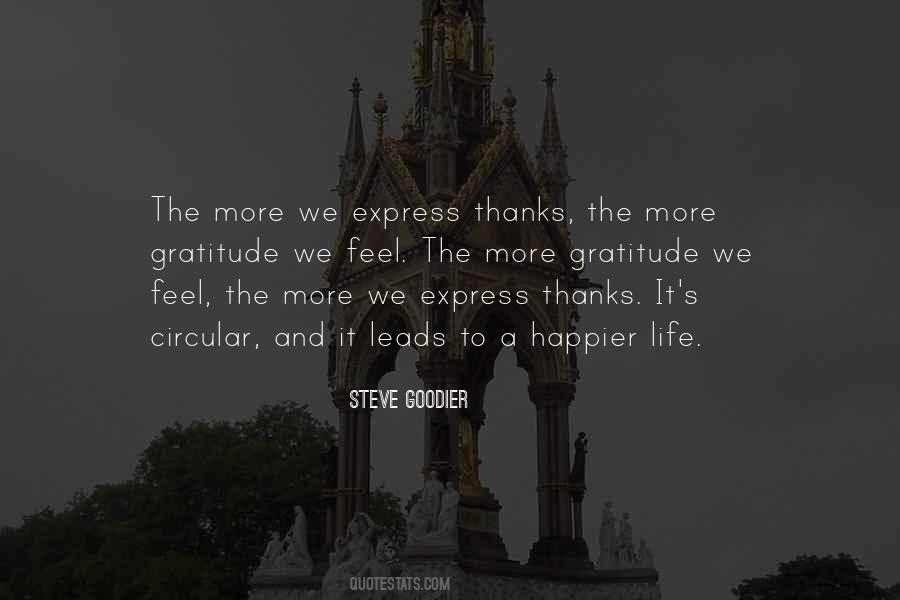 #64. It's like a rule of life that yer automatically happier when you don't gotta worry about something. - Author: Patrick Ness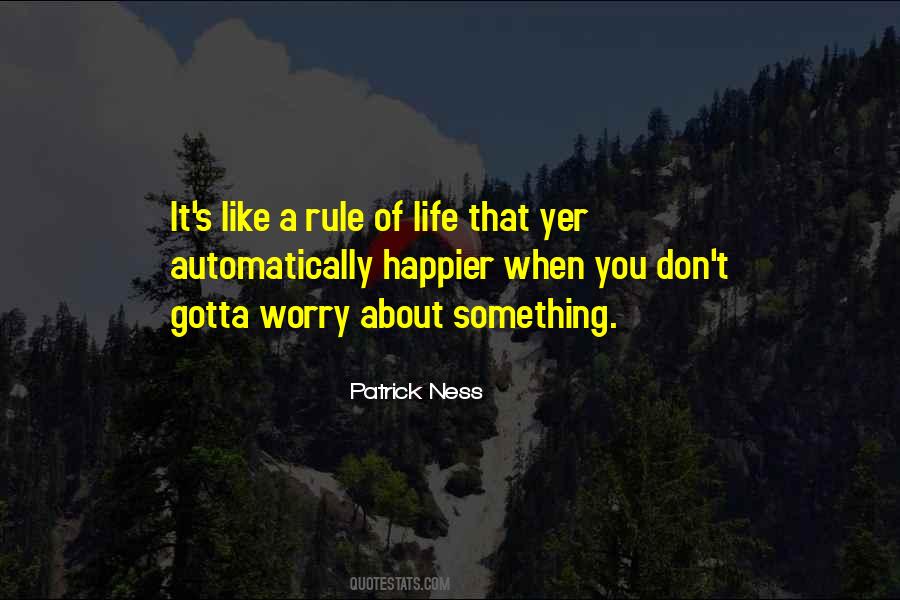 #65. Friends are as companions on a journey, who ought to aid each other to persevere in the road to a happier life. - Author: Pythagoras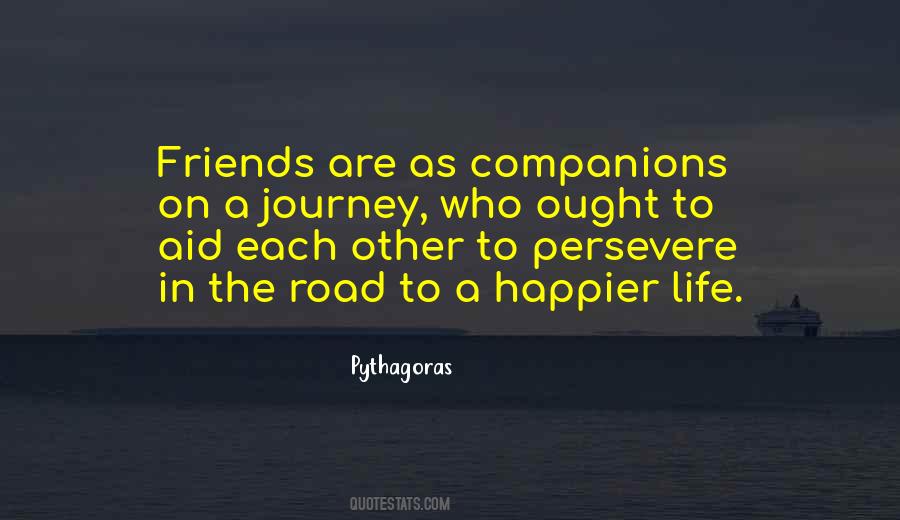 #66. Life's like a book: What matters is the hook.
Be it short or long, just live it strong.
Whether it's five stars, or how near or far, just soar! - Author: Ana Claudia Antunes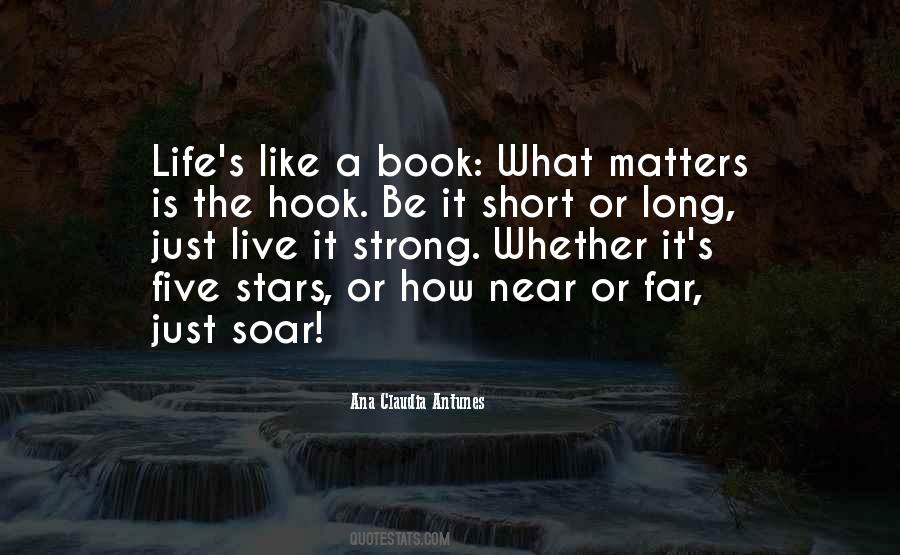 #67. Maybe they were onto something in Six. Drug yourself out and paint flowers on your body. Not such a bad life. Seemed happier than the rest of us, anyway. - Author: Suzanne Collins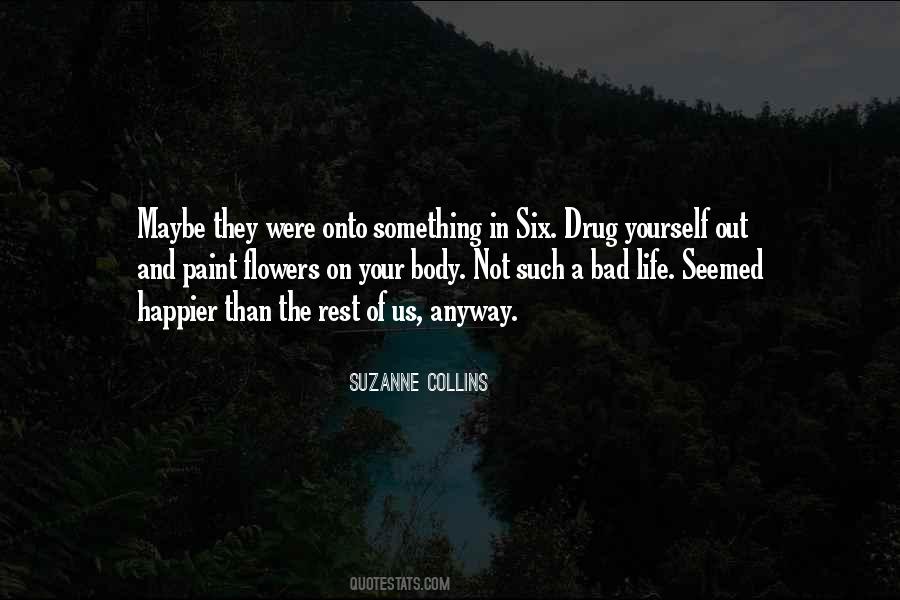 #68. We should amuse our evening hours of life in cultivating the tender plants, and bringing them to perfection, before they are transplanted to a happier clime. - Author: George Washington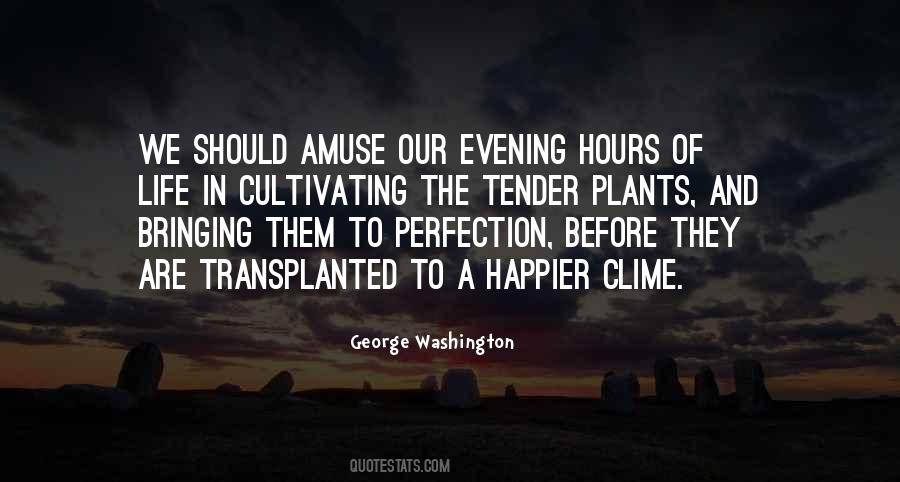 #69. So, maybe we need to let go of solutions for a while and look instead at how we're trying to reach them. If simply striving for a happier life were the answer, wouldn't it have worked by now? - Author: Ed Halliwell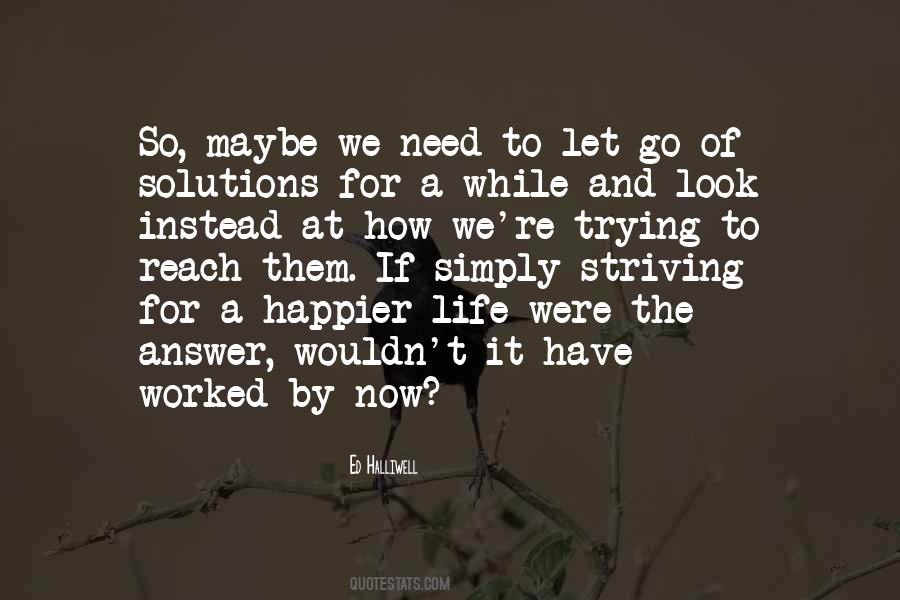 #70. I don't know what any individual should do about crossing her own borders. I only know that I live a happier, more adventurous life, by crossing borders. - Author: Sherman Alexie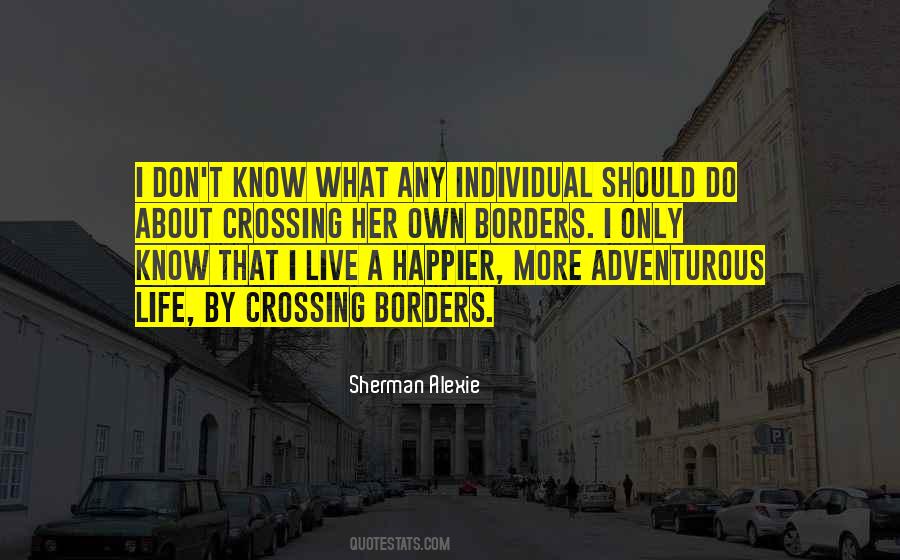 #71. The tragedy is that every brain cell devoted to belief in the supernatural is a brain cell one cannot use to make life richer or easier or happier. - Author: Kay Nolte Smith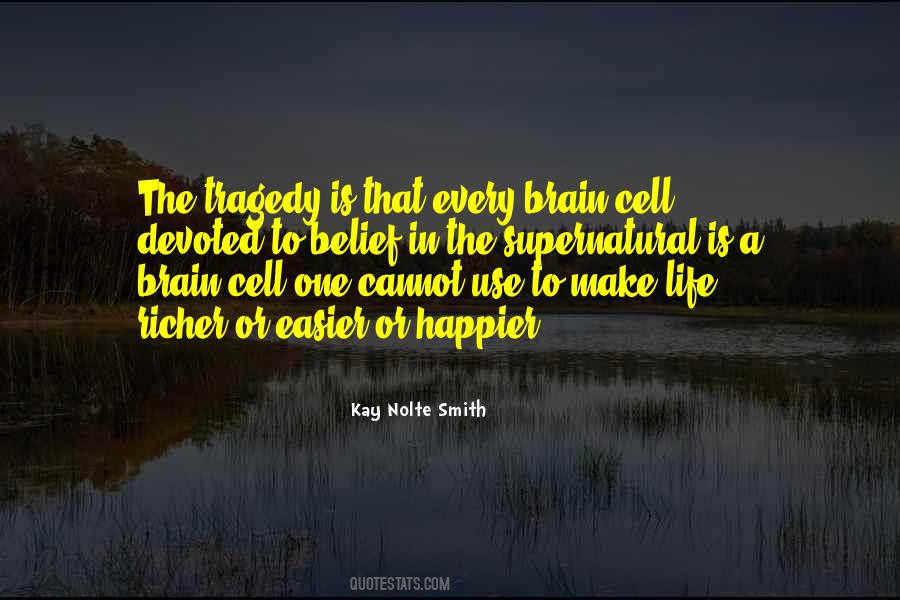 #72. I am a firm believer in eating a full plant-based, whole food diet that can expand your life length and make you an all-around happier person. It is tricky dining out, but I just stick to what I know - veggies, fruit and salad - then when I get home I'll have something else. - Author: Ariana Grande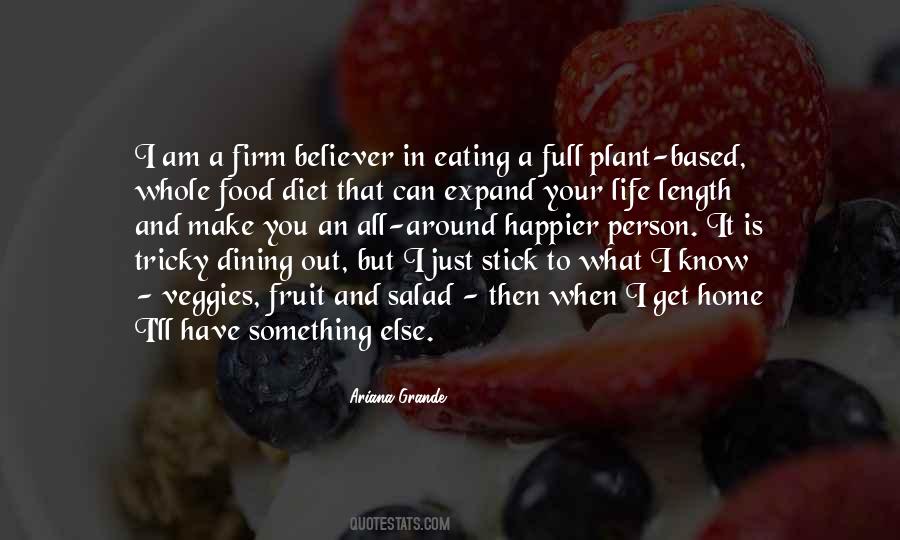 #73. I sat on that crowded bus, I grasped two things: I wasn't as happy as I could be, and my life wasn't going to change unless I made it change. In that single moment, with that realization, I decided to dedicate a year to trying to be happier. - Author: Gretchen Rubin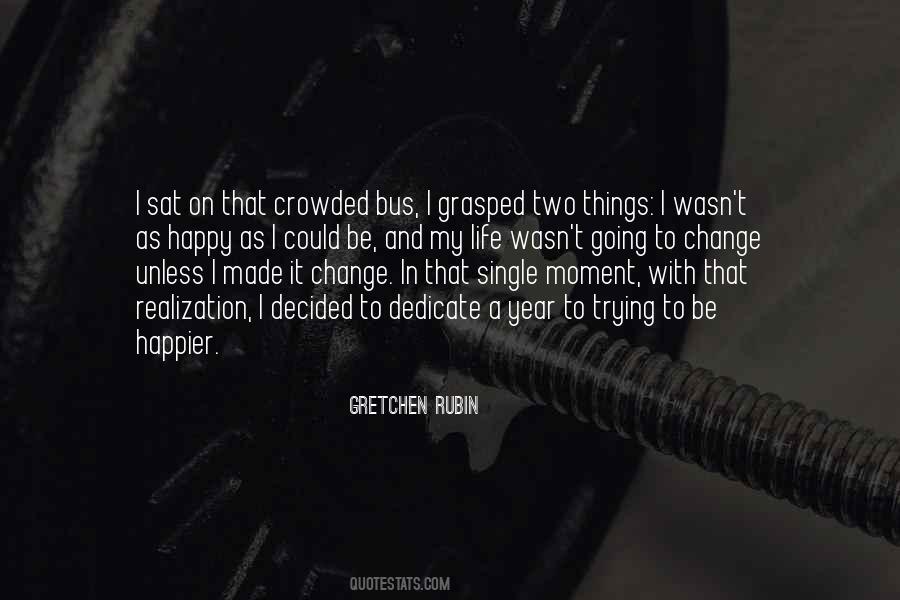 #74. You never know when, and you never know who, but someday a stranger will burst through the door of your life and transform it utterly. The world will be turned upside down, and you will be happier for it. - Author: Cassandra Clare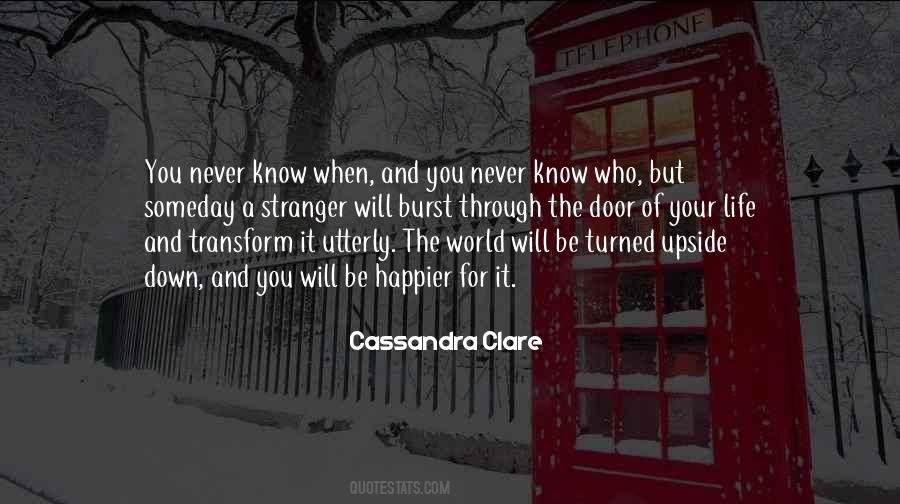 #75. The unselfish effort to bring cheer to others will be the beginning of a happier life for ourselves. - Author: Helen Keller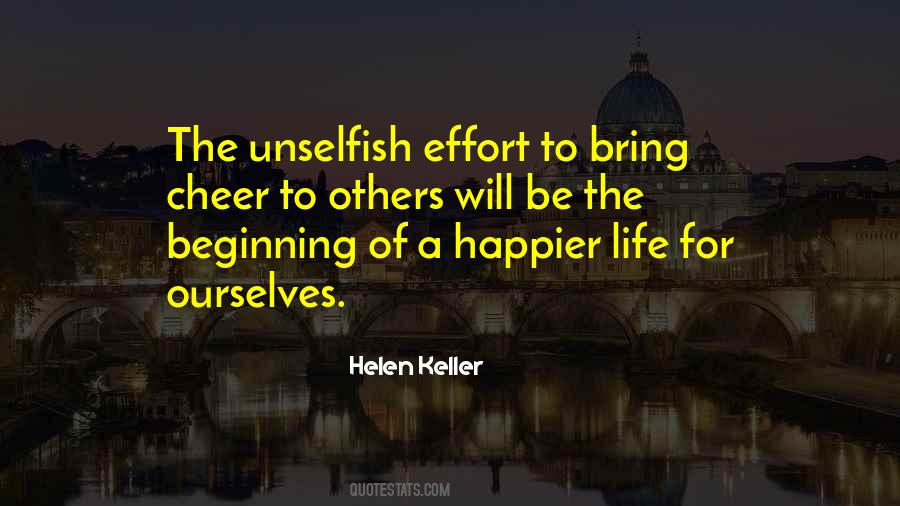 #76. Happy the mother who bears, happier still the biographer who records the life of such a one! - Author: Virginia Woolf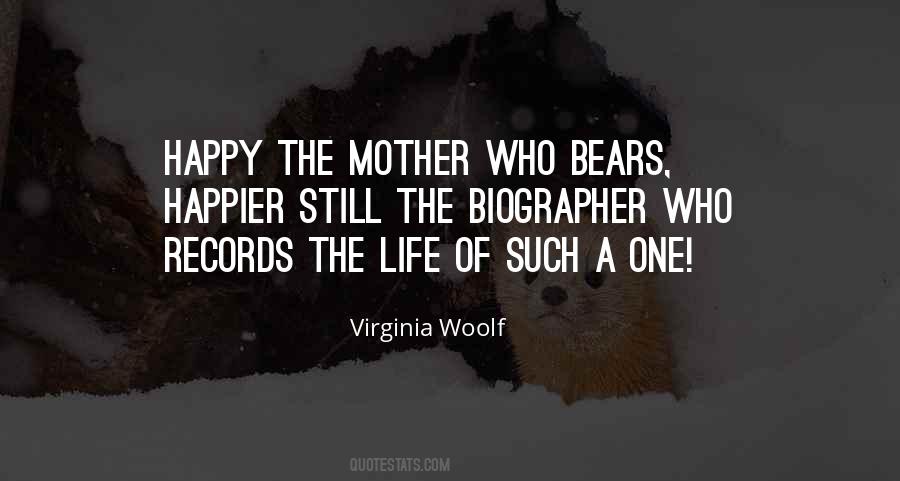 #77. I've reached a point in my life where it's the little things that matter ... I was always a rebel and probably could have got much farther had I changed my attitude. But when you think about it, I got pretty far without changing attitudes. I'm happier with that. - Author: Veronica Lake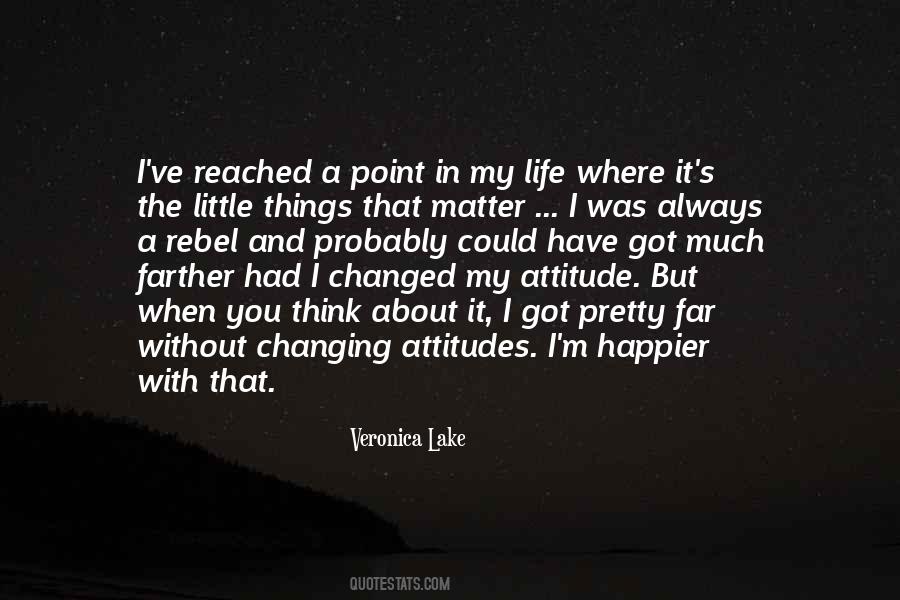 #78. You do well to wish to learn our arts and ways of life, and above all, the religion of Jesus Christ. These will make you a greater and happier people than you are. Congress will do every thing they can to assist you in this wise intention ... - Author: George Washington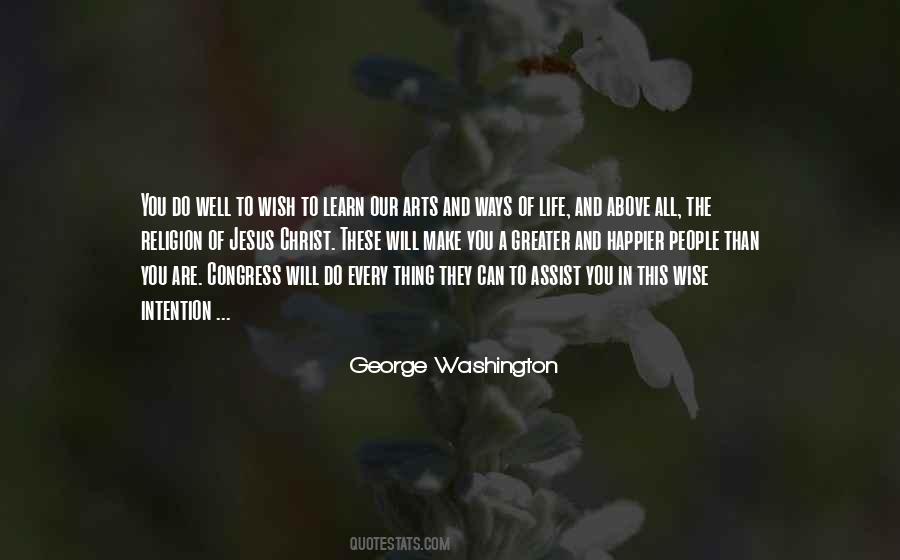 #79. It's your body and you're going to have a much better life, you are going to have a quality life, better lifestyle, you're going to be healthier, you're going to be happier, you're going to enjoy the people around you and they're going to enjoy you more. - Author: Mike Ditka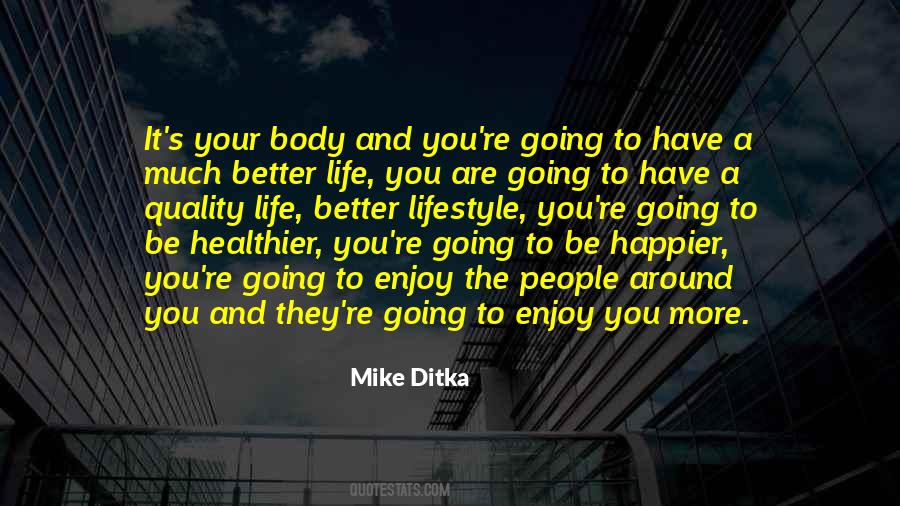 #80. High trees cast long shadows. The happier and more blessed a woman's life is, the more duz she feel for them that are less blessed than she. - Author: Marietta Holley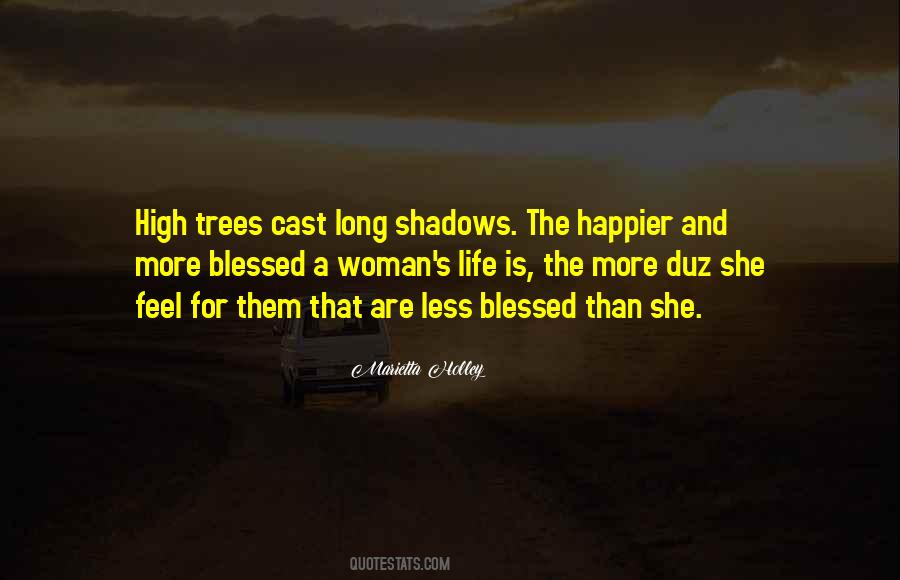 #81. We all want to be happier, more financially secure and to experience more rewarding relationships. We all dream of making something more of our lives. A mountain trail is a terrific place to make our biggest, boldest, brightest dreams come true. - Author: Toni Sorenson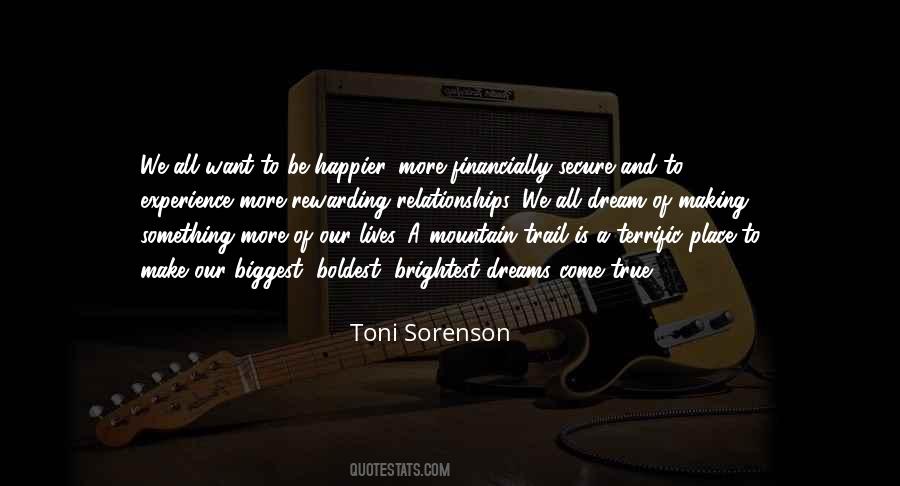 #82. Life can be impossibly tough. At times it seems like there is no escape from either the pressure or monotony of a world where you are corralled into being something or someone you are not. But there is an escape, to more peaceful and gentler places, and a happier state of mind. - Author: Fennel Hudson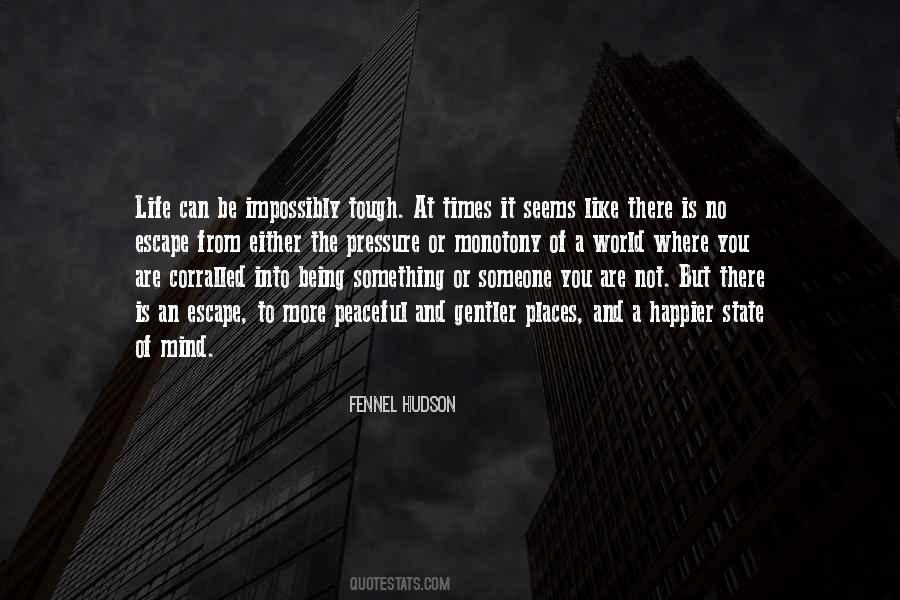 #83. I am at a place in my life where the more like a cave I can make my surroundings, the happier I am. - Author: John Darnielle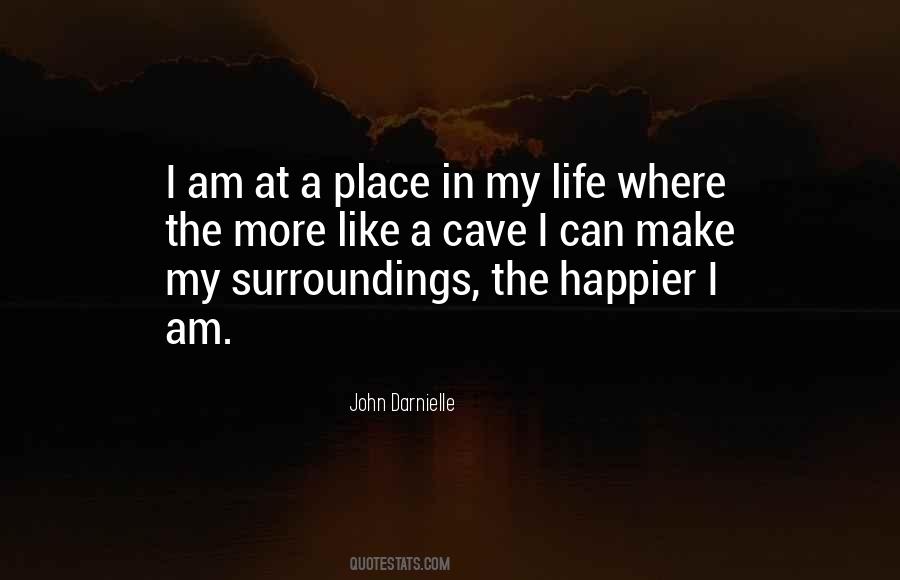 #84. Of all the characteristics needed for both a happy and morally decent life, none surpasses gratitude. Grateful people are happier, and grateful people are more morally decent. - Author: Dennis Prager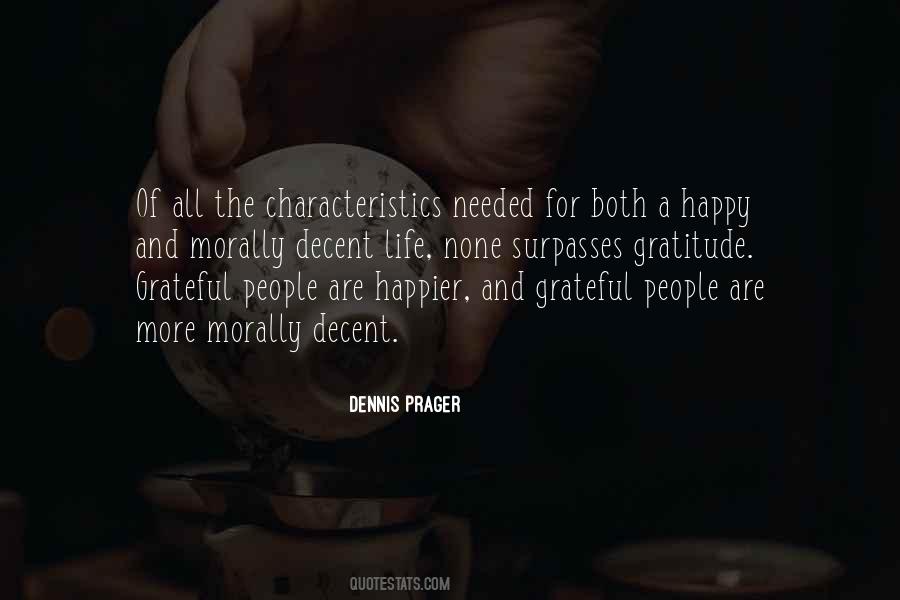 #85. You can always be a better person, a better version of you, focus on that you do that makes you feel good, cultivate
activities that make you feel in peace
and make them part of your daily life. - Author: Jorge Gw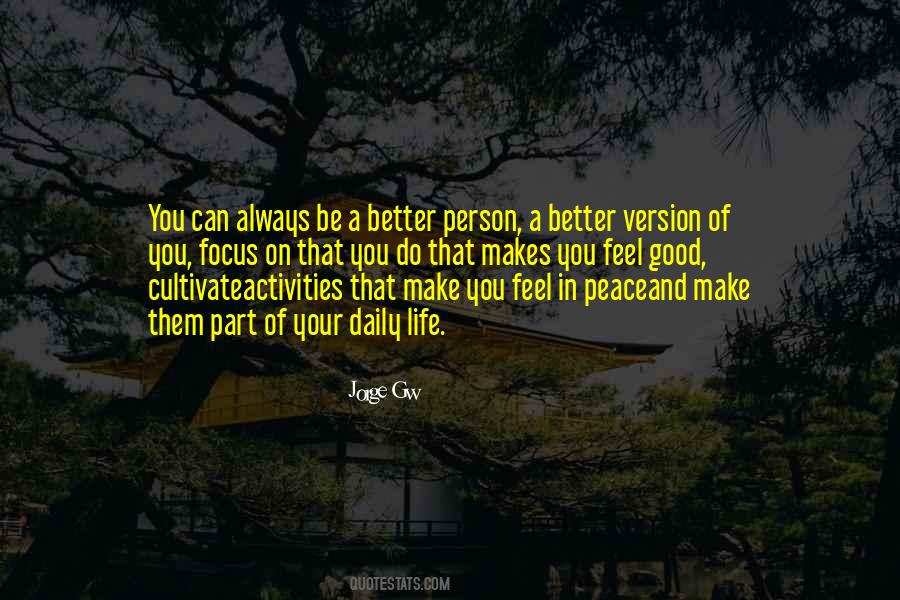 #86. Show business is part of a larger culture, a world-wide culture that must make up to the fact that the accumulation of things doesn't make a life necessary any happier or purposeful. - Author: Tom Shadyac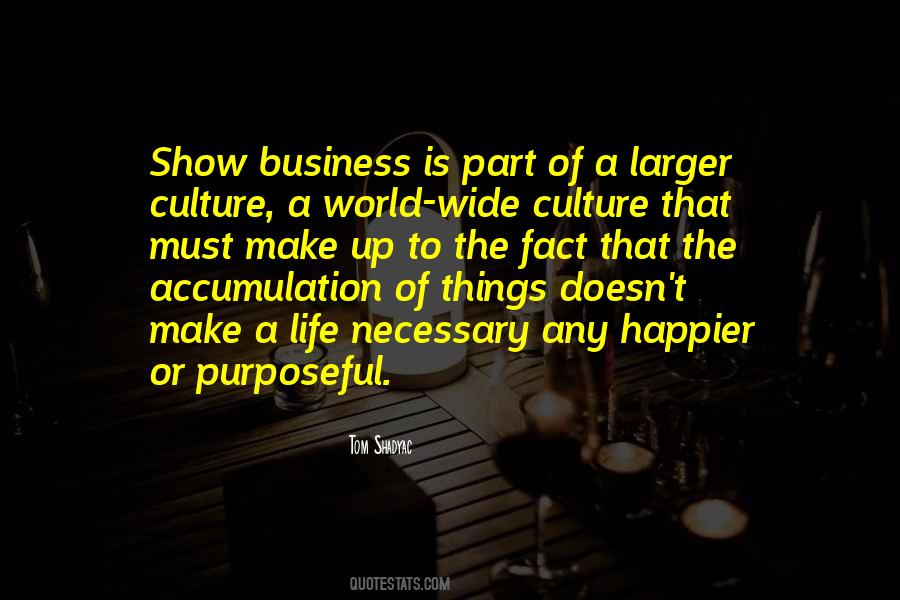 #87. I get happier every day. I have a sense of accomplishment every day of my life. - Author: Sandra Bernhard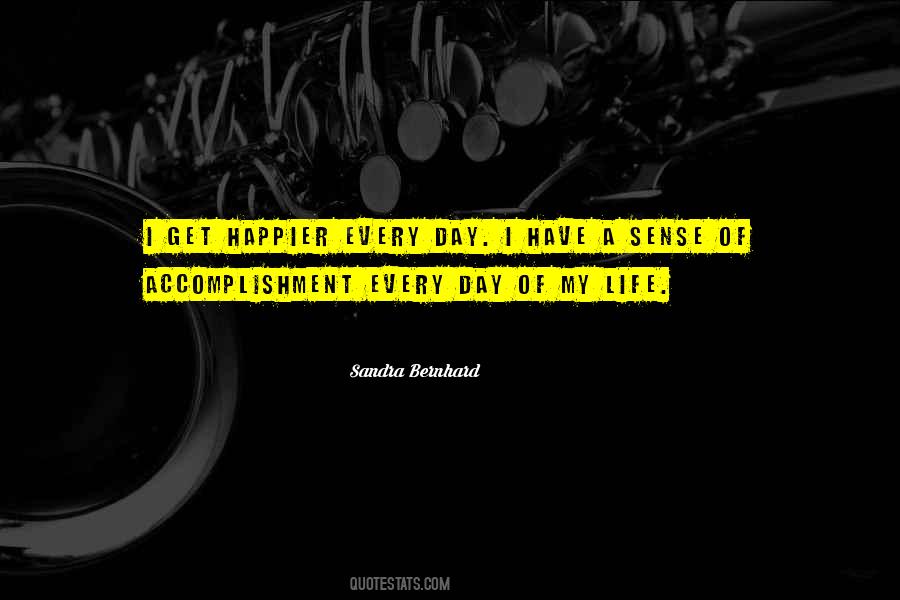 #88. you can't change anybody's mind. The sooner I learned that, the happier my life would be, and now I felt like a happy life was a goal again for the first time in a long time. - Author: Catherine Ryan Hyde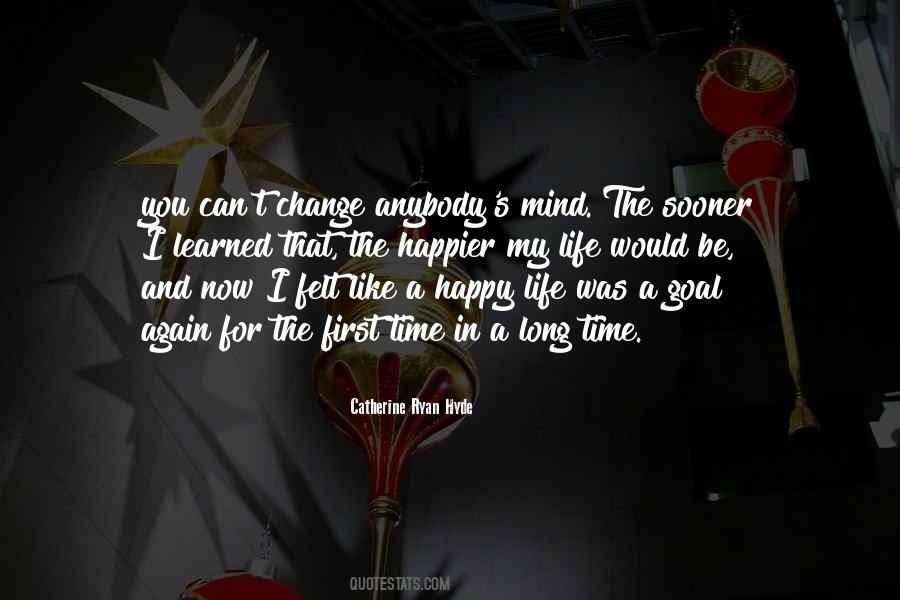 #89. I think there's nothing that makes you happier than to be really involved in something. I can't imagine a totally idle life. - Author: Lee Radziwill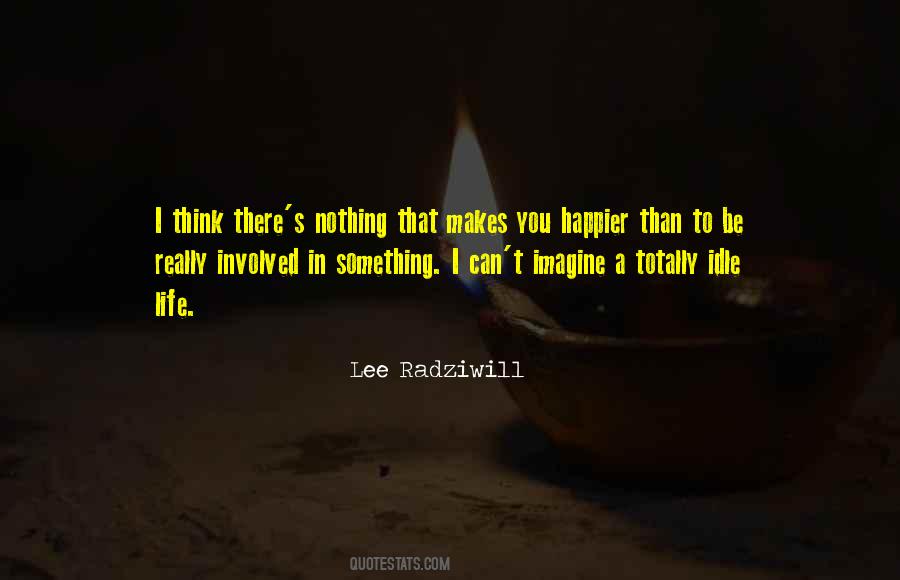 #90. My big mantra is 'food is medicine,' so I really love being able to talk about how you can make food your medicine, how you can make food be the thing that hopefully allows you to live a longer, happier, healthier life. - Author: Travis Lane Stork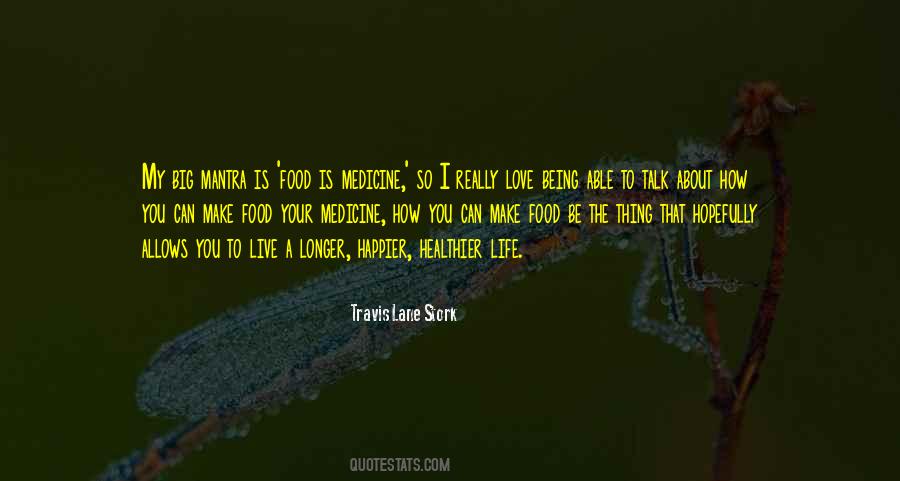 #91. But whether the just have a better and happier life than the unjust is a further question which we also proposed to consider. - Author: Plato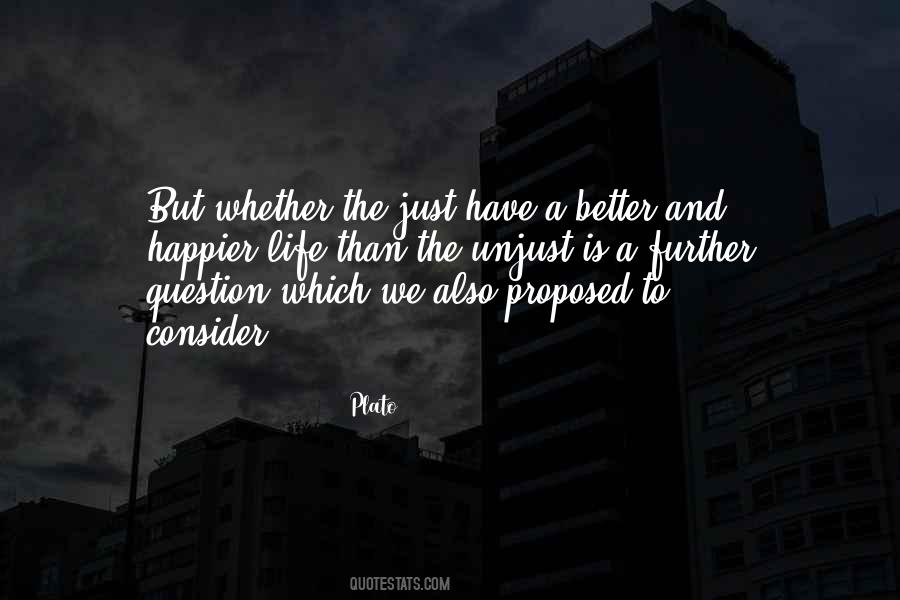 #92. The incentive for a religious person turning into an atheist is to have a better and happier life - Author: M.F. Moonzajer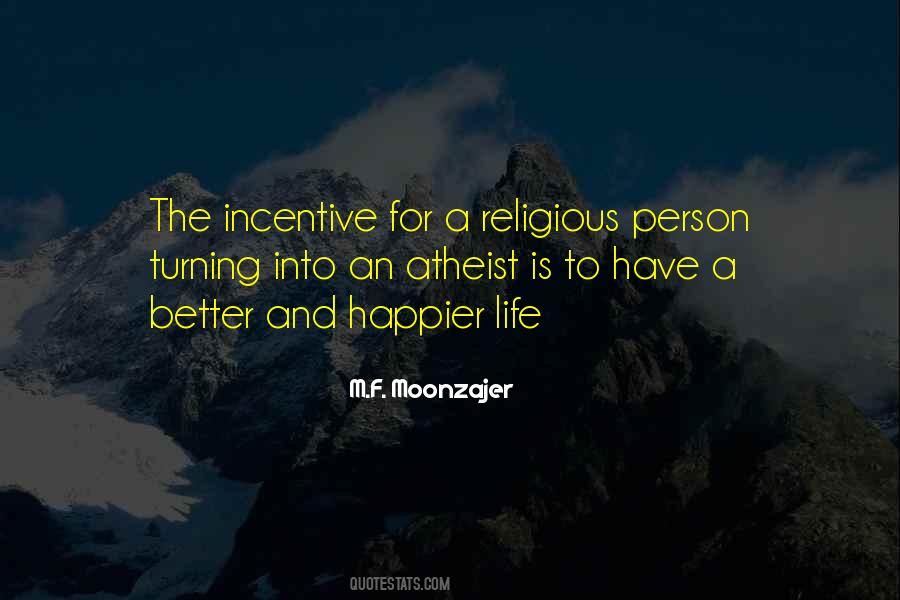 #93. Training is the word we use now. To train means to teach a particular skill over a period of time. Every time you get up, show up, work out, you are training yourself to be better, to live happier and healthier. Don't expect results in a snap. Remember, change takes however long it takes. - Author: Toni Sorenson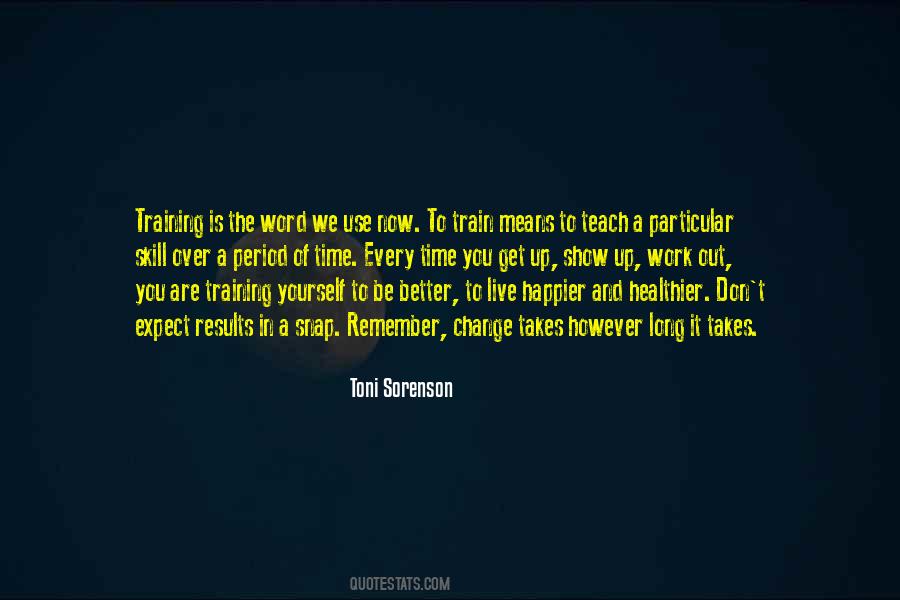 #94. A creative life is an amplified life. It's a bigger life, a happier life, an expanded life, and a hell of a lot more interesting life. Living in this manner - continually and stubbornly bringing forth the jewels that are hidden within you - is a fine art, in and of itself. - Author: Elizabeth Gilbert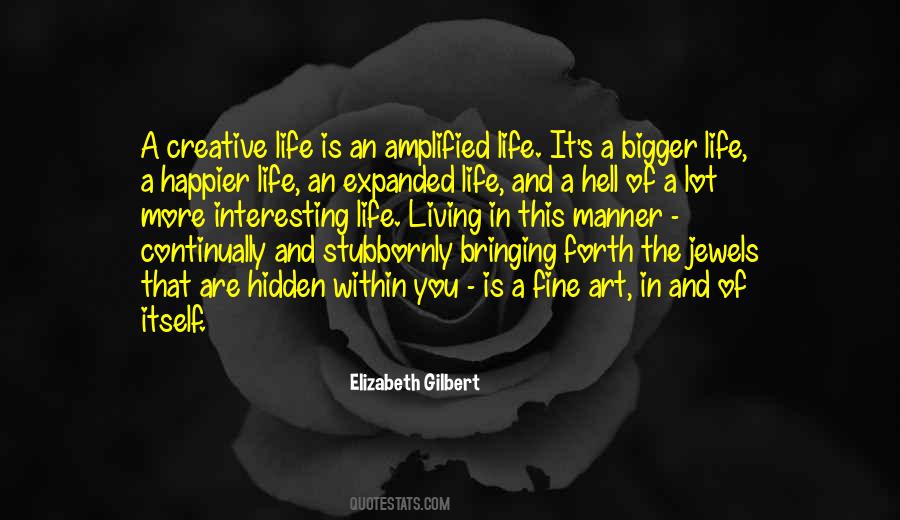 #95. They may rail at this life - from the hour I began it,
I've found it a life full of kindness and bliss;
And until they can show me some happier planet.
More social and bright, I'll content me with this. - Author: Michael Moore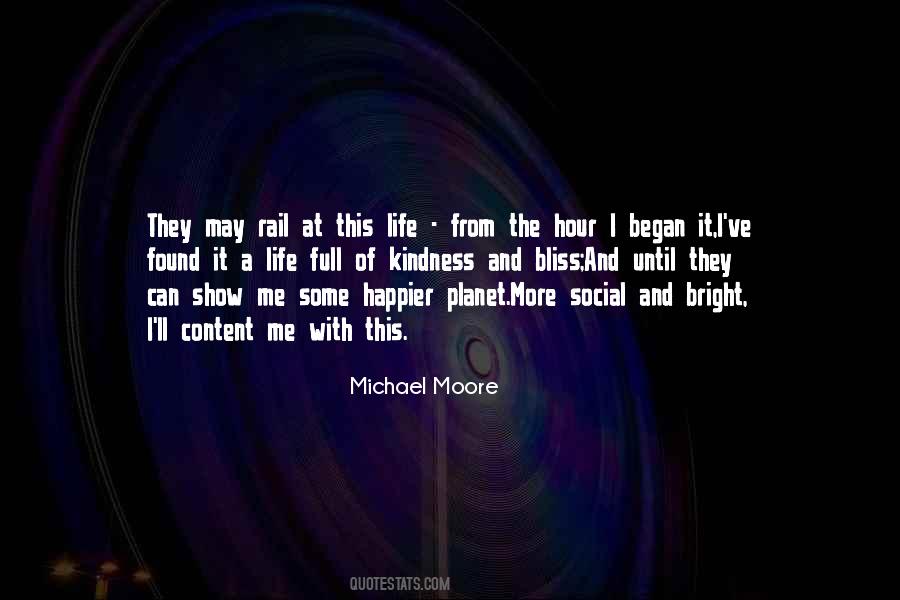 #96. Your life might be easier if you were. A fool for love is happier than a Dog with a heart that's all leather. - Author: Tamora Pierce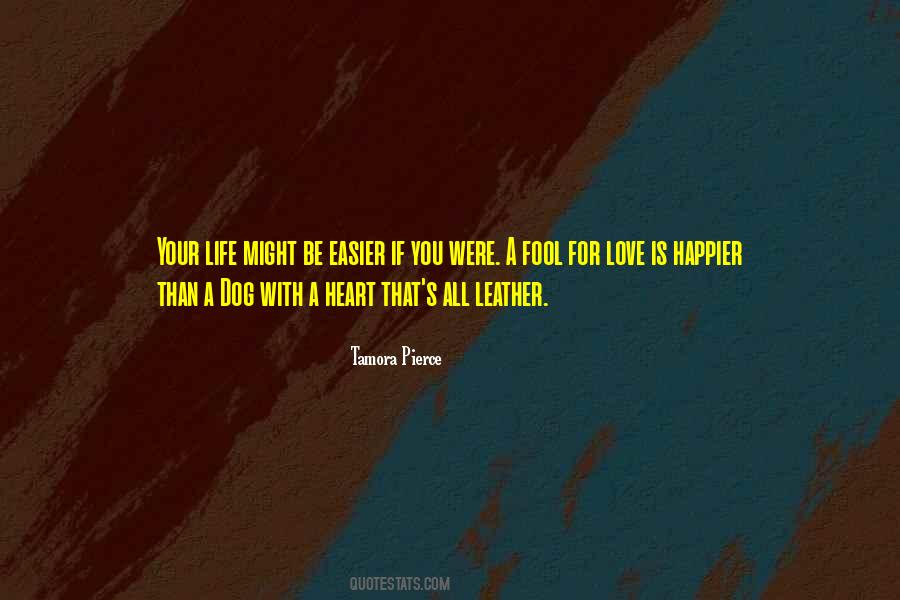 #97. It seemed any young woman at odds with her place in life - be she a genteel lady or a serving girl - might find a happier home within the pages of a book. - Author: Tessa Dare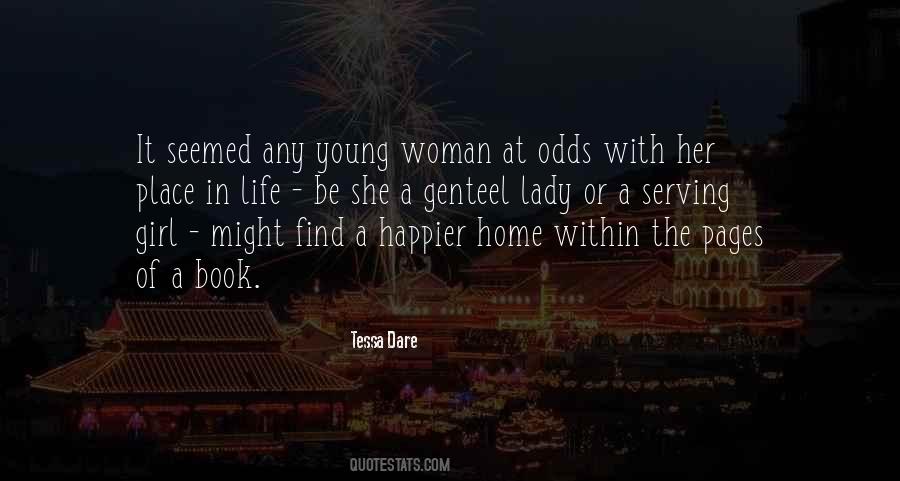 #98. I don't know what else to tell you. I often think how different my life would have been - how much happier - if you'd been a part of it. One day. - Author: Michael Robotham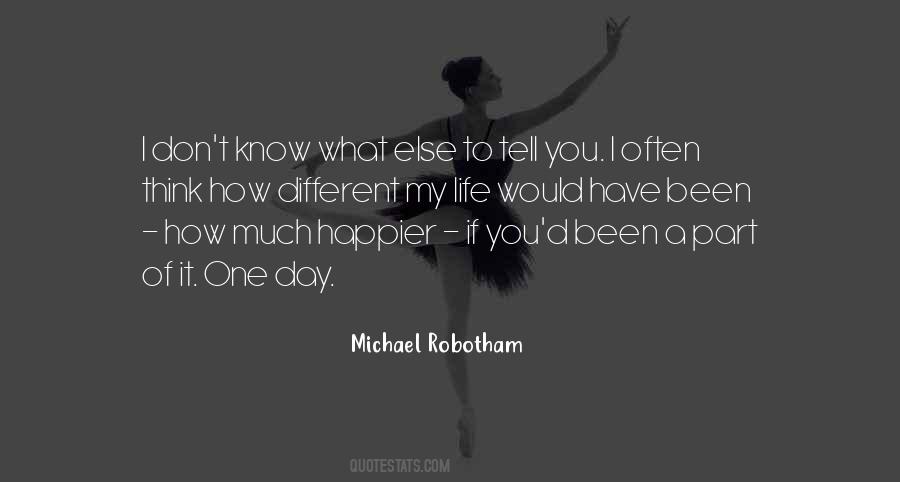 #99. And a question stirred within me: What if he, this yellow-eyed creature, in his disorderly, filthy mound of leaves, in his uncomputed life, is happier than we are? - Author: Yevgeny Zamyatin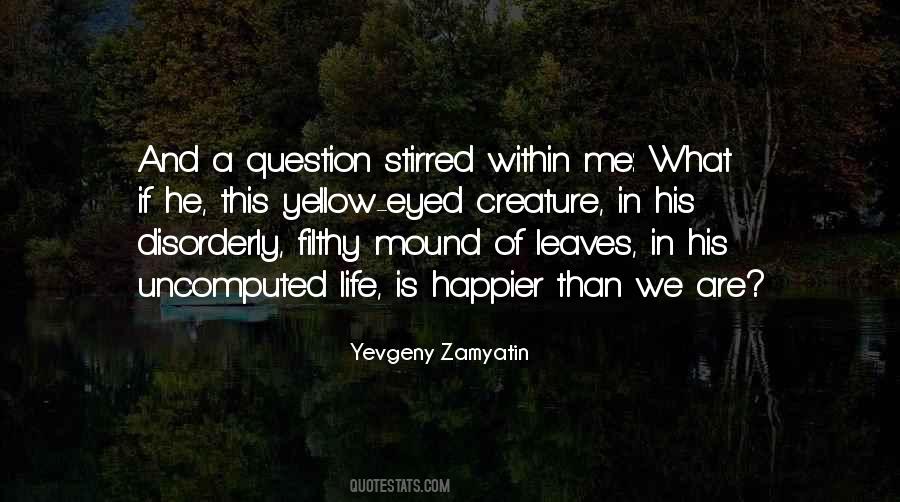 #100. I've lived a slower and less expensive life going off the grid, and I'm happier because of it. - Author: Ed Begley Jr.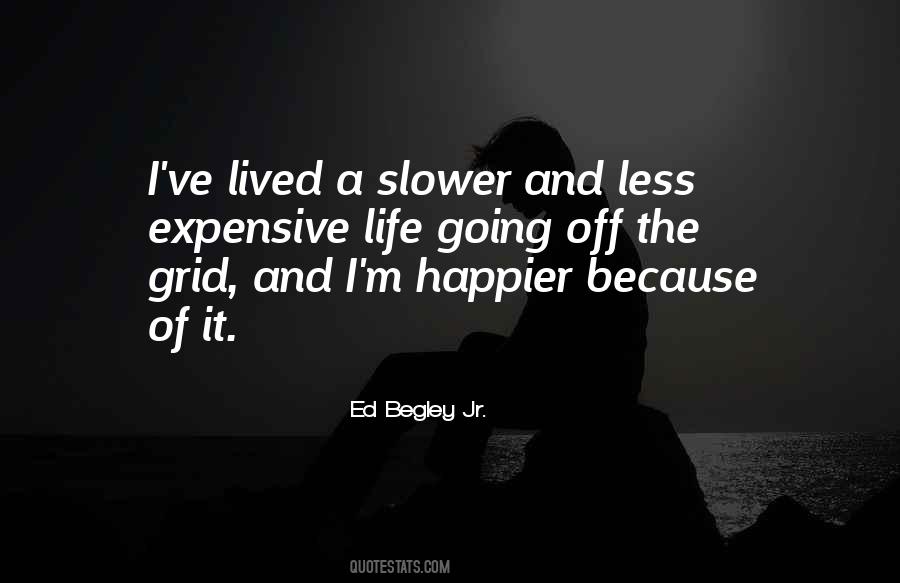 Famous Authors
Popular Topics