A Car Accident Famous Quotes & Sayings
List of top 77 famous quotes and sayings about a car accident to read and share with friends on your Facebook, Twitter, blogs.
Top 77 Quotes About A Car Accident
#1. There is a limit to the application of democratic methods. You can inquire of all the passengers as to what type of car they like to ride in, but it is impossible to question them as to whether to apply the brakes when the train is at full speed and accident threatens. - Author: Leon Trotsky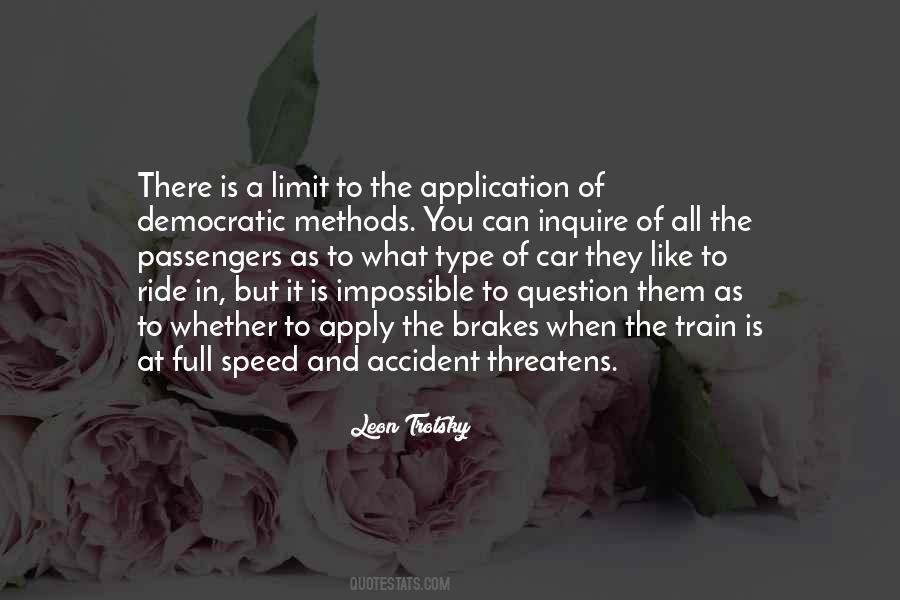 #2. If mysterious means a bunch of freaks being brought together by a freak car-accident, then, yes, God does vork in mysterious vays' declared the eldest Russian Doll. - Author: Jonathan Dunne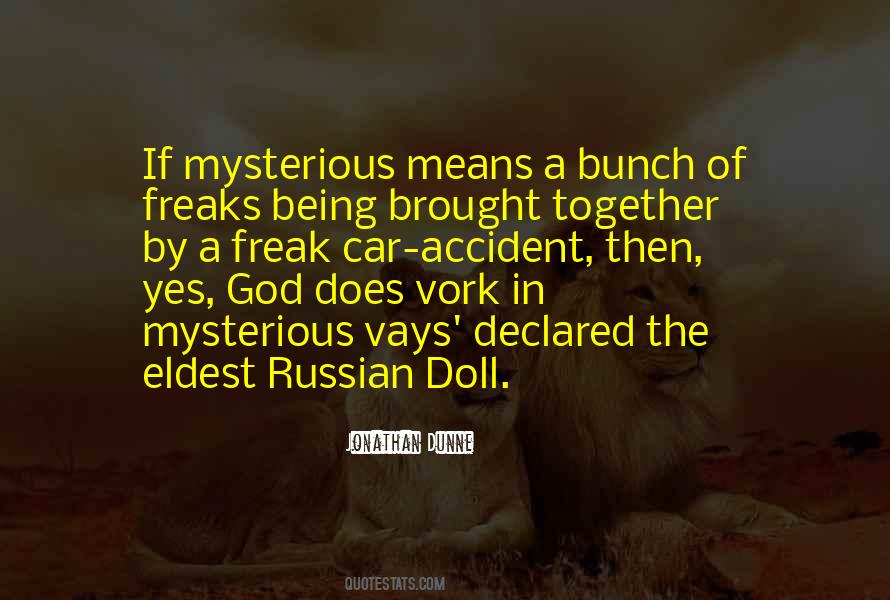 #3. I quit after a bad car accident. The thing about boxing is that you can be a star for five or six years, but when you go back to the old life, it's tough. - Author: Olivier Martinez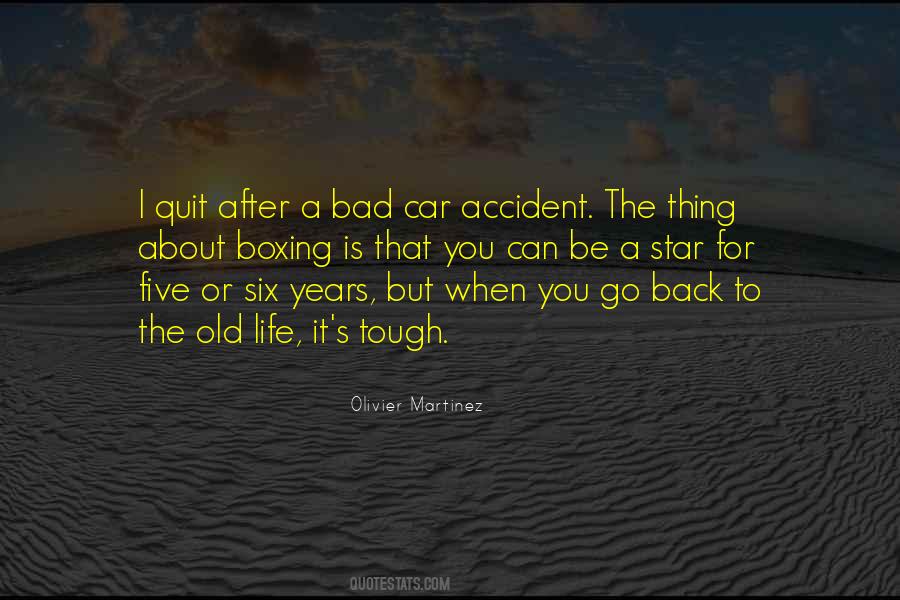 #4. I was relieved in some weird way that the accident had actually occurred. It was a physical manifestation of what had already been going on inside the car. The outside now matched the inside - damaged beyond repair. (113) - Author: Monica Holloway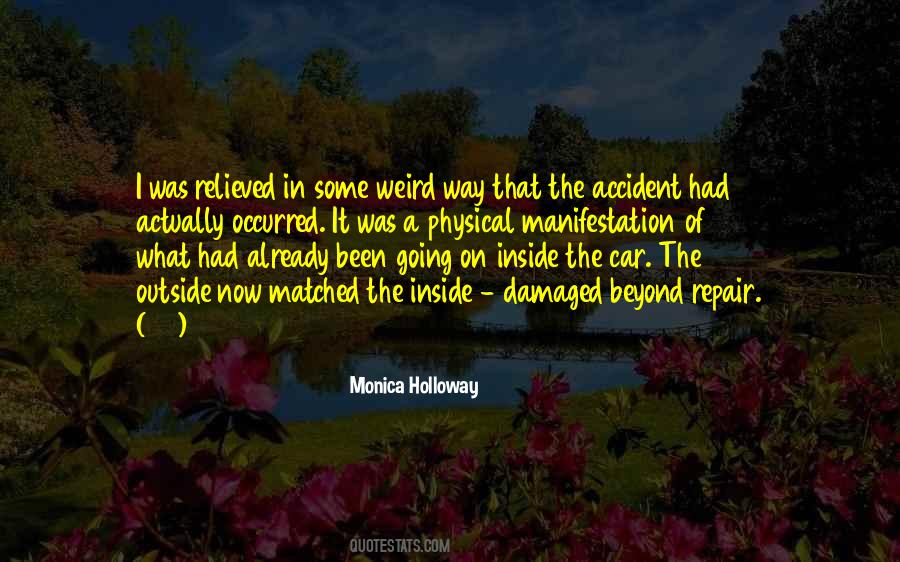 #5. A human being is still more likely to die of a bee sting, snake bite or, Lord knows, automobile accident than by shark attack. We do not execute the perpretrators of death by car. We should not butcher an animal for an inadvertent homicide. - Author: Peter Benchley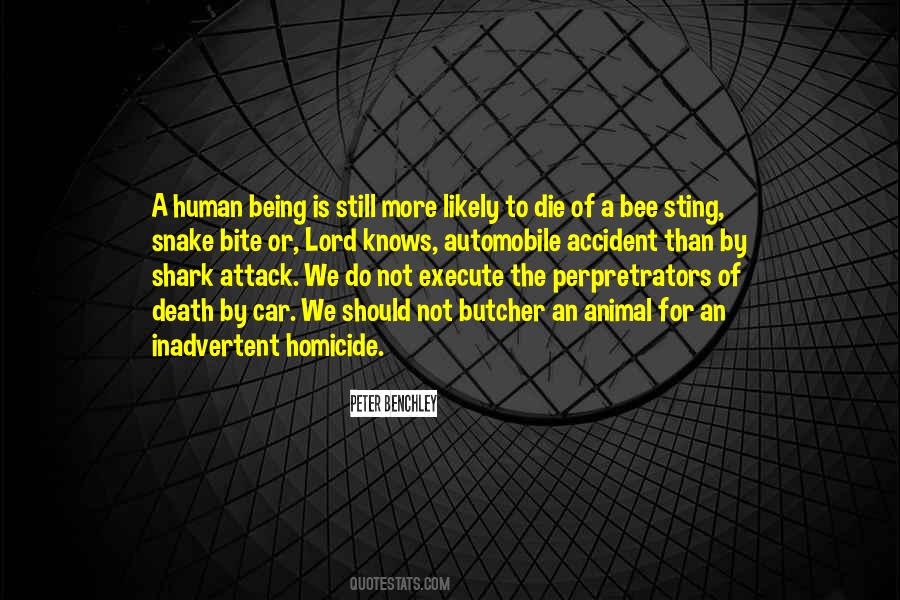 #6. If a neighbor is killed in a car accident, do you sell your car and stop driving? - Author: Mario Andretti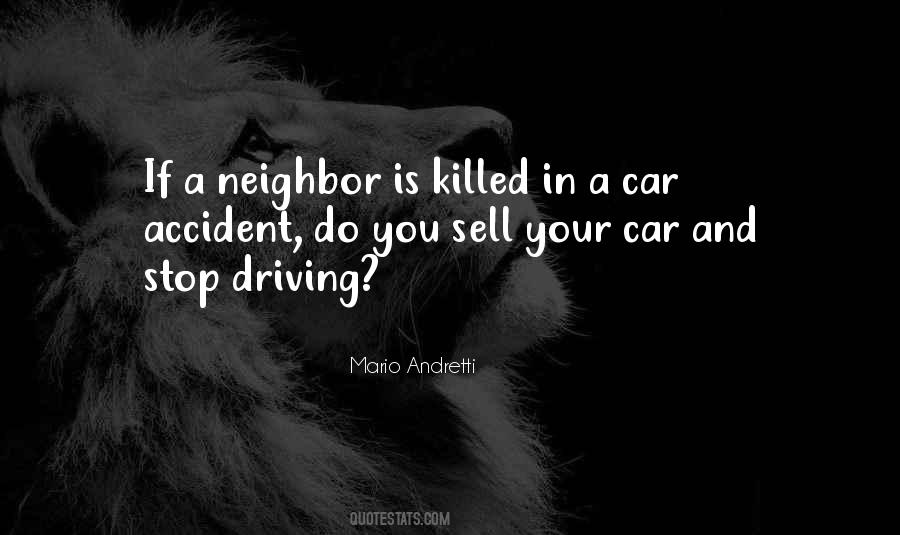 #7. I only know it takes weeks to recover, as if one had been in a car accident. - Author: Patricia Highsmith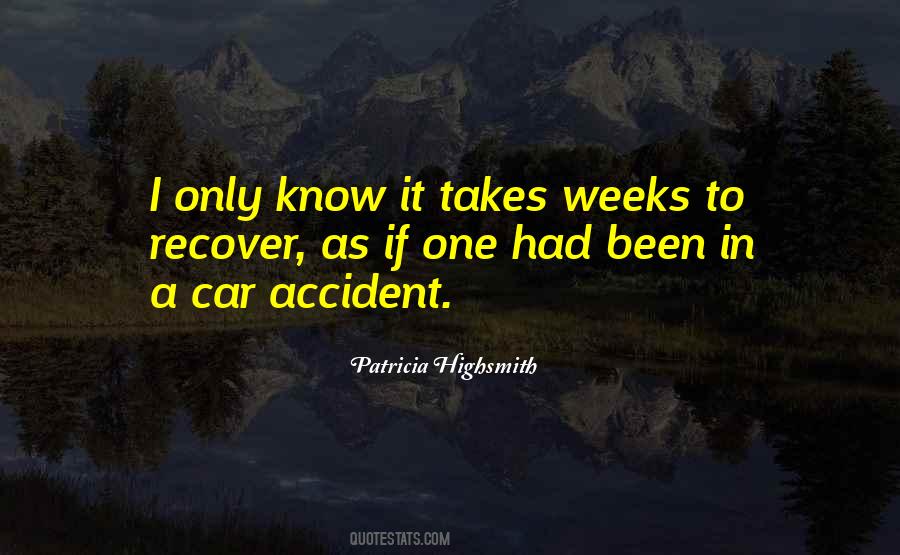 #8. I think a lot of writers, male and female, write as if their parents were killed in a car accident when they were 2, and they have no one to hold accountable. And unfortunately, I don't have that. I have parents who I care about what they think. - Author: Mindy Kaling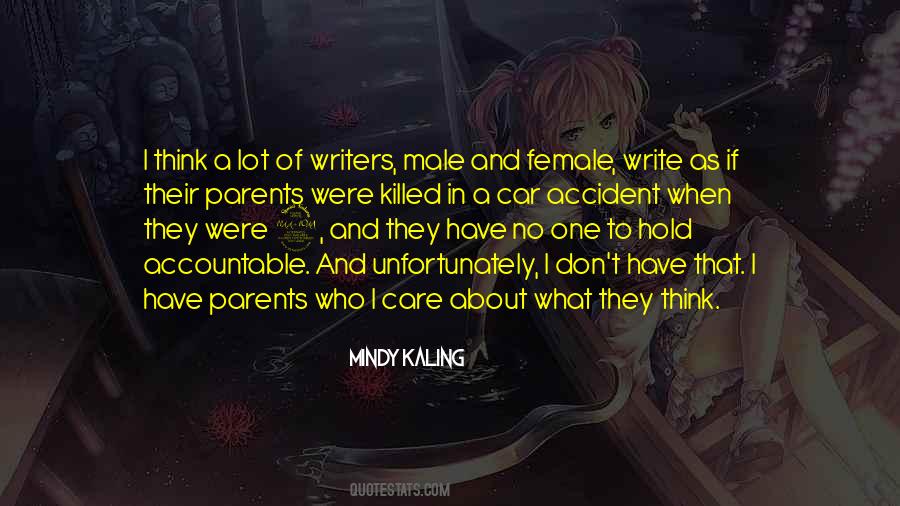 #9. You know, I have had a terrible life. I married two men I really didn't like. My only daughter was killed in a car accident. My brother committed suicide. Has my life been a life for anyone to envy? - Author: Clare Boothe Luce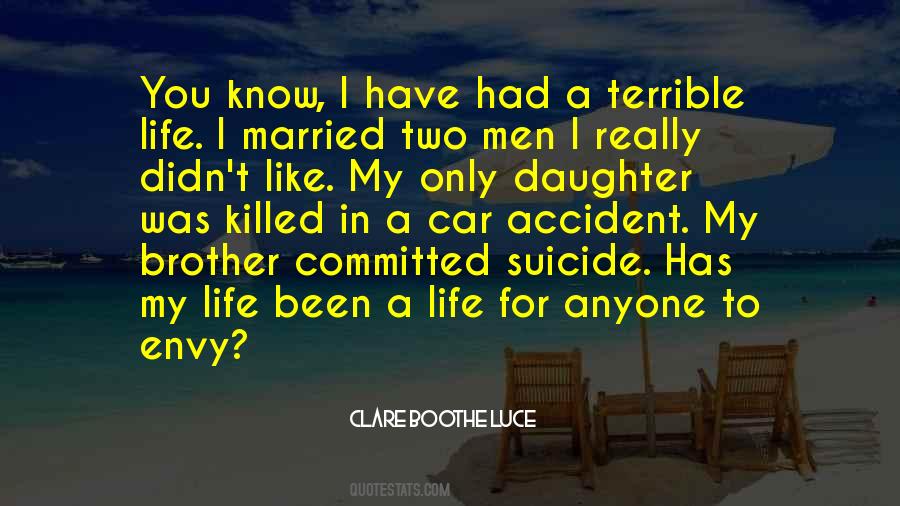 #10. My parents were mourning the death of my sister. She was killed in a car accident before I was born, and I didn't know she existed until I was 13 or 14 years old. I knew I was growing up in a house where people were angry and sad. - Author: Andrew Hudgins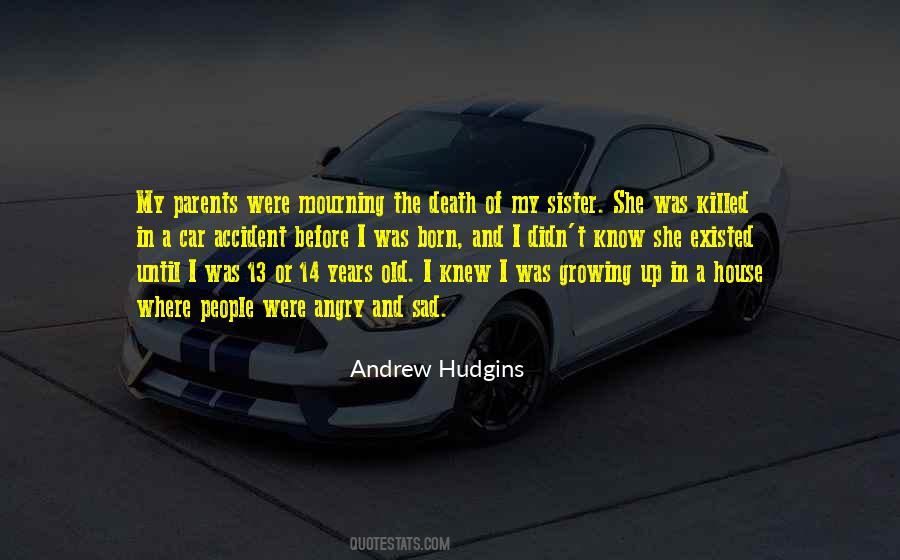 #11. If you're one car accident away from poverty, you're on a high wire without a safety net. And that's a challenging proposition. - Author: Thomas Perez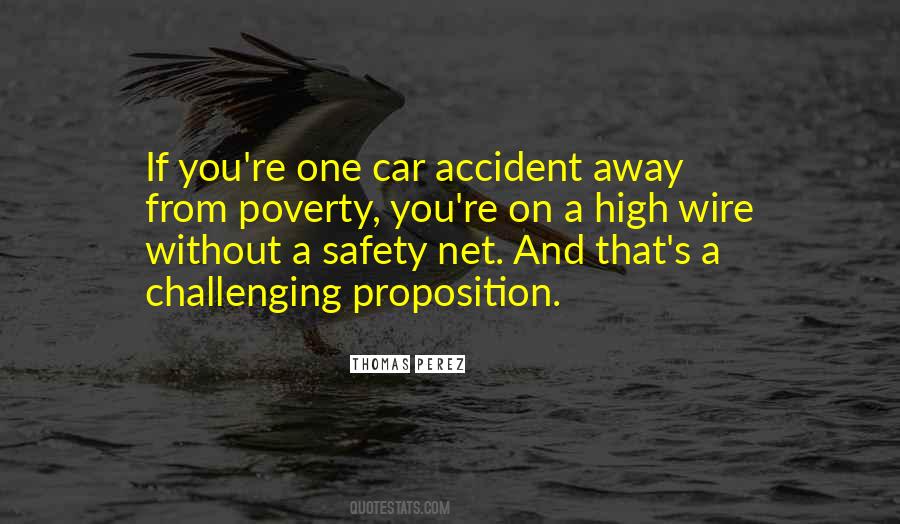 #12. Today, a couple with 'just married' tags collided head-on with a hearse carrying two coffins in the back, both of a married couple that had previously
died in a car accident. - Author: Anthony Liccione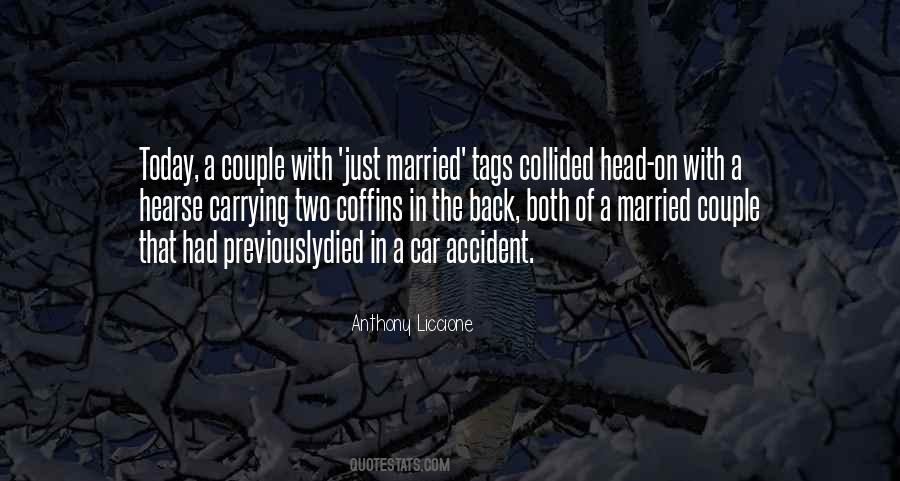 #13. I was kidnapped by Sunni insurgents near Fallujah, in Iraq, ambushed by the Taliban in the Korengal Valley in Afghanistan, and injured in a car accident that killed my driver while covering the Taliban occupation of the Swat Valley in Pakistan. - Author: Lynsey Addario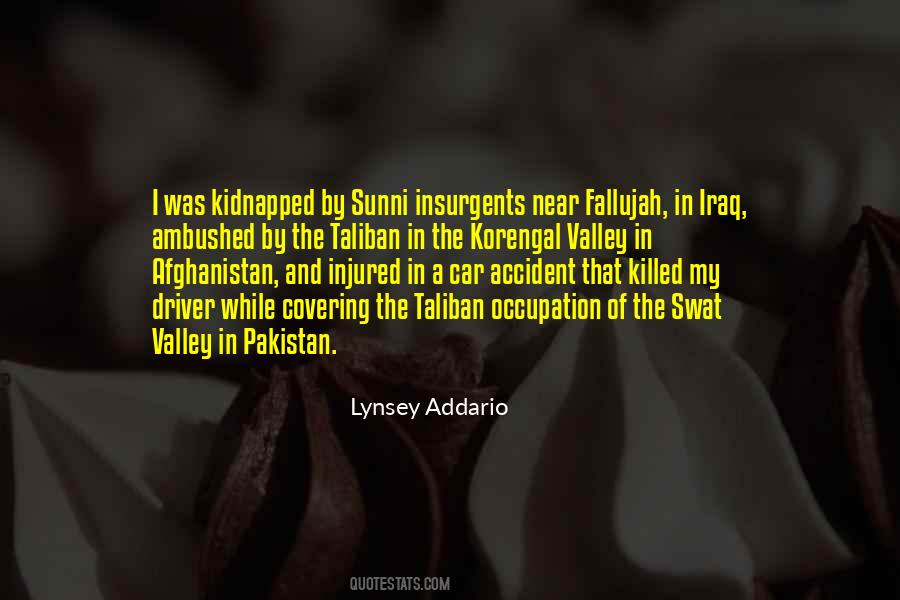 #14. It's like watching a car accident, that reality TV. - Author: Enrico Colantoni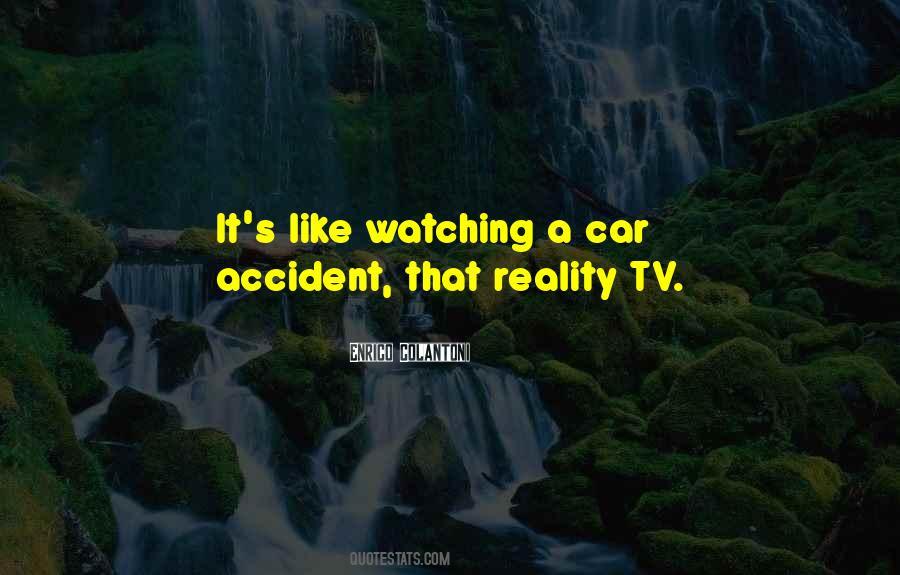 #15. You ask me about tragic accidents? If I am on my tractor at my farm and it rolls over on me and kills me, that's a tragic accident. If I die in a race car, that's life. I died doing what I love. - Author: Dale Earnhardt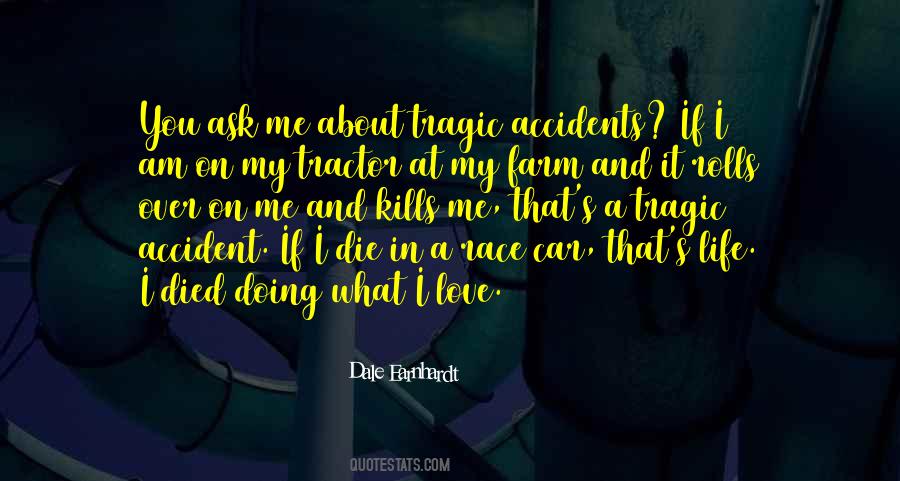 #16. We take life for granted, sleepwalking until a shattering event knocks us awake. Zen says, don't wait until the car accident, the cancer diagnosis, or the death of a loved one to get your priorities straight. Do it now. - Author: Philip Toshio Sudo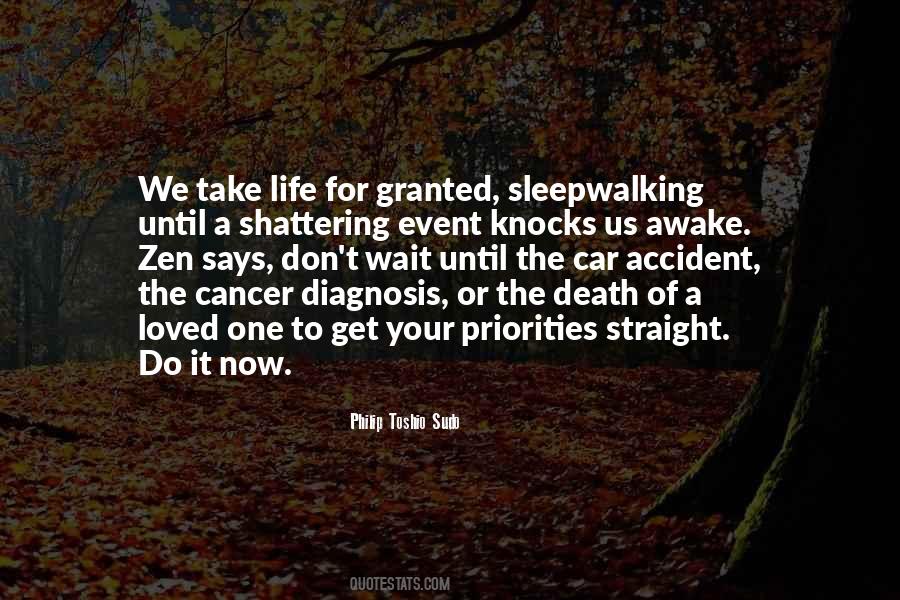 #17. My mother's sister was killed in a trolley car accident, so I was raised as one of eight with my sister and six male cousins. - Author: Alan King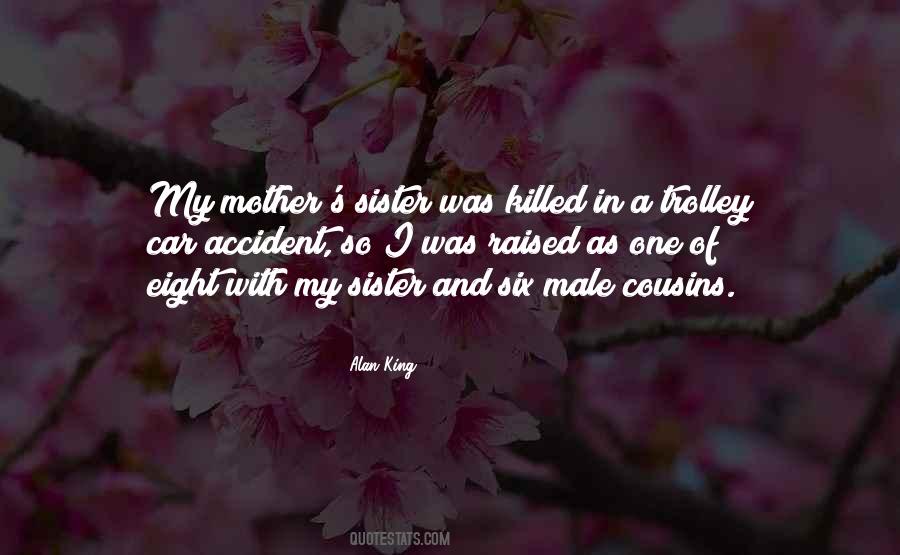 #18. Hold on ... Say your son or daughter has just gotten killed in a car accident and you're plastered out of your mind at 3 a.m. Are you going to be able to handle that? - Author: Rob Ford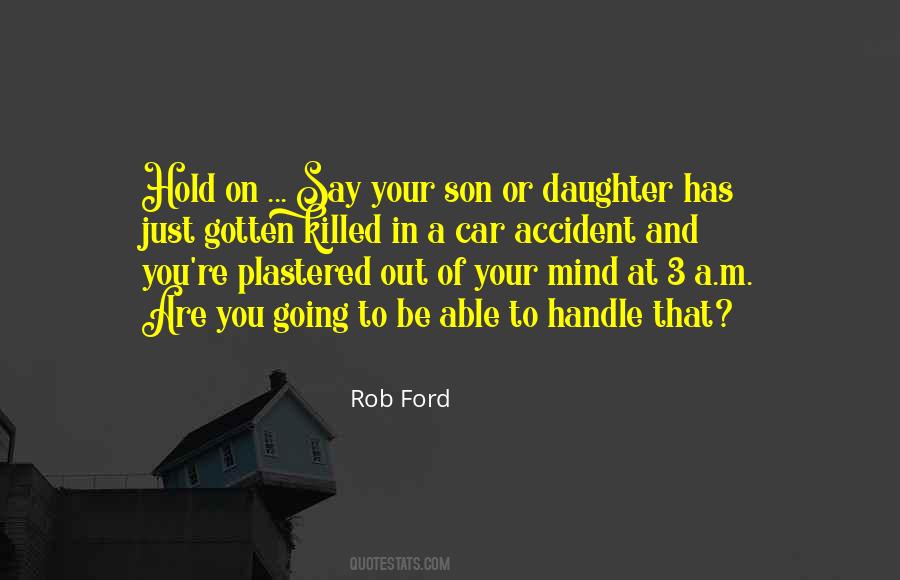 #19. So did Caspian leave this behind when he went off to college or something?'
'No.'
Don't say it. Please don't say it.
'He died a little more than two years ago in a car accident. Right after Halloween - Author: Jessica Verday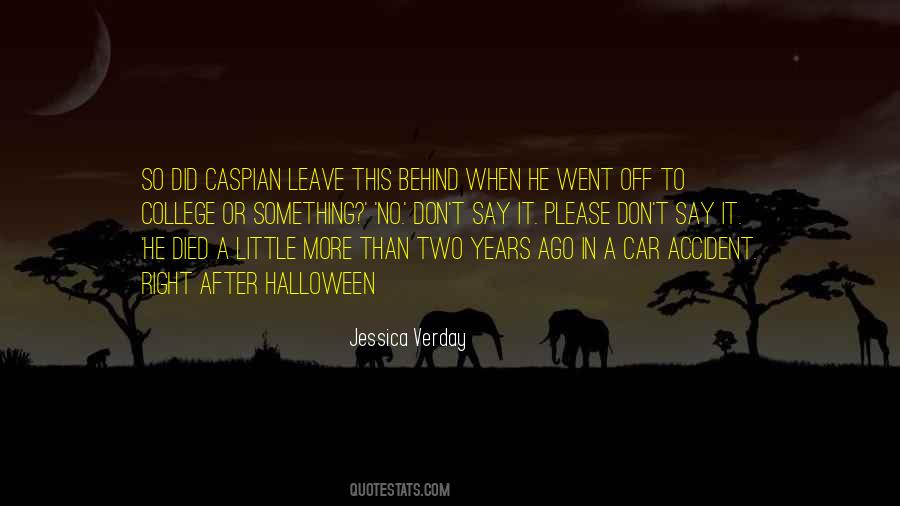 #20. Ironically my brother died in a car accident shortly after Airbag was recorded. He's not an identical twin so I didn't care. - Author: Thom Yorke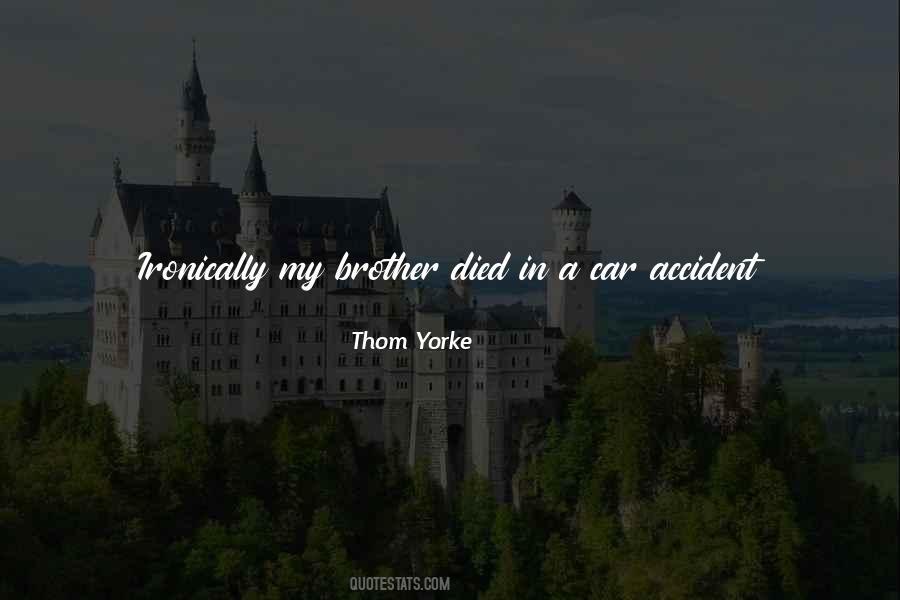 #21. The way some people read the parables reminds me of Aesop's Fables. And the way others read them reminds me of the way some discern clue after perplexing clue in their Beatle albums as evidence for a cover-up of Paul's having died in a car accident. - Author: Jared C. Wilson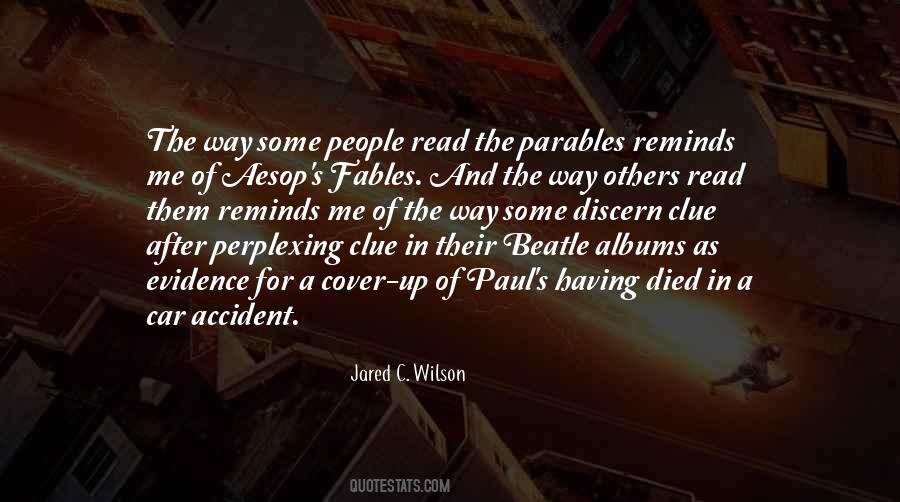 #22. A 99% Value-at-Risk calculation does not evaluate what happens in the last one percent ... This is like an airbag that works all the time, except when you have a car accident. - Author: David Einhorn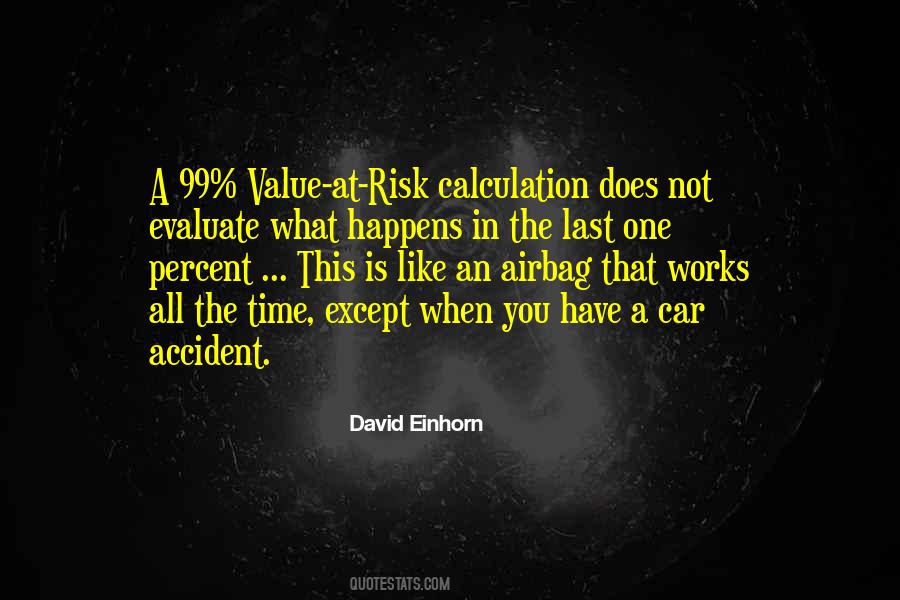 #23. Hotel Waldhaus
We had no luck with the weather and the guests at our table were repellent in every respect. They even ruined Nietzsche for us. Even after they had had a fatal car accident and had been laid out in the church in Sils, we still hated them. - Author: Thomas Bernhard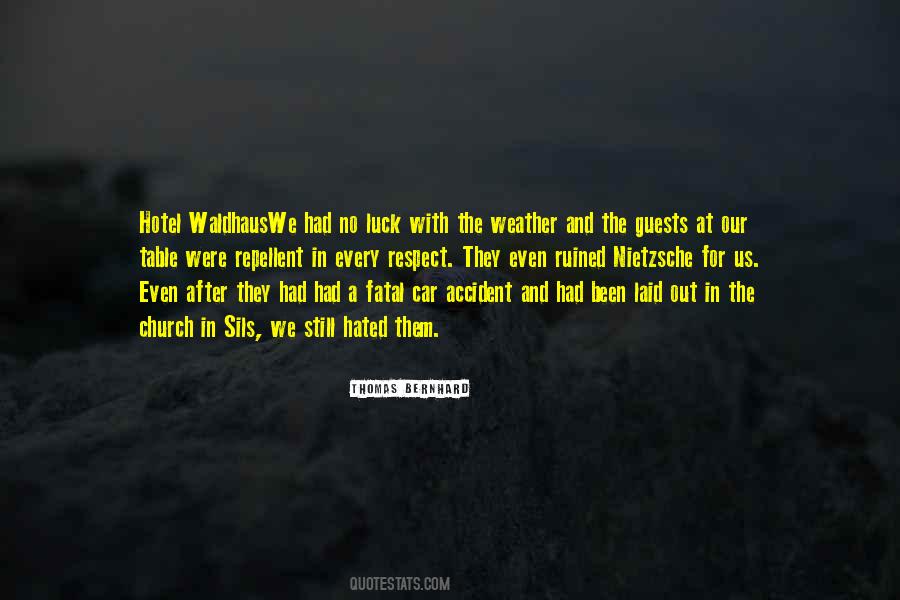 #24. It was the first car accident I had ever been in. It shakes you up a little bit. - Author: Matt Hasselbeck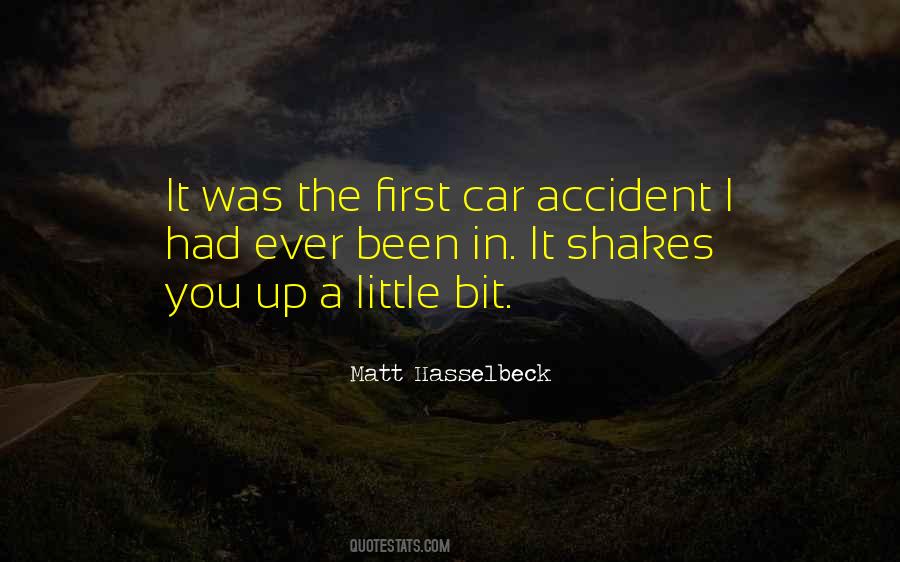 #25. In real life, one of my friends was killed in a car accident during our sophomore year. - Author: Beverley Mitchell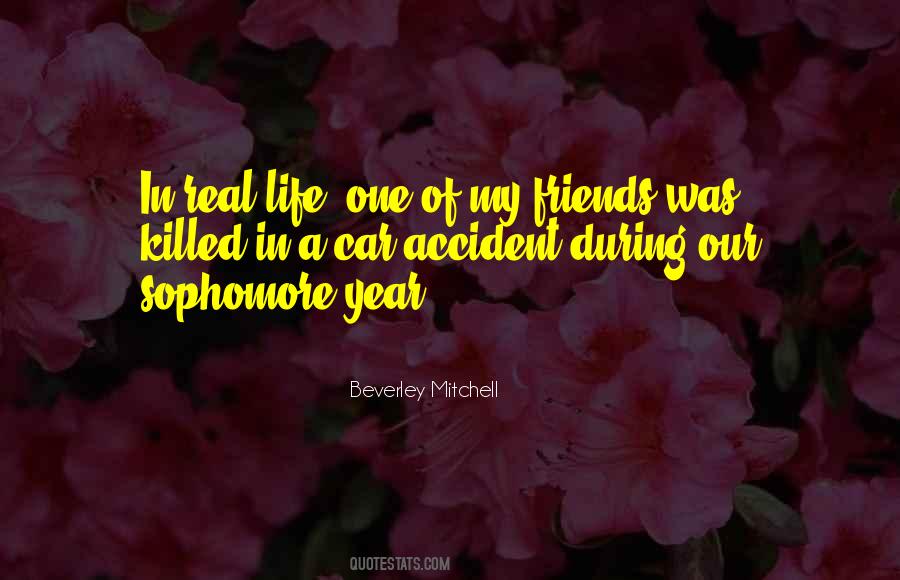 #26. In my case, I played sports my whole life. I got out of college, and I didn't bother to get health care coverage because I just figured I didn't need it. But you know that if you blow out your knee on a basketball court or you get in a car accident, and you're uninsured, it can bankrupt you. - Author: Denis McDonough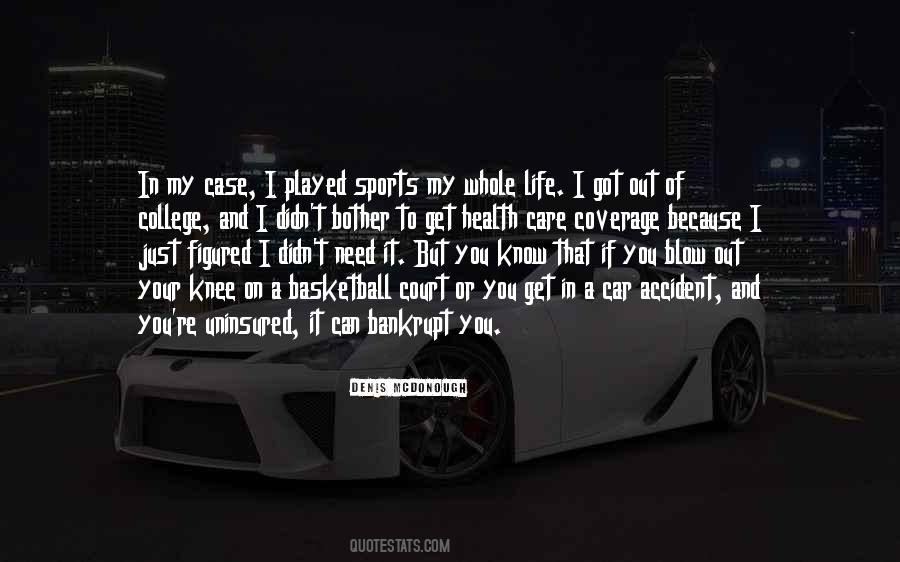 #27. I'd had a really bad car accident years ago, and basically, the ligaments in the back of my neck were ripped, and I'd never addressed that. - Author: Jennifer Grey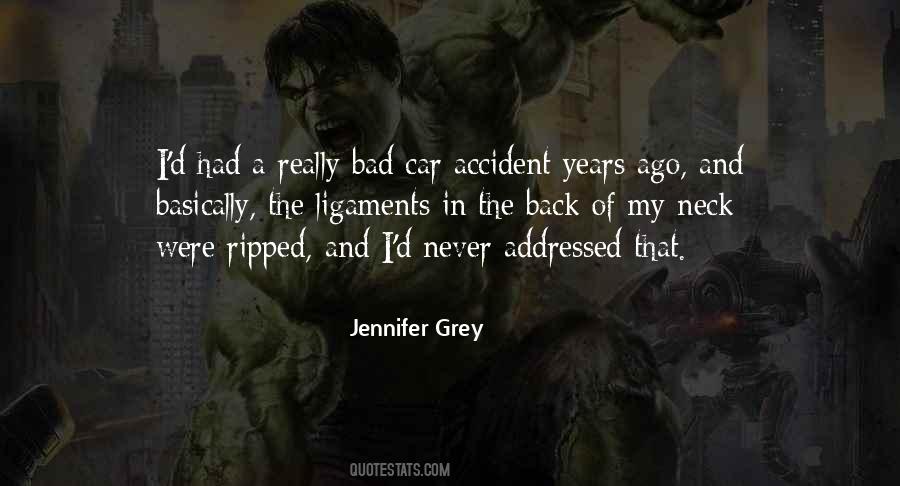 #28. If your power level gets low enough, you will die. You will get in a car accident. You will pick up a disease. That is why it is very important to keep your power level high, just to be a happy human being. - Author: Frederick Lenz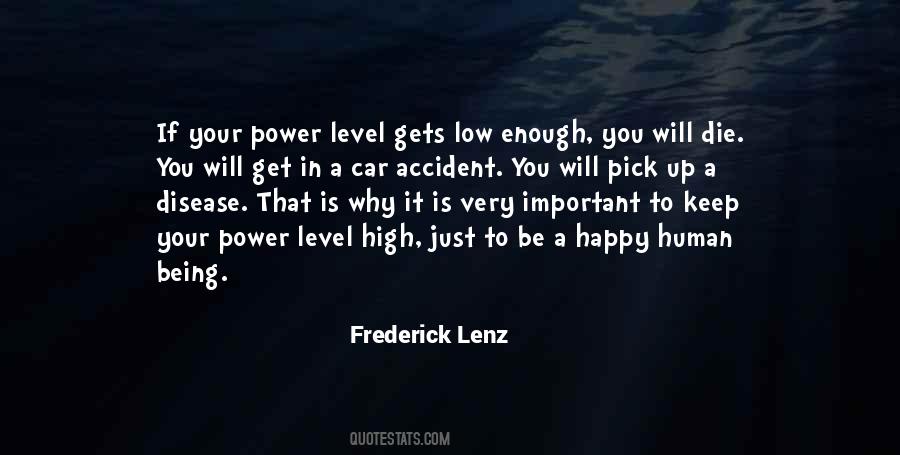 #29. I don't want to die in a car accident. When I die it'll be a glorious day. It'll probably be a waterfall. - Author: River Phoenix
#30. I think women are great drivers. To be honest, I've only been in one car accident - one of my best friends, his wife was driving. She went into oncoming traffic, our car flipped almost four times. I didn't even have time to put on a seat belt, because they'd just picked me up. - Author: Dominic Cooper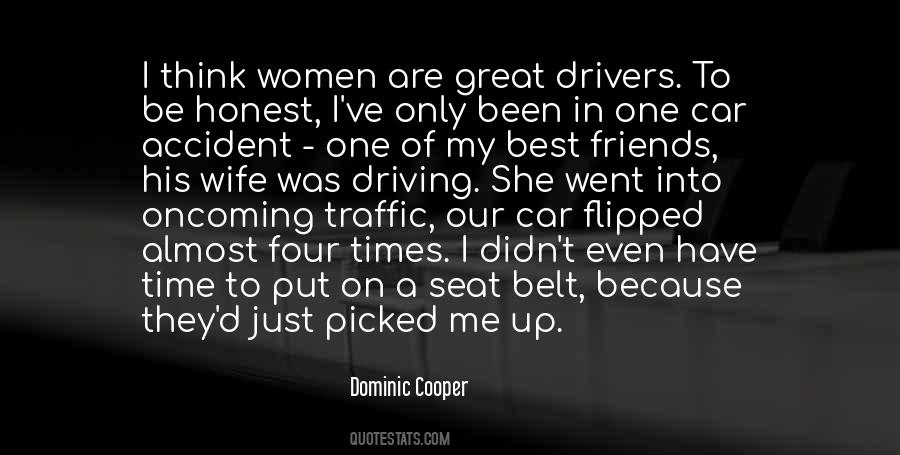 #31. If you've never woken up from a car accident to discover that your wife is dead and you're an animated, rotting corpse, then you probably wouldn't understand. - Author: S.G. Browne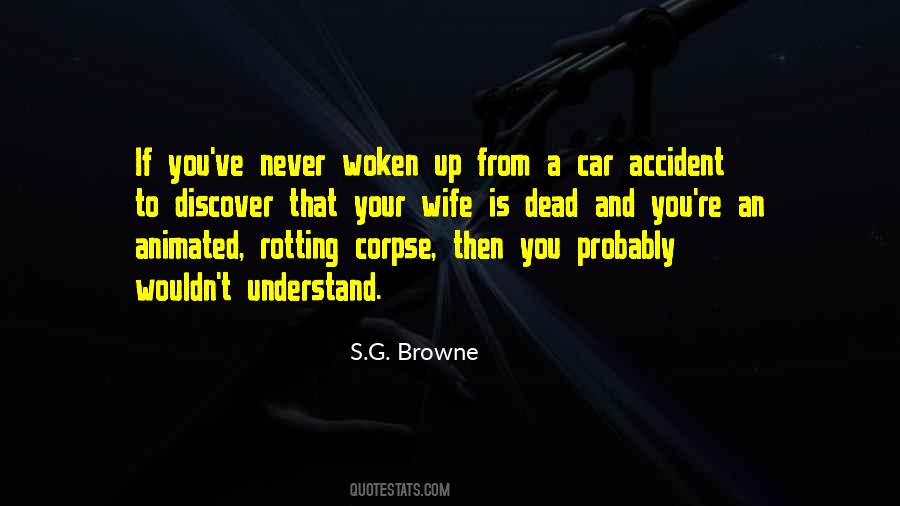 #32. The last time she had felt an overwhelming sense of doom, she had learned her parents had died in a car accident earlier on a day just like this one, her last year at high school. She shuddered, despite telling herself the disquieting feeling didn't mean anything. - Author: Terry Spear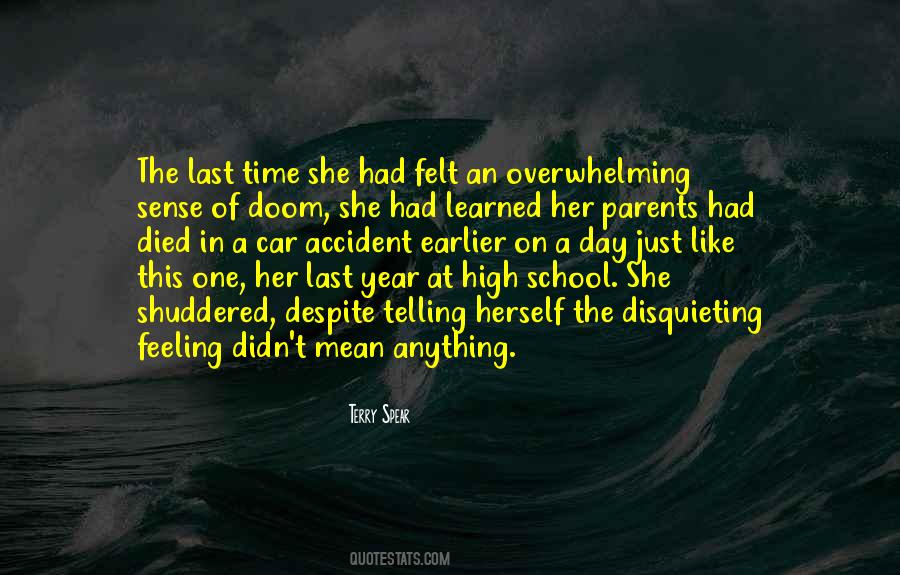 #33. The makeup person said oh my God what happened to you? I looked like I was in a car accident. - Author: Cheri Oteri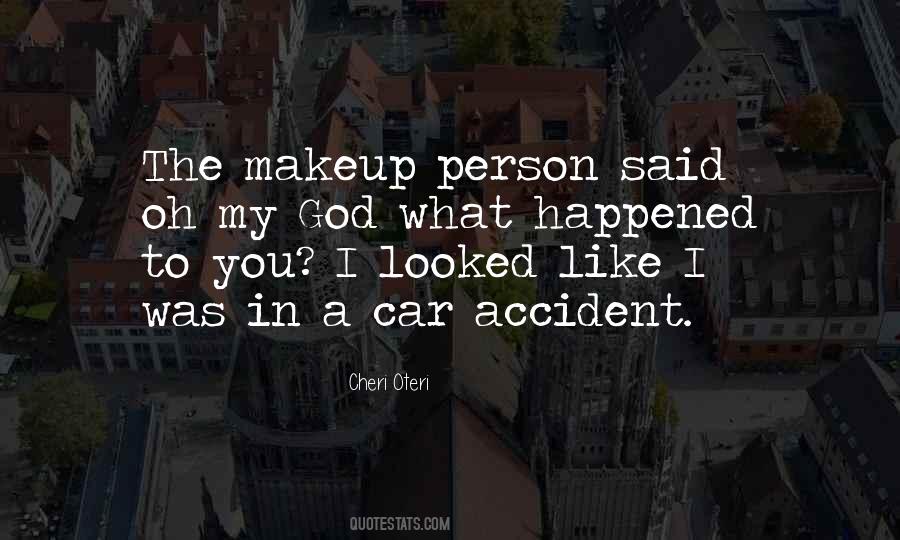 #34. I think when you say to someone You are fool not to believe in evolution or a fool to believe the universe is 6000 years old. I think that gets translated as You are a fool to think that your daughter who died in a car accident is really in heaven with god. - Author: Sam Harris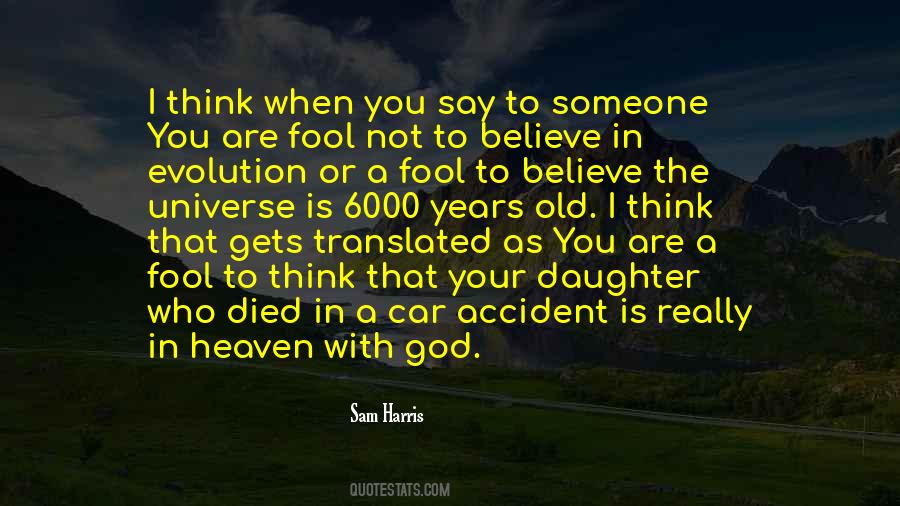 #35. Samuel laughed out loud. You still haven't figured it out, have you, Mercy? He never was mad about the car. He was the first one at the scene of the accident. He thought you'd killed yourself. We all did. That was a pretty spectacular wreck. - Author: Patricia Briggs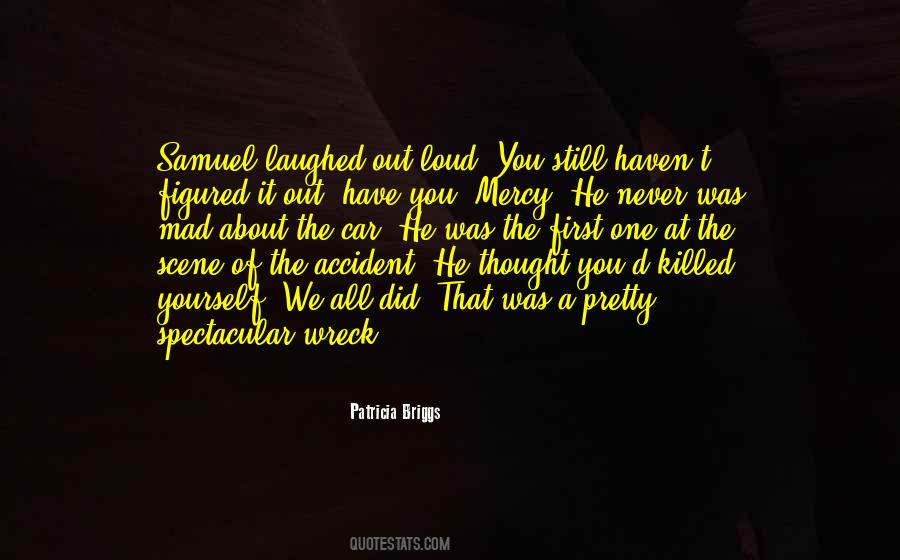 #36. When you run into someone in NY it is usually a pleasant surprise. When you run into someone in LA you usually had a car accident. - Author: Susan Sarandon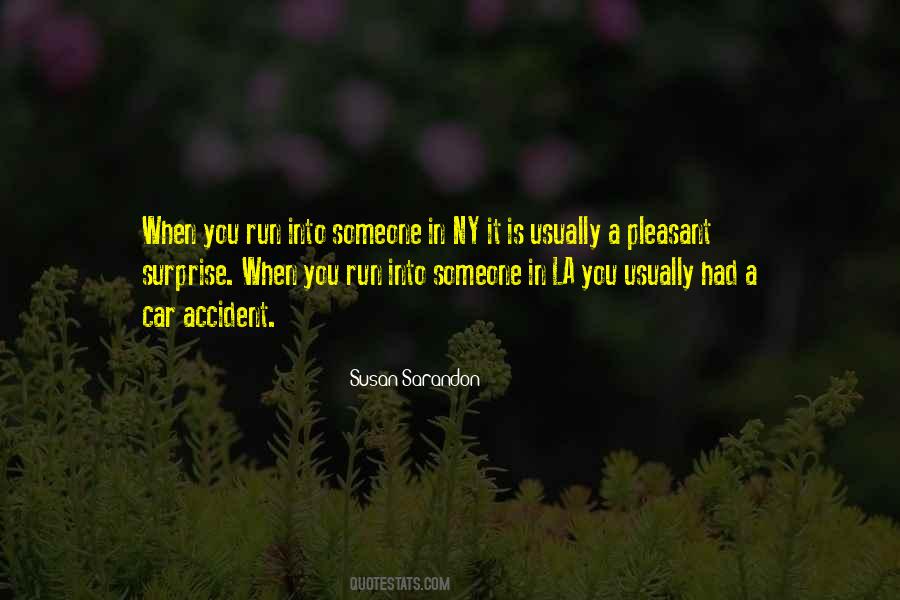 #37. The car crash that took the lives of these two lovely people has been portrayed as a traffic accident caused by a drunk driving at high speed. The reality is that it was murder. - Author: Mohamed Al-Fayed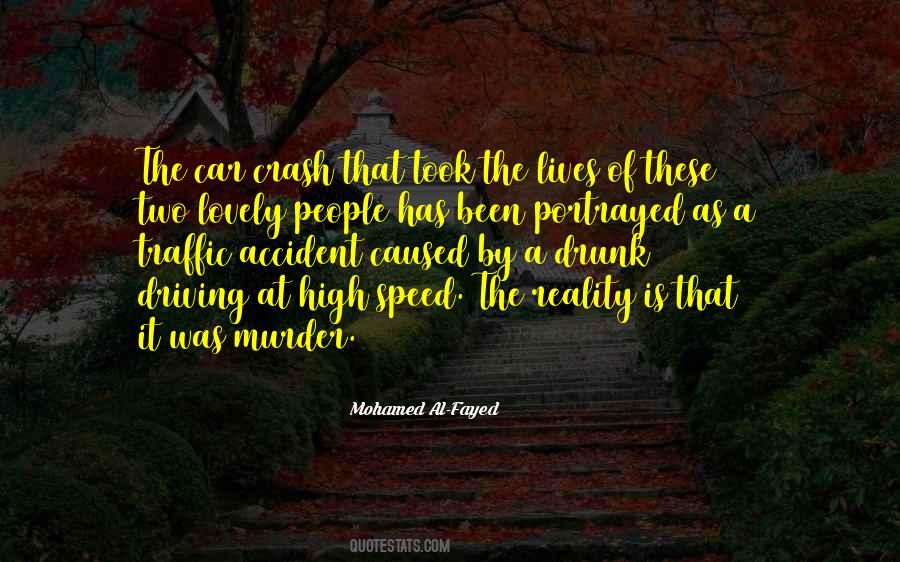 #38. I went to rent a car, and the guy goes, 'Do you want the extra insurance?' I said, 'Why ... am I gonna get into an extra accident? - Author: Robert Schimmel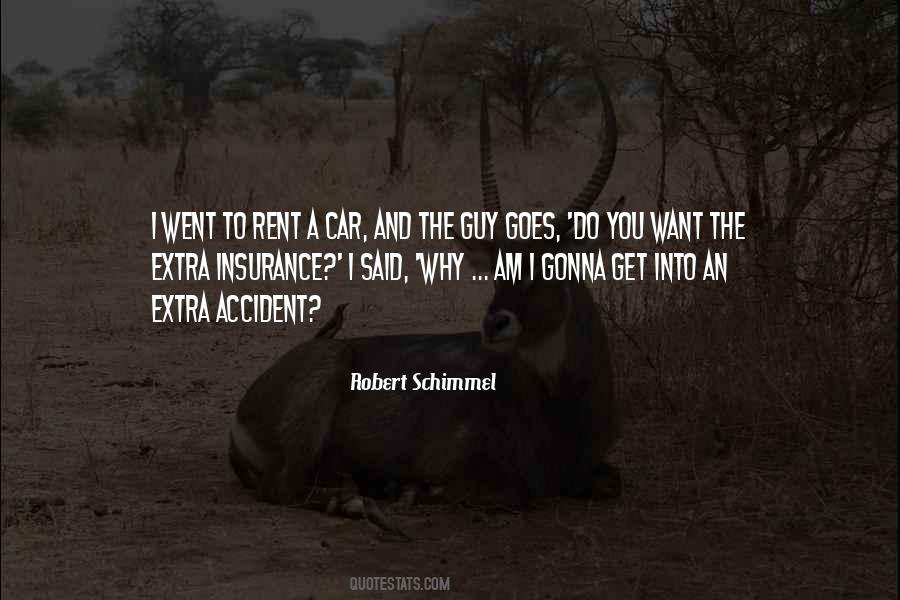 #39. Had they sensed that there were ghosts? That despite it being brand new and unspoilt, and despite no one having died in a car accident or a plane crash yet, there were ghosts. - Author: Jo Nesbo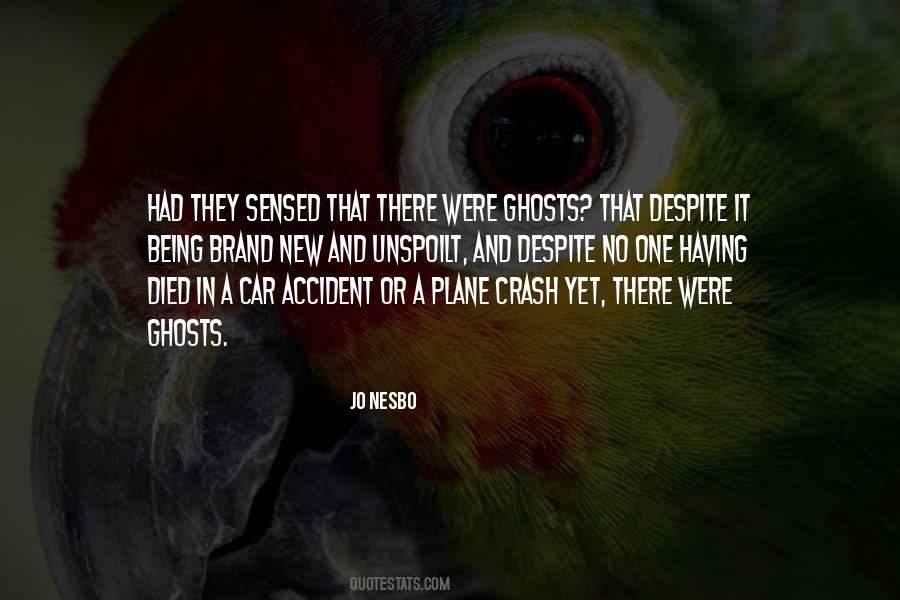 #40. I compare it to being in a car accident. There's so much adrenaline rushing through you that you remember being in the accident but you don't remember any of the details. - Author: Brooke Langton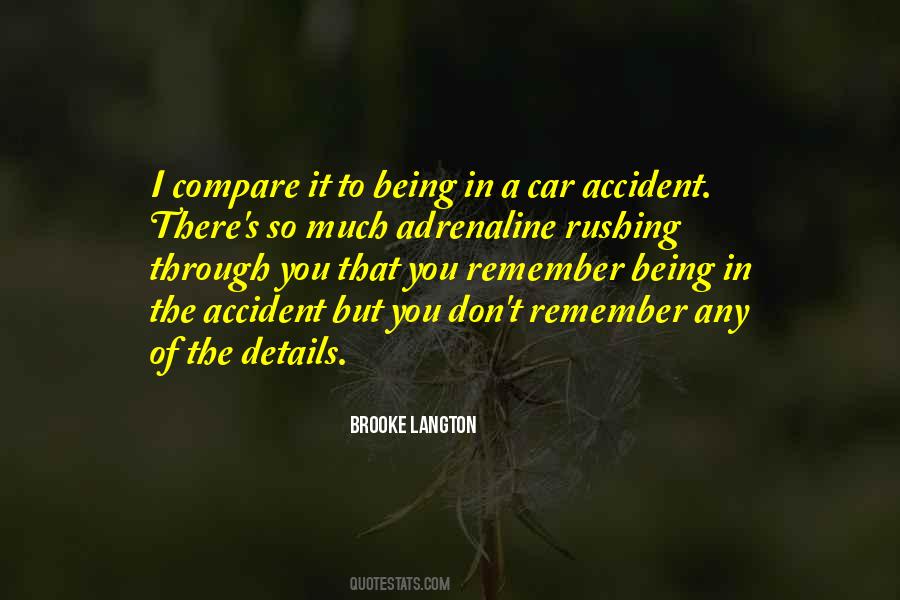 #41. I closed the door and sank into my desk chair. My heart was pounding even harder. I felt like someone who had just staggered out of her car after an accident on a freeway. This was different from the cockroach and the books and the Barbie. I'd been injured. Someone had tried to physically harm me. - Author: Kate White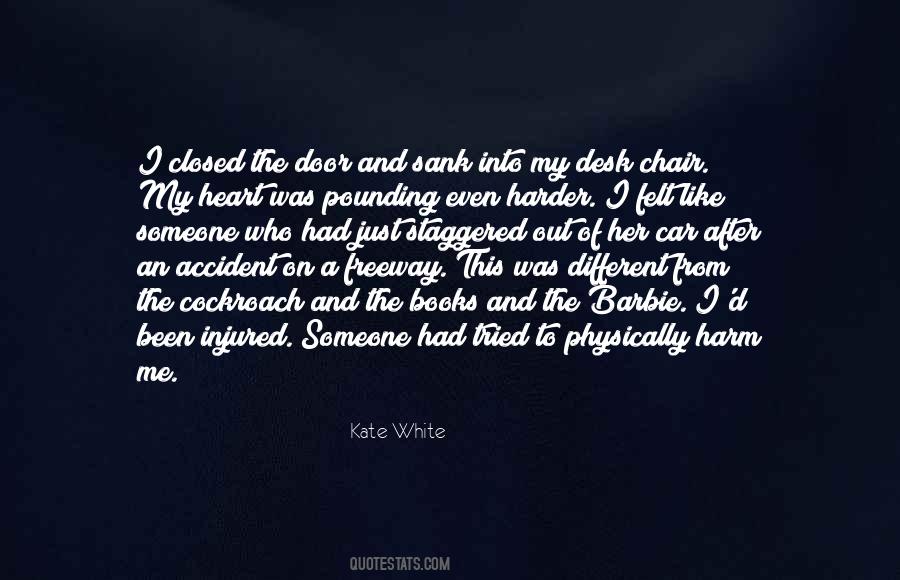 #42. My very best friend died in a car accident when I was 16 years old. That was the hardest blow emotionally that I have ever had to endure. Suddenly, you realize tomorrow might not come. Now I live by the motto, 'Today is what I have.' - Author: Amber Heard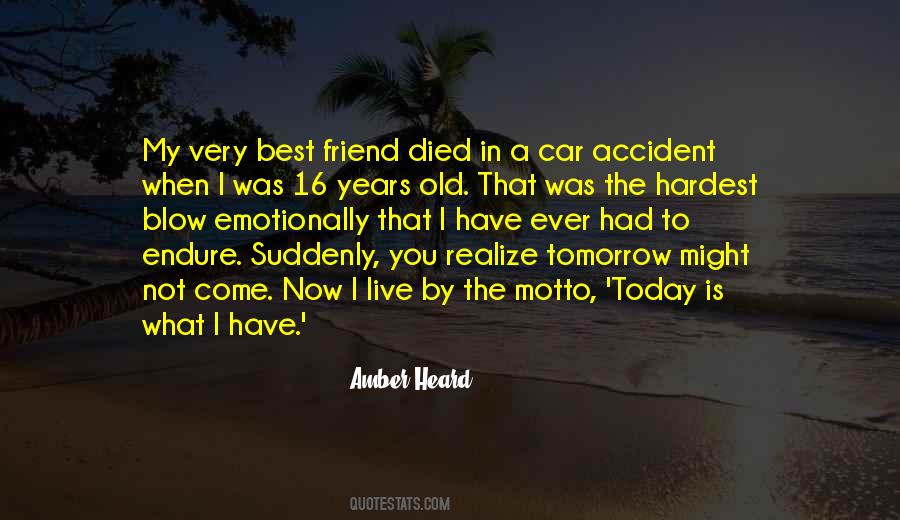 #43. I didn't mean to live in Portland. It was kind of an accident - I mean, the equivalent of my car breaking down there and me being like, 'Well ... I guess this is what I'm doing. I just can't find a better alternate.' - Author: Isaac Brock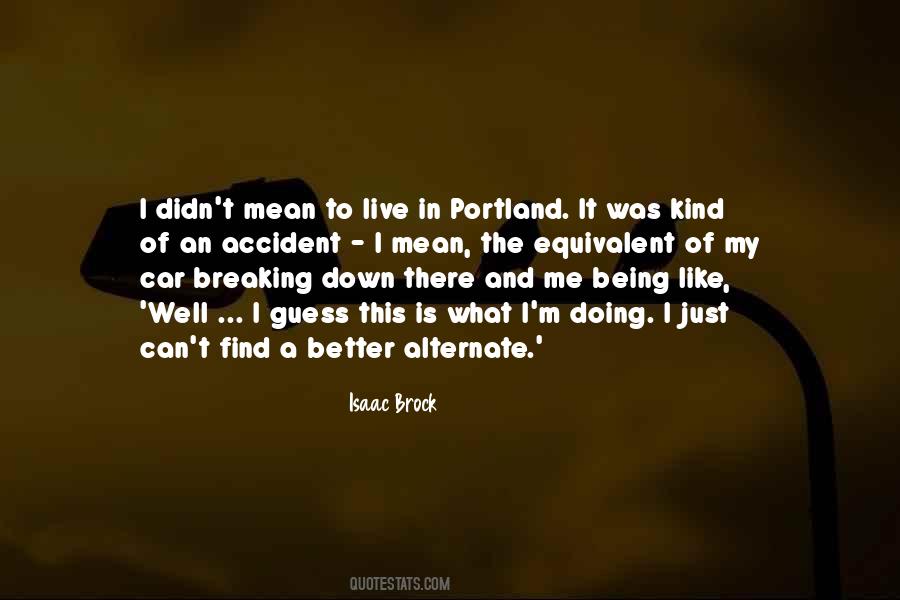 #44. My sporting hero was Drazen Petrovic, the NBA basketball player, who was killed in a car accident in 1993. He was a good friend, an unbelievable player, and I dedicated my Wimbledon win to him. - Author: Goran Ivanisevic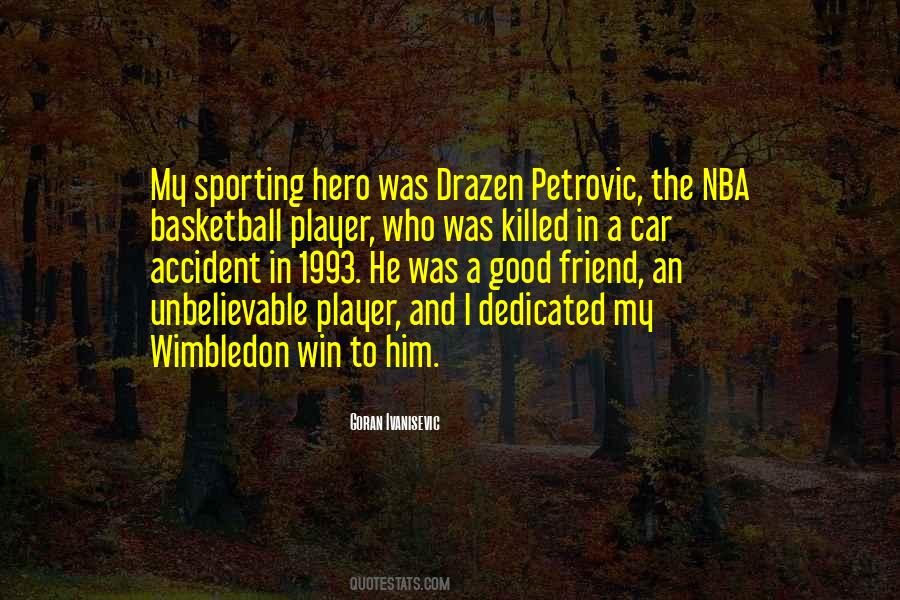 #45. It made sense, Amanda decided. People thrived on the misfortunes of others: her mother was the perfect example of that. Can't see a car accident, she thought, for wanting to climb inside and join in. - Author: Danika Stone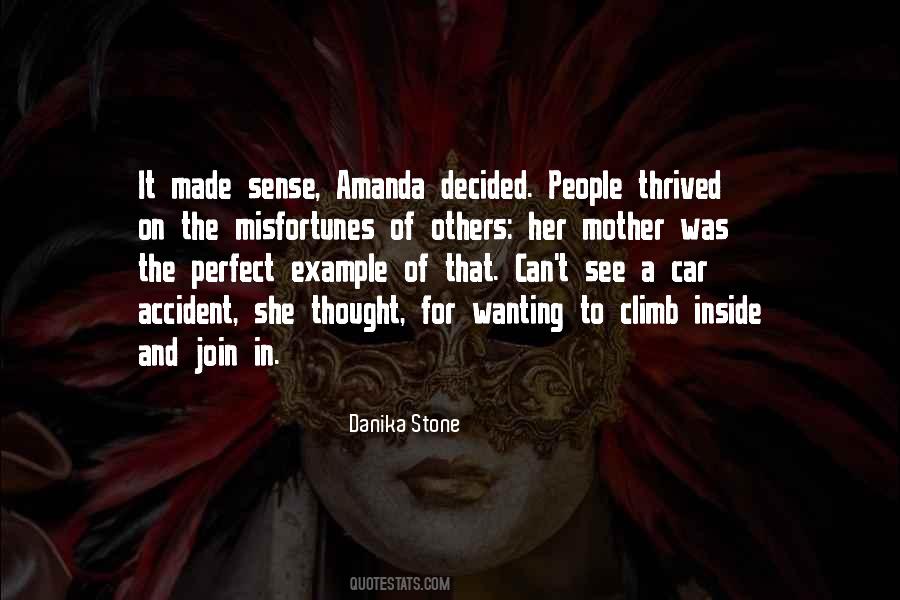 #46. The news of life is carried via telephone. A baby's birth, a couple engaged, a tragic car accident on a late night highway - most milestones of the human journey, good or bad, are foreshadowed by the sound of a ringing. - Author: Mitch Albom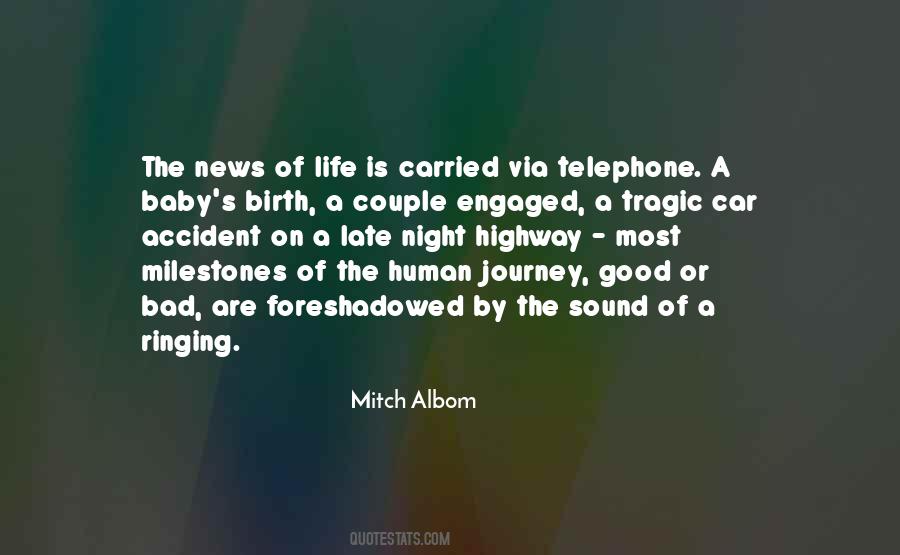 #47. I was once in a very, very bad car accident. So my drawing arm is full of pins and platinum stuff. Occasionally it hurts. But I found that after the arm was put back together I could draw better than before. I have no idea why. - Author: Bernard Tschumi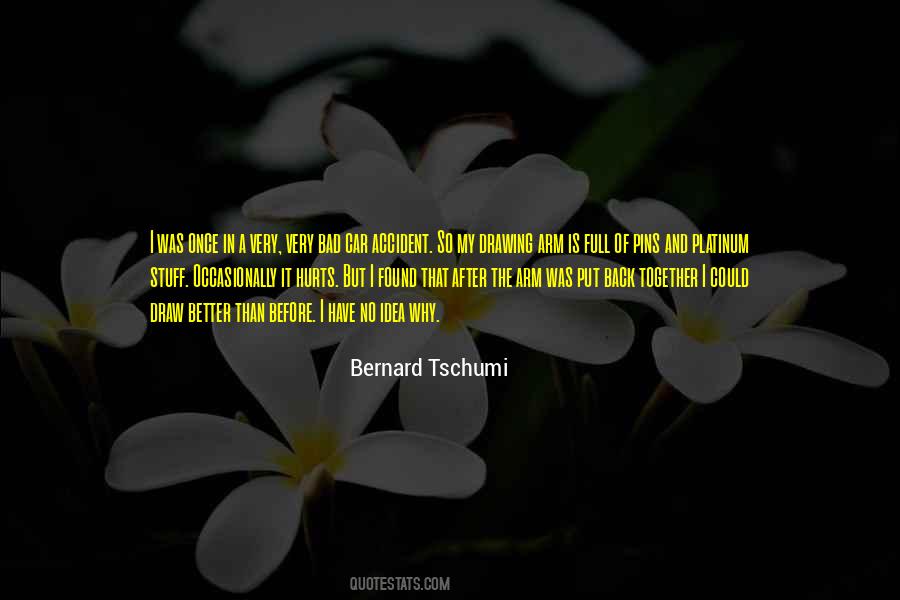 #48. As you may know, when someone endures a horrific event like a car accident or a sexual assault, the long-term memories can be permanently debilitating. - Author: Dan Brown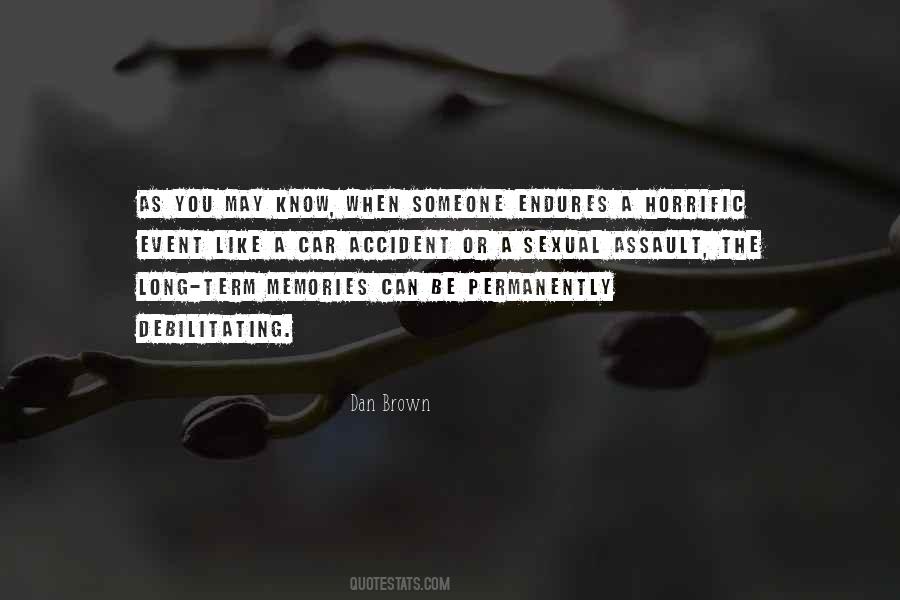 #49. You may avoid the risk of a car accident if you avoid driving, but you will lose the joy and freedom of driving. - Author: Debasish Mridha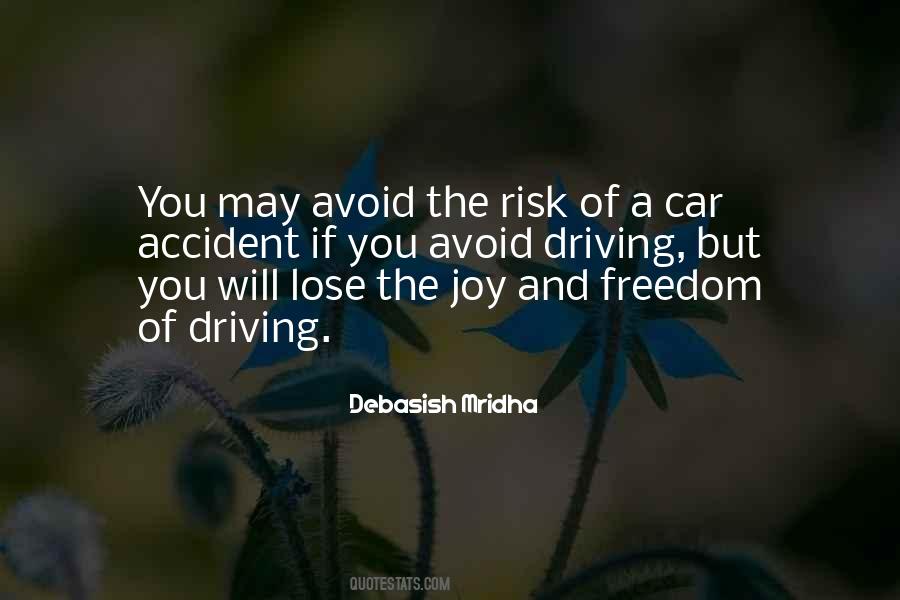 #50. ER was one of my favourites. I played a car accident victim who has leukemia. I got to wear a neck brace and nose tubes for the two days I worked. - Author: Dakota Fanning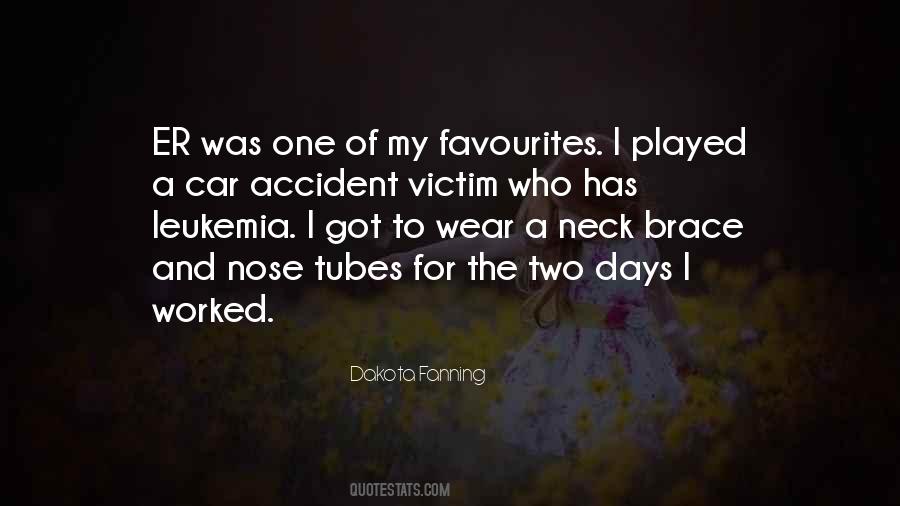 #51. One of those professional drivers hit one of those blockade barriers. It was the first car accident I have ever been in, so I was a little startled. - Author: Matt Hasselbeck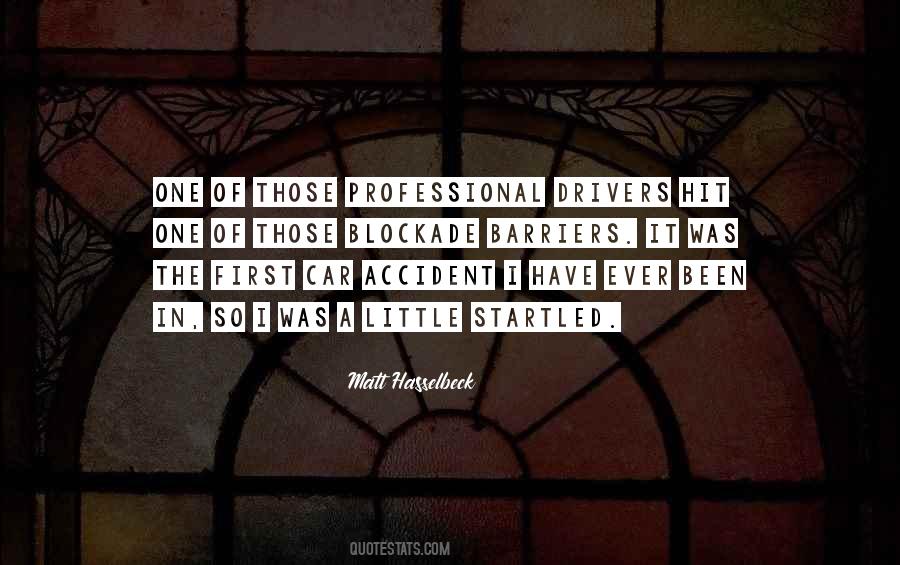 #52. Some day I will show all the [people] who say I was a success just because of my pretty face. Sometimes I wish I had a really bad car accident so my face would get smashed up and I'd look like Eddie Constantine. - Author: Tyrone Power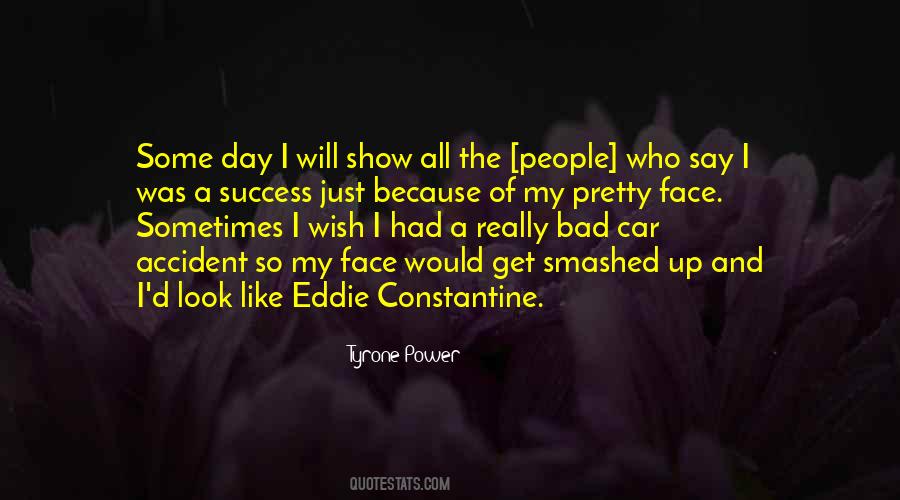 #53. I survived
A dreadful accident
In the car crash of the century
My shattered hopes
Collapsed on cold cement
But in the back of the ambulance
I'd never felt so content. - Author: Owl City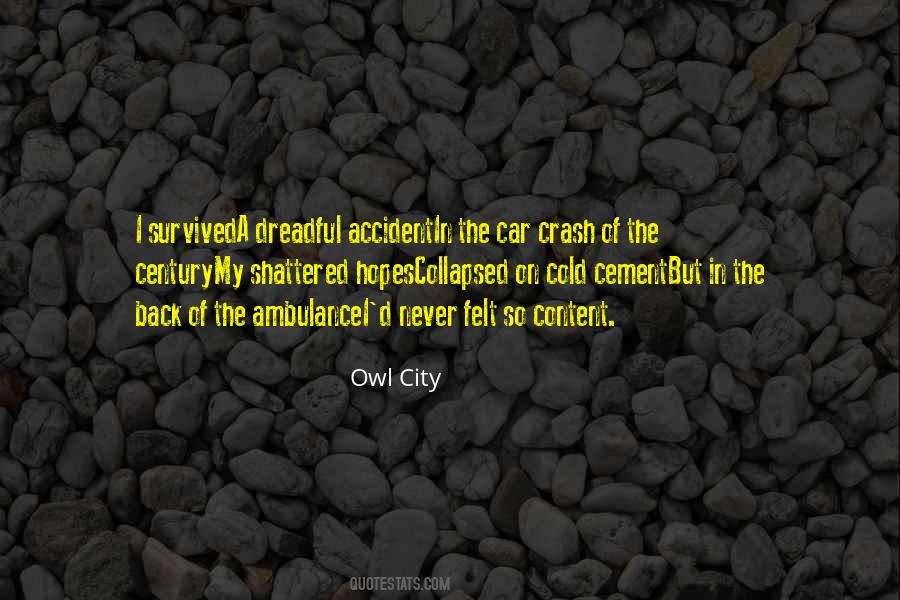 #54. A couple of days back, I got into a car accident. Not my fault. Even if it's not your fault, the other person gets out of their car and looks at you like it's your fault: Why did you stop at a red light and let me hit you doing 80! - Author: Dane Cook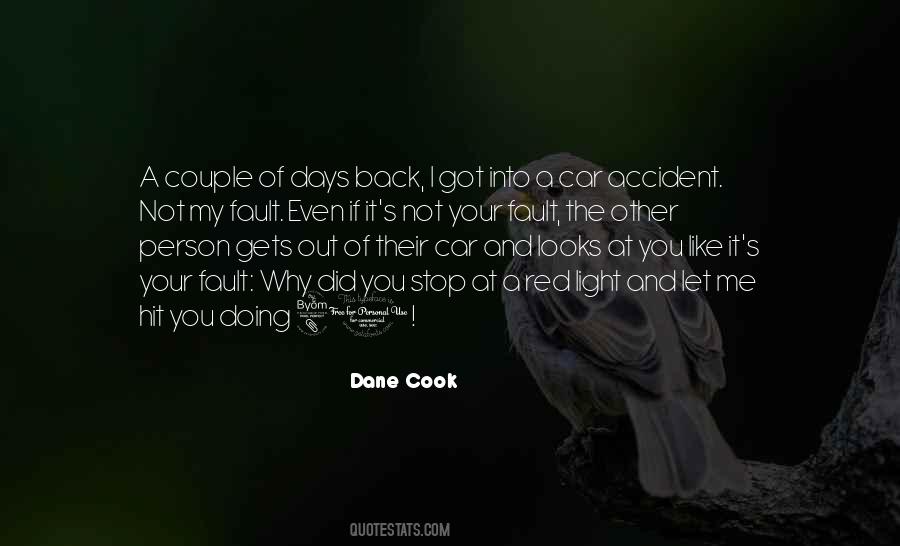 #55. Sometimes, PTSD sufferers will shut out memories of painful periods in their lives and experience amnesia. Thus, a traumatized individual might not remember when his spouse died in a car accident. Another person who was abused might have gaps in her memory of childhood. - Author: Glenn Schiraldi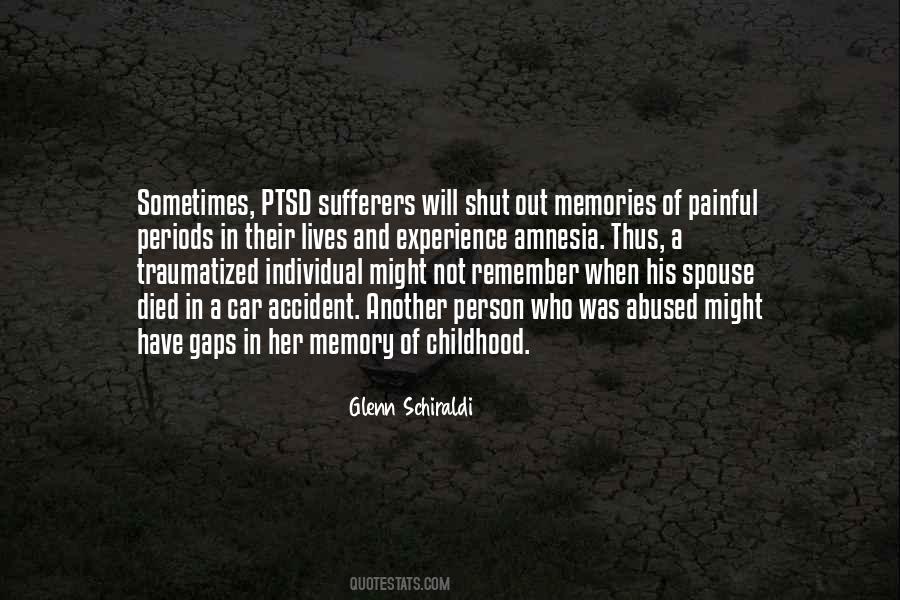 #56. I witnessed a surgery on a patient from New Orleans who was in a car accident. He didn't have any flow of oxygen. He couldn't breathe. He couldn't get a good flow of oxygen, so they did a surgery on him right there, and I was just holding the IV up watching. - Author: Glen Davis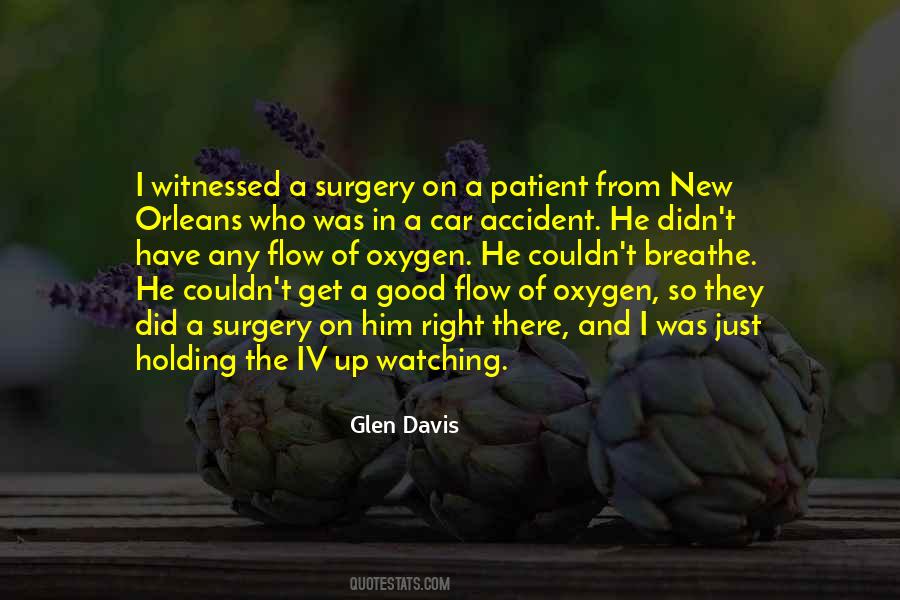 #57. If I'm ever in a weird car accident, or I commit suicide or something, after the media stops celebrating my death, could they check into it? Because I'm not suicidal. And I'm a pretty good driver. - Author: Glenn Beck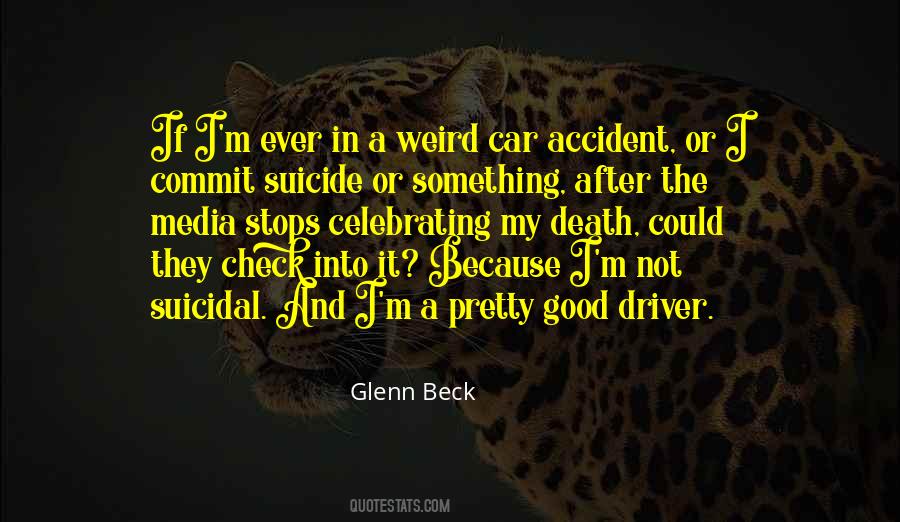 #58. When someone is in a car accident and they're driving at 100 mph, drunk, who's tape do you think his listening to at that time? Think about it. - Author: Billie Joe Armstrong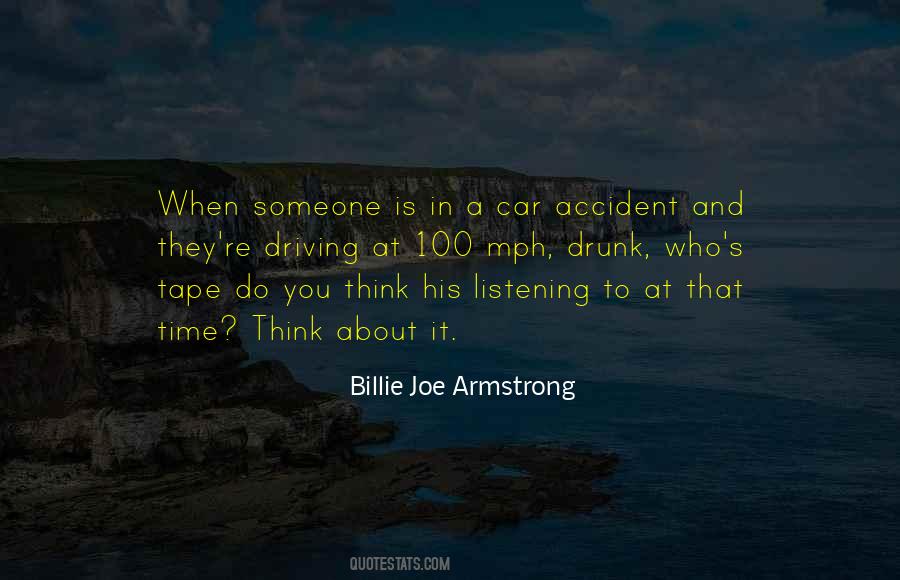 #59. Honestly, I could get in a car accident today and never play tennis again, and then I wouldn't have anything to fall back on. But fortunately enough, I do. - Author: Serena Williams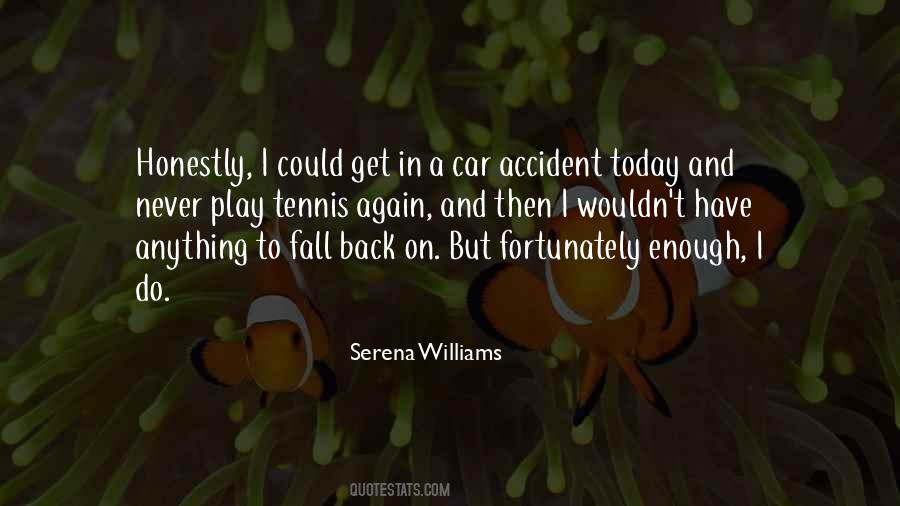 #60. I've never been in a single accident - basic precognition takes care of that - and the cops all know my car well enough to leave me alone when I'm bending the laws of physics and traffic to get somewhere. - Author: Lilith Saintcrow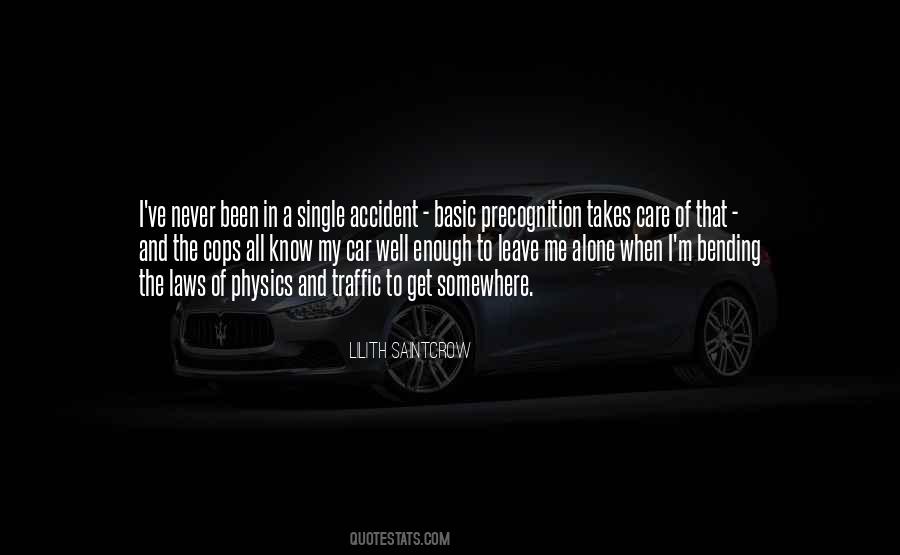 #61. I've certainly faced some raw, real pain in my life. I lost my father to a car accident when I was young. My mother died ten years ago. My son was very sick as an infant. Eventually, I have attempted to transform this pain into art, to make meaning out of it. - Author: Dani Shapiro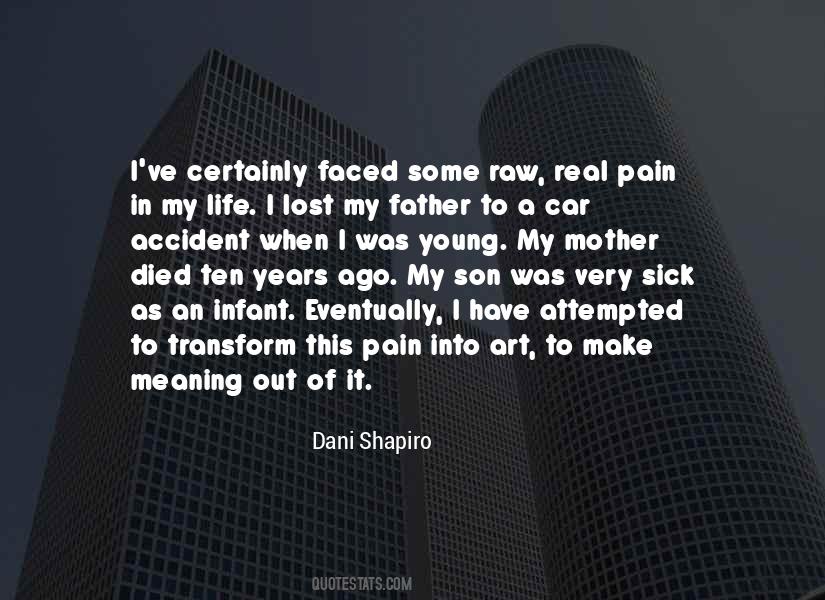 #62. A boy and a girl started dating after he backed his car into hers. They met by accident. - Author: Adam Young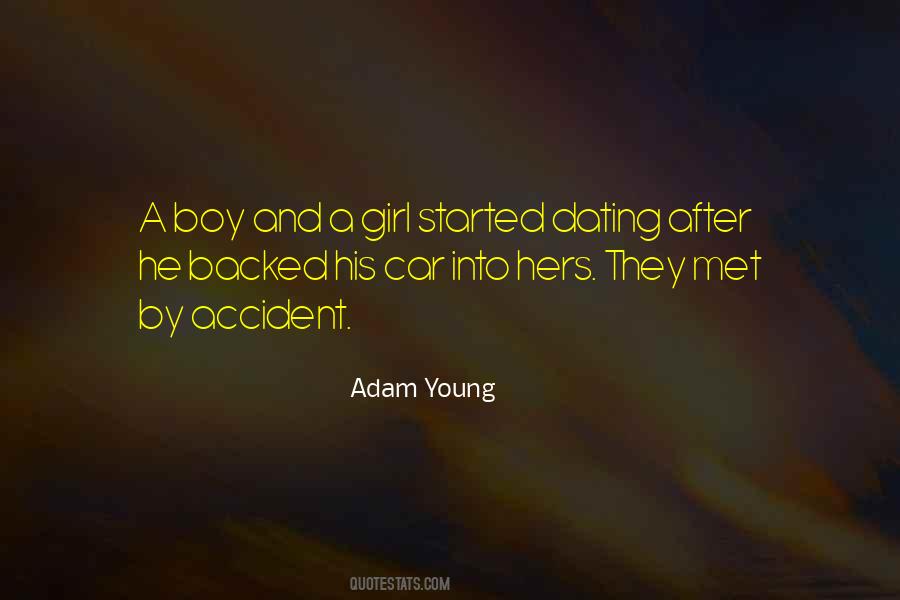 #63. In August of 2002, I survived a car accident. Although I can still see the van speeding toward us, I cannot bring to mind the crash itself - only its aftermath. - Author: Siri Hustvedt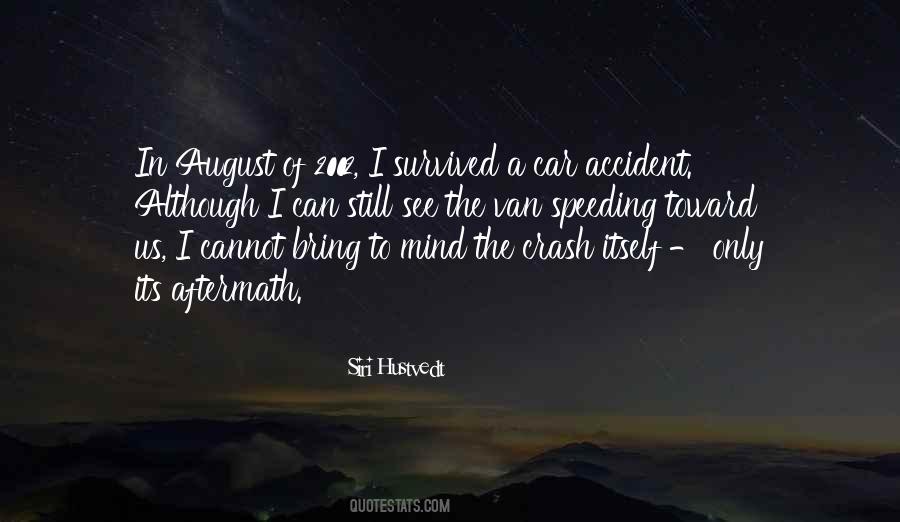 #64. I have this working theory that the main cause of traffic after a car accident is rarely the accident itself. I think people just slow down to get a closer look at the wreckage. - Author: Kris Kidd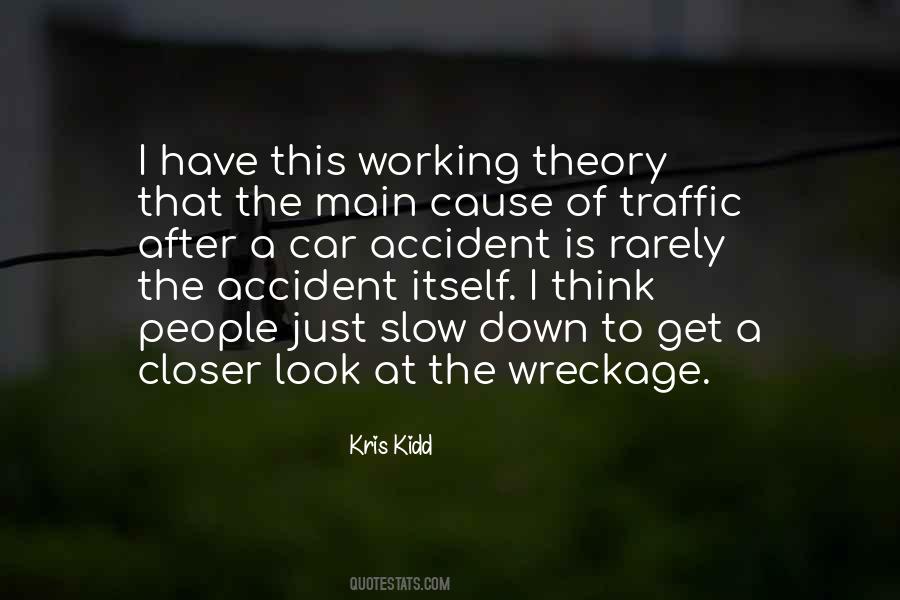 #65. Oh, and I heard a rumor that I died in a car accident. I didn't. - Author: Gerard Way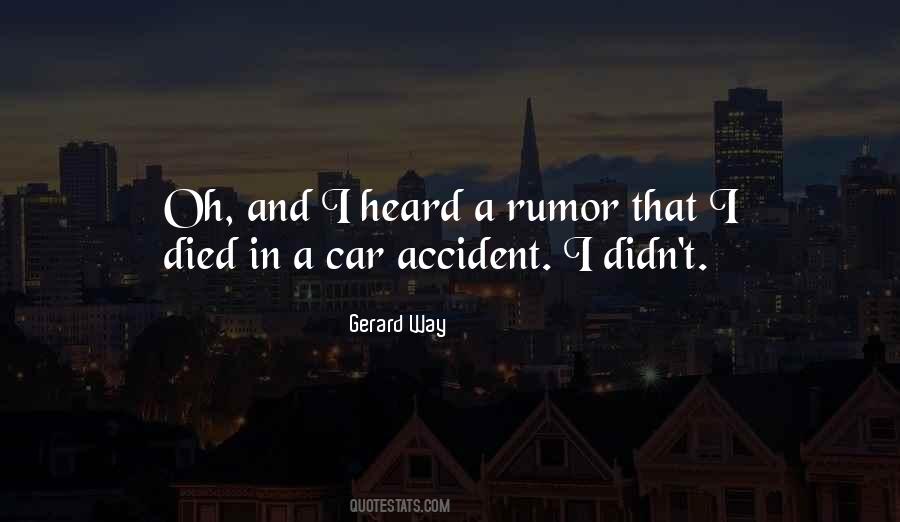 #66. I look at safety as, you know, there's active and passive. Passive is how do you survive a crash. Active is accident avoidance. And so that's real-time information to you, as a driver, and to your car, to the wheels of a car that will get you out of a bad situation. - Author: William Clay Ford Jr.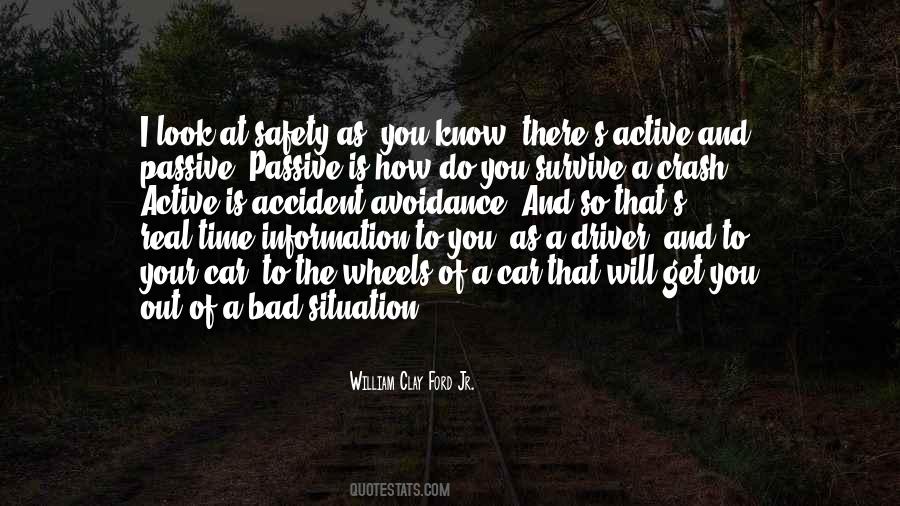 #67. I so wanted out of this conversation, but it was like a car accident: Once you started spinning, you could only wait and see what you hit. - Author: Laurell K. Hamilton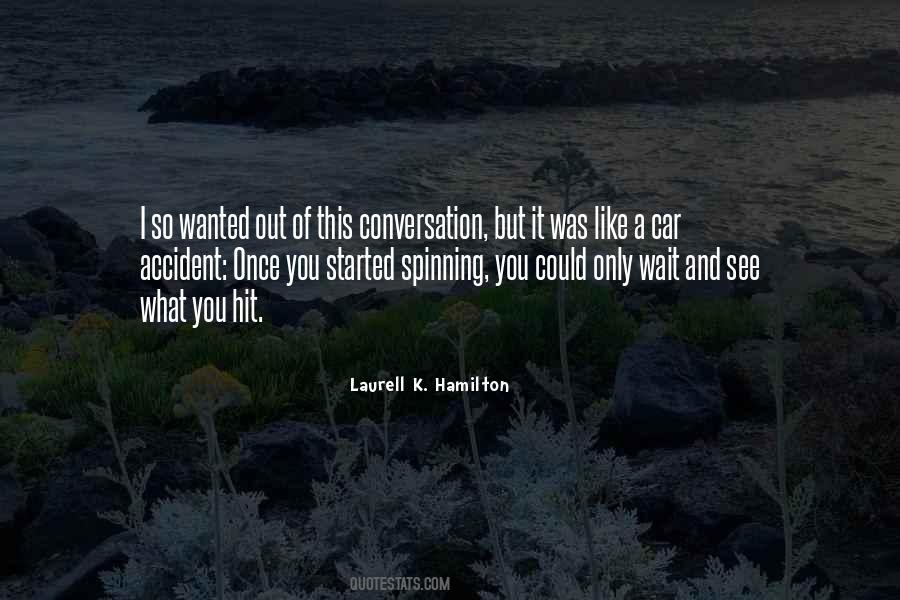 #68. My girlfriend was just killed in a car accident. Devastating. I can't believe I'm only going to have sex with her one more time. - Author: Anthony Jeselnik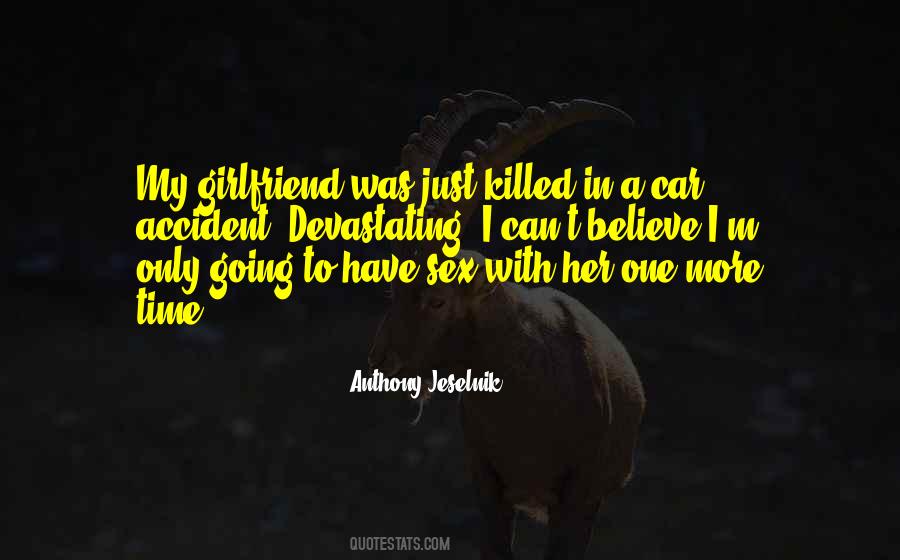 #69. You are significantly more likely to die in a car accident, especially if you fail to wear a seat belt, than to be attacked by ISIS. Wear your seat belt - Author: Jessica Stern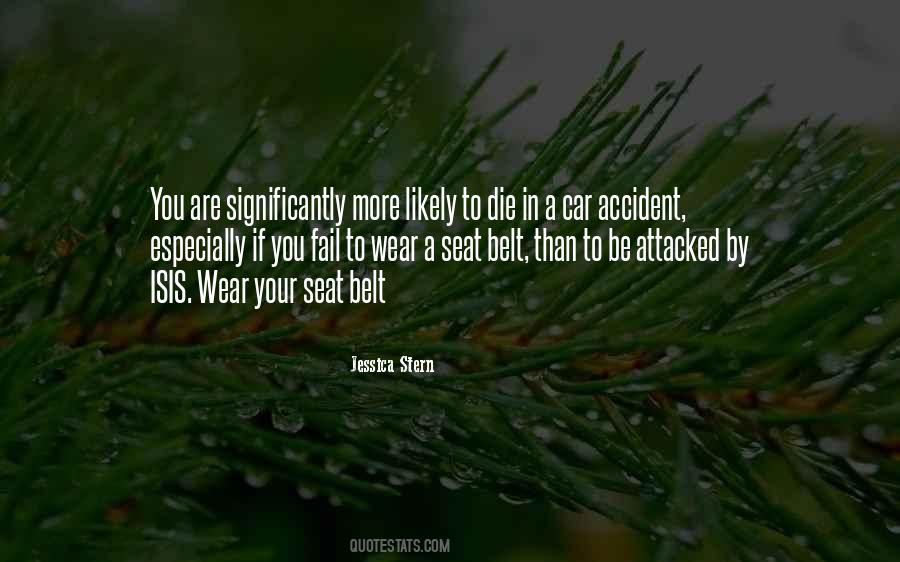 #70. 'Yogi Bear' changed my life in ways that I can't explain because it's not a full feature on me. 'Yogi Bear' - there's everything before 'Yogi Bear,' and there's everything after 'Yogi Bear.' Like a major car accident, or the birth of Christ. - Author: T. J. Miller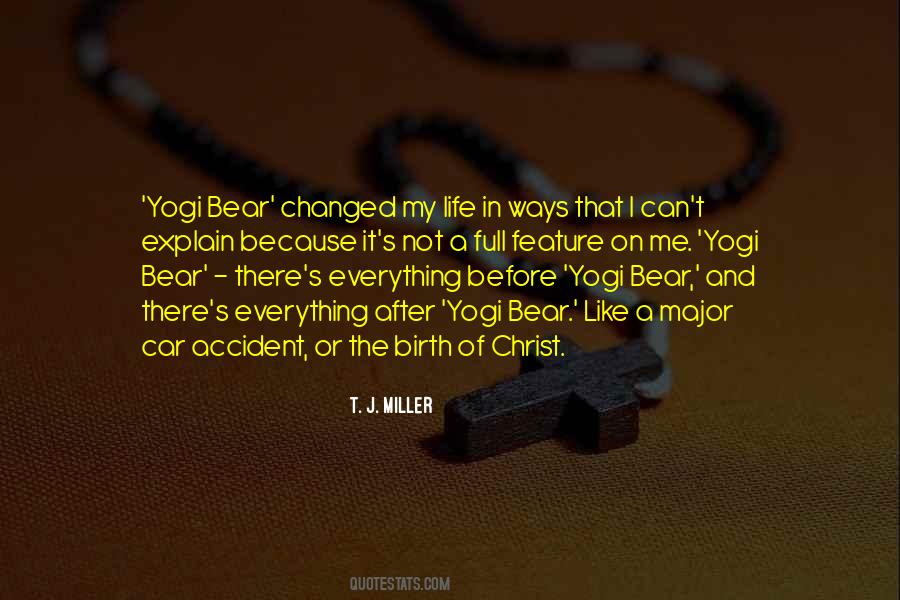 #71. That was my pride and joy - that I made it through all those years of minor hockey without losing any of my teeth; then, I ended up losing them in a car accident in New York when I was riding in a taxi. So, I end up losing my teeth, but not in the glamorous fashion I envisioned. - Author: Tom Glavine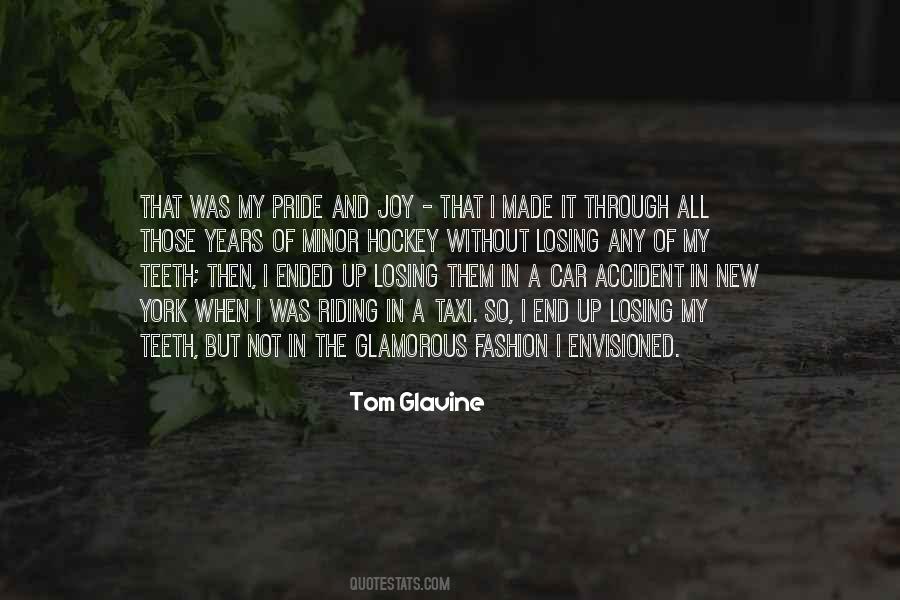 #72. I think everyone is forgetting what plastic surgery is for - if you have a face-eating tumour, lose a breast or are involved in a car accident, then it's a good idea. - Author: Sally Phillips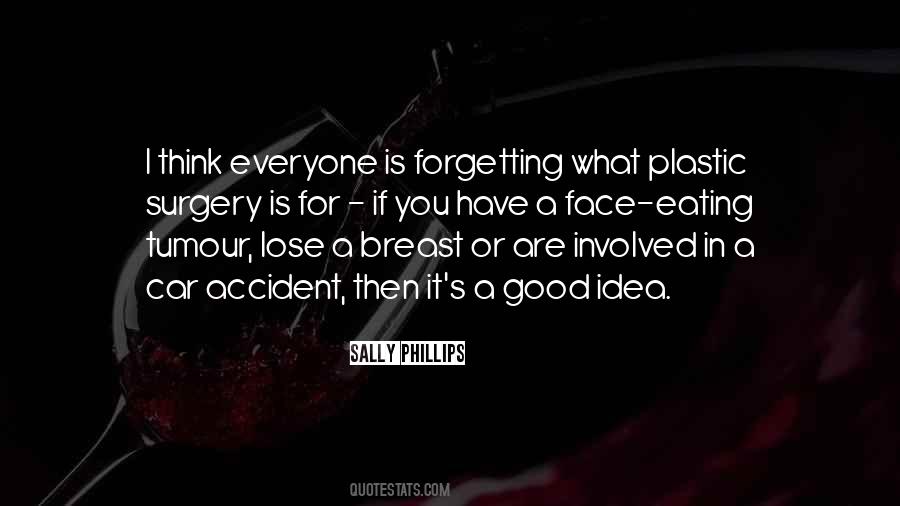 #73. There have been three times. Once I got in a car accident and shattered my finger. A few years ago I didn't feel like being alive. That's all I can say. - Author: Jack White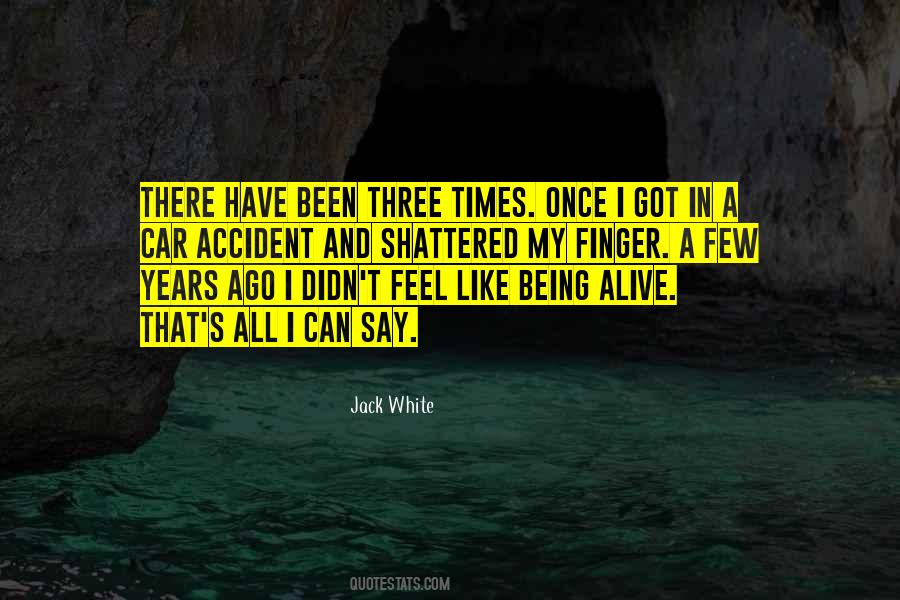 #74. Sometimes movie-making happens like clockwork; other times, like a car accident. - Author: Eric Roberts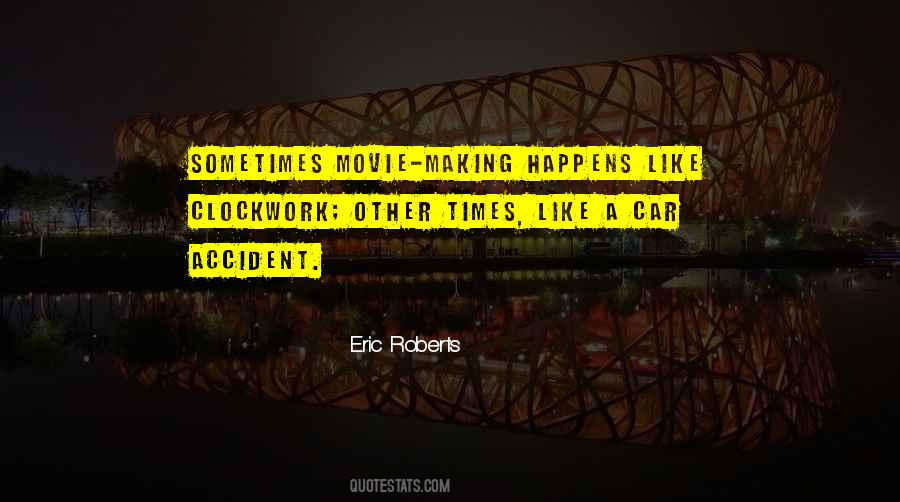 #75. Most of us have to spend a lot of energy to learn how to drive a car. Then we have to spend the rest of our lives over-concentrating as we drive and text and eat a burrito and put on makeup. As a result, 30,000 people die every year in a car accident in the U.S. - Author: Astro Teller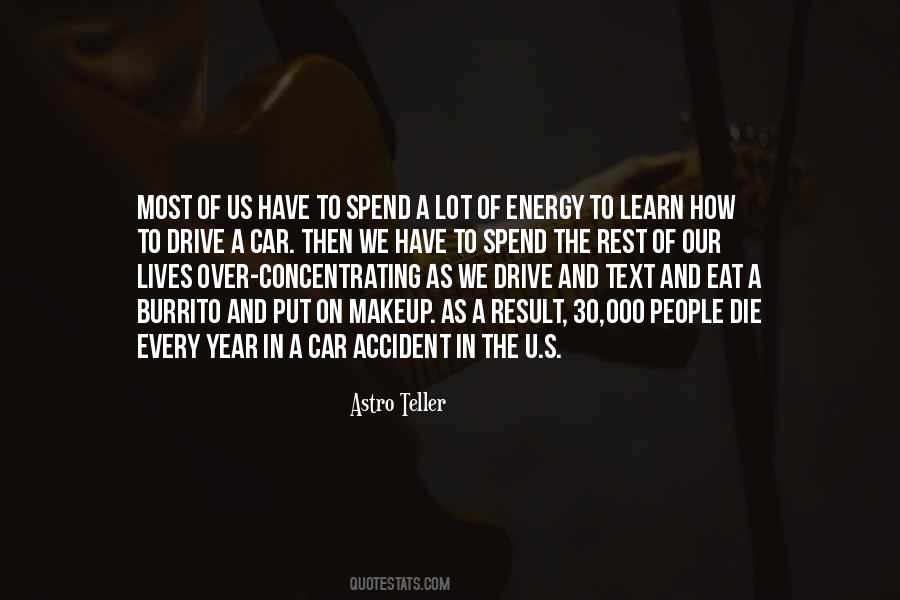 #76. Time. Time has a way of standing still during the moments that define one's life.
The first kiss, the birth of one's first child, a paralyzing car accident, hearing of the death of a parent, the last kiss. - Author: Benjamin M. Strozykowski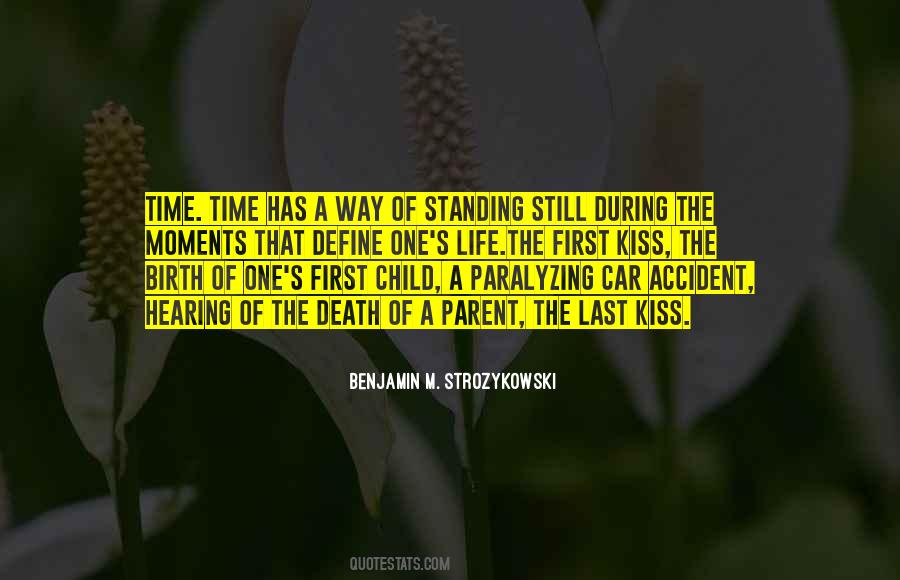 #77. Every single day, we could be in a motorcar accident, so, we have to carry on with our lives, and not imagine terror around every corner. - Author: Jane Goodall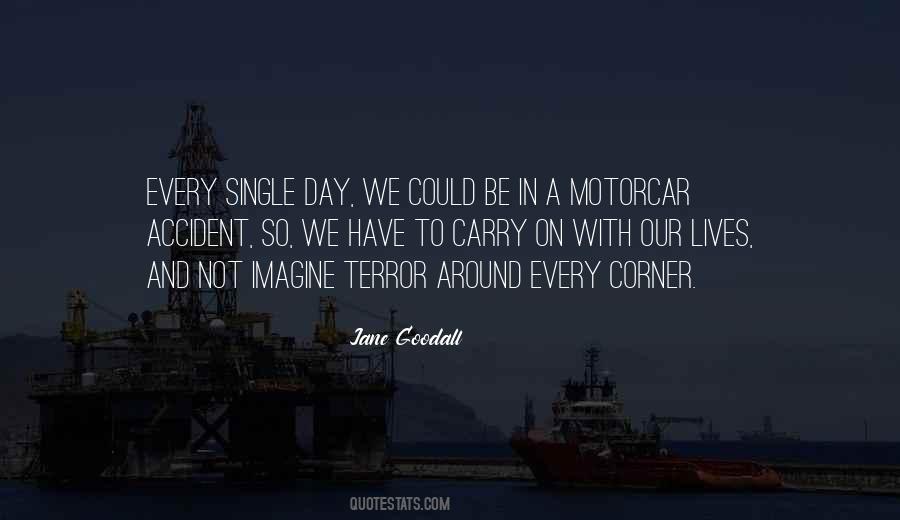 Famous Authors
Popular Topics