Pondered Famous Quotes & Sayings
List of top 82 famous quotes and sayings about pondered to read and share with friends on your Facebook, Twitter, blogs.
Top 82 Pondered Quotes
#1. Life is an accumulation of what your Heart and mind has pondered most, a conclusion of all you wishes, dreams and desires. - Author: Steven Redhead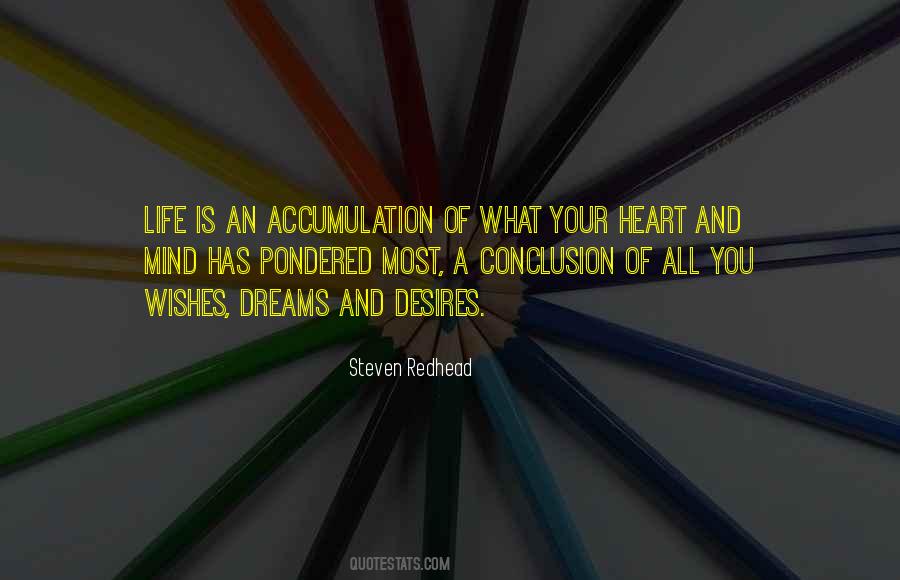 #2. He had read endless books, he had digested them, pondered over them. Day by day, year after year, he had turned over all the problems of human beings. Yet there were all sorts of simple things he didn't know how to do: he couldn't even walk into an inn and sit down at a table. - Author: Georges Simenon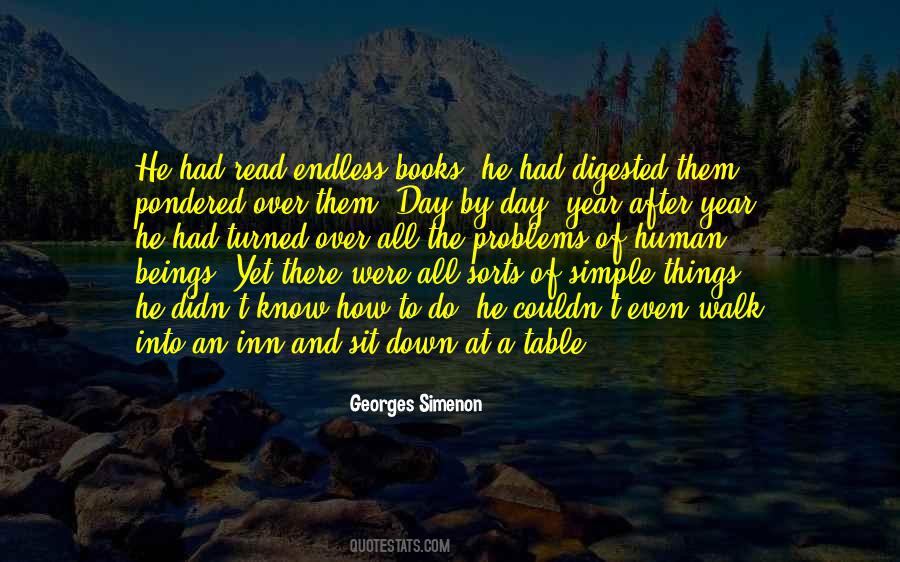 #3. I guess when you'd lived as long, and pondered as much, as Old Tom had ... a game of hopscotch could be more profound than village politics or gossip. - Author: Linda Medley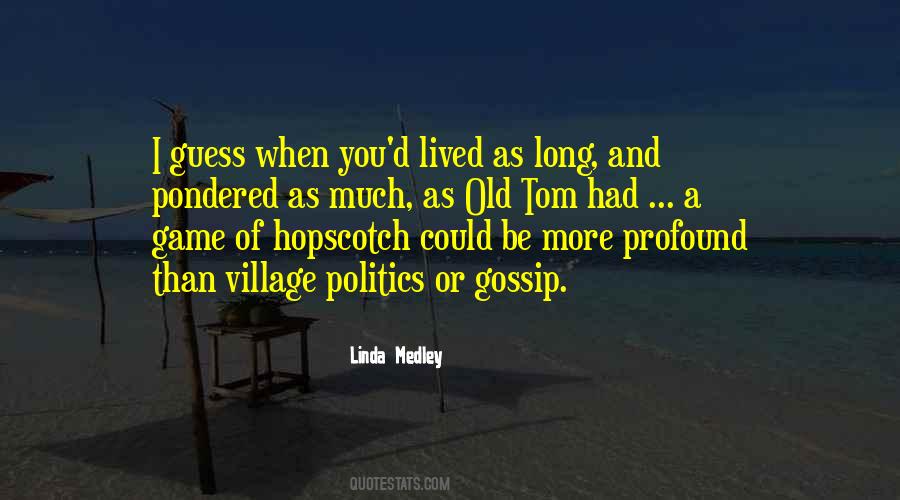 #4. She pondered the arrangements of the paintings on a wall like a writer pondered commas. - Author: Jonathan Franzen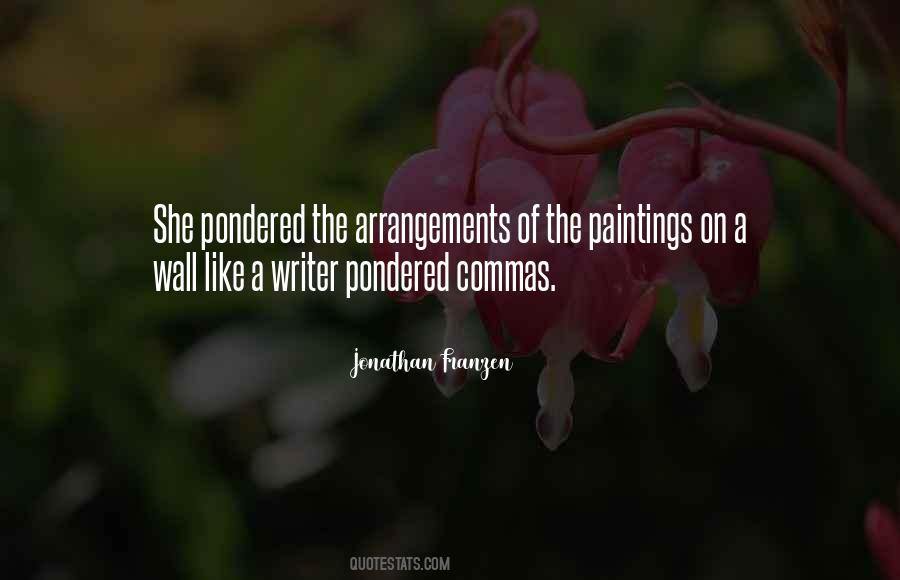 #5. What is the meaning of life? Why are we here? Philosophers have pondered that question for centuries. I'm afraid the answer is disappointingly simple: Mating. That's it. - Author: Oliver Markus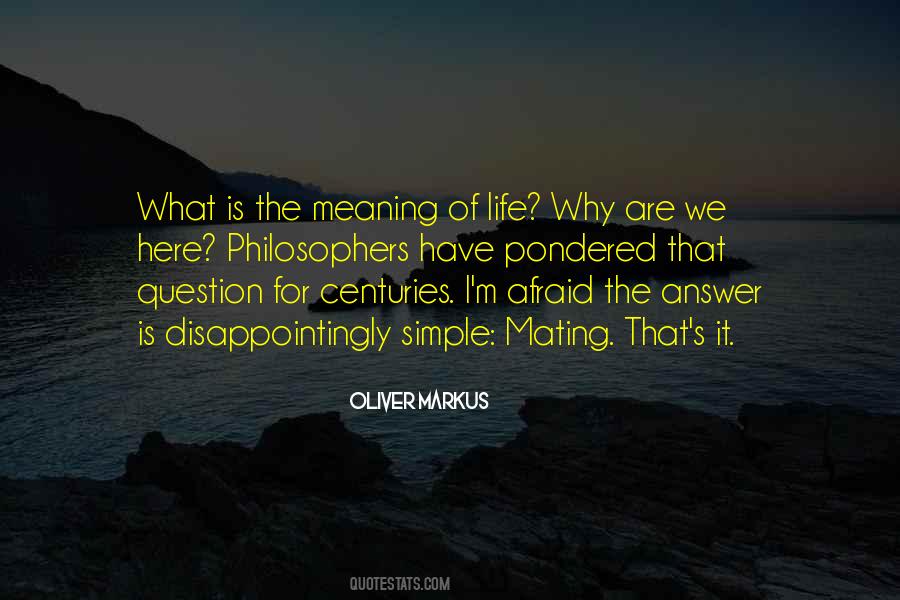 #6. He had known several men who blew their heads off, and he had pondered it much. It seemed to him it was probably because they could not take enough happiness just from the sky and the moon to carry them over the low feelings that came to all men. - Author: Larry McMurtry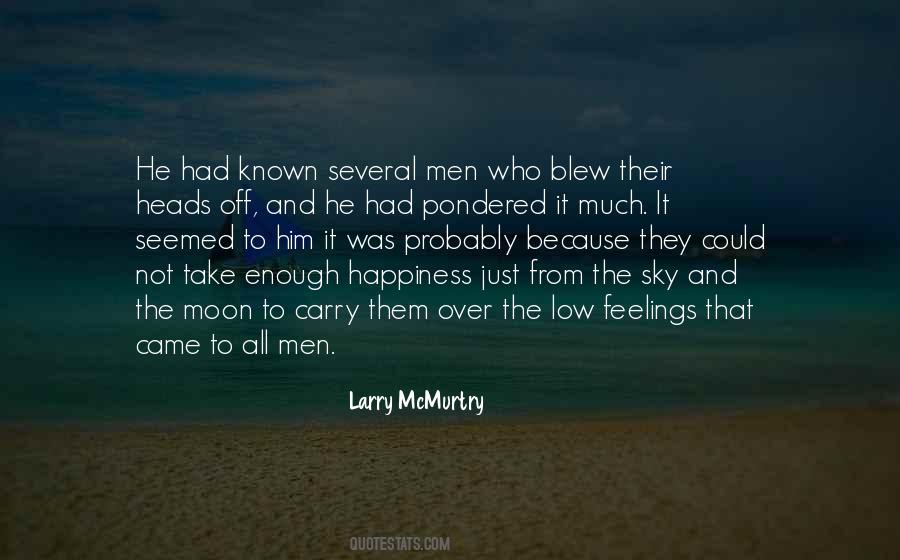 #7. Even Colin - the golden boy, the man with the easy smile and devilish humor - had raw spots of his own. He was haunted by unfulfilled dreams and secret insecurities. How unfair she had been when she'd pondered his life, not to allow him his weaknesses. - Author: Julia Quinn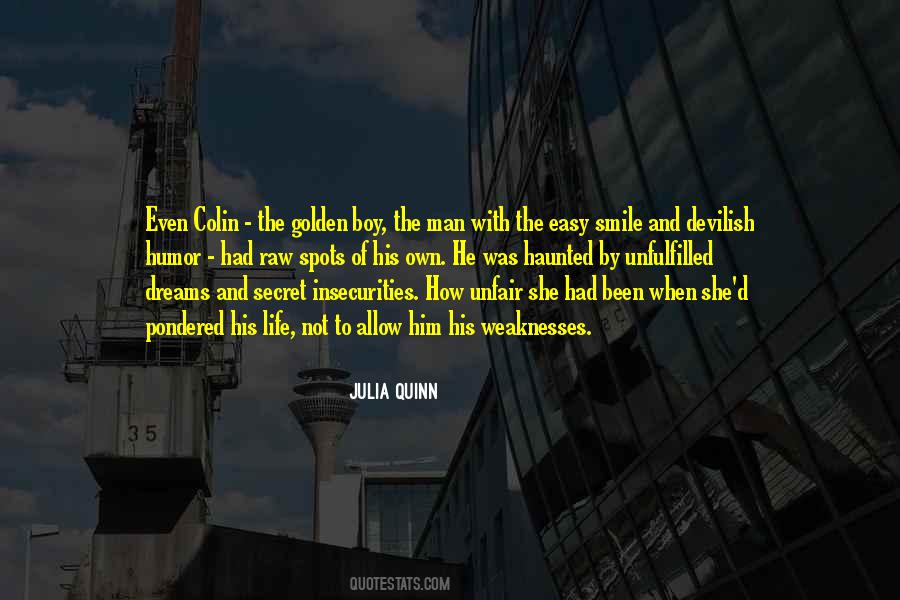 #8. The painter pondered the mournful puzzle of life demanding to be born and, once born, demanding to be fruitful ... to multiply and to live as long as possible - to do all that on a very small planet that would have to last forever. - Author: Kurt Vonnegut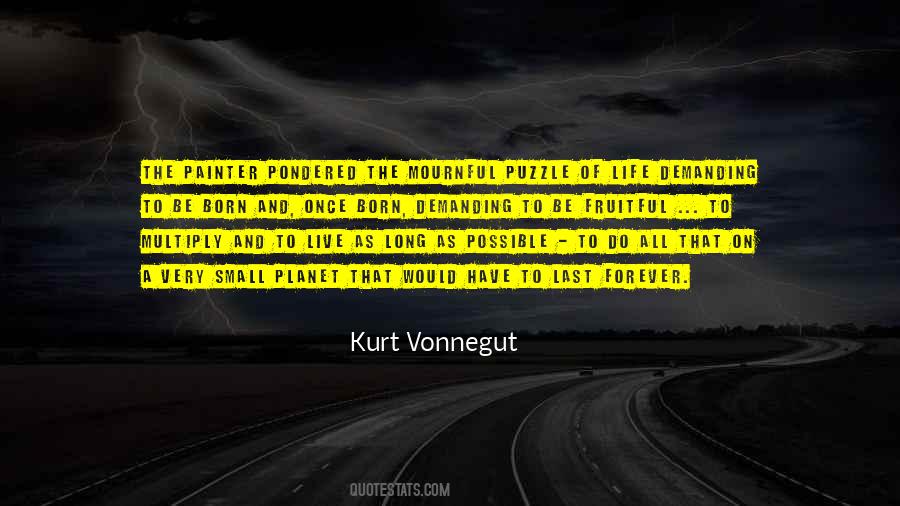 #9. For a while we pondered whether to take a vacation or get a divorce. We decided that a trip to Bermuda is over in two weeks, but a divorce is something you always have. - Author: Woody Allen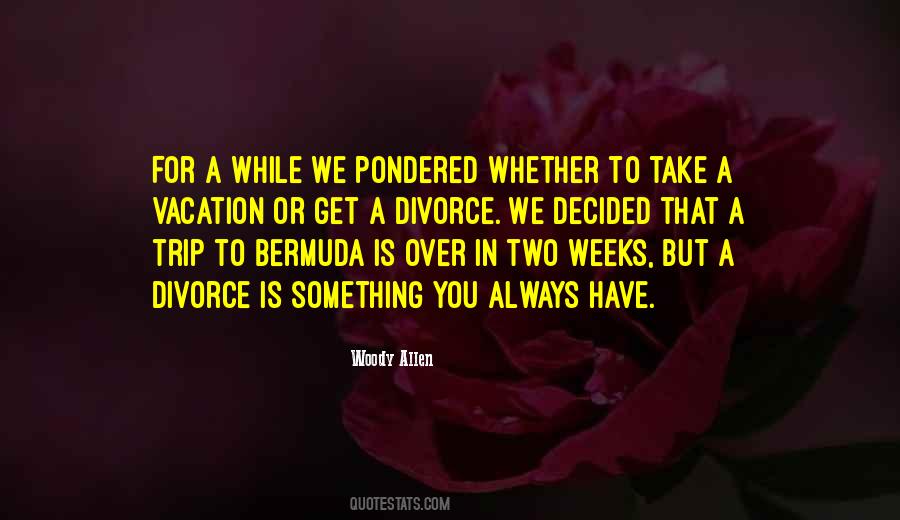 #10. She pondered on how she had come to be as that particular place, at that particular moment, at that specific time in her life. Why, at fifty-three years old, was she lying on the hard ground, about to have a shootout with a murderer? - Author: Andrew Joyce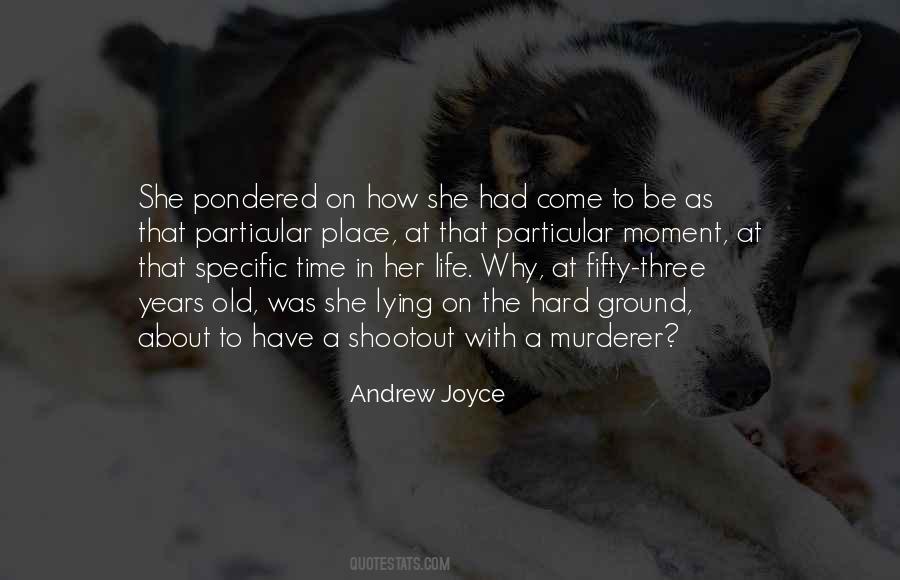 #11. Historically, a successful life in comedy is a dream that's as equally pondered and unpursued as being an astronaut. - Author: Artie Lange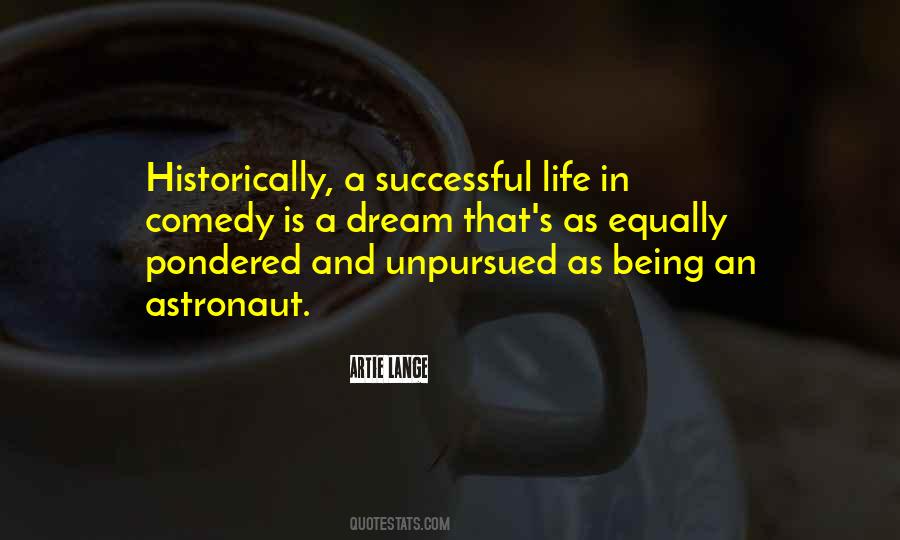 #12. Lousse tried to make him say, Pretty Polly! I think it was too late. He listened, his head on one side, pondered, then said, Fuck the son of a bitch. It was clear he was doing his best. - Author: Samuel Beckett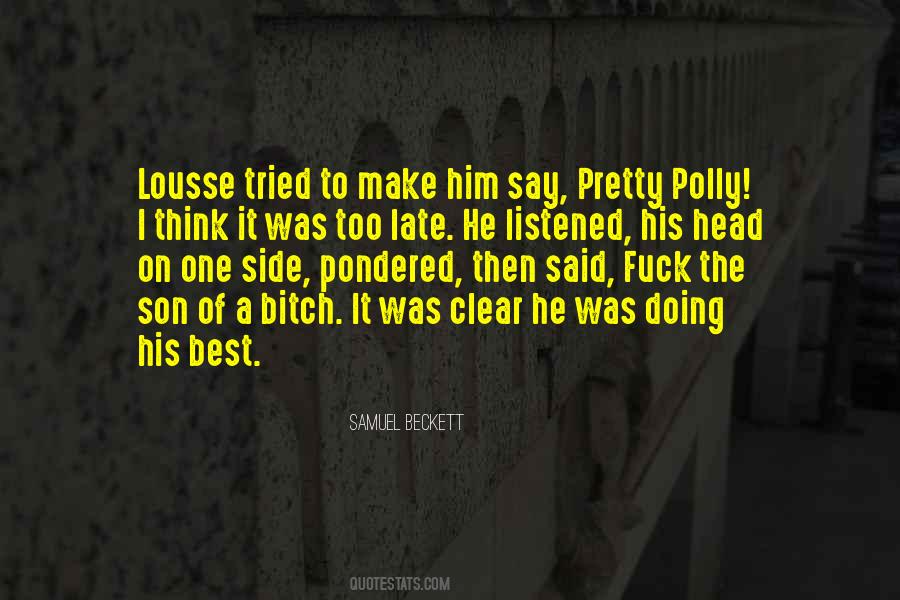 #13. He looked around at the perfectly white world, felt the wet kisses of the snowflakes, pondered hidden meanings in the pale yellow streetlights that shone in a world so whitely asleep.
"Beautiful," he whispered. - Author: Kurt Vonnegut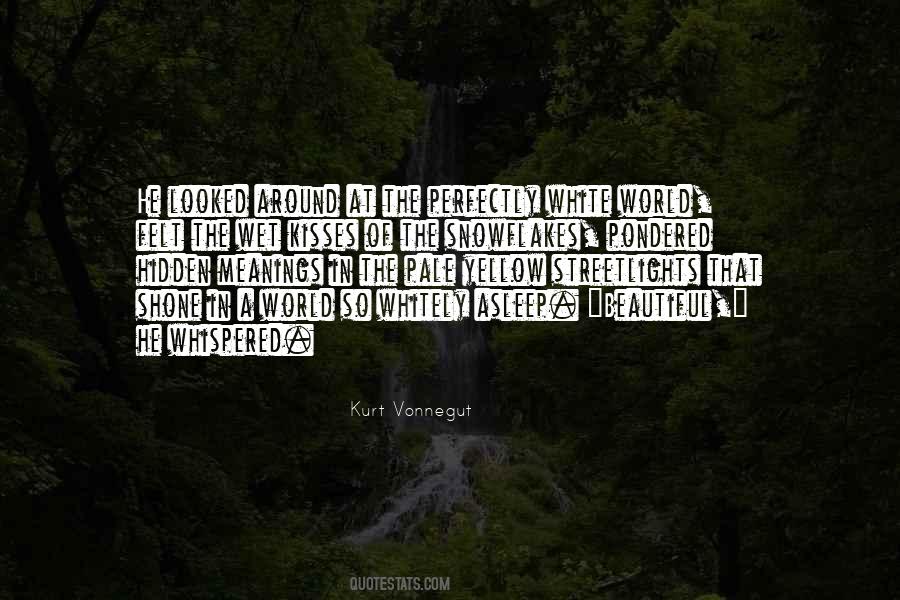 #14. Near the foot of the mountain we visited a yogi who dwelled in a hollow tunneled beneath a boulder. He pondered our notion of climbing Shivling and said: 'First travel, then struggle, finally calm'. - Author: Greg Child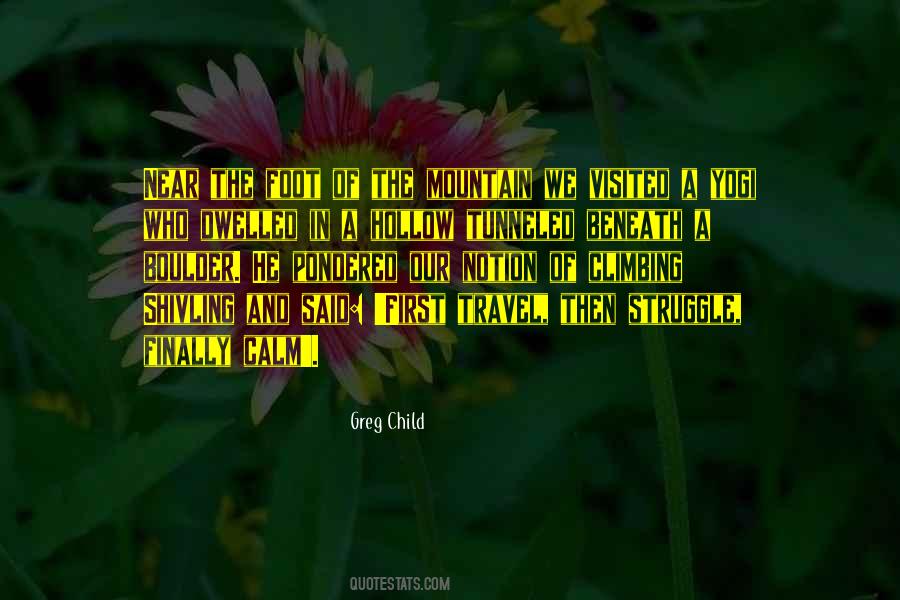 #15. Since this was a formal undead gathering, there would be food - all kinds - drinks, dancing, and festivities, while those in power pondered whether or not to slaughter half the people around them. In other words, like a high-school prom. - Author: Jeaniene Frost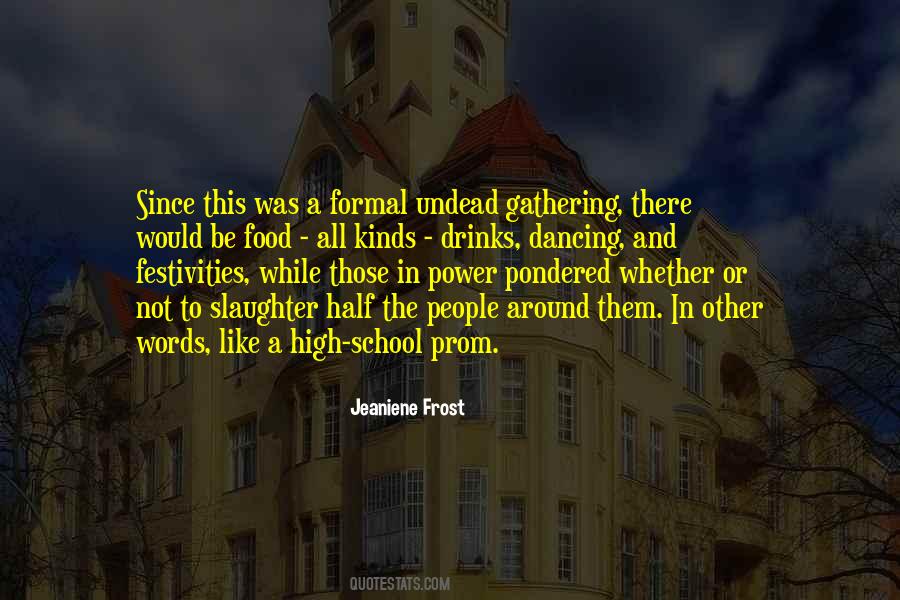 #16. Police work wouldn't be possible without coffee," Wallander said.
"No work would be possible without coffee."
They pondered the importance of coffee in silence. - Author: Henning Mankell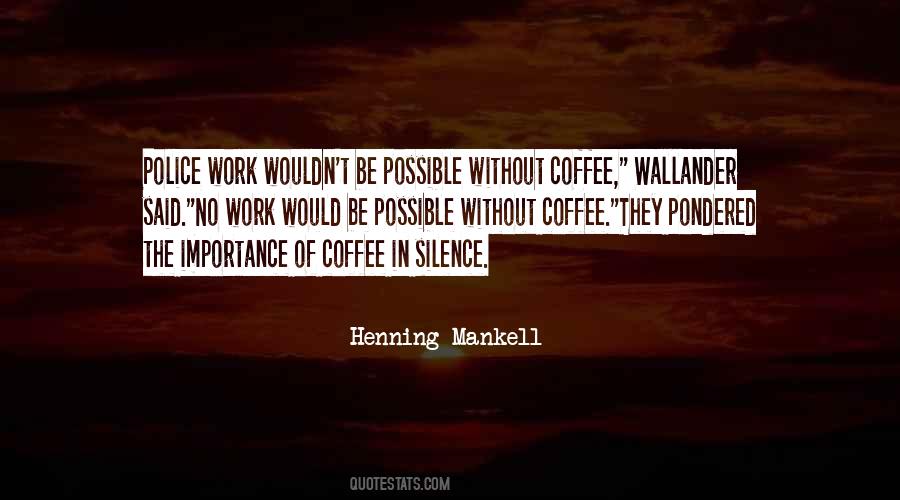 #17. I pondered all these things, and how men fight and lose the battle, and the thing that they fought for comes about in spite of their defeat, and when it comes turns out not to be what they meant, and other men have to fight for what they meant under another name. - Author: William Morris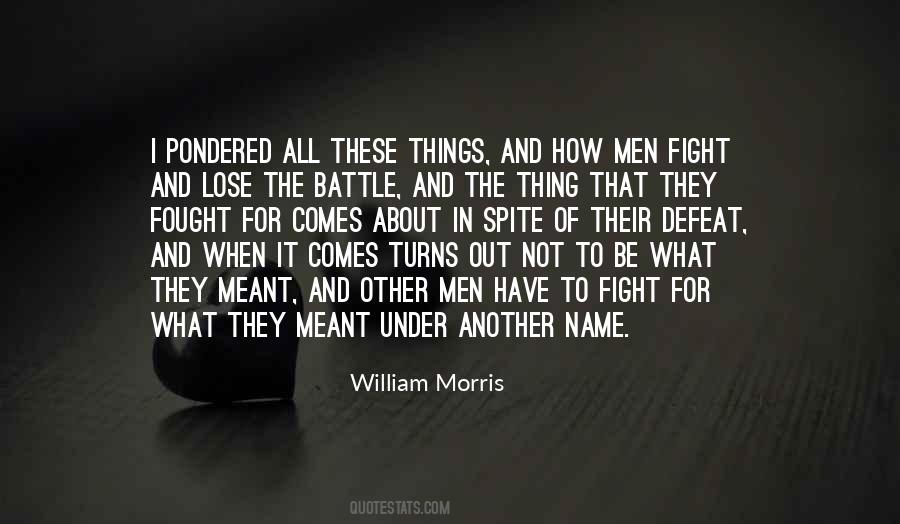 #18. He pondered long over this, for might not another man, returning to another valley, have found none of these things? Why was it given to one man to have his pain transmuted into gladness? Why was it given to one man to have such an awareness of God? - Author: Alan Paton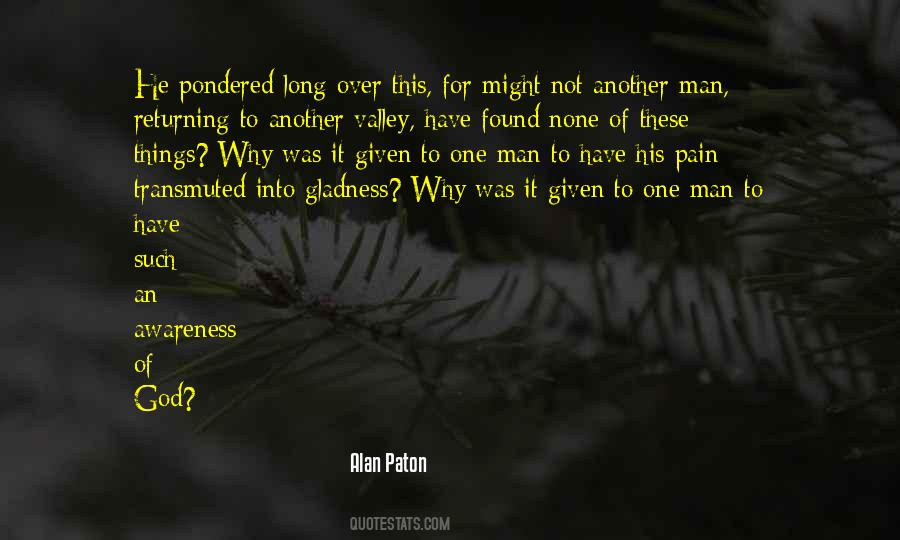 #19. On handing the book back to my friend, the woman inquired "Is he gay?" No, said my friend. The woman pondered for a moment. "Is he English?" she asked. - Author: Terry Eagleton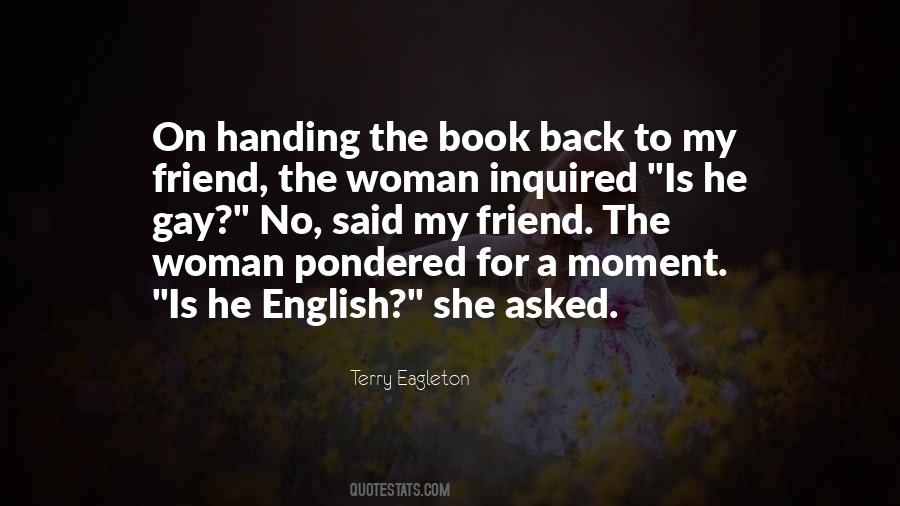 #20. You put on a bishop's robe and miter, he pondered, and walk around in that, and people bow and genuflect and like that, and try to kiss your ring, if not your ass, and pretty soon you're a bishop. So to speak. What is identity? he asked himself. Where does the act end? Nobody knows. - Author: Philip K. Dick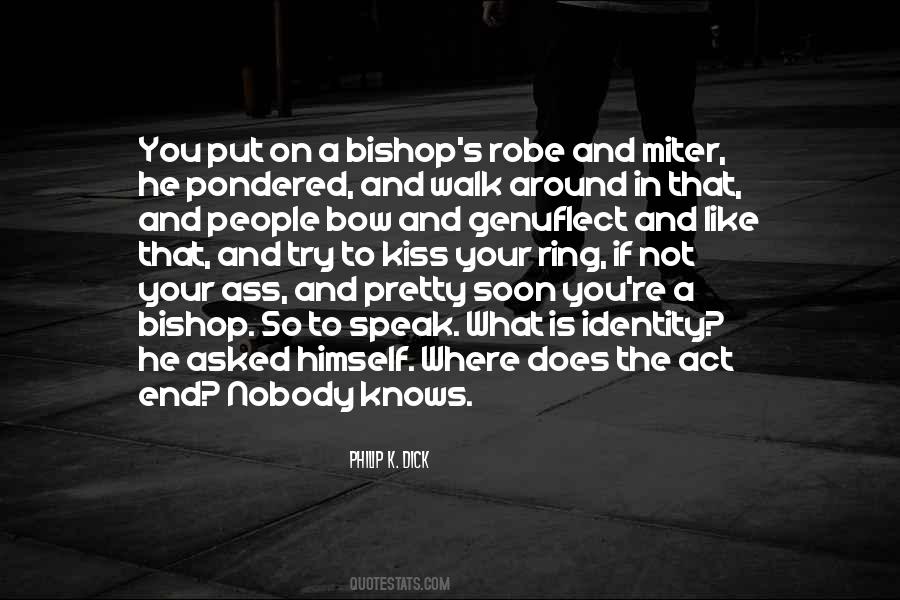 #21. If an evil has been pondered beforehand, the blow is gentle when it comes. - Author: Seneca.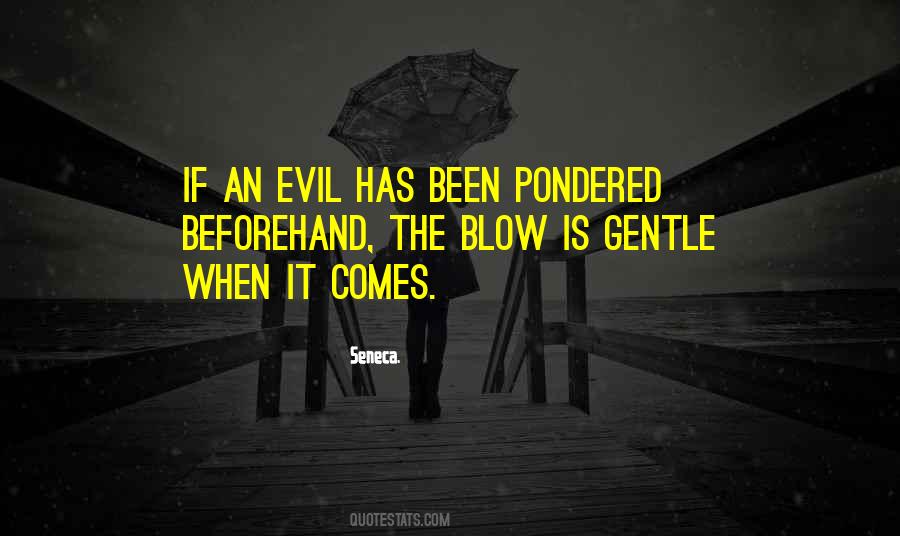 #22. What's your name?" Scapegrace asked.
"Gerald," said the man.
Scapegrace pondered. Gerald the zombie just didn't have that fear-inducing ring to it. "I'm going to call you Thrasher," he said. - Author: Derek Landy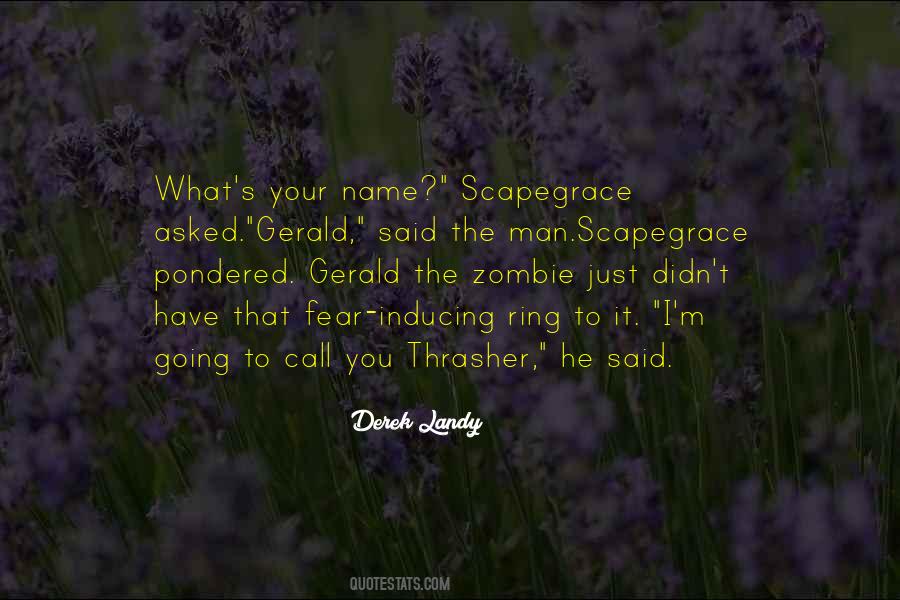 #23. He pondered, having many disjointed and unconnected brooding thoughts; they swam through him like silvery fish. Fears, and mild dislikes, and apprehensions. And all the silvery fish recirculating to begin once more as fear. - Author: Anonymous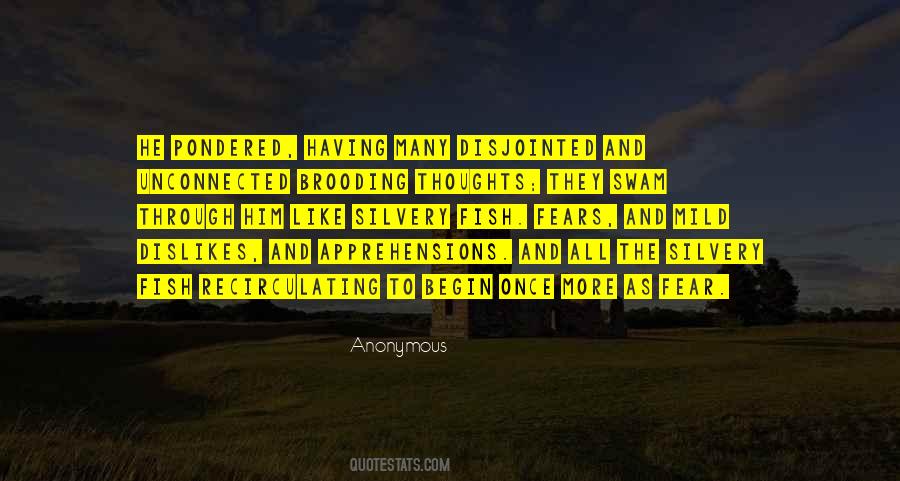 #24. He was looking forward to this about as much as one would look forward to a tooth extraction, or perhaps a vasectomy. A colonoscopy? He pondered a list of horrific things that could possibly be less painful than a week-long royal wedding. - Author: Jessica Clare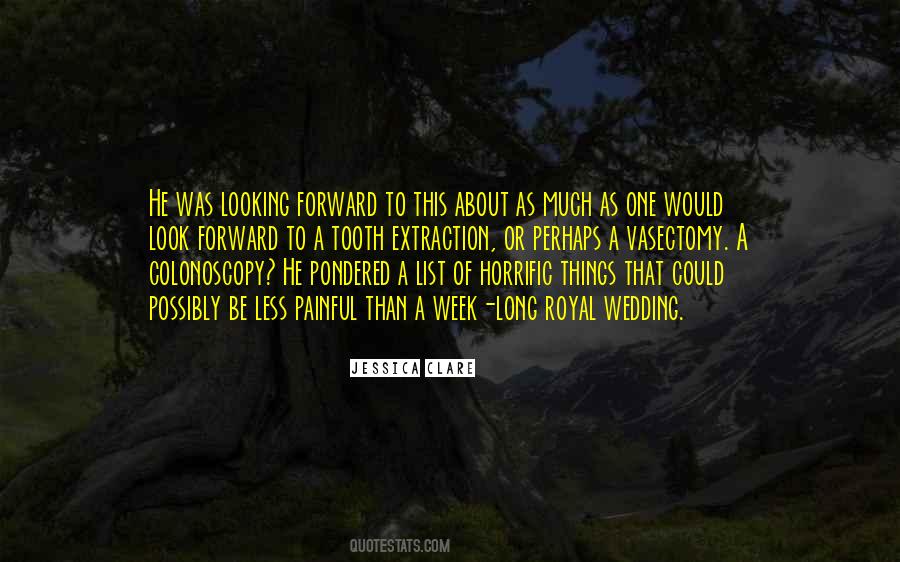 #25. I pondered what I should do and wasn't sure. Then it just finally became clear. - Author: Mary Pierce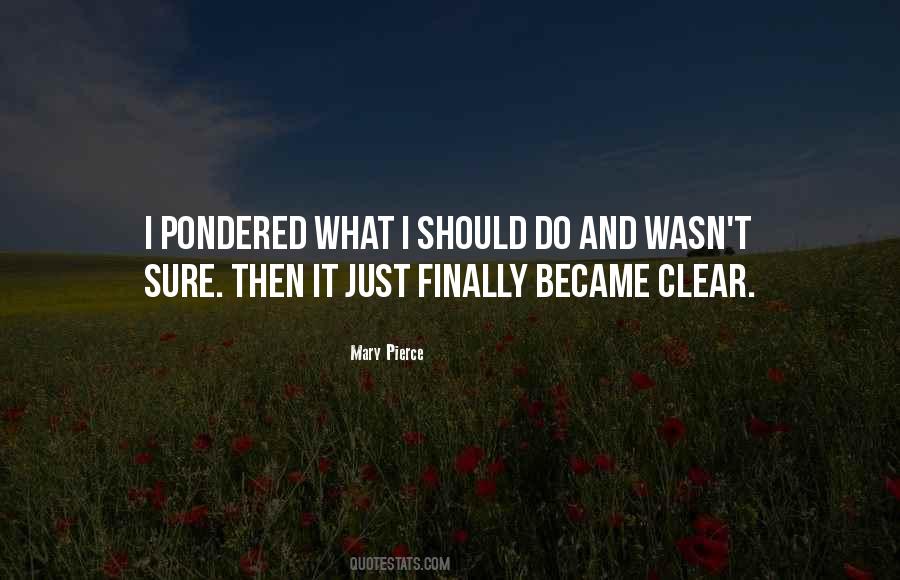 #26. Raven briefly pondered the phrase, "staring down the barrel of a gun". It wasn't really that accurate, he decided. After all, it was too dark to see any features down a barrel, only a black circle at the end of it. - Author: A. Ashley Straker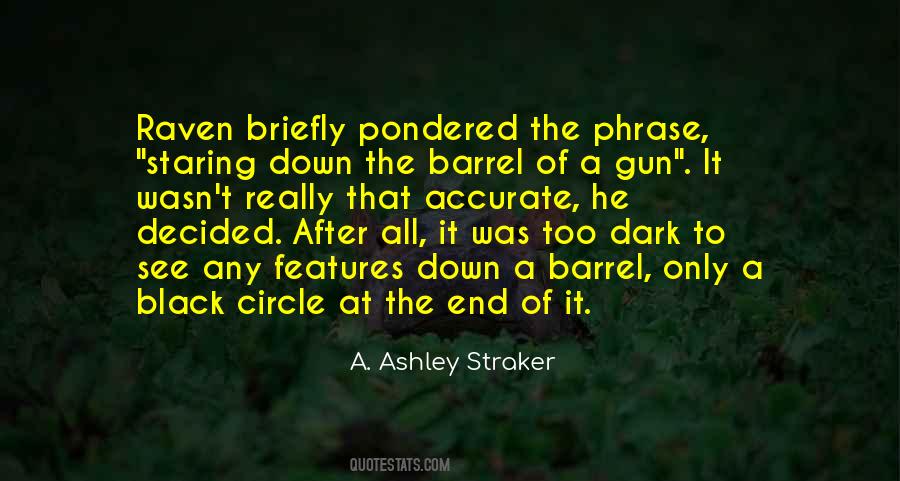 #27. Cronshaw stopped for a moment to drink. He had pondered for twenty years the problem whether he loved liquor because it made him talk or whether he loved conversation because it made him thirsty. - Author: W. Somerset Maugham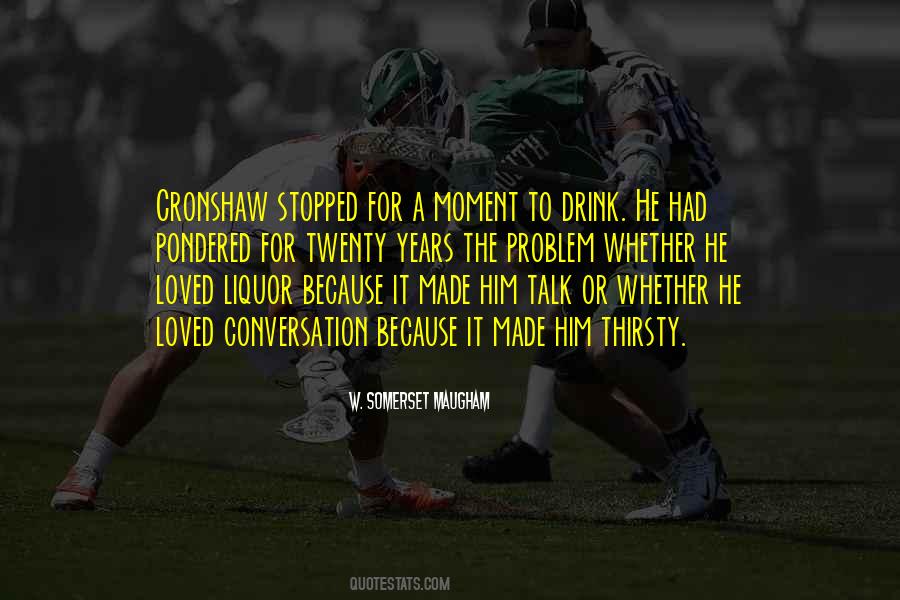 #28. I even pondered the thought seemed to spur Quinn on and he suddenly shifted his body so that it was pressed up against mine and Brody's. His lips claimed mine in a searing kiss and I felt his big hand cupping the back of my head as he held me in place. - Author: Sloane Kennedy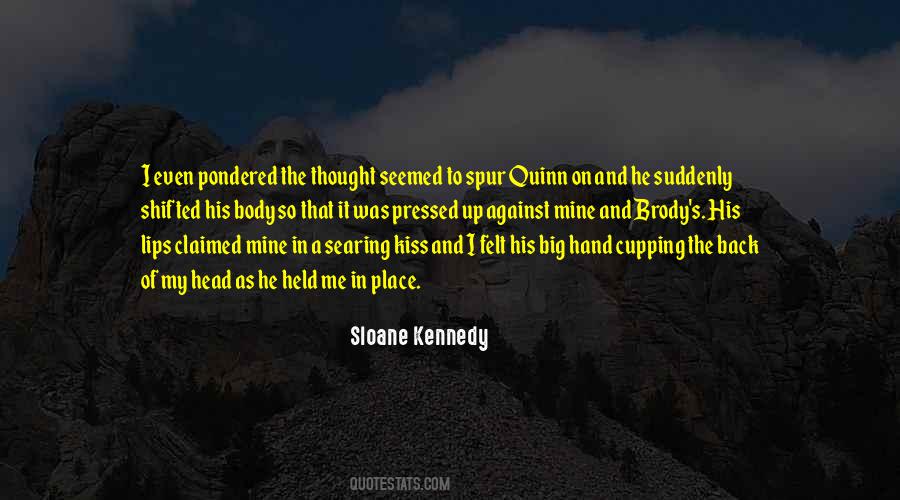 #29. Christmas is best pondered, not with logic, but with imagination. - Author: Max Lucado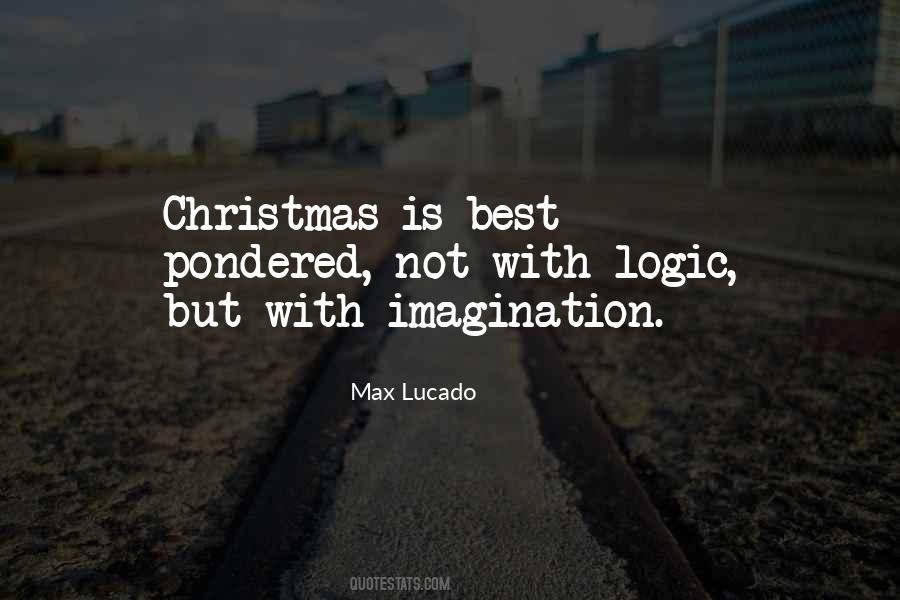 #30. Americans, perhaps more than most people, have pondered the question of who they are and what their country is. - Author: Edmund Morgan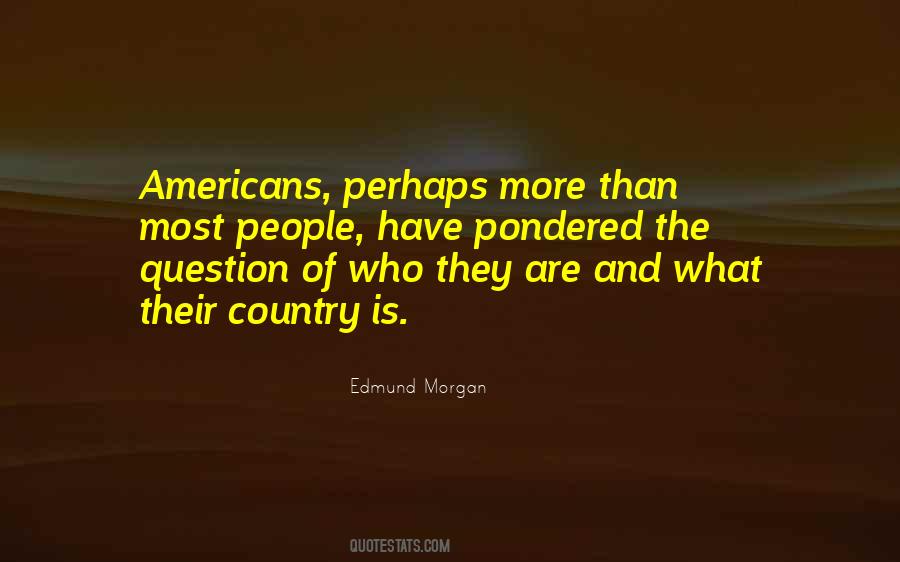 #31. There is a large, leisurely center to existence where God must be deeply pondered, lovingly believed. - Author: Eugene H. Peterson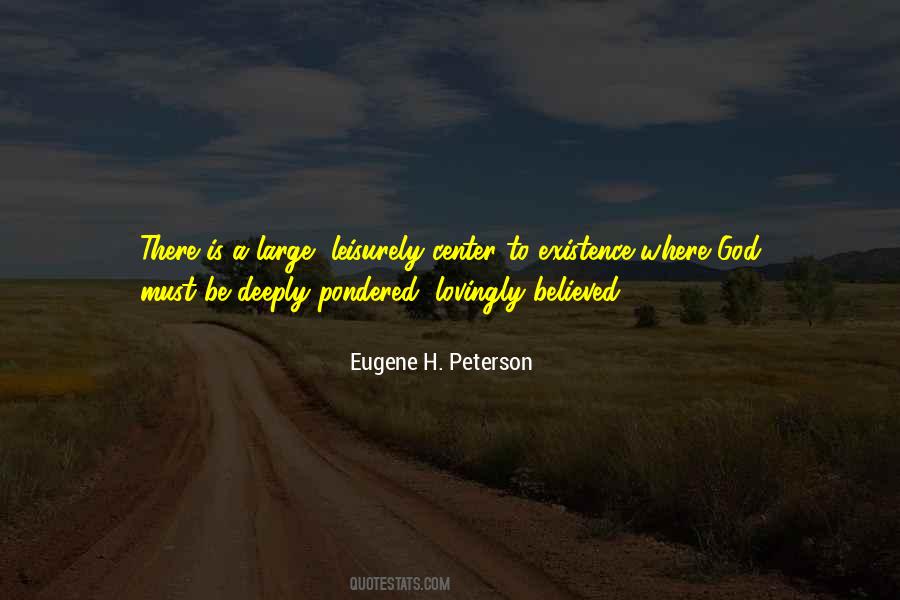 #32. Intercession is more than specific: it is pondered: it requires us to bear on our heart the burden of those for whom we pray. - Author: George Arthur Buttrick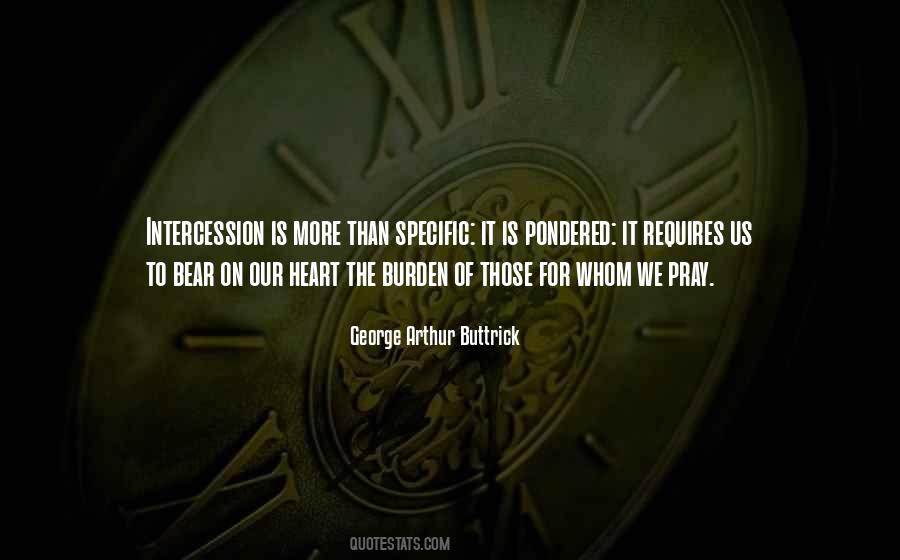 #33. She leaned into the soft seat and pondered why people were so willing to ignore their own, and so eager to acknowledge those who were better off. - Author: Joseph R. Lallo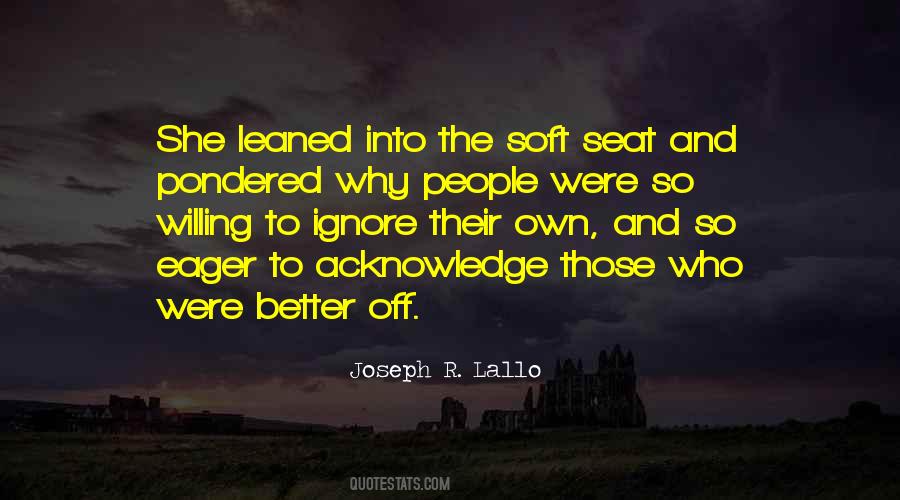 #34. Now I know why Baby Suggs pondered color her last years. She never had time to see, let alone enjoy it before. - Author: Toni Morrison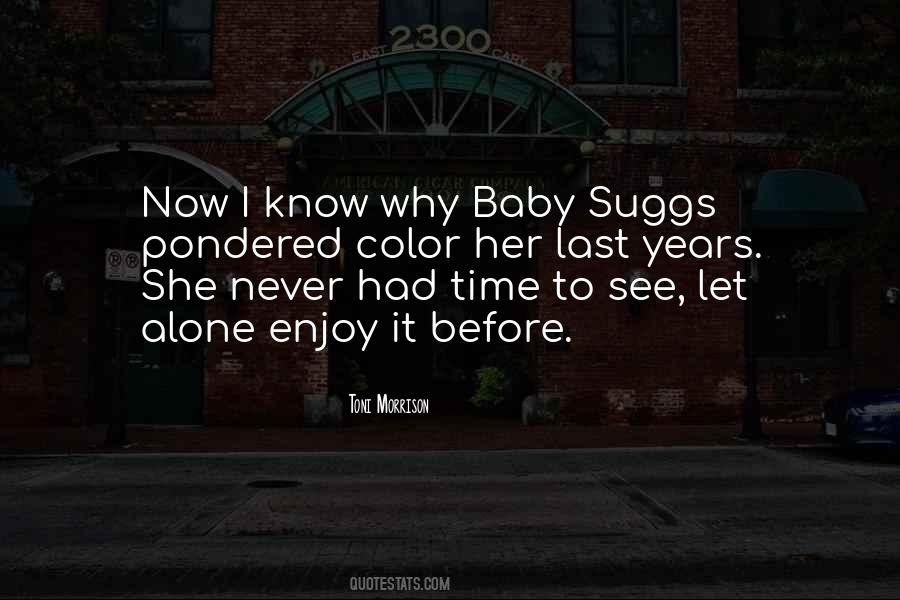 #35. I have never pondered over questions that are not questions. - Author: Friedrich Nietzsche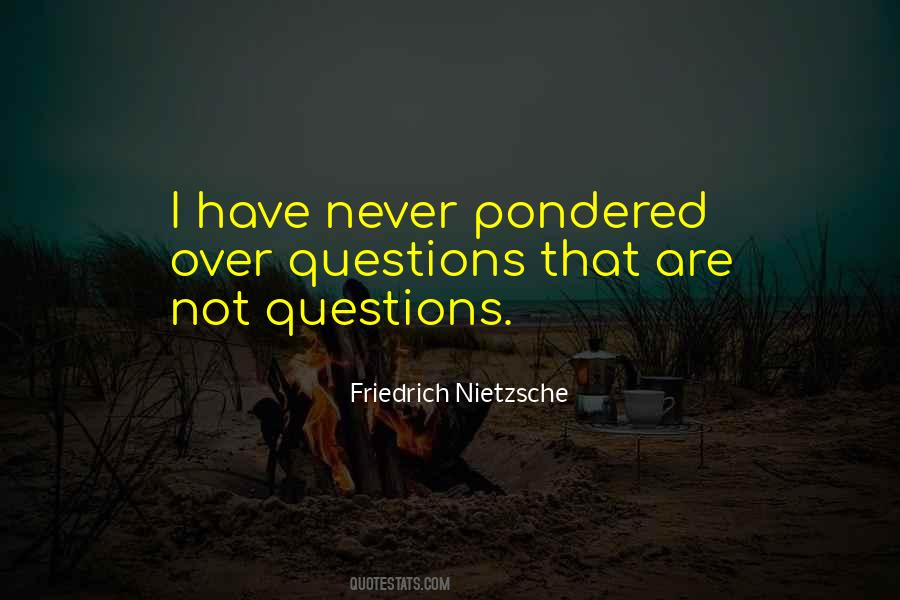 #36. He pondered his turmoil, wondering which he feared most - losing his father or being alone in the world. Both were inevitable. Neither could be stopped or slowed down. All he could do now was brace for impact. - Author: Brent Jones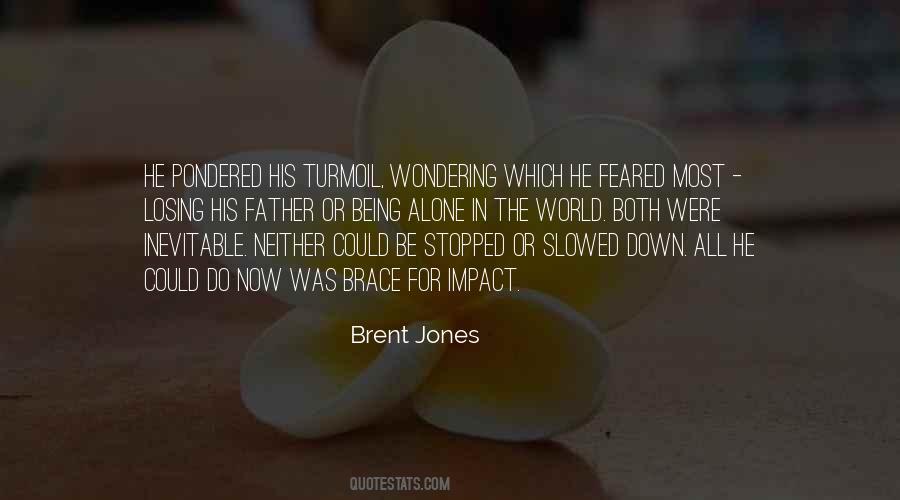 #37. If you cut us, do we not bleed?' Mr. Vandemar pondered this for a moment, in the dark. Then he said with perfect accuracy, 'No. - Author: Neil Gaiman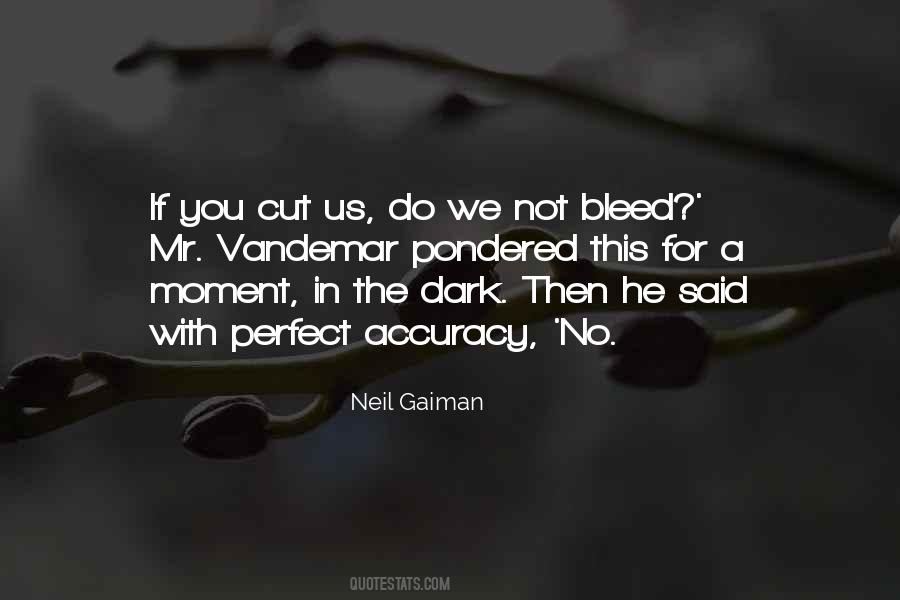 #38. Predictability is boring! I want a book to take me someplace I haven't been before, show me sights I haven't seen, make me ponder questions I may not have pondered before. - Author: Therese Fowler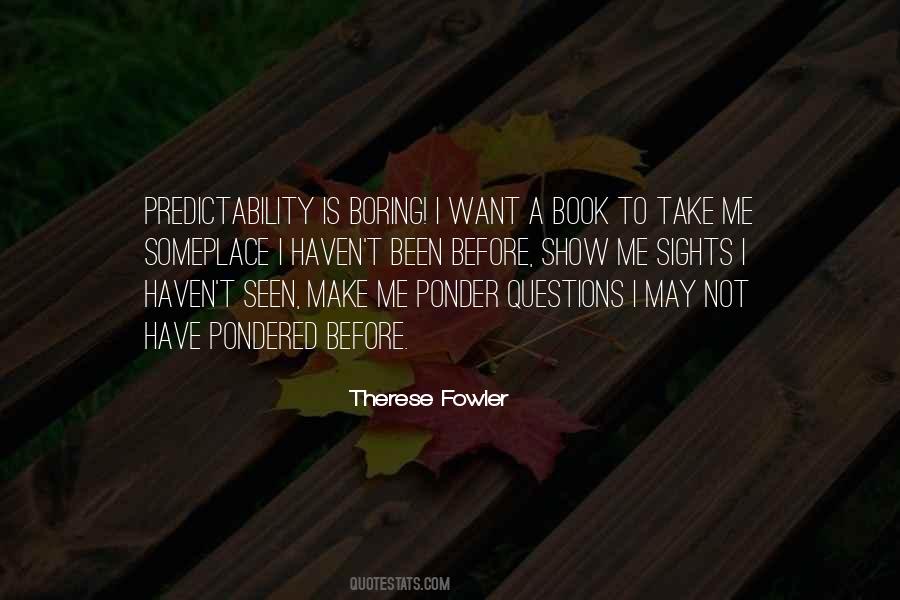 #39. If you are not progressing along the true way, a slight twist in the mind can become a major twist. This must be pondered well. - Author: Miyamoto Musashi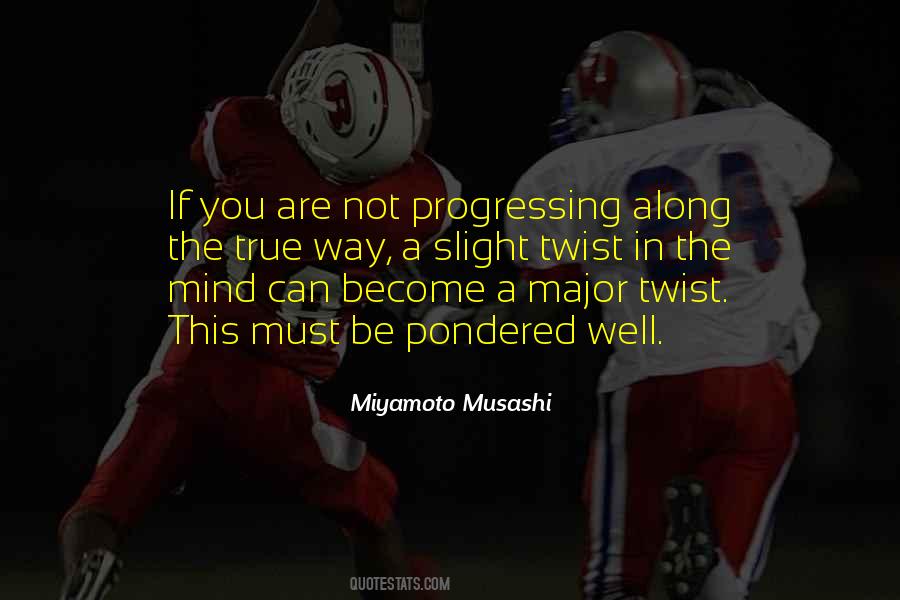 #40. Babbitt knew that in this place of death Paul was already dead. And as he pondered on the train home something in his own self seemed to have died: a loyal and vigorous faith in the goodness of the world, a fear of public disfavor, a pride in success. - Author: Sinclair Lewis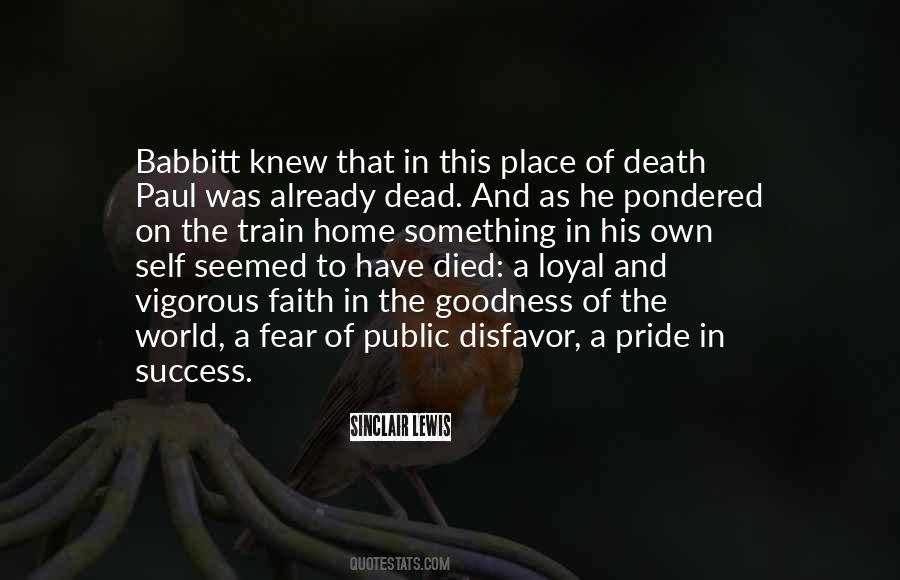 #41. I pondered what else I should take for him. Flowers seemed wrong; they're a love token, after all. I looked in the fridge, and popped a packet of cheese slices into the bag. All men like cheese. - Author: Gail Honeyman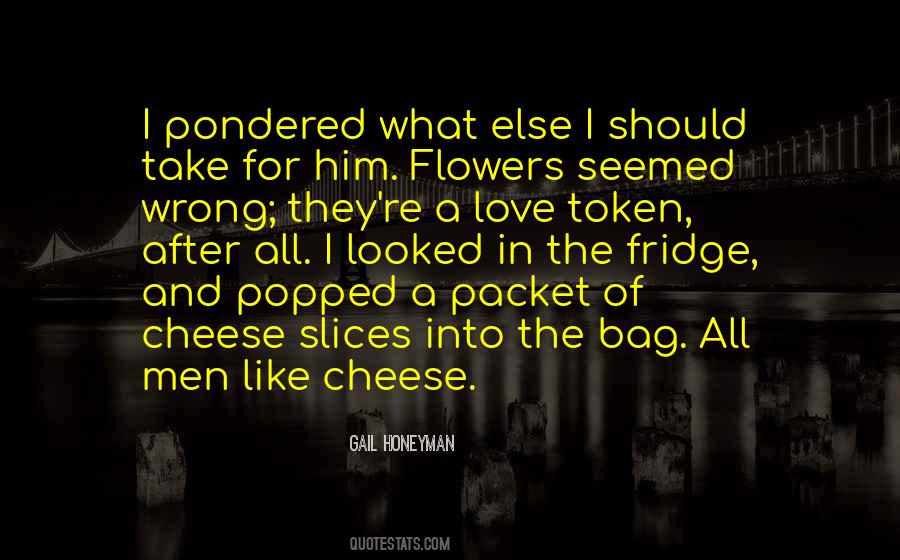 #42. When one has extensively pondered about men, as a career or as a vocation, one sometimes feels nostalgic for primates. At least they do not have ulterior motives. - Author: Albert Camus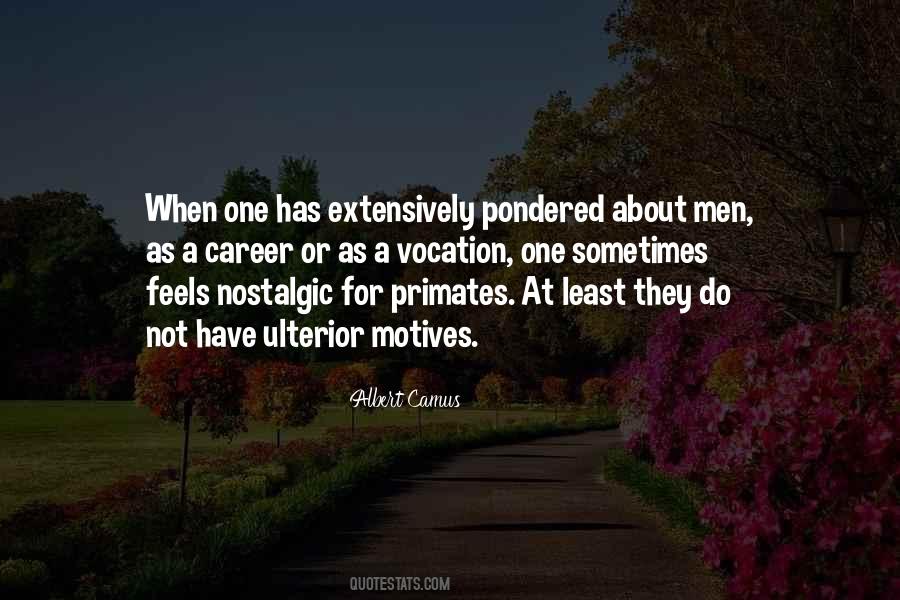 #43. Take no revenge that you have not pondered beneath a starry sky, or on a canyon overlook, or to the lapping of waves and the mewing of a distant gull. - Author: Robert Breault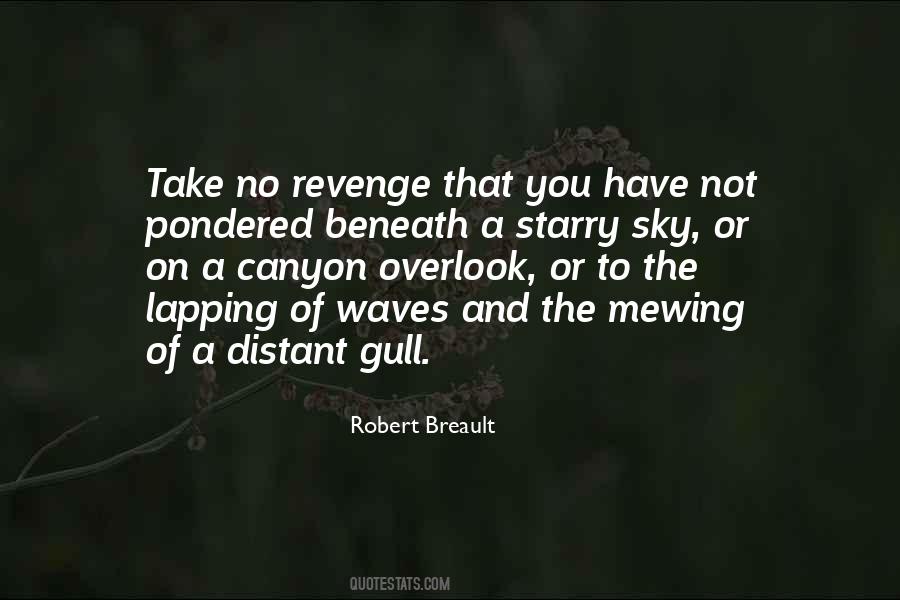 #44. End of work arguments became increasingly popular in the late seventies and early eighties, as radical thinkers pondered what would happen to traditional working-class struggle once there was no longer a working class. (The answer: it would turn into identity politics.) - Author: David Graeber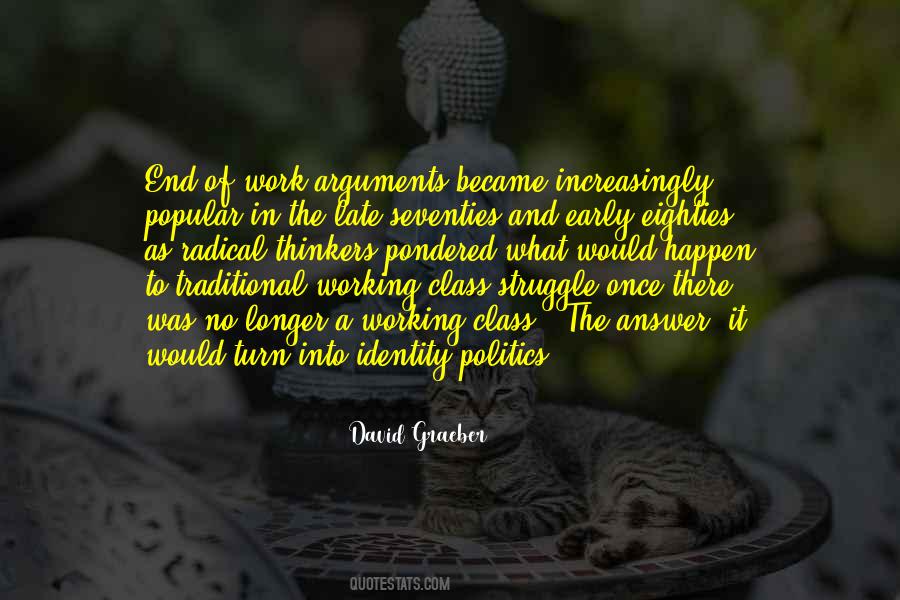 #45. The grand old Book of God still stands; and this old earth, the more its leaves are turned over and pondered, the more it will sustain and illustrate the Sacred word. - Author: James Dwight Dana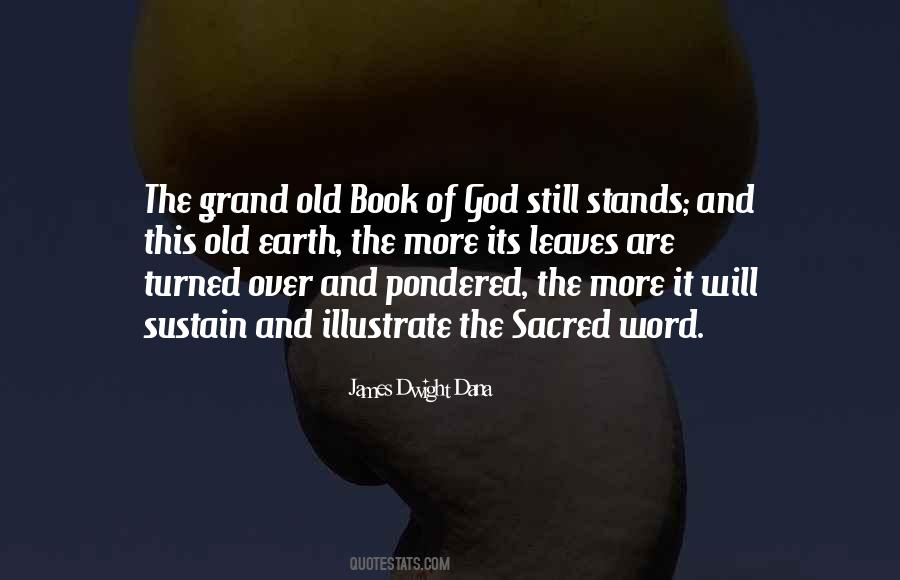 #46. Maturity meant thinking about risk long before you pondered the reward, and that success and happiness in life were as much about avoiding mistakes as making your mark into the world. - Author: Nicholas Sparks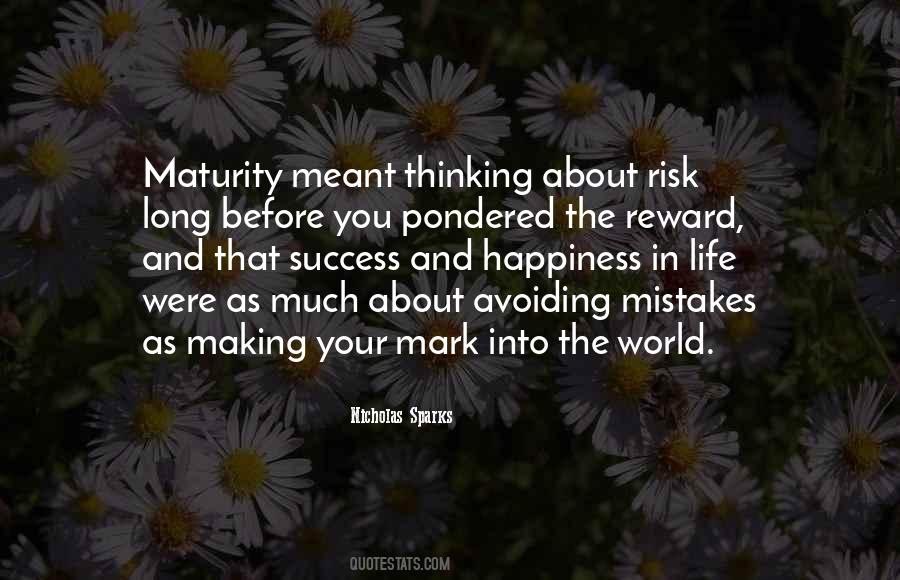 #47. Before her mum could start crying, Valkyrie's dad stood up. He cleared his throat, pondered a bit, and then began. It is no secret that I always wanted a son. - Author: Derek Landy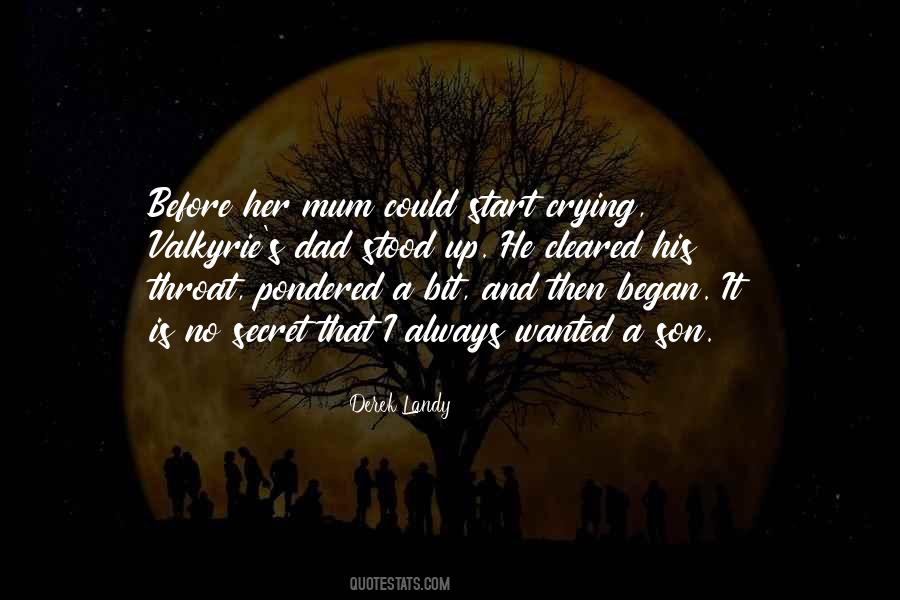 #48. Watanabe would later admit that in the beginning of his life in exile, he had pondered the question of whether or not he had committed any crime. In the end, he laid the blame not on himself but on "sinful, absurd, insane war." He saw himself as a victim. - Author: Laura Hillenbrand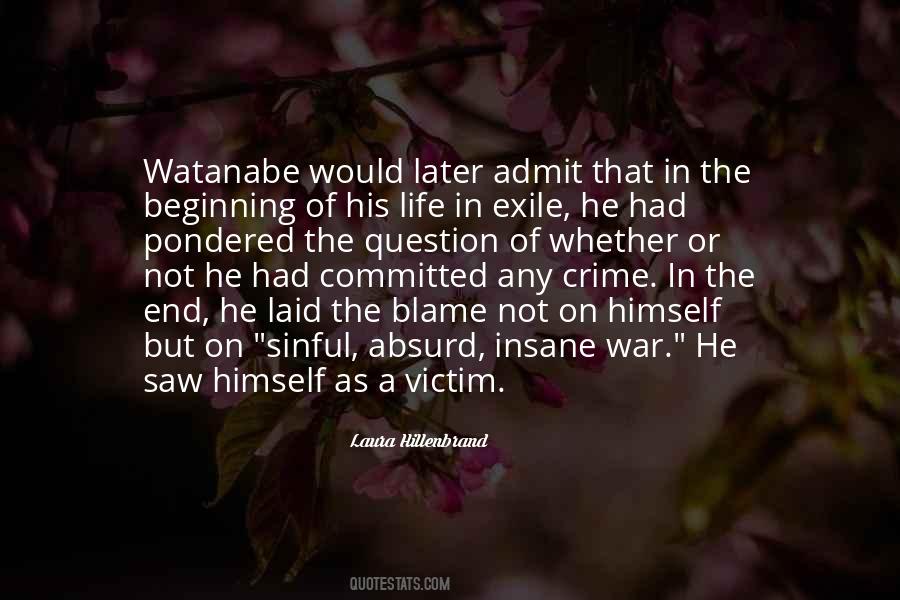 #49. I pondered the idea that I would spend my entire life meeting people, loving people and losing people. - Author: Shirley Johnson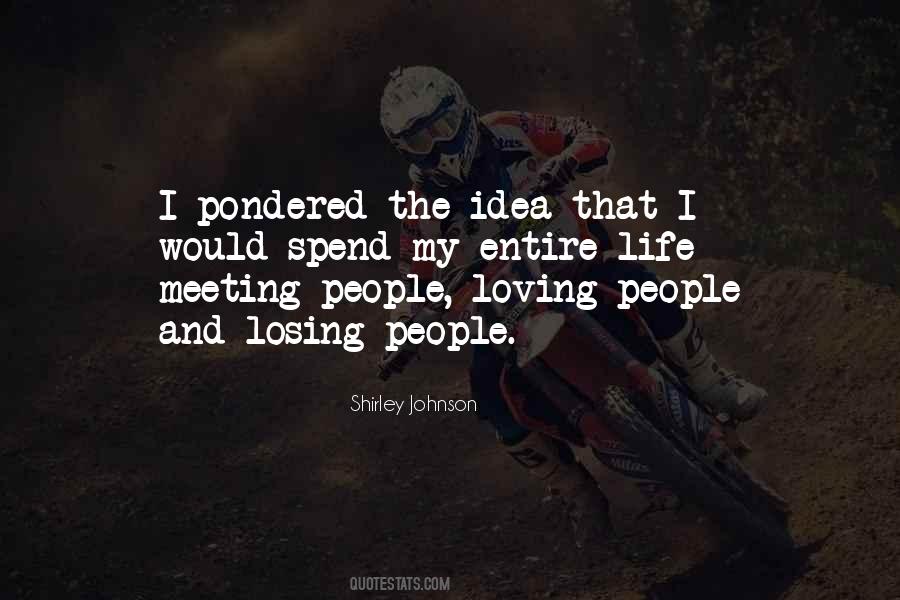 #50. I have pondered on the causes of a life's shipwreck. I think that our lives are worse than the mind's quality would warrant. There are many who know virtue. We know the good, we apprehend it clearly. But we can't bring it to achievement. - Author: Euripides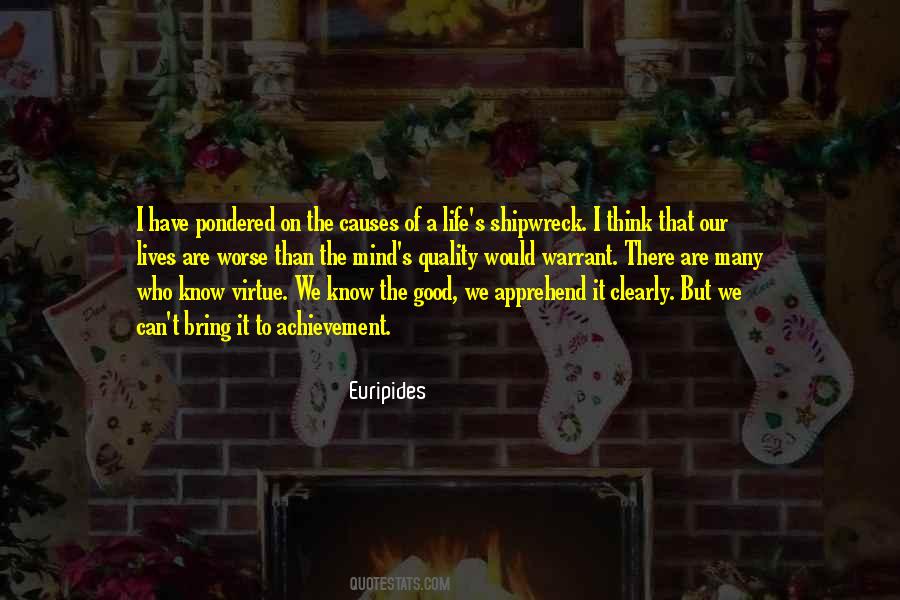 #51. I could faintly smell the ocean. I imagined being one of the old oak trees standing there swaying in the wind and braving all sorts of weather. I pondered what they had seen in the past and what they might see in the future - Author: Nancy B. Brewer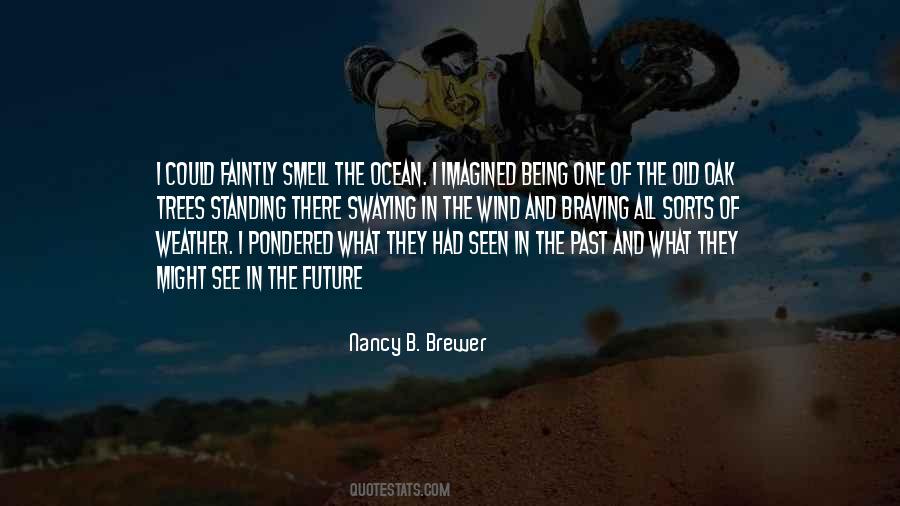 #52. Three girls until, at last, their baby boy. As I sipped my bourbon and cracked peanuts, I pondered the growing desperation the Nashes must have felt each time a child popped out without a penis. - Author: Gillian Flynn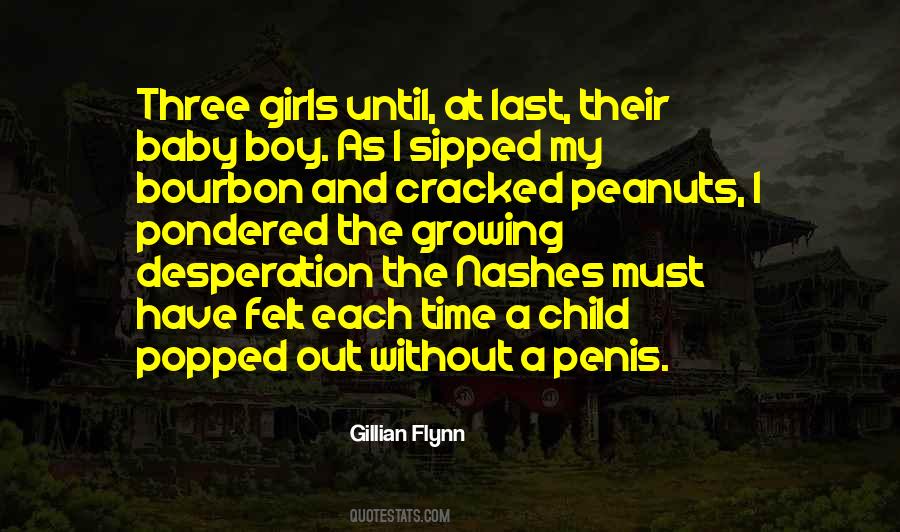 #53. Ralph Reed is deeply ambitious and always was so. There was a time when he ... in one of my interviews, he said he pondered running the Ross Perot campaign, and he wasn't sure he wanted to do the Christian Right thing; he was worried that it boxed him into a corner. - Author: Nina Easton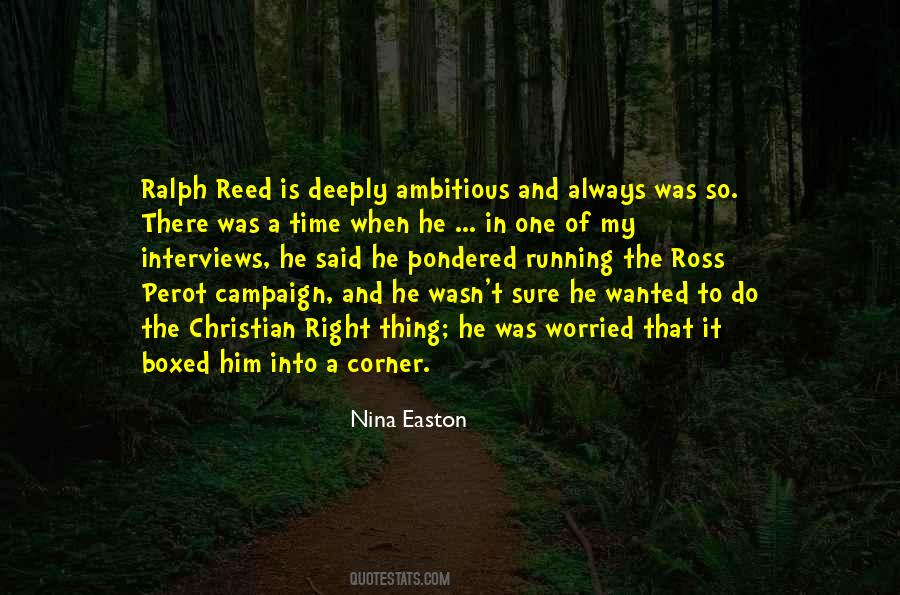 #54. I'd never pondered the bourgeois implications of an earplug. - Author: Jonathan Lethem
#55. Imagination makes us aware of limitless possibilities. How many of us haven't pondered the concept of infinity or imagined the possibility of time travel? In one of her poems, Emily Bronte likens imagination to a constant companion, but I prefer to think of it as a built-in entertainment system. - Author: Alexandra Adornetto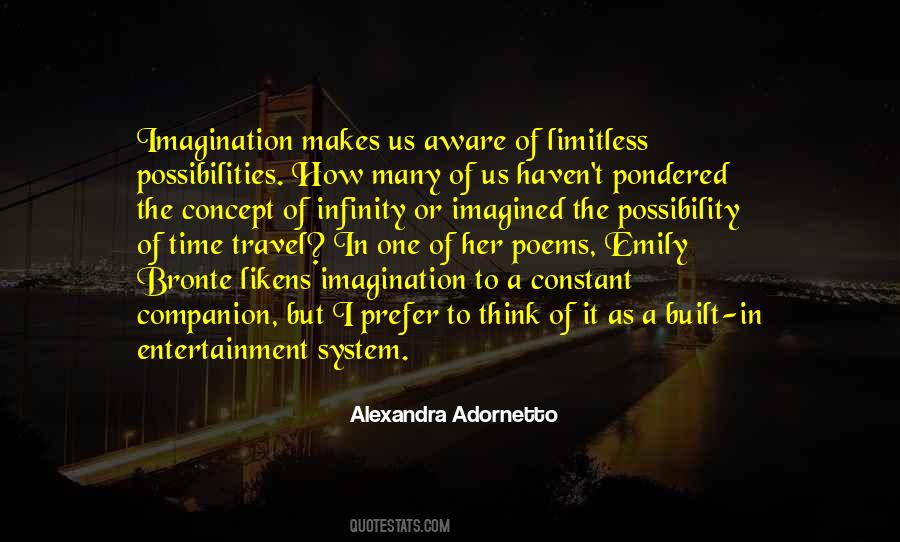 #56. The mystery of life
its inexplicability, beauty, cruelty, tenderness, folly ... has occupied the greater part of my waking thoughts; and in reverence or rage or irony, as the moment or situation might dictate, I have pondered and even demanded of cosmic energy to know Why. - Author: Theodore Dreiser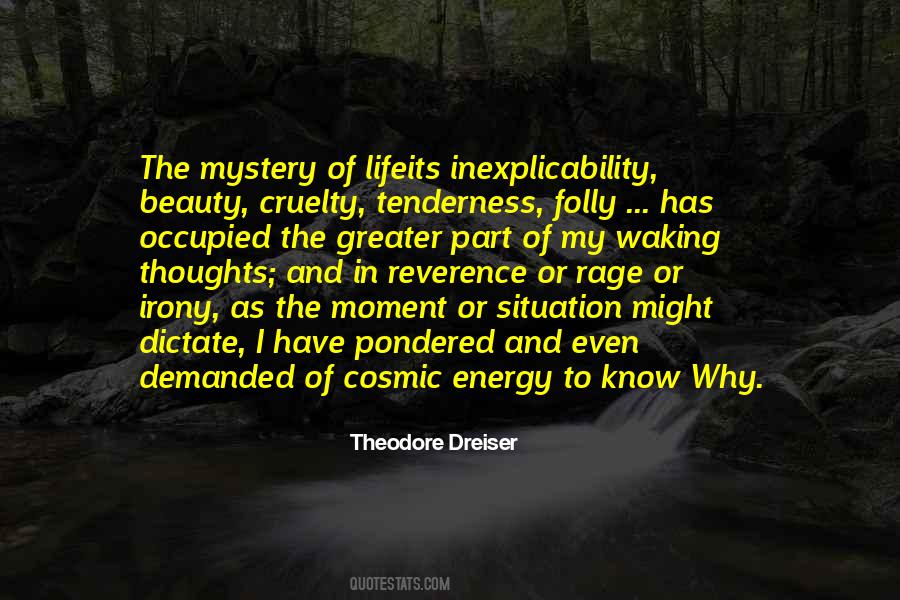 #57. In the great books of India, an empire spoke to us, nothing small or unworthy, but large, serene, consistent, the voice of an old intelligence, which in another age and climate had pondered and thus disposed of the questions that exercise us. - Author: Ralph Waldo Emerson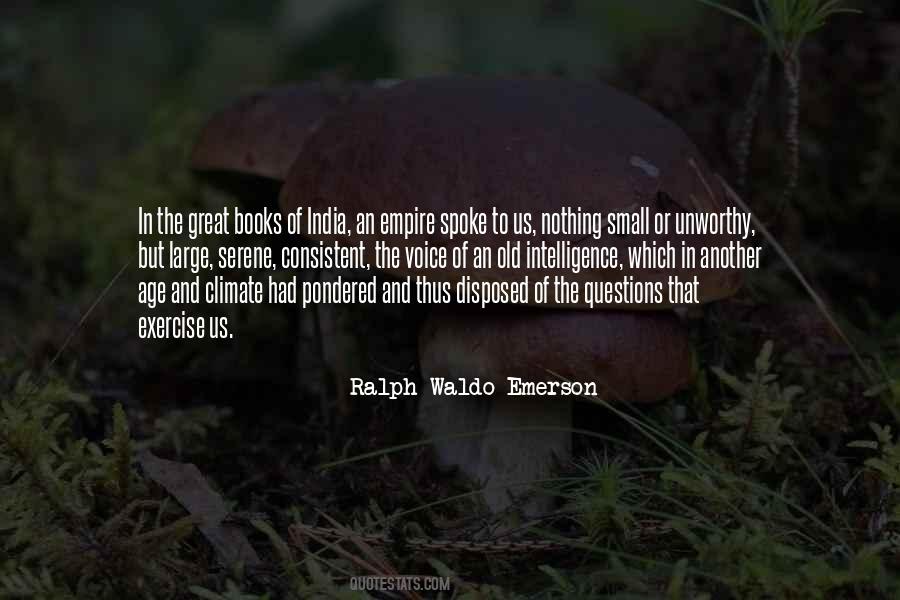 #58. Without thinking, [Will] spoke.
'Halt? Are you awake?'
'No.' The ill humor in the one-word reply was unmistakable.
'Oh. Sorry.'
'Shut up.'
He pondered whether to apologize again and decided this would go against the instruction to shut up, so remained silent. - Author: John Flanagan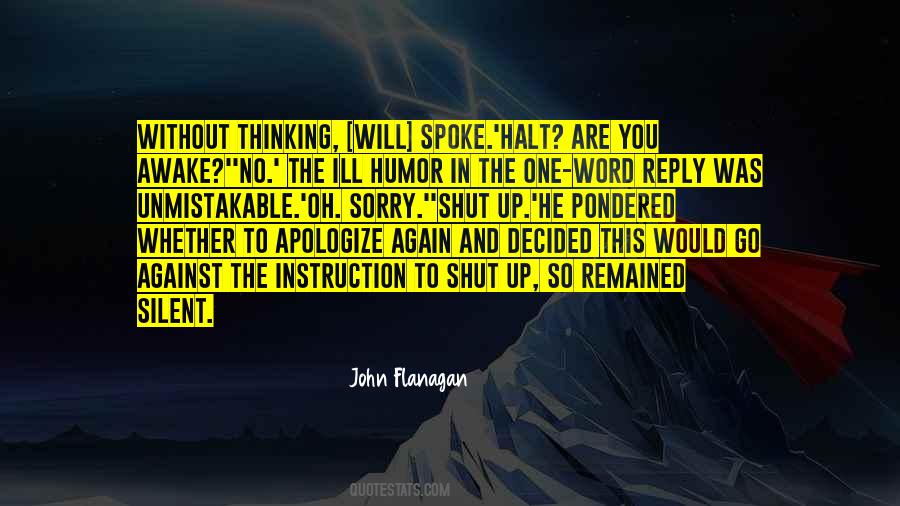 #59. Taittinger pondered, but he was well aware that no amount of pondering had yet helped him to a sensible conclusion. - Author: Joseph Roth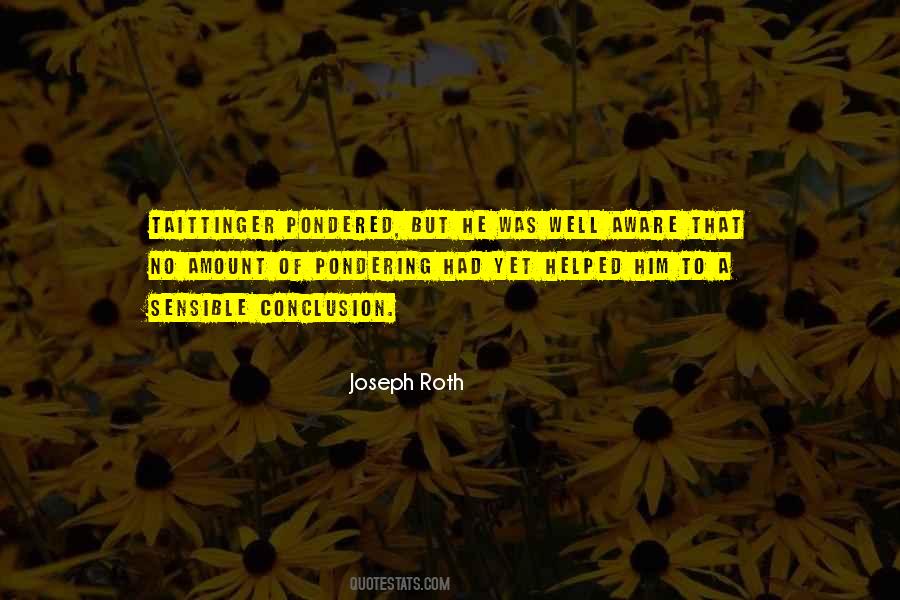 #60. After his failed political career, Lincoln often pondered the question of the purpose of the meaning of life. In 1850 [ten years before he was elected President], Lincoln told Herdon [his law partner] How hard, oh how hard it is to die and leave one's country no better than if one had never lived. - Author: Ronald C. White Jr.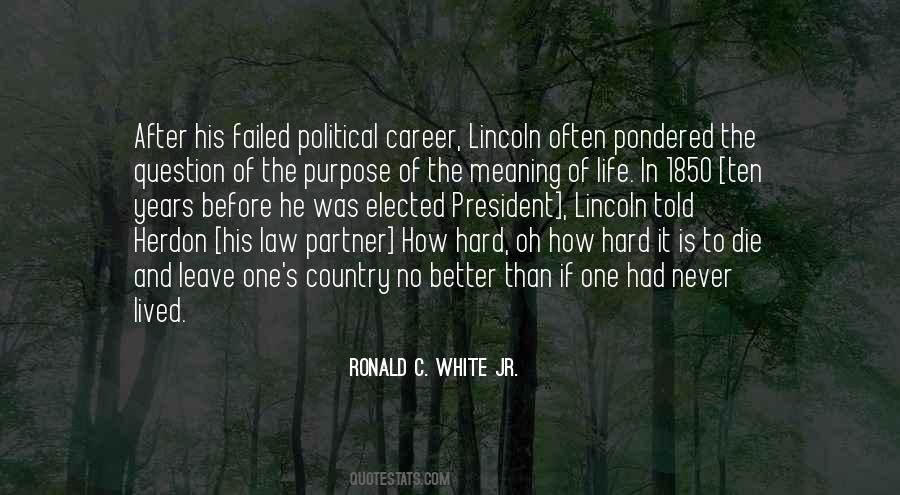 #61. Rahab pondered the thought. "I don't suppose a pomegranate or a fig as an offering would have the same effect on our hearts. To see an innocent life taken in our place is much more humbling than offering Adonai fruit. - Author: Jill Eileen Smith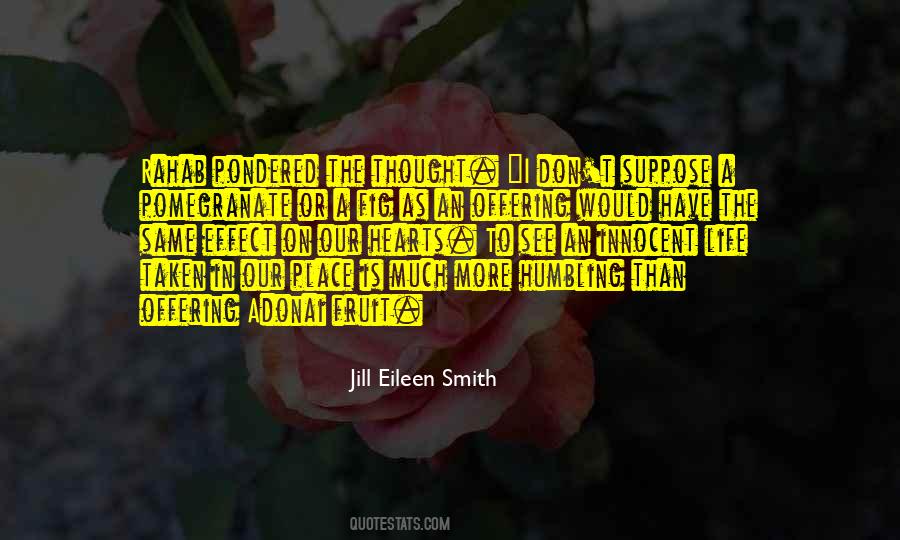 #62. Coloron often pondered how a race, in which the stupid seemed more inclined to breed, had managed to come this far, and why human intelligence persisted - a discussion point in the nature vs nurture debate which had not died in half a millennium. - Author: Neal Asher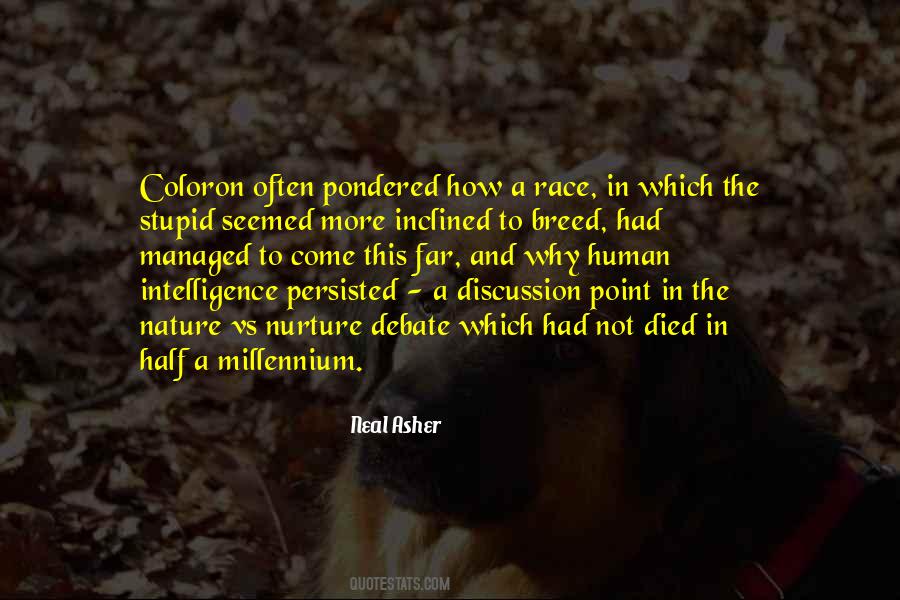 #63. The very greatest things - great thoughts, discoveries, inventions - have usually been nurtured in hardship, often pondered over in sorrow, and at length established with difficulty. - Author: Samuel Smiles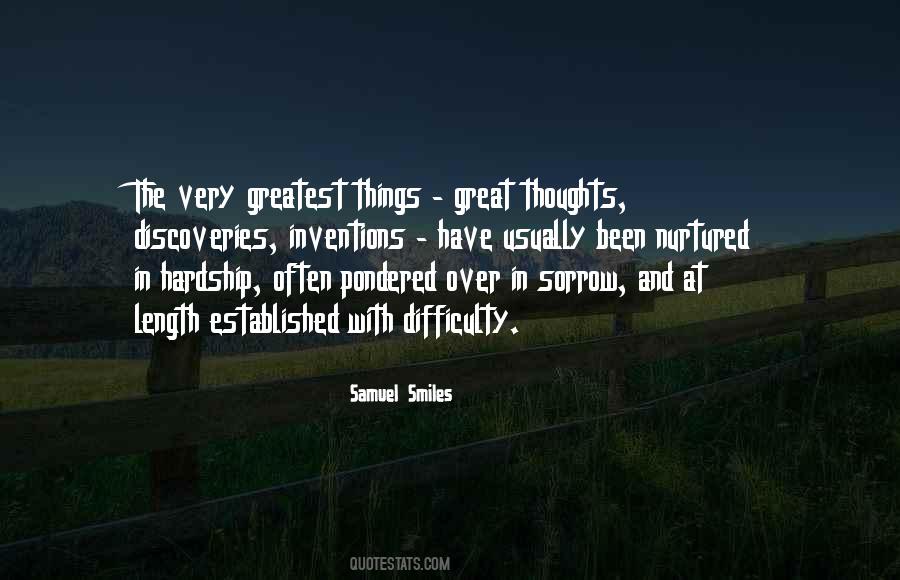 #64. Mother," Hyacinth said with a great show of solicitude,
"you know I love you dearly - "
"Why is it," Violet pondered, "that I have come to expect
nothing good when I hear a sentence beginning in
that manner? - Author: Julia Quinn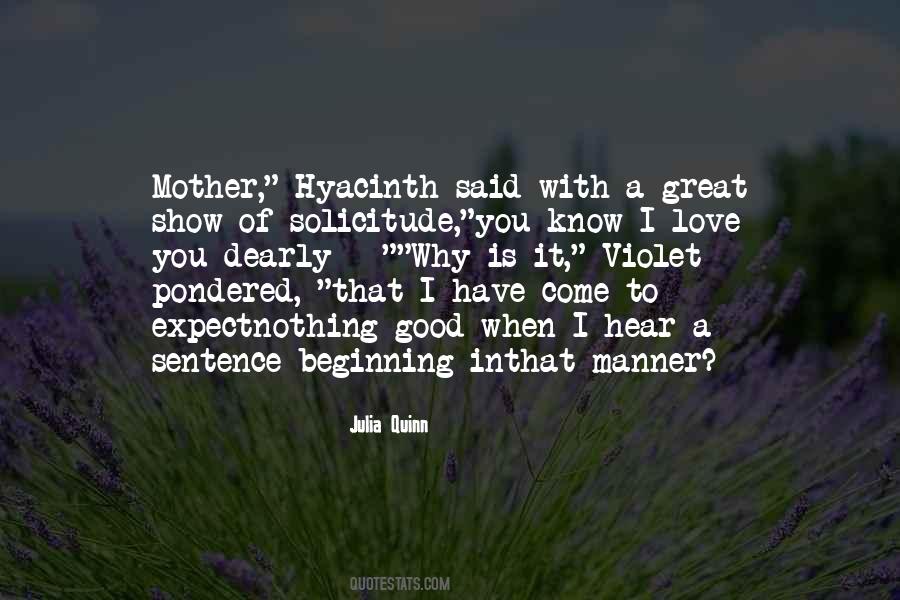 #65. In his mind he vaguely pondered whether he should strike that long-legged Englishman in the face and call him a coward, or whether such conduct in a lady's presence might be deemed ungentlemanly, when Marguerite happily interposed. - Author: Emmuska Orczy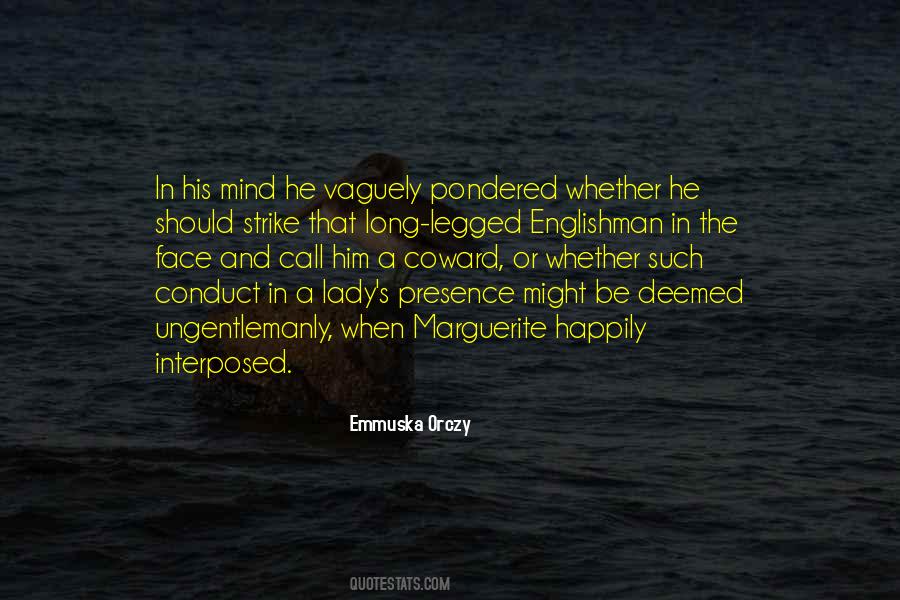 #66. There is more to be pondered in the grain and texture of life than traditional fiction allows. The work of essayists is vital precisely because it permits and encourages self-knowledge in a way that is less indirect than fiction, more open and speculative. - Author: Charles J. Shields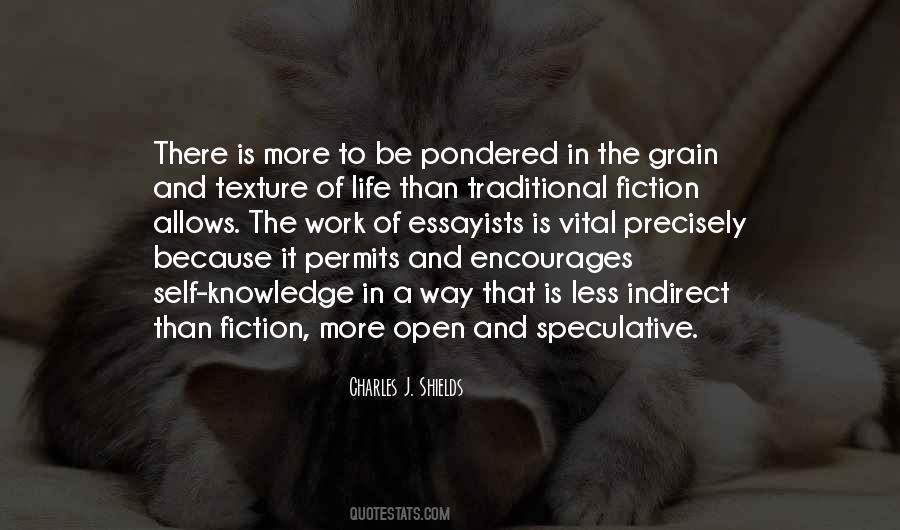 #67. Where did all the creativity go?' she wondered aloud as she pondered the newly rediscovered story of her youth. 'If I was true to myself, would I have ended up living this ordinary life? - Author: Lily Koppel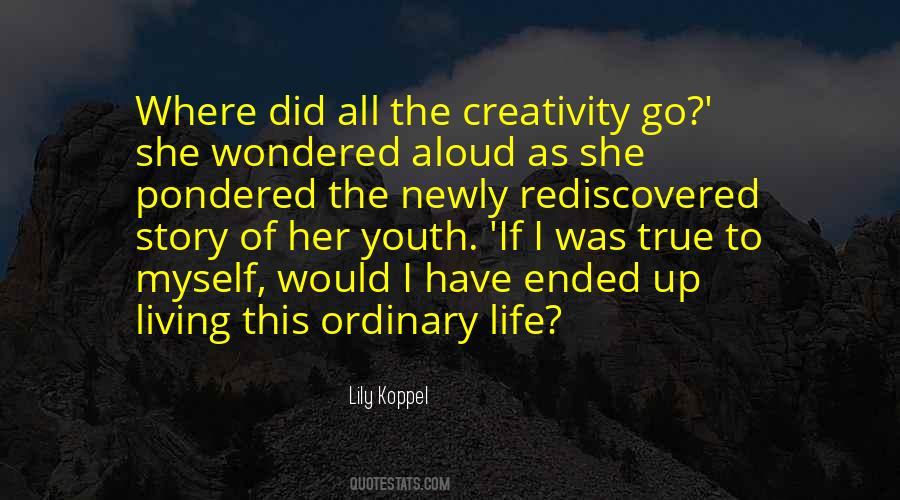 #68. For years, I never really pondered how I came to be a writer from where I came from. - Author: Nick Tosches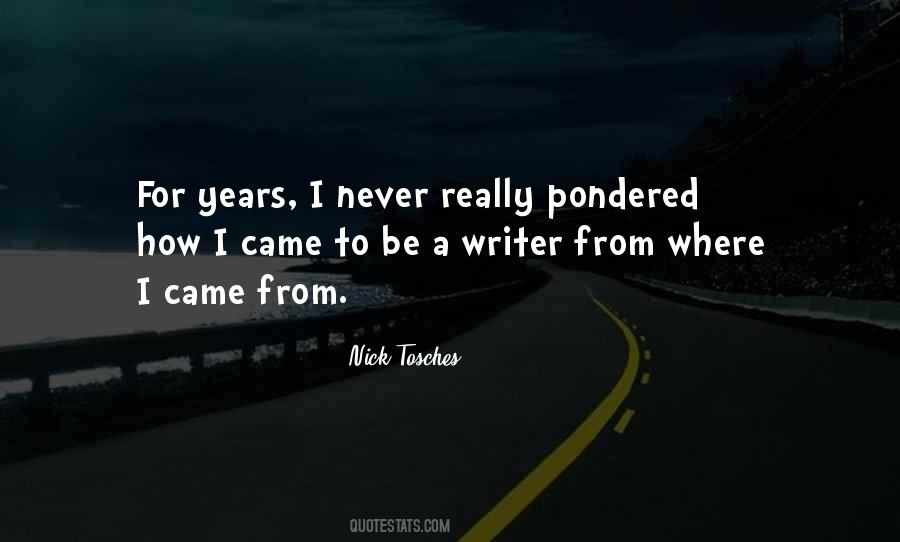 #69. She would have pondered over the meaninglessness of silent, austere beauty renewing itself with every sunrise and going ungazed at by half the world. - Author: Harper Lee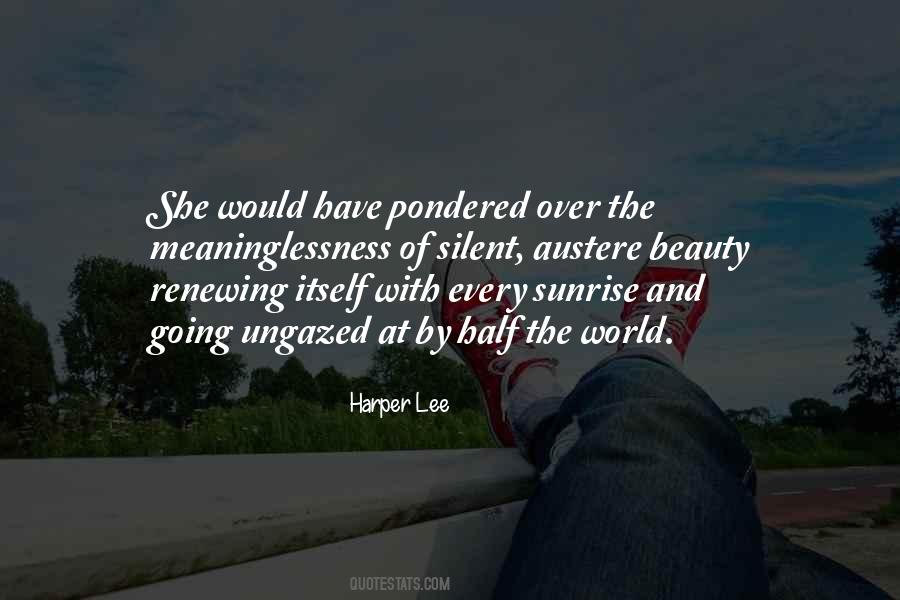 #70. We don't really have a song or anything." I pondered that for a second. "I guess we've failed as a couple in that regard."
She scoffed. "If that's our biggest failing, then I think we're doing okay. - Author: Richelle Mead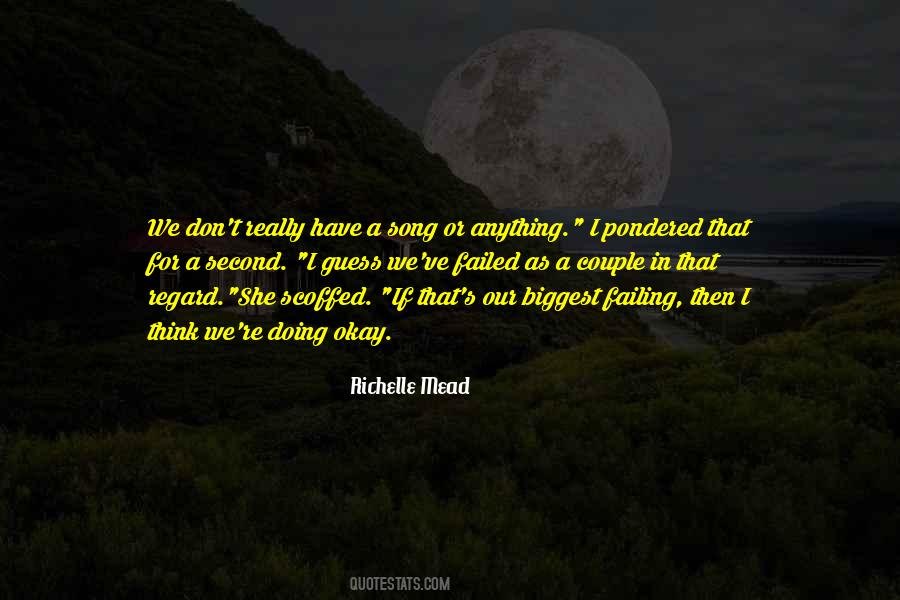 #71. For instance, here is a puzzle that many minds have pondered: If a tree falls in the forest, and there is no one there to hear it,does it still make a sound? - Author: Cameron Dokey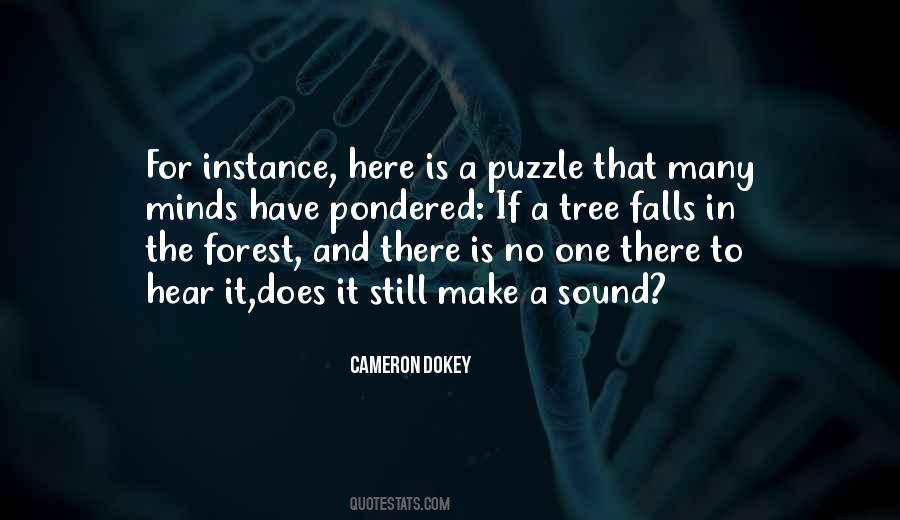 #72. I am about to put foward some major ideas; they will be heard and pondered. If not all of them please, surely a few will; in some sort, then, I shall have contributed to the progress of our age, and shall be content. - Author: Marquis De Sade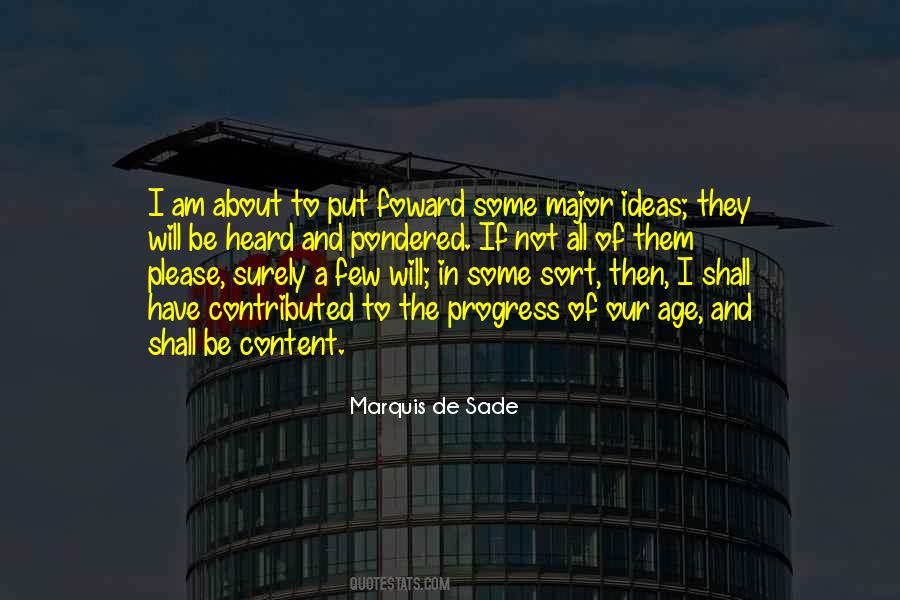 #73. Humanity has pondered over the meaning of God since its beginning. It is one of those cognitive features that came along with the advent of modern Human Consciousness. - Author: Abhijit Naskar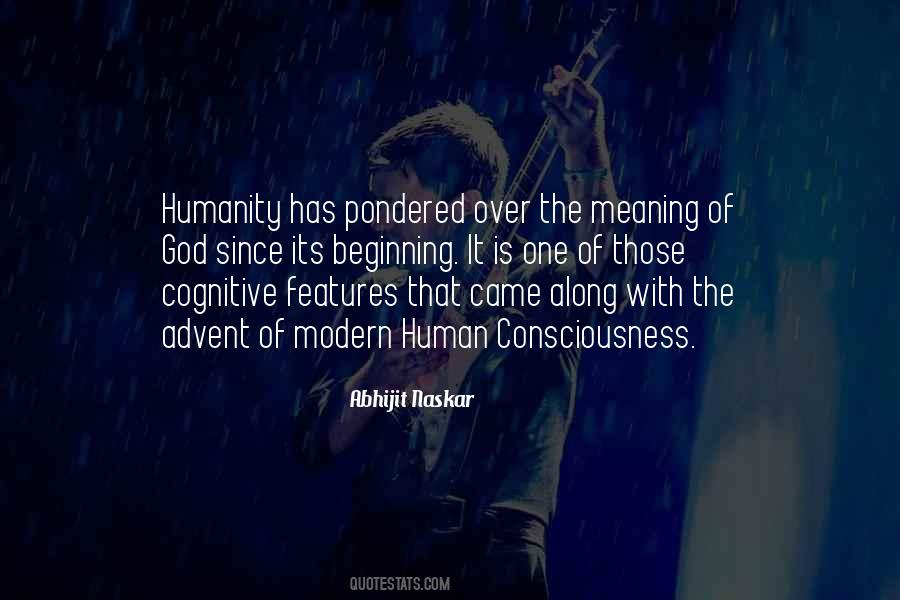 #74. I used to ski across the vast white expanses of a quiet and lonely mountaintop. In the stillness and solitude ... I pondered the mysteries of the universe, the planet, nature and of man. I'm still pondering. - Author: Fred Kavli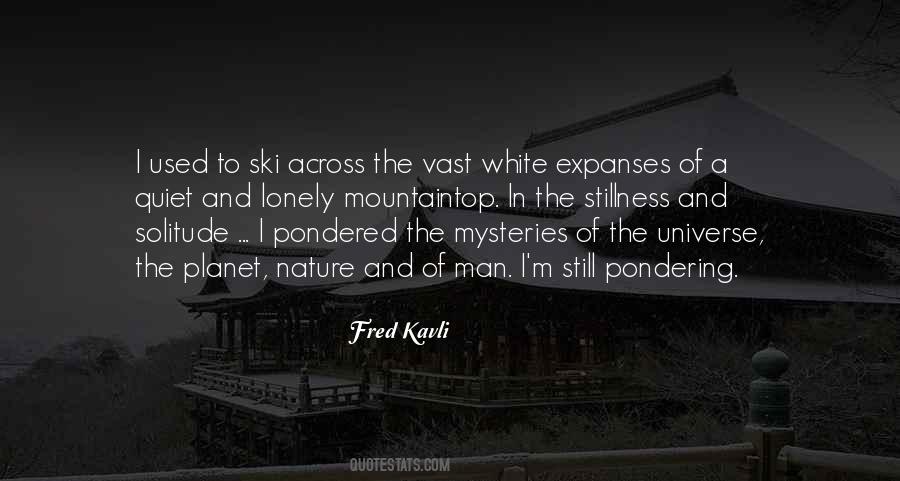 #75. If I were asked under what sky the human mind has most fully developed some of its choicest gifts, has most deeply pondered on the greatest problems of life, and has found solutions, I should point to India. - Author: Max Muller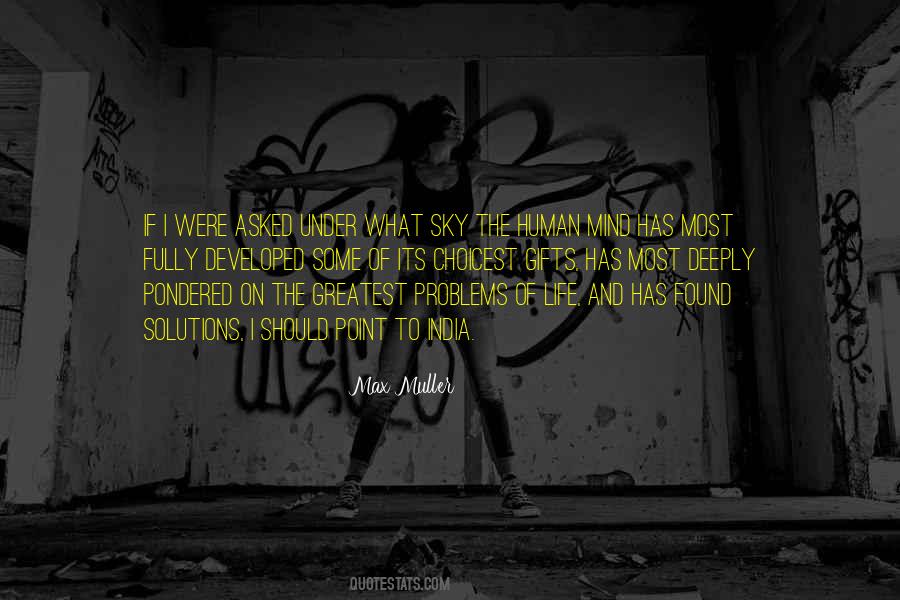 #76. Maybe, he pondered as he ascended the stairs, that's my problem with Kathy. I can't remember our combined past: can't recall the days when we voluntarily lived with each other ... now it's become an involuntary arrangement, derived God knows how from the past. - Author: Philip K. Dick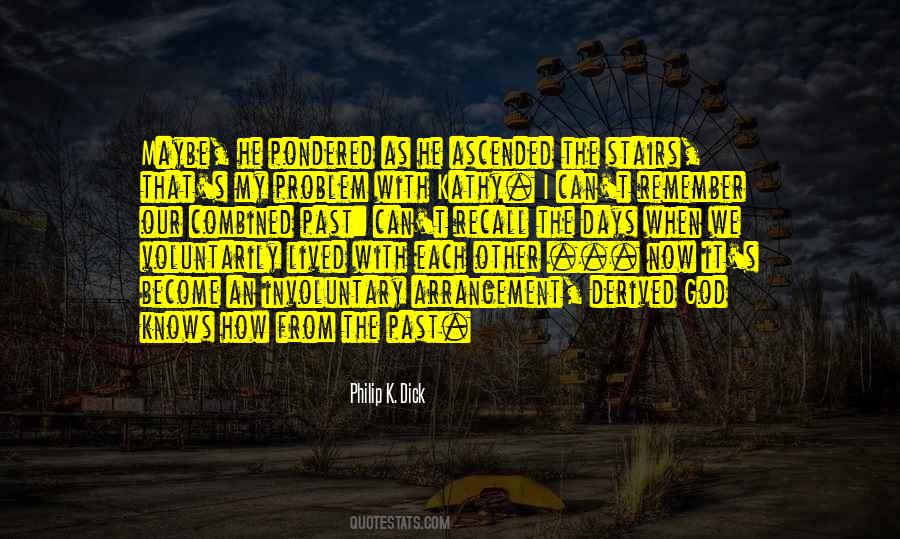 #77. The Philosopher's Motto: I came, I saw, I pondered! - Author: Greg Curtis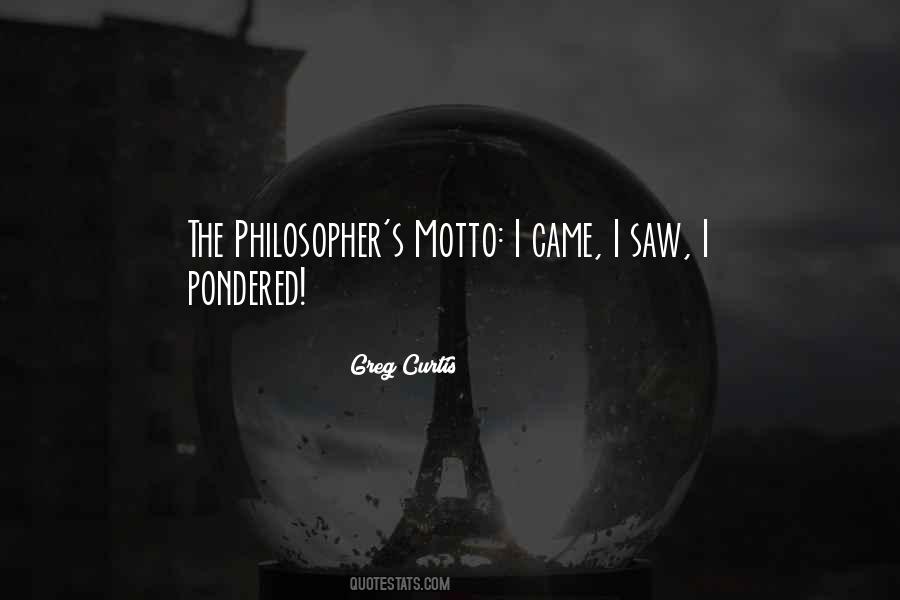 #78. It's a lady with a stick. Are we pirates or what?" They pondered this fact for a moment.
"It's a big stick," observed one of his fellows. - Author: Sean Cullen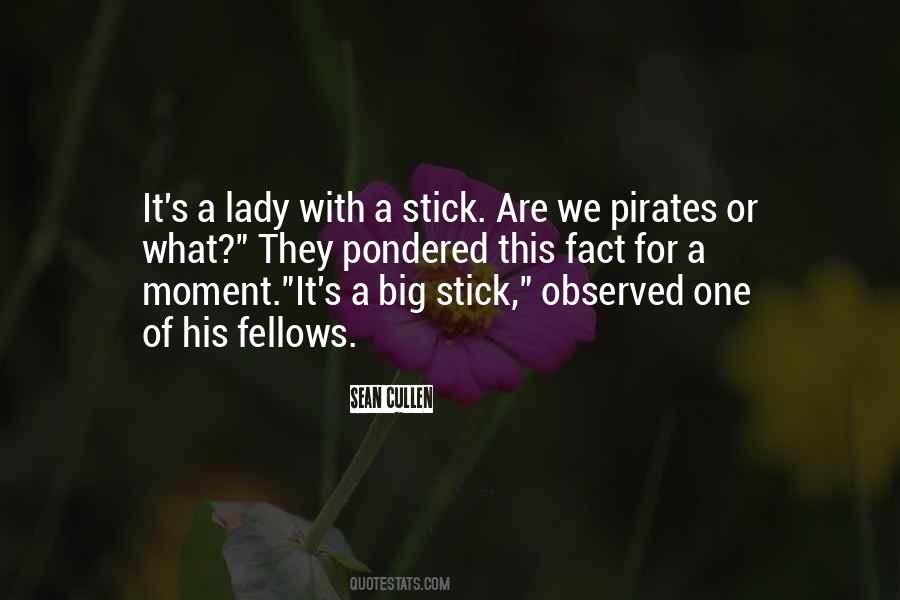 #79. For whatever reasons - which had never interested him in his youth but which he sometimes pondered as an adult - the Angevin House had always taken Cain and Abel as role models. - Author: Sharon Kay Penman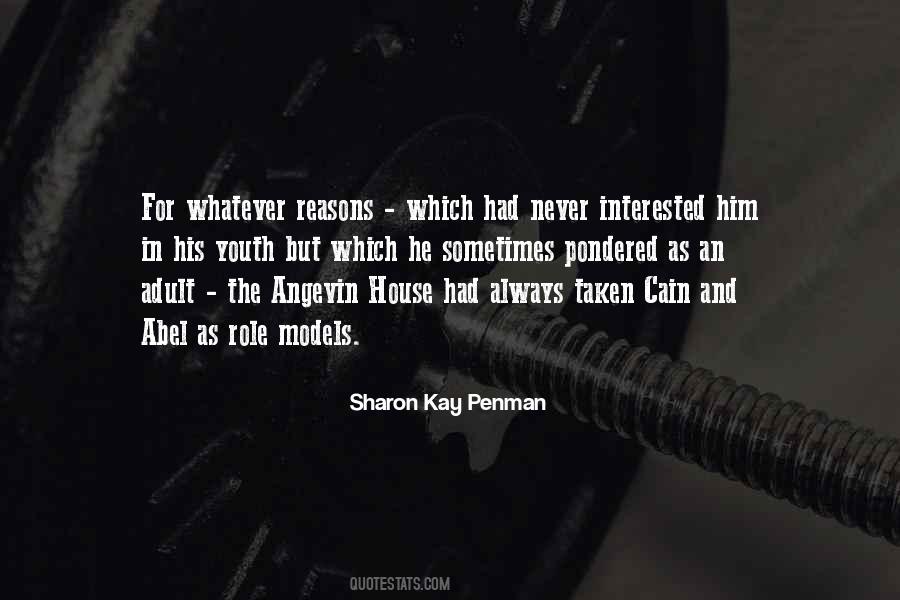 #80. In my solitude I have pondered much on the incomprehensible subjects of space, eternity, life and death. - Author: Alfred Russel Wallace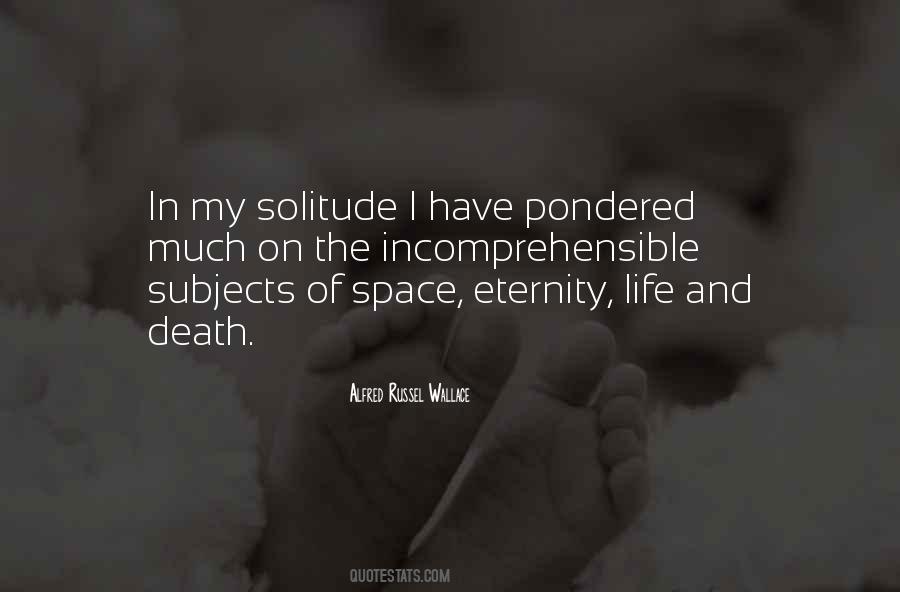 #81. I don't think it's a question of liking or disliking it," Tengo said ... "It was the one thing he was best at." "Hmm. I see," Kumi said. She pondered this. "But that might very well be the best way to live your life. - Author: Haruki Murakami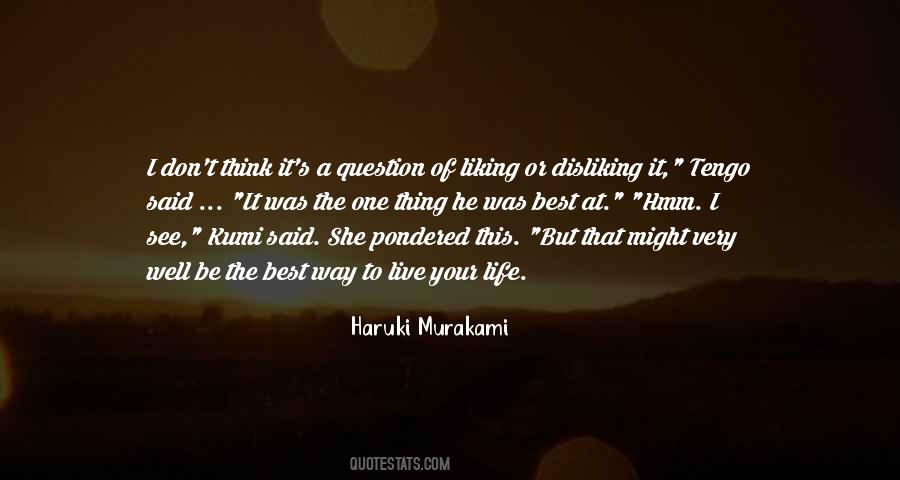 #82. It was strange to Old Robert that he, who knew so much more than his neighbors, who had pondered so endlessly, should be not even a good farmer. Sometimes he imagined he understood too many things ever to do anything well. - Author: John Steinbeck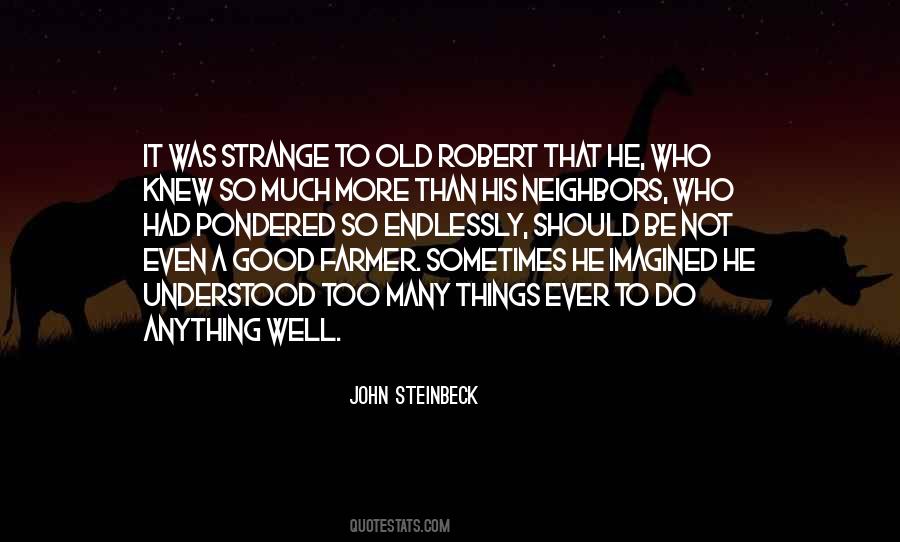 Famous Authors
Popular Topics