List of top 100 famous quotes and sayings about part of your life to read and share with friends on your Facebook, Twitter, blogs.
Top 100 Part Of Your Life Quotes
#1. The moment you make passive income and portfolio income a part of your life, your life will change. Those words will become flesh.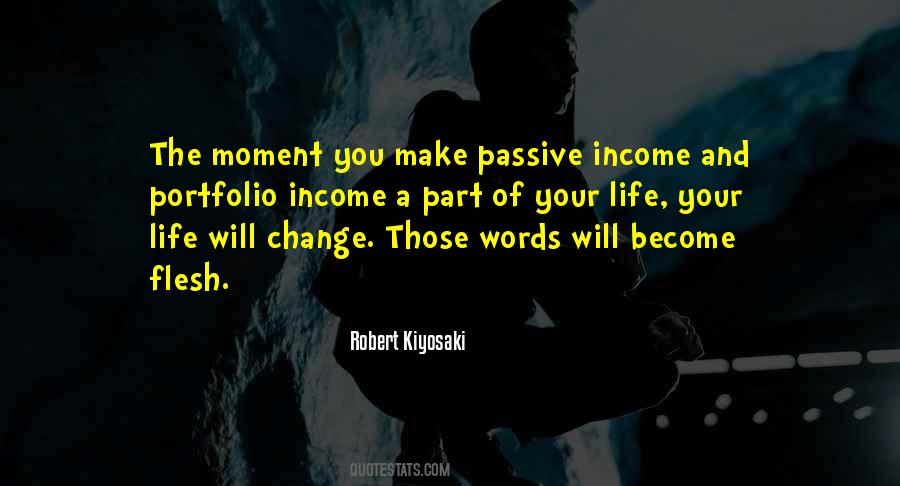 #2. Happiness is your inherent nature. In the hustle and bustle of life, you have forgotten a part of yourself, and looking for it outside. Fill this void with happiness that is sustainable, not transitory; that illuminates your life and that of others, that is life giving and so natural.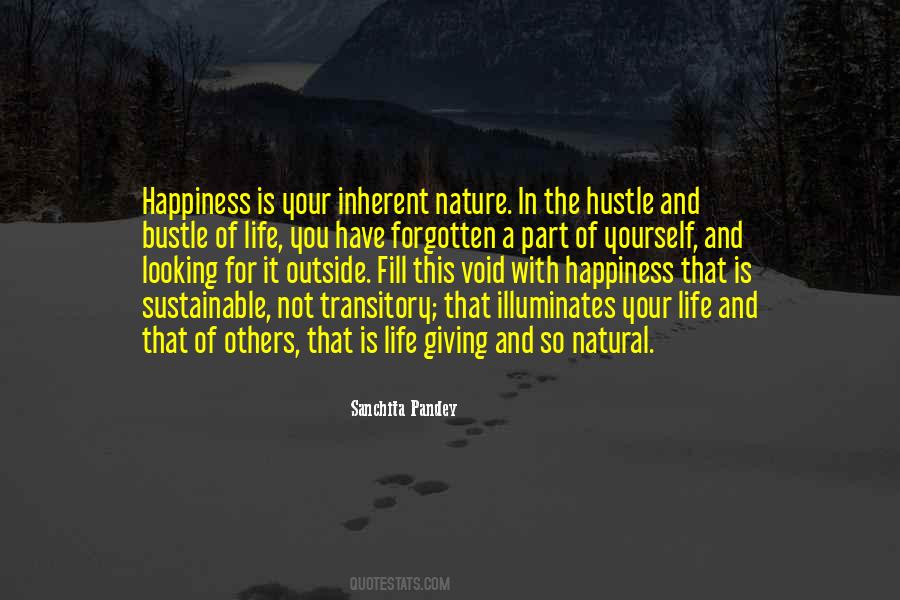 #3. You just realize at the end of the day, everyone is going to have their opinion on your life, more and more so as you go along. As long as you're getting to work and be a part of it - still having fun, learn to just not sweat it so much and keep doing the things you love.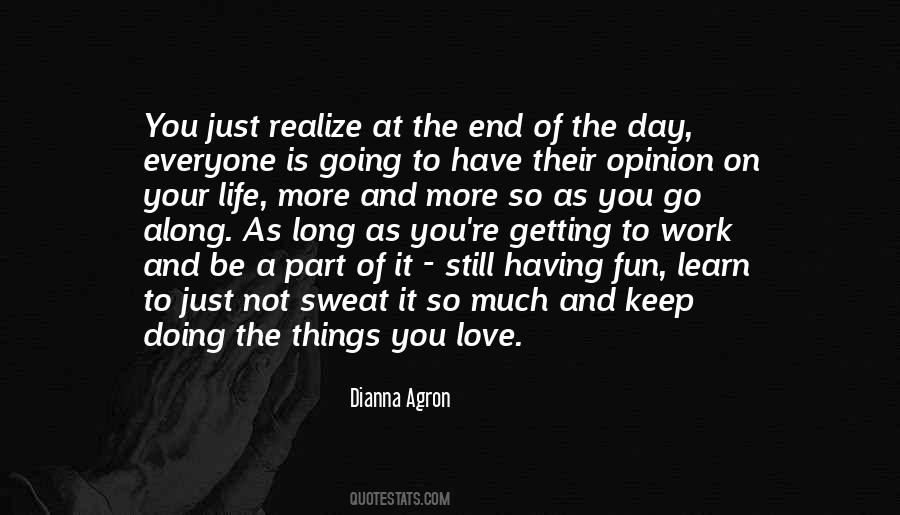 #4. How do you know if an angel has crossed your path? Sometimes you don't, because angels often appear as coincidences. That is, they seem like chance events, but they are really part of God's carefully orchestrated plan for your life ...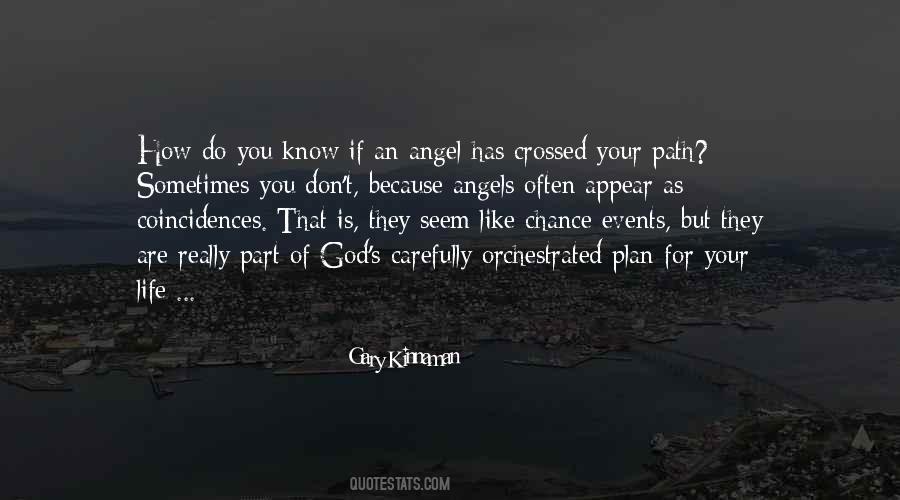 #5. It does influence every part of your life and it influences every decision you make. (speaking about faith)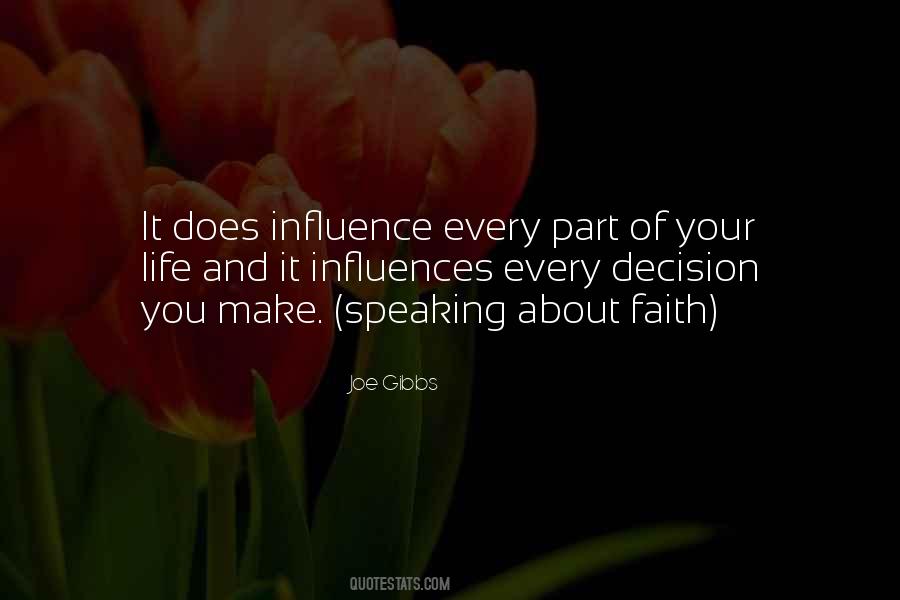 #6. No matter which road you decide to take on your life's journey, just make sure God is an intimate part of it.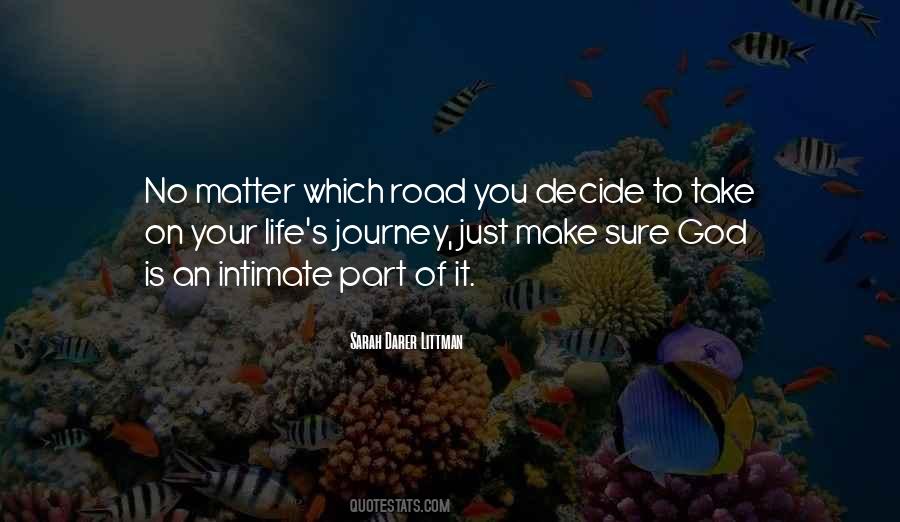 #7. Always take responsibility for your past. It is your only collateral in life. Unless you despise yourself now, you cannot despise yourself then. Everything you did is a part of the process that brought you here. All your past is as alive and real as your so-called 'present.'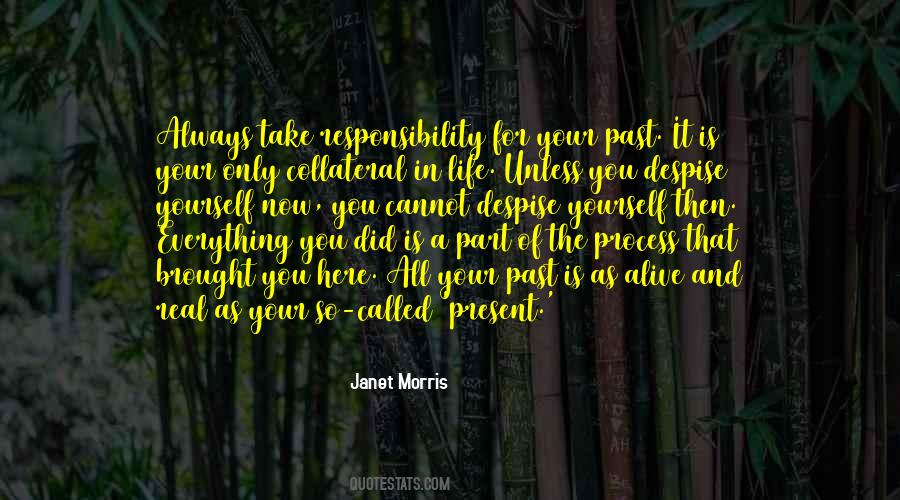 #8. The awesome part about The Book of Awesome is the realization that if you enjoy the simple moments in your life, you will be happier.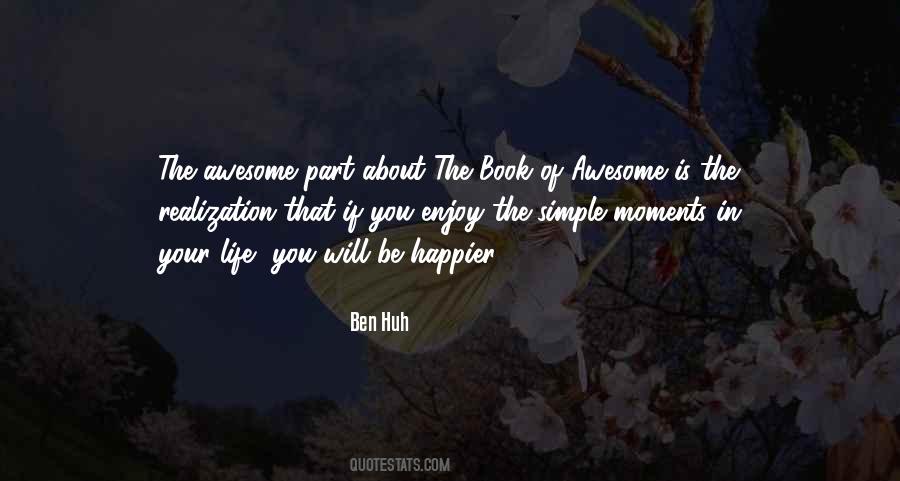 #9. You have to have the service mentality in the sense that you subjugate your own ego, and you subjugate a large part of your own life to really helping other people, being successful on their behalf.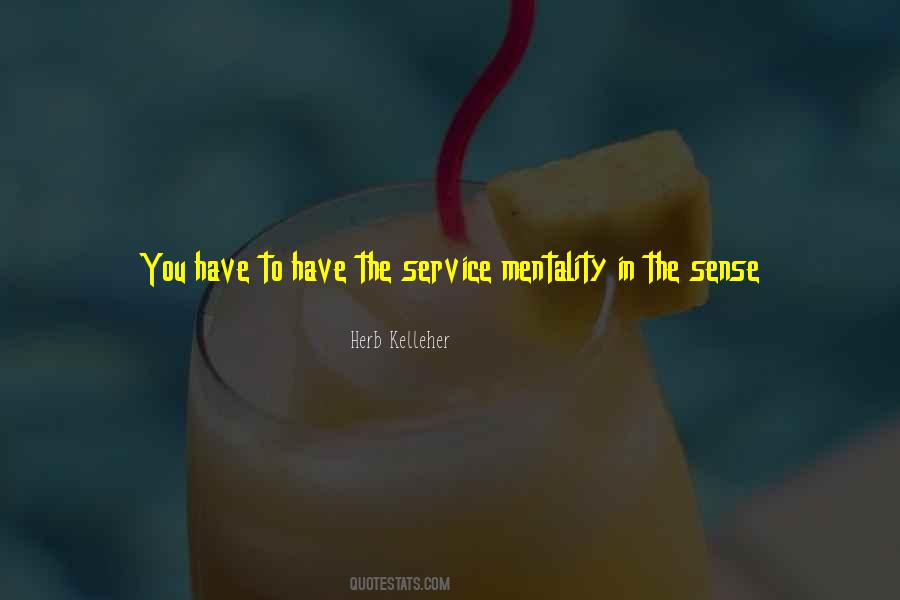 #10. Where you grew up becomes a big part of who you are for the rest of your life. You can't run away from that. Well, sometimes the running away from it is what makes you who you are.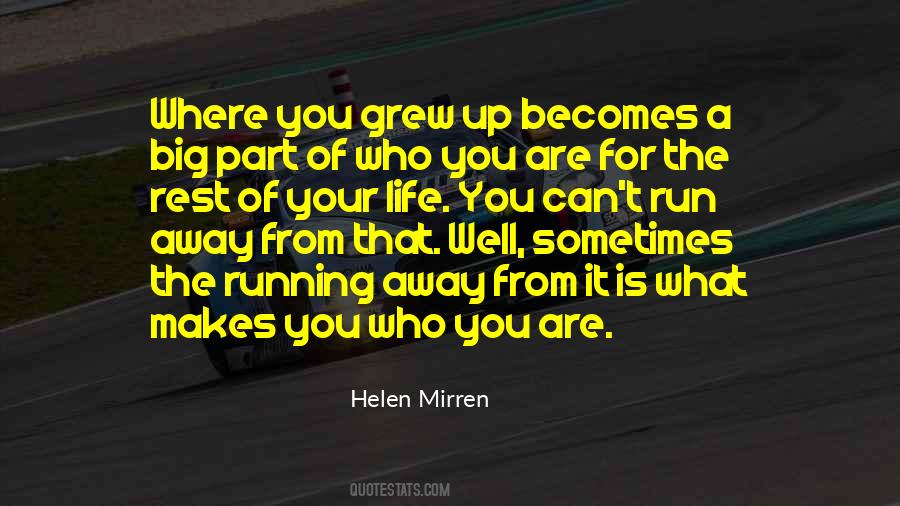 #11. Part of getting older is realizing that you can integrate all these different areas of your life, rather than the adolescent mindset, which for me lasted a long time, which says, 'It's all or nothing.'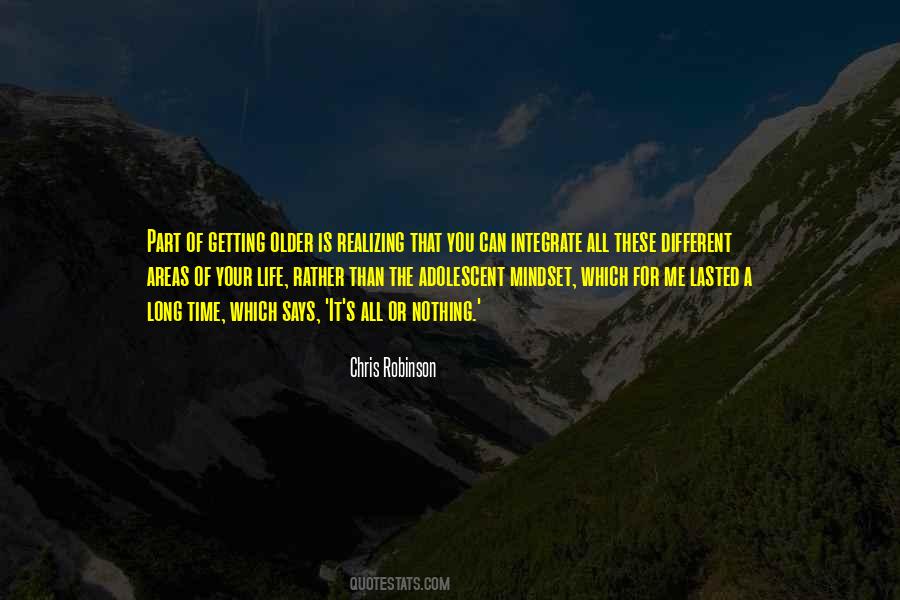 #12. I think being recognized more is something you have to get used to, whether it's your homeland or when you're traveling. People recognize me from my play or a commercial I've done. It's just a normal part of life.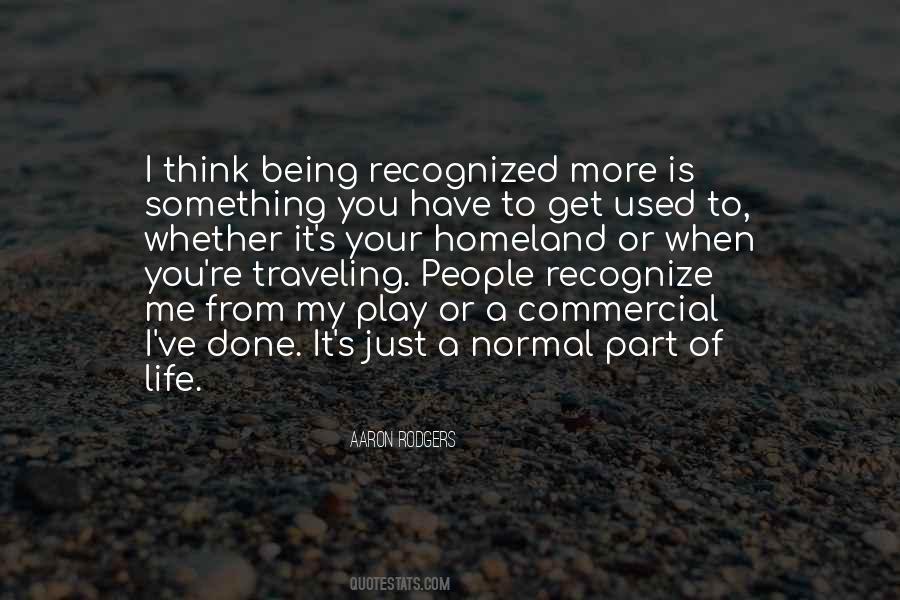 #13. But who I was, who you loved, no longer exists. I have passed on. In your world, only my memory can exist. Your loyalty to me because of that memory is a part of life, but it can become disloyalty to yourself if you hold it so closely that it crowds out the rest of life.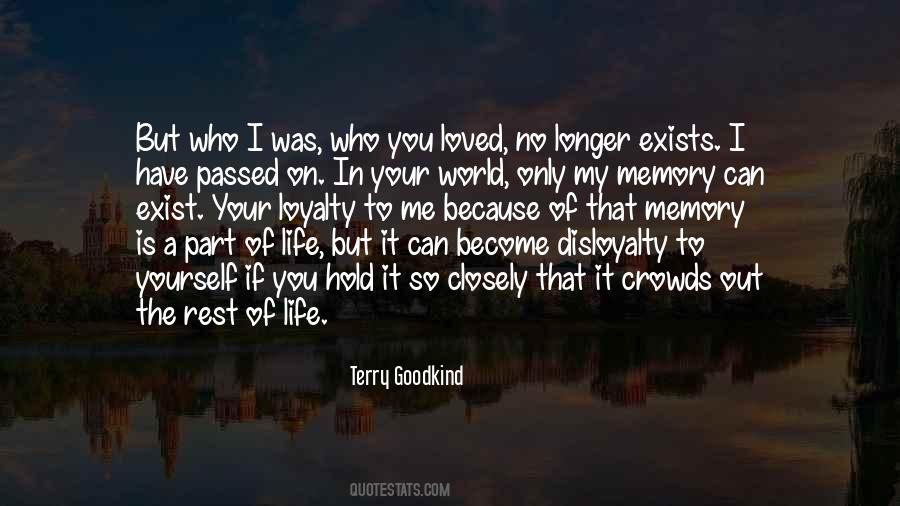 #14. They've loved you your whole life and you've been gone for days. I've just loved you for the better part of a week and losing you just 'bout drove me crazy.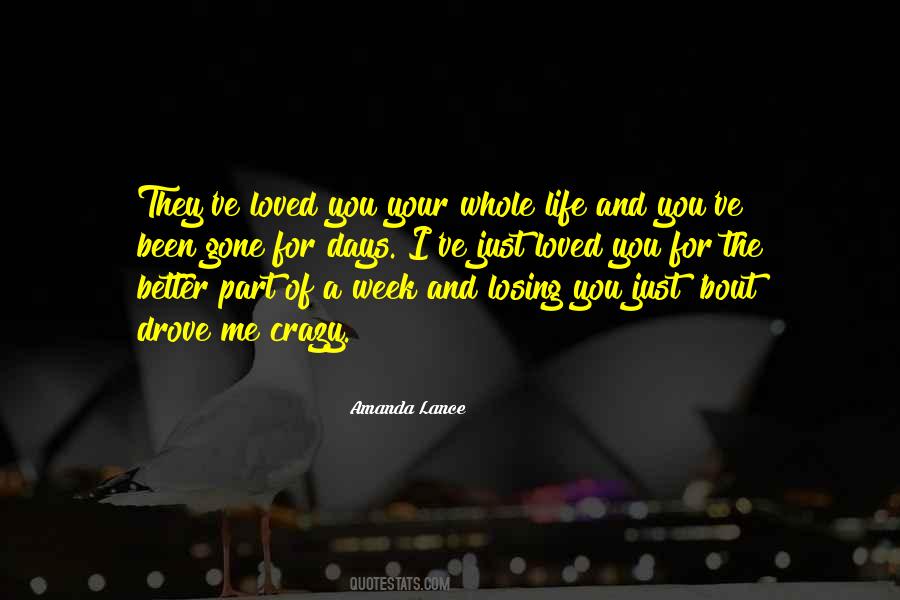 #15. That's part of why I tracked you down. I wanted to be as loyal to you as you are to your Clan. I know I can't exactly miss a life I've never known, Graystripe, but I think sharing your life and your path ... is the best journey I could possibly imagine.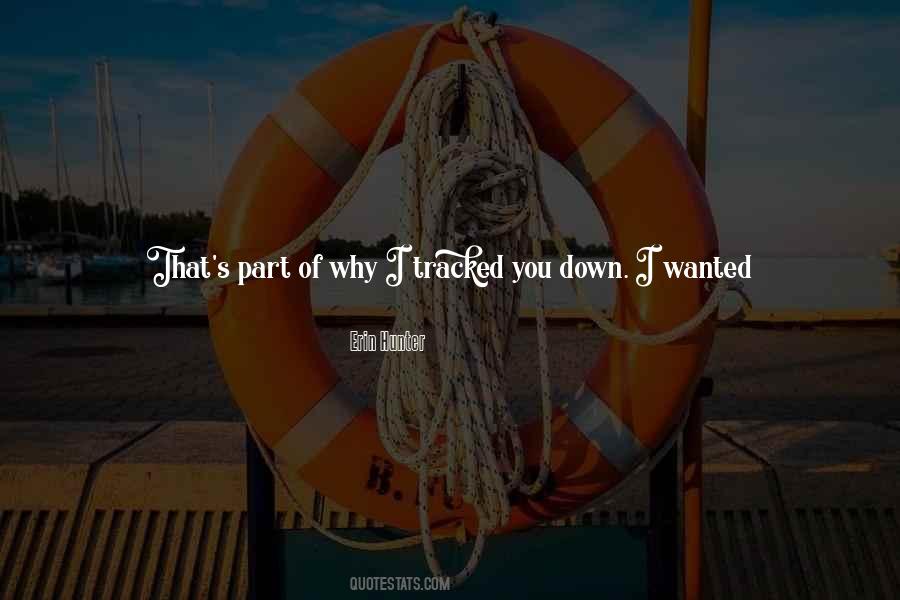 #16. Your dream is a good one. [ ... ] The desire that is the very root of life itself: To grow until all the space you can see is part of you, under your control. It's the desire for greatness.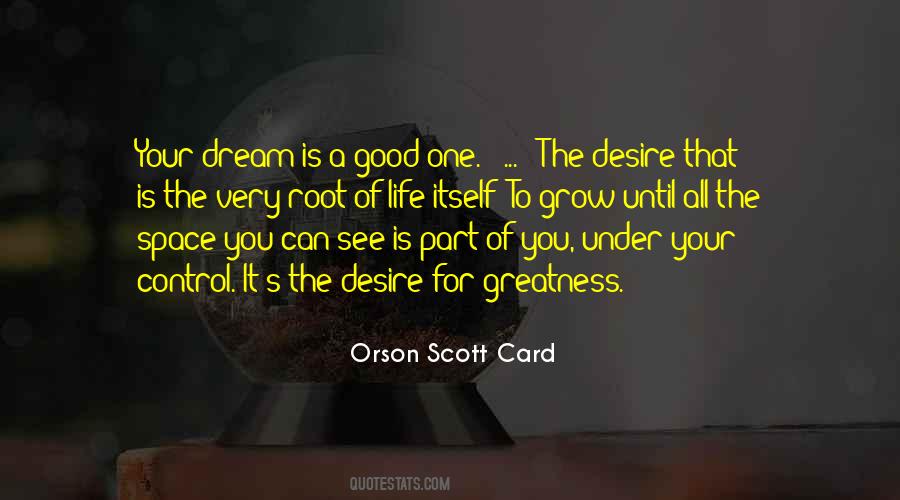 #17. In the School of Life events, situations, and the people you have attracted to be part of your personal experiences are synchronized perfectly in order to teach you the lessons that need to be learned. They show you exactly what is needed to be successful in your Life.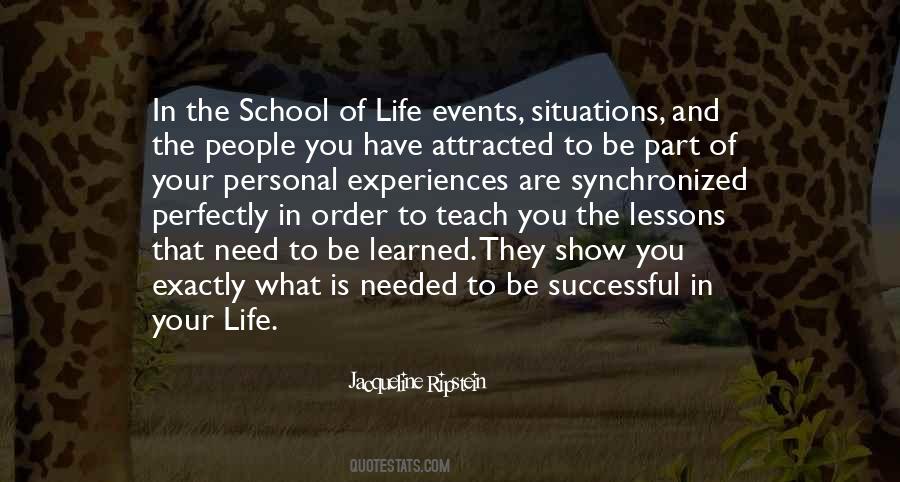 #18. Tweets about the mundane aspects of your life contain something that is vitally important to gaining followers and taking part in discussions: Authenticity.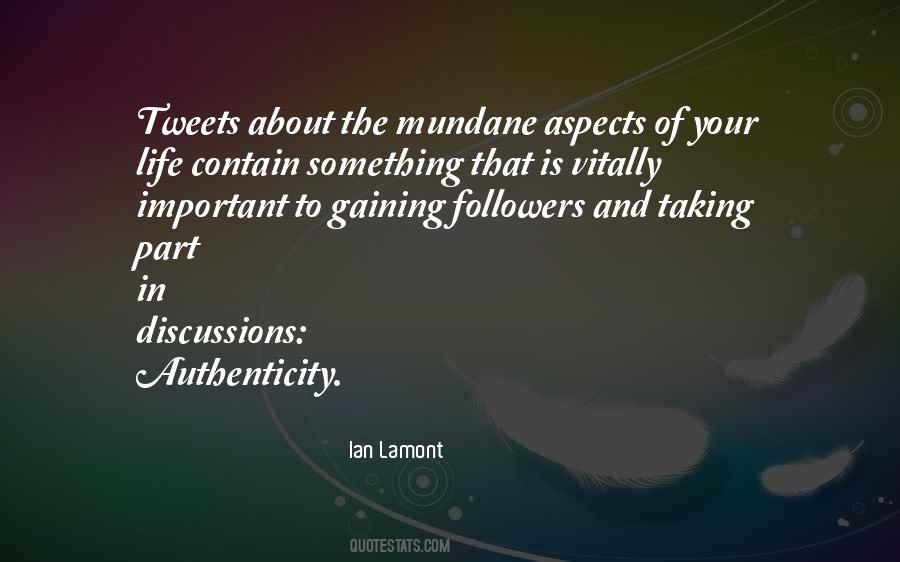 #19. I don't believe that saying things because you feel they are what people want to hear is the right way to be in any part of your life.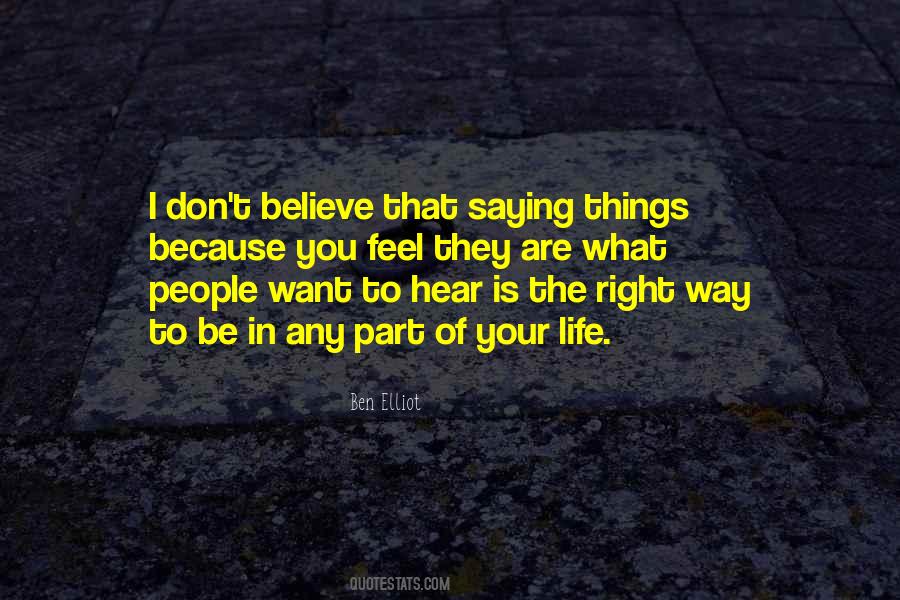 #20. Part of growing up is narrowing your life choices to a manageable size.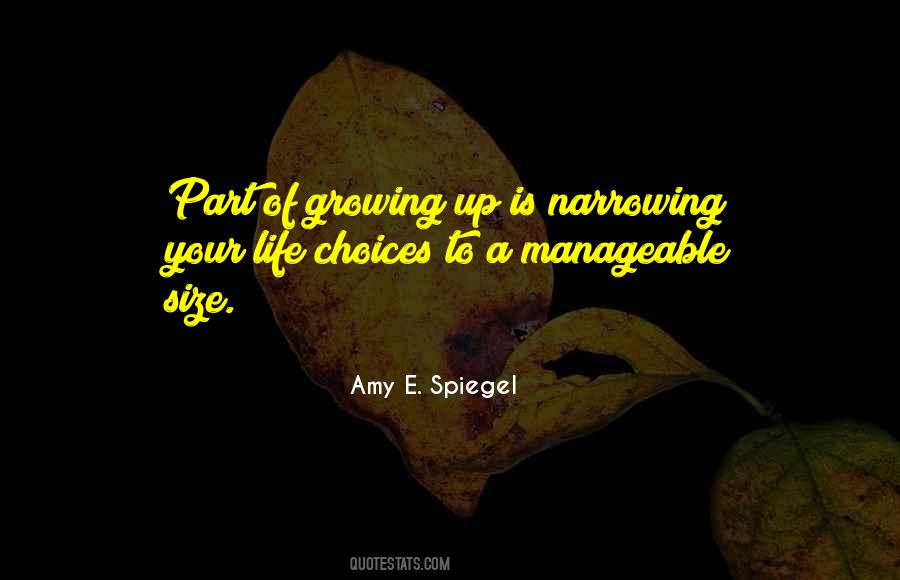 #21. You can't lose the game. You can't go wrong. It's not part of the plan. There is no way not to get where you are going. There's no way to miss your destination. If God is your target, you're in luck, because God is so big, you can't miss.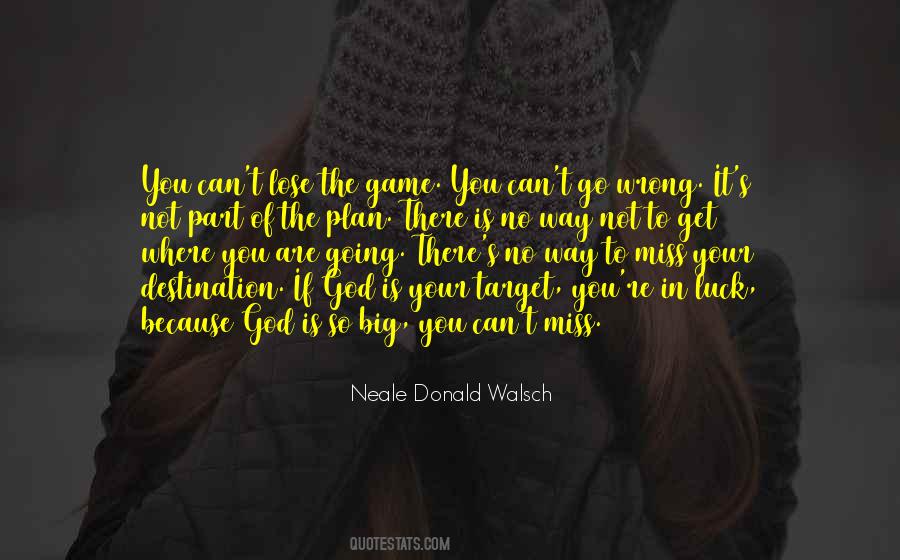 #22. That's part of the requirement for me to be an artist is that you're trying to share your personal existence with others and trying to illuminate modern life, trying to understand life.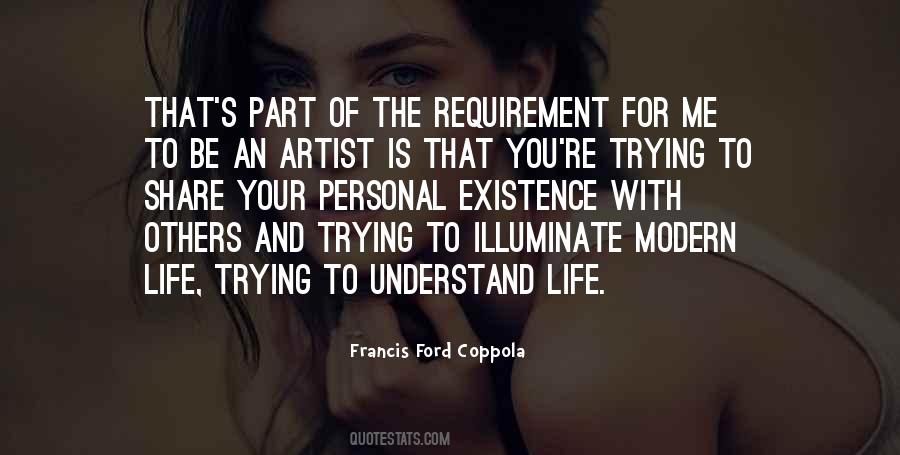 #23. Life is a glass of wine and having your feet washed - it's a biblical event, might I add. This is part of mankind's story. You are always looking for a moment to take a break.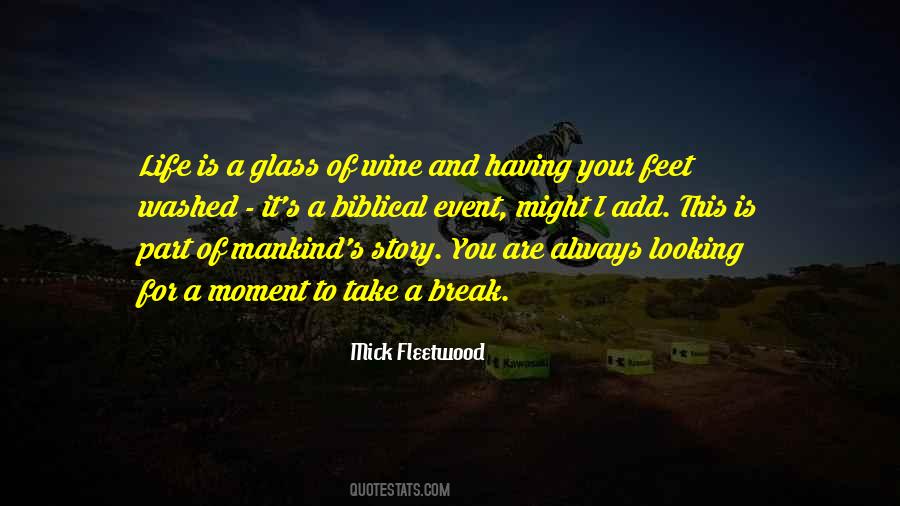 #24. Part of me thinks that your very vulnerability brings you closer to the meaning of life, just as for others, the quest to believe oneself white divides them from it.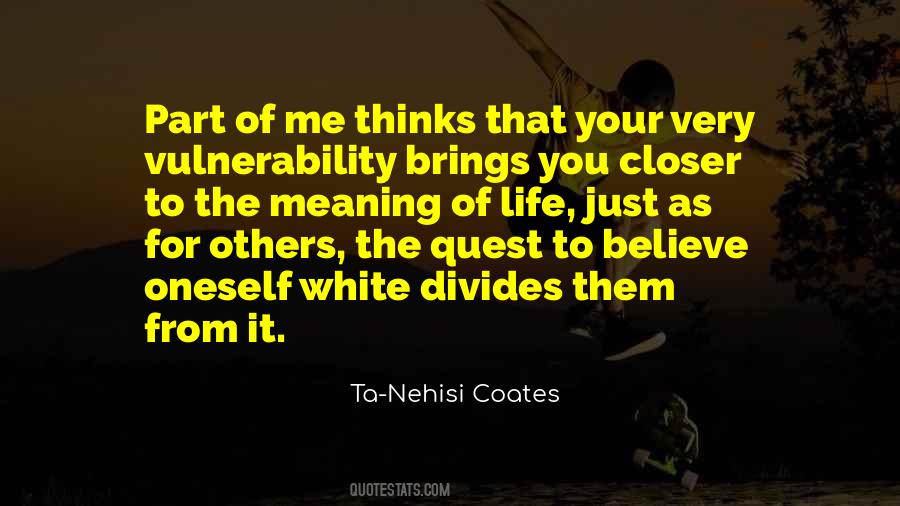 #25. I think part of running for president, people want to know who you are, what influenced you, what motivates you, not just where you stand on issues but what is in your heart and what were things in your life that led you to believe the things you believe in, and fight for.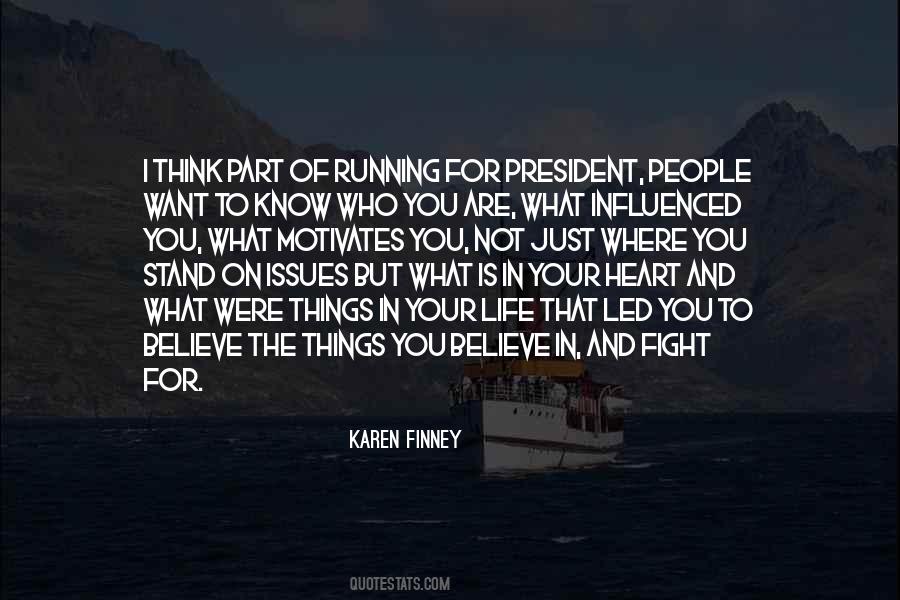 #26. The hardest part of your life is behind you now.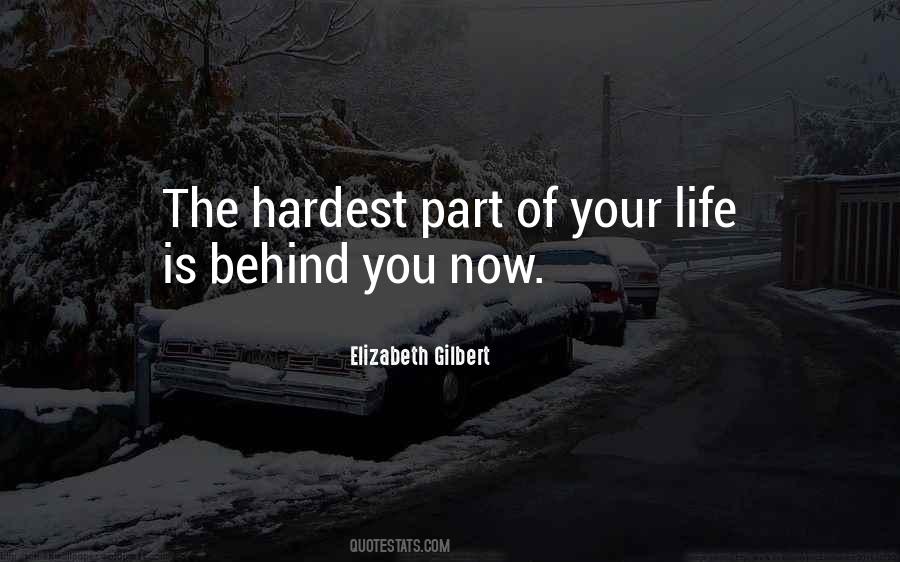 #27. 'Giving 2.0' frames giving as a learning experience and encourages everyone to make giving a part of your year-round life.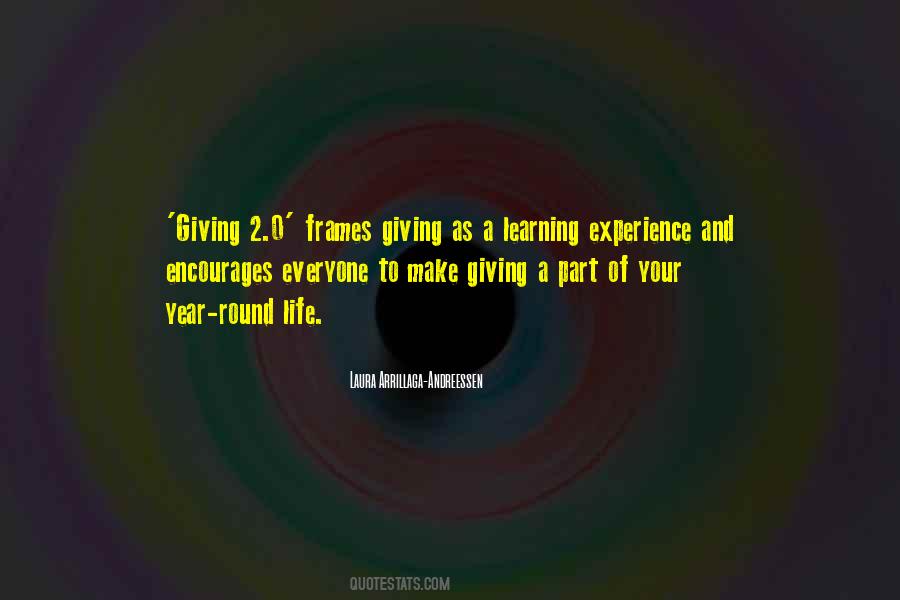 #28. All that you have been is but a small part, a very mere bit of the potential of your life.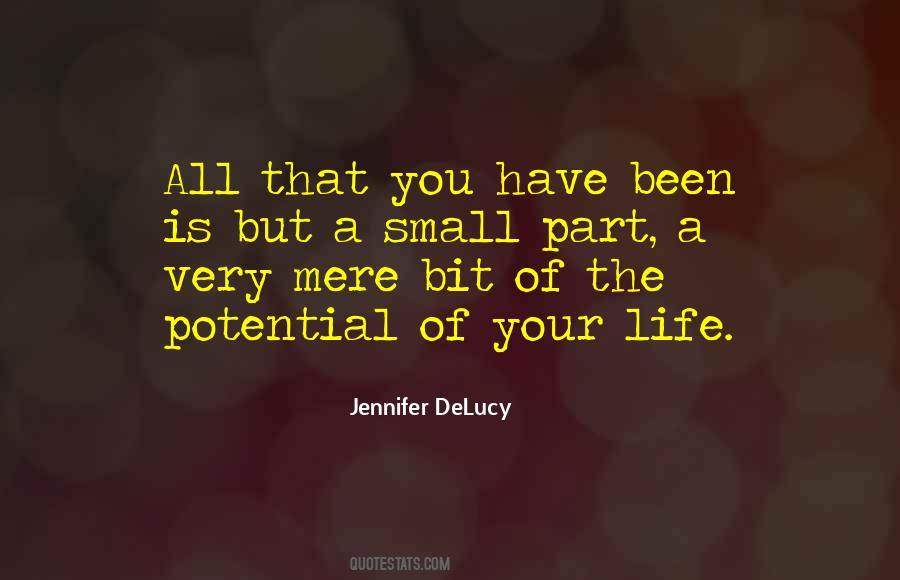 #29. There is a part of you that is Love itself, and that is what we must fall into. It is already there. Once you move your identity to that level of deep inner contentment, you will realize you are drawing upon a Life that is much larger than your own and from a deeper abundance.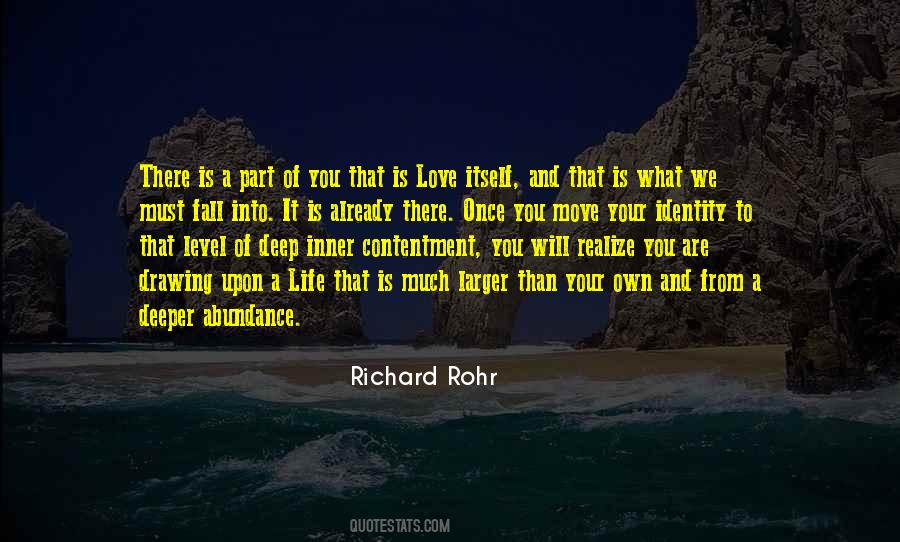 #30. And eventually your loss normalizes - it integrates into part of your everyday life and you find yourself three or five years later doing okay, changed but . . . but still able to hear your friends' voices, still telling stories about them, still thinking of them every day.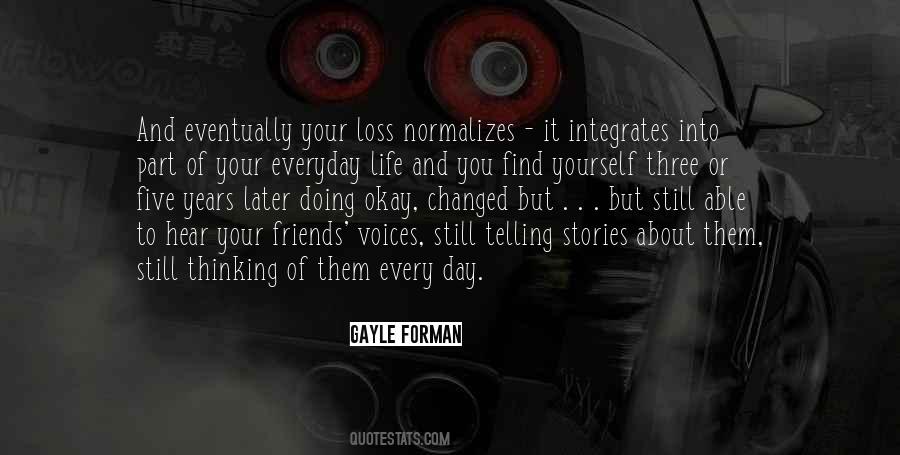 #31. If you're a successful woman, chances are that you spend a ton of time working. You're probably on your email a lot, taking phone calls and going on regular business trips that don't involve your man. He can start to feel left out of a very important and very time-consuming part of your life.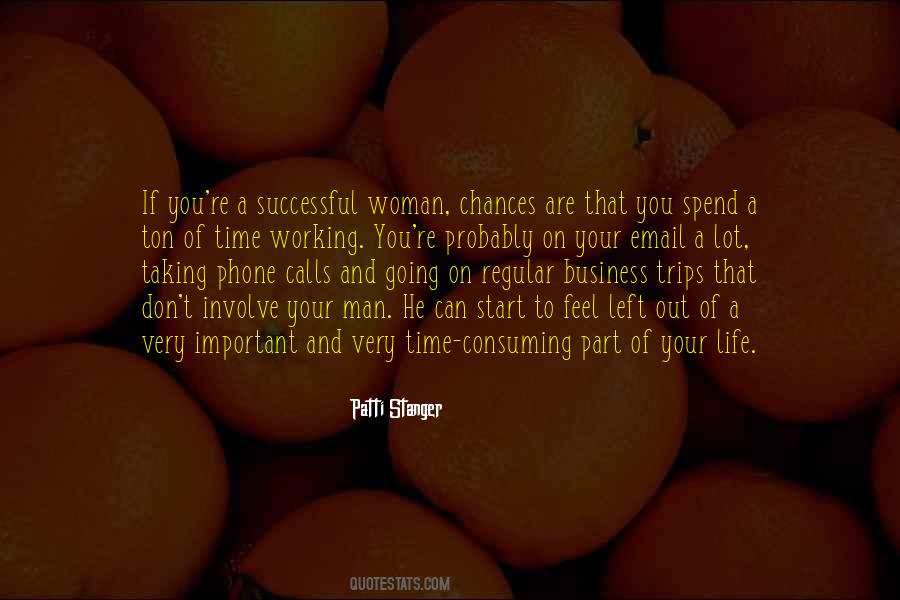 #32. Long after you have reached the end of your natural span, part of you will dwell within me . . . as I shall be in you to the last of your days and even after.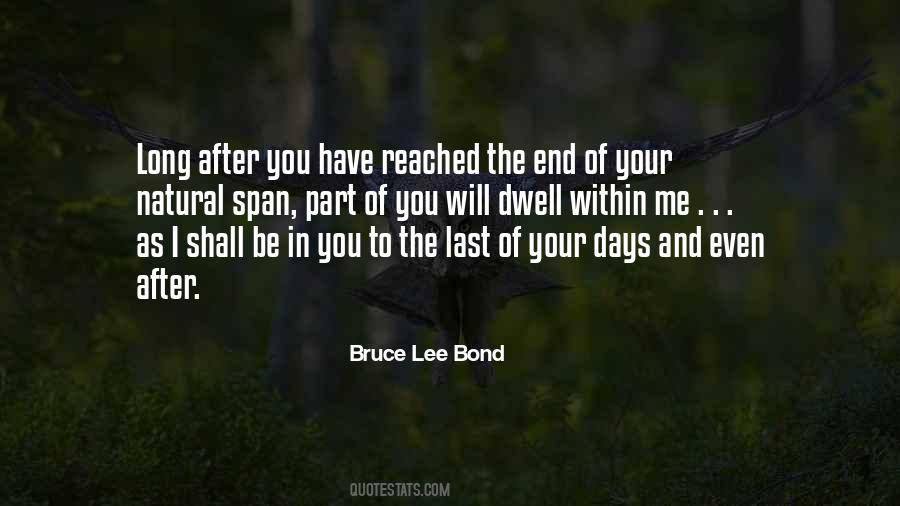 #33. Your trials did not come to punish you, but to awaken you - to make you realise that you are a part of Spirit and that just behind the sparks of your life is the Flame of Infinity.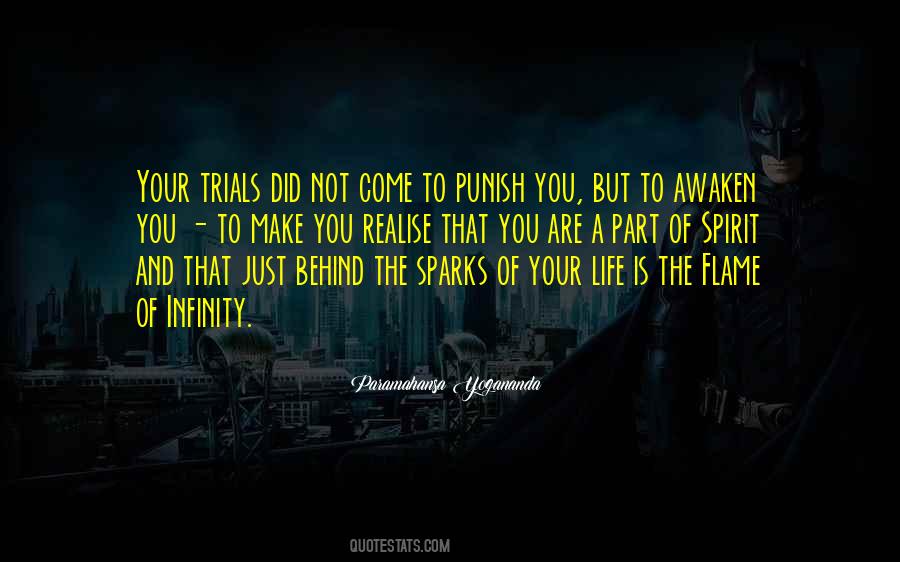 #34. I learned that it's super important to stay true to yourself and your family. I've also learned that I've got a lot to learn about life, but that's just part of growing up.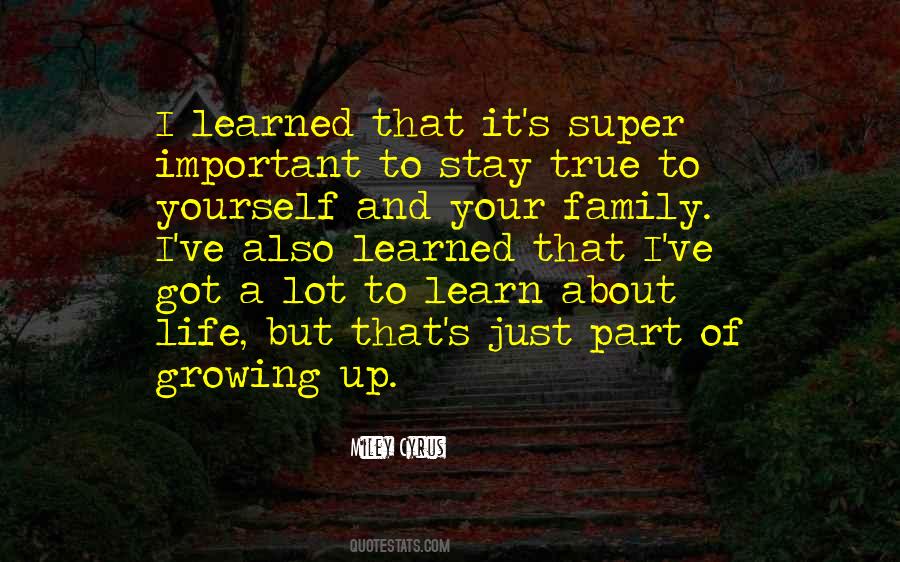 #35. The most important part of living life on your own terms and having it all is having faith and belief in yourself and in the intelligent power that created you.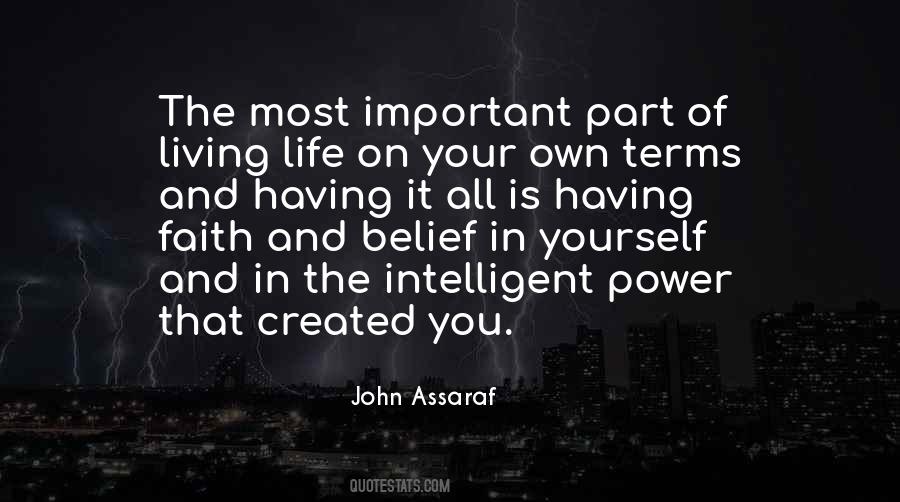 #36. The results are in and the cell phone has become the most isruptive aspect of work and everyday life. With more than four fifths of the population sporting these little gadgets, it's now taken as a given that any part of your day is subject to disruption.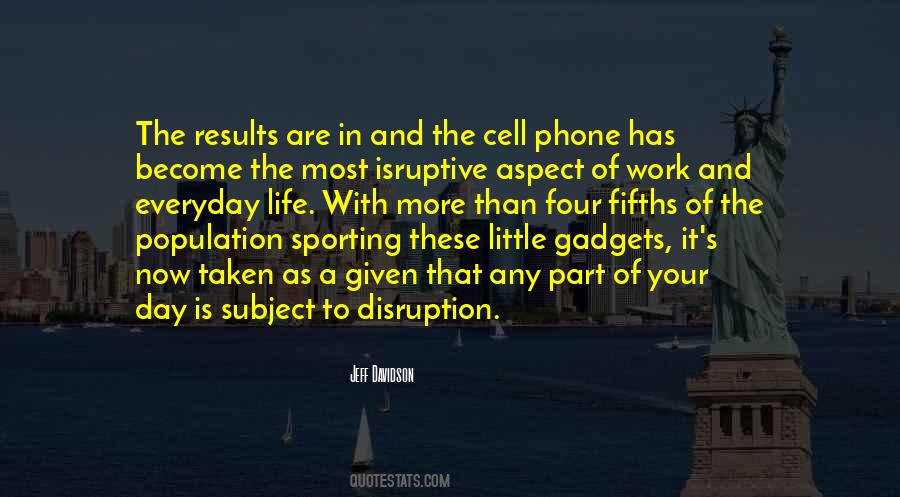 #37. That's how you know someone loves you. When they want you to be happy even in the part of your life they'll never see. But right then I was too stuck in the moment, in the visceral pleasure of it all.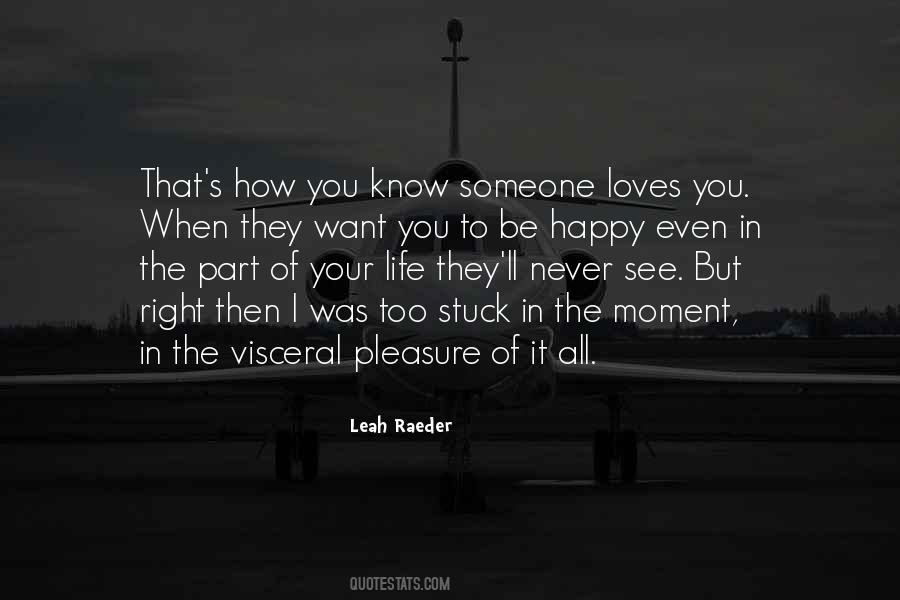 #38. To become a classical ballerina, you have to move to New York when you're 12 or 11 and that becomes your life. I just wanted to be good in my company in Charleston and I wanted it to always be part of my life.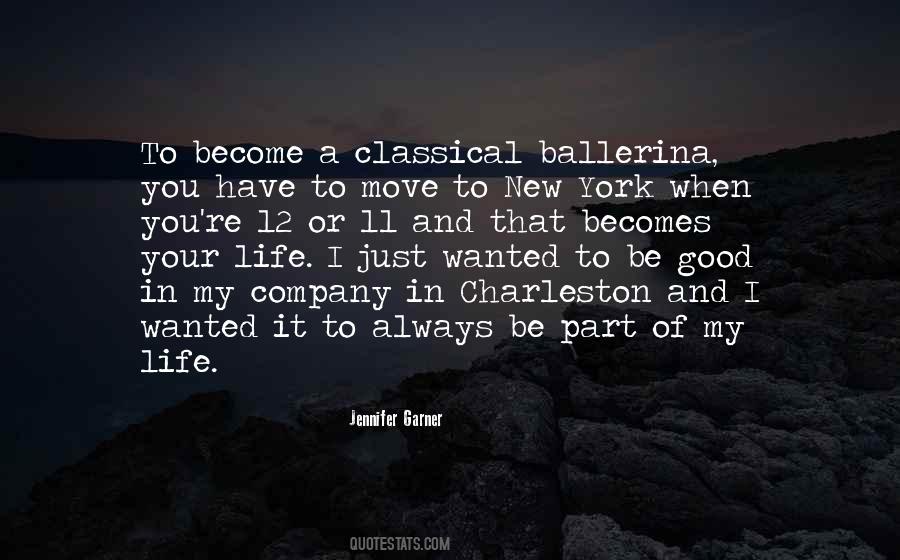 #39. Did you know I've been in love with you, your entire life? Did you know I truly believe you were made for me, a part of me, our fates bound together? Your heart, albeit weak, was meant for me and only me.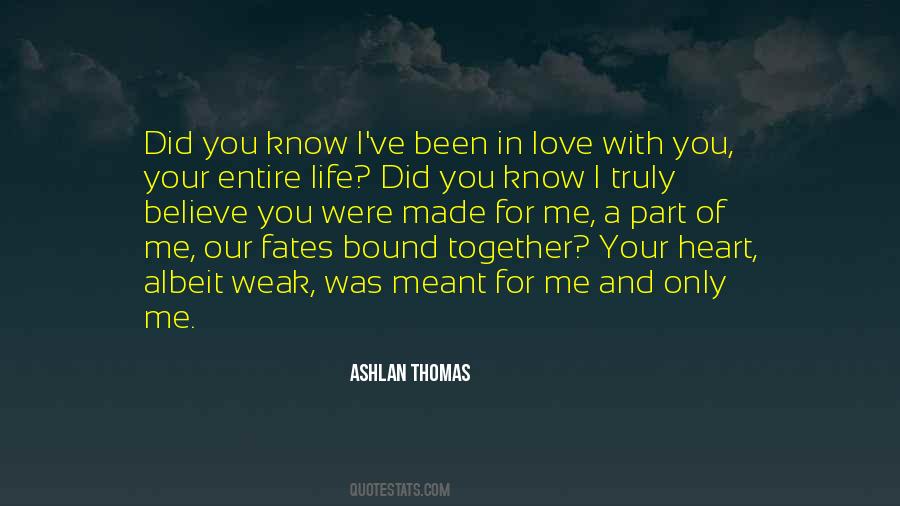 #40. But the part where you had to teach your kids that life could throw curveballs and you had to dig deep to find it in you to adjust was a part of that shit.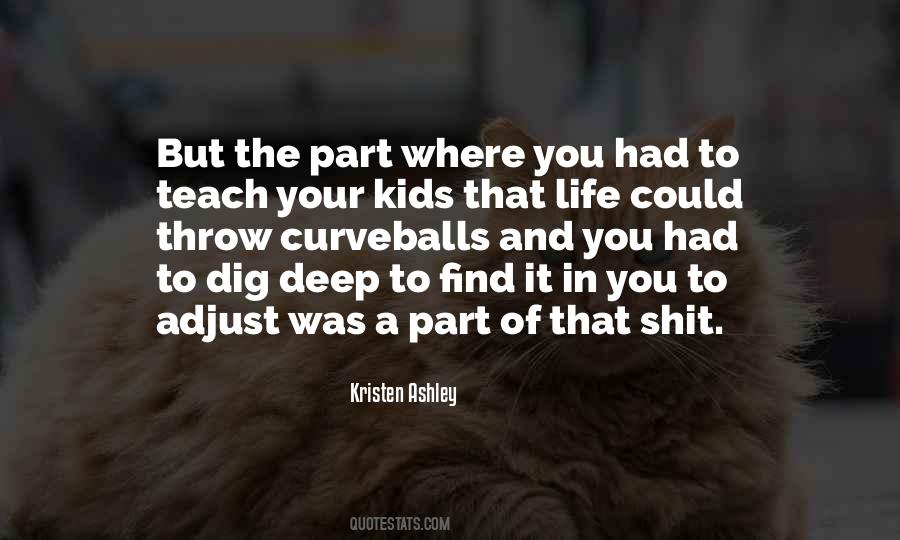 #41. Your job is just one tiny part of your life. We talk so much about choosing jobs or selecting careers. But what if we chose a life instead?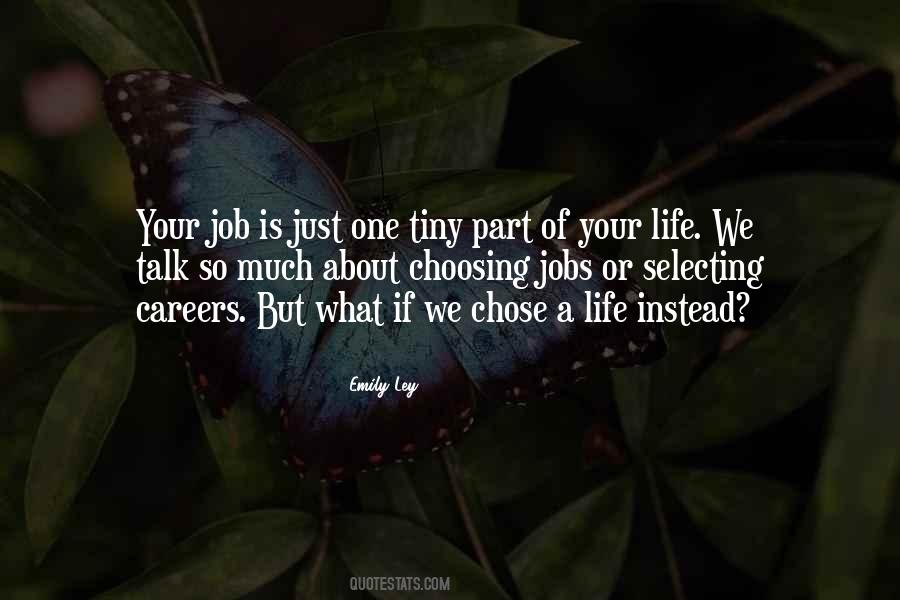 #42. When you find your heart's desire, you'll have the key to unlocking your potential in every other part of your life.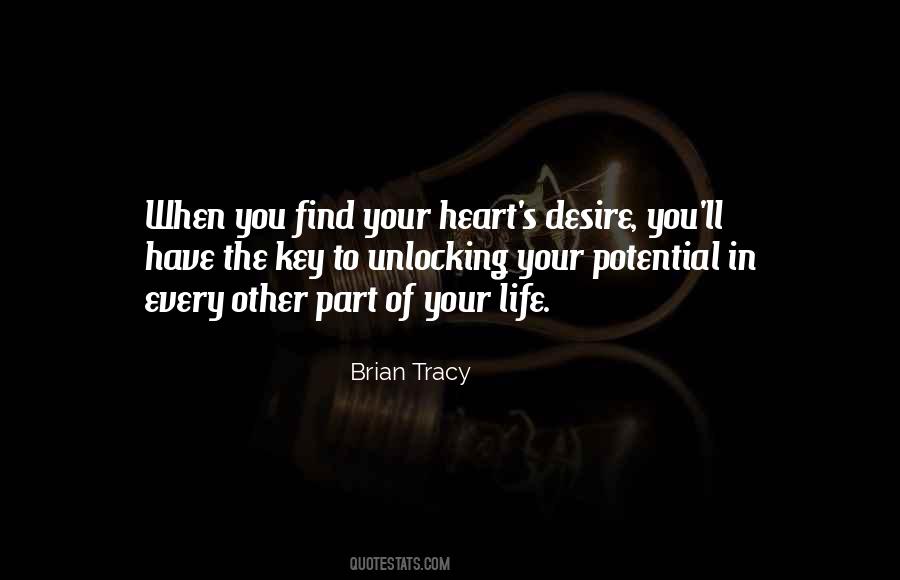 #43. The hardest part of changing things is knowing how much needs changing,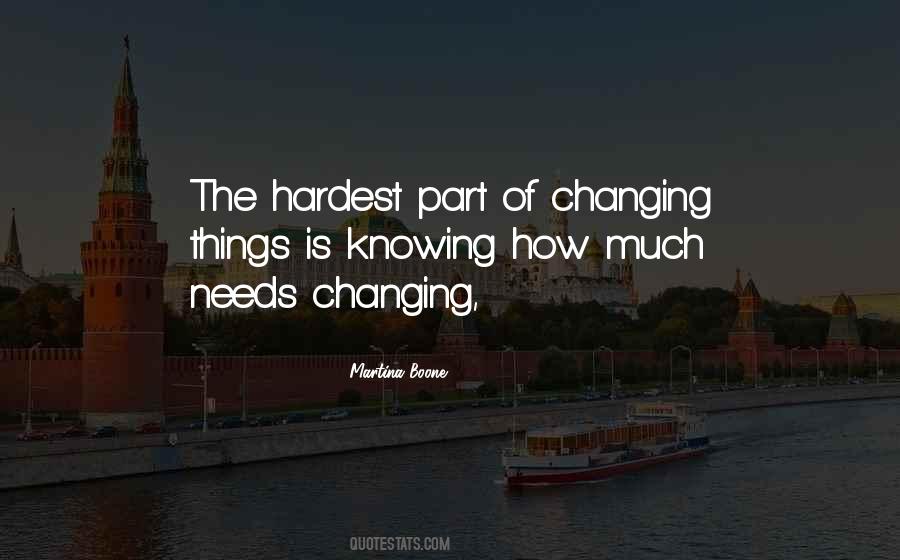 #44. Since you are an integral part of a social system, let every act of yours contribute to the harmonization of social life. Any action that is not related directly or remotely to this social aim disturbs your life, and destroys your unity.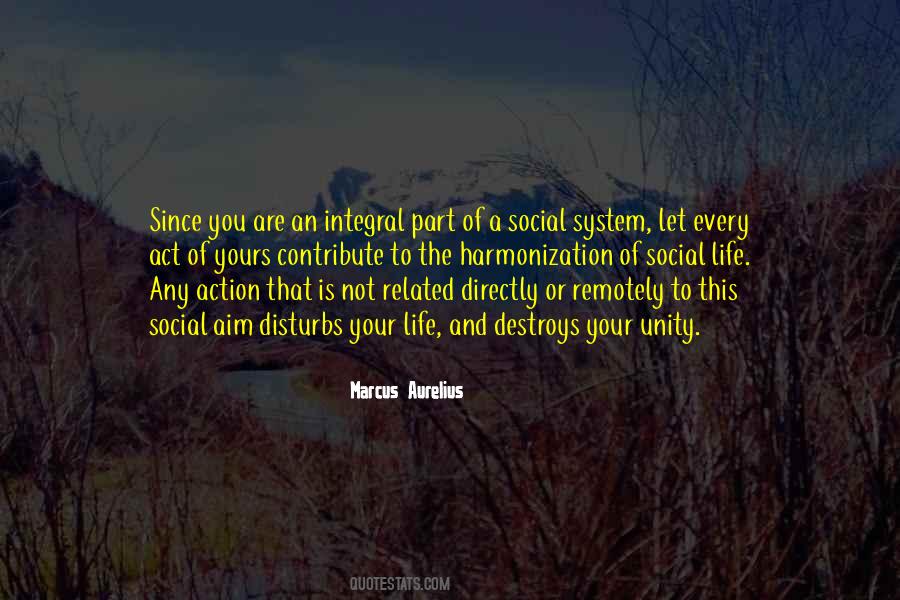 #45. Every death of those you love is the death also of so many shared memories and understanding, of a now irretrievable part of your own life.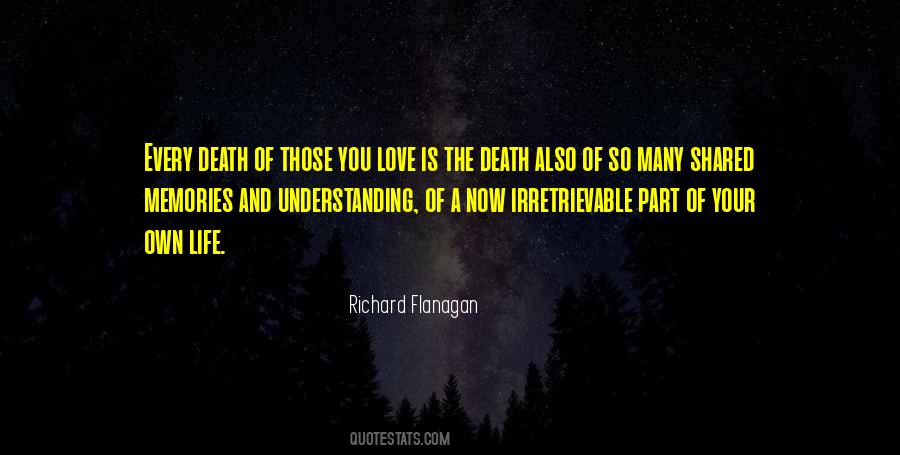 #46. I love radio - its immediacy and especially its intimacy ... it is part of your life, whispering into your ear. You can't see it, but equally importantly it can't see you.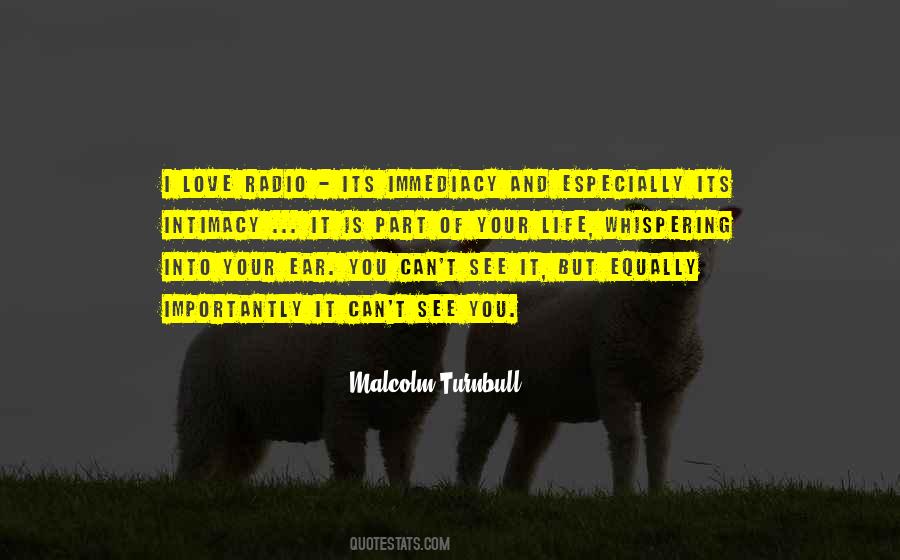 #47. When the love of your life dies, the problem is not that some part of you dies too, which it does, but that some part of you is still alive.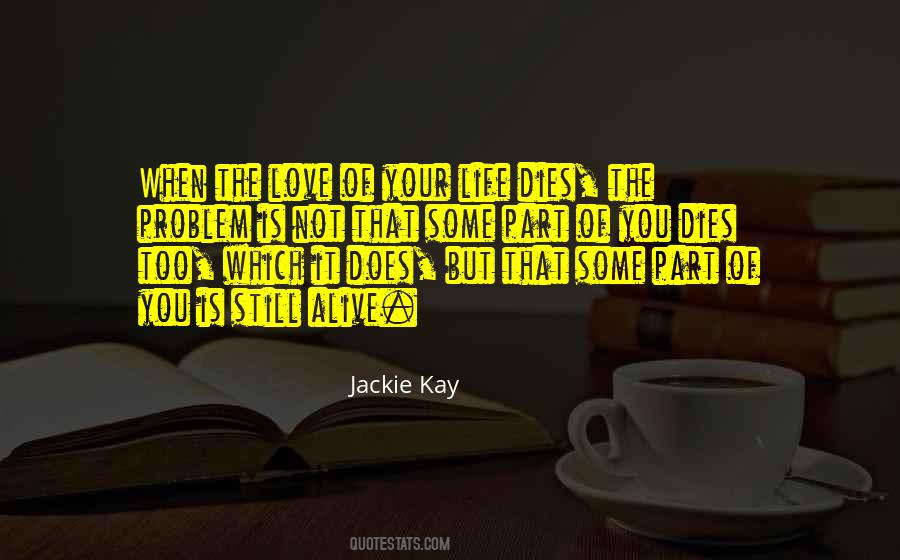 #48. Part of your mission in life then must be to share your gifts with as many people as possible. That means being willing to play big.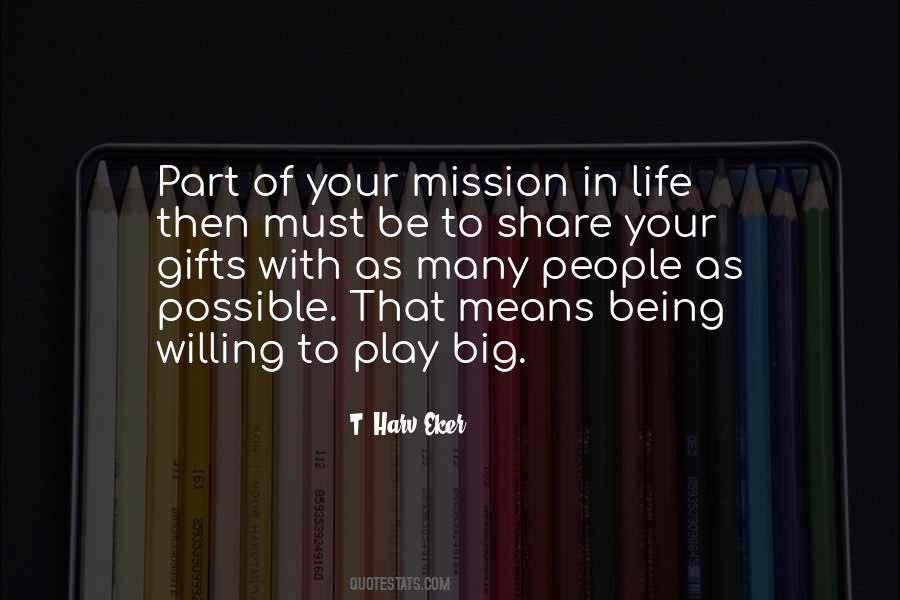 #49. I think as you grow up, you realize you have obligations just in your life - being a citizen, being part of humanity - to help other people, to help your country, to help the world.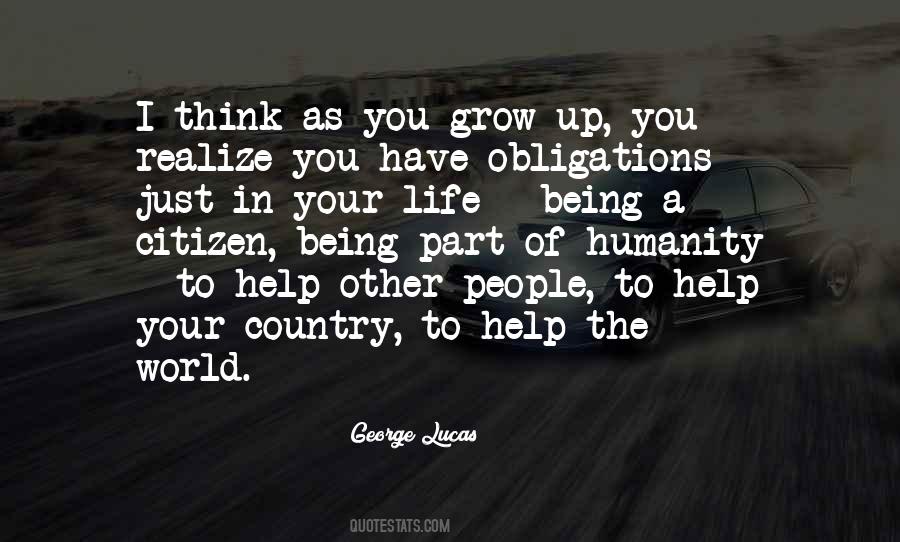 #50. Fashion can always be a part of your life no matter what shape or size you are. You don't need to feel like you have to fit into a box because you aren't a certain size that your favorite designer carries.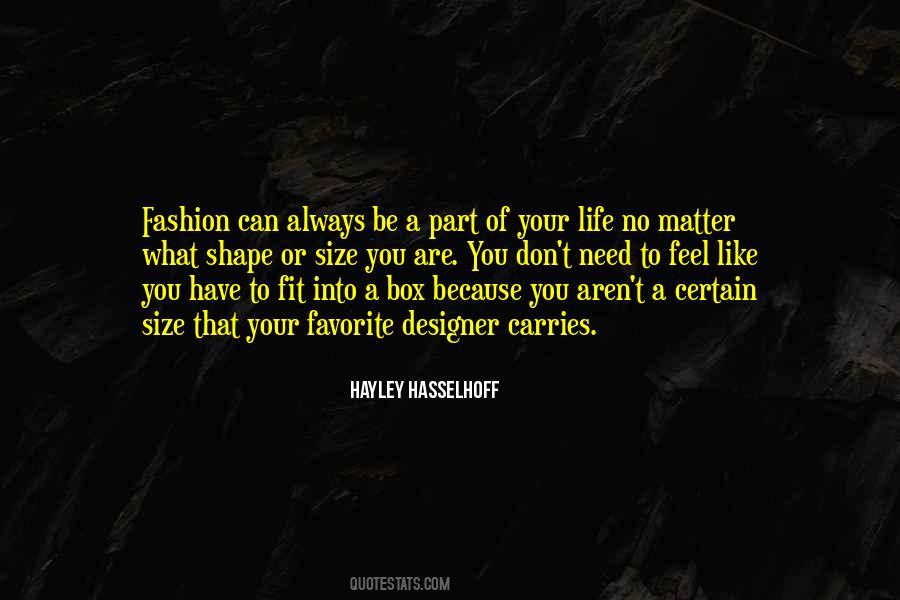 #51. The last part of life is a spiritual concern. You need to find a context to put your life into, that will allow you to go through it with as much grace and balance as possible, even if there is rebellion and adventure and exploration and resistance.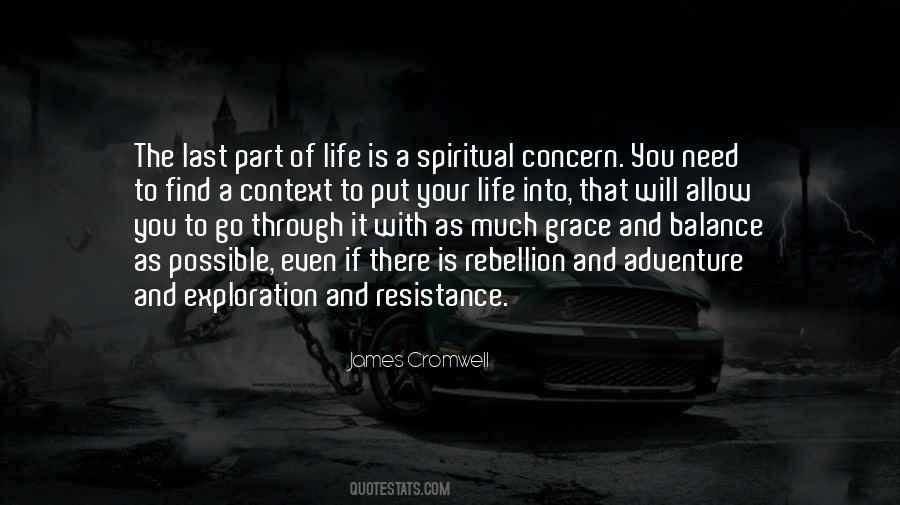 #52. When you imagine yourself as a failure or as having insurmountable problems in your relationships or any part of your life, you think failure, act failure, and produce failure.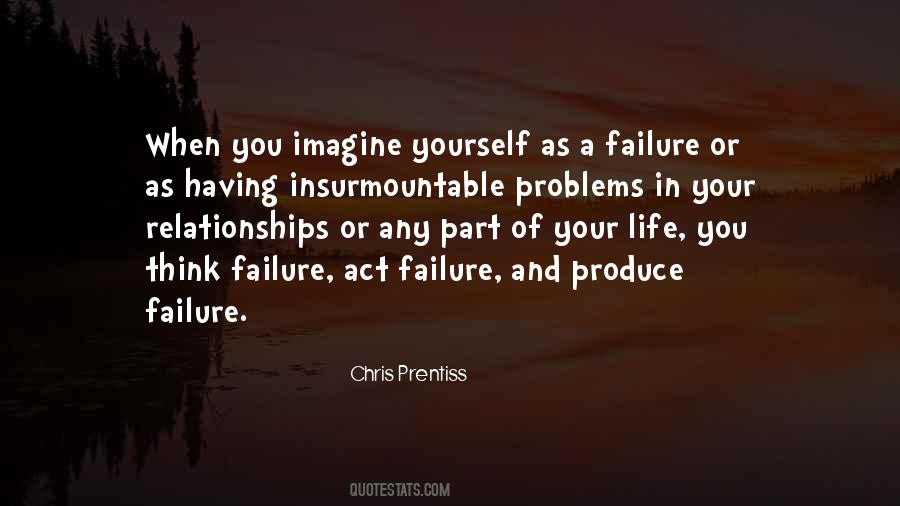 #53. Trouble is part of your life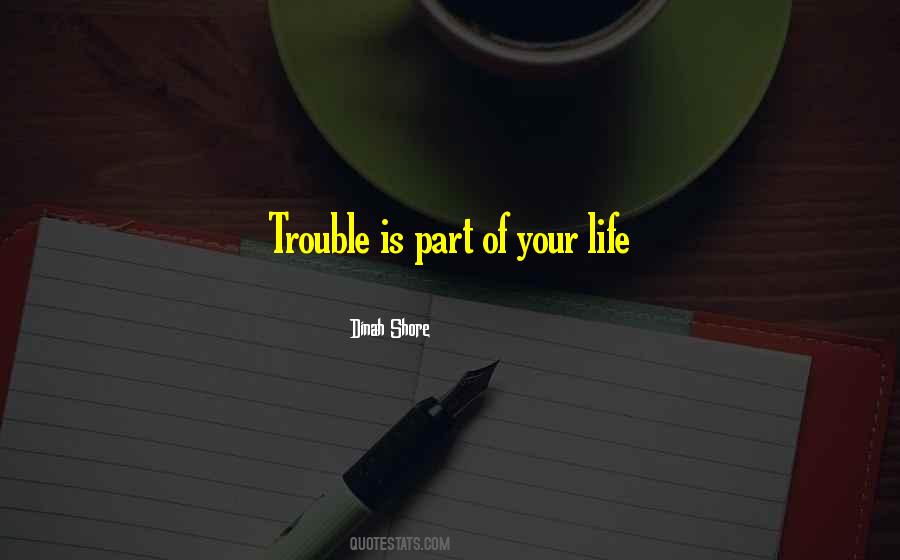 #54. When it gets to the part in life where you're more afraid of what your wife is going to do to you than if you box, say, Mike Tyson, you've got to get a new profession. You don't get to be a family. I know why boxers never quit, some of them. They don't have wives.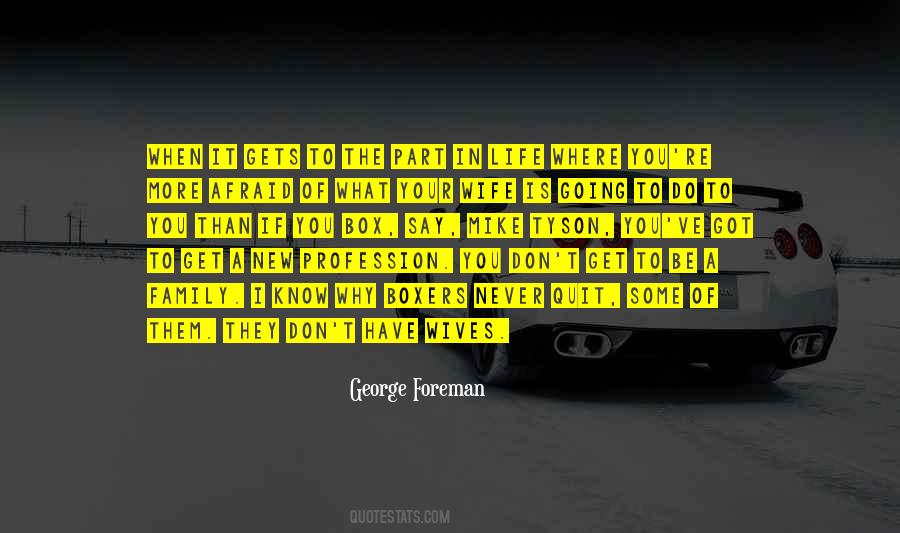 #55. Dar's been through enough in his life, and his legs are only a small part of it. Don't play with him, Cassie. If you're not serious, leave him the hell alone."

"And if I am serious?"

Sean smiled ruefully. "Then you're in for the fight of your life.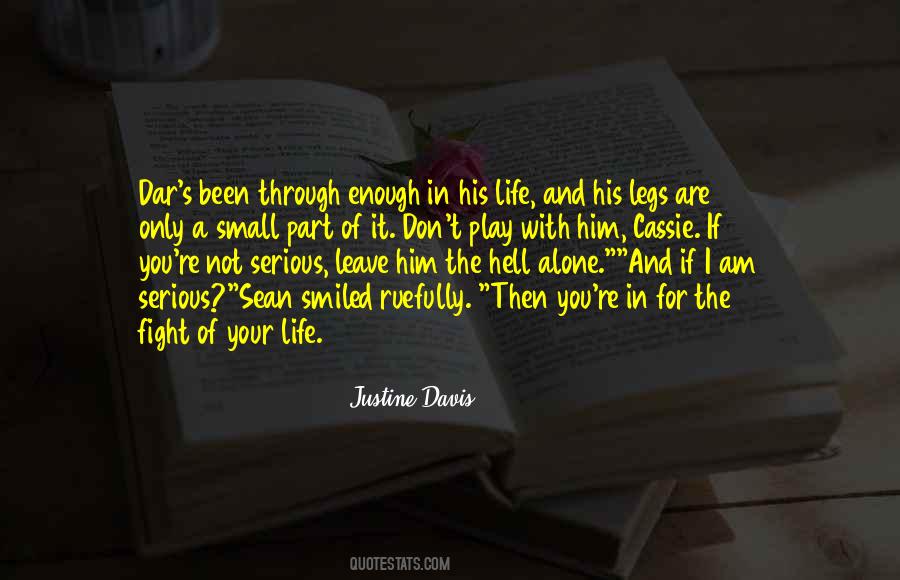 #56. If you fail in life's journey, just don't complain. Make it a part of your journey.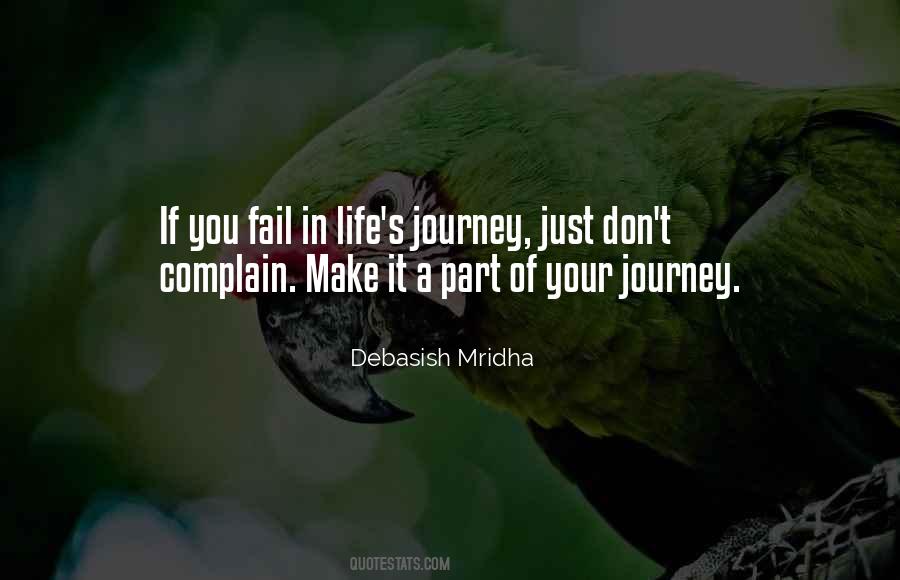 #57. To run away from life and desire is impossible because you are life and you have desire. Accept that this is part of your physical condition and see that these aspects are not really indigenous to what you are.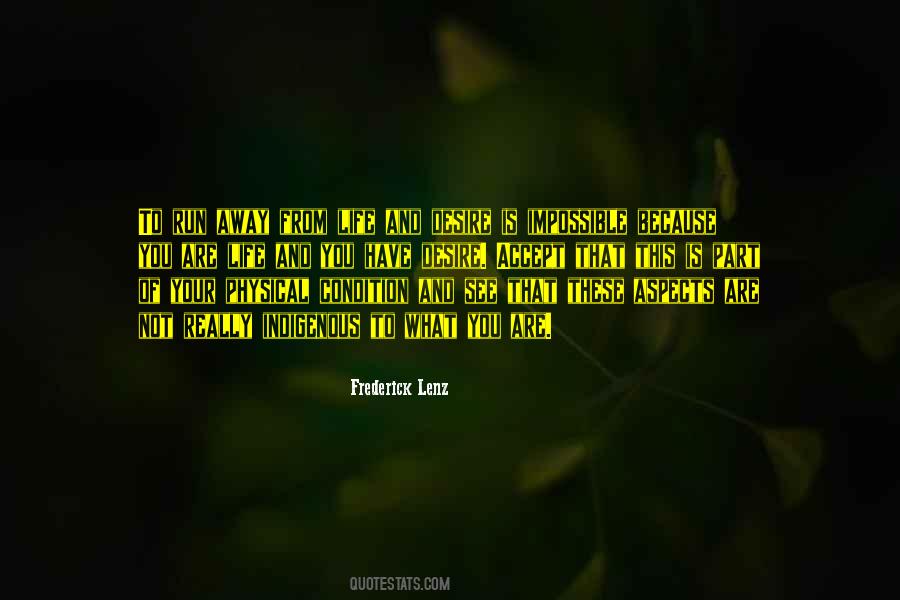 #58. The first time I landed in New York and got a cab to my hotel, I was completely struck by it: a feeling of life and chaos, 24 hours around the clock, just like in London. And whatever your problem is, it's insignificant. You're just a small part of something very big.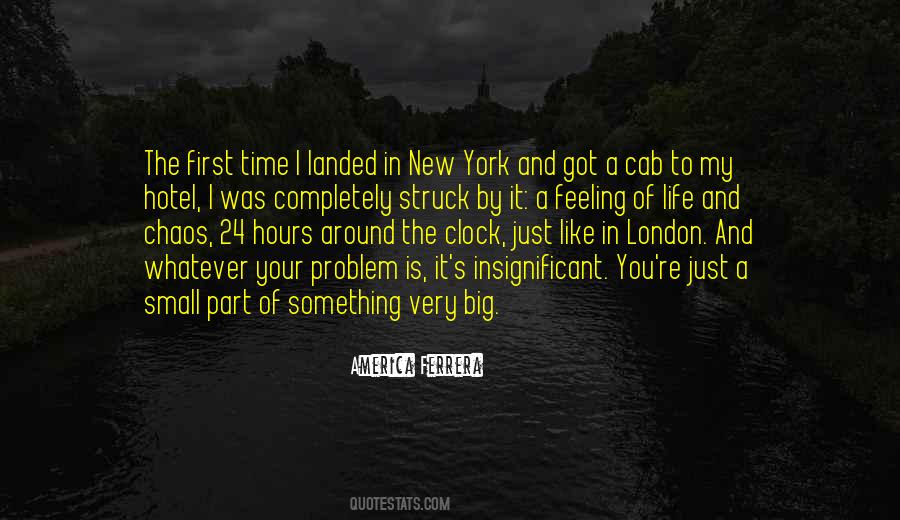 #59. Love is such a fleeting emotion. It's such a small part of the things you do in your life.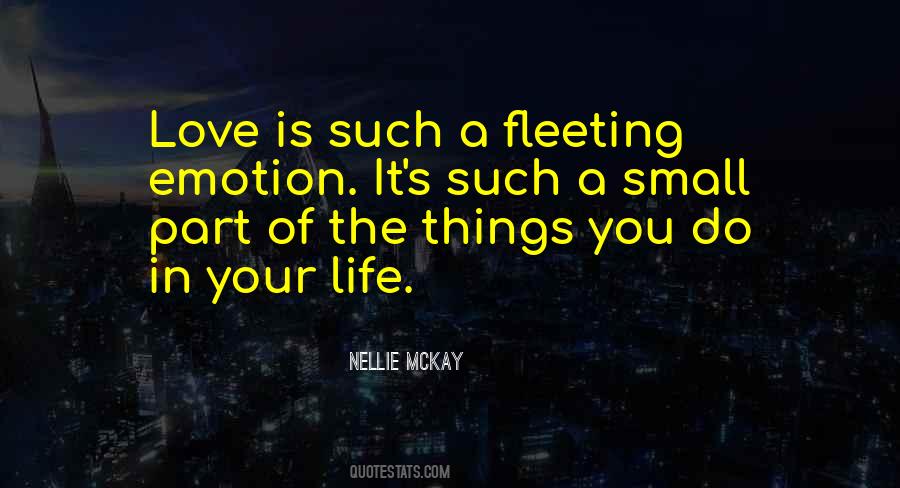 #60. You need to take the traumas and make them part of who you've come to be, and you need to fold the worst events of your life into a narrative of triumph, evincing a better self in response to things that hurt.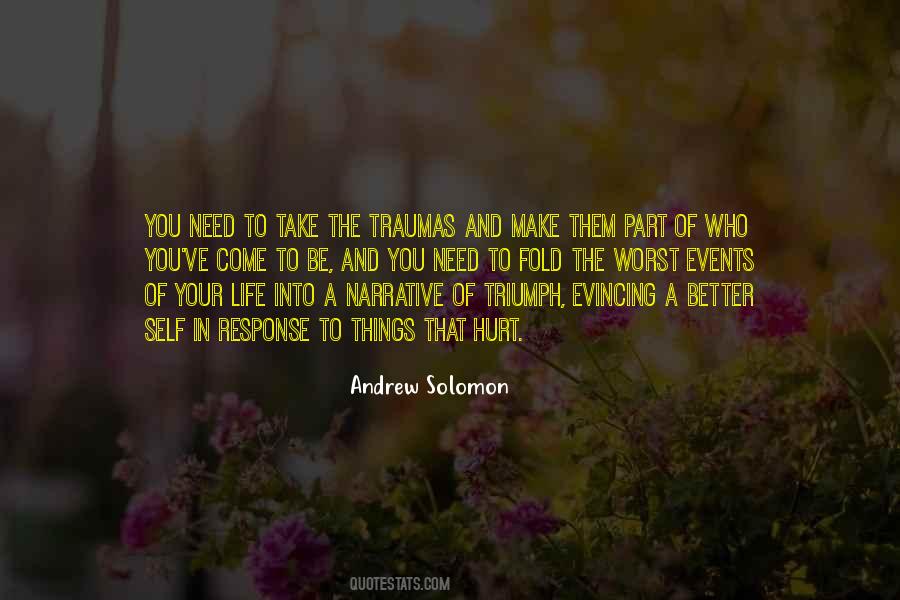 #61. I think that part of my success was the fact that I would literally threaten your life if you got in-between me and what I wanted to do with my music. I was so drunk and in-your-face and so ADHD and so unhinged that I kind of got what I wanted.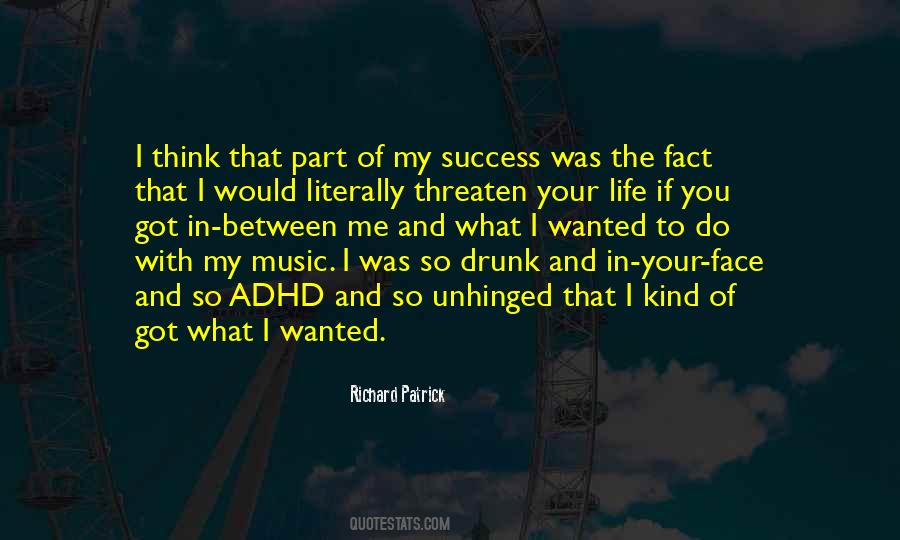 #62. Every technology will alienate you from some part of your life. That is its job. Your job is to notice. First notice the difference. And then, every time, choose.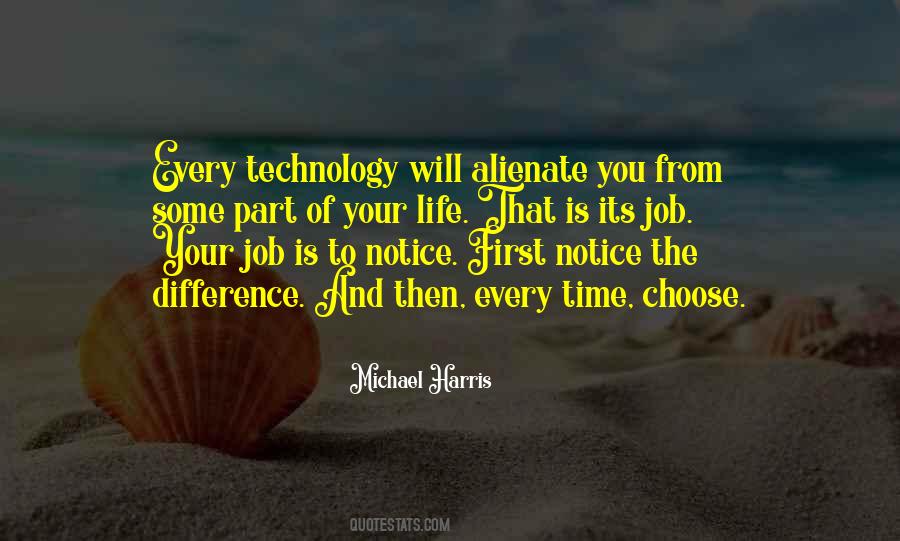 #63. If you're going to write, write one poem all your life, let nobody read it, and then burn it. This is very young thinking, I confess, but it is the seminal part of my life.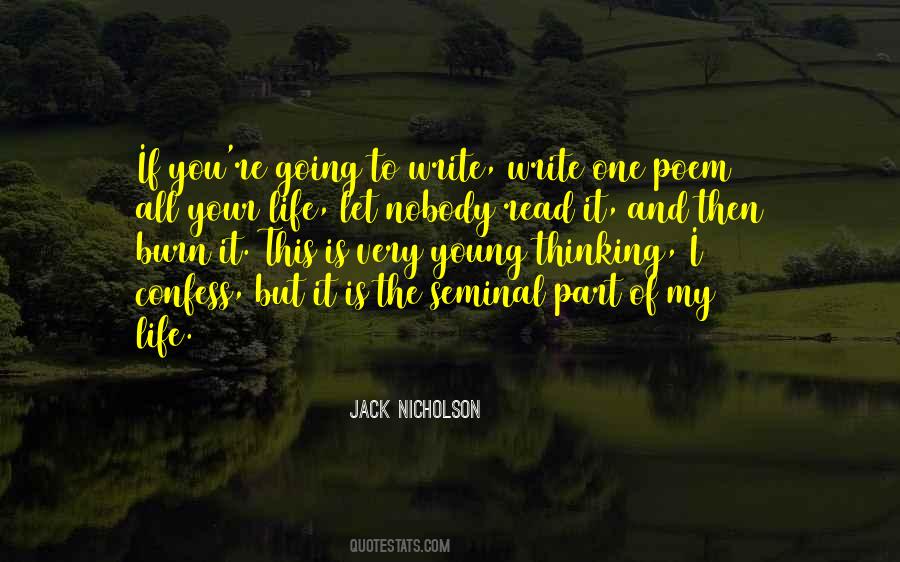 #64. If someone wants to be a part of your life, they'll be there. So don't bother saving a spot for someone who won't make an effort to stay.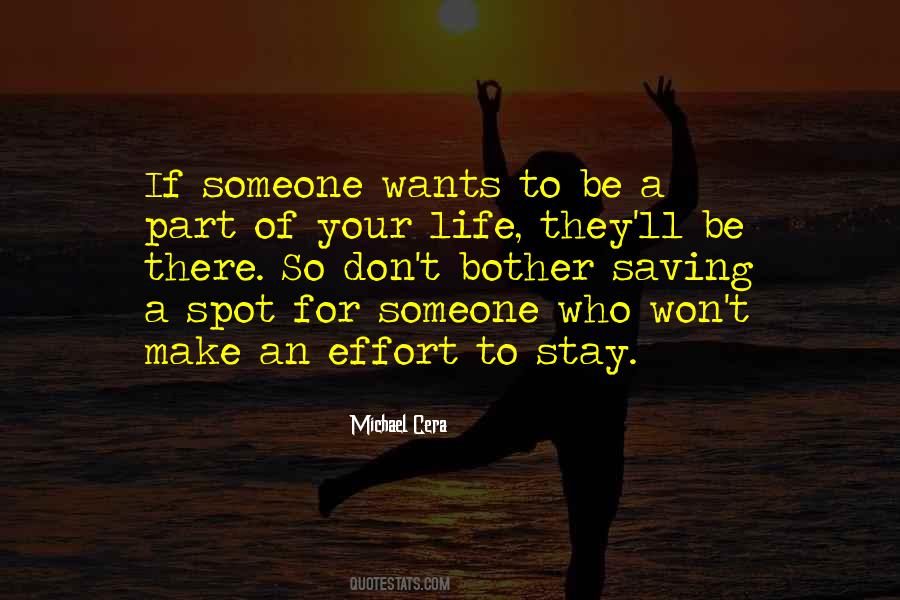 #65. Sometimes, as an actor, you're so deeply immersed in a part that you lose control of it. If you're really lucky, a few times in your life it'll take you somewhere you never expected to go. It really blows the top off your understanding of your craft.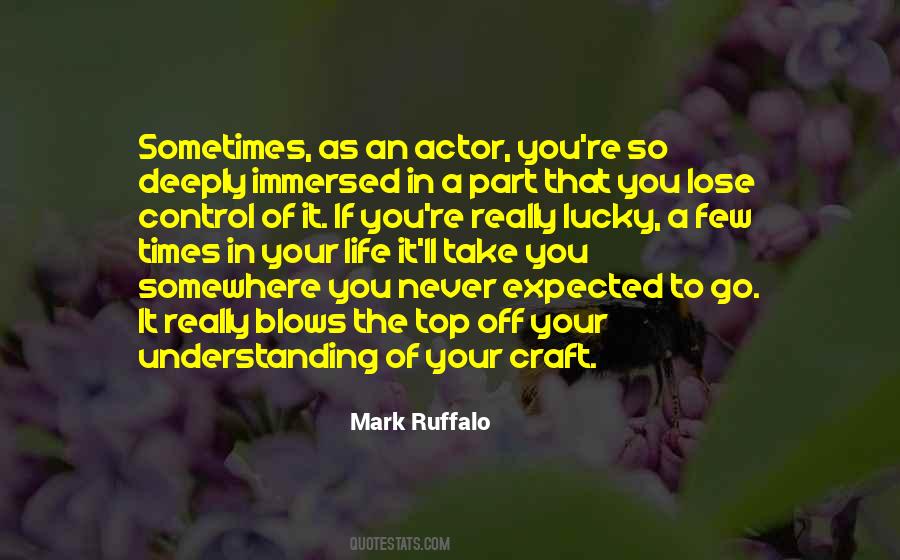 #66. Being on stage was all about the palpable energy of a rapt audience hopefully buying into a life onstage. The immediate connection with the audience was the best part for me. The camera is not as fun, but your work is preserved forever. There's immortality to it.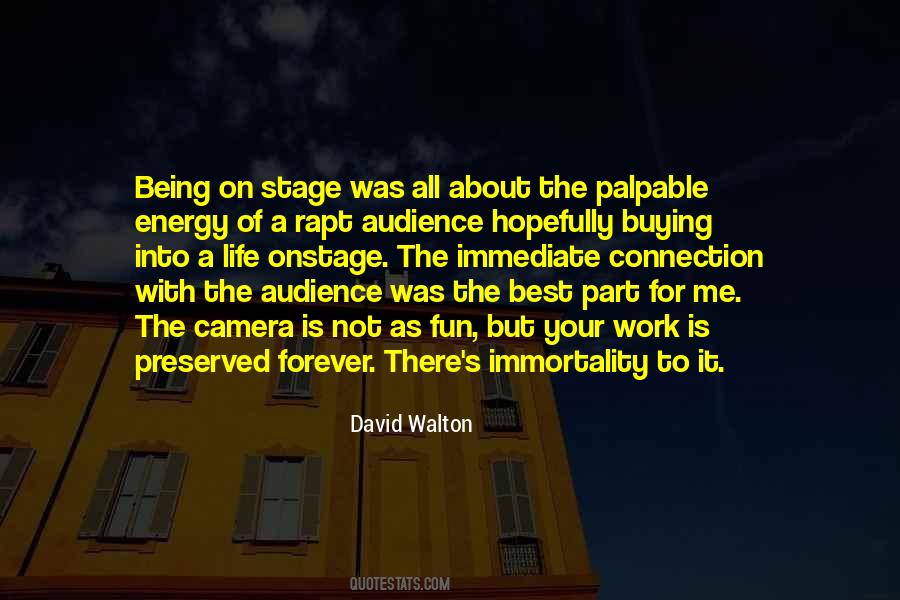 #67. May Happiness and Romance be always a part of your life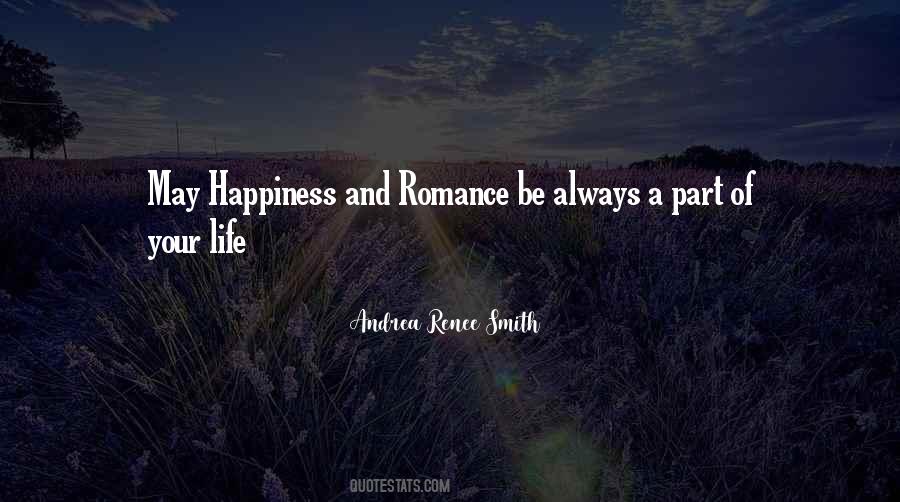 #68. The problem with feature filmmaking is that it offers you this mirage of being able to achieve perfection, as the theory of it is that you have control of every part of the film, though in reality, it is as inexact as the next thing in your life.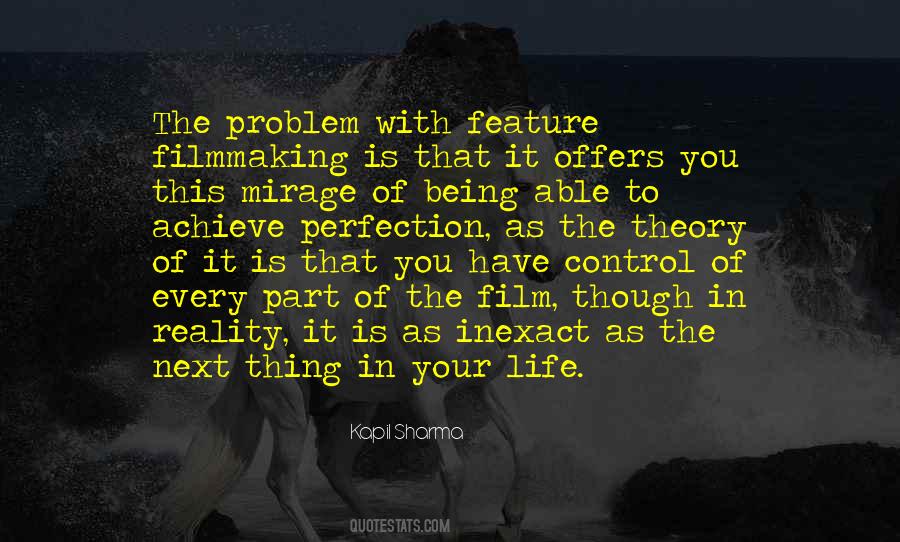 #69. A true friend is a person who knows the darkest part of your life and still loves you.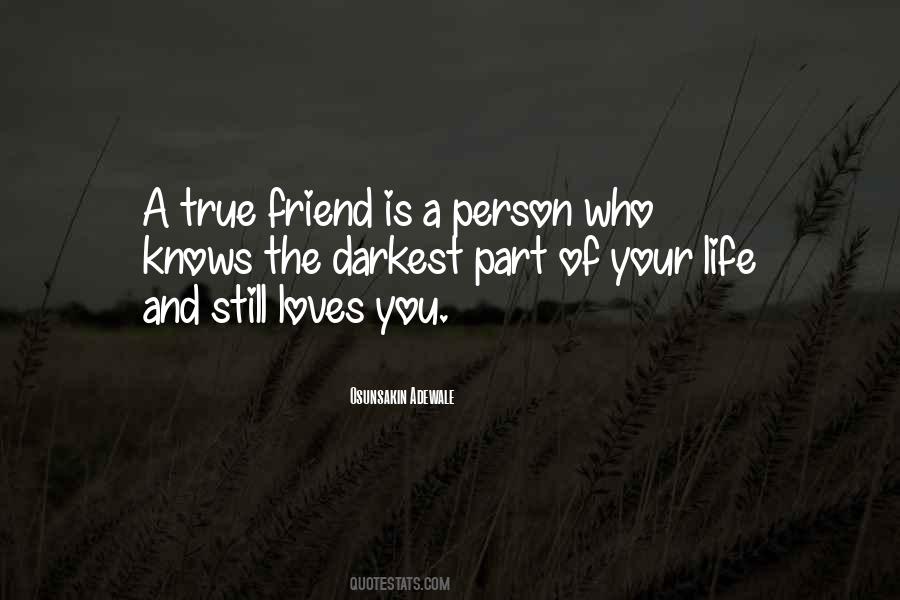 #70. Your journey is completely yours. It is unique. Others may try to steal part of it, tell it in their words or shape it to suit them. Reality is no one can live it or own it but you. Take charge of your journey, it's yours and yours alone!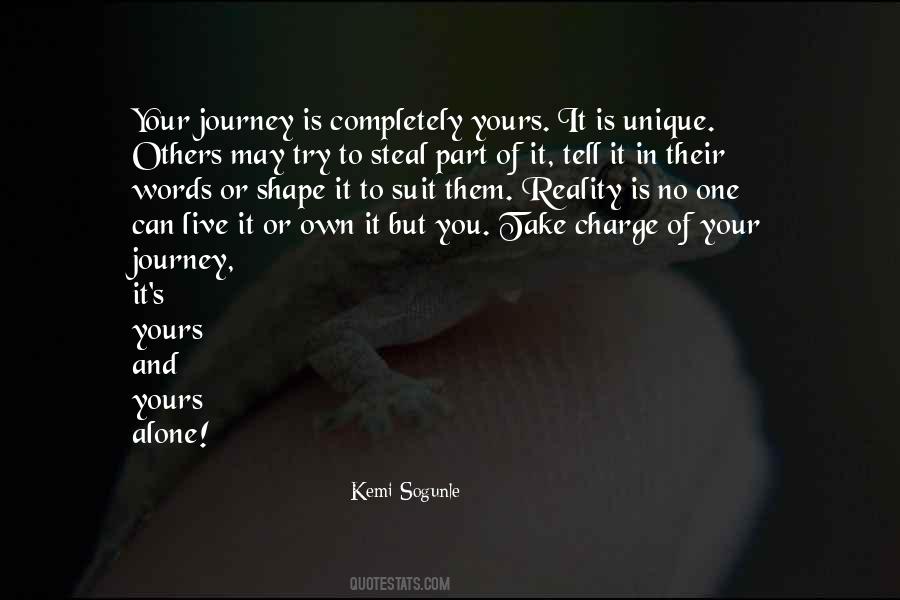 #71. Once you enter the public's eye, you have to be aware that you give up a huge part of your own life.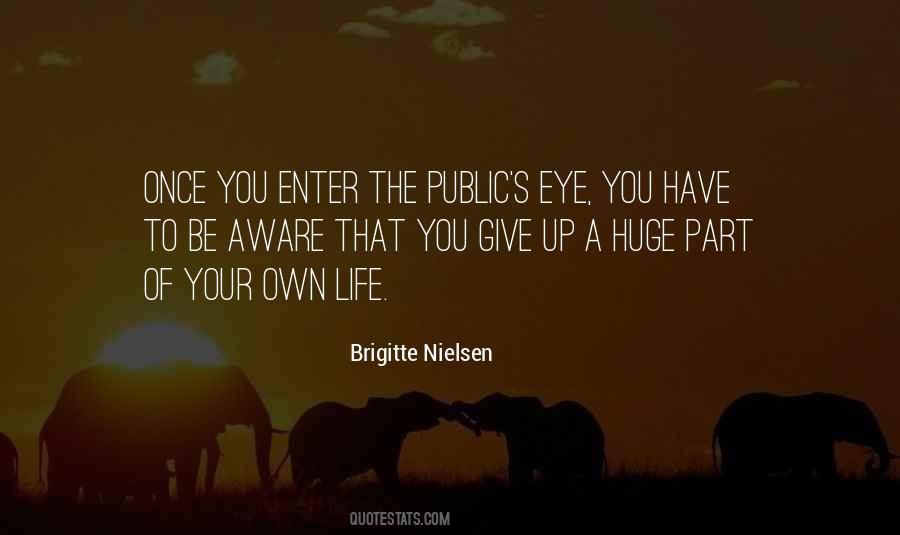 #72. I believe that you get to write part of the script of your life, and some of it is written by forces beyond your control.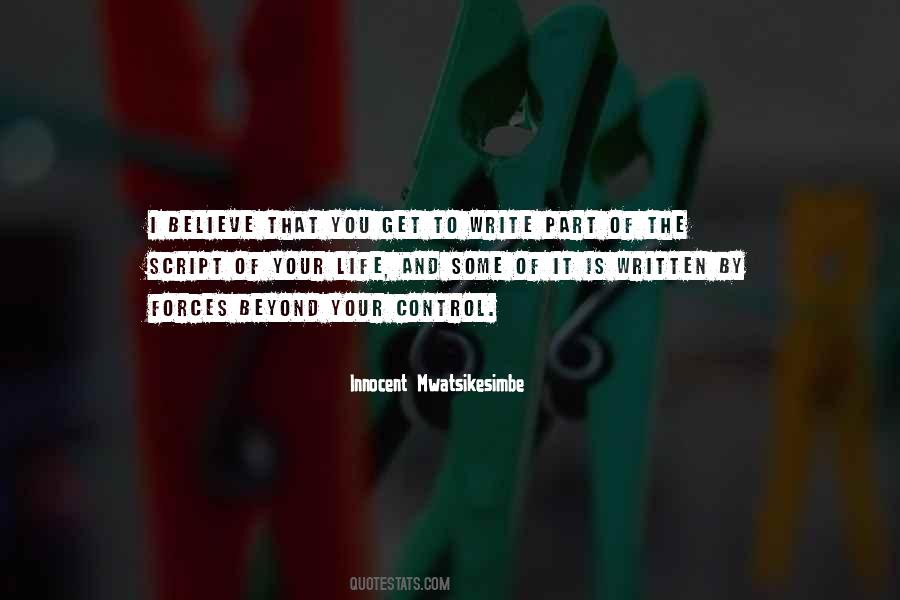 #73. What I know now about life is this: your mother is a part of everything you do and everything you are.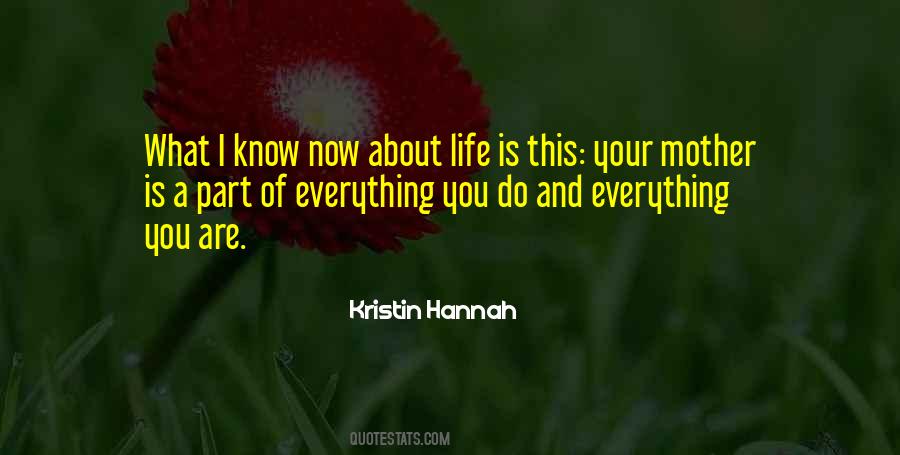 #74. When all is said and done, the greatest satisfaction you'll have in this life as you grow old will be seeing your children grow in righteousness and faith and goodness as citizens of the society of which they are a part.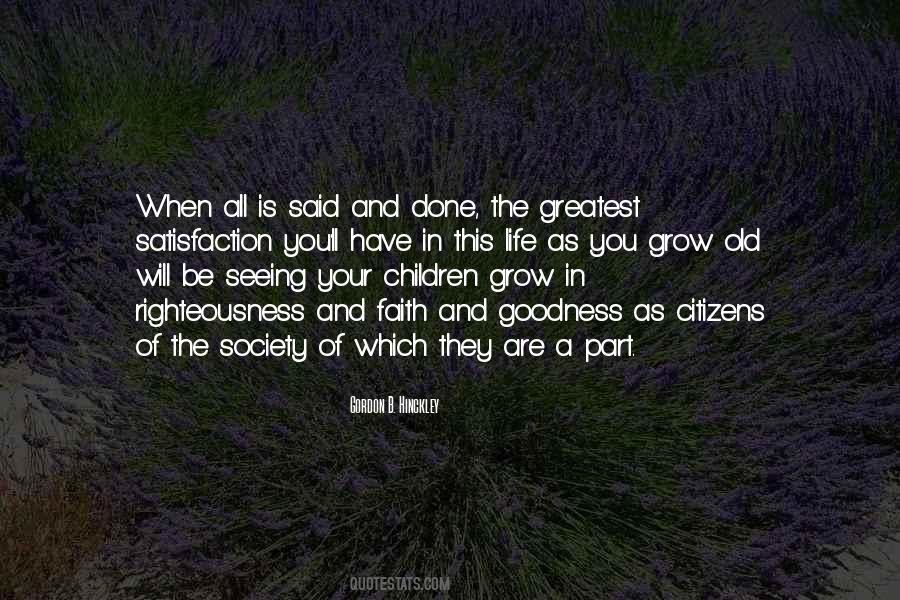 #75. See, it's that kind of attitude that irritates me. My wolf is only a part of me, and while she might think you smell good and want to do nasty things to your body." He choked. "I want more out of a partner in life than hot, animal sex. I want a man who will support me.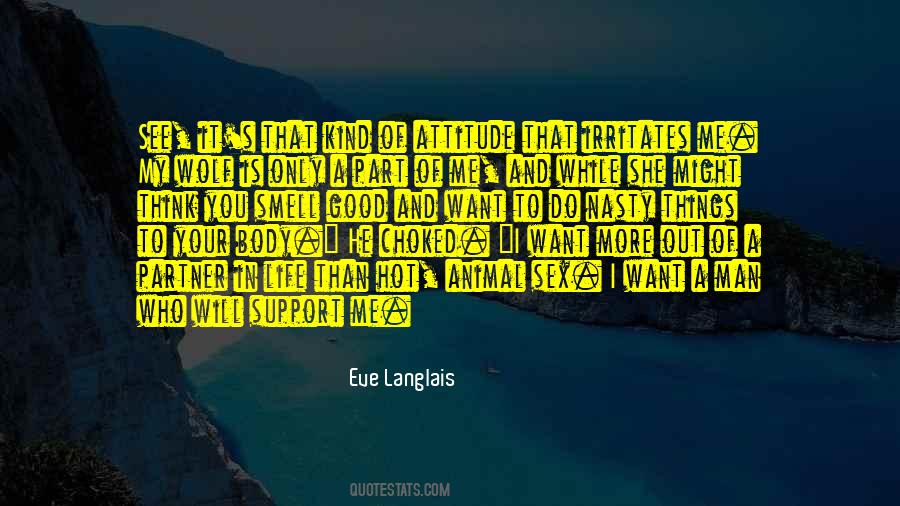 #76. As you consciously choose to give yourself the gifts of self-care, they become an integral part of your rhythm and the vital tools that you will tap into for the rest of your life.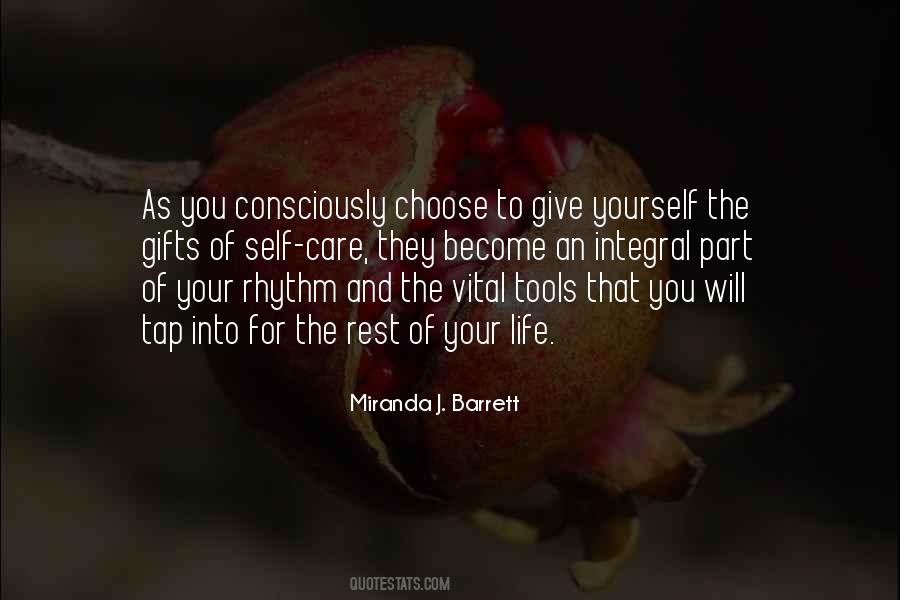 #77. There's much more in any given moment than we usually perceive, and that we ourselves are much more than we usually perceive. When you know that, part of you can stand outside the drama of your life.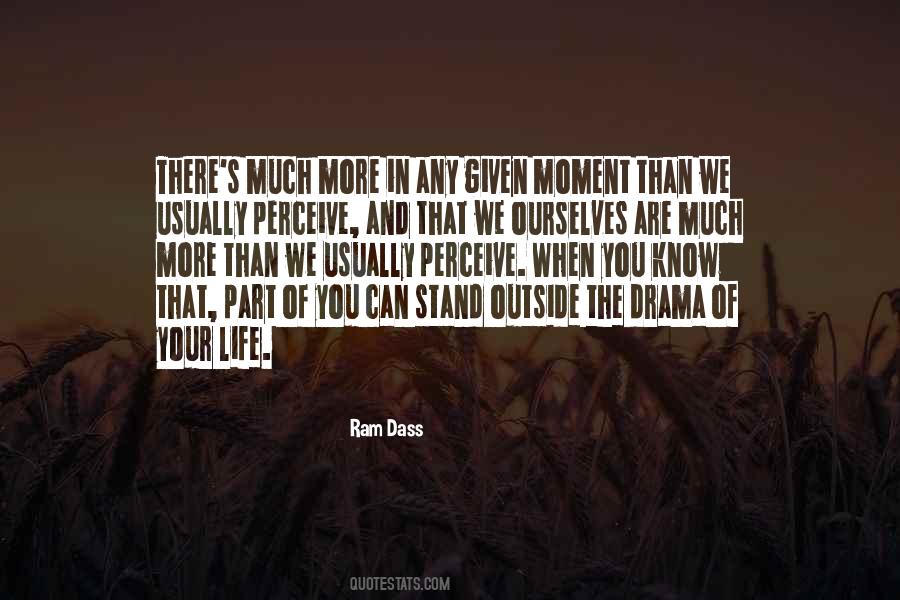 #78. Motivation needs to be a part of your own life for you to be effective in conveying it to others.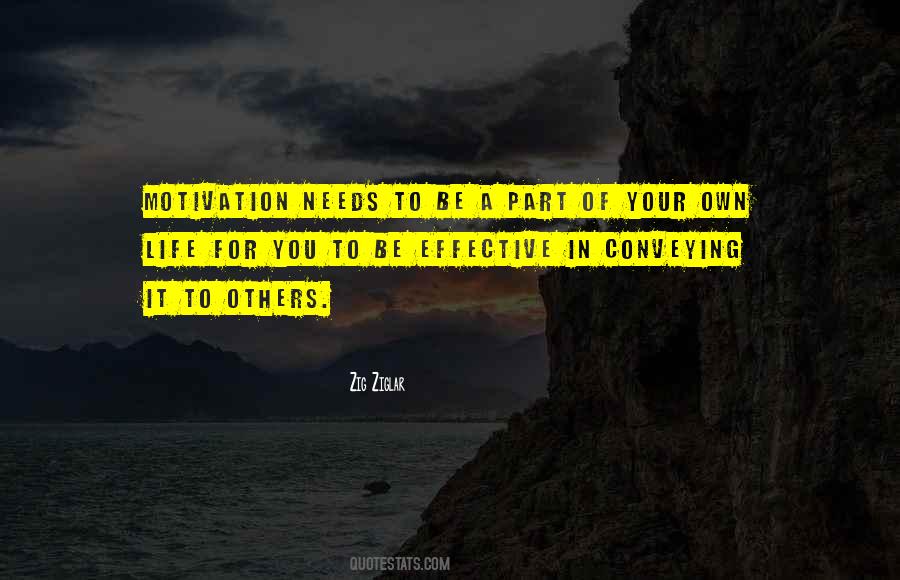 #79. So many people came into your life, and they were such a part of the everyday that it was impossible to imagine them gone until, one day, they were.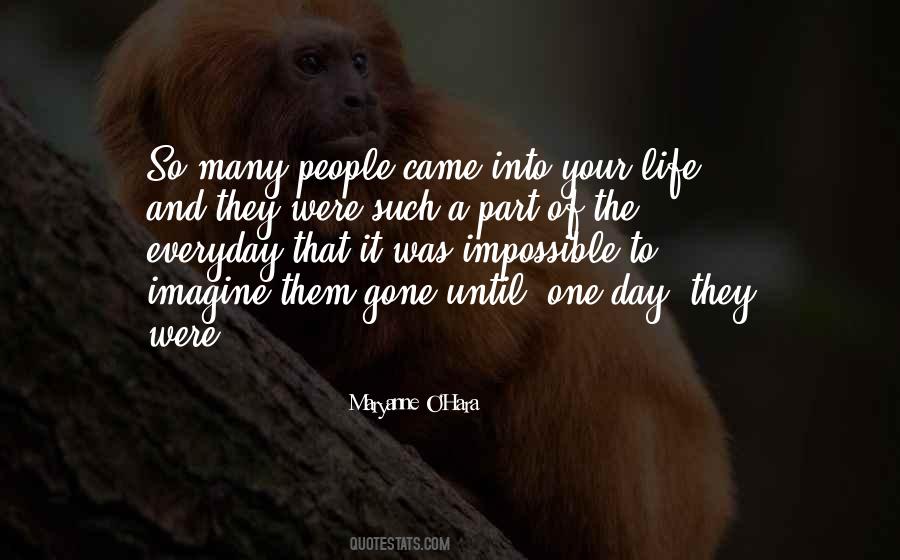 #80. I think that being part of privilege and never having to work a day in your life is so boring. I'm so glad of what I've achieved. I'm so glad I've achieved it as well.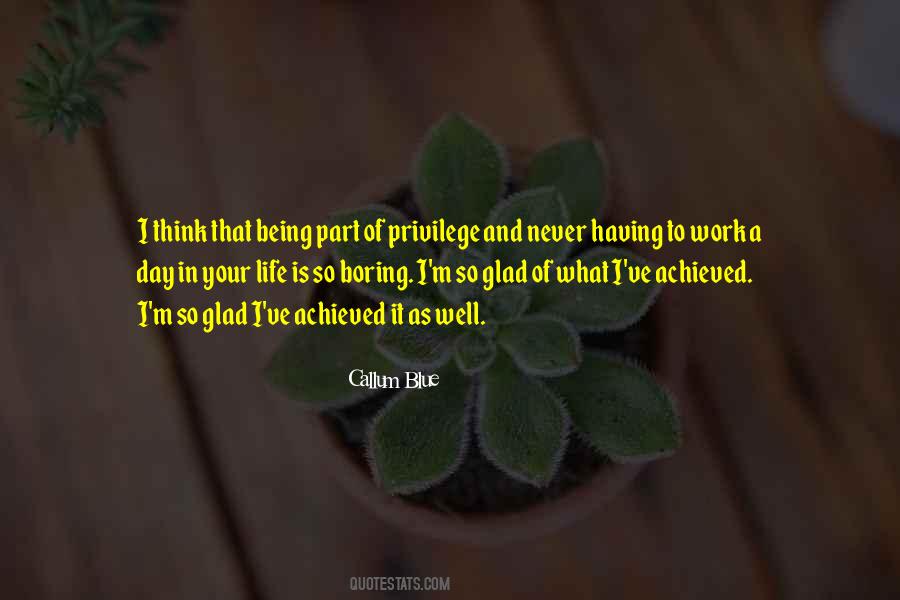 #81. You play a part in every aspect of your life going the way you want or not going the way that you want. It has very little to do with other people.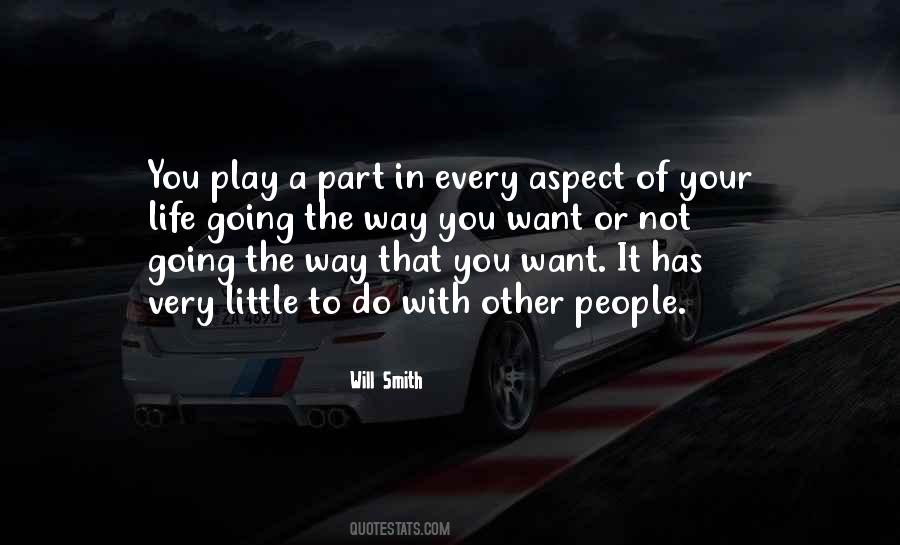 #82. Working out should be a key part of your life but not your whole life. When it is all a man could talk about, it becomes too much.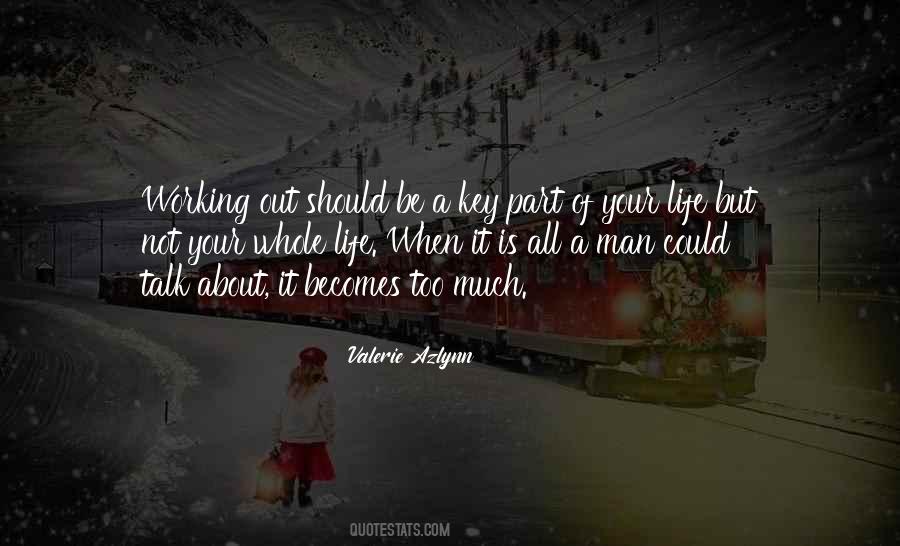 #83. Dating should be a part of your life, not your life a part of dating. There is more to life than finding a date.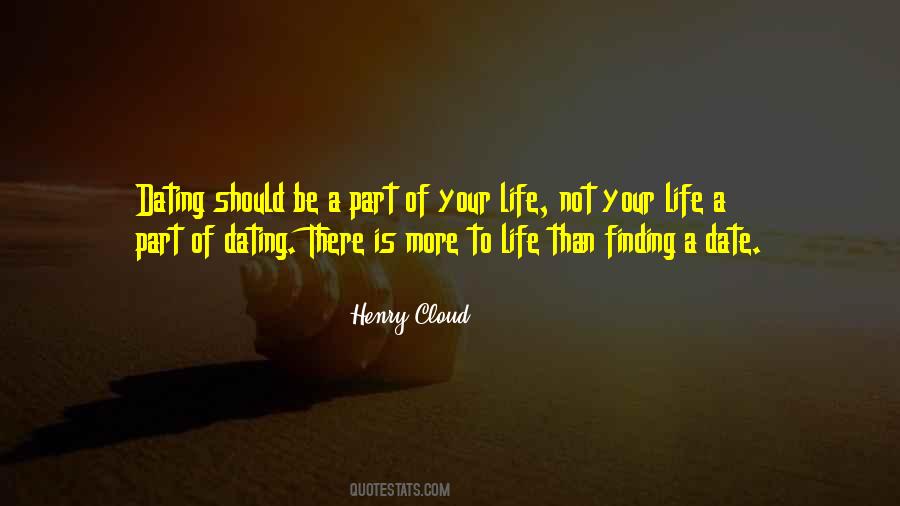 #84. Loving someone isn't about what you can live with, accept or tolerate. For me, it's about the one person you can't live without. Too know that part of your life will never be the same without that one person being apart of it.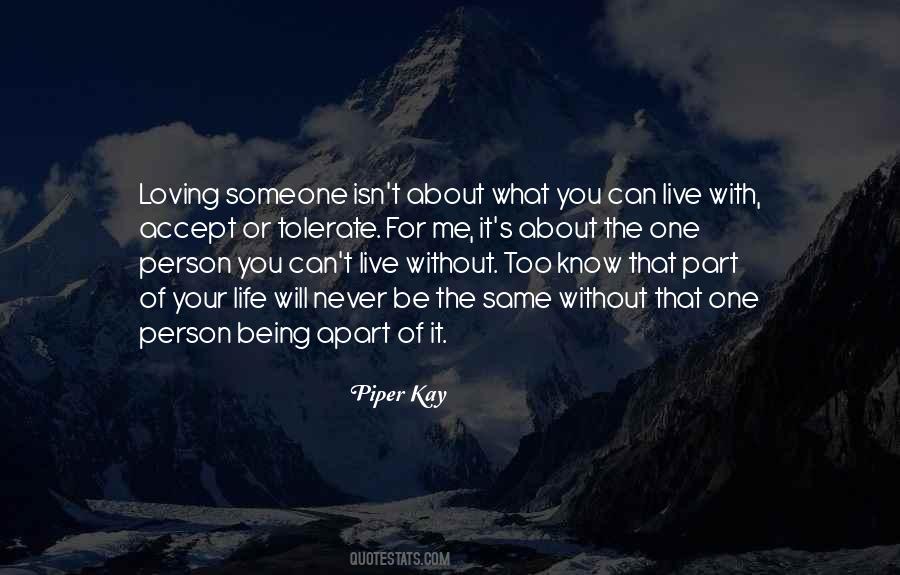 #85. I hate being frightened of things. I'm not someone who can say: "Oh, I'm scared of flying, I won't fly." Fear seems to creep over every part of your life so if there's something I identify as frightening to me I want to tackle it.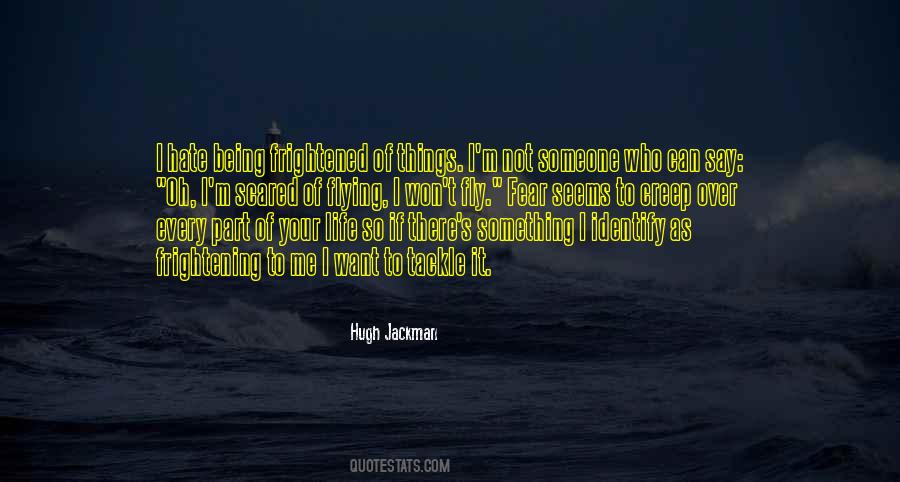 #86. People had always vaguely mentioned that when you have children, how part of your life would stop. But they don't say that some other extraordinary part of your life opens up.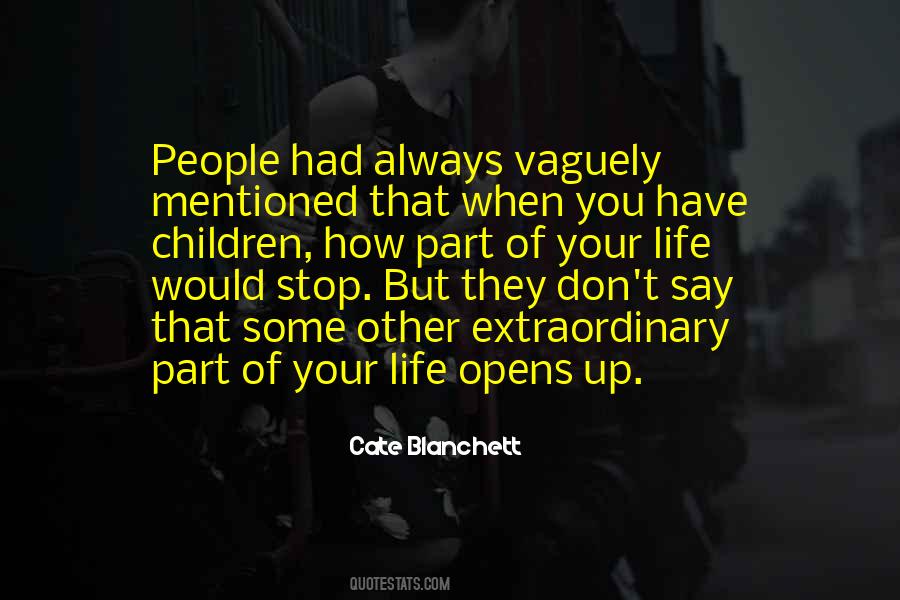 #87. Their Maker, she said, gives them the sky to carry because they are strong. These people do not know who they are, but if you see a lot of trouble in your life, it is because you were chosen to carry part of the sky on your head. -pg. 25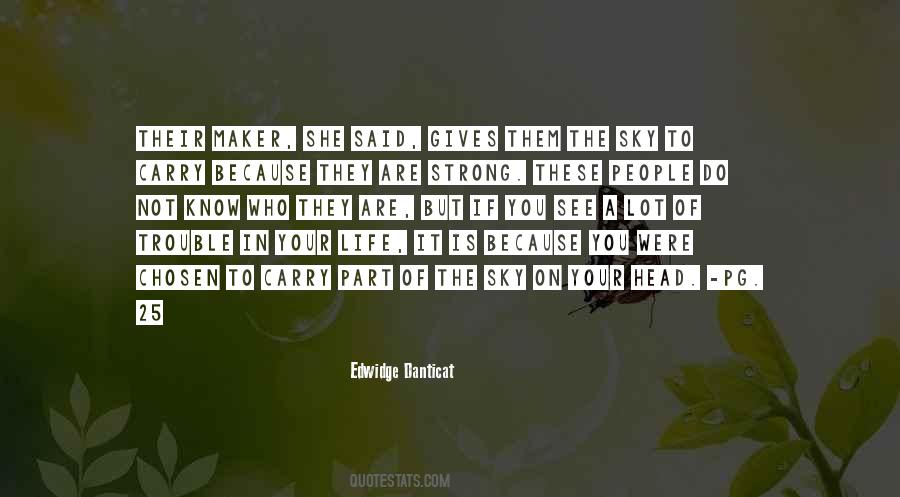 #88. But I have learned that you make your own happiness, that part of going for what you want means losing something else. And when the stakes are high, the losses can be that much greater.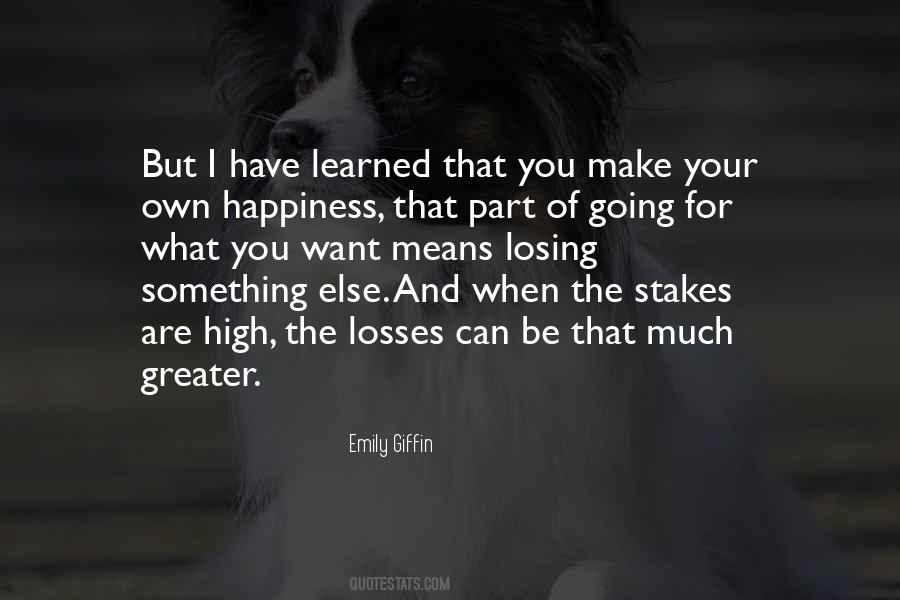 #89. Rosa Parks showed us all that one little person can make a whole bunch of noise without so much as a whisper. She showed the world that the color of your skin shouldn't determine what part of the bus you sit in ... as you ride through life.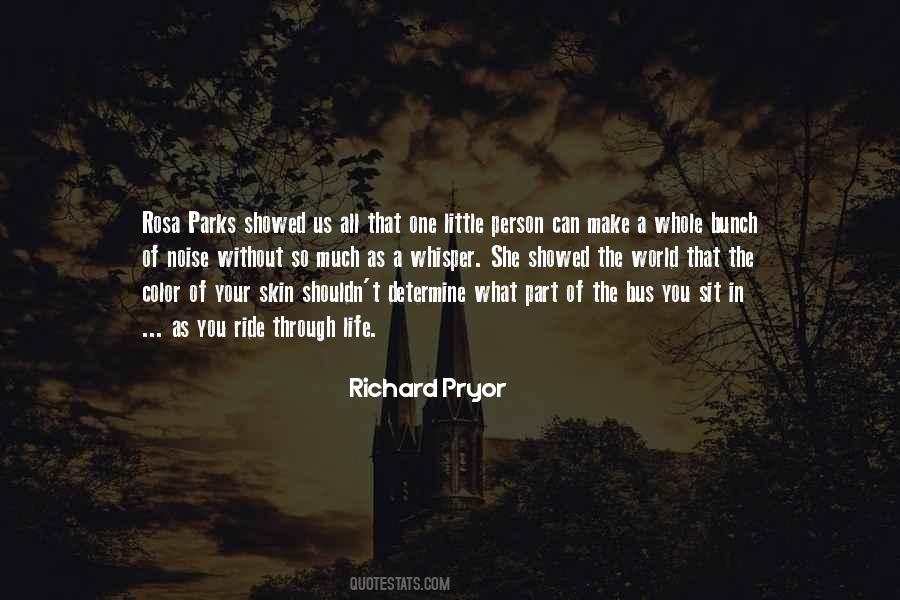 #90. I am not sad, but I am melancholic. When you lose your mother at 20 and then your father soon after, melancholia is part of your life.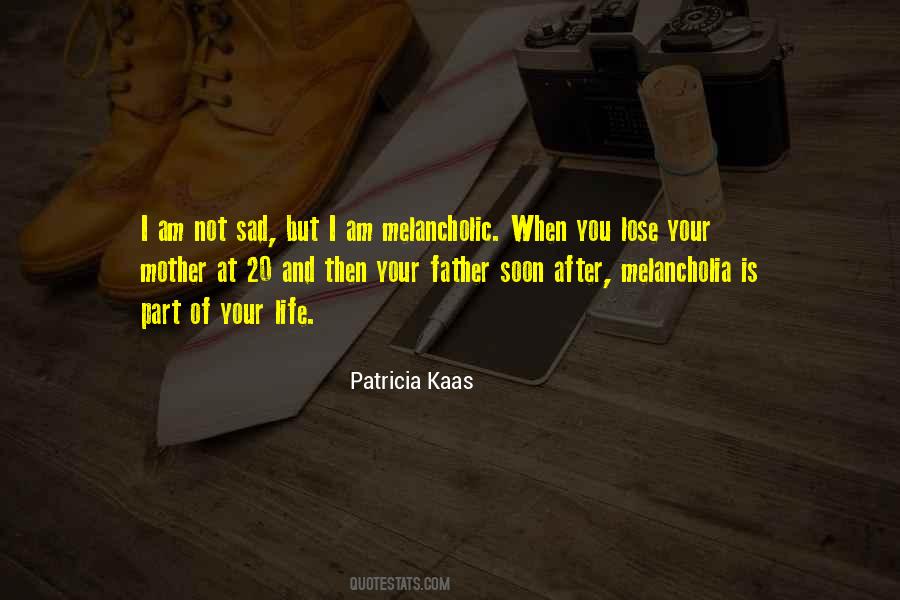 #91. I don't just want a piece of you and a piece of your life. Even if you were able, which you are not, to give me the biggest piece, that is not what I want. I want all of you and all of every part of you and your day.
#92. How you shape your attitude is not a small part of how you shape your life ... it is the only part.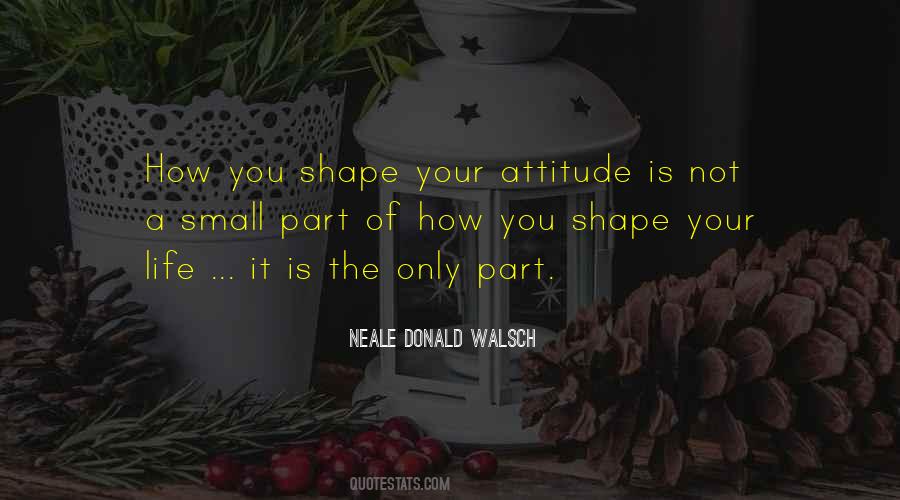 #93. The more messes you allow into your life, the more messes will become a normal (and acceptable) part of your life.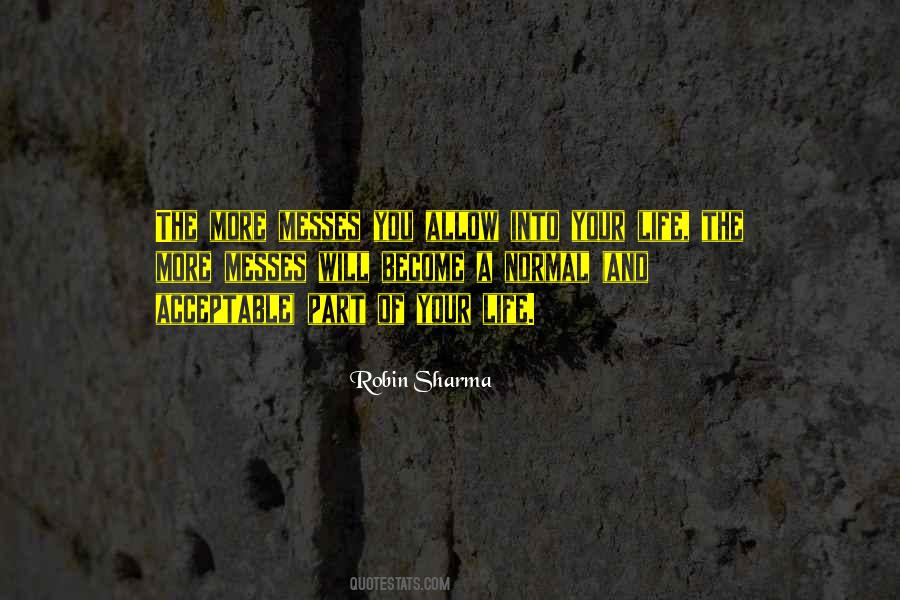 #94. The sweetest part of being a couple is sharing your life with someone else.
But my life, evidently, had not been good enough to share.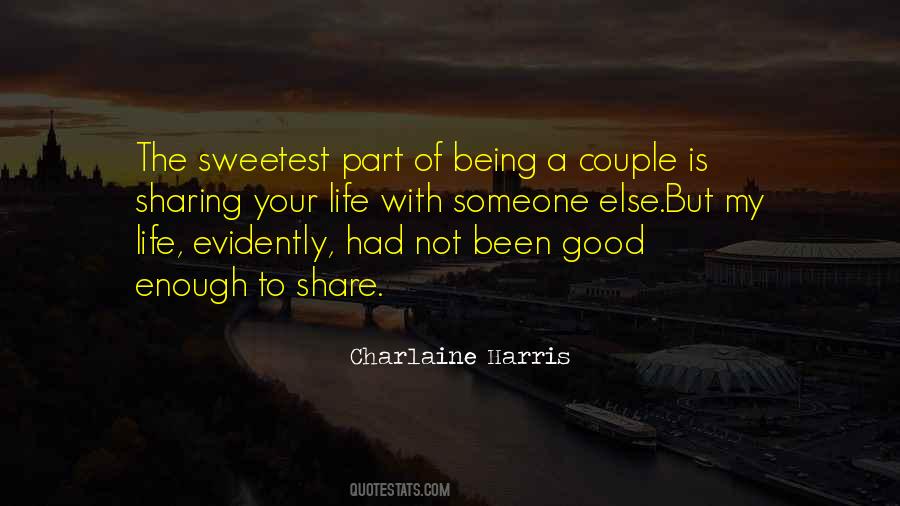 #95. It was like carrying a rabbit's foot or throwing salt over your shoulder if you happened to spill any; these things were part of the grain and texture of life, and better to do them than not, just in case God's ways were more mysterious than we Christians could grasp.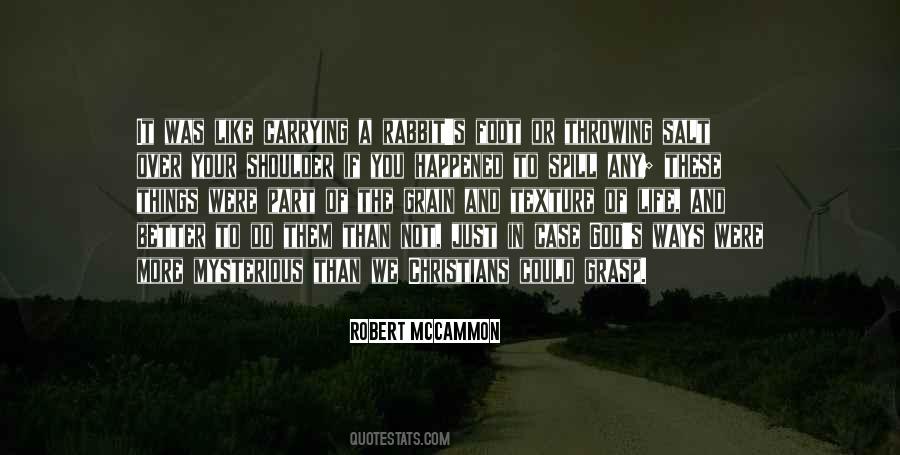 #96. The first step is the hardest in every
journey of dreams. There is nothing
else to fear unto whosoever has shown
the tenacity to begin; because, once
having started, the hardest part of the
mission is the one lying behind.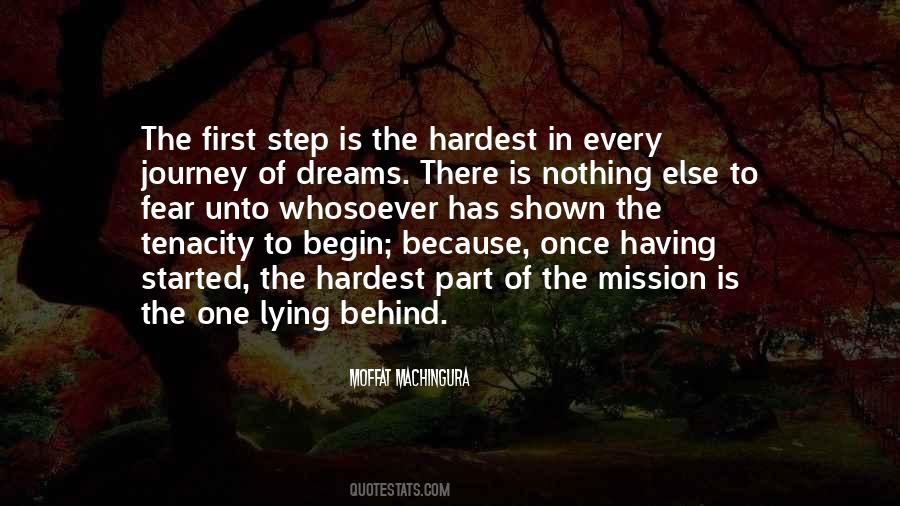 #97. I think the bottom line is that if you get through a childhood like mine, it's not at all bad. Obviously, you come out a pretty tough turkey, and you have had all the inoculations you need to keep you on a level keel for the rest of your life. The sad part is, most of us don't come out.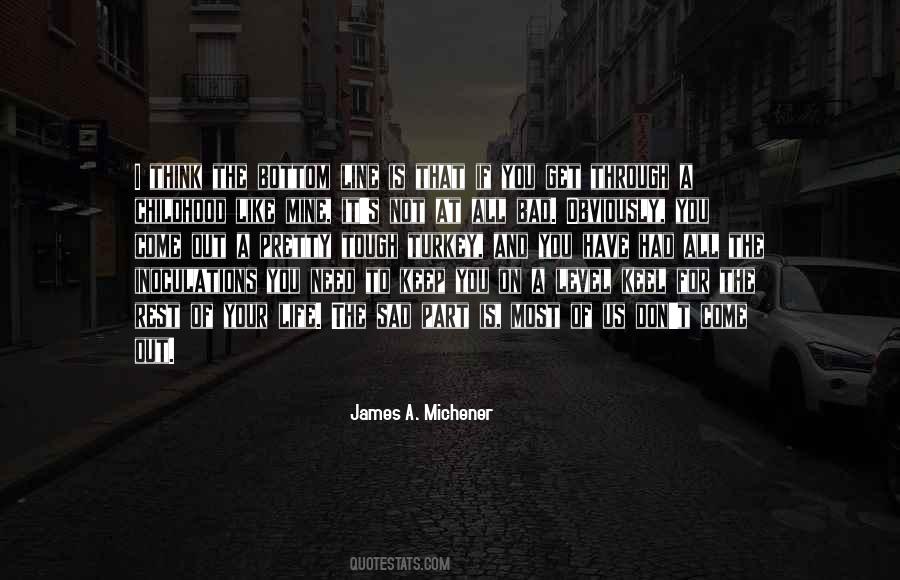 #98. I don't expect anything from anybody. When you grow old ... Your days are gone; it is part of life.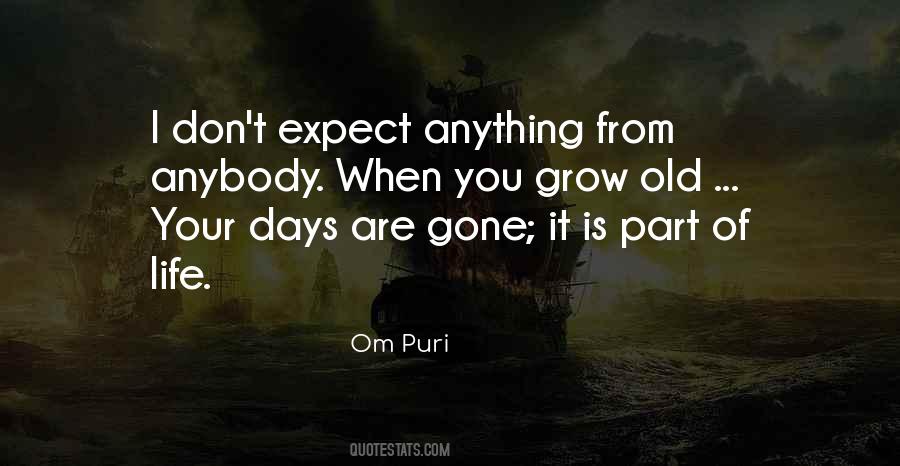 #99. Every minute you spend with someone gives them a part of your life and takes part of theirs.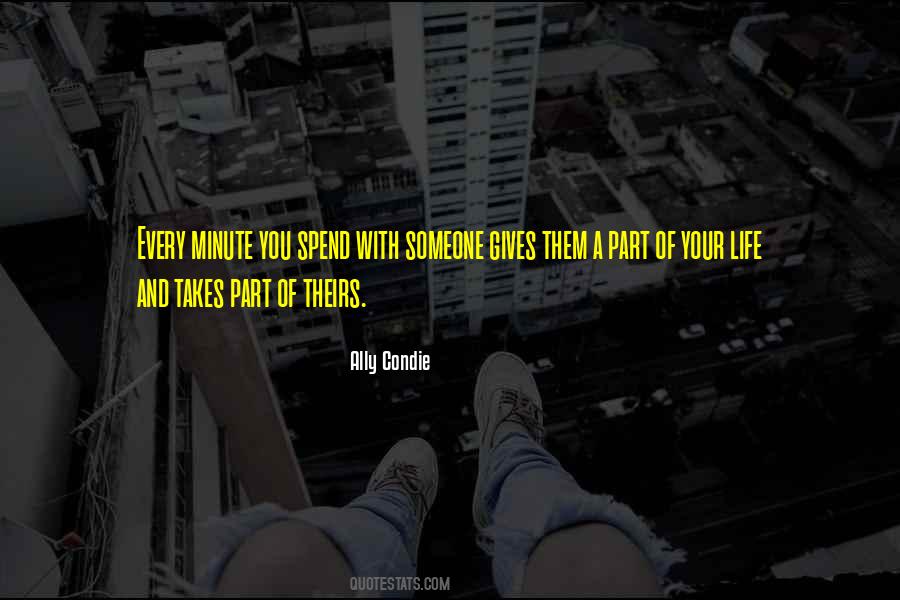 #100. At first you think that your sadhana Is a limited part of your life. In time you realize that Everything you do is part of your sadhana.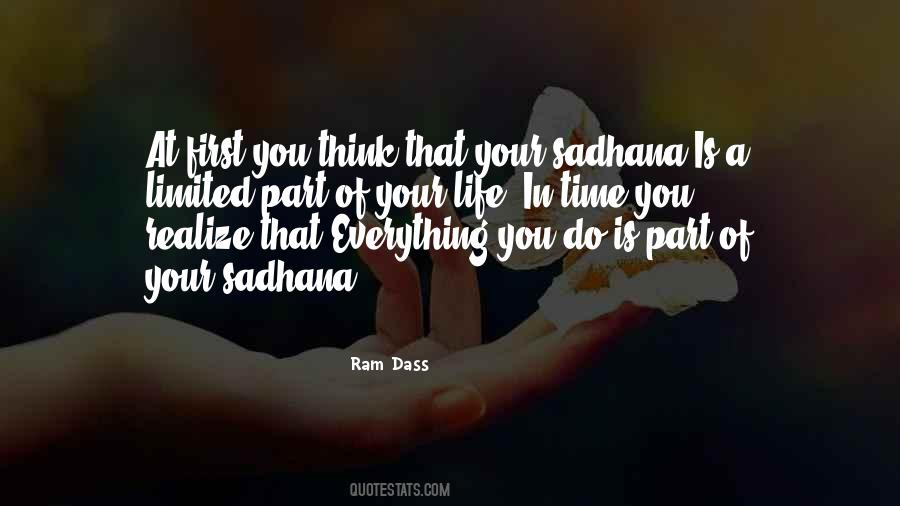 Famous Authors
Popular Topics