Not The Same Person Famous Quotes & Sayings
List of top 100 famous quotes and sayings about not the same person to read and share with friends on your Facebook, Twitter, blogs.
Top 100 Not The Same Person Quotes
#1. The fruit does not make the tree good or bad but the tree itself is what determines the nature of the fruit. In the same way, a person first must be good or bad before doing a good or bad work. - Author: Martin Luther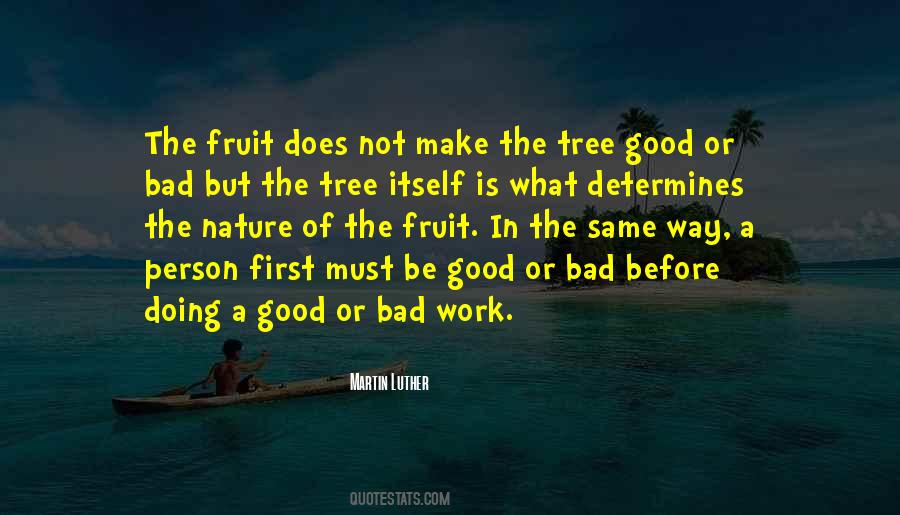 #2. What may appear as the truth to one person will often appear as untruth to another person. But that need not worry the seeker. Where there is honest effort, it will be realized that what appeared to be different truths are like the countless and apparently different leaves of the same tree. - Author: Mahatma Gandhi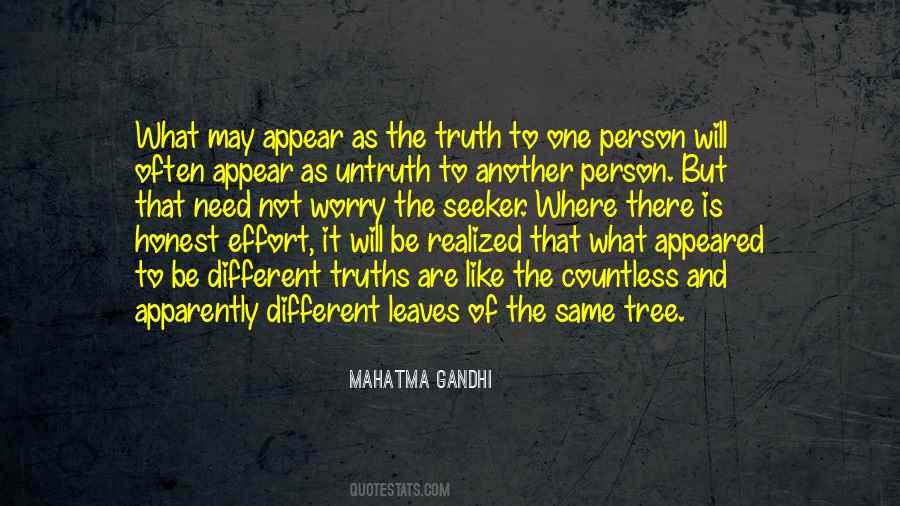 #3. Always the rationalization is the same-"Once this situation is remedied, then I will be happy." But it never works that way in reality: The goal is achieved, but the person who reaches it is not the same person who dreamed it. The goal was static, but the person's identity was dynamic. - Author: Phillip Moffitt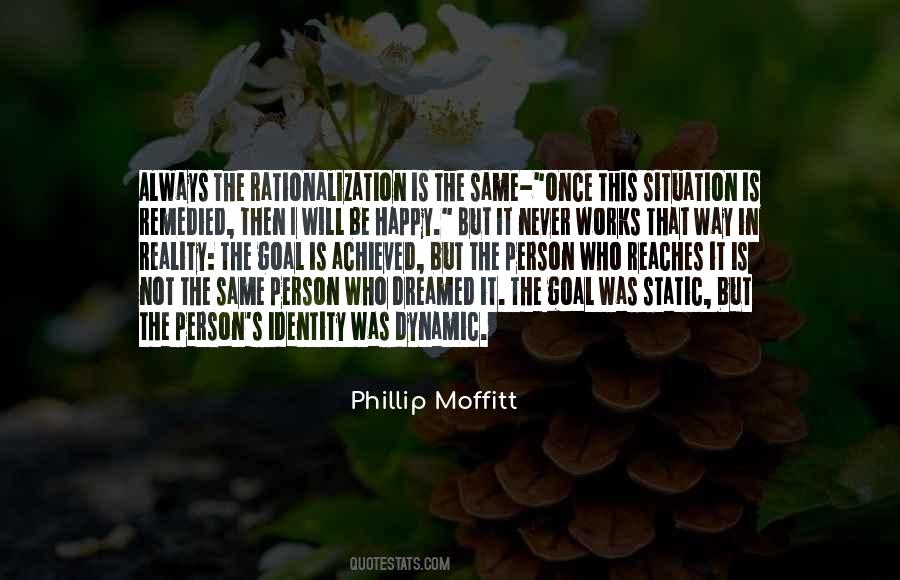 #4. Do not ask who I am and do not ask me to remain the same. More than one person, doubtless like me, writes in order to have no face. - Author: Michel Foucault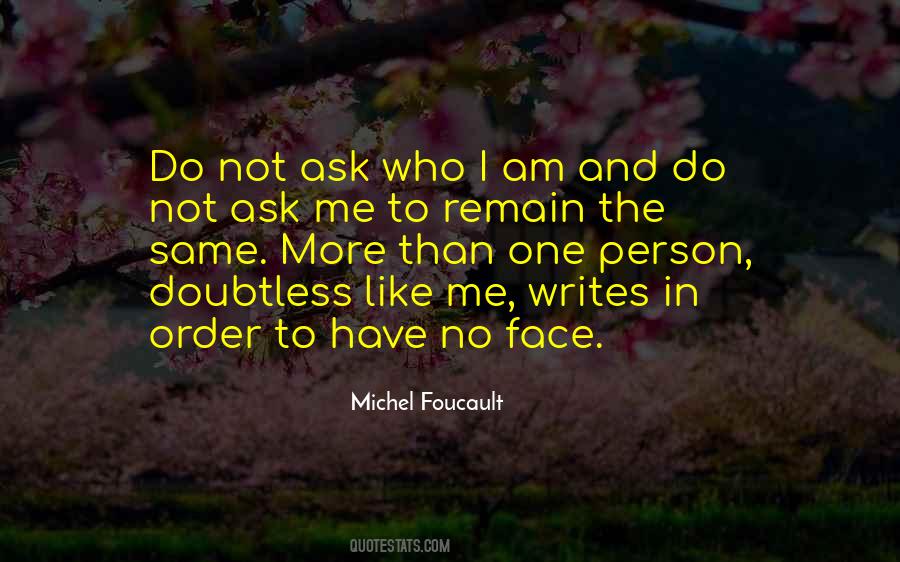 #5. Business and scholarship pass away with the person, but the soul is forever like new. Fame and fortune change with the generations, but the spirit is always the same. Enlightened people surely should not exchange the lasting for the ephemeral. - Author: Zicheng Hong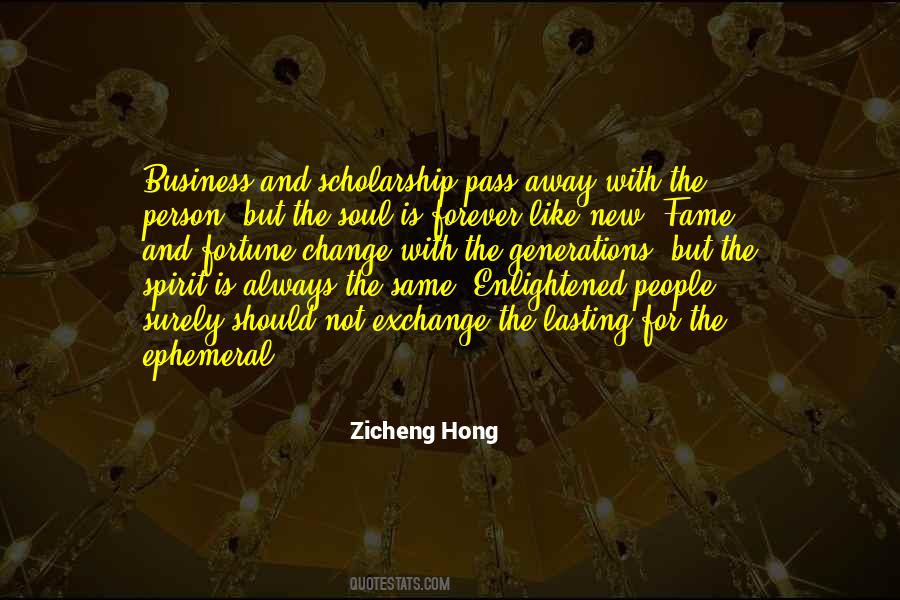 #6. I want to keep walking away from the person I was a moment ago, because a mind was made fo figure things out, not to read the same page recurrently. - Author: Donald Miller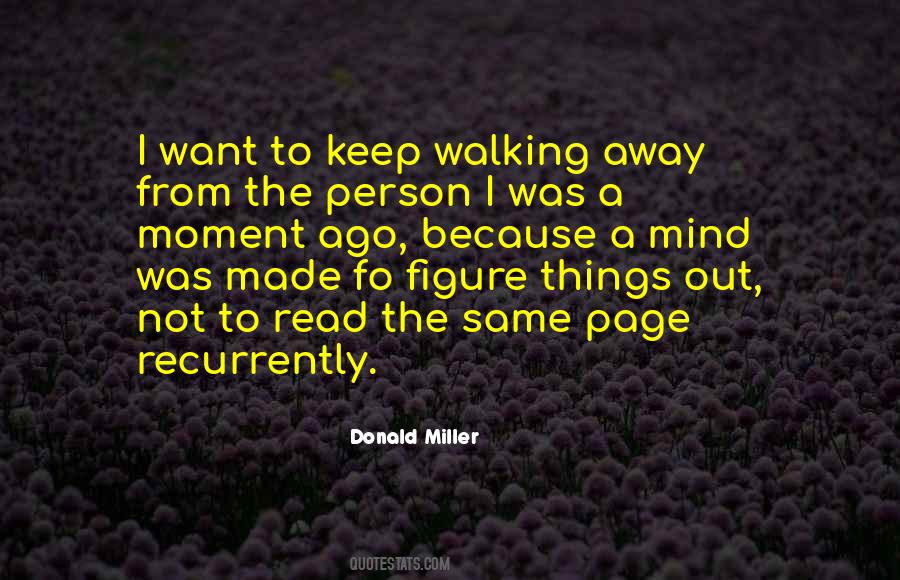 #7. You simply will not be the same person two months from now after consciously giving thanks each day for the abundance that exists in your life. And you will have set in motion an ancient spiritual law: the more you have and are grateful for, the more will be given you - Author: Sarah Ban Breathnach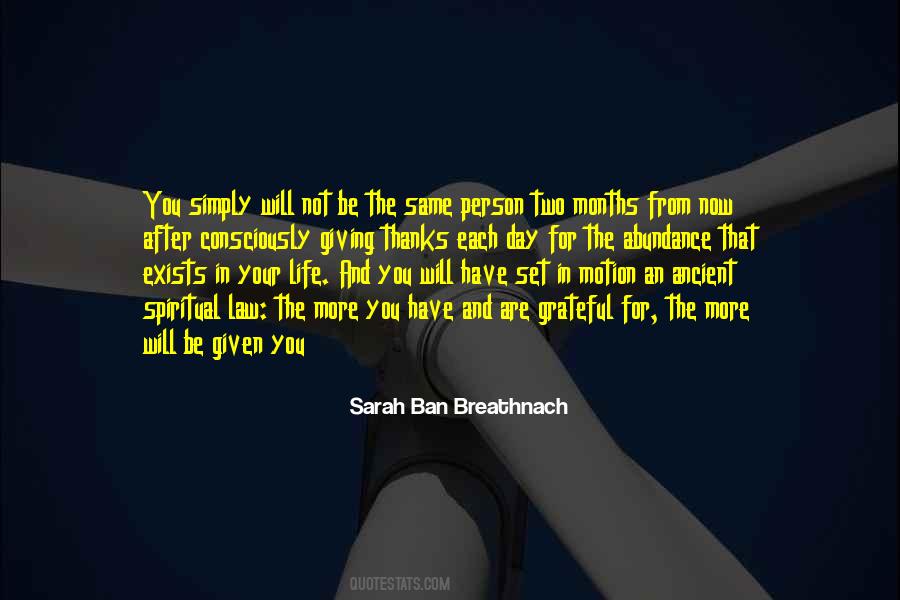 #8. Why do the same people who believe in those deities doubt the existence of darker spirits? I ask all of you, how can a person believe in the light but not the dark? - Author: John Searles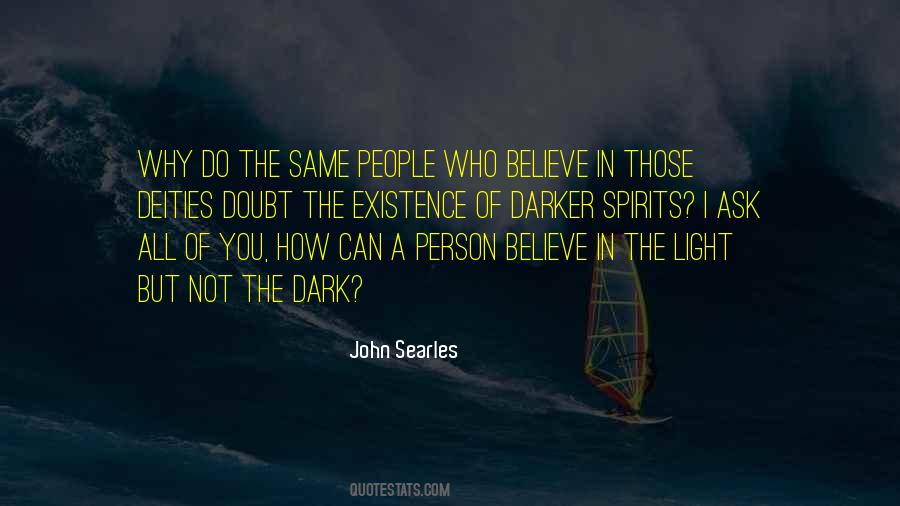 #9. An impostor would not have the same value as the original person in society. - Author: Saaif Alam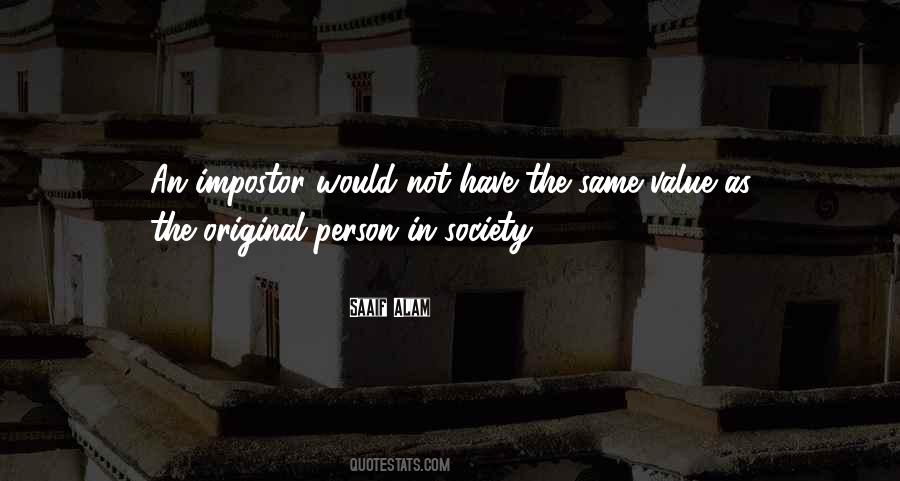 #10. I'm not extravagant. I share my house in London with five roommates. I take the Tube. I intend to stay the exact same person I always was. - Author: Margot Robbie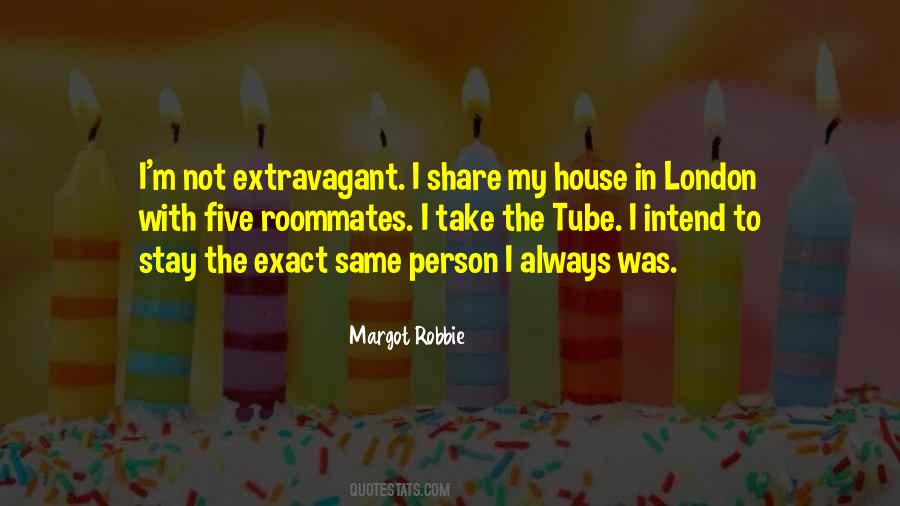 #11. Rich people are just people," said Mma Ramotswe. "I have not met a rich person yet who isn't just the same as us. Being happy or unhappy has nothing to do with being rich. - Author: Alexander McCall Smith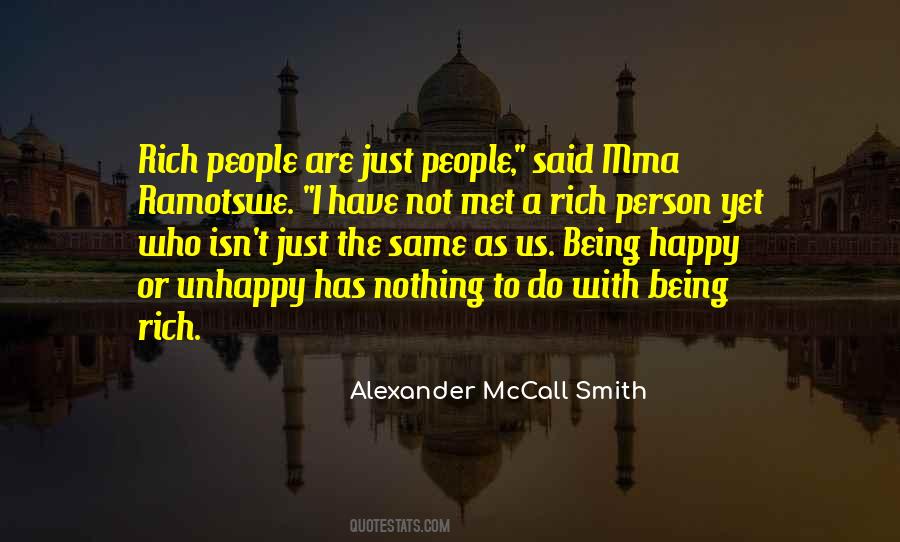 #12. People's name can change throughout their lives the same way people do. They believe nicknames provide insight into not just the individual but how other people perceive that person. People become a double prism, instead of a one-way mirror. - Author: Cecelia Ahern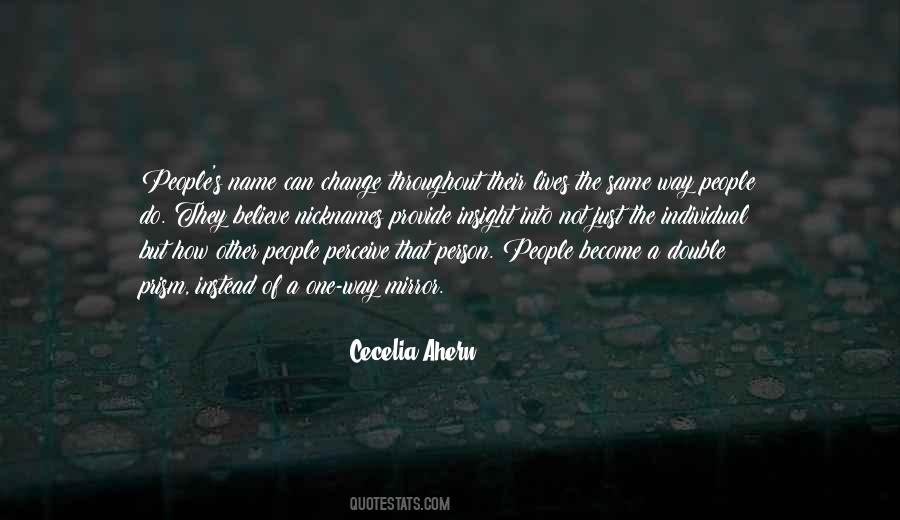 #13. You can meet somebody at a club. You can meet somebody at a restaurant. But maybe that person is not on the same page. Maybe that person is like, 'I'm starting out, I don't want to get married now.' Or, 'I don't want to have kids.' - Author: Juan Pablo Galavis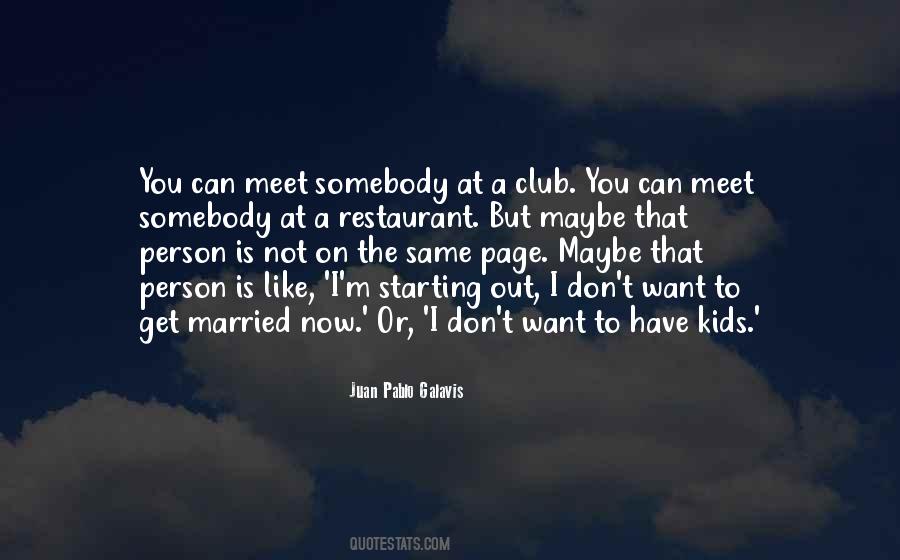 #14. We're all monsters ... Being a monster is not the same as being a bad person. It just means you're willing to eat the world if that's what you have to do to keep yourself alive. - Author: Mira Grant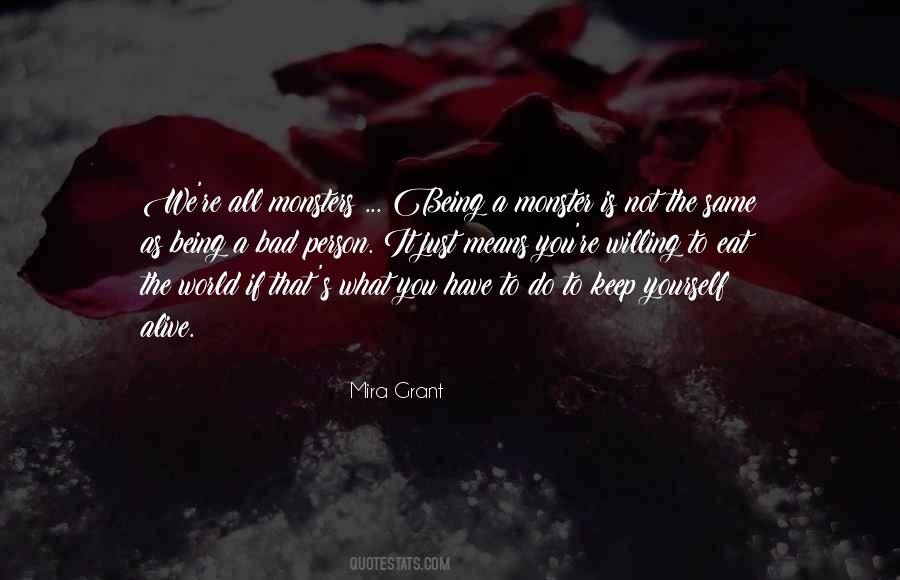 #15. You know every cell in our bodies is completely renewed every seven years, so how can we talk about being the same person? We're absolutely not. - Author: Jeanette Winterson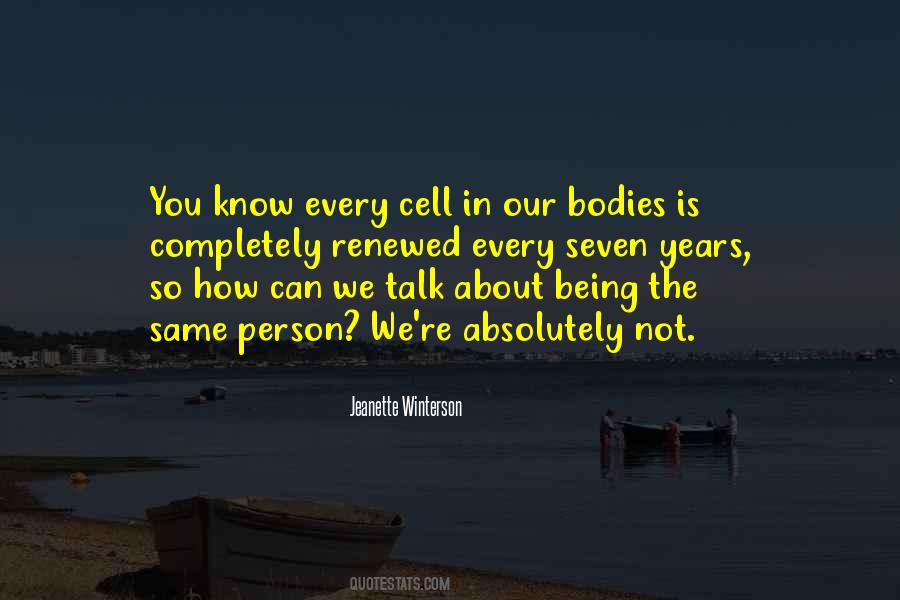 #16. Heaven is eternal, earth everlasting. they endure this way because they do not live for themselves. in the same way, the wise person puts himself last, and thereby finds himself first, holds himself outside, and thereby remains at the center, abandons himself, and is thereby fulfilled. - Author: Laozi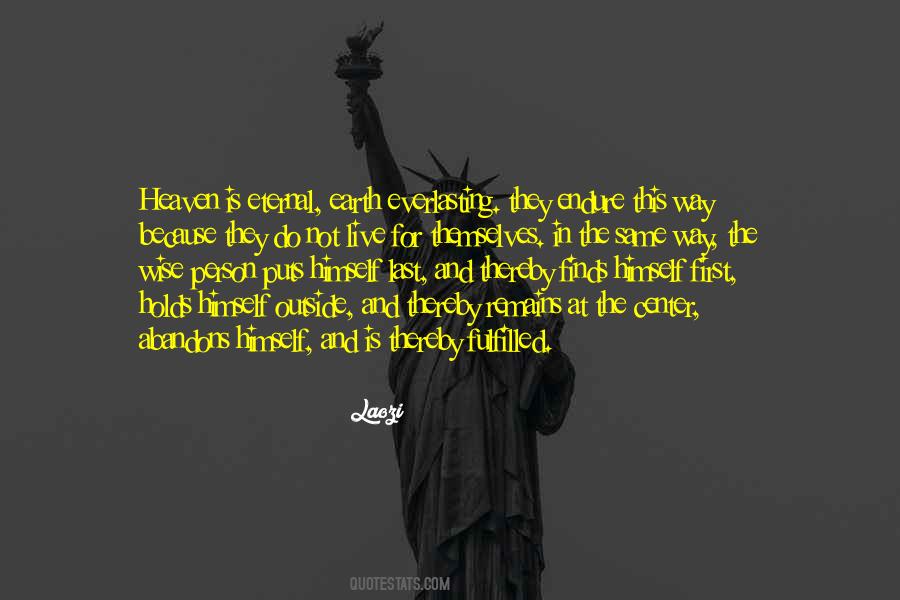 #17. I try my best, but at the same time, I try not to let being out with someone affect my everyday life. Like, if I want to go out and grab a smoothie with a friend who's a male, I'm not gonna let the paparazzi stop me from doing that and living my life and just being a normal person. - Author: Kendall Jenner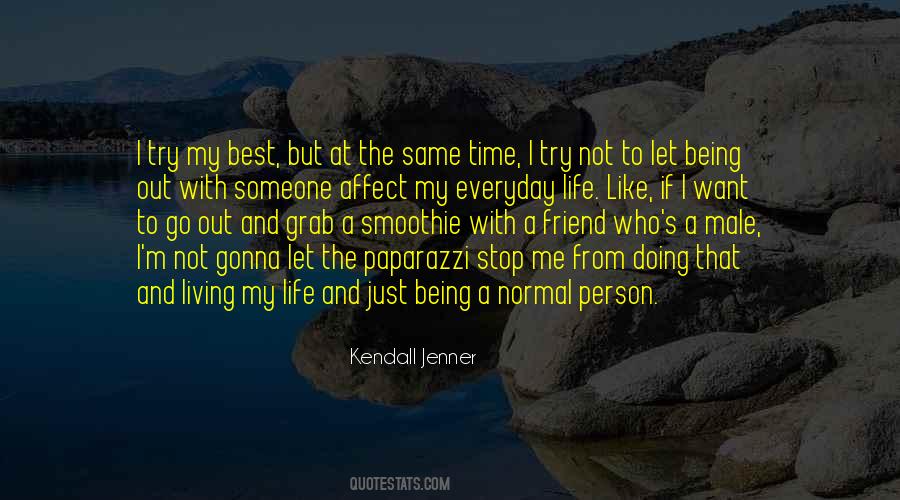 #18. Often love is offered to you, but you do not recognize it. You discard it because you are fixed on receiving it from the same person to whom you gave it. - Author: Henri J.M. Nouwen
#19. Only when architect, bricklayer and tenant are a unity, or one and the same person, can we speak of architecture. Everything else is not architecture, but a criminal act which has taken on form. - Author: Friedensreich Hundertwasser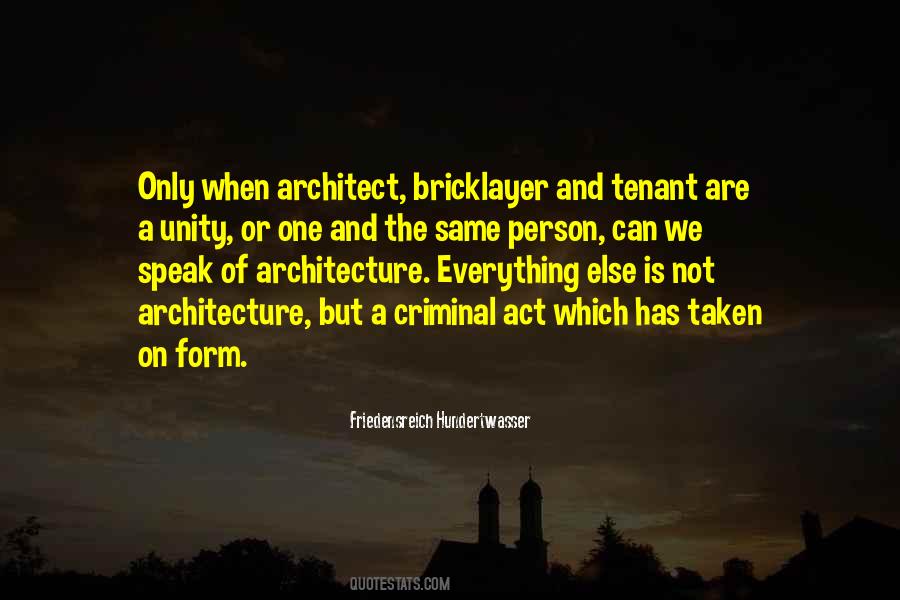 #20. The satiated person and the hungry one do not see the same thing when they look upon a loaf of bread. - Author: Rumi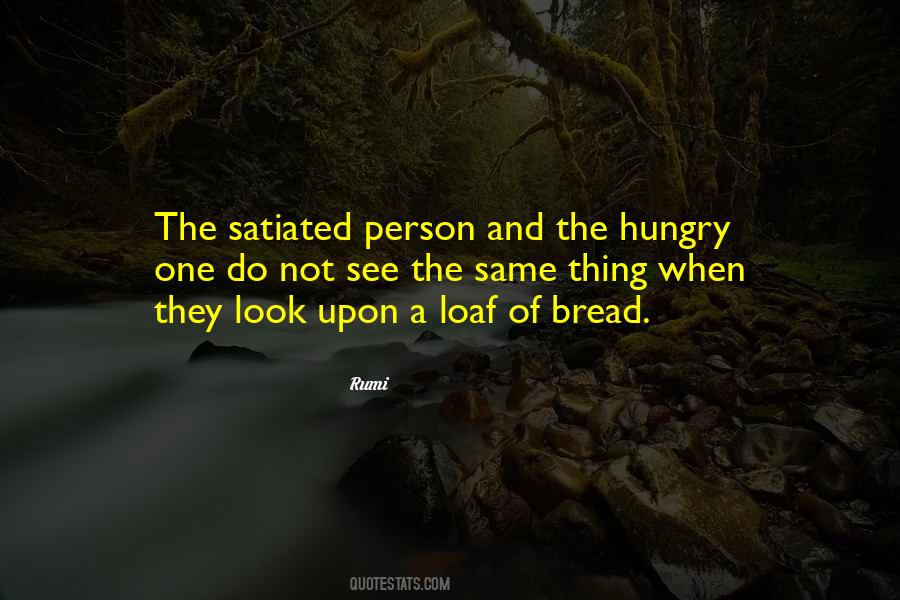 #21. Mercy should be given once to a person and it is priceless. This person then should be very honest and should promise not to commit the same particular mistake again. - Author: Saaif Alam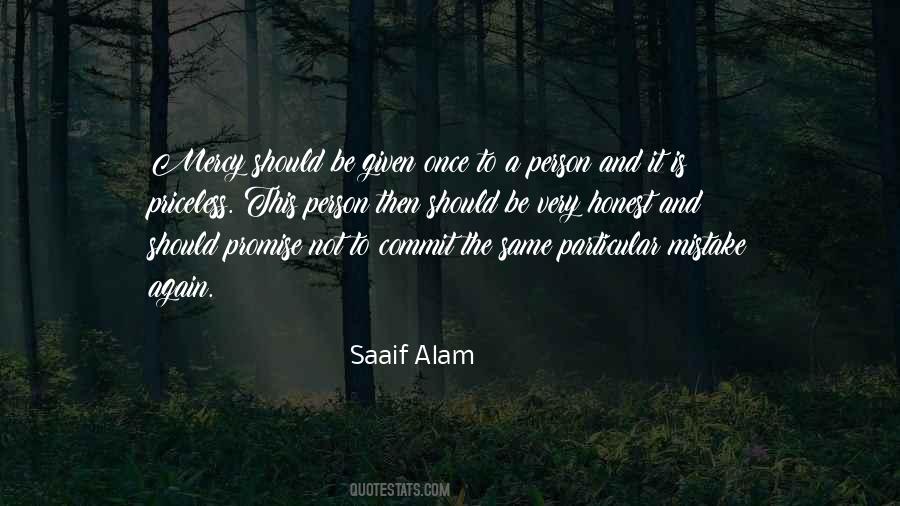 #22. You get a strange feeling when you leave a place, like you'll not only miss the people you love, but you miss the person you are at this time and place because you'll never be the same again - Author: Azar Nafisi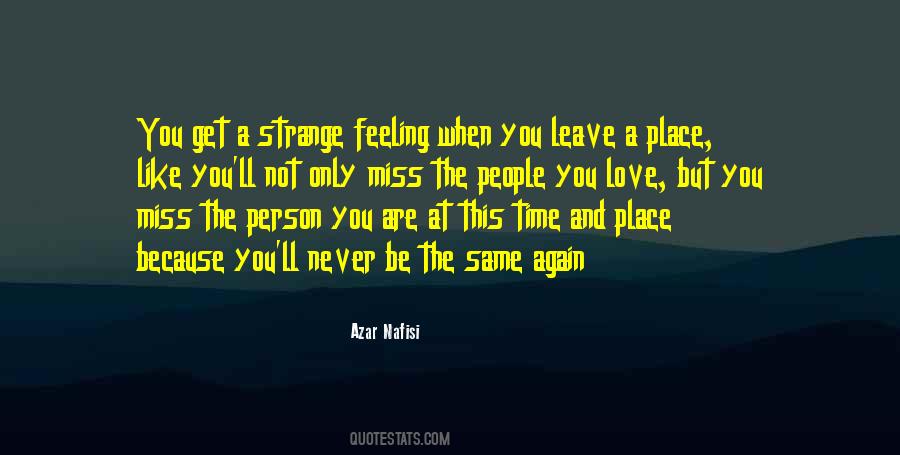 #23. Lord knows I'm not the poster child for eating right and exercising, so I don't want to give that impression at all! This is the same person who people have watched have a weight problem in her teens, so come on! - Author: Kim Fields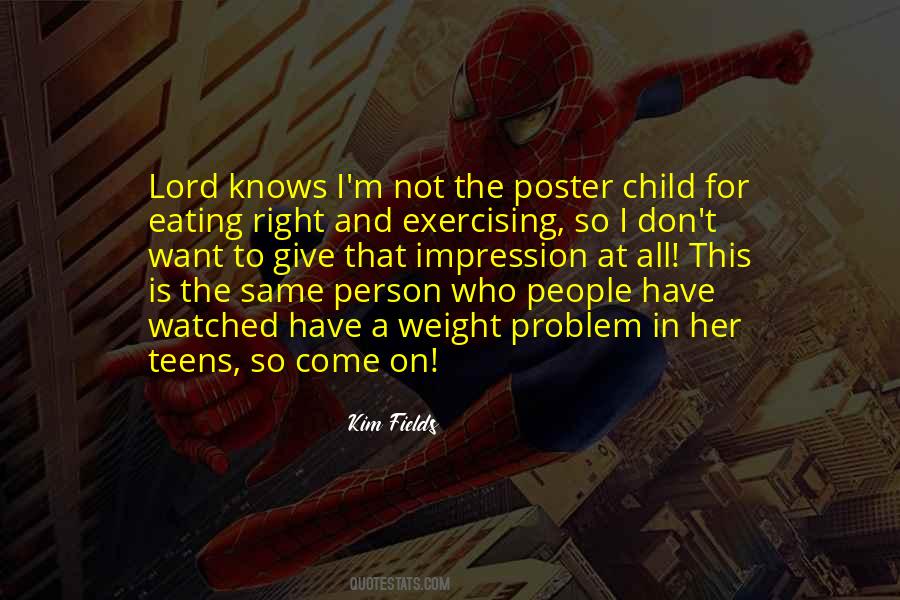 #24. We're not moments, Megan, you and me. We're events. You say you might not be the same person you were a year ago? Well, who is? I'm sure not. We change, like swirling clouds around a rising sun. - Author: Brandon Sanderson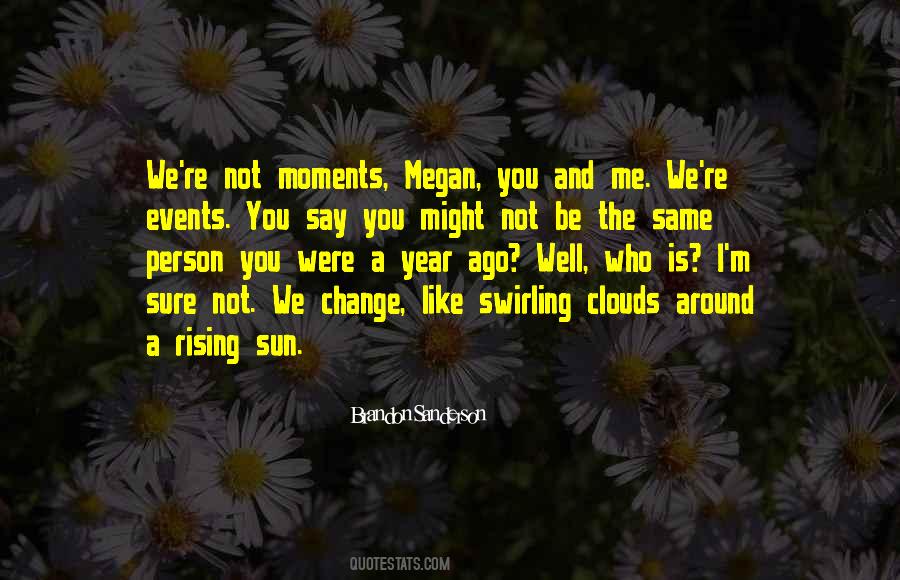 #25. your same blood doesn't run in the arms and legs of the person you're next to, you can't trust anything. And even then. It's not - Author: Anthony Doerr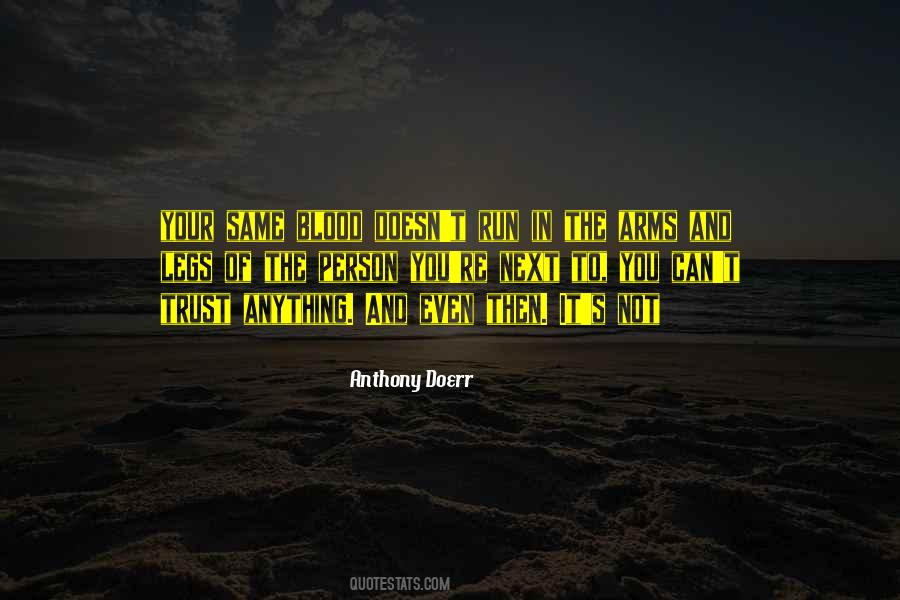 #26. I've never treated anyone in my band like they're not on the same level as me. I'm not that kind of person. - Author: Marilyn Manson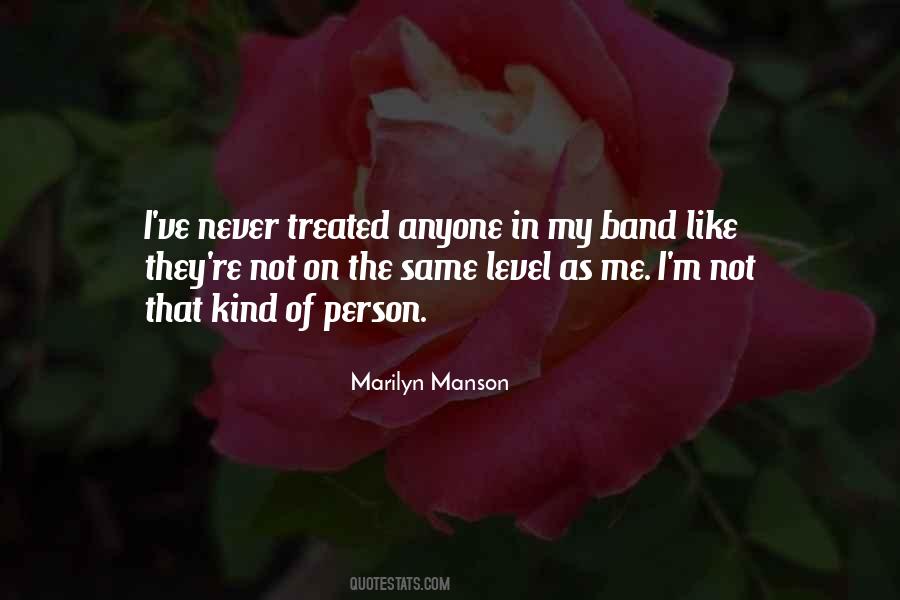 #27. A person is not the same as a toaster. - Author: David Walton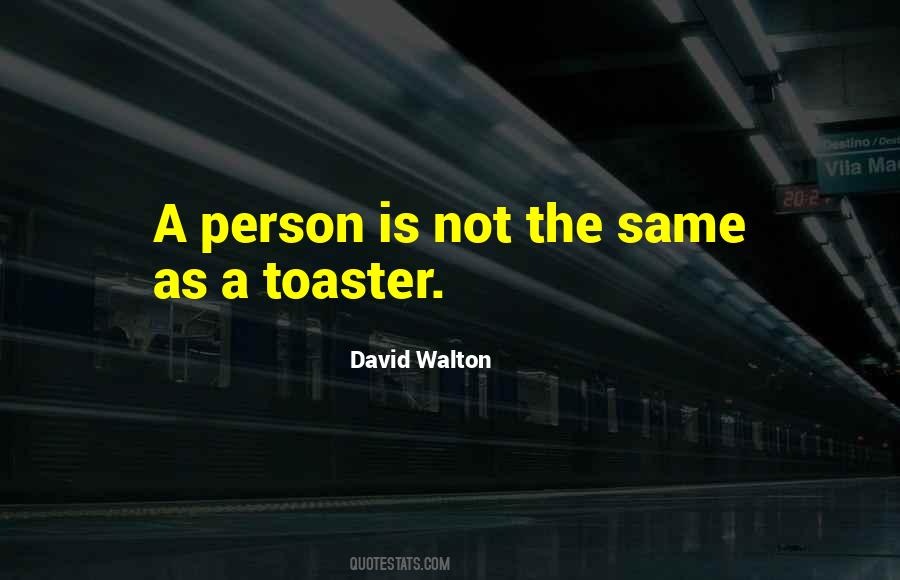 #28. I'm not sure a lot of other people would walk up to the same artwork and see the shadow on the person's face from the hat and be like "Do you see that!" It's about noticing things that interest you, and that definitely happens with the natural world as well. - Author: Laura Owens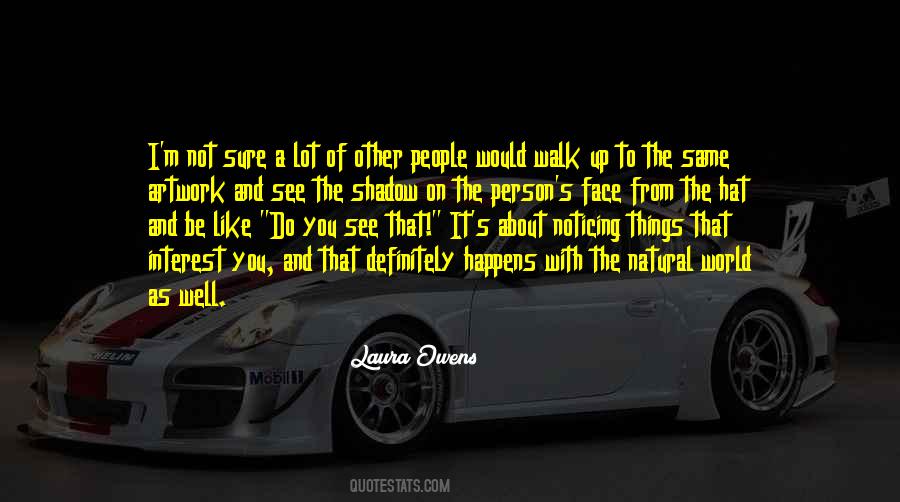 #29. By art alone we can get out of ourselves, find out what another person sees of this universe which is not the same as ours ... Thanks to art, instead of seeing only one world, we see it multiplied, and we have as many different worlds at our disposition as there are original artists. - Author: Marcel Proust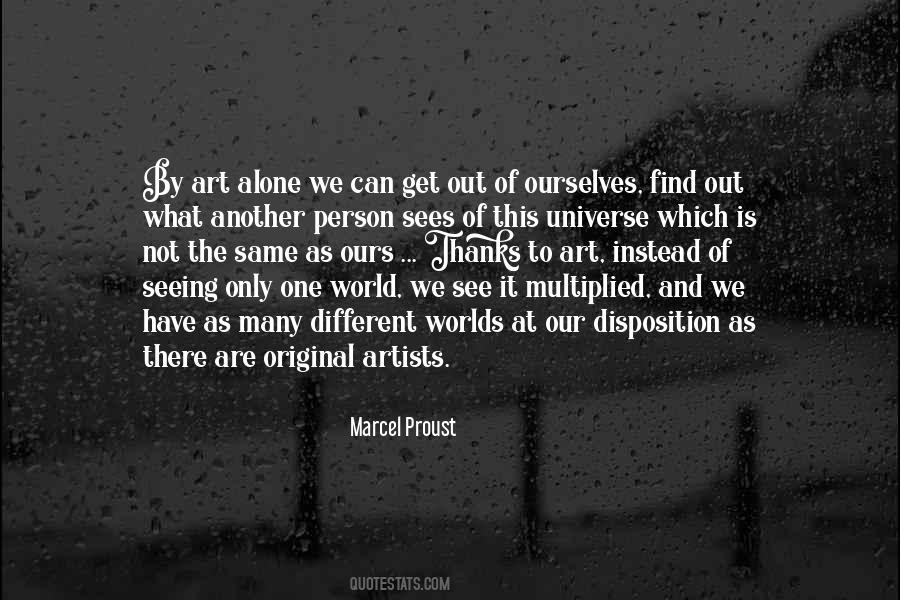 #30. How far I've come! I'm the same girl and yet not the same. I wonder if it's always like that? Folks keep growing from one person into another all their lives, and life is just a lot of everyday adventures. Well, whatever life is, I like it. - Author: Carol Ryrie Brink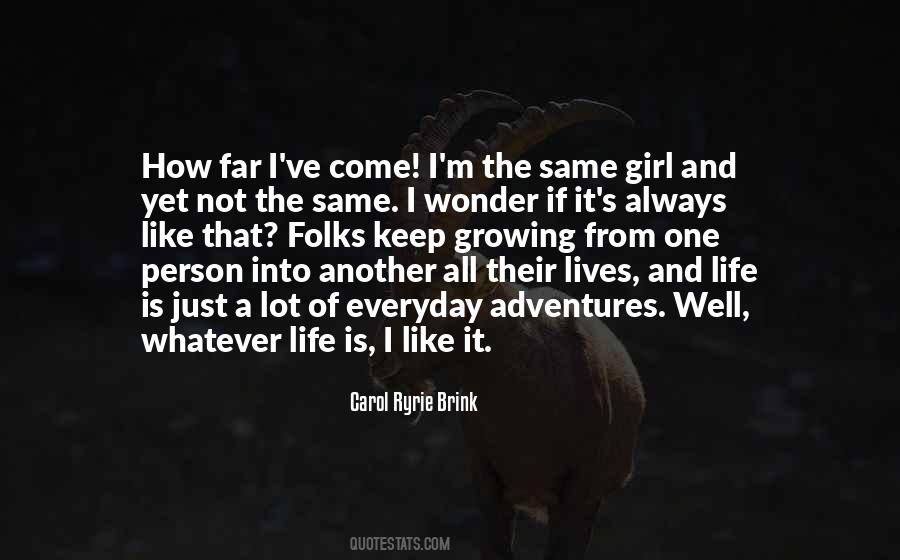 #31. I'd rather experiment than follow the same formula. I'm a curious person. It's gotten me into trouble, but I say, 'Why not? Let's try it.' - Author: Eve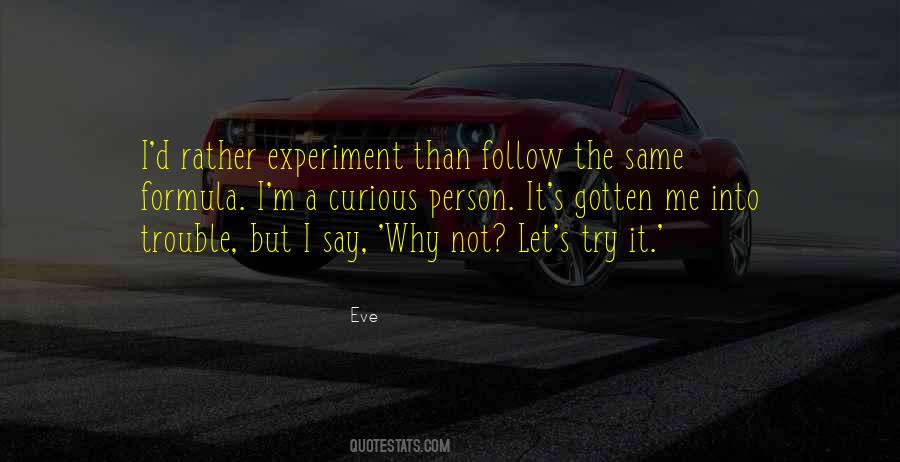 #32. We can't all succeed following the same path as successful men followed. Each person has it's own destiny. You might get stuck at any stage if it's not your way but you'll fly away if it's yours. Follow your mind and take serious anything you do. - Author: Amen Muffler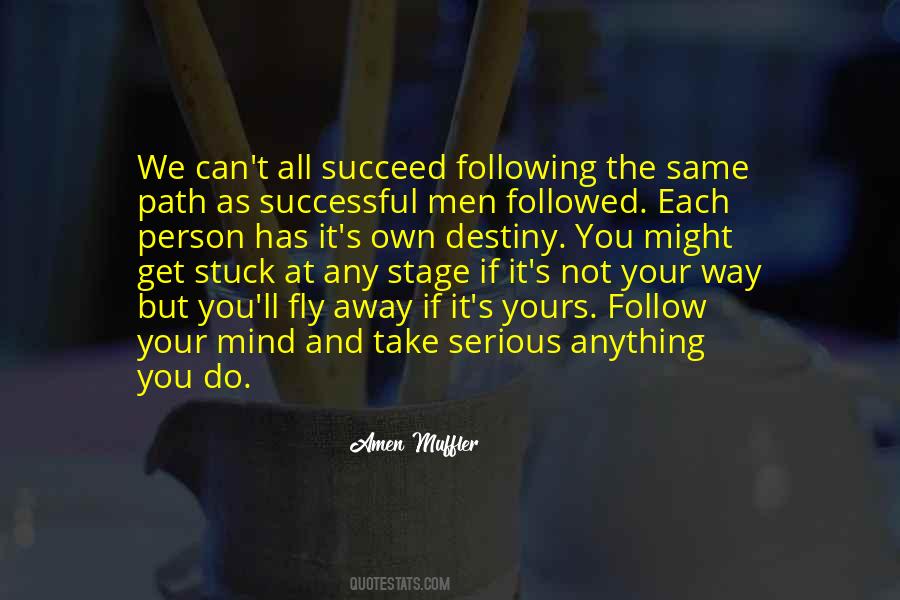 #33. A group of psychologists say they have discovered twenty-three different body language indicators that show whether or not a person is lying. If you would like to see all twenty-three at the same time, they recommend taking a guided tour of the White House - Author: Conan O'Brien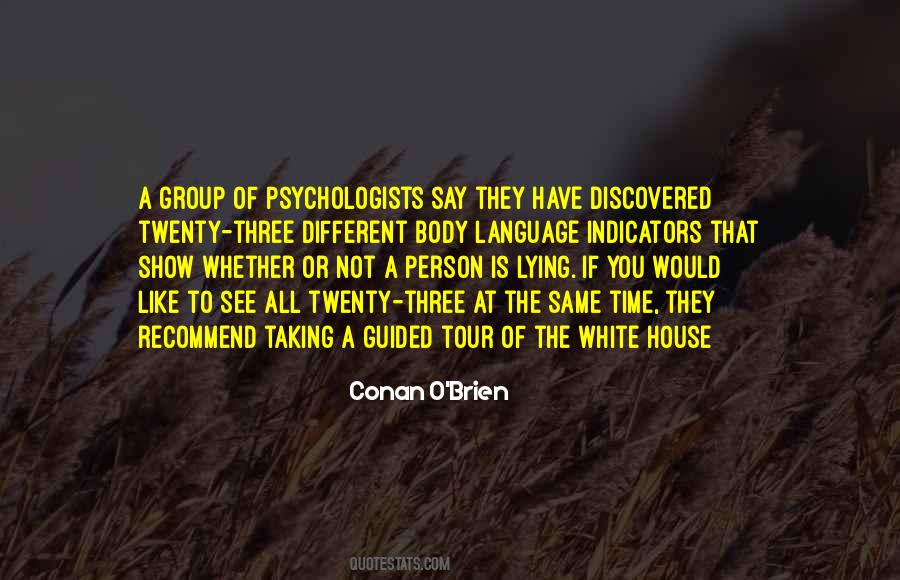 #34. While the parts change, the whole always remains the same. For every thief who departs this world, a new one is born. And every decent person who passes away is replaced by a new one. In this way not only does nothing remain the same but also nothing ever really changes. - Author: Elif Shafak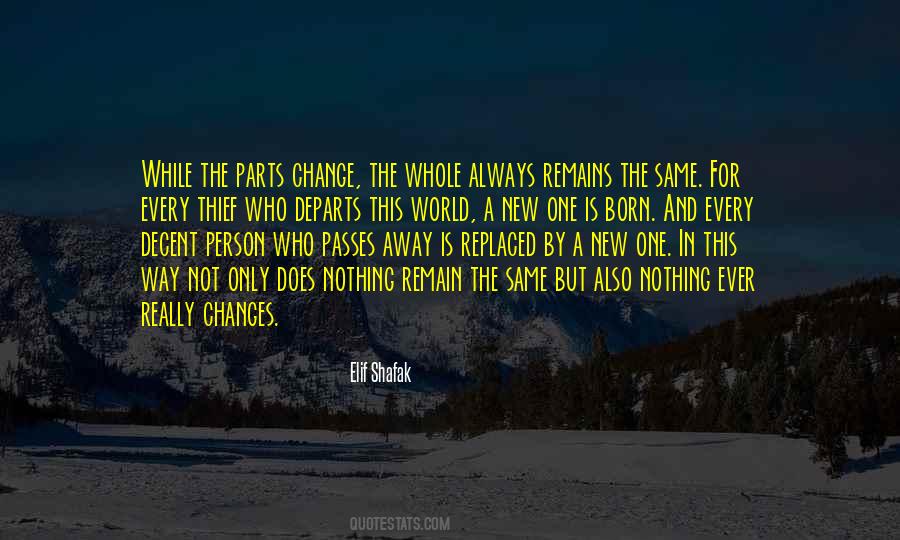 #35. However, withered, I still feel myself to be exactly the same person I've always been. Hard to explain that to the young. we may look truly reptilian, but we're not a separate tribe. - Author: Ian McEwan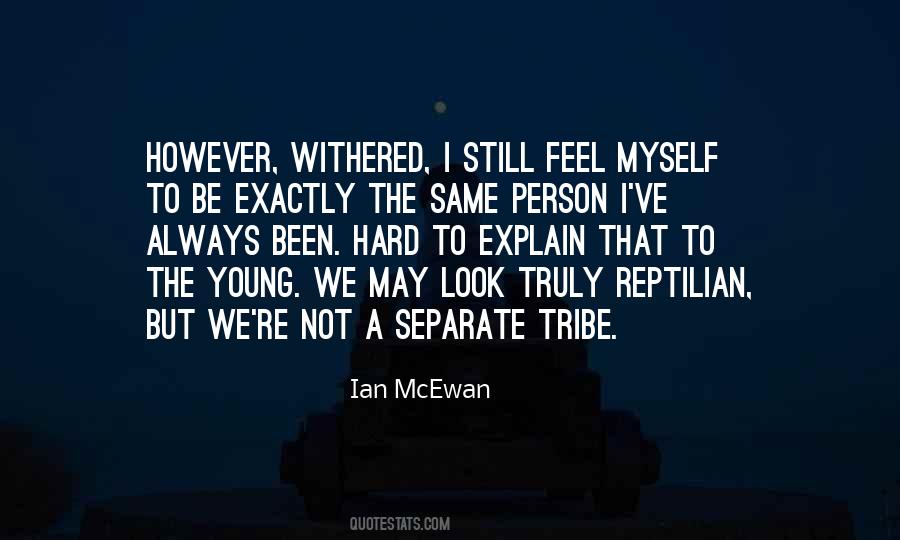 #36. Combat duty is strenuous and physically demanding, and I'm not the first person to notice that men and women are built differently. And while many will argue that women will only be allowed into combat arms units under the same requirements as their male counterparts, count me as skeptical. - Author: Pete Hegseth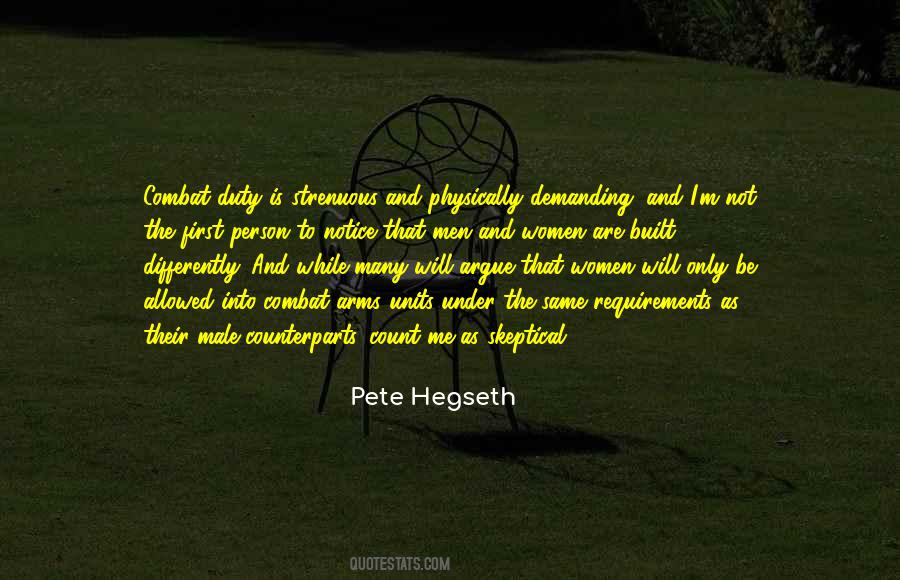 #37. For the first time as a scrabbling, bickering species we stood united. Every sodding person on the planet looked up today and whispered the same question, whether it be in awe, greed, or terror. What's Out there? Answers were sure to be forthcoming, ready or not. - Author: B.P. Gregory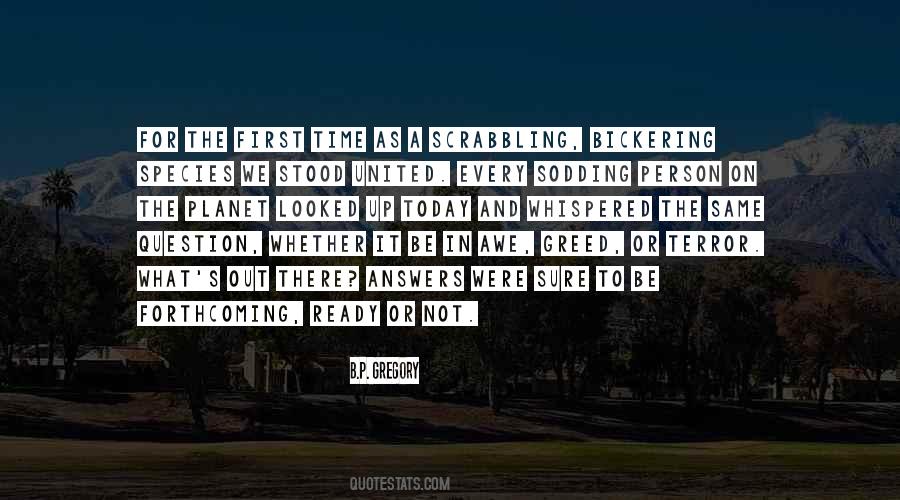 #38. How can I make him understand that he did not create me?
He makes the same mistake as the others when they look at a feeble-minded person and laugh because they don't understand there are human feelings involved. - Author: Daniel Keyes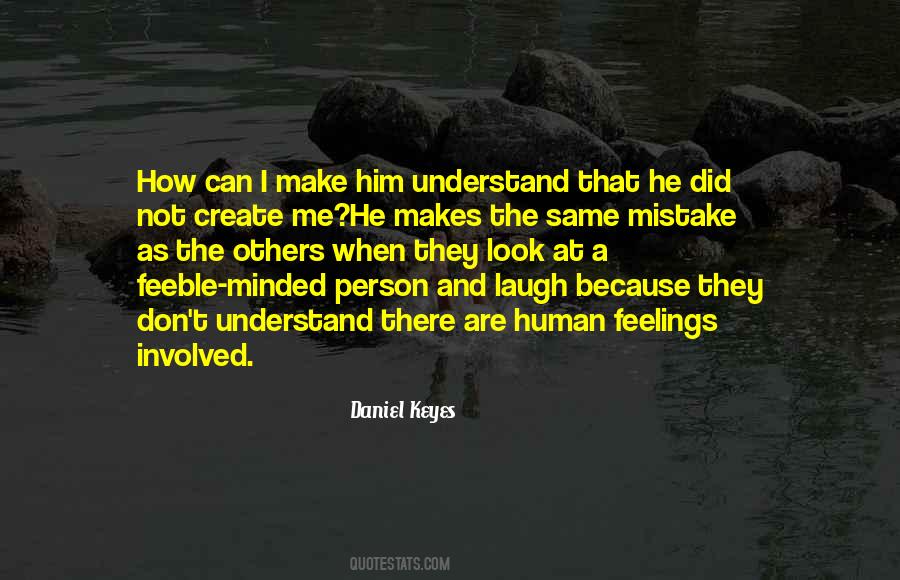 #39. Things change every day, Mr Nakata. With each new dawn it's not the same world as the day before. And you're not the same person you were, either. - Author: Haruki Murakami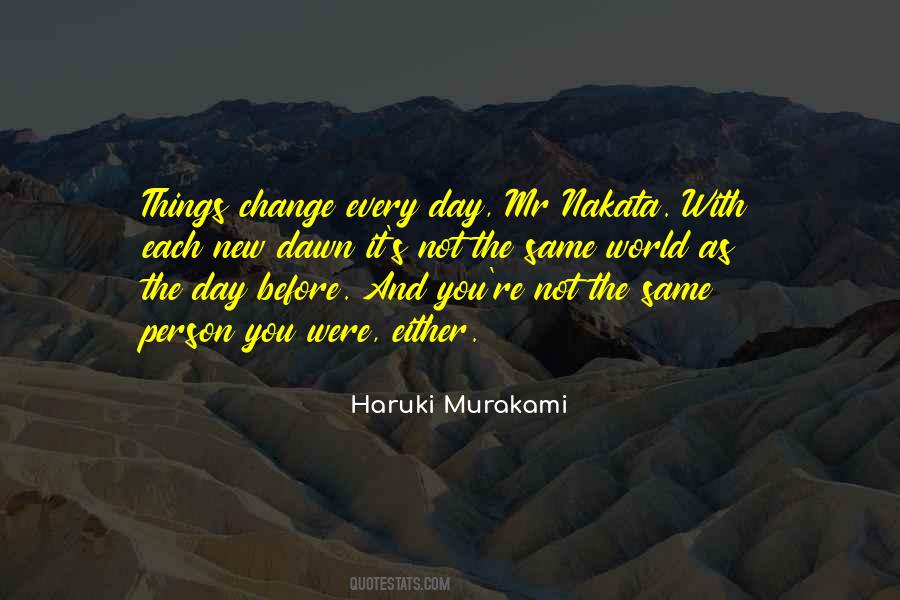 #40. I don't want a politician who's thinking about fashion for even one millisecond. It's the same as medical professionals. The idea of a person in a Comme des Garcons humpback dress giving me a colonoscopy is just not groovy. - Author: Simon Doonan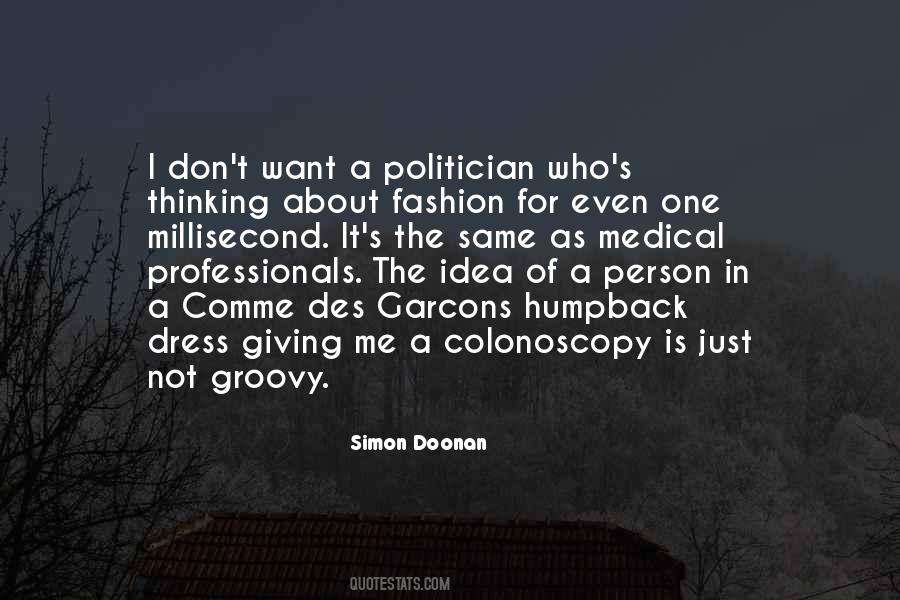 #41. True wisdom would be the ability to live without this scenery, to be the same person even at the bottom of a well. But that, it has to be said, is not so easy. - Author: Francois Lelord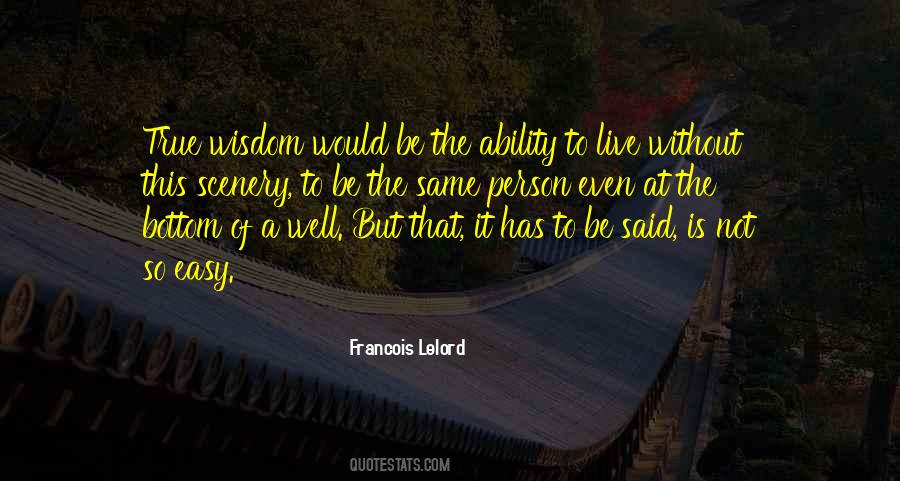 #42. When you read a script, you don't want to be the same guy all the time, you want to change, you're a different person. That's why acting is a wonderful career. You're not the same guy all the time. - Author: Robert Loggia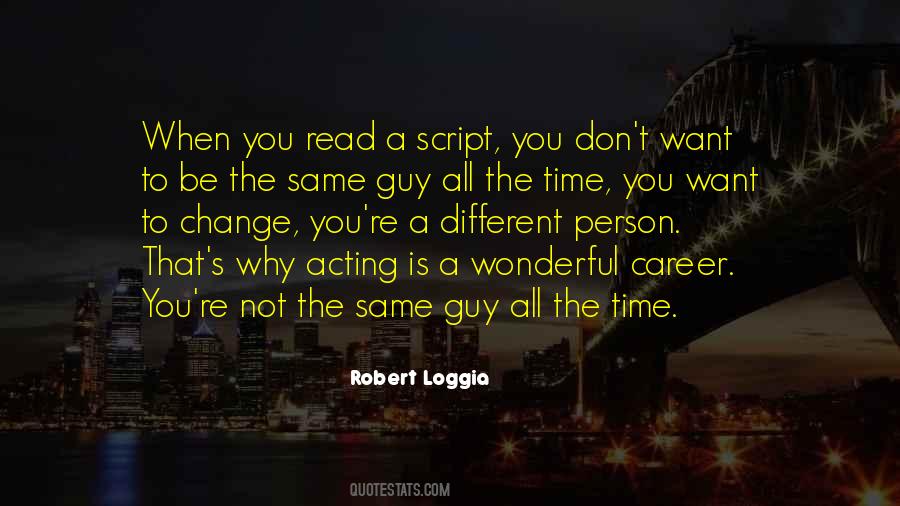 #43. We're all not exactly the same person online that we are in real life. I am not as happy as my Instagram makes me look. We are all heightening the positives and downplaying the negatives. - Author: Kim Stolz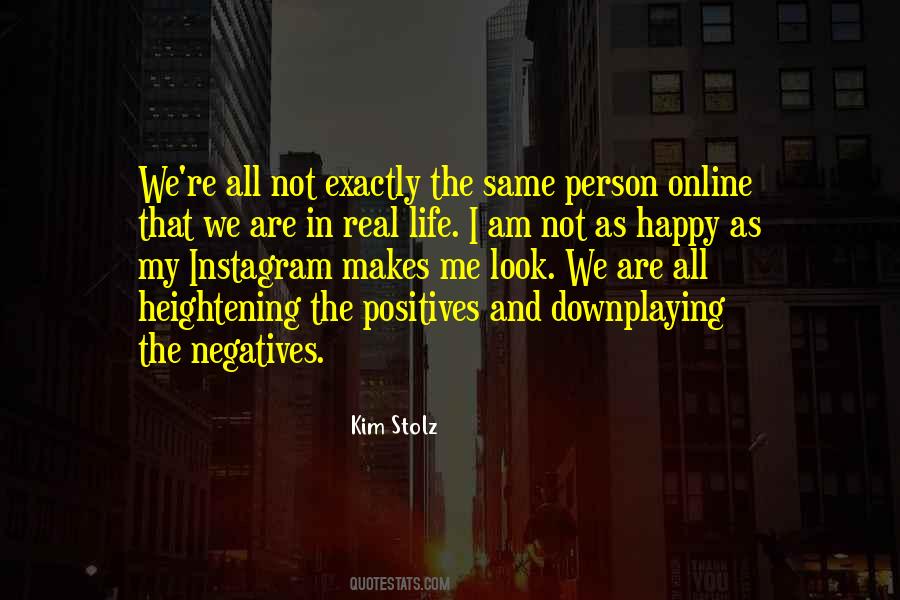 #44. It's not so much that the old friend is a better friend. It's just that you know the person better, and you know they don't really care if you're acting like a poor, grovelling idiot. They know you would do the same for them. - Author: Markus Zusak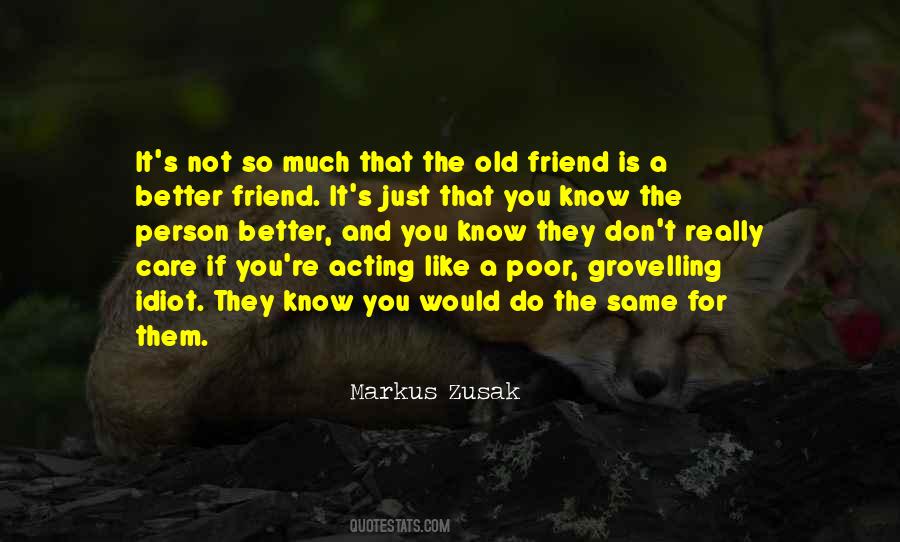 #45. They tell you you'll forget how it used to be. You'll get used to it, that it's better to move on. They don't realize you can't. You're not the same person anymore. - Author: Amanda Sun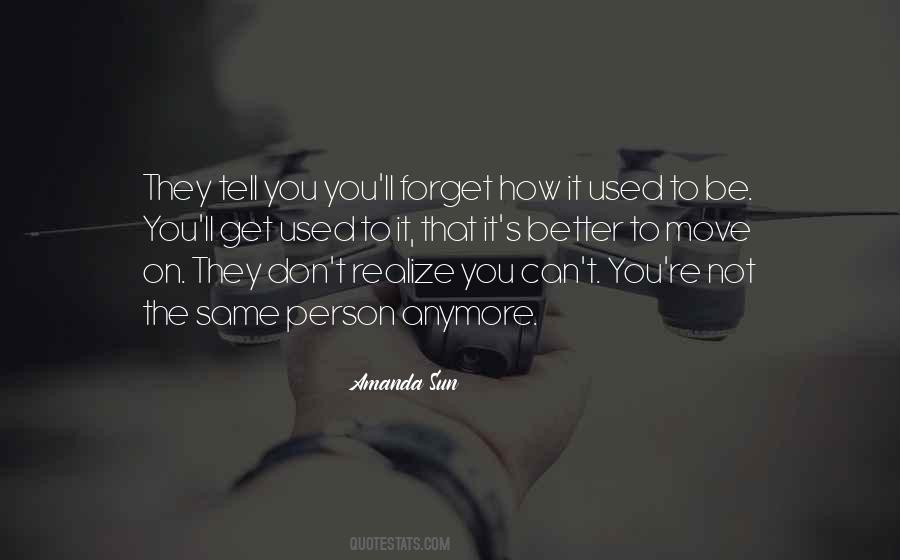 #46. It was so easy to disown what you couldn't recognize, to keep yourself apart from things that were foreign and unsettling. The only person you can be sure to control, always, is yourself. Which is a lot to be sure of, but at the same time, not enough. - Author: Sarah Dessen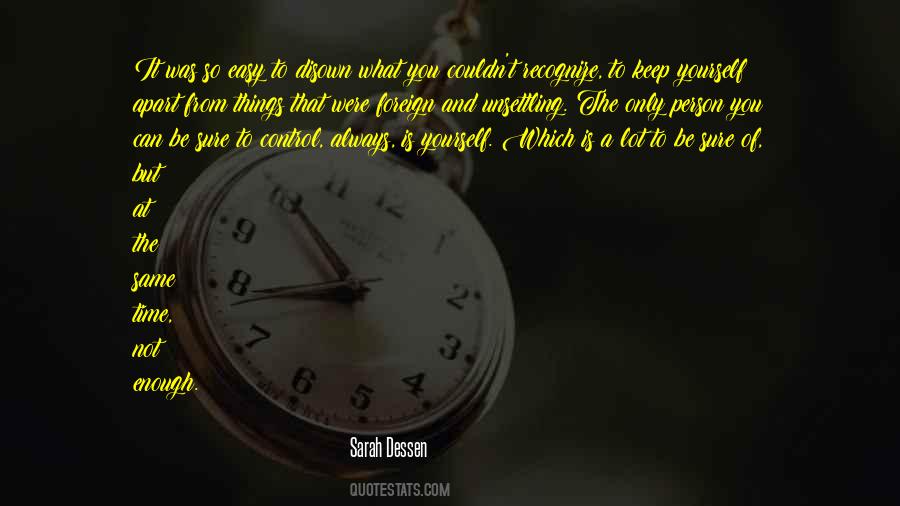 #47. I'm not the same person I was. I used to act dumb. It was an act. I am 26 years old, and that act is no longer cute. It is not who I am, nor do I want to be that person for the young girls who looked up to me. I know now that I can make a difference, that I have the power to do that. - Author: Paris Hilton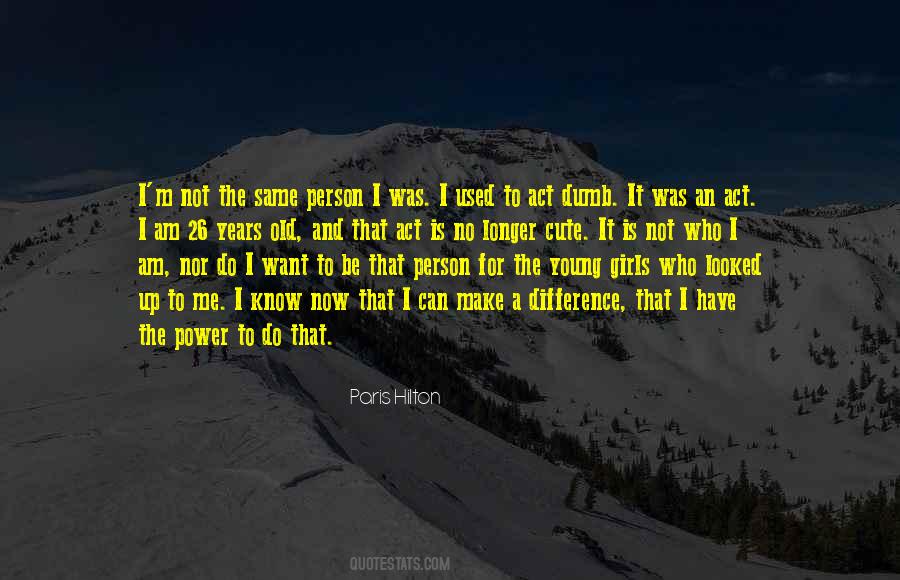 #48. You cannot be the person they know and the great, glorious person you want to become. Not at the same time. - Author: Chuck Palahniuk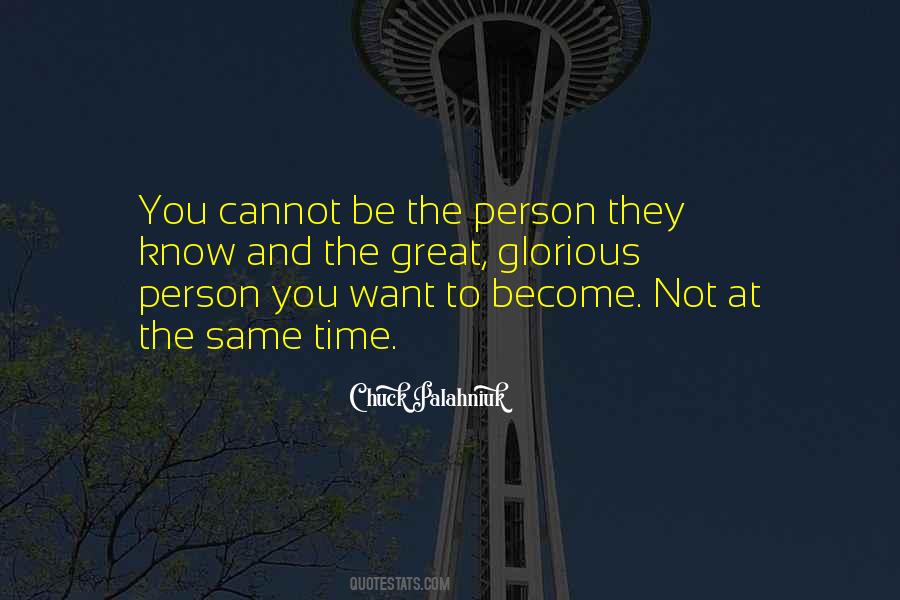 #49. People have been reading photography as a true document, at the same time they are now getting suspicious. I am basically an honest person, so I let the camera capture whatever it captures whether you believe it or not is up to you; it's not my responsibility, blame my camera, not me. - Author: Hiroshi Sugimoto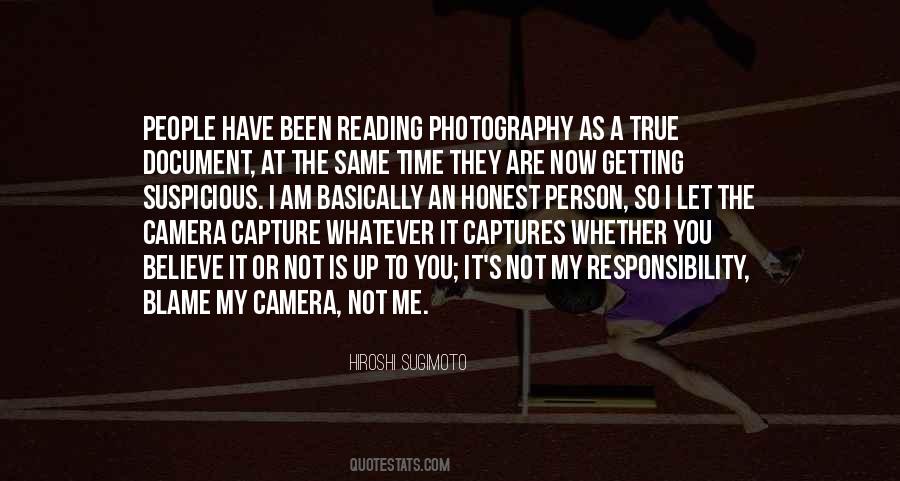 #50. Change is scary. But you're not required to be the same person you were ten years ago, ten weeks ago, ten days ago. Hell, you don't even have to be the person you were ten minutes ago. You're free to be whoever the hell you want. - Author: Julie Johnson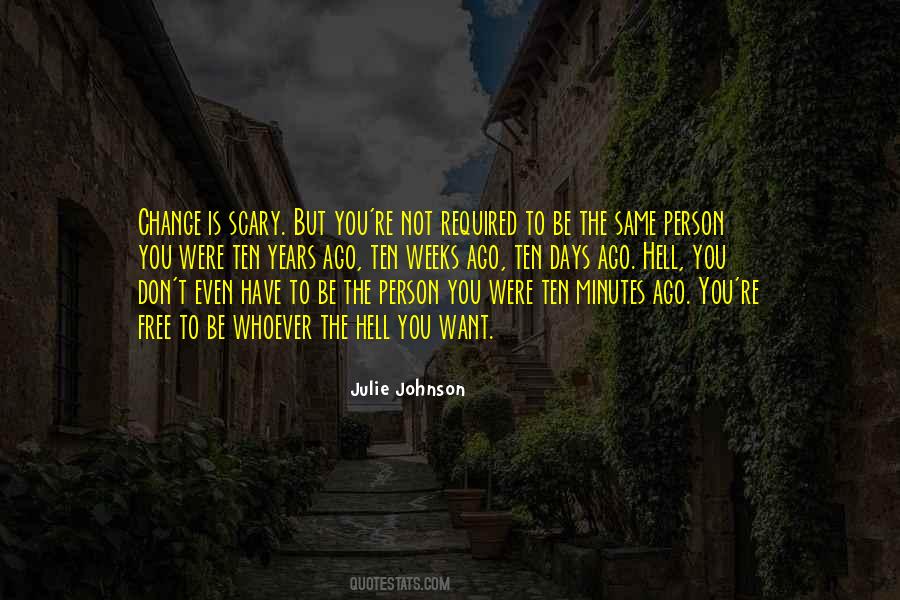 #51. (Edward describing Angeline's bonnet)
"Then it is overbright and those colors should never been seen togther upon the same person, not to mention the same garment ." he said. "And it actually suits you perfectly. It suits your character. - Author: Mary Balogh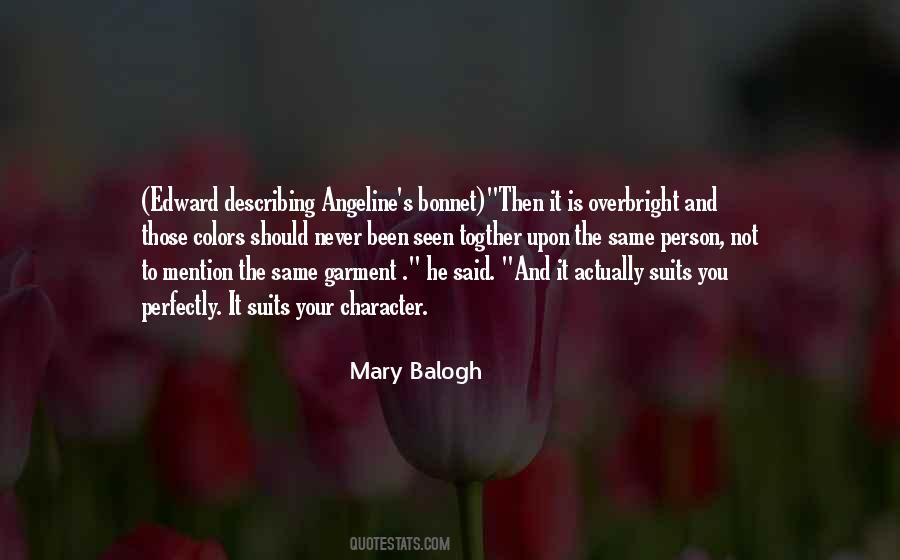 #52. All she knew was that whatever and whoever climbed out of that abyss of despair and grief would not be the same person who had plummeted in. - Author: Sarah J. Maas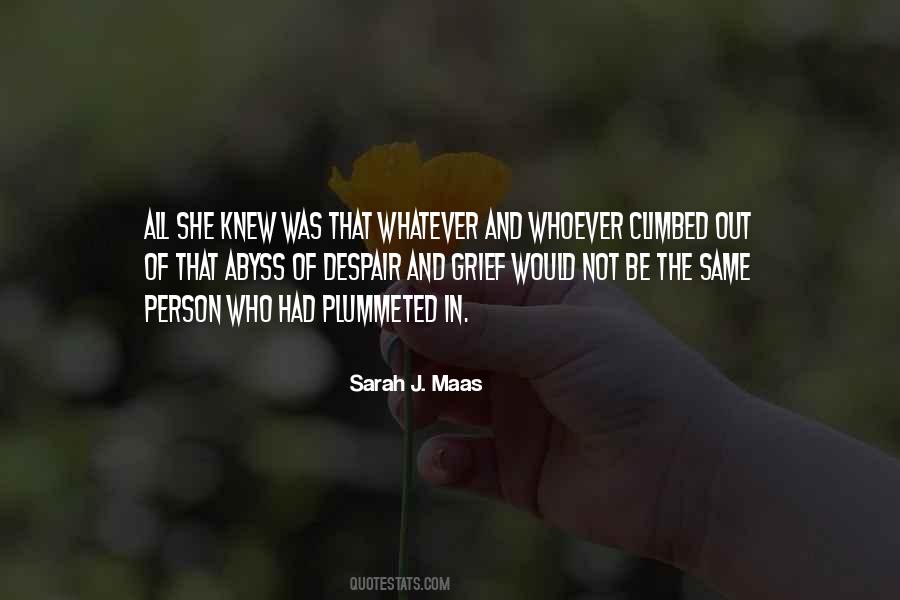 #53. When someone steals a person's clothes, we call him a thief. Should we not also give the same name to the one who could clothe the naked but does not? - Author: Saint Basil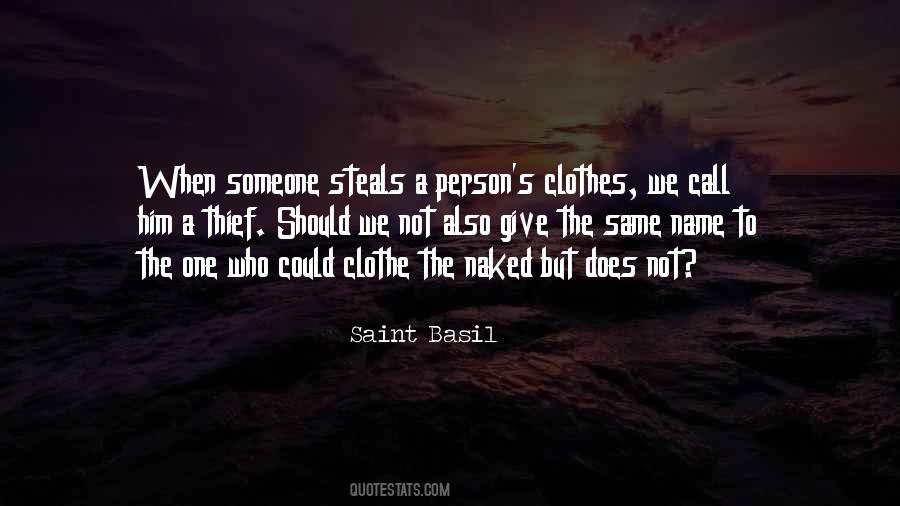 #54. It was one of the queer things of life that you saw a person every day for months and were so intimate with him that you could not imagine existence without him; then separation came, and everything went on in the same way, and the companion who had seemed essential proved unnecessary. - Author: W. Somerset Maugham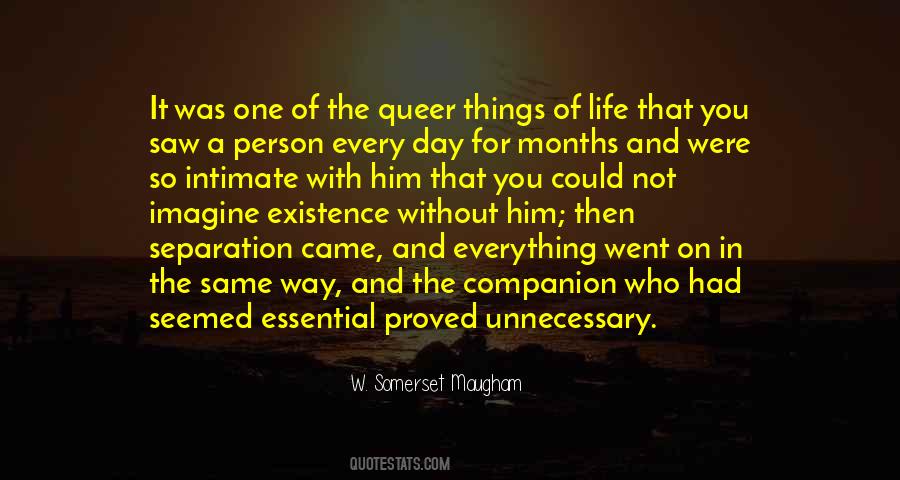 #55. I think people who are artists, actors, singers, great songwriters, they tend to have a hyper state of emotion where they feel things very, very deeply, probably more deeply than the average person walking down the street where it may affect them, but not to the same extent. - Author: Willie Aames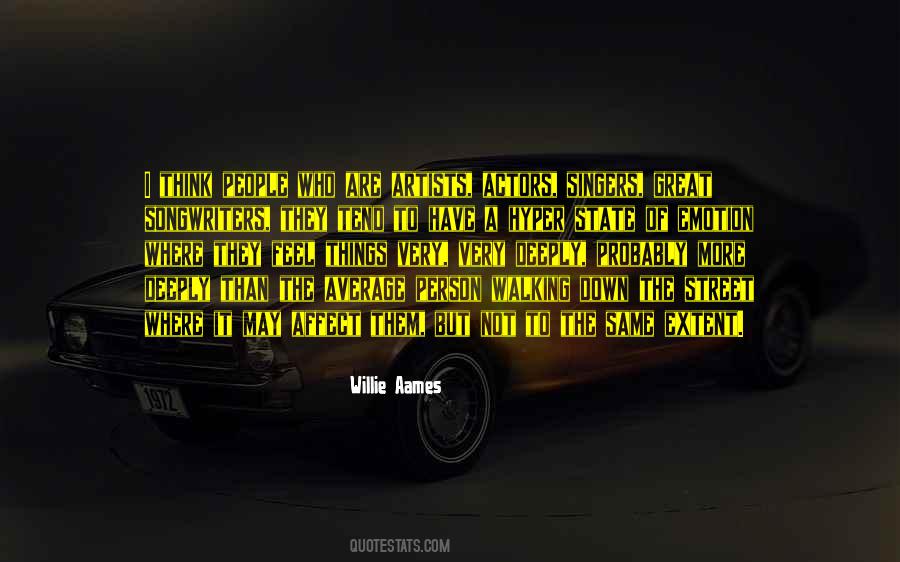 #56. Trying to be like me as a person is not a good idea. To have the same interest, to talk about the same and so on and so on... it's kind time waste! - Author: Deyth Banger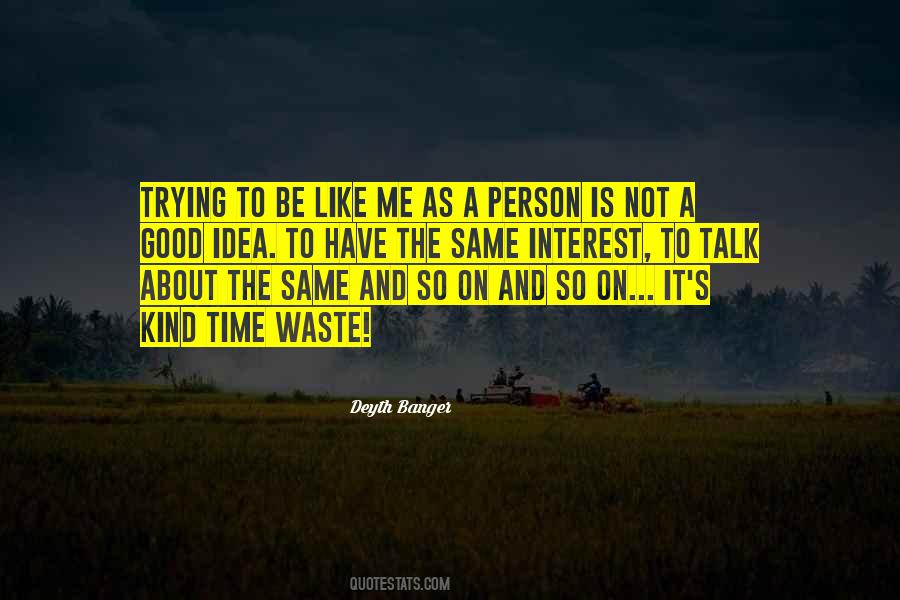 #57. I'm not a trend person. I don't want to look to my right and see somebody in the same thing. - Author: Venus Williams
#58. Nick: My second point is the same one Larry made about the Judge. The Adversary is not going to expect us to send a retarded person as a spy. - Author: Stephen King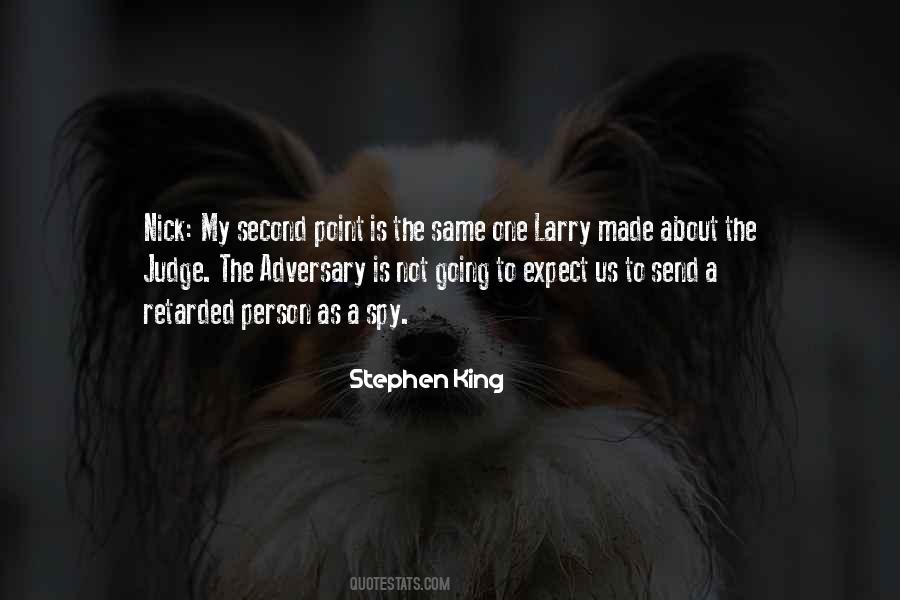 #59. You know, you're a feminist." It was not a compliment. I could tell from his tone - the same tone with which a person would say, "You're a supporter of terrorism. - Author: Chimamanda Ngozi Adichie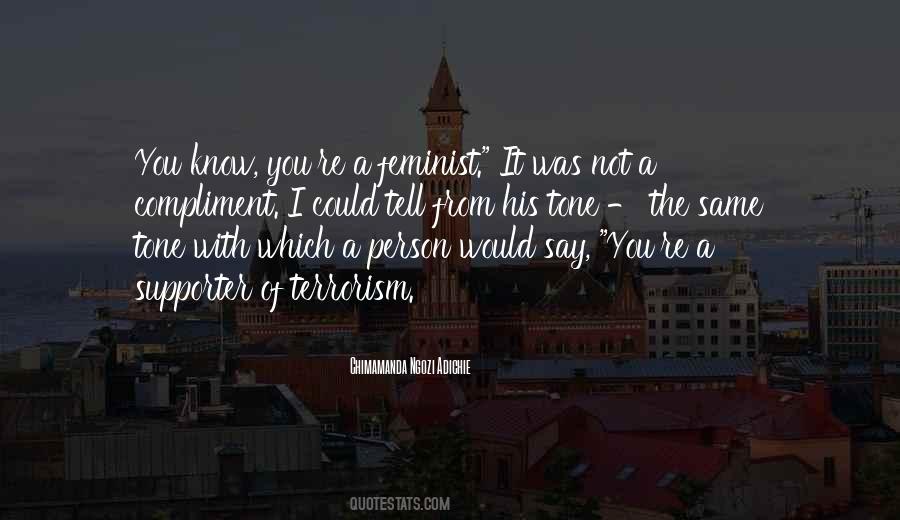 #60. I desired to know why one person was ailing and his associate, eating at the same table, working in the same shop, at the same bench was not. Why? What difference was there in these two persons that caused one to have various diseases, while his partner escaped? - Author: Daniel D. Palmer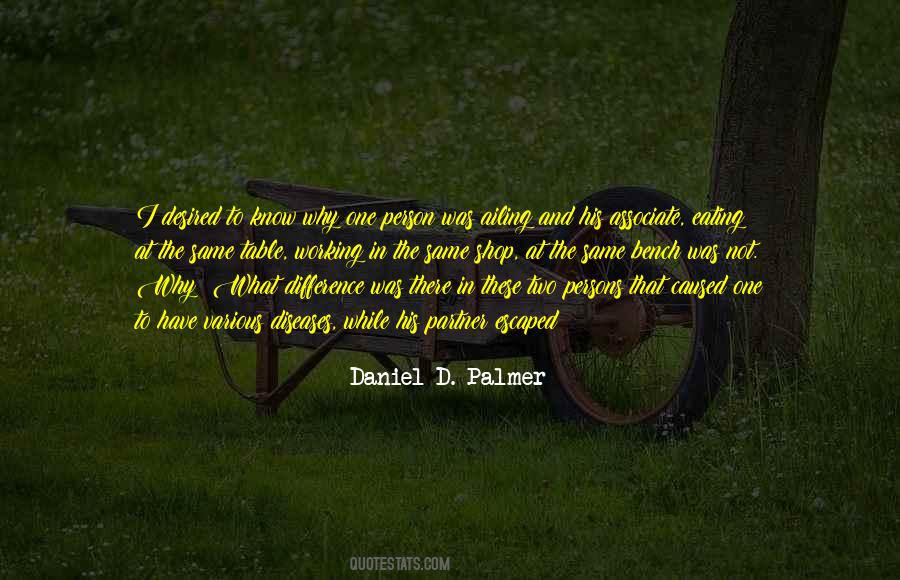 #61. Do not think your story [for a one-person show] is unique ... your story is the same as millions of others. But that's o.k. - you just need to find the one or two things that makes your story interesting enough to justify someone leaving their apartment and exchanging currency. - Author: Julie Halston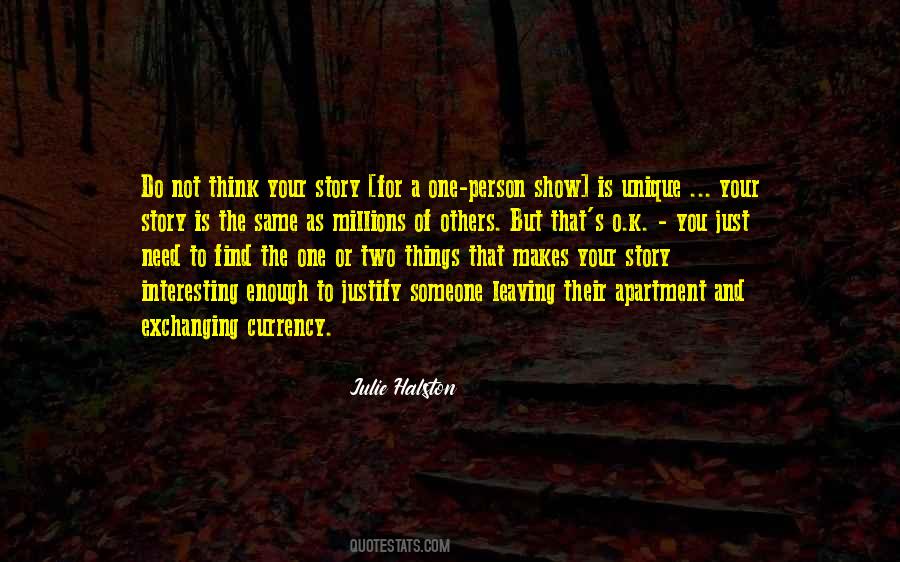 #62. What has happened is what has happened. The past is gone. I was not the same person then. I was much weaker. I lived and breathed and hid in fear. That time is gone. I fear nothing. I have faced my fears and learned from them. The gods gave me that. - Author: James A. Moore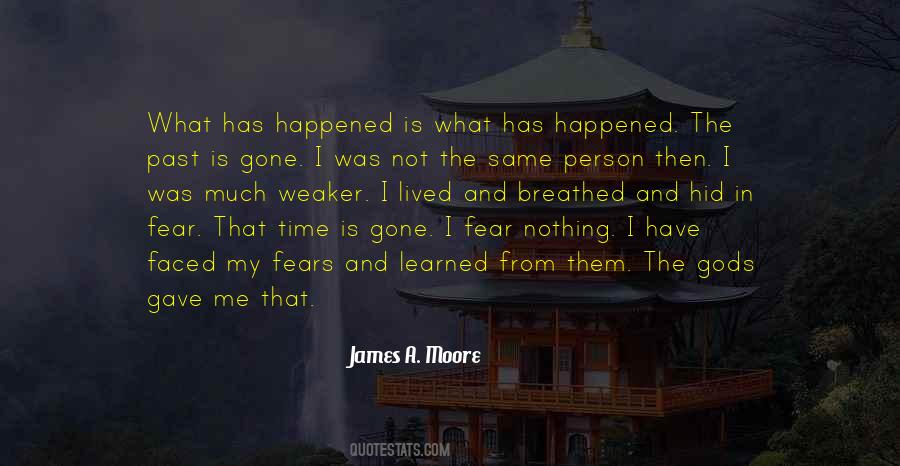 #63. For a long time I did not want to do television because I did not want to get stuck playing the same person. I wanted the ongoing challenge of a variety of roles. - Author: Kathy Bates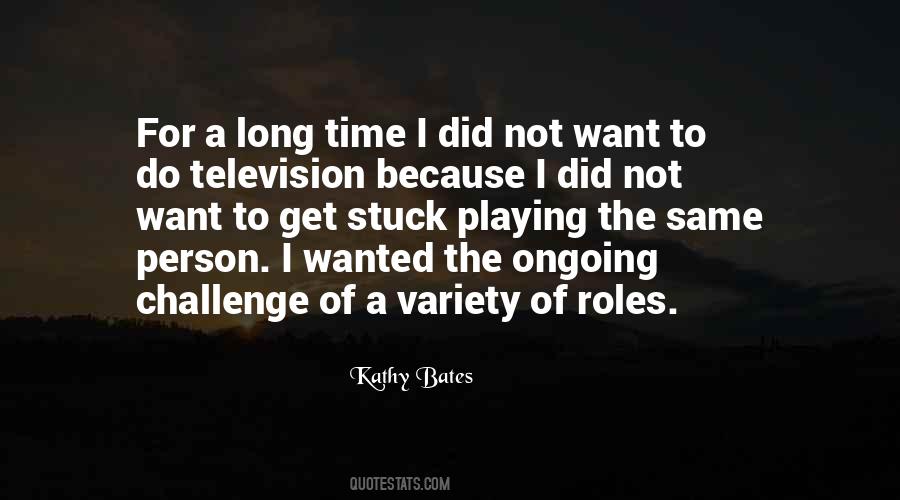 #64. The fear he'd dared not voice until now - when it was all but too late - because when stacked alongside the survival of humanity his fears mustn't matter. "Will you be the same person when you wake up? - Author: G.S. Jennsen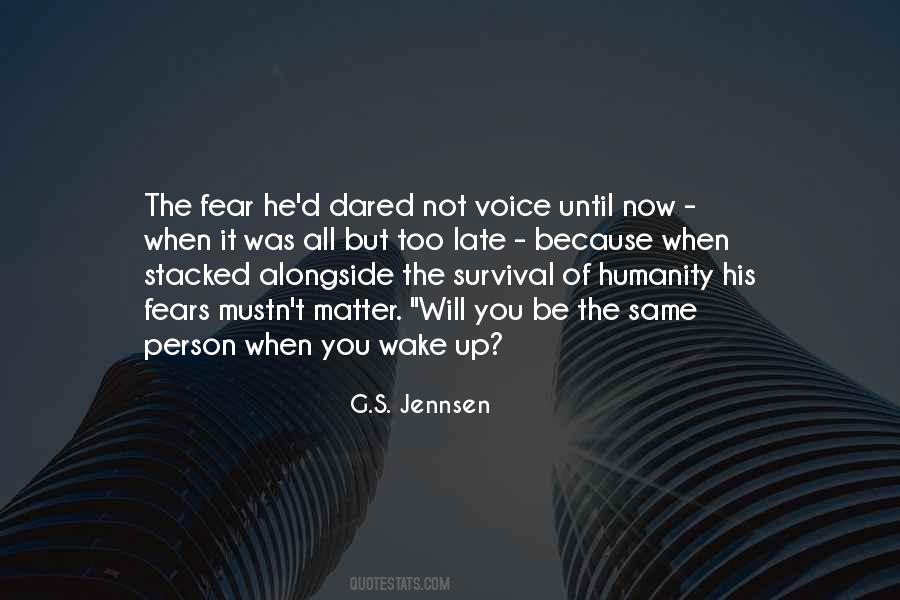 #65. The challenging part of parenting for me is to make sure that an individual person is an individual and not some sort of cookie-cutter version of me. At the same time, I want to make sure that I impart my sense of the world as an adult. - Author: Jamie Lee Curtis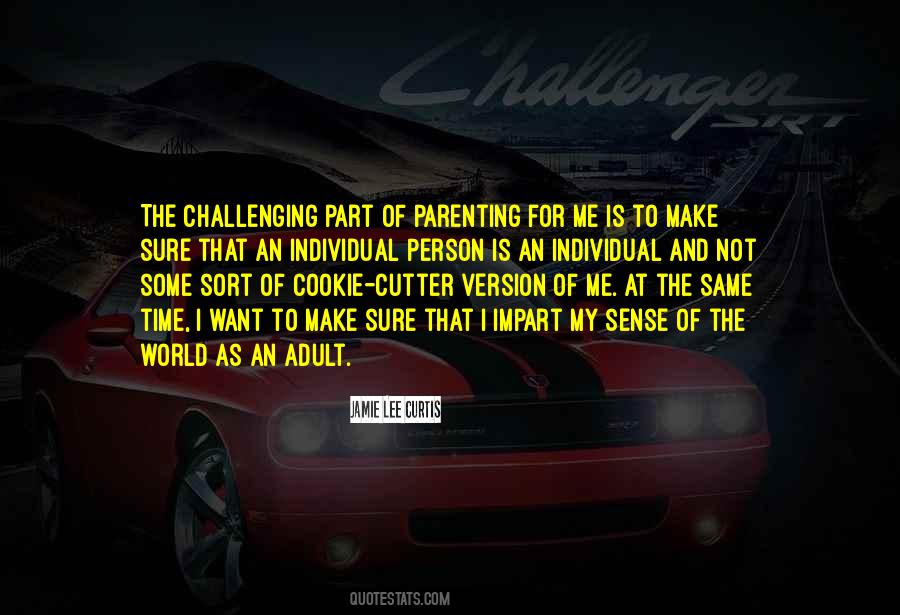 #66. Why can we remember the tiniest detail that has happened to us, and not remember how many times we have told it to the same person. - Author: Francois De La Rochefoucauld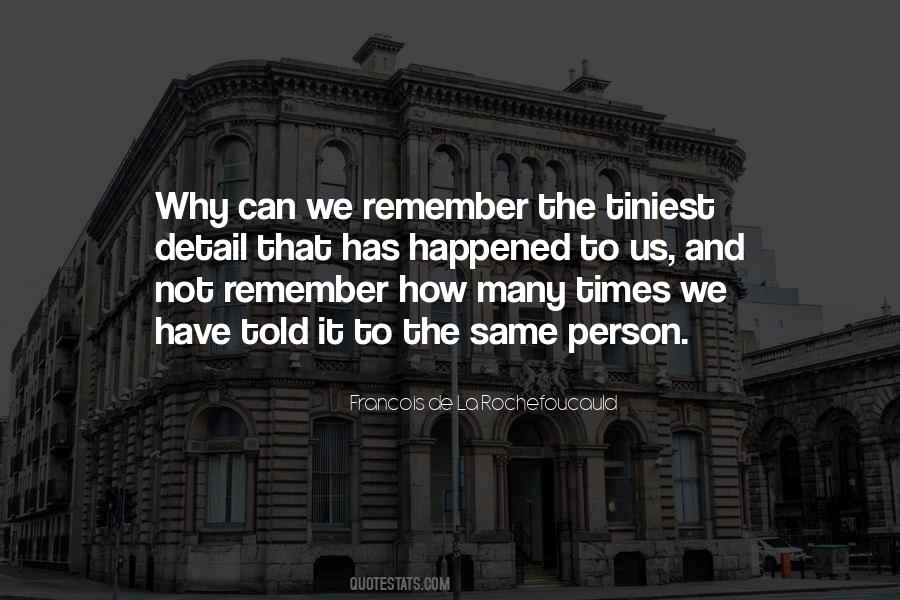 #67. When the movie comes to an end, you are not totally the same person you are when you started the movie. - Author: Eckhart Tolle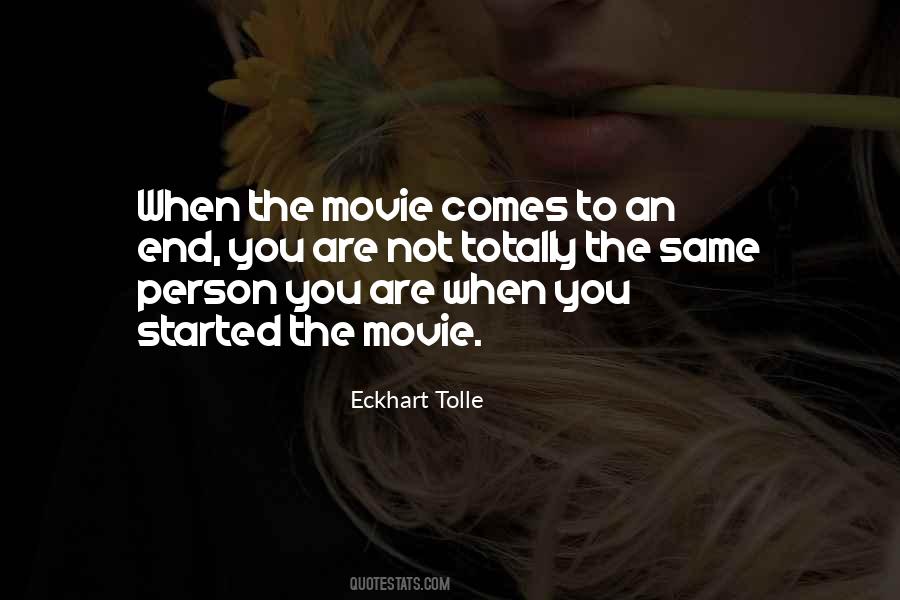 #68. It's not being homeless that matters. It's about who you are. Keep striving and you become somebody. Quit and you also become somebody.. but not the same person. - Author: Robert Kiyosaki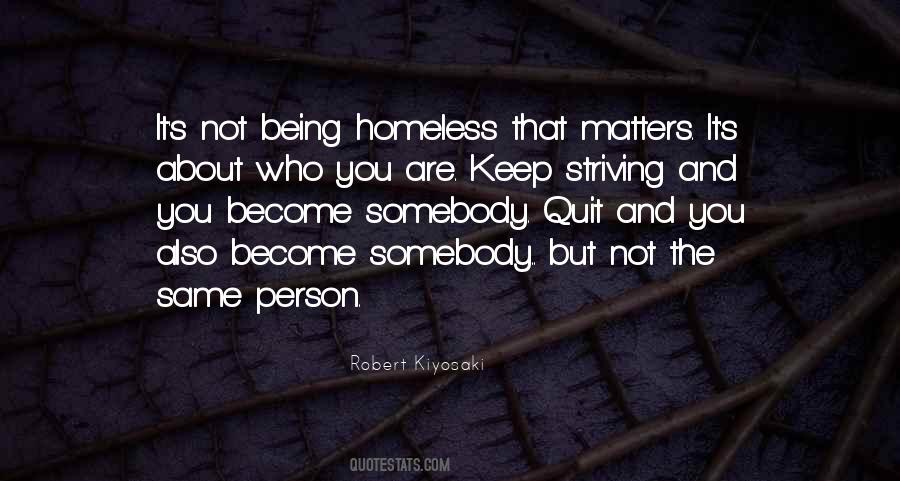 #69. The best thing that can happen in a relationship is when you are the same person you were before the relationship started. You are not hiding anything, and you still have a life of your own. The other best thing is sex - that is a super positive. - Author: Greg Behrendt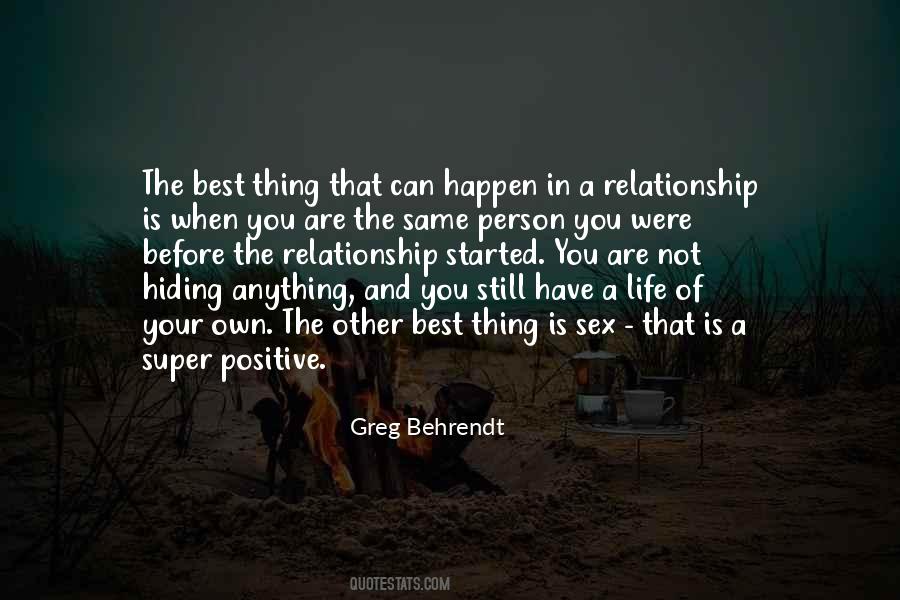 #70. We all present versions of ourselves. The person you are at work is not the same person you are at home. The face we present in our most intimate relationships is not the face we present to the world. - Author: Val McDermid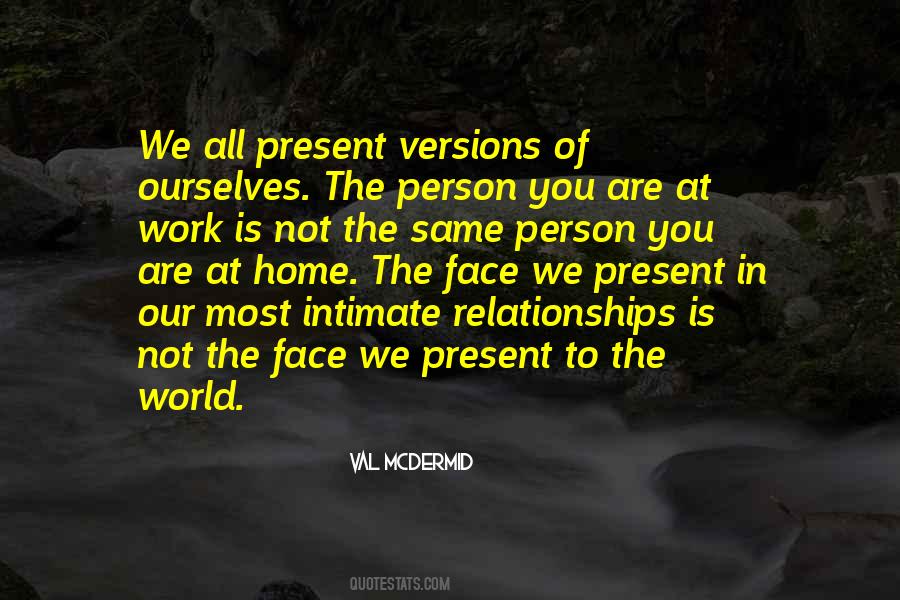 #71. No person is great in isolation. It takes many hands to shape a life. Denial would mean conceit, and conceit is not the same as self-respect. - Author: Sweety Shinde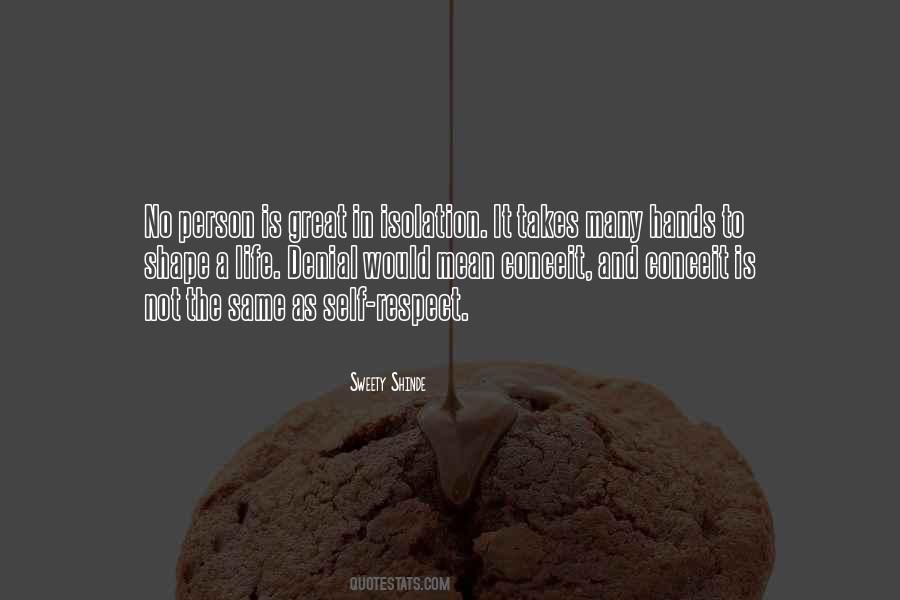 #72. I claim to be no more than the average person with less than average ability. I have not the shadow of a doubt that any man or woman can achieve what I have, if he or she would make the same effort and cultivate the same hope and faith. - Author: Mahatma Gandhi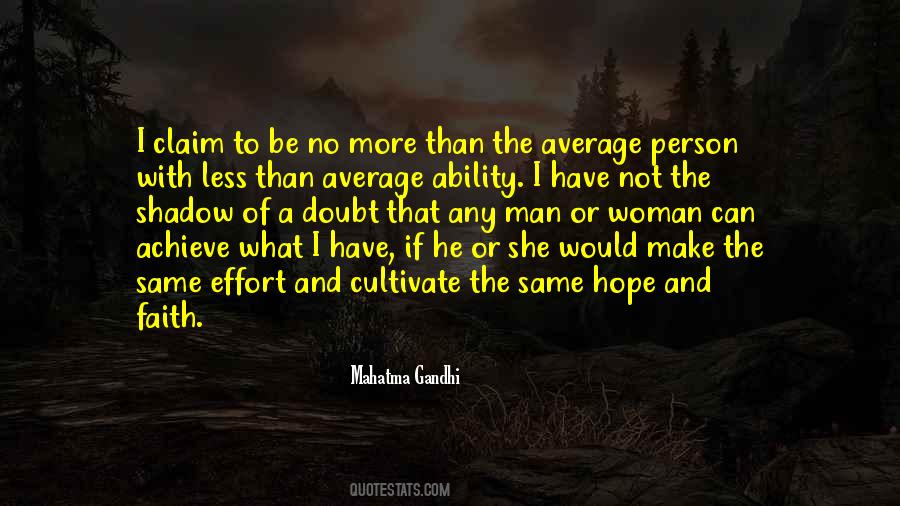 #73. I'm not really entertained anymore, everything sounds the same. We have a crisis right now of innovative music. I'm probably the only person left trying to do something different and brand new. - Author: Kool Keith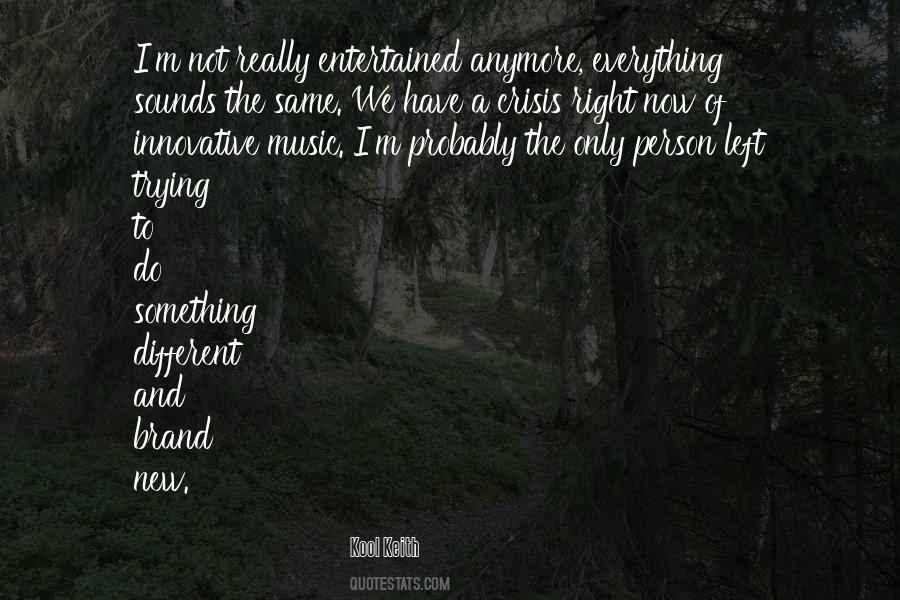 #74. Should I apologize for my species for trotting out the same compliment again and again? Isn't it better than having none at all?"
"When you hear the same one again and again, it's difficult not to come to the conclusion that it's the only thing of note about one's person. - Author: Julie Anne Long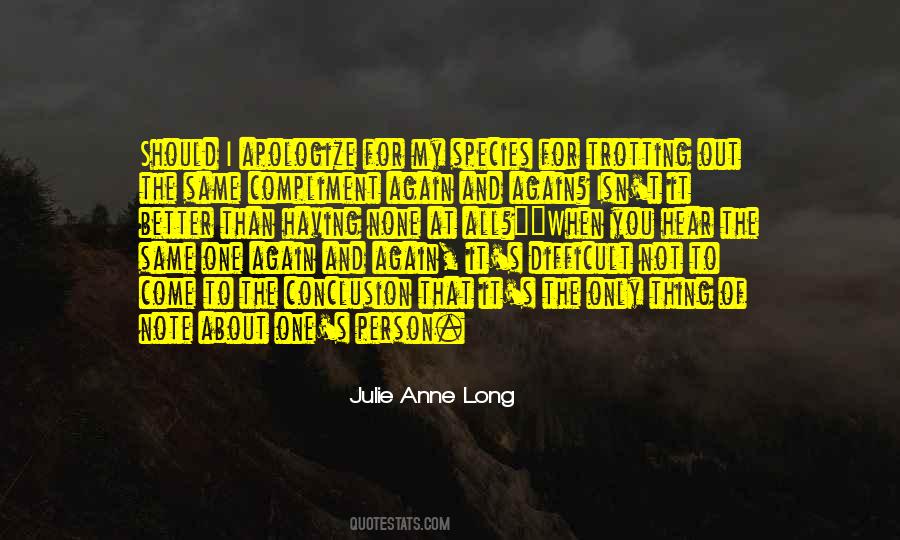 #75. A book is as dangerous as any journey you might take. The person who closes the back cover may not be the same one that opened the front one. Treat them with respect. - Author: Mark Lawrence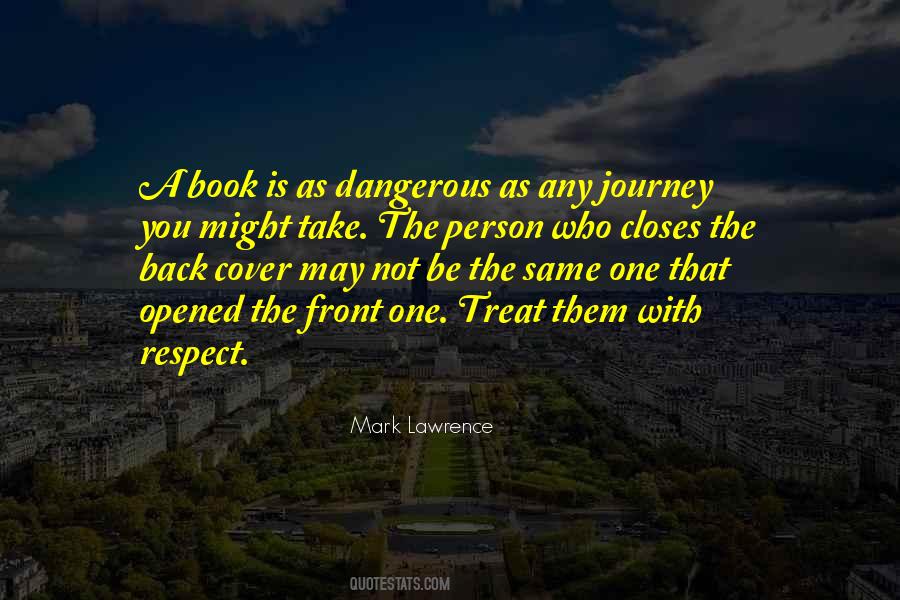 #76. The guarantee of equal protection cannot mean one thing when applied to one individual and something else when applied to a person of another color. If both are not accorded the same protection, then it is not equal. - Author: Lewis F. Powell Jr.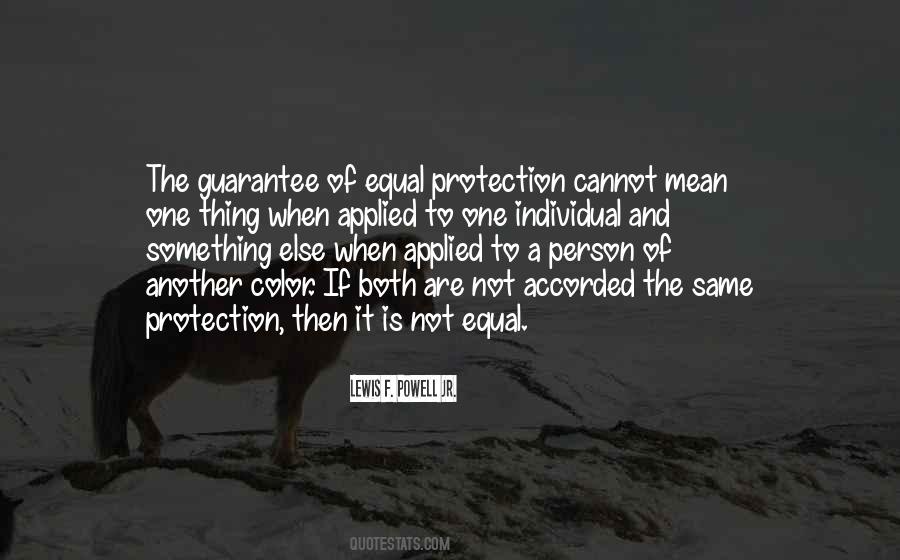 #77. It is setting goals and trying to be a business person, but at the same time not losing sight of who you are writing songs for and what your goals are as a songwriter. So believe me, if you think I've got it down I don't it is a constant struggle. - Author: Christine Lavin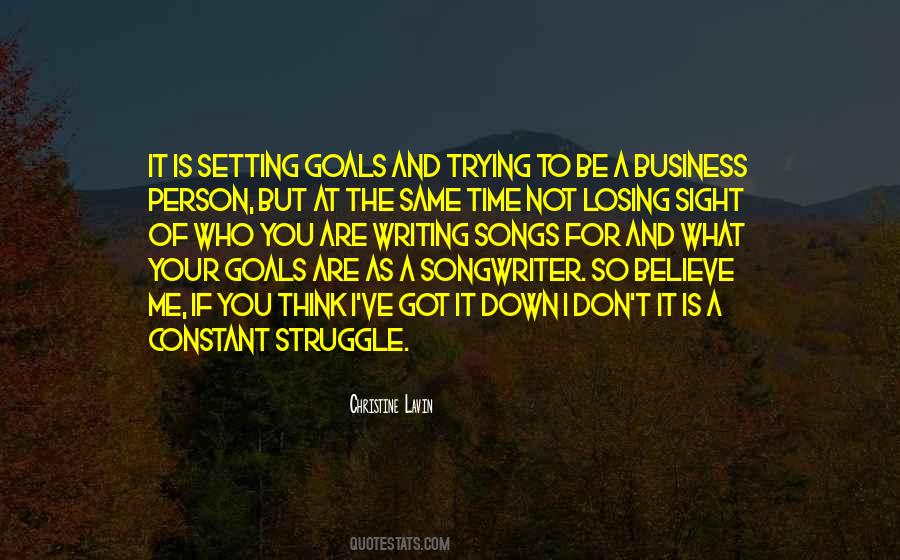 #78. We want people to represent us in politics - and in love and economics too. When people represent us fully, they are ourselves and are not ourselves. When an object is simultaneously the same as and different from the person concerned with it - or considering it - aesthetics is there. - Author: Eli Siegel
#79. Christians should not compromise in hating sin, says Lewis. Rather we should hate the sins in others in the same way we hate them in ourselves: being sorry the person has done such things and hoping that somehow, sometime, somewhere, that person will be cured. - Author: Philip Yancey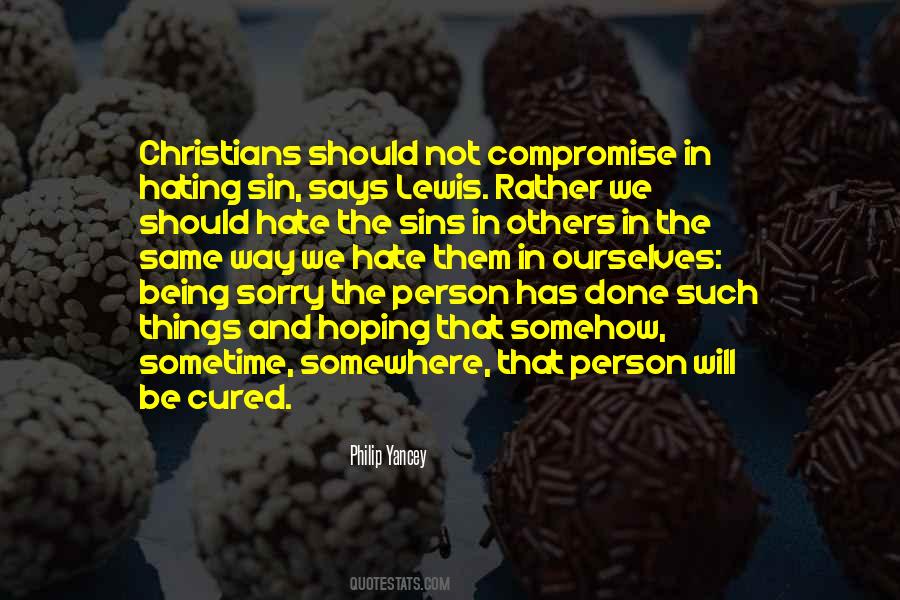 #80. Samuel Johnson once said that remarrying (and he's not talking about marrying the same person here, just remarrying) is the "triumph of hope over experience." So for me, remarrying the same person is the triumph of nostalgia over judgment. - Author: Carrie Fisher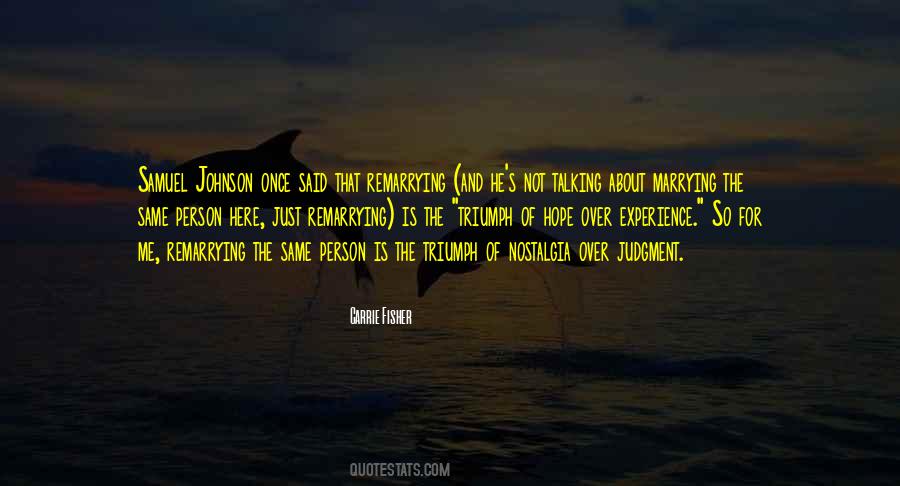 #81. I always have the same thing - which is the fear of not getting a laugh - that I've had from the time I was a kid; obsessing over, 'This joke doesn't quite work, we've got to get this right.' I was always like that, whether I was a member of a six-person ensemble or whether I'm the center of a show. - Author: Matthew Perry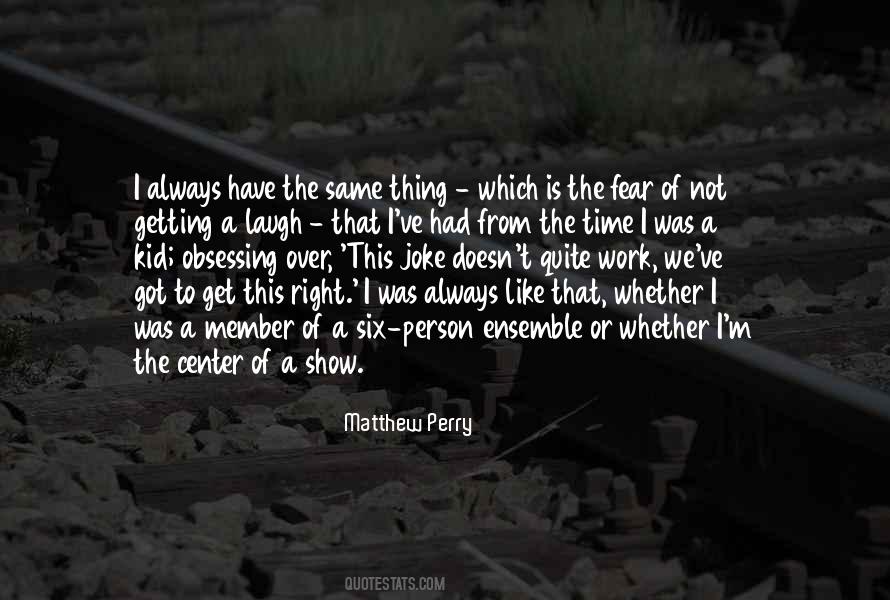 #82. It's the person, Ma, not the place. If you left here, you'd have been the same anywhere else.'( ... )'If I ever leave this place' - I swallow - 'I'll make sure I'm better here first. - Author: Markus Zusak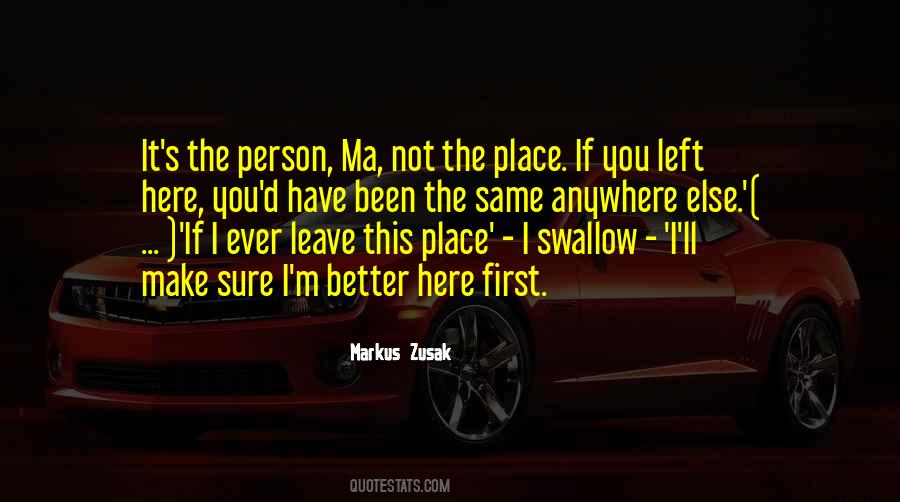 #83. A person is not the same in his life at all times. Your consciousness is developing all the time. When I started making 'El Topo,' I was one person. When I finished that picture, I was another person. - Author: Alejandro Jodorowsky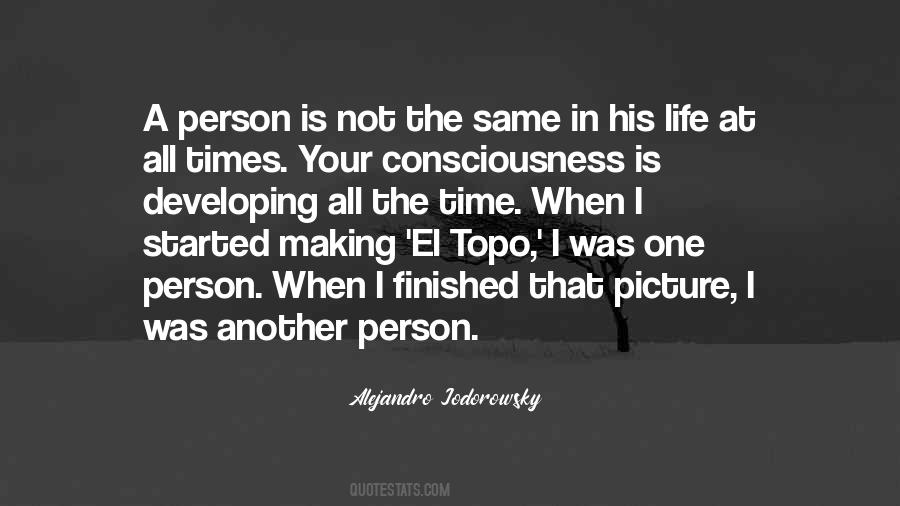 #84. Anonymous is like an amoeba: it's got too many different operations run by truly different people which might not share a single person with another operation, but they use the same branding - they are part of the Anonymous brand, just like al-Qaida. - Author: Mikko Hypponen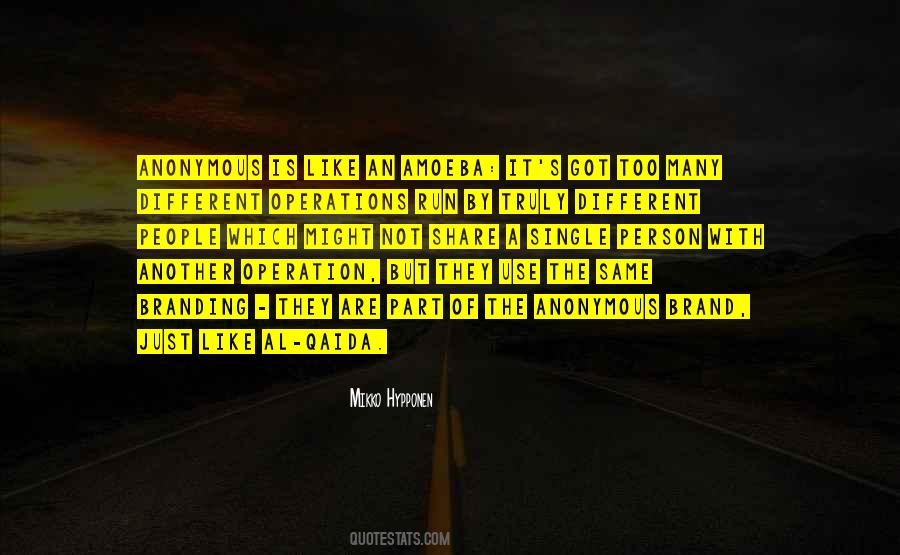 #85. The person I am and the person I wish to be are not the same. But if the gap between both decreases day-by-day, then it is okay. - Author: Richelle E. Goodrich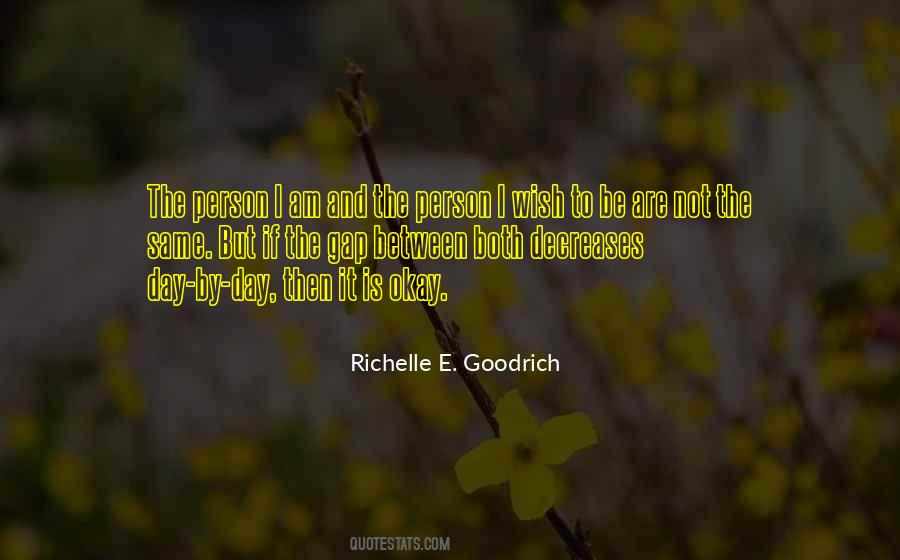 #86. The world each person creates for himself is a distinctive world, not the same world others occupy. - Author: Dean C. Barnlund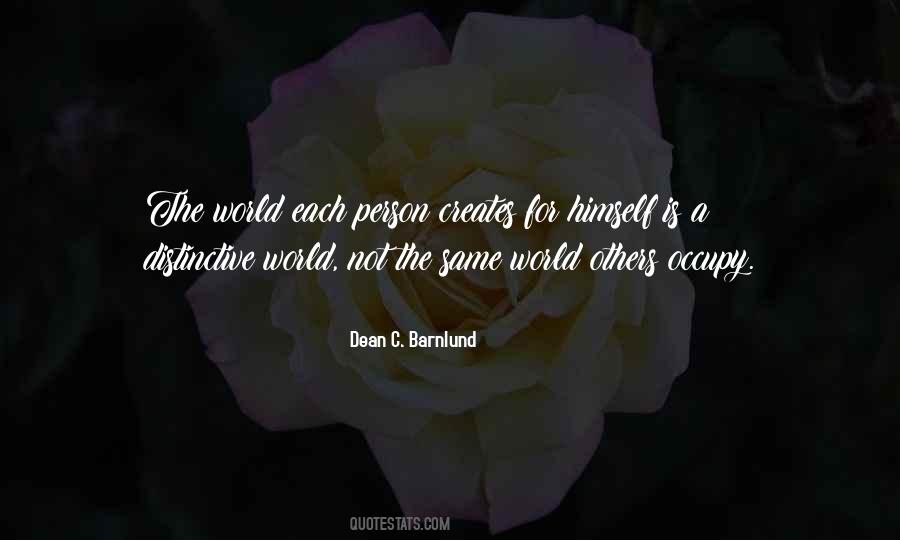 #87. I'm a very understanding person. That's something I was raised to be aware of - not everybody has the same shoes to fill or walks the same way or is on the same path. - Author: Dianna Agron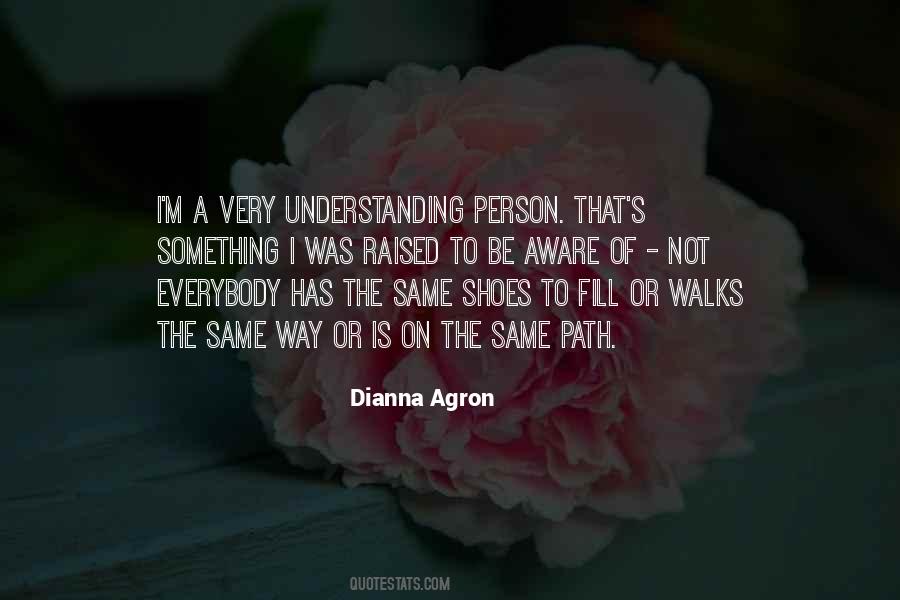 #88. Not every person has the same kinds of talents, so you discover what yours are and work with them. - Author: Frank Gehry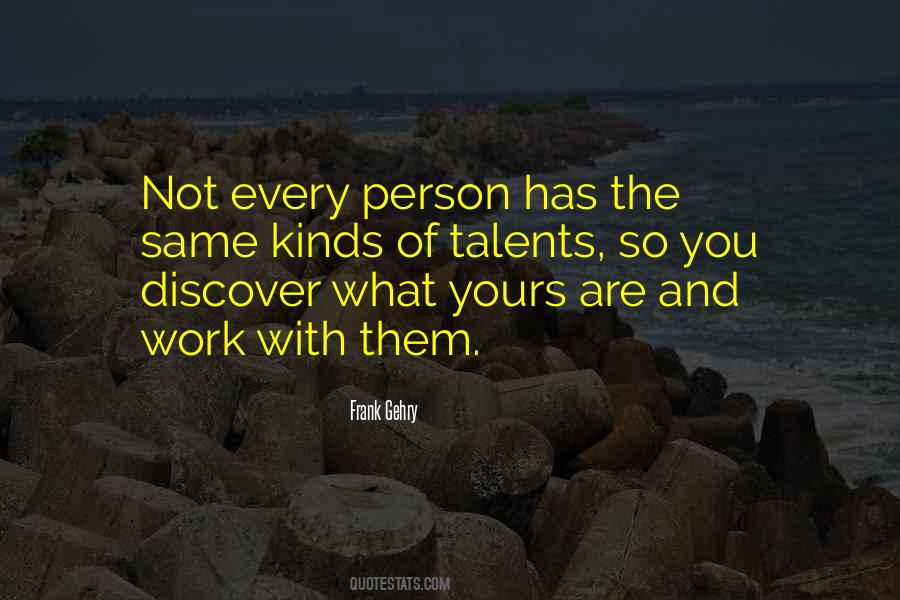 #89. I don't think I've become arrogant. I'm pretty much the same person. I think the world has changed. I think I'm pretty consistent. Because you stick to what you believe does not make you arrogant. - Author: Raymond Kelly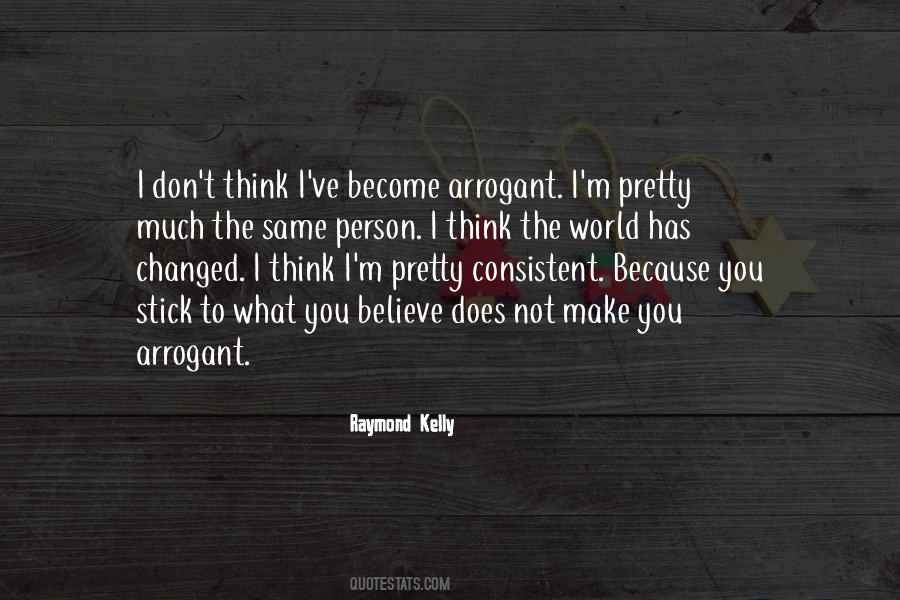 #90. Being rude to someone loving all the time can make your loving behavior same as your rude one for that person. So you should not always be rude in small mistakes - Author: Pawan Mehra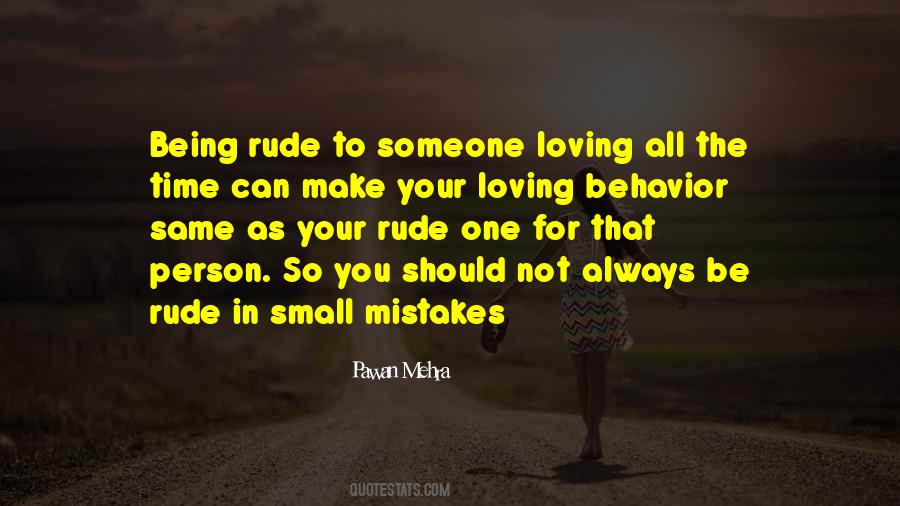 #91. Making negative assumptions based on a person's weight is never healthy. Overweight or thin, it sends the same damaging message: Your body does not conform. - Author: Melissa Milne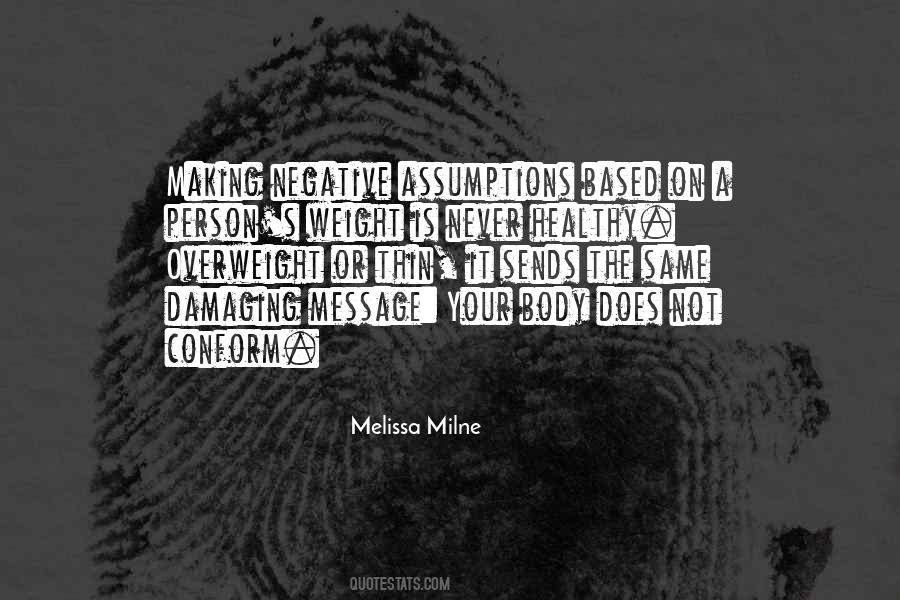 #92. Zac Efron is my obsession, we're the same person. We're not actually here, it's like Janet and Michael Jackson. He just puts on his wig and a dress, and it's me, and you don't know that. It's one of the greatest mysteries of all time. - Author: Megan Fox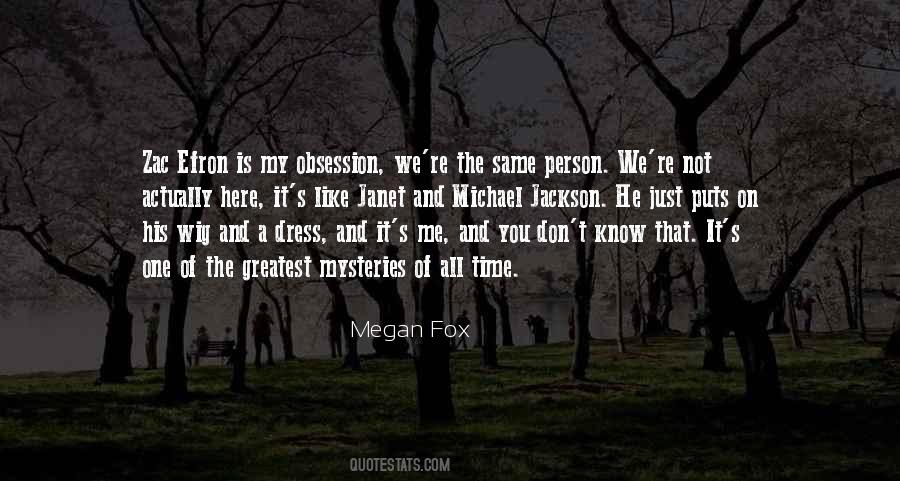 #93. As a quick aside, phantoms of the living are not unheard of. There are plenty of documented cases in the paranormal case literature that detail apparitions of people who are not actually dead. But they rarely appear within sight of the physical person themselves, and certainly not at the same time. - Author: Richard Estep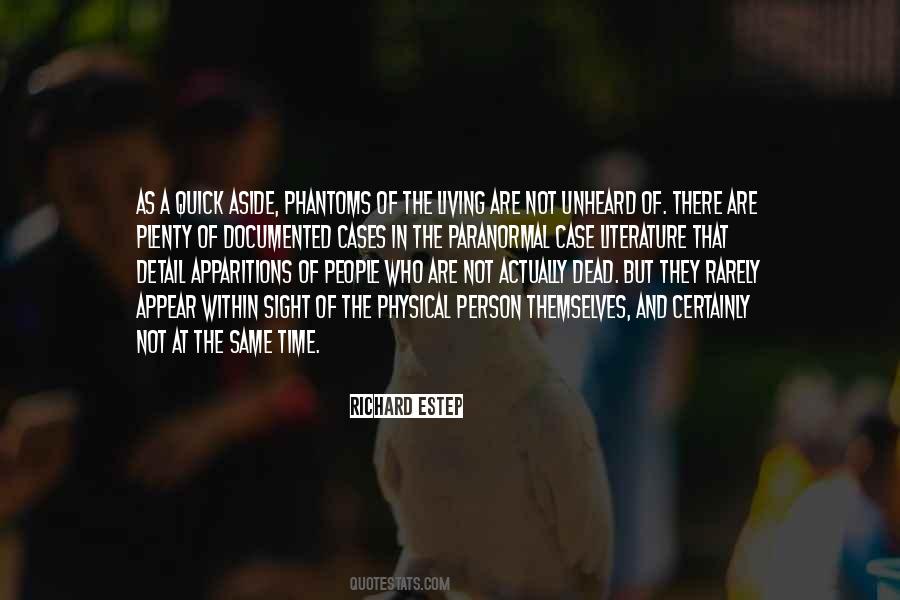 #94. He is not the same person as when we
met, but ... neither am I. Time has refined us, but instead of pushing us apart, we're closer than ever. - Author: Ann Aguirre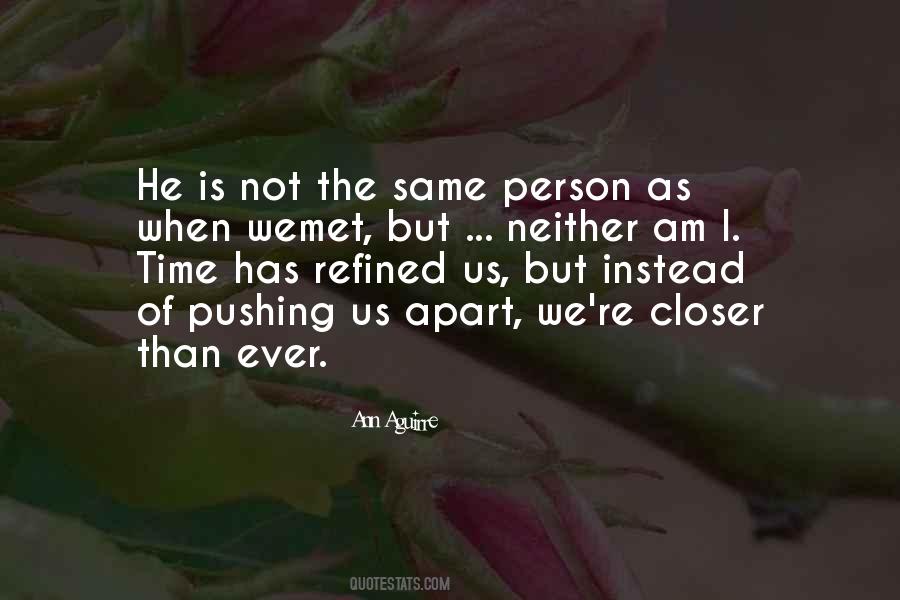 #95. One quiet day when we have grown old, we will realize we are not the same person we once were, because once you learn to truly love one human being completely, loving everybody else comes so much easier. - Author: Janene Wolsey Baadsgaard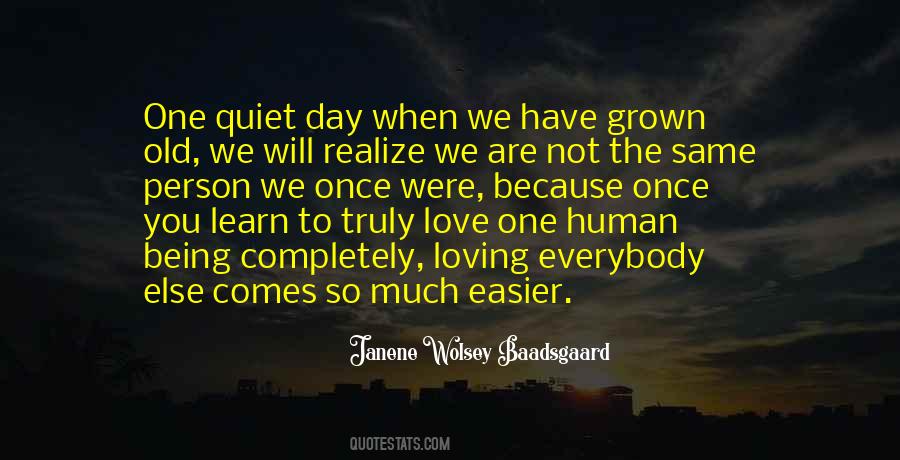 #96. An intimate friend and a hated enemy have always been indispensable requirements for my emotional life; I have always been able to create them anew, and not infrequently my childish ideal has been so closely approached that friend and enemy coincided in the same person. - Author: Sigmund Freud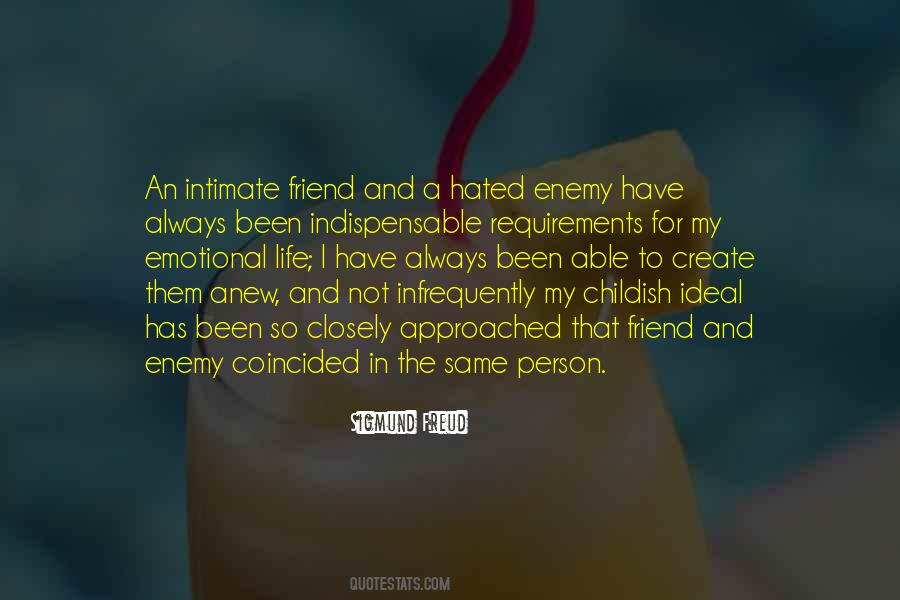 #97. This was not a religion where people came together to focus on the same deity; it was a religion where each person projected a hologram of the divine based on their subconscious issues and desires, and worshipped that. - Author: Jennifer Fulwiler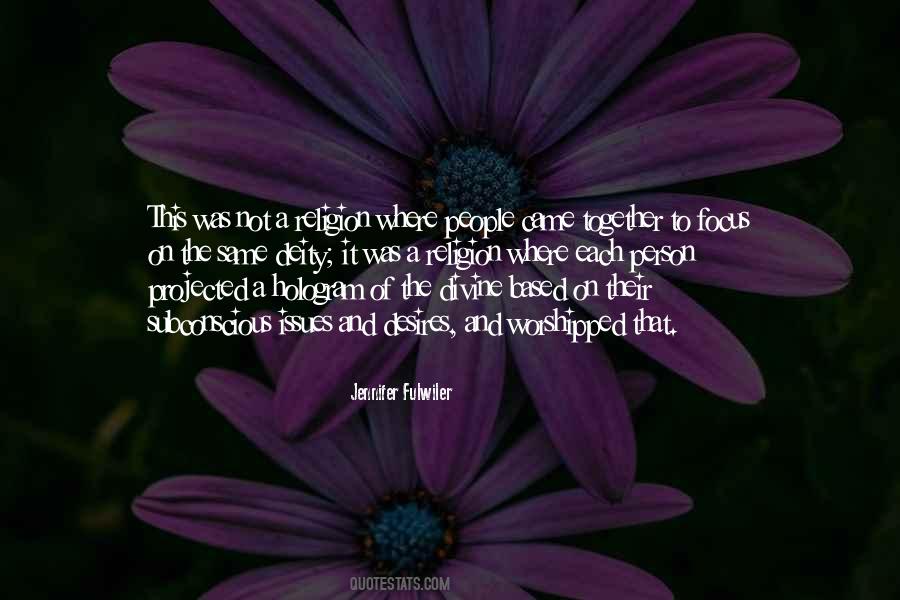 #98. What's the best part of acting? It's the indescribable feeling of being someone you are and someone your not, all at the same time. Acting is finding a character that's in you, forgetting yourself, and then bringing out this whole other person. Character is all that matters when you're on a stage. - Author: Chris Coppernoll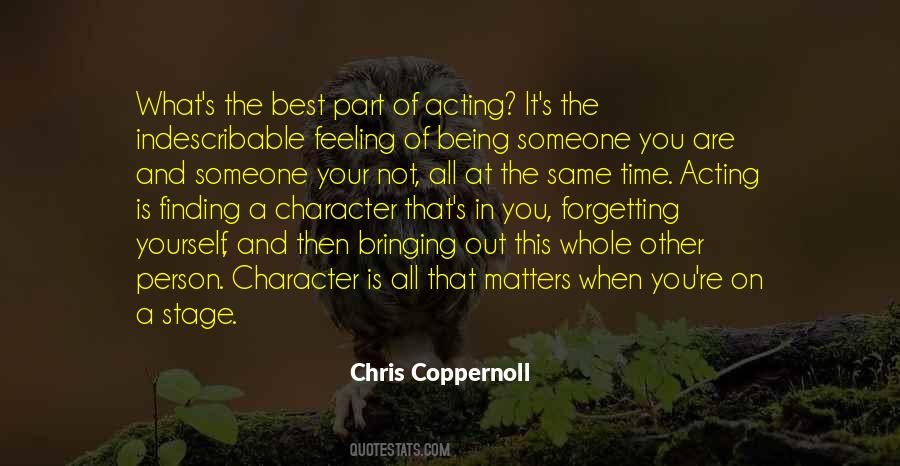 #99. But love is a fluid thing. It's not the same for every person. The concept is. The reality isn't. When you hear people talking, they're usually trying to validate their own perception of what love is, or what it means to be in love. - Author: Brandon Shire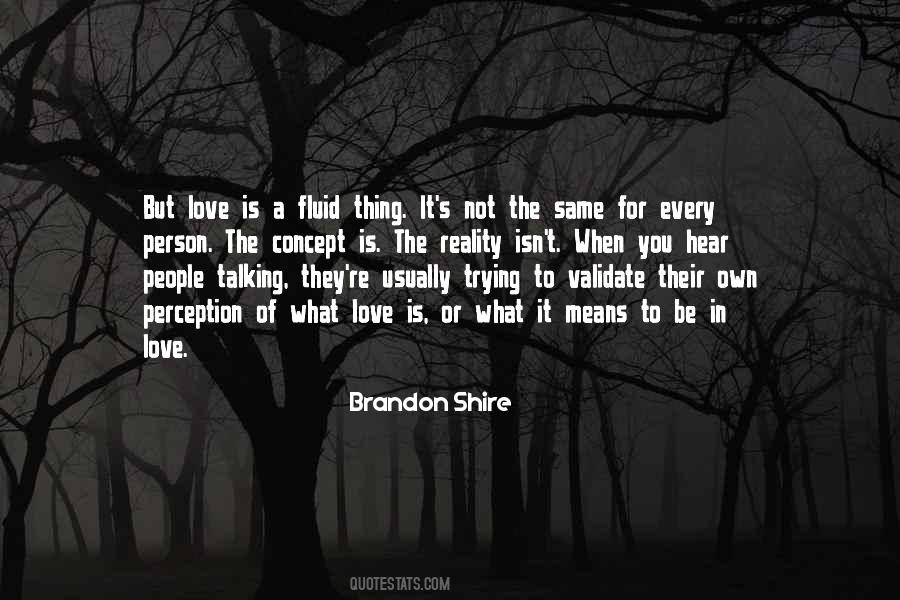 #100. To analyze or assess a person's failings or deficiencies,' he declared to himself, 'is useless, not because such blemishes are immovable, but because they affect the mass of beholders in diverse ways. Different minds perceive utterly variant figures in the same being. - Author: A.E. Coppard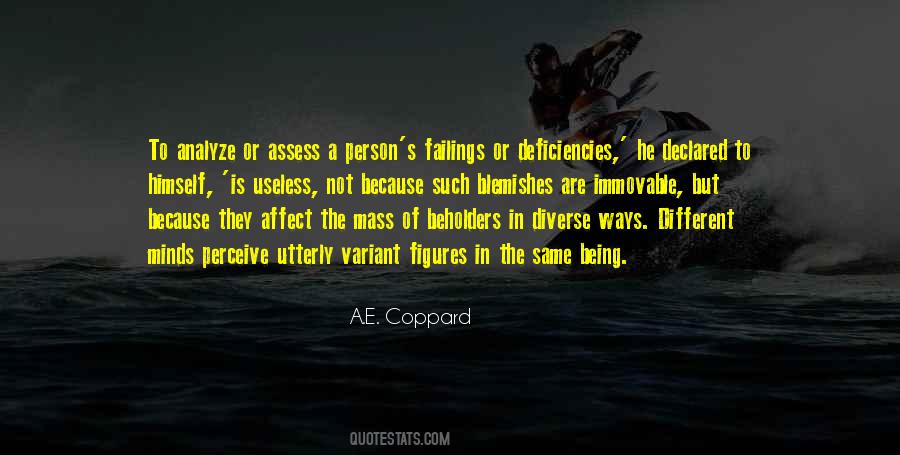 Famous Authors
Popular Topics