Never Let You Down Famous Quotes & Sayings
List of top 100 famous quotes and sayings about never let you down to read and share with friends on your Facebook, Twitter, blogs.
Top 100 Never Let You Down Quotes
#1. Never put anything past anyone. Stop expecting people to be as genuine as you are, it's never the case & it will almost always be a let down. - Author: Behdad Sami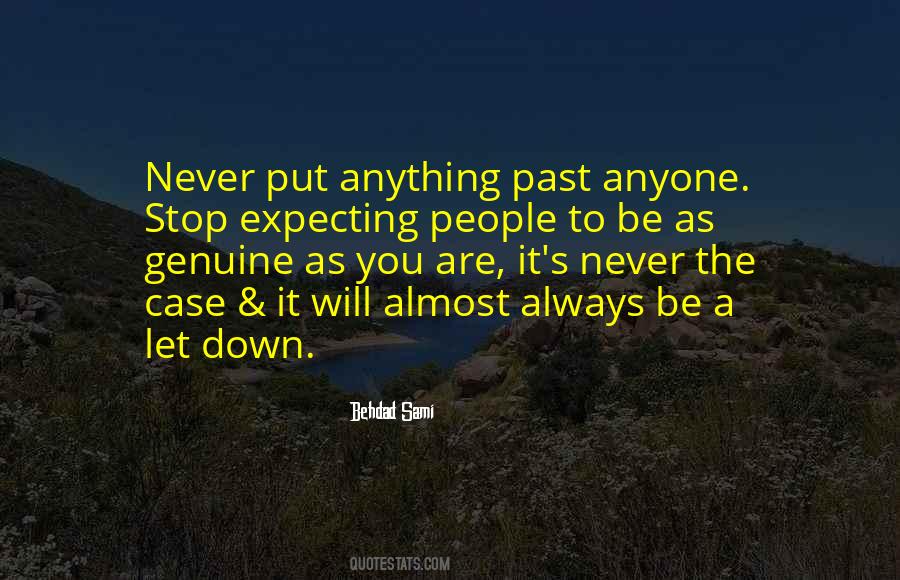 #2. I am so lucky. I used to think trust means "never let you down", but really, it's about love. Family can't always help fix a difficult situation, and everybody makes mistakes. We shouldn't expect perfect. But we can hope that the people we love love us enough to try to make it right. - Author: Miranda Kenneally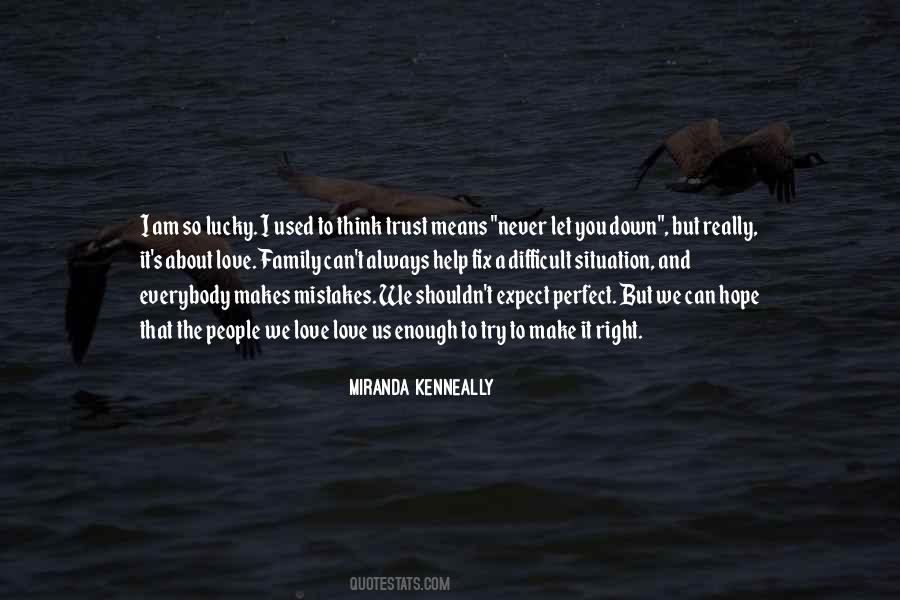 #3. My story, or my life or my legacy can hopefully show [fans] that once you're down, that doesn't mean you're down forever. You never let up. - Author: Chris Brown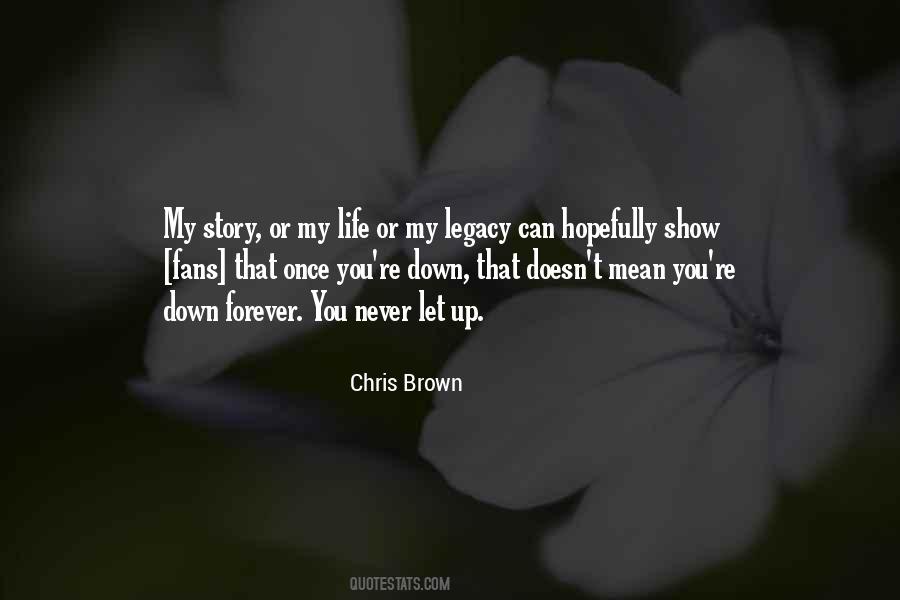 #4. When you get used to being let down, you will never be ashamed of failure. - Author: Uzoma Nnadi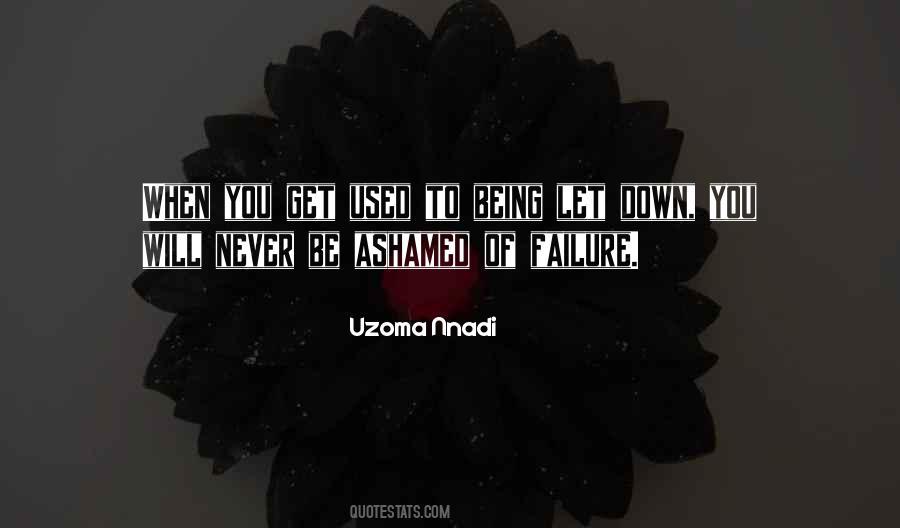 #5. This is a terribly dangerous journey" said Bjorn, "and few would have the courage to make it except you and me". His wife said, "if you let Kari down, you had better realise that you will never be allowed into my bed again, and that my kinsmen will force a division of property between us - Author: Anonymous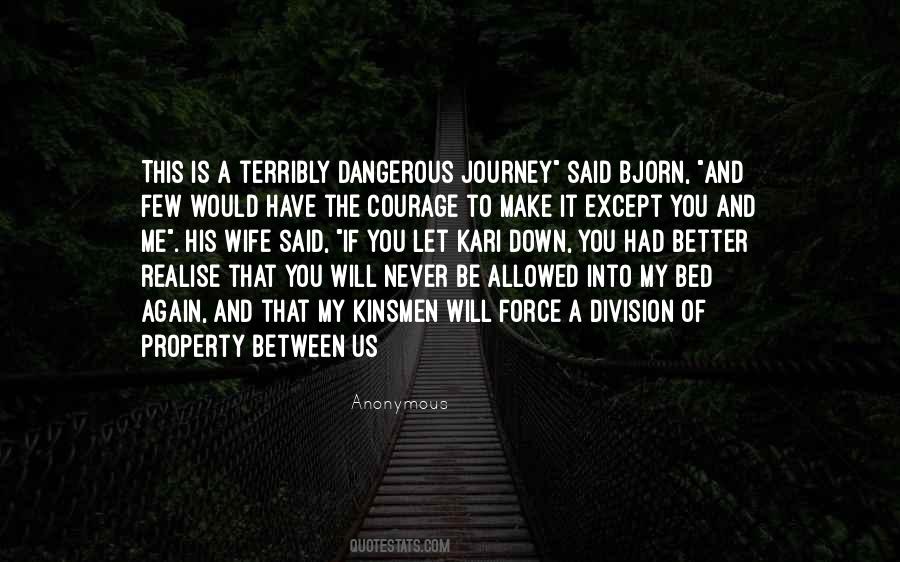 #6. God didn't give us minds to be able to understand everything. That's part of the mystery. Now, you can drive yourself crazy tryin' to understand something you were never meant to figure out down here, or you can just trust Him 'til He's ready to let you in on it. 'Til then, just enjoy the mystery. - Author: Renee Riva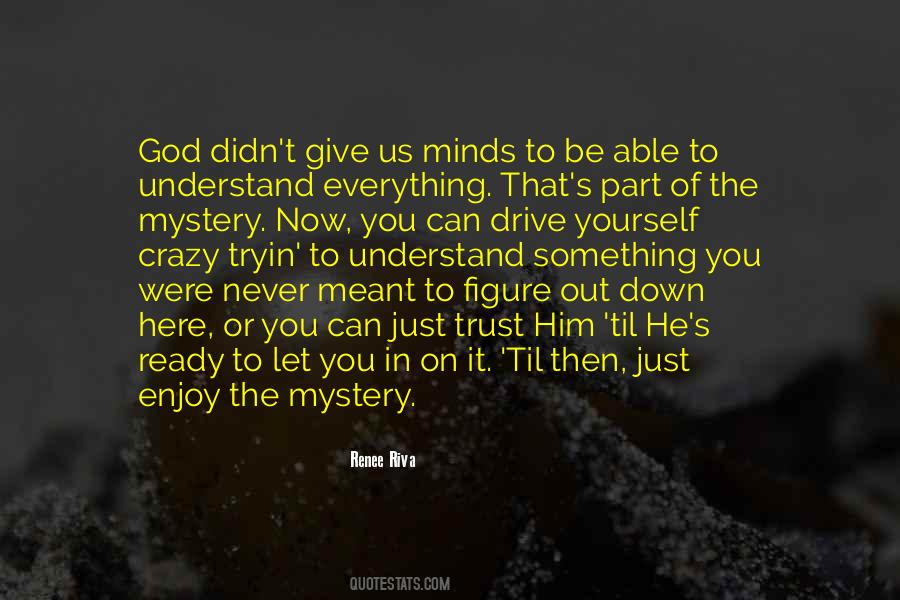 #7. I tapped the largest of the charms, a shark's tooth capped in silver. "It's never let me down yet." "How do you know?" Jasmine was smirking in an irritating fashion. "I'm not dead," I replied. Daryus - Author: Amy Sanderson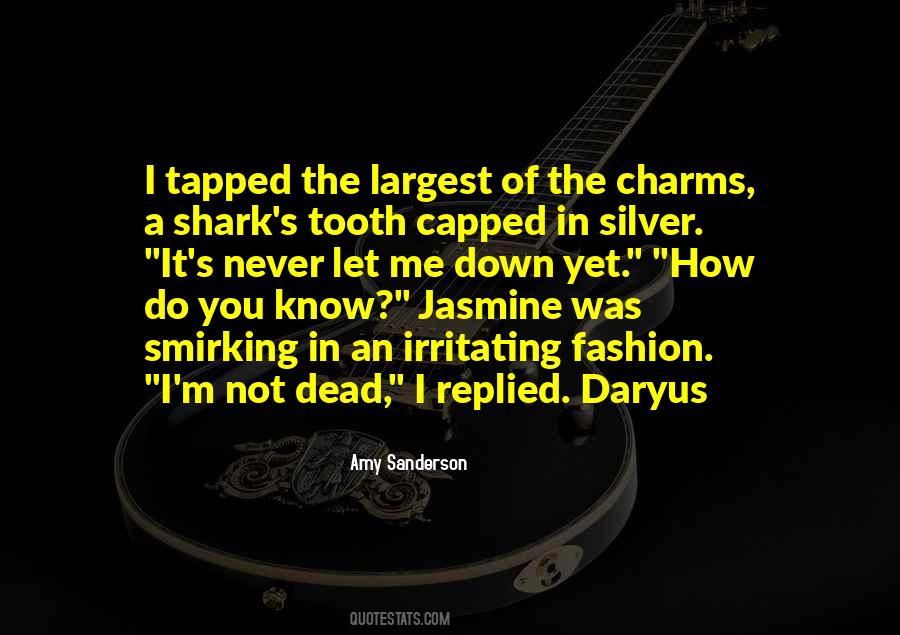 #8. A woman could always count on her girl pals, Hope thought as she turned to the door. They never let you down. - Author: Nora Roberts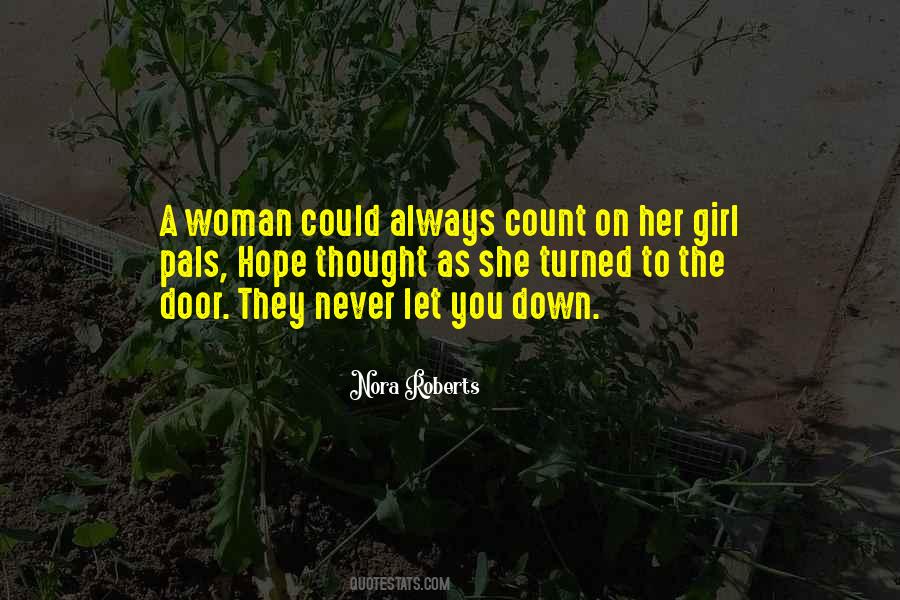 #9. Trusting God is the answer. He will never let you down. - Author: Larry Burkett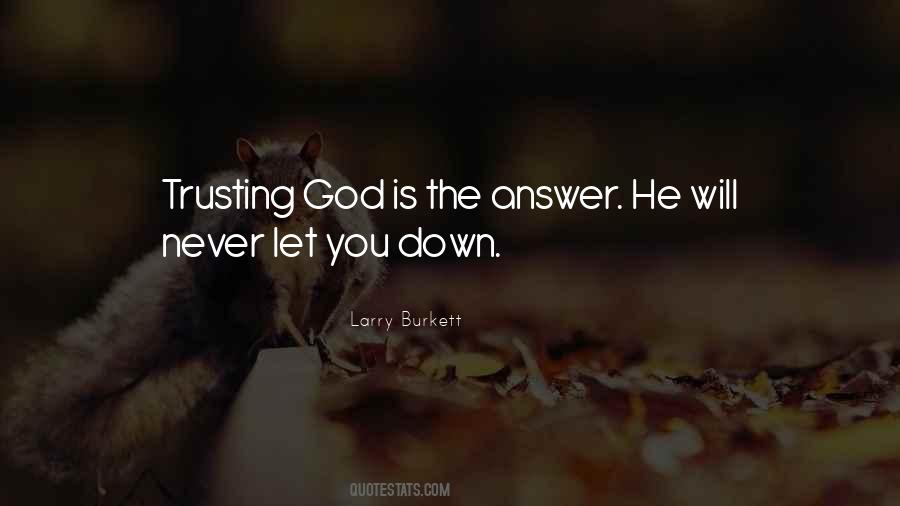 #10. You have never let me down. You are always there for me. You are the best part of me, who I want to be, and every time I look at you I can hardly believe how lucky I am to be with you and I hope you know that. - Author: Dawn Metcalf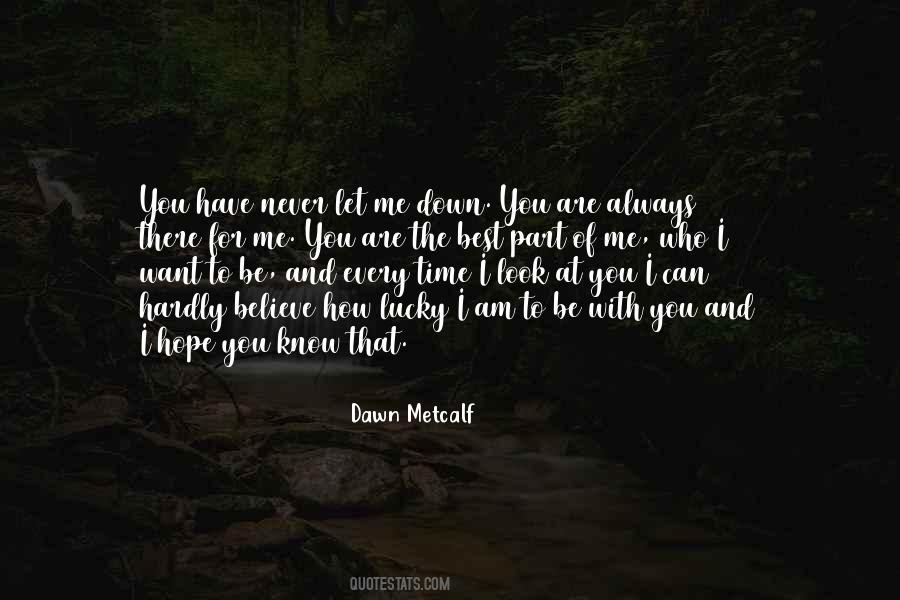 #11. Depend on yourself and you'll never be let down. - Author: Madhuri Dixit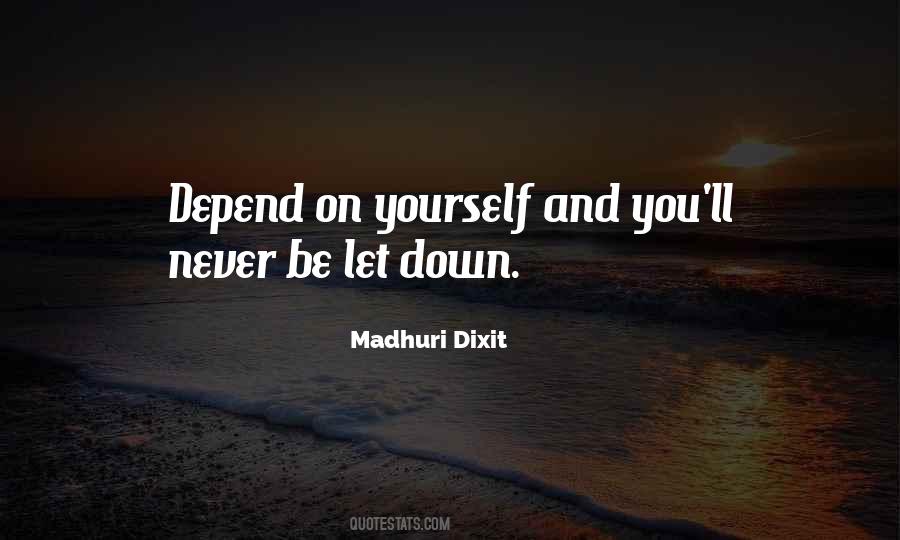 #12. That difficult start drove me on to inspire children and let them know that it is never to late to repair a bad experience at school, and once you get your head down and start to read books, you can really achieve. - Author: Johnny Ball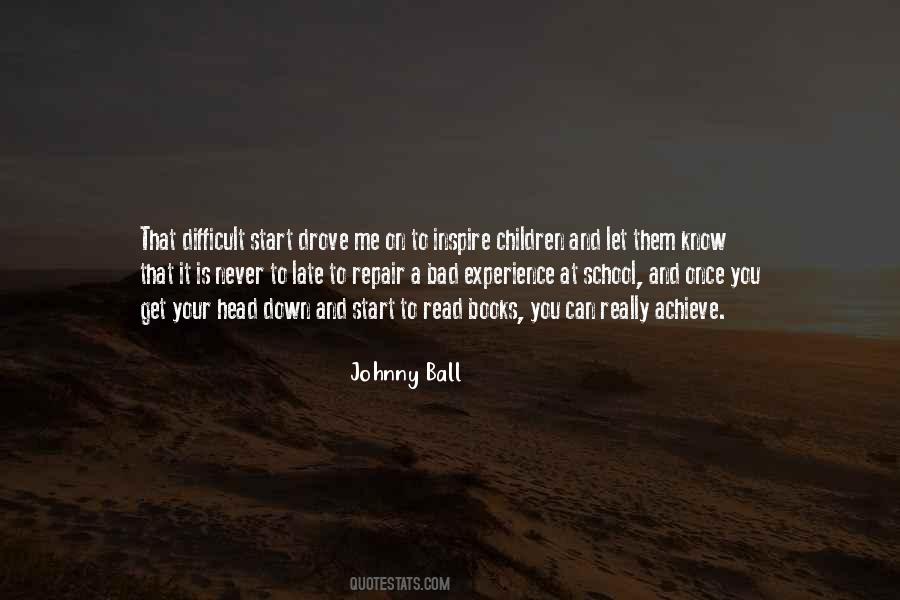 #13. You ought to run the hardest when you feel the worst. Never let the other guy know you're down. - Author: Joe DiMaggio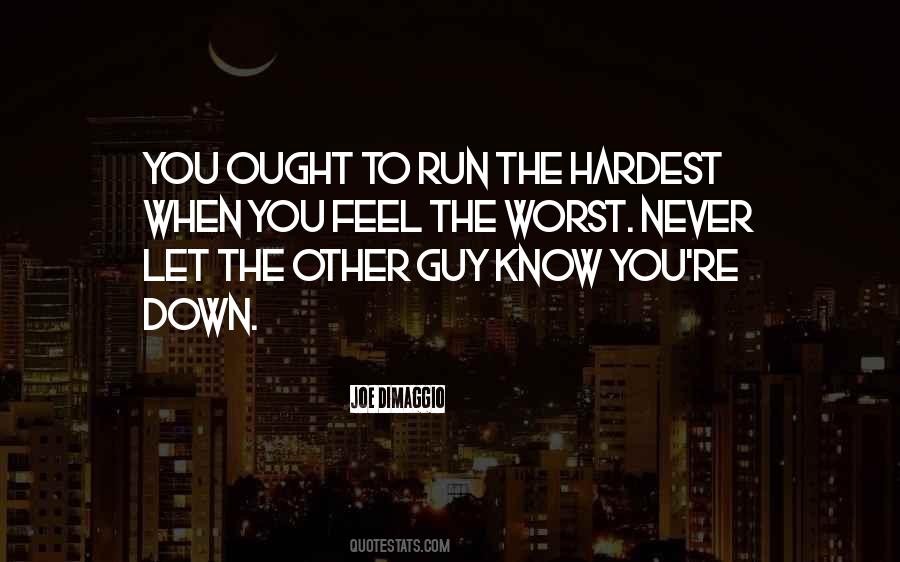 #14. Then give some of it to me. Let me bear it for you. I'm strong enough. I will be your anchor. And I will never let you down. - Author: M. Malone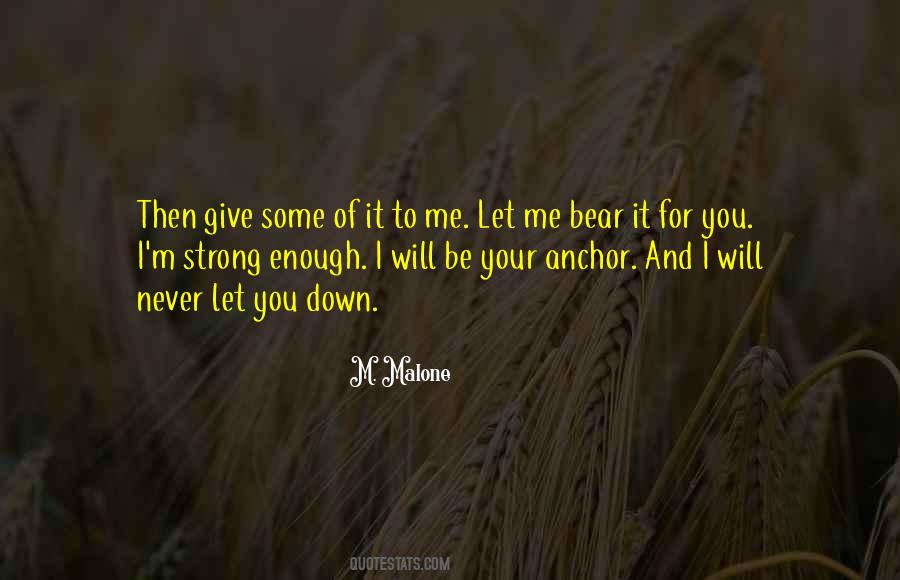 #15. Everyone has to start somewhere. If you let people bring you down now, you'll never know how high you could climb. And you owe it to yourself to try. - Author: Michelle Madow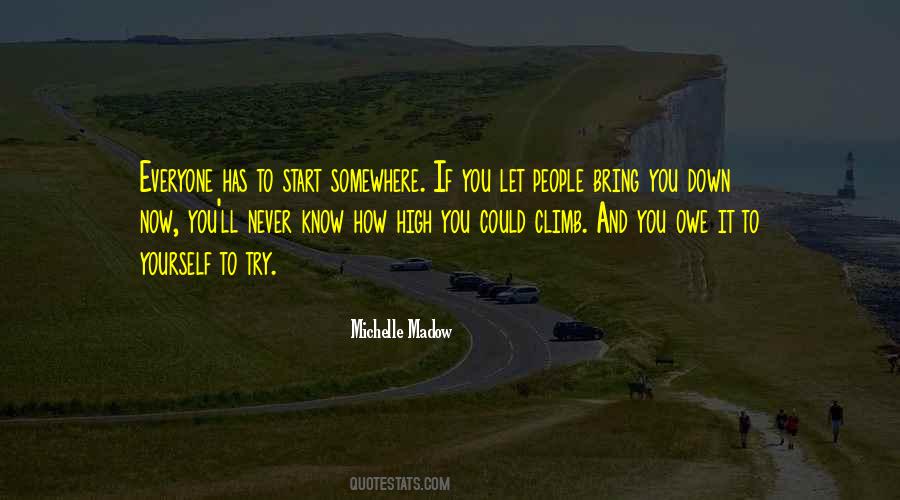 #16. Just never give up. Try to believe in yourself and don't let negativity wear you down. - Author: Orianthi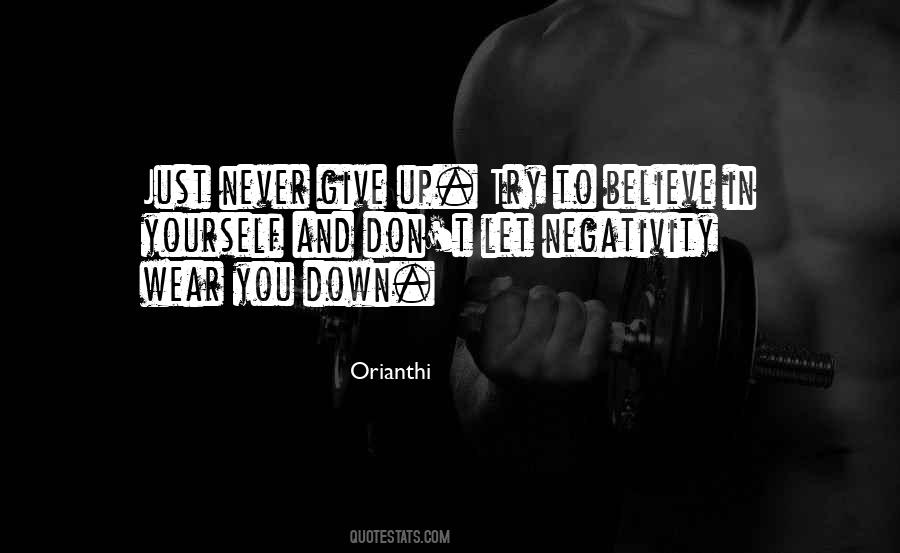 #17. I crouched down beside her bed and lightly touched her forehead. Dont' worry, Nik. I'll never let you go. Never. - Author: Brodi Ashton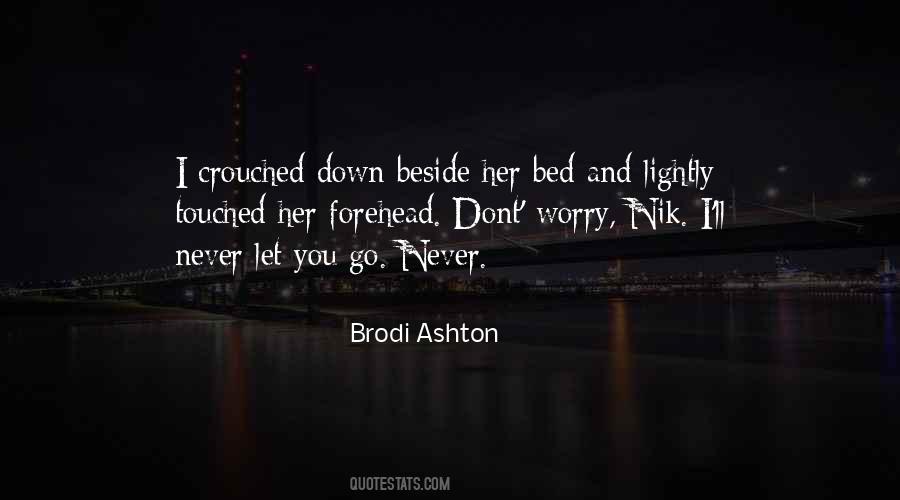 #18. The only never you should focus on is that God will never let you down. - Author: Charles F. Stanley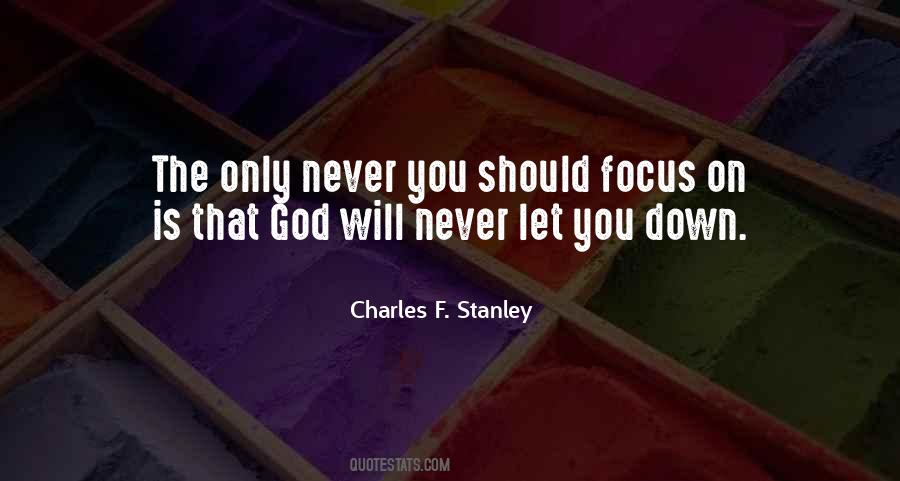 #19. Bones let out a snort. "I didn't doubt your actions for a moment. You've never been able to turn down playing the hero to rescue me." Bastard, I thought, and hoped that got through loud and clear. - Author: Jeaniene Frost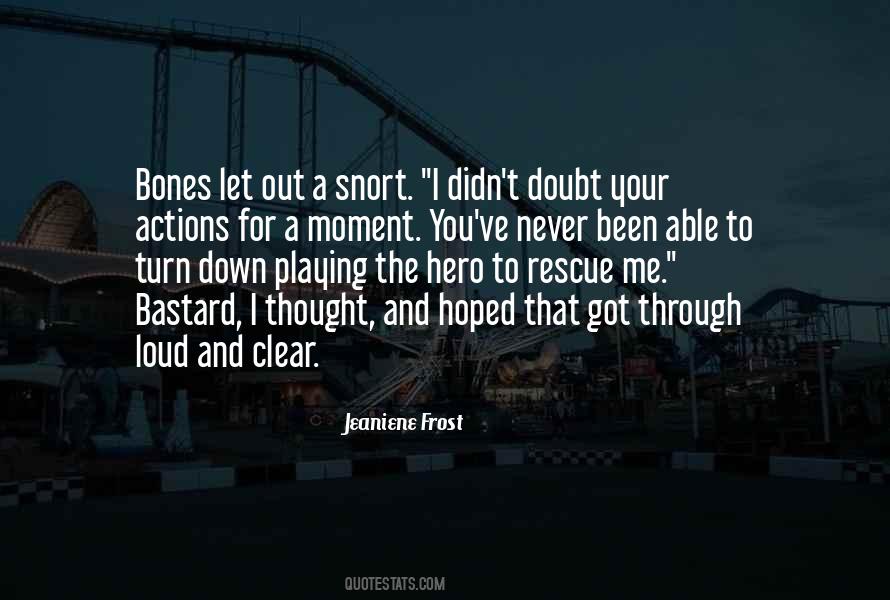 #20. As years and experiences add up and life begins to wear us down, it's easy for the vibrancy of our passion and purpose to fade ... Never let your best days be behind you. In my mind, they're always ahead. - Author: Shawn Anderson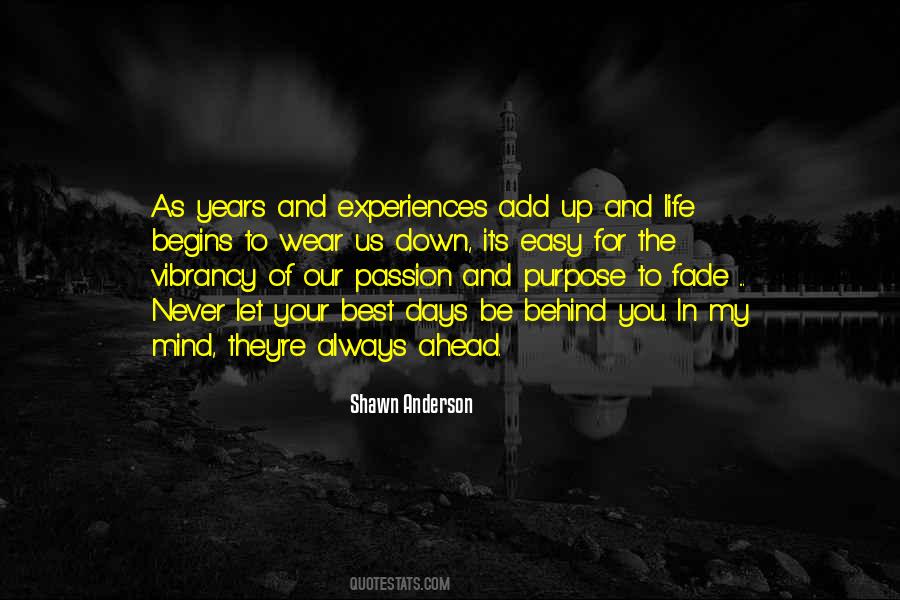 #21. Fantasies hurt. They hurt hard and deep. They lifted you up to places that you could never reach, then they let you down with a crash. - Author: Peter Lerangis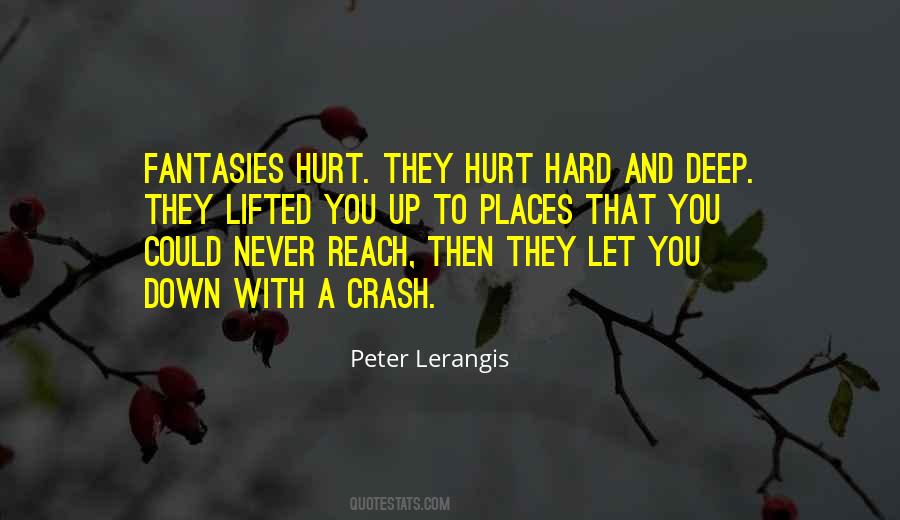 #22. Time cast a spell on you but you won't forget me, I know I could have loved you, but you would not let me. I'll follow you down 'til the sound of my voice will haunt you, you'll never get away from the sound of the woman that loves you - Author: Stevie Nicks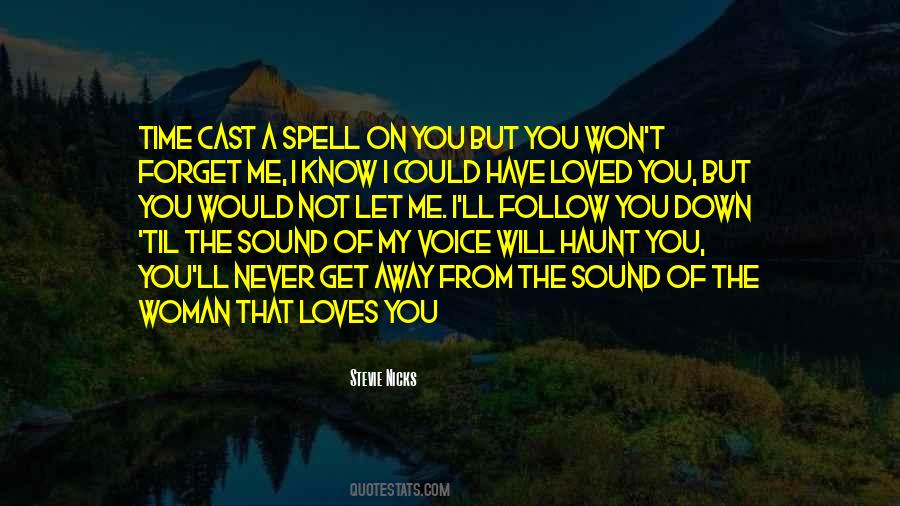 #23. When you lose a loved one, you come to these crossroads. You can take the path that leads you down the aisle of sadness, or you can say, 'I'm never going to let this person's memory die. I'm going to make sure everything they worked for continues.' - Author: Bindi Irwin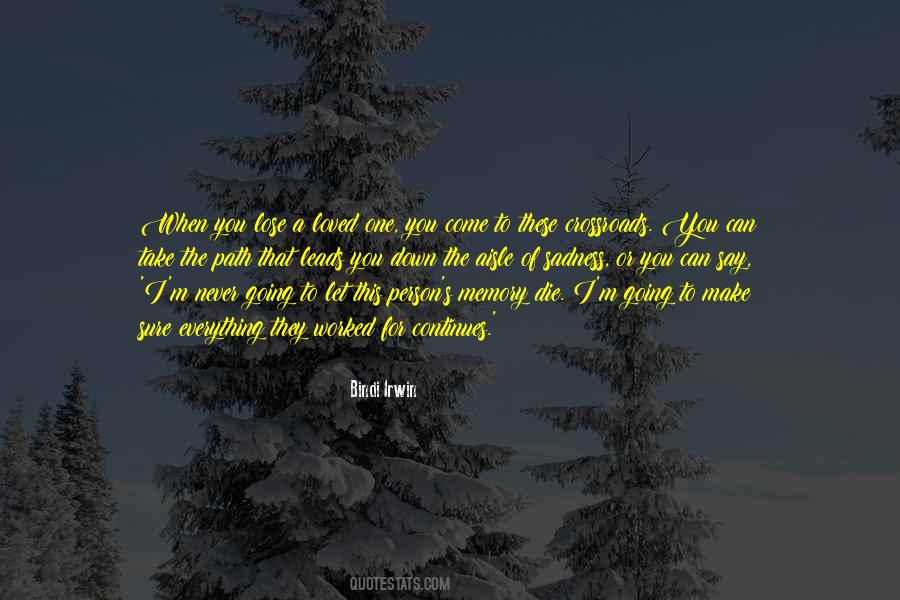 #24. People were, as he had long suspected, uniformly vile and rotten, vastly inferior to things. Objects never let you down. - Author: Ruth Rendell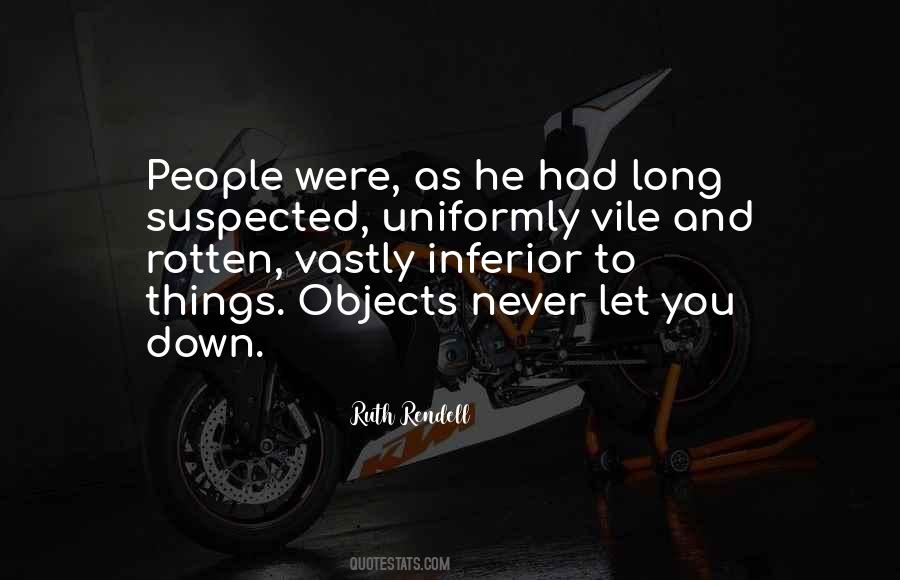 #25. I believe in numbers. The ones you can see and the ones you can't. The real and the imaginary, the rational and the irrational, and every point on lines that go on forever. Numbers have never let me down. They don't waffle. They don't lie. They don't pretend to be what they're not. They're timeless. - Author: Amy Harmon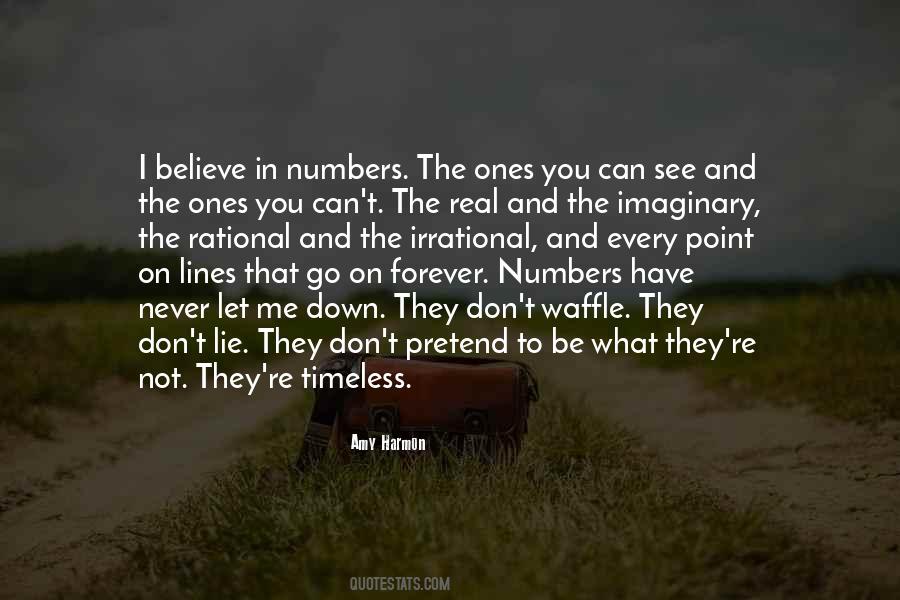 #26. Love will never let you down, if you don't give it up - Author: Benny Bellamacina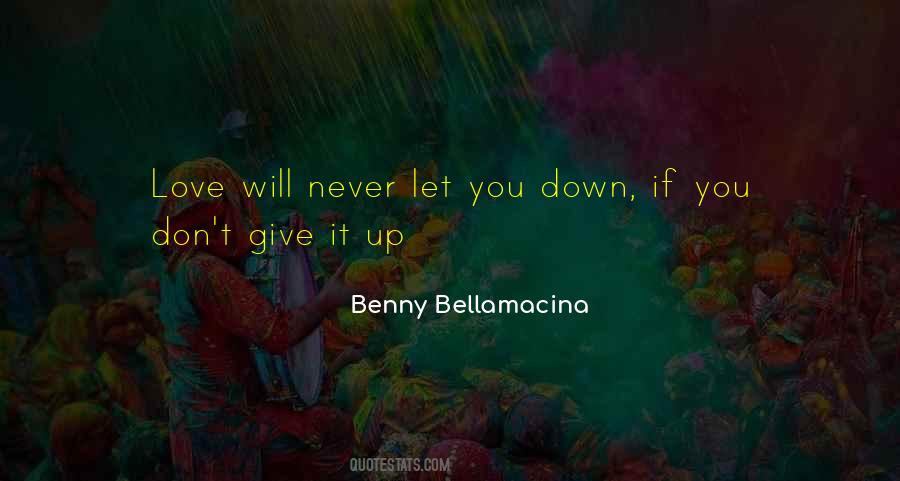 #27. Trust. We stake our lives on it, but it's a subject that not even the Gallagher Academy can teach. When do you let your guard down? Who do you let in? And I knew at that moment, as I sat beside my mother, bathing in the warm spring light, that those were the questions a good spy never stops asking - Author: Ally Carter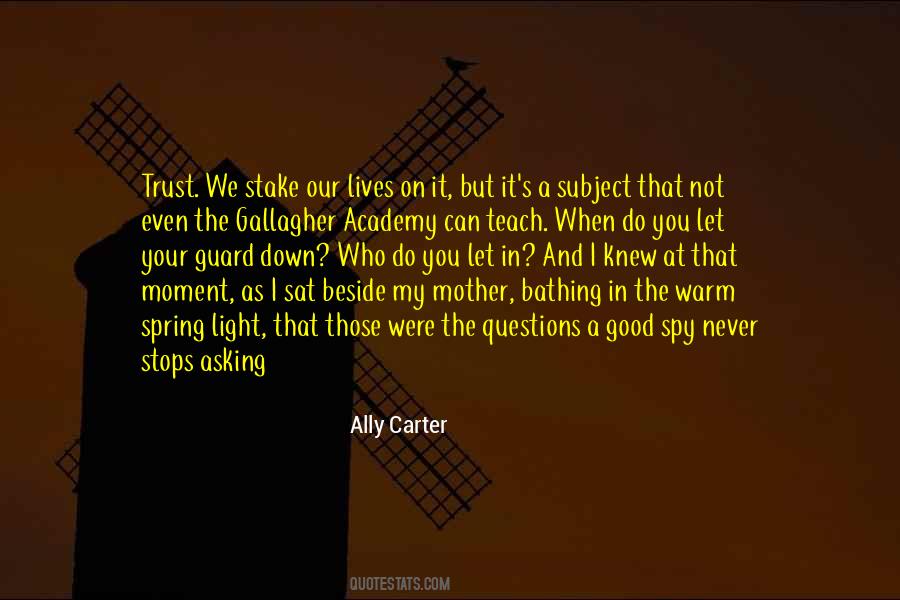 #28. Never go down to the darkest room. Stay far away from the rotting coffin. If you want to live through the night, let the devil sleep. - Author: John Verdon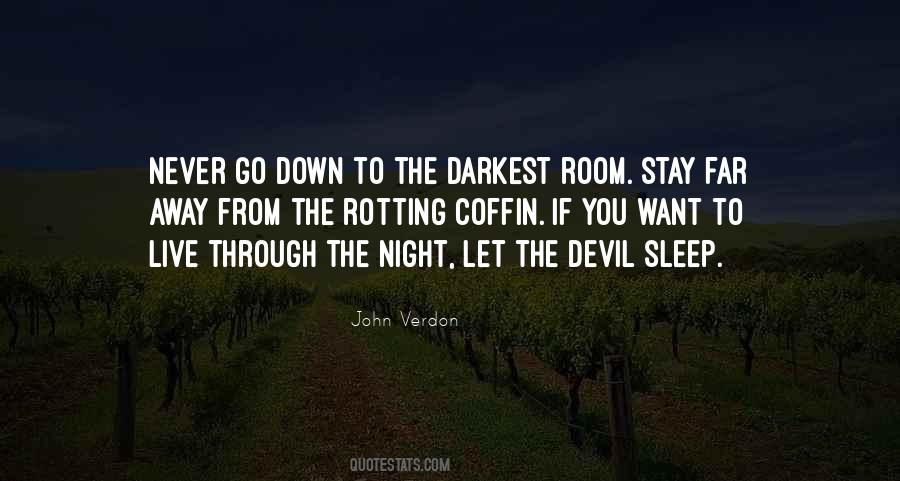 #29. Baby, it's never an insult to be called what somebody thinks is a bad name. It just shows how poor that person is, it doesn't hurt you. So don't let Mrs Dubose get you down. She had enough troubles or her own. - Author: Harper Lee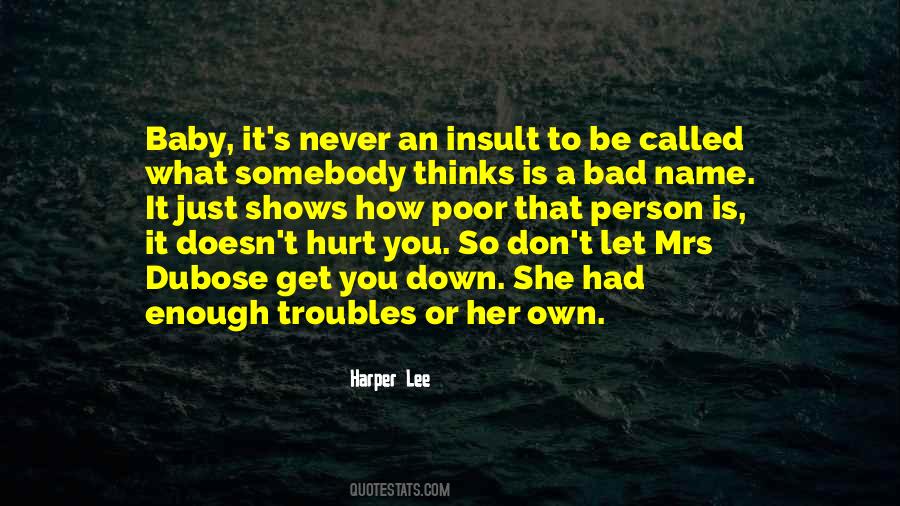 #30. You either trust me or you don't. I've never let you down, and I won't walk away unless you make me. Period. Now, unless you have a real emergency, I'd like to get back to my vacation. And my corpse, thanks. - Author: Jeaniene Frost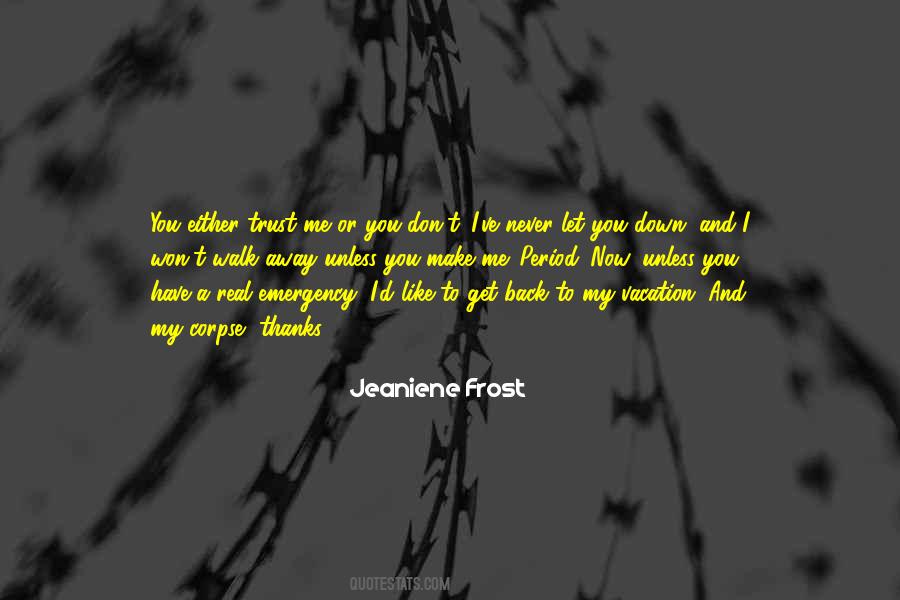 #31. I've never known a musician who regretted being one. Whatever deceptions life may have in store for you, music itself is not going to let you down. - Author: Virgil Thomson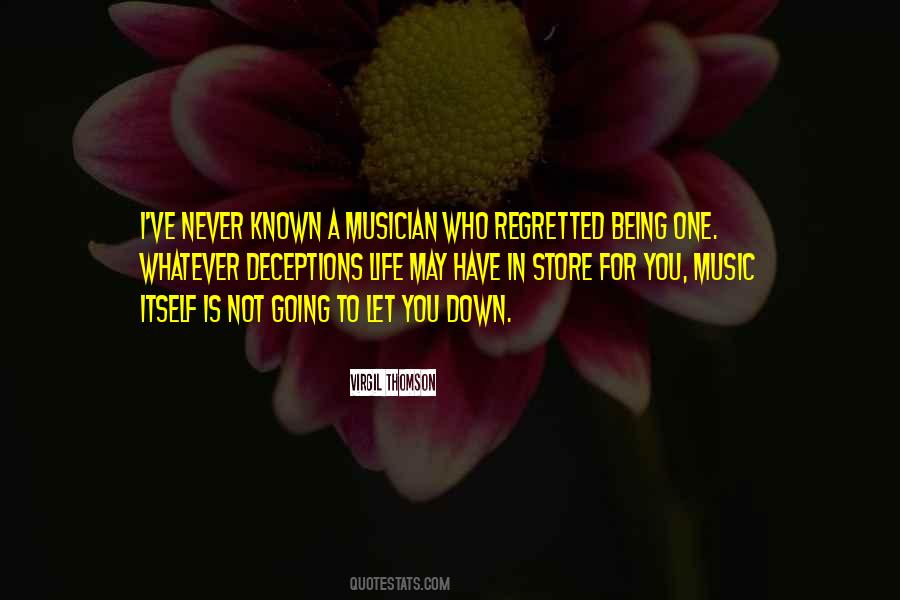 #32. Will punched his shoulder. "Thanks for the assist. Six at once isn't bad." "Not bad?" Nico glared at him. "Next time I'll just let them run you down, Solace." "Ah, they'd never catch me. - Author: Rick Riordan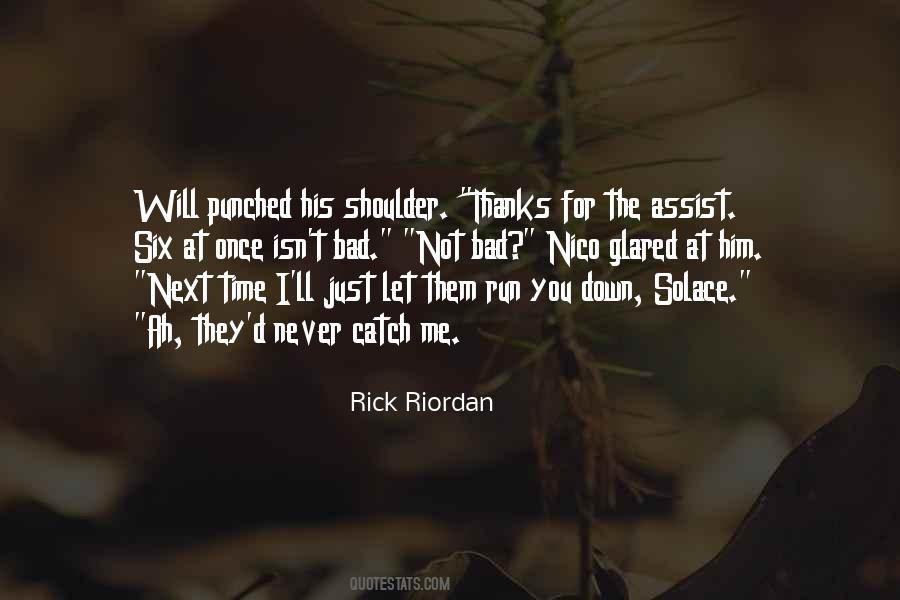 #33. If you lie down and let somebody kick you, you're never going to get nowhere. You have to stand up. - Author: Sonny Barger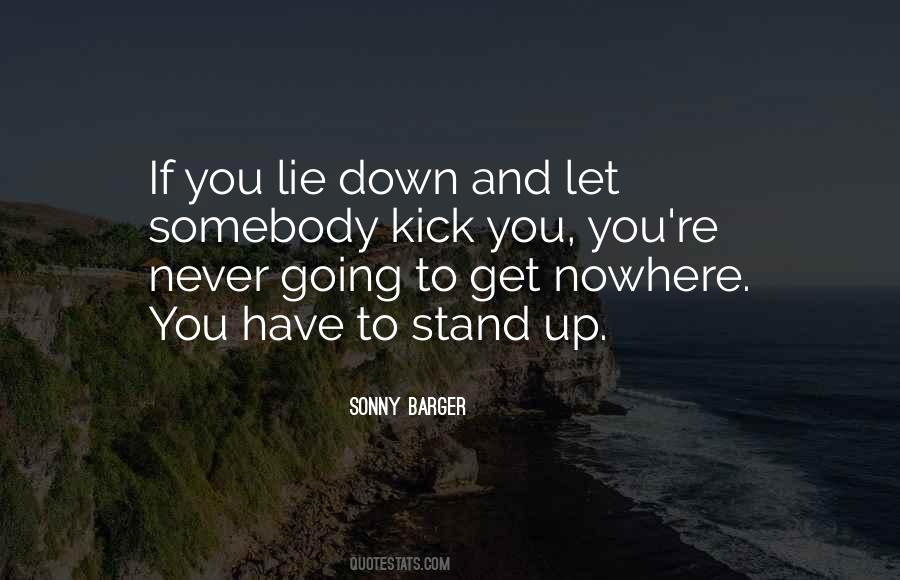 #34. You fall flat on your face, and it's not the first time you've done it, Never let your past press you down. - Author: Auliq Ice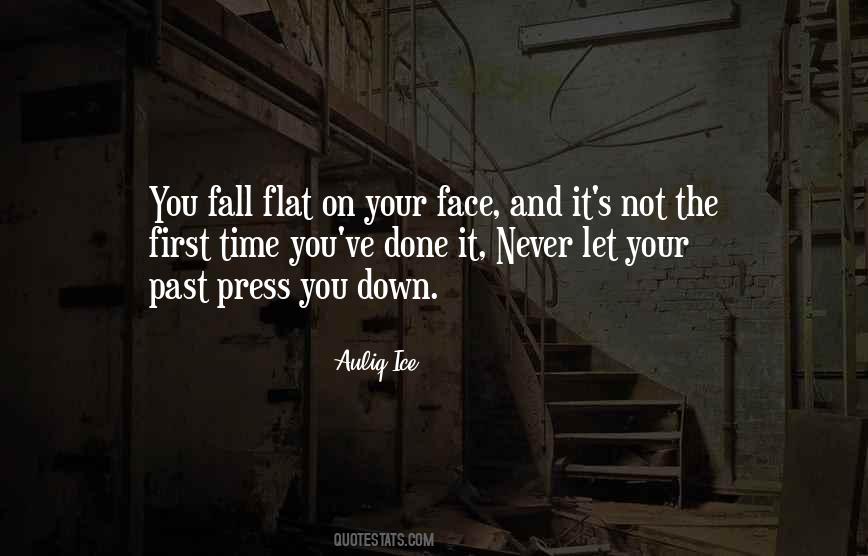 #35. Music is my religion. Music is the only thing that has never failed me. People let you down, music won't. - Author: Gary Bartz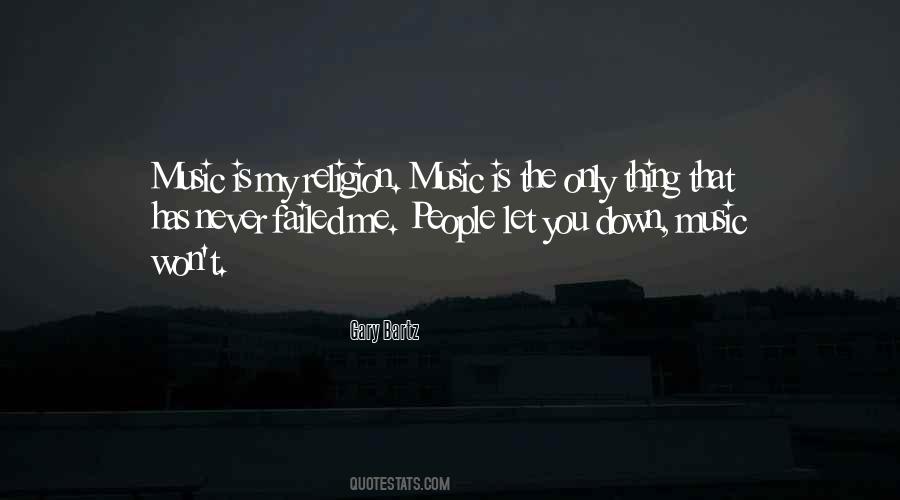 #36. When it really comes down to it, the sense of philanthropy is born out of boredom, too much time and resources on your hands. Despite all your posturing and eloquent speeches, you would never let your manicured hands become soiled by those you claim to aid. - Author: Tyler Chase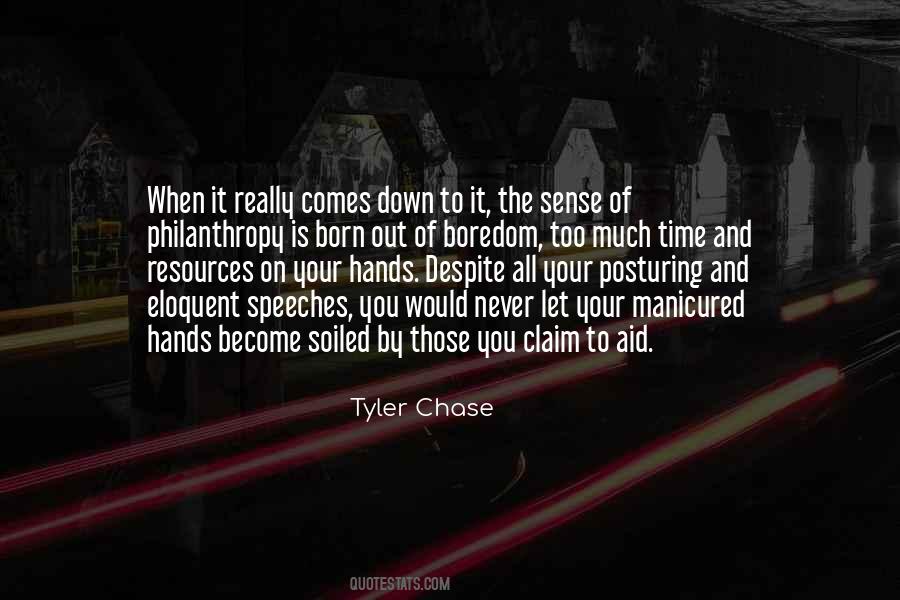 #37. Stand up, speak out, and be bold. Screw political correctness. Never let them tell you to sit down and shut up. - Author: Sarah Palin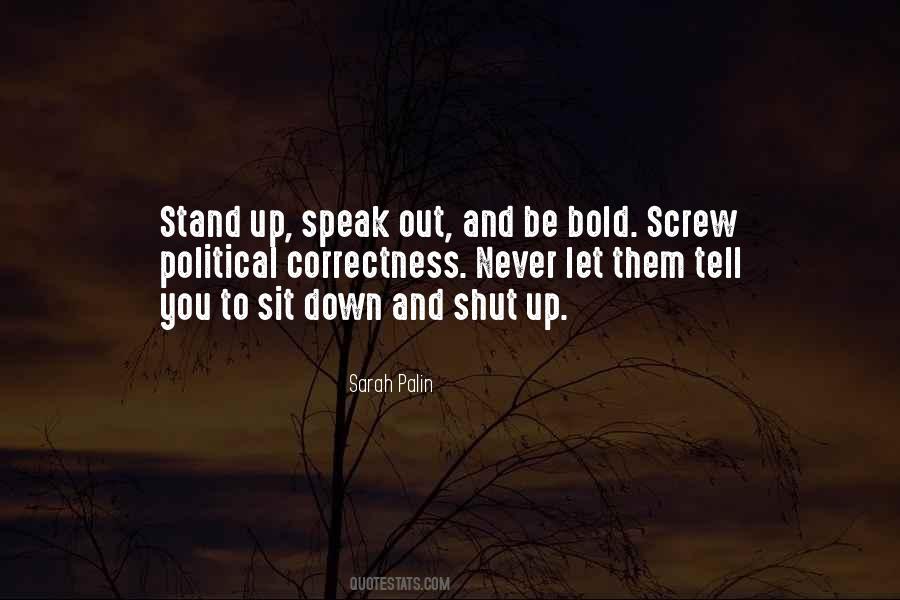 #38. Let me tell you something, Mari. The ground we stand on looks solid enough, but if something happens it can drop right out from under you. And once that happens, you've had it: things'll never be the same. All you can do is go on, living alone down there in the darkness ... - Author: Haruki Murakami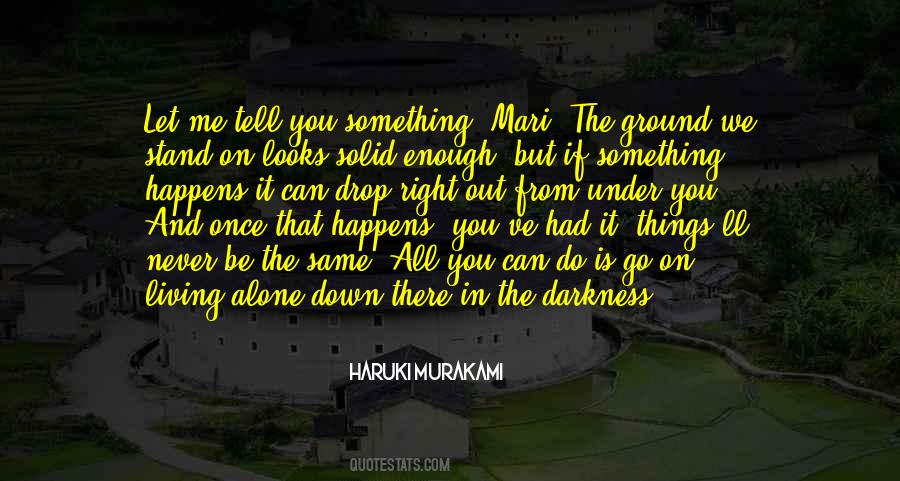 #39. I'm a hardcore gamer and would never let you down by designing a crappy title. - Author: John Romero
#40. He cocked his head. "I've never been with a witch."
Let her rip out his throat for that. End it.
A row of iron fangs snapped down over teeth as her smile grew."I've been with plenty of men. you're all the same. Taste the same." She looked over as if he were her next meal. - Author: Sarah J. Maas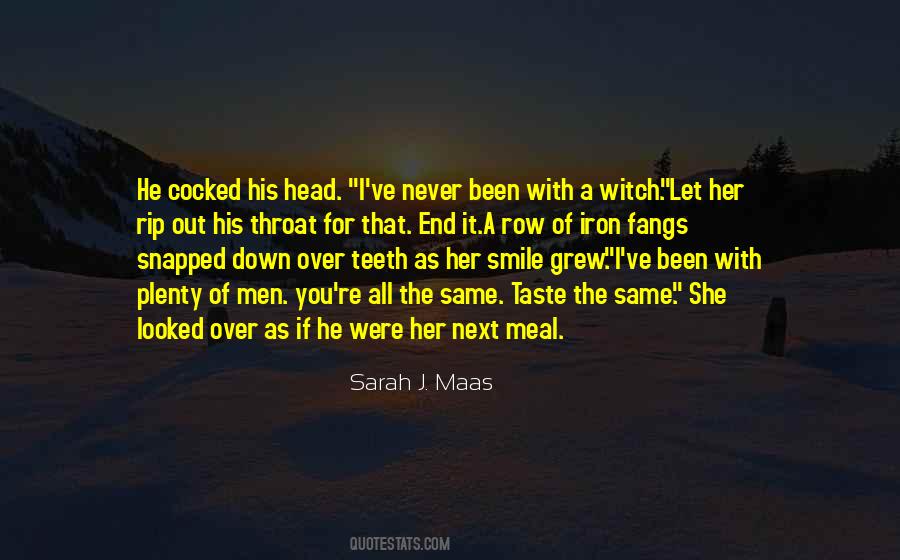 #41. No test or temptation that comes your way is beyond the course of what others have had to face. All you need to remember is that God will never let you down; he'll never let you be pushed past your limit; he'll always be there to help you come through it. - Author: Anonymous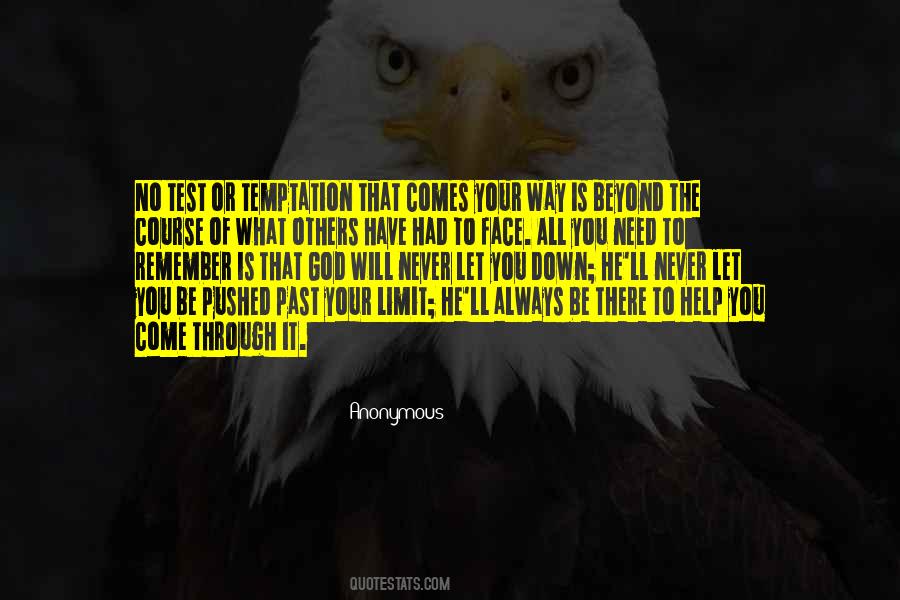 #42. You said please," I whispered, smiling when his relief flooded my emotions with the force of a thousand dams breaking. "I'm never going to let you live that down. - Author: Jeaniene Frost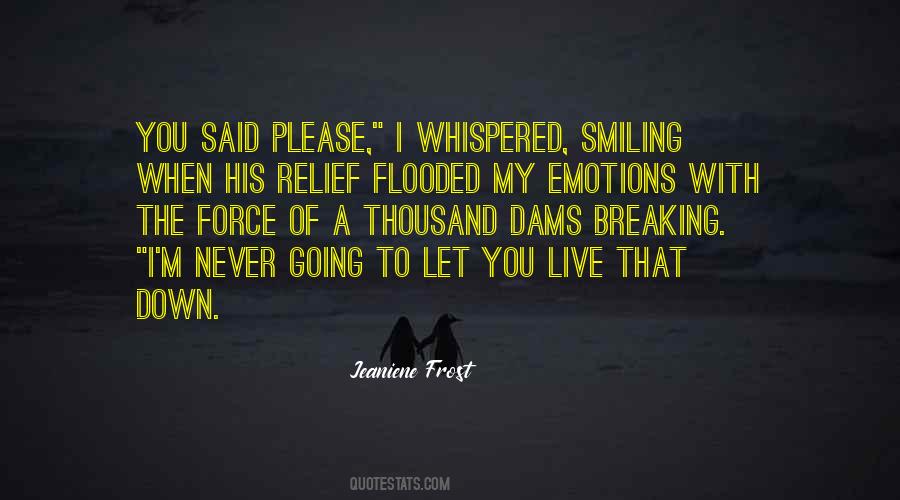 #43. The only sex education my mother ever gave me was the injunction: 'Never let a boy touch you down there.' I had no idea what she meant. She seemed to be referring to my knees. - Author: Jeanette Winterson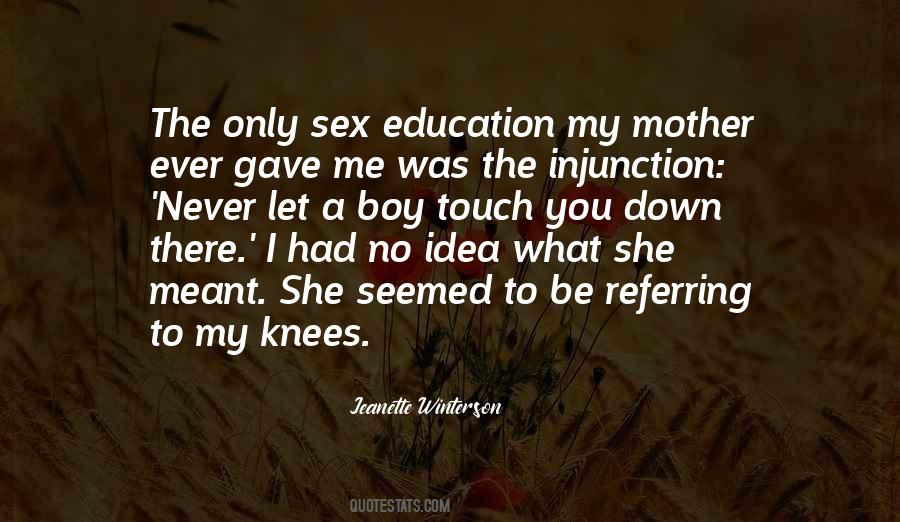 #44. I'll always be sorry for that, Laurelyn. You've never had a single person in your life who didn't let you down, but that's not who I'm going to be. I swear I'll be there for you, if you'll let me. - Author: Georgia Cates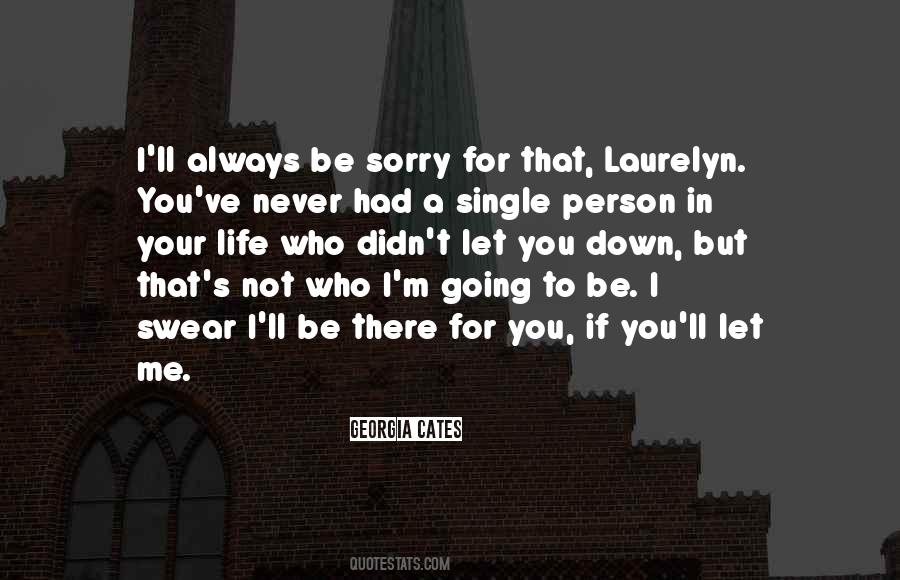 #45. And like an unfaithful mate, once a car has let you down you never sort of trust it again. - Author: Nikki Giovanni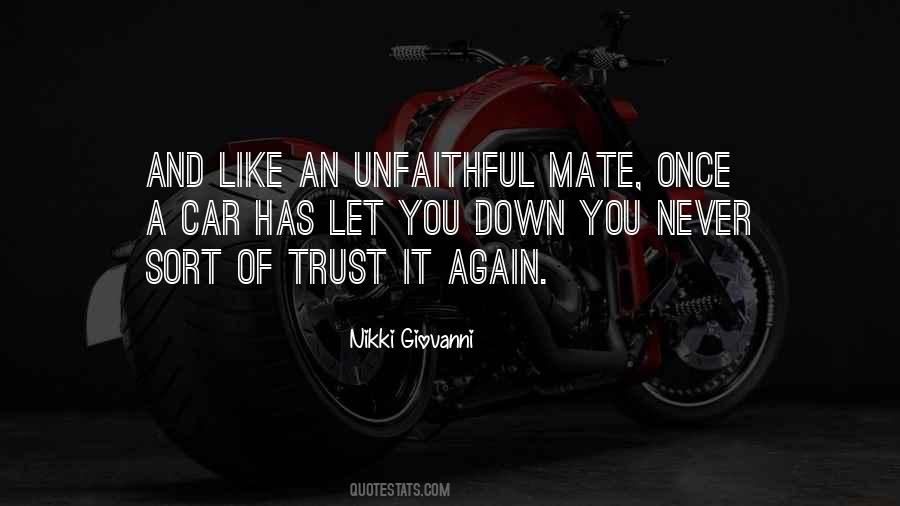 #46. They tell you to be careful because maybe you don't want to meet your heroes. I've met pretty much every one, and I've never been let down. - Author: Johnny Depp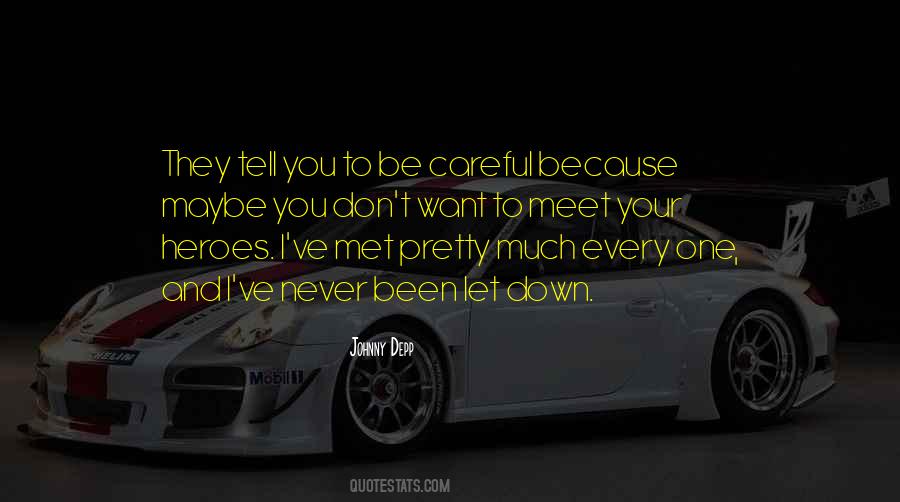 #47. Always dream high. Never let it down by inconsistent efforts. Your relentless labour & integrity make you successful in the long run. - Author: Md. Mujib Ullah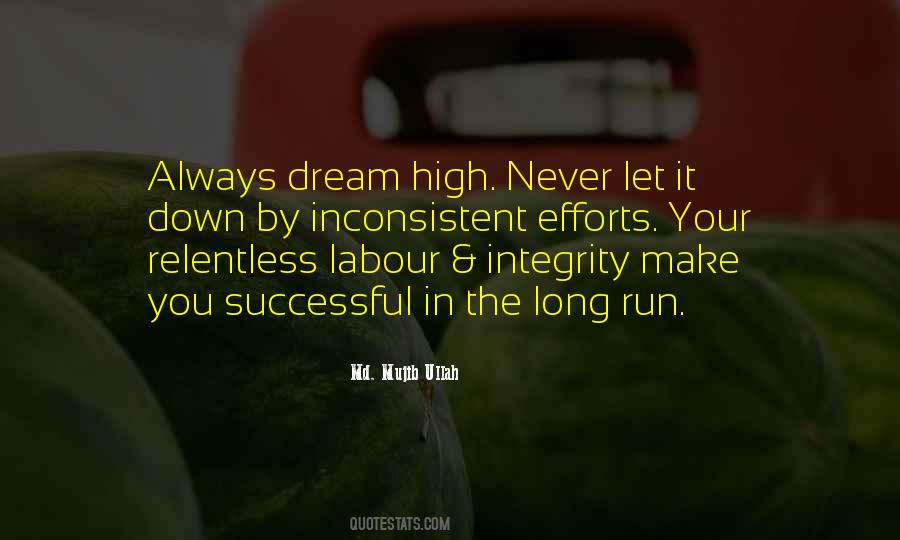 #48. I can tell you how to get what you want: You've just got to keep a thing in view and go for it and never let your eyes wander to right or left or up or down. And looking back is fatal. - Author: William John Locke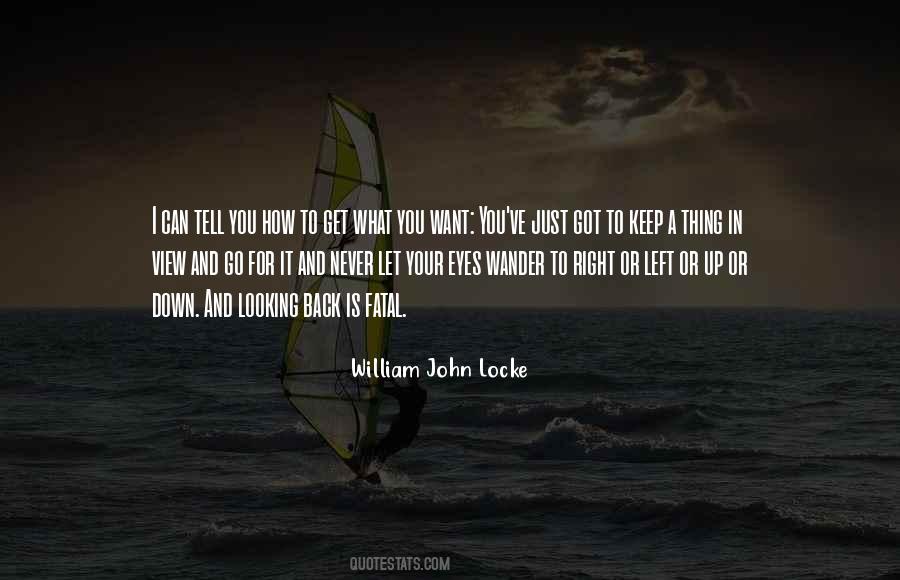 #49. Emotional hurt, you gotta let that go. Walk away and let it be. So many highs and lows, but if you keep being down, you'll never get up. - Author: Micky Ward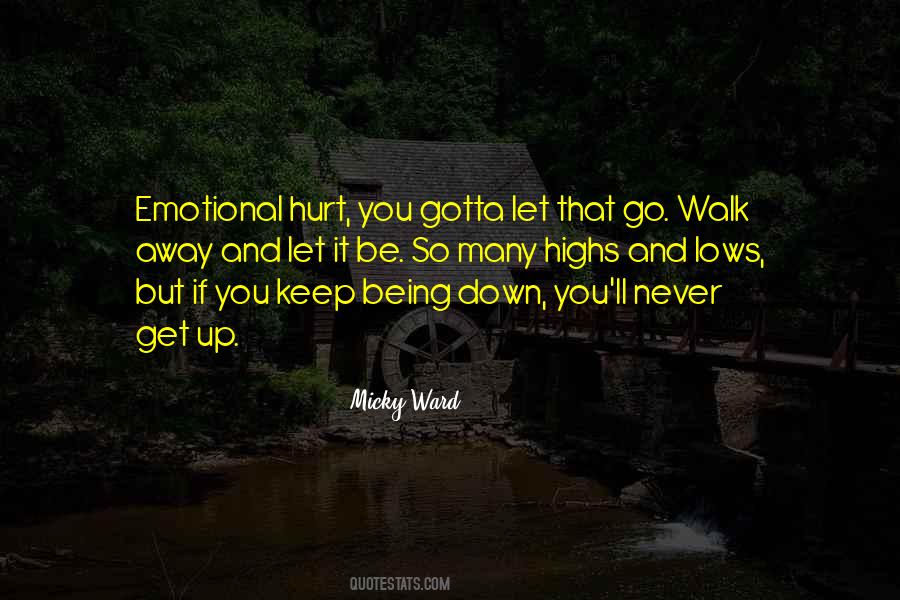 #50. Life seems far away from the balcony of your house; come down, come nearer to the life! Never let the life to be far away from you! - Author: Mehmet Murat Ildan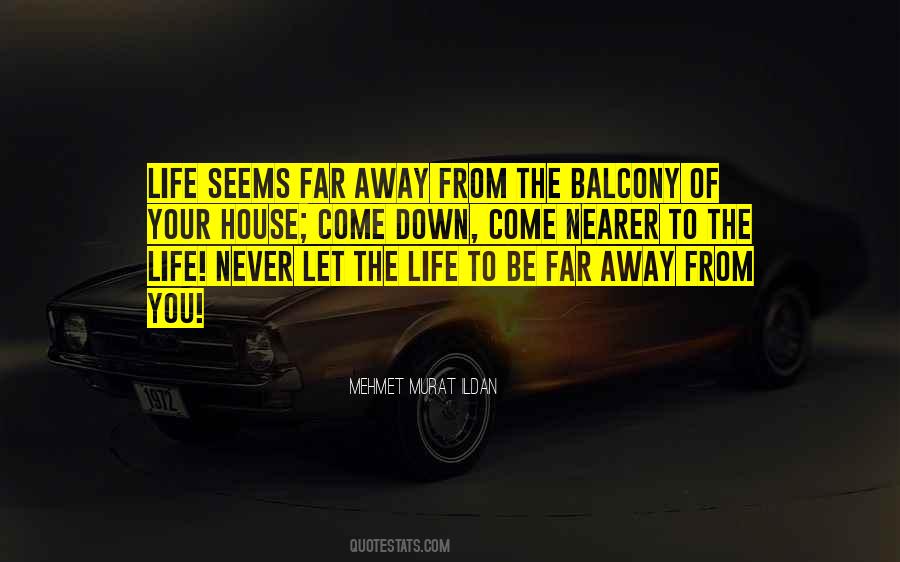 #51. I think maybe my greatest weakness is that I trust people too much. I'm too trusting. And when they let me down, if they let me down, I never forgive. I find it very, very hard to forgive people that deceived me. So I don't know if you would call that a weakness, but my wife said "let up." - Author: Donald Trump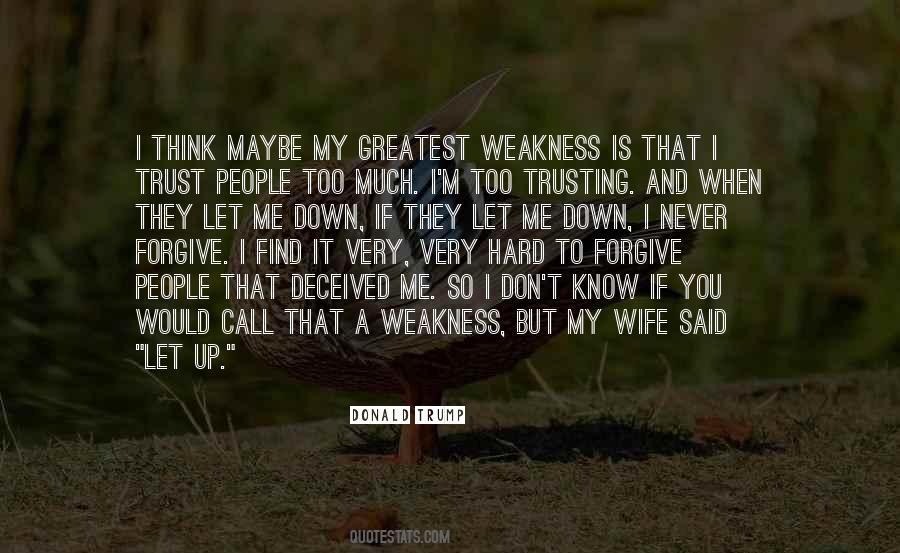 #52. Life is full of wonderful passions that come and go over the years, but the only one that will never let you down is reading. - Author: Judith Martin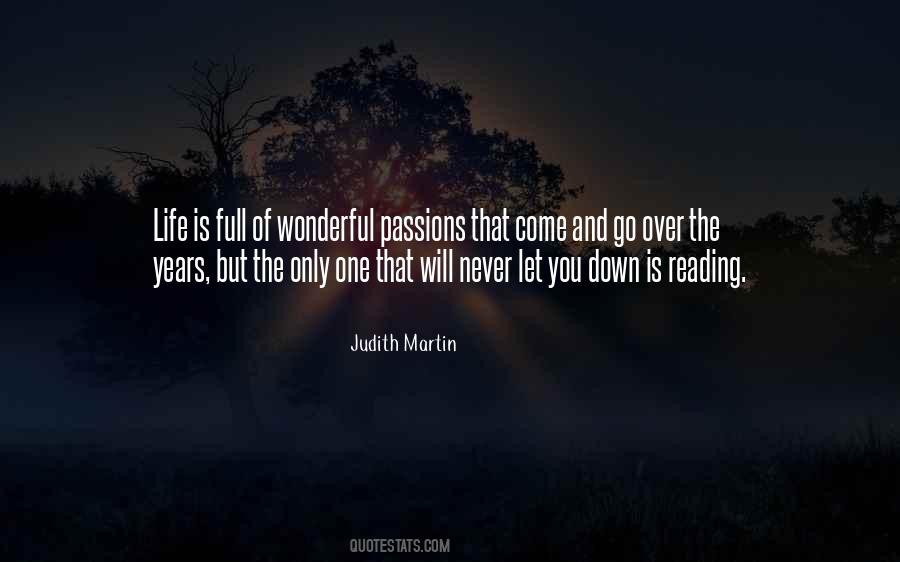 #53. Music is always a healer. Music has never let me down. I know it's my religion. There's the idea that you can't truly know happiness until you know sadness, so how can you heal yourself unless you've hurt yourself? I'm still figuring out who I am, but I know that I'm not who I was. - Author: Brendon Urie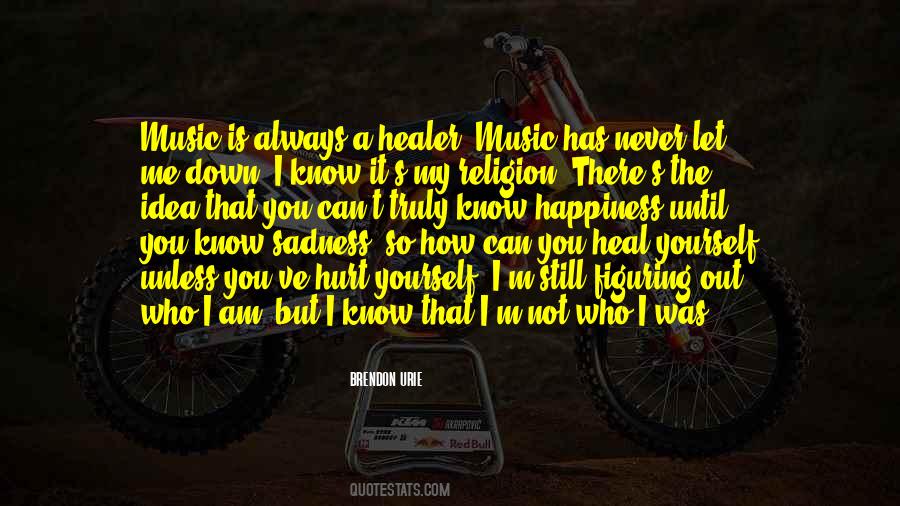 #54. They never let you live it down. One little mistake!- Nero - Author: Robert Asprin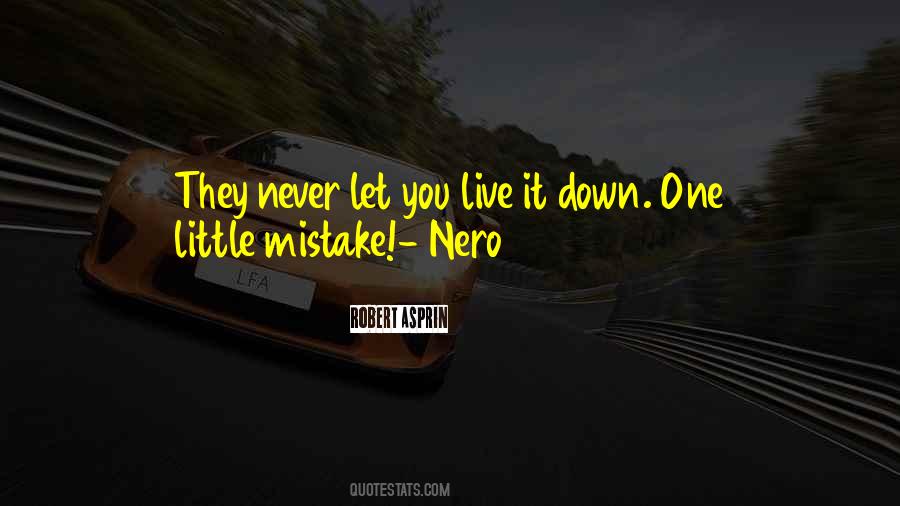 #55. He will never, ever, give up. And, most importantly, he will never, ever, let you down. Donald is, and always has been, an amazing leader. Now, he will go to work for you. - Author: Melania Trump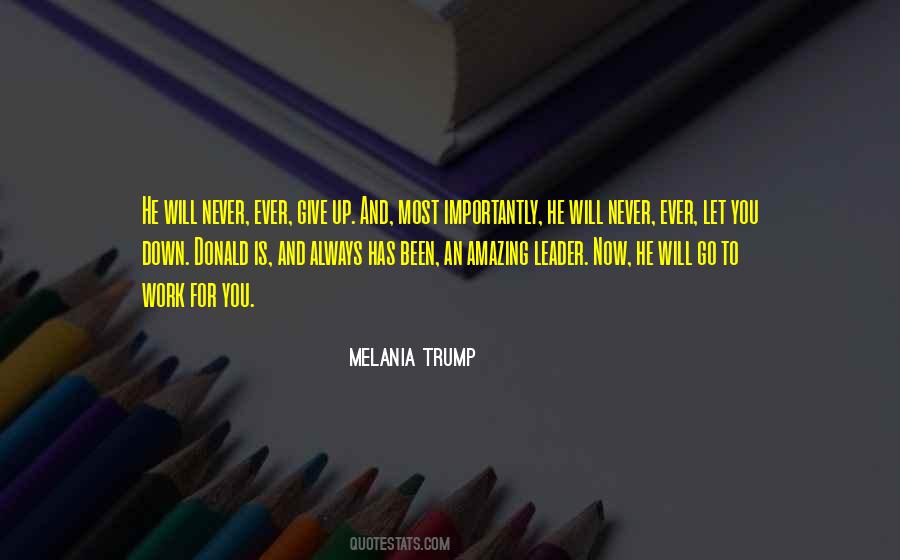 #56. Sometimes all one needs is a strong anchor, a person you can trust blindly. Someone who will lead you on, be there for you and never let you down. - Author: Preeti Shenoy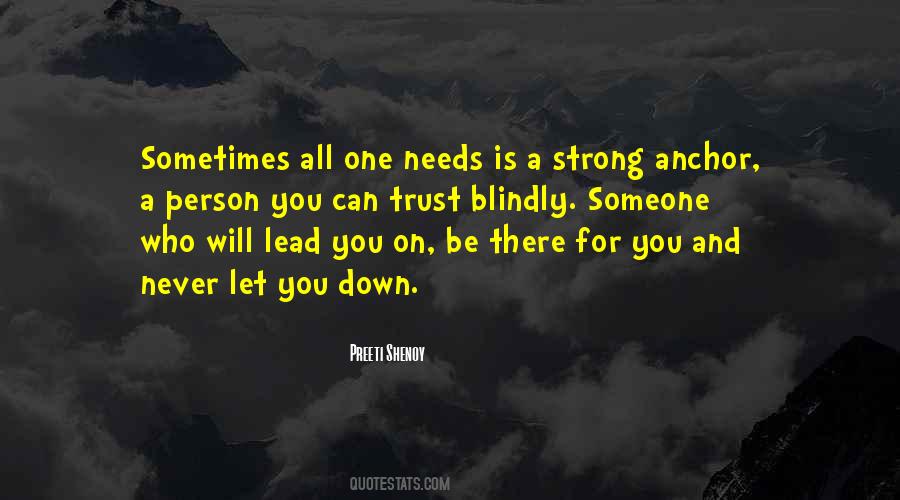 #57. Poetry's unnat'ral; no man ever talked in poetry 'cept a beadle on boxin' day, or Warren's blackin' or Rowland's oil, or some o' them low fellows; never you let yourself down to talk poetry, my boy. - Author: Charles Dickens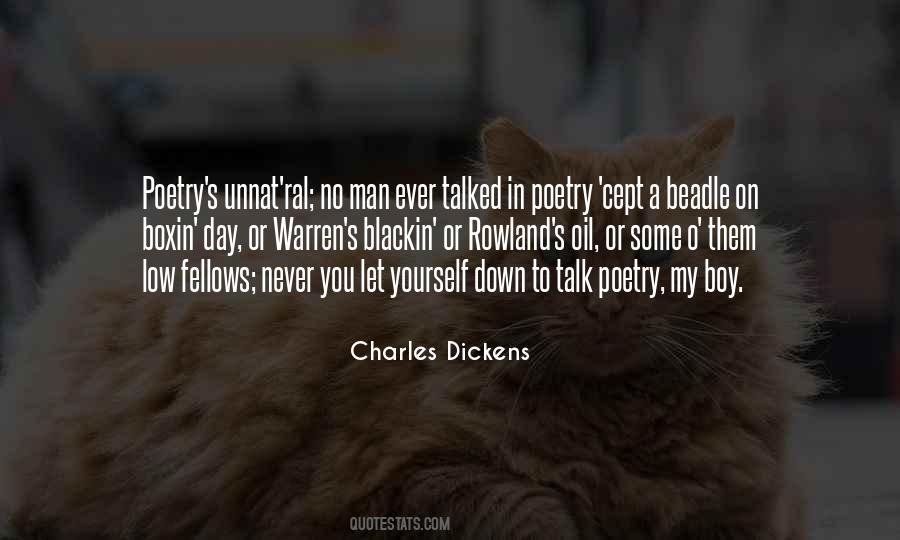 #58. I wasn't raised very religiously because my parents went to Catholic school, but I do believe in God very much. I just never gave God a name, if you know what I mean. I hope I haven't let Him down regardless. - Author: Stephen Chbosky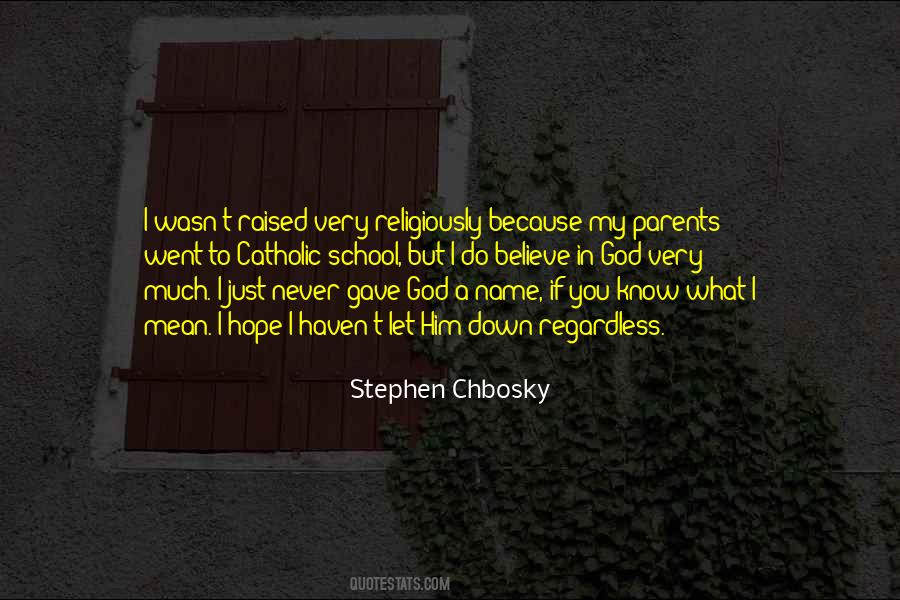 #59. I know you know the tale of Baby June You know the way she could deliver a tune She was a killer in a petticoat A little bit of everyone you adore ... And if your baby let you down at night, Well Baby June would make it up alright And I was never happier Than in the arms and charms of her - Author: Terry Moore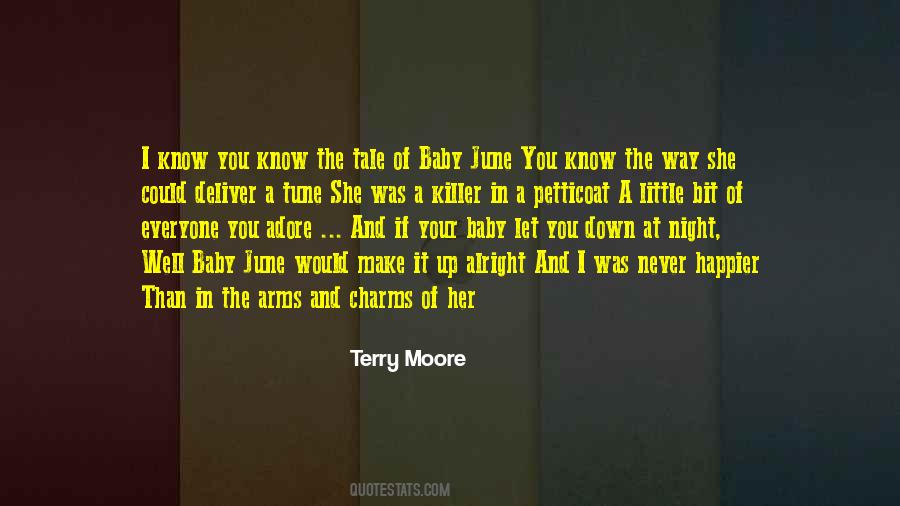 #60. Never let your head hang down. Never give up and sit down and grieve. Find another way. And don't pray when it rains if you don't pray when the sun shines. - Author: Satchel Paige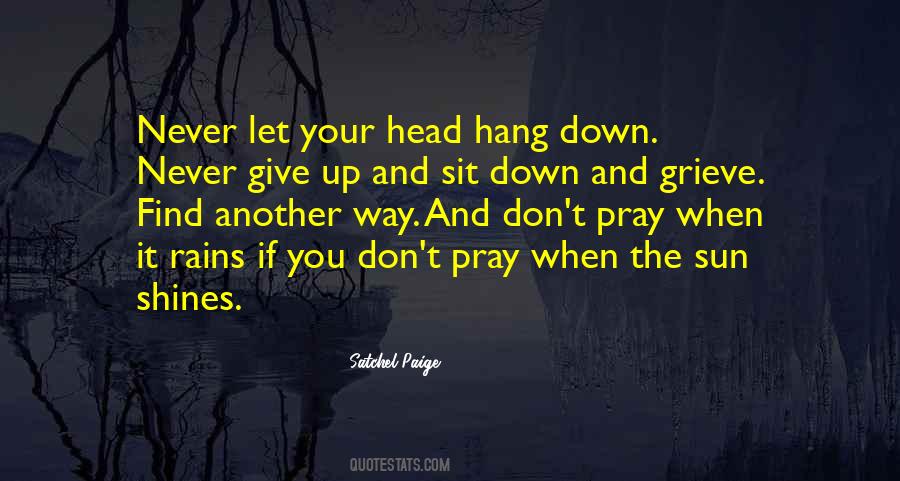 #61. She never wants to get to the point where she looks forward to hearing from someone. Once you look forward to something, you're inevitably let down and nothing can stay the same so she'd rather expect nothing at all and just be surprised that she was thought of at all. - Author: Donna Lynn Hope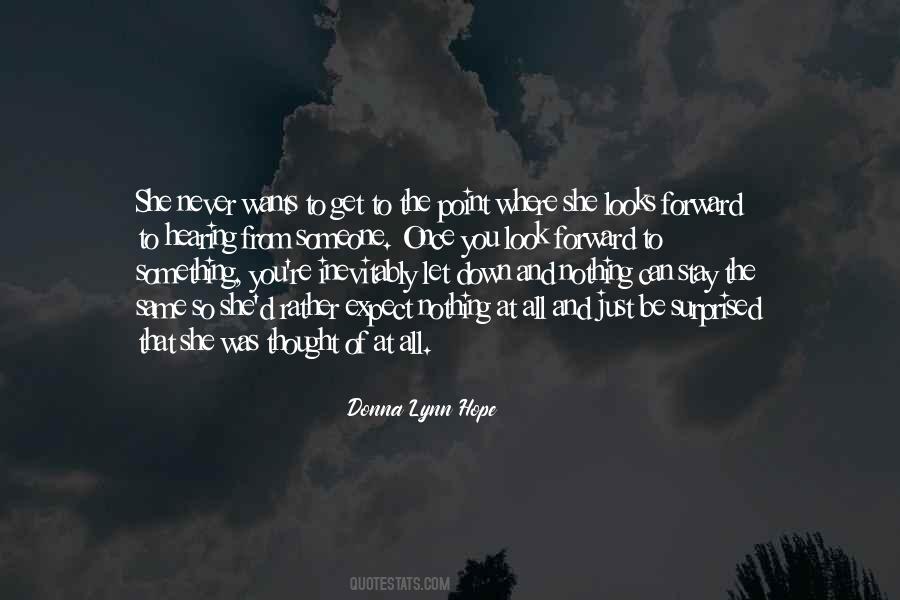 #62. As often as you fail, get up and try again. God will never let you down, so long as you don't let Him down, and so long as you make the effort. - Author: Paramahansa Yogananda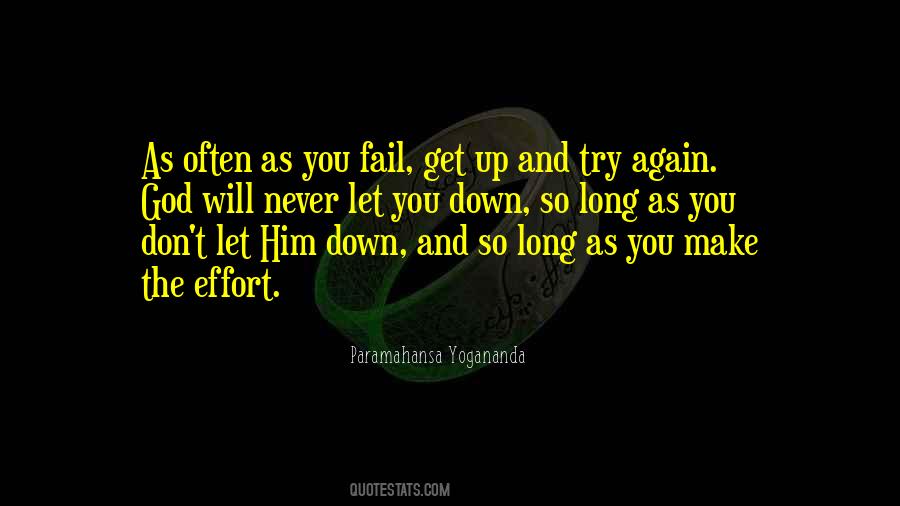 #63. Yesterday, when I took the stage for the sixth time, I read a poem about unreliable friends, people you love and feel bonded to but can never truly trust. It was about feeling alone and vulnerable, and never being able to fully let your guard down. - Author: Tamara Ireland Stone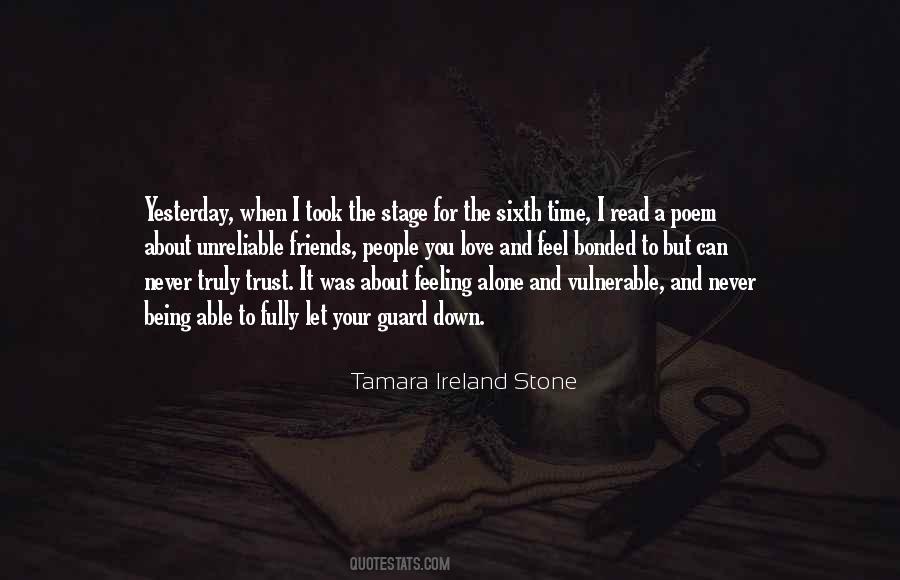 #64. If you never asked, you were never disappointed.
If you didn't rely on someone, they could never let you down.
If you never admitted how desperately you wanted something, it didn't hurt so much when it was taken away. - Author: Virginia Kantra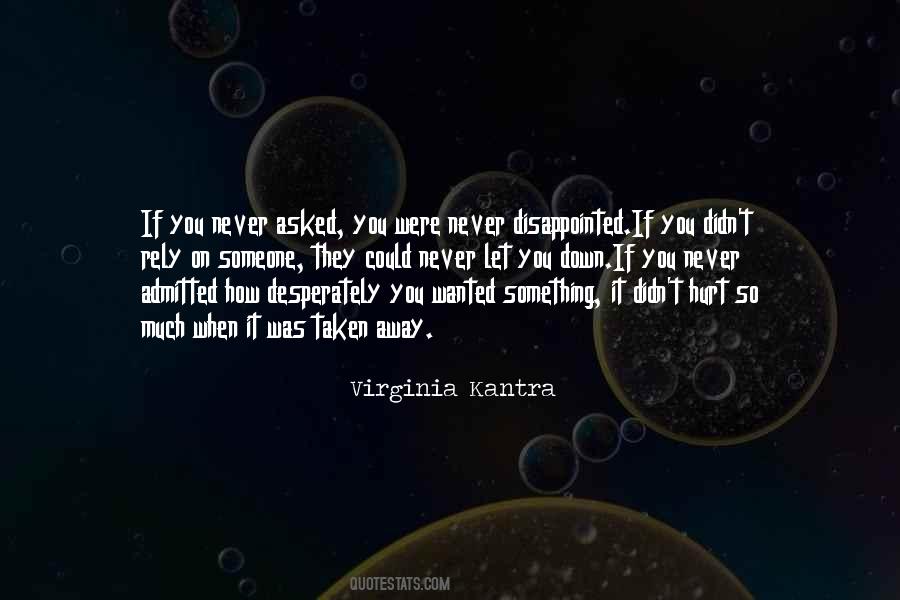 #65. Don't go changing, to try and please me
You never let me down before. - Author: Billy Joel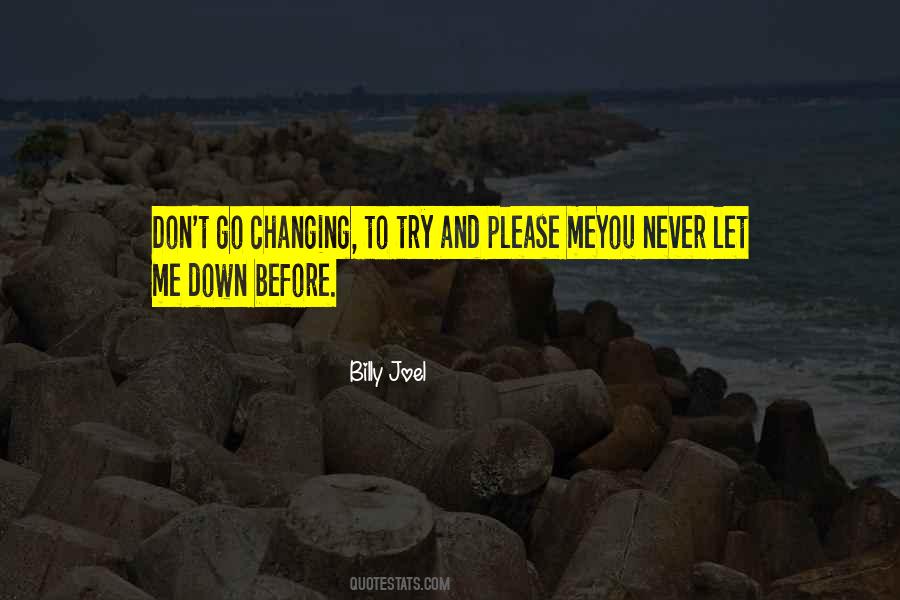 #66. As my heart begins to return to normal, I look down at -- and feel such an intense rush of love and relief it takes my breath away. "I will never let you put of my sight again," I promise -- - Author: Camilla Way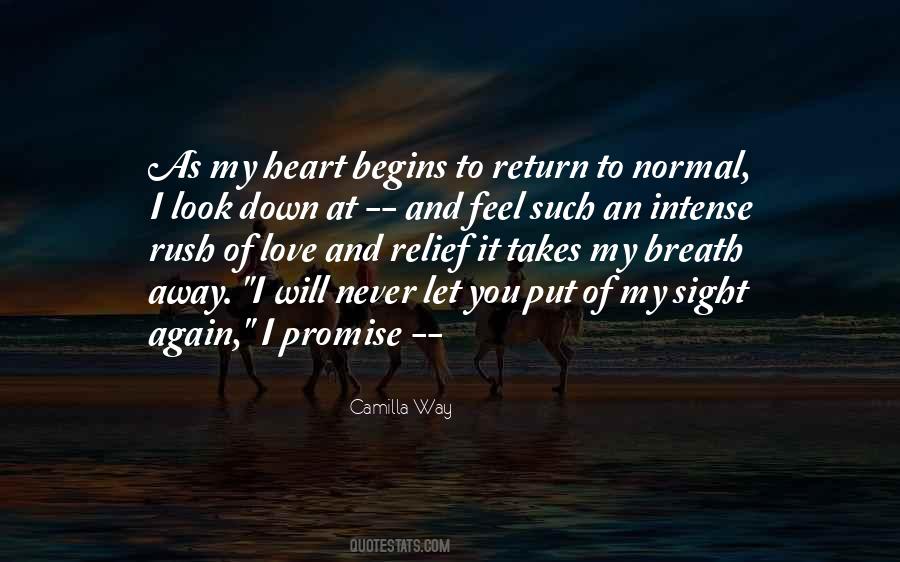 #67. Do not give your haters the gratification, It means you will never let yourself down. - Author: Mohith Agadi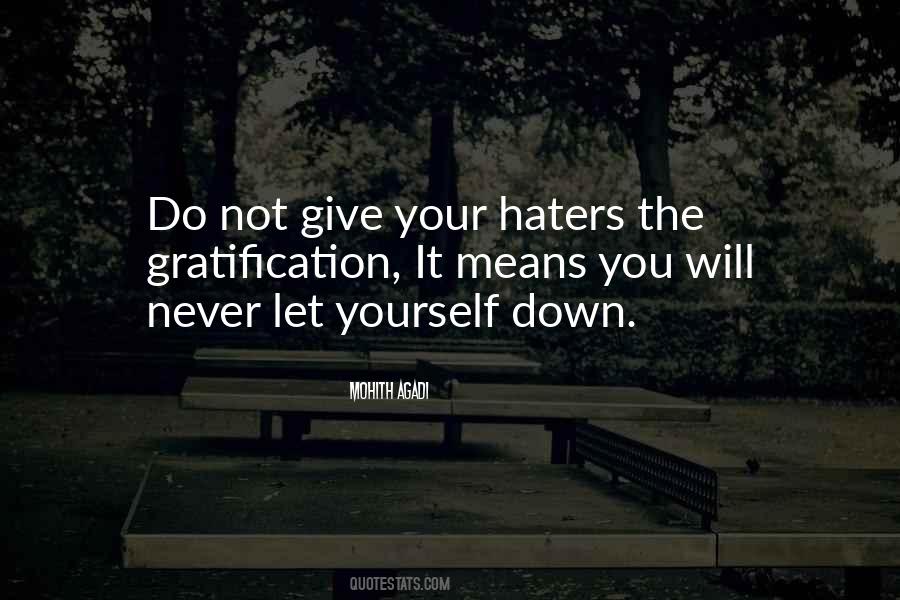 #68. At least books could never let you down. - Author: Rebecca Raisin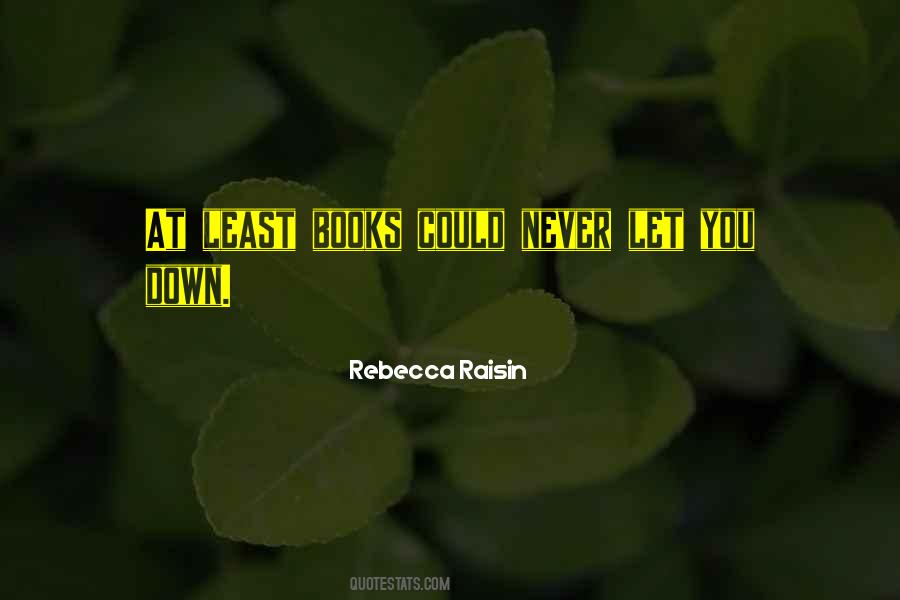 #69. I wish I was the verb 'to trust' and never let you down ... - Author: Eddie Vedder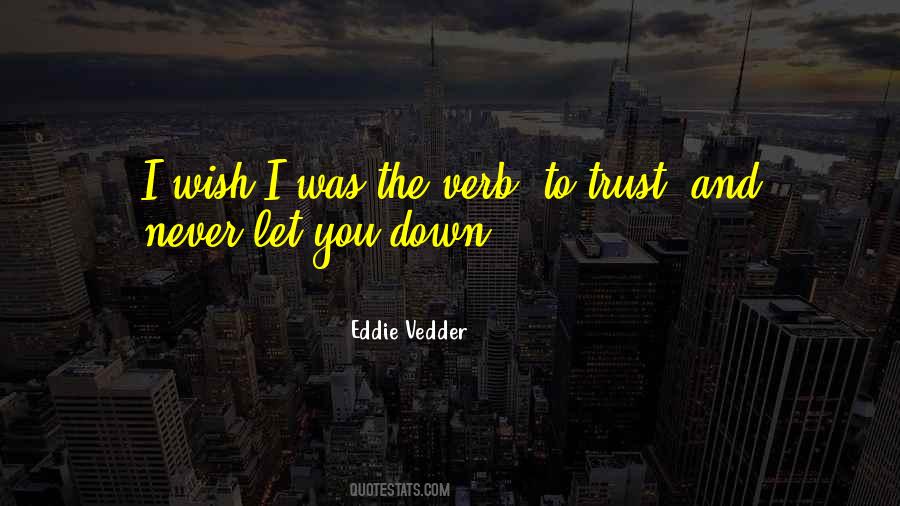 #70. Sometimes all you need in love is to make each other happy, to make each other laugh. So long as you can still do that ten years down the line then I think you're gold. Never let the laughter slip from your relationship. - Author: Maya Angelou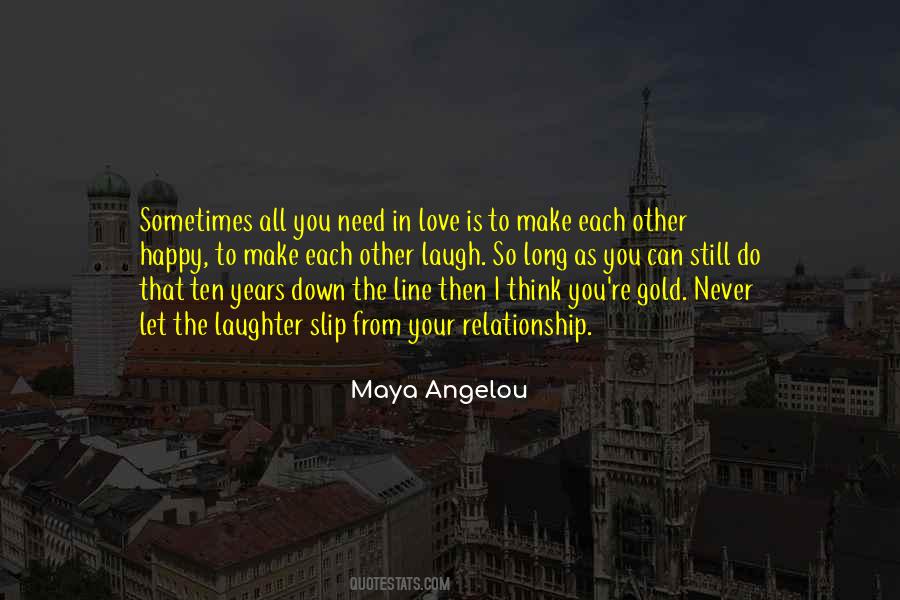 #71. If you want to be a singer or a performer or absolutely anything in the world that you want to do, I think you should never give up, you should never let anyone put you down and tell you you can't do it, because if you believe in yourself you will go far - Author: Perrie Edwards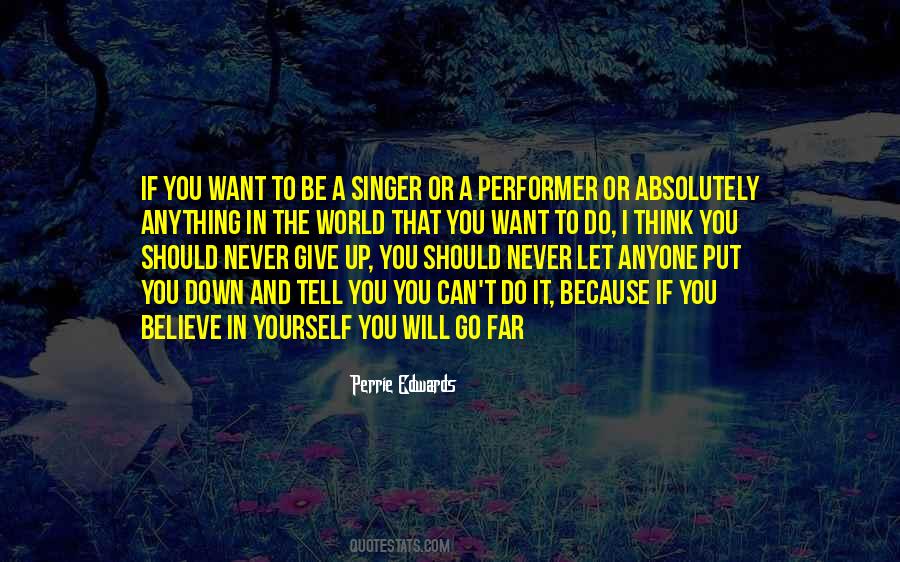 #72. You've never been ugly." The boy looked down at his hand filling the blank spaces in a science fiction scene. "Women treat you like you're a disease they might catch. And if in a weak moment they let you touch them, they make you pay. - Author: Janet Fitch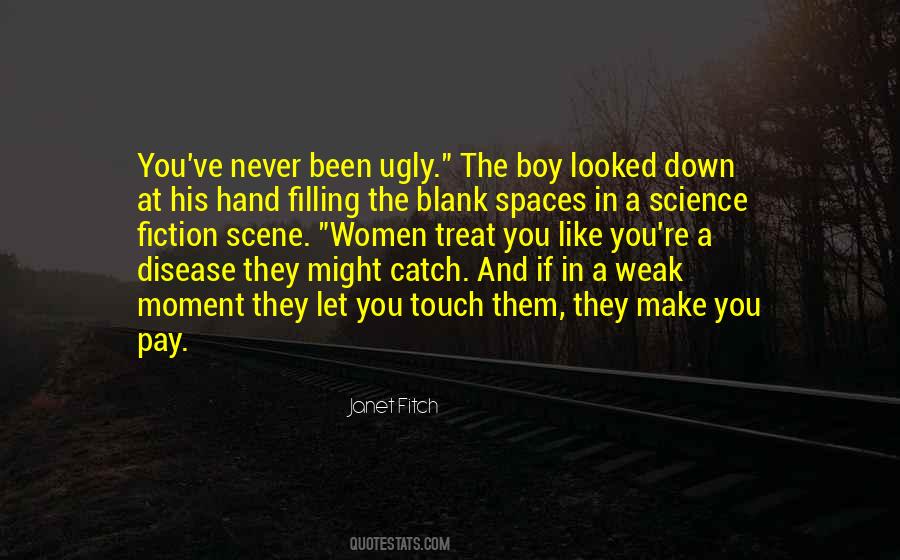 #73. I usually only draw myself in down periods ... I suppose that's why I often draw myself looking grim. I just think, 'Let's have a look in the mirror.' When you are alone and you look in a mirror you never put on a pleasing smile. Well, you don't, do you? - Author: David Hockney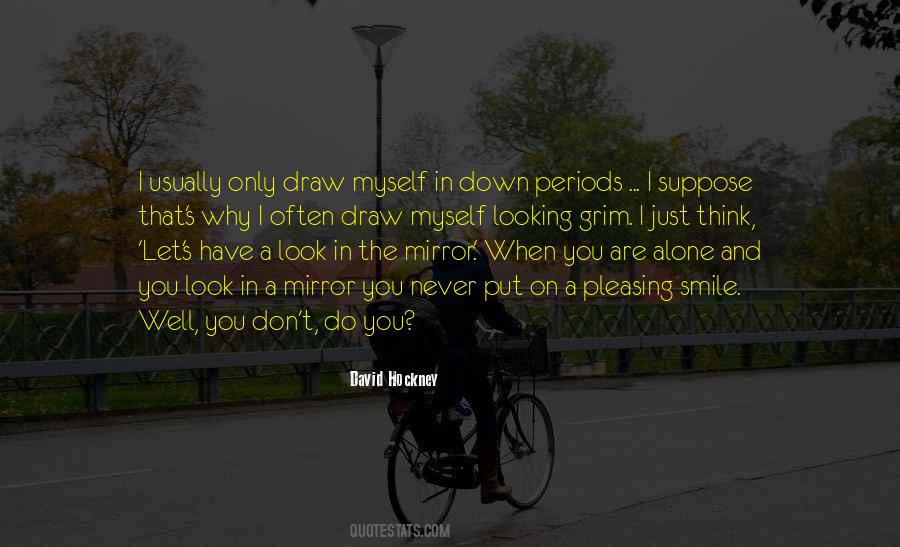 #74. Never in her wildest dreams would she have pegged this man as a dirty talker. Just went to show that you should never underestimate the quiet ones - and never let your guard down around them either. - Author: Elle Kennedy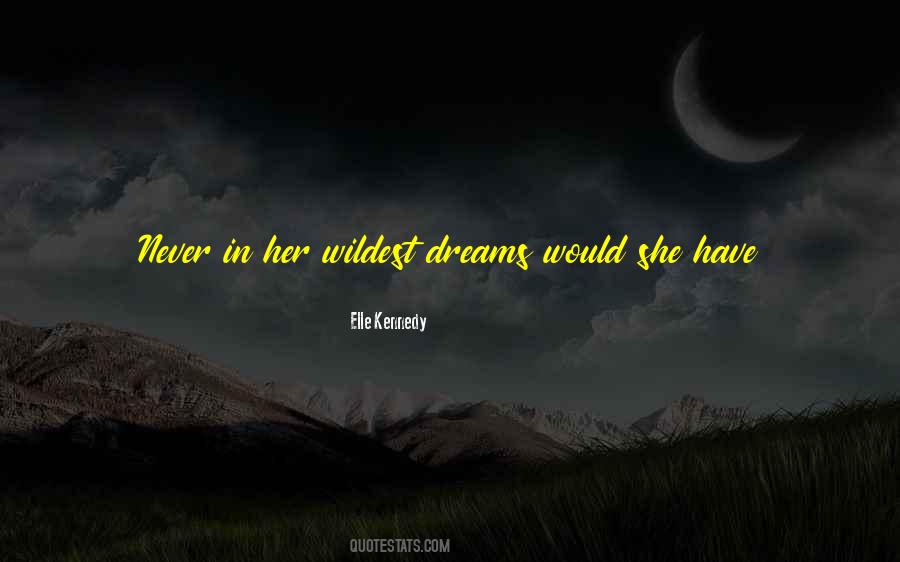 #75. On a summer night it can be lovely to sit around outside with friends after dinner and, yes, read poetry to each other. Keats and Yeats will never let you down, but it's differently exciting to read the work of poets who are still walking around out there. - Author: Michael Cunningham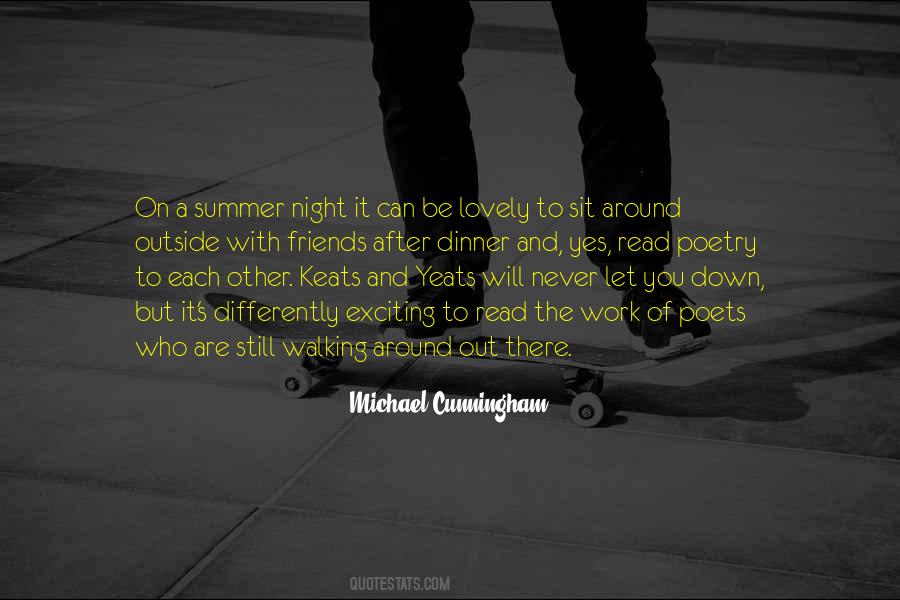 #76. I am my own worst enemy
I only feel beautiful when I am holding my son
Always expect the worst, that way you're never let down - Author: Bill Norris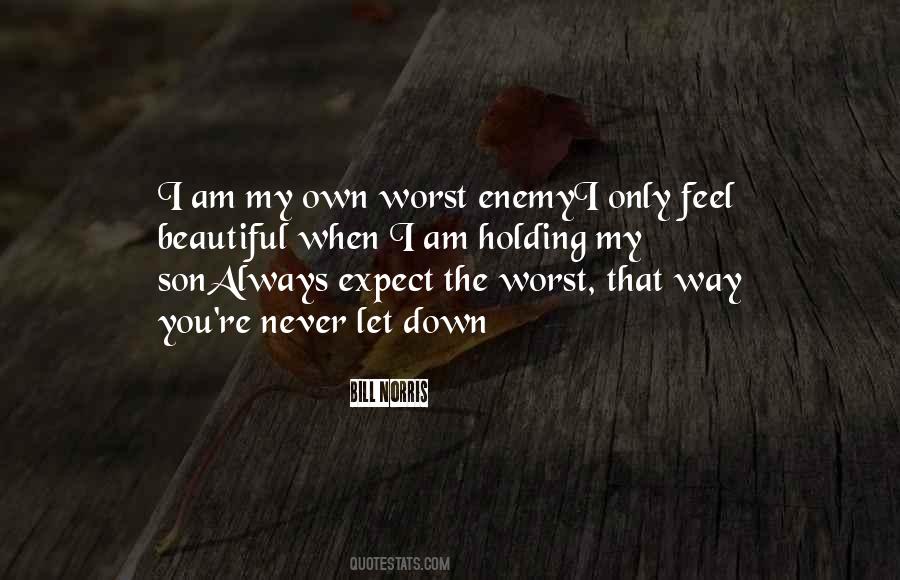 #77. Words were useless. At times, they might sound wonderful, but they let you down the moment you really needed them. You could never find the right words, never, and where would you look for them? The heart is as silent as a fish, however much the tongue tries to give it a voice. - Author: Cornelia Funke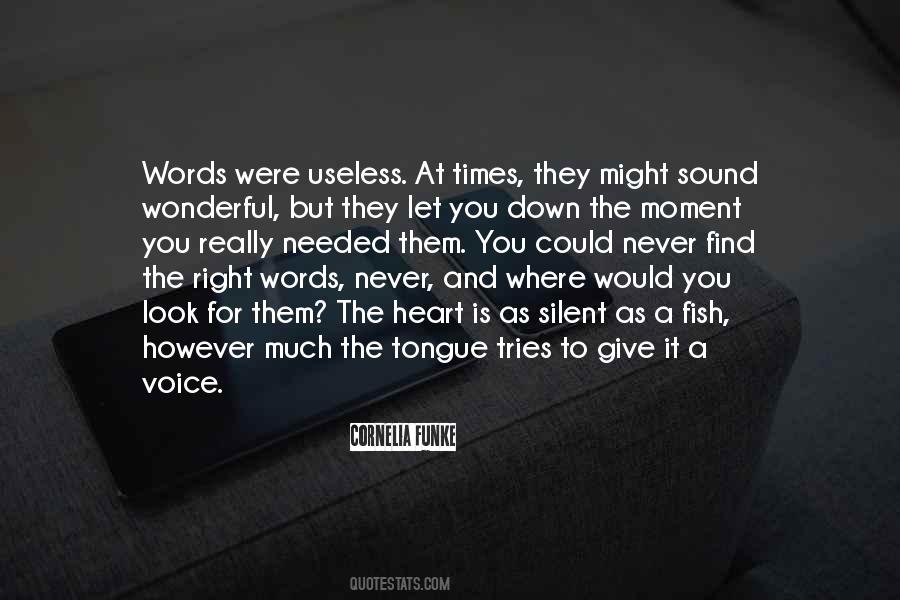 #78. The gentle Rabbi reminds us that few things really matter and only one thing is necessary ... Martha found it in the gentle reminder to slow down, let go, and be careful of challenging another woman's choices, for you never know when she may be sitting at the feet of God. - Author: Rachel Held Evans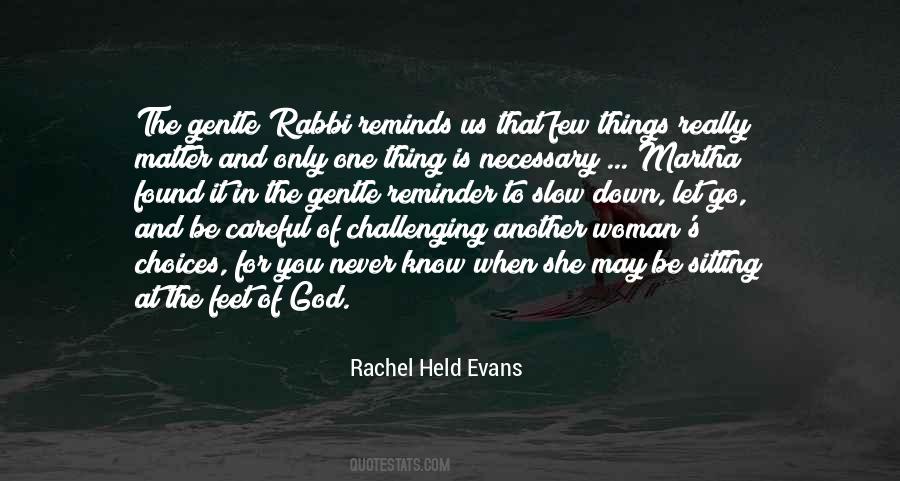 #79. My focus is 100% on you Lord Jesus and I know You will never let me down. - Author: Euginia Herlihy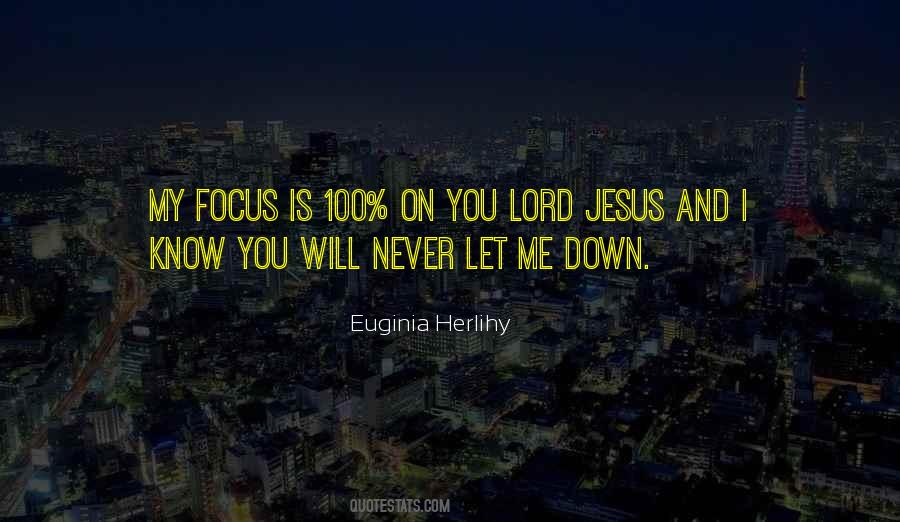 #80. I have an association that director means total authority. Director means they will never let you down. Director means just trust them and fulfill their vision, and know that the story will be told in its best incarnation. - Author: Bryce Dallas Howard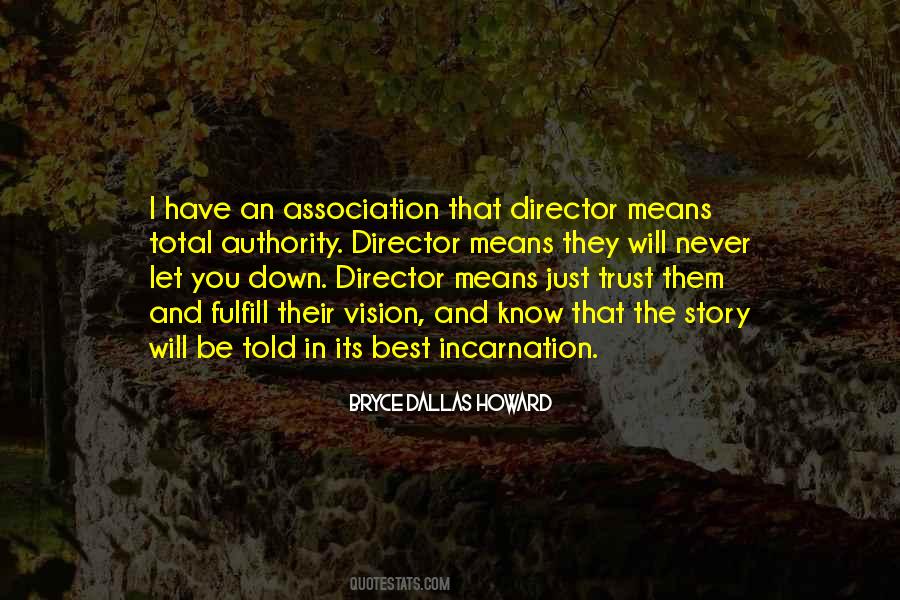 #81. Well ... I mean ... "
Her eyebrows lifted and she looked at him slyly. "You want to ask me about the fan again?"
He grinned. She'd never let him live that down. - Author: Nicholas Sparks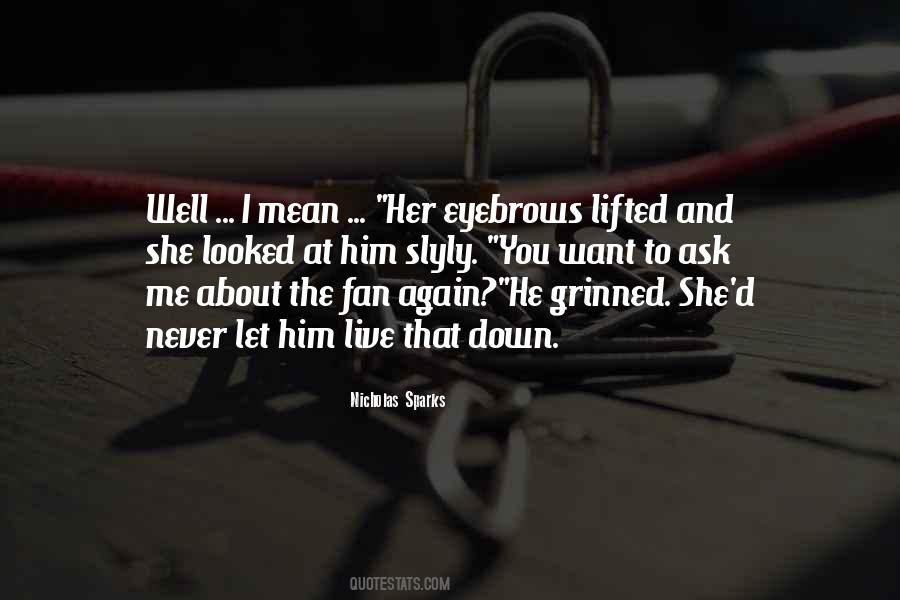 #82. I think we felt the pressure more at first than this time around. But still you don't want to let anyone down. I never even met Patrick until we had a Christmas party at Ian McKellen's house on the first movie and then I didn't see him again until the premiere. - Author: Rebecca Romijn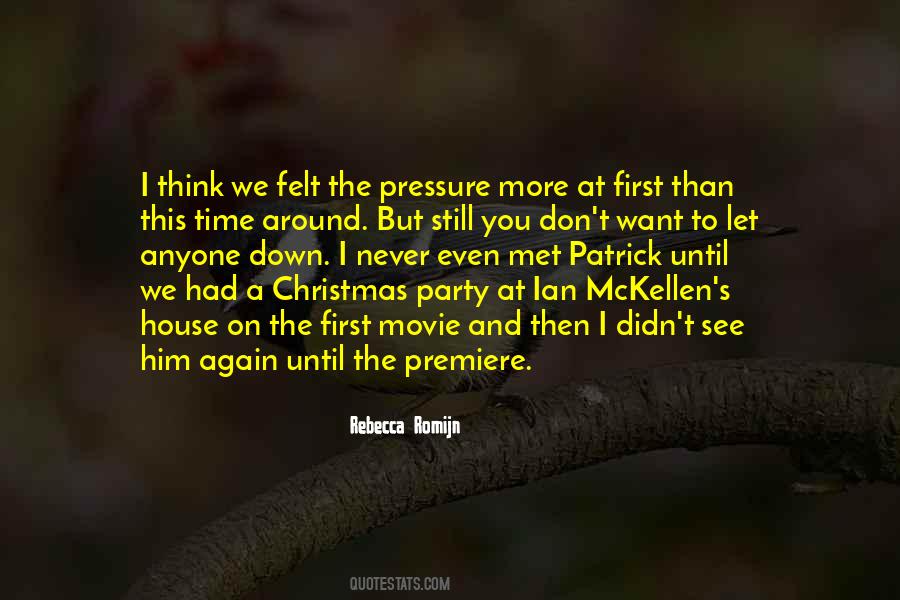 #83. That's the public-school system all over. They may kick you out, but they never let you down. - Author: Evelyn Waugh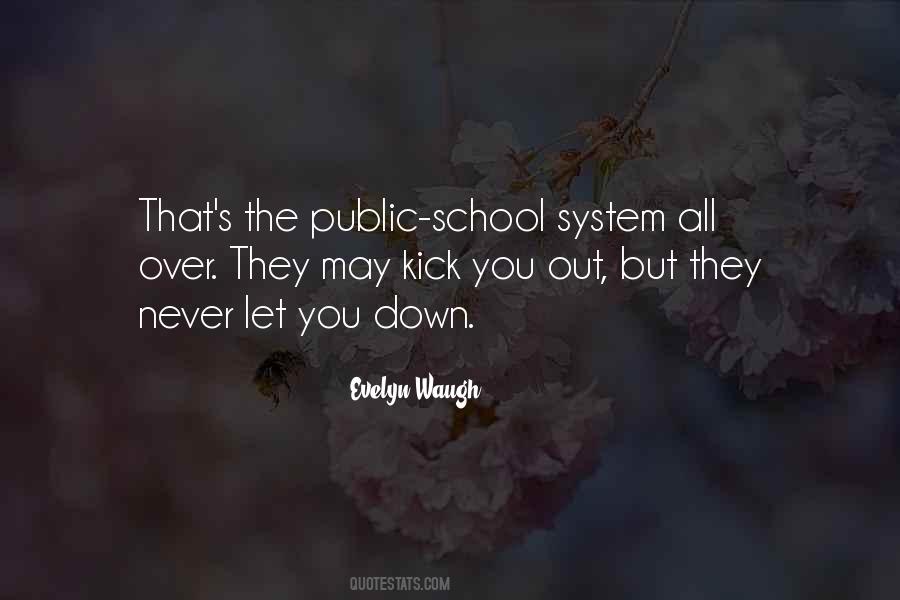 #84. Show no fear to your enemies. Only contempt. Never let anyone look down on you. You're just as good as any of them. I don't care who they are. Better in fact. In our world, Dagans are royalty and you, my son, are a prince. - Author: Sherrilyn Kenyon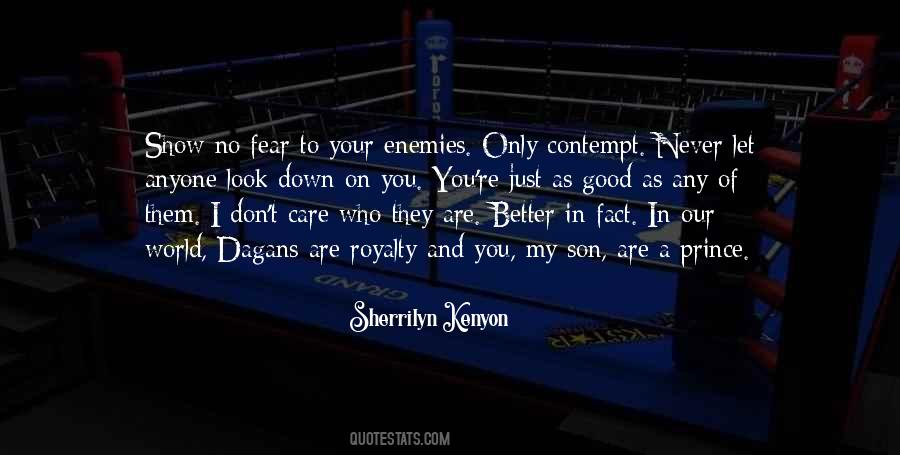 #85. To people all over America, I say, when you have my father in your corner, you will never again have to worry about being let down. He will fight for you all the time, all the way, every time. - Author: Ivanka Trump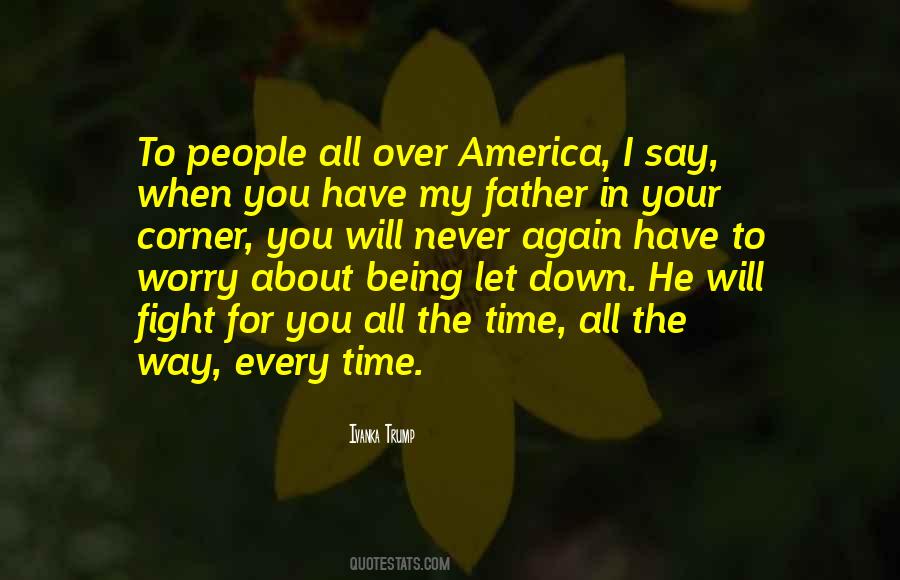 #86. Never let disappointments cripple you down. Be success-conscious. - Author: Israelmore Ayivor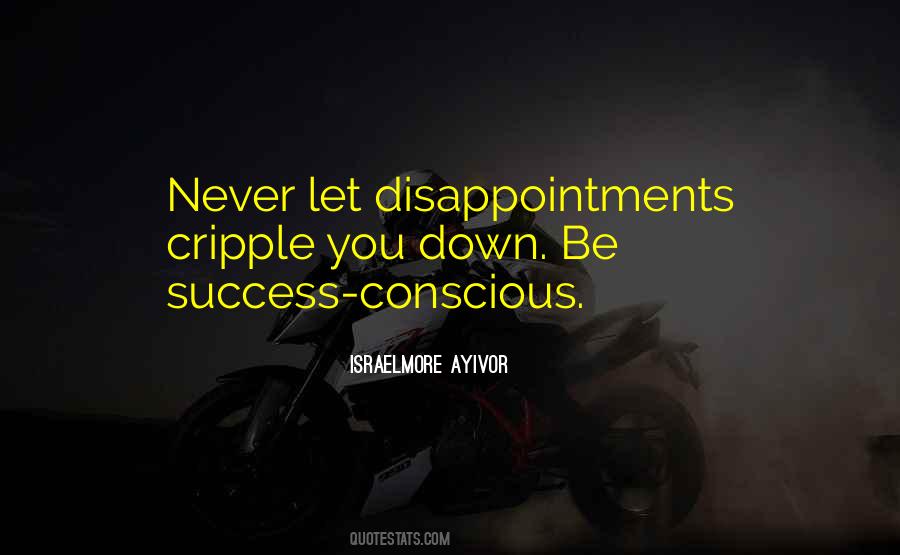 #87. You're the WWE Champion and I would never let you down! - Author: Alex Riley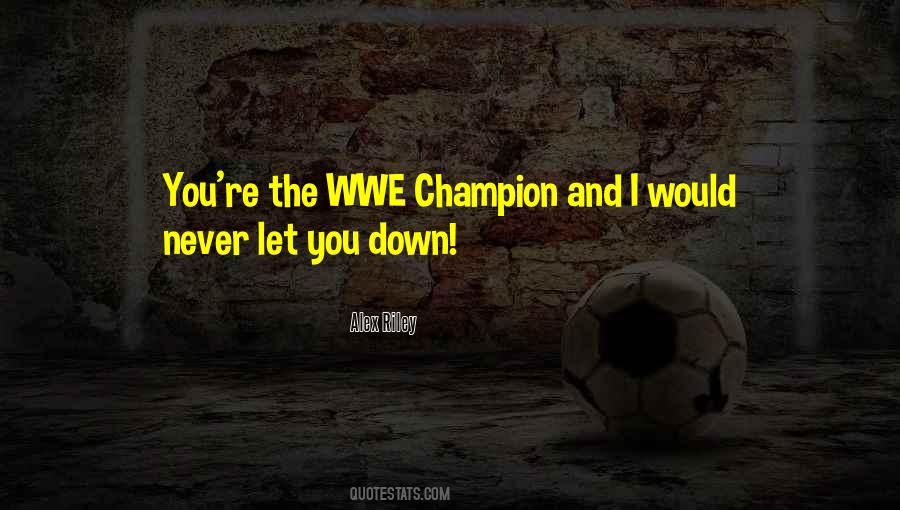 #88. Everything will usually get worse before it gets better, but when it does get better ... remember all who put you down and all who helped you up. Forgive but never forget. Let Karma take care of all the rest. - Author: Timothy Pina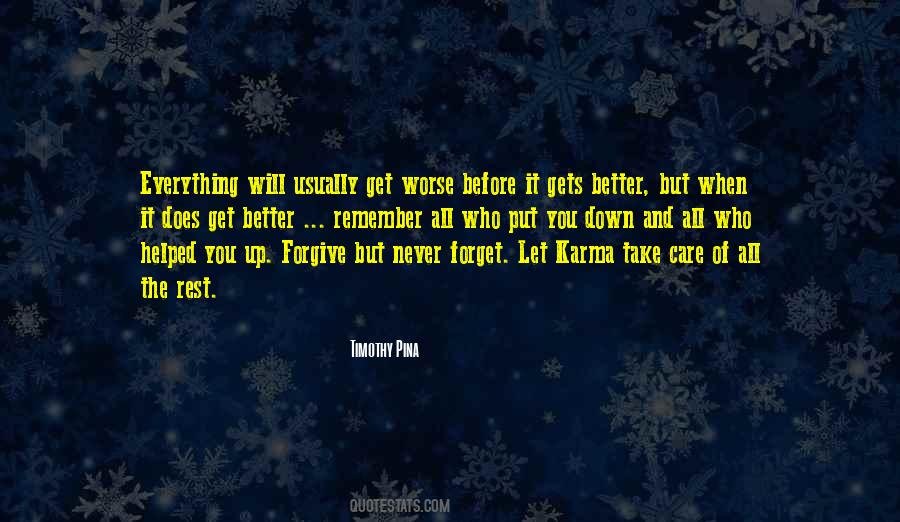 #89. Your Spirit Guides and Angels will never let you down as you build a rapport with them. In the end, they may be the only ones who don't let you down. - Author: Linda Deir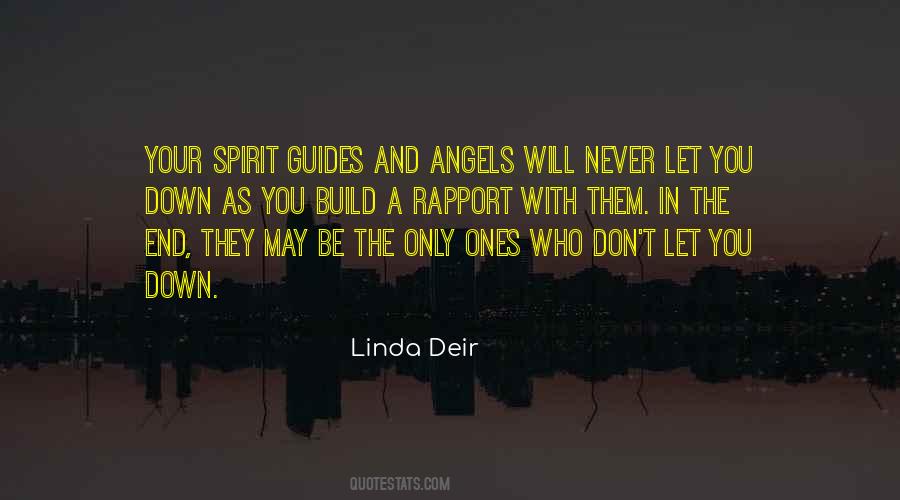 #90. I can only show what I have received from the characters. That's what's scary because you're never going to be everyone's taste and you don't want to let people down. But, I can only do what I can do. - Author: Lily James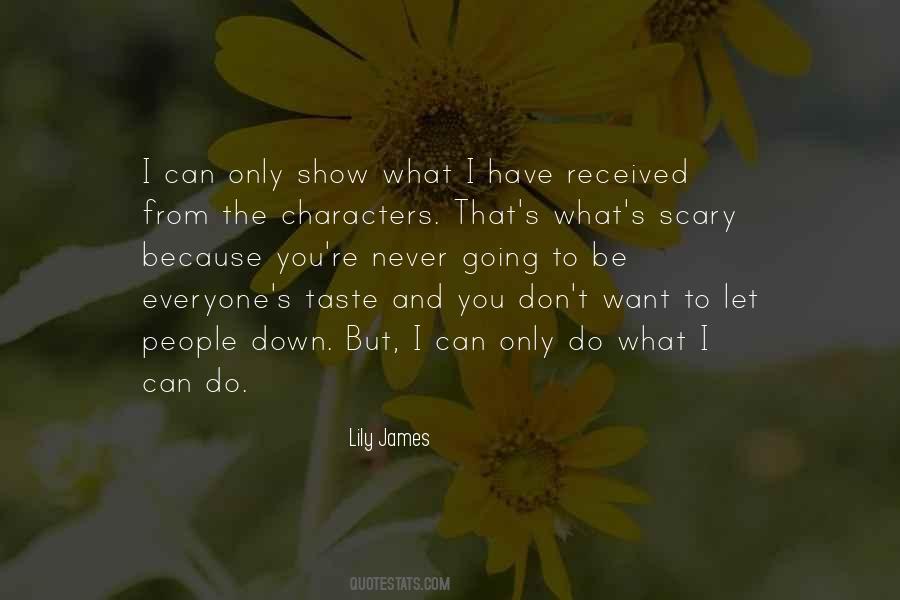 #91. Boys are gonna come, and boys are gonna go. Unfortunately, some friends may even do the same. But dessert, ya'll will never let you down. - Author: Rachel Harris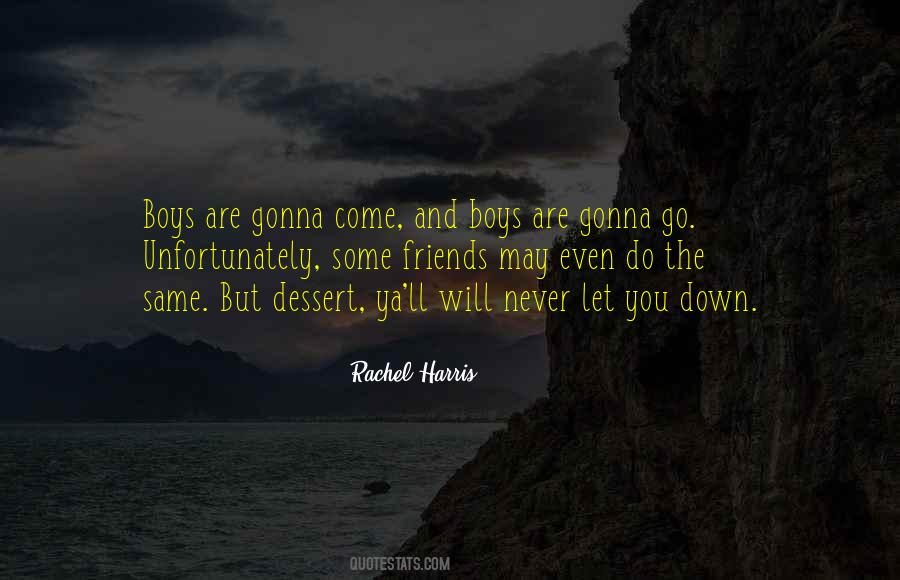 #92. Never let them see you sweat. Never take a "no" from someone who isn't qualified to tell you "yes." Never let the nay-sayers get you down. - Author: Mary Kennedy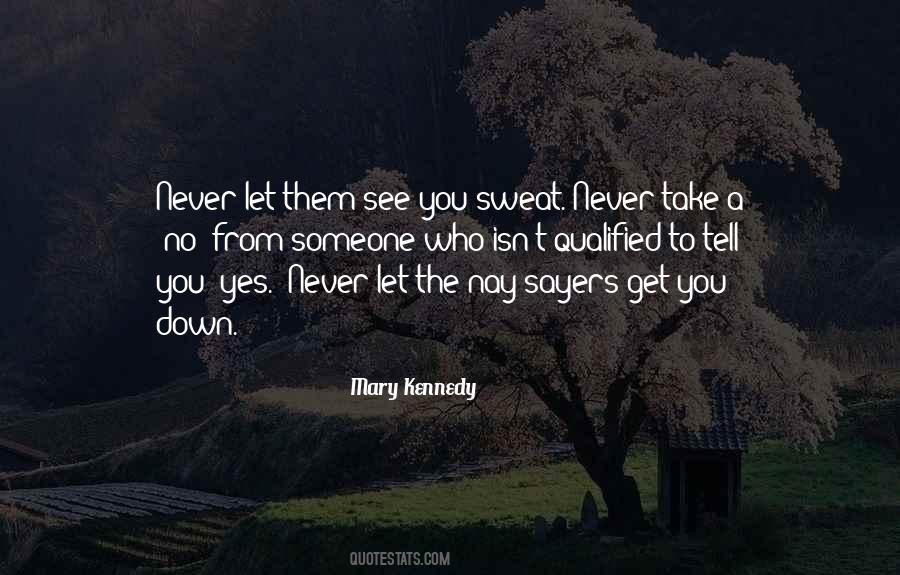 #93. Believe in yourself, take on your challenges, dig deep within yourself to conquer fears. Never let anyone bring you down. You got to keep going. - Author: Chantal Sutherland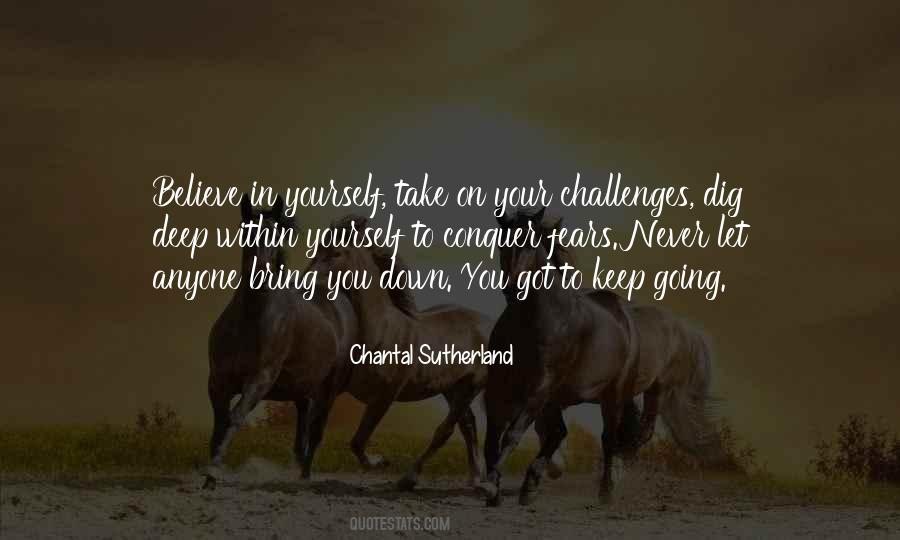 #94. When you make a solemn promise to a friend, it ain't right to go back on it. No. Never let your friend down, never break a trust, and when you give your word, never go back on it.
-Sheriff Andy Taylor - Author: Lauren Myracle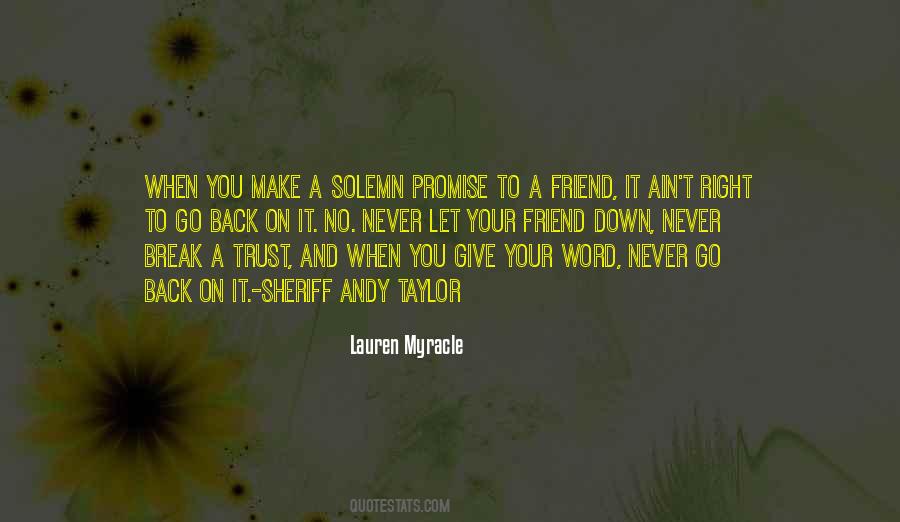 #95. Never let anyone steal your power. If they try, you march right down to that junction box and cut the wire. - Author: Grea Alexander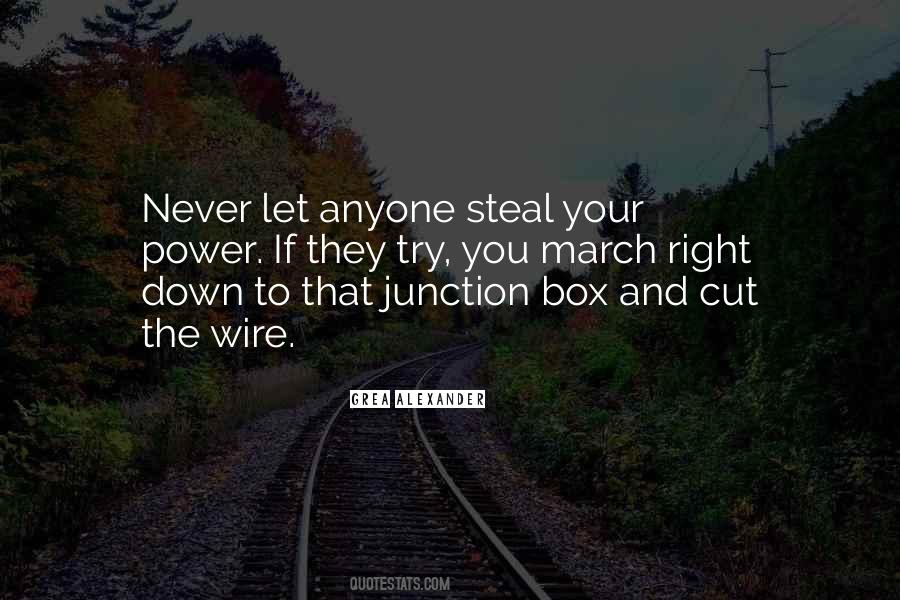 #96. When you sell a product or service, you're making a promise to your audience. If you don't understand your audience, you'll never be able to keep that promise and you'll ultimately let them down. - Author: Daymond John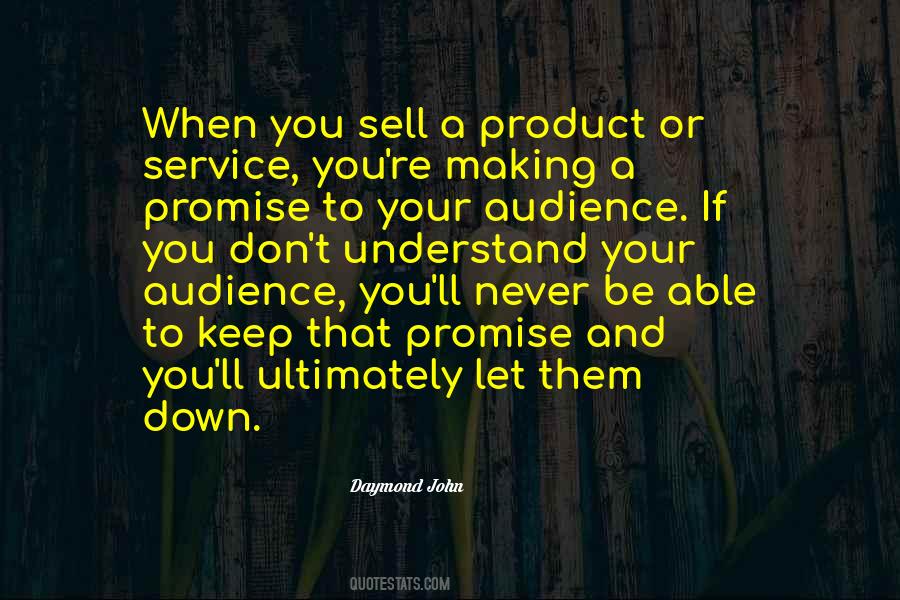 #97. Never mind," Leo said. "I'm pretty sure pi is, uh, 3.1415 blah blah blah. The number goes on forever, but the sphere has only five rings, so that should be enough, if I'm right."
"And if you're not?" Frank asked.
"Well, then, Leo fall down, go boom. Let's find out! - Author: Rick Riordan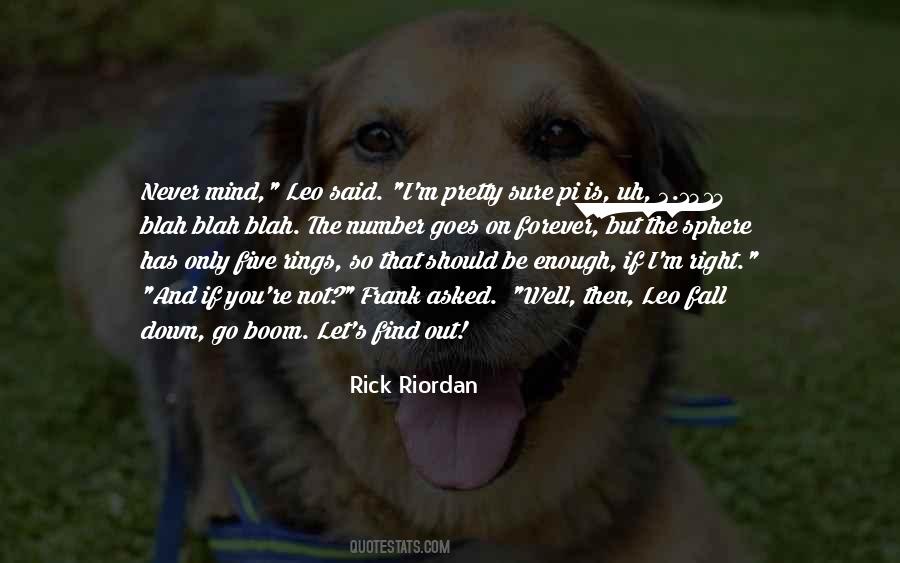 #98. Almost every part of the mile is tactically important: you can never let down, never stop thinking, and you can be beaten at almost any point. I suppose you could say it is like life. - Author: John Landy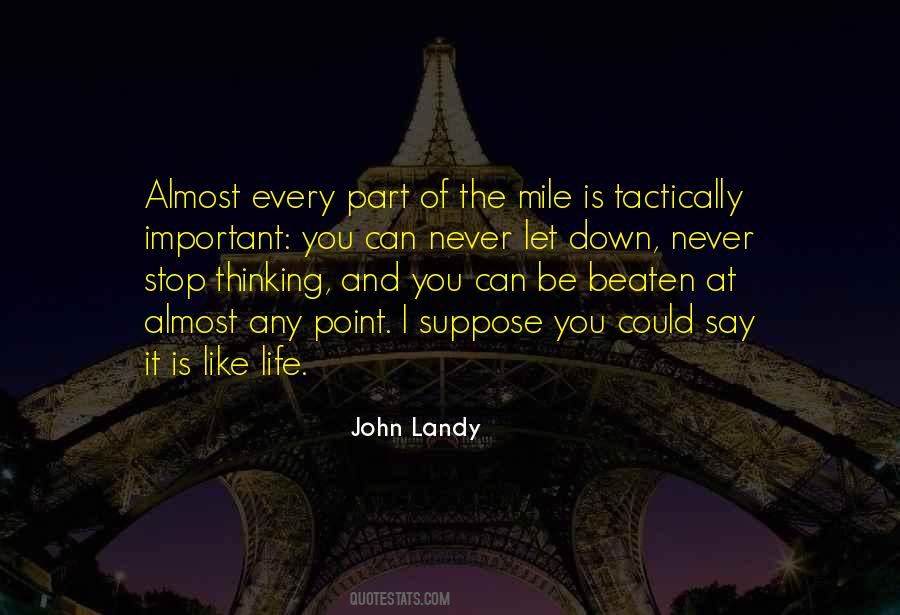 #99. Credibility lasts about two cycles of bad material, and then you'll probably never get it back. If you let people down, that's really hard to come back from - harder than climbing from nothing to something, even. - Author: Louis C.K.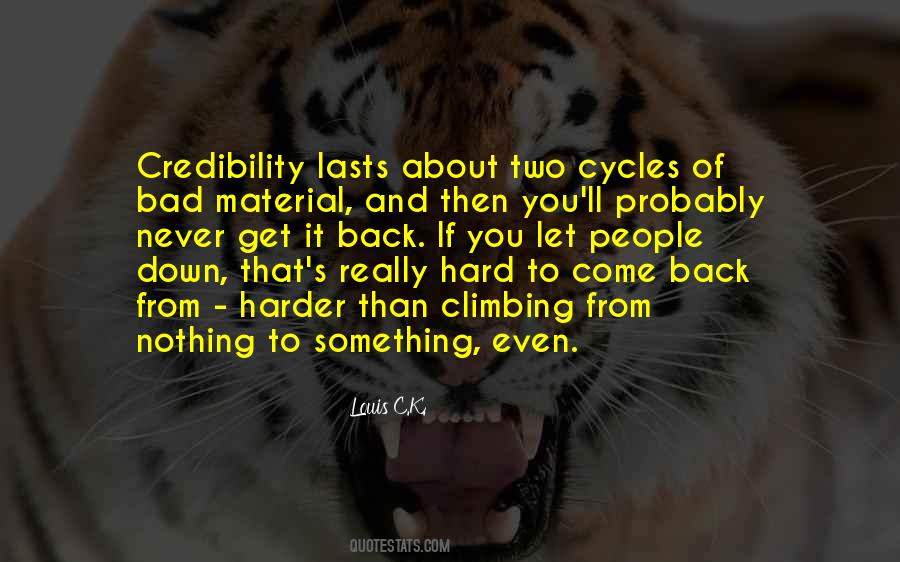 #100. I'm a guy who shakes your hand and will never let you down. I have a code of honor and I don't lie. - Author: Jerry Weintraub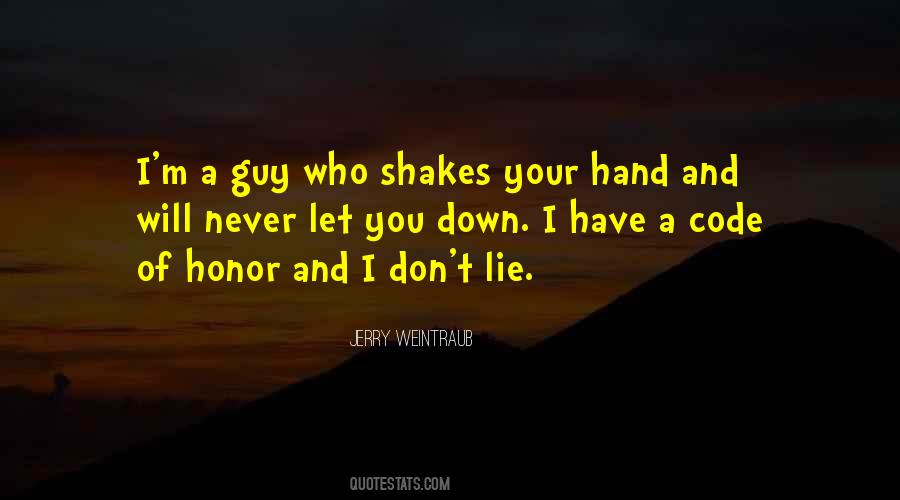 Famous Authors
Popular Topics