Make Some Money Famous Quotes & Sayings
List of top 100 famous quotes and sayings about make some money to read and share with friends on your Facebook, Twitter, blogs.
Top 100 Make Some Money Quotes
#1. When you get a lot of money thrown at you, you can make some dumb decisions without the right advice. - Author: Peyton Manning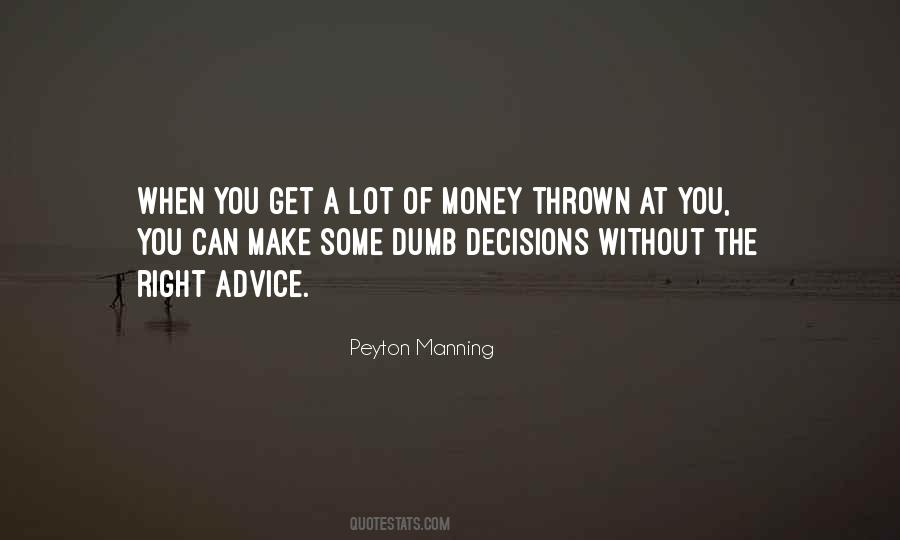 #2. Some people make enough, some people don't, and it has nothing to do with their paycheck. - Author: Janene Murphy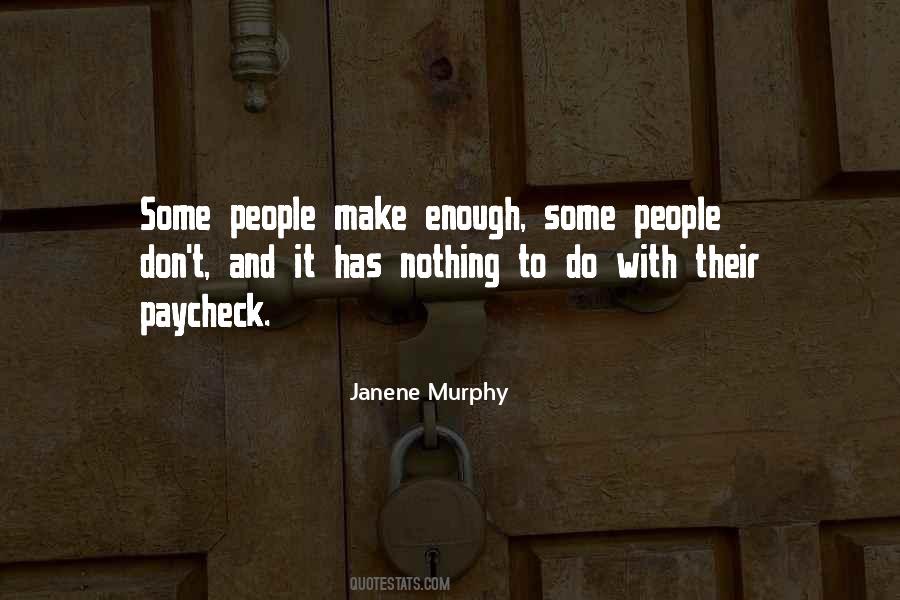 #3. But even a medicine man like myself has to have some money, because you force me to live in your make-believe world where I can't get along without it. - Author: John Lame Deer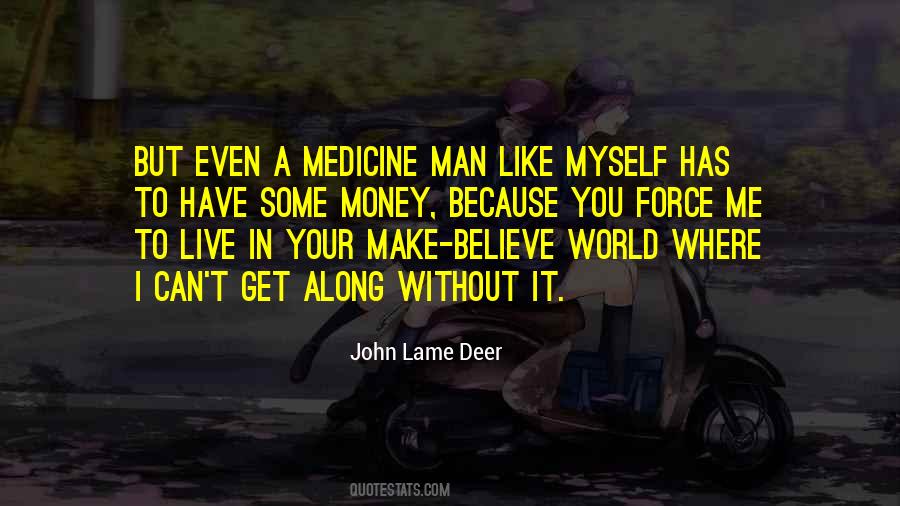 #4. All I wanted to do was write - at the time, poems, and prose, too. I guess my ambition was simply to make money however I could to keep myself going in some modest way, and I didn't need much, I was unmarried at the time, no children. - Author: Paul Auster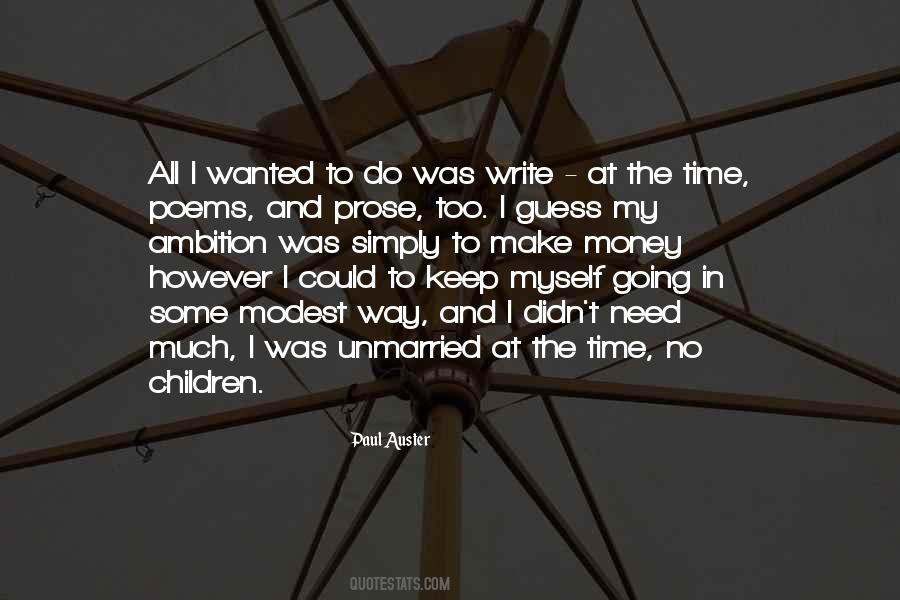 #5. I think the Internet has hurt music more than it has helped it. The idea of giving music away for free just bothers me. And, when one band or artist gives it away, it devalues the rest of the product from those who would like to make some money or a living from it. - Author: Steve Mahoney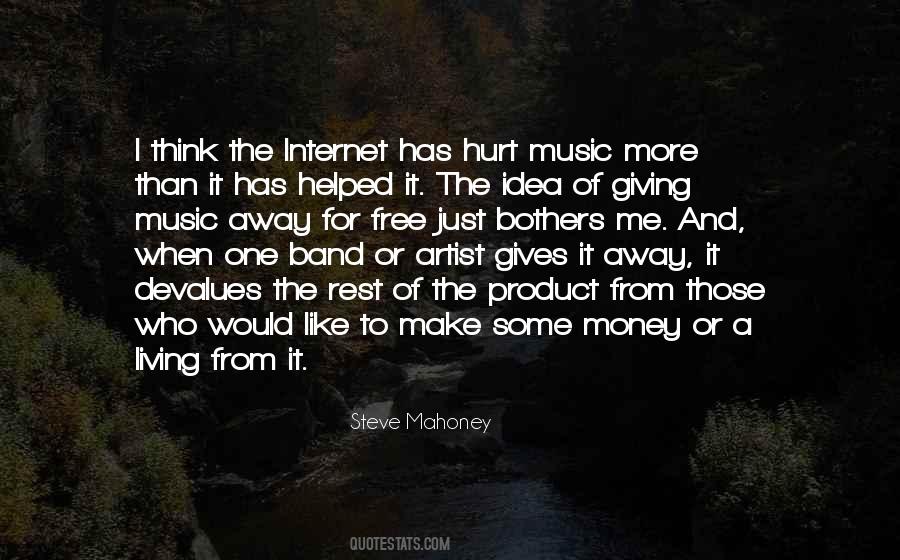 #6. People say to me all the time that I threw some money into some guy's coffee cup [by accident, thinking they were poor]. People do make the same sort of mistake. I've made attempts to volunteer that have been calamitous! - Author: Nicole Holofcener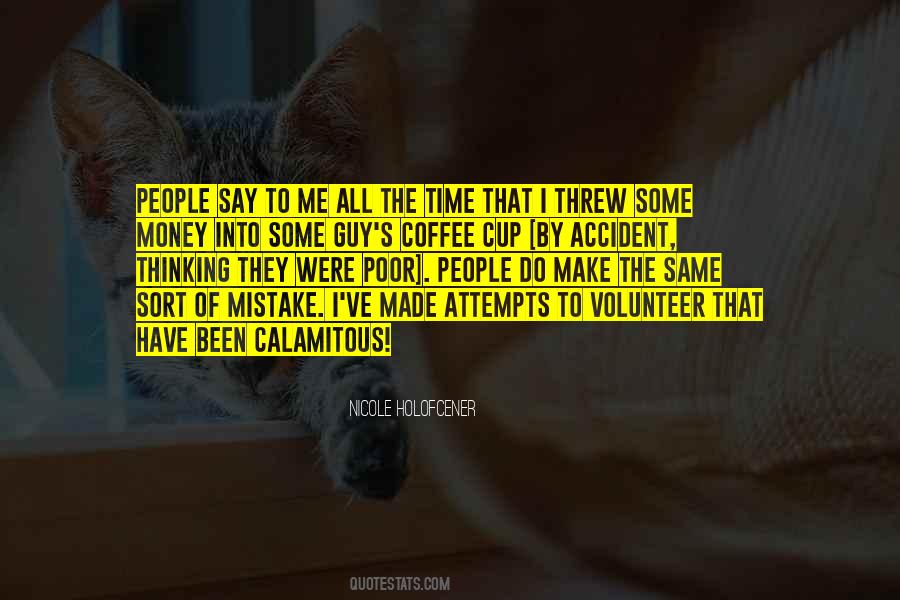 #7. The companies that survive longest are the one's that work out what they uniquely can give to the world not just growth or money but their excellence, their respect for others, or their ability to make people happy. Some call those things a soul. - Author: Charles Handy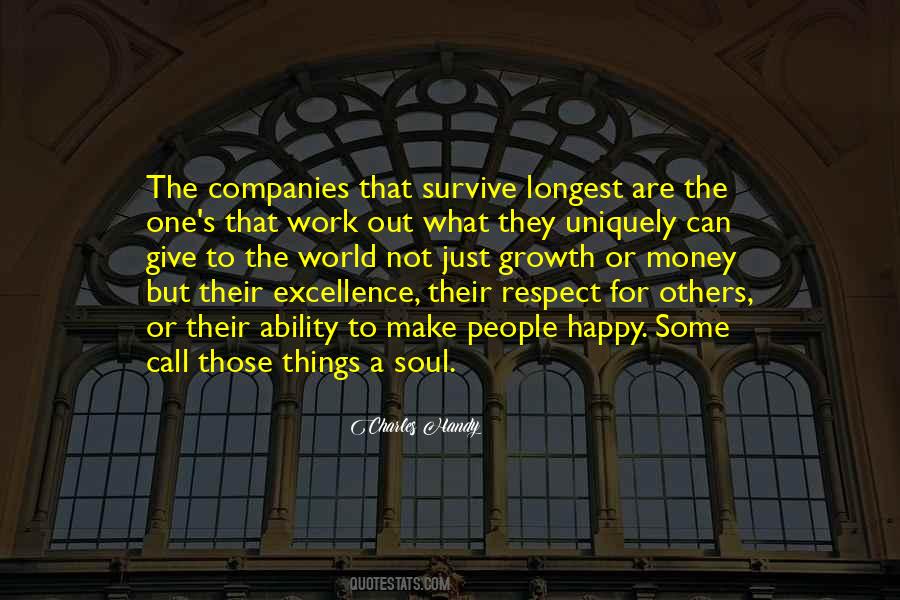 #8. Ultimately, if you're not doing what you love, you're not going to be fulfilled. Sure, to make money, you have to be tough, you have to have some smarts and a little luck would help, but the bottom line is: You have to love what you do. - Author: Donald Trump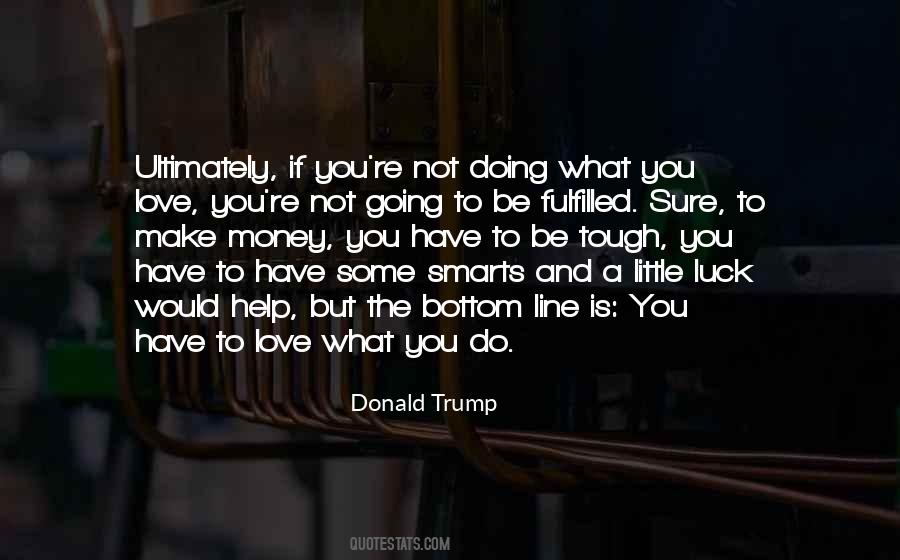 #9. The Hank Williams Syndrome: Come to Nashville, write some good songs, cut some hit records, make money, take all the drugs you can and drink all you can, become a wild man and all of a sudden die. - Author: Waylon Jennings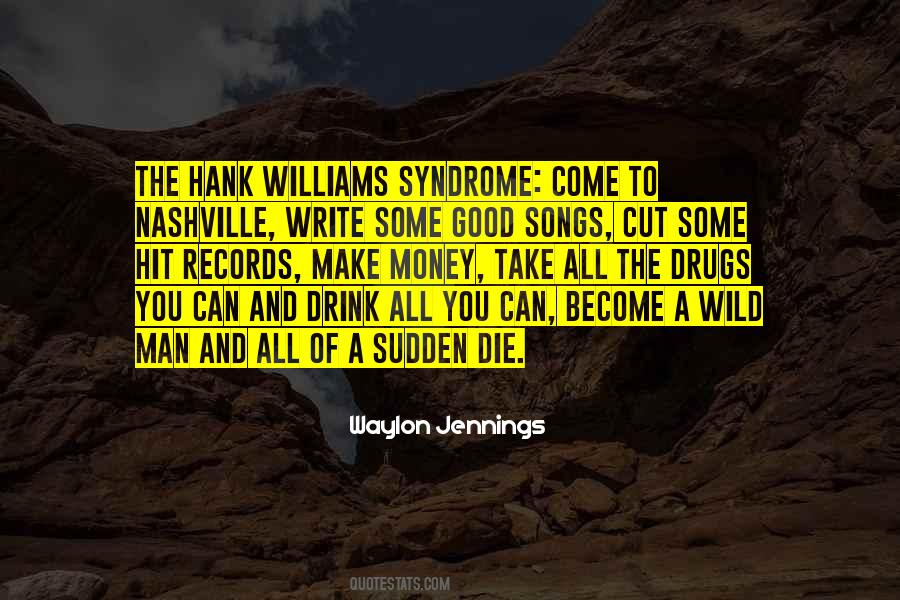 #10. I'm not the businessman. I don't deal with the business at all. Not anymore. Occasionally, every four years or five years, they tell me I've run out of money, I have to go and make some more. - Author: Mick Jagger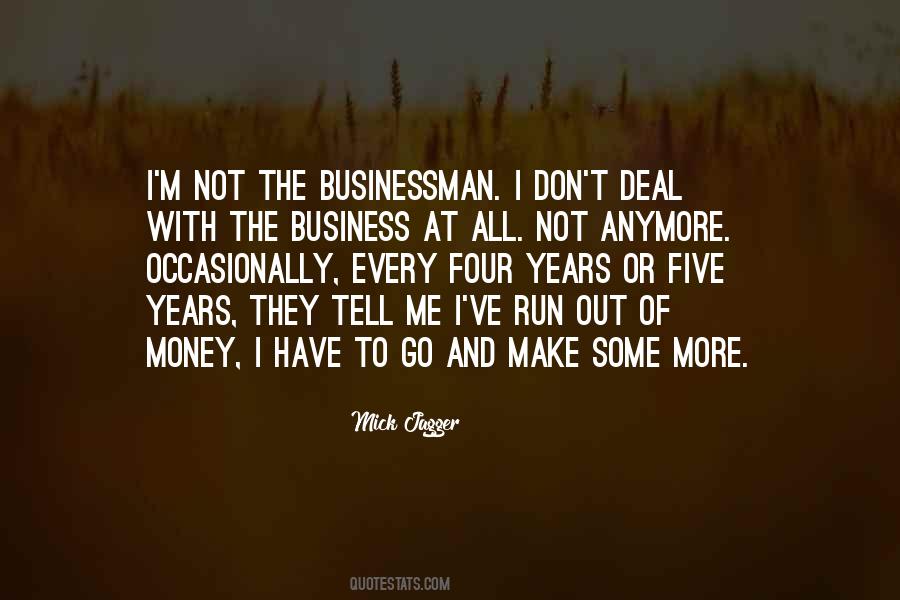 #11. Going from PayPal, I thought: 'Well, what are some of the other problems that are likely to most affect the future of humanity?' Not from the perspective, 'What's the best way to make money?' - Author: Elon Musk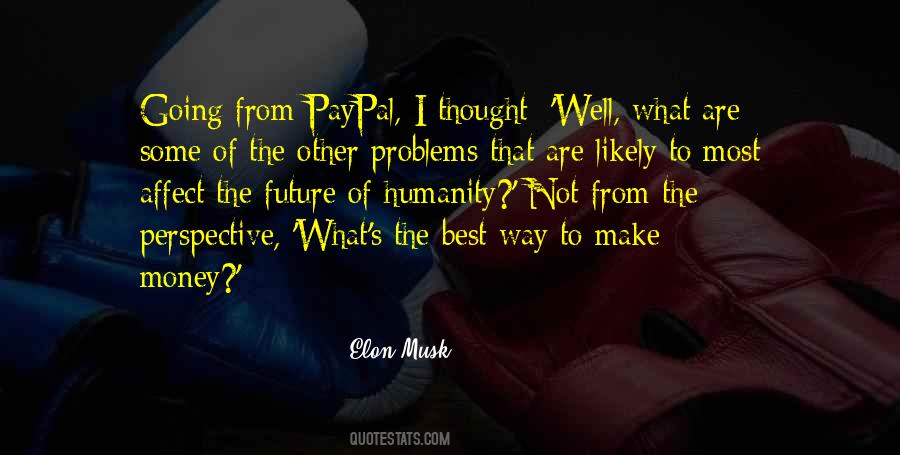 #12. My senior year of high school, I was voted 'Wittiest.' So, several years later, I decided to try my hand at writing humor to see if I could be witty enough to make some money. - Author: Barbara Park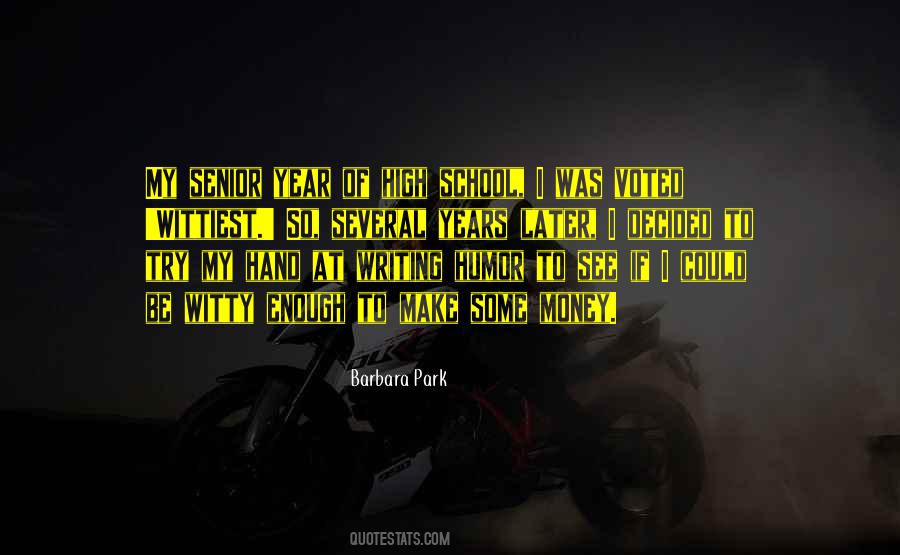 #13. Money can make life comfortable, solve some problems and bring temporary satisfaction, but true happiness and joy is not guaranteed by money. - Author: Sunday Adelaja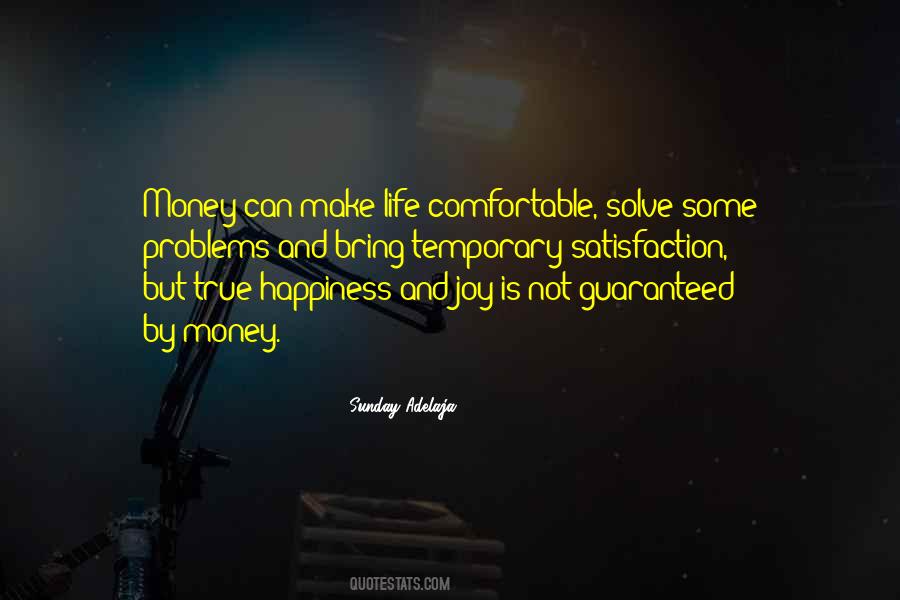 #14. There's something deeply satisfying when it succeeds, but I'm not going to do another book just to put my name on something and make some money if it's not something I deeply care about. - Author: John McEnroe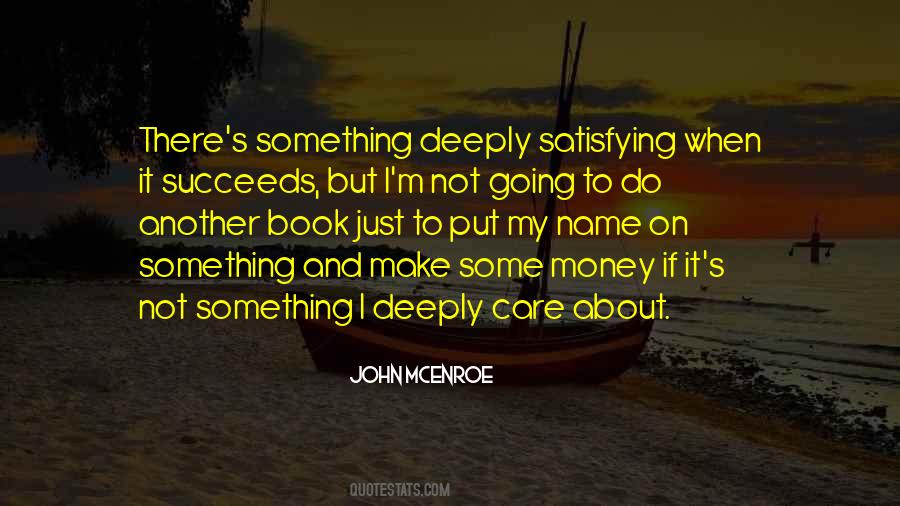 #15. Some argue we should get coal, oil and gas out of the ground as quickly as possible, build more pipelines and make as much money as we can selling it here and abroad. Their priorities are the economy and meeting short-term energy needs so we can live the lives to which we've become accustomed. - Author: David Suzuki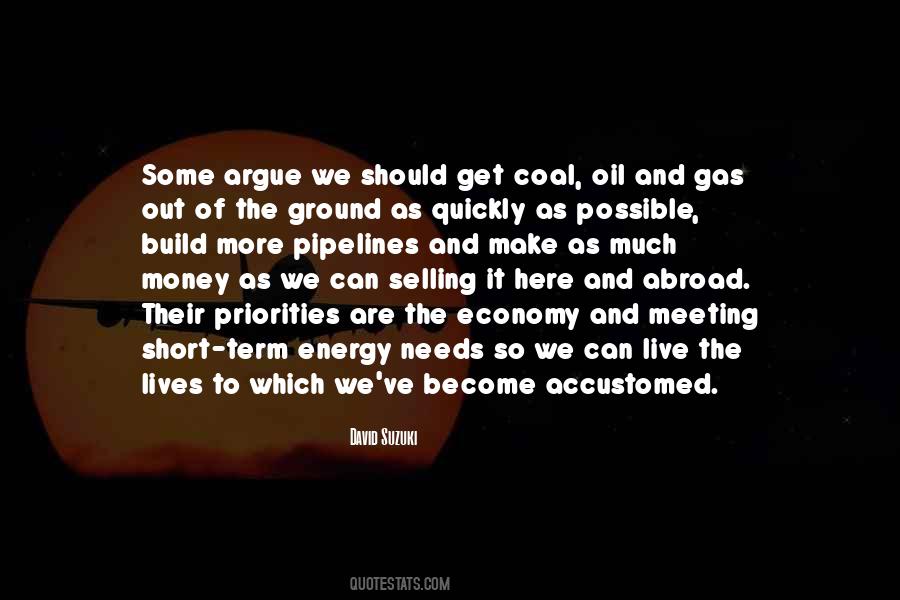 #16. I tried to just do things like make some money, be responsible, help out other artists who I see have had a similar path. - Author: Ariel Pink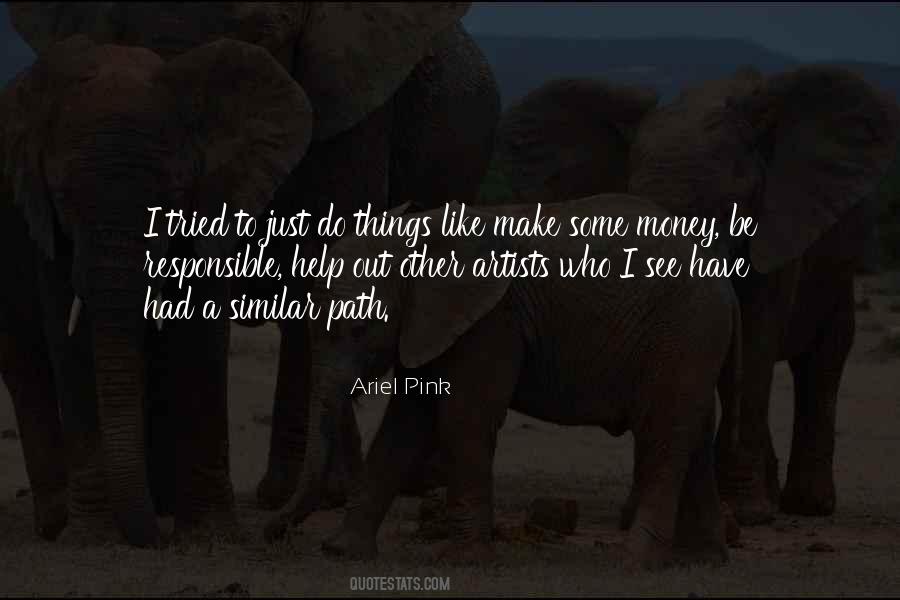 #17. If you need to bring in a business partner, make sure your partner brings along some money. - Author: H. Jackson Brown Jr.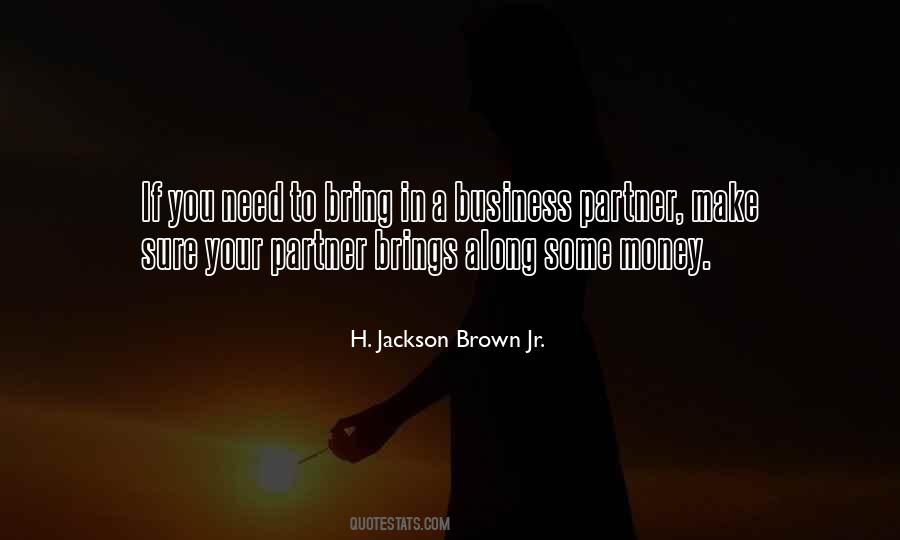 #18. Well, yes, as I was a rather bad actor then and I wasn't making enough money, I thought, to make enough money to not make money as an actor, I'd better do some writing. - Author: Val Guest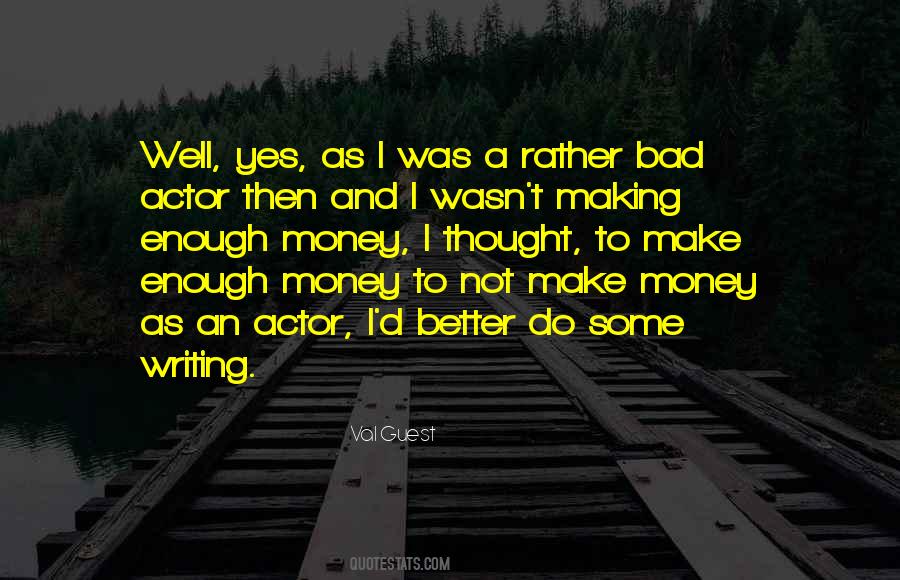 #19. When I sign on to a television show [Mistresses], I have to love that show and character so much, but this was in and out, for seven episodes. And it was nice to be able to make some money again because I hadn't work in a year and a half. There were a lot of pluses. - Author: Shannyn Sossamon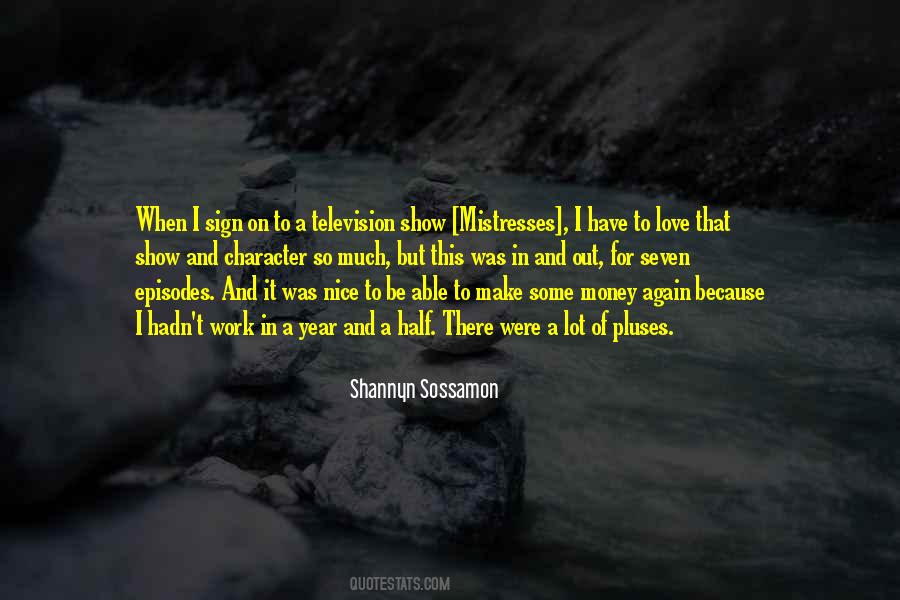 #20. When I began to make some money, I really wanted to have a home. - Author: Paul Theroux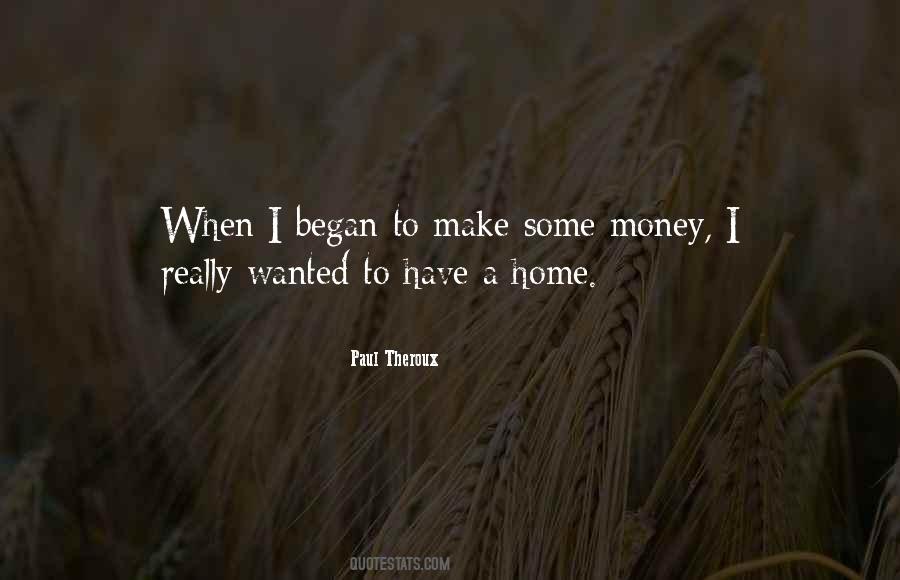 #21. When you first get opportunities, suddenly you get surrounded by a lot of people who want to make money off you but also are there to help. But they start telling you so much what you need to be and what you need to do to maintain some idea of career maintenance. - Author: Brad Pitt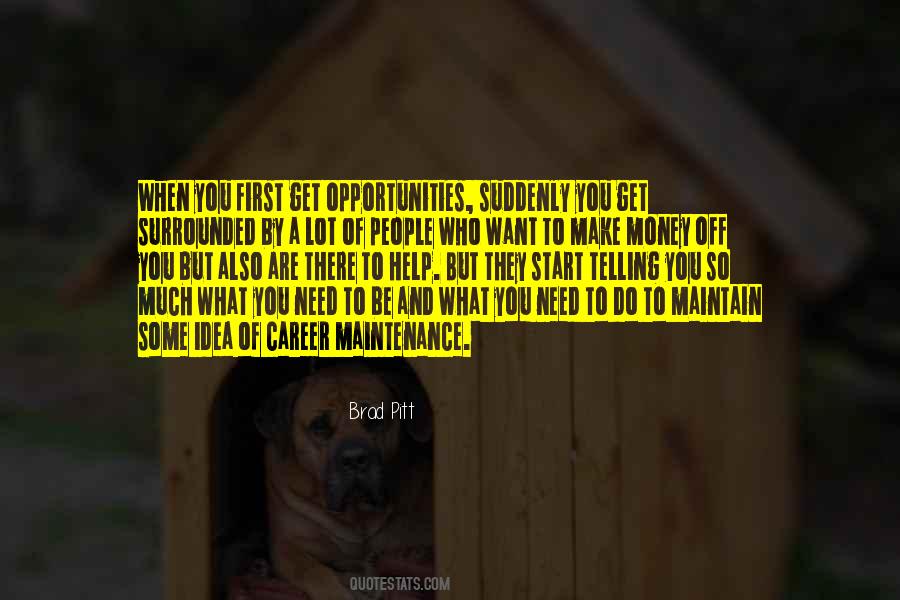 #22. In his first week on the throne, he vowed to make peace with all the nations we've ever warred with, cut military spending in half, funnel the money to education, and ... oh, yes, and phase out the empire itself, instating some ridiculous people's republic with elected officials. - Author: Lindsay Buroker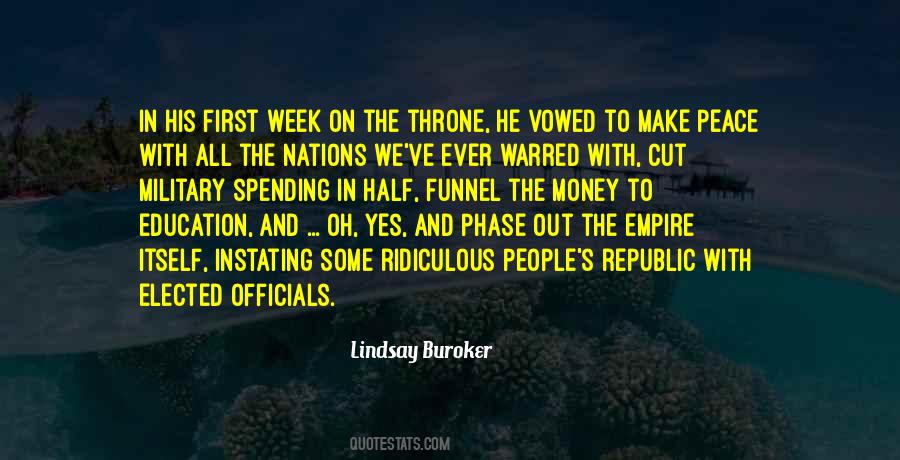 #23. I really wish there was some big brother conspiracy theory. I just think it's the ignorance of trying to make a dollar. That's what the networks have done and will continue to do. If anyone doesn't think that this is about making money, then they're crazy. - Author: Montel Williams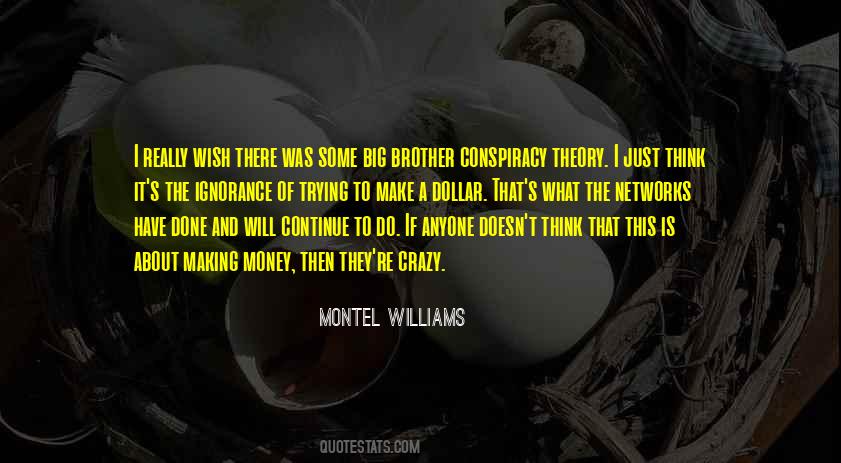 #24. I don't find a lot of people actually saying things through music any longer. They are not trying to say anything with their music, they just want to make money with it. I think it's important to actually say something real, something meaningful, rather than just write some trash and try to sell it. - Author: Robben Ford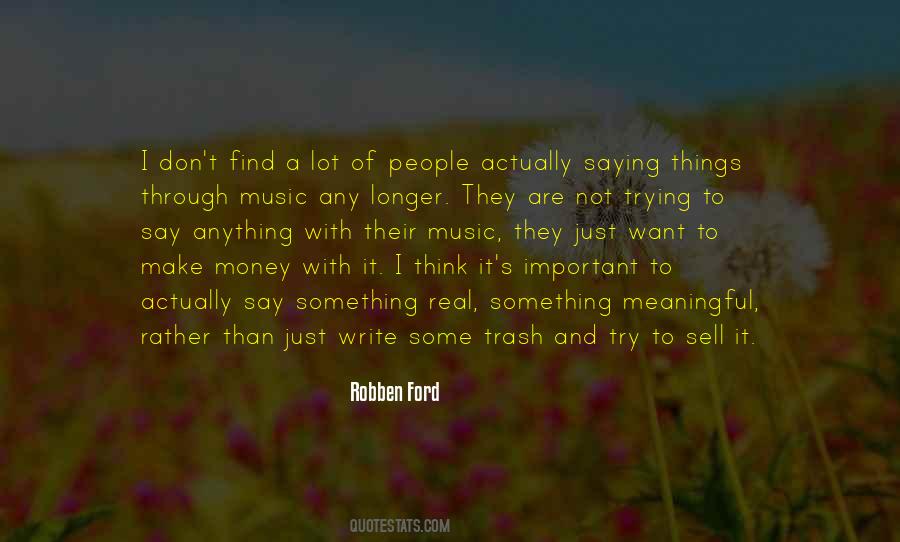 #25. All I want from this book is a living, enough money to make a living, buy a farm and some land, work it, write some more, travel a little, and so on. - Author: Jack Kerouac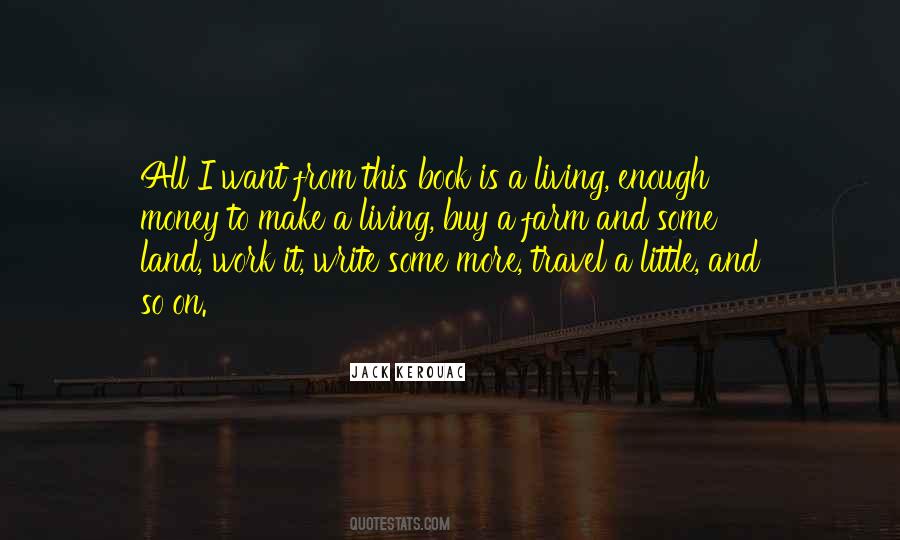 #26. I didn't make good money on 'Nightmare' until part three. I eventually got some nice merchandising checks. - Author: Robert Englund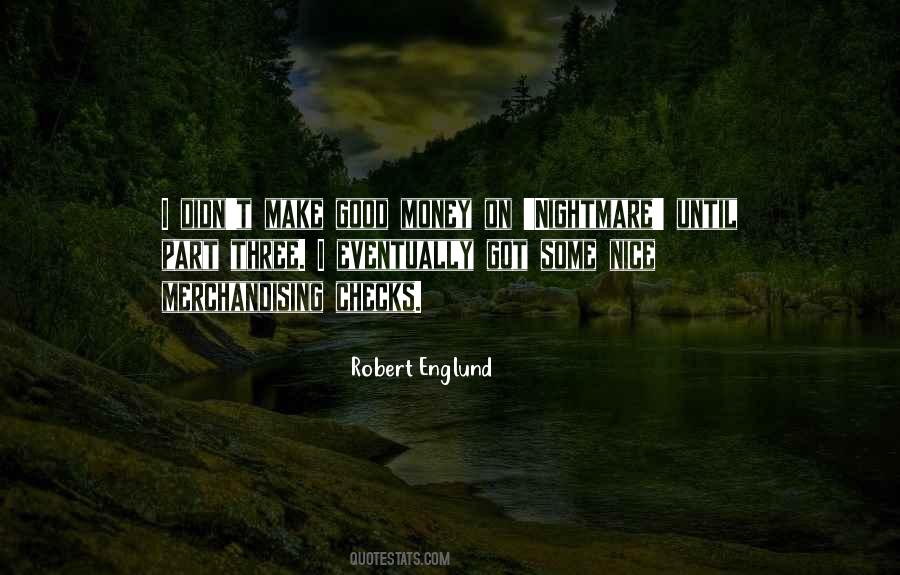 #27. There are some people who get money just because they've got large families. So if it pays to make large families and earn more money than you would earn out at work, why not have more families, larger families? That's wrong. - Author: Robin Leach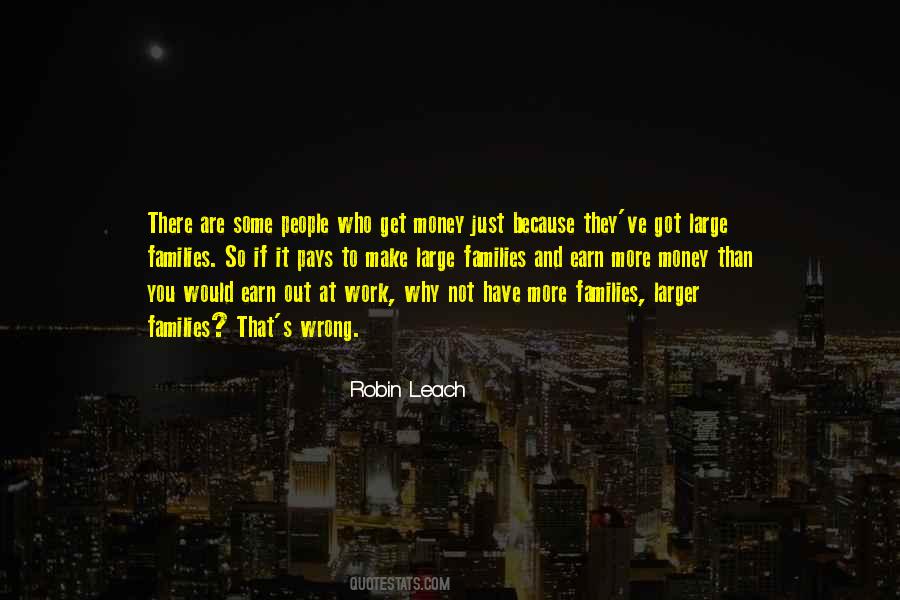 #28. Sometimes you can make a substantial amount of money and automatically think that you've made it, that you did everything you wanted to do. Some people just stop. - Author: Raekwon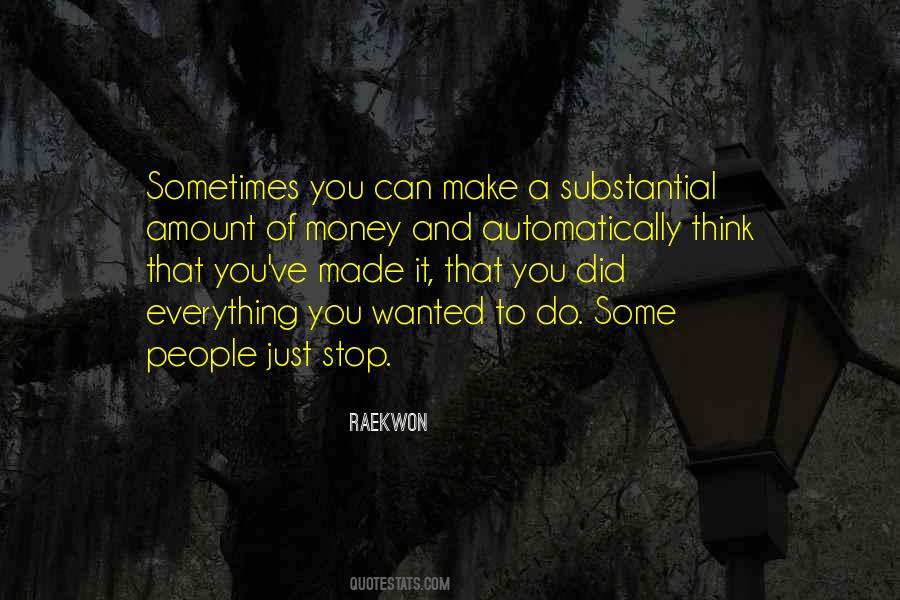 #29. So many people appreciate what you've done, the doors you've opened, but some people realise they're not going to be able to make as much money as they thought possible when you first started. - Author: Nelly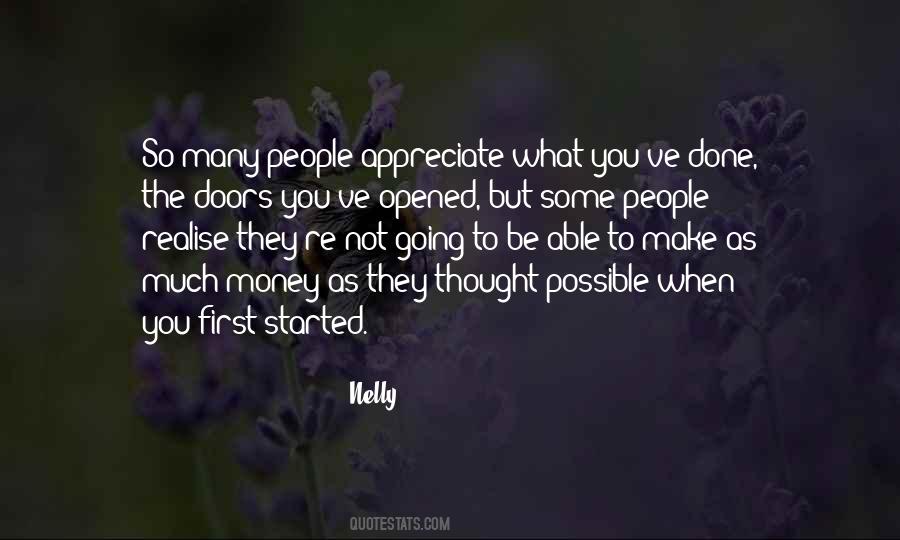 #30. I think business leaders all over the world should not just think of how we can make lots of money, which is fine, but to take some of the problems in the world and get out there and tackle them using business. I think that if businesses do that we can get on top of these problems. - Author: Richard Branson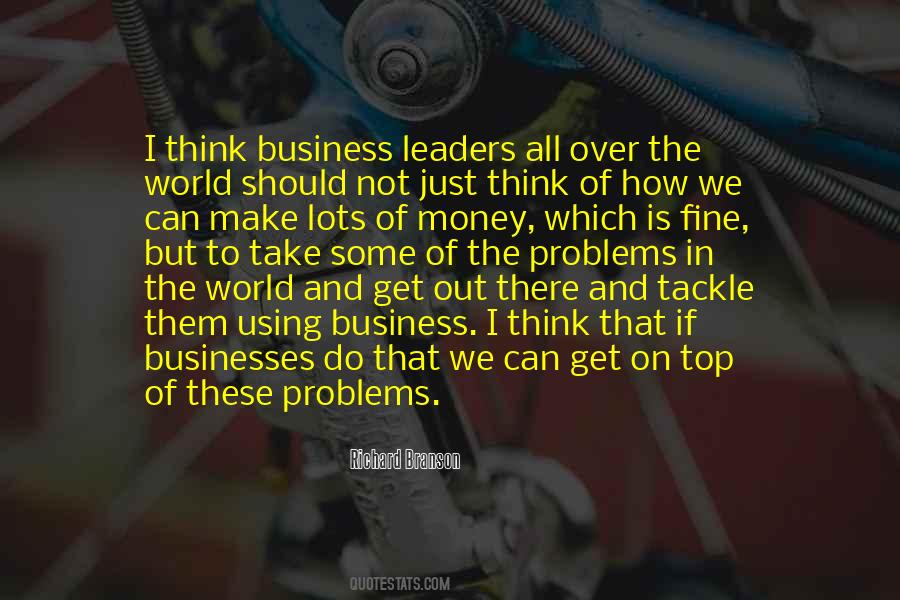 #31. knowing you're smarter than somebody and you can beat them. And that, in our case, it was gonna make us some money. - Author: Kevin D. Mitnick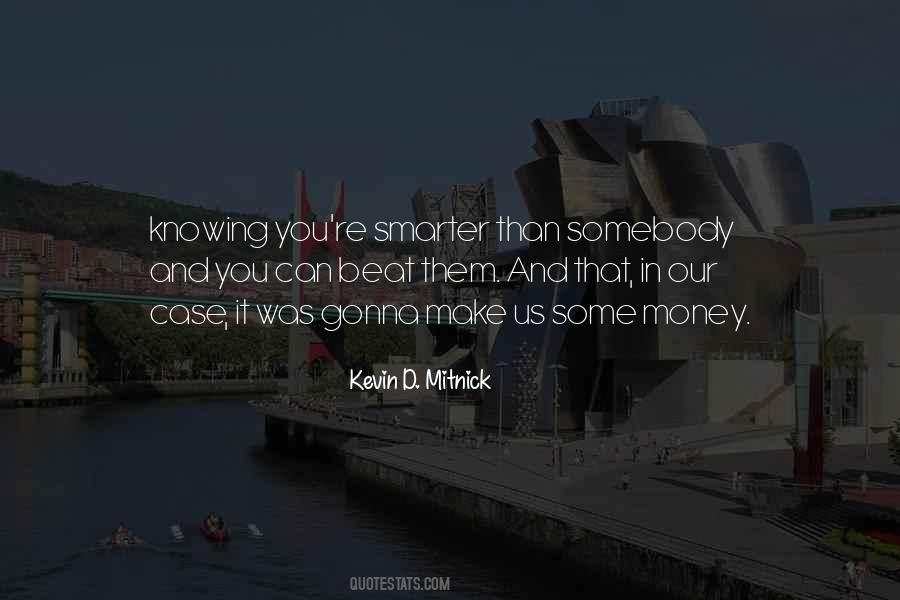 #32. Some people want to amass a great amount of wealth and make a great looking obituary. I'm going to die with more money than is good to leave my son. - Author: Darrell Issa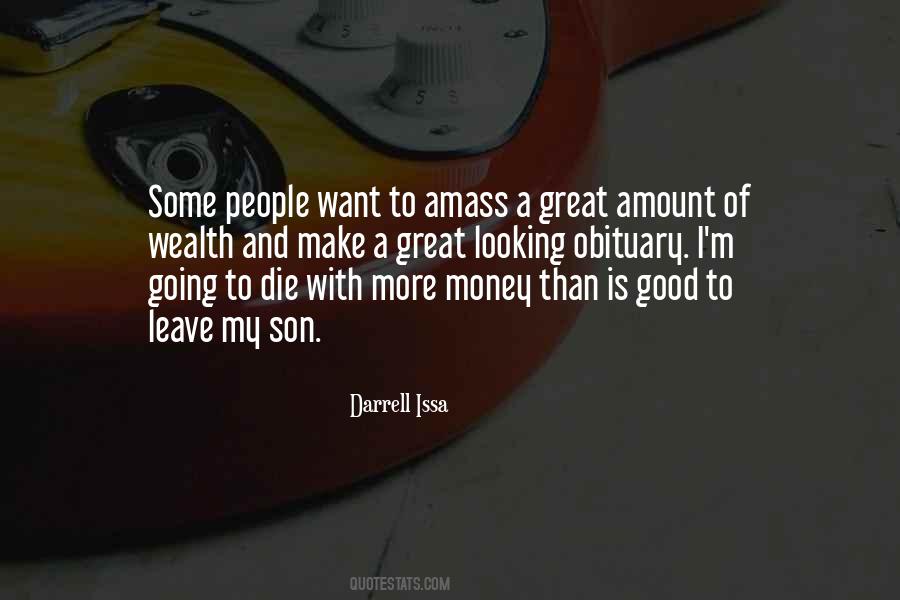 #33. Everybody says they want to be happy, but very few people know what will really make them happy. Some people say they want money, but money is just printed paper. Some say they want to travel, but you can only travel so much and then you have to come home." He - Author: Willee Amsden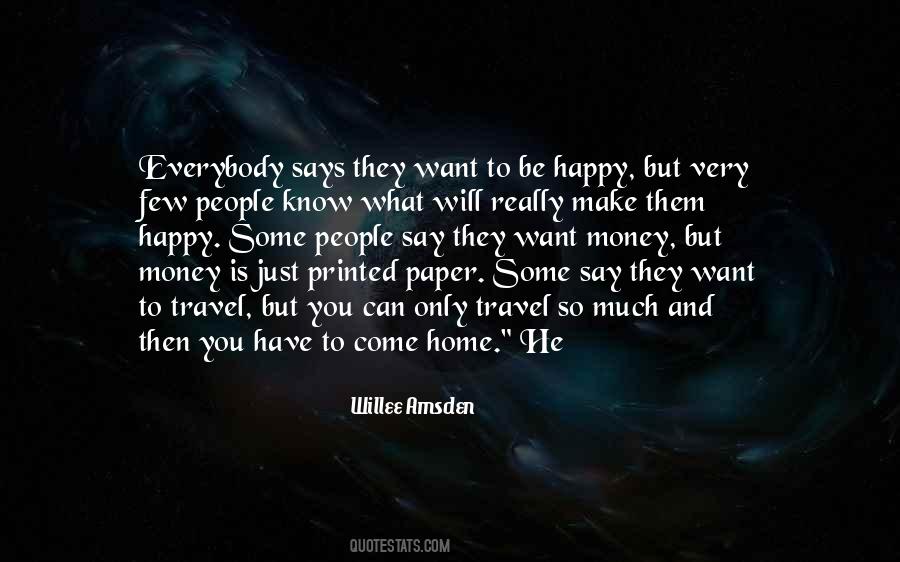 #34. I know how to create and make people feel something. Honestly, if I didn't do this, I would just have some minimum-wage job in New Mexico, and I would go out on the weekends and make just enough money to pay my insurance and pay for a couple beers, and that would be it. - Author: Freddie Prinze Jr.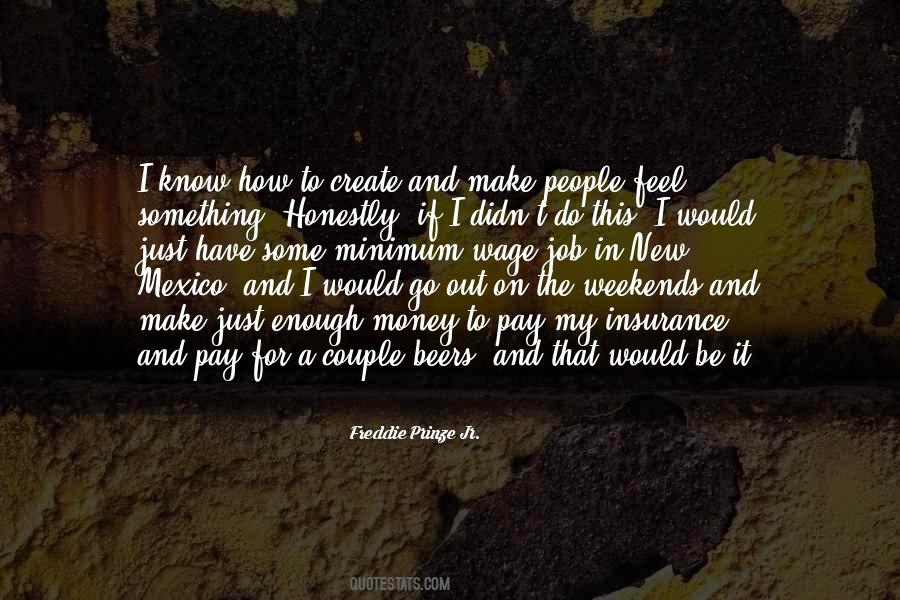 #35. My parents survived the Great Depression and brought me up to live within my means, save some for tomorrow, share and don't be greedy, work hard for the necessities in life knowing that money does not make you better or more important than anyone else. So, extravagance has been bred out of my DNA. - Author: David Suzuki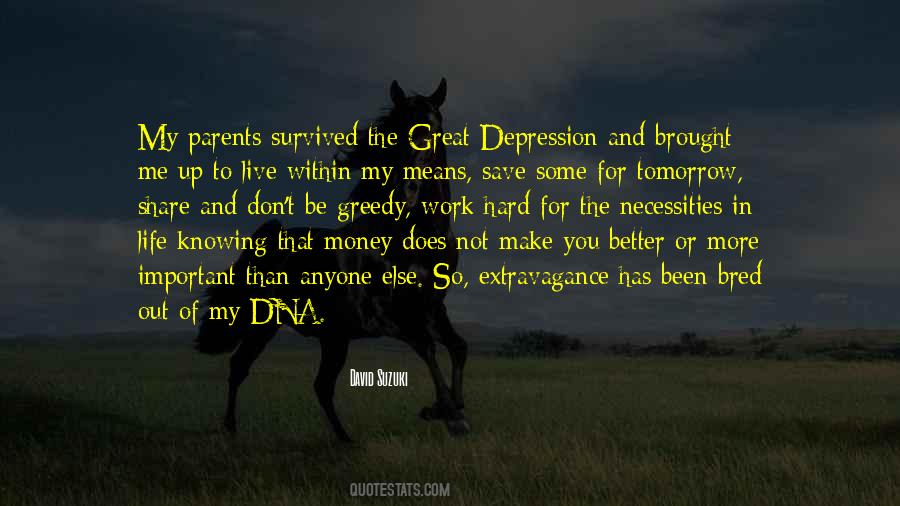 #36. There are some terrorist organizations, there are some organized crime organizations, that launder money through charities and make donations to charities. That's not the purpose of charitable donations in Canada, so we're becoming increasingly strict on the subject. - Author: Jim Flaherty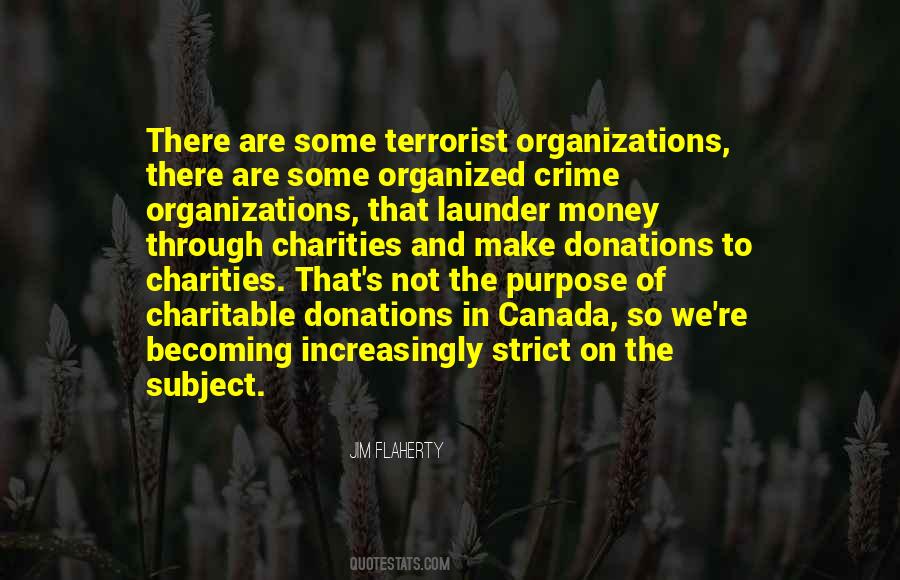 #37. People see me as a person who can make them some money, which makes it hard to make real friends. I'm asked to do a lot of stuff for free - to wear certain clothes, turn up to events - people use you to make money. I think that's why I tend to jump into relationships. - Author: Sophie Monk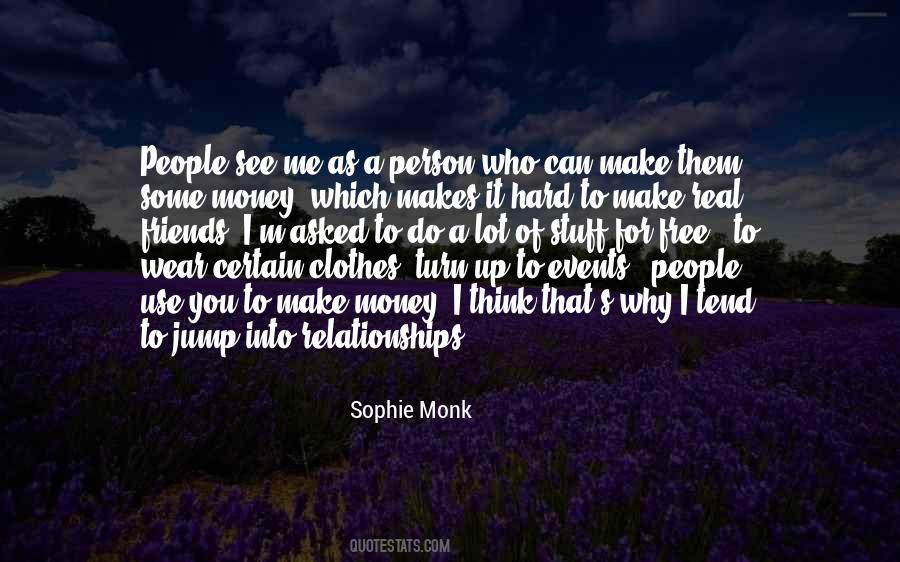 #38. I'll get to make a lot of money and do some bad sitcoms. - Author: Darrell Hammond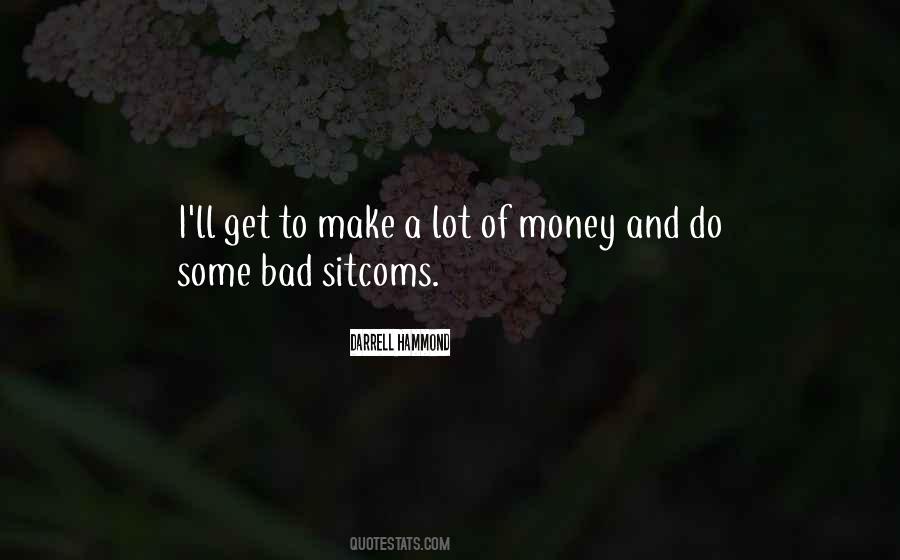 #39. It is a transition, from modelling to singing, but for me it's a natural progression. The modelling was something I did to travel the world and make some money and end up doing what I want to do. It was a way for me to go gather the experience to write an album and now sing about it. - Author: Erica Packer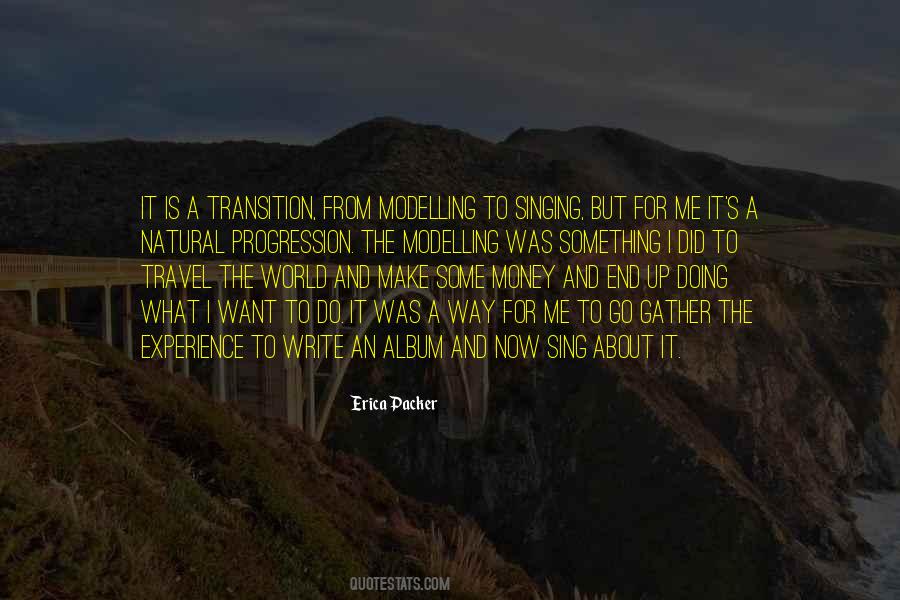 #40. Our whole Depression was brought on by gambling, not in the stock market alone but in expanding and borrowing and going in debt ... all just to make some easy money quick. - Author: Will Rogers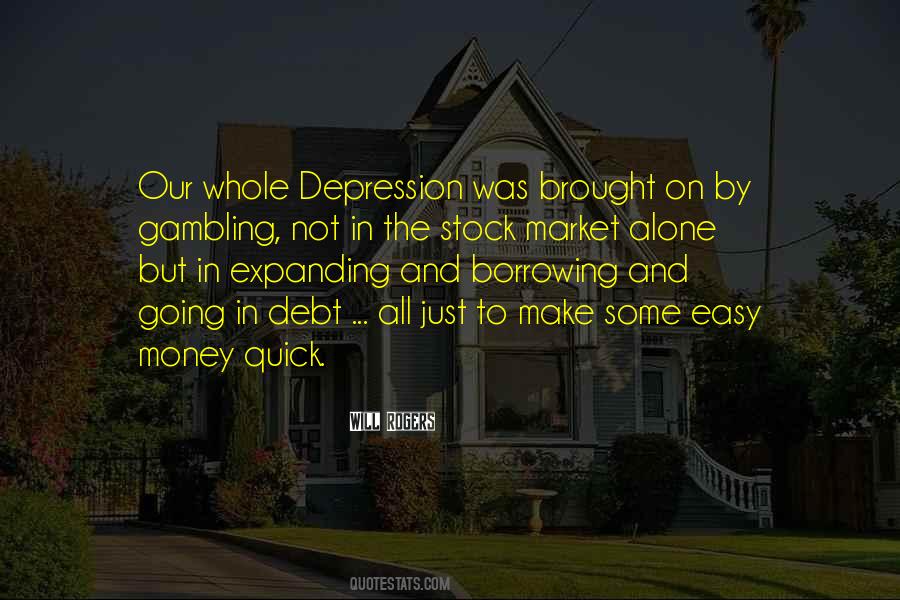 #41. You're going to find people from all over the country, everyone hungry for money and position. You won't make a name for yourself just doing what the next man does. You'll have to distinguish yourself in some way. - Author: Eiji Yoshikawa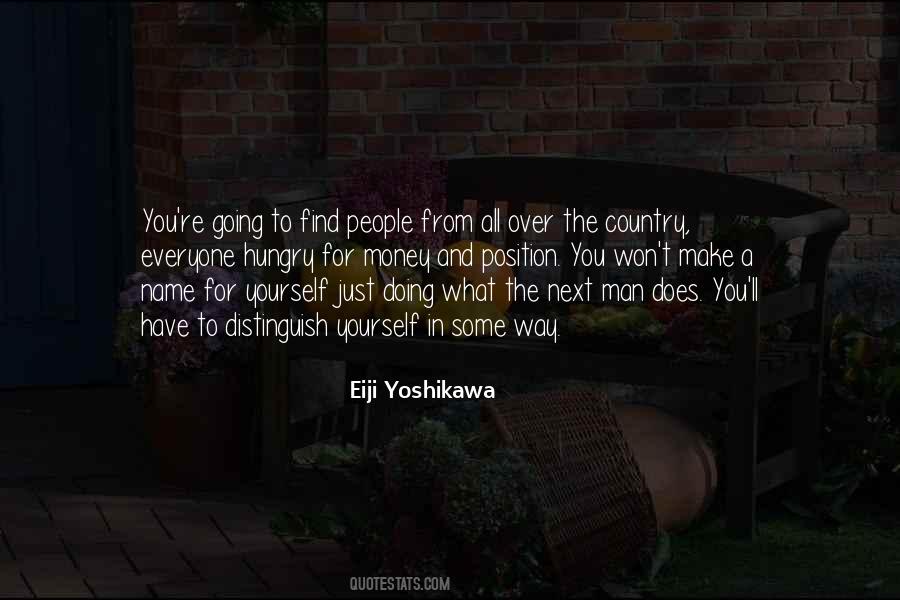 #42. I had always been fascinated by comics, but it had taken me several weeks to make up my mind to buy 'Watchmen'; for someone on a publisher's assistant's salary, it was some quite unheard-of sum of money. - Author: Susanna Clarke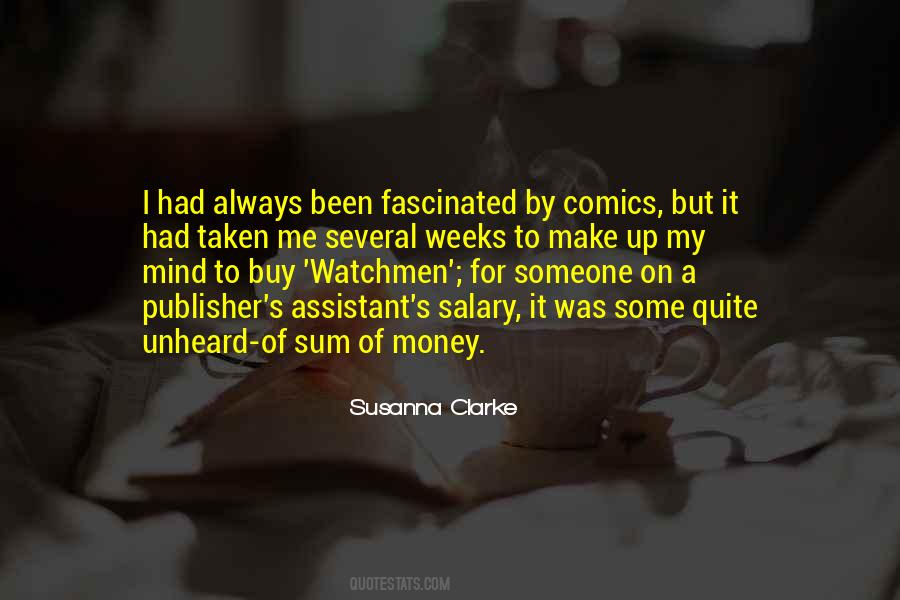 #43. I was young and so eager to make some money as well as get exposed and show my talent. - Author: Young Buck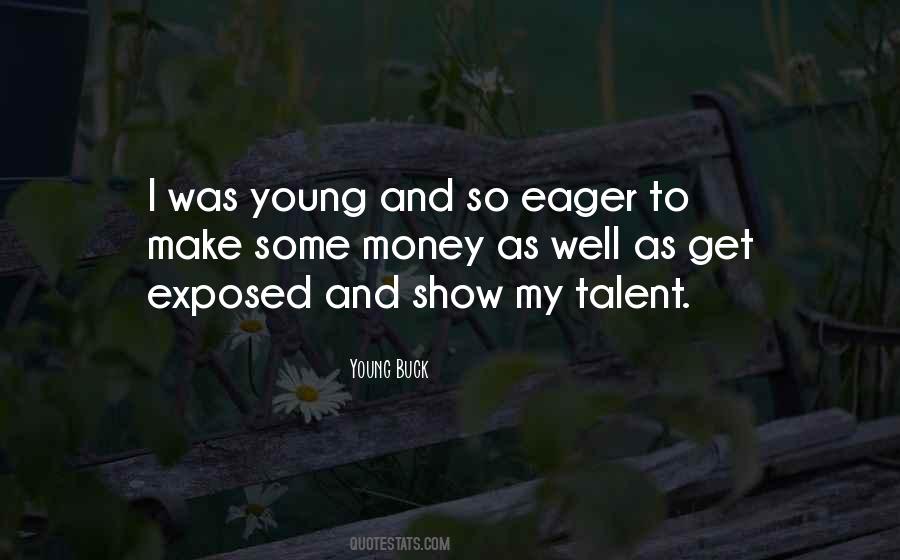 #44. Some people make movies for money or glory and will take any subject people offer them. But I cannot do that. I need to feel the story and make it mine. - Author: Euzhan Palcy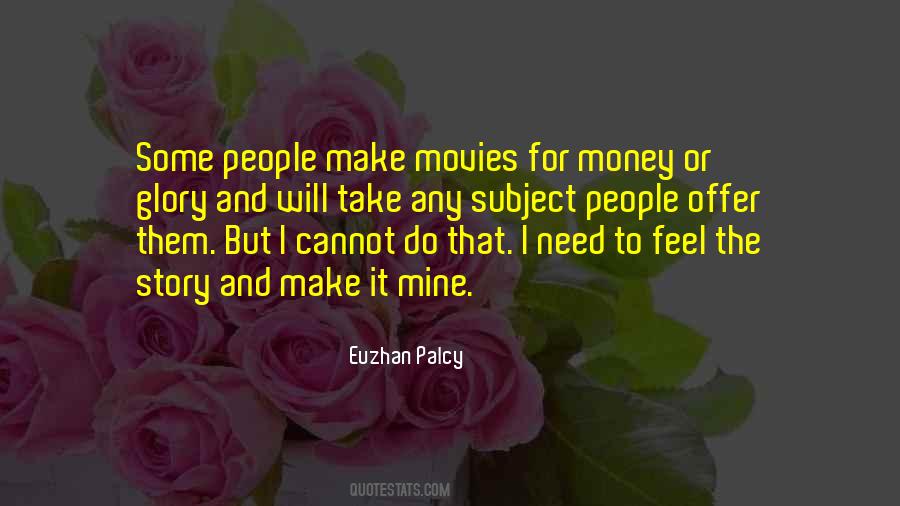 #45. The government says they have loaned over One Billion dollars to the Farmers. In other words, we can't help you make any money, but we will show you where you can owe some more. - Author: Will Rogers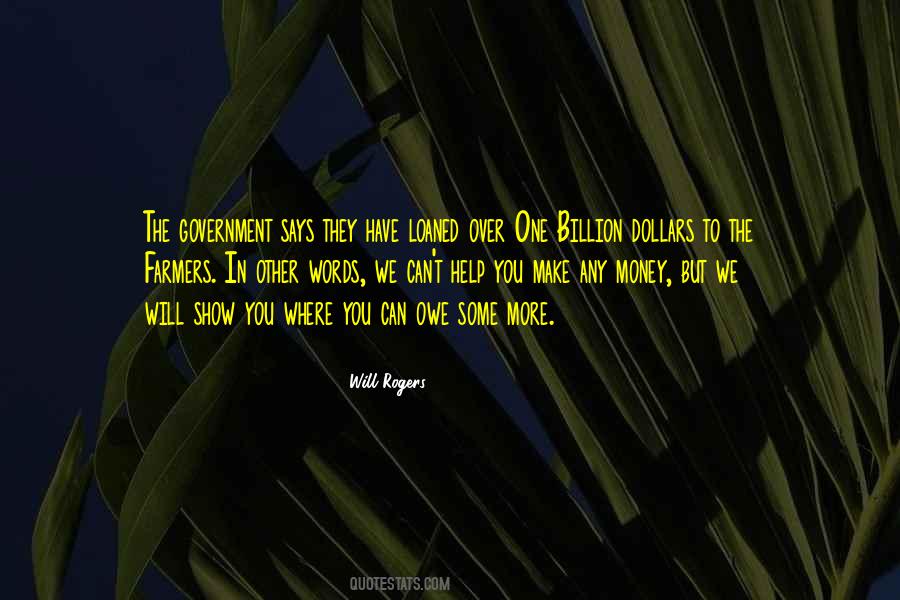 #46. Look, I want to be able to make the stupidest movies ever, because they make people laugh and they make money. But that's not all I want to do. And I think I've proven to some people - the ones paying attention - that I can do more. Everybody else, well, they can wait and see and make up their mind. - Author: Marlon Wayans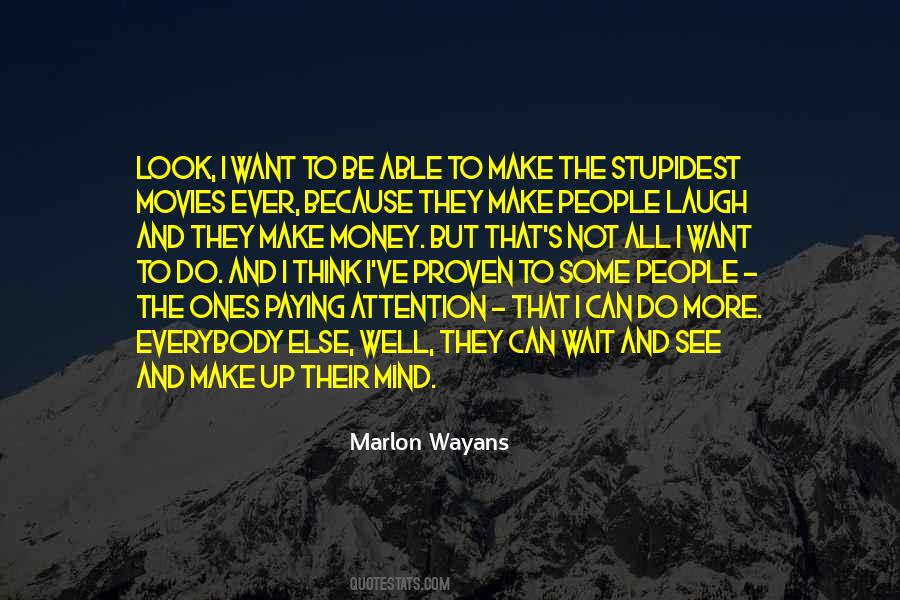 #47. The worst part of writing fiction is the fear of wasting your life behind a keyboard. The idea that, dying, you'll realize you only lived on paper. Your only adventures were make-believe, and while the world fought and kissed, you sat in some dark room masturbating and making money. - Author: Chuck Palahniuk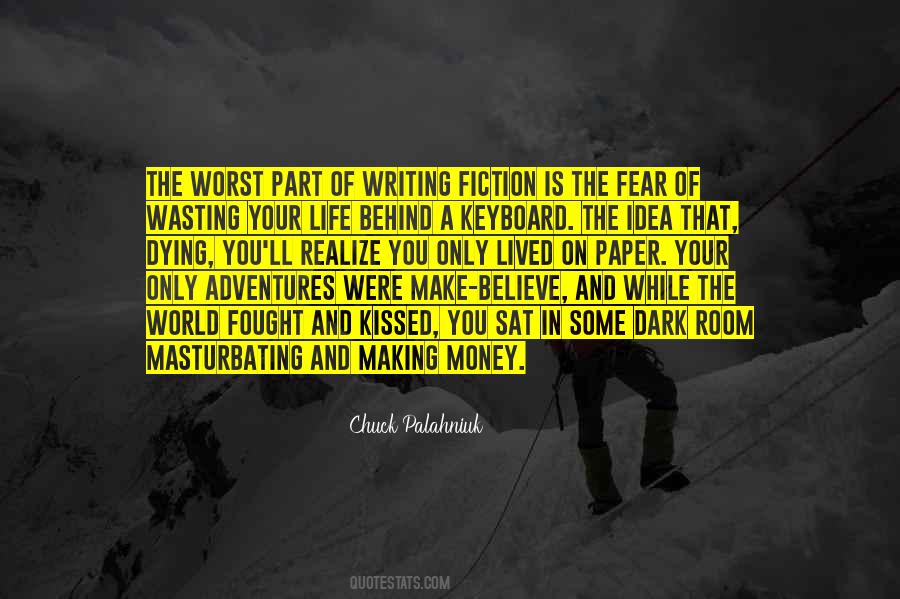 #48. I wish I could just relax sometimes and make some money, but I always feel like I have to prove some kind of big, profound point. - Author: Rufus Wainwright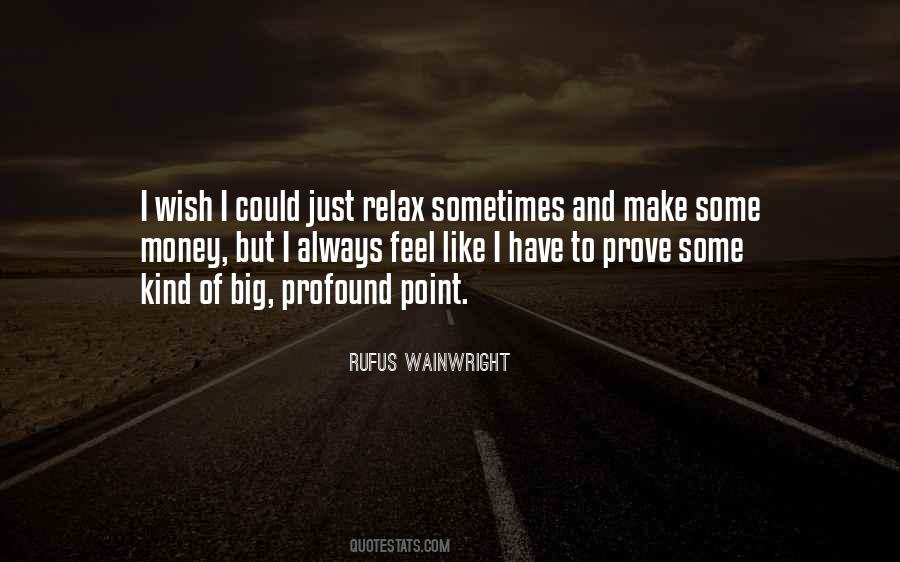 #49. Most restaurants in most cities, including Washington, are at a sort of mid-level. They're somewhat trendy, or they have some sort of gimmick, or they're somewhat expensive. And they make a lot of money off drinks. I tell people don't go to most of them, unless your goal is just to socialize. - Author: Tyler Cowen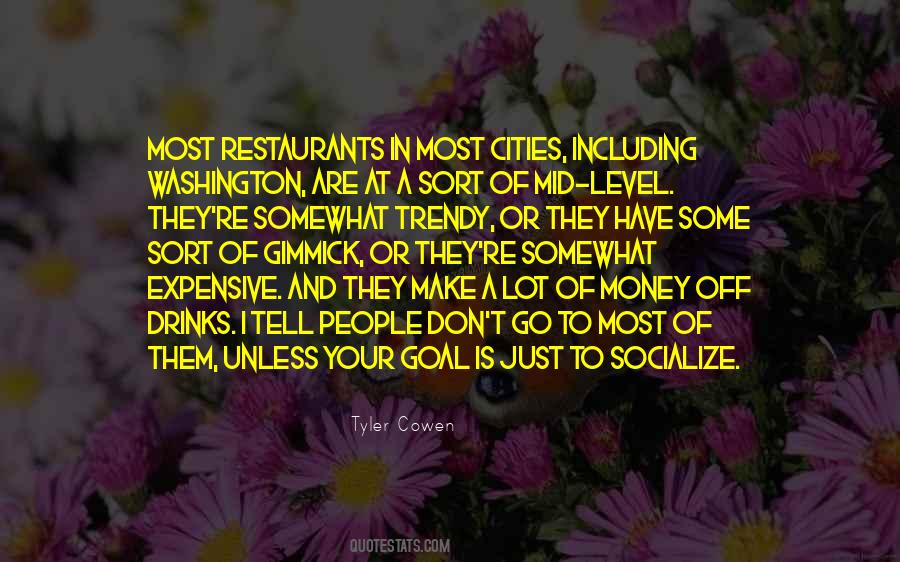 #50. Mary Jane Clairmont, the second wife of William Godwin, and Mary Shelley's stepmother, had the idea of bringing out French fairy tales for children in an attempt to make some much needed money for the family (she has not been given her due by biographers, in my view). - Author: Marina Warner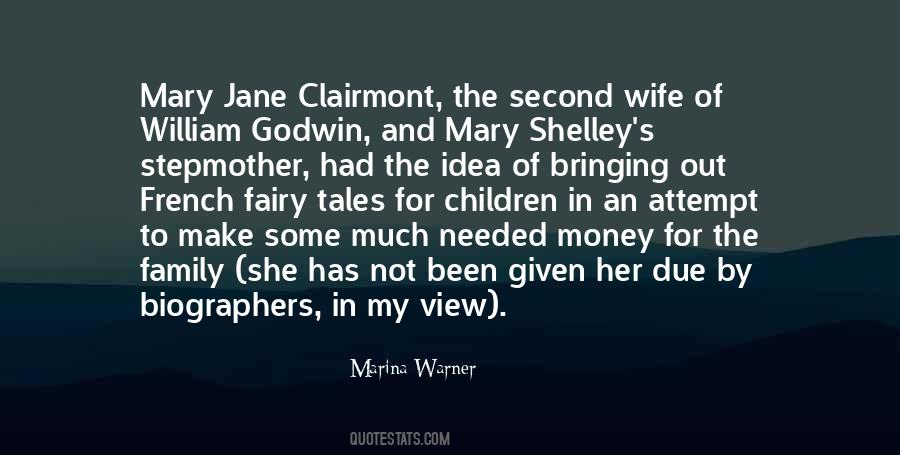 #51. The money buys the drugs, the drugs work harder and harder to trick your blackened dopamine receptors into giving a damn about living. At some point you make a choice: fight your need the rest of your goddamned long-suffering life, or fill your need until it disappears into the grave with you. - Author: Jeremy Robert Johnson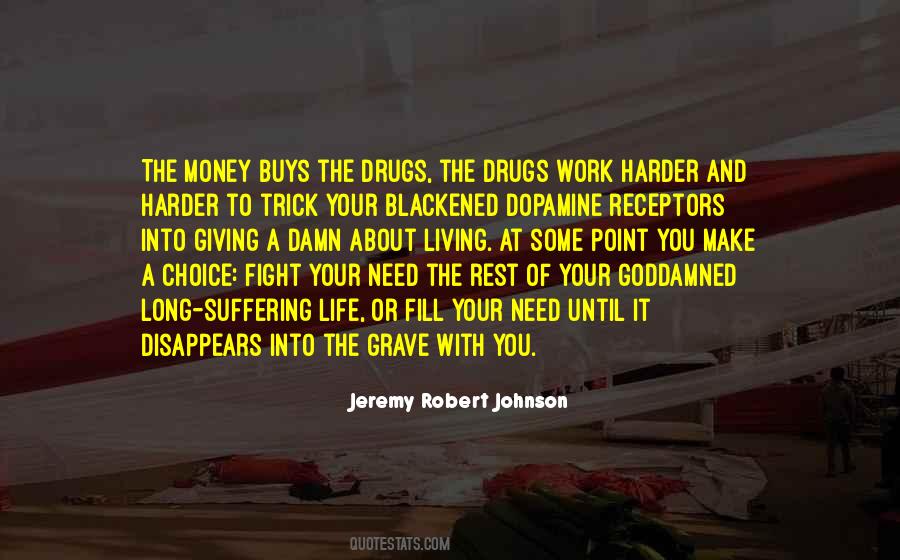 #52. For a lot of filmmakers, their first goal is to be successful and make some money. But once people start doing that, the real goal is then to win an Academy Award. Because when they do, they know that their obit is going to start out, 'Academy Award winner so-and-so.' - Author: Robert Osborne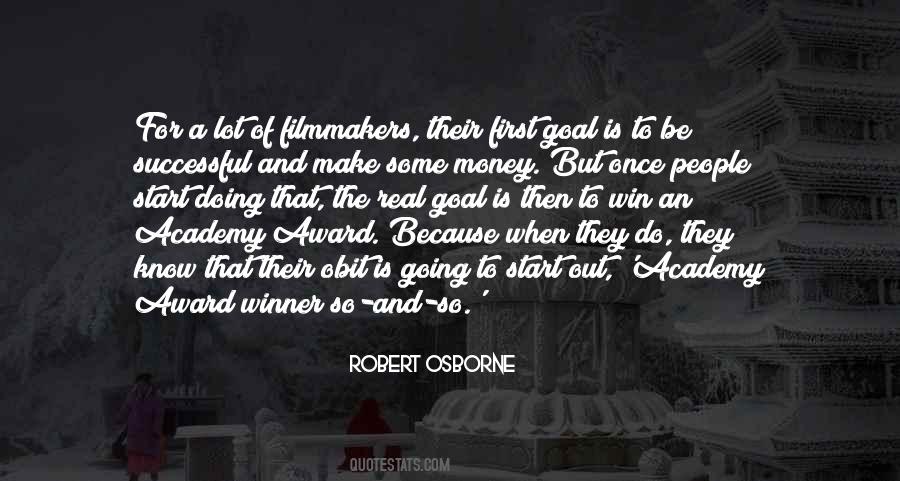 #53. I fell into playwriting accidentally, took some classes in it, and also took creative writing classes, but I really didn't expect it to be a career because I didn't believe there was a way to make money as a playwright without being lucky and I didn't feel particularly lucky. - Author: Orson Scott Card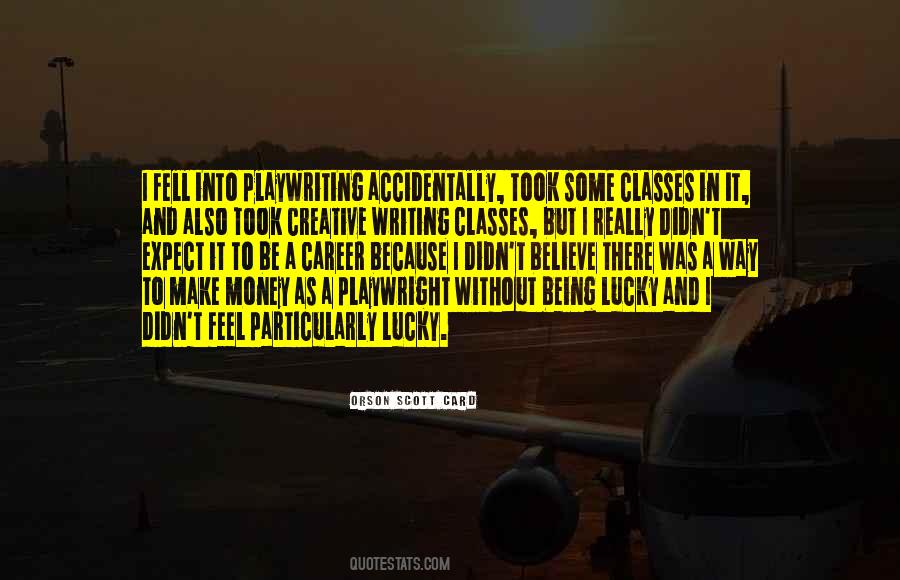 #54. At one point, early on, some public figures even asked whether it 'made sense' to rebuild New Orleans. Would you let your own mother die because it didn't make financial sense to spend the money to treat her, or because you were too busy to spend the time to heal her sick spirit? - Author: Tom Piazza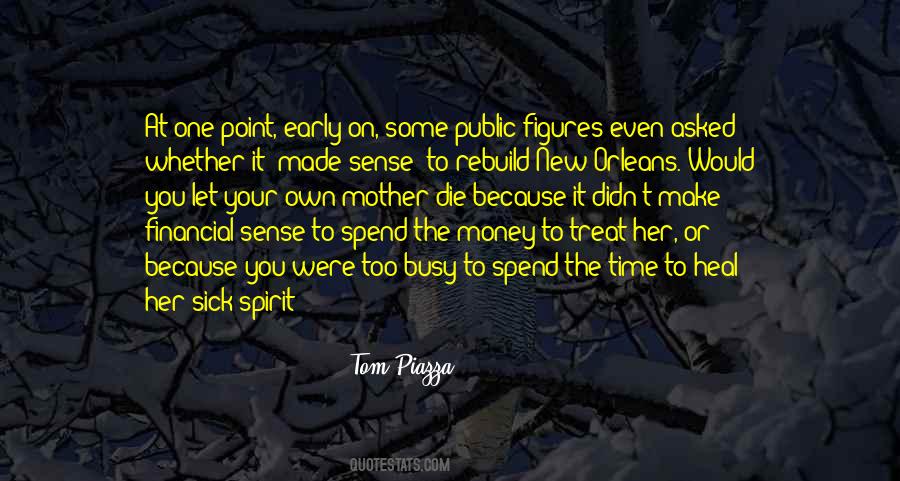 #55. But I did make some money doing commercials. I did fourteen in one year. - Author: Dabney Coleman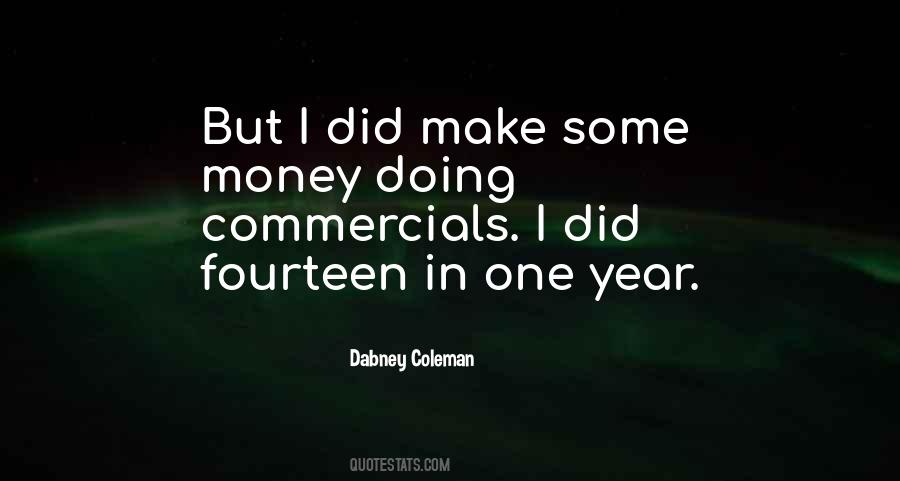 #56. You know why men make more money than women? Because, in the unlikely event that we're both on the Titanic and it starts to sink, for some reason, you get to leave with the kids and I have
to stay - that's why I get the dollar more an hour. - Author: Bill Burr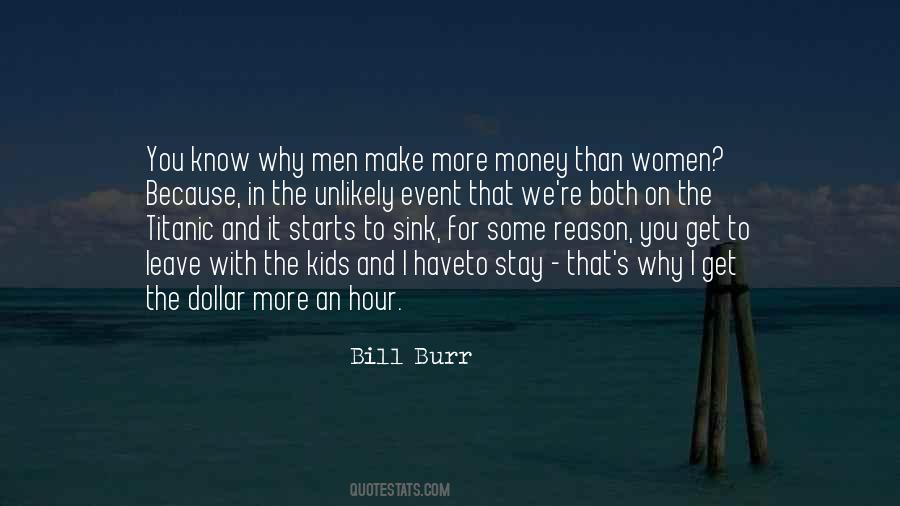 #57. There's this idea that when you make a certain amount of money that you should be staying at four-star hotels and taking town cars. And believe me, I will take a town car every day, but there are some things where it's like, 'Is this necessary? Is this important?' - Author: Mary Lambert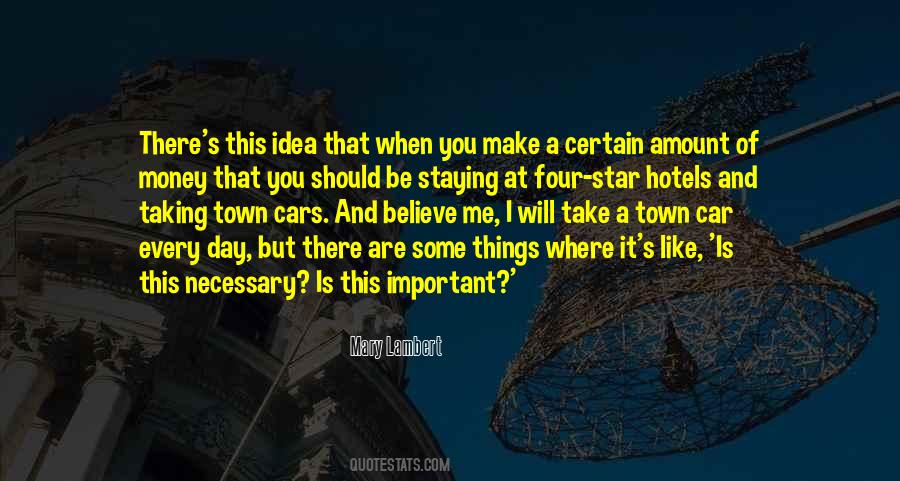 #58. If you make time each month to give your money some attention, you'll start the next year in fabulous financial shape. - Author: Suze Orman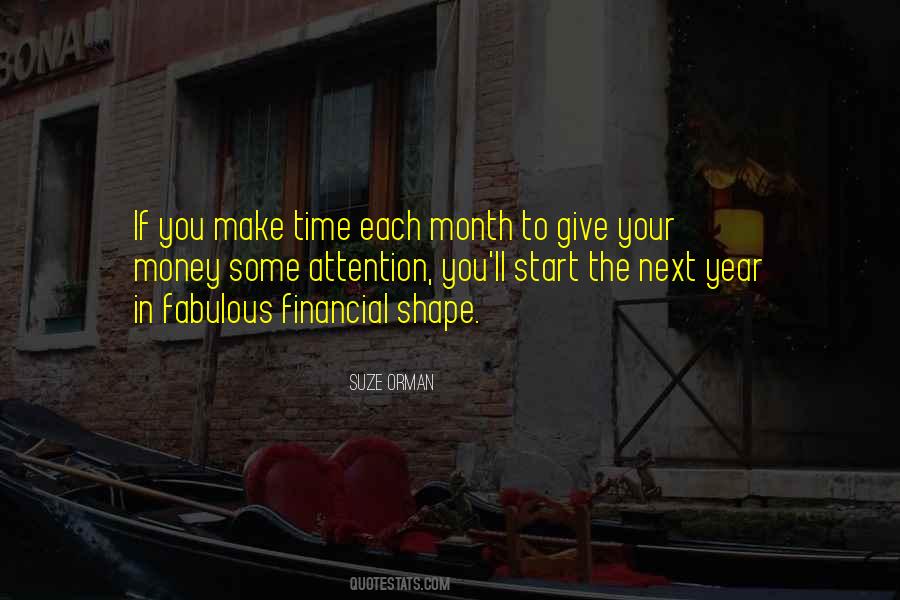 #59. I don't like the idea of 'I've played nine years, I've made some All-Star teams, I make the most money. I've got to be a leader.' That doesn't make you a leader. Treating people the right way is more important. - Author: Matt Holliday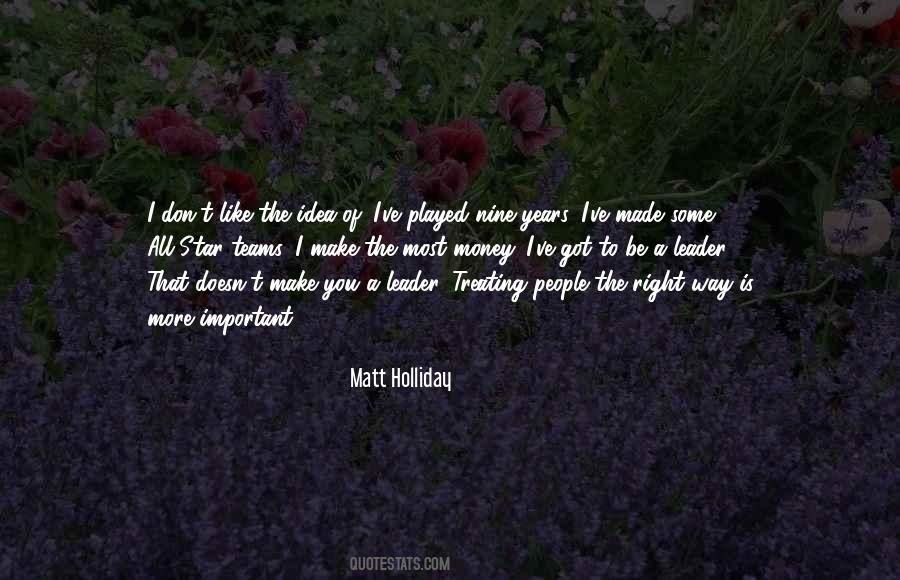 #60. My parents are from north London, and so it's not like I'm some Yank who wants to make a profit out of football. I don't care about making money. I just want to see Spurs succeed and, if I can help, that's great. - Author: Steve Nash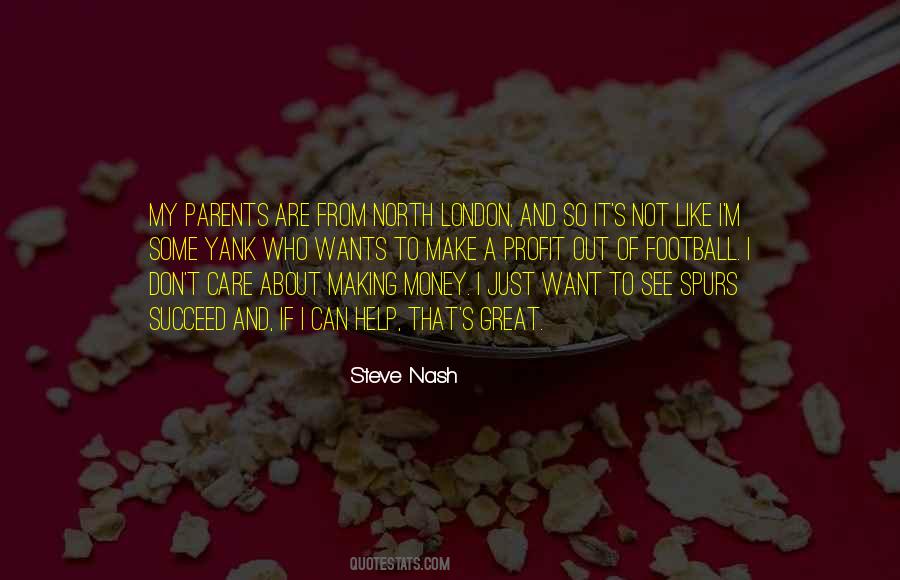 #61. If the angle you're going at is there's some kind of quid pro quo - there isn't. Business is business, and people are allowed to make money. Looks can be deceiving, because there's no quid pro quo here. - Author: Mike Miller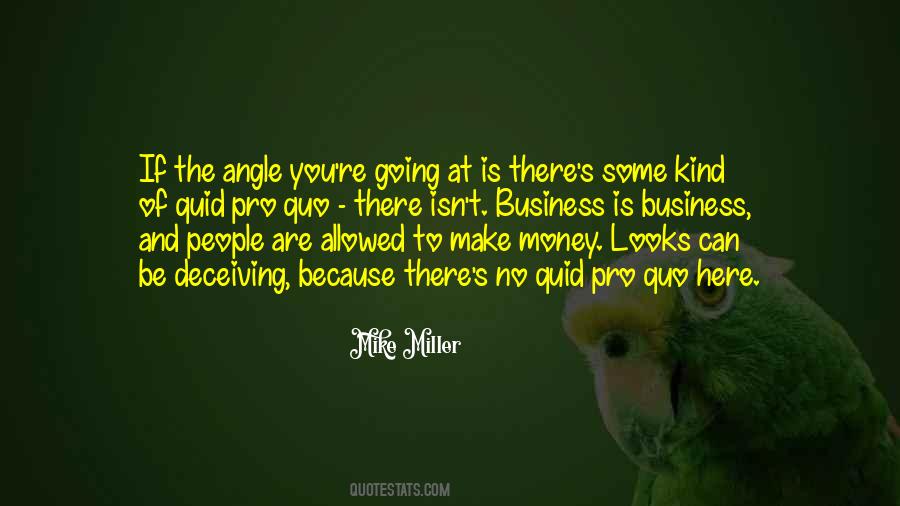 #62. The WPA was one of the most productive elements of FDR's alphabet soup of agencies because it put people to work building roads, bridges, and other projects ... It gave men and women a chance to make some money along with the satisfaction of knowing they earned it. - Author: Ronald Reagan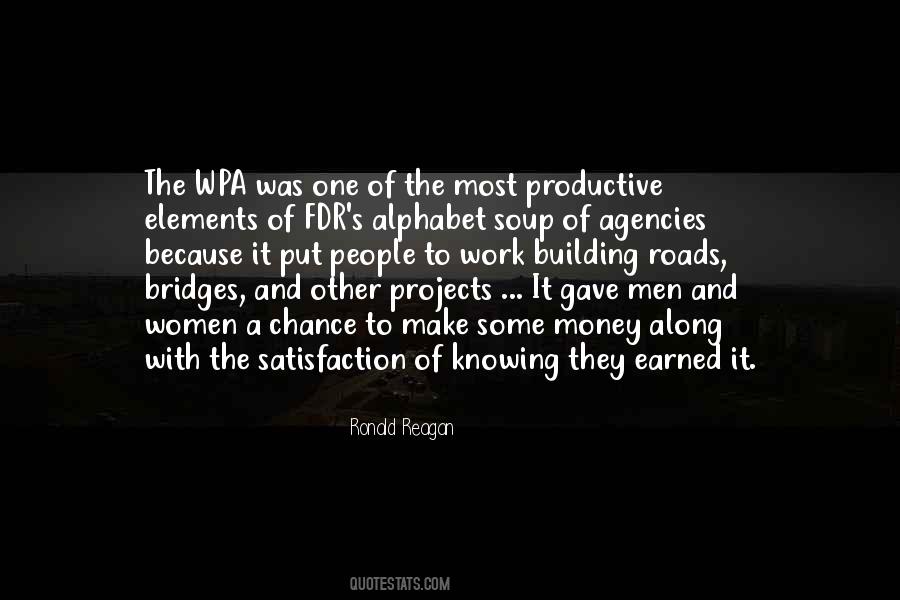 #63. You know, equality is a myth, and for some reason, everyone accepts the fact that women don't make as much money as men do. I don't understand that. Why do we have to take a backseat? - Author: Beyonce Knowles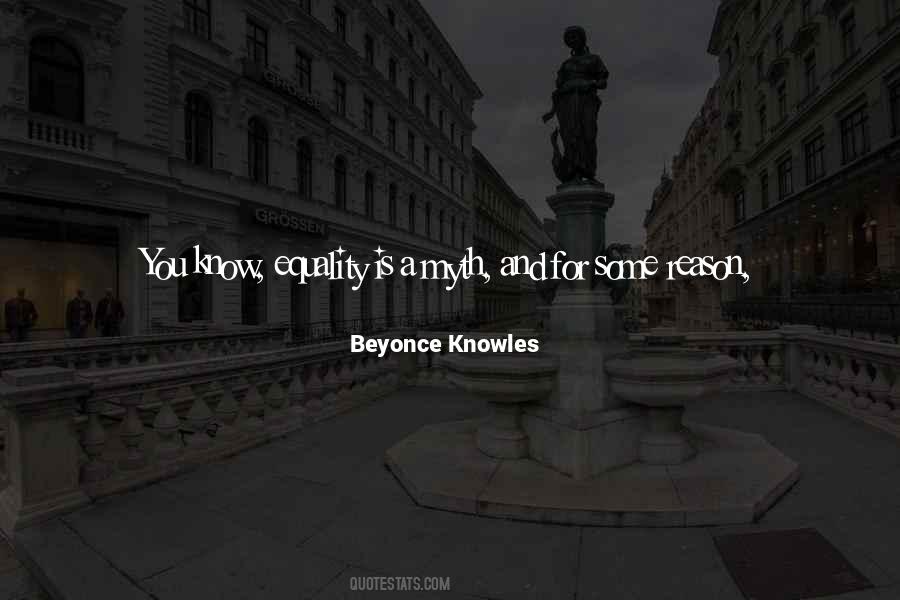 #64. Back when Detroit was the head of auto manufacturing, it was clear where profits were created. Right? A car was made in Detroit. There was little argument that you could make that some of the money from that should be sent overseas to Ireland. - Author: Charles Duhigg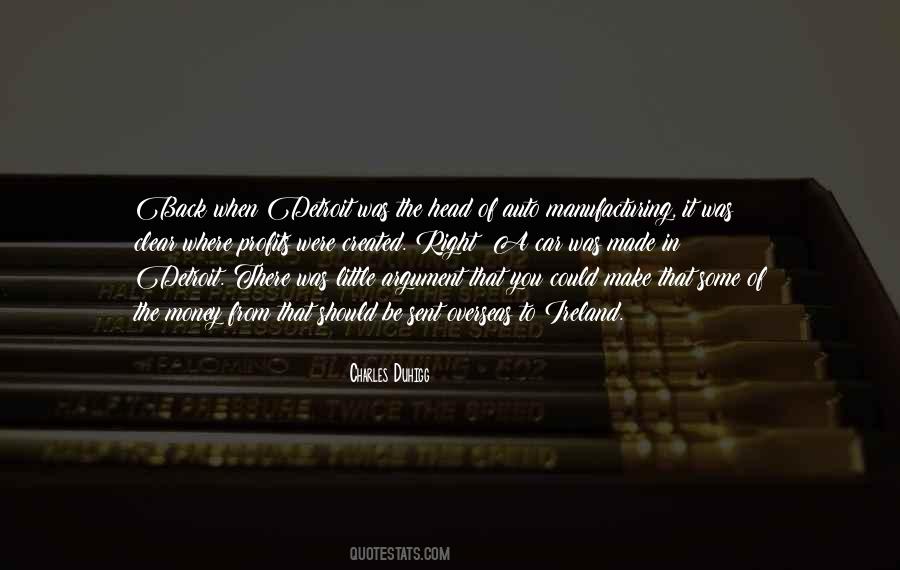 #65. When I started out I thought I might make a little money, get some girls, get a taste of the rock 'n' roll life. It's gone way beyond that. - Author: Kid Rock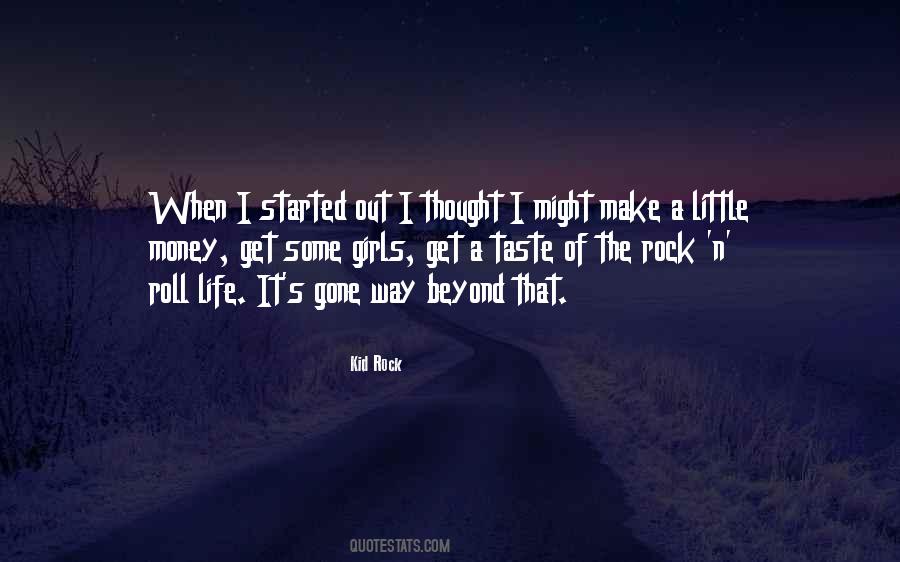 #66. Some libertarians say, 'Well, if people work harder, they can make more money.' But, you know, my mother is a nurse and I am a venture capitalist. I think no matter how great a nurse she is, she wouldn't earn a one-thousandth of what I can make, if that. - Author: Ben Horowitz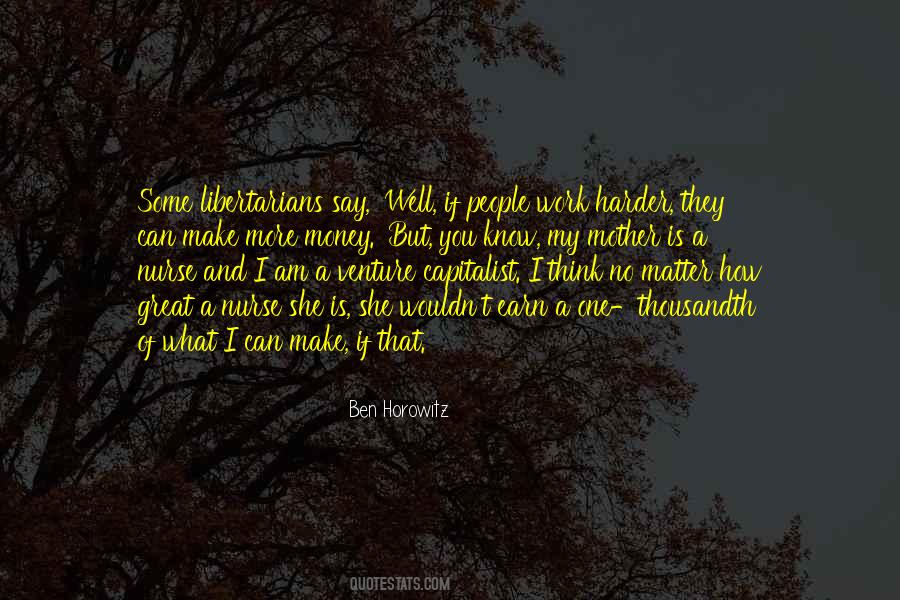 #67. When you grow up without it, you want to have it. It's funny, in America some people say, 'Why do you want to make money so much?' And I say, 'Well, I guess you didn't starve as a kid.' - Author: Olga Kurylenko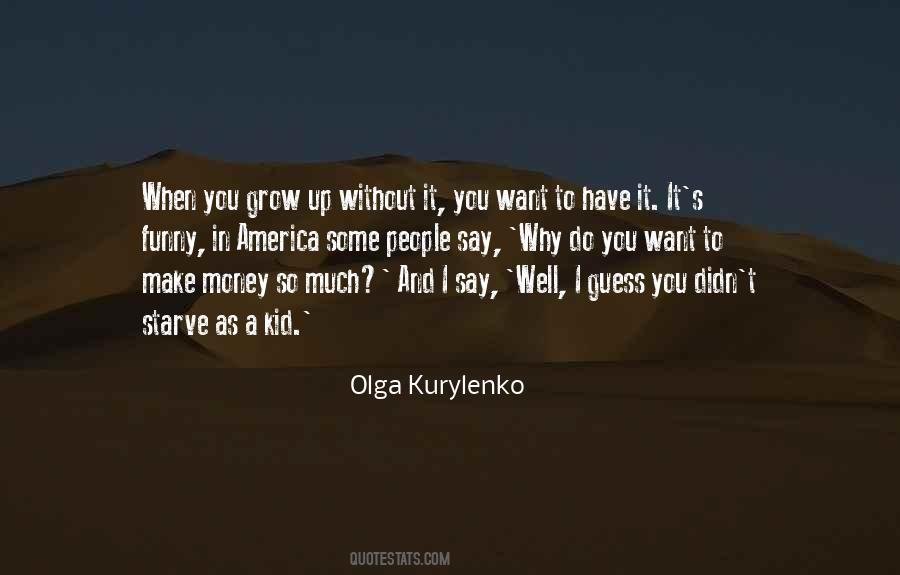 #68. My trainer, George Francis, used to train a lot of African boxers. They're hungry guys, man. They've got no trainers, got nothing. They're so hungry to do boxing, to make some money. - Author: Frank Bruno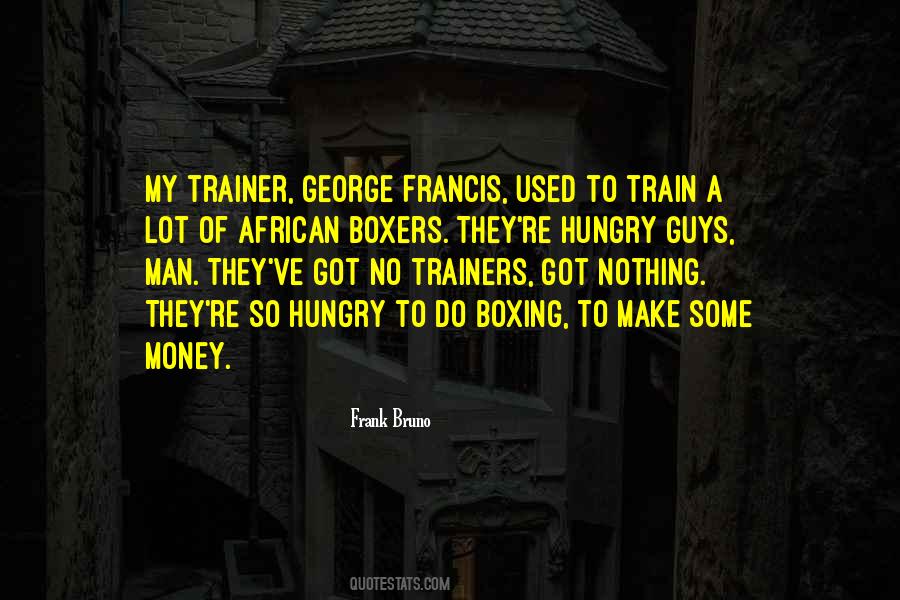 #69. When I got to LA and was with the James Gang, I got the opportunity to write a lot, to play in front of large audiences, make some money. - Author: Tommy Bolin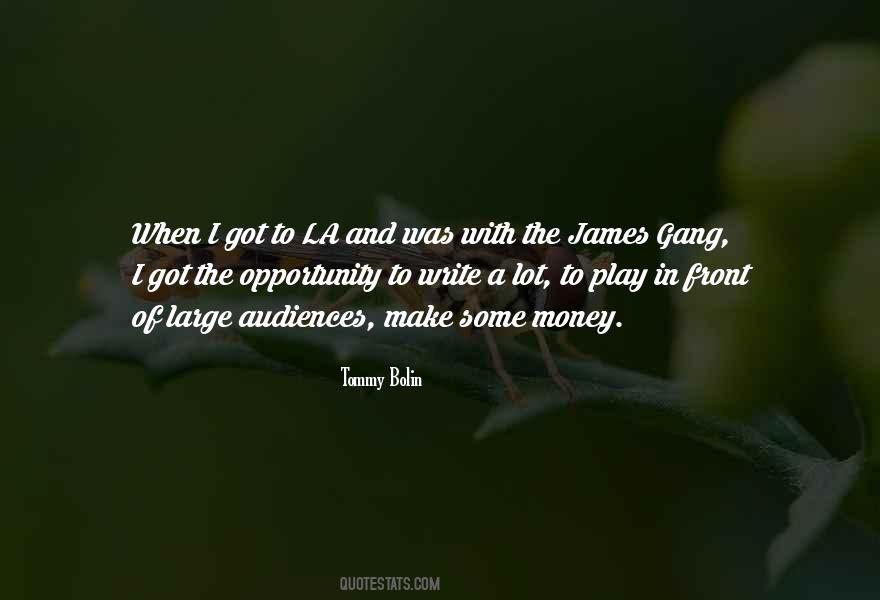 #70. The money that we make from the company goes into The Body Shop Foundation, which isn't one of those awful tax shelters like some in America. It just functions to take the money and give it away. - Author: Anita Roddick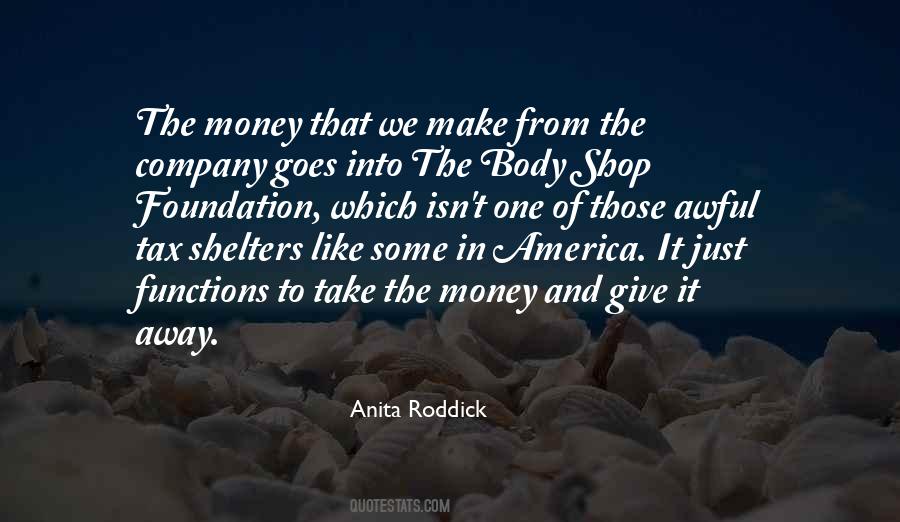 #71. It comes back to what Chief Jay Strongbow told us years ago, 'In this business you can make friends or you can make money'. And I remember lookin at Kev and X-Pac and going, I already got some friends, I'd like the money. - Author: Scott Hall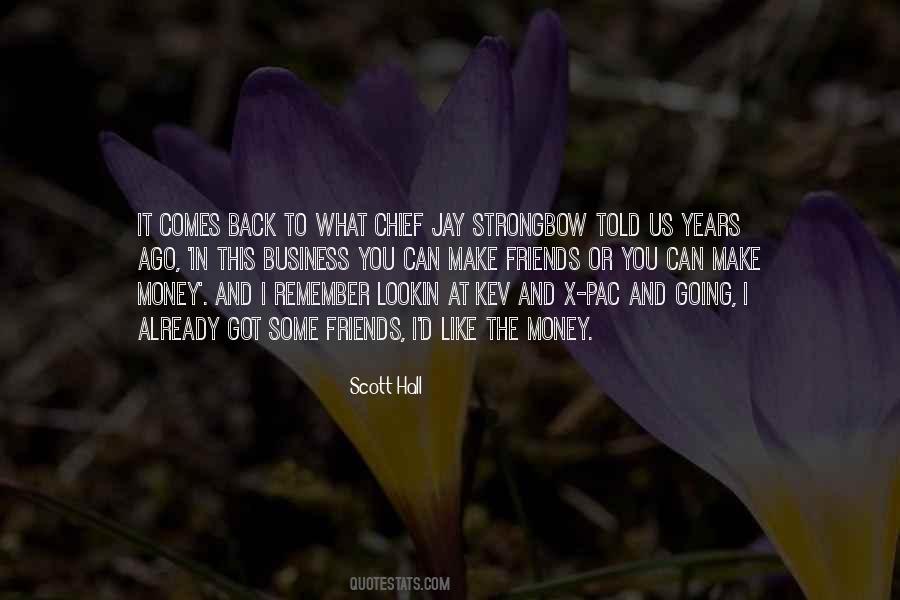 #72. Some guys said 'Here's bop!' Wham! They said, 'Here's something we can make money on!' Wham! 'Here's a comedian!' Wham! Here's a guy who talks funny talk!' - Author: Charlie Parker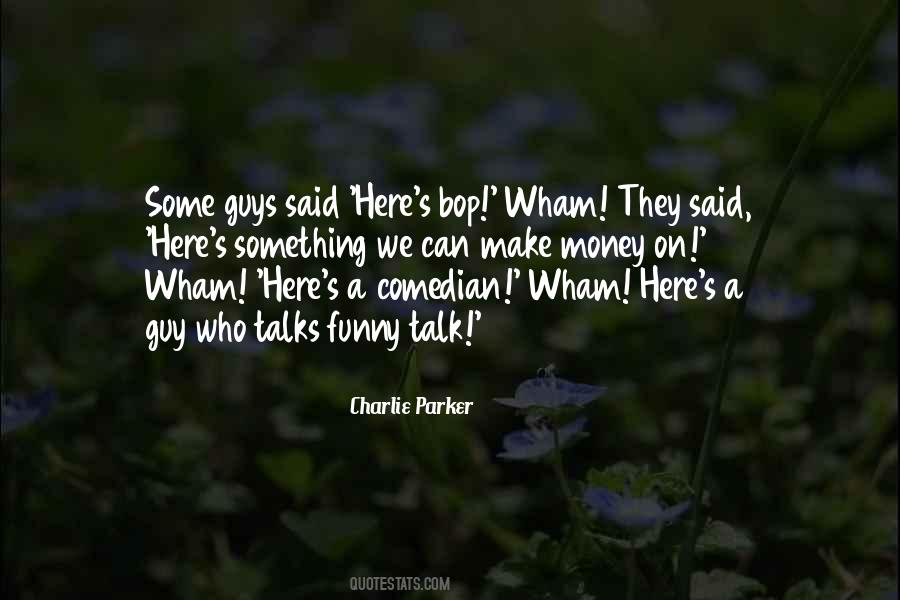 #73. I love helping entrepreneurs. It's something I really have fun doing. It's like planting a little seed and watching it grow. Any time I can help somebody, that's a good thing. It's fun. If I get to make some money at it, it's even better. - Author: Mark Cuban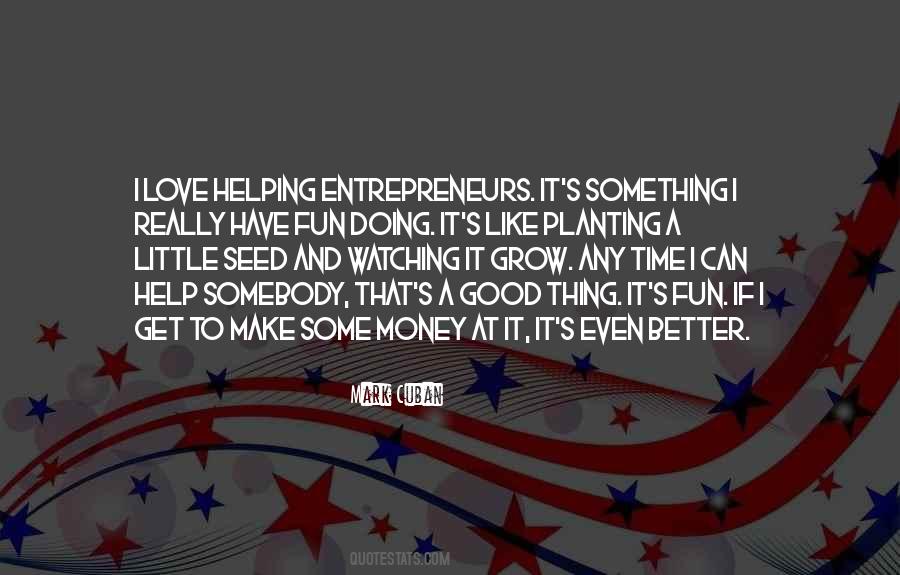 #74. As a conscious rap artist, you should not want to be in a gangster market. You should be trying to establish your own market, create a place where you can be yourself and make some money and feed your family. - Author: KRS-One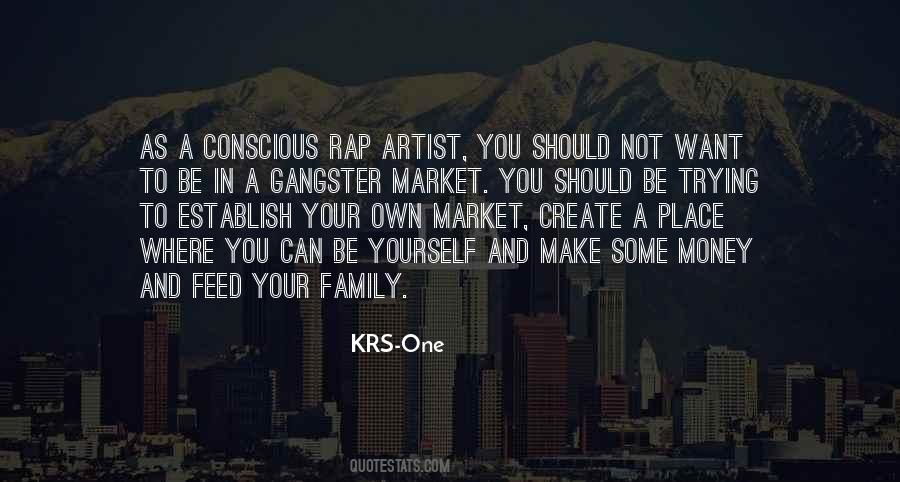 #75. If universities want to save a little money, they ought to make some cutbacks in administration and in faculty people who teach one class a week. - Author: Bobby Knight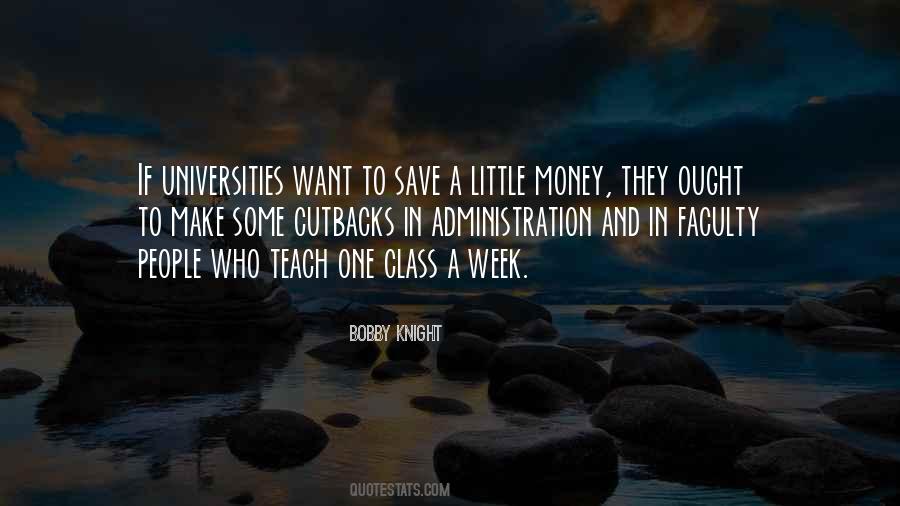 #76. In my plain thoughts I don't know what else is needed to make this the happiest as well as the most respect-worthy situation in the world - except
for a taste for literature, to throw a little variety and interest into conversation, and some surplus money to give to the needy and to buy books ... - Author: Mary Wollstonecraft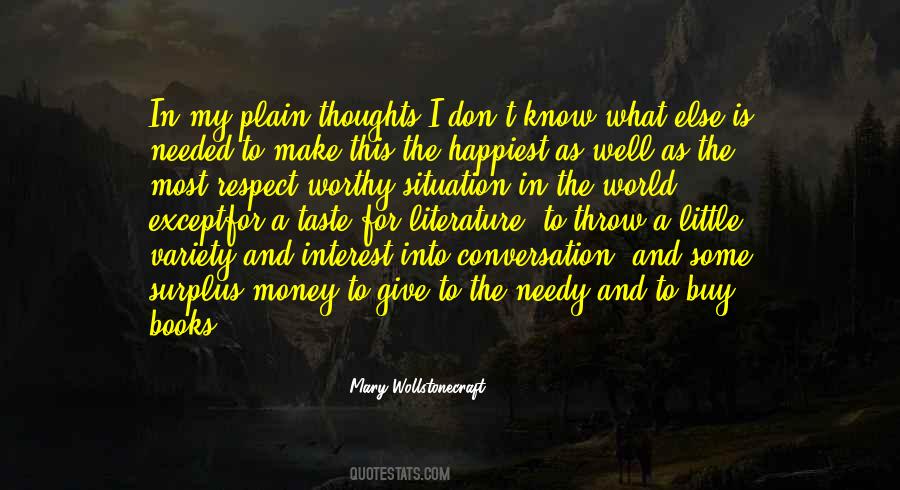 #77. You must never try to make all the money that's in a deal. Let the other fellow make some money too, because if you have a reputation for always making all the money, you won't have many deals. - Author: J. Paul Getty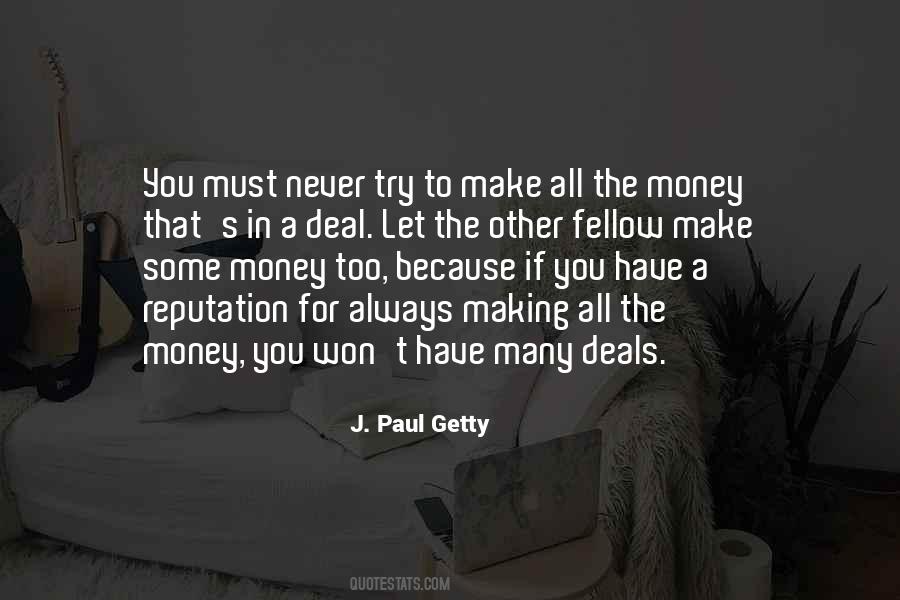 #78. Some people start modeling because they want to be models and they want the parties and the recognition, and then there are people like me. I come from a simple family, and for me getting into modeling was a chance to make money and create a business. - Author: Gisele Bundchen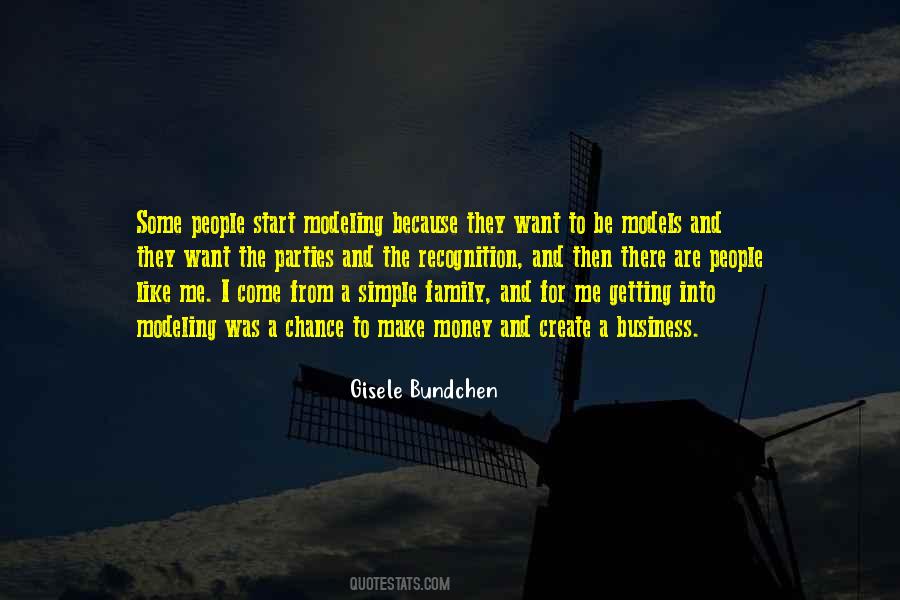 #79. No, that's what I think God does to you. He gives you some great gig in which you make a whole heap of money, and you're just on top of the world and on every magazine cover, but your personal life is miserable. And for most of that time, I have to say, my personal life was pretty miserable. - Author: Joan Collins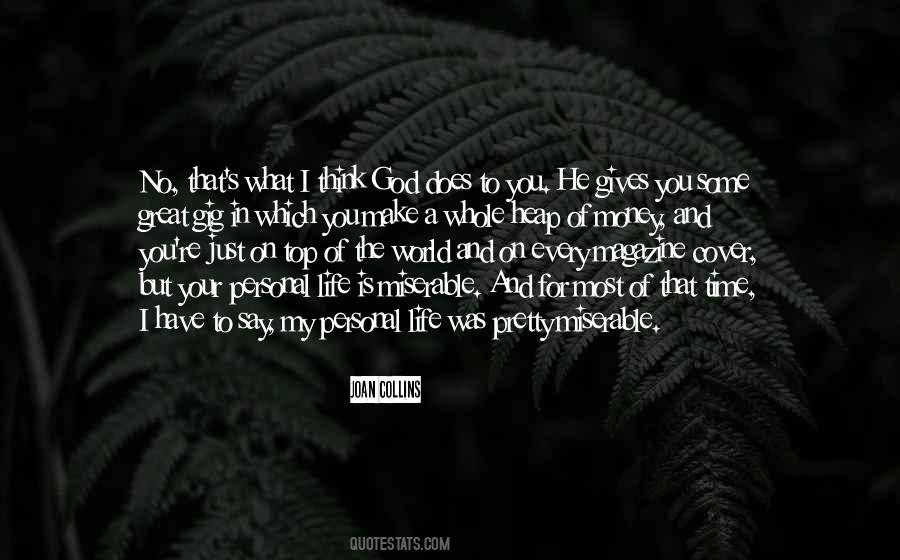 #80. In my early days, I didn't know what a good film or a bad film was, and I was trying to make some money. As it happens I was lucky. I made some good films. - Author: Michael Caine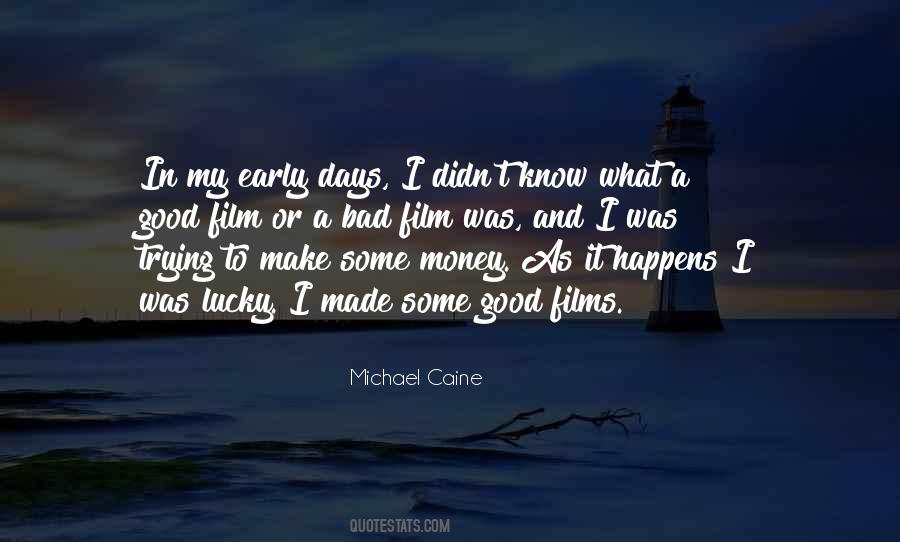 #81. Within the 24 hours, make some time for your own work. - Author: Lailah Gifty Akita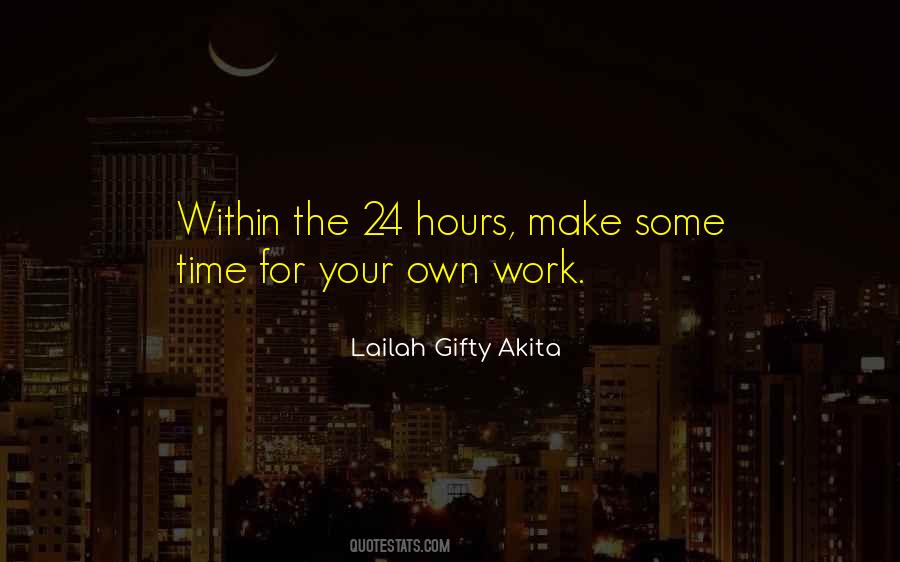 #82. We've all made mistakes that are similar in just trying to get by or make some money or feel good about ourselves. - Author: Laura Kightlinger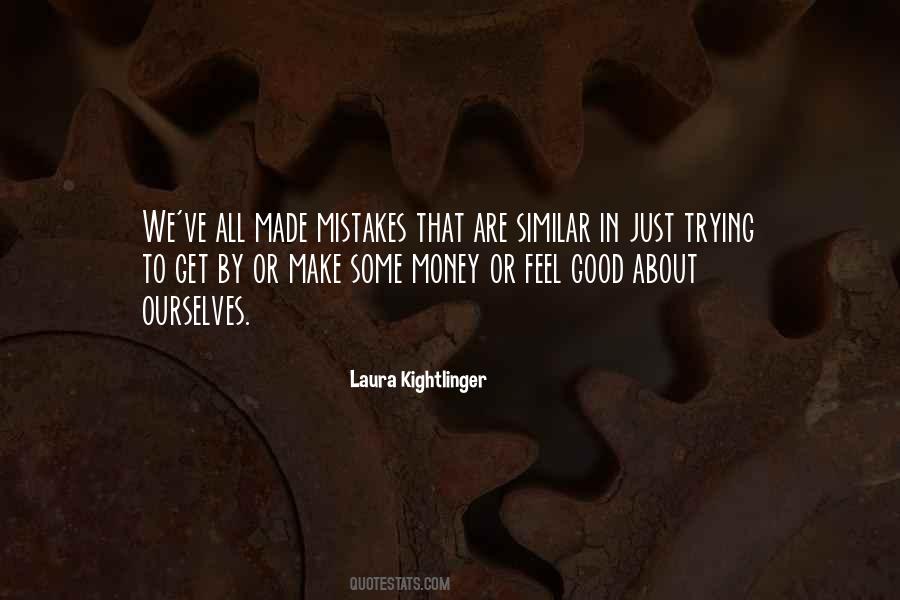 #83. What is any respectable girl brought up to do but to catch some rich man's fancy and get the benefit of his money by marrying him?
as if a marriage ceremony could make any difference in the right or wrong of the thing! - Author: George Bernard Shaw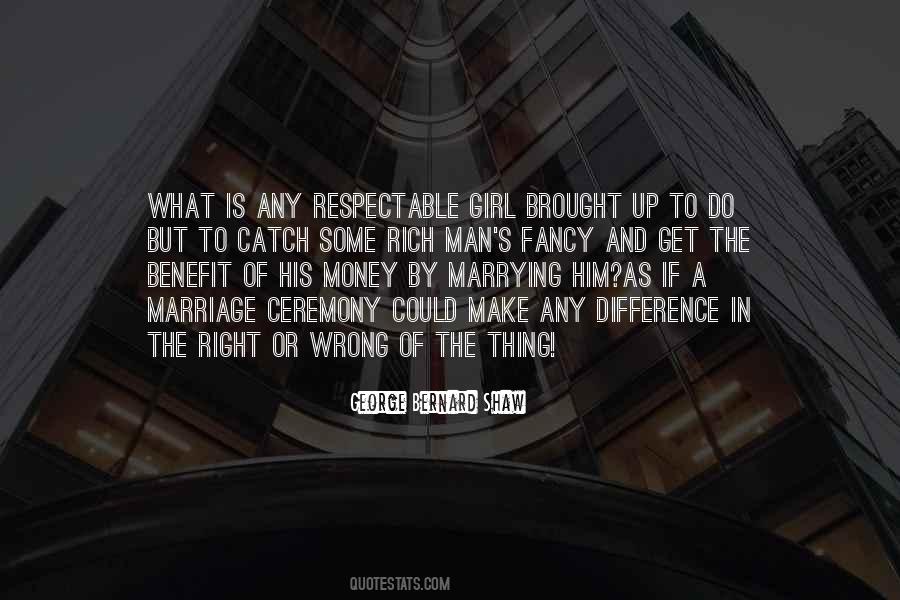 #84. Cash is cold comfort under these circumstances. But make no mistake about it; It is some comfort. - Author: Georgette Mosbacher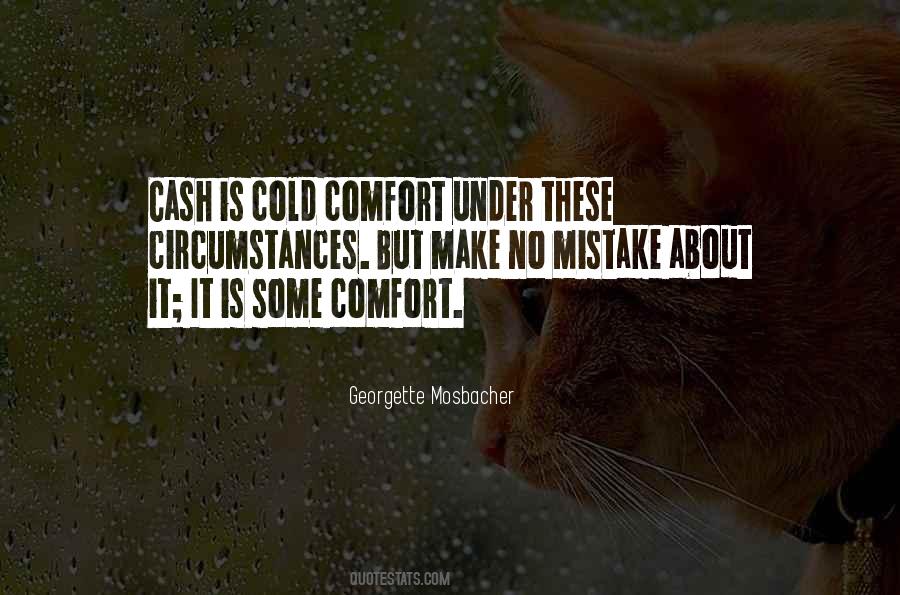 #85. Don't make music for some vast, unseen audience or market or ratings share or even for something as tangible as money. Though it's crucial to make a living, that shouldn't be your inspiration. Do it for yourself. - Author: Billy Joel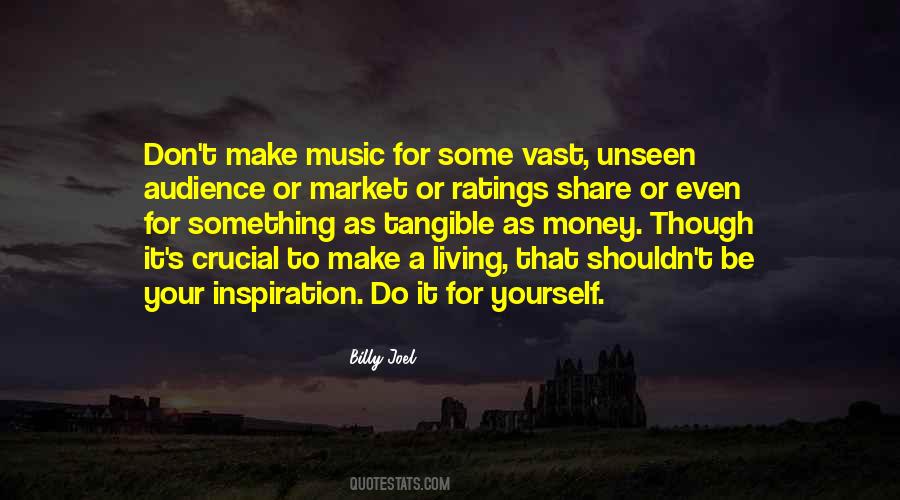 #86. My instinct is on target about Jenny, because she answers the phone with, "Is everything all right?"
"I've been abducted," I say.
"Aliens, I hope," she says. "We can make some money when you sell your story to the media. - Author: Deb Caletti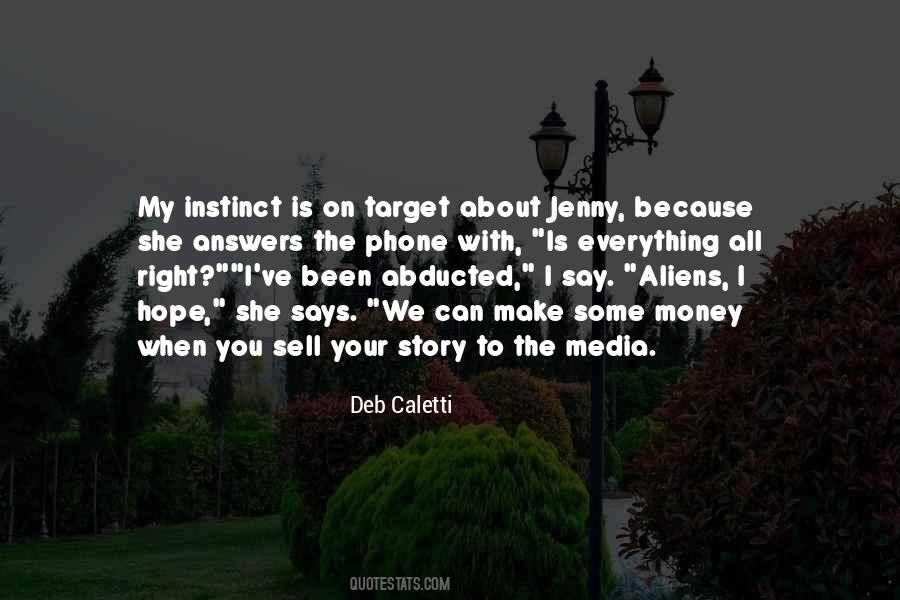 #87. I wanted to make Jerusalem as feature film. But we couldn't finance it only through theatrical release, we couldn't get all the money we needed. We had to get some money from television. So we said, ok, let's do it both ways. So we did it in four parts. - Author: Bille August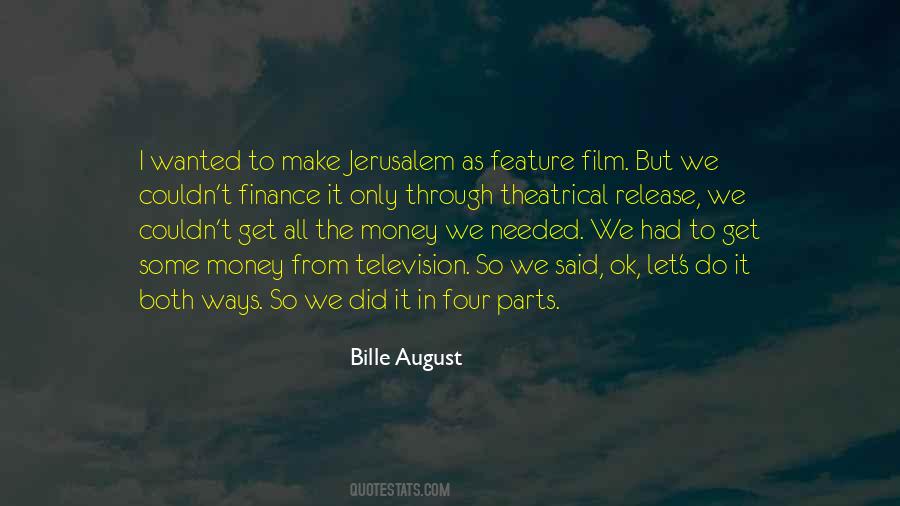 #88. I hope they remake 'Look Who's Talking' - then I'd make some money! - Author: Amy Heckerling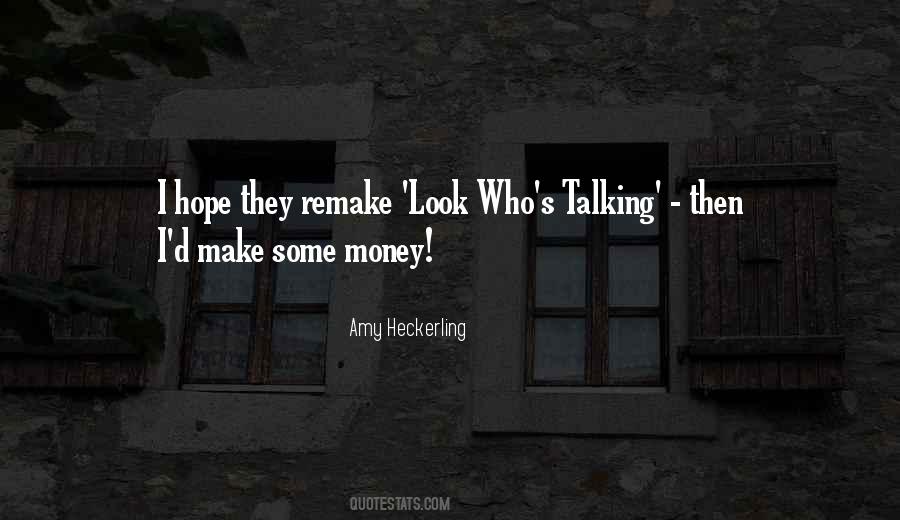 #89. And if, for some awful reason, you forget that money is a game, a make-believe concept that some people invented, you could be led back into the complex layered world of Should. And here, the loss isn't a financial one. You are the cost. Is it worth it? - Author: Elle Luna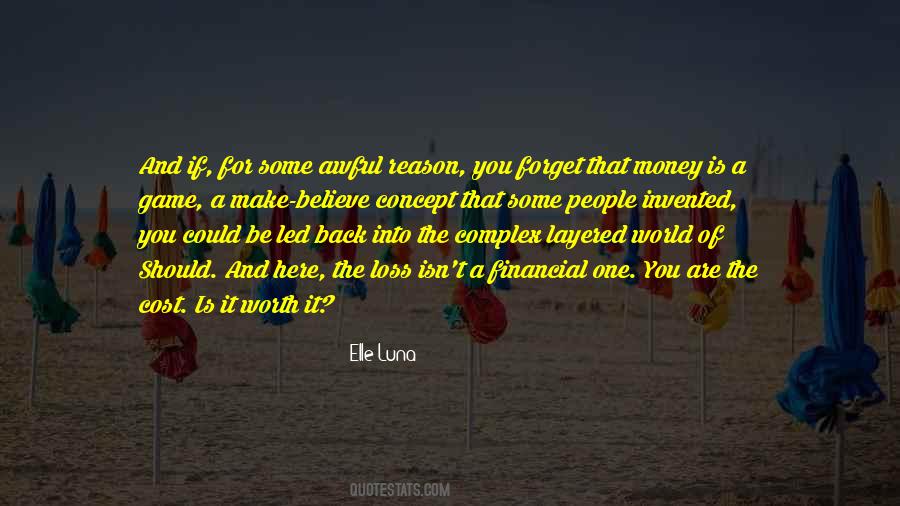 #90. Art is a luxury. It's not necessary for you to - you can work your job and you can make some money and never know who Walt Whitman was, and never read a poem. - Author: Wynton Marsalis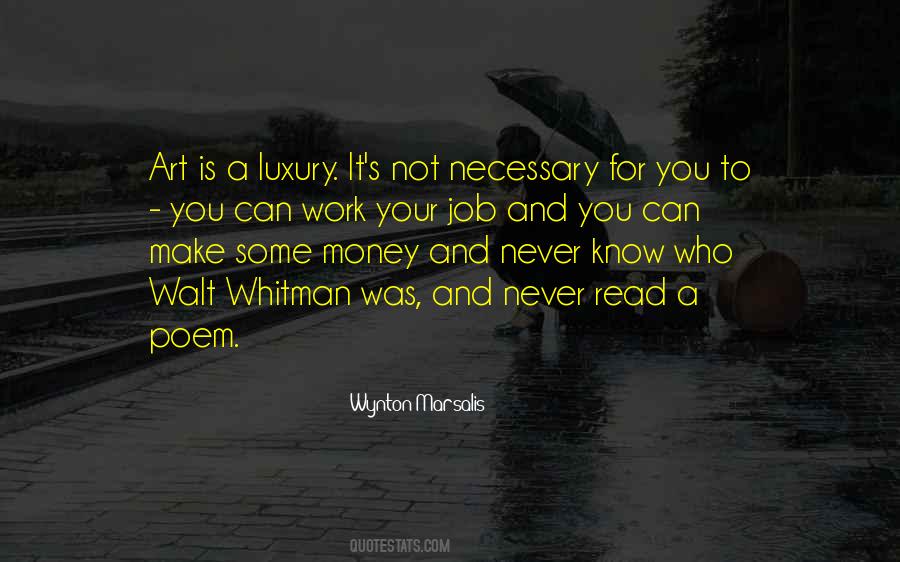 #91. But for some reason, those rocks made lonely feel good. Those clouds made you dream big. Not big like you could make a lot of money or like you could have a good job. Bigger than those things. It was complicated. I mean, big like you were part of the sky, which also made you feel small. - Author: Cynthia Kadohata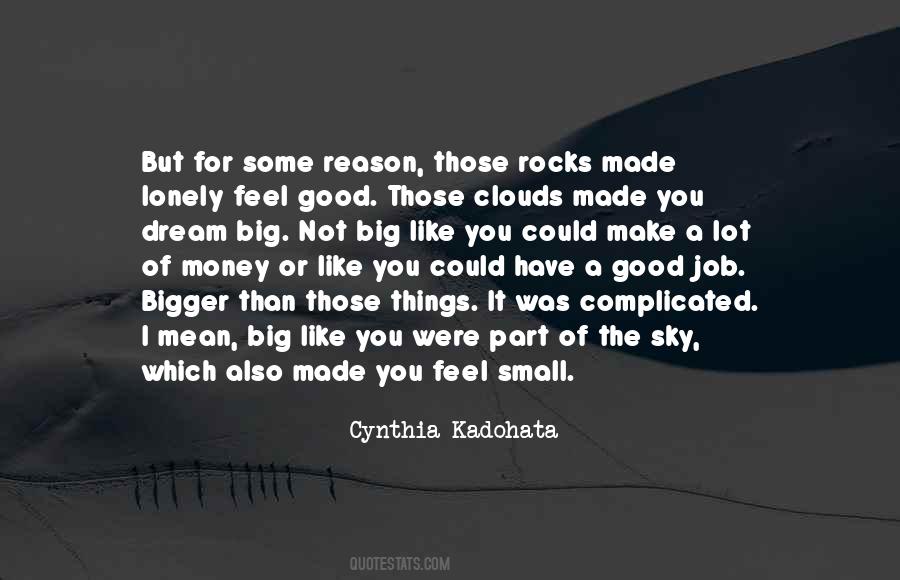 #92. Money has changed today's black athletes. Those who have the ability as African men to bring a change in a community that so desperately needs it are concentrating only on their own careers, some charities and how much money they can make. - Author: Jim Brown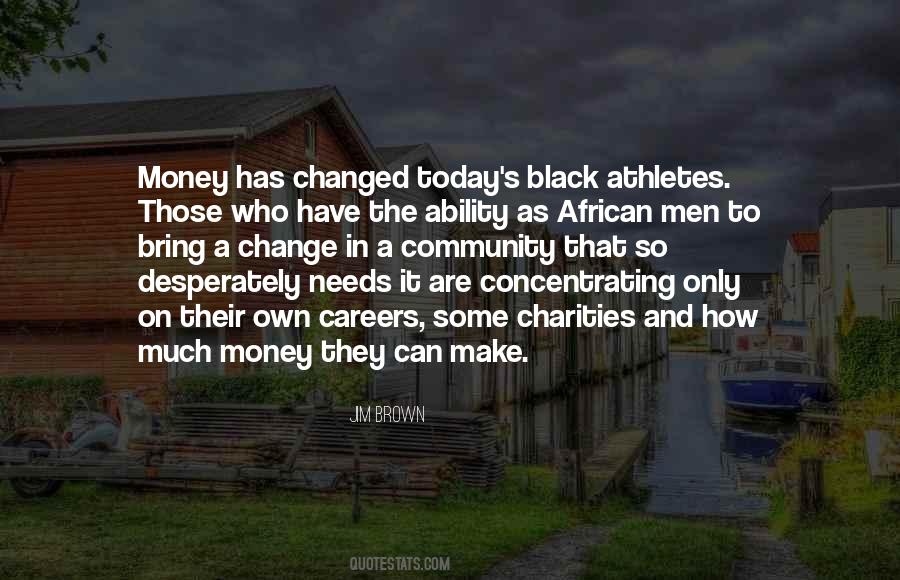 #93. Some day I'll make a film that critics will like. When I have money to waste. - Author: Francois Truffaut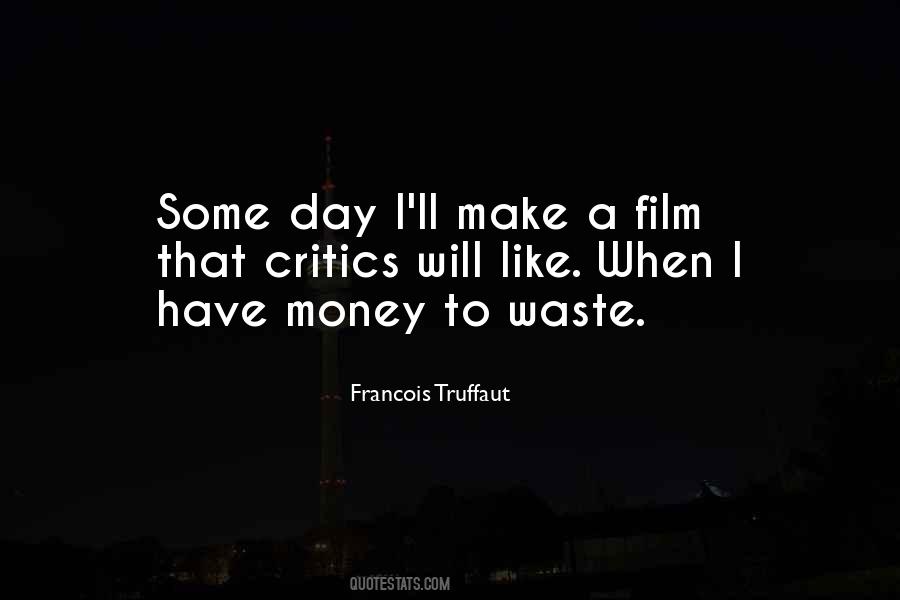 #94. Money and success make you arrogant and stupid. Now with some poverty and humility behind you, you can become a student again. - Author: Robert T. Kiyosaki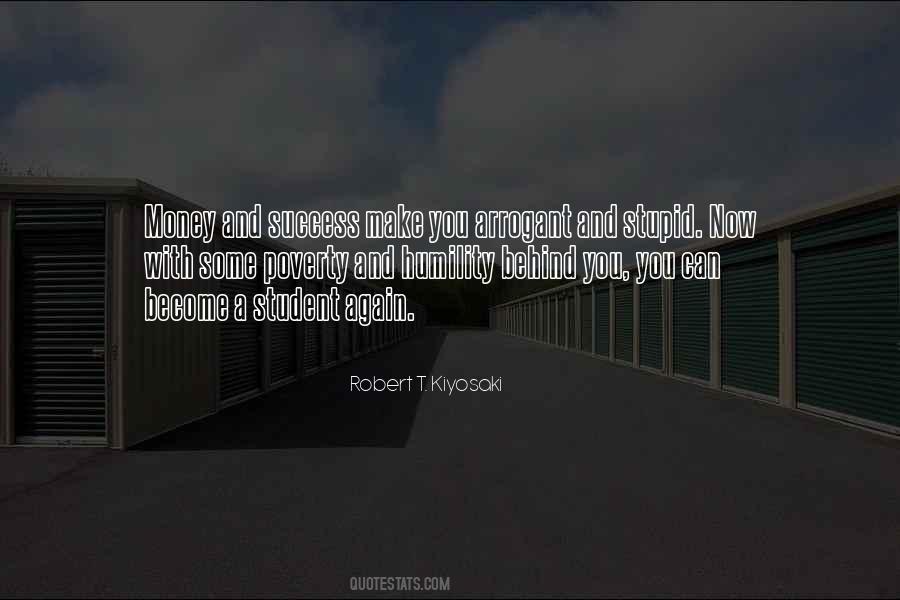 #95. I can make dopey decisions for which I have to pay. If I take some little old lady's superannuation money, I would be mortified if things didn't go to plan. - Author: Len Buckeridge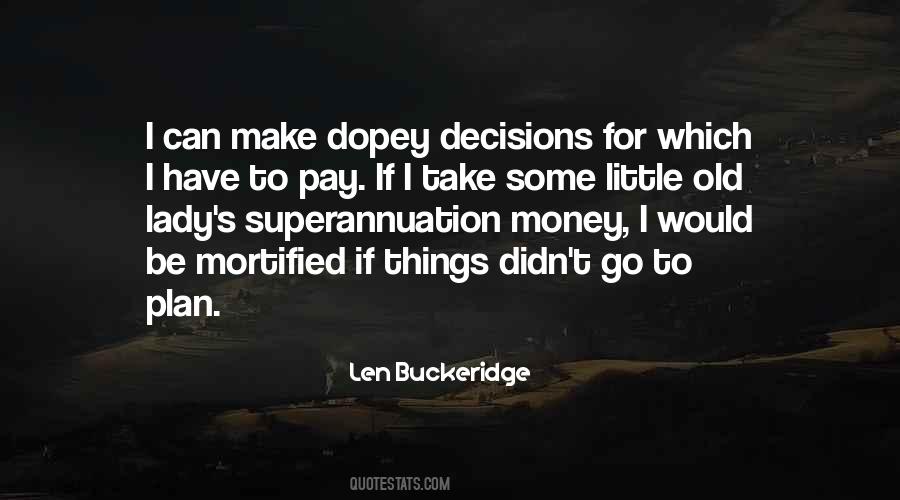 #96. I don't believe in sharing my money. If I go out and work my nuts off and make some money, I don't feel that I should have to share it with my community. - Author: Gary Numan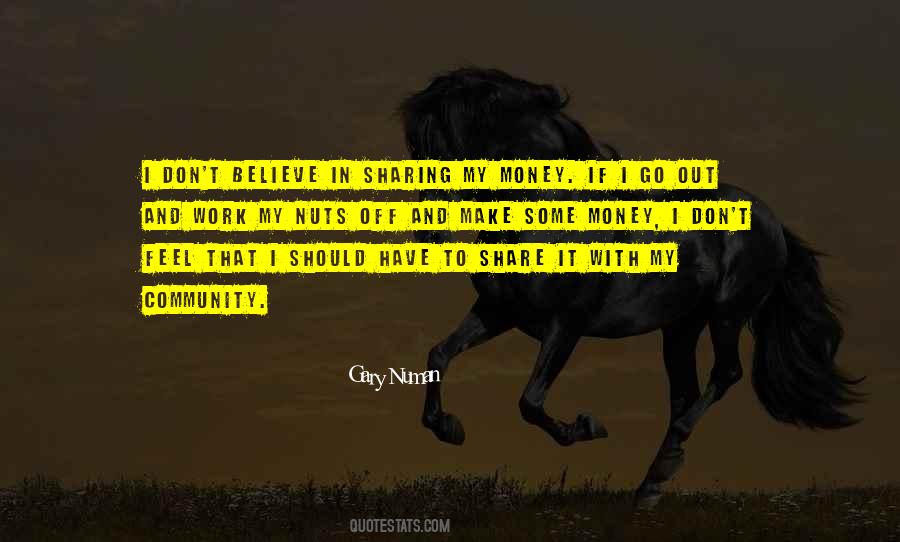 #97. I come from nothing. When I got a chance to make some money, I was like, 'Man, I'm not ever going back.' - Author: Juicy J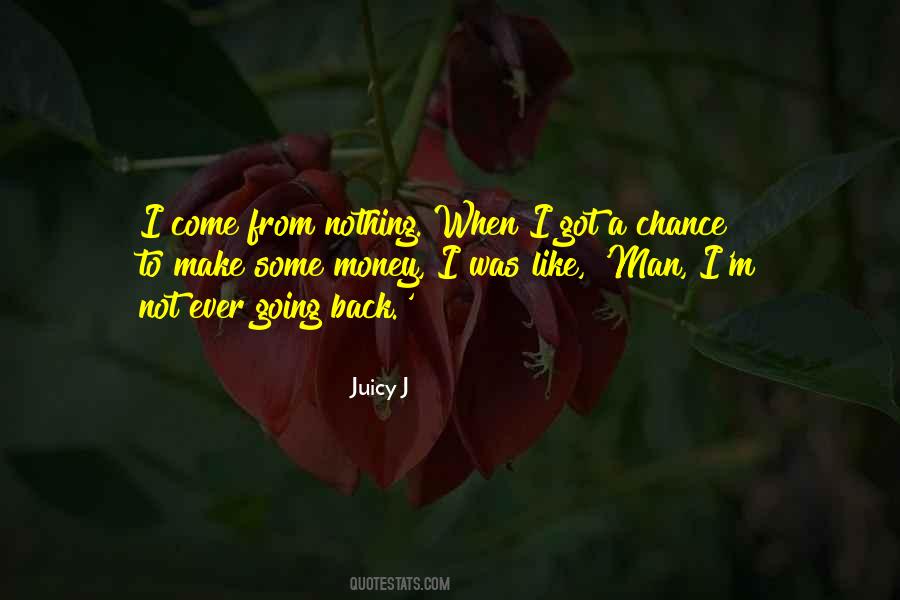 #98. I had to dance topless for two years to make cash to pay my bills and save some money. But it was very enlightening, by the way. I'm talking about light from the gutter. - Author: Susan Powter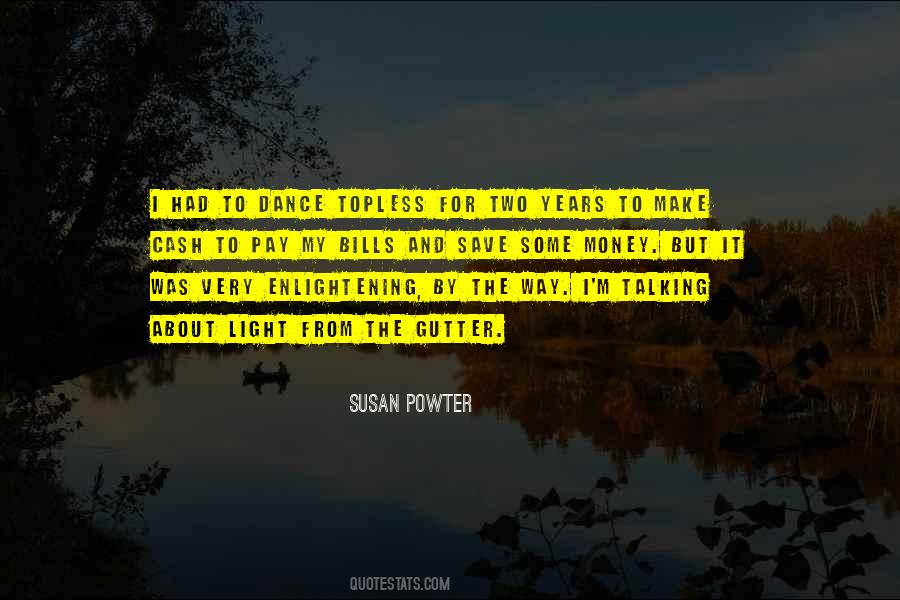 #99. You have two options. work on someone else's ideas and make some money or generate ideas make them work and become a millionaire. - Author: Roberto Llamas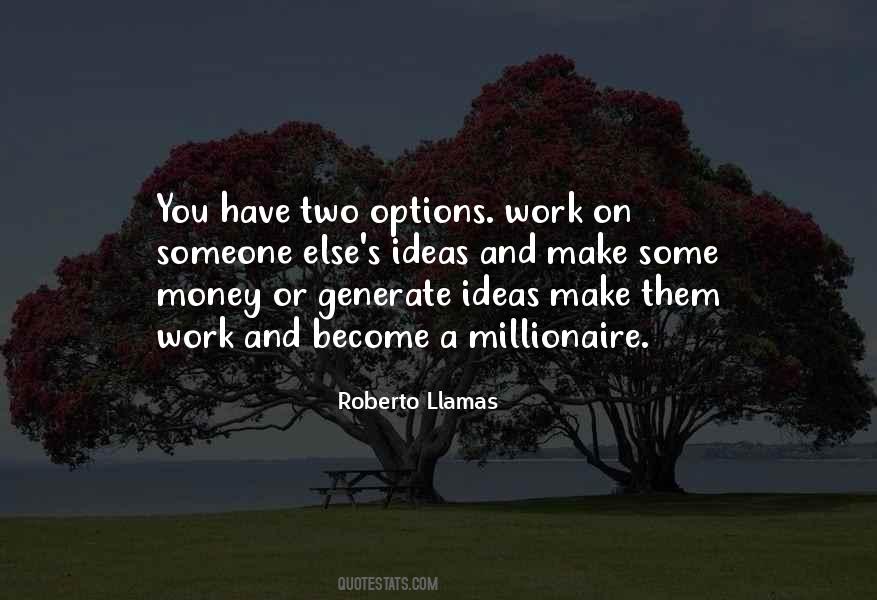 #100. Some men make money not for the sake of living, but ache In the blindness of greed and live just for their fortune's sake. - Author: Juvenal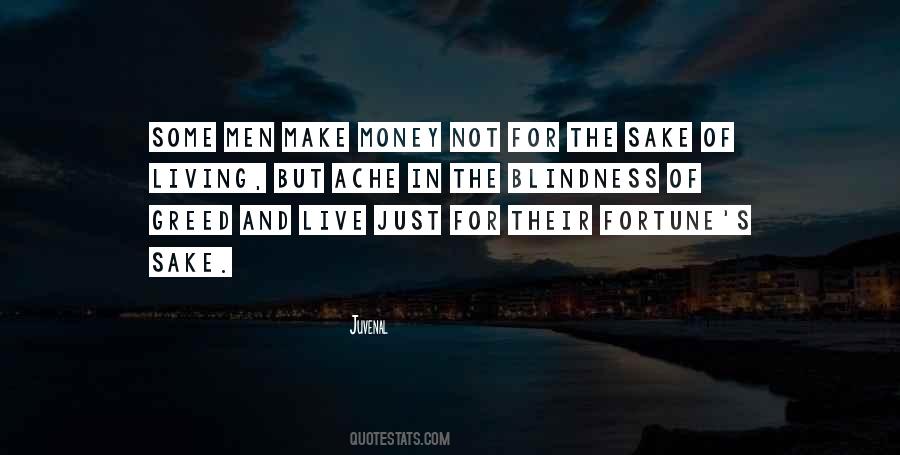 Famous Authors
Popular Topics