Make Life Better Famous Quotes & Sayings
List of top 100 famous quotes and sayings about make life better to read and share with friends on your Facebook, Twitter, blogs.
Top 100 Make Life Better Quotes
#1. Joy is connection ... The more areas in your life you can make connection, the better, - Author: George Vaillant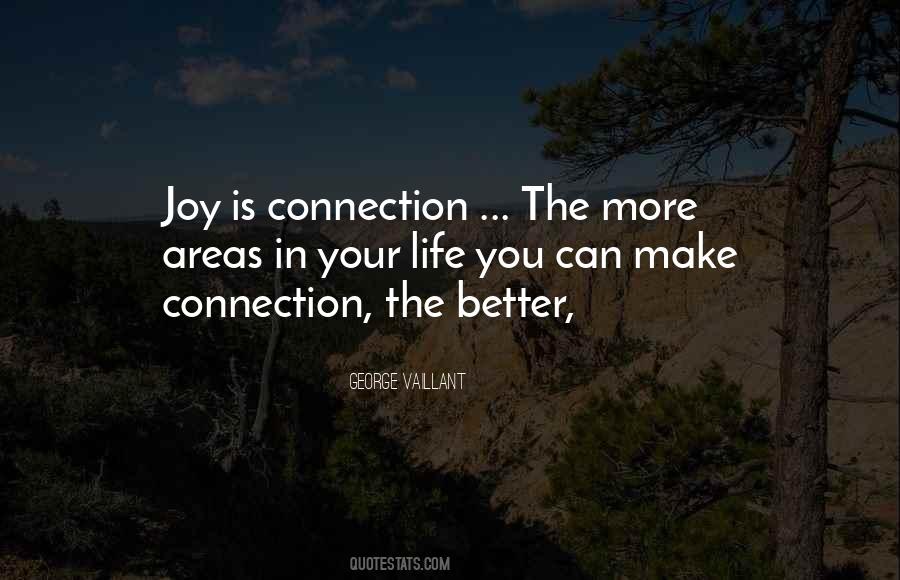 #2. Your past does not have to dictate your future. You have the God-given power to make your life better and to heal from divorce. - Author: Renee Smith Ettline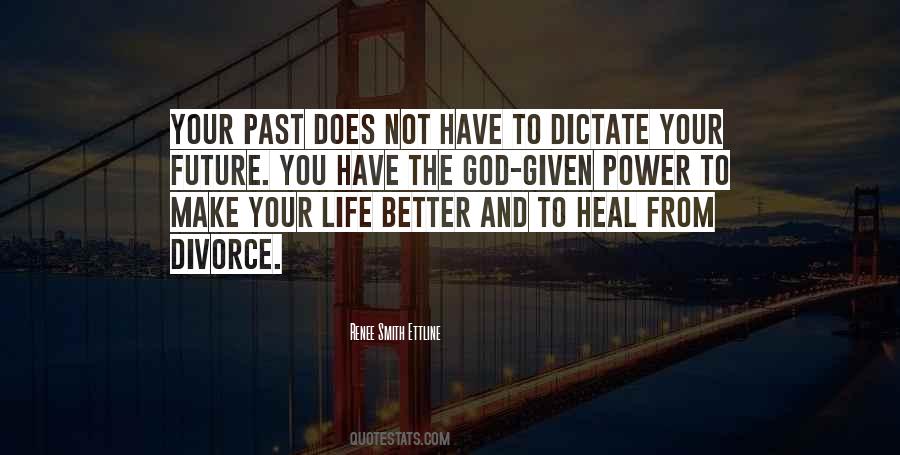 #3. Just saying you are better than good won't make it so. But, when you understand what it takes to live the better than good life, and you apply yourself, your life will truly be better than good. - Author: Zig Ziglar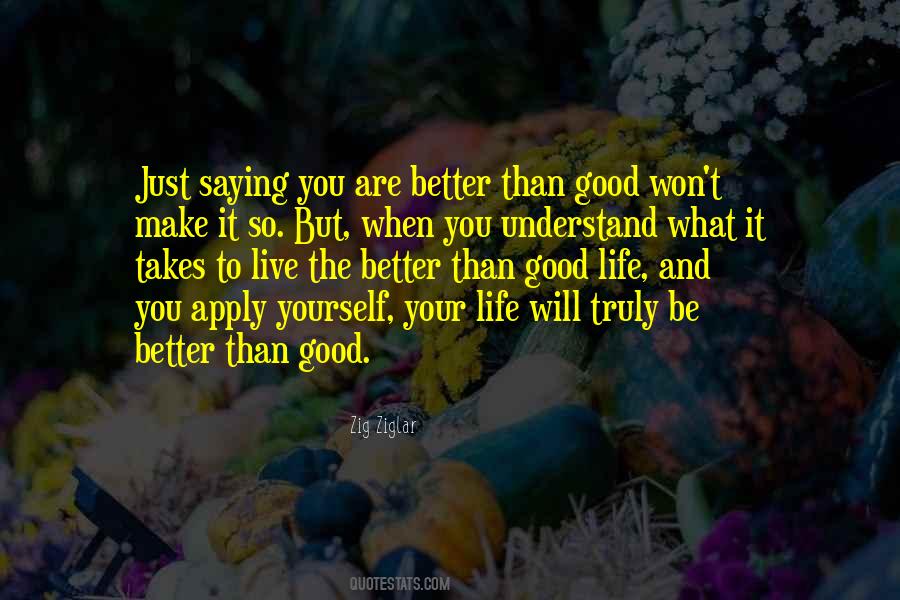 #4. Simplifying your life is meant to make things better, not worse. It's about choices - about saying no to the things in your life that aren't the best so that you are free and available to say yes to those things you truly want. - Author: Tsh Oxenreider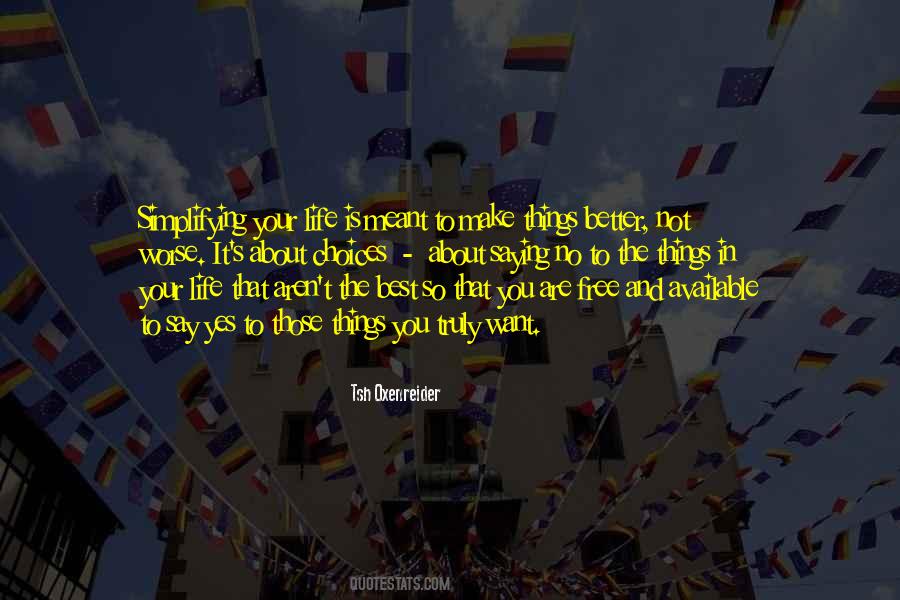 #5. No one else can make you happy, and putting that expectation on the other will doom both of you. You don't look at someone and say, "You can make my life better." You look at someone and say, " I can make your life better." Be a blessing, not a burden. - Author: Penelope Douglas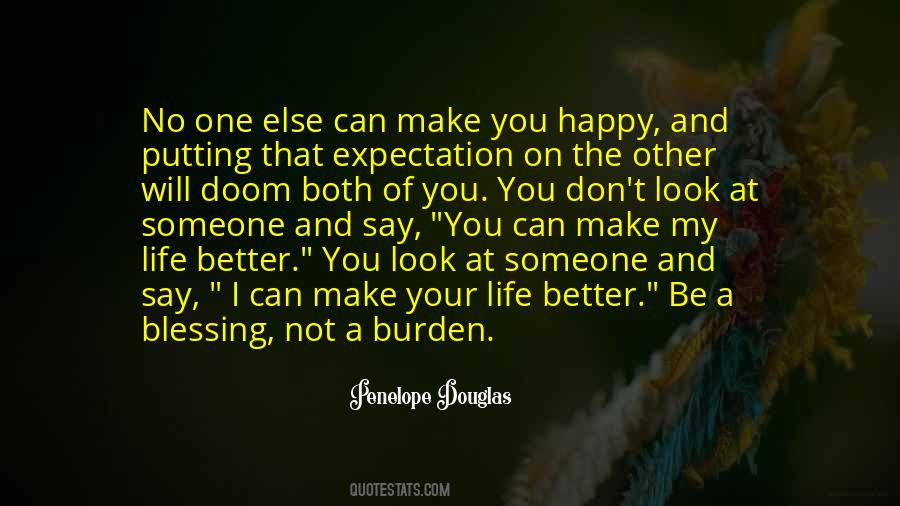 #6. It is my sincerest hope to leave this world in better shape than which I found it. Everyone says that. However the distinction I feel that is necessary to make is. I hope to leave this world better in spite of my departure, not because of it. - Author: Kay Whitley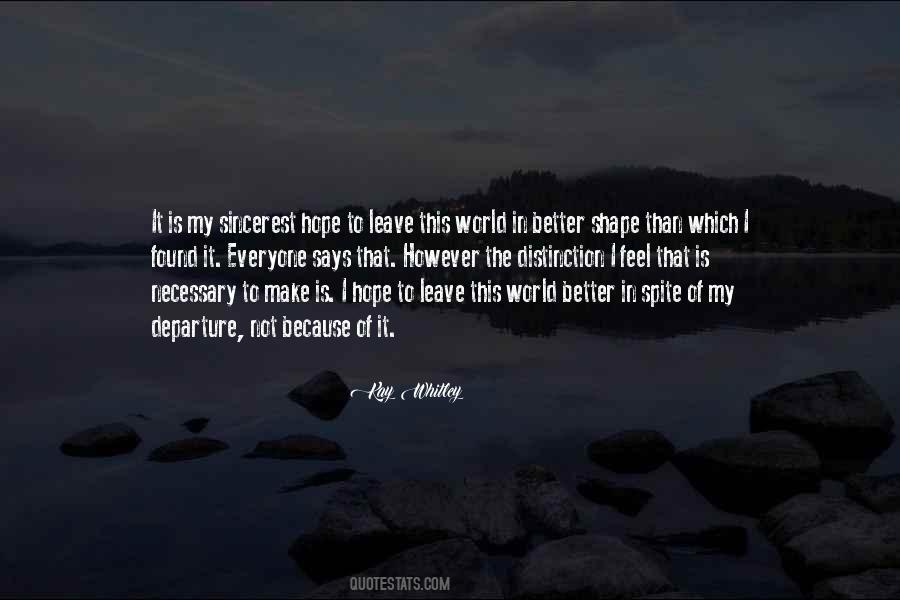 #7. I know what the important things are in life. I know that just because I pretend to be someone else for two hours on the silver screen doesn't make me a better person than the next man. So, I mind all those things. Simple things. - Author: Colin Farrell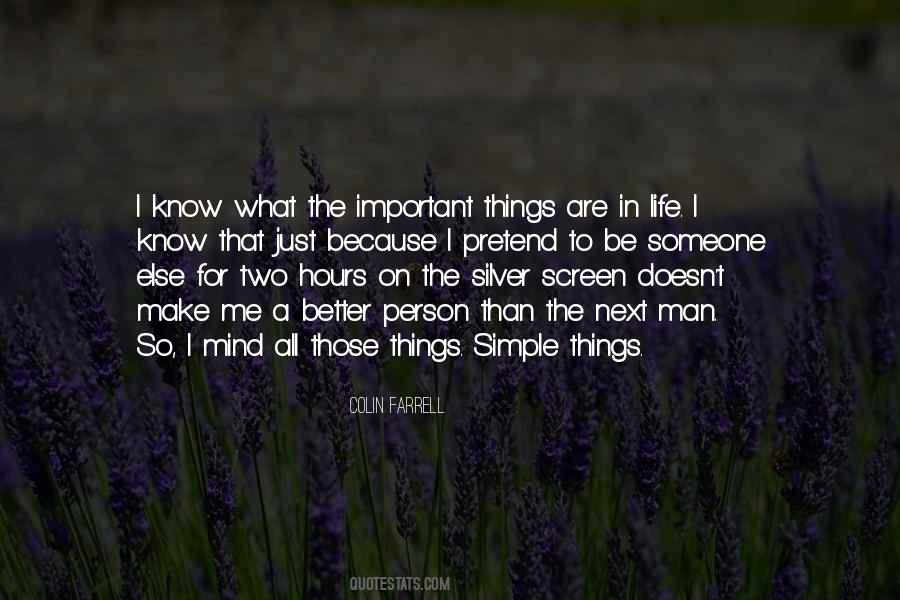 #8. Using your own time to make someone else's life better is, like, the nicest thing you can do for anybody. - Author: Karen Marie Moning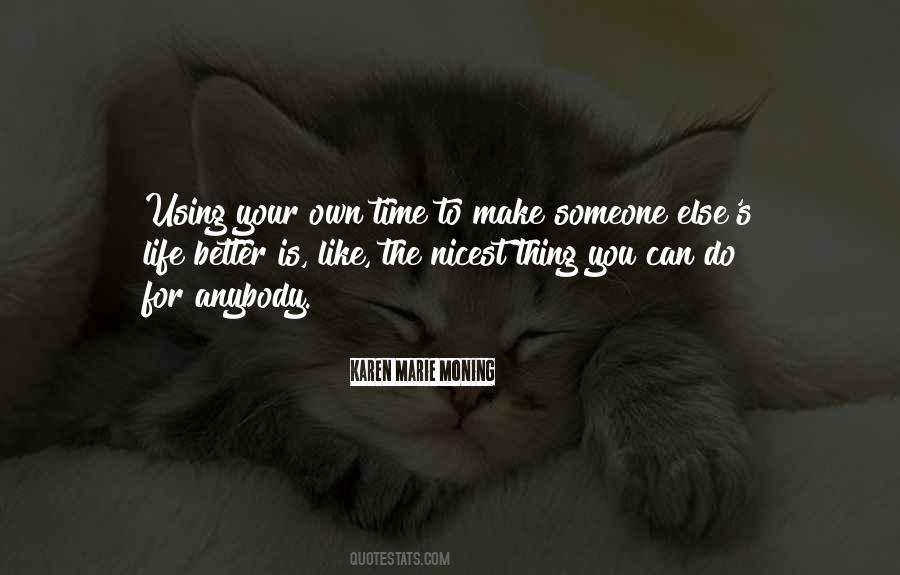 #9. A man's needs are few. The simpler the life, therefore, the better. Indeed, only three things are truly necessary in order to make life happy: the blessing of God, the benefit of books, and the benevolence of friends. - Author: Thomas Chalmers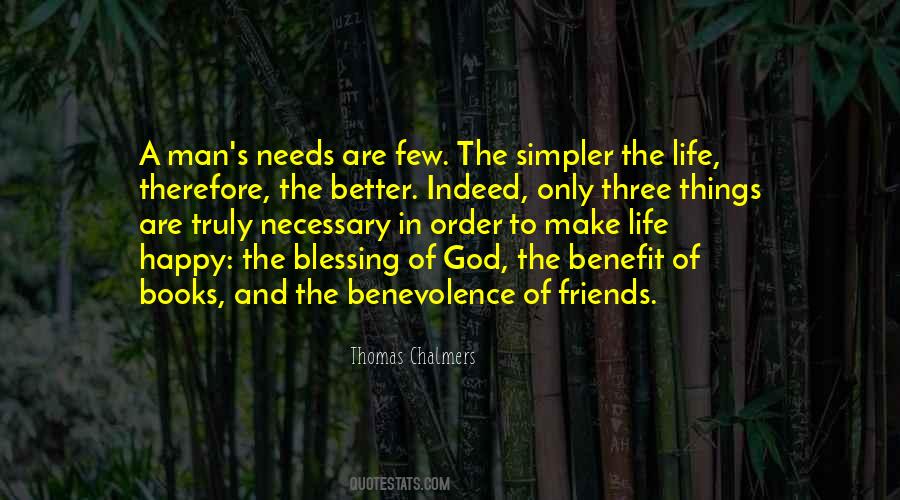 #10. In life u will make mistakes and people will try and tear u down ... but u gotta stay positive. Stay strong..and learn to be better..and..always live to serve others and The Lord. - Author: Justin Bieber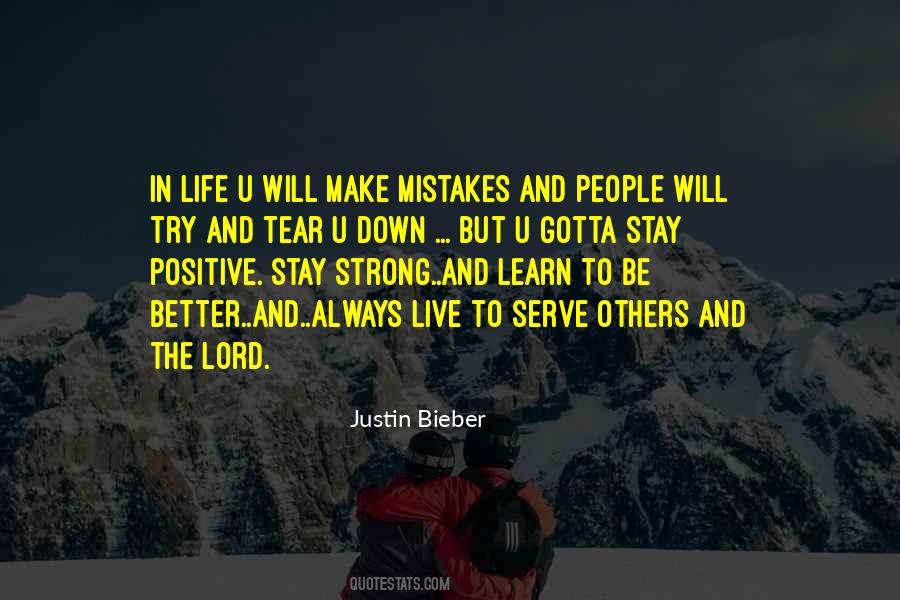 #11. Mayonnaise is a lot like men, it can make everything much better, adding flavor and ease to your life. Or, it can just be sticky and gross and make you nauseous"- "Keeping the Moon - Author: Sarah Dessen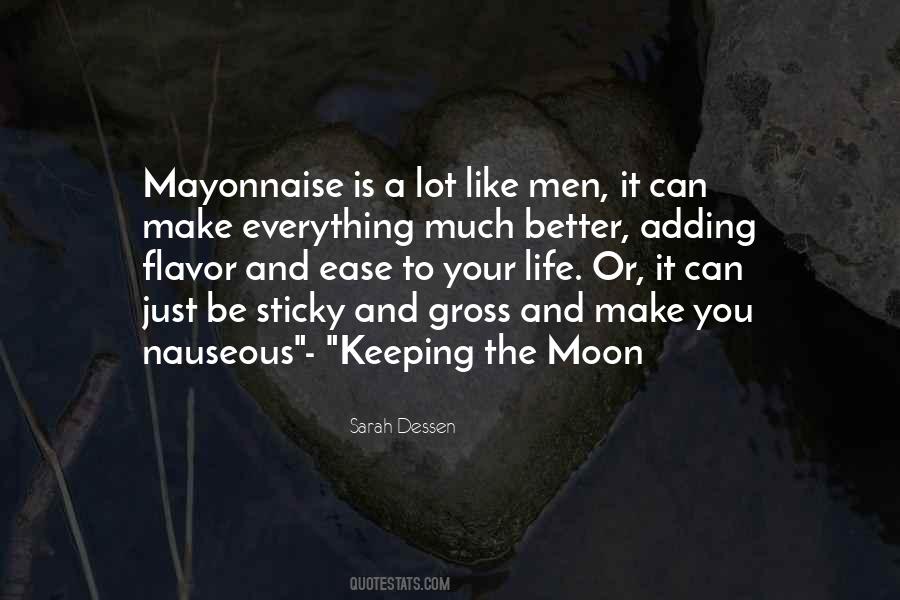 #12. The world's a stage and I'm on it. Better make a good impression out there! - Author: Shannon Mayhew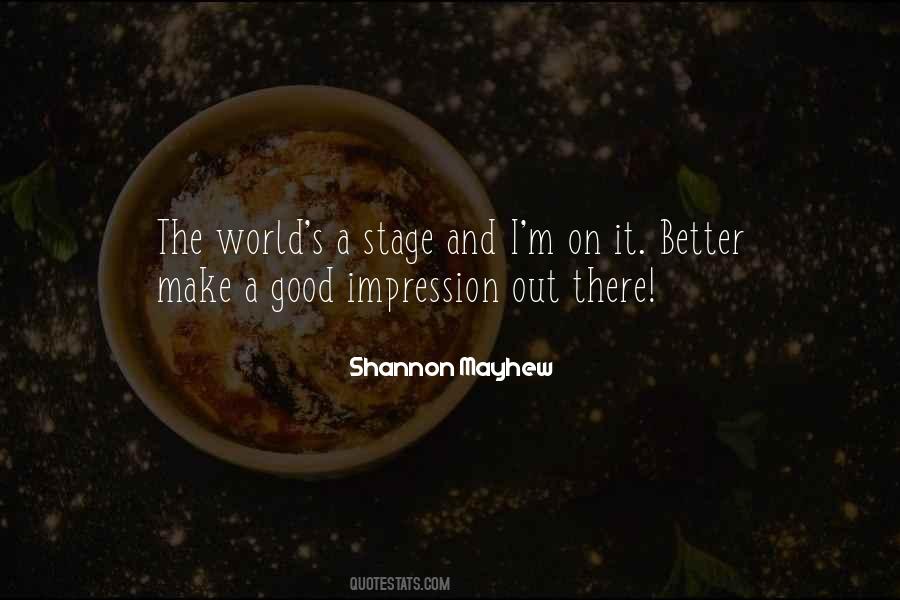 #13. You need to take the traumas and make them part of who you've come to be, and you need to fold the worst events of your life into a narrative of triumph, evincing a better self in response to things that hurt. - Author: Andrew Solomon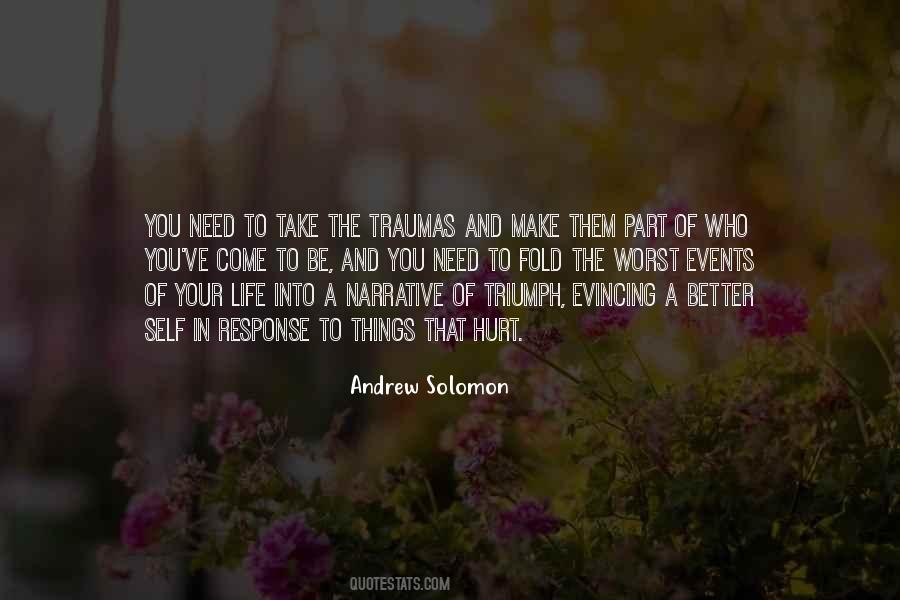 #14. Some people exist in your life to make it better. Some people exist to make it worse. - Author: Nicola Yoon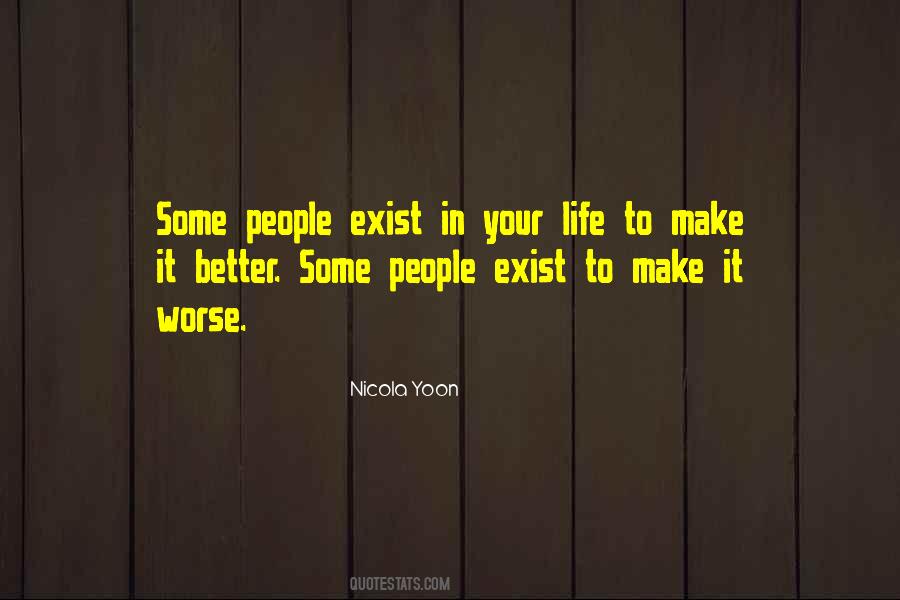 #15. Not everything you're going to do in volleyball - or in life, for that matter - is exciting or fully functional, but if you have the willpower to make each minute count, you'll benefit in some way. And it will make you a better player and a better person in the long run. - Author: Karch Kiraly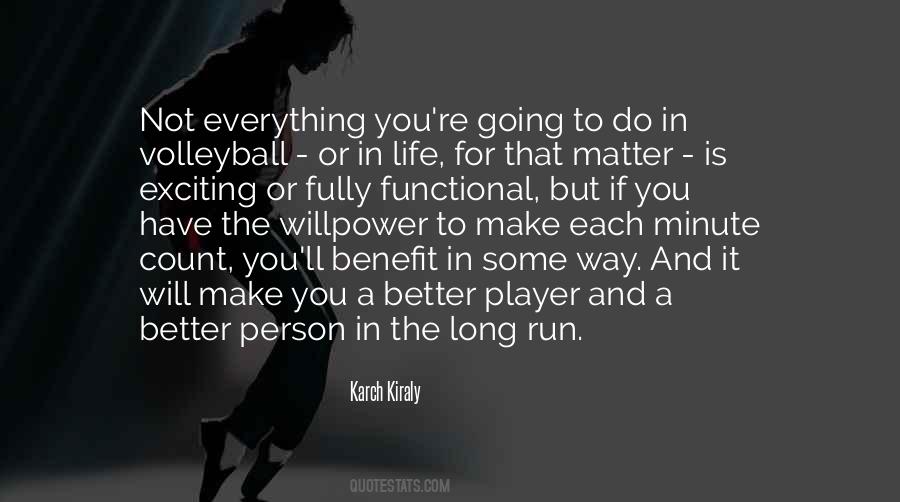 #16. You make your own kinds of mistakes, and I'm sure you'll have your share of regrets in life. But commitment was never your problem, sweetie. You have a better chance of making this work than most forty-year-olds I know. My little middle-aged child. Luckily, you seem to have found another old soul. - Author: Stephenie Meyer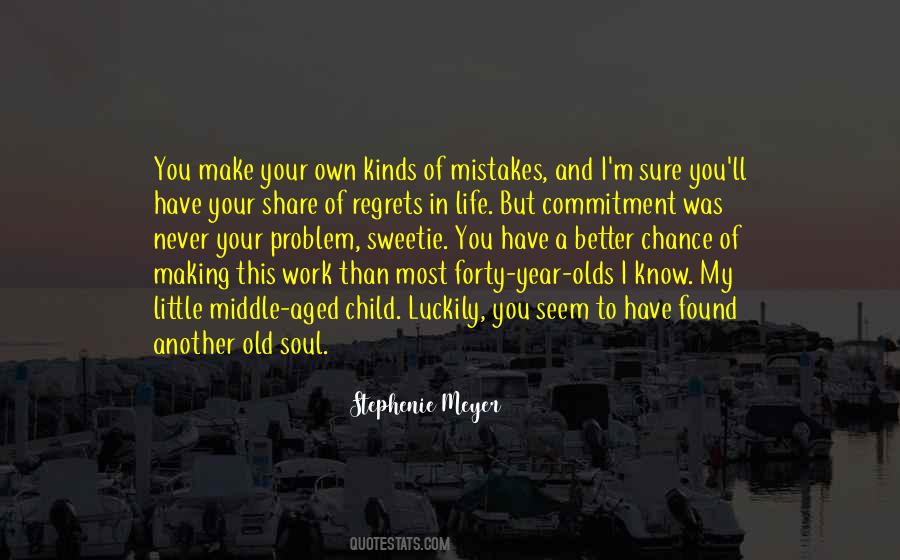 #17. I made my life, the same way it looks like you're gonna make yours - out of pride and stubbornness and too much anger. You better think hard, Ruth Anne, about what you want and who you're mad at. You better think hard. - Author: Dorothy Allison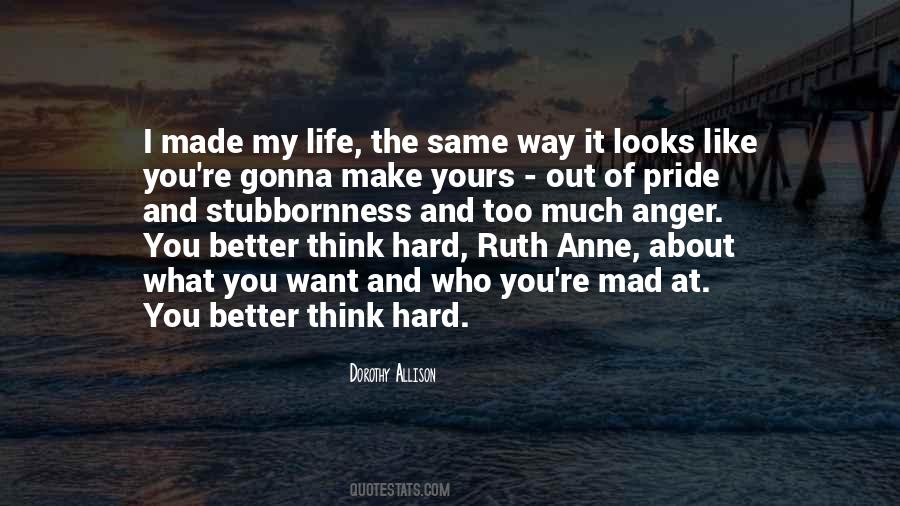 #18. It was all very isolating to think about, what people use to define themselves and their actions. And at the end of the day, did it make people feel better? Maybe it did. Maybe it gave them something to grasp at in the ambiguous vein of life on Earth. - Author: Rhian J. Martin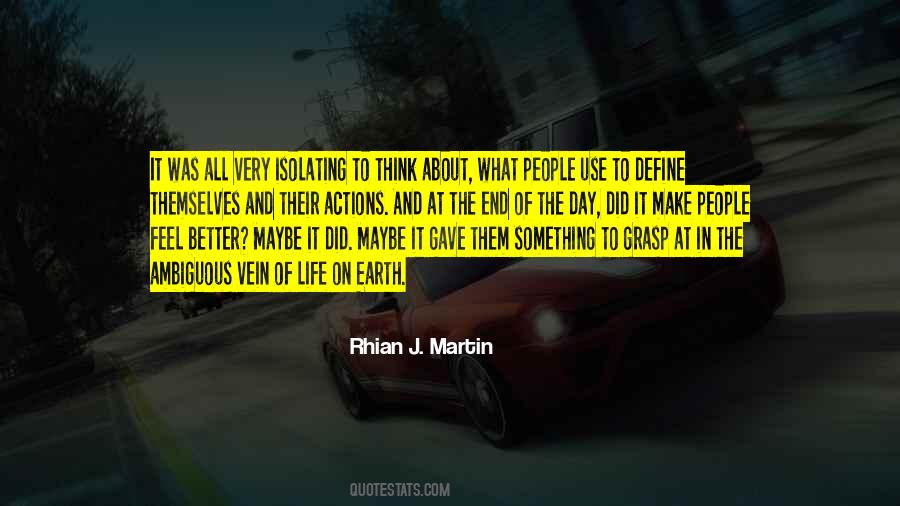 #19. For me to simply tell you to find your life's purpose, would only worsen your anxiety, not make it better. But that's not what I want you to do. I simply want you to realise that there is something to be found. That your calling is still out there, and that's why you might be unhappy. - Author: S.R. Crawford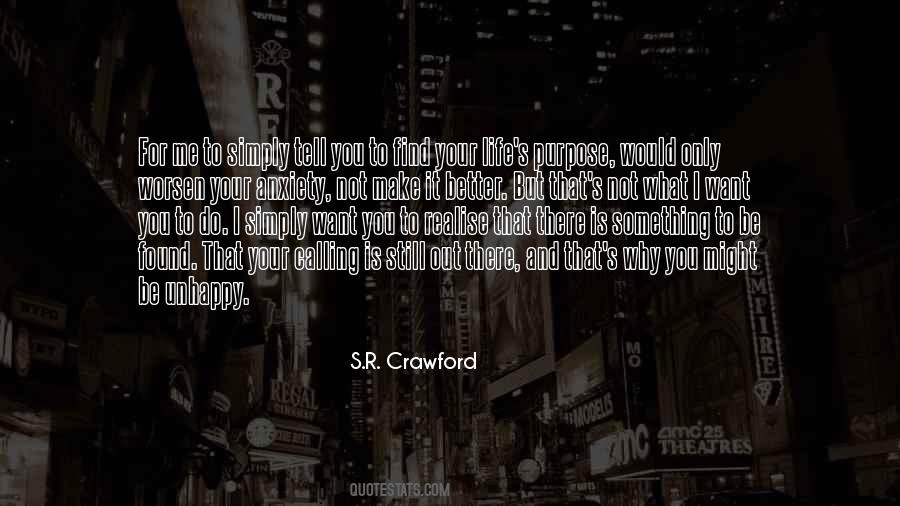 #20. The reading of great books has been a life-altering activity to me and, for better or worse, brought me singing and language-obsessed to that country where I make my living. Except for teaching, I've had no other ambition in life than to write books that mattered. - Author: Pat Conroy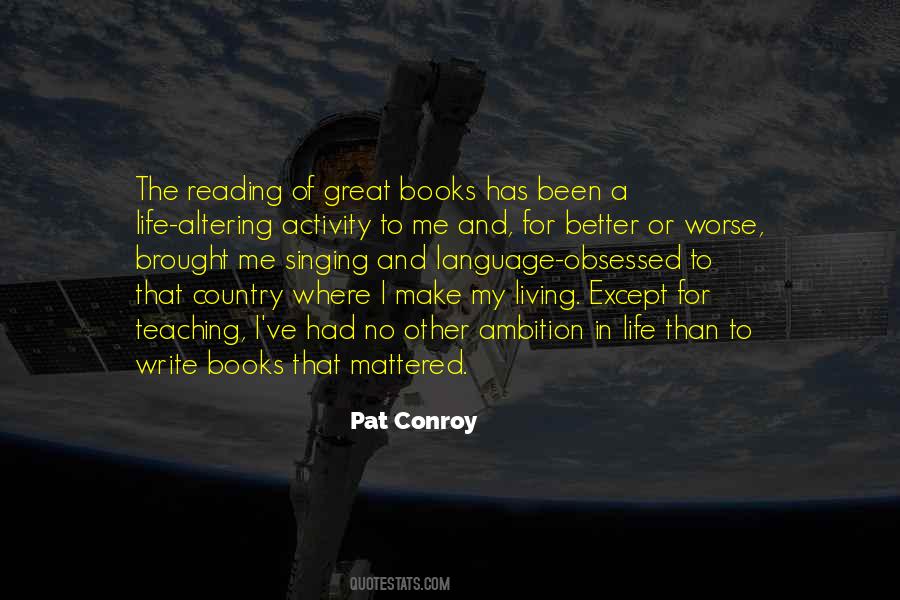 #21. It's up to you to make the conscious choices that bring about a better future. Find new methods to deal with old routines. You have to take charge of your life, to be accountable to yourself and responsible toward others. - Author: Lynn C. Tolson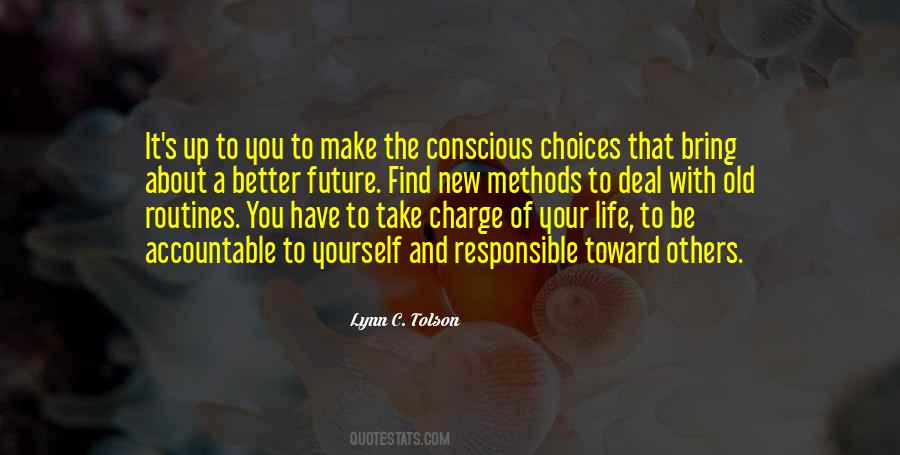 #22. The life of an editor is not a glamorous one. You're a fixer; you make things better. - Author: Courtney B. Vance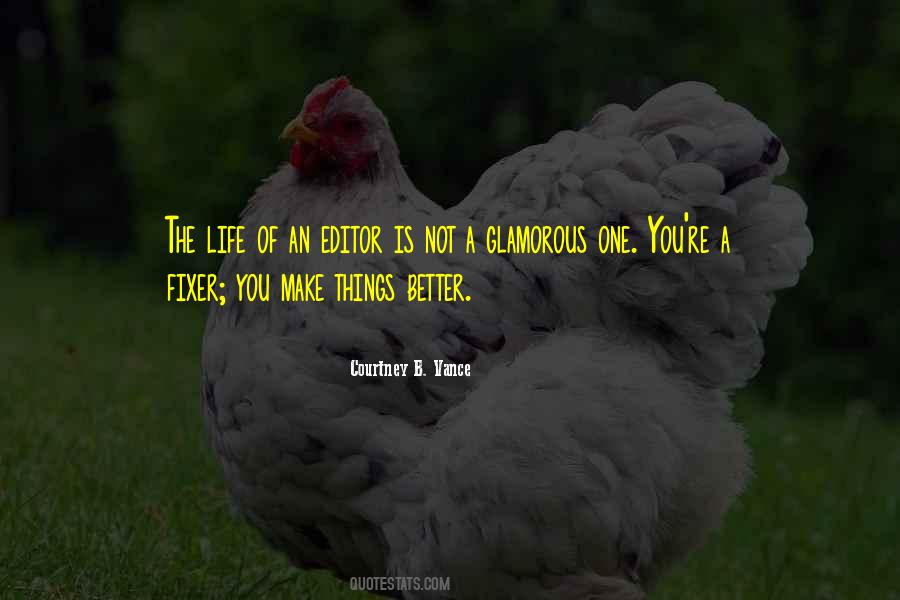 #23. You must grow and you must learn something about yourself everyday, you must make your commitment to making yourself better for the rest of your life. - Author: Austin V. Songer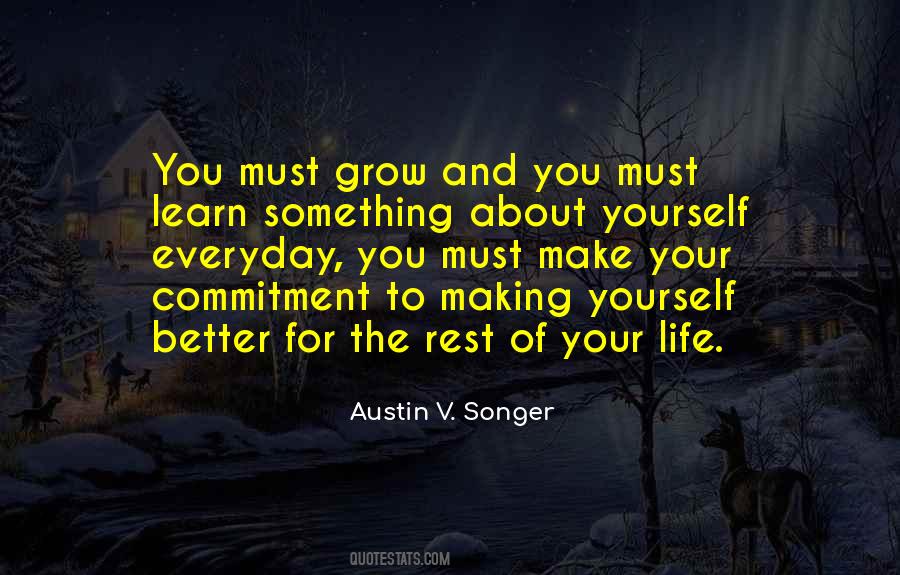 #24. We keep waiting for another Mahatma to make a difference in our society and nation. Well it is time to stop waiting. The mantra is "I change to change India". Which means each of us is the Mahatma and has the power to change this nation. Failing which we shall never change for the better. - Author: Jeroninio Almeida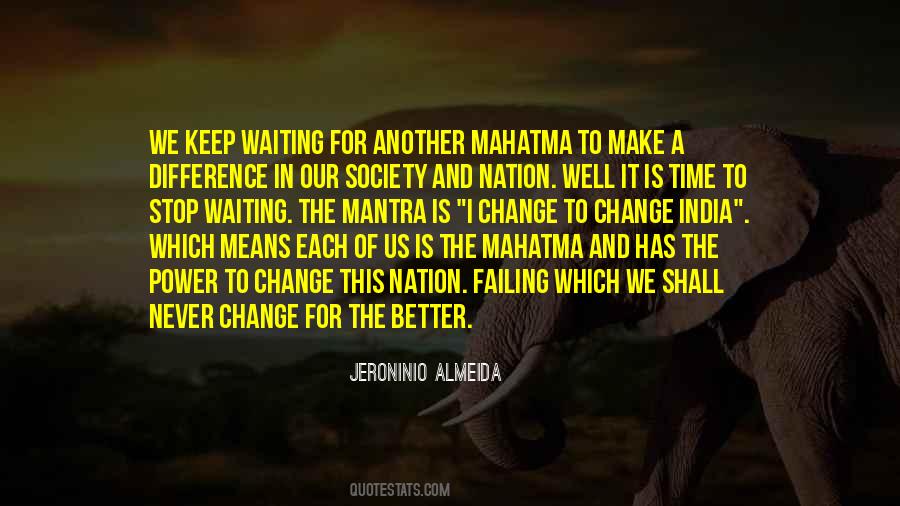 #25. Our passion is and should always be to make life better. - Author: Martha Stewart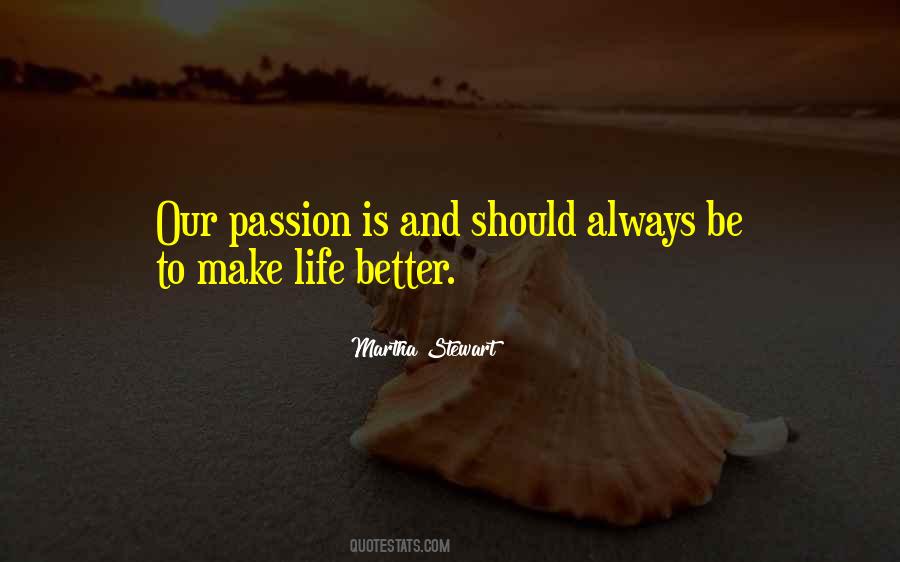 #26. Sure all life's highways at some point must end,
so I plan to ride it in style and plummet in a swan dive
when the pavement runs out ...
And hopefully leave behind artistically
that which may make other roads
an even better ride ... - Author: Tom Althouse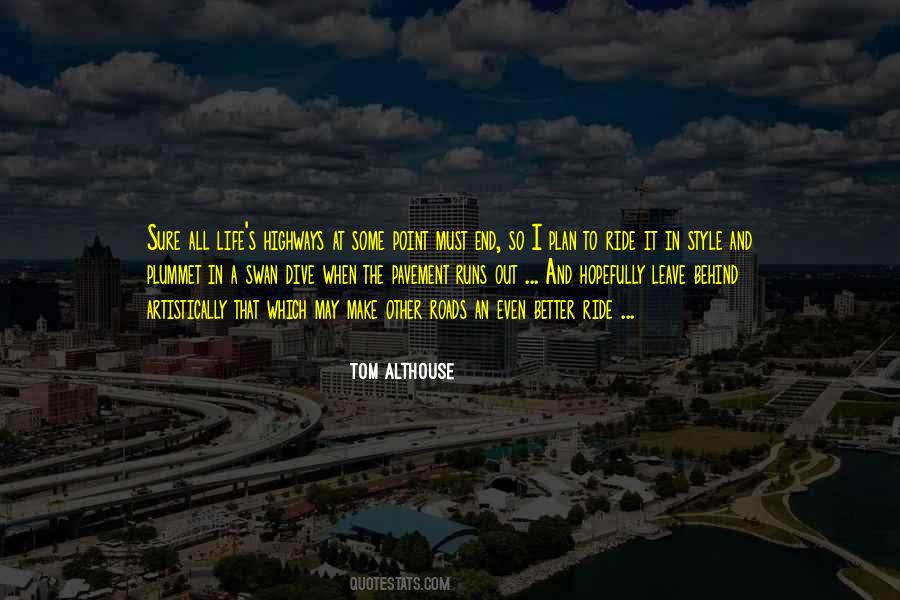 #27. Tell your kids they are perfect the way they are, but they shouldn't stay where they are forever because growing, testing the limits, and evolving make life better and more fulfilling. - Author: Daphne Oz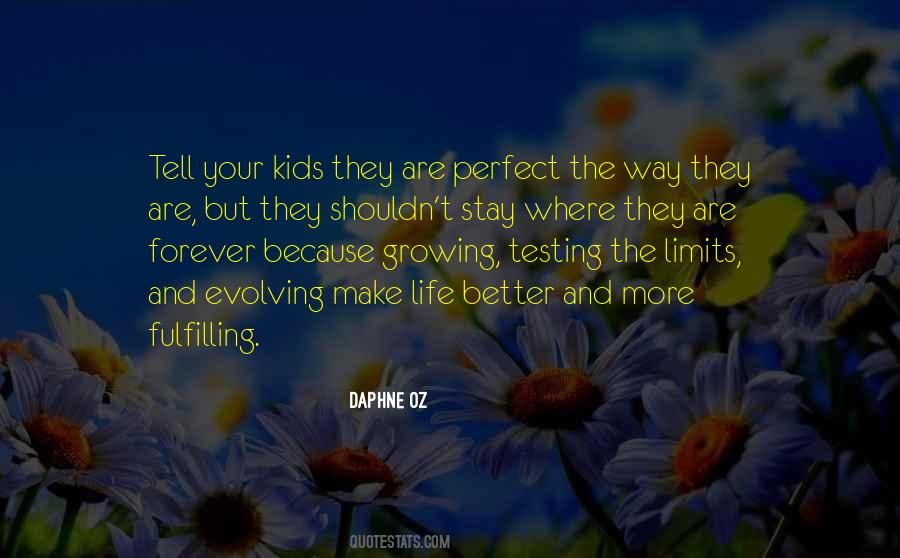 #28. You have to be able to say, OK, that happened back then. Now let's take it from here and see what happens. It would be very easy to hate people for the rest of your life, and some people have done that. You've got to deal with what's happening now and try to make things better. - Author: Michael Jordan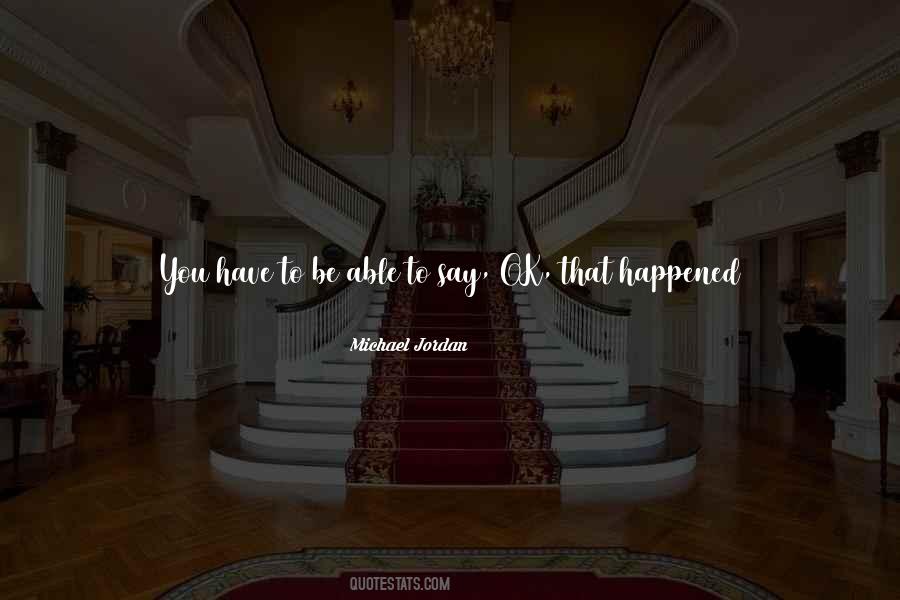 #29. I should learn from today and make tomorrow better. - Author: Toni Sorenson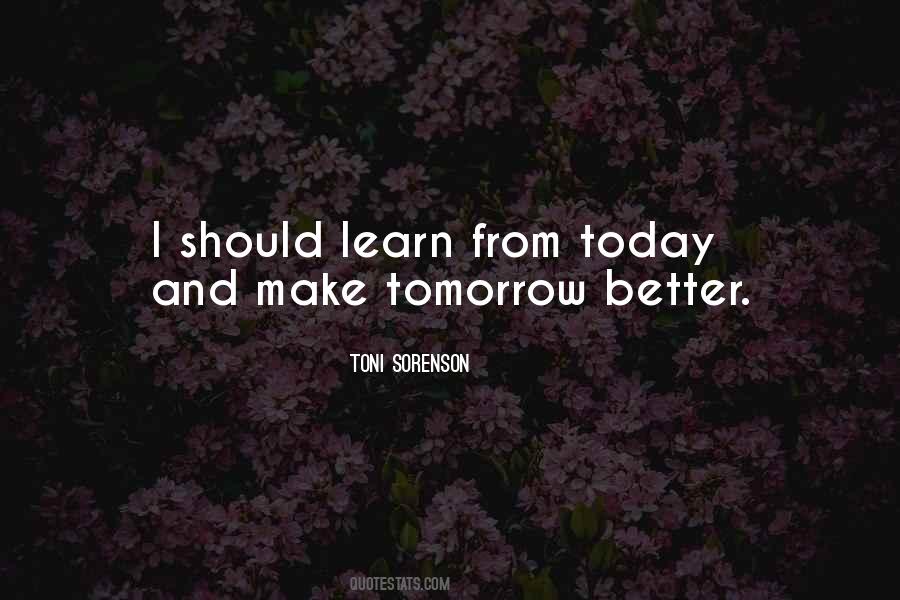 #30. Don't let this[football] be the best thing that ever happens in your life. Maybe it'll be the best sports event, but don't let it be the best thing. Make sure you're a better father than this today. Make sure you're a better husband than this today. Because this goes away ... It's a game. - Author: Mack Brown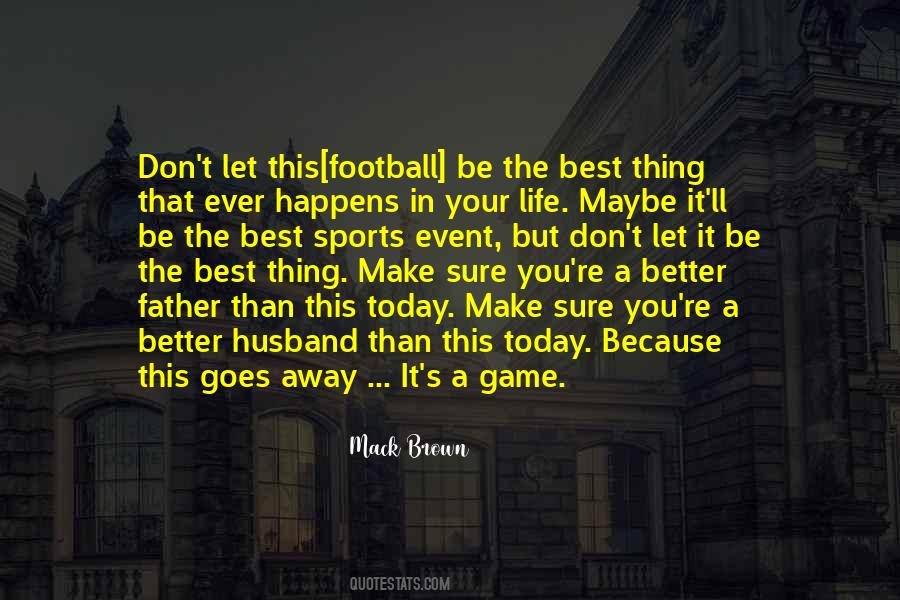 #31. We can't control our destiny. We can't go back into our past history and make changes. But we can begin this moment by setting a goal and pursuing it for a better life with a greater purpose. - Author: Ellen J. Barrier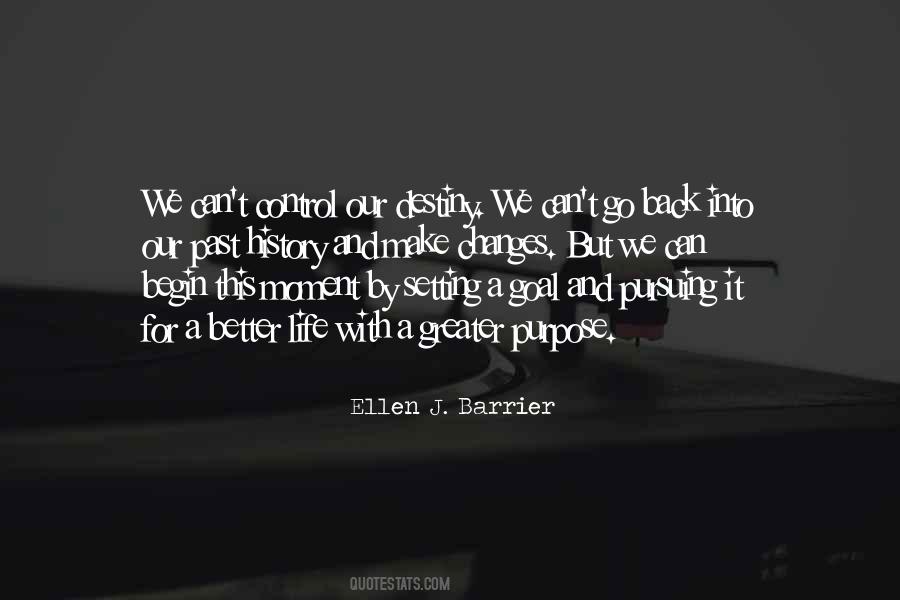 #32. Sometimes even feeling bad feels good. Negative emotions can feel so familiar (especially if they mimic our past) as to actually be comforting. Awareness is realizing that our life could always be better. Growth is doing what it takes to make it better ... - Author: Danielle LaPorte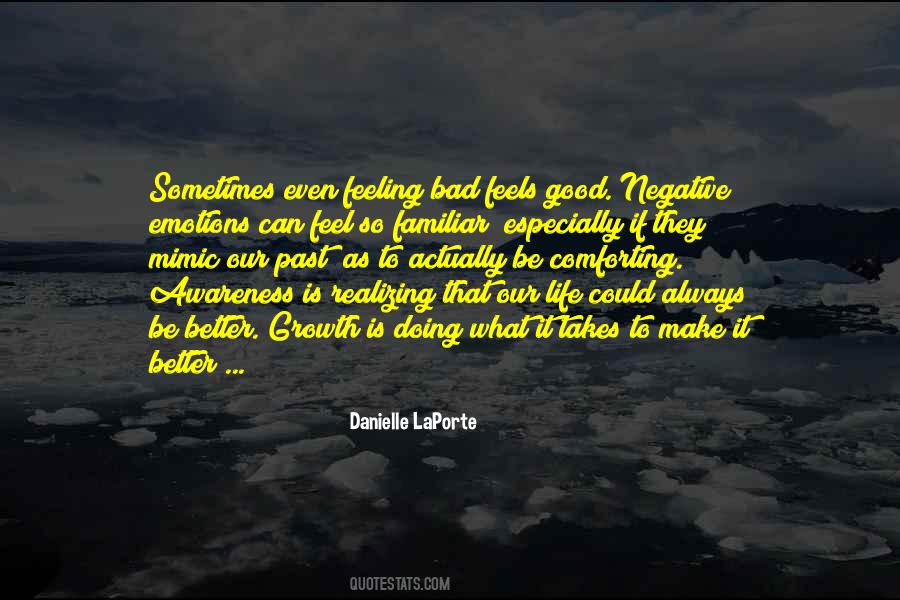 #33. Learn from Past, apply them in Present & make better Future. - Author: Amresh Kumar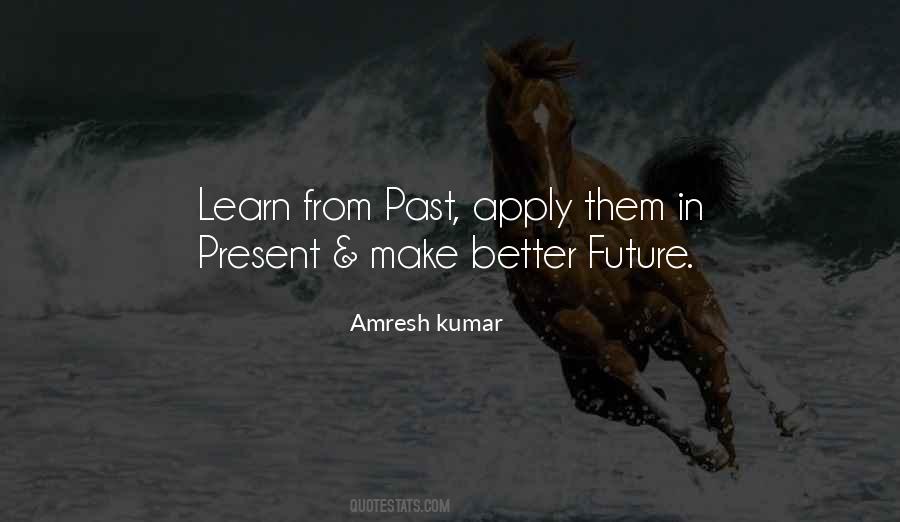 #34. The resilience and the resourcefulness of people to make a better life, to survive, to give their children something better than they had, is so inspiring. I look at how hard it must be to get up every day and fight that battle and I think, Wow, anything I'm doing just has to be in service. - Author: Kathy Calvin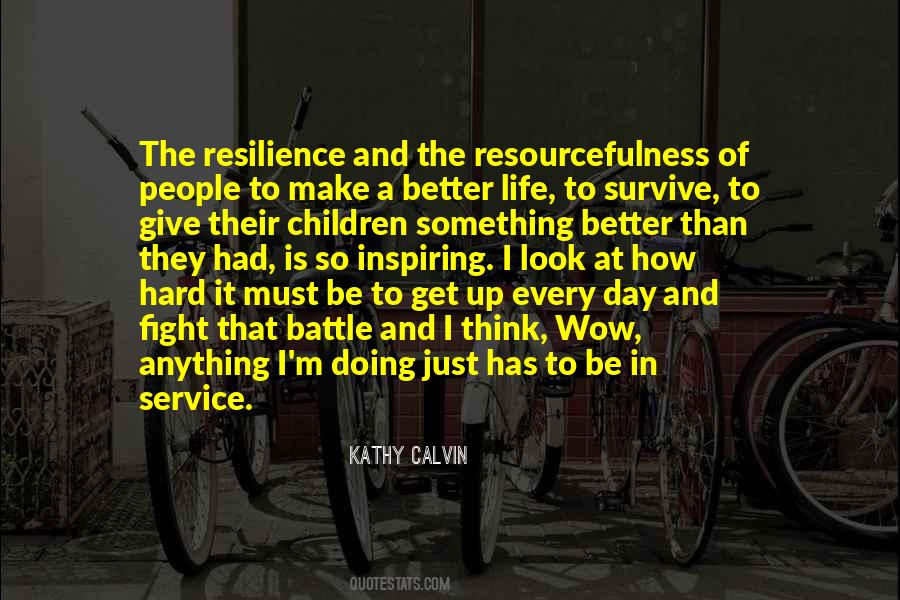 #35. Life is based on growth and finding new challenges to face and overcome, new contributions to make to society, and constantly coming to a better understanding of yourself and the universe in which you live. - Author: Denis Waitley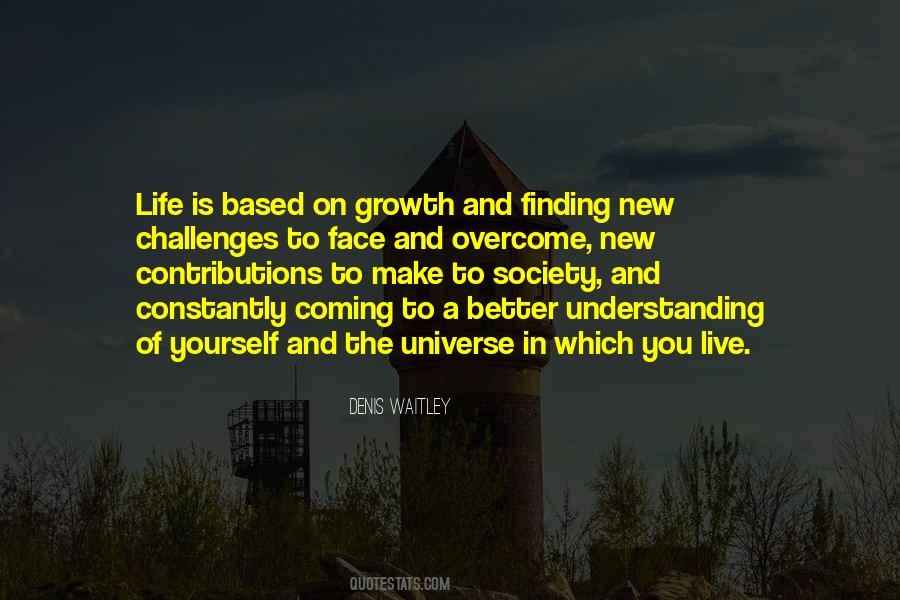 #36. This ring means that I choose to spend the rest of my life with you. I promise to love you in the nurturing and selfless way that you love me. I've changed so much since I've known you. Your love has given me the strength to be softer. You've taught me kindness and compassion. You make me better. - Author: Portia De Rossi
#37. There may be times in my life where a situation looks bleak or doesn't make sense, but having faith in God allows me to know that He will take me through that situation and make me better off than I was before. - Author: Dan Ellis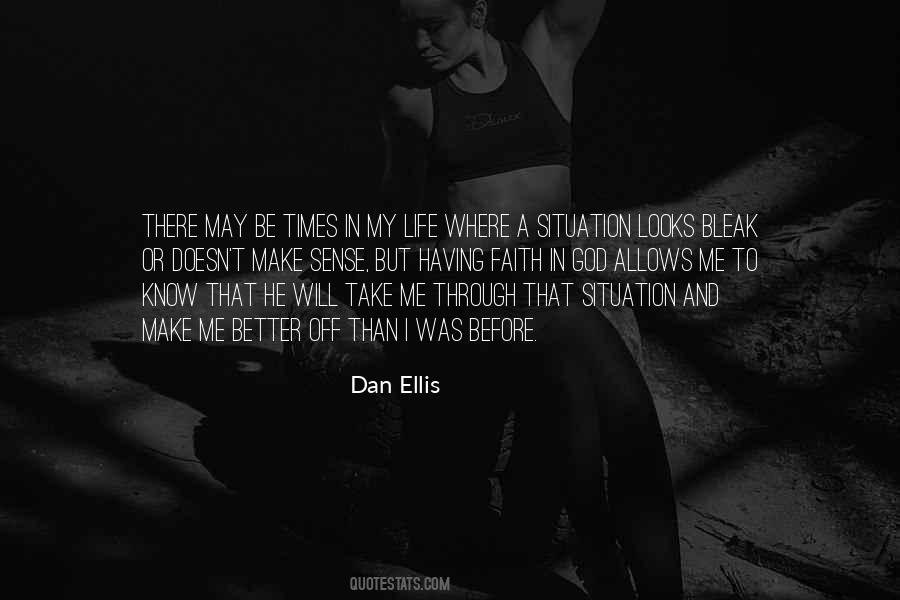 #38. Just know life keeps moving forward, and the hits life gives you are for a reason, to make you a better, stronger and wiser person.
*Miss J* - Author: Miss J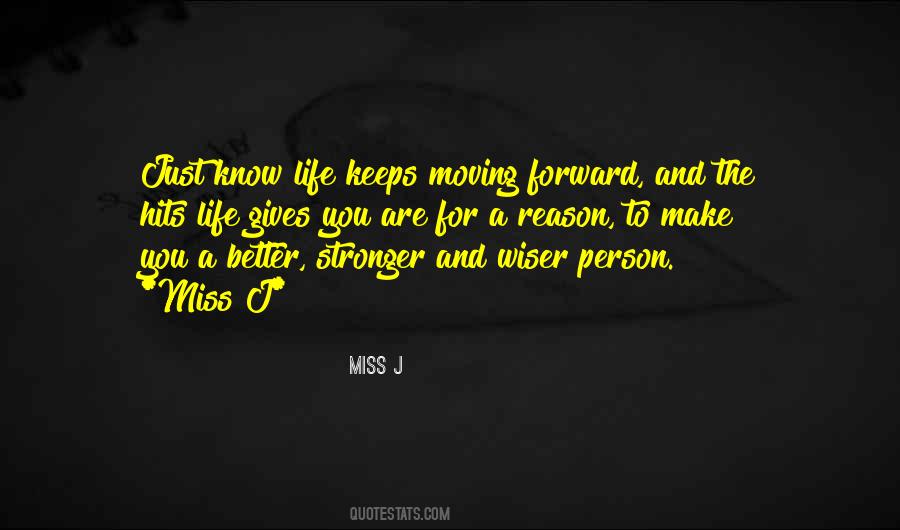 #39. Don't just be making a living; make a life and leave an indelible footstep wherever you step. - Author: Israelmore Ayivor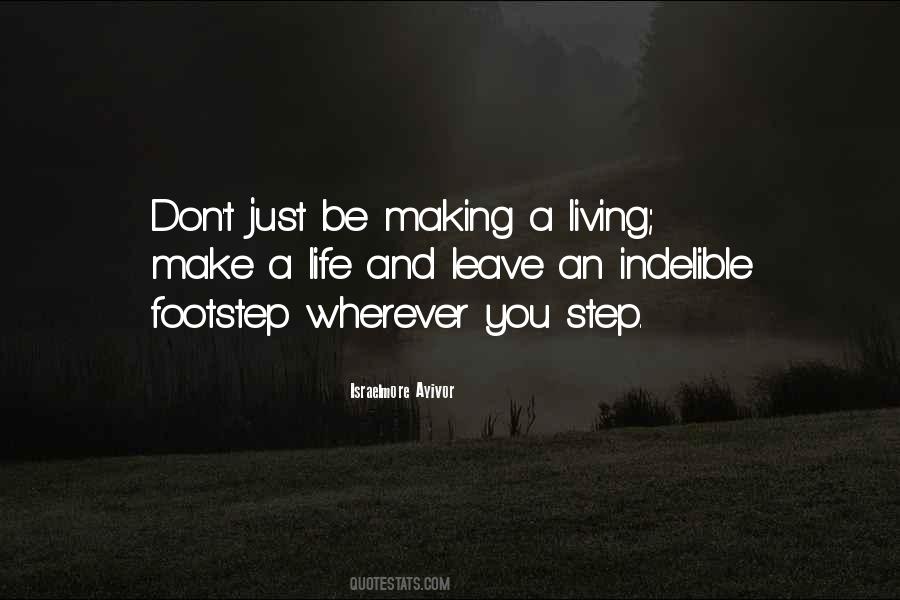 #40. Everything you want in life has a price connected to it. There's a price to pay if you want to make things better, a price to pay just for leaving things as they are, a price for everything. - Author: Harry Browne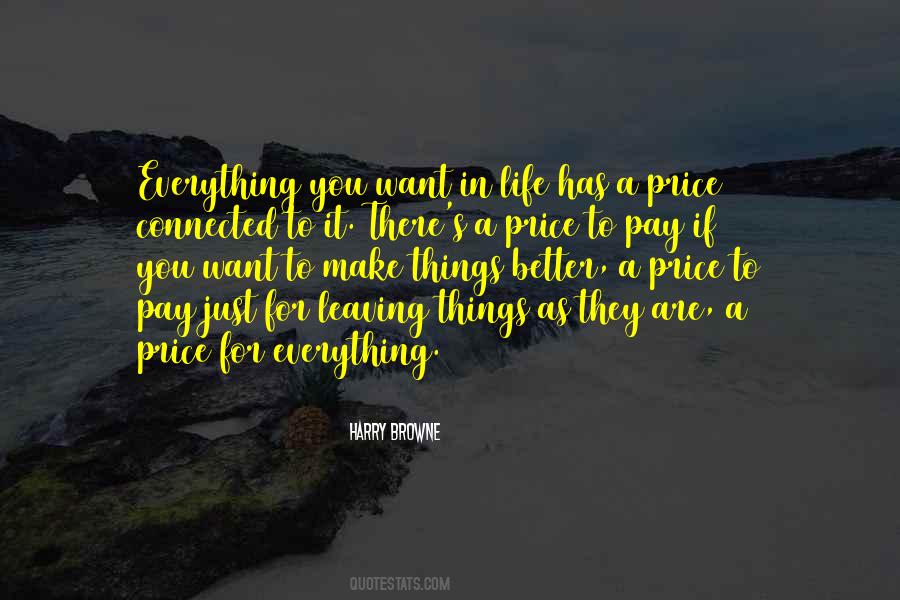 #41. Money is no good unless it contributes something to the community, unless it builds a bridge to a better life. Any man can make money, but it takes a special kind of man to use it responsibly. - Author: A.G. Gaston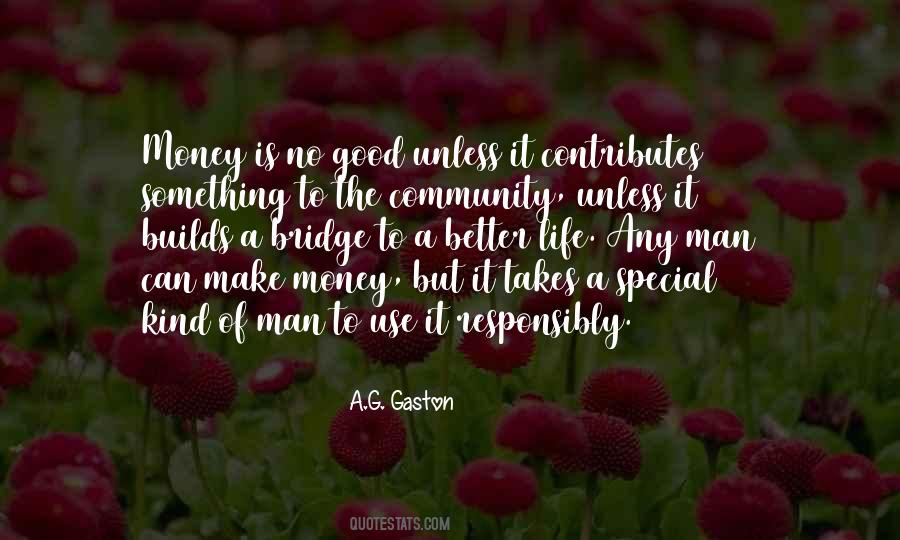 #42. Be appreciative of what's right with your life. In your gratitude is power to make it even better - Author: Ralph Marston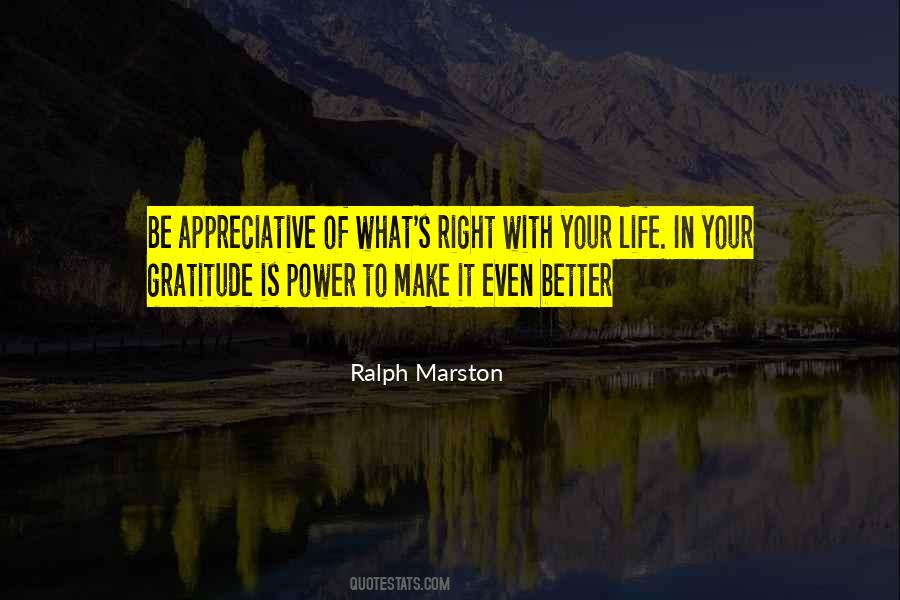 #43. One man can make another's life so much better. - Author: Janet Morris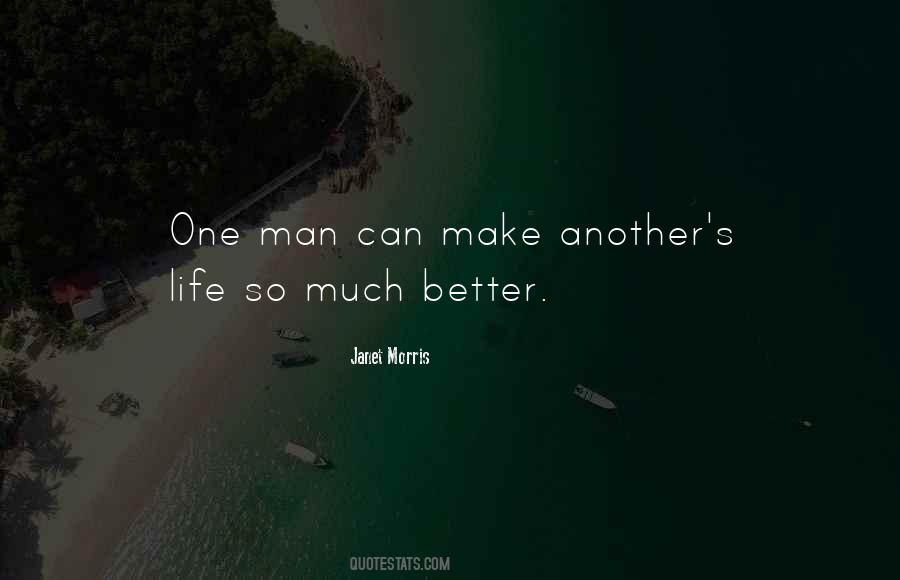 #44. True friends, regardless of their age, lift you up and make you a better person than you were before. They help make things right. - Author: Laura Bradford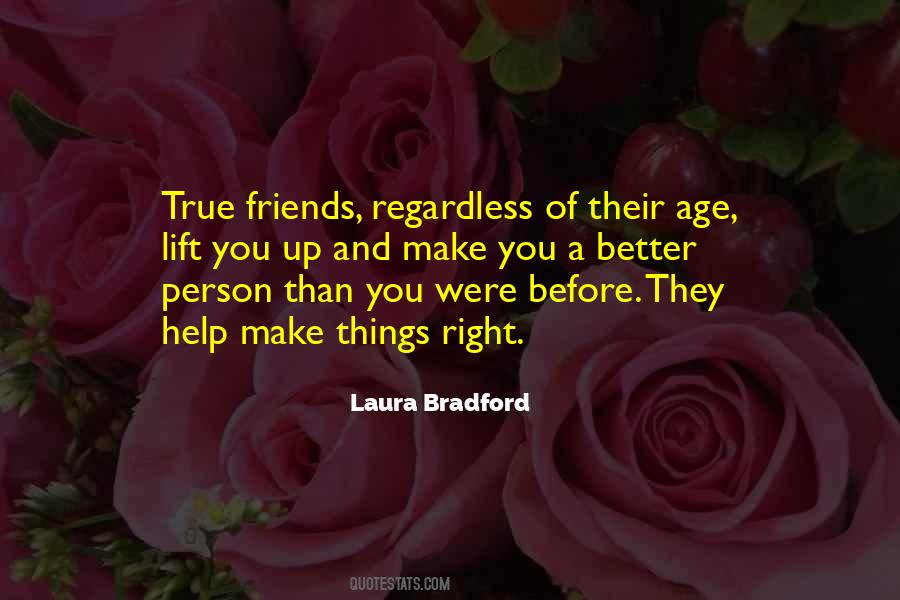 #45. I'd like to be out in the city every day, listening to what people are saying and asking about what they need. I'd like to inspire others by doing as much as I can to help people who are trying to make a better life for themselves and others. - Author: Chirlane McCray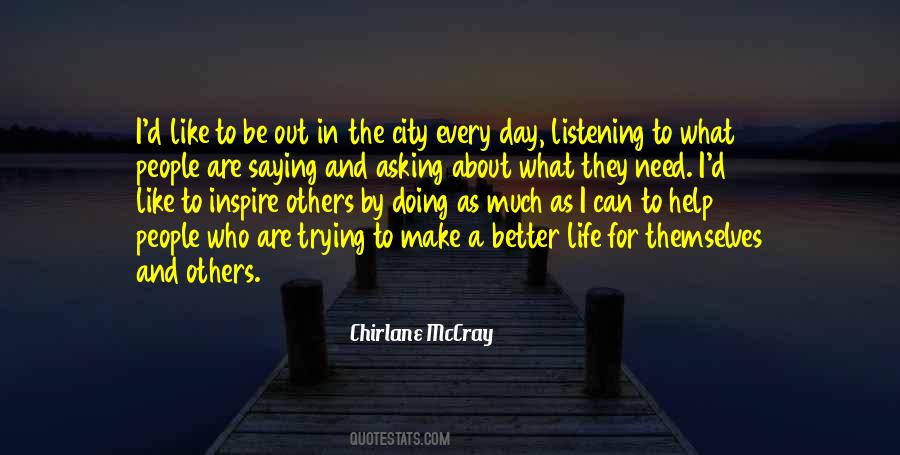 #46. Love and laughter and fucking make one's life better. Worship is just the passing of time. - Author: James Frey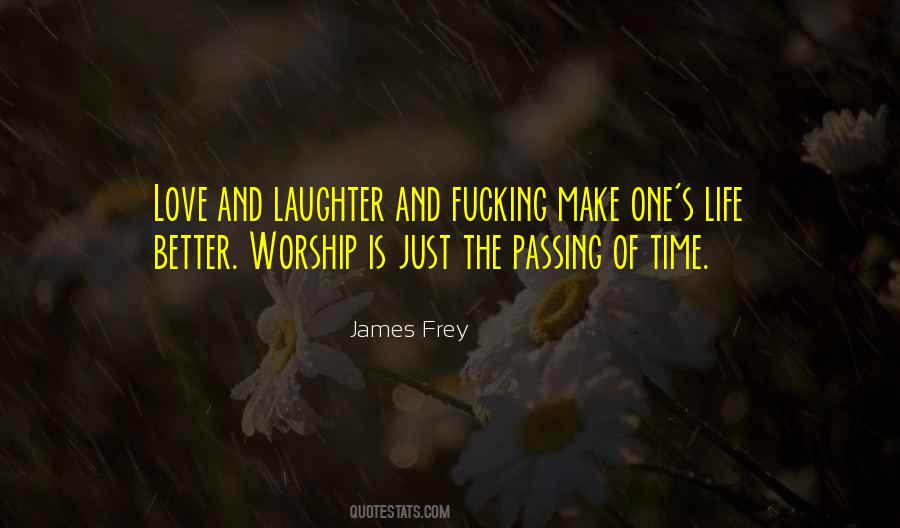 #47. My father came from a very poor background, but I was very fortunate in the sense that we were never in need. My dad was determined to make sure that we didn't want for things. He wanted to give us more opportunity than he had, a better shot at a better life. - Author: Brad Pitt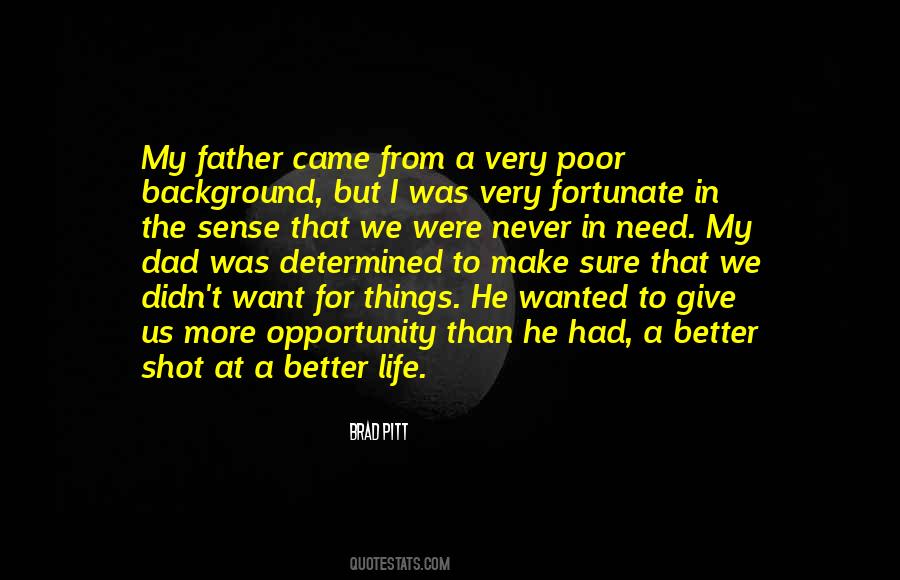 #48. I care for you. I want to make life safer and better for you. - Author: Kathleen Blanco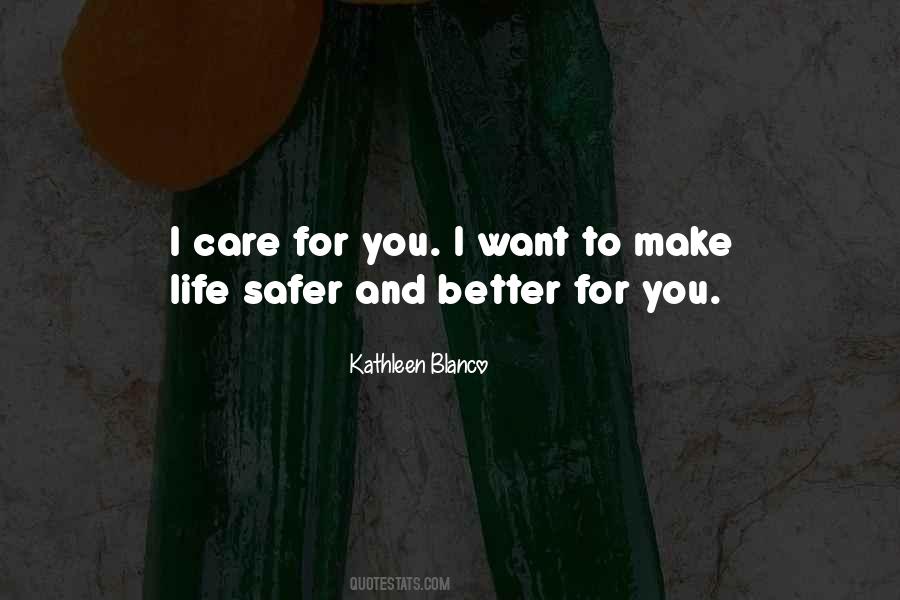 #49. The quality of life of European cities and towns of almost any size make life in America look not just like a joke, but a sick joke, a horror movie. But I'd rather stay involved and do what I can to make this a better place than move to the south of France and enjoy the good life. - Author: James Howard Kunstler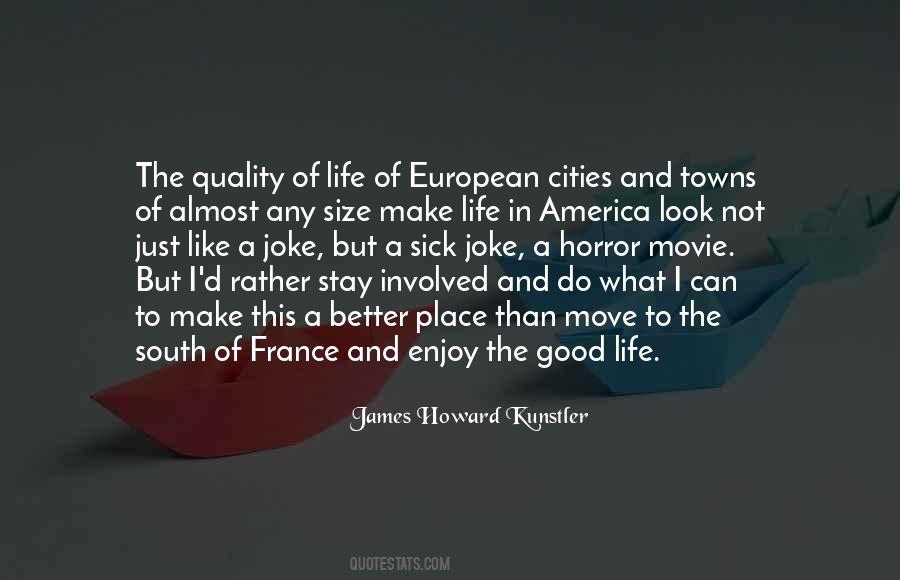 #50. I'm going to turn my life around. Make a complete three sixty."
"Don't you mean one eighty?" he corrected. "If you do that, you'll end up right back where you started."
"Maybe. But at least I'll have a chance of coming out of it a different person - a better version of me. - Author: Megan Duke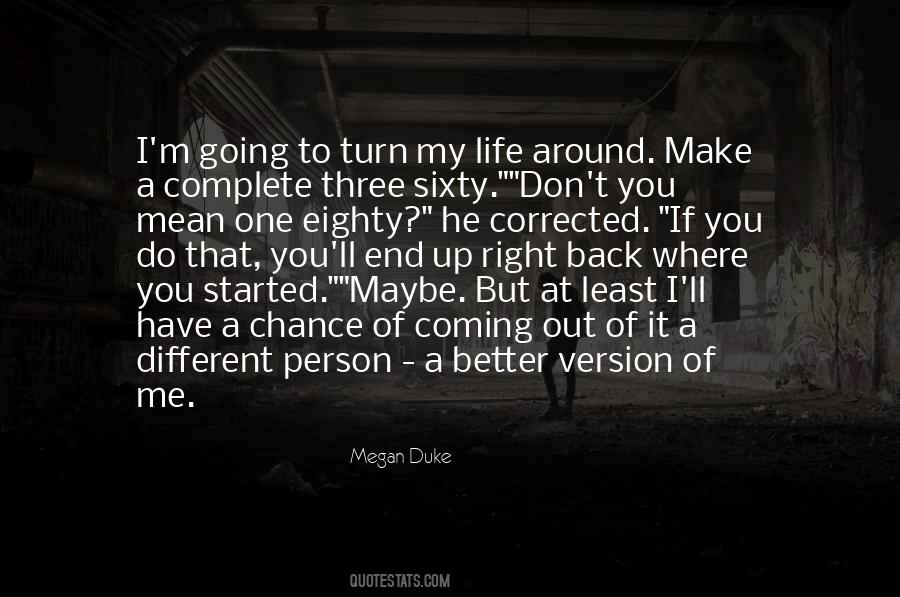 #51. Civic participants don't aim to make life better merely for members of the group. They want to improve even the lives of people who never participate ... - Author: Clay Shirky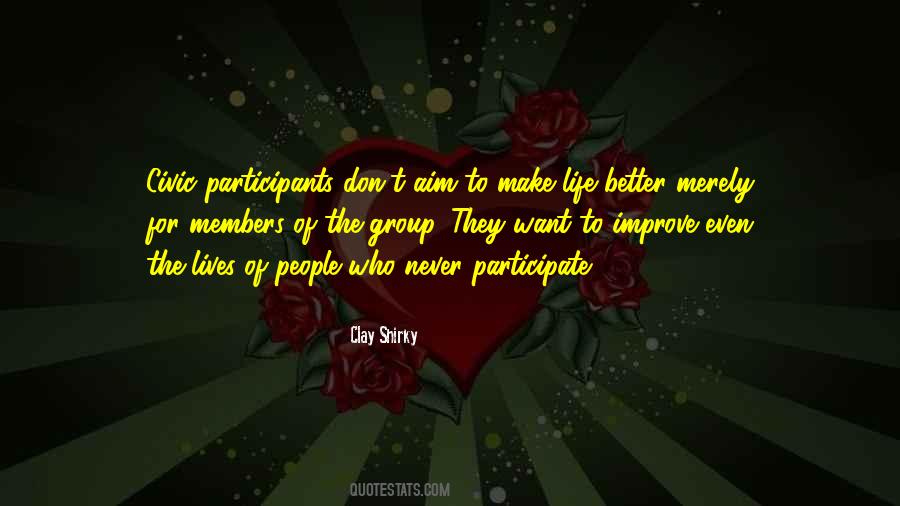 #52. I made a big mistake, and I didn't use it to make my life better. I used it to be okay with a life less lived. I used it to be okay with mediocrity and the mundane. And I didn't make myself any better because of it.
And that's not okay with me. - Author: Dan Pearce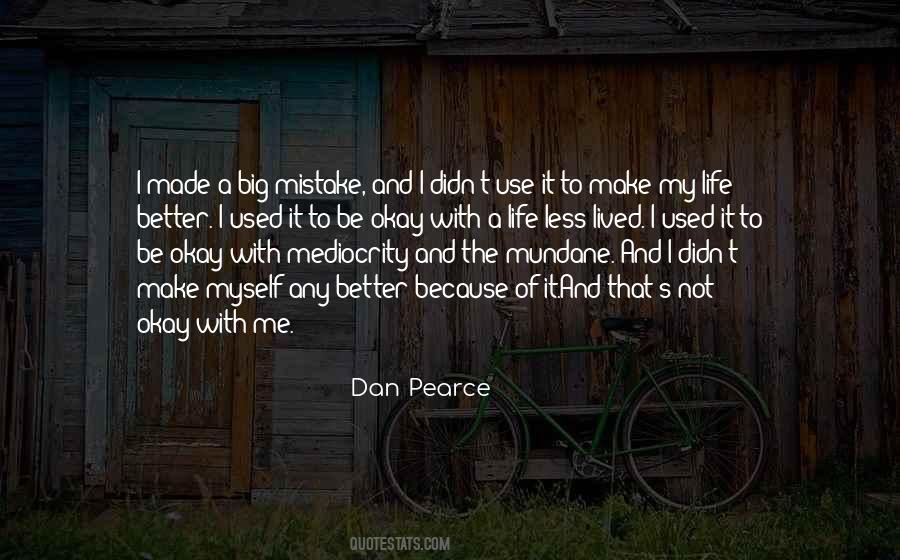 #53. Sometimes jn your life you make a decision and you find yourself questioning it. A lot. You don't regret it, exactly.you know that you probably made the best choice and that you're probably better off for it. But you do spend a lot of time wondering what the hell you were thinking - Author: K.A. Tucker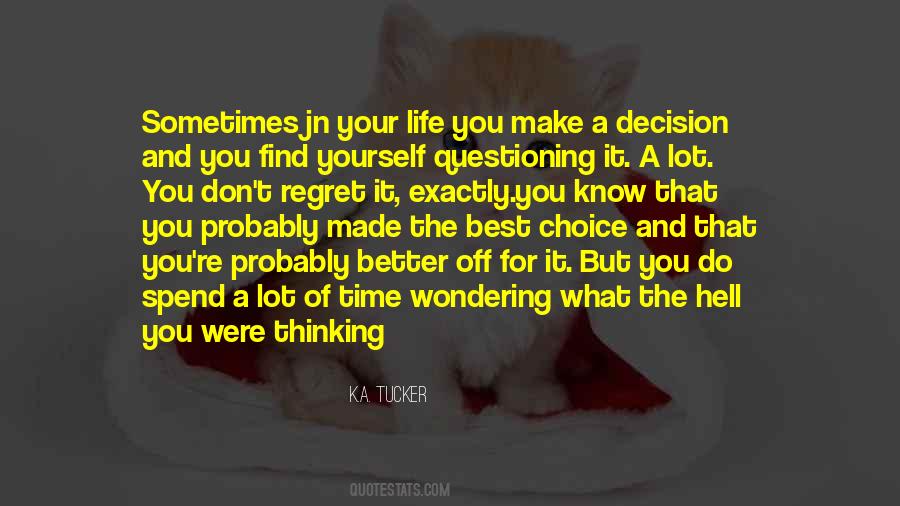 #54. Since no one but you can know what's best for you, government control can't make your life better. - Author: Harry Browne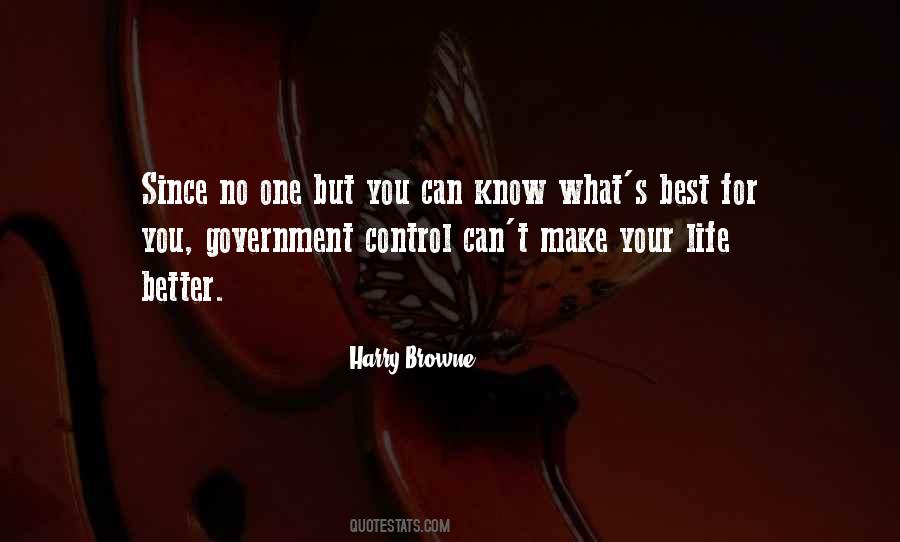 #55. It's stories that inspire people to change. It's stories that make them believe things can be better. - Author: Sebastien De Castell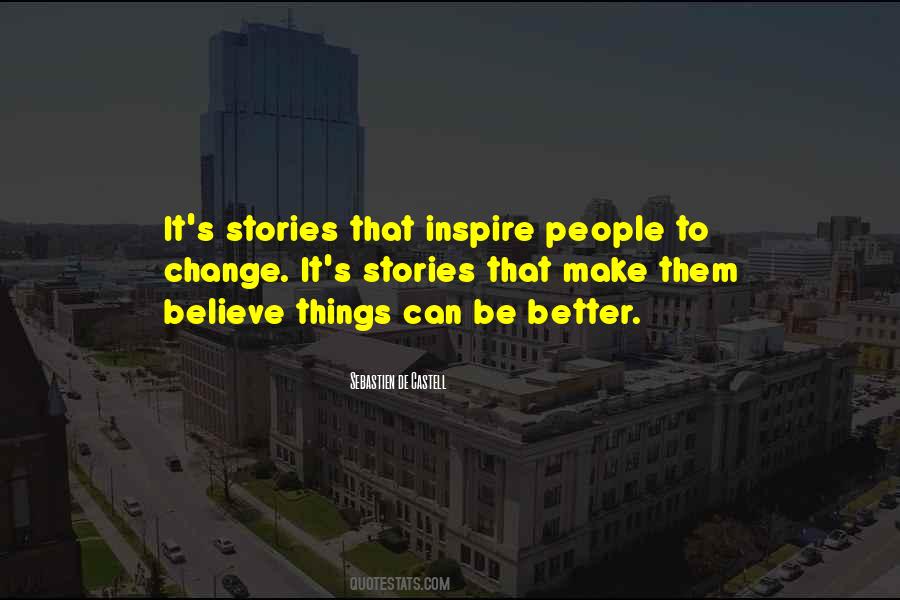 #56. What matters most to me is doing what I was elected to do: help make life better for Oregonians and making America work for working Americans again. - Author: Jeff Merkley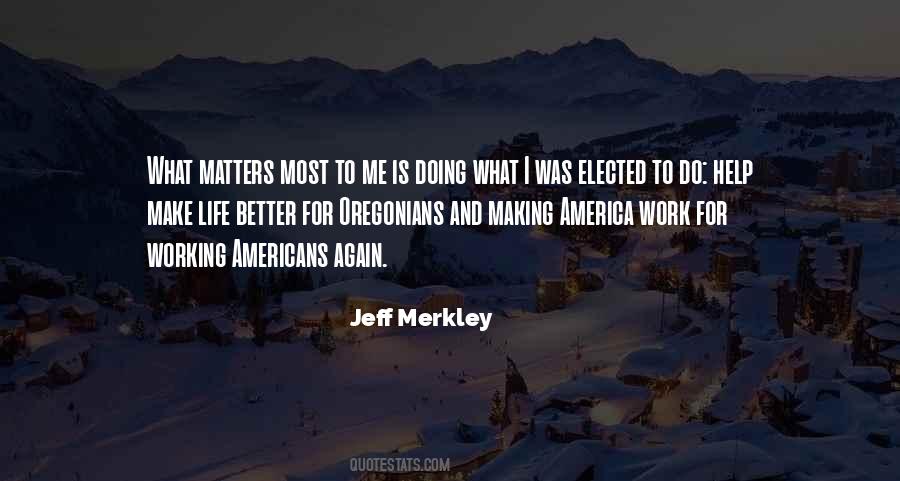 #57. I know your lives are busy. I know that you have much to do. But I make you a promise that if you will go to the house of the Lord, you will be blessed; life will be better for you. - Author: Gordon B. Hinckley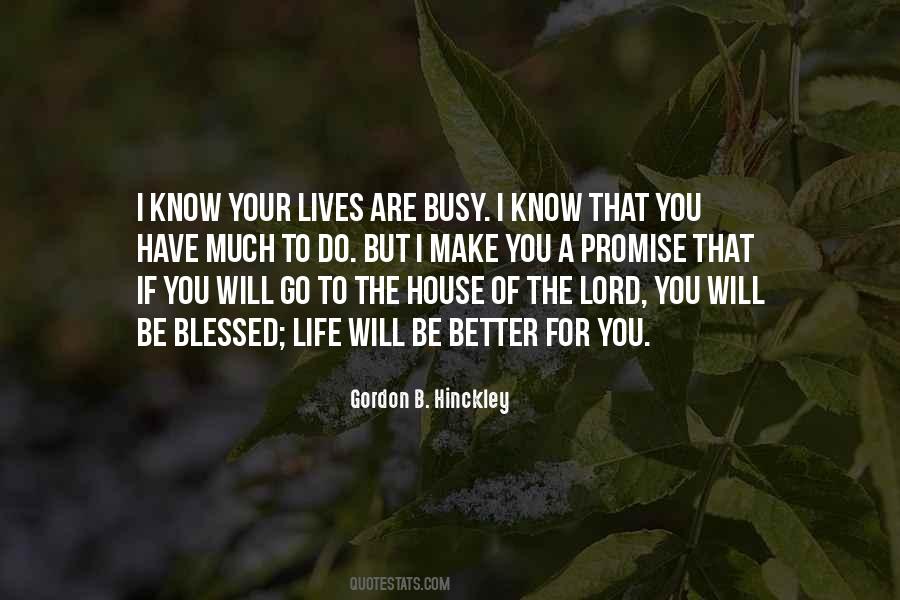 #58. I'm a big believer that your life is basically a sum of all the choices you make. The better your choices, the better opportunity to lead a happy life. - Author: Karen Salmansohn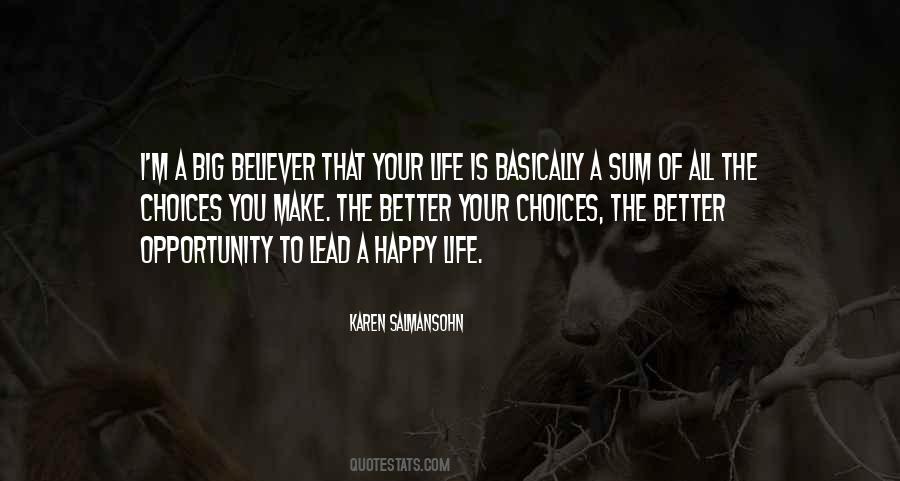 #59. Not fair." Grace put her hand on his shoulder and squeezed lightly. "Learn it, live it, love it. The sooner you make peace with the whole life's not fair thing, the better your life will be. - Author: Katie Graykowski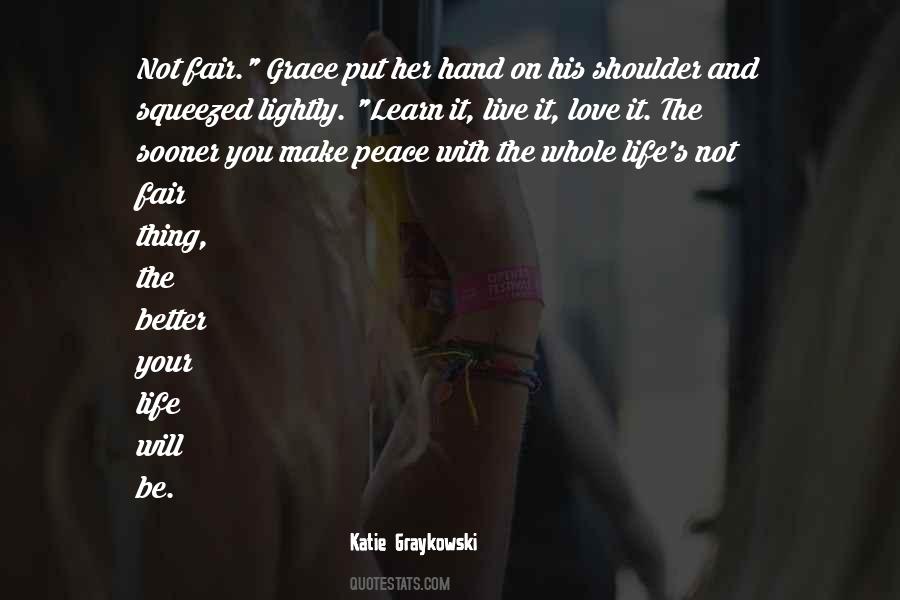 #60. We are learning to work with intuition, which actually is Soul giving us gentle guidance to make our life better. - Author: Harold Klemp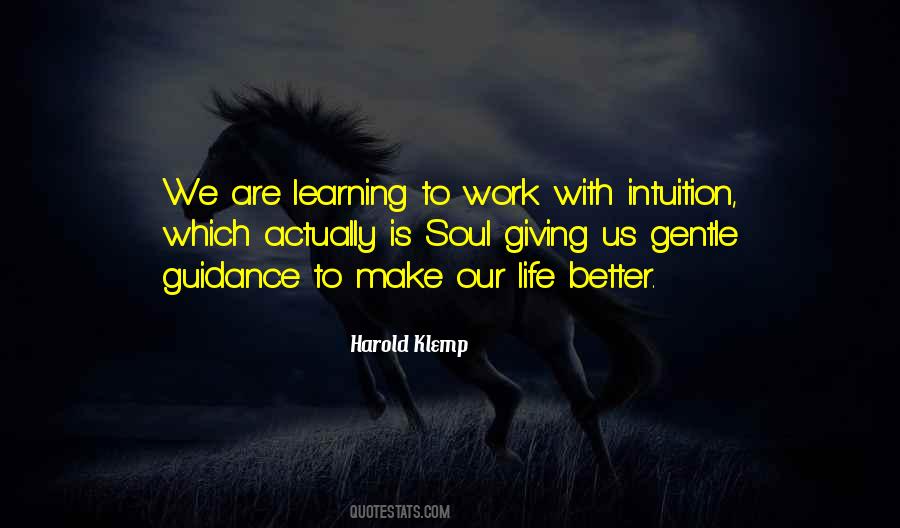 #61. Everyone deserves a sad day once in a while," Calista told me. "Sometimes things are too big for cheering up. Sometimes the best way to make things better is just to let yourself be sad for a little bit. - Author: Lisa Graff
#62. I still felt we had some really good music on that record, but it's a shame that we couldn't make it better. And the tour was a total mess. We just had no life, no energy, and I felt we were going through the motions. - Author: Matt Cameron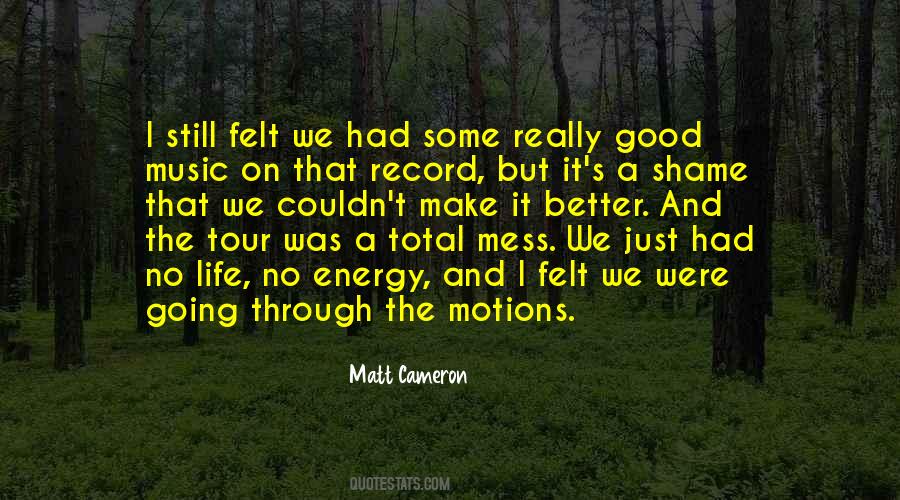 #63. Your life is a series of moments in "now." The better you make your "now" the better your life. - Author: Karen Salmansohn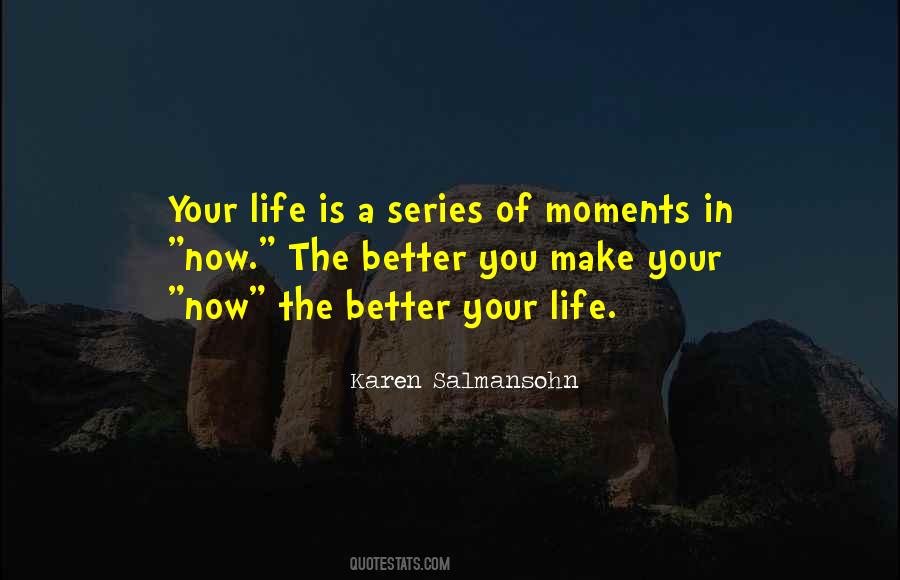 #64. God has left me alive, so it looks like I'm needed for something ... As soon as there is a possibility for me to return, I will return and will do everything I can to make life better in Ukraine. And today, the main task is to stop the war. - Author: Viktor Yanukovych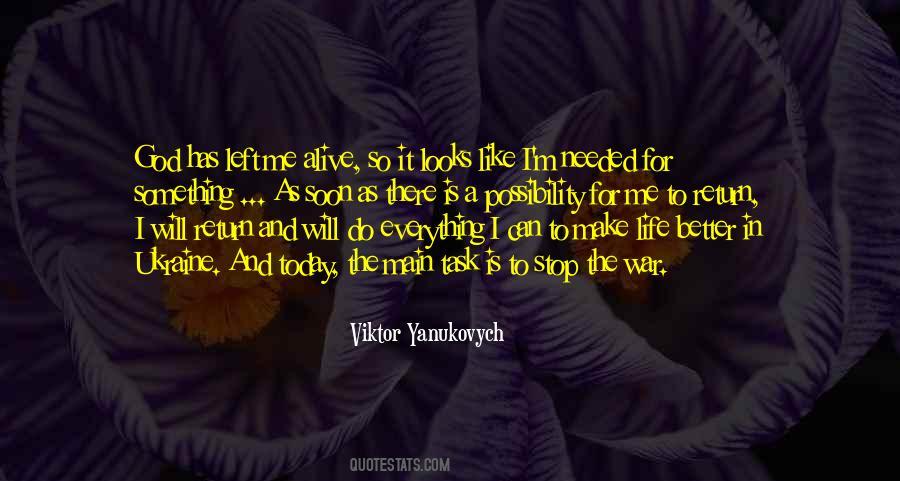 #65. I think that, often, the people who can make you happy are right there, and having them in your life would make your life better, but you can't see how to do it. - Author: Adam Duritz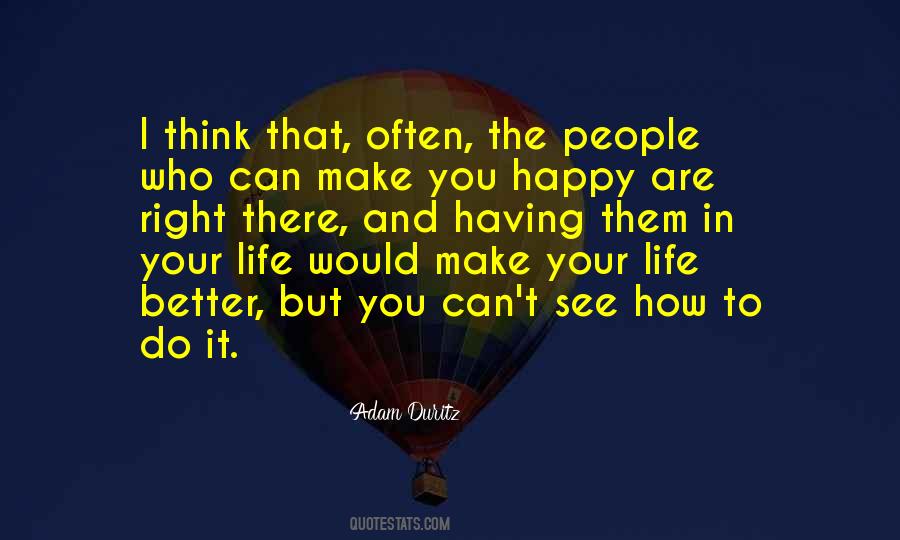 #66. Your parents will die before you do, so you'd better make your own life decisions. Your own choices are always good if you know yourself - especially in art, because whenever you do something new, everyone will be against you. - Author: Yoshitaka Amano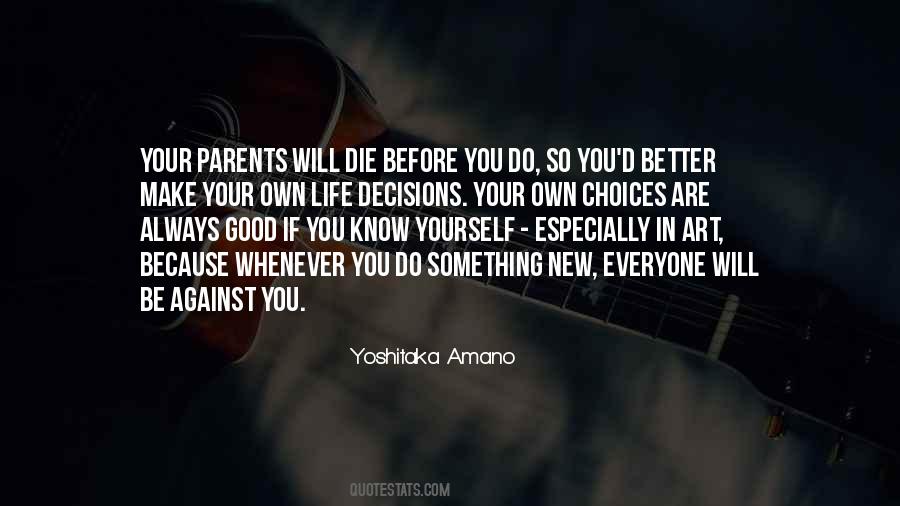 #67. what matters is not that we believe in God. God is not small-minded. What matters is for us to understand that life is serious and rich. We should appreciate it and also try to make the world a better place. Whoever finds a balance between the two is close to God. - Author: David Lagercrantz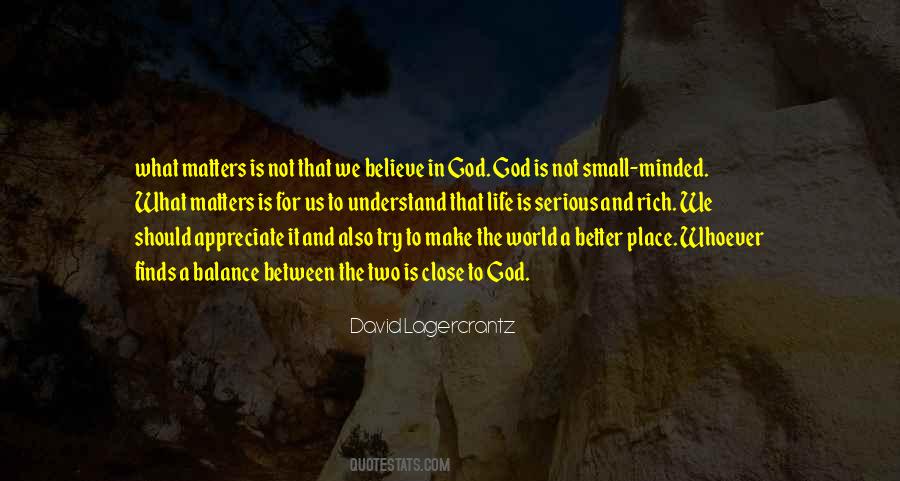 #68. Read. Read every chance you get. Read to keep growing. Read history. Read poetry. Read for pure enjoyment. Read a book called Life on a Little Known Planet. It's about insects. It will make you feel better. - Author: David McCullough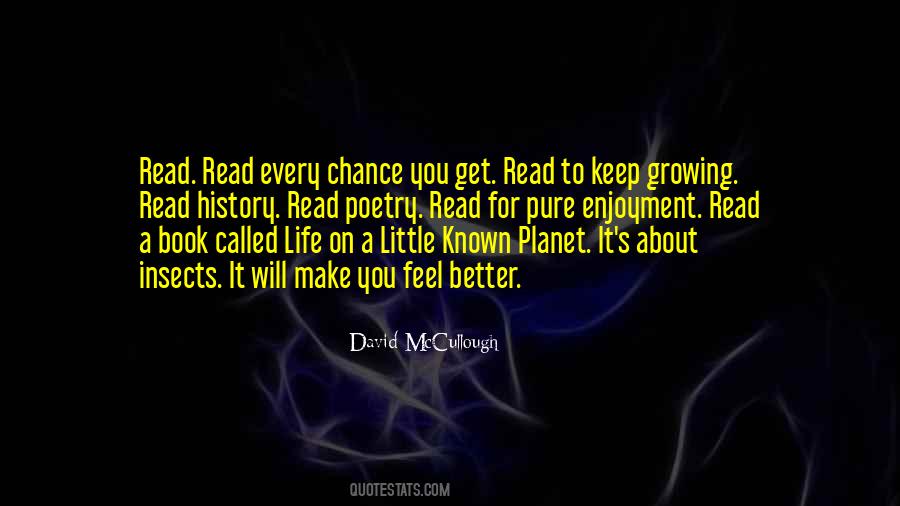 #69. You can't make the world perfect, Daniel," Michelle said calmly while dusting dirt off her jeans with her delicate hand.
"No. I can't," I agreed. "But I can sure help make it better. - Author: Shannon A. Thompson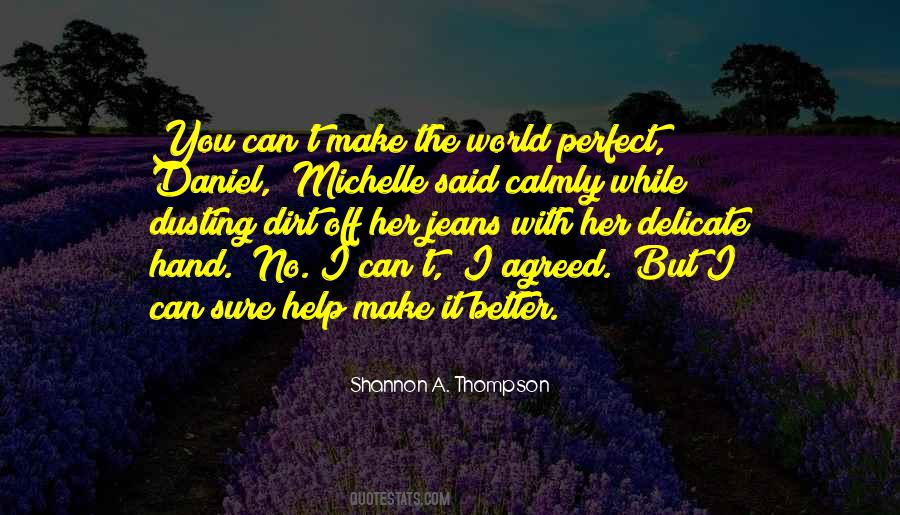 #70. I view myself as someone who is always trying to make life better in practical ways and putting the pieces together to do that. - Author: Marcy Kaptur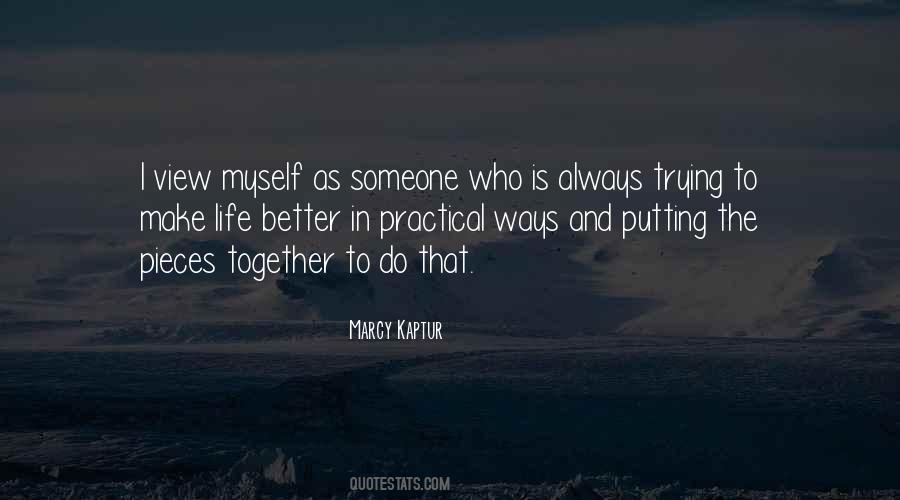 #71. The value of your life is not measured in your success but your failures, your ability to fight, to make a better day for yourself is what you will remember in life's last challenge. - Author: Westley Tusa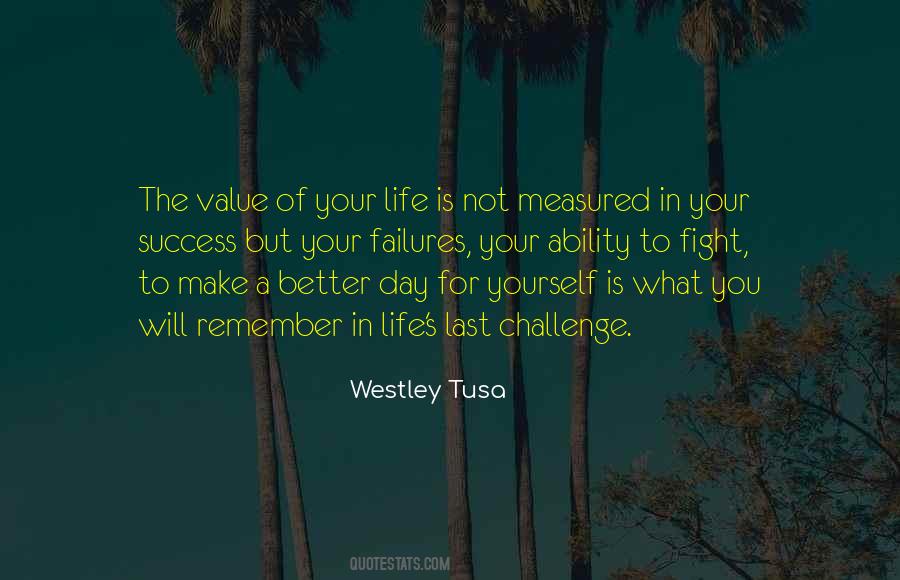 #72. A psychiatrist once told me early in treatment, "Stop trying to make me like you," and what a sobering and welcome smack in the face that statement was. Yet somehow, every day of my life is still a campaign for popularity, or better yet, a crowded funeral. - Author: John Waters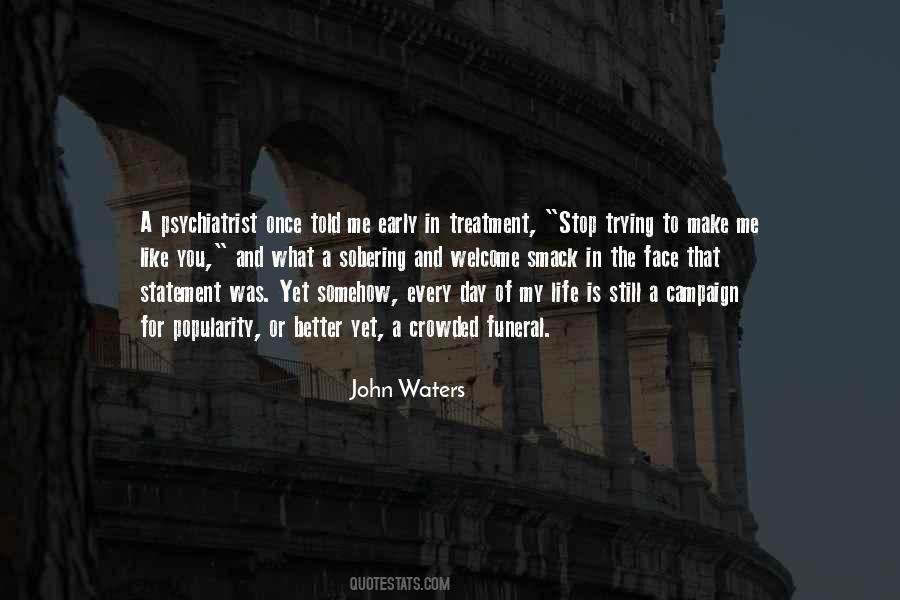 #73. I'd rather make a thousand mistakes trying for a better life, than to die not making any mistakes at all. - Author: Steven Aitchison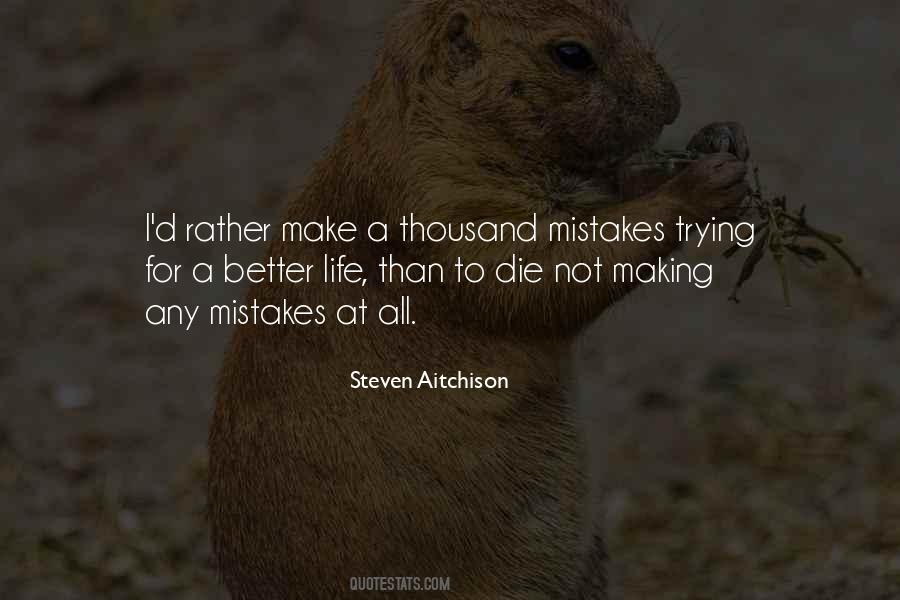 #74. I'm a point guard, I've always been a point guard, I've played point guard all my life. Personally, I feel the best point guards make other players look better and create their own shot. I fit in that category. - Author: Chauncey Billups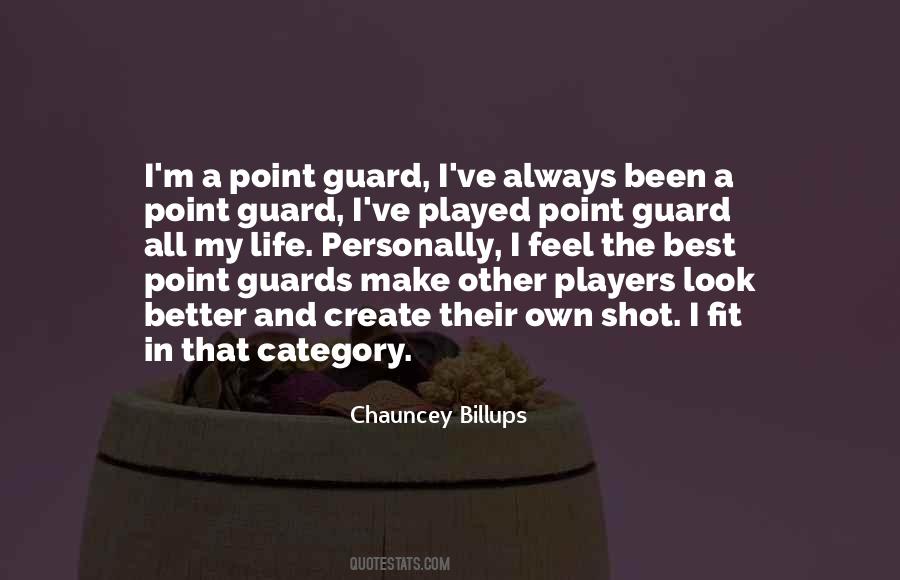 #75. I think there's nothing better than laughing in life, so that's nice, to be thought of as someone who can make someone laugh. It's 'cause I think life is hard. You know, my dad was a really silly man. A great Irish silly man. And that's fine. - Author: Joan Cusack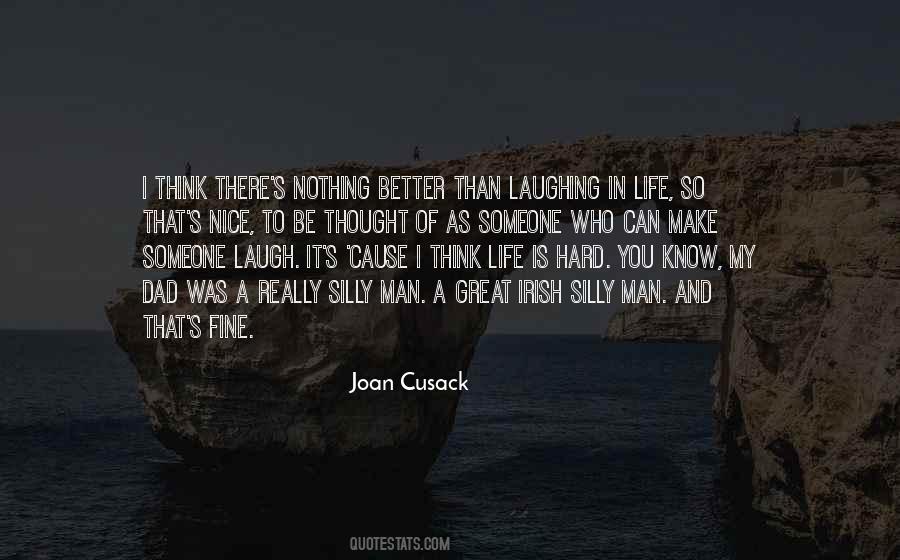 #76. I've been regulated my whole life. We have progressive taxes. It's not a free-market free-for-all. I completely understand that society has a perfectly legitimate right to put in structures and regulations and rules that make it fairer, better, cleaner. - Author: Jamie Dimon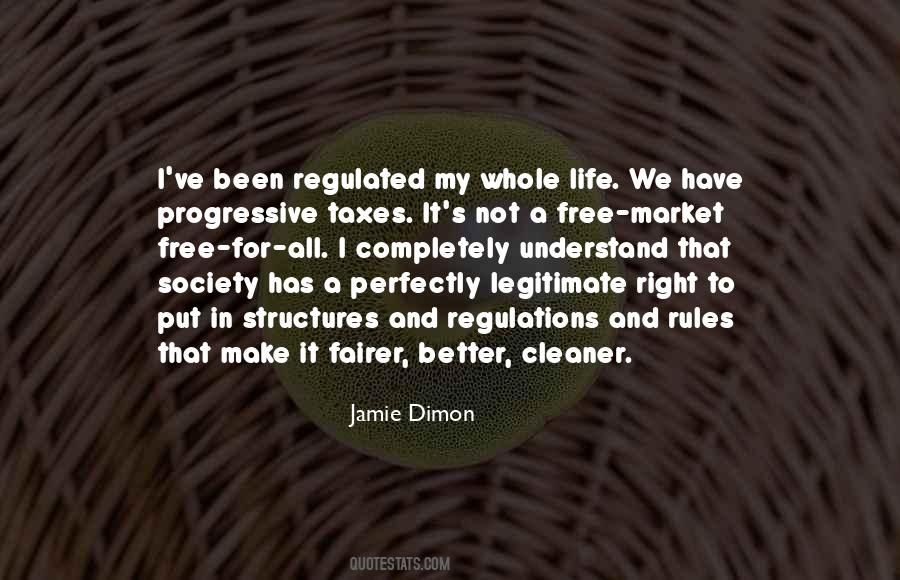 #77. You can make changes in your life and you can say, "I'm going to be a better parent next year than I am right now," or, "I'm going to take an extra step in my career and not just be satisfied where I am." So it has a lot to do with our will, but also we have to work as well. - Author: Joel Osteen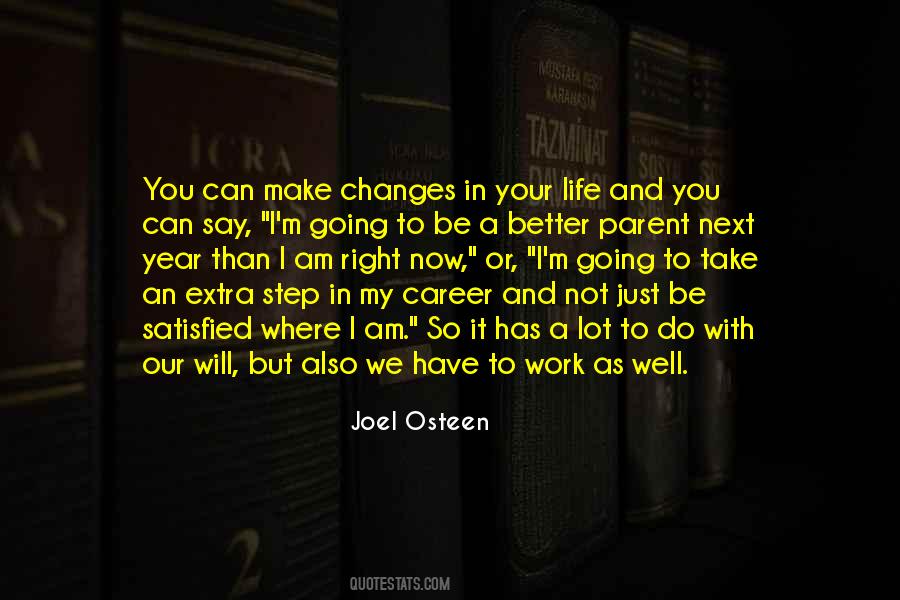 #78. I'm going to let you in on a little secret about life. You think it's boring now? Well, it only gets more boring. The sooner you learn it's on YOU to make life interesting, the better off you'll be.""
Bernadette - Author: Maria Semple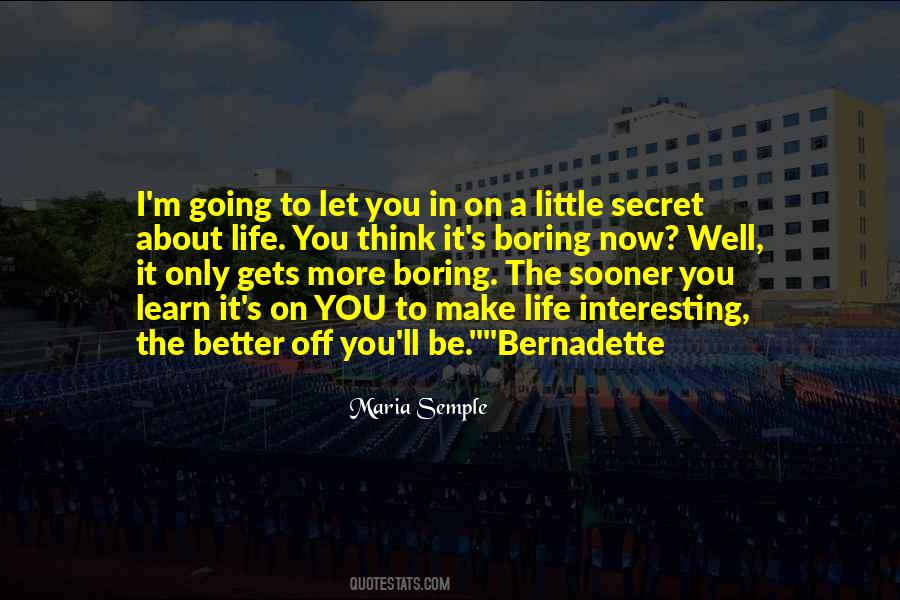 #79. If I have the power to make things that I want it to be then life would be so better as I hope it to be.. - Author: San Sai R.A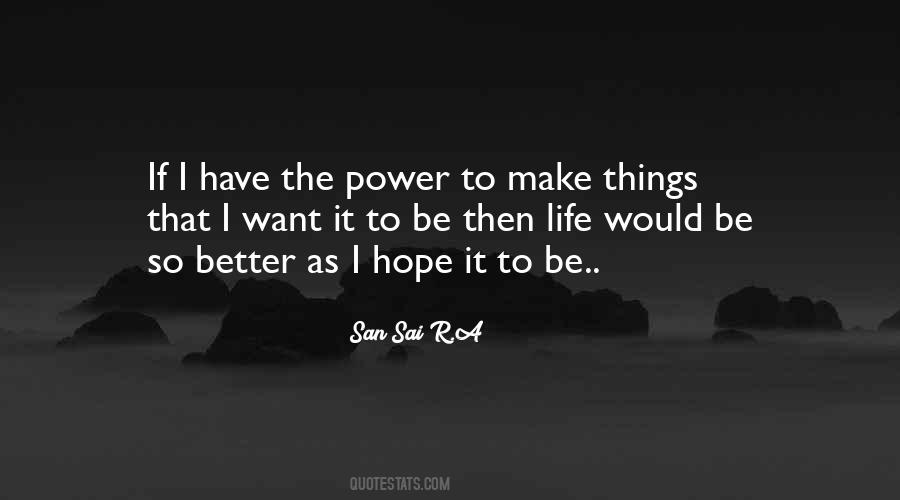 #80. I figure no matter how old you are, it's always going to be your first marriage and no life experience is going to make you a better judge of who you should marry. - Author: Utada Hikaru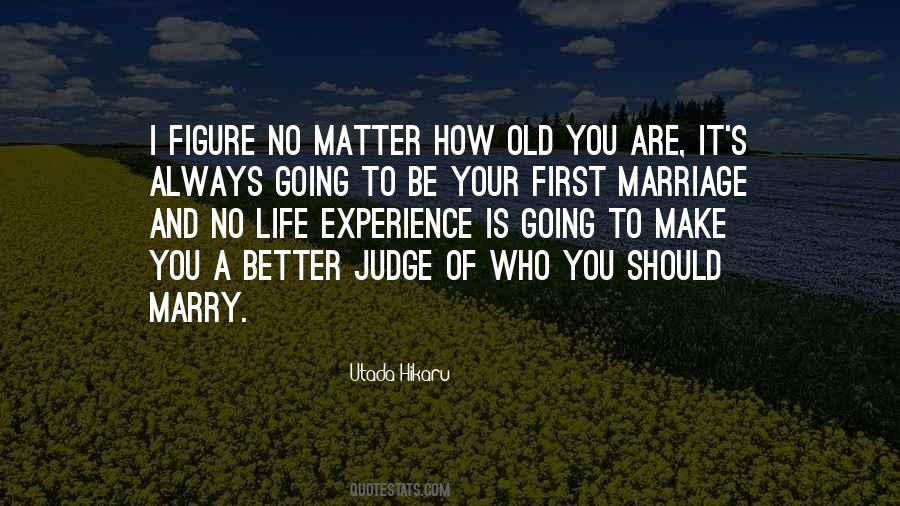 #81. The best way that we can begin to produce positive change is to make peace with what is in ourselves and others, and then work to move forward and make life even better. - Author: Marshall Goldsmith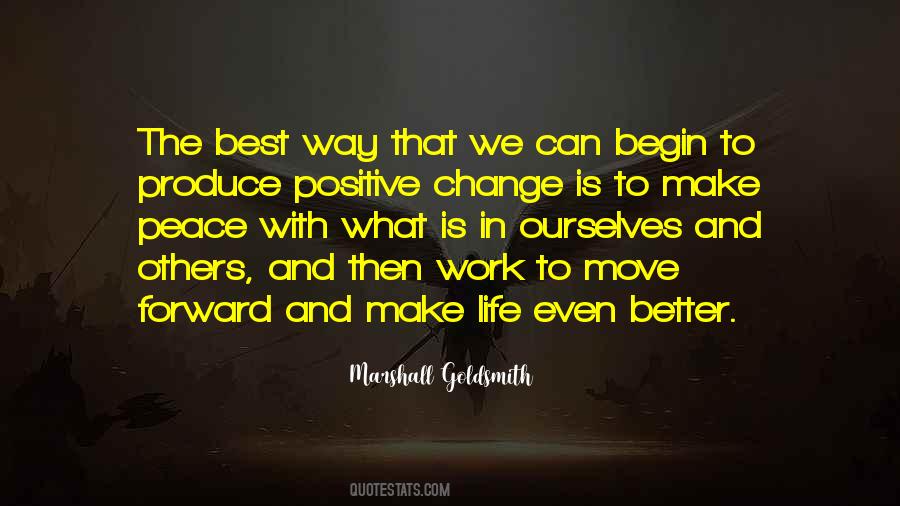 #82. It is well to be prepared for life as it is, but it is better to be prepared to make life better than it is. - Author: Sargent Shriver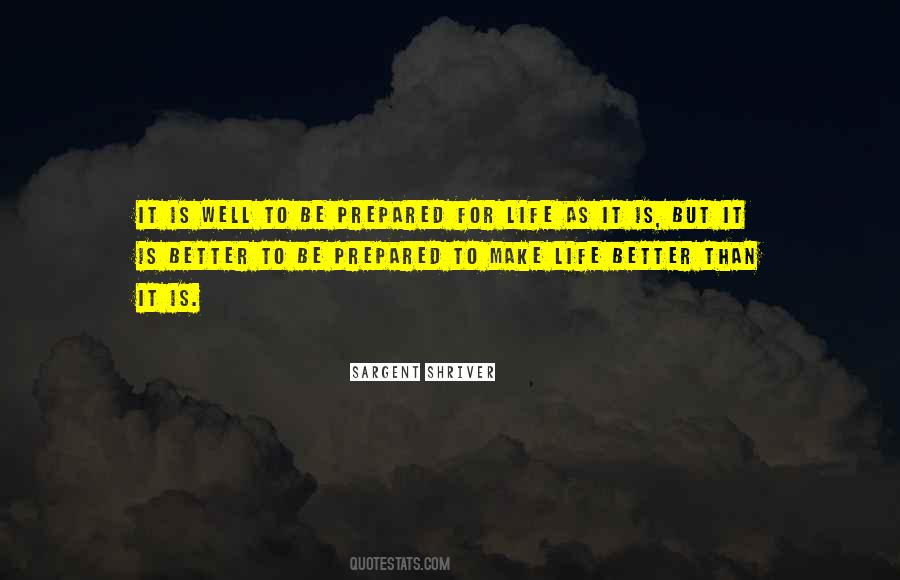 #83. The purpose of forgiveness is not to make sure that someone ends up changing into what you expect them to be, as this is dominance. The purpose is actually to make your own life better, more worthy and less stressful. Forgiveness reduces the hold that the wrongdoer has over you and empowers you. - Author: Stephen Richards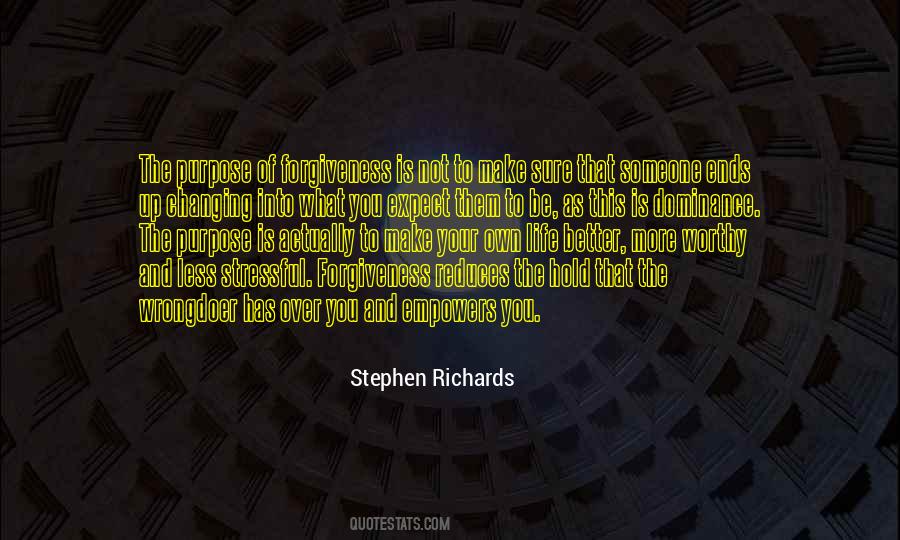 #84. To be always intending to make a new and better life but never to find time to set about it is as to put off eating and drinking and sleeping from one day to the next until you're dead. - Author: Og Mandino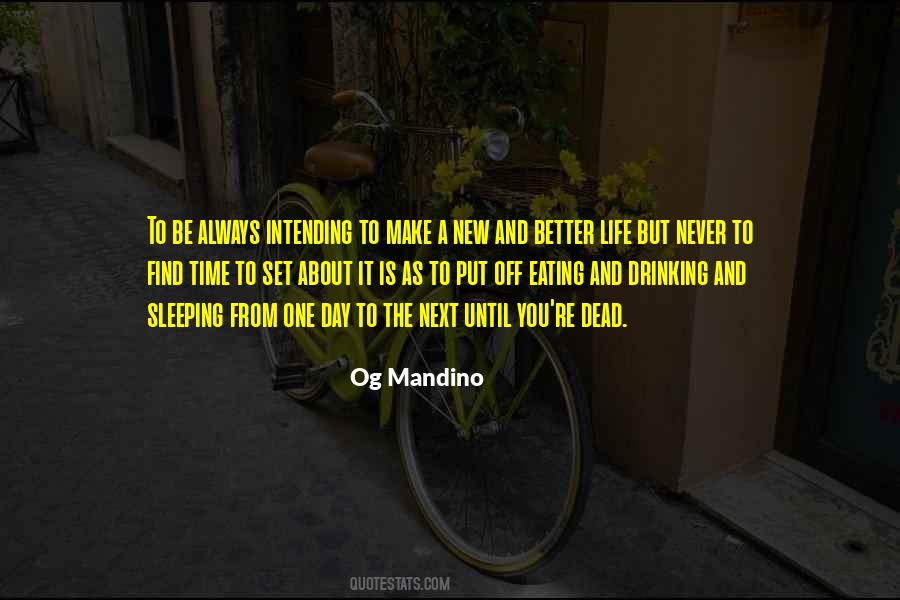 #85. Whatever our dreams are, we can make them happen. Some dreams may seem impossible, but they are not, in my belief. How can we know that it cannot and will not happen without even trying? It is always better to have tried than not to have tried at all. - Author: Kcat Yarza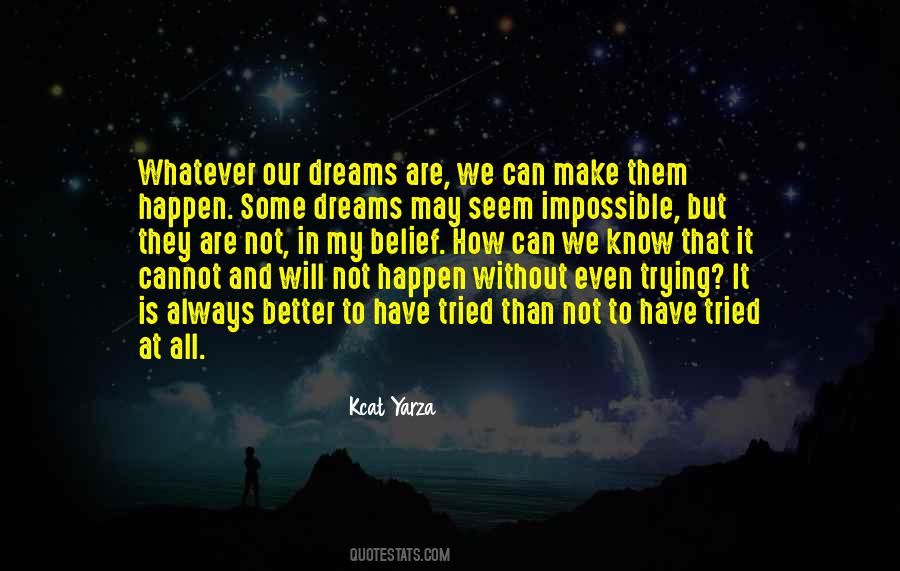 #86. The degree of complications and unhappiness in a person's life corresponds to the degree to which he dwells on the way he thinks the world ought to be rather than the way it really is. and being grateful it isn't worse, while trying to make it better. - Author: Robert Ringer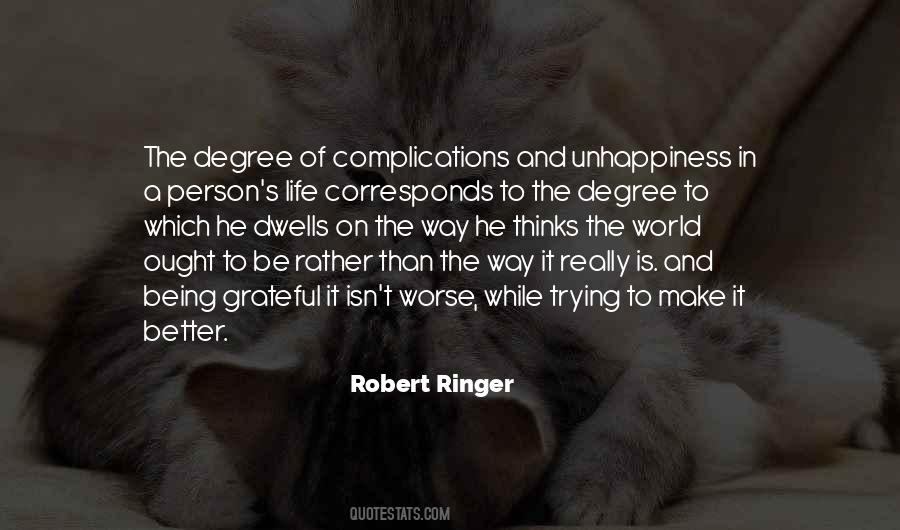 #87. I am really inspired by strong, badass, female characters. I would start with a revenge film, then ease into stories of badass everyday woman who make a difference in their own life for the better of people and environment around them. Stories of self realization. - Author: Alicia Sixtos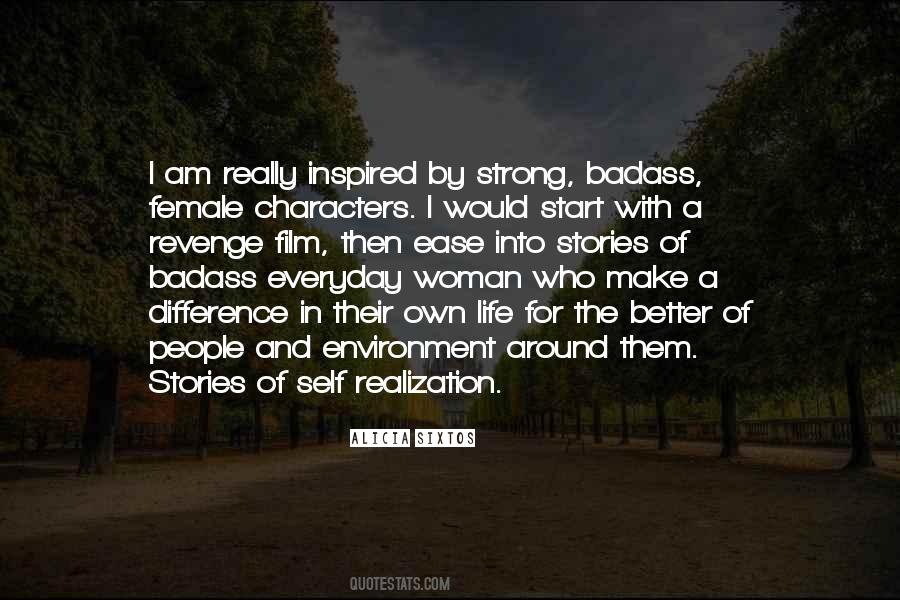 #88. Remember that everyone's life is measured by the power that individual has to make the world better-this is all life is. - Author: Booker T. Washington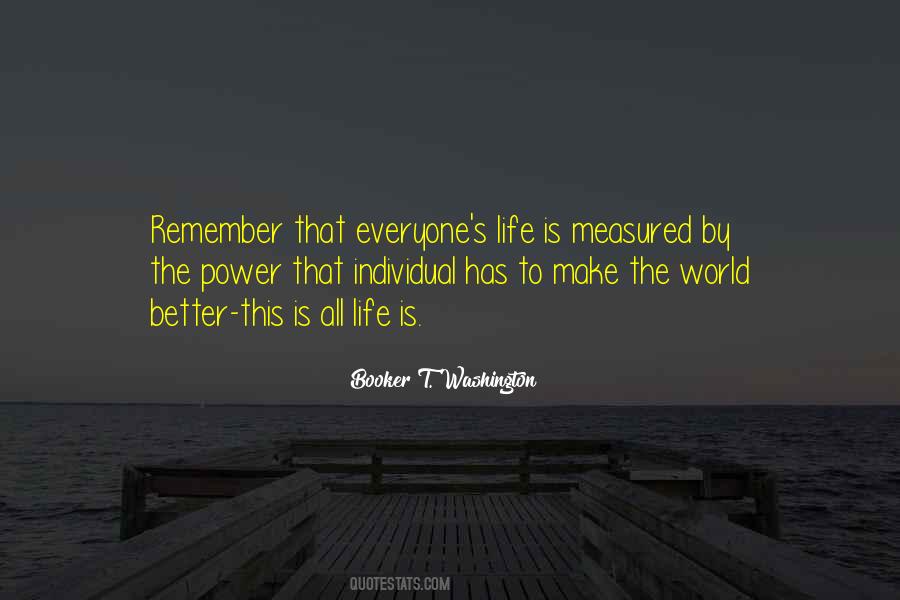 #89. Politics, poverty, riches, etc - these are but backdrops for the grand cinema, the opera: the glory of your life. Sure, change the backdrops, make them better, but it is this inside-ness that matters most. Nothing else, at the last breath, matters, but your very own poetry. The glory of living. - Author: Alex Ebert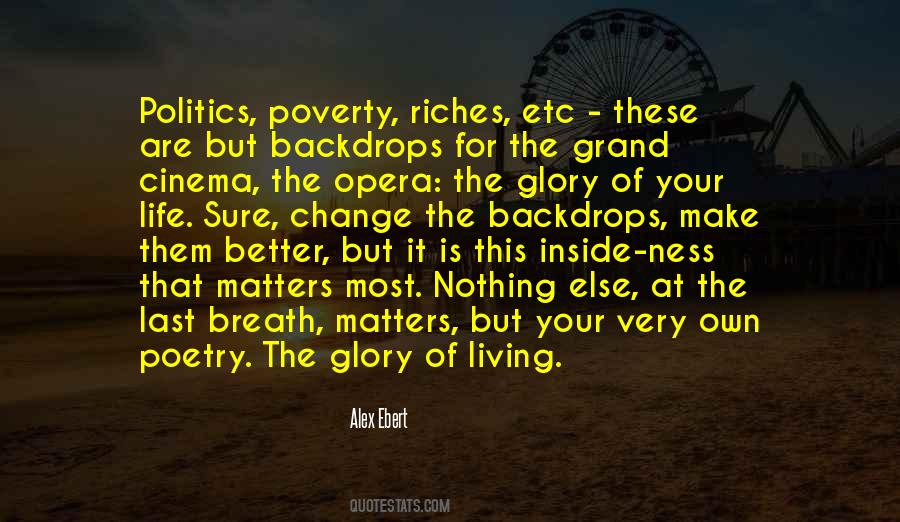 #90. Anything you put your mind to and add your imagination into can make your life a lot better and a lot more fun. - Author: Taylor Swift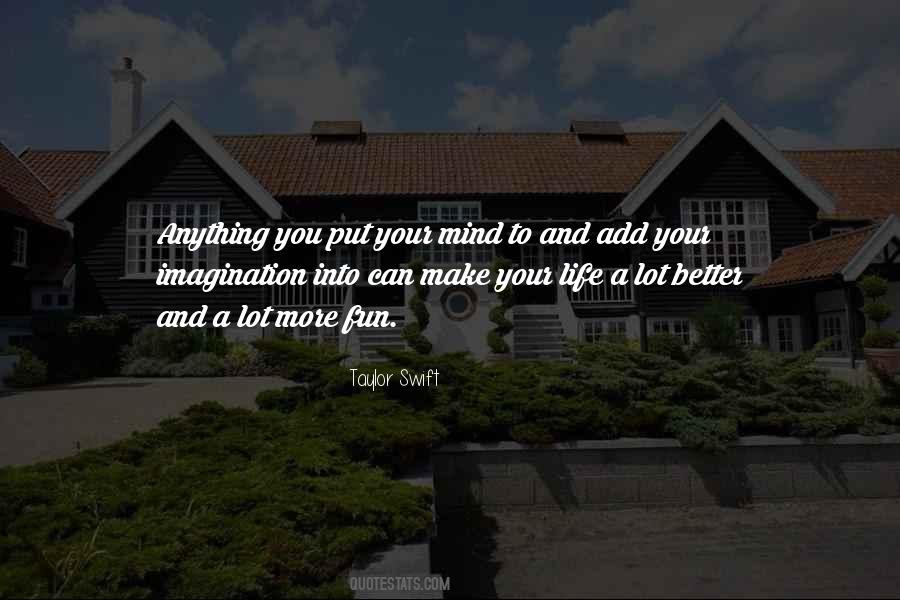 #91. To be honest with you, I don't have the words to make you feel better, but I do have the arms to give you a hug, ears to listen to whatever you want to talk about, and I have a heart; a heart that's aching to see you smile again.
lines from Love Vs Destiny ... - Author: Atul Purohit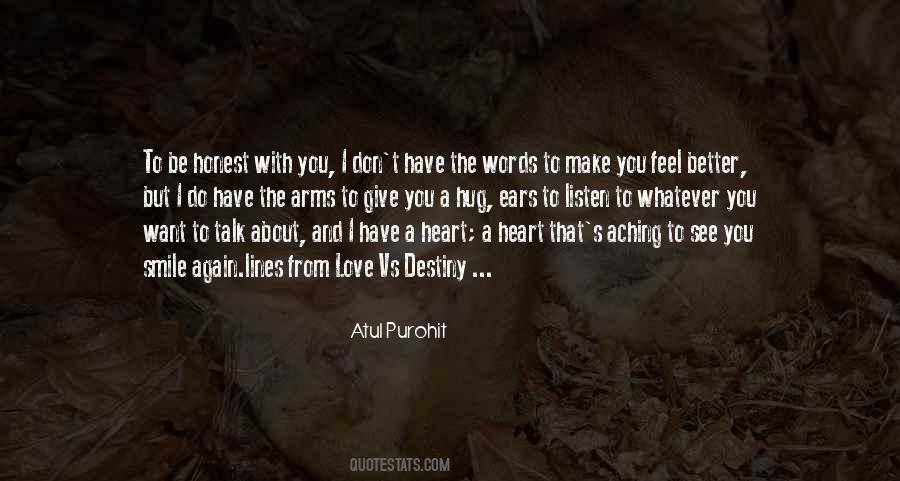 #92. Never give up on your dreams. No matter how many people say it's impossible, no matter how difficult your journey is, you can create your ideal life. Your heart's desires can become reality. Make things better now by taking steps every day to get closer to the life you want. And never, ever give up. - Author: Susane Colasanti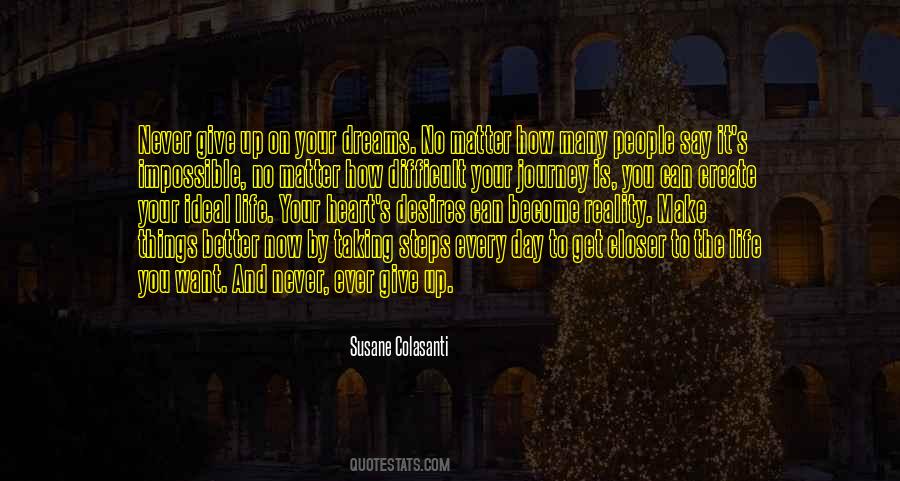 #93. I think the biggest, saddest thing that happens in our lives is that we just don't embrace the things that could make it better because they don't seem to make it better at any given moment or we can't decide how to get across the aisle to that person. - Author: Adam Duritz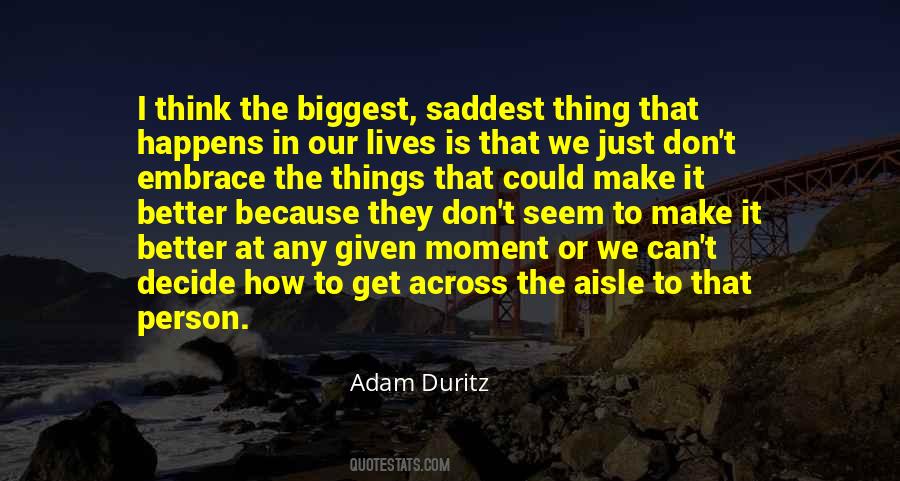 #94. 35 "Everyone has a dream, a vision, a goal and a desire. Just because we have bigger dreams than others doesn't mean they don't have one. Sometimes we just too lazy to make it happen or are scared of failing."

But trying is better than not doing anything at all. - Author: Kcat Yarza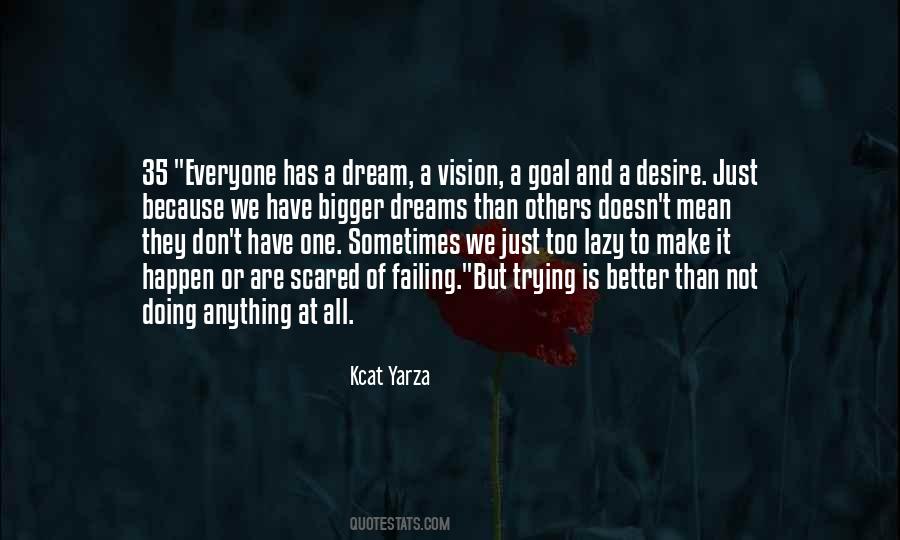 #95. I think it was [Jean-Luc] Godard who said that life is nothing but a bad copy of film, but then our ambition must be to make better films and better shapes of forms that are given in life. - Author: Abbas Kiarostami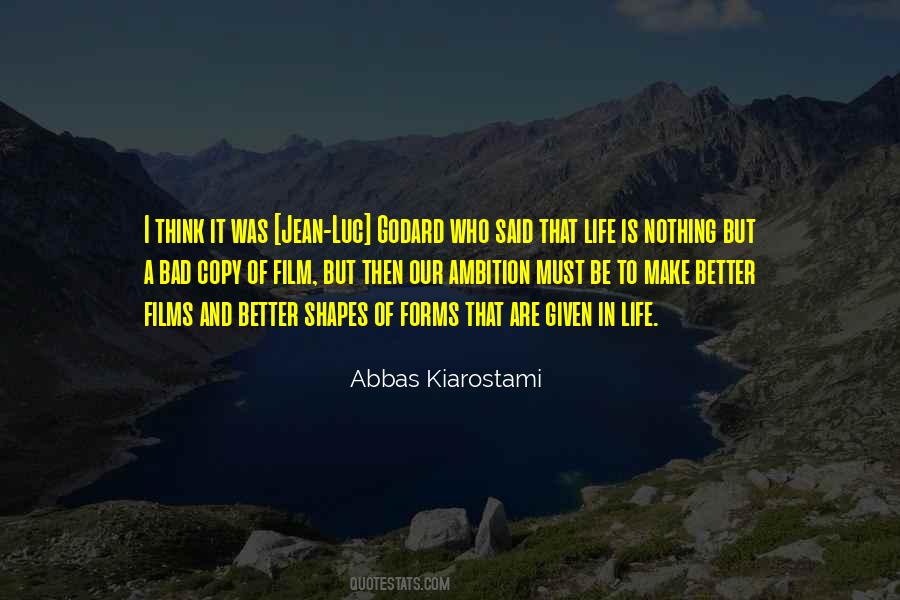 #96. My best advice for finding inner happiness is to reach outside yourself, to use your talents and brains and personality to make life better for someone else. - Author: Nick Vujicic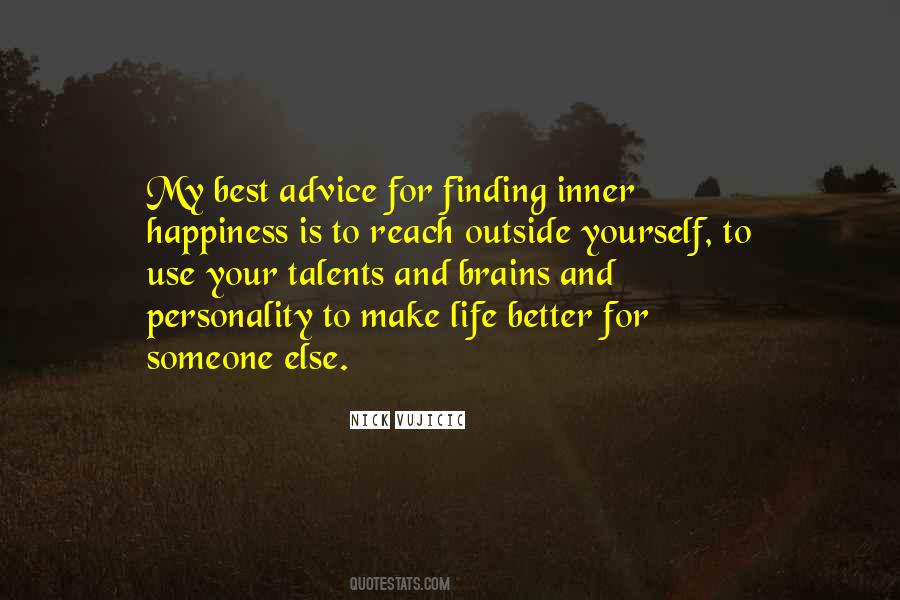 #97. In this life you will have some trials and tribulations. You cannot allow what happens to you to dictate who and what you become. Make a decision to do better and be better. - Author: Bobby F. Kimbrough Jr.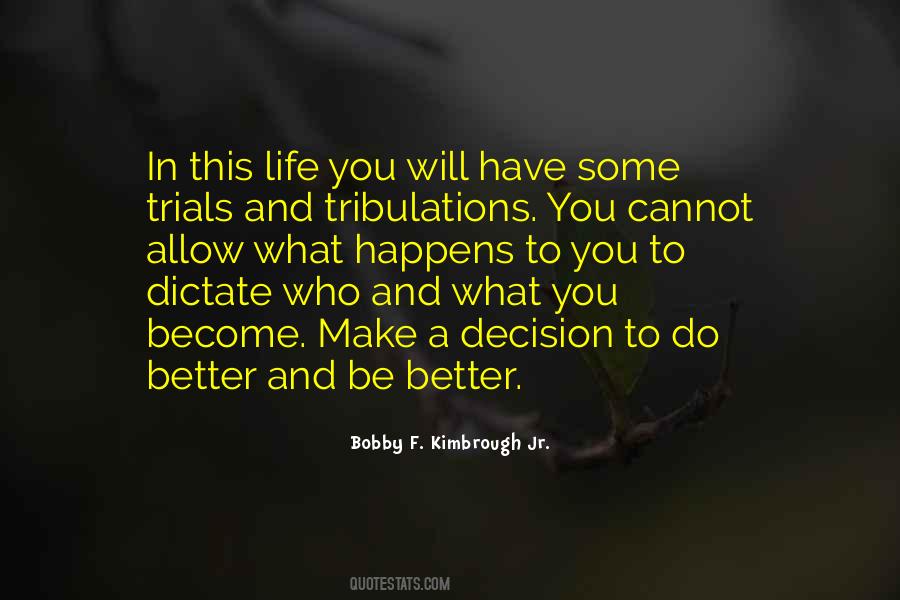 #98. For generations, Americans have expected something new and better in their lives with every passing day - something that will make life a little more fun to live and a little more enlightening to behold. Exploration accomplishes this naturally. All we need to do is wake up to this fact. - Author: Neil DeGrasse Tyson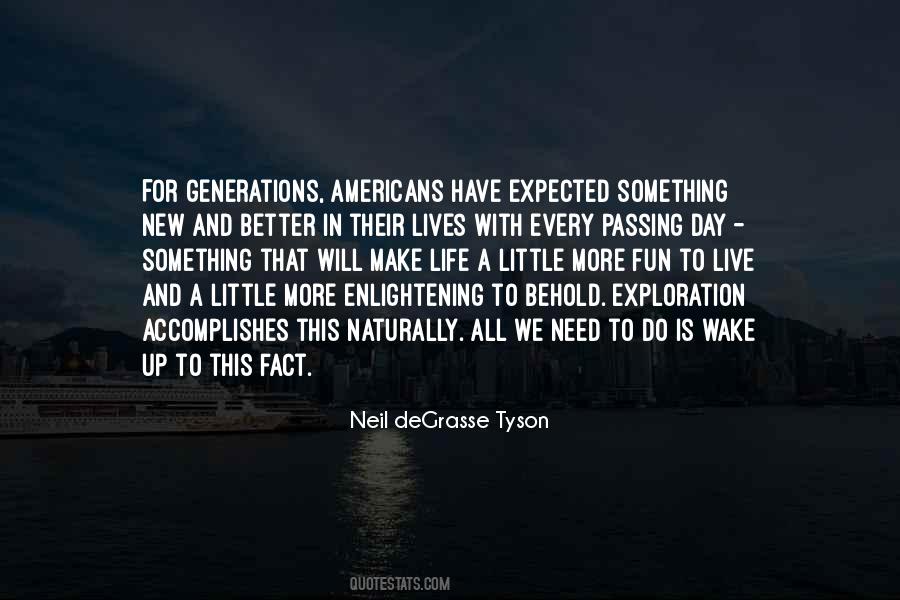 #99. We believe in books. Somehow we want to make childhood better, and we believe that a book given at the right moment can work magic in a child's life. - Author: Ann Schlee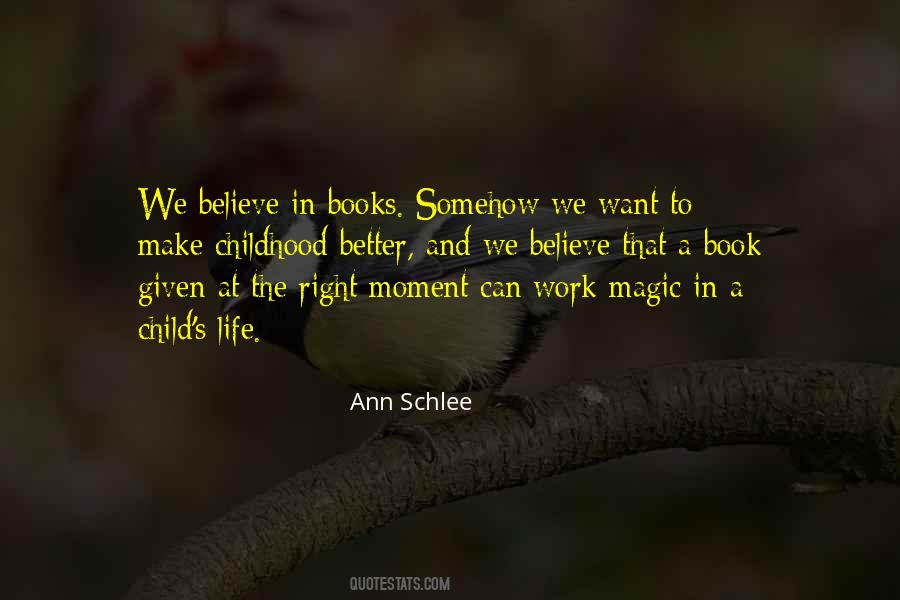 #100. You can't make positive discoveries that make your life better if you never try anything new. - Author: Josh Kaufman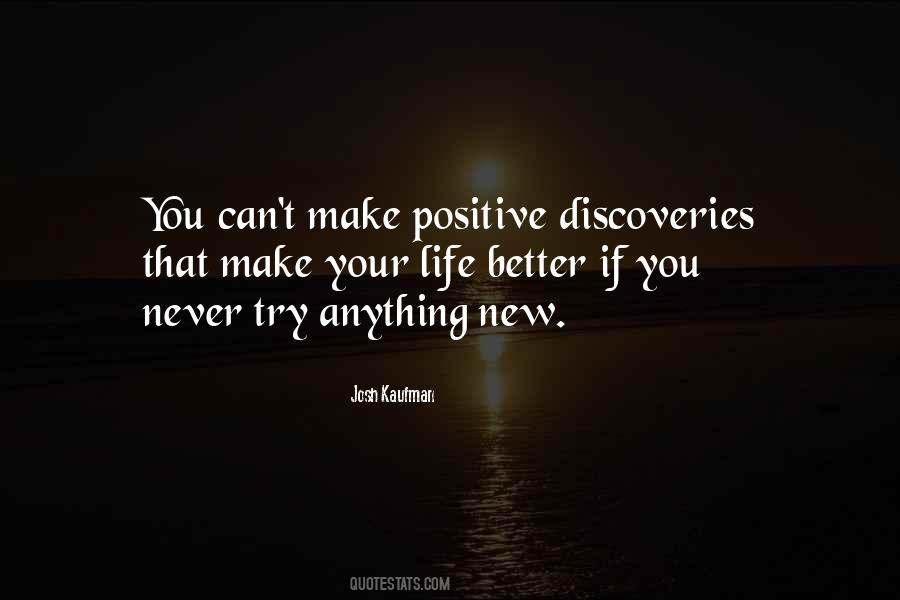 Famous Authors
Popular Topics