Make Your Life Better Famous Quotes & Sayings
List of top 100 famous quotes and sayings about make your life better to read and share with friends on your Facebook, Twitter, blogs.
Top 100 Make Your Life Better Quotes
#1. You were created to make somebody else's life better. Somebody needs your smile. They need your love, your encouragement & your gifts. - Author: Joel Osteen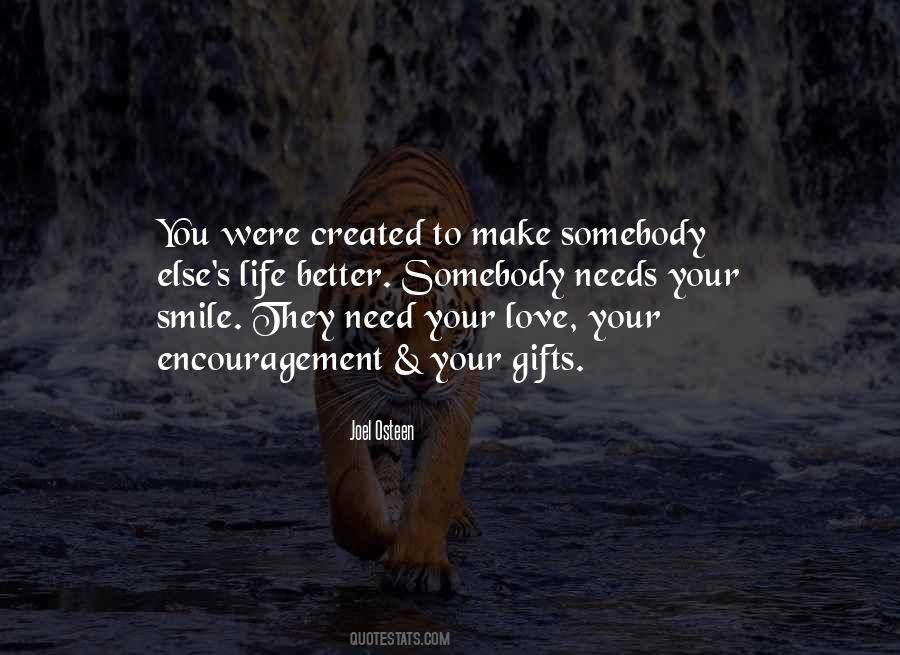 #2. Being a winner sometimes has little to do with the score. If your players seize the opportunity to be better today than they were yesterday in softball, in math, in music, in anything worth doing in life, regardless of natural ability, that will make them winners on and off the field. - Author: Lawrence Hsieh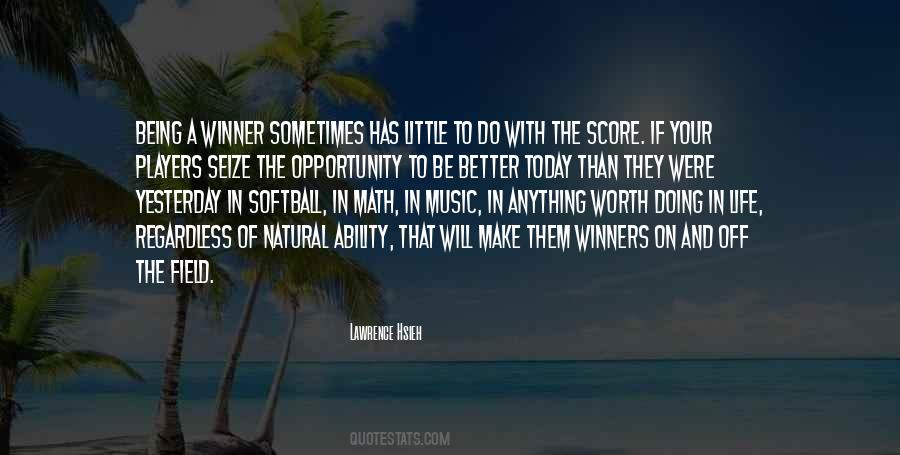 #3. Struggles put you in a position to make better decisions. You'll survive and should take the lessons learned especially in order to move forward in life. It may have been raining in your life for a moment, but the sun will shine again - Author: Amaka Imani Nkosazana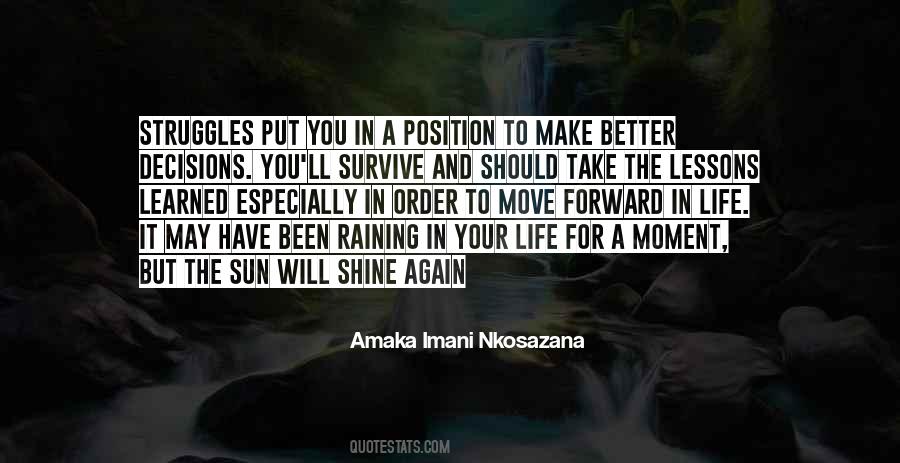 #4. What I've realized is that life doesn't count for much unless you're willing to do your small part to leave our children - all of our children - a better world. Any fool can have a child. That doesn't make you a father. It's the courage to raise a child that makes you a father. - Author: Barack Obama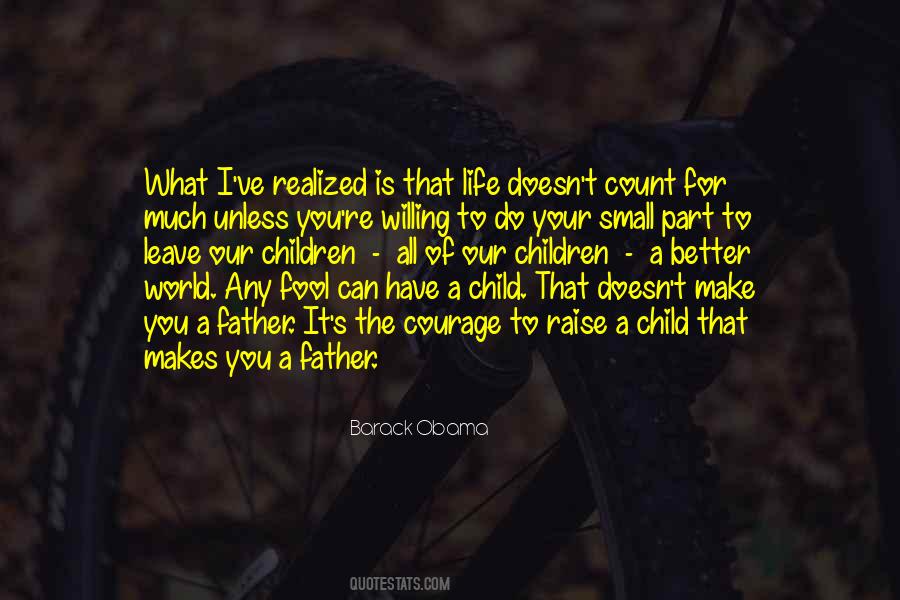 #5. Whenever you're having a burden in your heart, share it to those people whom you trust. It'll make you feel better. - Author: Jayson Engay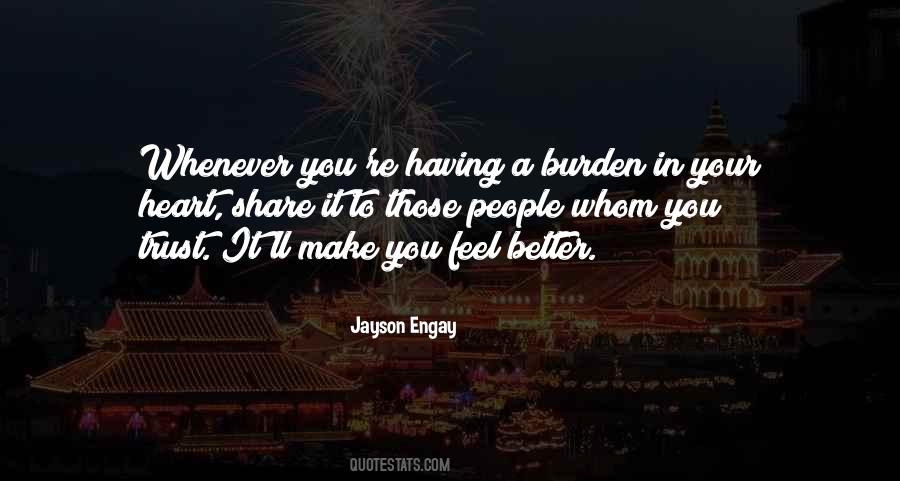 #6. To me, you go through things like that and you learn from it. You add it on to your life, to try to make your life better. Instead of dogging people, learn something from it. And keep stepping. - Author: Bootsy Collins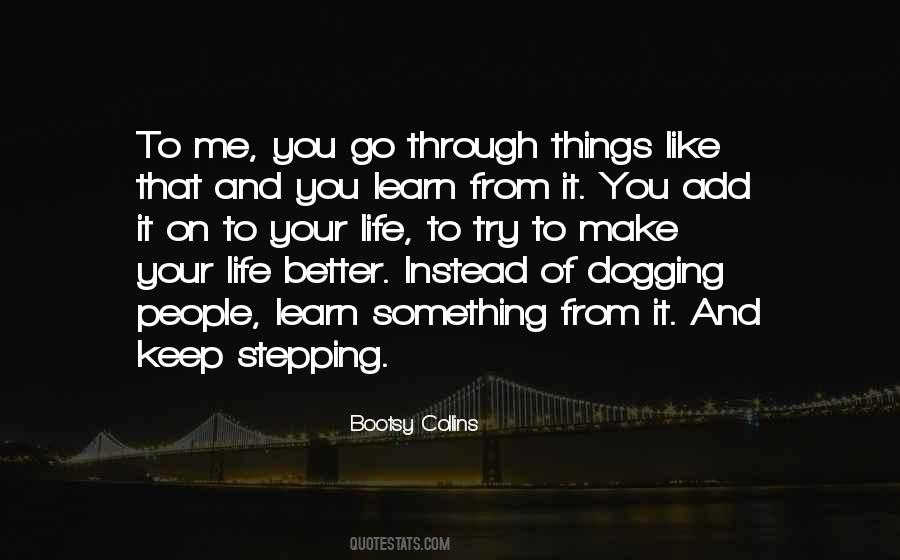 #7. Oh, so you're untouchable, huh, Delilah? You and your fucked-up relationship with your mother and everyone else in your life? Great. Does getting pissed at me make it better? does it fix ANYTHING?"
"You! Can't! Fix! Me! - Author: Sarah Ockler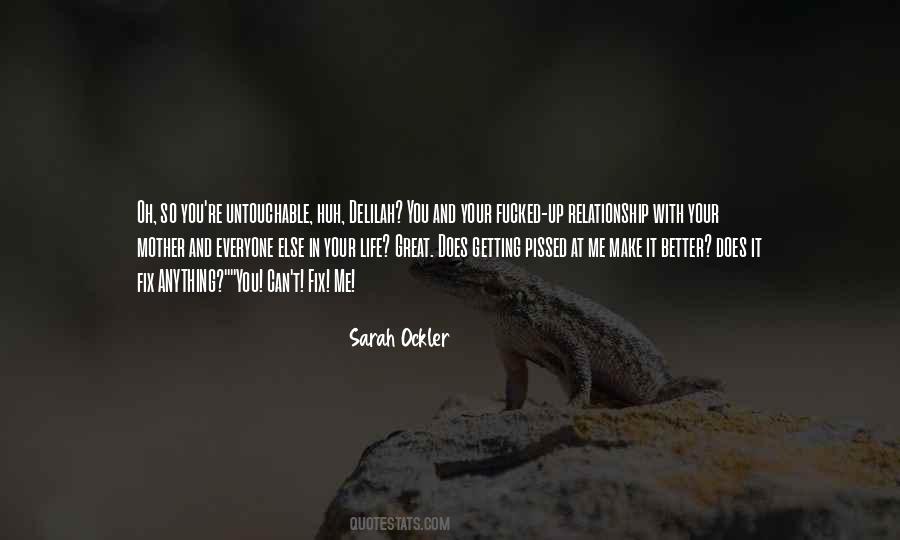 #8. None of those material possessions do anything to make your life any better ... I know a lot of people who have a lot of everything, and they're absolutely the most miserable people in the world. So it won't do anything for you unless you're a happy person and can have peace with yourself. - Author: Lenny Kravitz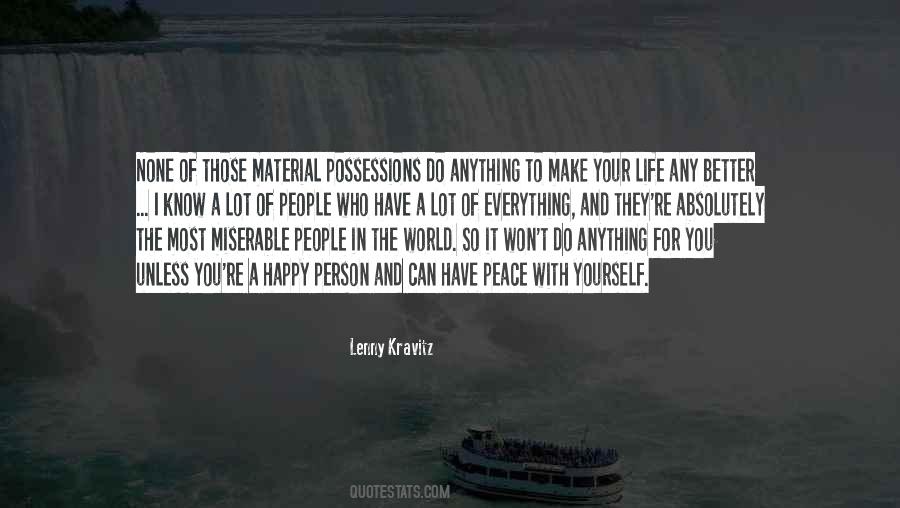 #9. You always think that 70 is the end of the road: 'Somebody died when they were 73; good life'. You're closer to death, and you better make sure you don't waste too much of your time doing things you don't want to do. No point in saying things you don't believe in. - Author: Ian McKellen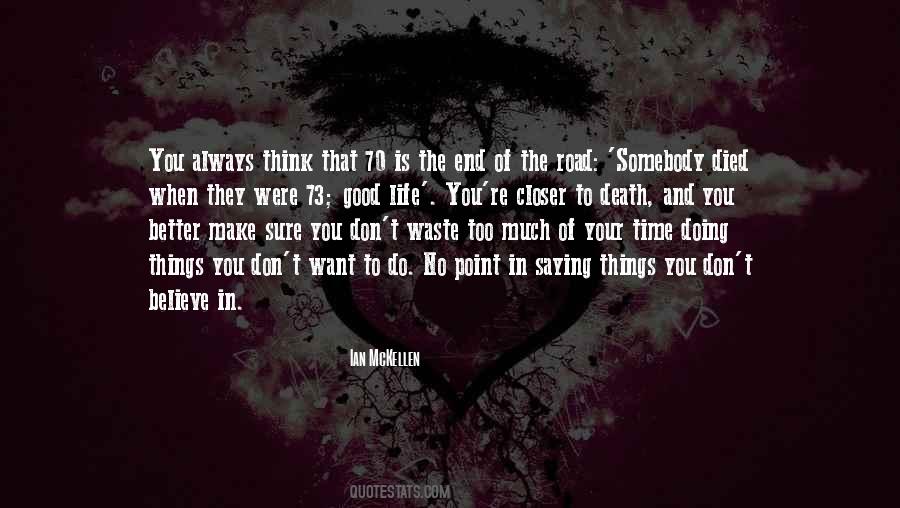 #10. Some people make you laugh a little louder, your smile a little brighter, and your life a little better. - Author: Anonymous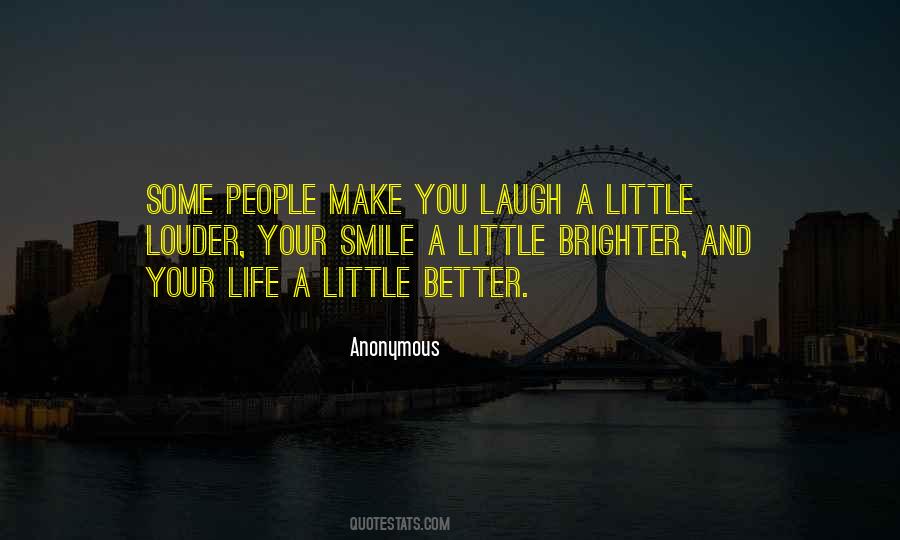 #11. You can change your life if you really want to. You can improve it, make it better. And it all starts with changing the way you think. - Author: John C. Maxwell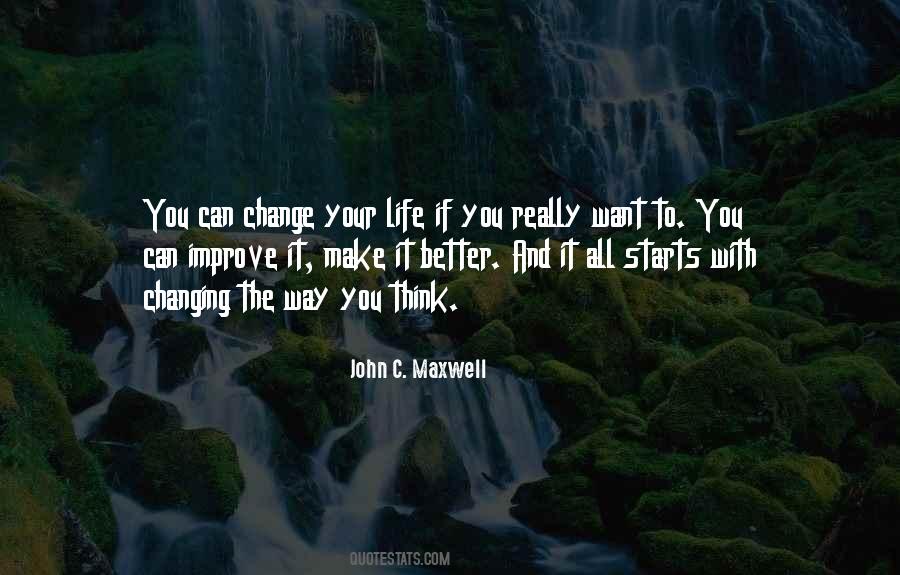 #12. To live healty, you should have success. Success make your life interesting and batter. - Author: Deyth Banger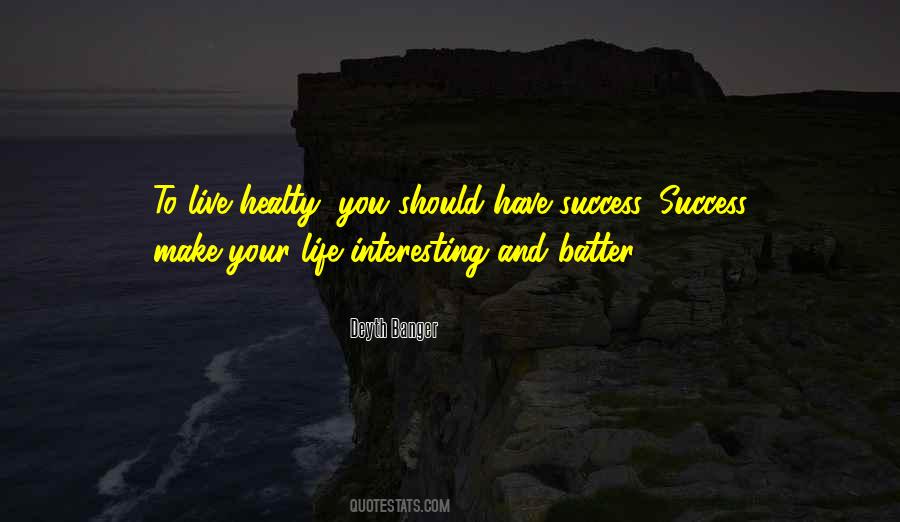 #13. You can always be a better person, a better version of you, focus on that you do that makes you feel good, cultivate
activities that make you feel in peace
and make them part of your daily life. - Author: Jorge Gw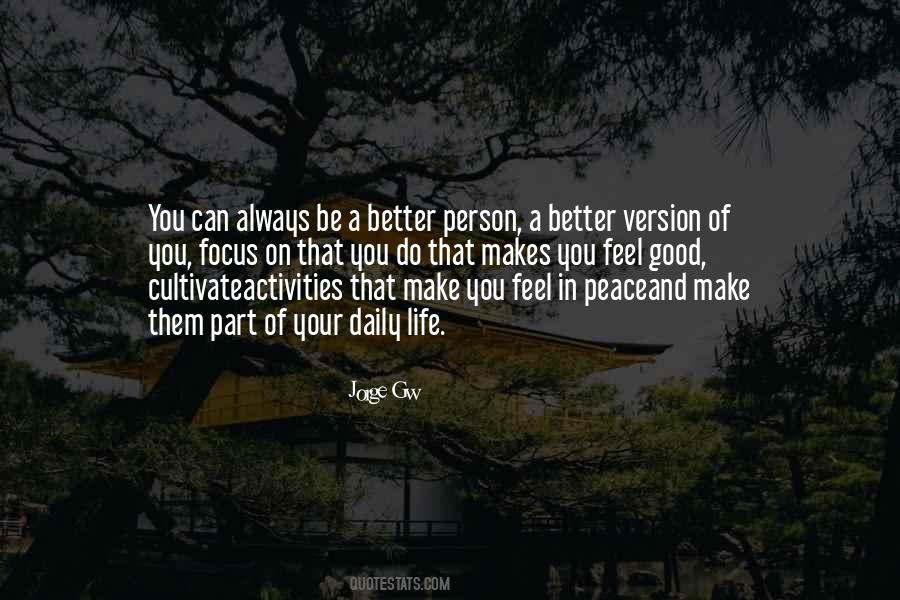 #14. Make a little effort to give up your insignificant quarrels and eventually a better world will follow. - Author: Abhijit Naskar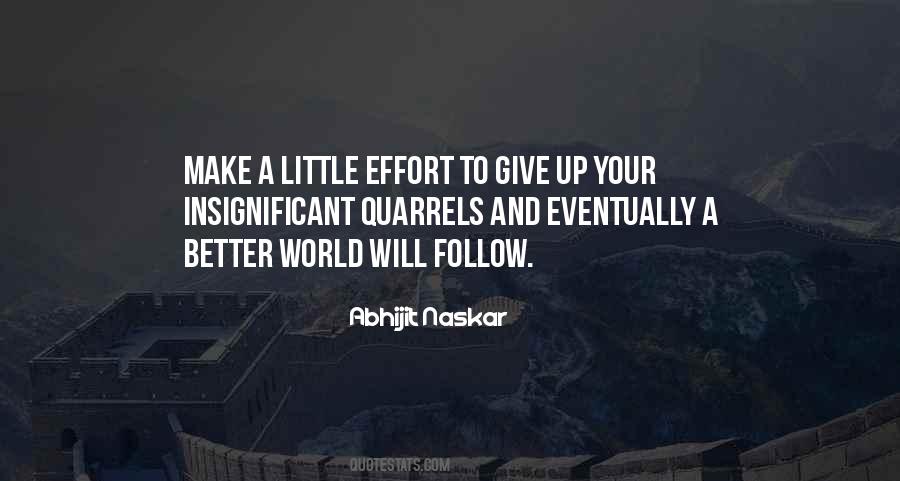 #15. ...there's no mistake if you can resolve it, whether it's in your music or in your life. Sometimes the mistake motivates you or elevates you to a different circumstance that can be better. If I make a mistake, I'm going to develop that mistake, so it doesn't sound like a mistake. -Dave Brubeck - Author: Andrew Zuckerman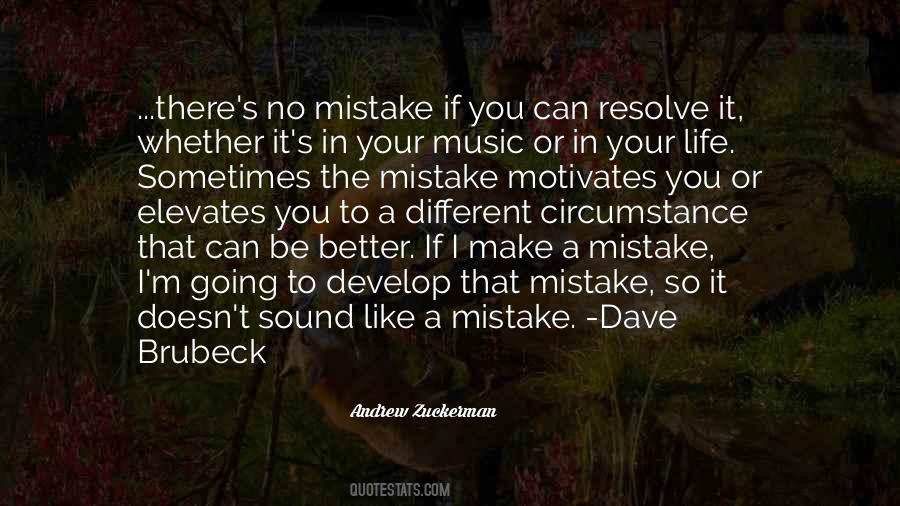 #16. Life is a learning process.
Learn from your mistakes.
The lessons should motivates you to make better decisions. - Author: Lailah Gifty Akita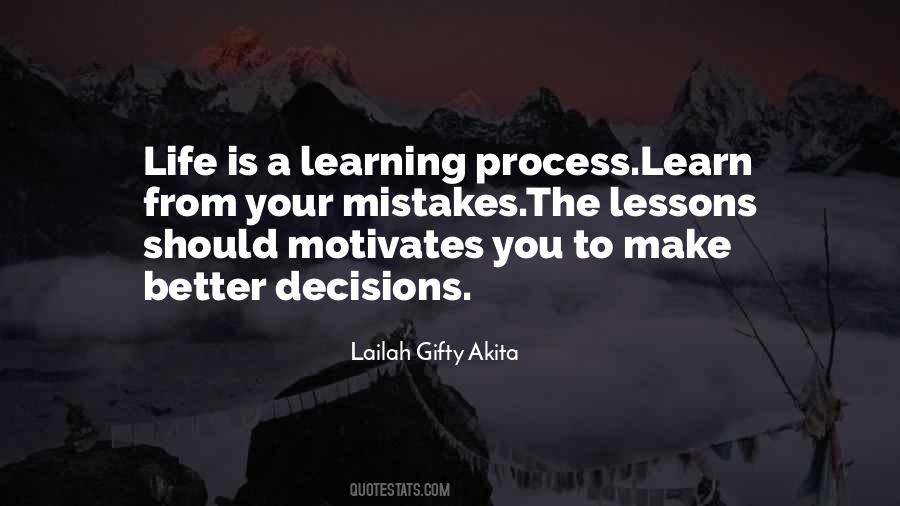 #17. Take time to make a difference. Don't just obsess about how you can make your life better. Think about how you can make somebody else's life better as well. - Author: Joel Osteen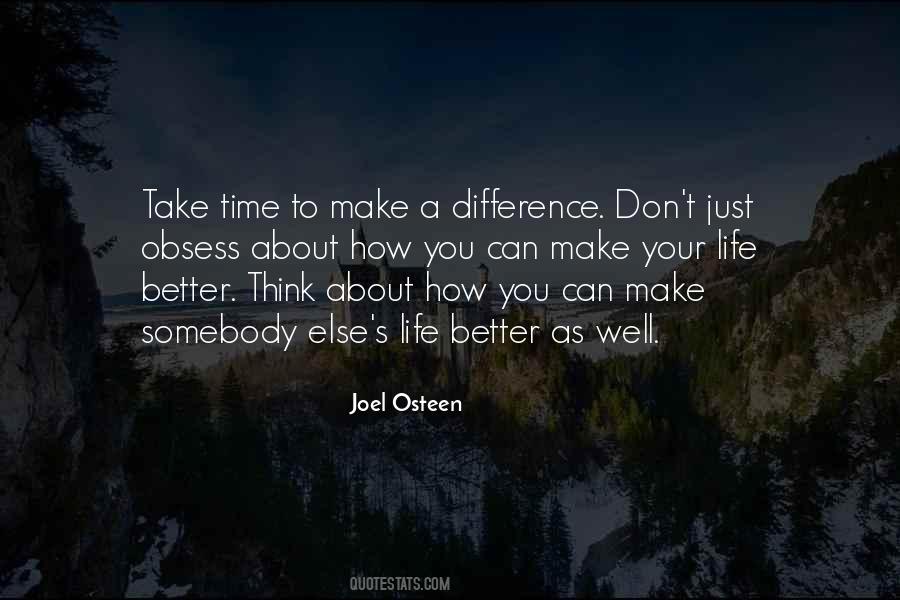 #18. Live your life to the fullest
and never be controlled by fear.
You will help make humanity better
when you stand up to all
injustice done against its children - Author: Timothy Pina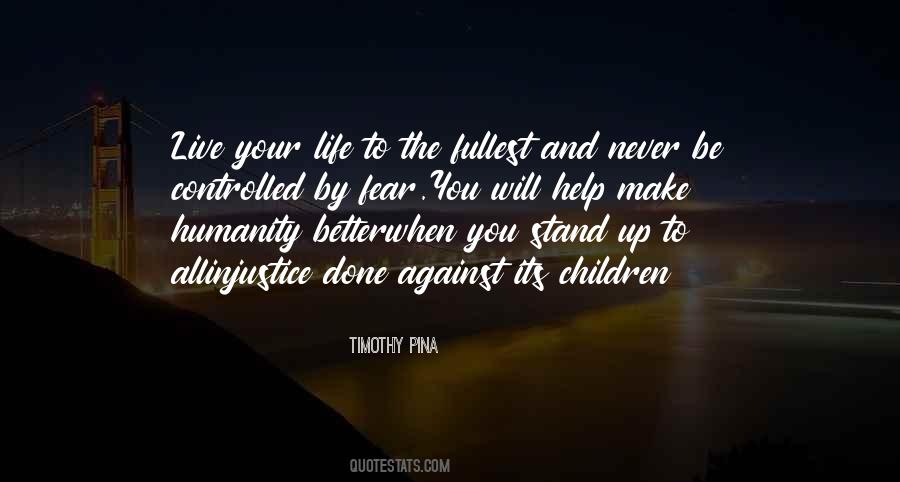 #19. When you see your life through the eyes of a dinosaur, albeit parrot, that's when you truly see the magic of God here and now. Stop questioning the past and live in the moment to strive for a better, more promising future. We're all born to make a difference. - Author: Jes Fuhrmann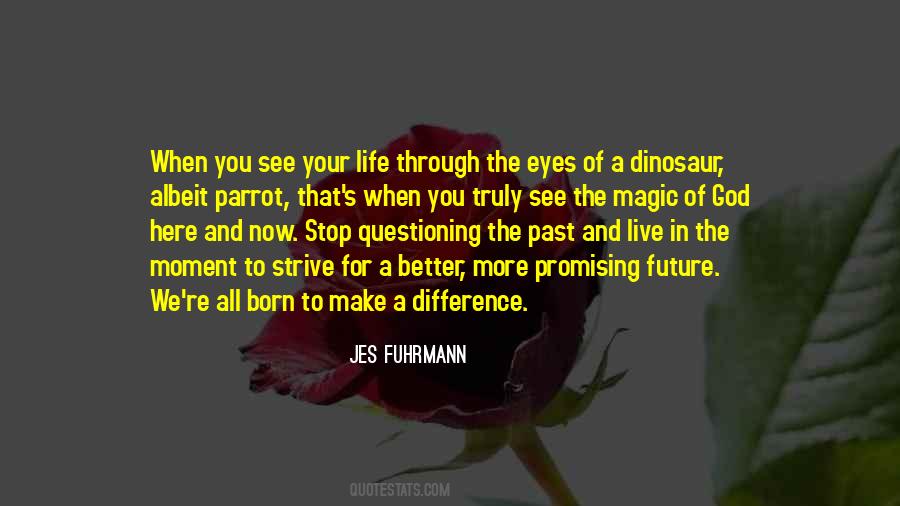 #20. The people who can step up my experience are those who have a common set of experiences with people I know. Think about it. How often did a total stranger come into your life to make your evening better? Not very often. But the friend of your friend? That happens all the time. - Author: Robert Scoble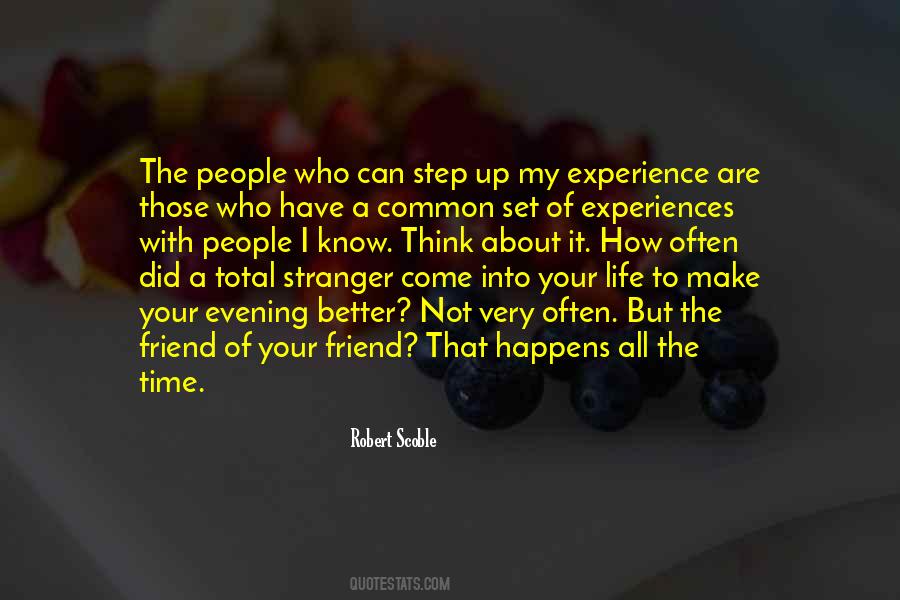 #21. In a way fighting was just like using magic. You said the words, and they altered the universe. By merely speaking you could create damage and pain, cause tears to fall, drive people away, make yourself feel better, make your life worse. - Author: Lev Grossman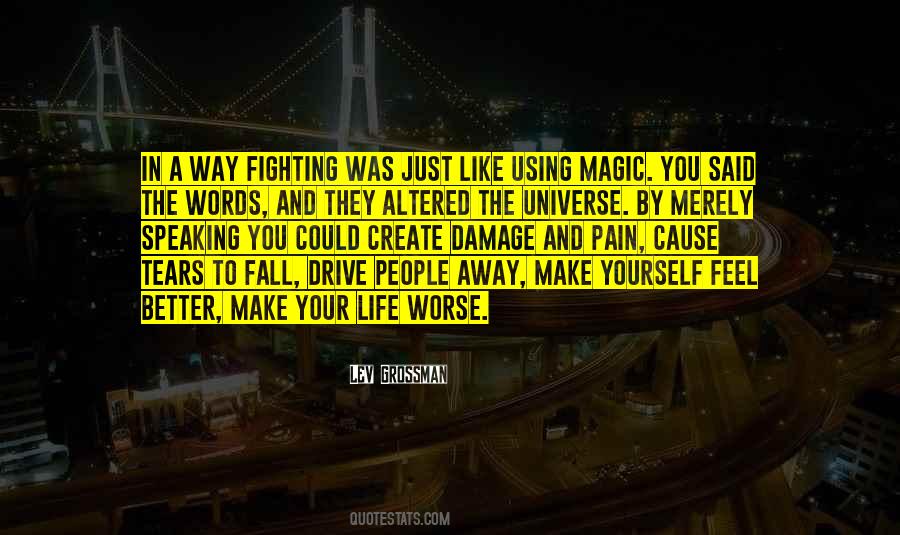 #22. Meet the future; the future mode of transportation for this weary Western world. Now I'm not gonna make a lot of extravagant claims for this little machine. Sure, it'll change your whole life for the better, but that's all. - Author: Butch Cassidy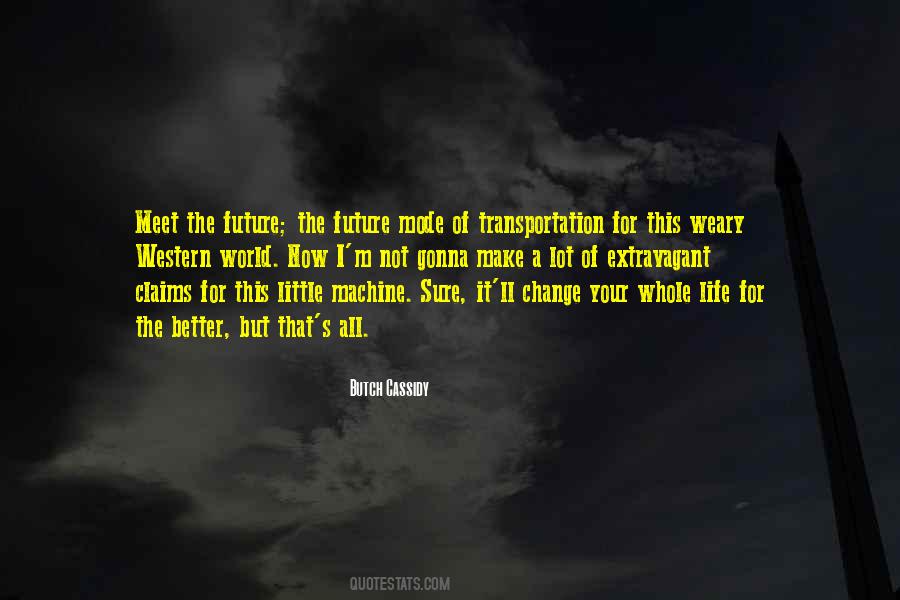 #23. Blaming others for your low self-esteem, for your lack of money, for being overweight, or for feeling bad, is NOT going to make your life better. Take responsibility. Work on it. The choice is yours. - Author: Maddy Malhotra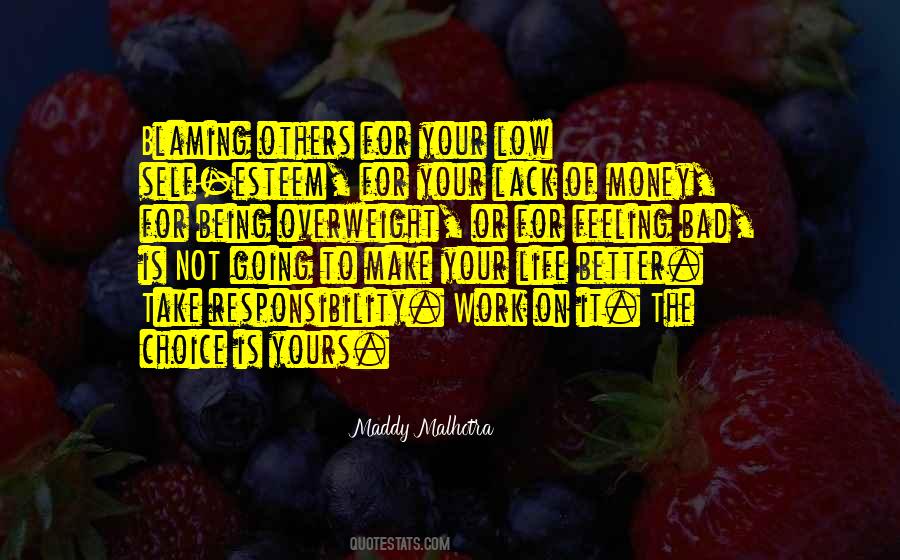 #24. Some people make your life better by walking into it while other people make your life better by simply walking out of it. - Author: Wiz Khalifa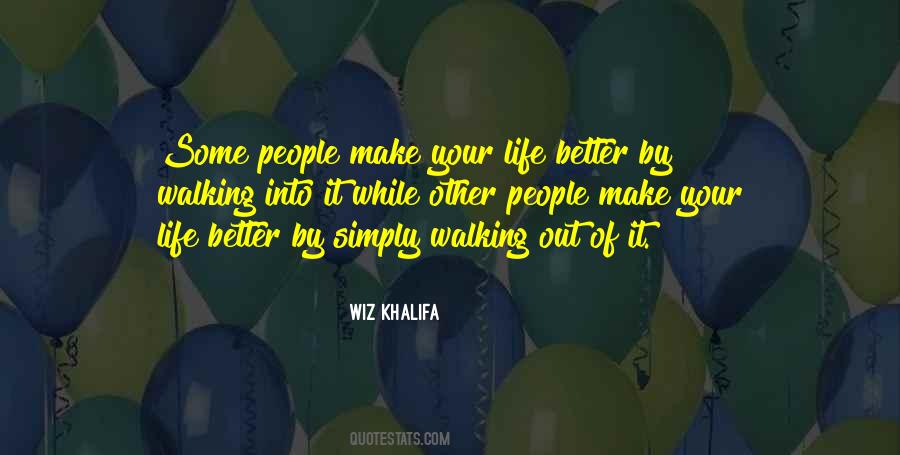 #25. Freedom of will is born from the neurons. And that freedom allows you to sometimes make even the worst decisions ever in your life. And by making the worst decision, you simply learn what would be the better decision in future. - Author: Abhijit Naskar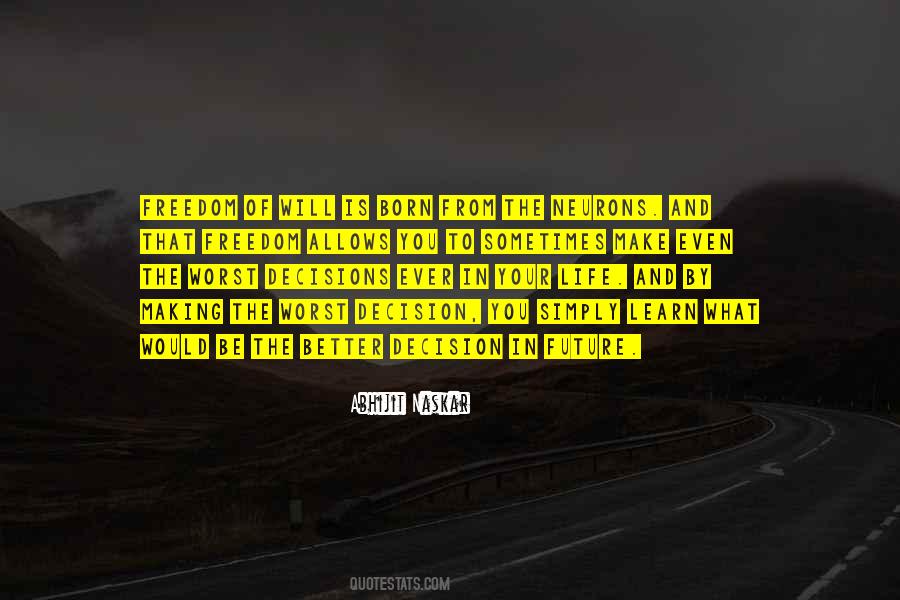 #26. You should break away from unproductive routines that do not positively benefit you or make your life better. - Author: Tasha Hoggatt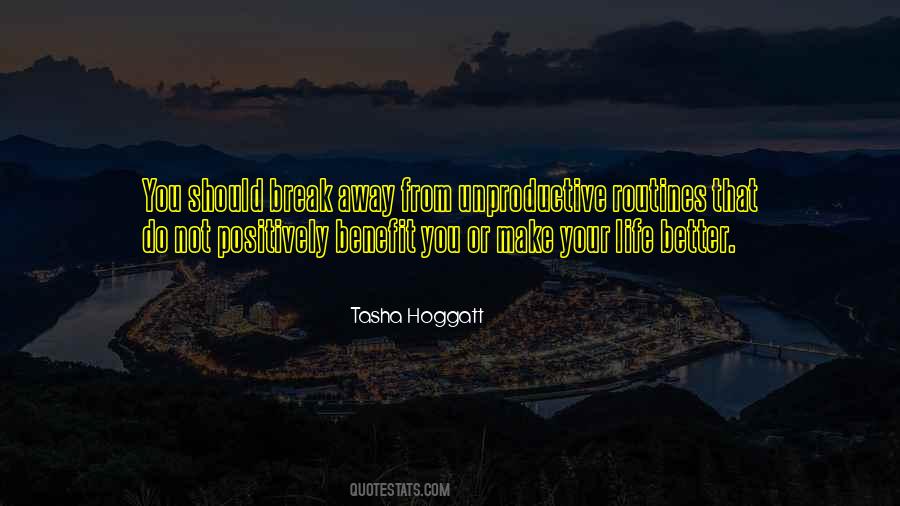 #27. When you found someone who could make you laugh when your heart wanted to cry - hold onto them. They will be the ones who will change your life for the better. I'd - Author: Brittainy C. Cherry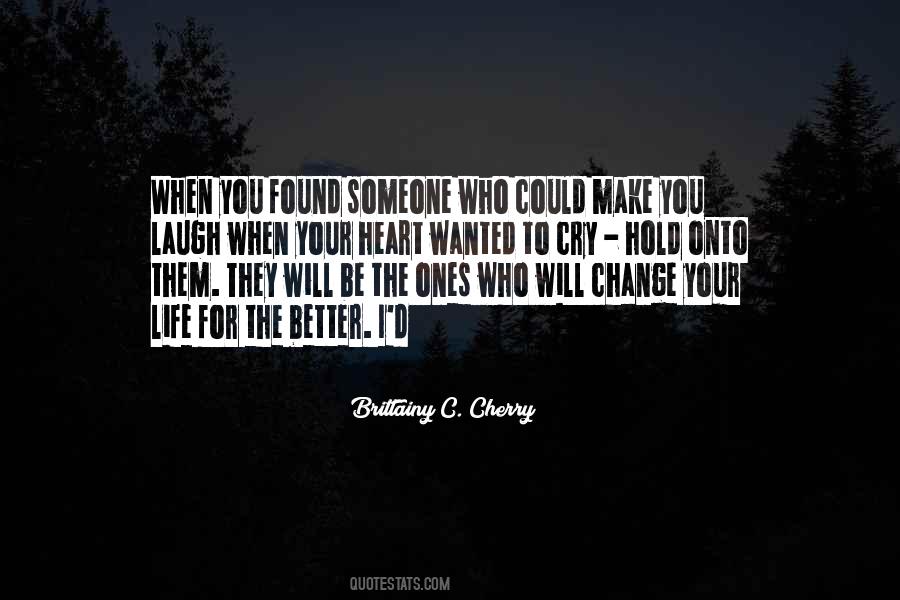 #28. When you lay your head on the pillow at the end of the night, can you think of three things you did during the day to make your life better? Did you nourish your body? Your spirit? Your mind? If not, get back up and do something that good for YOU. - Author: Toni Sorenson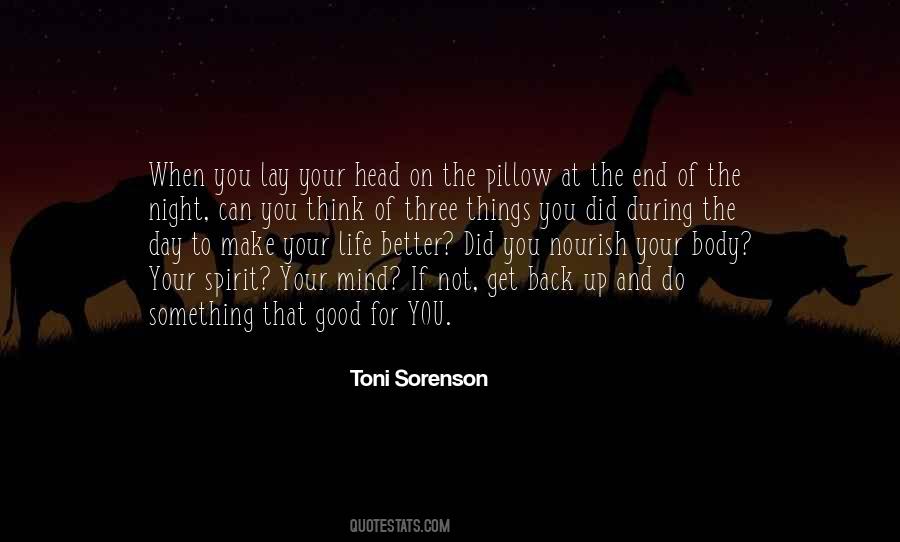 #29. It's smart to end relationships that are poisonous. It's a good thing. Sometimes you have to cut people out of your life to make things better. So you can move forward. - Author: Jessica Park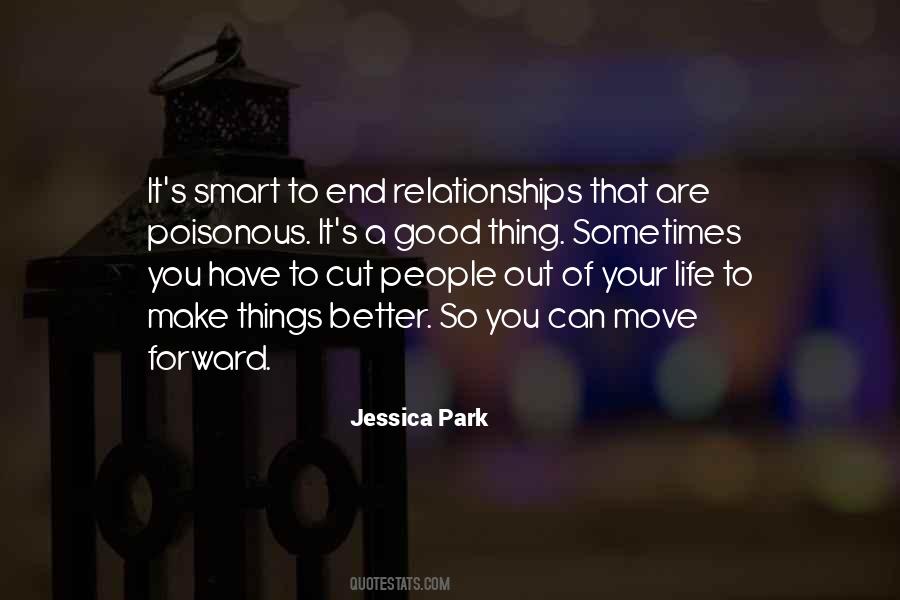 #30. When you make yourself a better you, you inevitably make a better life for your family. That's the thing I'll always embrace and you should too. Better yourself. Enjoy your life. - Author: Bobby F. Kimbrough Jr.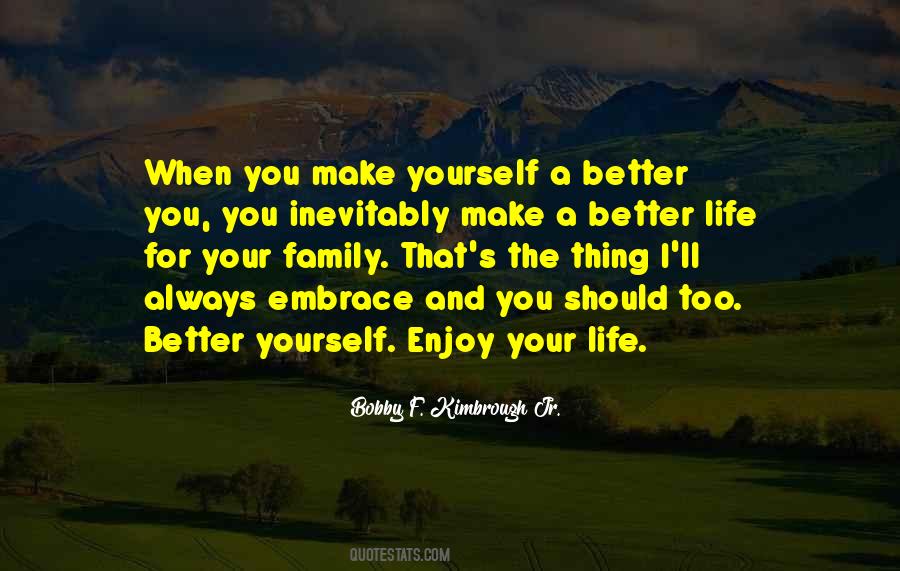 #31. It was far better, he thought, just to get on with life yourself, to have your own adventures and make your own mistakes, without raising a banner over them that proclaimed: I'm this, or I'm that; of this party or of the other one. - Author: Anthony McDonald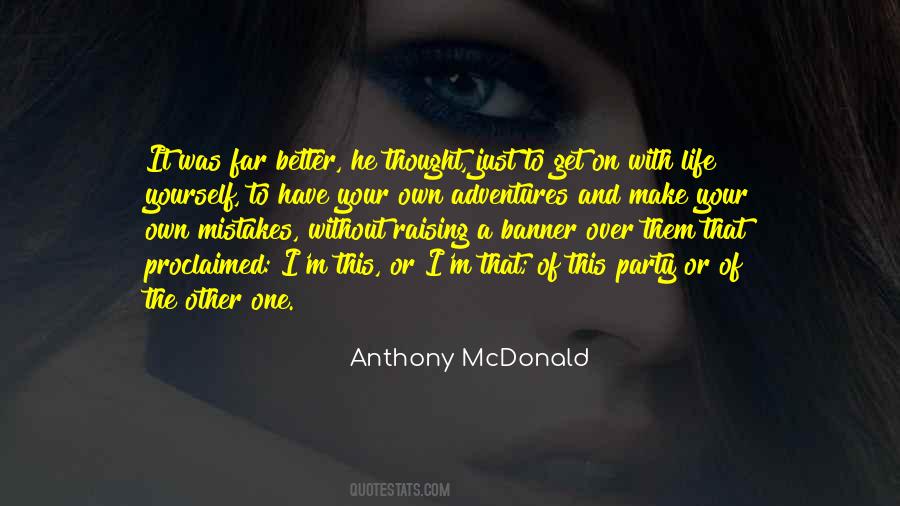 #32. Regardless of your age, you can make better choices in the moment. Small decisions - about how you eat, move, and sleep each day - count more than you think. As I have learned from personal experience, these choices shape your life. - Author: Tom Rath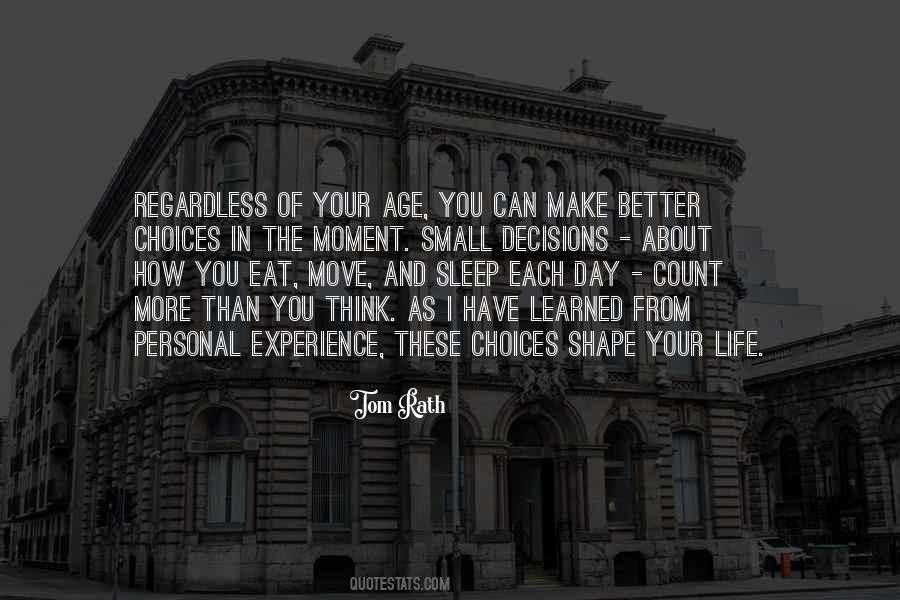 #33. You look around at the people in your life, one by one, choosing to hold on to the ones who make you stronger and better, and letting go of the ones who don't. - Author: Tamara Ireland Stone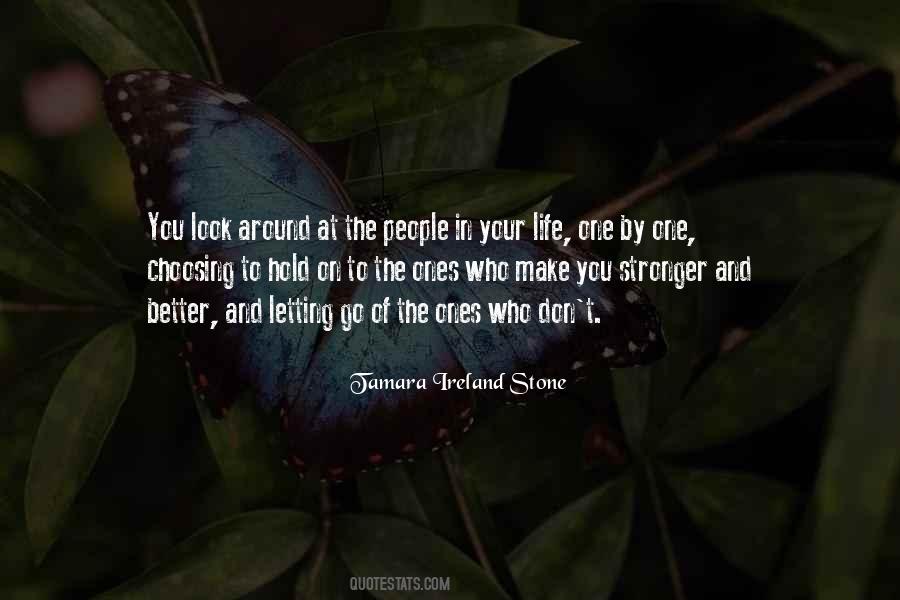 #34. The security comes, as an actor, in knowing that you're not in control. If you try to control your career, or how people perceive you, you'll make yourself unhappy, because life doesn't work like that. So much is luck. It's much better to let yourself off, to think, 'There's nothing I can do.' - Author: Matthew Macfadyen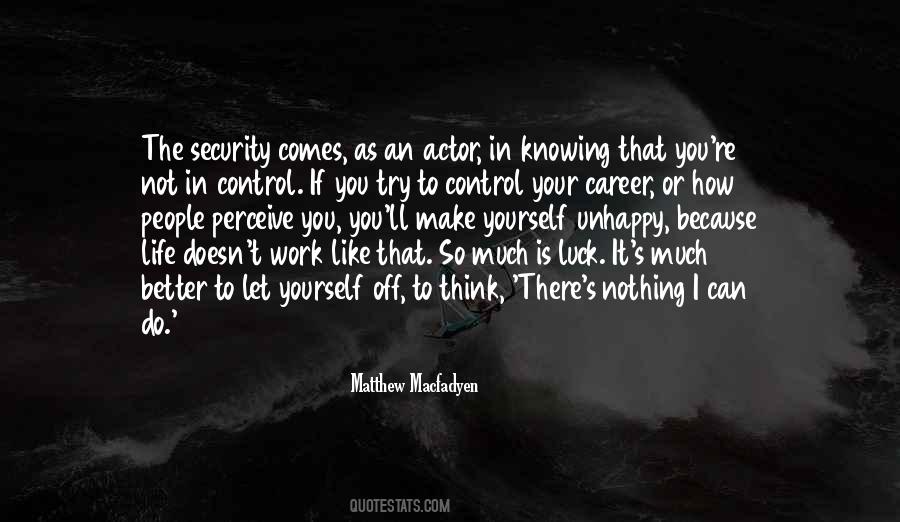 #35. This earthly life is a battle,' said Ma. 'If it isn't one thing to contend with, it's another. It always has been so, and it always will be. The sooner you make up your mind to that, the better off you are, and more thankful for your pleasures. - Author: Laura Ingalls Wilder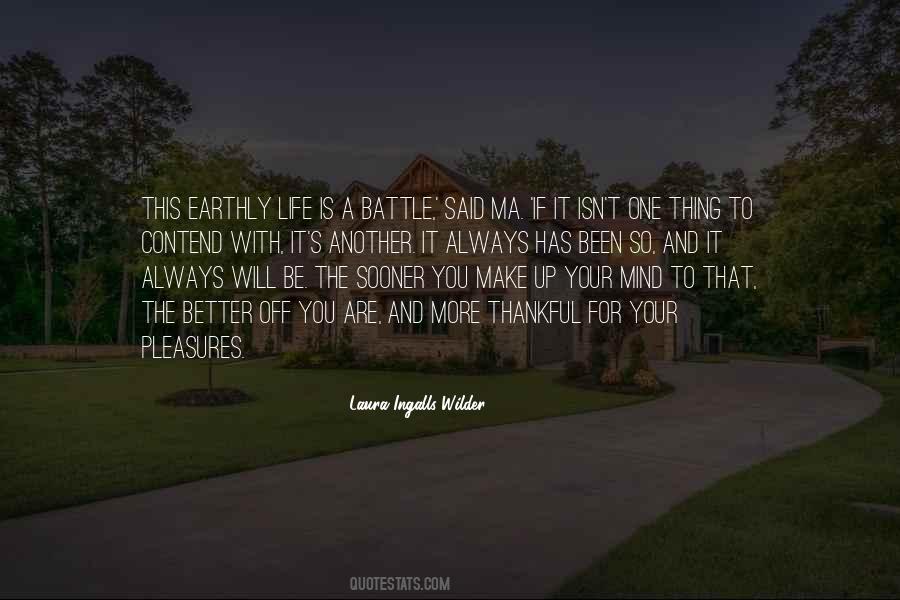 #36. You will feel more responsible for your own words when you notice how your words can affect lives of other people. You will feel touched when you really see how your words have made their life so much better. Those are kind of words that make you known to the inhabitants of eternity. - Author: Toba Beta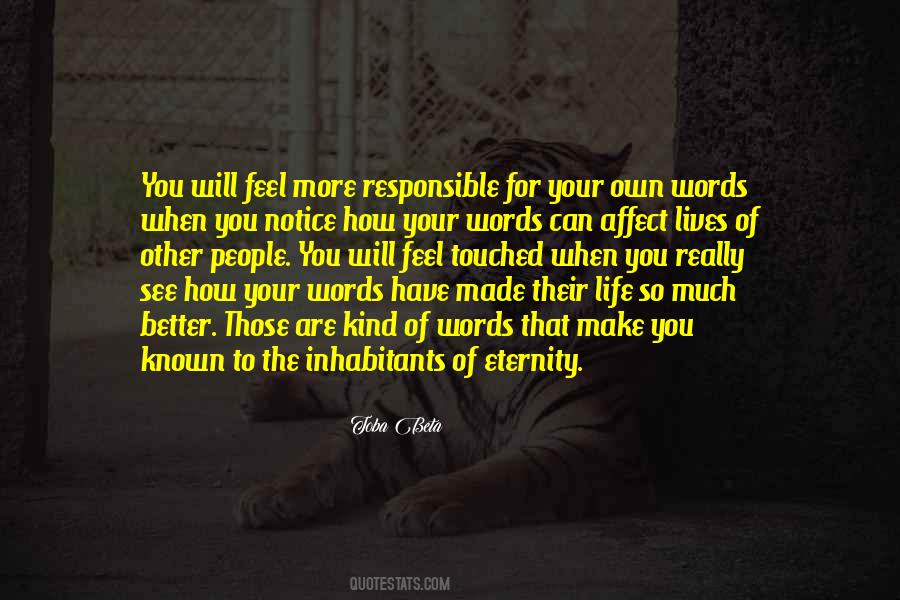 #37. You don't believe things because they make your life better, you believe them because they're true. - Author: Veronica Roth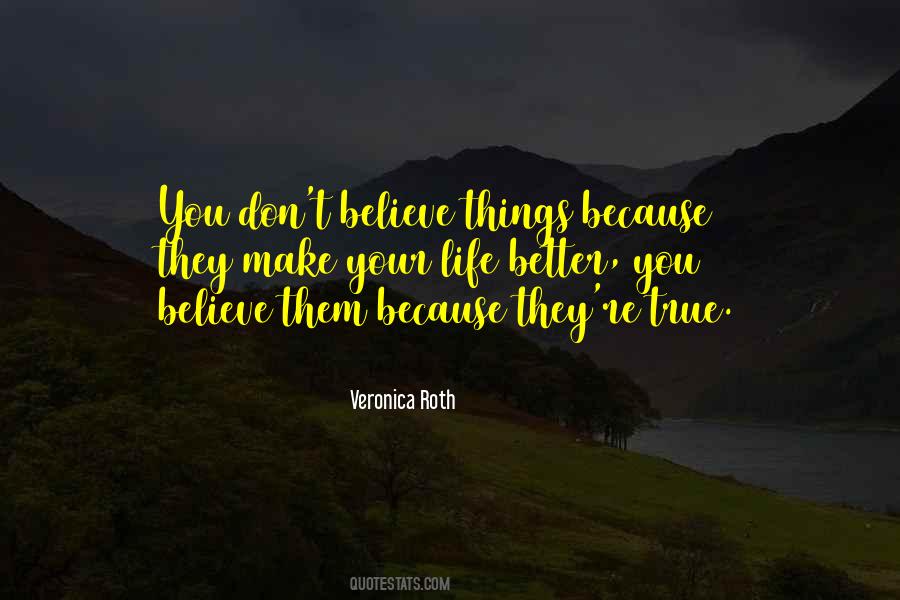 #38. Learn the words of wisdom uttered by the wise and apply them in your own life. Live them - but do not a make a show of reciting them, for he who repeats what he does not understand is no better than an ass loaded with books. - Author: Kahlil Gibran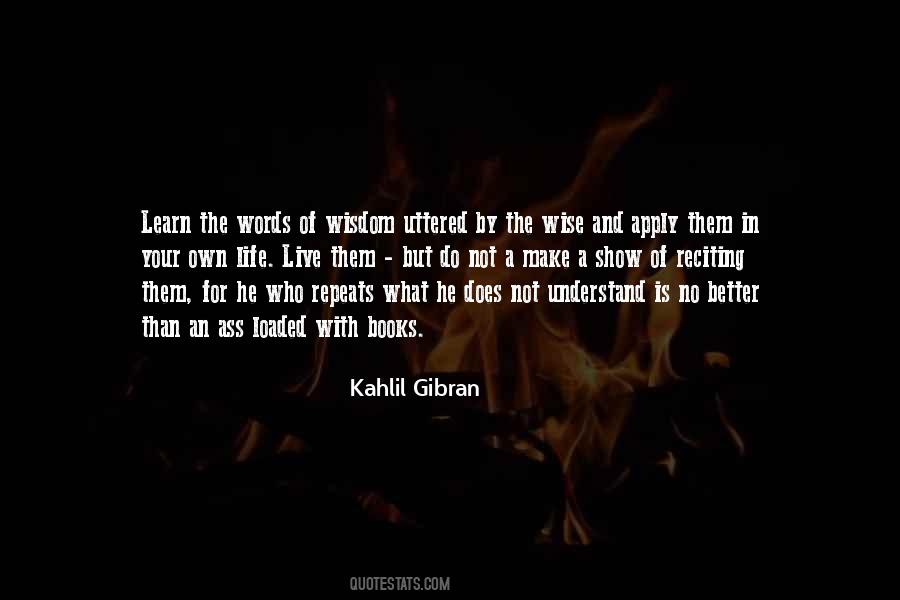 #39. When your sense of self and happiness comes from within and isn't a roller coaster ride dependent on others or circumstances, you approach life differently. You make better choices. You draw to you the people and situations that matter. The others, they fall away. - Author: Kamal Ravikant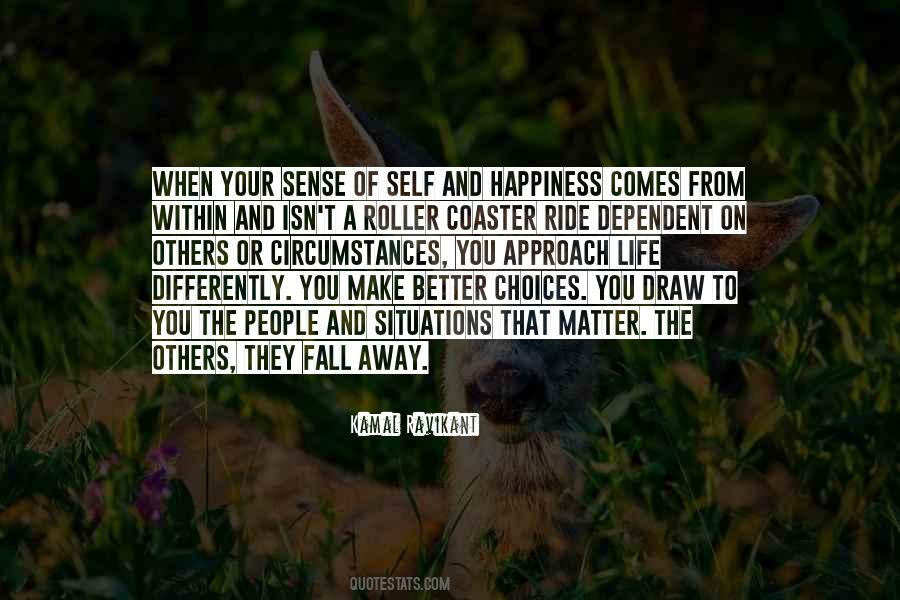 #40. What could make my life better? Oh, if I could only find that magic bottle that lets you never have to sleep. I have so much stuff I wanna do, but ... That six or seven hours you have to be in bed with your eyes closed. What a waste! - Author: Robert Rodriguez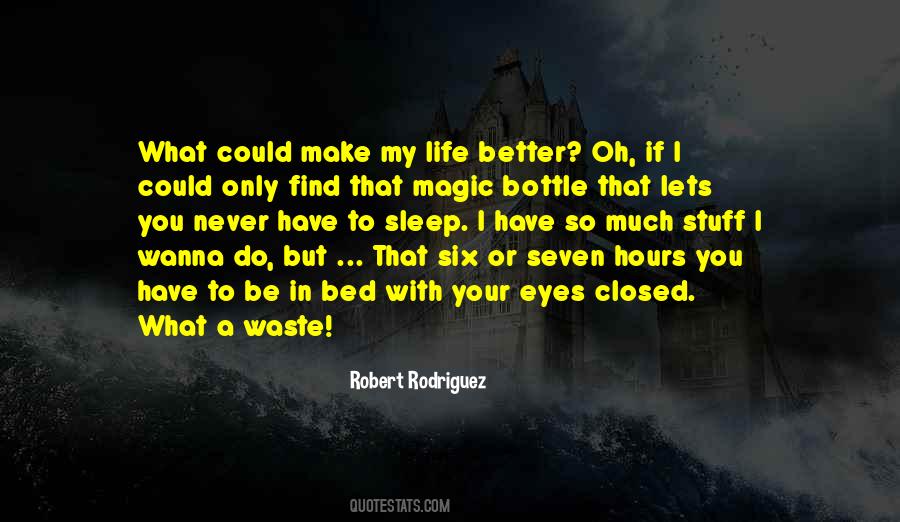 #41. I believe that it's an author's job to cast his imagination into the far spaces. Your life should - and I think it's inescapable that it will - inform your work. I'm all for using anything that can make your art better, but your intuition should be an equal partner. - Author: Brent Weeks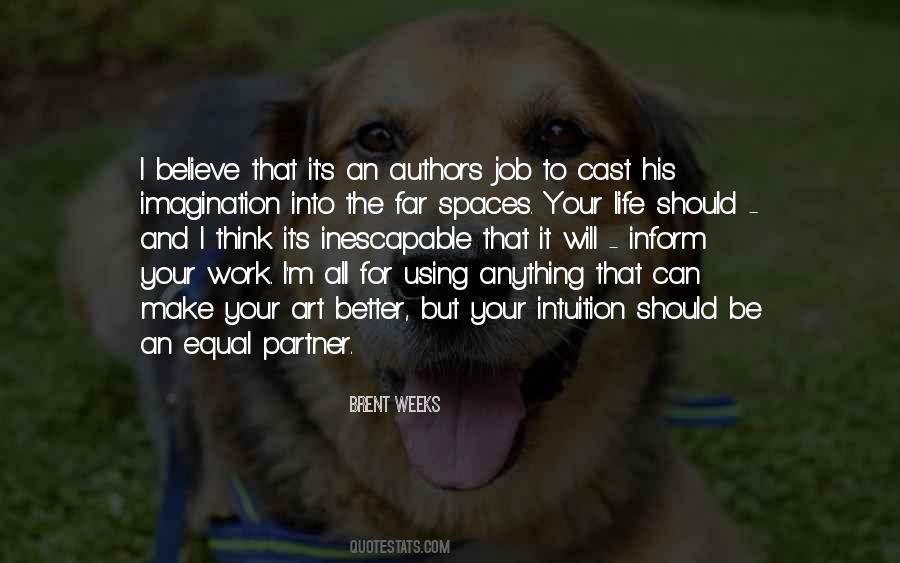 #42. If you stay in bed all day with the covers over your head, if you overeat for the millionth time in your life, if you get drunk, if you get stoned, if it's just this habitual thing that you think is going to make you feel better, you know that's going to depress you and make you more discouraged. - Author: Pema Chodron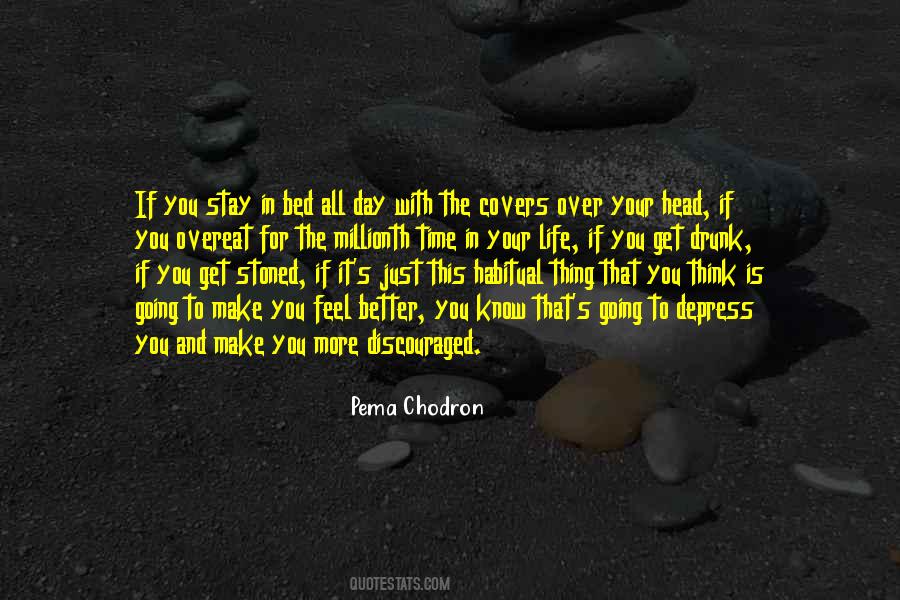 #43. A child is your legacy. What better thing can you do in life than put a really good person in the world who's going to make it a better place? - Author: Alexis Stewart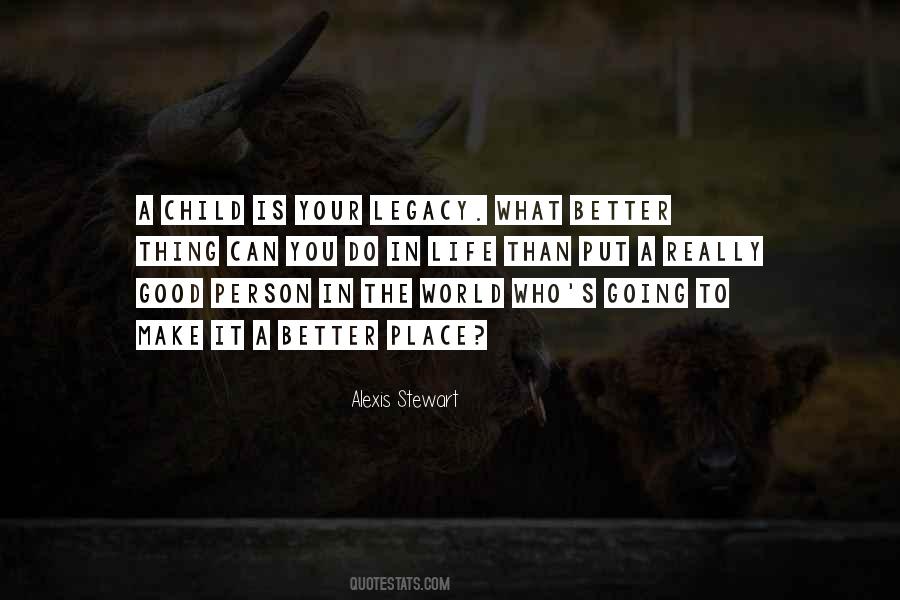 #44. Your success must never be left to others. You must be able to visualize it and see it through your own eyes, whilst others assist you to see it better and make it clearer. - Author: Archibald Marwizi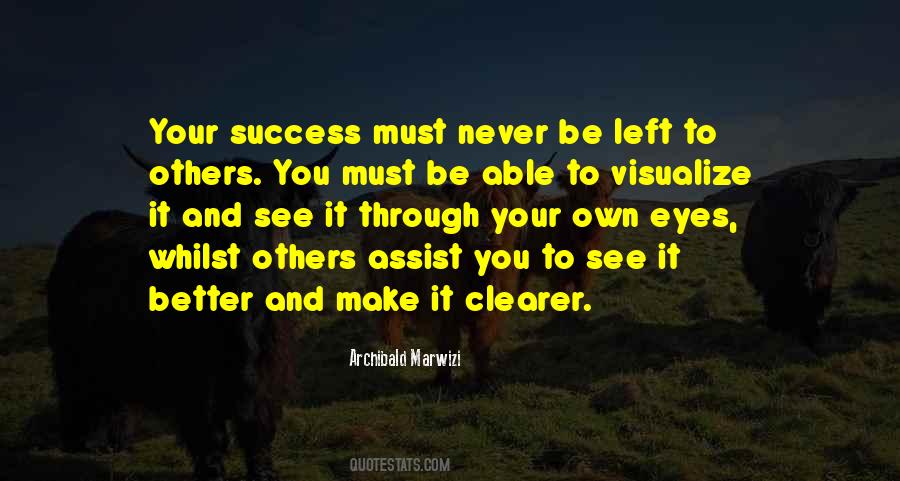 #45. Learning is important. It is a way to make a life better for yourself and your family. - Author: Rosie Thomas
#46. It was called Ending the Pursuit of Happiness, and its author, a man named Barry Magid, argued that the idea of using meditation to make your life 'better' or 'happier', in any conventional sense, was a misunderstanding. - Author: Oliver Burkeman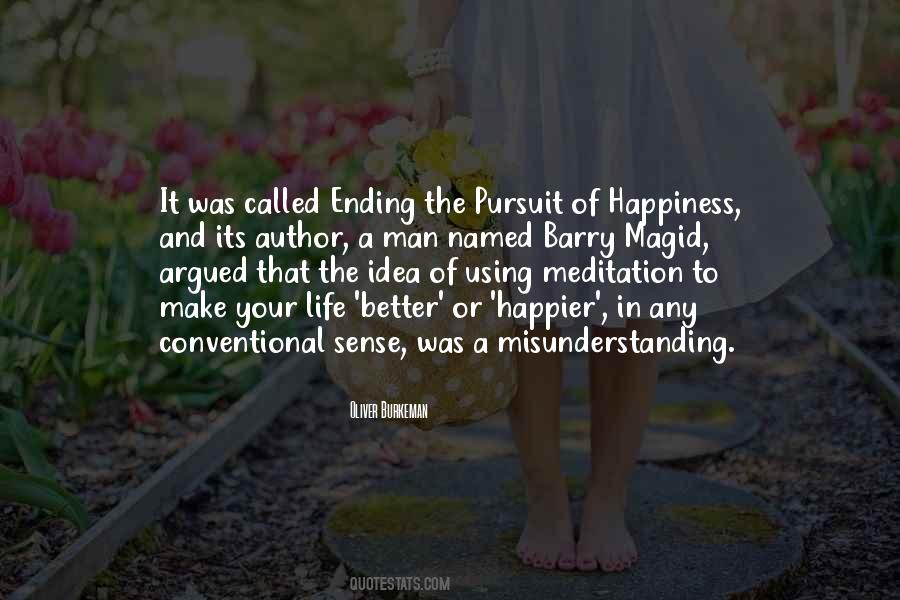 #47. I don't know if it's better to be close with your daughter or make sure that she has a better life than you do. - Author: Stephen Chbosky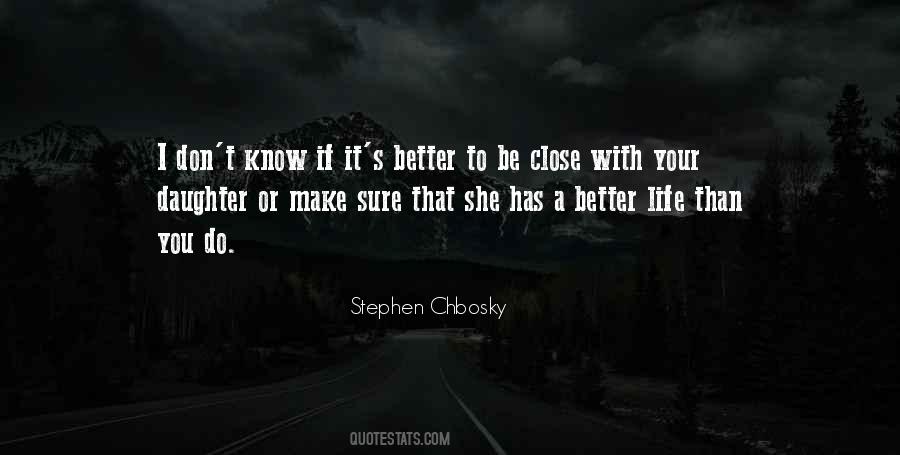 #48. Just because you felt like a failure in the past, doesn't mean you can't get back up again and make something better of your future. - Author: Lara Adrian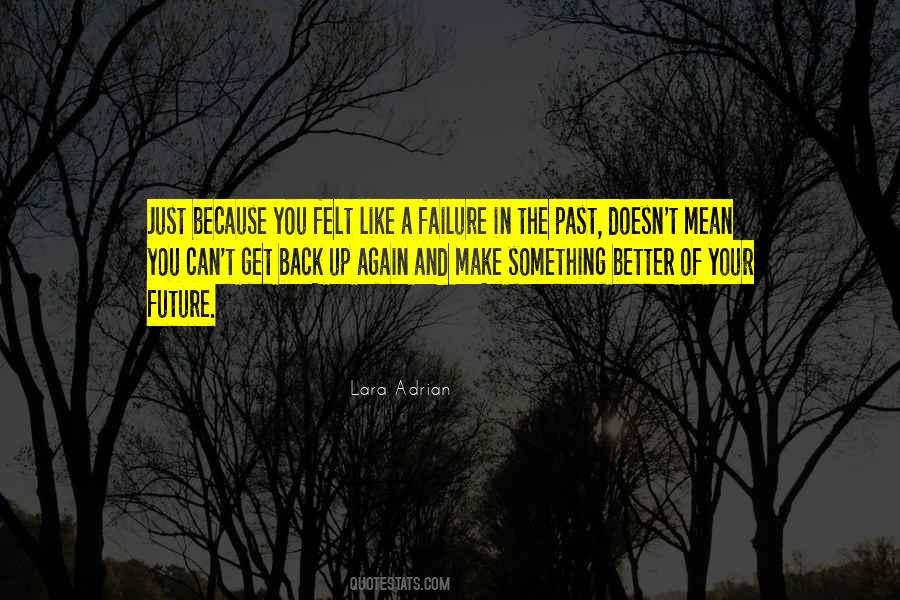 #49. The land of possibility is a better place to make your home than the realm of expectation will ever be - Author: Rasheed Ogunlaru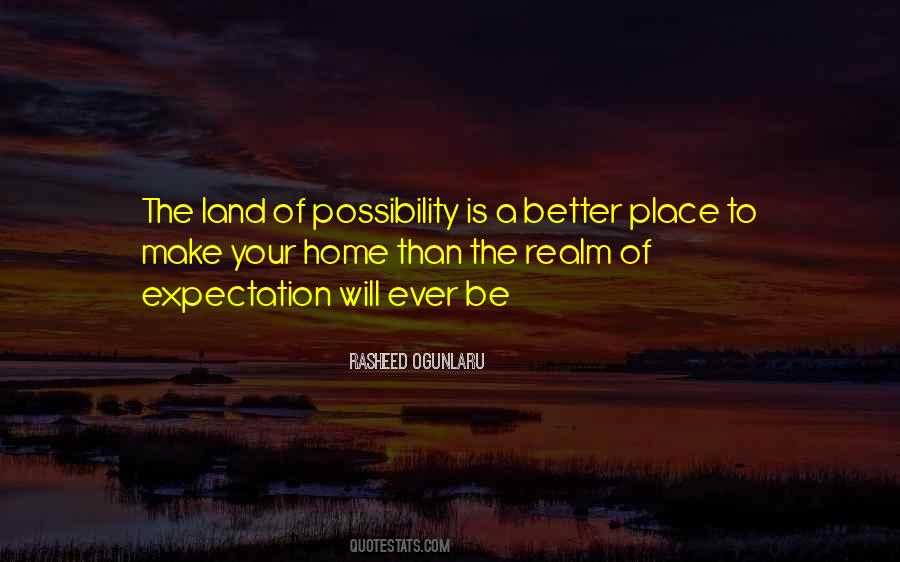 #50. I don't make a point of ending up in jail. But if you try to put your hopes and beliefs for a better life into effect, arrest is sometimes a hazard. - Author: Vera B. Williams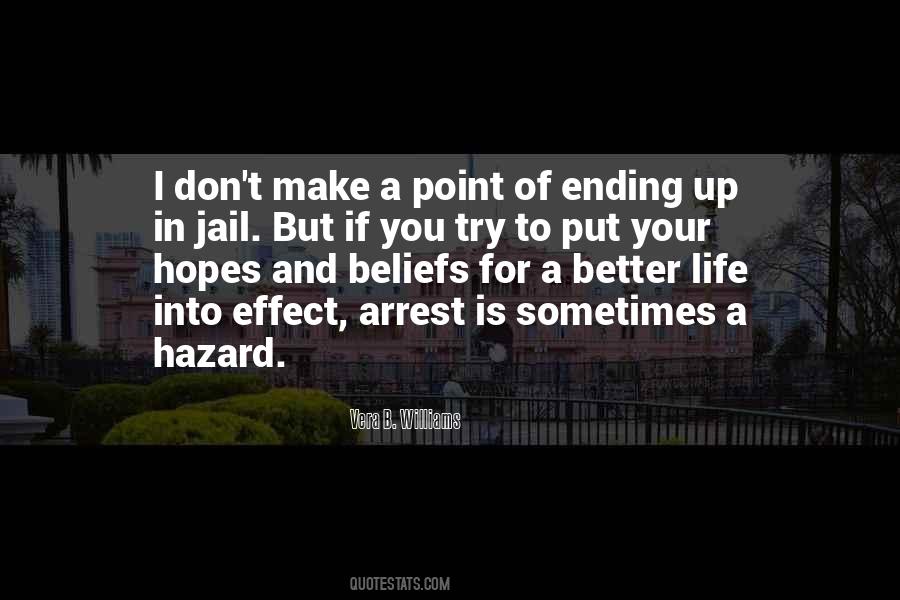 #51. Never give up on your dreams. No matter how many people say it's impossible, no matter how difficult your journey is, you can create your ideal life. Your heart's desires can become reality. Make things better now by taking steps every day to get closer to the life you want. And never, ever give up. - Author: Susane Colasanti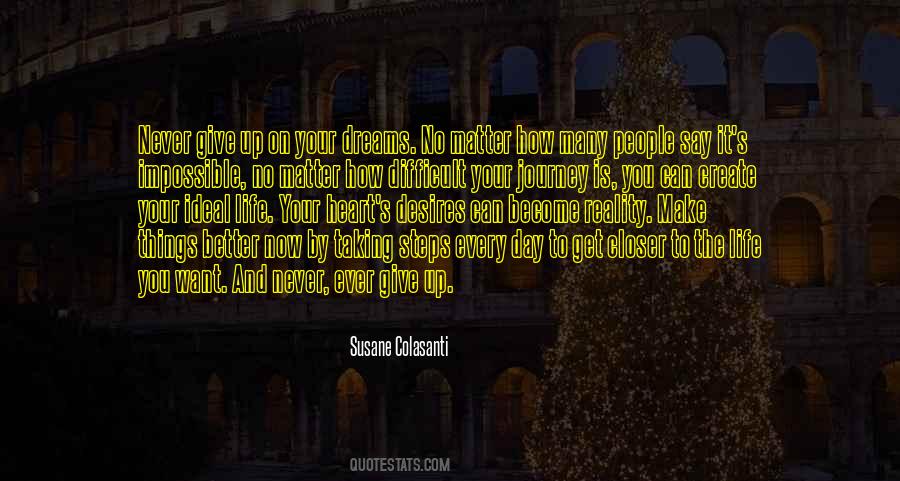 #52. Mayonnaise is a lot like men, it can make everything much better, adding flavor and ease to your life. Or, it can just be sticky and gross and make you nauseous"- "Keeping the Moon - Author: Sarah Dessen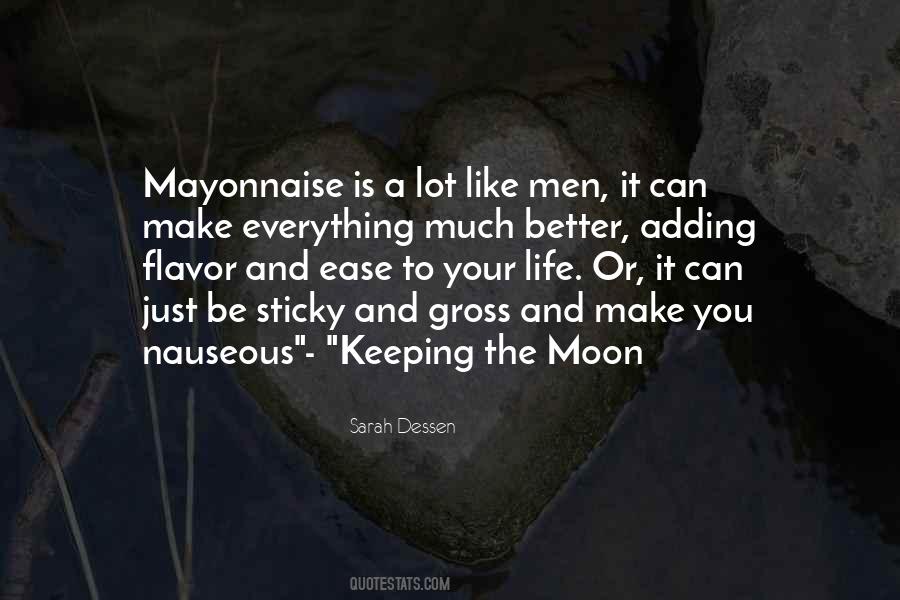 #53. The world's a stage and I'm on it. Better make a good impression out there! - Author: Shannon Mayhew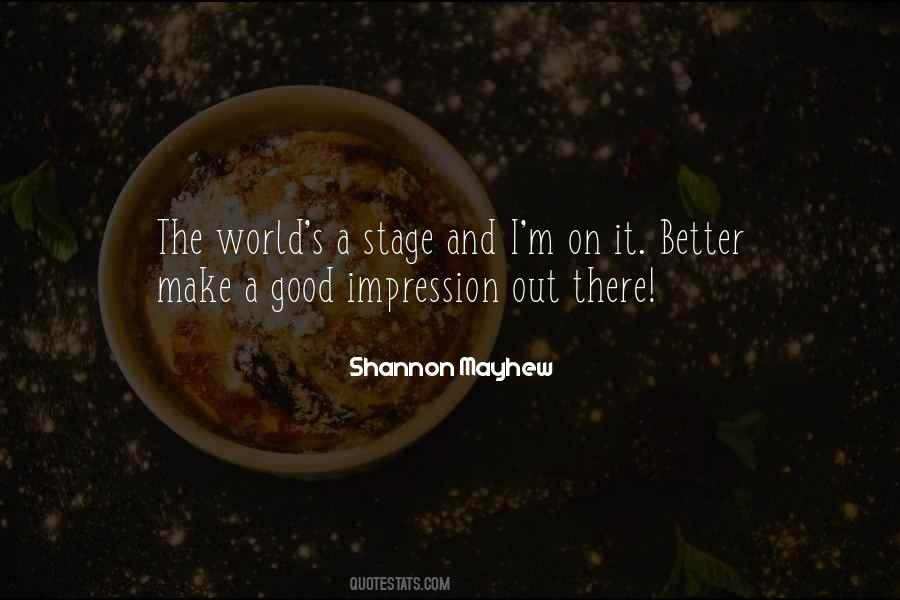 #54. You need to take the traumas and make them part of who you've come to be, and you need to fold the worst events of your life into a narrative of triumph, evincing a better self in response to things that hurt. - Author: Andrew Solomon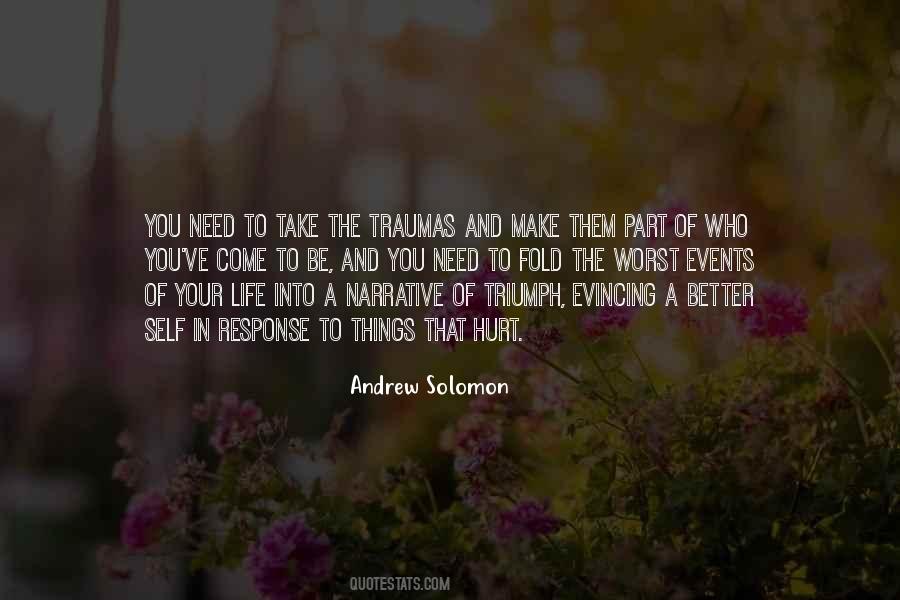 #55. Joy is connection ... The more areas in your life you can make connection, the better, - Author: George Vaillant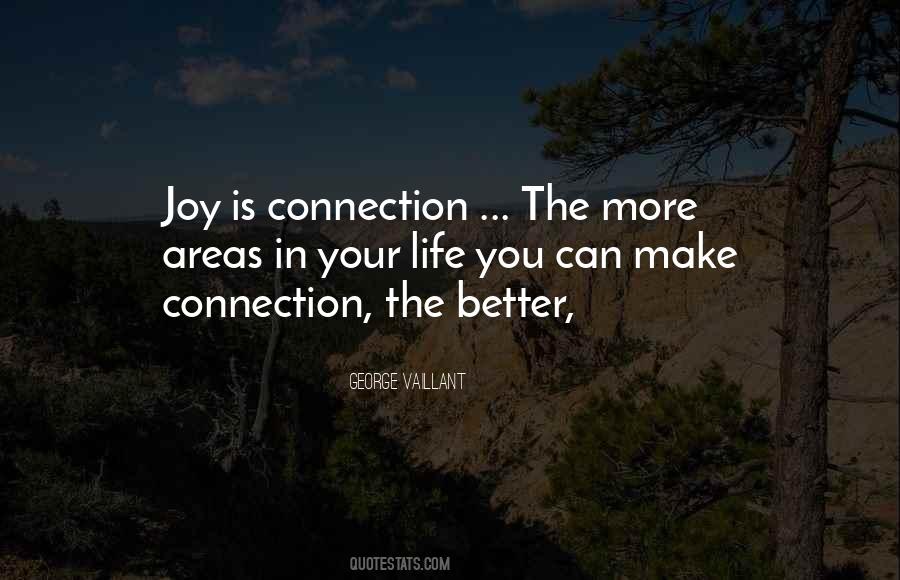 #56. You make your own kinds of mistakes, and I'm sure you'll have your share of regrets in life. But commitment was never your problem, sweetie. You have a better chance of making this work than most forty-year-olds I know. My little middle-aged child. Luckily, you seem to have found another old soul. - Author: Stephenie Meyer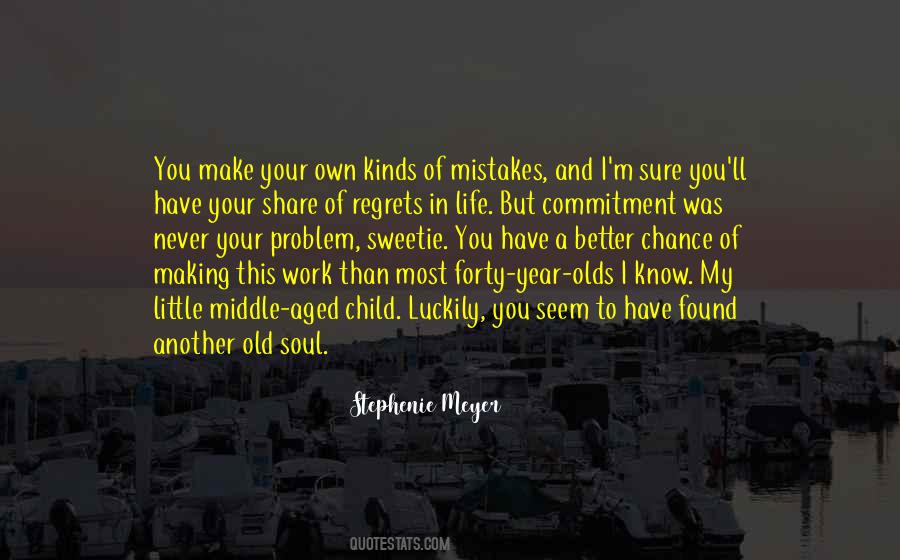 #57. For me to simply tell you to find your life's purpose, would only worsen your anxiety, not make it better. But that's not what I want you to do. I simply want you to realise that there is something to be found. That your calling is still out there, and that's why you might be unhappy. - Author: S.R. Crawford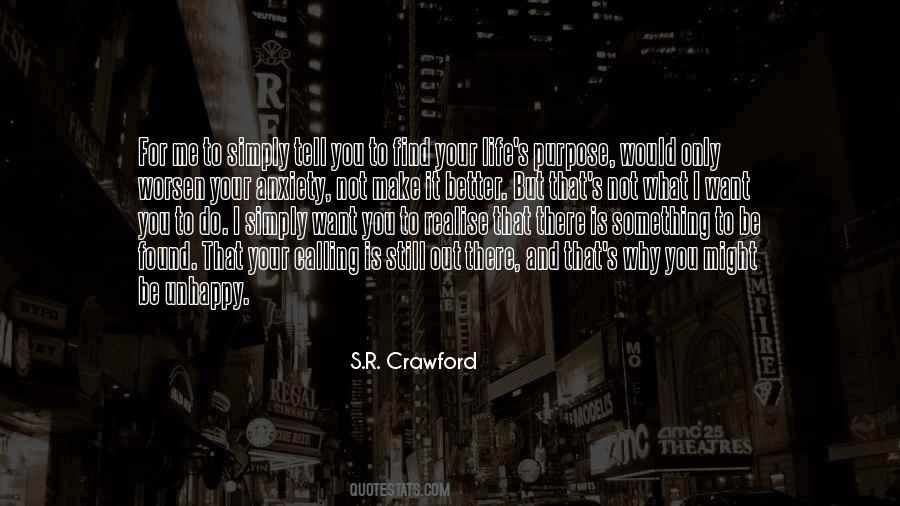 #58. It's up to you to make the conscious choices that bring about a better future. Find new methods to deal with old routines. You have to take charge of your life, to be accountable to yourself and responsible toward others. - Author: Lynn C. Tolson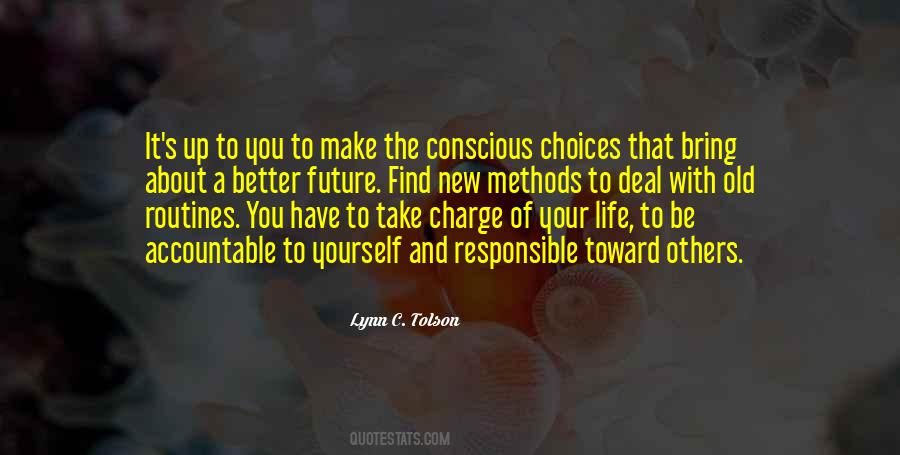 #59. You must grow and you must learn something about yourself everyday, you must make your commitment to making yourself better for the rest of your life. - Author: Austin V. Songer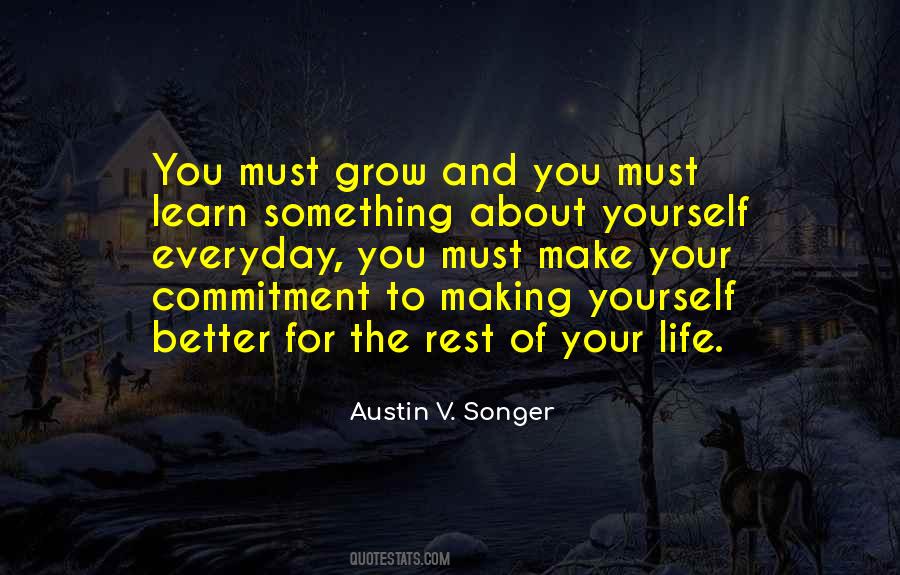 #60. You can make changes in your life and you can say, "I'm going to be a better parent next year than I am right now," or, "I'm going to take an extra step in my career and not just be satisfied where I am." So it has a lot to do with our will, but also we have to work as well. - Author: Joel Osteen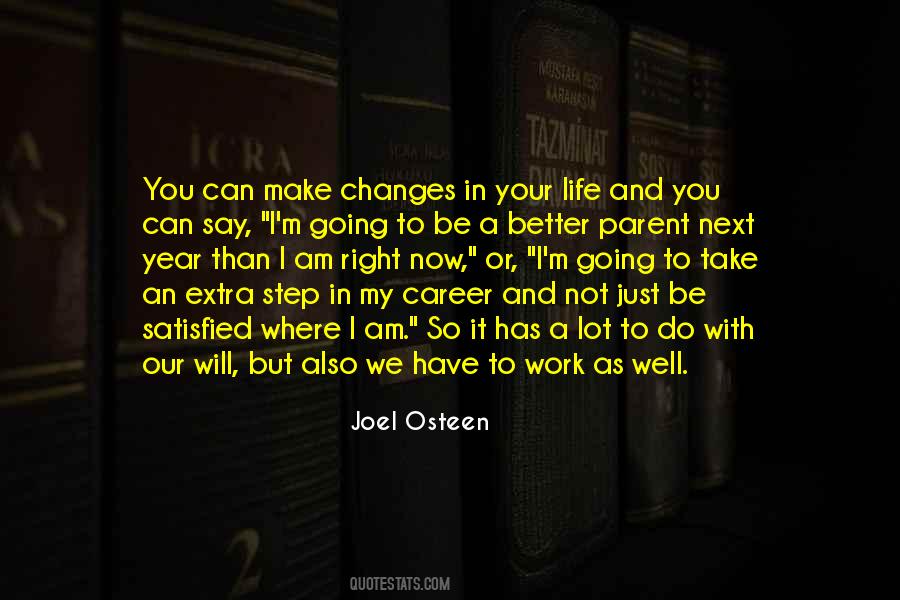 #61. I figure no matter how old you are, it's always going to be your first marriage and no life experience is going to make you a better judge of who you should marry. - Author: Utada Hikaru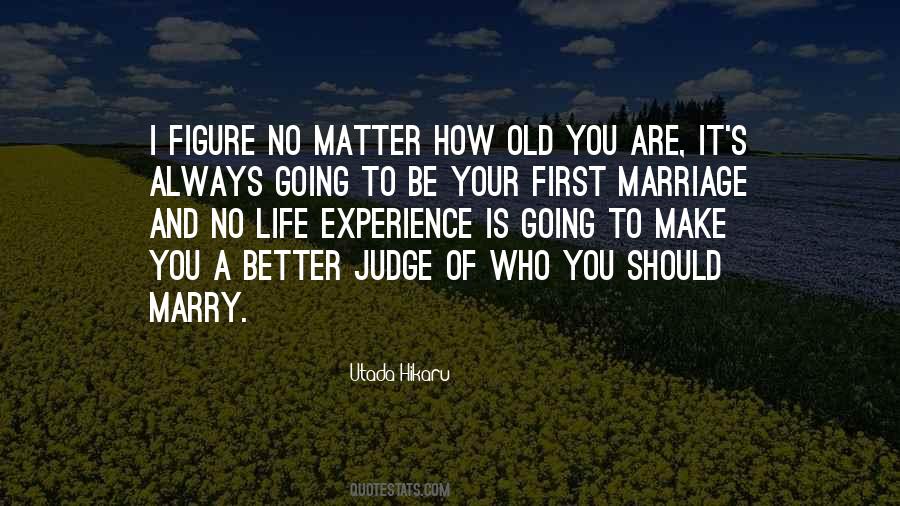 #62. The purpose of forgiveness is not to make sure that someone ends up changing into what you expect them to be, as this is dominance. The purpose is actually to make your own life better, more worthy and less stressful. Forgiveness reduces the hold that the wrongdoer has over you and empowers you. - Author: Stephen Richards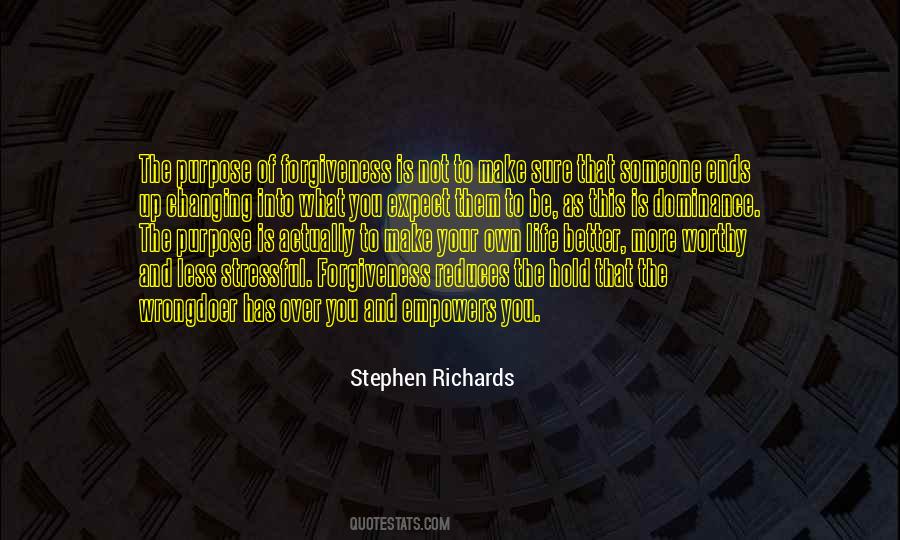 #63. Anything you put your mind to and add your imagination into can make your life a lot better and a lot more fun. - Author: Taylor Swift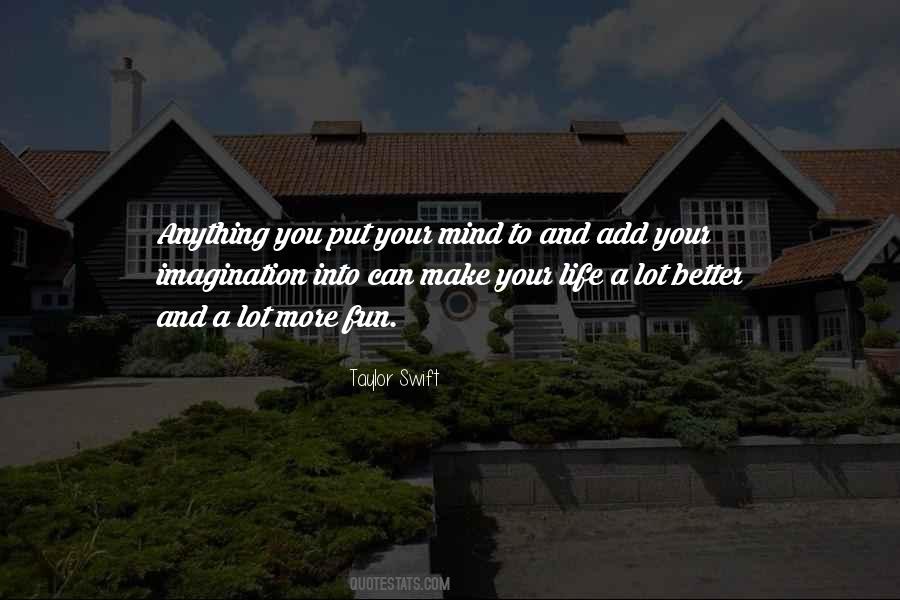 #64. Using your own time to make someone else's life better is, like, the nicest thing you can do for anybody. - Author: Karen Marie Moning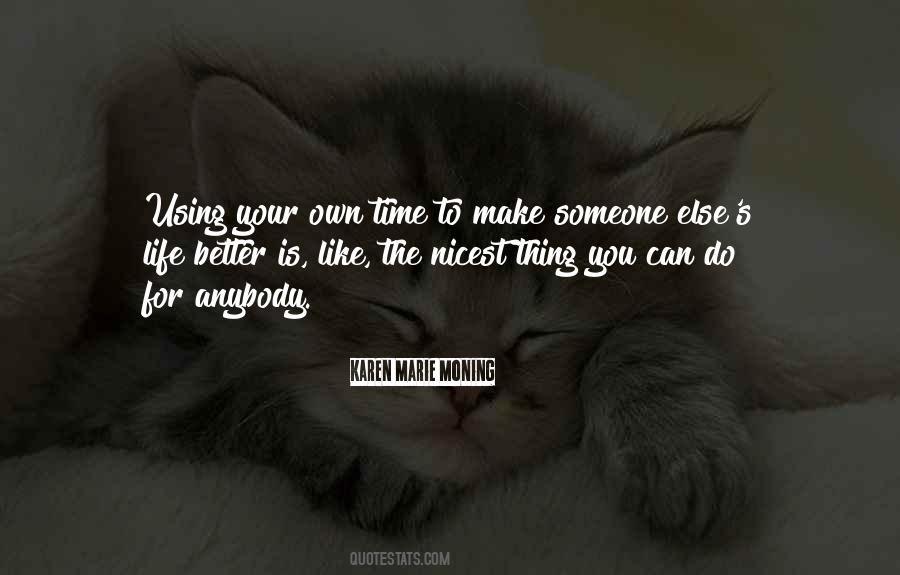 #65. My best advice for finding inner happiness is to reach outside yourself, to use your talents and brains and personality to make life better for someone else. - Author: Nick Vujicic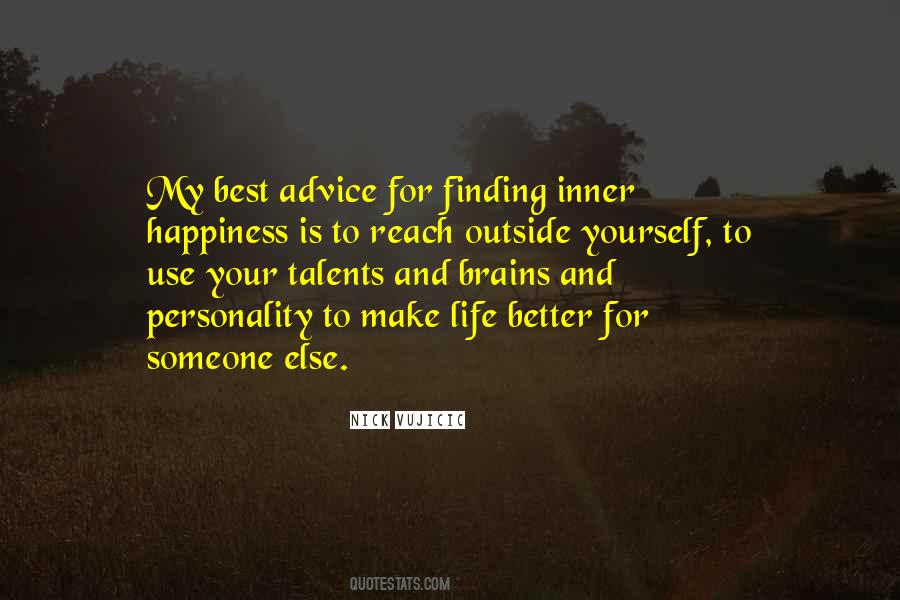 #66. You can't make positive discoveries that make your life better if you never try anything new. - Author: Josh Kaufman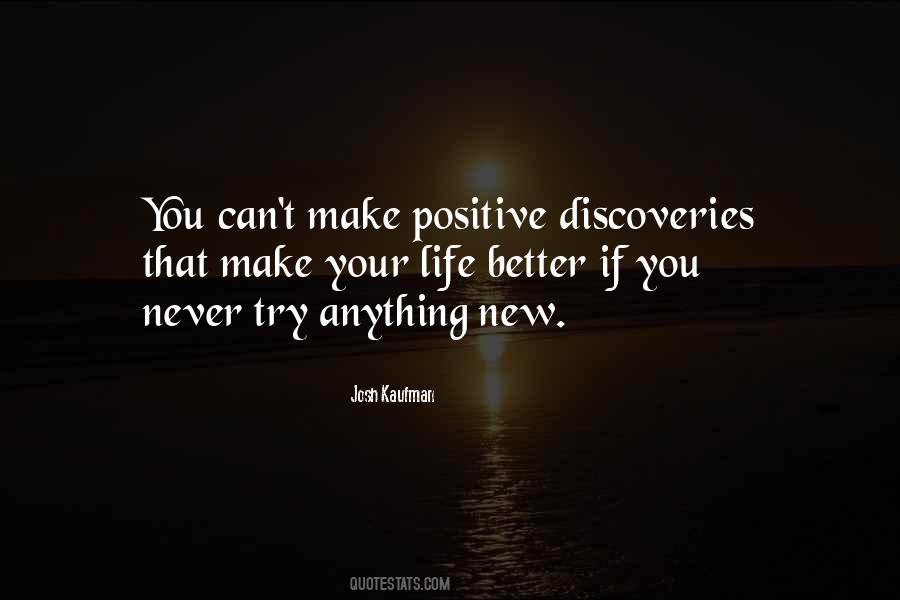 #67. Sometimes jn your life you make a decision and you find yourself questioning it. A lot. You don't regret it, exactly.you know that you probably made the best choice and that you're probably better off for it. But you do spend a lot of time wondering what the hell you were thinking - Author: K.A. Tucker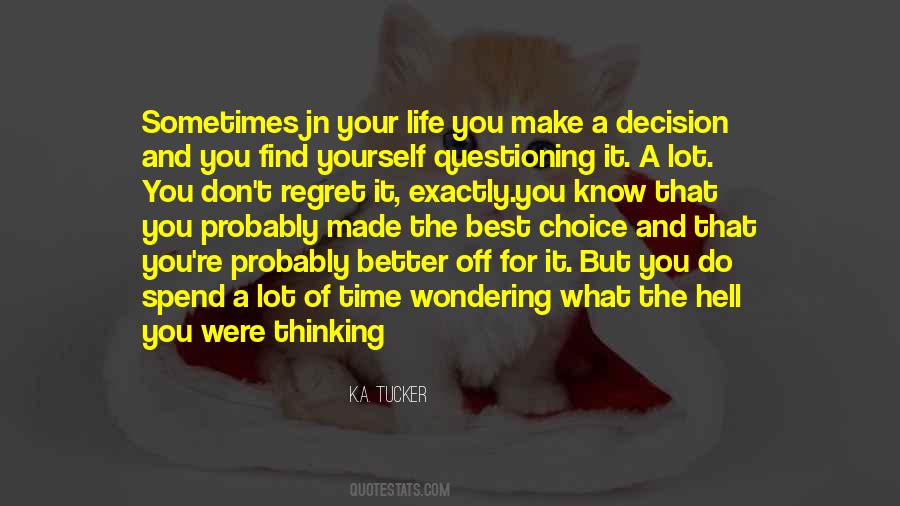 #68. Since no one but you can know what's best for you, government control can't make your life better. - Author: Harry Browne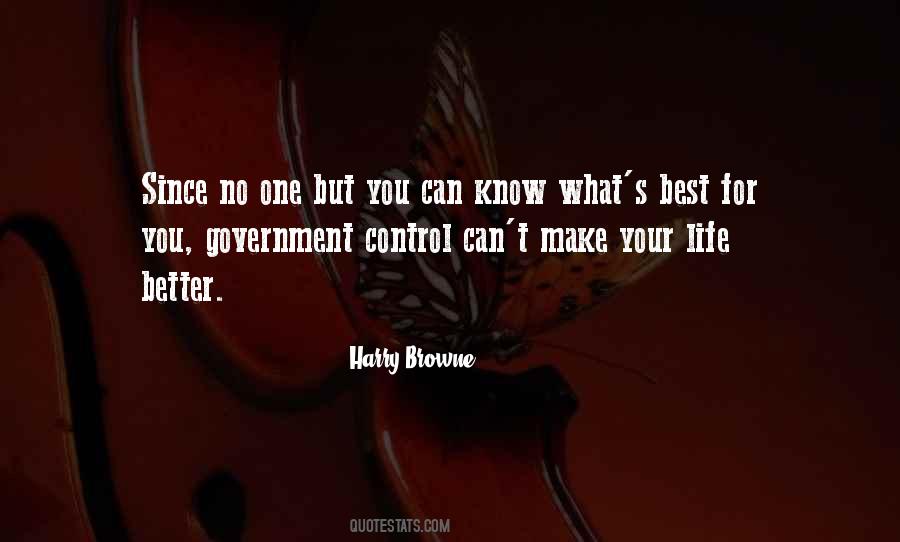 #69. I know your lives are busy. I know that you have much to do. But I make you a promise that if you will go to the house of the Lord, you will be blessed; life will be better for you. - Author: Gordon B. Hinckley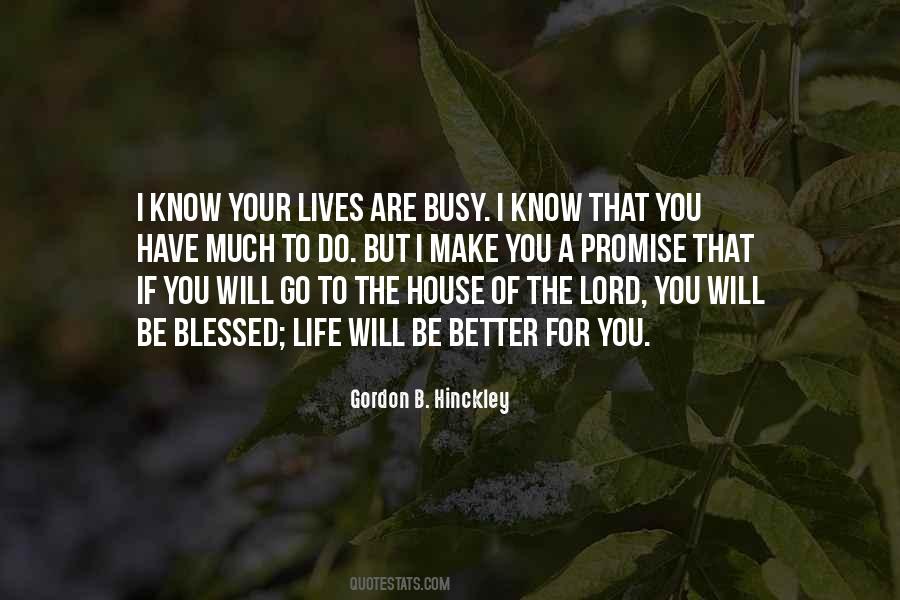 #70. I'm a big believer that your life is basically a sum of all the choices you make. The better your choices, the better opportunity to lead a happy life. - Author: Karen Salmansohn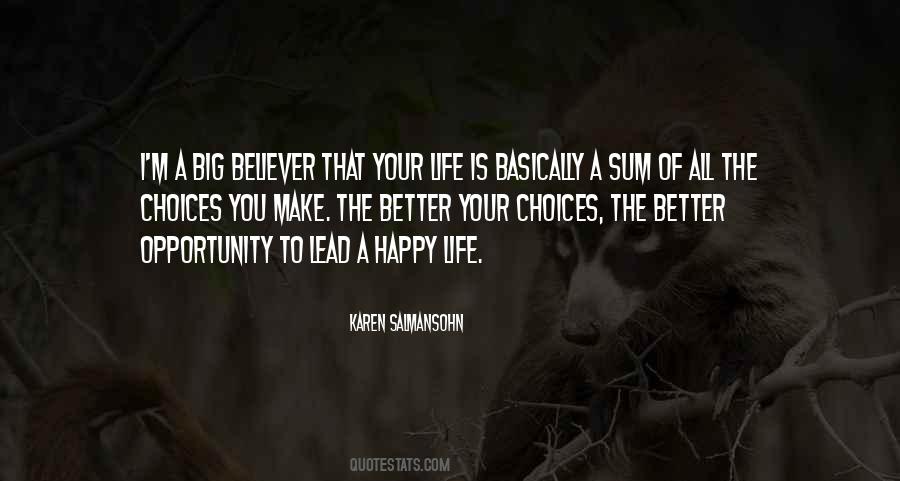 #71. Not fair." Grace put her hand on his shoulder and squeezed lightly. "Learn it, live it, love it. The sooner you make peace with the whole life's not fair thing, the better your life will be. - Author: Katie Graykowski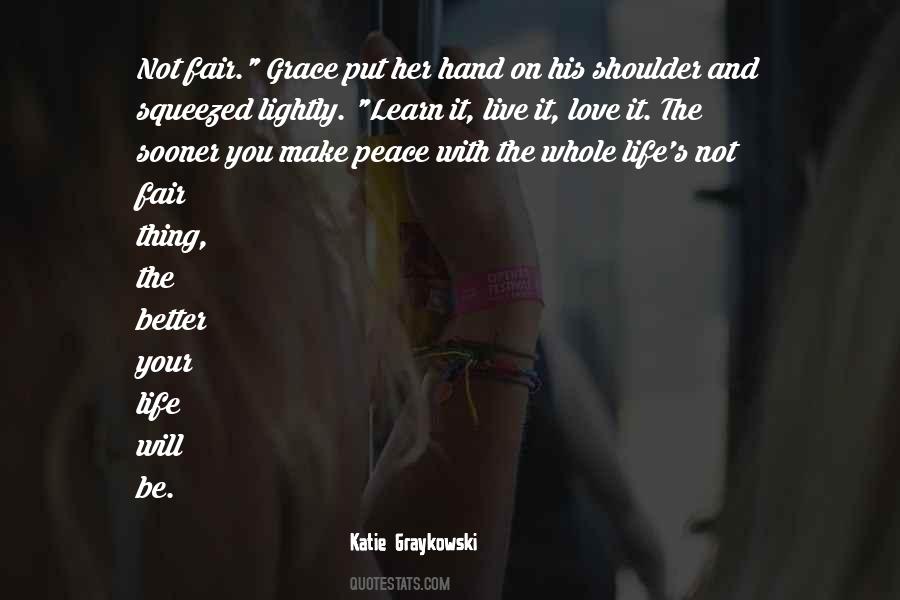 #72. Your life is a series of moments in "now." The better you make your "now" the better your life. - Author: Karen Salmansohn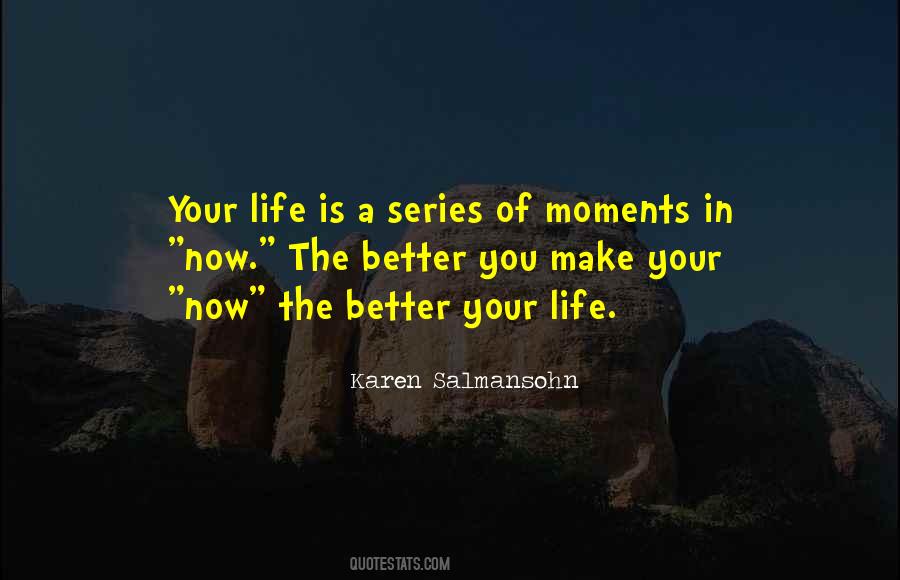 #73. I think that, often, the people who can make you happy are right there, and having them in your life would make your life better, but you can't see how to do it. - Author: Adam Duritz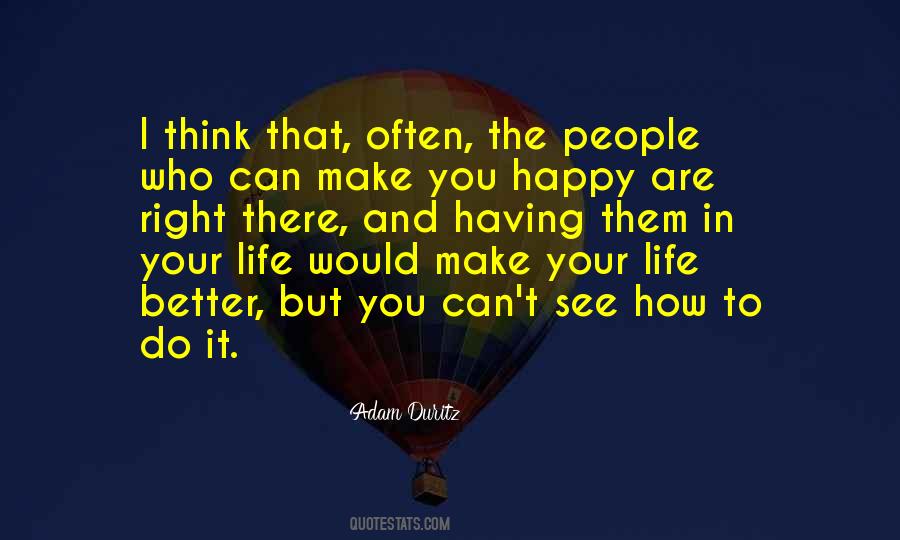 #74. Your parents will die before you do, so you'd better make your own life decisions. Your own choices are always good if you know yourself - especially in art, because whenever you do something new, everyone will be against you. - Author: Yoshitaka Amano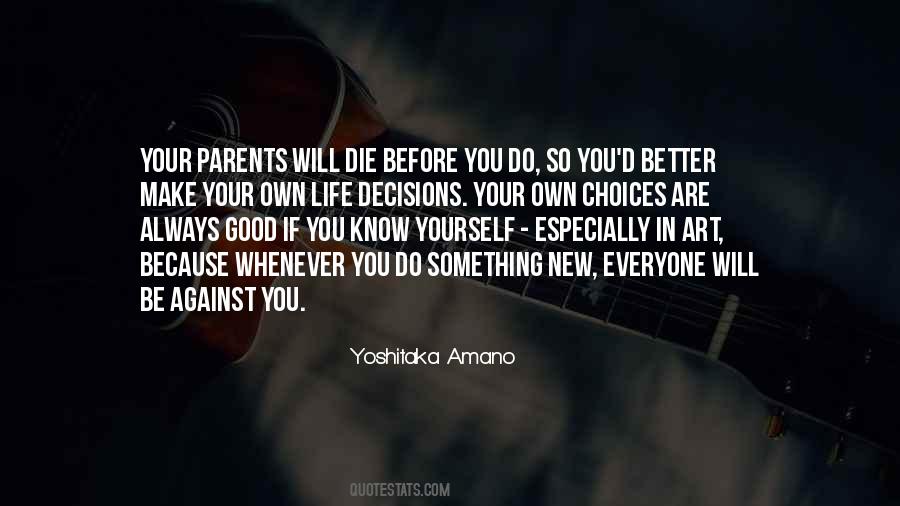 #75. The value of your life is not measured in your success but your failures, your ability to fight, to make a better day for yourself is what you will remember in life's last challenge. - Author: Westley Tusa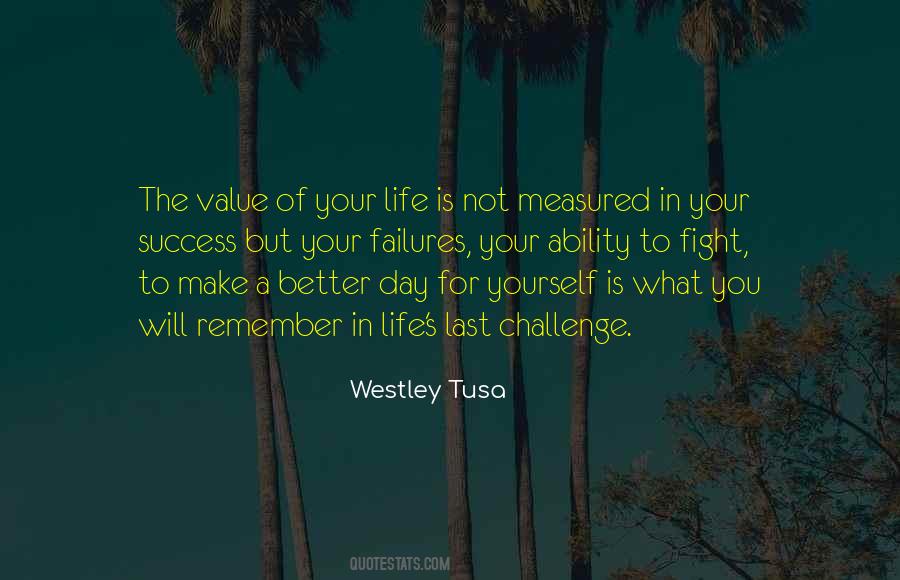 #76. Art should be witty, like a good Eddie Murphy movie, to make your life a little easier and better. - Author: William Quigley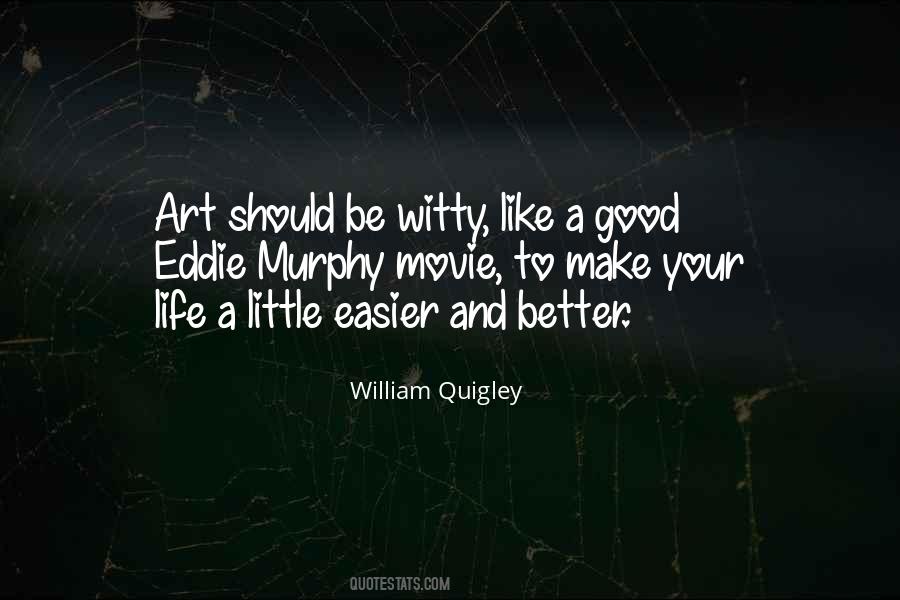 #77. If literature or music can make you think or become aware, then it's done something. That's what we've always wanted to do, just ignite sparks in people's minds. We can't offer a manifesto of how to make your life better. - Author: Nicky Wire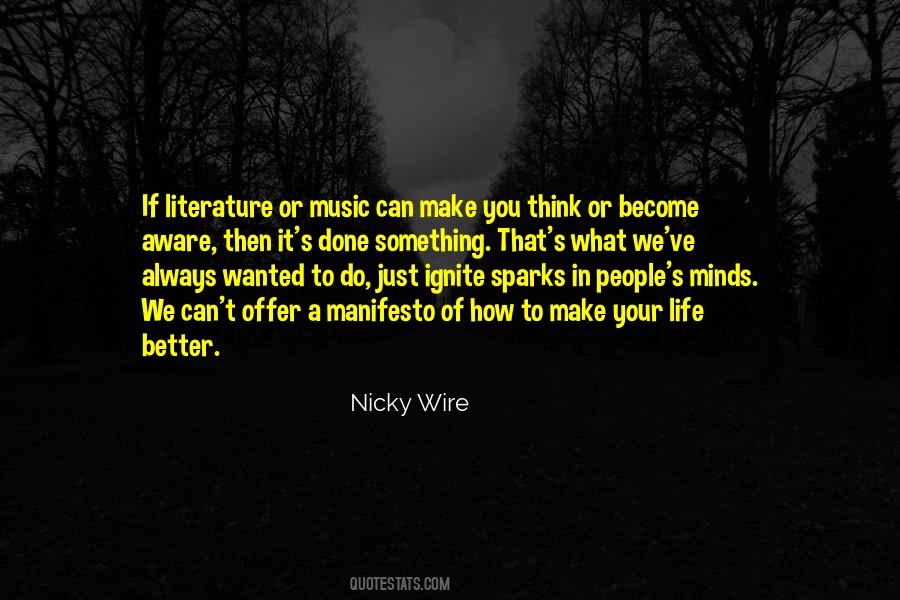 #78. There's no finish line. That's a big pill for people to swallow, Every single day for the rest of your life, you are going to have to make better food choices, and move around a bit more. - Author: Bob Harper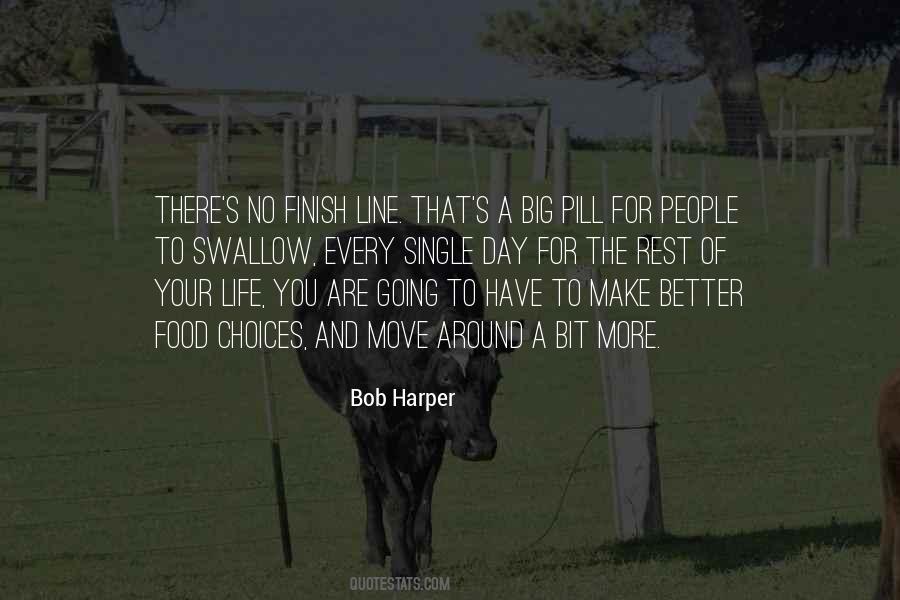 #79. There is always something good and unique in the life of every woman so put those talents and wisdom to good use today, by so doing you will make your world a better place than you met it. - Author: Jaachynma N.E. Agu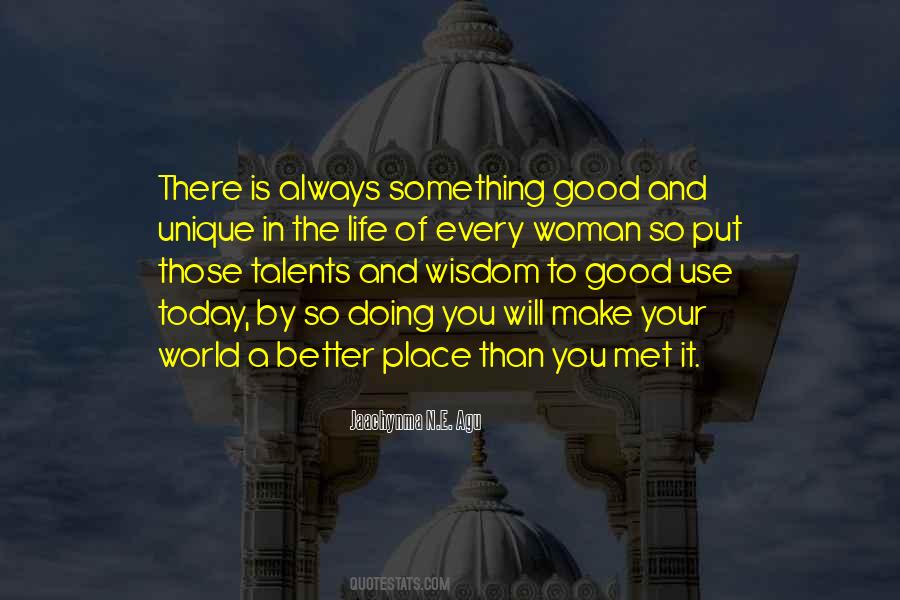 #80. If you don't make a choice, life makes it for you and then you're stuck with what it decides. Take control of your destiny so that doesn't happen - Author: Stewart Stafford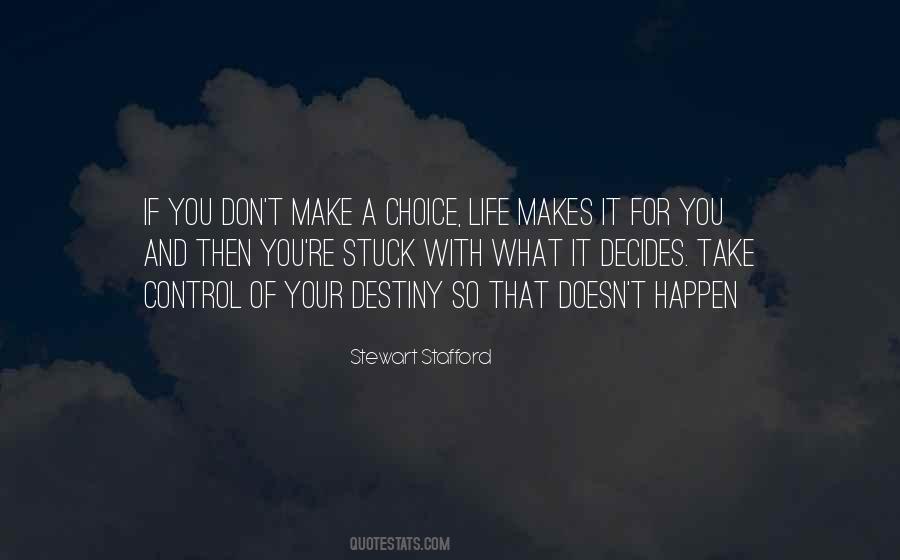 #81. ...life is like an essay. Each day is a new draft- identify the strengths and build on them; identify the weaknesses and make them strengths. Then your life will get better and better. - Author: Arthur Costa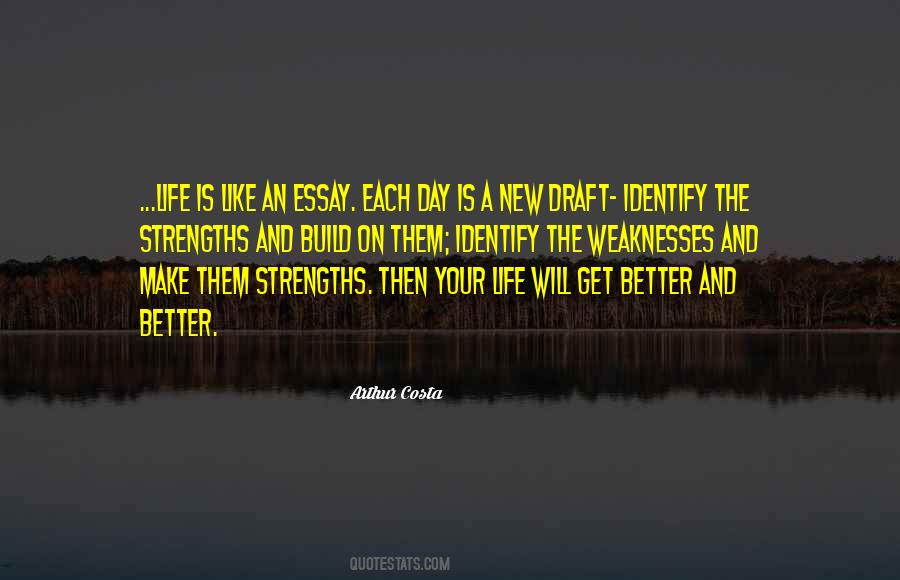 #82. Sometimes instead of creating a scene it's better to quietly slip out of the scene, practically unseen. It saves a lot of drama, unless of course you're into more drama in your life, in which case, go ahead and make a scene, see what happens. - Author: Art Hochberg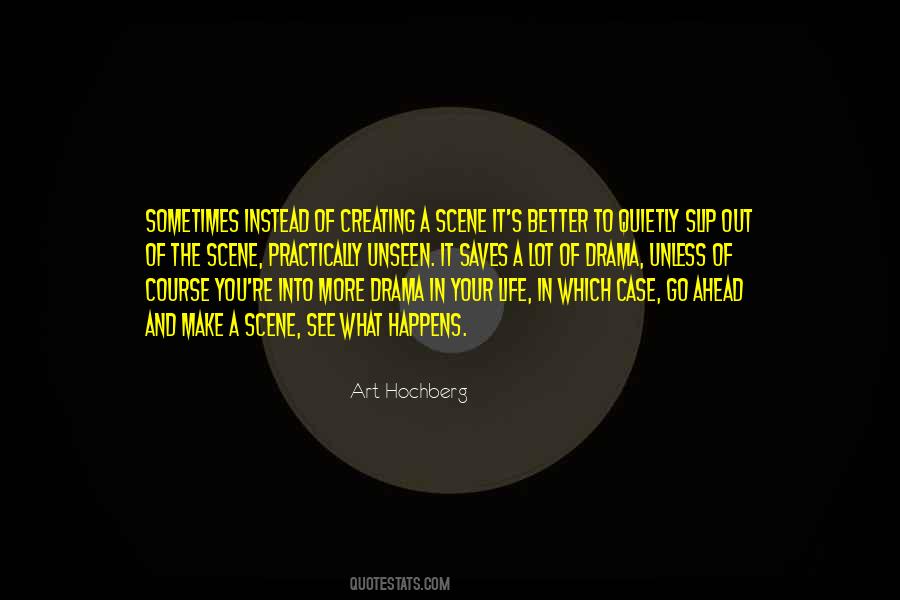 #83. I would say if you are having a tough time in your life, then going to a club and getting laughs, it does make you feel better for that hour and a half show. It gets your mind off of it. - Author: Jon Lovitz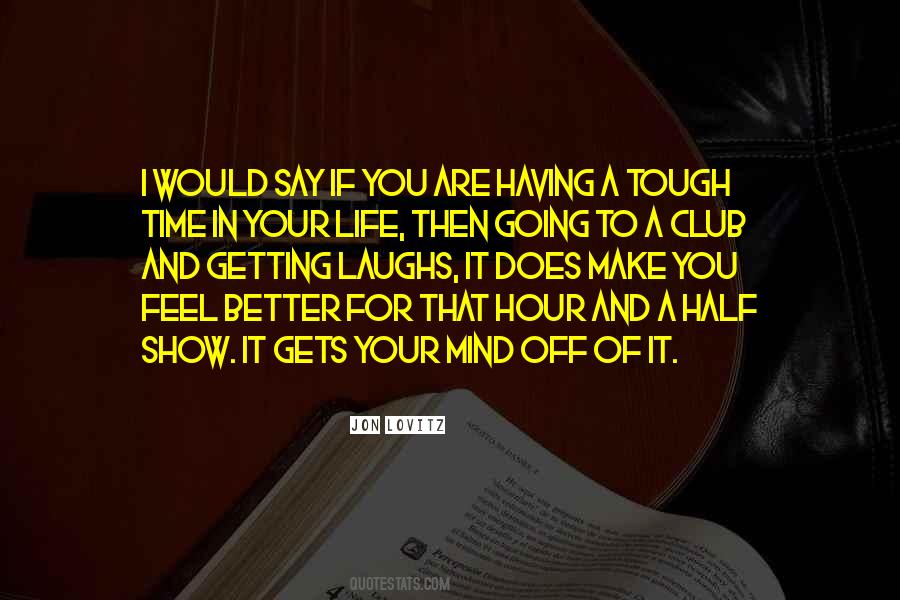 #84. I want to make someone's life better because I'm here. If you have that attitude it will change your day and change your life. - Author: Tim Tebow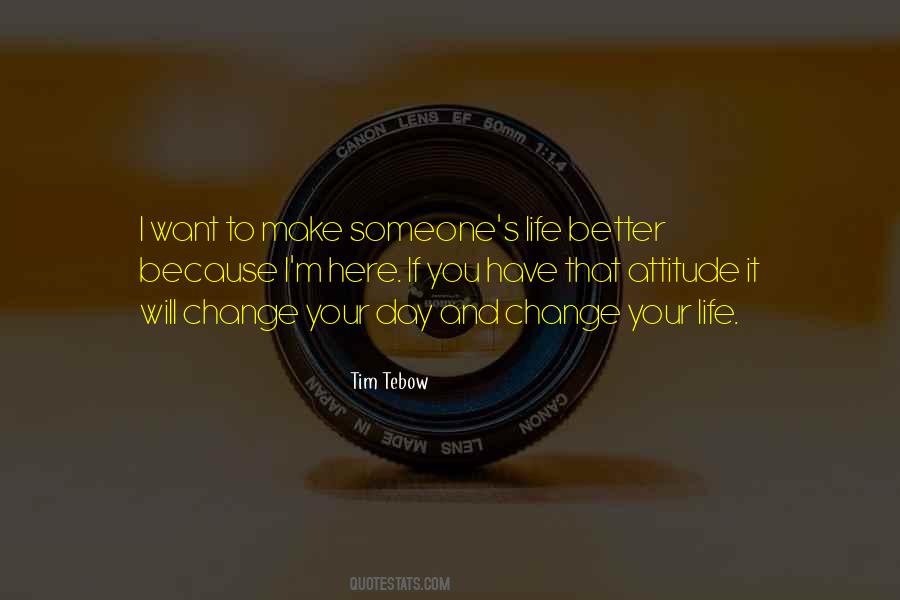 #85. Life's journey is but a series of steps. It only takes one step in a different direction to change that from good to bad, or from good to even better. Make sure your next step takes you in the right directions. - Author: Jean Williams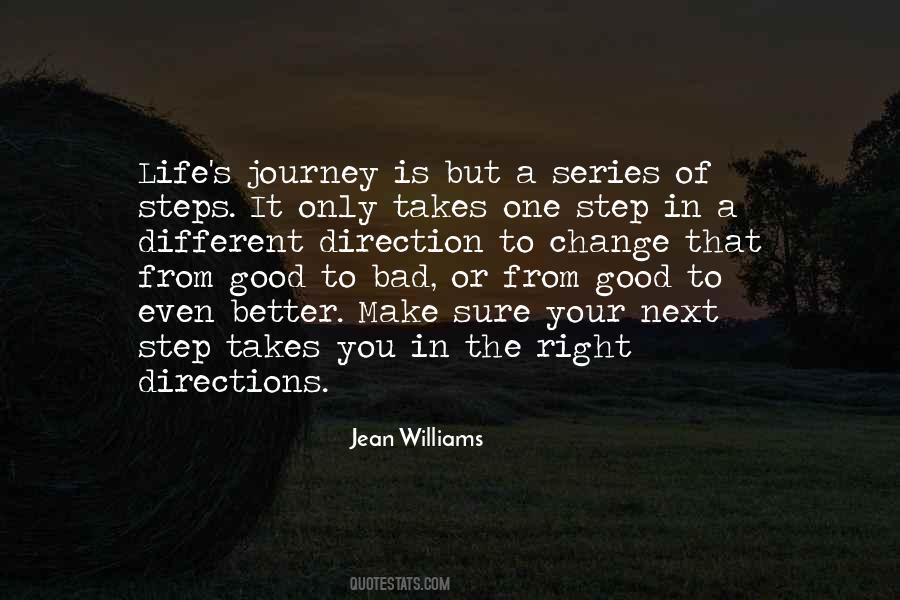 #86. Five is for five heartbeats, the length of time it takes to breathe in or out. For that is how quickly a life may change, for better or for ill. The time it takes to make up, or change, your mind. - Author: Cameron Dokey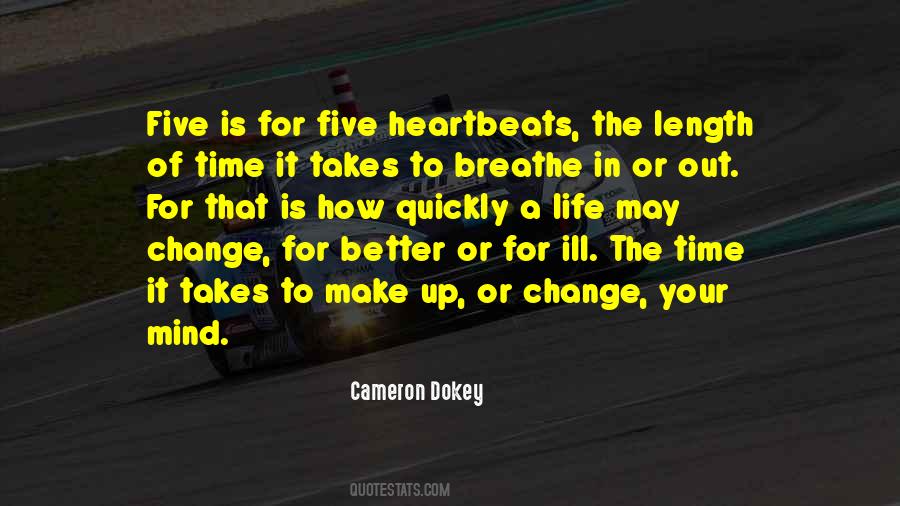 #87. Welcome any change that comes into any phase in your life; insist that it is going to turn out for the better - and it will. See the Angel of God in it, and the Angel of God will make all things new. - Author: Emmet Fox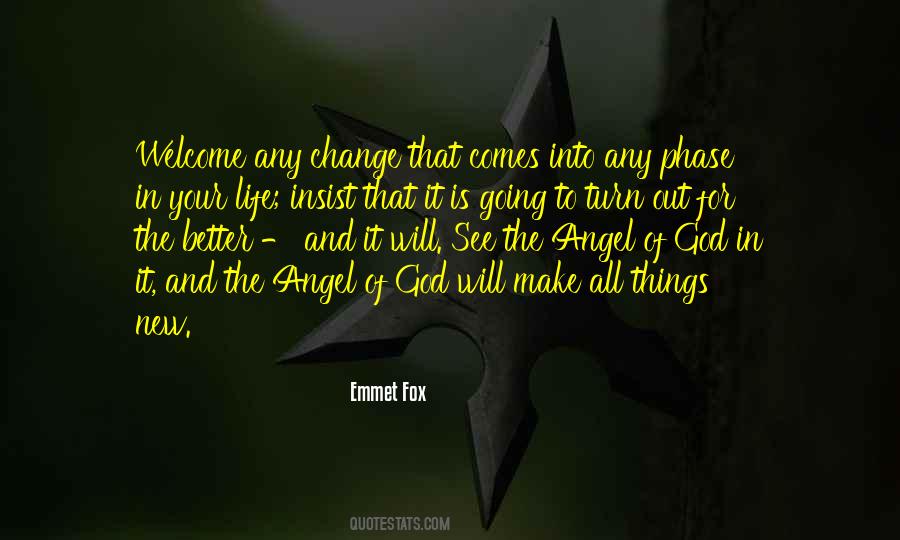 #88. Make a better life for yourself and decide today that you will only accept perceptions that are authentic to you and which support your positive growth. - Author: Donnalynn Civello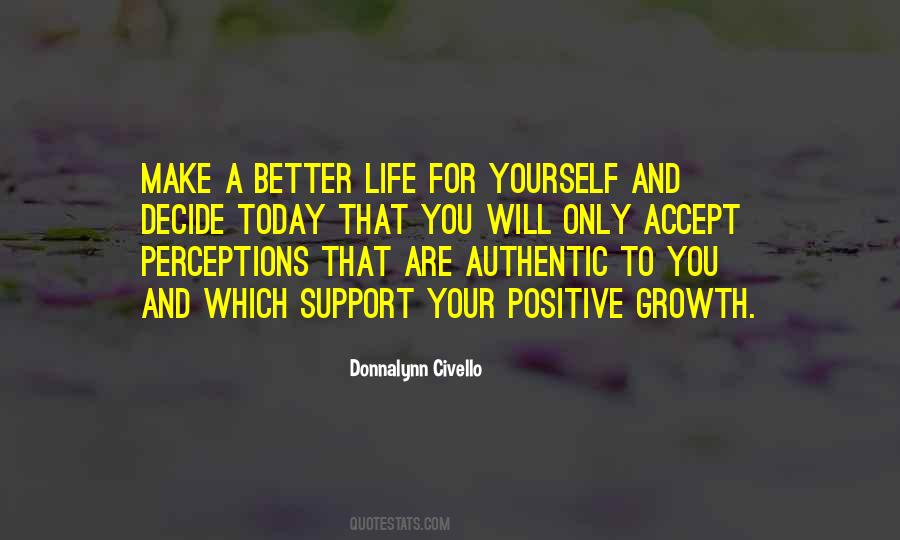 #89. Politics, poverty, riches, etc - these are but backdrops for the grand cinema, the opera: the glory of your life. Sure, change the backdrops, make them better, but it is this inside-ness that matters most. Nothing else, at the last breath, matters, but your very own poetry. The glory of living. - Author: Alex Ebert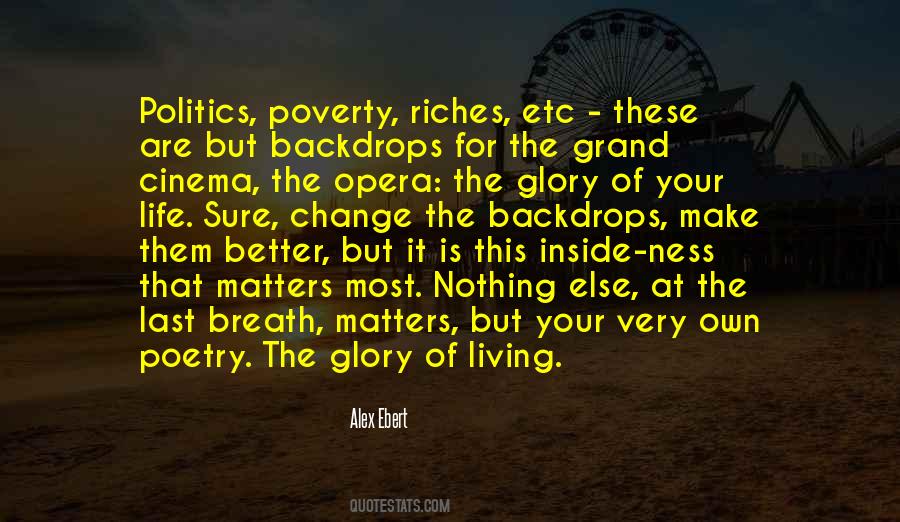 #90. Tell your kids they are perfect the way they are, but they shouldn't stay where they are forever because growing, testing the limits, and evolving make life better and more fulfilling. - Author: Daphne Oz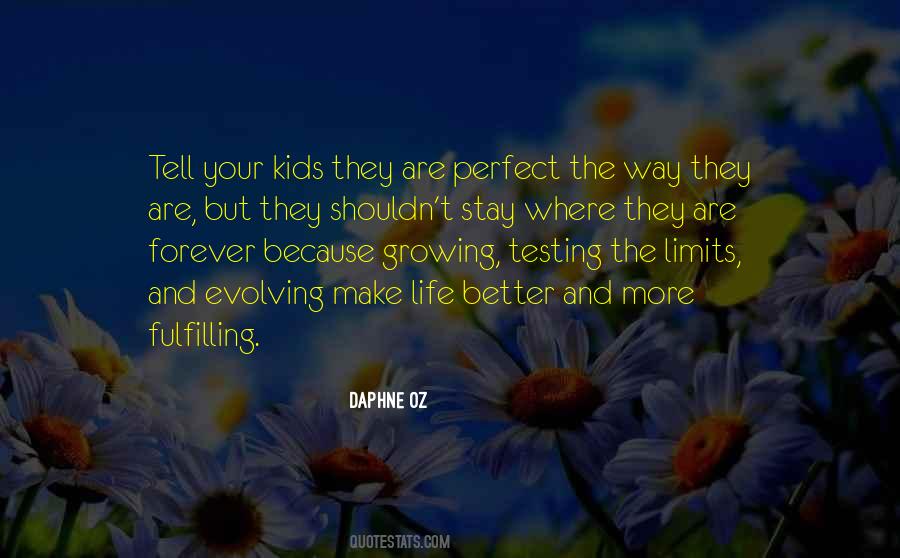 #91. You have to be able to say, OK, that happened back then. Now let's take it from here and see what happens. It would be very easy to hate people for the rest of your life, and some people have done that. You've got to deal with what's happening now and try to make things better. - Author: Michael Jordan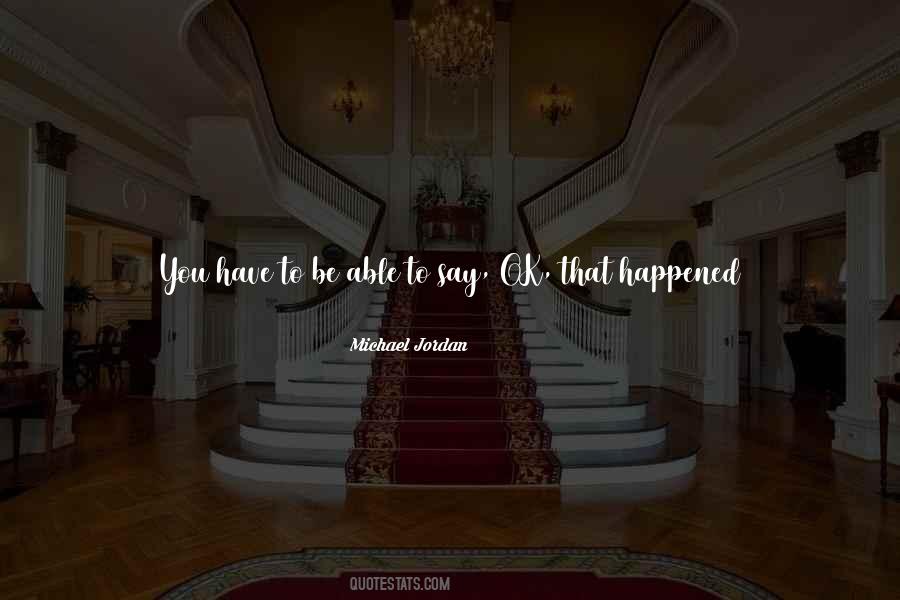 #92. Don't let this[football] be the best thing that ever happens in your life. Maybe it'll be the best sports event, but don't let it be the best thing. Make sure you're a better father than this today. Make sure you're a better husband than this today. Because this goes away ... It's a game. - Author: Mack Brown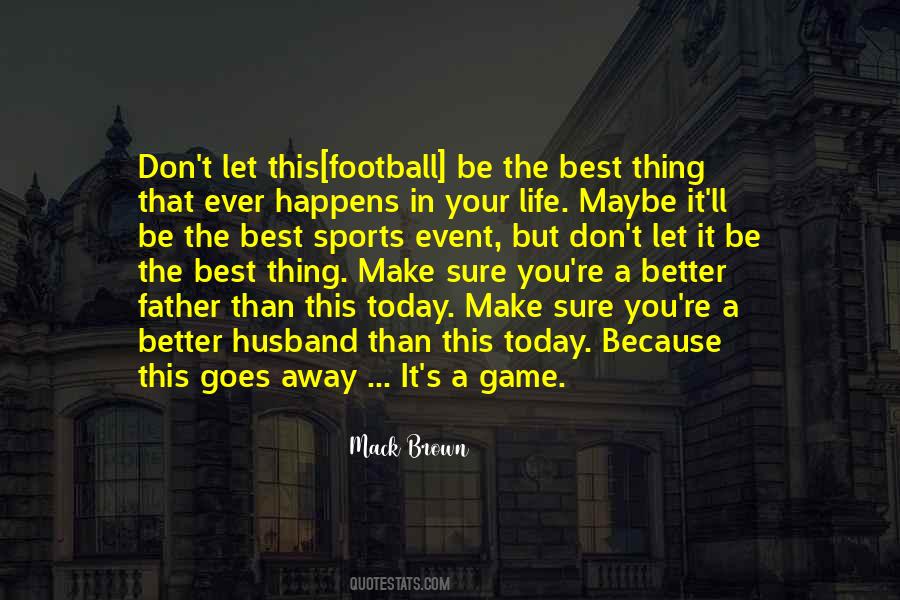 #93. This ring means that I choose to spend the rest of my life with you. I promise to love you in the nurturing and selfless way that you love me. I've changed so much since I've known you. Your love has given me the strength to be softer. You've taught me kindness and compassion. You make me better. - Author: Portia De Rossi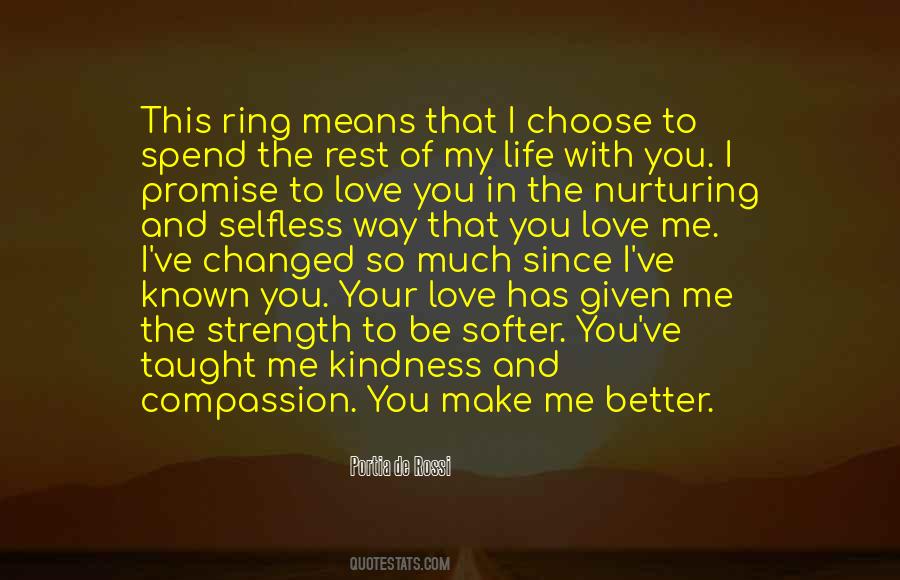 #94. Sure all life's highways at some point must end,
so I plan to ride it in style and plummet in a swan dive
when the pavement runs out ...
And hopefully leave behind artistically
that which may make other roads
an even better ride ... - Author: Tom Althouse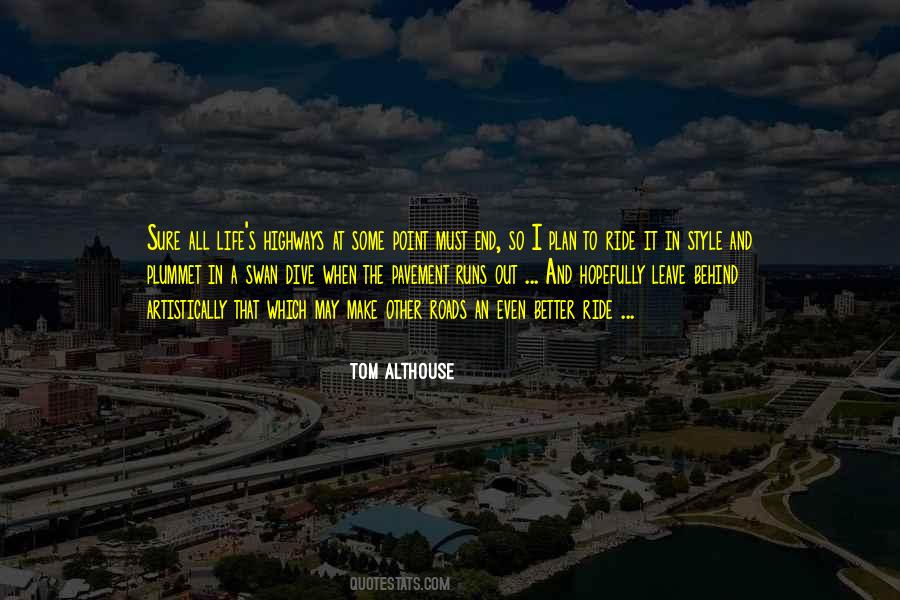 #95. Be appreciative of what's right with your life. In your gratitude is power to make it even better - Author: Ralph Marston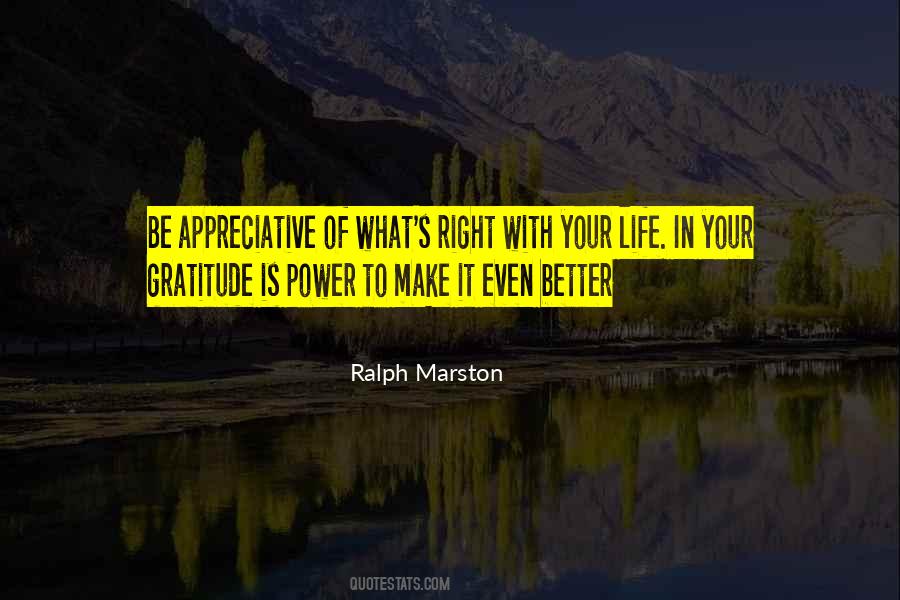 #96. Some people exist in your life to make it better. Some people exist to make it worse. - Author: Nicola Yoon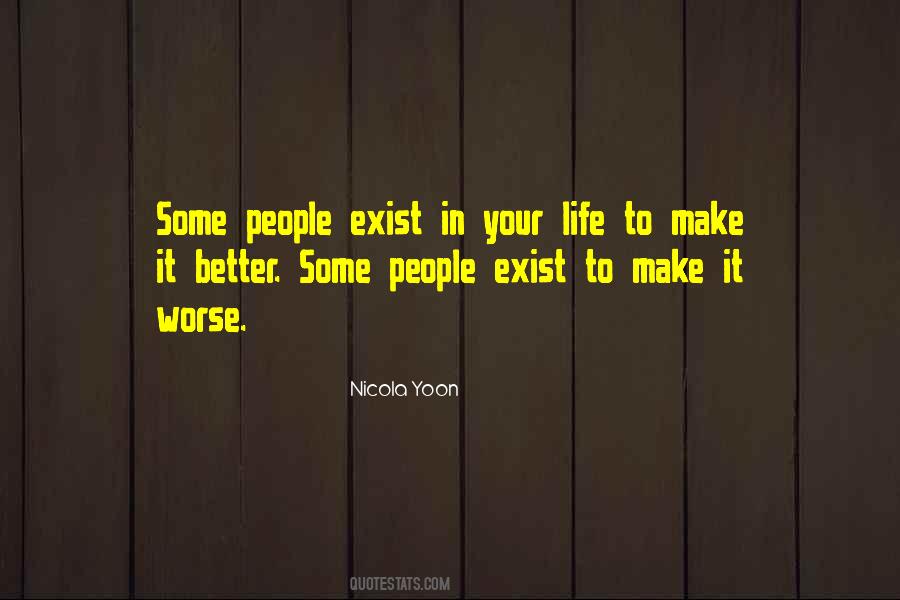 #97. Your past does not have to dictate your future. You have the God-given power to make your life better and to heal from divorce. - Author: Renee Smith Ettline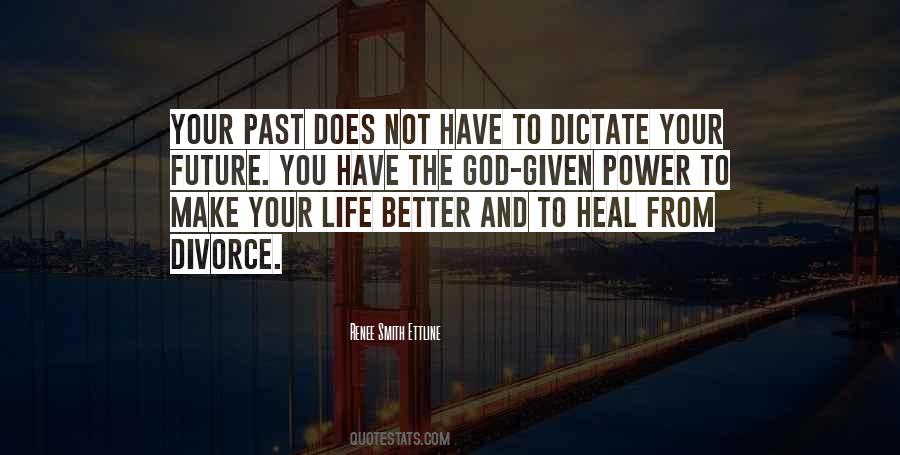 #98. Just saying you are better than good won't make it so. But, when you understand what it takes to live the better than good life, and you apply yourself, your life will truly be better than good. - Author: Zig Ziglar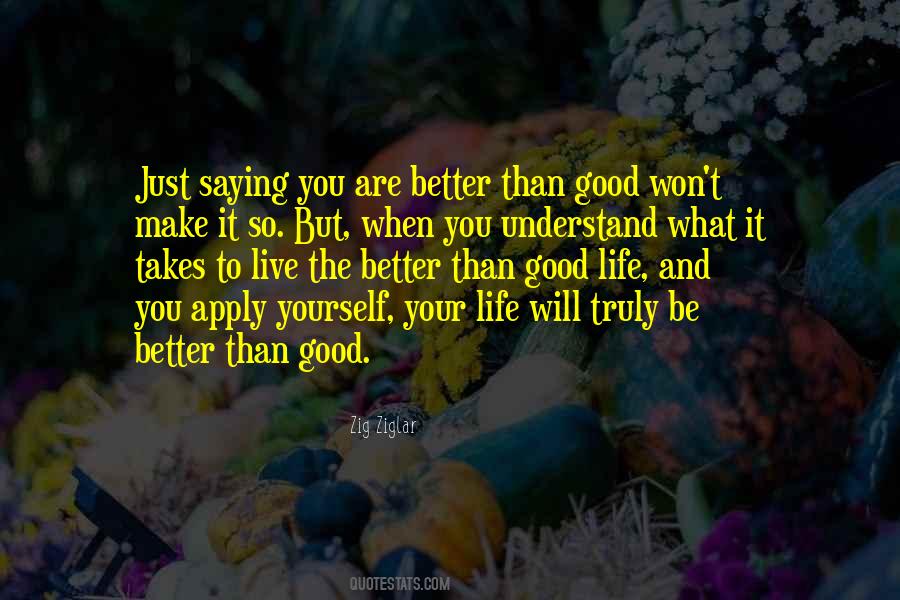 #99. Simplifying your life is meant to make things better, not worse. It's about choices - about saying no to the things in your life that aren't the best so that you are free and available to say yes to those things you truly want. - Author: Tsh Oxenreider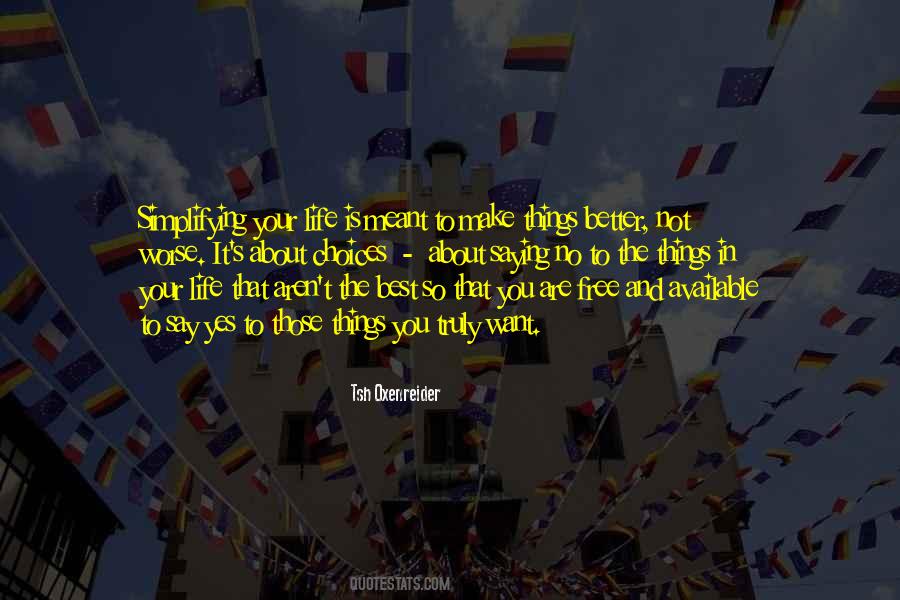 #100. No one else can make you happy, and putting that expectation on the other will doom both of you. You don't look at someone and say, "You can make my life better." You look at someone and say, " I can make your life better." Be a blessing, not a burden. - Author: Penelope Douglas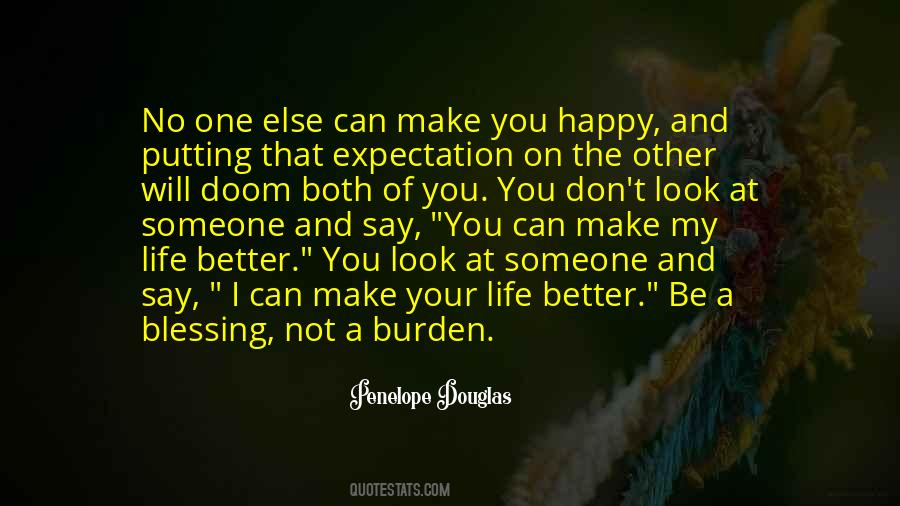 Famous Authors
Popular Topics