Made My Mind Up Famous Quotes & Sayings
List of top 100 famous quotes and sayings about made my mind up to read and share with friends on your Facebook, Twitter, blogs.
Top 100 Made My Mind Up Quotes
#1. I made up my mind that I was going to be just like Elvis. It never occurred to me that Elvis was a man. I just wanted to be him. He had a huge impact on me, right down to that black leather jumpsuit he wore on the '68 Comeback Special. - Author: Suzi Quatro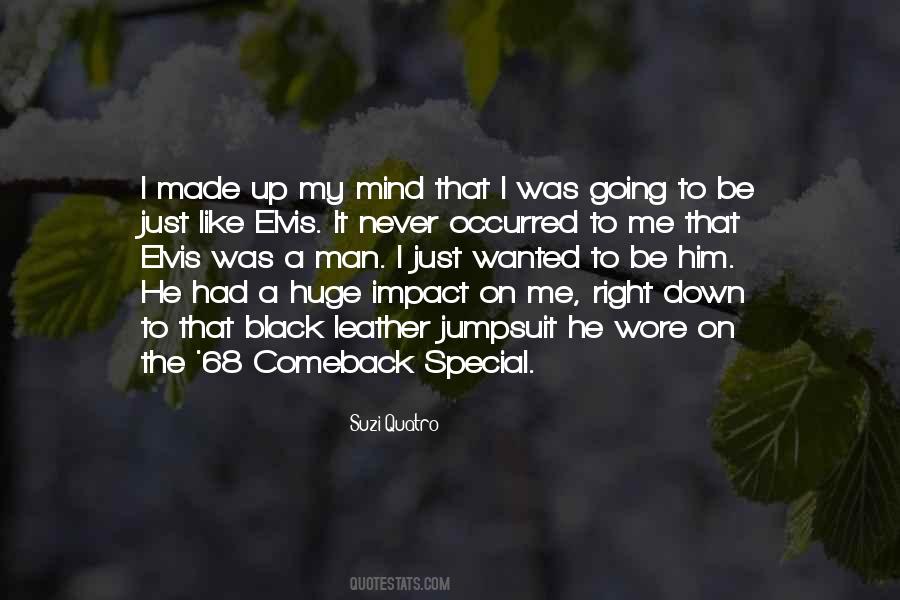 #2. I've talked to Bruce about it. He'll have kittens, and Hiro will have penguins, and August will completely throw a fit, but I've made up my mind. It's up to you - Author: Lili St. Crow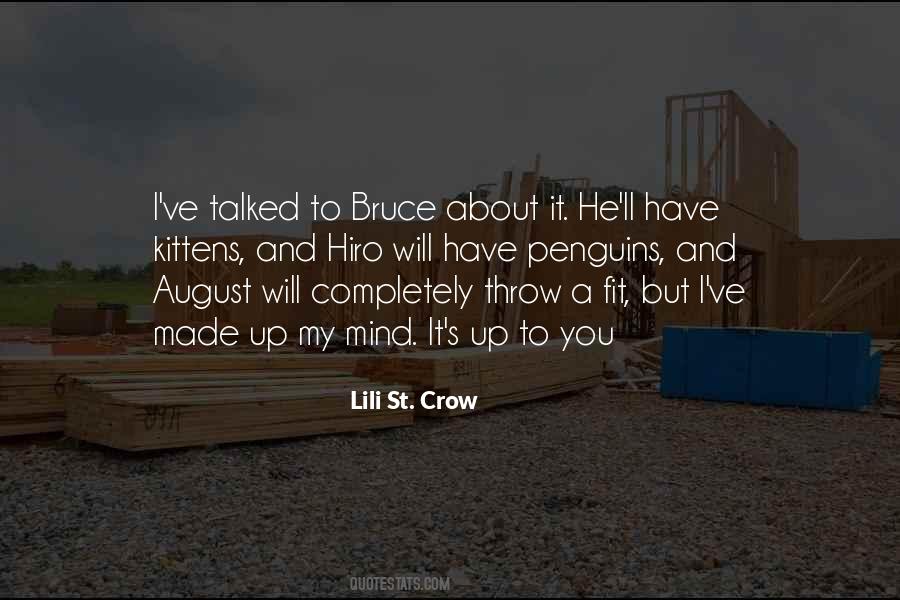 #3. Loving you has opened up my soul and made my mind rejoice. - Author: Chrissy Moon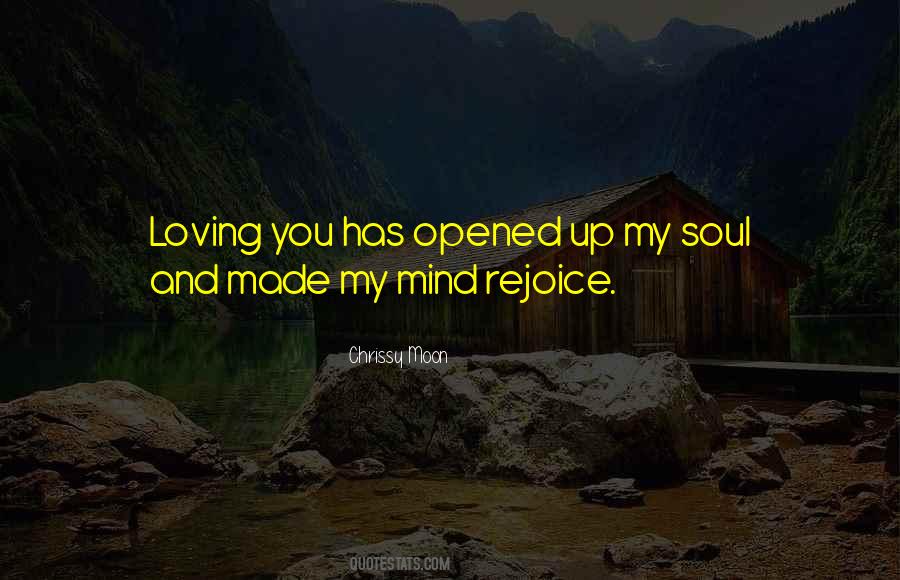 #4. What I didn't say was that each time I picked up a German dictionary or a German book, the very sight of those dense, black, barbed-wire letters made my mind shut like a clam. - Author: Sylvia Plath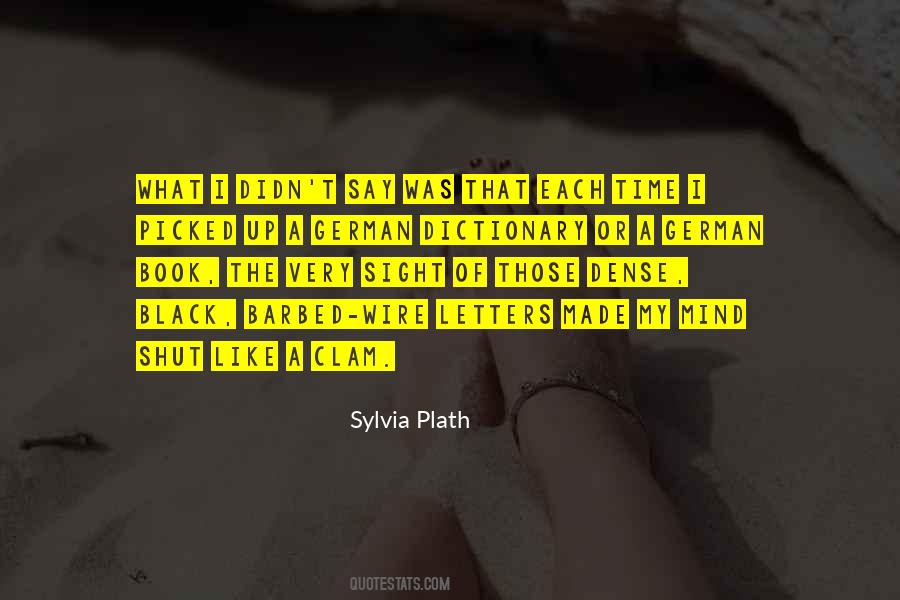 #5. All I knew about shot putting was that my brother could do 44 feet ... I decided I wanted to beat him ... So I got a shot and went to work and made up my mind to do 45 feet. - Author: Bruce Bennett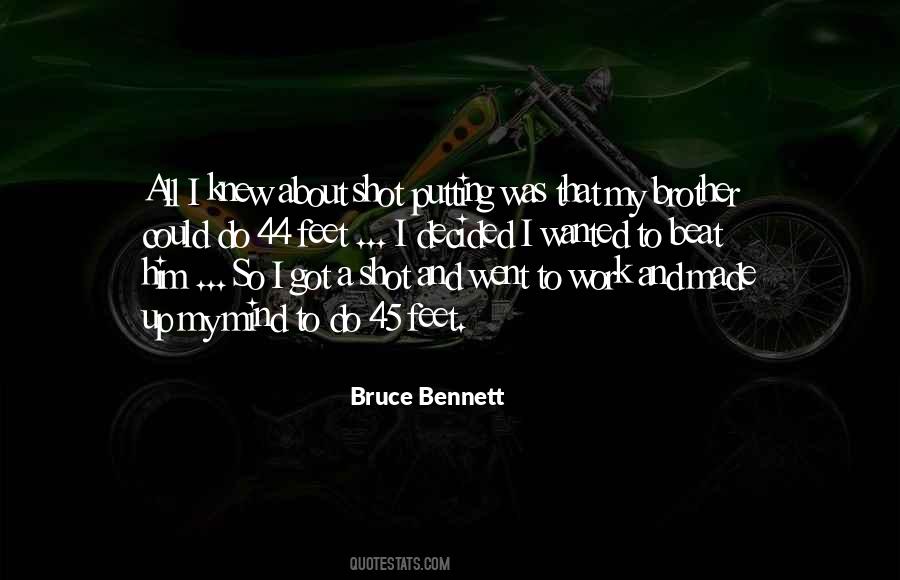 #6. All those small glimmers...connecting, collecting...have turned into an undeniable possibility...casting a light that cuts through the darkness of despair - ! So I...made up my mind. I'll never stop reaching for that light!!! - Author: Jun Mochizuki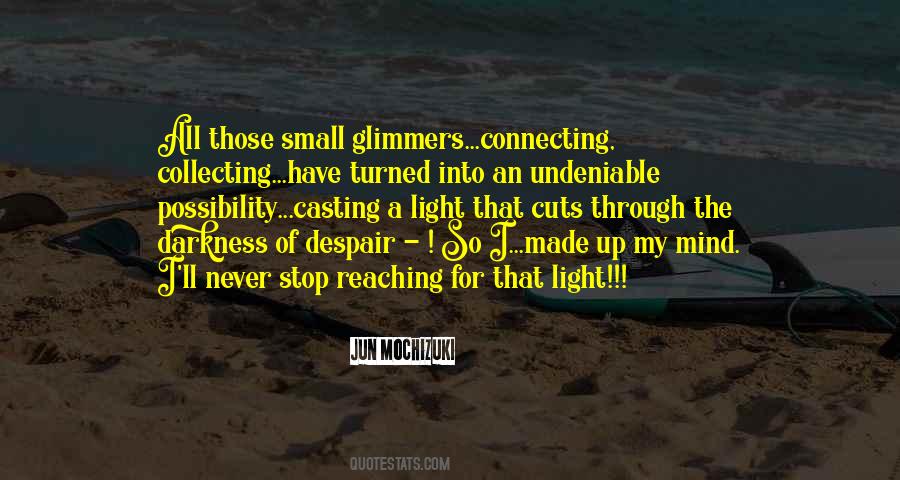 #7. I don't condemn and I don't convert. I've been searching through books and bibles to find what this life is worth, and I've made up my mind: Love is my religion. You can take it or leave it, and you don't have to believe it. Love is my religion - Author: Ziggy Marley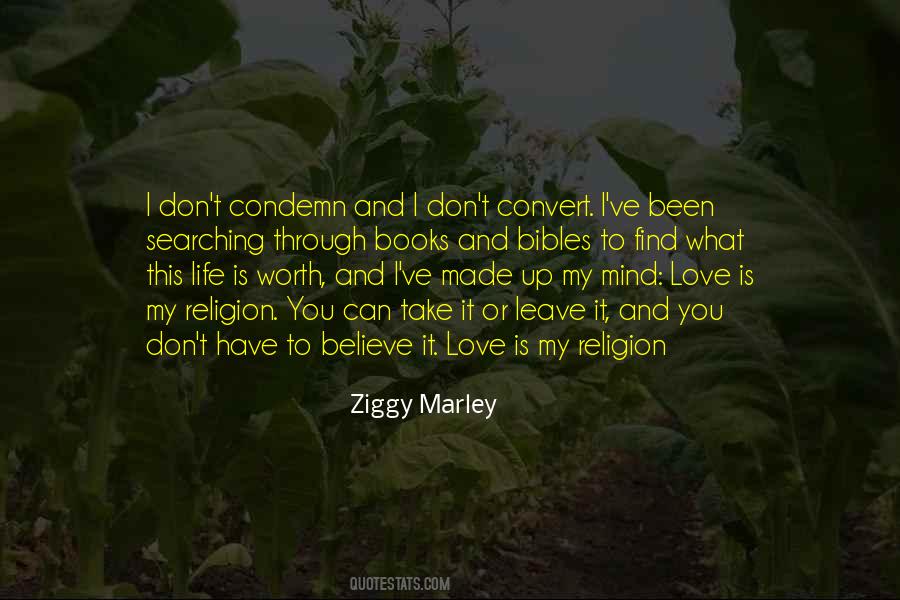 #8. I'm happier. I guess I made up my mind to be that way. - Author: Ralph Waldo Emerson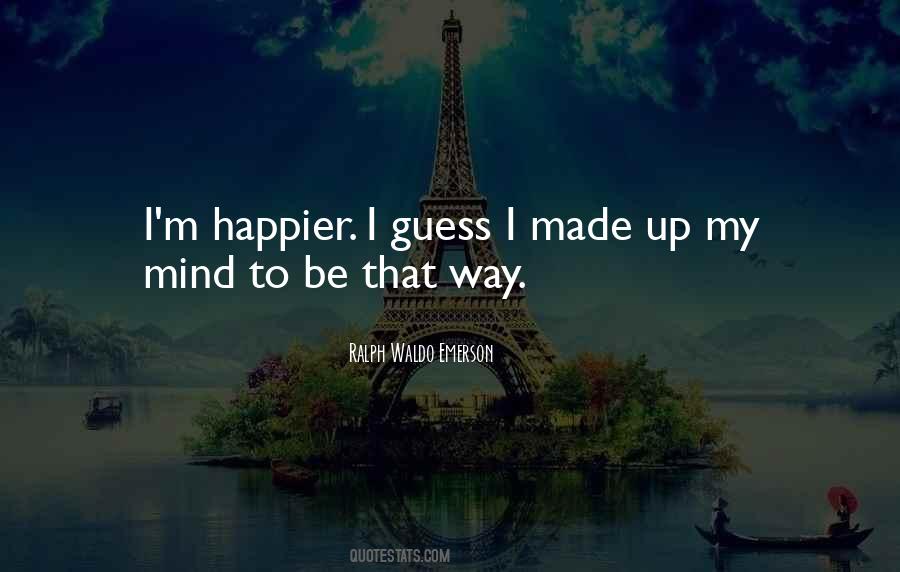 #9. I didn't have a teen age at all. I didn't even look at boys, never mind ... then suddenly it was like, 'Oh my god!' So I made up for a lot of lost time very quickly. It was kind of bonkers. Working hard, partying hard - but also experiencing life, you know. - Author: Anne-Marie Duff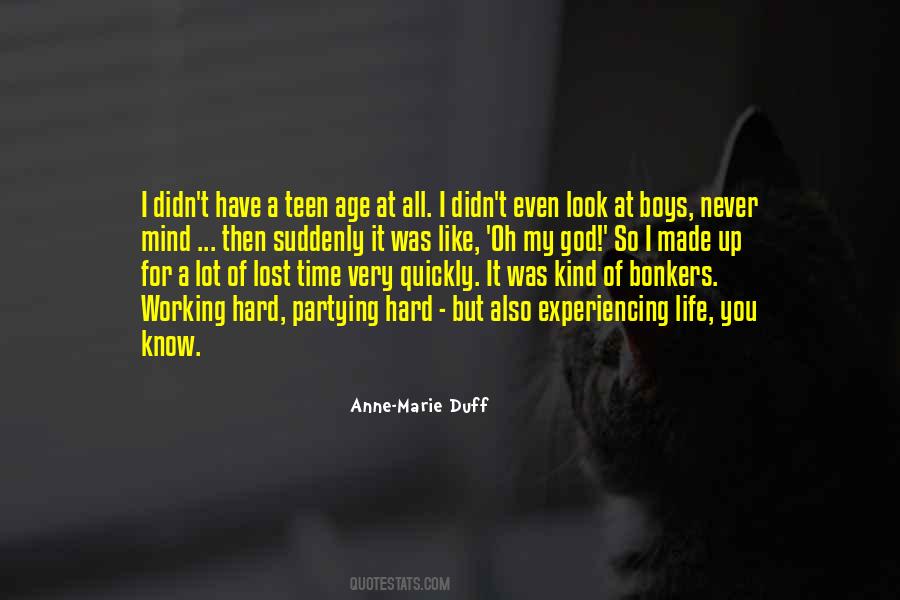 #10. I have at last, after several months' experience, made up my mind that [New York] is a splendid desert
a domed and steepled solitude, where the stranger is lonely in the midst of a million of his race. - Author: Mark Twain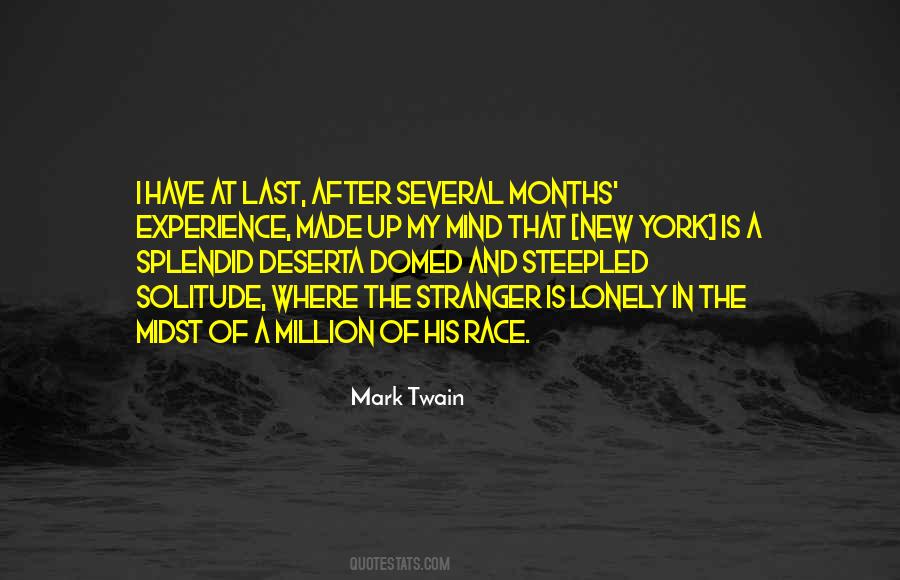 #11. Nothing he said could change what I think of you. I've had my mind made up about you for a long time ... and it's all good. - Author: Richelle Mead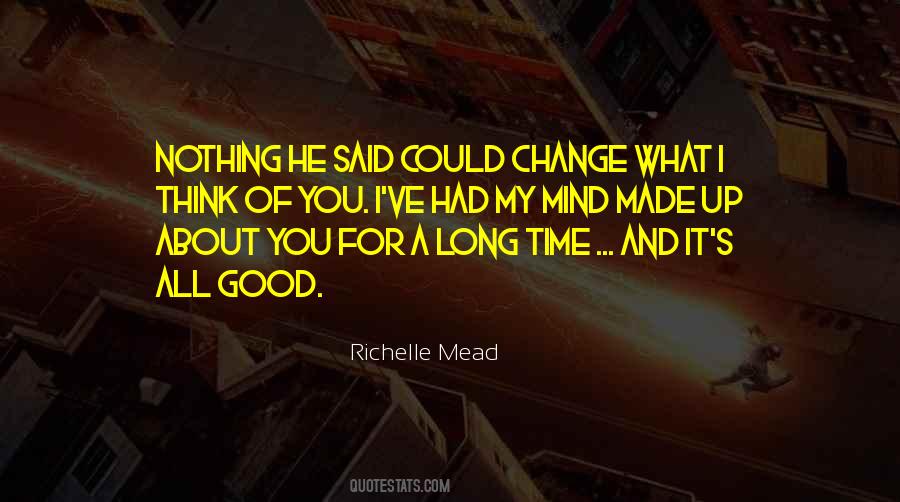 #12. I made up my mind, but I made it up both ways. - Author: Casey Stengel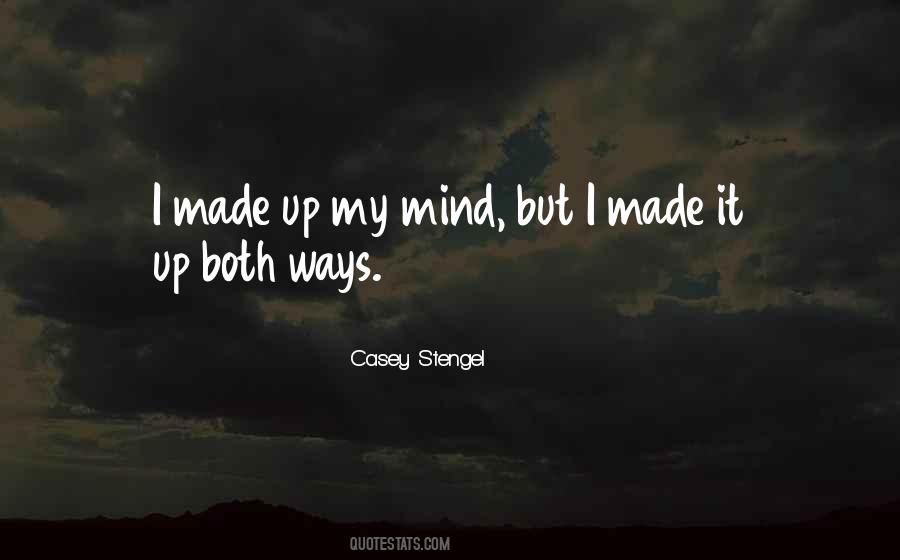 #13. I made up my mind that nothing,, nothing was going to stop me Not even me. - Author: Jonathan Safran Foer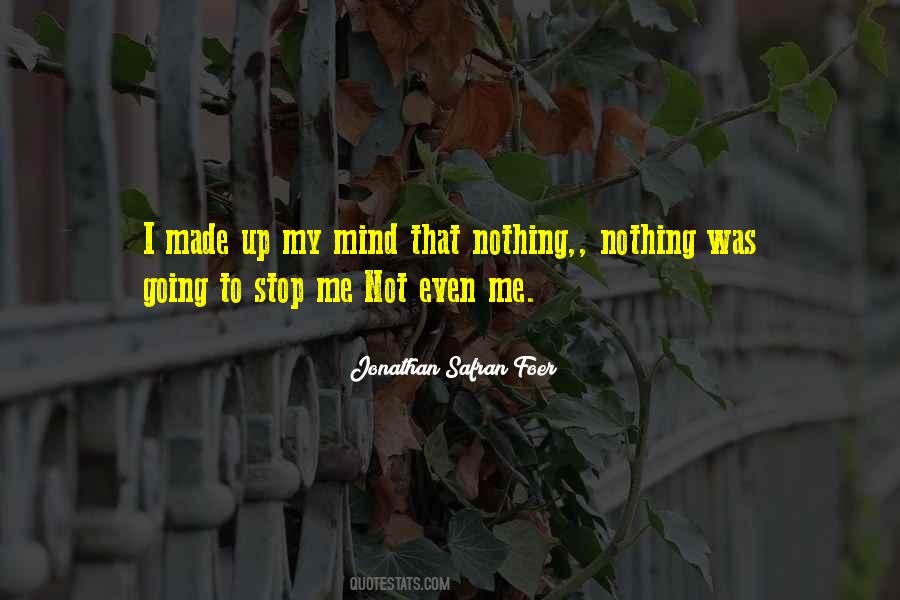 #14. I think once I made up my mind that I was allergic to alcohol, and that's what I learned, it made sense to me. And I think it was kind of pointed out that you know if you were allergic to strawberries, you wouldn't eat strawberries. And that made sense to me. - Author: Betty Ford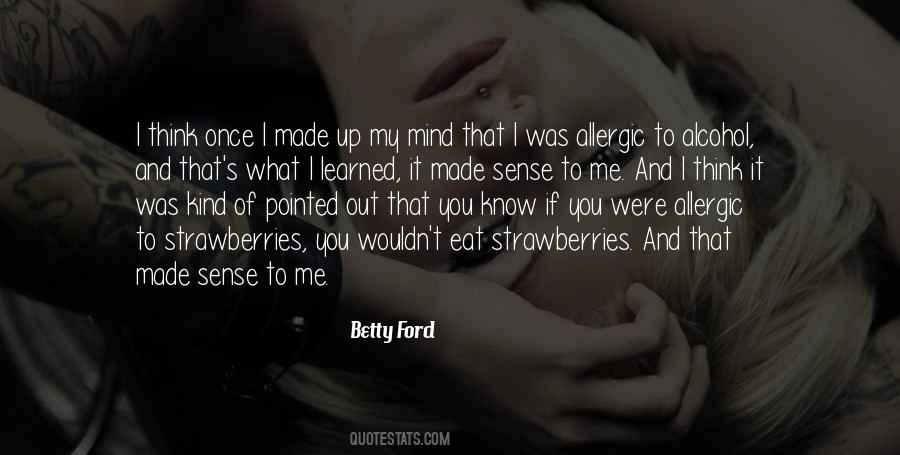 #15. I made up my mind long ago that life was too short to do anything for myself that I could pay others to do for me. - Author: W. Somerset Maugham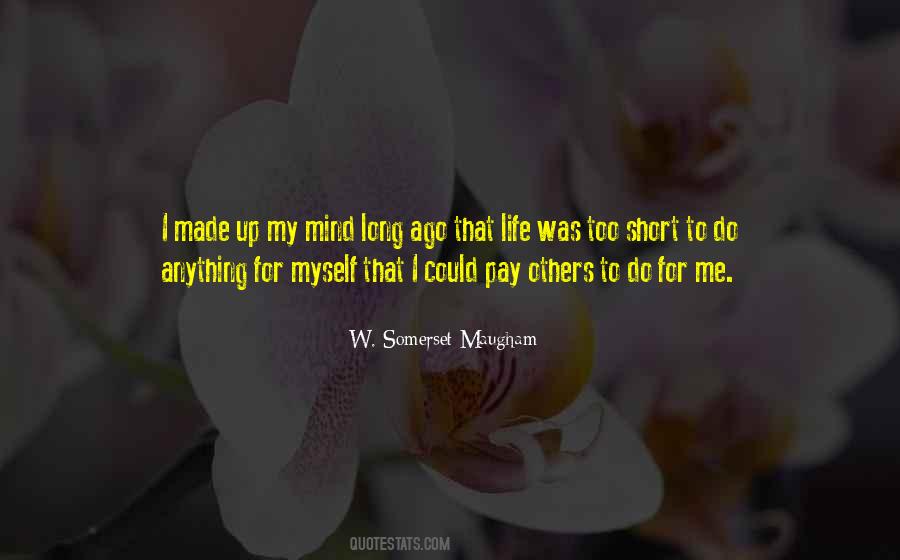 #16. The hate and scorn showered on us Negro officers by our fellow Americans convinced me that there was no sense in my dying for a world ruled by them. I made up my mind that if I got through this war I would study law and use my time fighting for men who could not strike back. - Author: Charles Hamilton Houston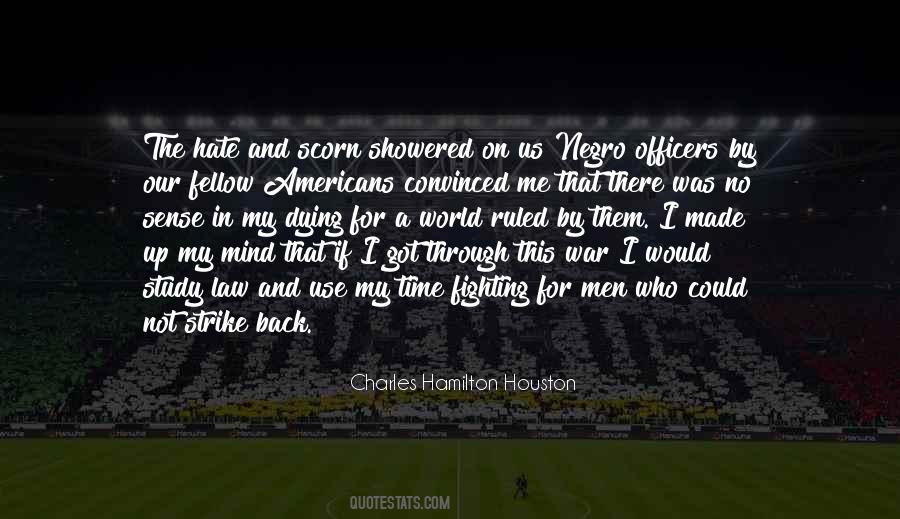 #17. My mind is pretty made up that life for Cathy Freeman will be as an unmarried woman from now on. - Author: Cathy Freeman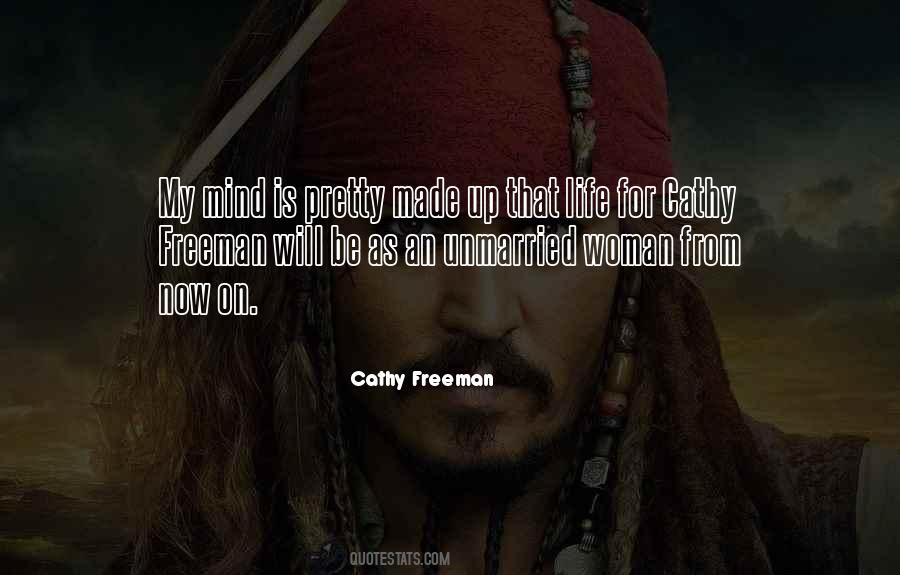 #18. I met my father for the first time when I was 28 years old. I made up my mind that when I had children, my children were going to know who their father was. - Author: Will Smith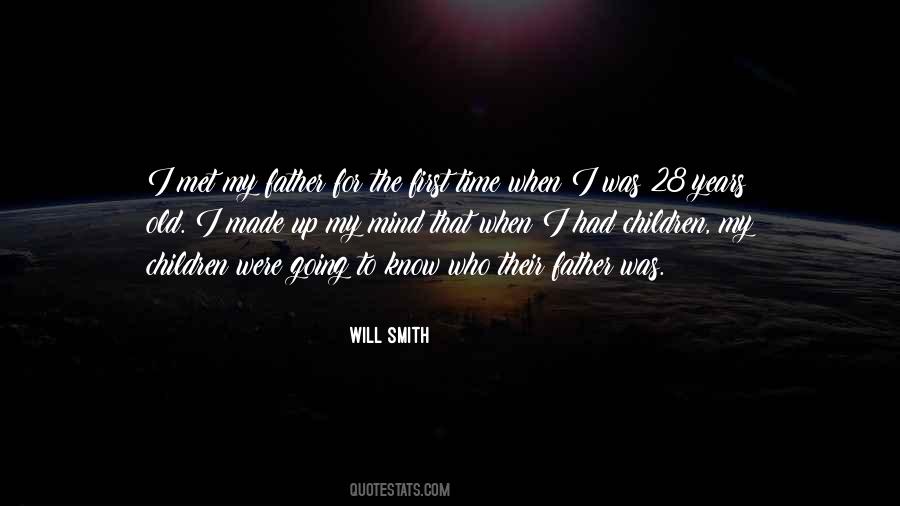 #19. I know it is a massive risk, I know. I could be killed. I have made up my mind that as long as the LRA have my son, JJ and there remains a drop of life in me, they shall always have me to deal with, -Joseph Dahr. - Author: Ray Anyasi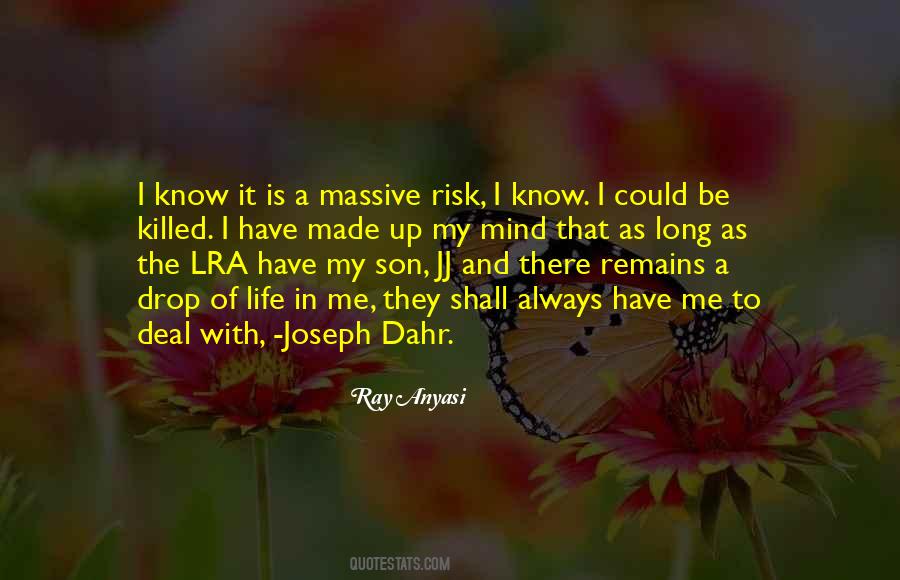 #20. I made 5,127 prototypes of my vaccum before I got it right. There were 5,126 failures. But I learned from each one. That's how I came up with a solution. So I don't mind failure. - Author: James Dyson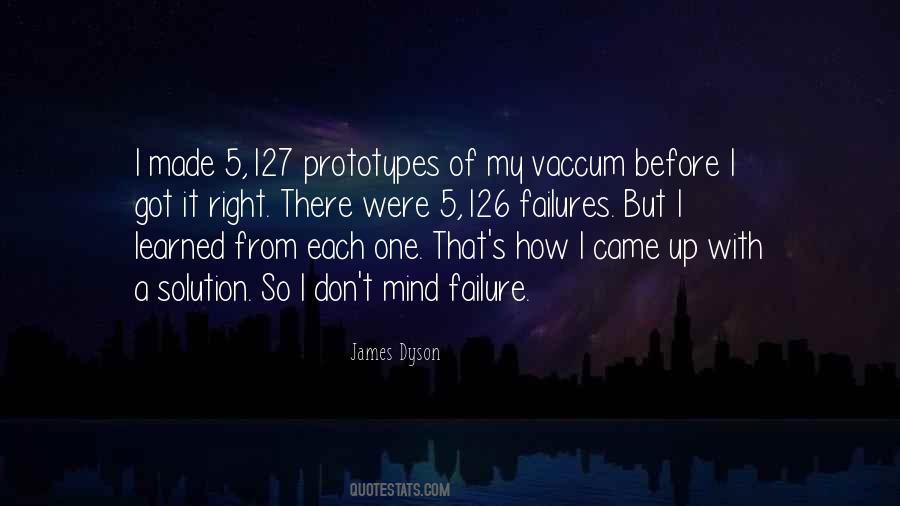 #21. I had made my mind up to stay at the top of the class and [ ... ] graduate at the head of it. [ ... ] that was my kind of ideal. I just didn't know any better. - Author: Hermann Hesse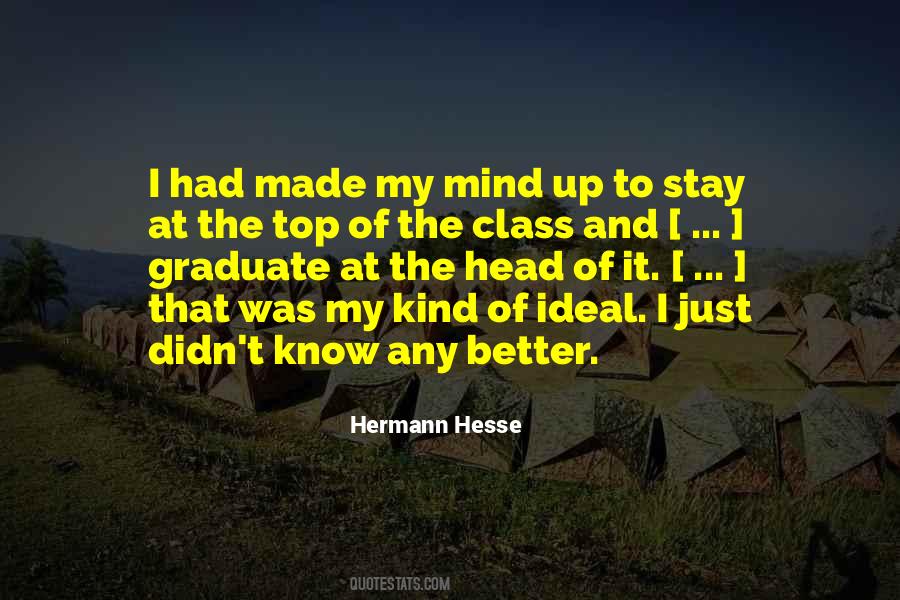 #22. I finally made up my mind that I would neither disclaim the black race nor claim the white race; but that I would change my name, raise a mustache, and let the world take me for what it would; that it was not necessary for me to go about with a label of inferiority pasted across my forehead. - Author: James Weldon Johnson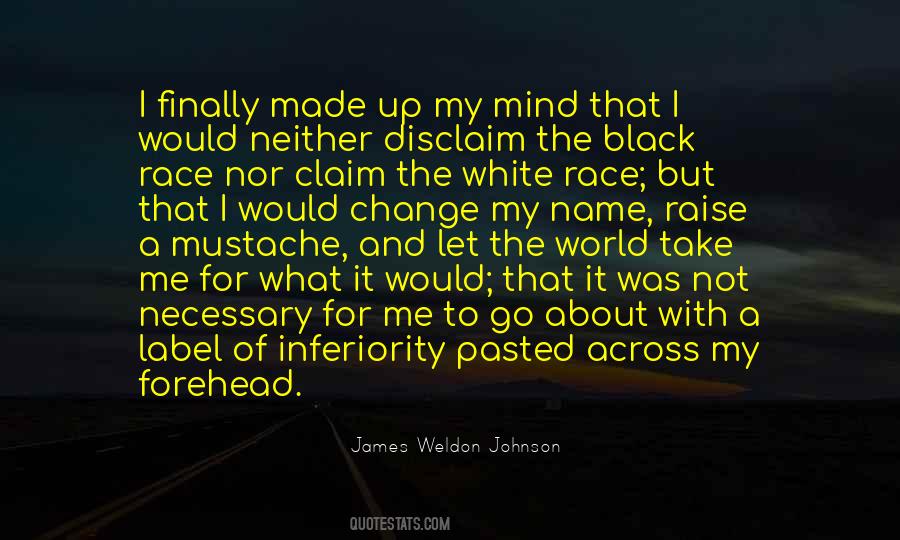 #23. So enormous, so dreadful, so irremediable did the [slave] trade's wickedness appear that my own mind was completely made up for abolition. Let the consequences be what they would: I from this time determined that I would never rest until I had effected its abolition. - Author: William Wilberforce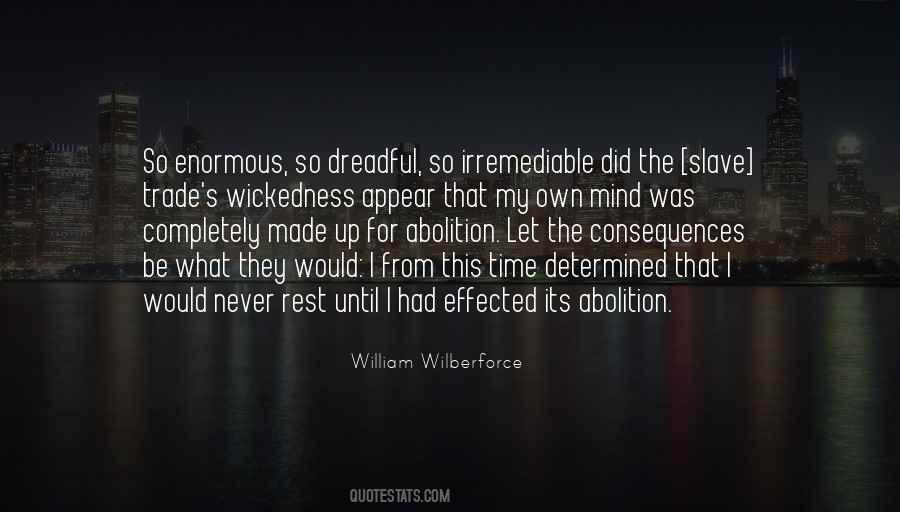 #24. One night I had a dream, and in that dream a big black man appeared to me and told me what to mix up for my hair. I made up my mind I would begin to sell it. - Author: Madam C. J. Walker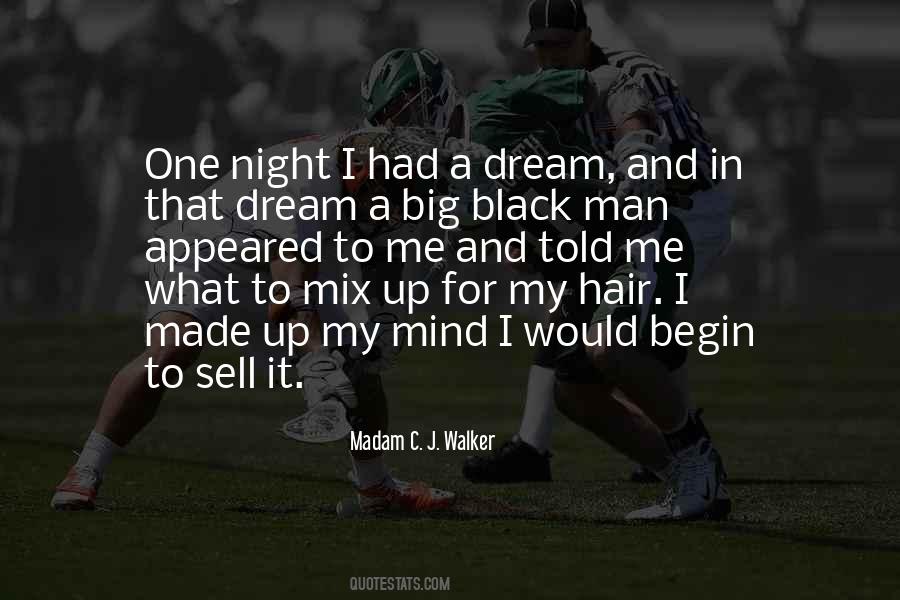 #25. When I make up my mind to do a thing it stays made up. - Author: Lucy Maud Montgomery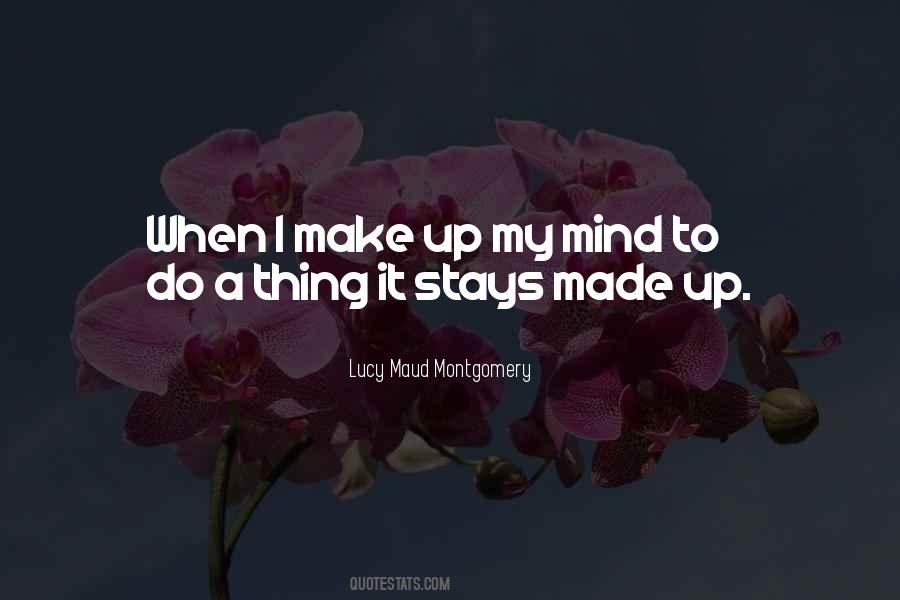 #26. Ever since I could first write I have been doing so. When I was taught how to write and read at school, I made up my mind that this was what I love to do best and this was the world I was going to occupy. - Author: Anita Desai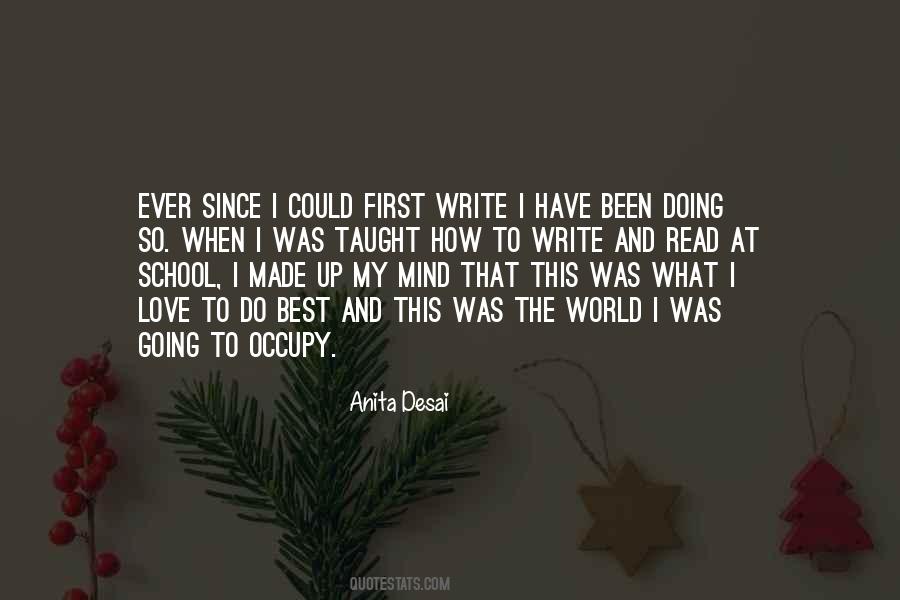 #27. In college I was one of six males who auditioned for five male roles in a comedy play. I was the one rejected. At that moment I made up my mind never to place myself at the mercy of some pompous, goateed, black-turtleneck-shirted "should I yay him or nay him?" pantywaist ever again. - Author: Emo Philips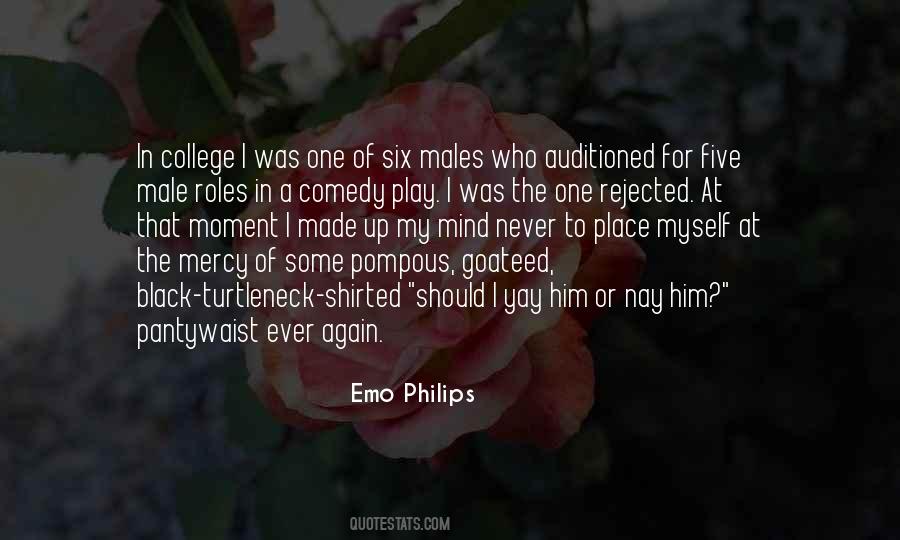 #28. I was never pushed into the religion by my mother or anyone else. I made up my own mind when I was old enough. I am not a religious person, but I am spiritual. - Author: Janet Jackson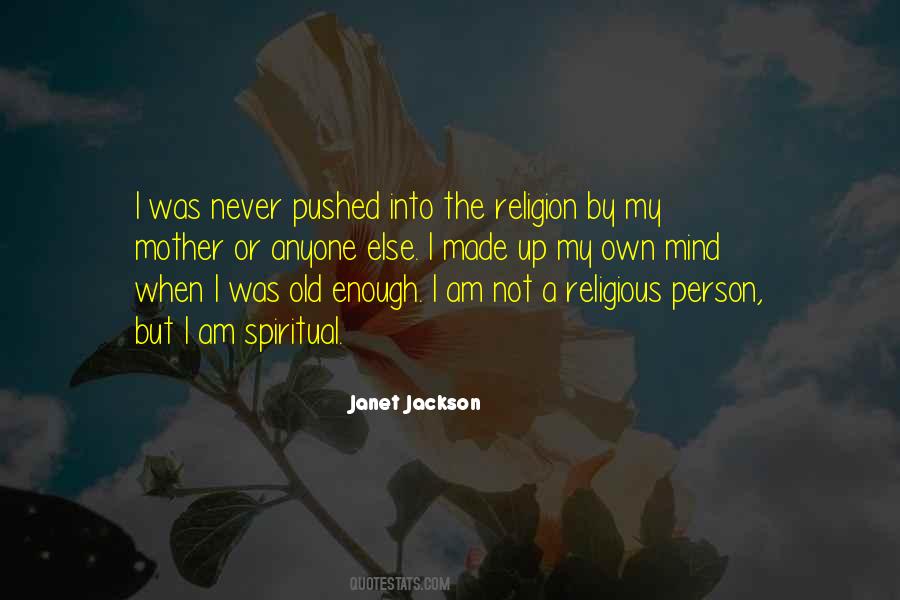 #29. I made up my mind to keep my feelings to myself since they did not seem to matter to anyone else but me. - Author: Zora Neale Hurston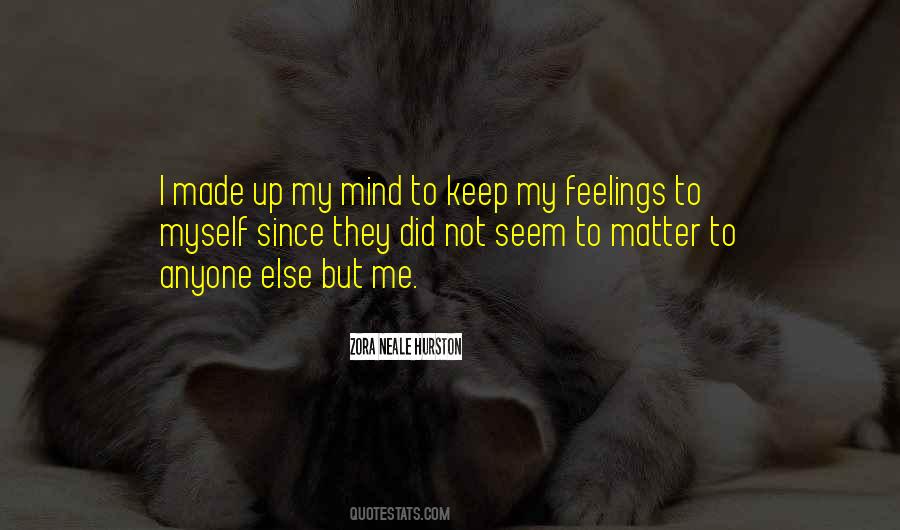 #30. My instinct told me I'd be silly to fall in love with him, you know women are very unfortunate, so often when they fall in love they cease to be lovable, and I made up my mind to be on my guard. - Author: W. Somerset Maugham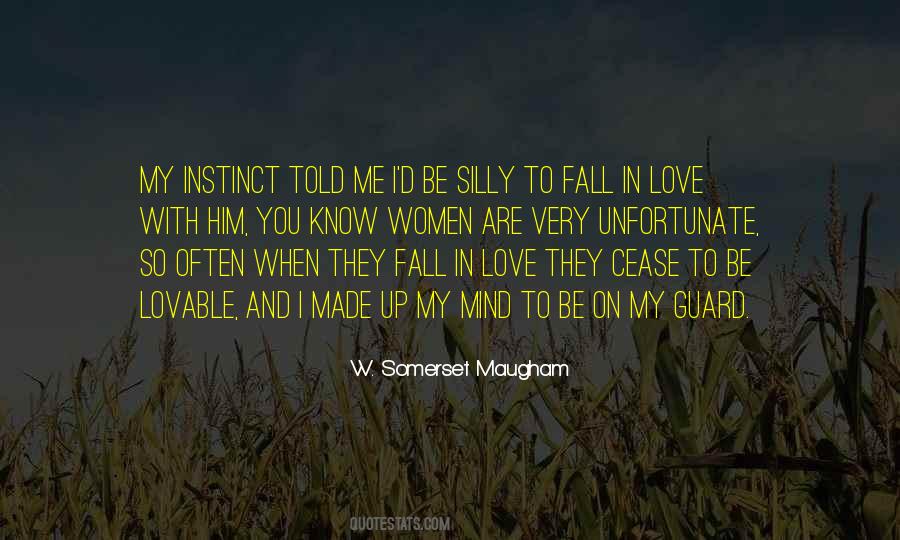 #31. To this motive which encourages me is added another which made up my mind: after I have upheld, according to my natural intelligence, the side of truth, no matter what success I have, there is a prize which I cannot fail to win. I will find it in the depths of my heart. - Author: Jean-Jacques Rousseau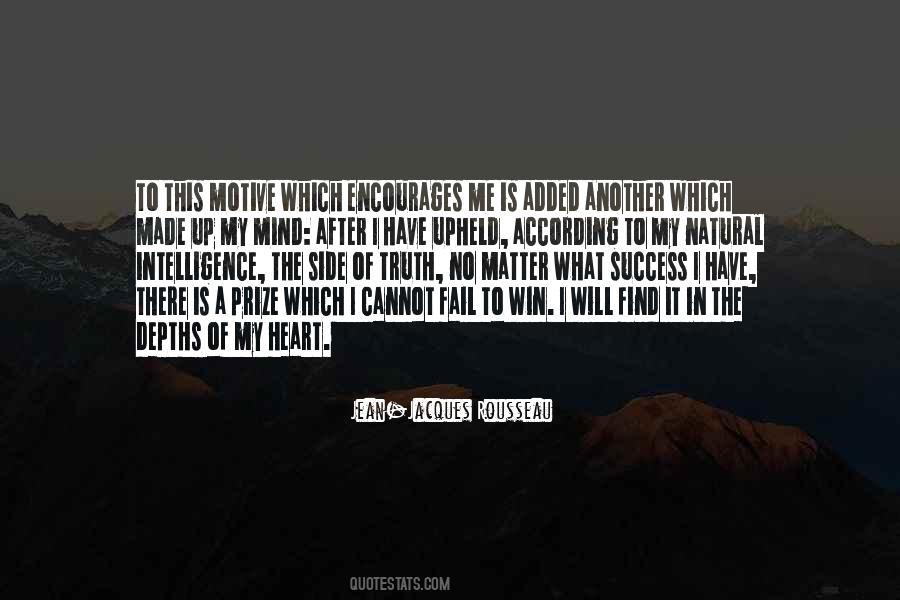 #32. When people warn me against doing something once my mind is made up, I grow increasingly determined to try it. - Author: Richard Branson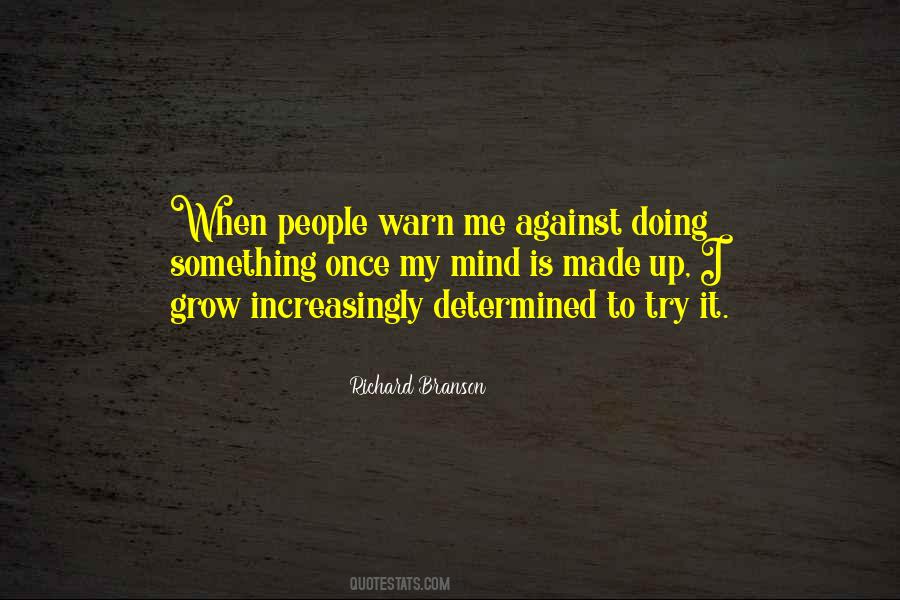 #33. Once I've made my mind up, I'm a force to be reckoned with. - Author: Paula Hawkins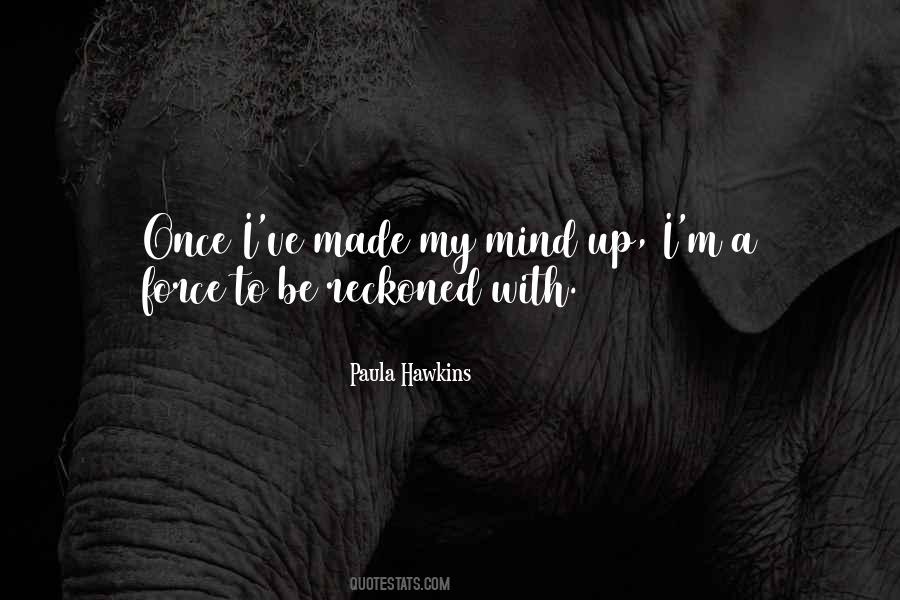 #34. So I made up my mind I was going to find someone who would love me unconditionally three hundred and sixty-five days a year.
Watanabe: Wow, and did your search pay off?
M: That's the hard part. I guess I've been waiting so long I'm looking for perfection. That makes it tough. - Author: Haruki Murakami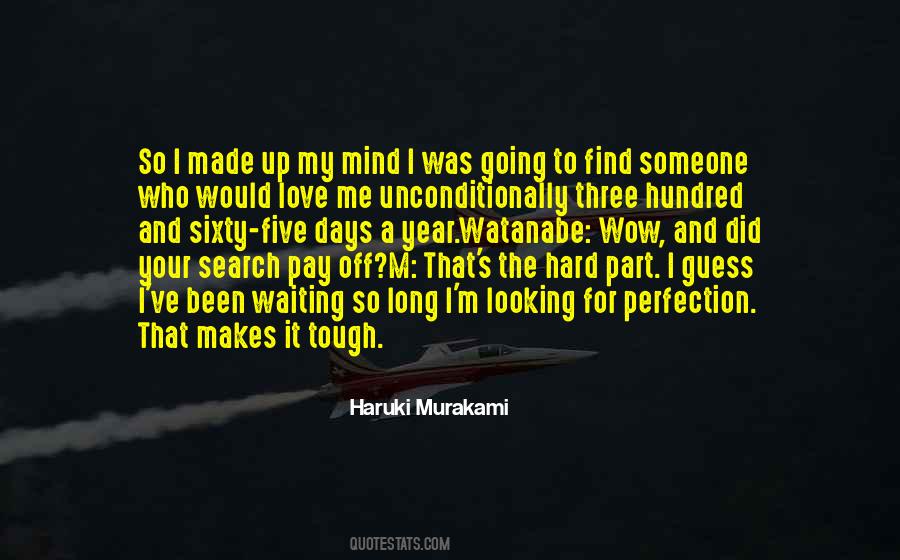 #35. The thought of giving up alcohol crossed my mind too, but I was soon reminded of the promise to Ketel One, Grey Goose, and other top-shelf vodkas that I had made in my early twenties. Never turn your back on someone who has asked nothing in return. - Author: Chelsea Handler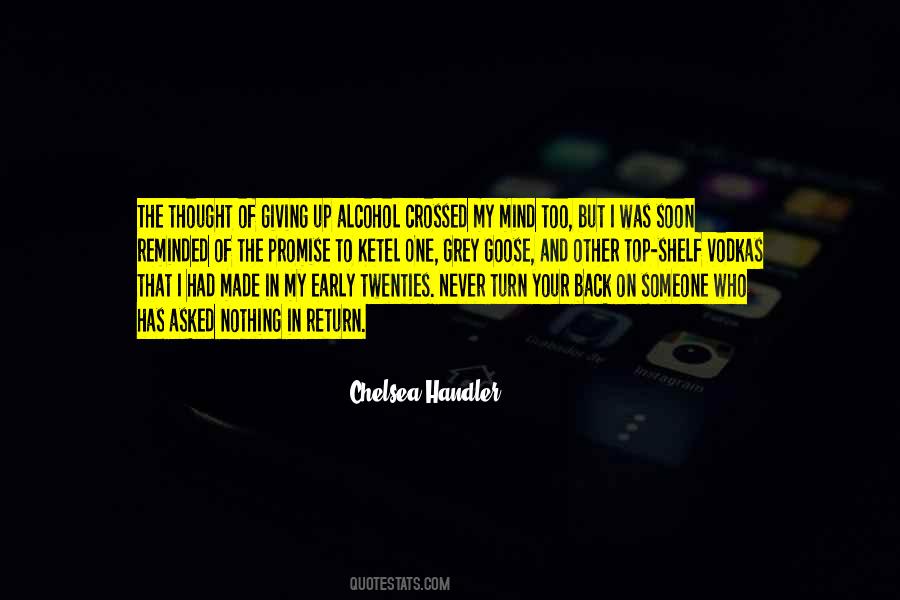 #36. This goodbye will only seem
Like an eternal pain
If I fail to merely miss you
Until we meet again
As we assuredly will
I've made my mind up - Author: John Walter Bratton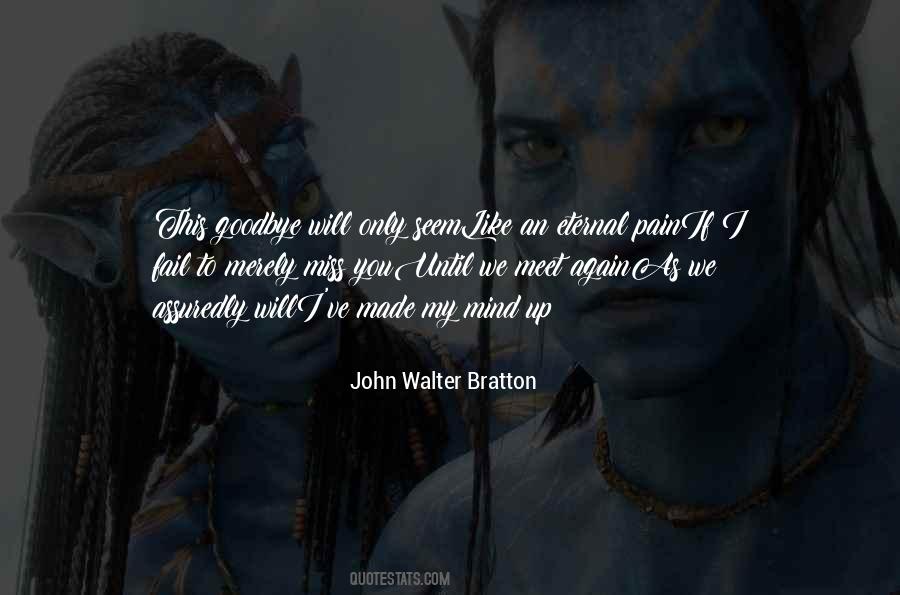 #37. I finally made up my mind I wanted to be an actress and I was not going to let my lack of confidence ruin my chances. - Author: Marilyn Monroe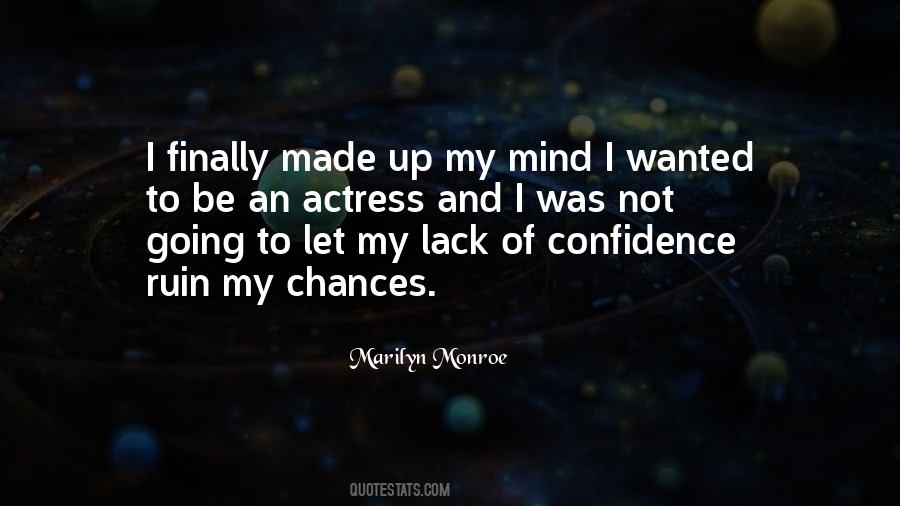 #38. For me to help him," said Dorothea, ardently. "You have quite made up your mind, I see. Well, my dear, the fact is, I have a letter for you in my pocket." Mr. Brooke handed the letter to Dorothea, but as she rose to go away, he added, "There is not too much - Author: George Eliot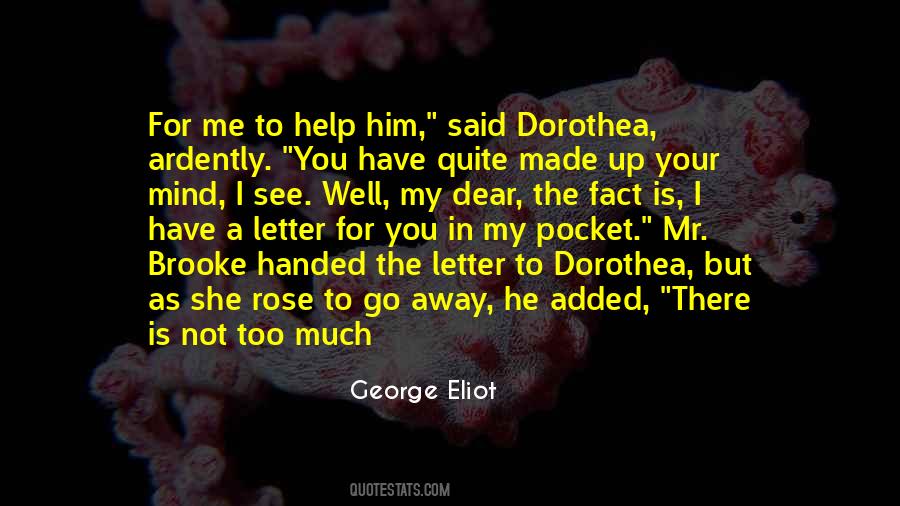 #39. I could not resist the clarity of the world in books, the incredibly satisfying way in which life became weighty and accessible. Books were reality. I hadn't made up my own mind about my own life, a vague, dreamy affair, amorphous and dimly perceived, without beginning or end. - Author: Frank Conroy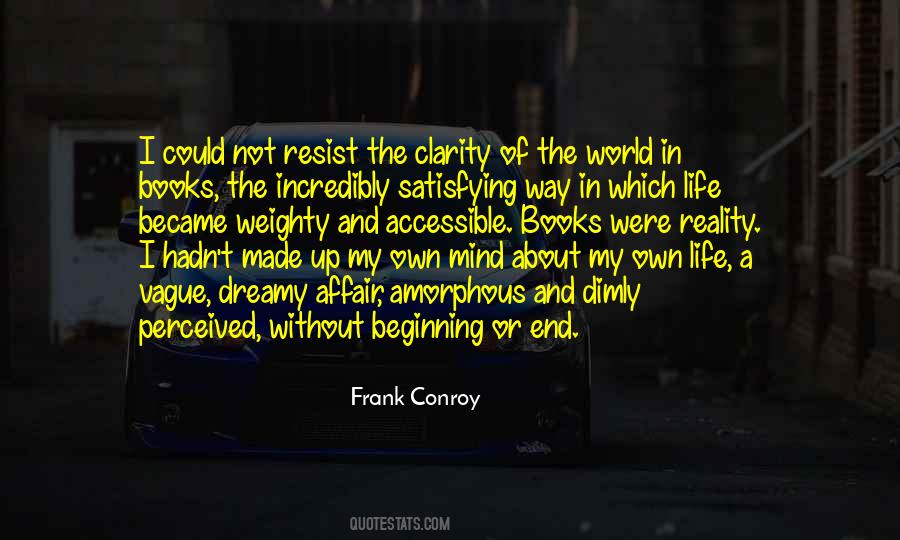 #40. There was no need to remind Roosevelt who controlled the senate. "I persistently refused to lose my temper," he recalled. "I merely explained good-humoredly that I had made up my mind." Though he steadfastly refused - Author: Doris Kearns Goodwin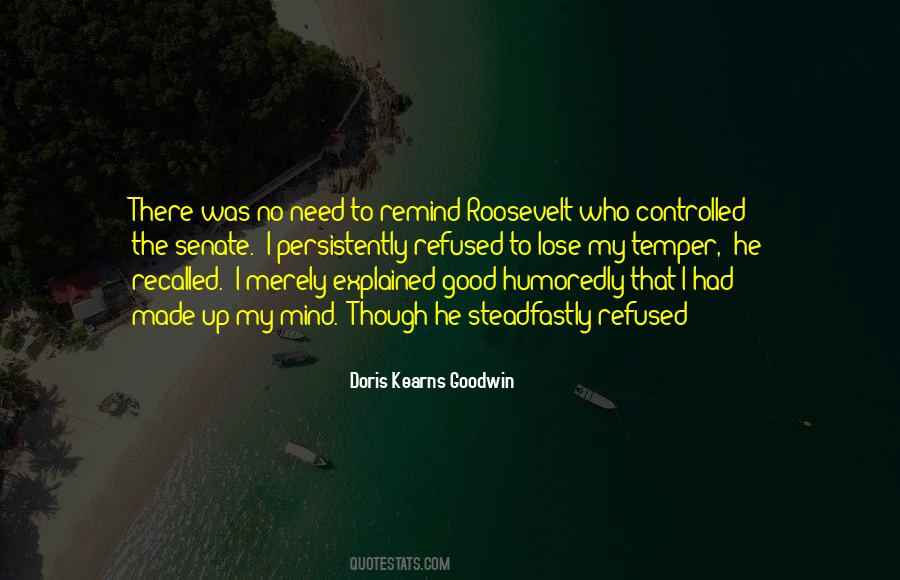 #41. My heart has made its mind up
And I'm afraid it's you.
Whatever you've got lined up,
My heart has made its mind up
And if you can't be signed up
This year, next year will do.
My heart has made its mind up
And I'm afraid it's you. - Author: Wendy Cope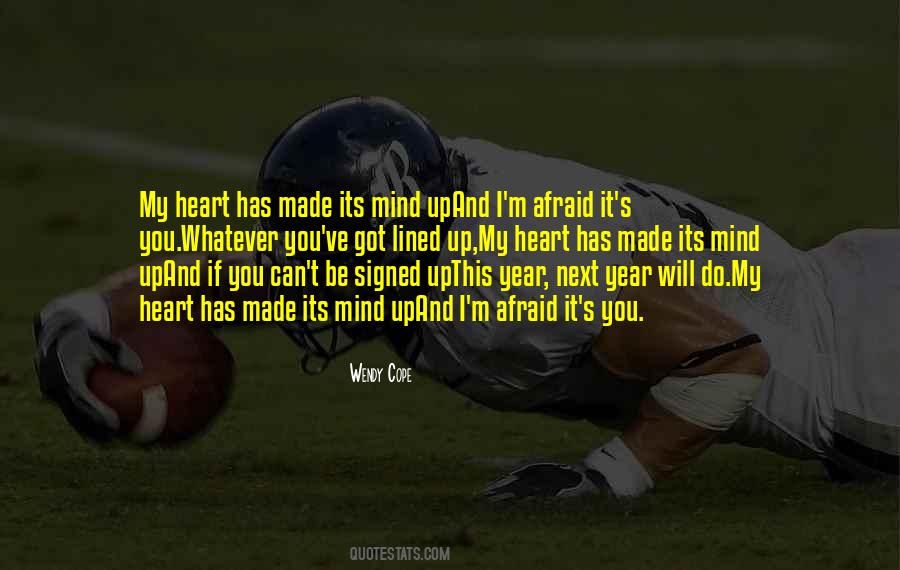 #42. My father was the youngest of six brothers, and he was the brains. I never thought he was making what he should have. He had to split it with five brothers. So I made up my mind: I was going to go on my own and make my own money. - Author: Alan C. Greenberg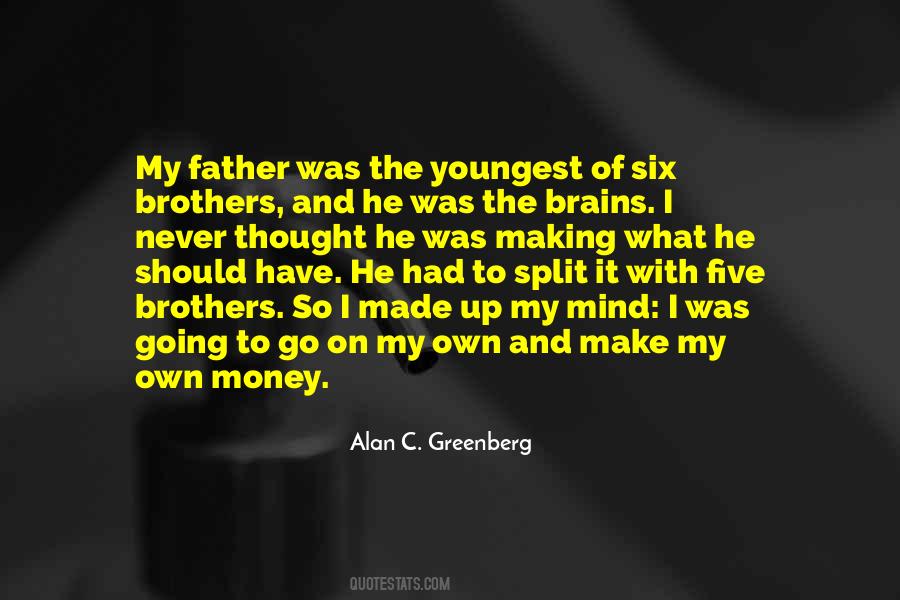 #43. So long as I do not firmly and irrevocably possess the right to vote I do not possess myself. I cannot make up my mind - it is made up for me. I cannot live as a democratic citizen, observing the laws I have helped to enact - I can only submit to the edict of others. - Author: Martin Luther King Jr.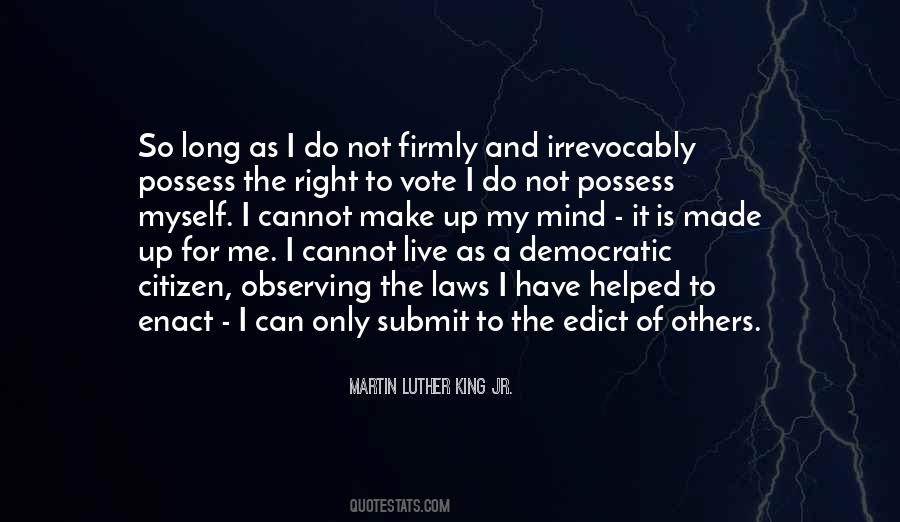 #44. When I married Humphrey I made up my mind to like sermons, and I set out by liking the end very much. That soon spread to the middle and the beginning, because I couldn't have the end without them. - Author: George Eliot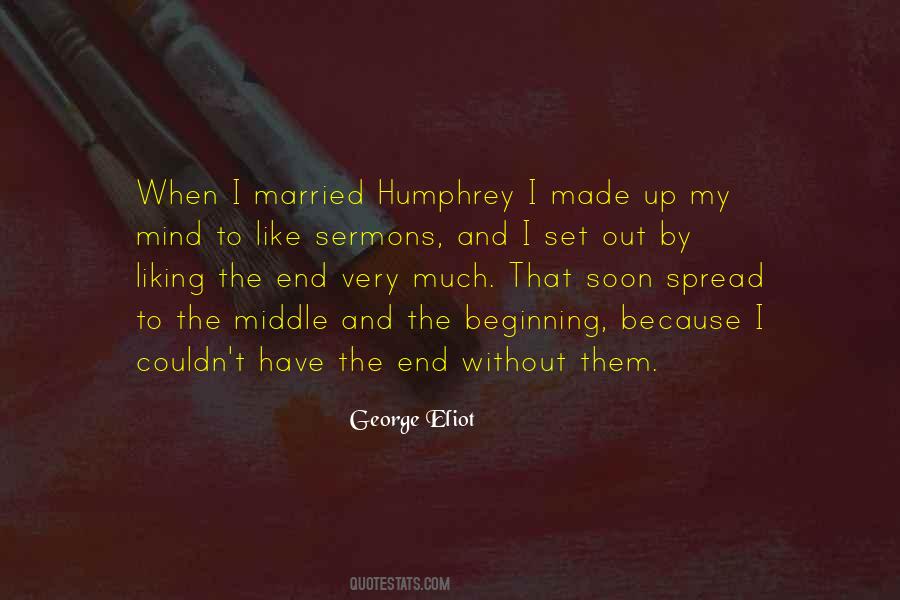 #45. I was a wayward child, very passionate and very determined. If I made up my mind to do something, there was no stopping me. - Author: Kate Winslet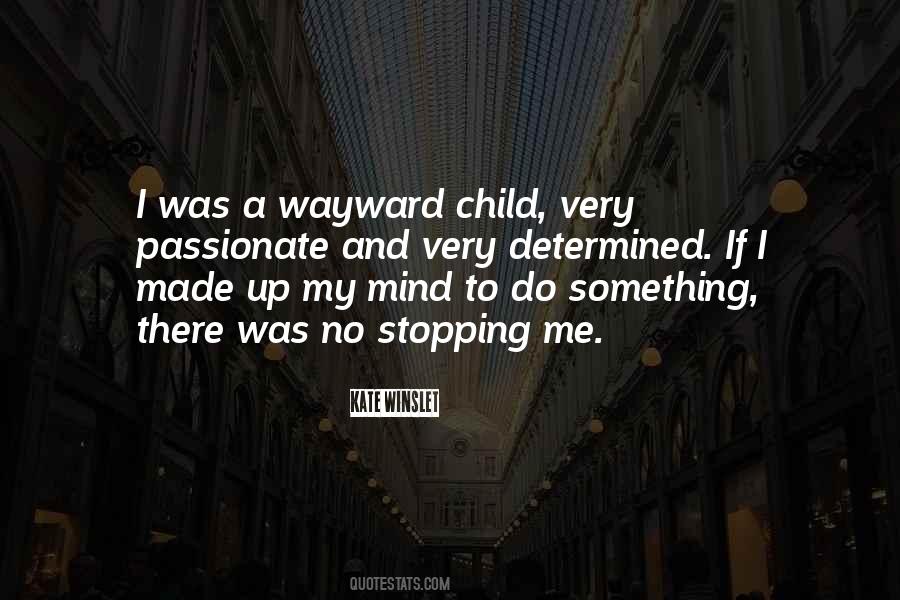 #46. I thought, maybe the difference between white folks and colored is just this matter of reading and writing. I made up my mind I would know my letters. - Author: Mary McLeod Bethune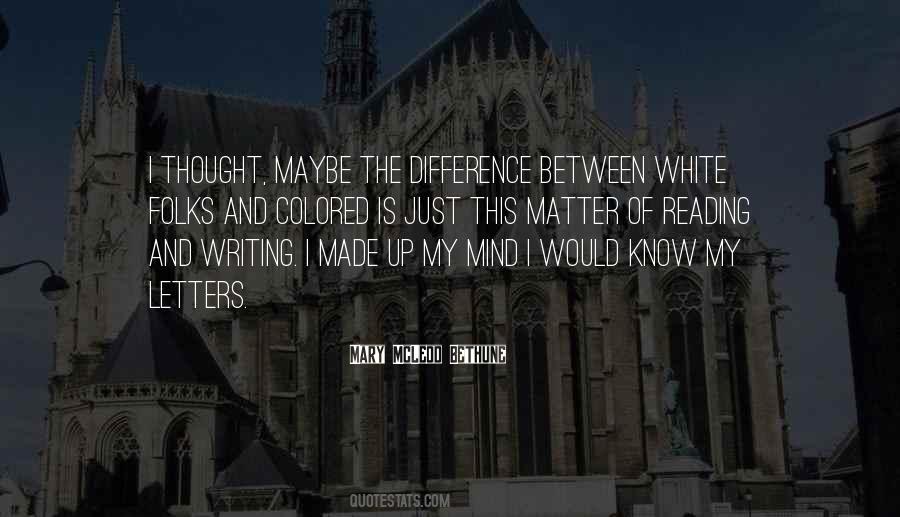 #47. Perhaps I shall meet with troubles and many disappointments, but I have made up my mind to be polite and sincere to everyone; more cannot be asked of me. - Author: Fyodor Dostoyevsky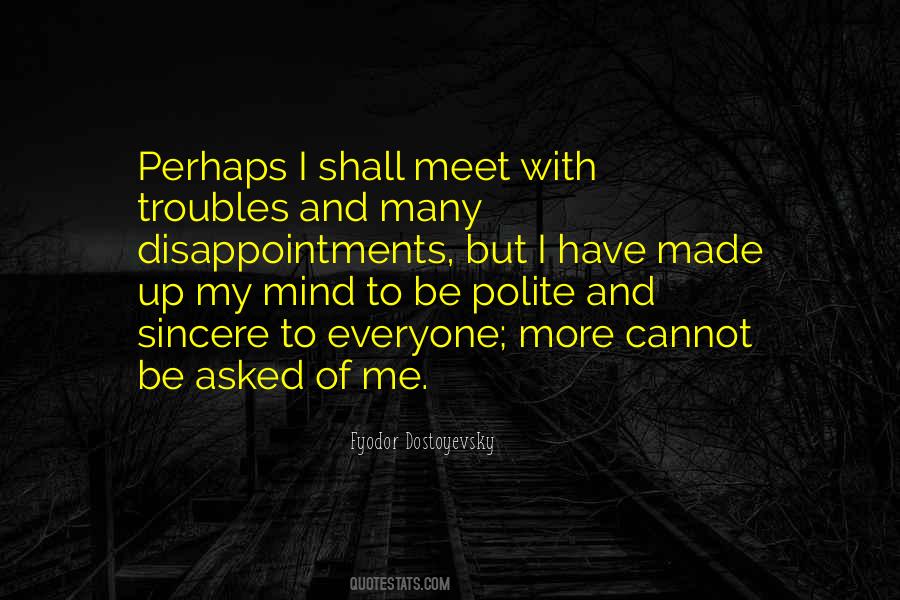 #48. Time made me stronger, you're no longer on my mind - Author: Boyz II Men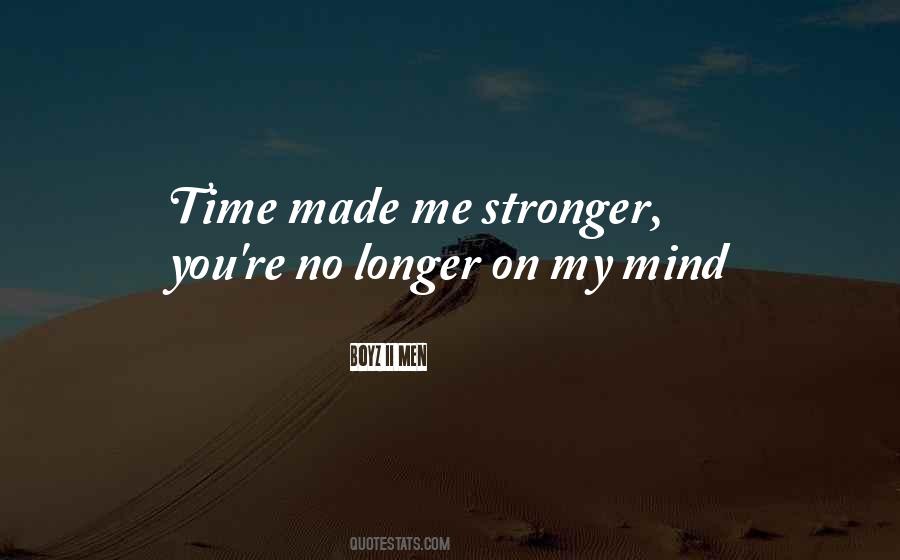 #49. It was his idea to go horseback riding that day. It was his idea I could do anything if I just made up my mind to. I fell off the horse because I didn't know how to hold on. Cecil left for pretty much the same reason. - Author: Marsha Norman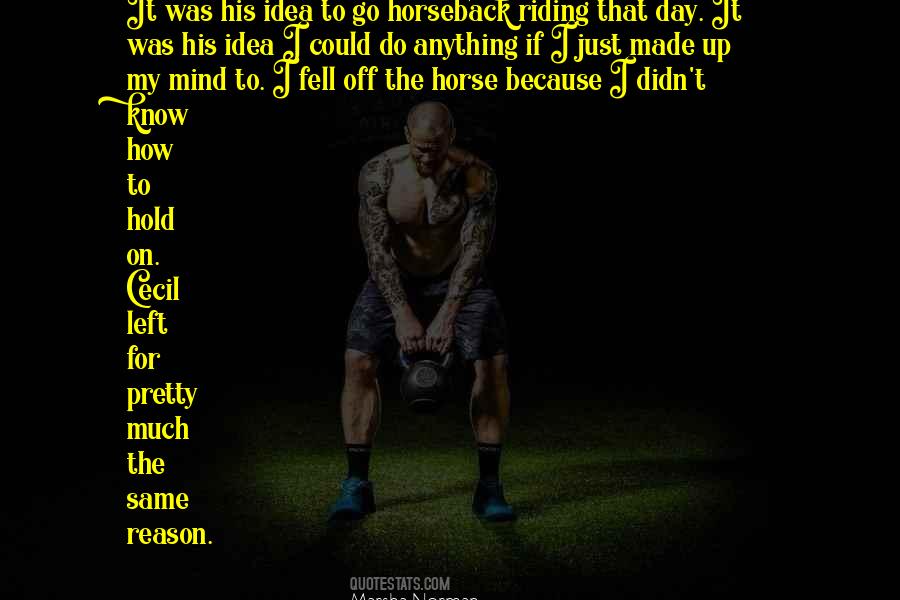 #50. I made up my mind that I would hold onto nothing, that I would expect nothing. - Author: Henry Miller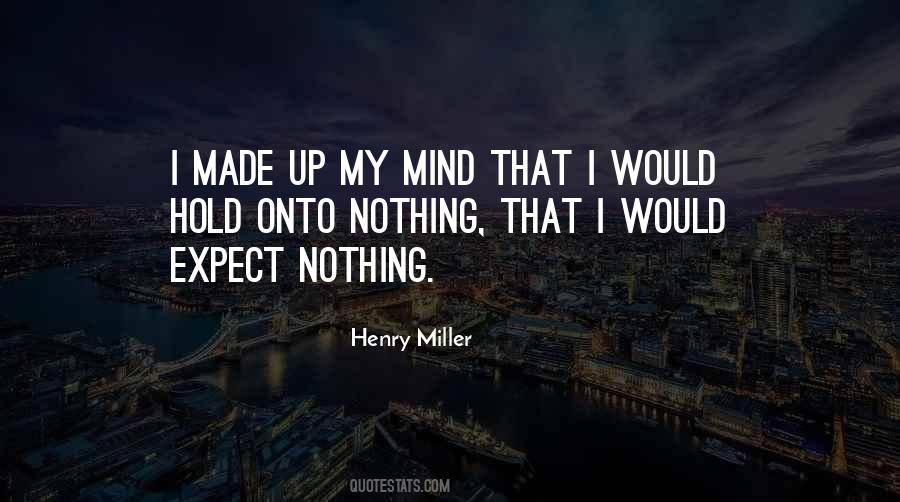 #51. All the queens of my acquaintance have children, some three, some seven, and some as many as twelve; and my queen has not one. I feel ill-used." So he made up his mind to be cross with his wife about it. But she bore it all like a good patient queen as she was. - Author: Hamilton Wright Mabie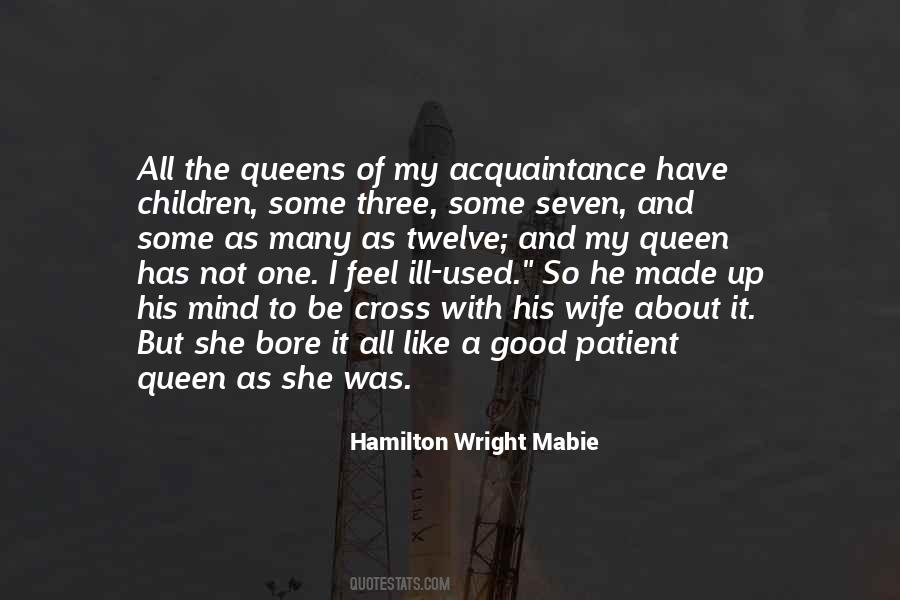 #52. I knew someone had to take the first step and I made up my mind not to move. - Author: Rosa Parks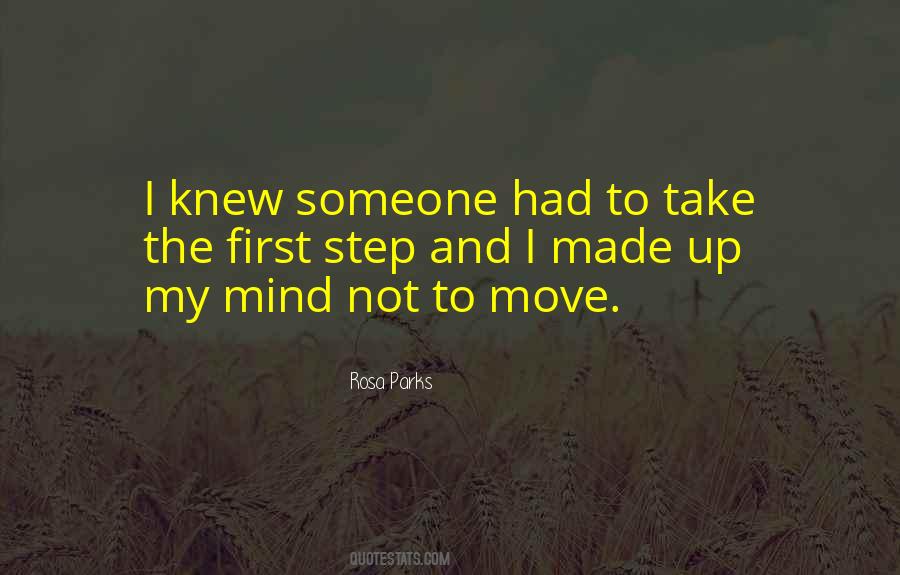 #53. In all honesty my cake was baking when I met Al - I had made up in my mind already to get physically healthy. He refreshingly was on his own journey so it was almost as if we walked together. - Author: Star Jones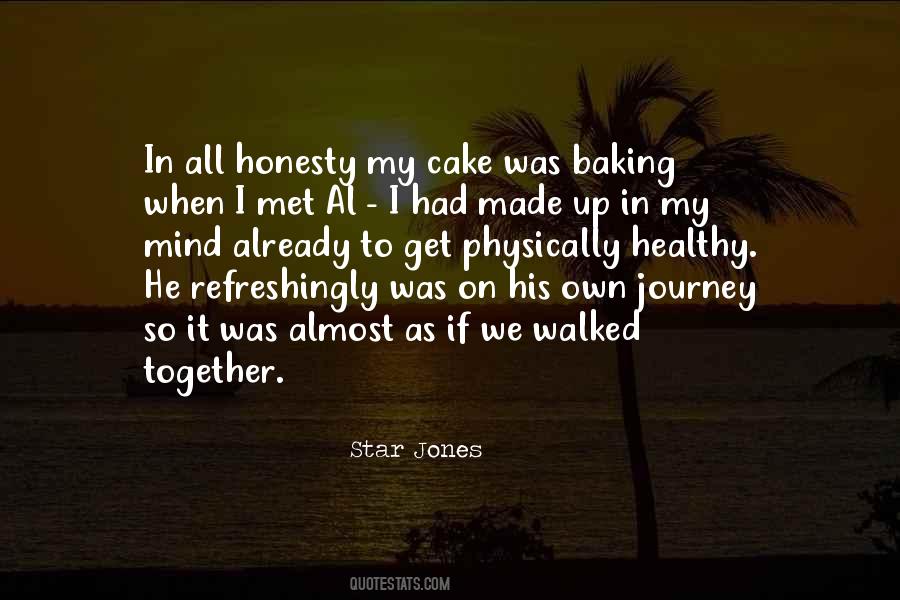 #54. I win the private victory when I have made my mind up and commit to live by correct principles and to serve worthy purposes. - Author: Stephen Covey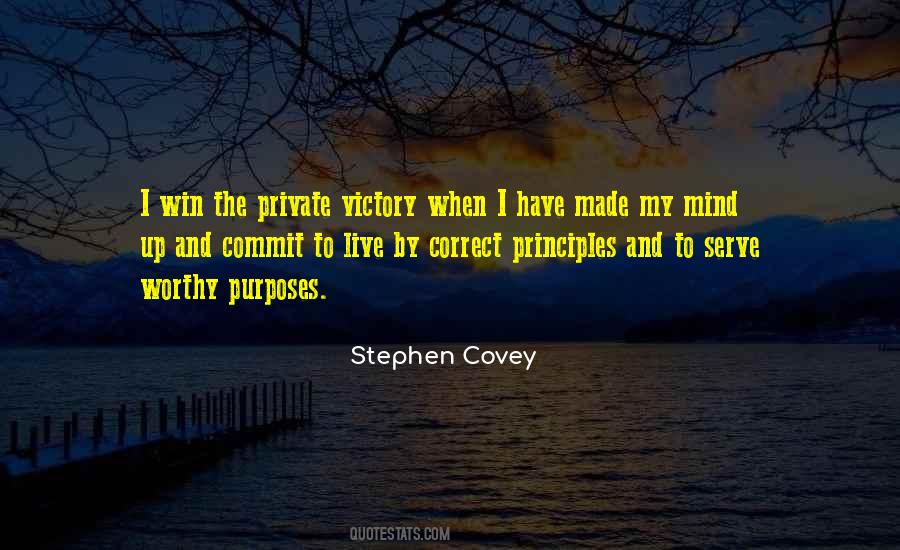 #55. I made up my mind that I would rob, burn, destroy, and kill everywhere I went and everybody I could as long as I lived. - Author: Carl Panzram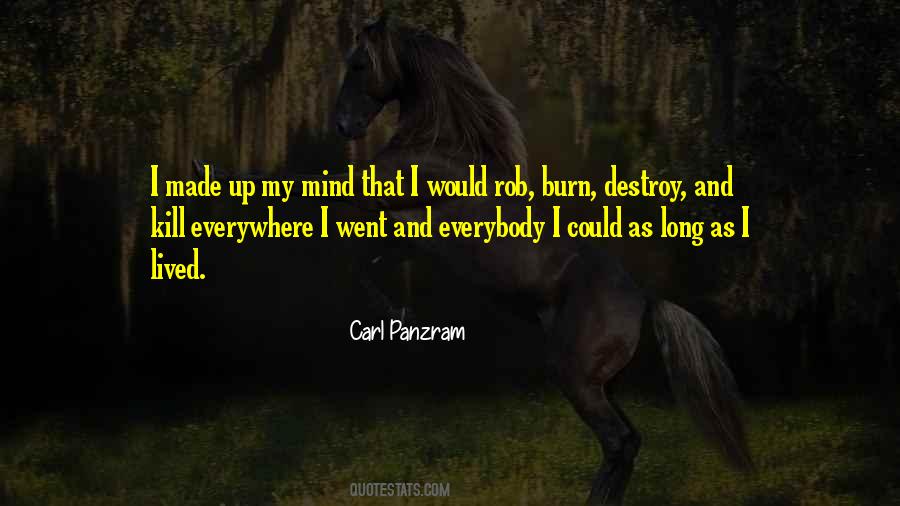 #56. I've got a hard road to travel and a rough, rough way to go. Said, it's a hard road to travel and a rough, rough way to go. But I can't turn back, my heart is fixed, my mind's made up, I'll never stop, my faith will see me through. - Author: Jimmy Cliff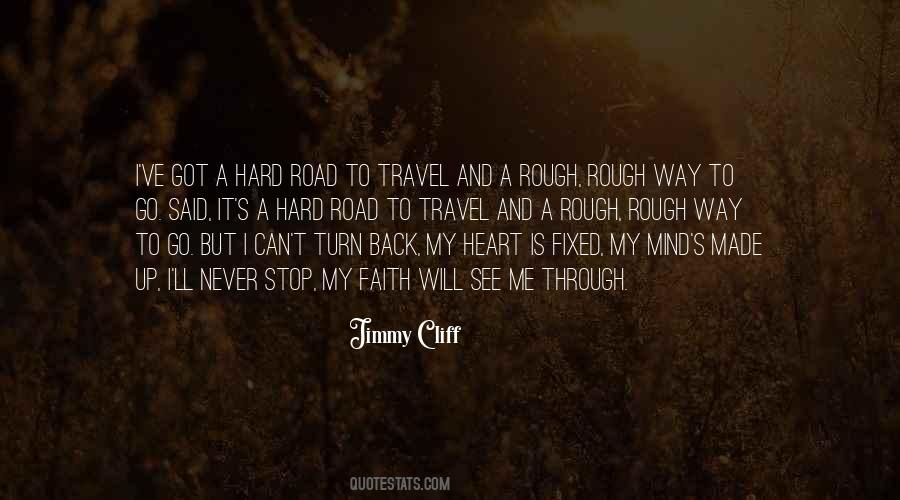 #57. Once I made up my mind that music was what I wanted to do, I never looked back. - Author: Aaron Watson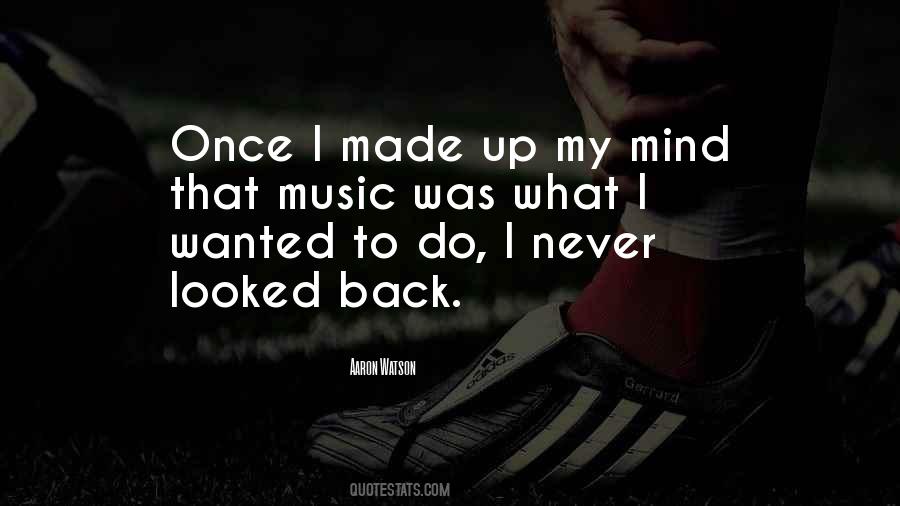 #58. I made up my mind that I wanted everything, and nothing would stop me. - Author: Suge Knight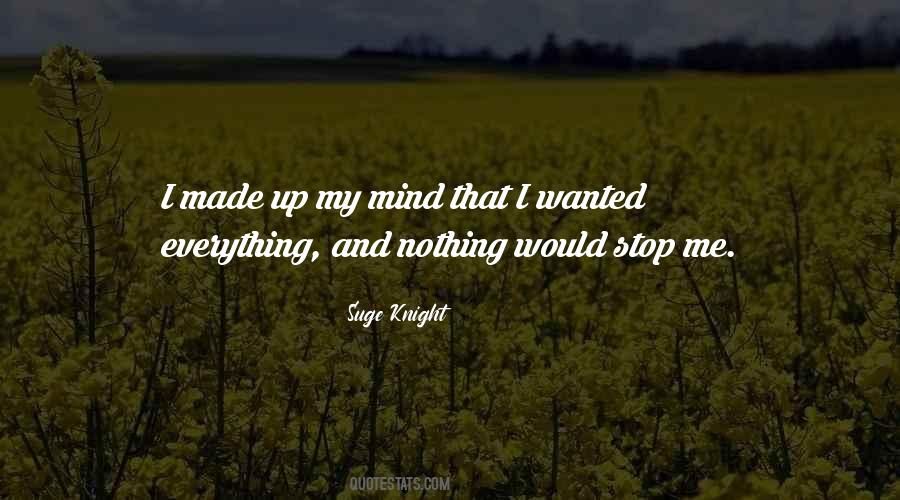 #59. To be honest, I've always made films and I never really stopped, starting with little stop-motion experiments using my dad's Super 8 camera. In my mind, it's all one big continuum of filmmaking and I've never changed. - Author: Christopher J. Nolan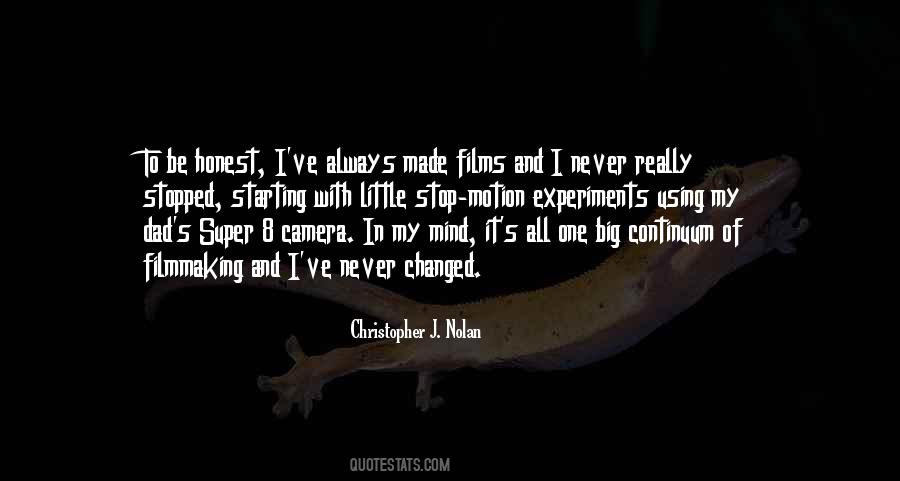 #60. I'm never going to get married."
"You're crazy." Buddy brightened. "You'll change your mind."
"No. My mind's made up. - Author: Sylvia Plath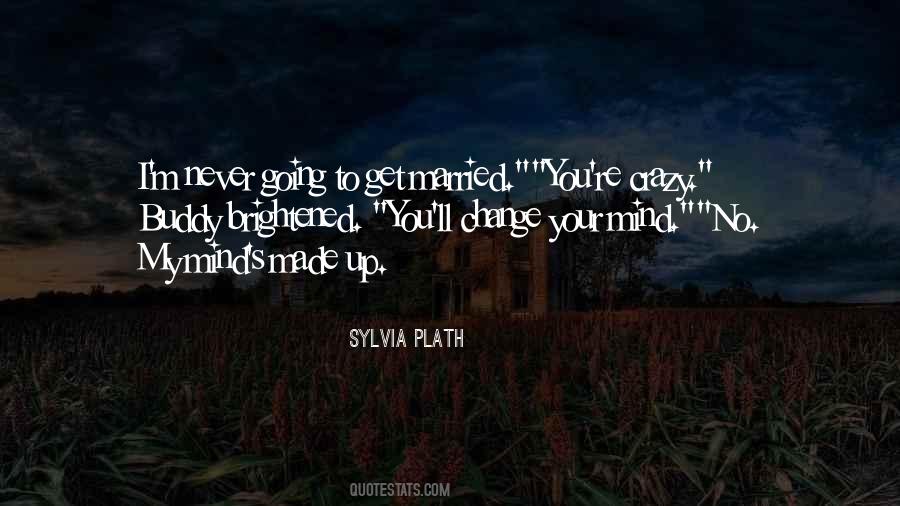 #61. I have made up my mind that I must have money, Pa. I feel that I can't beg it, borrow it, or steal it; and so I have resolved that I must marry it. - Author: Charles Dickens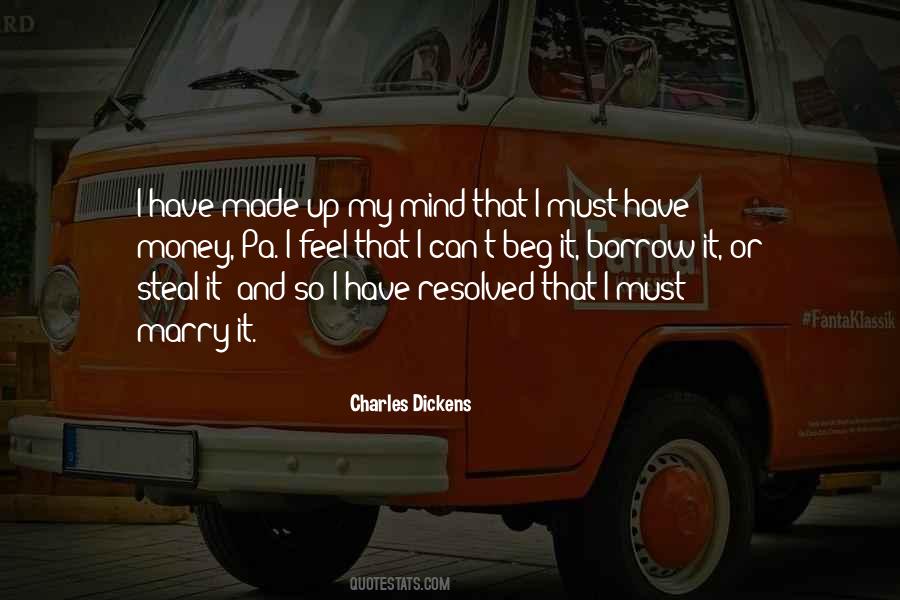 #62. His smile was sexy and warned of trouble, but I'd made up my mind that not all trouble was bad. - Author: Becca Fitzpatrick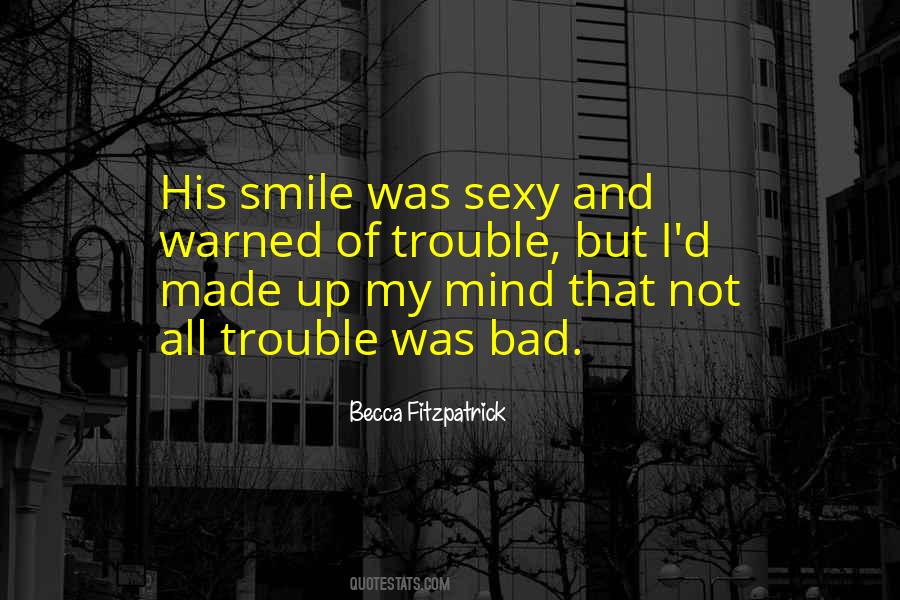 #63. It needs a good deal of philosophy not to be mortified by the thought of persons who have voluntarily abandoned everything that for the most of us makes life worth living and are devoid of envy of what they have missed. I have never made up my mind whether they are fools or wise men. - Author: W. Somerset Maugham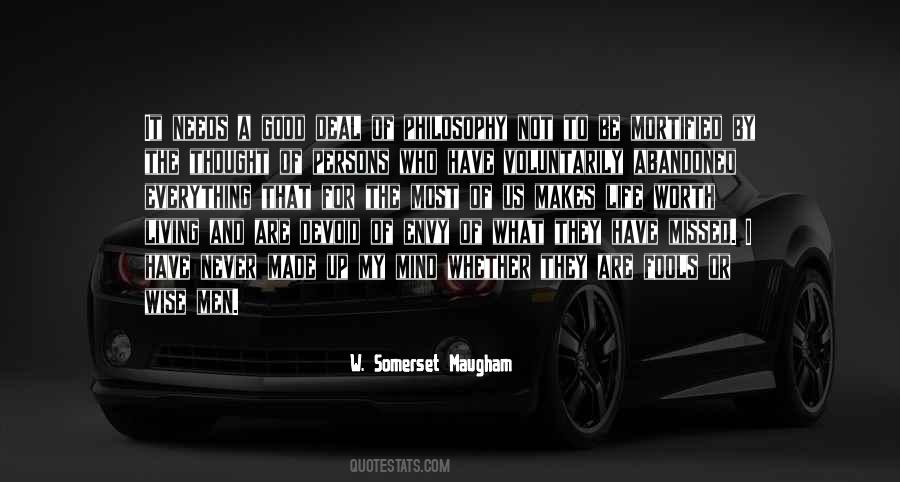 #64. I made up my mind that I'd get out of that place and I did ... I learned that if you want to get somewhere, you just make up your mind and work like hell til you get there. If you want to go somewhere in life, you just have to work till you make it. - Author: S.E. Hinton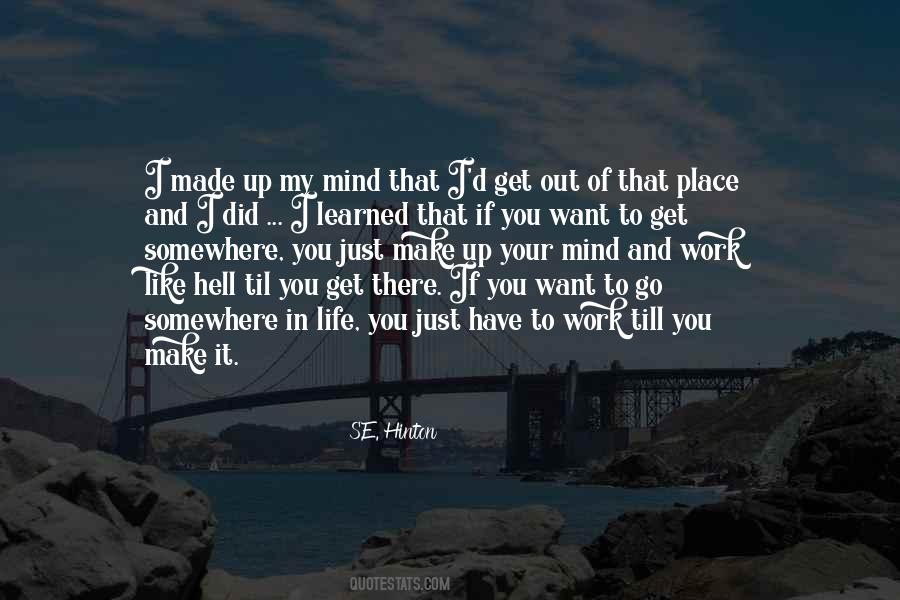 #65. I made my mind up that this evening, after work, I would start taking applications for a new official sub. I - Author: Teresa Mummert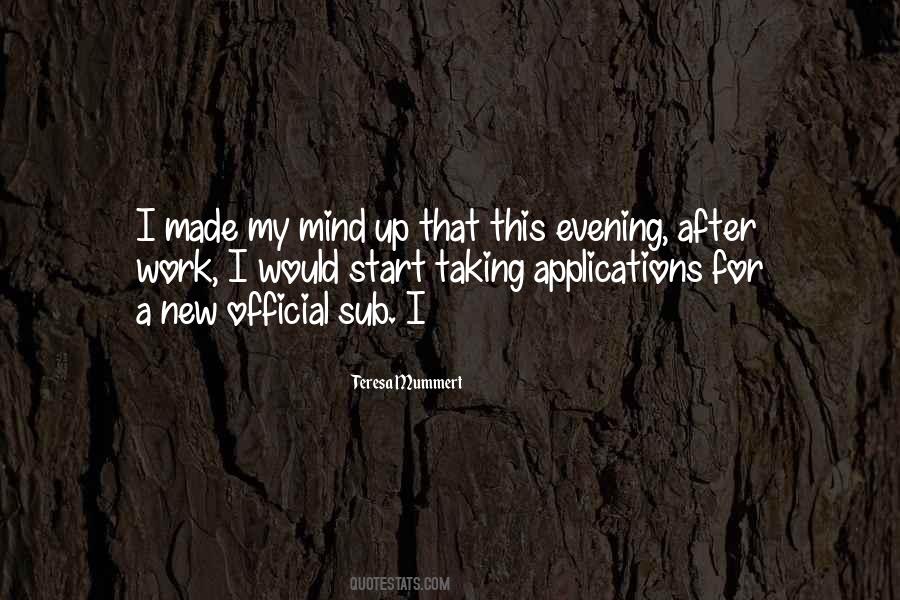 #66. The offspring of two bookish parents, I made up my mind as a boy that I would be as unlike them as I could. I was determined not, as an adult, to look up from a book with that confused, abstracted, disappointed expression that my parents shared when jolted out of book life into real life. - Author: Richard Russo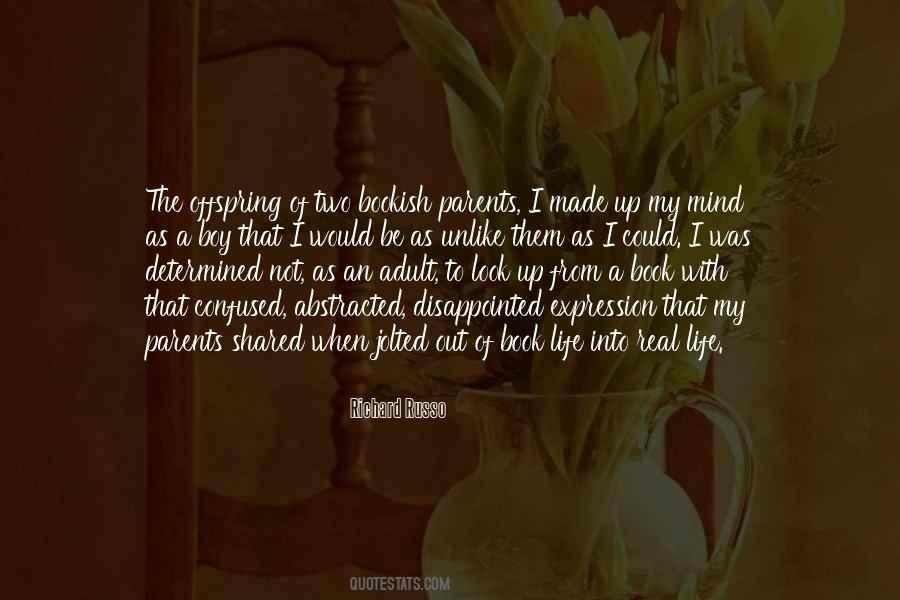 #67. Don't confuse me with the facts - I've already made up my mind. - Author: Ann Rule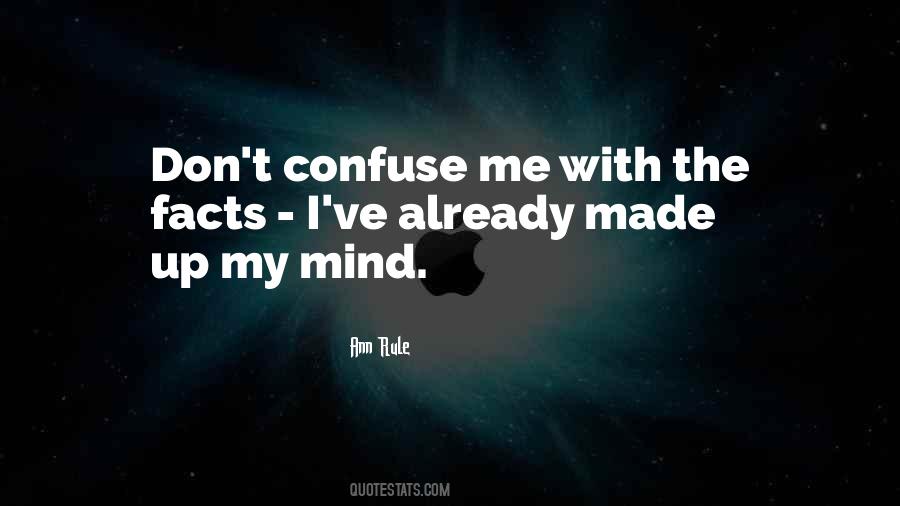 #68. I got married at 22 and remained in an abusive marriage for 10 years. I made up my mind that that was never going to happen to me again. I made a brave step to walk out in a society when you didn't walk out of an abusive marriage. It was mental and physical abuse. - Author: Joyce Banda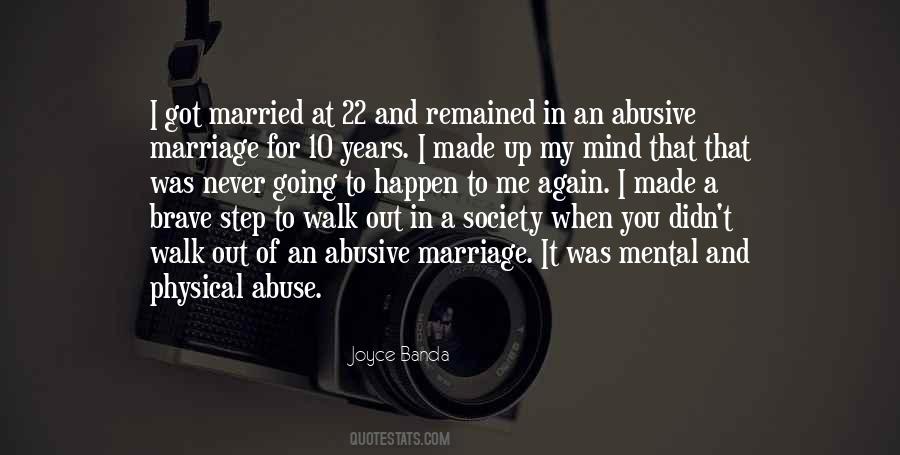 #69. Every lady ought to be a perfect horsewoman, that she may accompany her husband." "You see how widely we differ, Sir James. I have made up my mind that I ought not to be a perfect horsewoman, and so I should never correspond to your pattern of a lady. - Author: George Eliot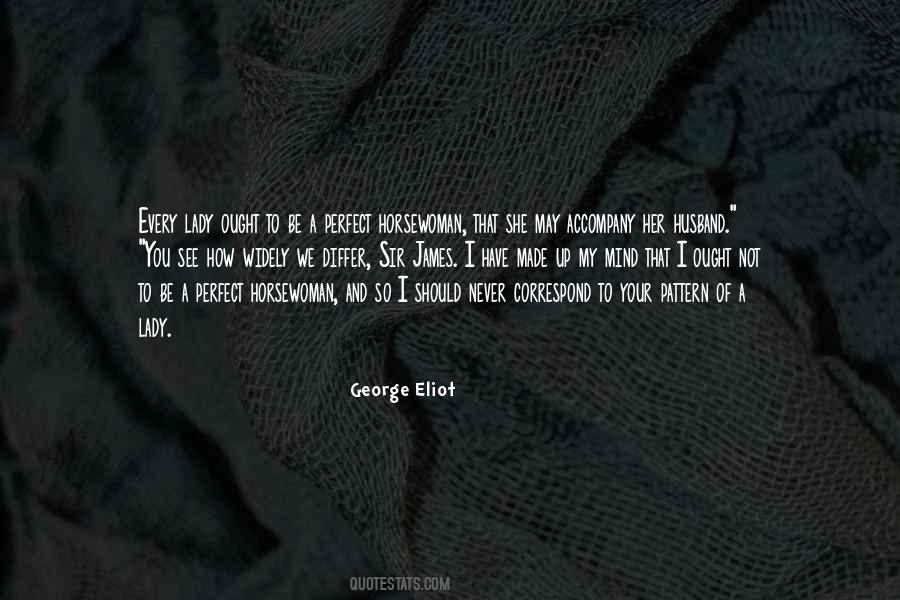 #70. I've sort of made up my mind that I have to do my career and I have to be a mother. These are my two responsibilities; of course the baby comes first. - Author: Phoebe Snow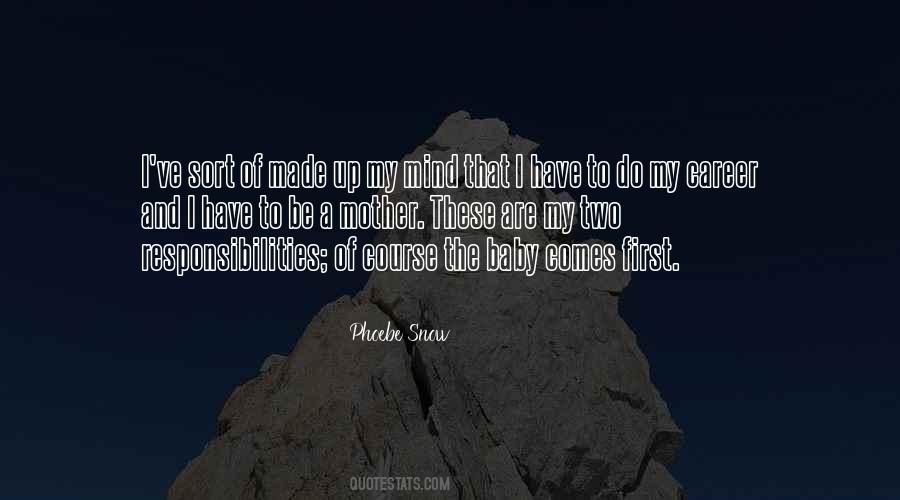 #71. I've made up my mind. I'll take my court martial. - Author: Eddie Slovik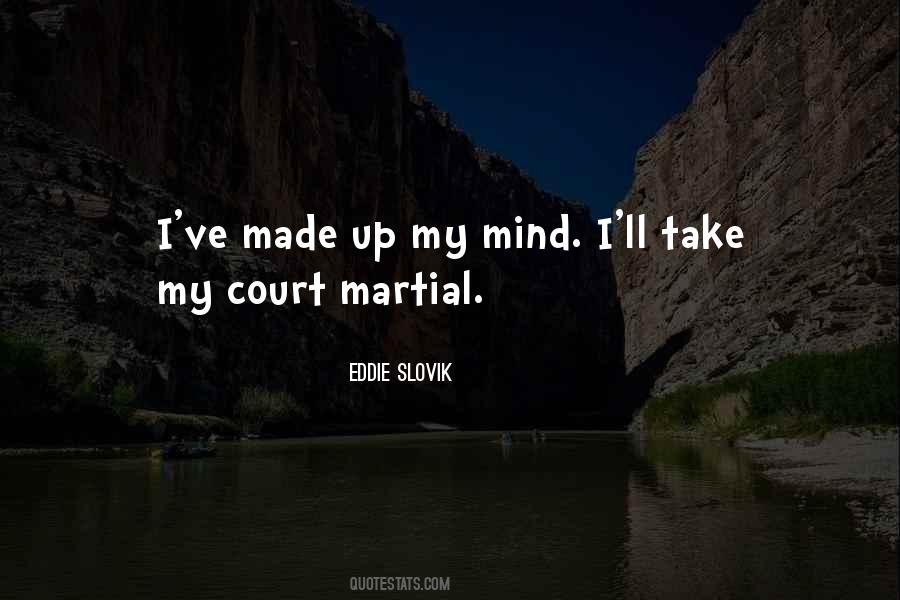 #72. I haven't made up my mind about doing anymore Landover books. - Author: Terry Brooks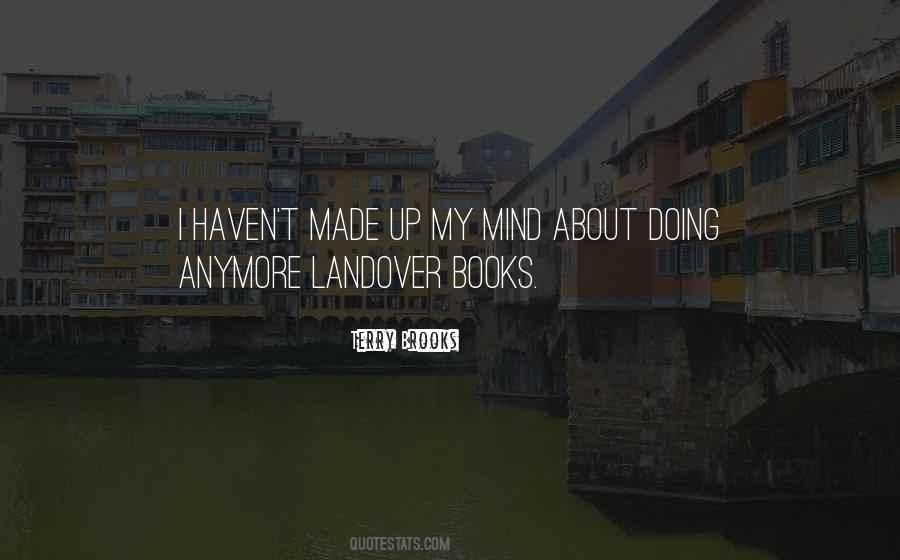 #73. But his very best questions always popped out of his mind, unprepared, never having been written down in advance because they were the angle he picked up on the fly, as he heard an answer to a lesser question. Those creative questions were the art. It is what, in my mind, made his querying great. - Author: Philip A. Fisher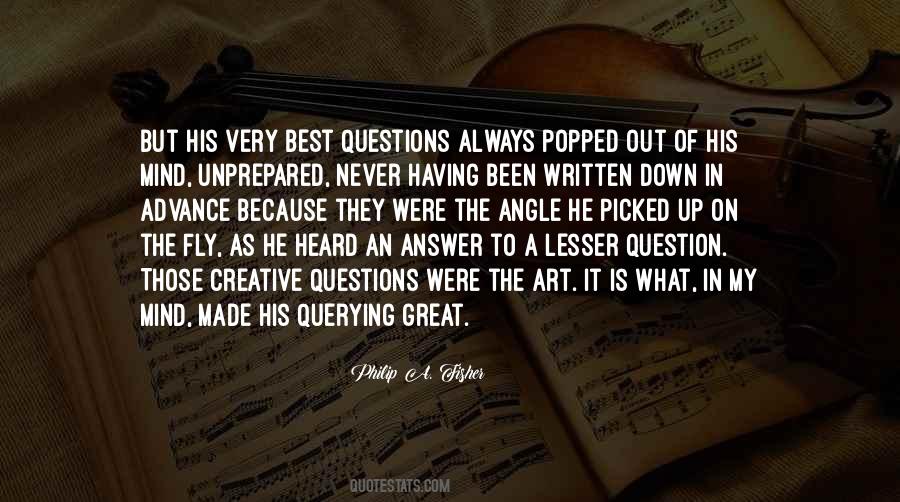 #74. Steve. That always felt made-up to me. Like, when your kid says, "Tell me about my daddy, Mama!" and you're on the spot so you blurt out the first name that comes to mind - "Uh, his name was, um, Steve, honey. - Author: Erin Watt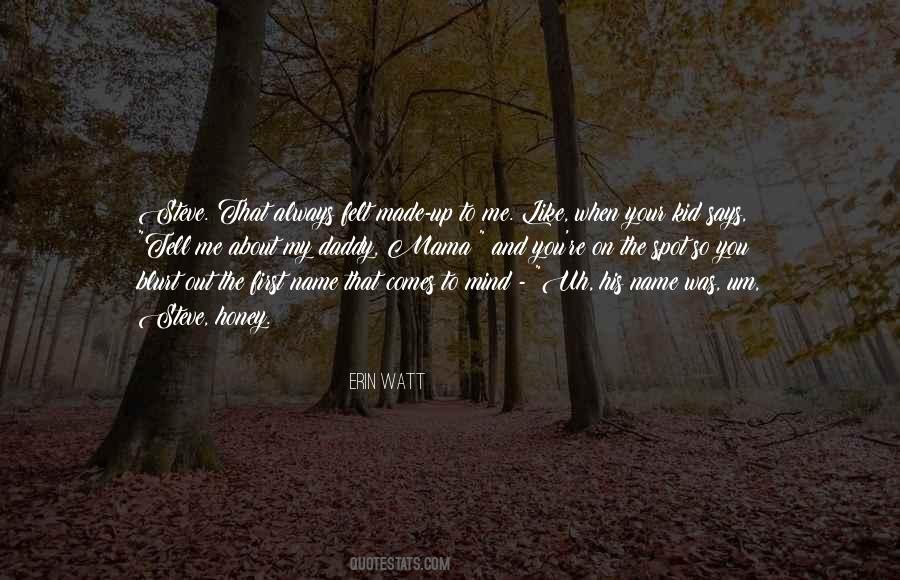 #75. When I left Iowa, I definitely never wanted to stand in front of a group of academics again and see if they approved of me. I made up my mind to take my work to the actual reading public. - Author: Daniel Woodrell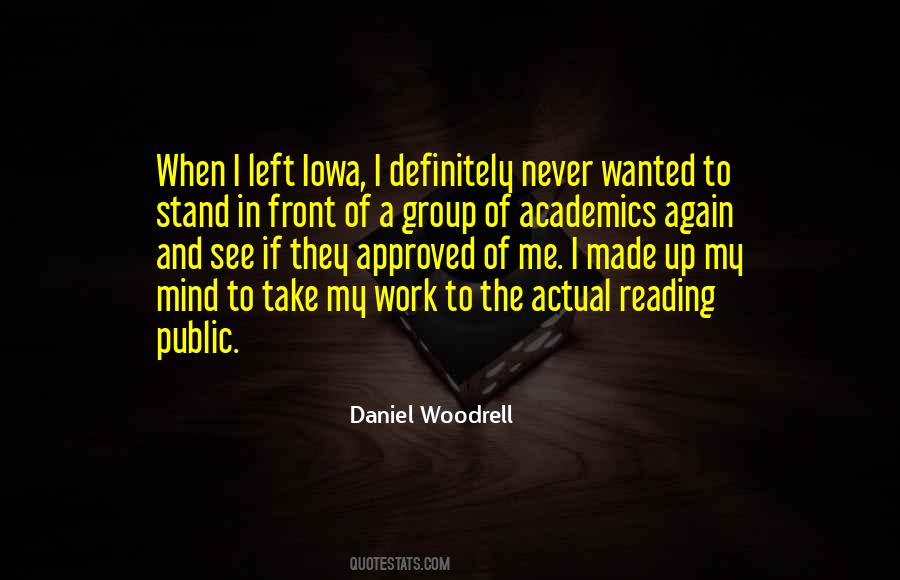 #76. I like to talk to myself ahead of time so when temptation comes, I've already made up my mind that I have the victory. - Author: Joyce Meyer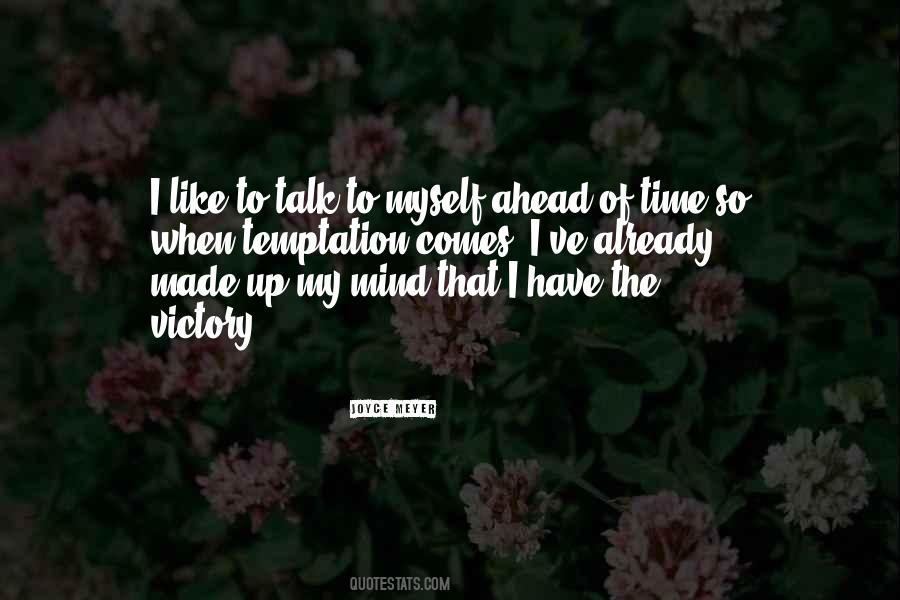 #77. I'm not even thinking about going back to play football at all. My mind's made up. I'm done. - Author: Keyshawn Johnson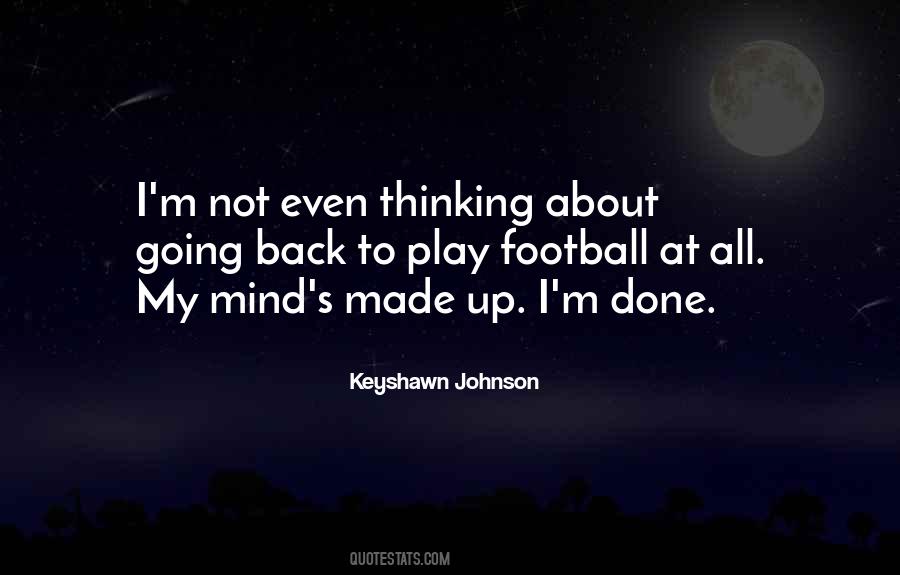 #78. I made up my mind that not only would I become a millionaire, but that I would also raise up millionaires from members of my church - Author: Sunday Adelaja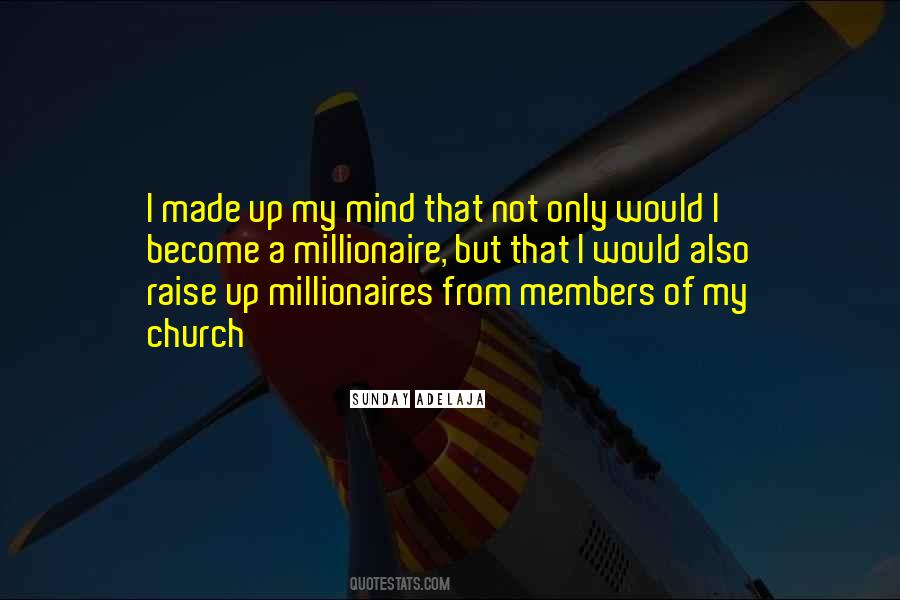 #79. I have been a judge for 15 years and I've made up my own mind during all that time. - Author: Samuel Alito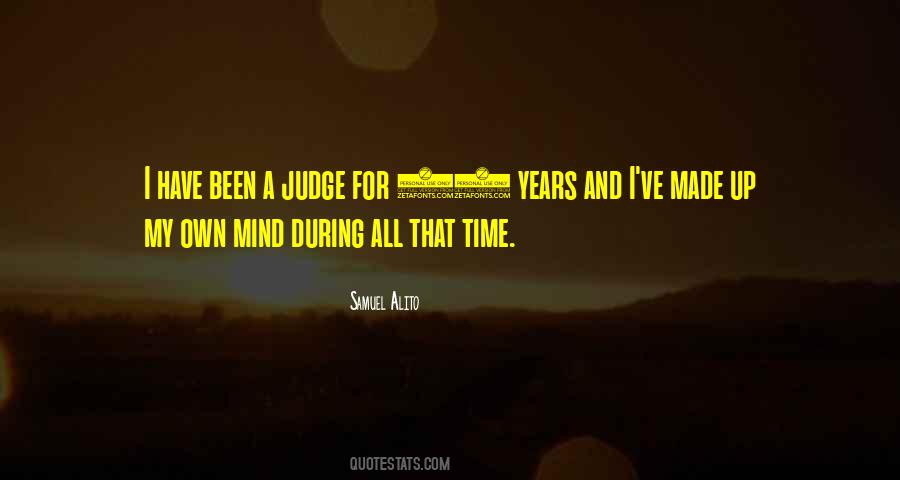 #80. I don't understand anything ... and I no longer want to understand anything. I want to stick to the fact ... If I wanted to understand something, I would immediately have to betray the fact, but I've made up my mind to stick to the fact. - Author: Fyodor Dostoyevsky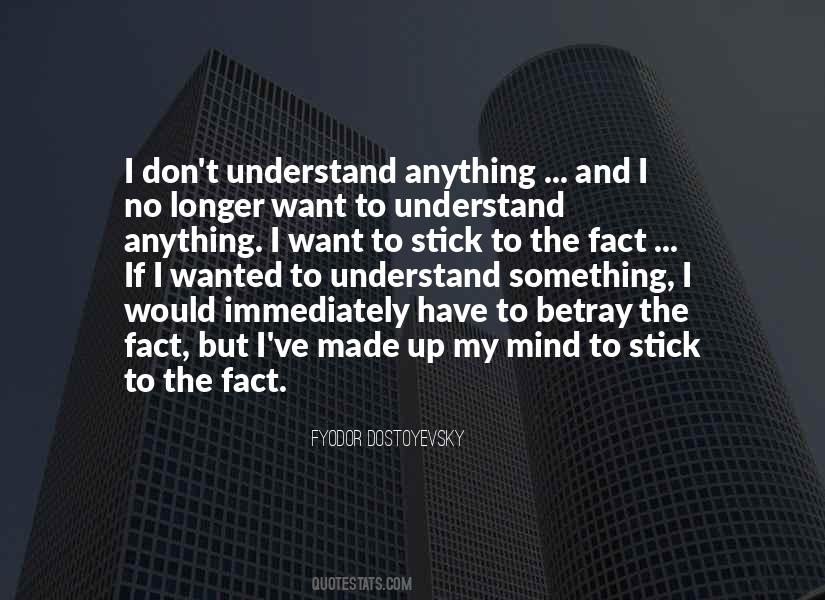 #81. I was hurt so deep that I made up my mind never to hurt anybody else, no matter what. I never made jokes about anybody's big ears, their stut- terin', or about them bein' off their nut. - Author: Jimmy Durante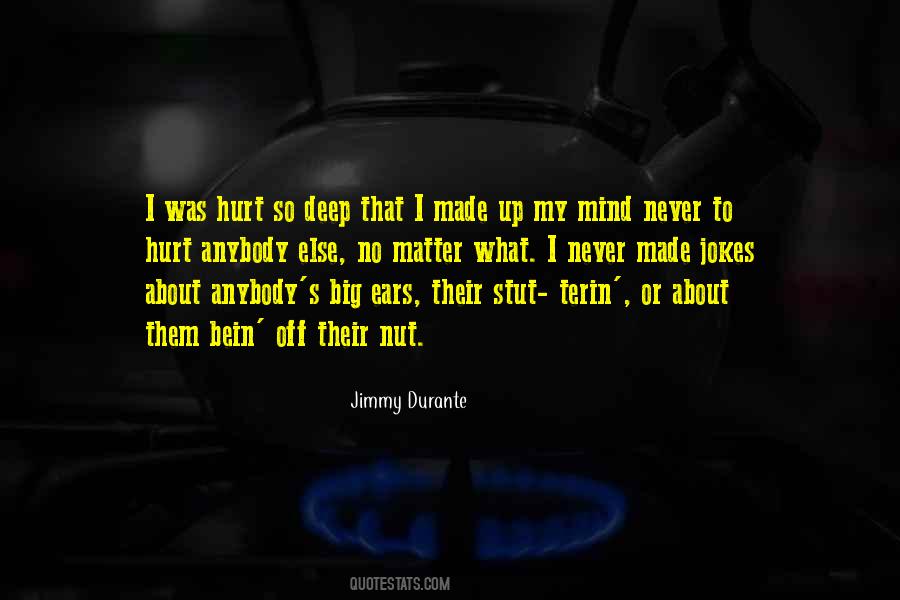 #82. I was nine years old when I made up my mind that that was what I definitely wanted to do. - Author: Ewan McGregor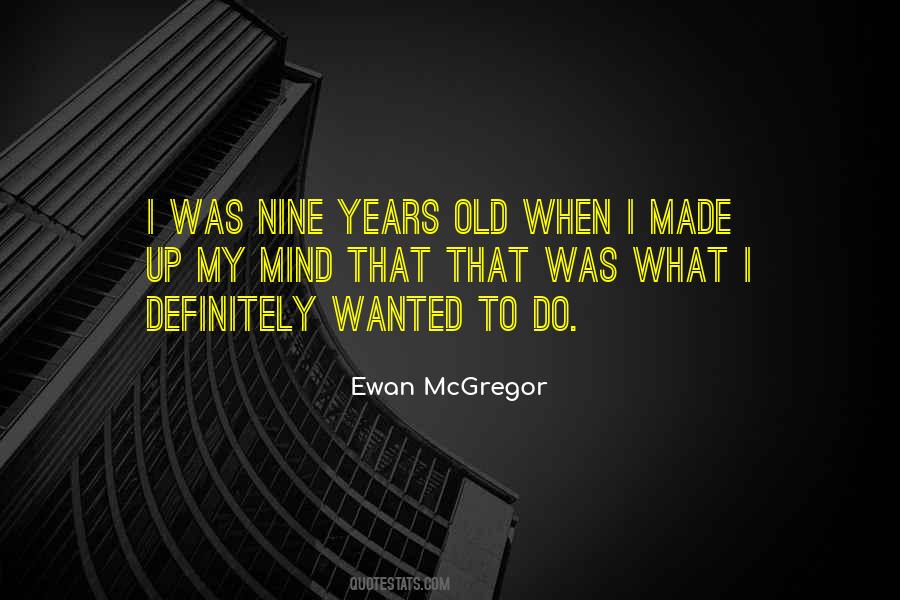 #83. Long ago, I made up my mind that when things were said involving only me, I would pay no attention to them, except when valid criticism was carried by which I could profit. - Author: Eleanor Roosevelt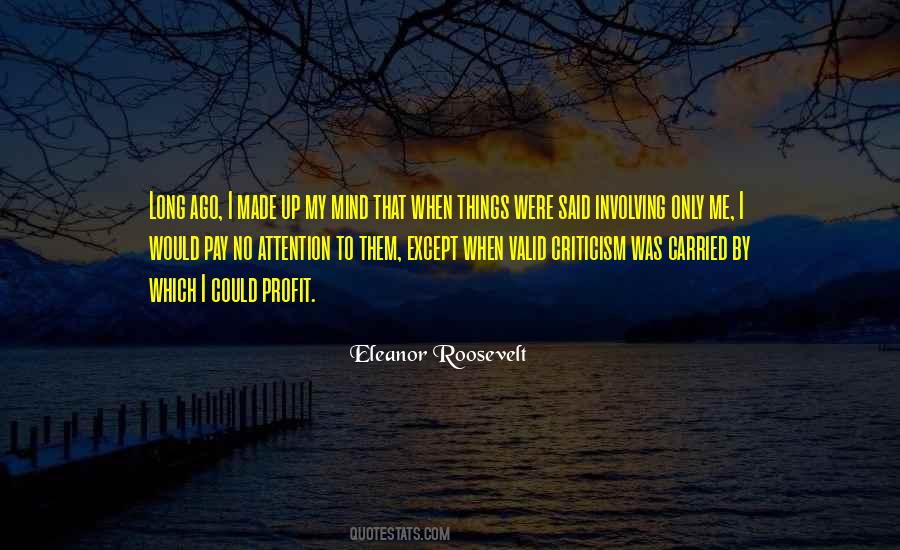 #84. At the age of 18, I made up my mind to never have another bad day in my life. I dove into a endless sea of gratitude from which I've never emerged. - Author: Patch Adams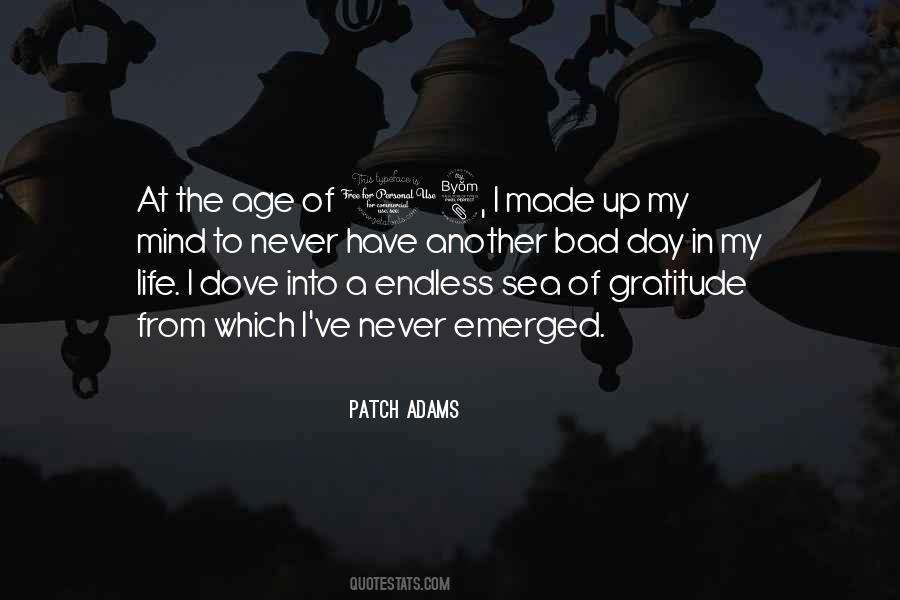 #85. But the picking out, the choosing. Don't ever think I fell for you, or fell over you. I didn't fall in love, I rose in it. I saw you and made up my mind. My mind. - Author: Toni Morrison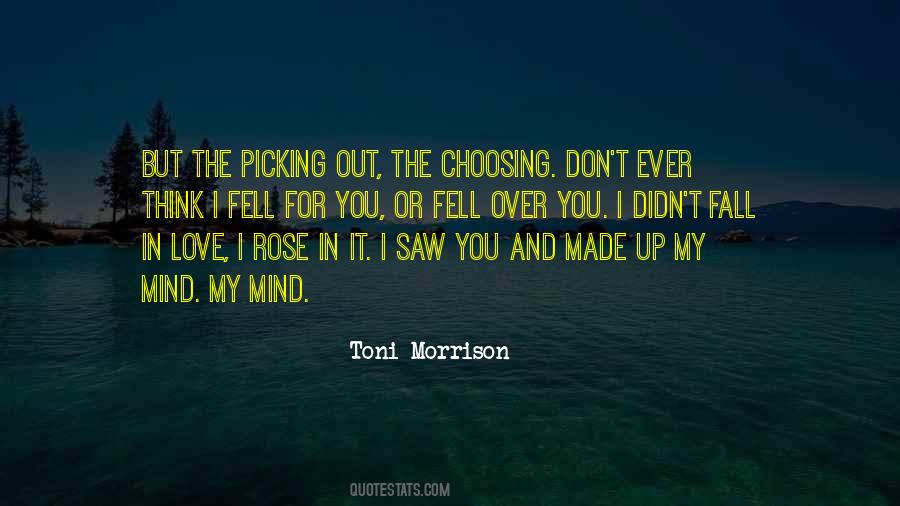 #86. At one time I was weary of verse writing, and wanted to give it up. At another time I was determined to be a poet until I could establish a proud name over others. The alternatives battled in my mind and made my life restless. - Author: Matsuo Basho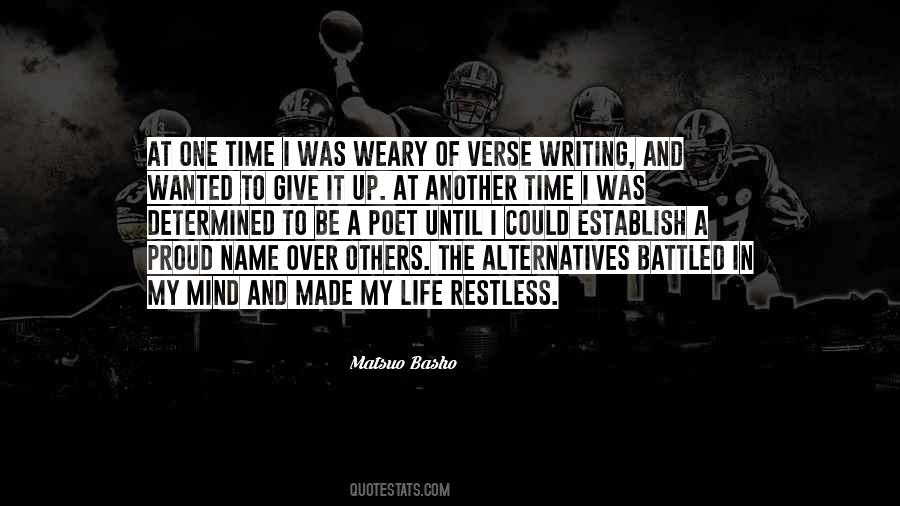 #87. I made up my mind when I was 15 years old that I would never smoke or drink. I have kept that pledge to myself, and it was one of the smartest decisions I ever made. - Author: Ann Landers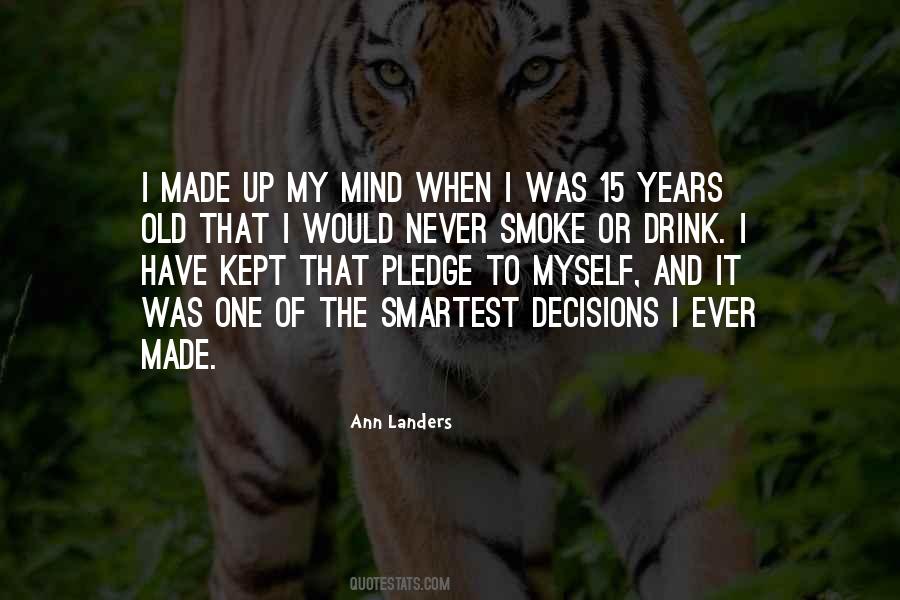 #88. I've made up my mind to enjoy this drive. It's been my experience that you can nearly always enjoy things if you make up your mind firmly that you will. Of course, you must make it up FIRMLY. - Author: L.M. Montgomery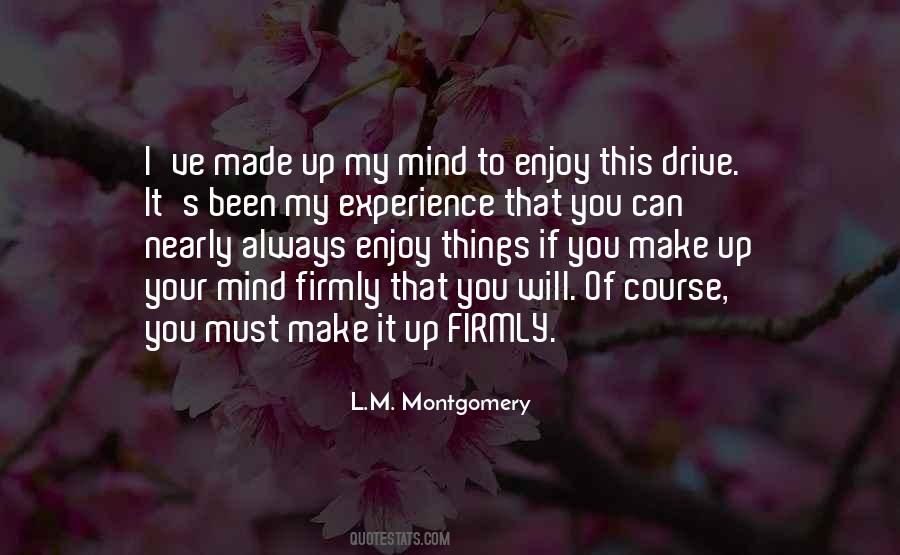 #89. I haven't really made up my mind concretely about having kids. - Author: Andrew Rannells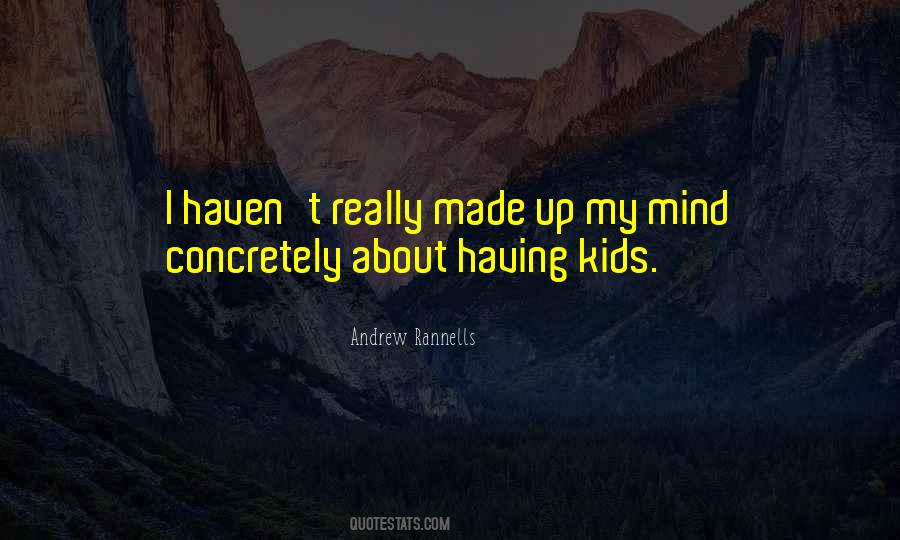 #90. No one is making me say this. No one is making me tell this story. Nobody's ever been much good at making me say anything I hadn't already made up my mind to say. - Author: Elizabeth Bear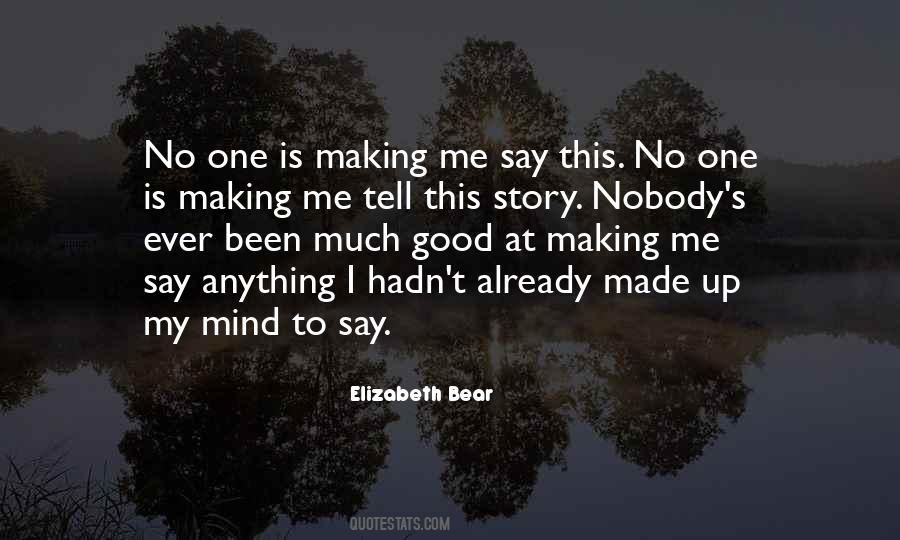 #91. It's not because my mind is made up that I don't want you to confuse me with any more facts. It's because my mind isn't made up. I already have more facts than I can cope with. So SHUT UP, do you hear me? SHUT UP! - Author: John Brunner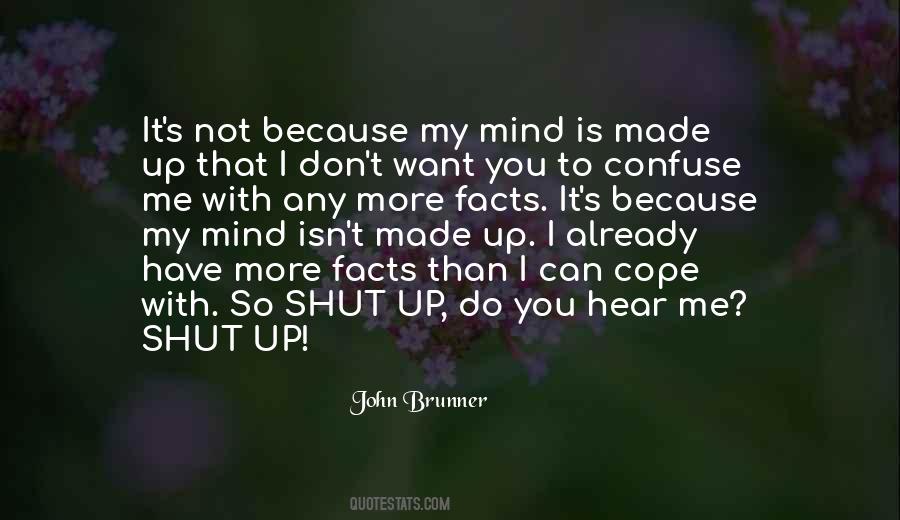 #92. I made up my mind several years ago that I had worked very hard to get to where I am in life and that I was only going to do things that are fun and exciting. - Author: Andy Williams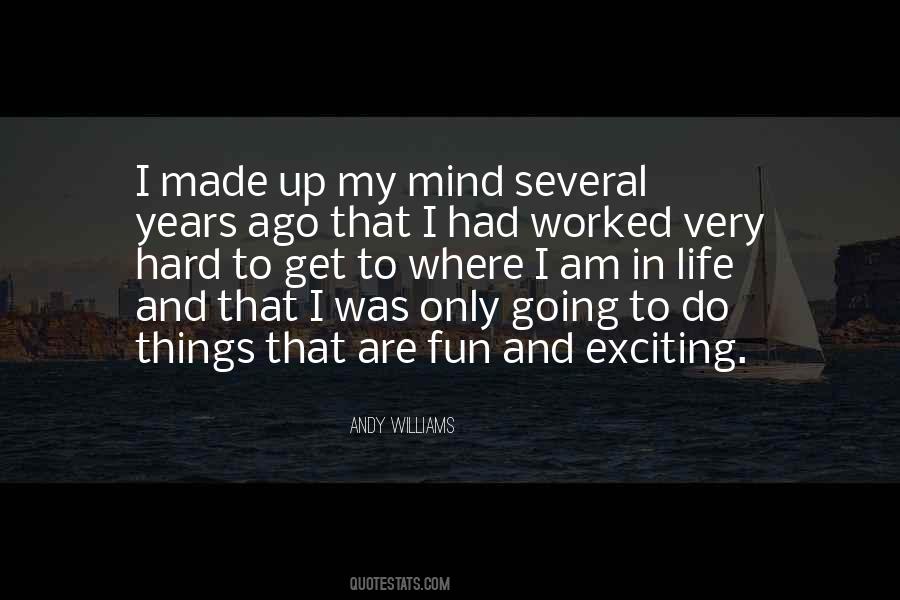 #93. Tonight's show is about doubt. Or maybe it isn't - haven't made my mind up yet. - Author: Bill Bailey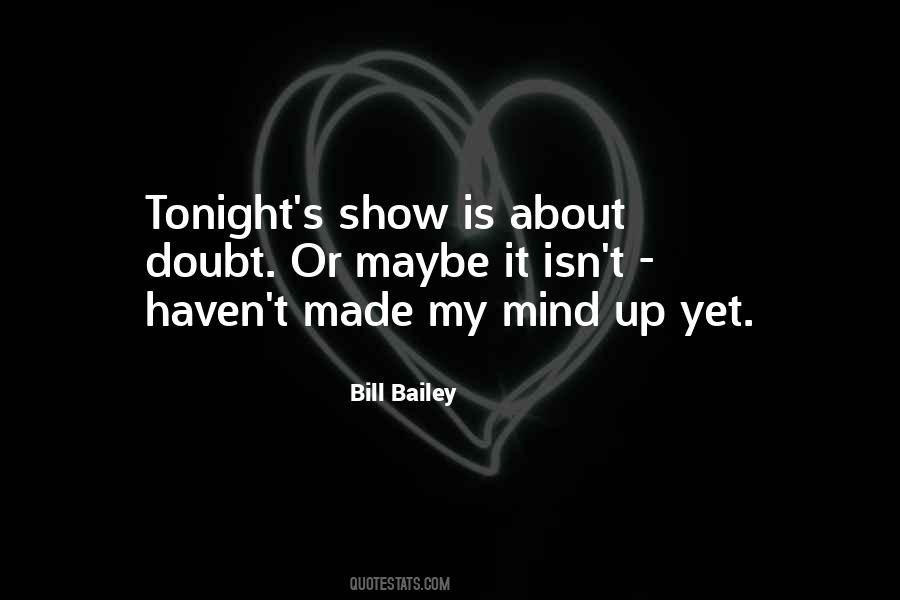 #94. Which of my two critics was I to believe? I didn't worry about it and very soon made up my mind they were both idiots. - Author: Henry James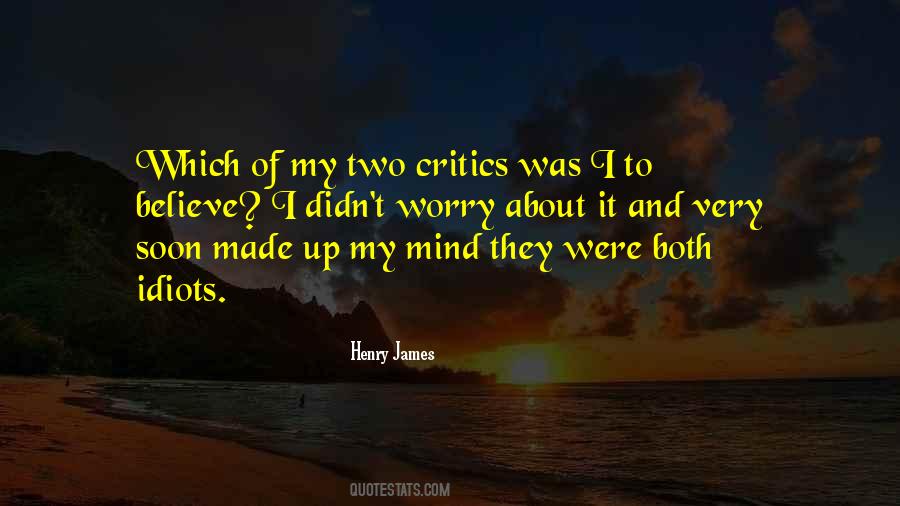 #95. I've made my mind up that I will only do a film that I really, really love. I'm determined to lie low until a role comes along that really makes me want to work. - Author: Jennifer Garner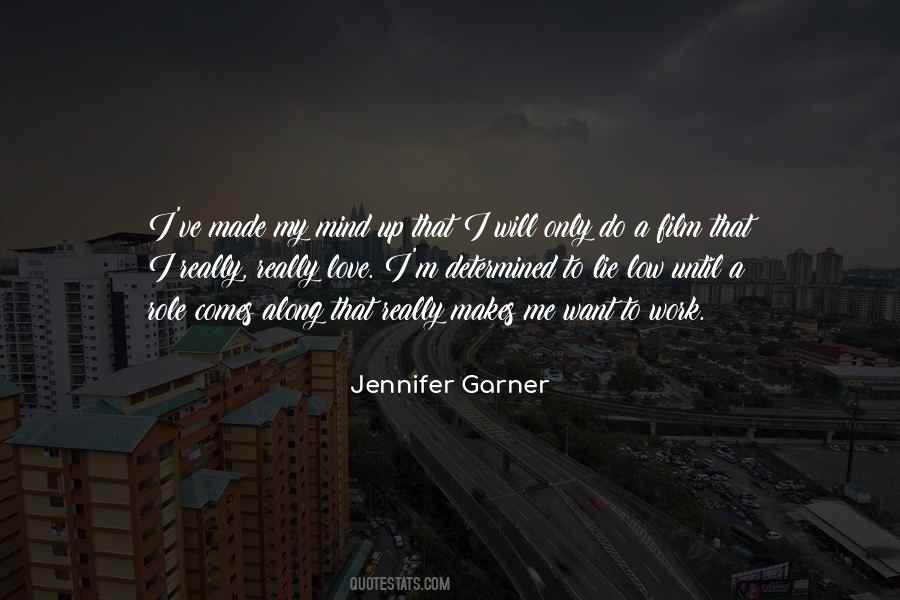 #96. In high school I was best in music class on the trumpet, but the prizes went to the boys with blue eyes. I made up my mind to outdo anybody white on my horn. - Author: Miles Davis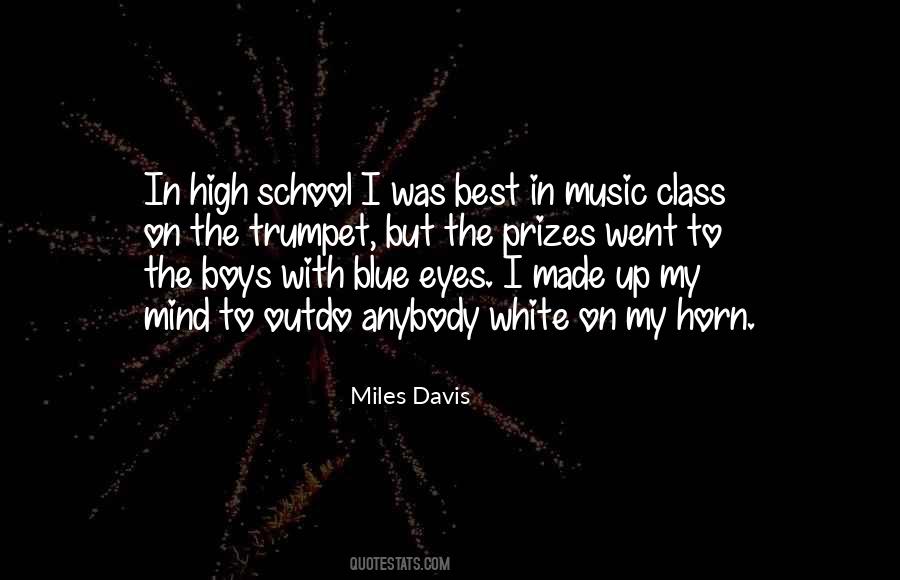 #97. In the fashion world if you're successful, everyone loves you, and you have available every service. It's hard to walk away, except it wasn't hard for me. I had my mind completely made up. - Author: Helmut Lang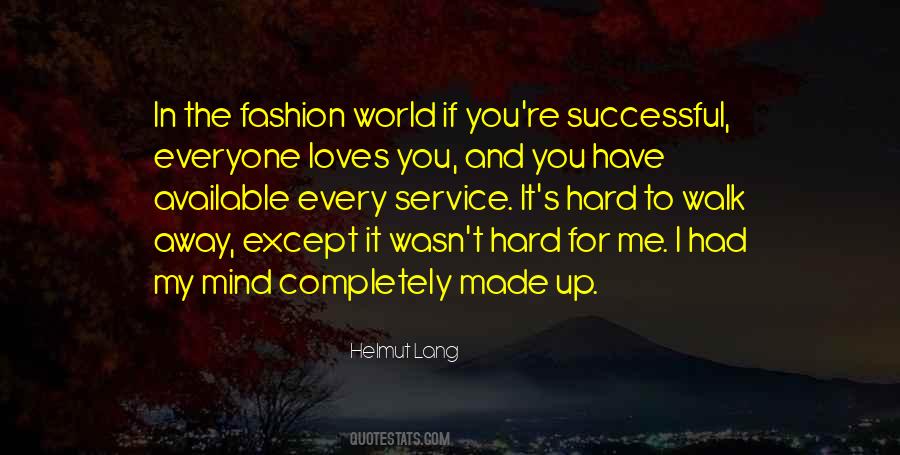 #98. I have already made up my mind, don't confuse me with facts. - Author: Philip A. Fisher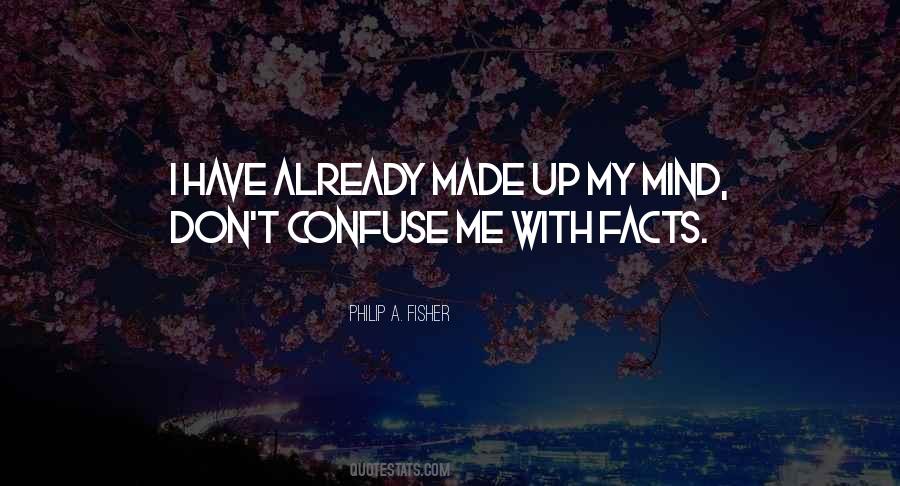 #99. I made up my mind I'm not going to pay attention to what people think. I've done that too long - all my life. I'm not going to live that way anymore. - Author: Kent Haruf
#100. I have pretty much made up my mind to do this. - Author: Paul Tsongas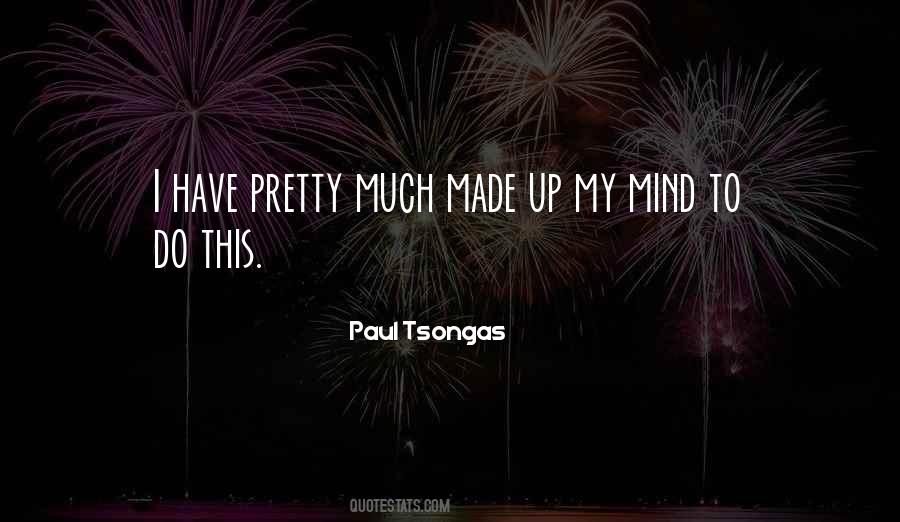 Famous Authors
Popular Topics