Love How You Look Famous Quotes & Sayings
List of top 100 famous quotes and sayings about love how you look to read and share with friends on your Facebook, Twitter, blogs.
Top 100 Love How You Look Quotes
#1. Look at me, he said to her. His arms and legs jerked. Look at me. You got your wish. I have learned how to love. And it's a terrible thing. I'm broken. My heart is broken. Help me. The old woman turned and hobbled away. Come back, thought Edward. Fix me - Author: Kate DiCamillo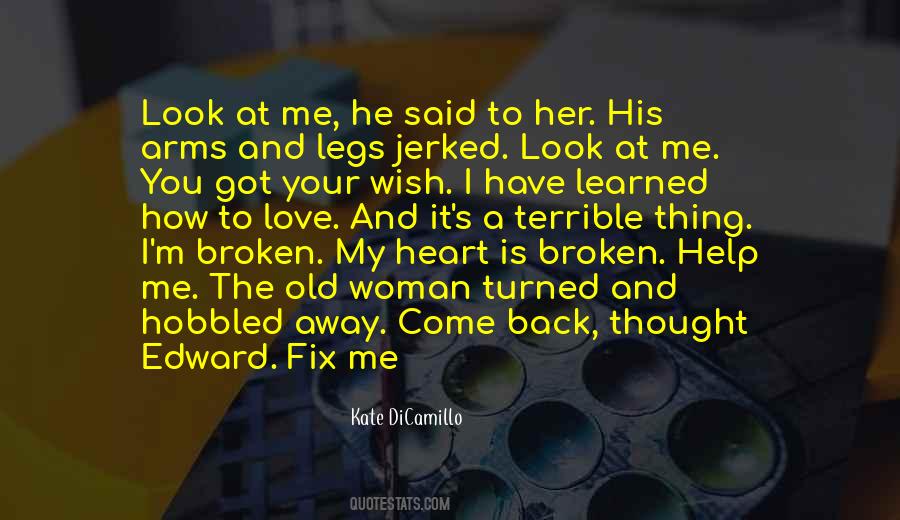 #2. Have I told you how beautiful you look tonight?"
"That brandy you had before we left home has dulled your senses, Devlyn.
However, I appreciate your gallantry."
"Haven't you learned by now, that I'm far from gallant? A rake rarely is. - Author: Monica Burns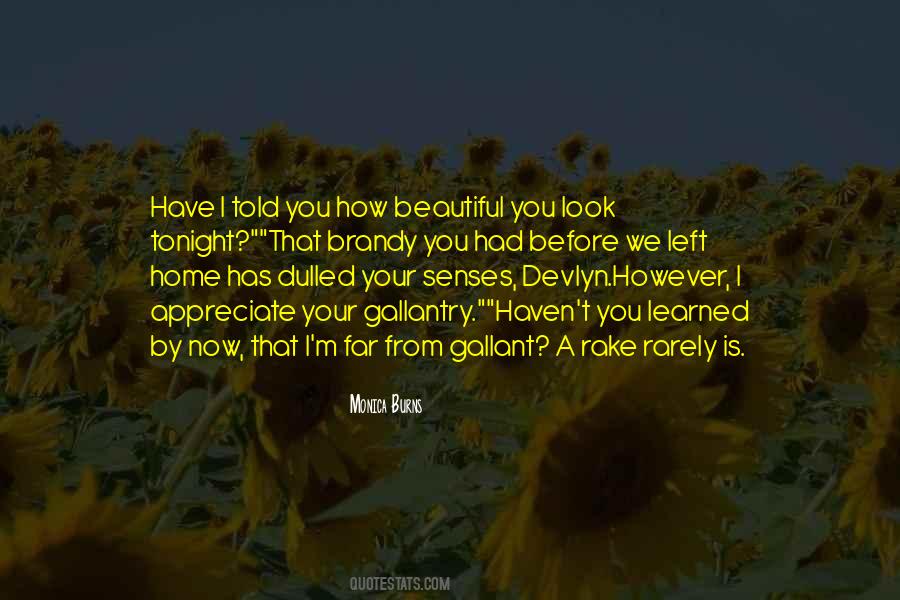 #3. She had no experience of crushing on someone like that. She hadn't realized before how frightening it was to look a dream in the face. To realize how much it could change you live, and how much it could demand of you. - Author: Jillian Hart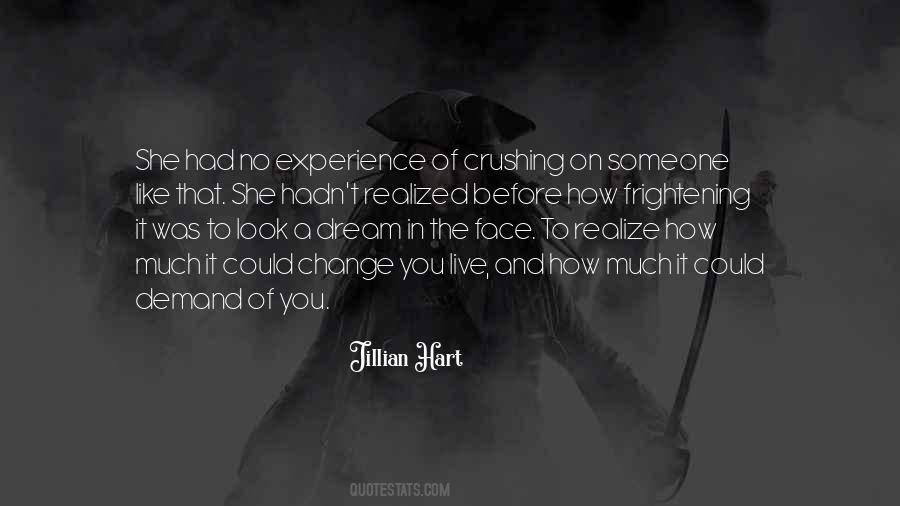 #4. I'm going to love Lily how I want to love her.
Overwhelmingly, uncompromisingly.
Look away if you have to. - Author: Krista Ritchie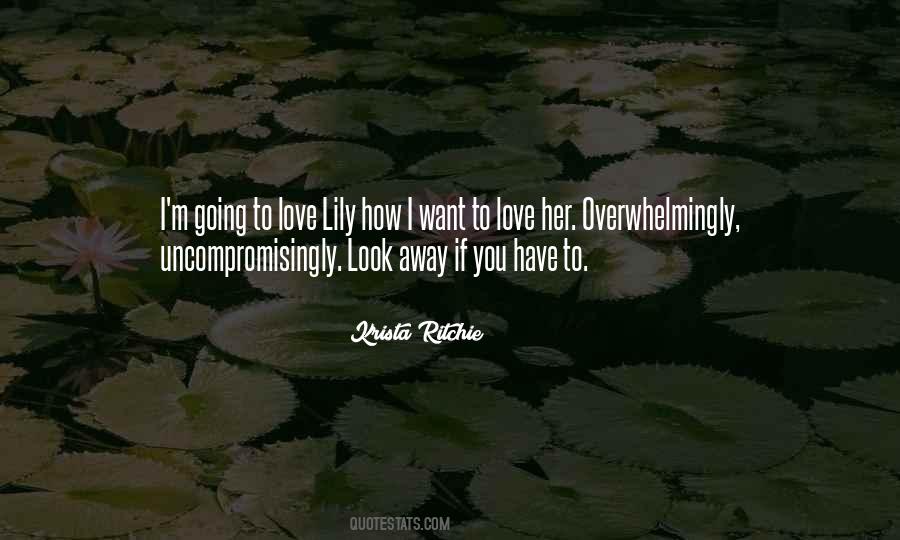 #5. It's a love/hate relationship, baby. I love how they look on you. Hate that they're blocking my access. - Author: Samantha Towle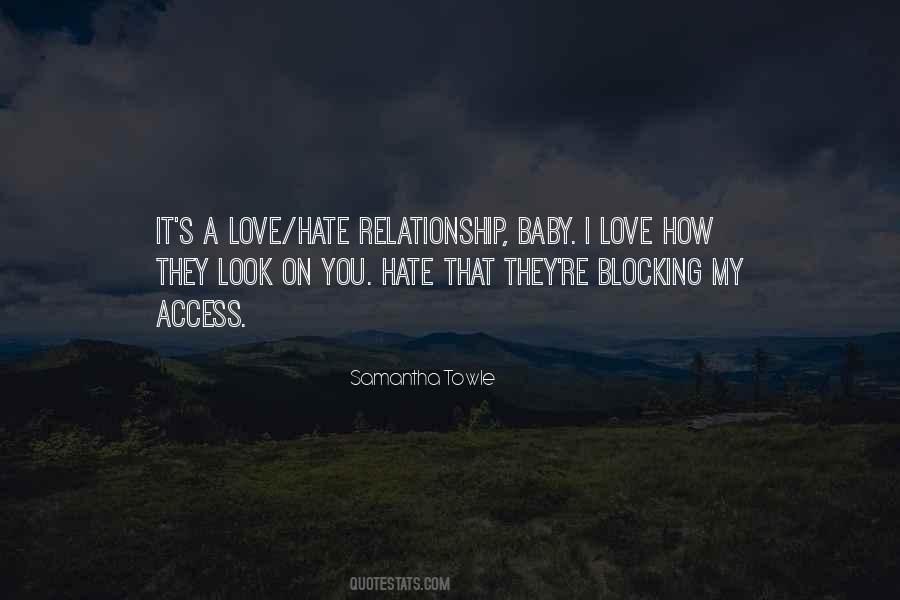 #6. All I could think about while driving after you was how it was about to happen all over again and that I would never be able to feel your warm skin under my hands or look into your beautiful blue eyes, or tell you how much I love you. - Author: Michelle Madow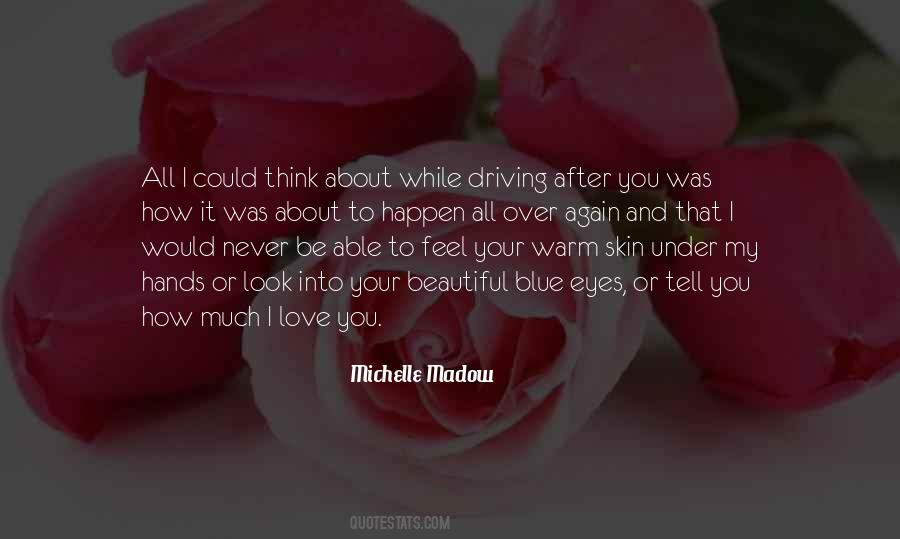 #7. Even I can appreciate a cute guy. How can a girl not? It's not the looking part that counts anyway. It's the touching. My theory is you can look at all the eye candy you want and still appreciate what you have at home - Author: Apryl Baker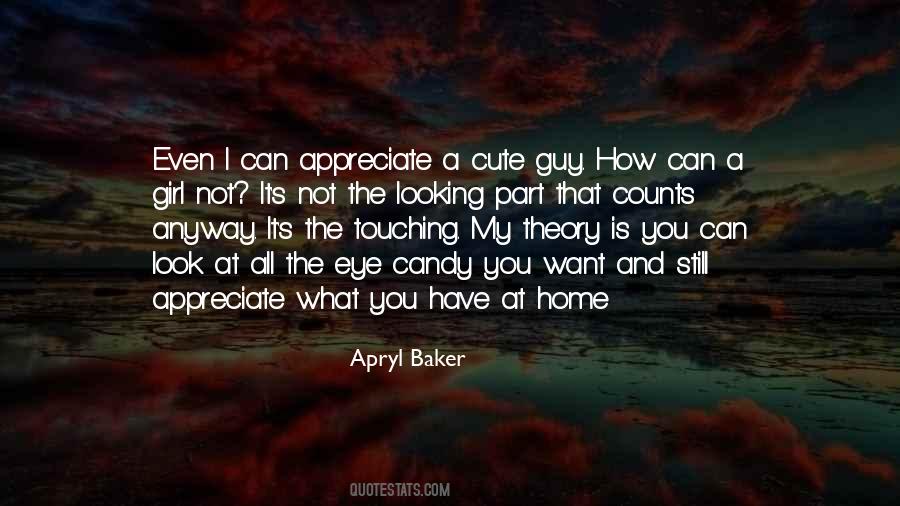 #8. Whoever said technology would replace all paper obviously hasn't tried wiping their bottom with an iPad. Q. How do you find Will Smith in the snow? A. You look for the fresh prints. Q. Why should you never date a tennis player? A. Because love means nothing to them. - Author: Hudson Moore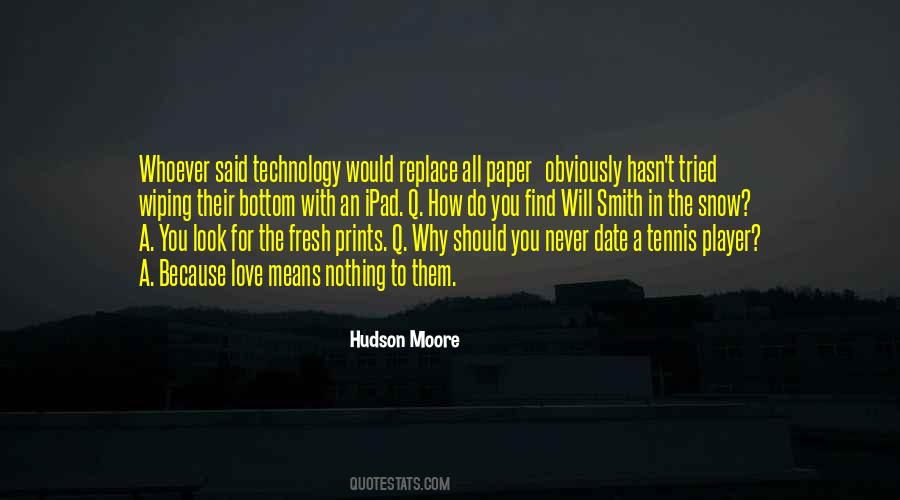 #9. God's wrath and love are most vividly on display at the Cross. If you ever doubt God's settled anger at sin, look at the Cross. If you ever doubt how kind, good, and loving God is, look at the Cross. - Author: Todd Friel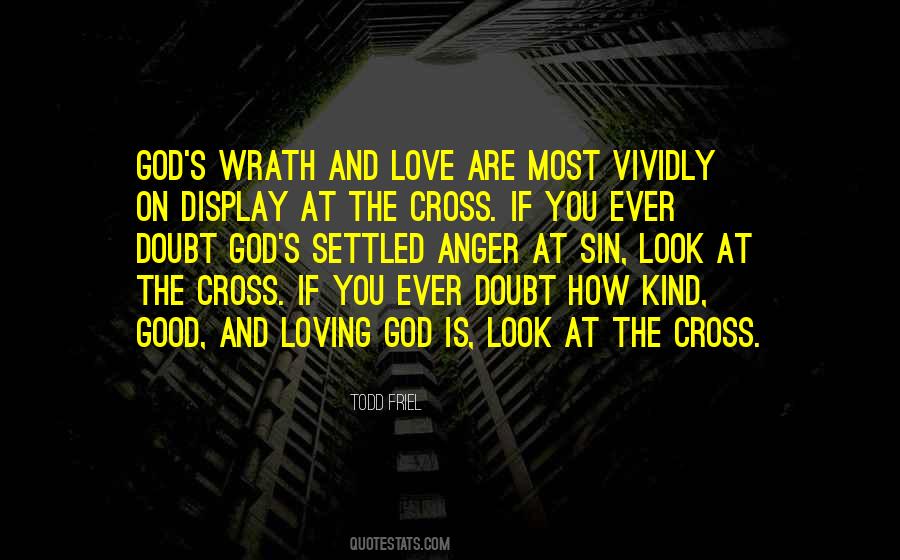 #10. How many gifts and graces You have given me! How many favors You have fed me from your hand! I look for your love in all directions, then suddenly its blessing burns in me. - Author: Rabia Basri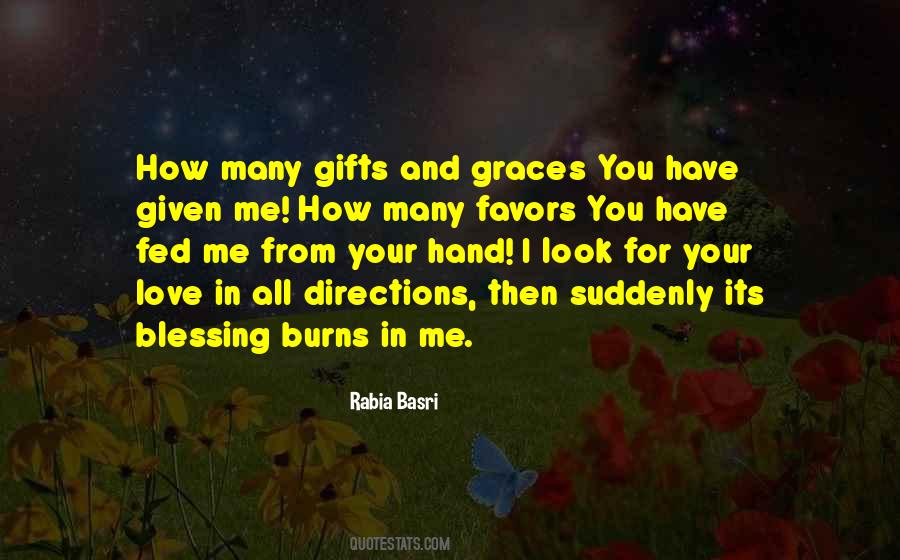 #11. I love being the person my kids depend on to learn. Everything they learn, for the most part, comes from you - how they treat people, how they look at the world, how they process things. I love being that example for them, just like my parents were for me. - Author: Michael Strahan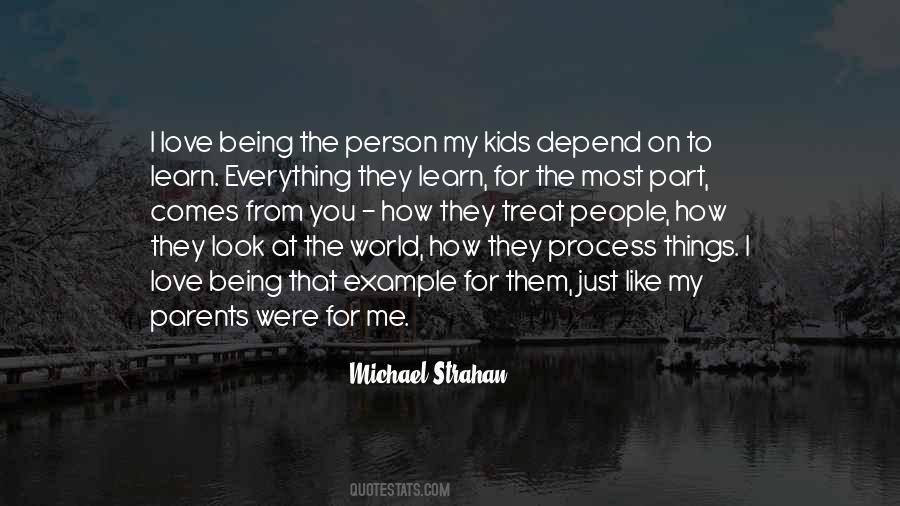 #12. If you want to know how much I love you, look into my eyes with your heart open. - Author: Sunny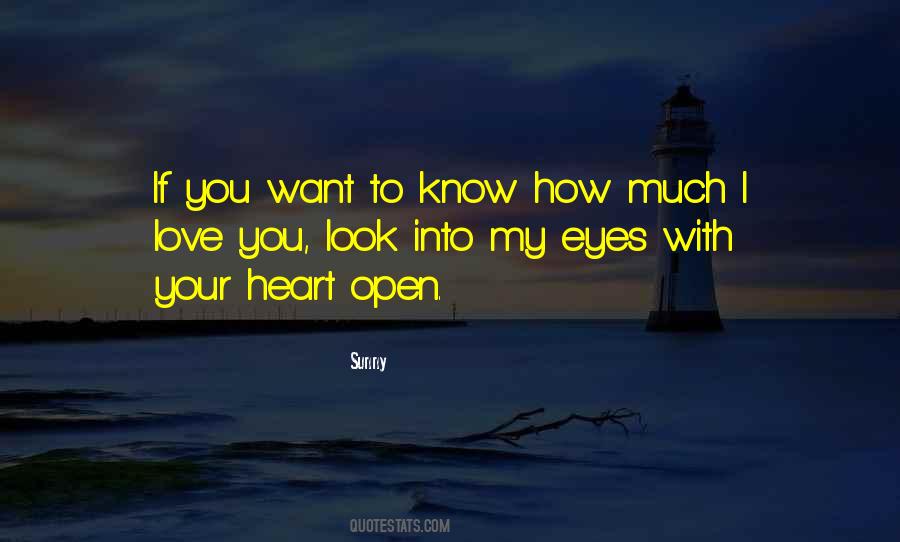 #13. I do smile thinking of you
How could that not be true
Every time I look into your eyes
I fall madly in love with you - Author: Ron Bishop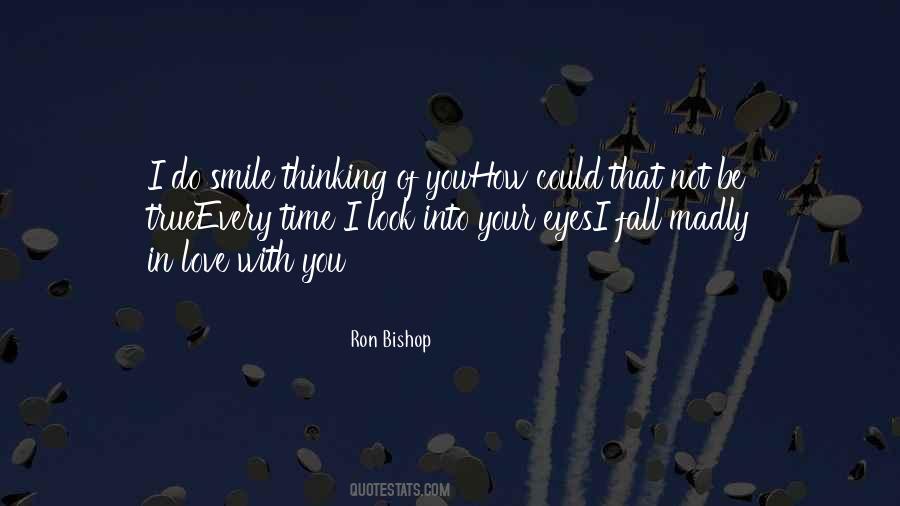 #14. I love directing more than anything in the world, and I love being in the editing room. I love cutting. When I'm shooting, I cut it in my head anyway. That's not to say that it always turns out that way, but you have a sense when you're composing a sequence or a scene how you want it to look anyway. - Author: Hart Bochner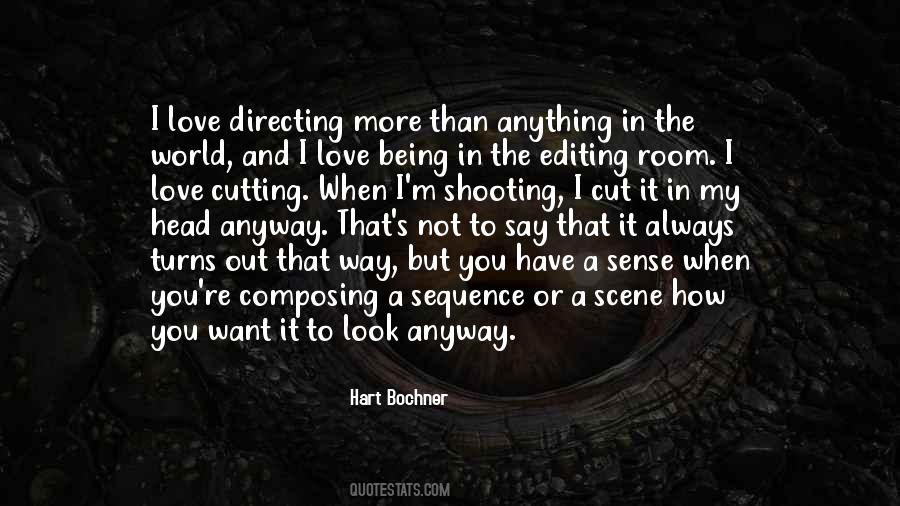 #15. I love it when someone wants nothing to do with me. I think it's so much more attractive. You have to be at ease and not care so much about how perfect you look and whether or not your sleeve length is down to a certain length or hemmed a certain way. - Author: Tommy Ton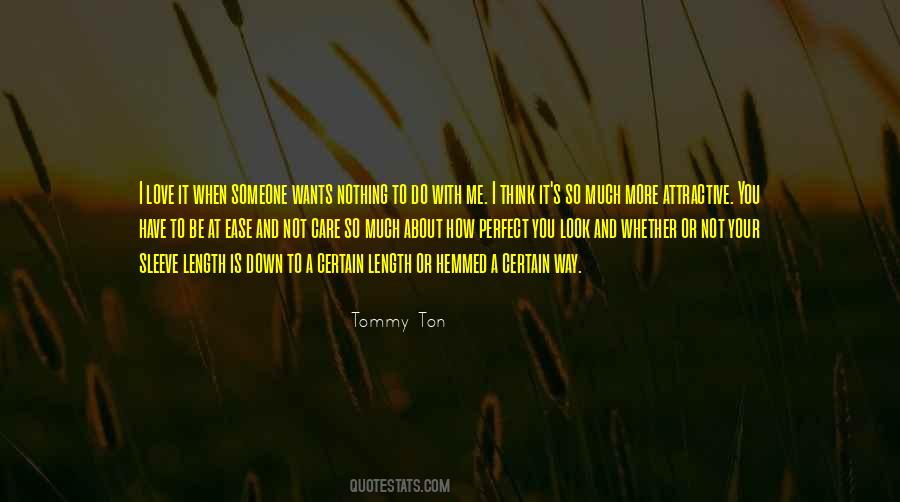 #16. You don't love people for what they can give you. You don't love them because of what they do for you or how good you make them look. Love is blind, love does not boast, love is not vain. - Author: Shelly Crane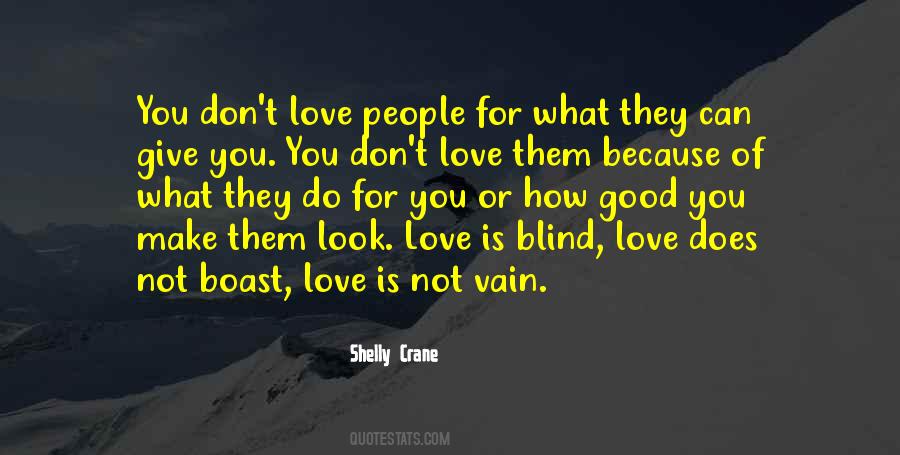 #17. How much time have I wasted on diets and what I look like? People are saying 'We love you and love what you do' and you're sitting there thinking 'I'm not skinny enough or pretty enough.' It's taken a lot of work to get over that. - Author: America Ferrera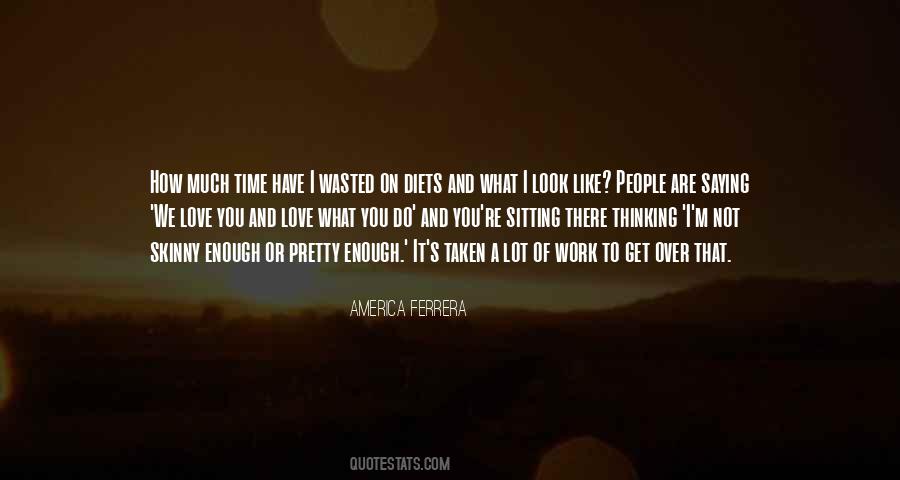 #18. If I didn't say it, how do you know?" "When you touch me, when you look at me, when you hold me, I feel it." She looked up at him, eyes drenched. "And I couldn't love you this much without you loving me back. I couldn't know how right it is to be with you if I didn't know you loved me. - Author: Nora Roberts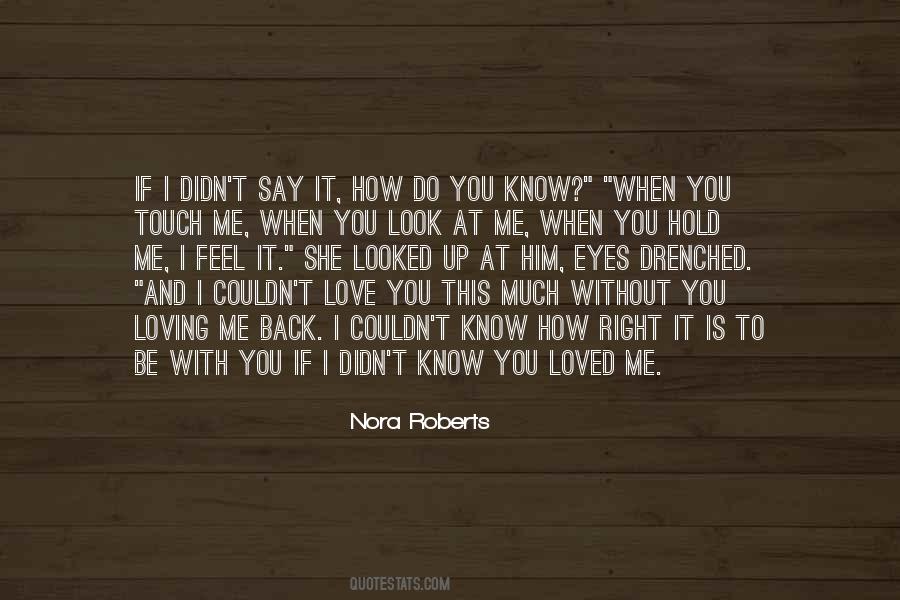 #19. Feeling good" is your way of telling yourself that your last thought was truth, that your last word was wisdom, that your last action was love. To measure how highly you have evolved, simply look to see what makes you "feel good. - Author: Neale Donald Walsch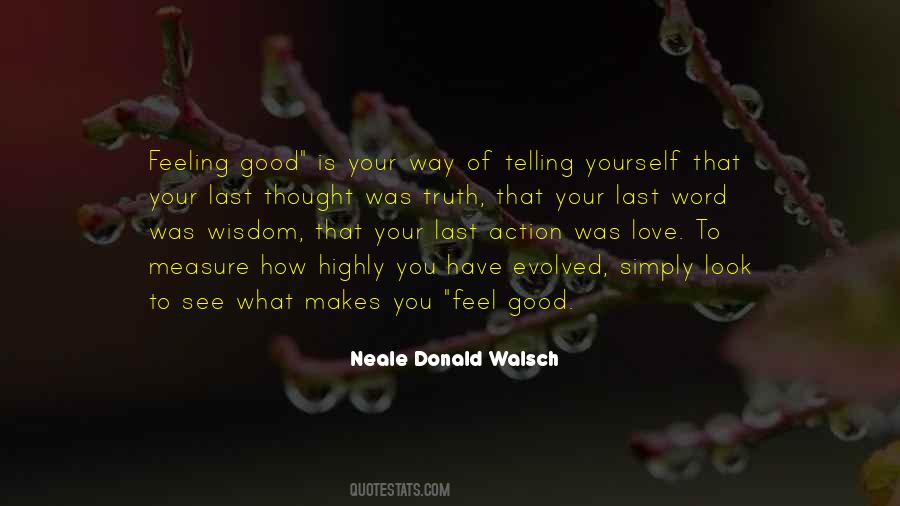 #20. I love it when you look at me like that,' he murmured, his fingers kneading into the plump flesh of her cheeks, 'How am I looking at you?' she managed. 'Like you want to eat me alive, but you don't have a spoon. - Author: Cherrie Lynn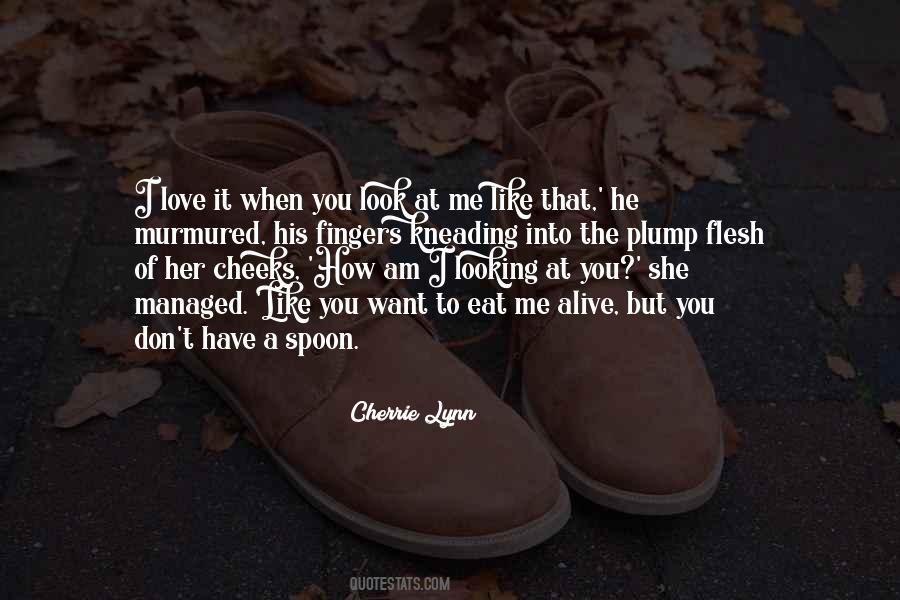 #21. You look good."
"You look like shit."
"That's how I feel."
"Good. What do you want?"
He gave her a faint smile. "To tell you how much I love you, Izzy. I probably have from the first moment we met. - Author: Susan Mallery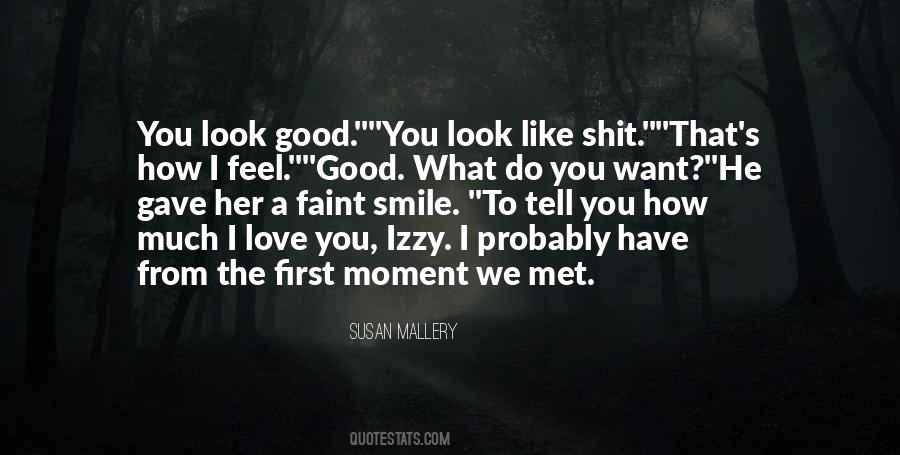 #22. You only need to look at Jane Austen to see how crossed wires can become a defining aspect of romantic life. Then again, if the course of true love ran more smoothly, it would have a terribly detrimental effect on our cache of love stories. - Author: Mariella Frostrup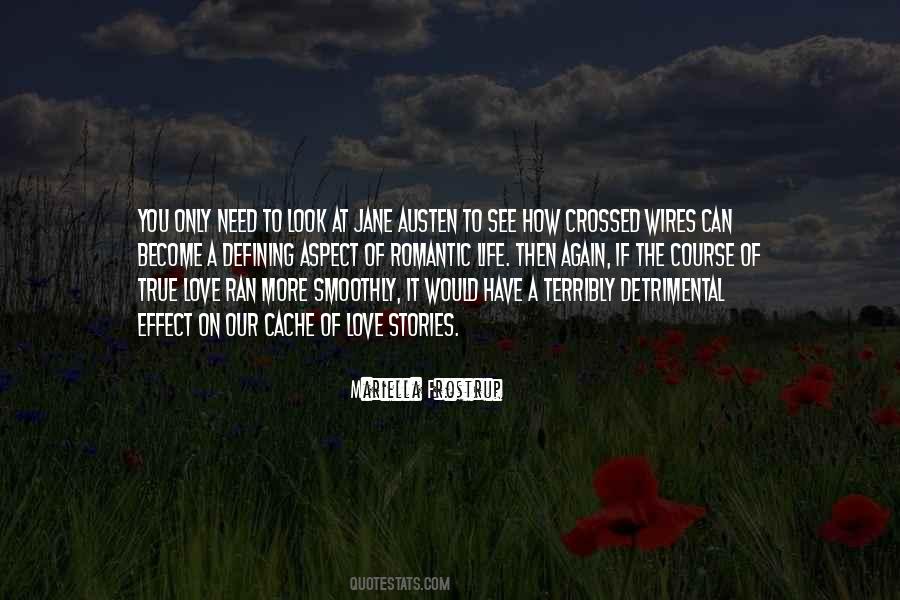 #23. We all make the mistake thinking that how you look makes you more worthy of love. - Author: Meryl Streep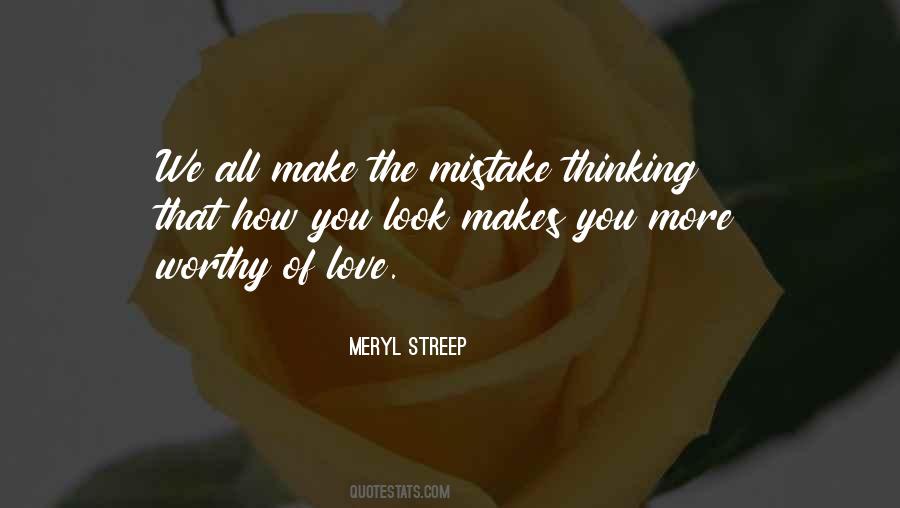 #24. Why should you think that I should woo in scorn?
Scorn and derision never come in tears:
Look, when I vow, I weep; and vows so born,
In their nativity all truth appears.
How can these things in me seem scorn to you,
Bearing the badge of faith, to prove them true? - Author: William Shakespeare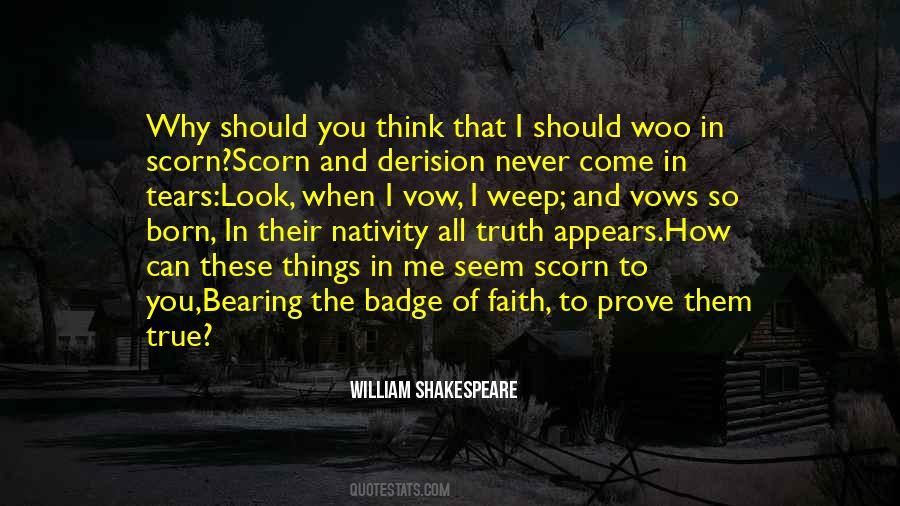 #25. If you can be content with who you are, how you look and then try every day to make a difference to someone else, then it leads to a wonderful life. It's a shame more humans can't grasp that fact. - M.K. Clinton - Author: M.K. Clinton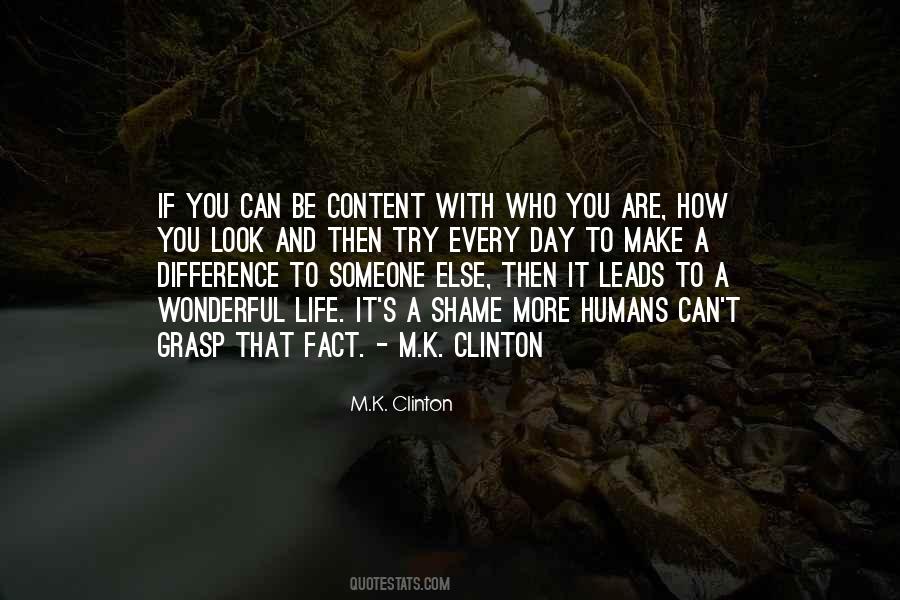 #26. You think I am afraid to love you, ma fee? Look at me, my only love, and see how you hold my heart in your hands, see how much I love you when you look into my eyes. - Author: Paula Quinn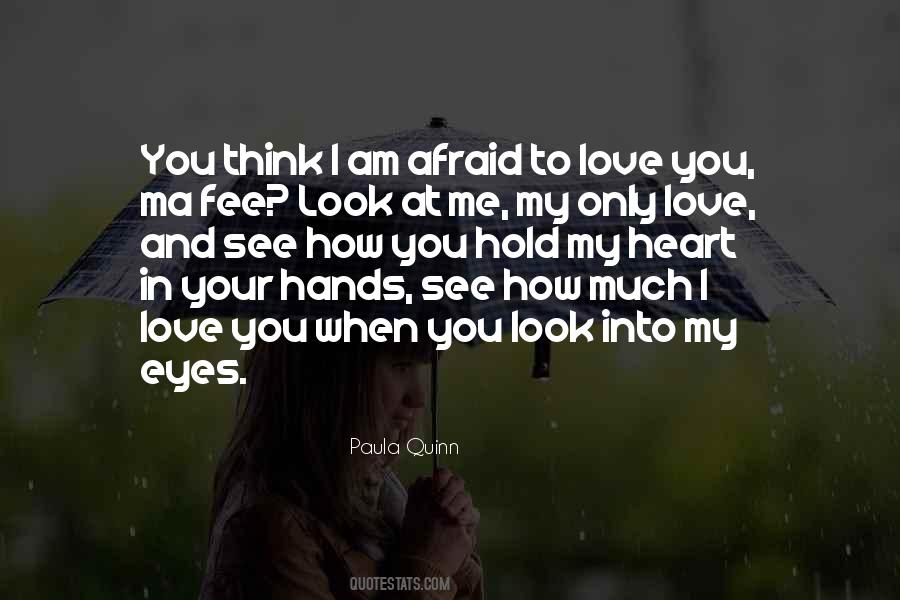 #27. It dawns on you one day ... how precious your life is and how not okay it is for anyone, ever, to cause you any amount of suffering, ever. Then the next time you step out the door you look at everyone and you're thinking, My life is precious and you're not allowed to hurt me. - Author: C. JoyBell C.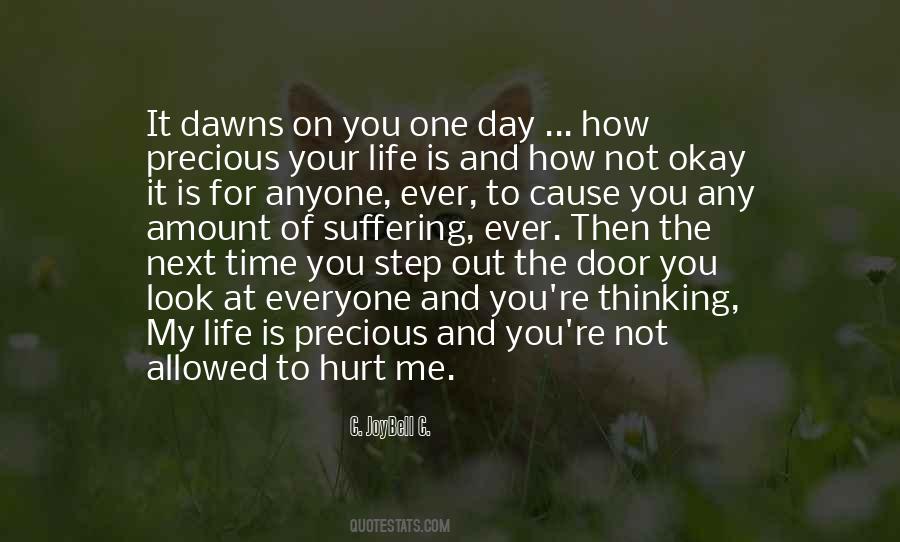 #28. What, no panty ripping today?" I tease. "What is it with you and panties anyway? What's your beef with them?"
He lifts his head, grinning at me. "It's a love/hate relationship, baby. I love how they look on you. Hate that they're blocking my access."
I giggle. - Author: Samantha Towle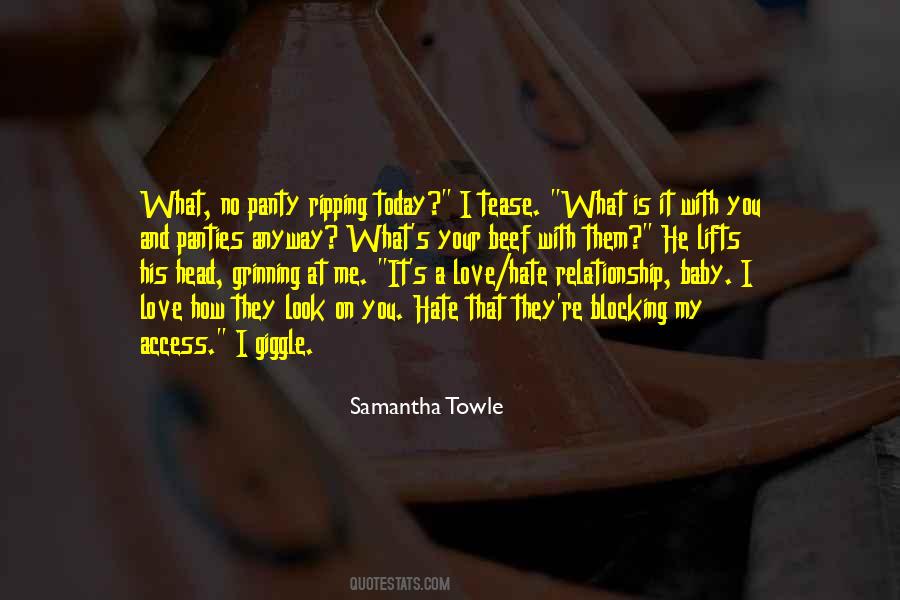 #29. When you look in the mirror and don't like what you see, how can you expect anyone to see you unlike you see yourself. Make you someone you like, and you will learn to love yourself. That is the first step in the quest for Love and acceptance. - Author: Daniel R. Gadberry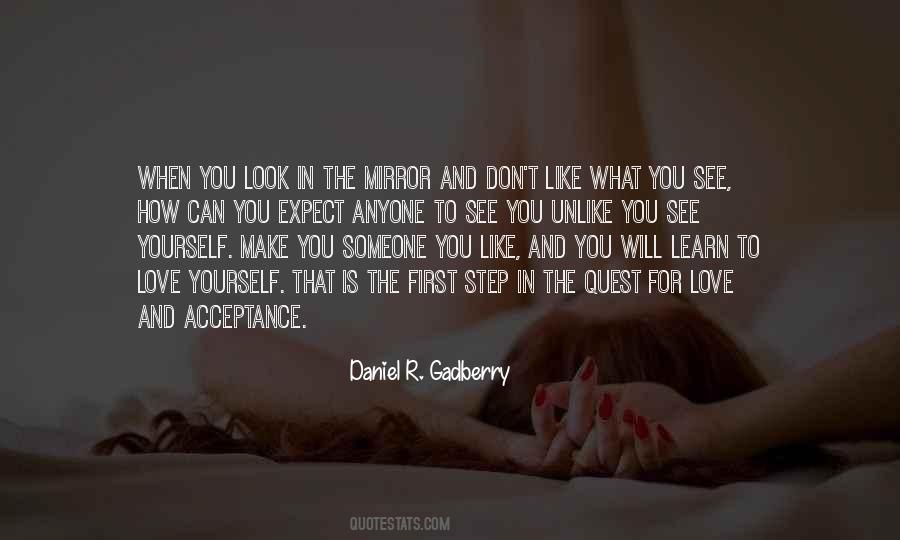 #30. It's not how you look in the mirror that's important, what's important is how you are reflected in the eyes of the people who love you. --T. Hammond (Red Rover) - Author: T. Hammond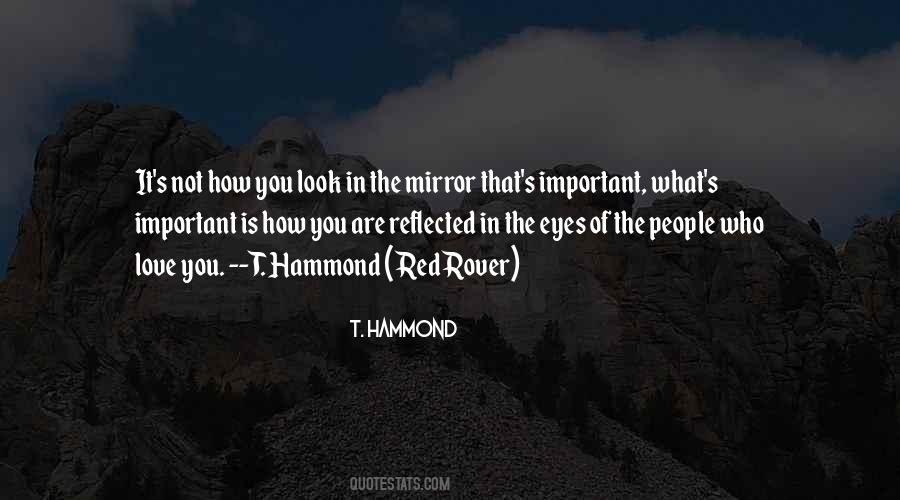 #31. That old saying, how you always kill the one you love, well, look, it works both ways. - Author: Chuck Palahniuk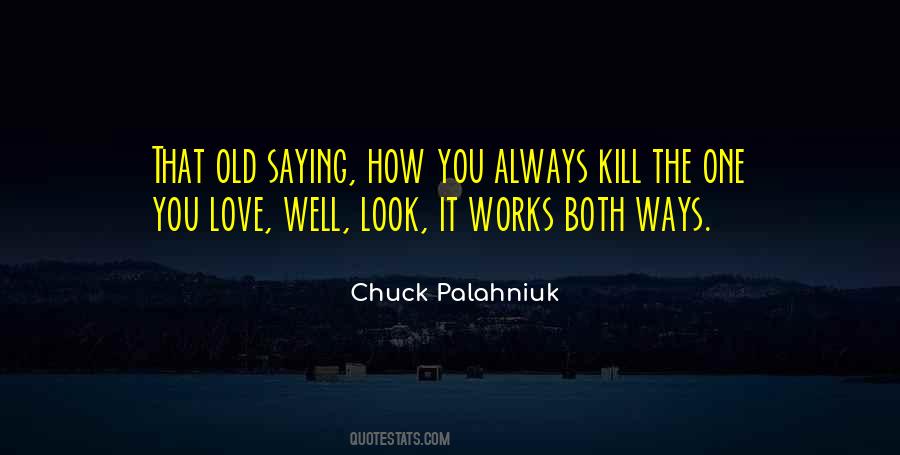 #32. I've never stopped; I simply forgot that I love you. However, every time I look at you I'm reminded of how I can never stop loving you. - Author: Hafsa Shah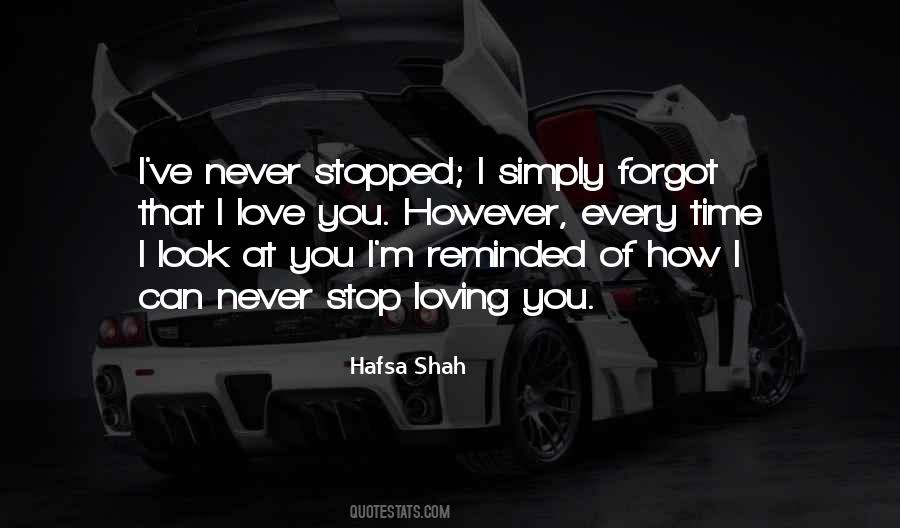 #33. No matter how you look at it, all the emotions connected with love are not really immortal; like all other passions in life, they are bound to fade at some point. The trick is to convert love into some lasting friendship that overcomes the fading passion. - Author: Harold Pinter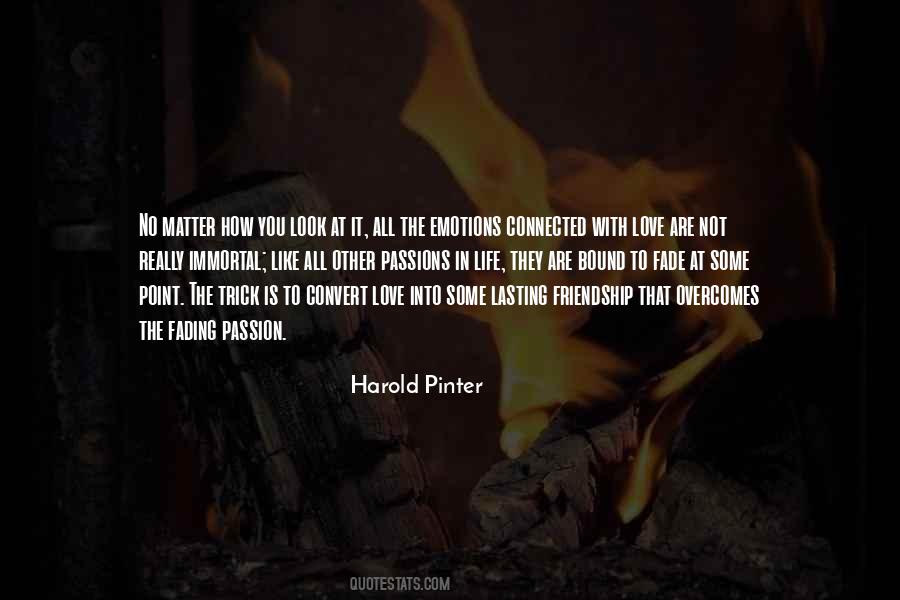 #34. At that moment when you feel like giving up, take a look and search deep inside in oder to understand how far you've come. Don't give up now! Success is right around the corner. - Author: Amaka Imani Nkosazana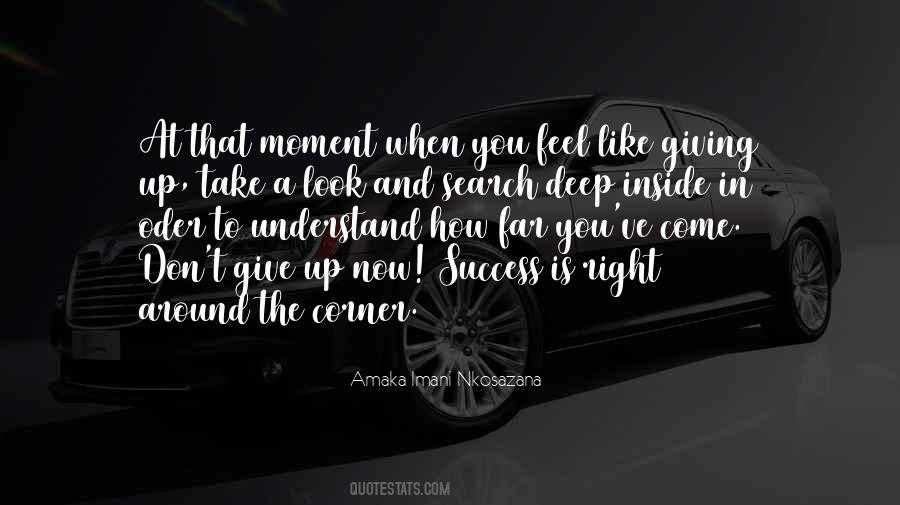 #35. I love how you can look different, and it changes your mood. - Author: Rita Ora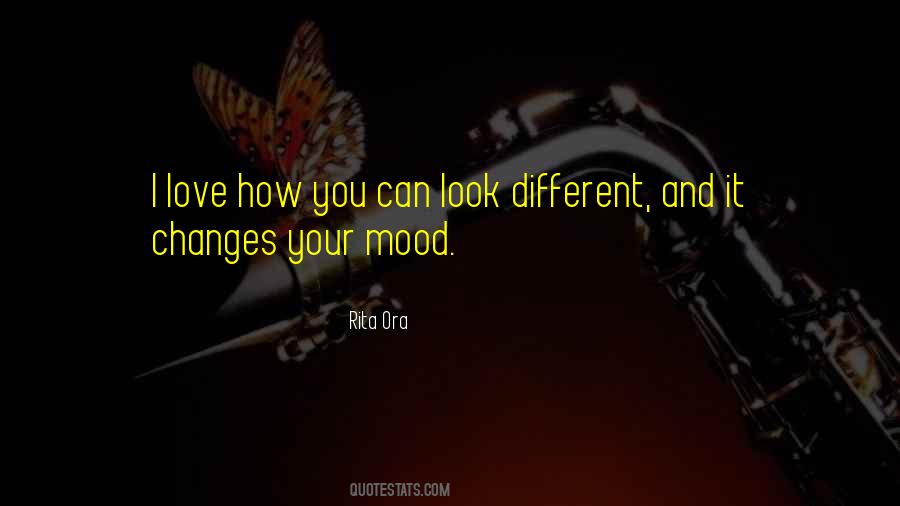 #36. I don't care who you love,
what you believe, how you look, where you're from or what you do. If you are a good hearted person, you're good in my books! - Author: Tanya Masse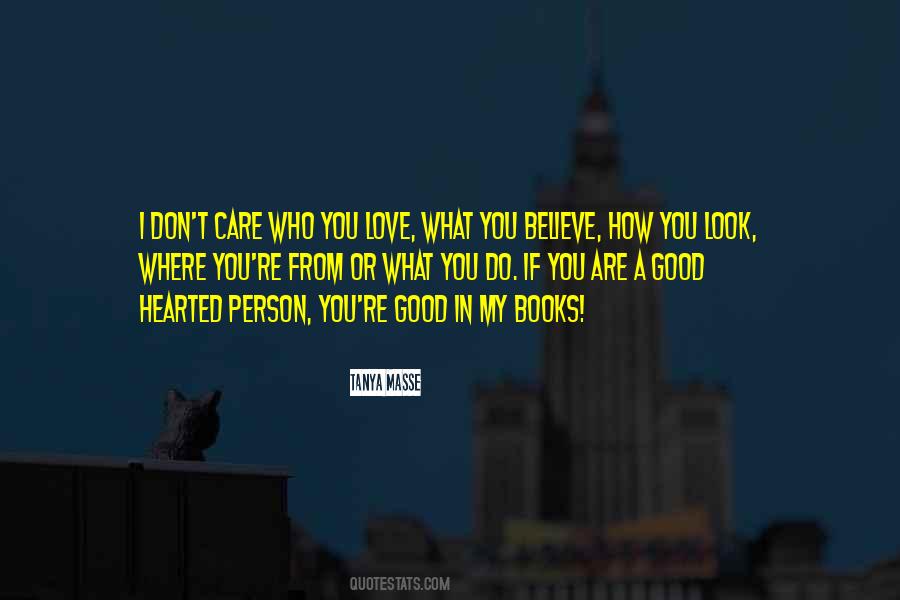 #37. My guilty pleasures are the websites where you can look at the fashions and see how different outfits will look. You can even take a picture of yourself and download it and play with the fashions! I love playing with these websites to see what I can learn. - Author: Indra Nooyi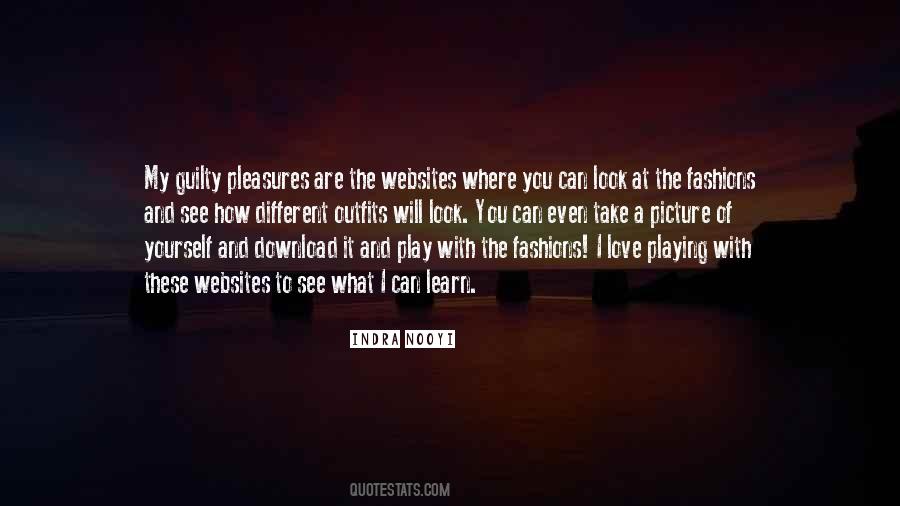 #38. Being a mother is the perfect experience for any writer. You learn how to not waste time. The writing hours become incredibly precious and concentrated because the rest of your day is completely packed with diapers, edible liquid foods that look like pooh, tiny bathtubs, and unconditional love. - Author: Chiara Barzini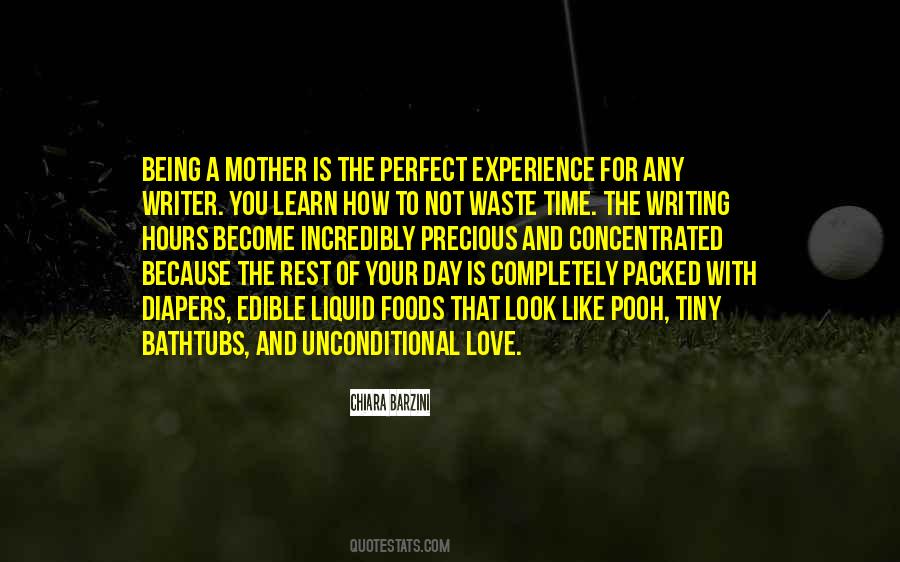 #39. The enemy plotted against you and awaited your downfall. Look at you surviving. And your enemies can not figure out how. What you have inside is greater than any negative force. - Author: Amaka Imani Nkosazana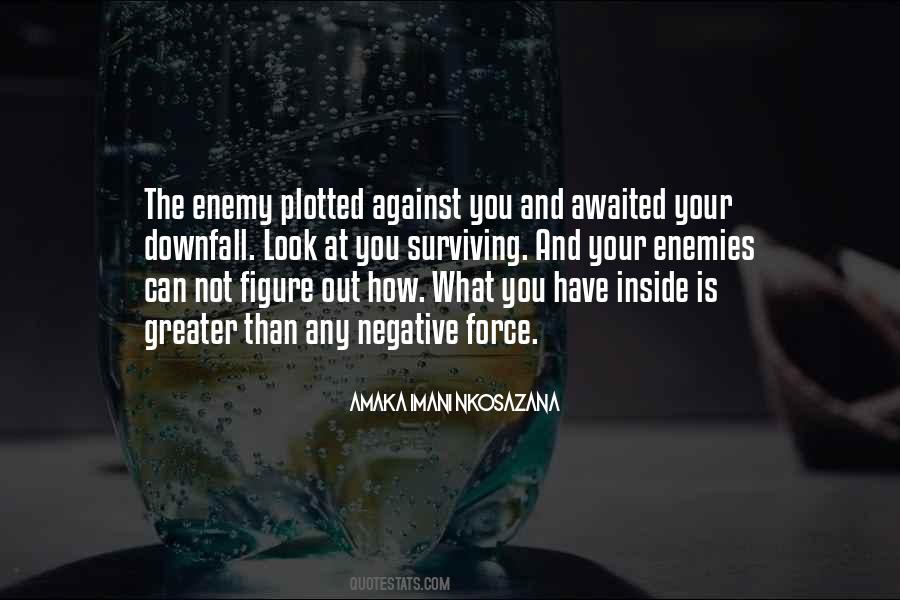 #40. Skyler, you are the love of my life, I hope you know that. Walter junior, you're my big man. There are ... there are going to be some things, things that you'll come to learn about me in the next few days. I just want you to know that, no matter how it may look, I only had you in my heart. Goodbye. - Author: Walter White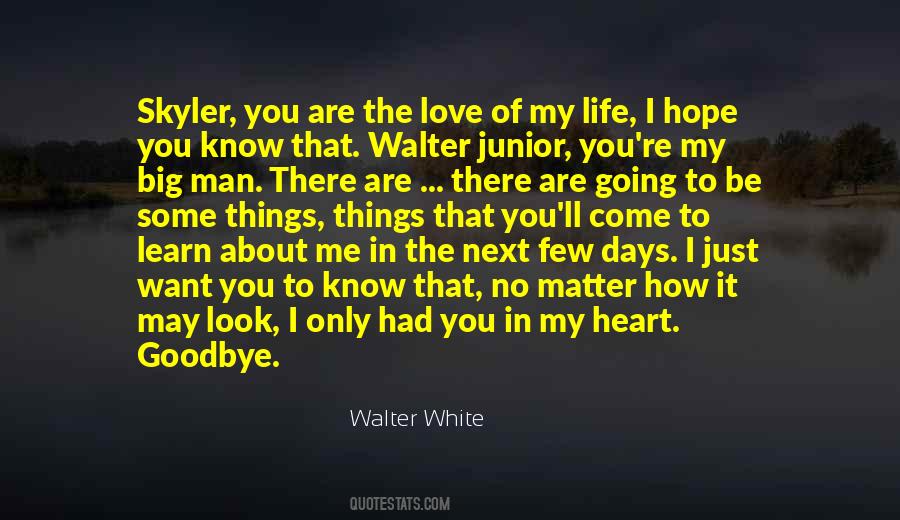 #41. Look here, cousin," Big Country's drawled in the background. "This here's a car. We just got off a plane, and no matter how fast you push this bitch, she ain't gon' fly, so believe me when I say, I refuse to die over some foolishness you call love, not today. - Author: Shay Rucker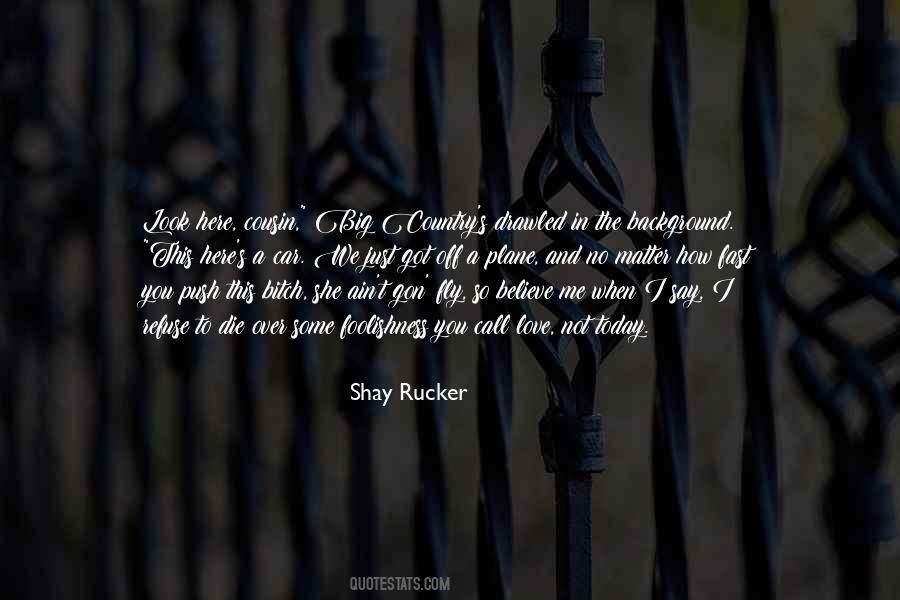 #42. You can see the whole entire world in the eyes of a person who knows how to simply stand there and take all of it into him but then you can look into the eyes of someone else and the whole entire world goes away and all that's left is you. - Author: C. JoyBell C.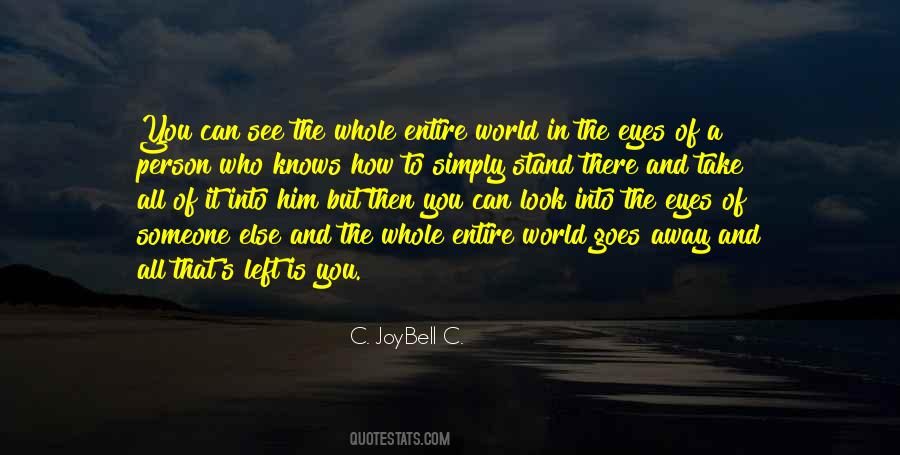 #43. Before you choose whom to love, take a look at yourself, choose your own word, think about how and reassess your time when you have given life to love, Know your ready or not and make sure you are not there to hurt making regrets on your door and paint the word I wish on your window. - Author: Auliq Ice
#44. Being born at the tag-end of the baby boom, I was destined (or doomed, depending on how you look at it) to fall in love with sci-fi. It was one of my first literary loves, as a matter of fact. - Author: Rick Yancey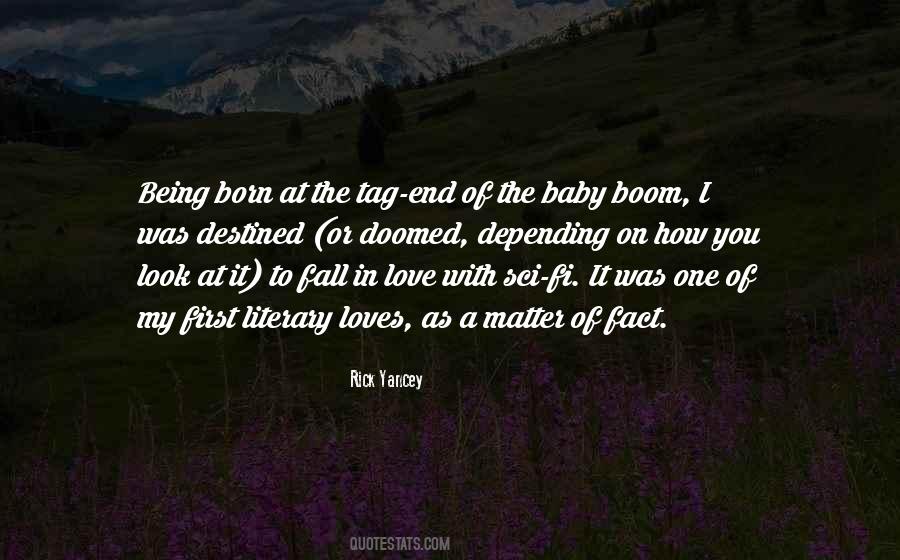 #45. I have a lot of social engagements, and I like to dress up for them. I try to wear what I feel comfortable in, as self-confidence is so much about how you look. Generally, I love to wear long dresses; they make you feel special. - Author: Marie-Chantal Claire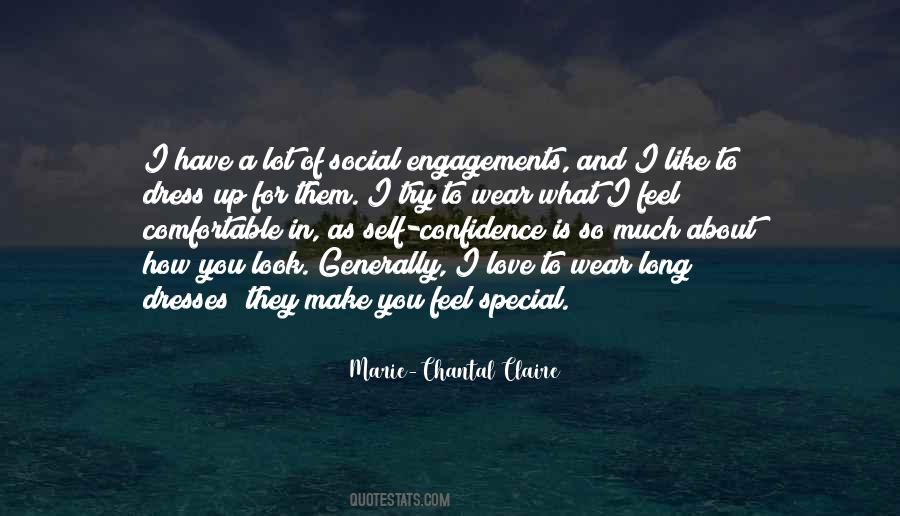 #46. The most glorious moment you will ever experience in your life is when you look back and see how God was protecting you all this time. - Author: Shannon L. Alder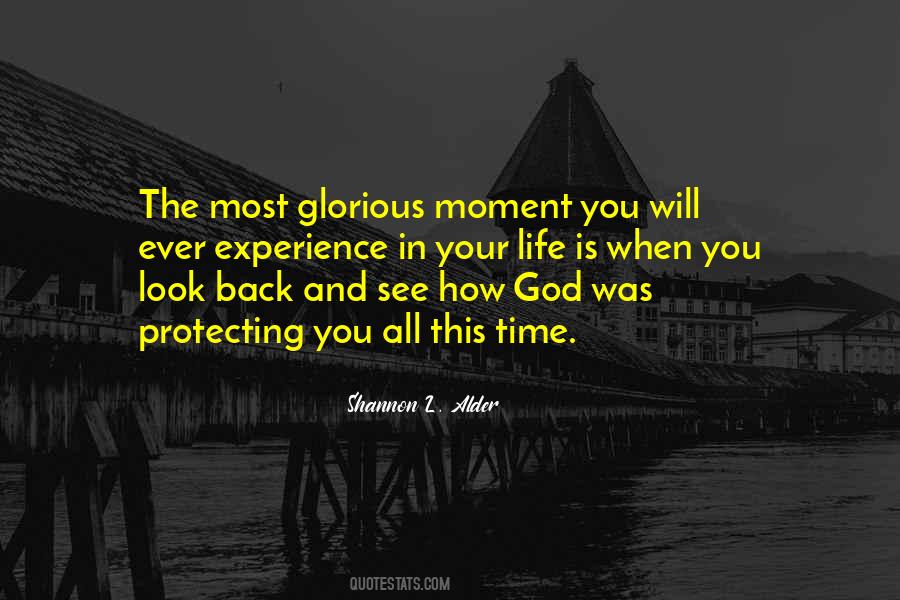 #47. when you love someone, their differences fall away. I don't look at him and see anything but him, and how sweet he is. - Author: Stacey Wallace Benefiel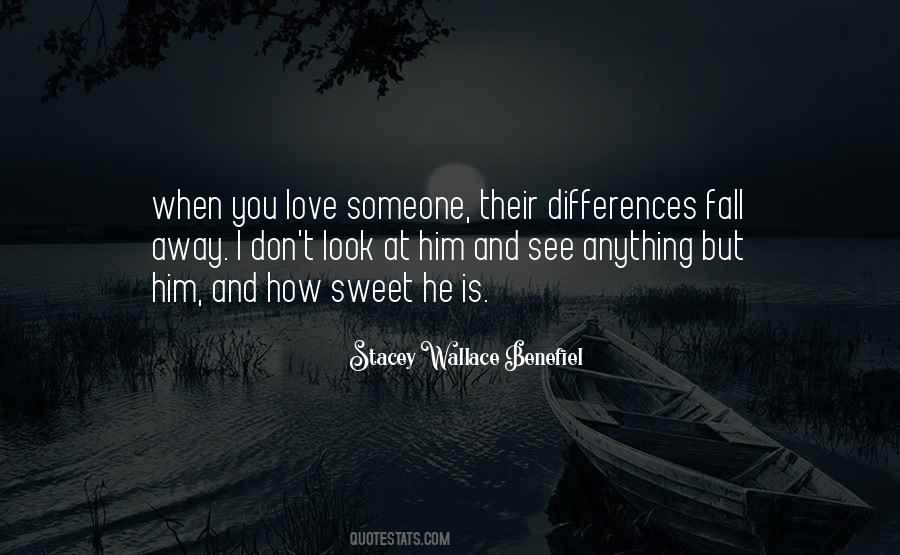 #48. It's so weird how life is so full of moving around
people coming and going, people passing by each other all day long. You never know which person's going to steal your heart. You never know which is going to settle your soul. All you can do is look. And hope. And believe. - Author: Natalie Lloyd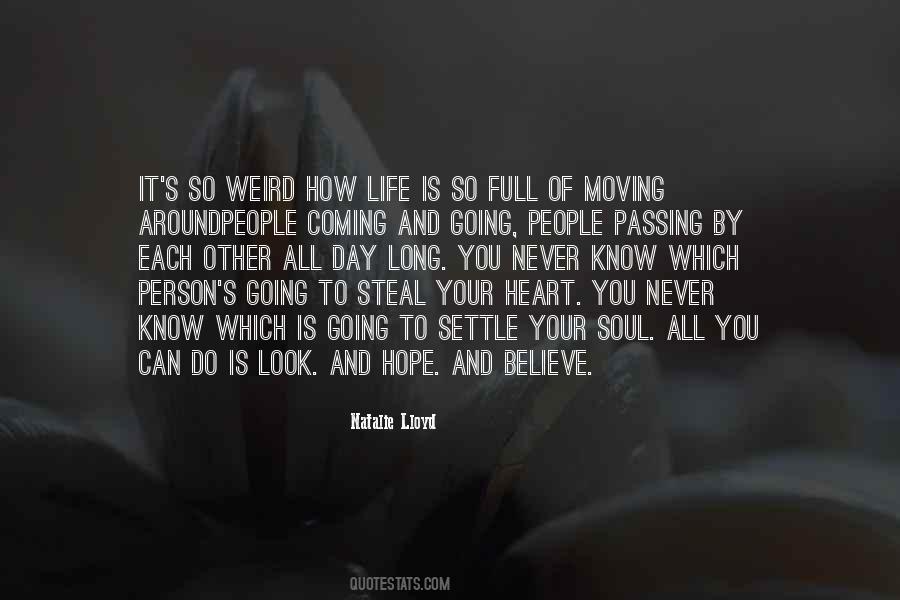 #49. And you said we wouldn't make it
But look how far we've come
For so long my heart was breaking
But now we're standing strong
The things you say
They me fall harder each day
You're a trainwreck
But I wouldn't love you if you changed - Author: Demi Lovato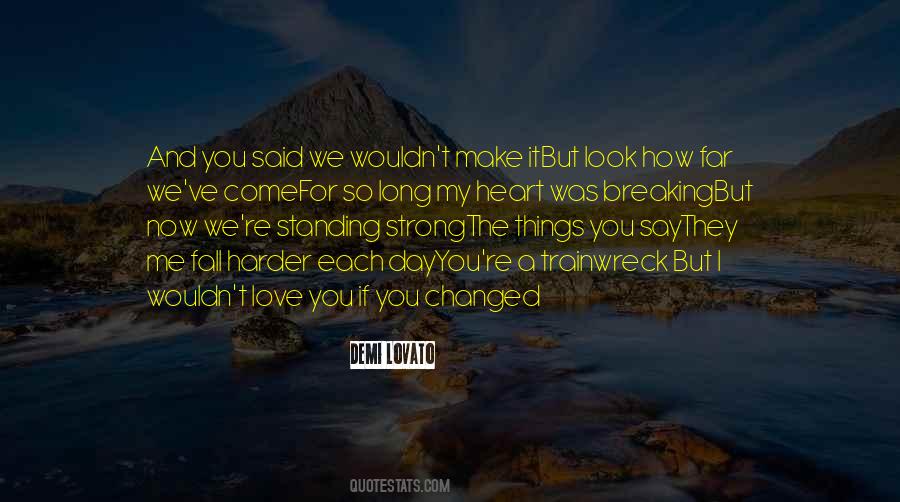 #50. Do you know how when you're moving really fast in a car, and you're looking at the road, you get sick, but if you look at the trees you're fine? She's my trees, man. - Author: Rebecca Timberlake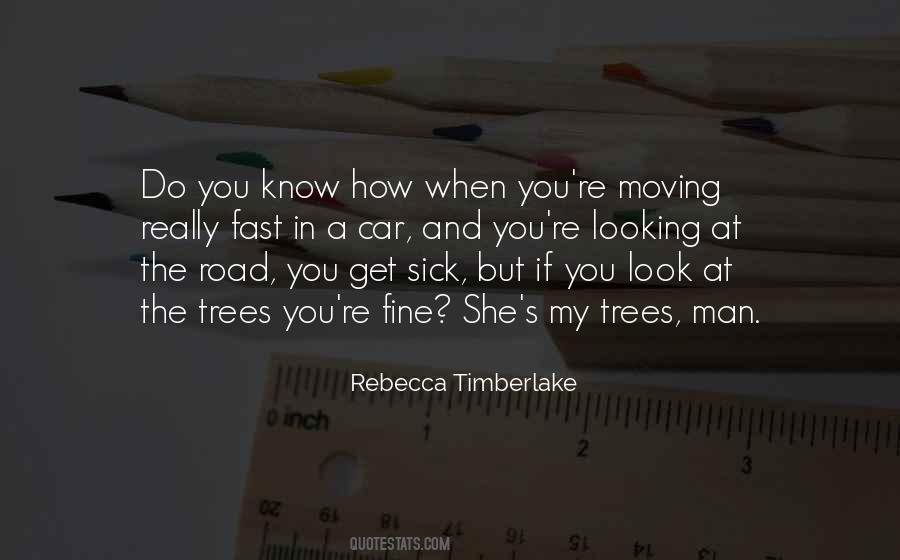 #51. What I want to know is how you go on when you look around
and don't see anywhere you want to go without the only person
you can't have. - Author: Charlotte Eriksson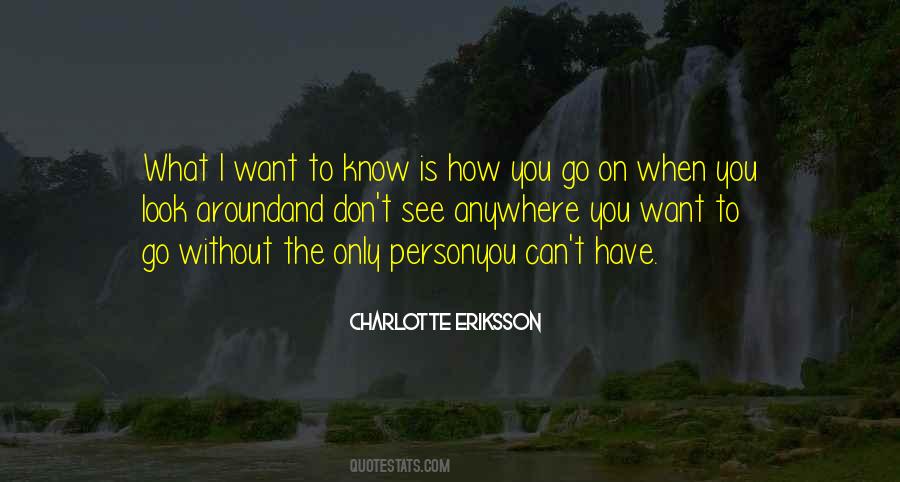 #52. I guess I just look at talent as a very subjective thing. I mean, if you never tried playing an oboe, how do you know you're not the most talented oboe player ever? The point is that if you don't love it, then it doesn't matter. - Author: Steven Soderbergh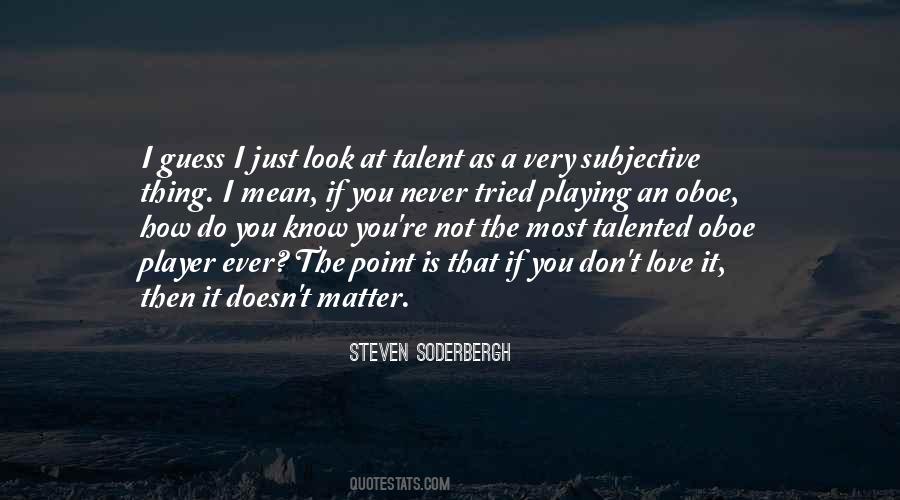 #53. I wish you had one of those fairy telescopes that can look into the hearts and souls of people a thousand leagues off, then you might see how much you possess my mind. - Author: Cuthbert Collingwood, 1st Baron Collingwood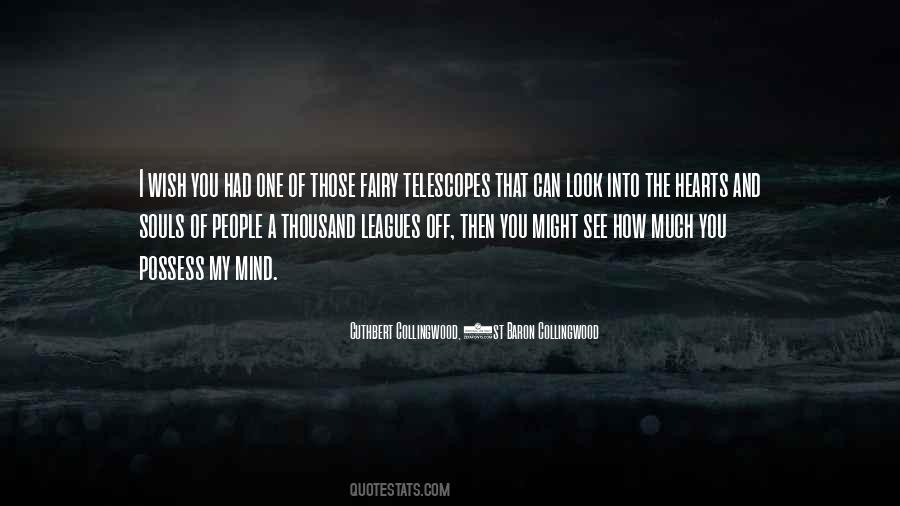 #54. Love was truly one of life's mysteries. That it could fuck you five ways to Sunday and still remain so utterly perplexing and unknown was kind of impressive. I guess it all depends on how you look at it. - Author: Kylie Scott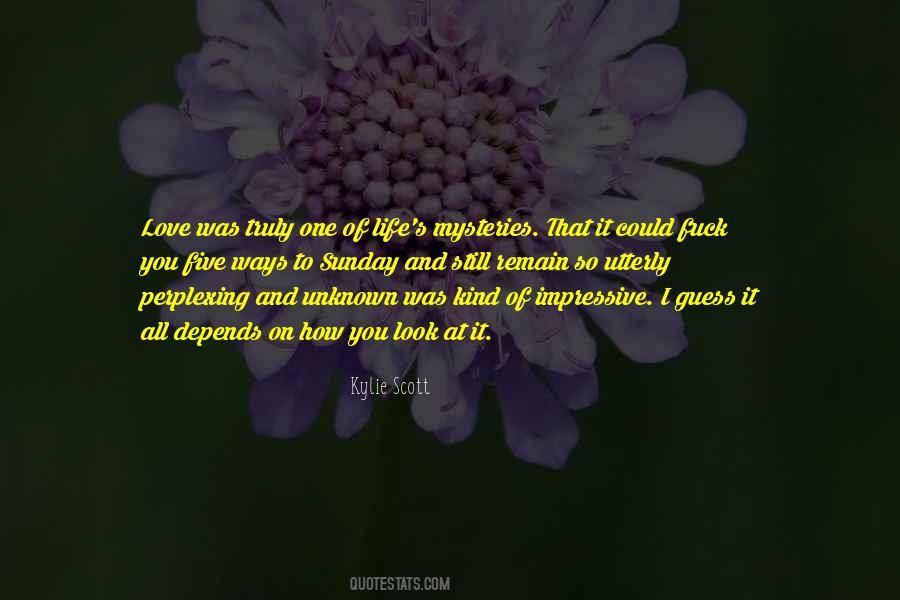 #55. O.M.G. Lucca, what are you feeding her? Everyday I look at you, and I swear those twinnes must double in size. Look at your bump in this dress, how are you managing to cart that around? Rather you than me chubby." ~Hazel - Author: S.J. Molloy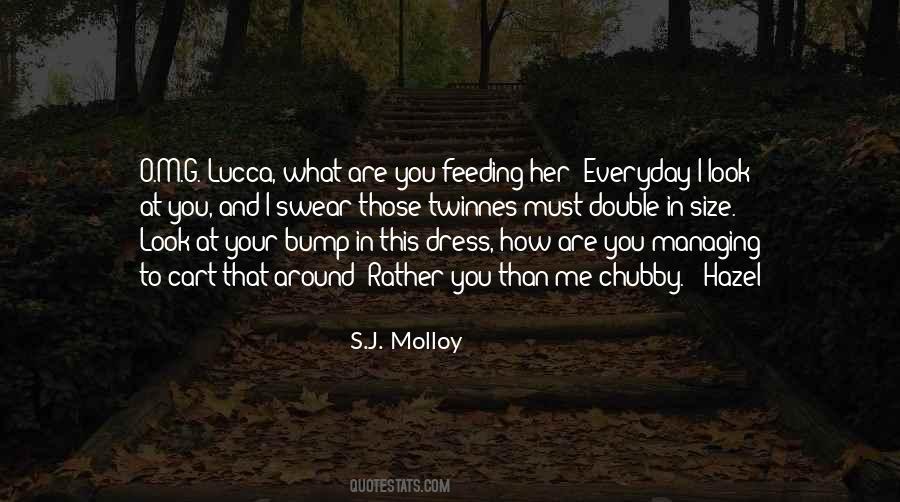 #56. You should have invited him in," Nola's sleepy voice said from across the room. "Trust me," I said. "I tried." "You make falling in love look hard," she muttered as she rolled over. "Give it a whirl again one of these days," I said. "Show me how easy it is. - Author: Devon Monk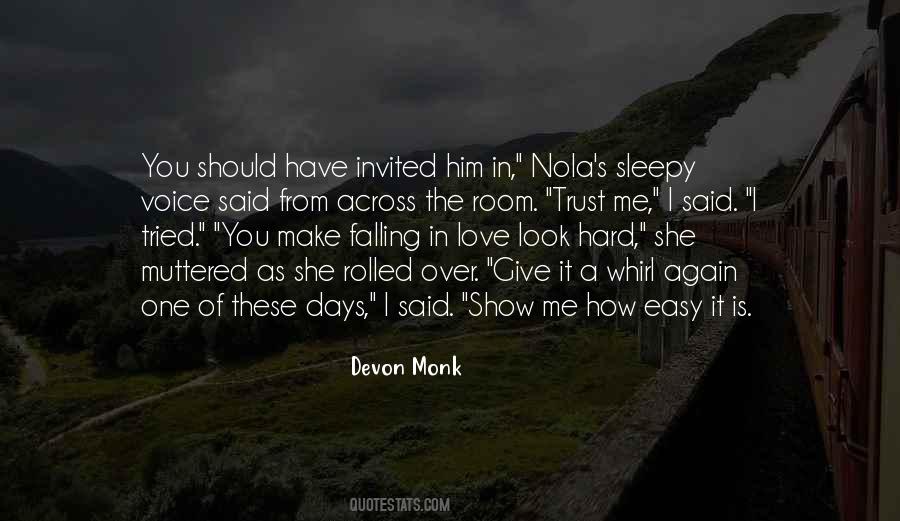 #57. I have a theoryd that the first person you fall for creates a model for how you approach relationships going forward. Like, it frames how you'll look at every person who you date after that. - Author: Leila Sales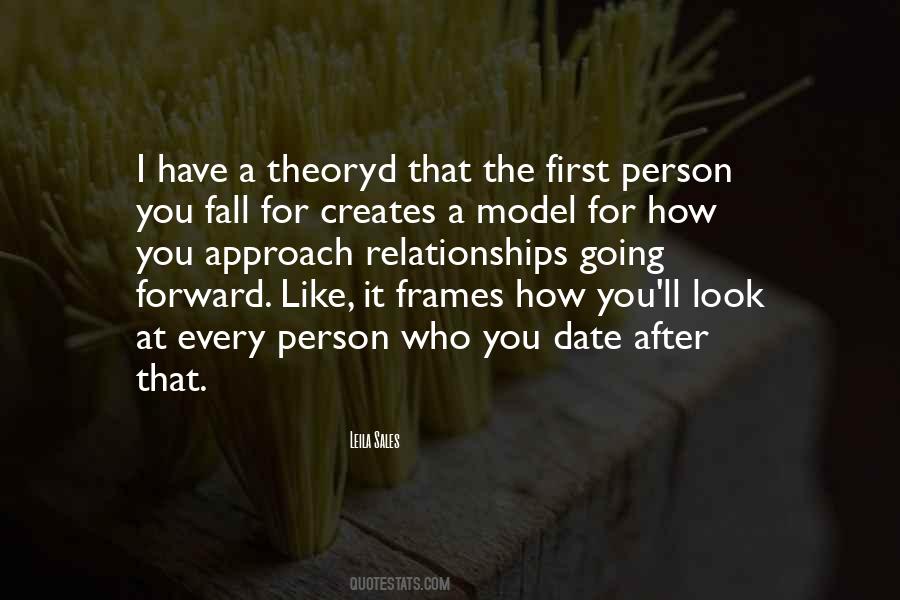 #58. How would you feel about sharing your bed?" she asked.
Tristan blinked. "Excuse me?"
"He'd love to!" Gary said.
Tristan shot him a look,
"Good," said Ivy, failing to notice Gary's wink. "Ella can be a pillow hog, but all you have to do is roll over her. - Author: Elizabeth Chandler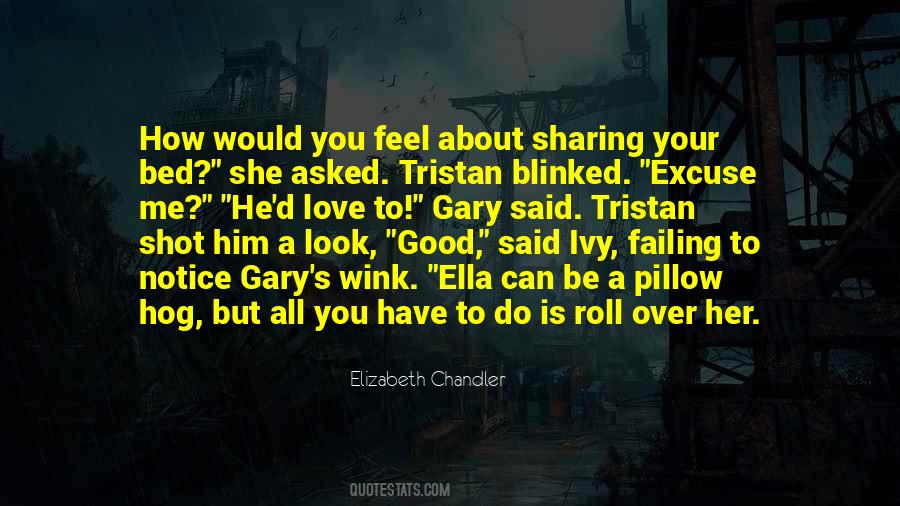 #59. I know that evil hides here, but I cannot be the one to uncover it. Neither can any of you. Time will do that for us.
And how I fear that day, for I know that when I look into my betrayer's face, I will see someone I thought I knew. And I will still love them. - Author: Matthew J. Kirby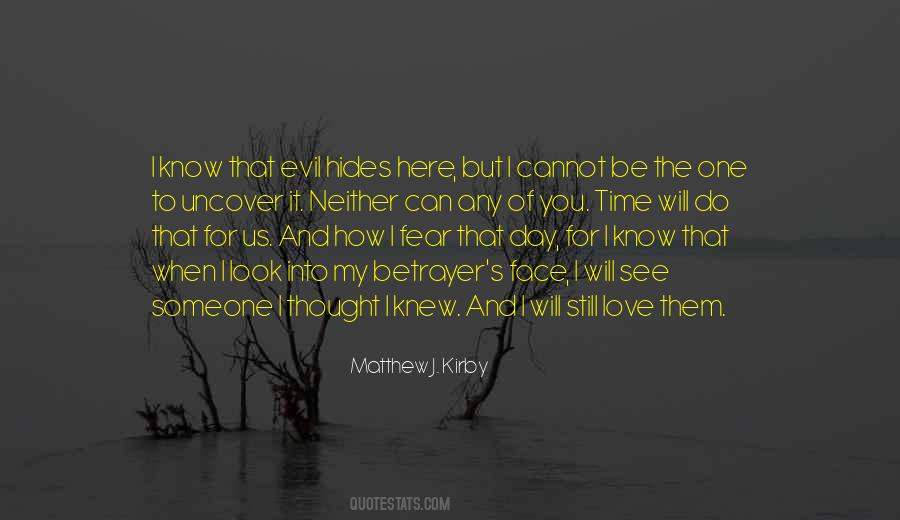 #60. When you have love and respect, it opens the door for selflessness and a willingness to look pass what is wrong and to focus on how to create a plan, to make things right. - Author: Tasha Hoggatt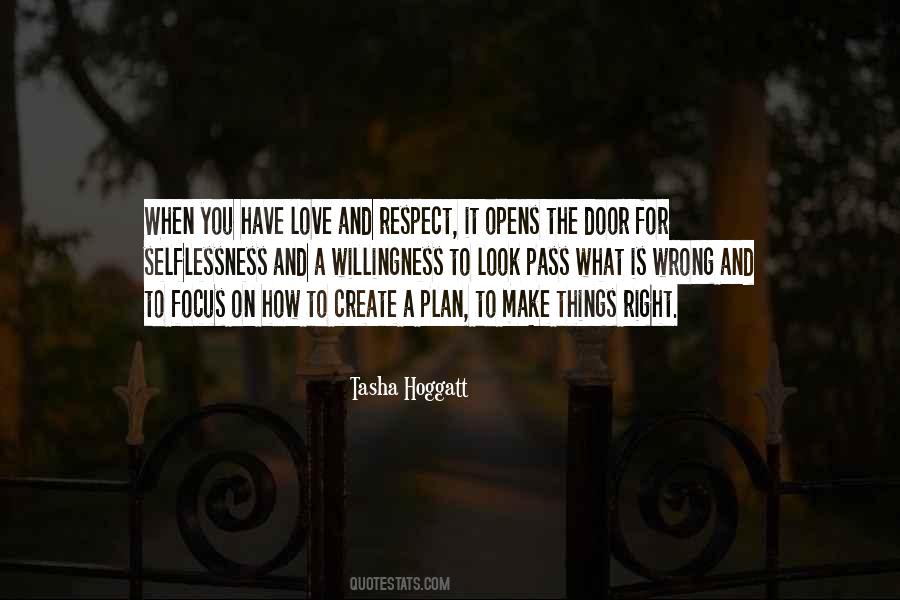 #61. I can't do this, I can't just be a wife. I don't understand how anyone does it - there is literally nothing to do but wait. Wait for a man to come home and love you. Either that or look around for something to distract you. - Author: Paula Hawkins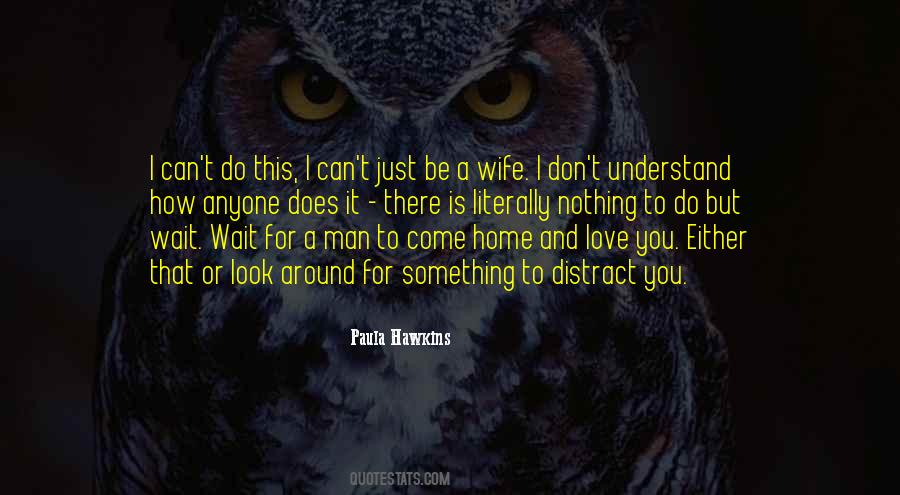 #62. How do you look at the girl you love and tell yourself it's time to go away ? - Author: Nicholas Sparks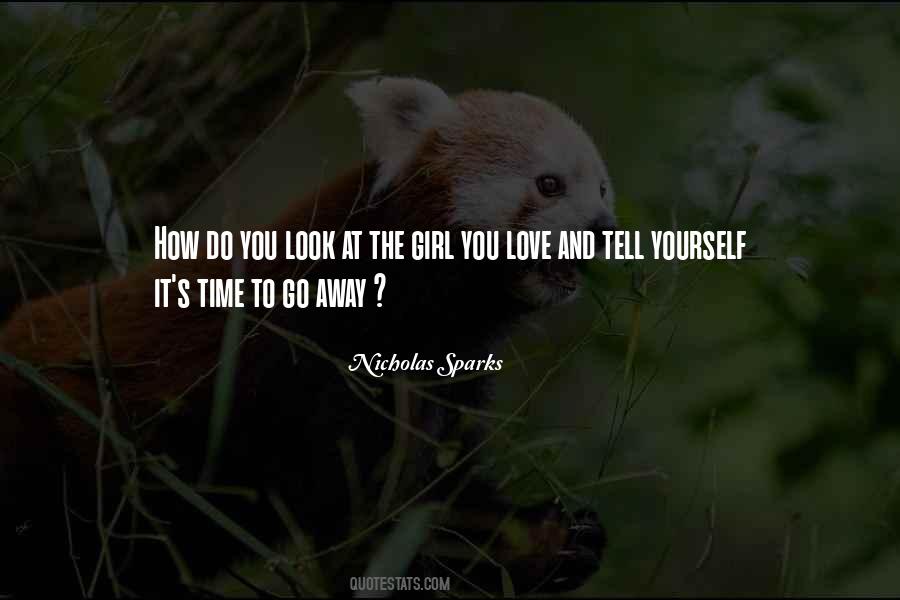 #63. He left her a note in her right slipper that said when I was alone yesterday I was happy, and I wanted you to know. Because look at how much you've done in me. - Author: Mikl Paul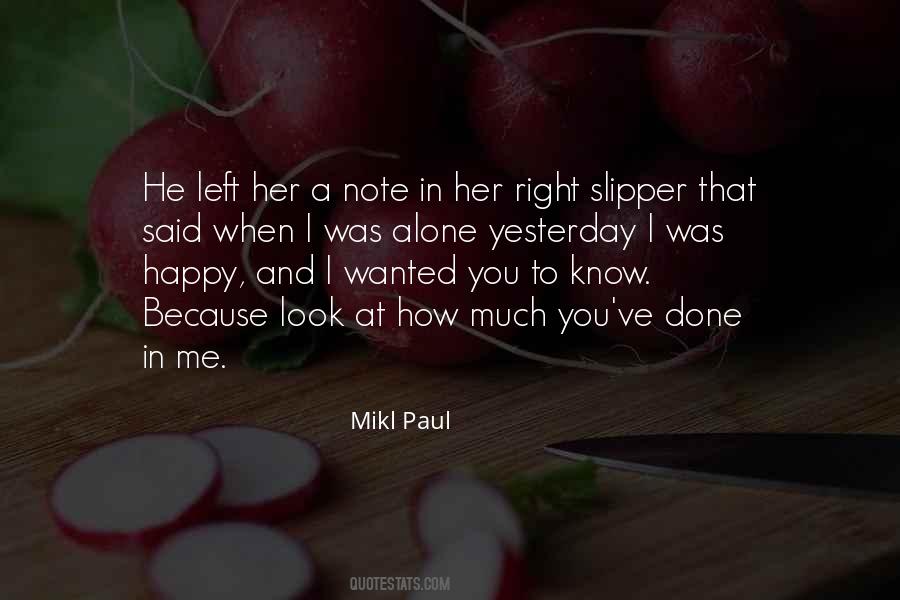 #64. What you own or how you look doesn't make you a good person. Treating people right makes you a good person. - Author: Terraine Francois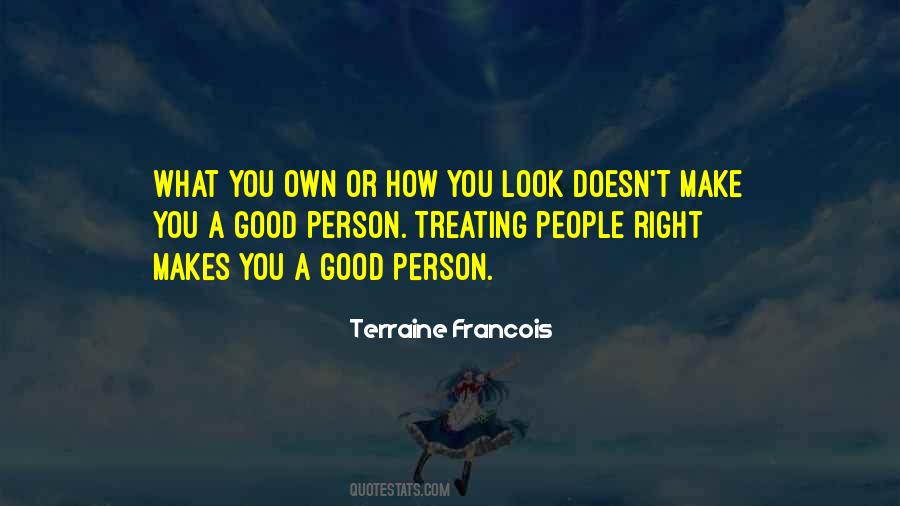 #65. How old are you?" the woman asked. "You look about eleven." "Twenty-four," Mae said. "My god. You don't have a mark on you. Were we ever twenty-four, my love?" She turned to the man, who was using a ballpoint pen to scratch the arch of his foot. He shrugged, and the woman let the matter drop. - Author: Dave Eggers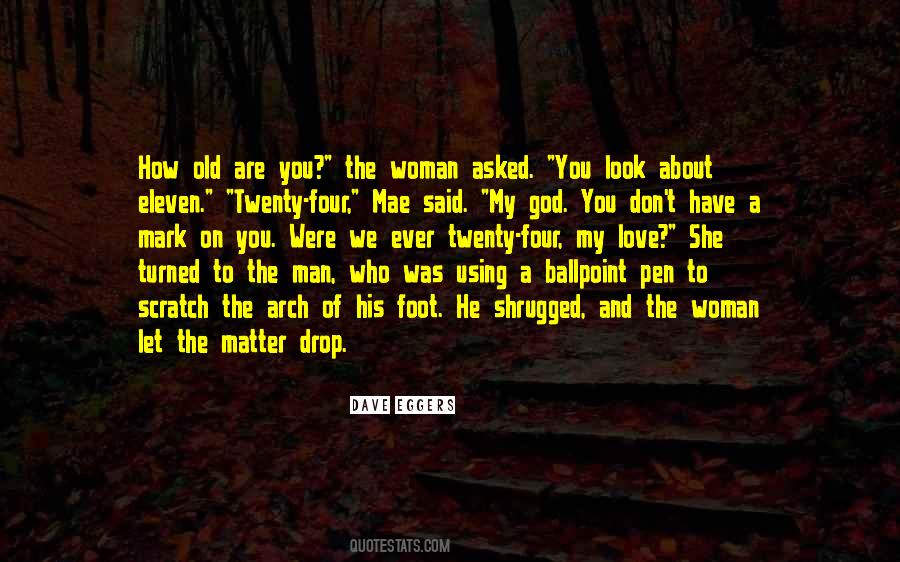 #66. Don't dim magic because there are non believers, let it shine out of you and they won't know how to look away. - Author: Nikki Rowe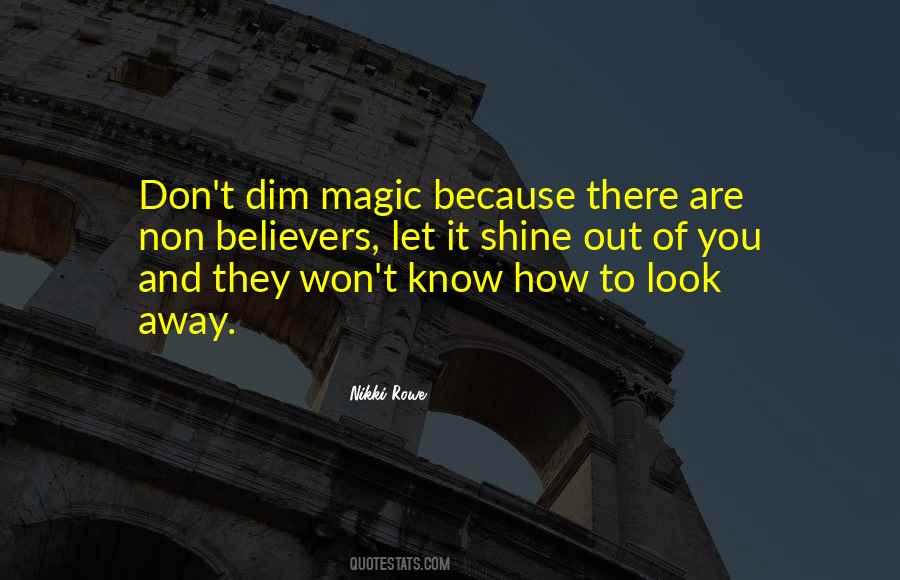 #67. You know how hind-sight is 20/20? Love is when you look back and wouldn't change anything. - Author: Jodi Picoult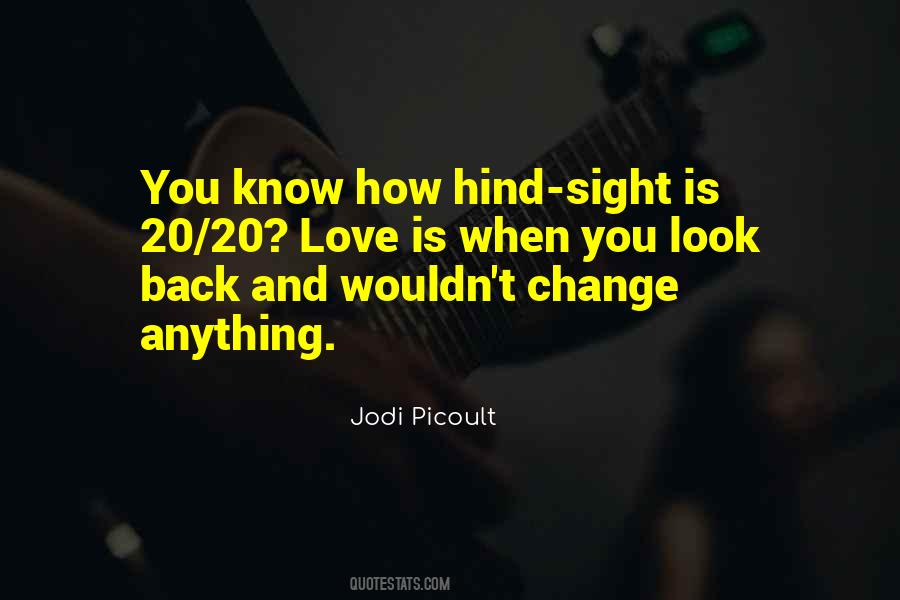 #68. Live your life like the novels that you love to read. Only do the things that when you look back, you are proud of what you accomplished, feel good about how you treated others and didn't regret not doing to trying something. Every day is a new chapter, write something. - Author: Taylor Berke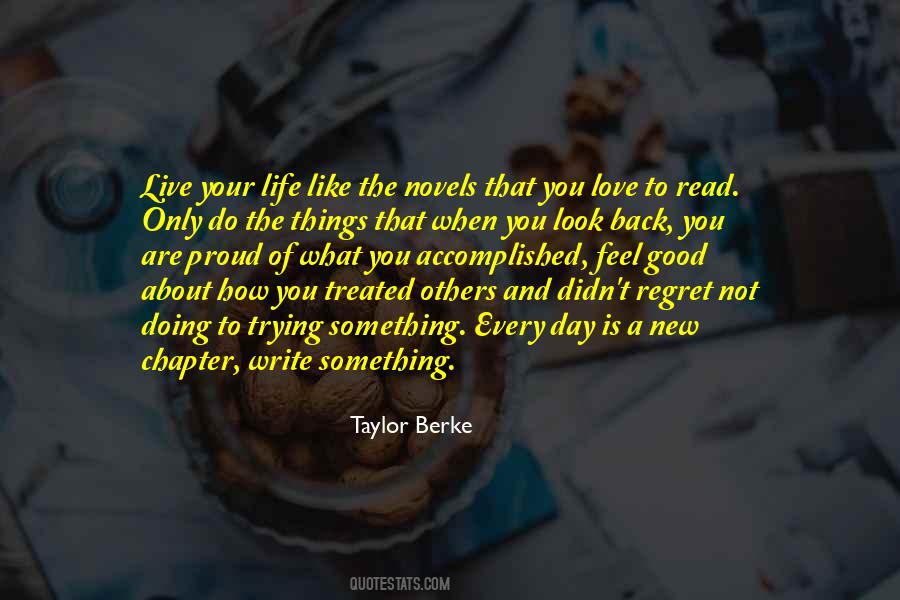 #69. Oh, the body - its hungers, needs, and limitations. You look at somebody and you realize that they're in there, inside there, somewhere, and how will you ever reach them, understand them? - Author: Richard Siken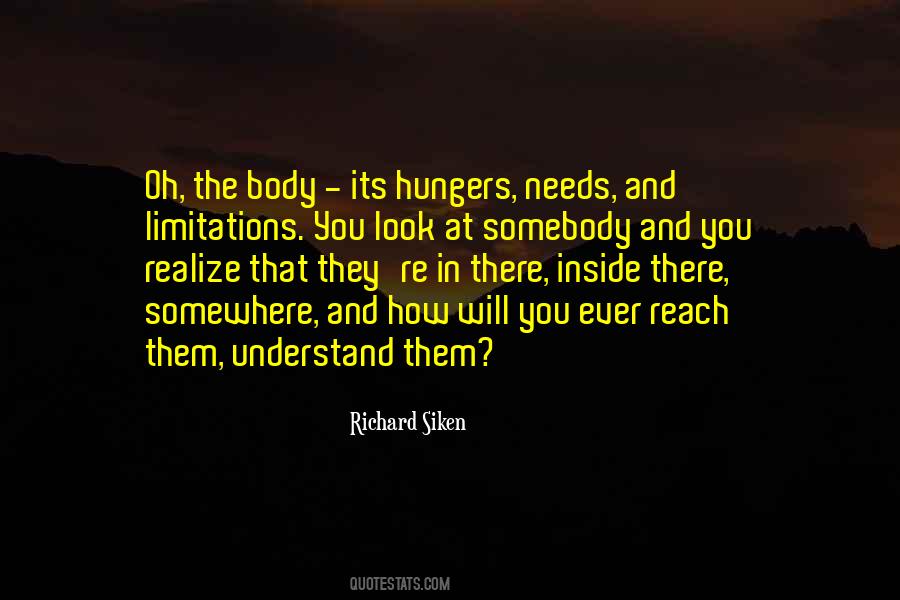 #70. Small said, "But what about when we are dead and gone, will you love me then, does love go on?"
... Large (replied) "Look at the stars, how they shine and glow, some of the stars died a long time ago. Still they shine in the evening skies, for you see ... love like starlight never dies ... - Author: Debi Gliori
#71. What do you mean? How does he look at me?
I don't know. It's like you're a chocolate ice- cream and he doesn't have a spoon. - Author: Catherine Anderson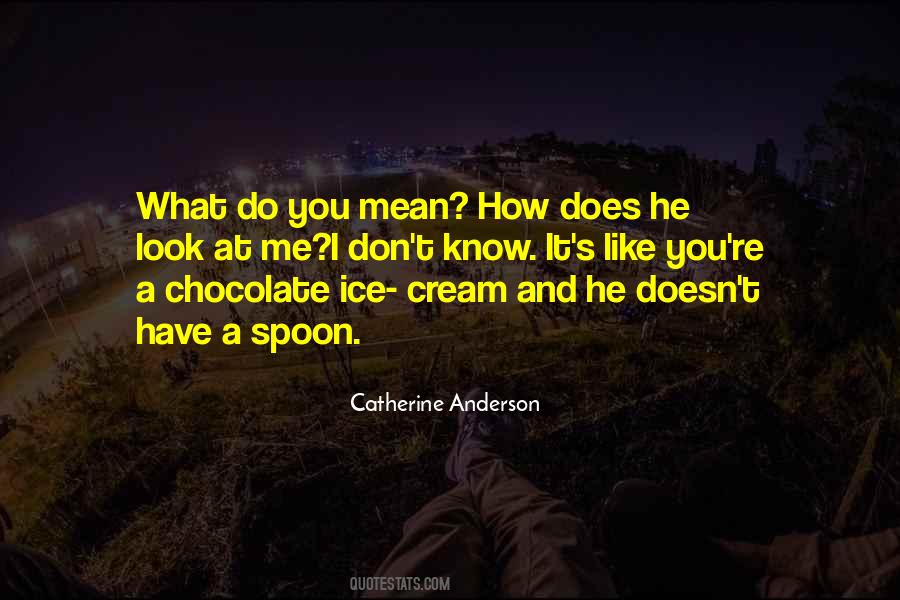 #72. Dear Aunt Loretta,
Thank you so much for the awesome pants!
How did you know I wanted that for Christmas?
I love the way the pants look on my legs!
All my friends will be so jealous that I have my very own pants.
Thank you for making this the best Christmas ever!
Sincerely, Greg - Author: Jeff Kinney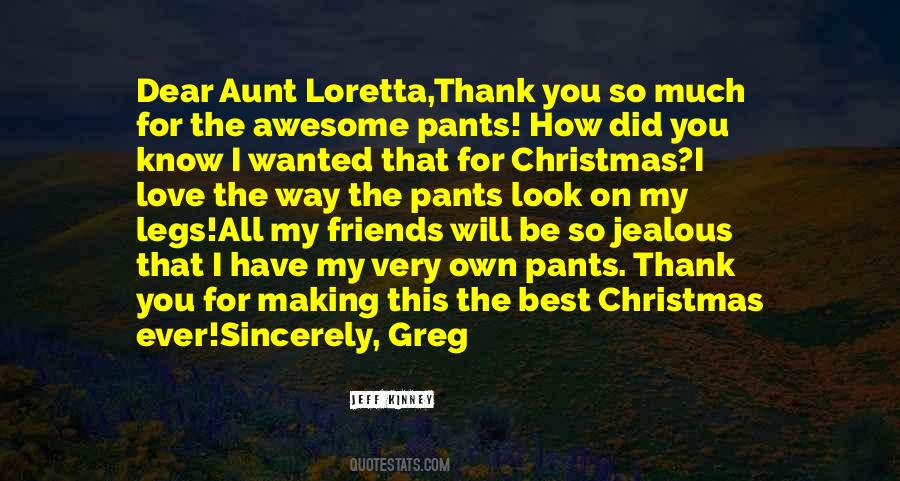 #73. Dude. Did you just sniff her hair?" Kent asks, with a look of absolute disgust on his face.
"I did." I smirk, uncaring. I traded in my man card a long time ago. "I love how my girl smells. Shoot me if it's a crime. - Author: Siobhan Davis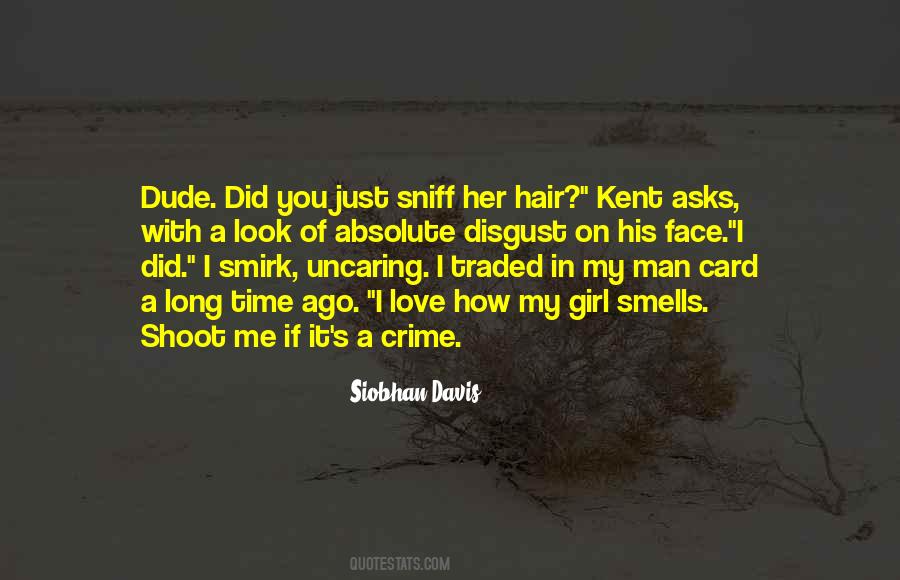 #74. Do people look the same when they go to heaven, mommy?"
"I don't know. I don't think so."
"Then how do people recognize each other?"
"I don't know, sweetie. They just feel it. You don't need your eyes to love, right? - Author: R.J. Palacio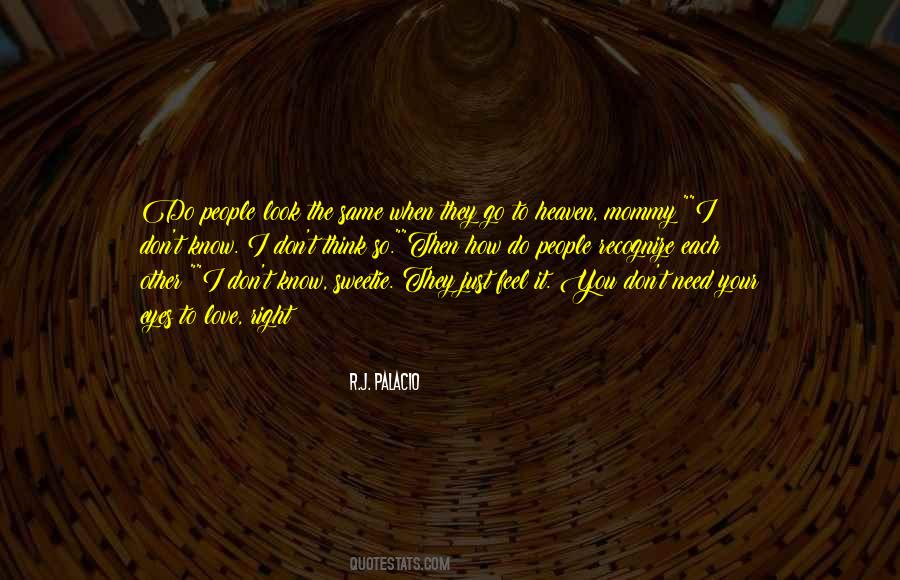 #75. Every time you strip my sword, I owe you a kiss. How's that sound?" I bit my lip to keep from giggling.
"That sounds really dirty."
Patch waggled his brows. "Look whose mind just rolled into the gutter. - Author: Becca Fitzpatrick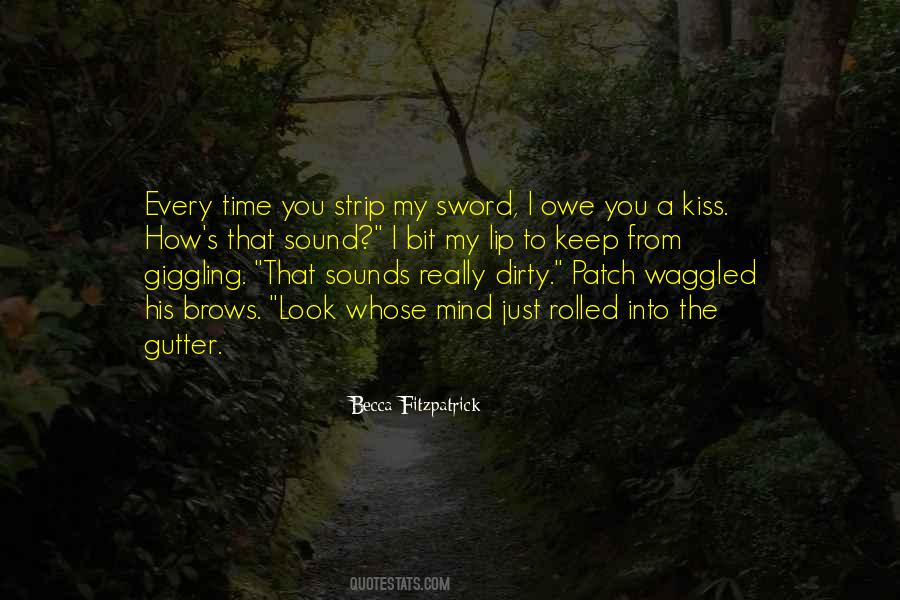 #76. If you're looking for the full deal, the till-death deal, then look at me. No one's ever going to love you, stick by you, understand how you work the way I do.
(Malcolm Kavanaugh) - Author: Nora Roberts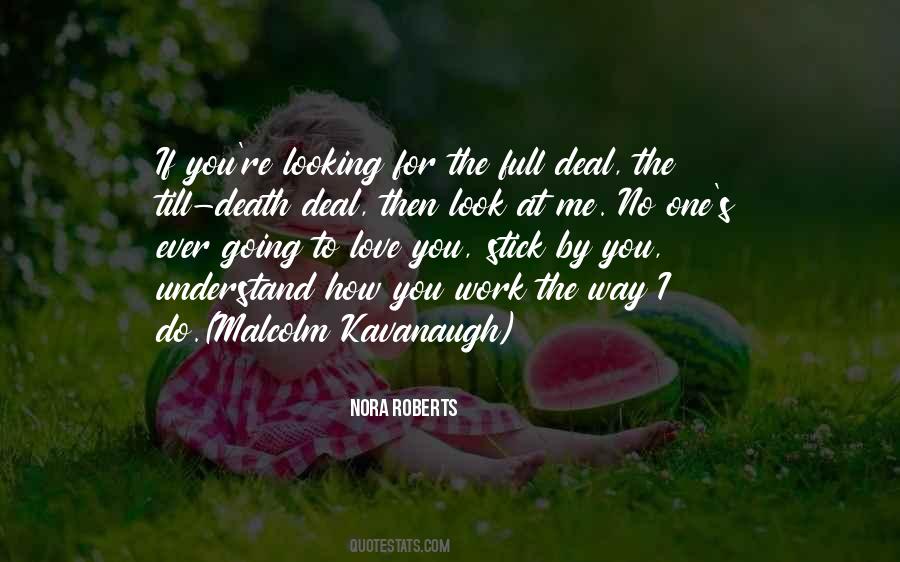 #77. The letters I really love are from young actresses who were worried they had to fit a certain look. They say I've opened it up. And I don't just mean plus-size girls. You can push things now. With all the great performances in 'Bridesmaids', it changed how people see funny women. - Author: Melissa McCarthy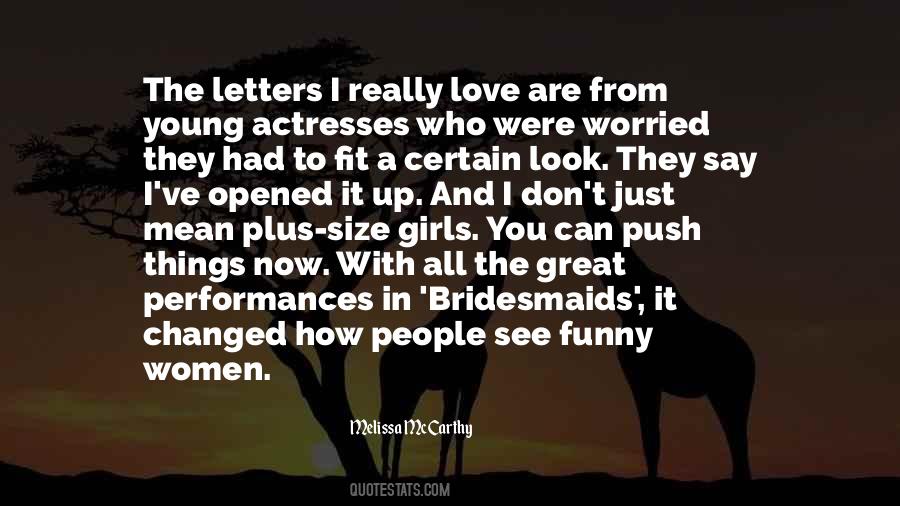 #78. Love isn't just what you feel for someone when you look at them. It's how they make you feel about yourself when they look back at you. - Author: Priya Sharma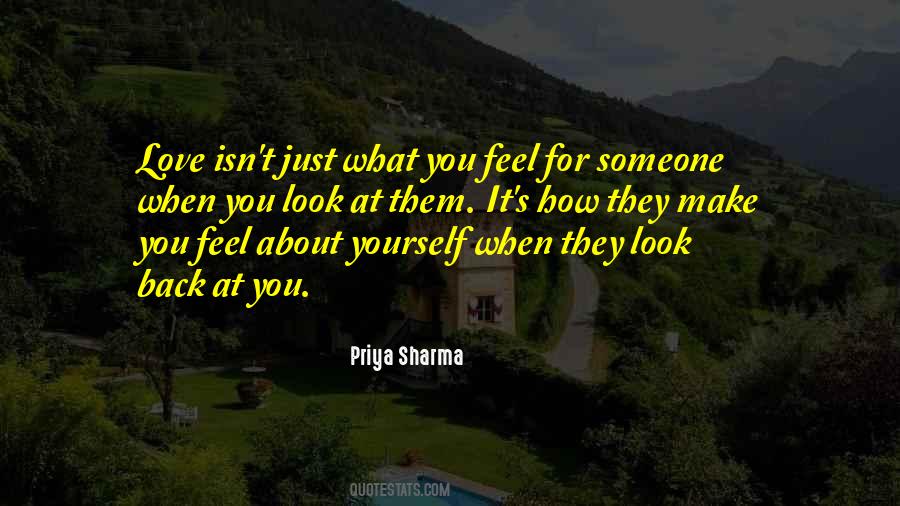 #79. O, teach me how you look, and with what art You sway the motion of Demetrius' heart.-Helena - Author: William Shakespeare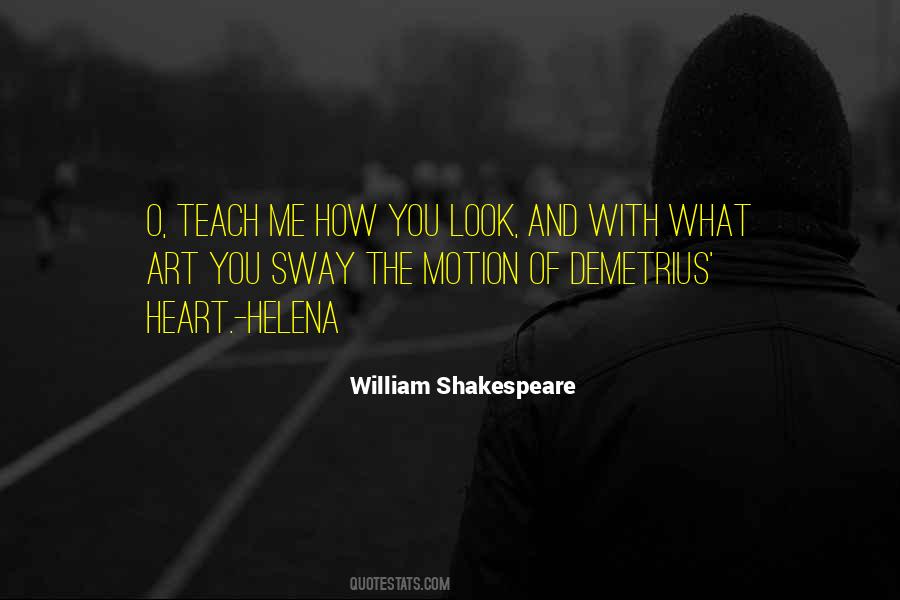 #80. It's here, inside me, and it'll bite off pieces when it can. But I can take it because you're there. Because you know how it feels. You're the only one who really knows. And becasue you love me enough to feel it. When you look at me, and I see that, I can take anything. - Author: J.D. Robb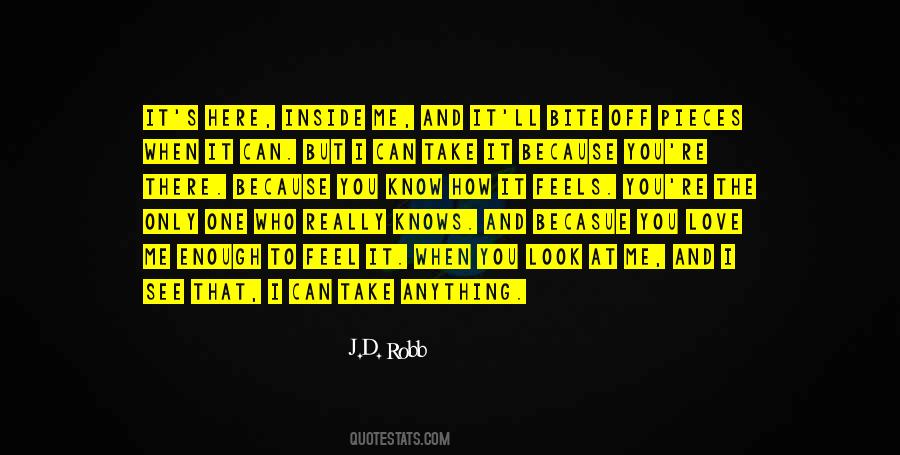 #81. One thing concerns me a little, nick has a girlfriend, right? Well, how do you think she'll feel about all of this? He probed. He had this look on his face that he always had when I'm doing something a little bit naughty. You know, something you can get away with, but it's still a bit dodgy. - Author: Jessica Thompson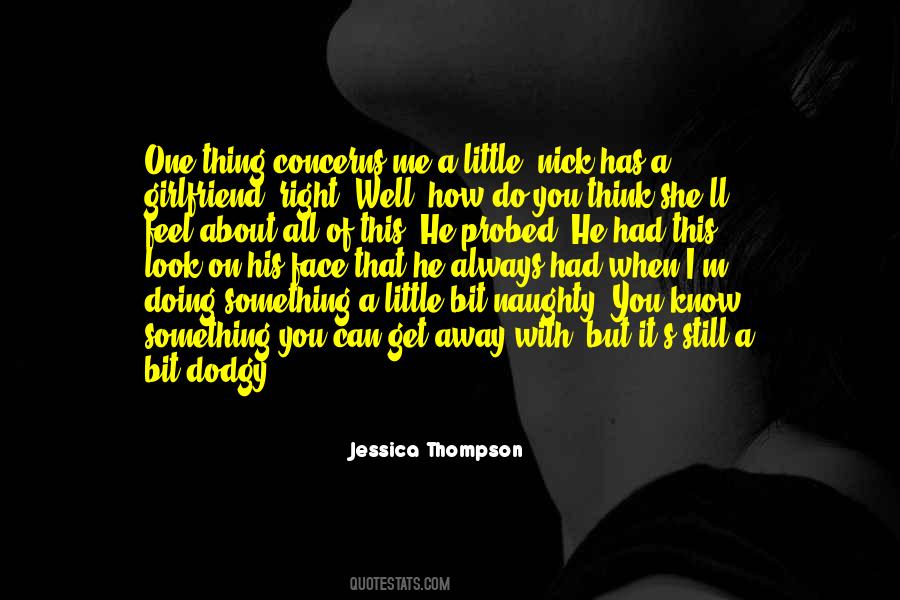 #82. I really love Penelope Cruz, because she has the tan skin. I think it's important to look at people who resemble you and see what looks good on them, and how they are doing their makeup or hair and how they carry themselves. - Author: Tiffany Dupont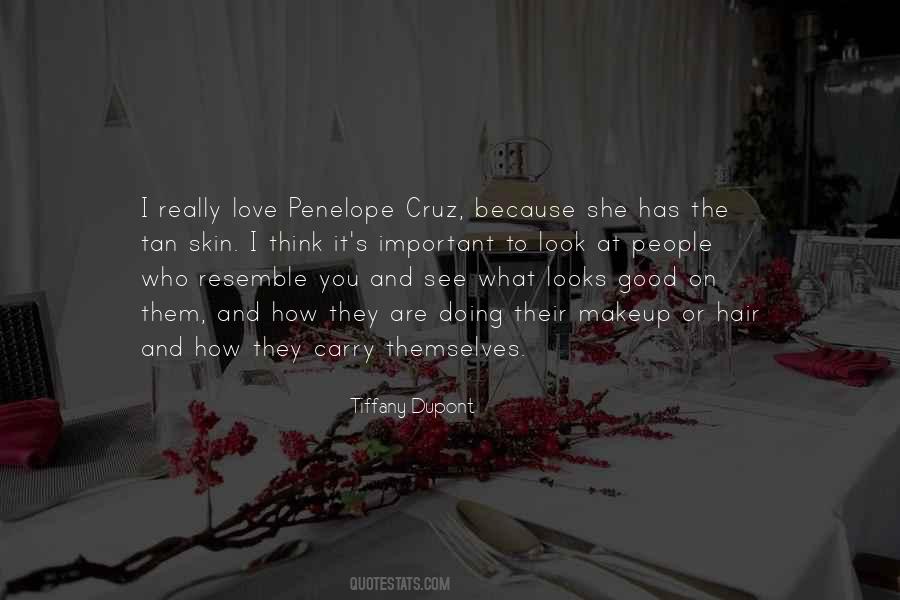 #83. I promise to be with you, stay with you, love you, and laugh with you. I promise to listen and always look for new ways to show you how much I care. Most of all, I promise to lean on God through life's trials, tragedies and triumphs. Because if I lean on Him, you can always lean on me. - Author: Karen Kingsbury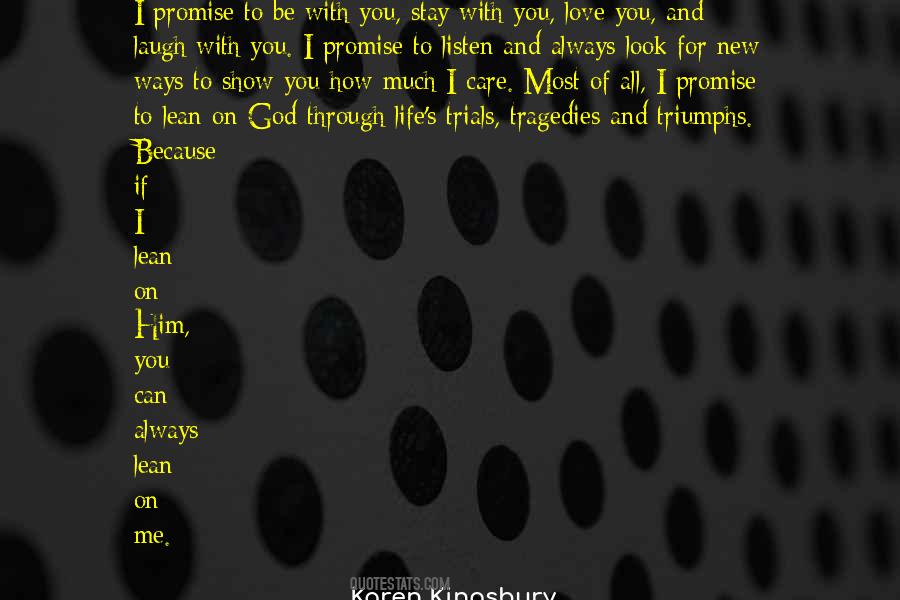 #84. What a joy it is to look at loved ones, flowers, trees, the sky, bird, mountains, babies, and sunsets, to mention a very few things, and know how special they really are. What a joy it is to see the hand of God around you constantly, even in a troubled world. - Author: Van Harden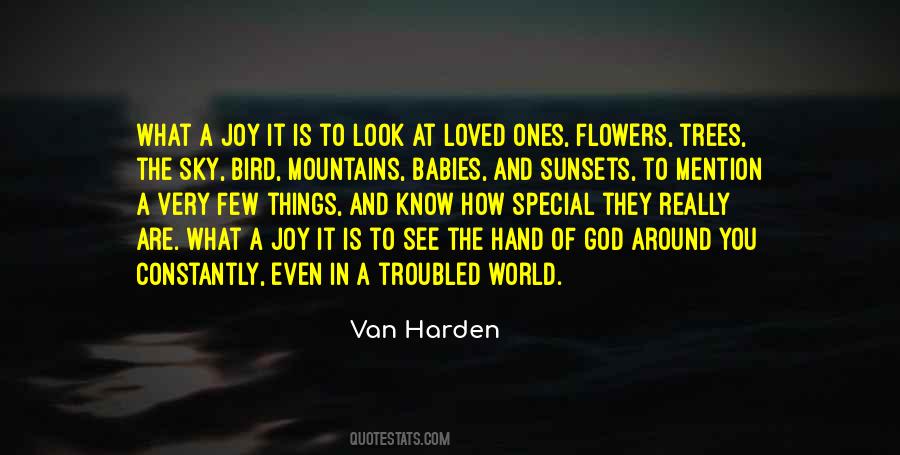 #85. If you're not happy about how you look, you have to question how much self-love you have. - Author: Tyrese Gibson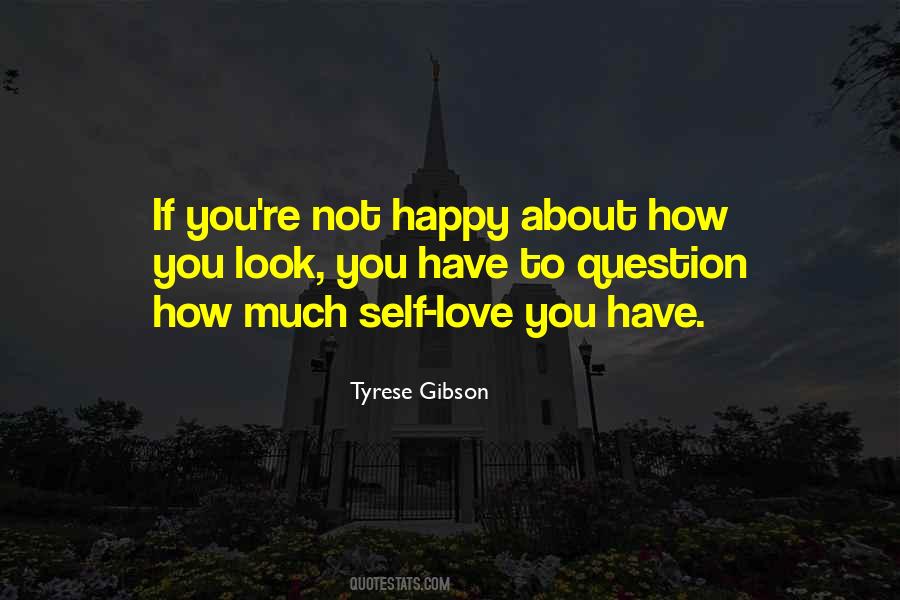 #86. You have to do that here in your country. You must come to know the poor. Maybe our people here have material things, everything, but I think that if we all look into our own homes, how difficult we find it sometimes to smile at each other, and that the smile is the beginning of love. - Author: Mother Teresa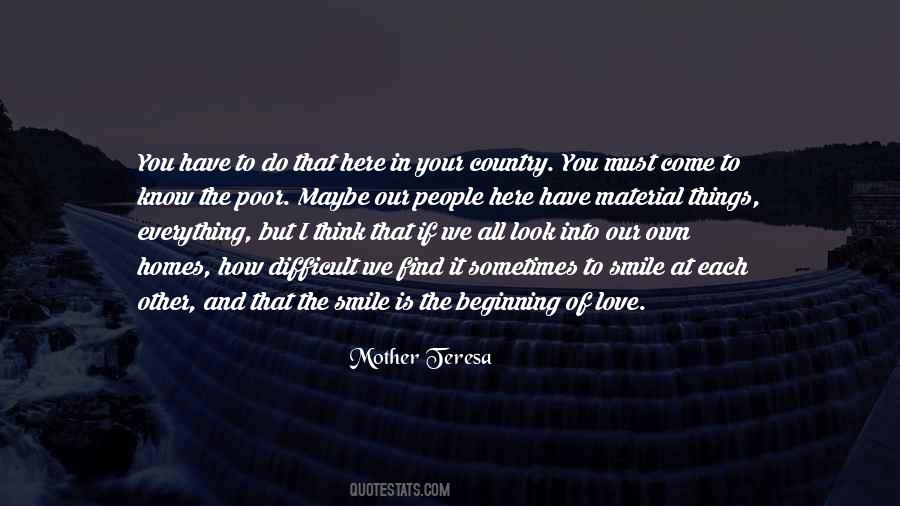 #87. When you look at the Sacred Host you understand how much Jesus loves you now. - Author: Mother Teresa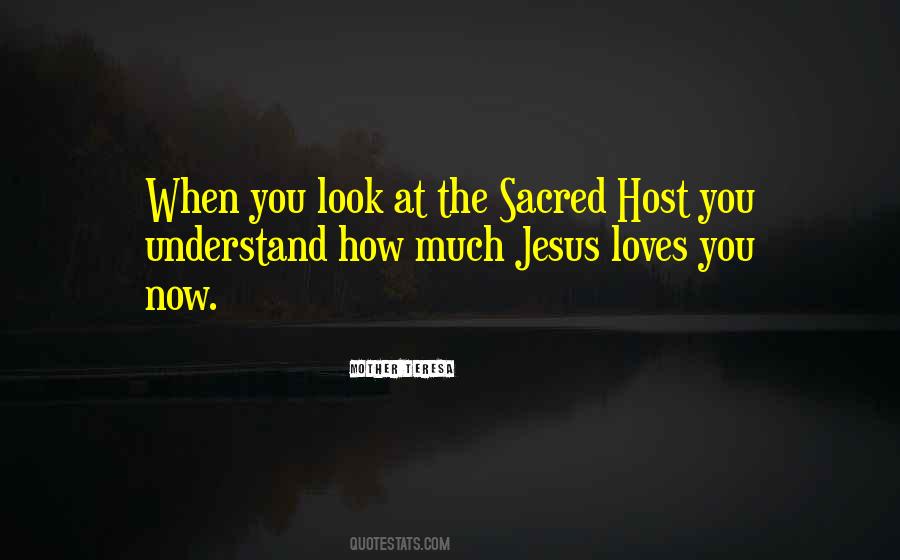 #88. I love how you look at me. - Author: Maya Banks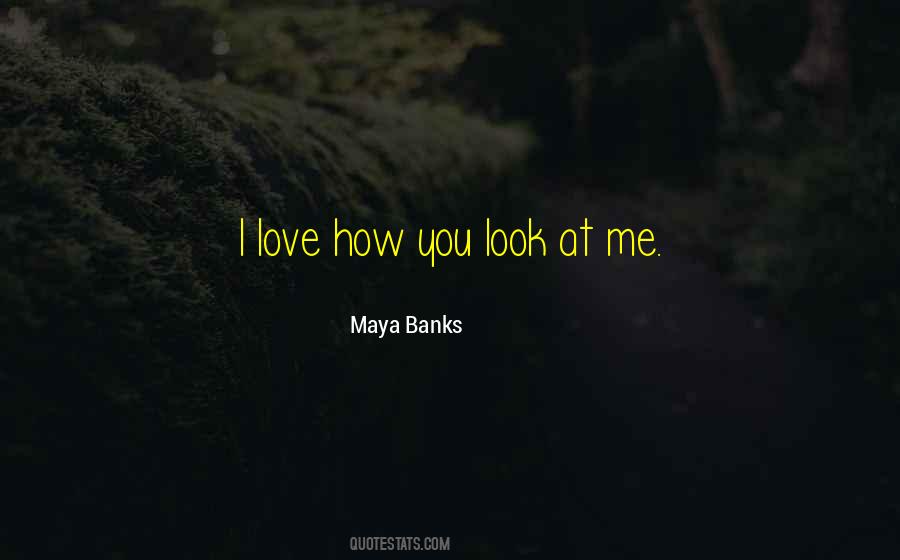 #89. You can stand back and look at this planet and see that we have the money, the power, the medical understanding, the scientific know-how, the love, and the community to produce a kind of human paradise. - Author: Terence McKenna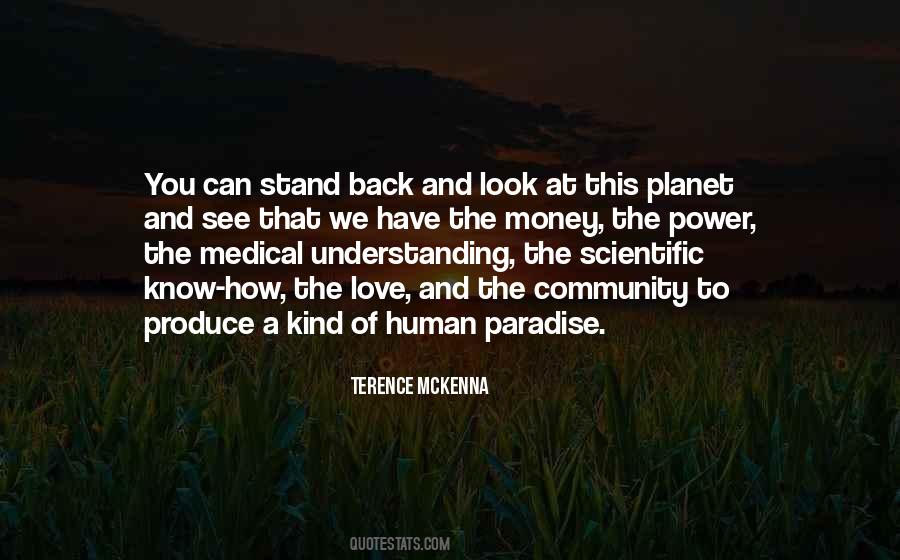 #90. I look at you looking at me, Now I know why the best things are free, How you've changed my world You'll never know, I'm different now, You've helped me grow. - Author: Monica Denise Brown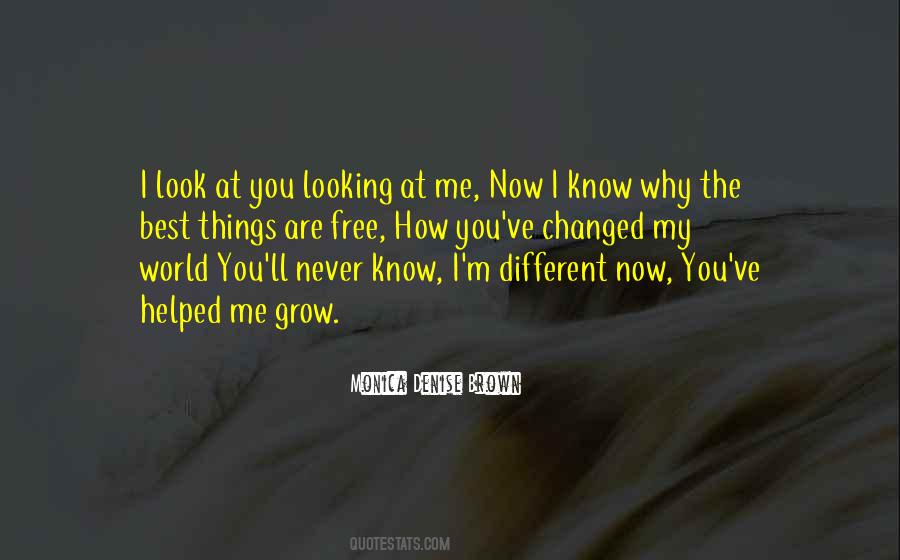 #91. I love old cookbooks. I just got such a kick out of them, how the color would be way off or fake looking. The cook books now look so much like magazines, you'll never make food that looks like that. I'd rather see it the ugly way than they way they do it now. - Author: Amy Sedaris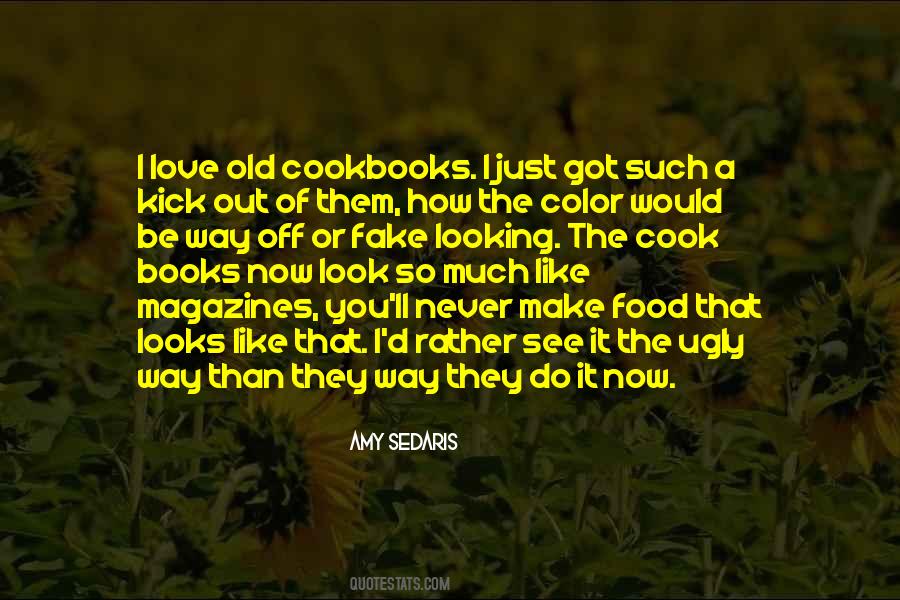 #92. I love just how beautiful Vancouver is. I mean, everywhere you look it's just mountains and ocean. - Author: Emma Bell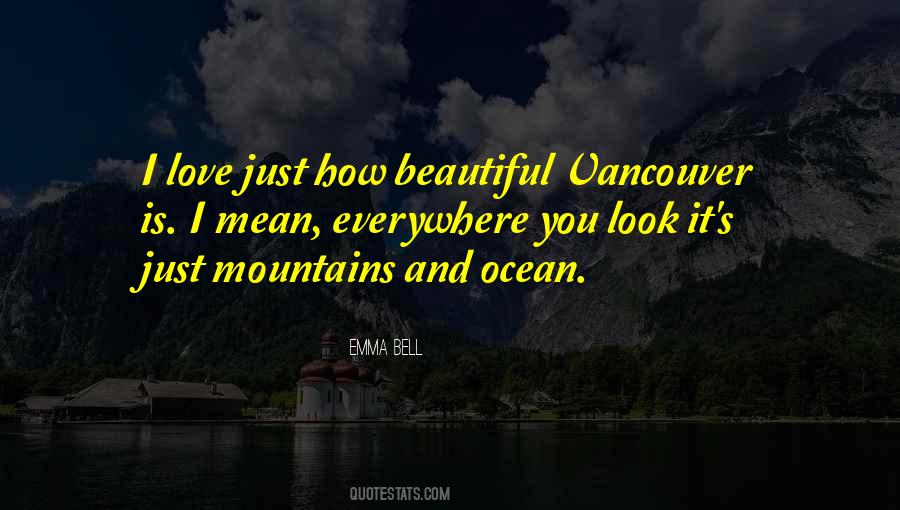 #93. If you pay attention to the movies they will tell you what people desire and fear. Movies are hardly ever about what they seem to be about. Look at a movie that a lot of people love, and you will find something profound, no matter how silly the film may be. - Author: Roger Ebert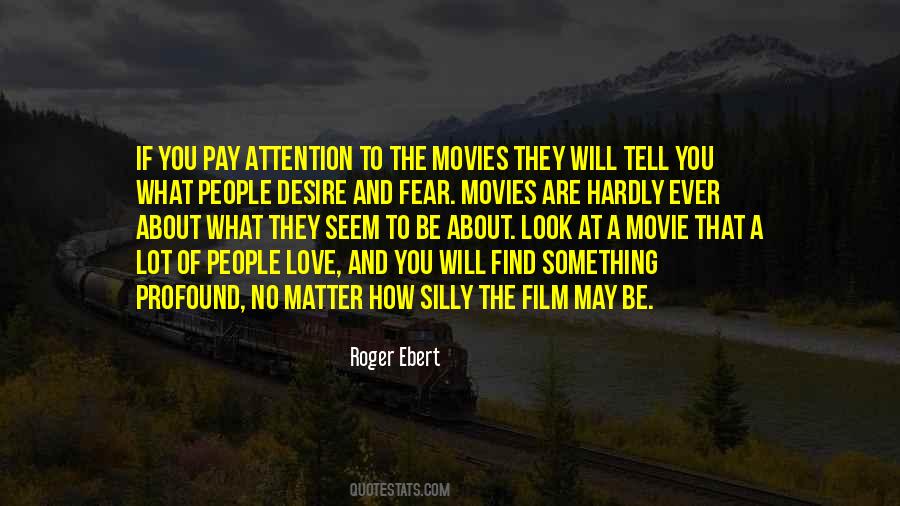 #94. Eleanor's eyes widened at the sight of the man.
"I love that reaction." He pointed at Eleanor's face. "That is the 'you didn't tell me how pretty he was look, oui? - Author: Tiffany Reisz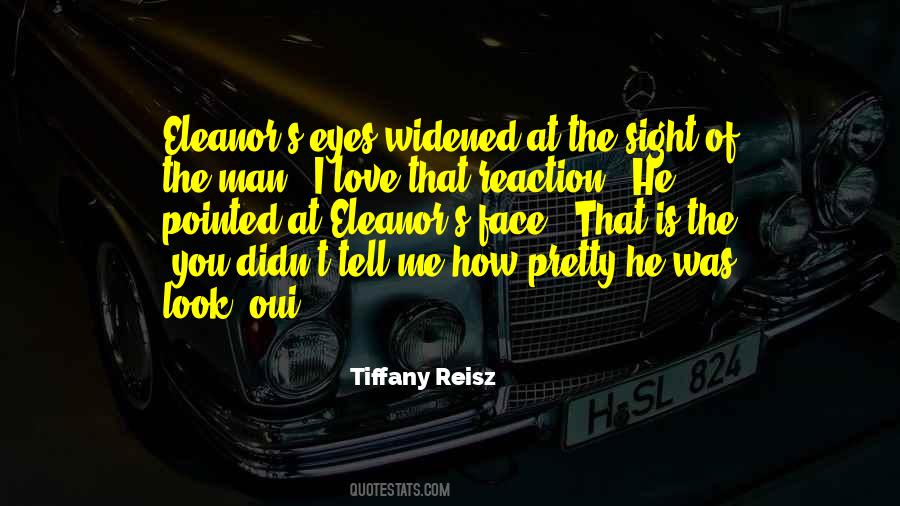 #95. Fatherhood means a great deal to me. I love it. To me, there aint nothing better, because your kids keep it real with you. When you think things are bad, you look at them and they show you how things could be all right, and it's all worth it. - Author: Martin Lawrence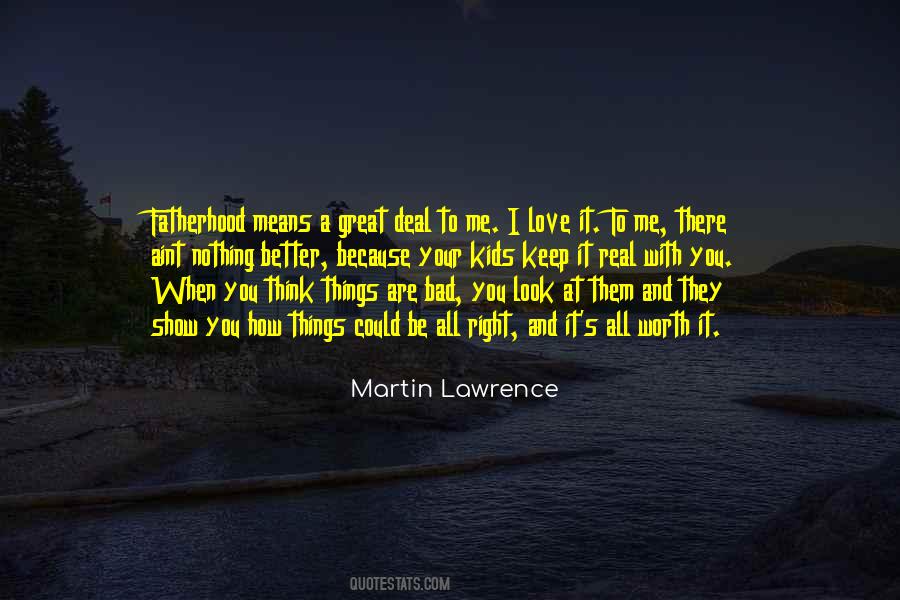 #96. How I look to you is the reflection of how you look at me. - Author: Jasleen Kaur Gumber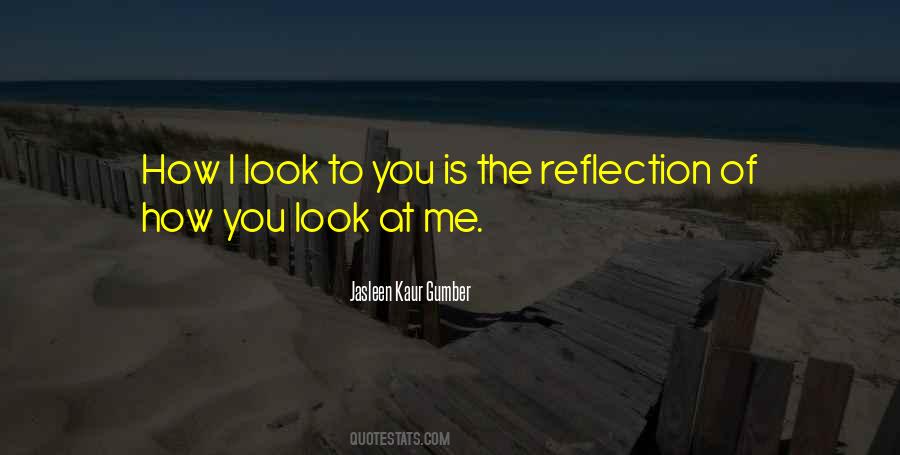 #97. If you want to know yourself,
Just look how others do it;
If you want to understand others,
Look into your own heart.
What is life without the radiance of love? - Author: Friedrich Schiller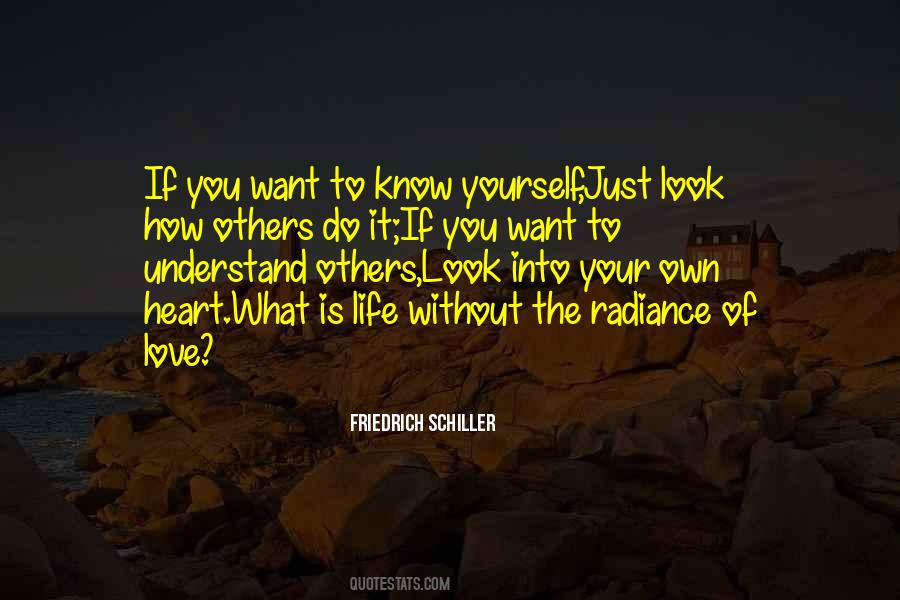 #98. And now that you have seen a really evil man, you will know how evil they can be and you will go after them to destroy them in order to protect yourself and the people you love. You won't wait to argue about it. You know what they look like now and what they can do to people. - Author: Ian Fleming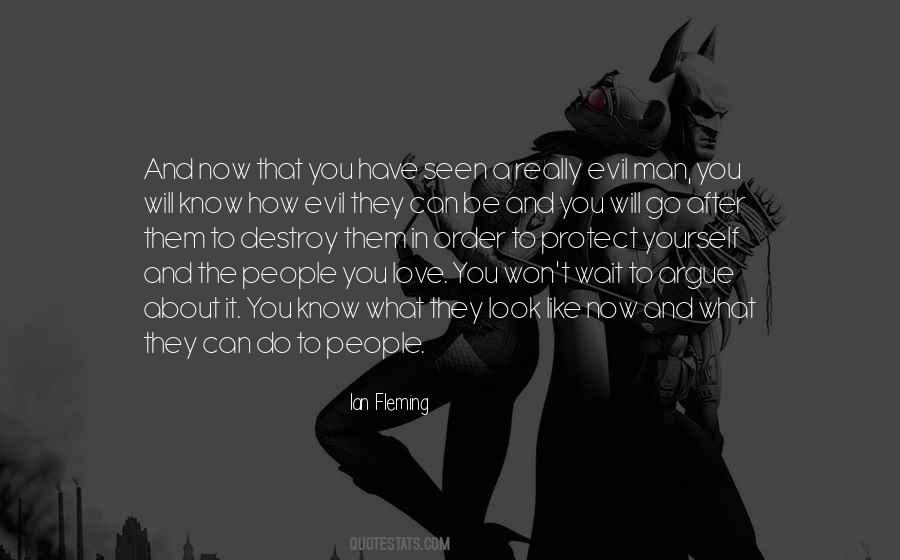 #99. It's not the face, but the expressions on it. It's not the voice, but what you say. It's not how you look in that body, but the thing you do with it. You are beautiful. - Author: Stephenie Meyer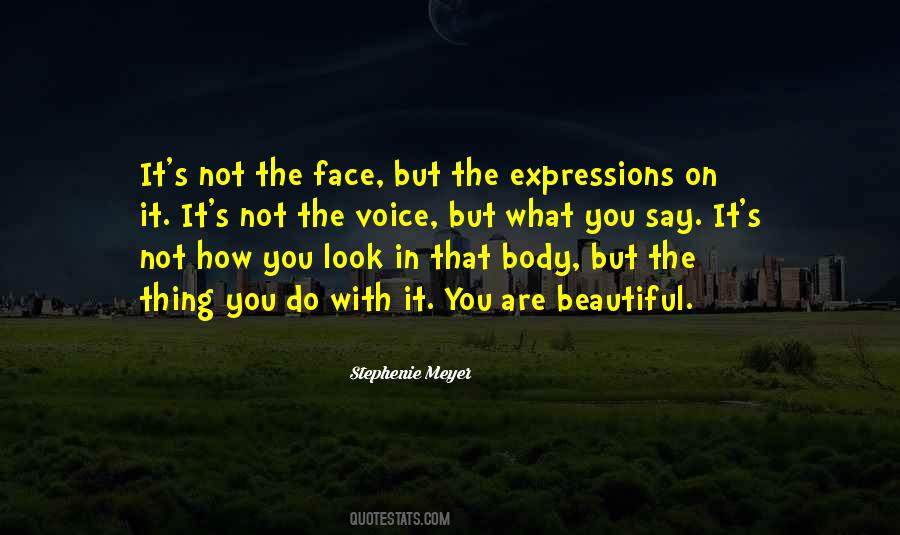 #100. You don't know how to love God and your neighbor unless you look to the law to define it. - Author: Randall Terry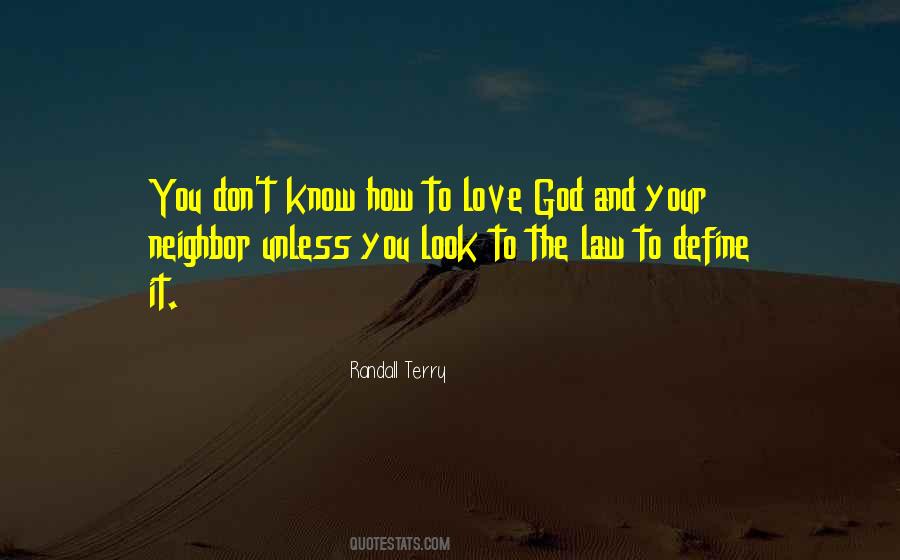 Famous Authors
Popular Topics