Love Because Famous Quotes & Sayings
List of top 100 famous quotes and sayings about love because to read and share with friends on your Facebook, Twitter, blogs.
Top 100 Love Because Quotes
#1. I'm dying to go to India ... because the culture seems so vastly different from what I'm used to in the States. I would love to do some yoga there. And be amongst people who are so different than myself. There's so much you can learn from people who grew up in a different environment. - Author: Christa B. Allen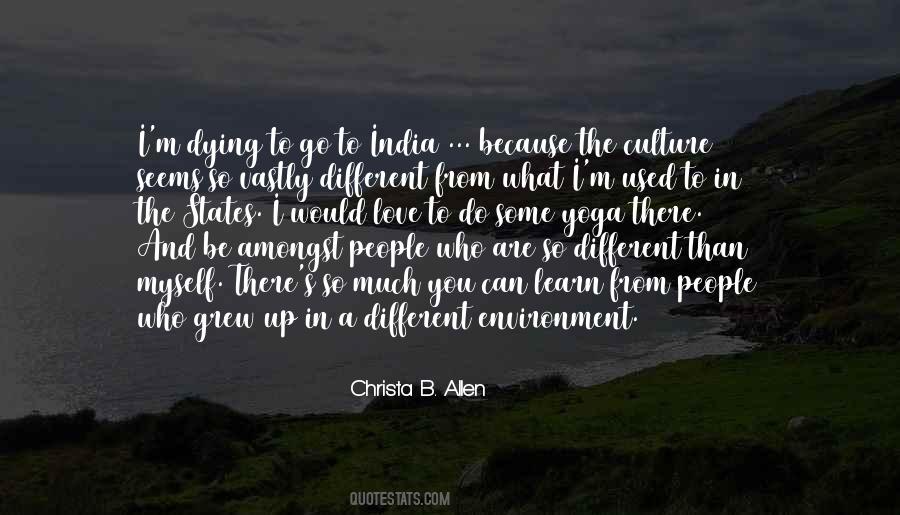 #2. Much later I realized that Russian people, because of the poverty and squalor of their lives, love to amuse themselves with sorrow--to play with it like children, and are seldom ashamed of being unhappy. - Author: Maxim Gorky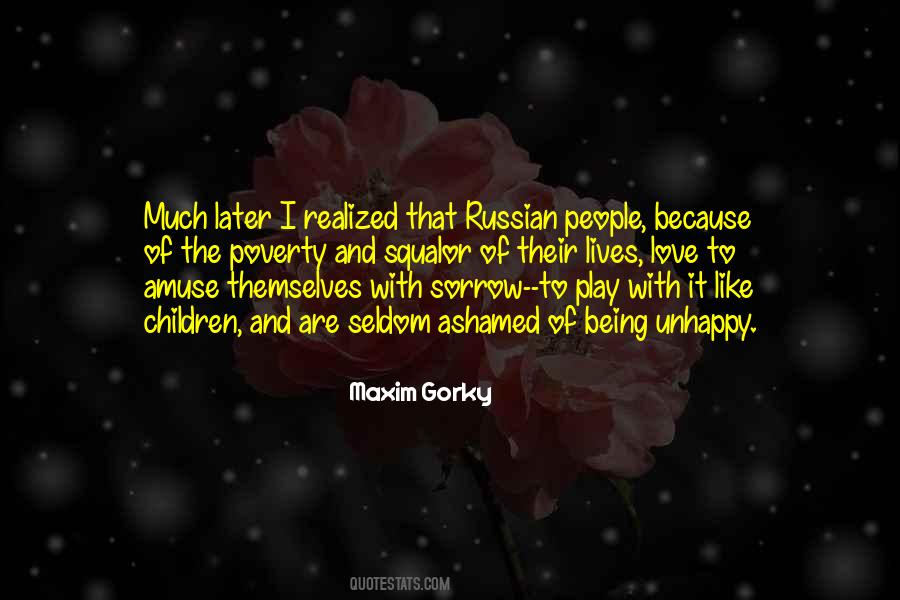 #3. Life is beautiful because of its endless possibilities. - Author: Debasish Mridha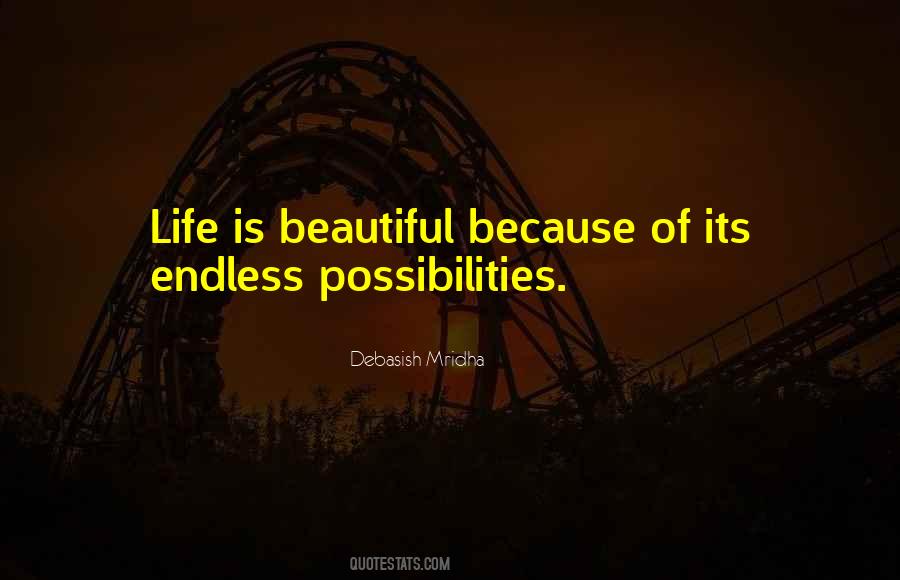 #4. But when I call for a hero, out comes my lazy old self; so I never know who I am, nor how many I am or will be. I'd love to be able to touch a bell and summon the real me, because if I really need myself, I mustn't disappear. - Author: Pablo Neruda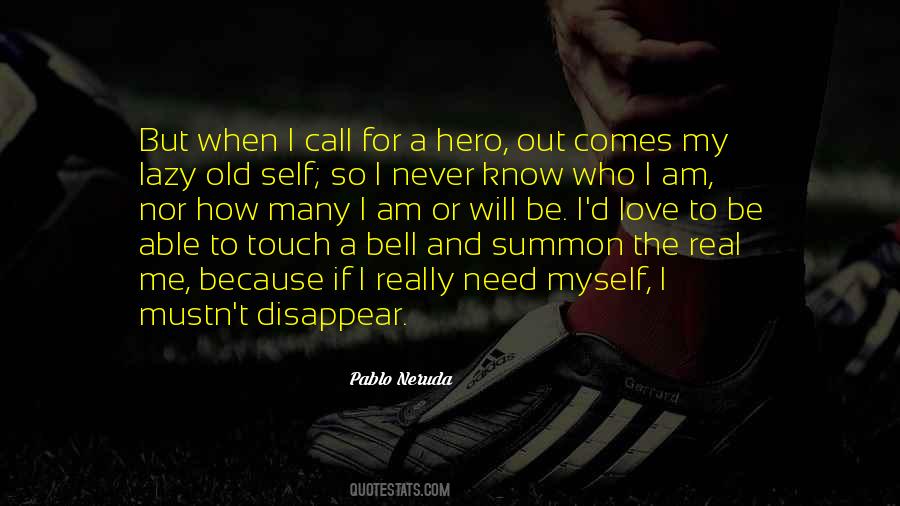 #5. I love you; I love you and I don't care that you're my sister; don't be with him, don't want him, don't go with him. Be with me. Want me. Stay with me.
I don't know how to be without you. - Author: Cassandra Clare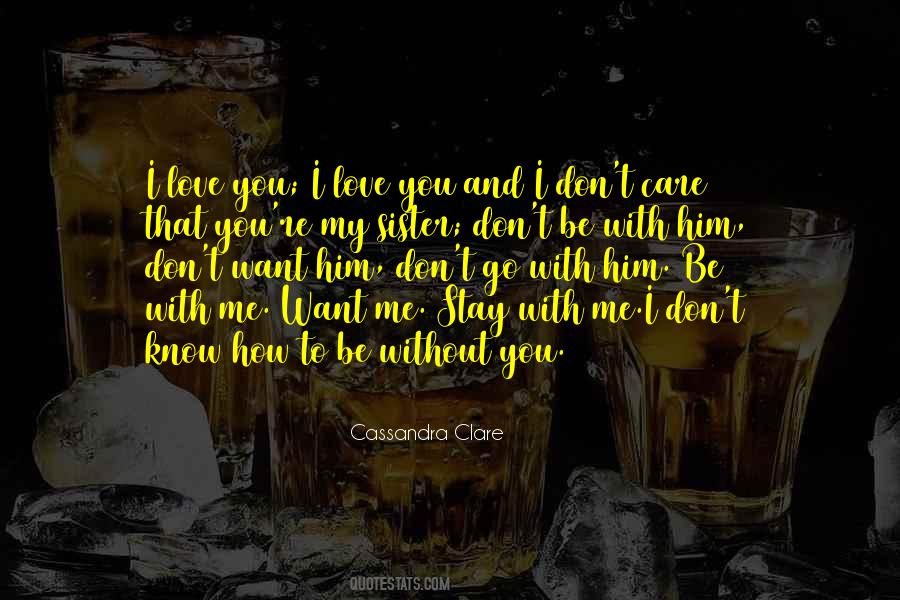 #6. I have a 10 year old boy and a 6 year old boy and the stuff that they watch, it's always ... I mean, it could be because we're a funny family, but they love the humor and combining humor with space action, I mean, you know, there's a winner right there. - Author: Rhys Darby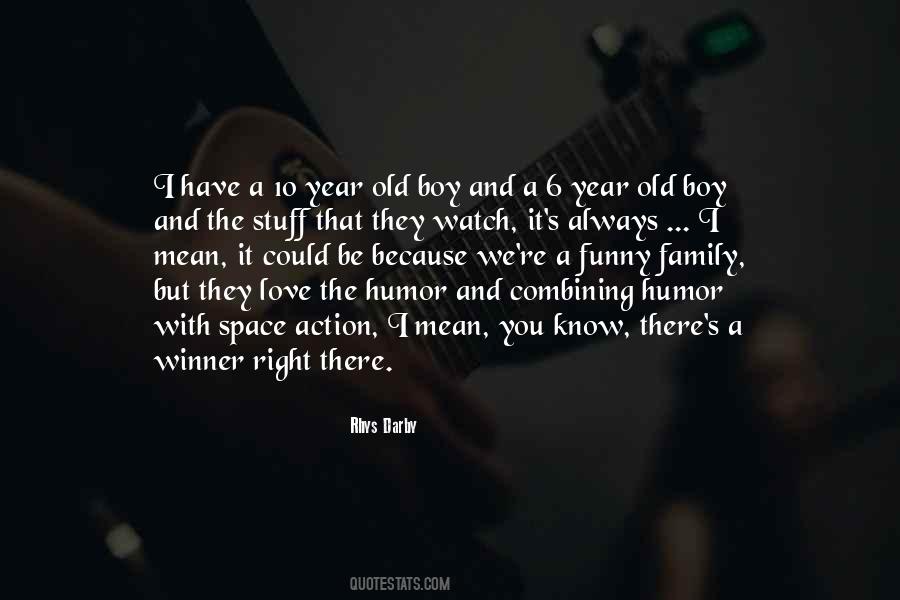 #7. I'm gonna give them the advice that I always took myself, that it's better to get to know somebody before you jump into the sack with them. Because then if you jump into the sack and fall in love, and you liked them already, you're home free. - Author: Pia Zadora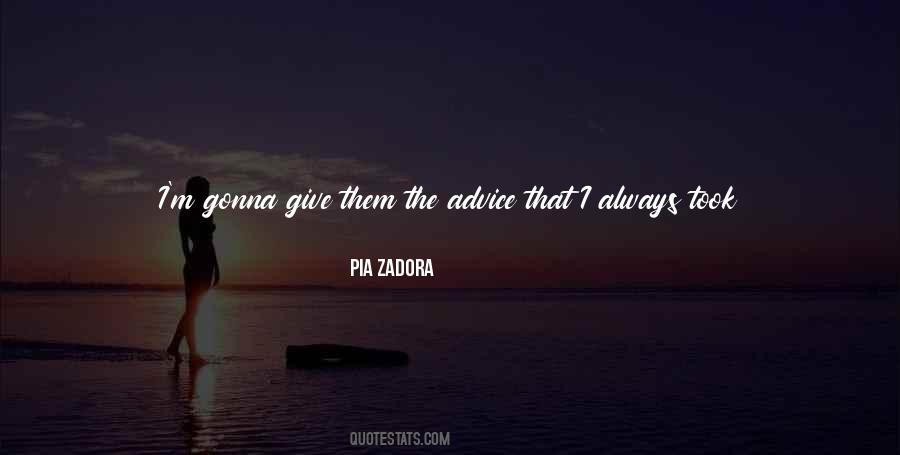 #8. I like writing for other people. I love it. It's great because you write it and then you hand it off to someone else. But in terms of directing, anything I direct will be something I've written or re-written. I'm in no crazy rush to direct. - Author: Nicholas Stoller
#9. The reason gold-diggers trivialize
relationships is because they do not know love,they only know money. - Author: Moffat Machingura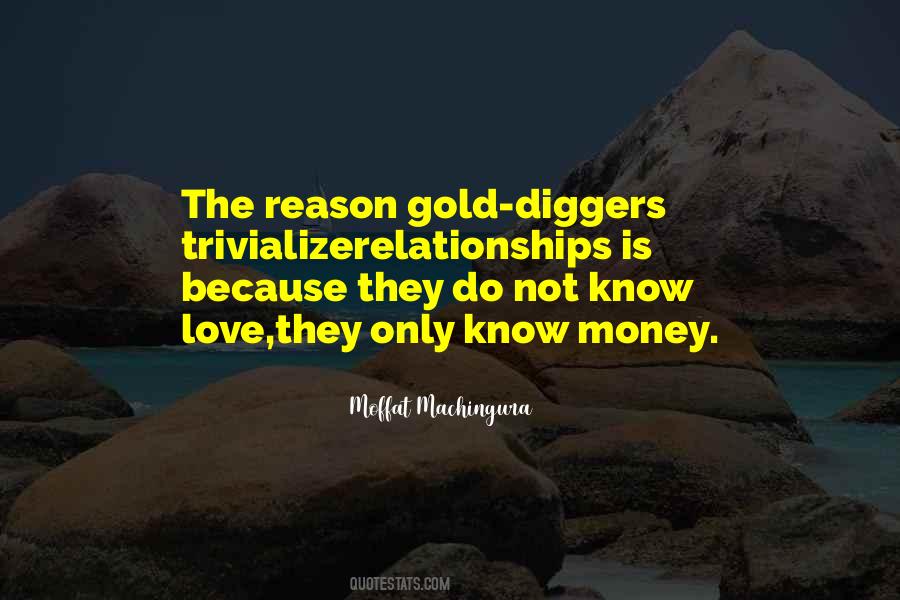 #10. The thing you love right away, don't do it, because that's the very thing that's going to be your addiction for the rest of your life. - Author: Fran Lebowitz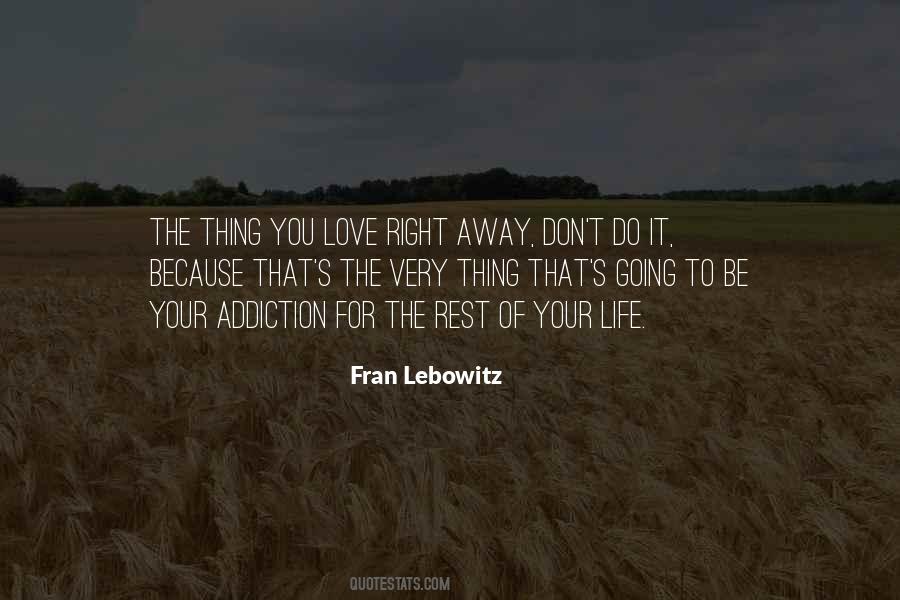 #11. The media love coarse debate because coarse debate drives ratings and ratings generate profits. Unless the TV producer happens to be William Shakespeare, an argument is more interesting than a soliloquy - and there will never be a shortage of people willing to argue on TV. - Author: John Sununu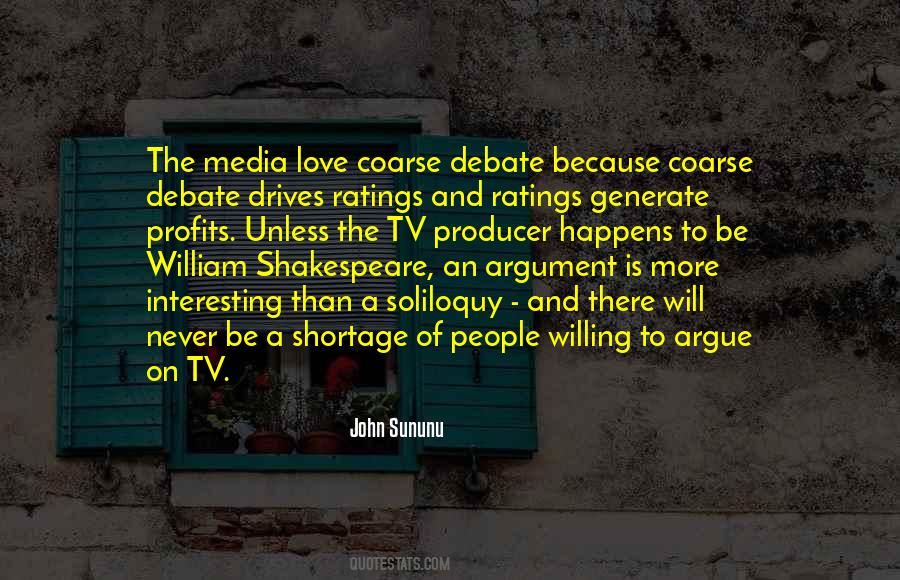 #12. These men think they can beat a woman physically and emotionally and get away with it because they think the love we have for them is that strong. - Author: Sonovia Alexander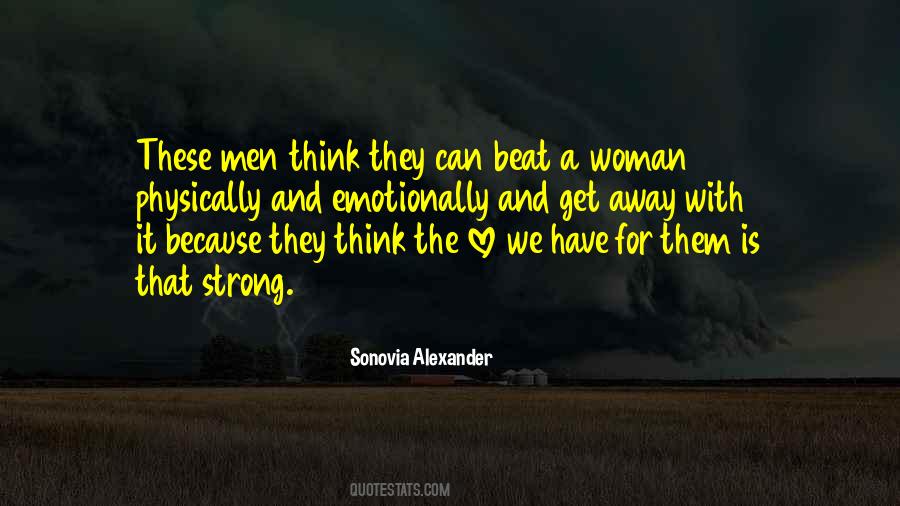 #13. Shaunee was digging in her purse like she'd misplaced a tube of one of MAC's seasonal lipsticks that you buy and fall in love with AND THEN THEY DISCONTINUE IT BECAUSE THEY REALLY HATE US AND WANT US TO BE CRAZY. - Author: P.C. Cast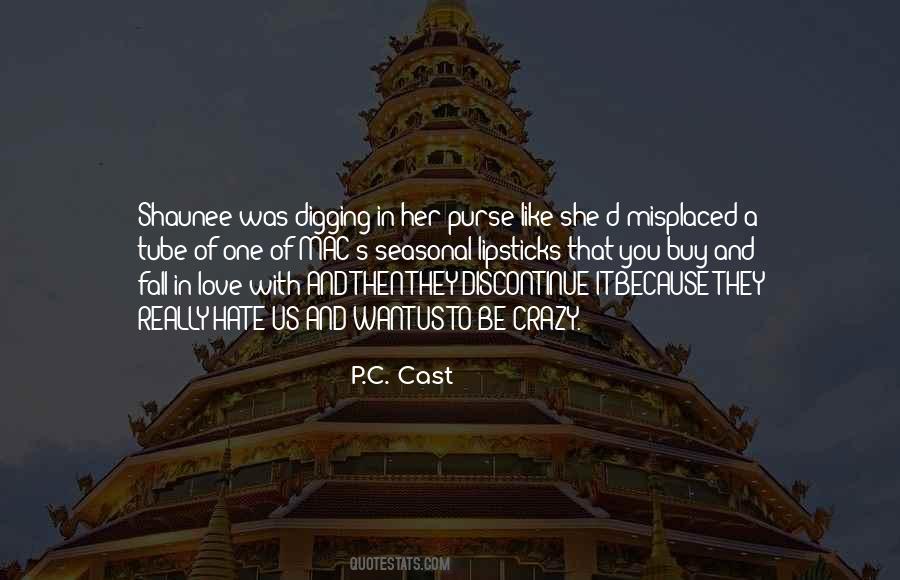 #14. ..love is as complex an emotion as exists. There are many reasons why love does not prosper.
.. the waters are perilous, and you would do well to know that, because unlike your novels, not every story has a happy ending. - Author: Mary Lydon Simonsen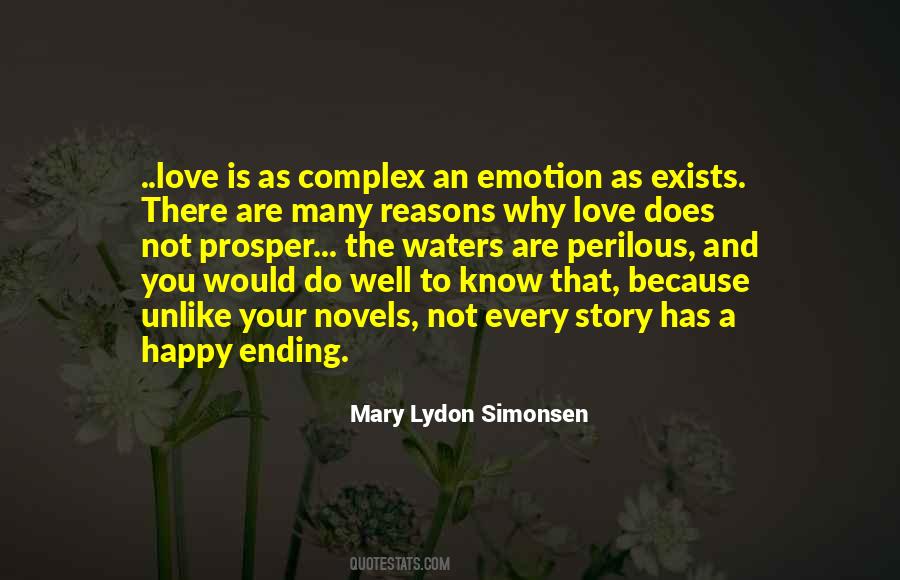 #15. Just as love makes you blind so does wealth, and of the two blindnesses wealth is the worse because of the incalculable harm it is able to do to people other than yourself. - Author: Rufus King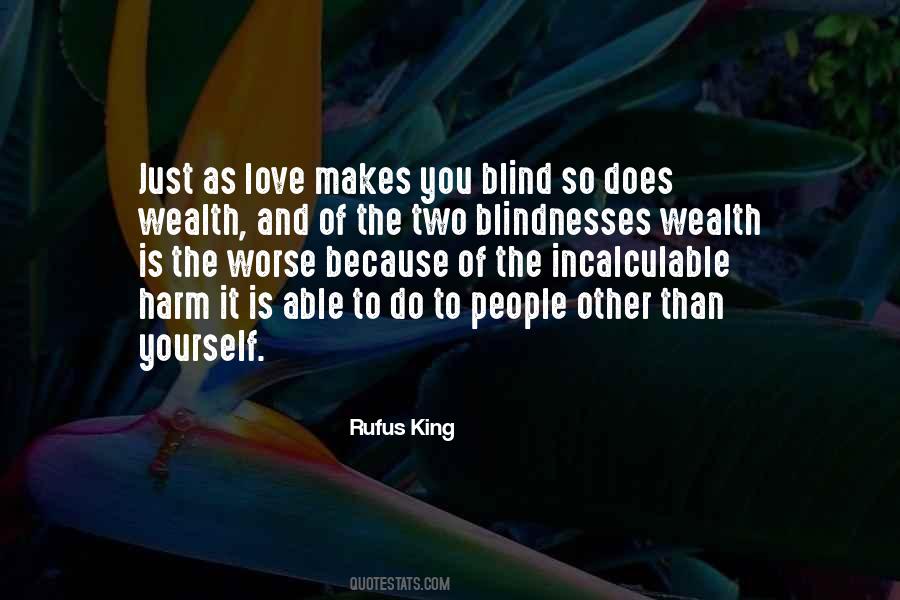 #16. Be happy because you are enjoying the most amazing miracle called life. - Author: Debasish Mridha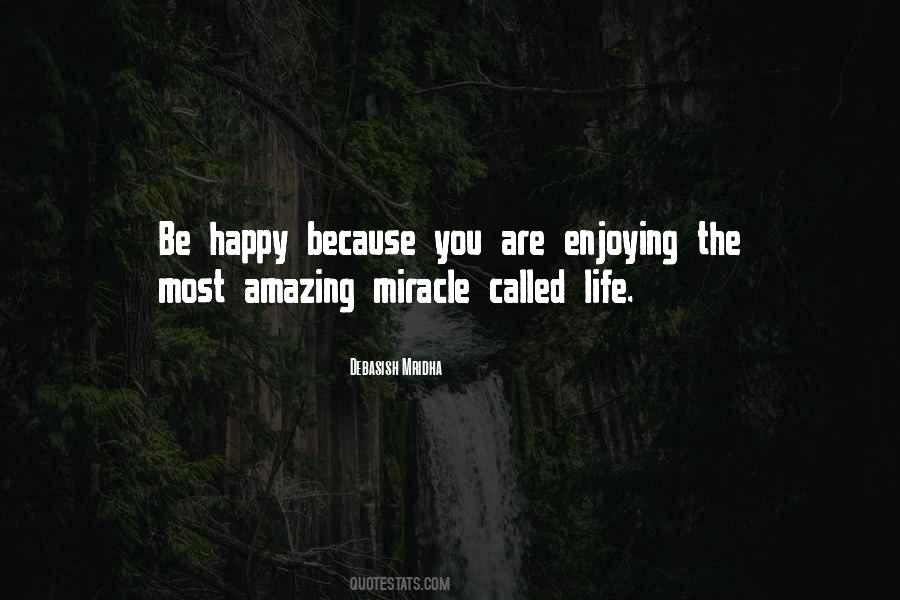 #17. If I know what love is, it is because of you. - Author: Hermann Hesse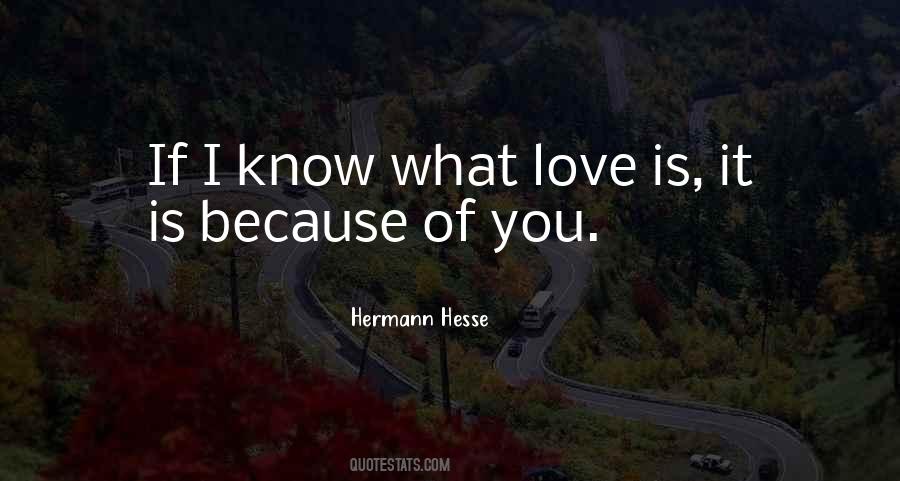 #18. I love to not work. I love to go to the movies, I like to travel ... I think I work maybe half the year. Sometimes, people think I've done three films in a year, but it's because I did a participation in a film. But I work for half a year, no more. - Author: Catherine Deneuve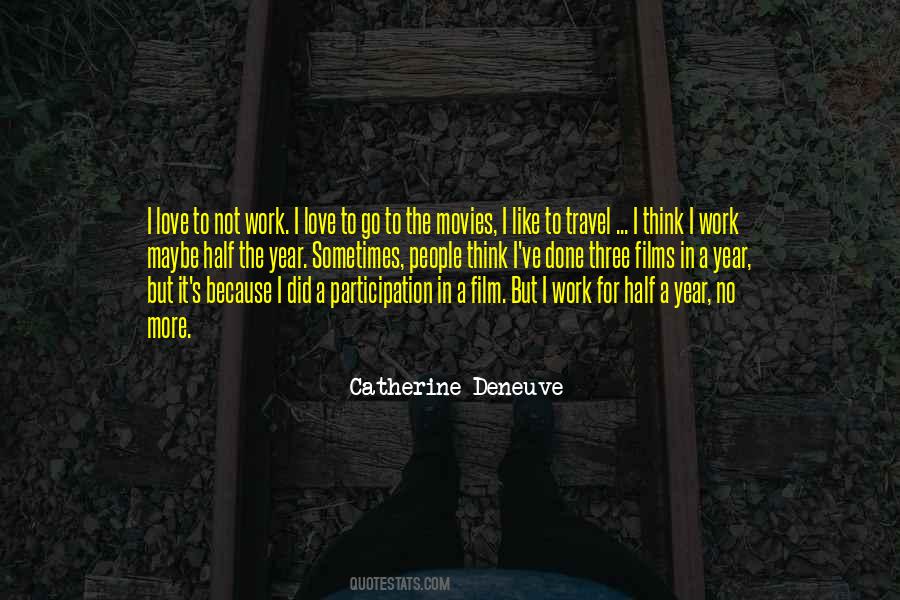 #19. Do you know why our race is doomed, Pellinore? Because it has fallen in love with the pleasant fiction that we are somehow above the very rules that we have determined govern everything else. - Author: Rick Yancey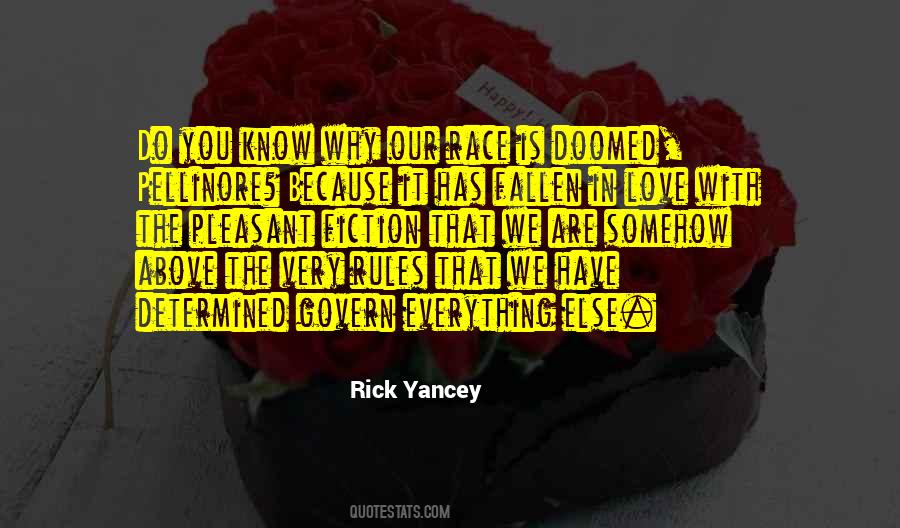 #20. You've got to be happy, you have to do this thing [music] for the love. It's not like you go into music because it's going to make a lot of money. It's something you do ... that's the thing. You got to accept all that hard work with it, too. And enjoy it, and love it. - Author: Creed Bratton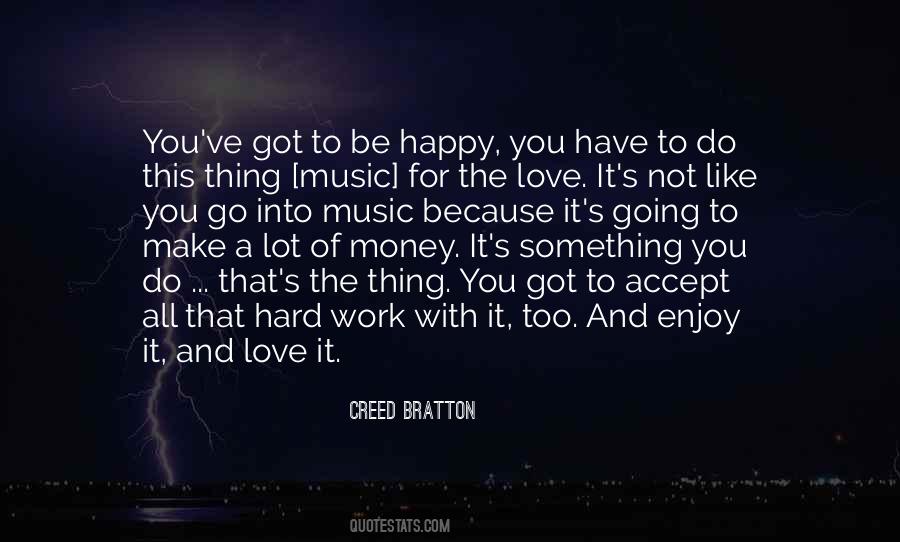 #21. I had things with numbers - because I love numbers - but it's not something I'm proud of. I'm proud that I was able to send them away, because you're much more present. - Author: Penelope Cruz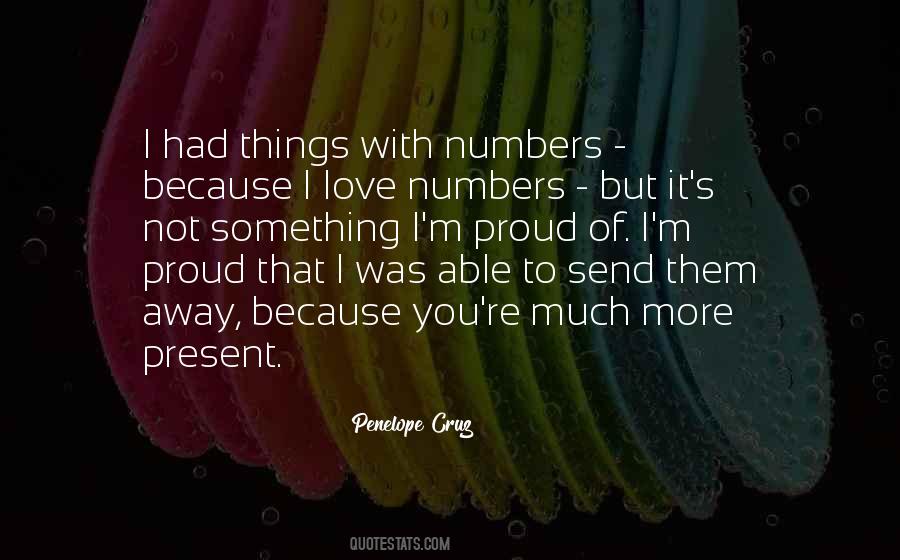 #22. The first duty of a man is to love himself. When someone loves himself, he is loving the universe. This universe is existing because of you. - Author: Debasish Mridha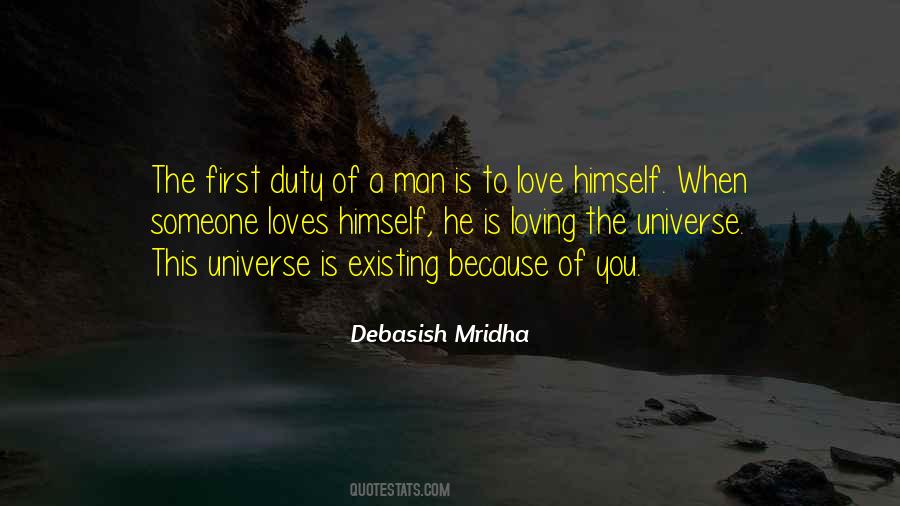 #23. You're my dream, Alaric McCabe. And I love you. I've loved you from the moment your horse dumped you at my cottage. I spent so much time being resentful and lamenting the circumstances of my life, but 'tis true that I wouldn't change a single thing because then I would have never known your love. - Author: Maya Banks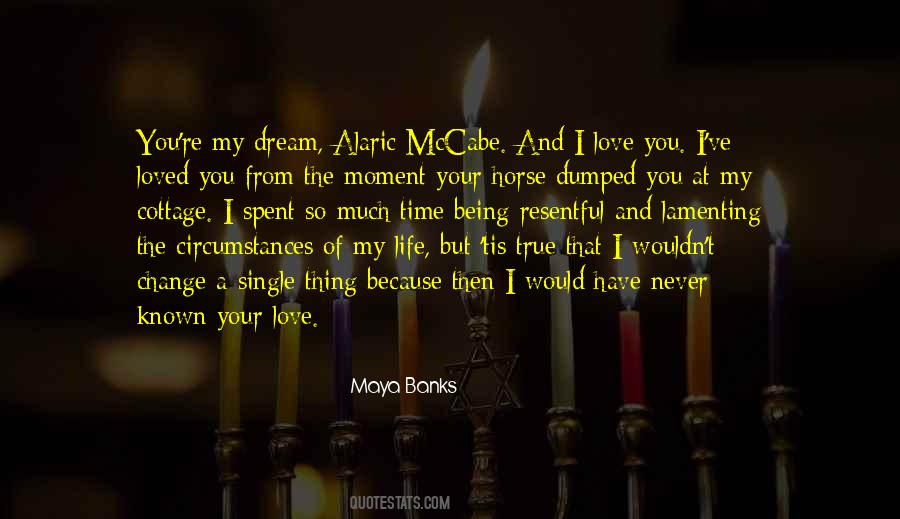 #24. Fall for me, as an apple falls, as rain falls, because you must. Use gravity to anchor your desire. - Author: Jeanette Winterson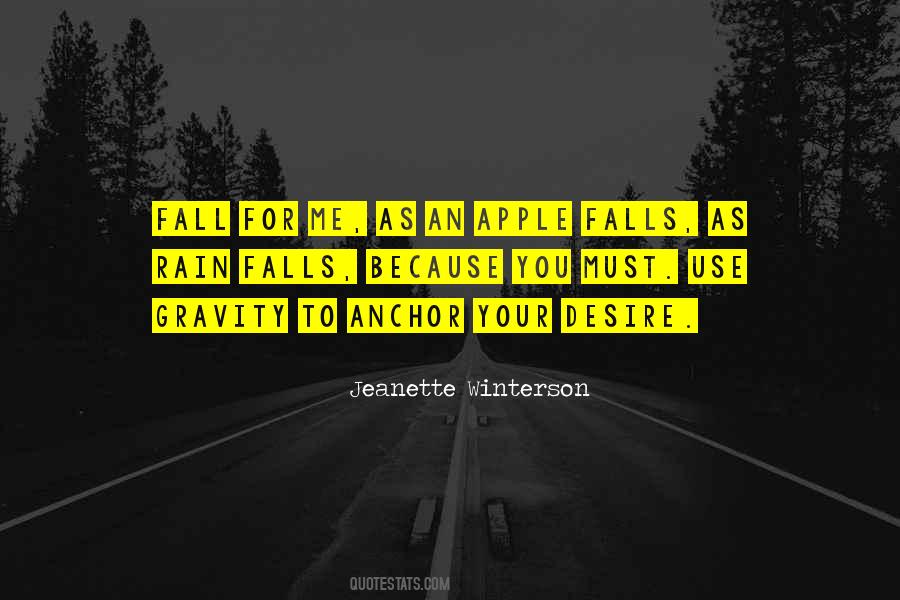 #25. A mystery is a problem that encroaches upon itself because the questioner becomes the object of the question. Getting to Mars is a problem. Falling in love is a mystery. - Author: Gabriel Marcel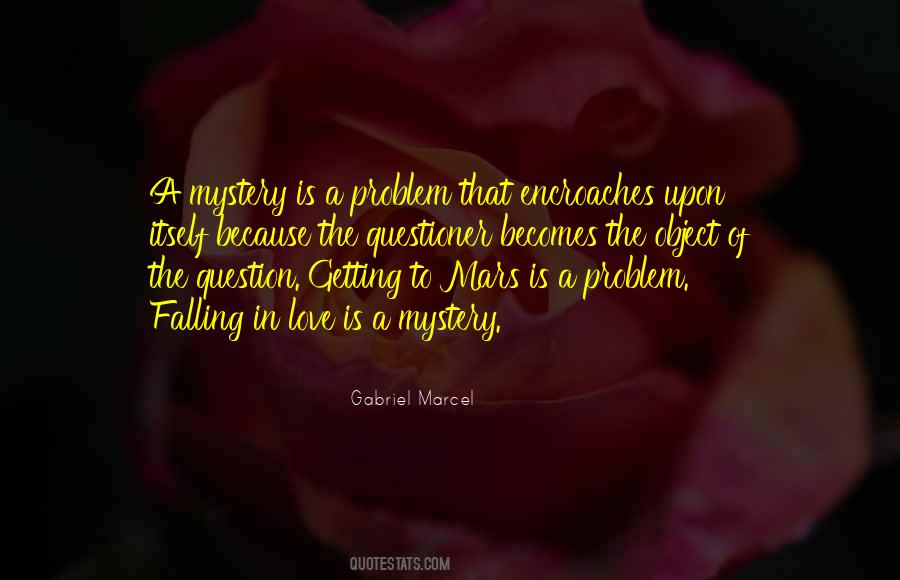 #26. I don't date my girlfriend because she's a model. I date her because I love her. - Author: Adam Levine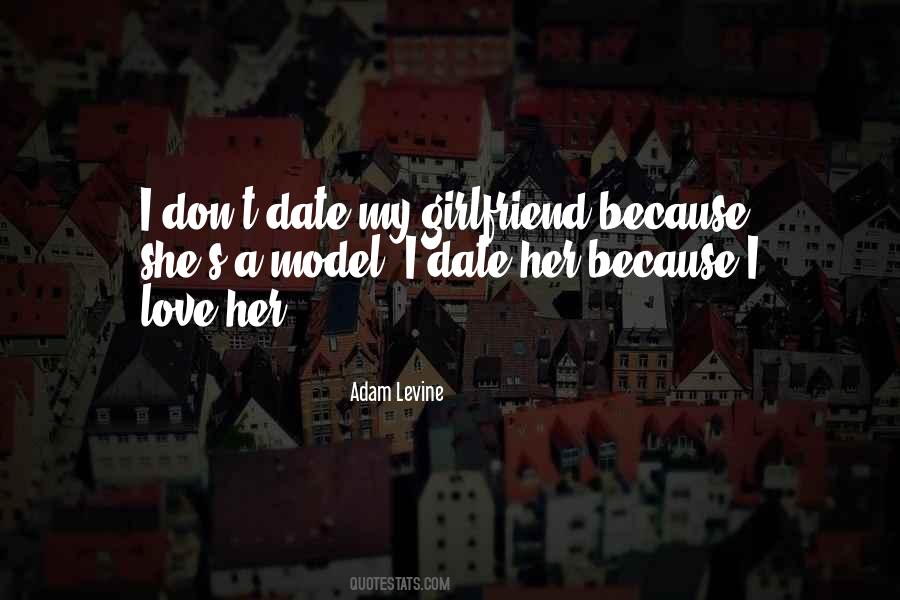 #27. I think I'm able to do so much because writing is what I love to do. So, often when I have free time, I choose to write and edit. - Author: Lauren Oliver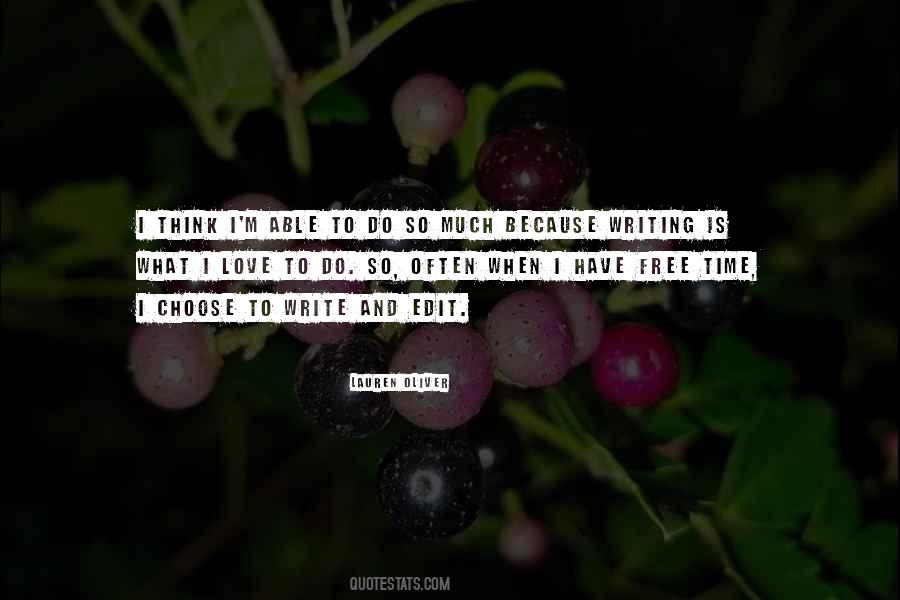 #28. Me: Don't thank me, Sydney. You shouldn't thank me, because I failed miserably at trying not to fall in love with you. - Author: Colleen Hoover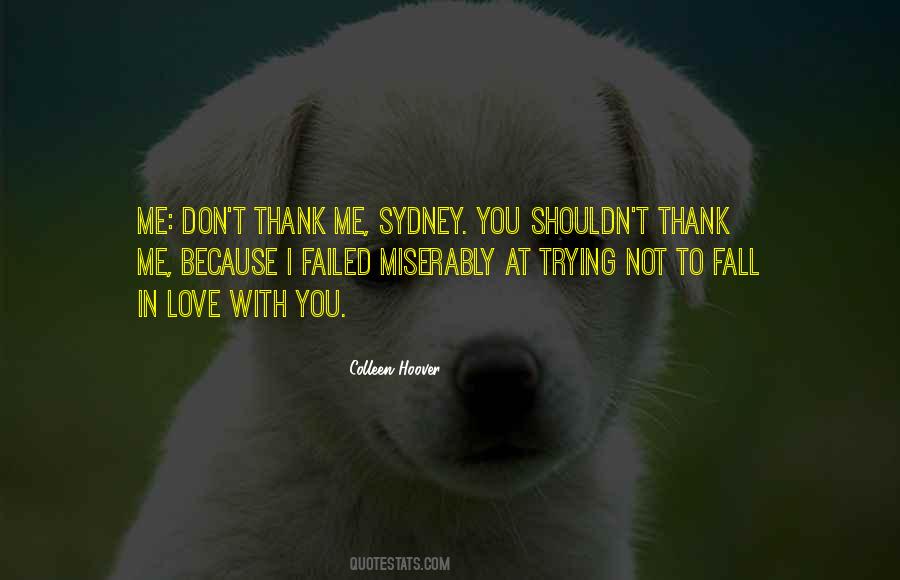 #29. I love to play in the different keys like B or F sharp, or keys that most people don't play in, because they have a better resonance or something. I'm really not fond of F and C. I just stay away from those if I can. - Author: Marian McPartland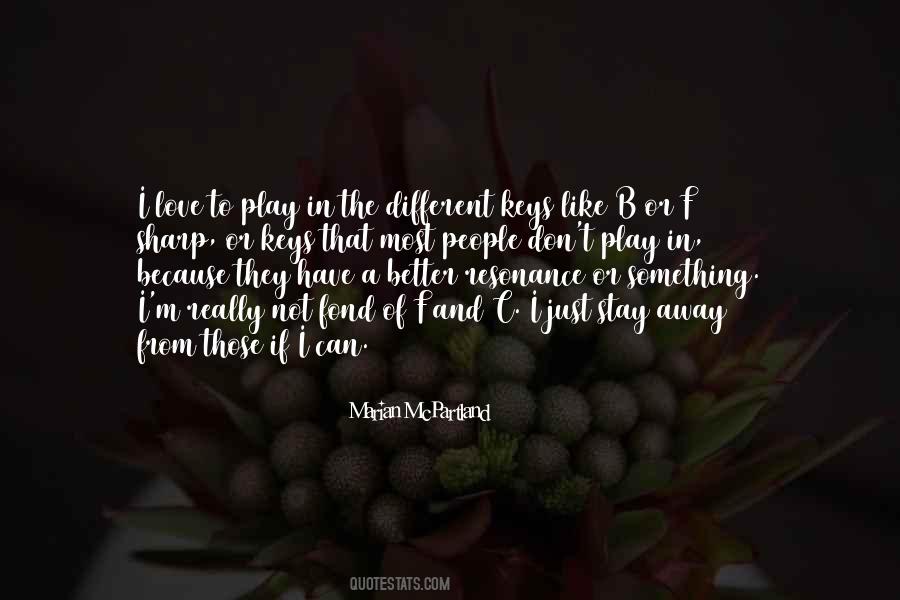 #30. The dam of tears broke again and I cried softly, grateful for the love I didn't deserve because the gift of me didn't seem to be enough. - Author: Denise Grover Swank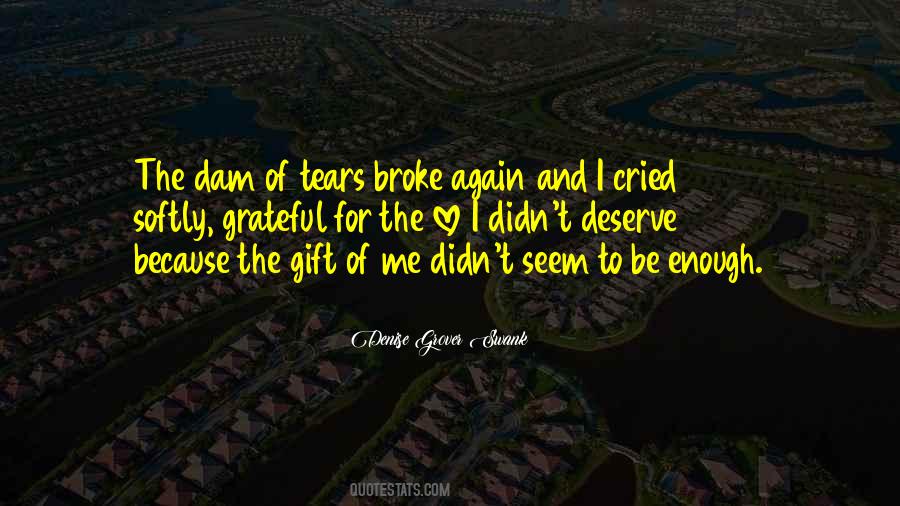 #31. I went to the Tokyo Film Festival in Japan because I love Japanese cinema. - Author: Leslie Caron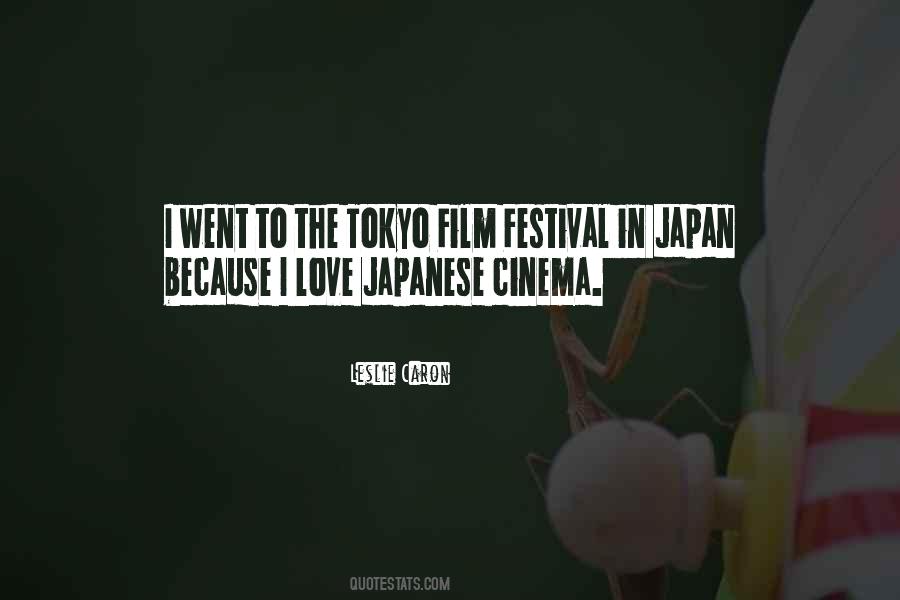 #32. If they want me I'd love to come back. I'm not going to play because I can, I'm going to play because I deserve it. - Author: Greg Maddux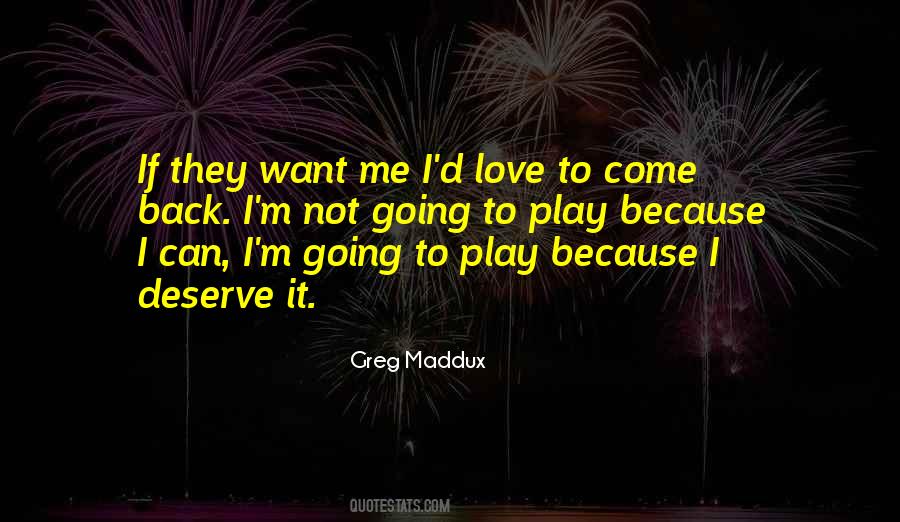 #33. You must love and care for yourself, because that's when the best comes out. - Author: Tina Turner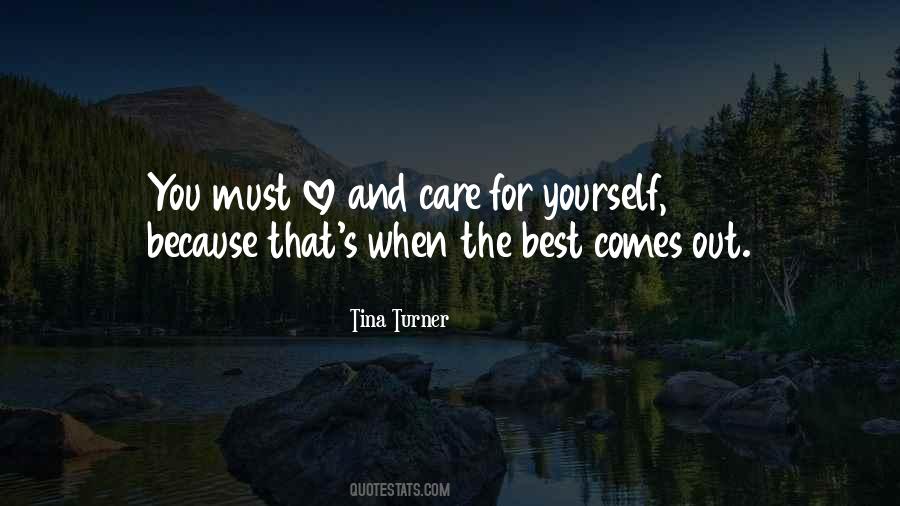 #34. I think it's important for people who love music to retain physical CDs or even vinyl, because it sounds so great and so much warmer than music over the internet. - Author: Norah Jones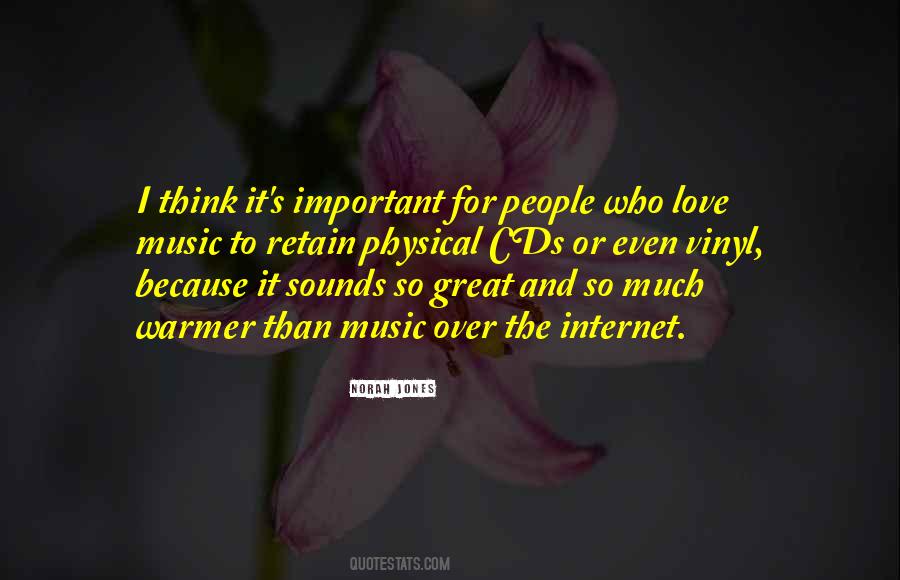 #35. When you fall in love with favourite movie stars, it's not because they're movie stars and unattainable, but because they show you sides of themselves that are extremely personal. - Author: Sarah Gadon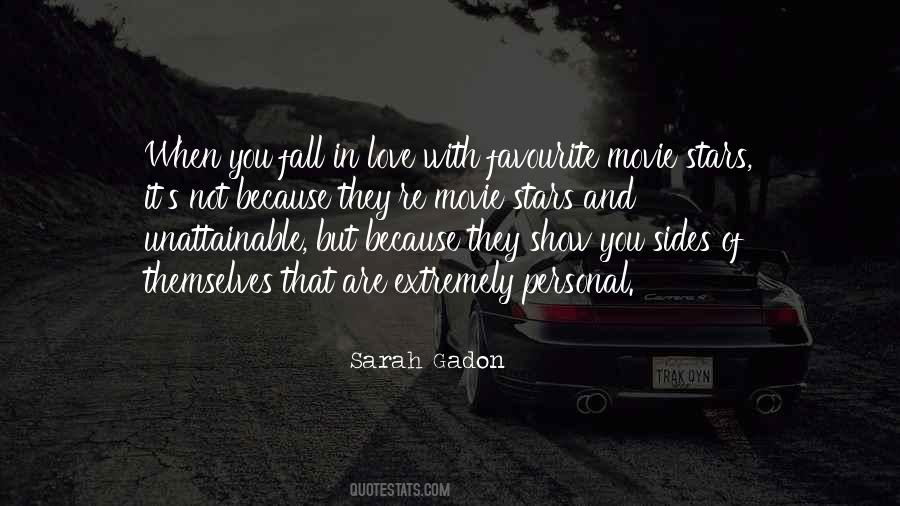 #36. Within the microcosm of a film you get drawn to people. There are certain projects you care enormously about, and 'The Edge Of Love' was one because I was portraying a great hero of mine, Dylan Thomas. - Author: Matthew Rhys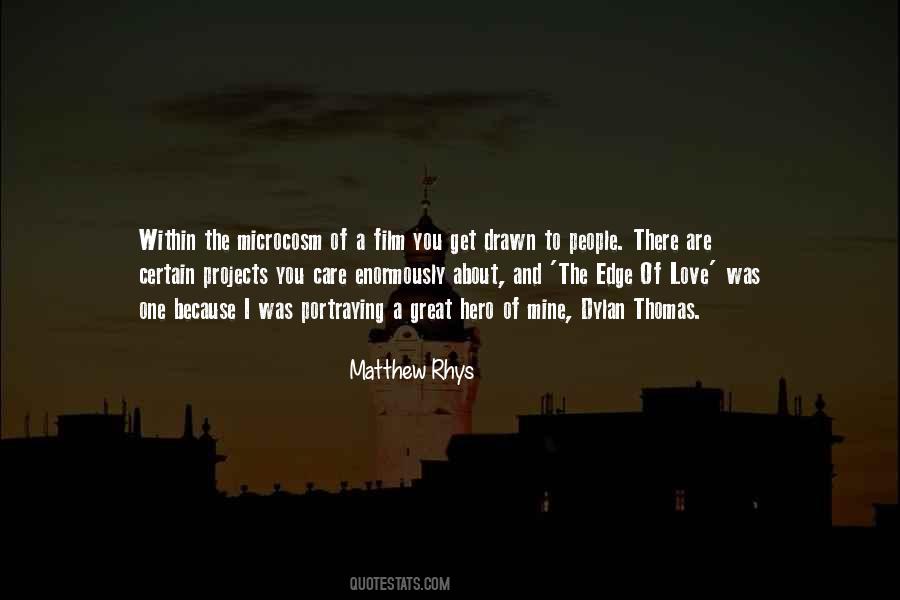 #37. I knew that Jesus loved me, not because the Bible told me so but because my heart was informed by love. And later, for that same reason, I knew I was attracted to boys. - Author: James Lecesne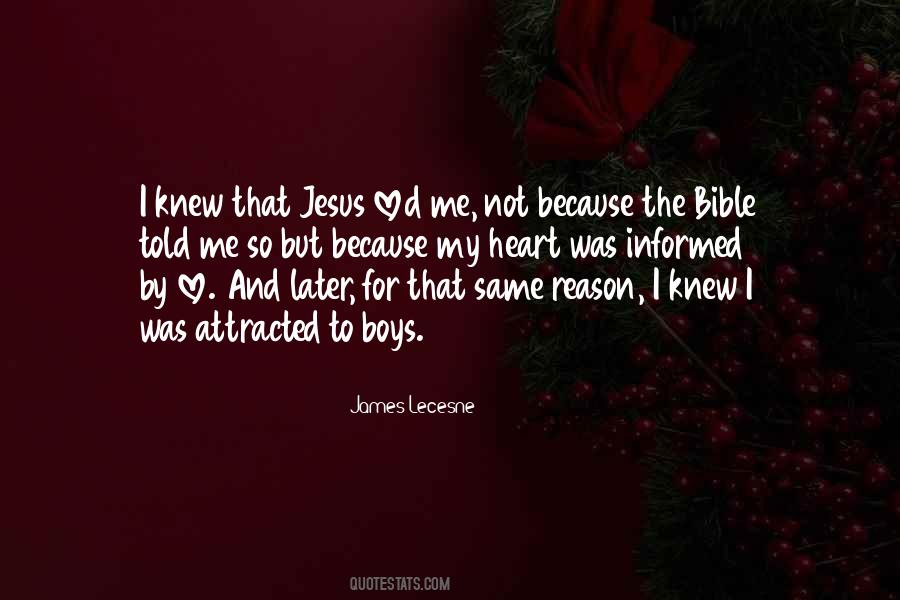 #38. I fervently believe that people shouldn't stay in bad relationships just because of some artificial rom-com notion of true love being "forever." In fact, I think that the pressure of conforming to that framework ruins-literally RUINS-a lot of people's lives. - Author: Lindy West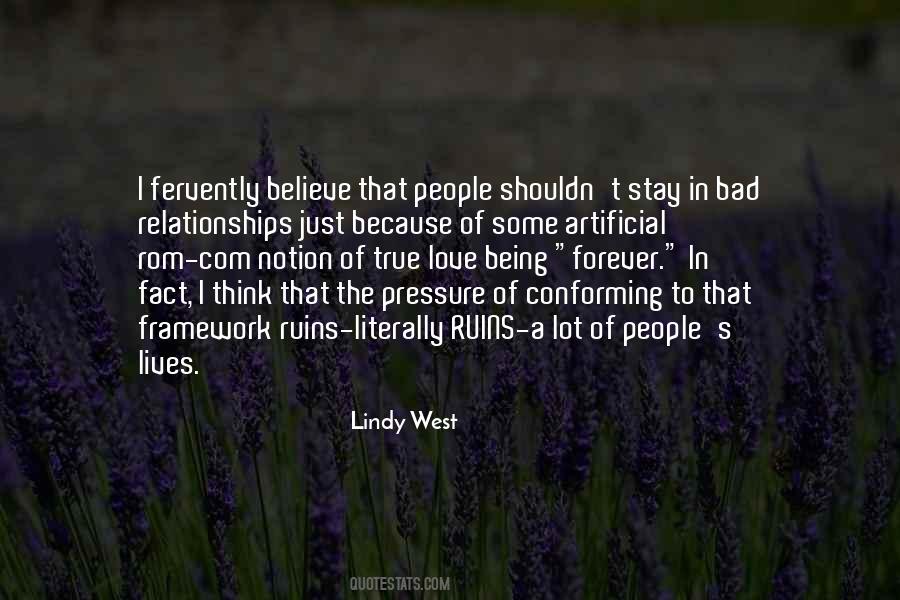 #39. 'The Client List' is my baby. I always tell people, 'It took nine months to put this project together because it is my baby.' And, it really did take that long! - Author: Jennifer Love Hewitt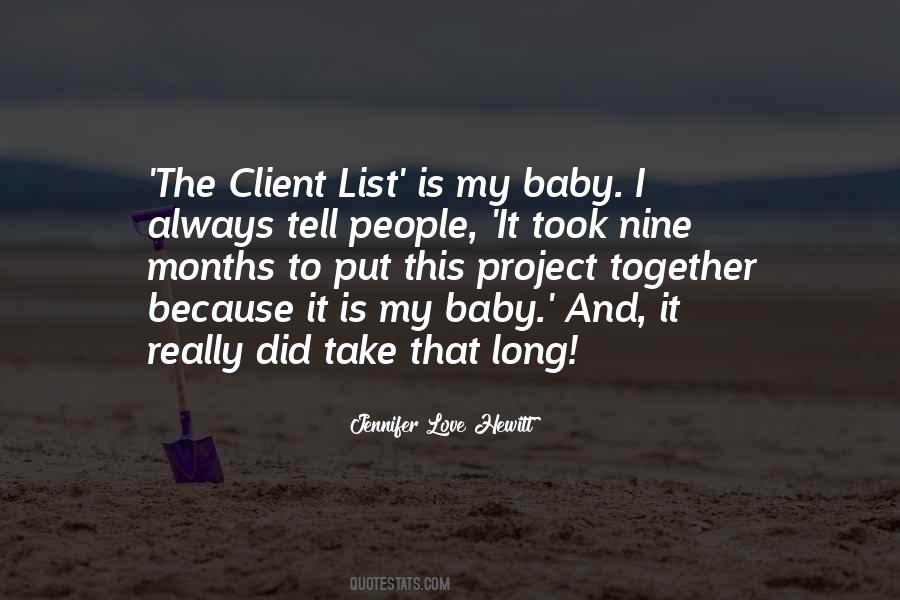 #40. Sometimes the most beautiful things are in front of our eyes, and we don't even notice because we're either too busy or too afraid to take a closer look. - Author: Katja Michael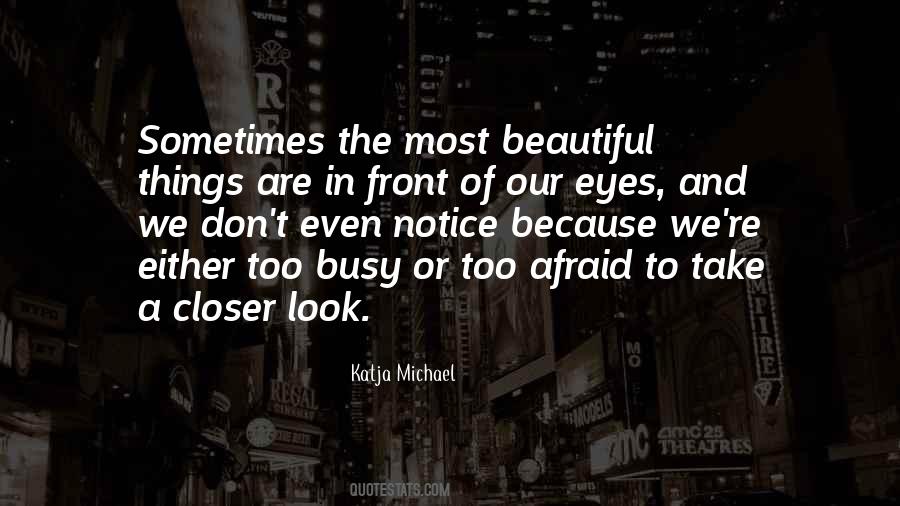 #41. With love, you should go ahead and take the risk of getting hurt ... because love is an amazing feeling. - Author: Britney Spears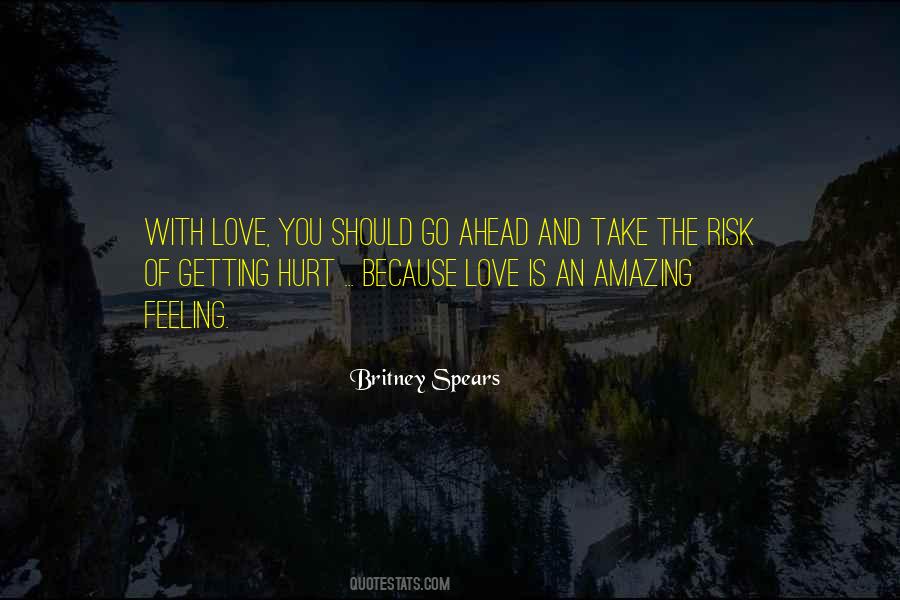 #42. Because for Amy, love was like drugs or booze or porn: There was no plateau. Each exposure needed to be more intense than the last to achieve the same result. - Author: Gillian Flynn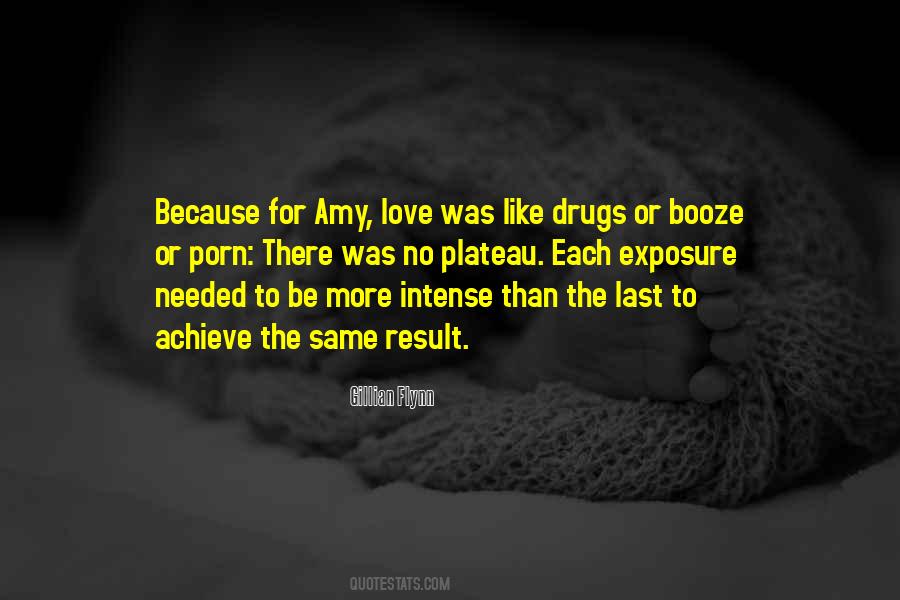 #43. The sun weeps because it can no longer caress your skin or warm your lips." He sifted his fingers through my hair. "I do not envy the sun, Eva. But I truly hate the moon, because its light touches you in all the ways I cannot. - Author: Michele Bardsley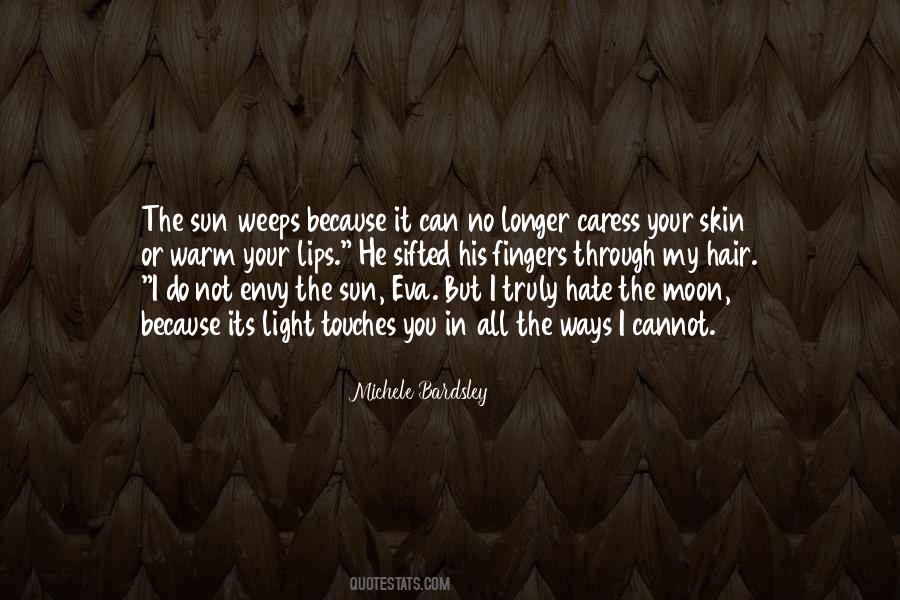 #44. Because I am in love with you. Because I cannot be around you for fear you will finally see what is written across my heart. Because the pain of you is one I cannot bear - Author: Kiersten White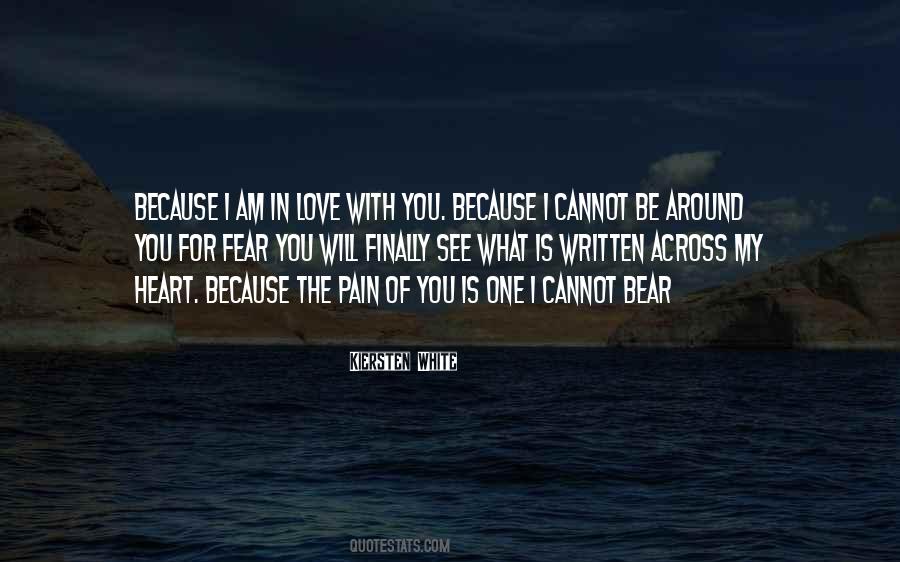 #45. How would you describe the #feeling of #love in 140 or less characters?
Answer : Like somebody is gripping your heart, but you don't want them to let go because the ache would worsen without them. - Author: Claire Contreras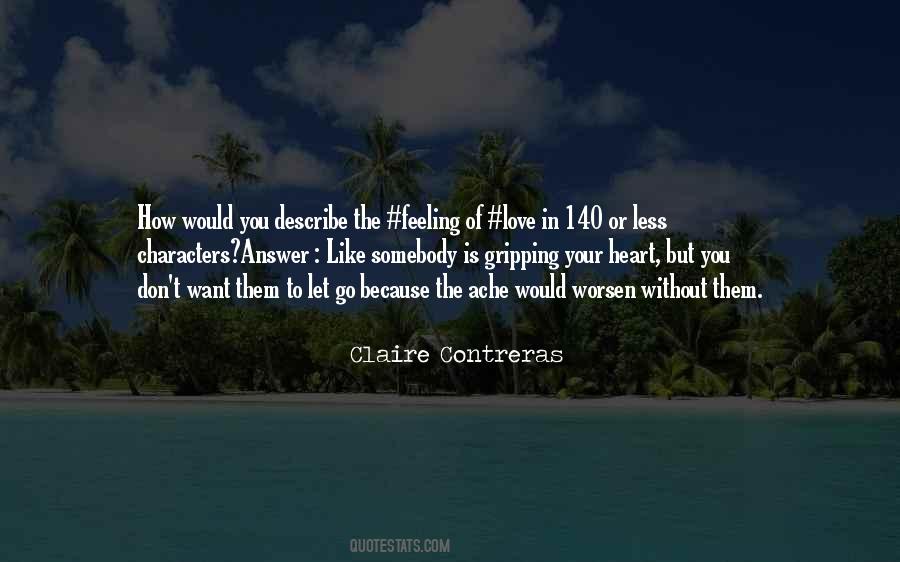 #46. Don't give into him at all. Deny yourself. Because then your eyes will not be clouded by a madness that you cannot control, and then you will be able to learn to see him as he is. Do you understand? - Author: Louis De Bernieres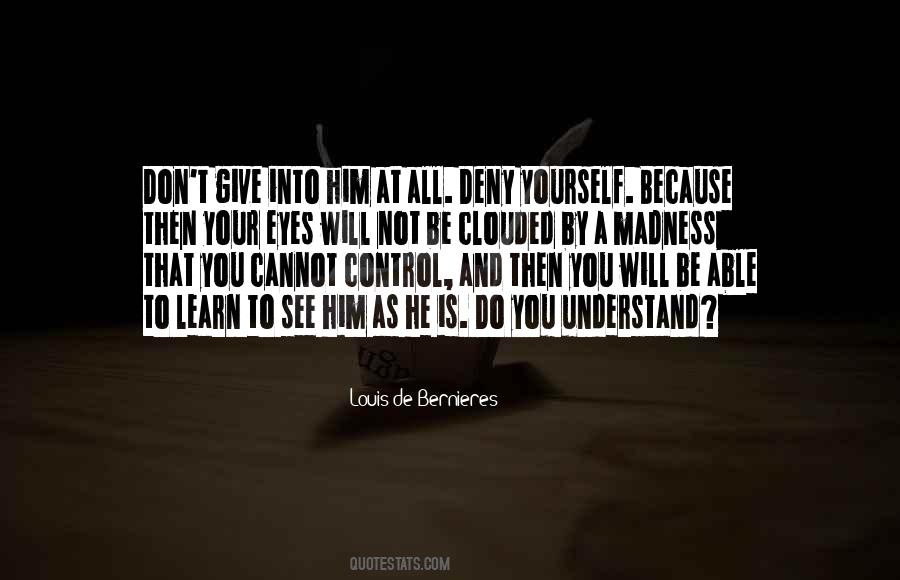 #47. You've got nothing to lose. Many people don't allow themselves to love, precisely because of that, because there are a lot of things at risk, a lot of future and a lot of past. In your case, there is only the present. - Author: Paulo Coelho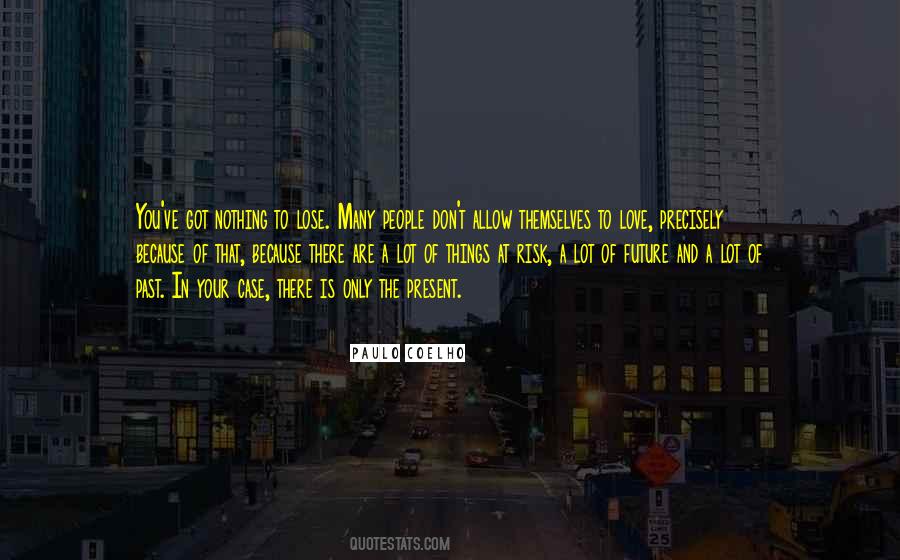 #48. I am right at the bottom compared to everybody else with press kits and demos and trying to get meetings. That's what I love about music and hate about it. That's why I respect people that are successful in the music business because you really have to build it from the ground up. - Author: Drake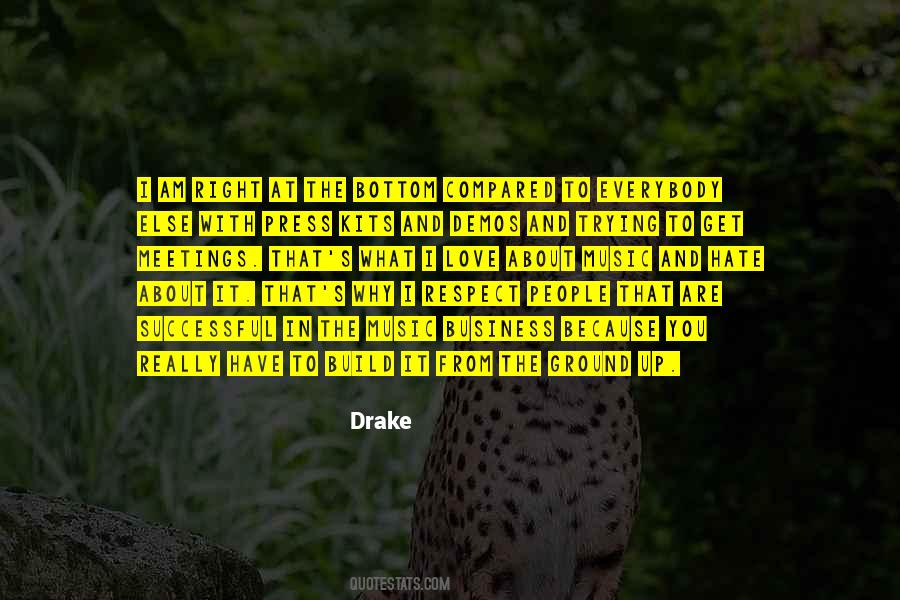 #49. I love the Victorian era, and I always have, but I had a leg up on the writing because I was familiar with a lot of the science from the Victorian era. And that led to a massive interest in the science of this time of history. - Author: Gail Carriger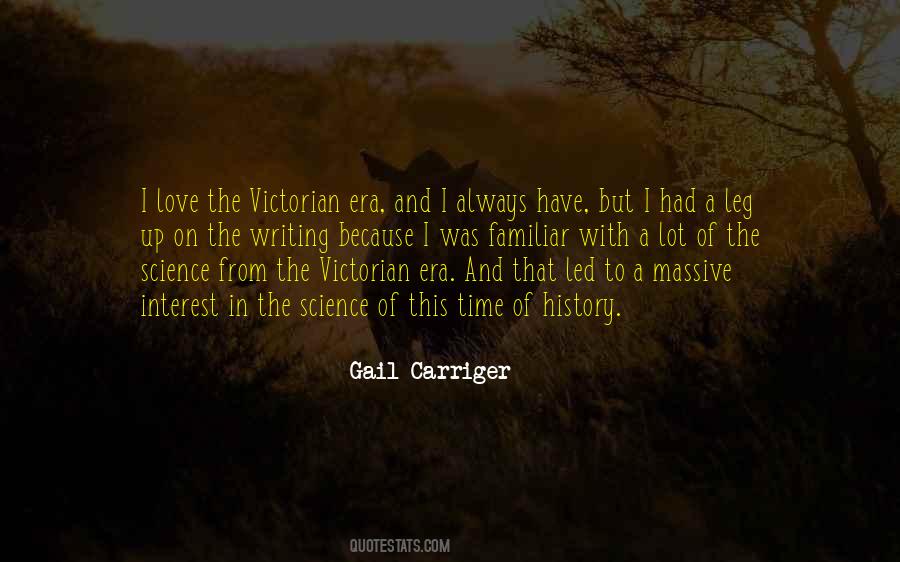 #50. When you love, whatever you do is because you want to do it. It becomes a pleasure, it's like a game, and you have fun with it. When you love, you don't expect something to happen; whatever happens is okay, and hardly anything disappoints you. - Author: Miguel Angel Ruiz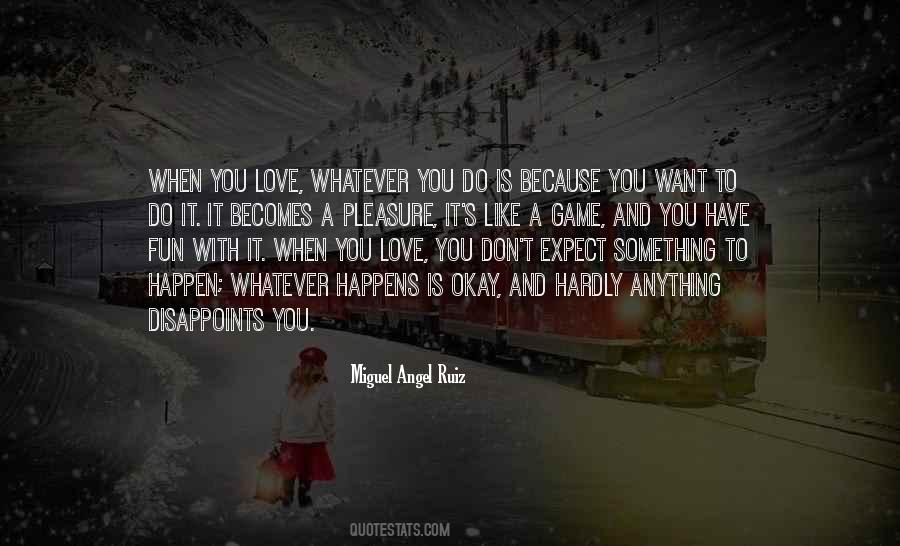 #51. I just love the fact that a man possesses something that a woman can never understand because we don't have the experiences of it and that a woman possesses something that the man doesn't understand because only she possesses it. - Author: Cameron Diaz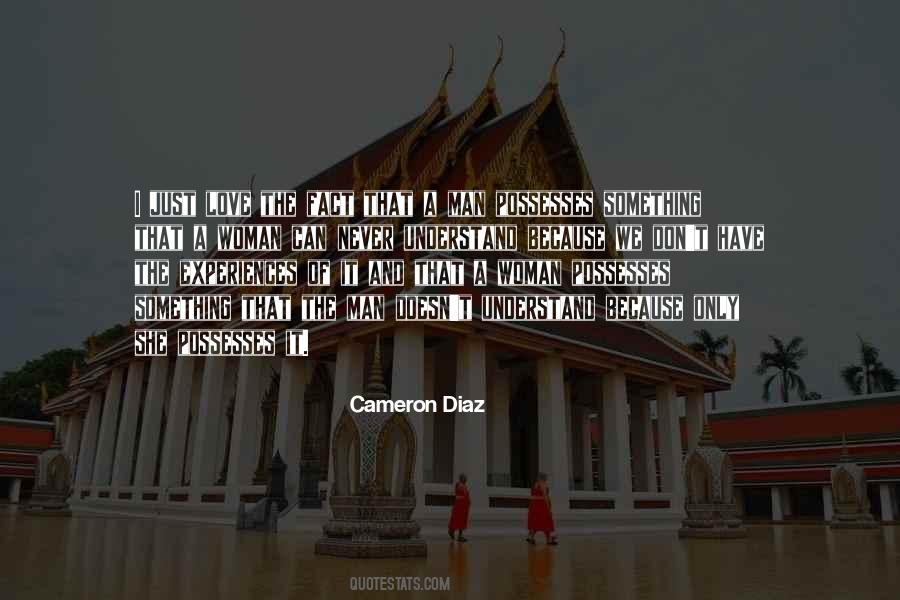 #52. Everyone knows you only want to look at the sinkhole because you love a good disaster. Get back to work, Fuller. I don't pay you for your looks. - Author: Meg Cabot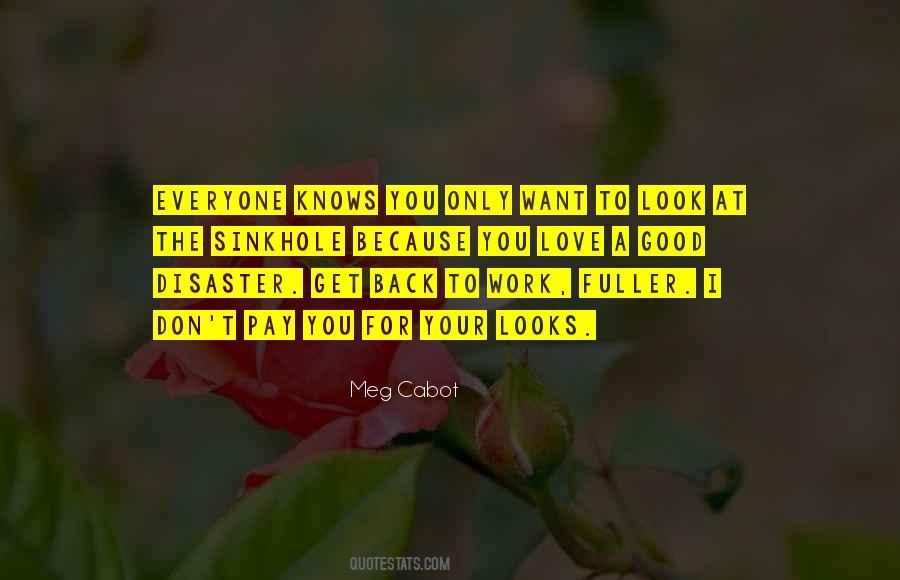 #53. Love was not in it for me at first. I dated guys because of the way they looked. And then I began to learn that it's what's inside that counts. Love to me now is understanding. It's giving. - Author: Crystal Waters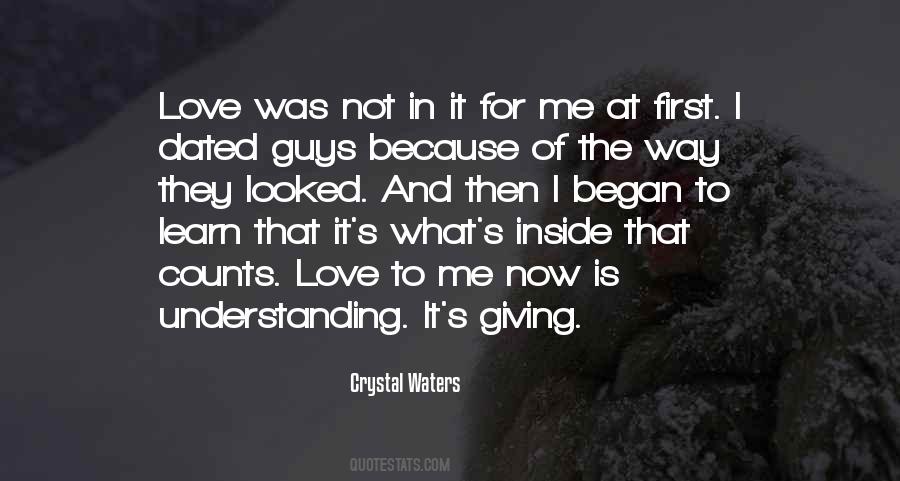 #54. I have a treadmill in my house, which is great because even if I jump on it for a little bit, it makes me feel better. I love yoga and Pilates too. I have a private Pilates instructor I go to once a week. - Author: Holly Madison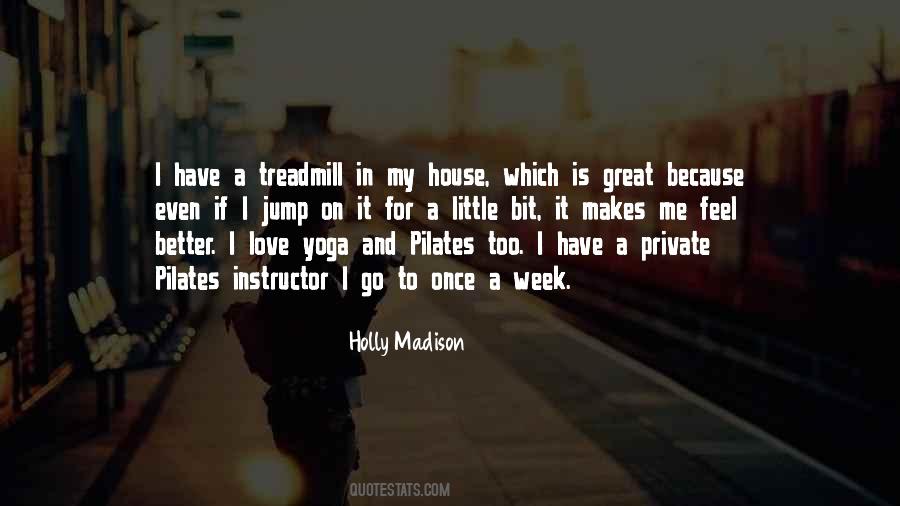 #55. The problem with falling in love is falling back out of it again, usually because you've fallen in love with a lie. That happens as often as not. - Author: Ellen Hopkins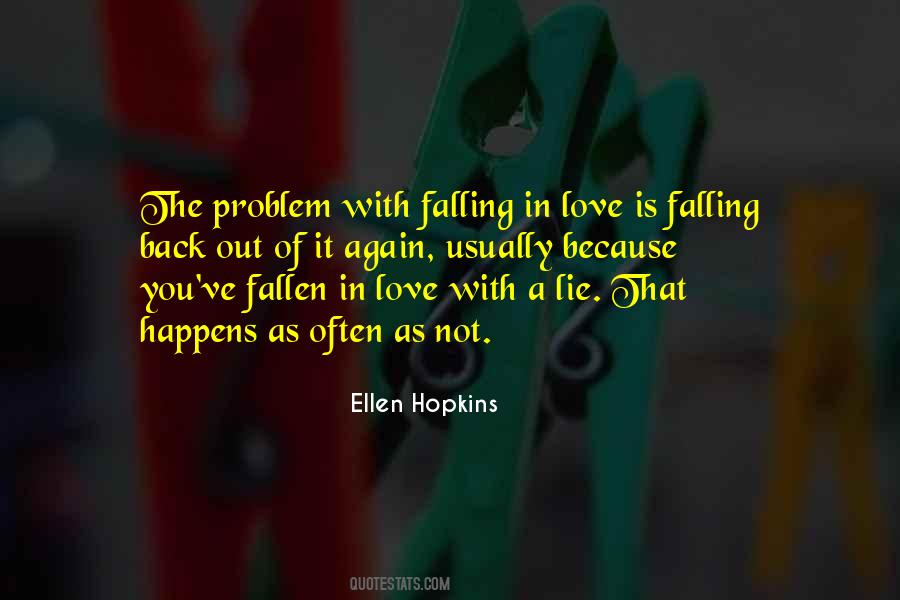 #56. Then since we mortal lovers are, Ask not how long our love will last; But while it does, let us take care Each minute be with pleasure past: Were it not madness to deny To live because we're sure to die? - Author: Paul Negri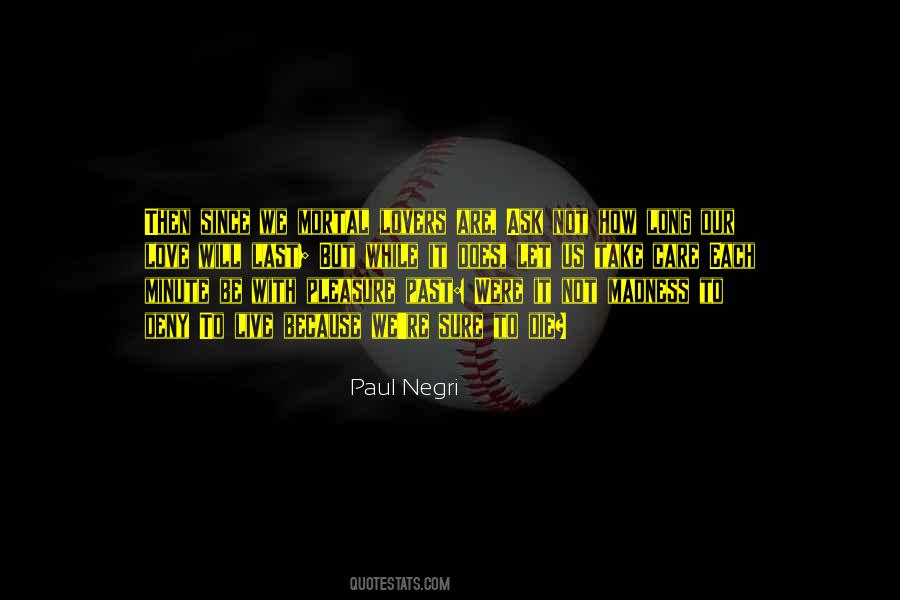 #57. Because those four days in the mountains, they changed us. I gave you a piece of me. And you must have given me a piece of yourself, too, because you wouldn't have come here otherwise. You would have let go. I can't let go of you, Britt. And I don't want you to let go of me. - Author: Becca Fitzpatrick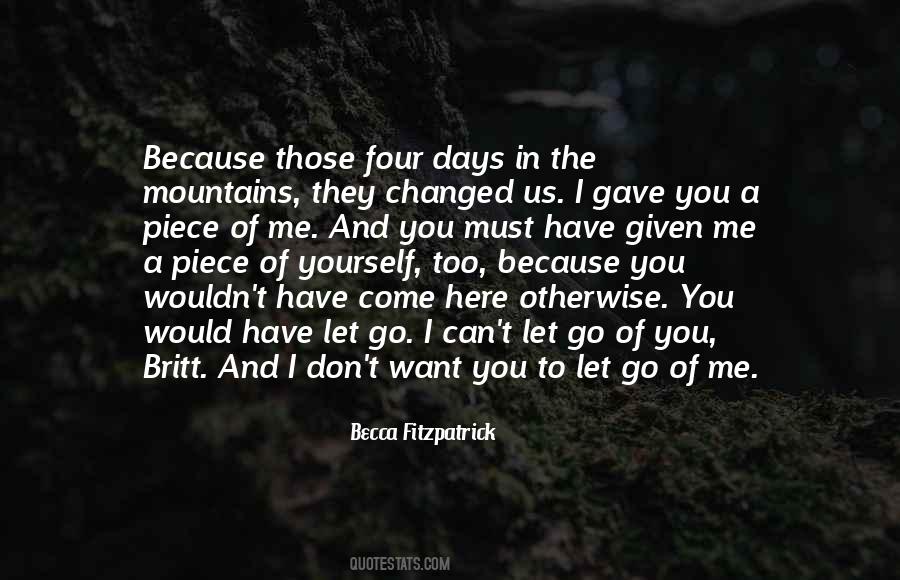 #58. Every single person I know who is successful at what they do is successful because they love doing it. - Author: Joe Penna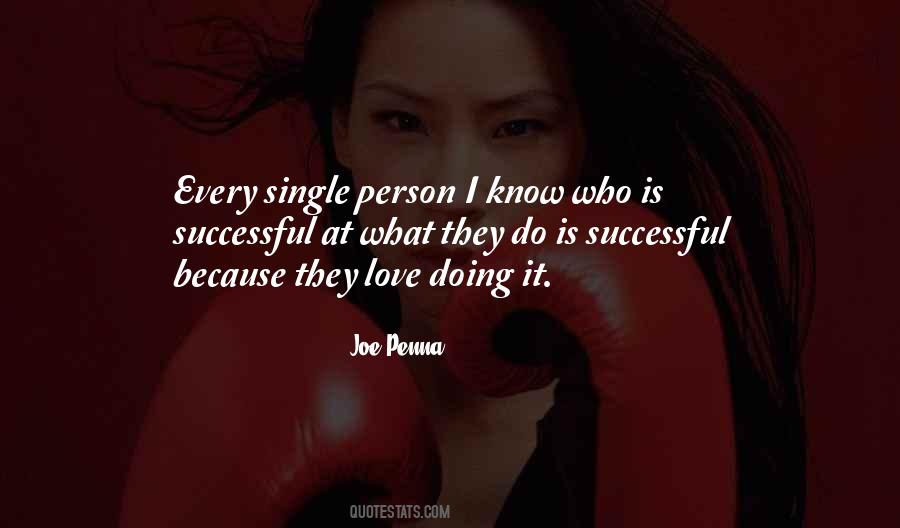 #59. I tell people all the time, you have to be in love with that pot. You have to put all your love in that pot. If you're in a hurry,just eat your sandwich and go. Don't even start cooking, because you can't do anything well in a hurry. I love food. I love serving people. I love satisfying people. - Author: Leah Chase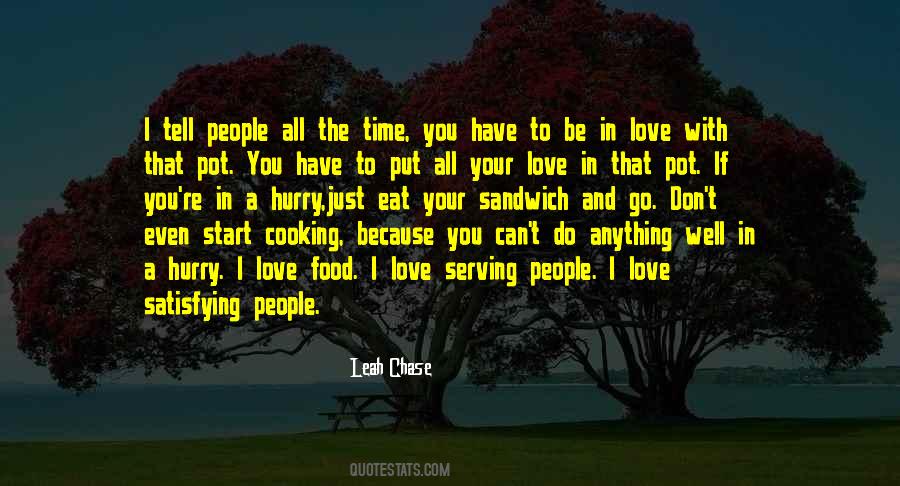 #60. I didn't have that intense ambition to be a musician or an actress. I just enjoyed it. And by enjoying it, because I loved it, it enabled me to get better at what I was doing, because there was a love behind it. - Author: Lauryn Hill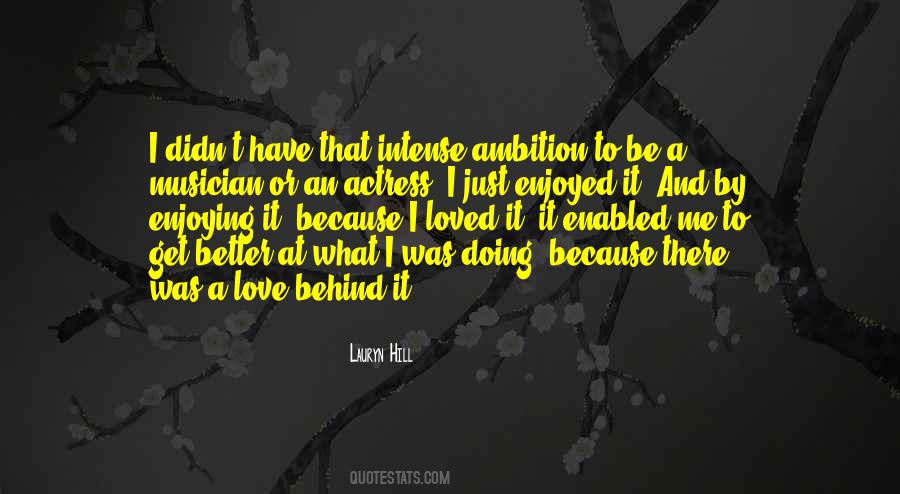 #61. I actually love auditioning because I usually don't get the part. I've tested with Daniel Day-Lewis, Robert De Niro, Al Pacino, Tom Cruise. So I've gotten to that point, and I understand when I don't get it. There are a lot of very talented people out there. - Author: Deborah Kara Unger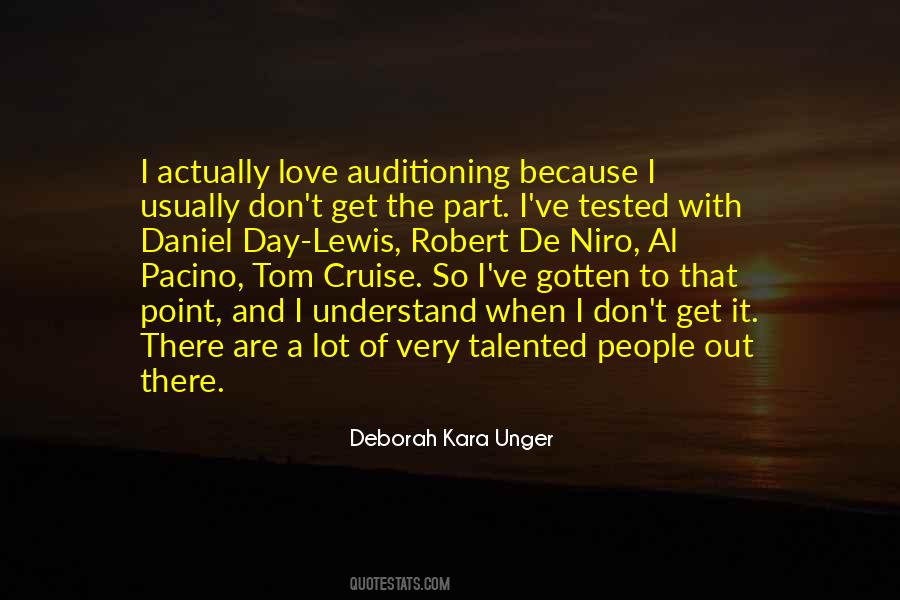 #62. We love books because they are the greatest escape. That is because our own minds eye is the purest form of virtual reality. - Author: M.R. Mathias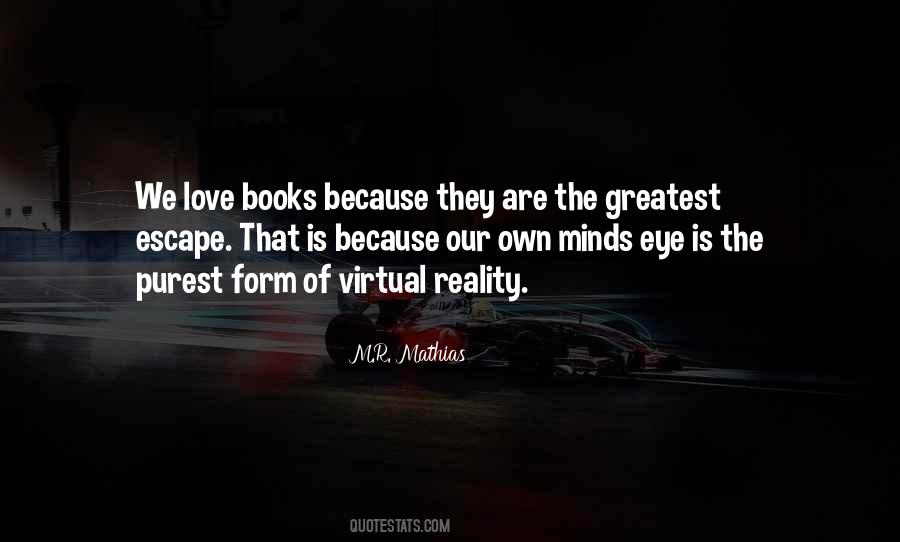 #63. I love you today. I will love you tomorrow. I will love you always. Because when we are reborn, I will fall in love with you again and again and again.
- Faye Hall, from an untitled script - Author: Faye Hall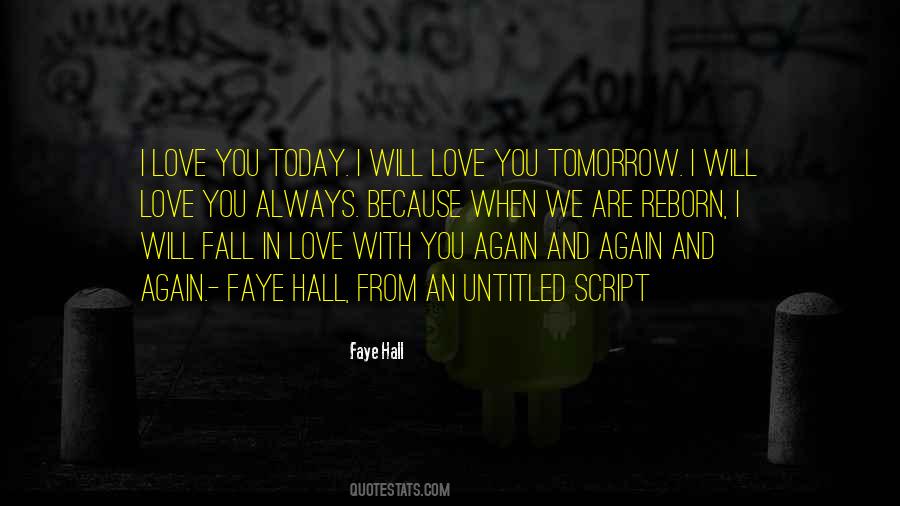 #64. Lust dazzles, sure, at least for the short term. But love clears the vision. You see better, sharper, because you feel more than you did before. - Author: J.D. Robb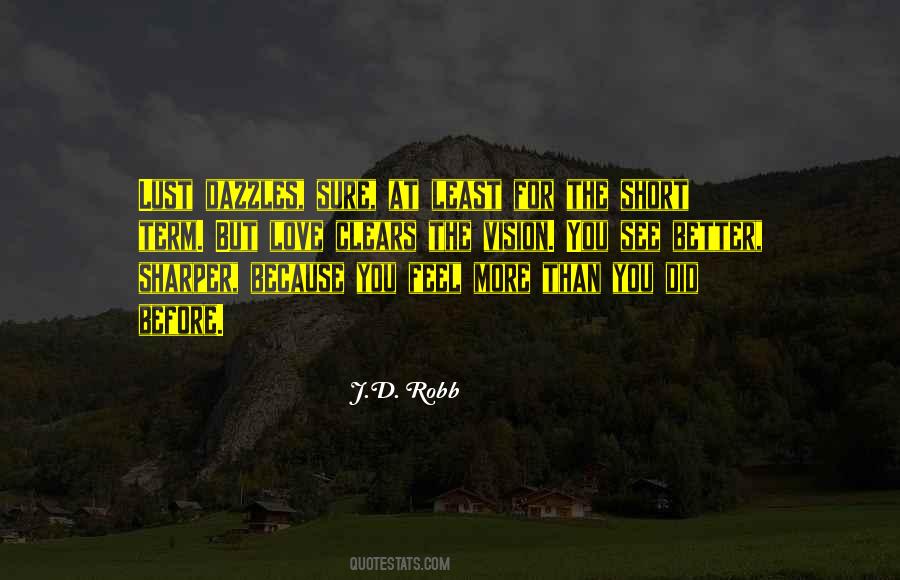 #65. You like someone who can't like you back because unrequited love can be survived in a way that once-requited love cannot. - Author: David Levithan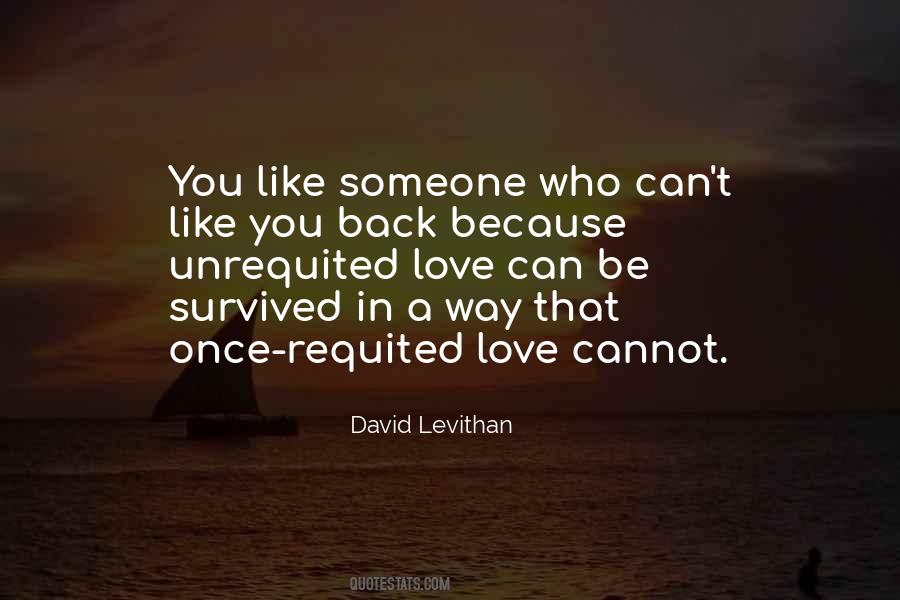 #66. I wanted to do London Boulevard because I saw the potential of a story about two people who need each other desperately, who love at first sight, as one does, and above all a story in which no one is what they appear to be. - Author: William Monahan
#67. The opposite of love is apathy, and hate is really the same as love-if your so consumed with hatred for someone, you might as well be loving them because your thinking about them for the same amount of time. - Author: Marilyn Manson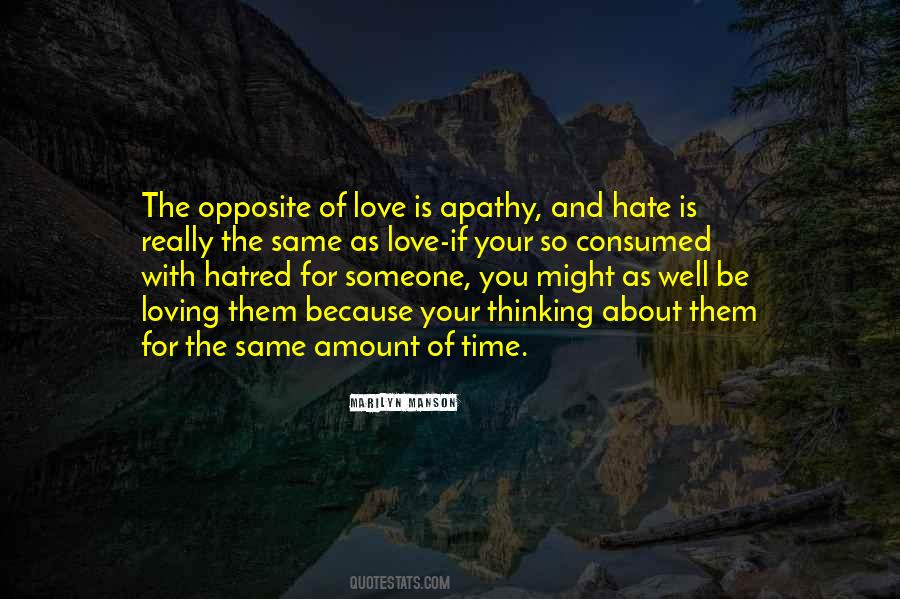 #68. I Love You

and your perfect ask

'Would you scratch my back?' is enough

to stretch out hands because folk who love

happily scratch backs where a person can't reach - Author: John Lavan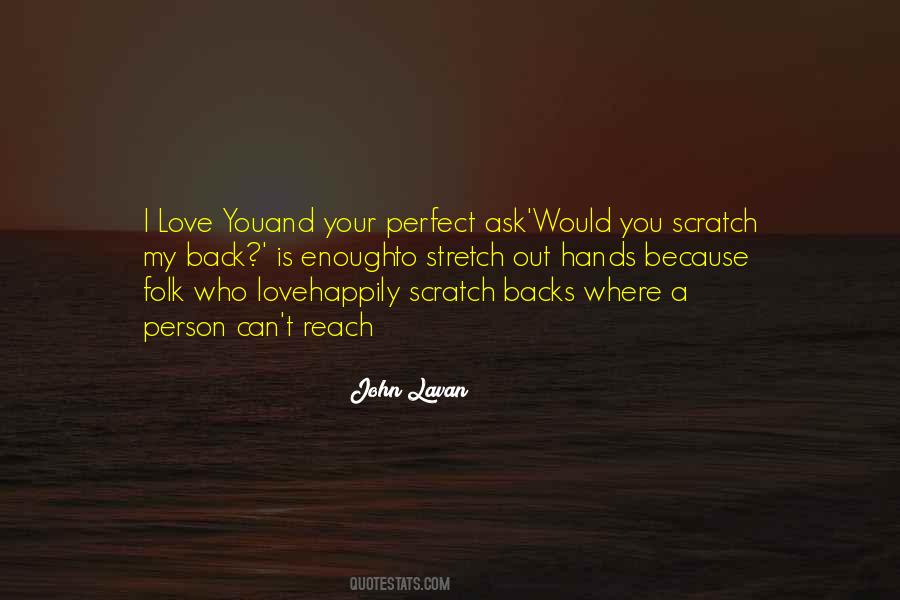 #69. The reason God commands us to love Him with all our heart is not because He is an egomaniac! It is because He knows that anything we love more than Him will betray us. Eventually, we lose it by its death . . . or ours. - Author: Matt Papa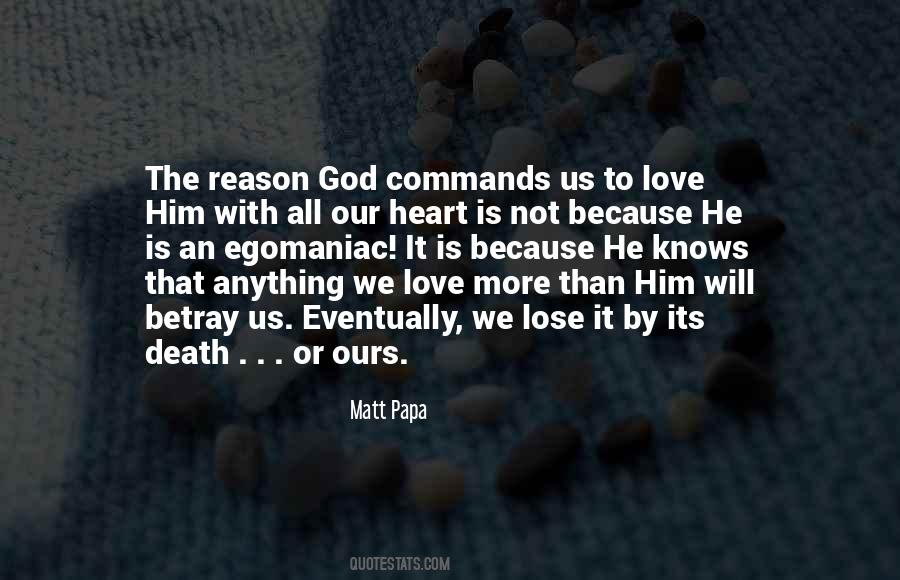 #70. I wanted everything from and everything for him, because I wanted every piece of him. - Author: Kiera Cass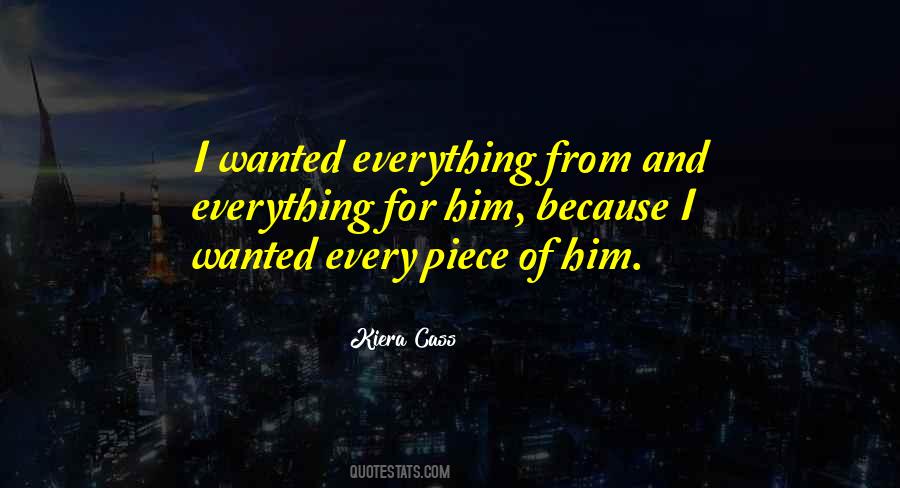 #71. I am a sucker for romance and I love girls and that is a terrible combination, because romance has the ability to overwhelm your perspective. - Author: Joshua Harris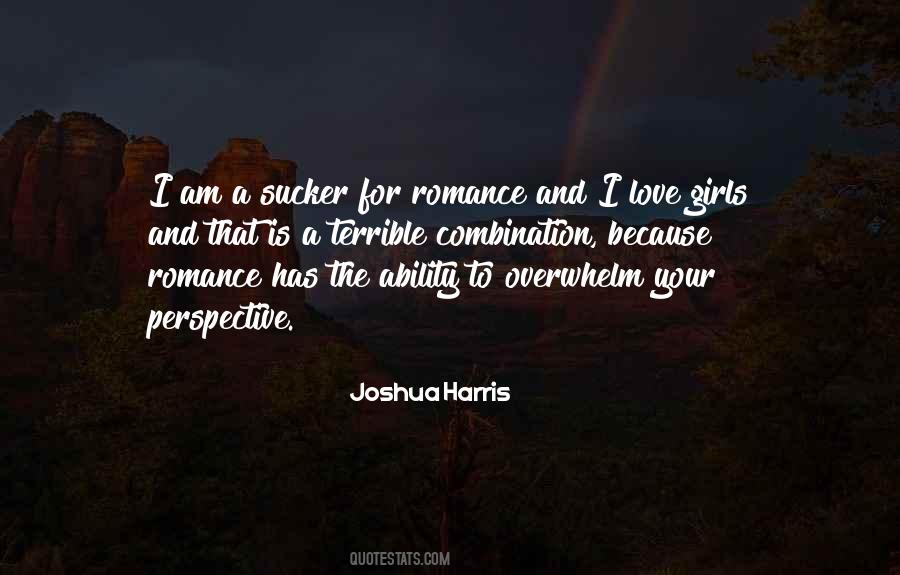 #72. For me, movies and television are interesting because they are the dominant storytelling form of our time. My first love will always be fiction, and especially novels, but I'm a writer ... I write poetry and essays and criticism and I'd love to write a whole play, and sometimes I even write scripts. - Author: Jess Walter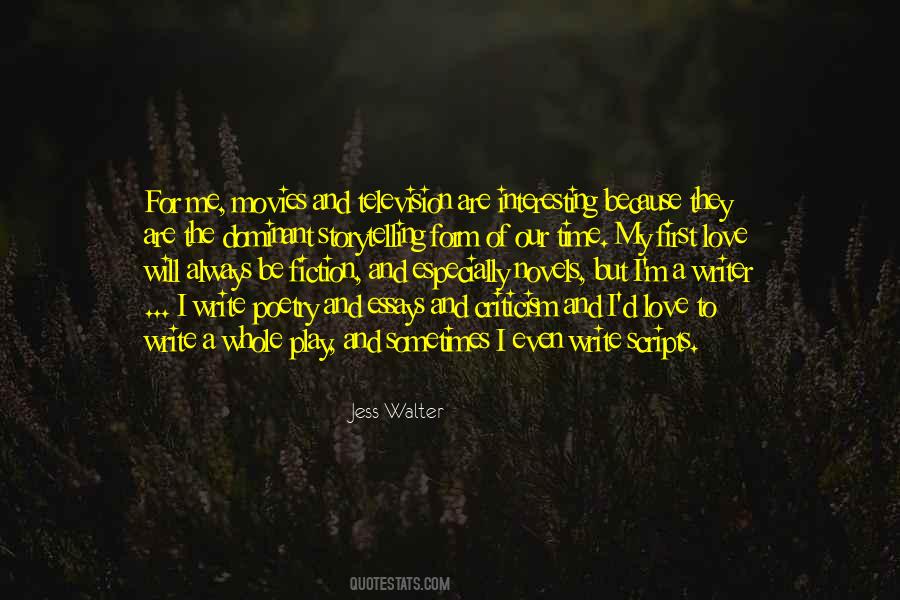 #73. I was saying yes because when you're in love, the world is full of possibilities, and when you're in love, you want to take every single one of them. - Author: Danny Wallace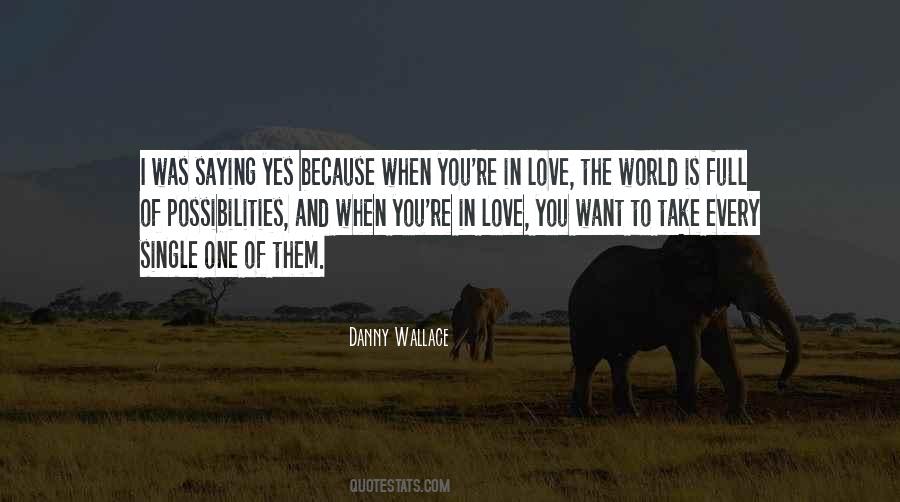 #74. I don't want to be in some relationship that's just about trading apologies when things get hard. Doing that won't make it all OK, you know? So, no, I don't forgive you. But I fucking accept you, including all the shit you do that tests my patience. Because I love you. - Author: Liora Blake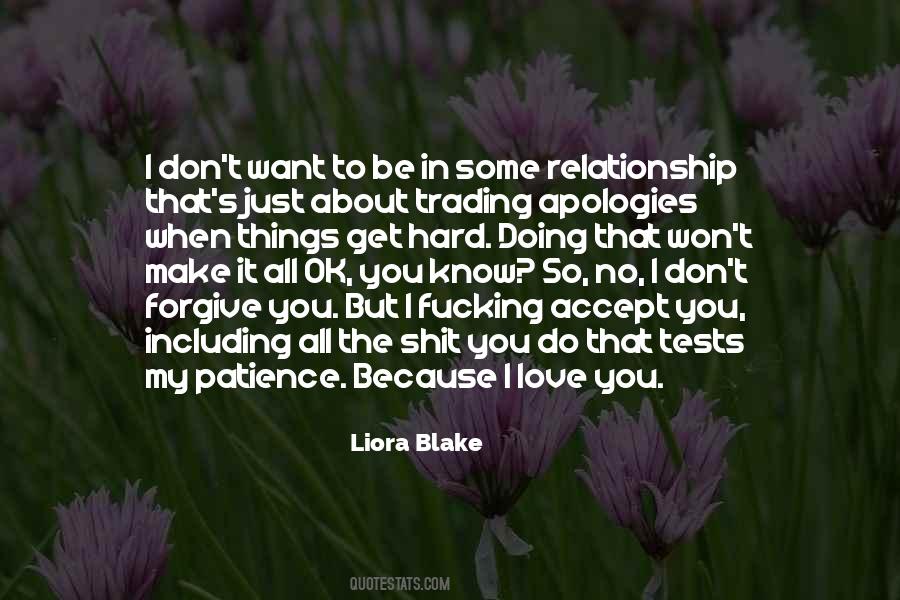 #75. The light of love flows out of my soul, but it can go nowhere because it's blocked by pain. I could inhale and exhale every morning for the rest of my life, but that wouldn't solve anything. - Author: Paulo Coelho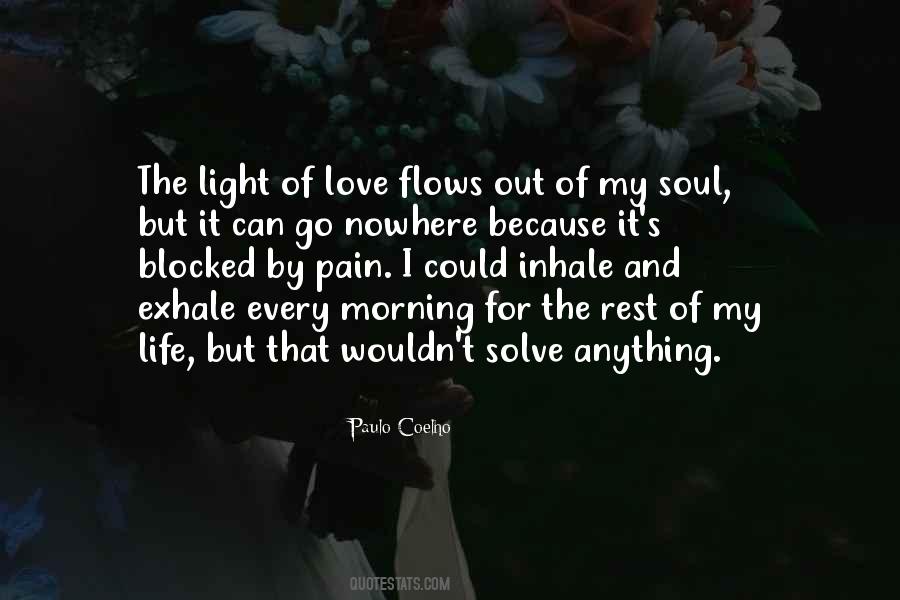 #76. Arthur was not one of those interesting characters whose subtle motives can be dissected. He was only a simple and affectionate man, because Merlyn had believed that love and simplicity were worth having. - Author: T.H. White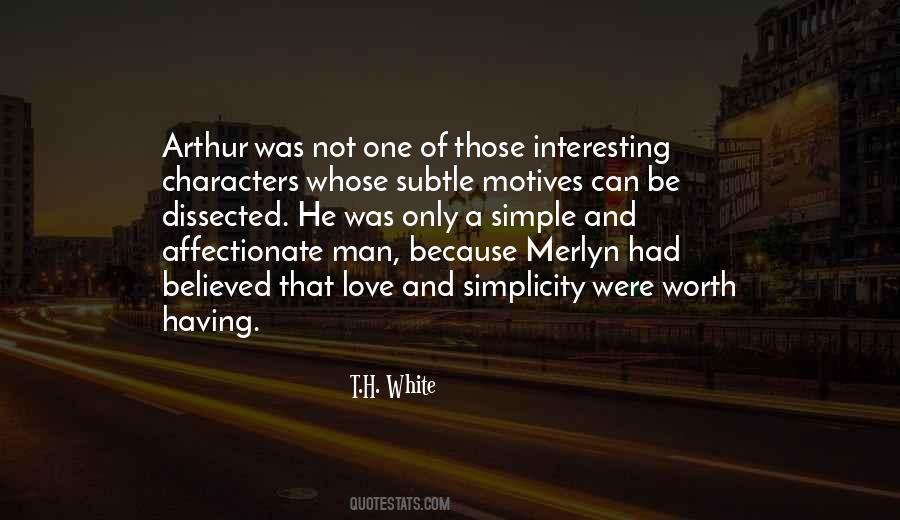 #77. I love having played Walter because I suppose any actor brings a certain aspect of their own personality to their work, and I had a fairly broad canvas to paint on with the different versions. - Author: John Noble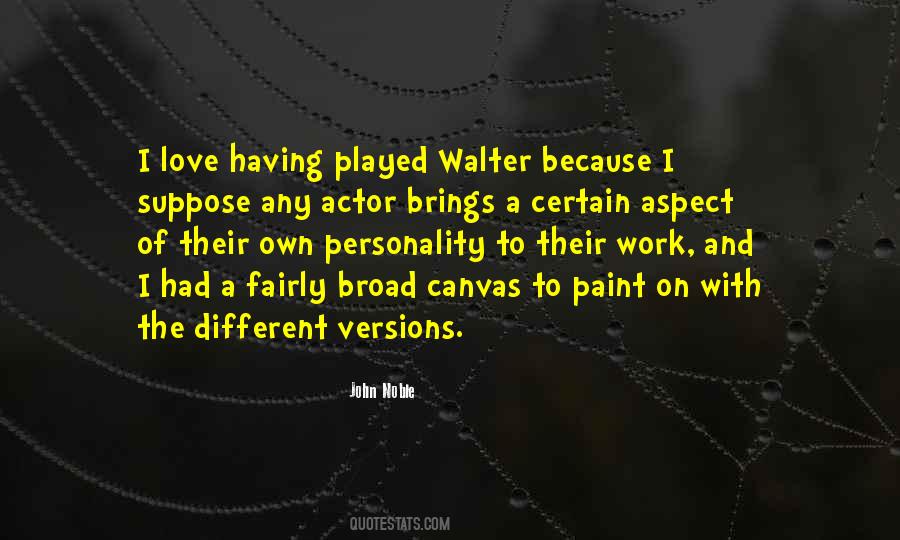 #78. Photograph because you love doing it, because you absolutely have to do it, because the chief reward is going to be the process of doing it. Other rewards - recognition, financial remuneration - come to so few and are so fleeting ... Take photography on as a passion, not a career. - Author: Alex Webb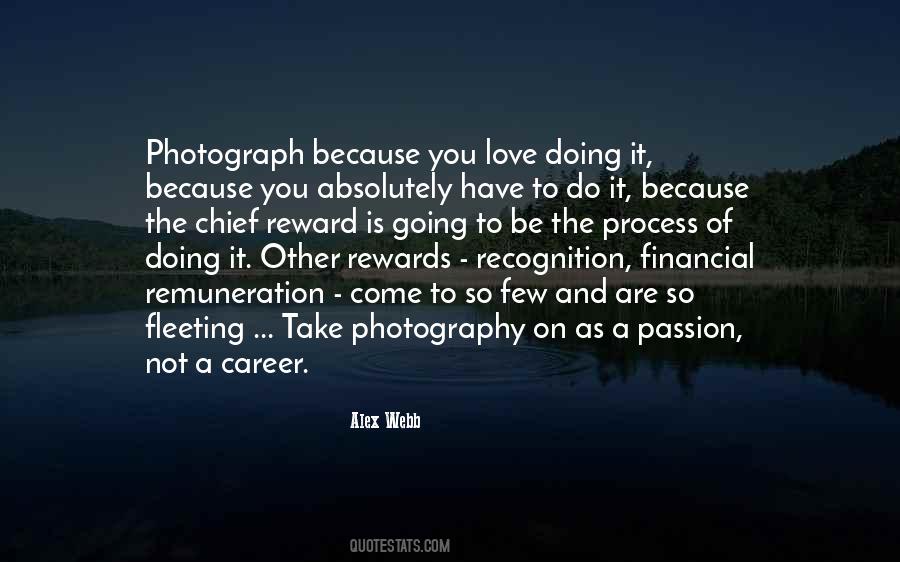 #79. You should know, I tried for many years not to be in love with you, but I failed. And I really did try very hard. But it was not possible, and it never has been, because I have actually loved you from very early in our relationship. Possibly as early as our first meeting. - Author: Augusten Burroughs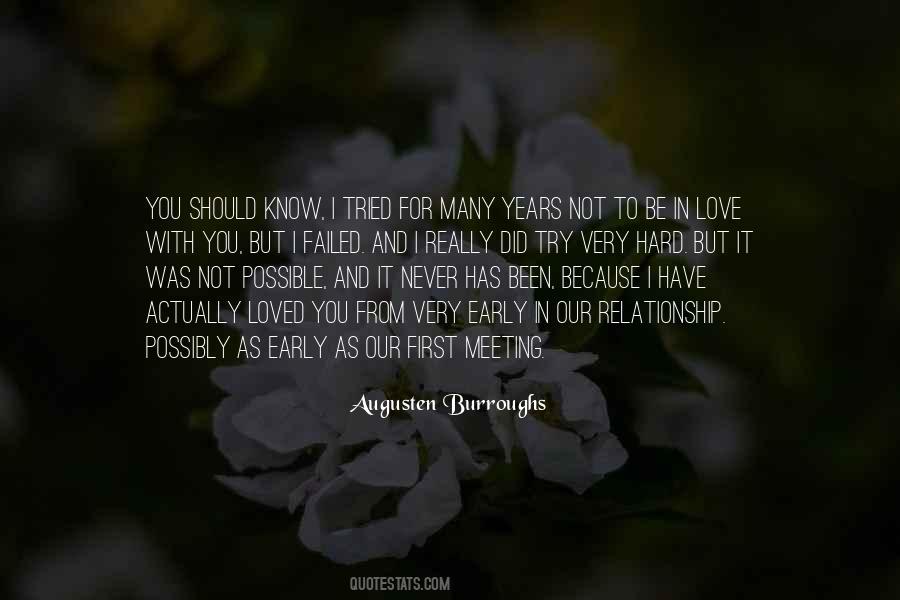 #80. Cadence, n.
I have never lived anywhere but New York or New England, but there are times when I'm talking to you and I hit a Southern vowel, or a word gets caught in a Suthern truncation, and I know it's because I'm swimming in your cadences, that you penetrate my very language. - Author: David Levithan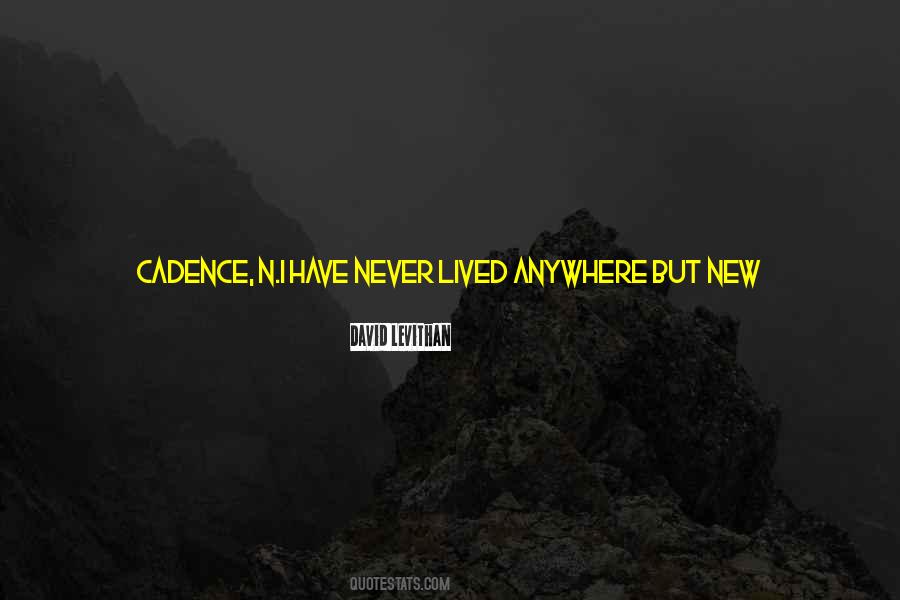 #81. I'm getting a wrinkle above my eyebrow because I just can't stop lifting it, and I love that you know. - Author: Angelina Jolie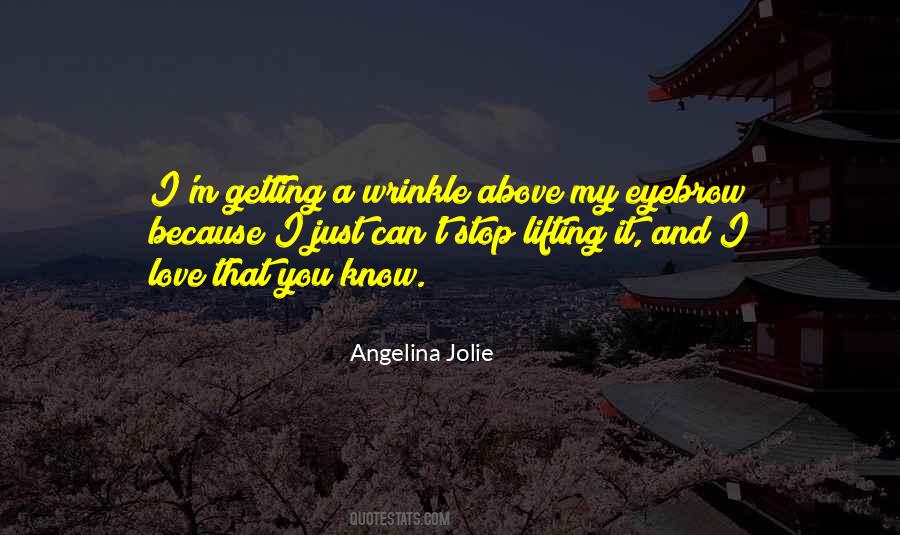 #82. Because of the power of television, I was visible to everybody all over the world. But there are many things in the theater that are more fulfilling and that I look forward to doing more. But really, I love it all: theater, film, television. - Author: Charlotte Rae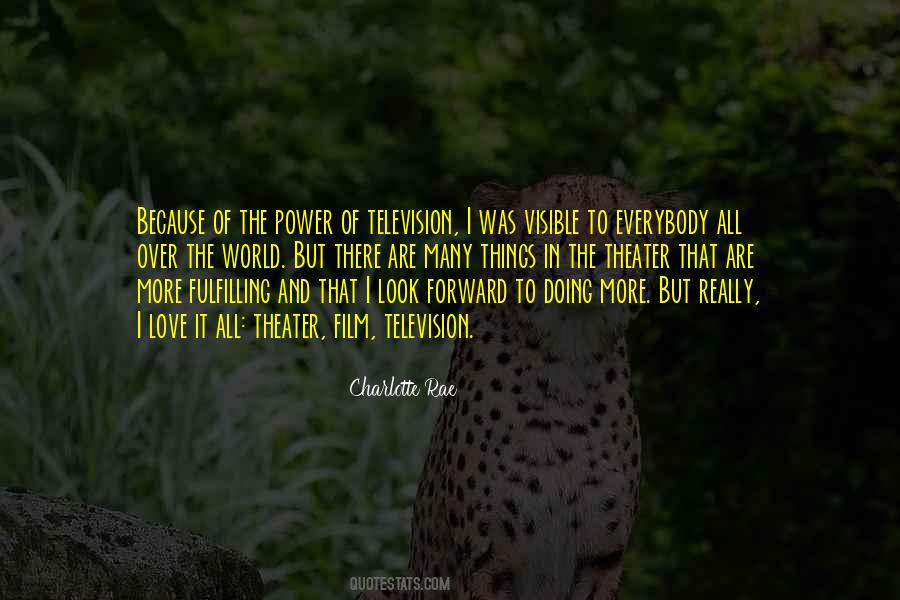 #83. Because it is a process of alchemy: it transforms a vast manifestation of spiritual energy, which is love, into a physical gesture - Author: Paulo Coelho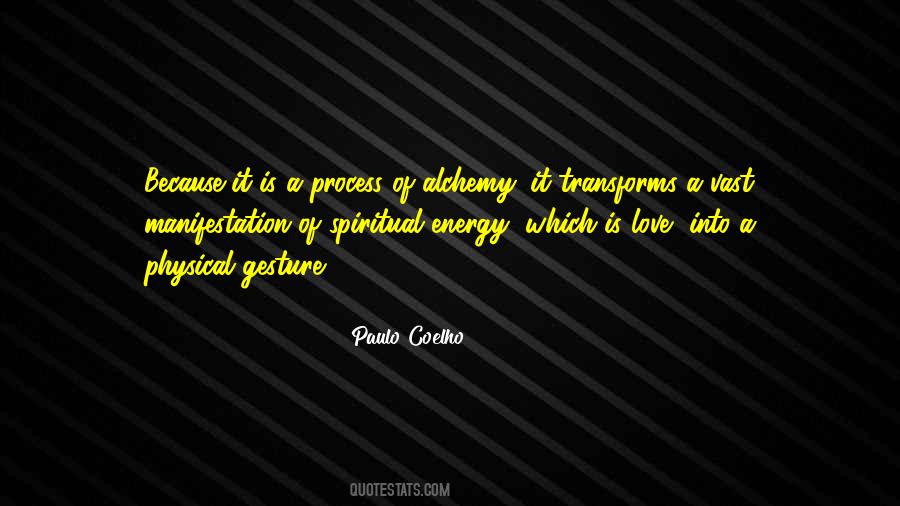 #84. Because of this ever increasing discernment of the true Mason he/she will find more efficient ways to apply brotherly love, relief and truth. - Author: George Washington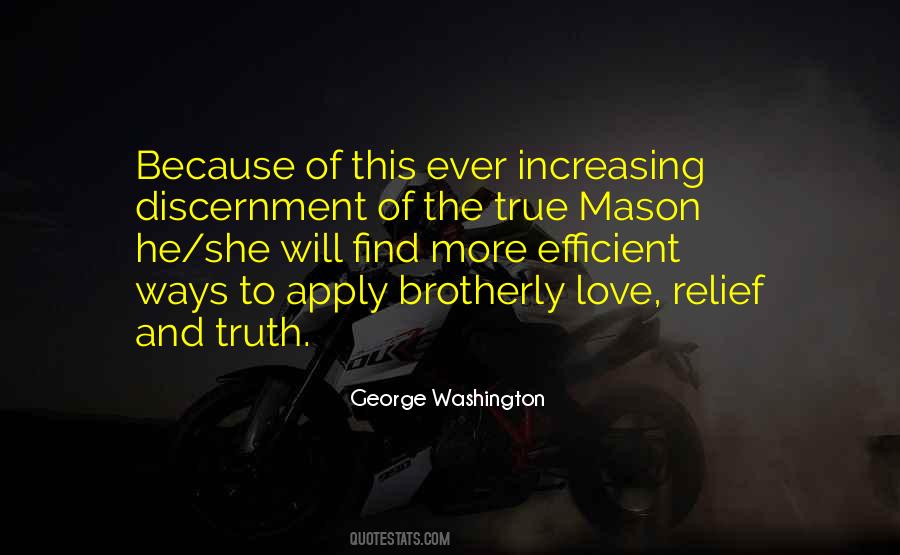 #85. I call you domina because that's what you are," Samuel insisted.
"It's what I was. Now I'm just Brie. What if I only called you pathfinder? - Author: Kenya Wright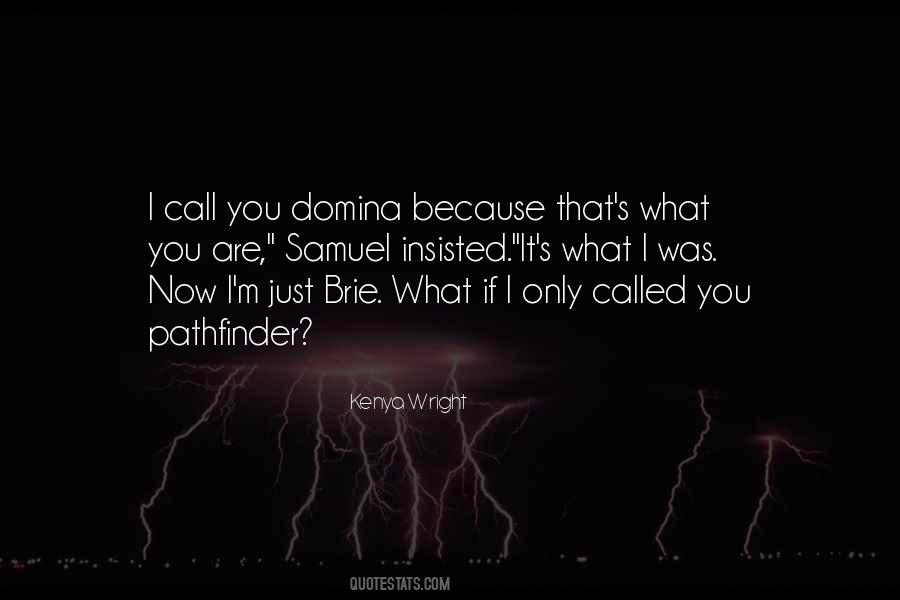 #86. I love you. Those three words have a deeply embedded history. They come with a whole lifetime of laughter and tears. So when I say them, I hope you feel the weight of my words because they bear everything I hope. They bear everything that I am. - Author: June Gray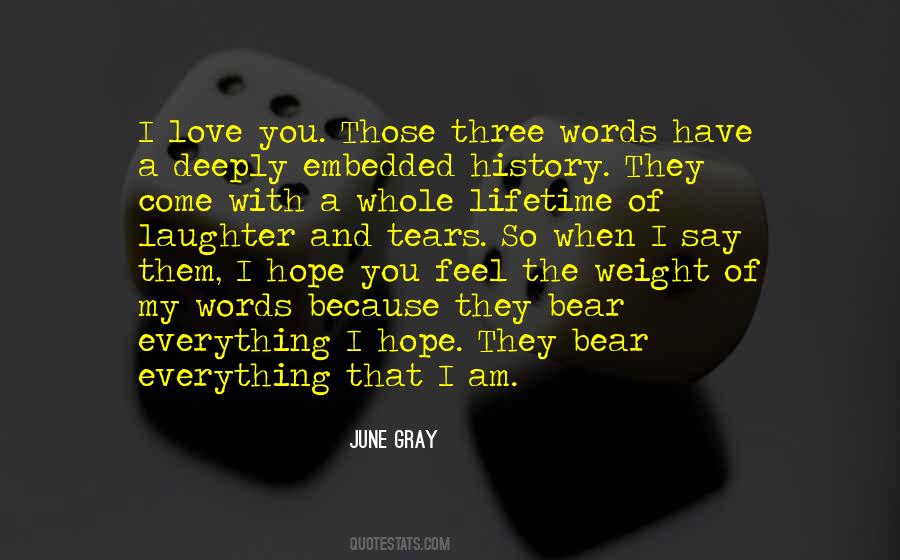 #87. His face contained for me all possibilities of fierceness and sweetness, pride and submissiveness, violence, self-containment. I never saw more in it than I had when I saw it first, because I saw everything then. The whole thing in him that I was going to love, and never catch or explain. - Author: Alice Munro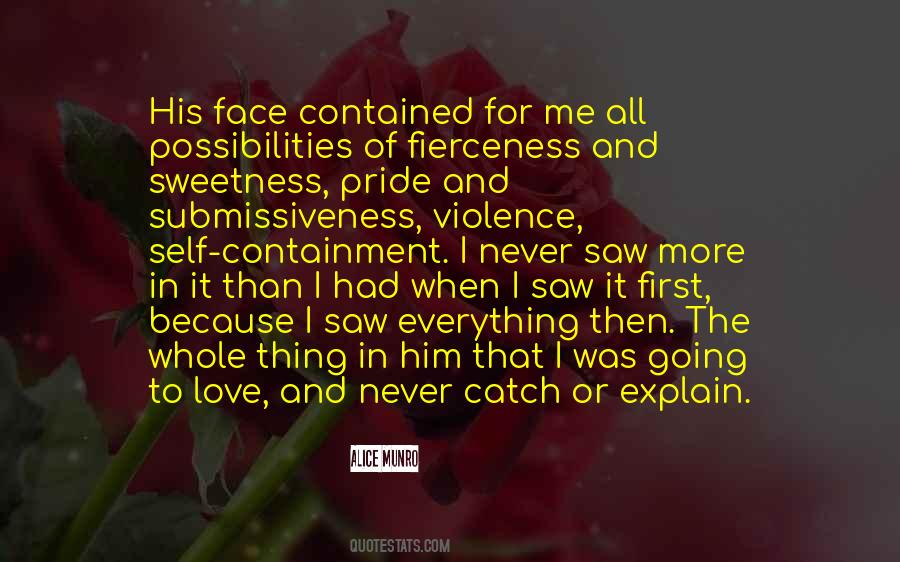 #88. I love 'White Christmas.' That's one of my favorites just because I love the music. I love the story, Bing Crosby. It's just one of my all time favorites. And it's hard to have a Christmas without seeing a little bit of Jimmy Stewart and angels running around town. - Author: Scott Bakula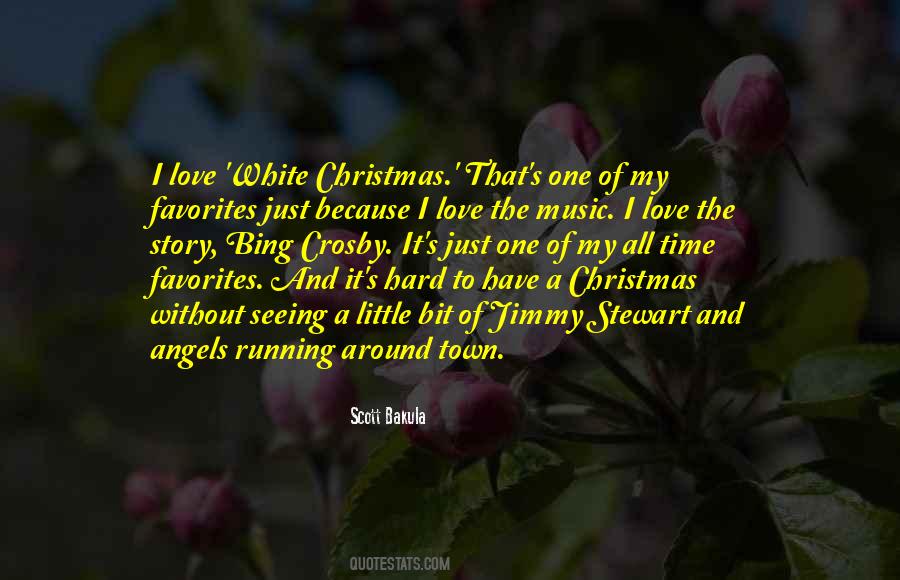 #89. Everything I know, I know because of love. - Author: Leo Tolstoy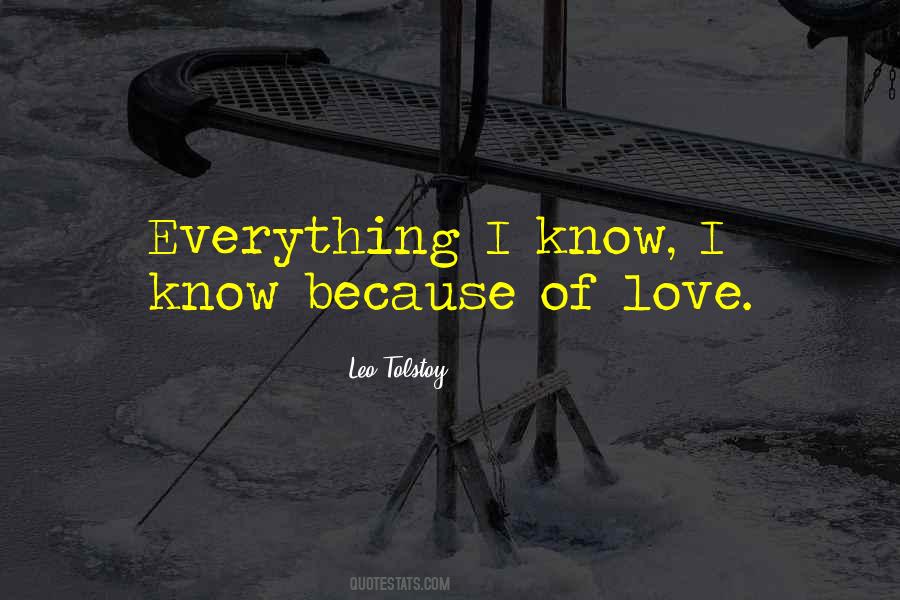 #90. Brown for first course, white for pudding. Brown's savoury, white's the treat. Of course I'm the one who's laughing because I actually love brown toast. - Author: Mark Corrigan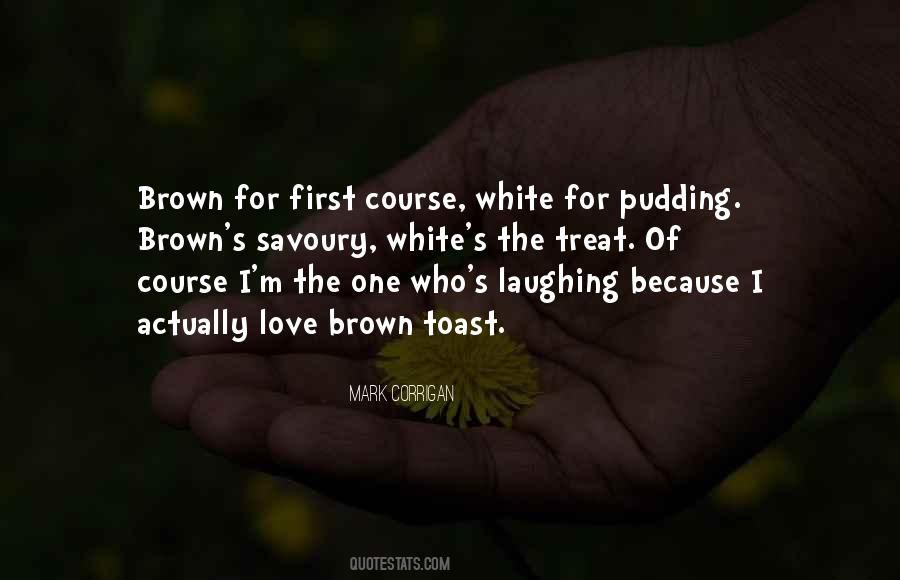 #91. It took me a long time and a lot of heartache to realize that just because you love someone, doesn't mean they deserve it. - Author: Steve Maraboli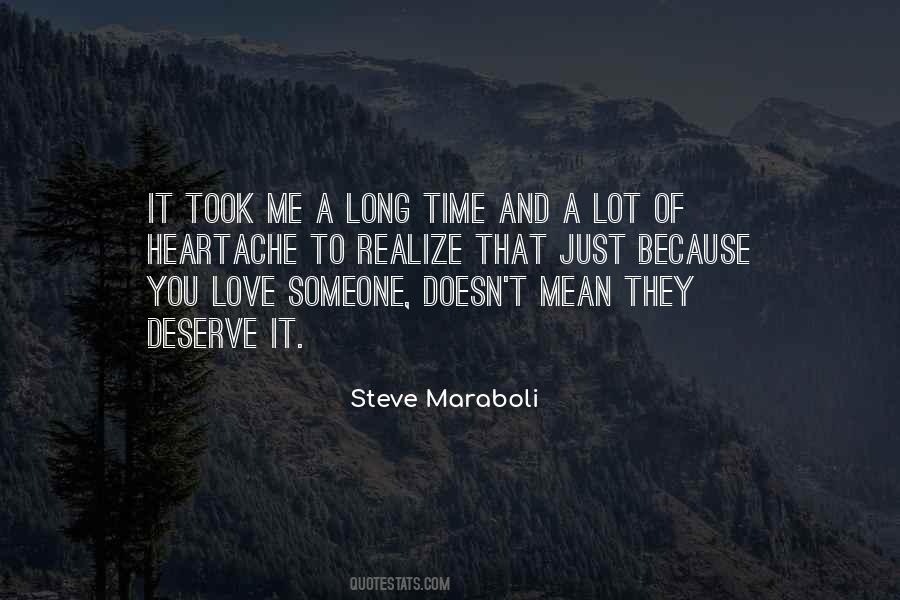 #92. I'd love to play Neil Kinnock. Because of my ginger hair, I thought that was a possibility. He's a hero and a villain in most people's eyes, but I'd like to do that, I think I'd be right for it. - Author: Jason Flemyng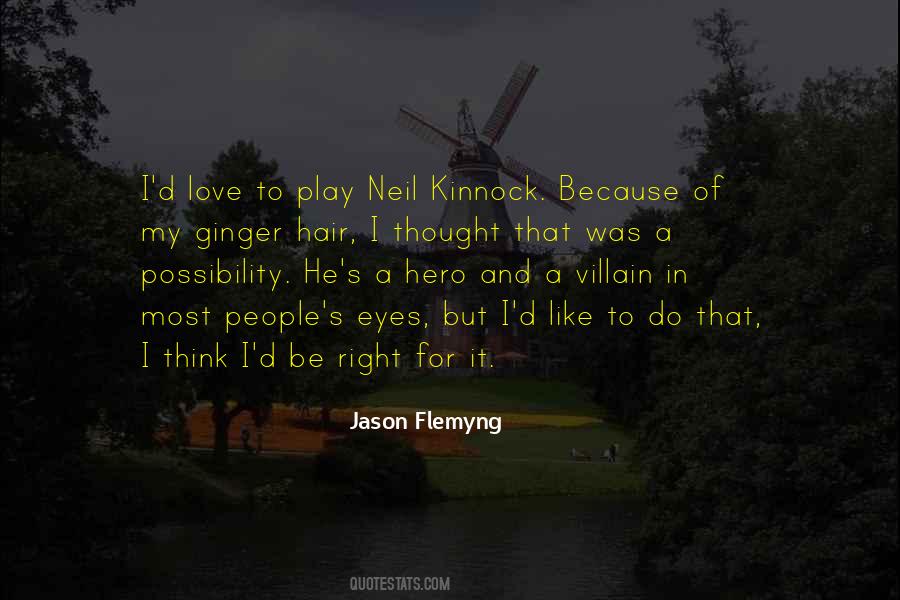 #93. everything i know about love
is that it hurts
and is almost always never returned
the way you want it to.

but i have hope
because i do not know everything. - Author: AVA.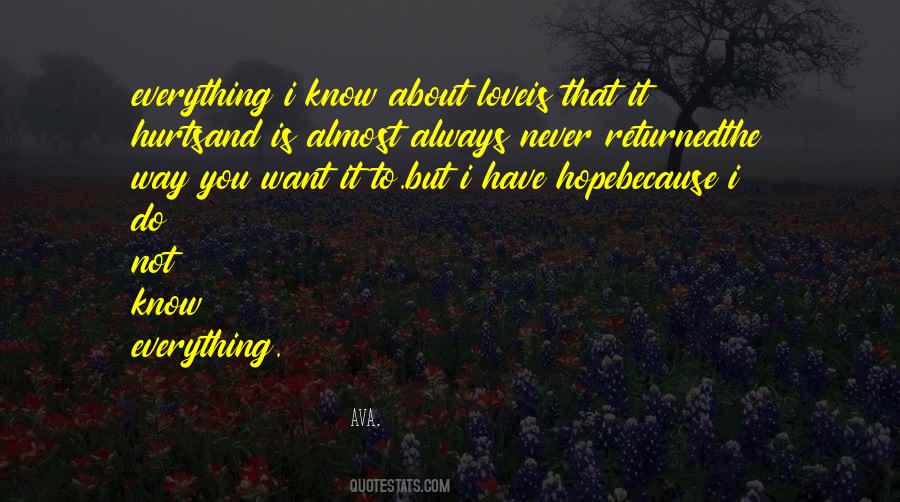 #94. Pure love was always difficult to witness. Why was that, she wondered? Because it was so rare? So beautiful? SO damned unattainable for most of the poor saps muddling through this life? - Author: Lynda Sandoval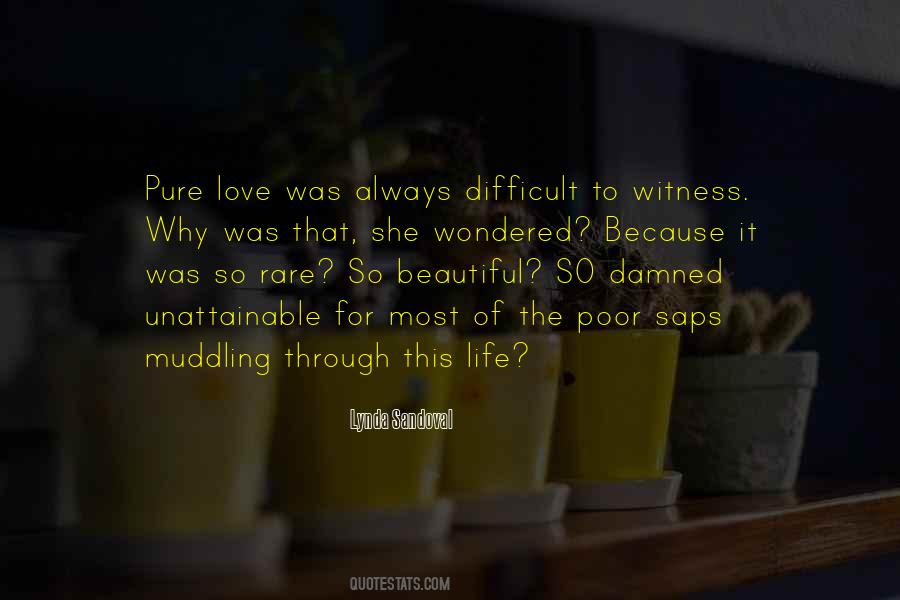 #95. You can try and hold me back. Build your damn walls, pack sandbags along the edges and yell at the clouds and the rain and the sky to stop.
But i will not relent. I will reach you. Because i am the sea. And i will continue to love you no matter what. - Author: Pleasefindthis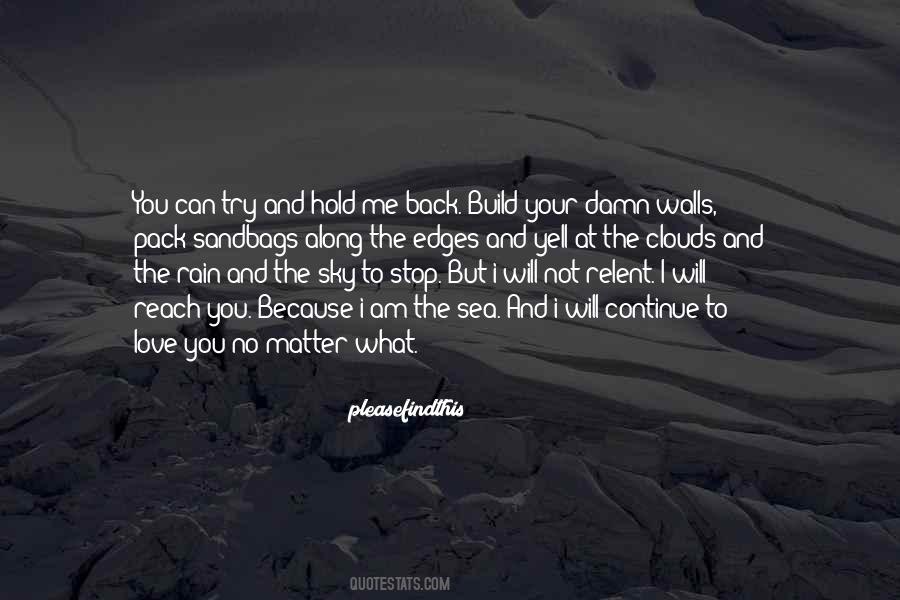 #96. God's Love is unconditional. He loves you because he created you. You can be sure, His love is eternally granted. - Author: Bangambiki Habyarimana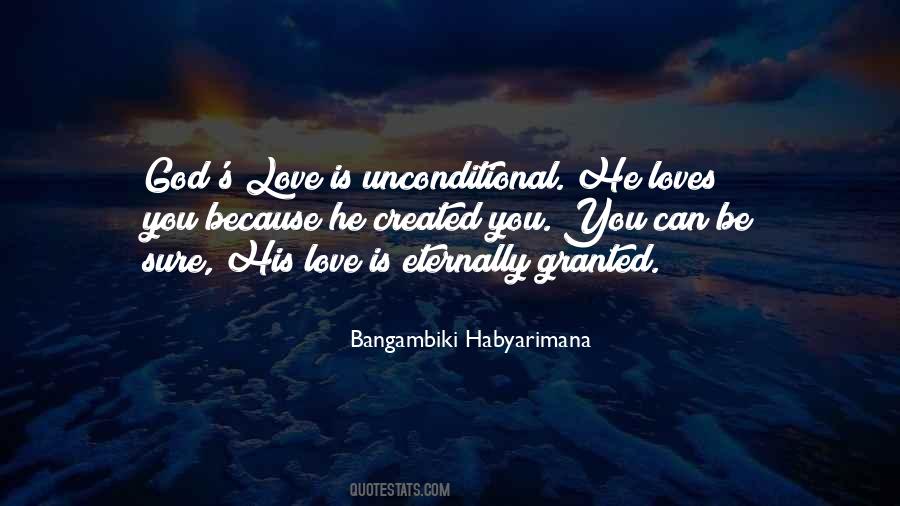 #97. Most couples get married because it's time, not because they're in love. They might have money issues, parental pressure, or they're simply tired of being alone - so they pick Mr. Good Enough and tie the knot. - Author: H.M. Ward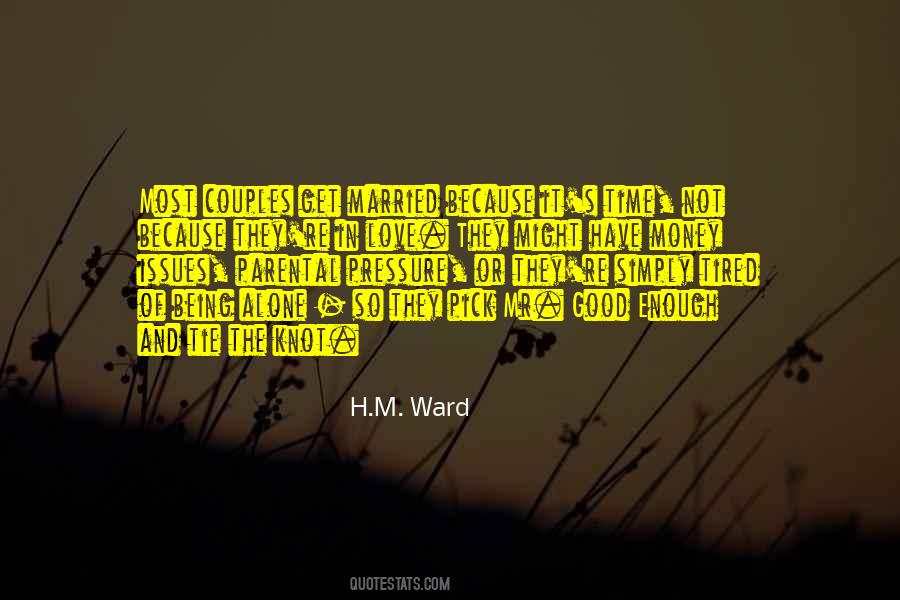 #98. I don't believe that happily ever after means we never have disagreements or go through conflicts. What I do believe is that there is someone who is willing to stick through all of these things with me, because we love each other more than we love ourselves. - Author: Marilyn Grey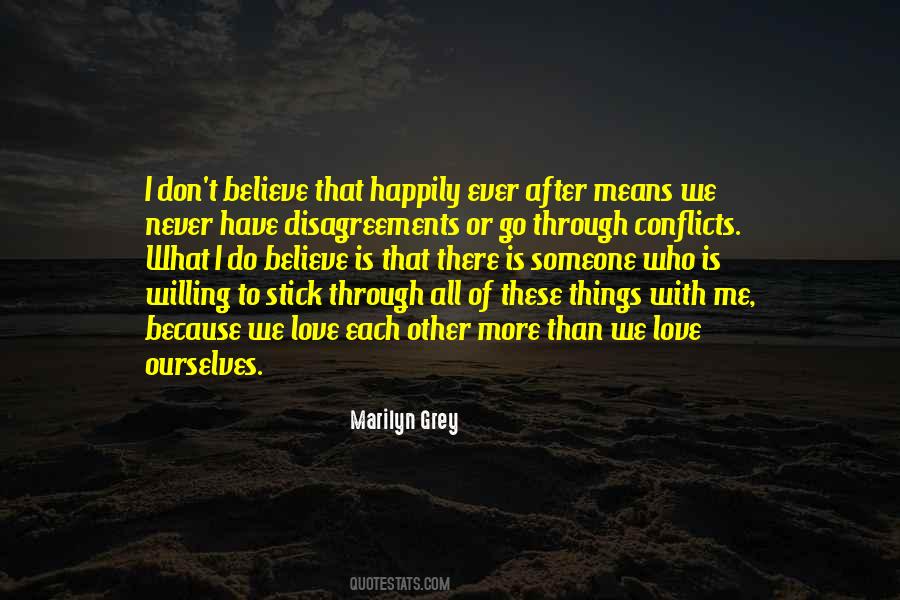 #99. On the path of love we feel that if we love today, it's only because God is loving through us, because there is a special grace present with which we can love. - Author: Frederick Lenz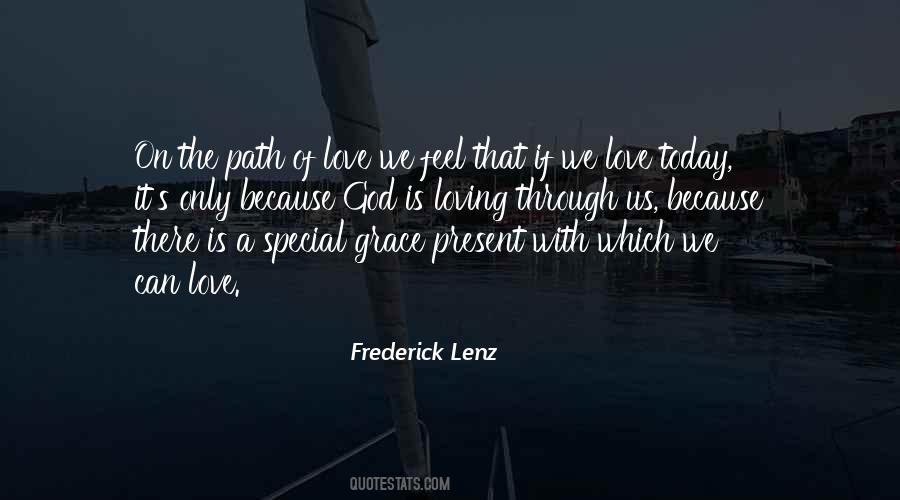 #100. Birds build nests because they cannot fly forever. - Author: Matshona Dhliwayo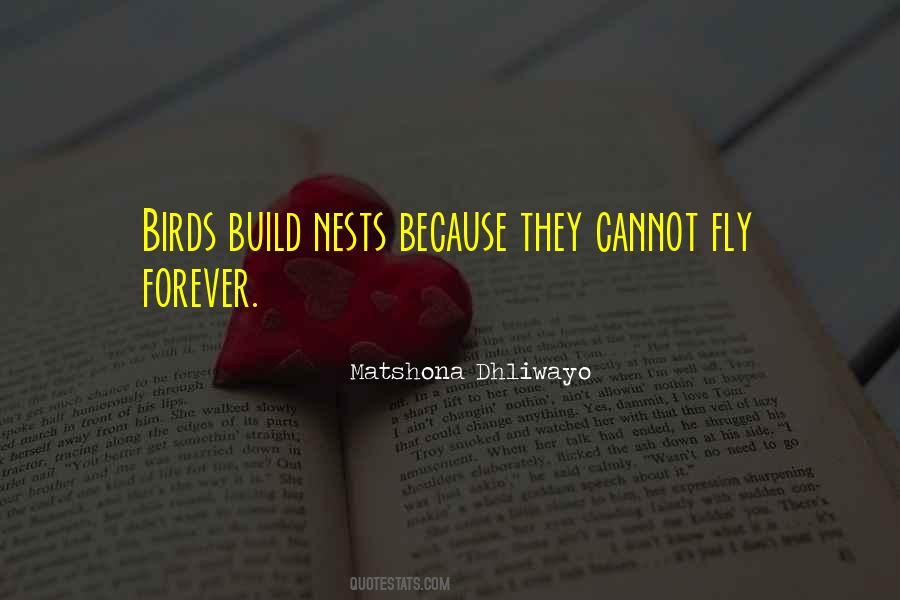 Famous Authors
Popular Topics