Looking Something Famous Quotes & Sayings
List of top 100 famous quotes and sayings about looking something to read and share with friends on your Facebook, Twitter, blogs.
Top 100 Looking Something Quotes
#1. If there's 10,000 people looking at the stocks and trying to pick winners, one in 10,000 is going to score, by chance alone, a great coup, and that's all that's going on. It's a game, it's a chance operation, and people think they are doing something purposeful ... but they're really not. - Author: Merton Miller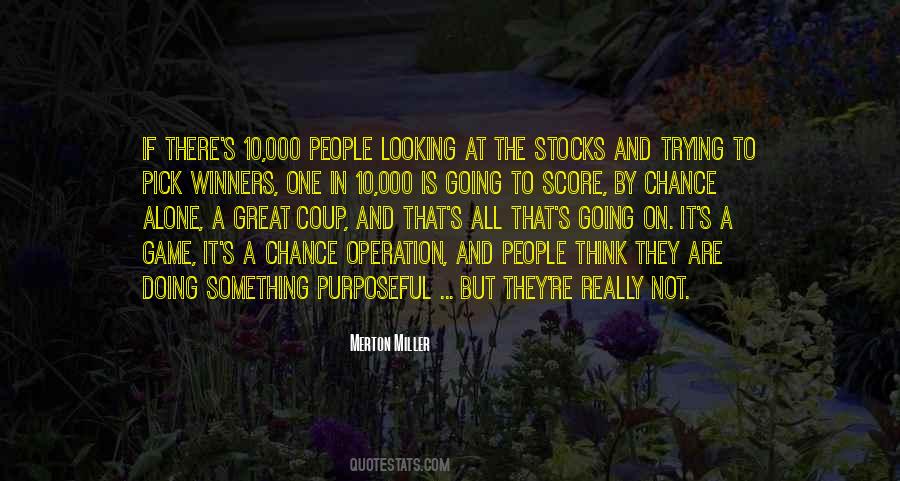 #2. Stop looking for something out there and begin seeing within. - Author: Rumi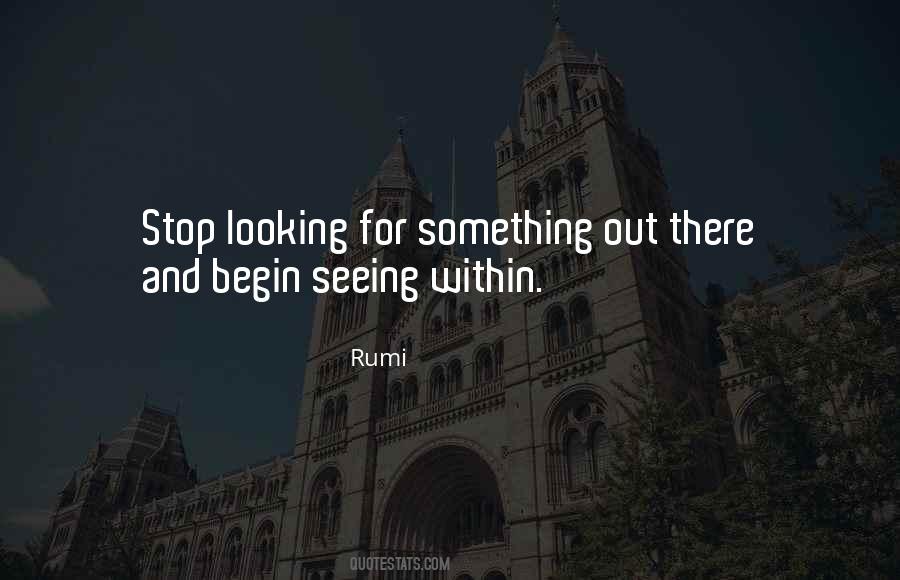 #3. I always tell my wife, 'If you're ever looking for something to put on my gravestone, put down, 'He was an honest man, and he never held a grudge.' - Author: Doug Harvey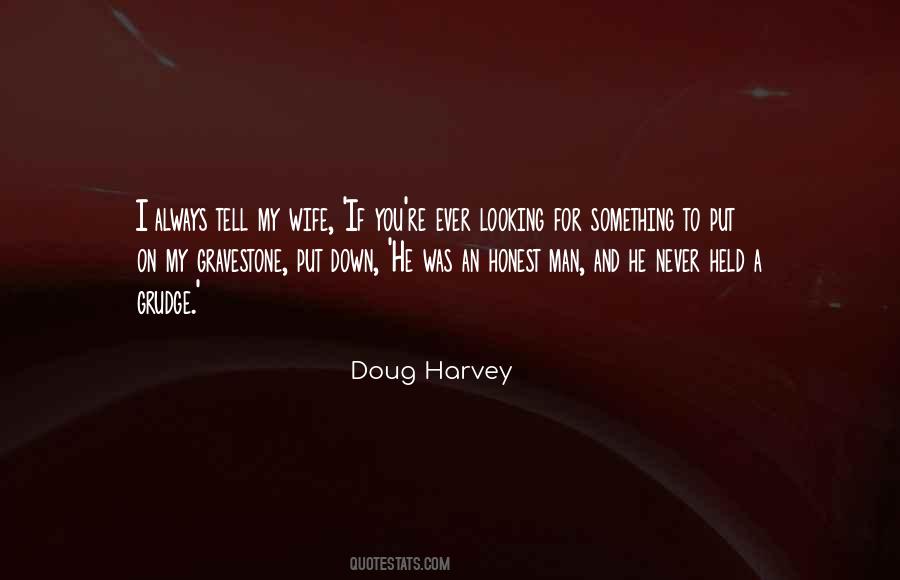 #4. The minute you become something they don't want to look at, they stop looking at you. It's that simple. You join the void. That much I'm sure of."

Ford, G.M. (2012-07-17). Who In Hell Is Wanda Fuca? (A Leo Waterman Mystery) (Kindle Locations 2431-2432). AmazonEncore. Kindle Edition. - Author: G.M. Ford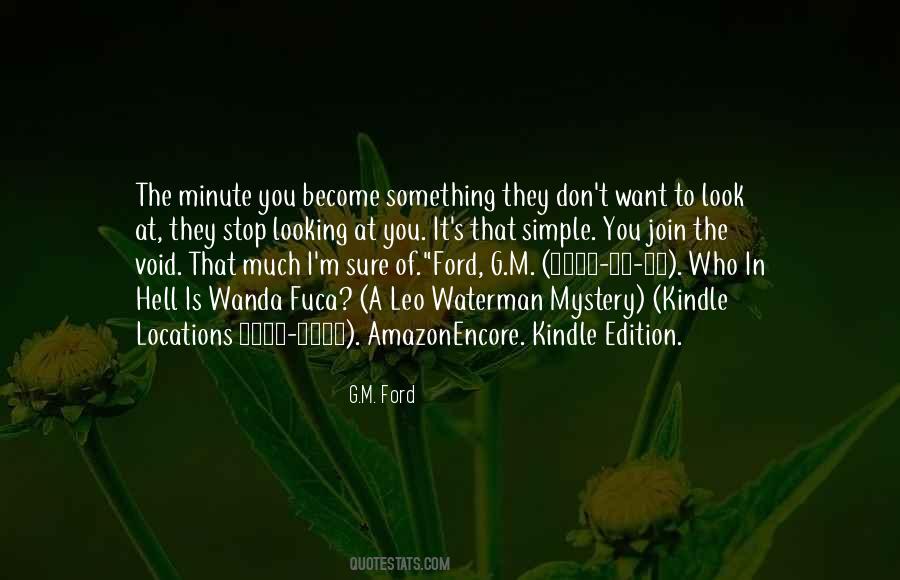 #5. We're not going in through the embassy,' said Kaz. 'Always hit where the mark isn't looking.'
'Who's Mark?' asked Wylan.
Jesper burst out laughing. 'Oh, Saints, you are something. The mark, the pigeon, the cosy, the fool you're looking to fleece. - Author: Leigh Bardugo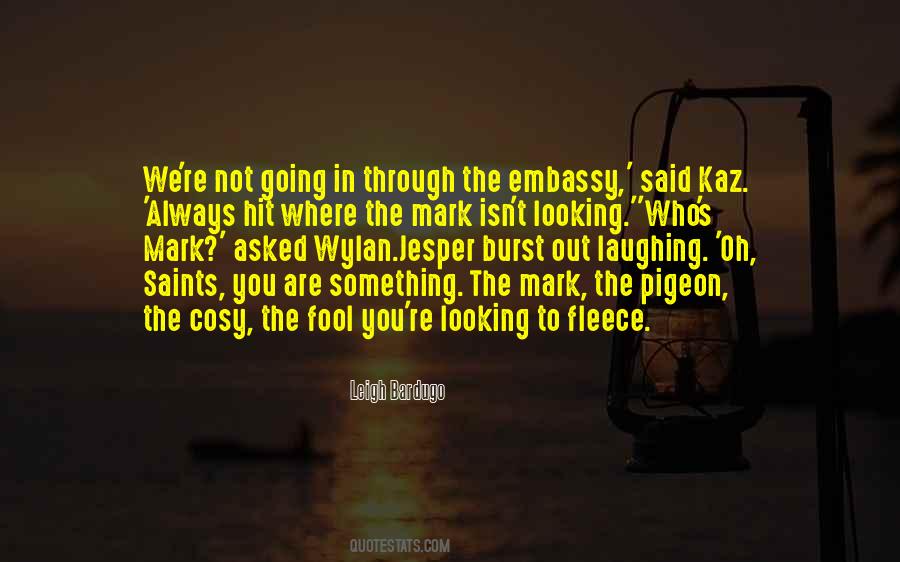 #6. I hate paperwork," announced Andy, looking up from his desk. "How is it that we have a form for 'you got a gingerbread house dropped on your head'? How do we have a job where that's something you'd need a form for?" "There's - Author: Seanan McGuire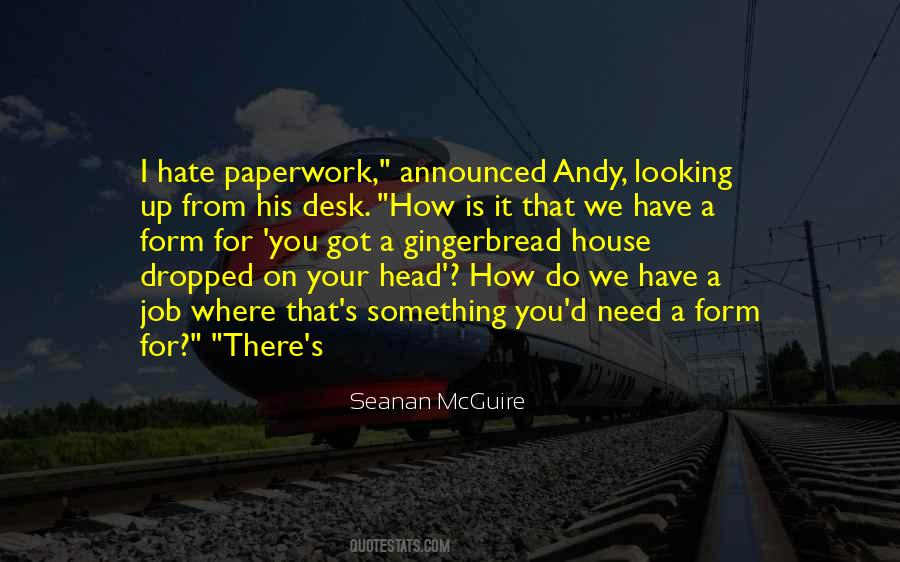 #7. What is that?"
"A hunt," Puck replied, looking off into the distance. He grimaced. "You know, I was just thinking we needed to be run down like rabbits and torn apart. My day just isn't complete without something trying to kill me."
-Puck - Author: Julie Kagawa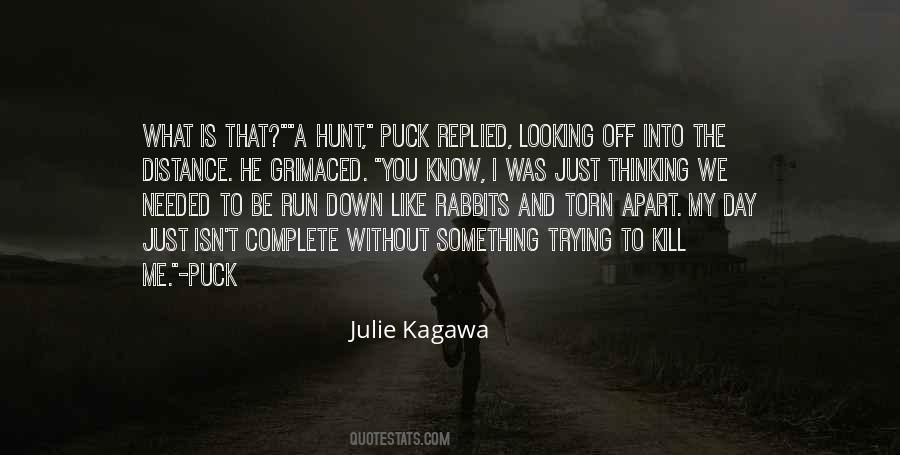 #8. I think that in general
well, at least it's true for me
you tend to put something of yourself into the story as a whole. Not necessarily in any character, you understand. But you've got your own way of looking at the world, and that naturally will affect how you craft a story. - Author: Sam Lake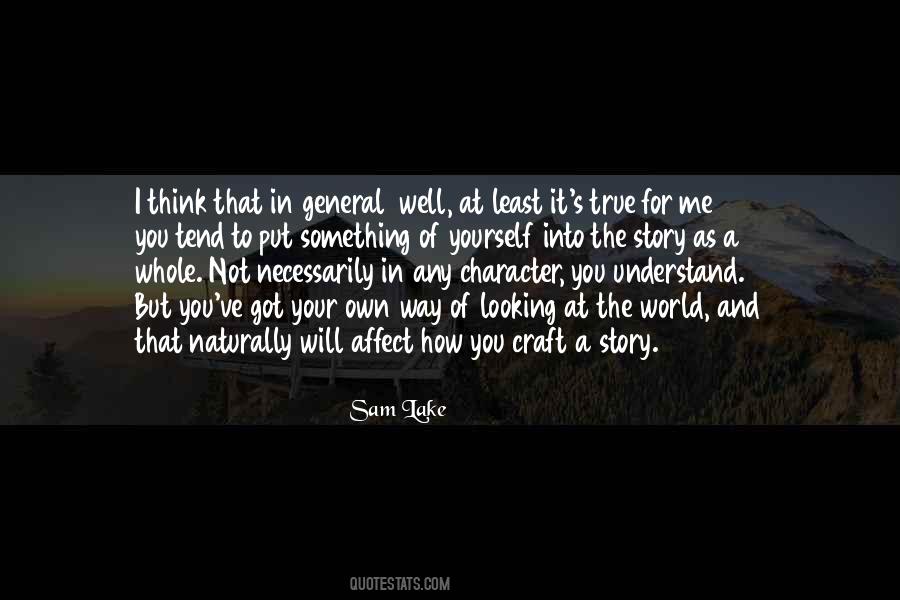 #9. Maybe our young people are not as vacuous as we would like to lead ourselves to believe - that all they're interested in is hairdos and looking at other beautiful people. Maybe they're interested in learning something. - Author: David James Elliott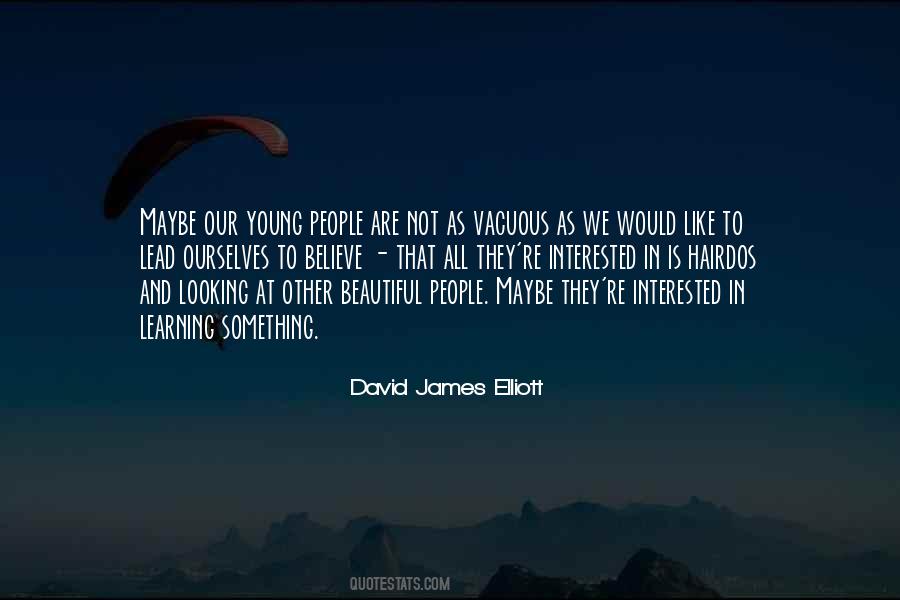 #10. It was the kind of magic that comes after a lifetime of searching, when you stumble upon something so perfect, you stop looking, and you say: Yes. This. I know this. I feel this. I've heard its footsteps echo down the hallways of my soul. We - Author: Leylah Attar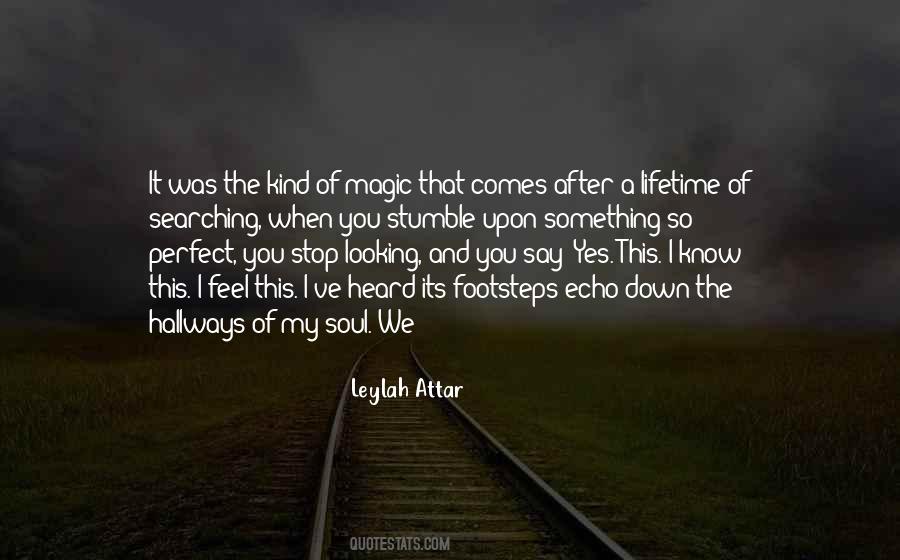 #11. The sky was something she'd so often dreamed of while the hoo-ha of the Sunday service carried on around her. There seemed to her infinitely more God to be found by staring up at the never-ending universe than by looking glumly around a building of bricks and stone. - Author: Ali Shaw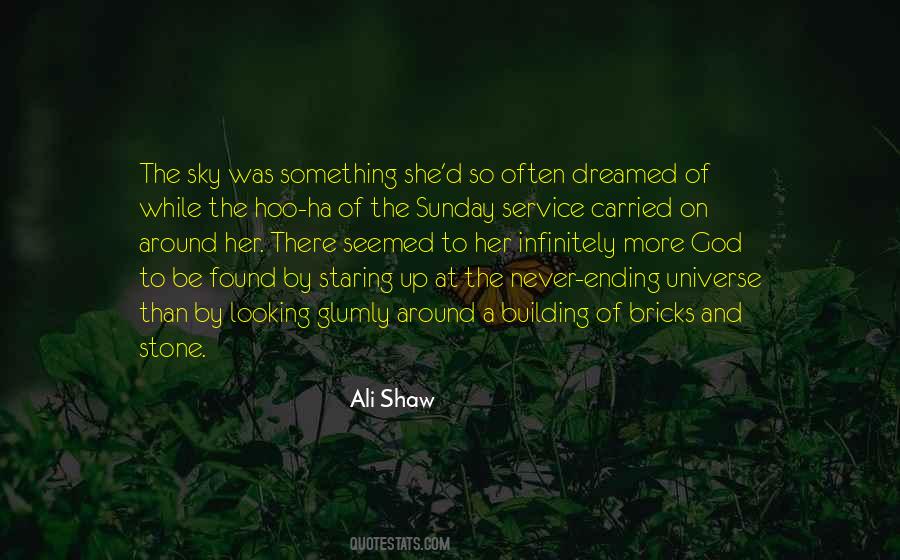 #12. As an investor, what we're not looking for is 'oh this is a cool app,' it's 'is this something that can become a big business?' You need to find those that can become real businesses. - Author: Niklas Zennstrom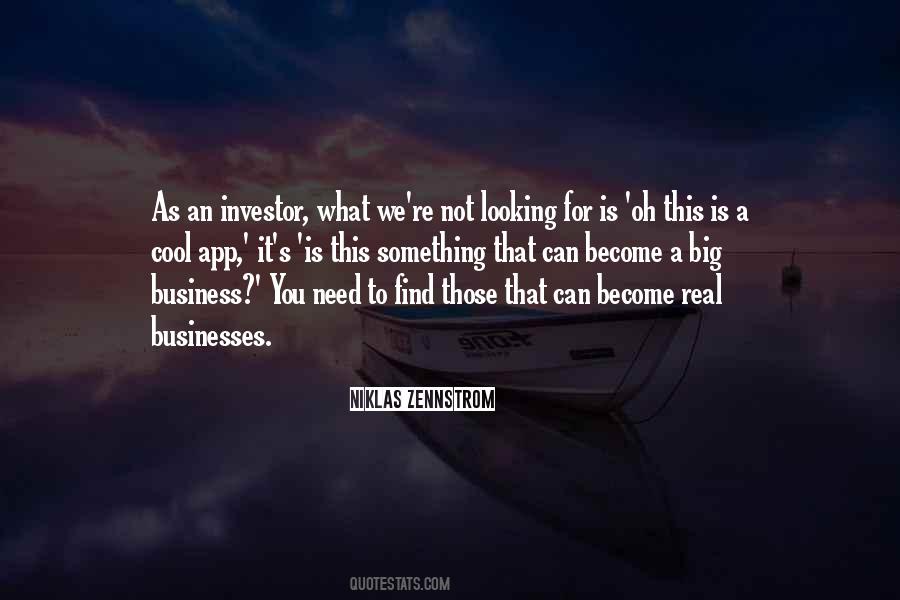 #13. It's really about living in your head ... just looking out at the world, then going back into your head and tossing around a lot of ideas and coming out with something interesting to say. - Author: Lucinda Williams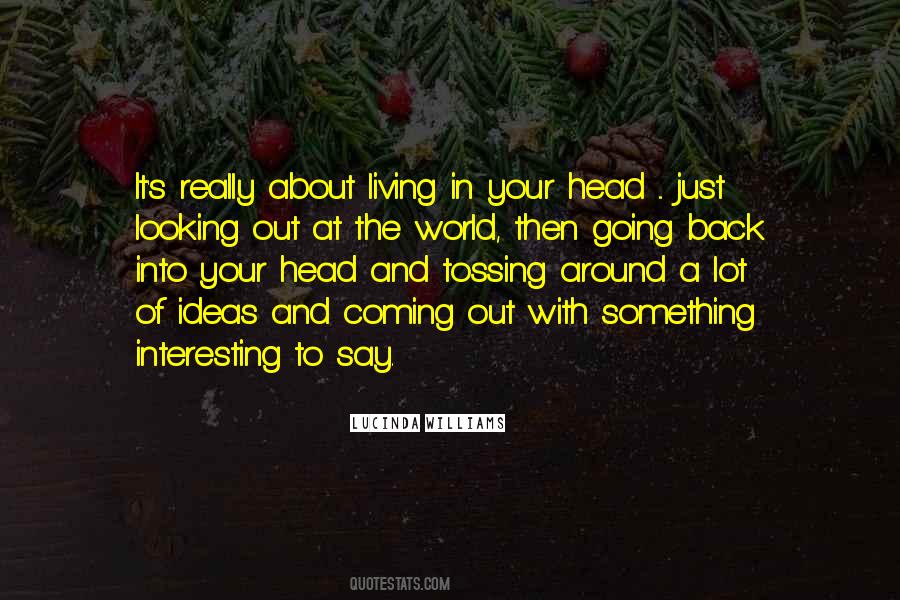 #14. Sometimes when you find something you didn't really realize you were looking for, you just don't know how to react. - Author: Jodi Picoult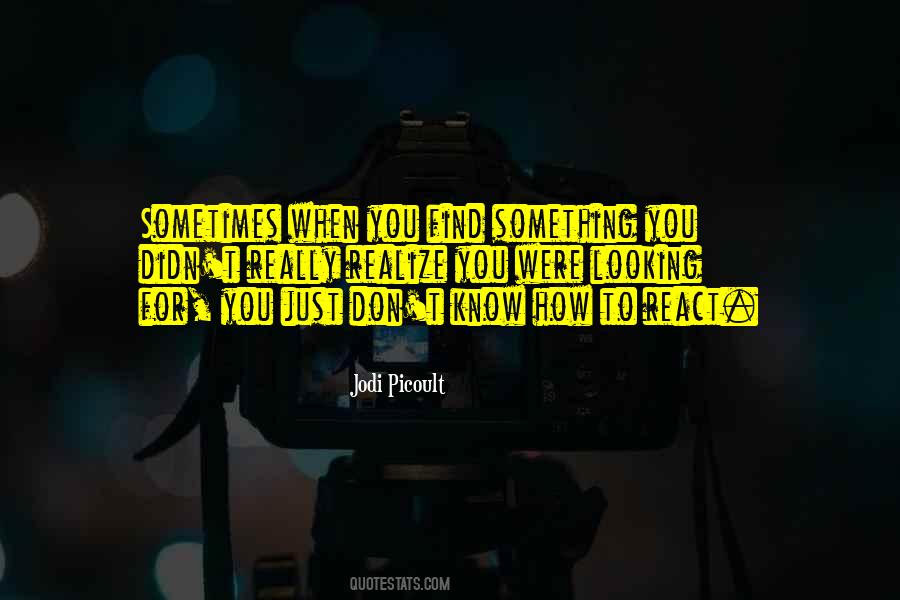 #15. I became a clown when these docs came to the house in Berkeley and asked me to come cheer up kids. I'd just had my third spinal fusion and I was looking for something to take my mind off the pain I was in. - Author: Wavy Gravy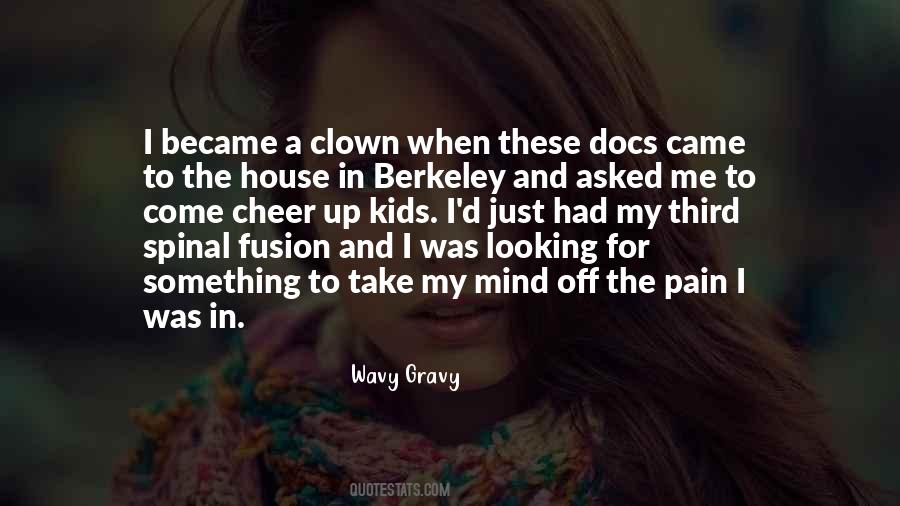 #16. I've never owned a telescope, but it's something I'm thinking of looking into. - Author: George Carlin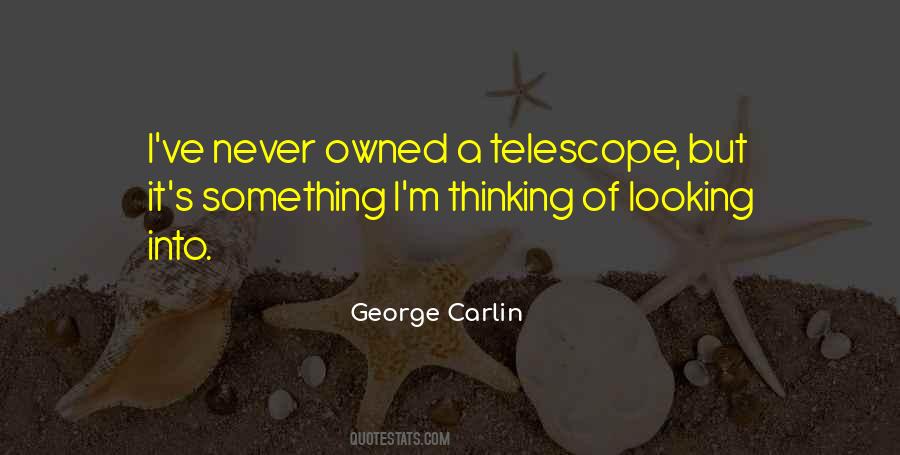 #17. It was always tough, but today we are in the throes of something we have never seen in our history. It's clear in recent times the market is looking for a bottom. - Author: Sumner Redstone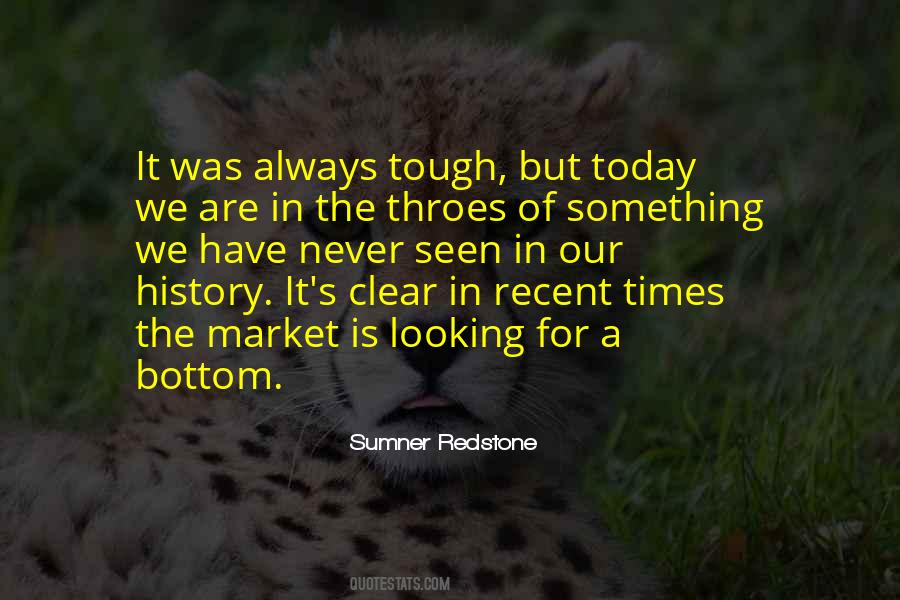 #18. This is life, uh? We lose something here; we get something there. The trick is to stop looking in the old place to find the new thing. - Author: Elizabeth Berg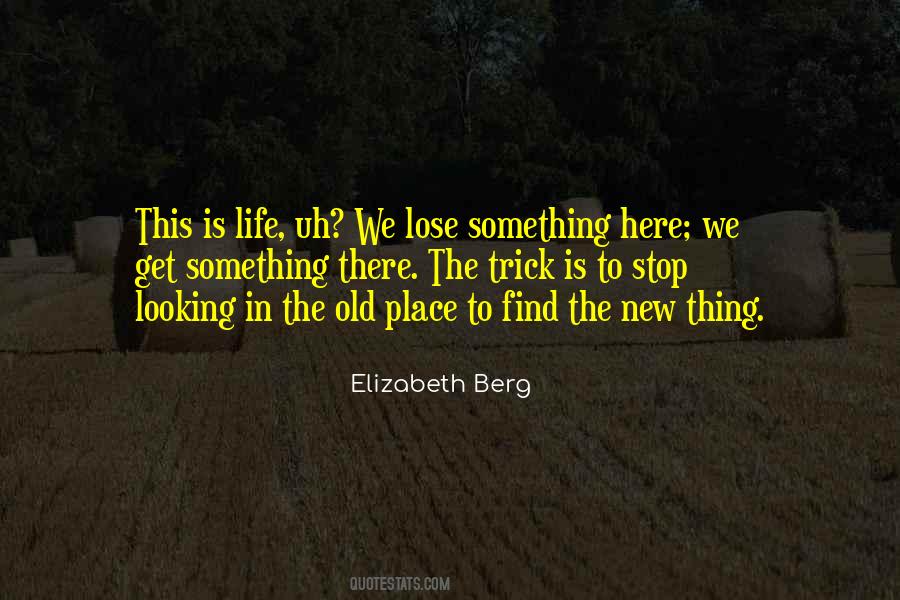 #19. F you're making the scene as a director, you're looking for alternatives, once you've got to that place that's very much in Rowan's [Atkins] head, to see if you can take it further, in some places. Sometimes you do absolutely know there's something there. You just feel it in your bones. - Author: Oliver Parker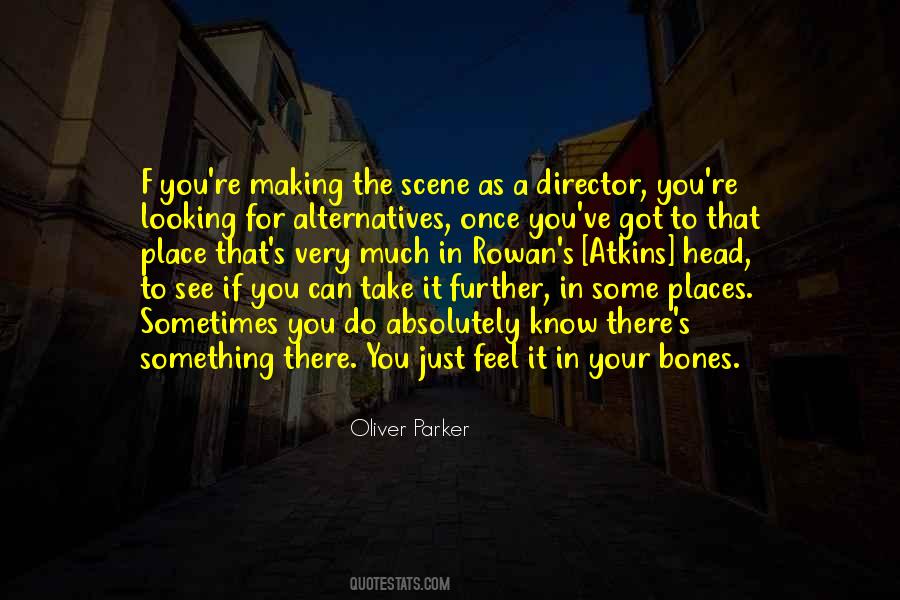 #20. Don't fret. We all experience it. We must. For despite our humanity love is the only way we can be like gods. It is in love that we glimpse heaven during our lifetime and have proof that there's something worth looking forward to in the end. - Author: Felix Alexander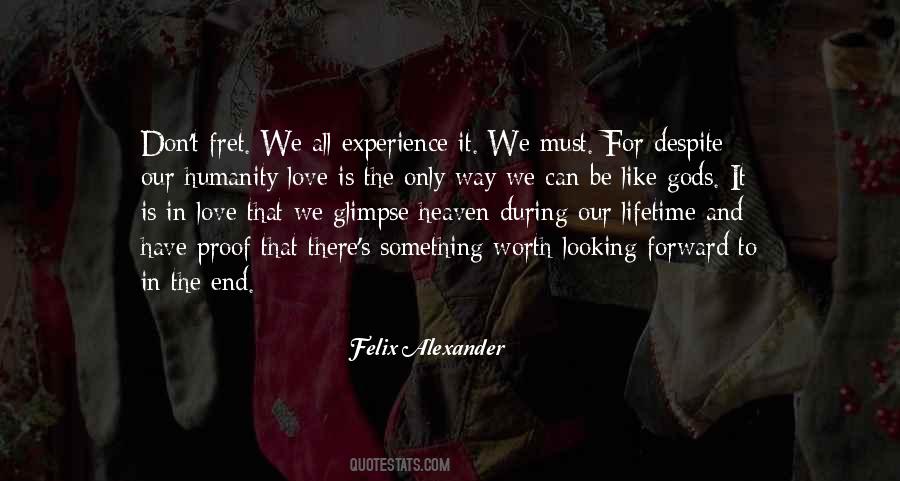 #21. In a shadowy place something white flew up. It was a heron, and it went away over the dark treetops. William Wallace followed it with his eyes and Brucie clapped his hands, but Virgil gave a sigh, as if he knew that when you go looking for what is lost, everything is a sign.
("The Wide Net") - Author: Eudora Welty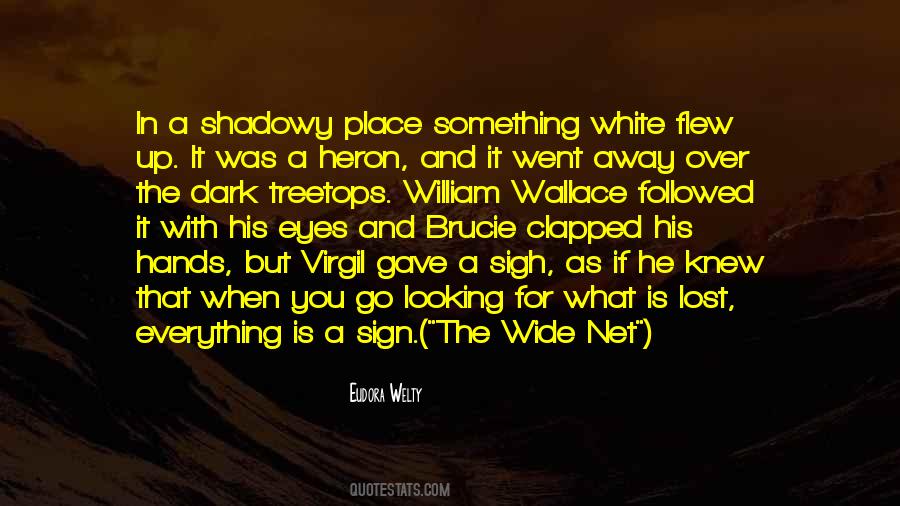 #22. I think it's my job to risk looking foolish. One of the things I've learned from the actors I've worked with is you don't get something for nothing. If you don't risk looking foolish, you'll never do anything special. - Author: Ethan Hawke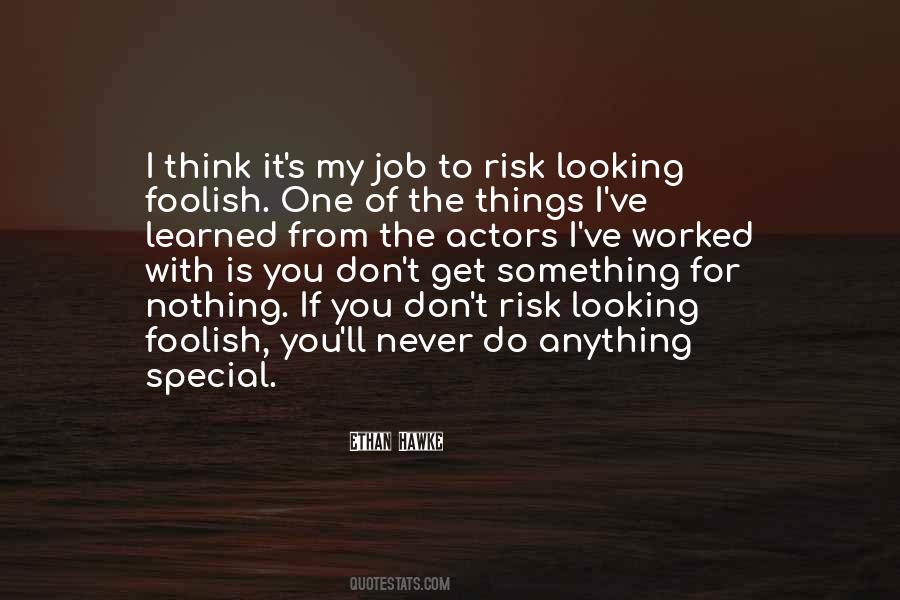 #23. Planning my food a bit helps me. Knowing what I'm going to be eating for lunch helps, instead of getting hungry and then looking for something. - Author: Sasha Alexander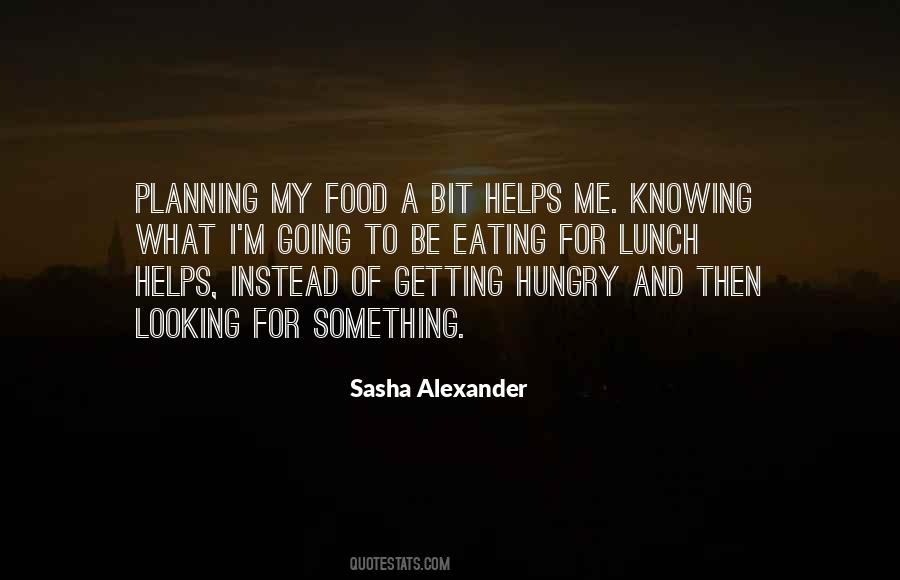 #24. Re-search means look again, don't it? Means they're looking for something they found once and it got away somehow, and now they got to re-search for it. - Author: Kurt Vonnegut Jr.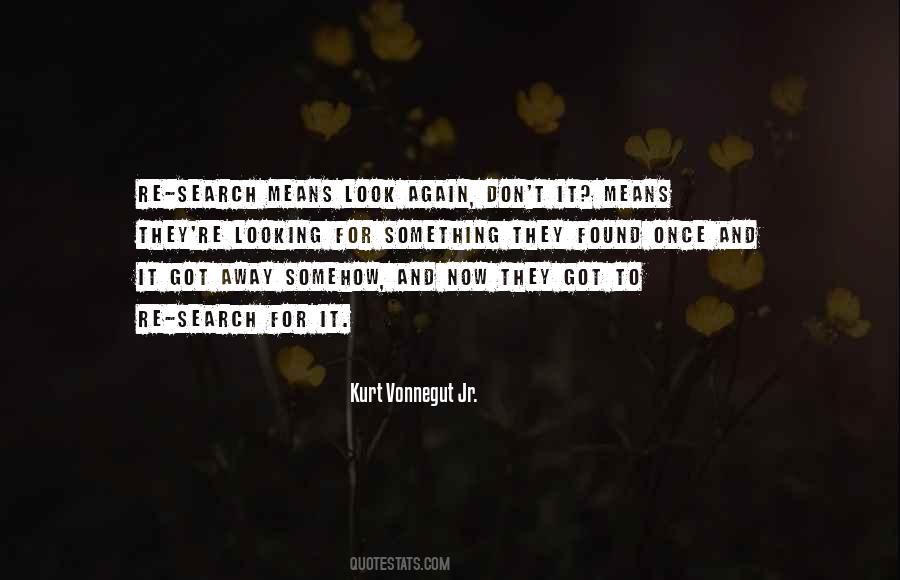 #25. Lego, however, is always opened and then left lying around so adults have something to tread on when they are prowling around around the house at two in the morning, in bare feet, looking for the source of a noise. - Author: Jeremy Clarkson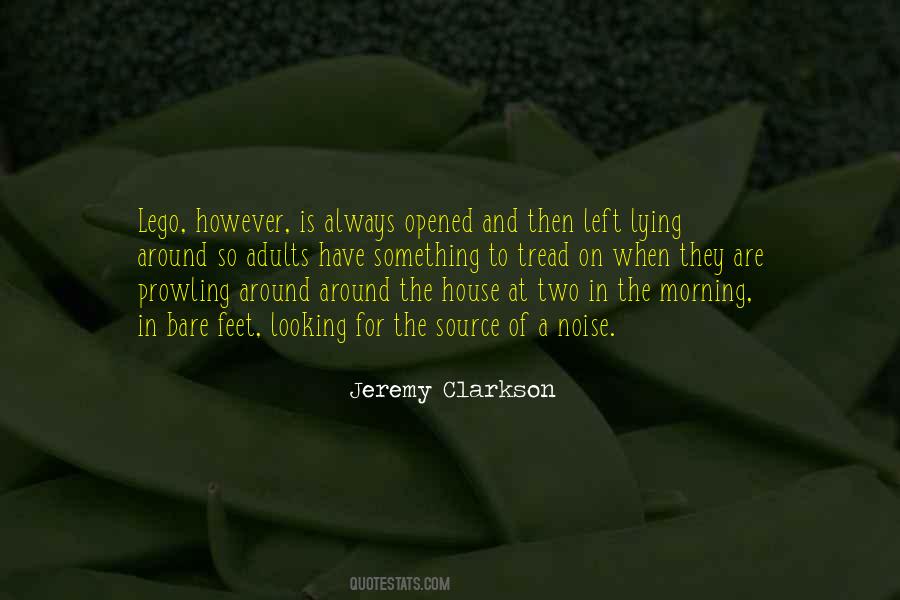 #26. There isn't what my father called the cruising hostility of the English press - where they're looking around for something to attack. You don't feel that there's a great reservoir of resentment in the press as you do in England. - Author: Martin Amis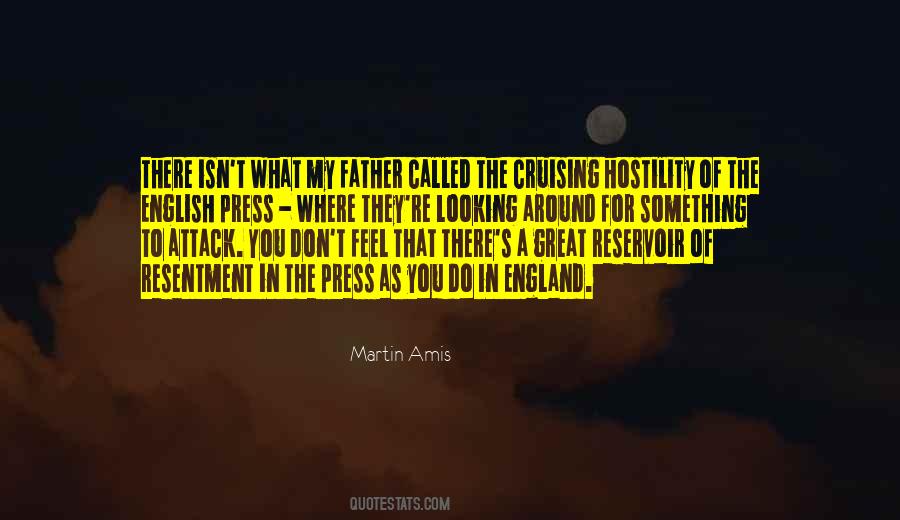 #27. Question: What is something you sometimes want so badly you'd search for it your whole life? Answer: Your past Warning: Never look for your past. It always comes looking for you. - Author: John Nuck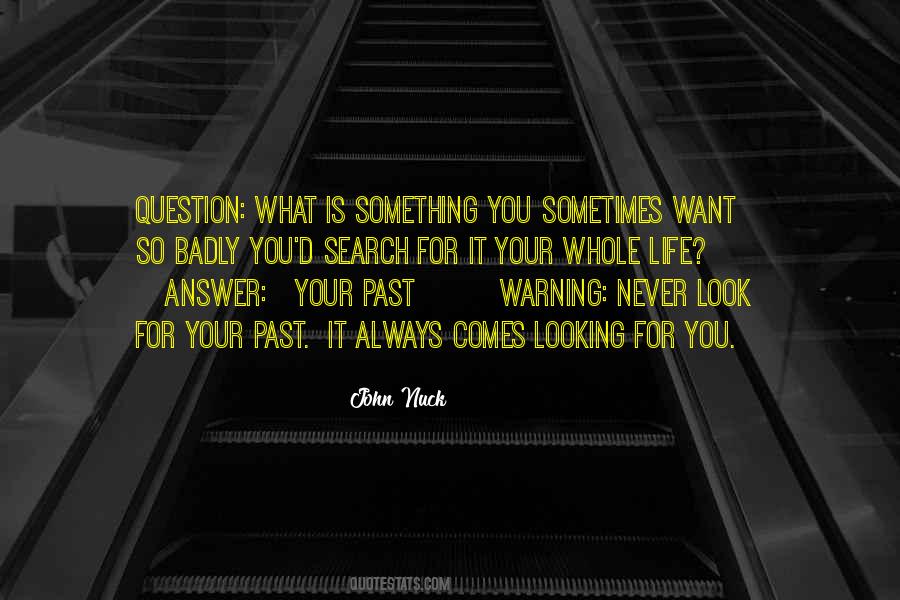 #28. The audience may not have felt it was right, and the author may have felt a little upset, but every part I've played I've twisted around in my mind until I've made it into something of my own. Looking back over it, I didn't deliberately sit down and plan like that, but it does read like it. - Author: Katharine Cornell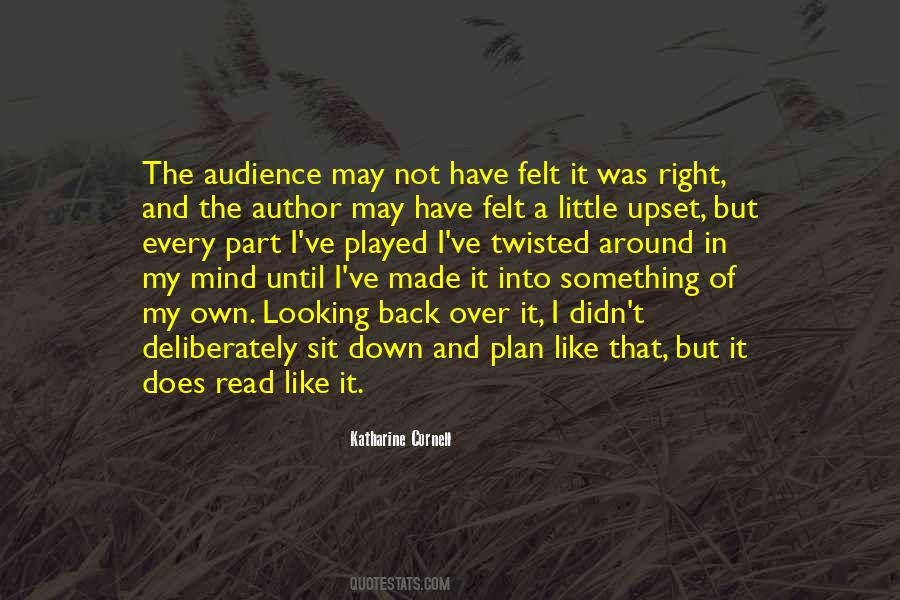 #29. An actor alone is a bit naked. Like when you do something in front of your mirror, you're usually really bad, because you're looking at yourself. - Author: Clemence Poesy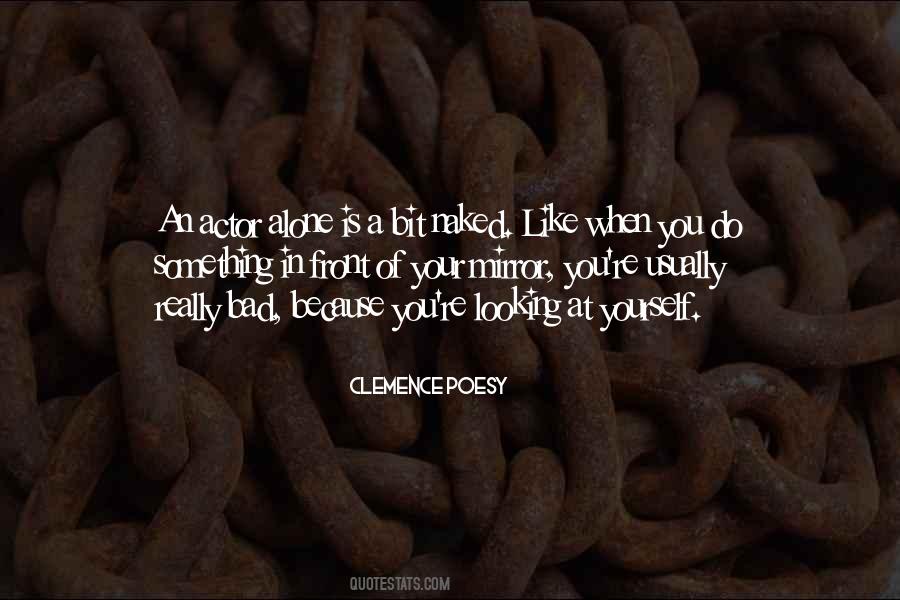 #30. Men love a submissive woman, Damon said simply. Even when they say the don't. There's just something about a beautiful, soft woman looking to them to protect and take care of them that inspires a man to greatness. - Author: Maya Banks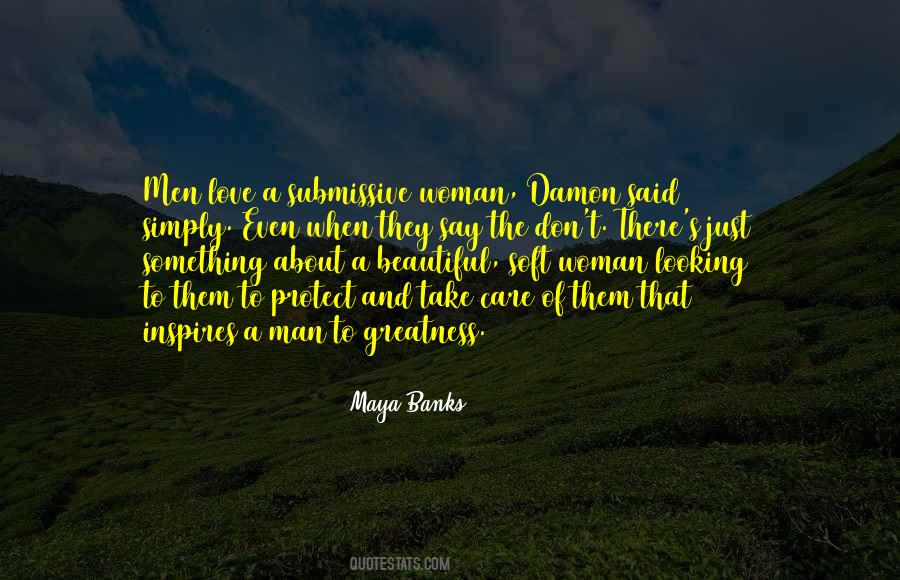 #31. How did you fare with the Queen?" he asked.
"I have no idea," I said honestly. "Everything she said was perfectly nice, but the whole time she was looking at me as if I were something her dog spit up. - Author: Leigh Bardugo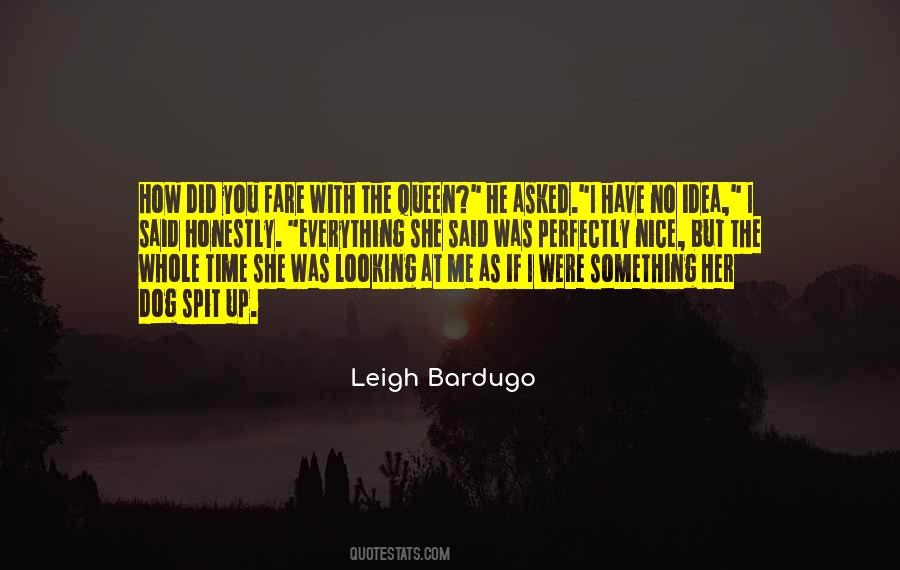 #32. When something looks enough like something else that people watching don't know what it is they're looking at. - Author: Neil Gaiman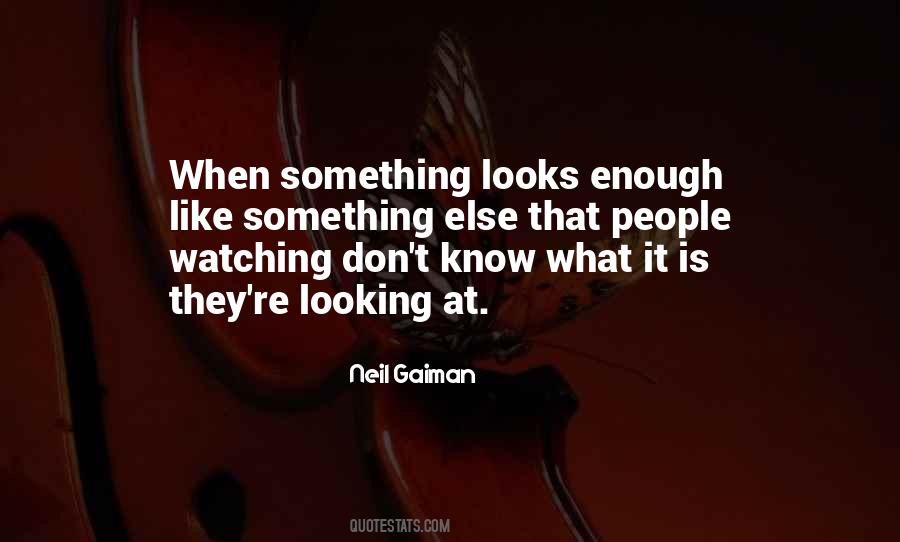 #33. In my mind, there are two kinds of looking. There's the kind of looking that is respectful, almost magical, where you observe something without daring to touch it. And then there's the kind of looking that's like slurping a Coke. - Author: David Levithan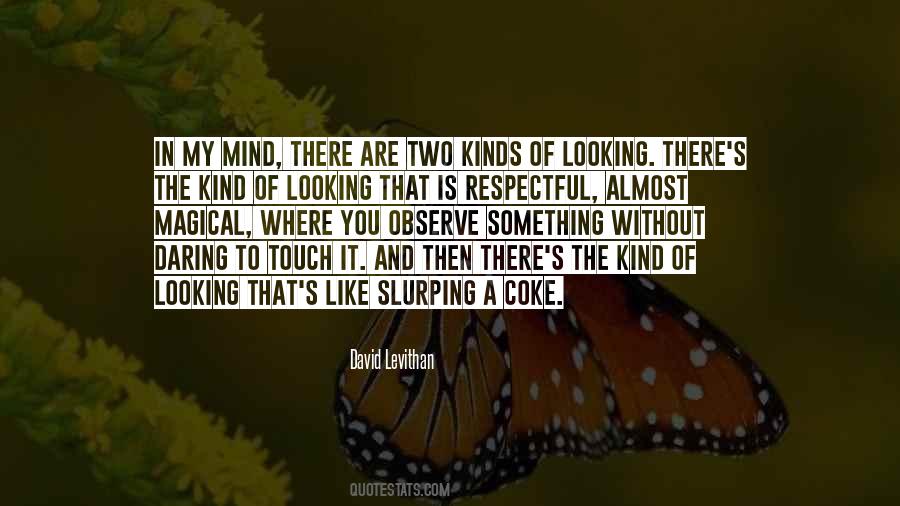 #34. He was looking at her with amused suspicion. There was something between them, and even she had to acknowledge that a tame remark about the weather sounded perverse. - Author: Ian McEwan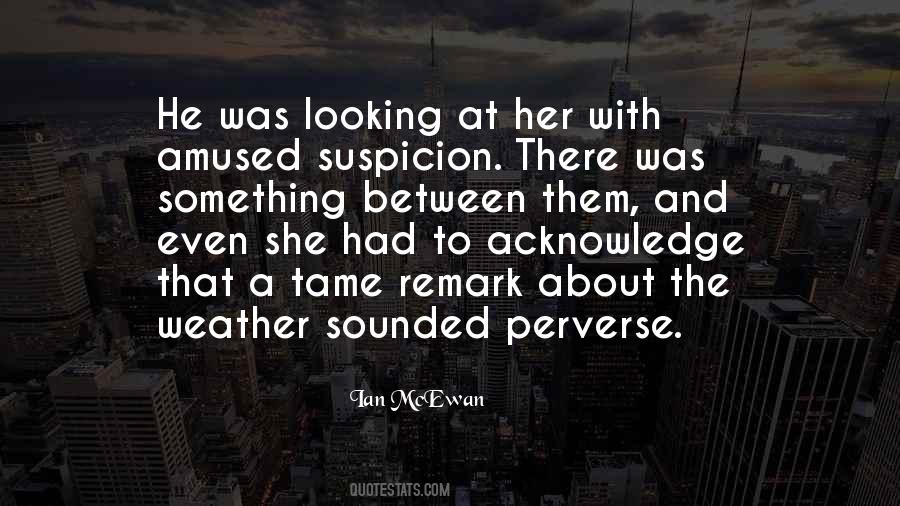 #35. My name on her lips twisted something up inside my chest. Looking back, I think that's the instant I made my decision. I wasn't going to give her up. Ever. I'd die first. - Author: Joanna Wylde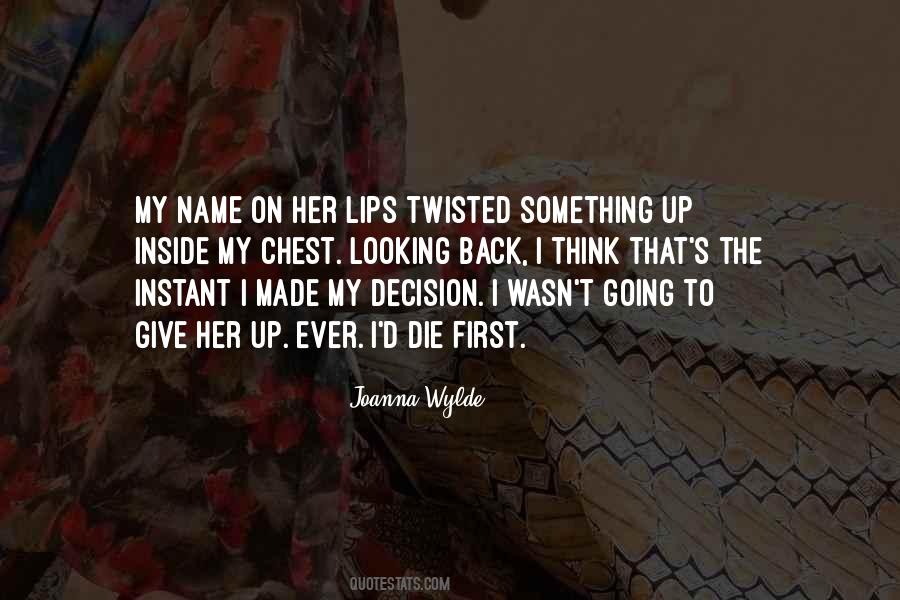 #36. Instead of looking at life as a narrowing funnel, we can see it ever widening to choose the things we want to do, to take the wisdom we've learned and create something. - Author: Sherrie Eldridge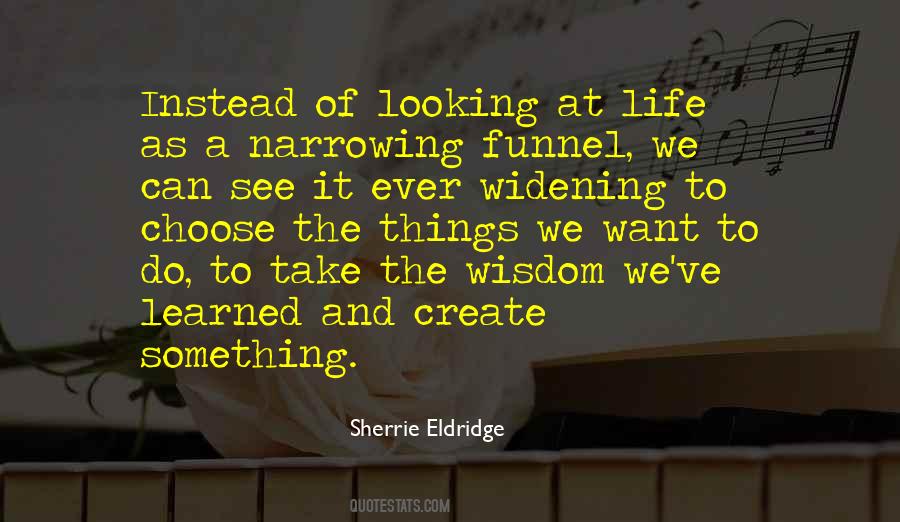 #37. The beautiful man-boy that held my heart in his memories, who claimed my soul with his smile. I knew that if I kept looking in those deadly eyes, I'd sink into their infinite depths, lost forever. And something in my brain, in my heart, allowed that to be okay. - Author: T. Torrest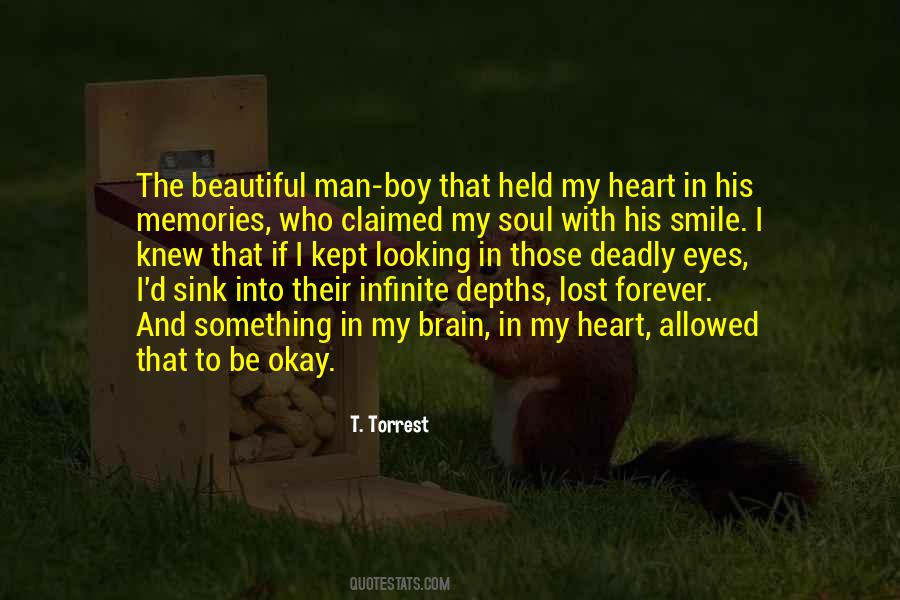 #38. I'm always looking for what's something that Bradley Whitford's character can say that is completely outrageous and completely wrong, but in a double-reverse way is actually totally right. I don't really like where there's a story and you lay a few jokes on top of it. - Author: Matt Nix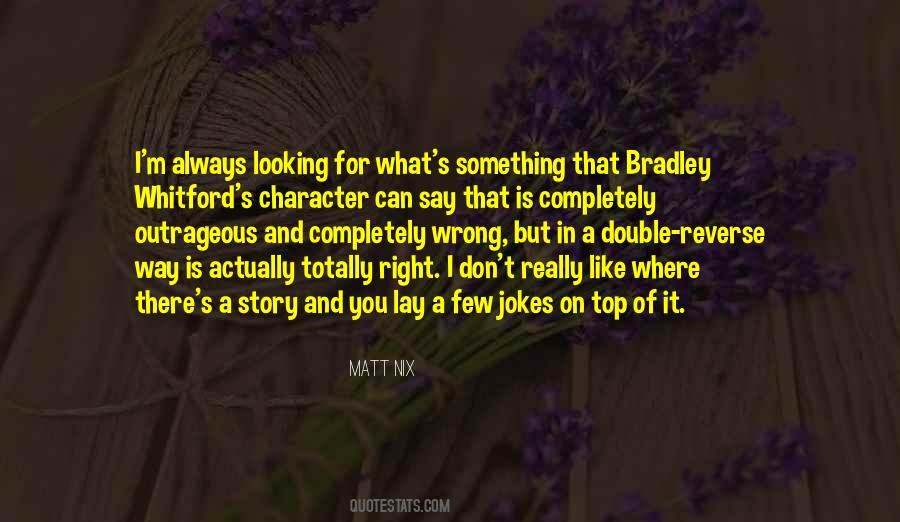 #39. But the Daily Mail isn't to be trusted," Jacob said to himself, looking about for something else to read. - Author: Virginia Woolf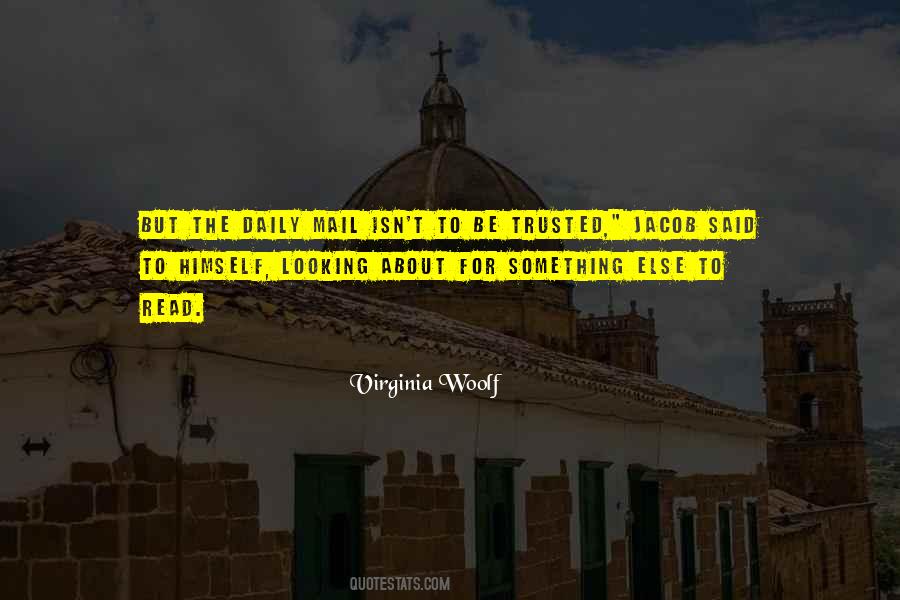 #40. I just could not believe that 30 years later we're still looking at people who are supposed to write little 2-minute pop that when they actually try to do something that's a little bit more they regard it as pretentious. - Author: Pete Townshend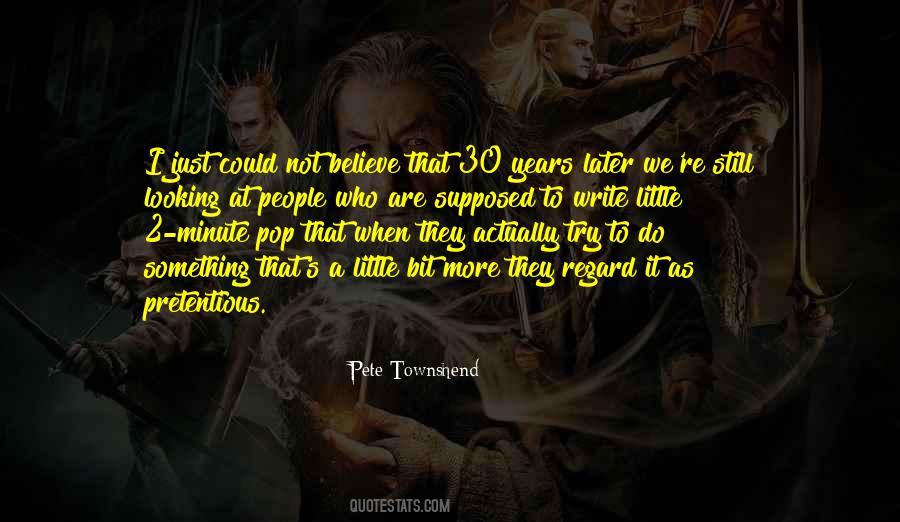 #41. Looking at her nails, Aomame had a strong sense of what a fragile, fleeting thing her own existance was. Something as simple as the shape of her fingernails: it had been decided without her. - Author: Haruki Murakami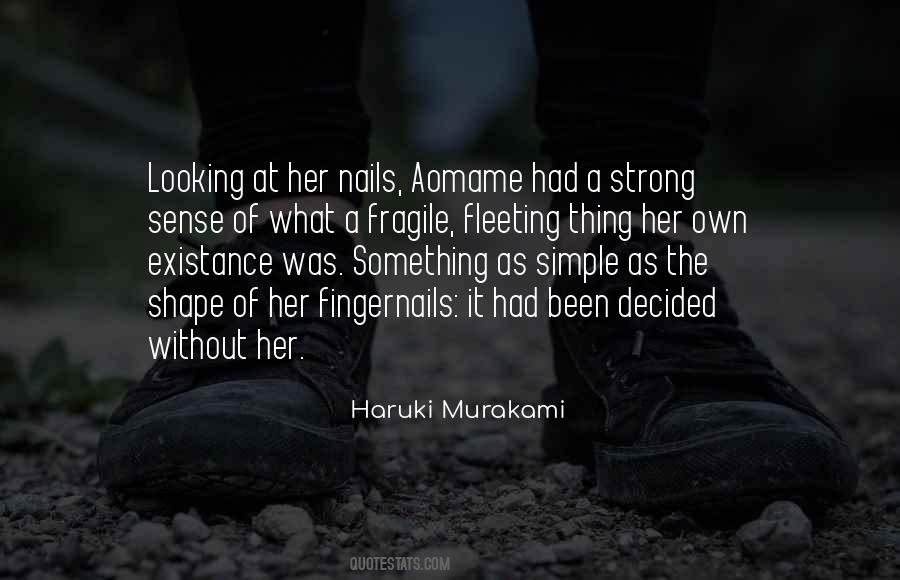 #42. Yeah, it was horrible! I mean really horrible. I felt incredibly awkward. It was not something I was [looking forward to]. I don't know, but it looked good. We somehow managed to make it look realistic. I was proud of myself that I managed to power through and be professional. - Author: Emma Watson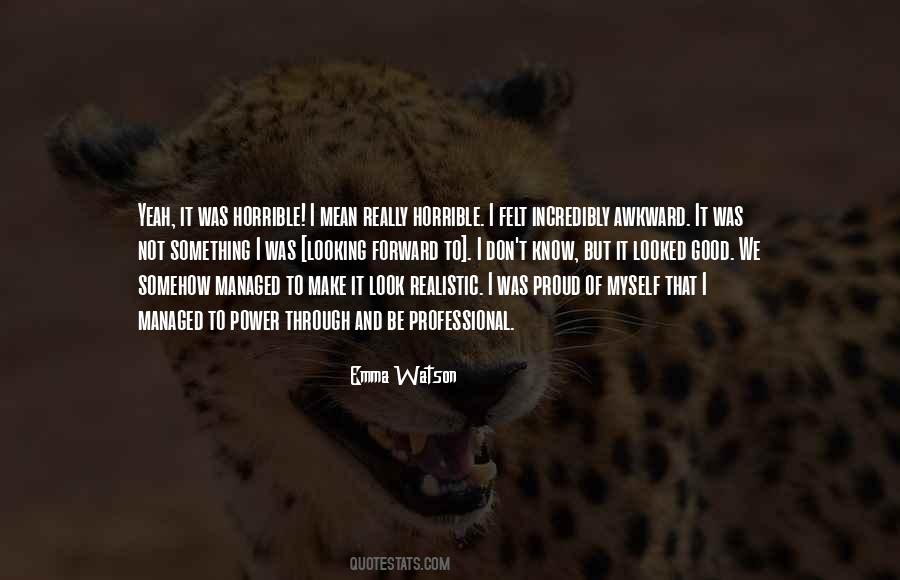 #43. But there's something about sitting at someone else's desk that makes you feel like looking in the drawers. I resisted the impulse briefly. Then I decided what the hell. I was a private investigator. Poking my nose in where it didn't belong came with the territory. - Author: Stephen R. Donaldson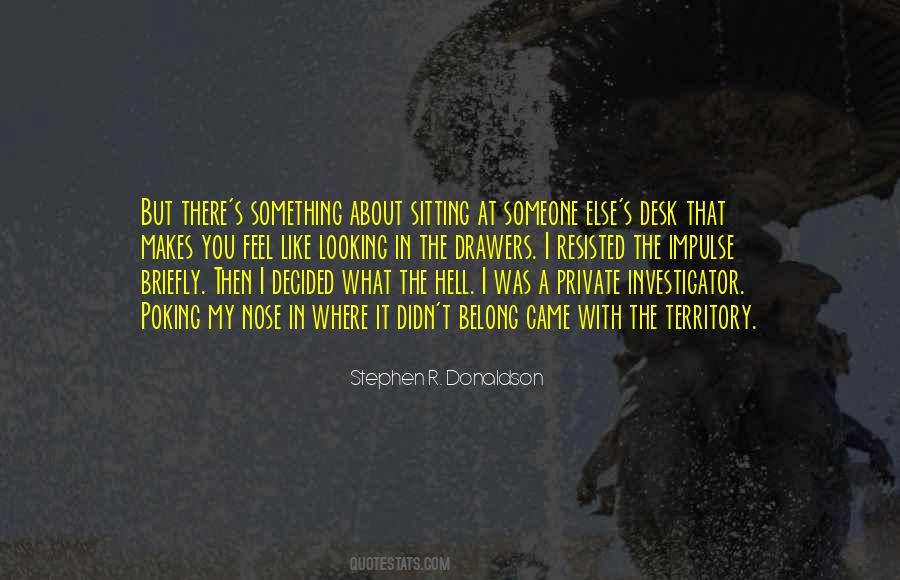 #44. Everybody has to look at his or her own footprint and do the
best they can. It's not about being perfect, it's about doing
something. If we're looking for perfection, we'll never, ever
get there. - Author: Laurie David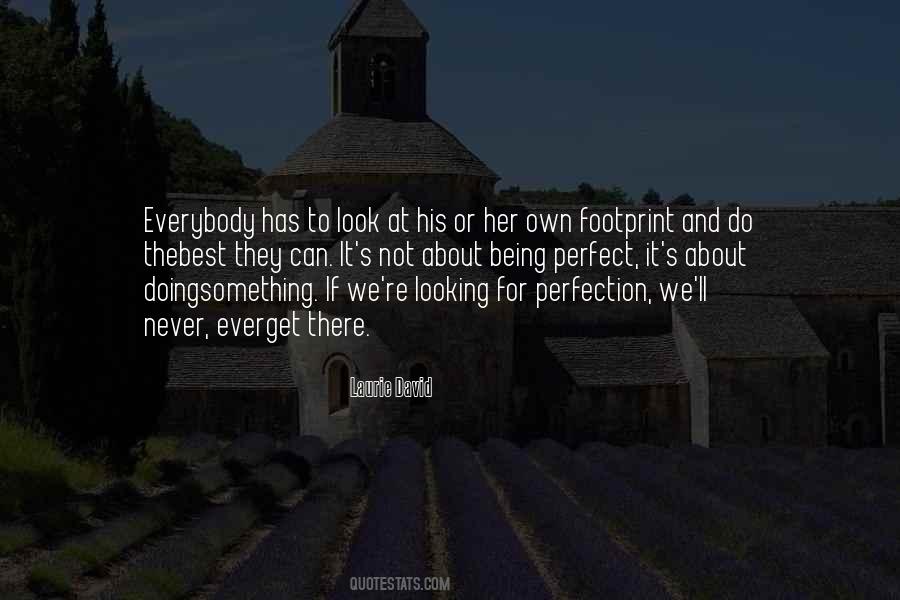 #45. Living is no laughing matter: you must live with great seriousness like a squirrel for example - I mean without looking for something beyond and above living, I mean living must be your whole occupation. - Author: Nazim Hikmet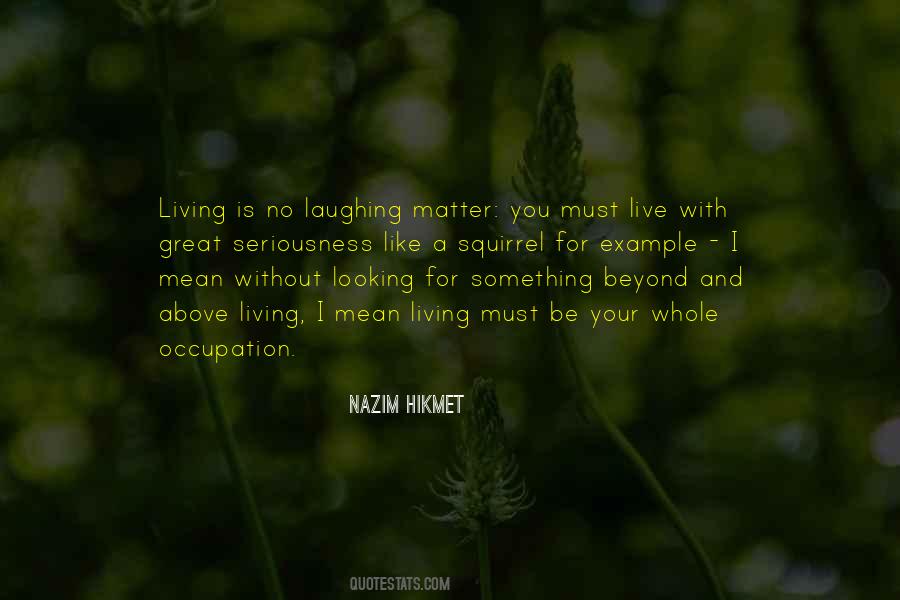 #46. That one person everyone looks for. They search and search, and some die trying to find 'em. And when you finally meet them, something inside of you says "Oh, there you are. I've been looking for you. And I didn't even know it. - Author: Belle Aurora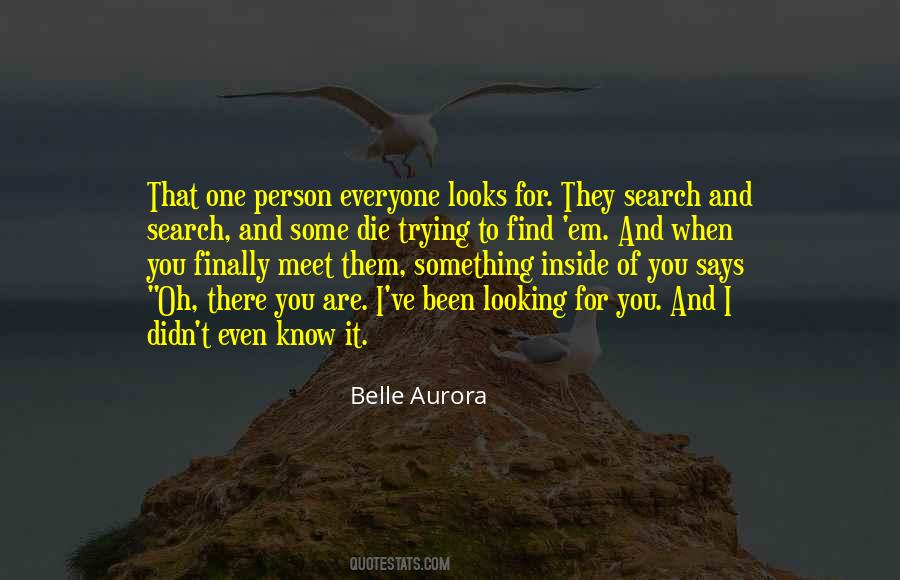 #47. We have to forget the past. History is something that even today we are paying the consequences, and the future is integration. We all as a people, as citizens, as the leadership of both countries should be looking in that direction. - Author: Atifete Jahjaga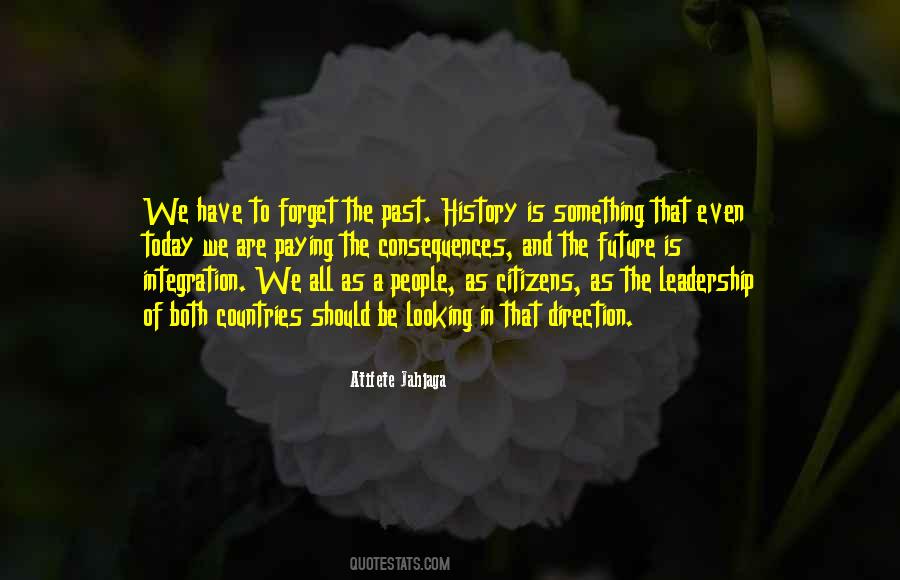 #48. Sometimes I just wonder what constitutes a really exciting life. Maybe we're all just lost souls looking for something that simply doesn't exist? - Author: Marisa Mackle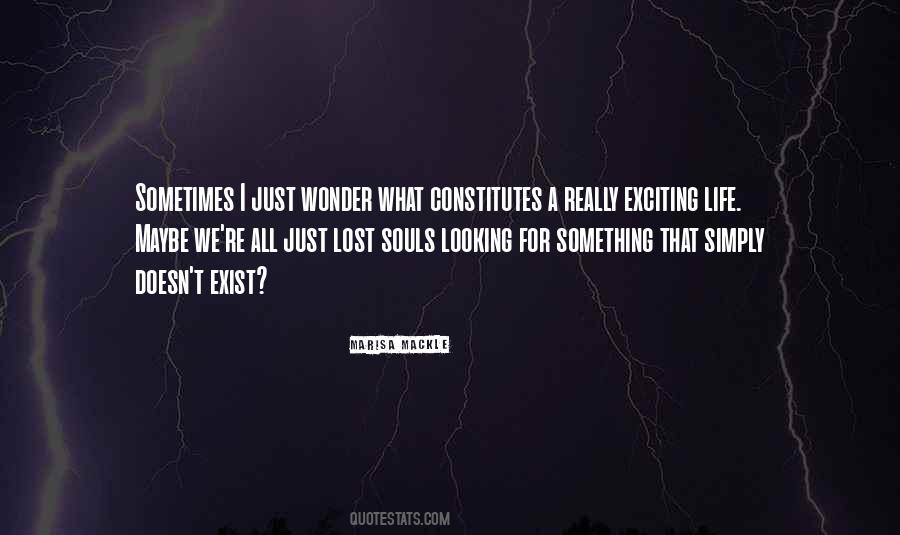 #49. At the time I thought this was my big chance for love, that I was going something very romantic and important, but looking back on it now, it all seems part of a very simple equation: I left the house where I lived with someone who loved me to go to the house of someone who did not love me at all. - Author: Ann Patchett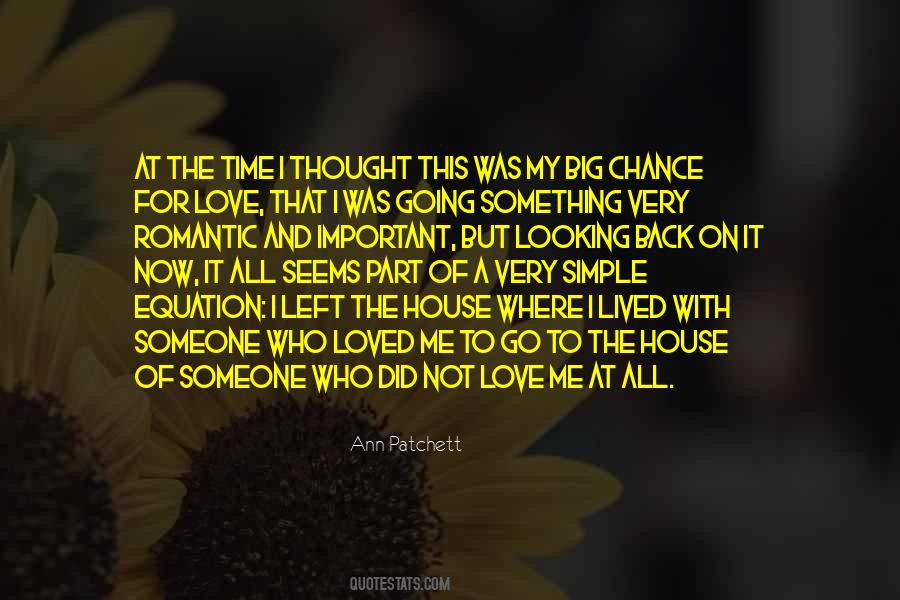 #50. Piglet thought that they ought to have a Reason for going to see everybody, like Looking for Small or Organizing an Expotition, if Pooh could think of something.
Pooh could.
"We'll go because it's Thursday," he said, "and we'll go to wish everybody a Very Happy Thursday. Come on, Piglet. - Author: A.A. Milne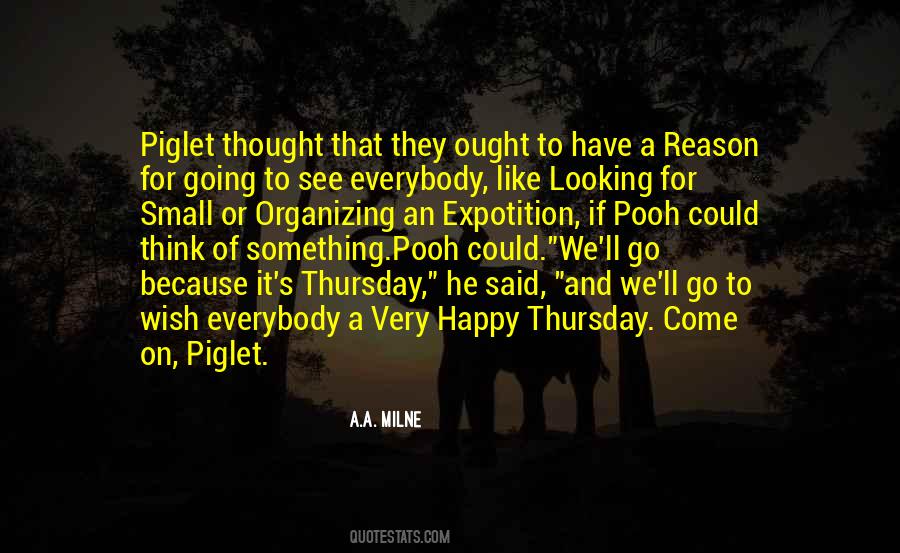 #51. That's how life works. You know it when you know it.
They're nineteen and in love. Alone except for each other. Jobless and homeless, looking for something, somewhere, anywhere here.
They're on a sixteen-line highway.
Driving west. - Author: James Frey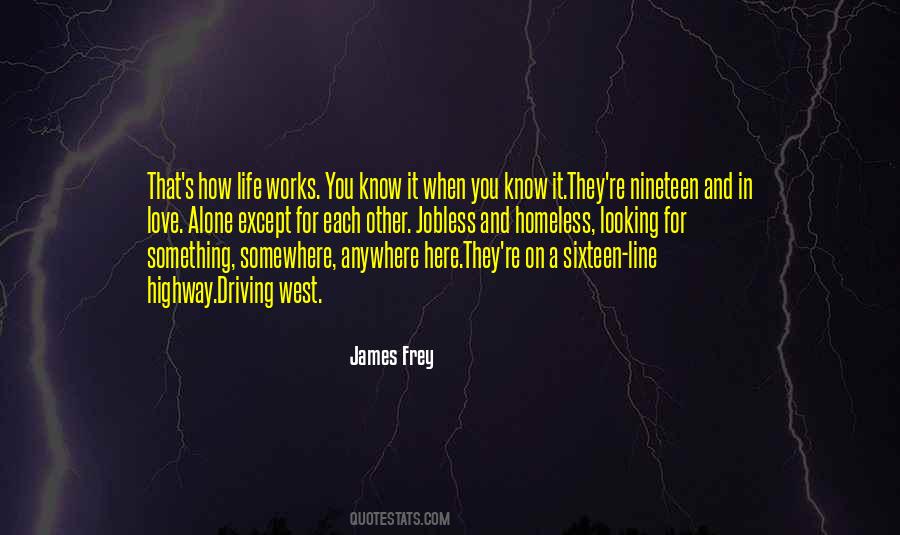 #52. As any parent can tell you, it's better to keep your mouth shut and your eyes open when you go looking for kids who are being unreasonably quiet. They're probably doing something they don't want you to see, and if they hear you coming, they'll hide the evidence. I - Author: Elizabeth Bear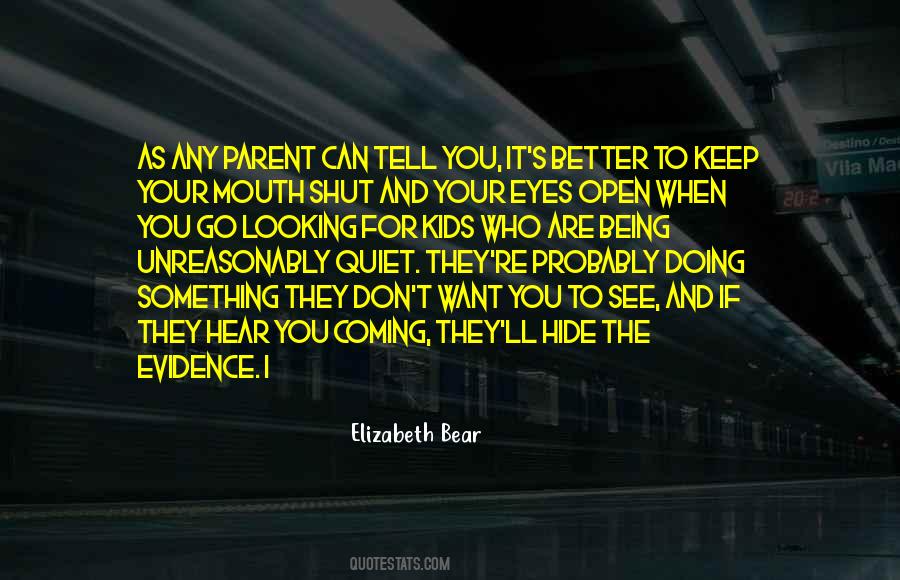 #53. We're learning a lot from large international competitors ... As we go international, we're looking to add something unique to the market. And so when we do go international, it won't just be as a taxi service. - Author: Logan Green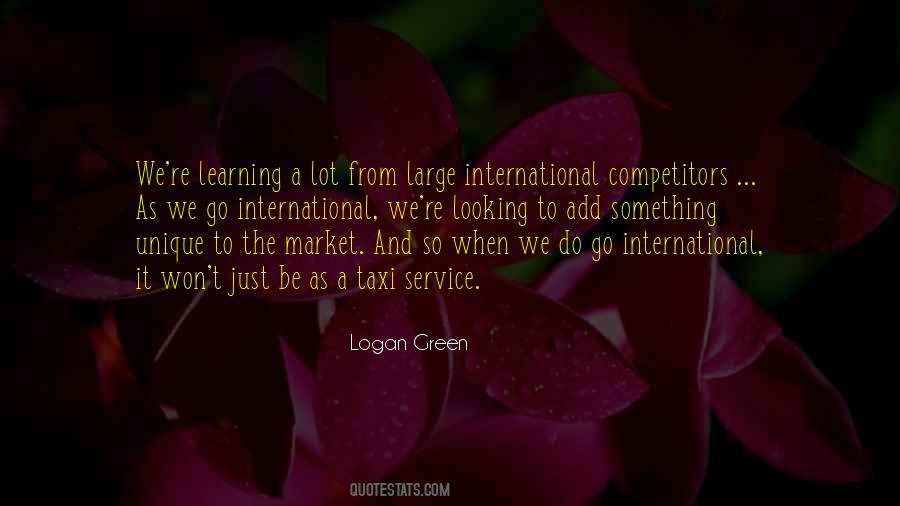 #54. Something inside you emerges ... an innate, indwelling peace, stillness, aliveness. It is the unconditioned, who you are in your essence. It is what you had been looking for in the love object. It is yourself. - Author: Eckhart Tolle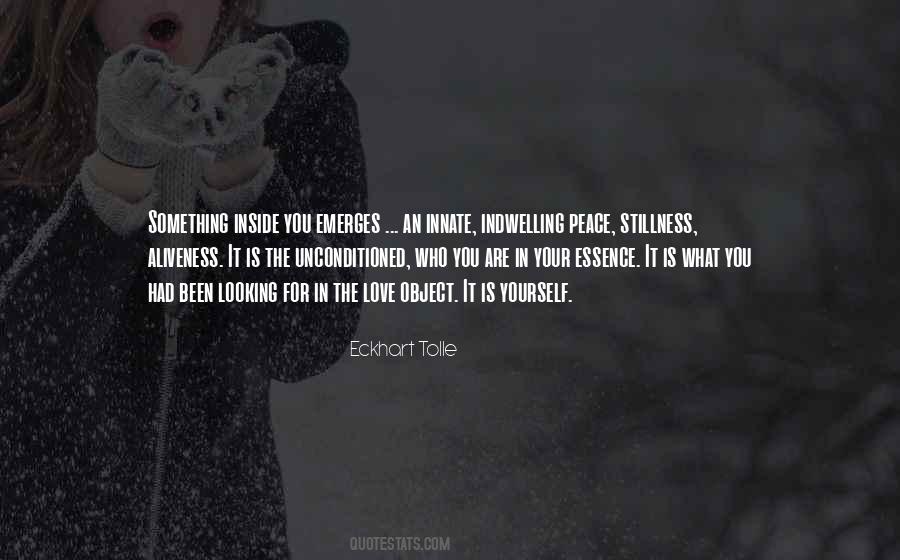 #55. Because that's what you do when something terrible happens. You go over and over every little thing, looking for clues, trying to find a pattern and a way to make sense out of the muddle and hurt. - Author: Julia Green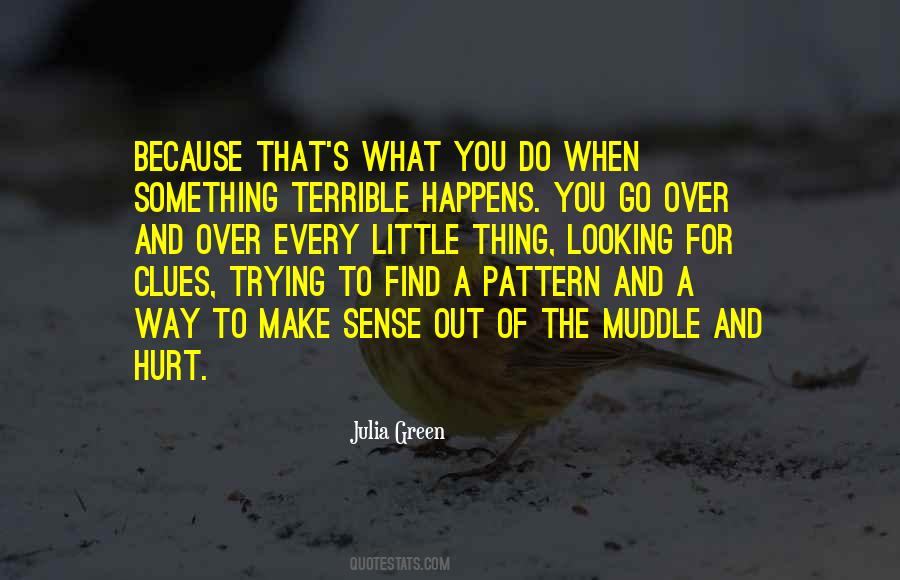 #56. If people are looking forward to my films, then I am happy, and I must be doing something right. - Author: Abhishek Bachchan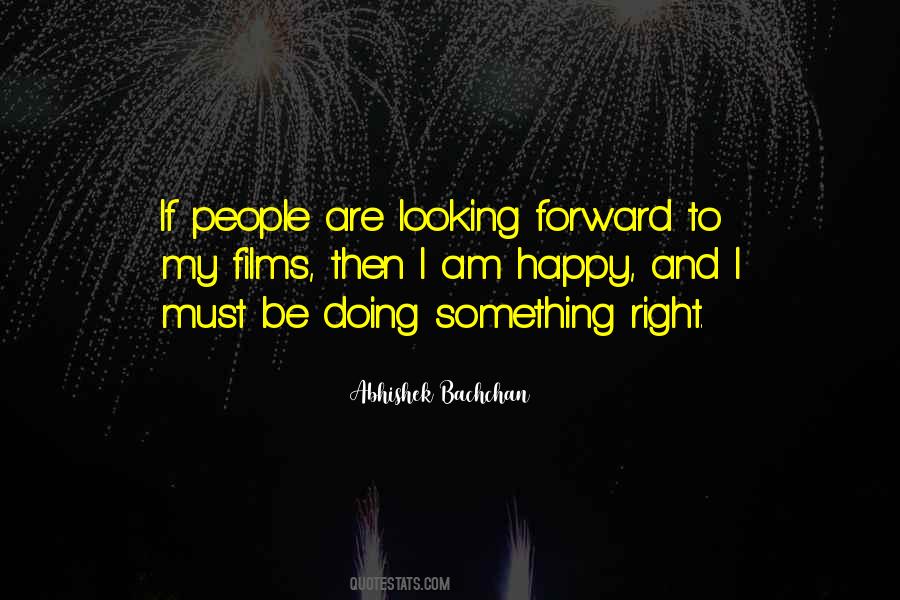 #57. Daniel murmured something like yes, he wouldn't miss it,but he was clearly distracted. He kept looking away from the woman. His eyes darted around the lawn, as if he sensed Luce behind the roses.
When his gaze swept over the bushes where she crouched,they flashed the most intense shade of violet. - Author: Lauren Kate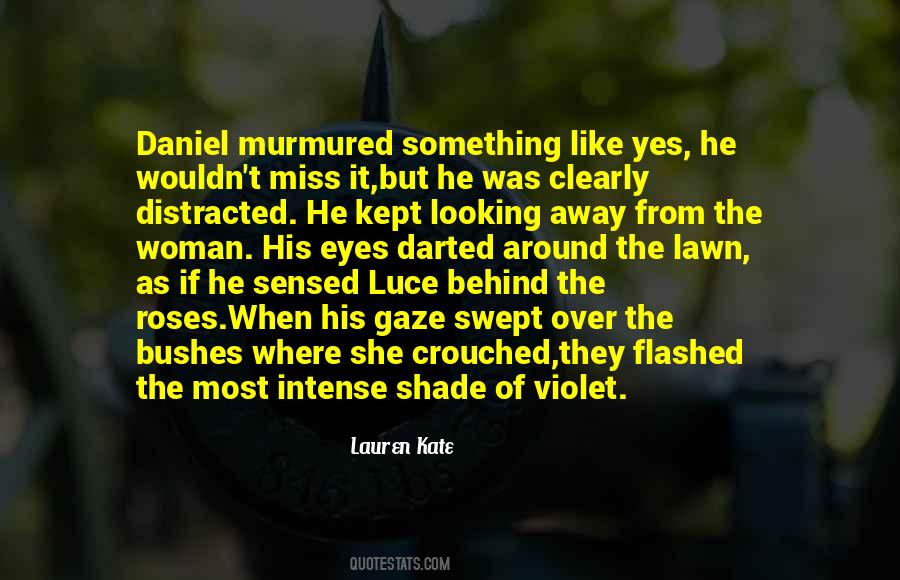 #58. Every spoken thought is just a symbol for something inside your brain. This word, out here, is like that thought in there. But it's never exact. So, looking at it another way, every word you say is a lie. - Author: Peter Gould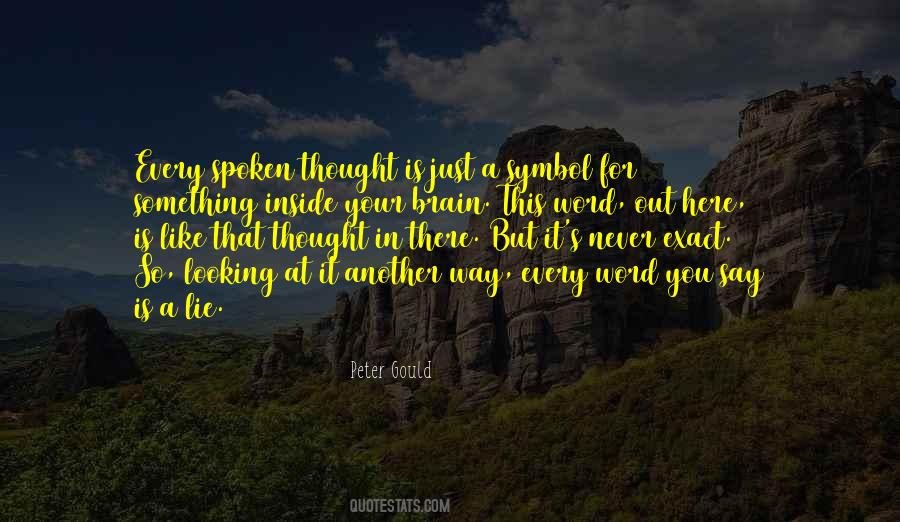 #59. I have done a bit of recording and the songs are available on iTunes, and I've got some nice comments. It's something I enjoy doing, but I'm not looking for a singing career any time soon. As long as one person gets enjoyment out of it, I'm happy to make it available. - Author: Tom Felton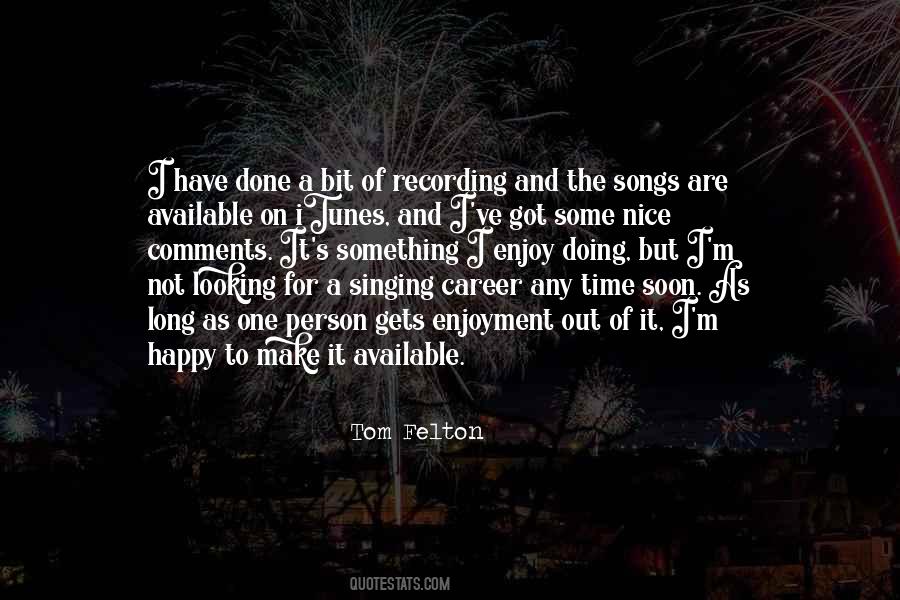 #60. I think Direct Cinema's trying to be insightful by looking at reality in a very close way while, in fact, much more is staged than we like to think. In cinema verite, it's about trying to make something invisible visible - the role of fantasy and imagination in everyday life. - Author: Joshua Oppenheimer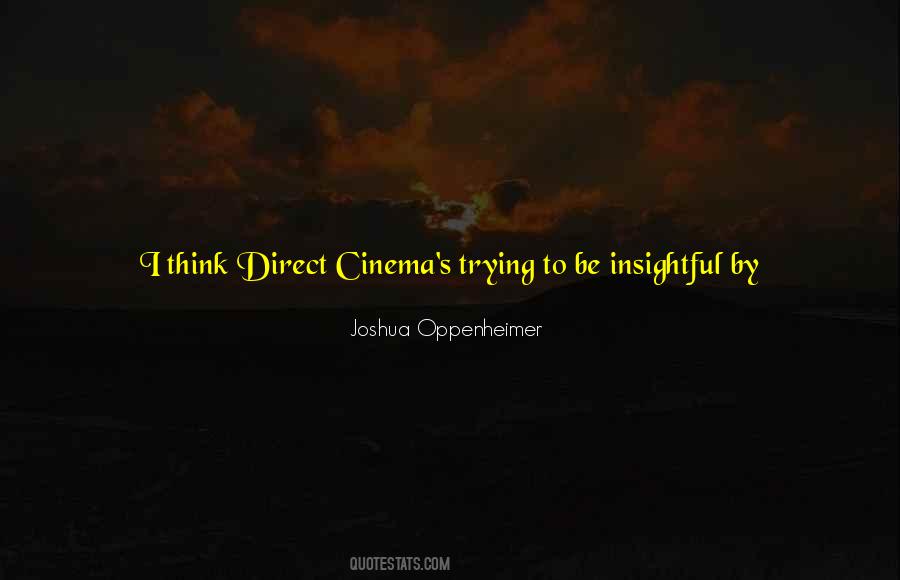 #61. Just because you've seen something doesn't mean you'll stop looking. There's always something you didn't see before. - Author: Lloyd Alexander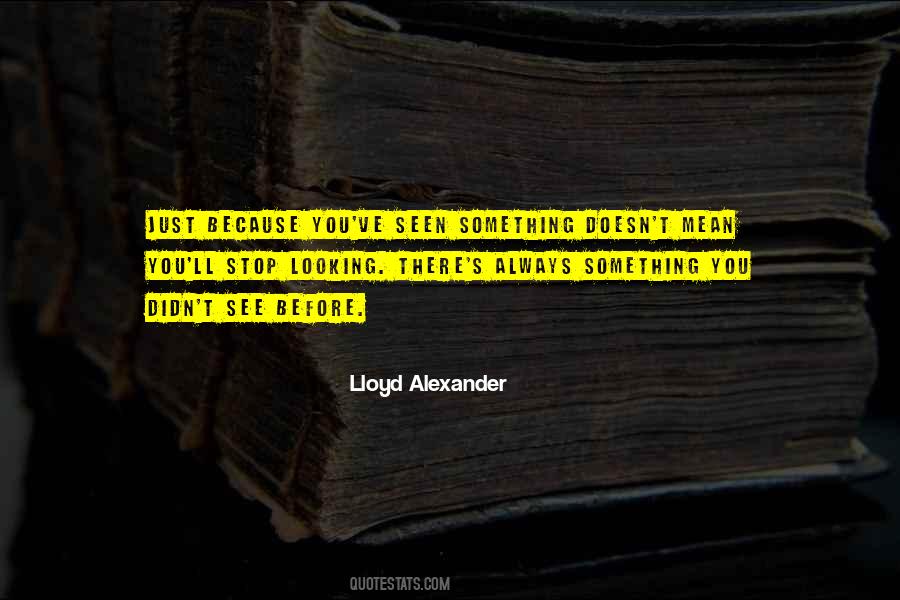 #62. Since you couldn't be bothered to give me your name, I'll just tell Moira that an extra from the porno version of Something Wicked This Way Comes was looking for her. - Author: Allison Pang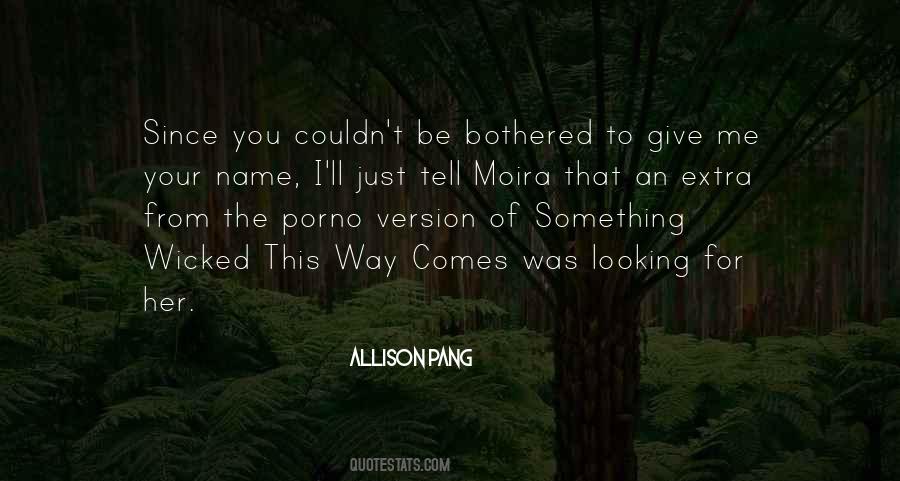 #63. The Forest Service is truly an extraordinary institution. A lot of people, seeing that word forest in the title, assume it has something to do with looking after trees. In fact, no - though that was the original plan. - Author: Bill Bryson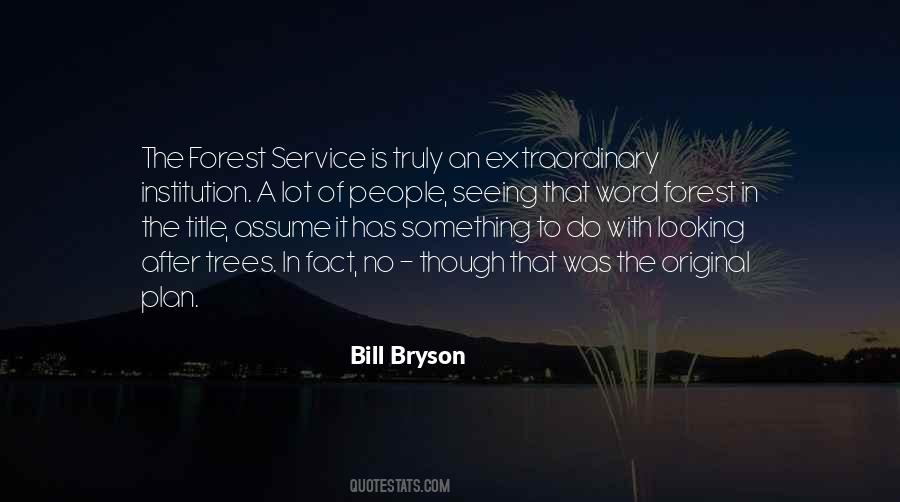 #64. Just looking into something kind of analytically can give a lot of ideas. - Author: Craig Finn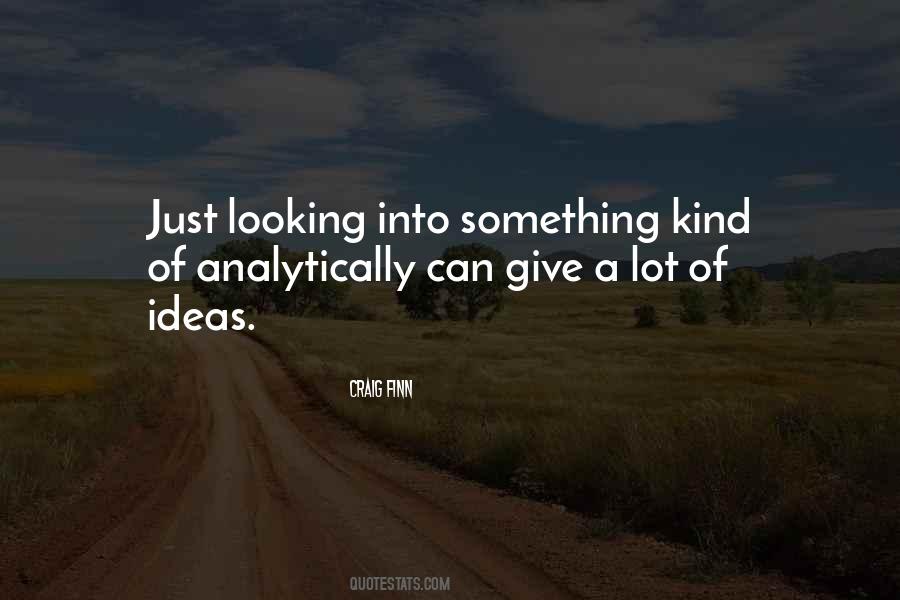 #65. Love won't come through unless the heart is open. To work with an open heart is to love or care for something or someone more than you do for yourself. This is the first step to the divine love that we all are looking for. - Author: Harold Klemp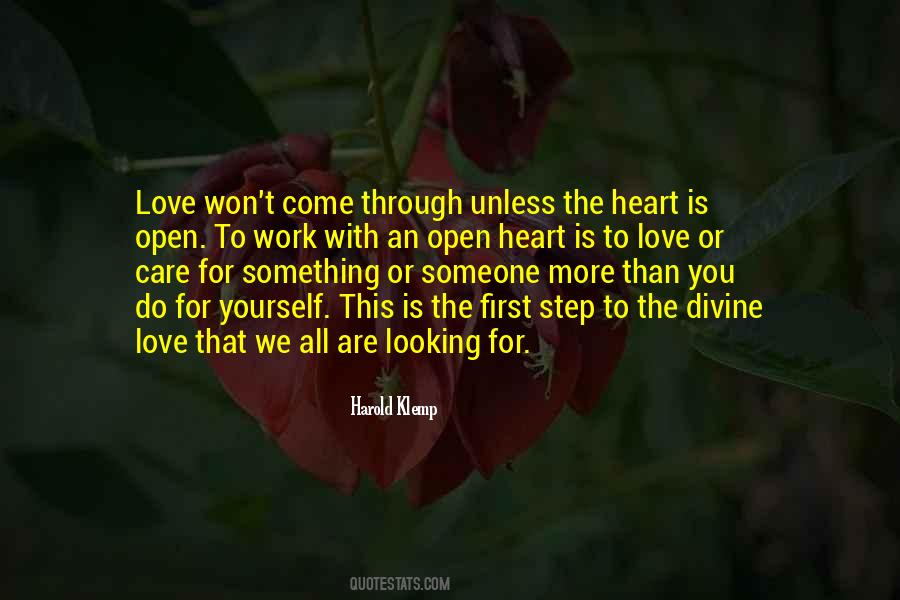 #66. When looking for evidence that something exists, it's silly to start by assuming that it is impossible. Taking any assumptions into study is bad science. - Author: Lewis N. Roe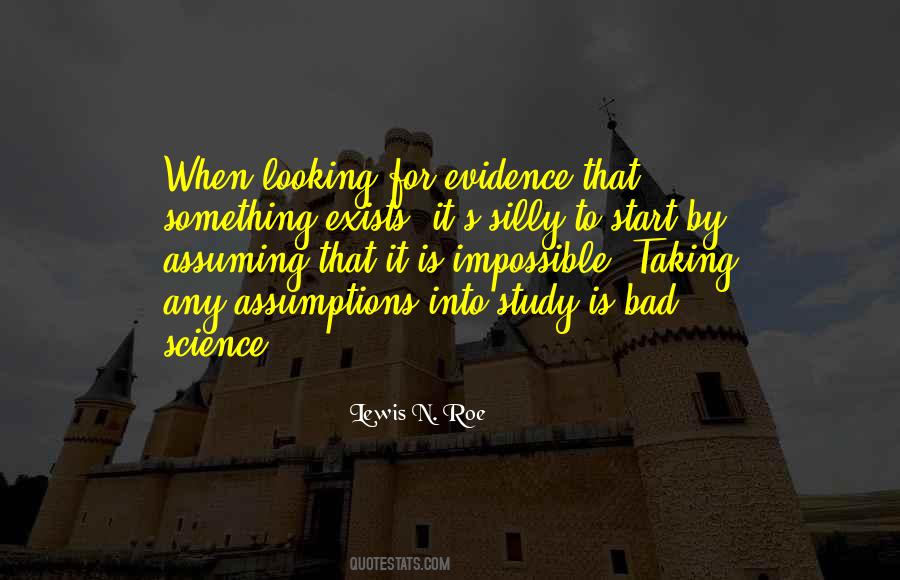 #67. Because I'm an art historian, I have some experience of writing that comes out of close attention. That's what really art history is. You're looking at something very closely, and you try to write in a meticulous way about it. - Author: Teju Cole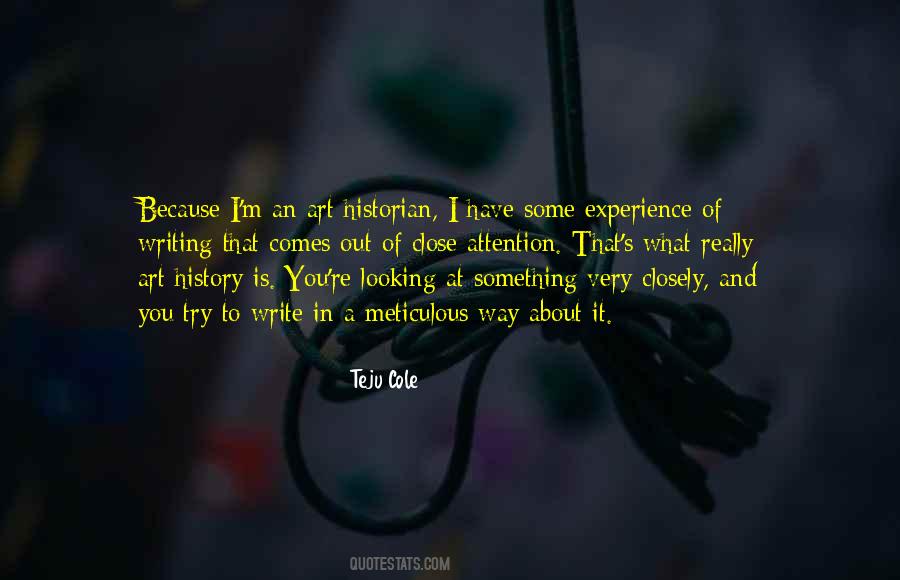 #68. I look for individuality in the artisans I work with for CoutureLab; a loving relationship with the product and care in the construction, along with the story behind it, make couture desirable to consumers looking for something that cannot be mass-produced. - Author: Carmen Busquets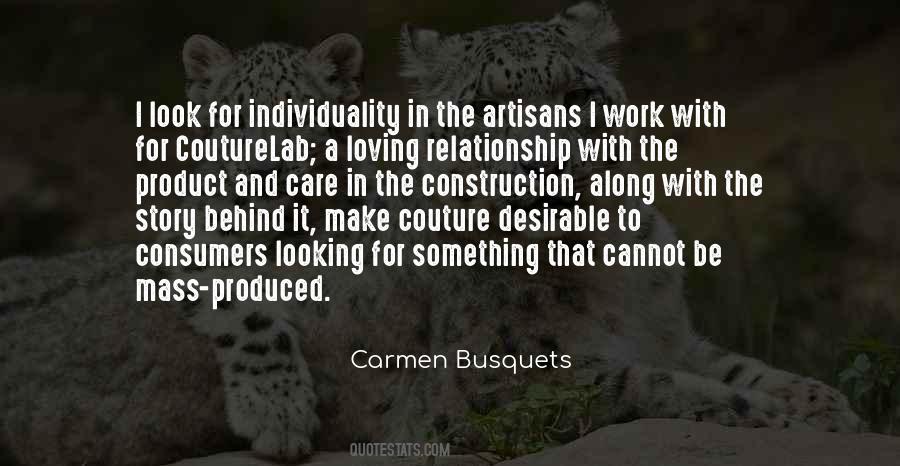 #69. Python is much more like a dog, loving you unconditionally, having a few key words that it understands, looking you with a sweet look on its face (), and waiting for you to say something it understands. - Author: Charles Severance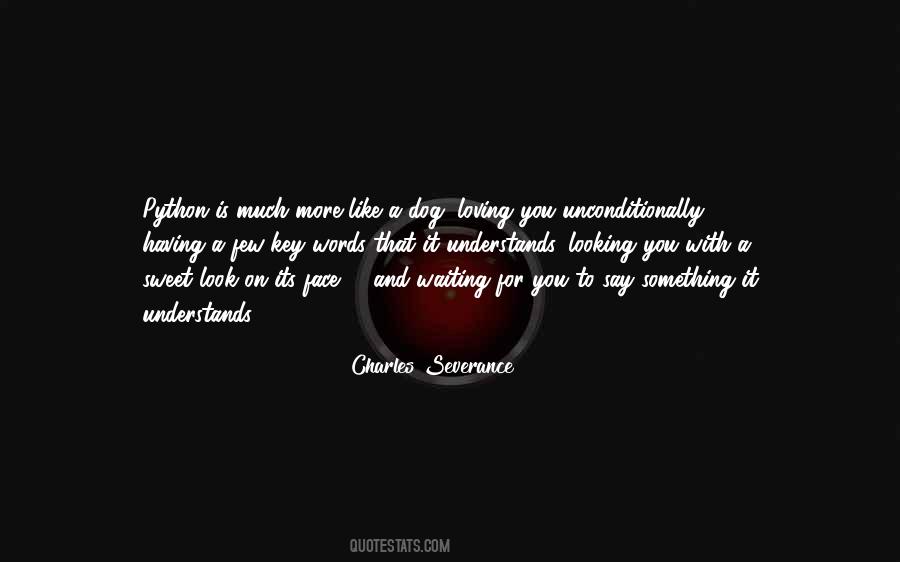 #70. Inspiration doesn't really work like that - you're not looking out for it. Inspiration is something that tends to capture you rather than you capture it. - Author: Joan Armatrading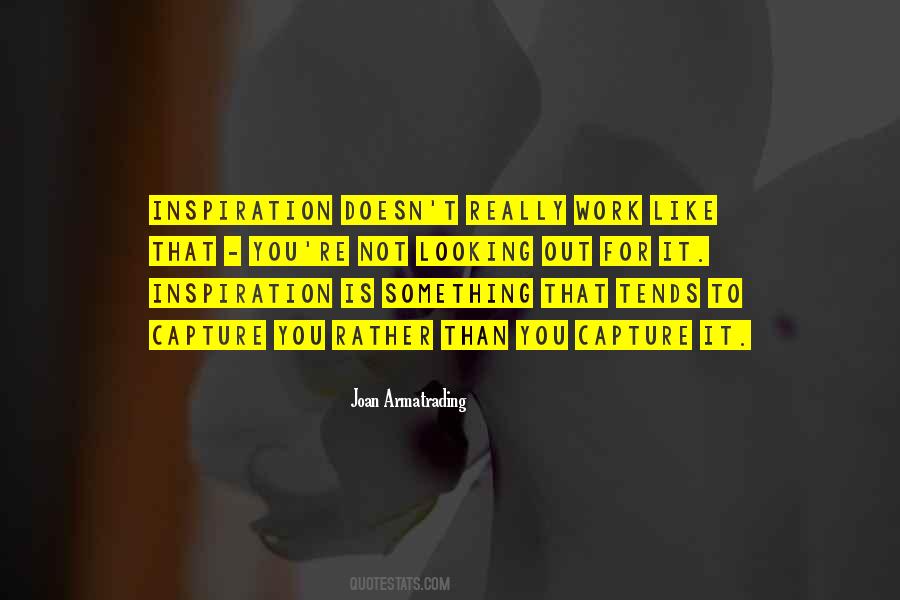 #71. So you win. No matter what, you win. It all works out for you in the end. Always. Someone or something's looking out for you. It's maddening. - Author: Lauren Groff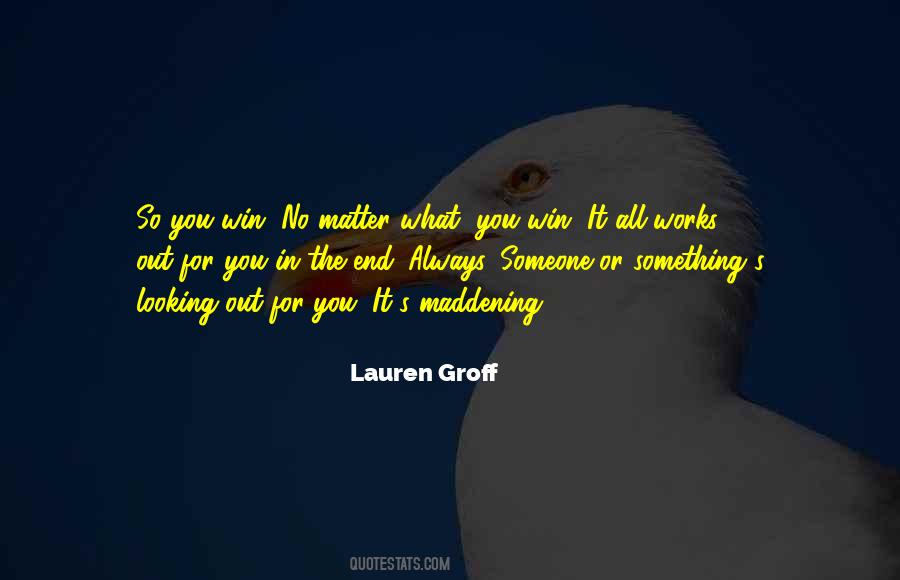 #72. Geeks are running the world, anyone who's seen The Social Network knows the dynamic has shifted, but what I think is iconic and timeless about Peter Parker is that he's an outsider, on the outside looking in, and that was something I thought was very important to protect. - Author: Marc Webb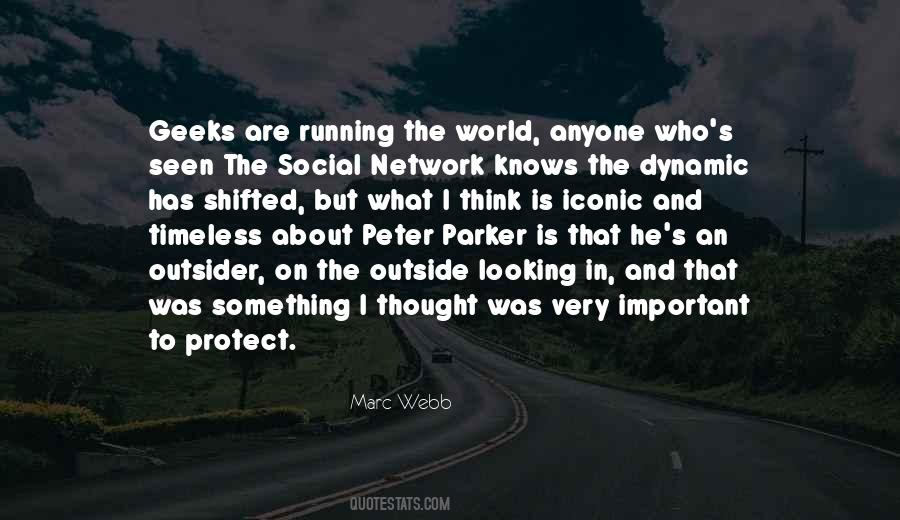 #73. I don't know . . . there's just something about him. You radiate joy and sunshine, and he seems like more of a wet blanket who wants all the attention for himself. Everyone loves you here. I'm just looking out for you," she shares apologetically as she comfortingly cups Julie's hand. - Author: Sheri Fink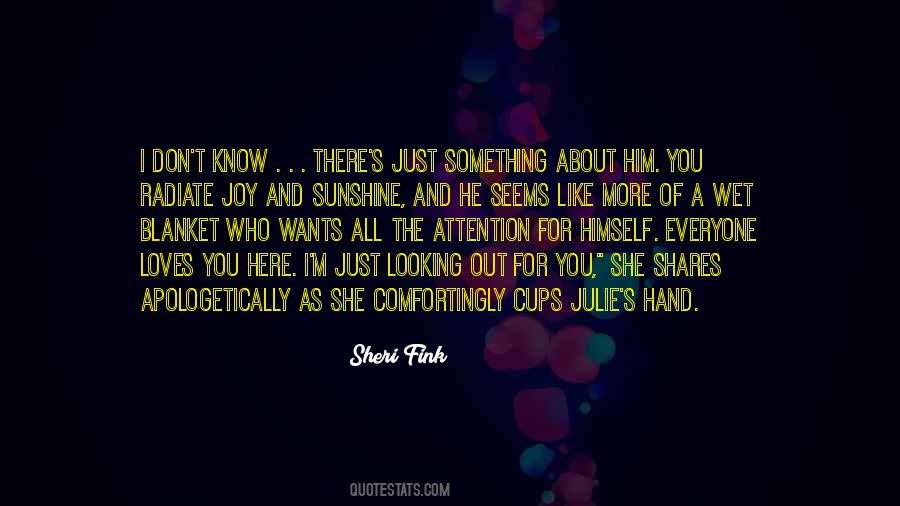 #74. He slammed the door shut in Ian's face, the lock clicking into place. Ian hit it again with his fist before roaring, If I were a pervert, I'd be looking for something a damn bit more attractive than you, jackass. And definitely someone that smelled alive. - Author: Rose Wynters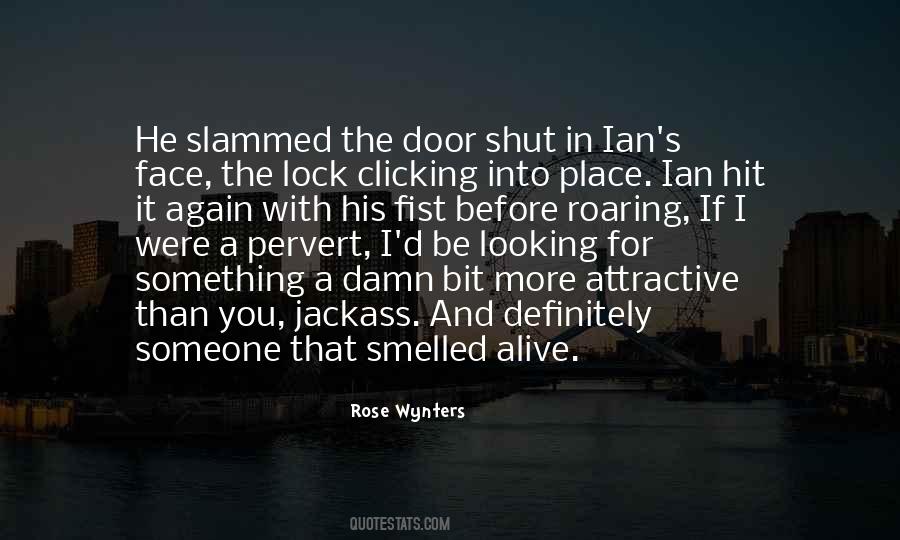 #75. I work a lot, and it's kind of like, you meet people, and you just click. It's not like I'm looking at something and thinking: 'South Park' - how do I get on that?' I just became friends with those guys first. They're nice guys. - Author: Bill Hader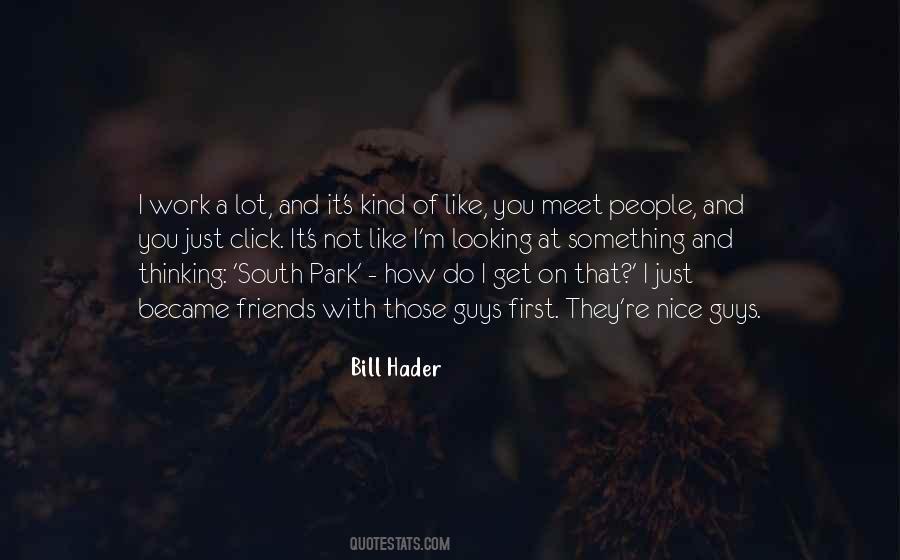 #76. To try something longer, I entered a half-hour radio drama contest with the national public broadcaster, CBC. To my surprise, I won. And that opened doors in film and television, because that broadcaster was looking to cultivate new Canadian talent, especially women who could write. - Author: Karen Walton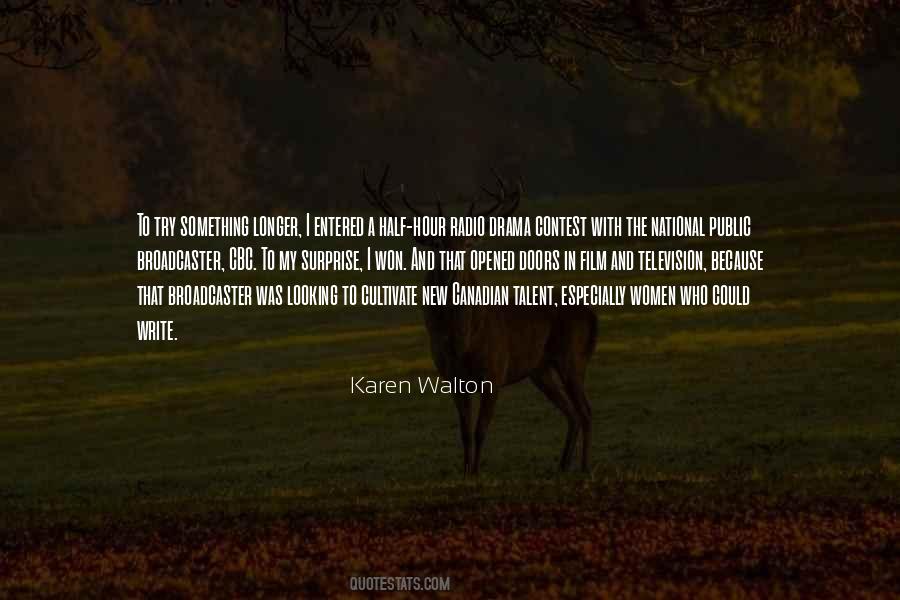 #77. Bob Glaudini, the writer, he's a wonderfully talented man and all his plays and his screenplays, they all have sense of something bigger, even though you're looking at something very simple. - Author: Philip Seymour Hoffman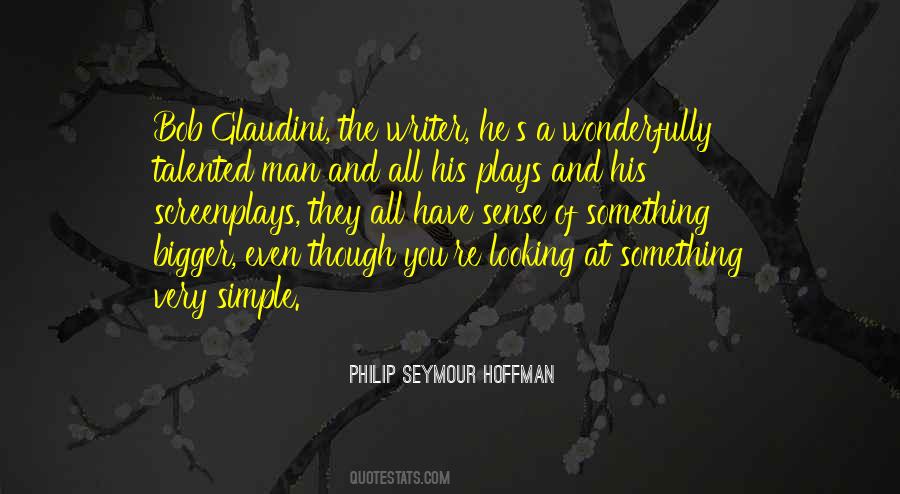 #78. I have my pace and way of living, and I'm not looking for something. - Author: Cy Twombly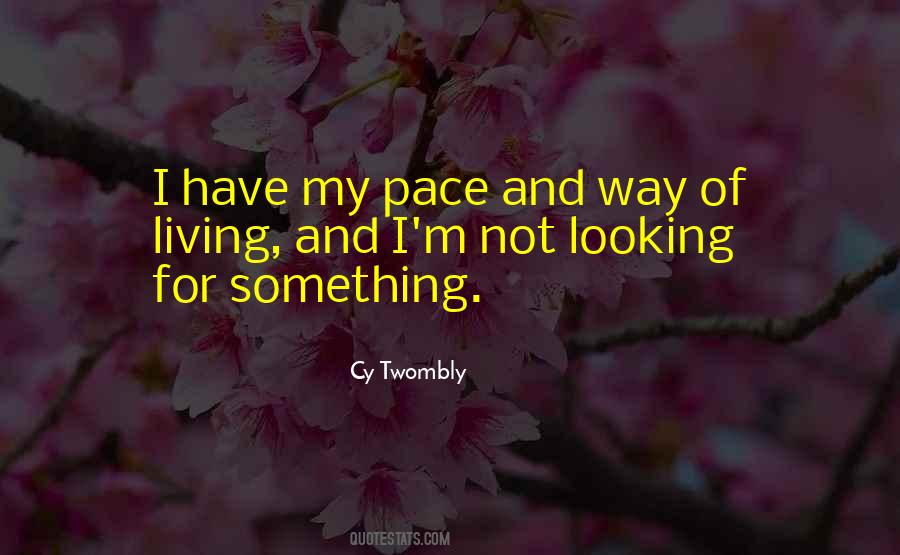 #79. My characteristics as a scientist stem from a non-conformist upbringing, a sense of being something of an outsider, and looking for different perceptions in everything from novels, to art to experimental results. I like complexity and am delighted by the unexpected. Ideas interest me. - Author: Peter C. Doherty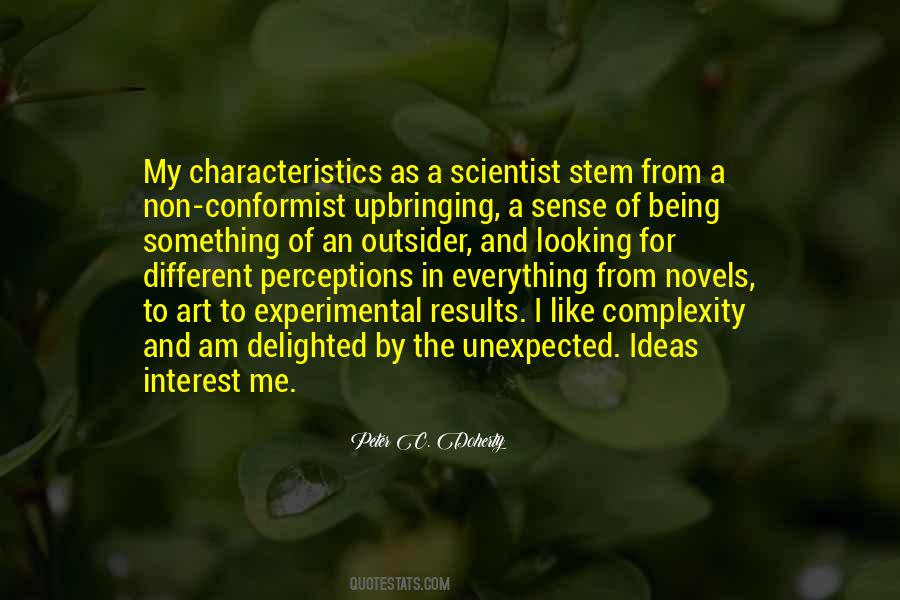 #80. Parenting tip: complement your child on something well done when they don't think you are looking! - Author: Kevin Heath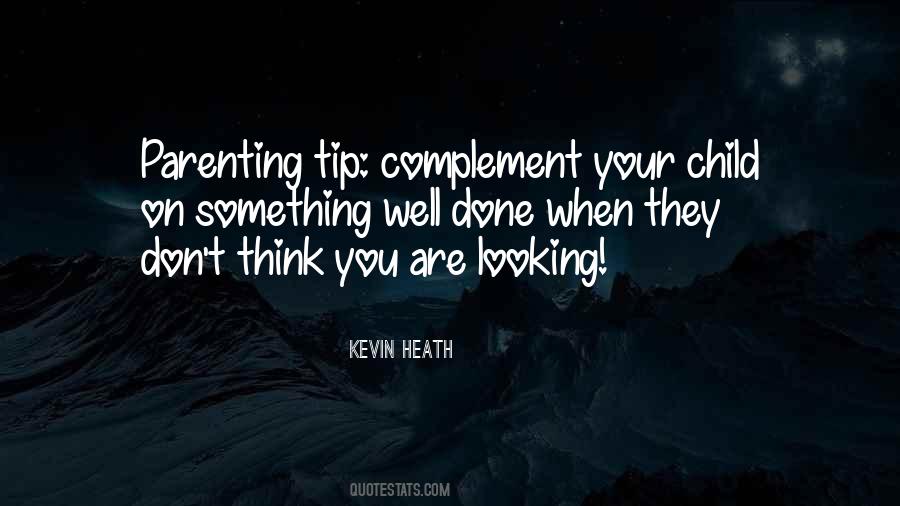 #81. A lazy person will try to always find some way to do something; they'll always be looking for ways of doing something faster, more efficiently, and if you really want to control the world, that's a really sort of hubristic notion - excessive pride, the thing that Zeus zaps you for having. - Author: Larry Wall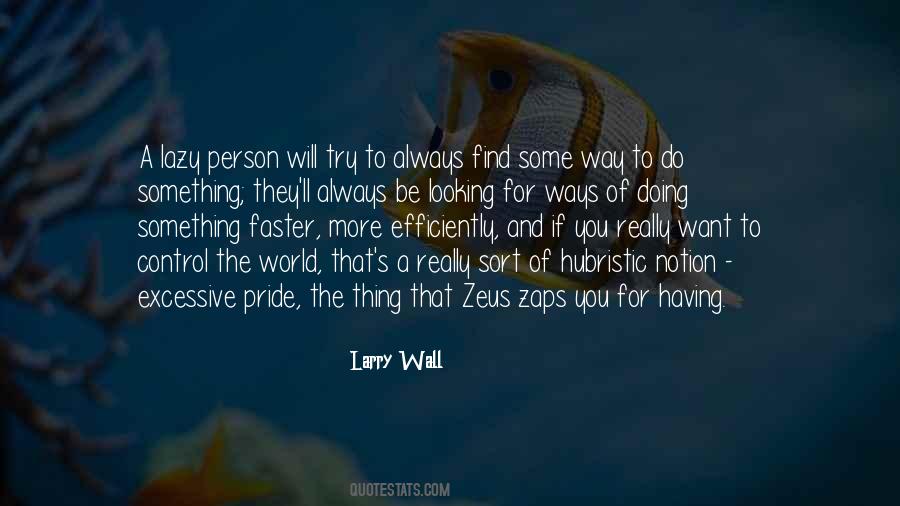 #82. Americans can't stand any stranger looking them in the face. They take it as an insult. It's something they don't forgive. And every American carries a gun. If they catch you, a stranger, looking them in the face, they will shoot. - Author: Okey Ndibe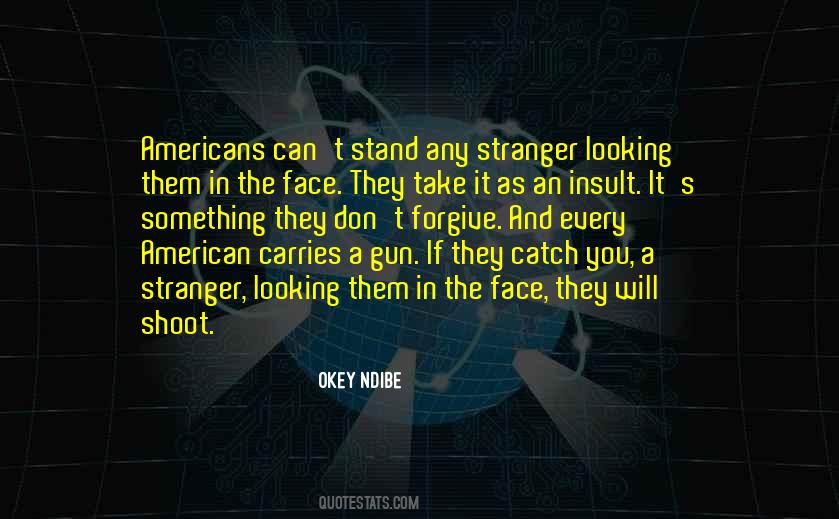 #83. Andrade [who was looking after wartime inventions] is like an inverted Micawber, waiting for something to turn down. - Author: Henry Tizard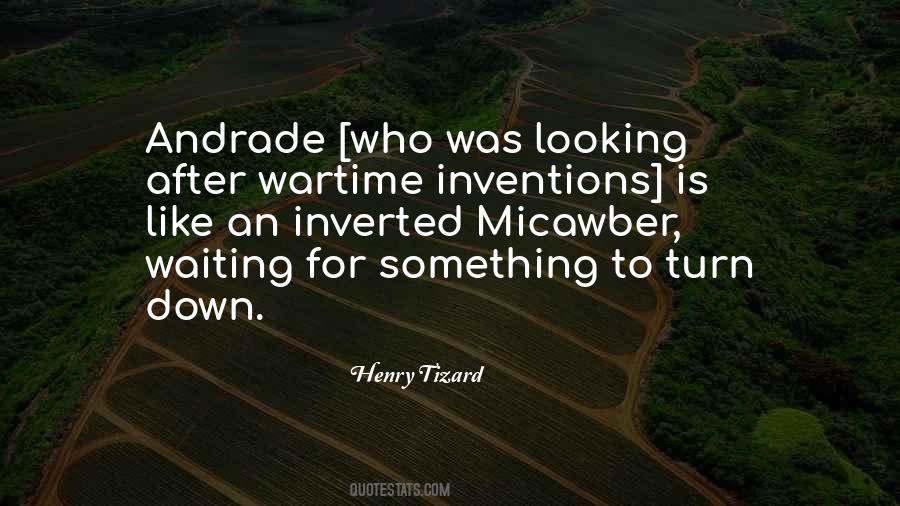 #84. When you are in the dark and you can't see anything, something is looking at you seeing everything - Author: Zak Bagans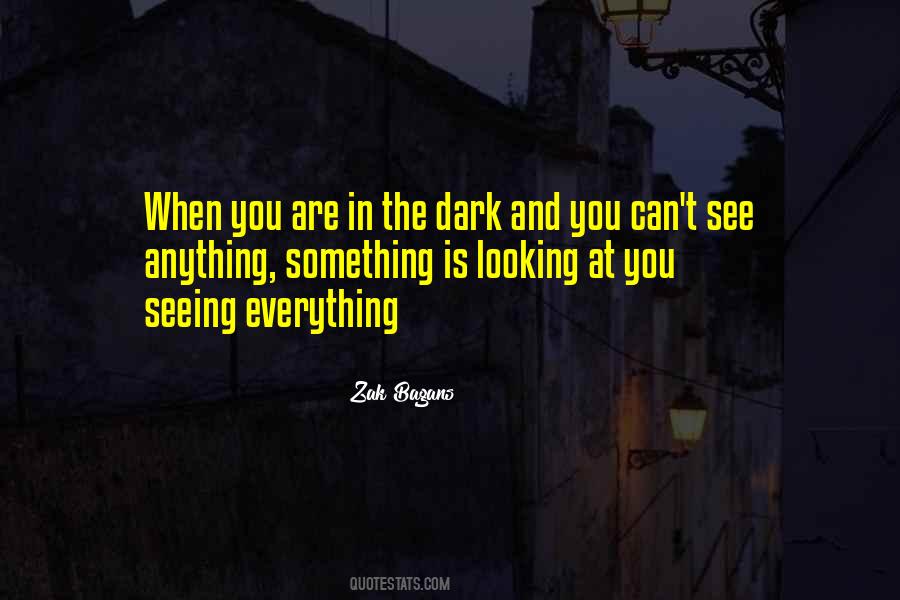 #85. Looking at Milkman in those nighttime talks, they yearned for something. Some word from him that would rekindle the dream and stop the death they were dying. - Author: Toni Morrison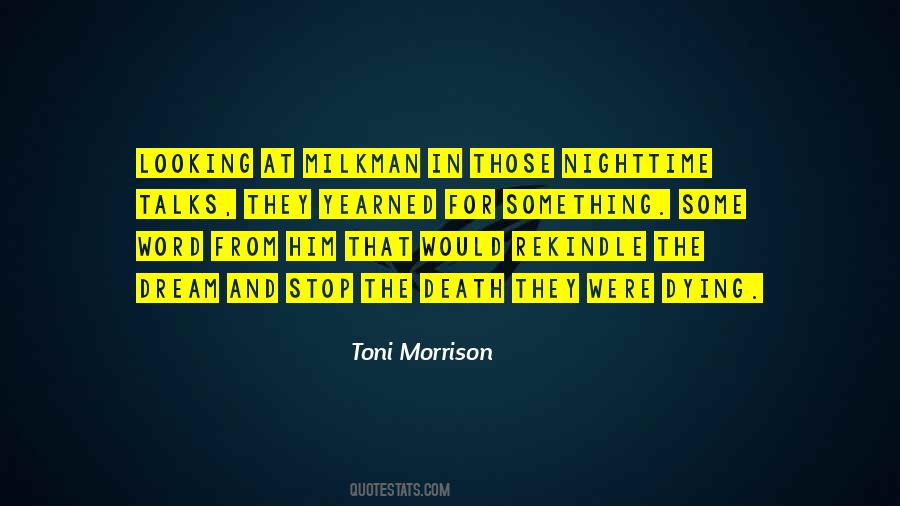 #86. Artists aren't looking for you to write them something; they're looking for you to give them something new. - Author: Ester Dean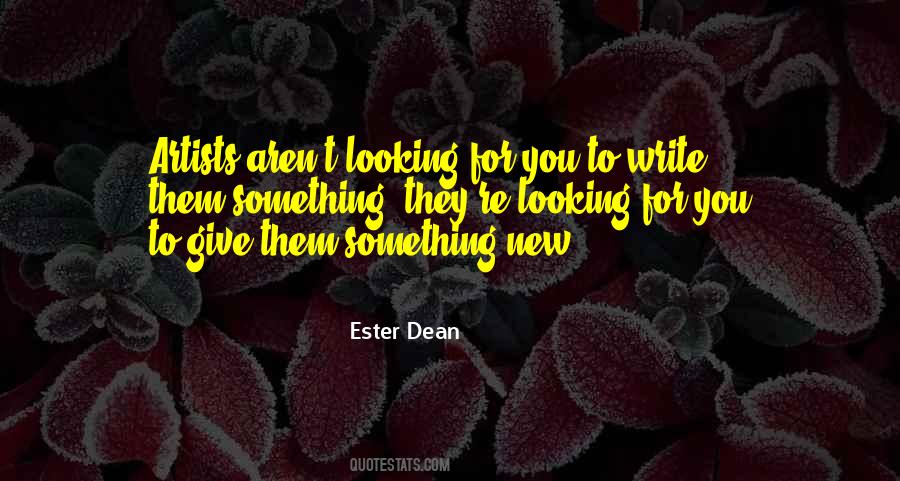 #87. People who are constantly looking for the opportunity to do something new are also people who are not going to be helped by having job titles - job titles create expectations of specialization and focus which don't map really well to creating the best possible experience for your customers. - Author: Gabe Newell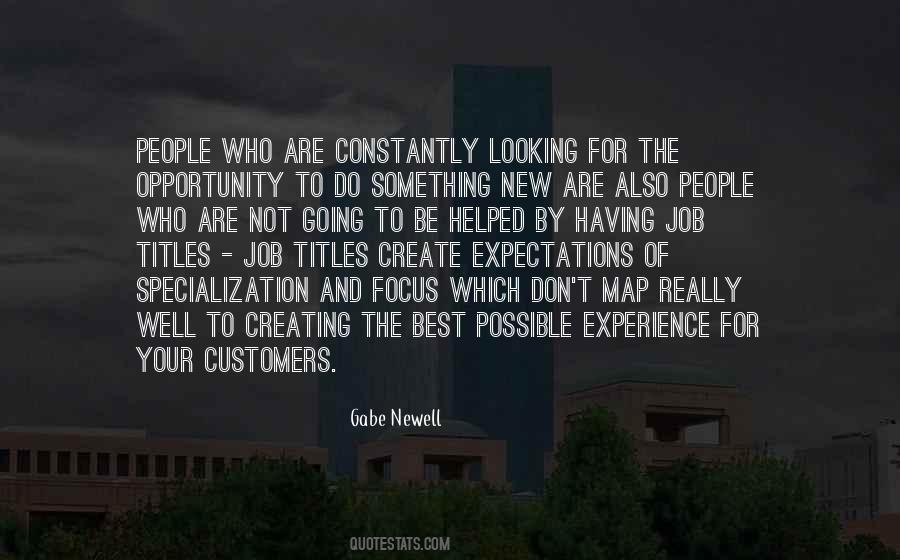 #88. Perry, the manager, had come up with him, in trousers and bathrobe. He was a stout, jovial-looking man ordinarily, but right now he was only stout.
("The Room With Something Wrong") - Author: Cornell Woolrich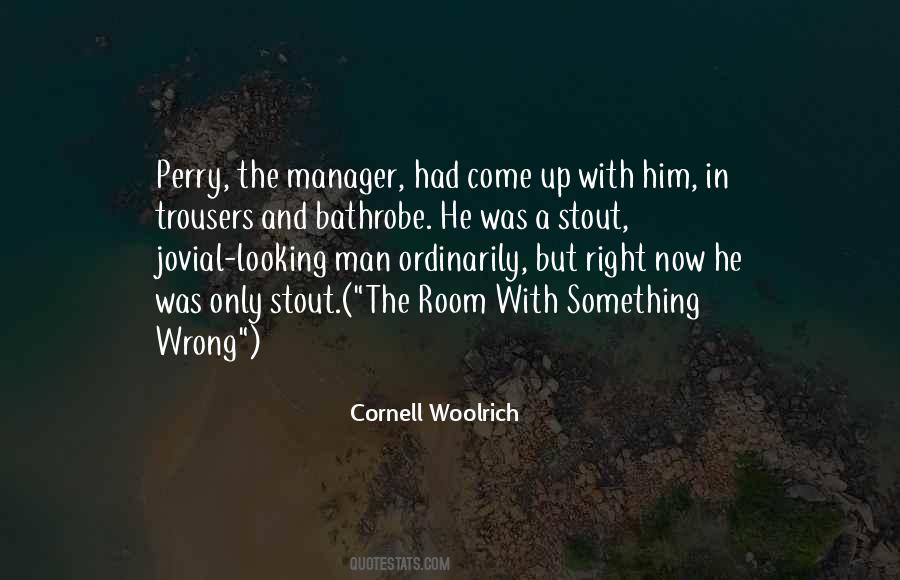 #89. When TJ and I got to the bottom, we found Hope staring terrified at Molly. The dog had something long and horrible and meaty in her jaws. It took me a moment to register that it was a very fresh-looking human spine. Damn, she was hungry. - Author: David Wong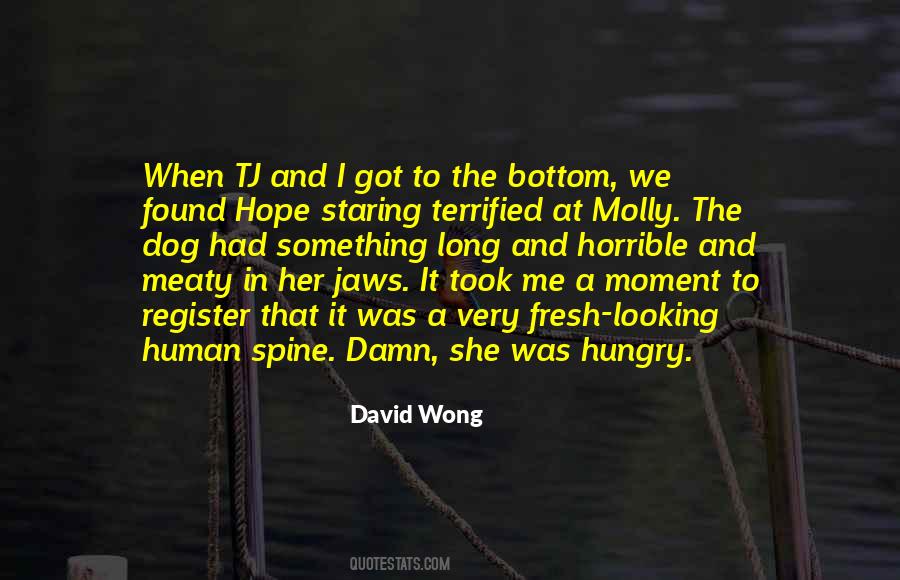 #90. Everybody knows something's broken in the world. But illogically, foolishly, we are looking for fixes from broken people with broken ideas in broken places. - Author: Matt Chandler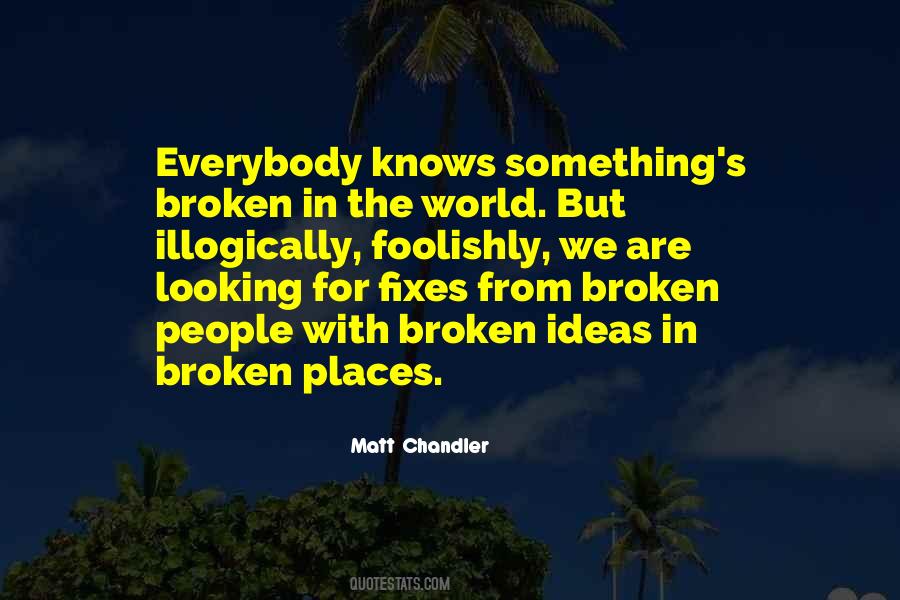 #91. Bad news sells because the amygdala is always looking for something to fear. - Author: Peter Diamandis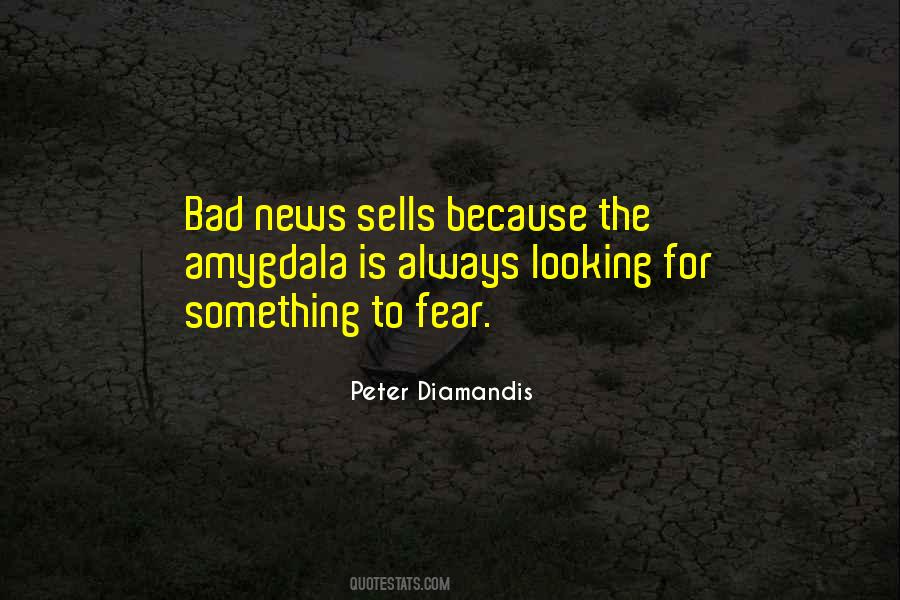 #92. If you know what you're looking for, that's all you'll get - what's previously known. But when you're open to what's possible, you get something new - that's creativity. - Author: Alan Alda
#93. And I suppose I was, in my mindless way, looking for something, a version of myself, a heroine I could slip inside as one might a pair of favorite old shoes. - Author: Ian McEwan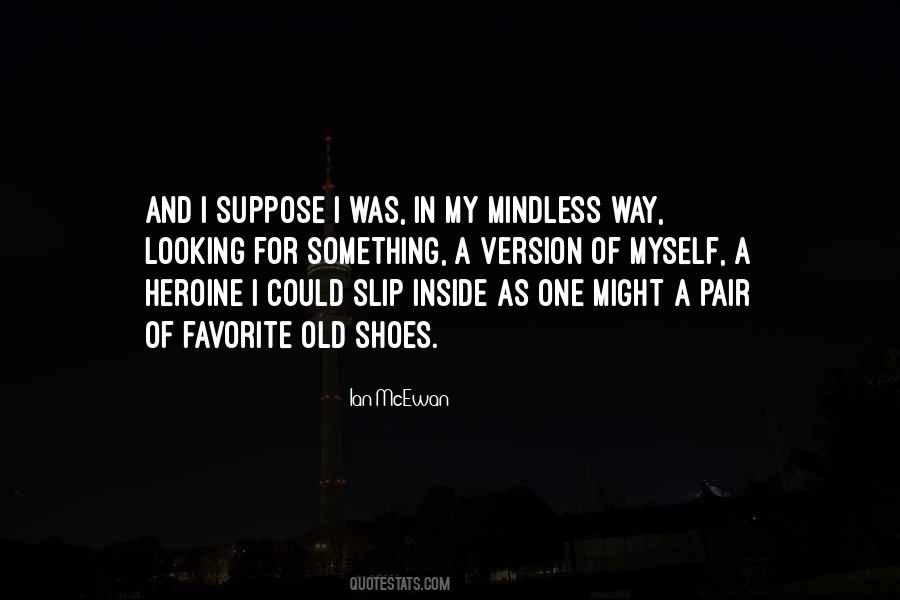 #94. I'm just looking for a kind of project that will have a decent role and is something that I'll really enjoy doing. There are a lot more opportunities in television. - Author: Penelope Ann Miller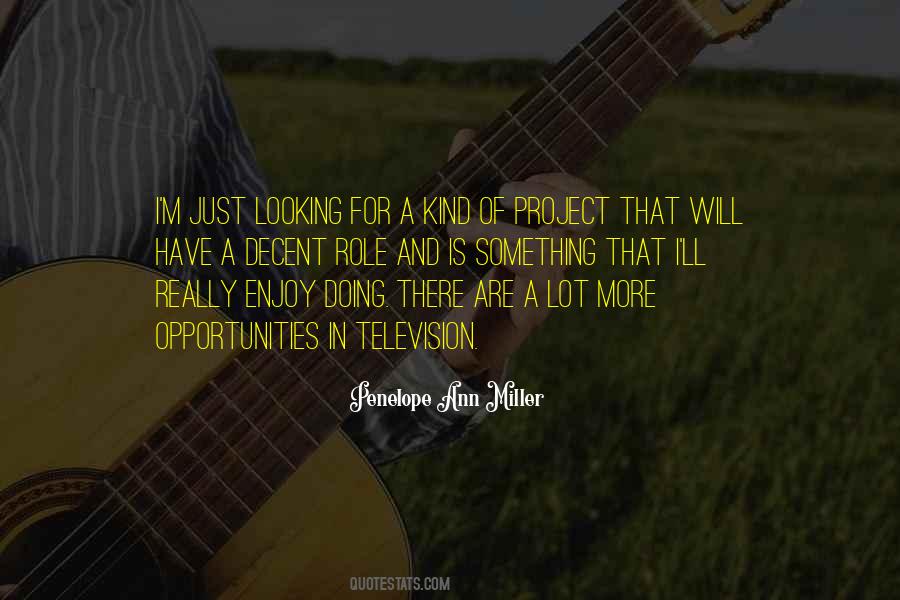 #95. If a person had accused him of meanness, he could have defended himself. But with a dog - you did something cheap to it when you were sure no one was looking, and it was as though you had done it in front of a mirror. - Author: Paula Fox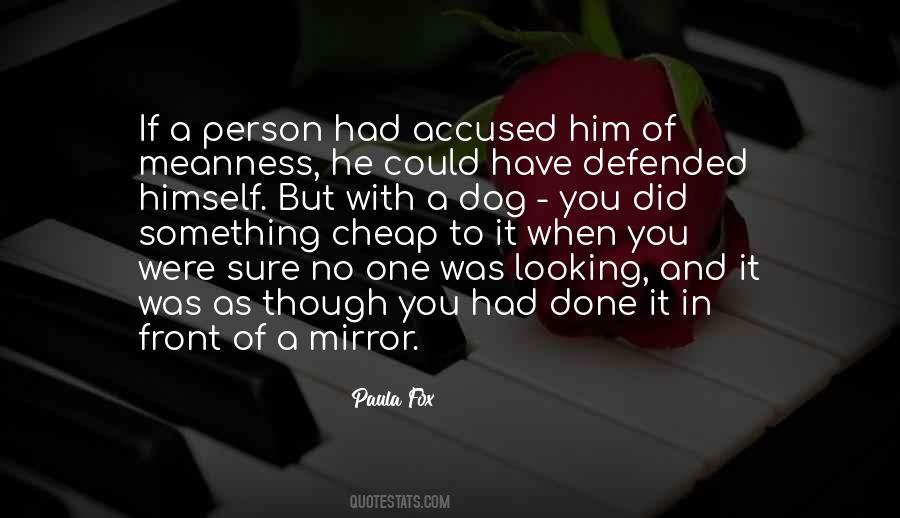 #96. You're just always looking for something new. That's why a lot of people bounce between TV and movies. You have the ability to try something else. - Author: Jon Turteltaub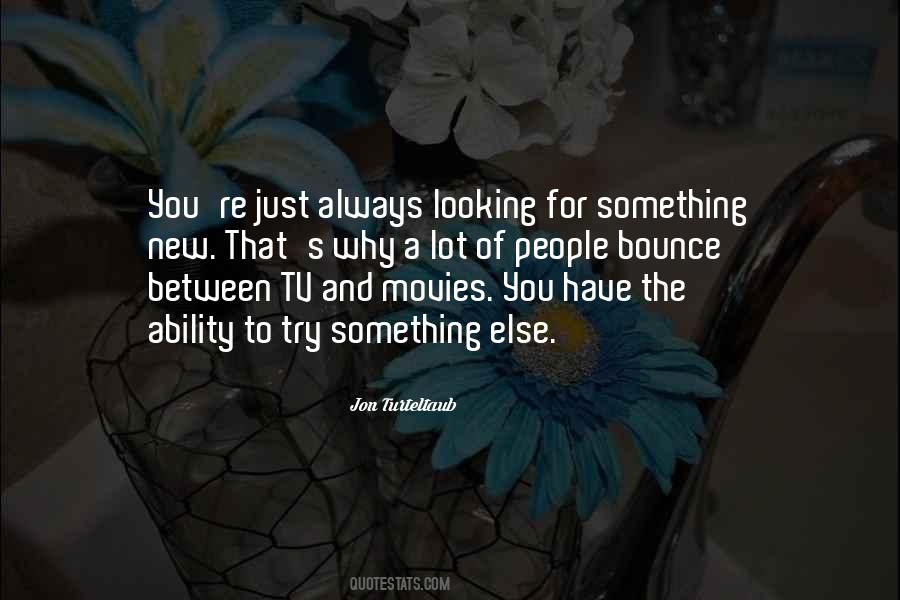 #97. The same numbness and disappointment every day sends some people looking for something tragic for proof of life. - Author: Bryant McGill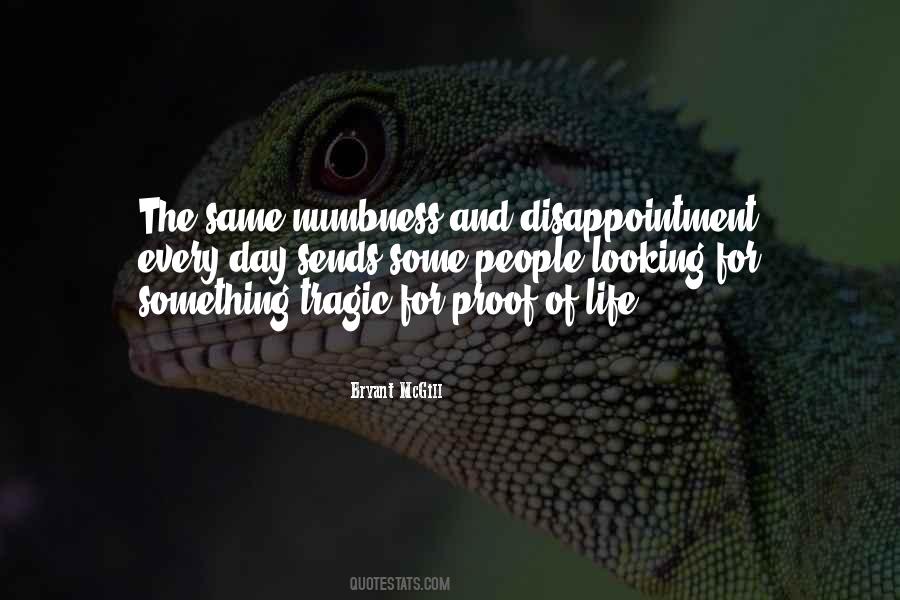 #98. He was looking at her from behind the smiling that wasn't smiling but was something you were not supposed to see beyond. - Author: William Faulkner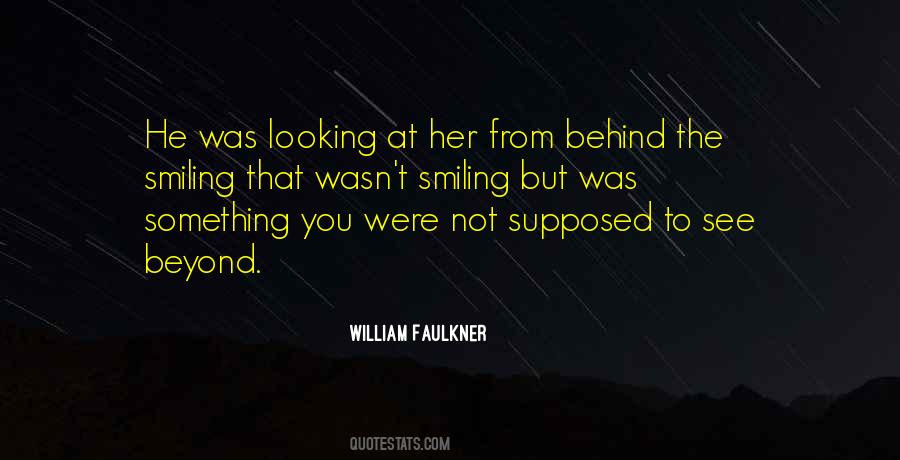 #99. I just think that's the job of an actor. I guess that's the variation that you're talking about. It's probably a byproduct of just constantly looking for something different, because that's what I feel like I'm supposed to do. - Author: Eric Bana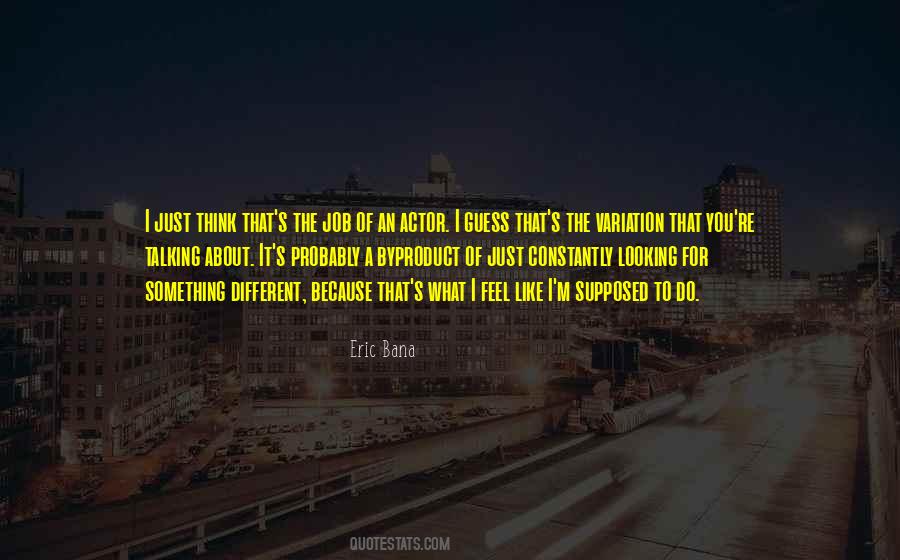 #100. You finish a project and start looking for something that might interest you. A lot of the films I've made are a reaction to something I've done right before. - Author: Jim Sturgess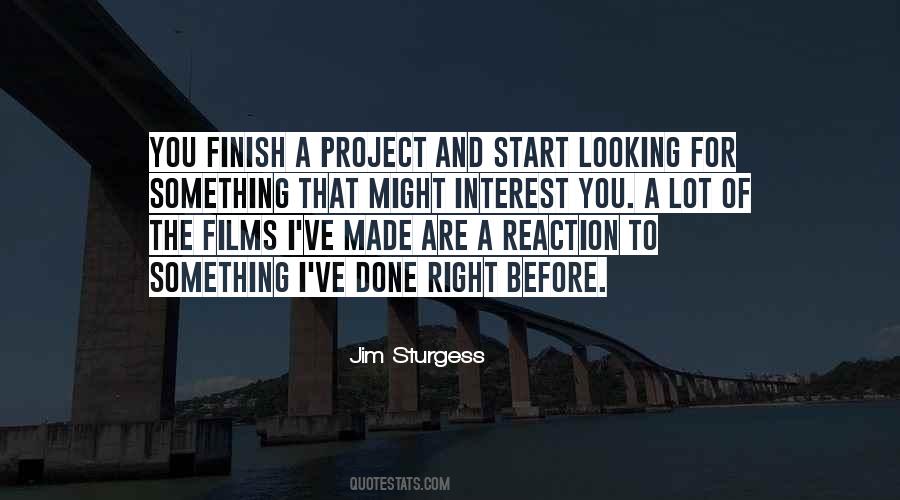 Famous Authors
Popular Topics