Look At Stars Famous Quotes & Sayings
List of top 100 famous quotes and sayings about look at stars to read and share with friends on your Facebook, Twitter, blogs.
Top 100 Look At Stars Quotes
#1. 90. Look up at heaven and hell in the sky, for the stars are balls of fire suspended there by the angels. - Author: Anne Rice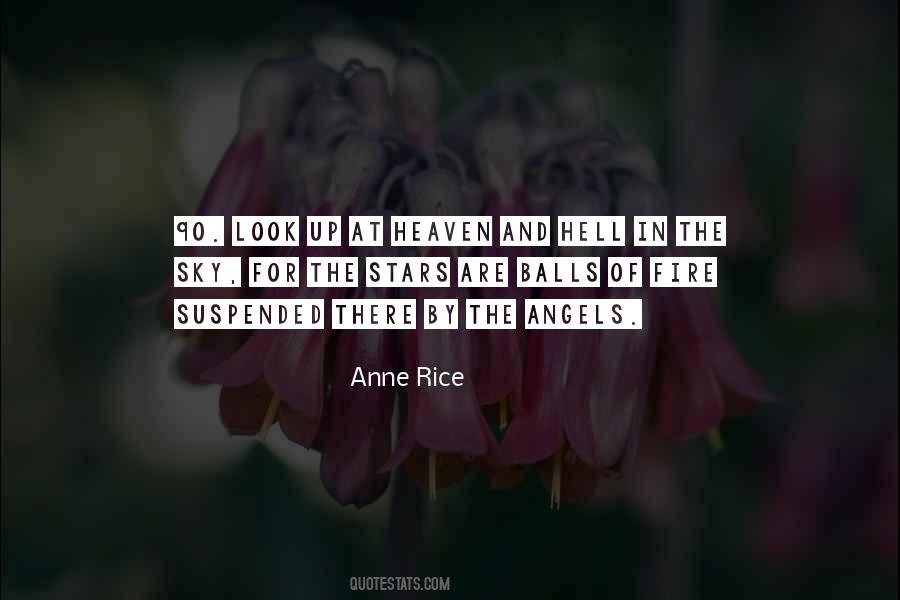 #2. When we look up at night and view the stars, everything we see is shinning because of distant nuclear fusion. - Author: Carl Sagan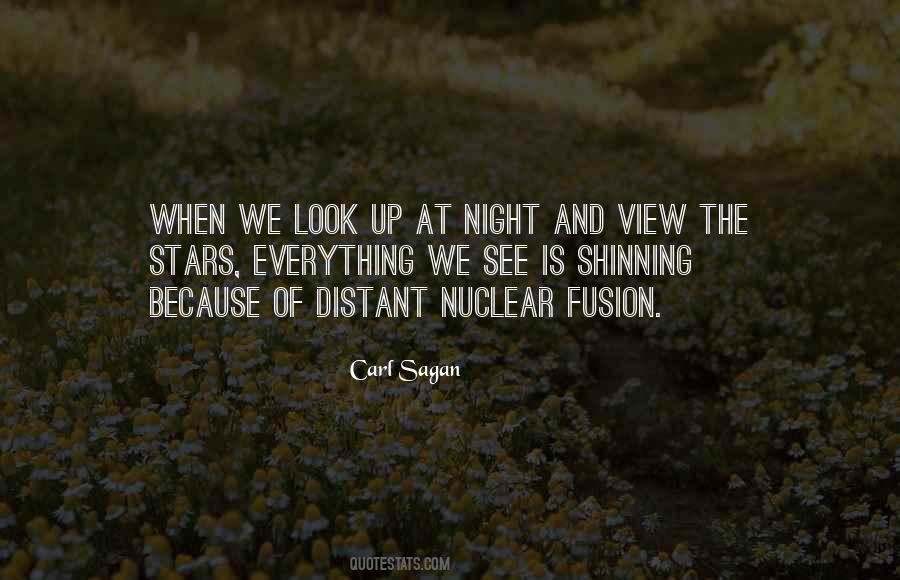 #3. The alcohol smell is on my fingers, cold and remote, piercing like a steel pin going in. It smells like white enamel basins. When I look up at the stars in the nighttime, cold and white and sharp, I think they must smell like that. - Author: Margaret Atwood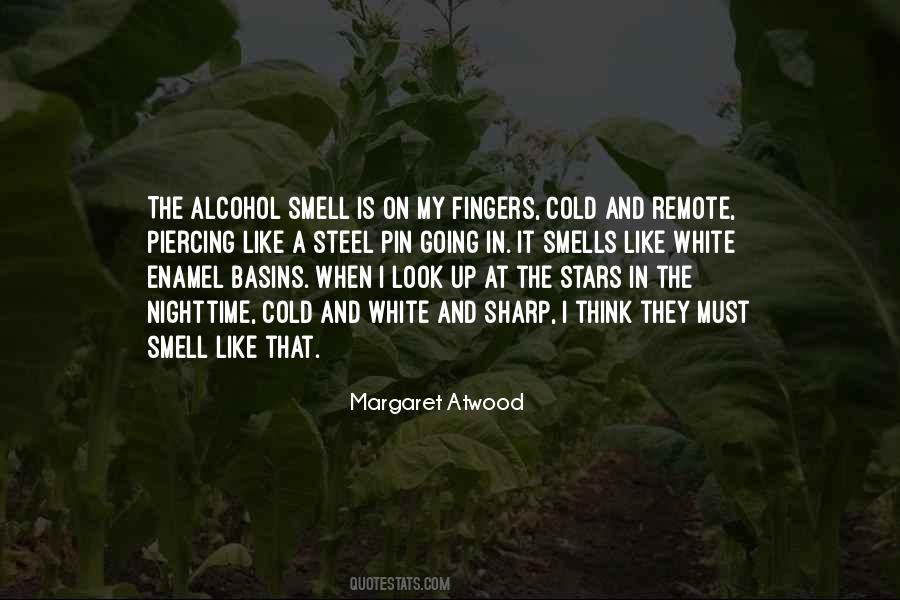 #4. I told my girls, 'Look at Rihanna: She's one of the biggest pop stars in the world. She's really famous, really powerful, really rich. Yet in every single video she can only wear panties. Poor Rhianna! We'll know when she is properly powerful and successful when we see her in a lovely cardigan.' - Author: Caitlin Moran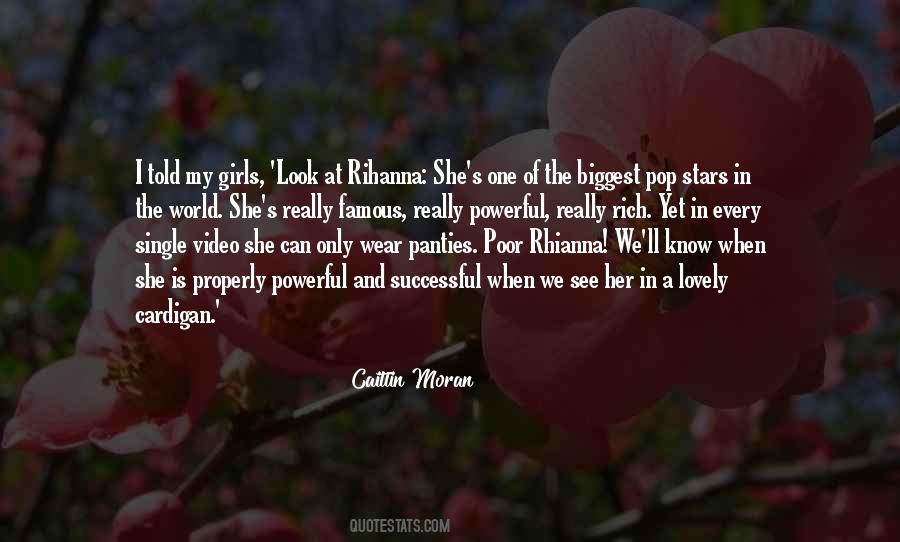 #5. Remember to look up at the stars and not down at your feet. Try to make sense of what you see and wonder about what makes the universe exist. Be curious. And however difficult life may seem, there is always something you can do and succeed at.
It matters that you don't just give up. - Author: Stephen Hawking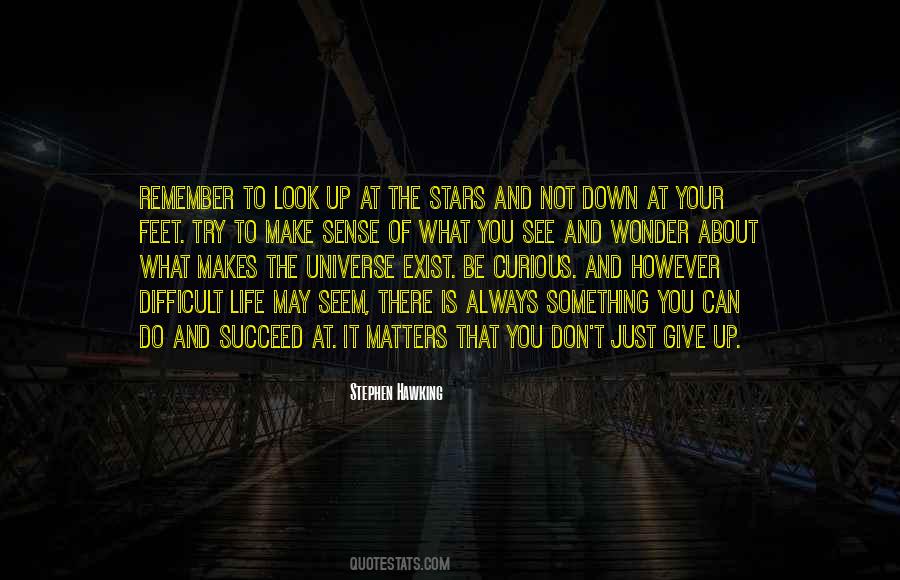 #6. It's only people, as far as we know, who look up at the stars and wonder what they are. - Author: Ian Leslie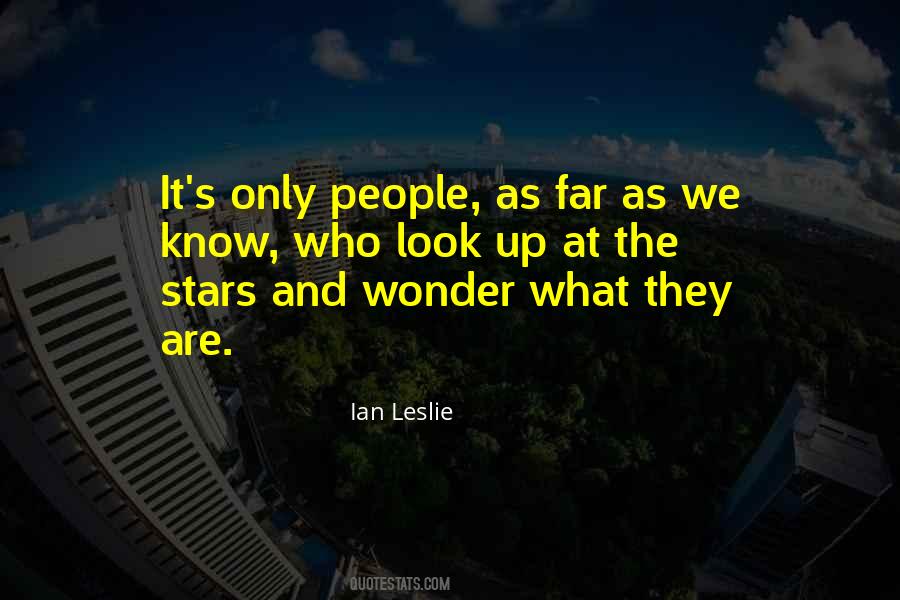 #7. In the vast reaches of the dry, cold night, thousands of stars were constantly appearing, and their sparkling icicles, loosened at once, began to slip gradually toward the horizon. - Author: Albert Camus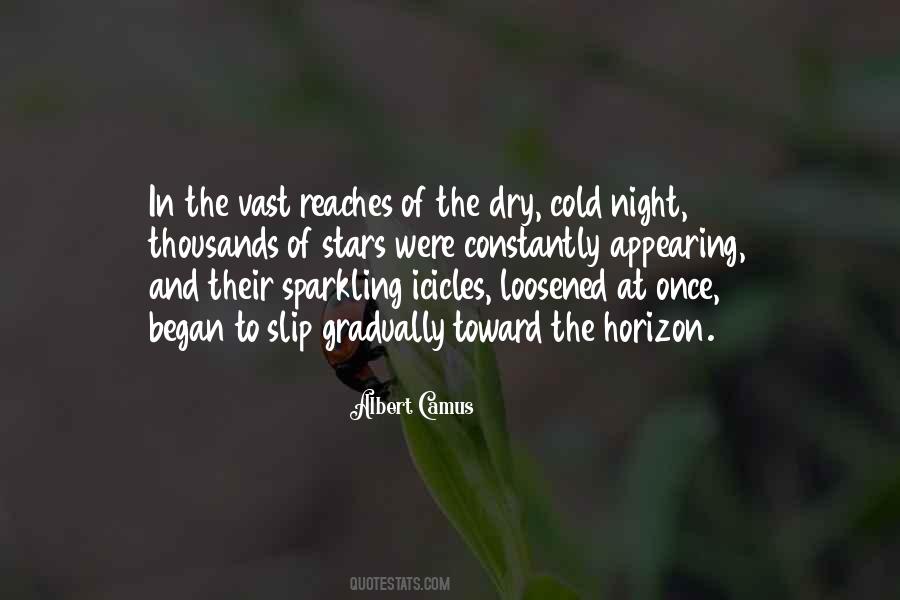 #8. My friend and I sang an a cappella rendition of Extreme's 'More Than Words' at one of our football pep rallies in a desperate attempt to look cool. For a while, I wore pink Converse All Stars because I thought it made me seem daring and irreverent. - Author: Ed Helms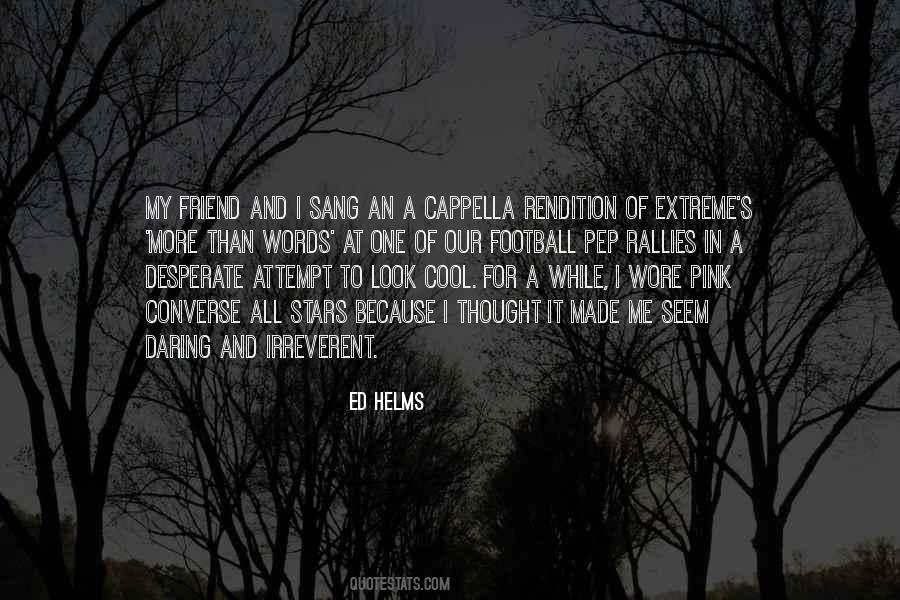 #9. It's funny. I used to look up at the stars and feel so small and unimportant. But I've come to realize that the only thing that can ever make you feel alive and important is the one person who takes you for you. - Author: Tillie Cole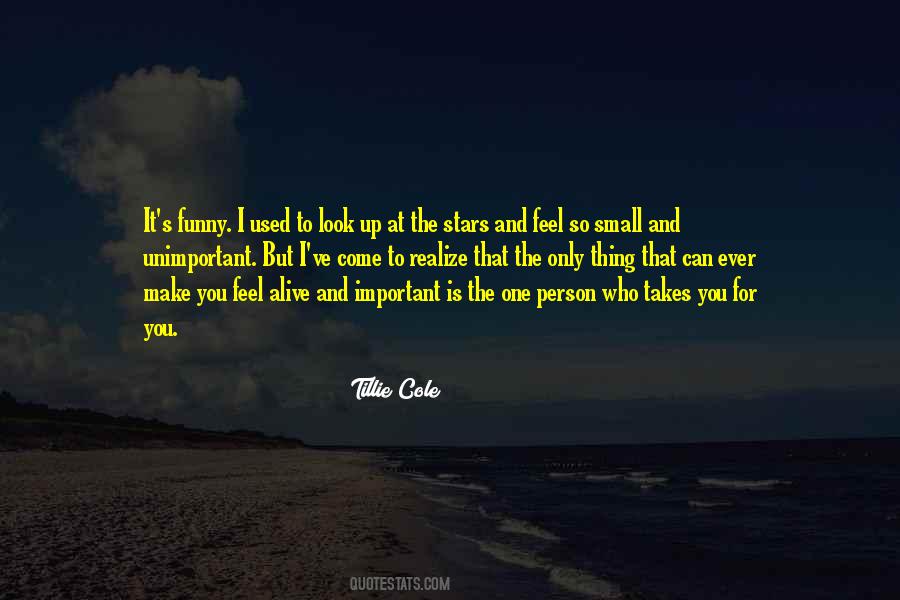 #10. When I was a kid, I thought movie stars were women and men who were in these great films that we still look at now. But I don't think there are too many films coming out these days that we're going to look at in the future and say, 'This is one of the great ones.' - Author: Lindsay Lohan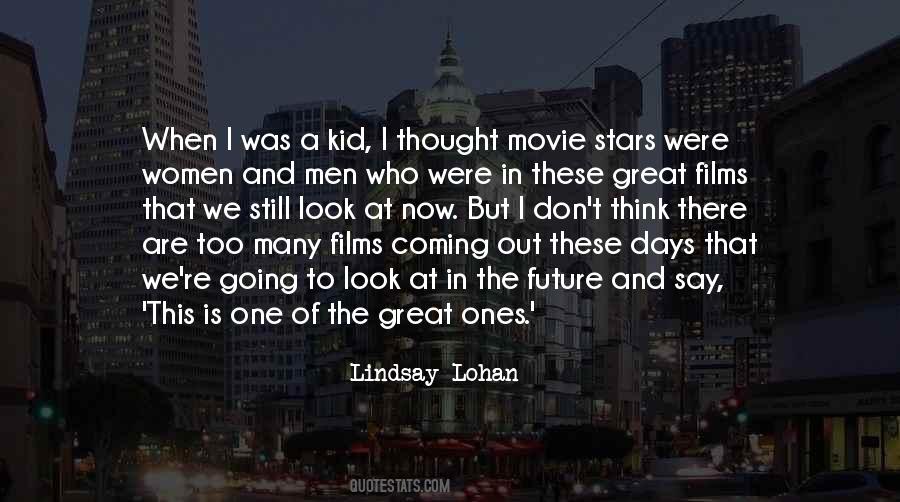 #11. Hollywood is a place where some people lie on the beach and look up at the stars, whereas other people lie on the stars and look down at the beach. - Author: Noel Coward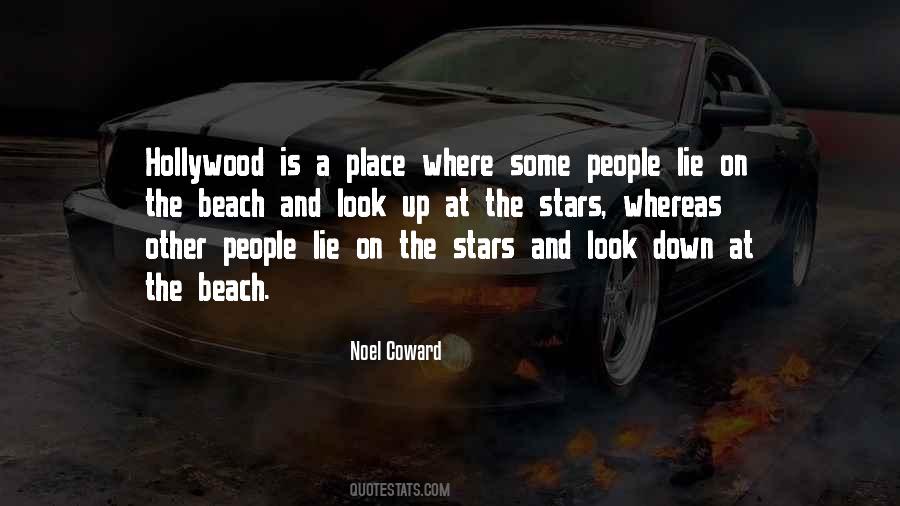 #12. Small said, "But what about when we are dead and gone, will you love me then, does love go on?"
... Large (replied) "Look at the stars, how they shine and glow, some of the stars died a long time ago. Still they shine in the evening skies, for you see ... love like starlight never dies ... - Author: Debi Gliori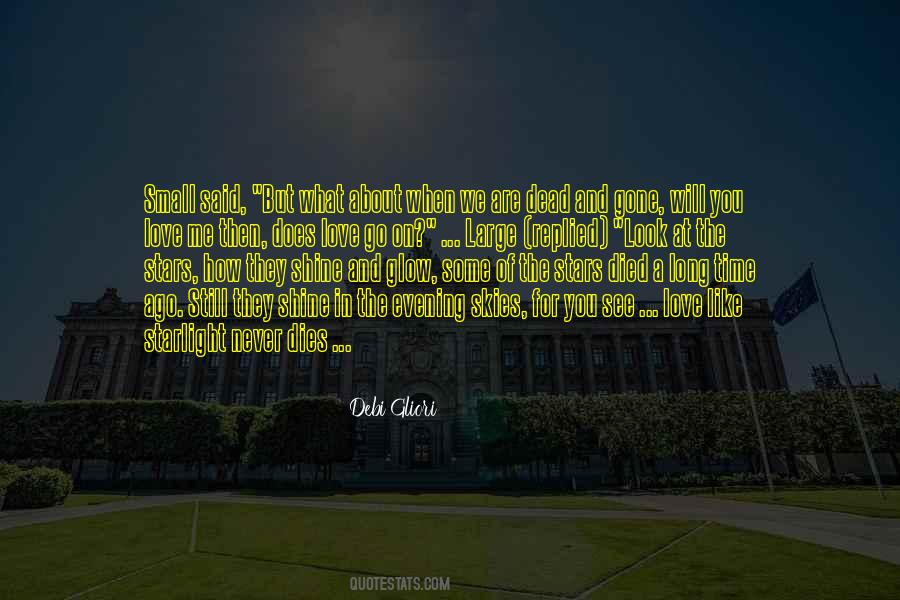 #13. Growing up, I used to climb out my window onto the roof and look up at the stars. There, in the quiet, I would write stories inside my head. - Author: Christy Hall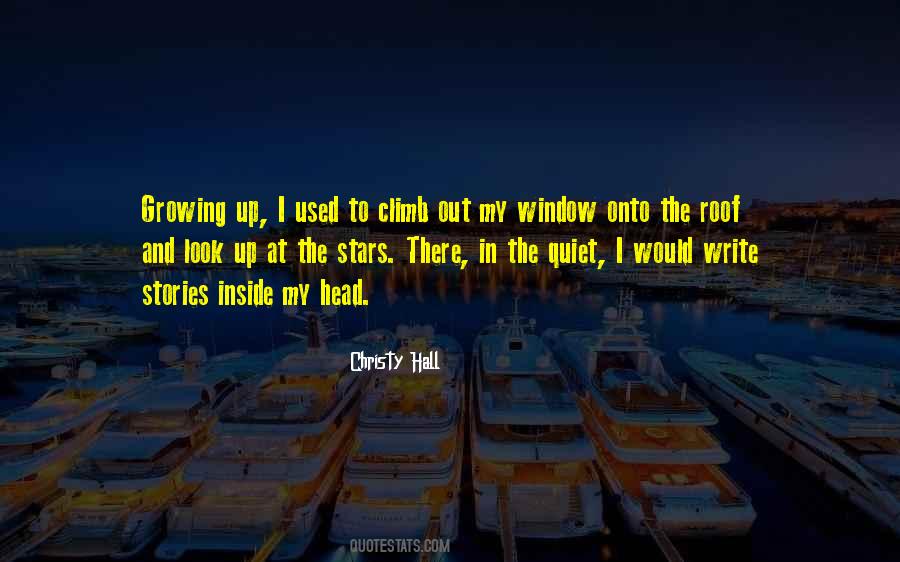 #14. You - you alone will have the stars as no one else has them ... In one of the stars I shall be living. In one of them I shall be laughing. And so it will be as if all the stars were laughing, when you look at the sky at night ... You - only you - will have stars that can laugh. - Author: Antoine De Saint-Exupery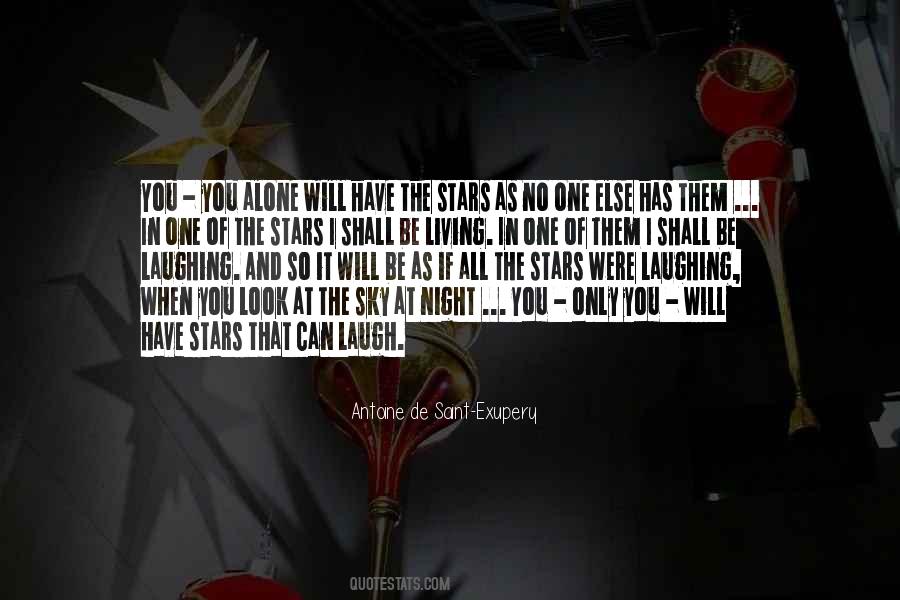 #15. It is important that we have the inner richness to be able to look up at the stars or the moon and compose a poem once in a while. When we open wide our minds and fix our gaze on the universe, we fix our gaze on our own life. - Author: Daisaku Ikeda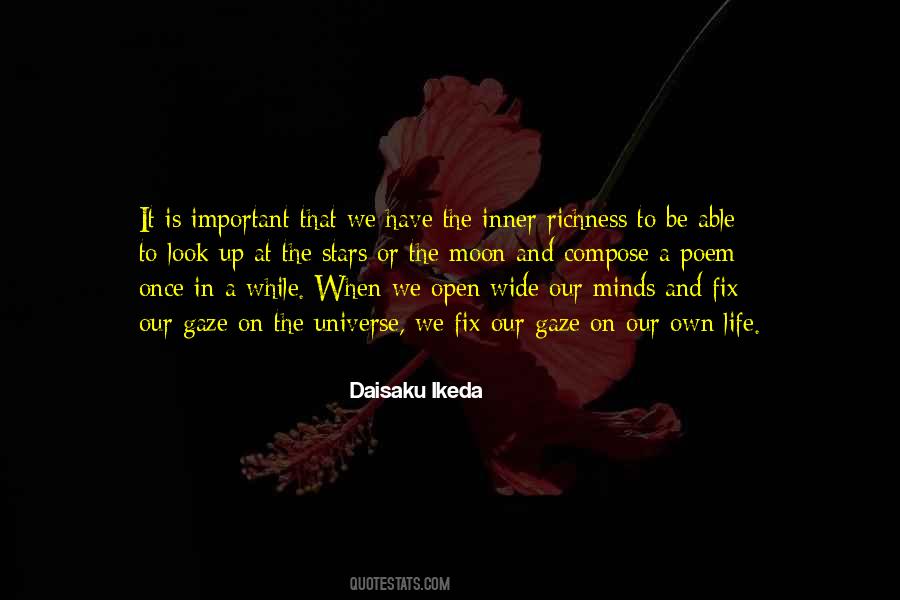 #16. I have only one thing to say to the melancholy man: 'Look into the distance.' ... When you look at the stars or the ocean's expanse, your eye is completely relaxed; once your eye is relaxed, your mind is unfettered. - Author: Emile Chartier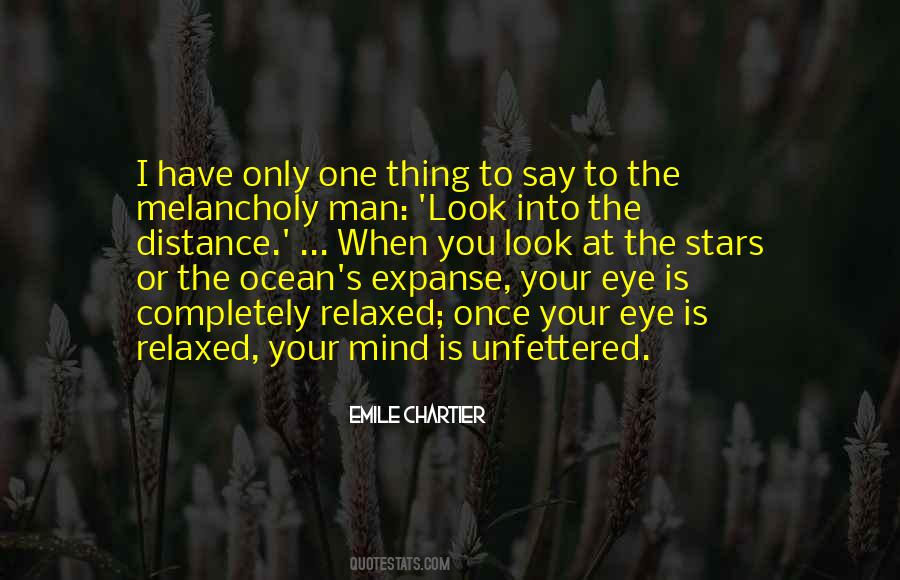 #17. What I do brings me a lot of money and it puts me on TV so people may look at me like a star but to me, if you're good (at what you do) and keep on improving, then that's what makes you a star in your own way. - Author: Kirko Bangz
#18. To go into solitude, a man needs to retire as much from his chamber as from society. I am not solitary whilst I read and write, though nobody is with me. But if a man would be alone, let him look at the stars. - Author: Ralph Waldo Emerson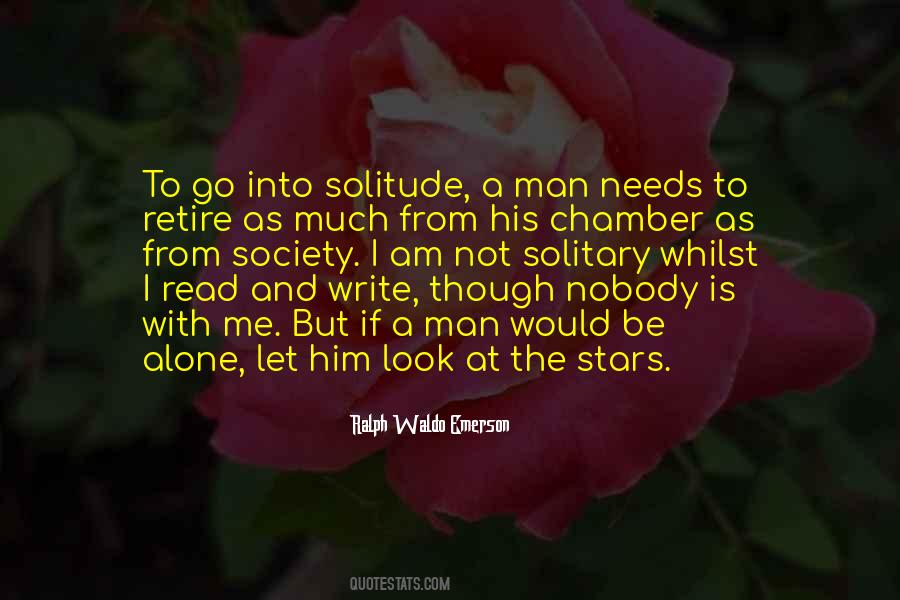 #19. The heavy round face was looking at him, the hard look of a man who had also understood, who had seen all the stupidity, who knew, after all, that the gold stars were often mindless decoration, that the army was led not by symbols, but by the fallible egos and blind fantasies of men. - Author: Jeff Shaara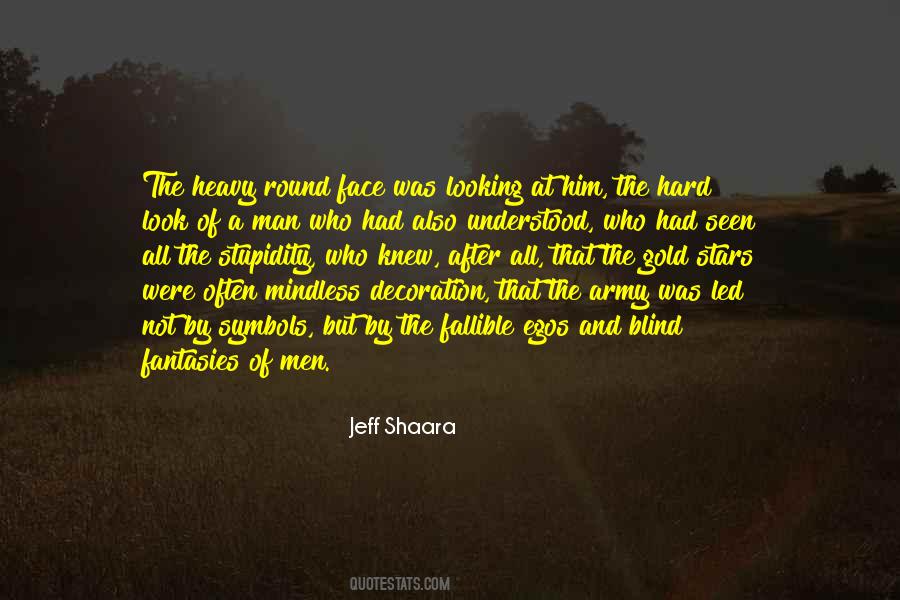 #20. Do you ever look up at the stars and try to contemplate the ends of the universe? - Author: Ruth Ahmed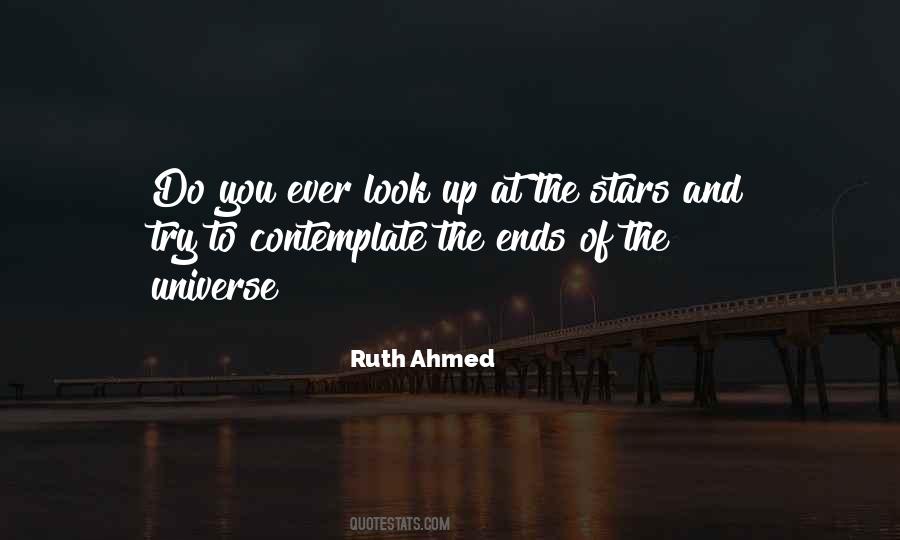 #21. That which we look on with unselfish love
And true humility is surely ours,
Even as a lake looks at the stars above
And makes within itself a heaven of stars. - Author: Mary Gardiner Brainard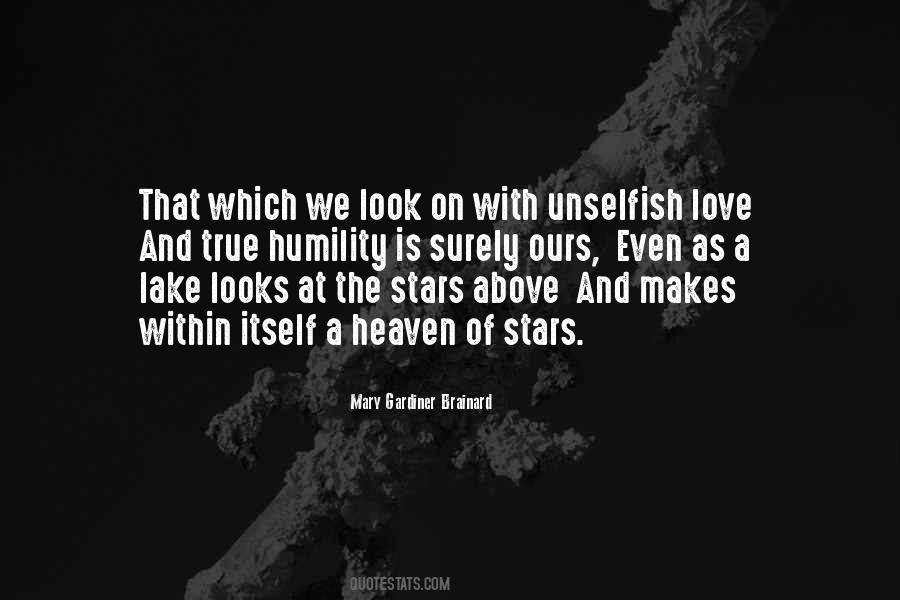 #22. When I was little, I used to think that the sky at night was a big, black blanket that separated heaven from earth, and the stars were a whole bunch of little pin holes that the angels poked in the blanket so they could look down on us. - Author: Robin Jones Gunn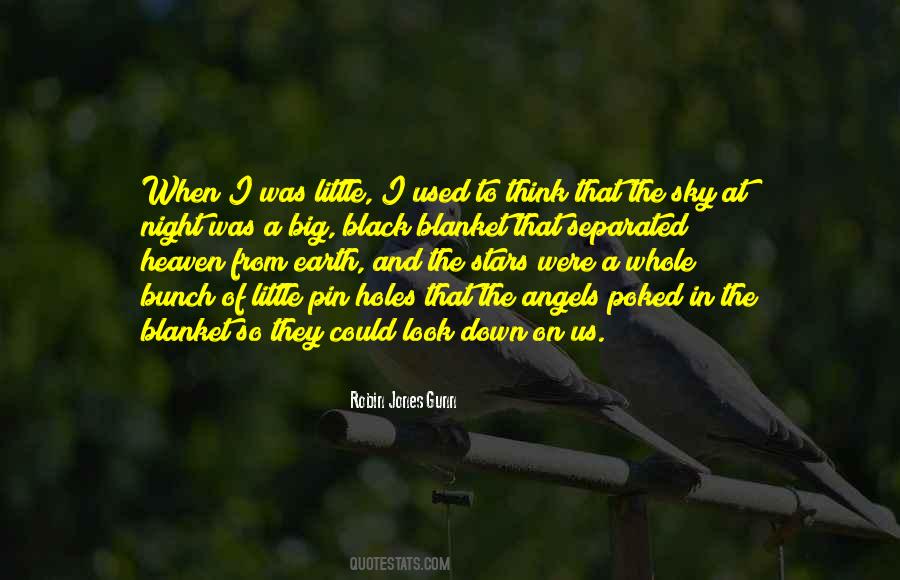 #23. Rydra, when I look at the night and stars, it is only a passive act, but you are active even watching, and halo the stars with more luminous flame. - Author: Samuel R. Delany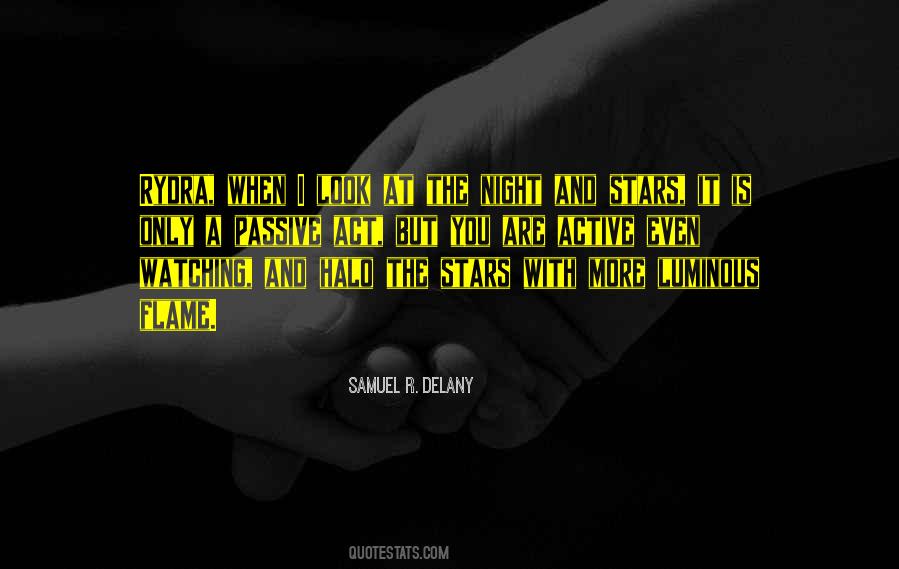 #24. I believe the stars are the headlights of angels driving from heaven to save us
to save us ... Won't you look at the sky?
They're driving from heaven into our eyes. And though final words are so hard to devise, I promise that I'll always remember your pretty eyes. - Author: David Berman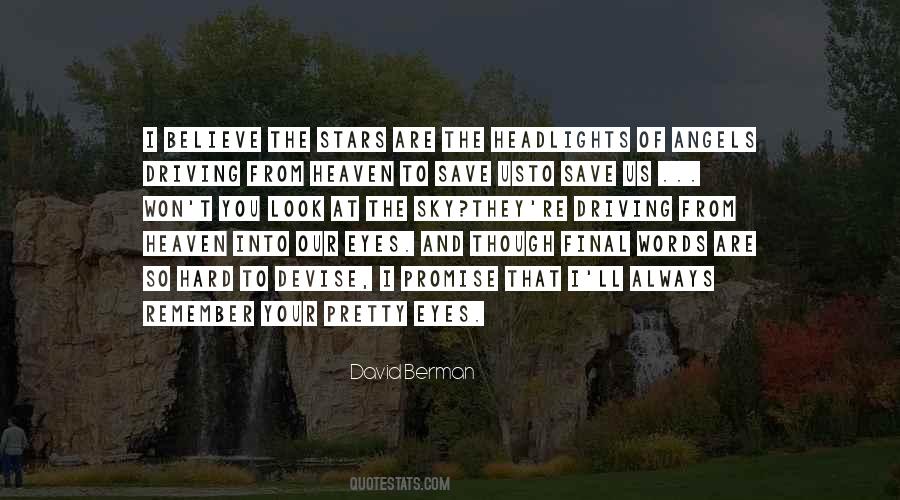 #25. Look at the stars lighting up the sky: no one of them stays in the same place. - Author: Seneca The Younger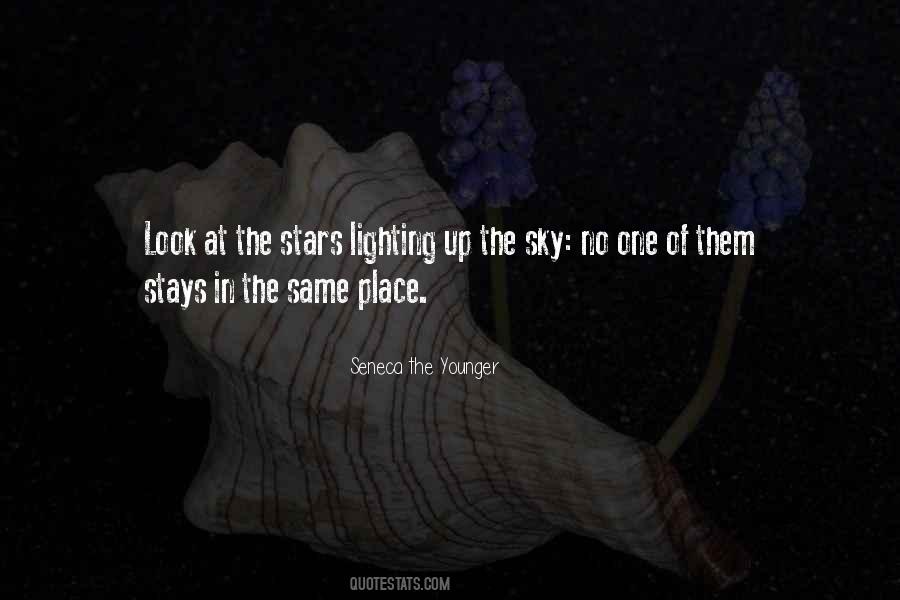 #26. Why is it when we were kids we looked up at the stars... But now they seem to be looking down on us...? - Author: Leonardo Donofrio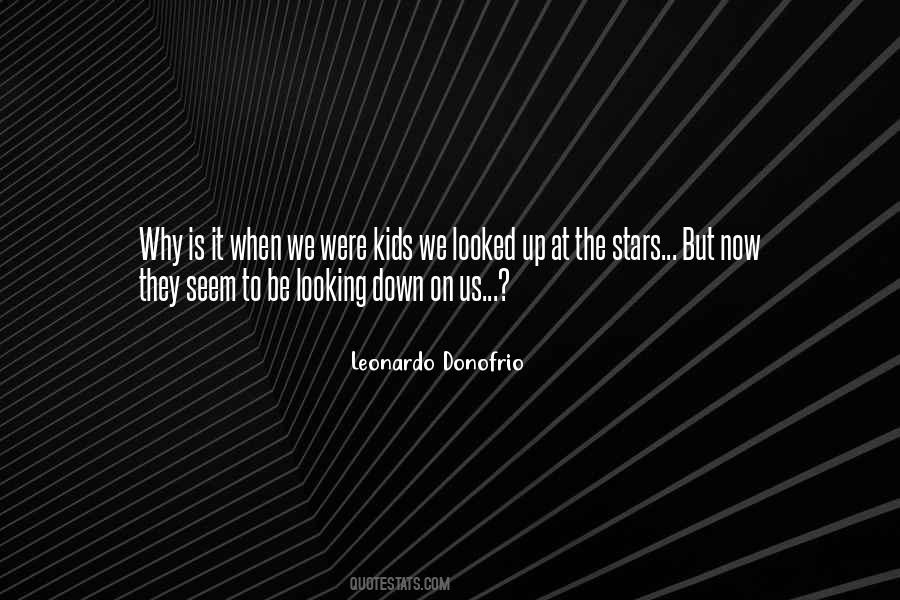 #27. Someone had once told her that if you look up at the sky from the bottom of a mine shaft, even in the brightest daylight, you see the night sky and stars. - Author: Neil Gaiman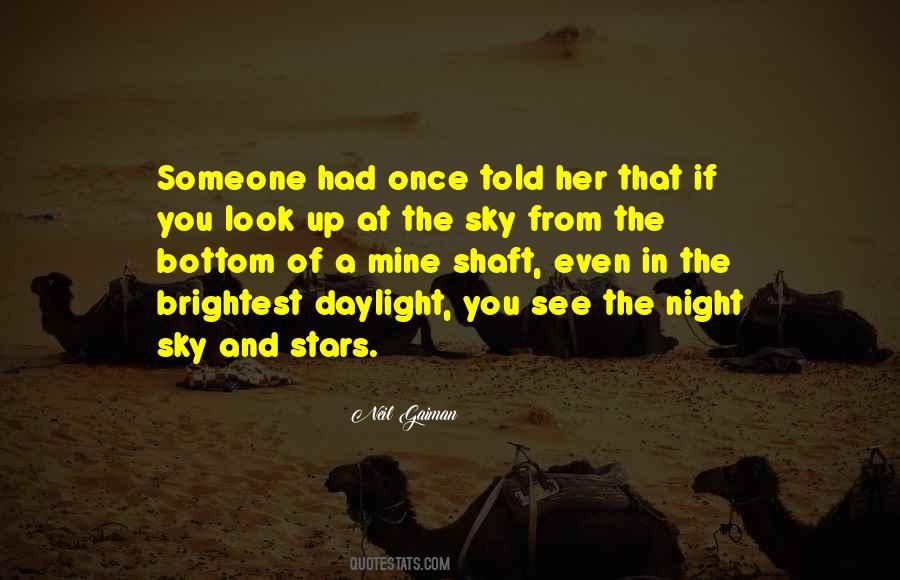 #28. Look at the sky. Does its sapphire hue dim when you take a single breath? Are the stars drawn closer when you weep? The sky cannot be diminished so. Thus it is with the spirit: it is a thing without beginning or end. - Author: Elaine Cunningham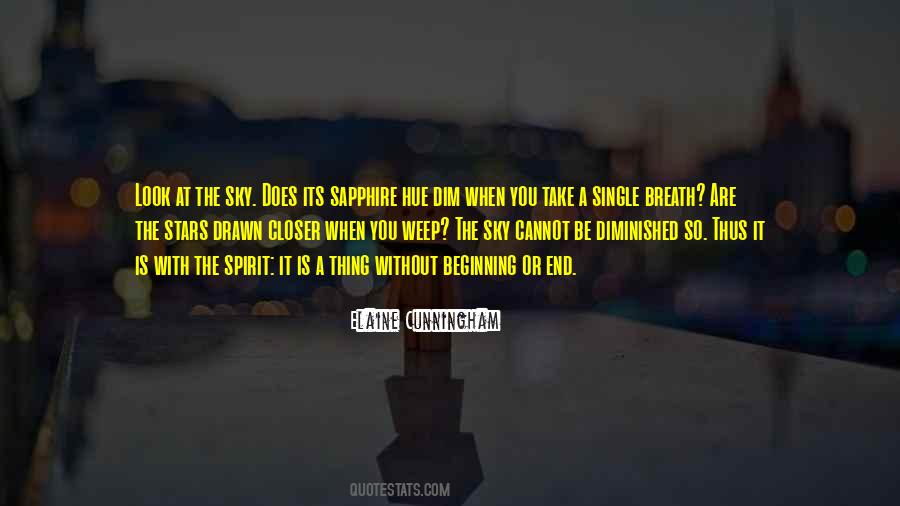 #29. Nature is woman's best friend,' she [Yasmina] often said. 'If you're having troubles, you just swim in the water, stretch out in a field, or look up at the stars. That's how a woman cures her fears'. - Author: Fatema Mernissi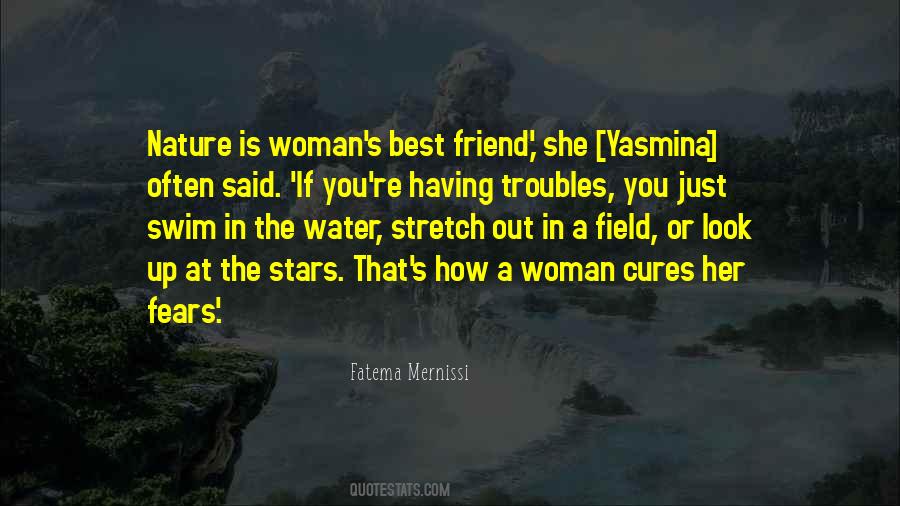 #30. Someday I'm going to throw you across his back and ride off west with you ... and you'll learn to make a coffee in a tin pot over a fire, and we'll sleep underneath a wagon and look out at the stars- - Author: Lisa Kleypas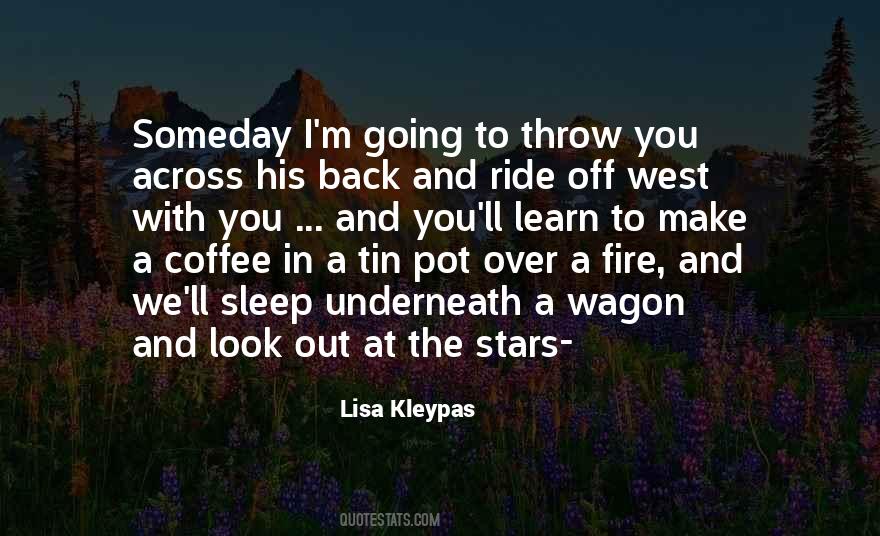 #31. I'm a moon junky. Every time I look at the moon I feel less alone and less afraid. I tell my boys that moonlight is a magic blanket and the stars above are campfires set by friendly aliens. - Author: Amy Poehler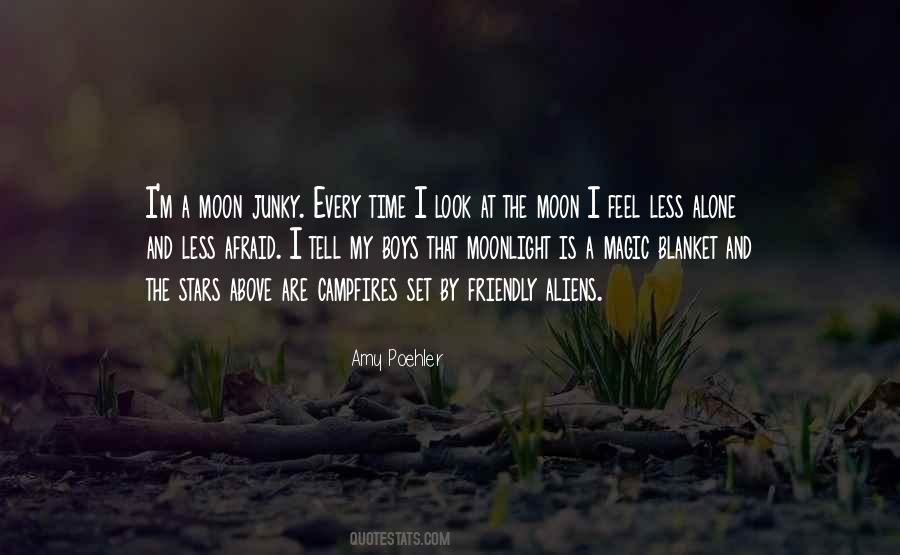 #32. Is the sky cloudy? Can't you see the shining stars? Take a look at the eyes of a happy child, you will see all the bright stars over there! - Author: Mehmet Murat Ildan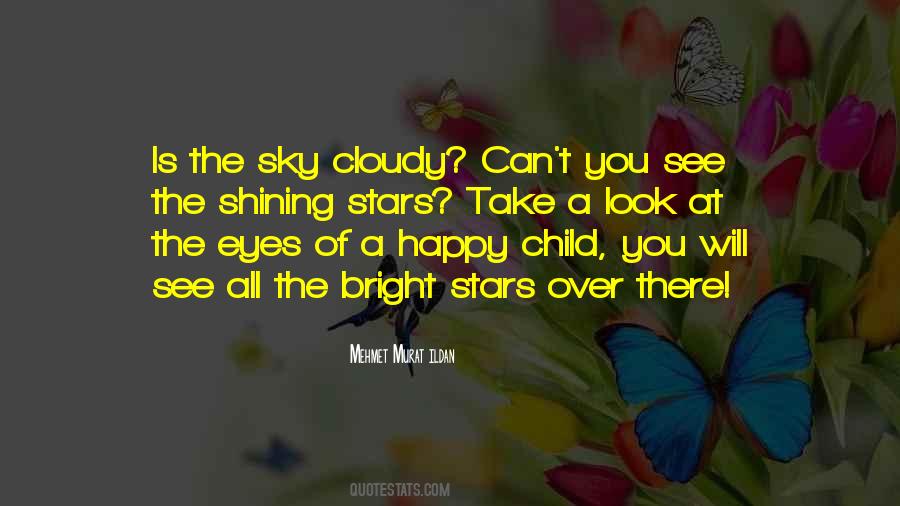 #33. Sometimes all you need to do is just hold on to yourself! Look at the stars in the sky, listen to the sweet murmurings of the breeze, inhale the fragrance of the night, and you will feel fine! - Author: Avijeet Das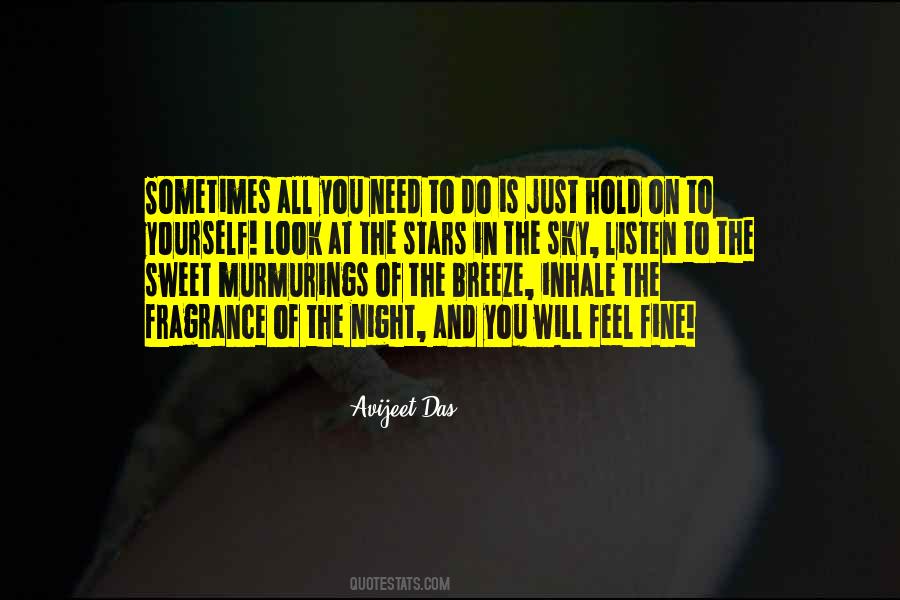 #34. Look around at the azaleas making fuchsia star bursts in spring; look at a full moon hanging silver in a black sky on a cold night. And realize that life is glorious, and that you have no business taking it for granted. - Author: Anna Quindlen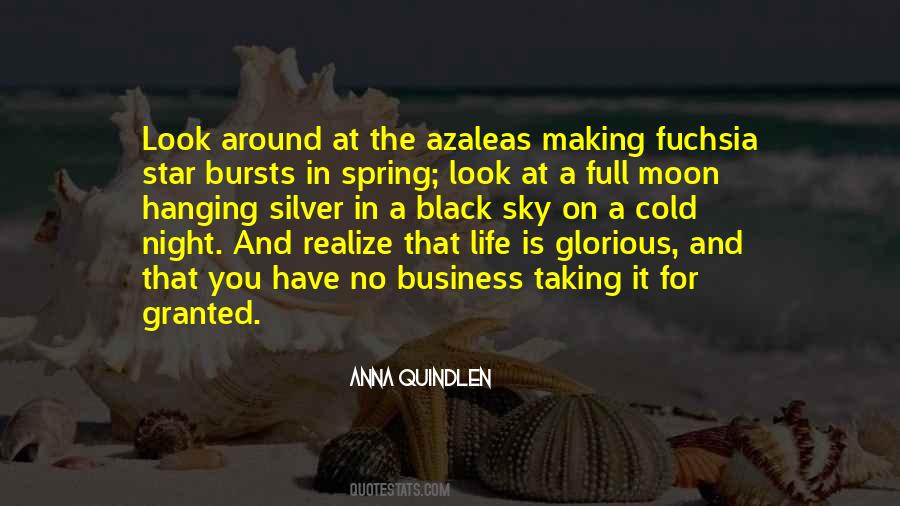 #35. Don't we all look up at the same stars? - Author: A.D. Posey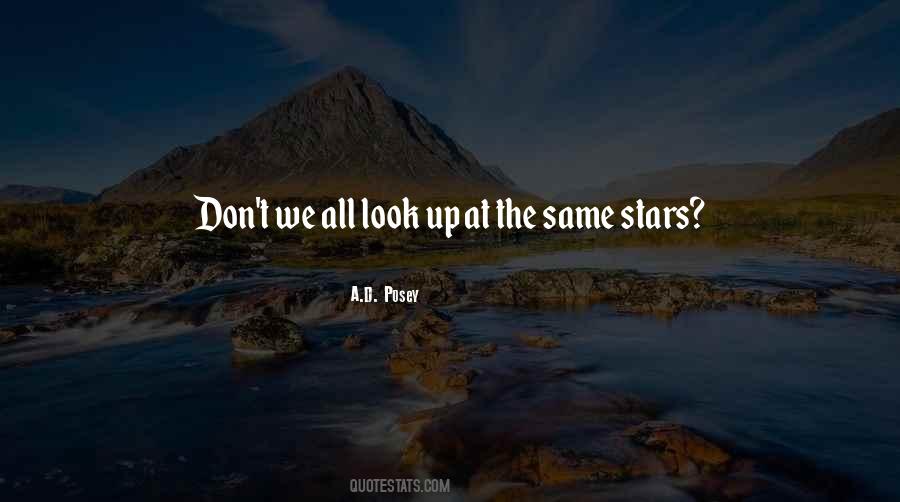 #36. Look up at the stars and you're gone. - Author: Chuck Palahniuk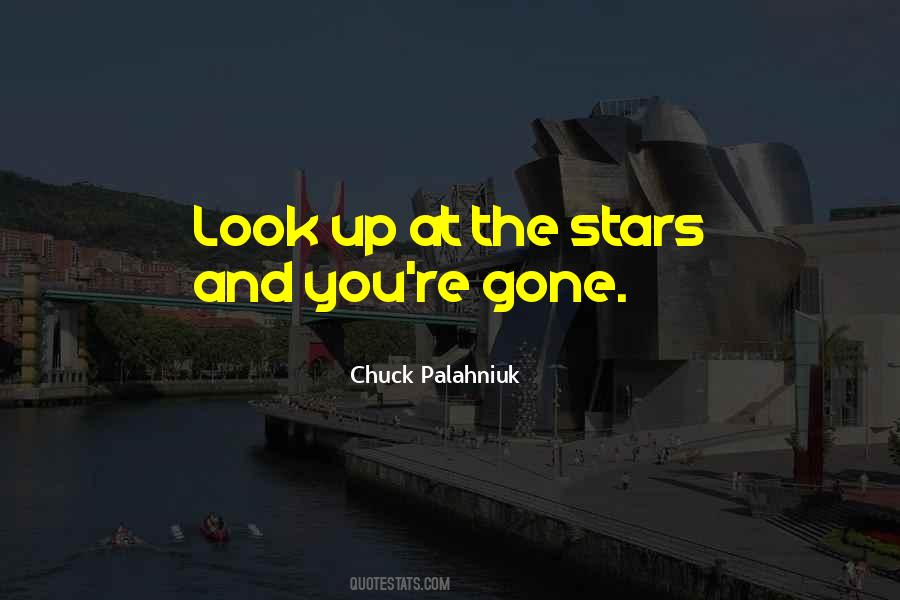 #37. If people looked at the stars each night, they'd live a lot differently. When you look into infinity, you realize that there are more important things than what people do all day. - Author: Bill Watterson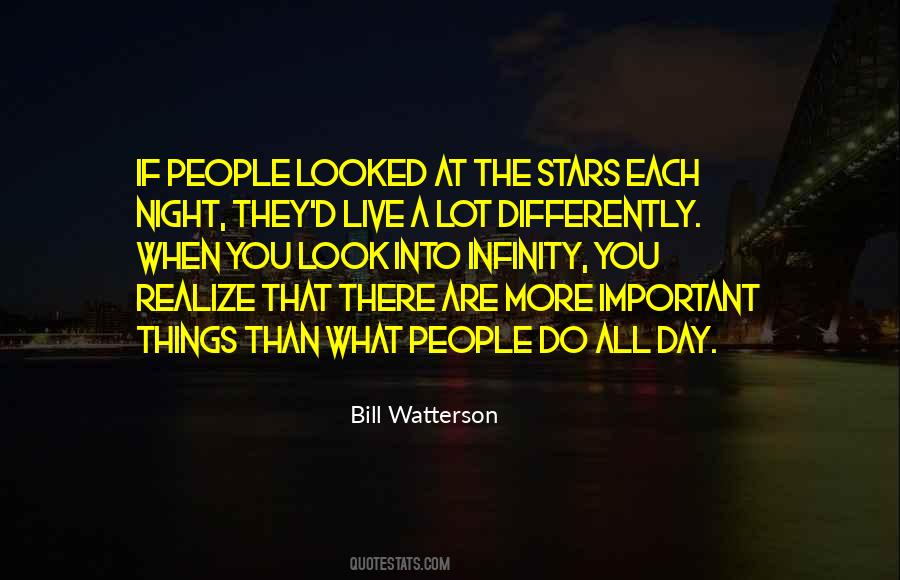 #38. just because they don't hit you doesn't mean it isn't abuse. wouldn't you think it a crime to look up at the night sky & tell the stars that they have no sparkle? guess what? you shine brighter than all the starlight there has ever been or ever will be. - emotional abuse is still abuse. - Author: Amanda Lovelace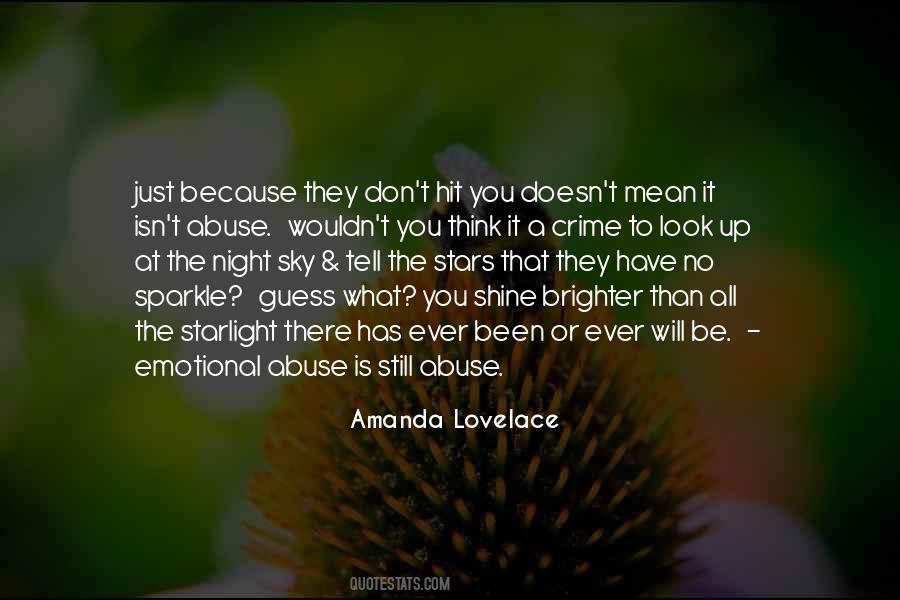 #39. We spent a lot of time discussing cosmology first. I think that was your father's unique way of evaluating people. You can tell a lot about a person, he once said, by the way they look at the stars. - Author: Robert Charles Wilson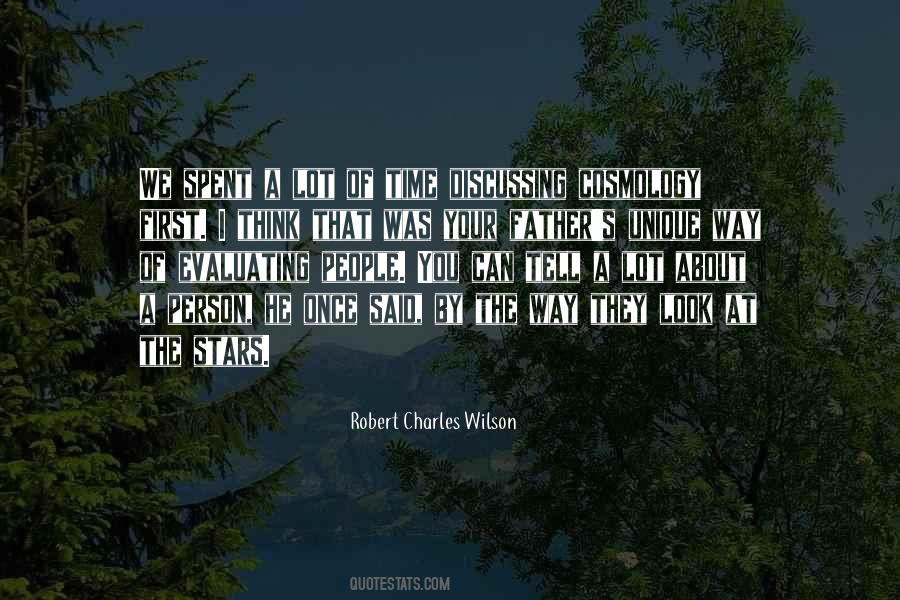 #40. Look at how goddamn ugly the stars are. - Author: Al Kaline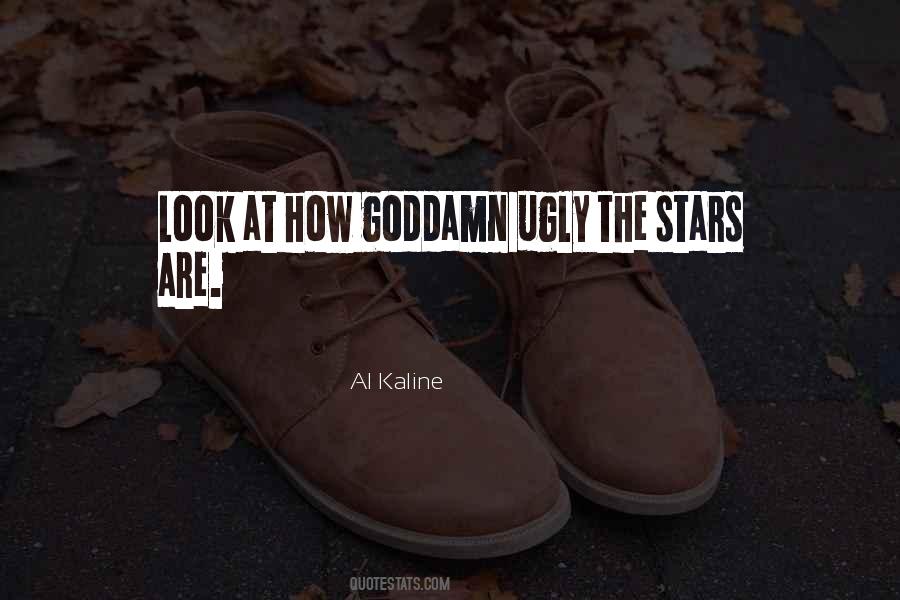 #41. I look at the stars and I see you,
I look at the moon and I see you,
I look at the trees and I see you,
Please step aside, you are blocking my view. - Author: Anonymous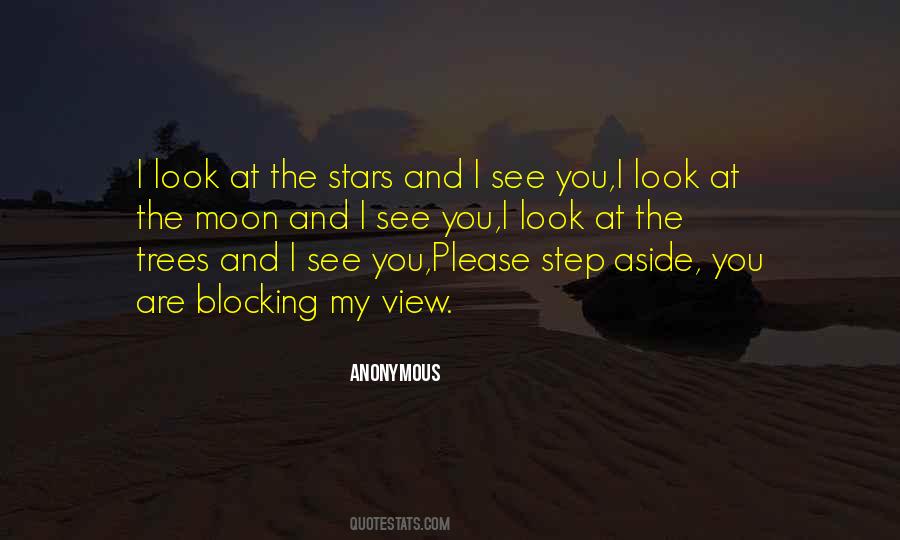 #42. As the tide washed in, the Dutch Tulip Man faced the Ocean:
"Conjoiner rejoinder poisoner concealer revelator. Look at it, rising up and rising down, taking everything with it."
"What's that?" Anna asked.
"Water," the Dutchman said. "Well, and time. - Author: John Green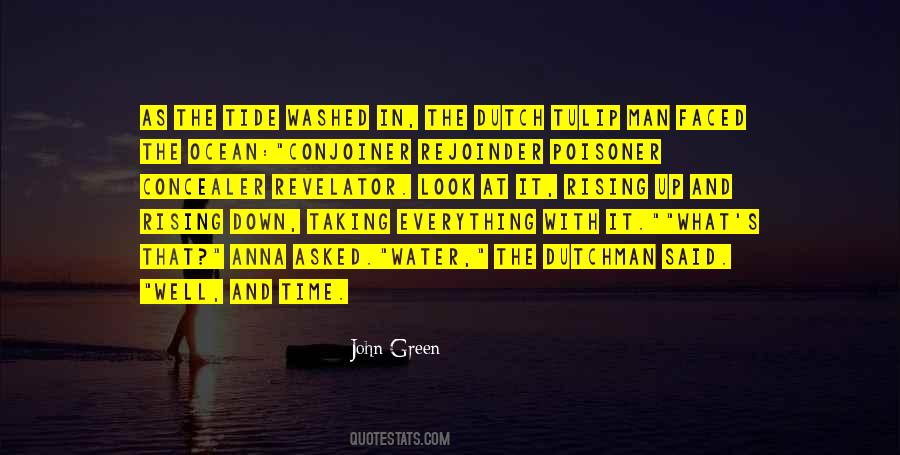 #43. Most movie stars don't change their look at all. - Author: Kelly Lynch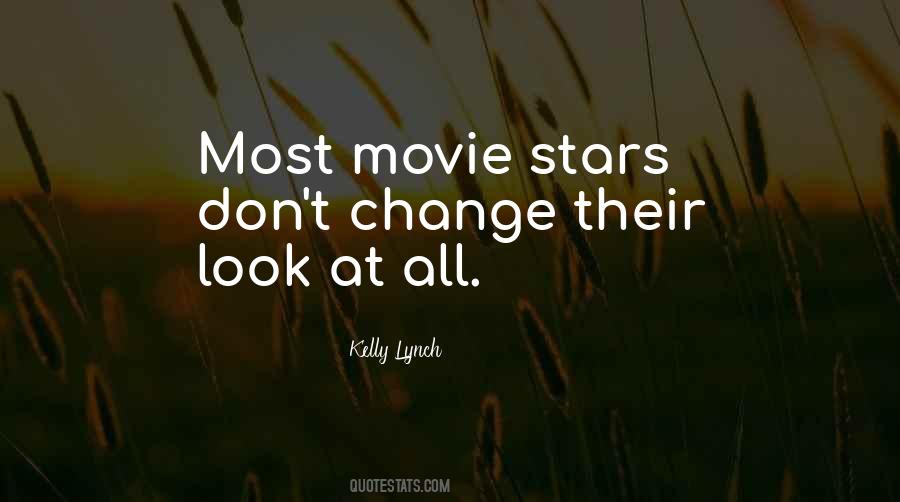 #44. The Utopians fail to understand why anyone should be so fascinated by the dull gleam of a tiny bit of stone, when he has all the stars in the sky to look at. - Author: Thomas More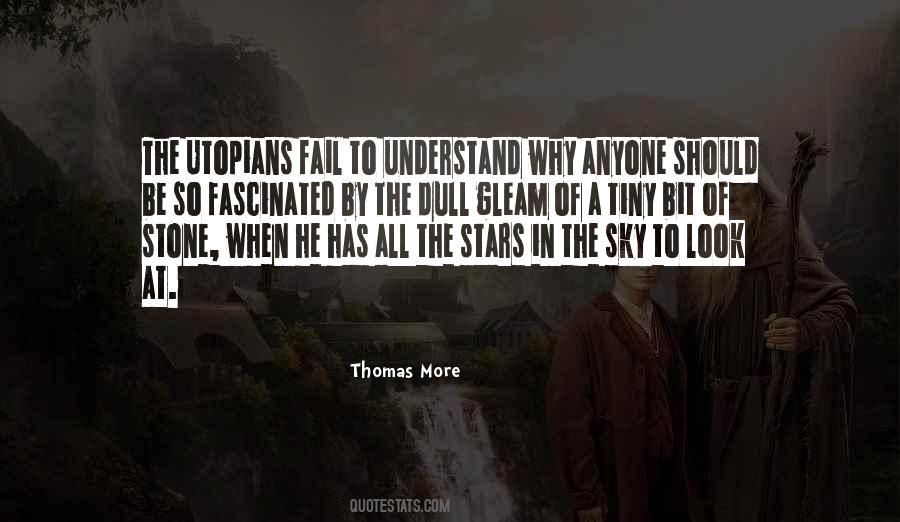 #45. I am old, yet I look at wise men and see that I am very young. I look over those stars yonder, and into the myriads of the aspirant and ordered souls, and see I am a stranger and a youth and have yet my spurs to win. Too ridiculous are these airs of age. - Author: Ralph Waldo Emerson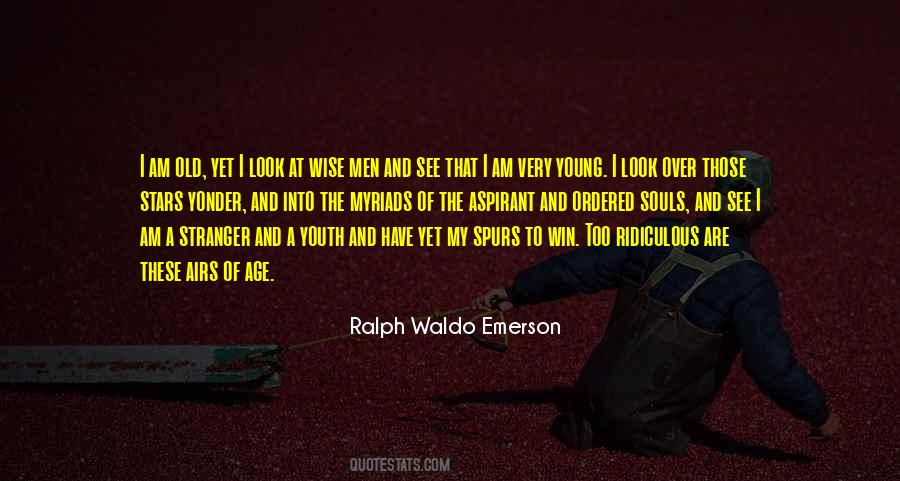 #46. On a silent moonlit night look at the sky and see yourself dancing with those distant twinkling stars. - Author: Debasish Mridha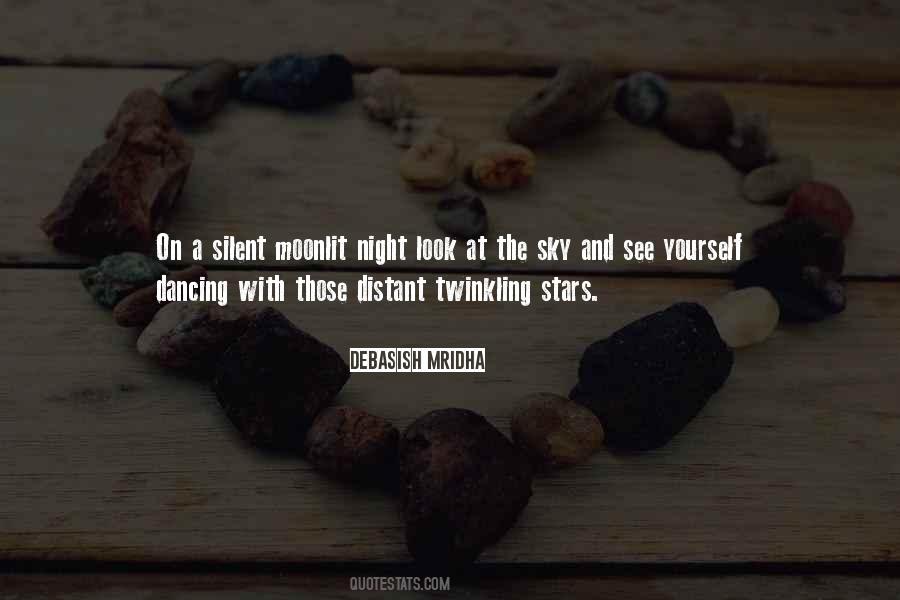 #47. The lights shifted into and out of his field of view. He wondered if that was what it would be like to look at stars. He'd never looked up at a sky. The thought inspired a certain vertigo. A sense of terror of the infinite that was almost pleasant. There - Author: James S.A. Corey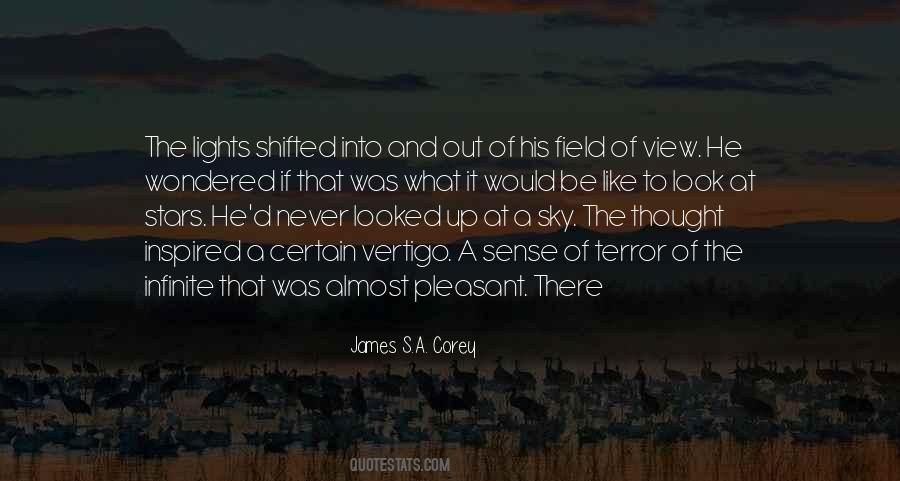 #48. When I v look at your heavens, the work of your w fingers, the moon and the stars, x which you have set in place, 4 y what is man that you are z mindful of him, and a the son of man that you b care for him? - Author: Anonymous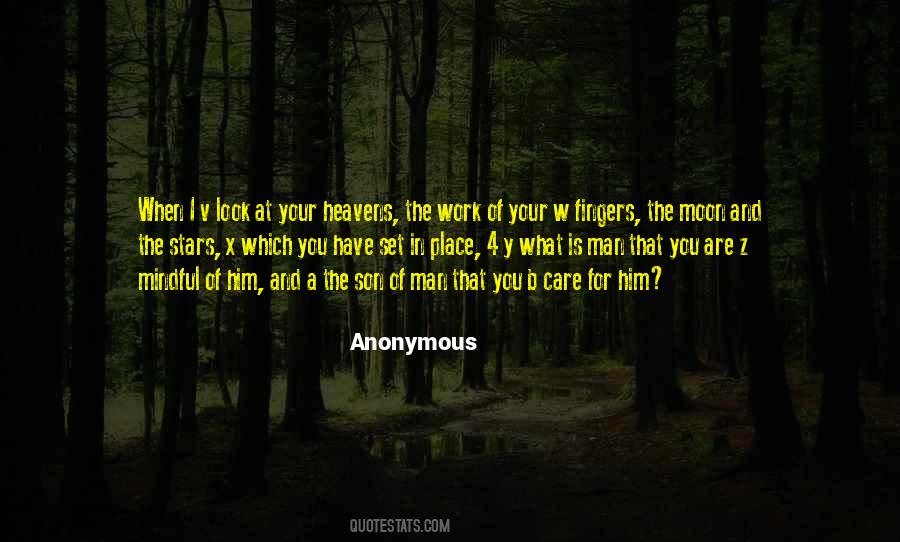 #49. When you look at what we spend on entertainment, whether it's on CDs, music, DVDs, there is so much money invested in that, people want to know a little more about the stars they're paying to see or hear. - Author: Mary Hart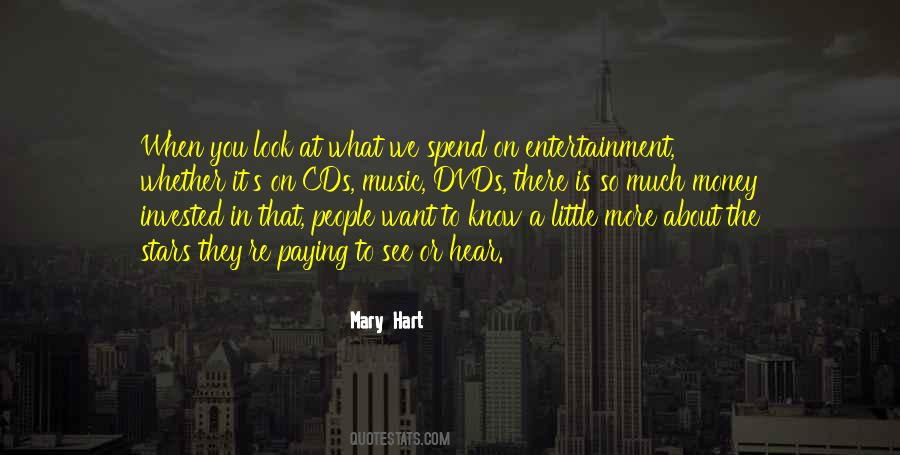 #50. Look at the stars! Look, look up at the skies! Oh look at all the fire-folk sitting in the air! The bright boroughs, the circle-citadels there! - Author: Gerard Manley Hopkins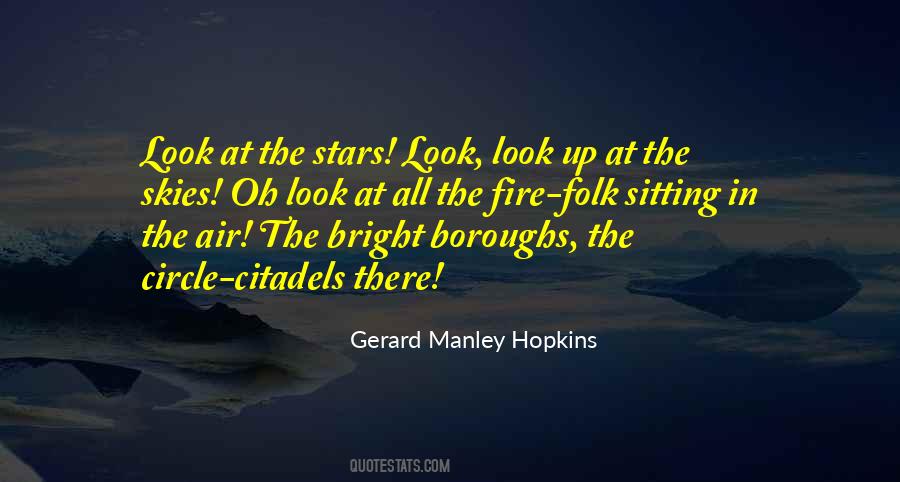 #51. My grandmother and I followed my mother here, to a house a block north of Hollywood Boulevard but a million miles away from Hollywood, if you know what I mean. We would hang out behind the ropes and look at the movie stars arriving at the premieres. - Author: Carol Burnett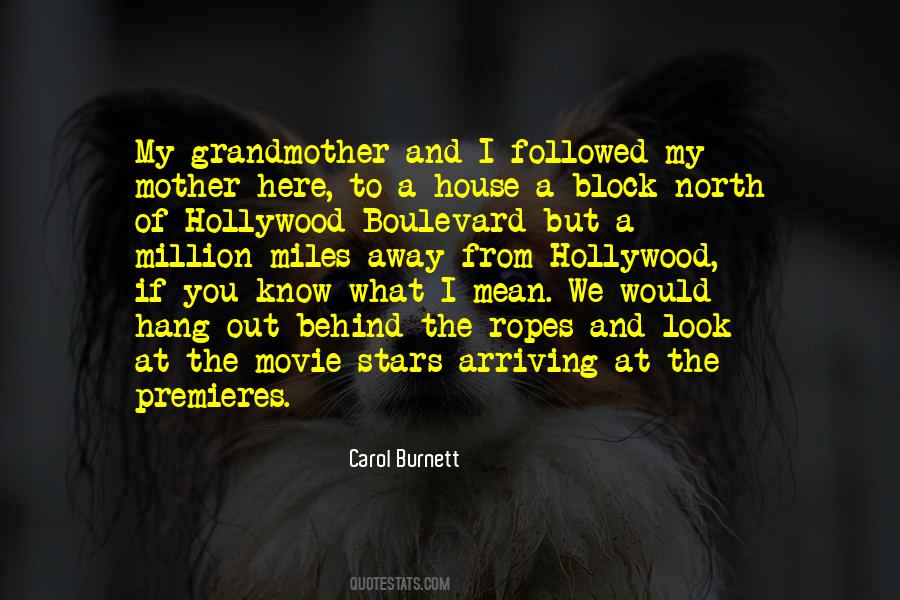 #52. And I look at Harley, and the billions of stars are in his eyes, and he's drinking them up, pouring them into his soul. - Author: Beth Revis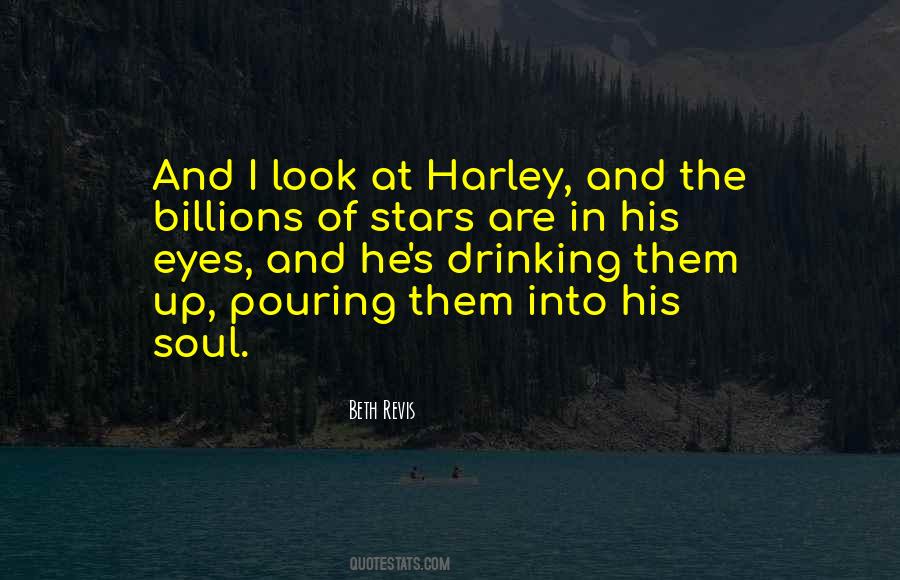 #53. Be glad of life because it gives you the chance to love and to work and to play and to look up at the stars. - Author: Henry Van Dyke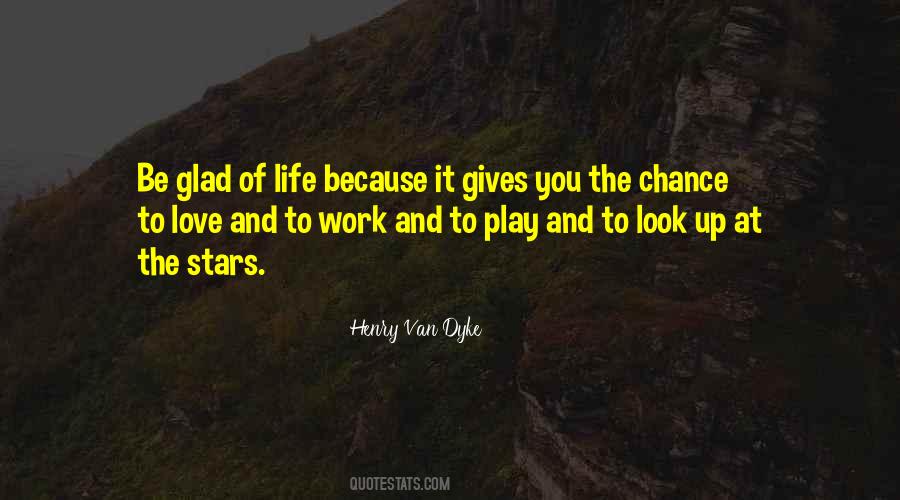 #54. We literally are all made out of stardust. We started from those stars; we are made of stardust. So, next time you are really depressed, look in the mirror and you can look and say, 'Hi, I'm looking at a star here.' - Author: Charles Elachi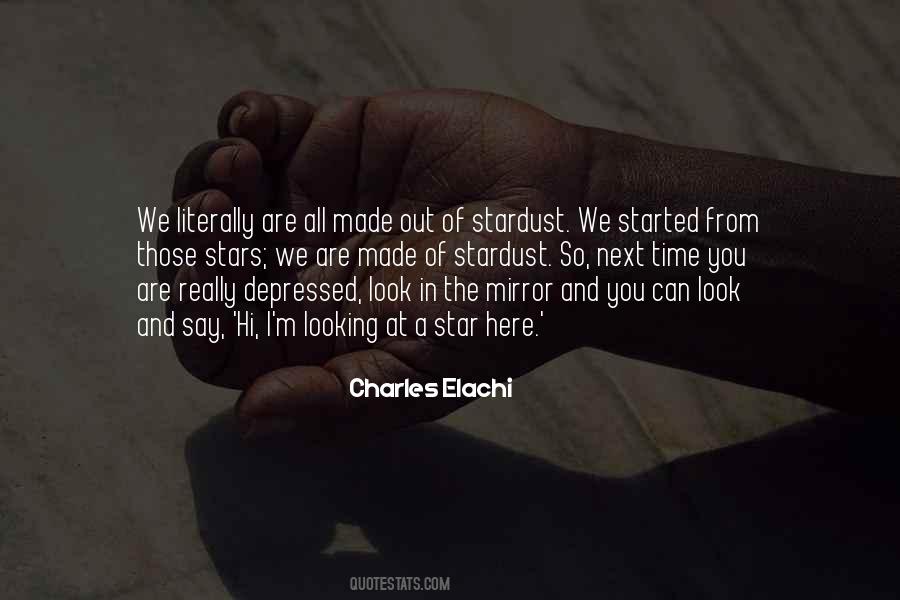 #55. When we are chafed and fretted by small cares, a look at the stars will show us the littleness of our own interests. - Author: Maria Mitchell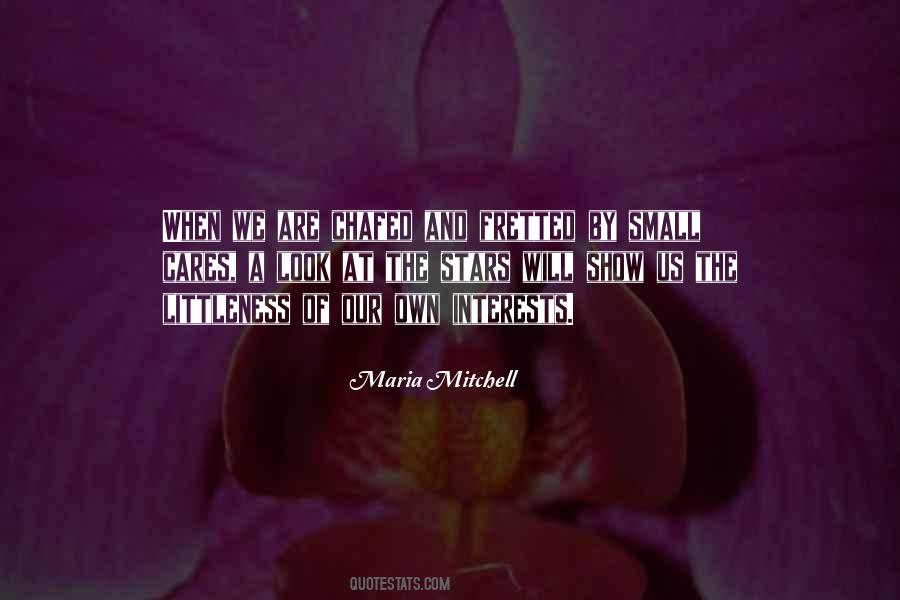 #56. But stars can explode, disappear. Besides, what we see when we look at them may no longer be there. Some could have died thousands of years ago and we're just now getting their light. Old information looking like news. - Author: Toni Morrison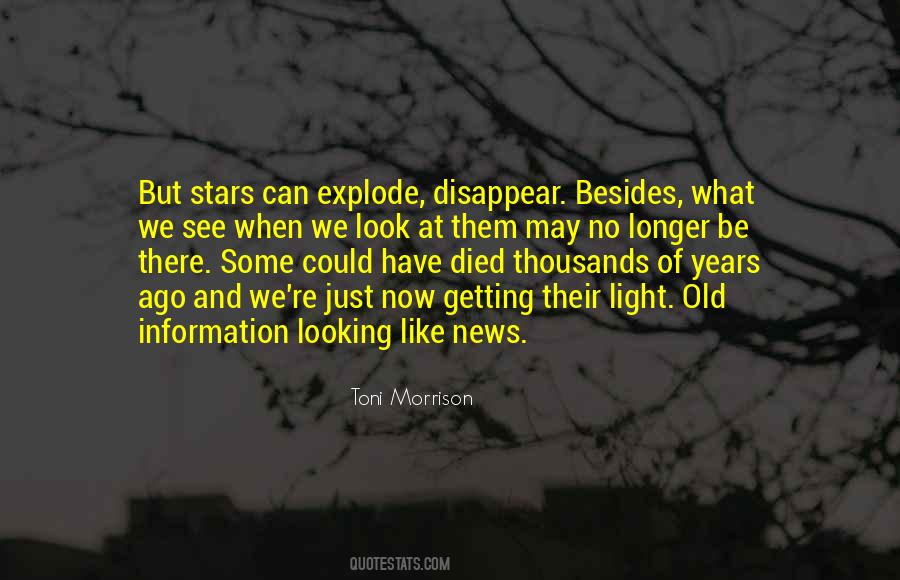 #57. Staring at the stars was like staring backward in time, since some stars are so far away that their light takes millions of years just to reach us. That we see stars not as they look now, but as they were when dinosaurs roamed the earth. The whole concept just struck me as ... amazing somehow. - Author: Nicholas Sparks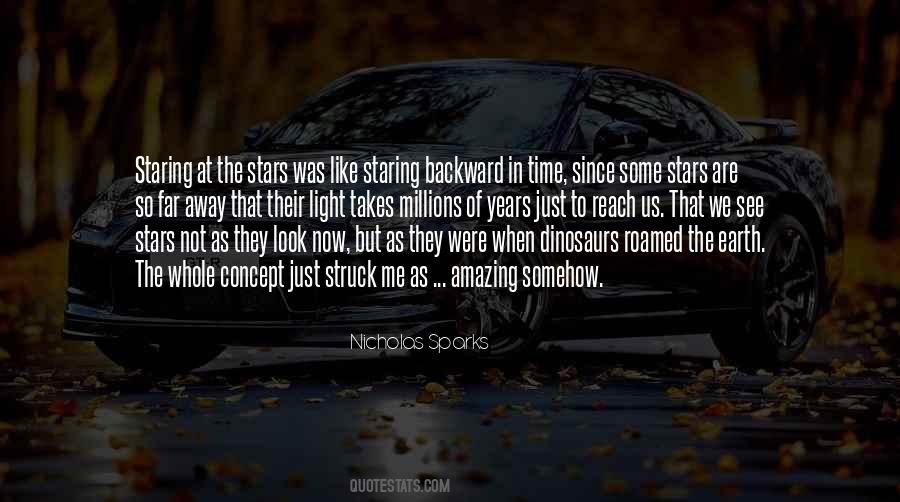 #58. It's lovely to live on a raft. We had the sky up there, all speckled with stars, and we used to lay on our backs and look up at them, and discuss about whether they was made or only just happened. - Author: Mark Twain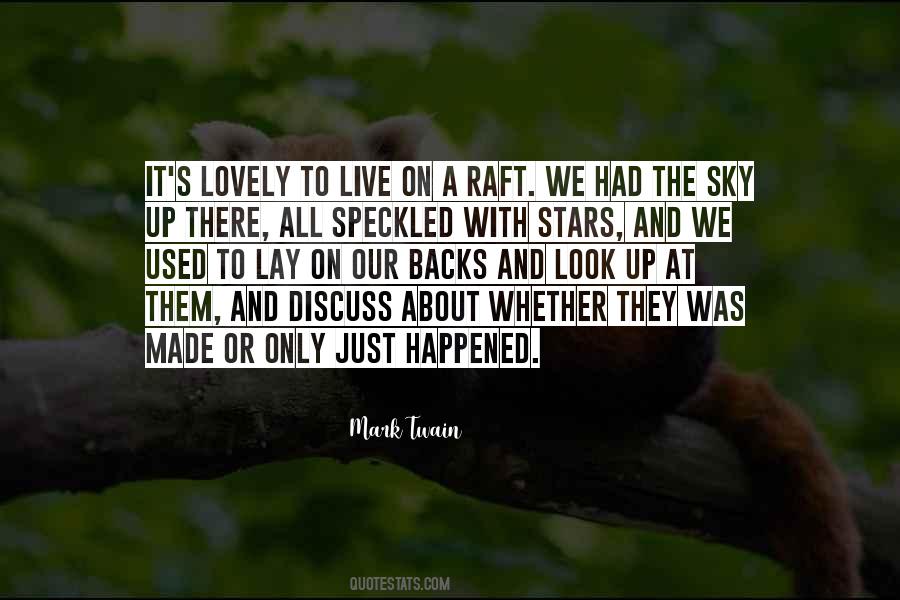 #59. The view from space is really very special. From the window, you can look back at the Earth and see the stars around you. I just hope that more people from Britain get the chance to experience it. - Author: Helen Sharman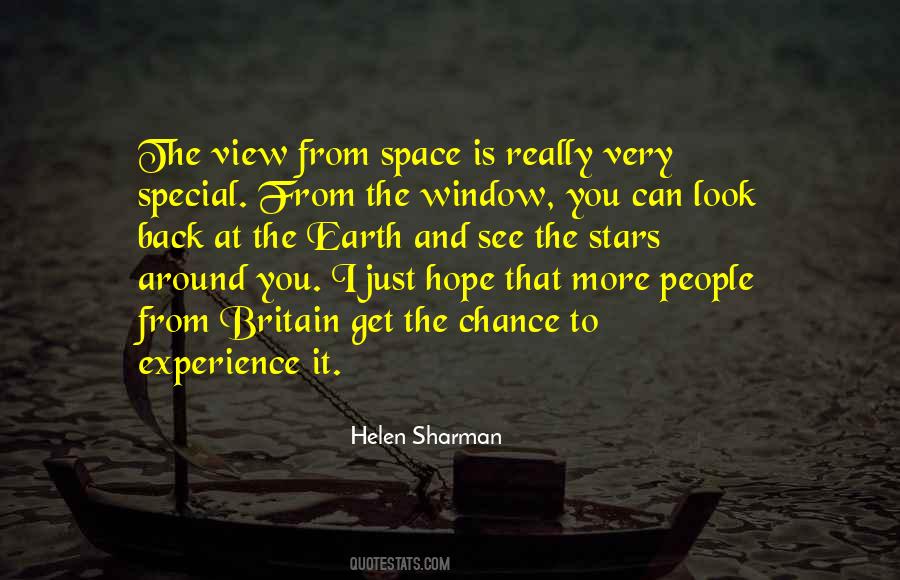 #60. One, remember to look up at the stars and not down at your feet. Two, never give up work. Work gives you meaning and purpose and life is empty without it. Three, if you are lucky enough to find love, remember it is there and don't throw it away. - Author: Stephen Hawking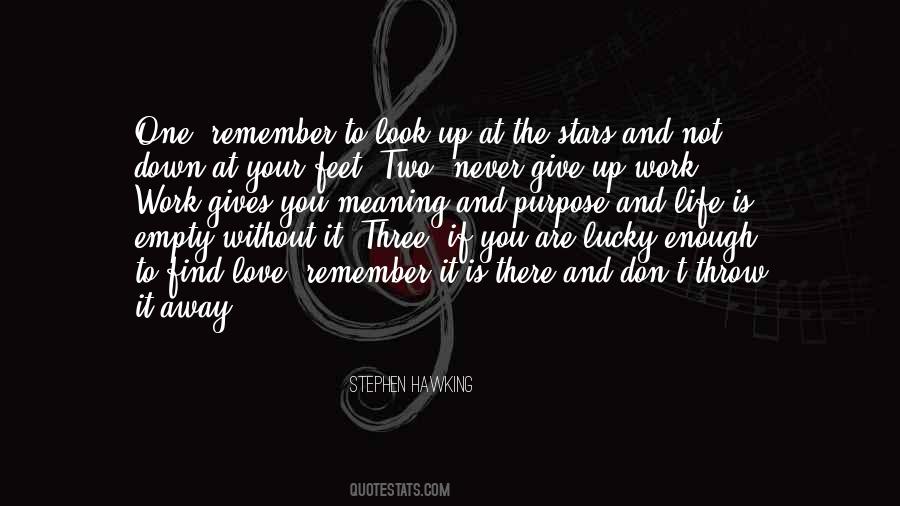 #61. When I look at your heavens, the work of your fingers, the moon and the stars, which you have set in place, 4 what is man that you are mindful of him, and the son of man that you care for him? - Author: Anonymous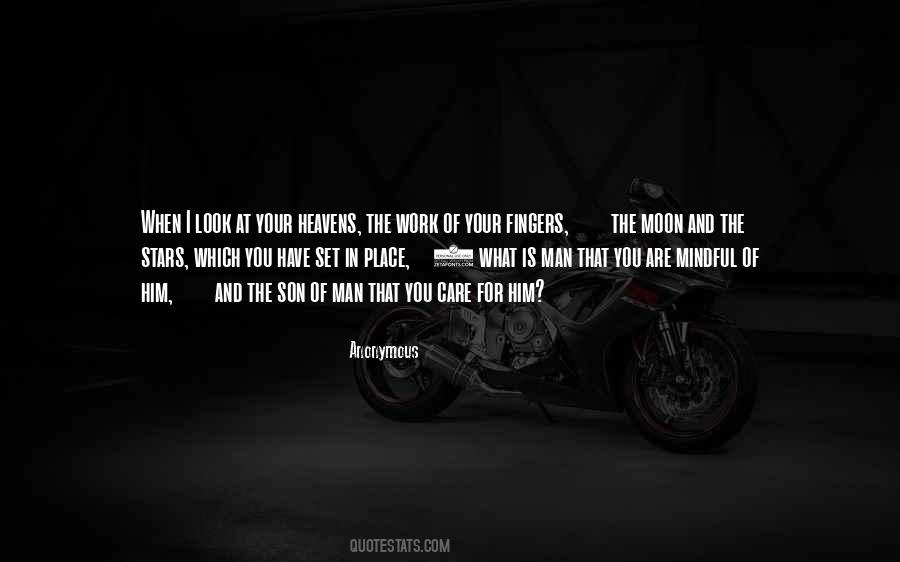 #62. Adorkable is a freeform, loose-knit, organic network of like-minded souls who might get pushed to the ground for the way we think and the way we look and because we're not afraid of who we are, but my God we're looking up at the stars. - Author: Sarra Manning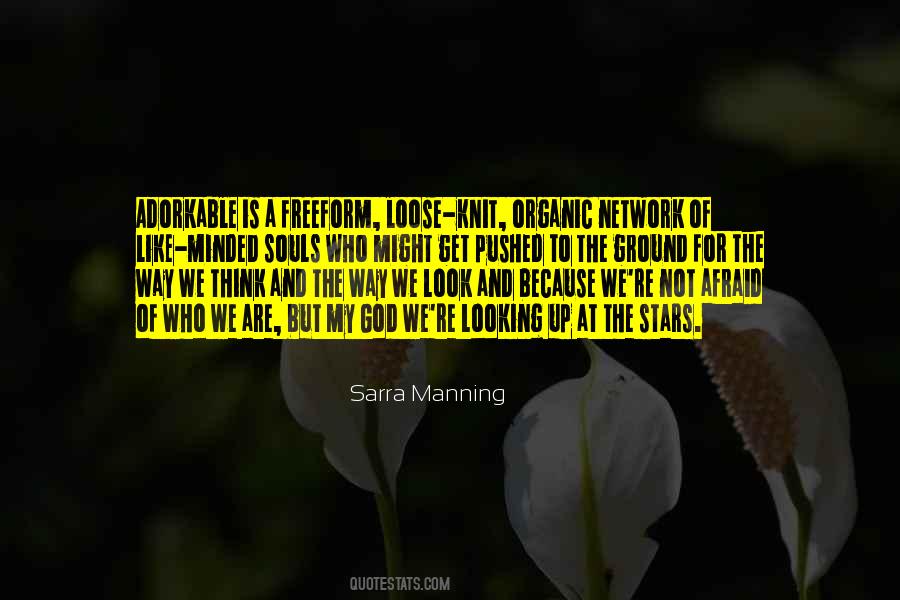 #63. I look in the mirror and think, 'I don't look like a rock star.' I talked about this with Bono and we looked at each other and decided we look like a pair of bricklayers. - Author: Billy Joel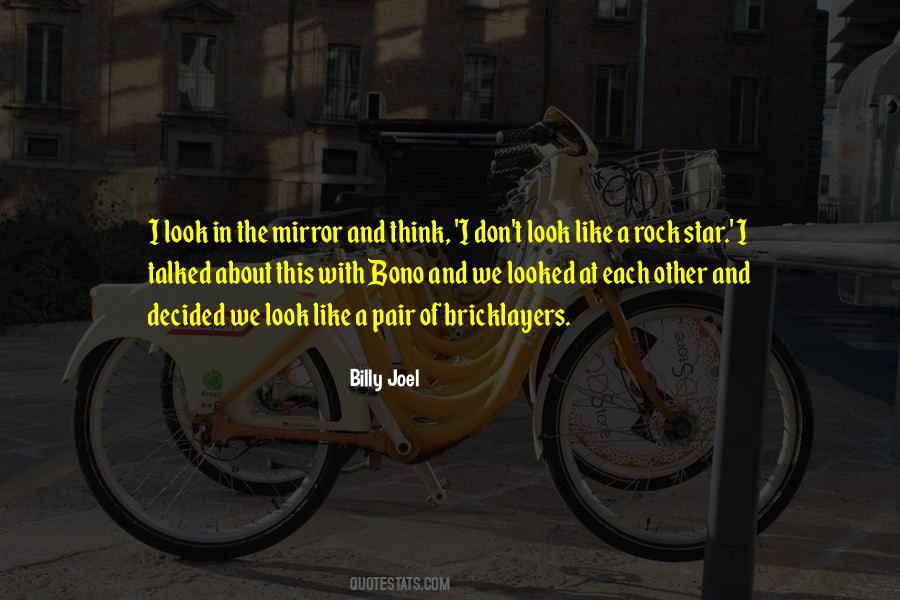 #64. Every time I hold your hand in the night and look at that star, I remember the fact that it is millions of light years away from us, we are looking at its past and it doesn't exist anymore and I always end up feeling, what if we both are made up of the dust of the same star we are staring at. - Author: Akshay Vasu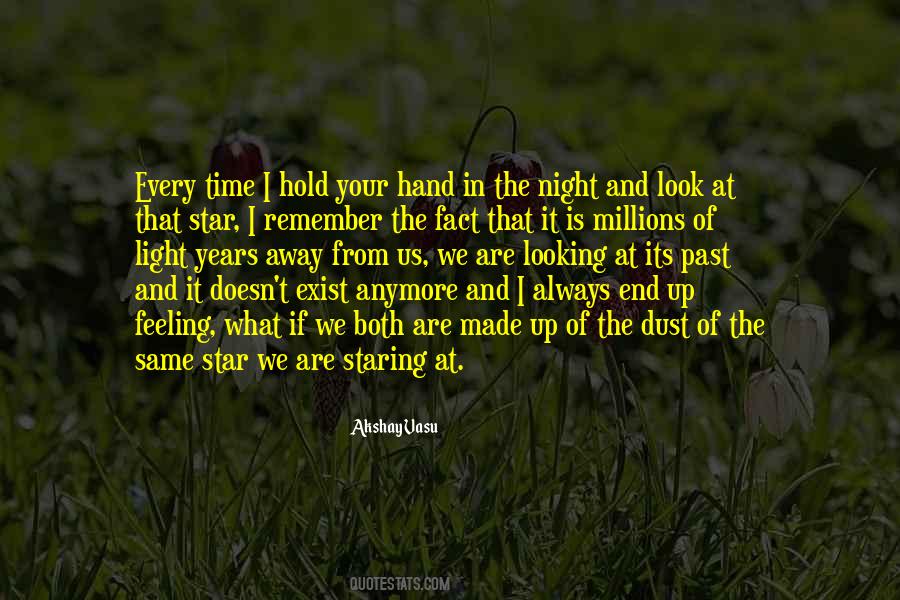 #65. The beauty of Hawaii probably surpasses other places. I like the Big Island and the two mountains, Mauna Loa and Mauna Kea, where you can look out at the stars. - Author: Buzz Aldrin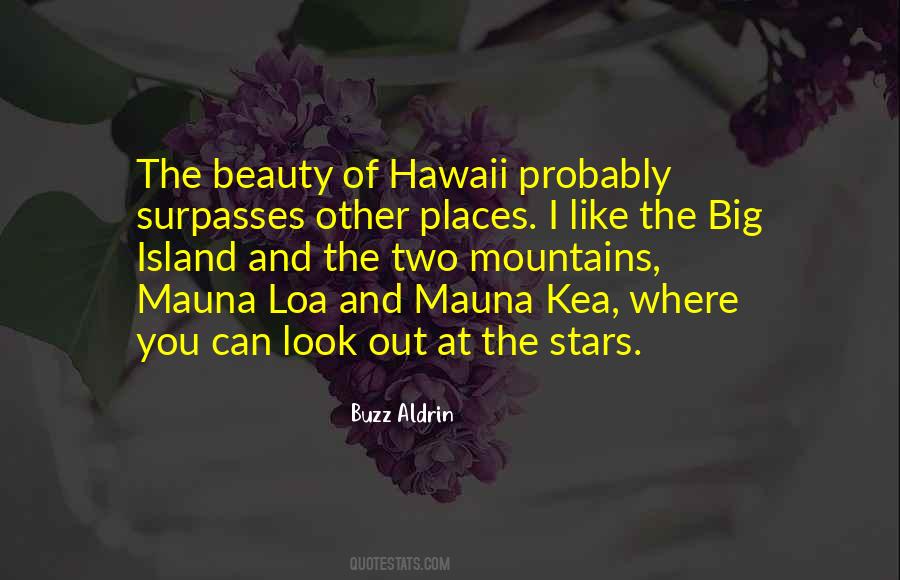 #66. What goes on inside a star is better understood than one might guess from the difficulty of having to look at a little dot of light through a telescope, because we can calculate what the atoms in the stars should do in most circumstances. - Author: Richard P. Feynman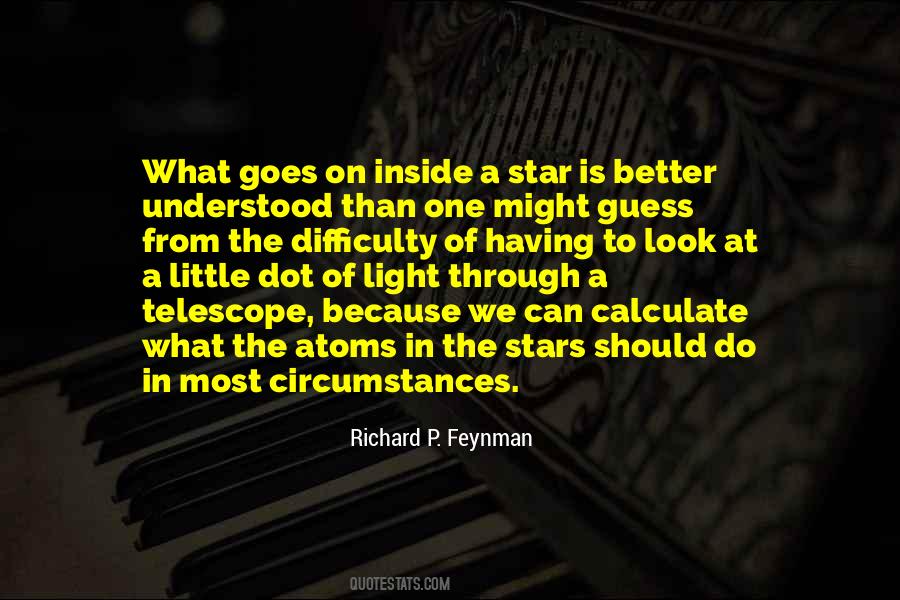 #67. In cities it is useless to look at the stars or to describe them, worship them, or seek direction from them. When lost, one should follow the tracks of the camels. - Author: Rawi Hage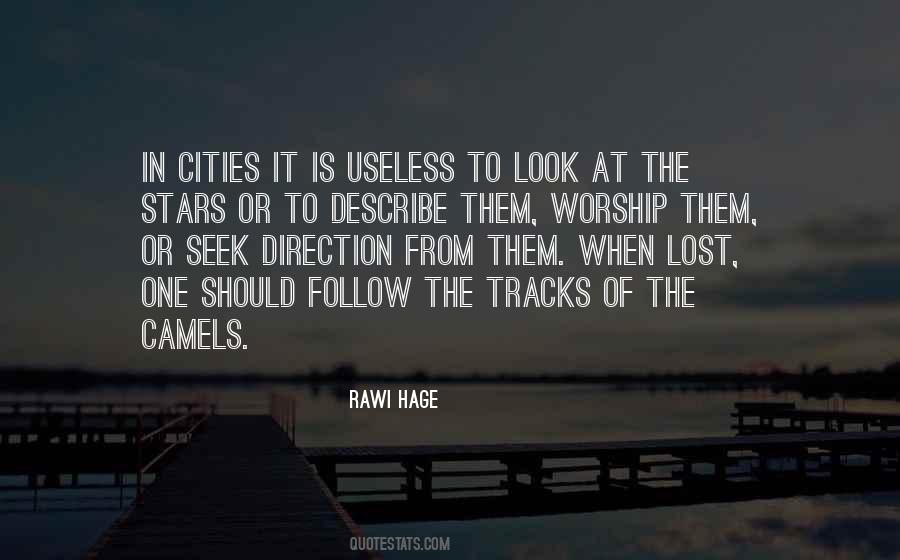 #68. Lie on your back and look at the stars. - Author: H. Jackson Brown Jr.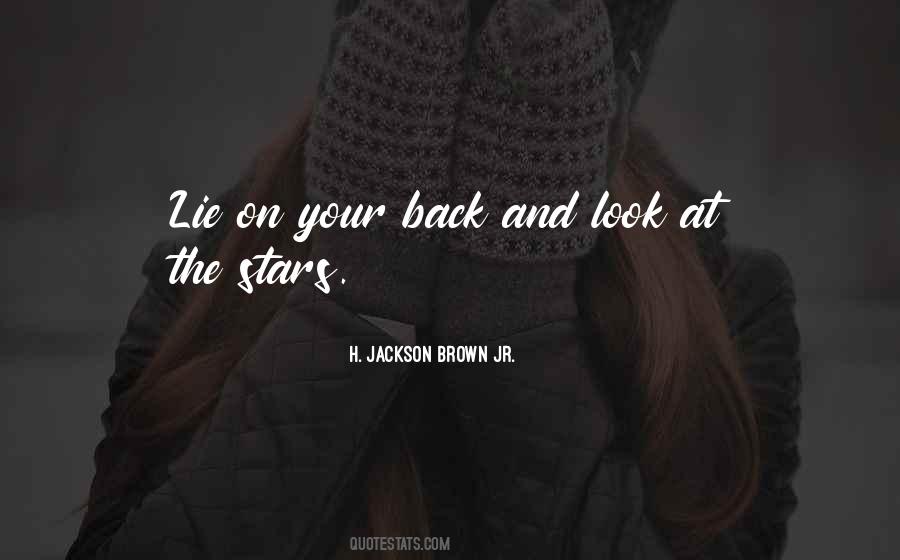 #69. I look across at the line of the city. The nights are mean in this place, full of smog that eats the stars. 'Who does feel hope around here? - Author: Cath Crowley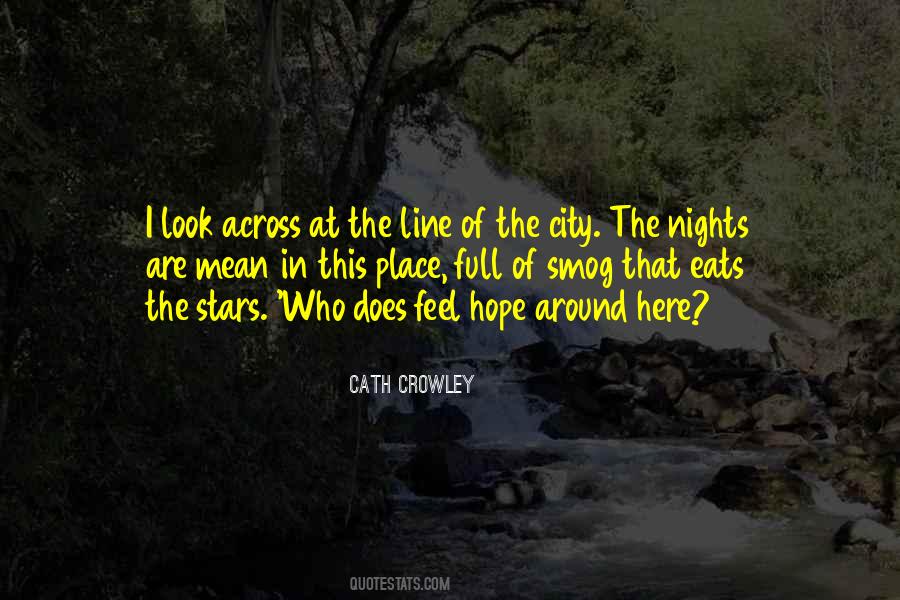 #70. If Eastlake High School were the universe, I would be one of the moons circling Planet Emma, constantly hidden by her shadow, and glad to be there. Nash Hudson would be one of the stars: too bright to look at, too hot to touch and at the center of his own solar system. - Author: Rachel Vincent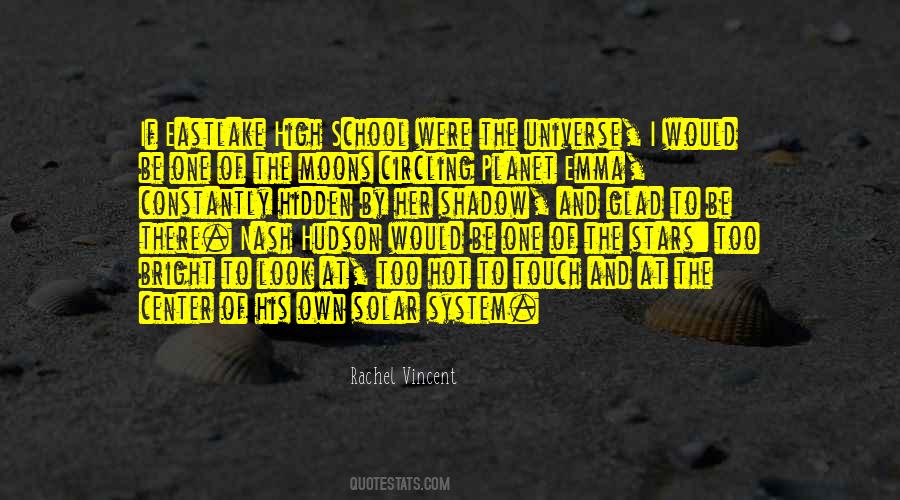 #71. A raft or a scow, you know; and maybe you could hear a fiddle or a song coming over from one of them crafts. It's lovely to live on a raft. We had the sky up there, all speckled with stars, and we used to lay on our backs and look up at them, - Author: Mark Twain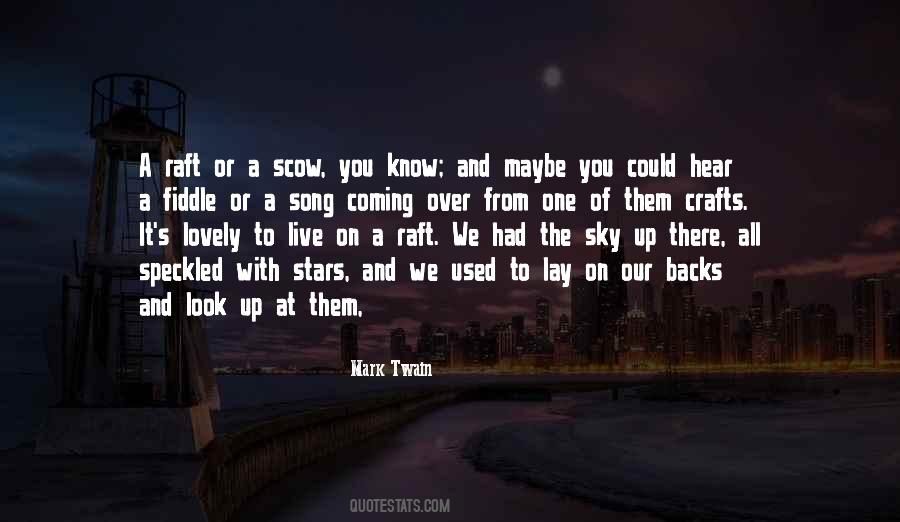 #72. Moments like this occurred more and more frequently, and I think that was the biggest difference between us. That we could look at the same stars in the same sky, but not have the same questions. Not want the same answers. - Author: Stephanie Oakes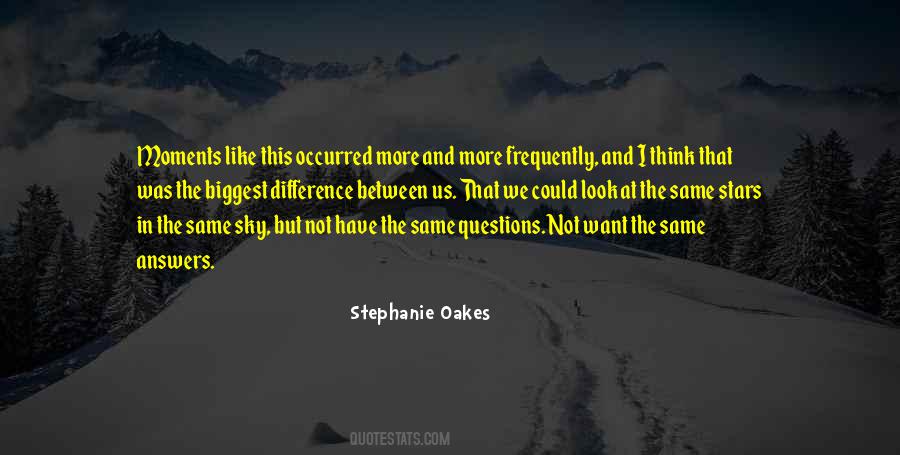 #73. 'The X Factor' seems to be more about building up personalities and people in tears. And it's not a new idea. The pre-Beatles pop world was full of manufactured pop stars. The thing is that you can't imagine any of the artists you look back at and admire ever going on 'The X Factor.' - Author: Jools Holland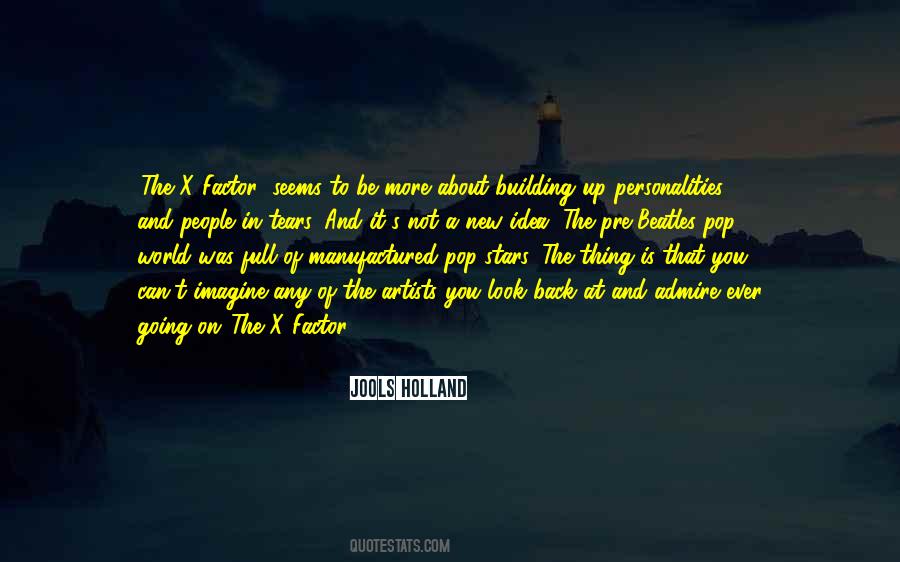 #74. Studying life, eh! Let him take care, studying human life is looking at the stars. If you look too close, there is a dazzle. - Author: Walt Whitman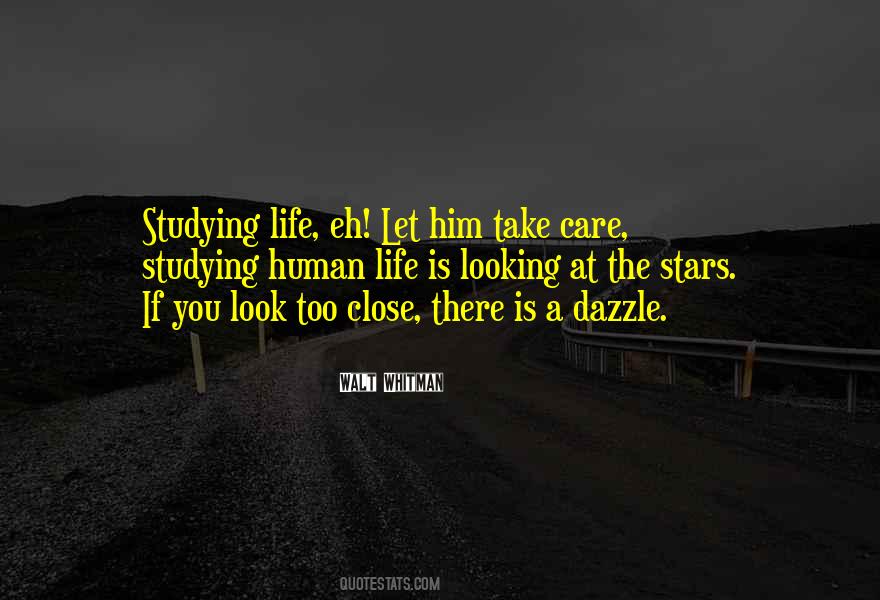 #75. When I look at the night sky and see the work of your fingers - the moon and the stars you set in place - 4 what are mere mortals that you should think about them, human beings that you should care for them? - Author: Anonymous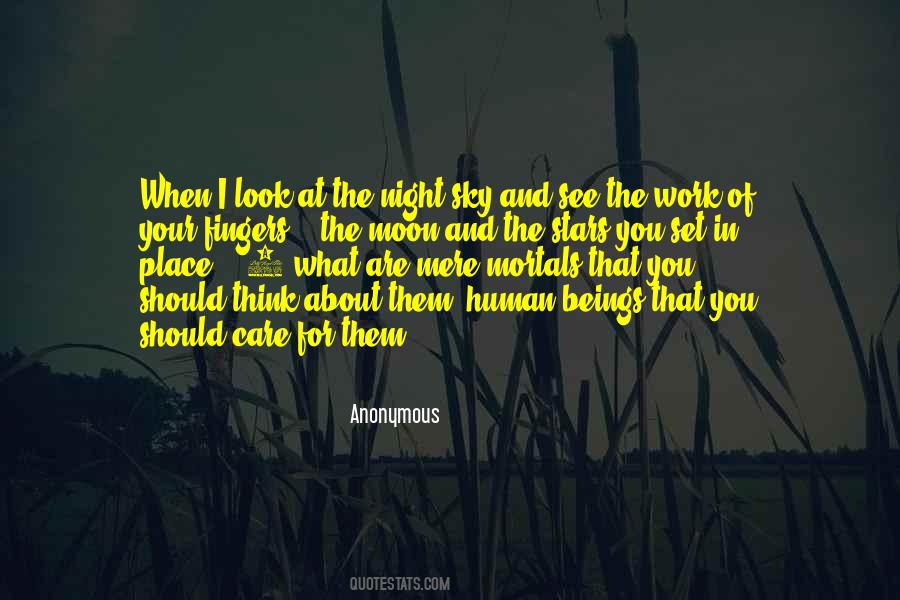 #76. Every now and again take a good look at something not made with hands - a mountain, a star, the turn of a stream. There will come to you wisdom and patience and solace and, above all, the assurance that you are not alone in the world. - Author: Sid Lovett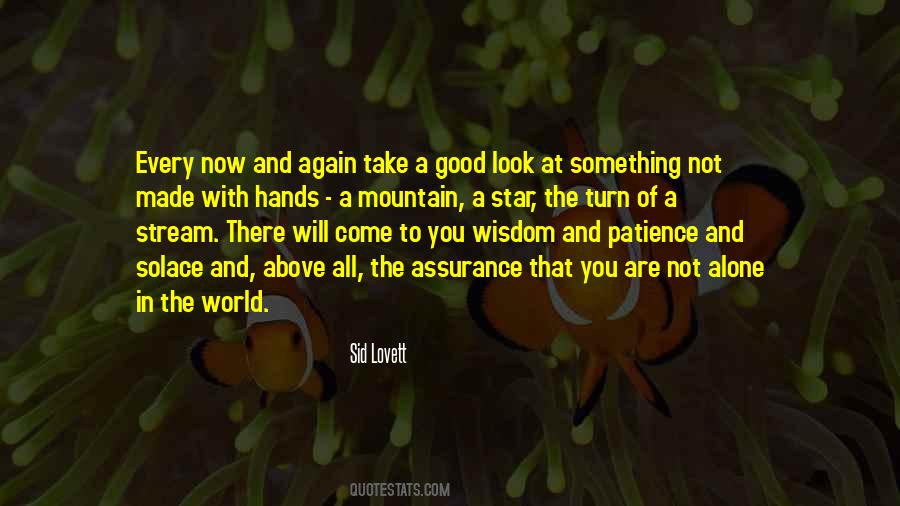 #77. Kick off your shoes. Unburden yourself with song. Tell each other tales. Dance around the table. Leave the cleaning up for the morning. Then go outside and look at the stars. - Author: Noble Smith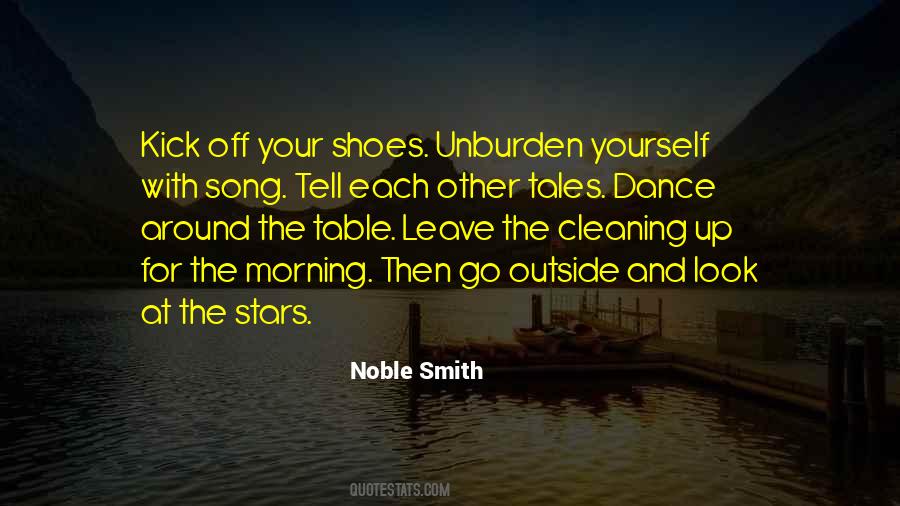 #78. The greatest experience I've ever had in a movie theater was watching "Star Wars." It shaped how I look at the world. My imagination was so small before I went in that theater and there was an explosion in my head. I just couldn't figure out how someone came up with it. - Author: Will Smith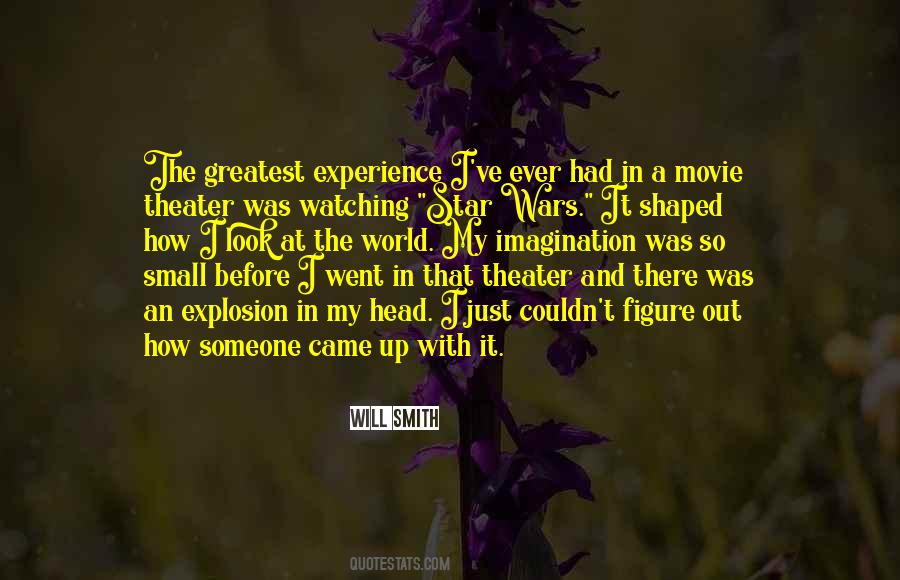 #79. It's not imagination on my part when I say that to look up at the sky, the clouds, the moon, and the stars make me calm and patient. It's a better medicine than either valerian or bromine; Mother nature makes me humble and prepared to face every blow courageously. - Author: Anne Frank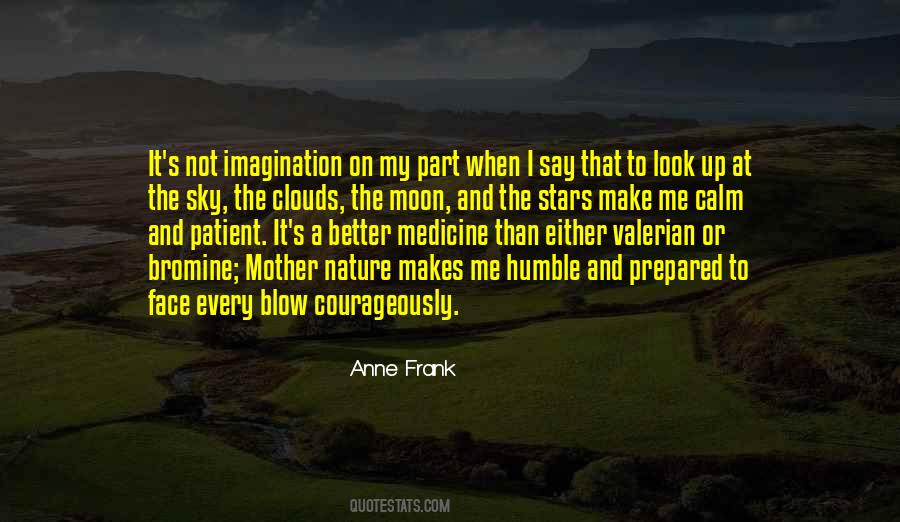 #80. You cannot look up at the night sky on the Planet Earth and not wonder what it's like to be up there amongst the stars. And I always look up at the moon and see it as the single most romantic place within the cosmos. - Author: Tom Hanks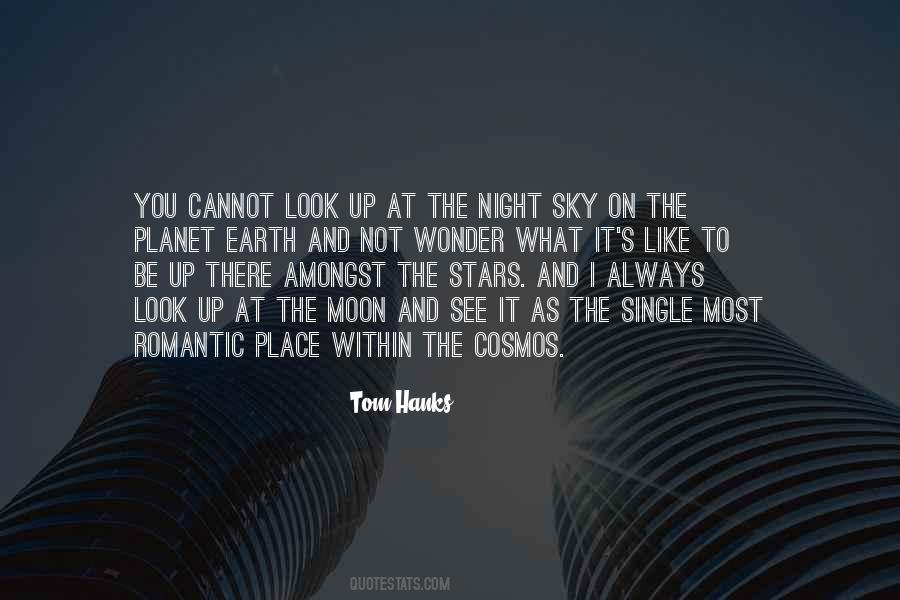 #81. The stars, like the hollow eyes of a god forgotten, marry the sadness of the exhausted hour and inspire a little chaos, a little gentleness, to those below.

I look up at the sky and see everything I've ever lost,
waiting for me. - Author: Marlen Komar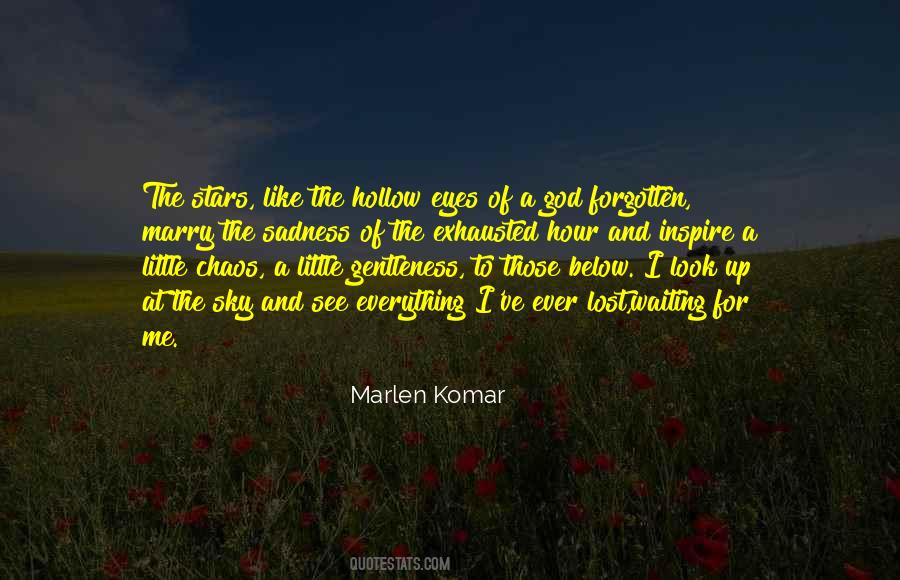 #82. There were 'big stars' at the Alamo! Bowie, Crockett! It is a huge political event because it, and the events at Goliad and San Jacinto, changed the look of a map of America. America would be a very different place if Texas had remained Mexican. - Author: Phil Collins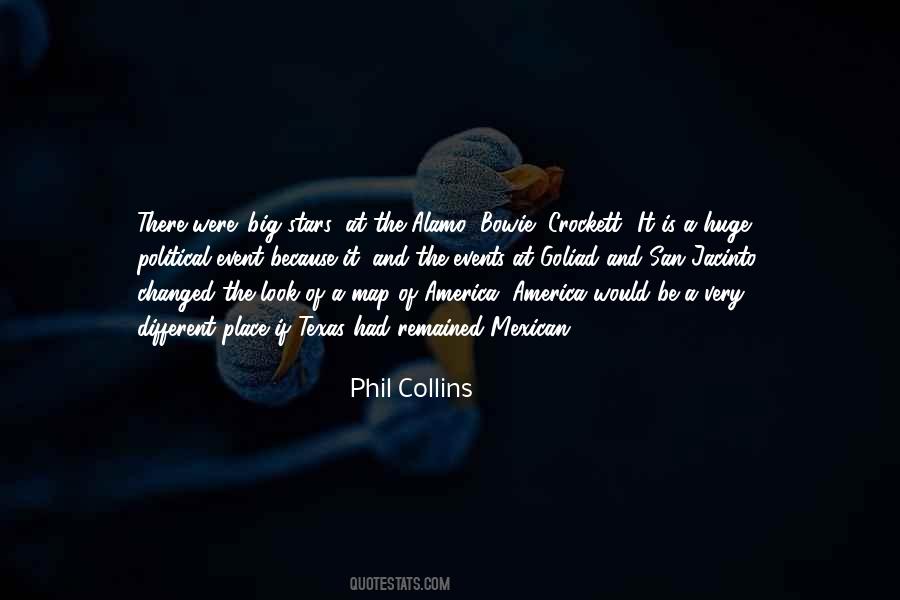 #83. Look up at the stars, not down at your feet. - Author: Stephen Hawking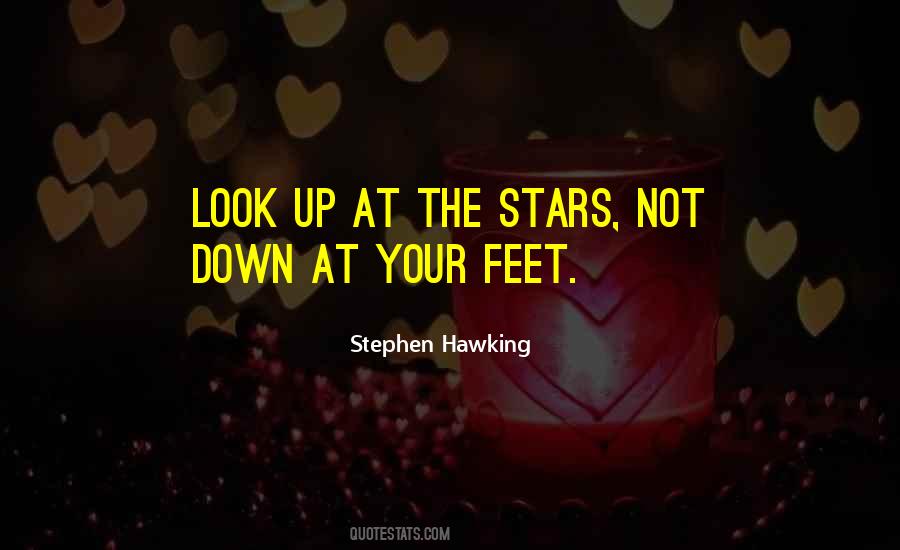 #84. Every night, no matter what has happened during the day, no matter if I am torn and bloodied or so bone-tired I wish I were dead, I look up at the stars and I give each star a brother's name or a sister's face. I will not sleep until I remember every one. The stars will burn out before I forget. - Author: Cassandra Clare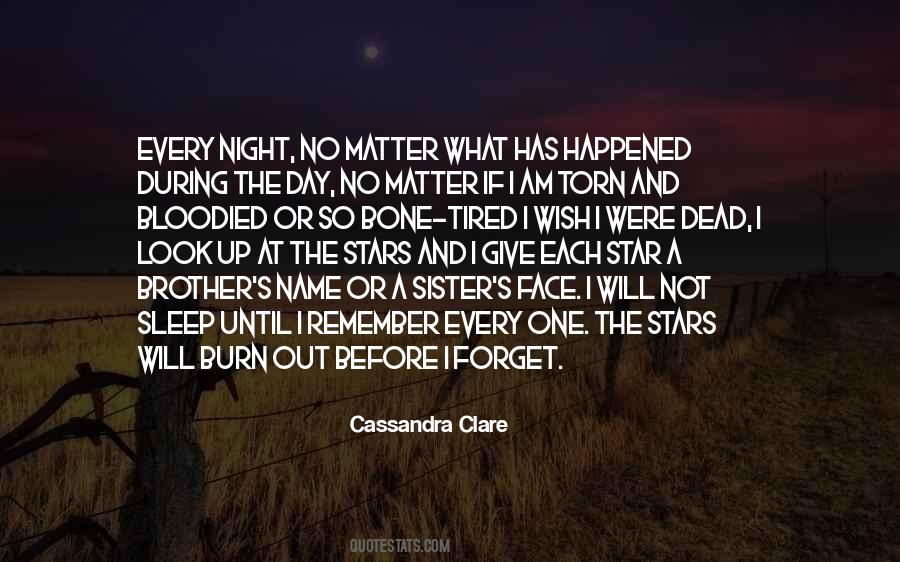 #85. In a world turned upside-down, where everything was wrong, bizarre, you could at least look up at the sky and see normality. Stars that shone regardless of who won a civil war, or who should or should not be a president. Their light was billions of years old. They didn't have a care ... - Author: Alex Scarrow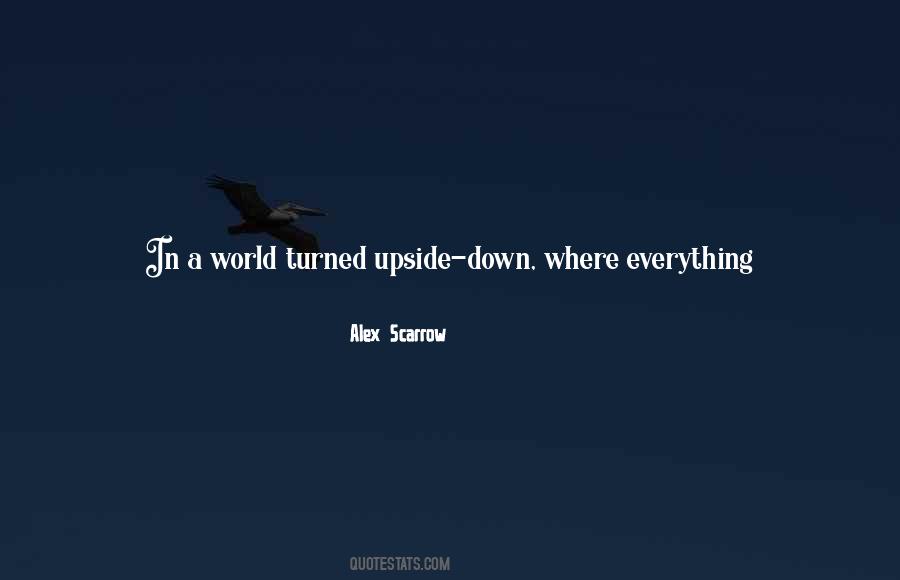 #86. I'd teach them to read and to dream and to look at the stars and wonder. I'd teach them the value of imagination. I'd teach them to play every bit as hard as they worked. And I'd teach them that all the brains in the world can't compensate for love. - Author: Karen Marie Moning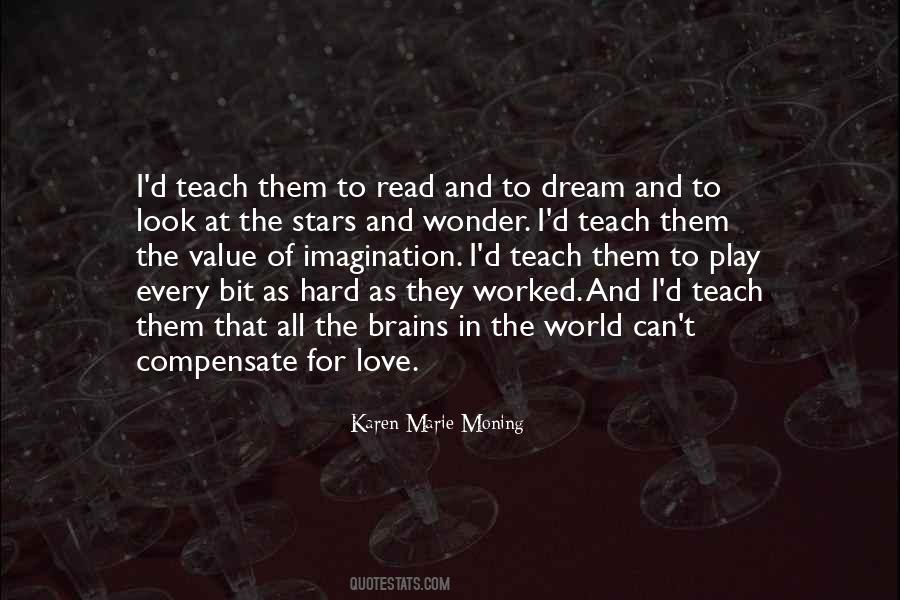 #87. Look at all the stars. You look up and you think,
'God made all this and He remembered to make a little speck like me.' It's kind of flattering, really. - Author: Morgan Earp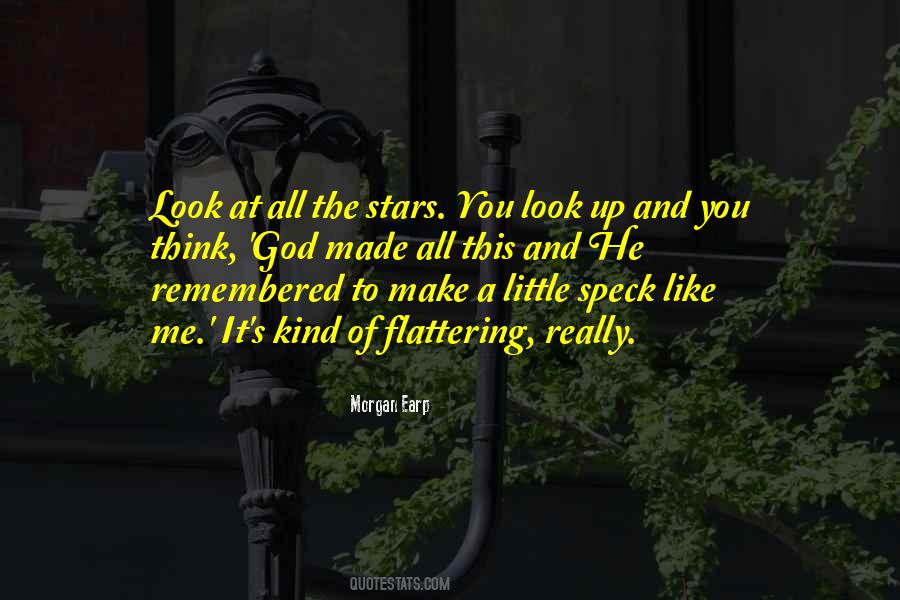 #88. Stephen Hawking Quotes

Look up at the stars and not down at your feet. Try to make sense of what you see, and wonder about what makes the universe exist. Be curious.

Stephen Hawking - Author: Stephen Hawking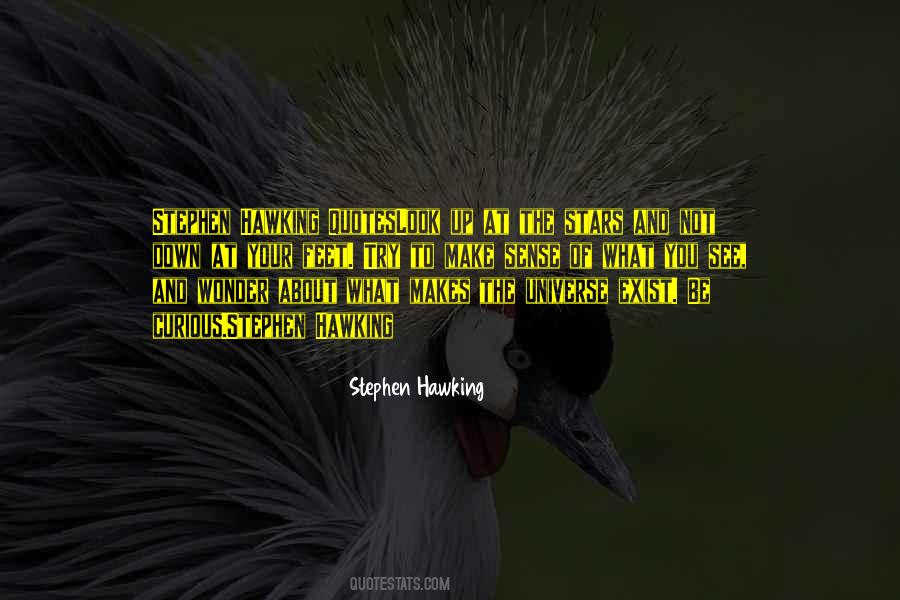 #89. Look at the stars," said Tim. "Don't you ever wonder what they're for?"
The Night was an open book of constellations.
"They're for the same as everything else, "said Sam. They're just for themselves."
The stars silently agreed. - Author: Toby Forward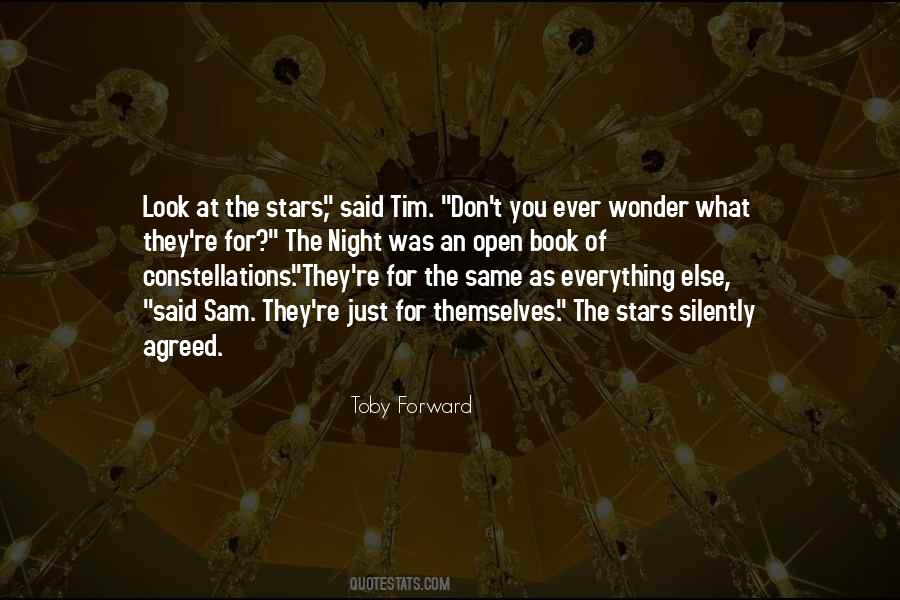 #90. I can never look now at the Milky Way without wondering from which of those banked clouds of stars the emissaries are coming. If you will pardon so commonplace a simile, we have set off the fire alarm and have nothing to do but to wait. I do not think we will have to wait for long. - Author: Arthur C. Clarke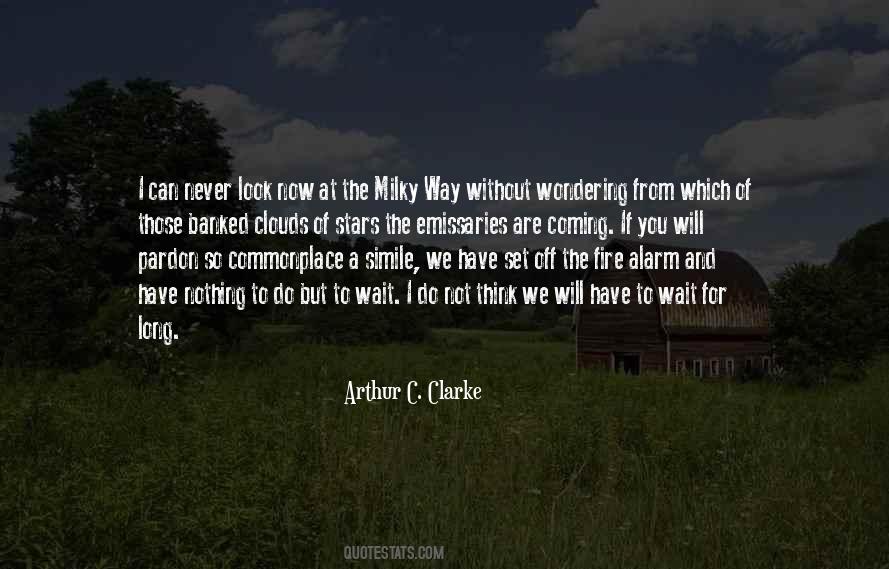 #91. Were all stars to disappear and die,
I should learn to look at an empty sky
And feel its total dark sublime,
Though this might take me a little time.
- W. H. Auden, "The More Loving One - Author: W. H. Auden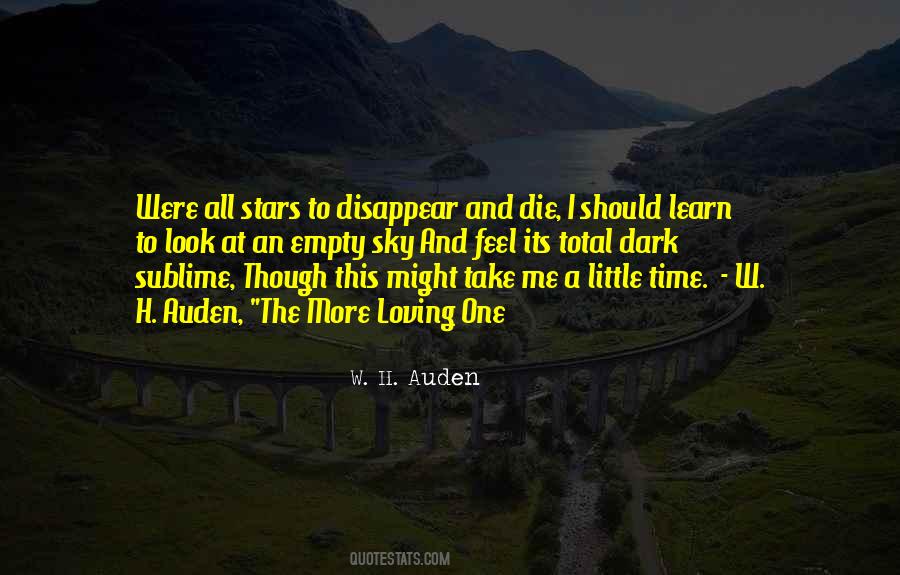 #92. We look at distant exploding stars called supernovae, and we've developed techniques to measure how far away they are and how fast they're moving away from us. - Author: Adam Riess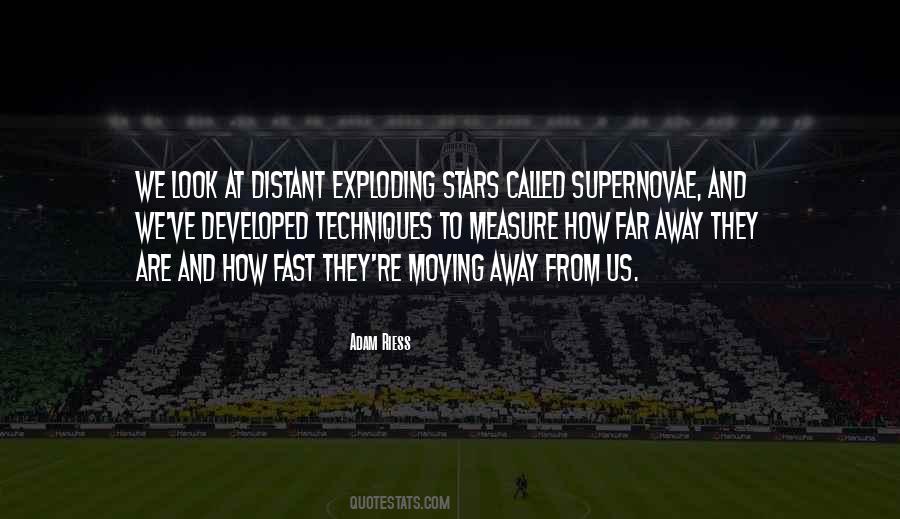 #93. I've always had the idea that multi-millionaire rock stars should work harder than anyone because they have the ability to do it. Look at an artist like Andy Warhol. He never stopped working, even after he didn't need to work again. - Author: Buzz Osborne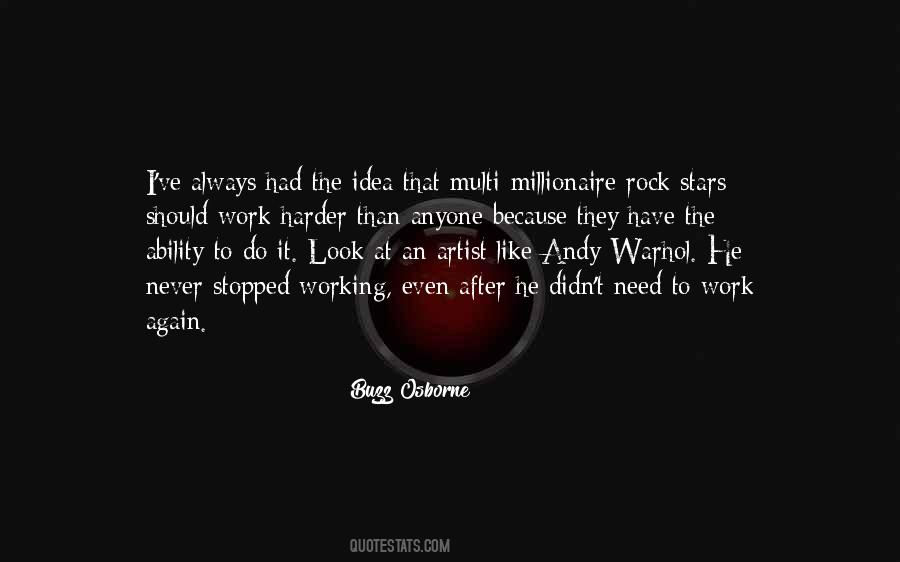 #94. He'd drop his clothes and slip into the water. The lake's top few inches, after cooking all day in the sun, would be nearly bath warm. "I'd stretch out in the water, " he said, "and lie flat on my back, and look at the stars. - Author: Michael Finkel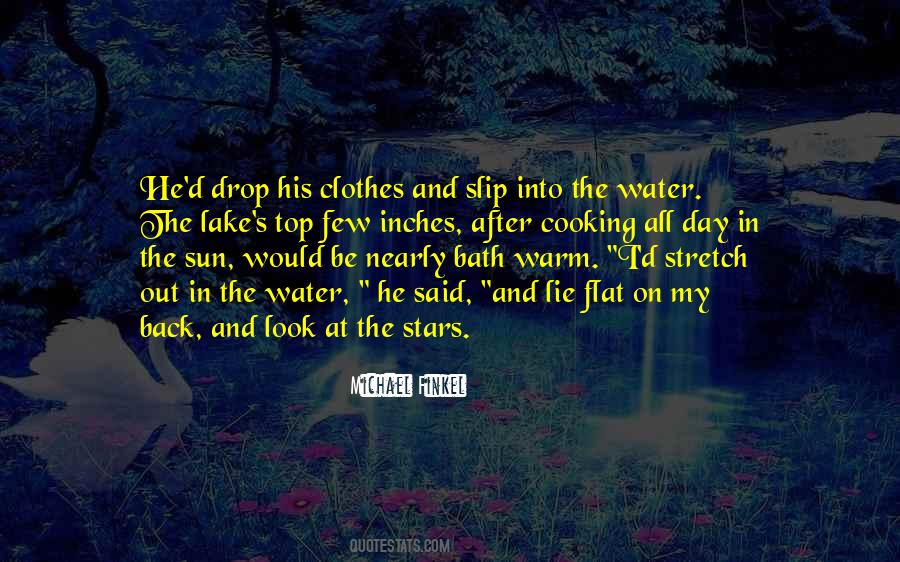 #95. All of us at one point end face up in a ditch, but only a few will choose to look up at the stars and dream. - Author: Shannon L. Alder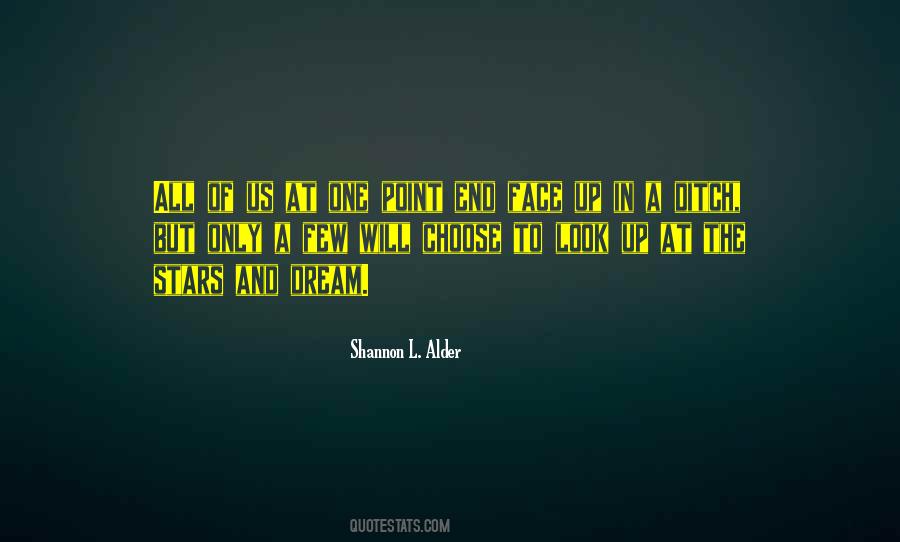 #96. You do not have to sit outside in the dark. If, however, you want to look at the stars, you will find that darkness is necessary. But the stars neither require nor demand it. - Author: Annie Dillard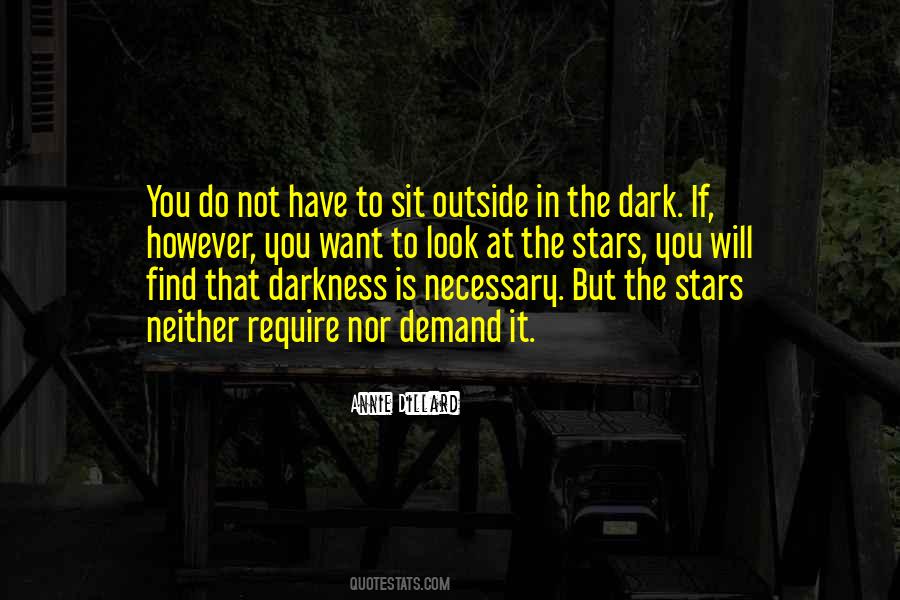 #97. Ye think of me, Jamie, and Jenny and Lallybroch. Ye'll not see us, but we'll be here nonetheless and thinking of you. Look up at night, and see the stars, and ken we see them, too." He - Author: Diana Gabaldon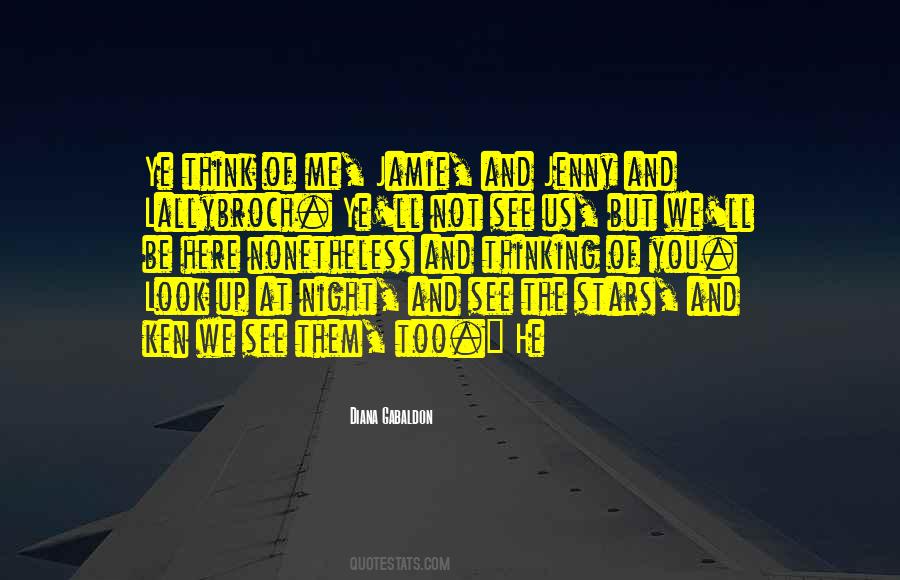 #98. Sirius, the brightest star in the heavens ... My grandfather would say we're part of something incredibly wonderful - more marvelous than we imagine. My grandfather would say we ought to go out and look at it once in a while so we don't lose our place in it. - Author: Robert Fulghum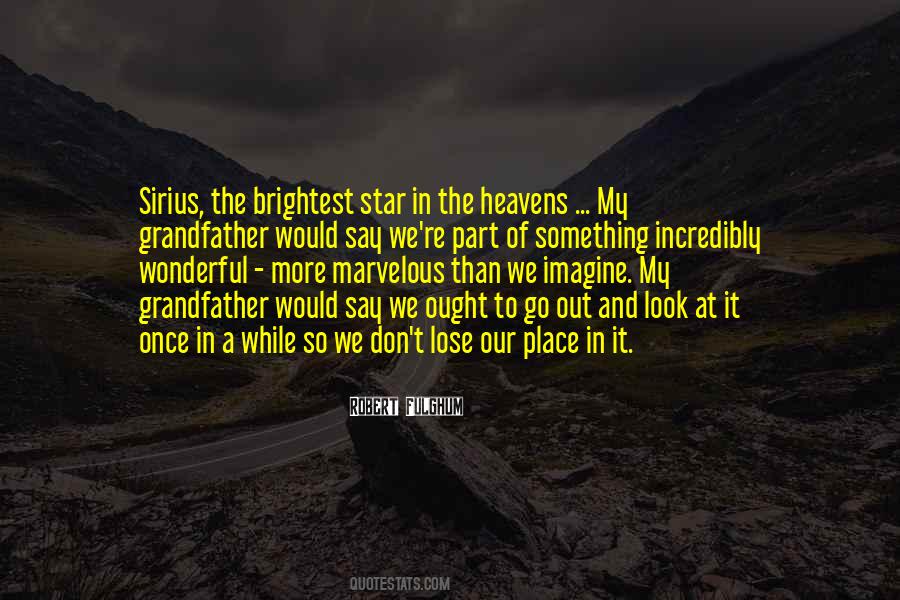 #99. When you're sad, look up at the stars, then close your eyes. The stars will tell you a story. Their soft gleam will embrace and comfort you and lead you confidently toward your goals. - Author: Catherine Shepherd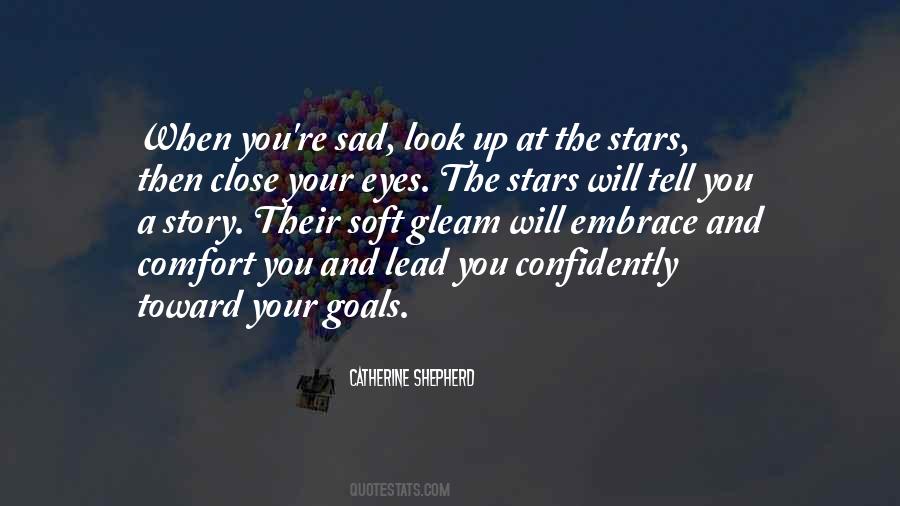 #100. For a painter, the Mecca of the world, for study, for inspiration and for living is here on this star called Paris. Just look at it, no wonder so many artists have come here and called it home. Brother, if you can't paint in Paris, you'd better give up and marry the boss's daughter. - Author: Alan Jay Lerner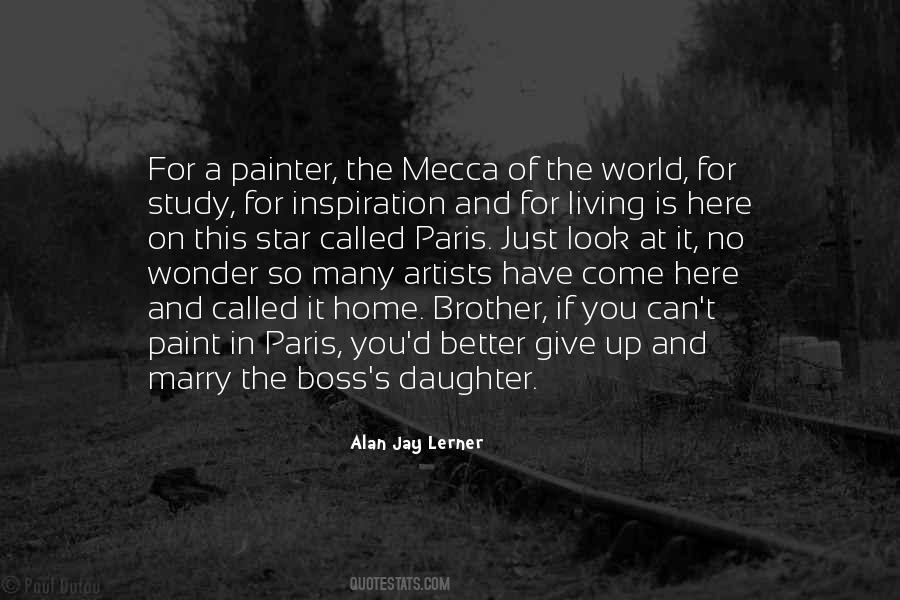 Famous Authors
Popular Topics