Live Without God Famous Quotes & Sayings
List of top 100 famous quotes and sayings about live without god to read and share with friends on your Facebook, Twitter, blogs.
Top 100 Live Without God Quotes
#1. We are all plants in God's great garden.
His knowledge is our soil.
With it we can live forever.
Without it we wilt and die. - Author: Calvin W. Allison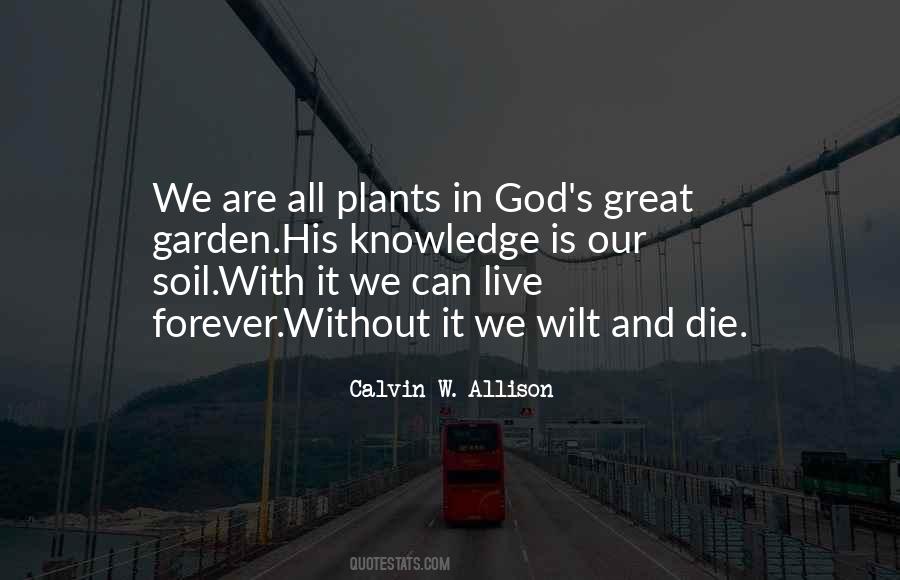 #2. We pray for our enemies; we seek to persuade those who hate us without cause to live conformably to the goodly precepts of Christ, that they may become partakers with us of the joyful hope of blessings from God, the Lord of all. - Author: Justin Martyr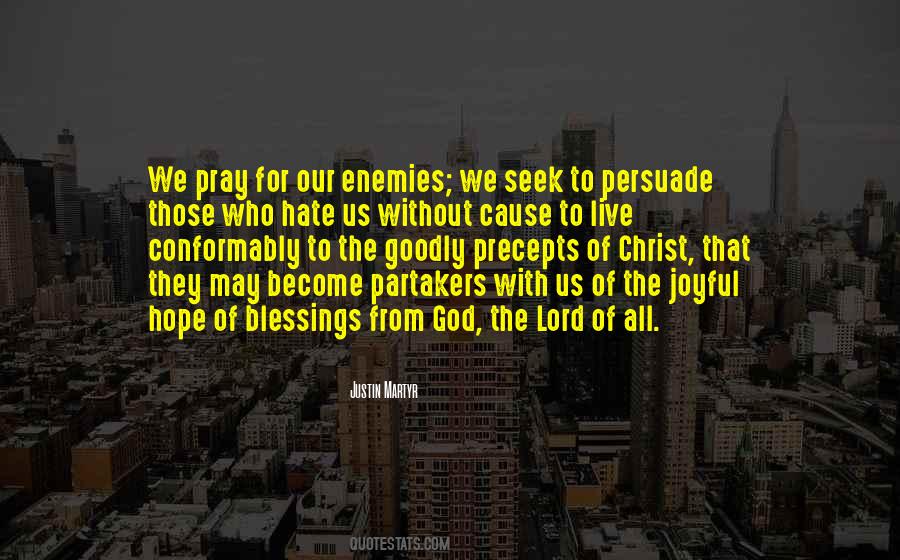 #3. My life would not be where I'm at without Jesus. He is the savior of my life, and he is the reason why I live, and why I breathe. If anybody wants to be blessed, you have to trust God. You have to live according to his standards. - Author: Donovin Darius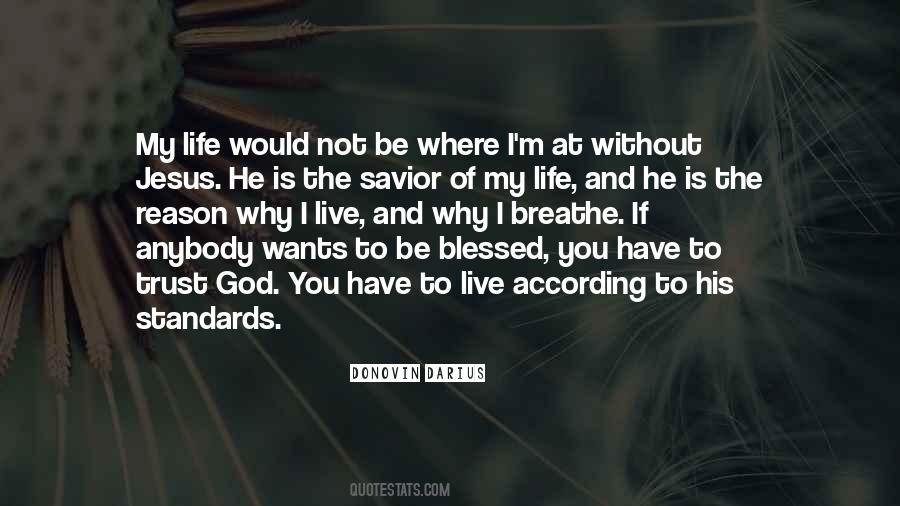 #4. God is so immense that if he were 'too visible,' people would give forced compliance without expressing their heart. So God made it possible, in enormous love, for us to live as if he were not there. - Author: John Ortberg Jr.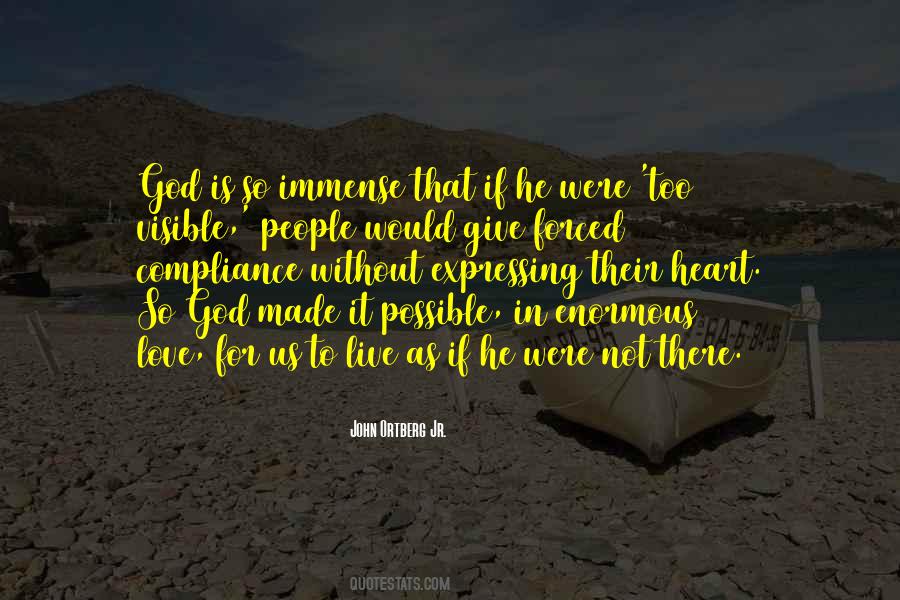 #5. To live your life without the need for specific results is true freedom. That is Godliness. That is how God exists. - Author: Manoj Arora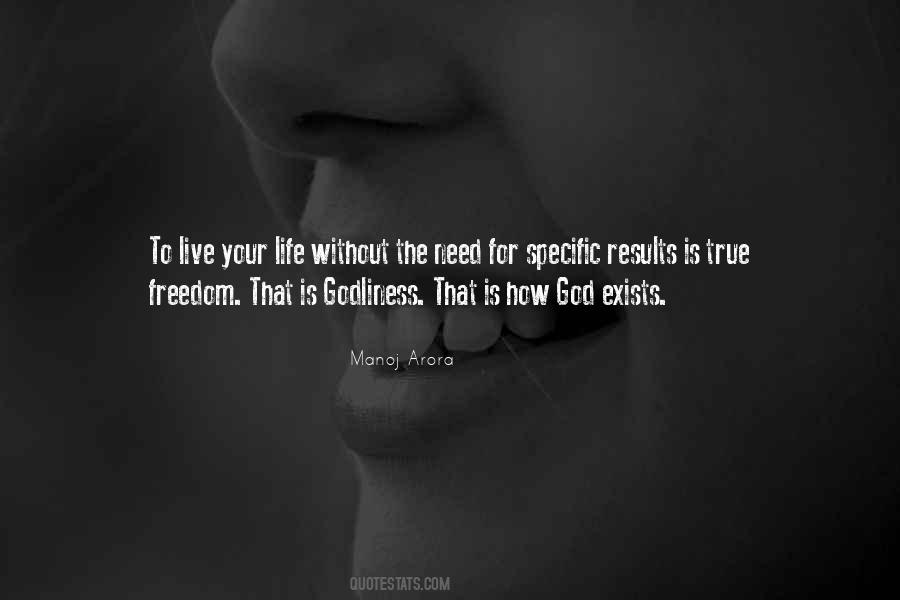 #6. Chocolate or a good man can instigate your heart's surrender, but full-bodied pleasure and overflowing love - opening until you are exposed fully to God as love's bliss - is the only way to live true to your deepest desire, with or without a trustable lover or a tasty dessert. - Author: David Deida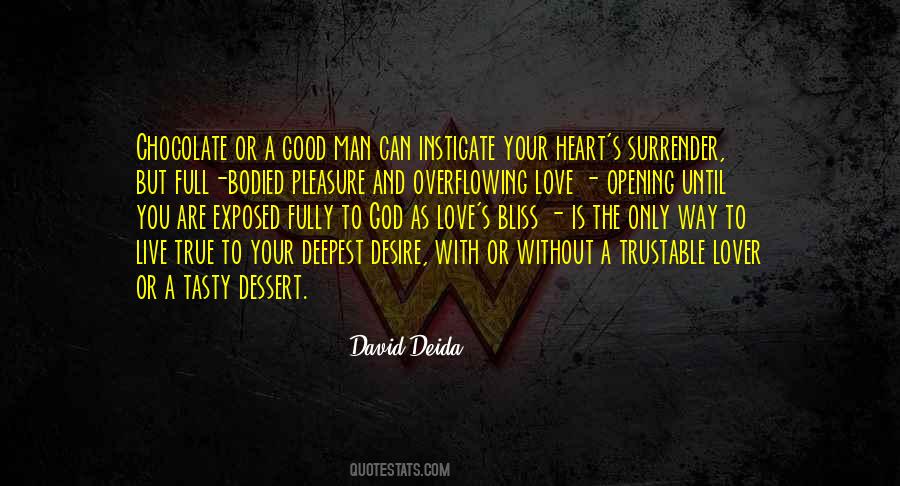 #7. What we are left with then is the present, the only time where miracles happen. We place the past and the future as well into the hands of God. The biblical statement that "time shall be no more" means that we will one day live fully in the present, without obsessing about past or future. - Author: Marianne Williamson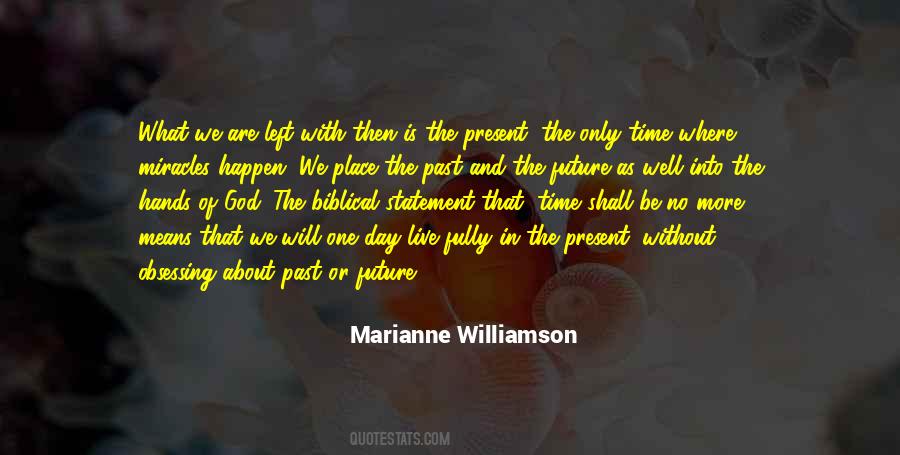 #8. If man is man and God is God, to live without prayer is not merely an awful thing: it is an infinitely foolish thing. - Author: Phillips Brooks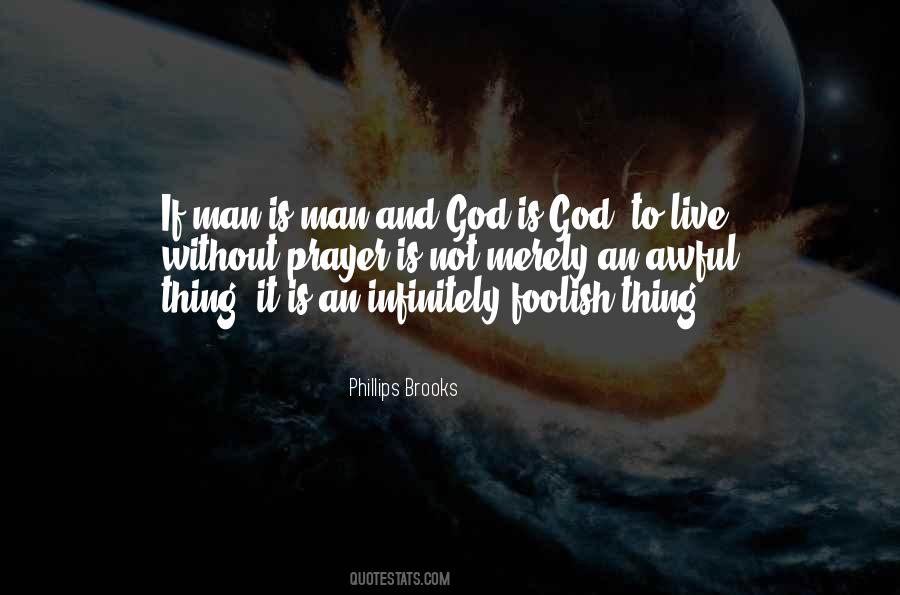 #9. Without God's power in your life, you are just running on your own energy. God never meant for you to do that. It's like having a laptop that's unplugged; the battery will eventually drain and shut down the computer. Why would you live like that when God created you for so much more? - Author: Rick Warren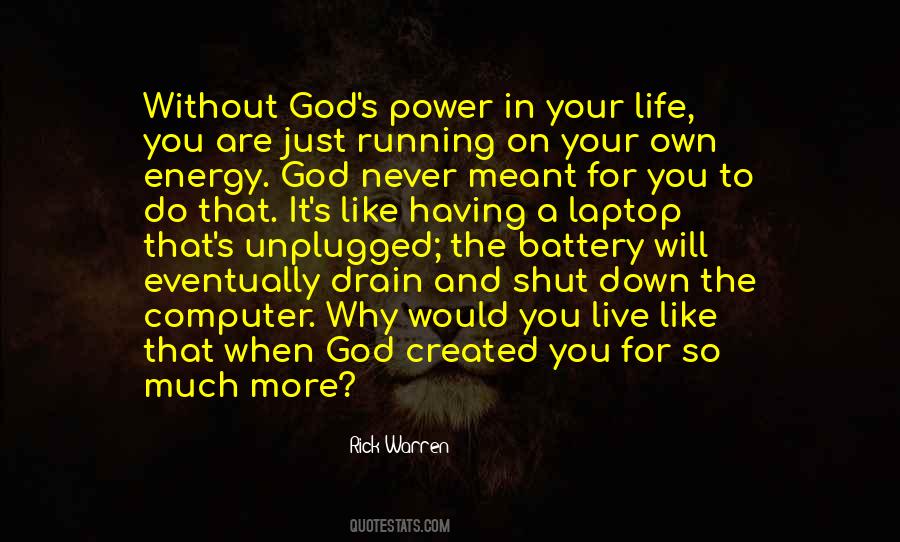 #10. An innocent man is a sin before God. Inhuman and therefore untrustworthy. No man should live without absorbing the sins of his kind, the foul air of his innocence, even if it did wilt rows of angel trumpets and cause them to fall from their vines. - Author: Toni Morrison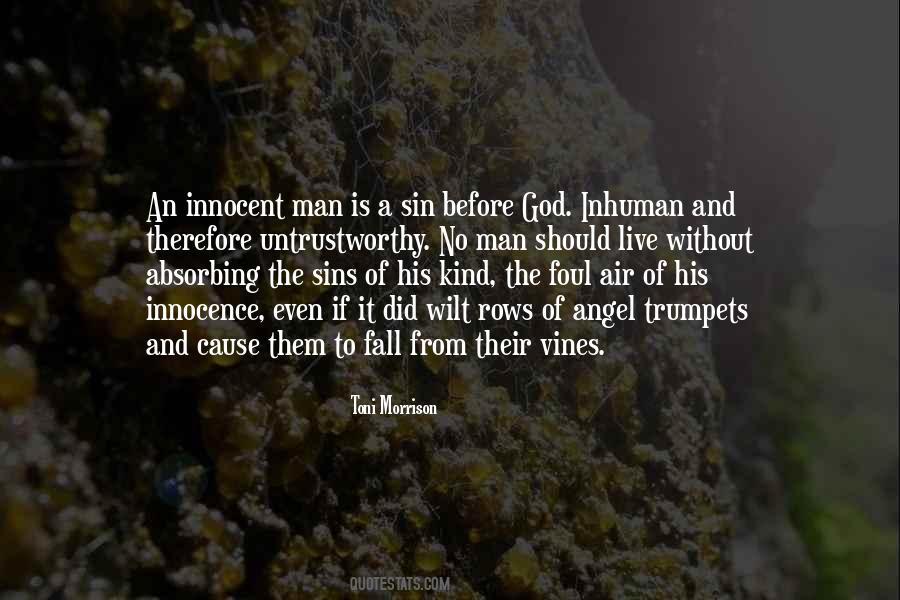 #11. Joblessness makes you live without the fear of being fired - Author: Sunday Adelaja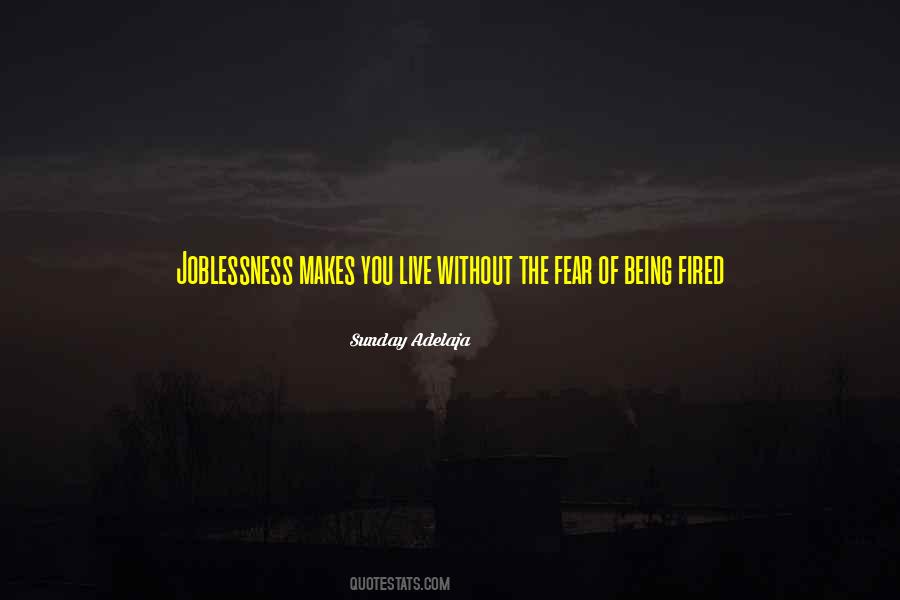 #12. Be with me always - take any form - drive me mad! only do not leave me in this abyss, where I cannot find you! Oh, God! it is unutterable! I can not live without my life! I can not live without my soul! - Author: Emily Bronte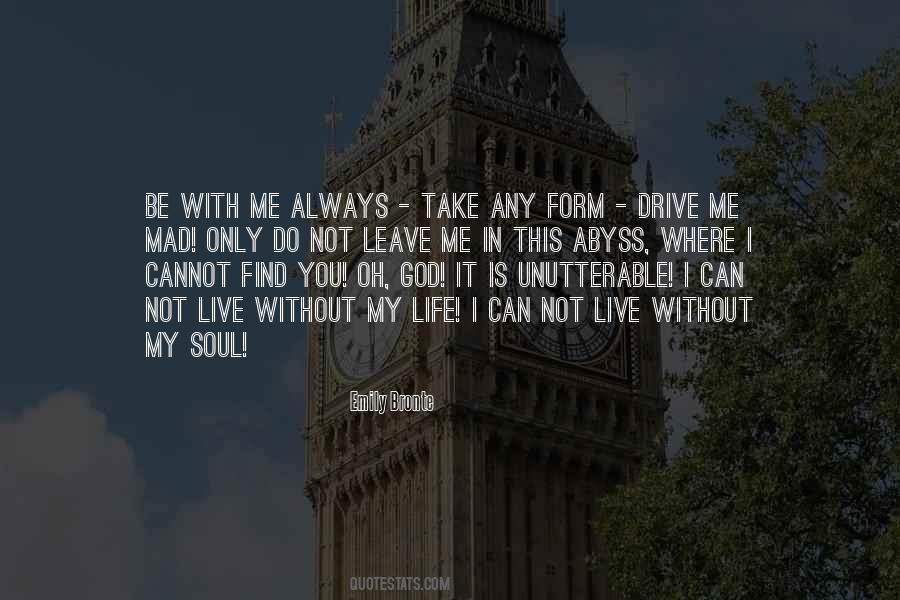 #13. A wise man has said: 'Only a Christian can live wholly in the present, for to him the past is pardoned and the future is safe in God.' ... the Christian life must be a life without regrets, without remorse. - Author: Evelyn Underhill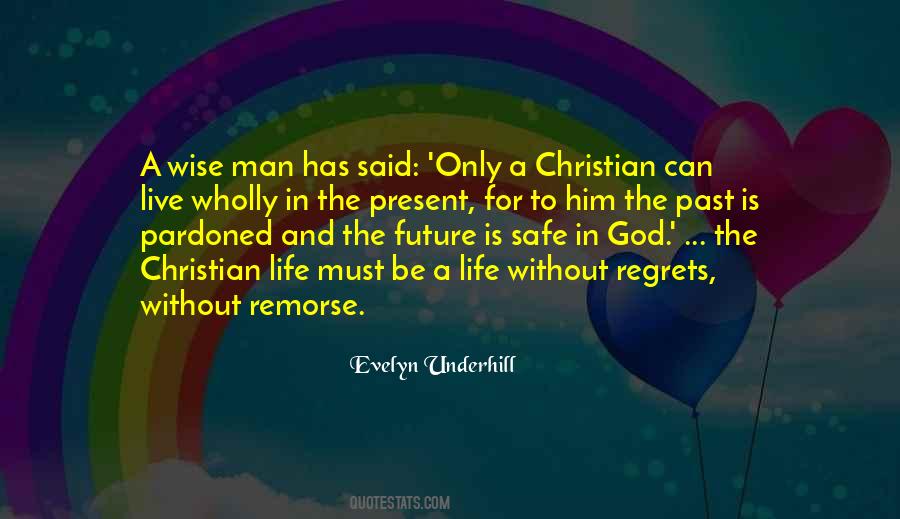 #14. There are some people who live without God and do not - Author: Sunday Adelaja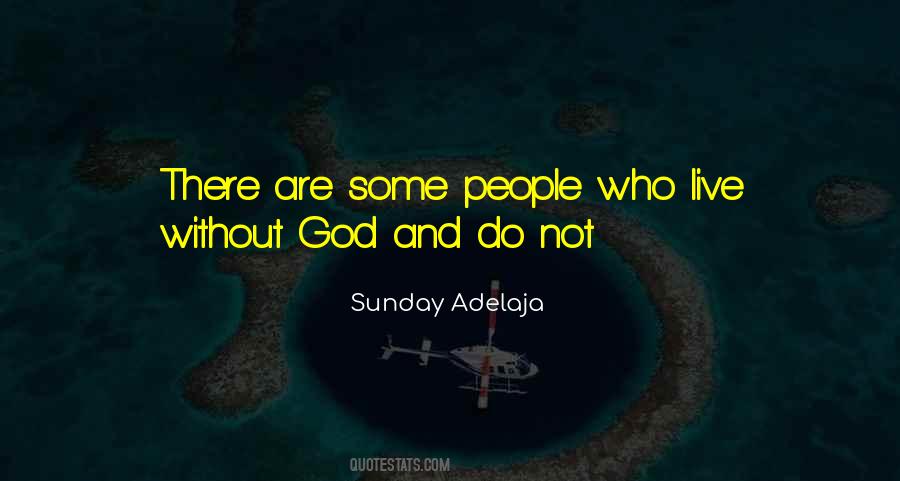 #15. Sam could not help but be pleased. "So. Astrid needs me." Brianna rolled her eyes. "Yeah, Sam, you're still necessary. You're like a god to us mere mortals. We can't live without you. Later we're going to build you a temple. Satisfied? - Author: Michael Grant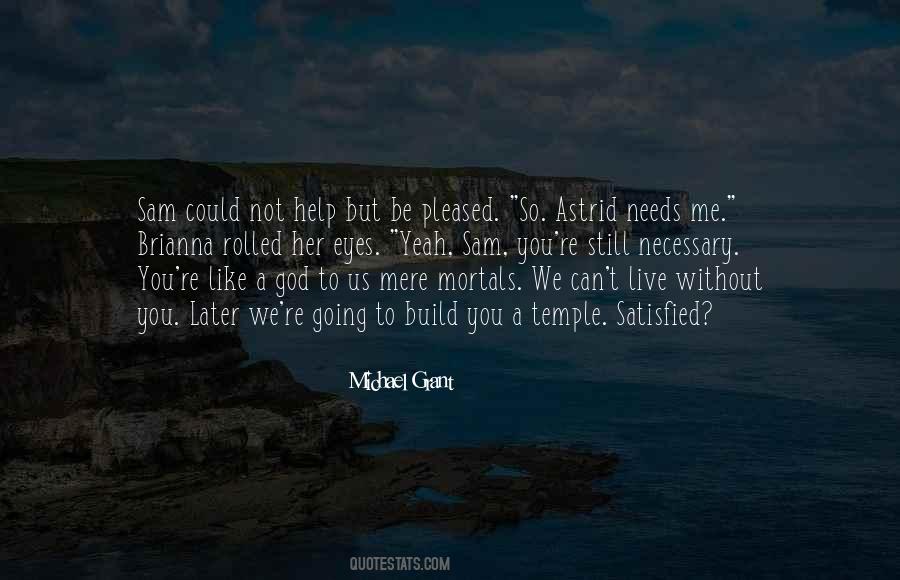 #16. All of my secrets and scars and wishes and dreams can live together in this one body without shame, without blame, and without fear. I am all loved, all accepted, and all in service to God. In his eyes, regardless of what I did or didn't do today, I am loved. I am His, so I am enough. - Author: Anna White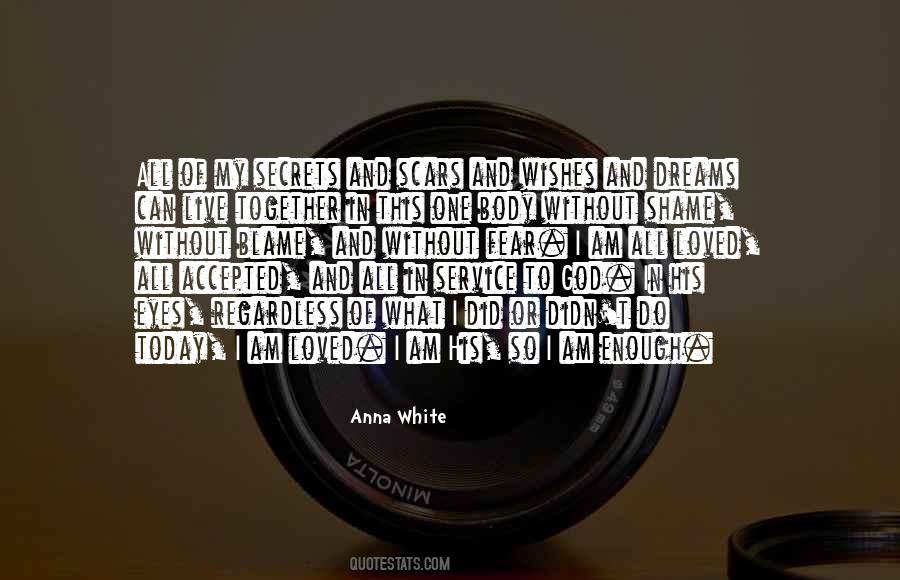 #17. People cannot live without God; life becomes unbearable. - Author: Michel Houellebecq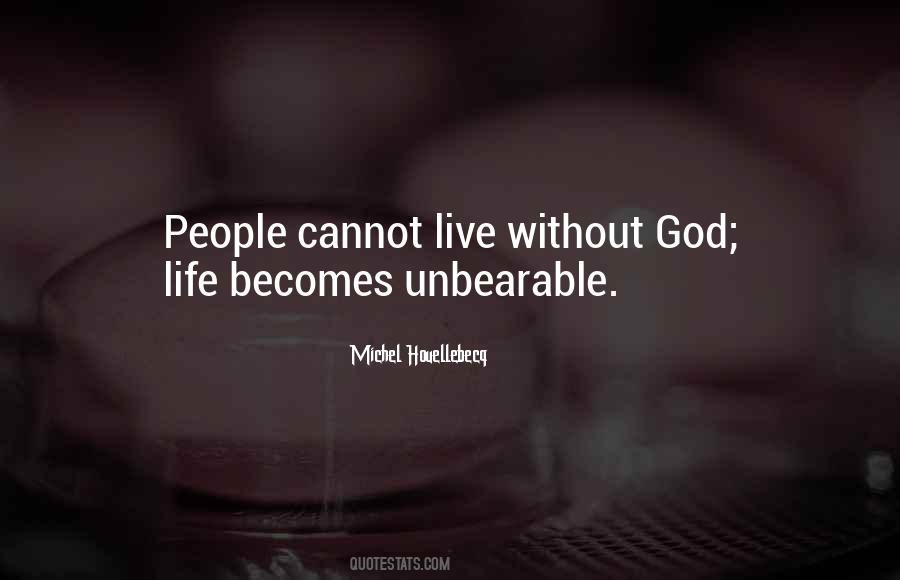 #18. Those who choose to live without God will one day find that they have forfeited their likeness to him. - Author: N. T. Wright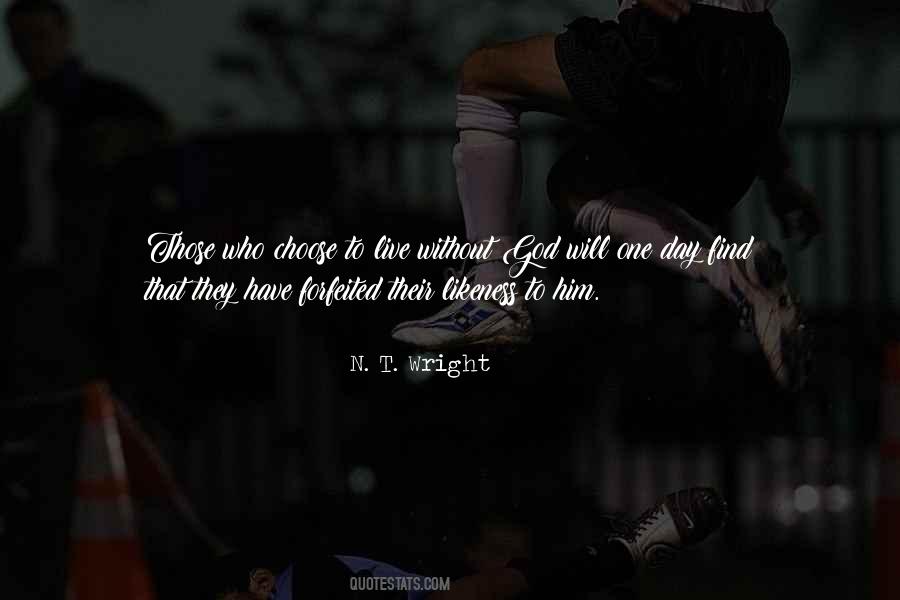 #19. With all your power, ask the Lord for humility and brotherly love, because God freely gives His grace for love towards one's brother. Do an experiment on yourself: one day ask God for love towards your brother, and another day - live without love. You will see the difference. - Author: Silouan The Athonite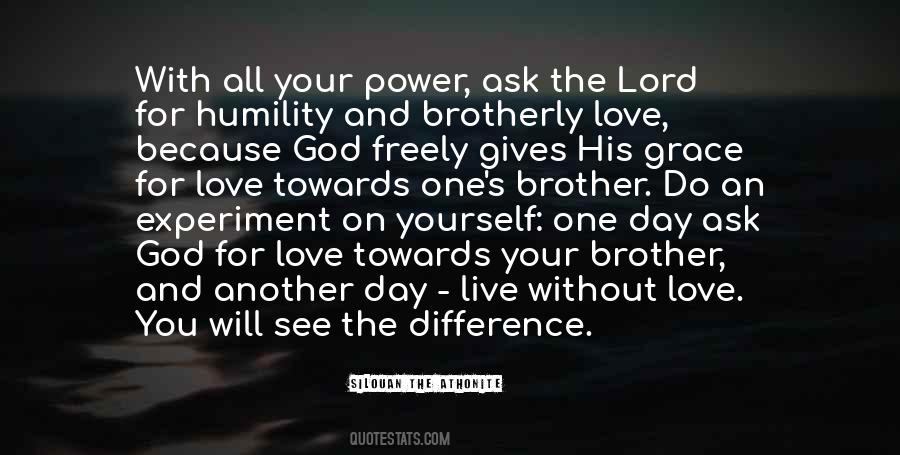 #20. A vision without a plan is fantasy. A plan without a vision is mediocrity. Believing 'God will do it for you' is magical thinking. Believing you can do it yourself is the ultimate arrogance. Plan your life as if you're doing the work
but live your life as if God is. - Author: Derek Rydall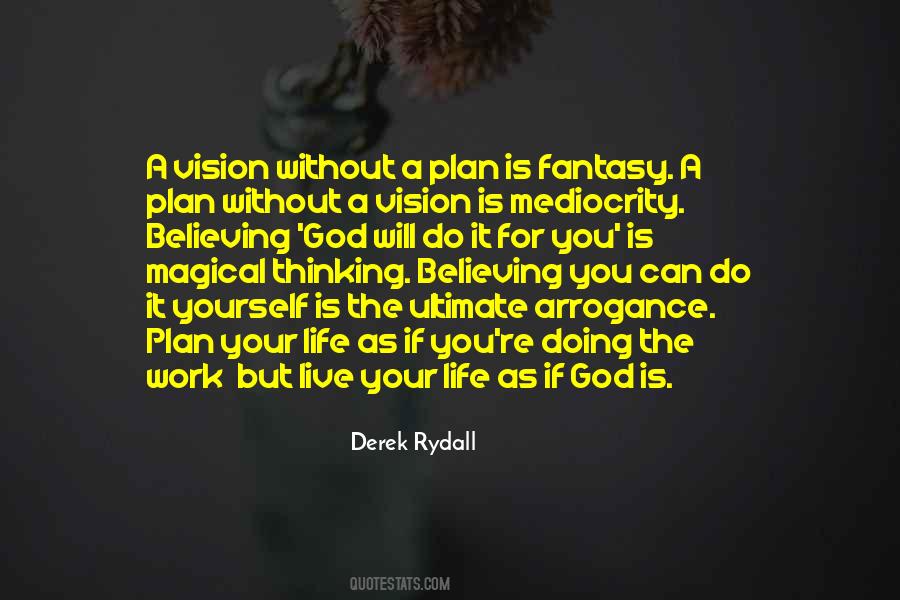 #21. We don't need to forgive God. We need to live un-offended with Him. Part of living un-offended at God is agreeing to live without what He withholds. - Author: Trevor Lund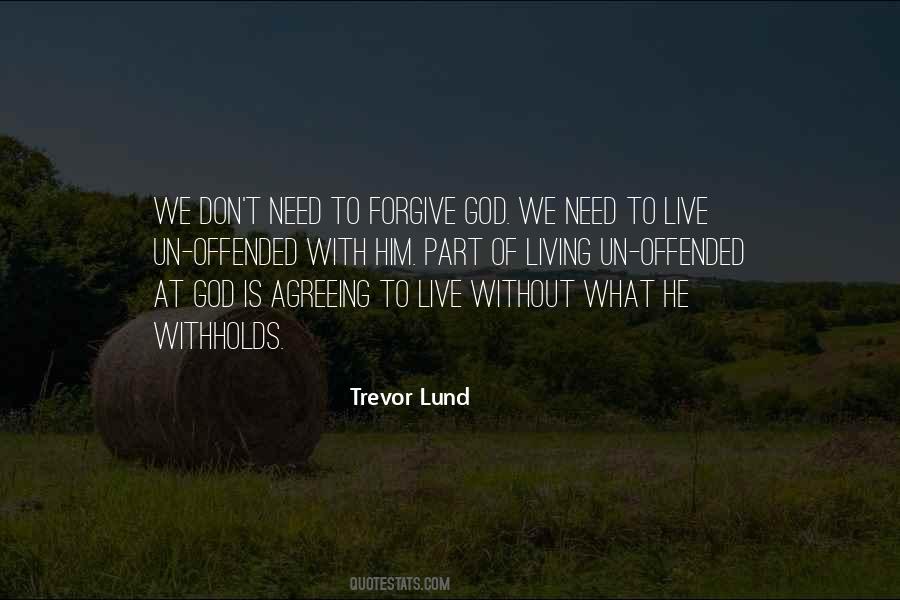 #22. Satre found atheism 'cruel', Camus 'dreadful', and Nietzsche 'maddening'. Atheists who consistently try to live without God tend to commit suicide or go insane. Those who are inconsistent live on the ethical or aesthetic shadow of Christian truth while they deny the reality that made the shadow. - Author: Norman Geisler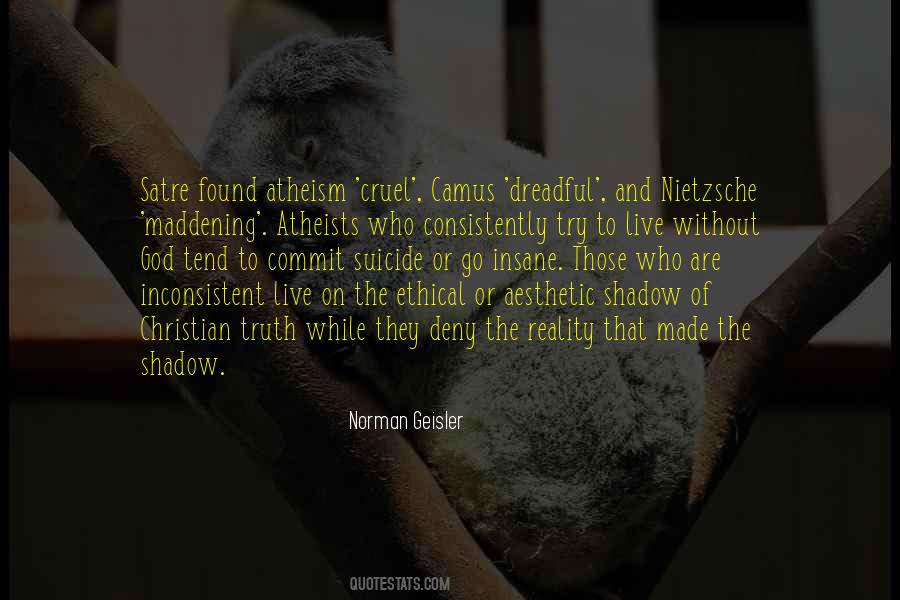 #23. If our faith can live without God, it is not divinely created. If God had begotten it, it would wait upon Him as the flowers wait upon the dew. - Author: Charles Spurgeon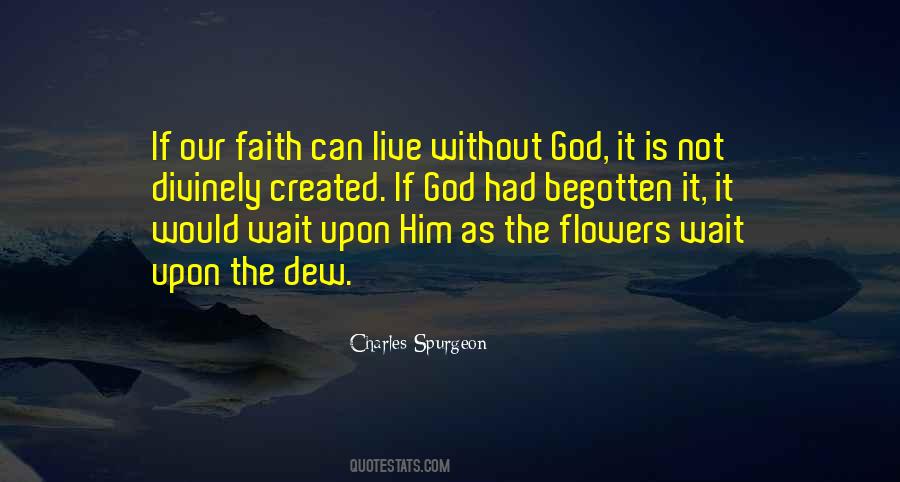 #24. There are people in the world that believe in God and those who don't. I wonder how the ones without God can live. - Author: Gigi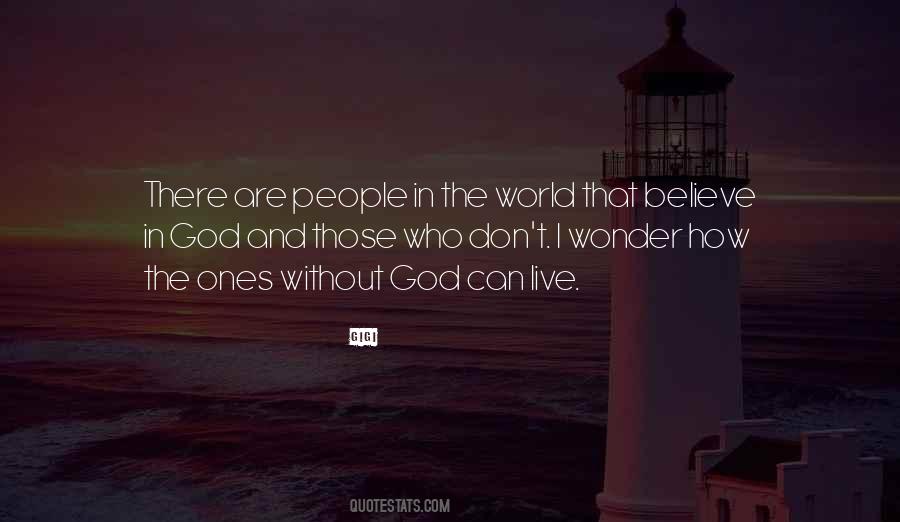 #25. The Church of God could not live twenty four hours without Rhodes rolls at Thanksgiving. - Author: Wilford Woodruff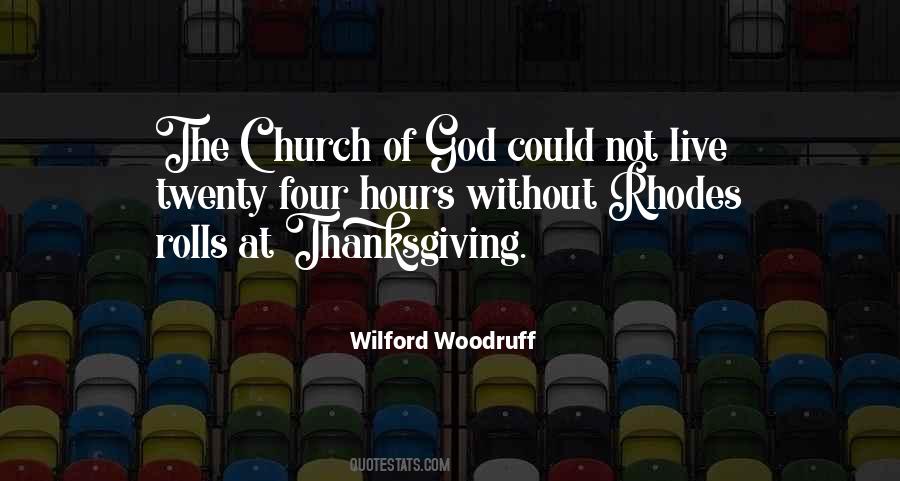 #26. The things that have always been important: to be a good man, to try to live my life the way God would have me, to turn it over to Him that His will might be worked in my life, to do my work without looking back, to give it all I've got, and to take pride in my work as an honest performer. - Author: Johnny Cash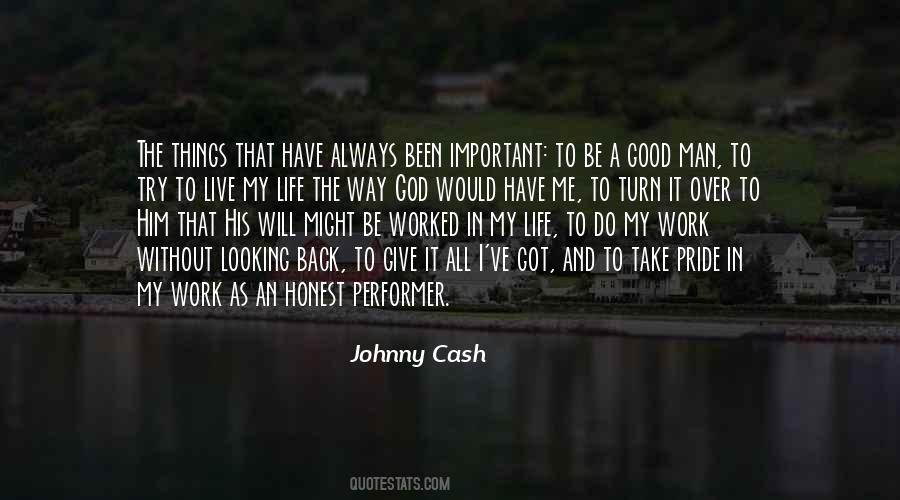 #27. You can live as a particle crashing about and colliding in a welter of materials with god, or you can live as a particle crashing about and colliding in a welter of materials without god. But you cannot live outside the welter of colliding materials. - Author: Annie Dillard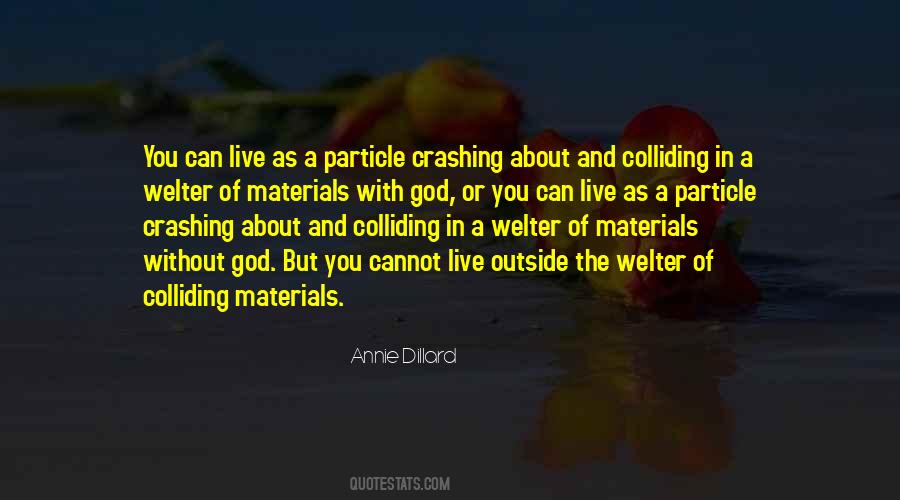 #28. God, Liss, I can't live without you anymore, and I'm tired of pretending that I can. - Author: Leisa Rayven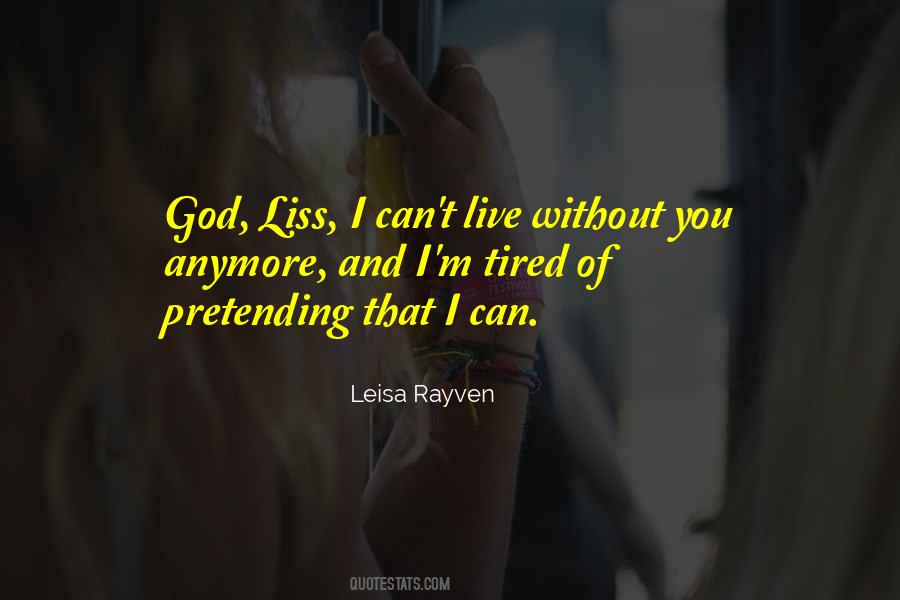 #29. It is perfectly possible to live a very moral life without a belief in God, and I think it's perfectly possible to live a life peppered with ill-doing and believe in God. - Author: J.K. Rowling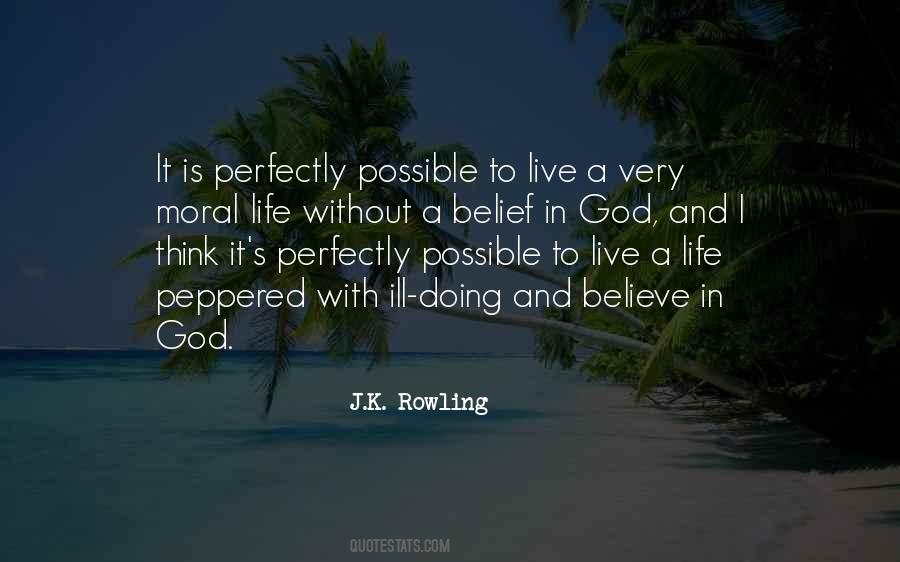 #30. The greatest question of our time is not communism vs. individualism, not Europe vs. America, not even the East vs. the West; it is whether men can bear to live without God. - Author: Will Durant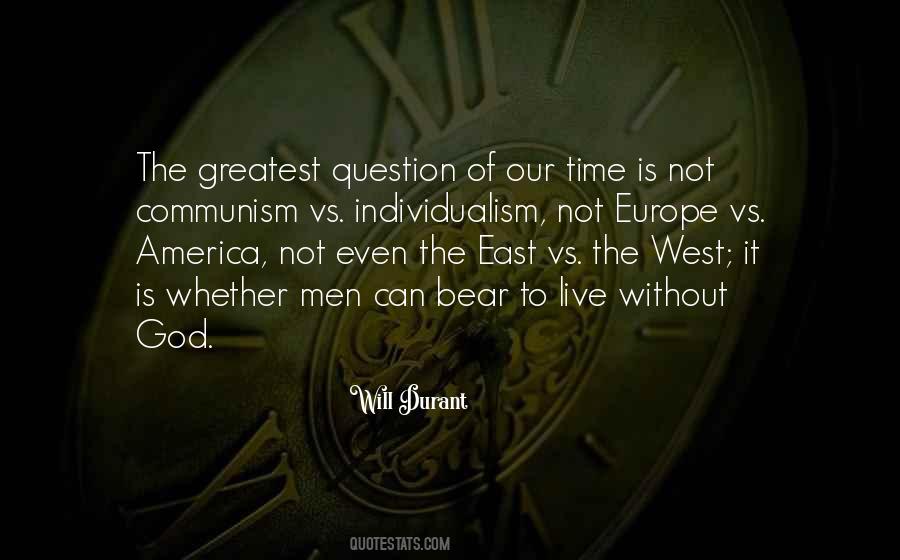 #31. Then we understand that rebellion cannot exist without a strange form of love. Those who find no rest in God or in history are condemned to live for those who, like themselves, cannot live; in fact, for the humiliated. - Author: Albert Camus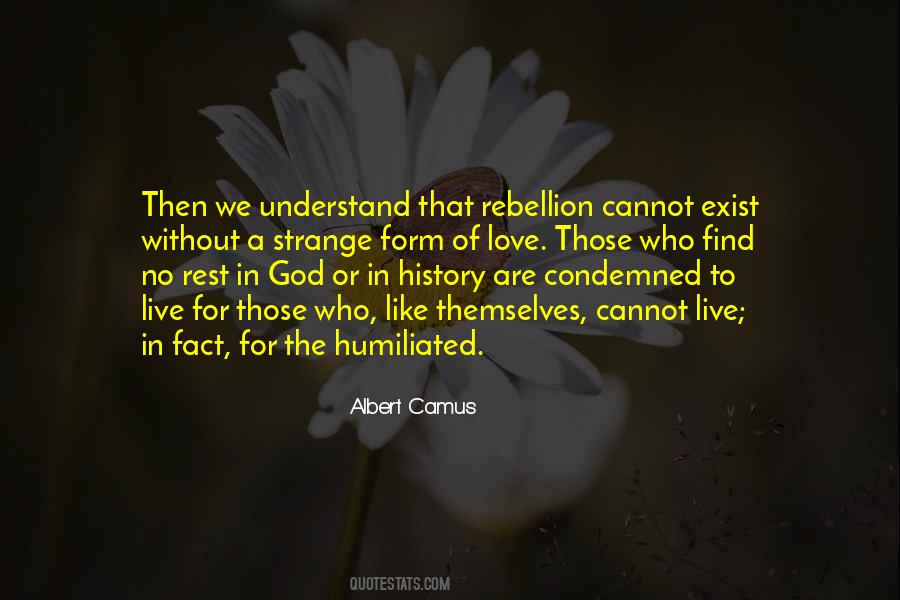 #32. Dear, harmless age! the short, swift span Where weeping Virtue parts with man; Where love without lust dwells, and bends What way we please without self-ends. An age of mysteries! which he Must live that would God's face see Which angels guard, and with it play, Angels! which foul men drive away. - Author: Henry Vaughan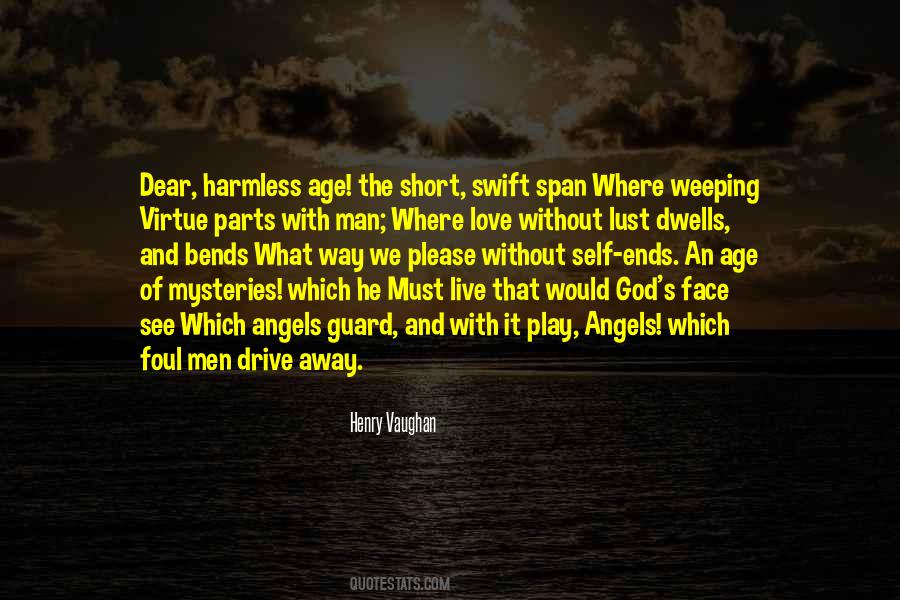 #33. So we are cruel to ourselves if we try to live in this world without knowing about the God whose world it is and who runs it. - Author: J.I. Packer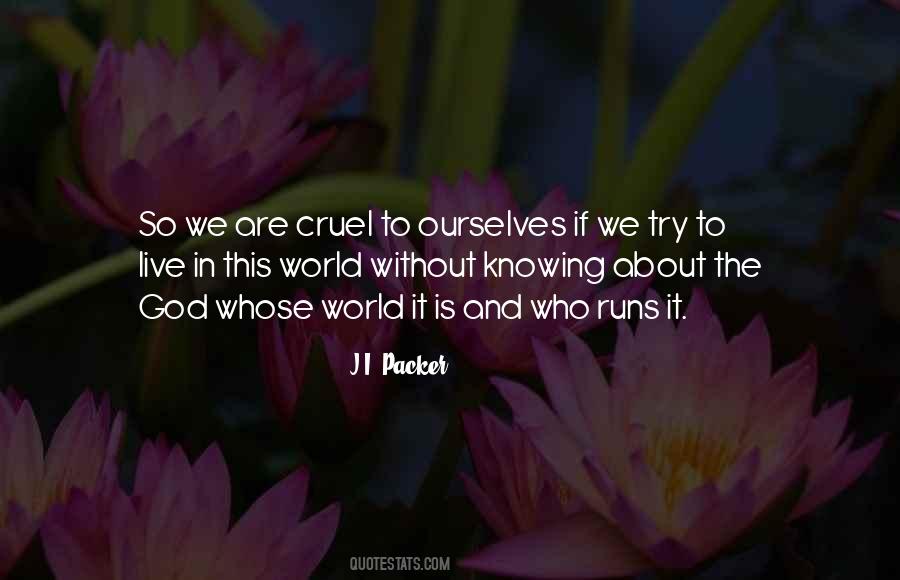 #34. Longer I live, the more convincing proofs I see of this truth: "that God governs in the affairs of man." And if a sparrow cannot fall to the ground without His notice, is it probable that an empire can rise without His aid? - Author: Peter Marshall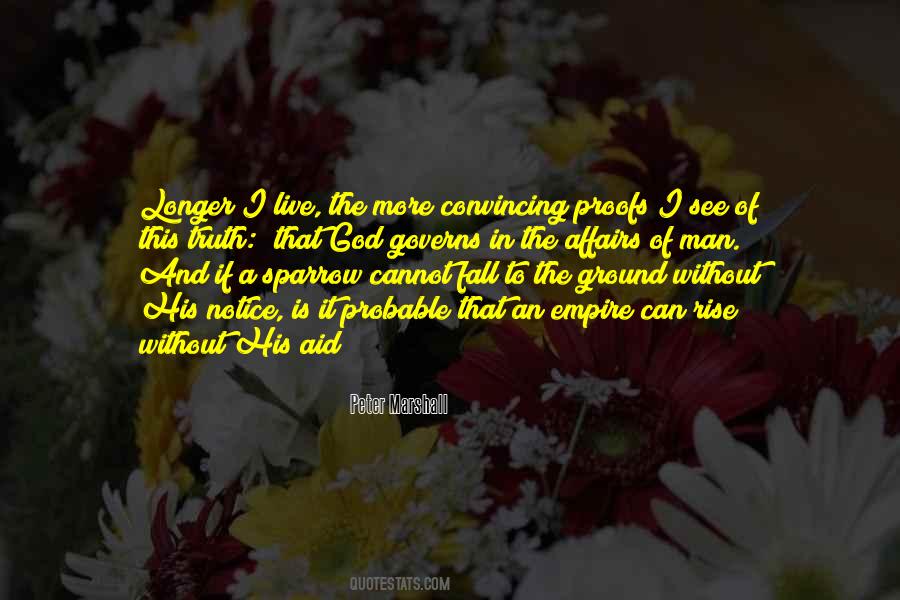 #35. Self-awareness and healthy self-love go hand in hand. When we love what God has given us and share it with others naturally and without expectations for gratitude we are truly people who have spiritual self-confidence and compassion; and isn't that a great way to live? - Author: Robert J. Wicks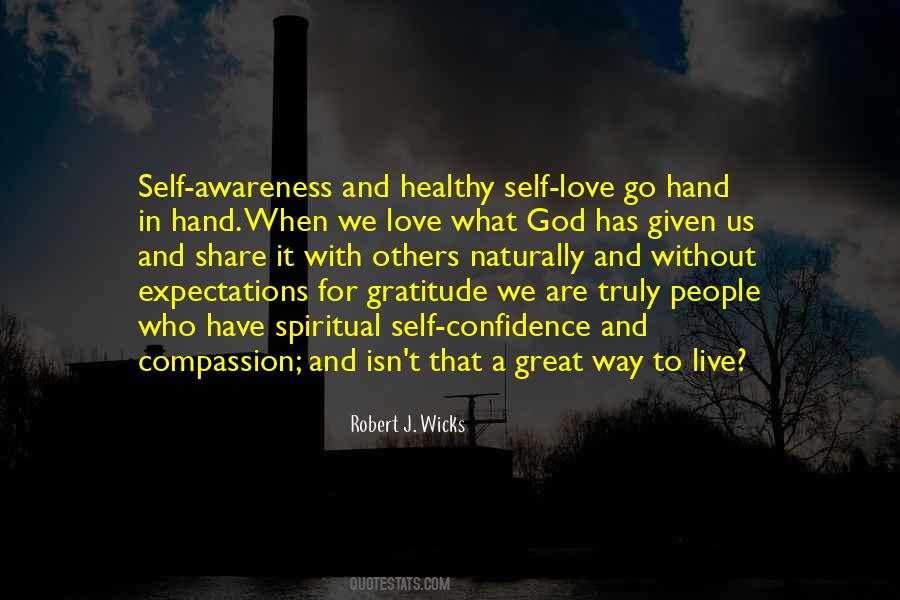 #36. Your hope in my heart is the rarest treasure
Your Name on my tongue is the sweetest word
My choicest hours
Are the hours I spend with You -
O God, I can't live in this world
Without remembering You - Author: Rabia Basri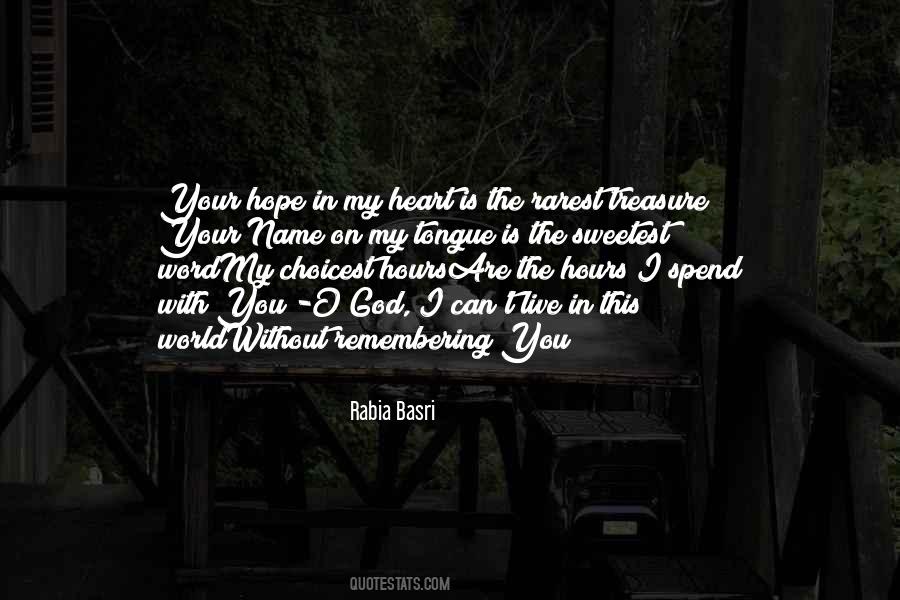 #37. If you love God, surrender to God, you can live in the moment, free of anxiety. Without God? You look ahead and see traps and pitfalls, you look behind and you see loss and death. - Author: Suzanne Morrison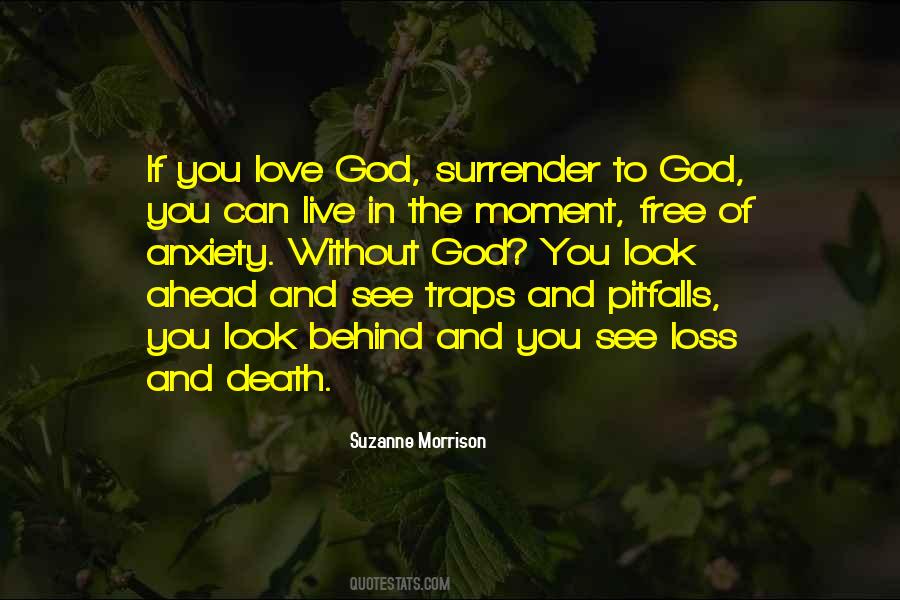 #38. Without solitude it is virtually impossible to live a spiritual life ... We do not take the spiritual life seriously if we do not set aside some time to be with God and listen to him. - Author: Henri Nouwen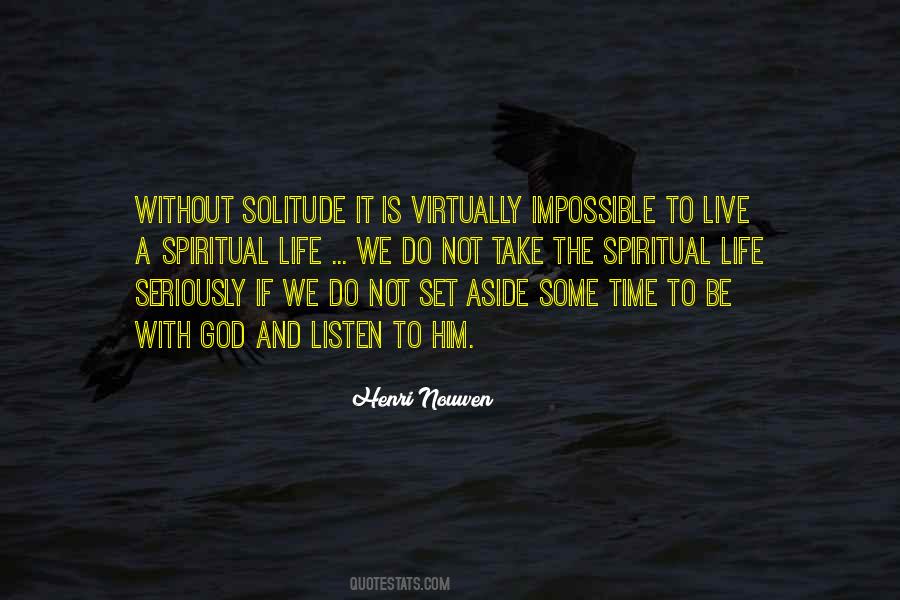 #39. Seemingly, man has learned to live without God, preoccupied and indifferent toward Him and concerned only about material security and pleasure. - Author: Billy Graham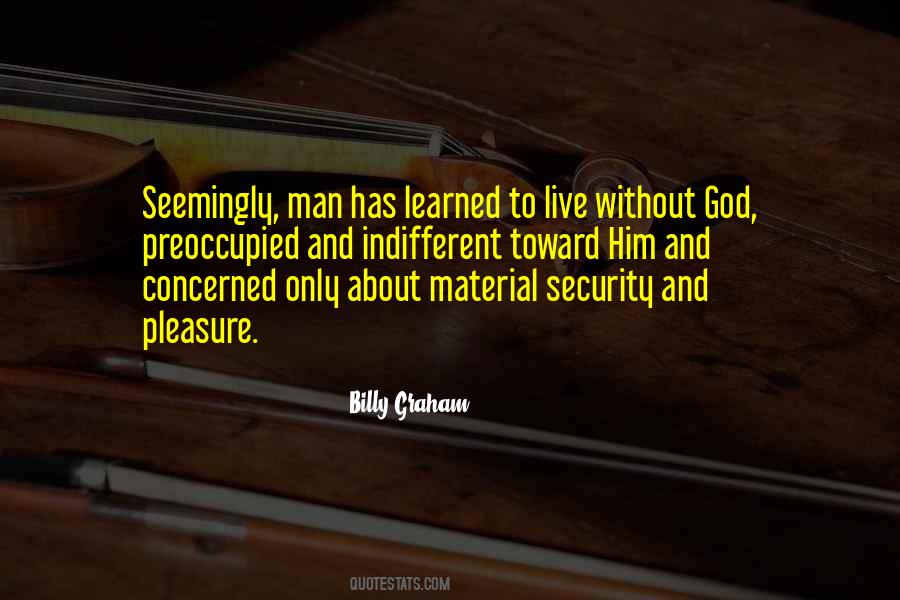 #40. This story means that we must live in full consciousness of the miracle of divine providence, understanding that God has total hands-on control of the world - and that all of life is to be lived for him without fear and with increasing expectation. R. Kent Hughes - Author: Anonymous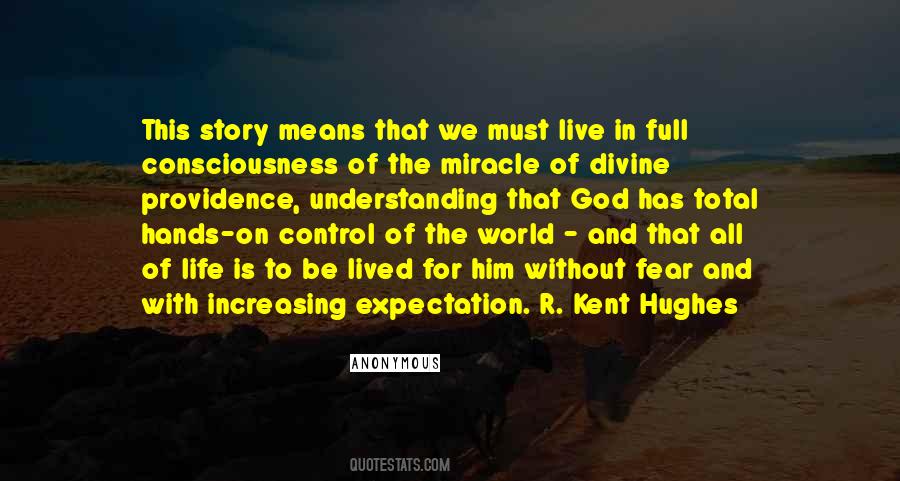 #41. The deceit, the lie of the Devil consists of this, that he wishes to
make man believe that he can live without God's Word. - Author: Dietrich Bonhoeffer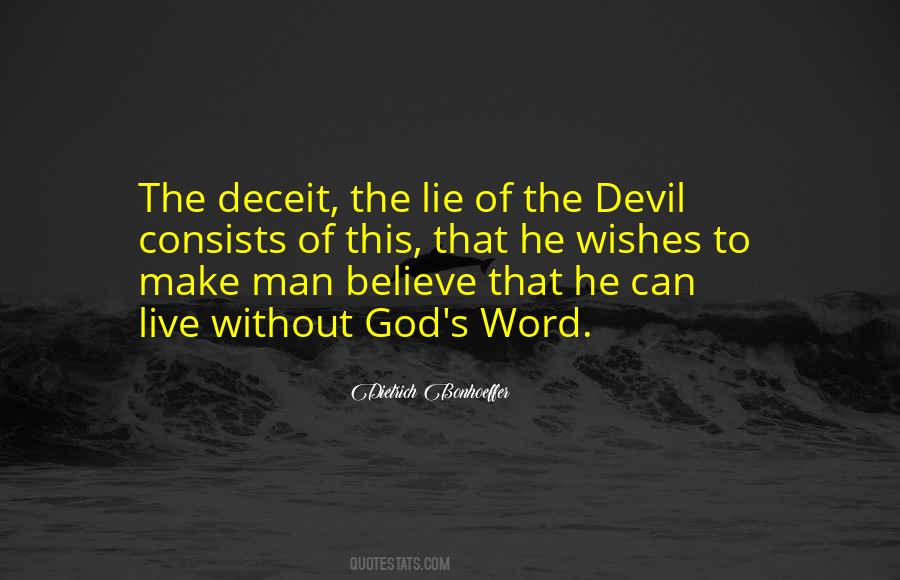 #42. My God, she thought, where on earth can I go to save my son from such suffering? Is there any corner of the vast world where people live without tormenting each other? - Author: Ayse Kulin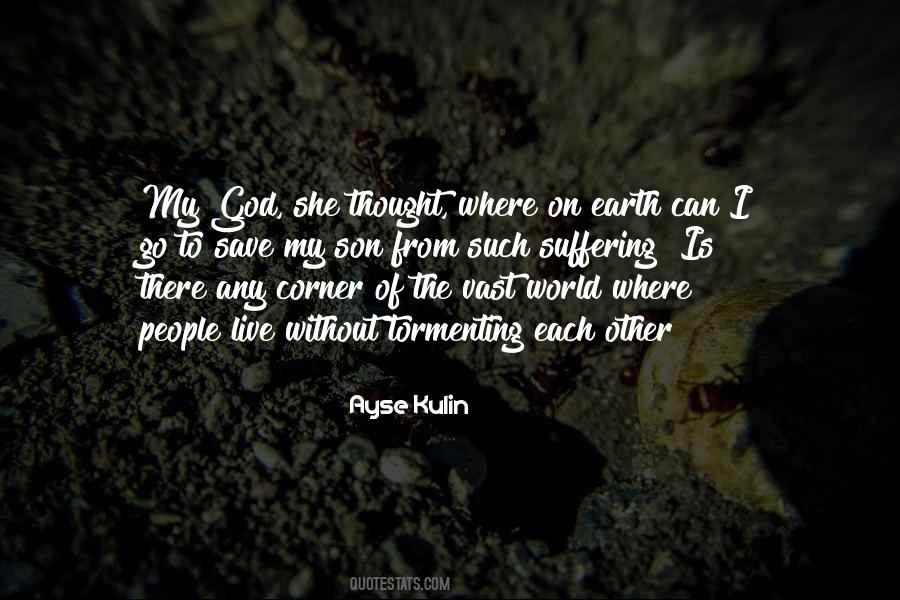 #43. because I love my life and it takes every step to get to where you are, and if you are happy, then God bless the hard times it took you to get there. No life is without them, so what are yours, and what did you do with the lessons? That is the only way to live. Another - Author: Drew Barrymore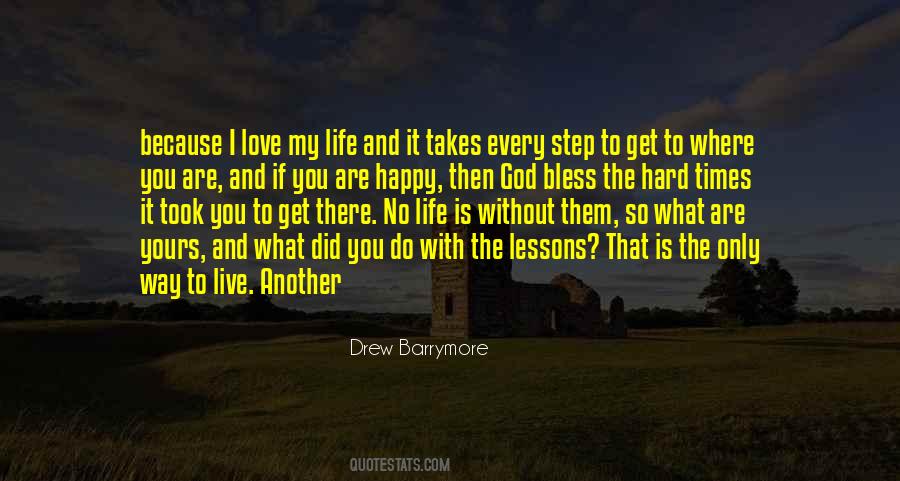 #44. A belief in God helps provide a foundation to arbitrate our decisions. Without this foundation, we are condemned to live essentially formless lives. - Author: Armstrong Williams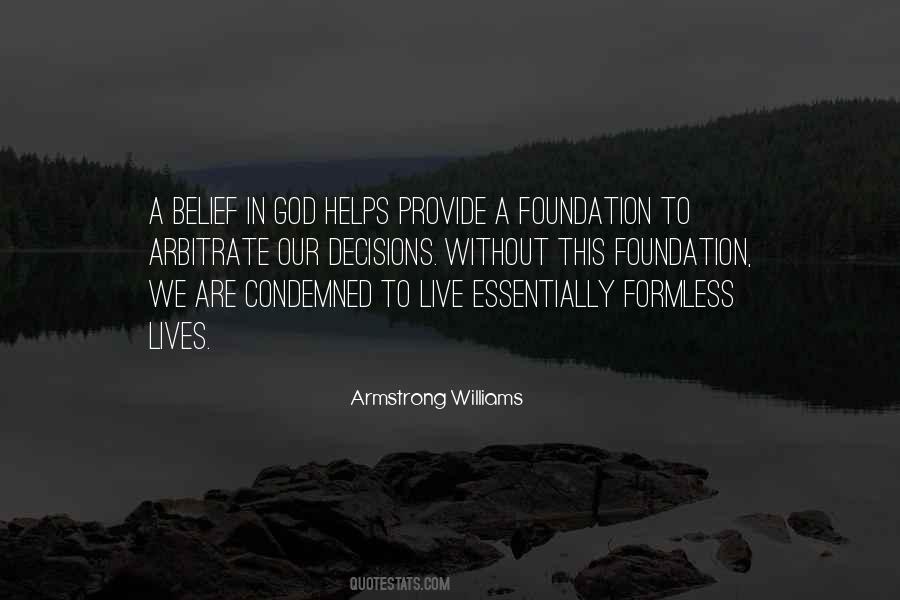 #45. Prayer! I couldn't live without it; I would have died a thousand times if it had not been for my chance to talk it over with God, and gain strength in it from him. - Author: Dale Evans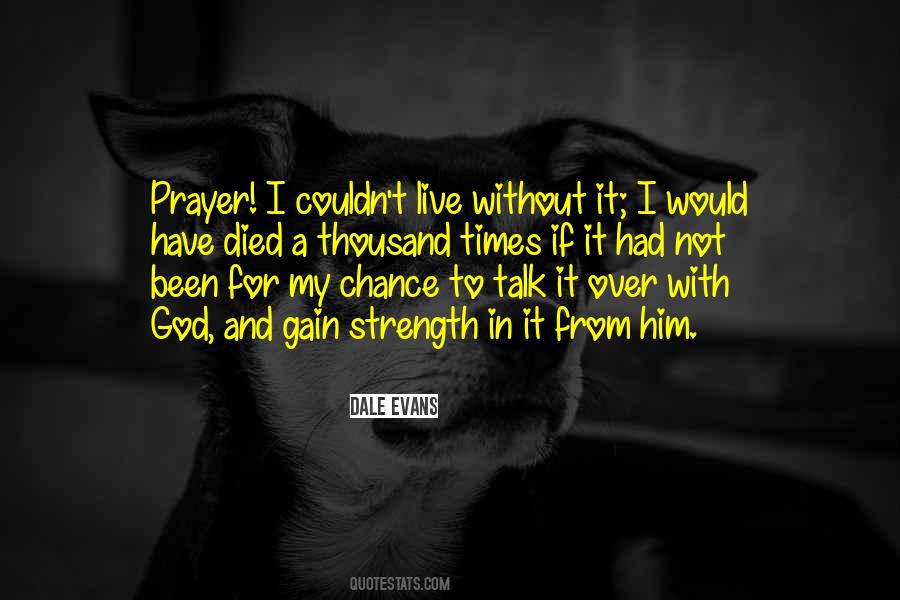 #46. You are the sun I revolve around, the stars that mark me, the moon rising through me. I'm lost without you. If you won't have me, I'll break, I swear to God. I know it's selfish, and I'm sorry. Let me serve you. Have me as yours. Let me live under you. - Author: C.D. Reiss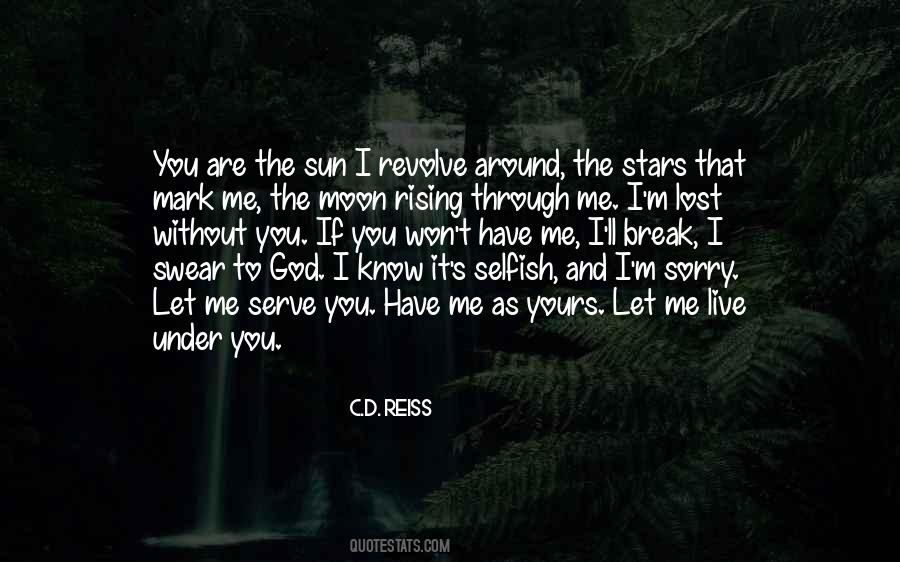 #47. If I reveal myself without worrying about how others will respond, then some will care, though others may not. But who can love me, if no one knows me? I must risk it, or live alone. - Author: Sheldon B. Kopp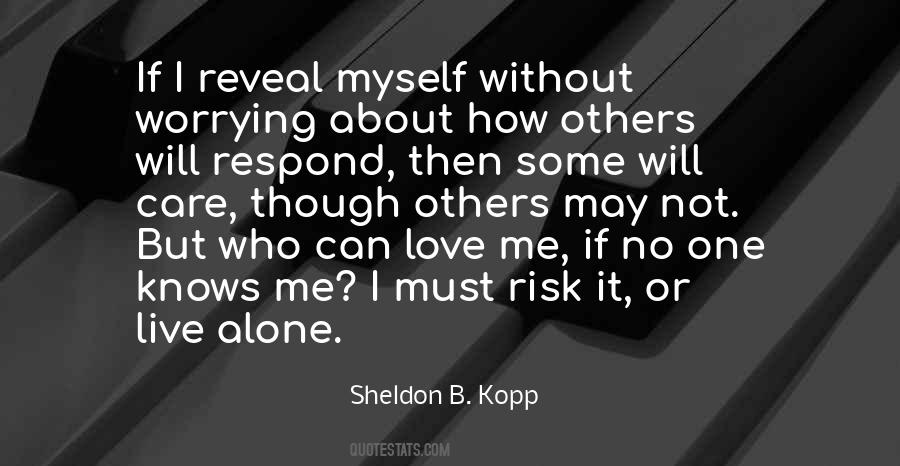 #48. God is my Rock. Without Him, I am nothing, not even an abnormally normal being with the desire to live, and make a difference in this world. - Author: Kcat Yarza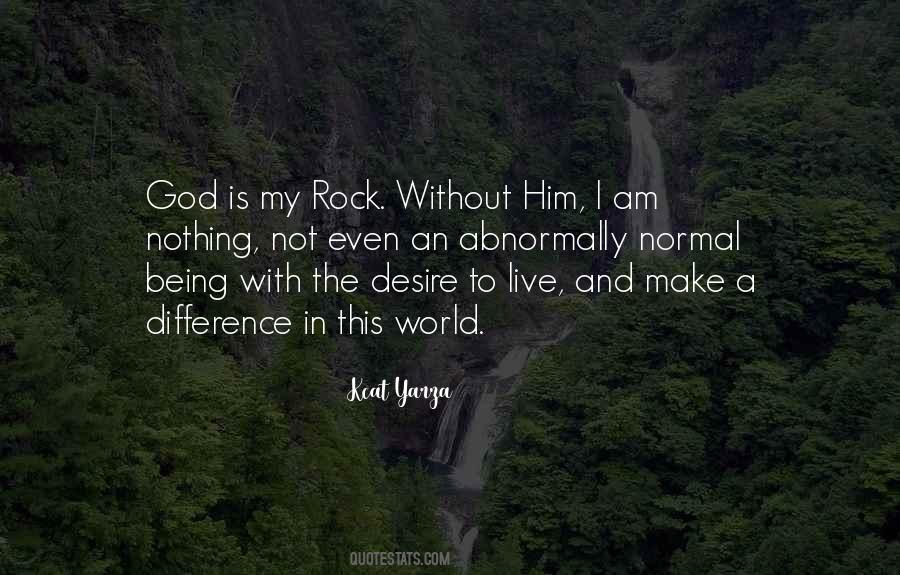 #49. No matter how capable we are, we need God every day, living in us and acting through us. We need his courage and his hope, his love and his companionship. We need his salvation. We can't live without God. - Author: Philip Yancey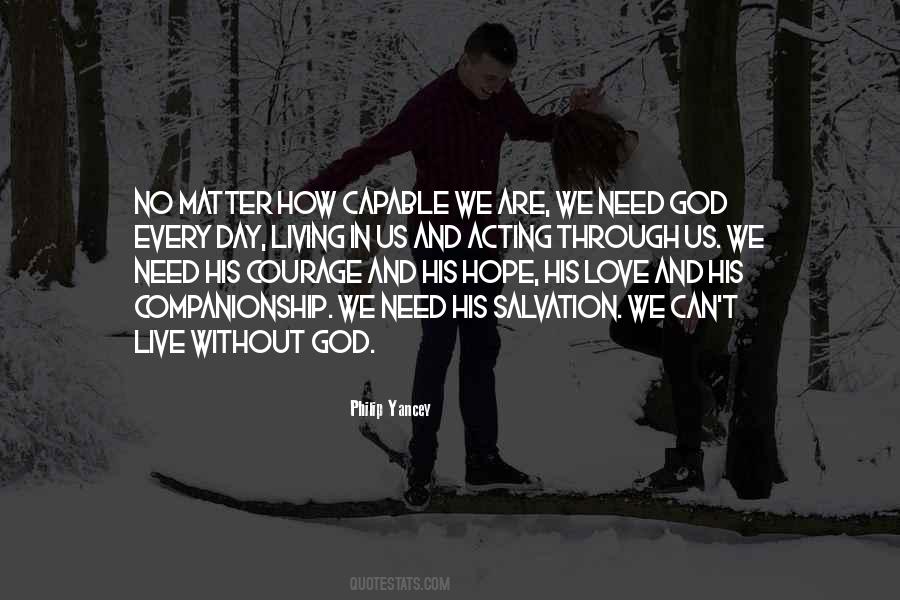 #50. Every living word that gives life was once without form. - Author: Michael Bassey Johnson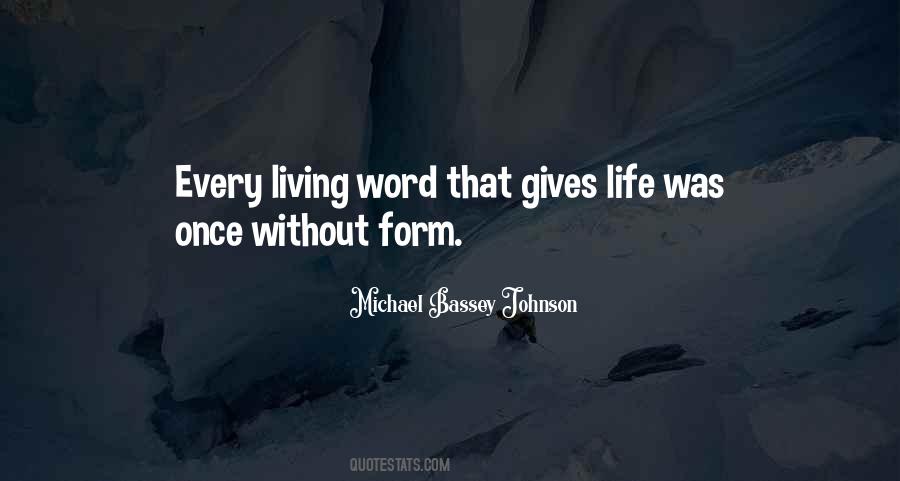 #51. And now brothers, I will ask you a terrible question, and God knows I ask it also of myself. Is the truth beyond all truths, beyond the stars, just this: that to live without him is the real death, that to die with him the only life? - Author: Frederick Buechner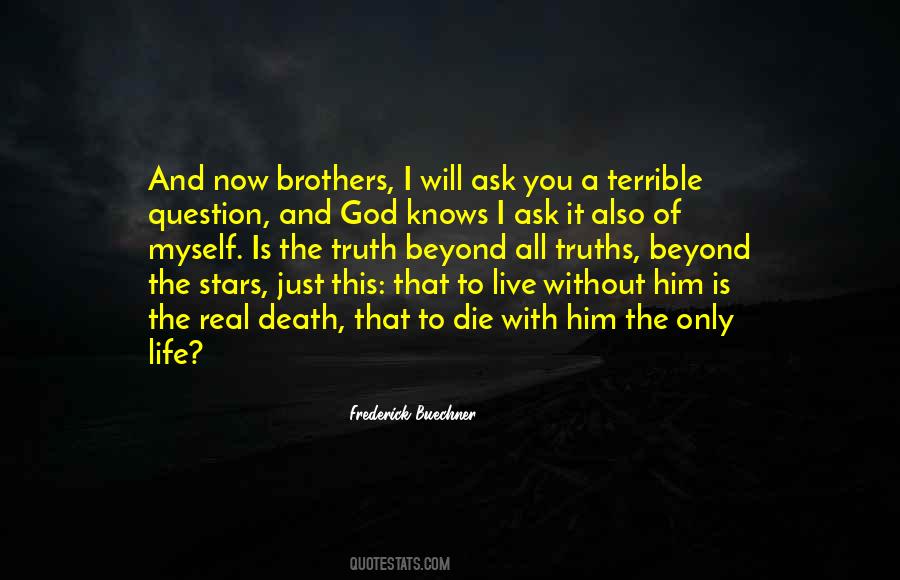 #52. If you're a child of God, you do not just "go around once" on Earth. You don't get just one earthly life. You get another-one far better and without end. You'll inhabit the New Earth! You'll live with the God you cherish and the people you love as an undying person on an undying Earth. - Author: Randy Alcorn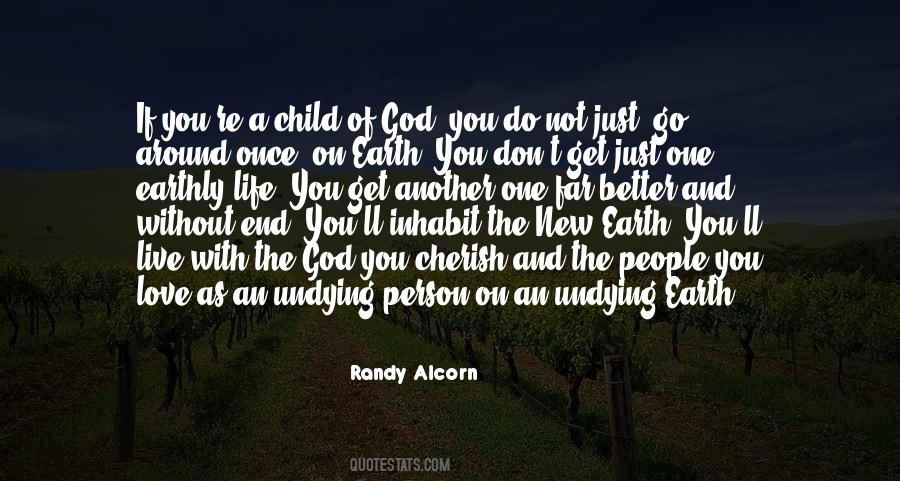 #53. Our life is full of brokenness - broken relationships, broken promises, broken expectations. How can we live with that brokenness without becoming bitter and resentful except by returning again and again to God's faithful presence in our lives. - Author: Henri Nouwen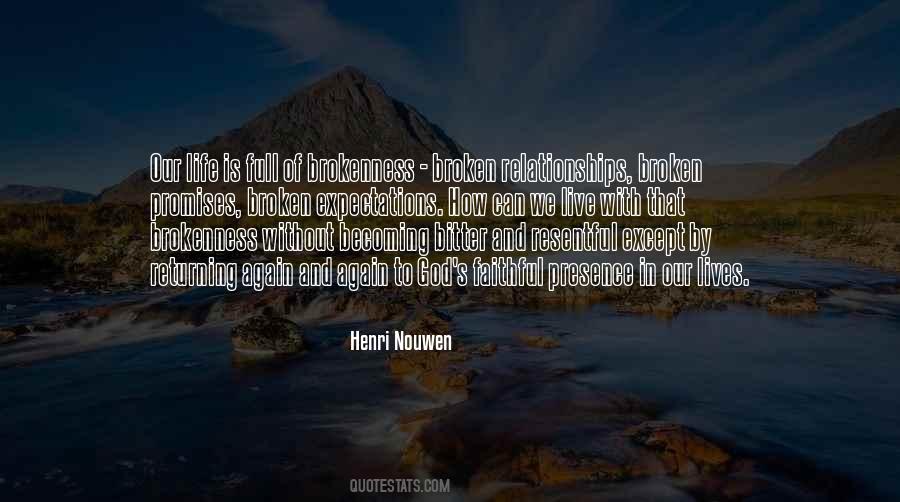 #54. Max: "You'll never be good enough to deserve her, you know."
Ash: "God doesn't always give you what you deserve," Ash said quietly. "Sometimes he gives you what you can't live without. - Author: Teresa Medeiros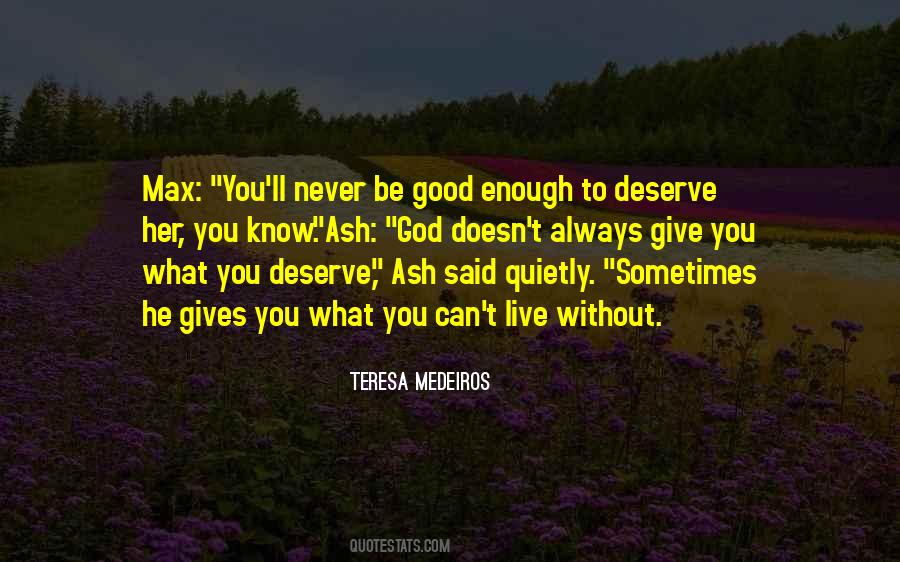 #55. In the end, the art of hunger can be described as an existential art. It is a way of looking death in the face, and by death I mean death as we live it today: without God, without hope of salvation. Death as the abrupt and absurd end of life - Author: Paul Auster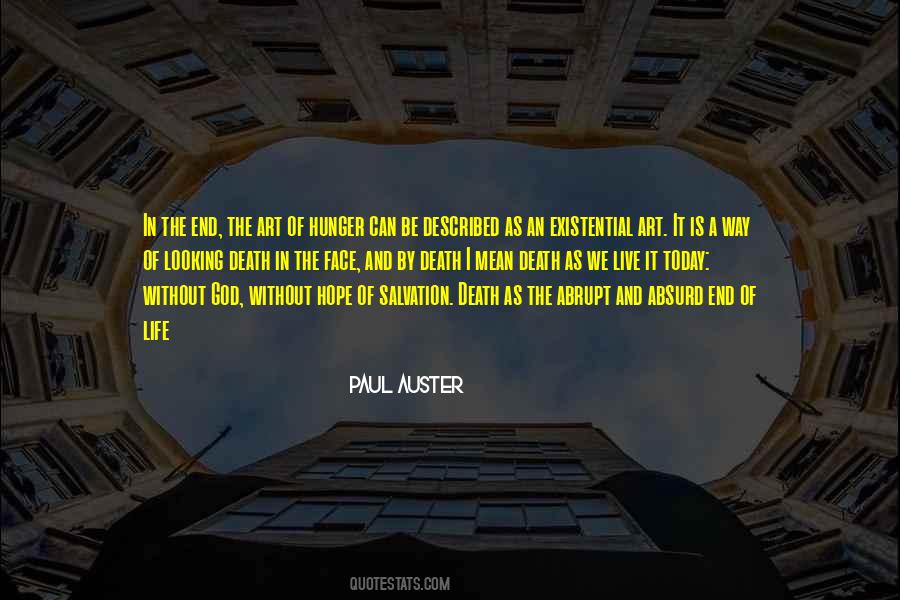 #56. I can't prove that God doesn't exist, but I'd much rather live in a universe without one. - Author: Lawrence M. Krauss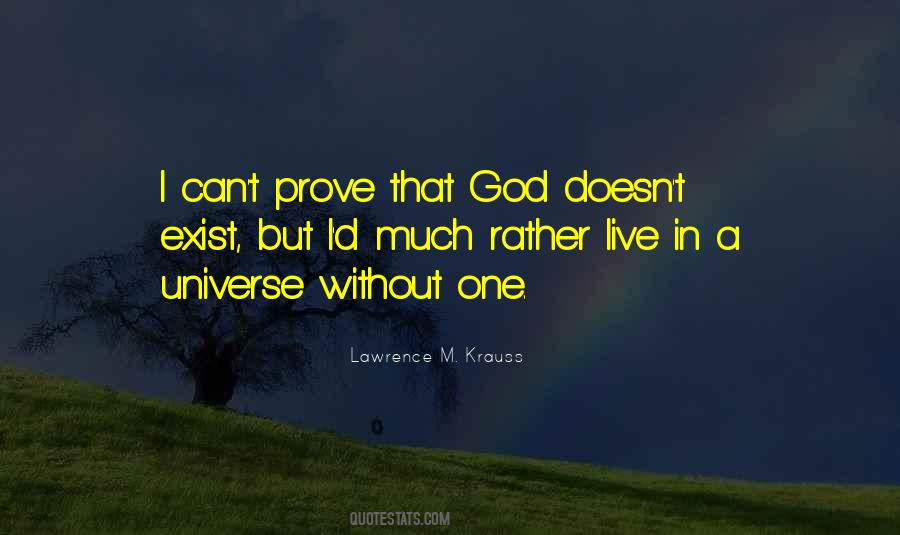 #57. Don't live a day without your spiritual nourishment; mediation on the word of God. - Author: Lailah Gifty Akita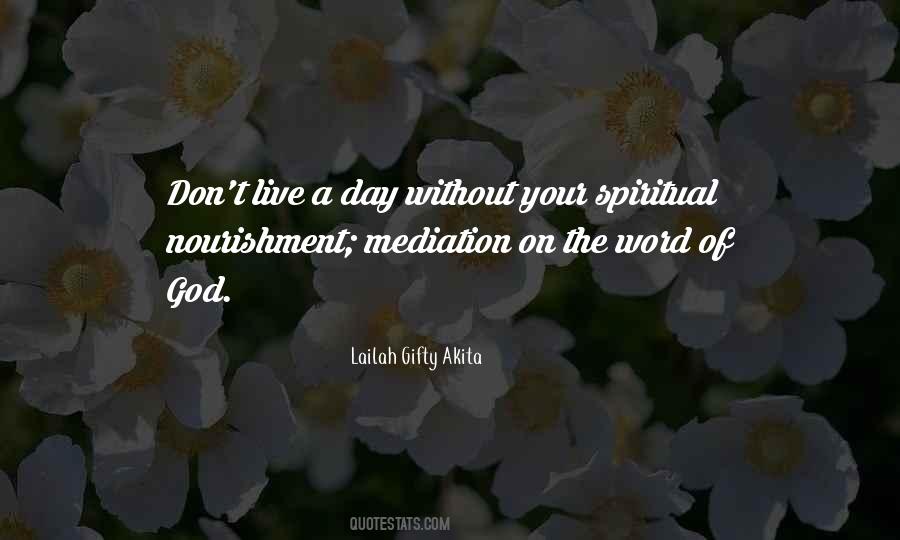 #58. I don't believe that young people today can live clean, pure lives without the help of God. The peer pressure is too great and the temptations they see in the movies and on television, and what they hear in their music is too much. Only Christ can give them the power to say no. - Author: Billy Graham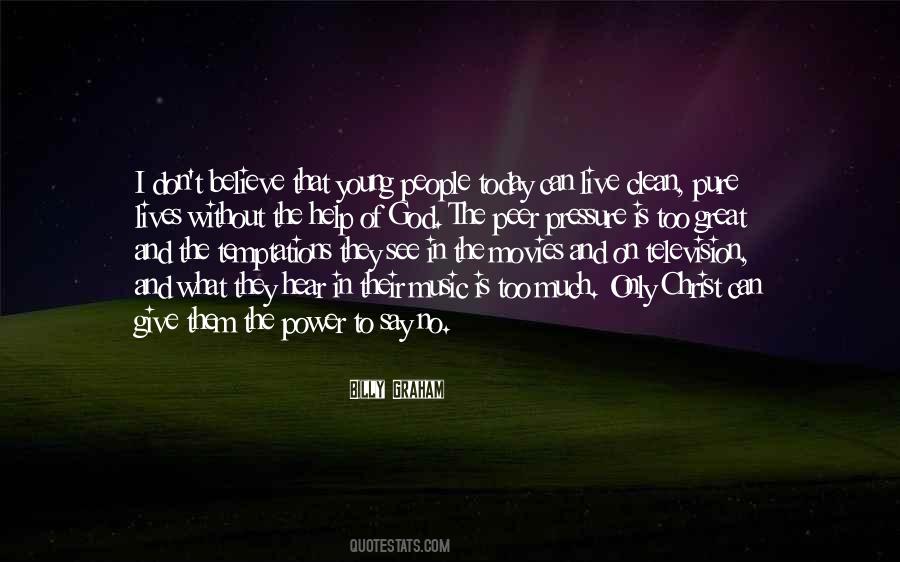 #59. We must agree to live in this world, with all that is unfair about it, without knowing why, if we wish to have a God in our lives. - Author: Fred Melamed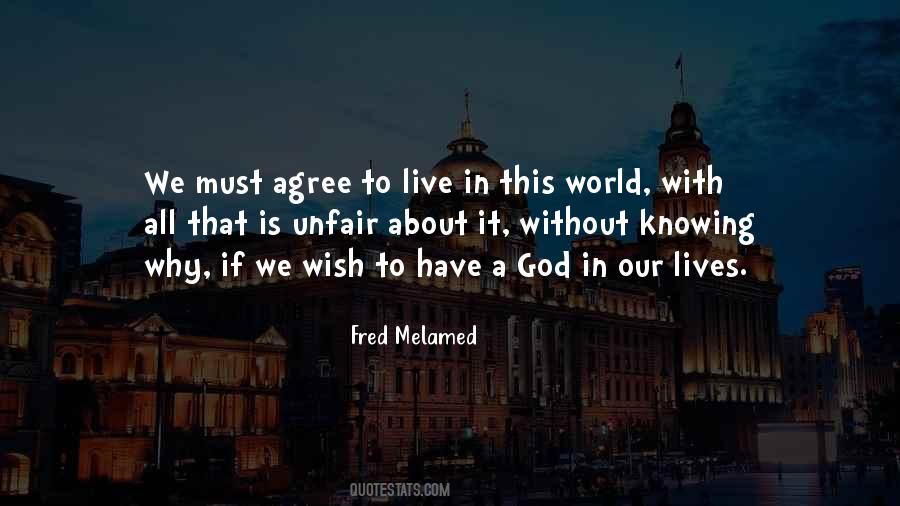 #60. Live in insecurity! Live in revolution! Be a rebel! Risk, because nothing is ever attained in life without risk. The more you risk, the closer you are to God. When you can risk all, all is yours. - Author: Osho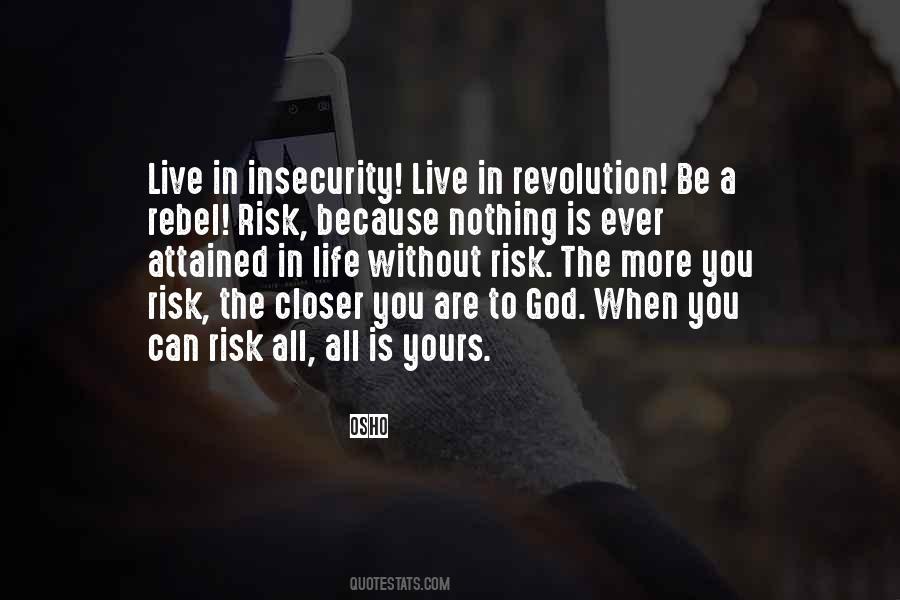 #61. Live your life in such a way that if God should greet you with "How are you?", your answer will be "I am how you wanted me to be"! Live life without regrets! - Author: Israelmore Ayivor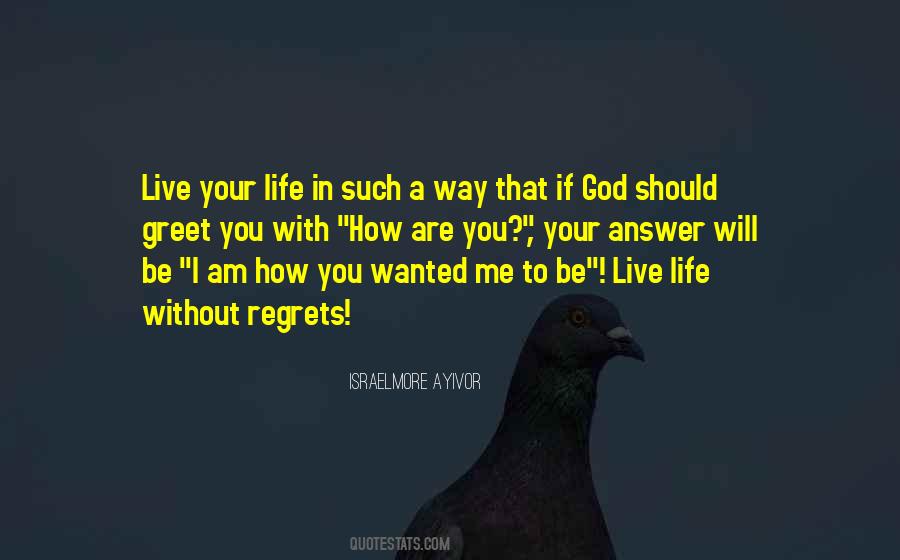 #62. One cannot keep on evangelizing the world without interfering with the world's culture. It devolves upon God's people, therefore, to contend for such a society which will give the maximum opportunity for us to live wholly Christian lives and the maximum opportunity for others to become Christians. - Author: Henry R. Van Til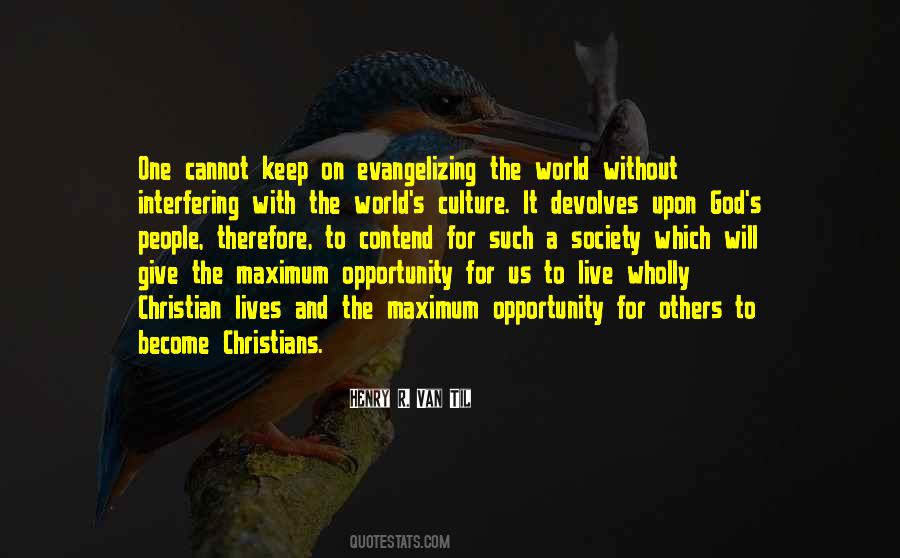 #63. I tell you, love your enemies. Help and give without expecting a return. You'll never - I promise - regret it. Live out this God-created identity the way our Father lives toward us, generously and graciously, even when we're at our worst. Our Father is kind; you be kind. - Author: Eugene H. Peterson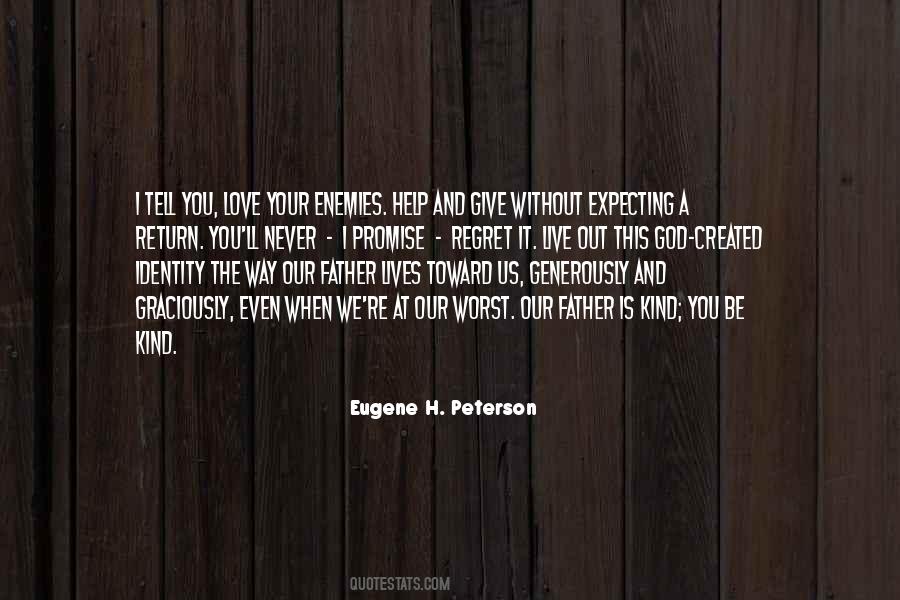 #64. The goal is to live with God like composure on the full rush of energy, like Dionysus riding the leopard, without being torn to pieces. - Author: Joseph Campbell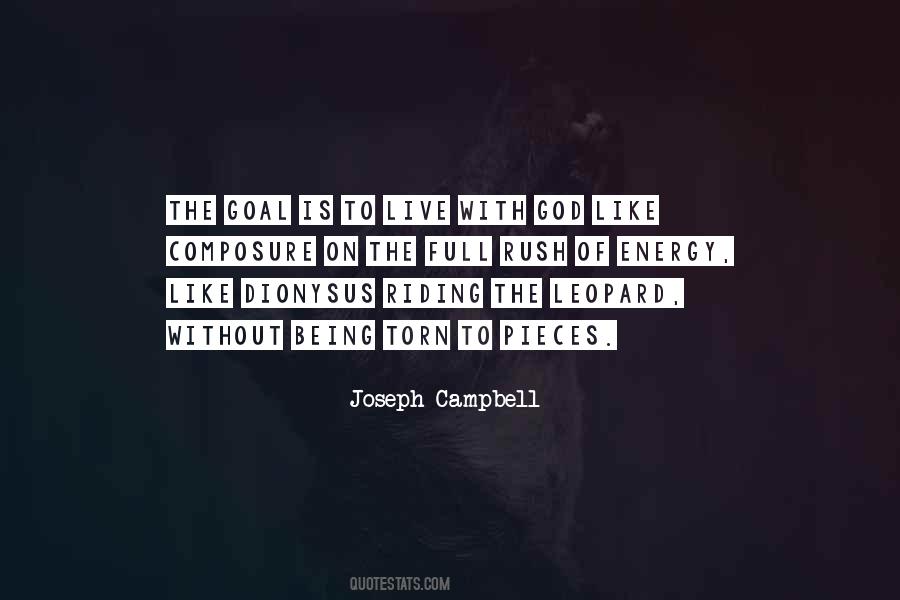 #65. I sometimes hear preachers speak of the sad condition of men who live without God in the world, but a scientist who lives without God in the world seems to me worse off than ordinary men. - Author: Louis Agassiz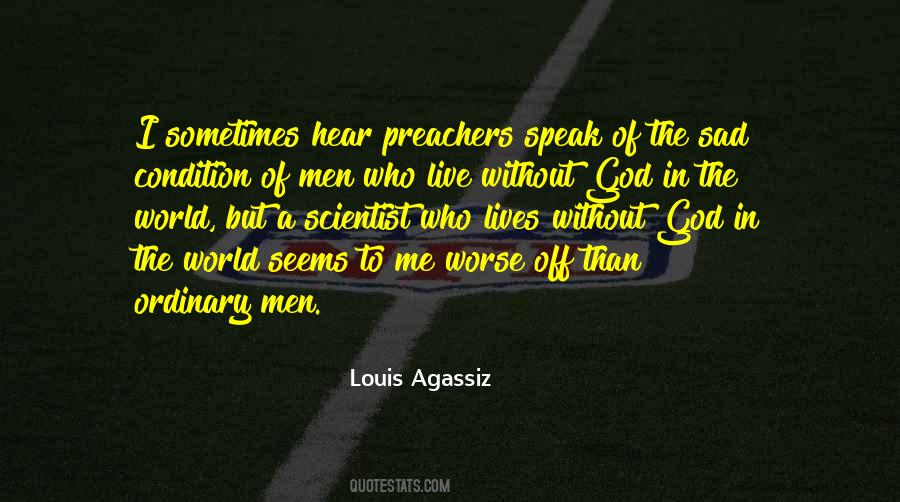 #66. As we grow spiritually, God begins to wean us from things that we think we can't live without: things, comfort, the longing for life to 'work.' That's a childish instinct, to say, 'Life has to work the way I want it to work, and now'. - Author: Nancy Leigh DeMoss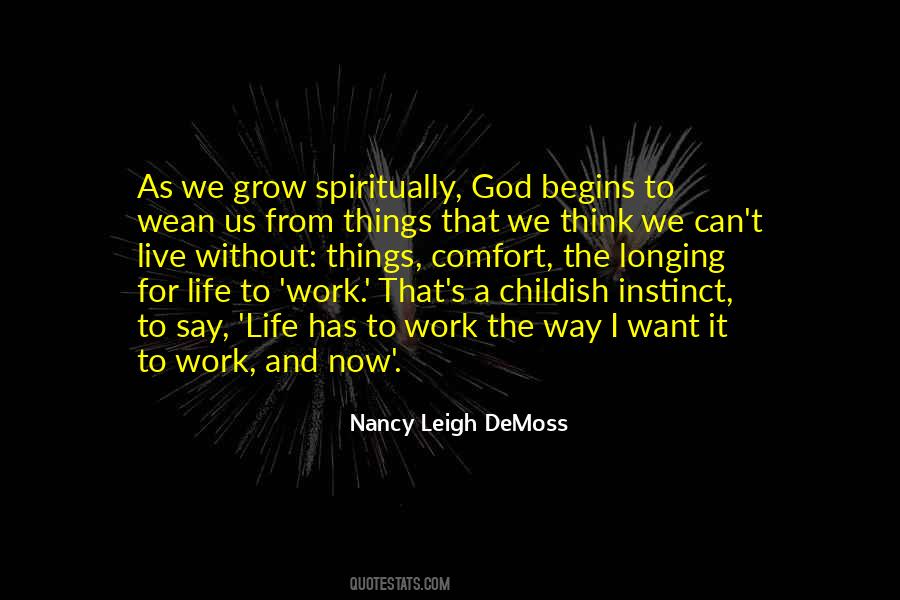 #67. You might as well try to hear without ears or breathe without lungs, as to try to live a Christian life without the Spirit of God in your heart. - Author: Dwight L. Moody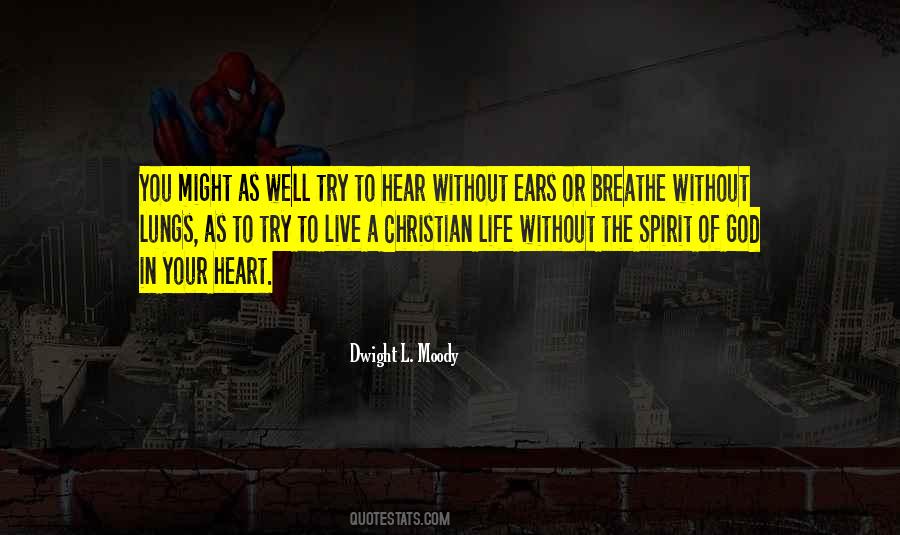 #68. We talk as if living a sanctified life were the most uncertain and insecure thing we could do. Yet it is the most secure thing possible, because it has Almighty God in and behind it. The most dangerous and unsure thing is to try to live without God. - Author: Oswald Chambers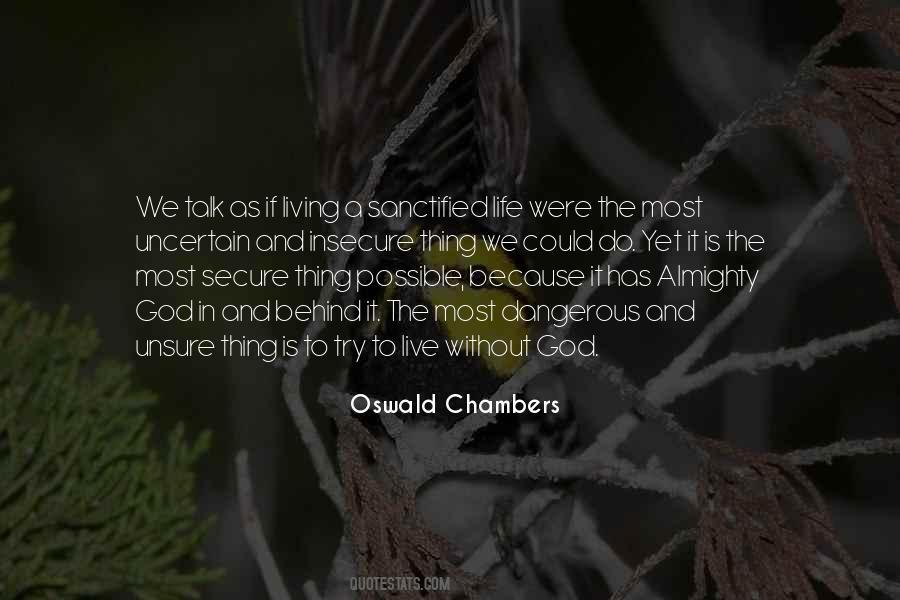 #69. Those who live a long life without realising their spiritual goals are as similar to the hygienic zombies walking on earth. - Author: Vishal Chipkar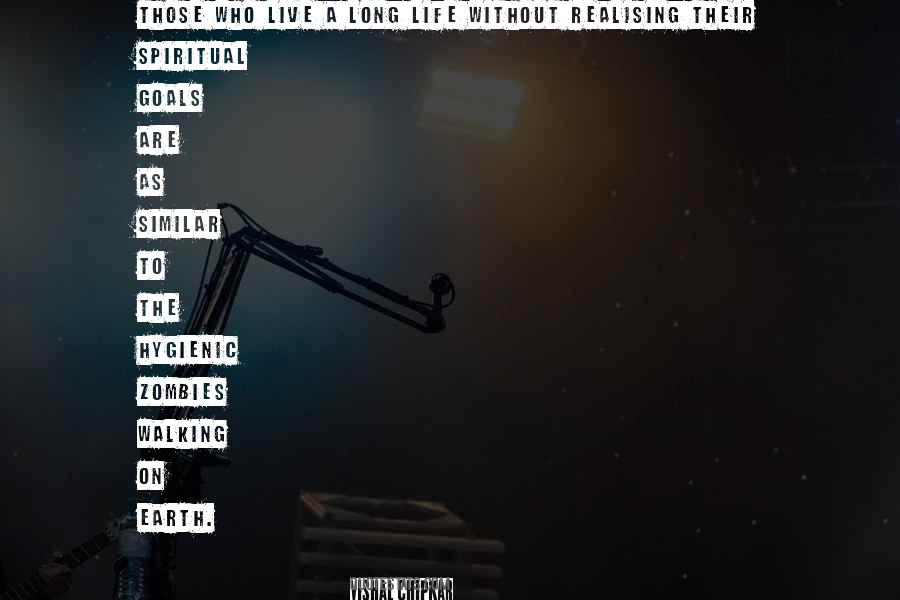 #70. Man cannot live without a permanent trust in something indestructible in himself, though both the indestructible element and the trust may remain permanently hidden from him. One of the ways in which this hiddenness can express itself is through faith in a personal god. - Author: Franz Kafka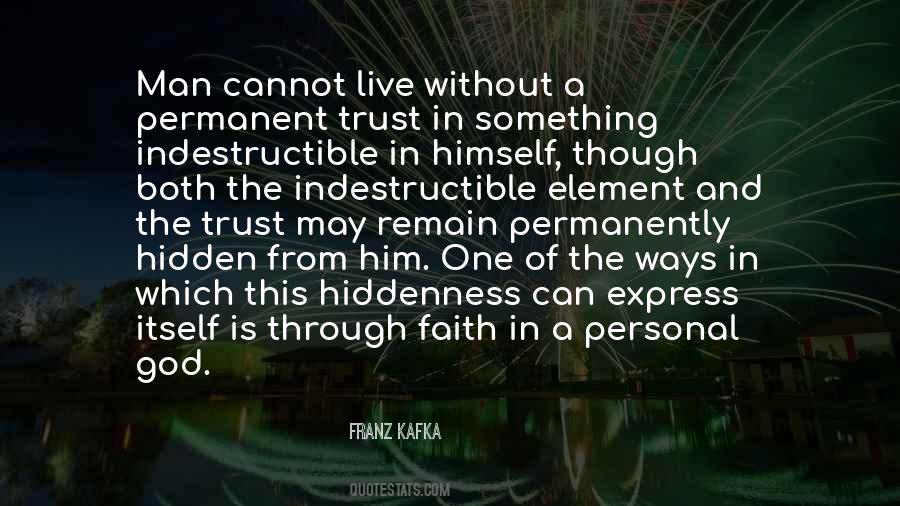 #71. We have to keep asking ourselves: 'What does it all mean? What is God trying to tell us? How are we called to live in the midst of all this?' Without such questions our lives become numb and flat. - Author: Henri J.M. Nouwen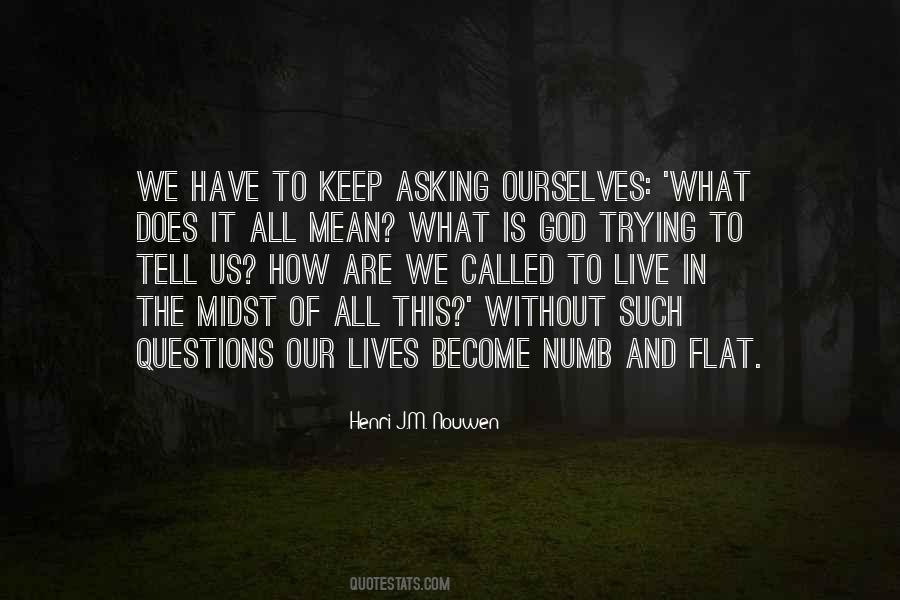 #72. Man can no more leave God out of his philosophies than he can live without his heart or see without his eyes. - Author: Edward Harold Begbie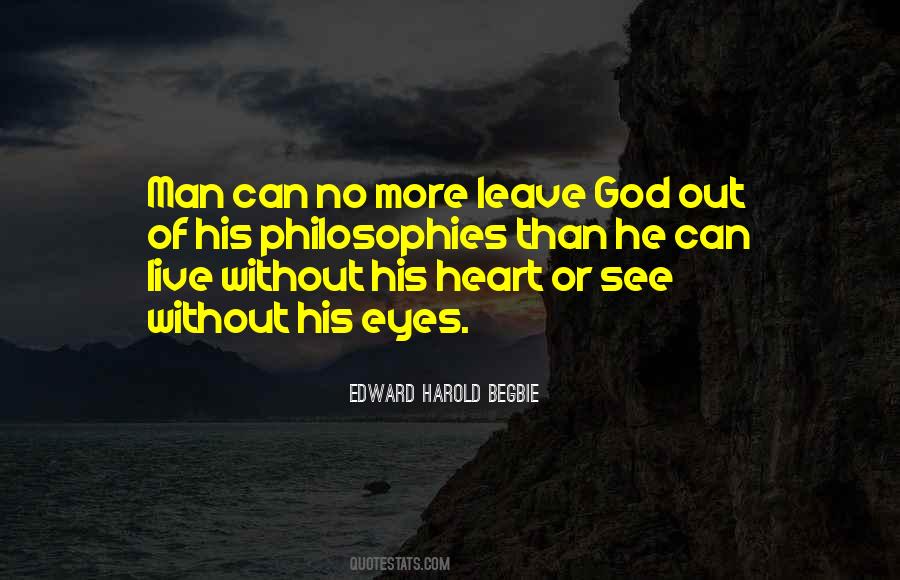 #73. Many an atheist is a believer without knowing it juast as many a believer is an atheist without knowing it. You can sincerely believe there is no God and live as though there is. You can sincerely believe there is a God and live as though there isn't. - Author: Frederick Buechner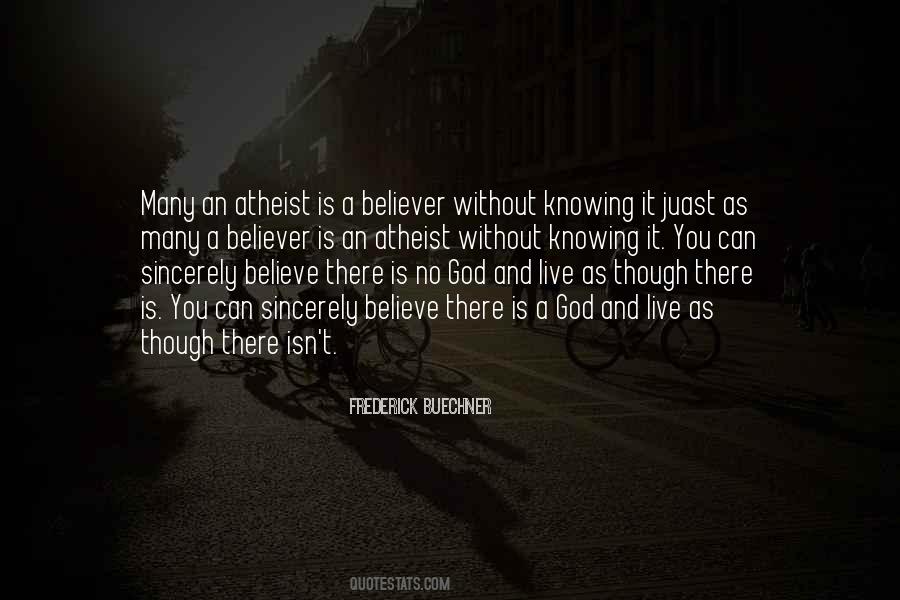 #74. Why in the world have we never found what we're really looking for? Because what we need is often the very thing we won't accept. And sadly, in turning away the God we need, we need to understand that we have chosen to live without everything we need. - Author: Craig D. Lounsbrough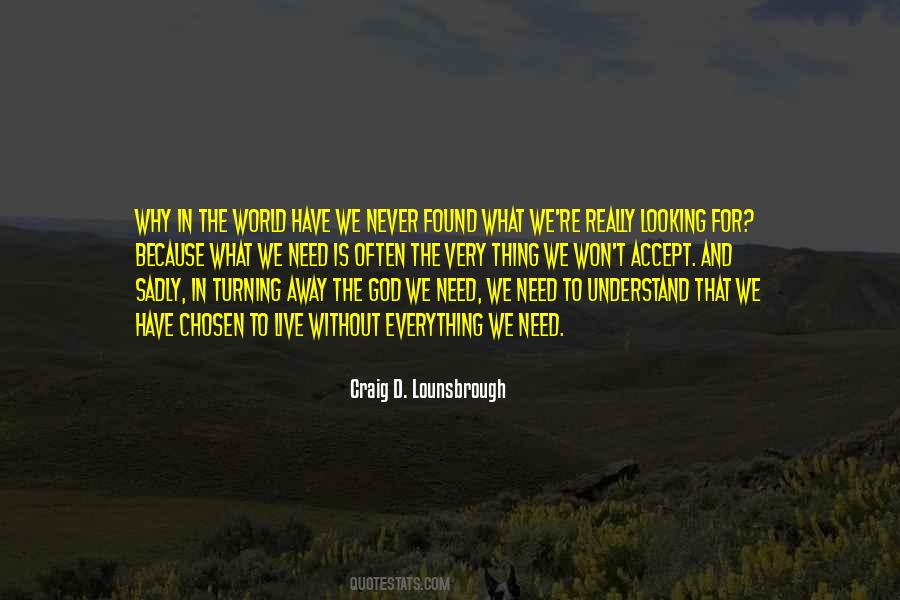 #75. We cannot fulfill our engagements with the Almighty without we have that Spirit with us. We should so live as to acknowledge the Good Spirit continually. We cannot do this unless we let the Spirit of God rule in temporalities as well as in spiritual matter. - Author: Daniel H. Wells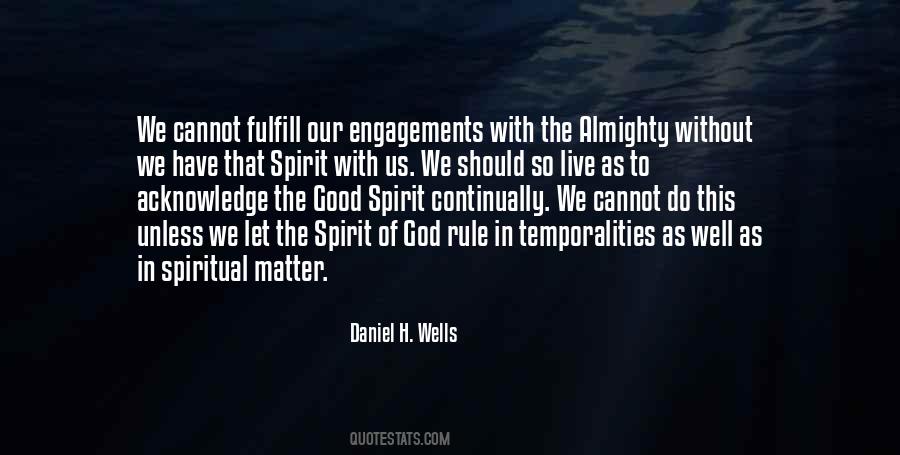 #76. Many of us suffer because we think that if people don't really love us, then we will have to live forever without love. But it's not true. The greatest sense of love, which is available for us at all times, is God's love. - Author: Stormie O'martian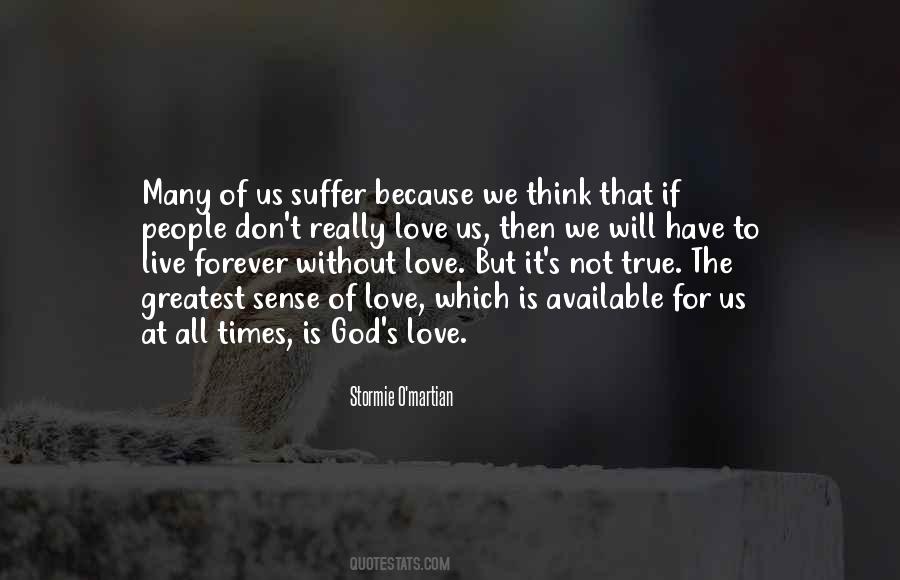 #77. If Jesus can do nothing without God, how much more does that apply to us! Do we allow Jesus to live through us so that everything we do is done by God? - Author: Kristi Burchfiel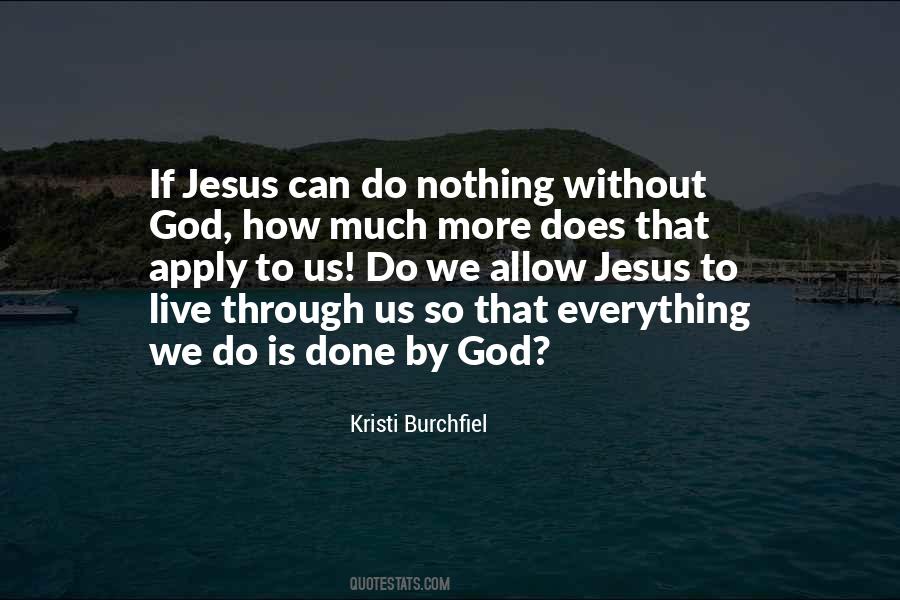 #78. God is not a luxury you can't afford; He's a necessity you truly cannot live without! - Author: Monica Denise Brown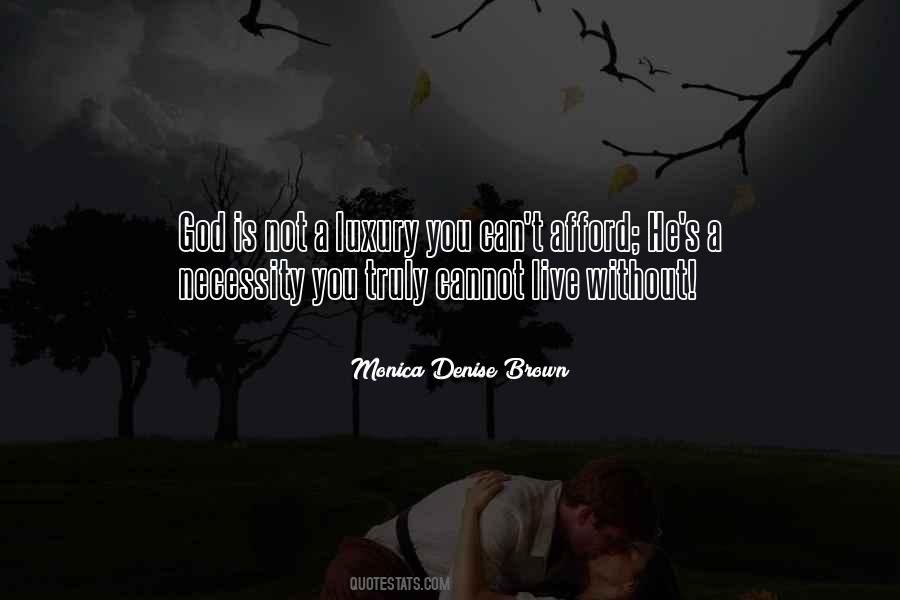 #79. Men of an amiable, yielding temper, willing to take the lowest place; to be least of all; and the servants to all ... who live near God, and who are willing to suffer all things for Christ's sake without being proud of it - these are the men we need. - Author: Ann Hasseltine Judson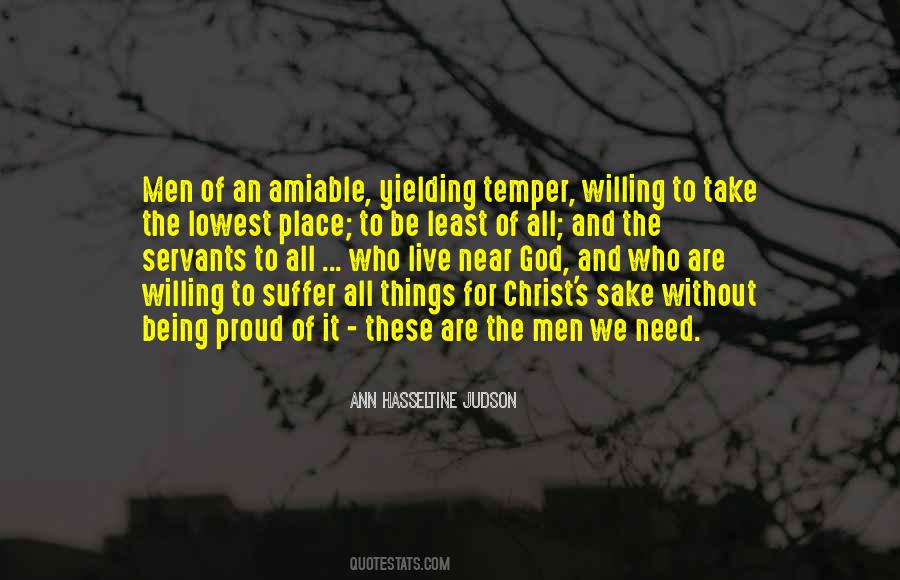 #80. But to fulfill the law means to do its work eagerly, lovingly and freely, without the constraint of the law; it means to live well and in a manner pleasing to God, as though there were no law or punishment. - Author: Martin Luther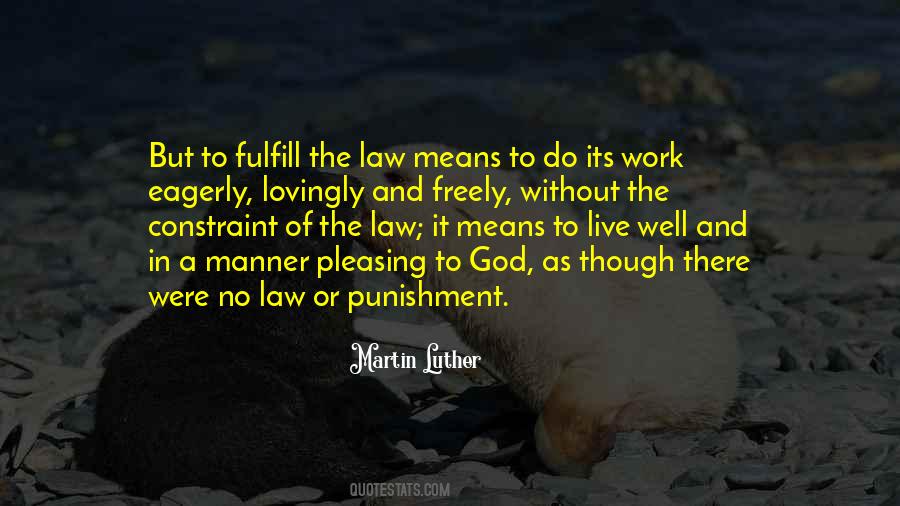 #81. The Saviour saved me. So I can serve God without fear, in sacredness as long as I live. - Author: Lailah Gifty Akita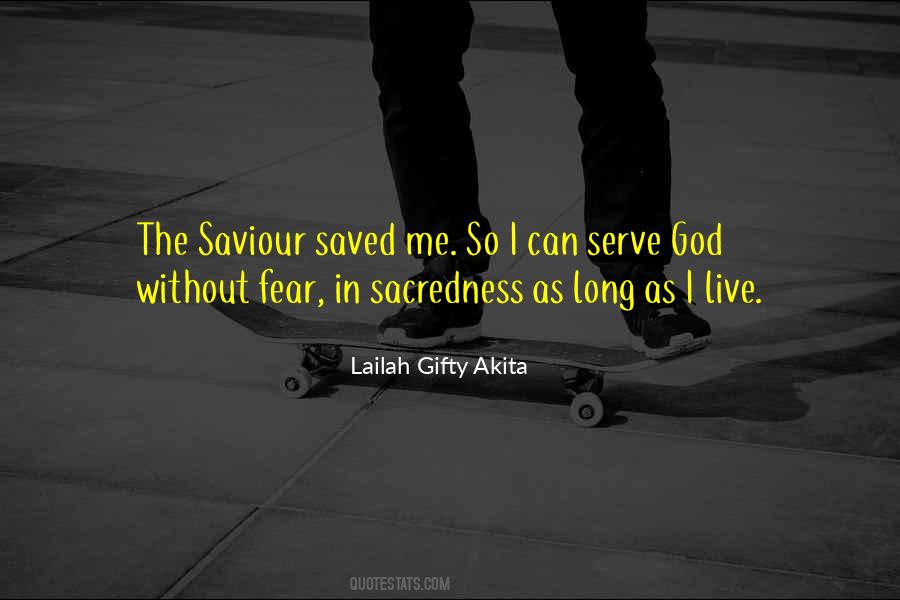 #82. You can't make sense of the Bible without understanding that God is holy and that this holy God is intent on making a holy people to live with him forever in a holy heaven. - Author: Kevin DeYoung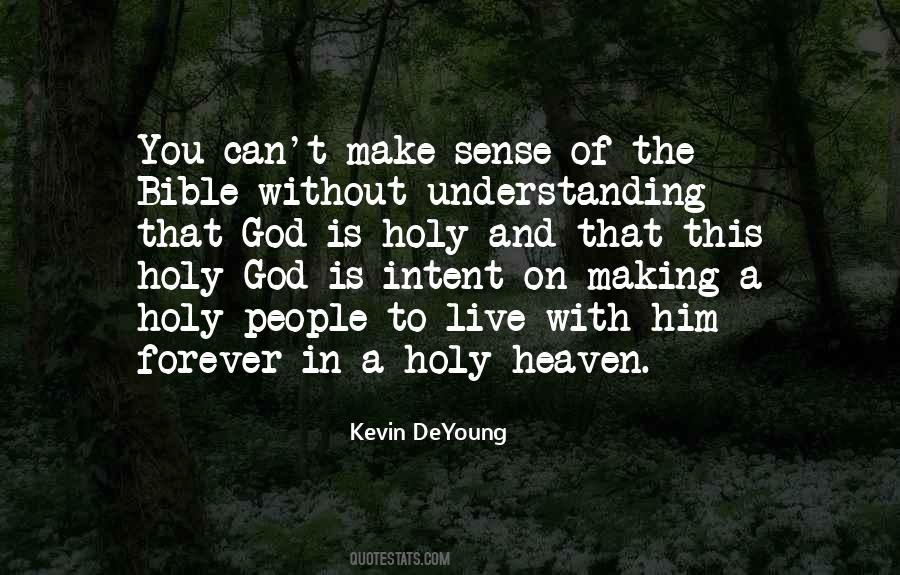 #83. Live simply and without thinking too much, like a child with his father. Faith without too much thinking works wonders. The logical mind hinders the Grace of God and miracles. Practice patience without judging with the logical mind. - Author: Elder Paisios Of Mount Athos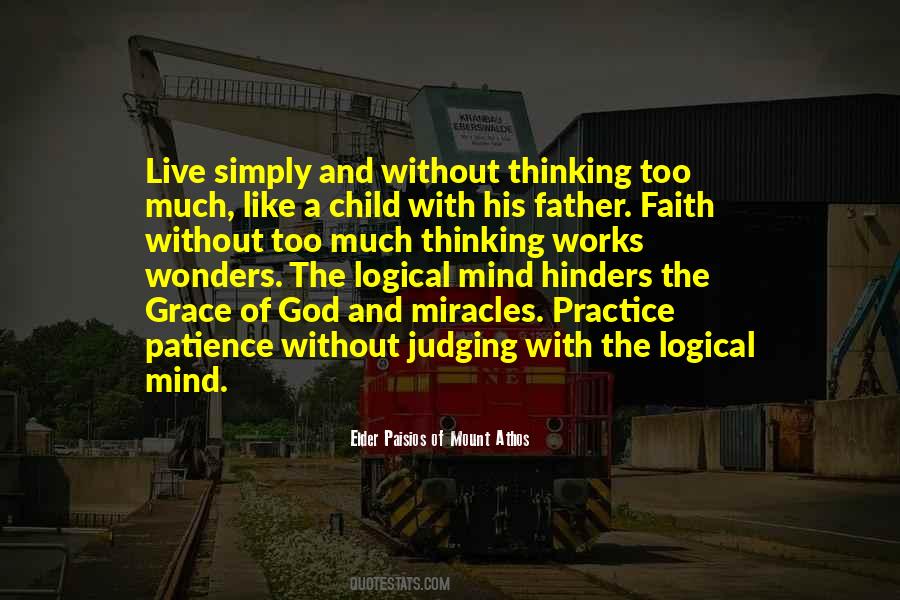 #84. I find it most true that the greatest temptation outside of hell is to live without temptations; if water stands, it rots; faith is the better for the sharp winter storm in its face and grace withers without adversity. The devil is but God's master fencer to teach us to handle our weapons. - Author: Samuel Rutherford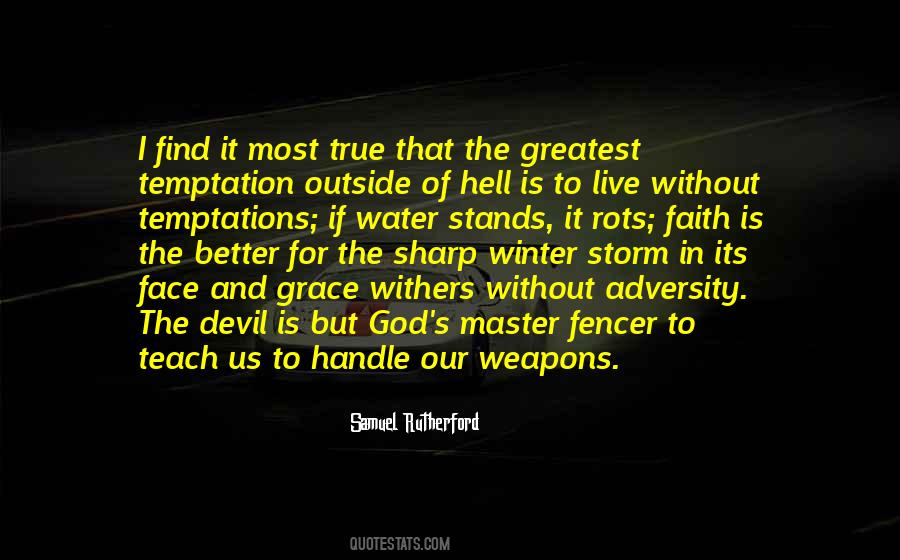 #85. The fact that we live without God is, in a sense, not up to us. It's not really a choice ... But goodness is a choice. It is the most important choice we can ever make. And we have to make it again and again, throughout our lives and in every aspect of our lives. - Author: Greg M. Epstein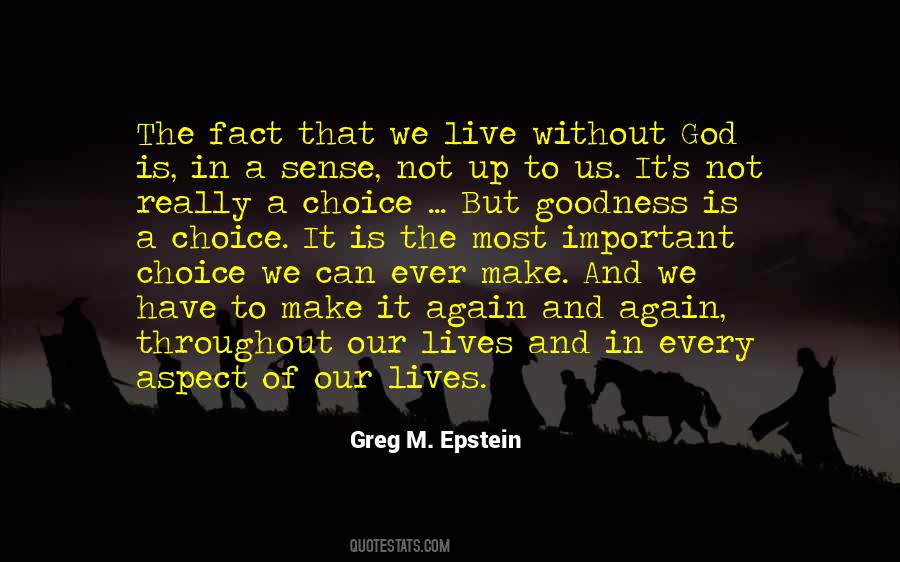 #86. To commit suicide is easy. To live without a god is more difficult. The drunkenness of triumph is greater than the drunkenness of sacrifice. - Author: Anais Nin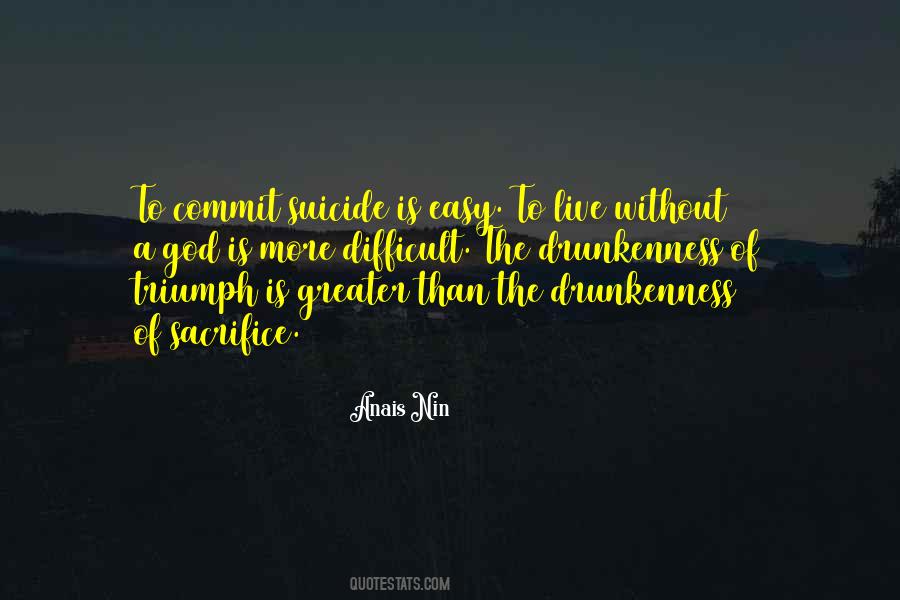 #87. God gives salvation to the needy, but gives the deep things of His heart to the hungry who refuse to live without them. - Author: Mike Bickle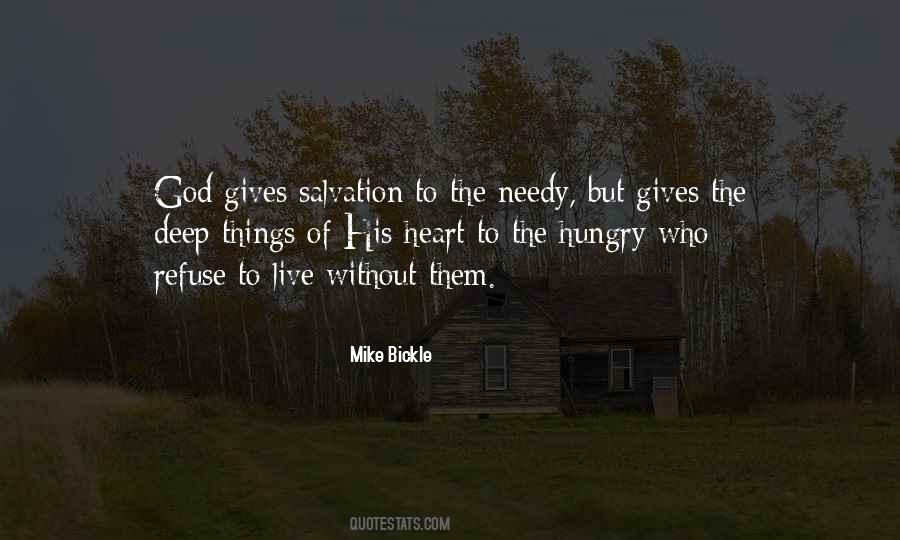 #88. Why am I afraid to live, I who love life and the beauty of flesh and the living colors of earth and sky and sea? Why am I afraid of love, I who love love?.. Why was I born without a skin, O God, that I must wear armor in order to touch or to be touched? - Author: Eugene O'Neill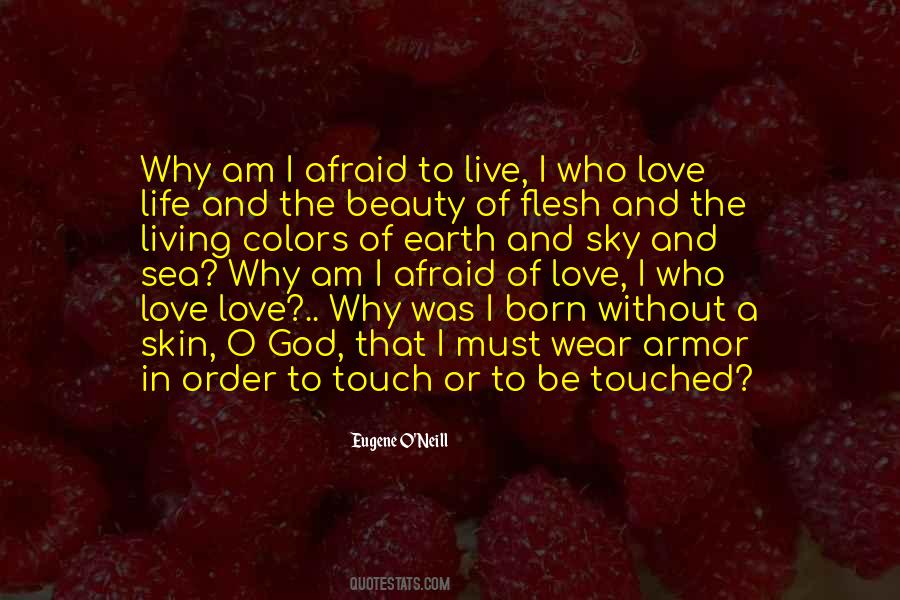 #89. It seems sensible to me that we should look to the medical profession, that over the centuries has helped us to live longer and healthier lives, to help us die peacefully among our loved ones in our own home without a long stay in God's waiting room. - Author: Terry Pratchett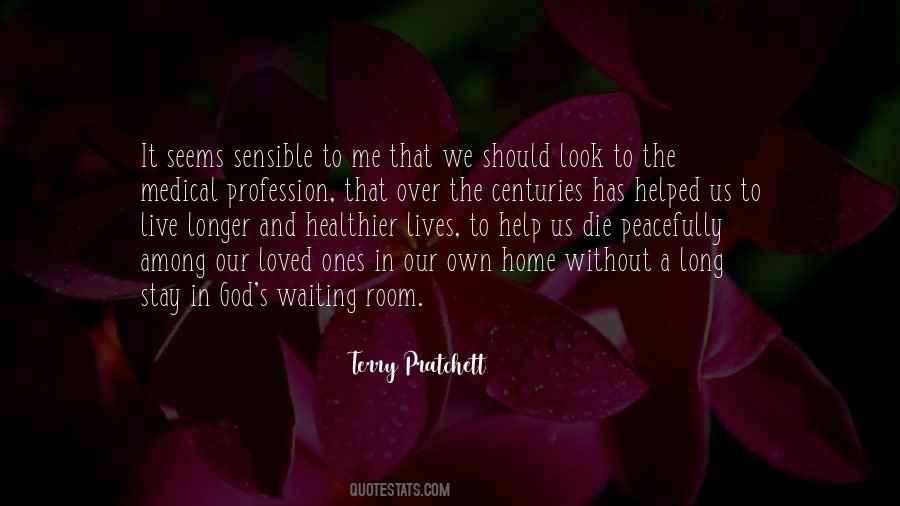 #90. By his disobedience of God's law, before man had exercised his power to bring children into the earth, not only Adam lost everything for himself, but his children were born as sinners, imperfect, and without the right to live. - Author: Joseph Franklin Rutherford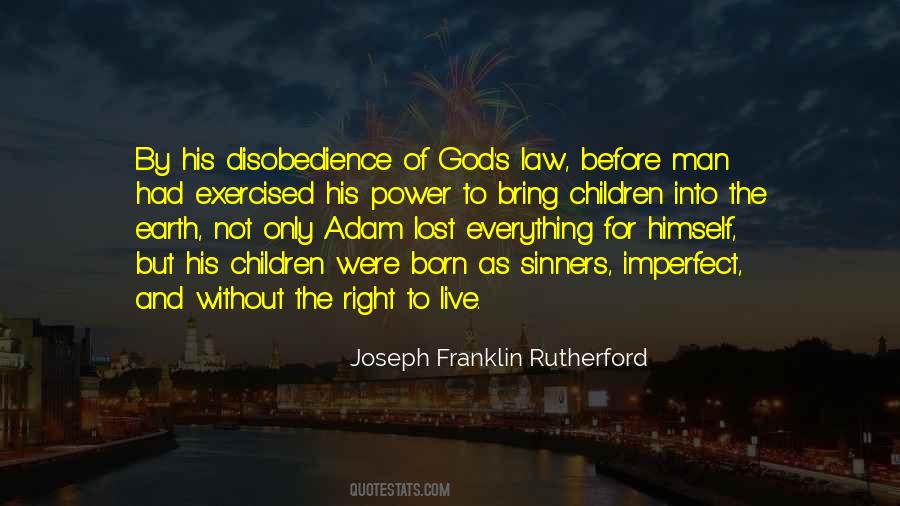 #91. The maker of the stars would rather die for you than live without you. And that is a fact. So if you need to brag, brag about that. - Author: Max Lucado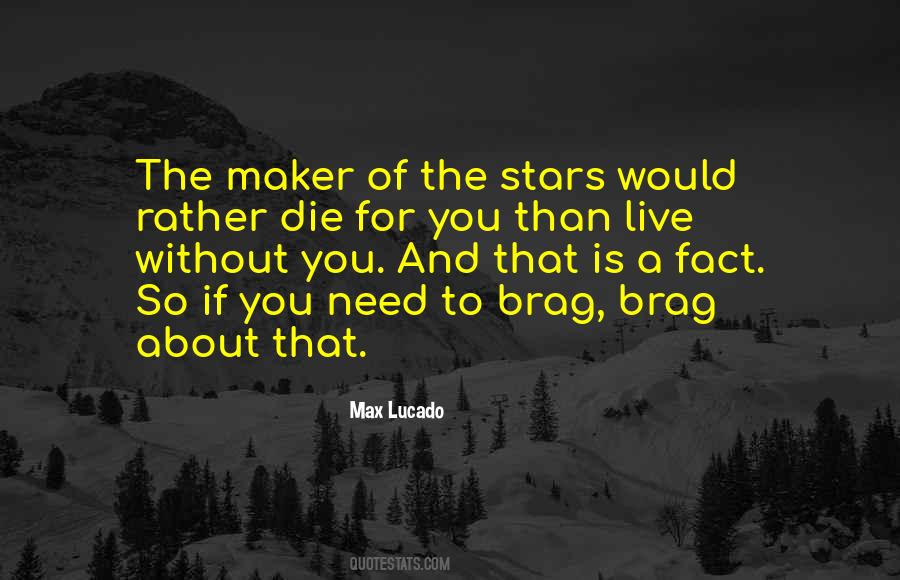 #92. God created us to live with a single passion: to joyfully display his supreme excellence in all spheres of life. The wasted life is the life without this passion. God calls us to pray and think and dream and plan and work, not to be made much of, but to make much of him in every part of our lives. - Author: John Piper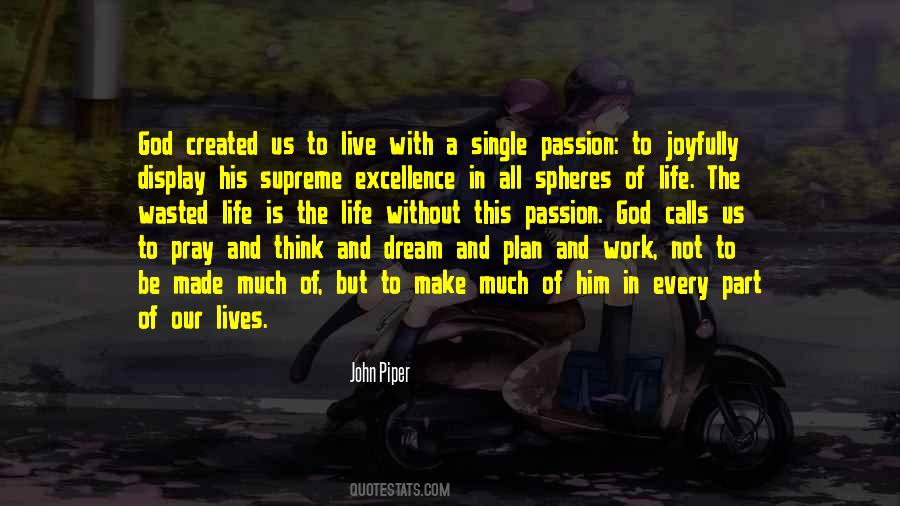 #93. Take what comes and live life without complaint. What will be, will be. Life is a woman's gift; death is God's. - Author: Nancy McKenzie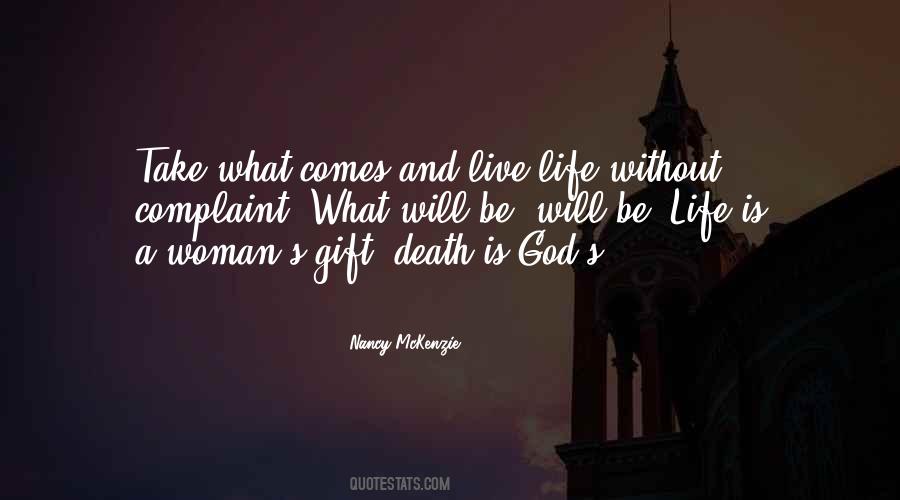 #94. How many caskets can we witness before we see it's hard to live this life without God, so we must ask forgiveness. - Author: Tupac Shakur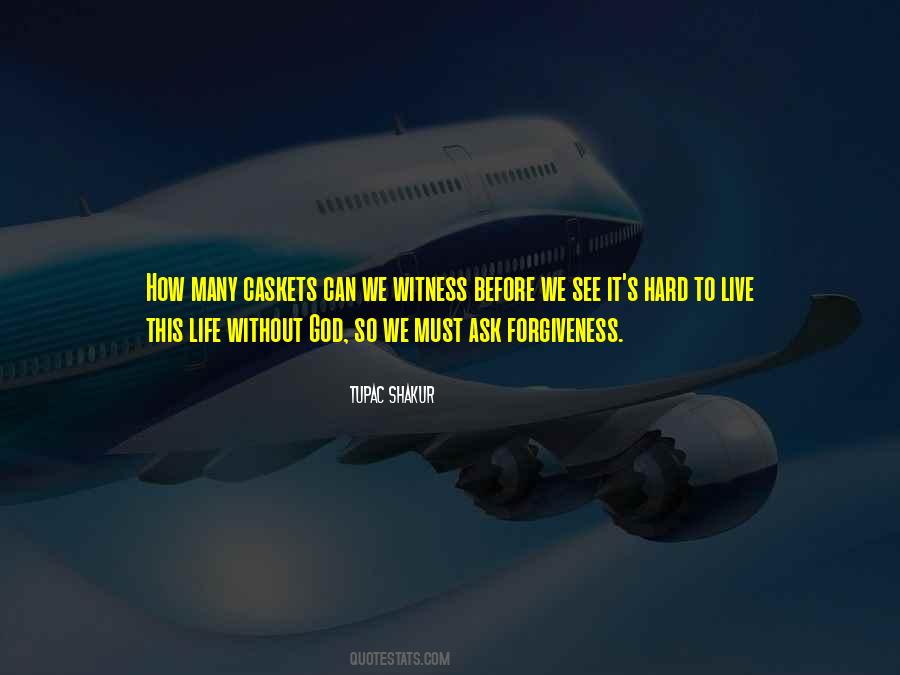 #95. Take away God and religion, and men live to no purpose, without proposing any worthy end of life to themselves. - Author: John Tillotson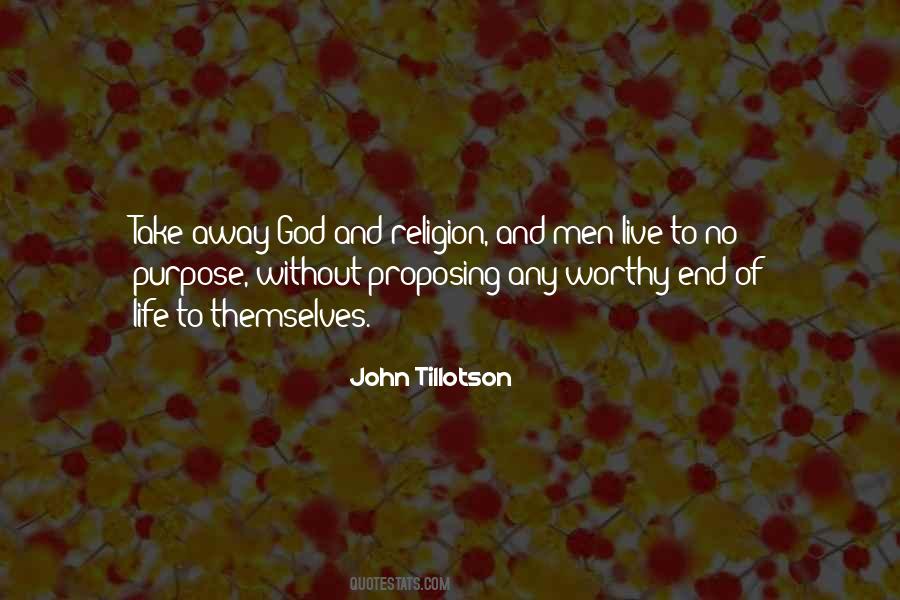 #96. When indeed it is in God we live, and move, and have our being. We cannot draw a breath without his help. - Author: Jonathan Edwards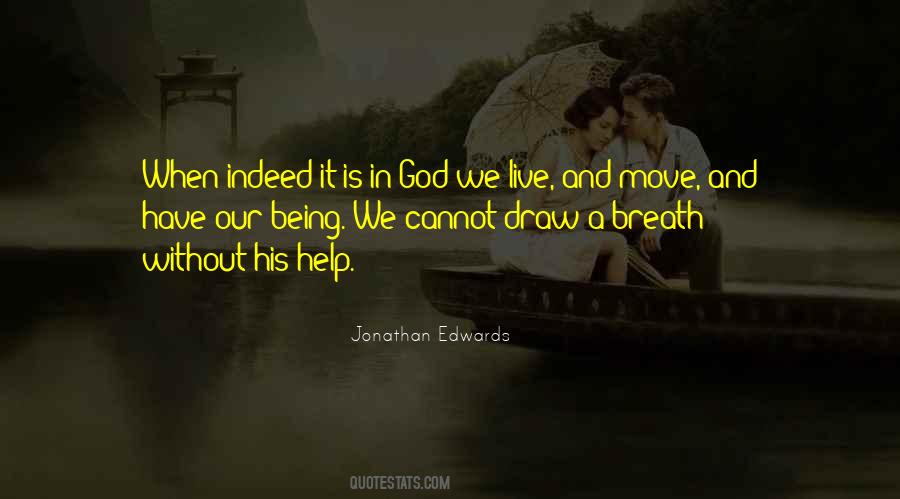 #97. I cannot imagine how religious persons can live satisfied without the practice of the presence of GOD. For my part I keep myself retired with Him in the depth of centre of my soul as much as I can; and while I am so with Him I fear nothing; but the least turning from Him is insupportable. - Author: Brother Lawrence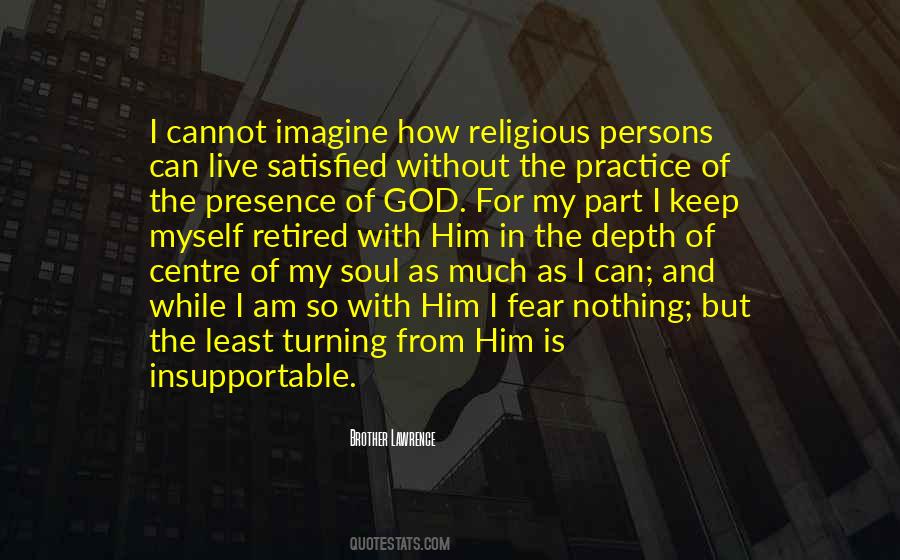 #98. God intends no man to live in this world without working, but it seems to me no less evident that He intends every man to be happy in his work. - Author: John Ruskin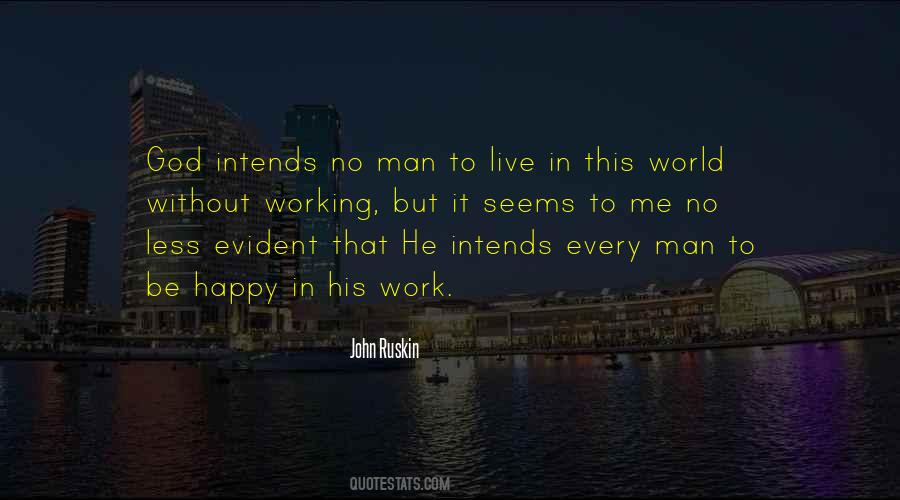 #99. At his funeral the priest's words applied signally to him: 'The Christian Brothers are a body of men who live without luxury, labour without emolument, and die without notice, that they might stamp God's image on the soul of youth. That surely is a splendid vocation. - Author: Edmund Campion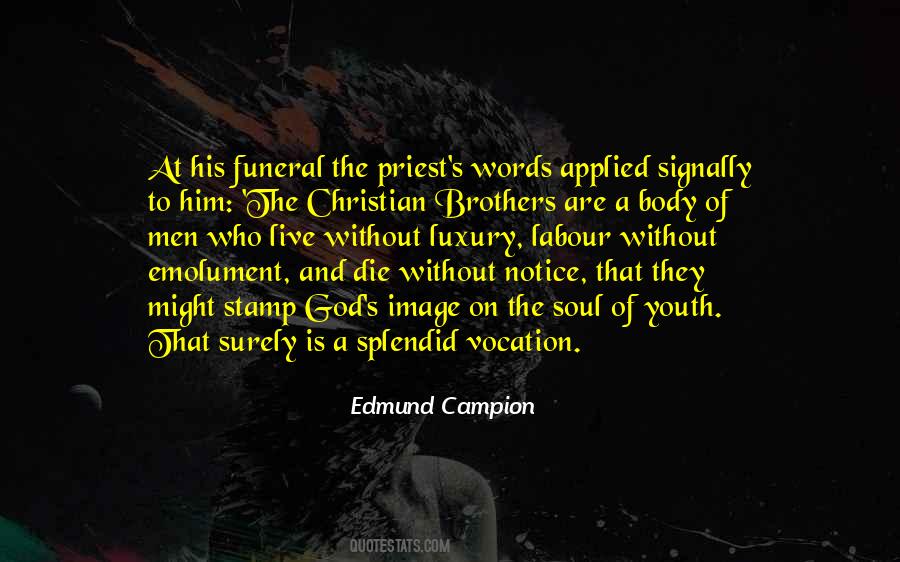 #100. Doing the things you hate is living in a world of sin. Hell is staying in the place Jesus saved you from. That is, to live on your own, without God. - Author: J.R. Rim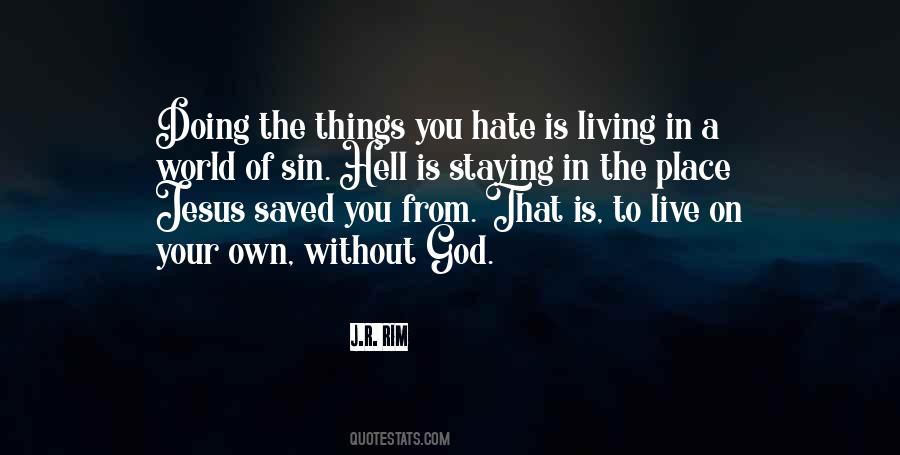 Famous Authors
Popular Topics