Life Stopped Famous Quotes & Sayings
List of top 100 famous quotes and sayings about life stopped to read and share with friends on your Facebook, Twitter, blogs.
Top 100 Life Stopped Quotes
#1. And if you sat at the dinner table long enough, whether in punishment or in refusal or simply in boredom, you never stopped sitting there. Some part of you sat there all your life. - Author: Jonathan Franzen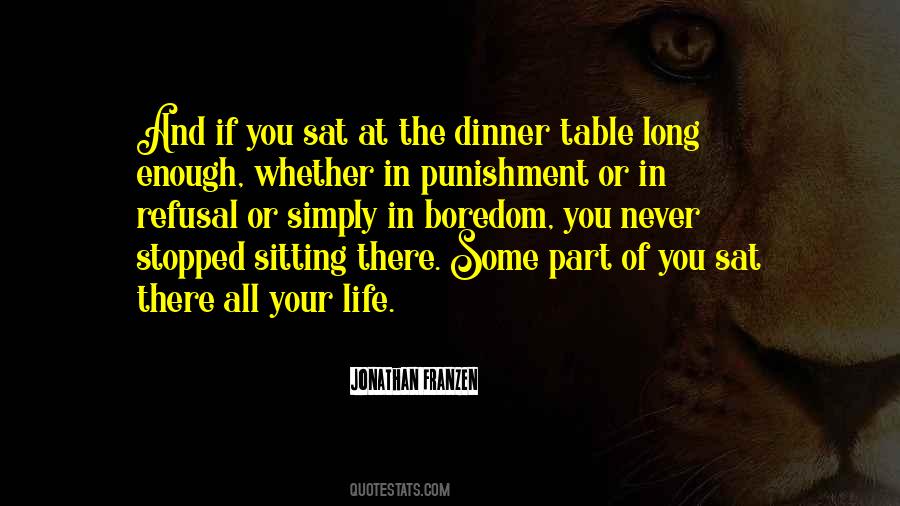 #2. I was in the biggest breakdown of my life when I stopped crying long enough to let the words of my epiphany really sink in. That whore, karma, had finally made her way around, and had just bitch-slapped me right across the face. The realization only made me cry harder. - Author: Jennifer Salaiz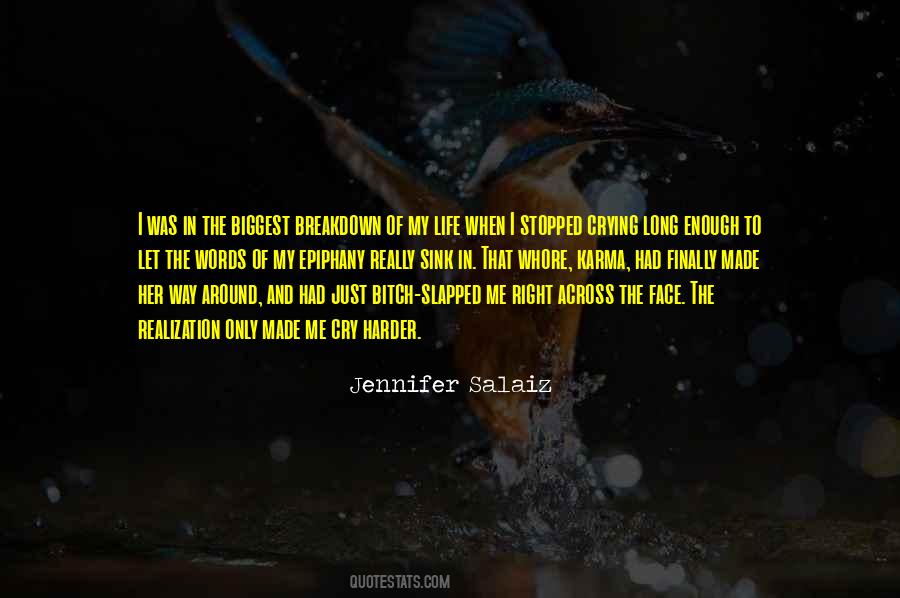 #3. I used to believe that if my career was going great, then I was not entitled to a great personal life. Well, I've stopped thinking that way. I believe I can have it all. - Author: Halle Berry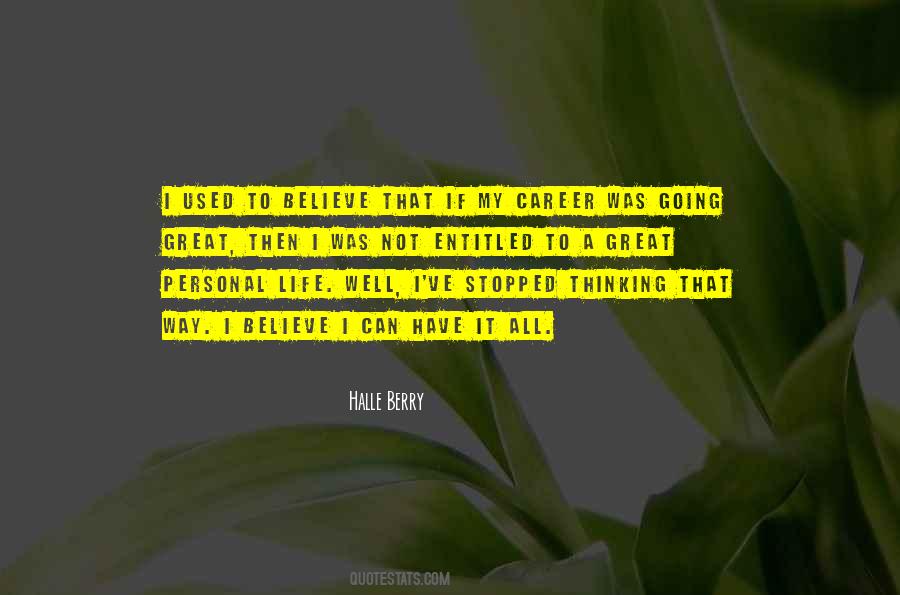 #4. Ever since I stopped worrying about finances, I've made more money than I ever thought I'd make in my life. - Author: Bryan Cranston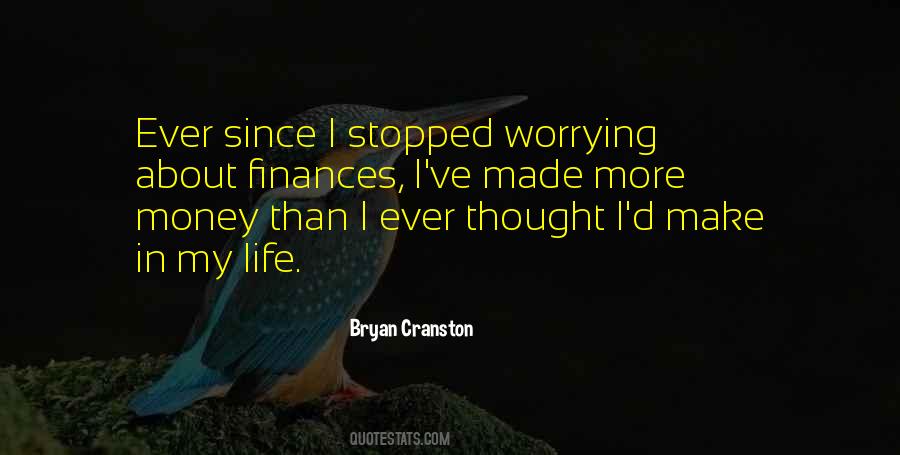 #5. I used and abused drugs and alcohol. When I stopped doing that it became a lot clearer that life goes from inside to giving as opposed to taking and destroying. - Author: Stanley Kubrick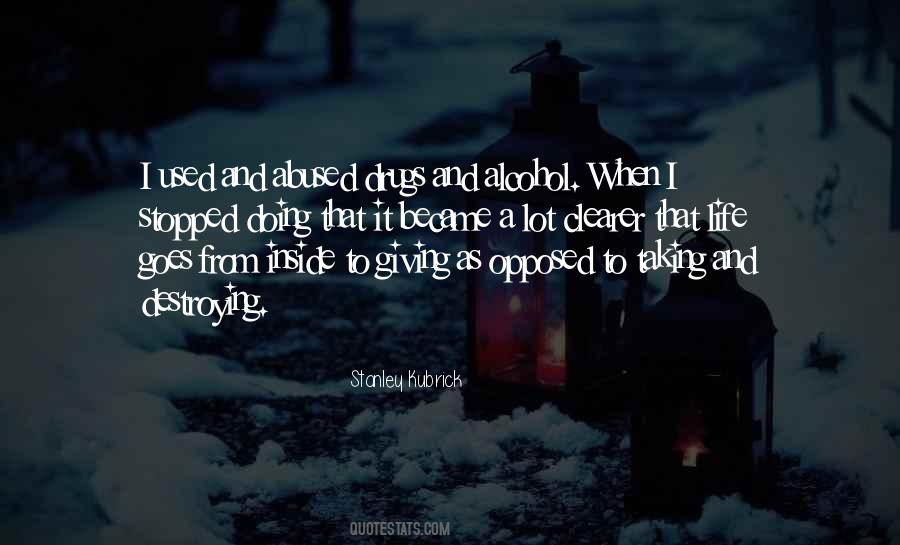 #6. The day I understood everything, was the day I stopped trying to figure everything out. The day I knew peace was the day I let everything go. - Author: C. JoyBell C.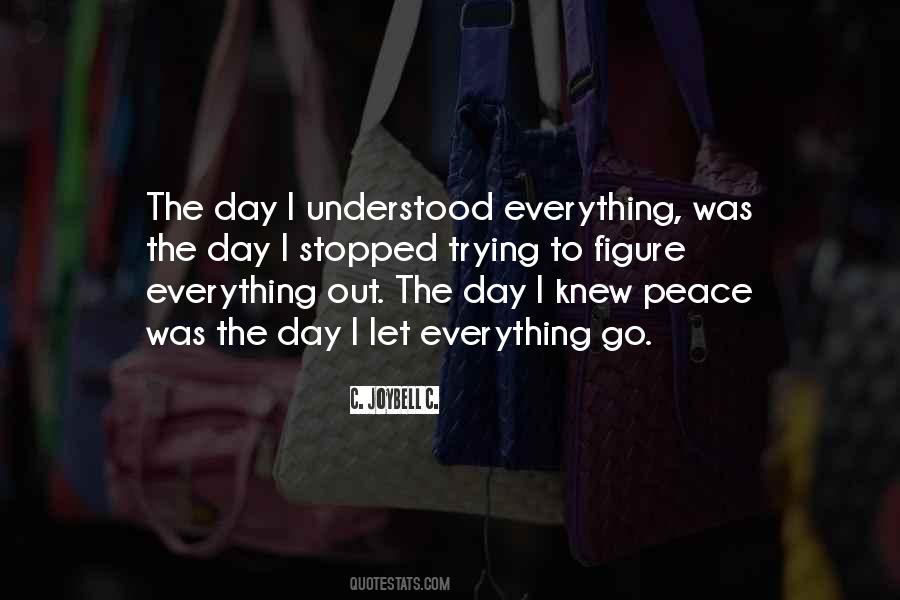 #7. When a complex is acquired, personal development is stopped and the person even being an adult, sometimes behaves in a childish and immature way - Author: Sunday Adelaja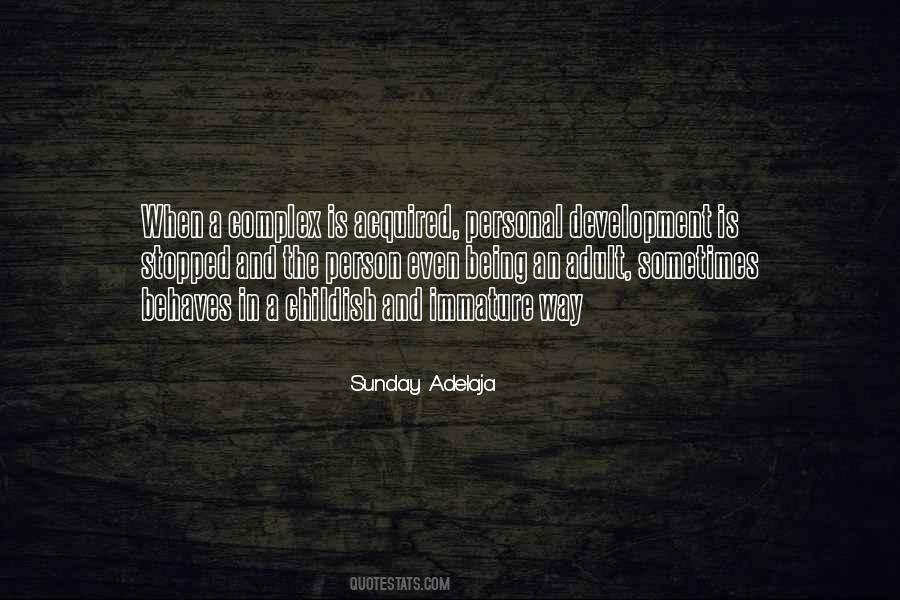 #8. At the start of the trip, I took shots of the sights. The Colosseum. Belvedere Palace. Mozart Square. But I stopped. They never came out very well, and you could get postcards of these things.
But there are no postcards of this. Of life. - Author: Gayle Forman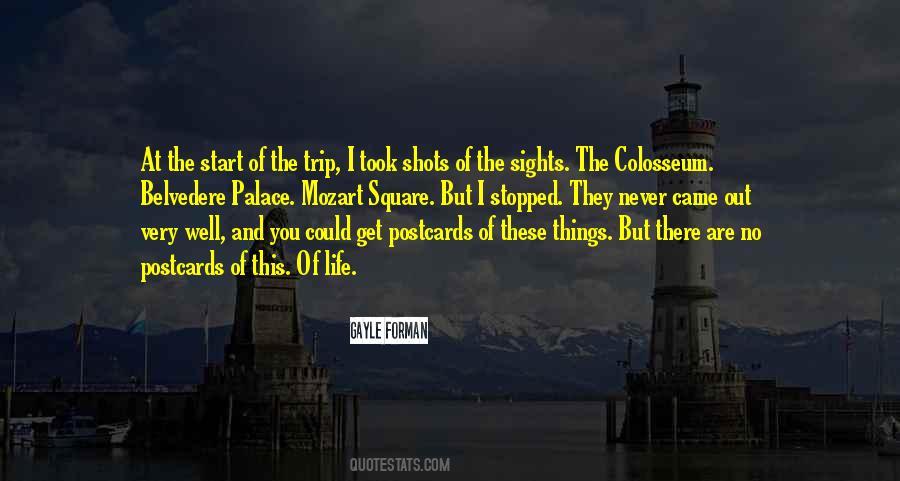 #9. The first time I saw her had been an accident. I was racing through the woods, attempting to run away from what I am, from the life I lived. Before I even heard her I caught her scent and I was lost. I stopped running and turned, seeking out what called to me. When I found her my life changed. - Author: Cambria Hebert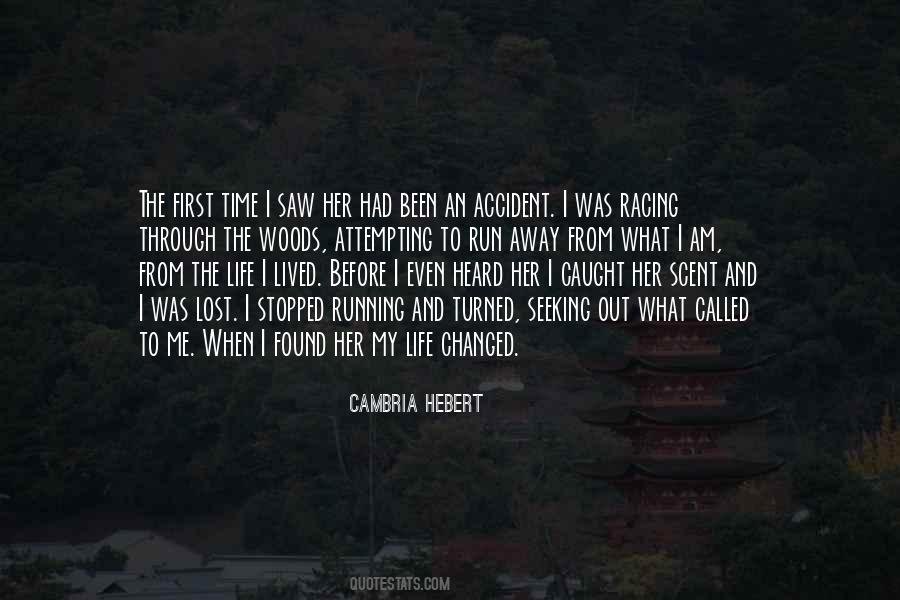 #10. When these people stopped, there'd be others to take their jobs over. That was the Lord's plan. He was getting the world's work done through people, and He would see to it that He had enough to keep things going. - Author: Loula Grace Erdman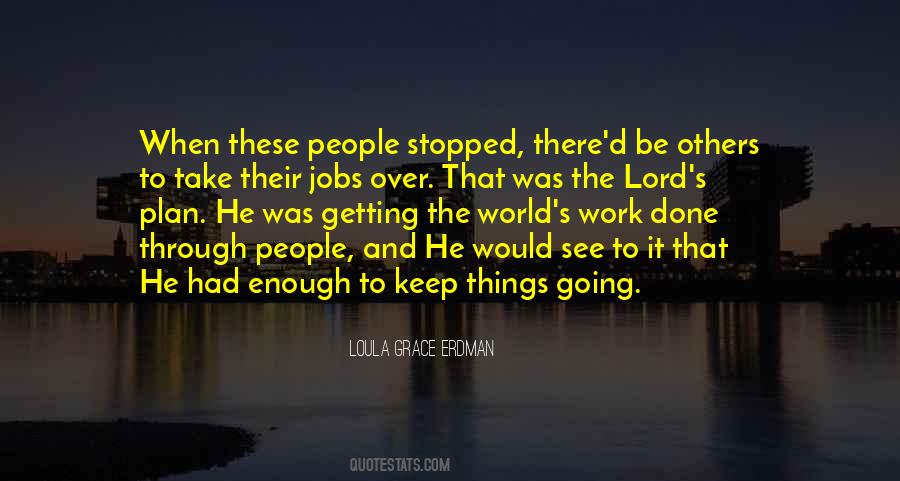 #11. I've been treating my life as this pit stop, just kind of regrouping before I move on. But it's been seven years, and I never moved on. I haven't done anything. I just ... stopped. - Author: Jonathan Tropper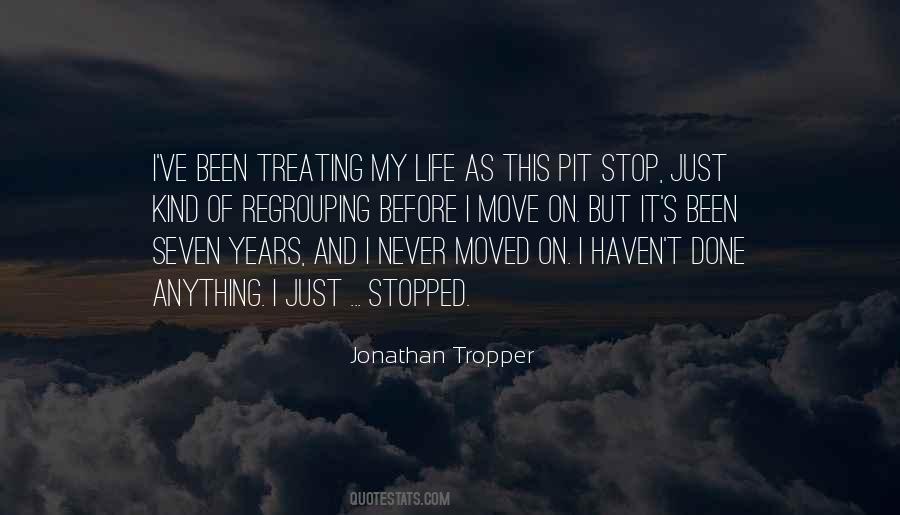 #12. All his life he [the American] jumps into the train after it has started and jumps out before it has stopped; and he never once gets left behind, or breaks a leg. - Author: George Santayana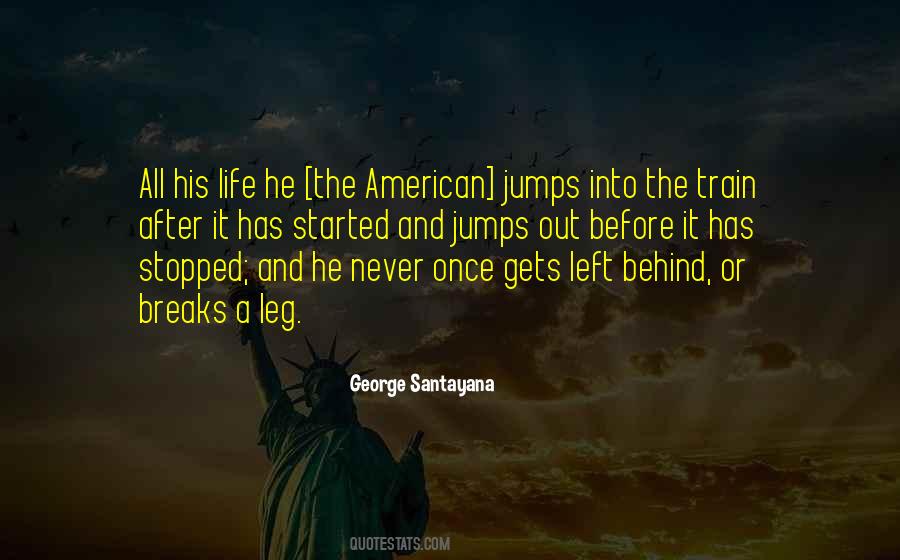 #13. I stopped hating and started just being. My whole life, I had been the most defensive person you'd meet, unable to tolerate any criticism. But now I started listening and being. - Author: Anthony Kiedis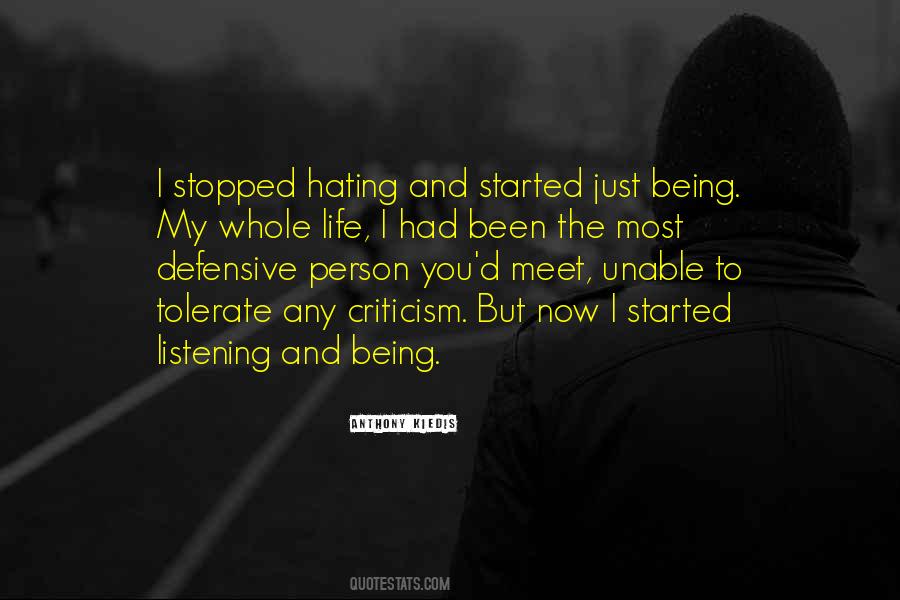 #14. Perhaps that was the point; life, if you did it right, meant learning and changing. If you didn't, you died- or stopped growing - which amounted to more or less the same thing. So I would slide in and out of different roles until I discovered the one that fit me best.
-Deuce, (183) - Author: Ann Aguirre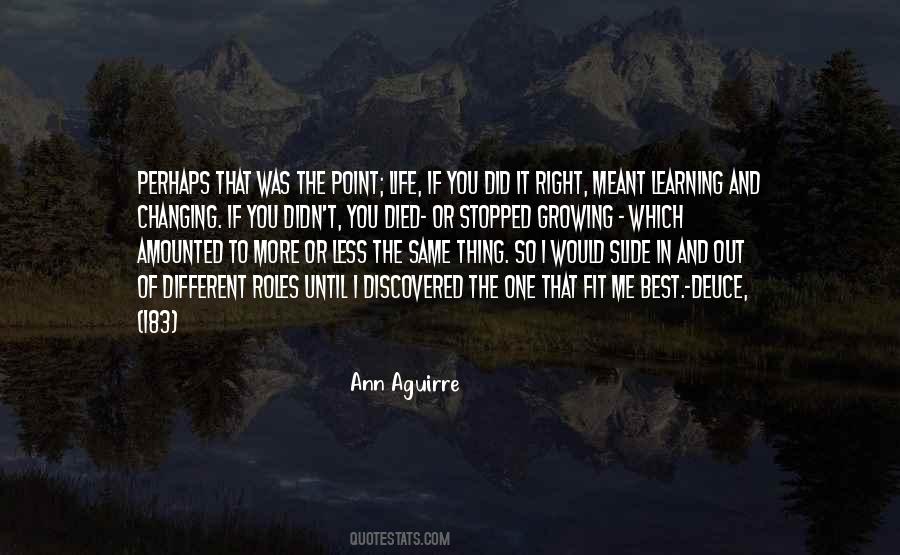 #15. Losing both parents at a young age gave me a sense that you can't really control life - so you'd better live it while it's here. I stopped believing in a storybook existence a long time ago. All you can do is push in a direction and see what comes of it. - Author: Jon Hamm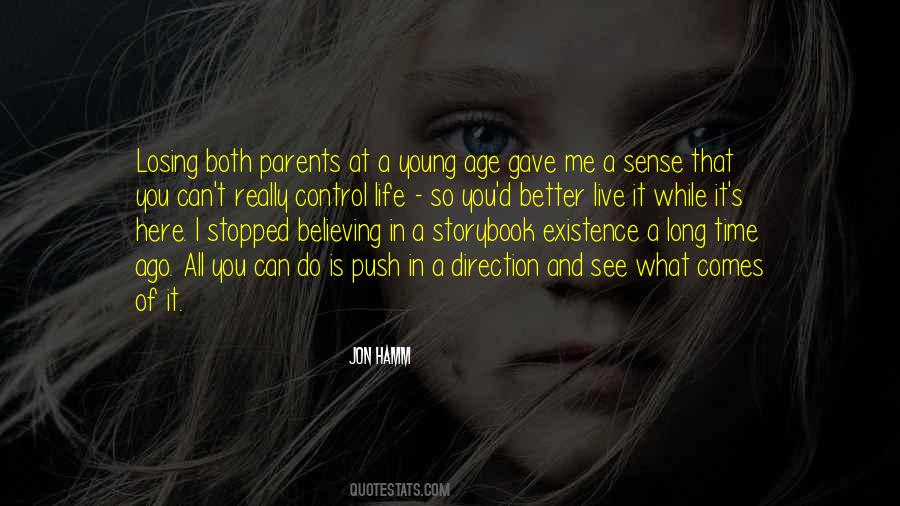 #16. You," she said. She grabbed my wrist and pressed two fingers onto me as if taking my pulse and I stopped breathing. "I know you. I remember you from my youth. You contain multitudes. There is a crush of experience coursing by you. And you want to take every experience on the pulse. - Author: Stephanie Danler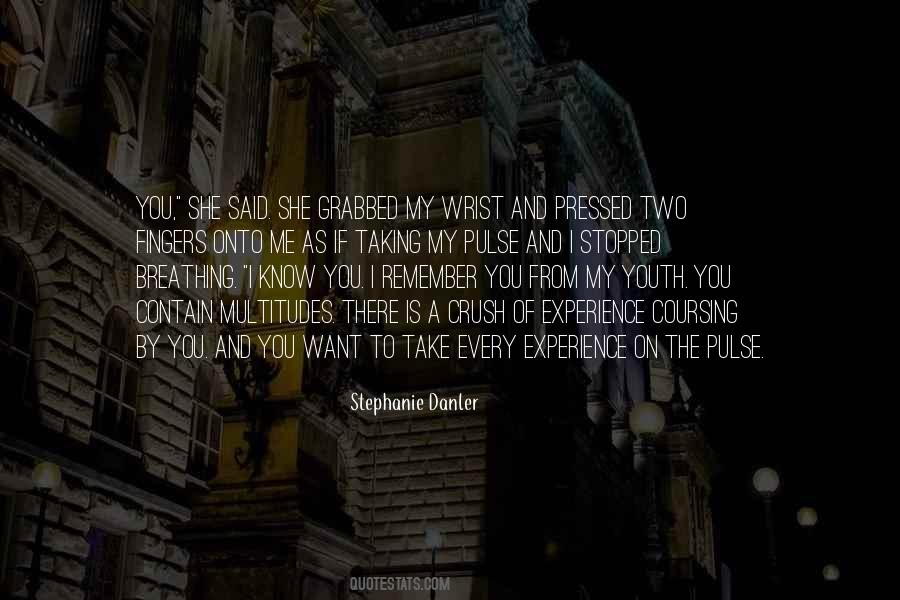 #17. Our heavenly Father understands our disappointment, suffering, pain, fear, and doubt. He is always there to encourage our hearts and help us understand that He's sufficient for all of our needs. When I accepted this as an absolute truth in my life, I found that my worrying stopped. - Author: Charles Stanley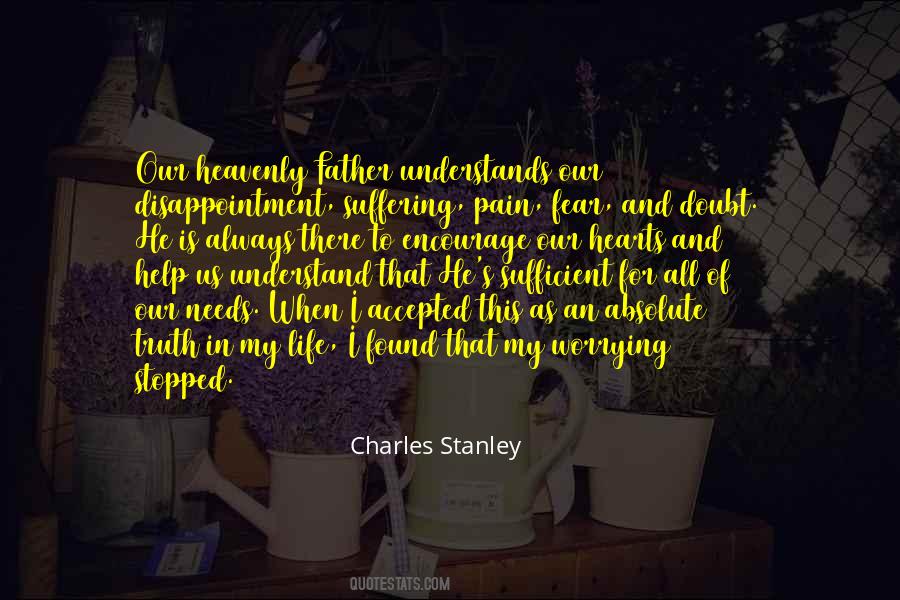 #18. I believe everything is one thing only. That said, there are some questions in my life that I don't know.. I've stopped asking. At the very beginning of my life, I wanted to have answers for everything. And now I respect the fact that I can't have answers for everything. - Author: Paulo Coelho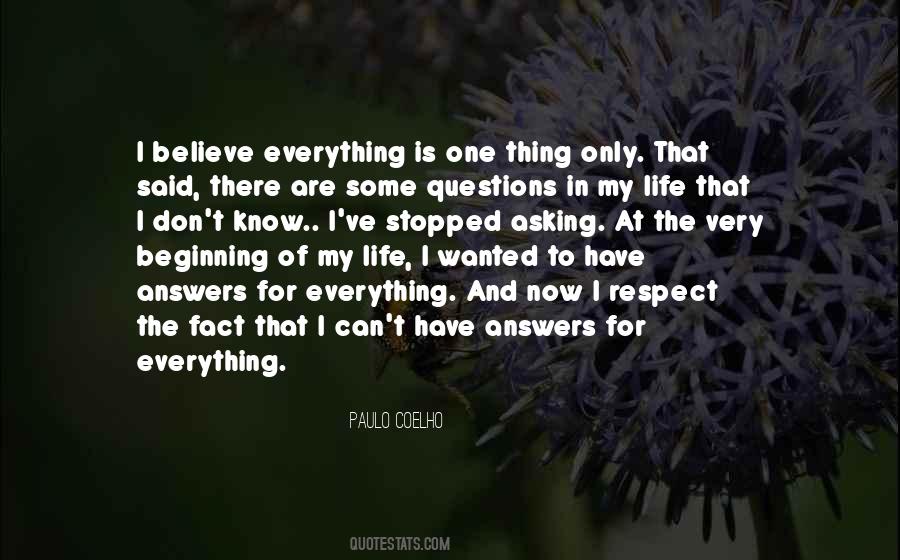 #19. Your level of success, will rarely exceed your level of personal development, because success is something you attract by the person you become," I stopped in my tracks. This one philosophy was going to change my entire life. - Author: Hal Elrod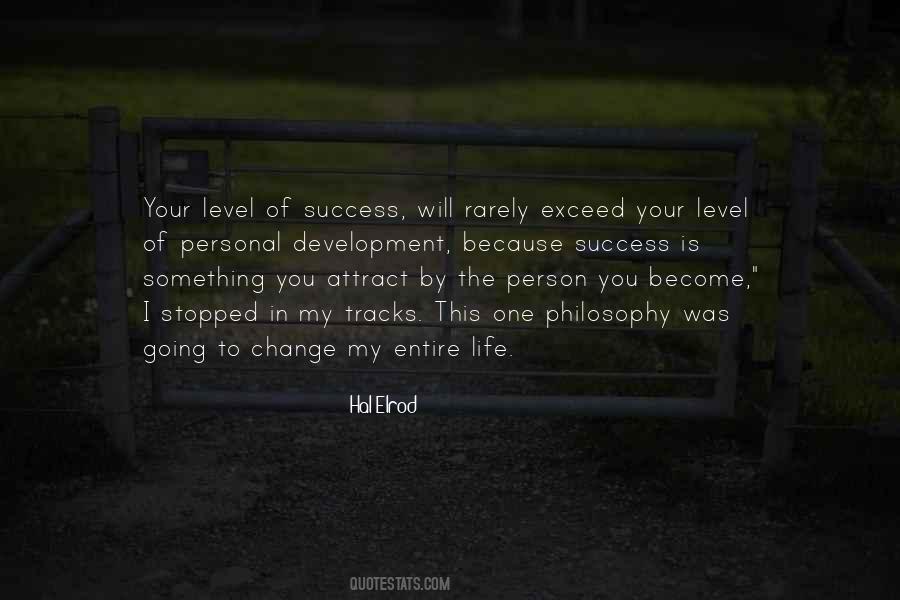 #20. warned them of getting buttonholed in a job that stopped them from exploring all the directions that life presented - Author: Dan John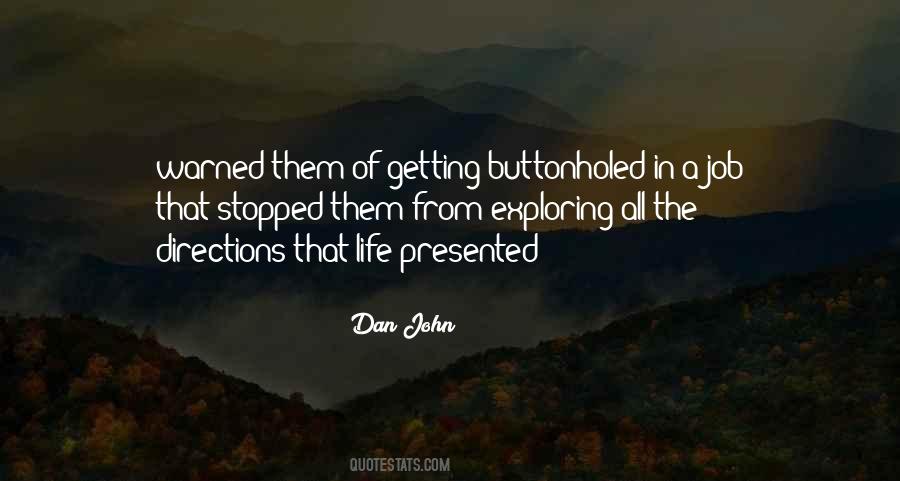 #21. One of the greatest pleasures of my life has been that I have never stopped learning about Good Cooking and Good Food - Author: Edna Lewis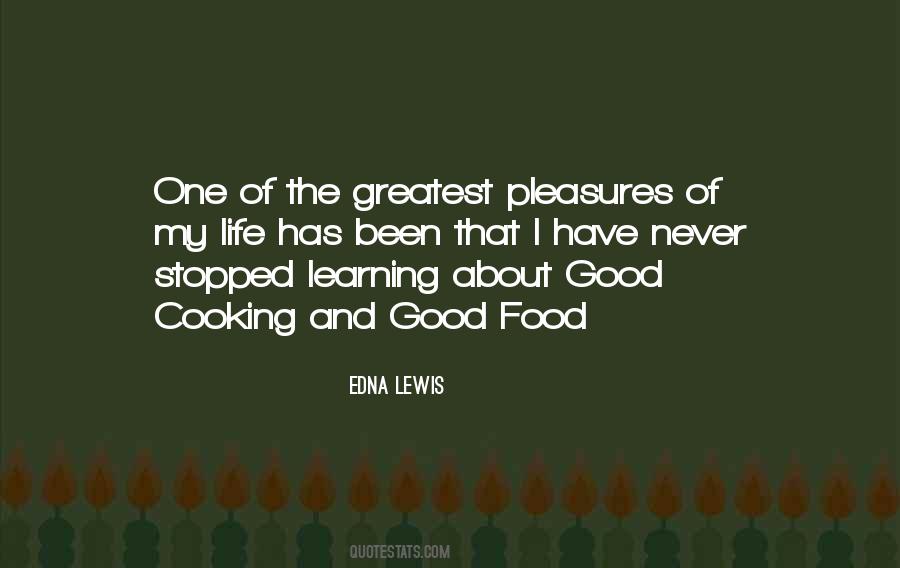 #22. The origin of the word fail means to stop functioning. So as long as you haven't stopped, you haven't failed. - Author: Toni Sorenson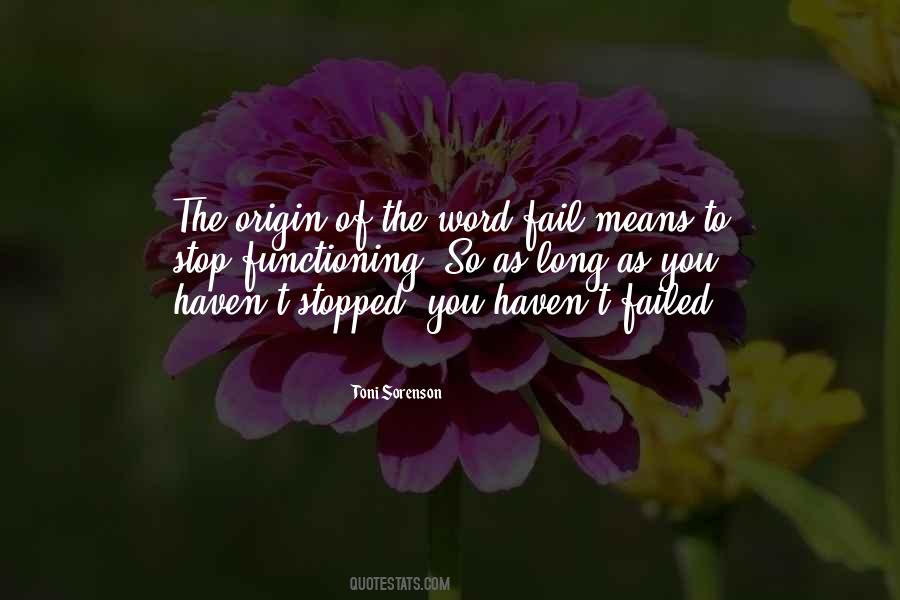 #23. Already the rain had become an element of life like the air Mark breathed, and when it stopped, he missed it somehow, and found himself listening for the drip, drip, drip that seemed now a necessary and comforting component of his life. - Author: Margaret Craven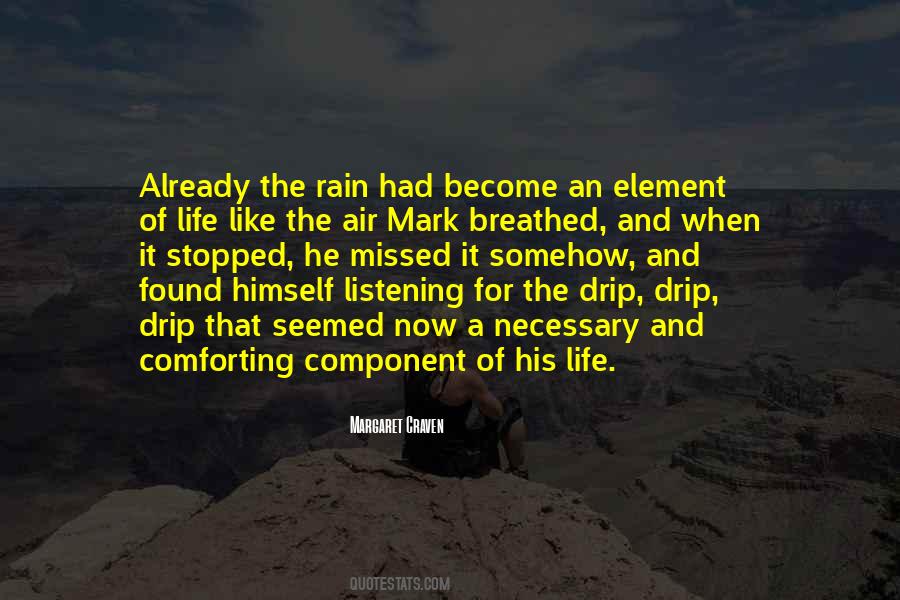 #24. Vurms stopped in his tracks. "You wouldn't dare!"

Glokta smiled. His most revolting, leering, gap-toothed smile. "You'd have to be a bold man to bet your life on what I'd dare. How bold are you? - Author: Joe Abercrombie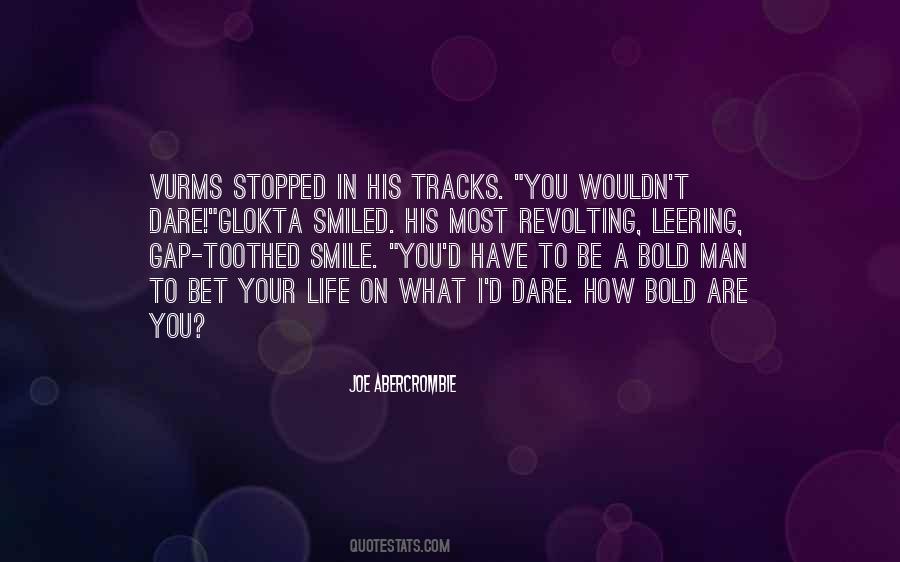 #25. But prosperity without a soul is like a corpse whose heart has stopped beating. There is no life, only consumption. - Author: Cal Thomas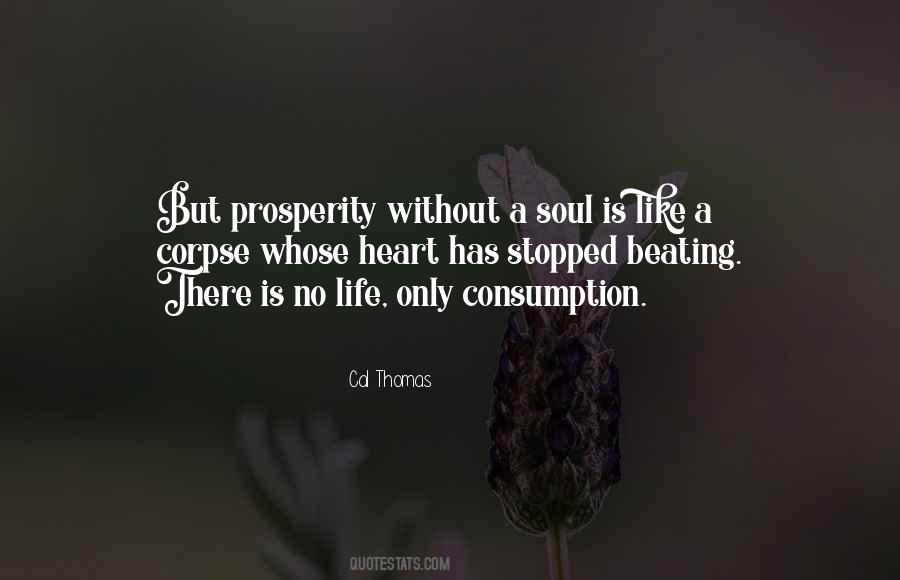 #26. I don't think I really accepted my power as a woman until I realized that no was a complete sentence. When I stopped making excuses for saying it and began creating boundaries in my life, I knew real power. - Author: Leeza Gibbons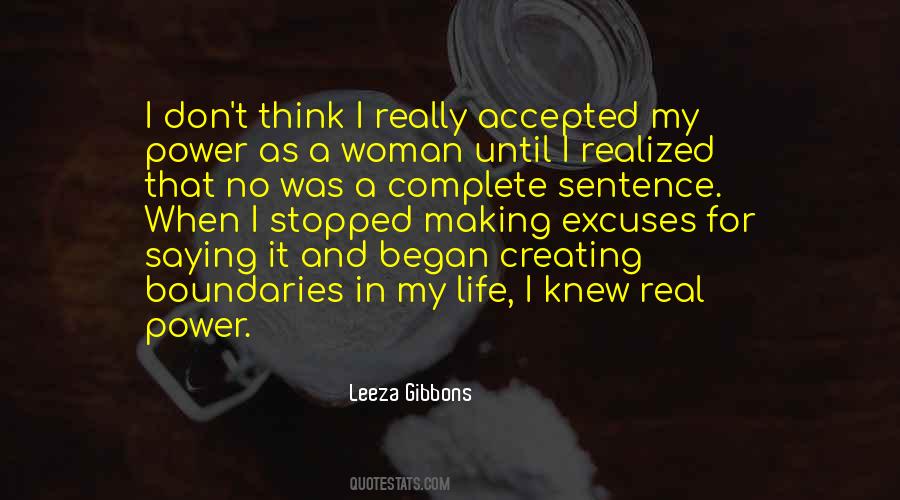 #27. What she called the nastiness of life was the shock she received upon learning that nobody stopped playing checkers just because the pieces included her children. - Author: Toni Morrison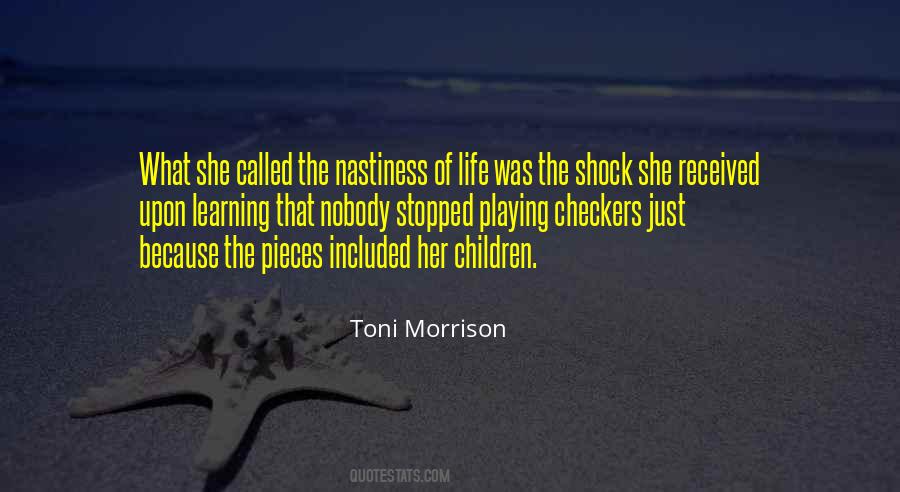 #28. If I get up just one less time than the number of times I've been knocked down, I have done one of the most devastating things possible; I have halted my life at that very spot. - Author: Craig D. Lounsbrough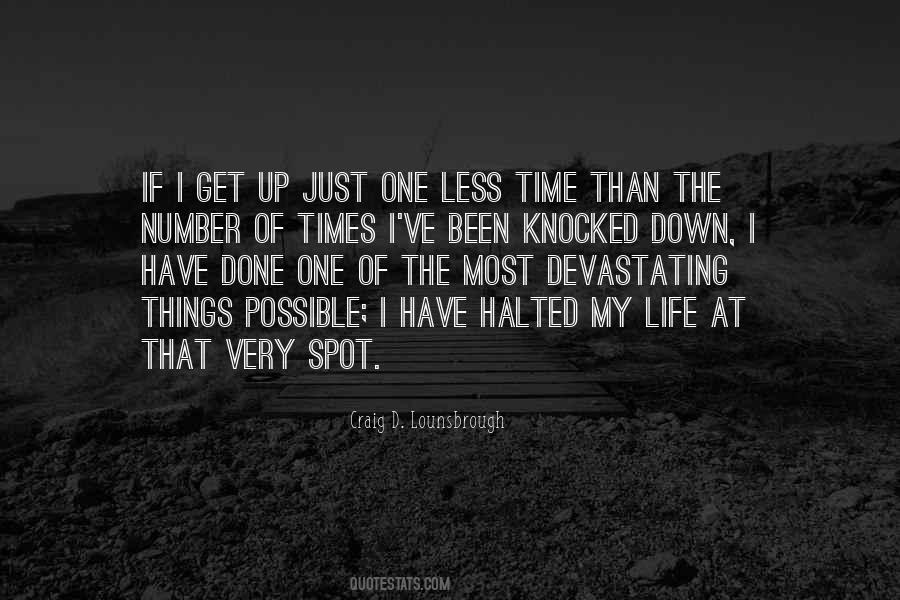 #29. In the middle of the brutal reality of death, Jesus never stopped calling people to life. Centering his attention on life, he continually pushes past the smaller and cheaper things we tend to live for and goes right to the core issue, which is life itself. - Author: Rick McKinley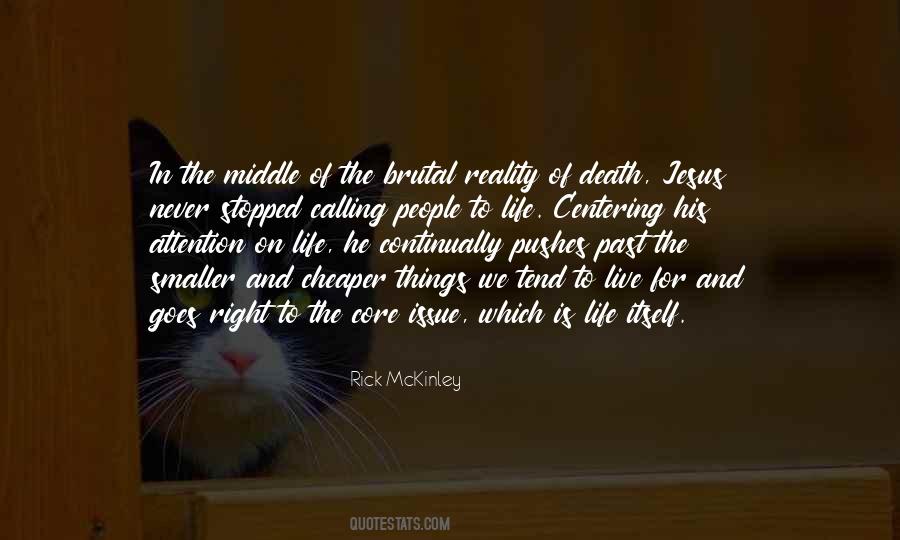 #30. it was when I stopped searching for home within others and lifted the foundations of home within myself I found there were no roots more intimate than those between a mind and body that have decided to be whole. - Author: Rupi Kaur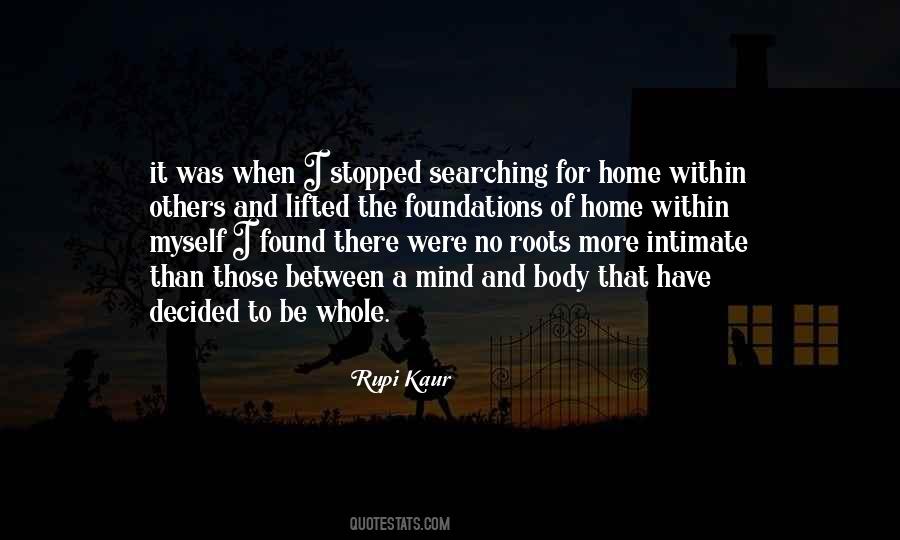 #31. The fact that it is sometimes difficult for me to believe in God doesn't mean that I deny his existence. If I stopped believing in him, I wouldn't be able to continue living. - Author: Rafael Abalos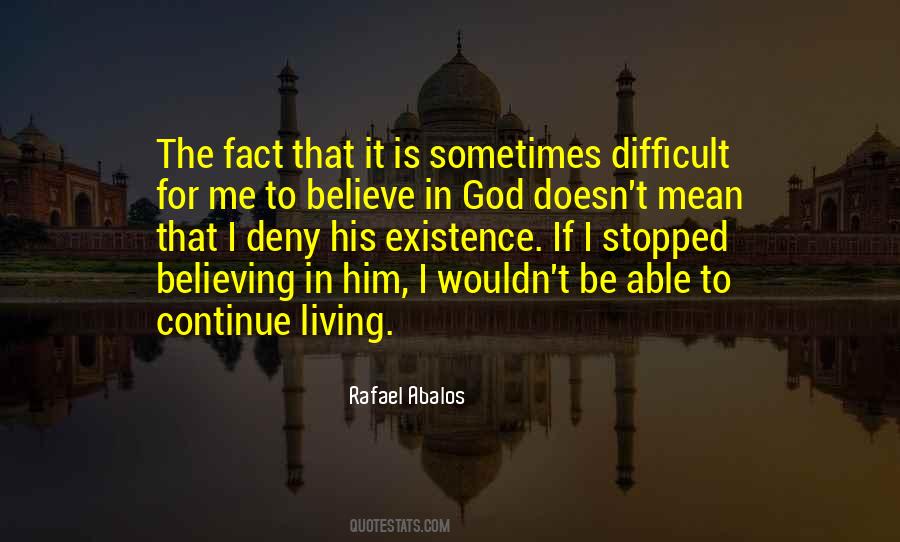 #32. Her singing always cheered him up. Life seemed so much brighter when she stopped. - Author: Terry Pratchett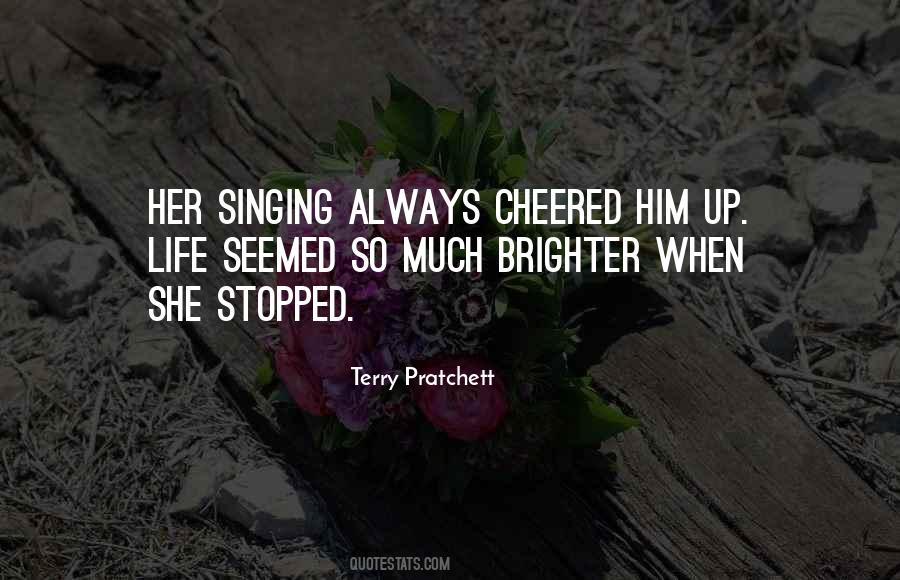 #33. Prayer changes things. Prayer changes us. Prayer changes life. Sometimes an event has been manifested that needs to be stopped, midair. Don't pray just when you're in trouble. Pray every day. Surround yourself with prayer. You never know when you might need an extra miracle. - Author: Melody Beattie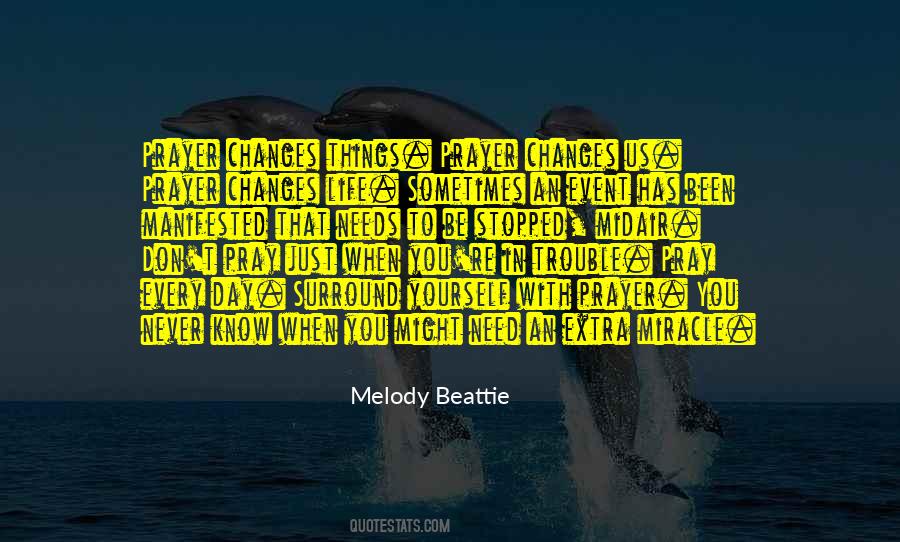 #34. One of the major obstacles impeding any positive future change in our lives is that we are too busy with our current work or activity. Levi quit his tax-work, Peter stopped fishing at lake, Paul ceased being a priest. They all left their jobs because they thought it was necessary. - Author: John Ruskin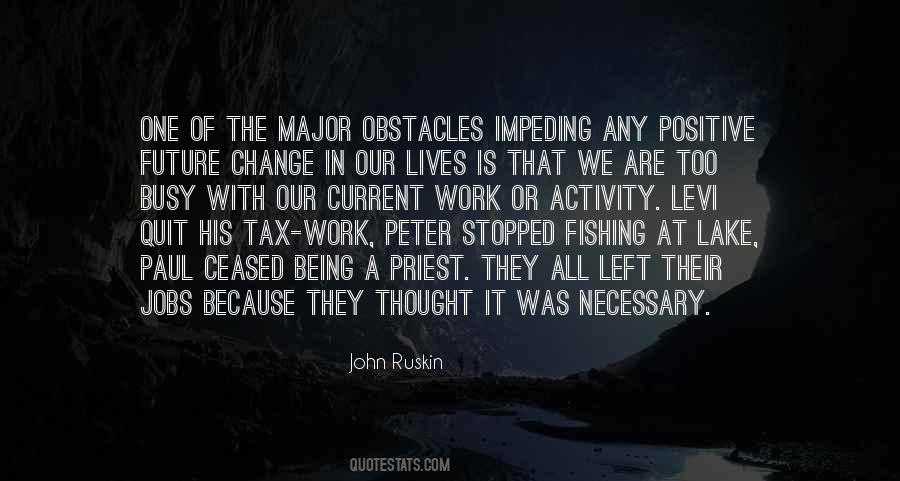 #35. Each line she etched into the metal was another life cut off, another heart stopped at the slice of this very blade.
A hundred lives to cover up the pain of the very first. A hundred more to shovel away the hurt into a place that was dark and deep. - Author: Sasha Alsberg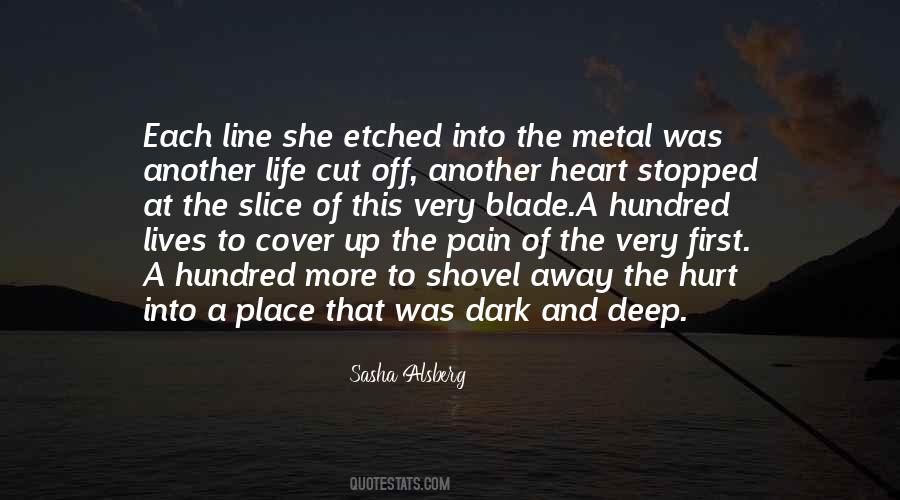 #36. Maybe reading was just a way to make her feel less alone, to keep her company. When you read something you are stopped, the moment is stayed, you can sometimes be there more fully than you can in your real life. - Author: Helen Humphreys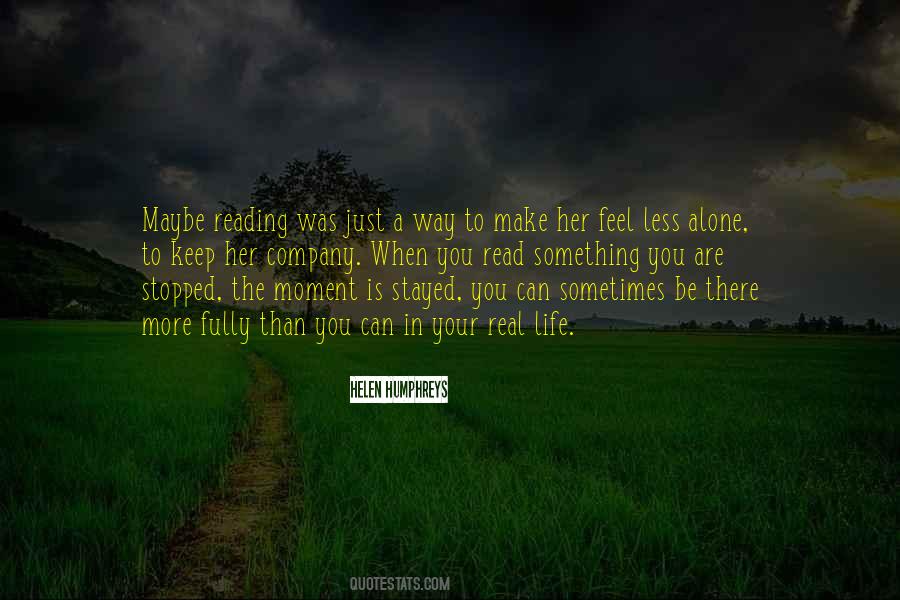 #37. He stopped and looked back at me I love you too Pagan. I'll miss you. In every life. - Author: Abbi Glines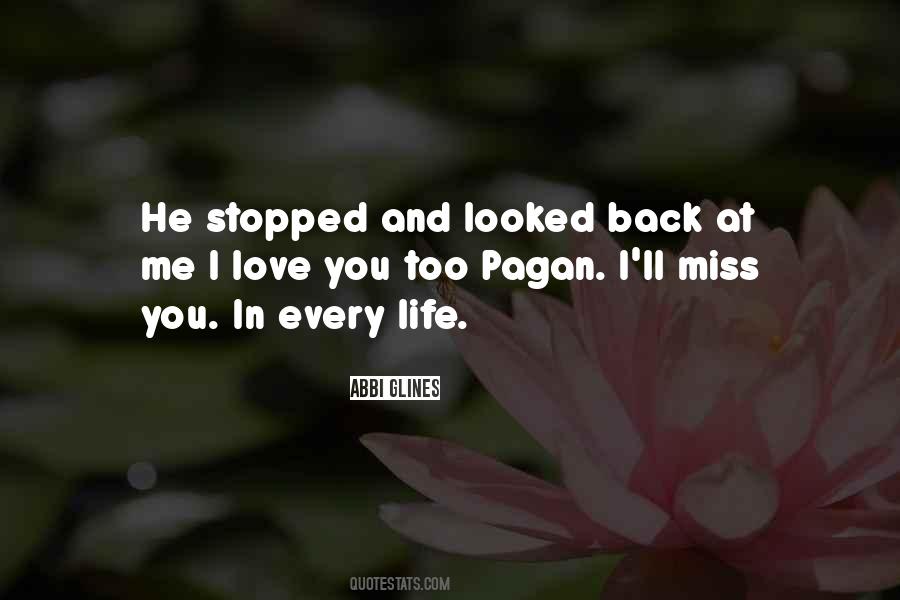 #38. Destructive fear must be stopped in its tracks or it will undermine the life God invites us to live. - Author: Bill Hybels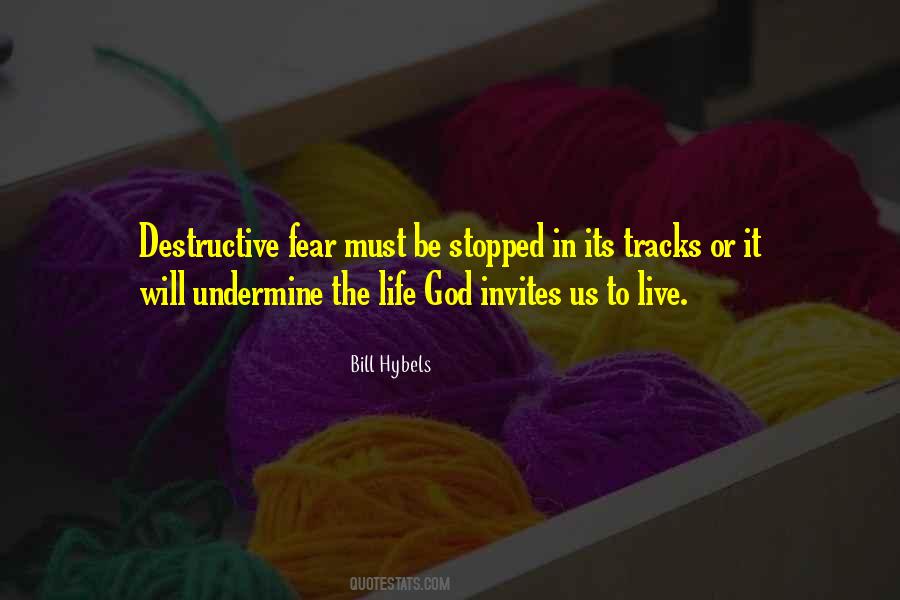 #39. A new life? There's not such thing.
It was only in the magazine headlines that people got a new life. Stopped drinking or taking drugs, found a new love. But the same life. - Author: John Ajvide Lindqvist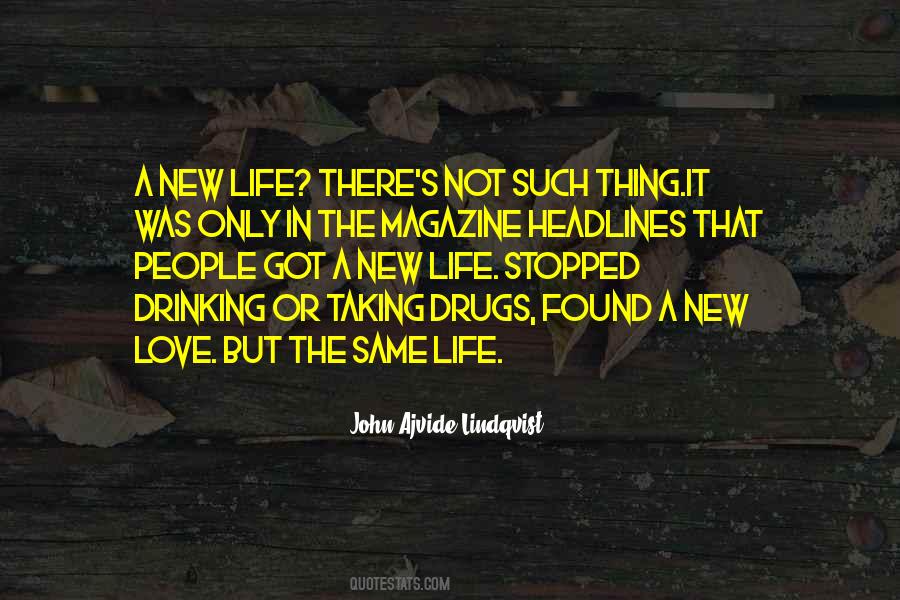 #40. This beginning motion, this first time when a sail truly filled and the boat took life and knifed across the lake under perfect control, this was so beautiful it stopped my breath ... - Author: Gary Paulsen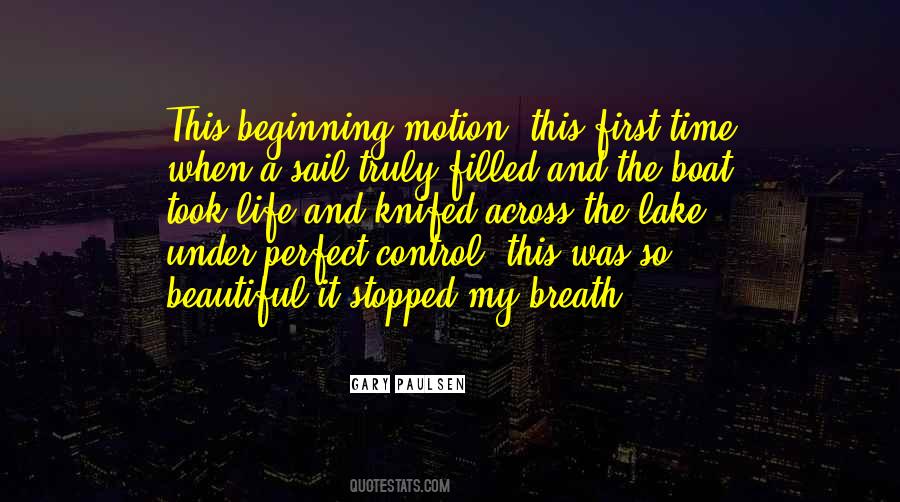 #41. Duty never stopped anyone from following their dreams. - Author: Paulo Coelho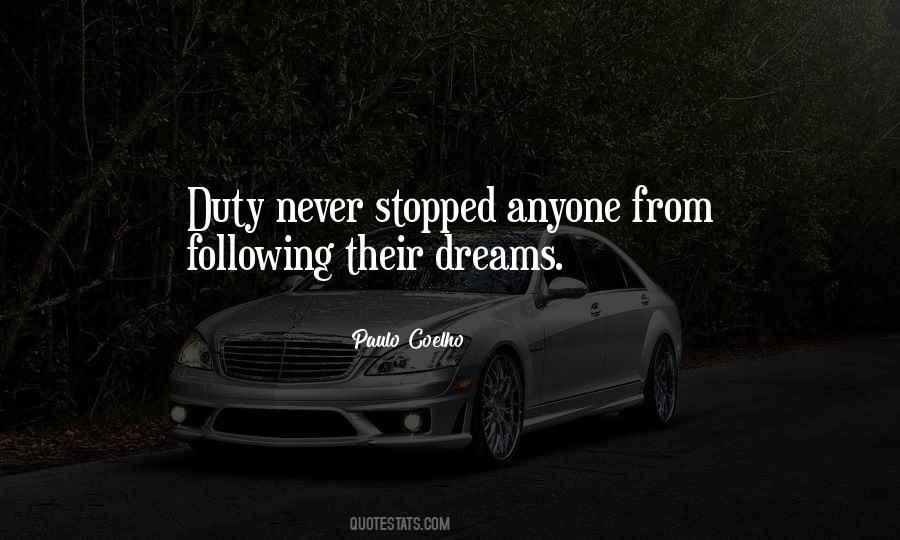 #42. After they stopped torturing him they locked him in the jail cell again and pretended they would forget him ... Then, eventually, and unexpectedly, release. Into ignominy, oblivion, married life. - Author: Salman Rushdie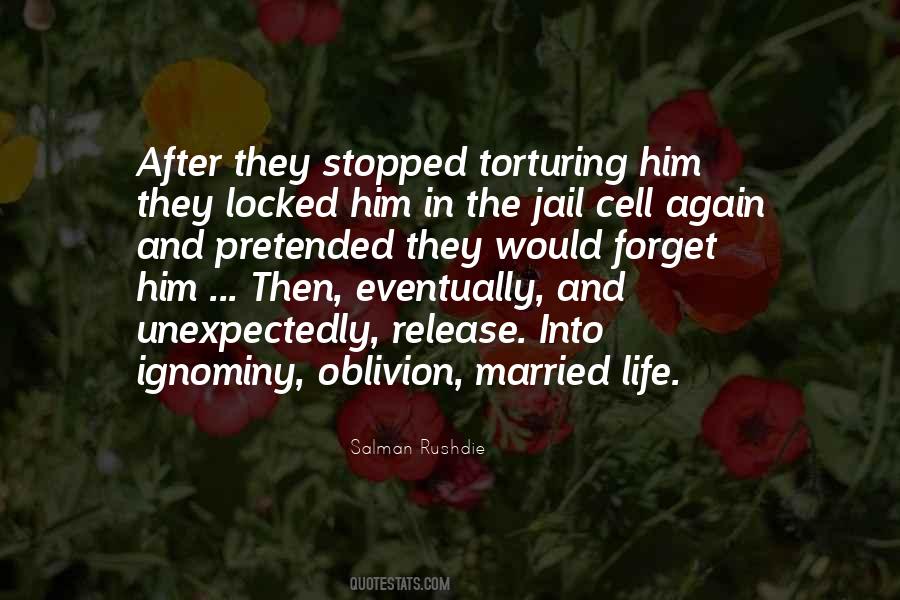 #43. I would that I could have stopped time and preserved that day forever. It was a perfect day. There was the shadow of sorrow, yes. It would always be there. But that was the nature of life. The bright mirror and the dark, reflecting one another. And today there was so much brightness. - Author: Jacqueline Carey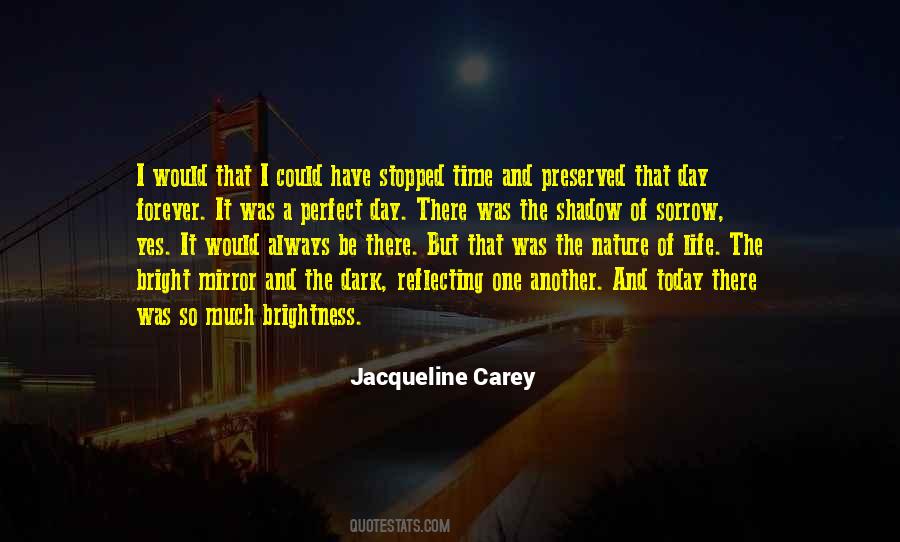 #44. He kissed her like his life depended on it, because it did, and like he'd die if they stopped, because he might, and because he never wanted to live another day of his life unless it included kissing Daisy Edwards. - Author: Katy Regnery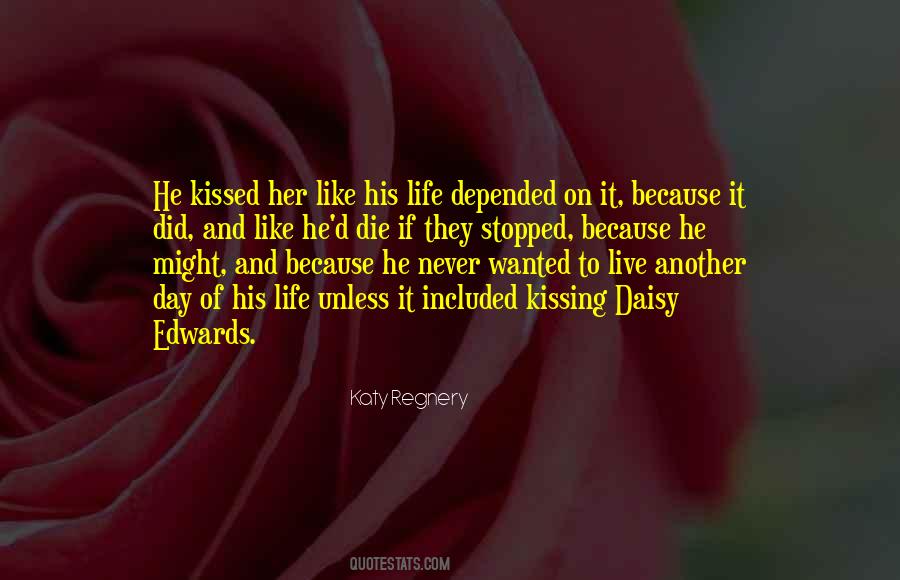 #45. Instead of complaining about how things should be, I embraced how things were. I stopped putting energy into wishing my life were any different - into wishing bad things didn't happen to me - and instead focused 100% on making the best of what I had. Since I - Author: Hal Elrod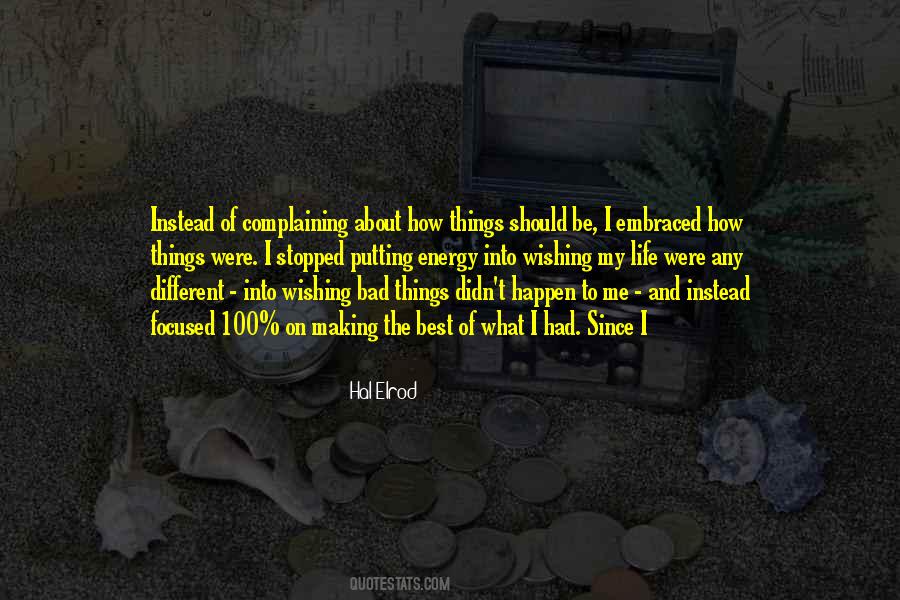 #46. I ended up becoming so self-conscious that my songs stopped being about my life and started being about what people thought of my music. And that was really bad. - Author: Liz Phair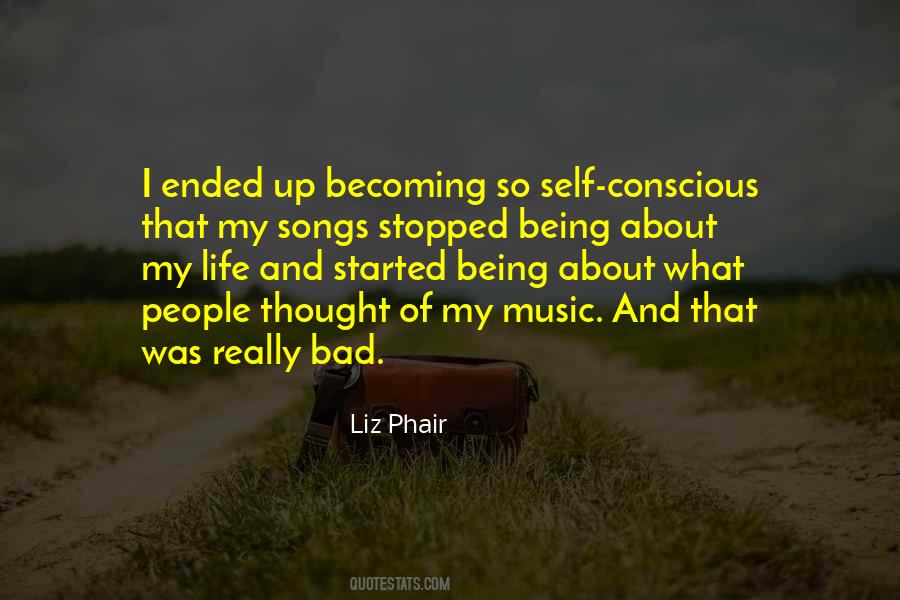 #47. It's amazing how, over the course of one's life, you collect so much music you don't like, so many movies you don't watch and so many books you have no intention of reading. If only regret stopped with the trivial things such as these. - Author: Ellie Rose McKee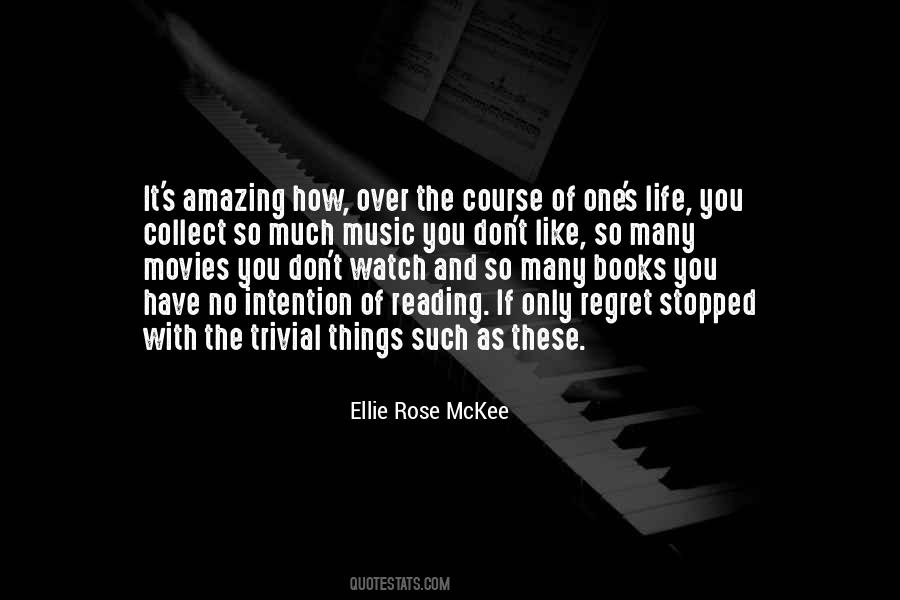 #48. Nothing else you want to do after all your dreams come true.
You've become numb. You shouldn't have ever stopped dreaming. - Author: Toba Beta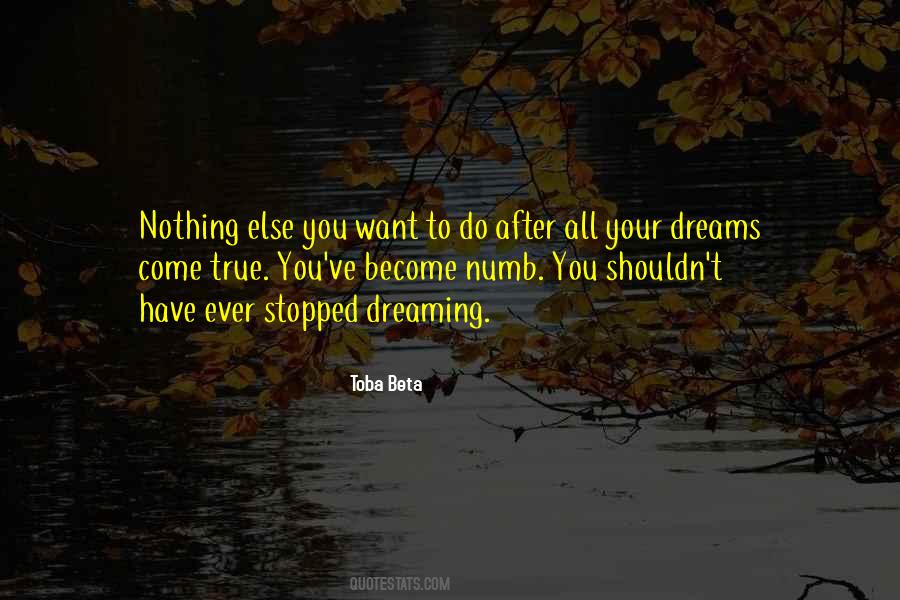 #49. I have been clinically depressed for most of my life. I once used drugs to fix it. Then I stopped. I stopped because I decided they were making me stupid, and I'd rather be miserable than stupid. I am what I am. - Author: Neal Stephenson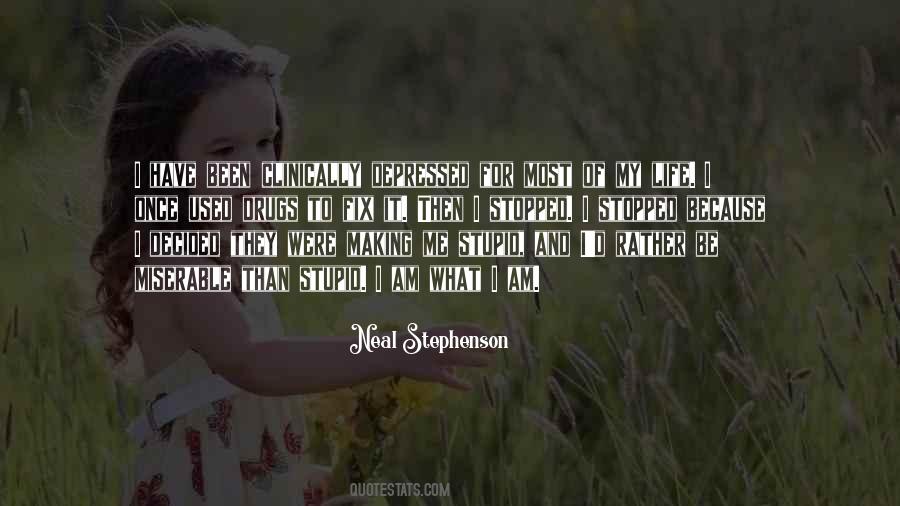 #50. When I stopped trying to write songs, that's when I'm able to begin writing songs. You have to just use your life, and the things around you for your inspiration. - Author: Lenny Kravitz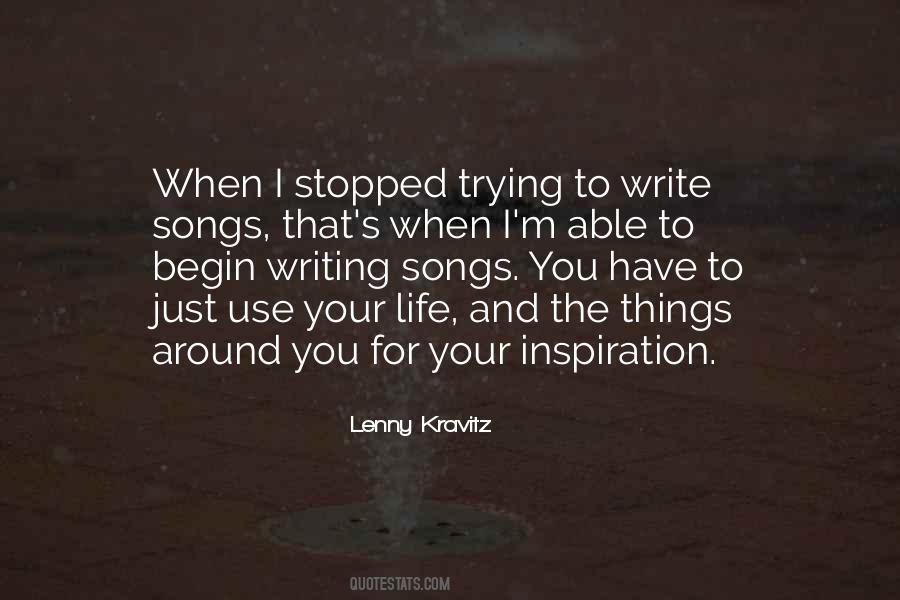 #51. In the places I go there are things that I see that I never could spell if I stopped with the Z. - Author: Dr. Seuss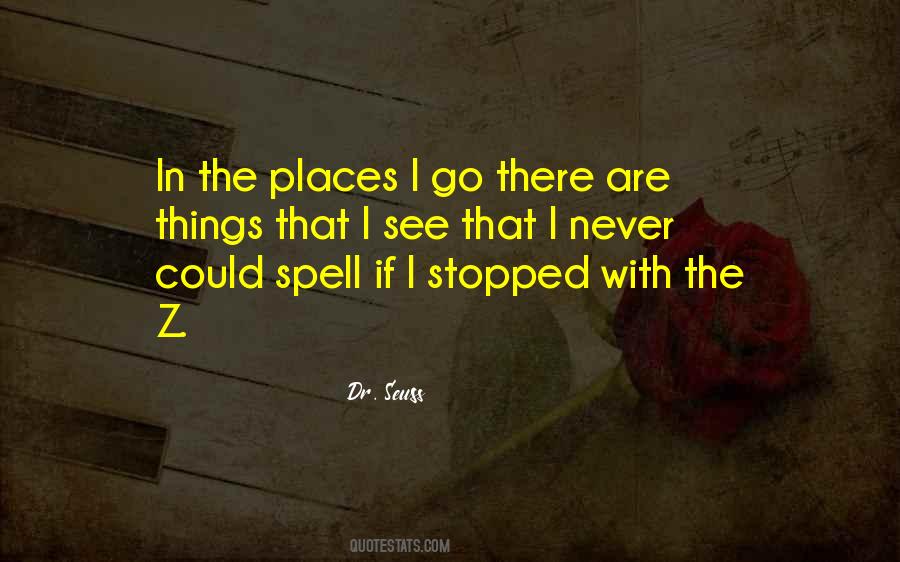 #52. Retirement's the most wonderful thing. I get to enjoy all the things I never stopped to notice on the way up. After an extraordinary life, it's time to enjoy my retirement. - Author: Patrick Macnee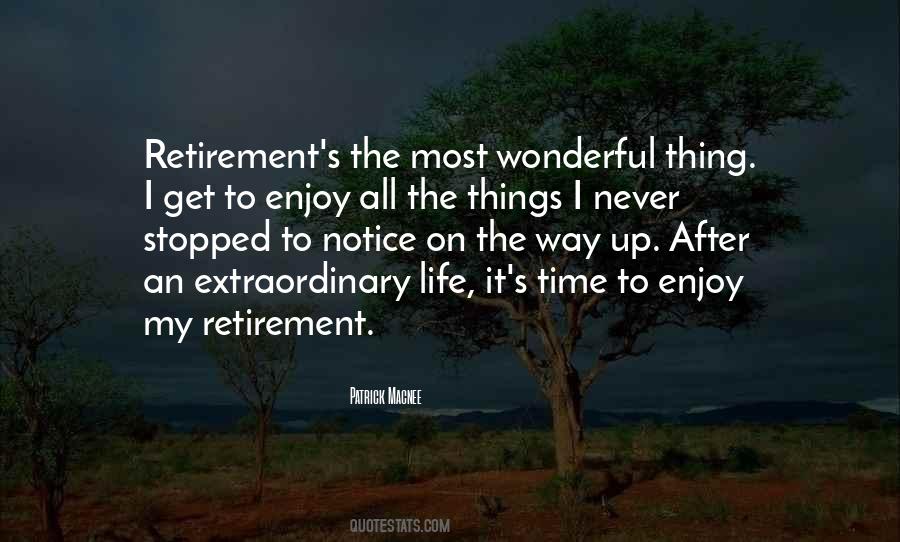 #53. The road to redemption might be damn hard, but in the end - if you reached the end - his father was right. It was worth it. Maribelle was worth it. Funny how her birth was the reason he'd started running, but she ended up being the reason he'd stopped. Life was really fucking funny that way. - Author: Madeline Sheehan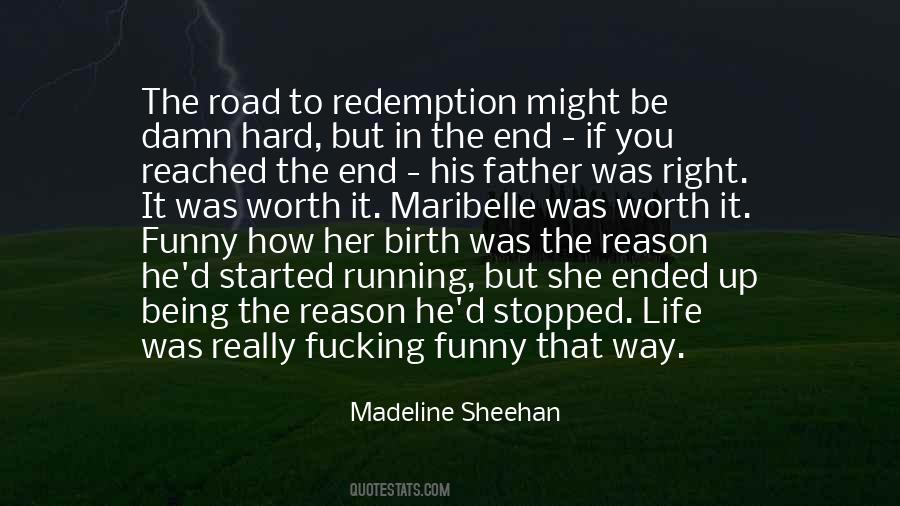 #54. Every man must be made to realize that further retreat is impossible. He must realize with his mind and heart that this is a matter of life and death of the Soviet state, of the life and death of the people of our country ... the Nazi troops must be stopped now, before it is too late. - Author: Leonid Brezhnev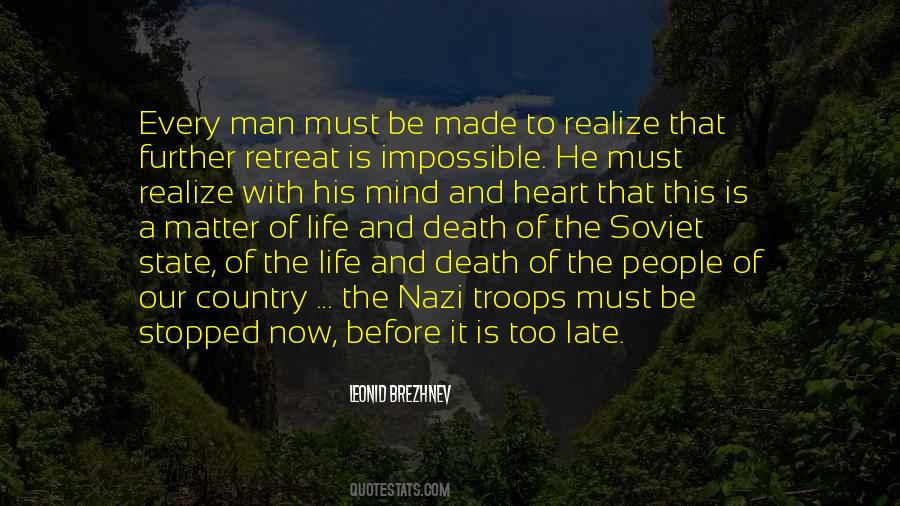 #55. If things had been different, she would be in Carolyn's place right now. She didn't want that sort of existence, but there was something so attractive about the security of feeling like you had stopped moving toward your life, and actually arrived. - Author: J. Courtney Sullivan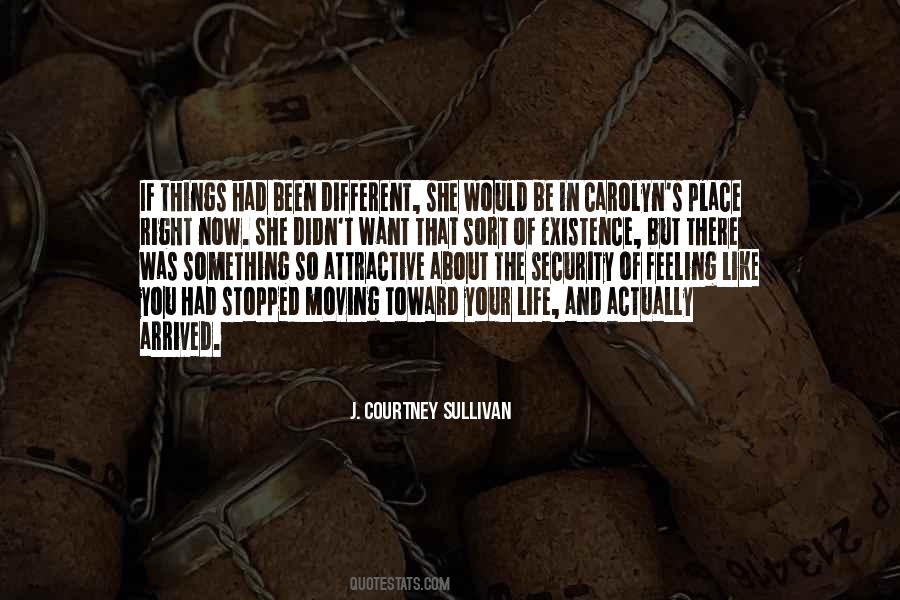 #56. Harold, Julia - are you kidding? There's nothing - nothing - I've ever wanted more. My whole life. I just never thought - He stopped; he was speaking in fragments. For a minute they were all quiet, and he was finally able to look at both of them. - Author: Hanya Yanagihara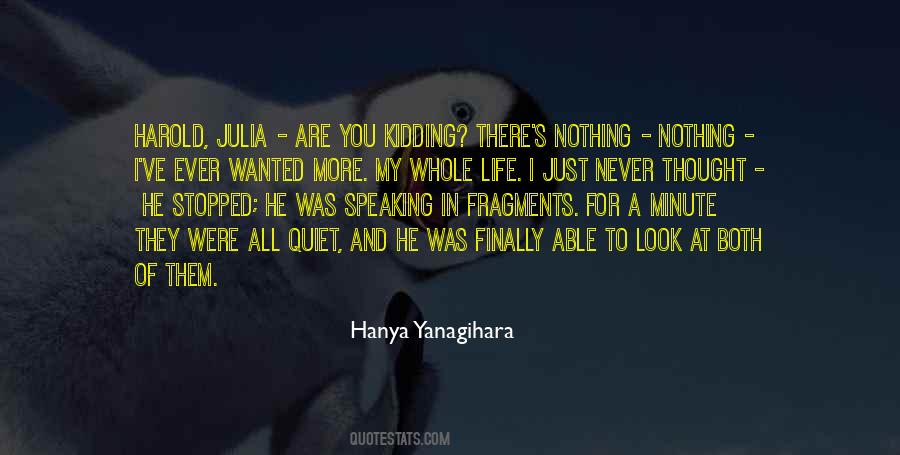 #57. Life was profligate with beauty, only if you stopped to look, only if you had someone to share it with. - Author: Elliot Mabeuse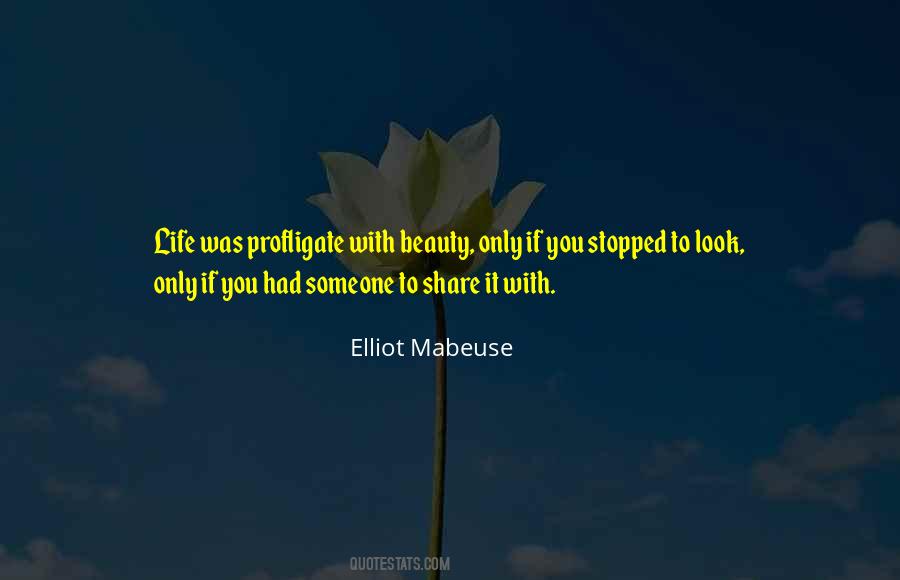 #58. Let your attacker worry about his life. Don't hold back. Strike no more after he is incapable of further action, but see that he is stopped. - Author: Jeff Cooper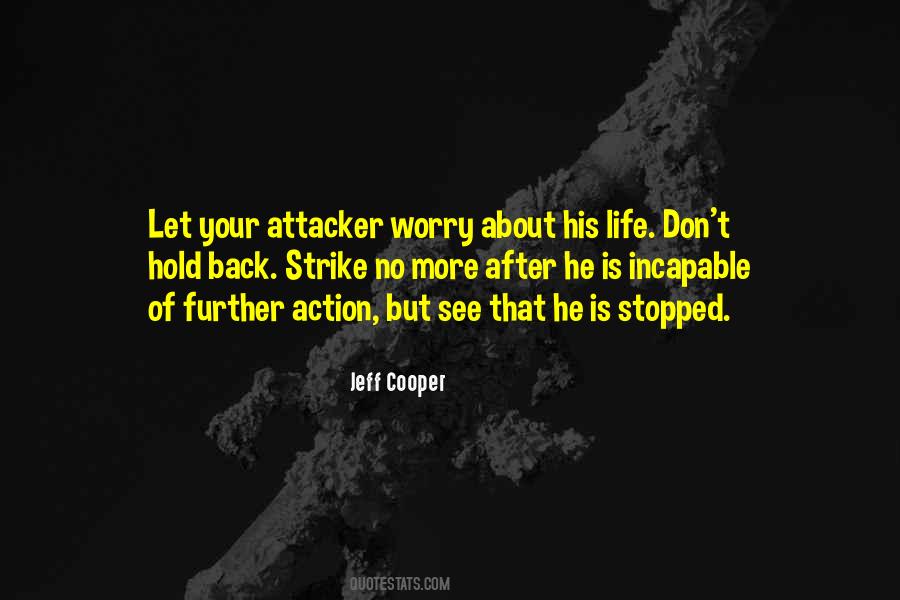 #59. If I stopped touring tomorrow, it wouldn't change my life. - Author: John Oates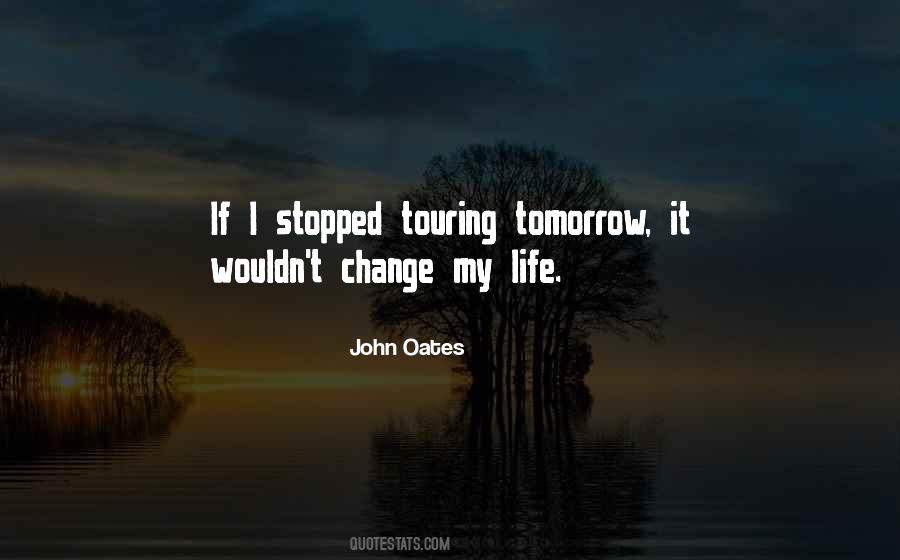 #60. We are fully justified in valuing the life and person of an intended victim more highly than the life of a pernicious assailant. The attacker must be stopped. At once and completely. - Author: Jeff Cooper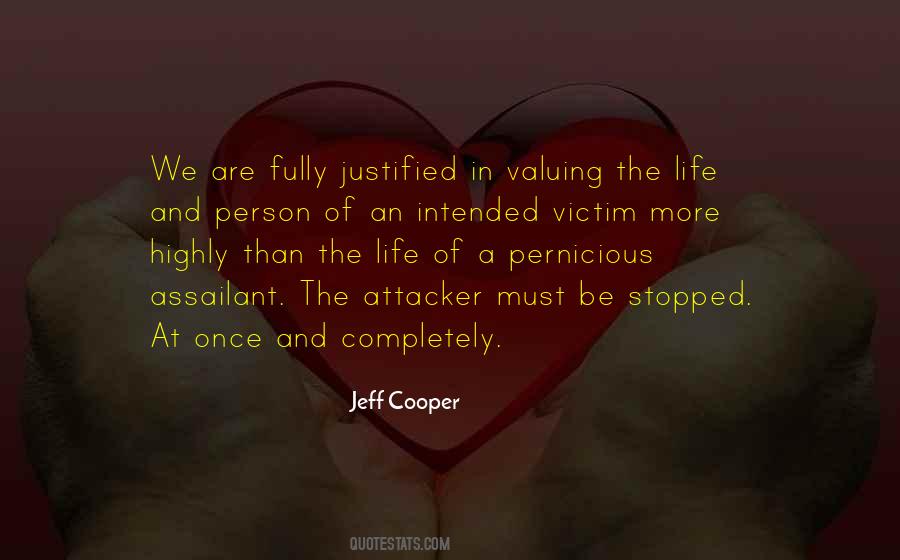 #61. I think if I could do it over again - as much as I loved meeting the people I did on the films after 'Matilda' - I wish that I had stopped after 'Matilda.' I wish that I had just focused on my own life for a while. - Author: Mara Wilson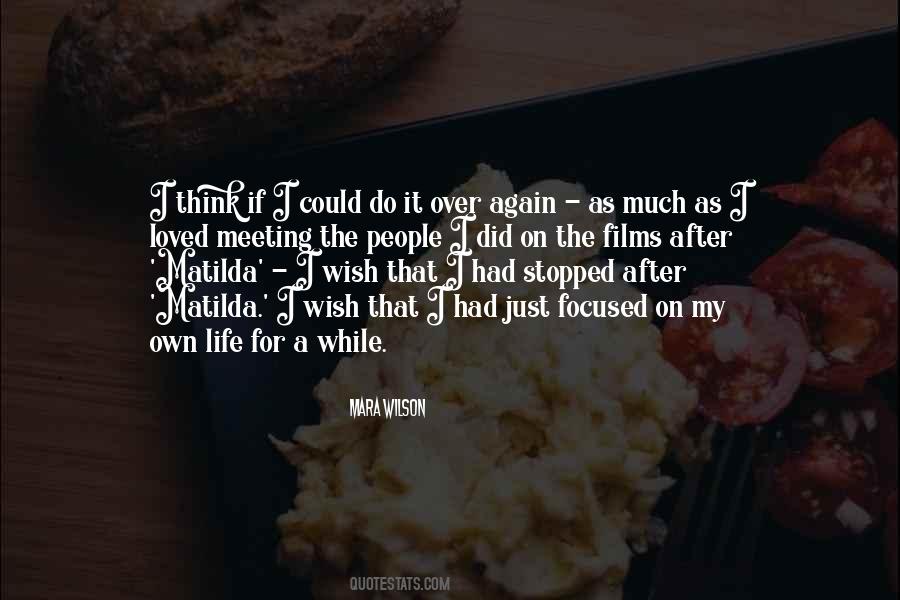 #62. The prime goal is to alleviate suffering, and not to prolong life. And if your treatment does not alleviate suffering, but only prolongs life, that treatment should be stopped. - Author: Christiaan Barnard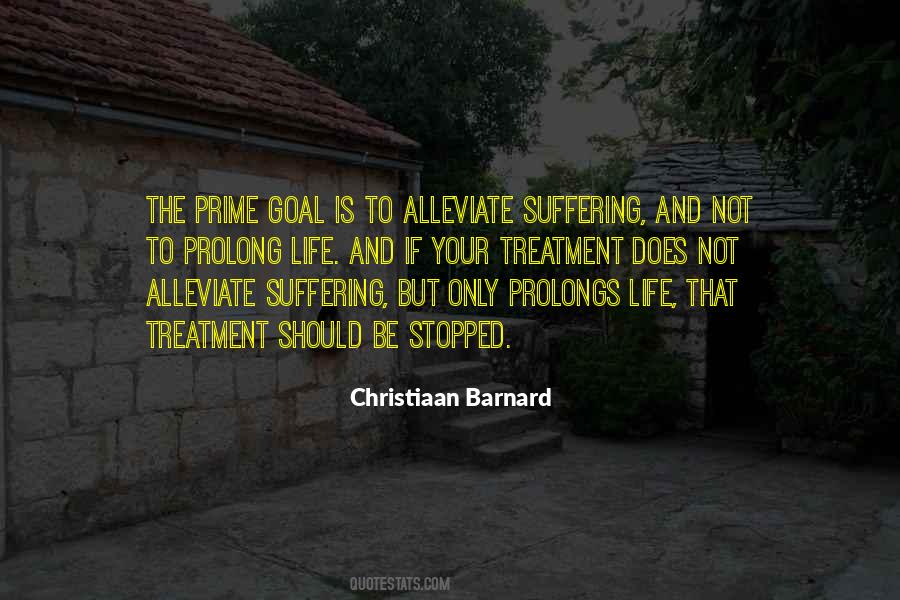 #63. As he was shaking off, it came to Jake Chambers that the Pere would never do this again, or grin at him and point his finger; or cross himself before eating. They had killed him. Taken his life. Stopped his breath and pulse. Save for dreams, the Pere was now gone from the story. Jake began to cry. - Author: Stephen King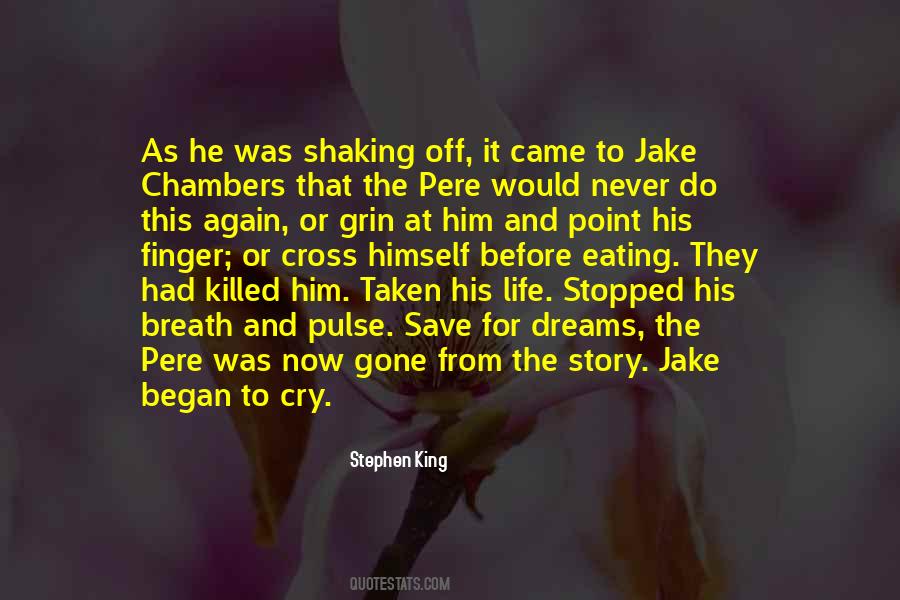 #64. How do they do it?" He stopped at her side, his eyes on the jugglers. It seemed impossible that not one ball fell to the ground.
"Determination." She elbowed him playfully. "And being willing to make a few mistakes. - Author: Leigh LaValle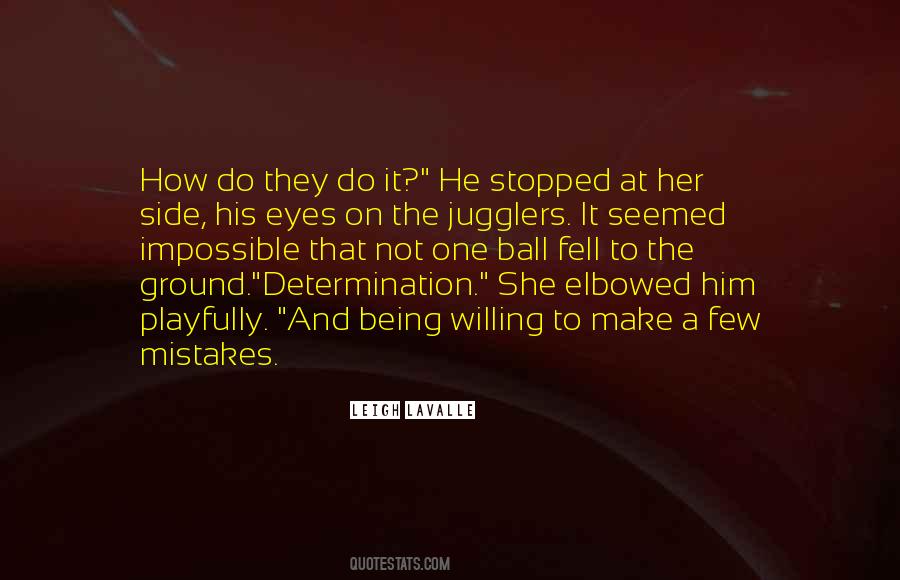 #65. Maybe if you stopped asking "why" all the time, you might be happy. Leave it alone, you know? Life is happy. - Author: Frederick Lenz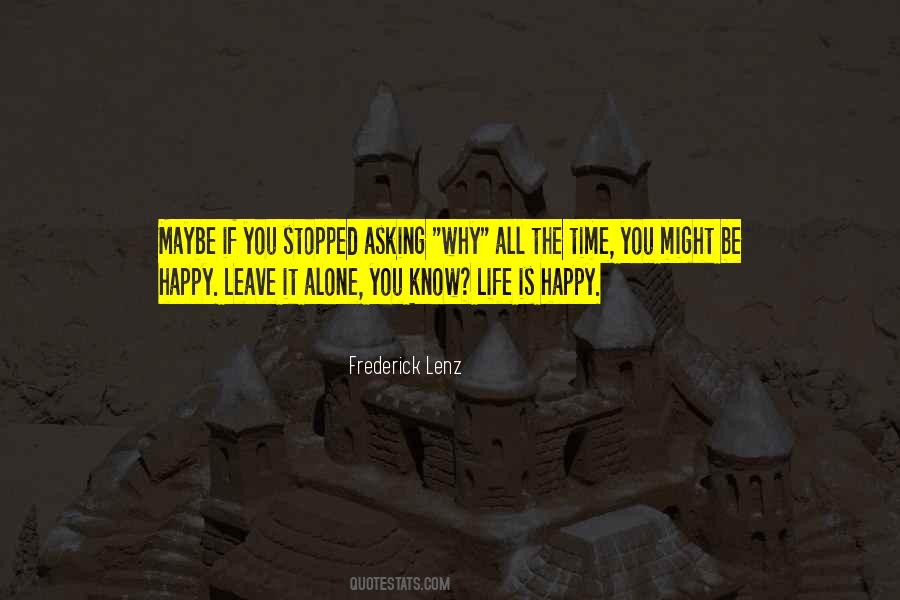 #66. Has anything bad ever happened in YOUR life? Anything bad that could have been stopped, if only someone had been paying better attention?"..."And you, Kanan? Is there something bad that could have been prevented, if someone had been watching over you?"..."EVERYBODY'S got something like that. - Author: John Jackson Miller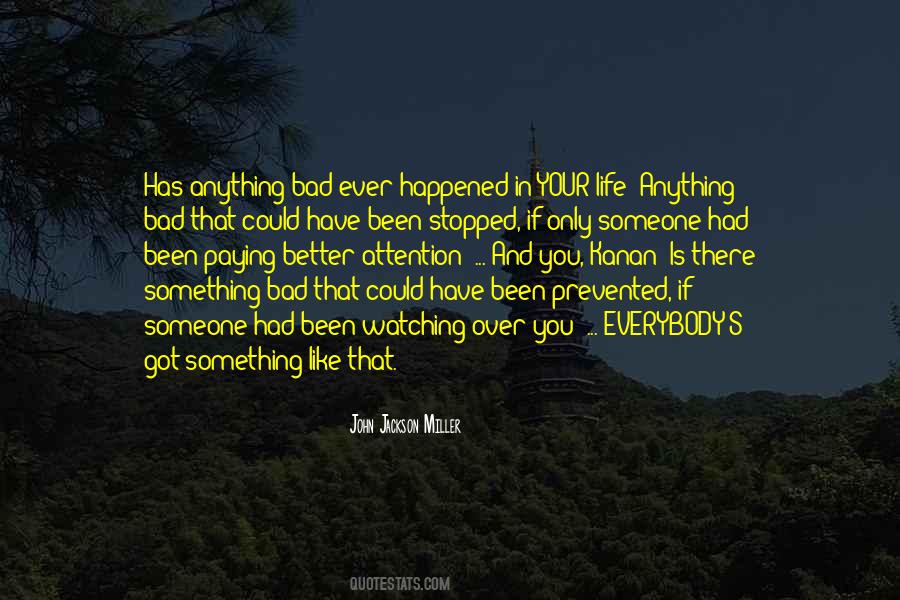 #67. I only found myself when I stopped looking. . . - Author: Erik Christian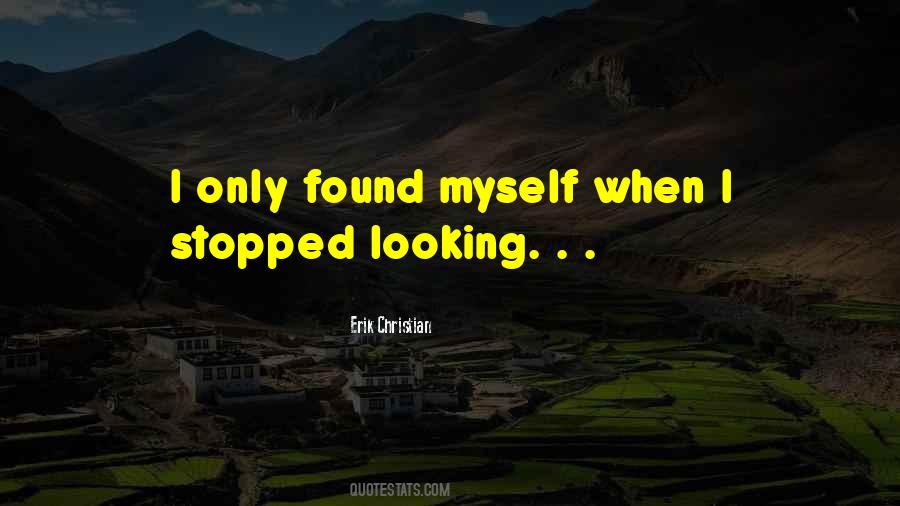 #68. If you run away from trouble, it always follows.'
Rather my impression, too. Though that never stopped me trying. - Author: Tanith Lee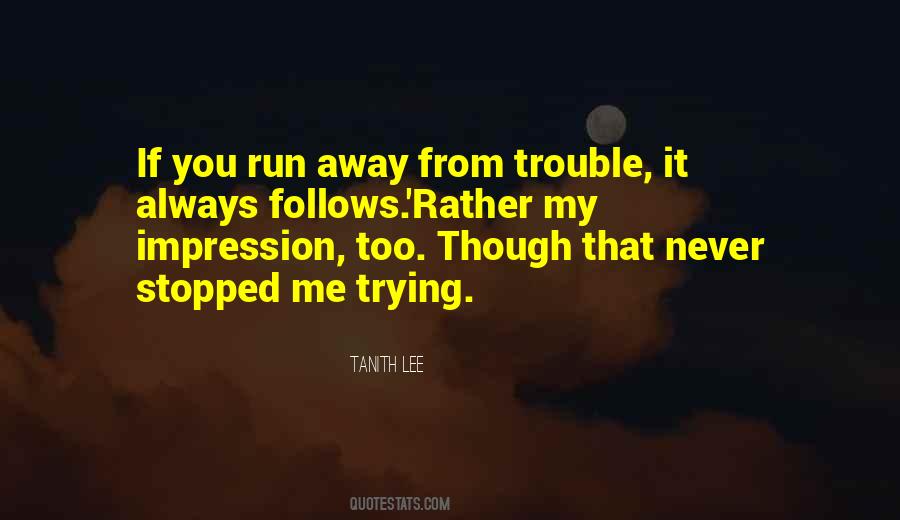 #69. I then understood that even if my physical body stopped, everything is still perfect in the greater tapestry of life, for we never truly die. - Author: Anita Moorjani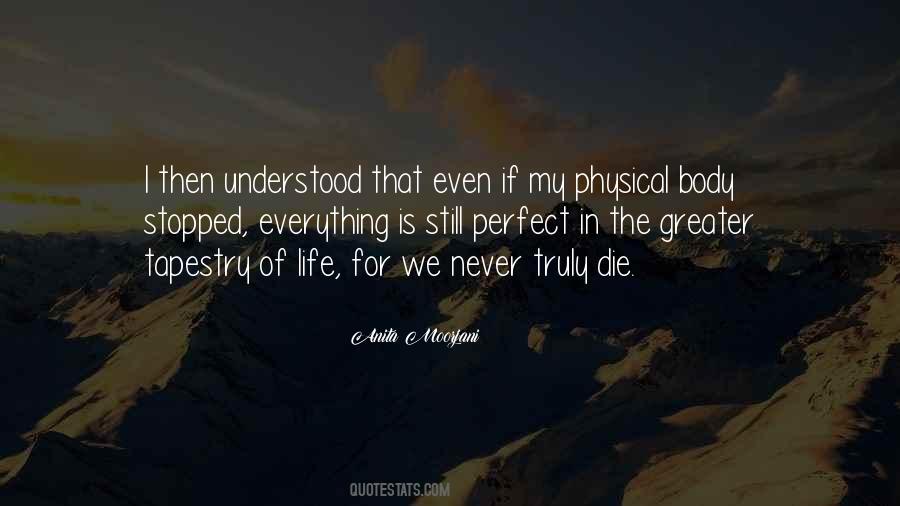 #70. Everyone, everywhere, and all the time, used to laugh at me when I was growing up. So, when I was around 18, I thought, 'I'll become a comedian, and then if everyone laughs at me, I'll be famous.' So I went on stage one night and, for the first time in my life, everyone stopped laughing at me. - Author: Emo Philips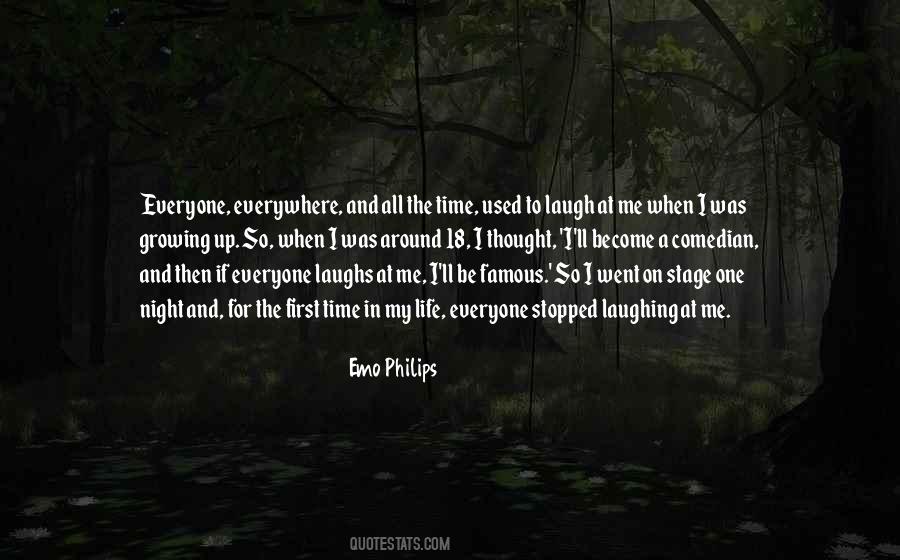 #71. We haven't stopped running, but we are getting slower. We have little people running with us now. We have passed others. Our own people will pass us. They will grow and meet others who are young and strong and they will feel as if they are part of the very beginning of life. - Author: N.D. Wilson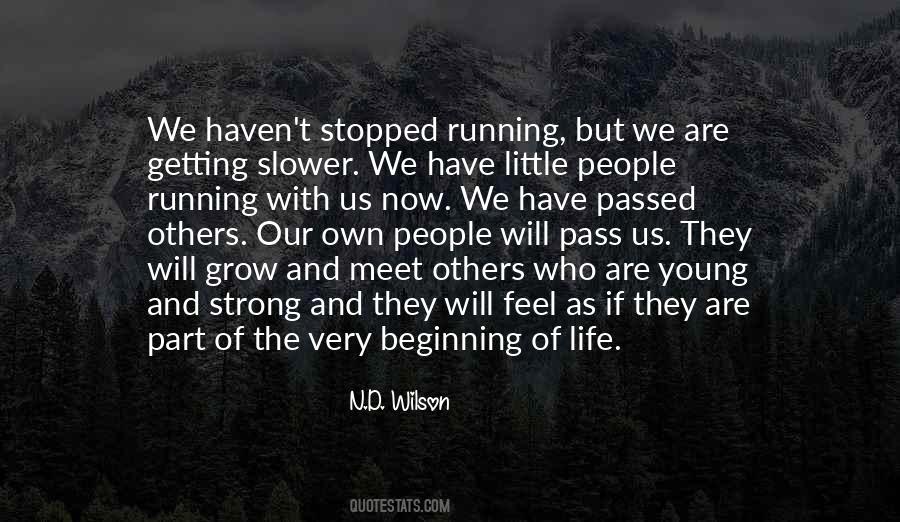 #72. I know my life's meaningful because" - and here he stopped, and looked shy, and was silent for a moment before he continued - " because I'm a good friend. I love my friends, and I care about them, and I think I make them happy. - Author: Hanya Yanagihara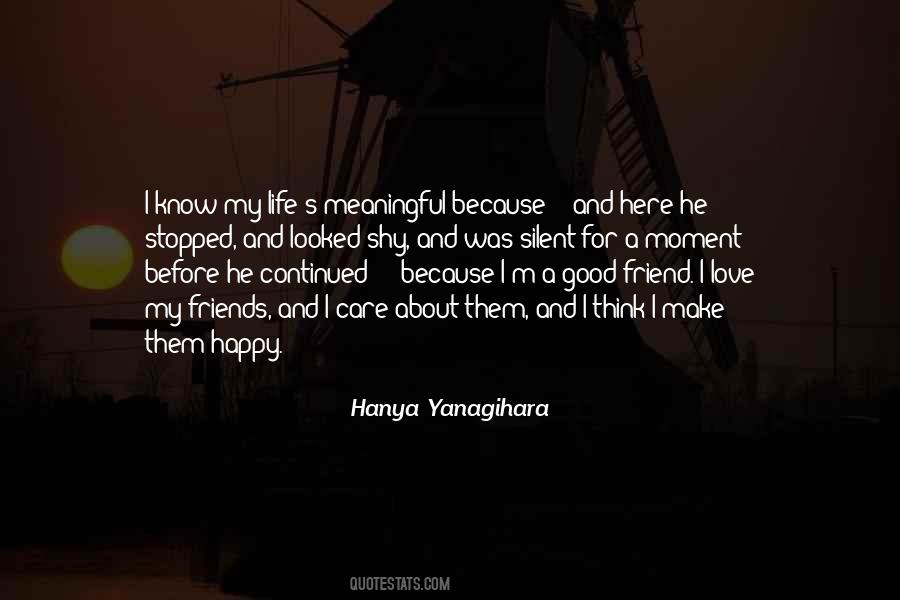 #73. If we never leave our house except to drive to work, do we need to be even remotely aware of this powerful, humbling, extraordinary and eternal life force that surges and ebbs around us all the time? Apparently not. Because we have stopped paying attention. - Author: Elizabeth Gilbert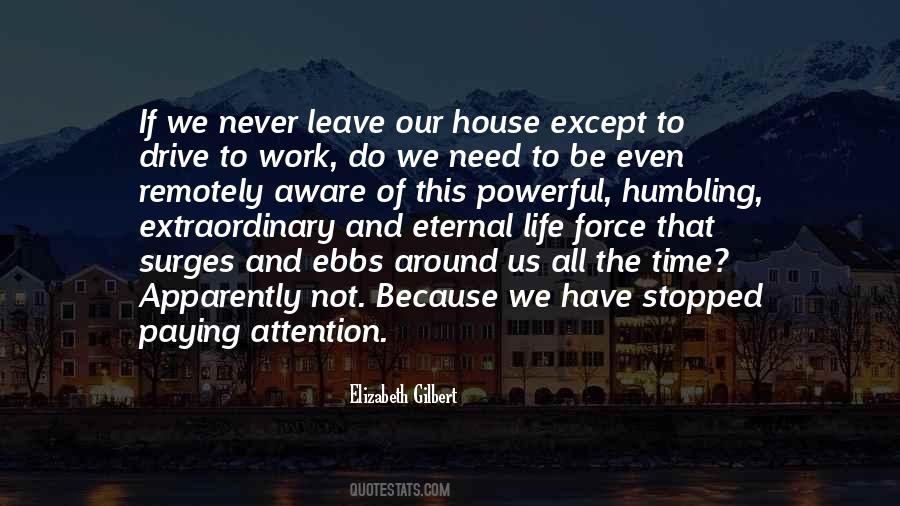 #74. Doubt gets a bad rap. Doubting doesn't mean you've stopped believing, but that you've started thinking. Sheep doubt nothing. Chances are you'll get further in life by questioning things than by living like something that ends up as dinner and a sweater. - Author: Amy Alkon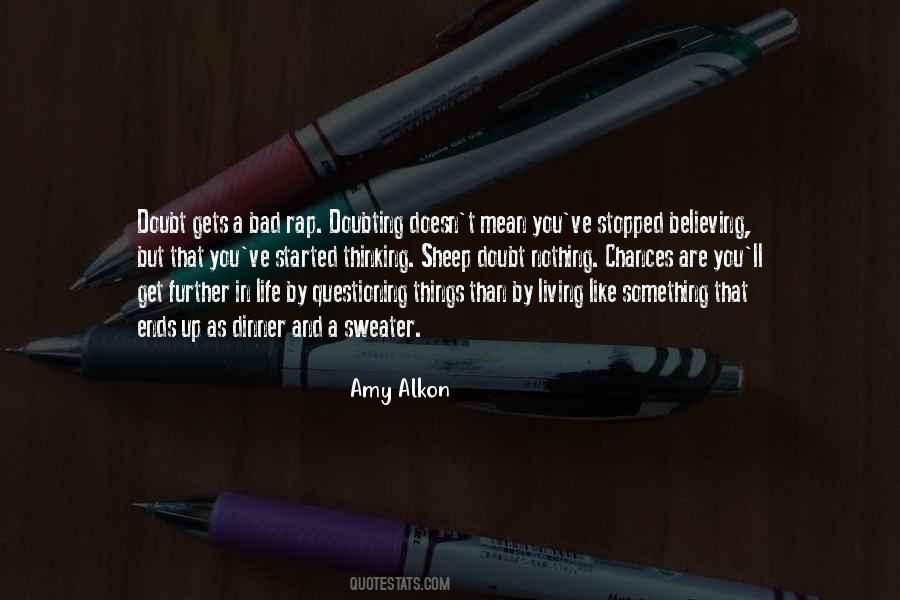 #75. They are so very cultivated, so very rich and so utterly charming. At the end of each day, they all ask themselves: 'Is it time I stopped?' And they all reply: 'If I did, there would be no meaning to my life.'
As if they actually knew what the meaning of life was. - Author: Paulo Coelho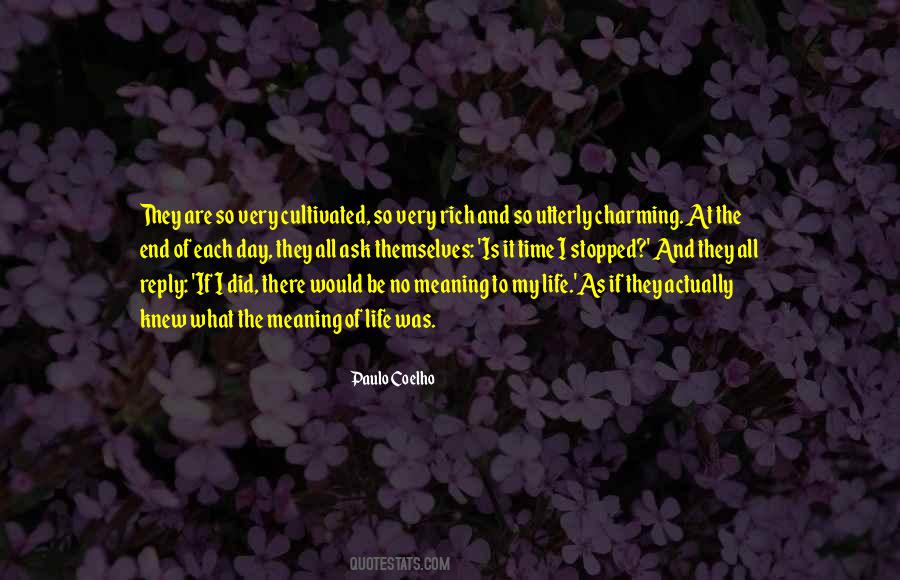 #76. I do remember when I was starting acting, going from one set to the next, with not much else going on in my life. And at the end of the day, you get back to your hotel room and just feel this awful loneliness, because the cameras have stopped rolling. - Author: Julianne Moore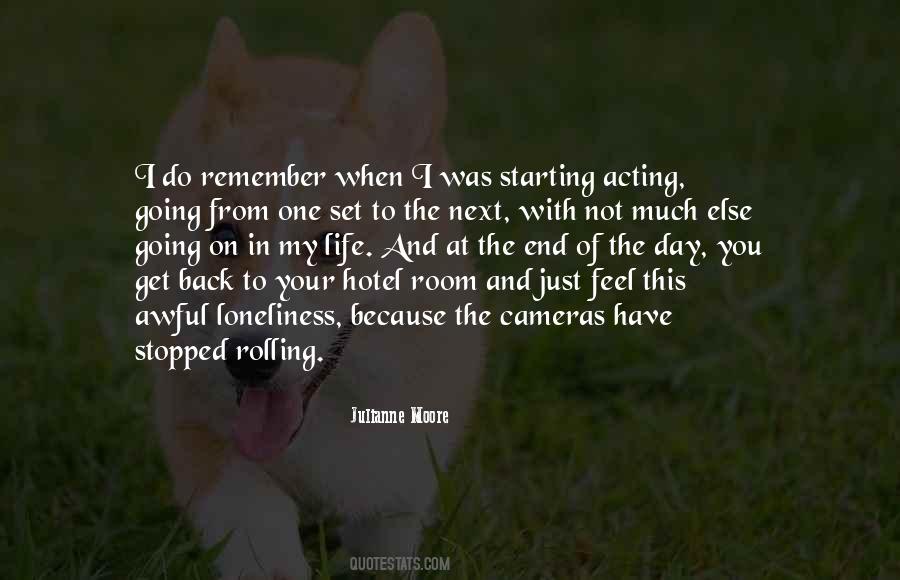 #77. [Poe] started to turn away, the stopped, smiled a little, ducked his head, and reached into his back pocket. "Amy, here." He tossed me a small package. "Just in case."
I looked down at my hand.
Life savers. - Author: Diana Peterfreund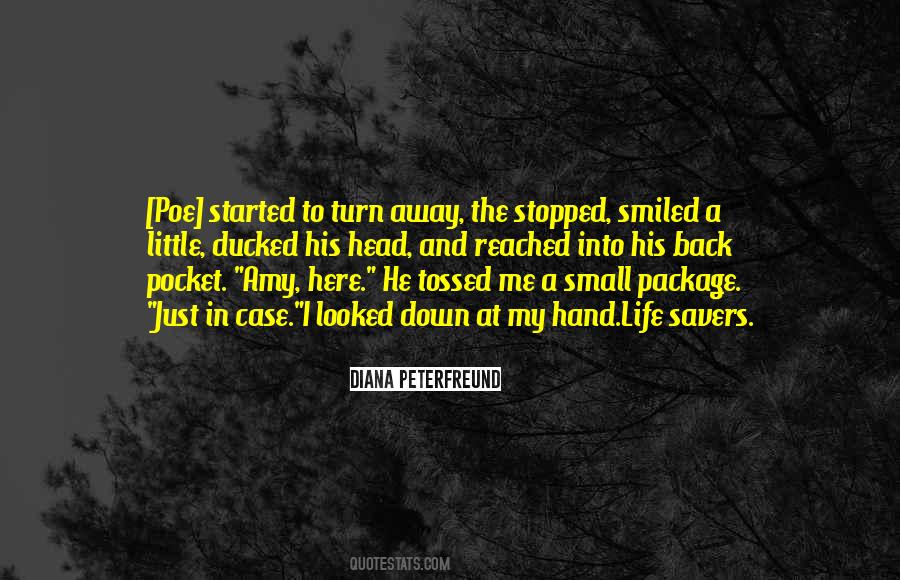 #78. The wheel begins its only if turning. / It had never stopped. / This is life's bargain that motion / Is hope. - Author: Mary Jo Bang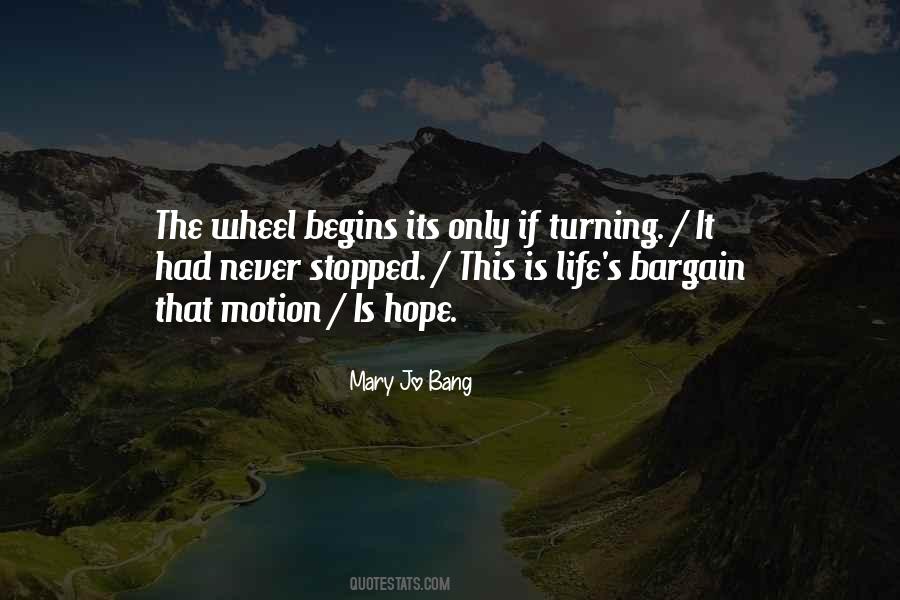 #79. I had a dream about you last night. We stopped telling each other about our dreams when we realized we were still inside them. - Author: Michael Summers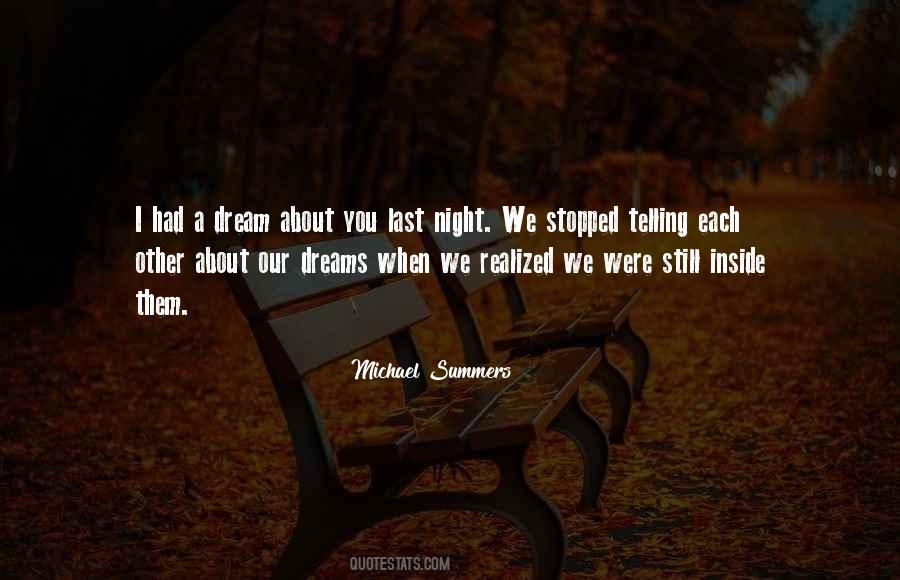 #80. A snake could shed its skin many times in its life, but it never stopped being a snake. - Author: Marie Hall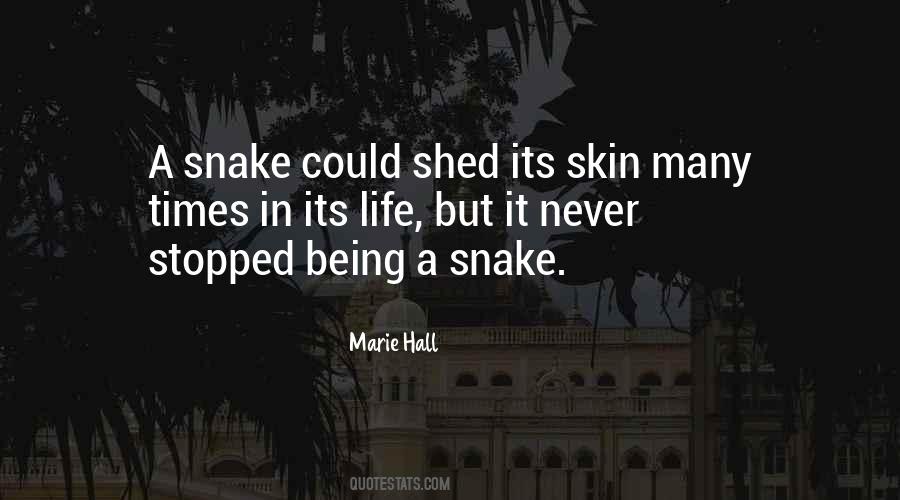 #81. I touched you and my life stopped - Author: Pablo Neruda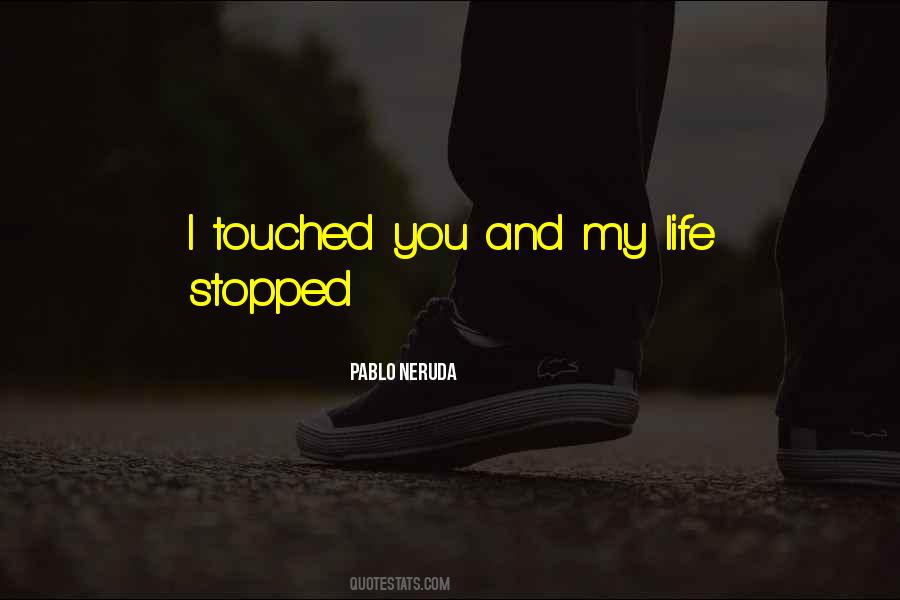 #82. Every song is personal, but 'Ohio,' on my first EP, was on another level. I really opened up about the lack of relationship I had with my father. We stopped talking about four years ago, and I haven't had a father figure in my life since. - Author: Jacob Whitesides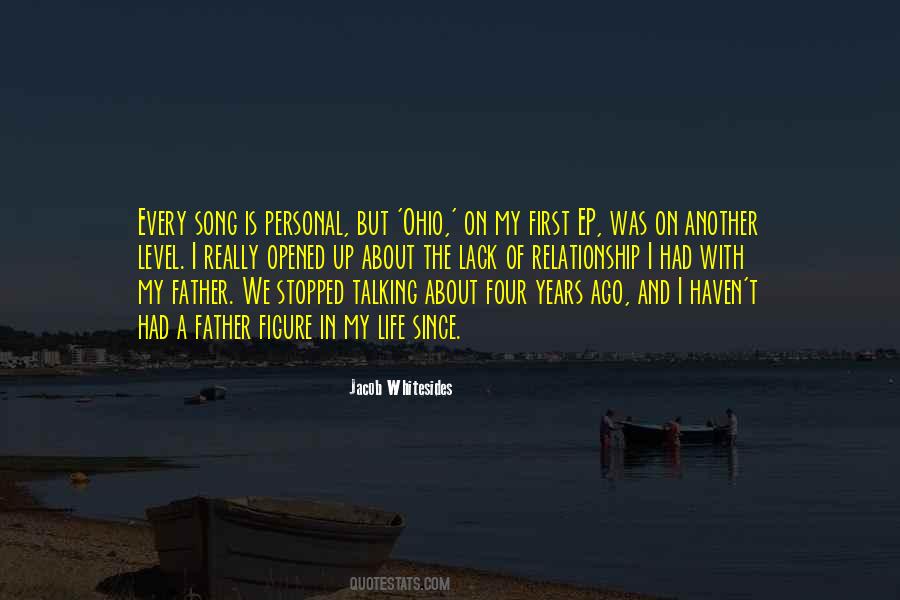 #83. the world has stopped. Not just my world, but the world of everyone around me. When we meet with friends, we always talk about the same things and the same people. The conversations seem new, but it's all just a waste of time and energy. We're trying to prove that life is still interesting. - Author: Paulo Coelho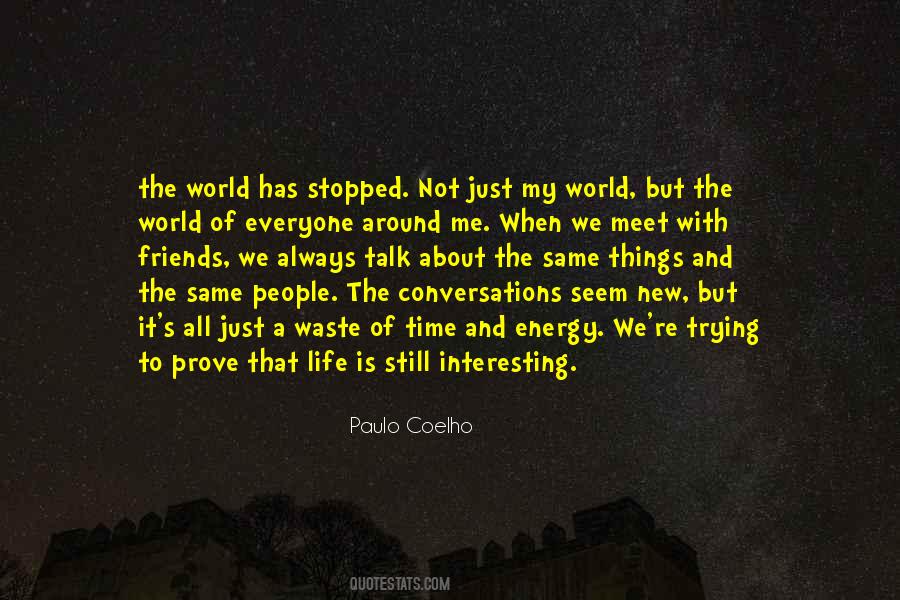 #84. Holden stopped next to the desk and turned around to look at the woman sitting on the couch. Graying hair, but good features and an athletic build. In a flophouse like this, that probably meant a prostitute reaching the end of her shelf life. - Author: James S.A. Corey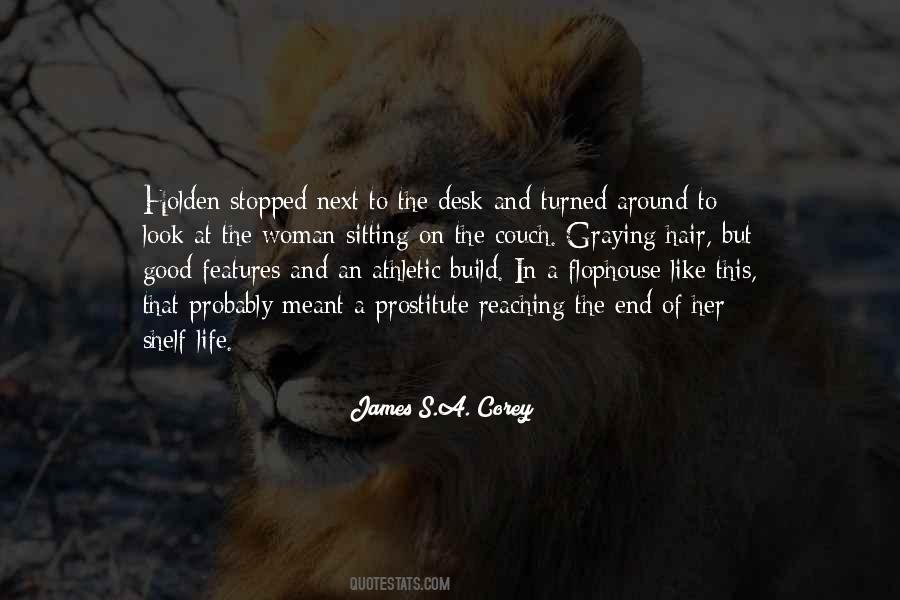 #85. When we mated I felt your heart stop beating and it was as if the world had stopped turning. It was only while surrounded by death that I realized I had never felt more alive. - Author: Nenia Campbell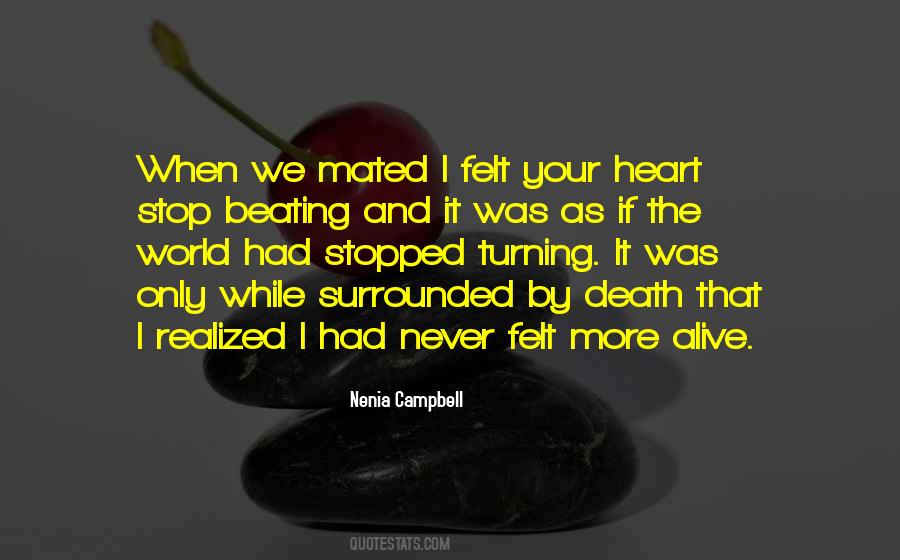 #86. The events of one's life take place, take place. How often have I used this expression, and how often have I stopped to think about what it means? Events do indeed take place, they have meaning in relation to things around them. - Author: N. Scott Momaday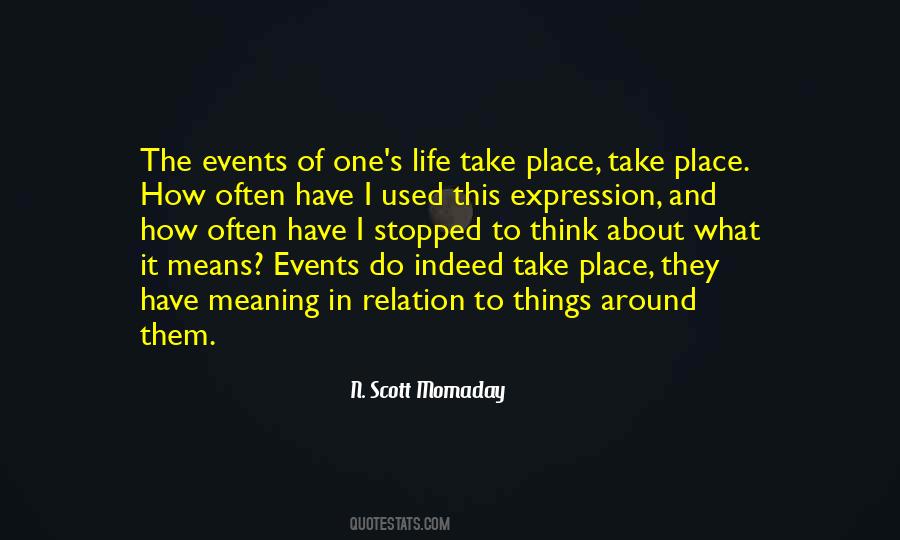 #87. At a certain point in his life he stopped searching for himself in everything that exists and gave in to temptations. Or, as you say, he sinned and later fled. - Author: Laura Esquivel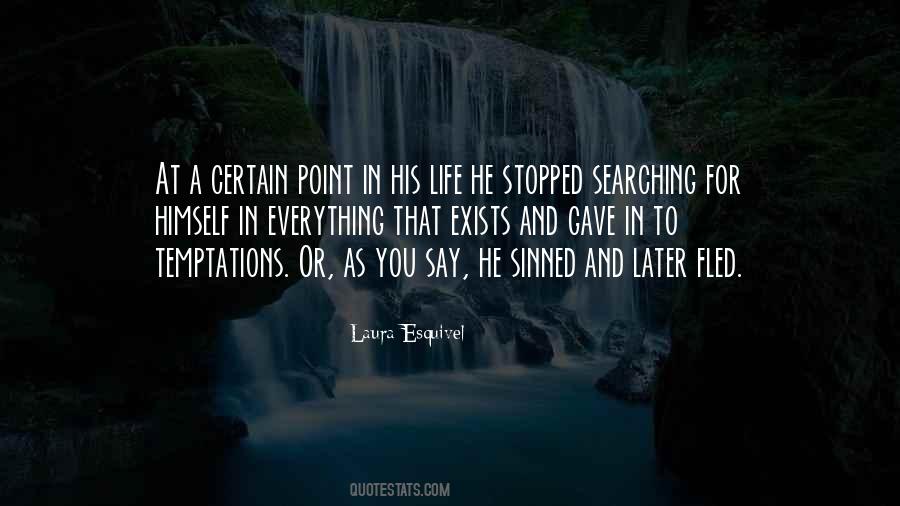 #88. Smarter than me. But here's the thing my life did get better. I made a decision to let go of my dreams, because they were killing me, and I stopped asking the impossible of myself. I changed my attitude and decided to focus on what I had rather than what i didn't have. - Author: Marian Keyes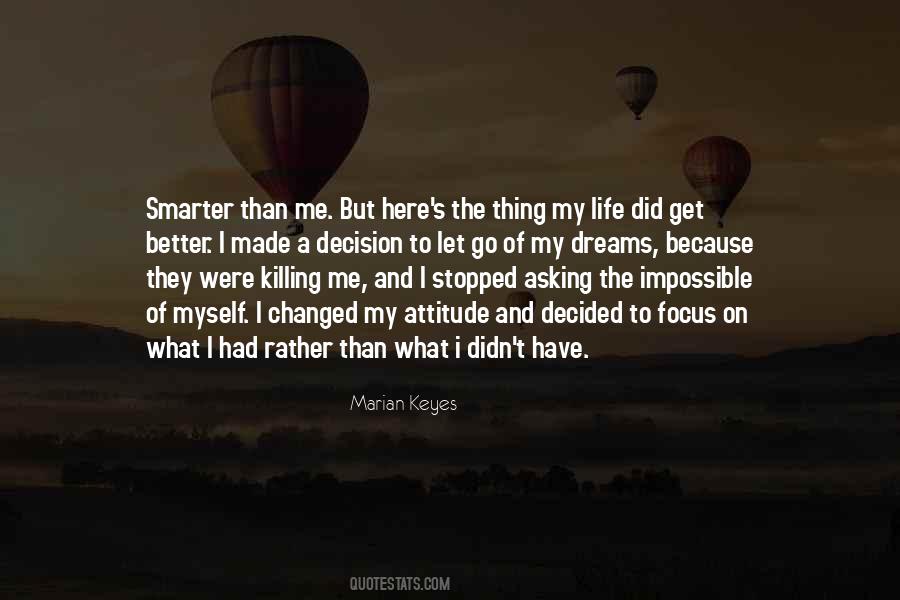 #89. My life had become a catastrophe. I had no idea how to turn it around. My band had broken up. I had almost lost my family. My whole life had devolved into a disaster. I believe that the police officer who stopped me at three a.m. that morning saved my life. - Author: Trey Anastasio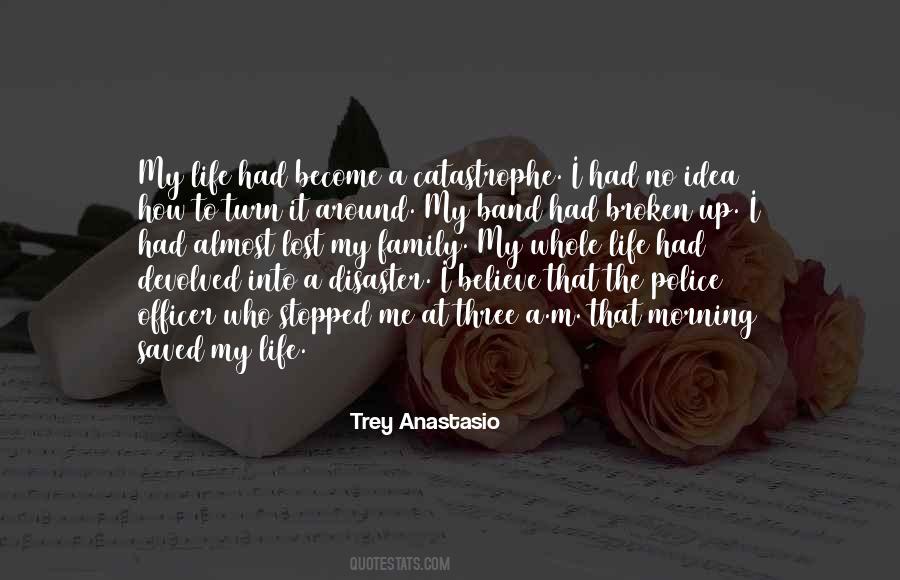 #90. I have never in my life found myself in a situation where I've stopped work and said, 'Thank God it's Friday.' But weekends are special even if your schedule is all over the place. Something tells you the weekend has arrived and you can indulge yourself a bit. - Author: Helen Mirren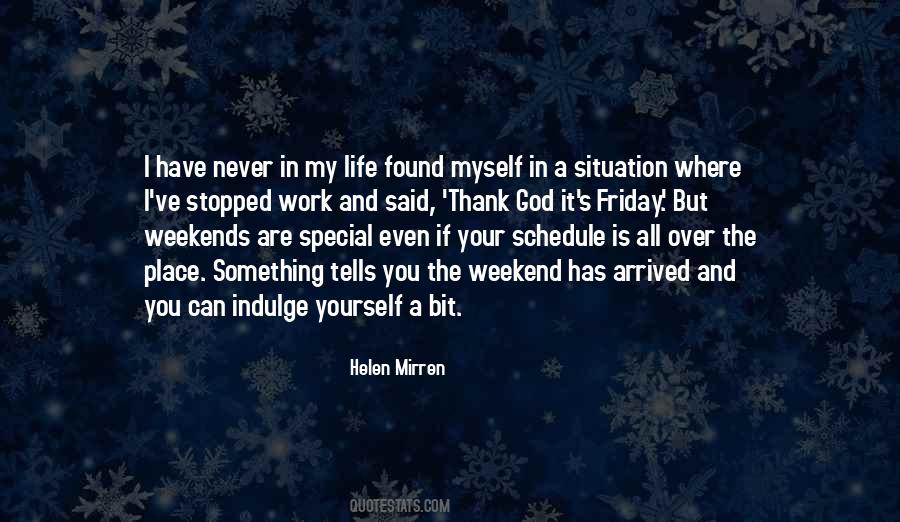 #91. I wrote every day between the ages of 12 and 20 when I stopped because I went to Barcelona, where life was too exciting to write. - Author: Colm Toibin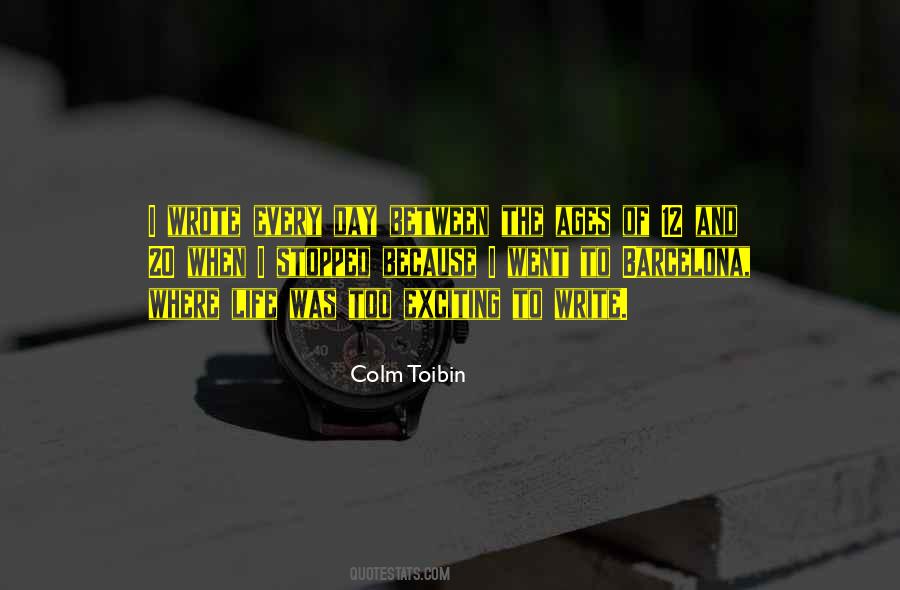 #92. I've learnt something more. The expectation of a body can last as long as any hope. Like mine expecting yours. As soon as they gave you two life sentences, I stopped believing in their time. - Author: John Berger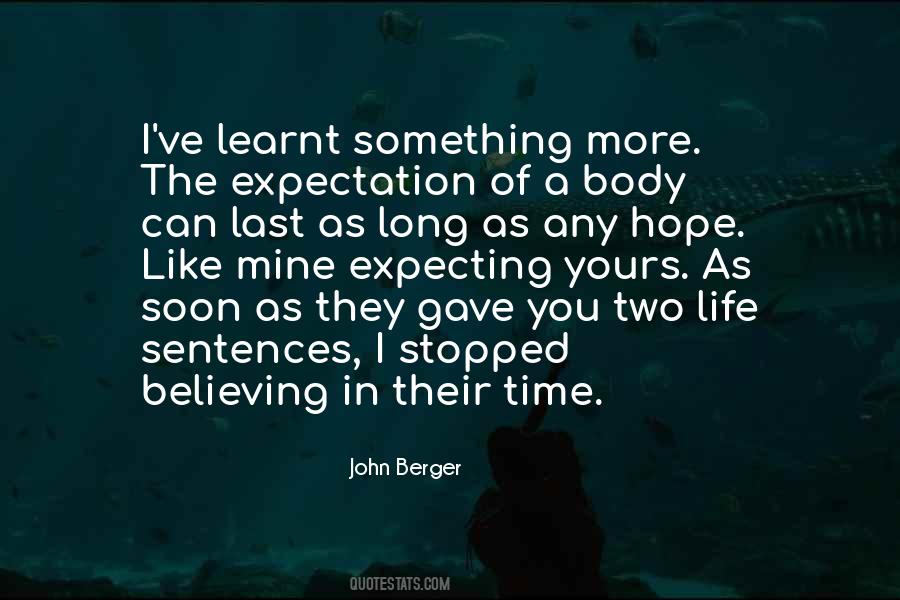 #93. The cycle of God, the good, is broken by a single act of negativity. The cycle of negativity is stopped by choosing the good
not just once, but again and again until it is goodness that prevails in your life and in our world altogether. - Author: John Morton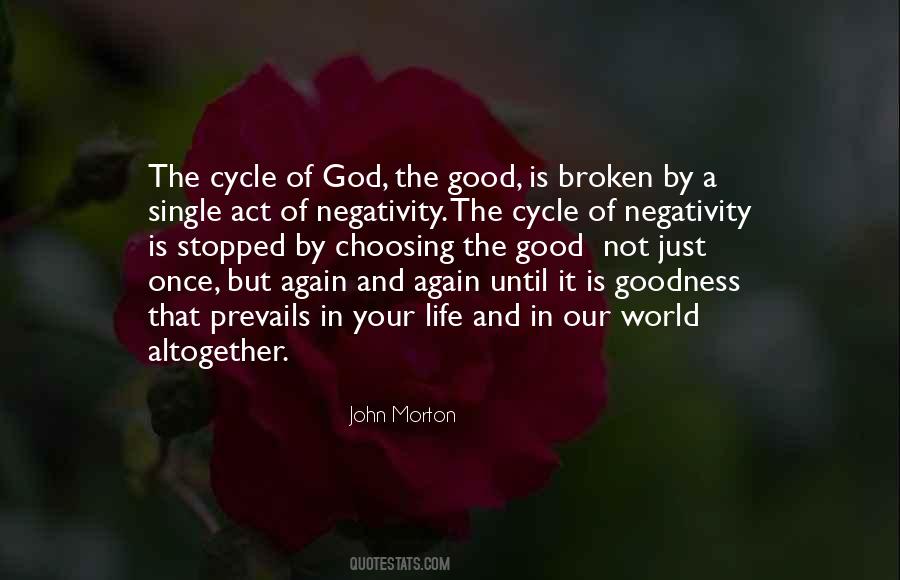 #94. My social life is much better, since I stopped spending it with other people. - Author: Ashleigh Brilliant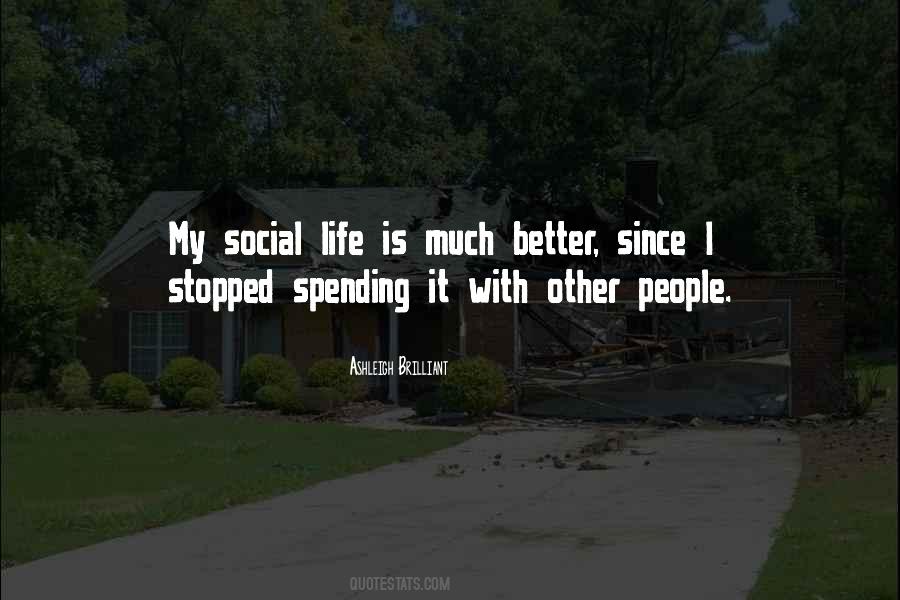 #95. As I began to love myself I stopped craving for a different life, and I could see that everything that surrounded me was inviting me to grow. Today I call it 'maturity'. - Author: Charlie Chaplin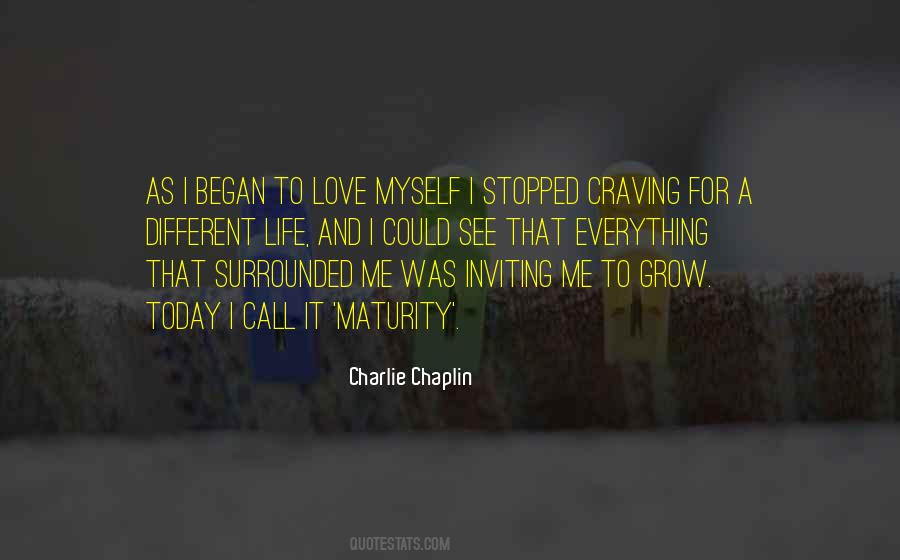 #96. I'm a New Yorker. I was there during 9/11 and I saw how, not only New York City stopped for a moment, we all took an inhale and exhale at the same time - the world united at that time, and it changed my life. - Author: Aisha Hinds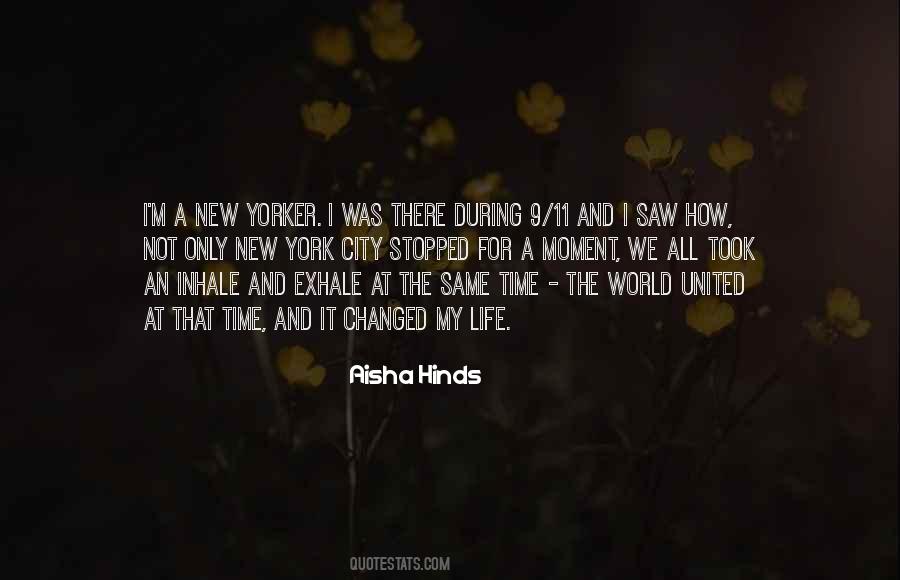 #97. I used to have a big dog, a rottweiler, to guard the place. One night I was working late, and he was outside barking in the snow. He wouldn't stop. Then he stopped. I went out ten minutes later with a lamp, and there was a ring of wolves eating my dog. - Author: Martin Cruz Smith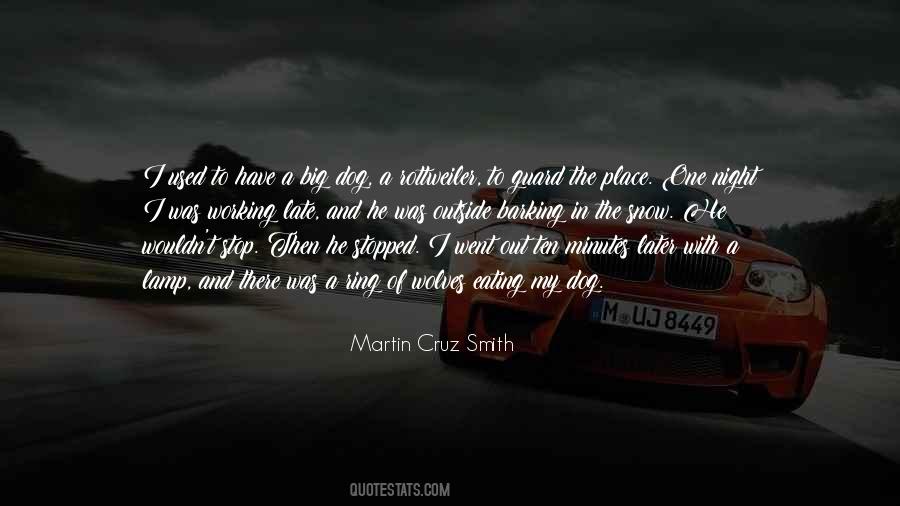 #98. Have you stopped seeing great things happen in your life? Perhaps you have stopped believing that God can work in a mighty way even in our generation. - Author: Luis Palau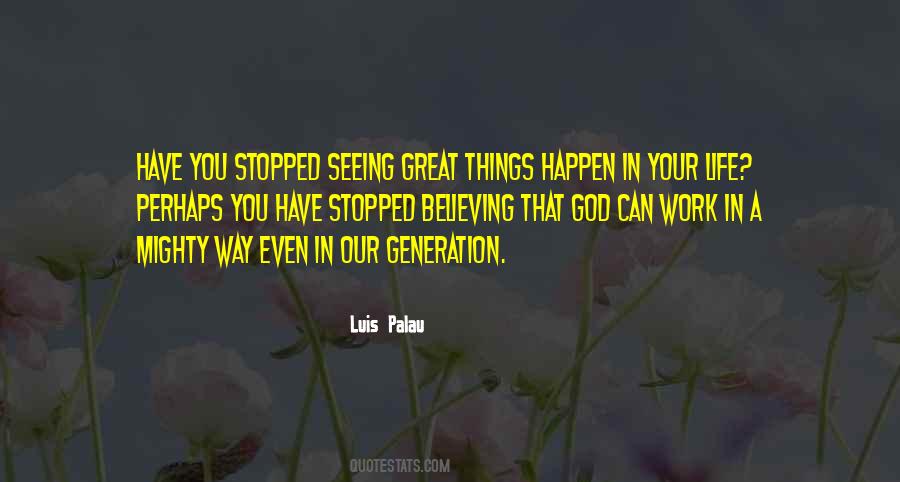 #99. The quiet this evening is unsettling. I hadn't realised how loud life was until it all stopped. - Author: David Moody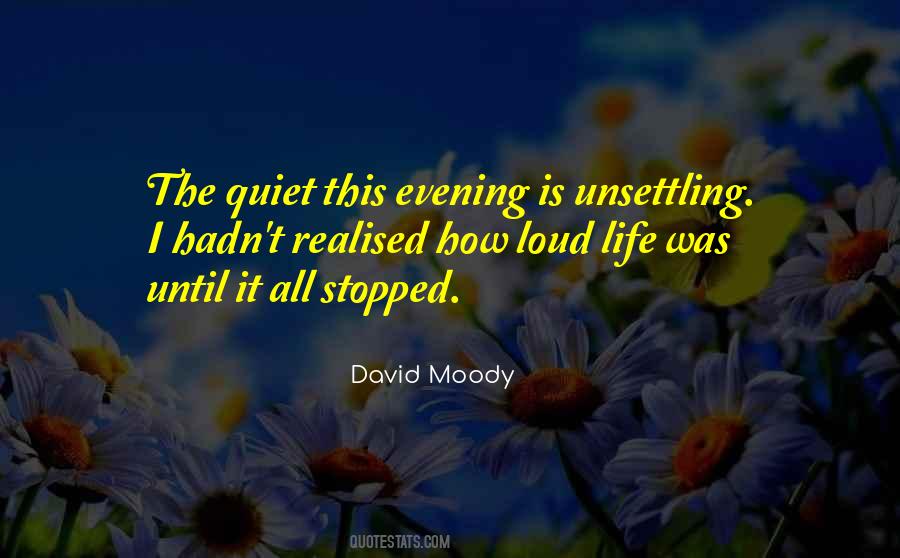 #100. At 24 I decided that my life is enough for me, and I stopped looking for some other piece to complete it. I also learned how to needlepoint ironic cross-stitches of rap lyrics and gave them to my friends as presents. I'll let you decide which is the more important revelation. - Author: Taylor Swift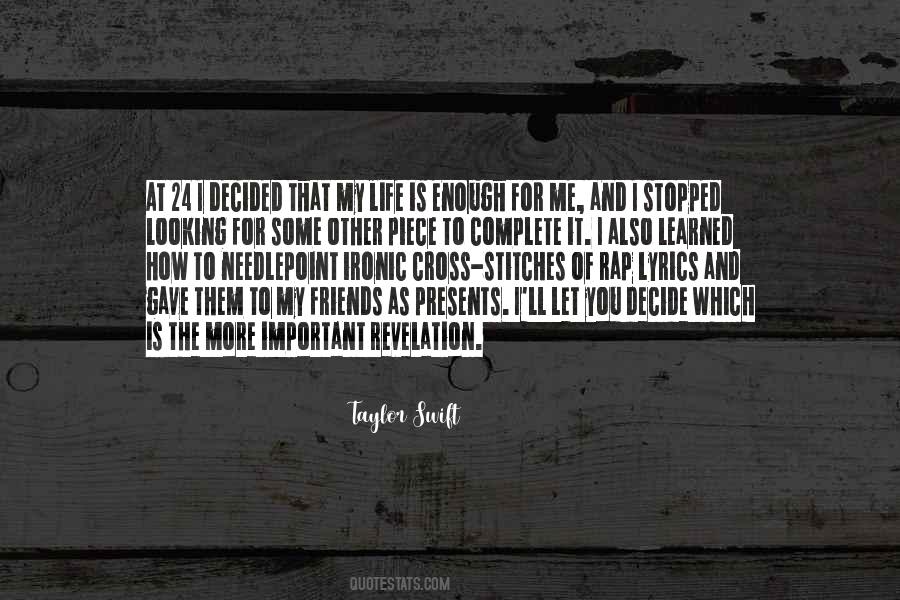 Famous Authors
Popular Topics