Life Happily Famous Quotes & Sayings
List of top 100 famous quotes and sayings about life happily to read and share with friends on your Facebook, Twitter, blogs.
Top 100 Life Happily Quotes
#1. If you had one goal, and that was to feel good, you would never again need to hear another word from anyone. You would live successfully and happily and in a way of fulfilling your life's purpose ever after. - Author: Abraham Hicks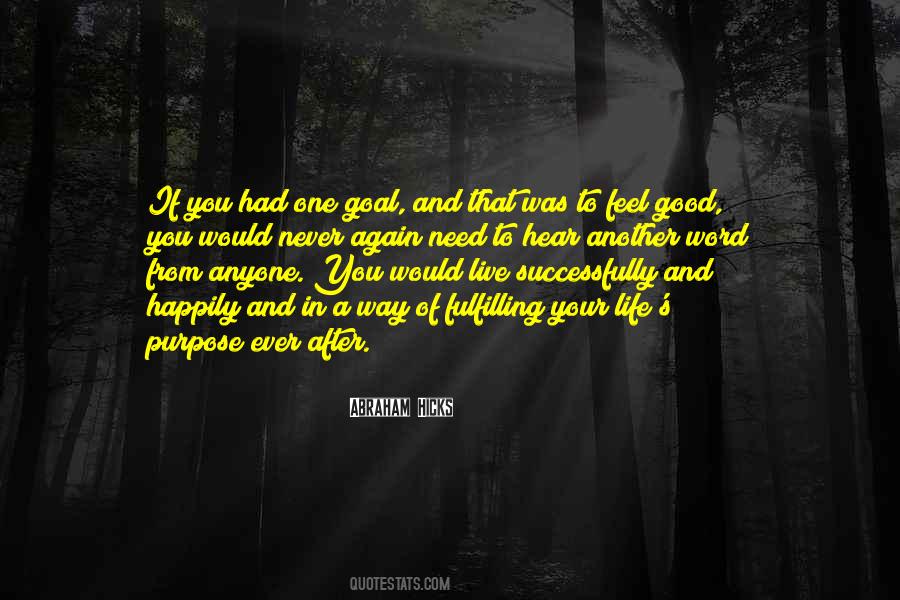 #2. I write because I want more than one life; I insist on a wider selection. It's greed, plain and simple. When my characters join the circus, I'm joining the circus. Although I'm happily married, I spent a great deal of time mentally living with incompatible husbands. - Author: Anne Tyler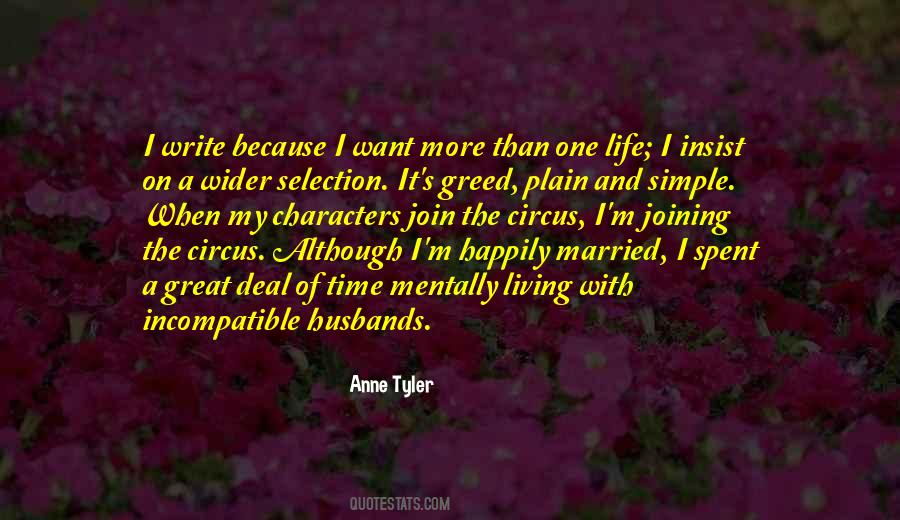 #3. Gary had hoped to find her more cooperative. He already had one "alternative" sibling and he didn't need another. It frustrated him that people could so happily drop out of the world of conventional expectations; it felt like a unilateral rewriting, to his disadvantage, of the rules of life. - Author: Jonathan Franzen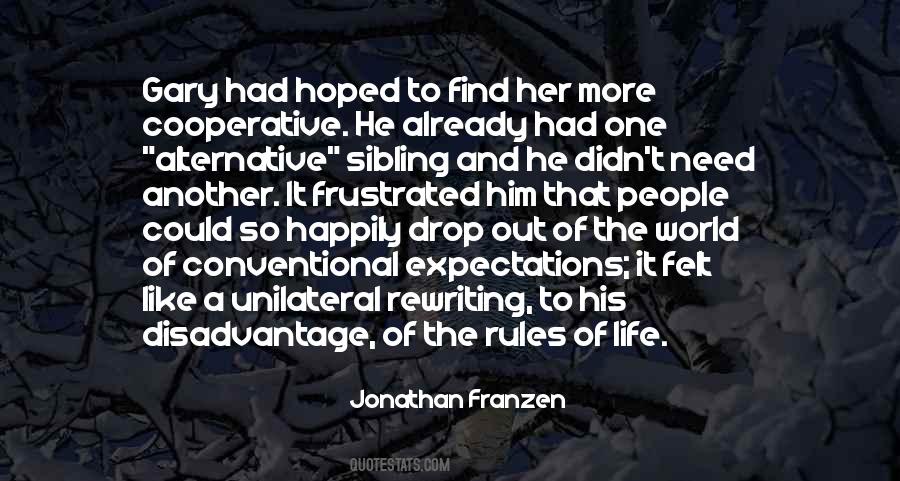 #4. That means life itself is a fairy tale. Like the characters, we all live and love and search for a happily-ever-after. - Author: Gena Showalter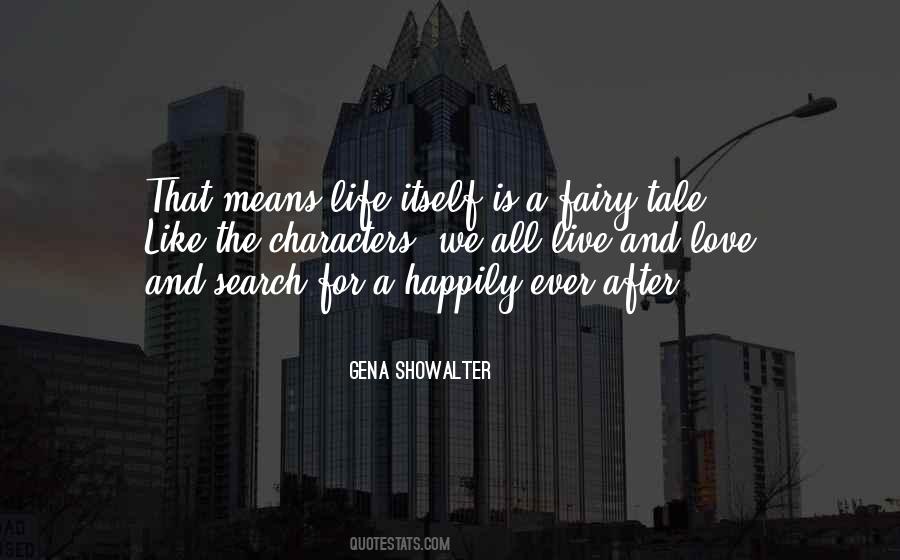 #5. I quickly realized I live the least interesting literary life imaginable. My parents are happily married. There haven't been any major traumas. I'm not sure that the story of my life would be much fun to read. - Author: Anthony Marra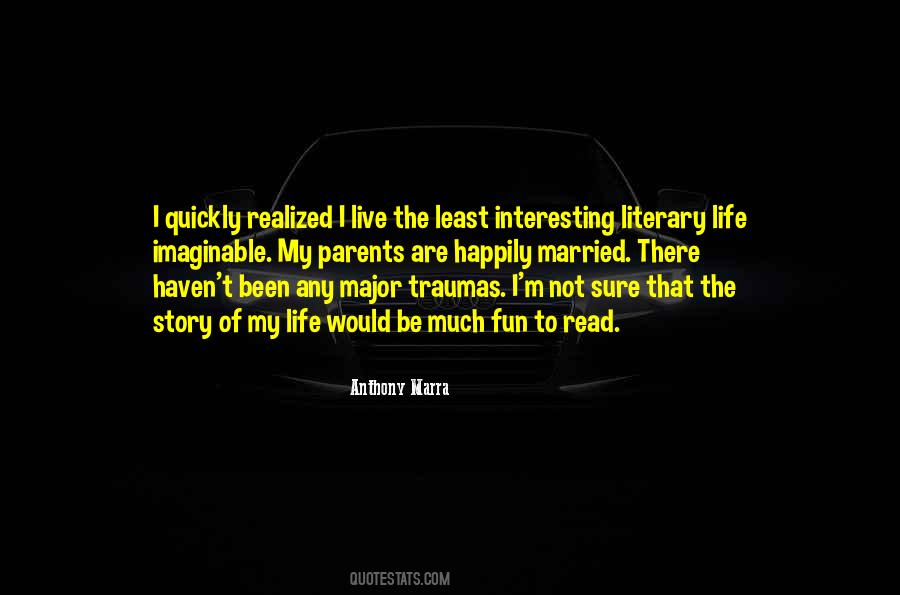 #6. I'm not entangled in a bunch of lawsuits and a web that I can't get out of. I can hold my head up ... a happily married man who has his head in order. There isn't a bunch of scandal in my life. - Author: Prince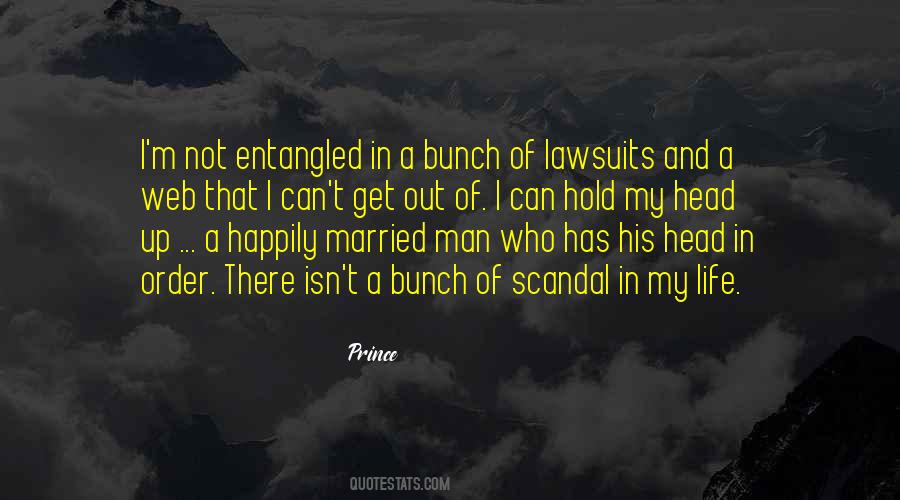 #7. Nothing funny about happy people. I don't know, you just look at a situation or a life, and you can kind of pick up the areas of conflict and delve in there, because that's where the most story is. If someone's happily married for 20 years, that's great, but it's not that funny. - Author: Kate Beaton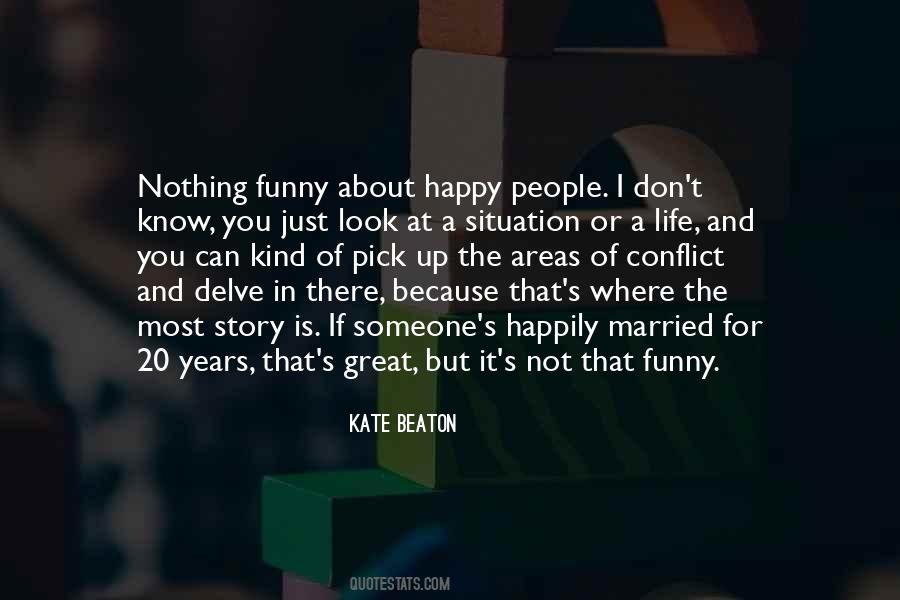 #8. I wanted a do over. A time machine. That magic wand. But real life didn't have any easy outs, and very few happily-ever-afters. The real world was more like a Choose Your Own Adventure book, with most of the choices ripped out before you even opened the cover. - Author: Rachel Vincent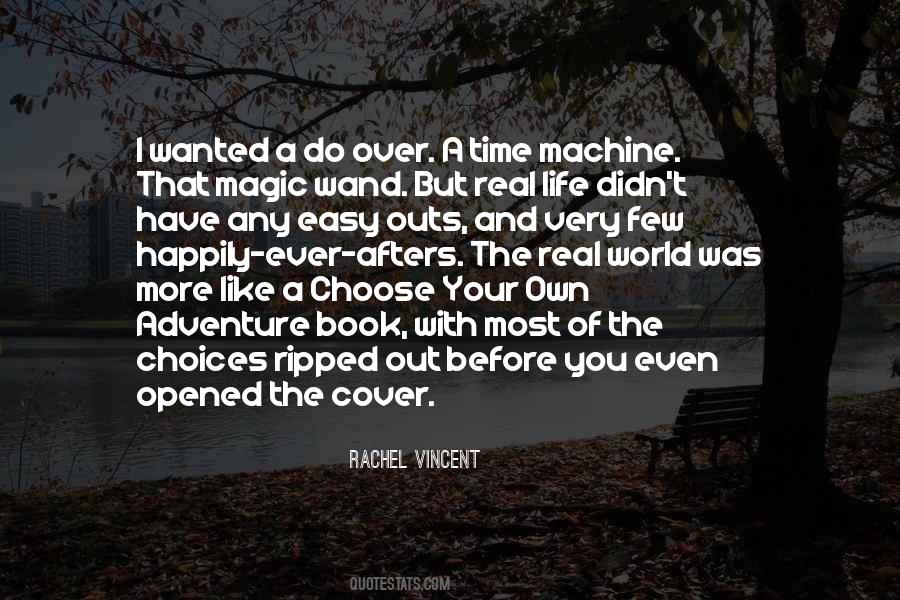 #9. For the first time in his life he'd dared to believe in happily-ever-after.He learned at a young age it was unattainable. Therefore, he'd never even tried ... until Claire. - Author: Aleatha Romig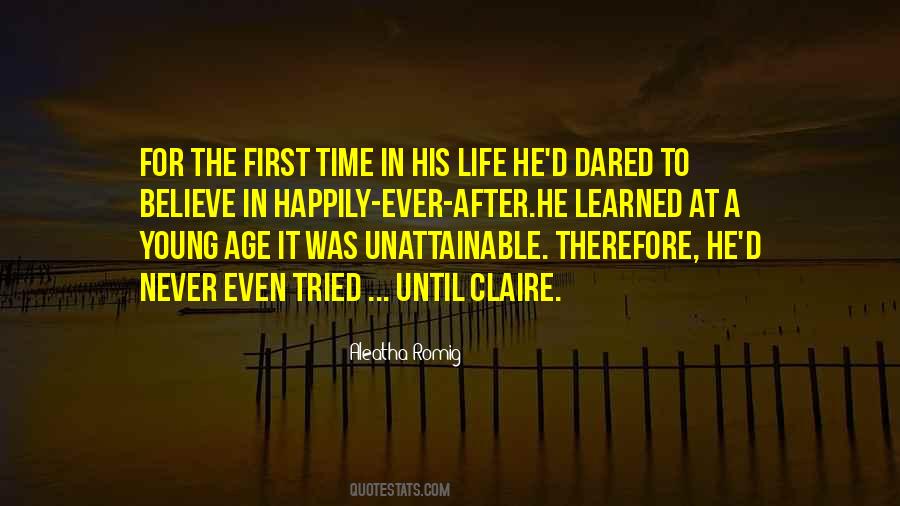 #10. How could a Christian live happily, or live at all, if he had not the assurance that his life is in Christ, and his support, the Lord's undertaking? - Author: Charles Haddon Spurgeon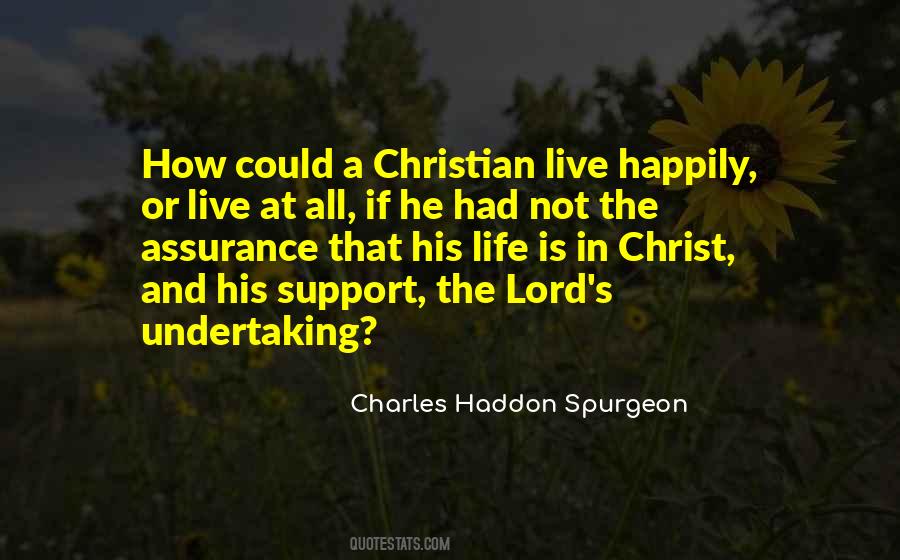 #11. There are enough reasons to live your life happily rather than sacrificing it for a lie. - Author: M.F. Moonzajer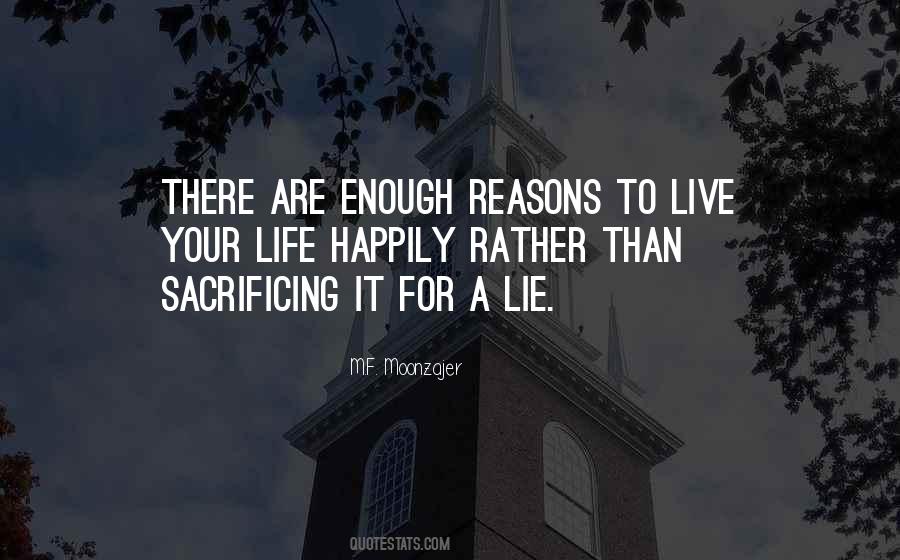 #12. I must say that the biggest lesson you can learn in life, or teach your children, is that life is not castles in the skies, happily ever after. The biggest lesson we have to give our children is truth. We're all built with illusions. And they break. - Author: Goldie Hawn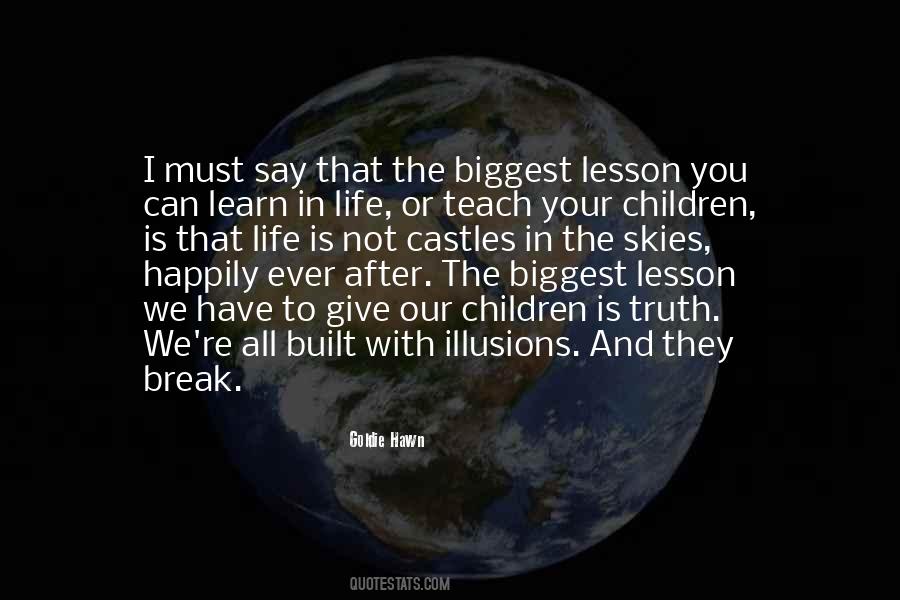 #13. But it was time to realize that I wasn't Cinderella, and no matter how hard I wished it were true, life wasn't a fairy tale where everyone lives happily ever after. - Author: Michelle Madow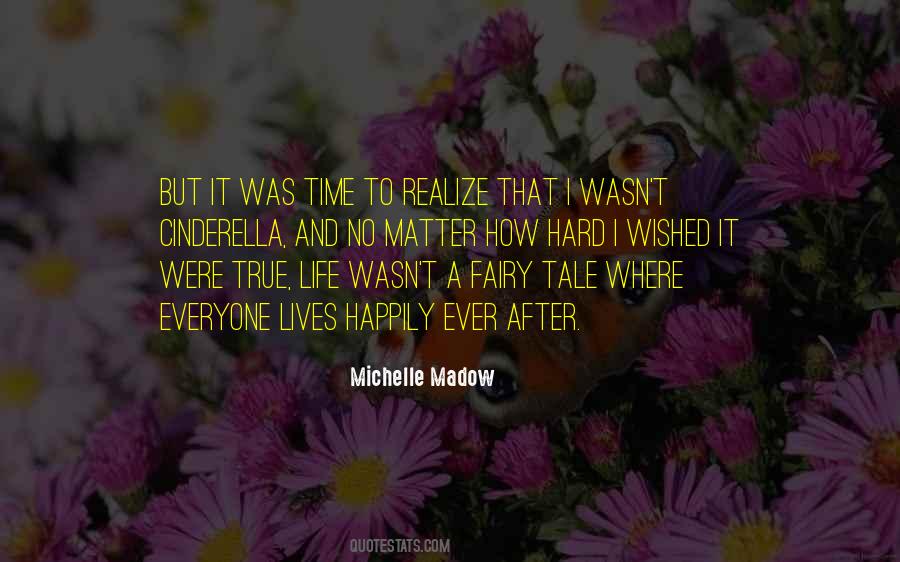 #14. The reality is that we are safe and we have the capacity to enjoy the wonders of life in the present moment. When we recognize that our suffering is based on images instead of current reality, then living happily in the present moment becomes possible right away. - Author: Thich Nhat Hanh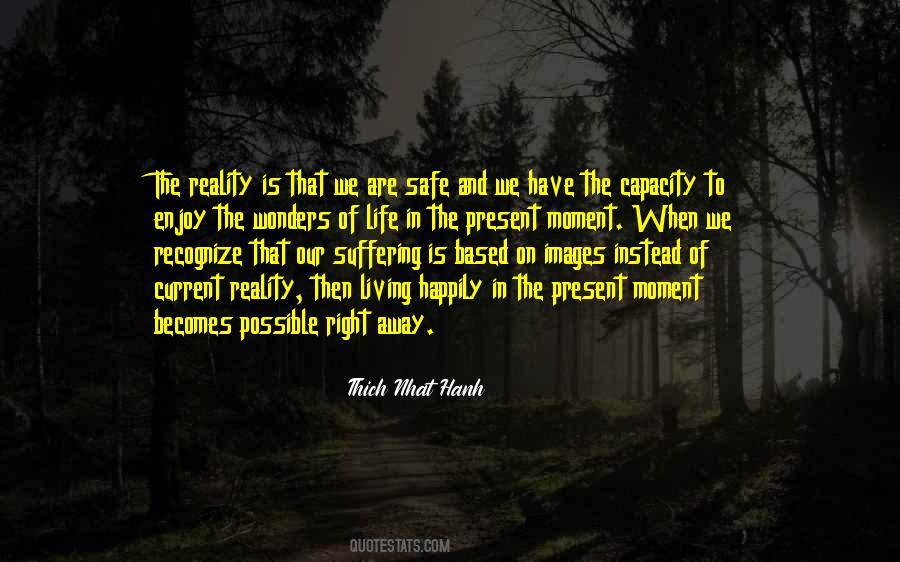 #15. A sense of freedom is something that, happily, comes with age and life experience. - Author: Diane Keaton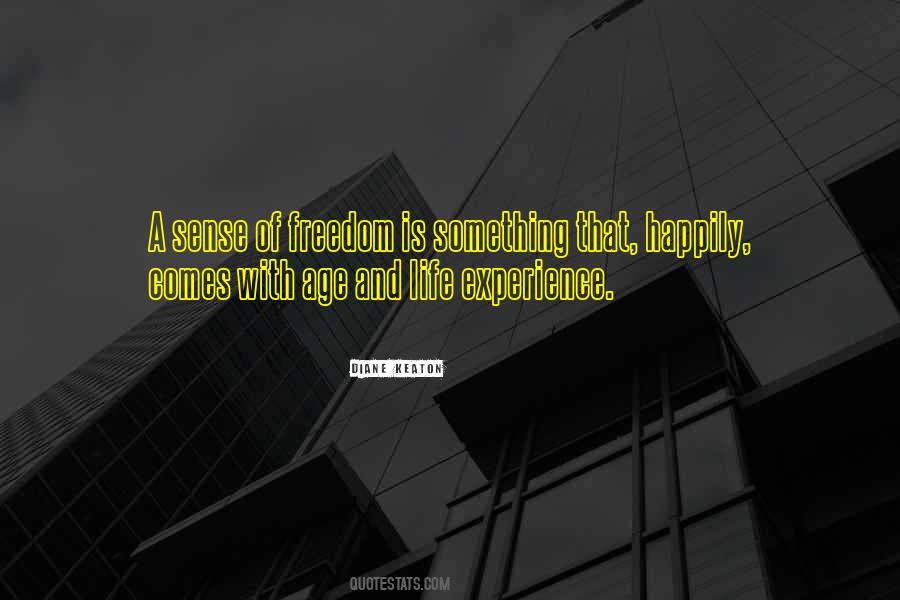 #16. Nothing is easy, and life can be extremely tough, but there's always a yin to the yang, so to speak. It's up to you to seek it out, embrace it, and live happily ever after. No matter how bad the hand you've been dealt may seem, there's always a way to play it. - Author: Alex Gaskarth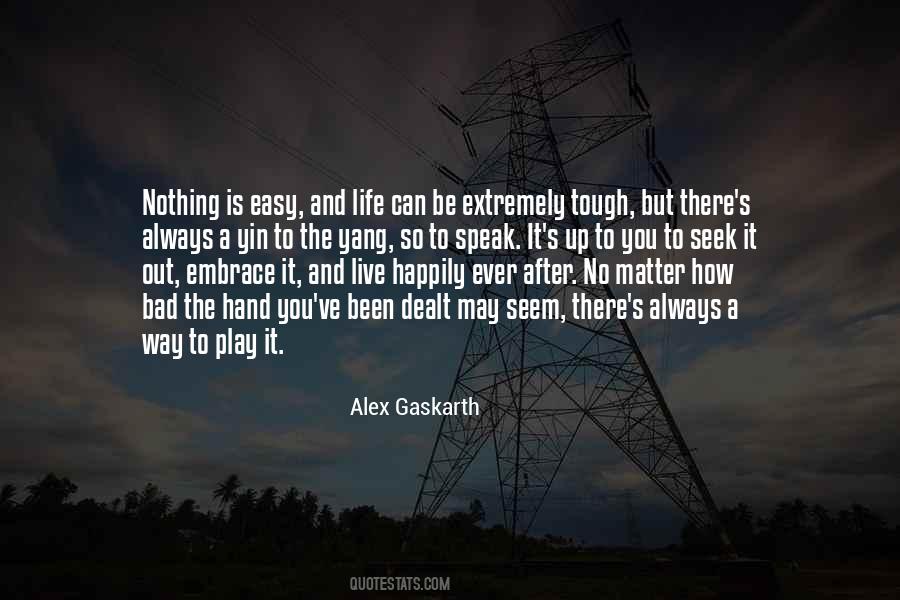 #17. But life isn't a fairy tale which ends 'happily ever after' just because the last line of the story is written. Hurts have to heal, resentments have to fade, trusts have to mend. - Author: Rasana Atreya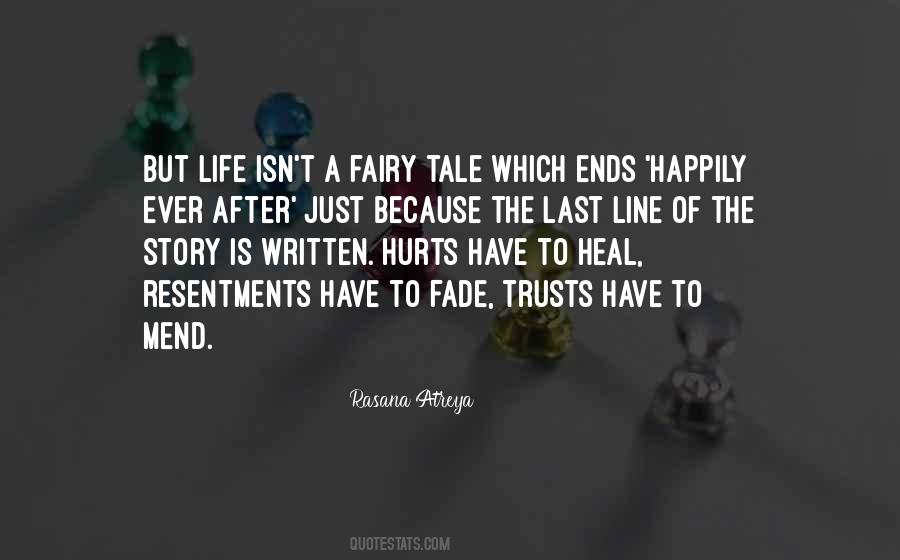 #18. No one ever does live happily ever after, but we leave the children to find that out for themselves. - Author: Stephen King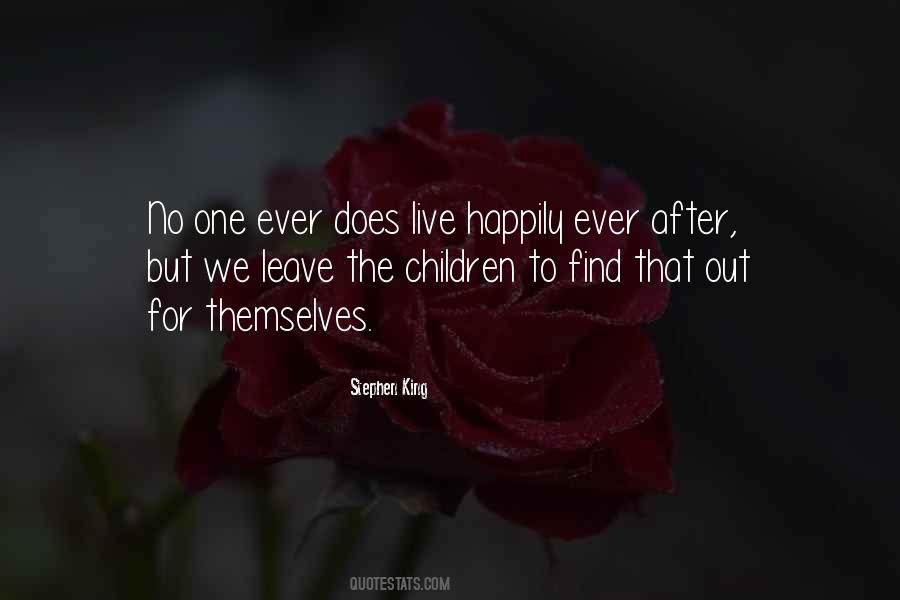 #19. In this sinful world, there is no such thing as enjoying life; not in a world where everybody is happily having a bubble bath of sin. John 14 - Author: Felix Wantang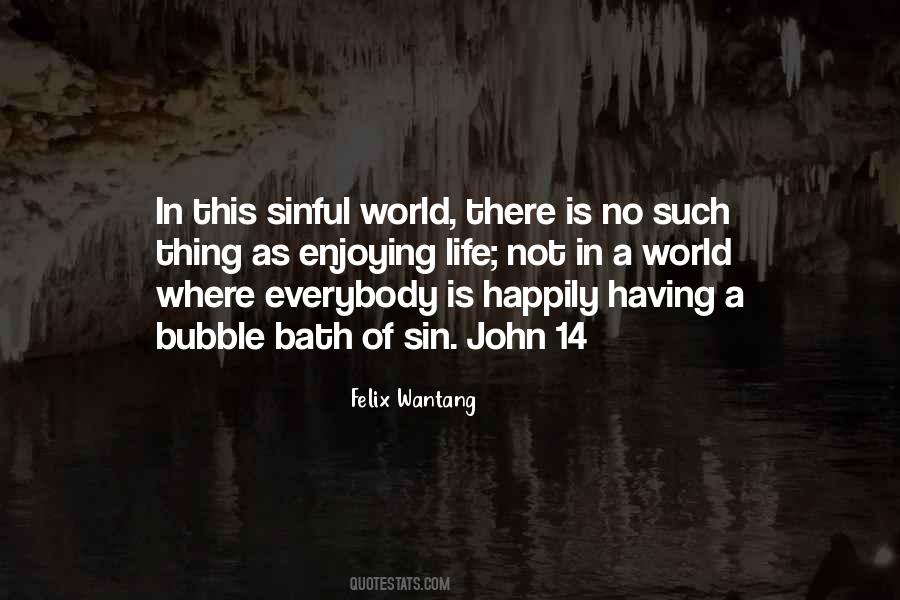 #20. It is not possible to live happily if one does not lead a beautiful, righteous, and wise life, or to lead a beautiful, righteous, and wise life if one is not happy. EPICURUS - Author: Matthieu Ricard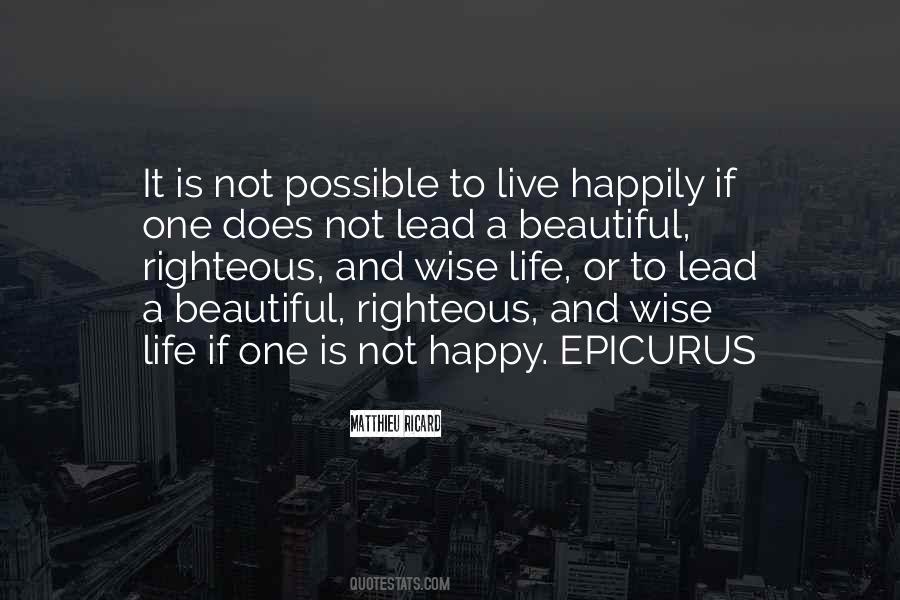 #21. Happily, though we must each walk through life on our own, we don't have to do it alone. - Author: Sheri Dew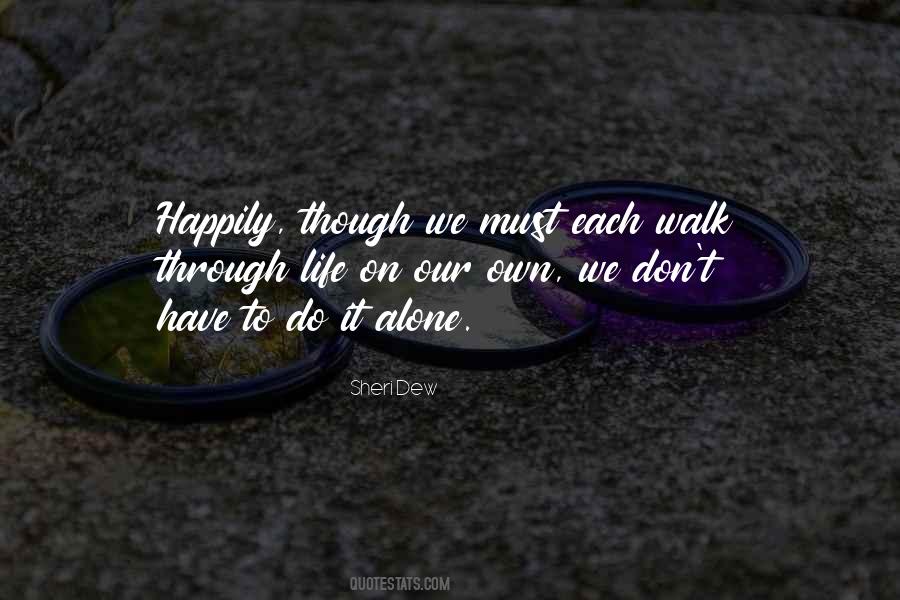 #22. The relationship between a manufacturer and his advertising agency is almost as intimate as the relationship between a patient and his doctor. Make sure that you can life happily with your prospective client before you accept his account. - Author: David Ogilvy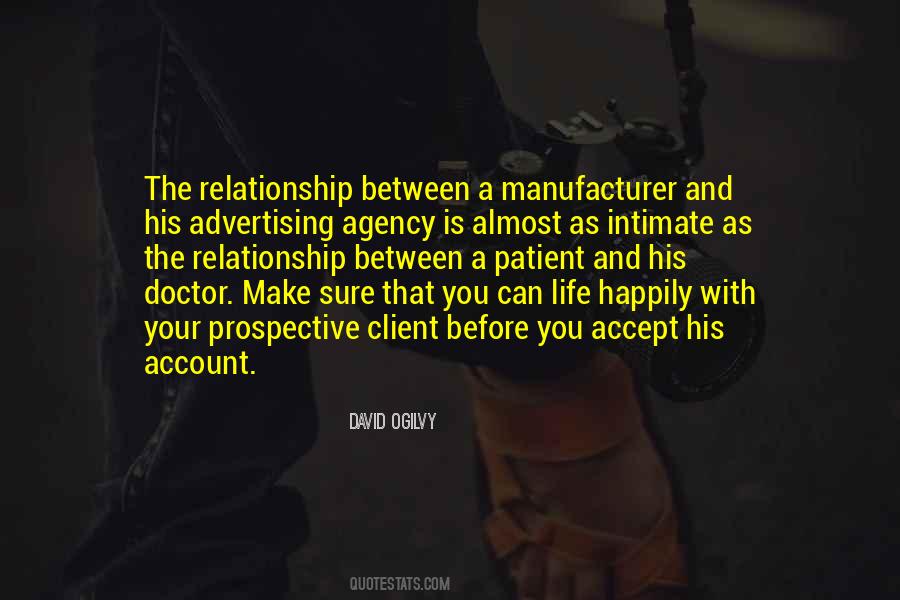 #23. Thanks to a lifetime of brainwashing by Disney and Lifetime and Hallmark, she naively believes glimpsing God during an epic fuck somehow translates into some kind of happily ever after with her Prince Charming. - Author: Lauren Rowe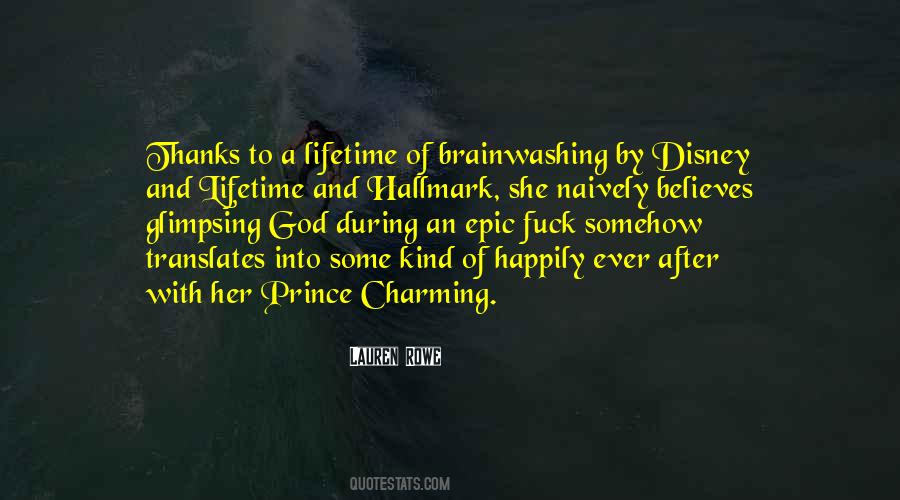 #24. We need but little learning to live happily. - Author: Michel De Montaigne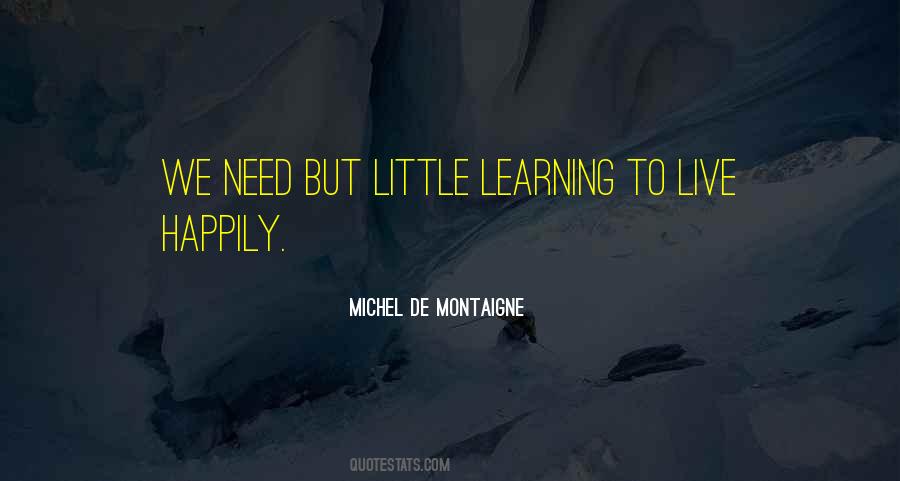 #25. I remember reading the script for 'Dangerous Liaisons' and thinking that I could quite happily spend the rest of my life watching this film; the story and the writing were so wonderful. - Author: Stephen Frears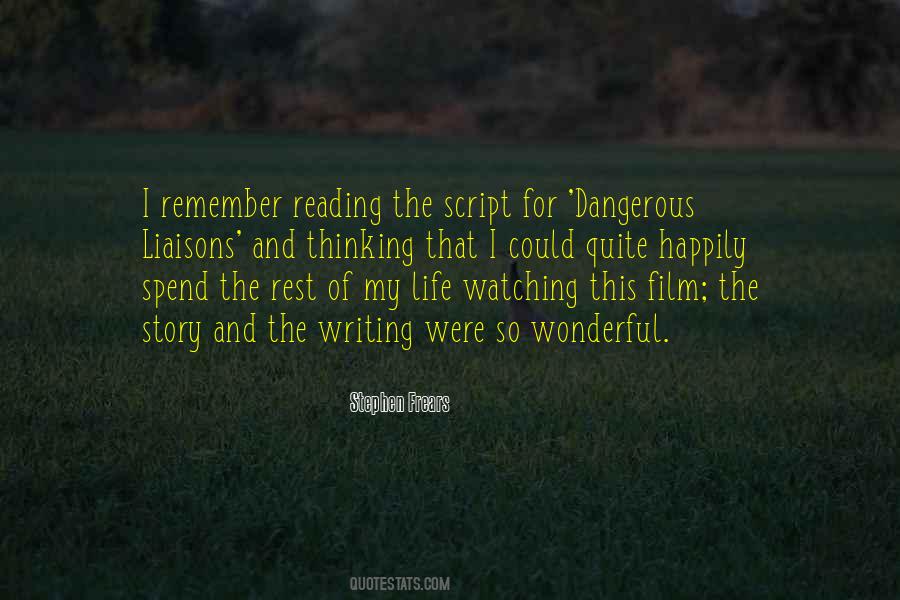 #26. Do you know why happily ever after is a lie?" Snow asked. "Because life is change. - Author: Jim C. Hines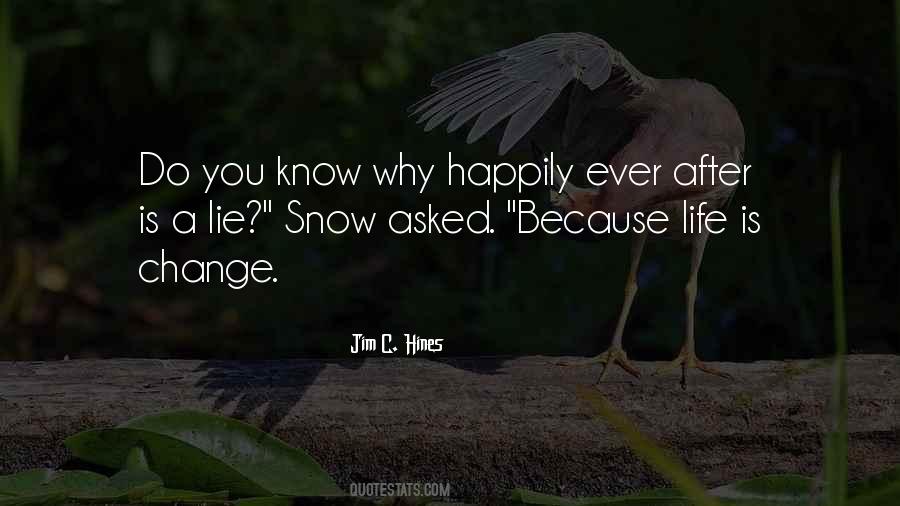 #27. [A young adult novel] ends not with happily ever after, but at a new beginning, with the sense of a lot of life yet to be lived. - Author: Richard Peck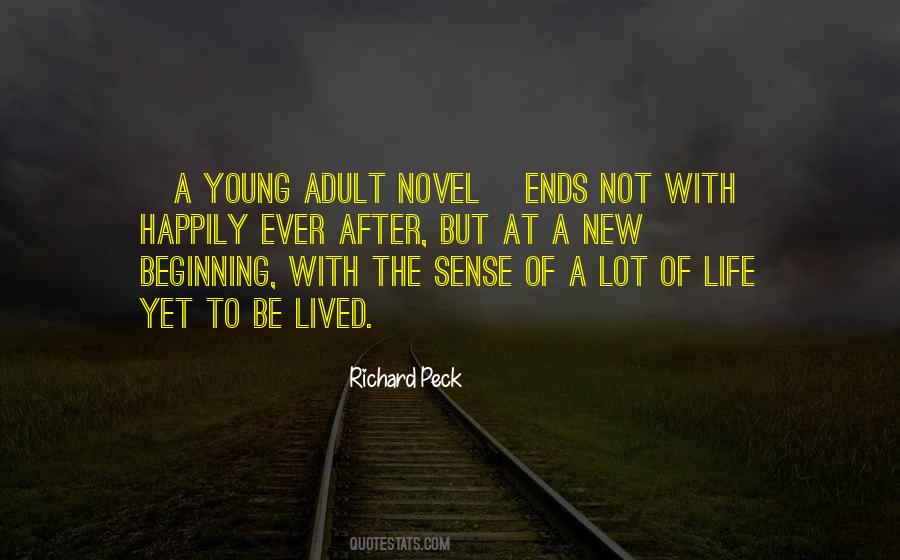 #28. Everyone in Arthur Anderson's life was fixated on happily-ever-after, and it was seriously pissing him off. - Author: Anonymous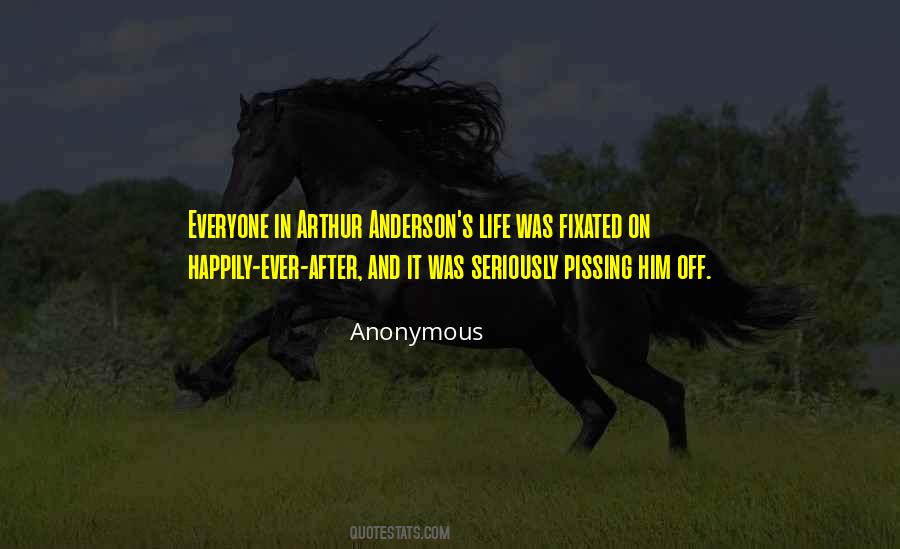 #29. They laugh at this, the idea that one might keep herds of friendly deer or elk that walk happily to their slaughter whenever it's time for the human to eat meat. Some ask openly if there aren't consequences of a life so easy to live. - Author: Joseph Boyden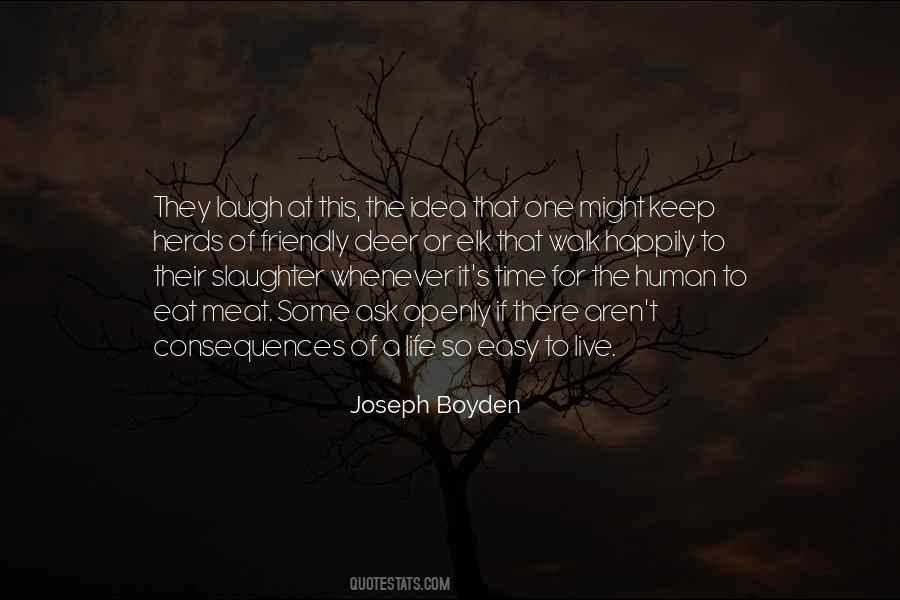 #30. I blame Hollywood for skewing perspectives. Life is just a big romantic comedy to them, and if you meet cute, happily ever-after is a forgone conclusion. - Author: Jonathan Tropper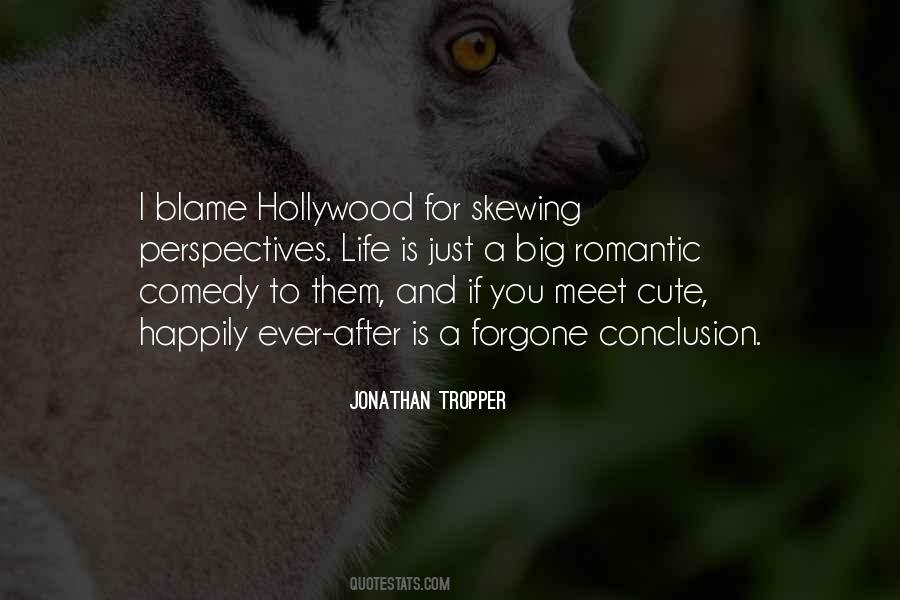 #31. My theory is that one needs to be loved completely, unconditionally, and unfettered by parental disapproval, if one is to get happily through life which, after all, presents its own hurdles. - Author: Arabella Weir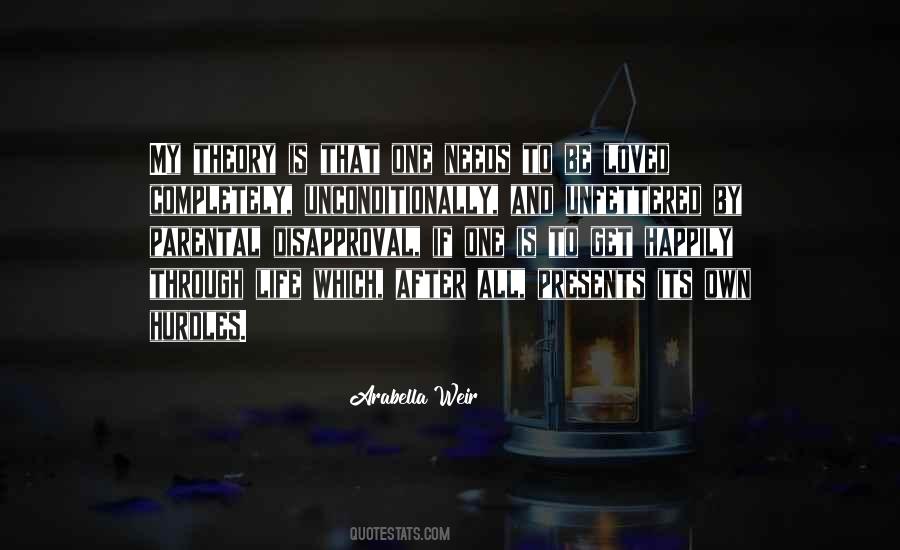 #32. Go through the things that life gives you to go through, happily. You have to loosen the grip of time, gradually. - Author: Frederick Lenz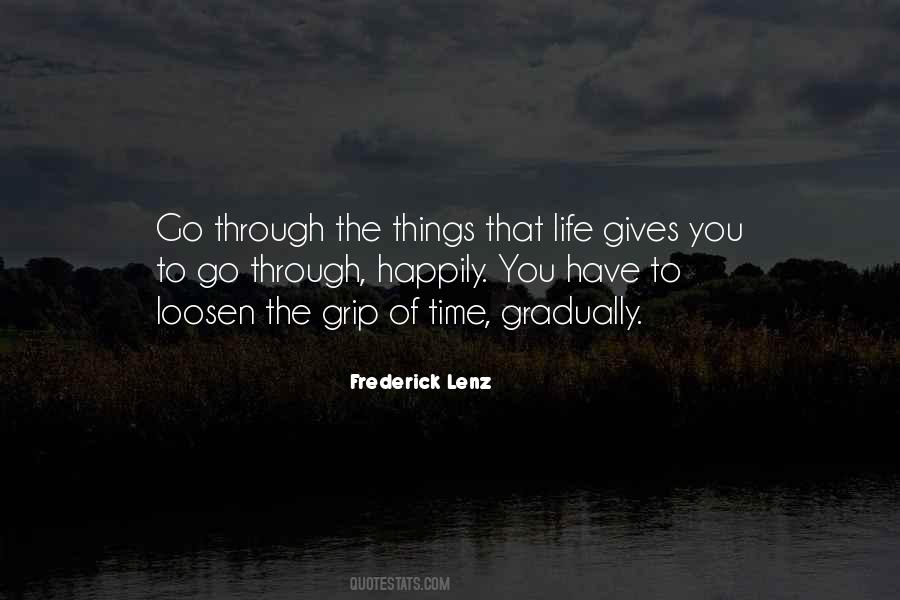 #33. He thought about his long life and gave thanks for all the bounty and joy that he had been given. To want more, to wish for yet more, he knew, would be petty. He sighed happily, and listened to the wind sweeping down from the mountains, to the chirping of night birds. - Author: Khaled Hosseini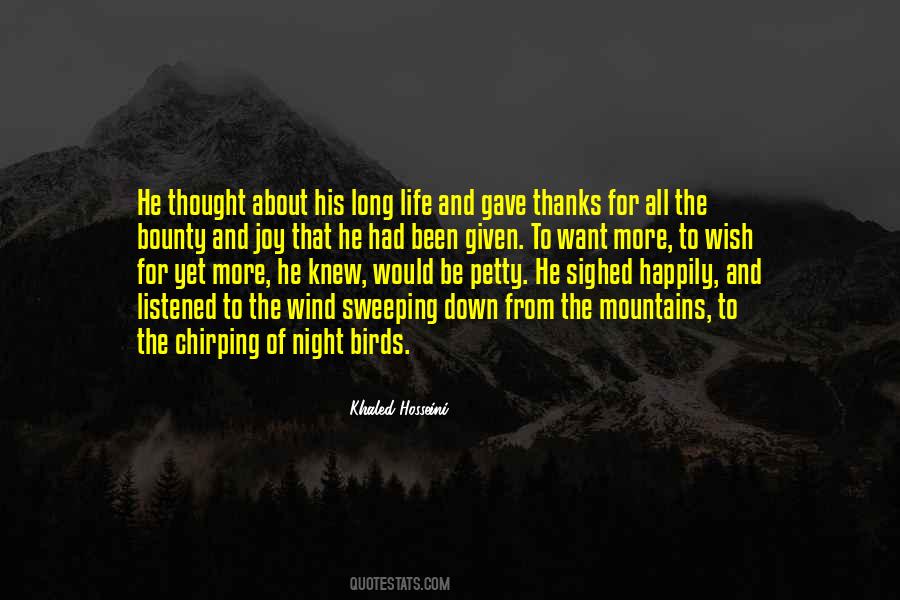 #34. Finding Grant however and living happily ever after was an illusion, a dream. Things like that didn't happen to women like them. Things like that didn't happen in real life. Real life was shacking up with a man you didn't love just to have the security of a roof over your head.
Elle Ison - Author: Shawn Reilly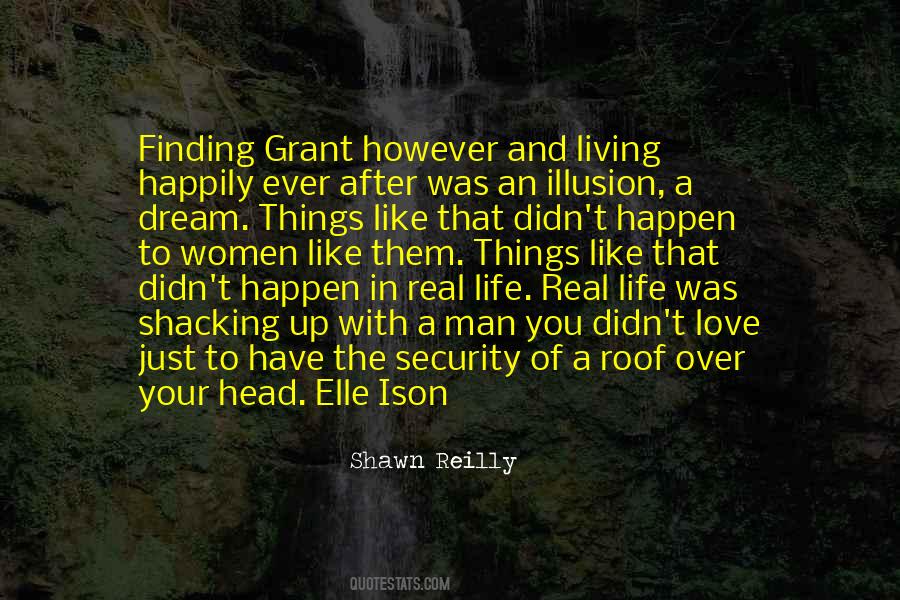 #35. To me 'they lived happily ever after' means to be happy with yourself! My parents always taught me that being happy has to work without Prince Charming. My life is completed without a prince but it's nice of course to have someone who loves you and fights for you. - Author: Kristen Stewart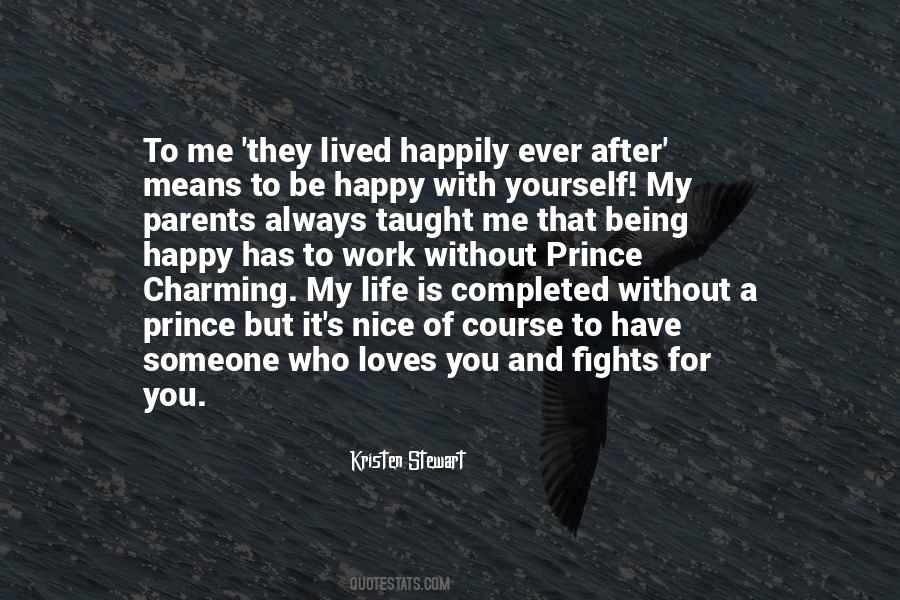 #36. My life will not follow a fairy tale, and that's okay. My life is reality. And in my reality people don't fall in love and get married and live happily ever after, because life is complicated. And messy. - Author: Kim Holden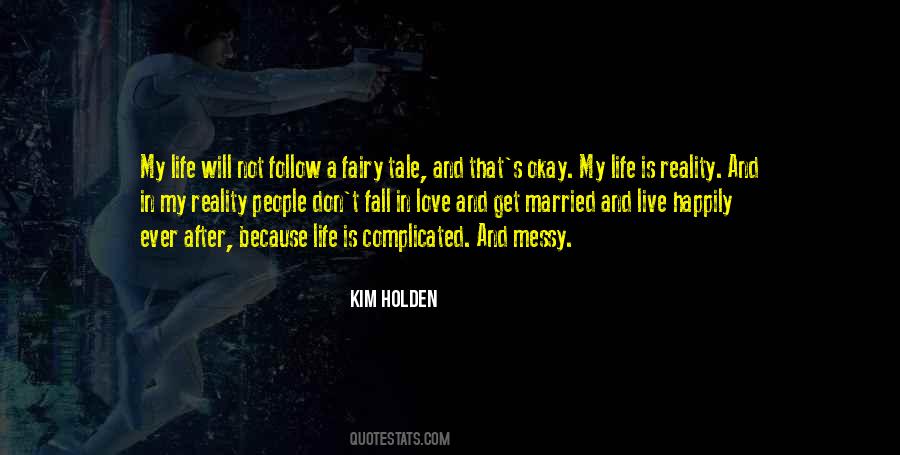 #37. Living a religious sexual lifestyle is tantamount to living a lie.
Religion distorts our sexuality when the majority of religious people live one life for the public and another in private. It can be as simple as living as a "happily married" couple when you are both miserable with your sex life. - Author: Darrel Ray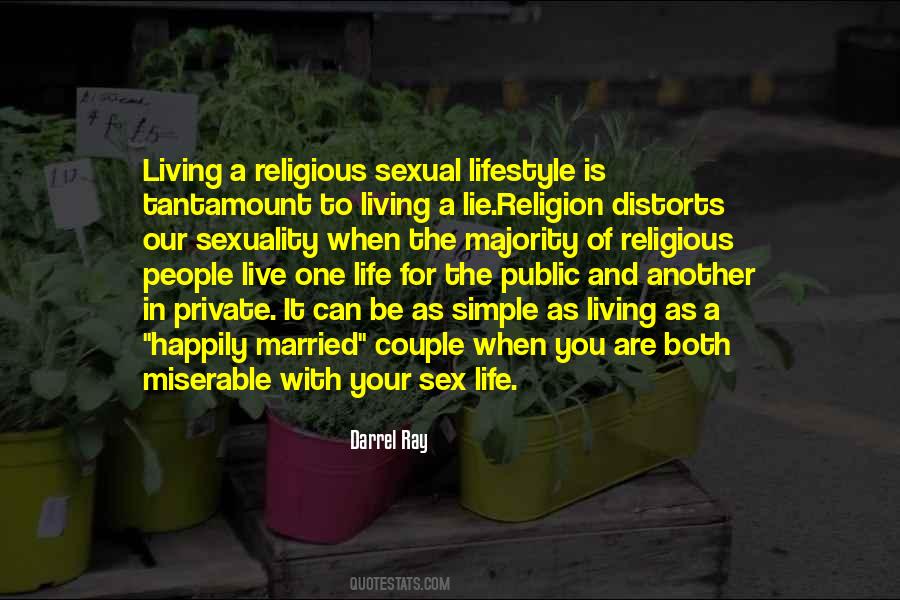 #38. I have spent most of my life most happily making plans for others to carry out. - Author: William Beveridge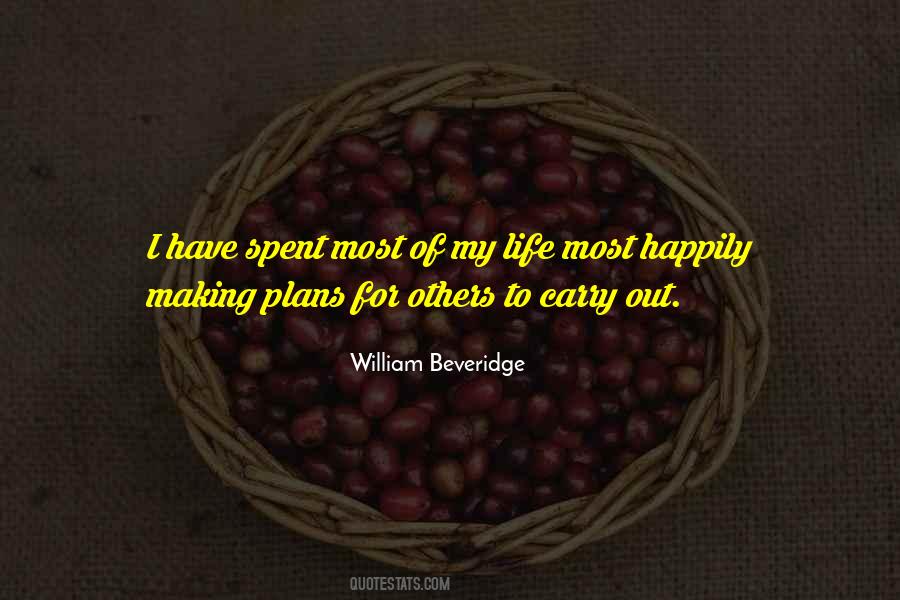 #39. One of the happiest days of my life was when I quit waiting for "happily-ever-after" to come find me and proclaimed joy in the just now season of life. And the next season. And the next. - Author: Vicki Courtney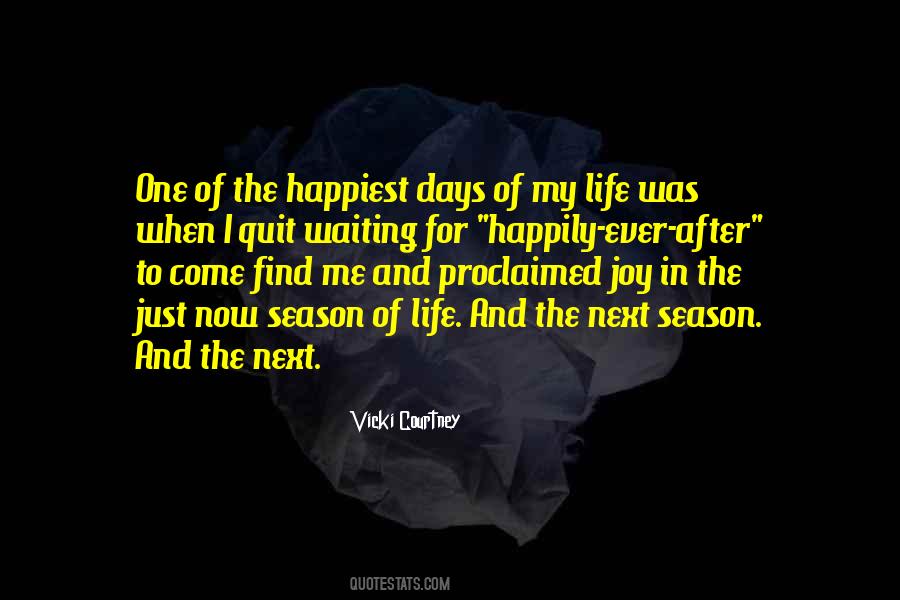 #40. There is nothing intrinsically better about a child who happily bounces off to school the first day and a child who is wary, watchful, and takes a longer time to separate from his parents and join the group. Neither one nor the other is smarter, better adjusted, or destined for a better life. - Author: Ellen Galinsky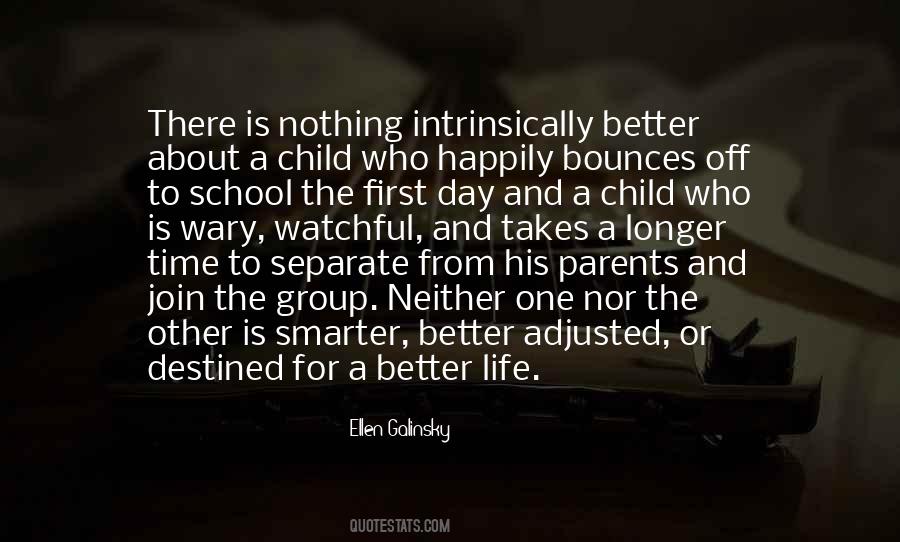 #41. Happy and angry. Happily angry. Everything, all at once. That's life, boy. You just keep getting fuller, until you burst and Allah takes you and casts your soul into another life later on. And so everything just keeps getting fuller. - Author: Kim Stanley Robinson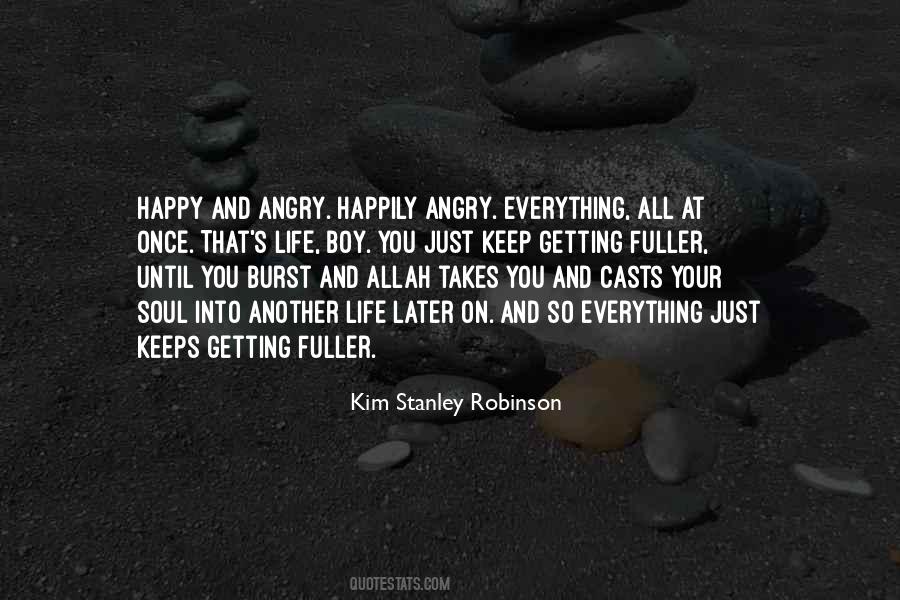 #42. You happily give Facebook terabytes of structured data about yourself, content with the implicit tradeoff that Facebook is going to give you a social service that makes your life better. - Author: John Battelle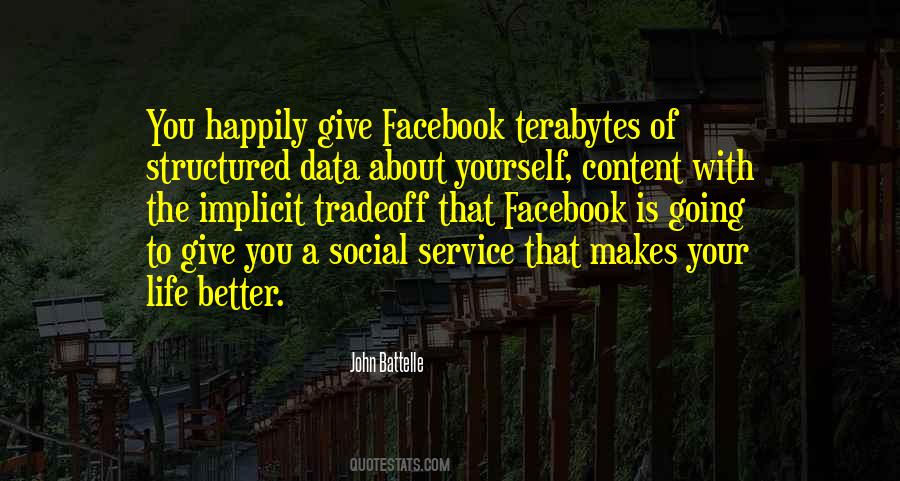 #43. If I wasn't before, I'm ruined for life. Hopelessly. In. Love. The girl is it for me. Yeah, ruined. Happily ruined, standing smack dab in the middle of the ice cream aisle. - Author: Mia Sheridan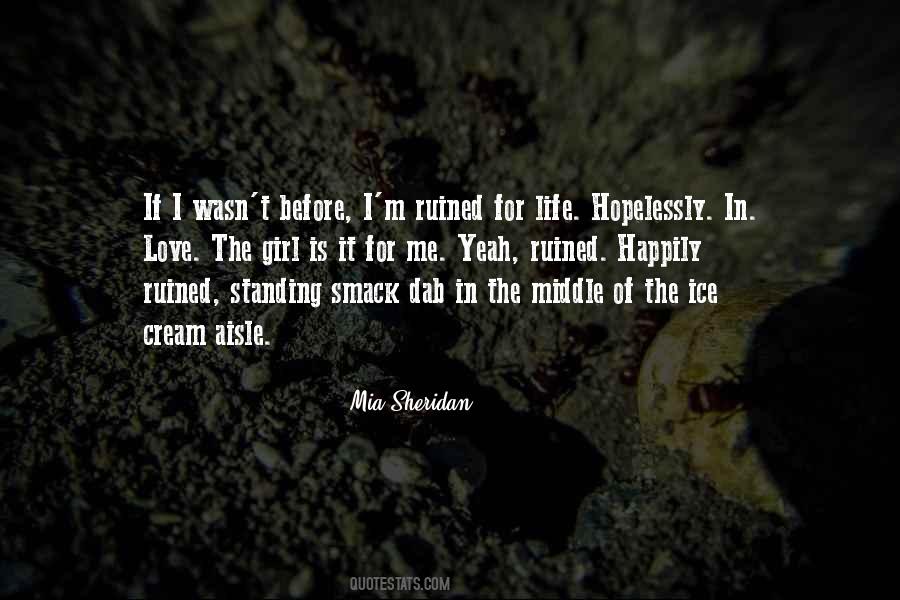 #44. Happy is still Happy, with or without the Ever After. - Author: Mandy Hale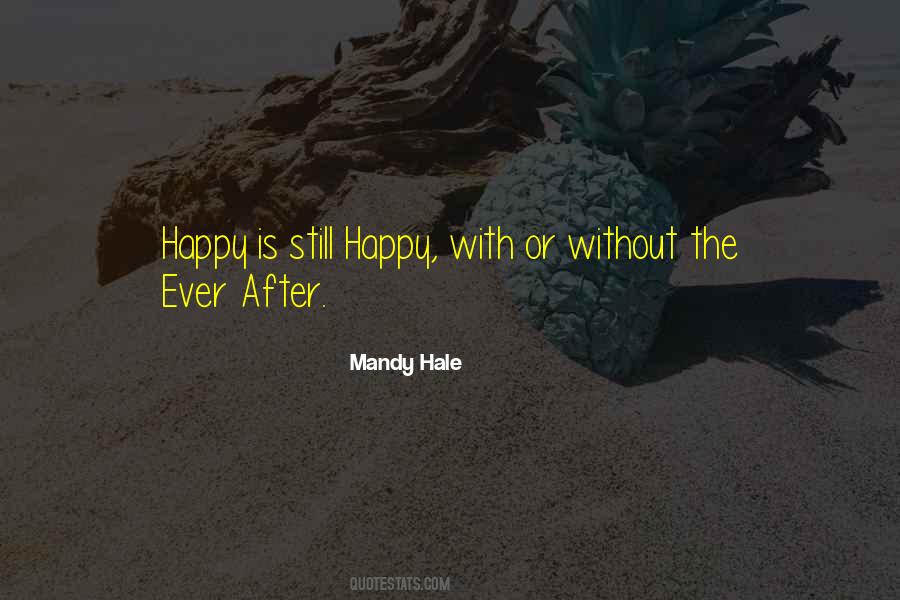 #45. There's no magic ruler by which we're all judged and weighed, not in this life. If you wait for someone to tell you it's time to grow up, you'll wait forever. Some people, quite happily, do just that. They don't do anything until they're forced to by circumstance - Author: Heidi Cullinan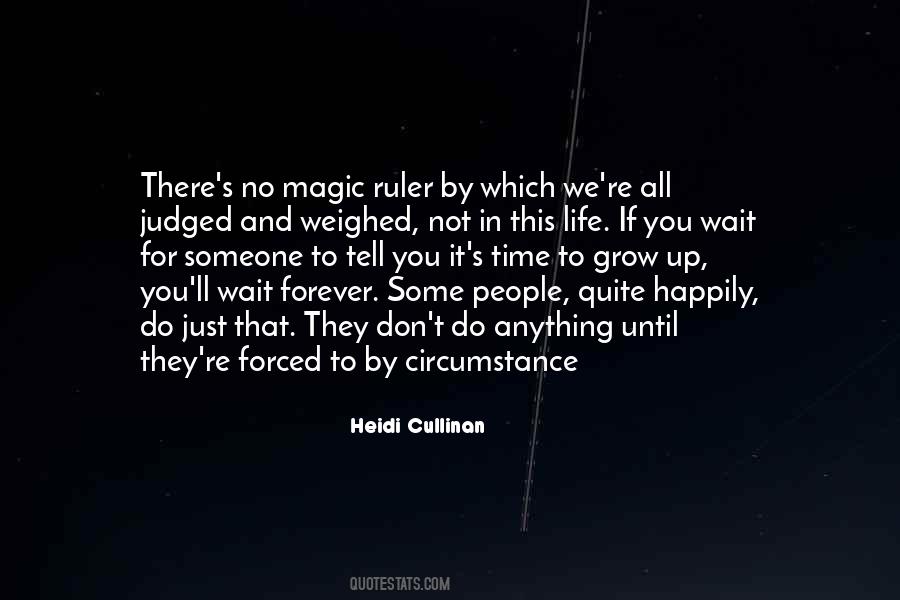 #46. We need to be critical of the police and power structure, we need to stand back and solve these problems, and films need to point to that. There are too many stories that end happily and say very little about life. - Author: Charles Burnett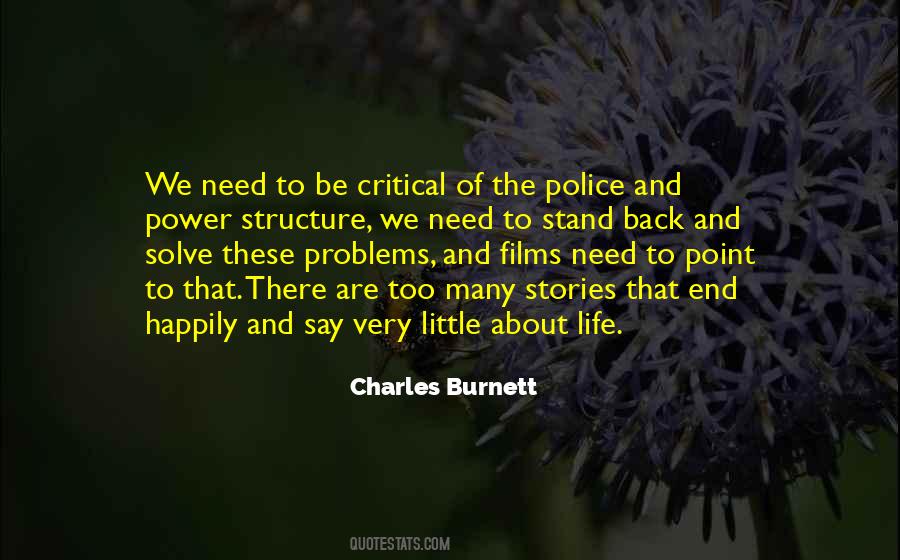 #47. Because you've been giving me happy for months now. All my life I've been looking for it. I didn't know what I was looking for, exactly. Only that I'd know it when I found it. You're it. You're my happily ever after. (Bennet) - Author: A.S. Green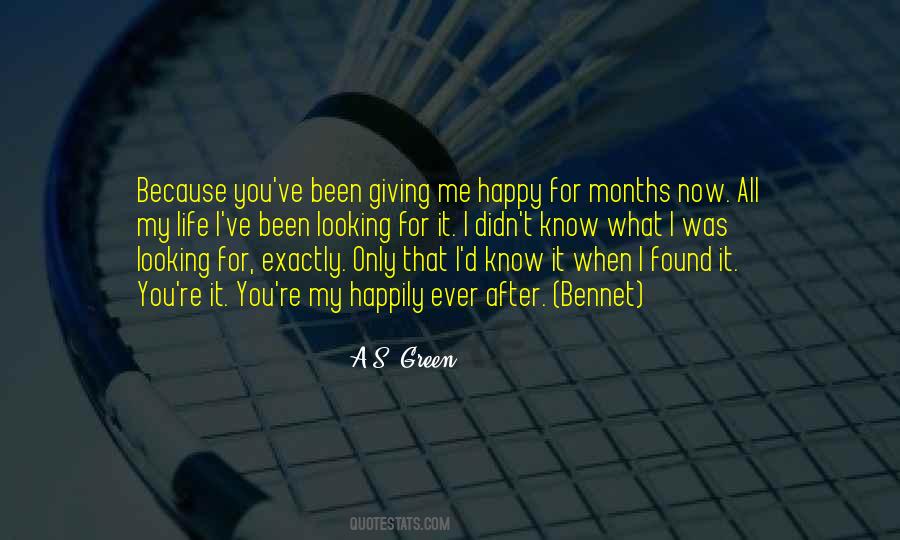 #48. I just want girls to realize, everybody's born a way for a reason, and you are who you are. You should just be yourself at all times. The only way you're going to get through life, happily, is being yourself. - Author: Nikki Blonsky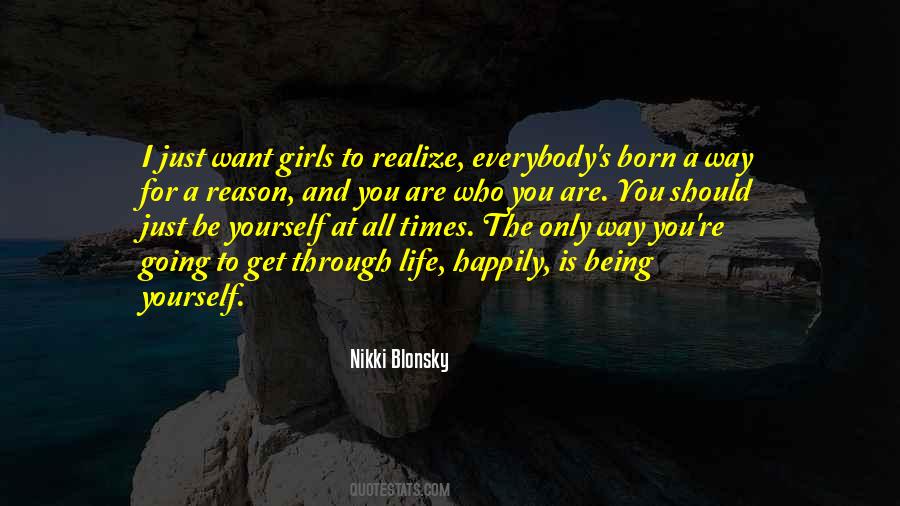 #49. Life is short. From here to that old car you know so well there is a stretch of twenty, twenty-five paces. It is a very short walk. Make those twenty-five steps. Now. Right now. Come just as you are. And we shall live happily ever after. - Author: Vladimir Nabokov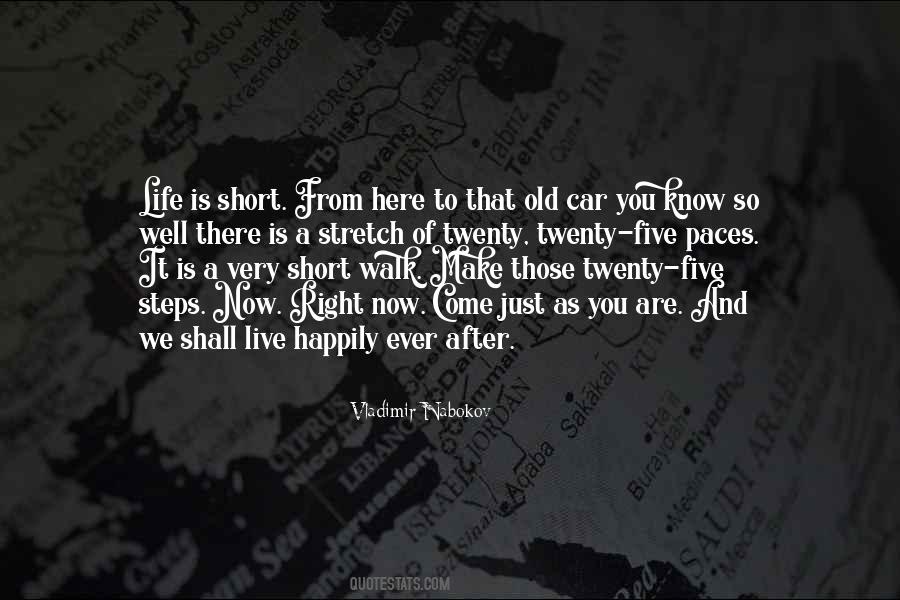 #50. It is happily and kindly provided that in every life there are certain pauses, and interruptions, which force consideration upon the careless, and seriousness upon the light, points of time where one course of action ends and another begins. - Author: Lyndon B. Johnson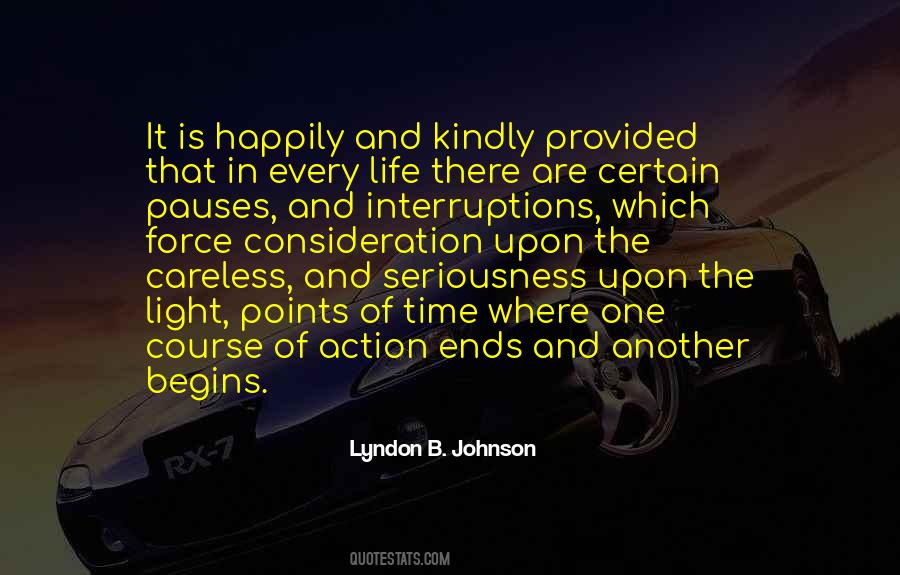 #51. There was three or four years of my life where I hated myself and you know, would have quite happily ended it. - Author: Daniel Johns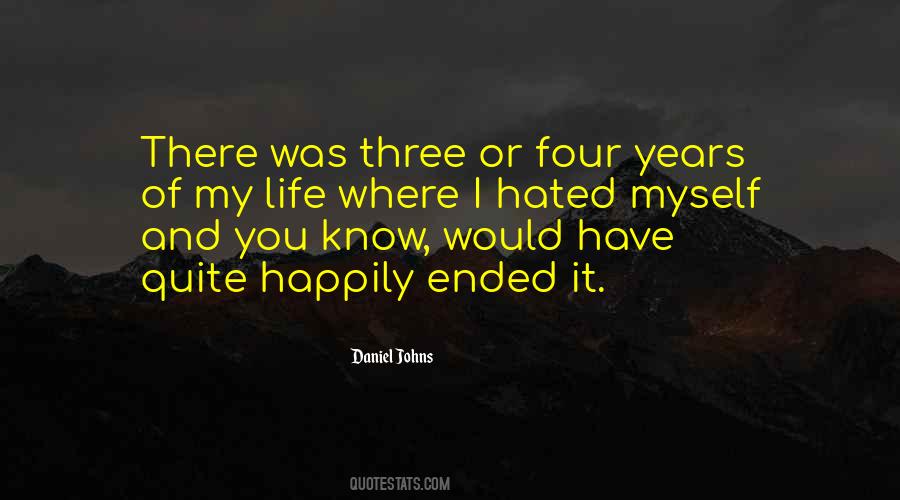 #52. Let's work and rest happily, abandon us to the course of life; let's run out the muddy and rotten water of the daily thinking and within the Void will flow the Gnosis and with it, the Joy for living. - Author: Samael Aun Weor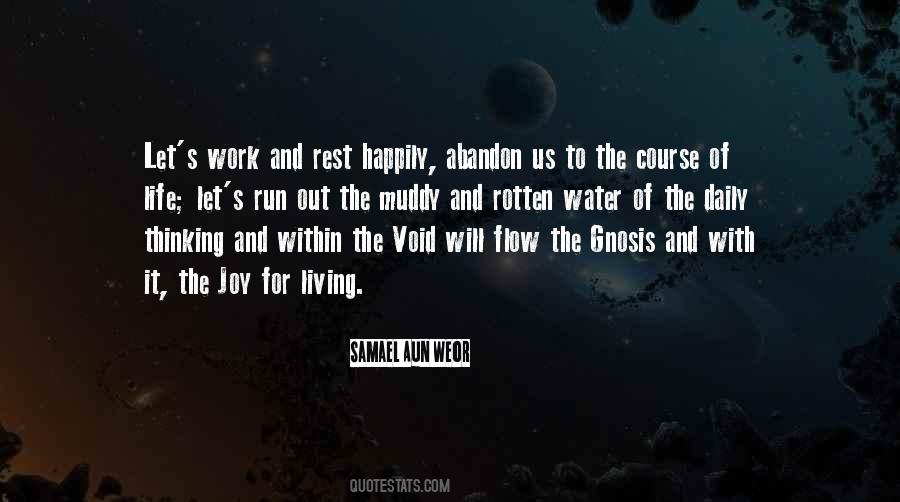 #53. Never sacrifice happiness for the sake of achievement. The real key to life is to happily achieve - Author: Robin Sharma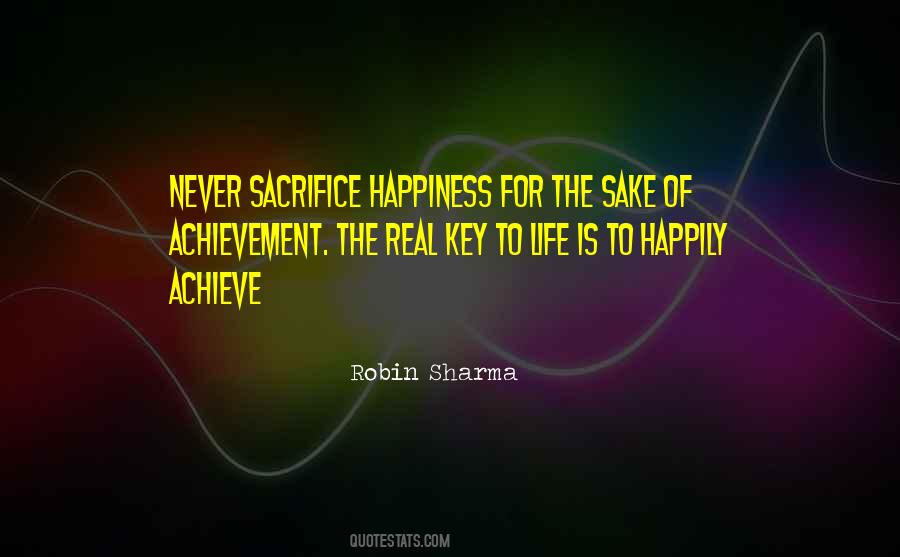 #54. But in real life, happily-ever-after is just the beginning. It's where life starts. - Author: Kay Hooper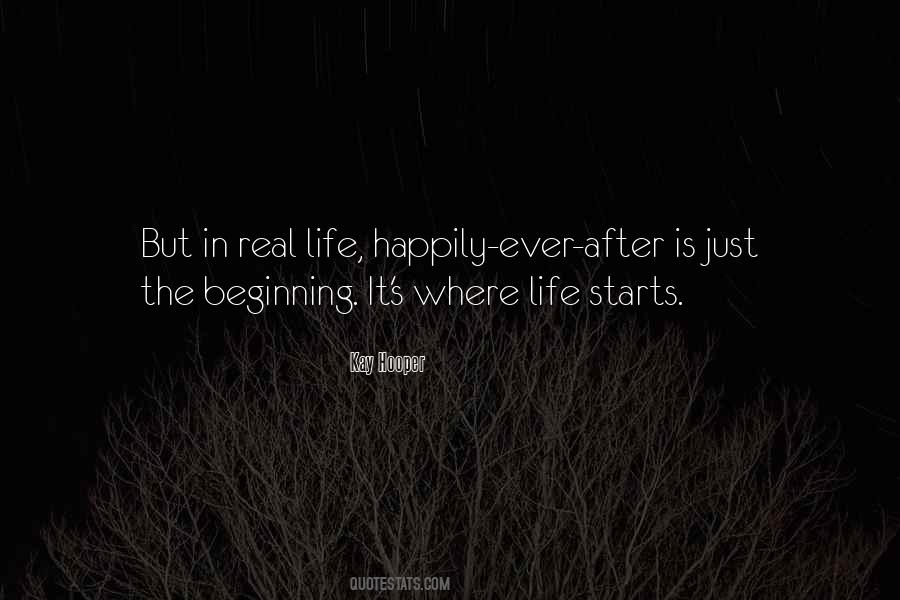 #55. Is it the body you are going to serve and be a slave to or is it the spirit you are going to develop, and live happily in this life and in the world to come? - Author: David O. McKay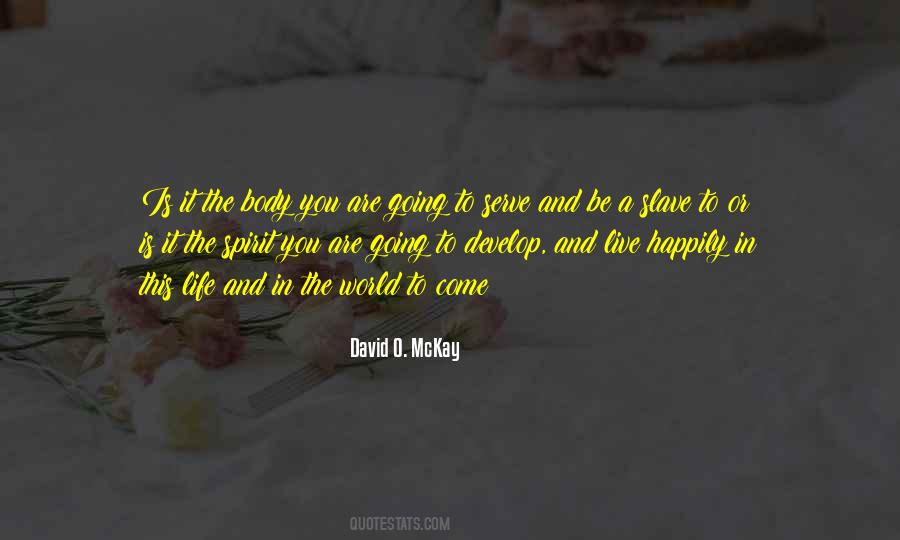 #56. IMPERMANENCE
Driftsand of the hours. Quietly disappearing,
continuously, even the happily consecrated design.
Life blows away, always: pillars already rise
without connection, carrying nothing but empty air. - Author: Rainer Maria Rilke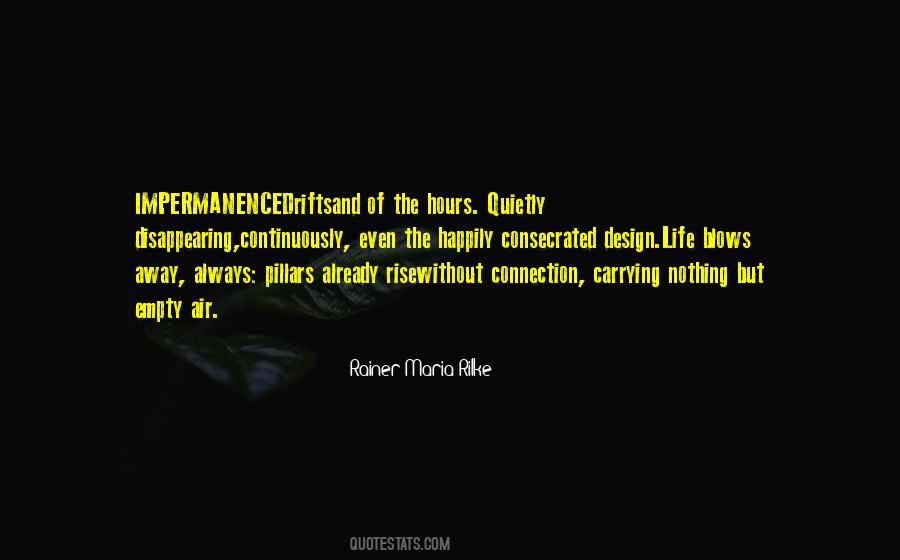 #57. Everything beautiful is golden and strewn with pearls. Even golden people live here. But misfortune is a dark power, a monstrous, cannibalistic giant, who is, however, vanquished, because a good woman, who happily knows how to avert disaster, stands ready to help. - Author: Jack D. Zipes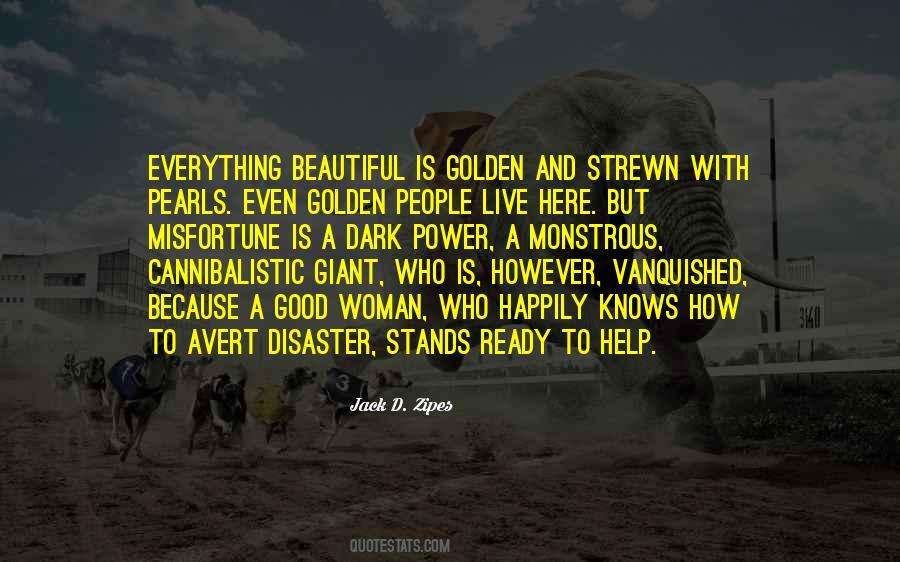 #58. My mother and father were never frightened of anything. They always felt that they should go through life happily and without fear, and they did that. And it was a great boon to my brother and myself. - Author: John Cassavetes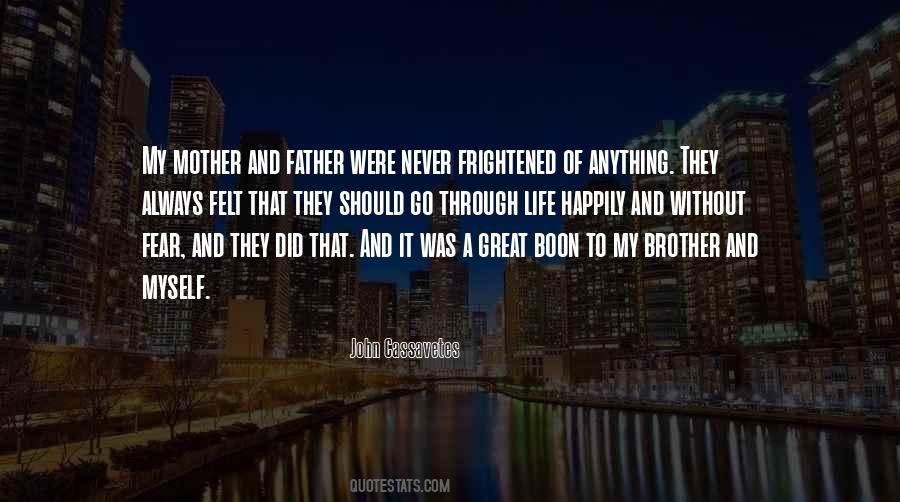 #59. I've three children, three grandchildren, I work, I travel, and I'm very happily married. I'm very satisfied and happy with my life and there really isn't anything I want. - Author: Joan Collins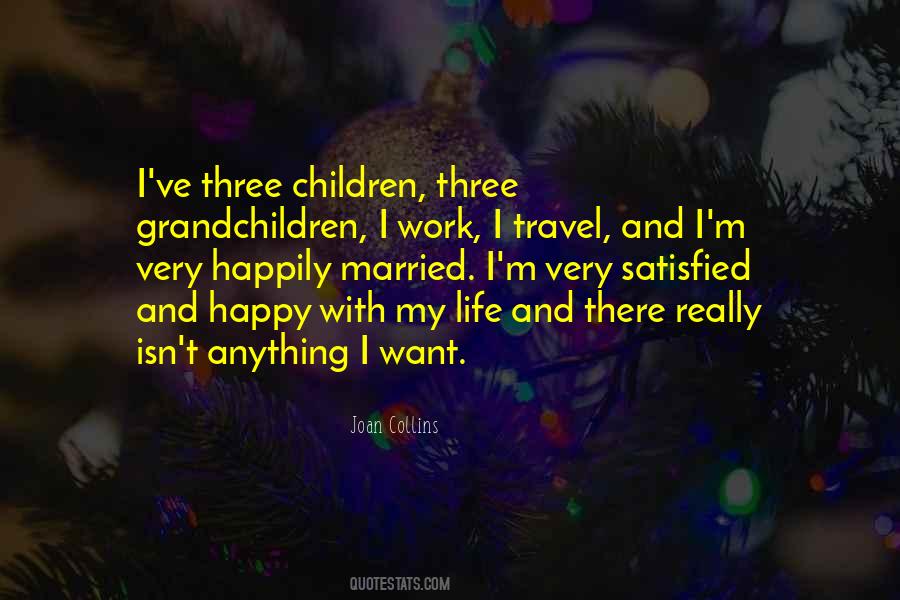 #60. In short, for me to live happily it was essential for the creatures I chose not to live at all. They must receive their life, sporadically, only at my bidding. - Author: Albert Camus
#61. God gave you life to live happily not to suffer heavily. I felt sufferment. - Author: Nadair Desmar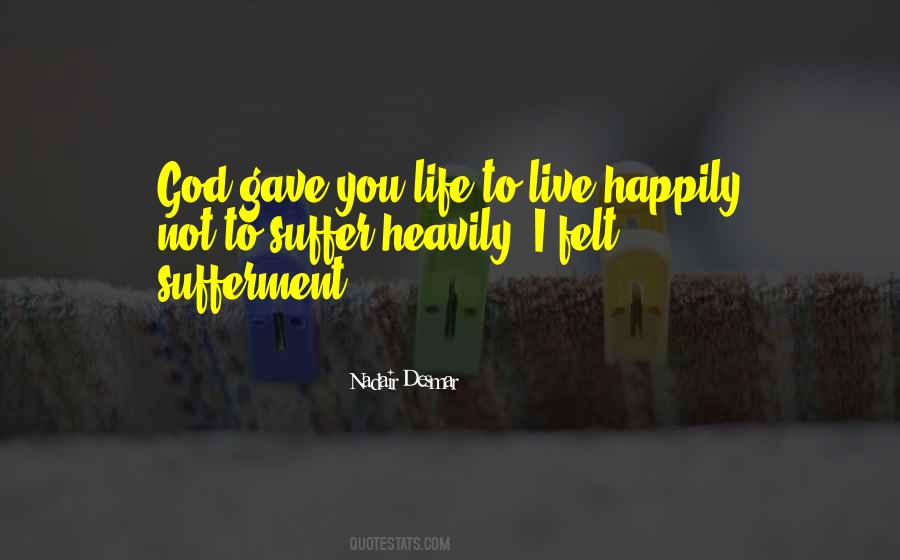 #62. I don't care how happily married you are or how deeply enmeshed you are with your children and family and career
every woman needs a couple of chicks who'll break out the sangria just because you need to vent. - Author: Jen Lancaster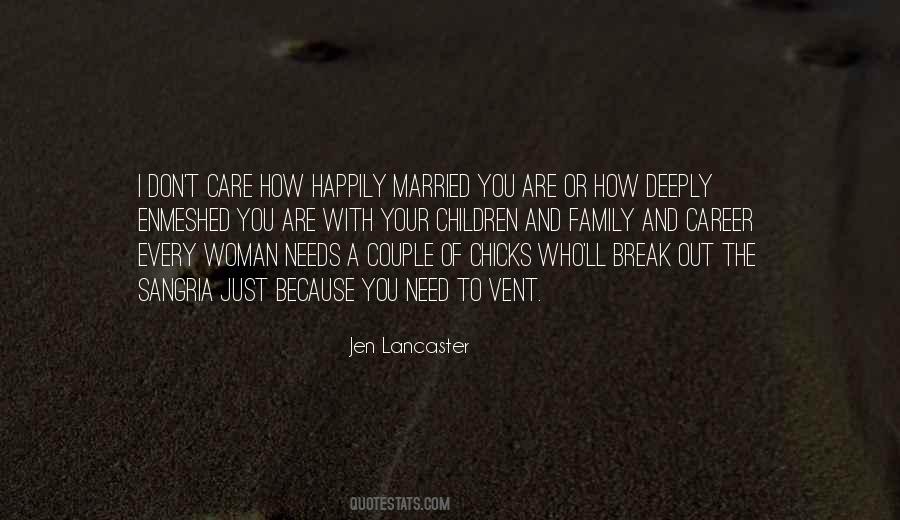 #63. I've had an absolutely charmed life in every aspect of it. I do for my job what I would do for a hobby if it wasn't my job. Half the secret of happiness, I'm ecstatically happily married with three great kids, you know. It's been a blessed life. - Author: Graeme Base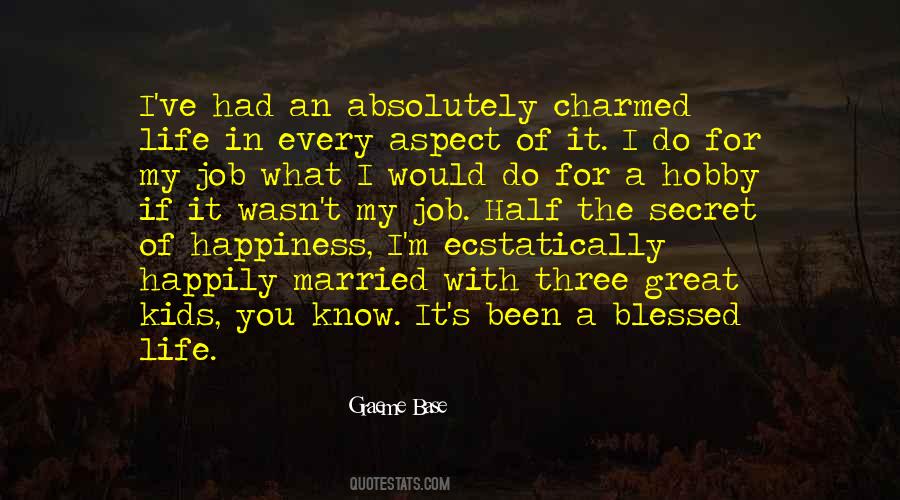 #64. Everything in life, bad or good, makes you change and grow - happily, because if it didn't, we'd be machines. - Author: Emmanuelle Seigner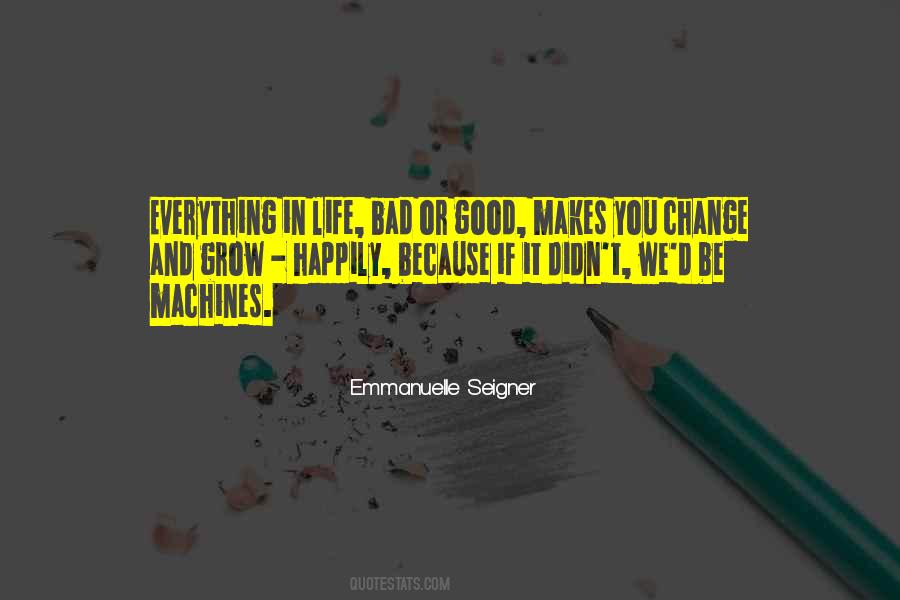 #65. No thanks. This is a lovely dream, but it's a child's dream. I know some who'd argue the point, but I grew up long ago. - Rose Red (Fables: Vol.21, Happily Ever After) - Author: Bill Willingham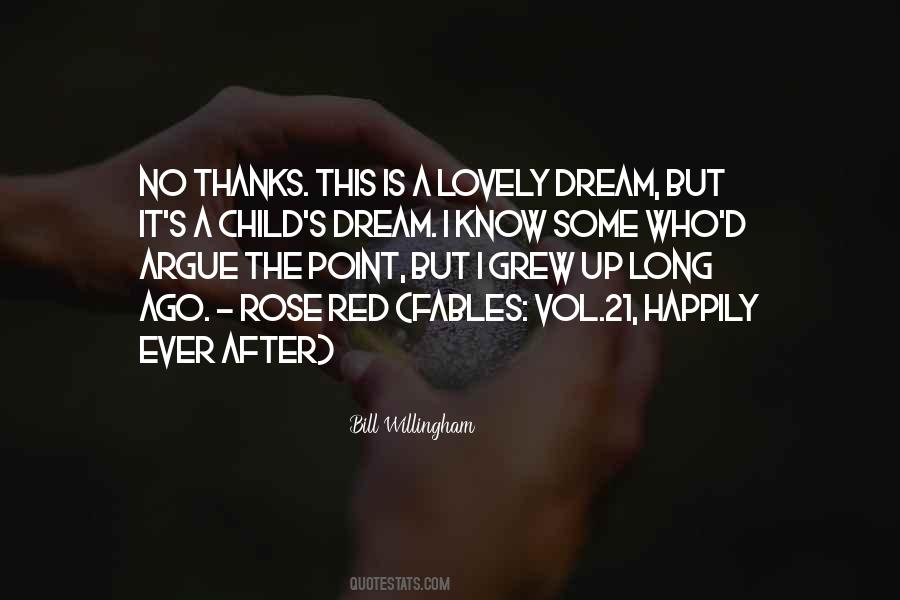 #66. When we think about fairy tales, we think about happily ever afters, forgetting the darkness that stories beginning with "once upon a time" so often contain.
I tried to protect Shay from that darkness. But there was no way to shield her from the truth: Life is not a fairy tale. - Author: Laura J. Burns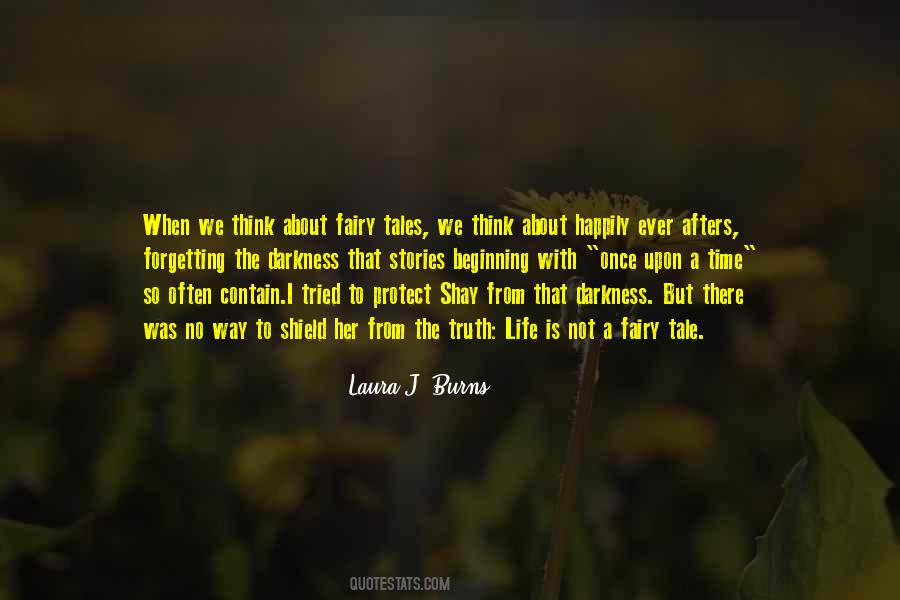 #67. It's the same in real life: Notorious murderers get off scot-free and live happily all their lives, while good people die - sometimes the very best people. That's the way of the world. - Author: Cornelia Funke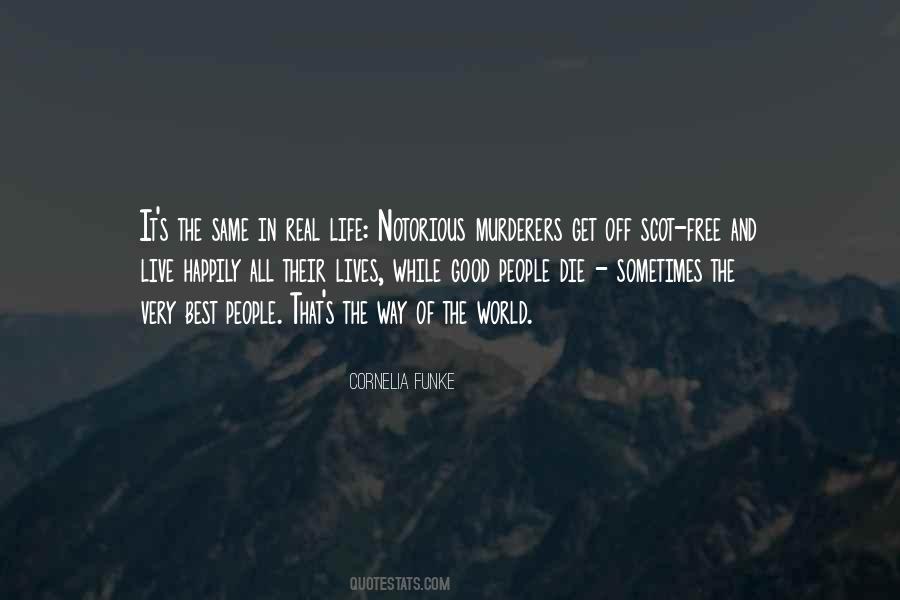 #68. That kiss was amazing; it had all the passion and longing we had been holding onto for so long. That is when the dam finally broke for me and I started crying. I knew right then that Hunter was the only one I wanted. He was my happily ever after. - Author: Megan Smith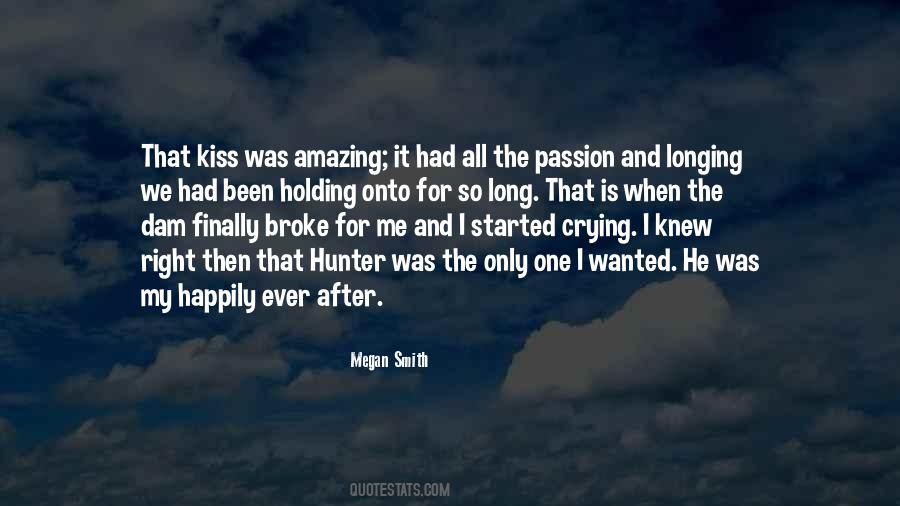 #69. Follow the voice of your heart, even if it leads you off the path of timid souls. Do not become hard and embittered, even if life tortures you at times. There is only one thing that counts: to live one's life well and happily ... - Author: Wilhelm Reich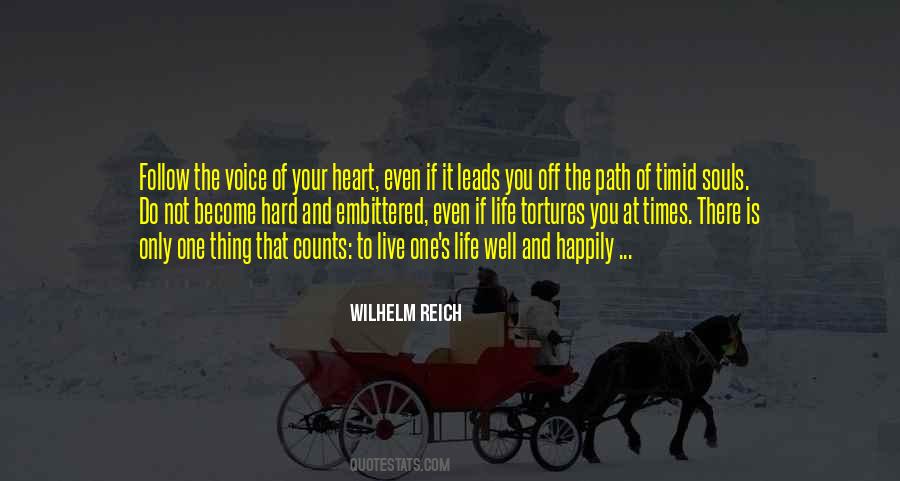 #70. Holy men tell us life is a mystery.
They embrace that concept happily.
But some mysteries bite and bark
and come to get you in the dark. - Author: Dean Koontz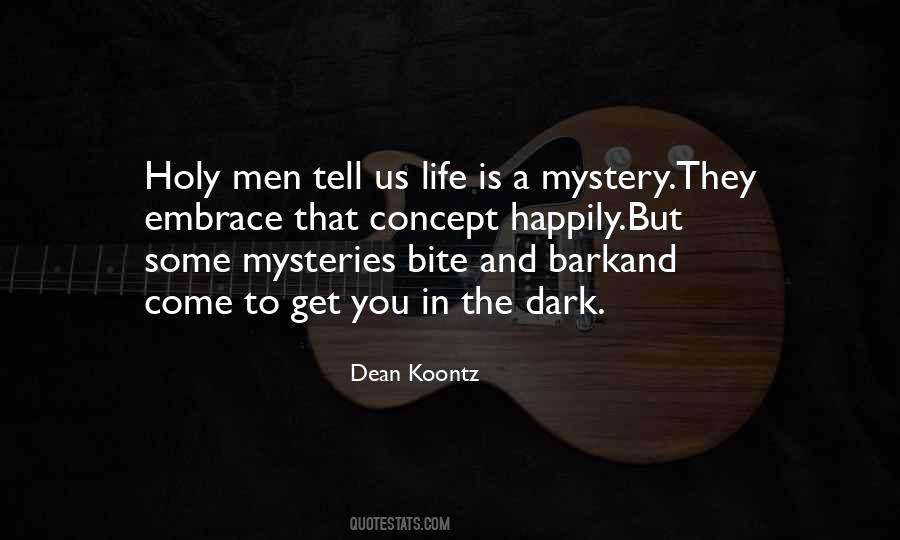 #71. If there is no other world and there is no fruit and ripening of actions well done or ill done, then here and now in this life I shall be free from hostility, affliction, and anxiety, and I shall live happily. - Author: Gautama Buddha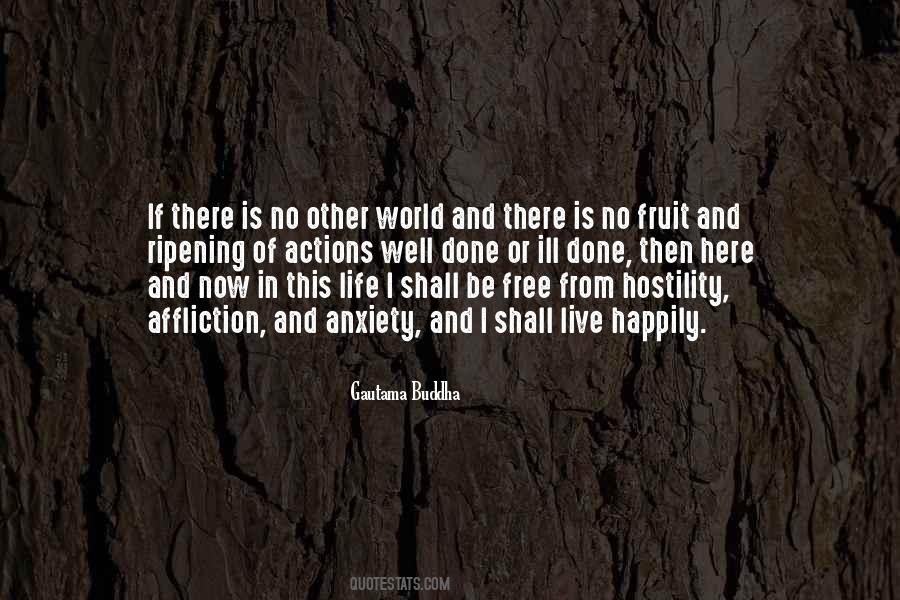 #72. Men of success meet with tragedy. It was the will of God that I won the Olympics, and it was the will of God that I met with my accident. I accepted those victories as I accept this tragedy. I have to accept both circumstances as facts of life and live happily. - Author: Abebe Bikila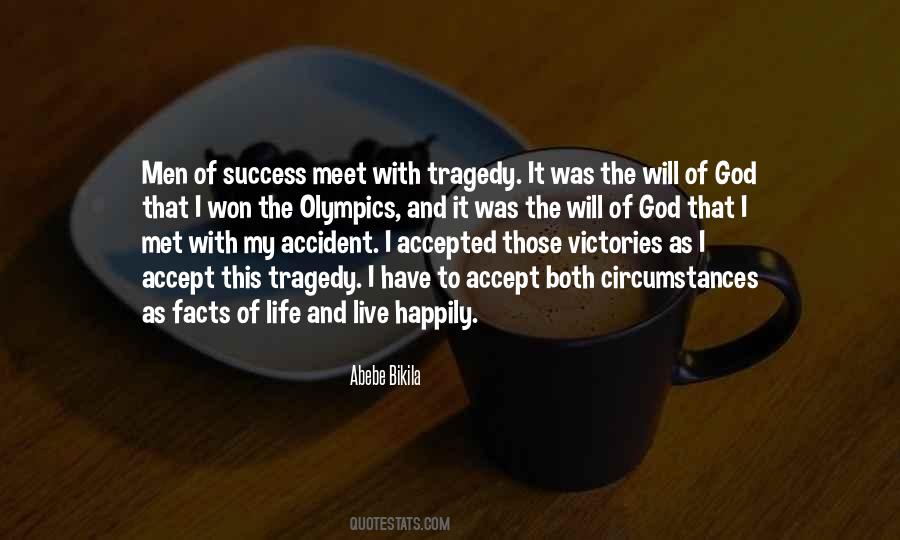 #73. Jessica, falling in love can't always be a happily ever after or a once in a lifetime kind of story. Those happen in books, in movies. This is life and it's real. Life has no script, no outline. We broke the rules of love long ago. All I know for sure is that with you, the rules will never apply. - Author: Kathryn Perez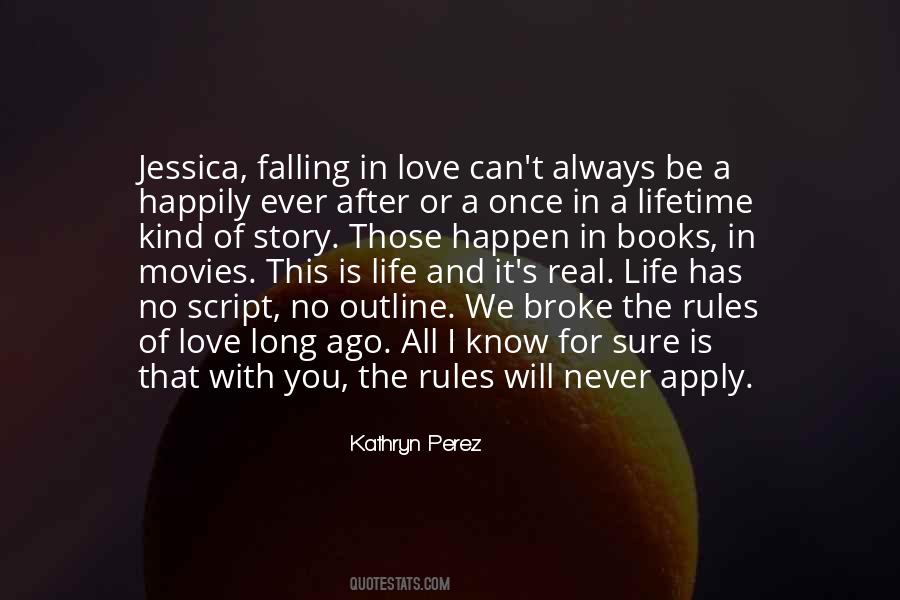 #74. The ultimate act of heroism shouldn't be death. You're always saying you want to give Baz the stories he deserves ... So you're going to kill him off? Isn't the best revenge supposed to be a life well-lived? The punk-rock way to end it would be to let them live happily ever after. - Author: Rainbow Rowell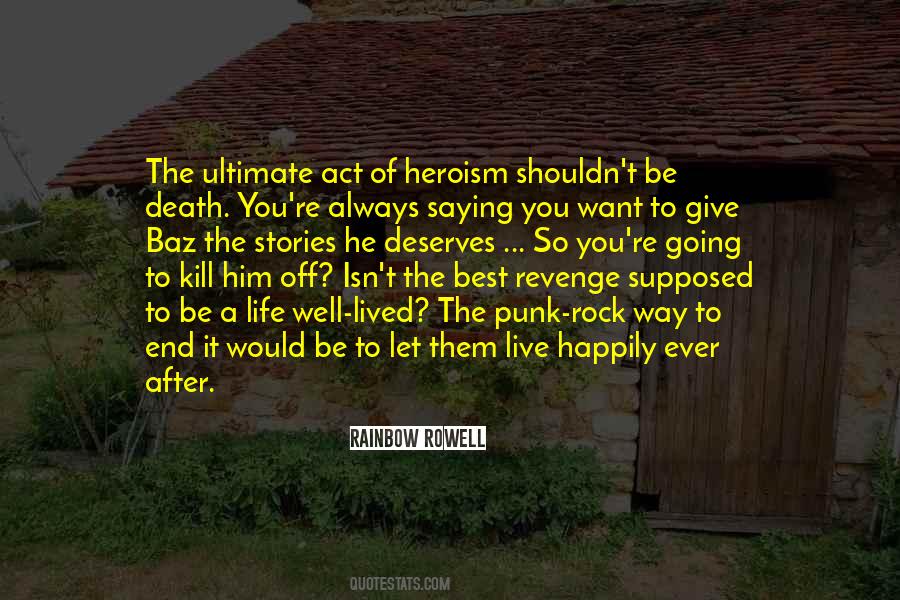 #75. My God, is this a date?" Jeff had asked when I asked if I could bring her along.
"I don't know," I said. "She might still be happily lesbian. - Author: Jefferson Bass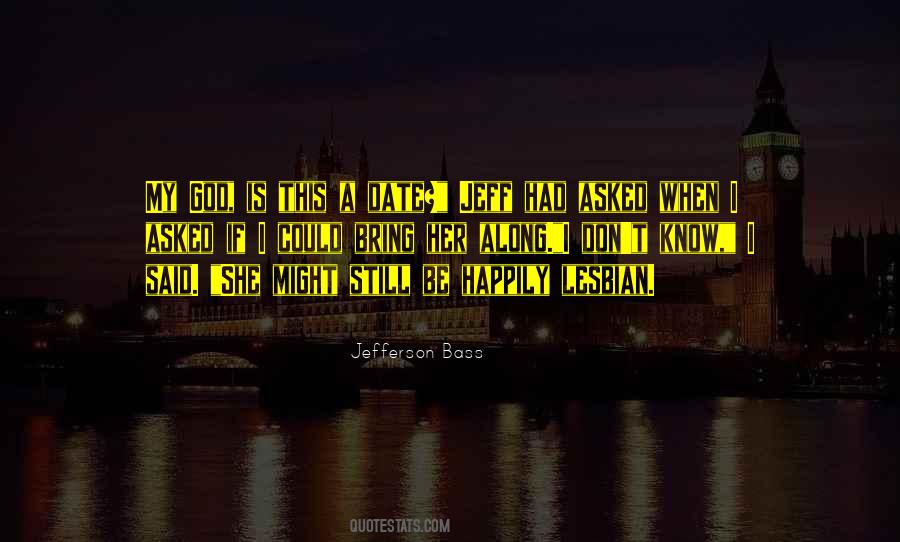 #76. Bold people dance happily when they are confronted with life's adventures ... they see themselves going through with smiles ... Give no excuse for being a coward. Be bold! - Author: Israelmore Ayivor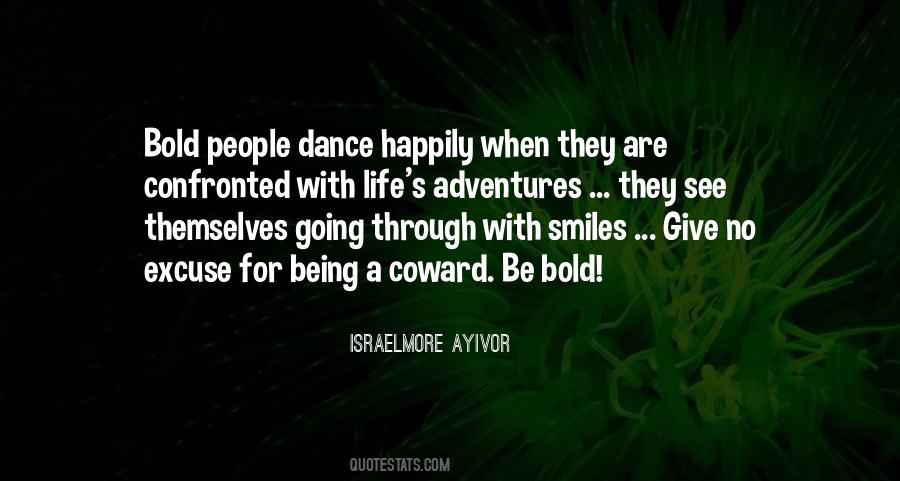 #77. much of life requires waiting and we have a choice to do it happily or miserably. - Author: M.J. Ryan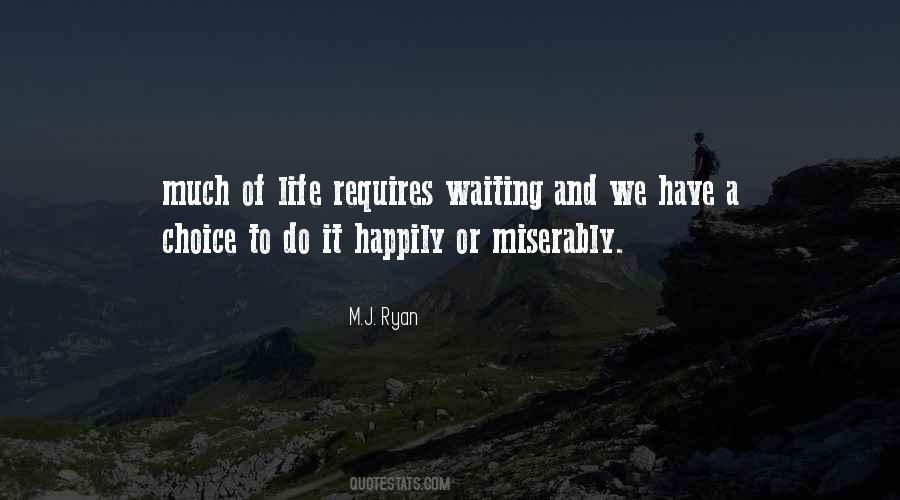 #78. It is not given to human beings, happily for them, for otherwise life would be intolerable, to foresee or to predict to any large extent the unfolding course of events. - Author: Winston Churchill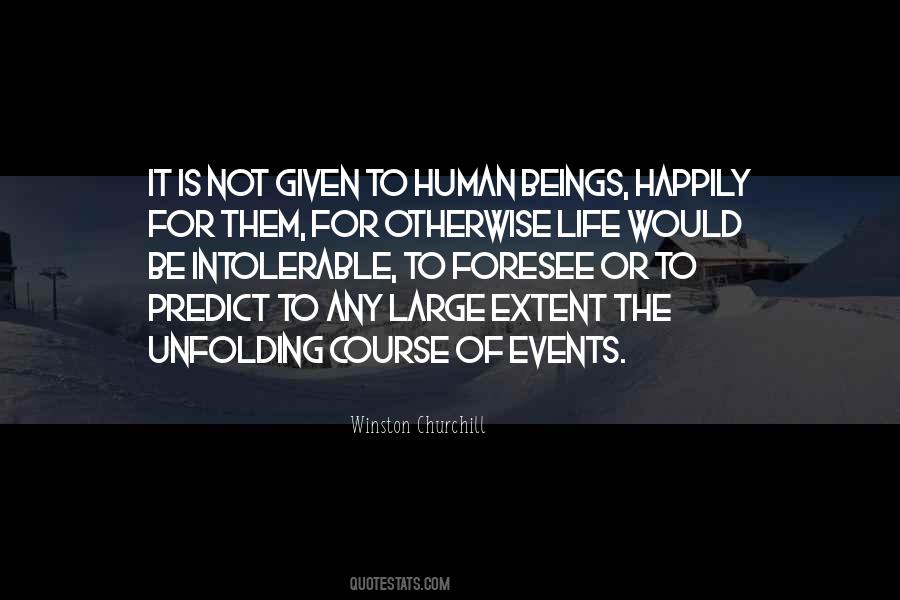 #79. I LIVE
MY LIFE
SO
HAPPILY
IN
CRAZY
WITH
HER. - Author: Atticus Poetry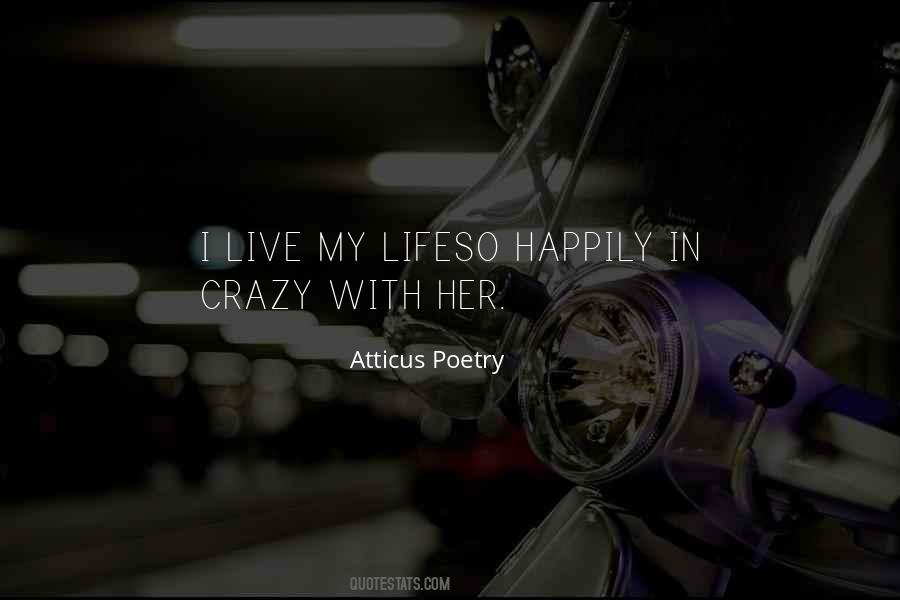 #80. ... life is as fragile as a butterfly win and we must carry it lightly. Sometimes it will sit happily in our hands, sometimes it will fly away from us, but in the end
no matter the distance or the complications in between
the things we truly care for will always come back to us. - Author: Hazel Gaynor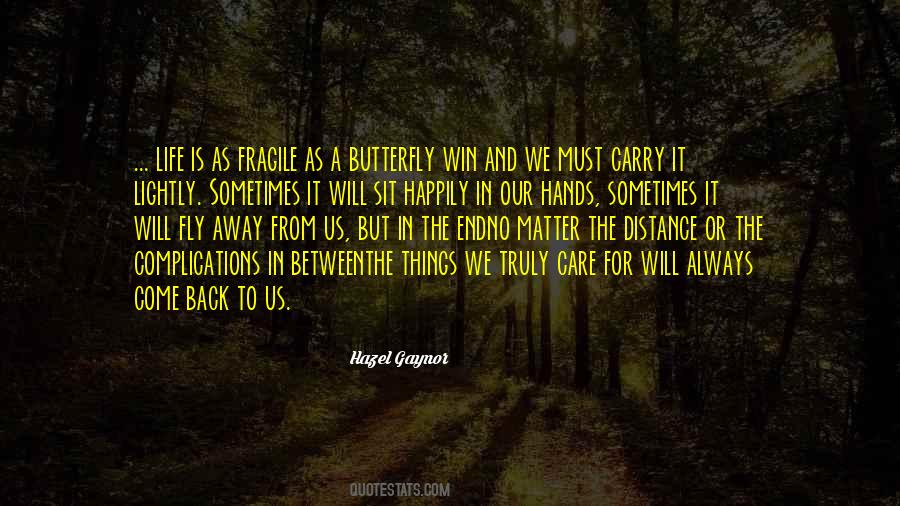 #81. Not everyone gets a happily every after. Life is real and sometimes it's ugly and you just have to learn how to cope. - Author: Colleen Hoover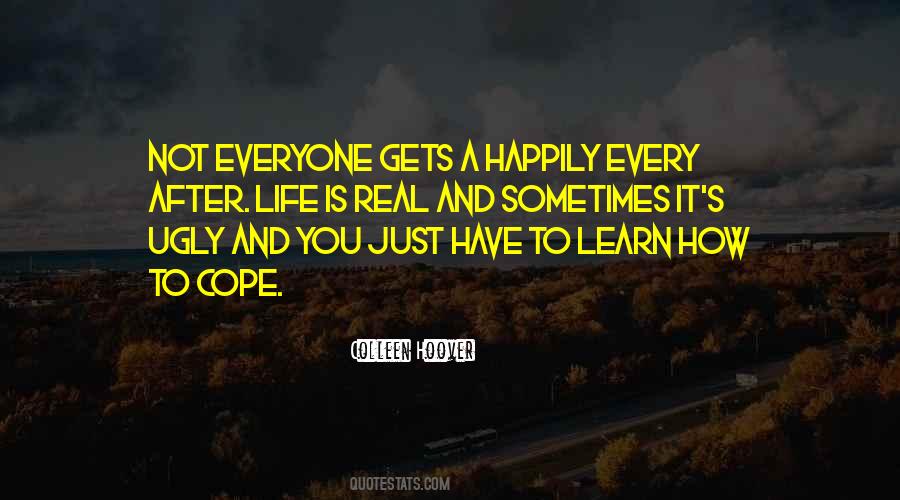 #82. If I want reality, I'll walk outside and breathe in the toxic air, dammit. I'll take a look at my own miserable life. If I read or watch a movie, I'd better get a fucking happily-ever-after. - Author: C.M. Owens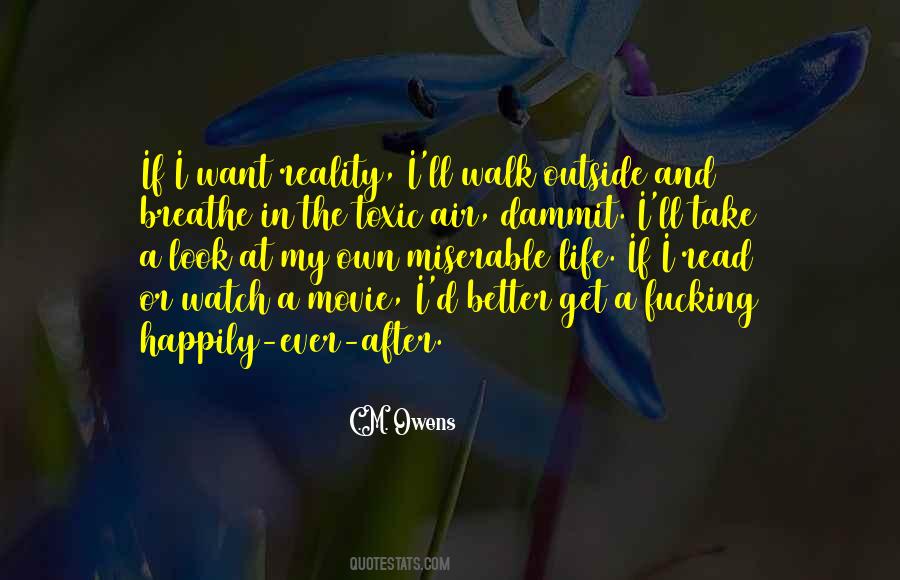 #83. It would have been so easy to believe every word he said and drive off with him into the moonlight like a scene from a fairy tale. But I wasn't meant for happily ever after in my past life, and it was starting to seem like this one wouldn't be any different. - Author: Michelle Madow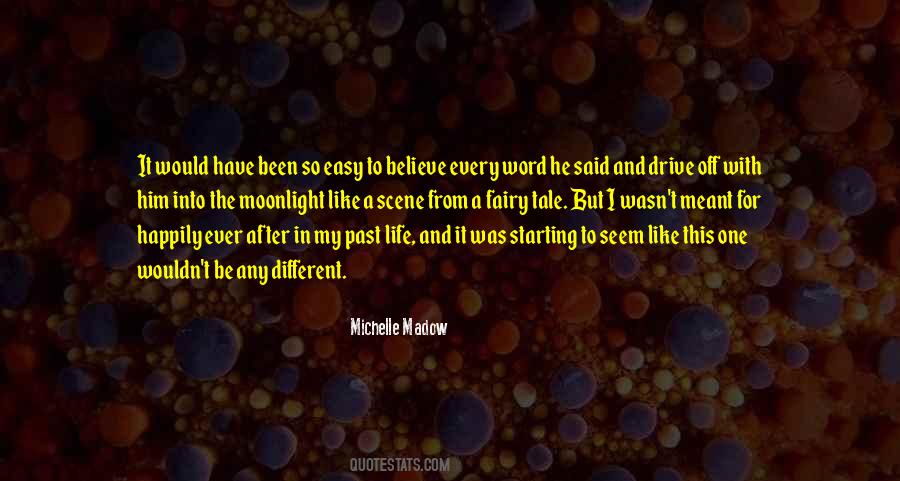 #84. People will happily pat a man on the back if he's lucky enough to make it, but resent any suggestion they should help him get there.

Michael Robotham, Life or Death - Author: Stuart Murray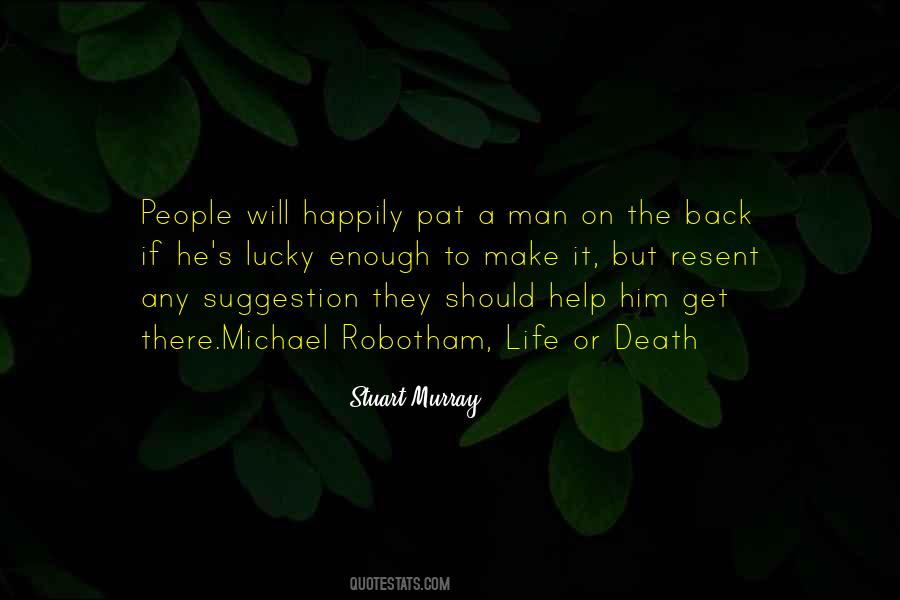 #85. You'll never get to the happily ever after if you don't move past the current chapter ... - Author: Carmen DeSousa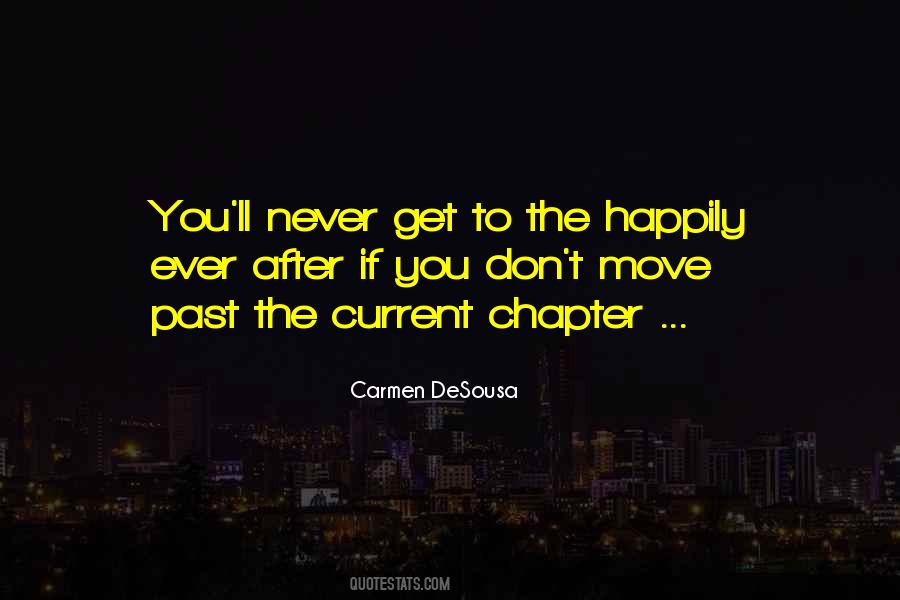 #86. Our families were herded out of the room, and I snuggled little Ainsley closer, smelling her head, a smell I already recognized. I'd cheerfully kill for her, happily lay down my life for her without a second's hesitation and with a smile on my face. My beautiful baby. My gift. - Author: Kristan Higgins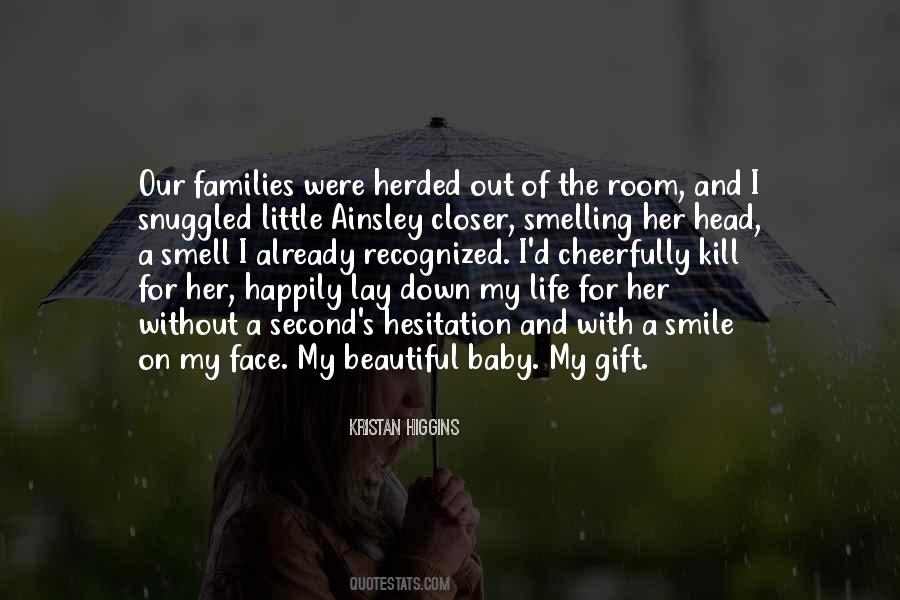 #87. This is the whistle-stop memoir of how a lower-middle-class girl from the north of England one day changed the way she lived her life and set off on a bumpy path that ultimately led her to her own slice of the happily-ever-after pie. - Author: Tillie Cole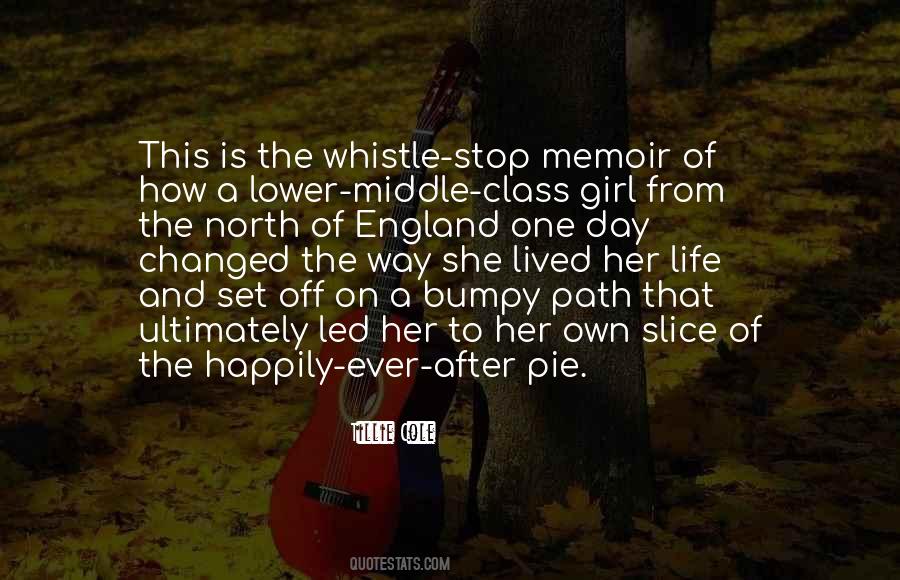 #88. Oh, woe to the woman who sticks her nose in a book and forgets that real life is not always destined for Happily Ever After. - Author: Dorothy Cannell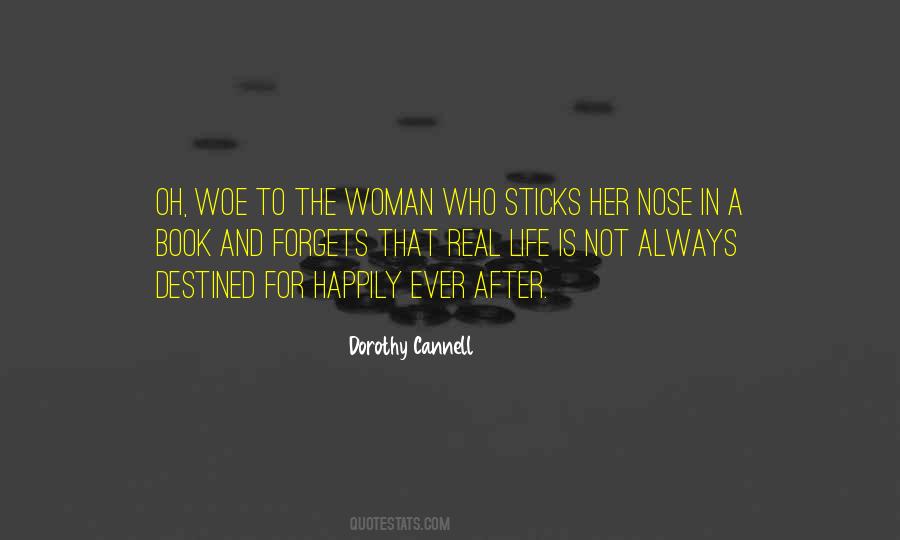 #89. Storytelling explores the problem with people. Stories without conflict are bad stories that no one repeats. Conflict describes the reality of human life and interaction with others. The resolution of the conflict in which everyone lives happily ever after reflects the human yearning for hope. - Author: Harry Lee Poe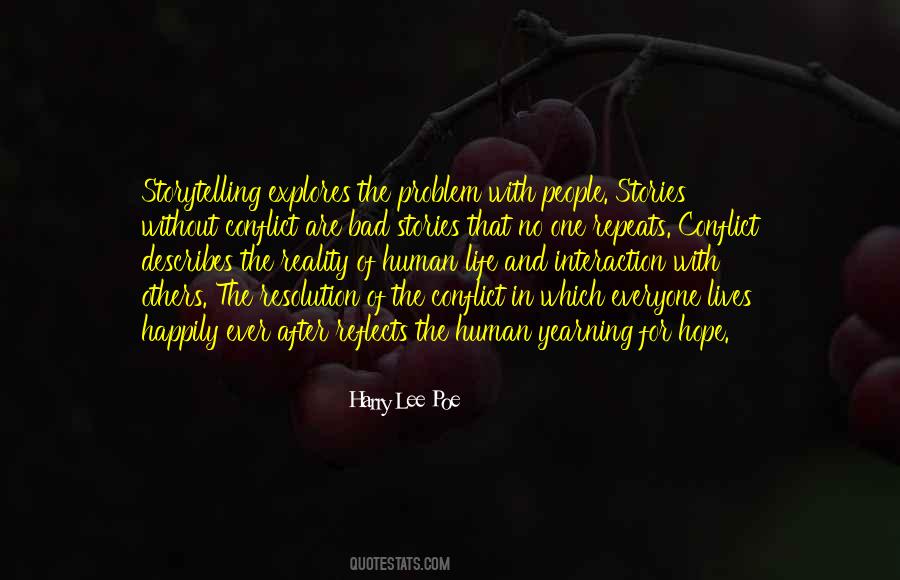 #90. Life may not always be a fairytale, but it doesn't mean we can't make our own happily-ever-after. - Author: Winter Renshaw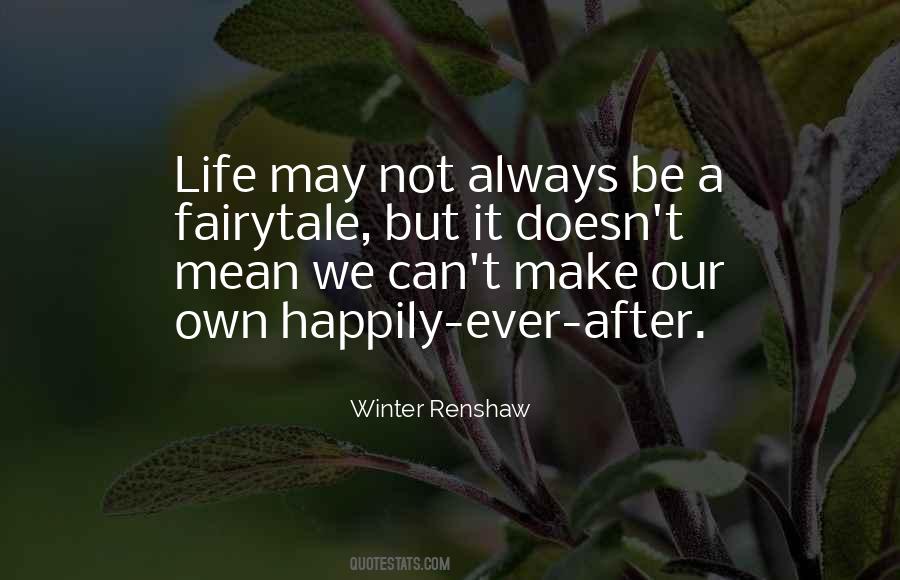 #91. My worst mistake has been not grasping that time goes by. It was going by and there I was, set in the attitude of the ideal wife of an ideal husband. Instead of bringing our sexual relationship to life again I brooded happily over memories of our former nights together. - Author: Simone De Beauvoir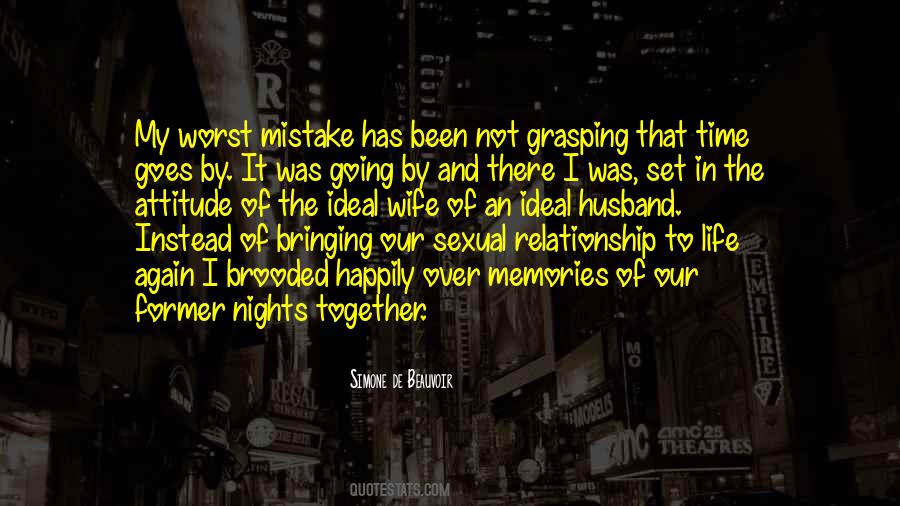 #92. Think about a moment, a little centimeter of time you'd happily exist in forever, if time could be laid out along the spine of a ruler. Maybe it haunts you in that blue inch of half consciousness just before you're fully awake. - Author: Kate Ellison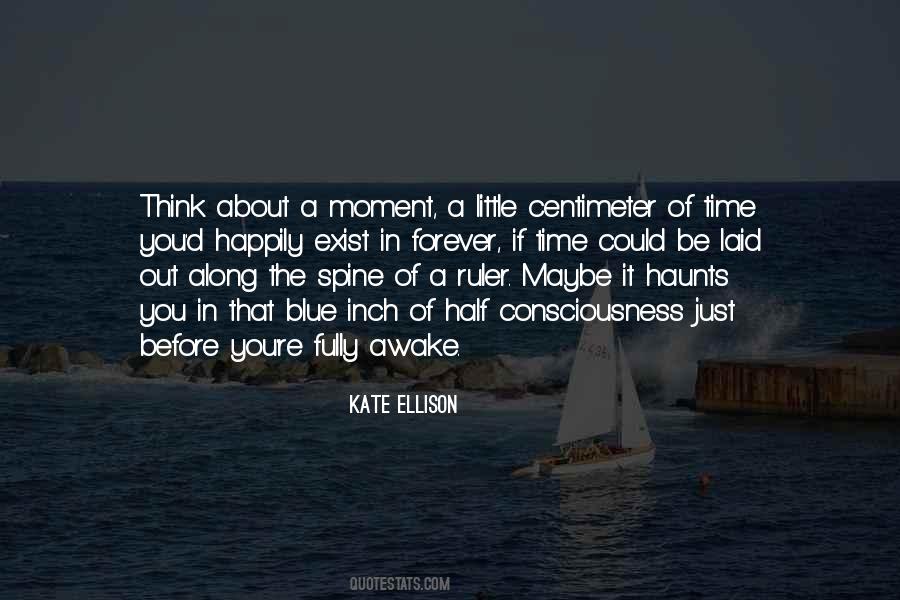 #93. While the fates permit, live happily; life speeds on with hurried step, and with winged days the wheel of the headlong year is turned. - Author: Seneca.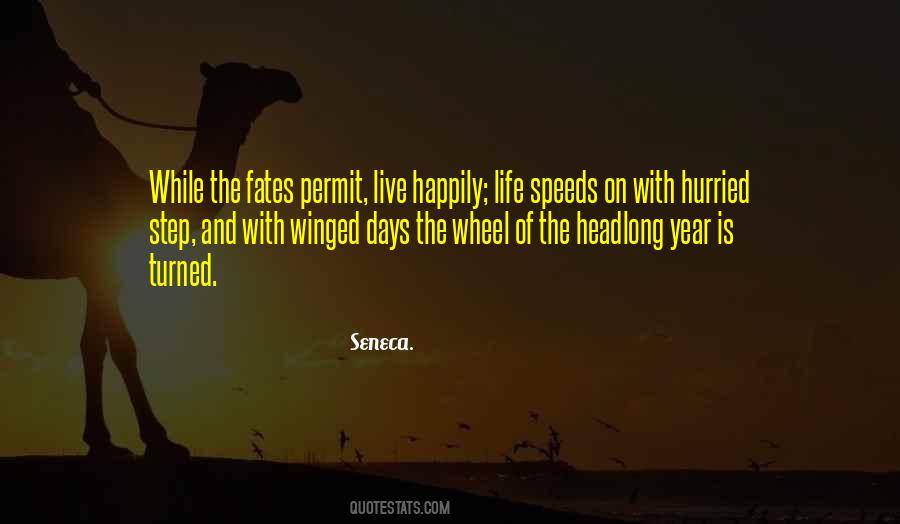 #94. This is real life, Master Stephen. Happily ever after takes effort. - Author: Julie Klassen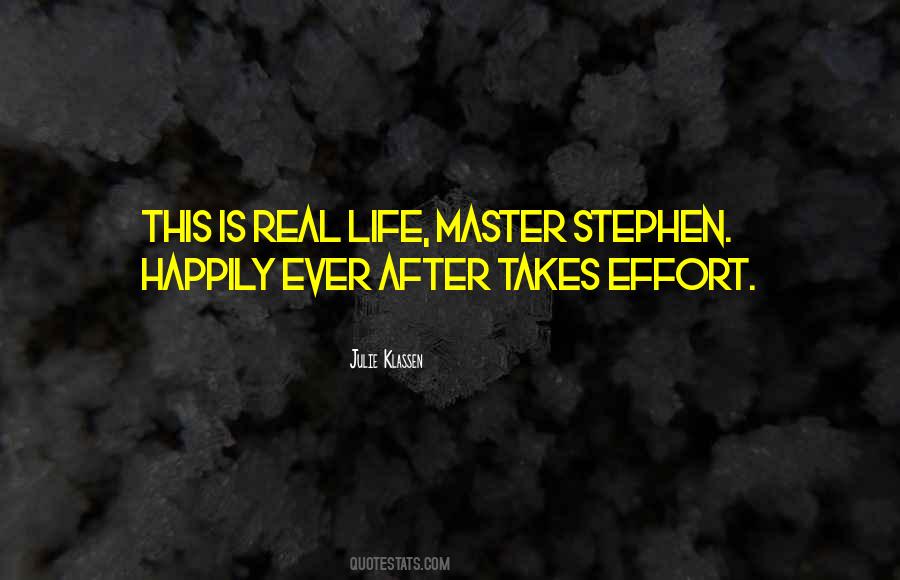 #95. Let life simply unfold, for once in your life, without spinning all those hopeful romantic fantasies. The less time you spend dreaming up a world of happily ever after, the more time you'll actually have to live- no evers or afters required. - Author: Abby McDonald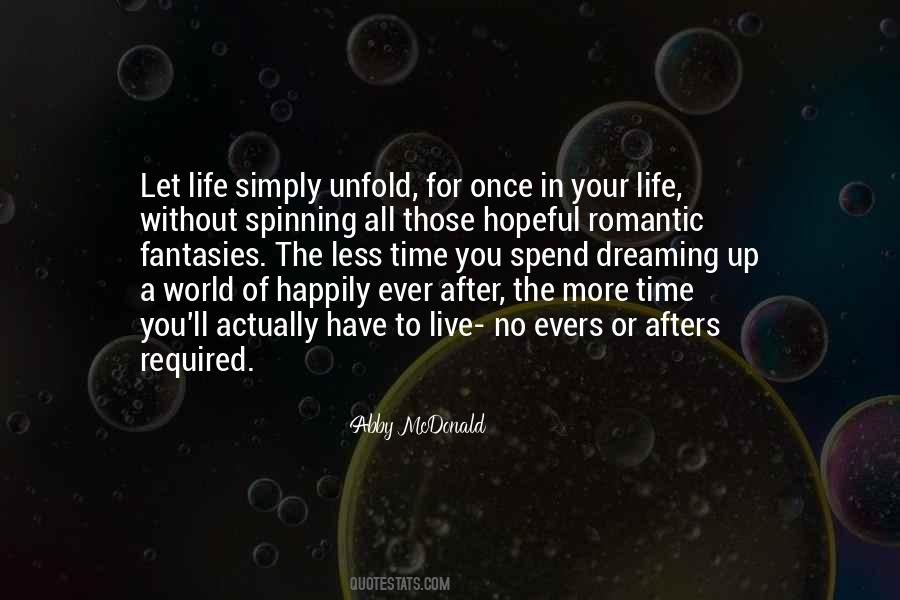 #96. Once the travel bug bites there is no known antidote, and I know that I shall be happily infected until the end of my life - Author: Michael Palin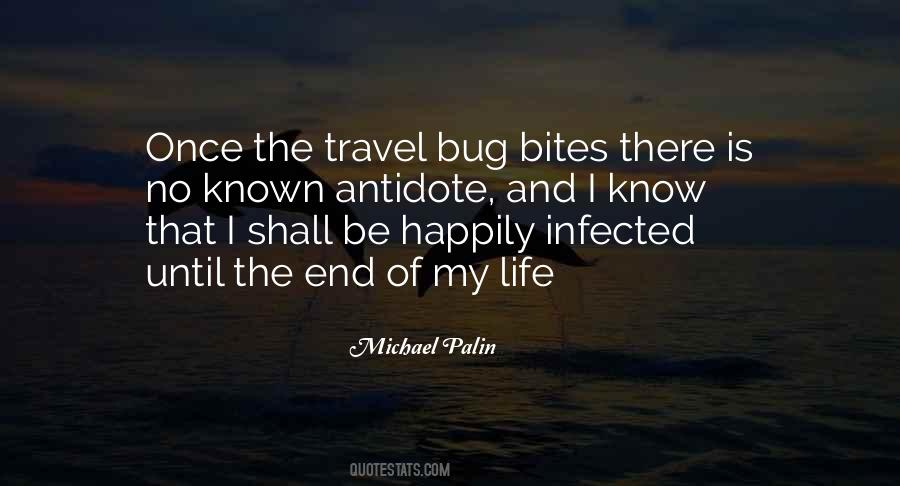 #97. That's why you can't give up. Heroes don't give up. - Author: Kiera Cass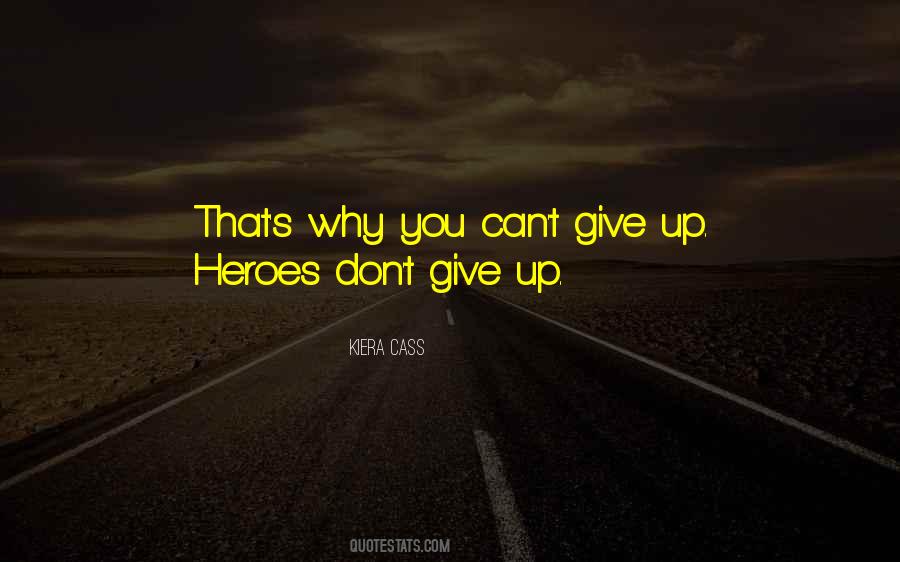 #98. Let us choose life and love, and happily use our selves up in loving service to one another. - Author: Doris Haddock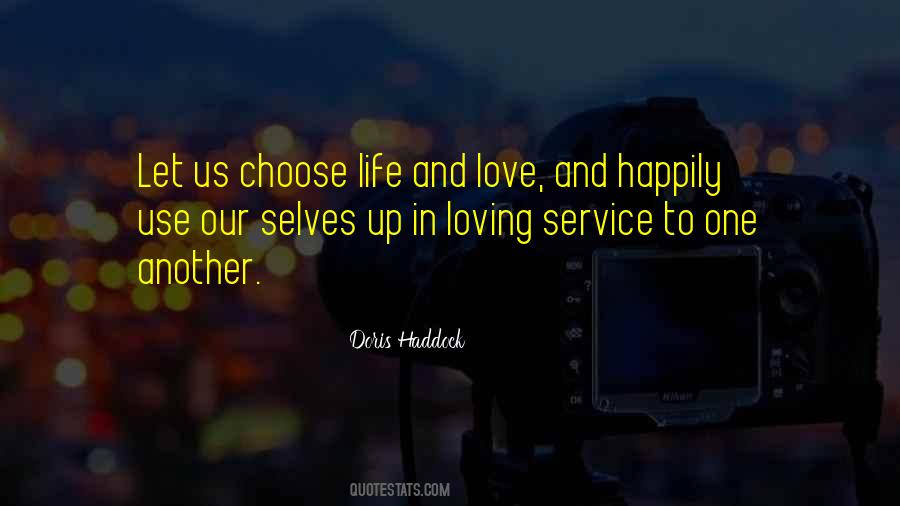 #99. Since I retired to Cold Mountain I've lived by eating mountain fruits What is there to worry about? Life passes according to karma The months pass like a flowing stream Days and nights like sparks from flint Heaven and earth endlessly change While I sit happily among these cliffs - Author: Hanshan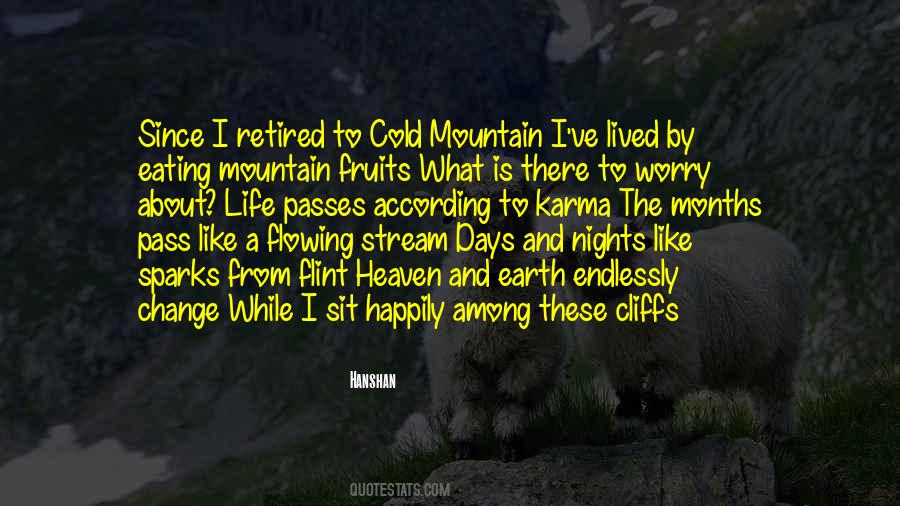 #100. Happily Ever After starts every time you woke up. - Author: T.A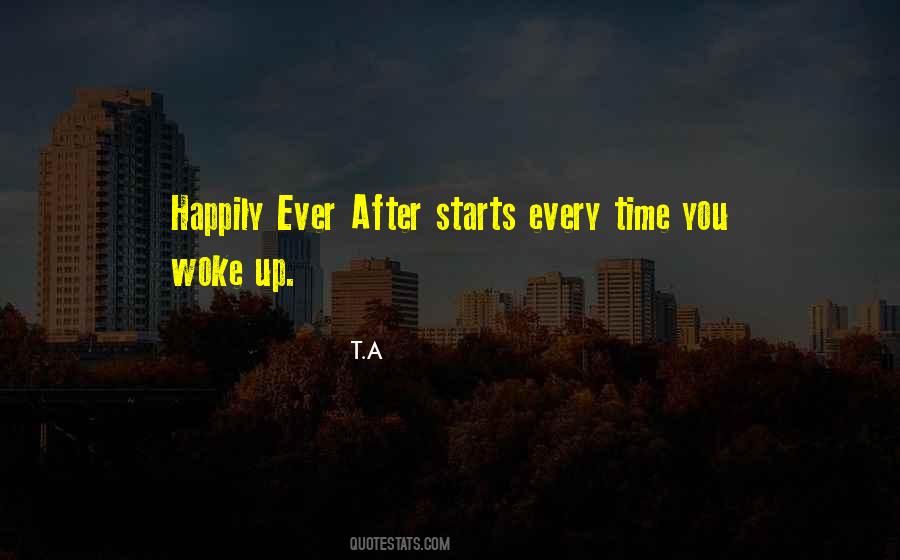 Famous Authors
Popular Topics