Just Like Water Famous Quotes & Sayings
List of top 100 famous quotes and sayings about just like water to read and share with friends on your Facebook, Twitter, blogs.
Top 100 Just Like Water Quotes
#1. This couldn't be just a lake. No real water was ever blue like that. A light breeze stirred the pin-cherry tree beside the window, ruffled the feathers of a fat sea gull promenading on the pink rocks below. The breeze was full of evergreen spice. - Author: Dorothy Maywood Bird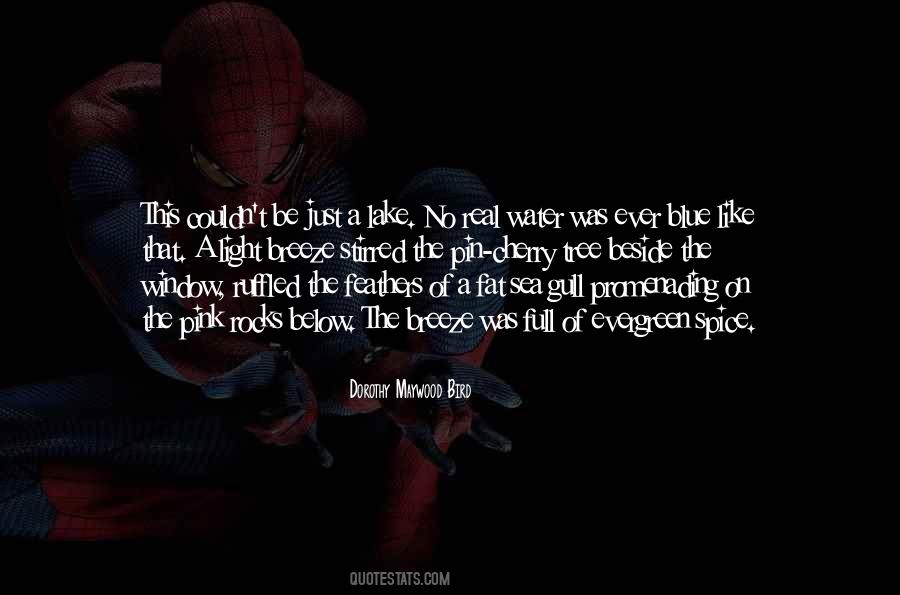 #2. A few stray leaves are floating along the surface, and I like how peaceful they look, not going under the water, and not blowing away either. Just floating, weightless and effortless. I want to be a leaf. - Author: Carian Cole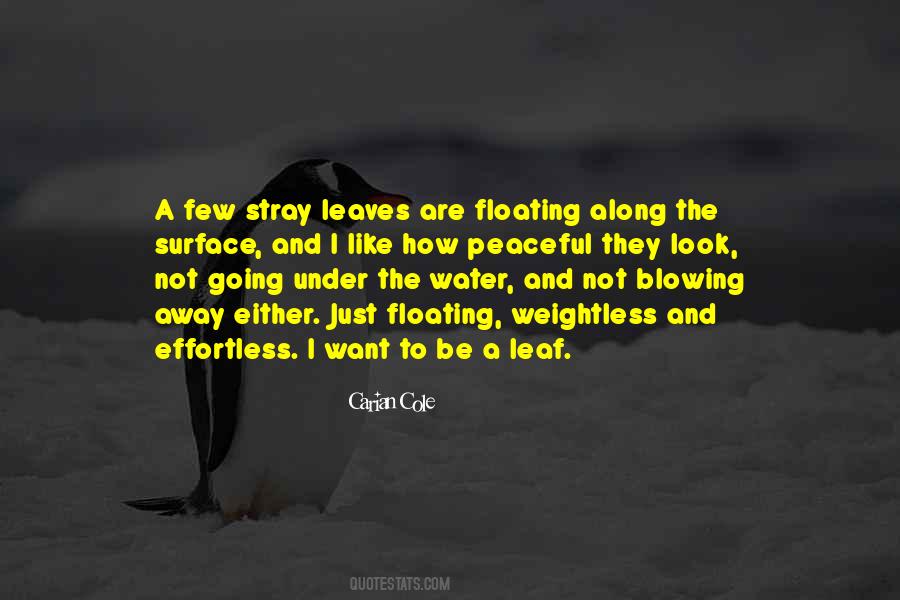 #3. Water indeed will flow indifferently to the east or west, but will it flow indifferently up or down? The tendency of our nature to good is like the tendency of water to flow downwards. There are none but have this tendency to good, just as all water flows downward. - Author: Mencius
#4. To be anywhere near an enormous ocean liner when you are just like a fish in the water is frightening. - Author: John C. Hawkes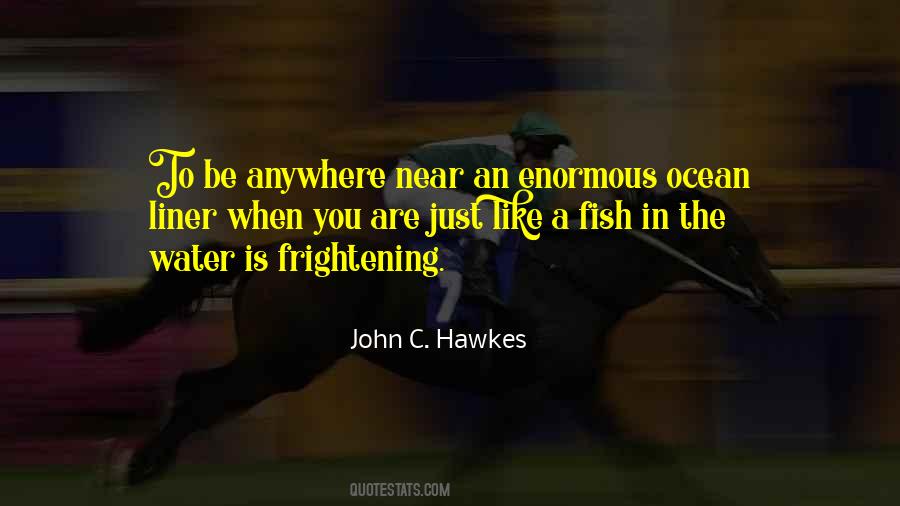 #5. I never sat down and decided to make work about life and death. It just all comes out of my head like water pouring out of a jug. - Author: David Shrigley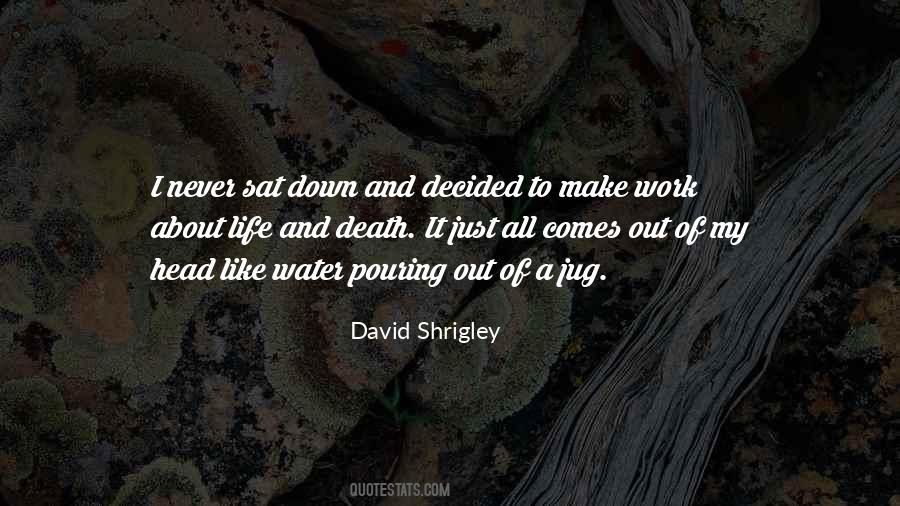 #6. I felt like I'd been swimming so hard, and the water growing warmer and warmer the closer I got to the top. I wasn't there yet, but now I could see the surface, rippling just beyond my fingers. - Author: Sarah Dessen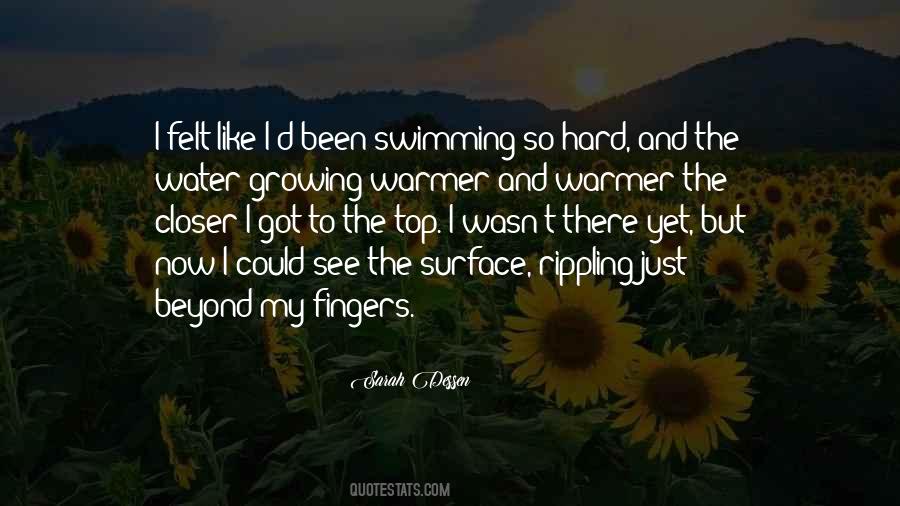 #7. Can I have a glass of water?" Her voice was hoarse, probably from screaming. She'd always sounded like that after they'd-

He didn't just force the thought aside. He clubbed it unconscious, threw it into a crawl space and walled it up alive. - Author: Jenny Trout
#8. She took the pills from him, placed them in her mouth and drank the entire bottle of water. Water: it has no taste, no smell, no color, and yet it is the most important thing in the world. Just like her at that moment. - Author: Paulo Coelho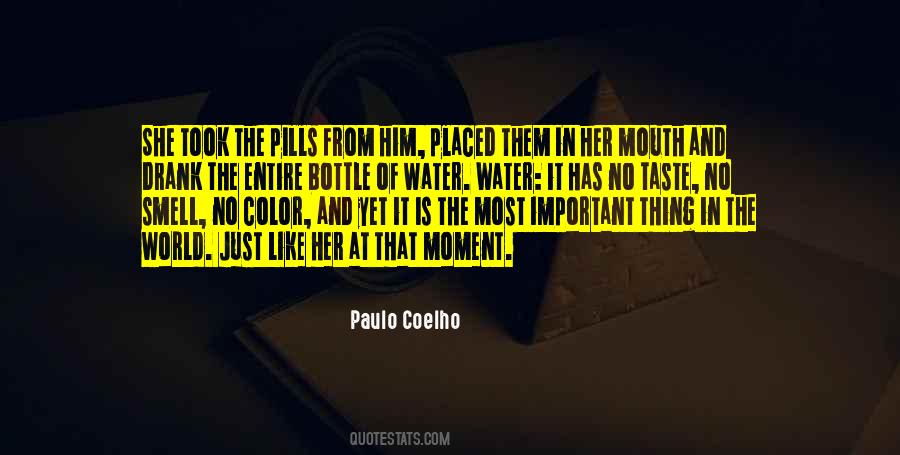 #9. Then there's those wizards on it, who must all be gifted hydrophobes - " "You mean they hate water?" said Twoflower. "No, that wouldn't work," said Rincewind. "Hate is an attracting force, just like love. They really loathe it, the very idea of it revolts them. - Author: Terry Pratchett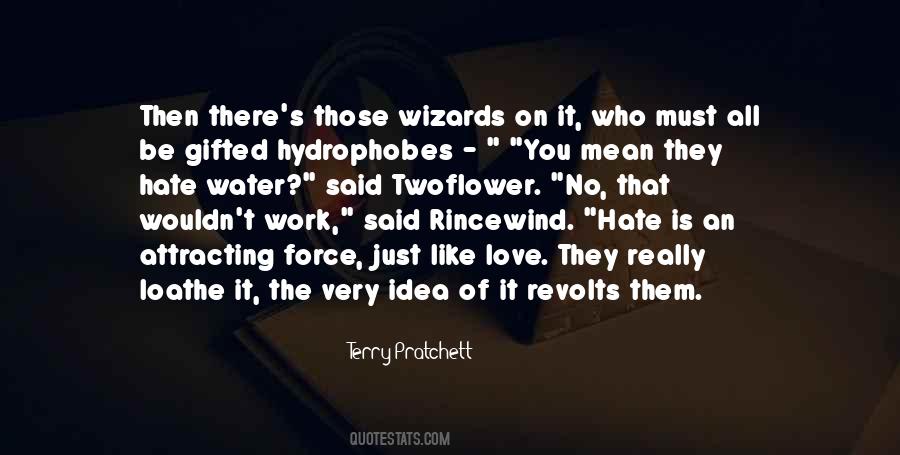 #10. When I got the job with 'Superman,' it felt like somebody threw me into the ocean. I was just trying to figure it out, to figure out how to tread water. Lucky for me, I'm part of a great team. - Author: Gene Luen Yang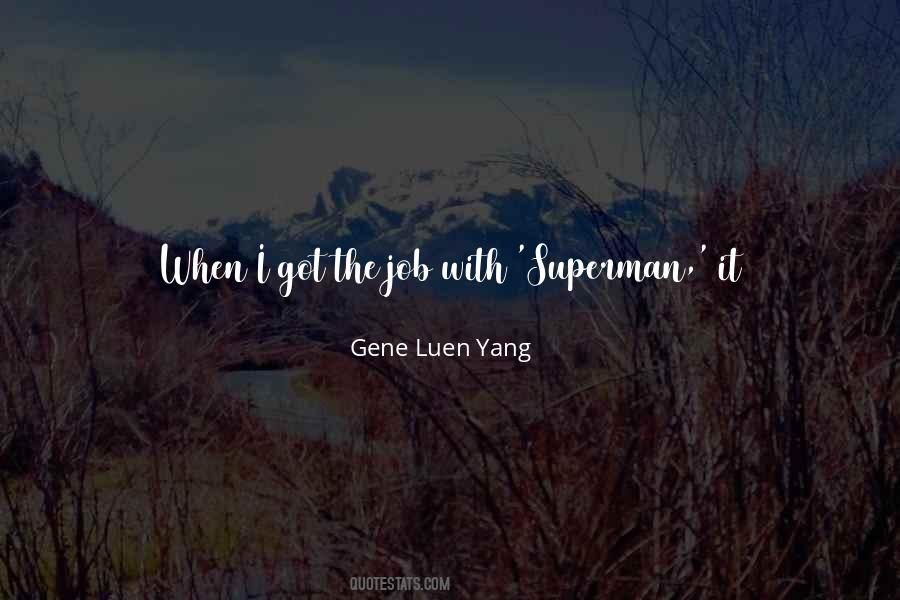 #11. History has a way of chasing gravity just like water, feeding into other parts of itself to become something else, something larger and grander, until the one pure thing it was no longer exists. - Author: James Anderson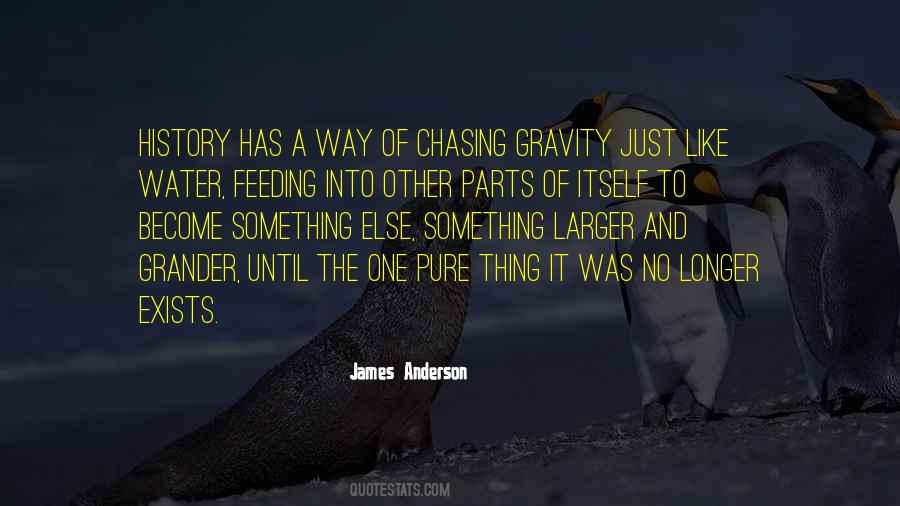 #12. I left Sudan when I was 25 or 26 years old. If I had stayed, I would never have ended up being an entrepreneur. You can have the qualities, but if you don't have the environment, you just wither away. It's like a fish: take it out of water, it will not survive. - Author: Mo Ibrahim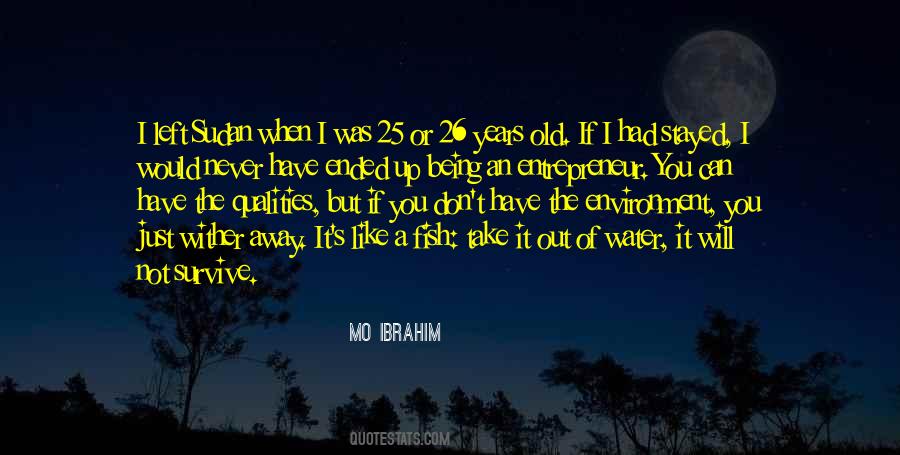 #13. Love and magic are like oil and water
they just don't mix. - Author: Jasper Fforde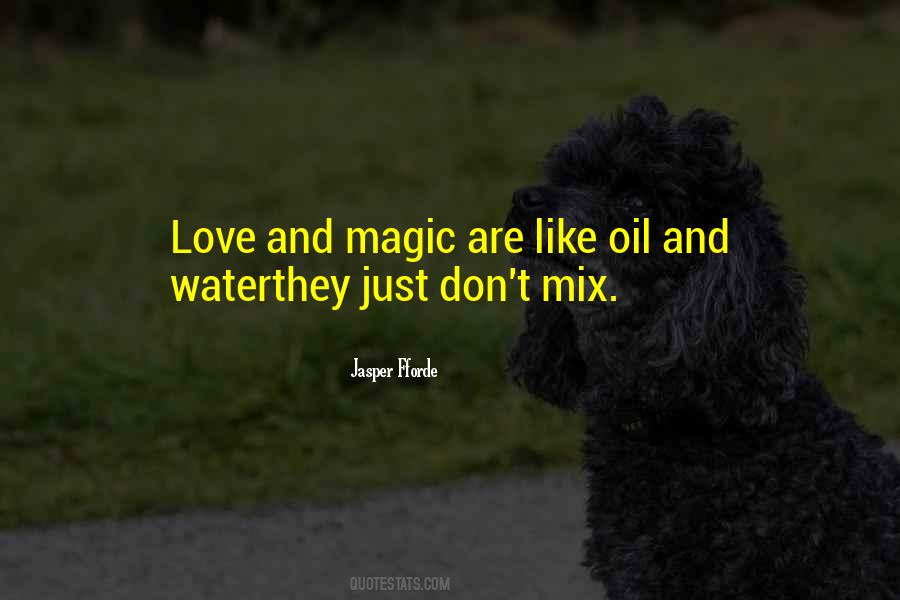 #14. When you like a flower, you just pluck it.
But when you love a flower, you water it daily. - Author: Gautama Buddha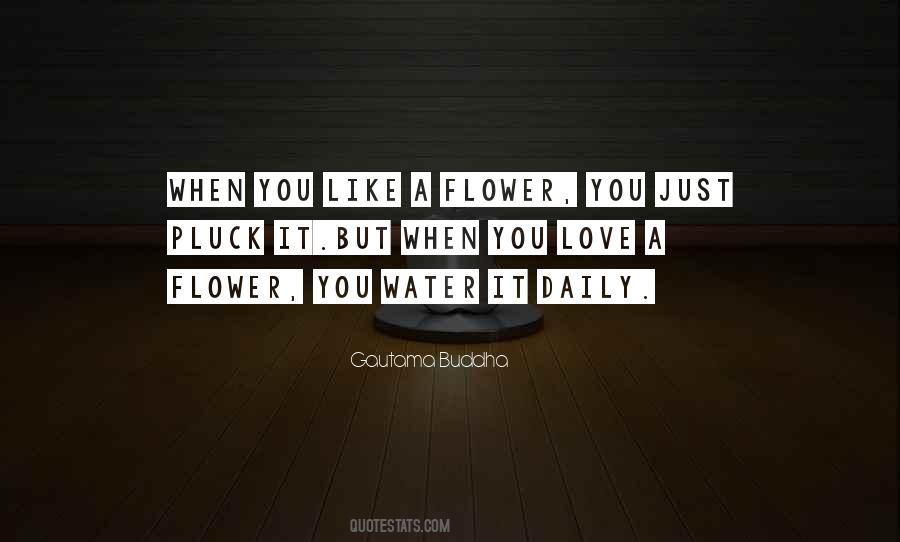 #15. I love the water more than anything. I'm not very good at sunbathing - I get really bored. I love swimming and I love being like a fish and getting in the sea and just - I don't know, it feels right. - Author: Beth Orton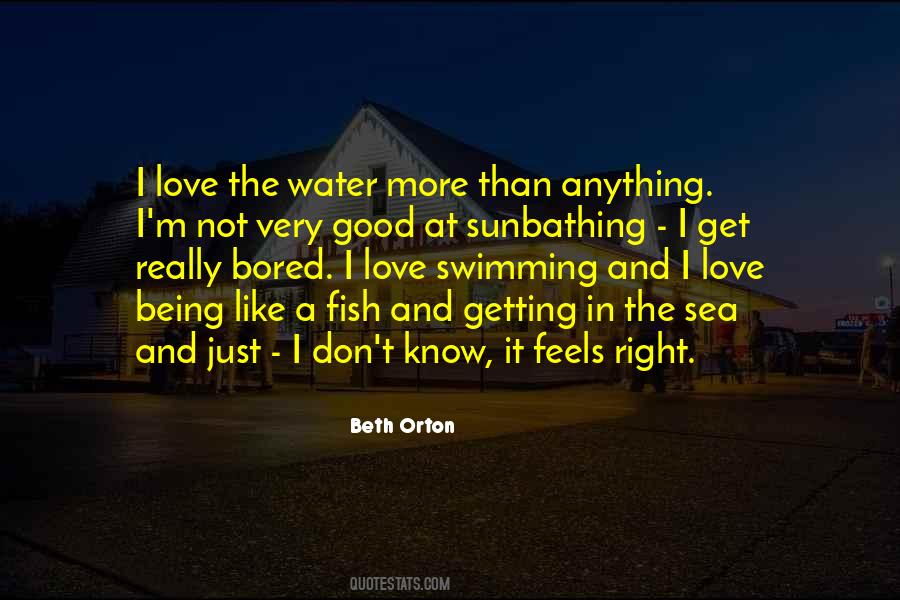 #16. Calm down," comes a voice, and it's not Razor's. I rip my focus away from the water and there's a man [Pigpen] with blond hair and a cut like Razor's slowly approaching the bridge. His hands are up - a sign of submission. "Just calm down. - Author: Katie McGarry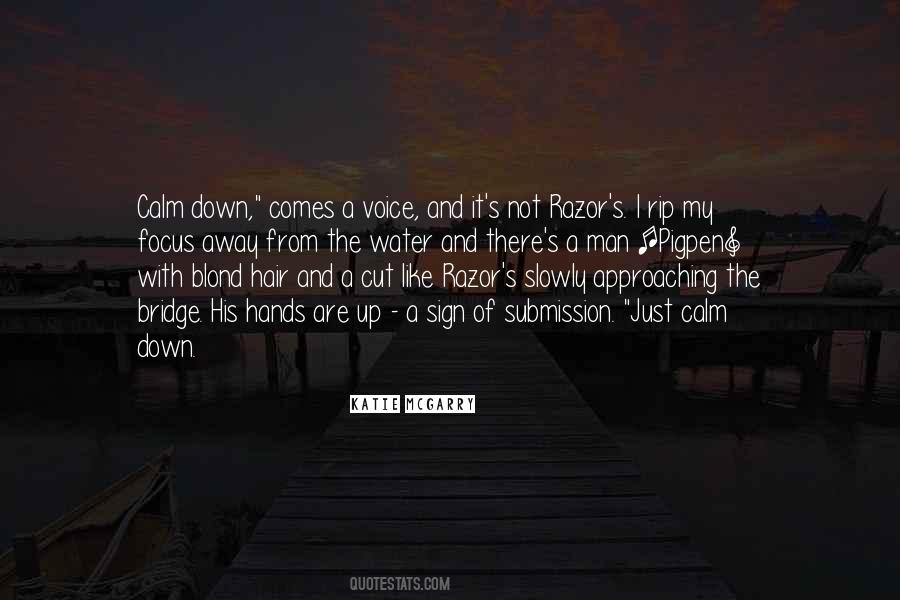 #17. Flowers said, "I got two bottles of water in the car."
"Get them. And get your gun," Lucas said.
"The gun? You think?"
"No. I just like to see you wearing the fuckin' gun for a change," Lucas said. "C'mon, let's get moving. - Author: John Sandford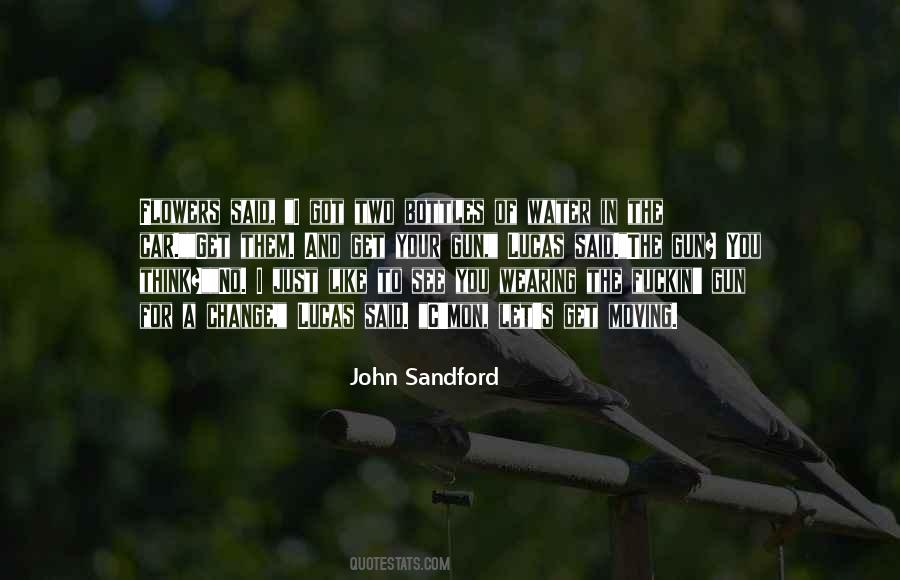 #18. Why can't you just say 'don't breathe the water' like a normal person?"
"Because I'm a doctor, and they teach us never to use little words where big ones will do. - Author: Mira Grant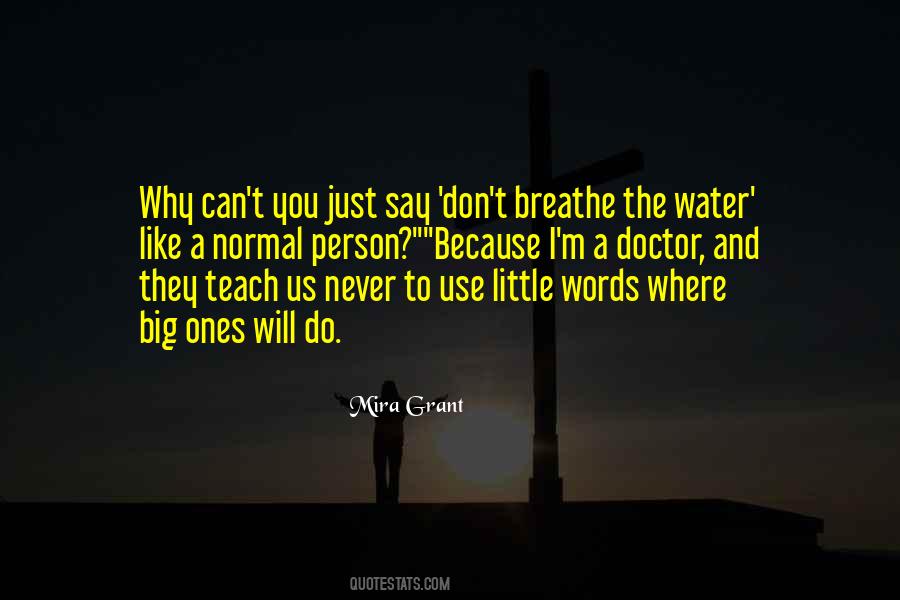 #19. Elemak pulled the shower cord before he soaped. The moment the water hit him he yowled, and then did his own little splash dance, shaking his head and flipping water all over the courtyard while jabbering "ooga-booga looga-booga" just like a little kid. - Author: Orson Scott Card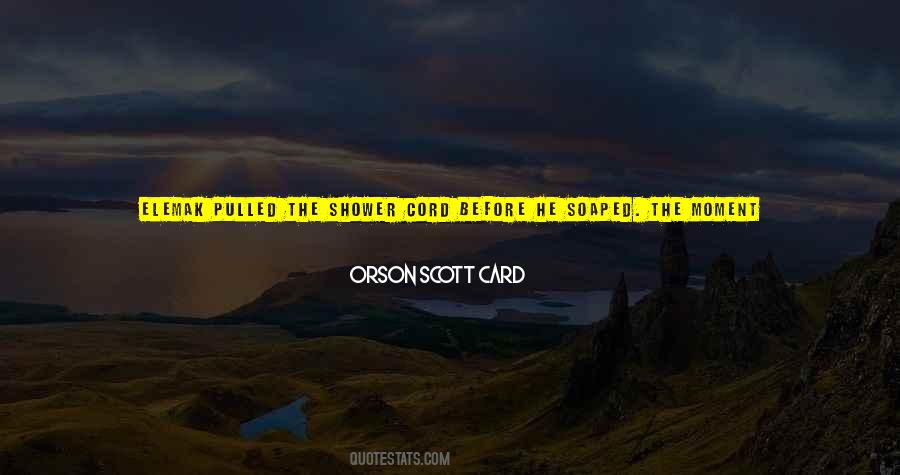 #20. I like my baths really deep and hot. But washing everything only takes a few minutes. So I thought it would be a waste to just flush all that water away. So there was nothing else to do but take pictures of myself trying to look as horrendous as possible. Oh my, what have I started? - Author: Ricky Gervais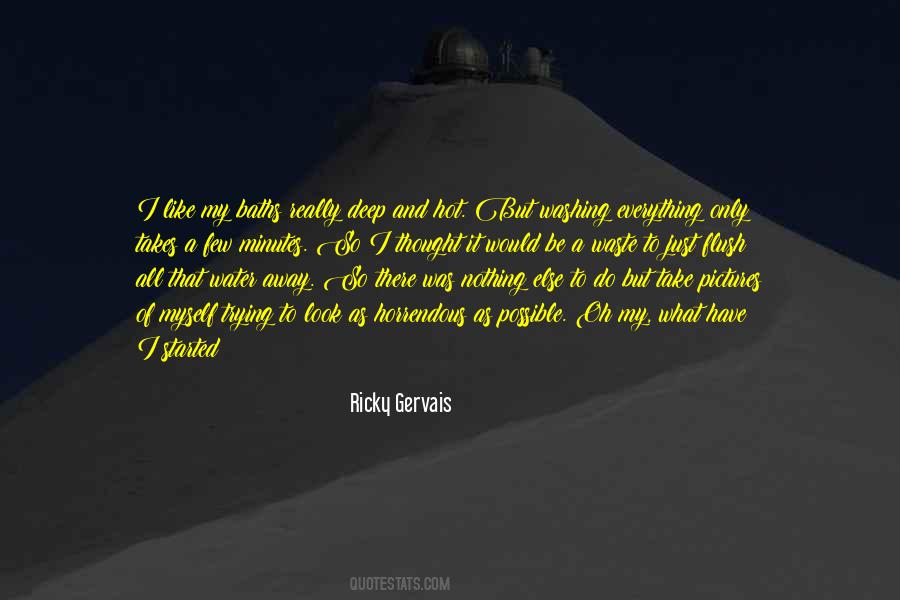 #21. And I wonder if we don't live like water
seeking a level
a low bed
until one day we just go dry.
I wonder if a creek ever realizes
it has made its own grave. - Author: Jess Walter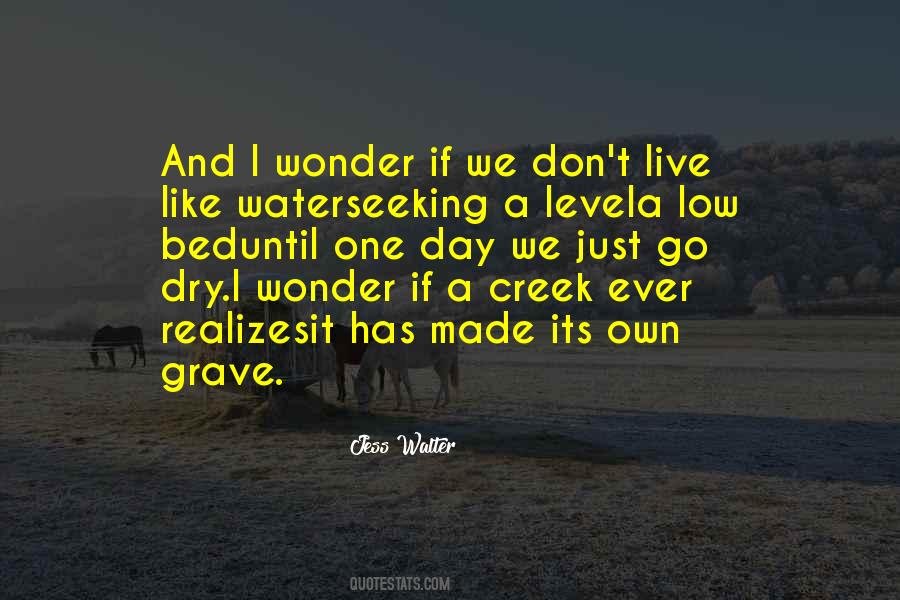 #22. He was my enemy. He was evil. He wasn't even human. I should have been disgusted, but just like the last time, I couldn't help myself any more than water could stop itself running downhill. - Author: Rosamund Hodge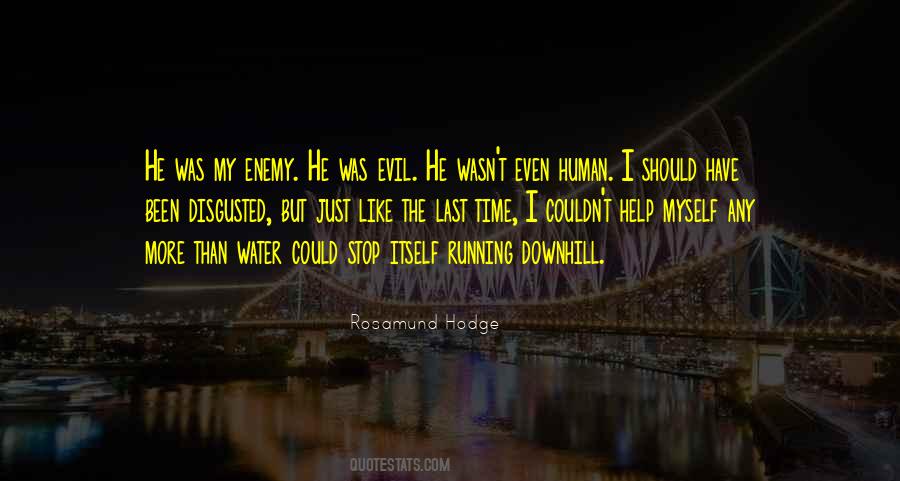 #23. People Just Dig A wall for Water .
but They Need To Look On Earth For Water.
All People in a Race Of Number Like Million-Billion.
But They Need To Look On zero. - Author: Sushil Singh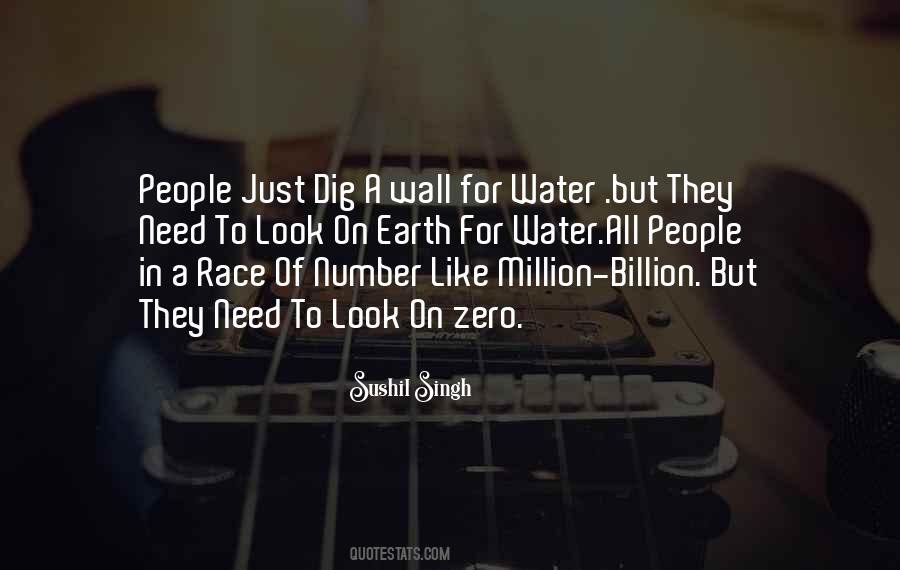 #24. Summer lightning made it seem that flickering white-hot wires were turning in the terribly blue sky just above the horizon, and the recent storms had driven in toward shore hundreds of gigantic Portuguese man-o'-wars that now hung below the surface of the water like big malignant pearls. - Author: Tim Powers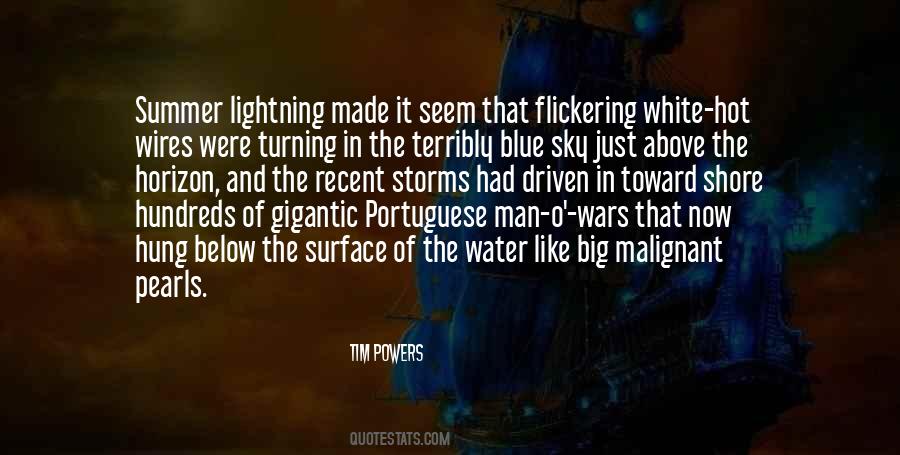 #25. Some things just aren't meant to go together. Things like oil and water. Orange juice and toothpaste. - Author: Jim Butcher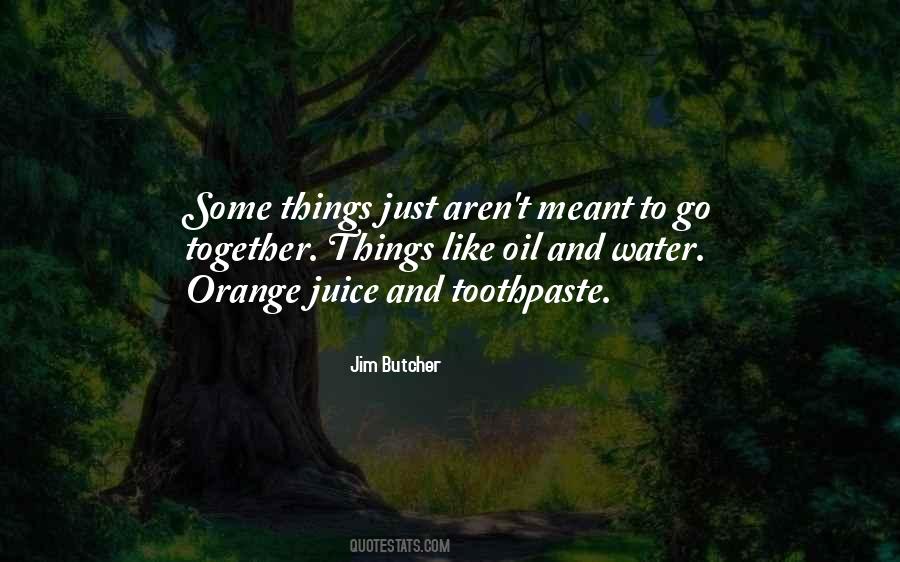 #26. I should like to take the wind and water and sand as a motif and work with them, but it has to be simplified in most cases to colour and force lines, just as music has done with sound. - Author: Arthur Dove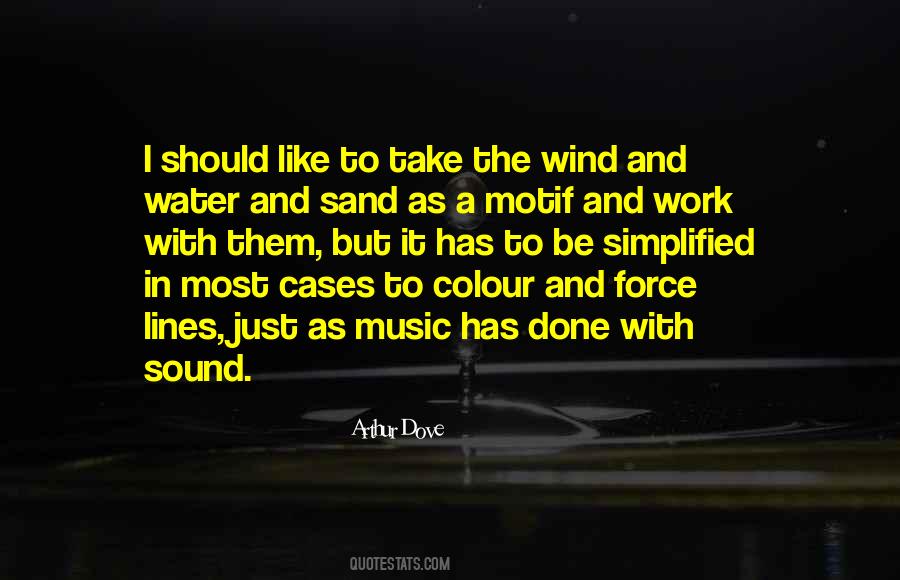 #27. Not every child takes instantly to books like a duck to water, but I don't believe there are children who hate books. There are just children who haven't yet found the right books for them. - Author: Amanda Craig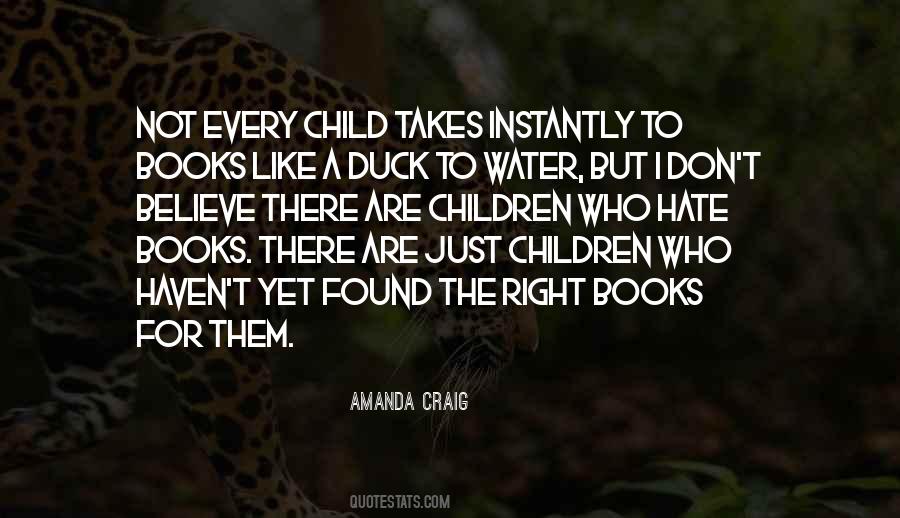 #28. Could you people stop trying to come up with novel ways to kill me for just ONE HOUR? Or maybe the rest of the night? I would SO like that. Just the rest of the night. Just sit down. Just stop doing anything. Sit down and wait sensibly. Earth, water, air, fire - you're running out of elements here! - Author: Lois McMaster Bujold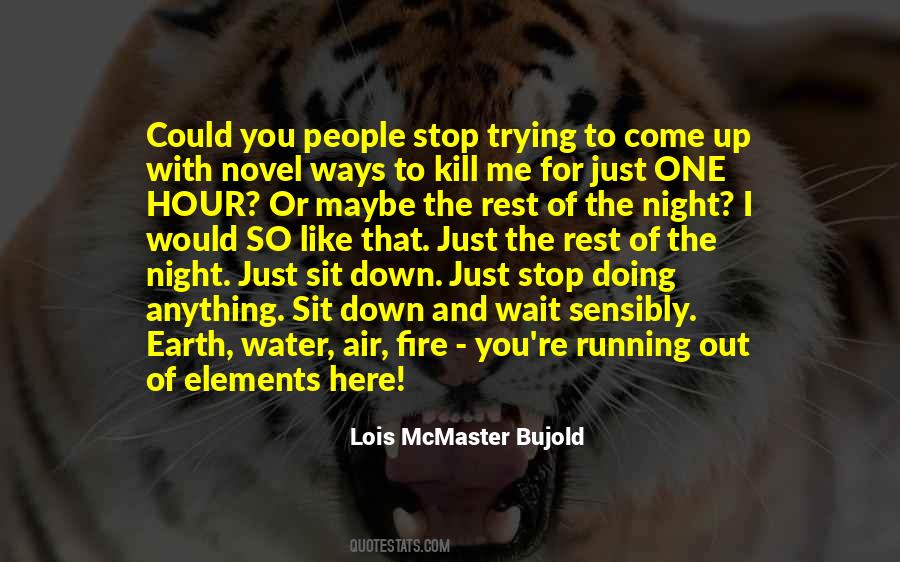 #29. Get down to your local swimming pool or your local swimming club, join up and see what it's like. I can guarantee that you're going to meet some great friends. Just being involved in water makes me happy and I'd like to see that transferred across to other people. - Author: Liam Tancock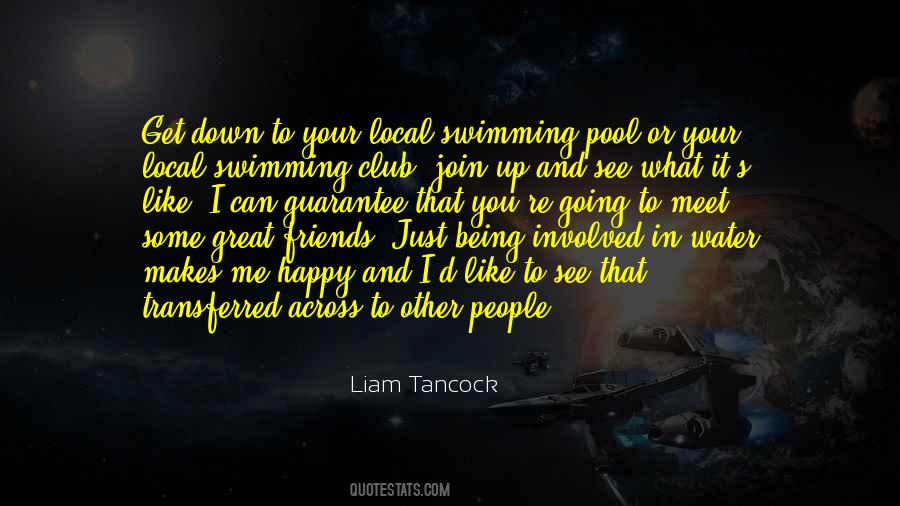 #30. If we make a couple of discoveries here and there we need not believe things will go on like this for ever. Just as we hit water when we dig in the earth, so we discover the incomprehensible sooner or later. - Author: Georg C. Lichtenberg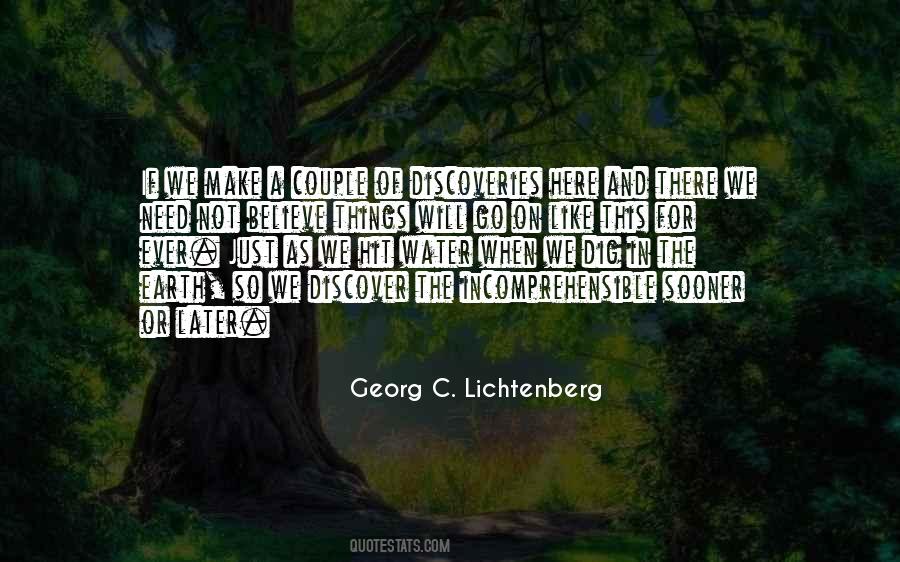 #31. I attempt to surf. I'm not as good as anyone else in the water. I'm more like a beached whale. I just hang out on my board. I can ride, but I get too nervous unless I go with my boyfriend or my trainer. There are too many burly men out there! - Author: Olesya Rulin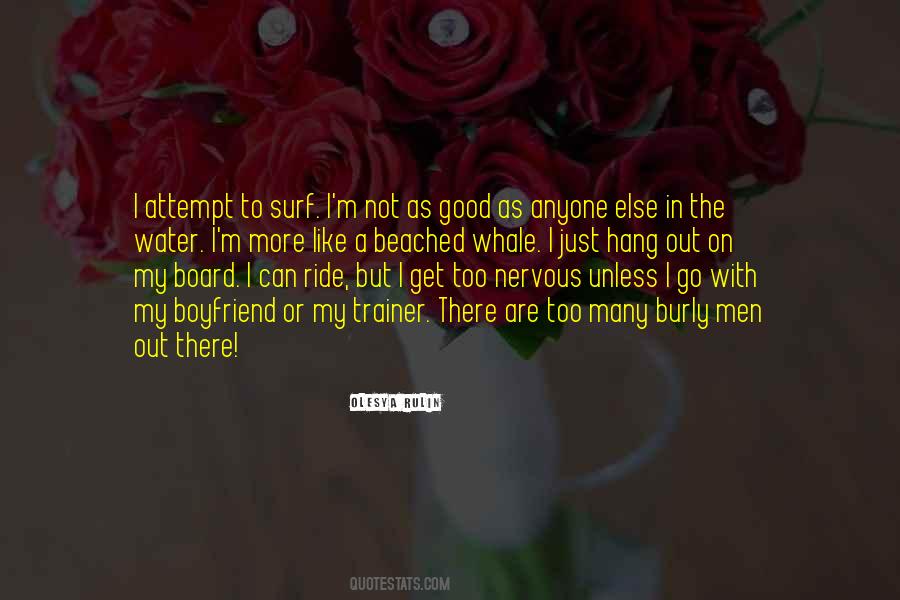 #32. How you refill. Lying there. Something like happiness, just like water, pure and clear pouring in. So good you don't even welcome it, it runs through you in a bright stream, as if it has been there all along. - Author: Peter Heller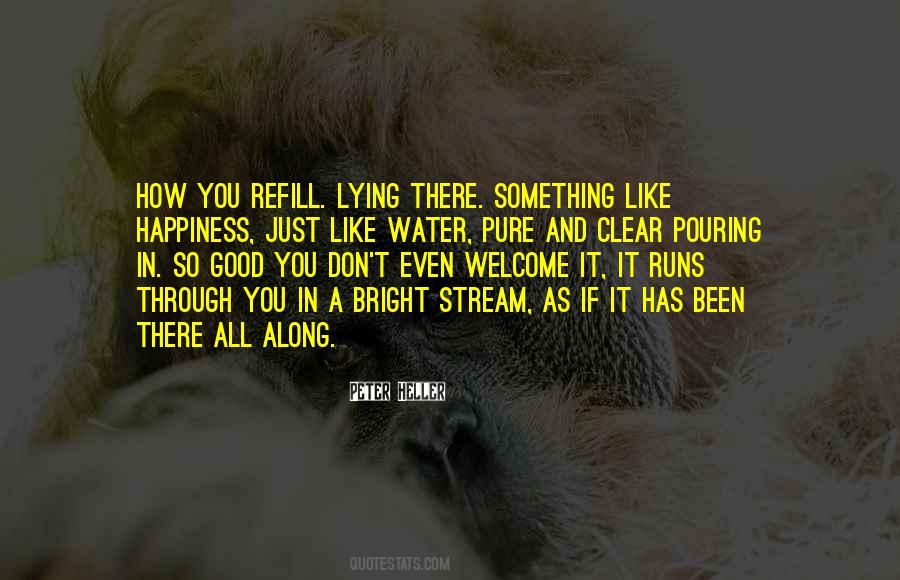 #33. I drank from colored water fountains and from the white water fountain just to see what it was like when I was a kid. What shocks me is that these kids today don't realize that this happened in many of our lifetimes. - Author: Lee Daniels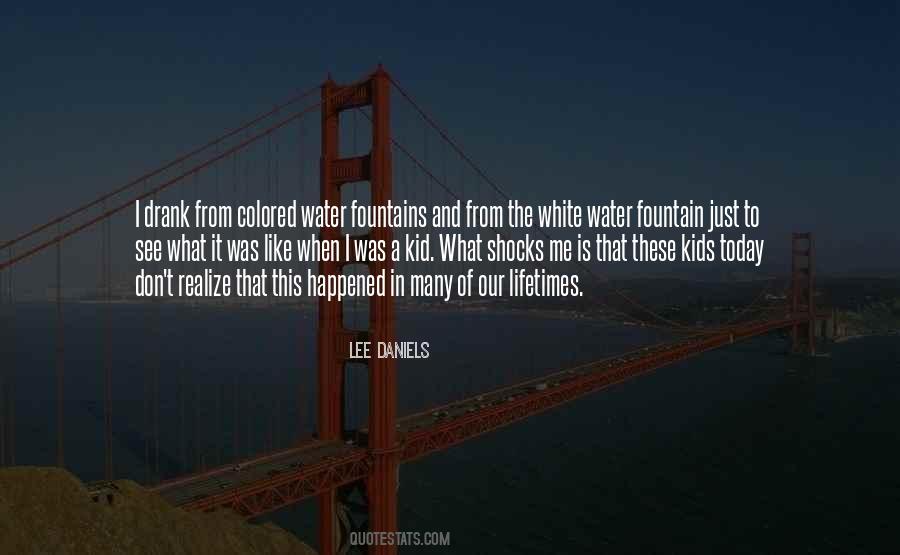 #34. Do not have an opinion while you listen because frankly, your opinion doesn't hold much water outside of Your Universe. Just listen. Listen until their brain has been twisted like a dripping towel and what they have to say is all over the floor. - Author: Hugh Elliot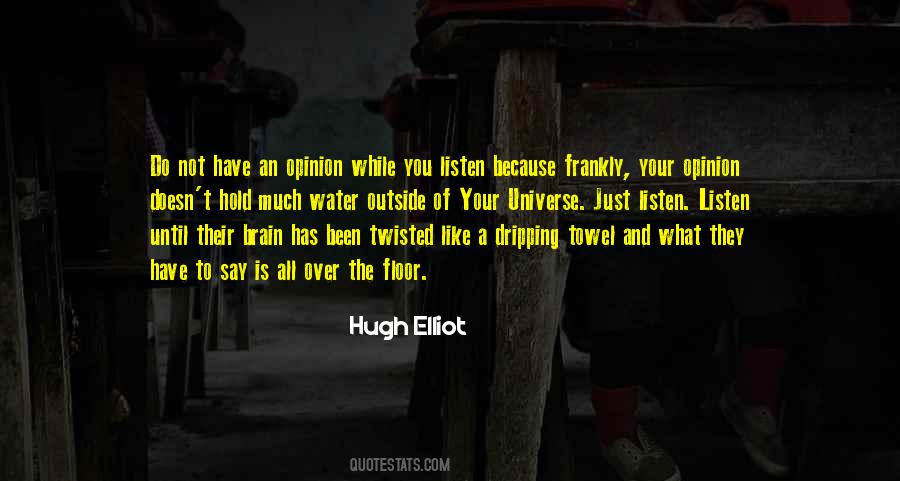 #35. Chance dug deep into the dirt, his front end rising like a speed boat accelerating through water. I grabbed the saddle horn, surprised by his enthusiasm, but I was just as anxious to run as he was. I gave him the reins to go. - Author: Brittney Joy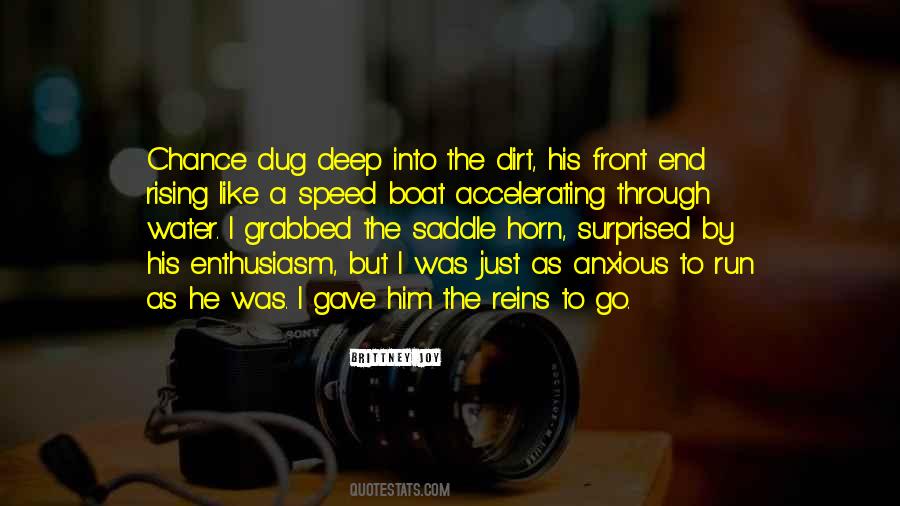 #36. Water, in Grace, is an all-or-nothing proposition, like happiness. When you have rain you have more than enough, just as when you're happy and in love and content with your life, you can't remember how you ever could have felt cheated by fate. - Author: Barbara Kingsolver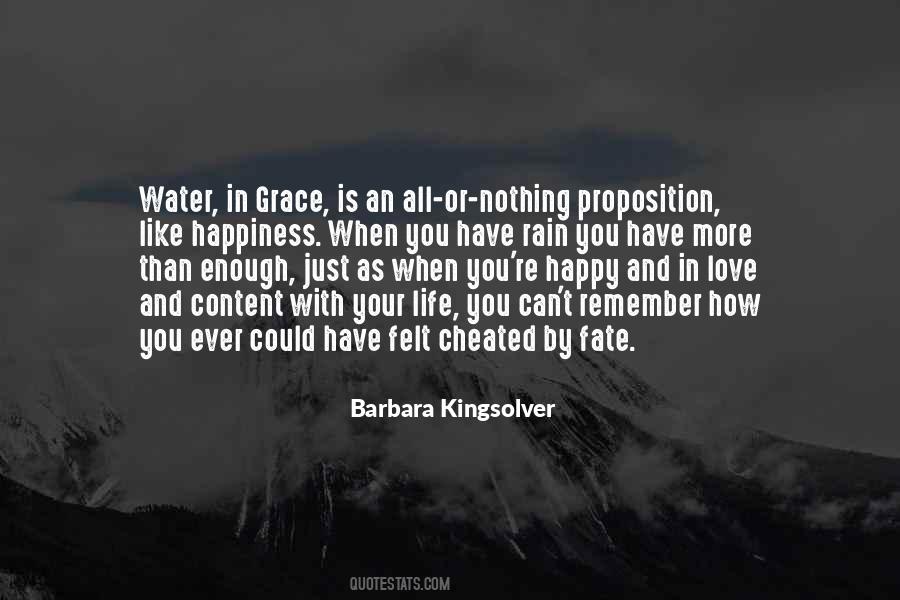 #37. I won't have sex with you, she blurts out.
He words slam into my libido like a bucket of water on a flame full of testosterone. I think my dick just twitched in protest. - Author: Simone Elkeles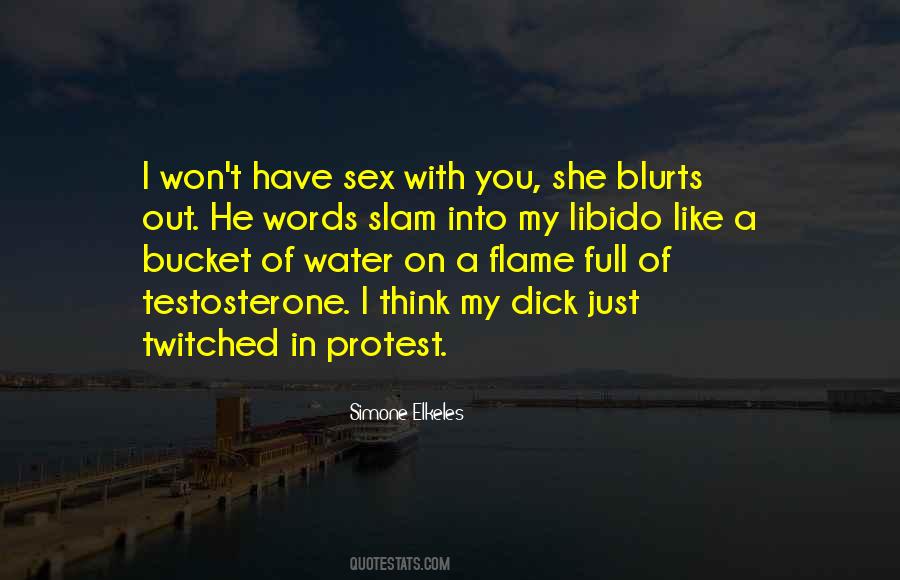 #38. For the first five years of my life, I grew up in a log cabin in coastal British Columbia in a very small town, like 300 people, mostly hippies. No running water, no electricity. When I was 12, I changed my name from Dharma to Stewart. At that age, you just want to be normal. - Author: Stewart Butterfield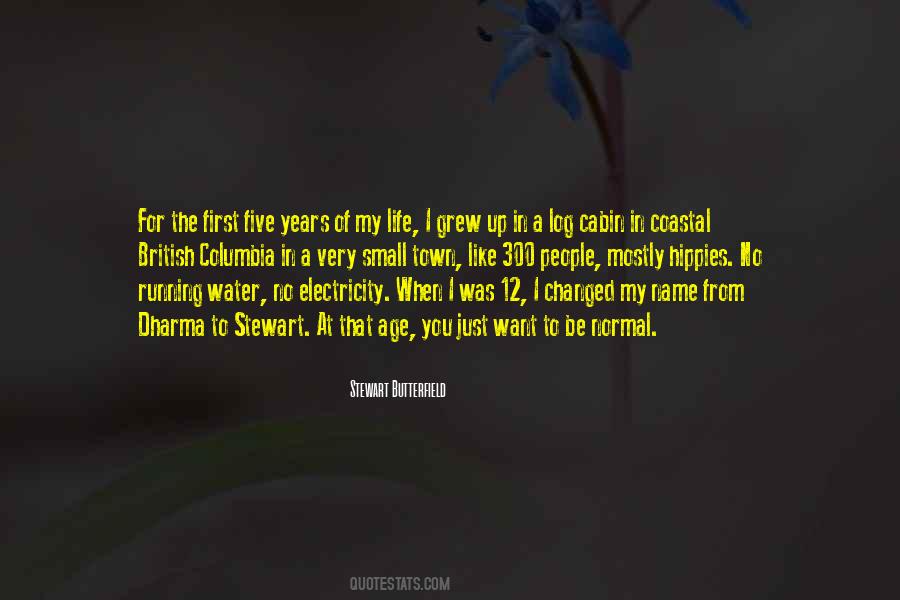 #39. The girl danced like light on water. After I'd watched for a while I looked with all of me, not just my eyes, and then I saw the meaning of the dance. I wanted to stop looking because it was so sad, but I couldn't because it was so beautiful. - Author: Glenda Millard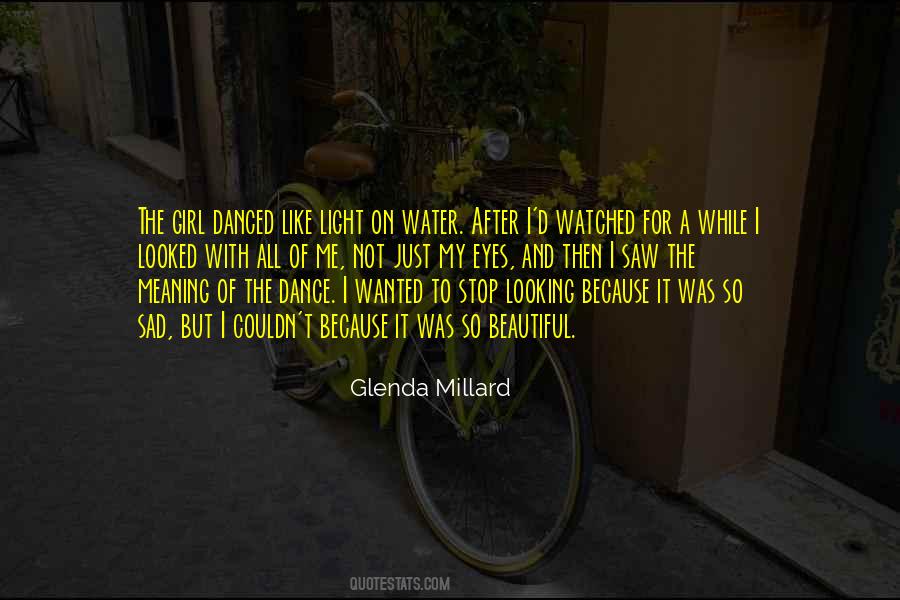 #40. Fervor is a fire that makes things boil and grow hot, just as fire causes water to boil. It is, properly speaking, charity on fire, and that is what you should have because a Daughter without Charity is like a body without a soul. - Author: St. Vincent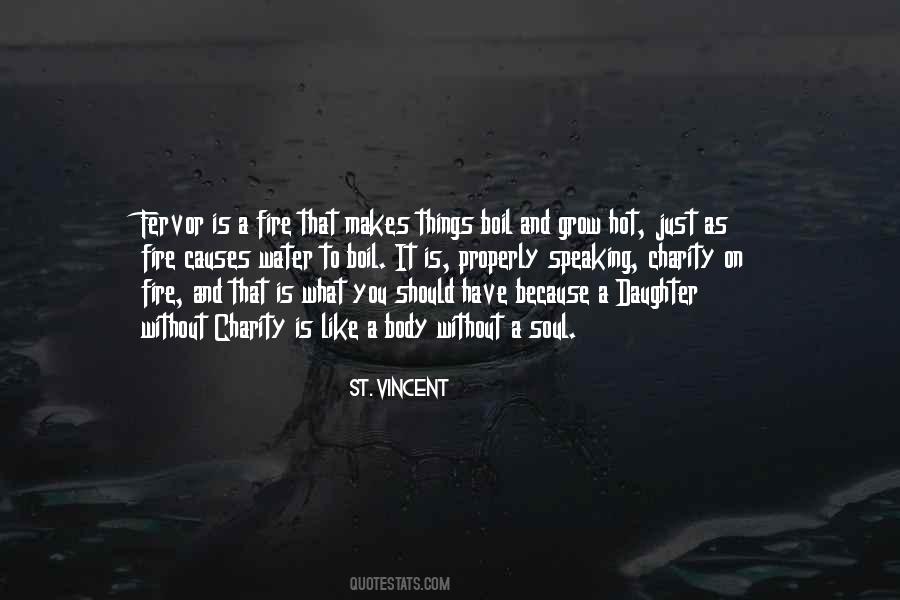 #41. It look like the lord just work for wite folks cause ever sens i wasn nothin but a litle boy i been on my on haulin water to the fiel on that ol water cart wit all them dime bukets an that dipper just hittin an old dorthy just trottin and trottin an me up their hittin her wit that rope ... - Author: Thomas Jefferson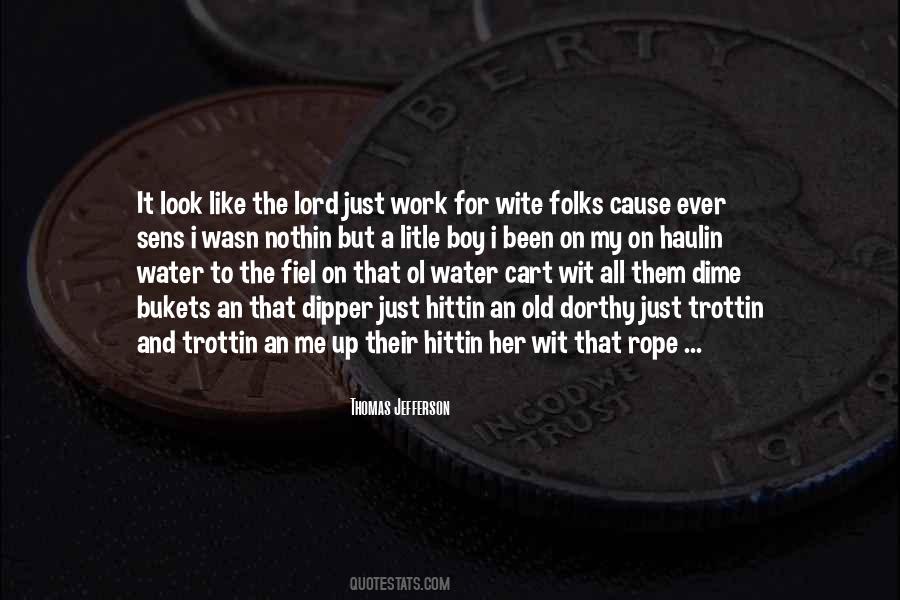 #42. He was smooth water - effortless in refinement but just like still water, dangerous if you couldn't swim. - Author: Pepper Winters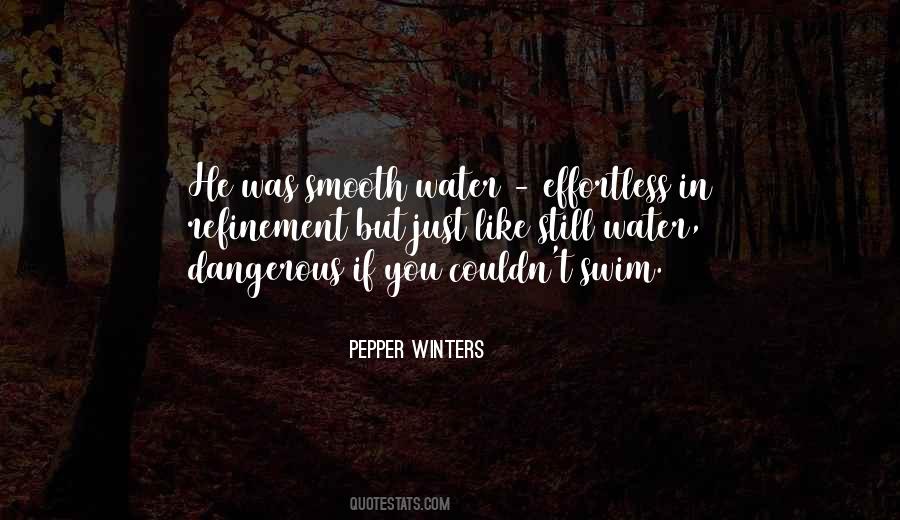 #43. I used to think people were like lighthouses. That they were yhere to protect you. But they're no. People are lime whirlpools. They pull you in; they drag you under. You have to work so hard just to keep your head above water. - Author: Lang Leav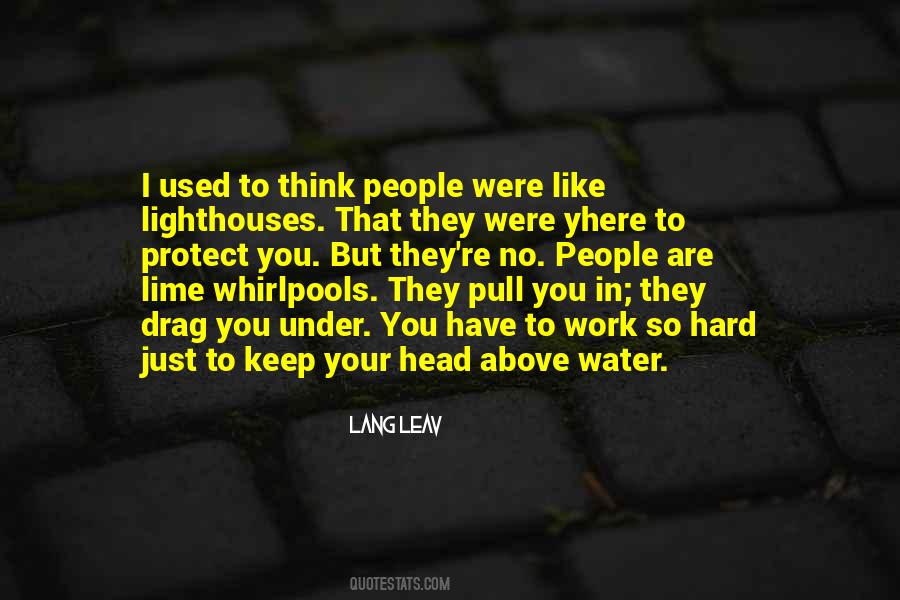 #44. I believe family first. Blood is thicker than water. I grew up like that, and I want to continue to keep that goal in my heart. Just family first! Just honesty, integrity, and respect. All of that. I live by the code of those things. If you do that you'll be fine. - Author: Cory Hardrict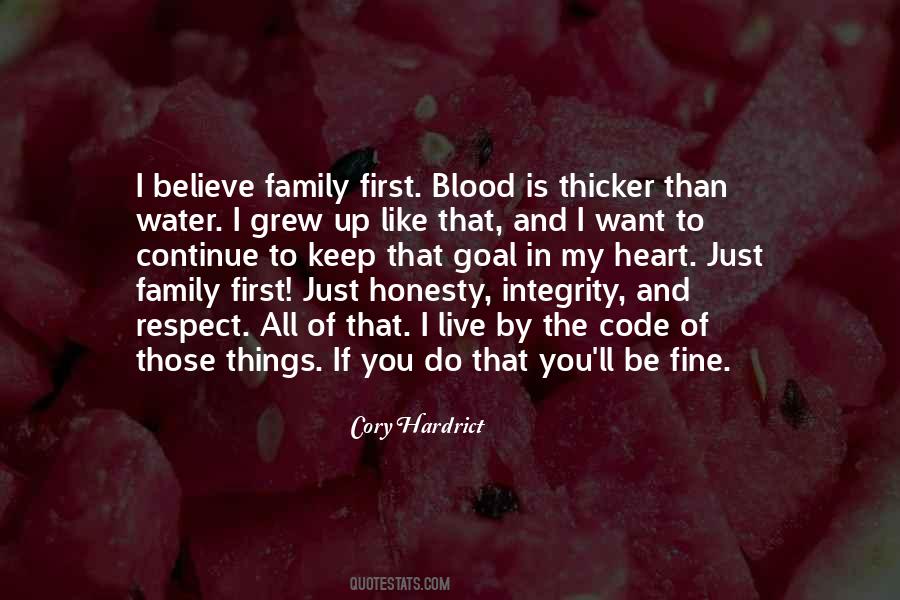 #45. And this is a kiss like none before, a kiss that could overcome the dark of deep space night. It's a falling star, flame, ice. It's pure as water from a snow-fed mountain spring. This is what you dream a kiss to be. To have a kiss just like this each and every day! How satisfying life would be. - Author: Ellen Hopkins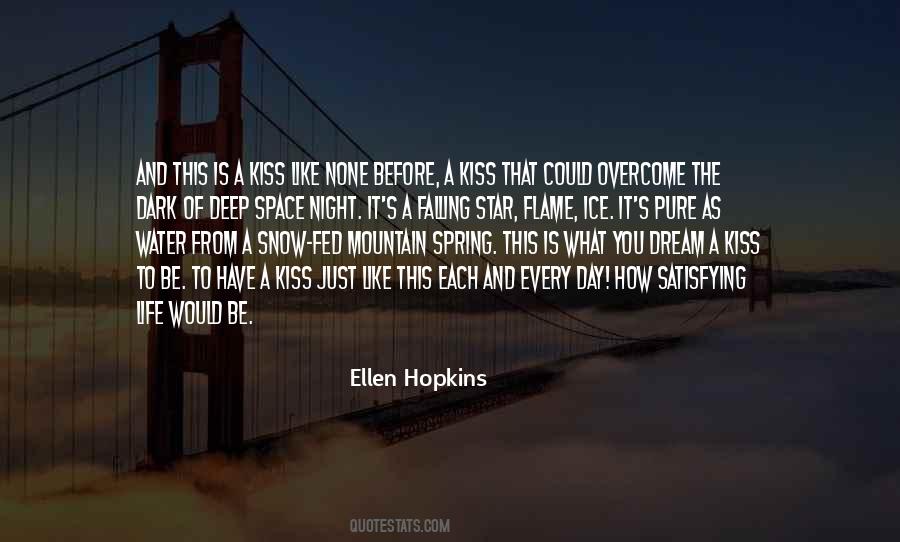 #46. In my head, I consider 'No Turning Back' my 'dipping the toe in the water' album. It was mostly covers of favorite songs, and there were three originals in there. So, it feels like it was just my album to see what the temperature of the water was. - Author: Imelda May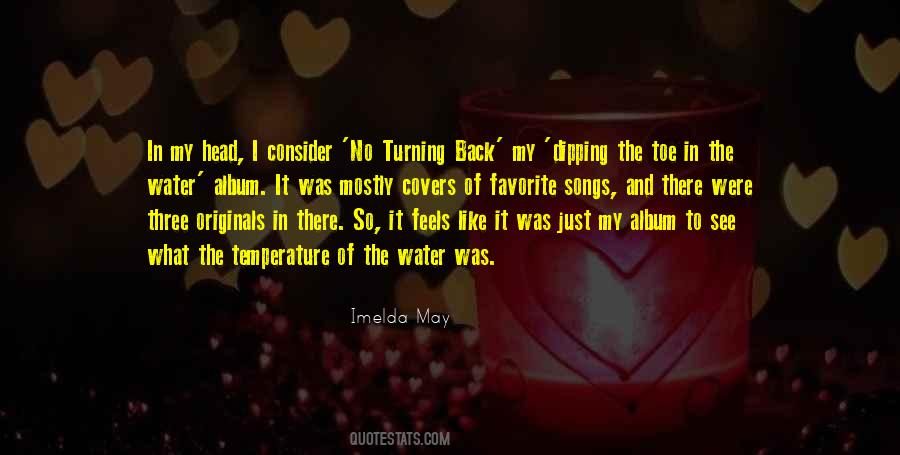 #47. I loved plays, I loved films, but I had no desire to act until I had just put out my album 'Like Water for Chocolate.' Creatively, I felt like I'd hit a ceiling, and I needed something else to express myself, and I just decided to take acting classes. - Author: Common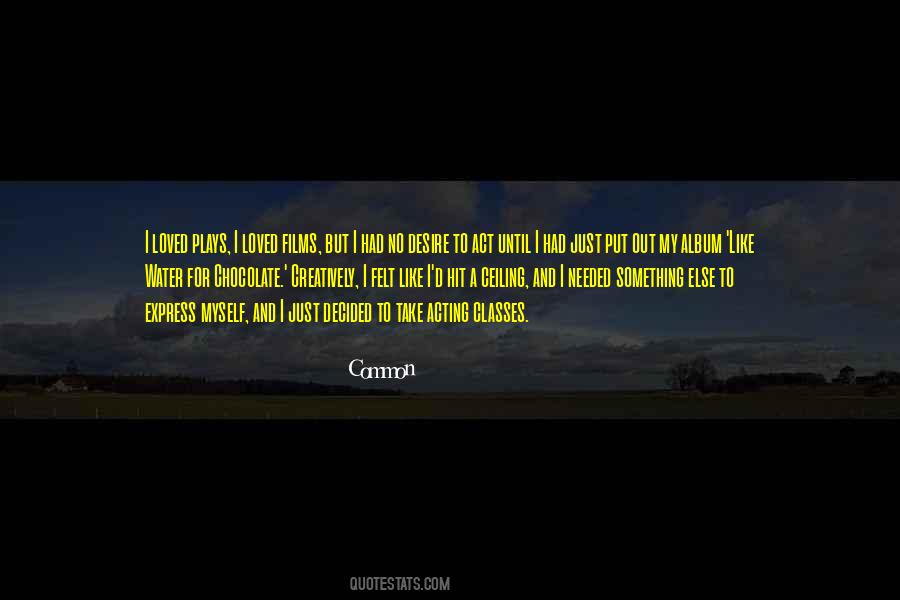 #48. I glared daggers at him, but they just bounced off him like water on a freshly waxed car. - Author: H.P. Mallory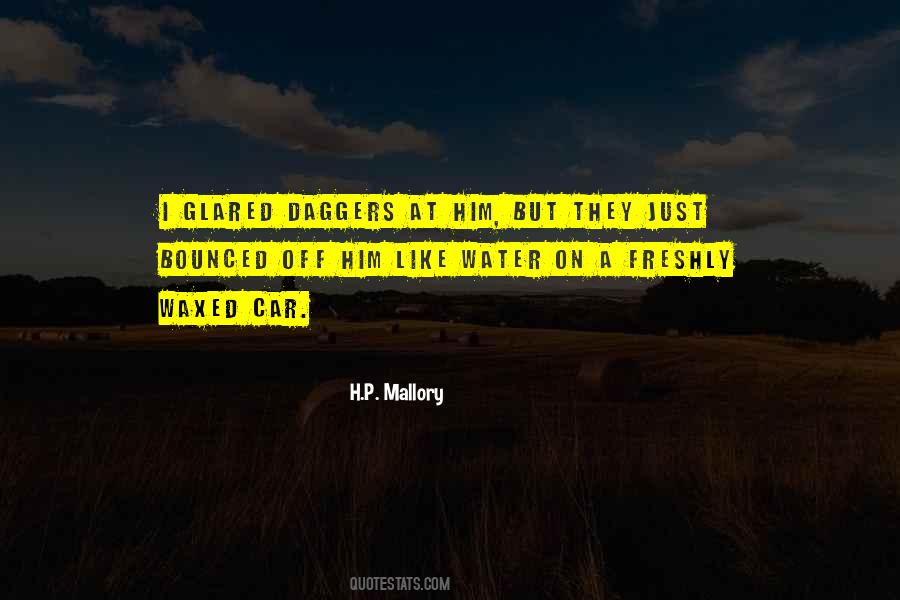 #49. But you go through with it, continue to fight, because you hope one day it won't be like this. Life can be so cruel. It doles out just enough hope to keep you going, like a small cup of water and one slice of bread to someone on the verge of starvation. - Author: Marisha Pessl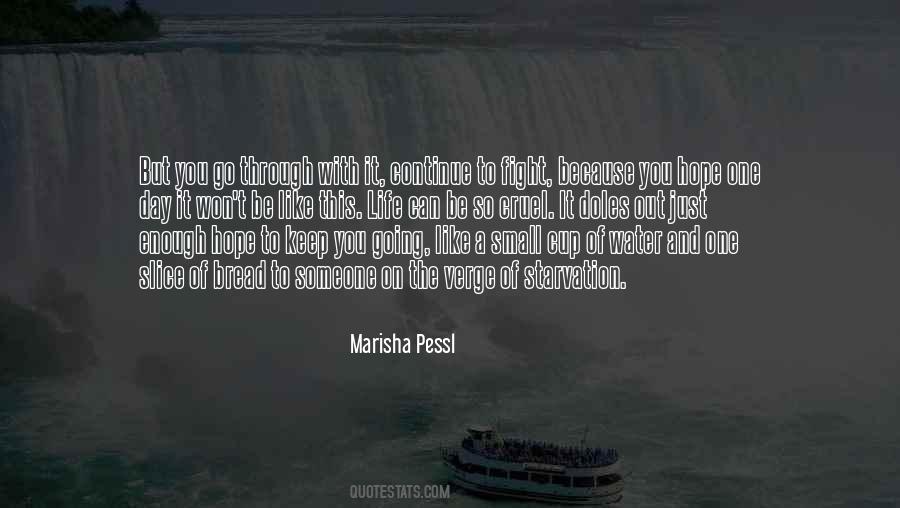 #50. Main Street is as dead as ever. There's a blinding white light at the water-tower end of it and Jesus standing in the centre of it in a pale blue robe with his arms out, palms up, like he's saying how the hell would I know? I'm just a carpenter. - Author: Miriam Toews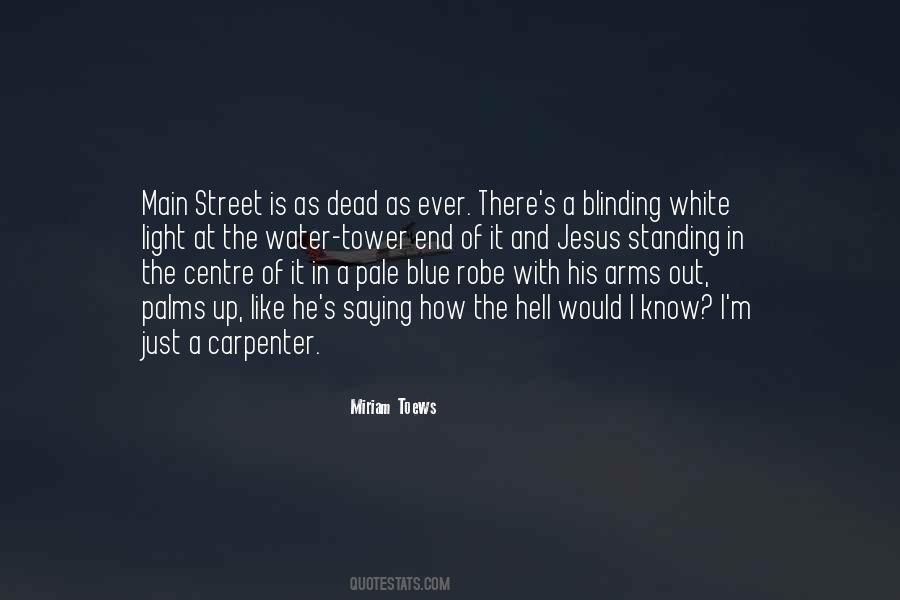 #51. Kaye: You know what the sun looks like? Janet: No, What? Kaye: Like he slit his wrists in a bathtub and the blood is all over the water. Janet: That's gross, Kaye. Kaye: And the moon is just watching. She's just watching him die. She must have driven him to it. - Author: Holly Black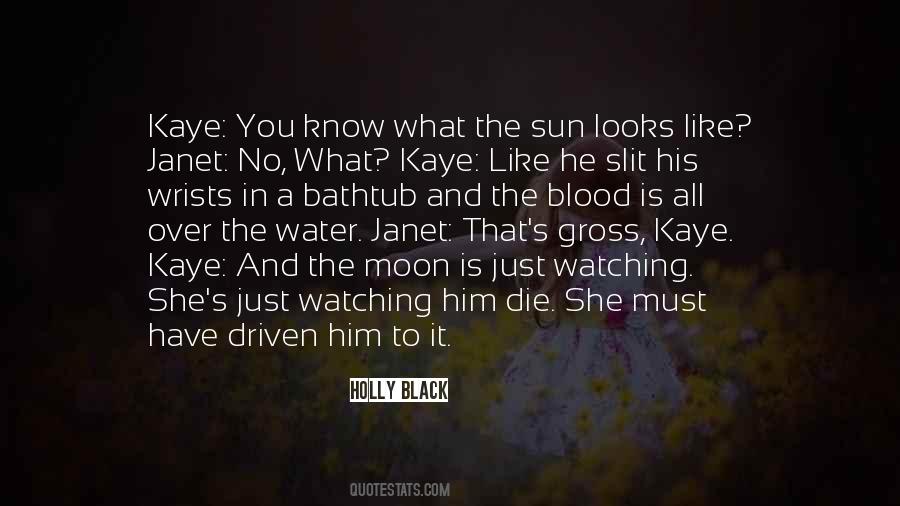 #52. The undersea world surrounding Green Island looks just like a water fairyland. - Author: Mehgan Heaney-Grier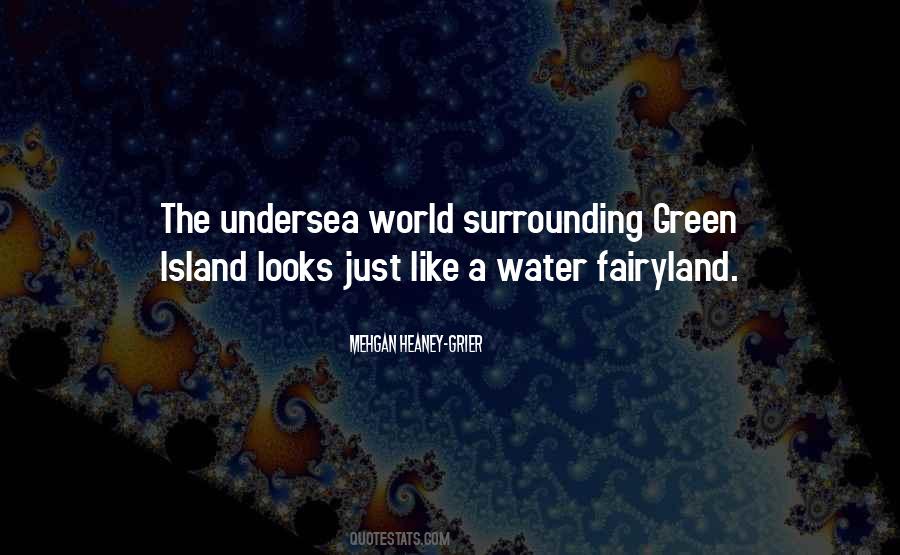 #53. I've seen you up close, like this. I remember your eyes. They're the color of the sea -- just inside a coral reef and your freckles are like the stones of a volcanic island scattered along the sand. Your hair is like the sun setting over the water, shooting out orange rays in all directions - Author: Melissa Turner Lee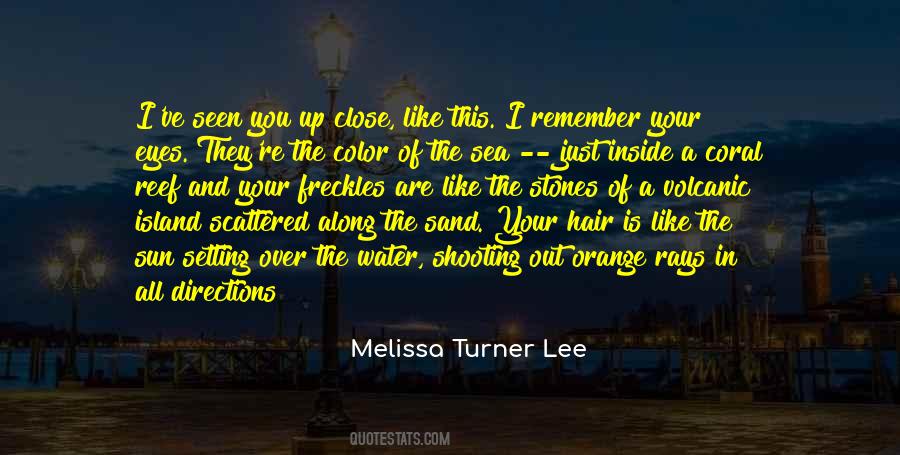 #54. If honesty was like water that people couldn't live without it, the world which became heavier due to the endless lies would be just light like a feather! - Author: Mehmet Murat Ildan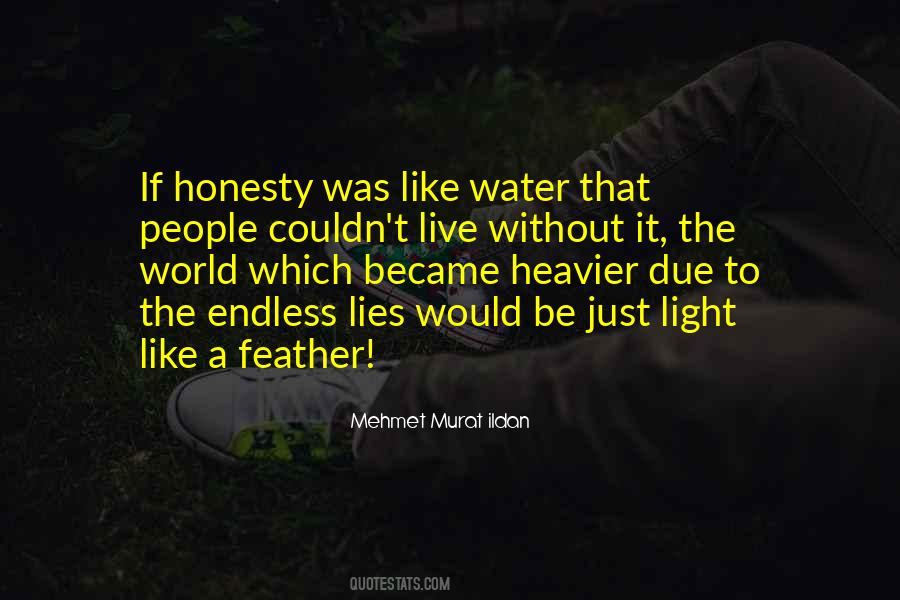 #55. It was one of those moments when everything is out of balance, I suppose, and just watching an odd thing seems to make sense. The squirrel scampered up a tree trunk, the sound of its nails like water in a tub. - Author: Colum McCann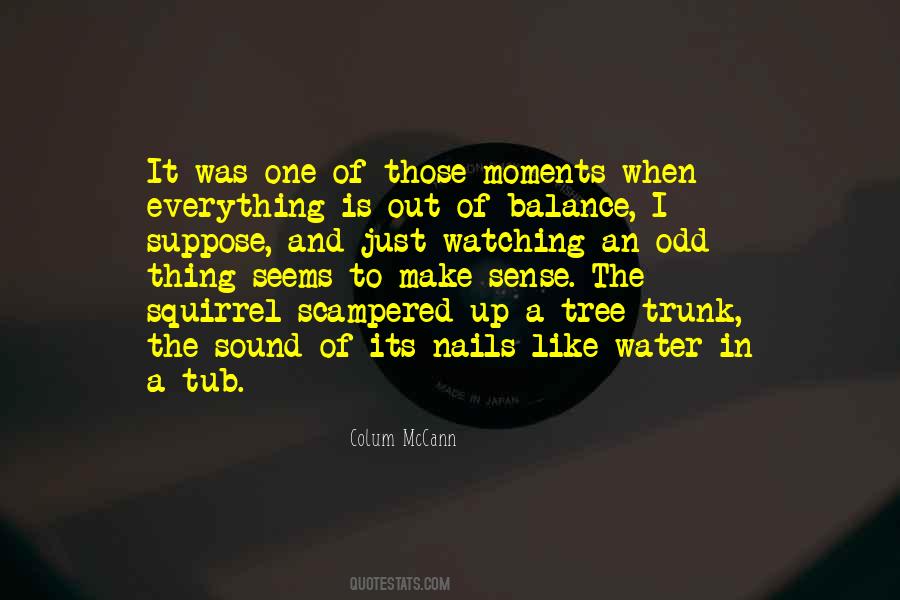 #56. My parents came from the Kyushu Island in the Southern part of Japan to find work in Tokyo. So we could only afford to live downtown, in a low-income area. It was just by the river, and whenever a typhoon came around, we were under water up to, like, here. That's the kind of place we lived in. - Author: Takashi Murakami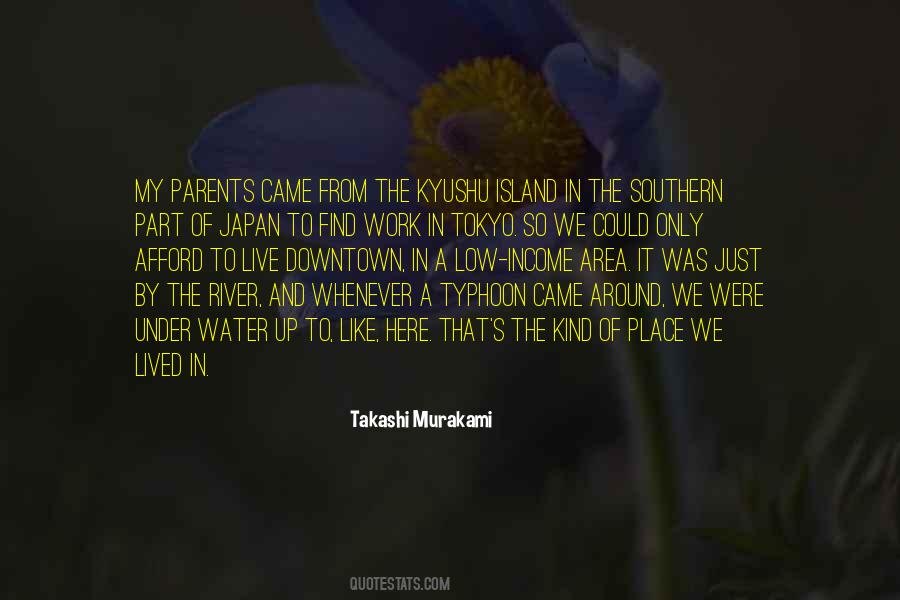 #57. Don't always want to go up. Go down, like water, because eventually it'll go up again. Just like rain, it falls from the sky, flows as a river, then merges with the sea, the goes up again as a cloud. - Author: Yasmin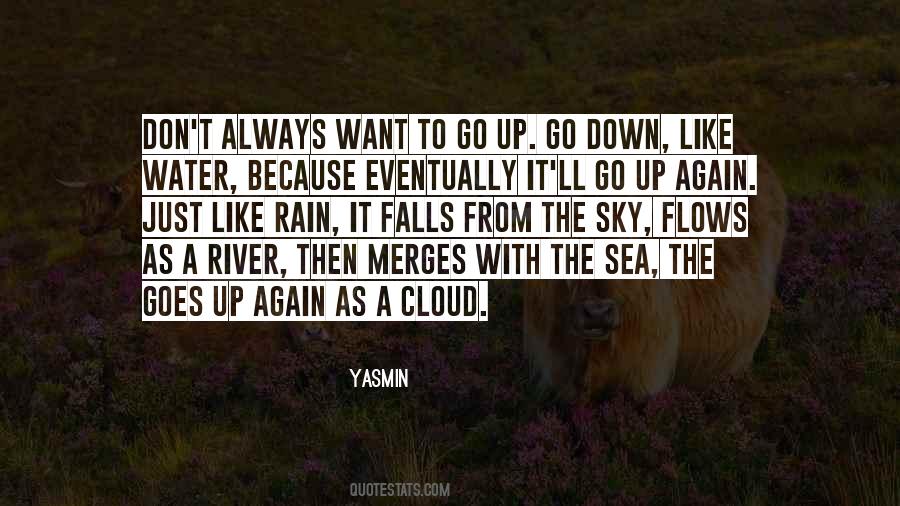 #58. Man can't do without God. Just like you're thirsty, you have to drink water. You just can't go without God. - Author: Bob Marley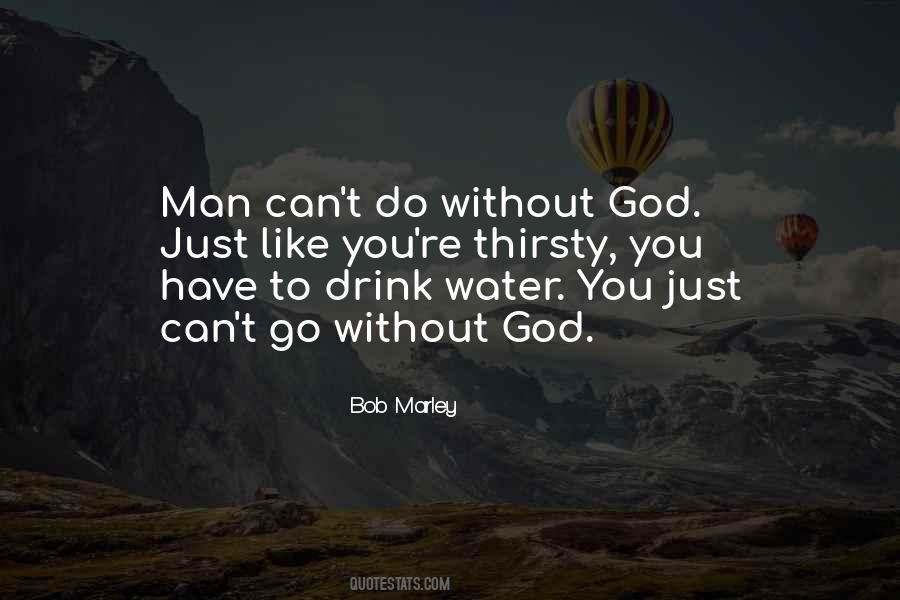 #59. I'm just looking for a little mystery in life ... like things you can't explain. Like, you go to Mexico, they tell you don't drink the water. You go to any diner here, who brings you the water? It's a mystery. - Author: Ted Alexandro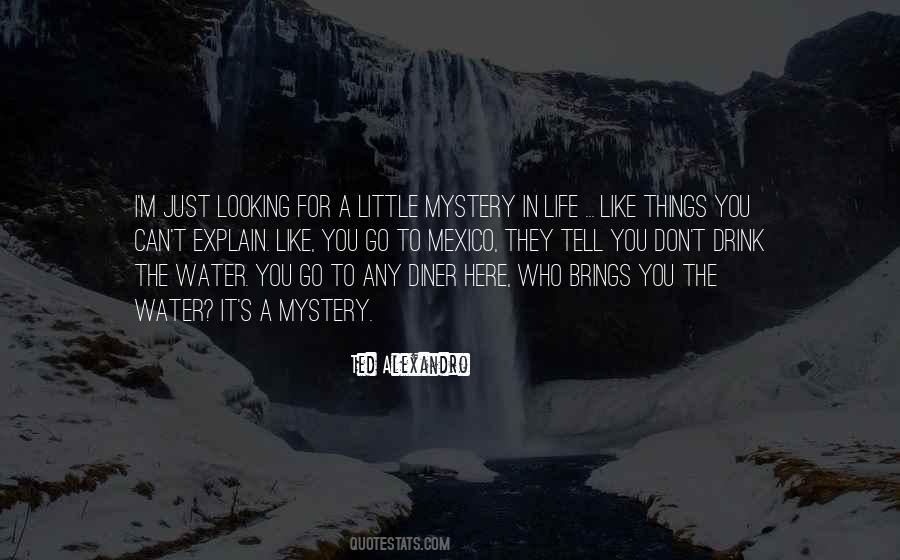 #60. I've become more like water, I'm more relaxed and I'll say, "Okay, let's just completely change it and do it that way." - Author: Taika Waititi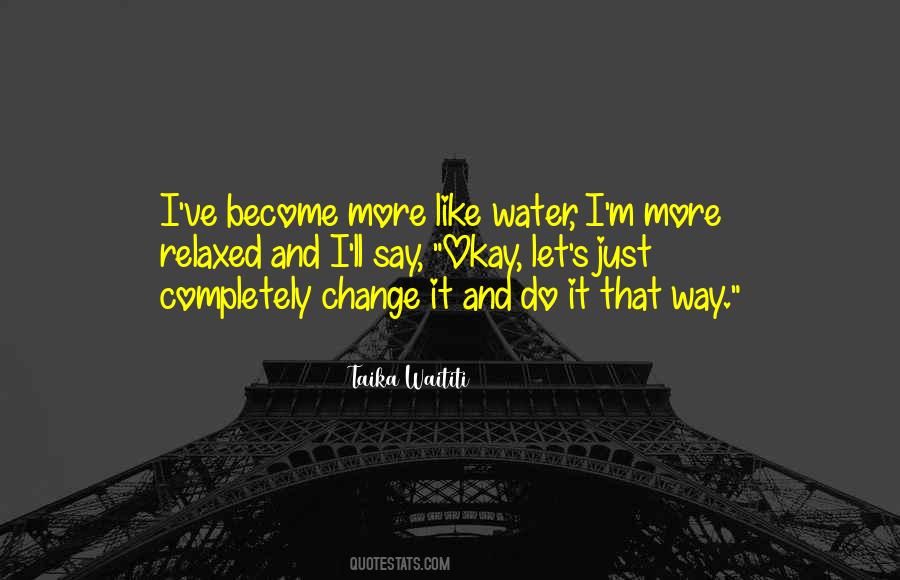 #61. Hunger for God's Word like food. Thirst for it like water. Soak in it like a jacuzzi. Put it on like a garment. Weave it into your soul so that it becomes part of the fabric of your life. When you do, you won't just be trudging up the trail. You will be dancing in the footlights. - Author: Stormie O'martian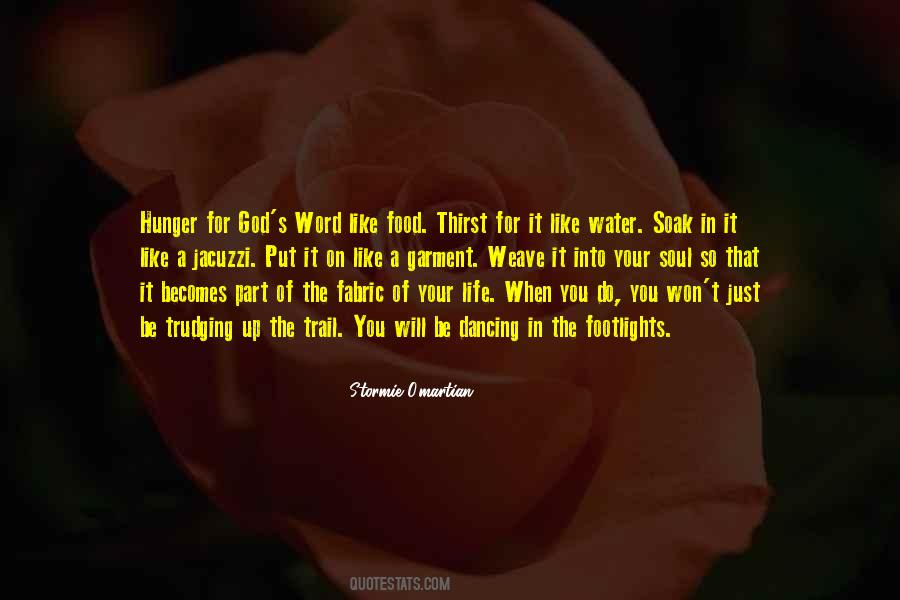 #62. The feeling of the cold water and the hot sun and having the river just flow over your skin like a dolphin wasn't something I had enough words to describe but was the kind of feeling you never forget. I - Author: Meg Rosoff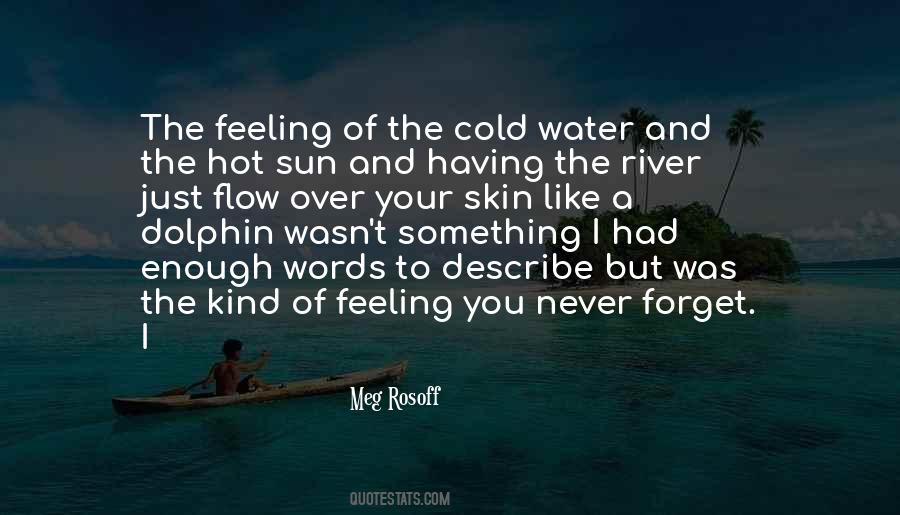 #63. Dieting is long-haul. Many rapid weight loss programs actually only squeeze the water out of you. Just like a wet sponge. But a good dieter maintains his or her grip on that sponge, not letting it soak up water again. - Author: Owen Jones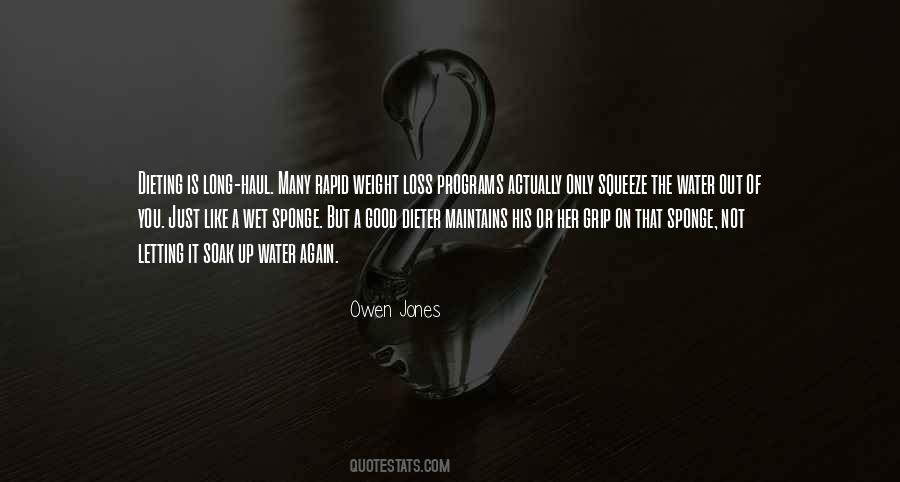 #64. Everything was bathed in the white, unreal light of the moon, the yard like the wet bottom of a sea from which the water has just been suddenly removed. - Author: Haruki Murakami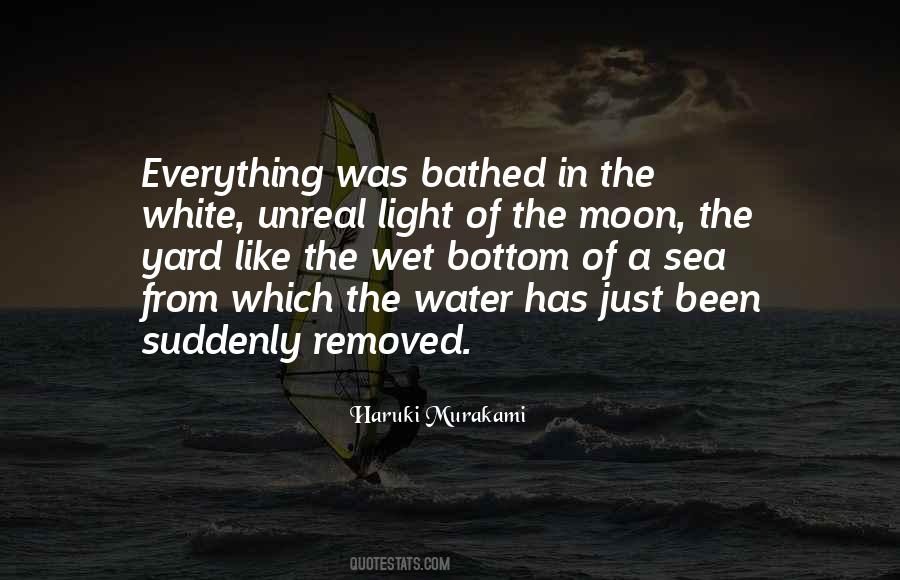 #65. A movie is kind of like being the captain of a ship, which is nice, but when I perform by myself it's just surfing on the water and nobody really knows what happens. - Author: Jerry Seinfeld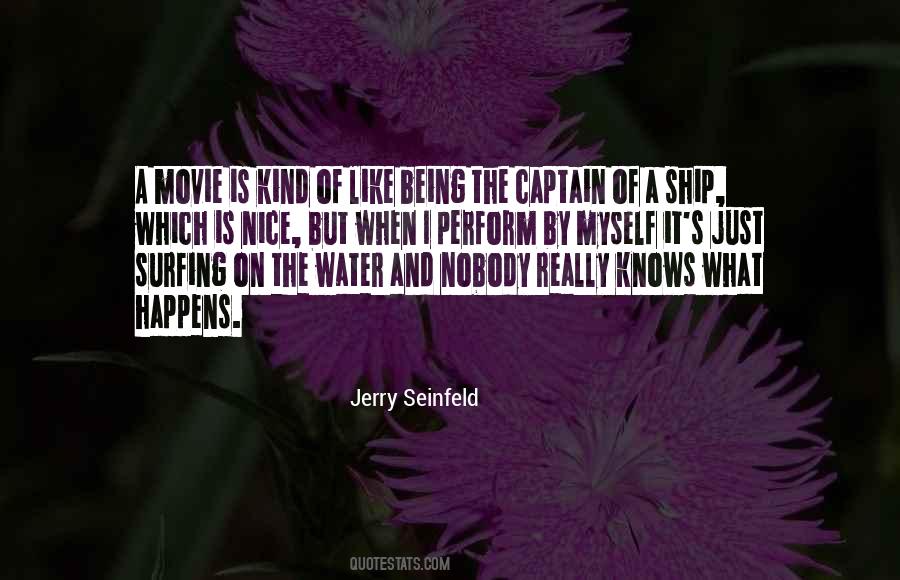 #66. I like university professors, but you know, we shouldn't hold them up as the high-water mark of all human achievement. They're just a form of life, another form of life. - Author: Ken Robinson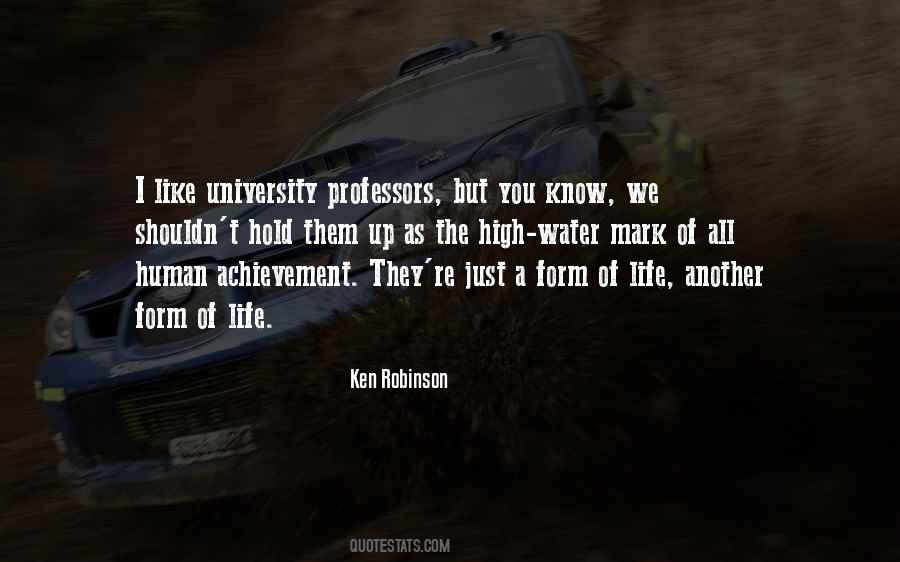 #67. Skateboarders are envied by people because they just glide so free. Any time something moves like water, they'll make a dam. Every time something moves in nature, they want to stop it. - Author: Mark Gonzales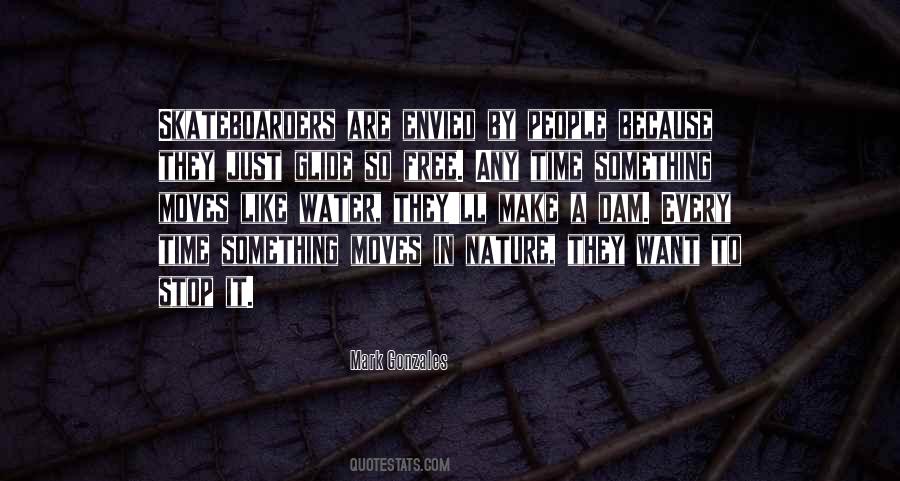 #68. My brain is like a water faucet that I can turn on or off. Only now there is no off and the water of thoughts just flows. - Author: Francisco X Stork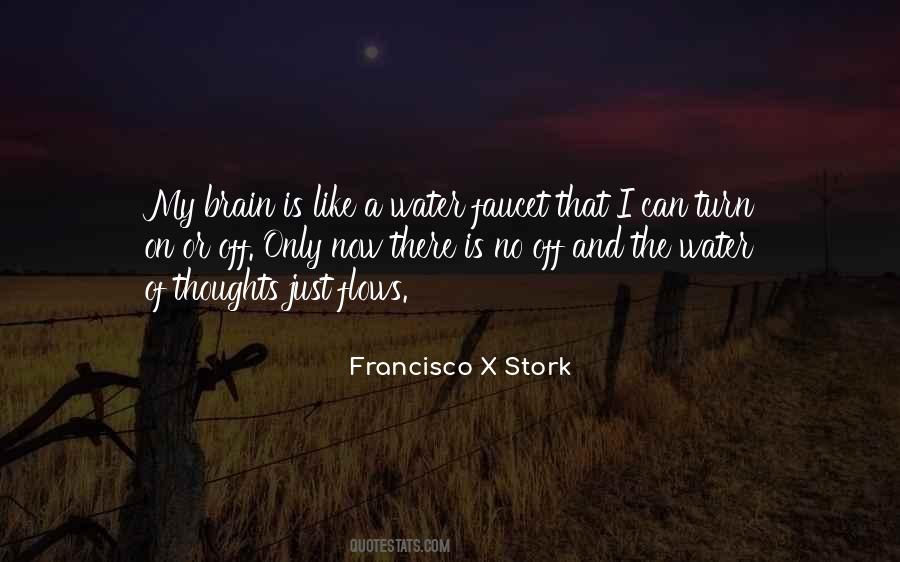 #69. I want people to understand and recognize that when it comes to dating, you're not as crazy as you think you are. Everyone needs love. We need it like air or water. We just don't know how to get it. - Author: Leslye Headland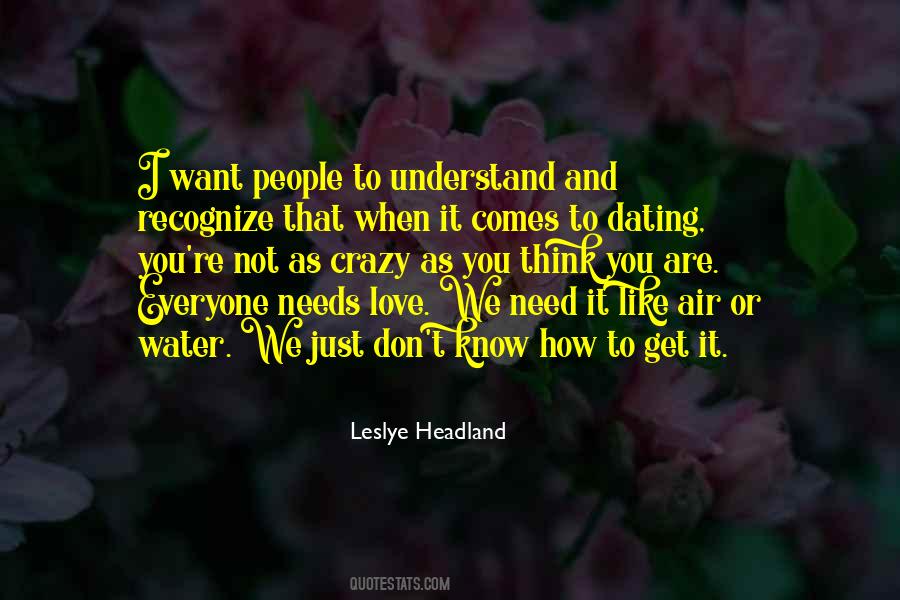 #70. I had just sat down at a table with Star [Jones] and, bam, it just popped all over Star's shoes. Star was like, 'What is that!?' I said, 'My water broke!' - Author: Holly Robinson Peete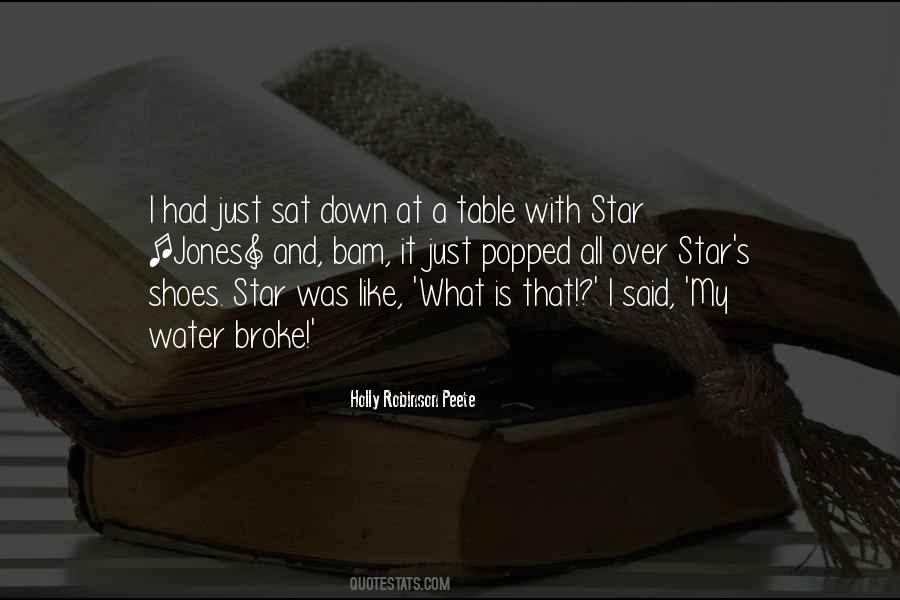 #71. Then came night
that was like falling water.
At times, for hours,
a bird spirit,
half buzzard, half swan,
just above the rushes
from which a snow-storm howls. - Author: Peter Huchel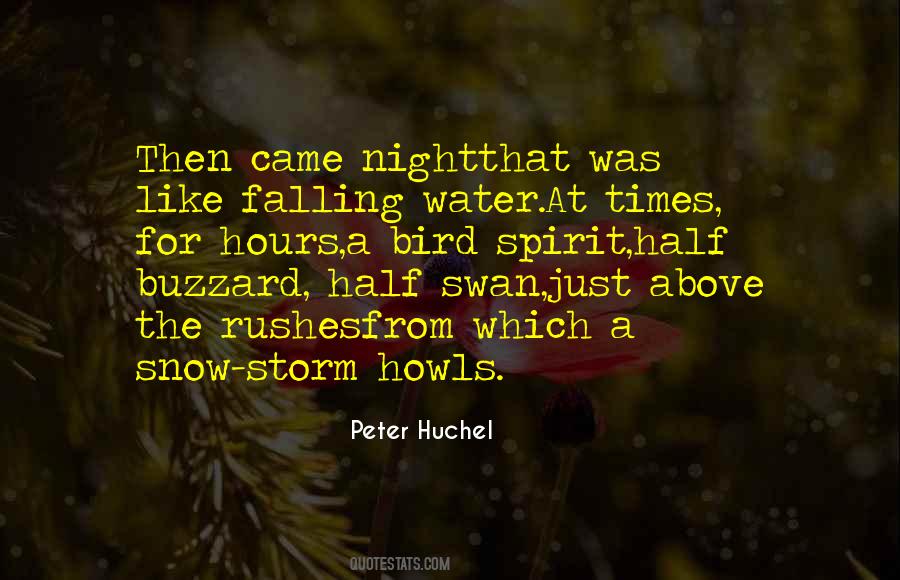 #72. Something I like to do a lot is just sit by water when there's a current and just stare into the water. I don't fish, I don't hunt, I don't scuba, I don't spear, don't boat, don't play basketball or football - I excel at staring into space. I'm really good at that. - Author: Iggy Pop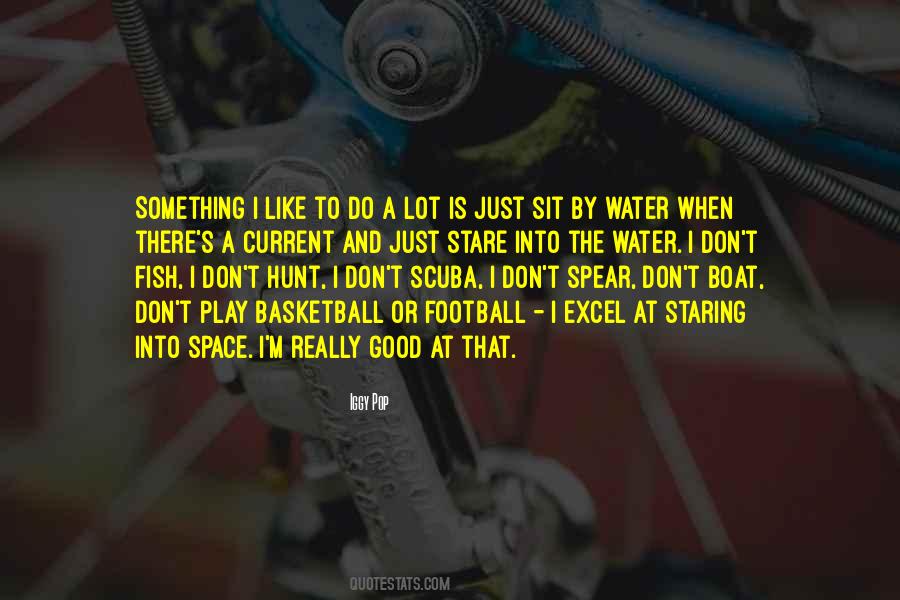 #73. Truth.
It feels cool, like water washing over my sticky-hot body. Cooling a heat that's been burning me up all my life.
Truth, I say inside my head again, just for that feeling. - Author: Kathryn Stockett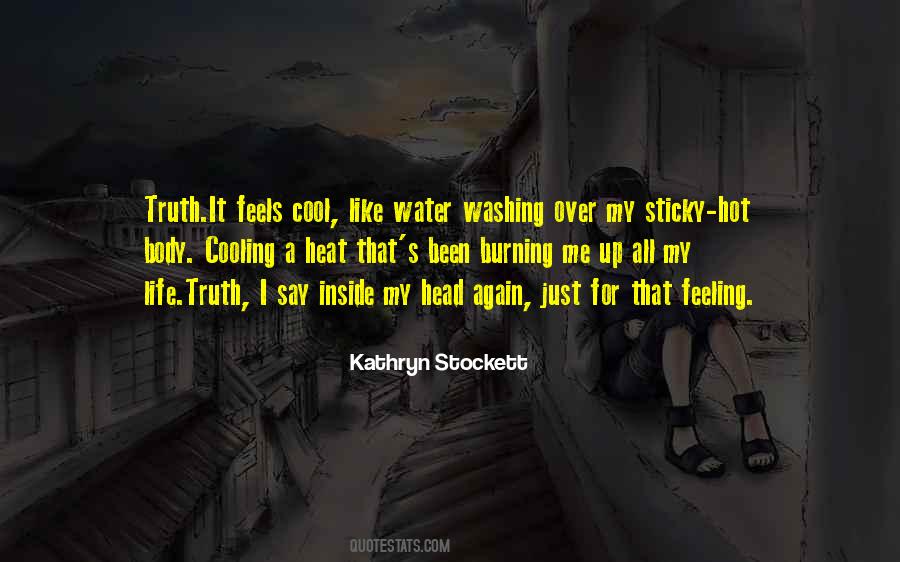 #74. The Wizard of Oz was a humbug. He's not great and powerful. He just pretends to be great and powerful. The Wicked Witch of the West is greater and powerfuller. She's got flying monkeys. She's like a mad scientist. She even has a secret weakness. Water is like Kryptonite to her. - Author: Kelly Link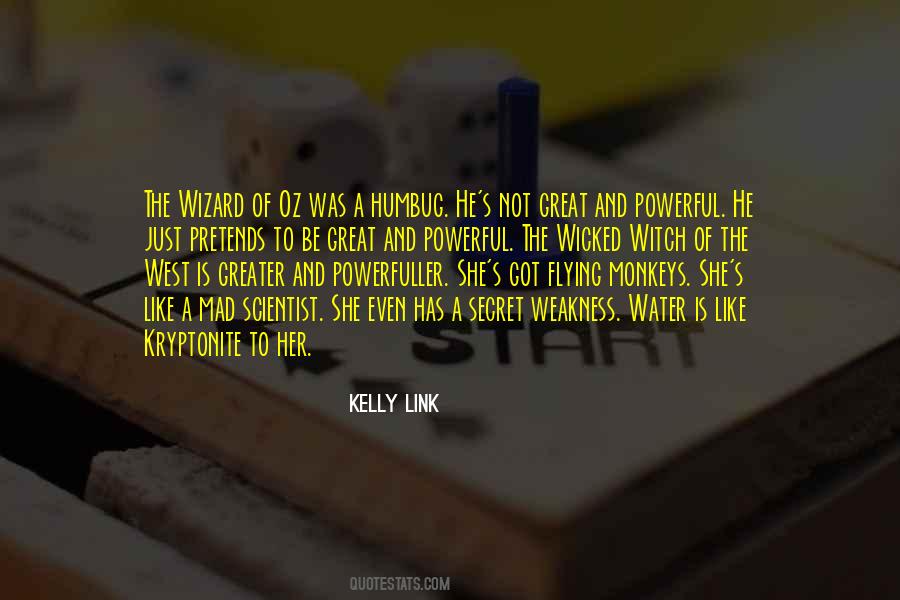 #75. Our bedraggled heads peeped from the water like bobbing apples just waiting to be eaten, as Magwart prowled the shore. - Author: S.L. Mills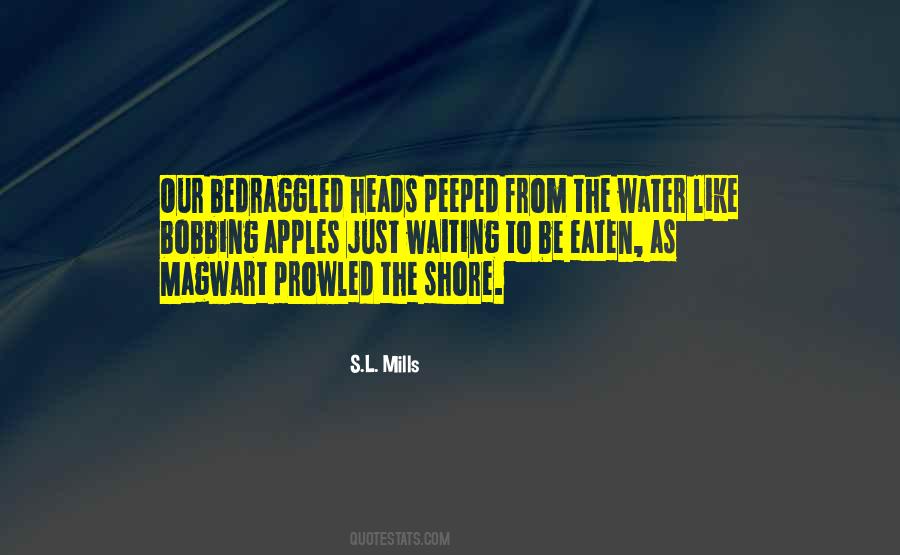 #76. This is what reading is like to me. It's finding a spring in the midst of a barren land. Just when I think I might up and die of thirst, I stumble onto this fresh, cold water, and I'm suddenly given this new life because I can-and do-drink to my heart's content. - Author: Beverly Lewis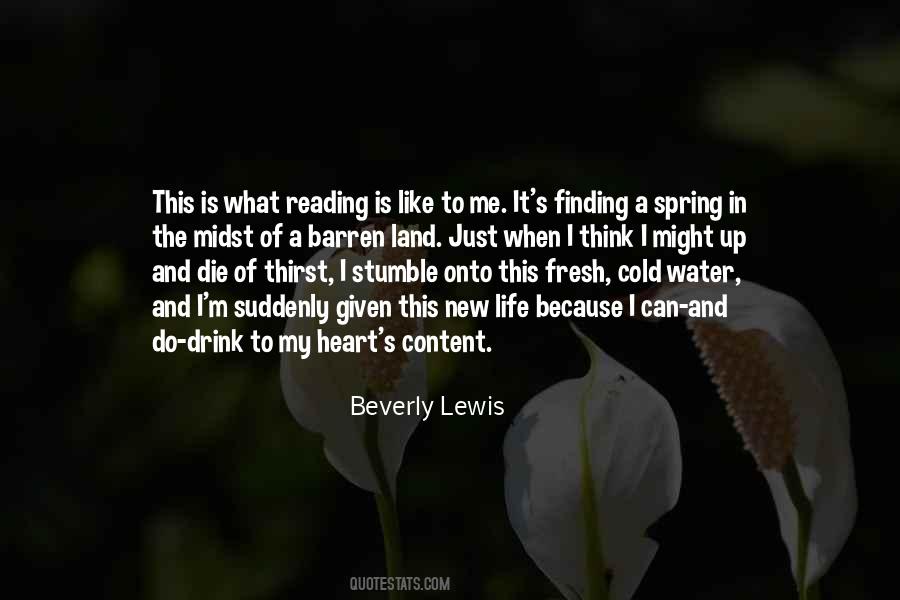 #77. Frenchmen drink wine just like we used to drink water before Prohibition. - Author: Ring Lardner Jr.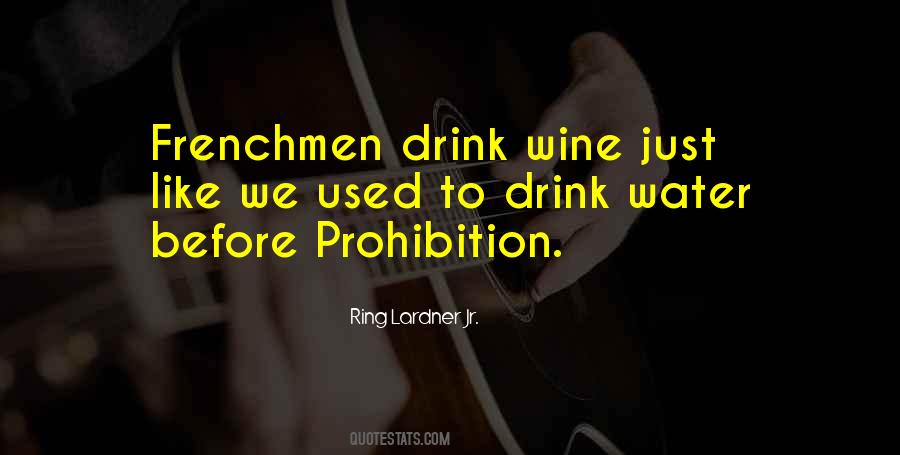 #78. The thing is that oftentimes, we want to be everything all at once. We want to be strong and mature, and God wants that for us, too. But just like that flowerpot had to sit in the sun and receive water day after day, we have to sit in God's presence every day, too. - Author: Victoria Osteen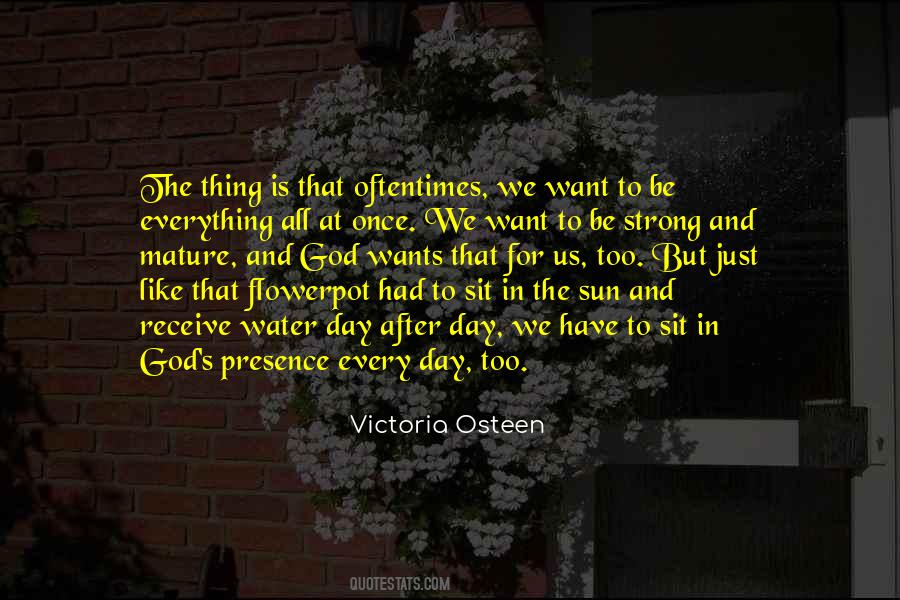 #79. We're all looking glasses, we girls, existing only to reflect their images back to them as they'd like to be seen. Hollow vessels of girls to be rinsed of our own ambitions, wants, and opinions, just waiting to be filled with the cool, tepid water of gracious compliance. - Author: Libba Bray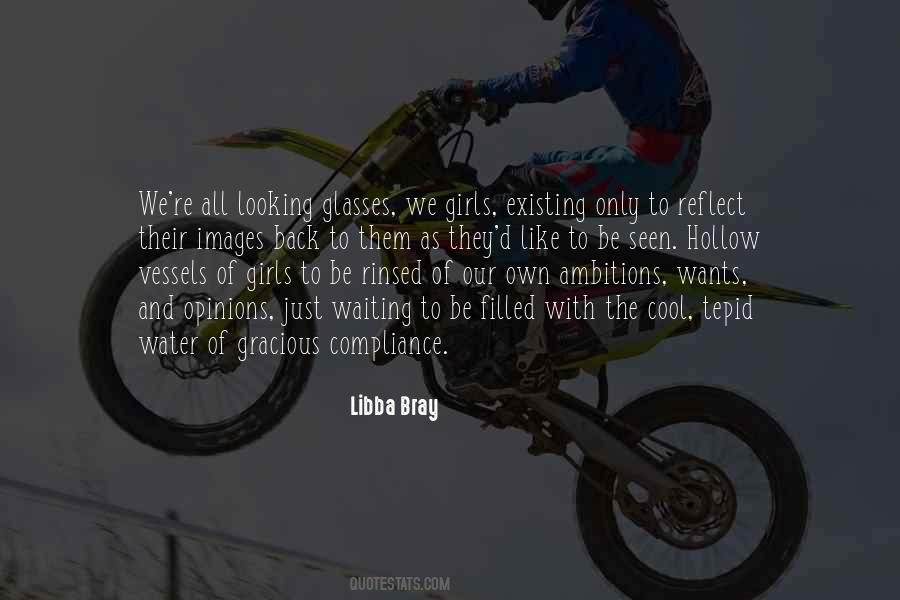 #80. Much of depression's pain arises out of the recognition that what might make one feel better--human connection-- seems impossible in the midst of a paralyzing episode of depression. It is rather like dying from thirst while looking at a glass of water just beyond one's reach - Author: David A. Karp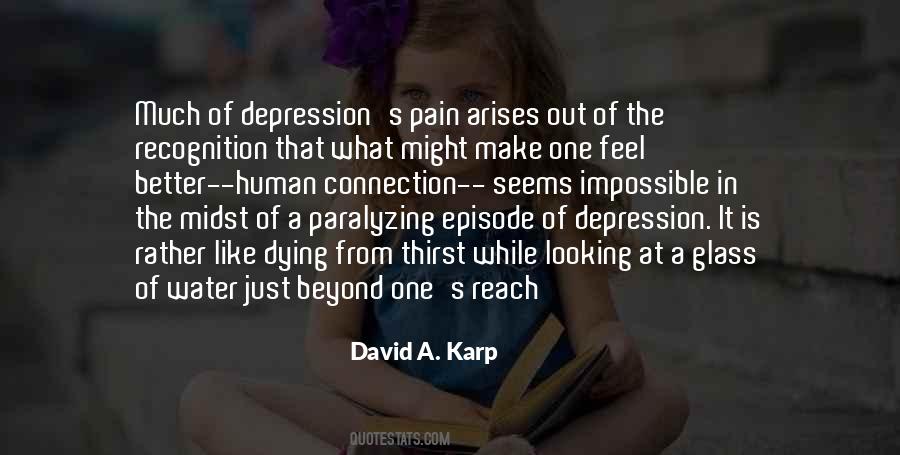 #81. Followed like a goat on a halter, hungry dog closing on his just-filled dinner bowl, water-bottle and towel carrier behind the tuba section of a marching band. - Author: Dennis Vickers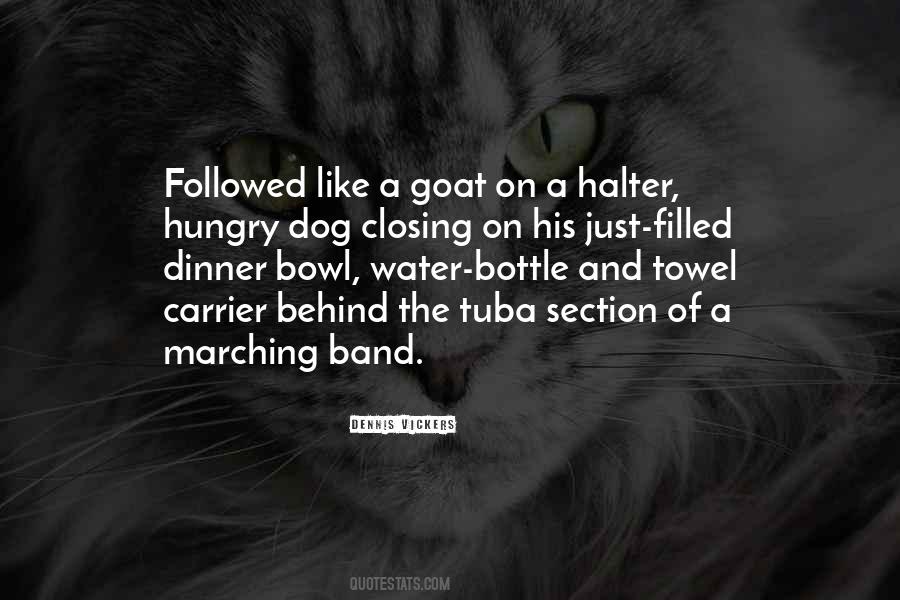 #82. Action in war is like movement in a resistant element. Just as the simplest and most natural of movements, walking, cannot easily be performed in water, so in war, it is difficult for normal efforts to achieve even moderate results. - Author: Carl Von Clausewitz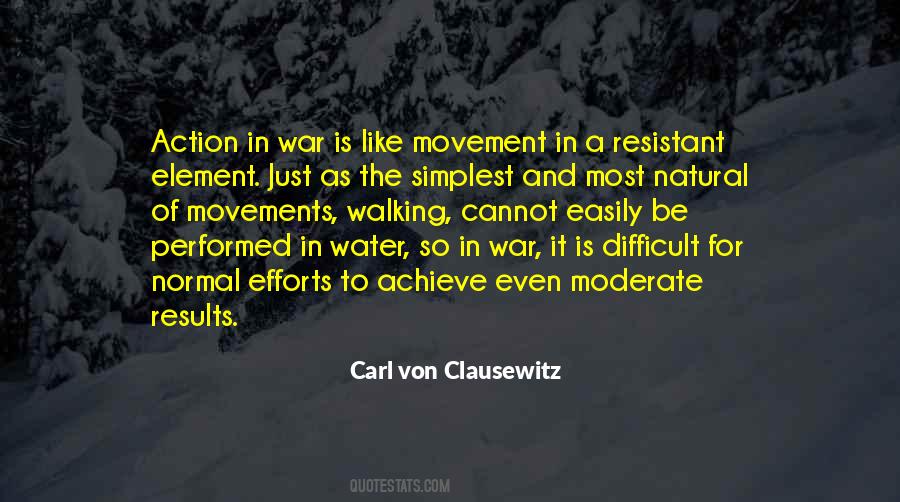 #83. I don't drink any soda. None at all. Just water with lemon. If I need something different: iced tea. I don't have anything like protein shakes. - Author: Jillian Rose Reed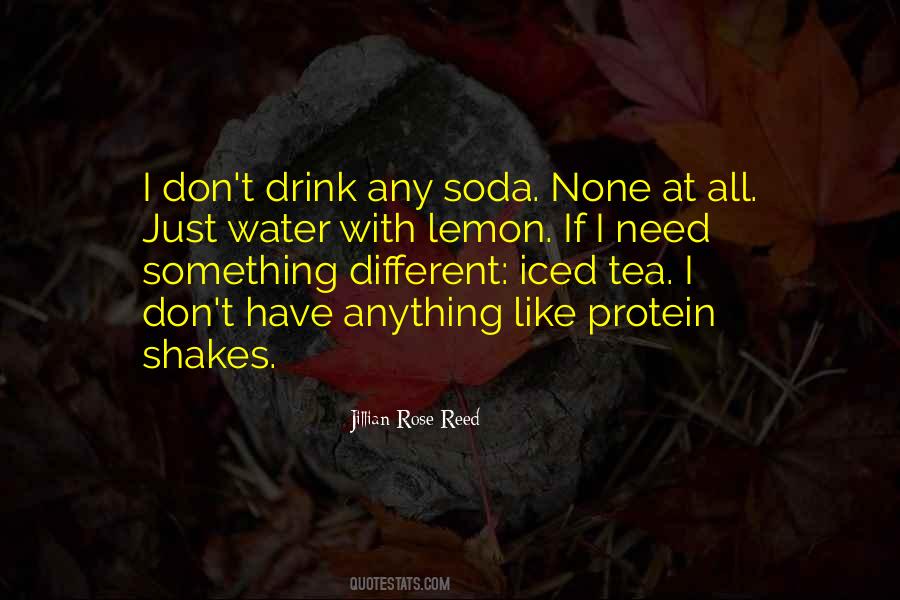 #84. We all know what flopping is when we see it. The stuff that you see is where guys aren't really getting hit at all and are just flailing around like a fish out of water. - Author: Kobe Bryant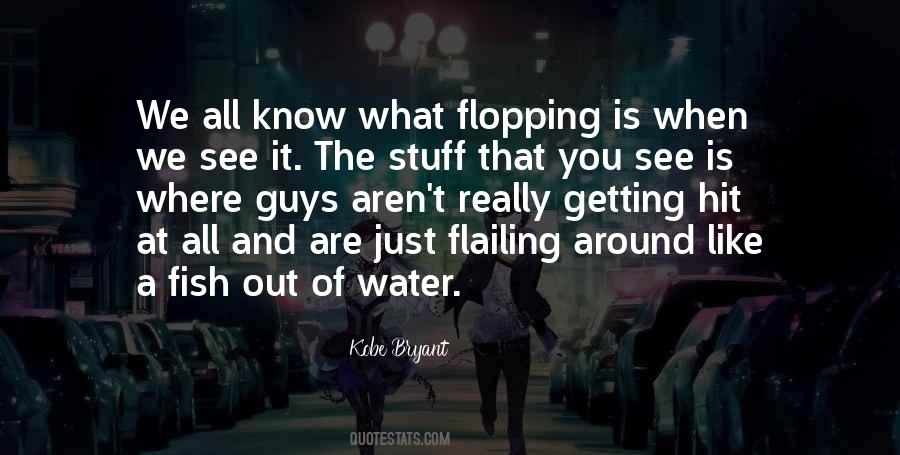 #85. You are like a drug to me. Dangerous. Addicting. I can't get enough of you." He brought our hands above water and kissed one of my hands, linked with his. "But I want more, more than just a night, more than just a few touches. And I have a feeling that once we cross that line, you will run away. - Author: Whitney Barbetti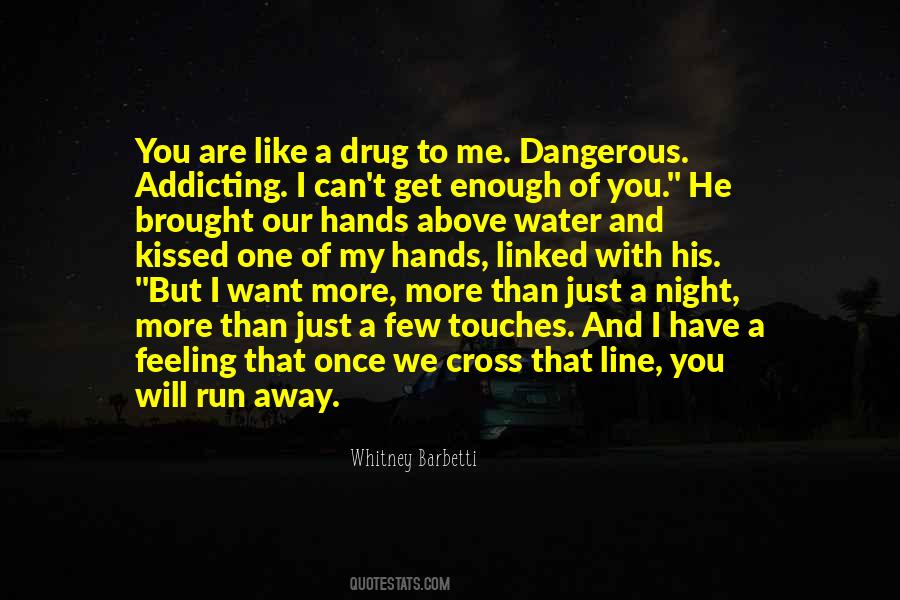 #86. I just believe that sometimes in life you're like a shark - you have to keep moving through water; otherwise, you'll die. - Author: Michelle Ryan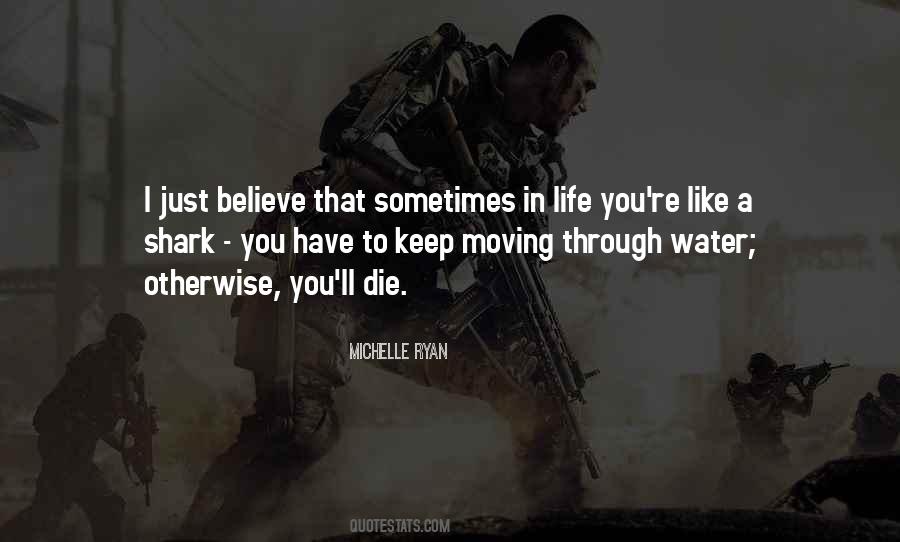 #87. Technology is like water; it wants to find its level. So if you hook up your computer to a billion other computers, it just makes sense that a tremendous share of the resources you want to use - not only text or media but processing power too - will be located remotely. - Author: Marc Andreessen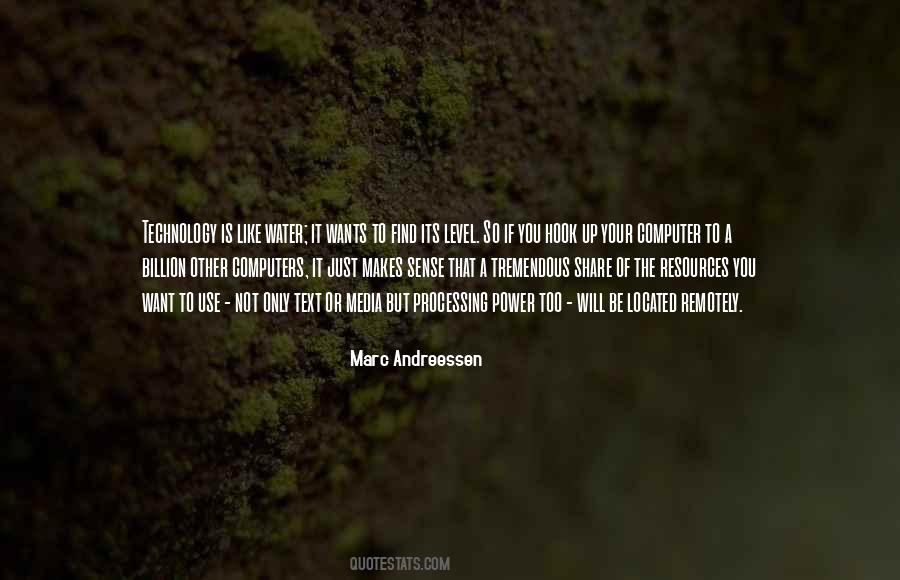 #88. A beautiful morning is not a guarantee for a beautiful afternoon! Just like a man of desert appreciates water, value well whatever beauty you have now! - Author: Mehmet Murat Ildan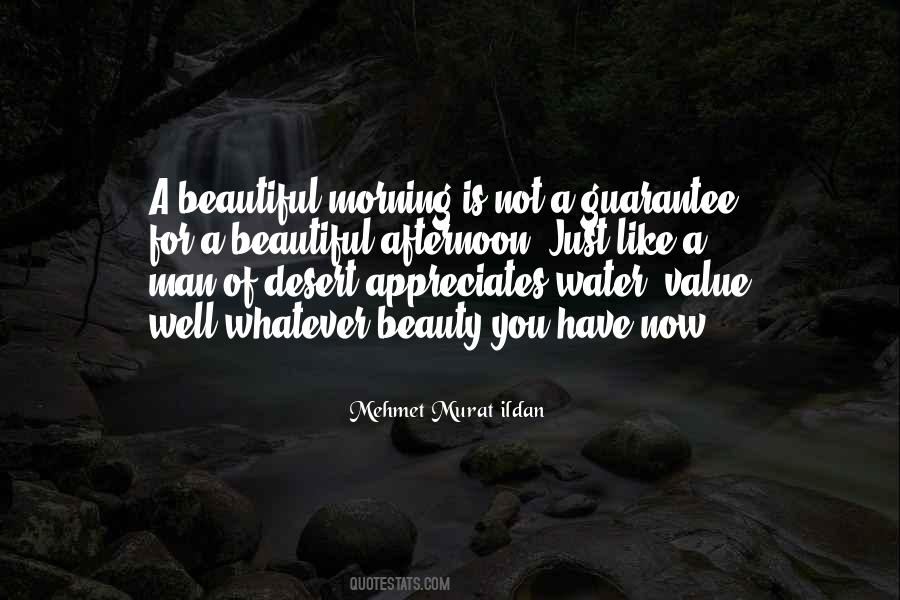 #89. There didn't seem to be that much to say. If you loved Phoebe now, it was going to hurt you to see her. Like facing cold water, you just jumped in and swam anyway. - Author: Tim Farrington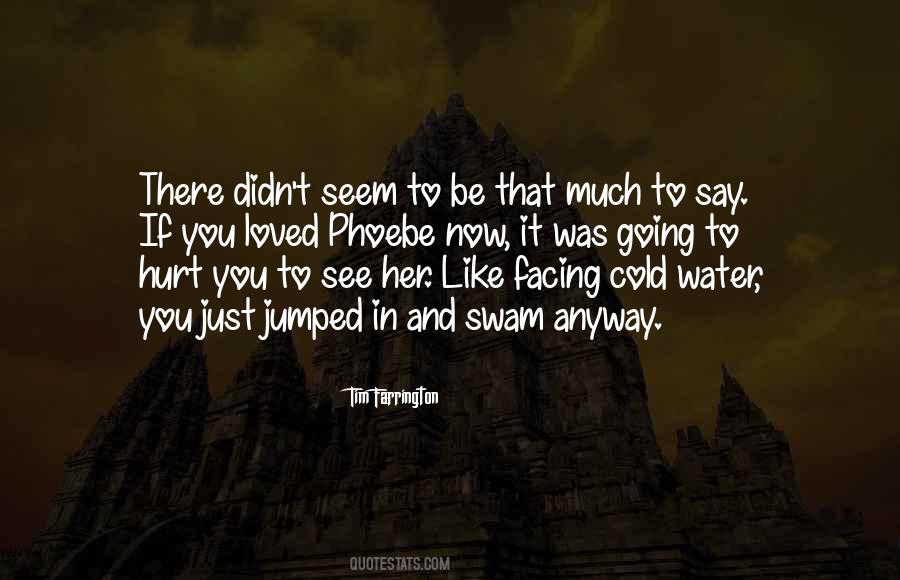 #90. A cat pours his body on the floor like water. It is restful just to see him. - Author: William Lyon Phelps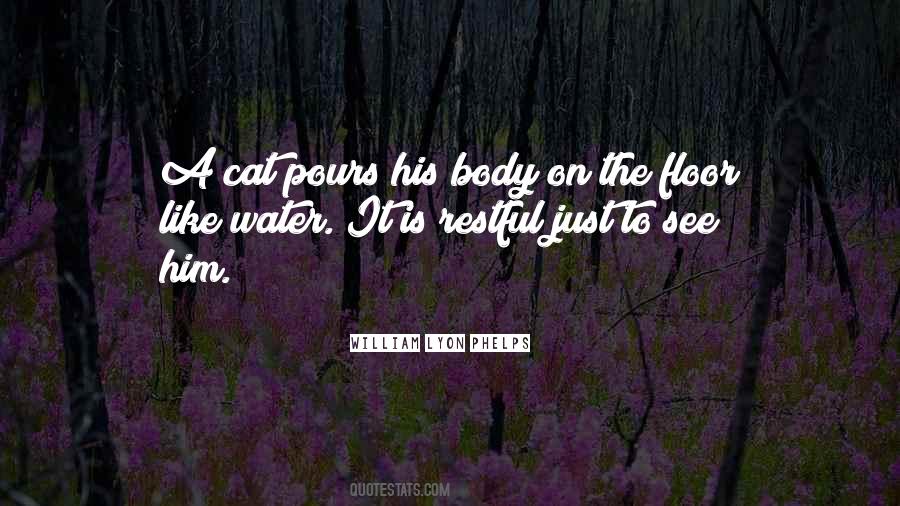 #91. Thoughts will change and shift just like the wind and the water when you're on the boat; thoughts are no different than anything else. - Author: Jeff Bridges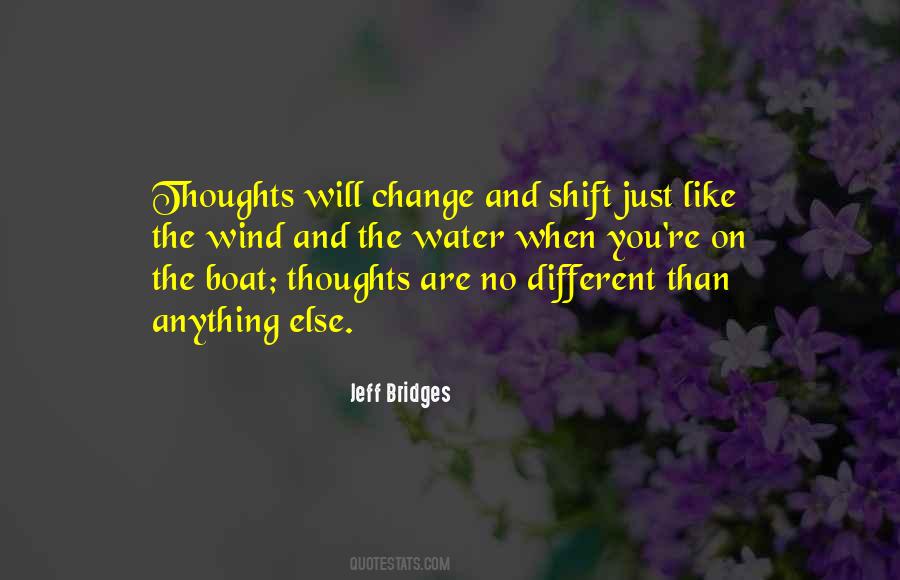 #92. Just like the sea, she was turbulent and wild, angry and loving. She felt every sensation, but it was only here, with water around her, that she dared let herself feel so strongly, so passionately. - Author: Christine Feehan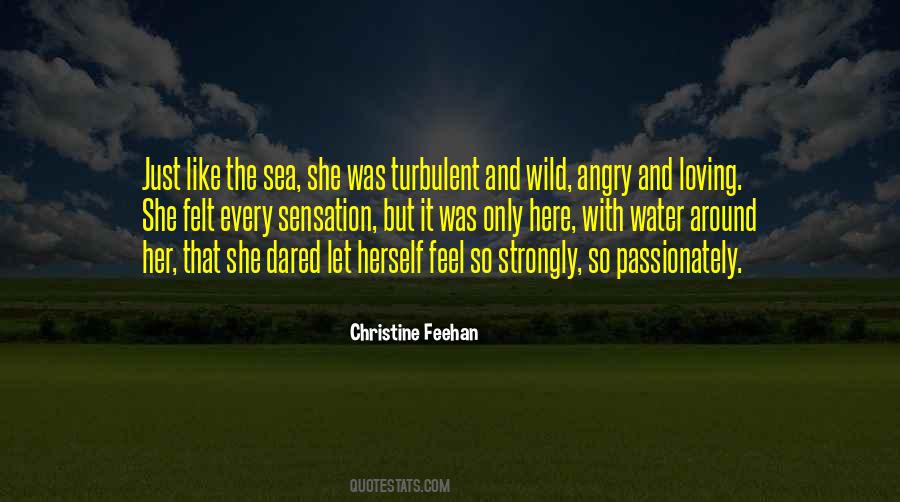 #93. People really feel like music is free, but will pay $6 for water. You can drink water free out of the tap and it's good water. But they're okay paying for it. It's just the mindset right now. - Author: Jay-Z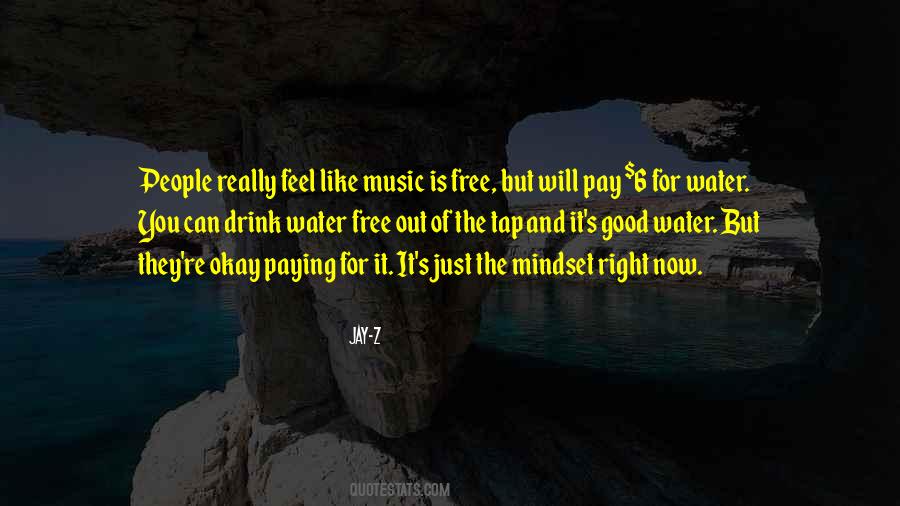 #94. The Dunya is like the ocean and our heart is like the ship. If a ship allows the water to enter, it will sink. Just like when we allow the Dunya to enter our heart. - Author: Yasmin Mogahed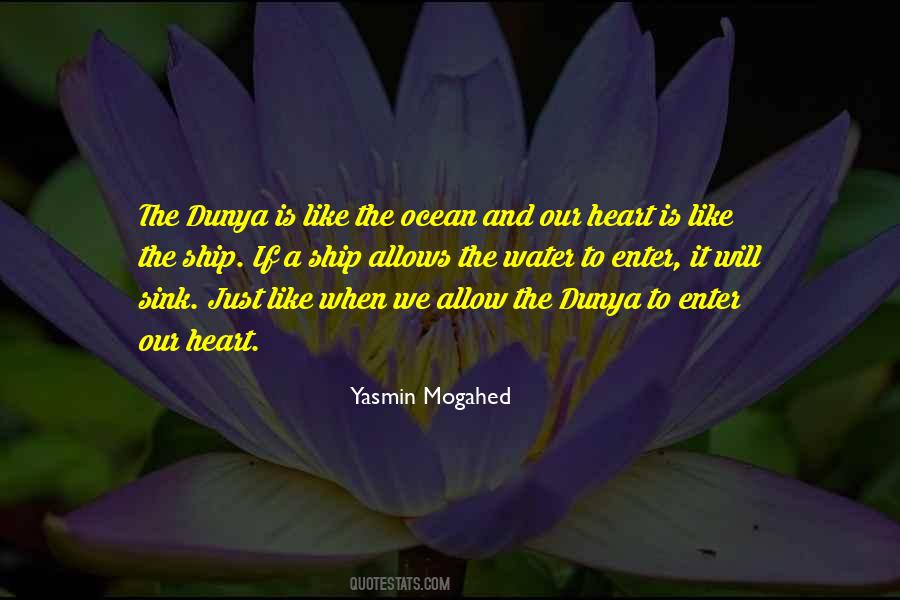 #95. It's not wrong to feel sorry for yourself. Just like it's not wrong to stand in a puddle of water while the rain pours down on your head. But neither is productive, unless you enjoy feeling cold and miserable and soggy while mascara runs down your face. - Author: Richelle E. Goodrich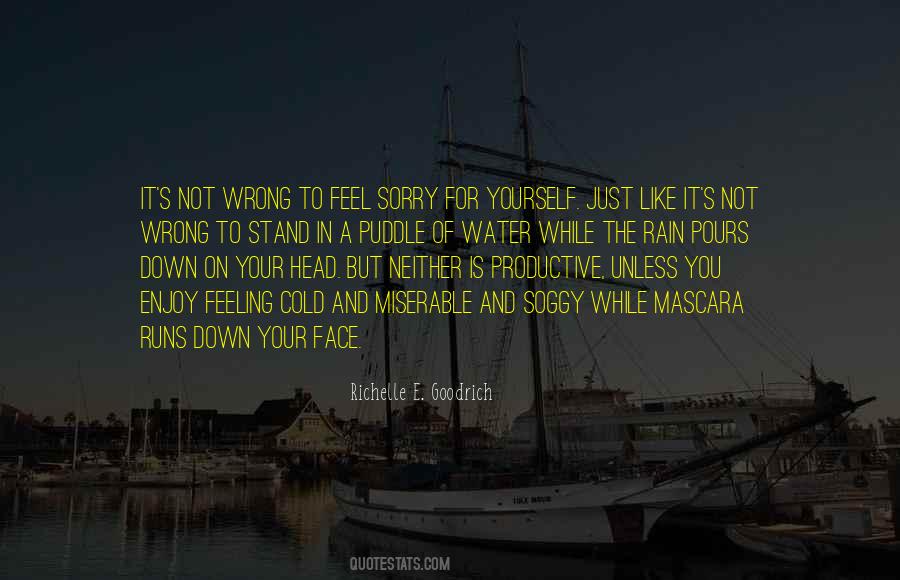 #96. Awakening into the God state makes all the perceptual limitations of the mind disappear, just like a bucket of muddy water turns crystal-clear once poured into the ocean. - Author: Abhijit Naskar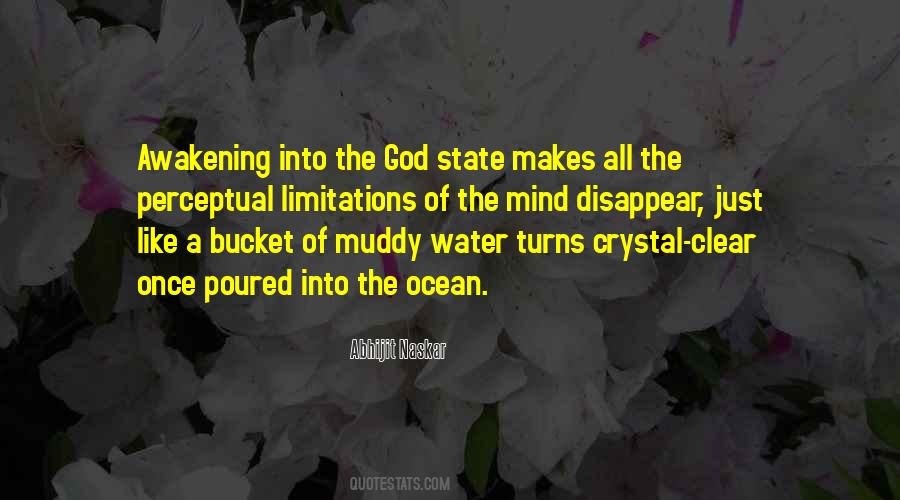 #97. Water is my main state. If I time before I run - like, to digest, like, a good hour and a half or so to digest, I'll eat oatmeal. but I'm a vegetarian for the most part, so in general, I just eat grains and vegetables and fruit. - Author: Flea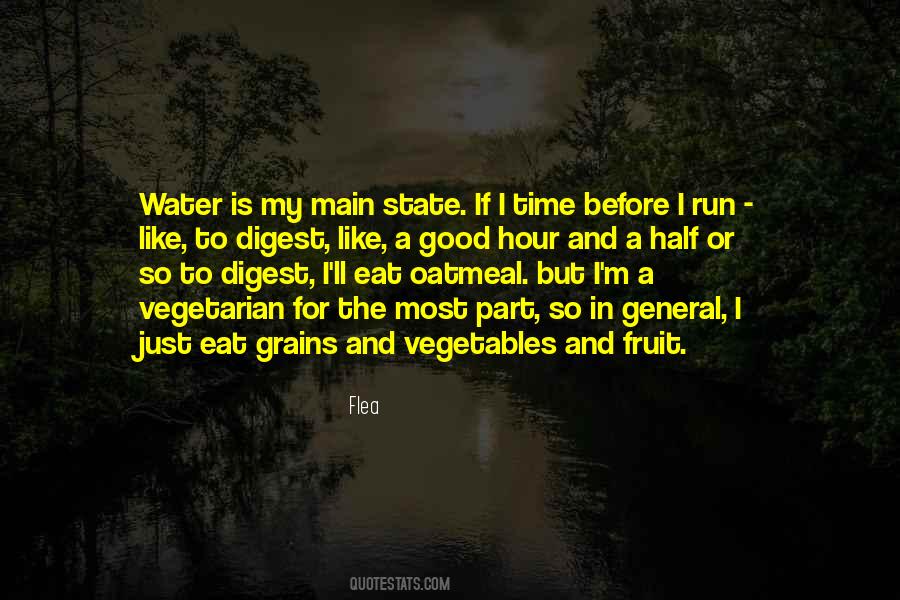 #98. People are very adamant about maintaining a certain sound or a certain era, like, "There were three years of rap that were great, so let's just keep doing that." The genre itself is just stuck in place. It's been treading water for a while. - Author: Aesop Rock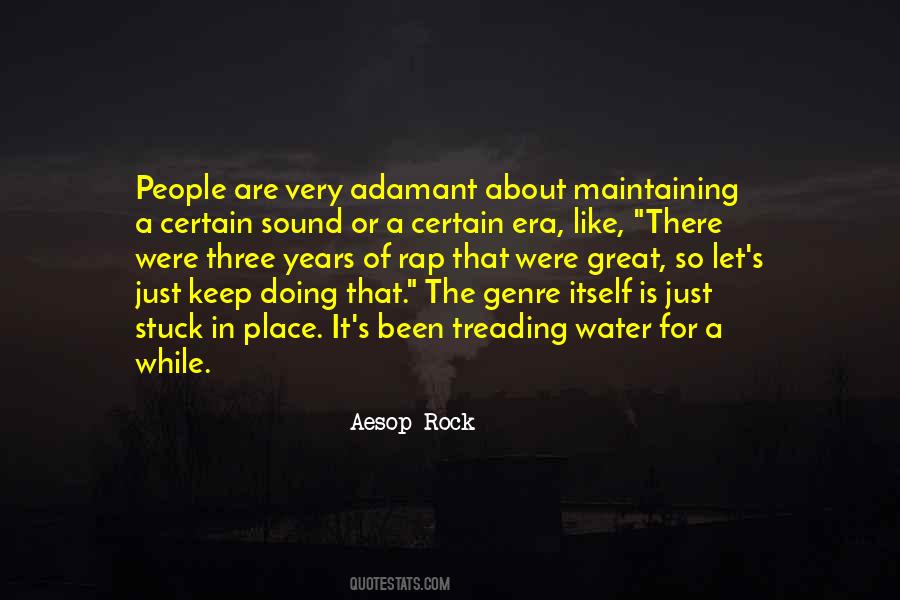 #99. It's a horrible economy but I'm trying to do my part. I just bought a new shower curtain it has all the presidents on it. Do you know how hard it is to masturbate with all the presidents staring at you? And when the water hits them it looks like they're crying. - Author: Dave Attell
#100. It's just that you go so crazy being alone like that. Sometimes he'd forget my water or food and I'd cry and cry and cry." She stops talking and looks out the window. "I would try to tell myself stories to pass the time. Fairy tales. Parts of books. But they got used up. - Author: Holly Black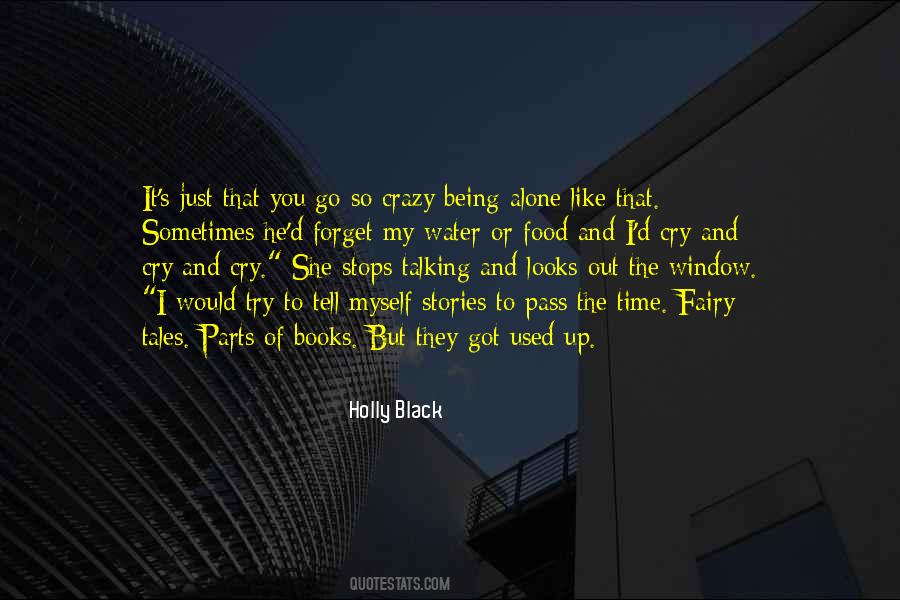 Famous Authors
Popular Topics